When You Get Married Famous Quotes & Sayings
List of top 89 famous quotes and sayings about when you get married to read and share with friends on your Facebook, Twitter, blogs.
Top 89 Quotes About When You Get Married
#1. I love the romance of 'let's get married,' but then, when you have it so perfect ... I mean, I'm more married than anybody can be - we have two kids. Maybe one day, but it's something I can really do without. - Author: Vanessa Paradis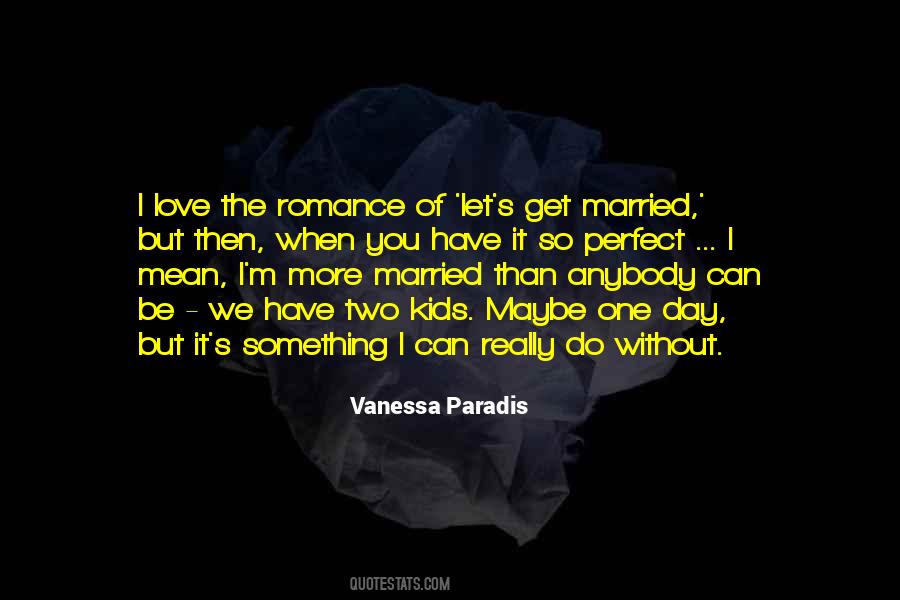 #2. I love being married. It's great. But I hate arguing. I hate fighting. You know what I do now? When we get in an argument, I just take her side against me. It's just easier; it goes quicker. She's like, "What's wrong with you?" And I'm like, "I know! Damn it! Argh!" - Author: Louis C.K.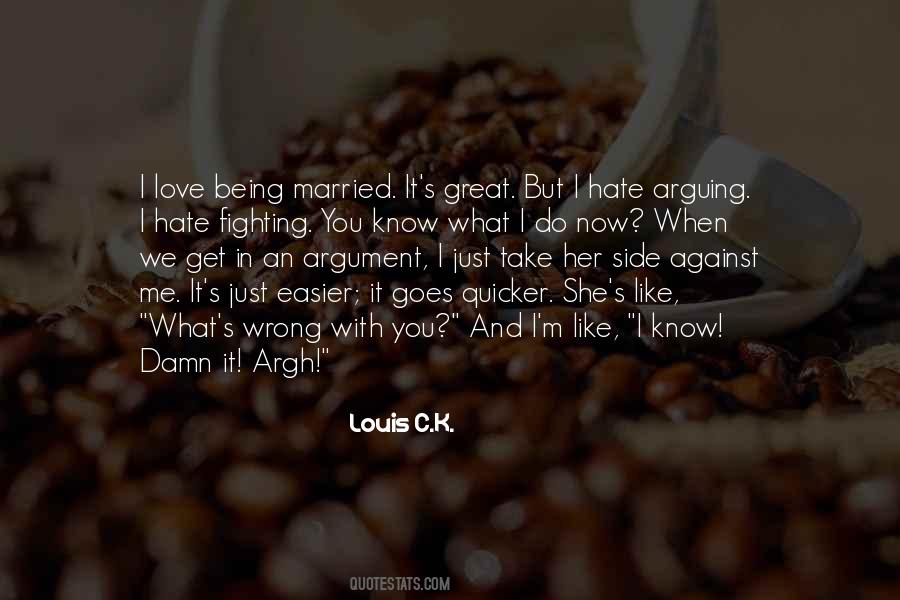 #3. There are only two times in your life when you get "pronounced." You get pronounced married and you get pronounced dead. Somewhere there's a cynic saying, "What's the difference? - Author: Mike Dugan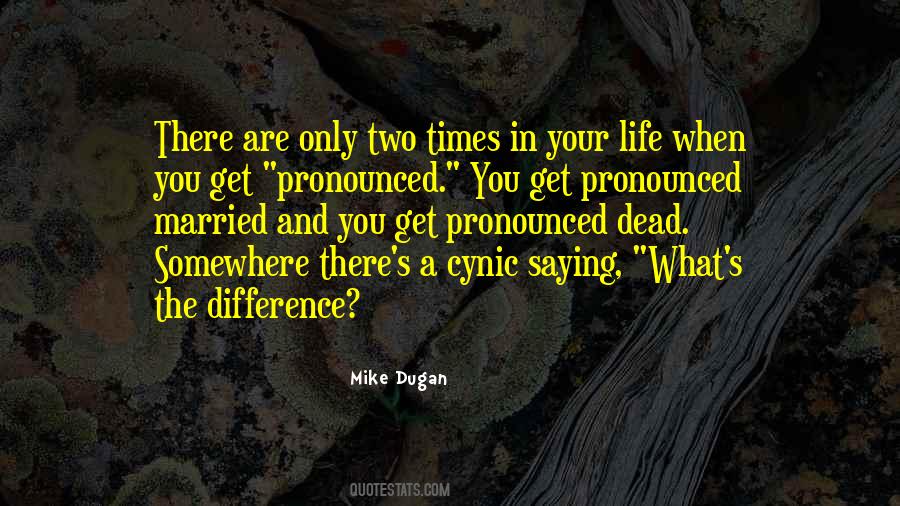 #4. And then we'll go to Tiffany's and get you a ring. And then
" he turned swiftly to look into her fade
" when can we get married? - Author: Maud Hart Lovelace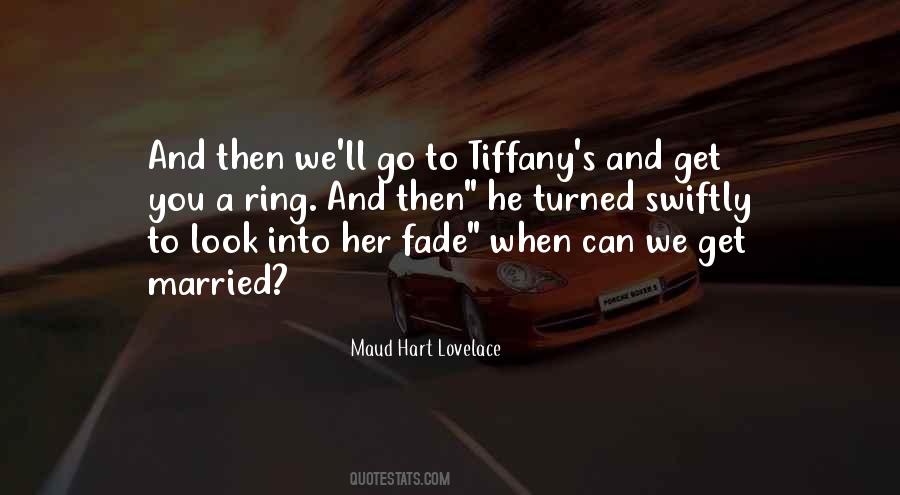 #5. I think you pass your man card off to your wife when you get married. You're still a man, but you're her man. - Author: Kristen Proby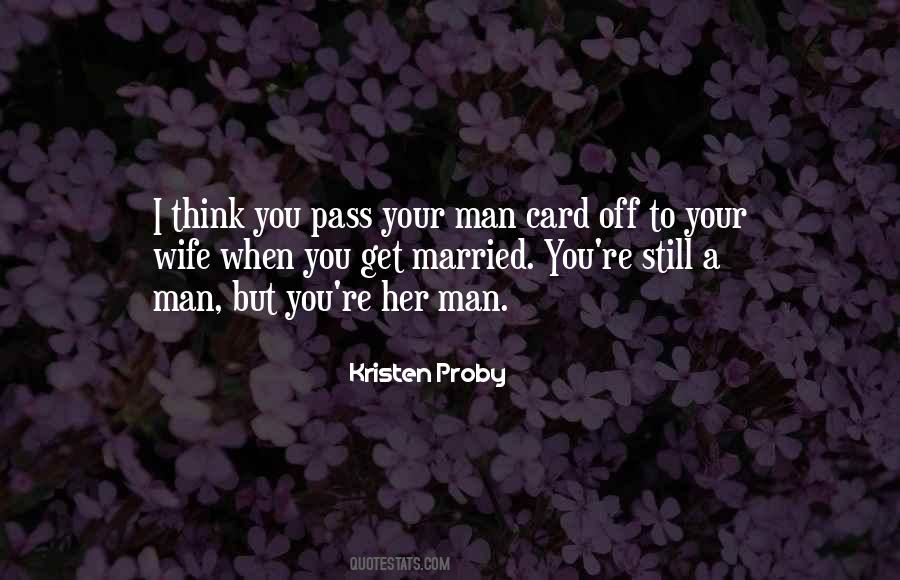 #6. As people get older, we all know, you get married and you have a child and that becomes your family, but when you're 16 years old, especially, your family is your friends. - Author: Stephen Chbosky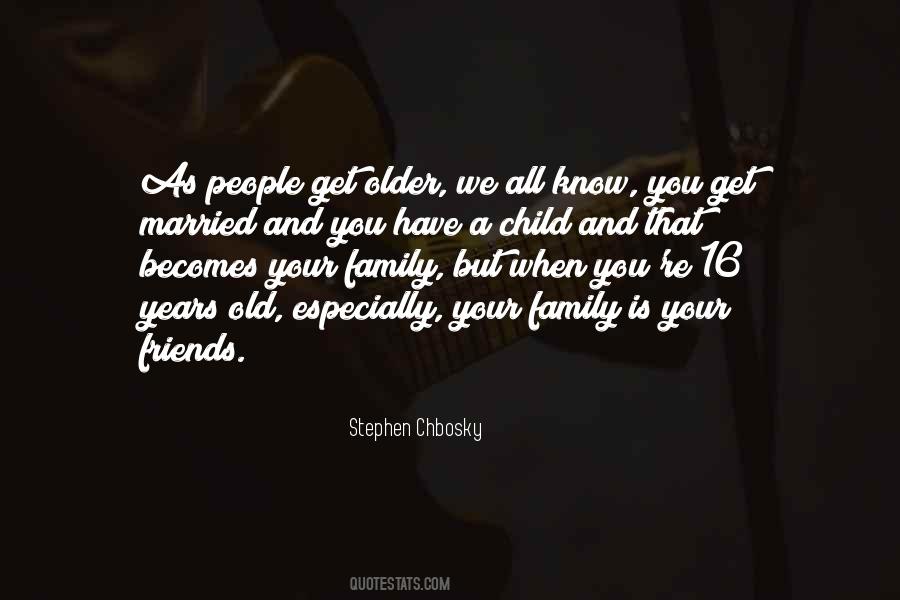 #7. If you have someone you think is the one, take them and travel around the world. Buy a plane ticket for the two of you to travel all over the world, to places that are hard to reach and hard to get out of. And when you land at JFK and you're still in love with that person, get married. - Author: Bill Murray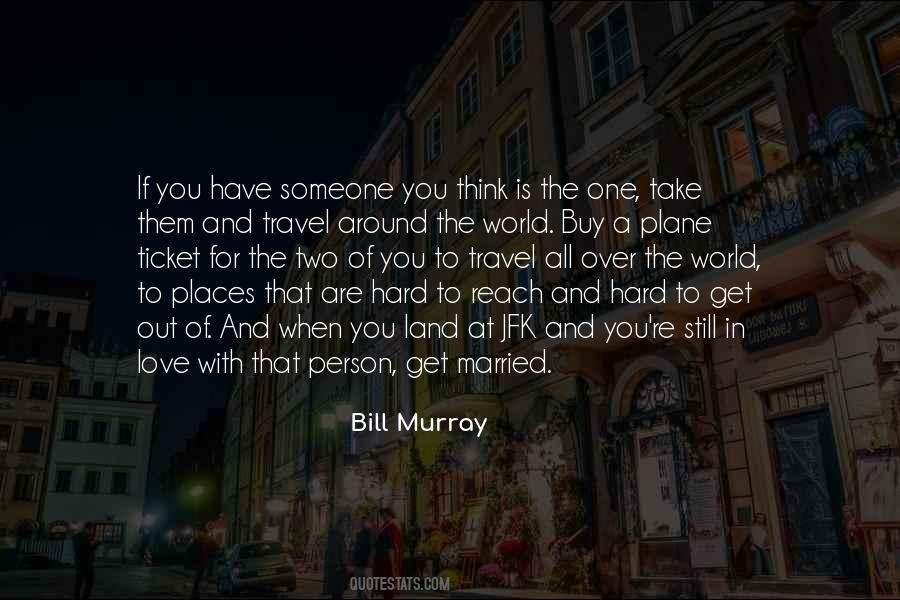 #8. It's funny because I think it also goes very well with the show. It has this reputation as being this love city where everyone goes to get married, but when you get there, it's very corny and tacky. - Author: Caroline Dhavernas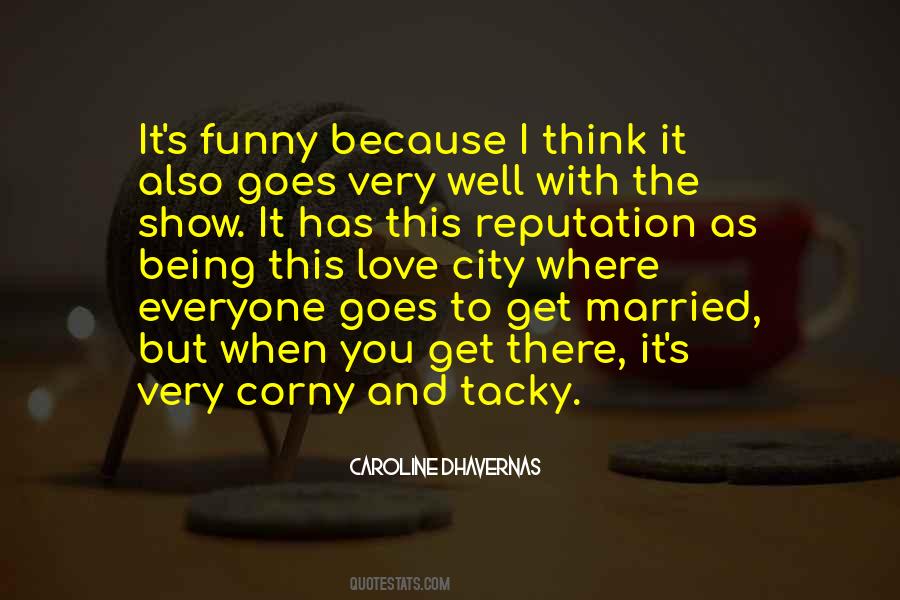 #9. There should be friendship vows. Did you ever think that? When you get married, you promise all that stuff - in sickness and in health, for richer and for poorer... But you do that when you're friends, too, don't you? The thick and thin stuff. - Author: Elizabeth Noble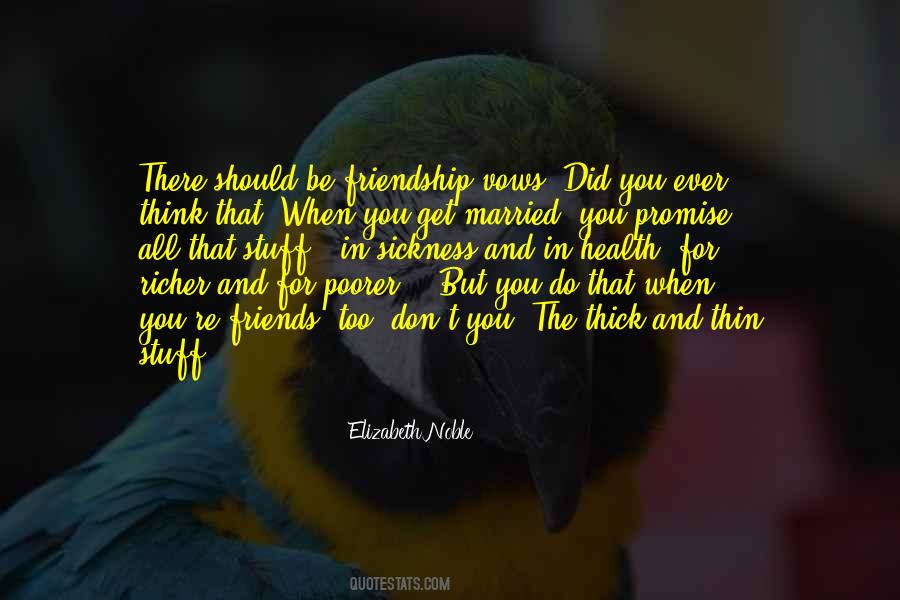 #10. Life is Beauty, Mystery, Sweetness and Terror. Get married soon as possible so when you get divorced, you're not too old.
Miss Agony - Author: W.H. Manville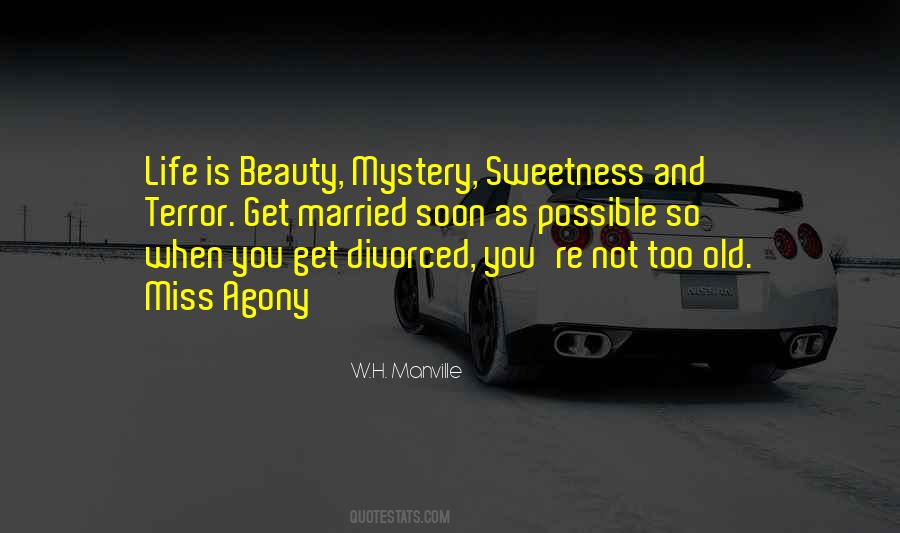 #11. When you get married you forget about kissing other women. - Author: Pat Boone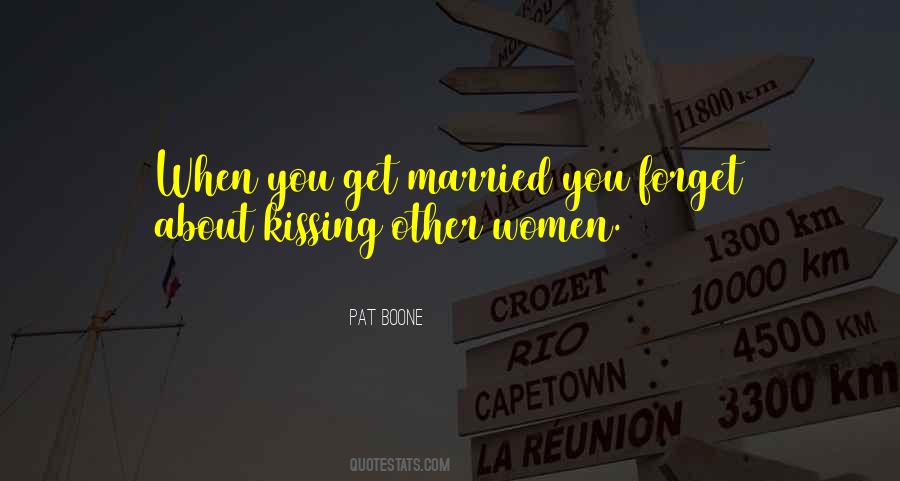 #12. You know what a wifey means? It's like your other half. Like when you get married, like, that's your wife! - Author: Rita Ora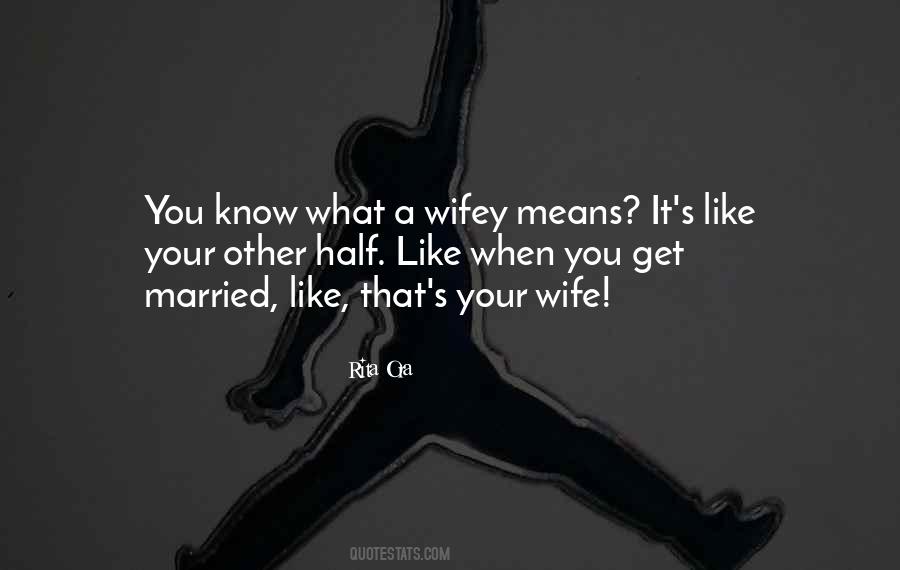 #13. When you get married, you'll understand what happiness is. But then it will be too late. - Author: Faina Ranevskaya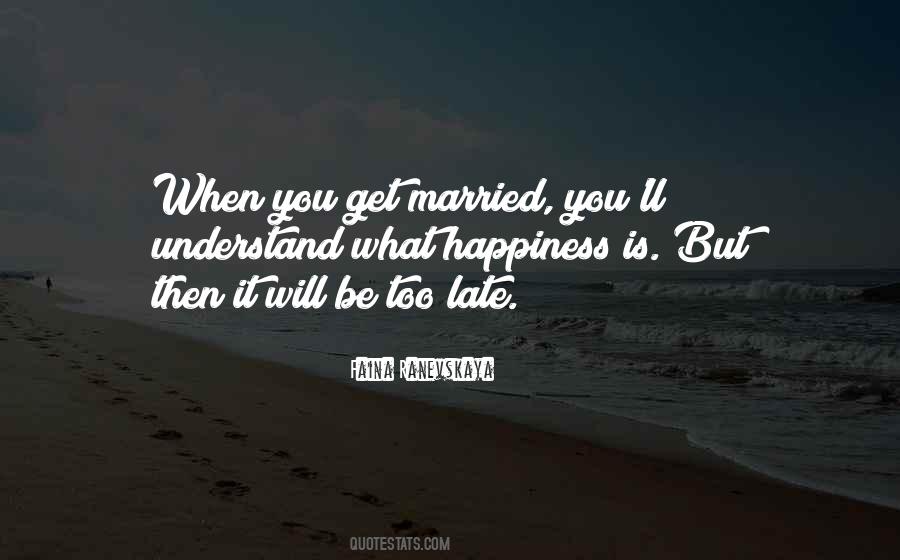 #14. When you have a baby, love is automatic, when you get married, love is earned. - Author: Marie Osmond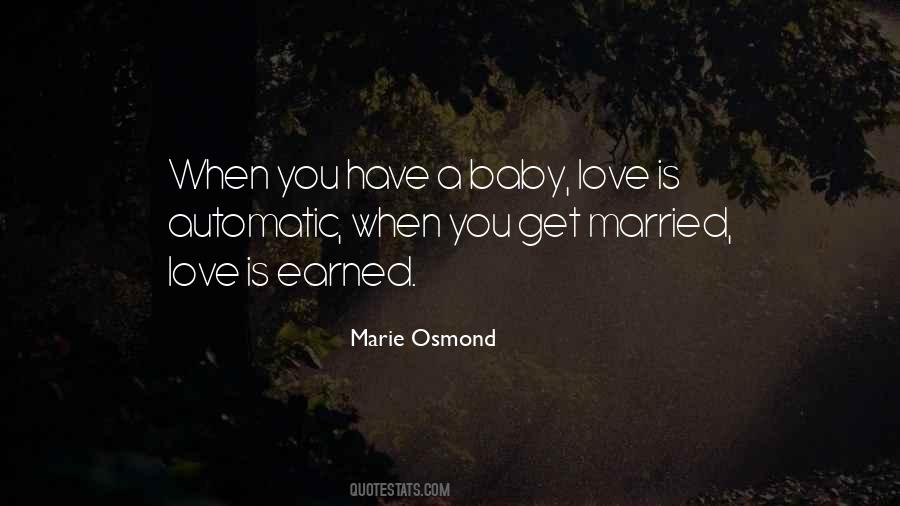 #15. I have been married twice, and those were not the happiest times of my life. Part of the problem, quite frankly, is that when you get married, the romance disappears and the children arrive and the love is transferred. It shouldn't be that way, but too often it is transferred to the children. - Author: Hugh Hefner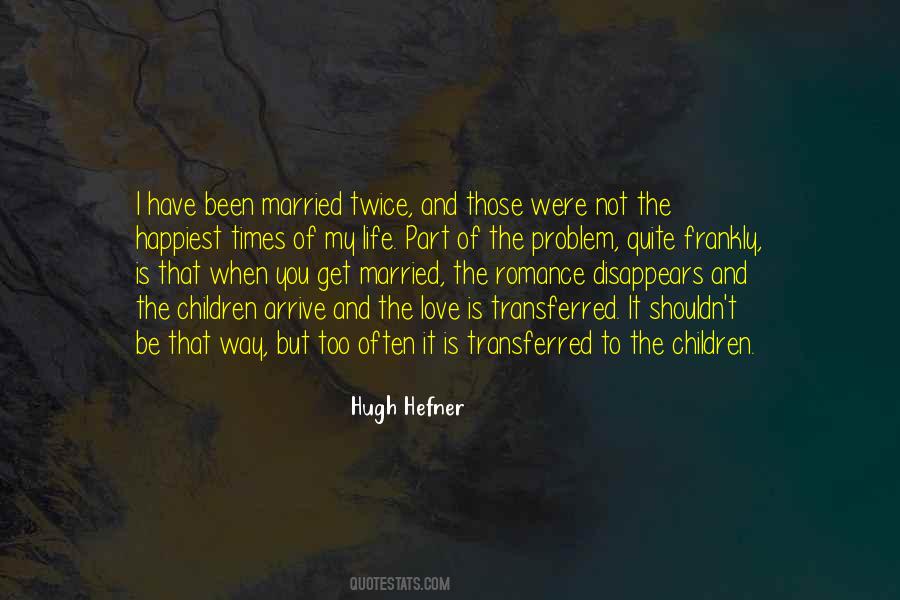 #16. That one thing you do give up when you get married is that magic moment of meeting someone, and the sparks and the spontaneity. - Author: Katie Aselton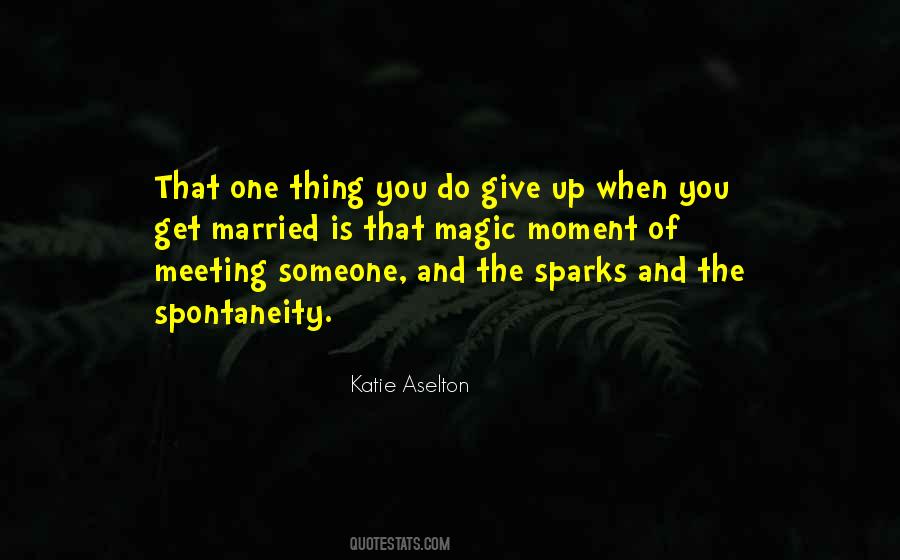 #17. No one is right when it comes to destination weddings. It's a big ask, requesting people take time off work and fly off to take a cruise just to see you get married. - Author: Mallory Ortberg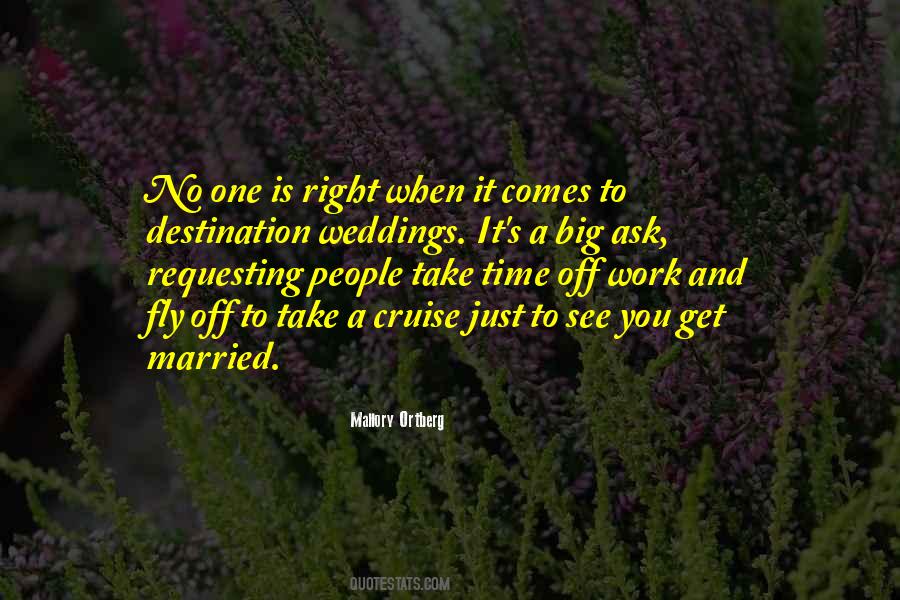 #18. When you get married you're starting a conversation that never ends, - Author: Rob Bell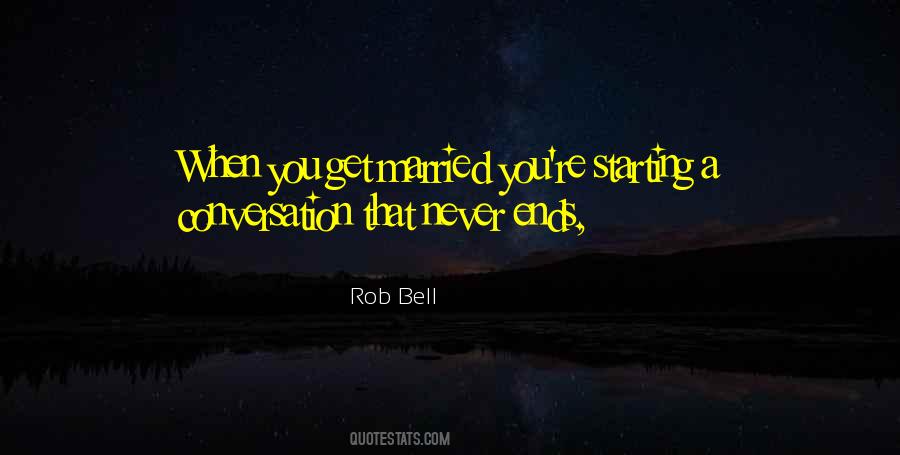 #19. Some people say the reason I am not married is that I don't understand small business and the toughest small business in the world is a family. But when you are happy and feel every minute of your life, what is the reason to get married? - Author: Mikhail Prokhorov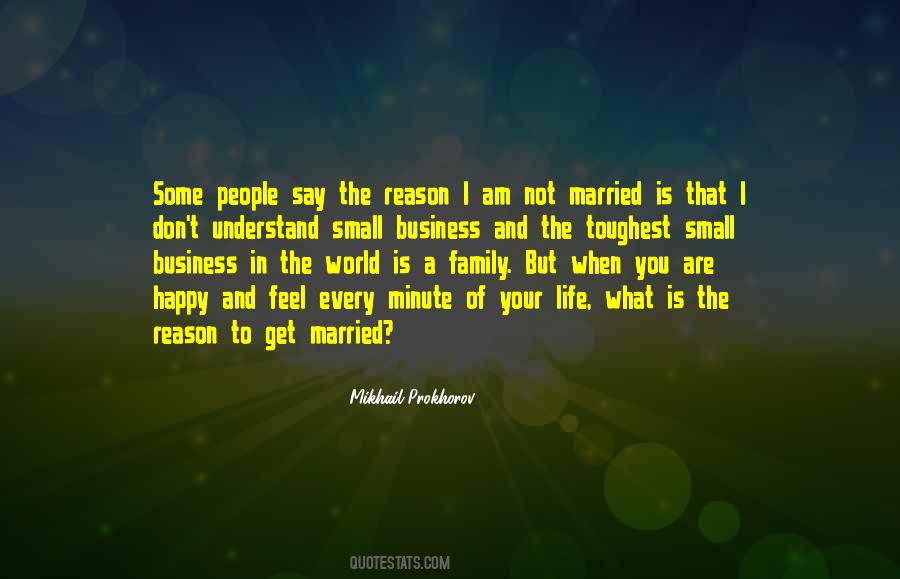 #20. I love going to weddings. And I love it when my friends get married. I'm not against marriage but it's just not for me. I'm a vegetarian, but I don't have a problem if you want a hamburger. - Author: Sarah Silverman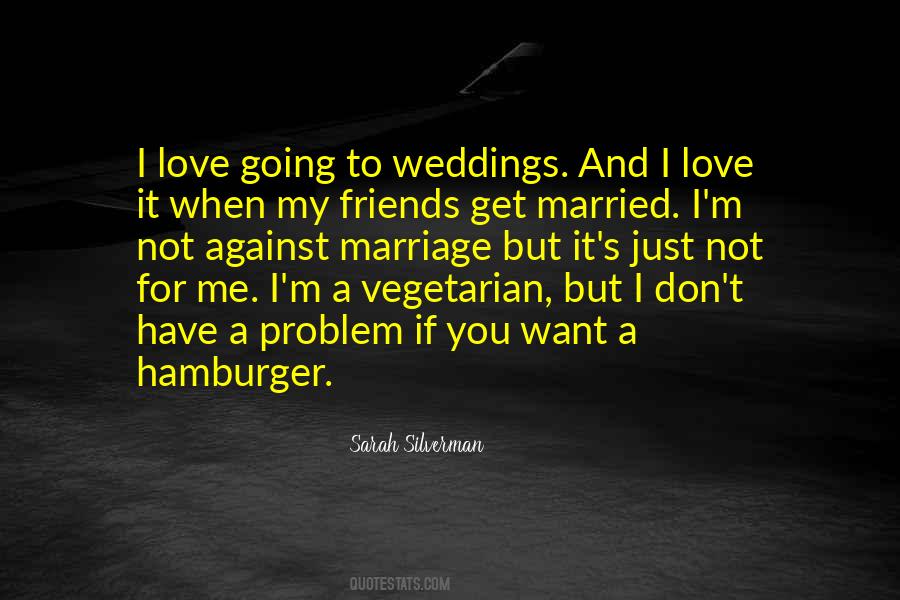 #21. Dating means doing a lot of fun things you will never do again if you get married. The fun stops with marriage because you're trying to save money for when you split up your property. - Author: Dave Barry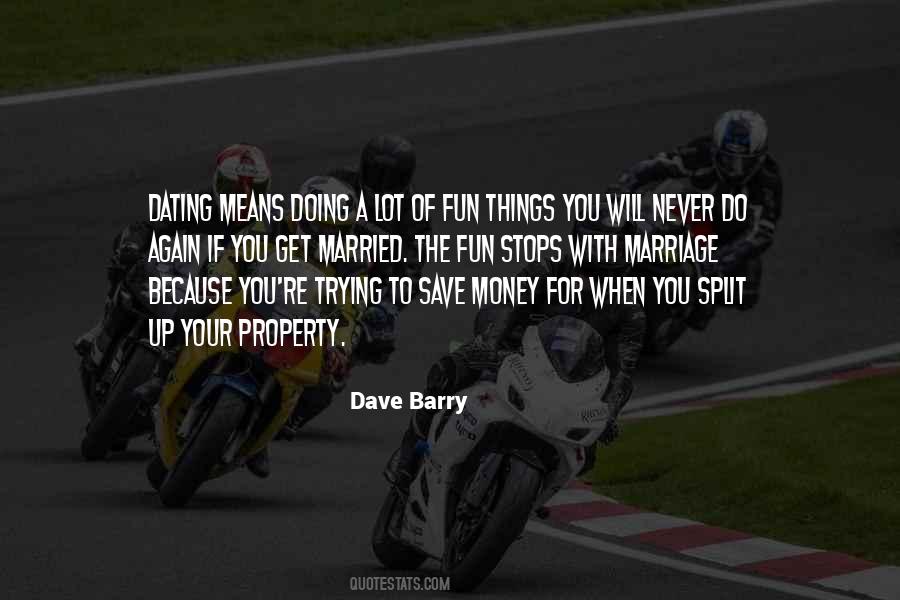 #22. Bessie: 'Why don't you get married?'
Zooey: 'I like riding in trains too much. You never get to sit next to the window anymore when you're married. - Author: J.D. Salinger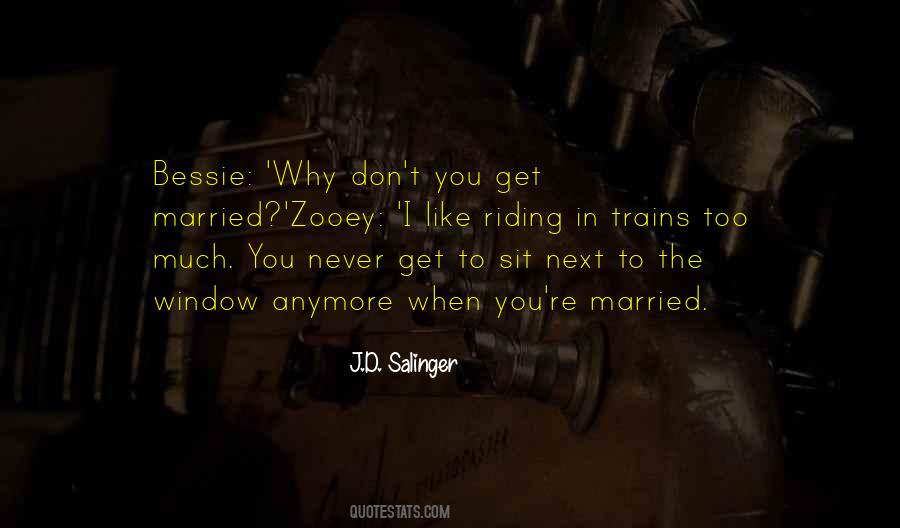 #23. When you feel complete, you don't need to get married, and you don't think about it. - Author: Shakira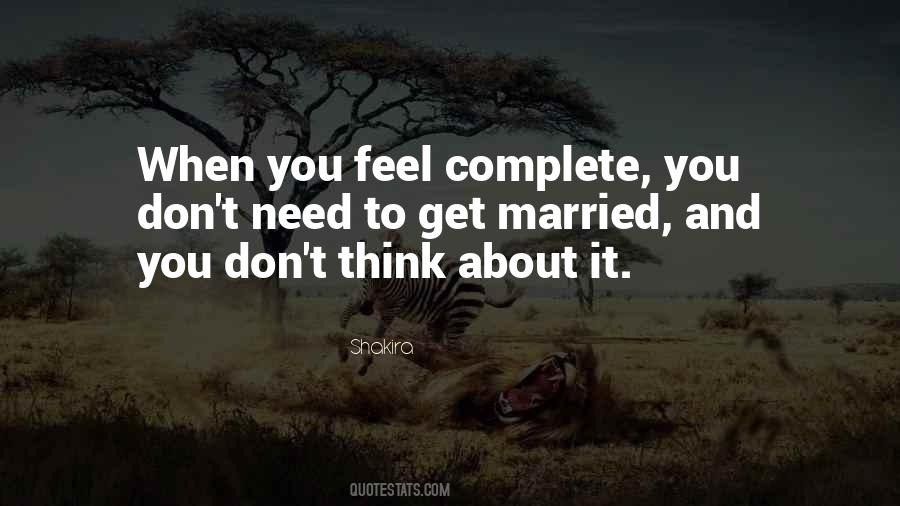 #24. When it comes to female fan attention, I'm married, so obviously I avoid the places where you might get unwanted female attention - clubs and social environments, bars and public spaces. - Author: Simon Bird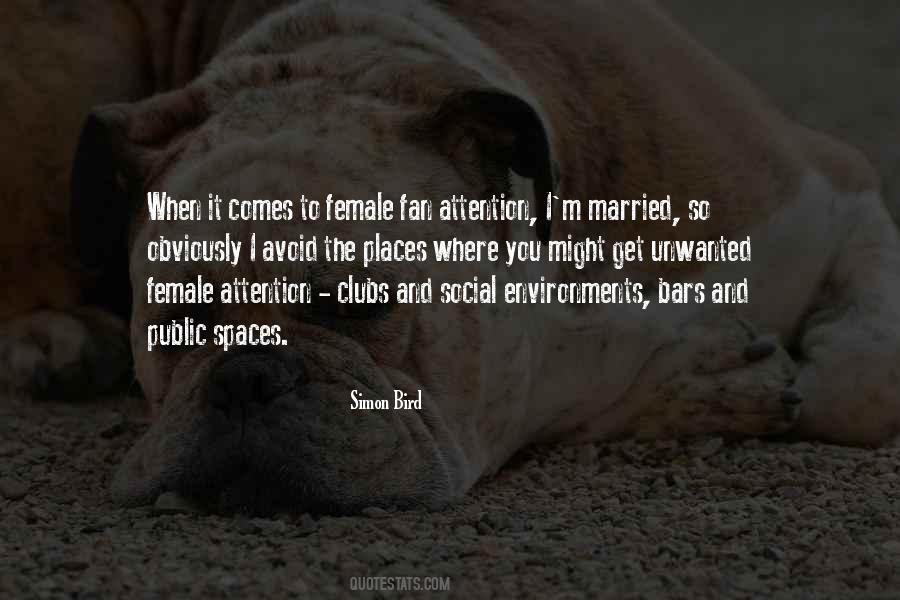 #25. Tonight was a perfect illustration of why Cinderella and the Prince get married twenty-four hours after they meet. Because when you're living with your stepmother, there is no happily ever after. - Author: Melissa Kantor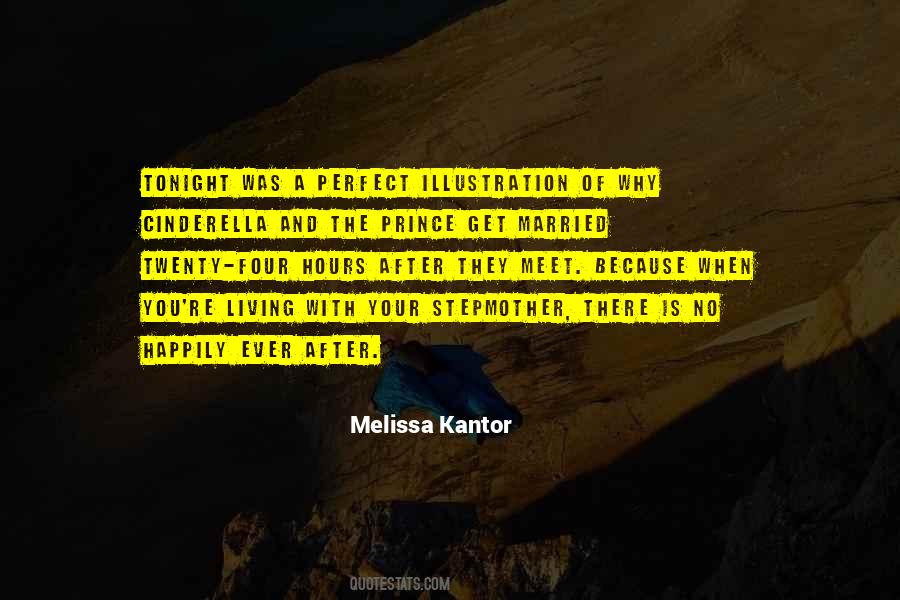 #26. People fall out of love, or get married for the wrong reasons. People change. The older generation - they got married and had a kid when they were 20. How do you know who you are when you're 20? - Author: Kellan Lutz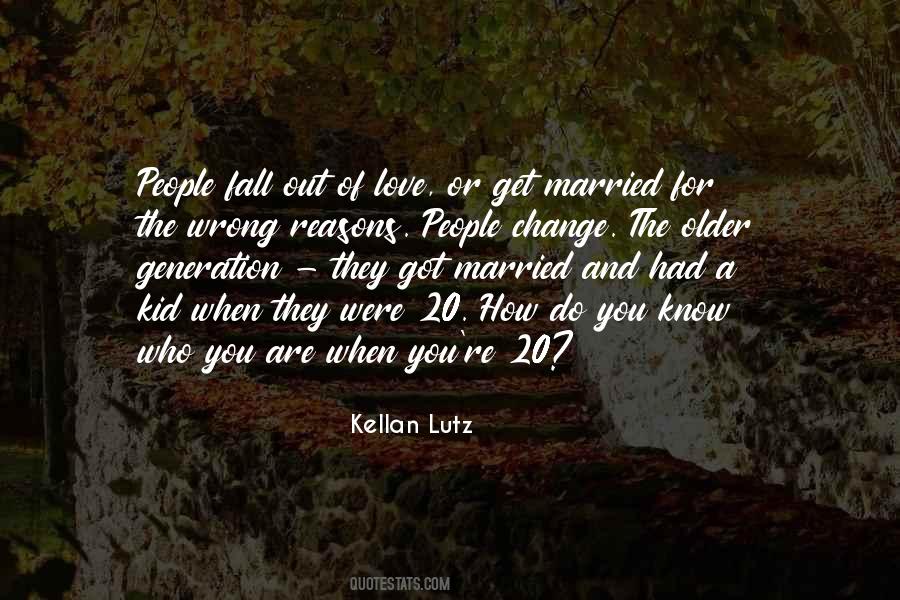 #27. And when you get married, the most important thing isn't being in love. It's making sure you marry your best friend. A partner - the person you want to share the good times, the shitty times, and everything in between with. - Author: Emma Chase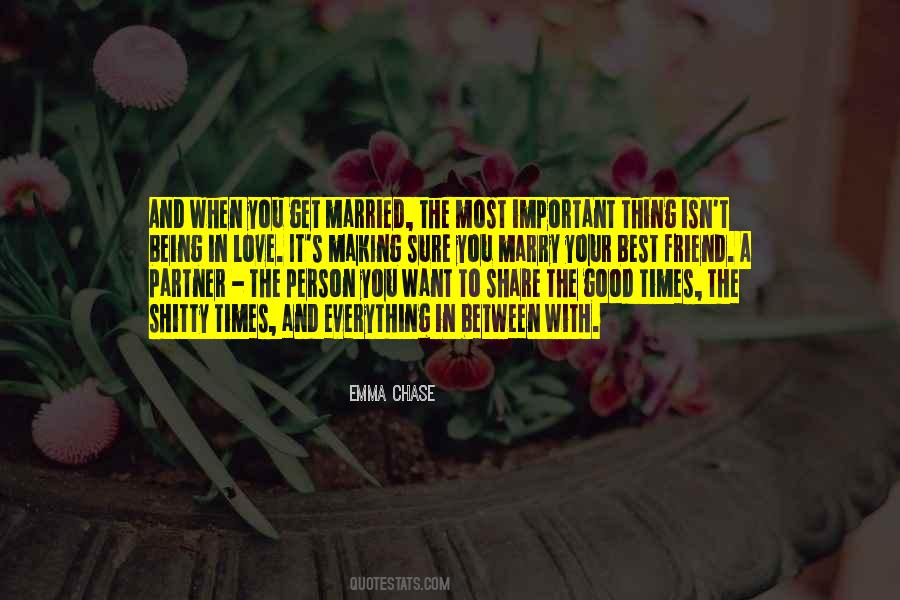 #28. You have the rest of your life to be married. Enjoy falling in love. When girls get caught up in the timeline, it becomes more about the wedding than the marriage. You should be with someone with whom you could elope this weekend and be happy. - Author: Lauren Conrad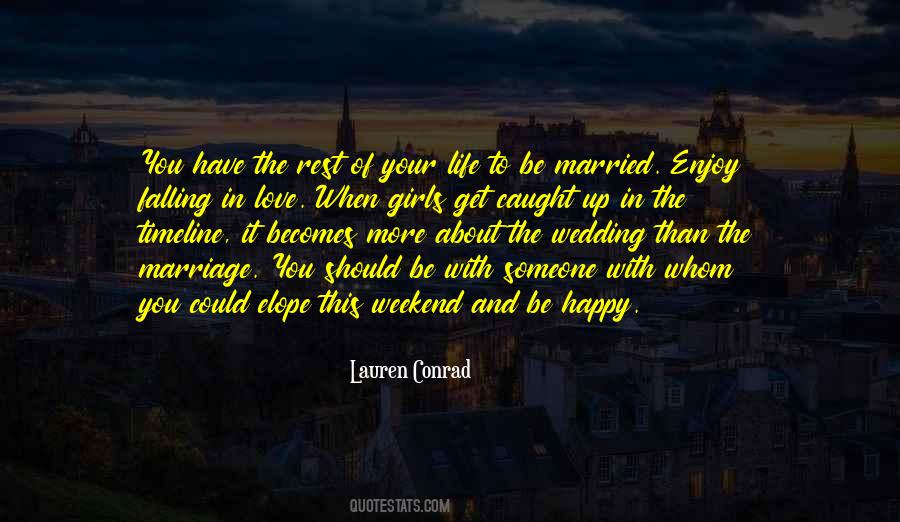 #29. When you want to get married, ask the universe for a man who has every quality money cannot buy. Then go about to create your own prosperity. - Author: Barbara Rose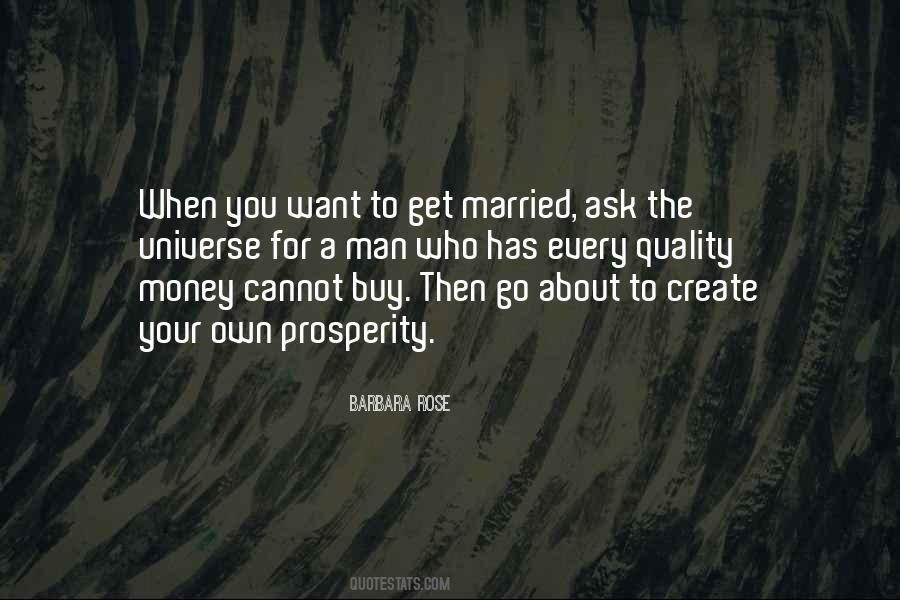 #30. The proper behavior all through the holiday season is to be drunk. This drunkenness culminates on New Year's Eve, when you get so drunk you kiss the person you're married to. - Author: P. J. O'Rourke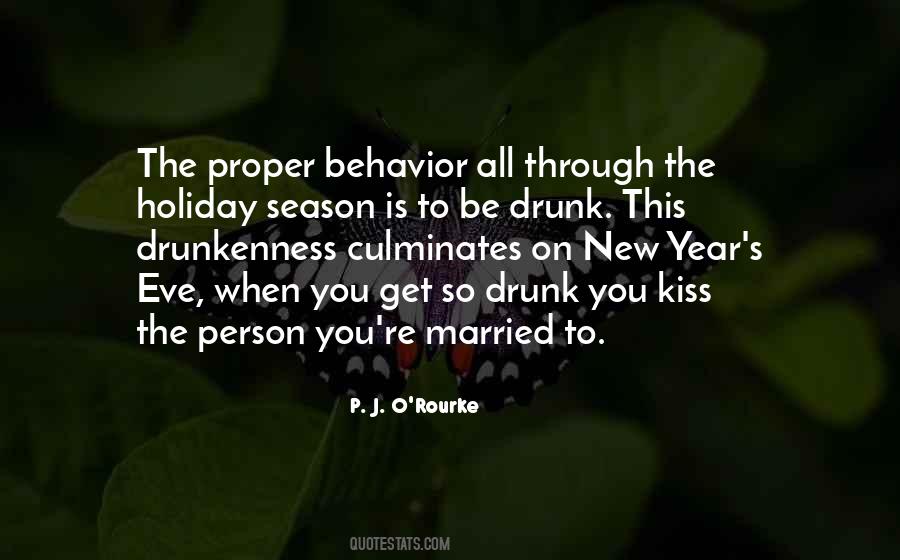 #31. I remember when all you ever talked about was finding a guy and getting married. You'd hog the TV, watching those sappy chick flicks
"
"Then I grew up and learned why they always end the movie after the guy and girl get together. That's when everything falls apart. - Author: Cindi Madsen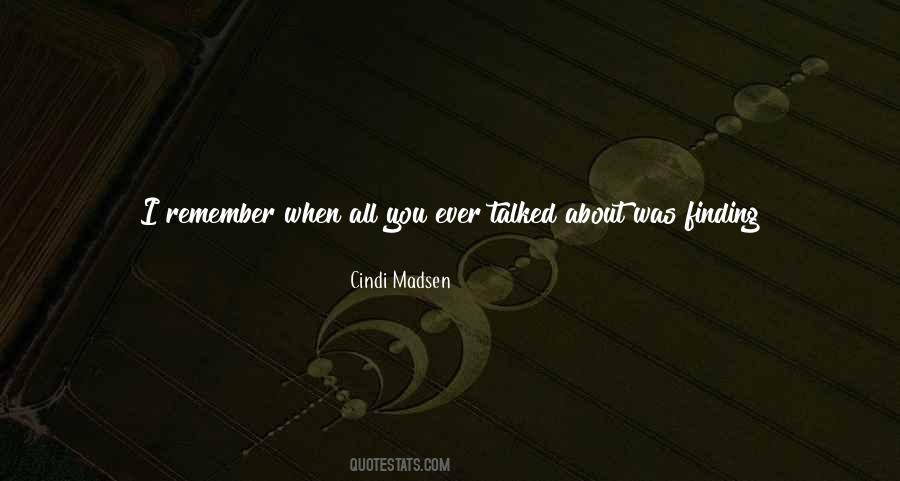 #32. I don't think it's fair - you get married, you give your wife a wedding ring. I think you should give her a mood ring. Oh, it may sound crass, but just check the color when you come home. 'Hi honey. Infernal red? Oh boy, I ain't getting laid, and I gotta cut the lawn, I know it.' - Author: Adam Ferrara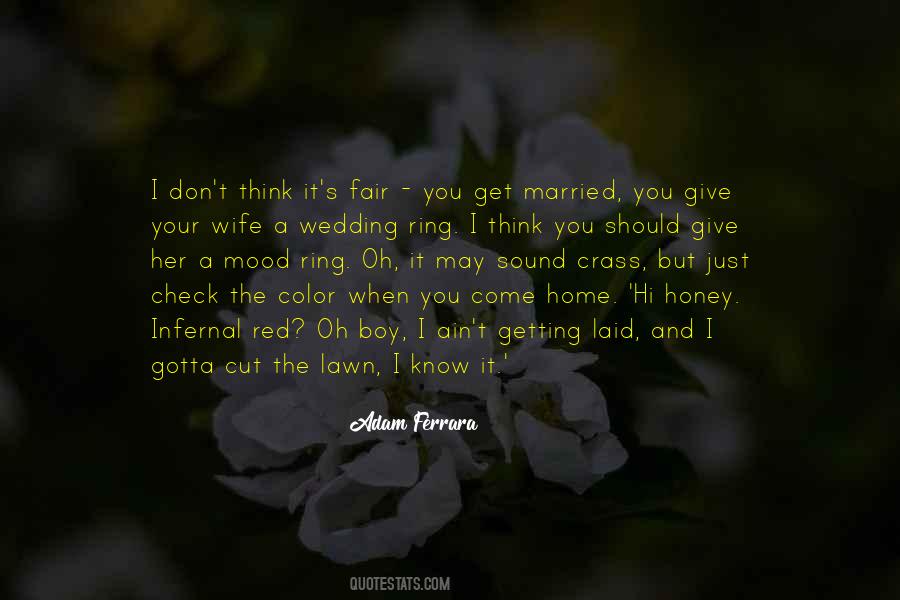 #33. Sometimes you don't want to get married too much to a lot of rehearsing, I feel, when it comes to film, because there's so many technicalities. So if I'm in my head, I've gotten settled on something, I'm gonna have to change it if I get there and something was set that's completely different. - Author: Sebastian Stan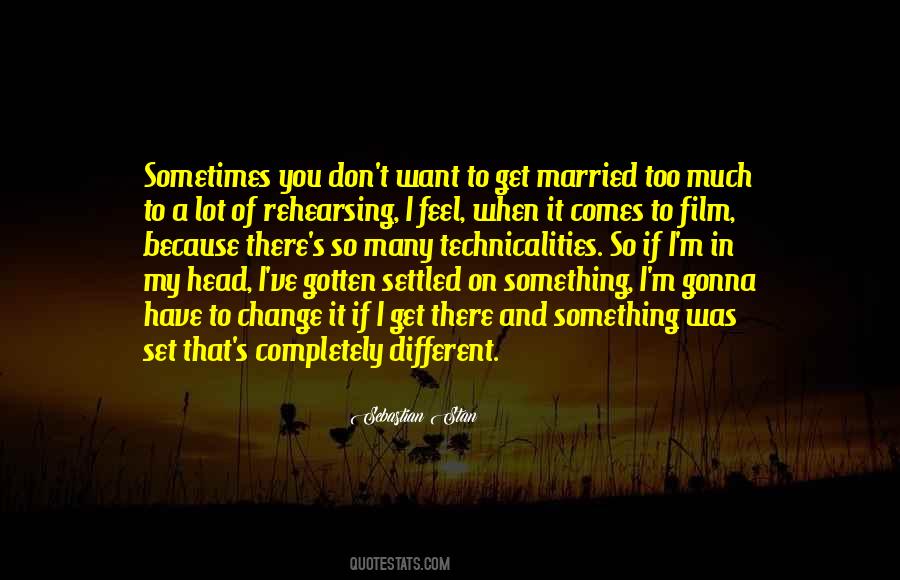 #34. I think that when you get married you have consented to sex. That's what marriage is all about, I don't know if maybe these girls missed sex ed. - Author: Phyllis Schlafly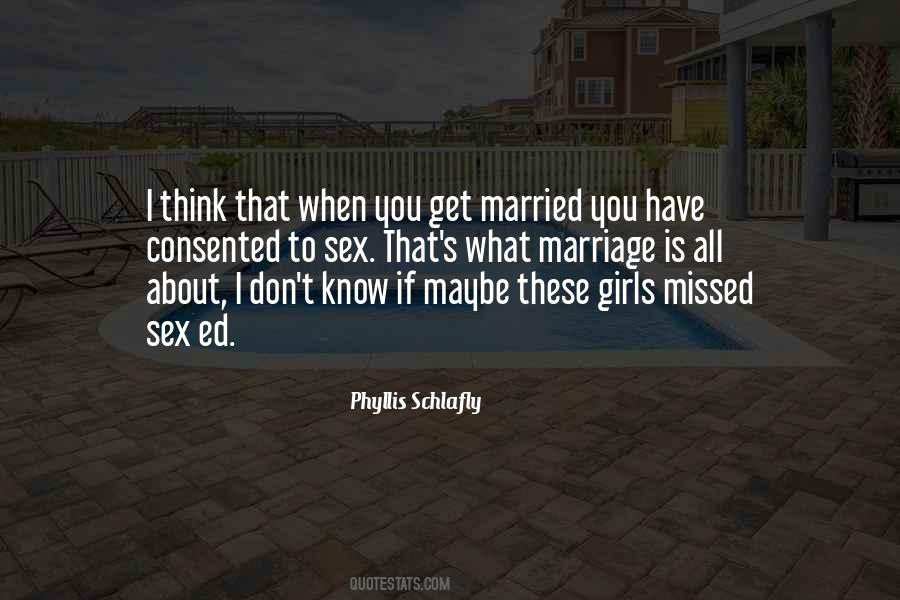 #35. You know, I might get married at 50 or 60, when it actually means something to say 'for the rest of my life.' - Author: Diane Kruger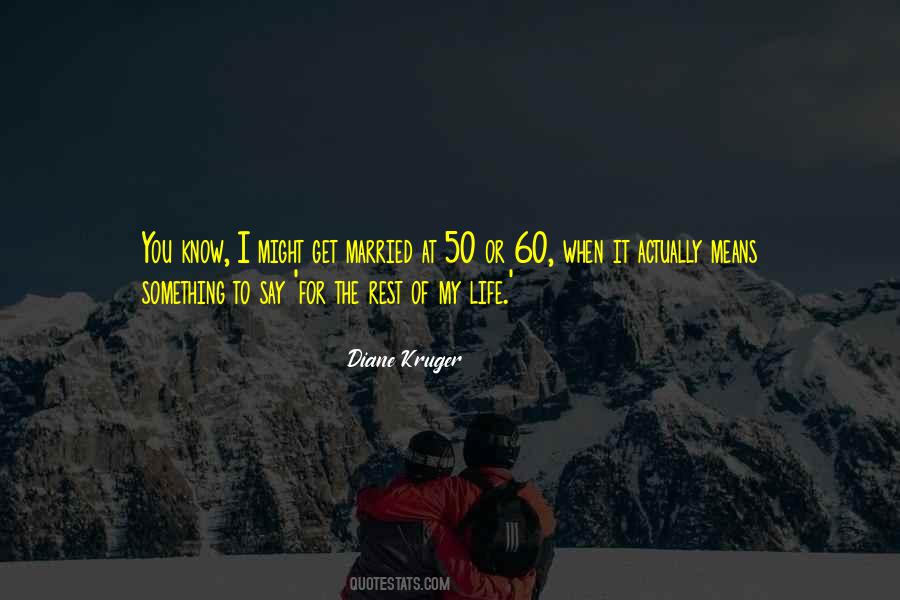 #36. Being married to two extremely high profile, you know, actresses, and being sort of chased by, you know, paparazzi and people, it's a whole different dynamic happens to a relationship when that happens. All of a sudden, things get a little crazy, a little crazy. - Author: Tommy Lee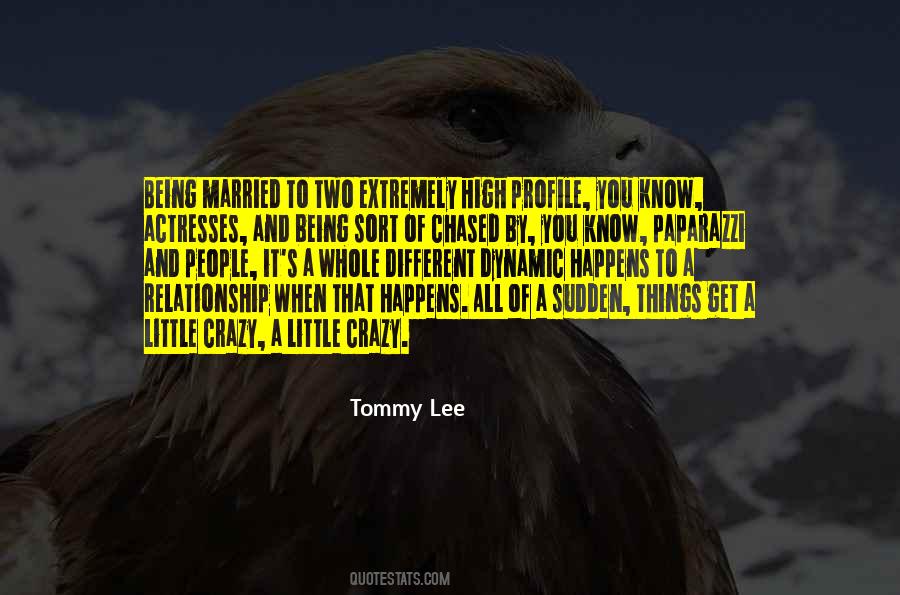 #37. I found out that when you get married the man becomes the head of the house. And the woman becomes the neck, and she turns the head any way she wants to. - Author: Yakov Smirnoff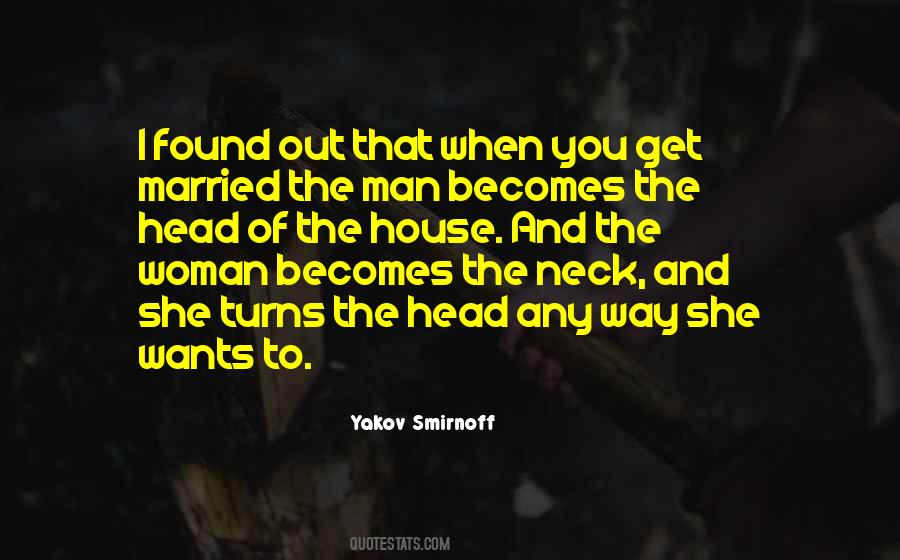 #38. When your field is architecture, you go visit the great cathedrals of the world. My field was relationships. I got married many times. I was practicing. I didn't date much; I just would get married. I thought, why waste time? - Author: Barbara De Angelis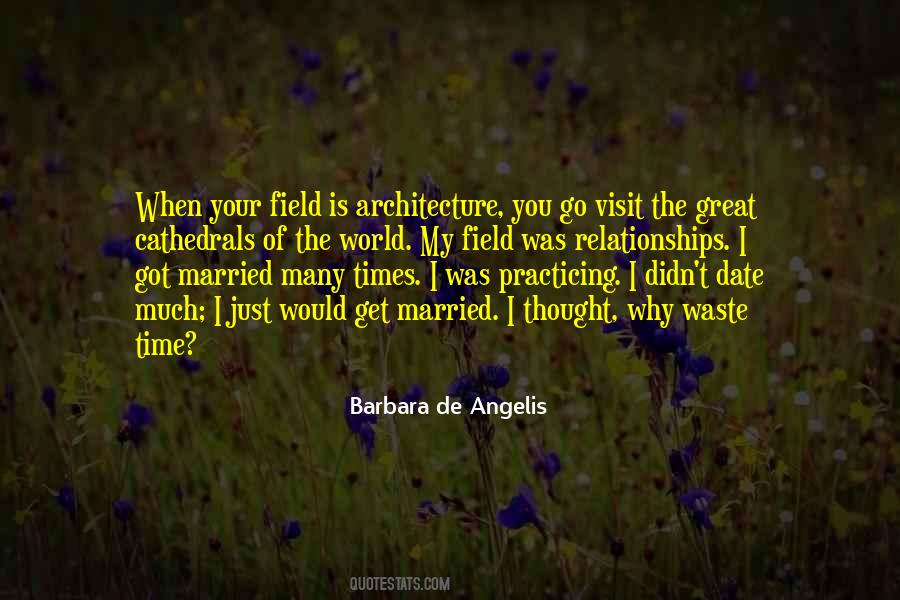 #39. A family is really a union of two separate entities. When you get married, you are marrying one family into another. - Author: Patricia Rae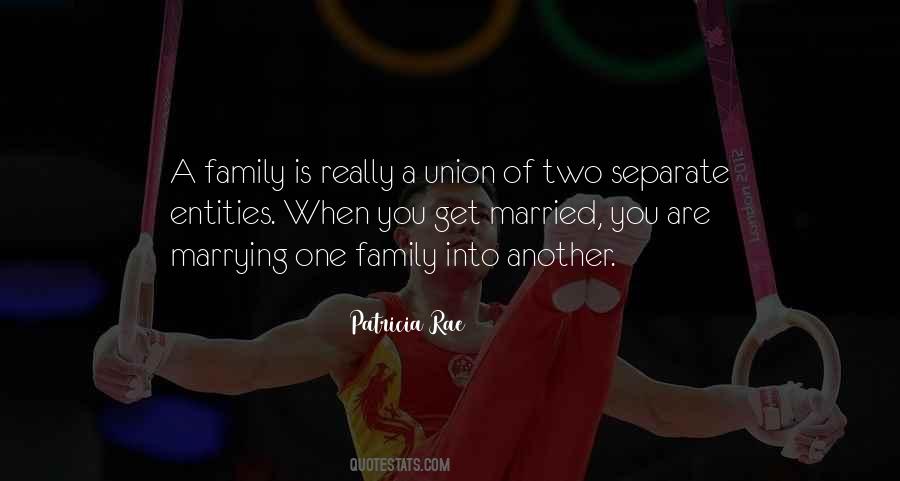 #40. When you think about it, three of our biggest financial decisions in life are made at times of peak emotional excitement: deciding to get married, buying a home, and having kids. - Author: Robert Kiyosaki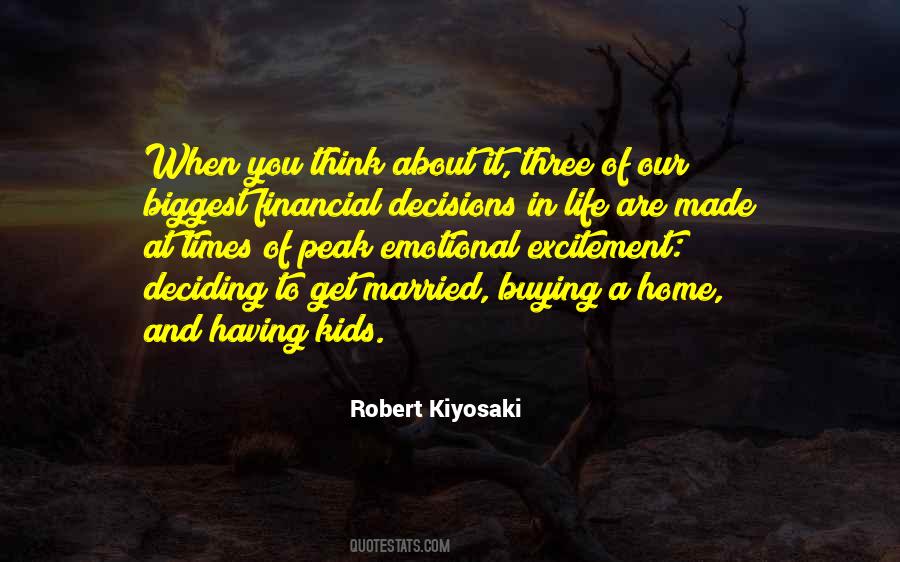 #41. Why is it that married people always say "Come in" when everything they do says "Get out"? They talk about their miseries and then ask you why you're unmarried. - Author: Malcolm Bradbury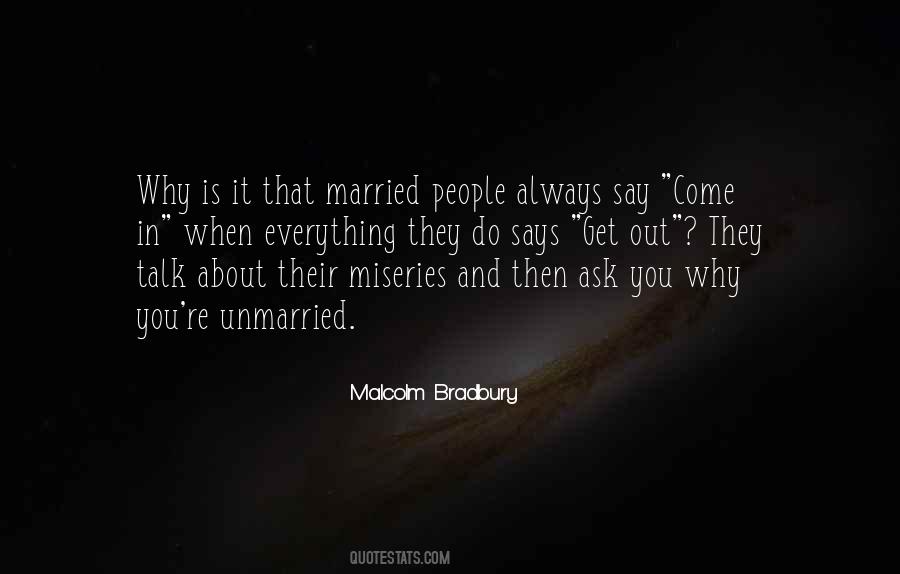 #42. I only wanted to get married once, so when I felt I was ready to handle it, I looked at my relationships and noticed that boyfriends get tired of girlfriends, and vice versa, but you never get tired of your friends. - Author: Jason Bateman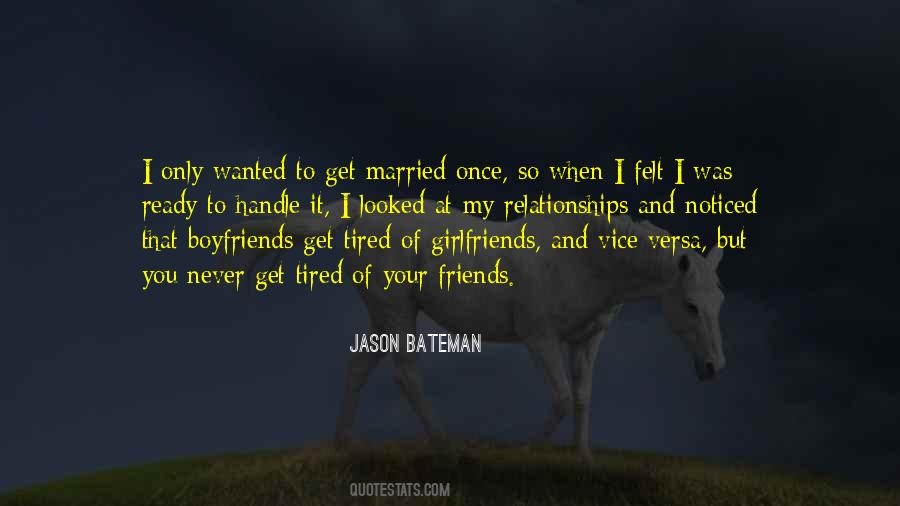 #43. I figure when you get married, it doesn't matter how much you earn or how much your husband earns, just as long as everything you do for the house is together, while still reserving some part of yourself to be yourself. - Author: Marta Kristen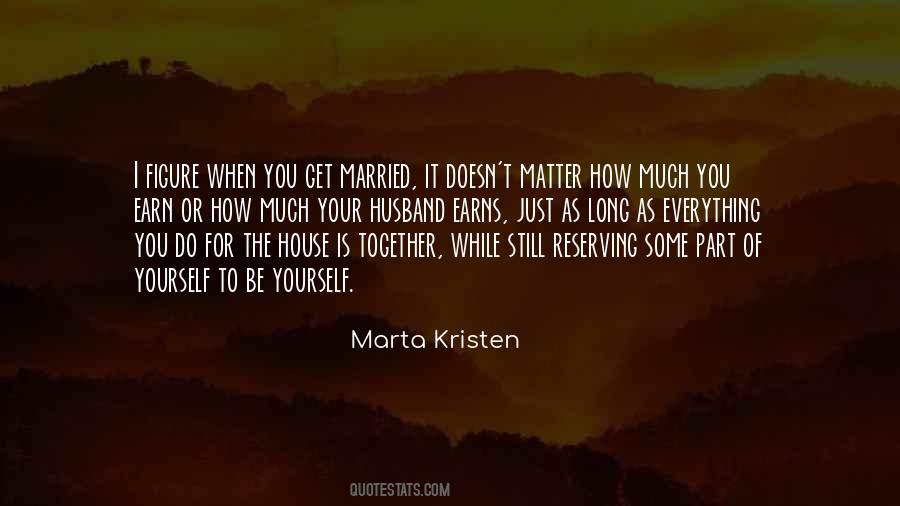 #44. When I was growing up, there was still that narrative of 'you finish school, you go and get married, you become somebody's wife and you get kids and tend to them.' I think it is really important to reach for something. - Author: Juliana Rotich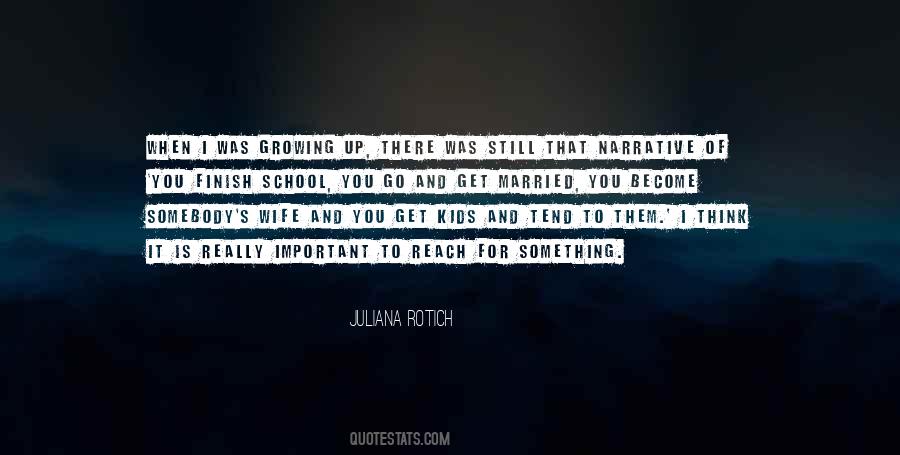 #45. I feel like in 10 or 15 years' time our children are going to look back and say, 'What? You were around when gay people weren't allowed to get married?' - Author: Scarlett Johansson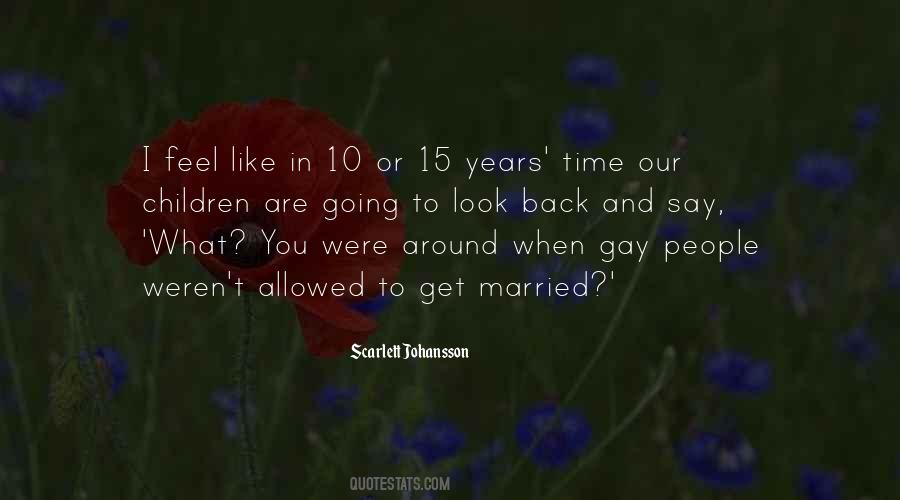 #46. When I confess a couple who have kids, a married couple, I ask, 'how many children do you have?' Some get worried and think the priest will ask why I don't have more. I would make a second question, 'Do you play with your children?' The majority say, 'but father, I have no time. I work all day.' - Author: Pope Francis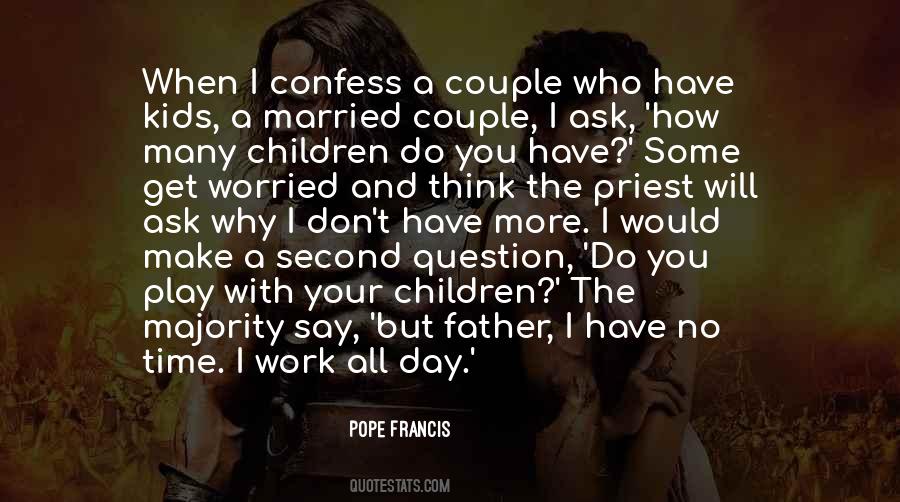 #47. The way I see it, men and women oughtn't to get married just because. You should marry when you're really truly in love, forever. When you've found the one girl you'd most want in the whole world. If you haven't got that, then best not to marry at all , I think. - Author: Claudia Gray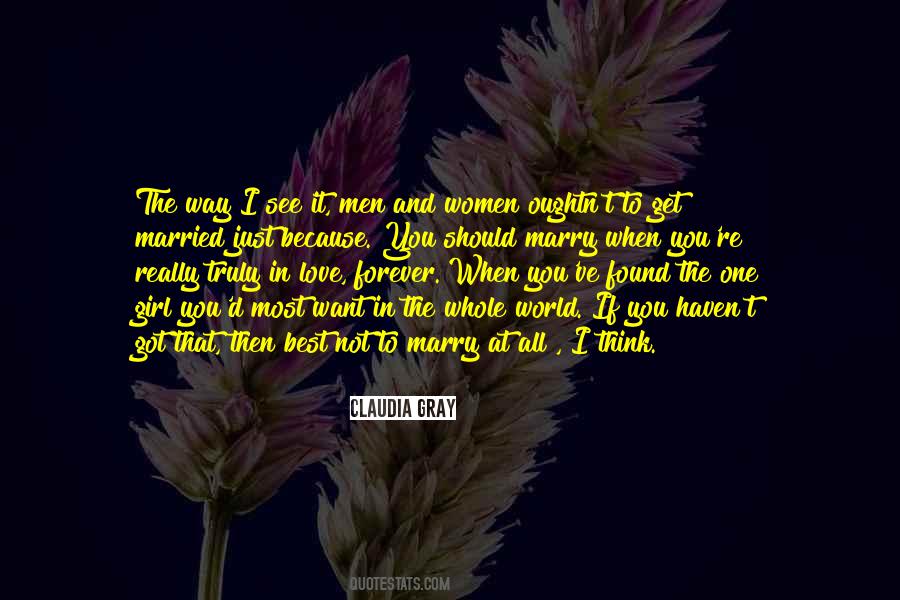 #48. They were going to have a conversation, he realized. Archie didn't know a lot about women, but he had been married and he knew when a conversation was coming, and he knew when a woman wanted to have one, the best thing you could do was get it over with. - Author: Chelsea Cain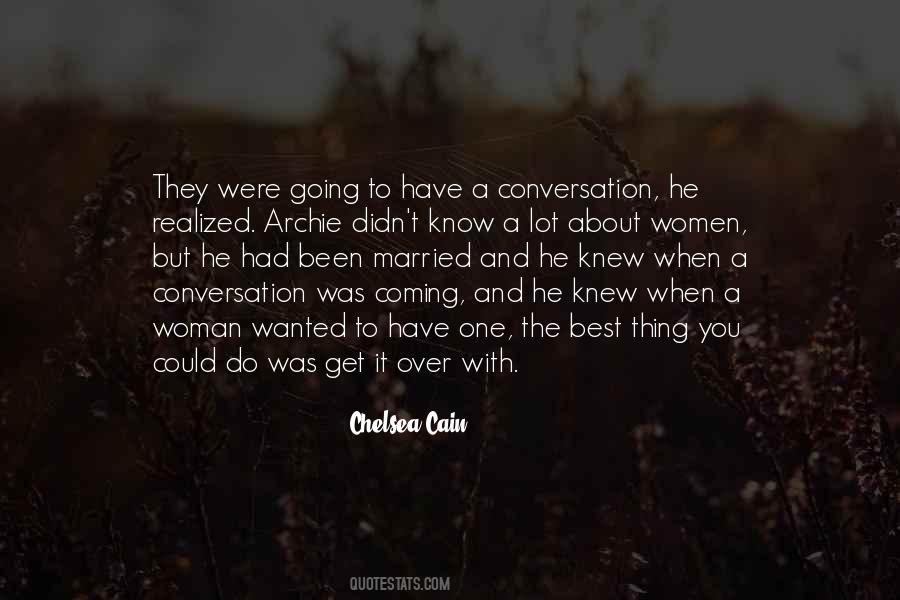 #49. When you're about to get married, and then you're not, it's all a big shock. You think, 'Well, okay, so I'm never going to lead a totally conventional life now.' - Author: Rosamund Pike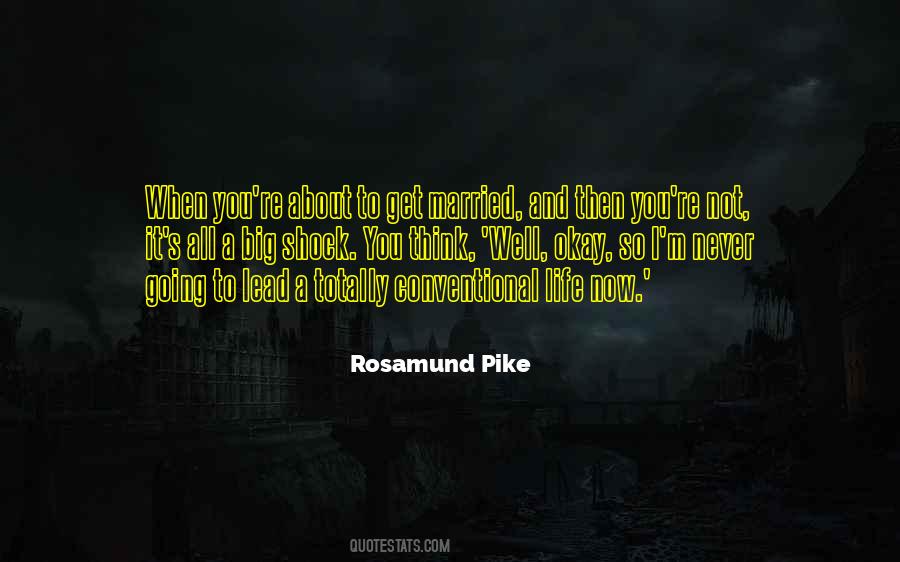 #50. When you get married and have children, and you start having hits and success and your business starts growing, there's less and less time for songwriting. - Author: Josh Turner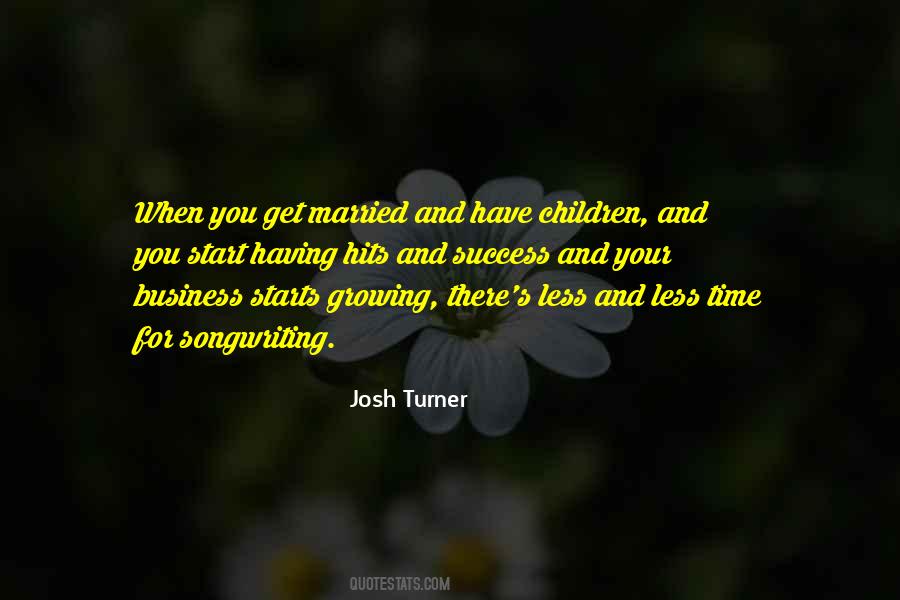 #51. When I get married,' said Fred, tugging at the collar of his own robes. 'I won't be bothering with any of this nonsense. You can all wear what you like and I'll put a full body-bind curse on mum until it's over. - Author: J.K. Rowling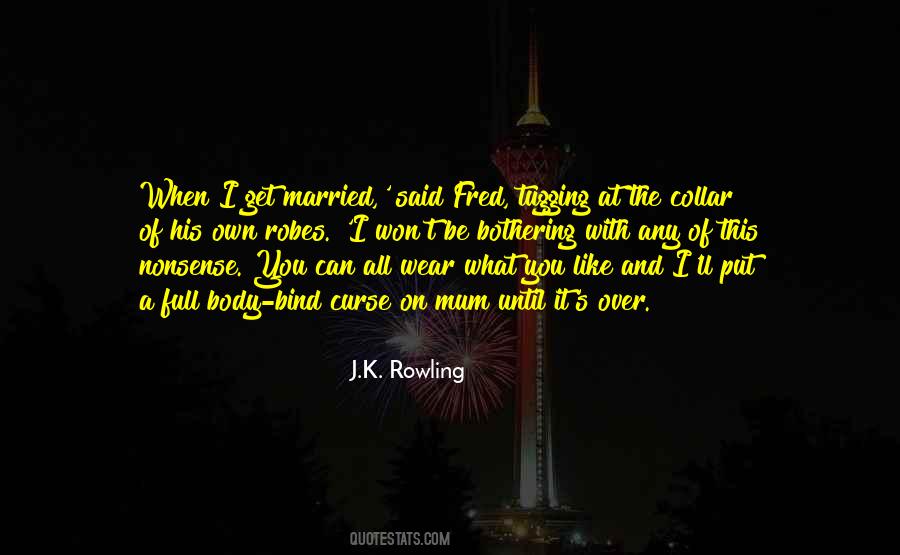 #52. It's kind of like when you get married, you kinda go into it wanting to remember everything. And once it's done, you can't remember a single thing. - Author: Stephen Strasburg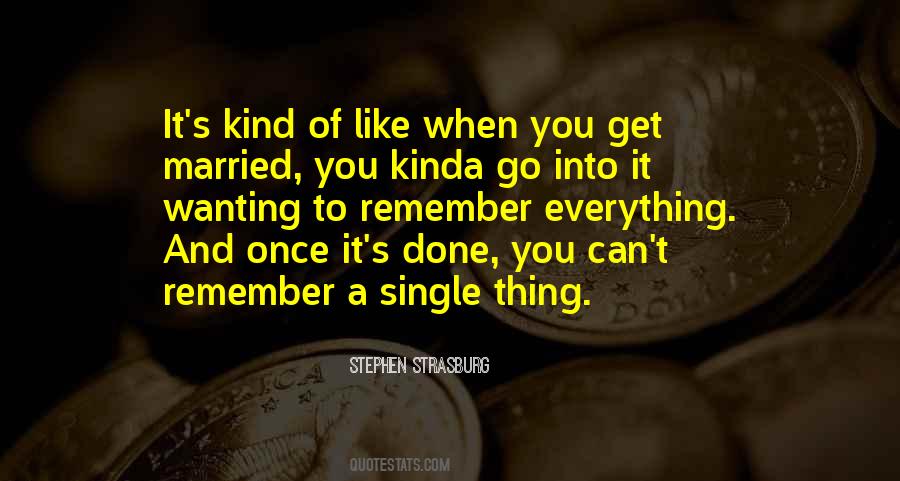 #53. When single you are," Roger said, imitating Yoda dispensing advice to Luke, "get laid you can. When married you get, make love you do. - Author: Sean Kennedy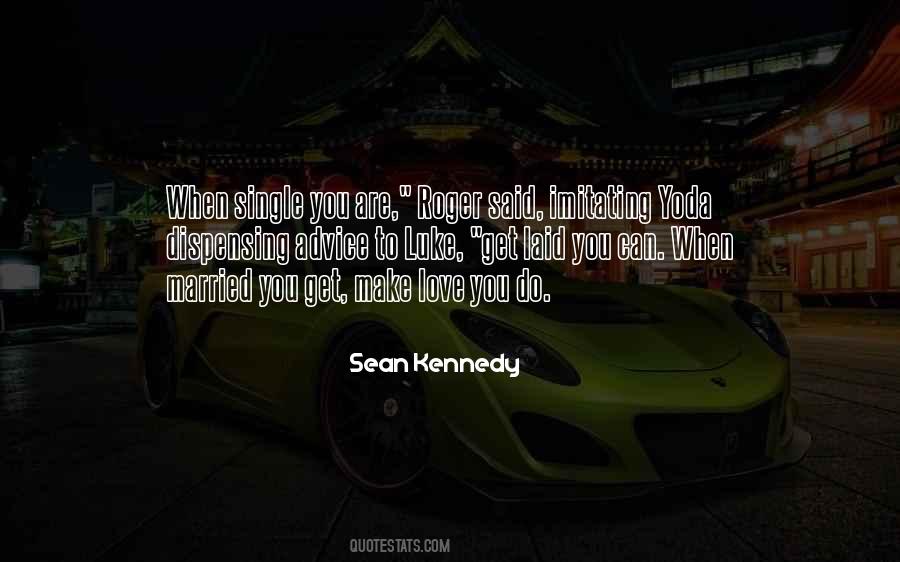 #54. When you're a kid, they tell you it's all ... grow up. Get a job. Get married. Get a house. Have a kid, and that's it. But the truth is, the world is so much stranger than that. It's so much darker. And so much madder. And so much better. - Author: Elton Pope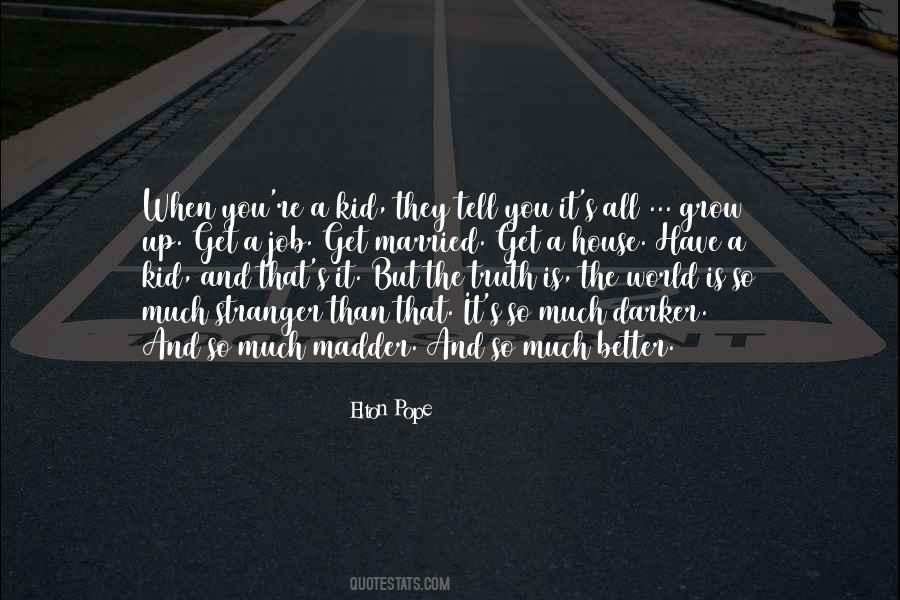 #55. It doesn't matter when you get married as long as it is the right person. - Author: Jigme Khesar Namgyel Wangchuck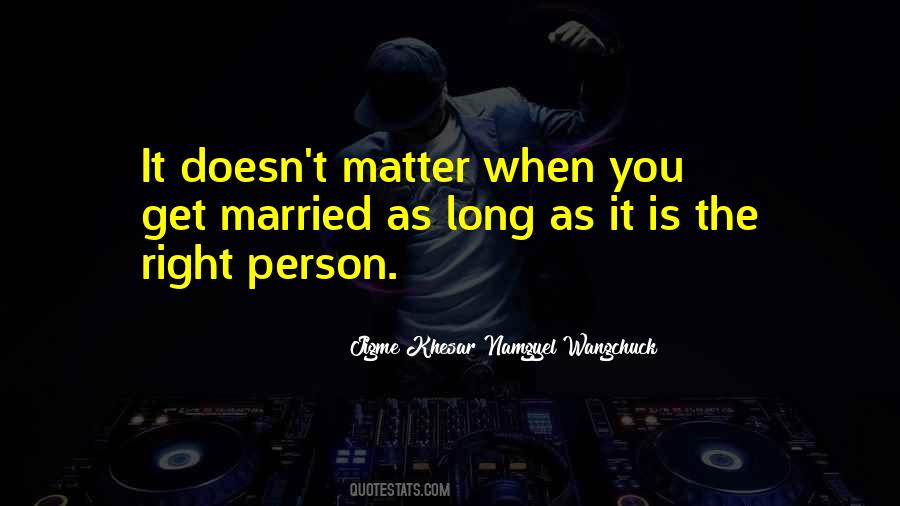 #56. When you get married, your loyalty, first and foremost, is to your spouse, and to the family that you create together. - Author: Phil McGraw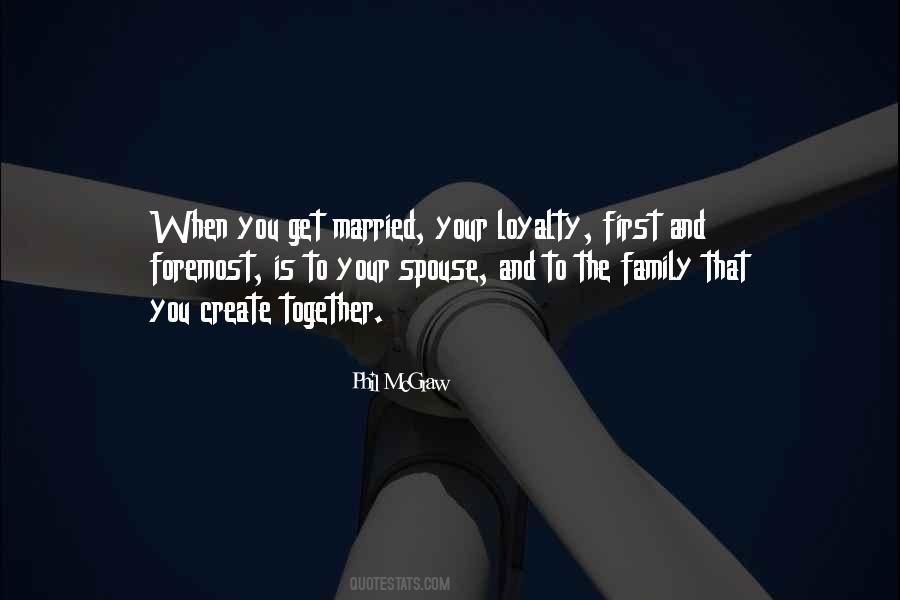 #57. It's important when you're married not to forget those things you used to do when you were trying to get her to marry you. You can't send flowers and buy gifts then, when you're married, say, 'Right, get my tea on'. That doesn't go down well. So you've got to keep that level of interest going. - Author: David Walliams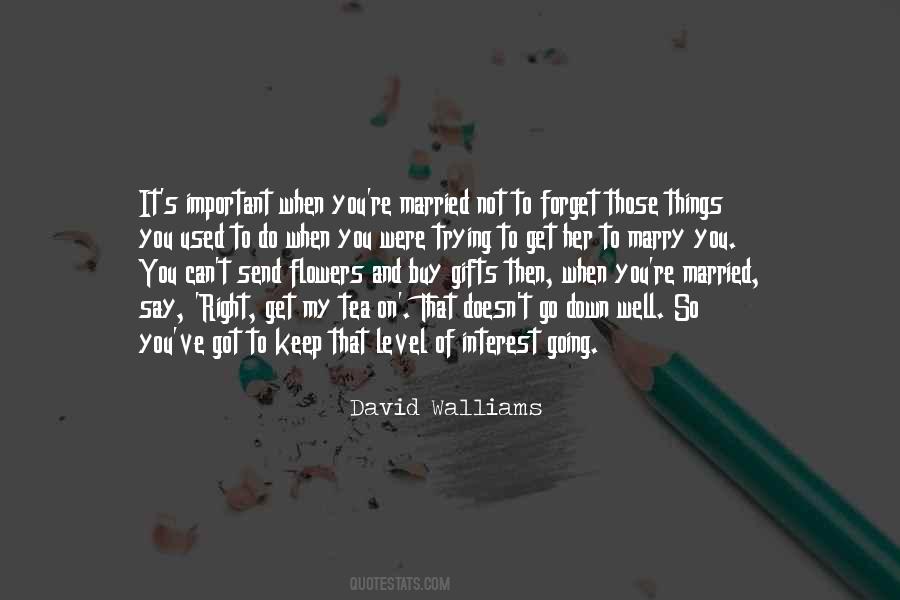 #58. When you gone to get married? You need to have some babies. It'll settle you.'
'I don't want to make somebody else. I want to make myself. - Author: Toni Morrison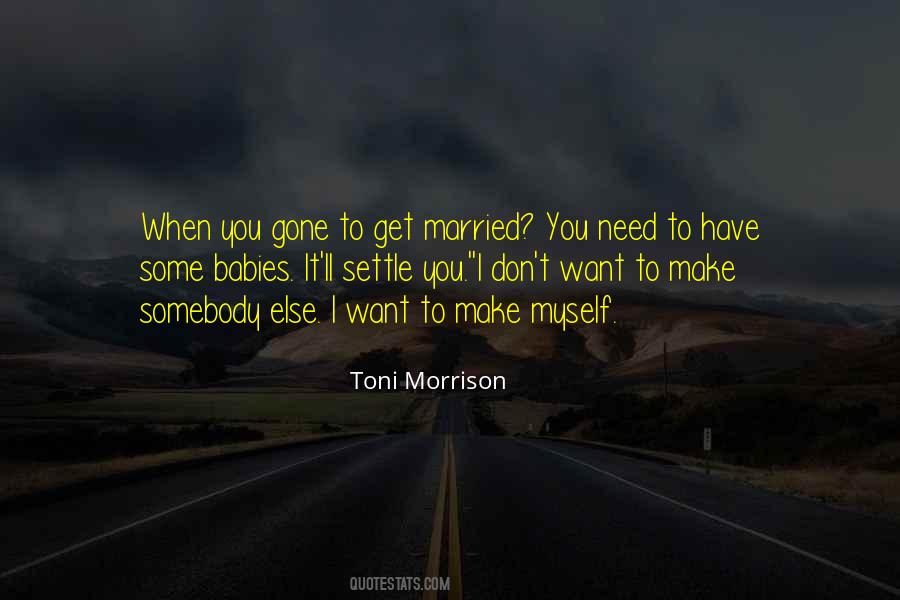 #59. One day. my kids are gonna be like, 'What do you mean, gay people couldn't get married?' Just like most of my friends are black, and I find it hard to believe that my great-grandmother and even my grandmother couldn't hang out with black kids when they were young. - Author: Miley Cyrus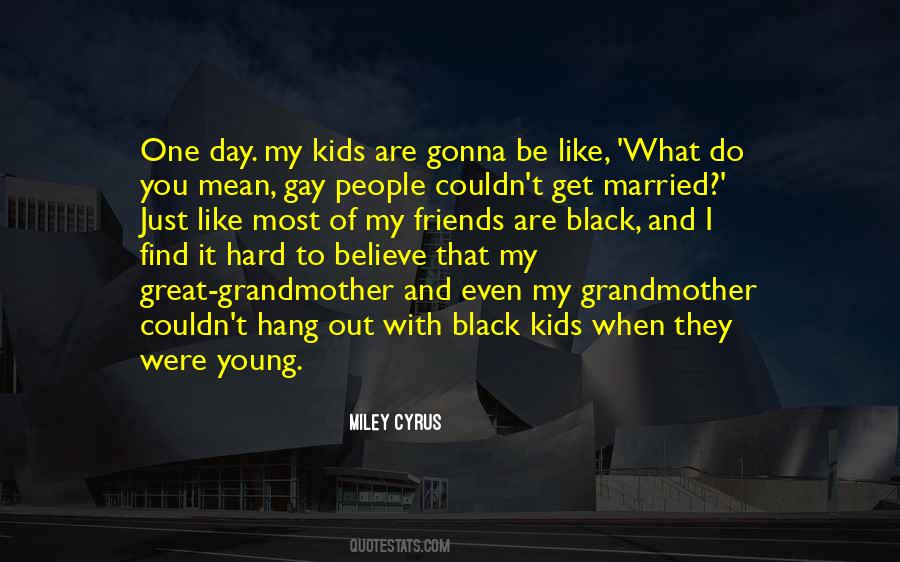 #60. When I can stand up without scaring the shit out of a hospital full of people, will you maybe want to go get married or something? Because I'm scared to death I'm going to lose you if I don't make you legally mine. - Author: Mercy Celeste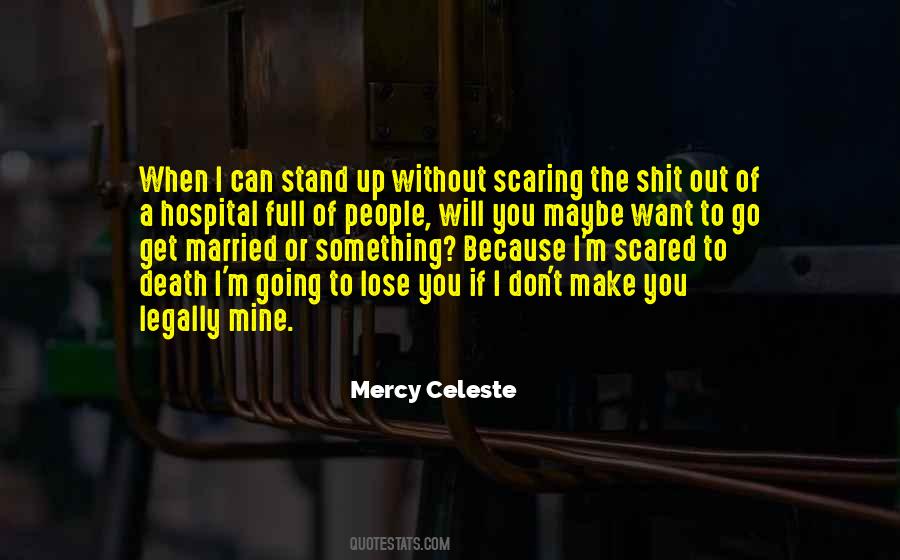 #61. Don't people get married because they're full of love and then divorced when they run out of it?" (Elsa)
"Did you learn that one in school?" (Mom)
"It's my own theory." (Elsa) - Author: Fredrik Backman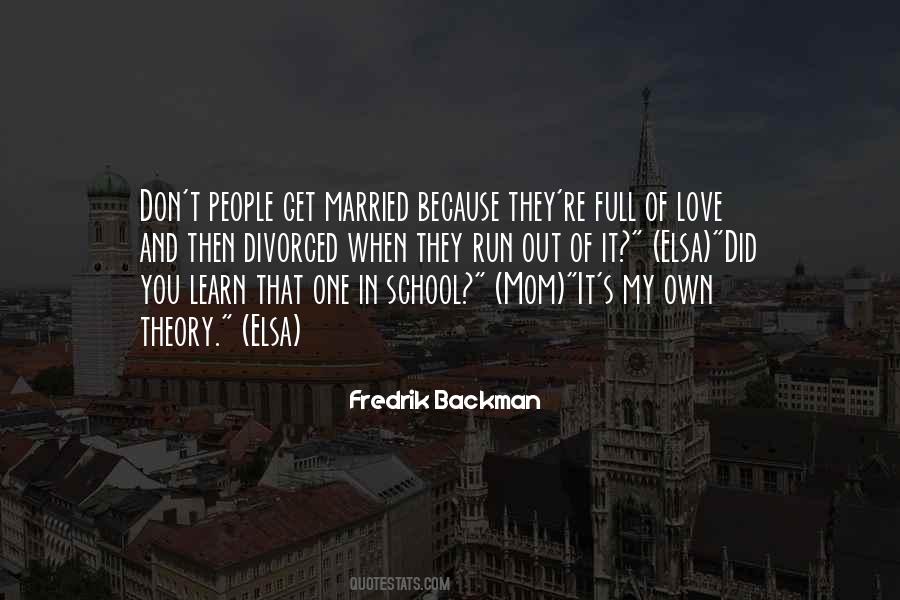 #62. When you are young, nothing is more important than football, but as you get older, you get married, have kids and lose people. Then you realise your family is more important. This comes with age. - Author: Jermain Defoe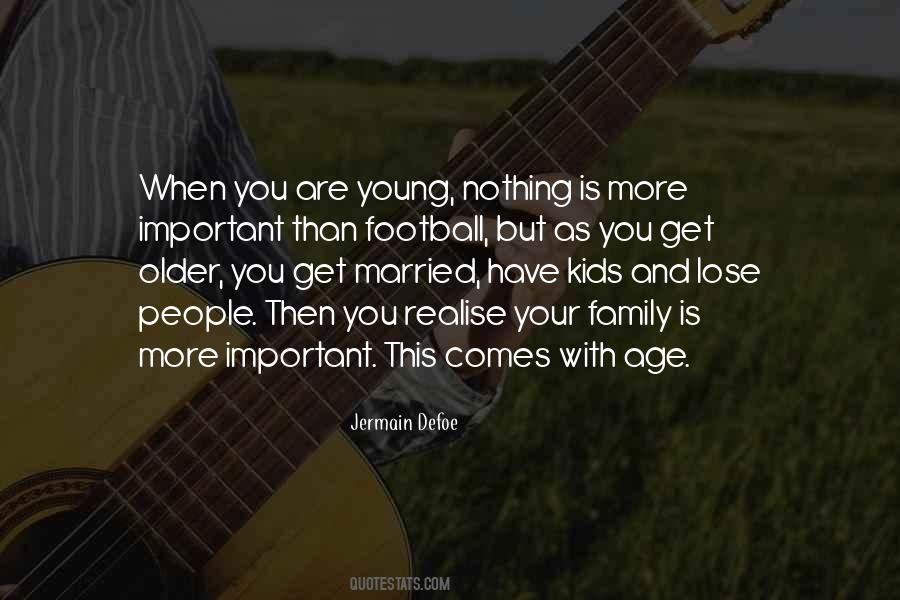 #63. You get the same equal rights that we do when we have a civil partnership. Heterosexual people get married. We can have civil partnerships. - Author: Elton John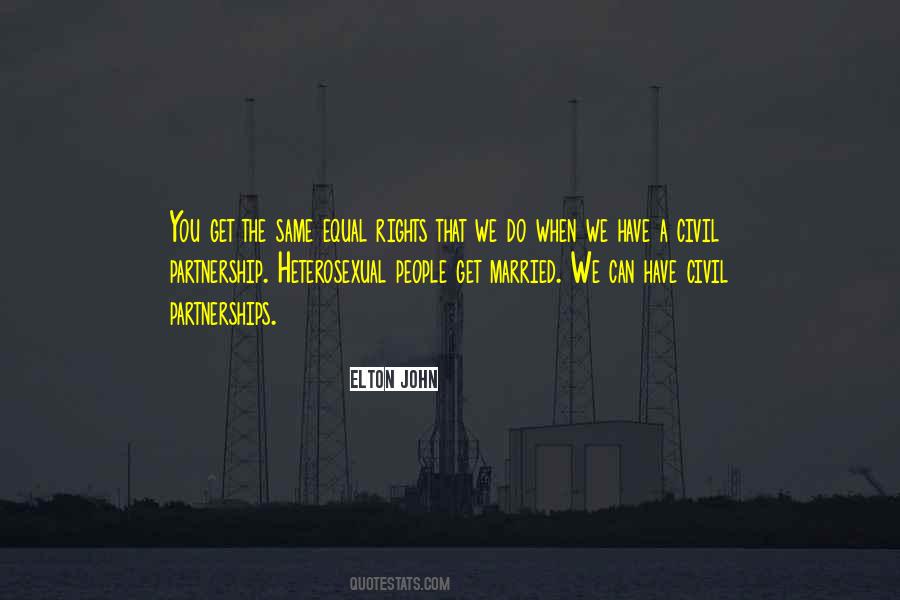 #64. I didn't want to go marching down the street with camera crews. Oy. To get married? Really? It seems like you have an agenda when you do it that way. I wouldn't want to get married to be an example. - Author: Neil Patrick Harris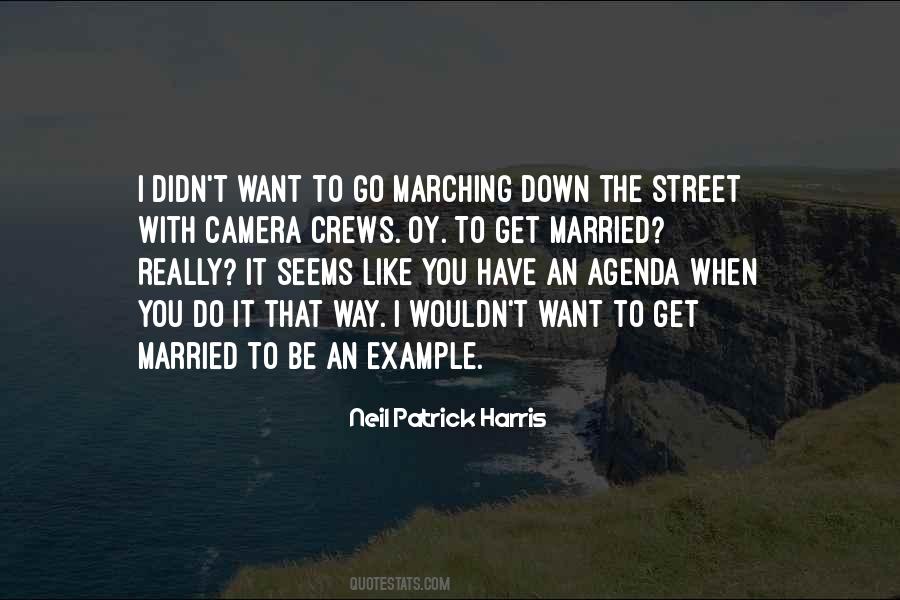 #65. But a funny thing happens when you tell a man that you don't want to get married: they don't believe you. They think you're lying to yourself or to them or you're trying to trick them in some way and you end up being made to feel worse for just telling the truth. - Author: Jami Attenberg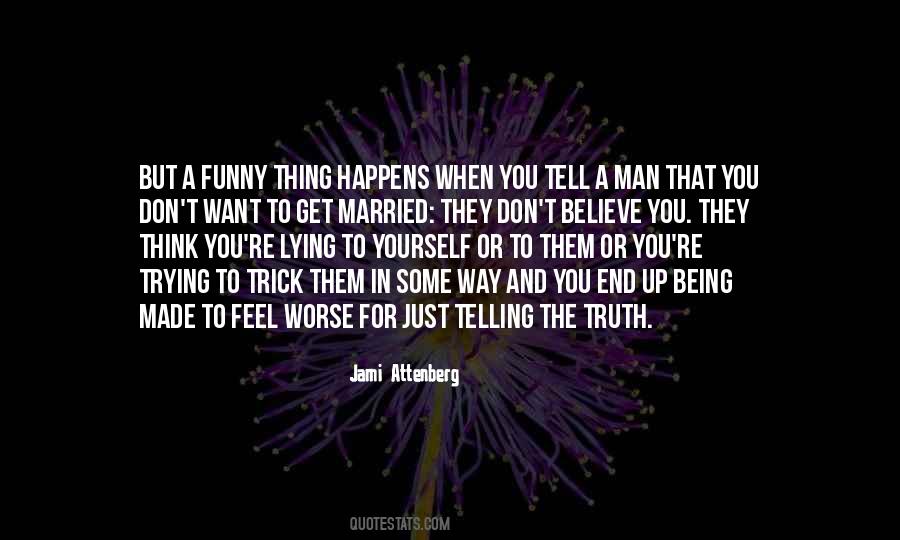 #66. I don't believe you should be a virgin when you get married,' Sera said. 'You should experiment. Men do'
'Yes, but only if you're in love with them,' I said. - Author: Melina Marchetta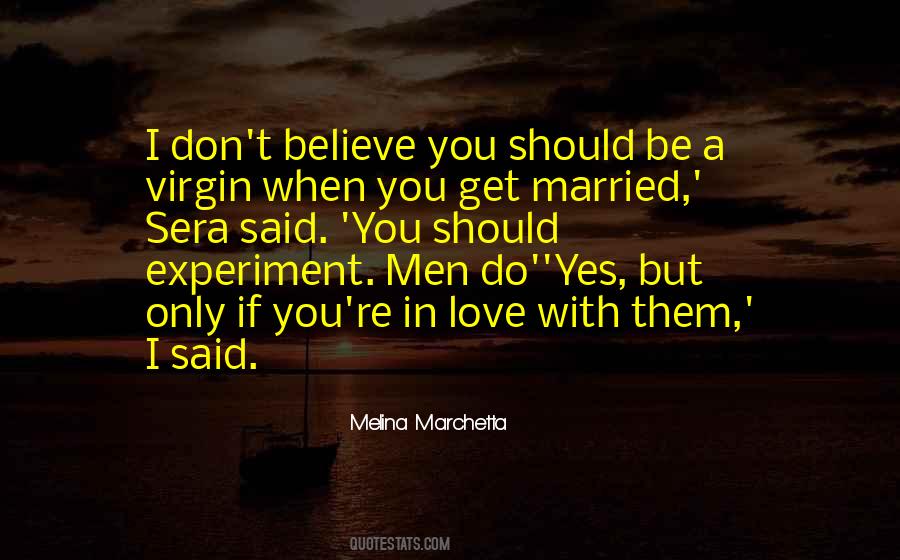 #67. When people get married young, you don't really understand the true definition of marriage. - Author: Kevin Hart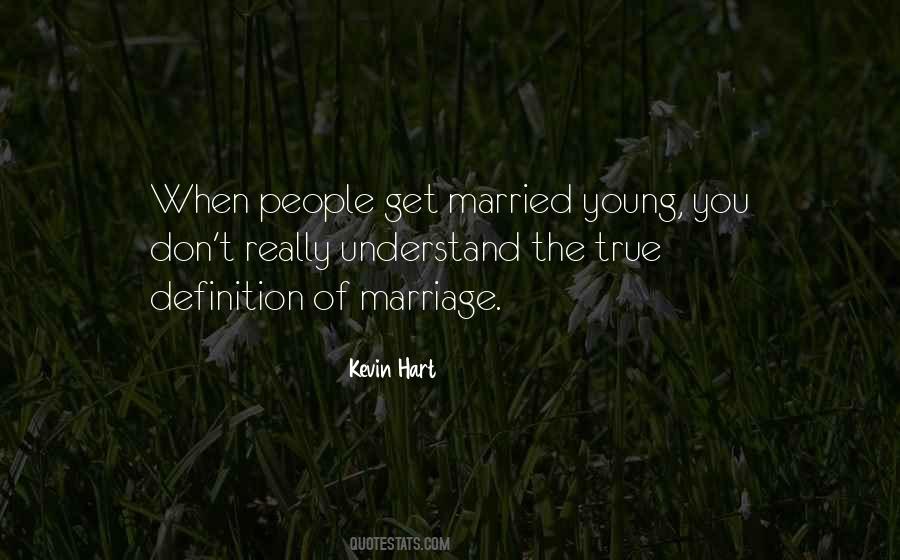 #68. When you first get married, they open the car door for you. Eighteen years now ... once he opened the car door for me in the last four years - we were on the freeway at the time. - Author: Joan Rivers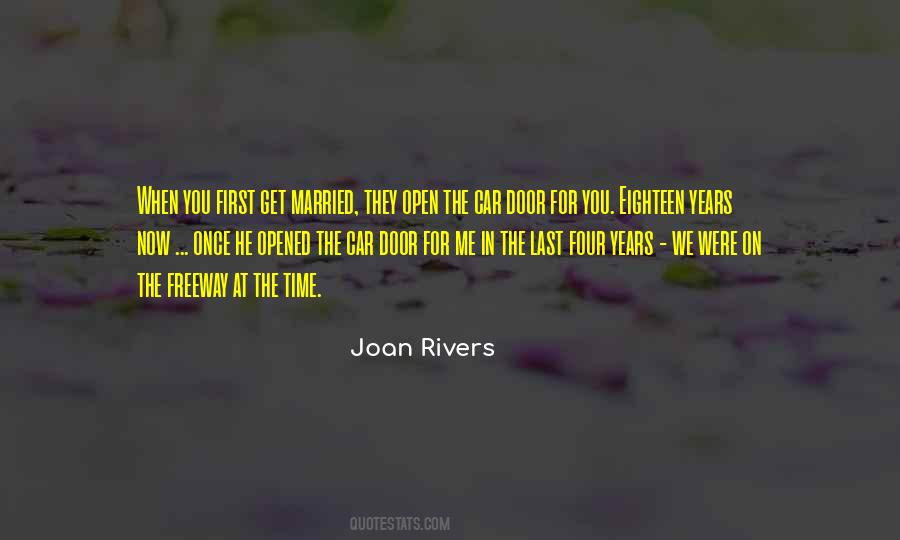 #69. One of the things you learn when you get married is how you need to always work on continuing to make it better. - Author: Eric Shanteau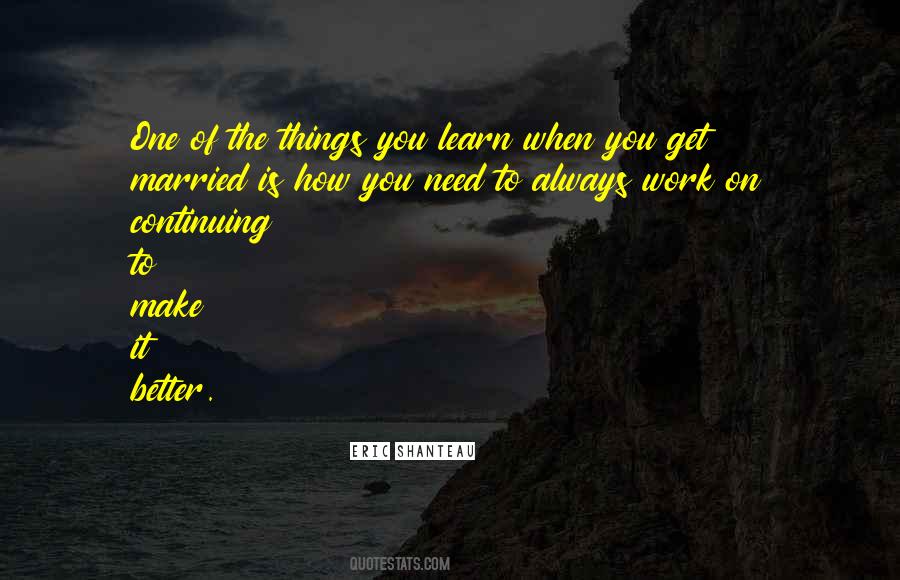 #70. Hey, single malt scotch, youre thirty years old. When are you going to settle down and get married to my stomach? - Author: Stephen Colbert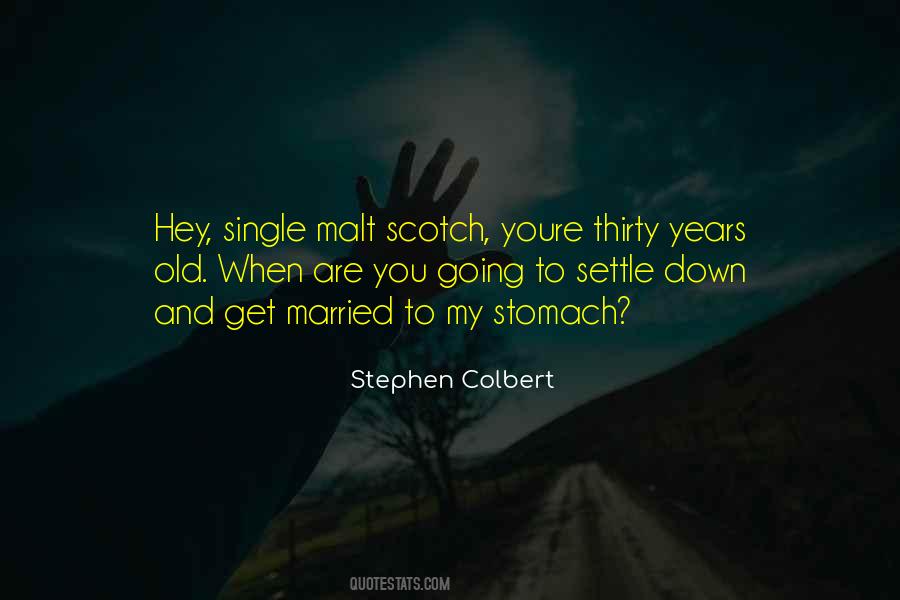 #71. I met the man of my dreams at a gym, and then we got married in Vegas - because we're classy. When you meet at a gym, where else do you get married? - Author: Megan Hilty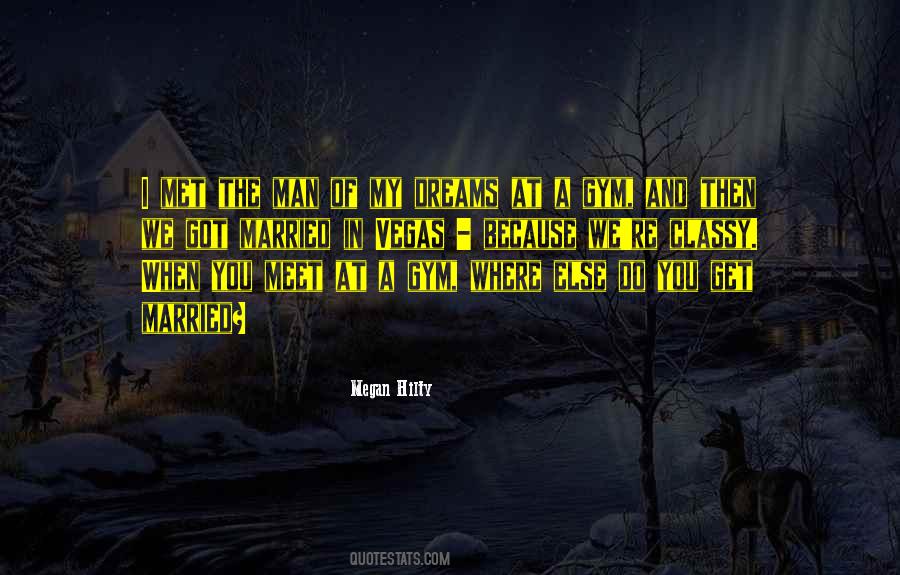 #72. God's plan for your life is happening right now. It doesn't begin when you get married or when you get your dream job or when everything feels perfect. You are IN the plan. - TLC's friend Kris (p.159) - Author: Tara Leigh Cobble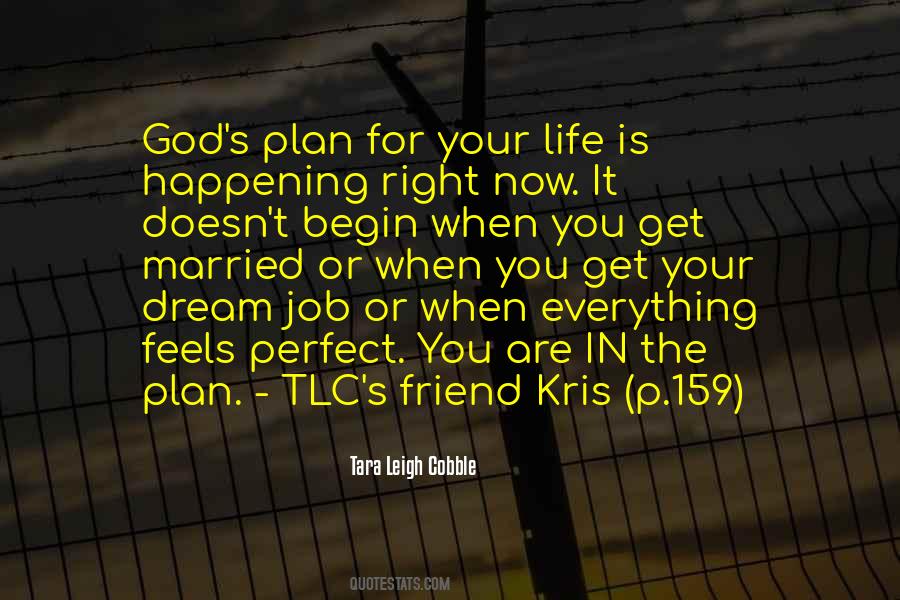 #73. When I did get married and then had children, it was Beatles' songs I sang to them at night. As one of the youngest of 24 cousins, I had never held an infant or baby-sat. I didn't know any lullabies, so I sang Sam and Grace to sleep with 'I Will' and 'P.S. I Love You.' - Author: Ann Hood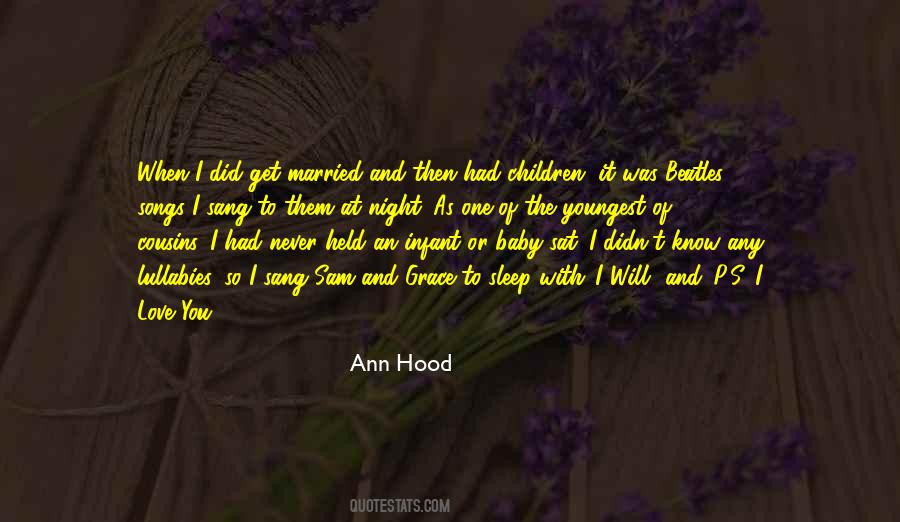 #74. When you fall in love, two people are mad for each other, When these two people get married, others say that they are made for each other, After marriage, the same two people are mad at each other. - Author: Santosh Avvannavar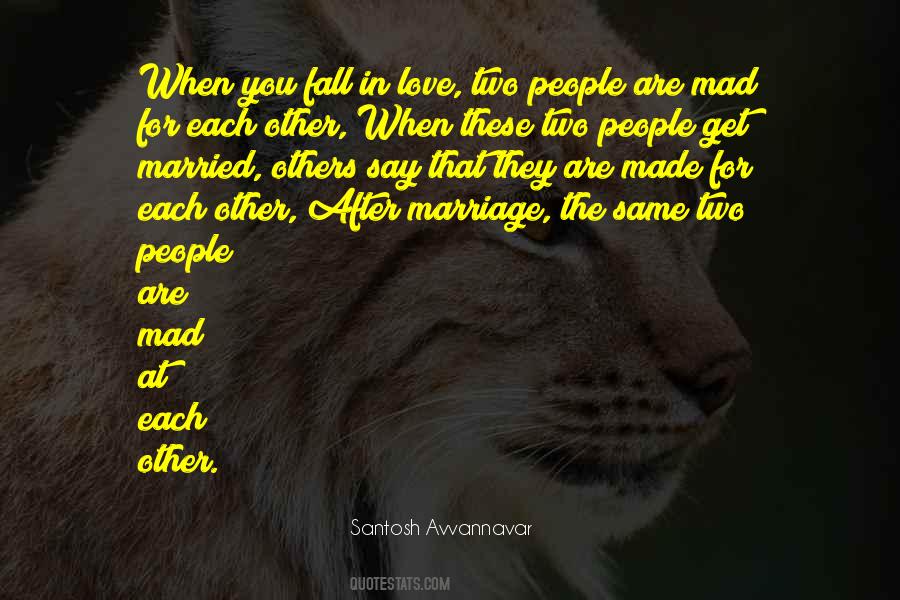 #75. When people are courting, many of them think that when they get married, that's it, and everything will be on Easy Street. But you really have to work even harder once you're married, because the challenges are that much greater. - Author: Morris Chestnut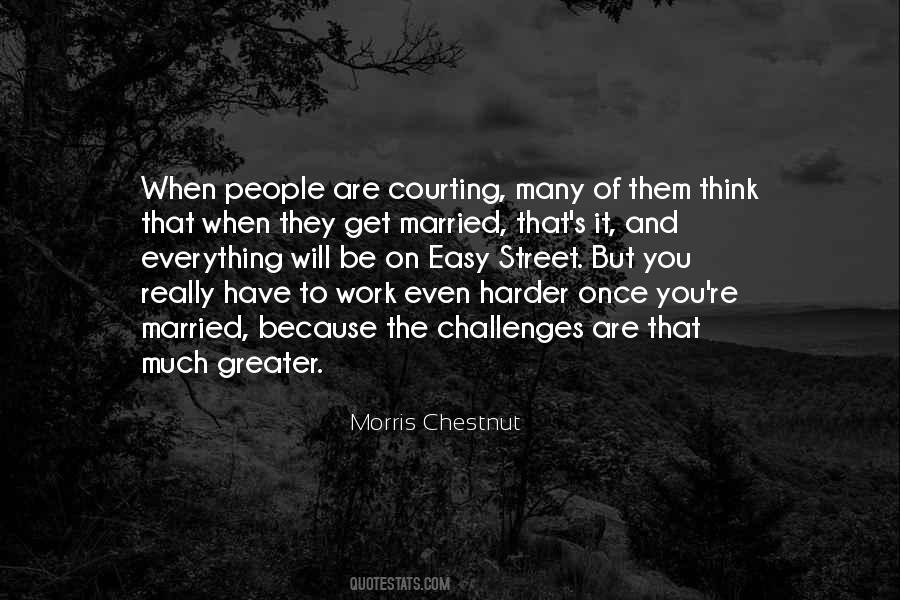 #76. For a girl, the wedding is when you're married. For a guy, it's when you get engaged. It takes a real aggressive human being to back out between the ring and the wedding. - Author: Max Greenfield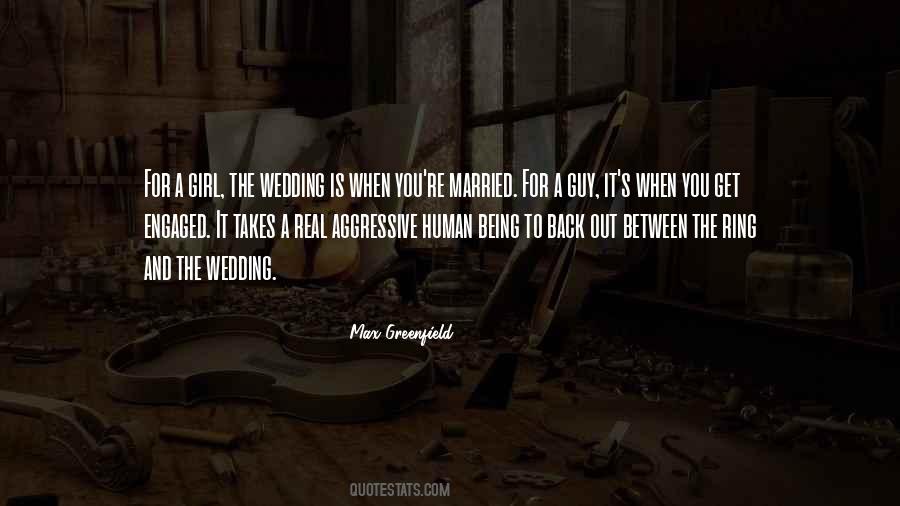 #77. There is no way to mess this up," I said, right against her mouth. "Even if we didn't get married tomorrow, you're the love of my life. I'm with you until we both die, at the same time, when I am one hundred and you are ninety three. - Author: Christina Lauren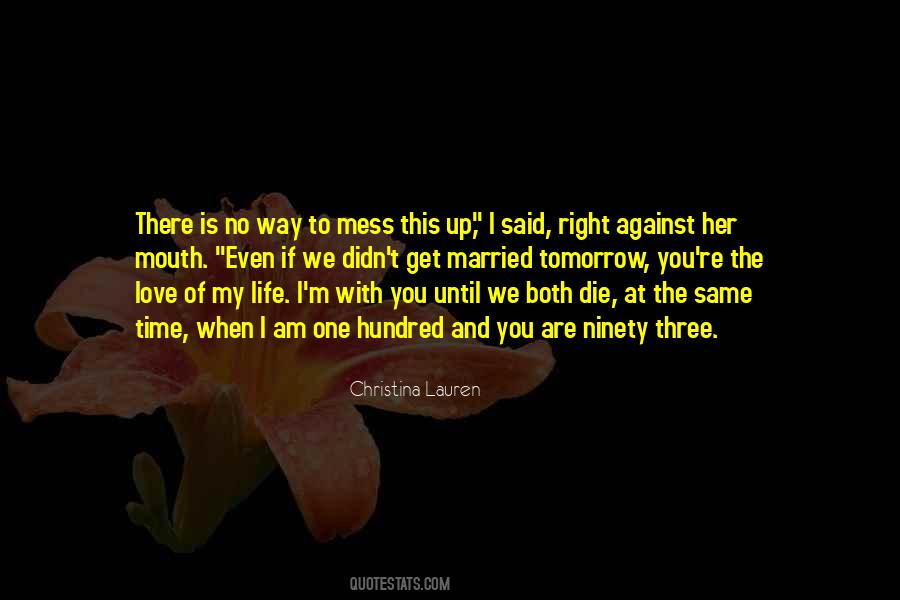 #78. You don't sign up for a divorce when you get married. It's very painful. But it's taught me a great deal about myself. - Author: Dwayne Johnson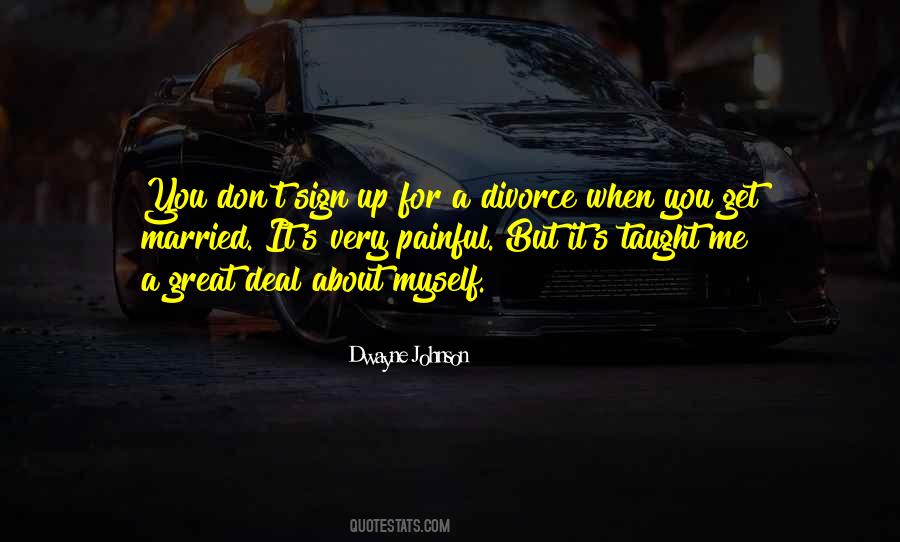 #79. The video for 'Whatever' is kind of a documentary in a way. It's showing that love can last. Not just in your early 20s or your late 30s, but in your 50s, 60s and 70s. There's an awful myth out there that when you get married, love and lovemaking fade. It's not true. - Author: Jill Scott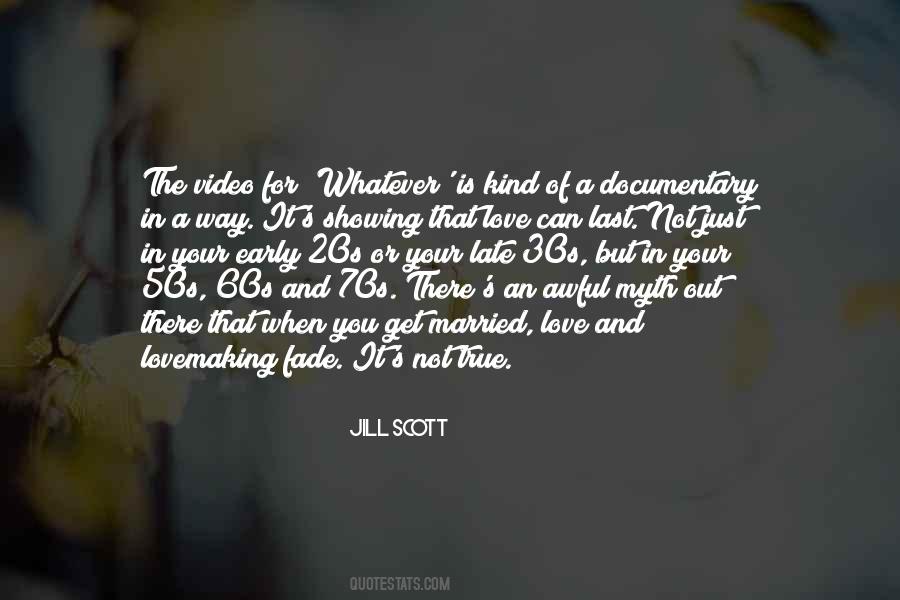 #80. One day it was about getting married that mother talked with me, and I said I was so glad that when you didn't like being married, or got tired of your husband, you could get Unmarried. - Author: Eleanor Porter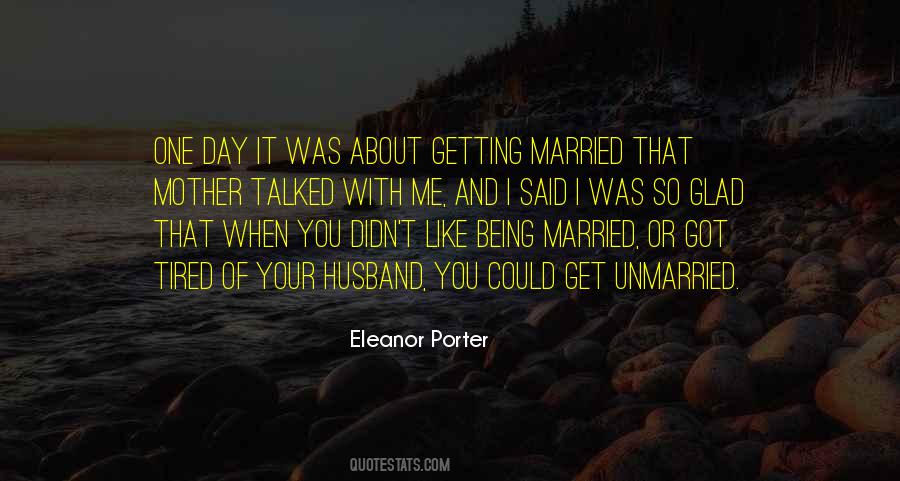 #81. You should get married. When I was younger, I was into the fame and fortune, and now I realize that a loving wife and happy children - that's life's greatest consolation prize. - Author: Emo Philips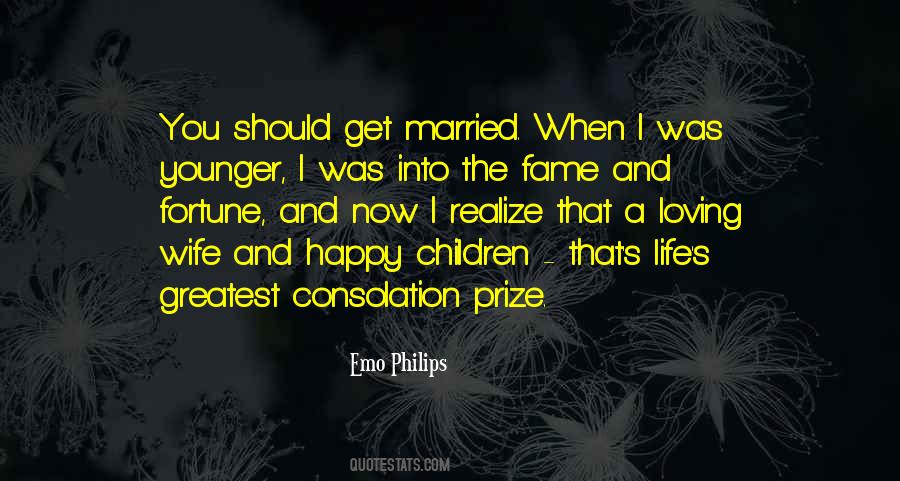 #82. It's funny when you get married, you do find other couples to hang out with. - Author: Jennifer Lopez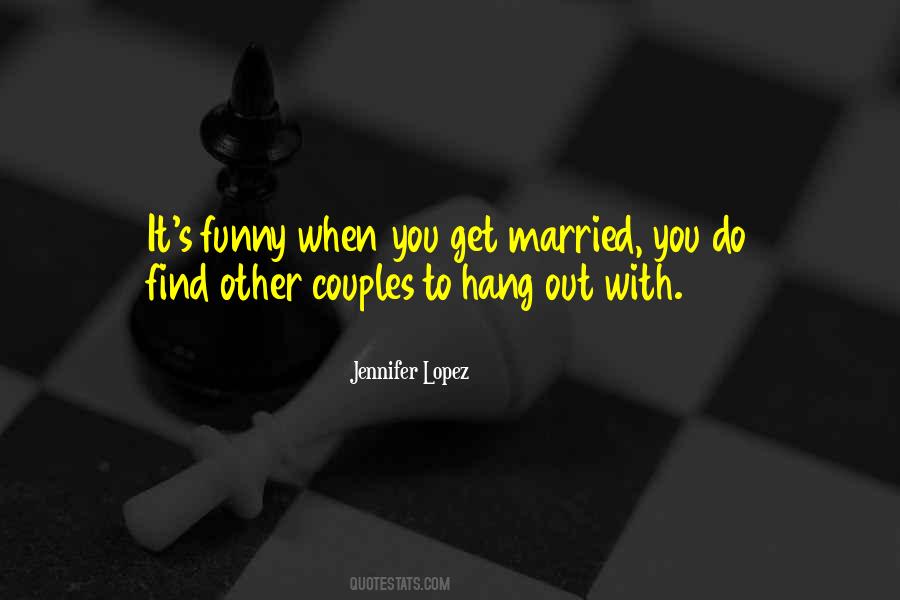 #83. How can you ask me when i want to get married when you have yet to ask me if i will marry you? - Author: Rochelle Alers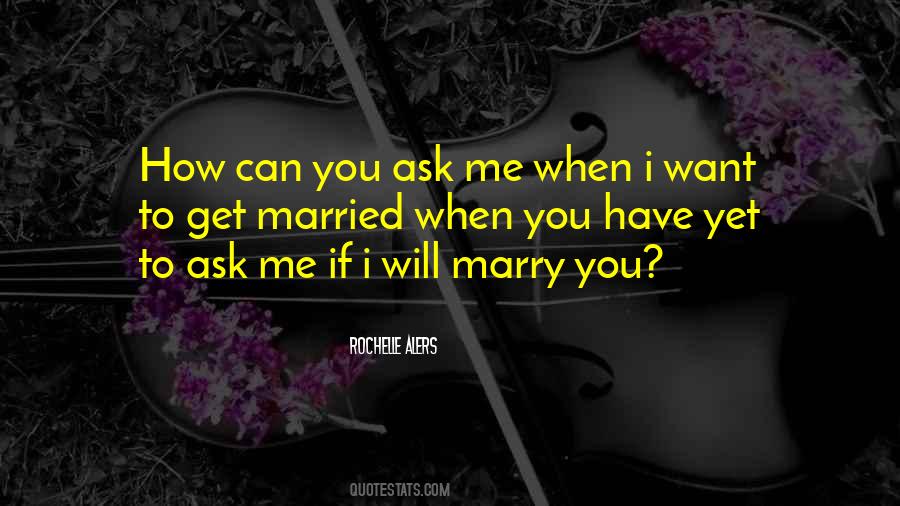 #84. When you end up happily married, even the failed relationships have worked beautifully to get you there. - Author: Julia Roberts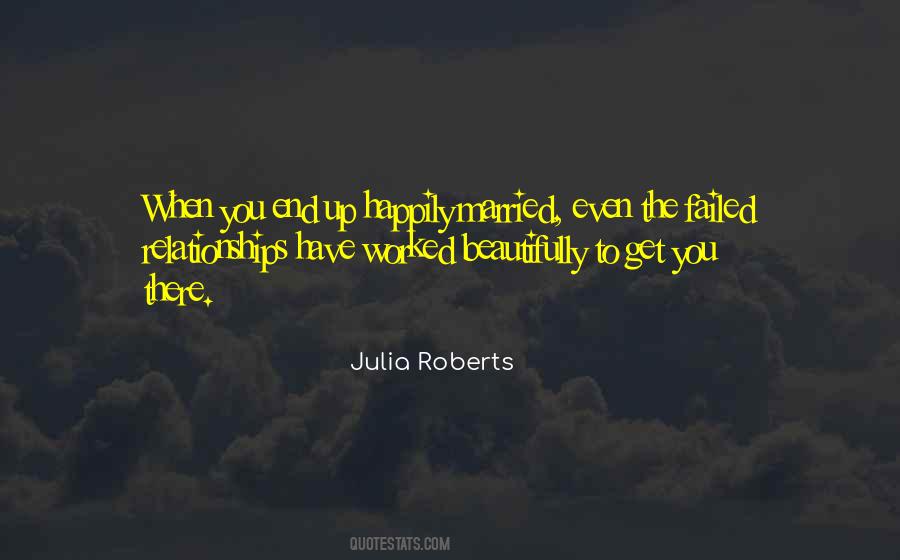 #85. We need grandchildren here," Pete's mother said to me
when we visited. "You don't get married just to eat and fart. - Author: Abigal Muchecheti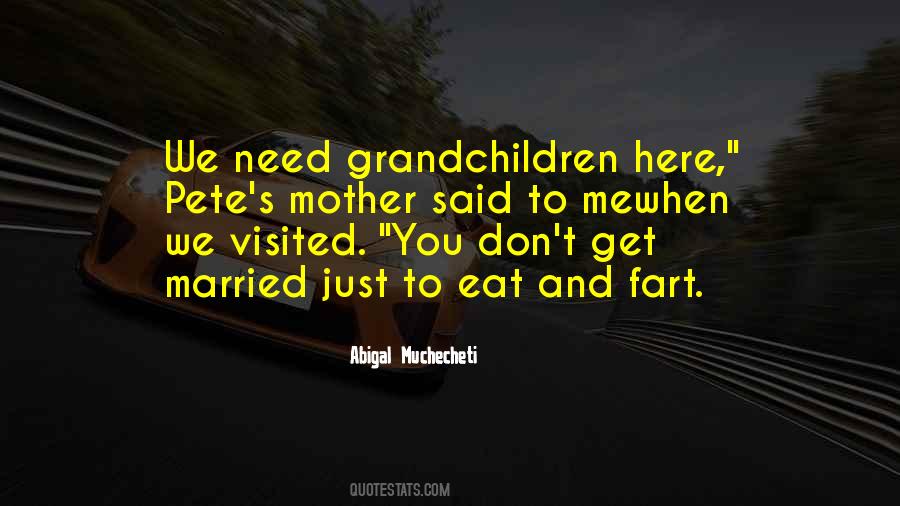 #86. When you get back to the future and everything is hunky-dory and the Cataclysm is nothing but a nice Remnant, I have a feeling you two are going to get married.
- Riq - Author: James Dashner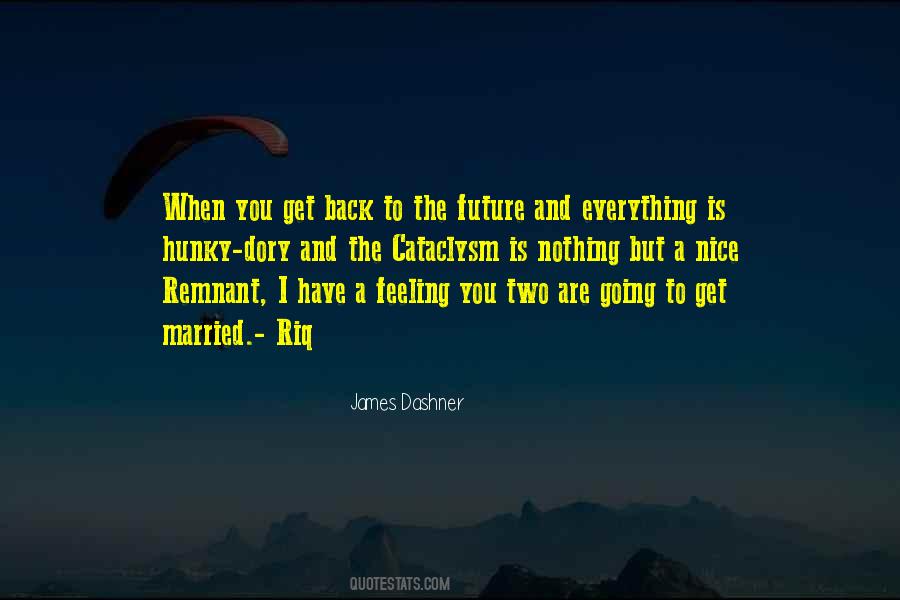 #87. Another thing Gran would say was imprinted on Annie's heart - remember the love. When times get hard and you start wondering why you got married in the first place, remember the love. - Author: Susan Wiggs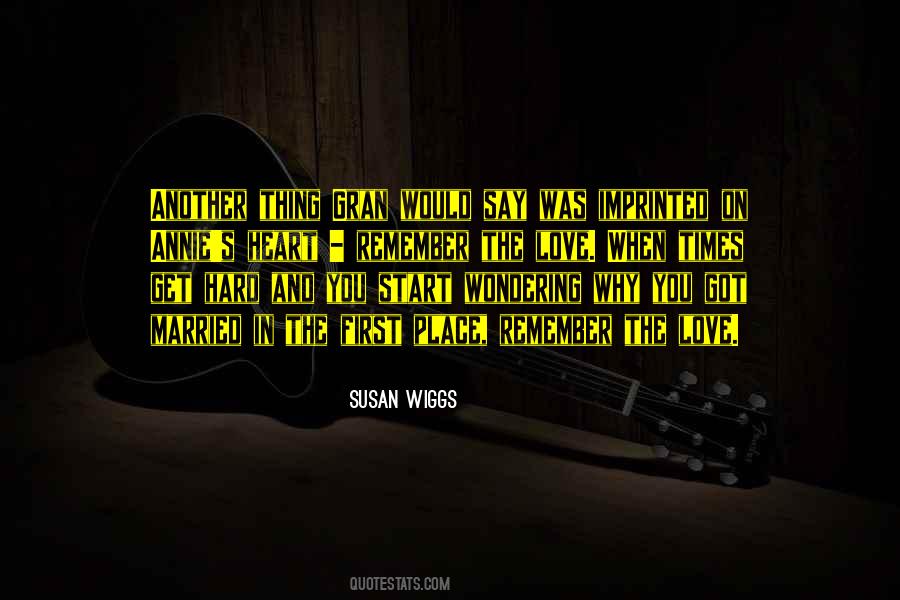 #88. When you have friends, don't expect your friends to fill your emptiness. When you get married, don't expect your spouse to fulfill your every need. When you're an activist, don't put your hope in the results. When you're in trouble don't depend on yourself. Don't depend on people. Depend on Allah. - Author: Yasmin Mogahed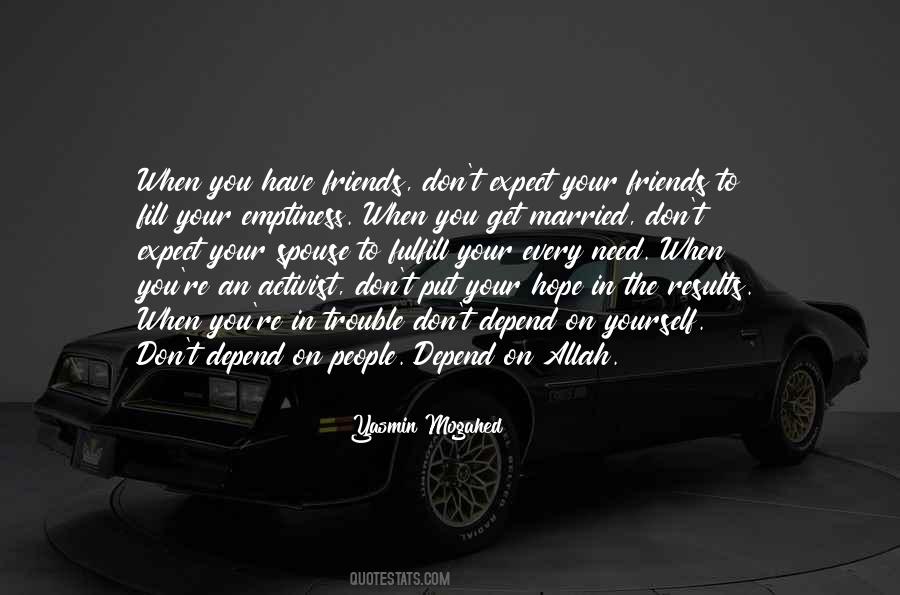 #89. We're married now. We're married.
You don't know when you're twenty-three.
You don't know what it really means to crawl into someone else's life and stay there. You can't see all the ways you're going to get tangled, how you're going to bond skin to skin. - Author: Rainbow Rowell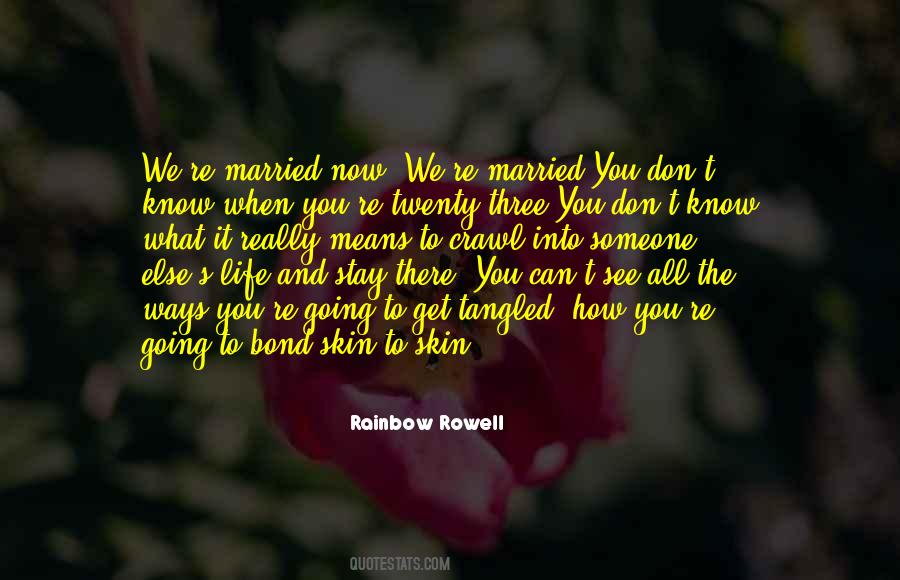 Famous Authors
Popular Topics