What You Think Of Yourself Famous Quotes & Sayings
List of top 100 famous quotes and sayings about what you think of yourself to read and share with friends on your Facebook, Twitter, blogs.
Top 100 Quotes About What You Think Of Yourself
#1. Never be afraid of failure. And don't stop yourself from doing something you want to do because of what others might think. Only you know yourself best. - Author: Suki Waterhouse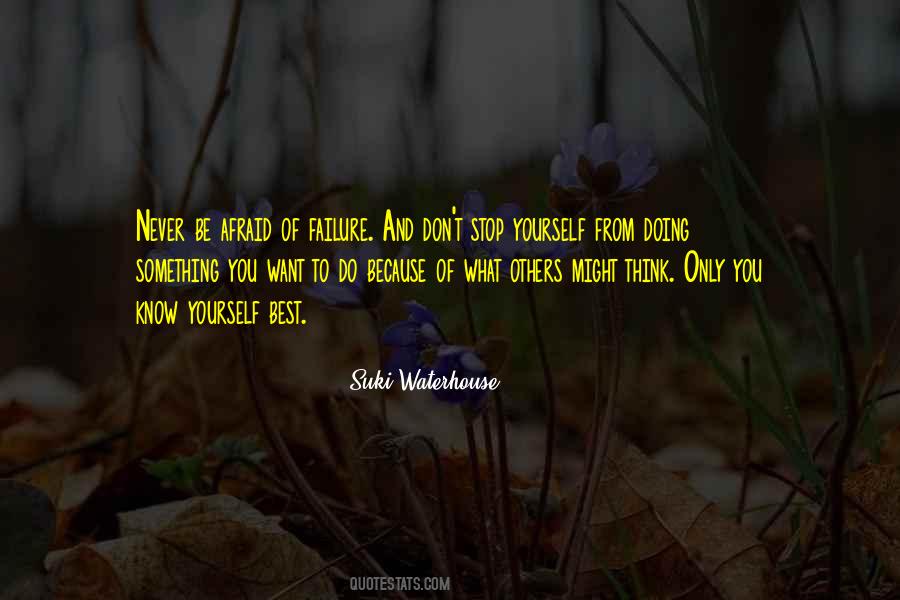 #2. One of the beautiful things about having kids is I had no idea how much it will make you look into yourself and who you are and what you believe in and what your past was like and all that kind of stuff. I think it's made me really look at life in a much more intense way. - Author: Jamie Cullum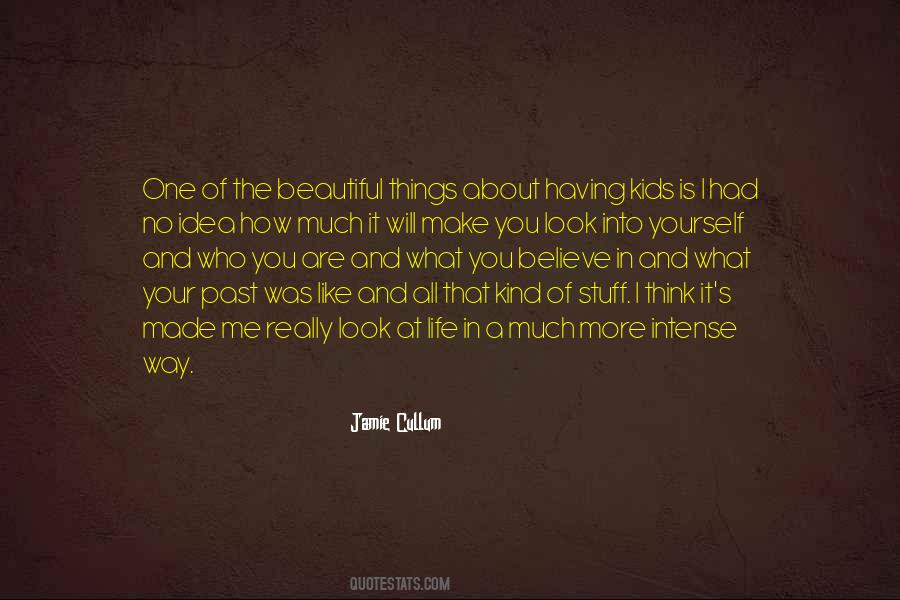 #3. What you think of yourself is much more important than what people think of you - Author: Mohit Manke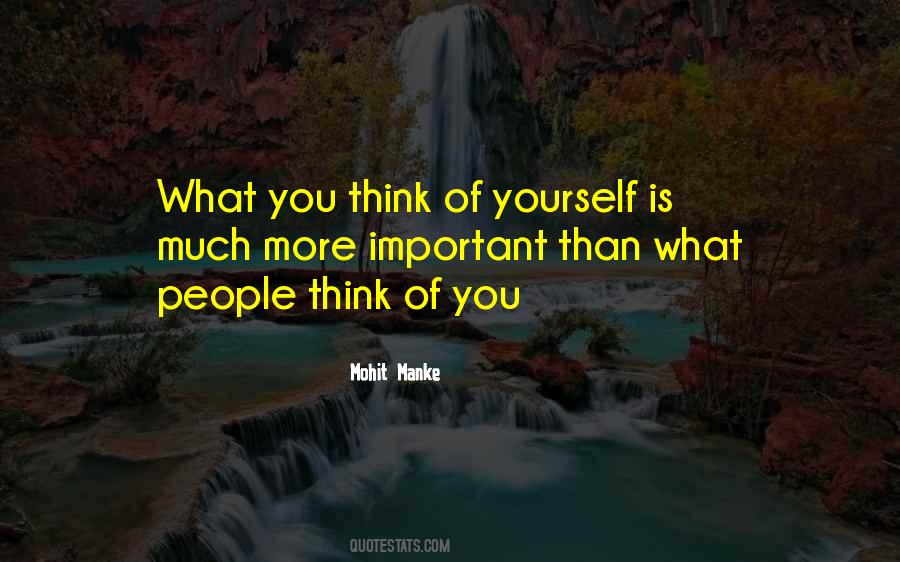 #4. I think it's a very firm part of human nature that if you surround yourself with like-minded people, you'll end up thinking more extreme versions of what you thought before. - Author: Cass Sunstein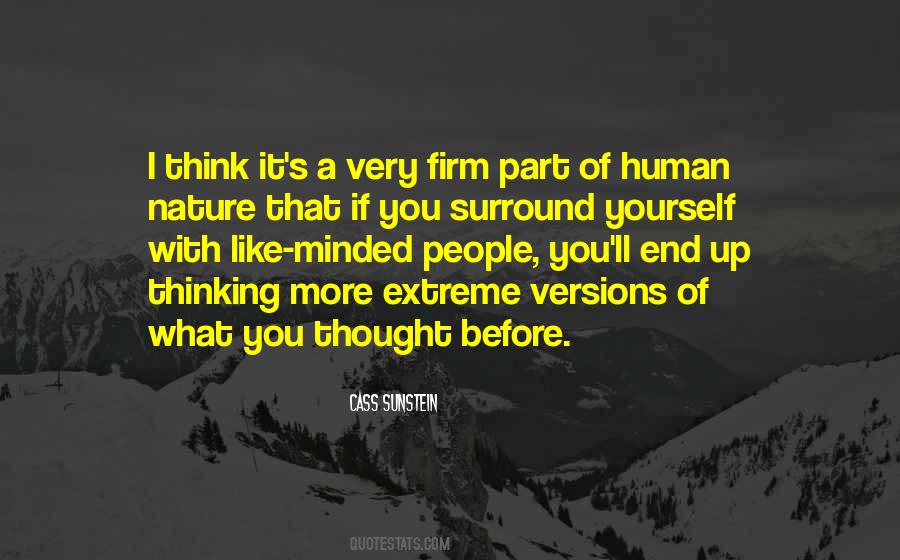 #5. When you empty yourself of the illusions of who and what you think you are, there is less to lose than you had feared. - Author: Carol Orsborn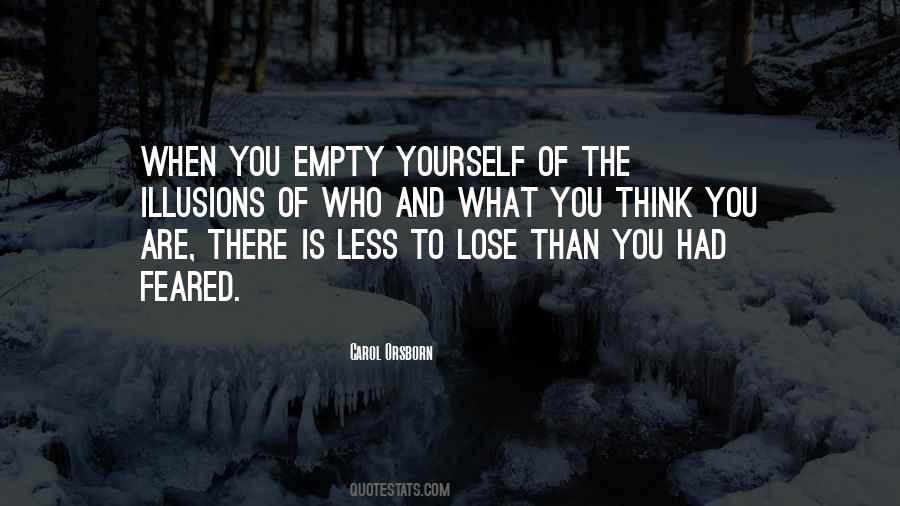 #6. I don't see a benefit in accepting every single little morsel of work that comes along because I think, in essence, what you're doing is you're raping yourself really. - Author: Karl Urban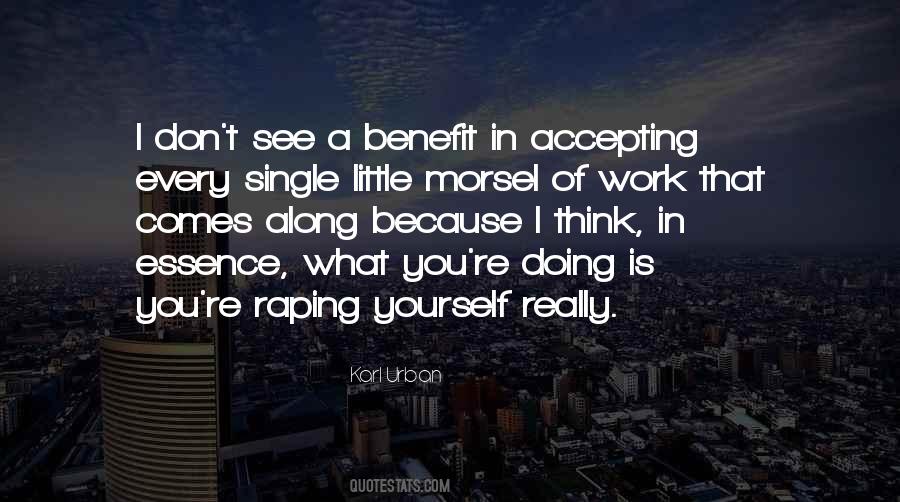 #7. I always think part of success is being able to replicate results, taking what is interesting or viable about yourself as a professional person and seeing if you bring it into different situations with similar results. - Author: Robert Downey Jr.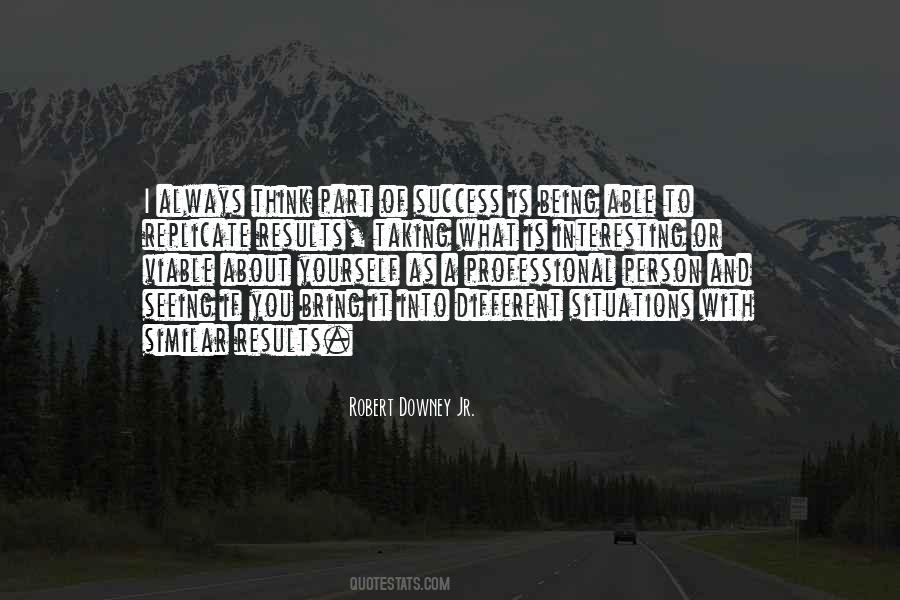 #8. With anything in life, I think that's when you start stressing yourself out - when you start worrying about the things that are out of your control. What I can control is being at my best every day and having no regrets at the end of each day. That's what I plan on doing. - Author: Scott Tolzien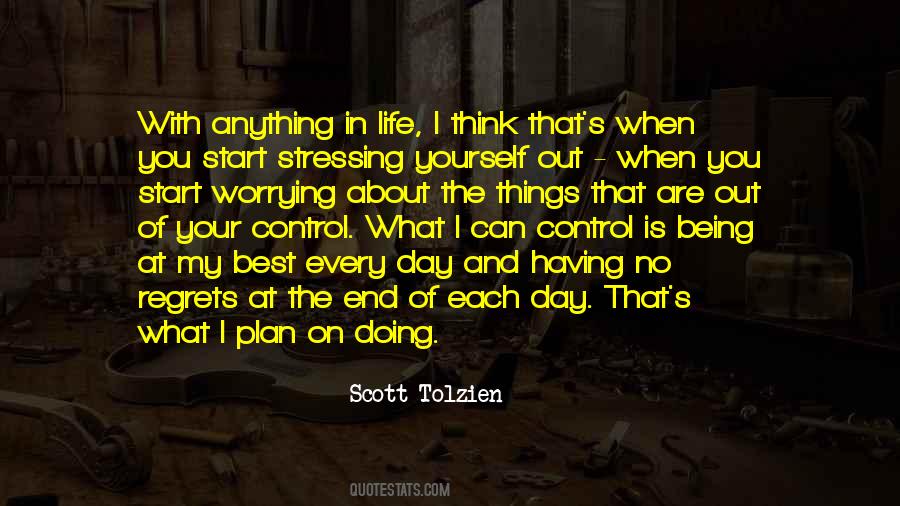 #9. Can you actually go through life without labeling what happens to you as good or bad? Sure you can. You have to train yourself to do this. You have been conditioned to think of things as bad or good. You can de-condition yourself. It is neither easy nor fast but it is possible. - Author: Srikumar Rao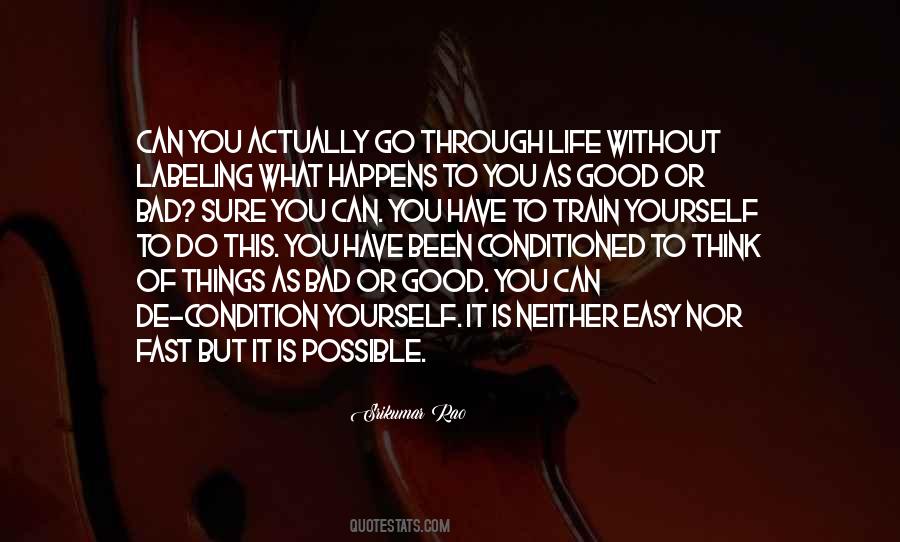 #10. But, it's not what they think of you that matters, it's what you think of yourself. If I'd said something mean to them, I wouldn't like myself very much. - Author: M. Latimer-Ridley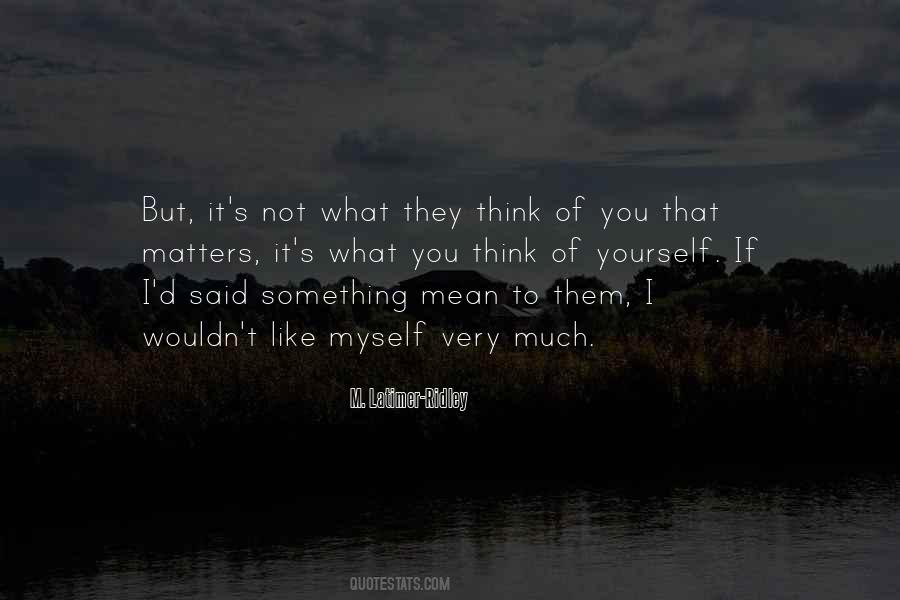 #11. Forgive yourself for what you think you've done or not done. At every moment, you had your reasons for all of your actions and decisions. You've always done the best that you could do. Forgive yourself. - Author: Doreen Virtue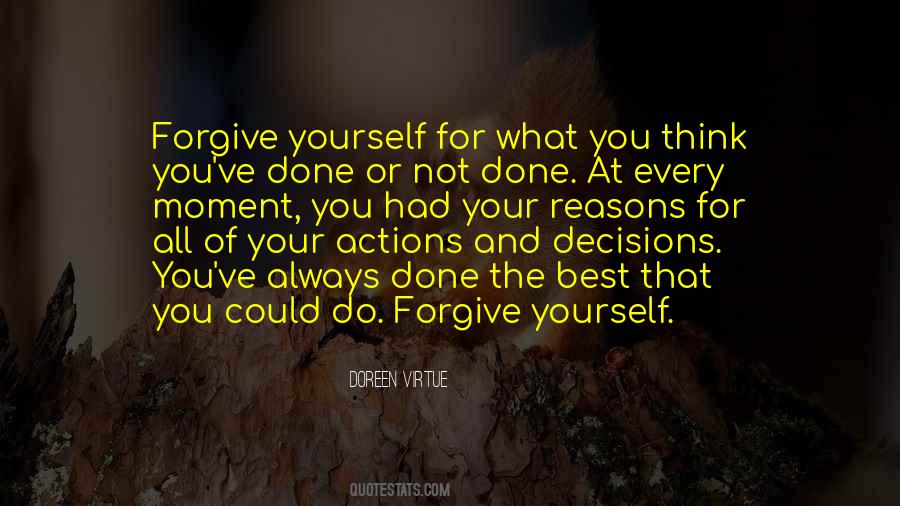 #12. There was no surer way to lose the confidence of an audience, or a jury, than by letting them think faster than yourself, so that they became aware of what you were going to say before you said it. - Author: Arthur Hailey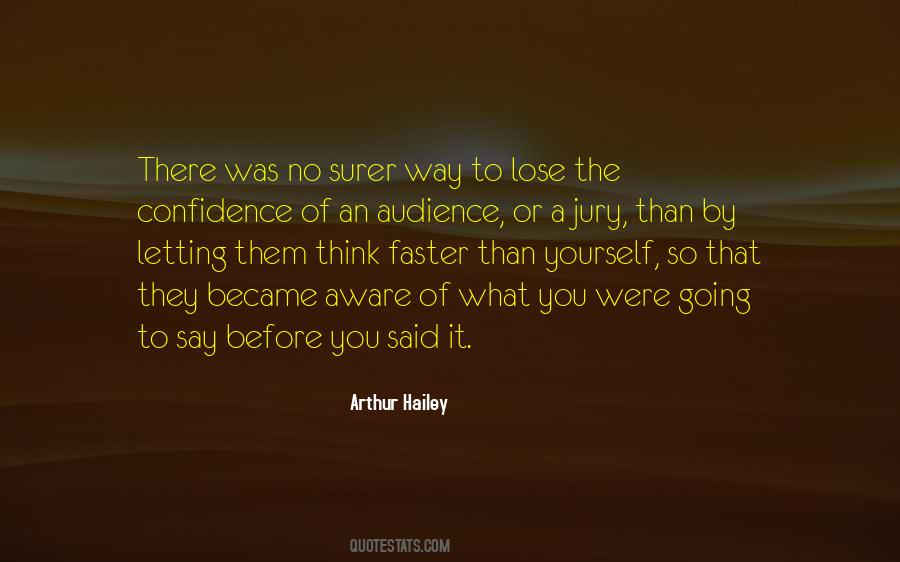 #13. Jesus demands to be Master and Lord of every part of your life. Is He Lord of your mind, of what you think, read, and believe? Of what you dream about, meditate on, and entertain yourself with? Do your eyes belong to Christ? Can [you] ask God's blessing on it? Can [you] do this to the glory of God? - Author: Billy Graham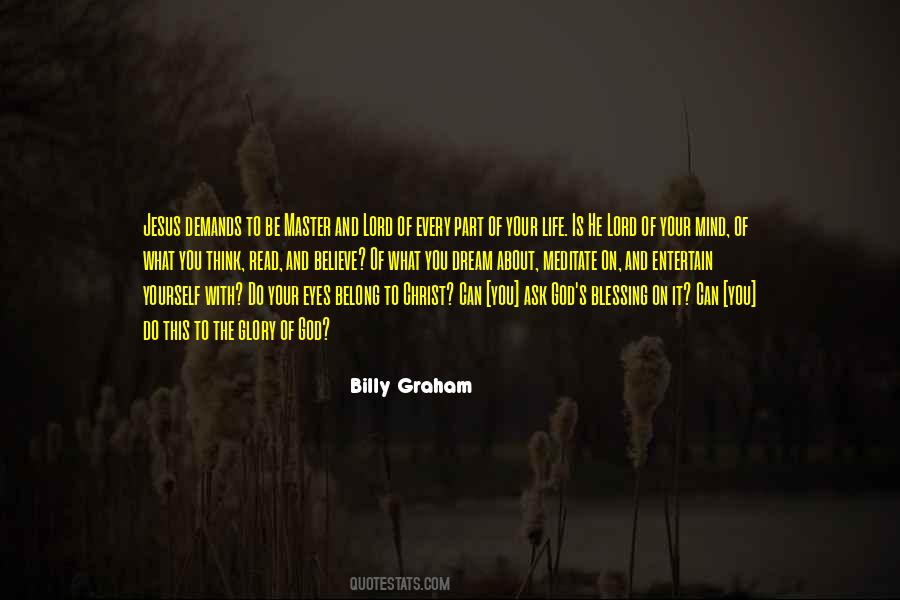 #14. You read a script, you try and think through what is the best, most wide-ranging way of telling the story: who stylistically, character-logically, psychologically fits inside the world of what you're trying to do. A lot of it, when you're casting, is trying to get yourself in the head of a director. - Author: Scott Rudin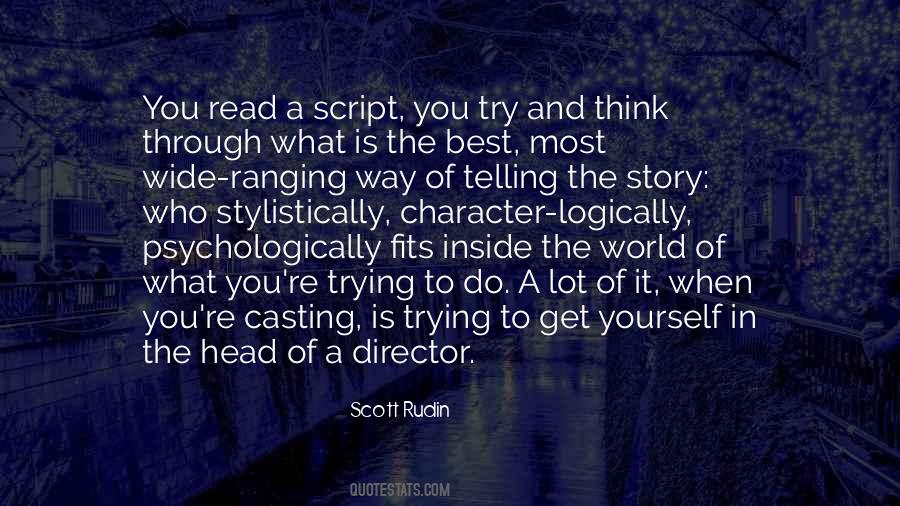 #15. Sometimes you do have to bank on yourself. You do have to believe in your ideas enough to really get out there and fight for it despite what people think of some young kids from the hood. - Author: Queen Latifah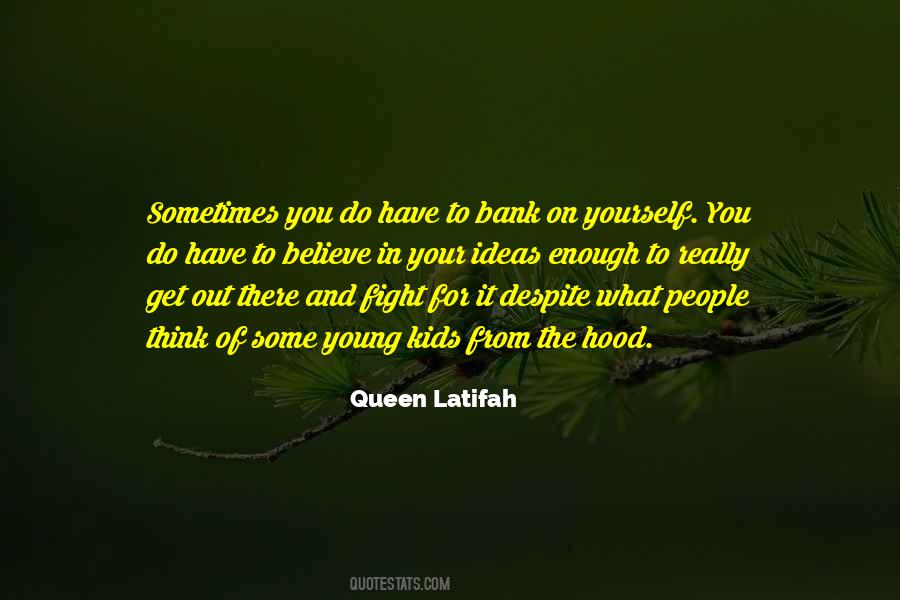 #16. I mean, what can you say about how you write your books? What I mean is, first you've got to think of something, and then when you've thought of it you've got to force yourself to sit down and write it. That's all." ~ Mrs. Oliver - Author: Agatha Christie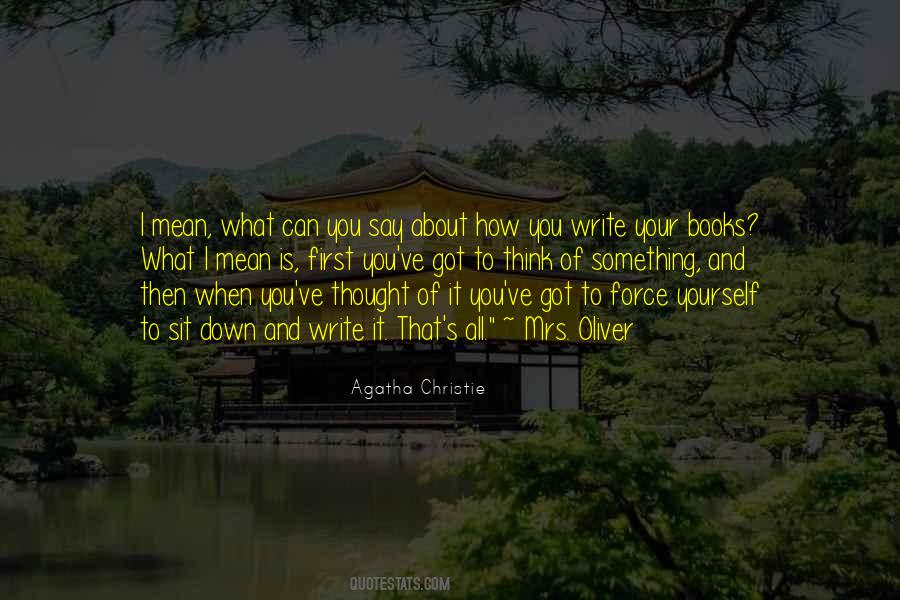 #17. It's just better to be yourself than to try to be some version of what you think the other person wants. - Author: Matt Damon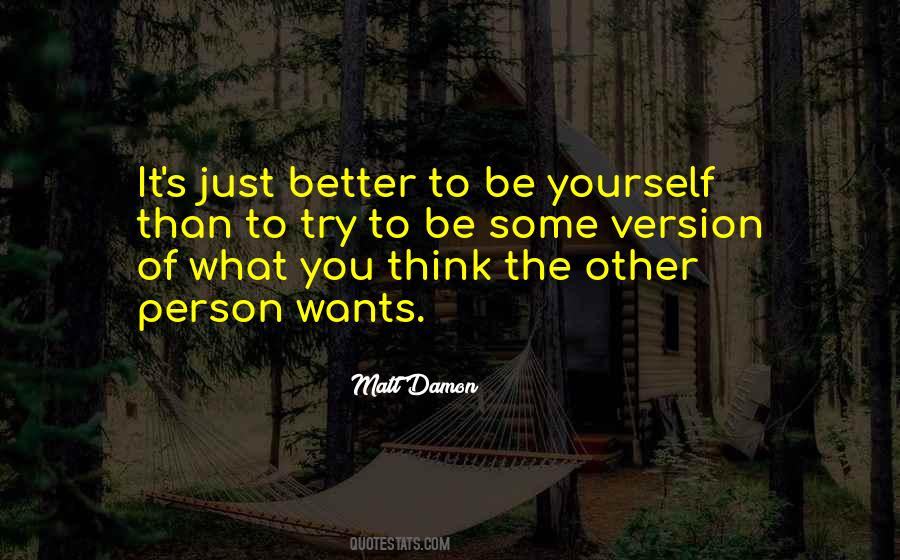 #18. If you only think about yourself - how much money can I make, what can I buy, how nice is my house, what kind of fancy car do I have? - over the long term, I think, you get bored. I think your life becomes diminished. The way to live a full life is to think: What can I do for others! - Author: Barack Obama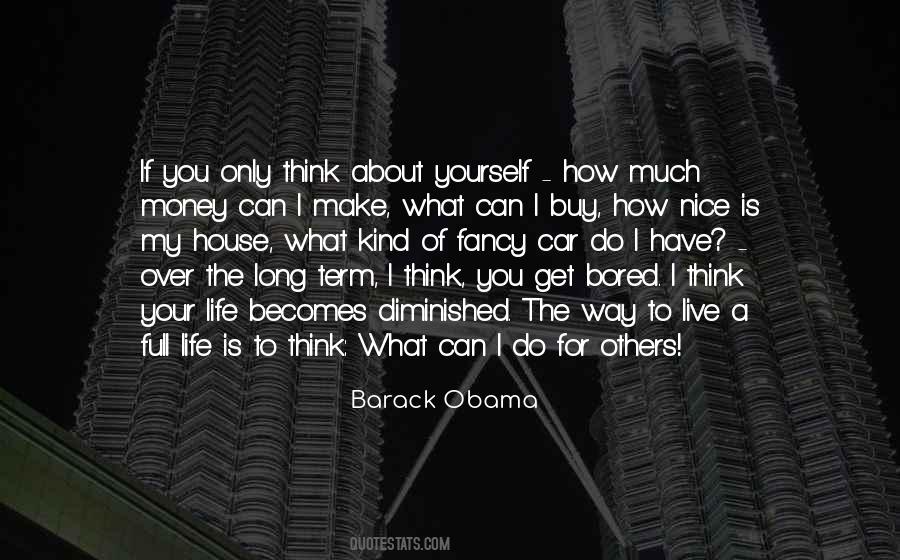 #19. My twenties were carefree in the worst ways. There's a nice balance now of work ethic and healthy lifestyle and carefree attitude, which is pretty nice. You get to a point where you don't care so much what people think of you and you care more about yourself. - Author: Norman Reedus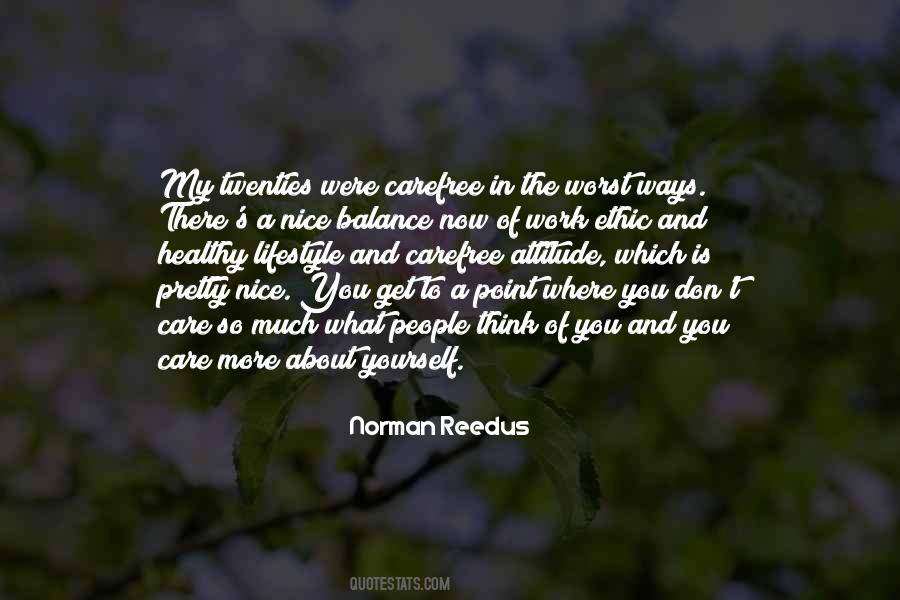 #20. No book can teach you about yourself, no psychologist, none of the professors or philosophers. What they can teach you is what they think you are or what they think you should be. - Author: Jiddu Krishnamurti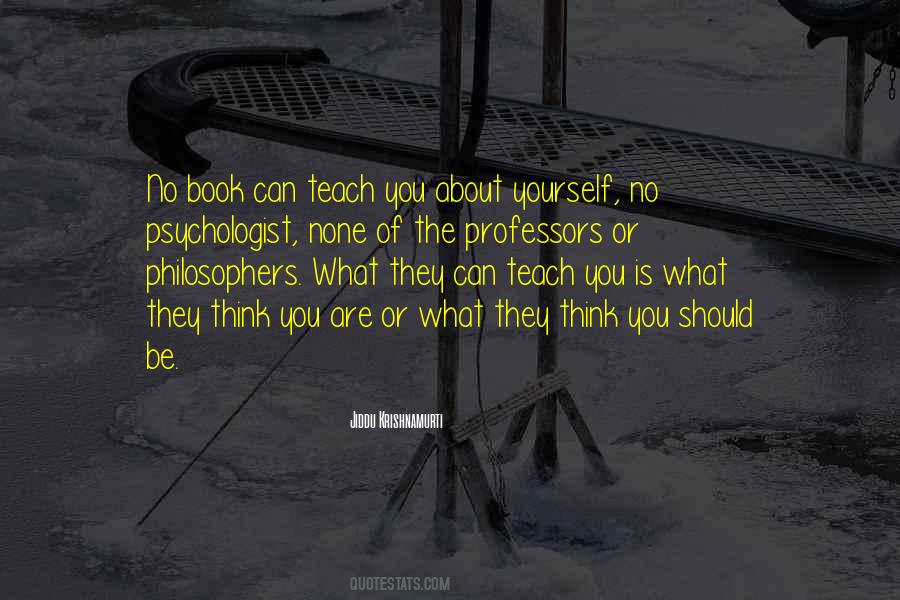 #21. Focusing on who you are, and pursuing opportunities to improve your abilities, allows you to be in acceptance of yourself. This makes you a beautiful person who could care less about what others think of you. - Author: Ellen J. Barrier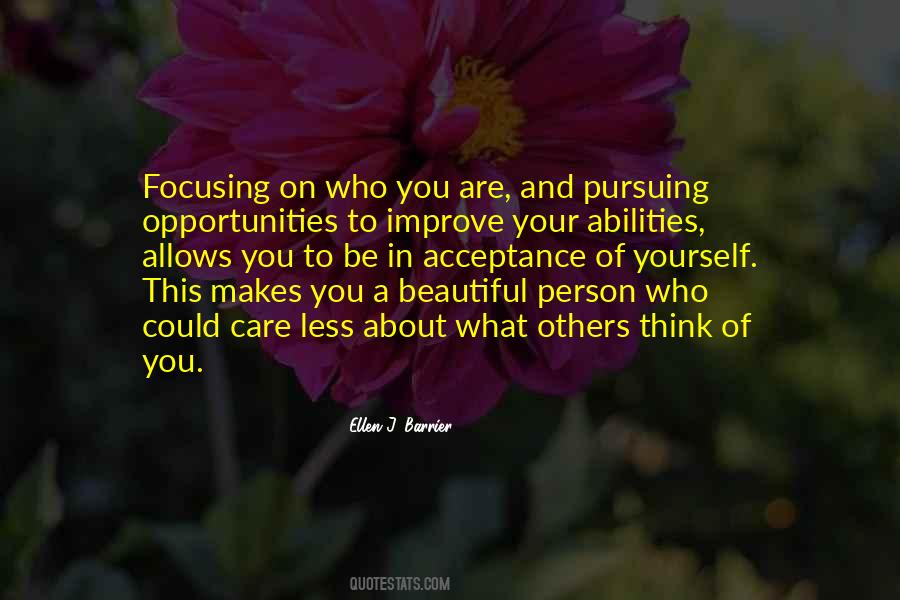 #22. I know it ain't easy. But finally you got to let the hope of easy just go and think about what you need to do. How you can just be right. For yourself and most of all for that child. - Author: Asha Bandele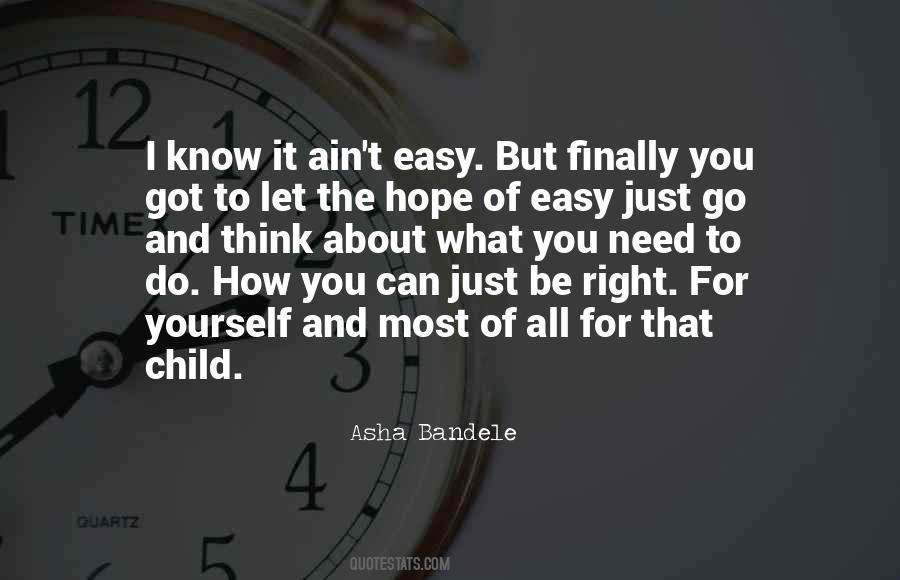 #23. People tend to focus on the things that they don't like about themselves. While that's important for change, it's equally important to focus on what they love about themselves. For every one thing you dislike about yourself, think of five things you like about yourself. It's a balancing act. - Author: Tom Giaquinto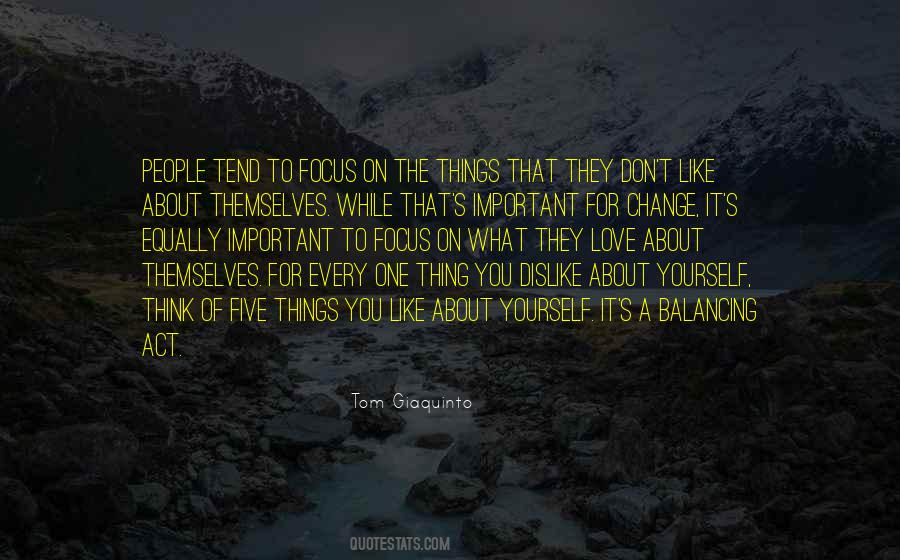 #24. I think that it doesn't matter if I travel all over the place. I'll always be a normal teenager on the inside. It always depends on how you act yourself, not what happens to you. That's my view of it all. - Author: Jackie Evancho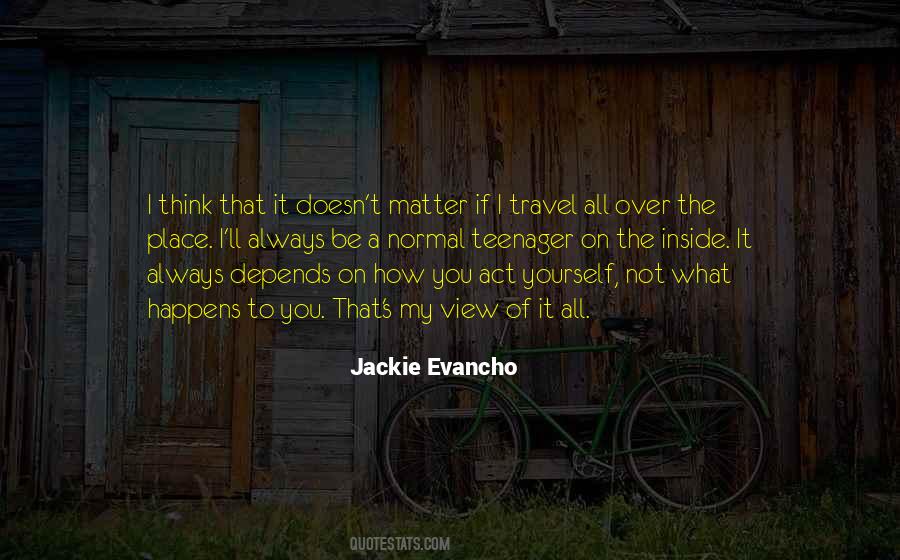 #25. It's a frightening thing to act on your opinions. You've got to find confidence in yourself, not in what others think of you. I'm still trying to separate how I see myself from how I'm perceived. It's not easy, but it's worth it. - Author: Carly Pope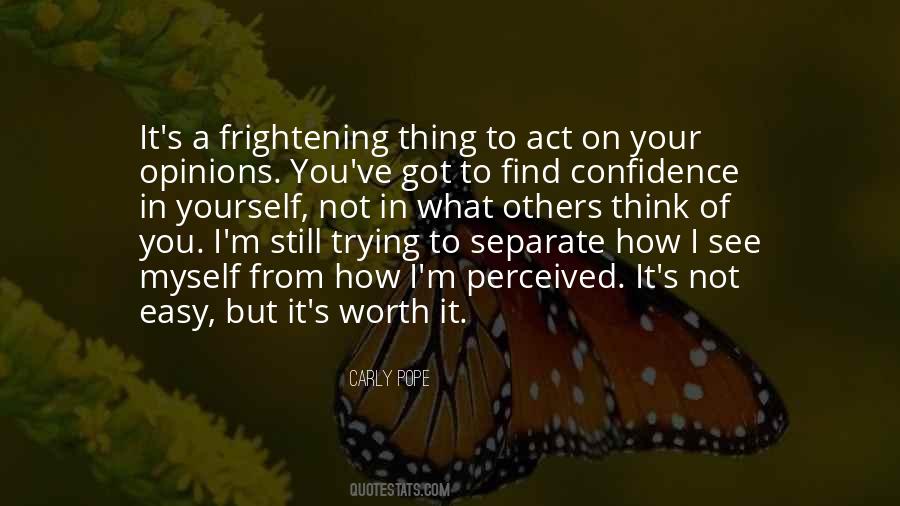 #26. The secret to your purpose is to find what you feel is important, and not pursue what others would think is important. When you think highly of yourself, me thinking highly of you will never be enough! - Author: Shannon L. Alder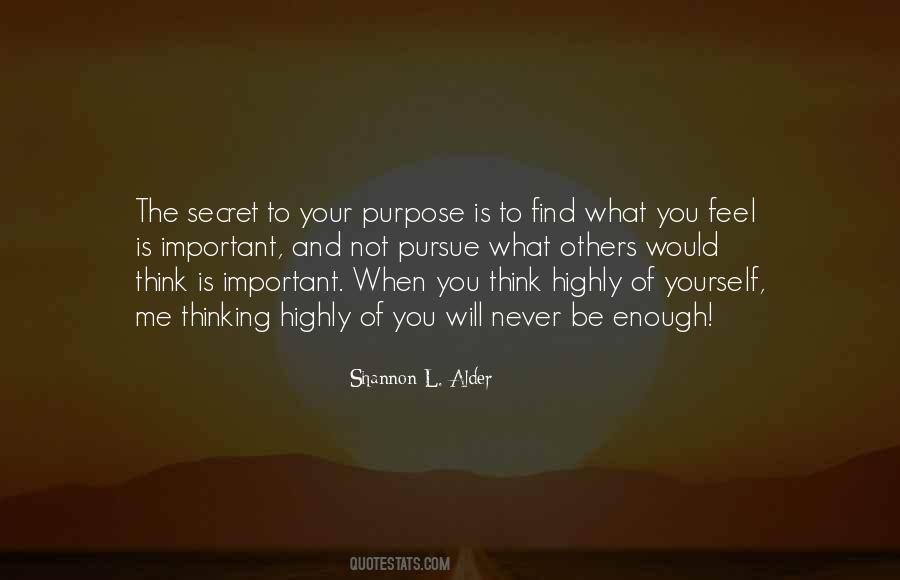 #27. For one never thinks of you alone, Cremuel, but in company, studying the faces of other people, as if you yourself mean to paint them. You make other men think, not "what does he look like?" but "what do I look like? - Author: Hilary Mantel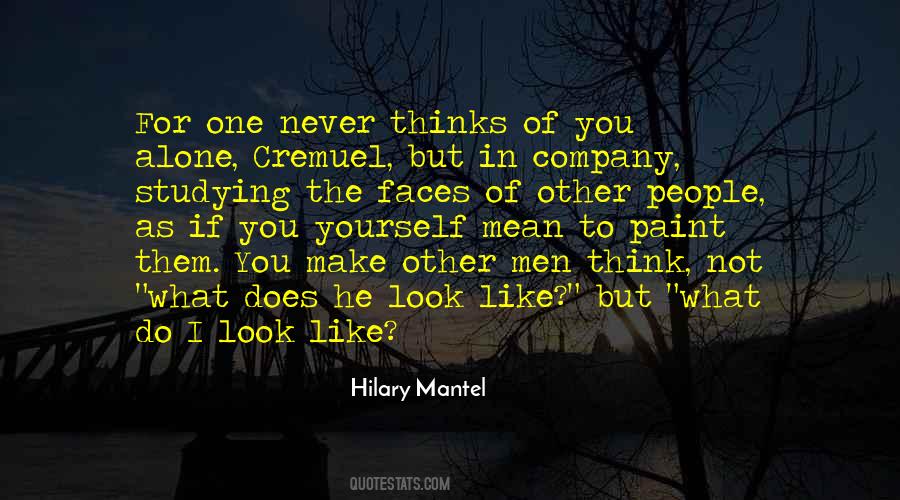 #28. They served as a constant reminder that to achieve exceptional things, you must hold yourself to exceptional standards, regardless of what others may think. - Author: Adam Braun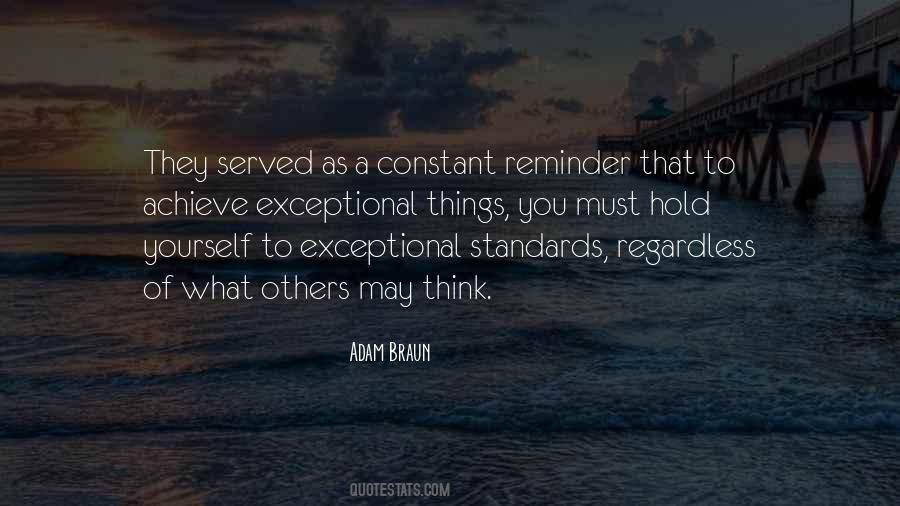 #29. I think it's like, you know, you can't get ahead of yourself, because no amount of success or exposure or opportunity is going to really matter or be ultimately fulfilling unless you can be totally present in what you're doing right now. - Author: Zachary Quinto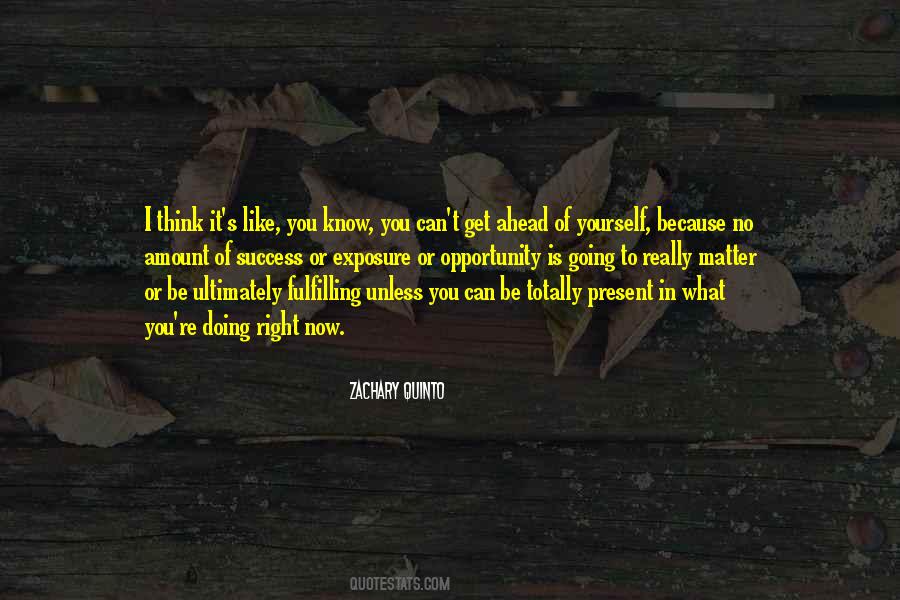 #30. I'll tell you what makes a great manager: A great manager has a knack for making ballplayers think they are better than they think they are. He forces you to have a good opinion of yourself. He lets you know he believes in you. - Author: Reggie Jackson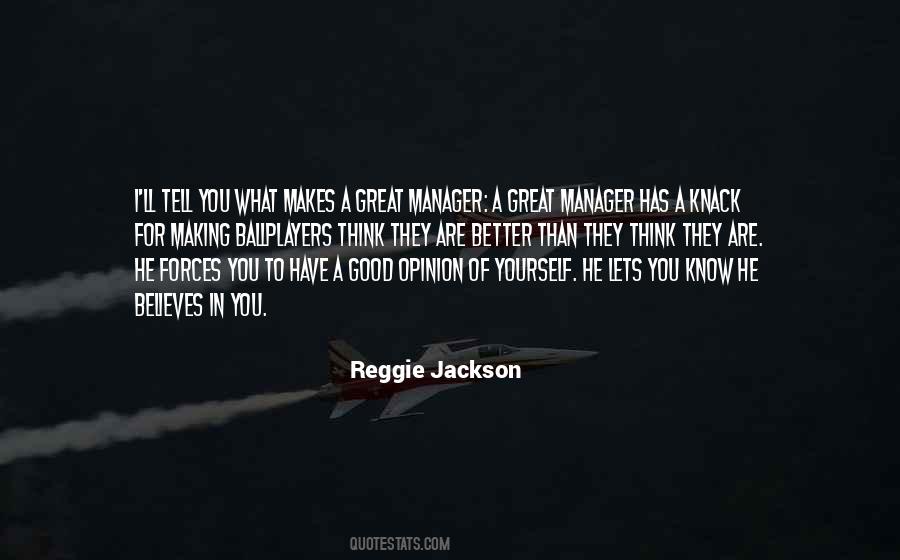 #31. Think not of what you did yesterday, but what you can do for yourself today. - Author: Jerry Pate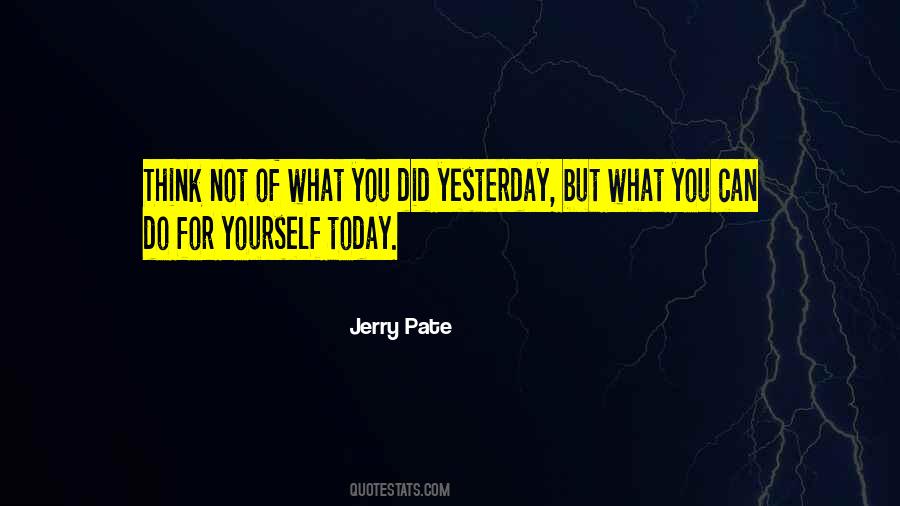 #32. What you think about yourself is much more important than what others think of you. - Author: Seneca The Elder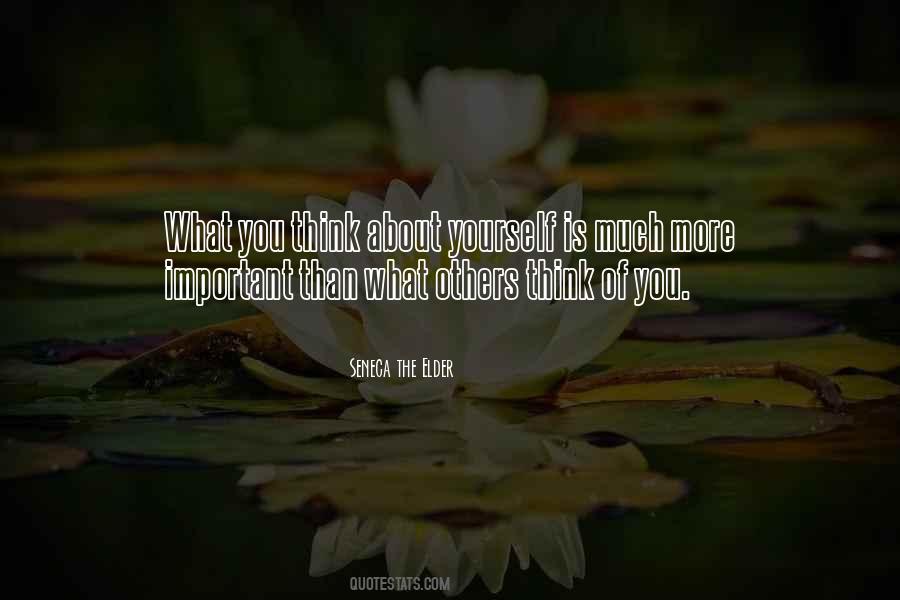 #33. I'm not going to tell a person how to think, don't believe in that. What I want to do, when I write these books, is just to say don't be so sure of yourself. Let me pull the carpet out from underneath you, and let's see if you can still find the footing. - Author: Jodi Picoult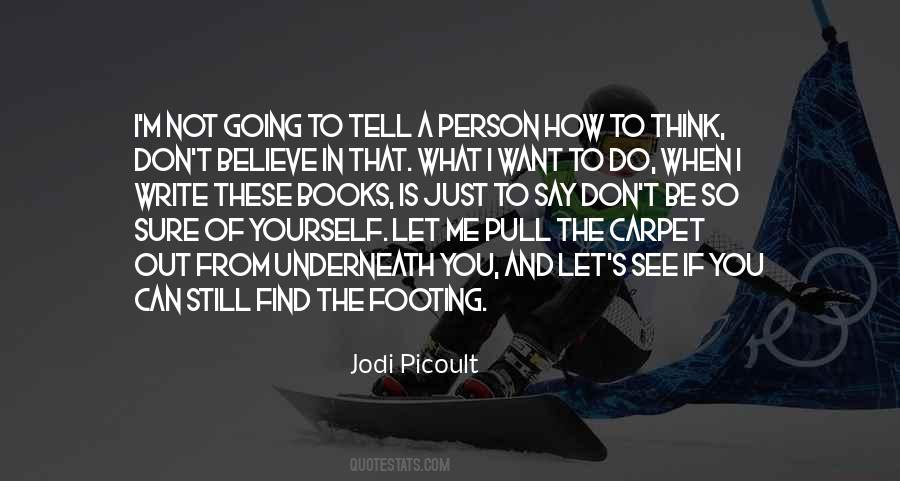 #34. Did you ever think you had all the answers when you were in the thick of something, but then when you take a step back, you realize you were so busy getting things done that you never stopped to ask yourself if it's what you really want to do? - Author: Jana Deleon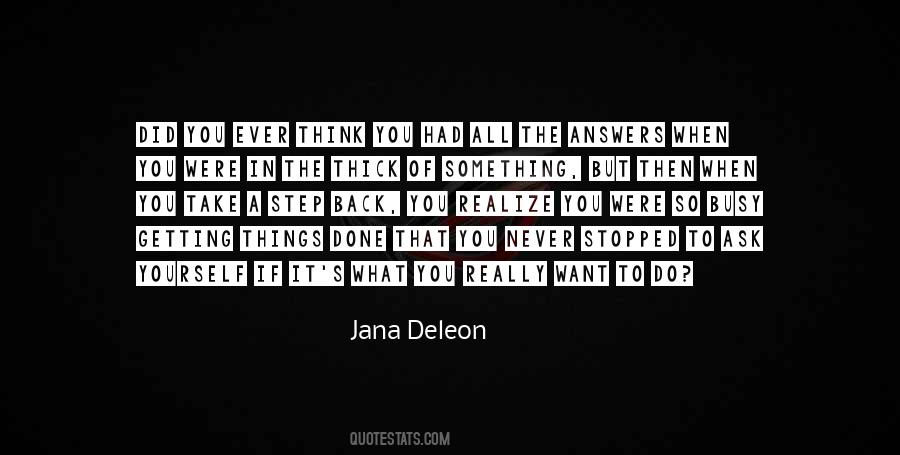 #35. When you're young, you kind of take yourself seriously, and you think, like, "People need to see what I can do." And it's so laughable, especially with actors. - Author: Will Arnett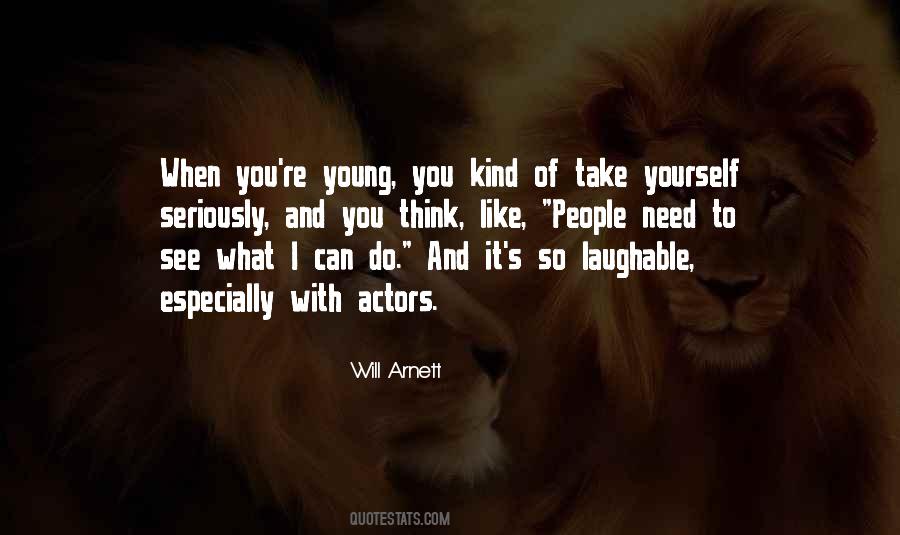 #36. The trouble with you, Anne, is that you're thinking too much about yourself. You should just think of Mrs. Allan and what would be nicest and most agreeable to her, said Marilla, hitting for once in her life on a very sound and pithy piece of advice. Anne instantly realized this. - Author: L.M. Montgomery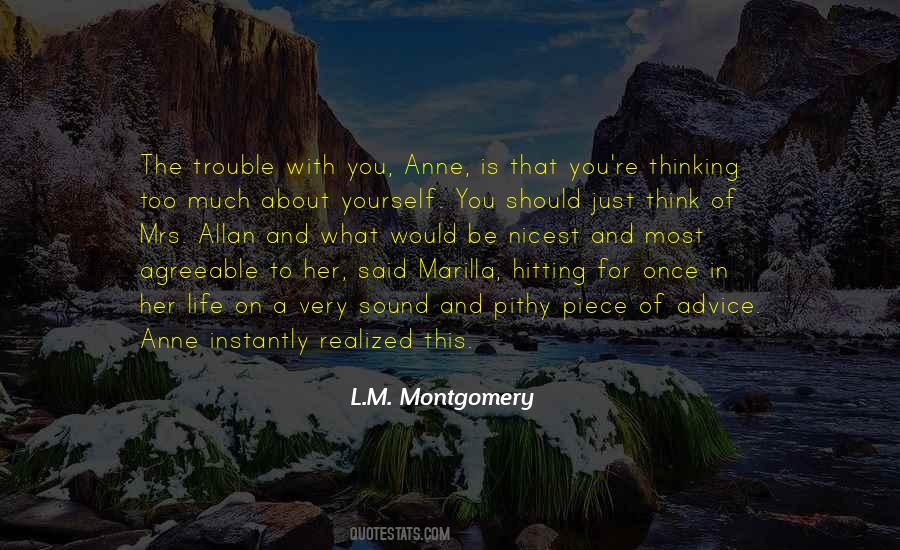 #37. What you think and do now builds.
Value this moment.
Be patient.
Smile often.
Love the process of living each minute fully.
Your presence is a source of strength
and an inspiration
to people you spend time with.
Give your greatest gift
your full attention,
yourself. - Author: Alexandra Stoddard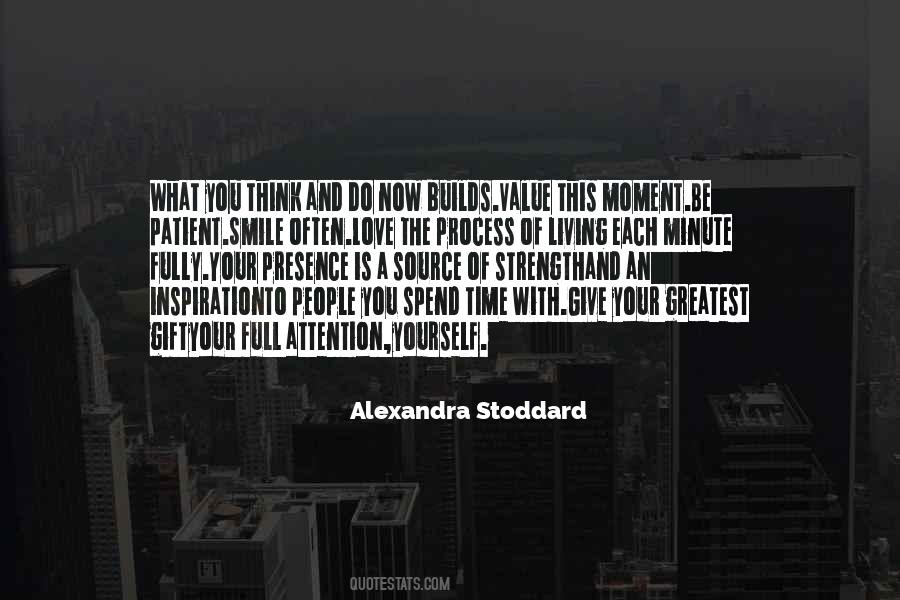 #38. Does sunset sometimes look like the sun is coming up? Do you know what a faithful love is like? You're crying; you say you've burned yourself. But can you think of anyone who's not hazy with smoke? - Rumi - Author: Anne Lamott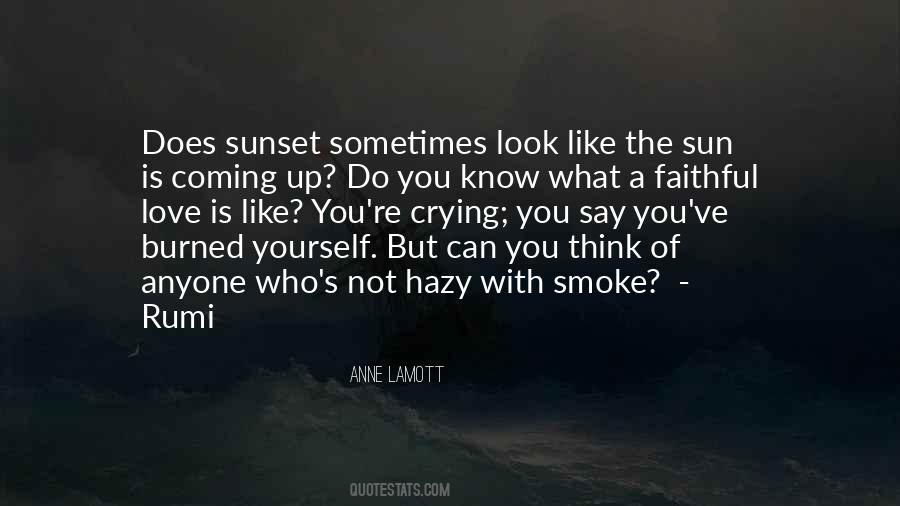 #39. If you think that you are proud of yourself,
you do not know what you are thinking.
P.C.M. Hermans
Worldpoet 546
October 9, 2016 - Author: Petra Hermans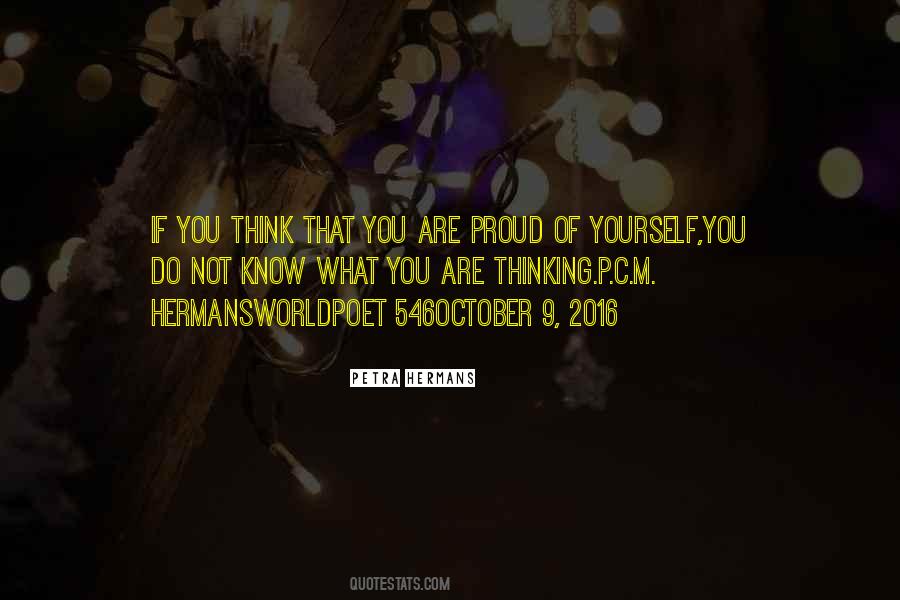 #40. The Ultimate Reality is that everything you think you need, you already have. It exists inside of you. Indeed, it is you. You are what you need - and therefore, you give yourself everything you need in any given moment. - Author: Neale Donald Walsch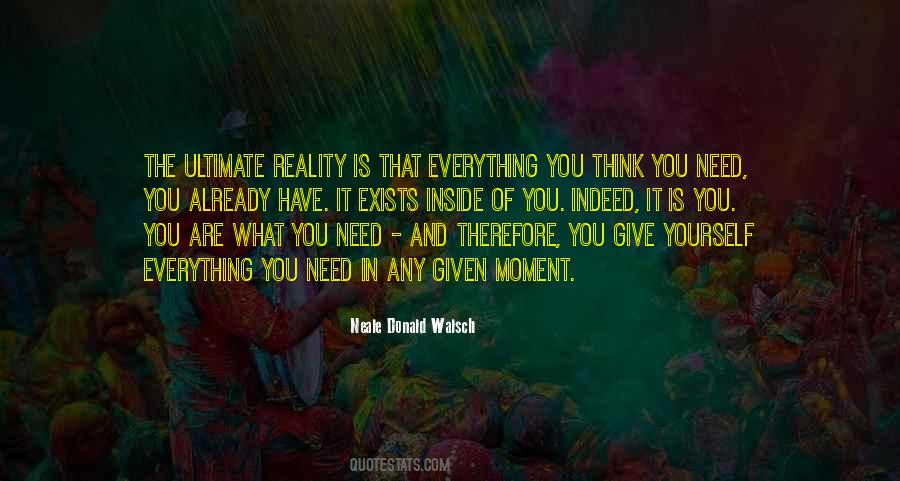 #41. It's ok to care about what other people think, but you should give a little more weight to what you, yourself, think ... The habit of thinking is the habit of gaining strength. You're stronger than you believe. - Author: Nnedi Okorafor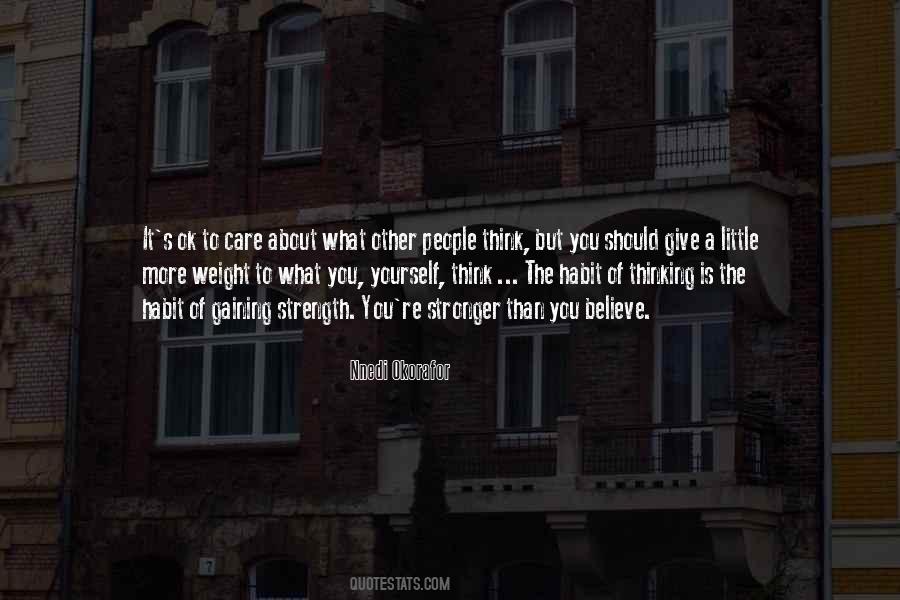 #42. I just think that particular brand of sexy isn't a woman's best weapon, and it's definitely not her only one. If you reduce yourself to that, then that's what people will see. They won't notice anything else about you. - Author: Abigail Strom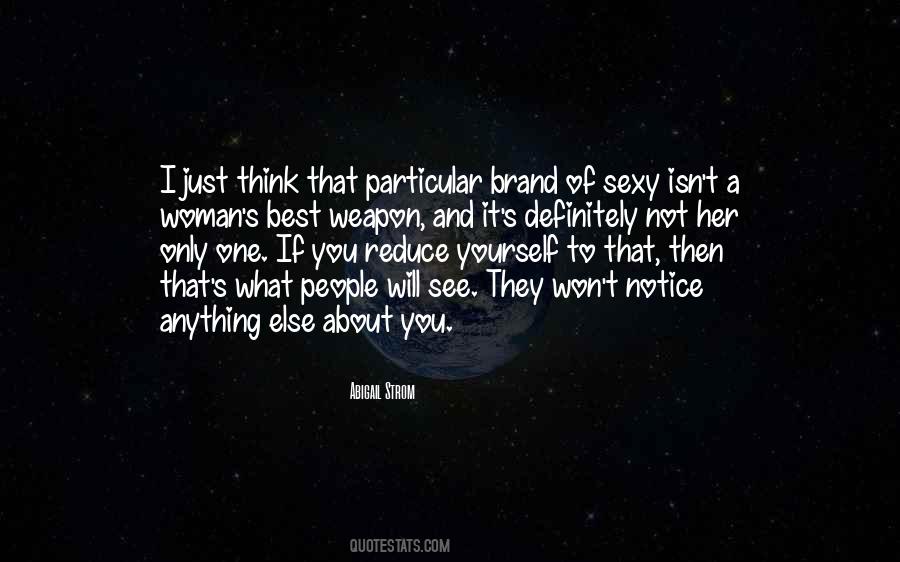 #43. As long as you're trying to be someone else, or putting on some act or behavior someone else taught you, you have no possibility of truly reaching people. The most valuable thing you have to give people is yourself. No matter what you think you're selling, what you're really offering is you. (p.92) - Author: Bob Burg And John David Mann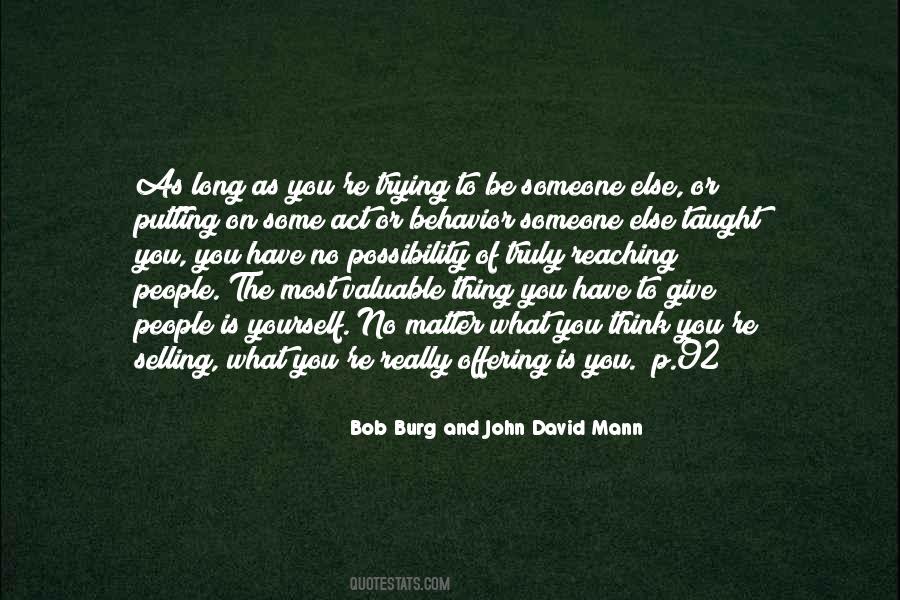 #44. You need to accept the fact that you will often do exactly the opposite of what you think is right. You need to accept that you're going to do that and still love yourself. - Author: Frederick Lenz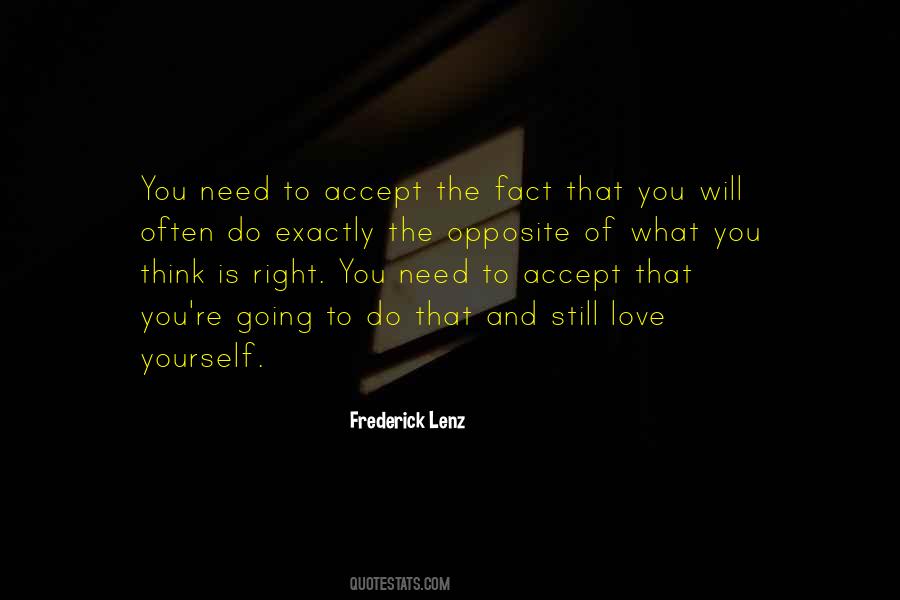 #45. Don't let others box you into their idea of what they think you should be. A confined identity is a miserable way to exist. Be you and live free. Trust that in living true to yourself, you will attract people that support and love you, just as you are. - Author: Jaeda DeWalt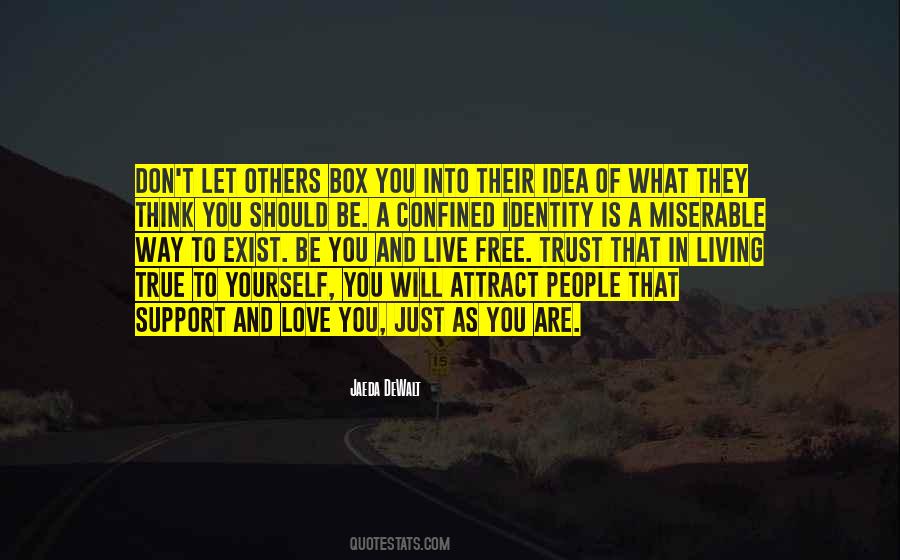 #46. In those moments, none of it matters. It's like that stuff is happening to someone else because all you feel is dark inside, and that darkness just kind of takes over. You don't even really think about what might happen to the people you leave behind, because all you can think about is yourself. - Author: Jennifer Niven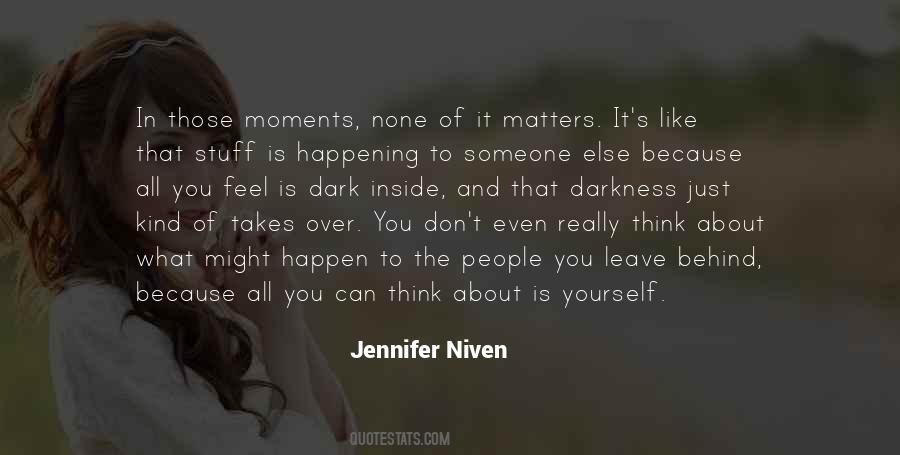 #47. I do all my work to escape myself. I don't believe in looking into yourself. If you do this, you just discover a lot of shit. I think what we should do is throw ourselves out of ourselves. The truth is not deep in ourselves. The truth is outside. - Author: Slavoj Zizek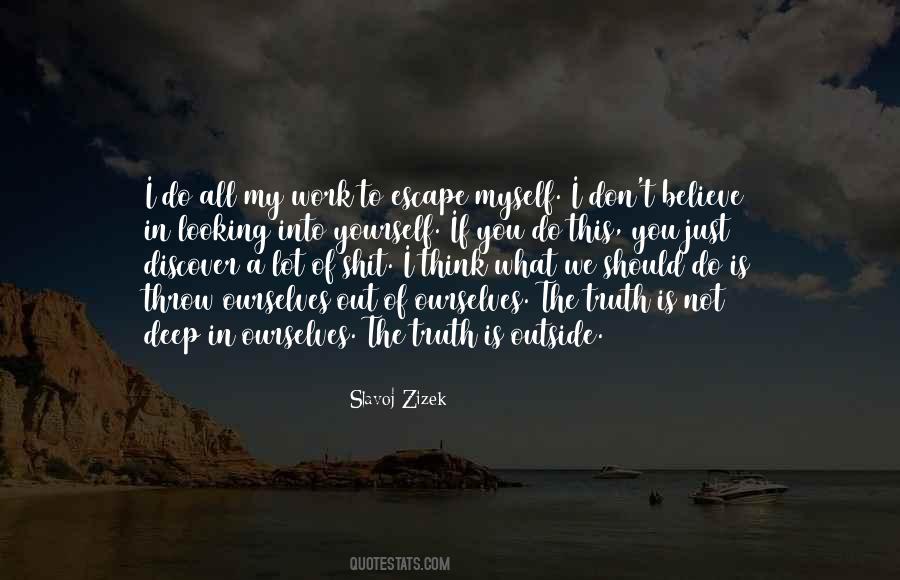 #48. Don't be afraid to make demands on yourself and push yourself beyond the comfortable limits of what you think you can accomplish; you'll never exhaust your reservoir of potential for accomplishment and achievement. The only limits we possess are the ones we impose upon ourselves. - Author: Cary A. Friedman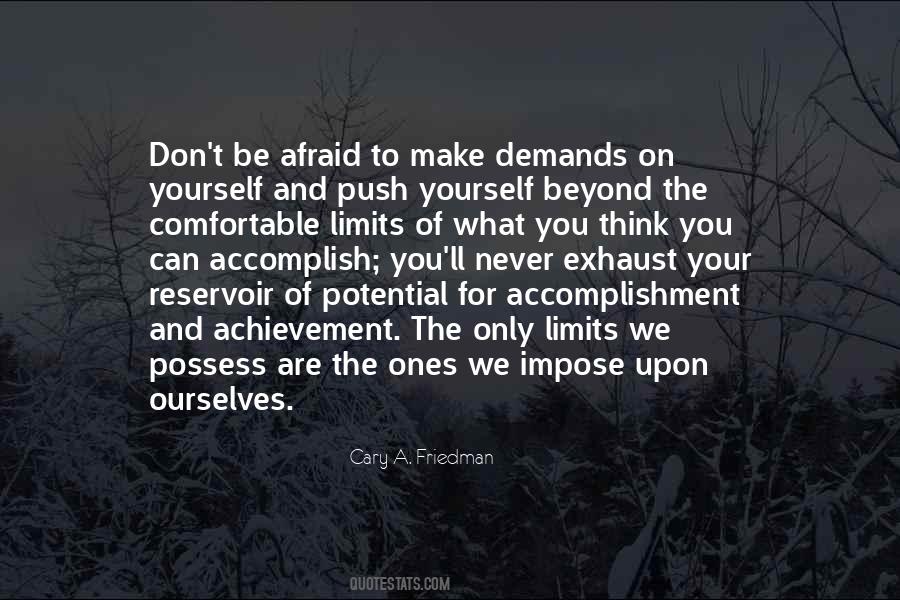 #49. Most people think its sex, money, and drugs but Hip-Hop is about lyrics, storytelling, and everybody having a different style. That's just another idea of beautiful, being yourself and creating music that represents you and what you like. - Author: Rapsody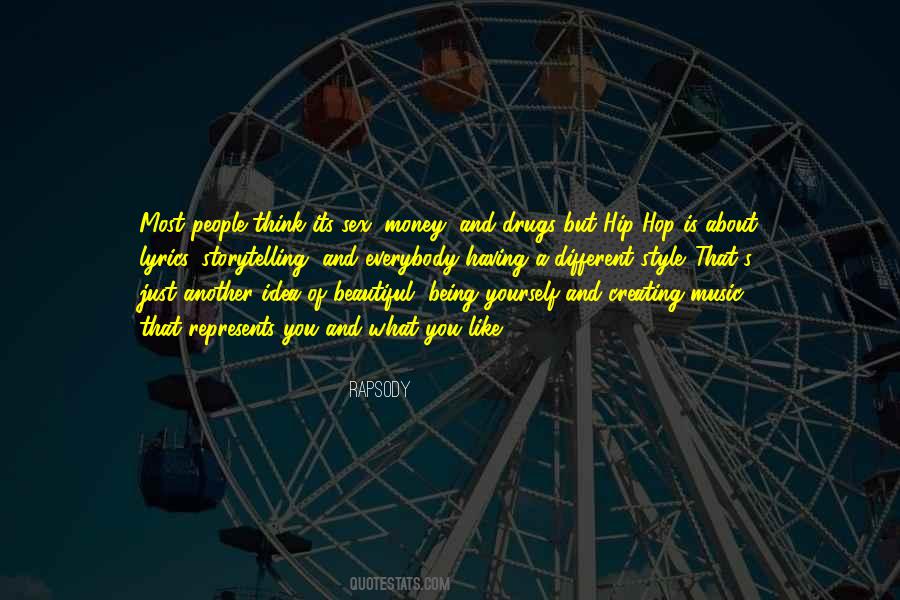 #50. Will you promise to keep this to yourself, to not tell anyone of what we are? By his words you'd think he was giving me a choice. Like I could say,no deal, honey bunch, I'm off to shout your secret from the rooftops, and he'd be like, oh no please don't do that. In
reality, he'd have to kill me. - Author: L. H. Cosway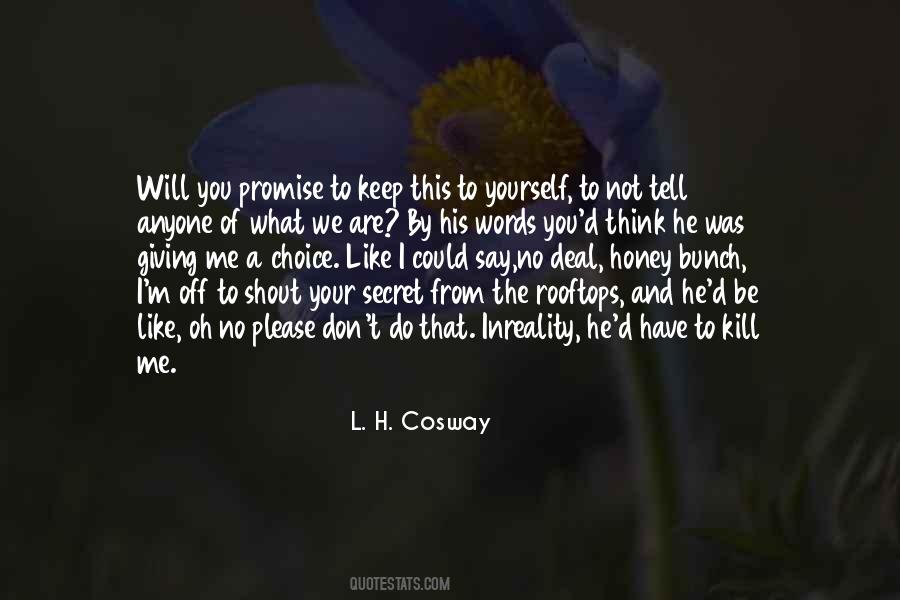 #51. What you think of yourself is what you will become. - Author: Lailah Gifty Akita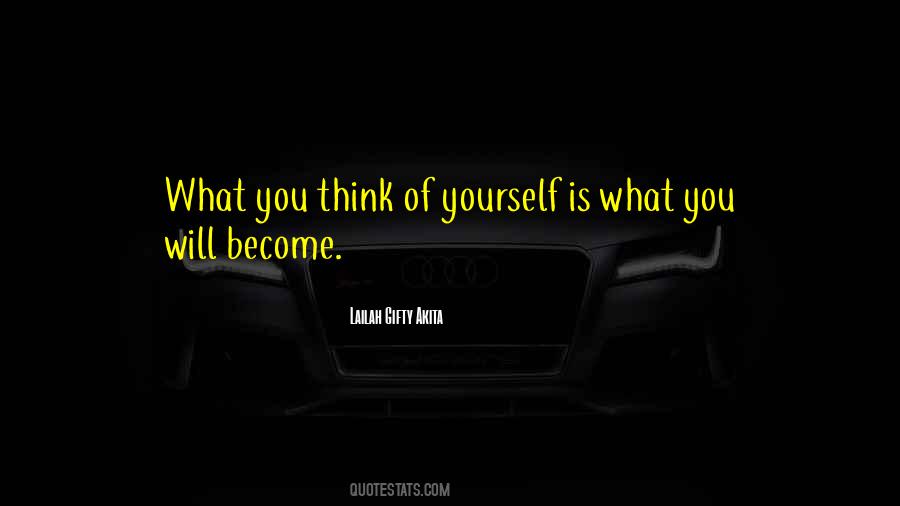 #52. Liberate yourself from the illusion of culture.
Take responsibility for what you think and what you do. - Author: Terence McKenna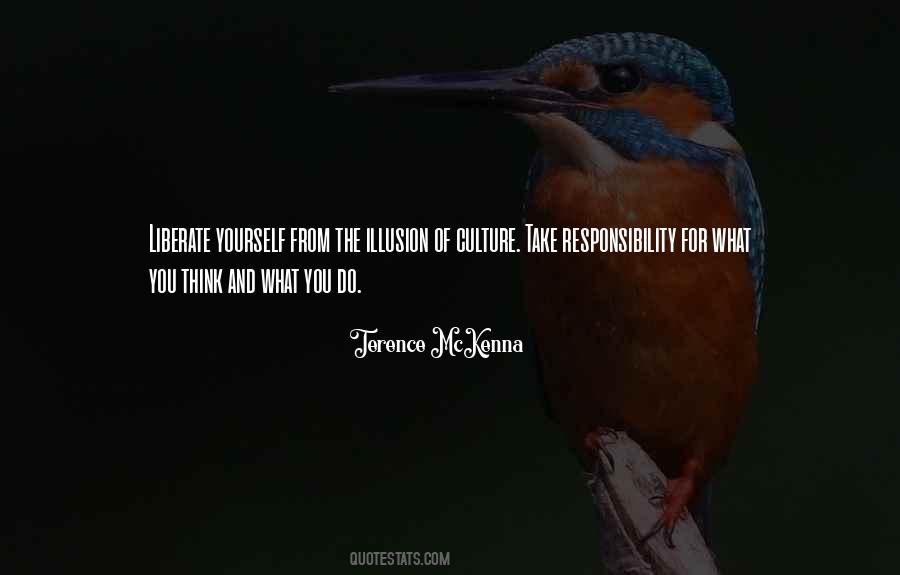 #53. I may attempt a novel. I think that no matter what you write, it requires being honest with oneself, and you have to pull yourself out of the whirlwind of daily life. - Author: Iris Chang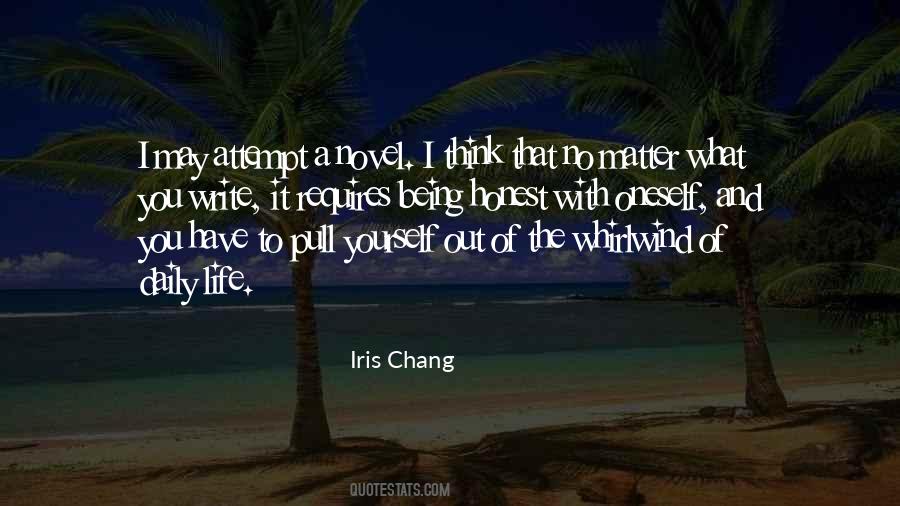 #54. In TV and movies, you kill yourself spending all this time to think up the symbolism or what if that deer that runs across your hero's path somehow conveys what's going on inside your hero's head? When a lot of times, you just want to hear what he's thinking. - Author: Eric Kripke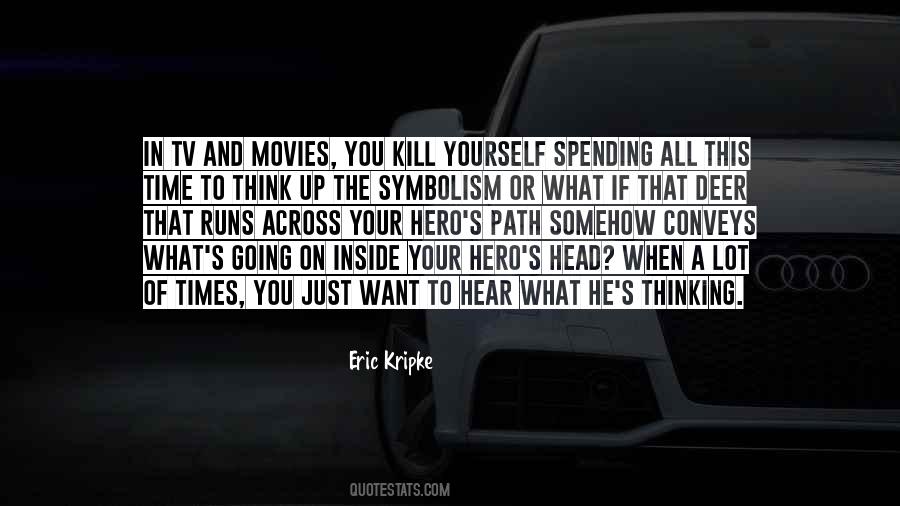 #55. Some people think humility is thinking lowly of yourself. Some people think it's not thinking about yourself. But, to me, the best definition of humility is radical self-awareness from a distance, seeing themselves from a distance and saying, what's my problem? - Author: David Brooks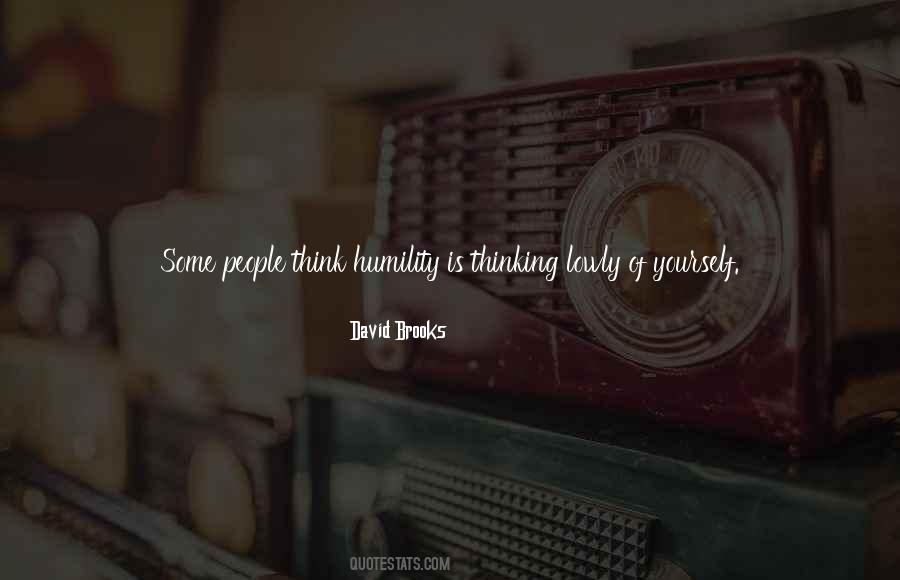 #56. Do you think I would want to live under a government that you ran or set up? It's all very nice to say you're an anarchist, but you only want anarchy for yourself. For the rest of us, you want to make sure we do what you say, think how you think, and remember you're the boss. - Author: Jane Smiley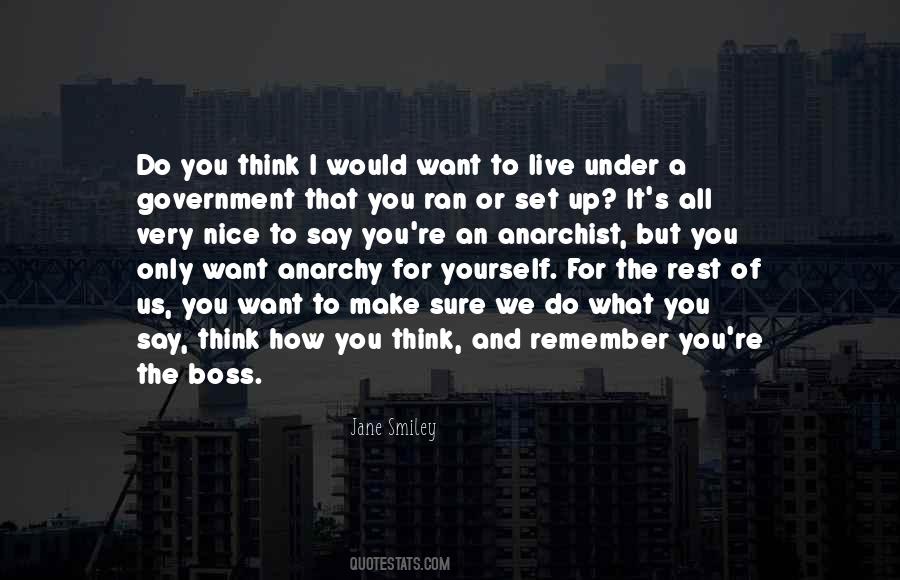 #57. People have to go through what they have to go through. I think in some cases you sort of bring things on yourself and that's what you want it to be than that's the way it is. - Author: Bryan Adams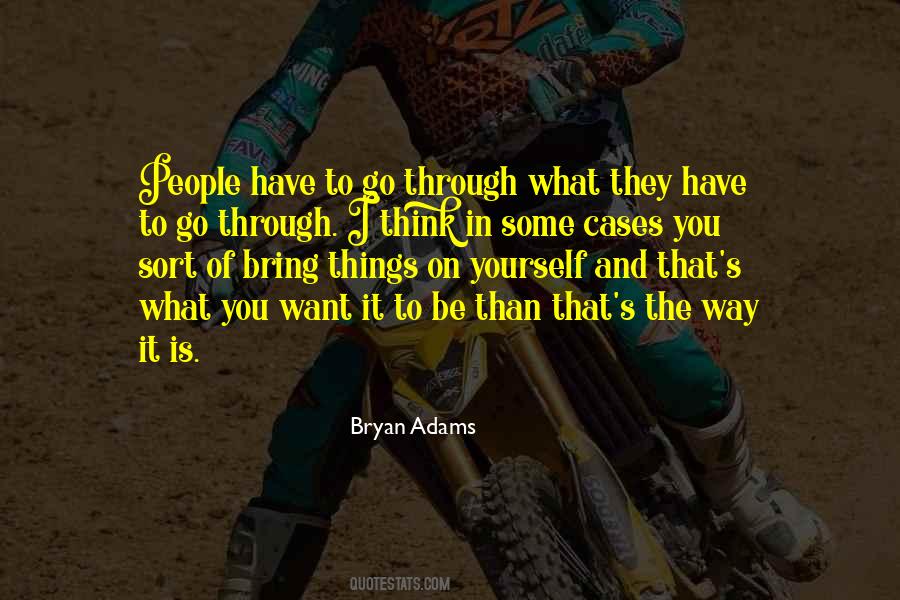 #58. Movies tell you what to think. A good book lets you choose a few thoughts for yourself. Movies show you the pink house. A good book tells you there's a pink house and lets you paint some of the finishing touches, maybe choose the roof style, park your own car out front. - Author: Karen Marie Moning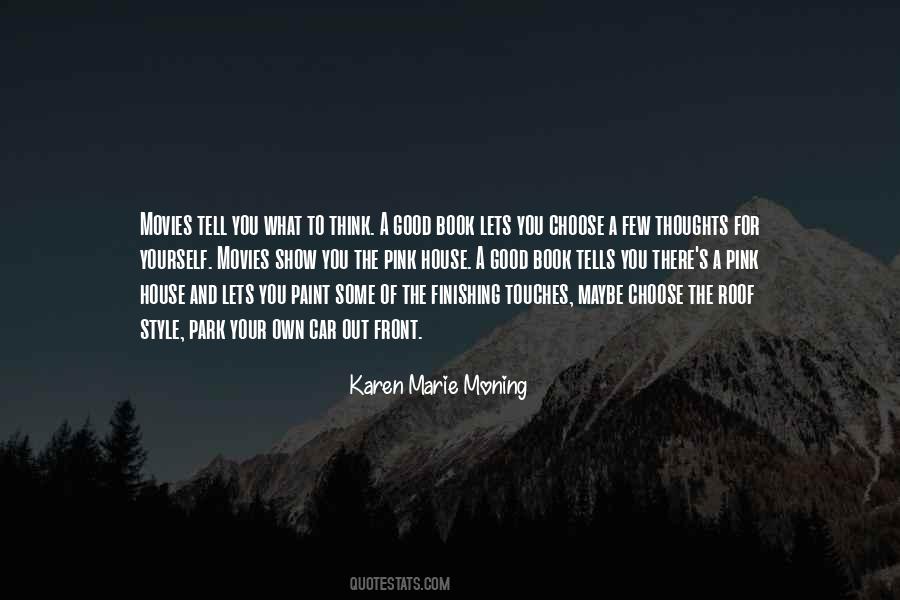 #59. The problem with a lot of people is that what they think is a virtue is actually a vice in disguise. It's much easier to convince yourself that you're reasonable and civilised, than soft and weak, isn't it? - Author: Kevin Dutton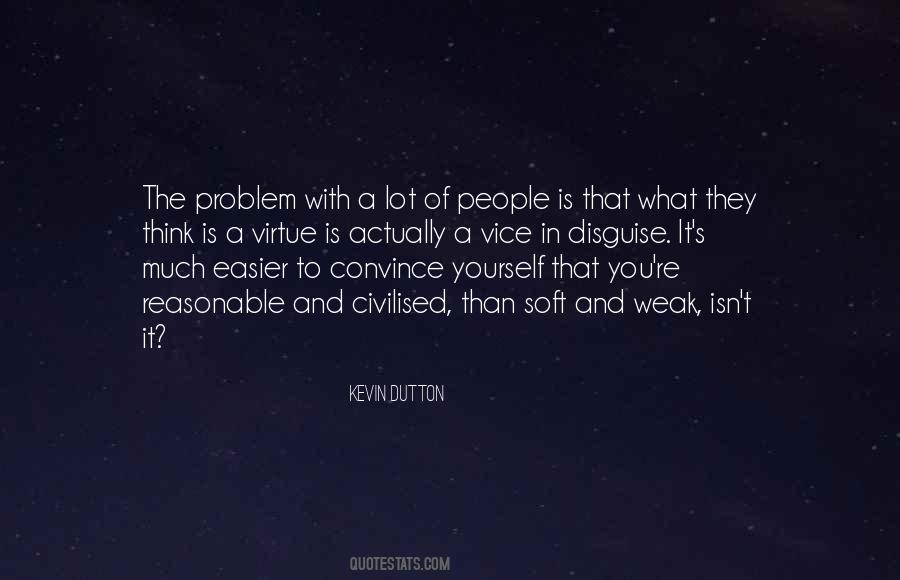 #60. Rehearsals are set up so that you find out all the nuances about your character. You never want to beat yourself up. It's about finding the right direction, and most of the time, the right direction is not what you think is the right direction. That's why the director's there: to guide you there. - Author: Djimon Hounsou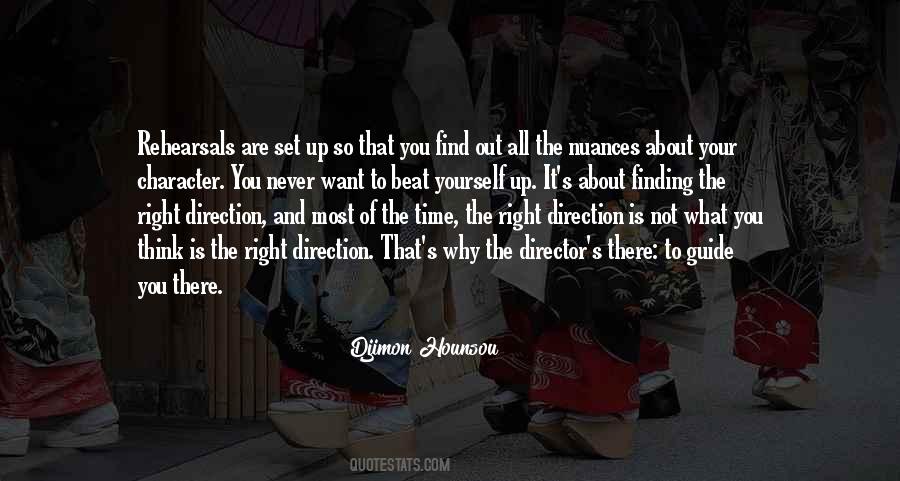 #61. You wrong yourself and me by assuming my interest in you is purely physical," he went on. "I told you I am eager to further our acquaintance. I want to know what you think about things. What you want out of life. What you dream.
-Lucien to Alice - Author: Gaelen Foley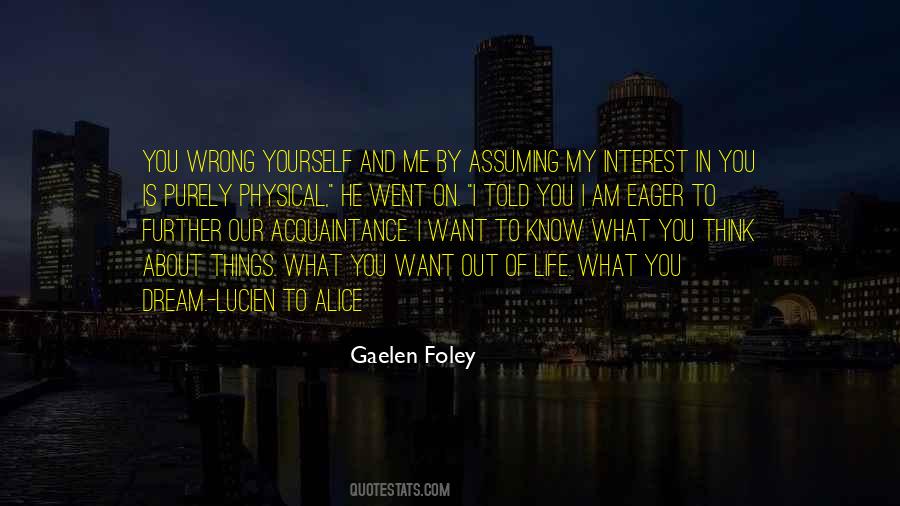 #62. Remember first that everything you think, say, and do is a reflection of what you've decided about yourself; a statement of Who You Are; an act of creation in your deciding who you want to be. - Author: Neale Donald Walsch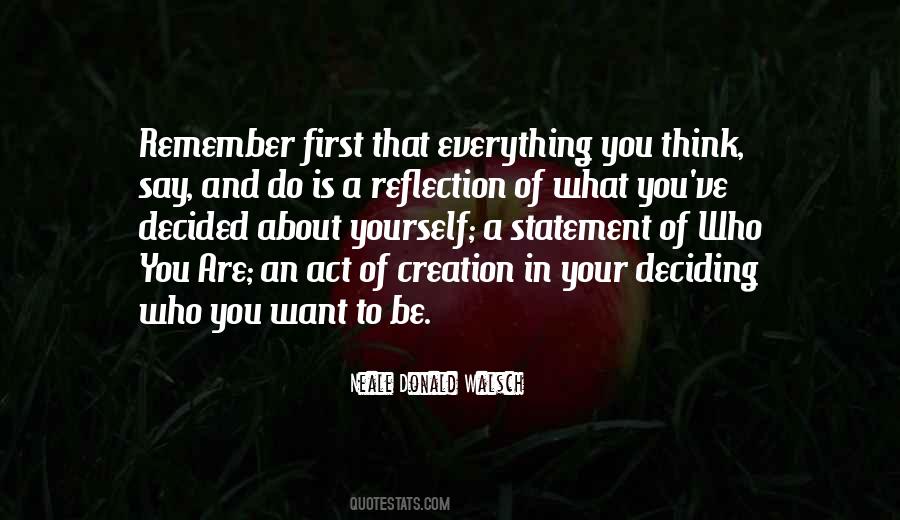 #63. Its never what others think of you that determines whether or not you succeed. Its all about what you think of yourself. All the work in the world cannot overcome self-doubt. - Author: A.M. Sawyer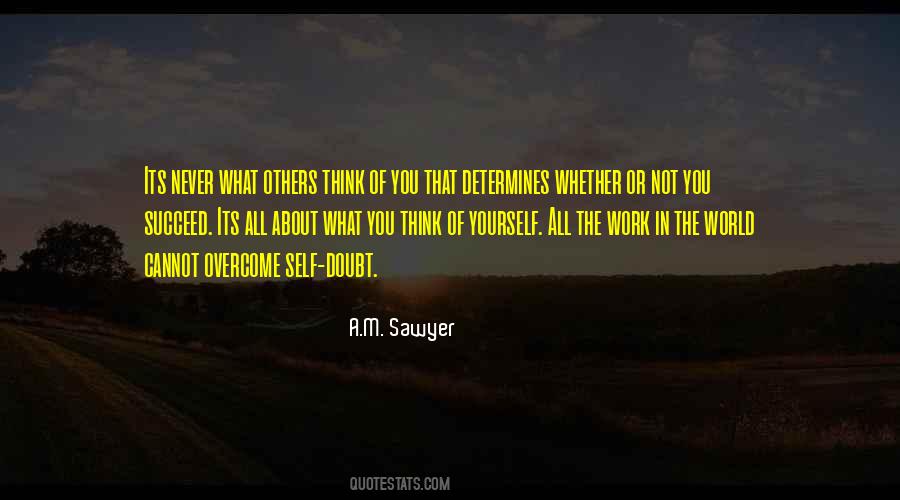 #64. If you believe the good stuff that people say then you have to believe the bad stuff and then you allow yourself to be on a roller coaster of what other people think. So I think you try to find the good in the bad and the bad in the good and balance yourself and stay on an even keel. - Author: Ashton Kutcher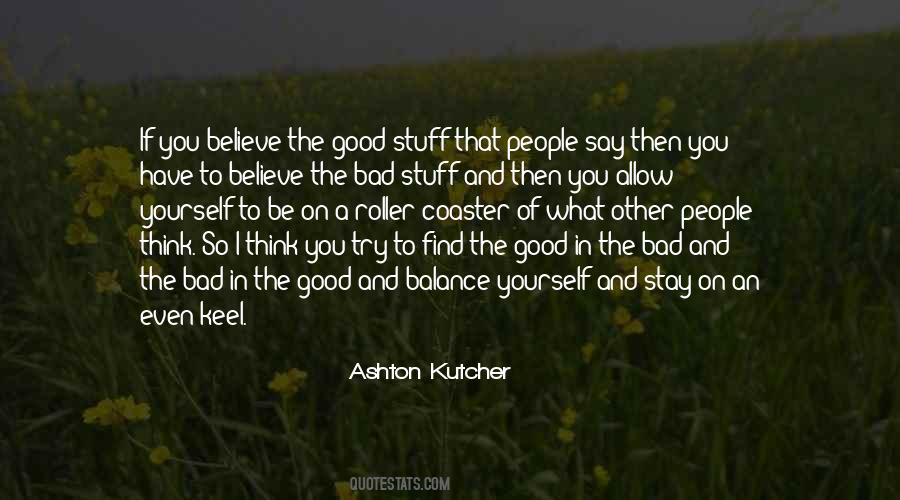 #65. Just make sure you're staying true to yourself, and do what you think is good in that craft or field [of yours] and then let everything else fall where it falls. - Author: Brian Regan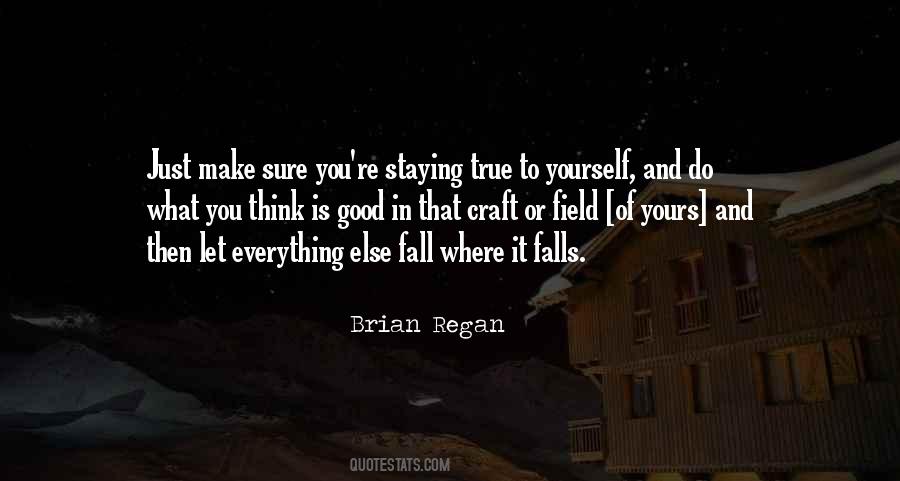 #66. Stop saying yes out of fear about what others will think about you and say NO out of love for yourself! - Author: Suze Orman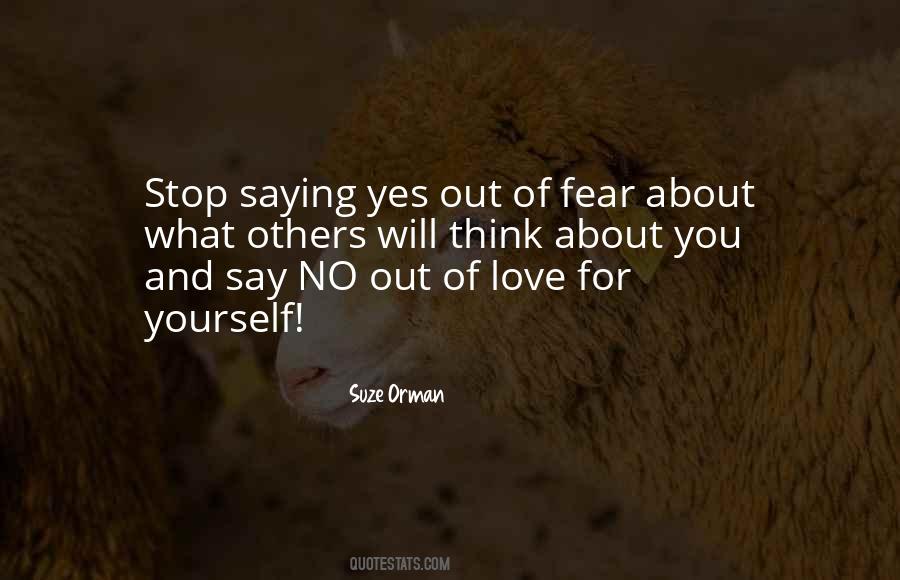 #67. Wait a second Why should you care what they think of you? When you're all alone, by yourself, do you like you? Do you like you? You don't have to try so hard, you don't have to give it all away, you just have to get up You don't have to change a single thing. - Author: Colbie Caillat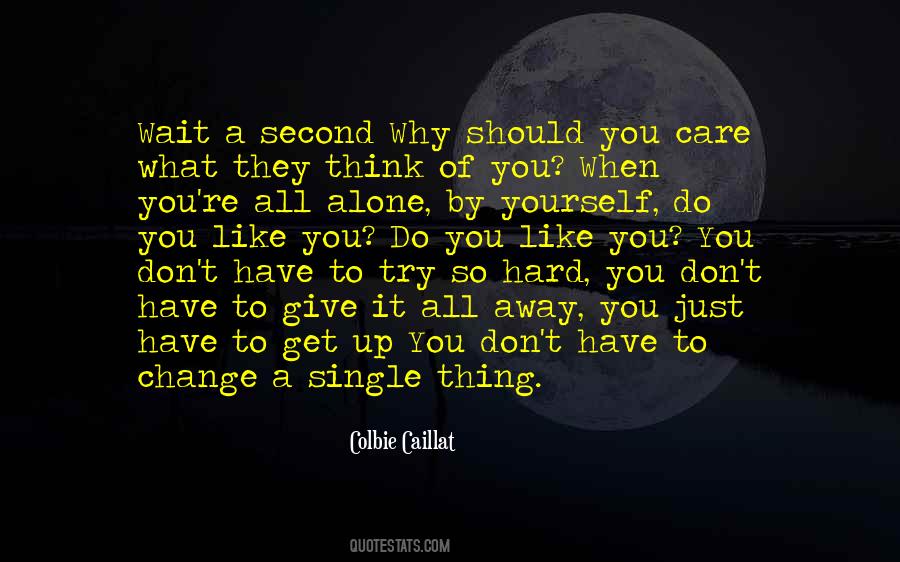 #68. The process of building trust is an interesting one, but it begins with yourself, with what I call self trust, and with your own credibility, your own trustworthiness. If you think about it, it's hard to establish trust with others if you can't trust yourself. - Author: Stephen Covey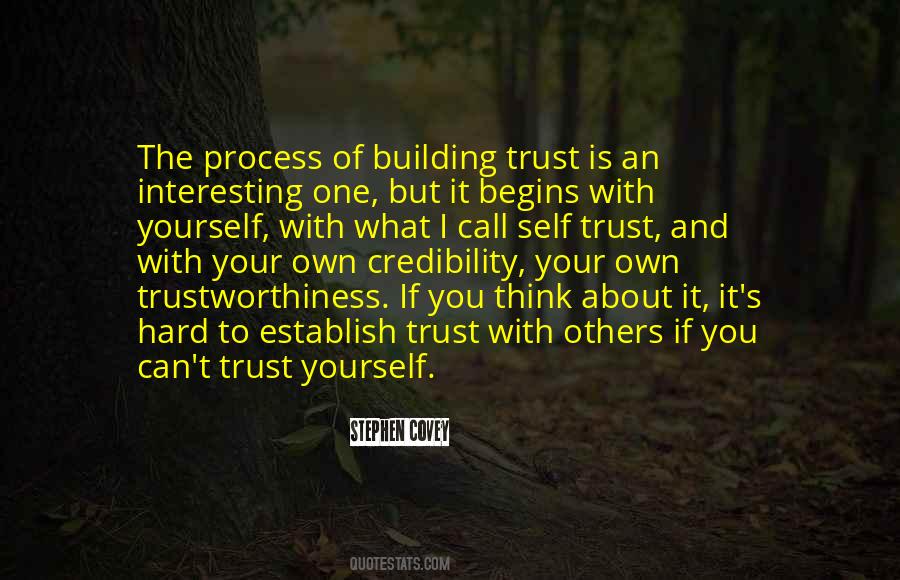 #69. Things happened the way they were supposed to, and it was no use trying to predict what was going to come next. People liked to think otherwise, but what you thought had no practical influence on what eventually happened. You can't think yourself well. You can't make yourself fall out of love. - Author: Sarah Addison Allen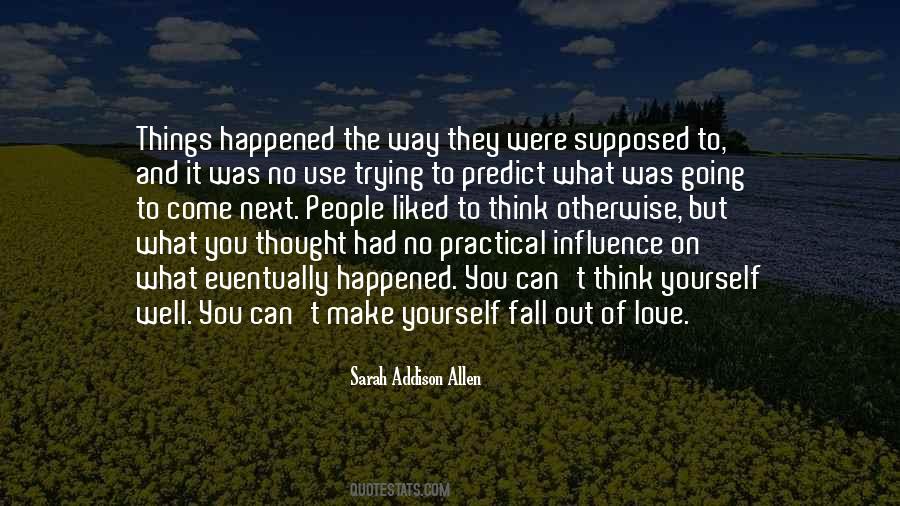 #70. You're very sure of yourself. And you mistakenly seem to think you can be very sure of me" She pouted. "How sad for you."
He gave her a pointed look. "I will have you in my bed, Harper. I always take what I want. Right now, that's you. - Author: Suzanne Wright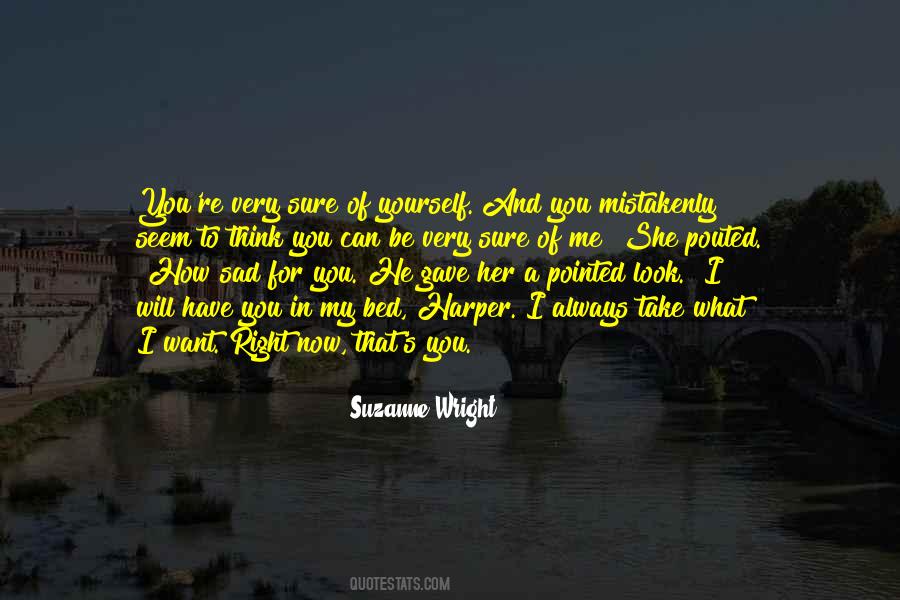 #71. What the hell do you think you're doing going and getting yourself kidnapped? You almost gave me apoplexy!" "Well, excuse me Queen of the World. I'm so sorry I inconvenienced you! - Author: Tamara Hoffa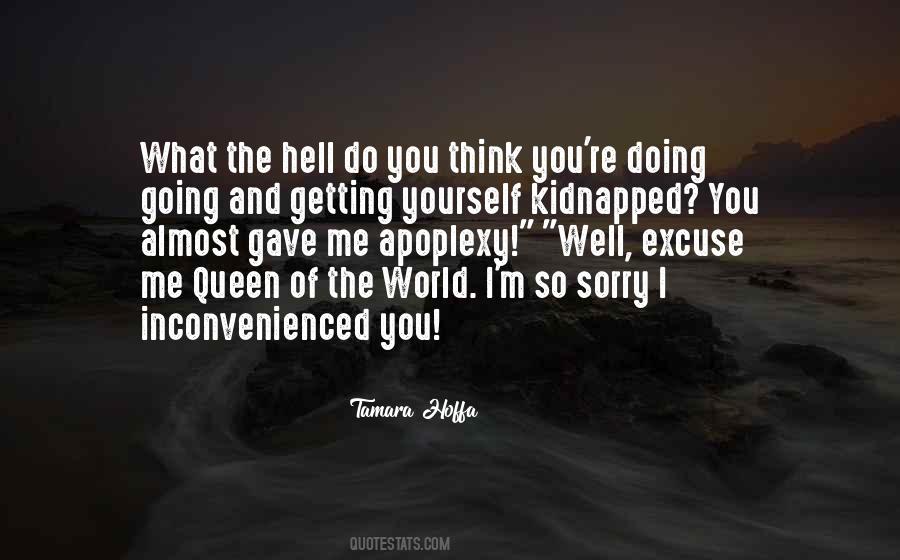 #72. If you chase the market, it's not going to come to you. You have to have faith in yourself. I think one of the differences in what I call 'civilians' and 'authors' is that we have an antenna hat buzzing all the time. - Author: David Morrell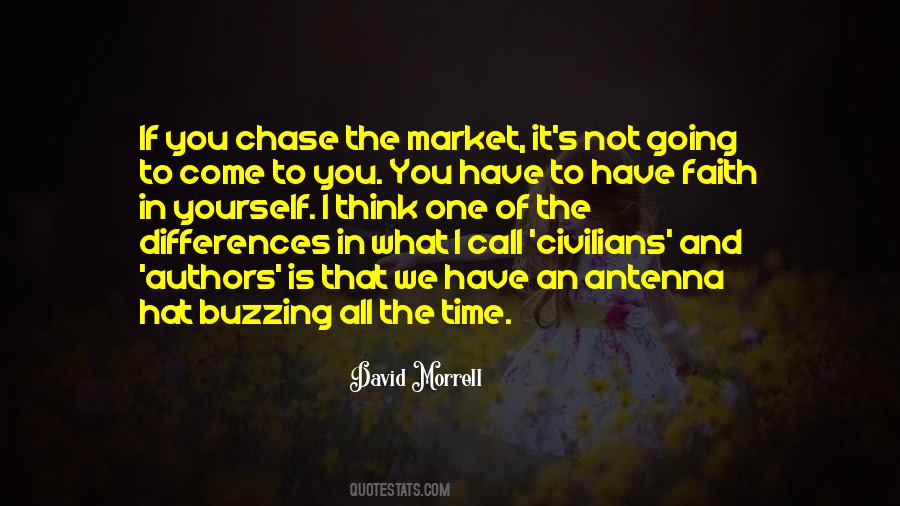 #73. Sometimes those fears creep into the back of your head, but then you slap yourself and think, 'Oh, woe is me! People actually like me.' What a silly thing to worry about. This is a huge opportunity, and I'm excited. - Author: Ben McKenzie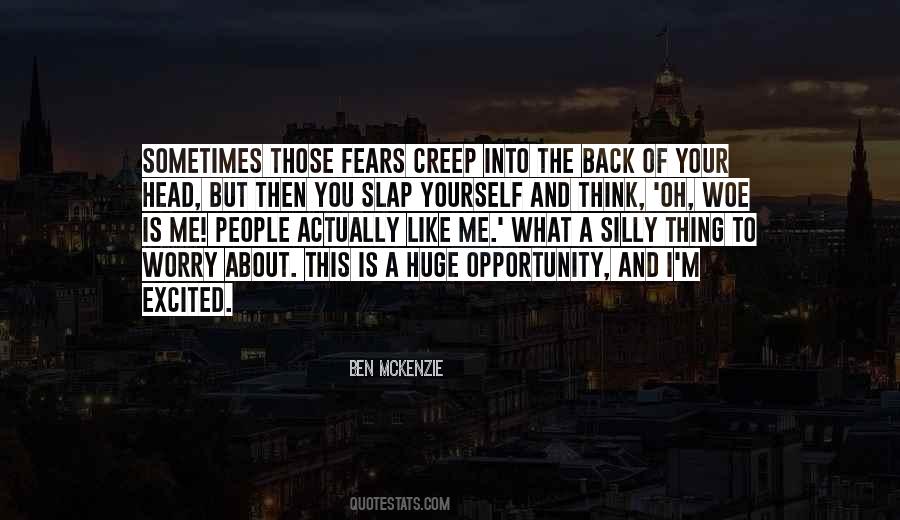 #74. That's what it means to be a man. You do what you think is right, regardless of who it hurts, and whether it works out, because in the end you have to live with yourself. - Author: Mark Goldblatt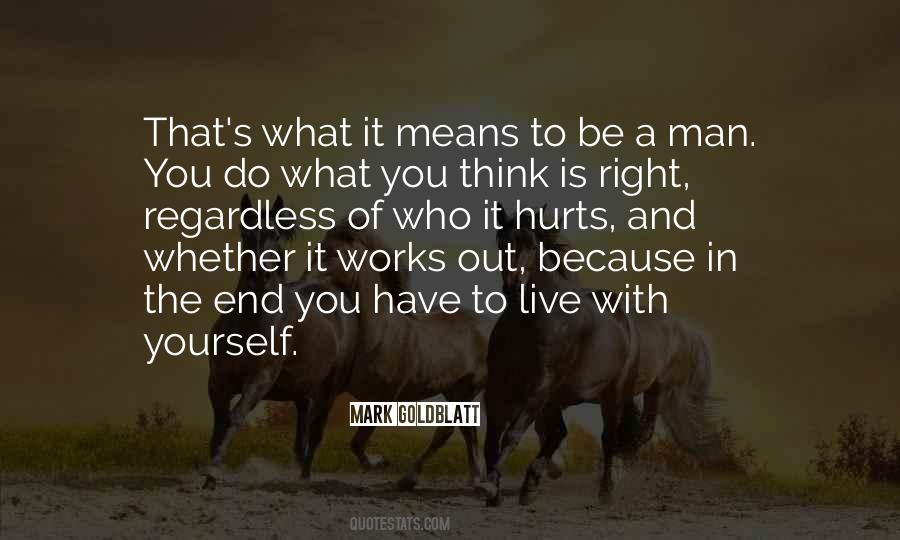 #75. The whole of science, and one is tempted to think the whole of the life of any thinking man, is trying to come to terms with the relationship between yourself and the natural world. Why are you here, and how do you fit in, and what's it all about. - Author: David Attenborough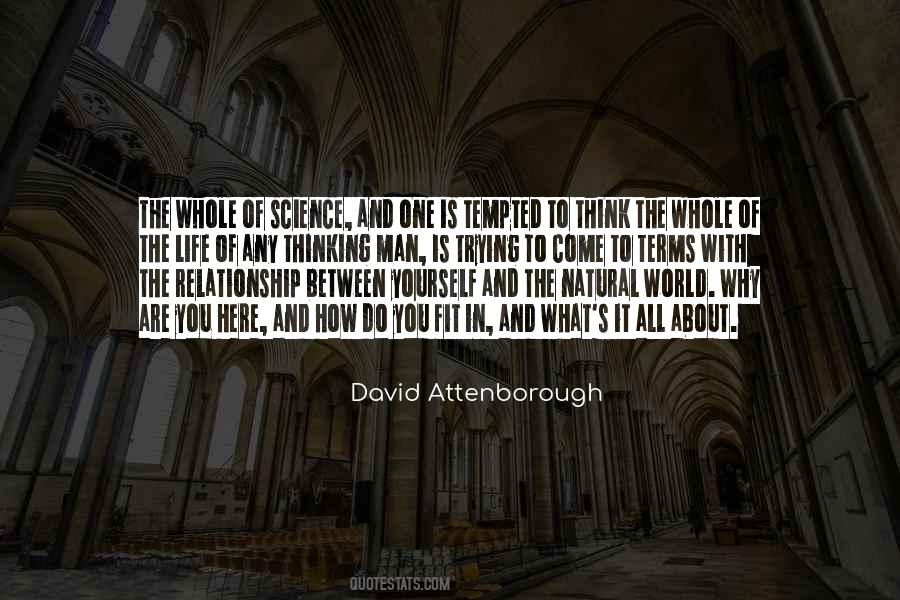 #76. The world always makes sure that you cannot fool yourself for long about who you really think you are by showing you what truly matters to you. How you react to people and situations, especially when challenges arise, is the best indicator of how deeply you know yourself. - Author: Eckhart Tolle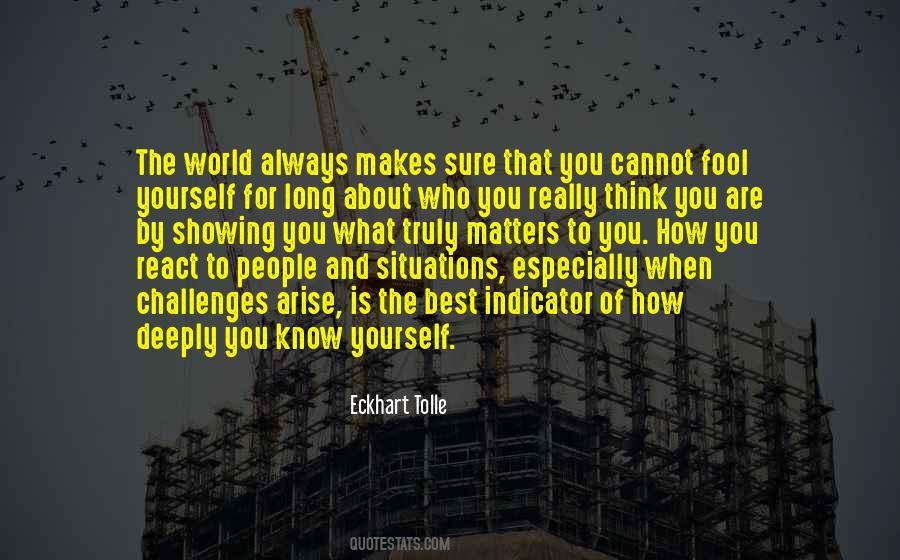 #77. So many people in the gay community have always asked me to come out, say it like it is, and help our cause. But for me ... I think my biggest statement I could give to the world is to be strong being myself ... you have to make something of yourself, and that's what makes us strong. - Author: Johnny Weir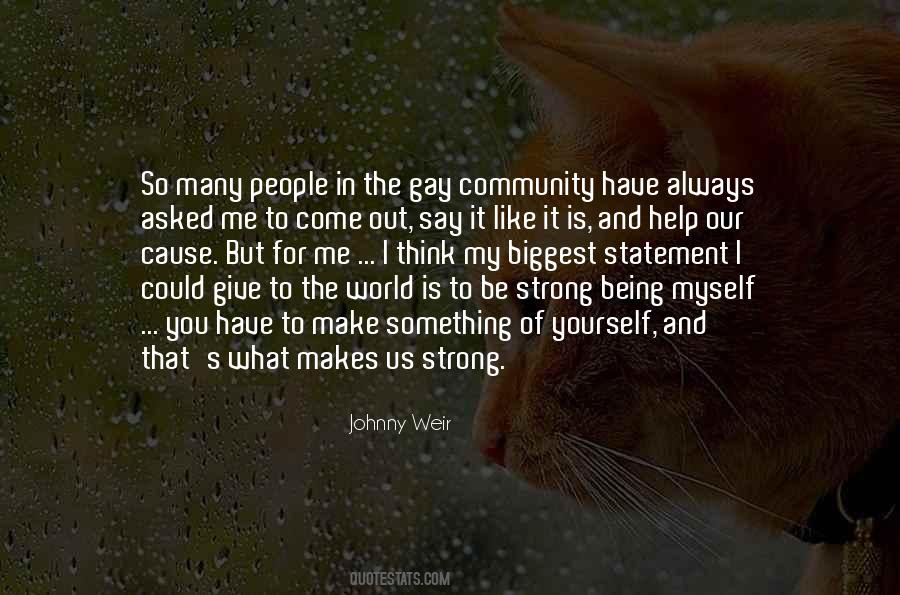 #78. When you fall in love, the natural thing to do is give yourself to it. That's what I think. It's just a form of sincerity. - Author: Haruki Murakami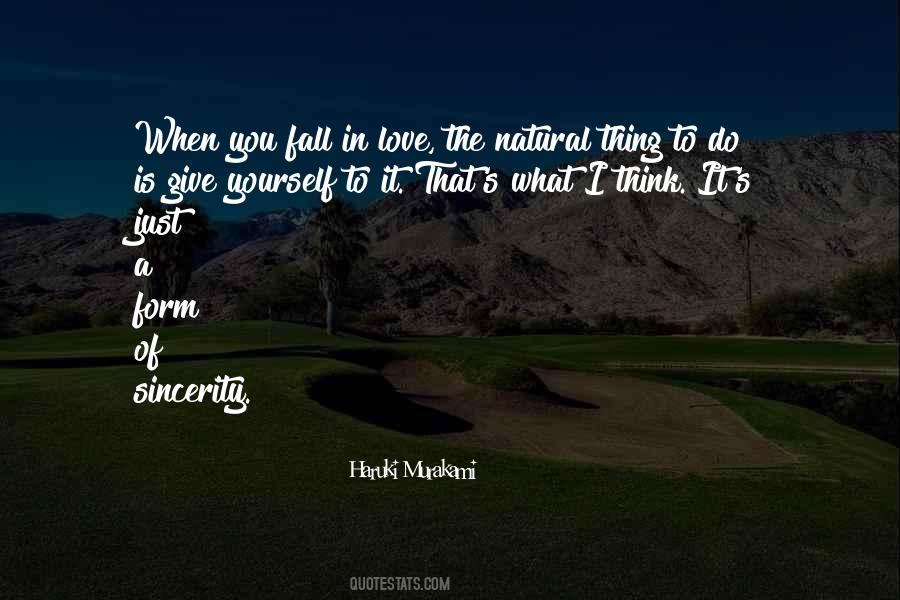 #79. Your success depends mainly upon what you think of yourself and whether you believe in yourself. - Author: William J.H. Boetcker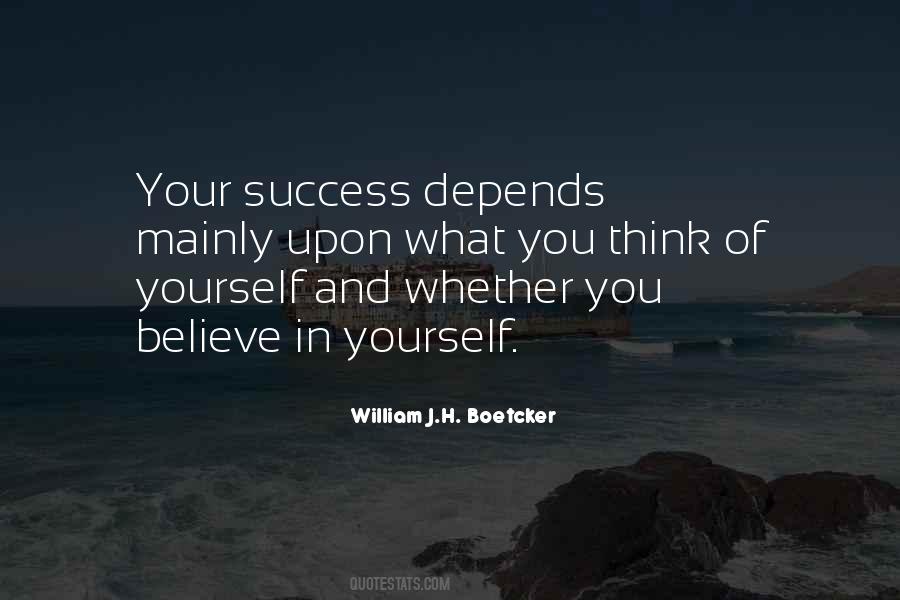 #80. Even in dialogue, your own style rules your selection. Do not give yourself a blank check of this kind: 'I'll merely reproduce what I think a character like so-and-so would say.' You have to reproduce it in the way your literary premises dictate. - Author: Ayn Rand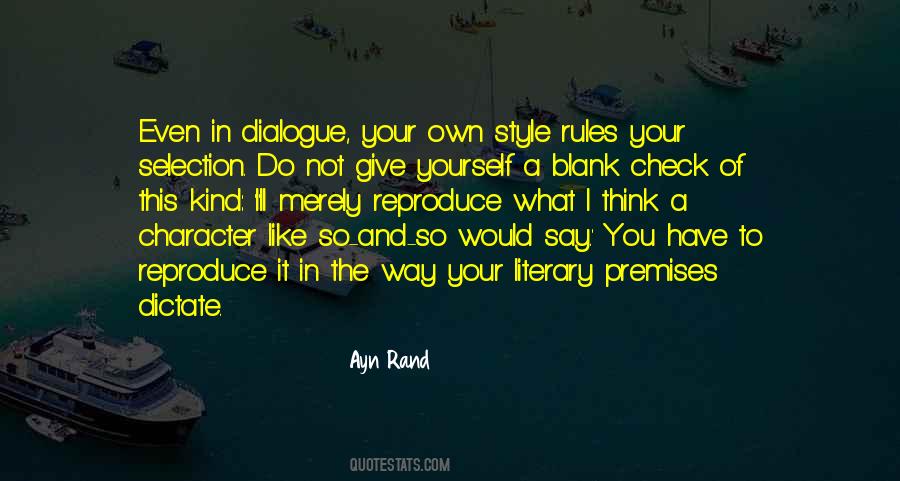 #81. To fail is a natural consequence of trying, To succeed takes time and prolonged effort in the face of unfriendly odds. To think it will be any other way, no matter what you do, is to invite yourself to be hurt and to limit your enthusiasm for trying again. - Author: David Viscott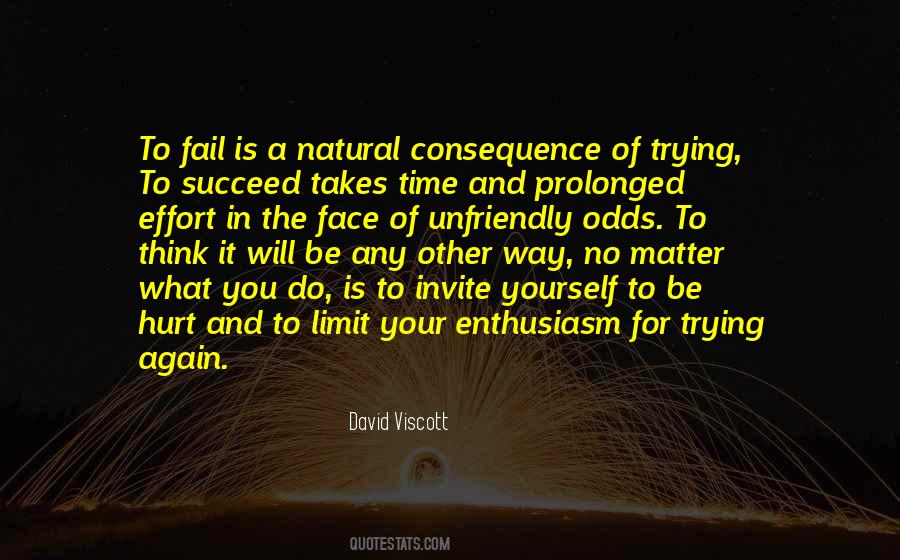 #82. Why?"
He sauntered towards her. "Why, what?"
"Why are you here?"
He sighed. "Well, I think everyone goes through a time in their lives when they ask that same question. It's brave of you to finally step outside of yourself and- - Author: Rachel Van Dyken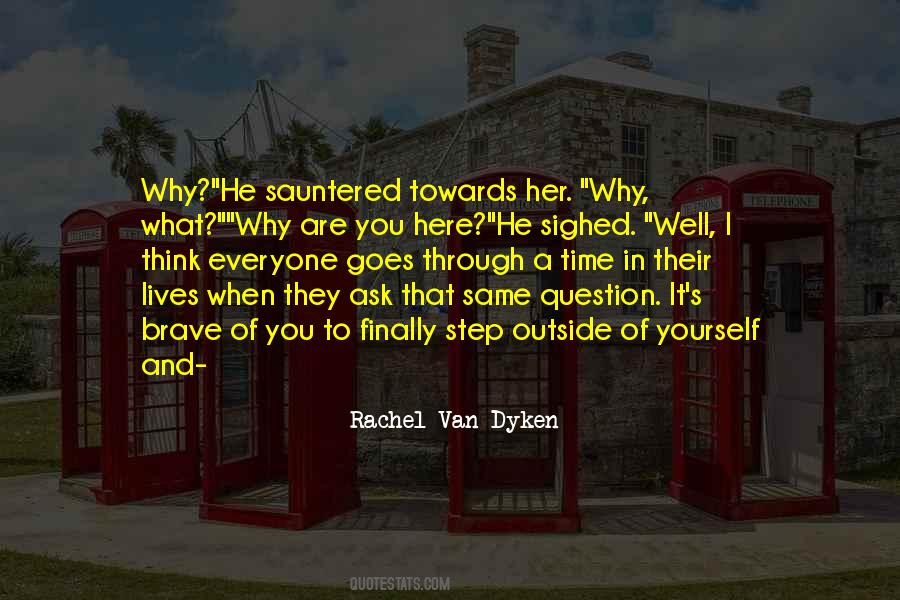 #83. Of course the self-serving bias is something you want to get out of yourself. Thinking that what's good for you is good for the wider civilization and rationalizing all these ridiculous conclusions based on this subconscious tendency to serve one's self is a terribly inaccurate way to think. - Author: Charlie Munger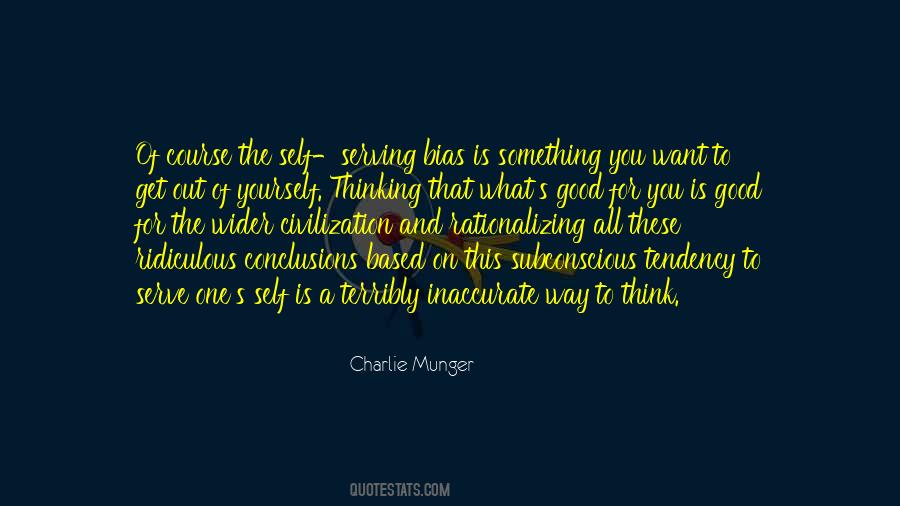 #84. The older you get, I should think, the more you will come to understand that the universe is very much a looking glass, Miss Lancaster." "Meaning what, precisely?" "That it reflects a great deal more of yourself to your senses than you probably know. - Author: Jim Butcher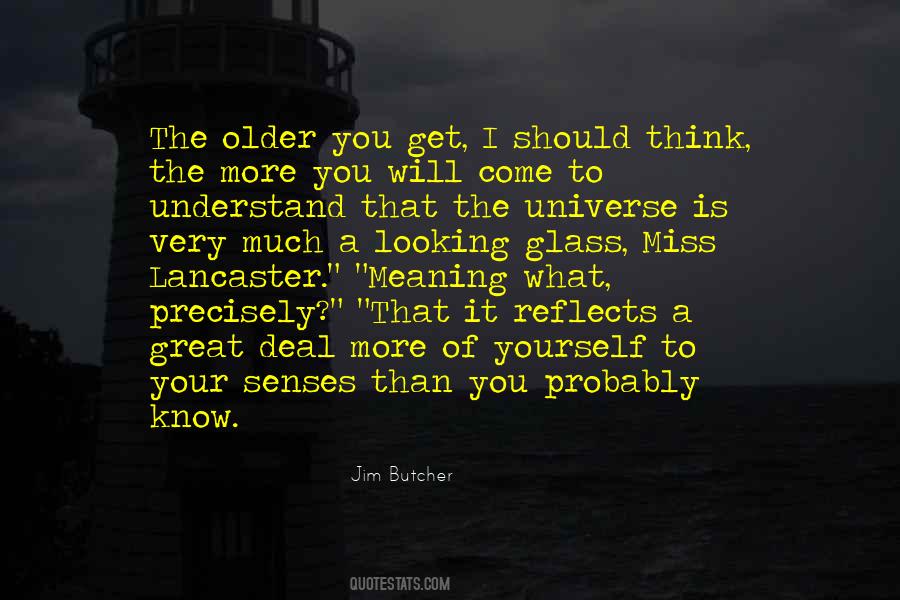 #85. Some people think what you're supposed to do in life is fill yourself up with loads of things like names, the more the better. But that's not how it works. - Author: Kathryn Davis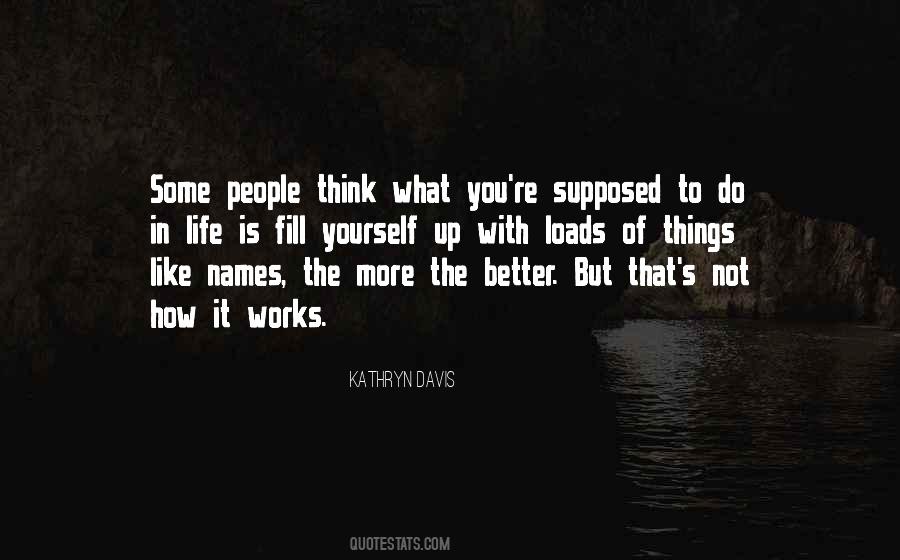 #86. Crafternoon is about making what you want, how you want it, to the best of your ability. And even if you may not think of yourself as a rock star of creativity, it's there inside you. At Crafternoon, you are a CraftStar. - Author: Maura Madden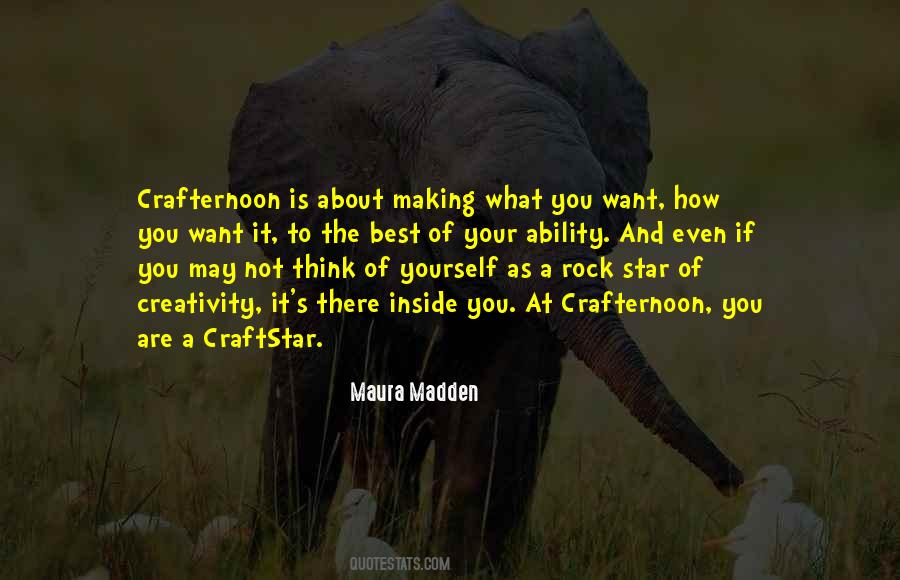 #87. No book is of much importance; the vital thing is, What do you yourself think? - Author: Elbert Hubbard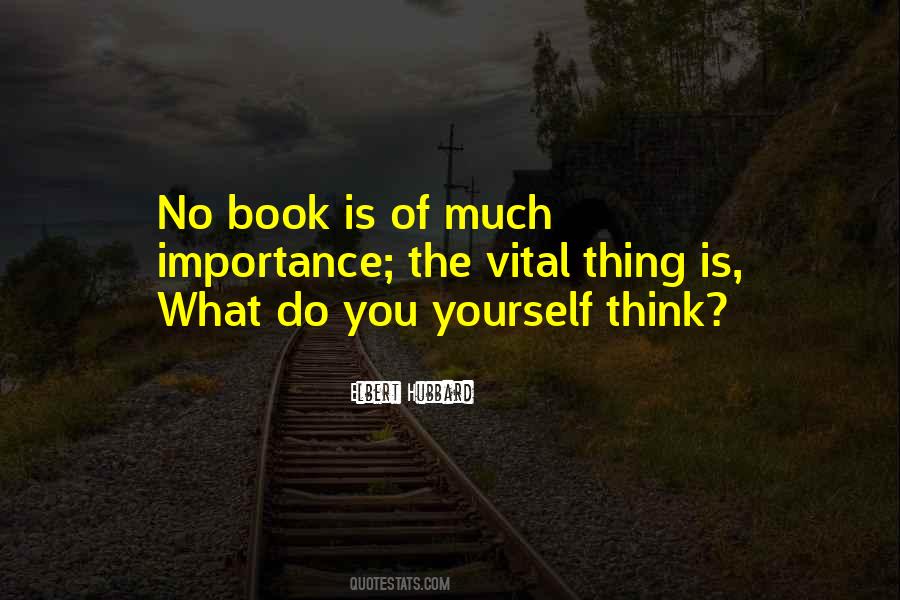 #88. Allow yourself to think that the possibility of failure is a necessary part of parenting well ... Avoiding the possibility of failure means avoiding the possibility of being an extraordinary parent-and avoiding what you want for your child. - Author: Lisa Coyne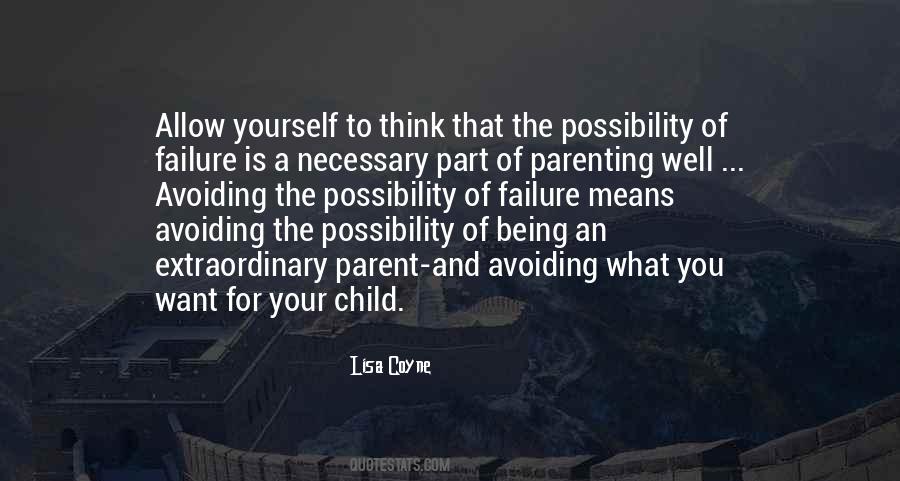 #89. I think the most important recipe for a good date is just spending time with somebody and really connecting and feeling like the best version of yourself regardless of what you may be doing. - Author: Sophia Bush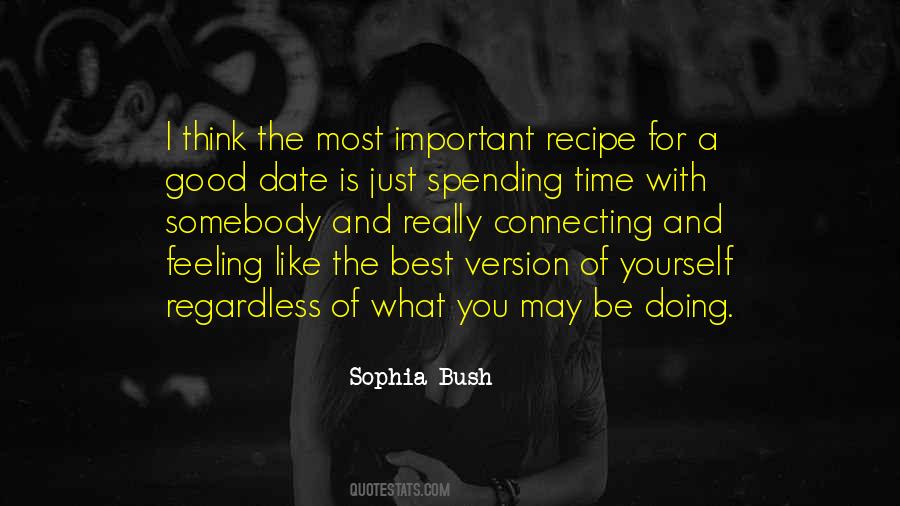 #90. The business of Hollywood, if you don't have other things going on, it will eat you up and spit you out ... If you take what those people and that social structure think of you - if you let it govern your life - you might as well just kill yourself. - Author: Morgan Fairchild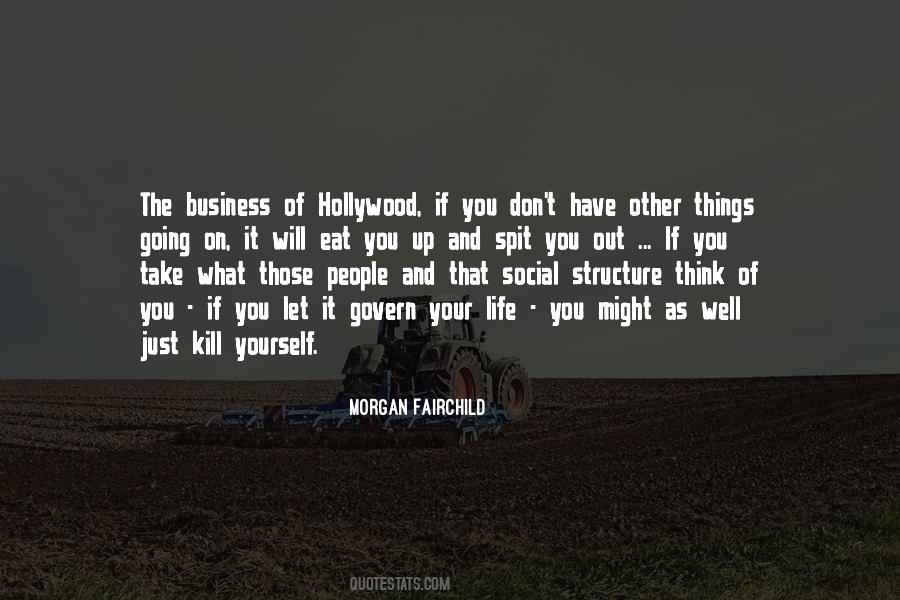 #91. Think ... of the world which you carry within yourself ... and set it above everything that you notice about you. Your inmost happening is worth your whole love, that is what you must somehow work at, and not loose too much time and too much courage in explaining your attitude to people. - Author: Rainer Maria Rilke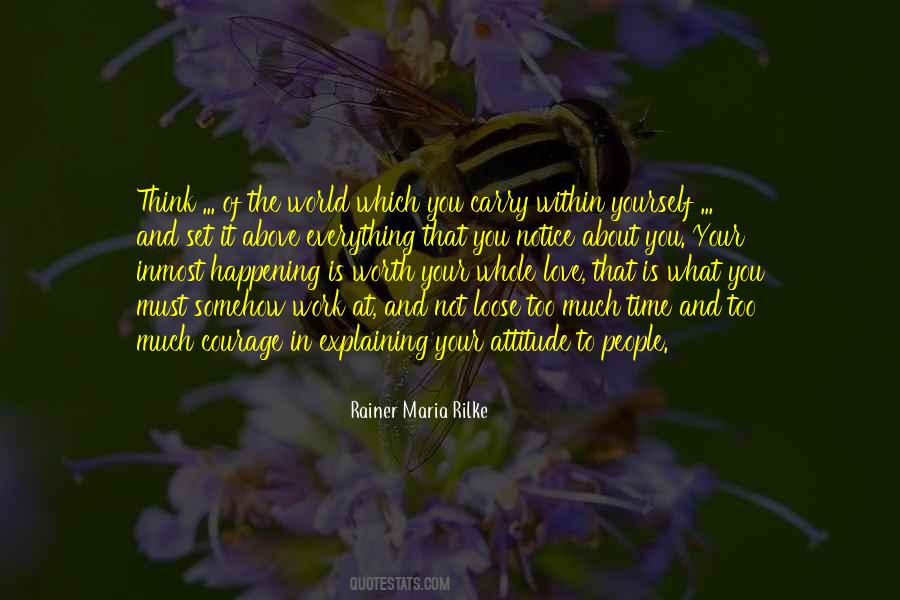 #92. I think everyone's afraid of public speaking. There have been times where I've come out of my own show and been like, 'Oh, God, what am I doing?' ... You have to remind yourself that 'OK, I'm kind of a badass. I can handle it.' - Author: Chelsea Handler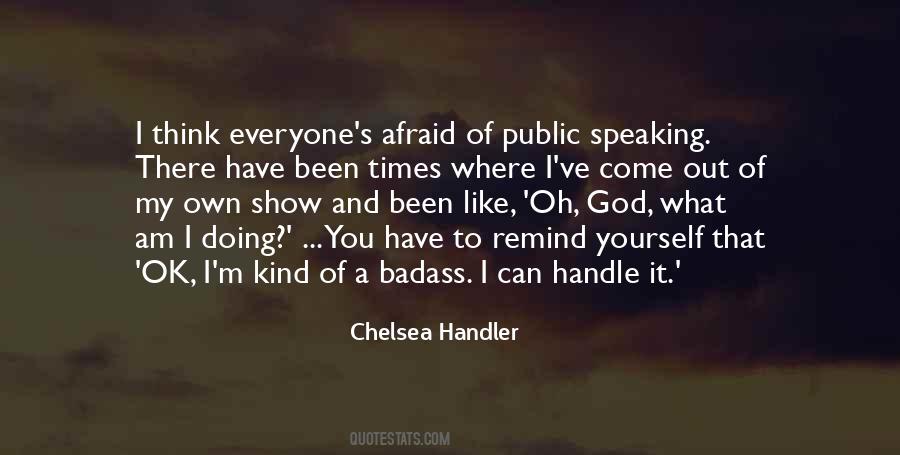 #93. I certainly very much enjoy acting, but I am open to anything really. I think it's important when you have those moments in life when you are not attached to something, and you are not quite sure what the next phase of your journey is going to look like, that you don't pigeon-hole yourself. - Author: James Scott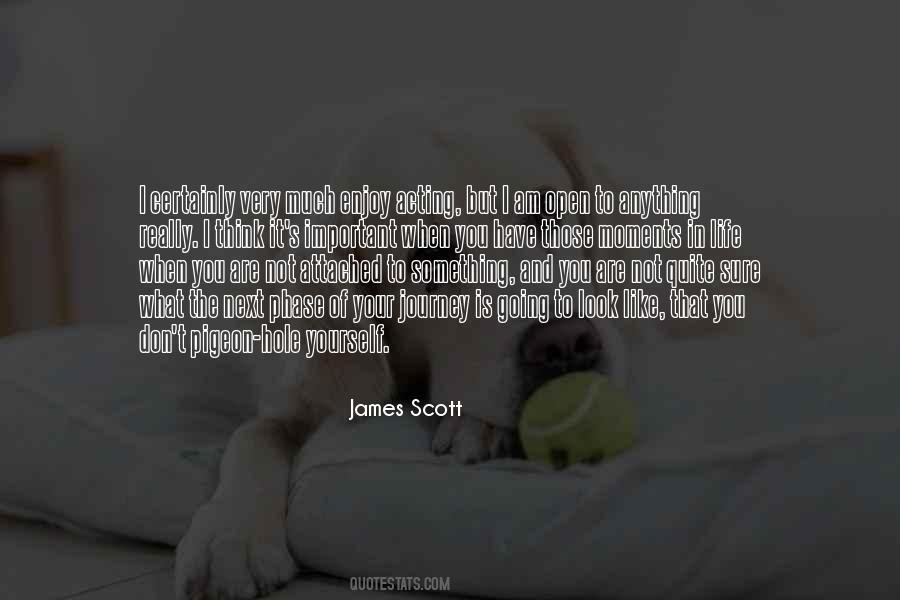 #94. There is never any pressure, jealousy or competition but only a quiet calmness when they are around. You can be yourself and not worry about what they will think of you because they love you for who you are. - Author: Bob Marley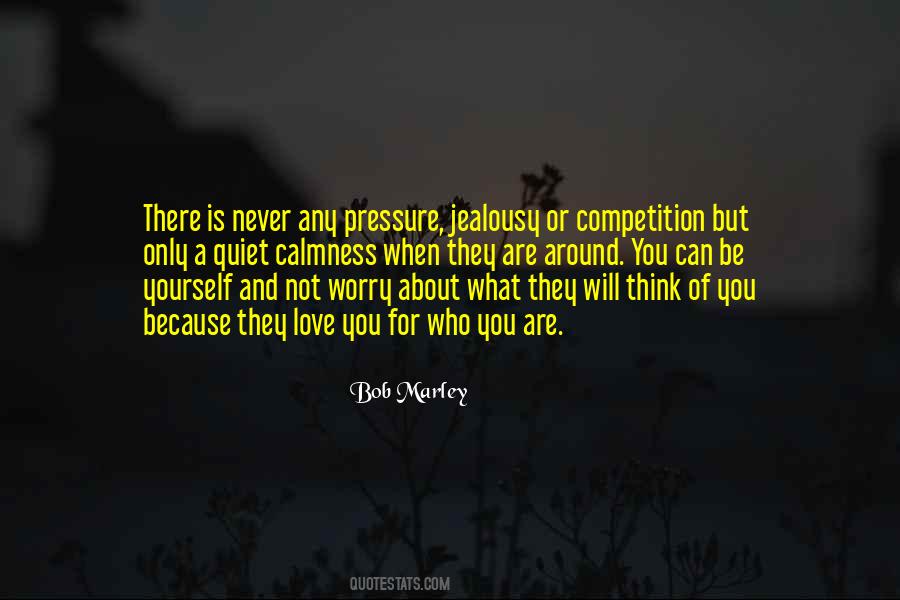 #95. Look at yourself as someone who is reaching for healing, and at the complexity of what needs to be healed. Do not think that you exist alone without other human beings of equal complexity. - Author: Gary Zukav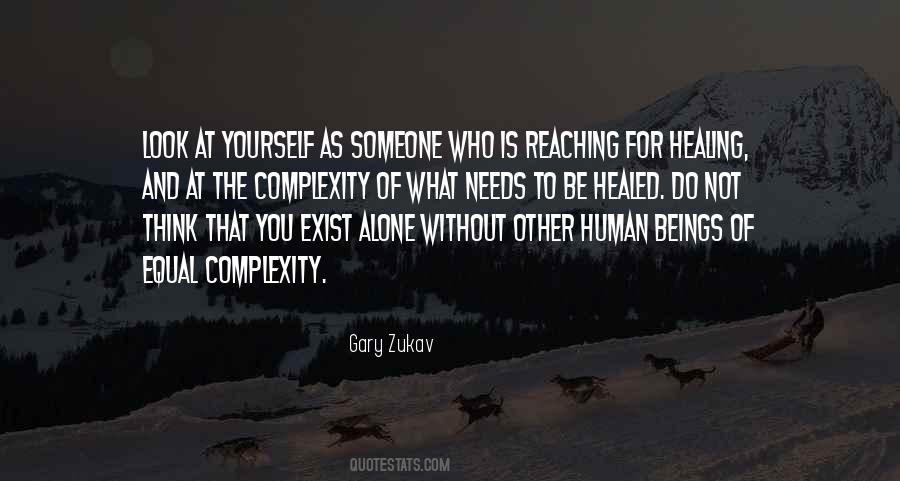 #96. You can be surrounded by people all the time, but you feel so alone. I think that's when you can lose perspective and lose control of what you're doing. It's almost as if you have no fear and you don't really care about what happens to yourself. - Author: Ladyhawke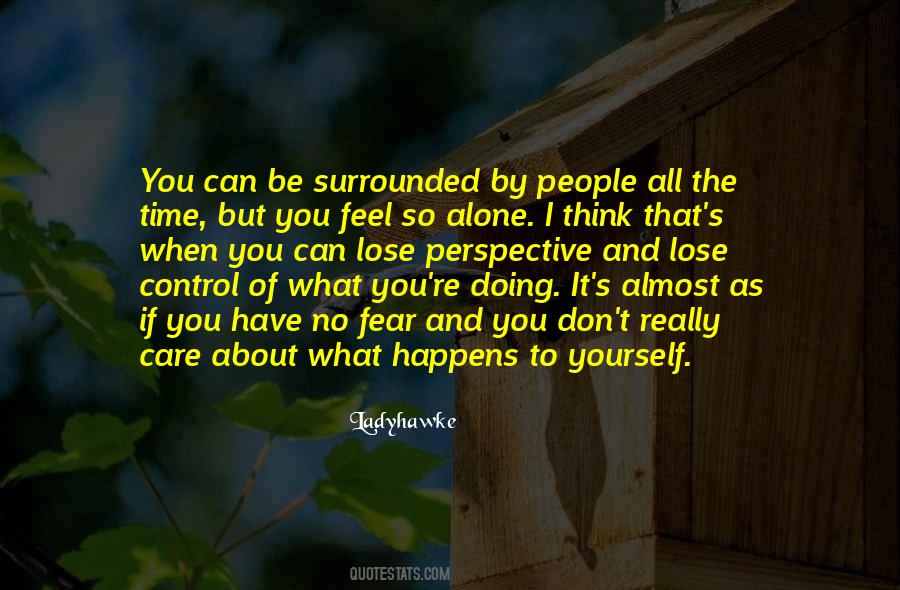 #97. I think every person should be able to enjoy life. Try to decide what you most enjoy doing, and then look around to see if there is a job for which you could prepare yourself that would enable you to continue having this sort of joy. - Author: Linus Pauling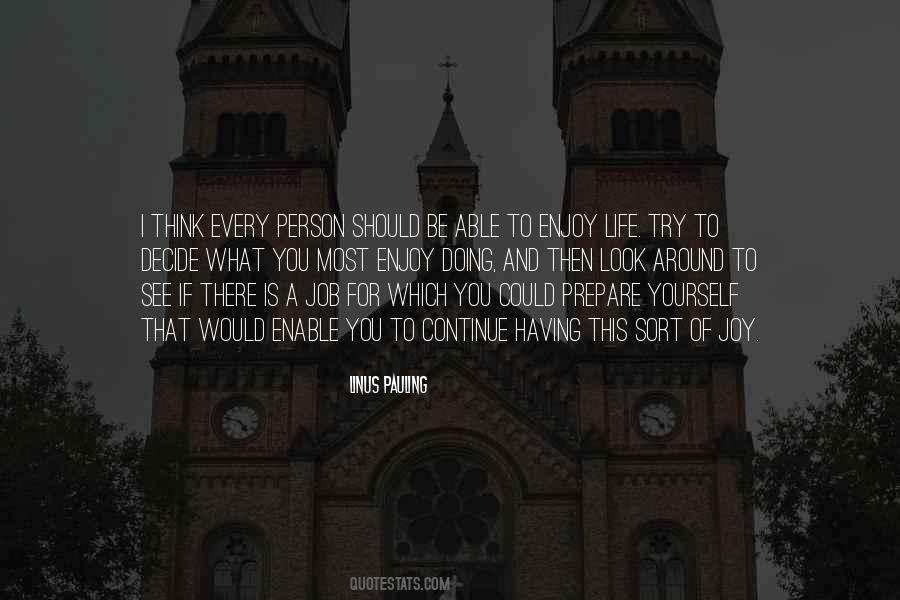 #98. Think about what you like to do and don't talk yourself into something for fear of being left out. That being said, it's important to try different things. Push yourself out of your comfort zone and you may surprise yourself. - Author: Amy E. Spiegel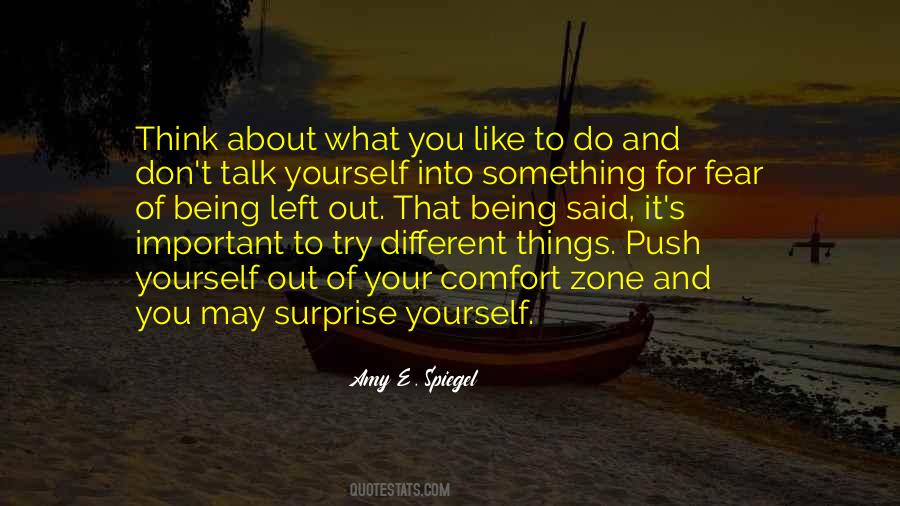 #99. You still have a lot of time to make yourself be what you want. There's still lots of good in the world. Tell Dally. I don't think he knows. - Author: S.E. Hinton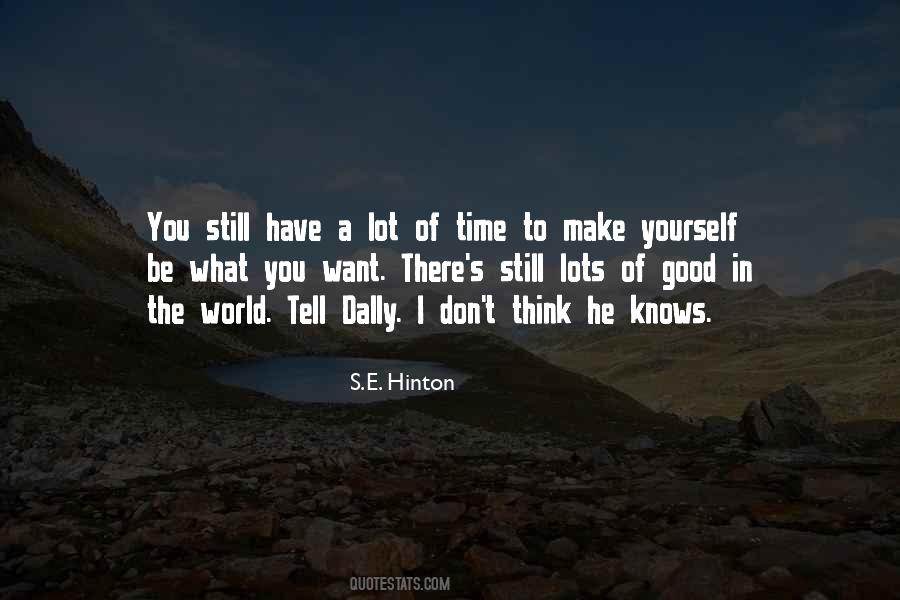 #100. Stop worrying about what others think. At the end of the day, you have to live with you. Trust yourself. No one has to tell you when it's right. Do what you need to do. - Author: Cheryl Richardson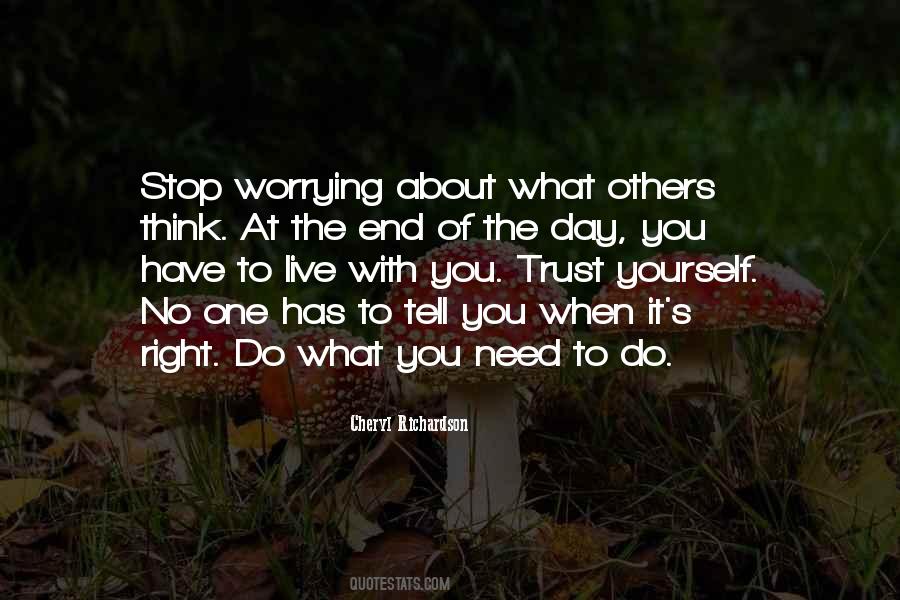 Famous Authors
Popular Topics