Saying Please Famous Quotes & Sayings
List of top 70 famous quotes and sayings about saying please to read and share with friends on your Facebook, Twitter, blogs.
Top 70 Quotes About Saying Please
#1. No one will ever shine in conversation, who thinks of saying fine things: to please, one must say many things indifferent, and many very bad. - Author: Francis Lockier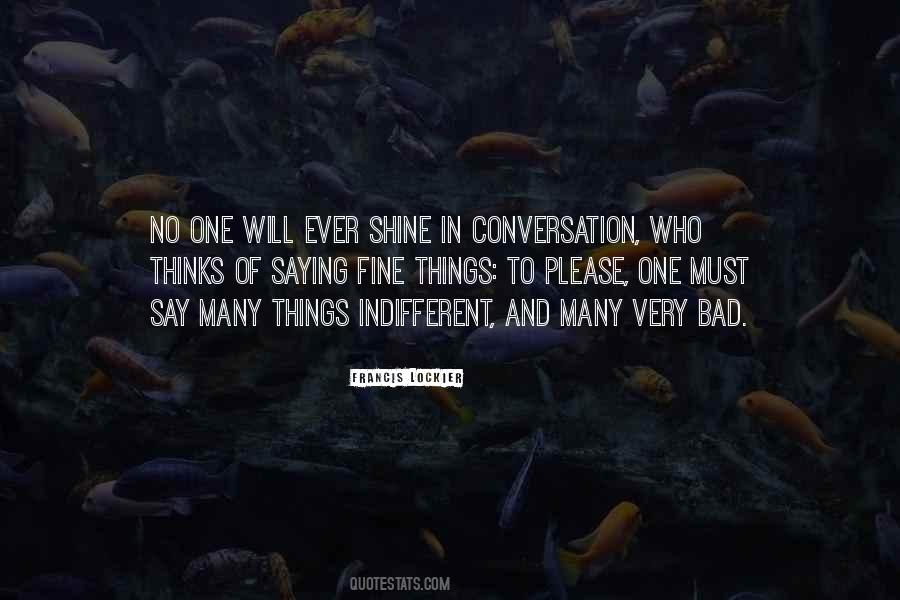 #2. I tell you everything that is really nothing, and nothing of what is everything, do not be fooled by what I am saying. Please listen carefully and try to hear what I am not saying. - Author: Charles C. Finn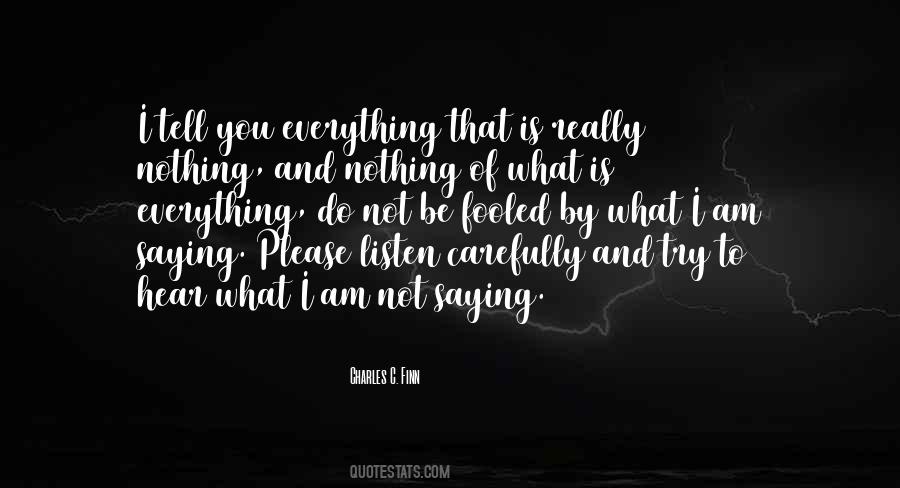 #3. Don't say it was delightful; make us say delightful when we've read the description. You see, all those words (horrifying, wonderful, hideous, exquisite) are only like saying to your readers Please will you do the job for me. - Author: C.S. Lewis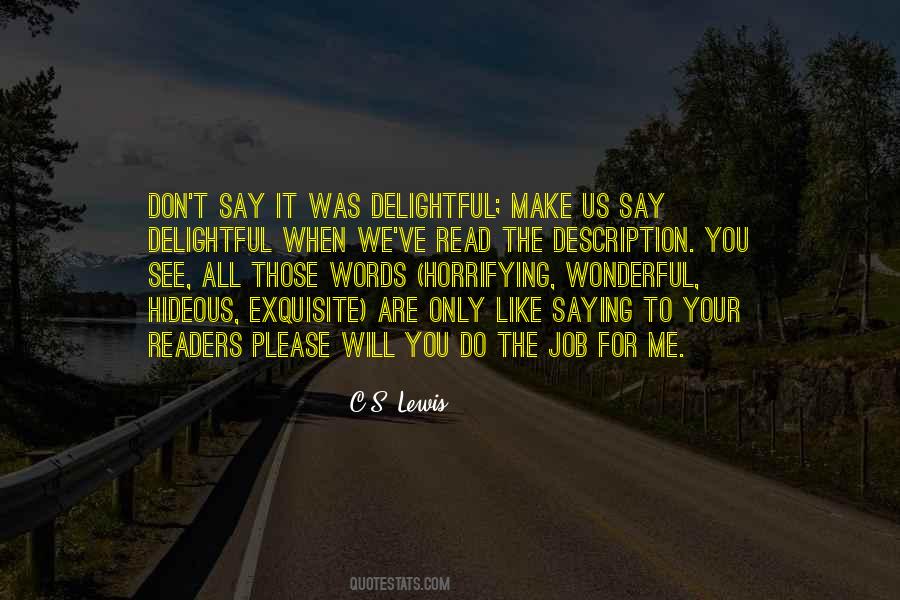 #4. Dear God," said Nudge under her breath, "I want real parents. But I want them to want me too. I want
them to love me. I already love them. Please see what you can do. Thanks very much. Love, Nudge."
Okay, so I'm not saying we were pros at this or anything. (Max thoughts) - Author: James Patterson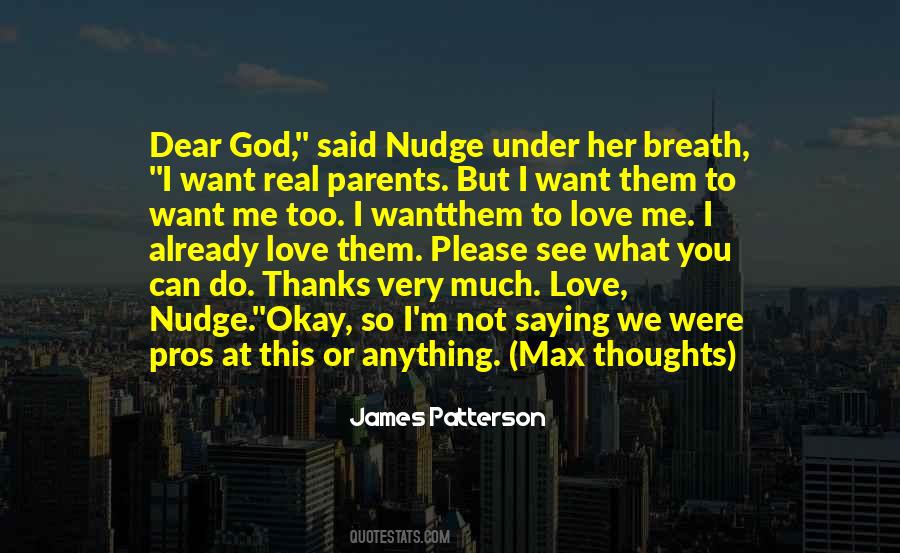 #5. When we speak for the poor, please note that we do not take sides with one social class. What we do is invite all social classes, rich and poor, without distinction, saying to everyone let us take seriously the cause of the poor as though it were our own. - Author: Oscar Romero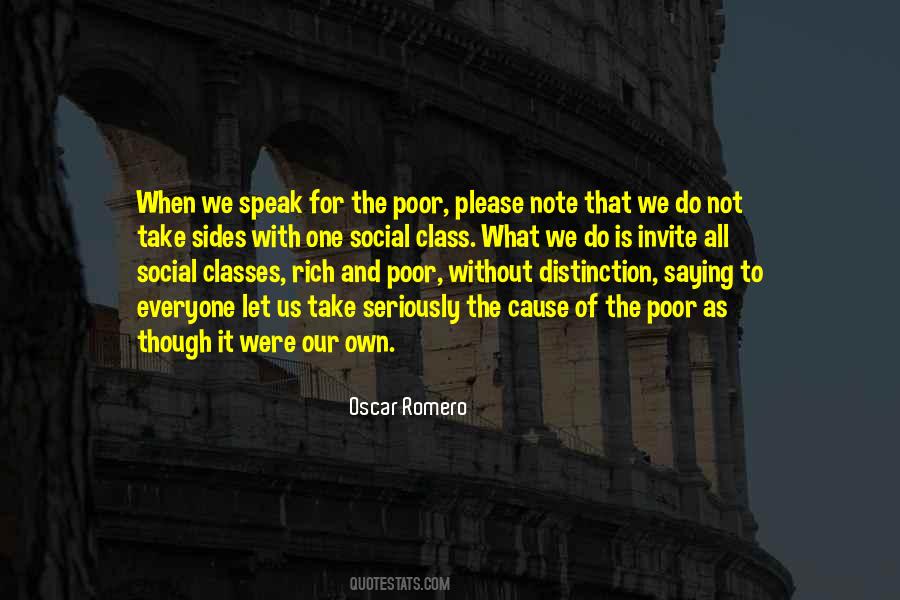 #6. Plough your fields, cast your seeds, the rains will come when they please. - Author: Radhe Maa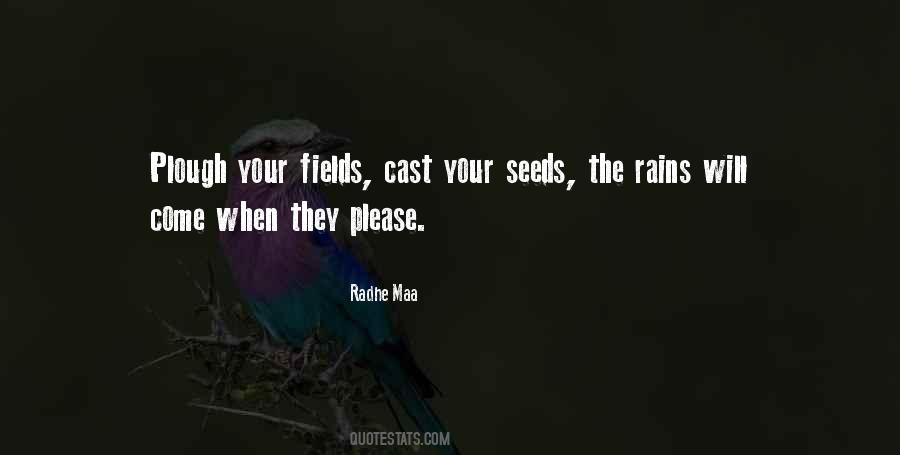 #7. Do we stand up over a gold plated trophy? Or do we stand up and say we need equal wages and equal treatment?The Oscars have not been any different for what ... 89 years? But why do we keep wanting to get thrown a bone? Why do we want to keep saying 'Can we please come to your party? - Author: Mo'Nique Imes-Jackson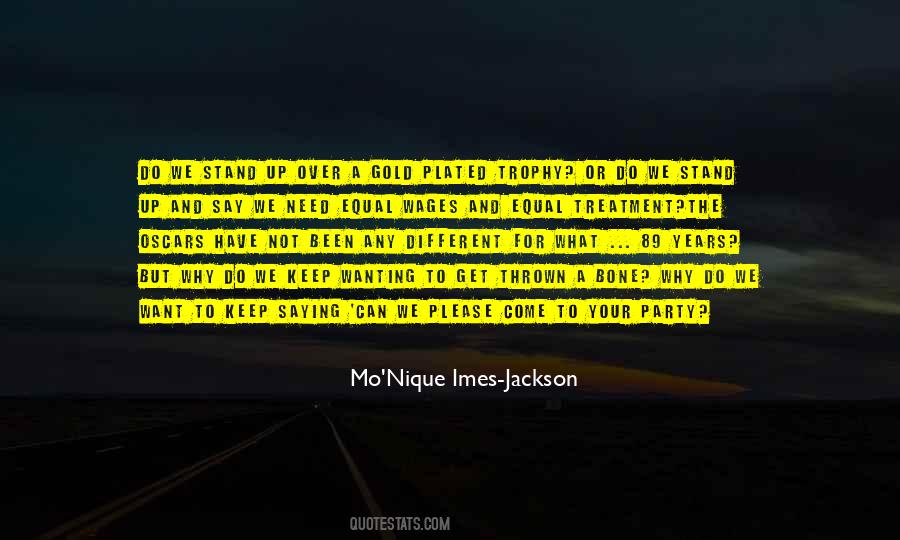 #8. They started the meeting out by saying, "Everybody please take your seats"
I was halfway back to my cubicle with mine before they stopped me ... - Author: Neil Leckman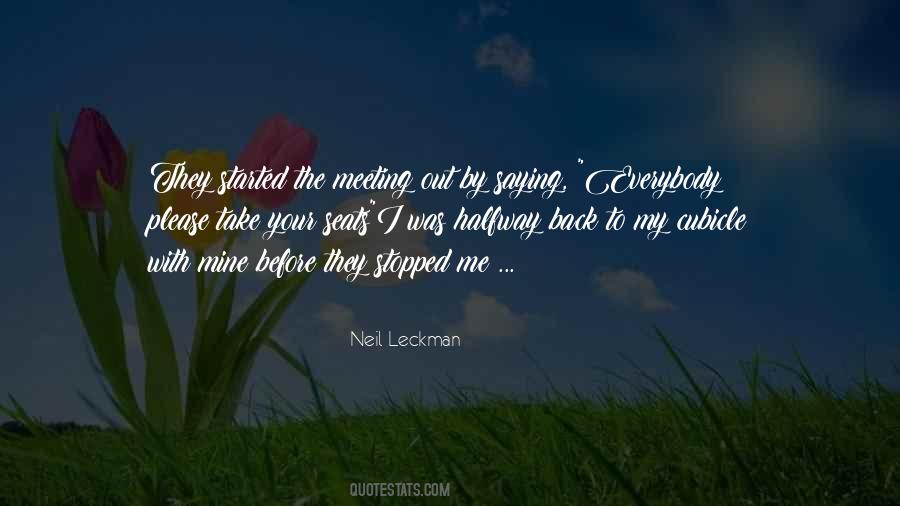 #9. Don't judge a book by its cover. Mom is always saying that, but most of the time, I think that's exactly what people are asking us to do: Please. Judge me by my cover. Judge me by exactly what I've worked so hard to show you. - Author: Aaron Hartzler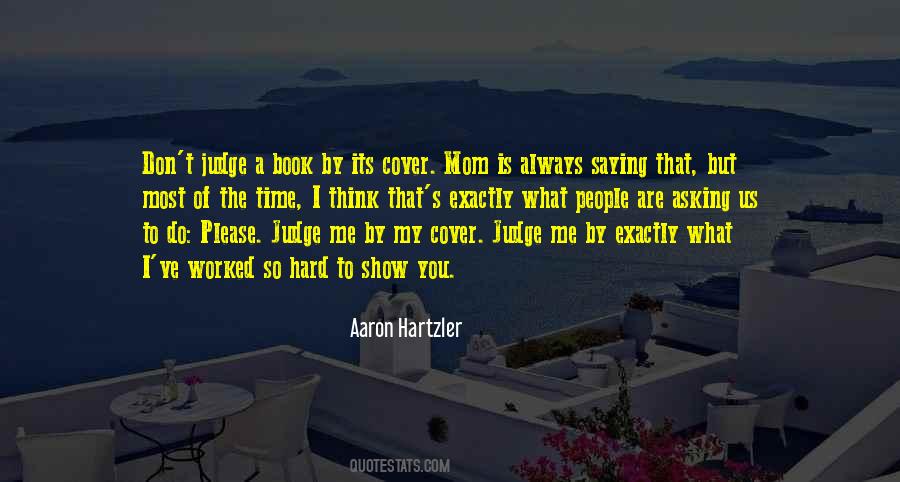 #10. Please tell me you don't go around saying crap like that to everyone. No wonder no one in town ever talks to us. Wealthy families always have a crazy person or two. Is that really the role you want to play, Vi?"
"We're not wealthy anymore. Remember? So if I'm crazy, no one will care. - Author: April Genevieve Tucholke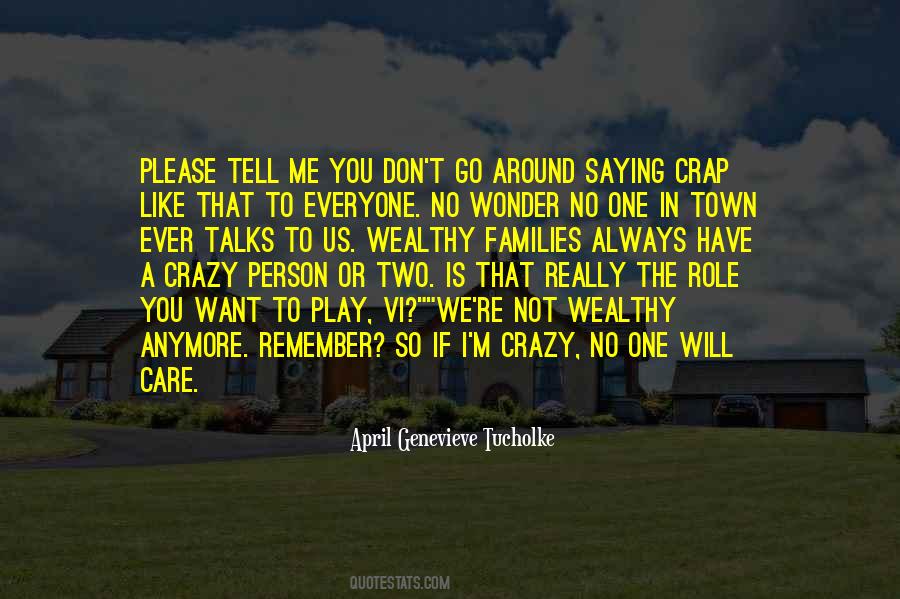 #11. Take my wife ... please. I'm not saying she's ugly, but when she went to see a horror film, the audience thought she was making a personal appearance. - Author: Les Dawson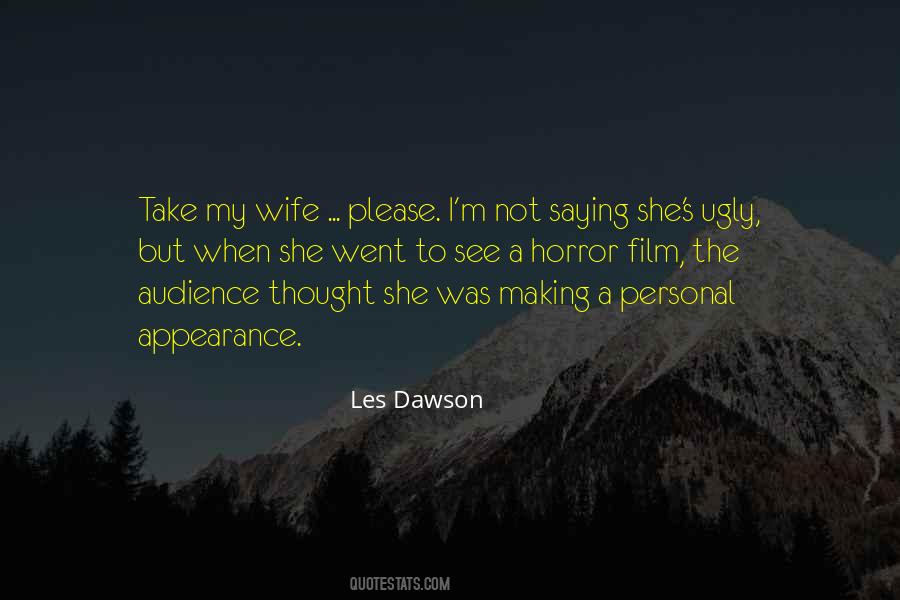 #12. Arthur Dent: What happens if I press this button?
Ford Prefect: I wouldn't-
Arthur Dent: Oh.
Ford Prefect: What happened?
Arthur Dent: A sign lit up, saying 'Please do not press this button again. - Author: Douglas Adams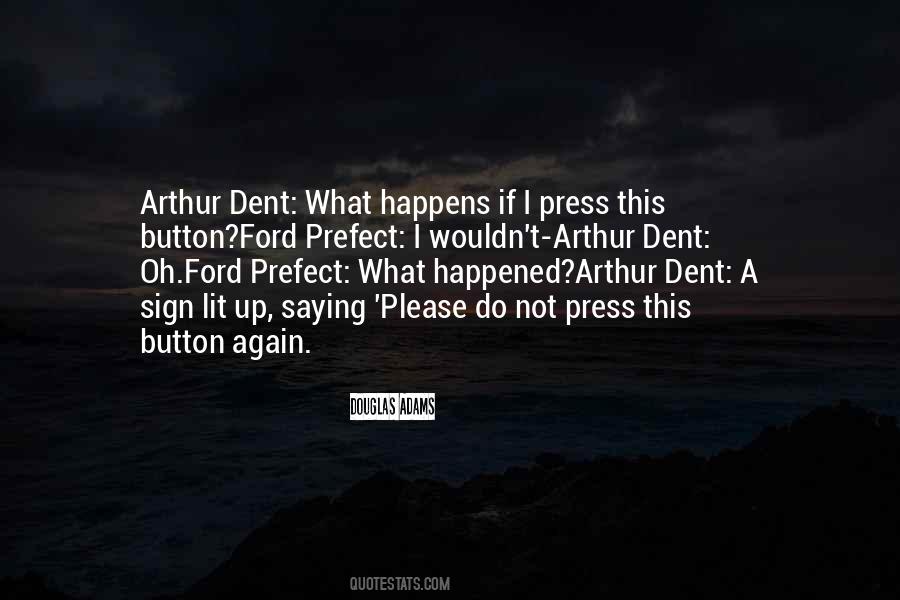 #13. My parents are desperate, they keep saying: 'Please stop doing these angsty roles; make it easier for us.' So, yeah, I'd love to do some comedy. - Author: Ruth Wilson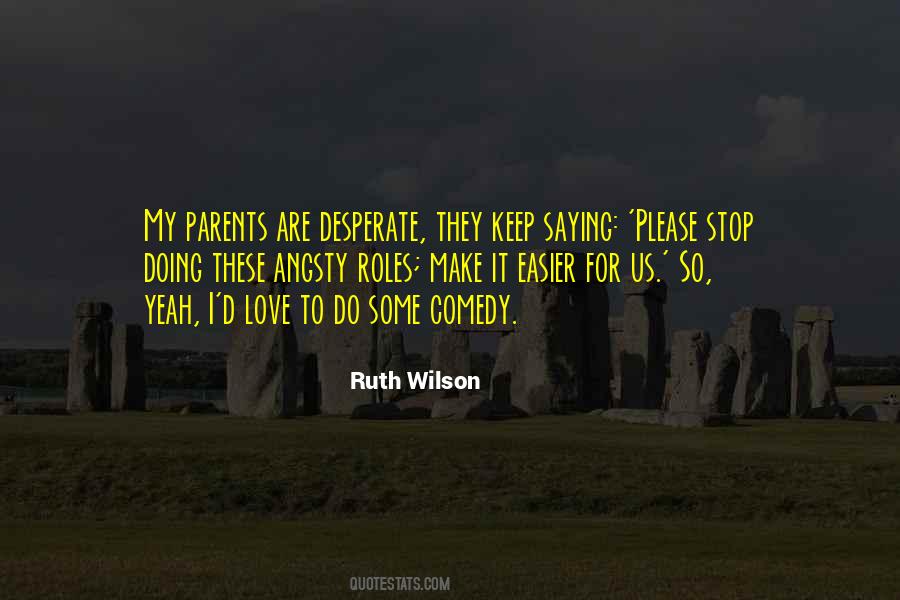 #14. I'm just saying to everyone. The director does not direct the trailer. It's an edited version that takes so many moments of the movie, sometimes it's not even in the movie. The director does the movie. So don't judge the director based on the trailer. Please. - Author: Michel Gondry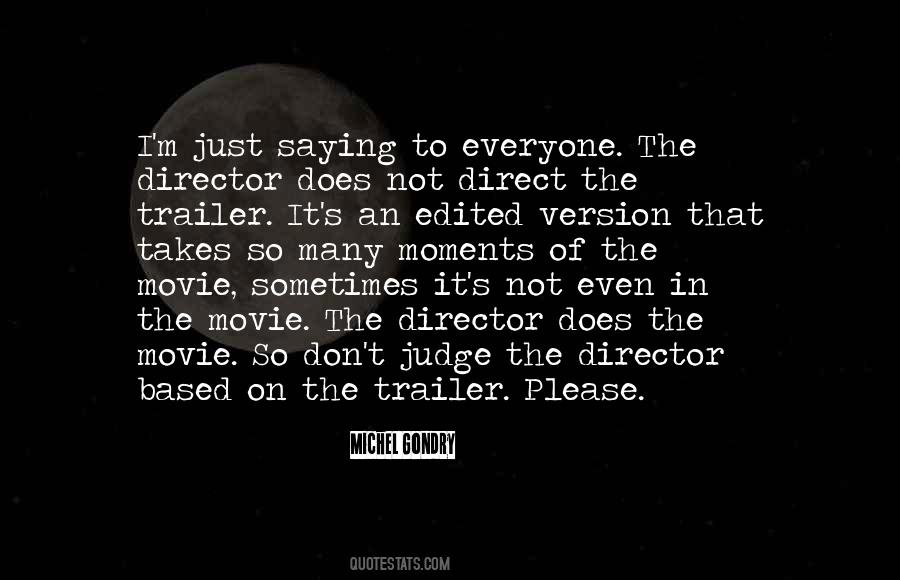 #15. That's the word, Turkey," said I - "that's it." "Oh, prefer? oh yes - queer word. I never use it myself. But, sir, as I was saying, if he would but prefer - " "Turkey," interrupted I, "you will please withdraw." "Oh certainly, sir, if you prefer that I should. - Author: Herman Melville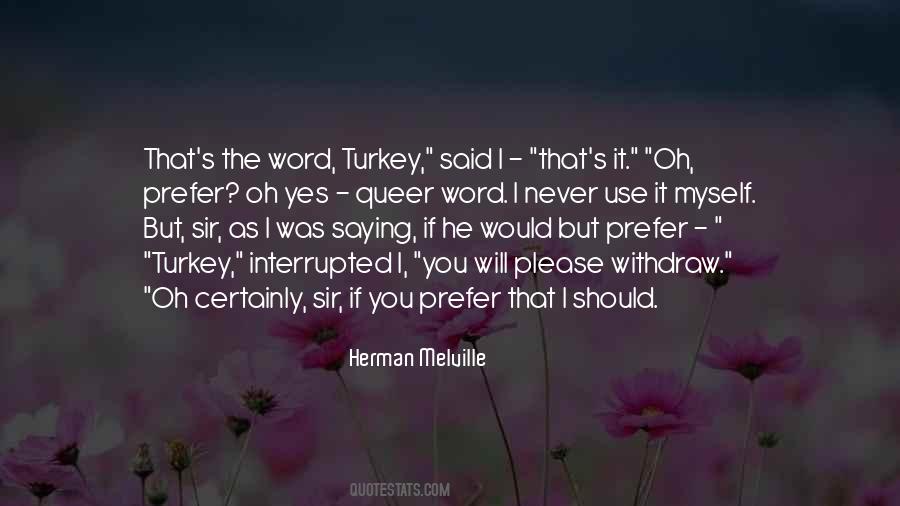 #16. Gore is nature's way of saying, There are too many human beings on the planet, and I'm trying to rectify this any way I can. SARS didn't work, but trust me, I'm cooking up something better. In the interim, please kill lots of yourselves. - Author: Douglas Coupland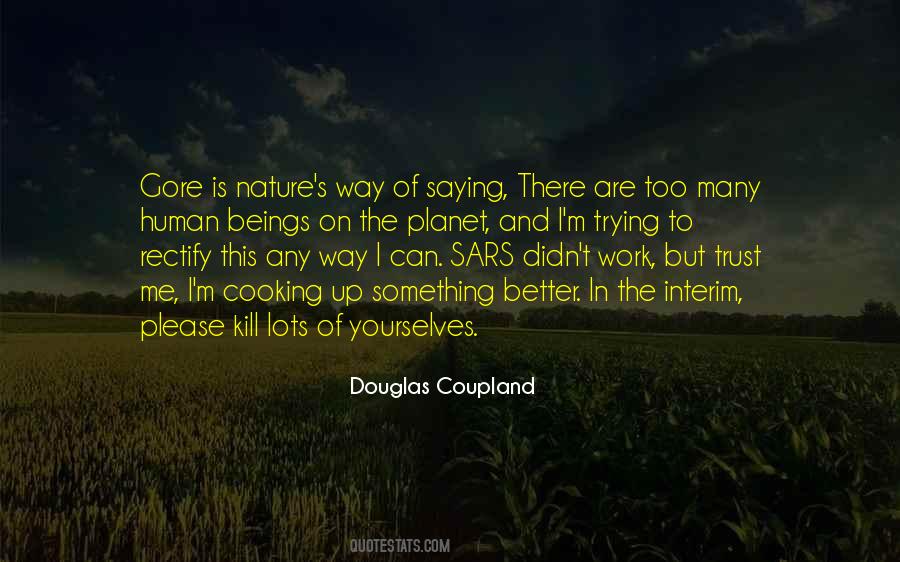 #17. For a second I thought about saying, Yes, please, let's catch the next ferry out of this freak show. - Author: Rachel Hawkins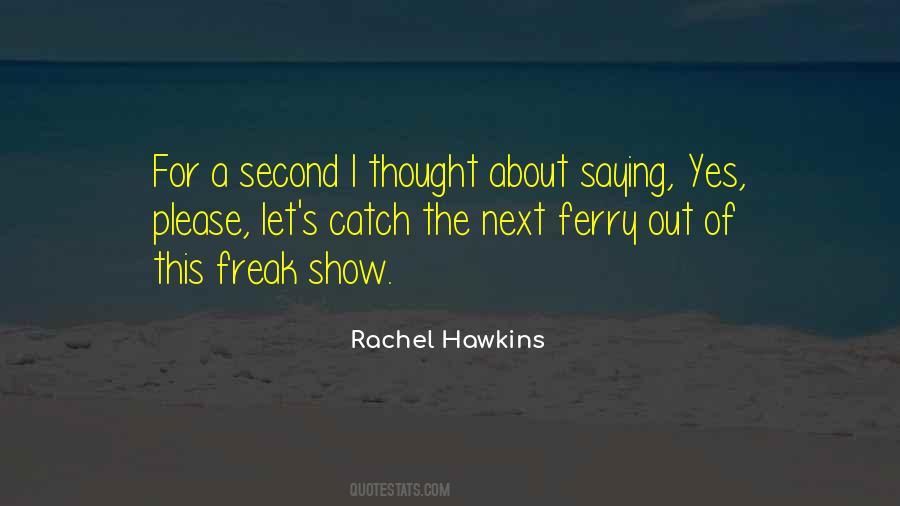 #18. Especially when he is plainly unable to move,
and is saying, gently, 'Clark. Please. Just come
over here. Please, - Author: Jojo Moyes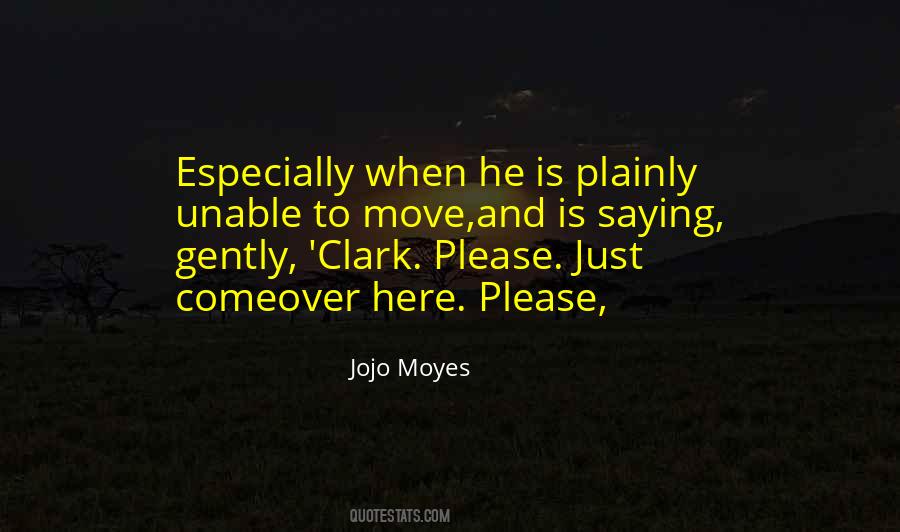 #19. The subjects of her talk didn't matter; he knew what she was really saying. Helpless and gentle, small and tired and anxious to please, she was asking him to agree that her life was not a failure. - Author: Richard Yates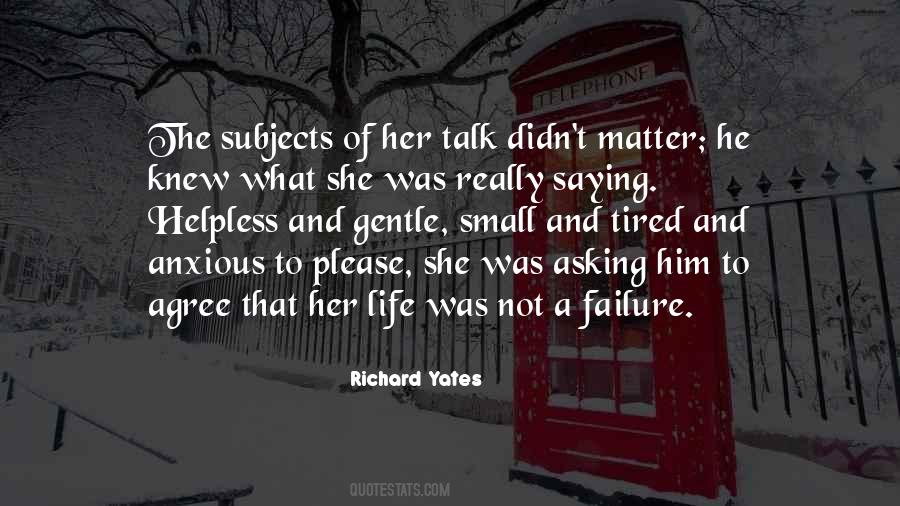 #20. Commerce is abusive. It's very hobbling to always be saying, 'Please let me put this out, this thing I've worked on for years.' It's like a nasty parent saying, 'No! Now go to your room.' As publishing companies got bigger, you felt even less significant. - Author: Patti Davis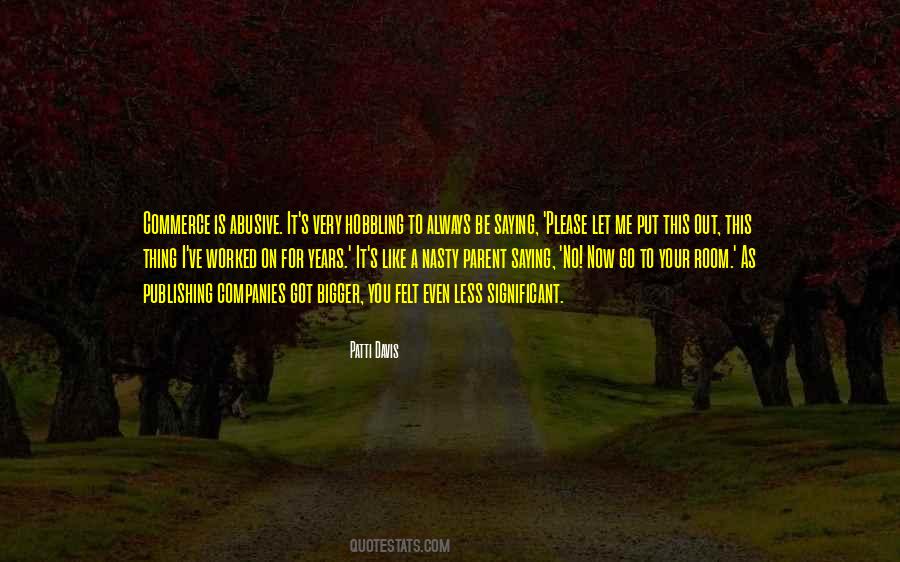 #21. May, will you please, kindly DIG it," he remembered one of them saying, "and hold up on all those wonderful seven-dollar questions? If you got to ask what IS it all the time, you'll never get time to KNOW. - Author: Robert M. Pirsig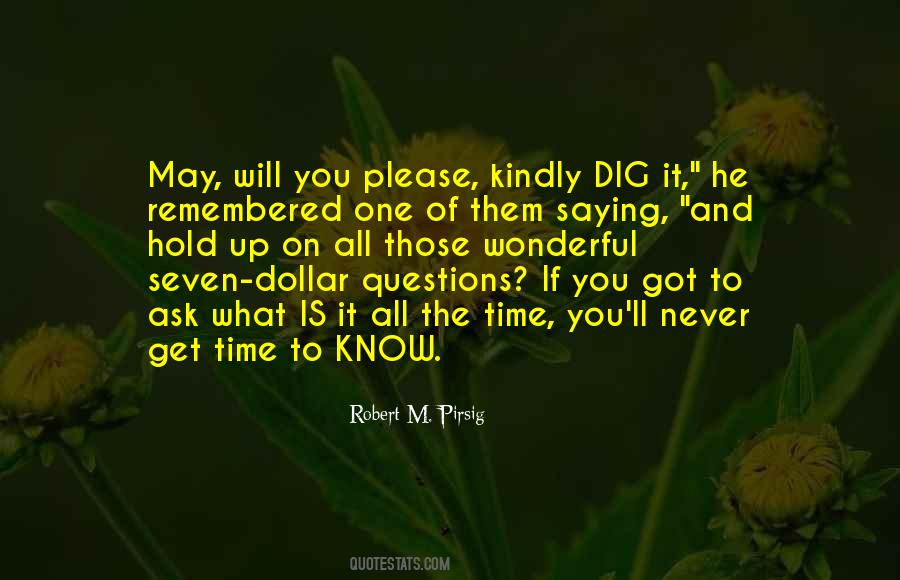 #22. Monk: Forgive our rudeness
Hakkai: Please, don't worry about it. A little purity is good for them.
Sanzo: You saying I'm corrupt? - Author: Kazuya Minekura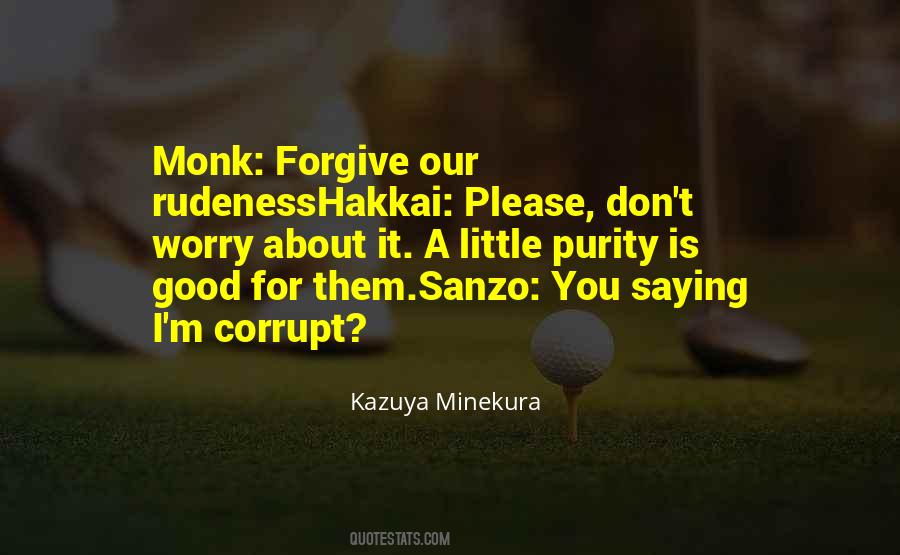 #23. What the Republicans have said is rather than touch one hair on the heads of the wealthiest people in our country, people who make over $1 million a year, they're saying, 'Seniors should pay $6,000 more dollars a year. But please don't let us ask the wealthiest to do their fair share.' - Author: Nancy Pelosi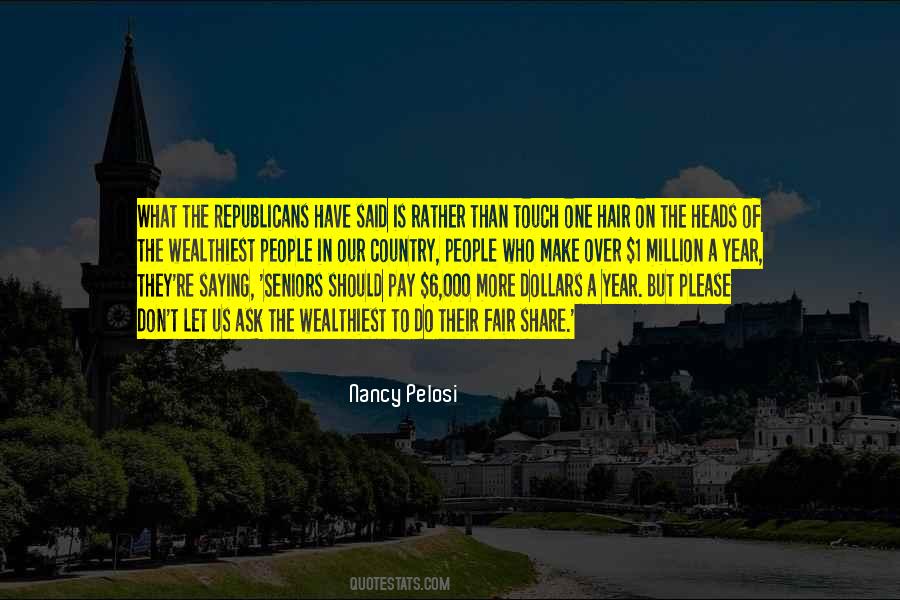 #24. SAYING AND CONCEALING For I would prefer to have these attacks and please you, rather than displease you and not have them. - Marcel Proust in a letter to his mother - Author: Alice Miller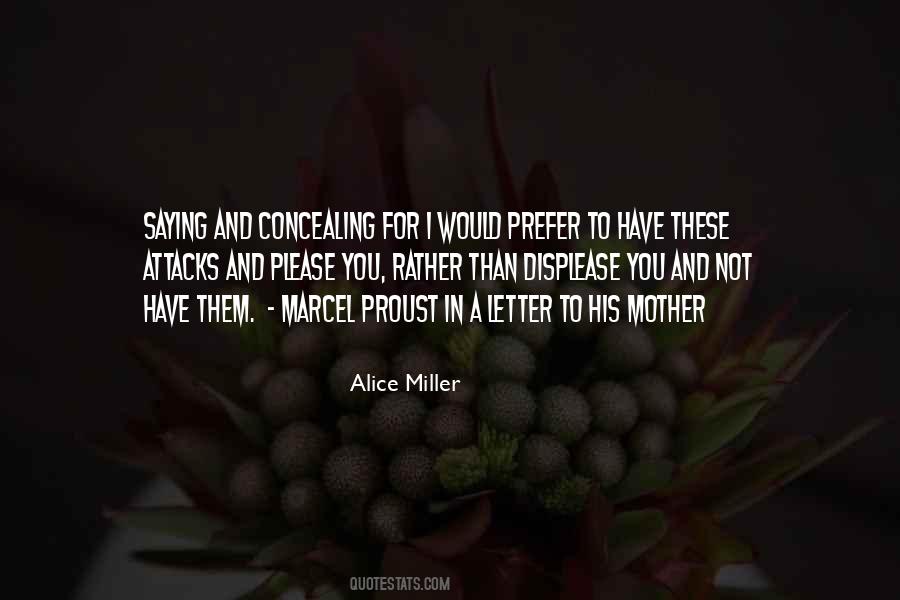 #25. If just one person touches you without your permission, stepping back and saying clearly, "Please don't touch me" should get them to stop. - Author: Mallory Ortberg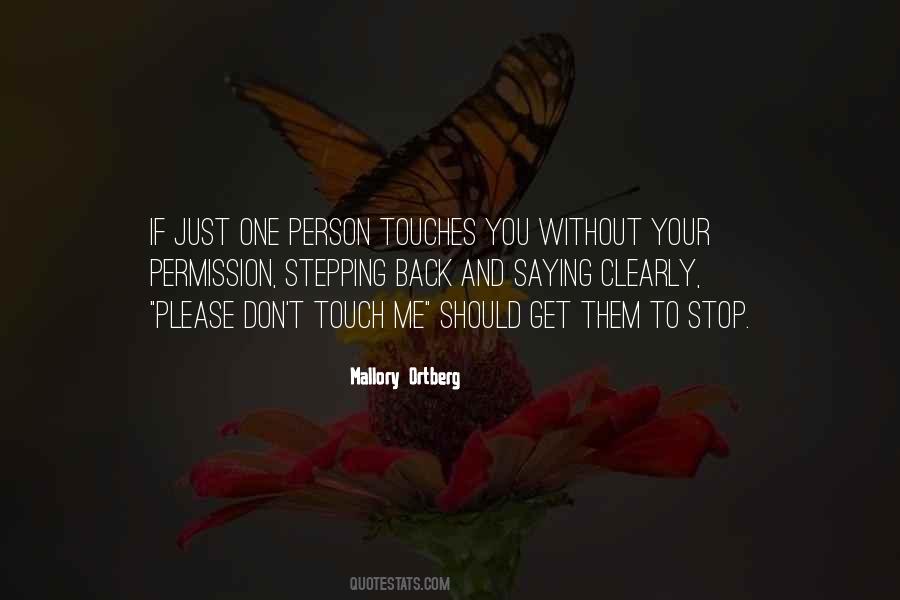 #26. I'm not used to studios being ecstatic about we did and saying, "Please go do that again." - Author: Robert Downey Jr.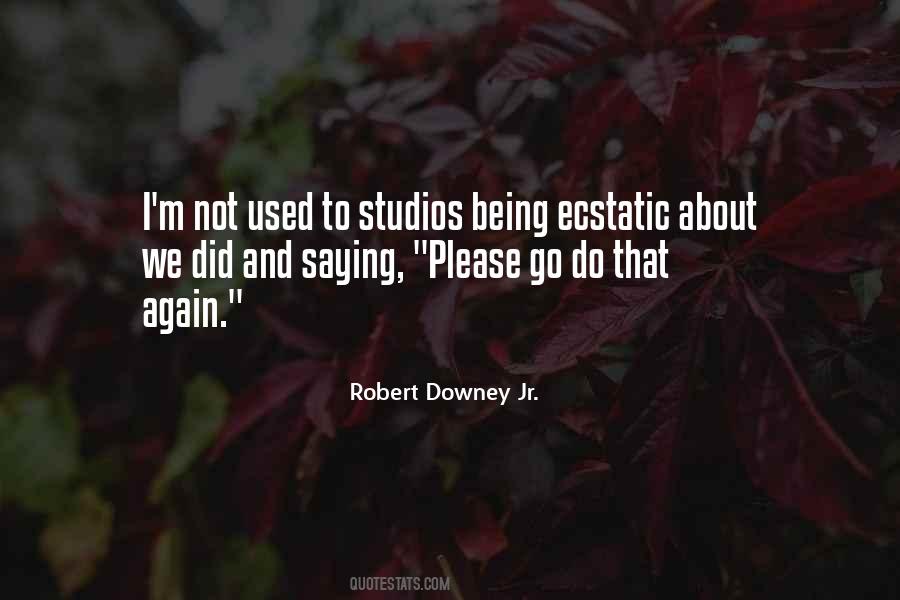 #27. When he was a young man he prayed constantly for chastity; but years later he realized that while his lips had been saying 'Oh Lord, make me chaste,' his heart had been secretly adding, 'But please don't do it just yet. - Author: C.S. Lewis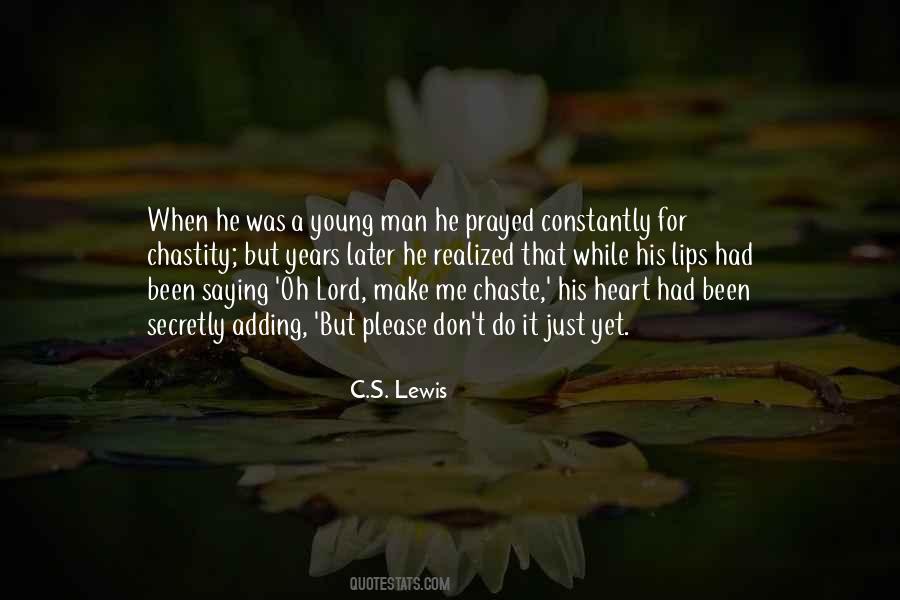 #28. Of course someone would be that stupid. Some humans would do anything to see if it was possible to do it. If you put a large switch in some cave somewhere, with a sign on it saying 'End-of-the-World Switch. PLEASE DO NOT TOUCH', the paint wouldn't even have time to dry. She - Author: Terry Pratchett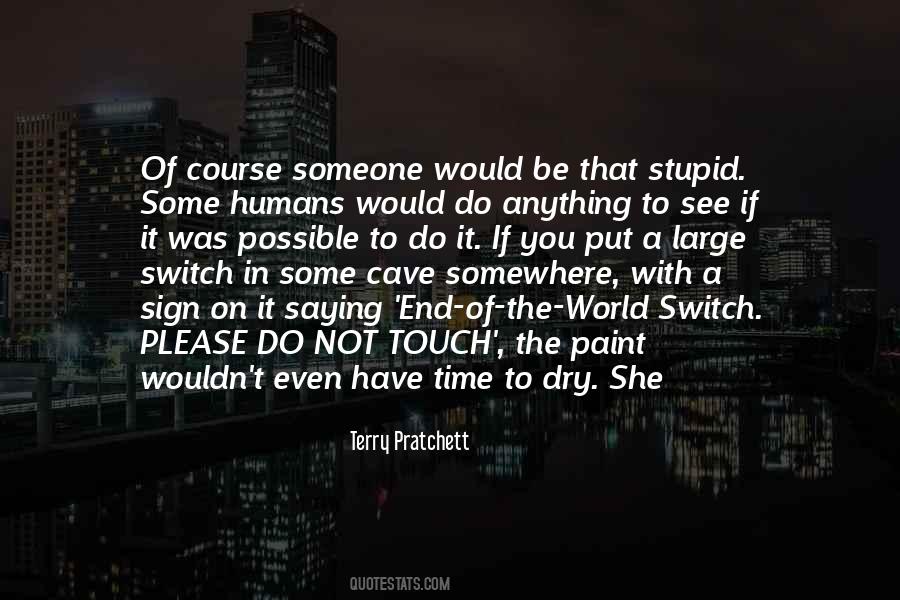 #29. To say that majorities, as such, have a right to rule minorities, is equivalent to saying that minorities have, and ought to have, no rights, except such as majorities please to allow them. - Author: Lysander Spooner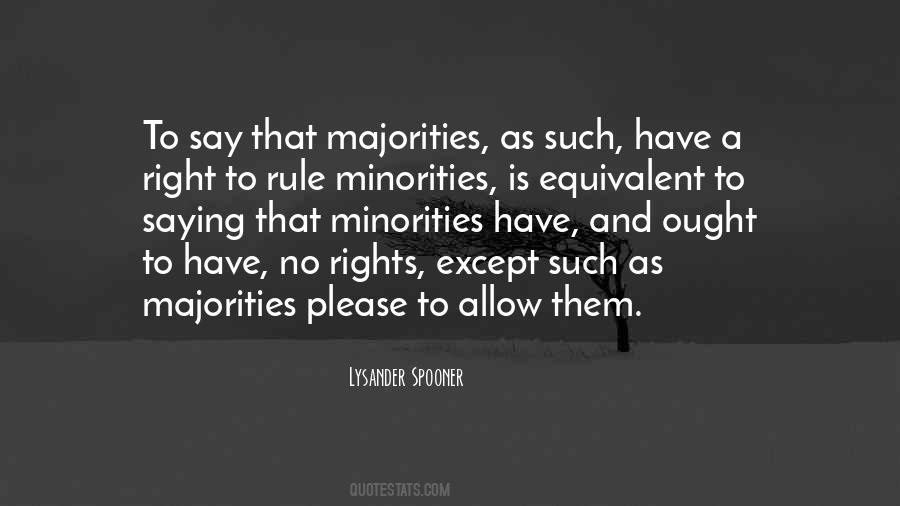 #30. Taking the time to polish a pun or fine-tune a practical joke is a way of saying, 'I'm thinking about you and I want to please you.' - Author: Andrew Hudgins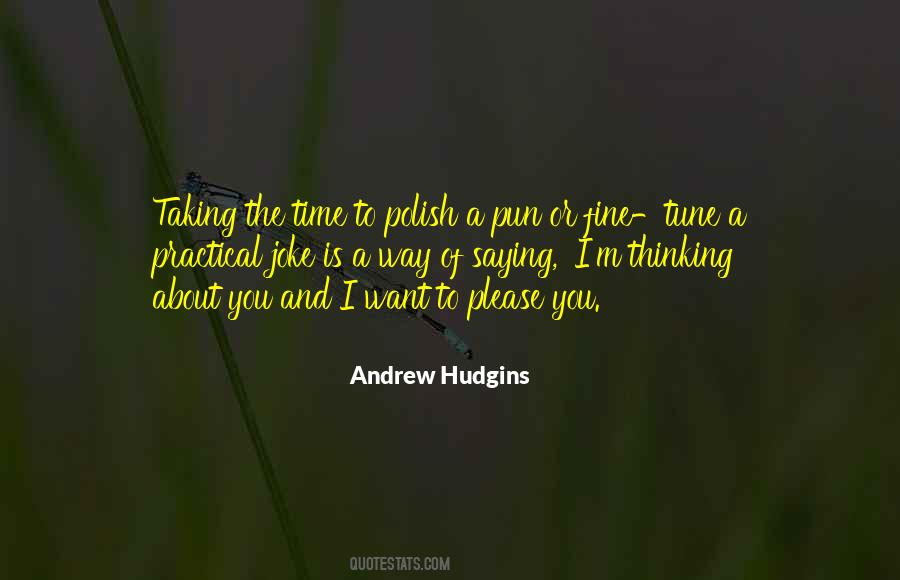 #31. When you said Please to those who...had no option but to obey, what were you really saying? - Author: Joyce Carol Oates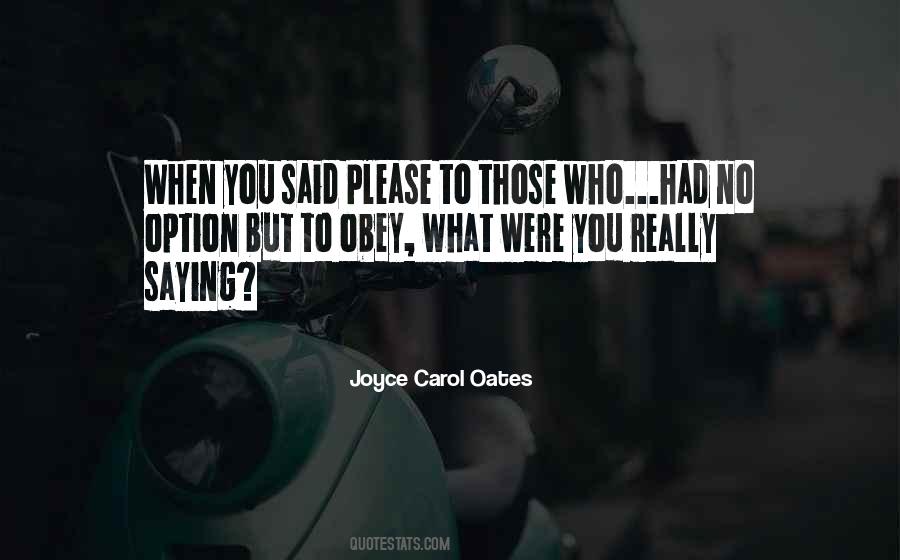 #32. we loved reenacting what we saw. The Church Lady's catchphrases were our catchphrases, and we repeated them until my mother said, exasperated: "Please stop saying 'Isn't that special?' in that strange voice. It is annoying to me and to others." At - Author: Mindy Kaling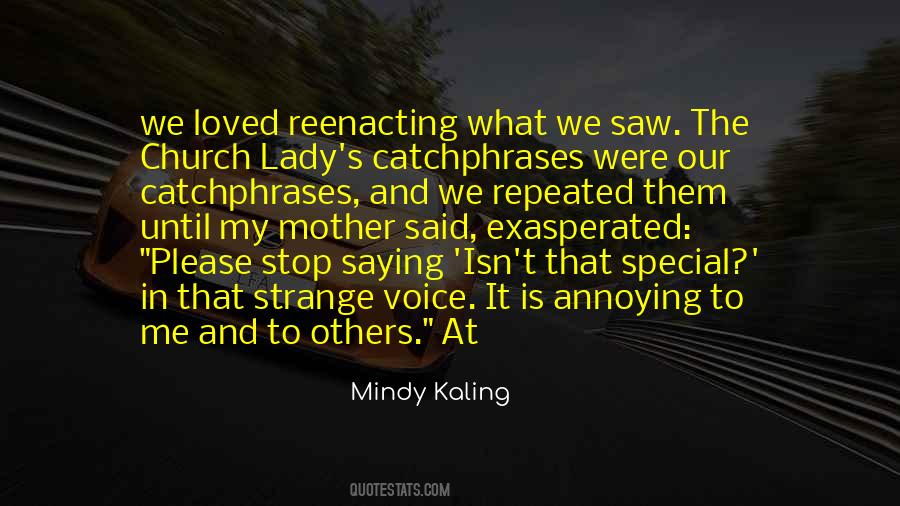 #33. When I was off TV, people would ask me to please come back, which I think was their way of saying, 'There's nothing out there for us.' - Author: Bob Newhart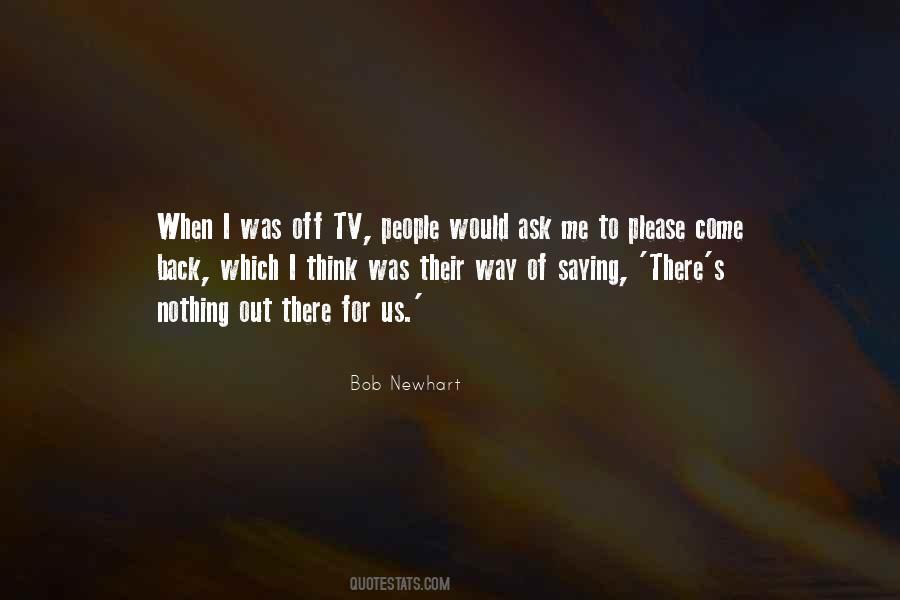 #34. I pushed the process forward by saying, 'We should do this, this, and this right now. Please find the budget for me to find a structural engineer, a mechanical engineer, a civil engineer, so we can do the preliminary work.' - Author: Michael Arad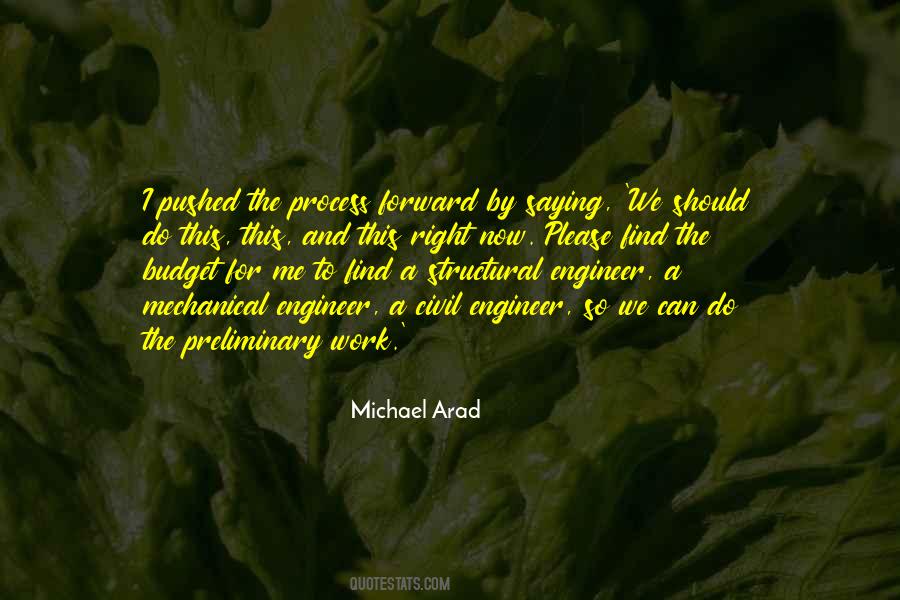 #35. My entire social life is spent in bars, so I don't see giving up drinking as a viable option. Could you see me saying, 'Tomato juice please?' - Author: Lemmy Kilmister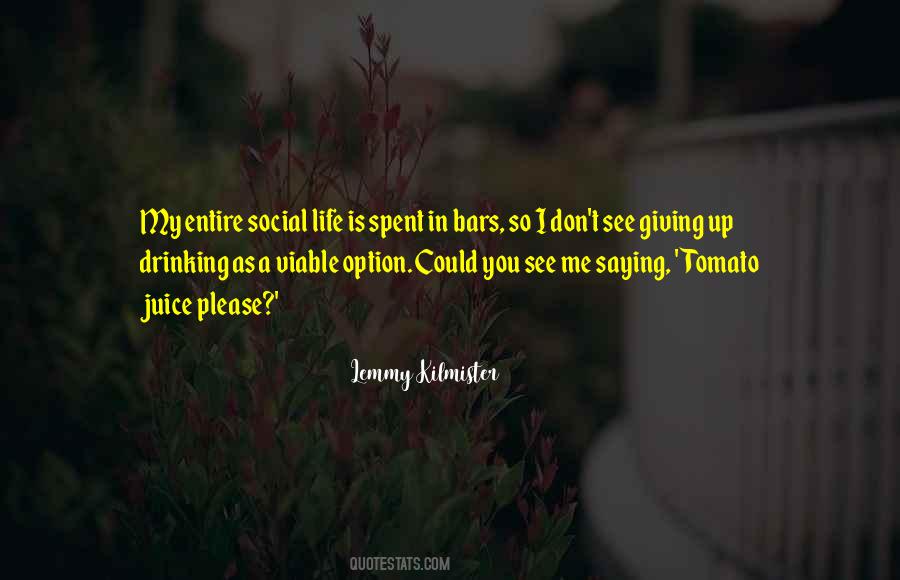 #36. His date kept saying to him, "How horrible ... Don't, darling. Please, don't. Not here." Imagine giving somebody a feel and telling them about a guy committing suicide at the same time! They killed me. - Author: J.D. Salinger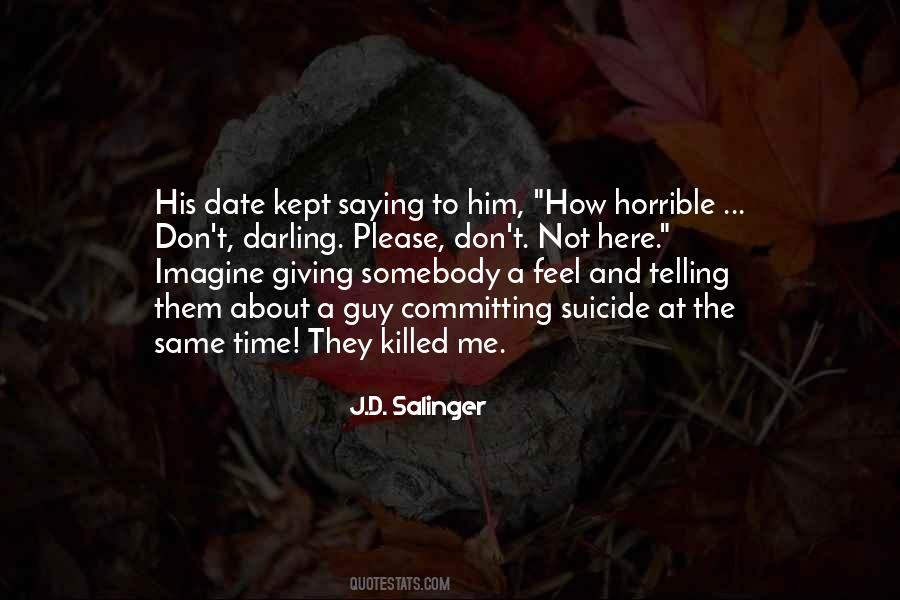 #37. So in Scotland witches used to raise the wind by dipping a rag in water and beating it thrice on a stone, saying: "I knok this rag upone this stane To raise the wind in the divellis name, It sall not lye till I please againe. - Author: James George Frazer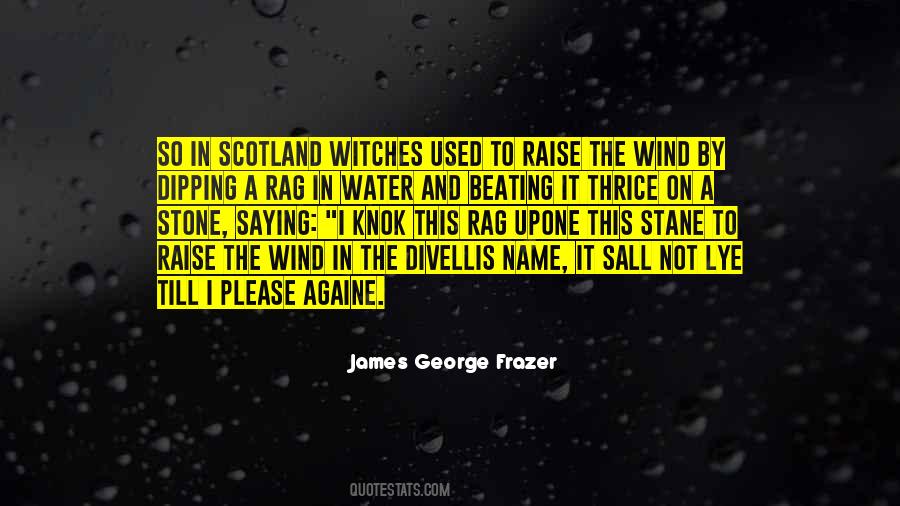 #38. Saying "yes" doesn't mean I don't know how to say no, and saying "please" doesn't mean I am waiting for permission. - Author: Amy Poehler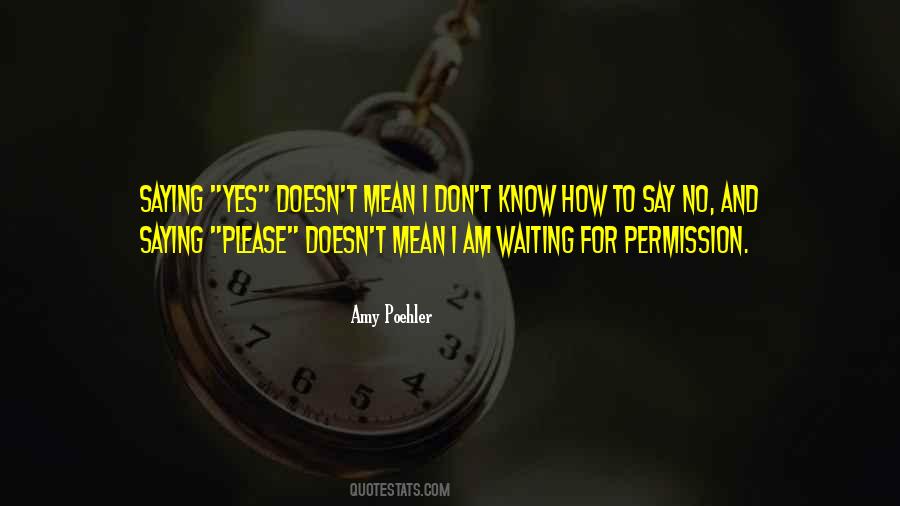 #39. Towers in a modern town are a frill and a survival; they seem like the raised hands of the various churches, afraid of being overlooked, and saying to the forgetful public, Here I am! Or perhaps they are rival lightning rods, saying to the emanations of divine grace, Please strike here! - Author: George Santayana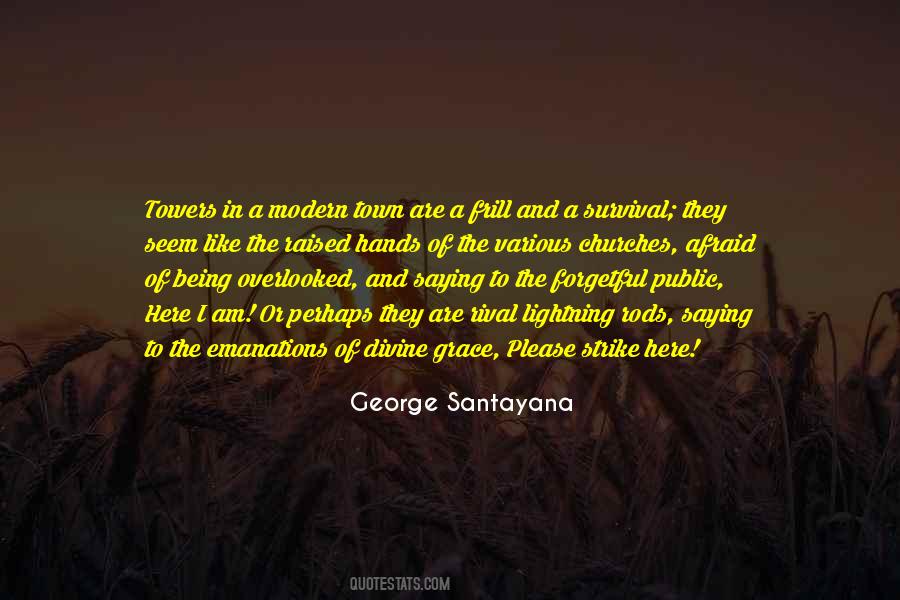 #40. Society is infested by persons who, seeing that the sentiments please, counterfeit the expression of them. These we call sentimentalists - talkers who mistake the description for the thing, saying for having. - Author: Ralph Waldo Emerson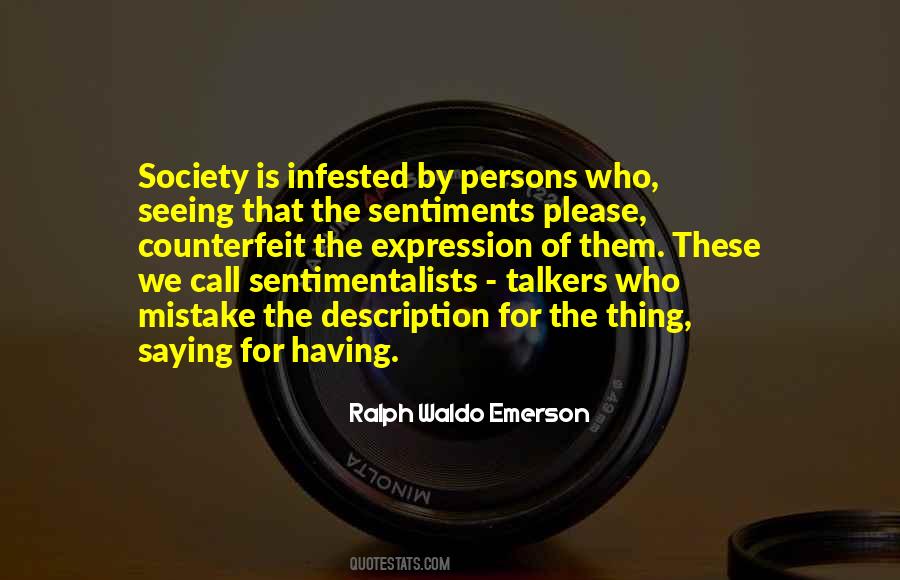 #41. Bullshit, after every shit you say... you keep saying shit. Please stop! - Author: Deyth Banger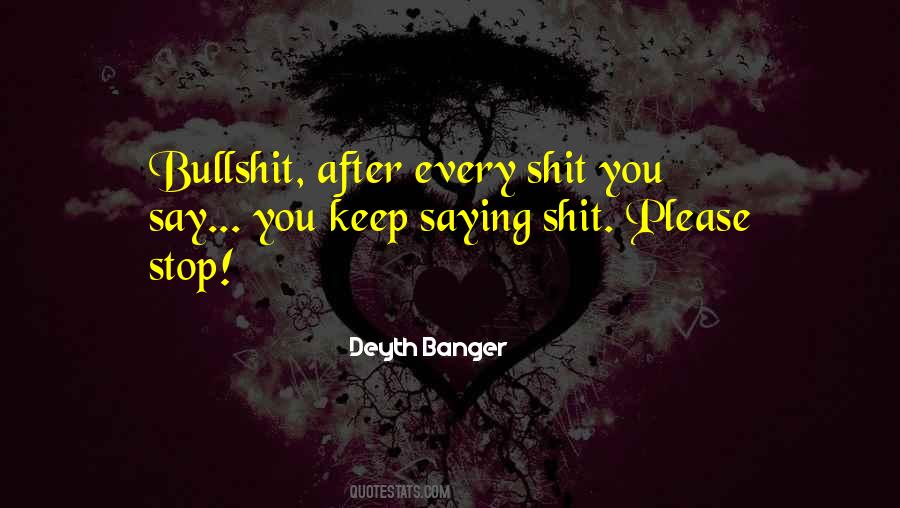 #42. I try not to read reviews. It's hard not to hear what the critics are saying, but as an actor, I try not to let it in and to just give the best performances I can. At the end of the day, if you're trying to please the critics, you're missing what's really important: being creative and having fun. - Author: Reid Scott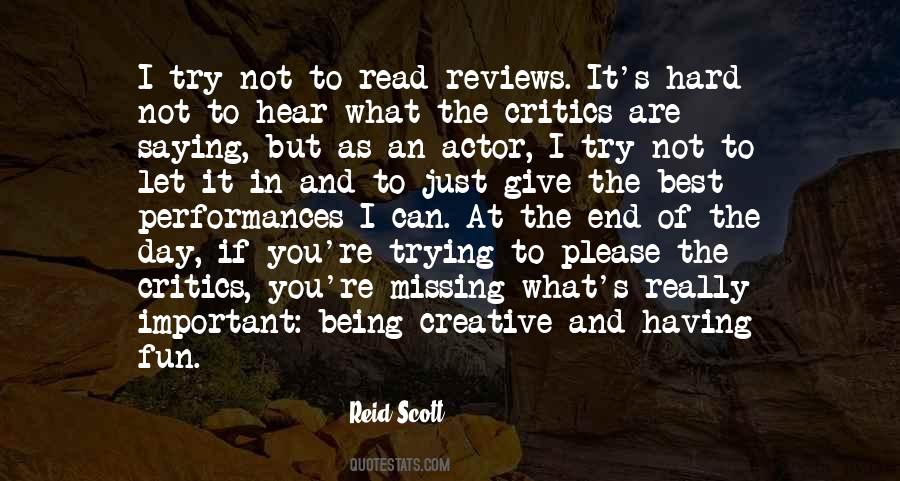 #43. I have wrinkles here, which are very evident. And I will particularly say when I look at movie posters, 'You guys have airbrushed my forehead. Please can you change it back?' I'd rather be the woman they're saying 'She's looking older' about than 'She's looking stoned.' - Author: Kate Winslet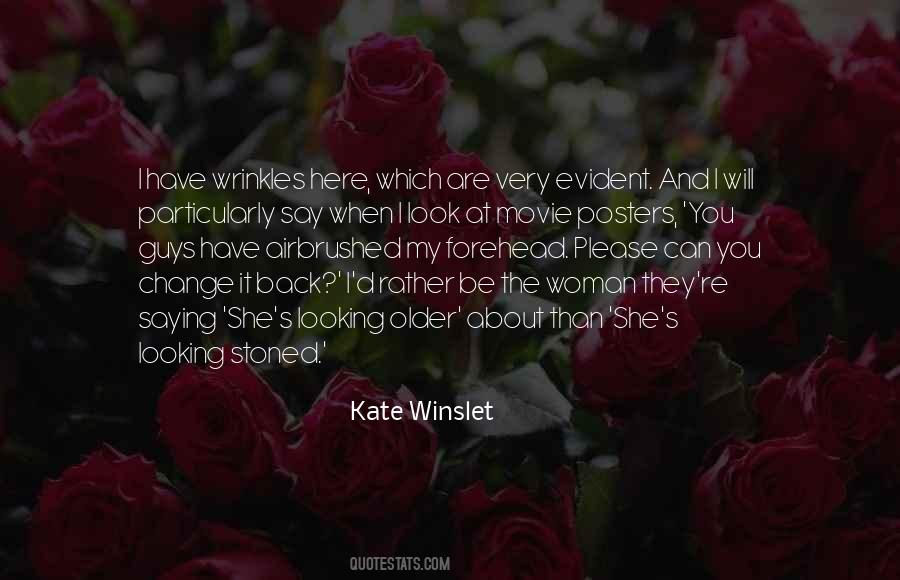 #44. So, having dried my tear-swollen eyelids, I take up my pen to inquire of you, are you alive or did you die? If you are dead, please let me know, and I will tell the cook, for ever since she heard about it she has been saying her prayers. - Author: Frederic Chopin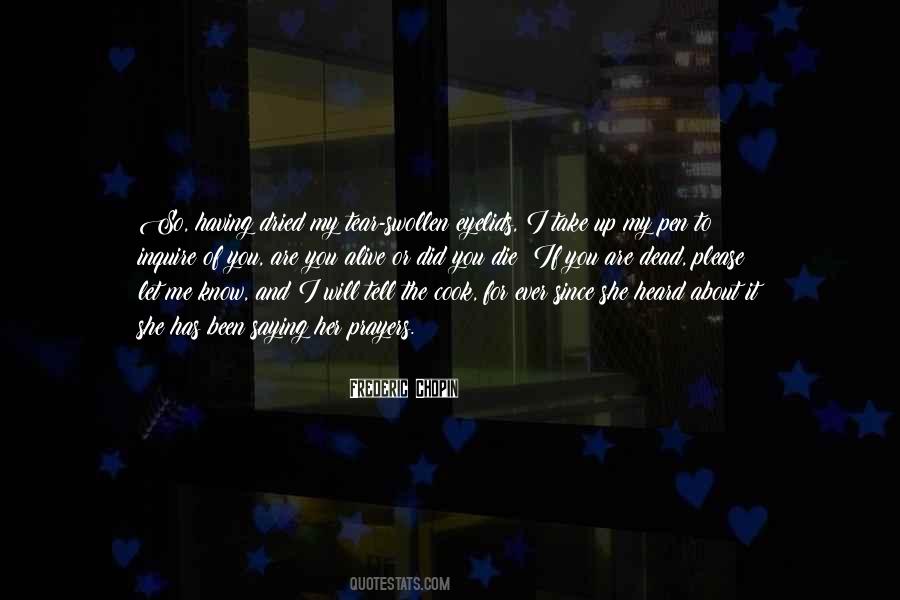 #45. I've got fans and letters from Israel, France Germany, Sweden, London, Africa. They all saying pretty much the same thing, 'Yo, we love you, we need you, put some more music out, please!' - Author: DMX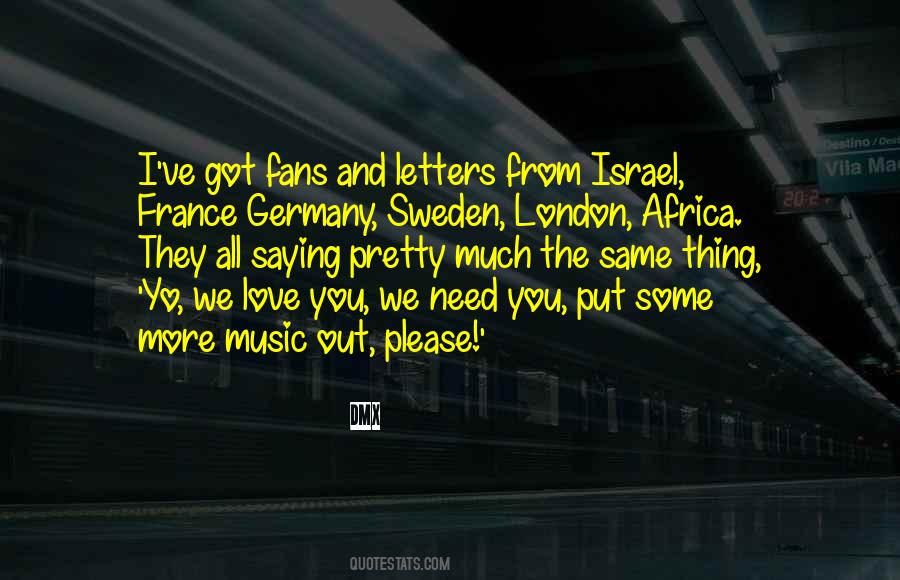 #46. Please understand, I am not saying that technology is unimportant. I understand that technology is important. But if we are just focusing on technology and investing in an IT manufacturing plant to come up with higher performance processing [chips], we will not succeed. - Author: Satoru Iwata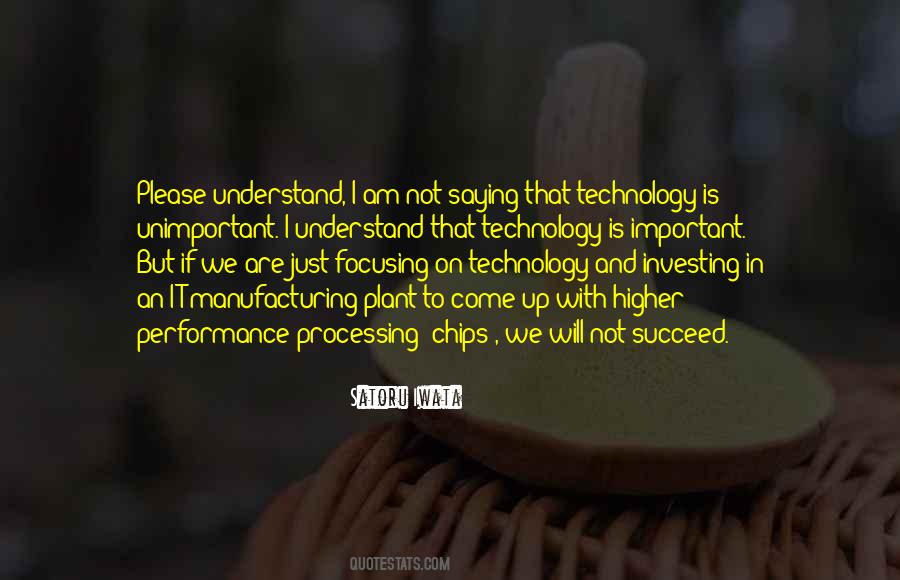 #47. I always thought of the stars like a handful of gems that God randomly tossed across the sky, saying, 'Here, go wherever you please. - Author: Chelsea Vanderbeek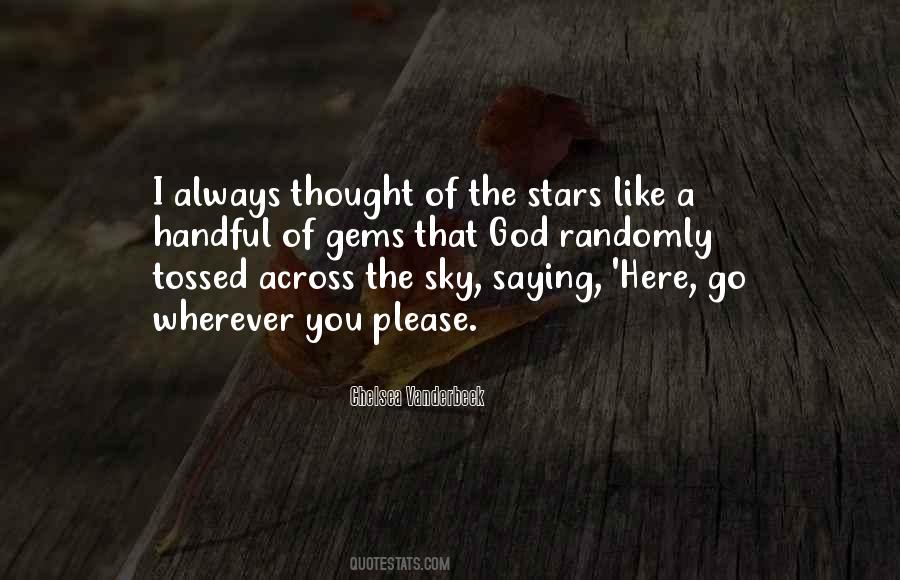 #48. This is an attraction based Universe. You cannot say no. You are always saying, 'Yes please, yes please, yes please,' with your attention. - Author: Esther Hicks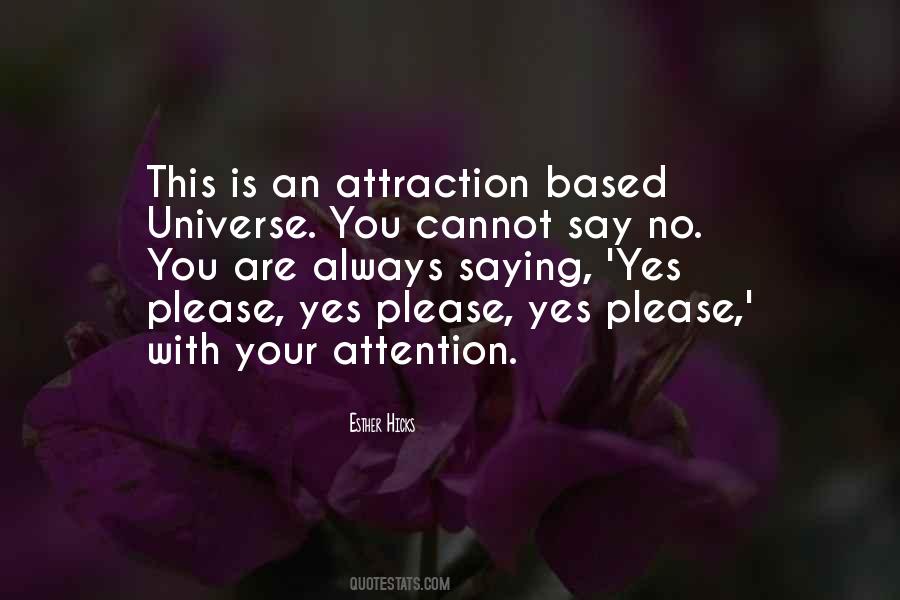 #49. America has a broken spirit, that the people that are saying, "Please help me, please let me keep my home, please let me keep my car, please recognize me as a vital human being," they are falling on deaf ears. - Author: Suze Orman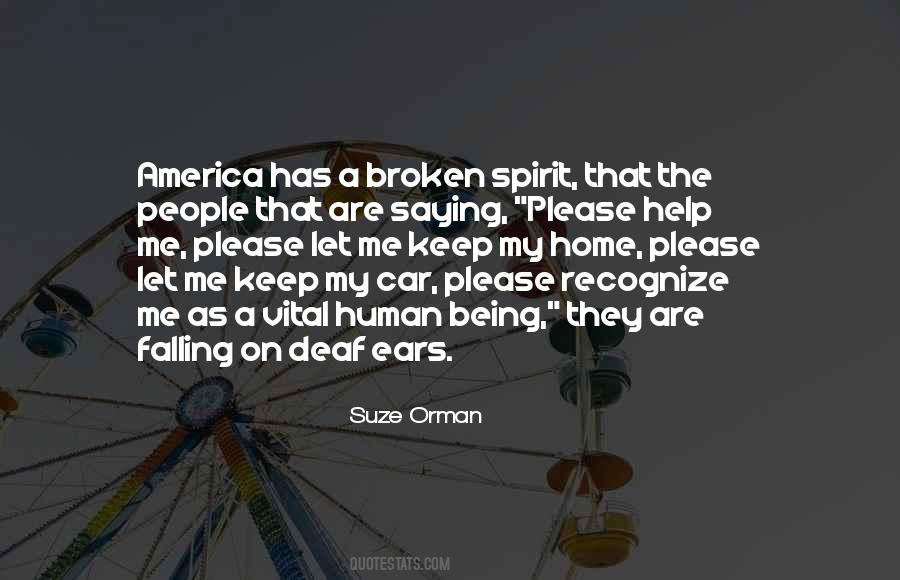 #50. Some humans would do anything to see if it was possible to do it. If you put a large switch in some cave somewhere, with a sign on it saying 'End-of-the-World Switch. PLEASE DO NOT TOUCH', the paint wouldn't even have time to dry. - Author: Terry Pratchett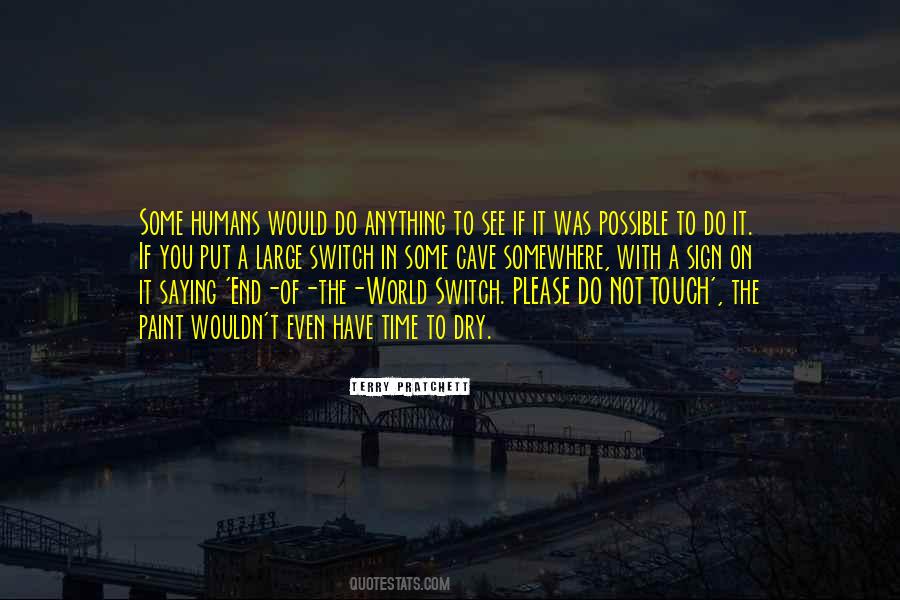 #51. It's like that old saying: You can't please anybody, so you might as well be alone. (Actually, I don't think that's the saying. I think it's actually, You can't please everybody, so you might as well just please yourself. Whatever. They're both exhausting.) - Author: Jen Cross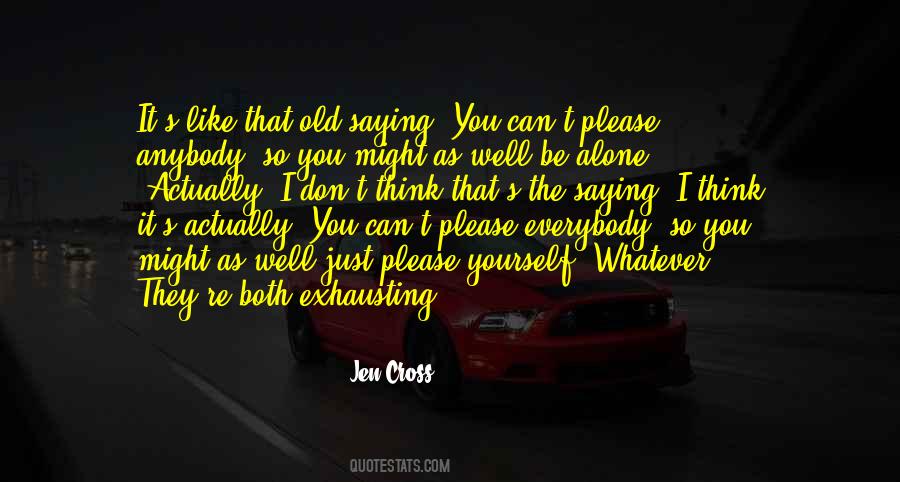 #52. Trusted you ...
Jake Sully: continuing what he was saying - with you.
Neytiri: getting upset I trusted you
Jake Sully: trying to calm her Trust me now. Please.
Neytiri: You will never be one of The People - Author: James Cameron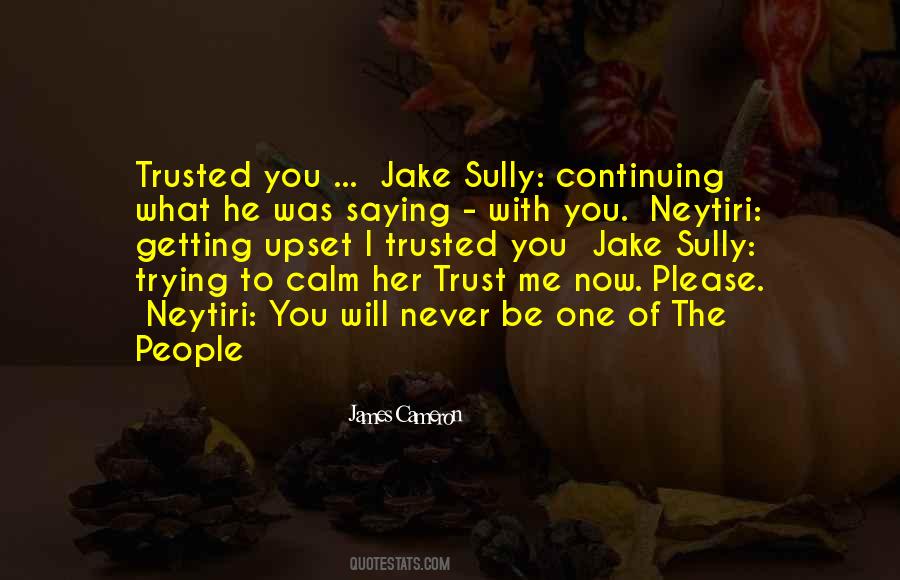 #53. Chubs is useful," I reminded her. "Please try not to kill him."
"Yeah, yeah we'll see. All I'm saying is, accidents happen. - Author: Alexandra Bracken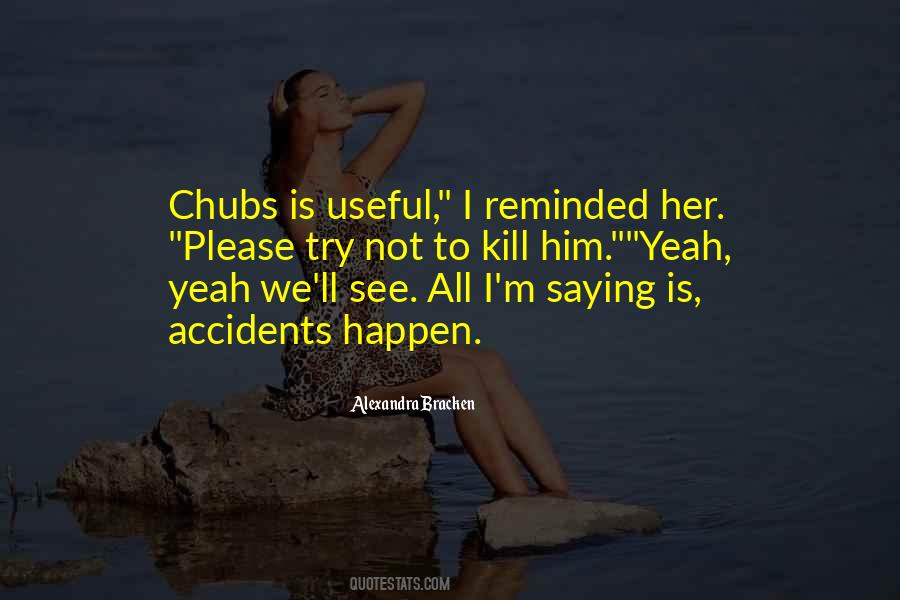 #54. The toughest part for me is the city - the people. They've got burgers named after me in Orlando, they've got a Web site saying, "Please stay." I love the people in the city. I've literally sat on the bench with a towel on my head crying, because I feel the passion in the stands. - Author: Dwight Howard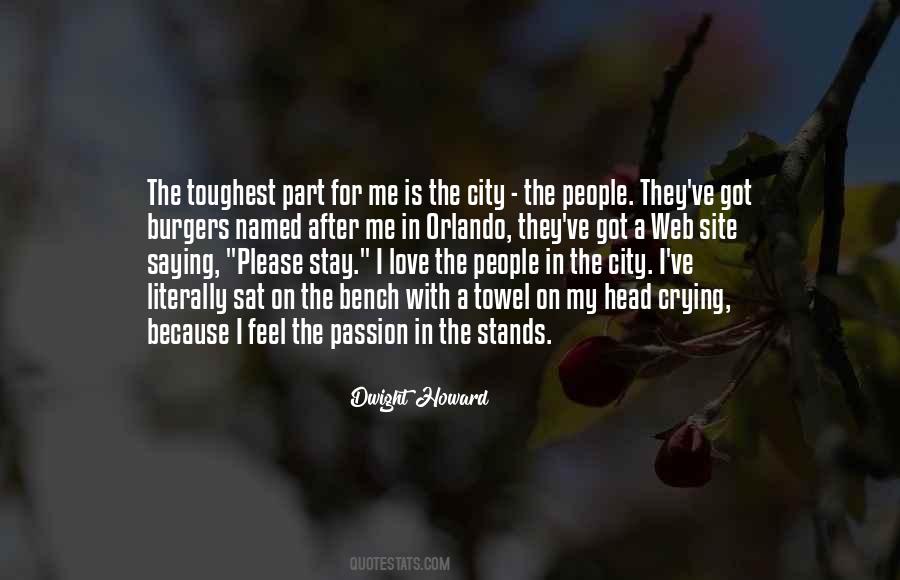 #55. JARED: Please stop saying feces. It gives me the creeps.
JOURNEY: I wish I could, but I'm genetically unable to bow to your will.
JARED: I've noticed that... - Author: Bijou Hunter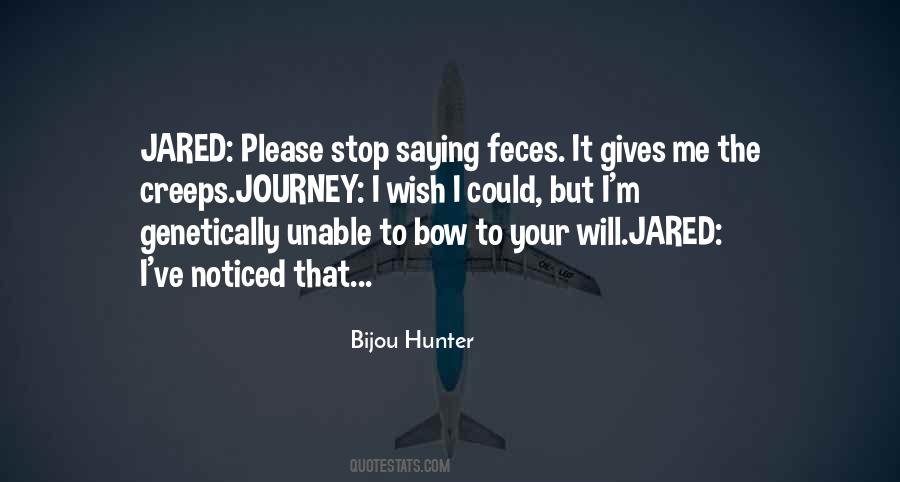 #56. Please be polite. Nothing in life should erode the habit of saying thank you to people or praising them. - Author: Richard Branson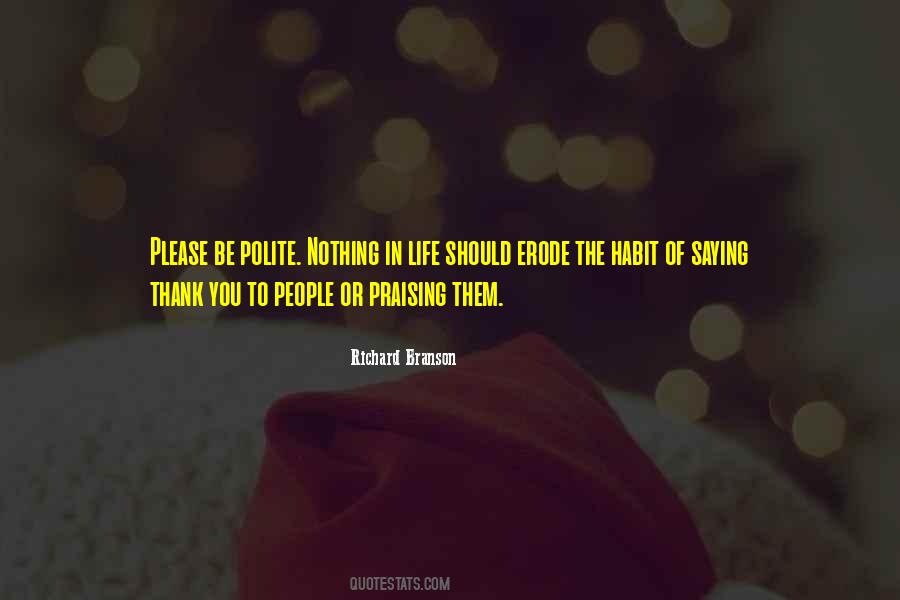 #57. You can't please everybody. There's that old saying that there's no sure formula for success, but the only sure fire formula for failure is to try to please everyone. You're not going to do that. - Author: Matt Bomer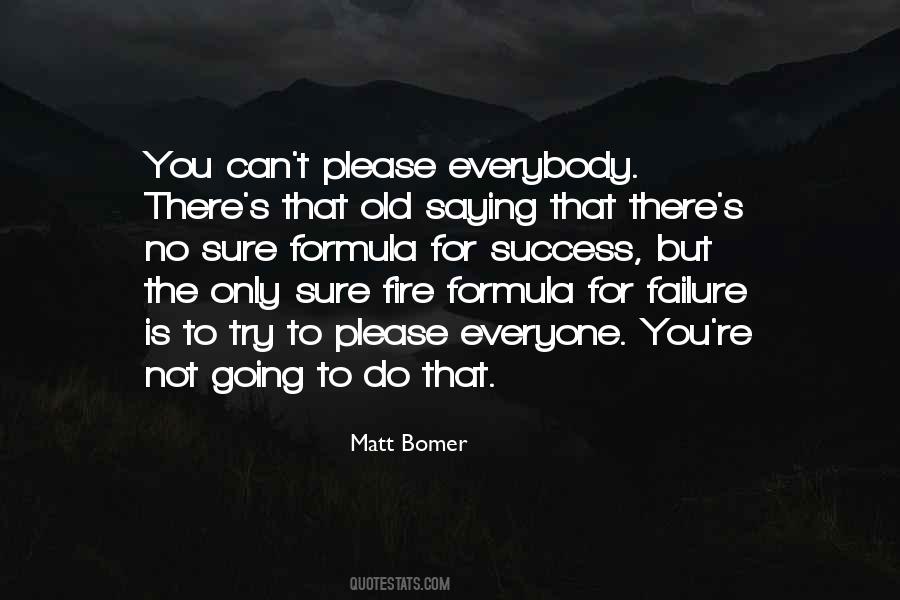 #58. I found myself doing extraordinary things that arent in the textbooks. Then the IMF asked the U.S. to please print money. The whole world is now practicing what they have been saying I should not. I decided that God had been on my side and had come to vindicate me. - Author: Gideon Gono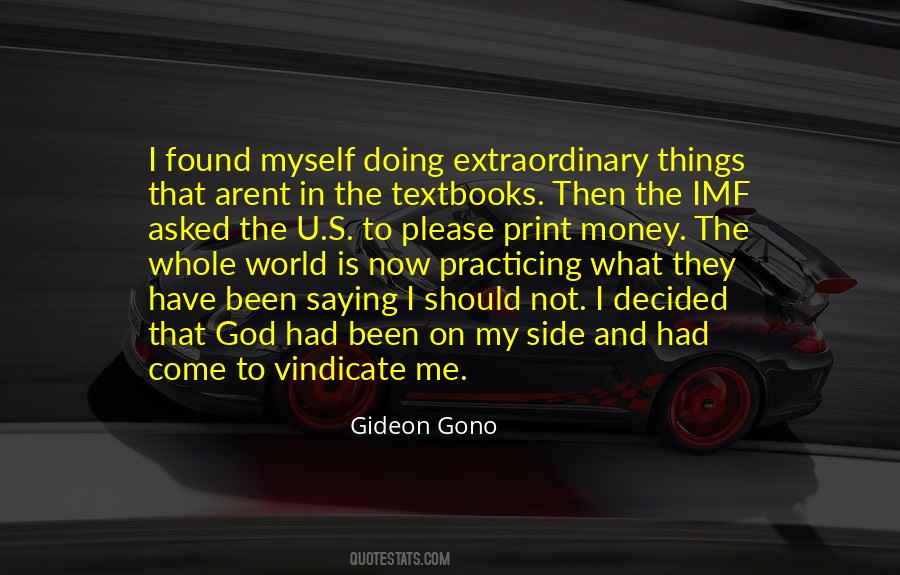 #59. If I have said something to hurt a man once, I shall not get the better of this by saying many things to please him. - Author: Samuel Johnson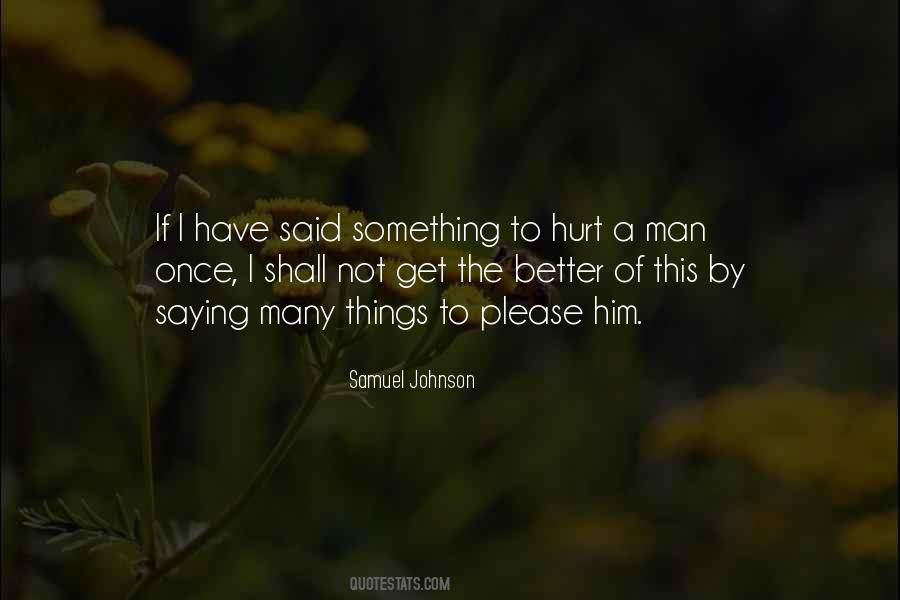 #60. Dear God, I don't want to have invented my faith to satisfy my weakness. I don't want to have created God to my own image as they're so fond of saying. Please give me the necessary grace, oh Lord, and please don't let it be as hard to get as Kafka made it. - Author: Flannery O'Connor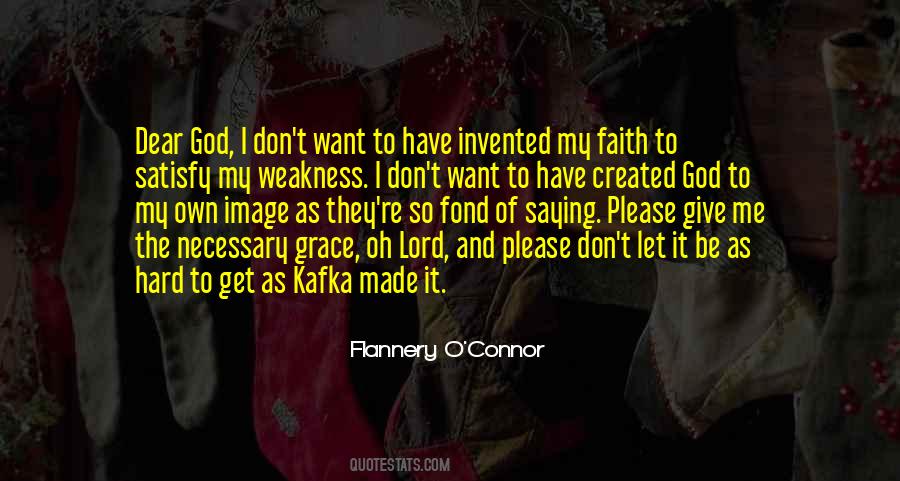 #61. I've been saying it all along: please do not demonise Robert Mugabe. I'm not saying the methods he's using are correct, but he was put under great pressure. - Author: Kenneth Kaunda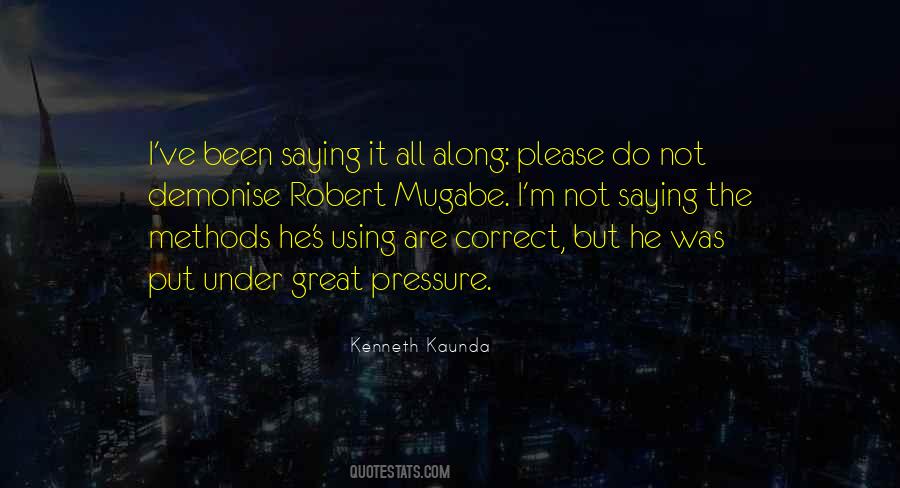 #62. What did it clarify for you?" Pinky asked.
Mrs. Brown laughed. "Told me to keep doing and saying what I dam well please, and not be bamboozled by anyone. Life is too short - no mulling things over for a dozen years or so. What about you?"
"I wasn't on the ship - Author: Kate Alcott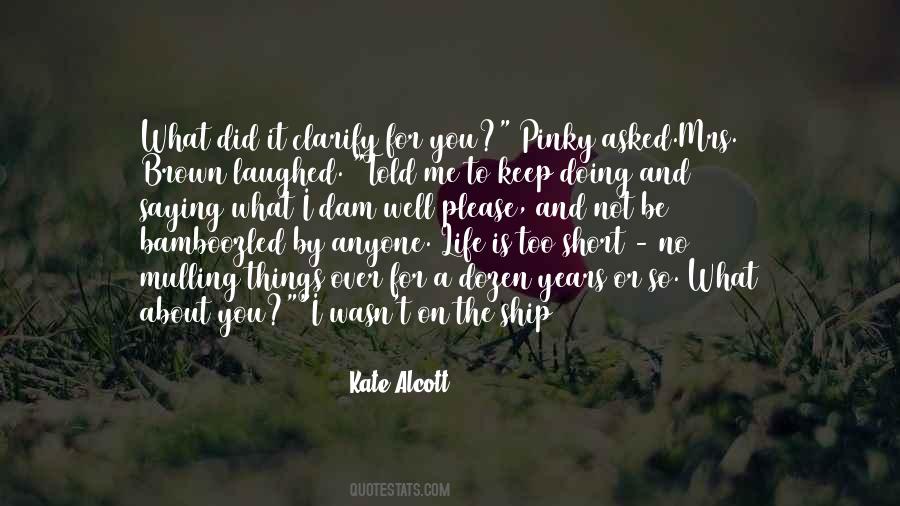 #63. Fear is concealed in smiles and flashing teeth. 'Please say you still love me,' the kings and queens are really saying. And, when they fare badly, they return to their palaces and sleep fitfully. - Author: Shirley Maclaine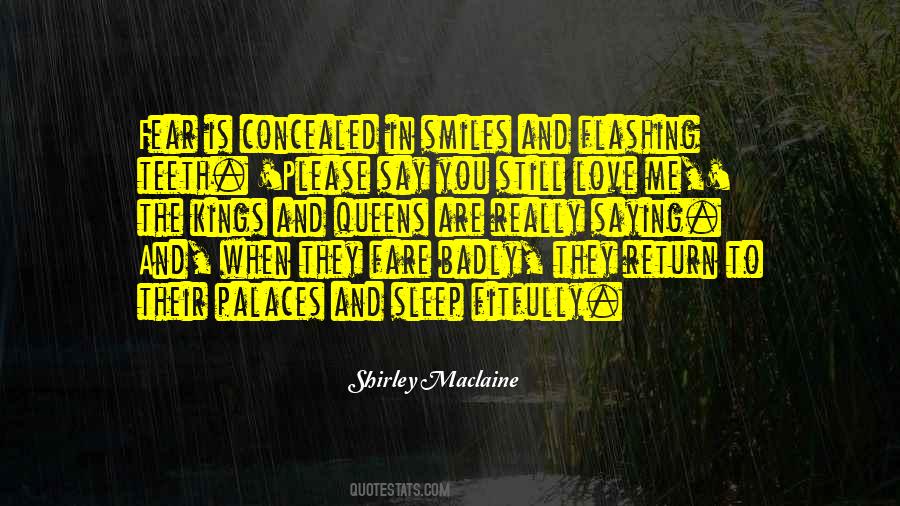 #64. Guys, please, one life-changing shock at a time, I felt like saying. - Author: Fiona Wood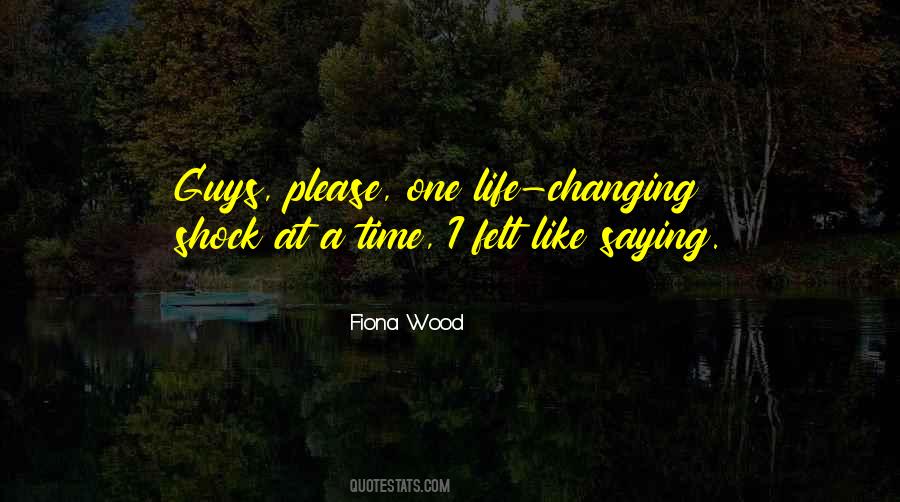 #65. Saying "please" without saying it to someone you don't want to say "please" to in the first place tops the list of hard. - Author: Rita Williams-Garcia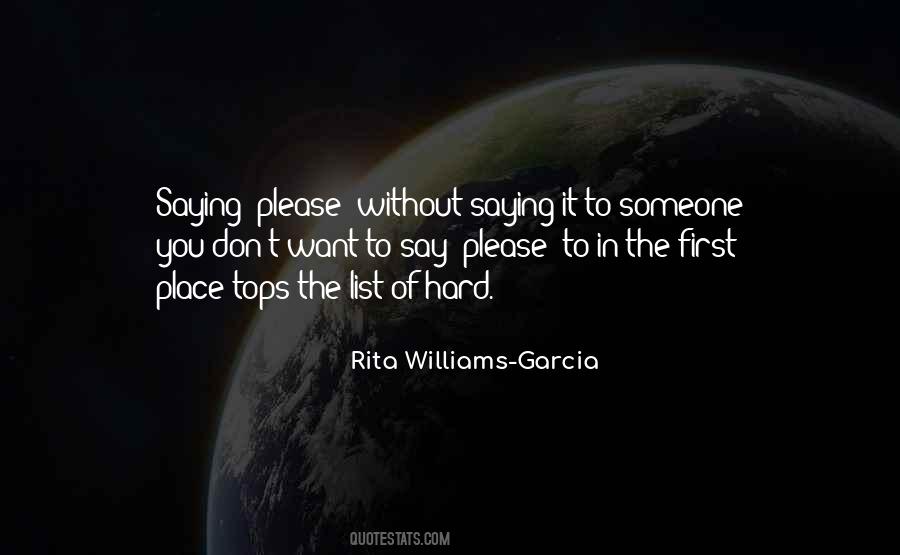 #66. What he's really saying is: Please be a human being. With a life so full of rules and regiments, it's so easy to forget that's what they are. She knows - she sees - how often compassion takes a back seat to expediency. - Author: Neal Shusterman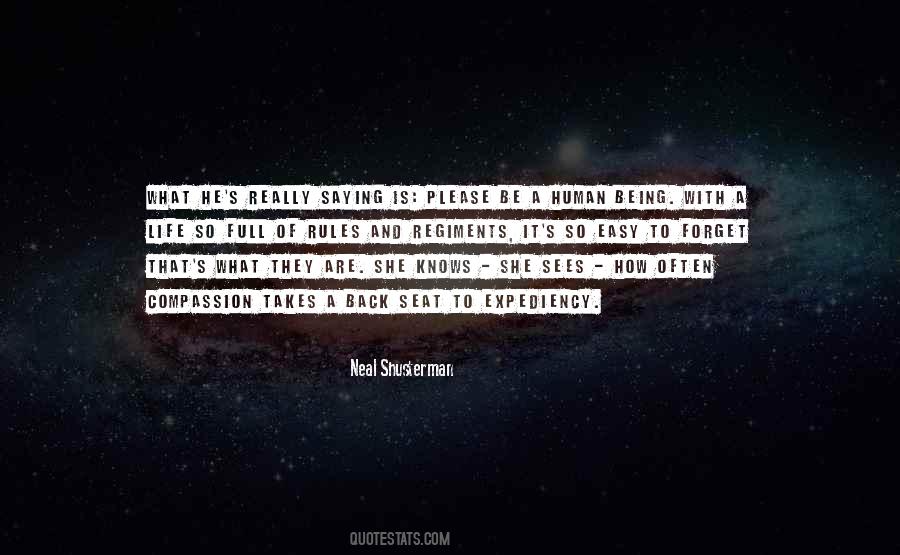 #67. We can understand the sentiment you're saying to us
Oh,
But sensible sells so could you kindly shut up
And get started
At keeping your part of the bargain aw please
Little darlin'
You're killing me sweetly with love love love love
Love love love love - Author: Sara Bareilles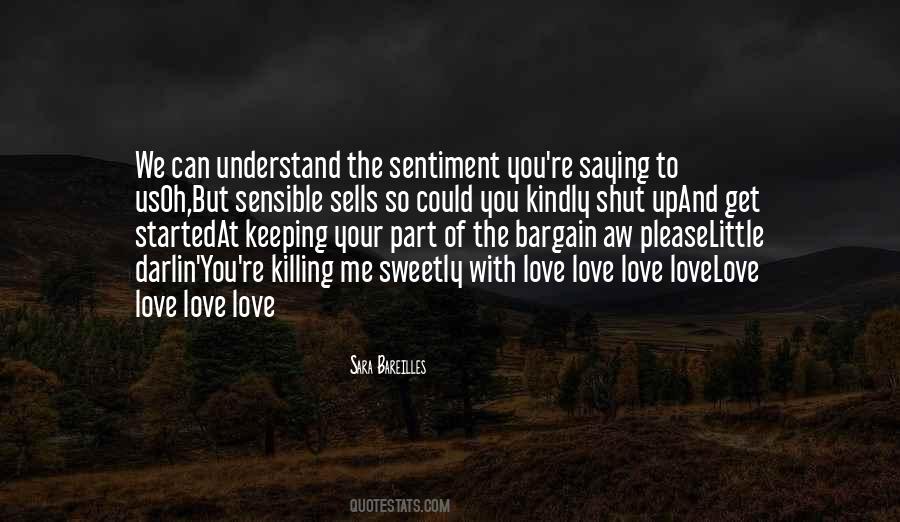 #68. Iggy Pop, or should I say Iggy's people, had reached out to me saying he was a True Blood fan, and if any opportunities come up, to please keep Iggy in mind. We sent Iggy the demo of 'LB&R'. He loved it and said, 'Sign me up.' - Author: Gary Calamar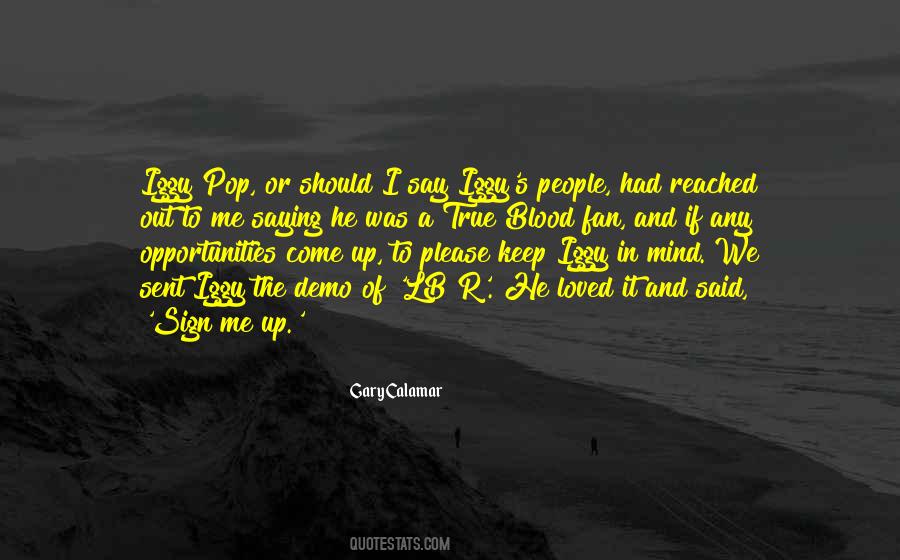 #69. She slams the door shut without saying please or thank you or goodbye. And even though she's the most inconsiderate person I've ever met in real life, I can't stop smiling. I think we may have just bonded. - Author: Colleen Hoover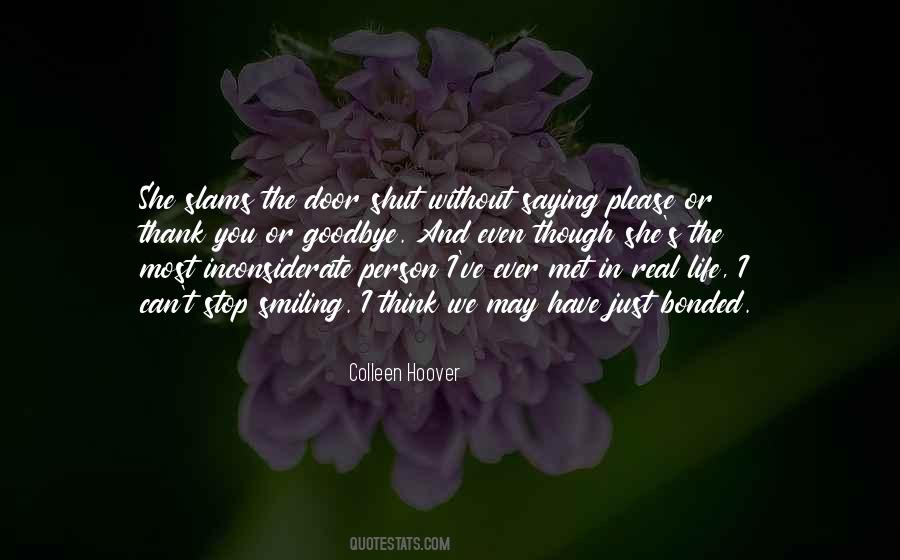 #70. He can't hear what I'm saying right now, so I'll make this opportunity to tell you Ridge is full of shit. He doesn't want to wait anymore. He wants you to say the word more than he wants air. So please, for the sake of all that is holy, say the word tonight. - Author: Colleen Hoover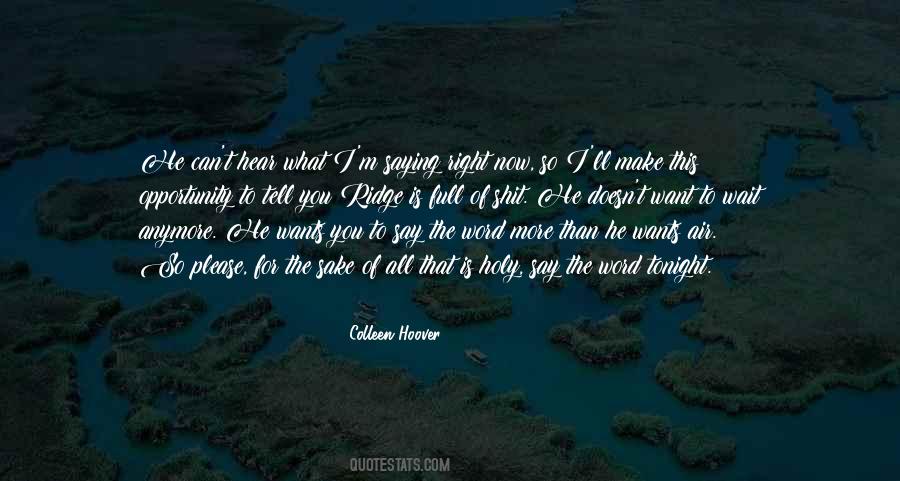 Famous Authors
Popular Topics