My Tattoos Famous Quotes & Sayings
List of top 100 famous quotes and sayings about my tattoos to read and share with friends on your Facebook, Twitter, blogs.
Top 100 Quotes About My Tattoos
#1. My brother and I have matching tattoos on our arms. It says, 'Humility is strength,' in Portuguese and Italian, because my genius brother taught English in both Italy and Brazil. - Author: Nikki Reed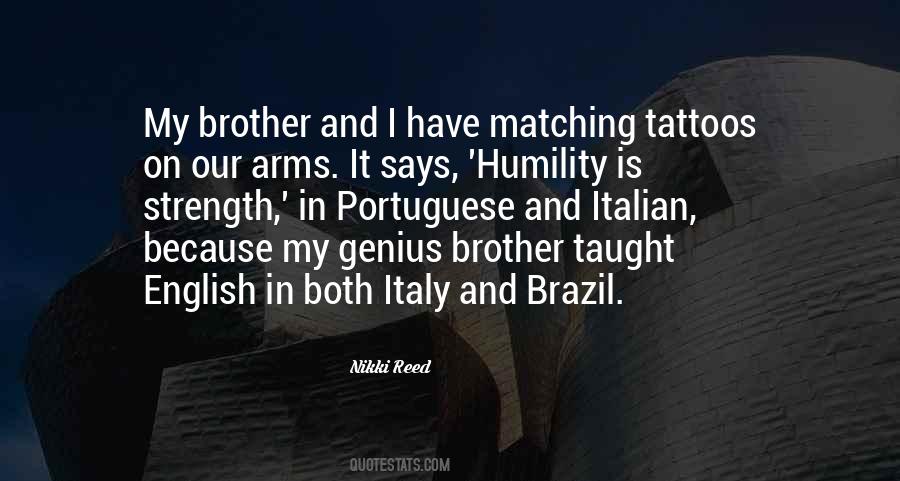 #2. I had a feeling that Ben Lancaster had just tattooed himself onto my soul and the thing about tattoos? They were painful to remove. - Author: Julie Bale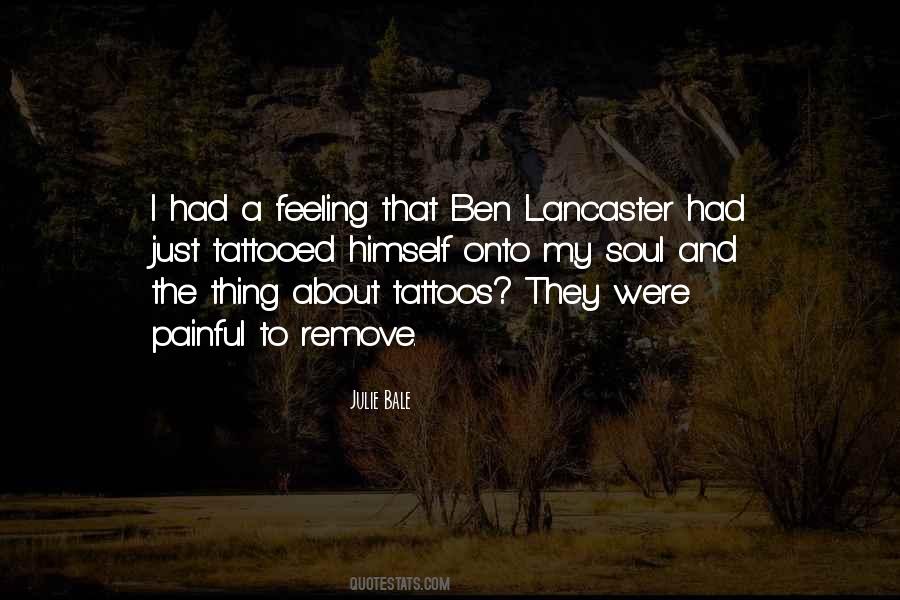 #3. I have 18 tattoos. My tattoos have kind of become their own person. Everybody does stories on them. It is risky to be successful in the fashion industry and to tat your body up, but I figured, the way that I made my career and the way that I am successful is because I have always been myself. - Author: Jessica White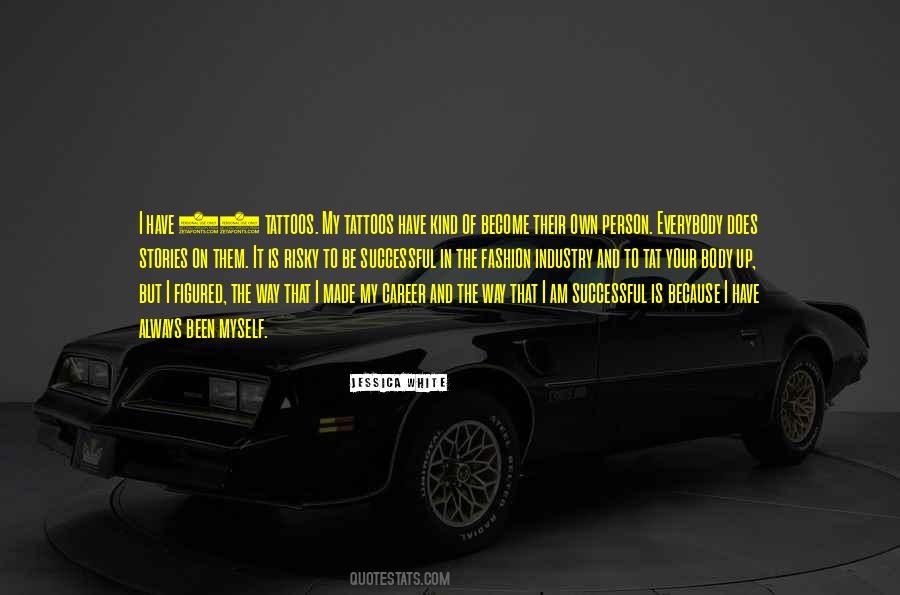 #4. I have a lot of tattoos. My first tattoo I had when I was a teenager was just a little heart. I am very friendly with a great artist, Scott Campbell, and I started going to him to get tattoos. I'm very spontaneous about what I get. - Author: Marc Jacobs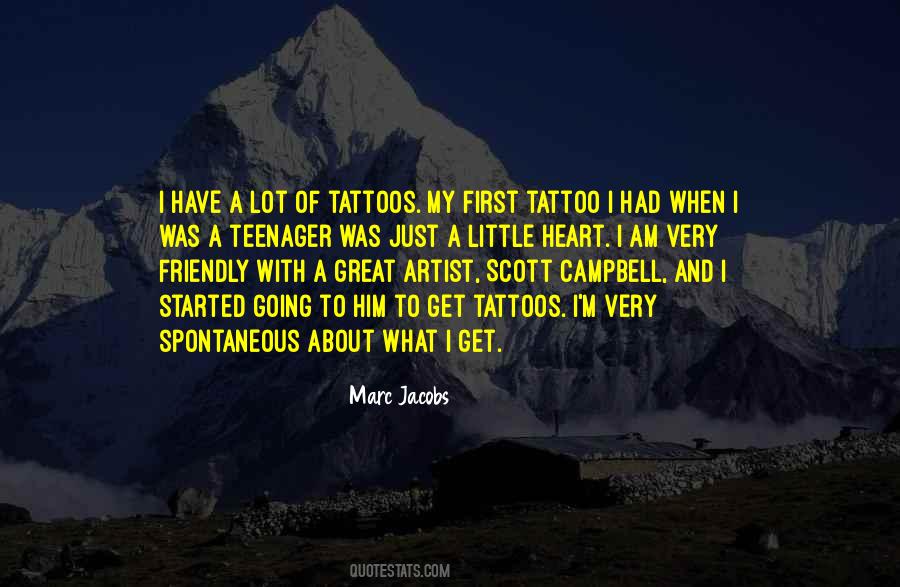 #5. I have no real tattoos. I wear my bruises and tons of scars as my tattoos. - Author: Kellan Lutz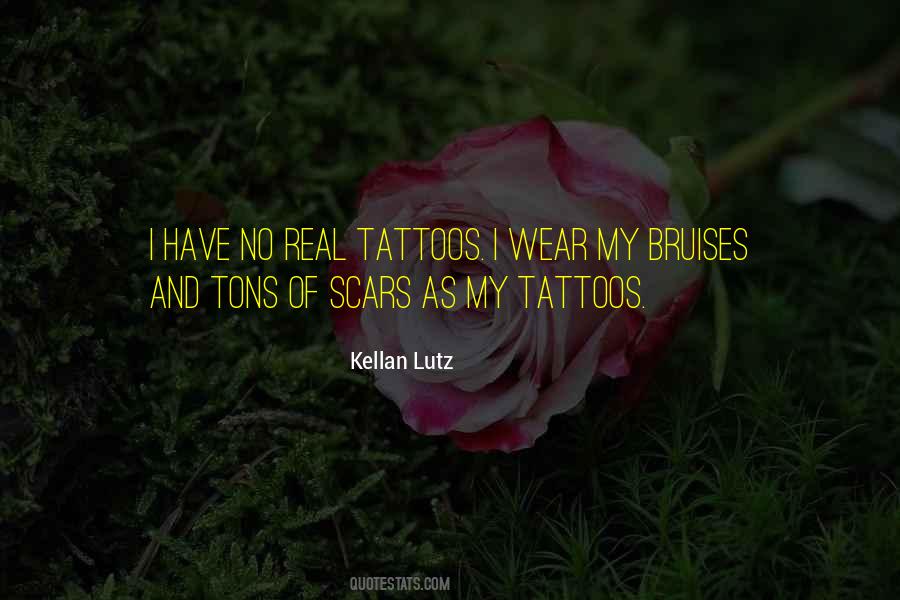 #6. I get the niggling feeling in my belly that says it's time for a new song. It hits at the most random, inopportune times. Fucking creative muse bitch. I stand up quick and grab a pen from the desk in the corner, flipping my arm over and finding a space between the tattoos. - Author: C.M. Stunich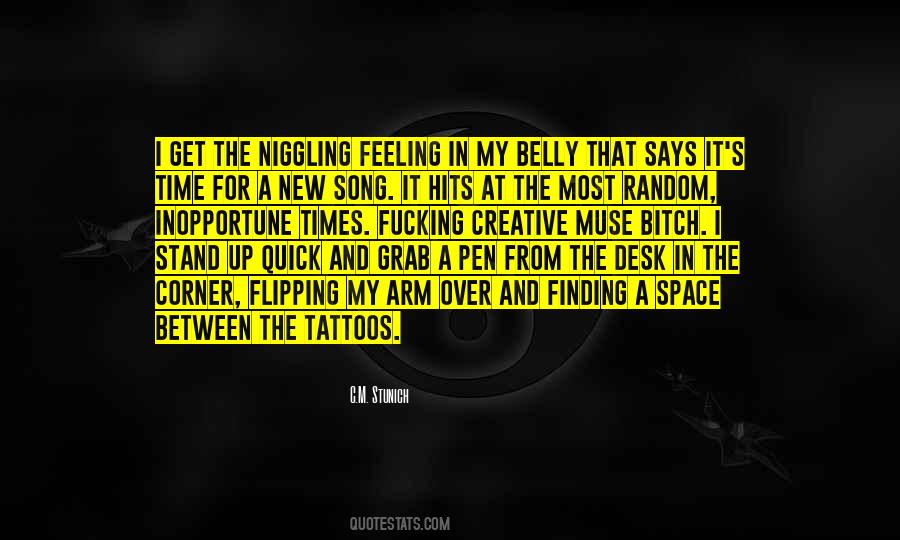 #7. As soon as I saw tattoos as a way to tell your story, I thought, 'Oh my gosh, I totally get it.' So I got my first tattoo a couple of years ago, and it's the word 'hope' on my left arm. It has a couple of dots at the end for each of my kids. - Author: Kristian Bush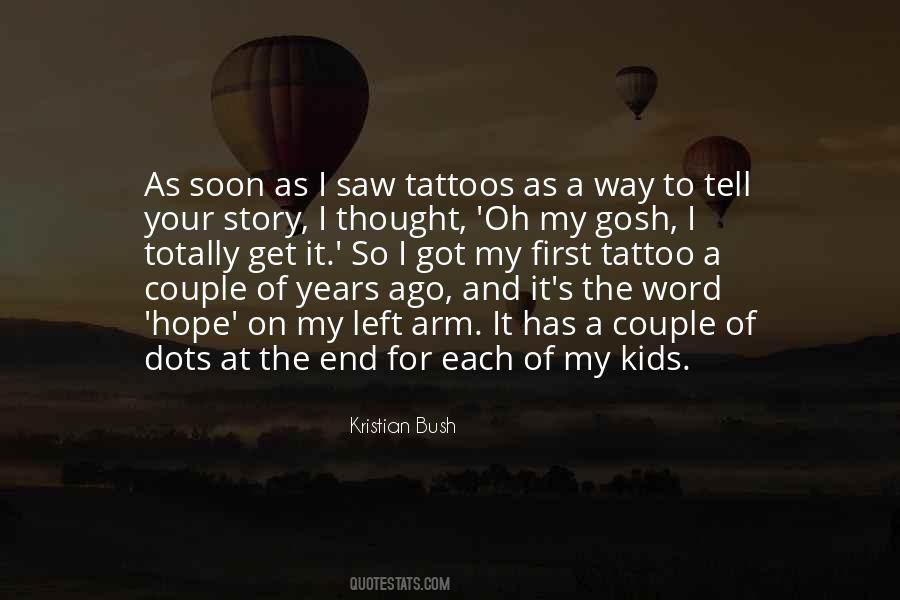 #8. One of my favorite facts about Jason [Benjamin] is that he collects shirts from tattoo parlors. He has a bunch of tattoo parlor T-shirts, but no tattoos. And then he wears, like, vans and jeans. My boyfriend said he looks like a modern Bruce Springsteen, which is a pretty high compliment. - Author: Lena Dunham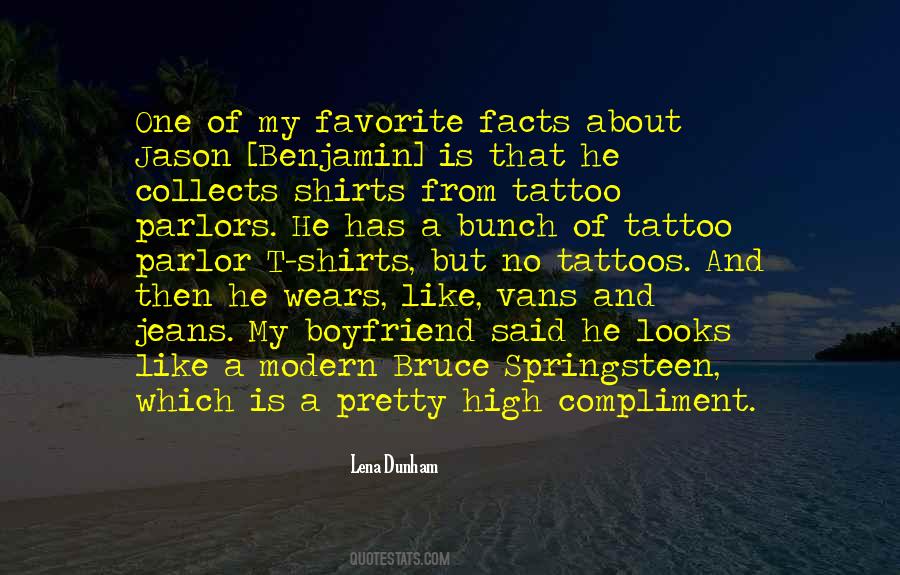 #9. My tattoos are reminders to hang in there when things get rough. - Author: Demi Lovato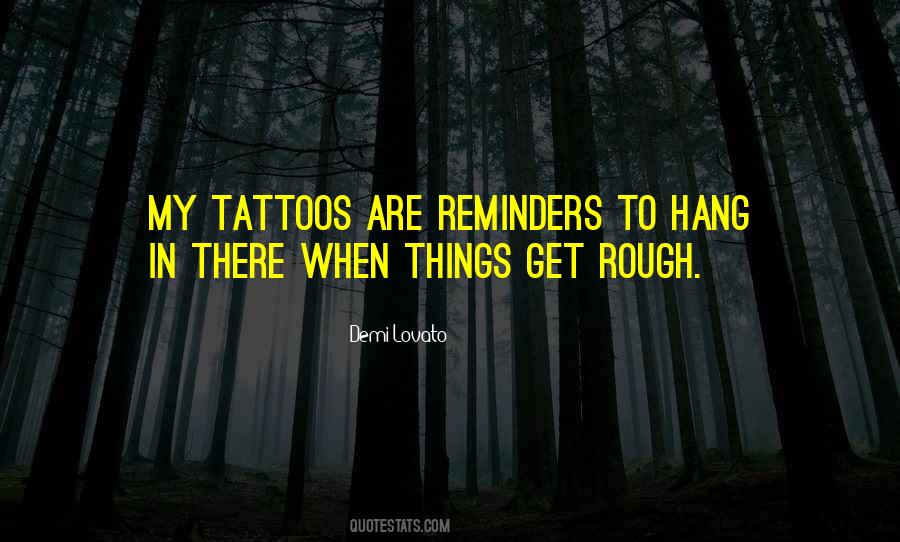 #10. Today, if I could get a job, with face tattoos, being a professor, I would do that. I don't know what university would hire me, but that's my passion. - Author: Al Jourgensen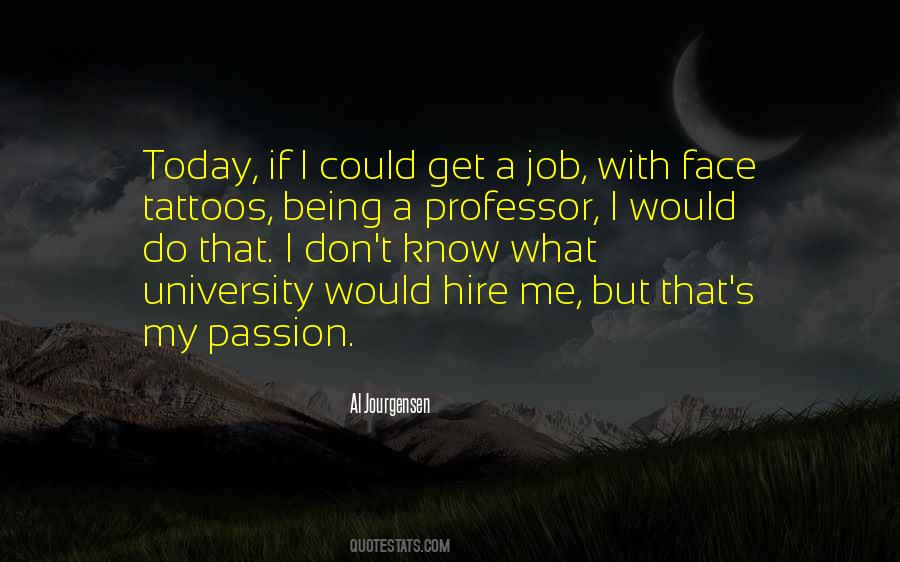 #11. When a woman singles me out"- he leaned down to murmer at my ear- "it's because she wants to get fucked. She looks at the scars and tattoos and knows she'll get fucked hard"
I gasped, melting for him.
"is that what you wanted from me, Natalya"? - Author: Kresley Cole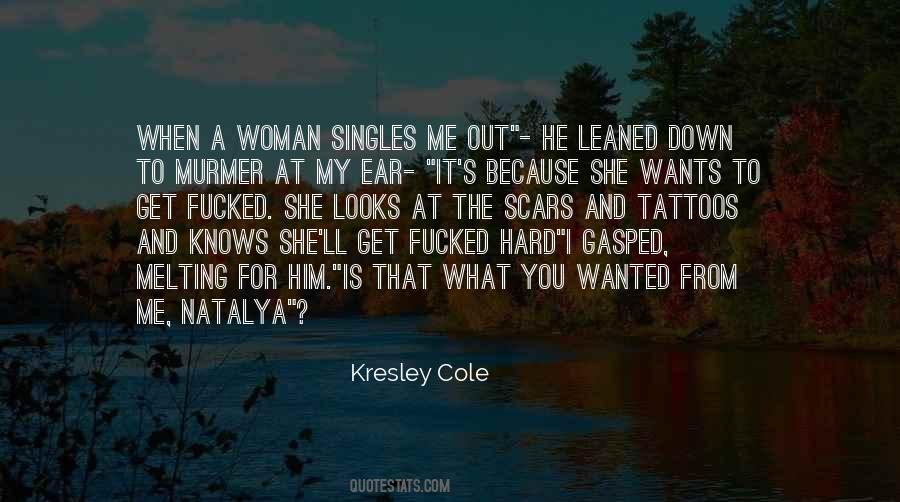 #12. I don't have any tattoos - I live vicariously through my sister, Langley, who has many. If I can't stick to one ensemble, I don't think I could stick to one tattoo. - Author: Dree Hemingway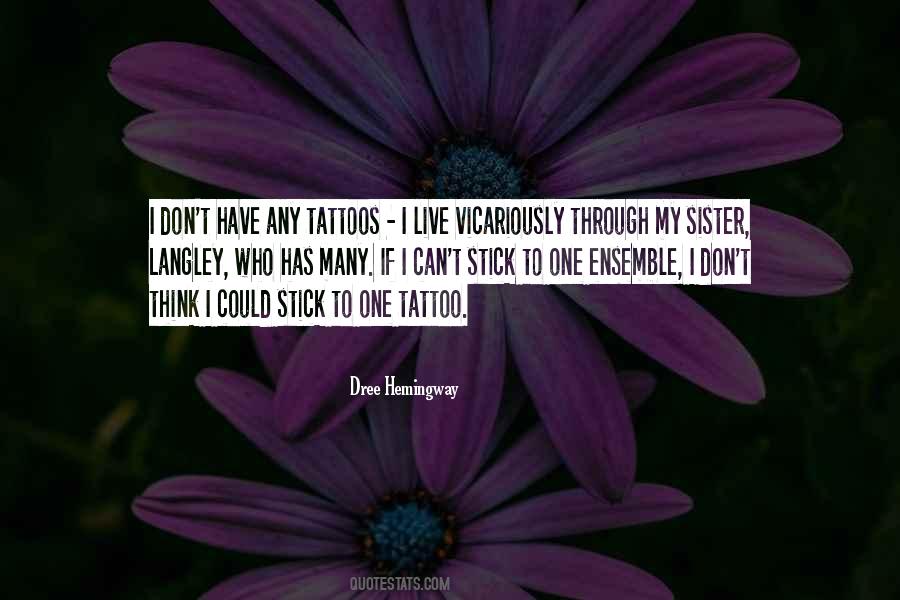 #13. I want a tattoo over my heart that reads TRY HARDER YOU LAZY PARAMEDIC SHITBAG OR I WILL HAUNT YOUR BEDROOM FOREVER - Author: Warren Ellis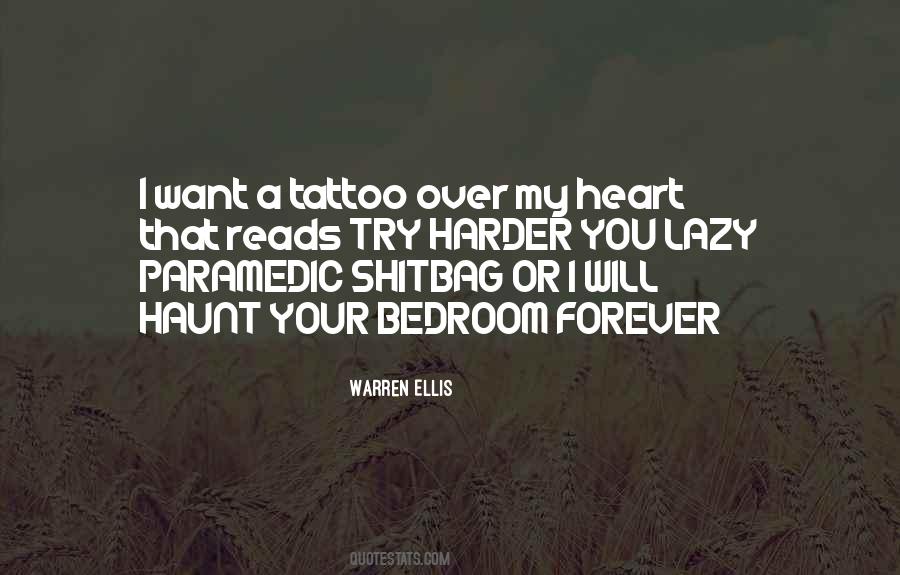 #14. I am a canvas of my experiences, my story is etched in lines and shading, and you can read it on my arms, my legs, my shoulders, and my stomach. - Author: Kat Von D.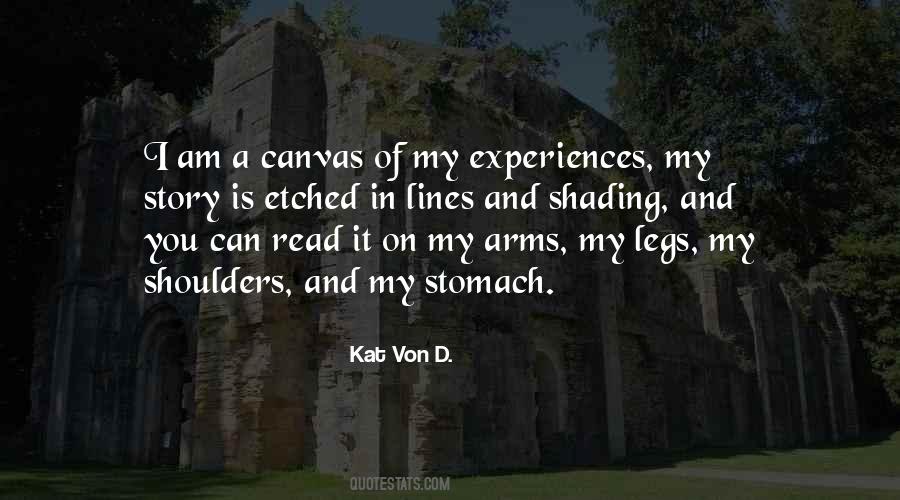 #15. The biggest misconception about me is the bad-boy image that everyone stuck me into due to my tattoos, drug days and the constant changes I make with my hair color. - Author: A. J. McLean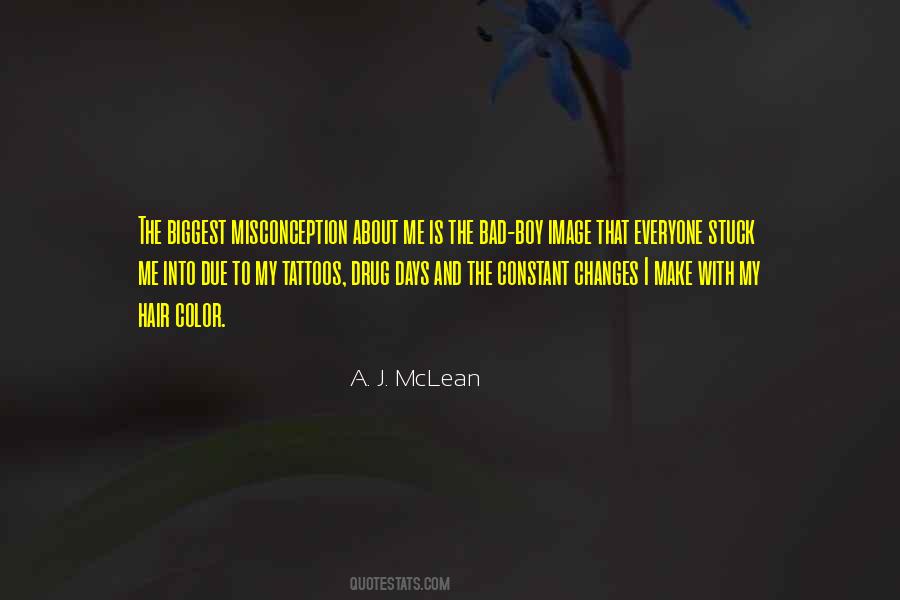 #16. I started getting tattoos, and the hair would grow back out and grow over a nice piece of artwork that I really wanted to show, and it just became one of those things. I can't stand the hair on my body. I just wanted it gone. It's just a better feeling for me. - Author: Ryan Sheckler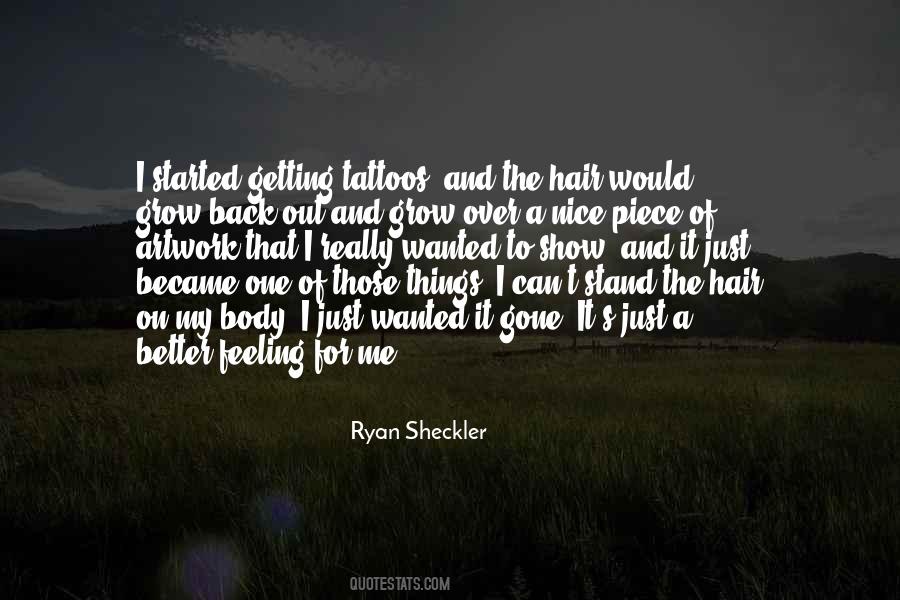 #17. Why the war paint, Pix?
Because I can't stand the girl underneath....
"Why the tattoos ?"
Because I can't bear seeing the scars of my past. - Author: Tillie Cole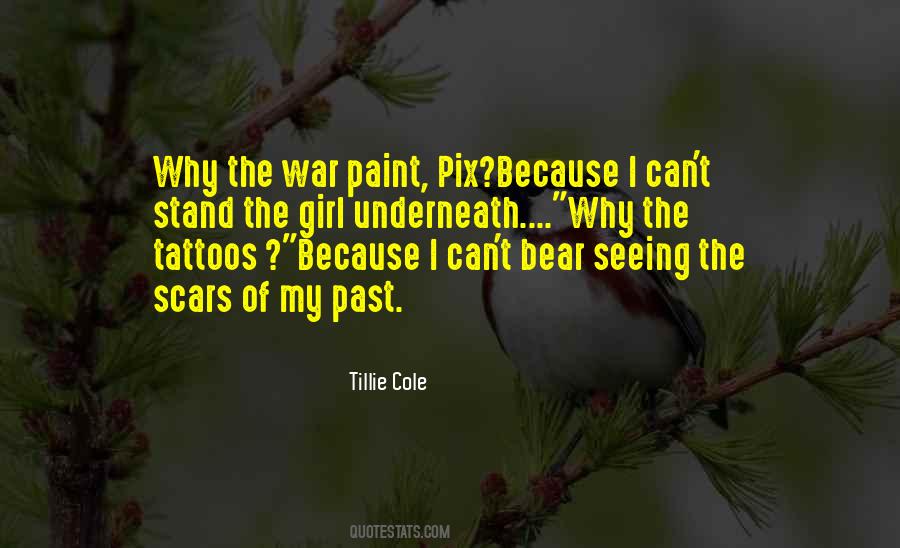 #18. Early in my career, having many visible tattoos created obstacles and presented quite a challenge to move forward. I've heard comments like, 'actors don't have tattoos.' The notion of typecasting was a reoccurring theme despite my passion toward creativity and personal expression. - Author: Robert LaSardo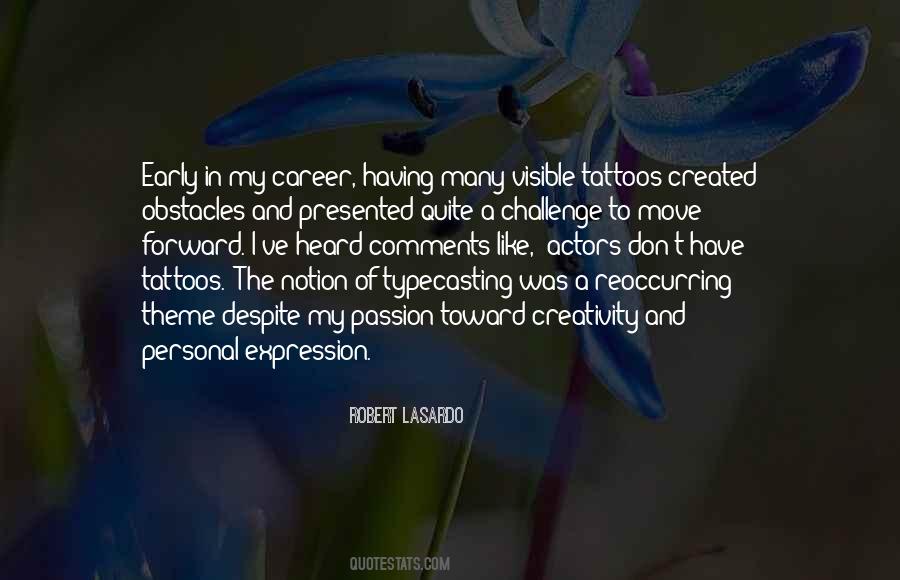 #19. Tattoos, for me, are like a timeline of my life. I could look at a certain tattoo, and it reminds of me of a certain time in my life and why I got that tattoo. - Author: Tyga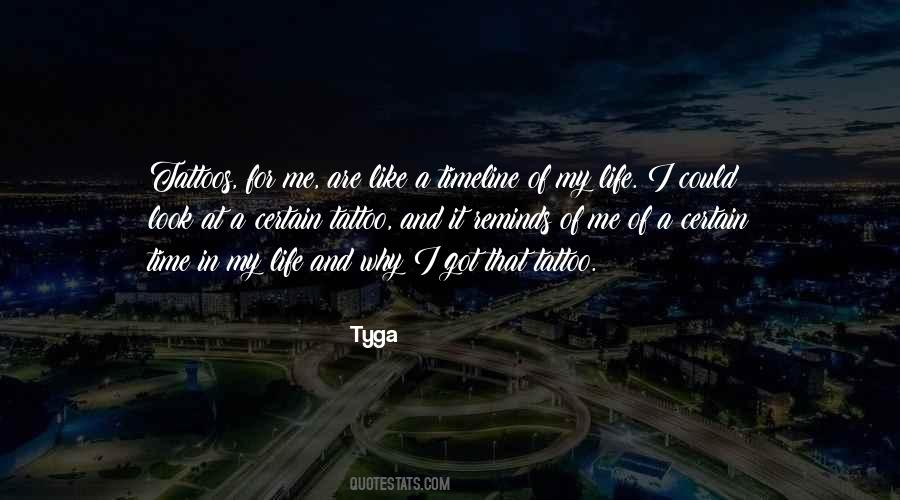 #20. Tattoos. Anyone who doesn't like my art can kick rocks. - Author: T.M. Frazier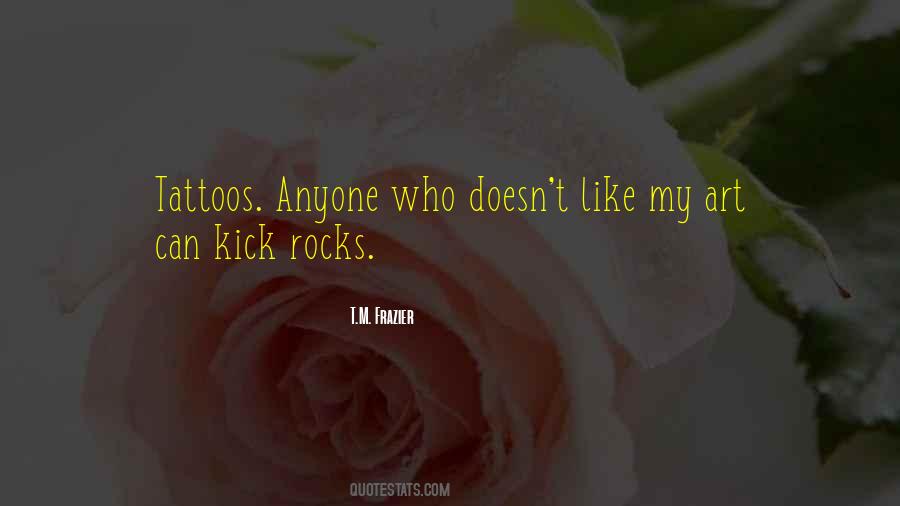 #21. There is something in the act of having tattoos done that I love. It can be quite addictive. I've got a few on my back because my friend is an artist, and a few on my arms. Every time I pass a tattoo parlour, I think, 'Maybe just a tiny one.' - Author: Lena Headey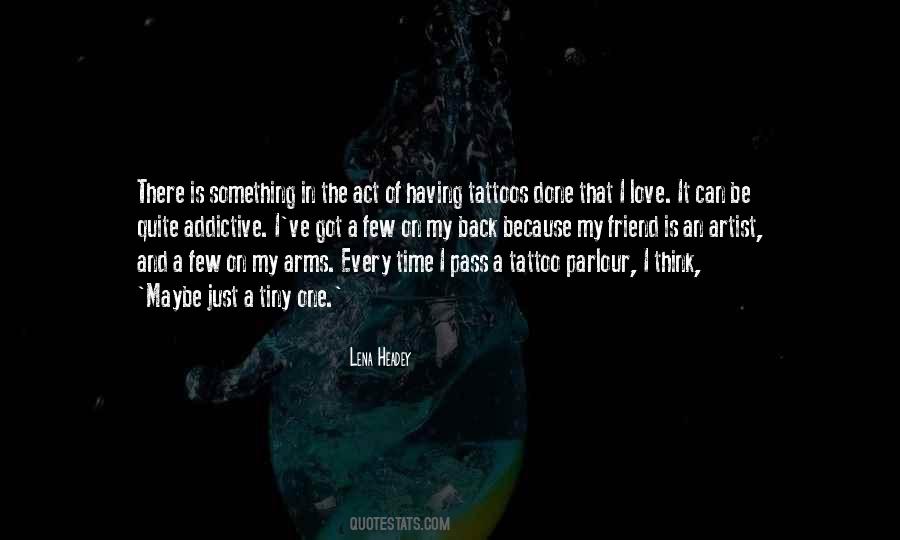 #22. I like the bad-boy types. Generally the guy I'm attracted to is the guy in the club with all the tattoos and nail polish. He's usually the lead singer in a punk band and plays guitar. But my serious boyfriends are relatively clean-cut, nice guys. So it's strange. - Author: Megan Fox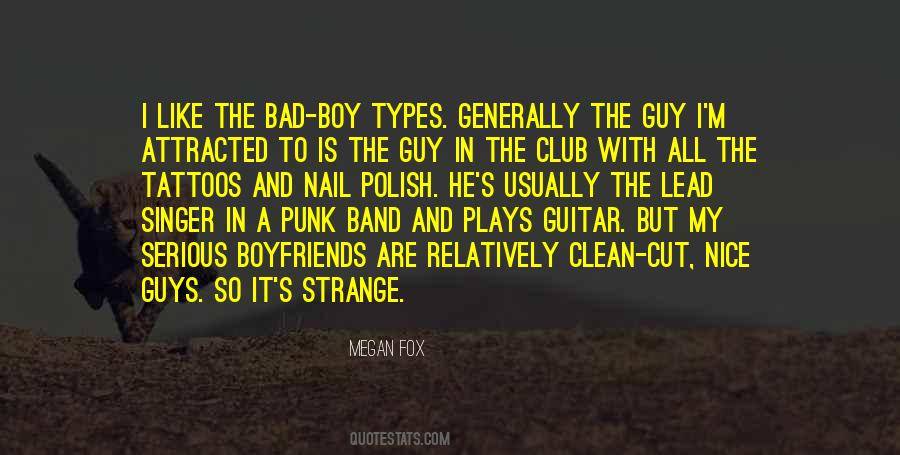 #23. All the tattoos I would get if I were the sort of person who had the nerve to get tattoos, which I am decidedly not. Instead, I'm the kind of person who has spent hours debating said theoretical tattoos, despite my crippling fears of both needles and long-term commitment. - Author: Julie Buxbaum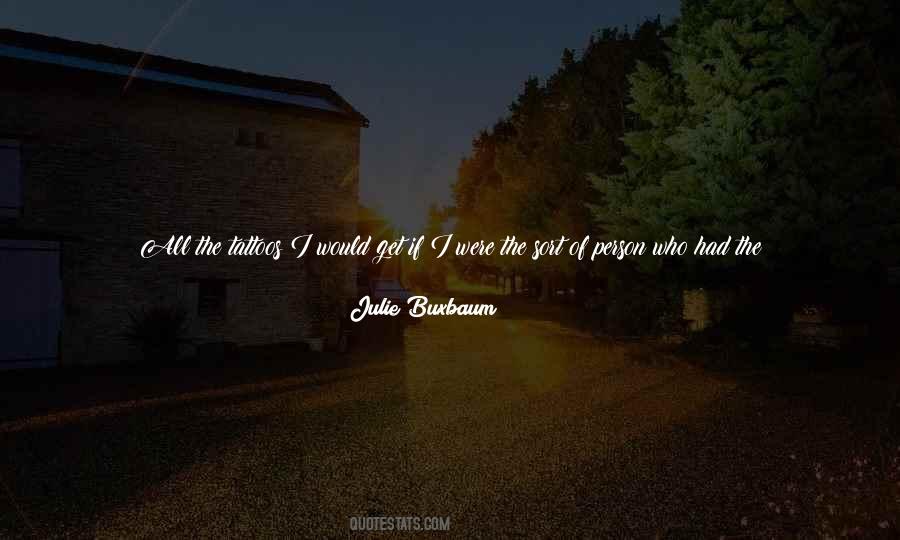 #24. I've got used to touring. If you make calculations of the nights spent in hotels in my life, multiplied by the tattoos I have for hundred. - Author: Anthony Kiedis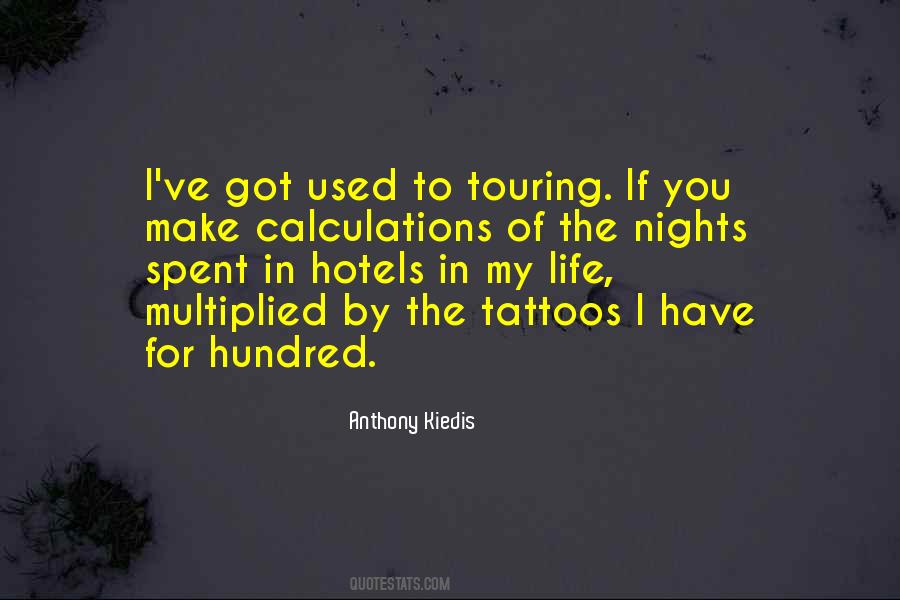 #25. My body is marked with you. My arms. My chest. My eyes. My head. My heart." Tears rolled down her cheeks. "I can't erase you. I'd have to die to be free of you. D-don't you see that, Gris? C-can't you see? There is only you for me. - Author: Katy Regnery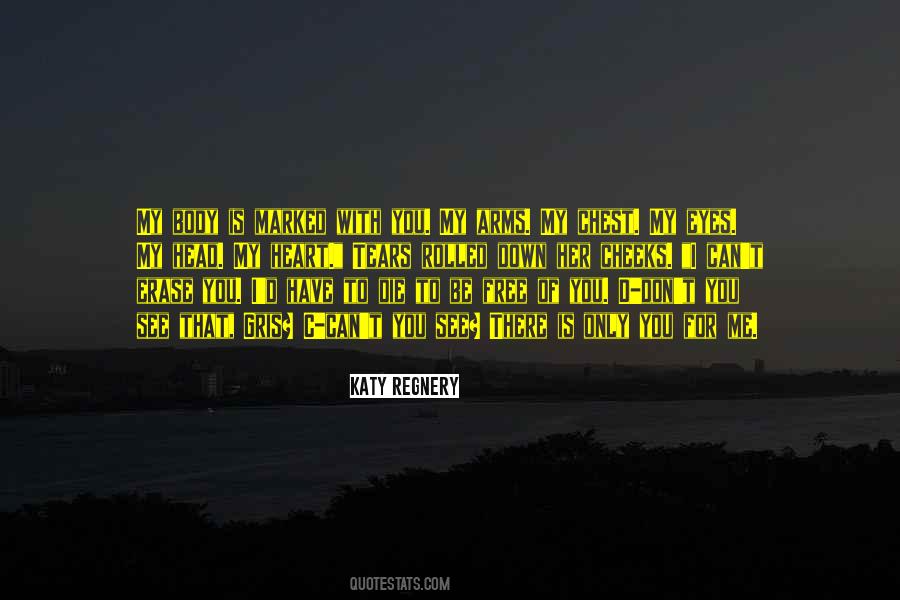 #26. Some of my tattoos are a bit silly, but I know where and what time I got them. - Author: Ed Sheeran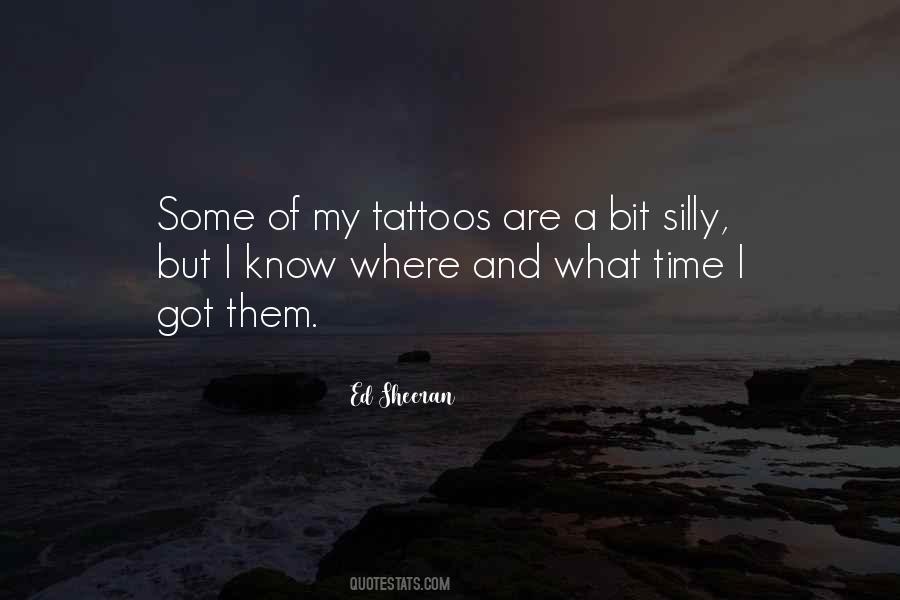 #27. My whole thing was, just being me. Now, you look around the NBA and all of them have tattoos, guys wearing cornrows. Now you see the police officers with the cornrows. I took a beating for those types of things. - Author: Allen Iverson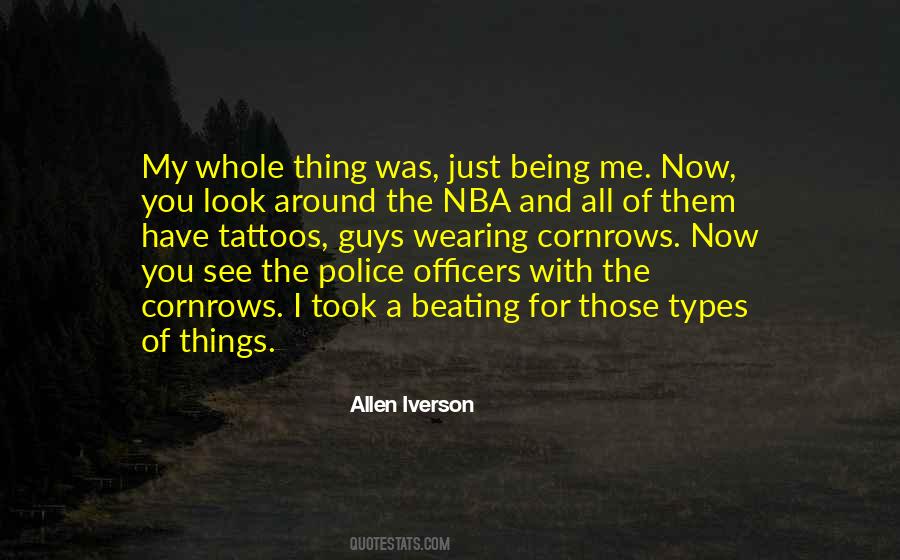 #28. When I turned 18, my mom, my nana and I all went and had tattoos of our favorite Bible verses put on the inside of our wrists. Mine is 1st Timothy, 4:12. - Author: Jordin Sparks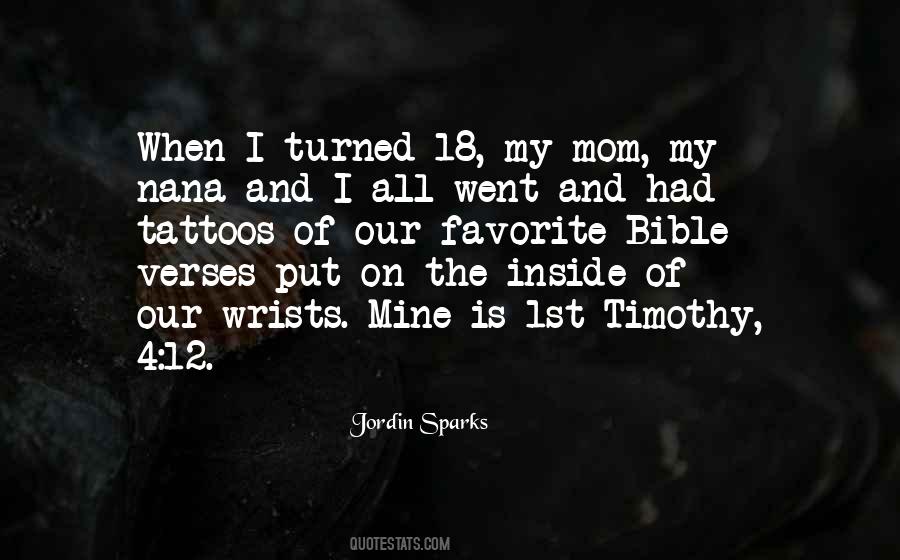 #29. I'm going to get 'I'M NOT FUCKING DEAD' tattooed on my chest."
"That will become inaccurate at some point, " Omar pointed out. - Author: Domashita Romero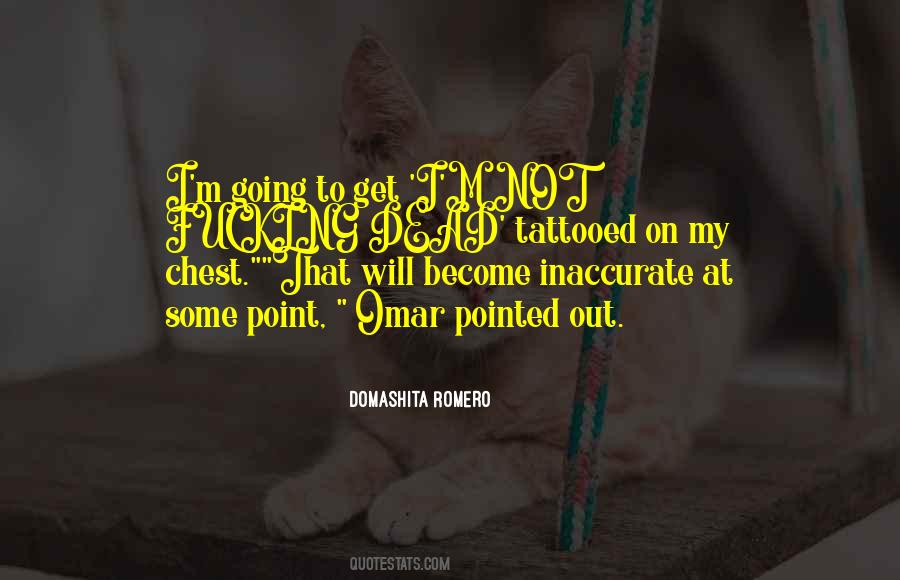 #30. My tattoos say "Stay strong." "Stay" on one wrist and "strong" on the other. I'm able to look at them and be thankful for being alive. - Author: Demi Lovato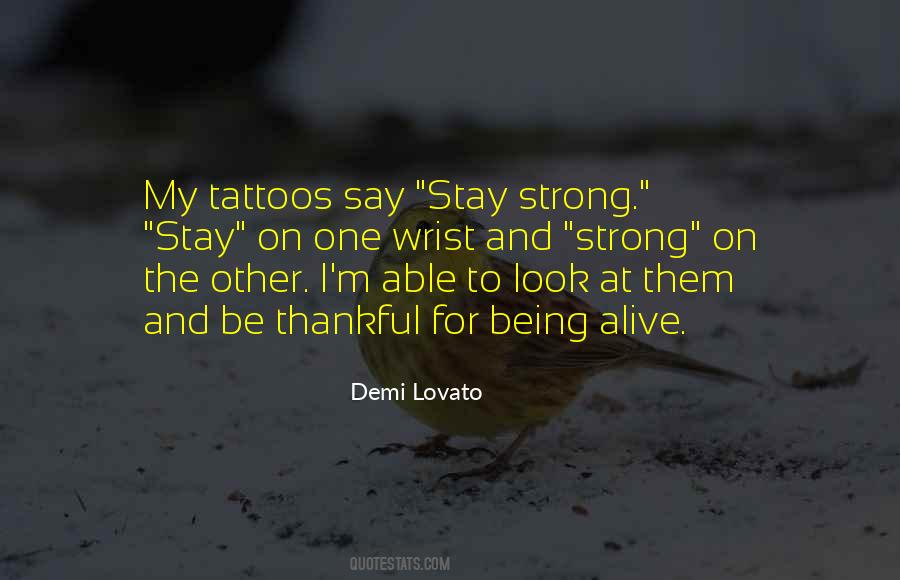 #31. To whomever swapped my tattoo cream for toothpaste ... well played. - Author: R.D. Ronald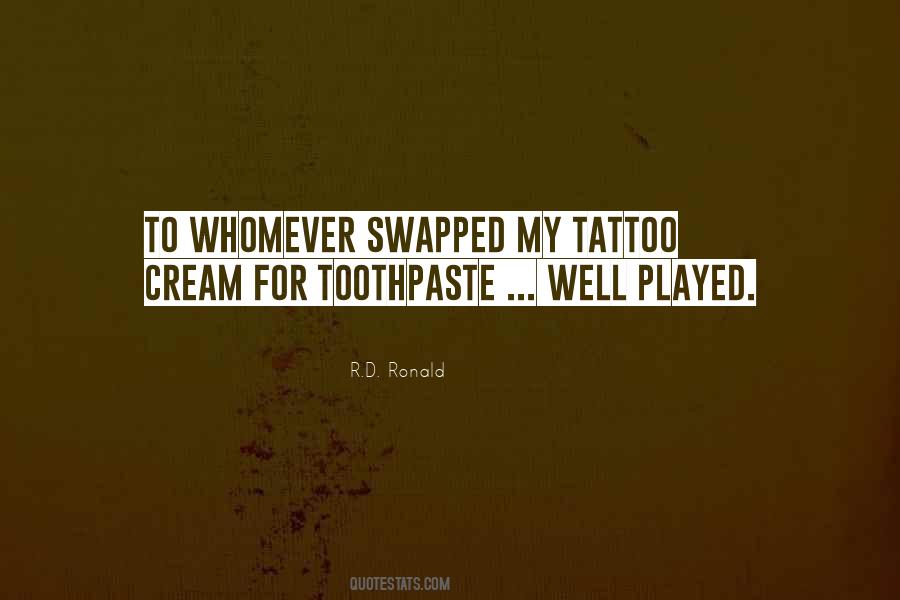 #32. I think I have enough tattoos for now. If I get any others, I'll probably do my kids initials. - Author: Niki Taylor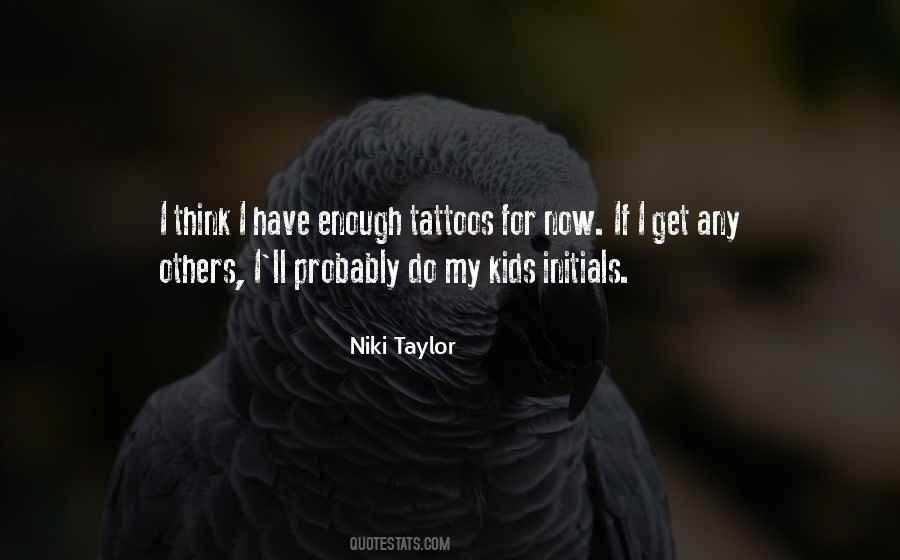 #33. What's funny is my husband doesn't have any tattoos at all, so he must be the very conservative one. - Author: Ashley Scott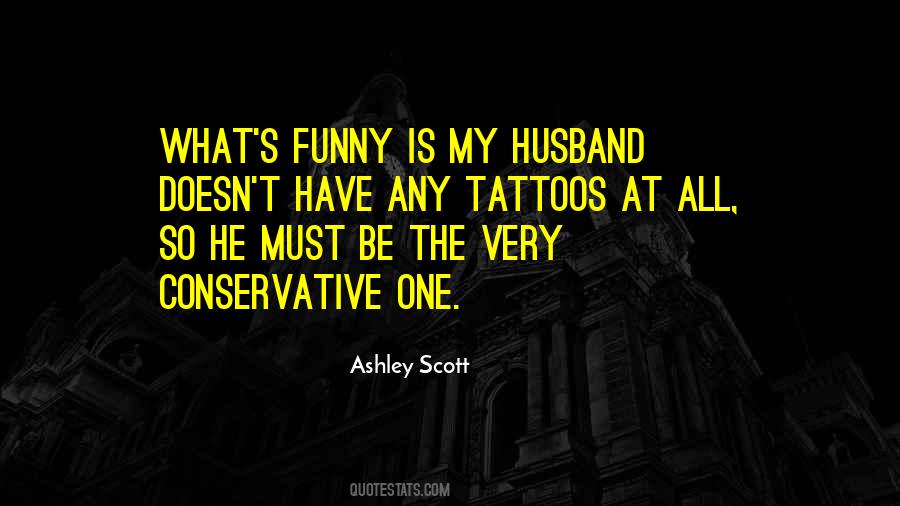 #34. Tattoos made my skin more me. - Author: Larry Smith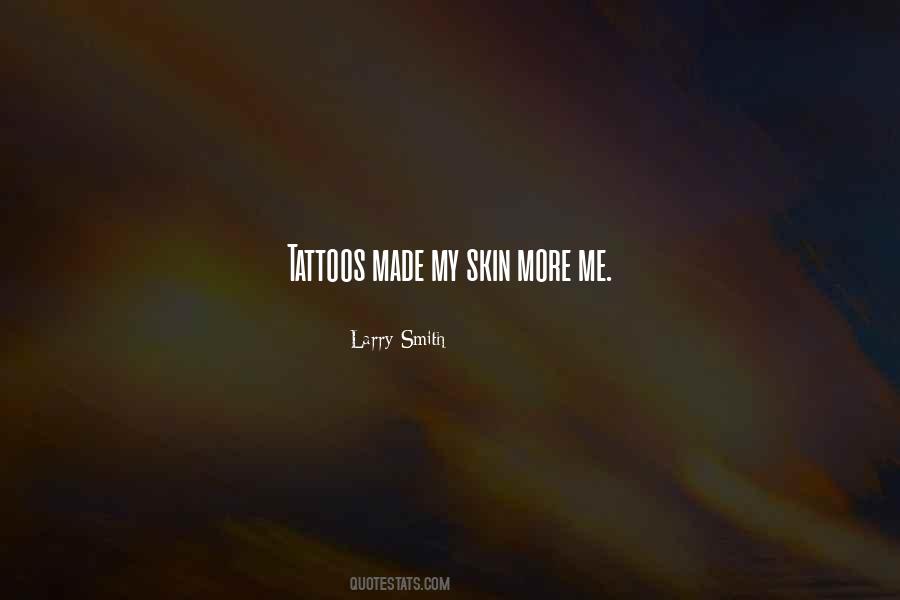 #35. My tattoos are like a scrapbook of my life. Sometimes you don't feel comfortable in your own skin, so covering it up with pictures helps - Author: Frank Iero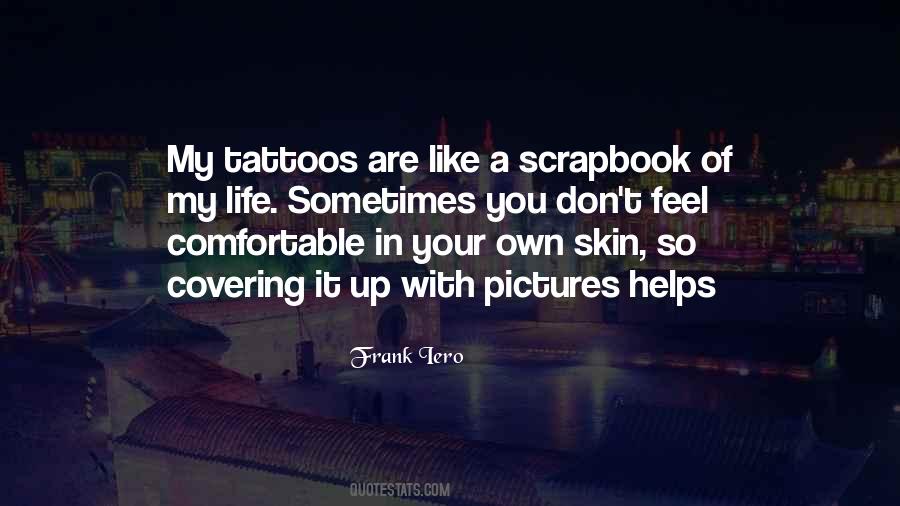 #36. What had happened was going to be always on me, in me, as permanent as one of Roberta's tattoos. "Dolores," I said. I repeated my name over and over until it sounded warped and unreal. I was never going to be myself again. - Author: Wally Lamb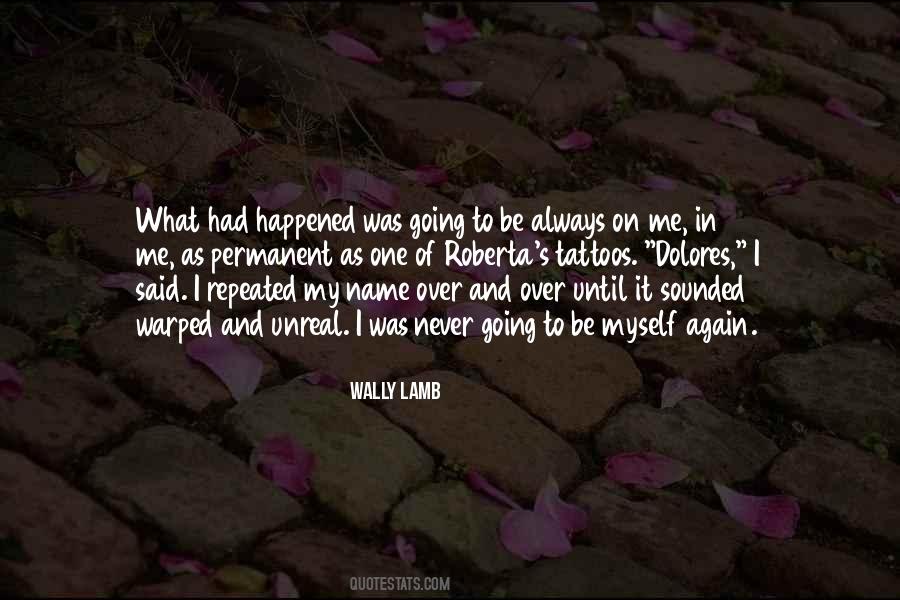 #37. Fun my ass. The only thing remotely pleasant about this experience is that Des is wearing an Iron Maiden shirt, his tattoos are on full display, and his leather pants are hugging the shit out of his backside. I mean, I can be mad at him and still enjoy the view. Over - Author: Laura Thalassa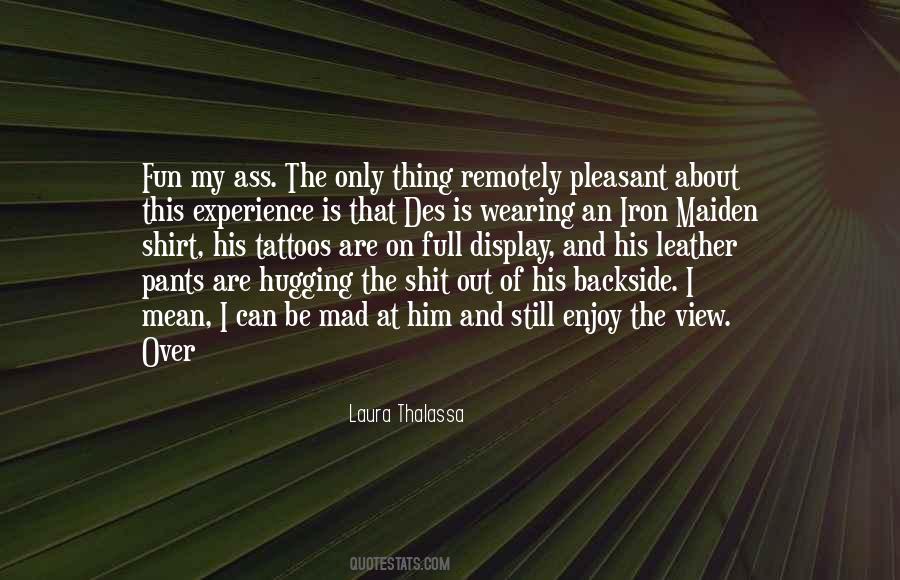 #38. I've always wanted to be sure my parents approve of what I do. Even with my tattoos, my mom went with me. - Author: Ashley Tisdale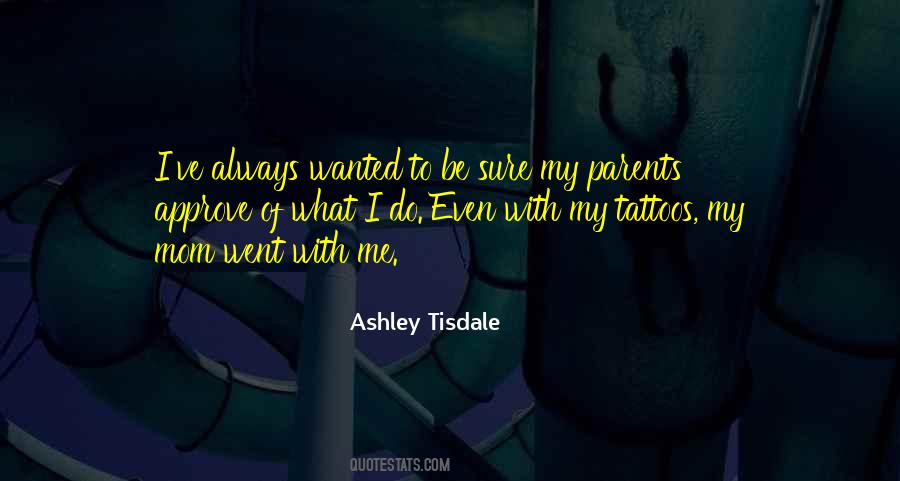 #39. I think at one point I had 50 or 60 tattoos, but then they all morphed to become a half sleeve and then a full sleeve and then a sleeve with half my hand and then half my back. So I have so many now where I feel like I can get away with saying, 'I have three tattoos.' - Author: Ruby Rose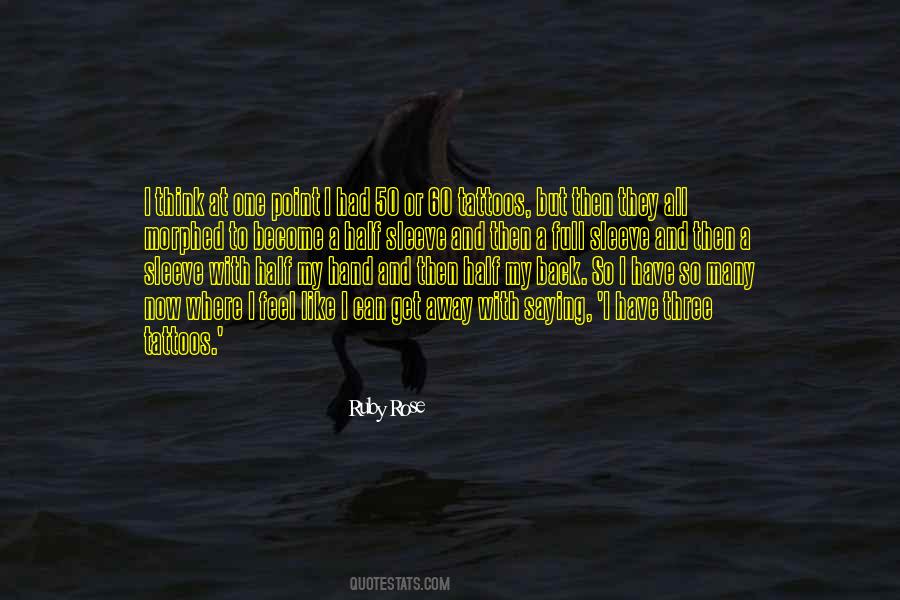 #40. She's really not my kind of girl - most of them have tattoos or nose rings - but there's something about her smile. She smiles like she's in love with whoever she's looking at.
She smiled at me a few months ago. I've been trying to get her to do it again ever since. - Author: Jaye Murray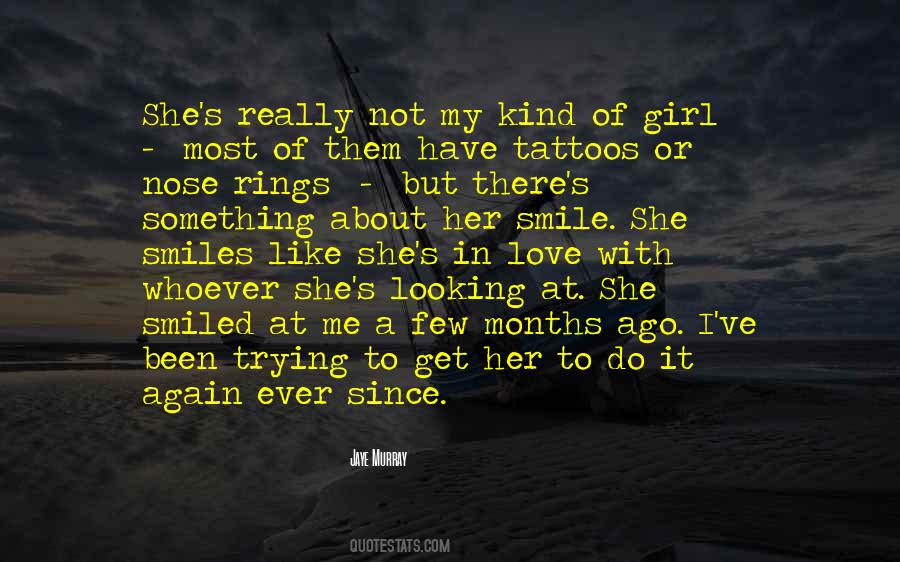 #41. To this day, I still haven't touched one dime of my signing bonus or NFL contract money. I live off my marketing money and haven't blown it on any big-money expensive cars, expensive jewelry, or tattoos and still wear my favorite pair of jeans from high school. - Author: Rob Gronkowski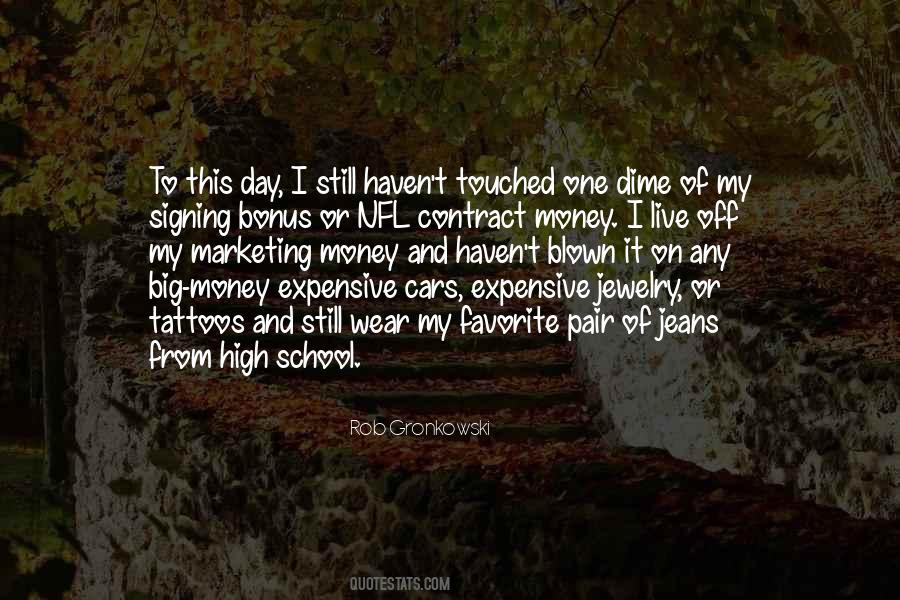 #42. My body is my journal, and my tattoos are my story. - Author: Johnny Depp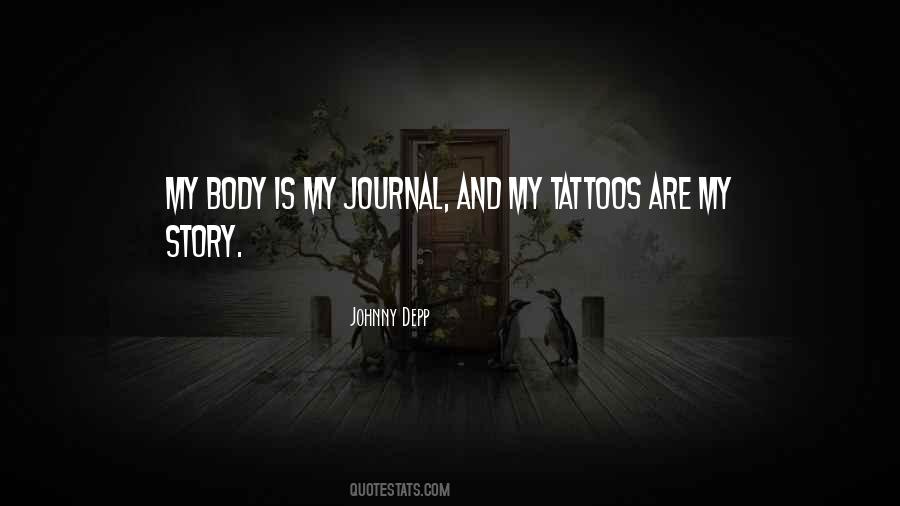 #43. I've always wanted to have tattoos. I grew up around people who were very tattooed. It's a self-expression thing; it's also helped me claim my body as my own. So I think it's really positive. It's really joyful. - Author: Margaret Cho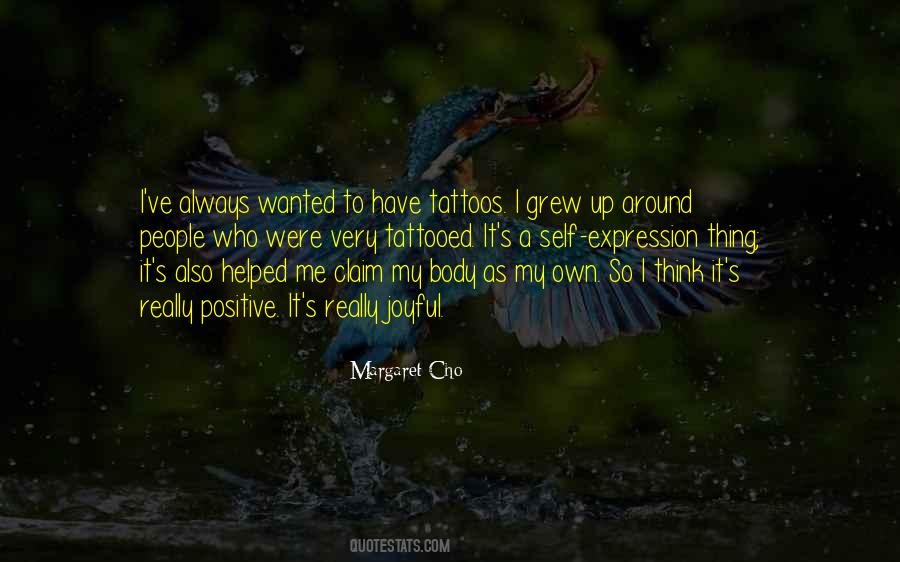 #44. Usually all my tattoos came at good times. A tattoo is something permanent when you've made a self-discovery, or something you've come to a conclusion about. - Author: Angelina Jolie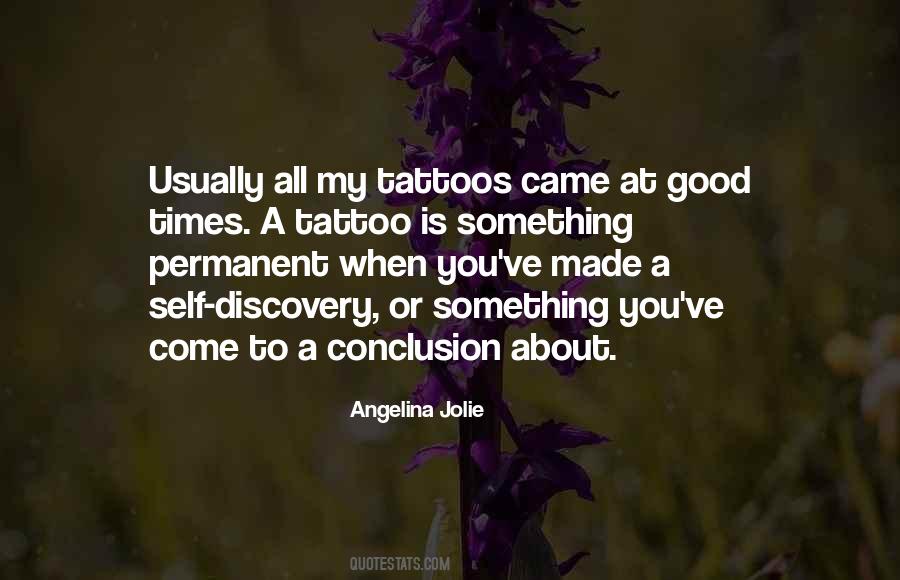 #45. I'm a very traditional person. The tattoos are about my grandmother dying and they tell the story about my mother and father, my brothers and my sister, my kids. It's pretty much a family tree on my arm with my life in football too. - Author: Timothy F. Cahill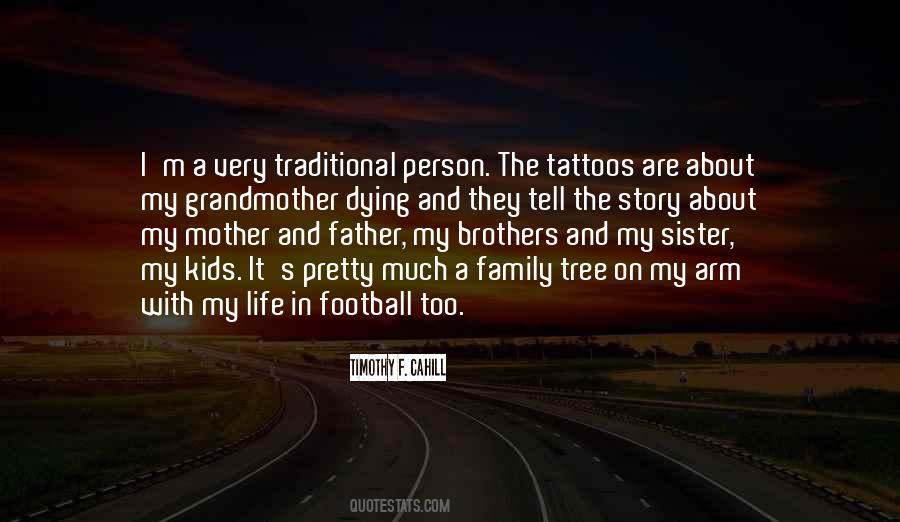 #46. He's still shirtless; his golden skin covered with tattoos is so gorgeous that I really want to trace every single one with my tongue and fingers as he tells me the history behind each of them. - Author: Aurora Rose Reynolds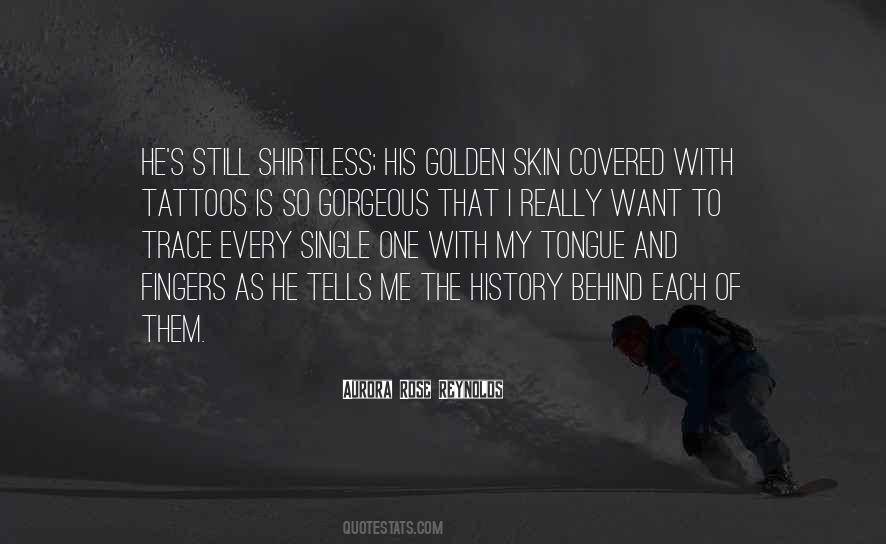 #47. I never fancied myself having a prejudice towards people with tattoos. I personally don't have any and I don't think that I do, but I do see that people treat me differently with tattoos. People get out of my way. - Author: Walton Goggins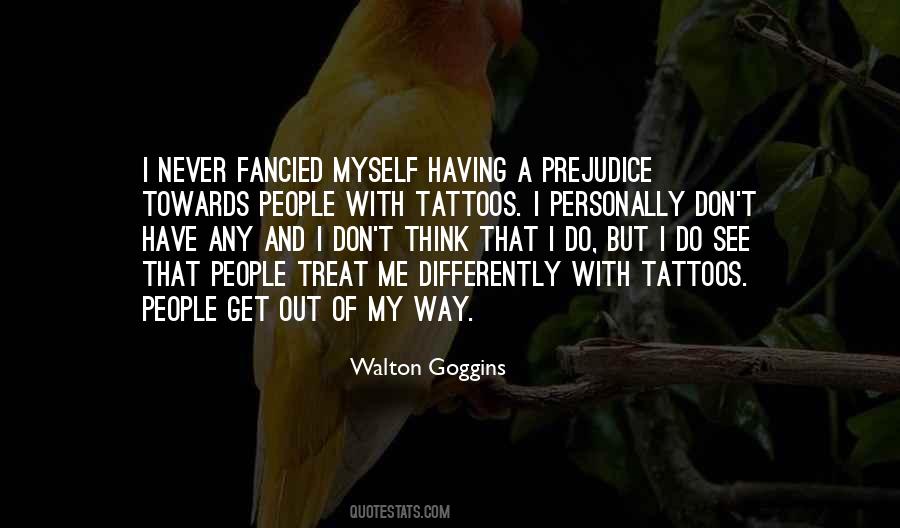 #48. He scanned my face with careful hope in his eyes.
"You love me?"
"It's the tattoos," I shrugged.
A wide smile stretched across his face, making his
dimple sink into his cheek. - Author: Jamie McGuire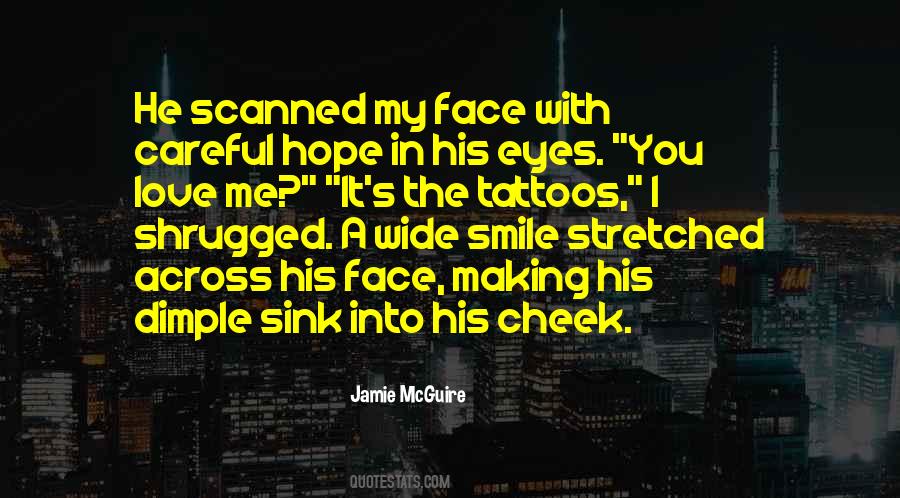 #49. We have certain rules for traditional lyric poetry in Korea. I twist my body, confused by what to say and how to act, facing these rules. Confronting traditional lyricism, I speak with a bare body without the tattoos of culture on it. - Author: Kim Hyesoon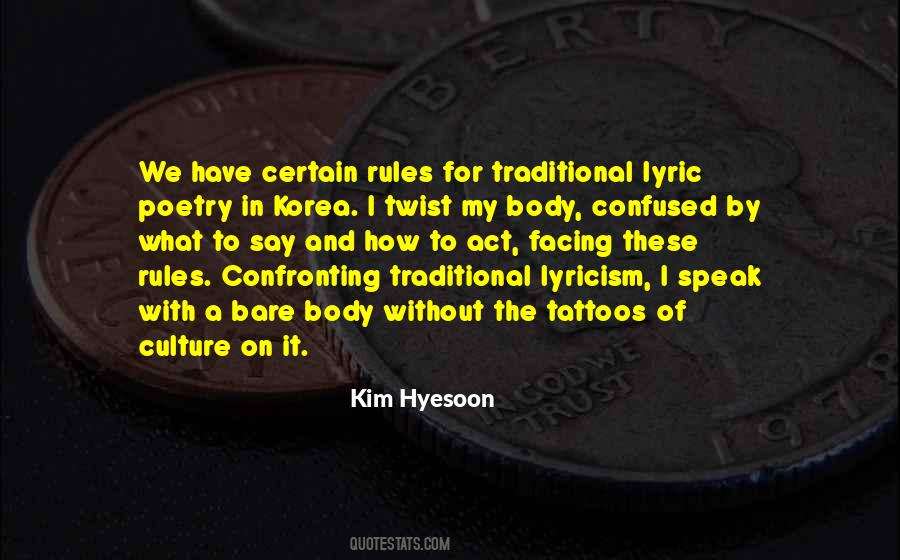 #50. I have no tattoos that I regret - I have had some that I have had changed according to how my life was. - Author: Nas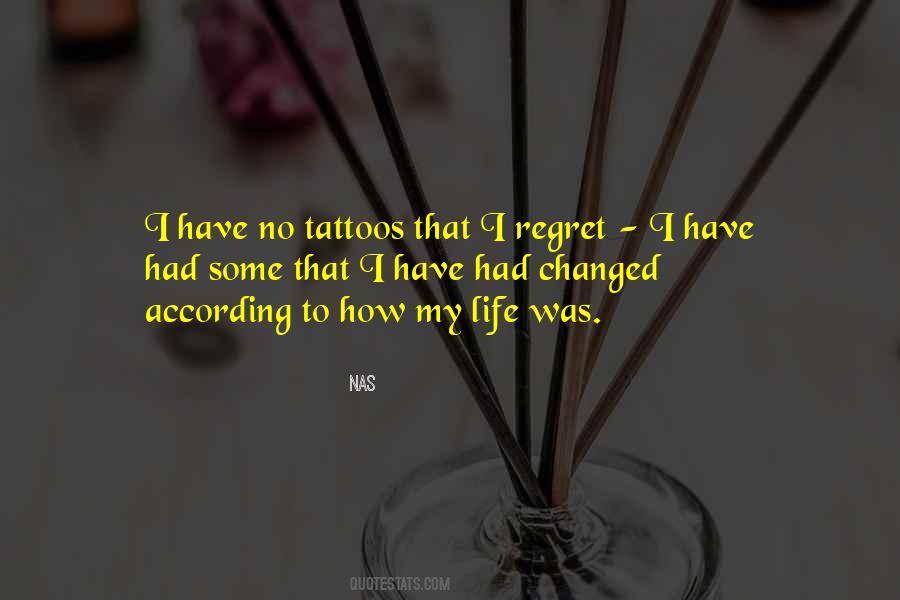 #51. I'm nineteen tree rings and mashed acorns stop up my veins when I can't clot. Oh god, you beautiful person, I'll let you lick the salt off of my tattoos as if they were wounds, wounds made of ink and stories. - Author: Taylor Rhodes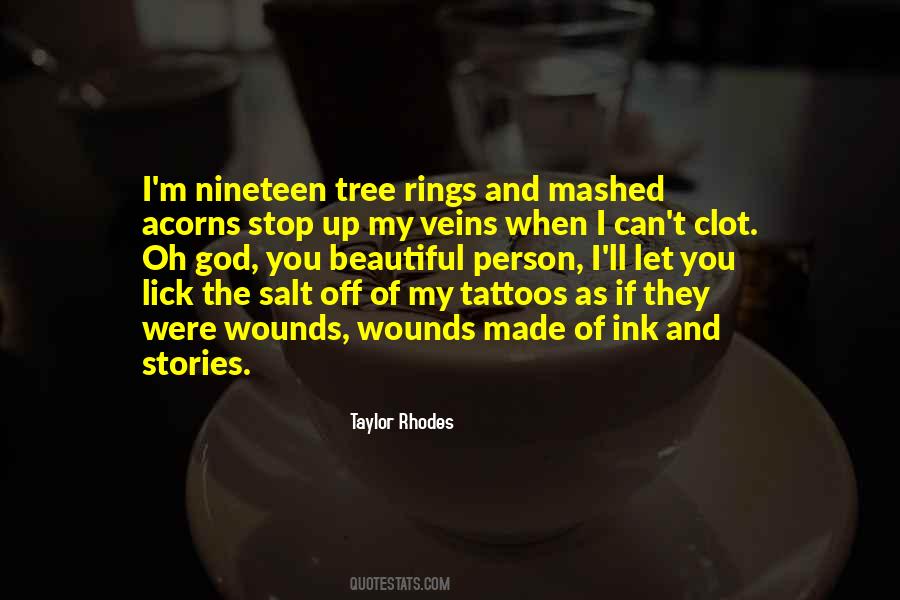 #52. The funny thing is that my husband couldn't be sweeter. He looks like this bad boy. He's got tattoos and earrings and a mohawk, but when you talk to him and he's around you, he's such a gentleman. He holds doors for ladies. He pulls out chairs. He cooks. He cleans. - Author: Malin Akerman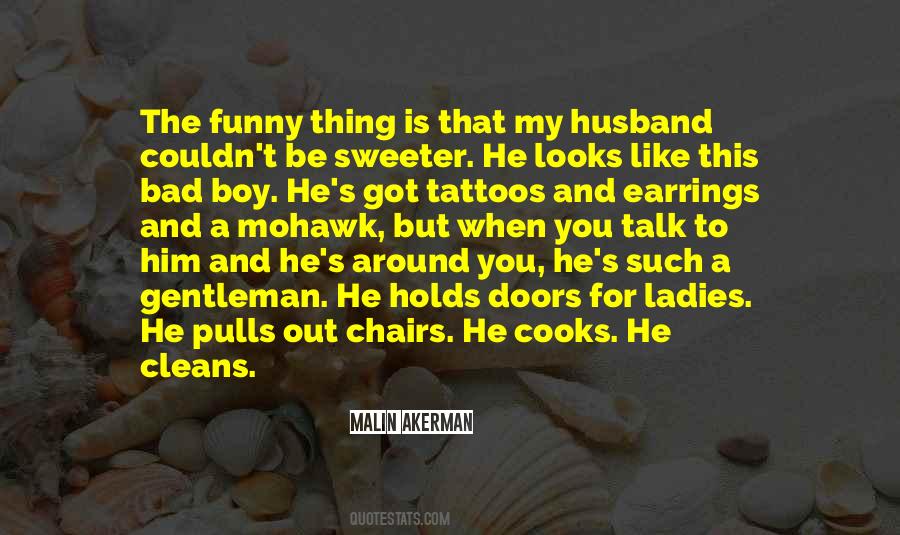 #53. When I took my shirt off against Caen, everybody asked what these new tattoos were. I had 15 removable tattoos on my body; they are the names of real people who are suffering from hunger in the world. - Author: Zlatan Ibrahimovic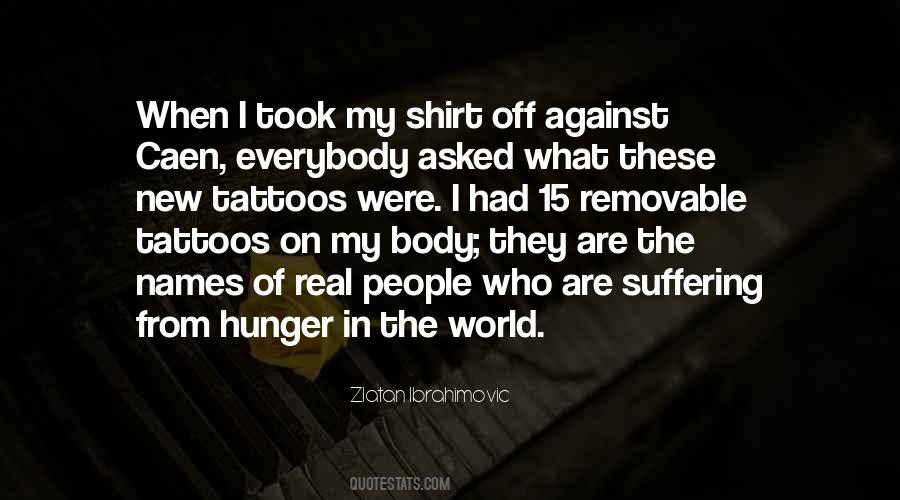 #54. That's what my mother doesn't understand about my lipstick and dark clothes. I don't wear tattoos to freak her out; I wear them because I have to. It's me. - Author: Ellen Schreiber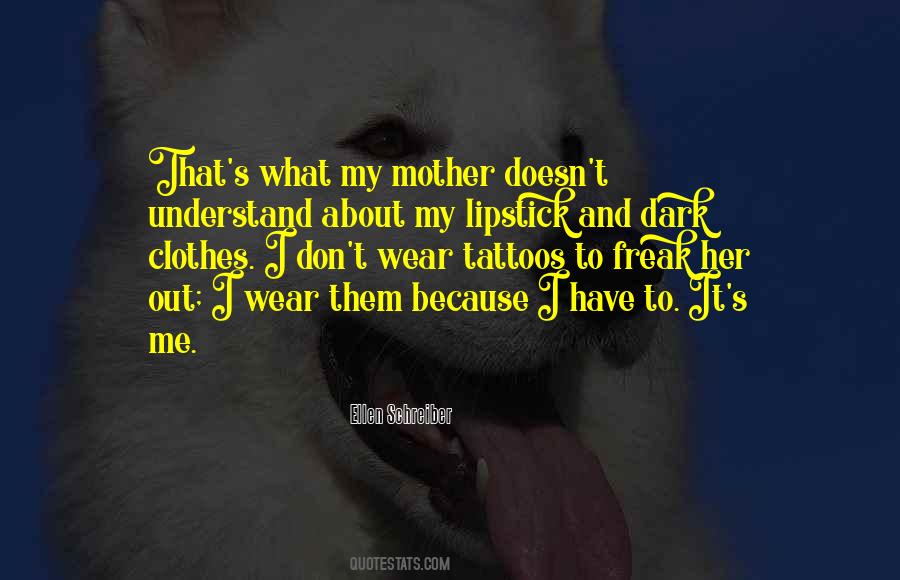 #55. Don't let these tattoos fool you. I'm straight edge. I'm a man of great discipline; I don't drink, I don't smoke, I don't do drugs ... my addiction is wrestling - my obsession is competition. Discipline. My name is C ... M ... Punk. - Author: CM Punk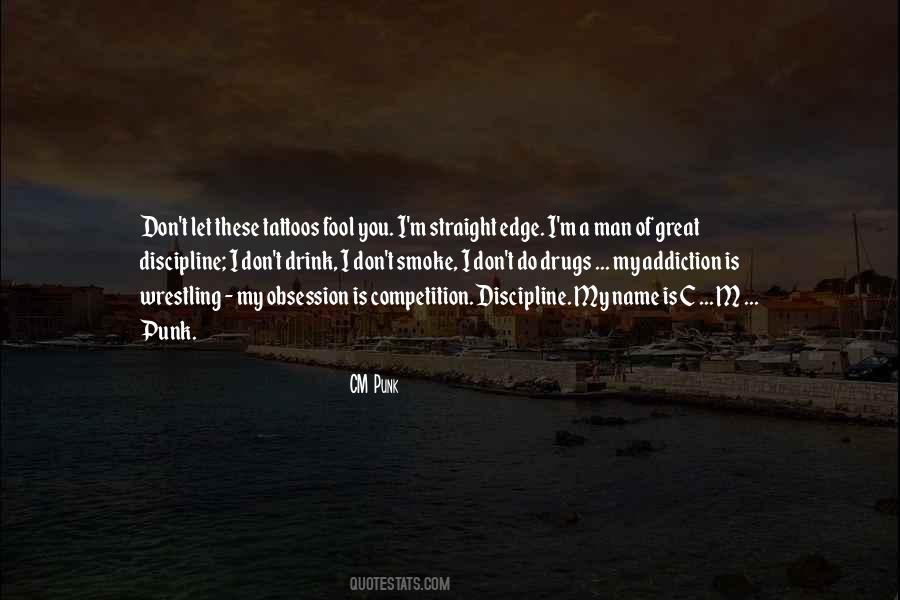 #56. Tattoos made my skin more 'me.' -Melissa Maxwell - Author: Larry Smith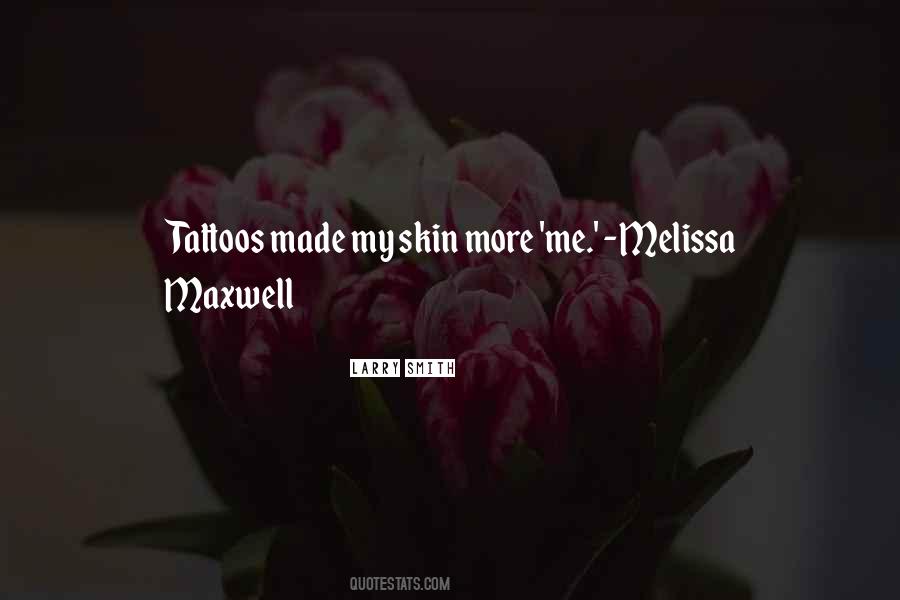 #57. I'm pretty sure little hearts are popping out of my eyes right now. Here is this hot man, tattoos decorating his rugged arms, muscles tugging at the fabric, asking me about the baby's binkie while he holds her close to his chest. Hello, ovary explosion. - Author: Lex Martin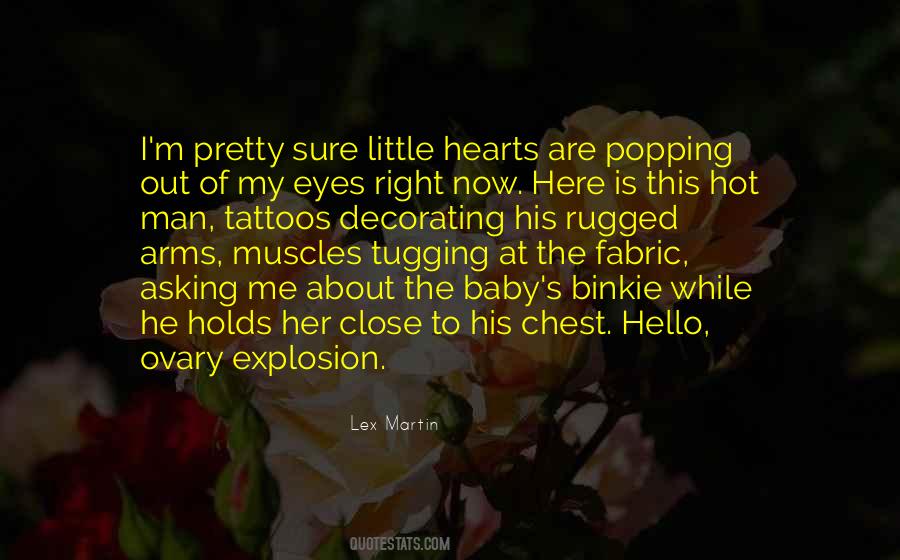 #58. It's more likely I'll dye my hair green, get a bunch of tattoos and go on tour with Amy Winehouse. - Author: Mike Huckabee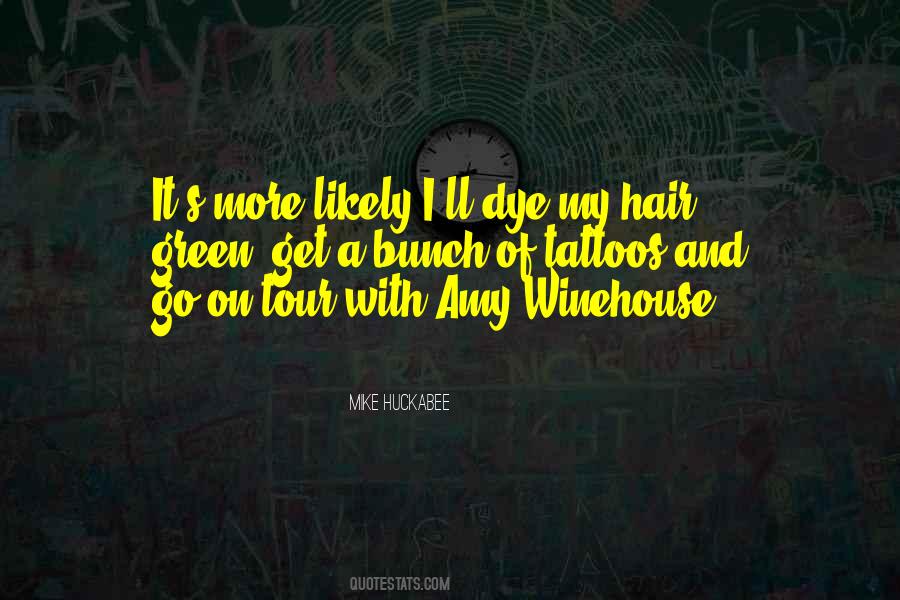 #59. My tattoo is of a cannon in Vancouver that I got in a fleeting moment of stupidity maybe 14 years ago. A lot of people have really beautiful tattoos, and I get real tattoo envy. But then other people basically just treat them like bumper stickers for their bodies. - Author: Ryan Reynolds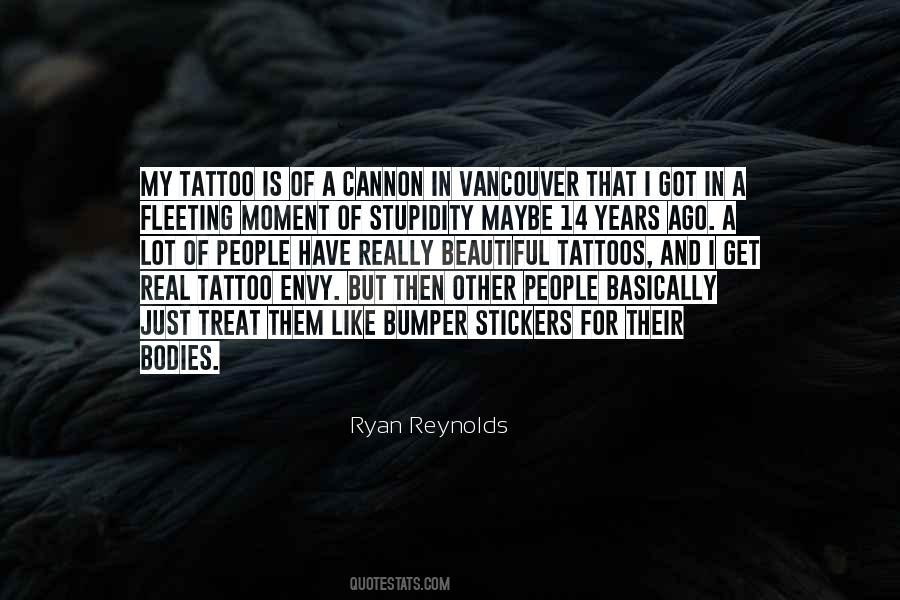 #60. I'm from a nice, suburban, middle-class family, but my tattoos remind me where I've been. - Author: Tom Hardy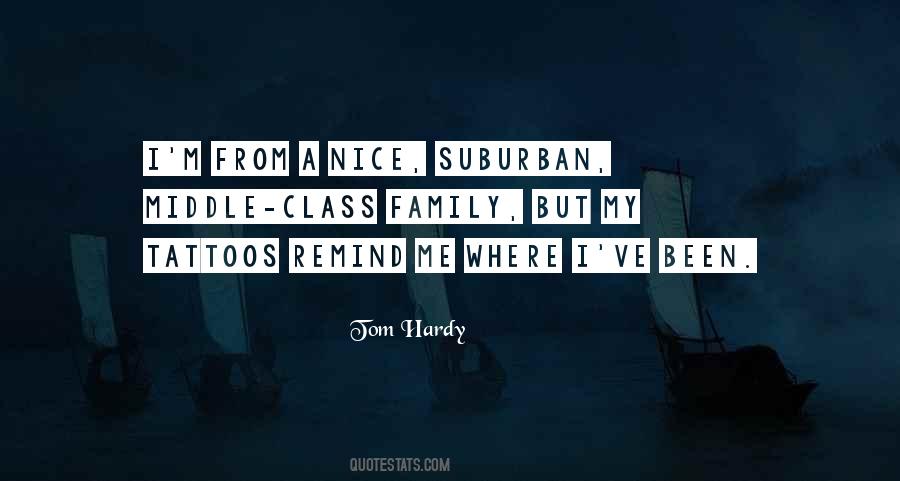 #61. Every time I get a tattoo, my parents say they'll disown me. I have to get them airbrushed for Charmed. Witches don't have tattoos, I guess. - Author: Alyssa Milano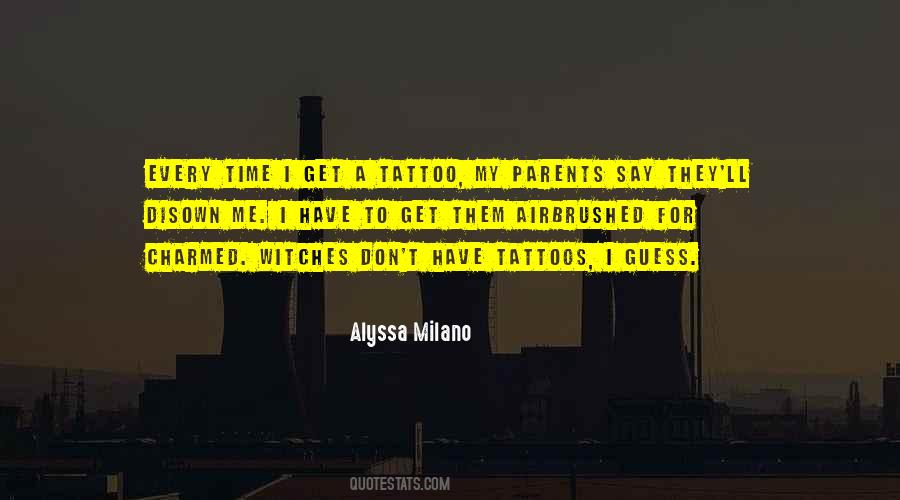 #62. I walked toward the bar where The Reader sat turning pages, a cup of coffee at his elbow. His sleeves were rolled up, revealing thick forearms covered in tattoos.
Oh. Sweet. Lord.
Really, he was all of my favourite things. - Author: Molly O'Keefe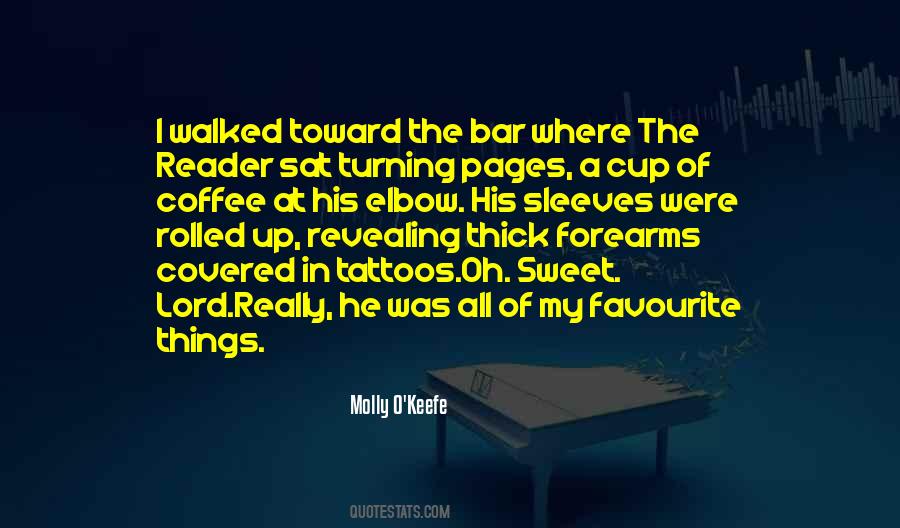 #63. I don't have any tattoos but I've thought about getting Ernie, from Bert and Ernie, on my earlobe. He made a big impression on me as a kid. And I have pretty big earlobes. - Author: J Mascis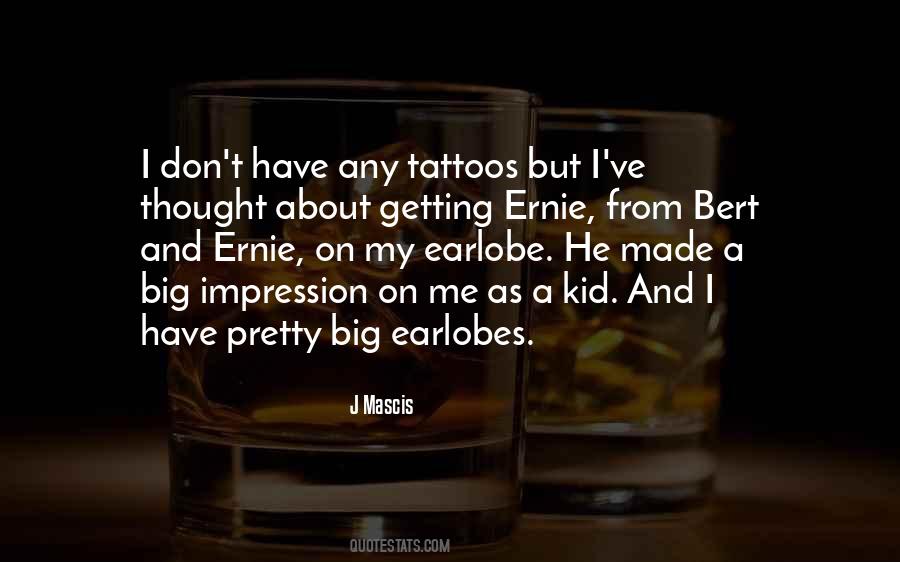 #64. Well, I love tattoos and have been drawing them on my binders in school since I was little. - Author: Kimberly Caldwell
#65. My dad is a little Scottish guy with tattoos all over his arms. - Author: Scott Raab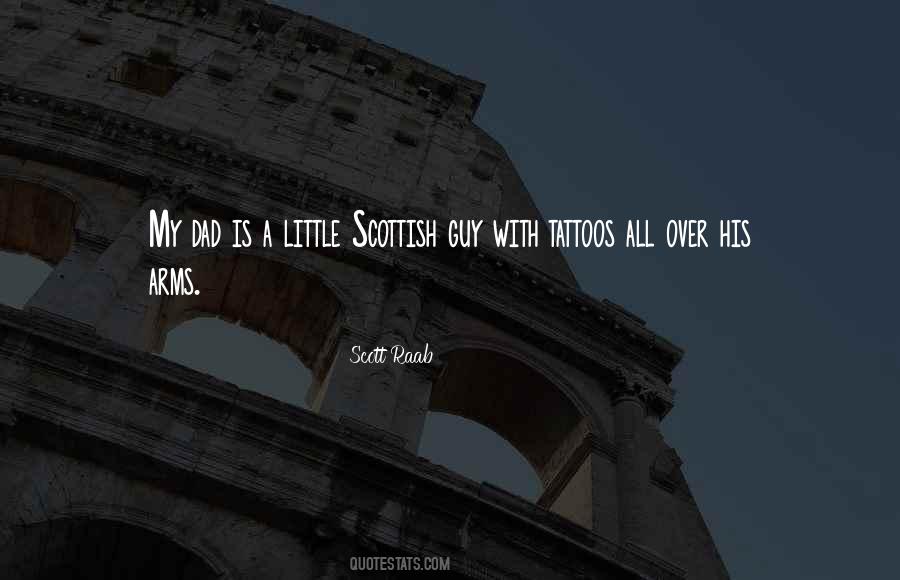 #66. I don't need no surgery, or tattoos. I already got the marks and scars of the Universe on my face and body. - Author: Robert Black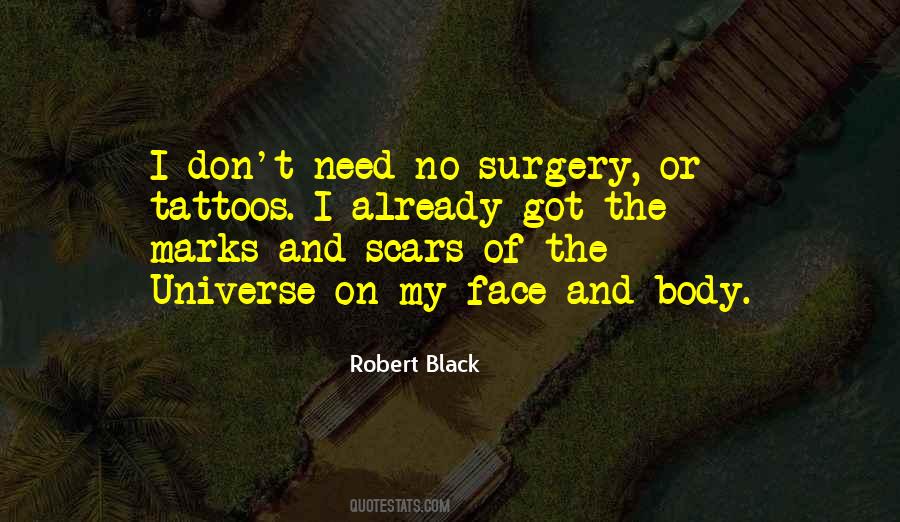 #67. My husband used to say that scars were like tattoos but with better stories." "I - Author: Gayle Forman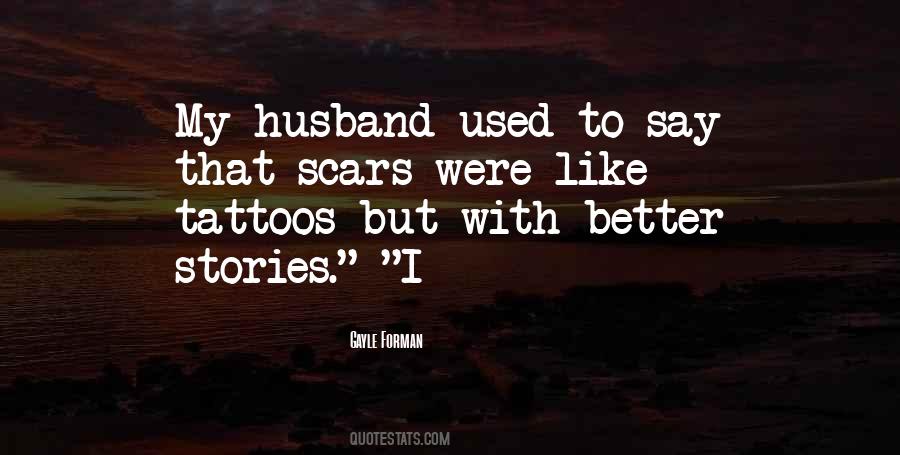 #68. My Top Ten Reasons To Live
10. Stars in a really dark sky
9. Driving across the country
8. Nirvana
7. My mom
6. Our dog pack
5. Gay bingo
4. Mud fights
3. Kissing
2. Magic marker tattoos
1. Pink socks - Author: Albert Borris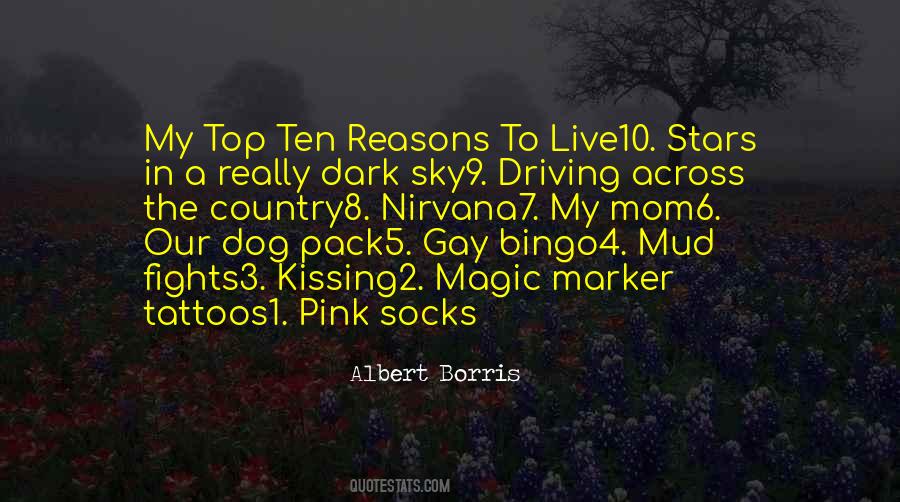 #69. I am wearing a gray shirt, blue jeans, black shoes
new clothes, but beneath them, my Dauntless tattoos. It is impossible to erase my choices. Especially these. - Author: Veronica Roth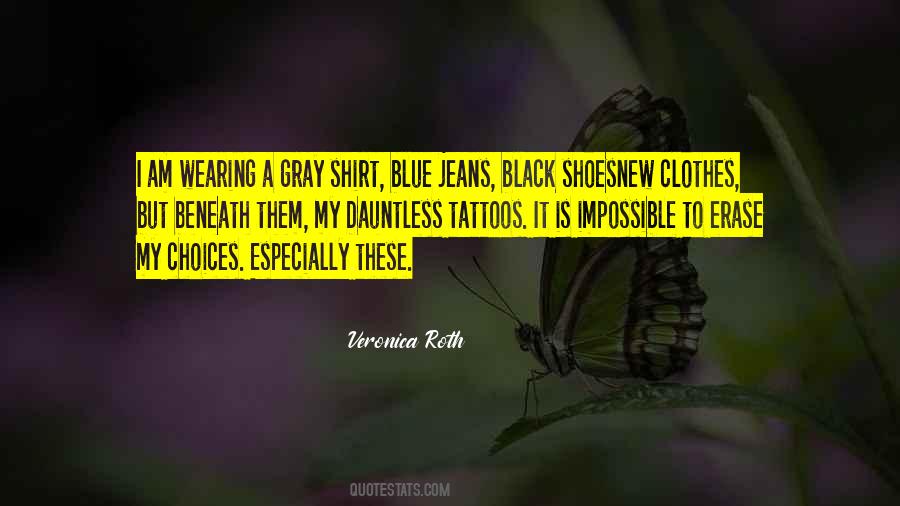 #70. My tattoos, like most people's, were reminders, badges of personal experiences. Yes, I might wear them on my skin for the world to see, but their meaning was a little too personal. - Author: N.R. Walker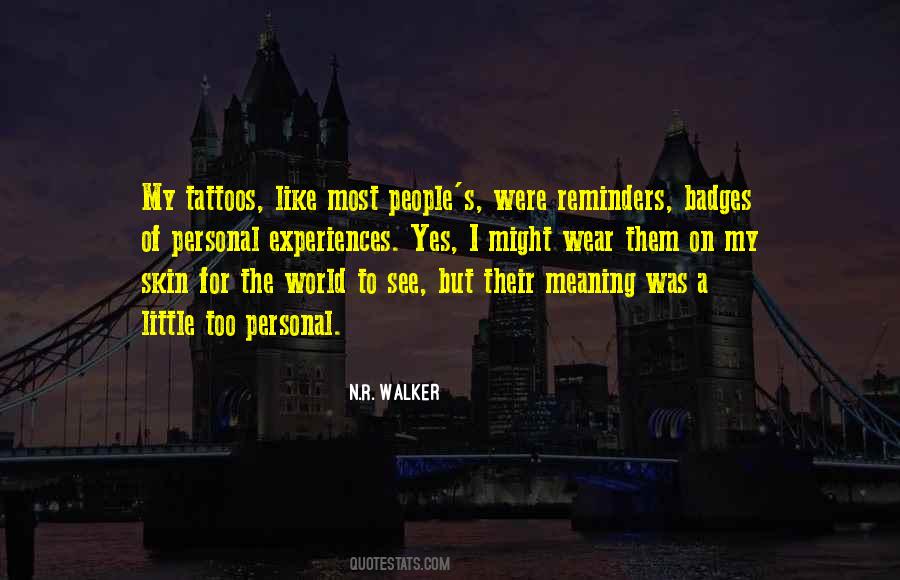 #71. I am a bit of a bad boy. I have tattoos and I mess around. That's part of my image, so it's cool. - Author: Zayn Malik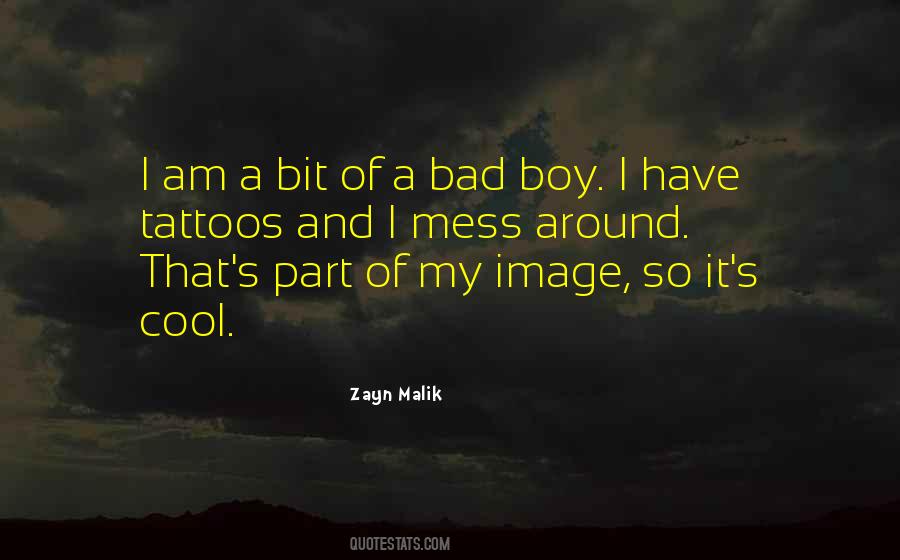 #72. I was just a big fan of tattoos always growing up, and I wanted something cool that symbolizes what I've been through in my life, and everything on my chest and my back is like a collage. - Author: Kevin Durant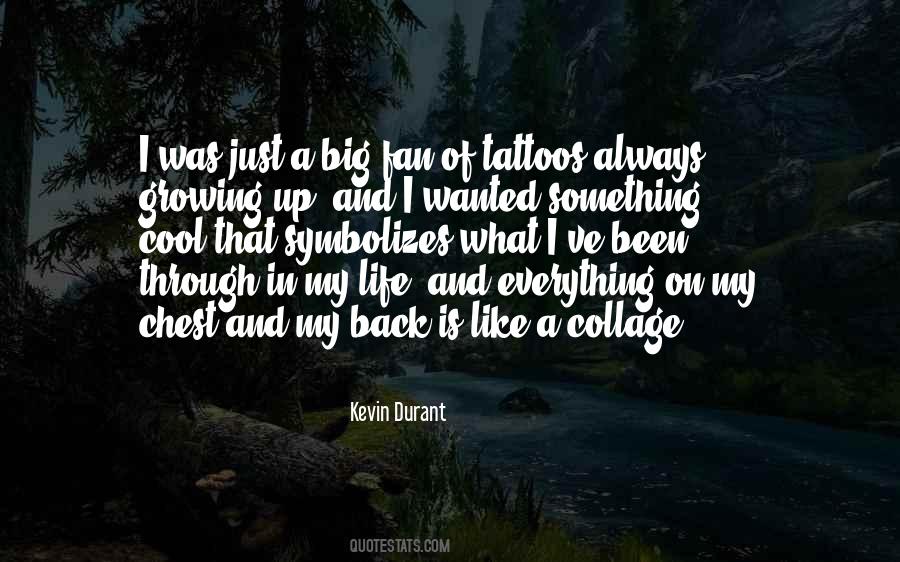 #73. Tattoos to me are the outward symbol of the inward change within my soul. - Author: Nicolas Cage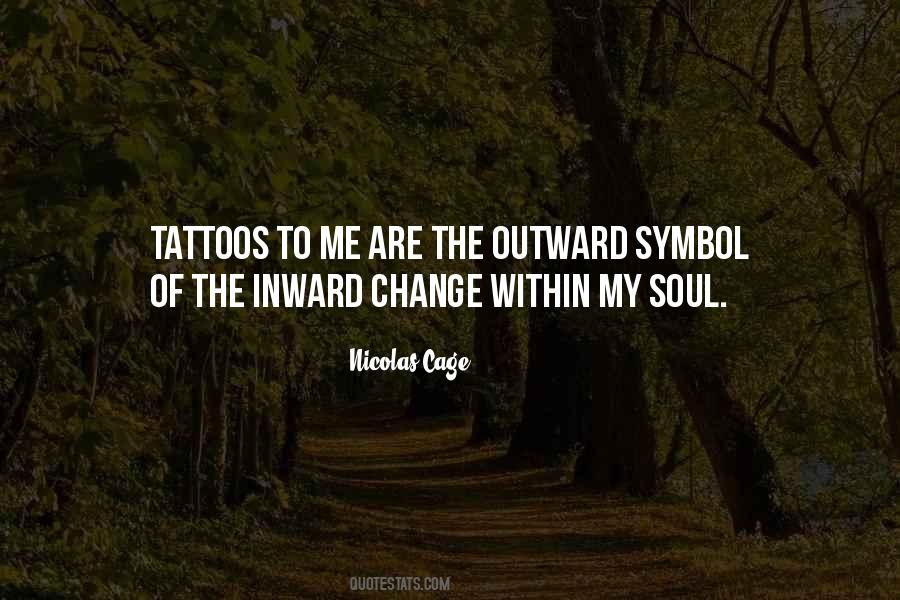 #74. This is who I am. Accept it or not. The tattoos won't wash off, the earrings will never change. I am who I am and nothing more. I am loyal to a chosen few, I always keep my word and I'll protect you with my life. - Author: Katie McGarry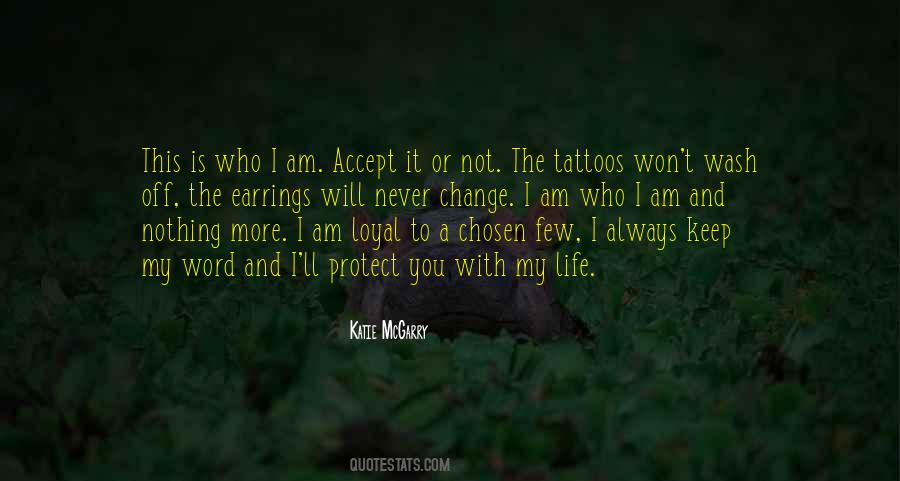 #75. You can't judge a book by its cover, though. People think I'm bad because I got tattoos or snort a little cocaine here and there. They think I'm a killer. But what if I wasn't a killer? Then what? Don't be tripping on me. I pay my damn taxes, OK? Chill. - Author: Gunplay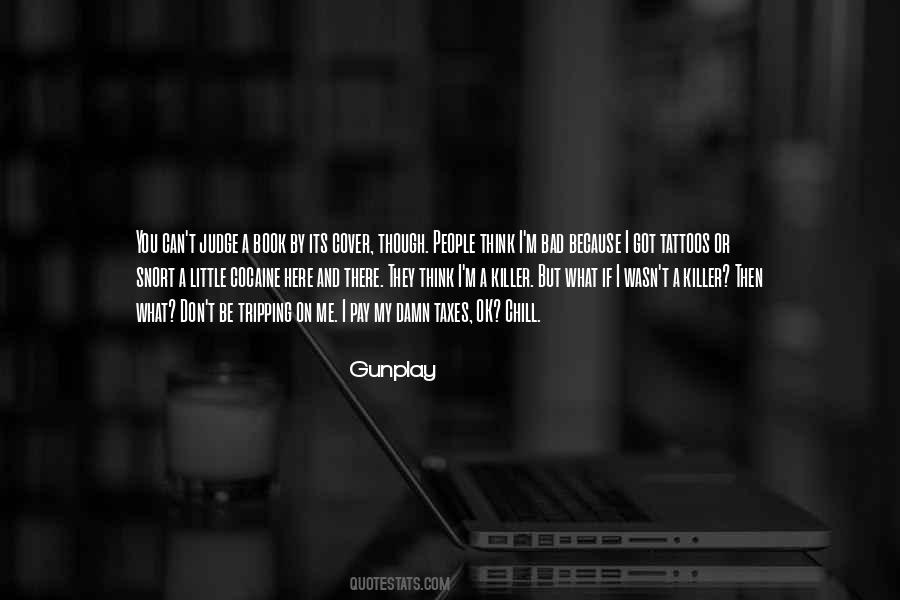 #76. I like tattoos. I'm gonna be covered. I'm not going to touch my face or under the chin on the neck: it's my least favorite place. - Author: Mac Miller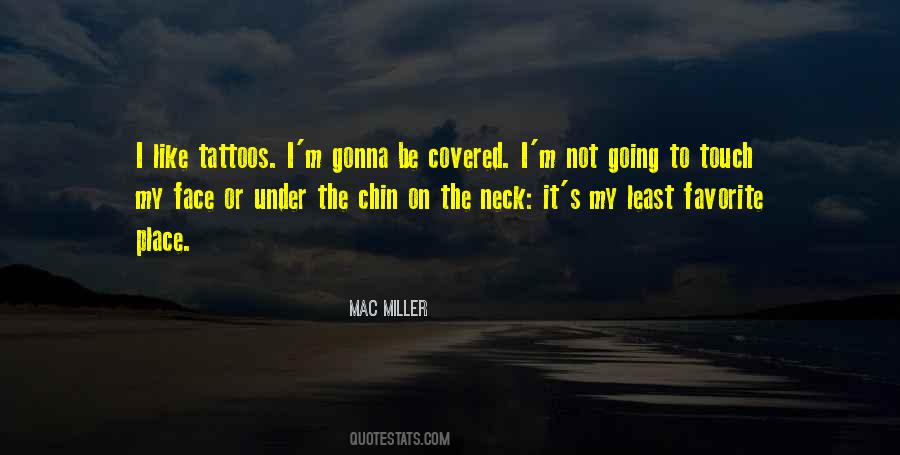 #77. I noticed that I got a better space in the line in Starbucks when I had my tattoo. People associate tattoos with a certain edge. Then I open my mouth, and something completely different comes out. - Author: Wentworth Miller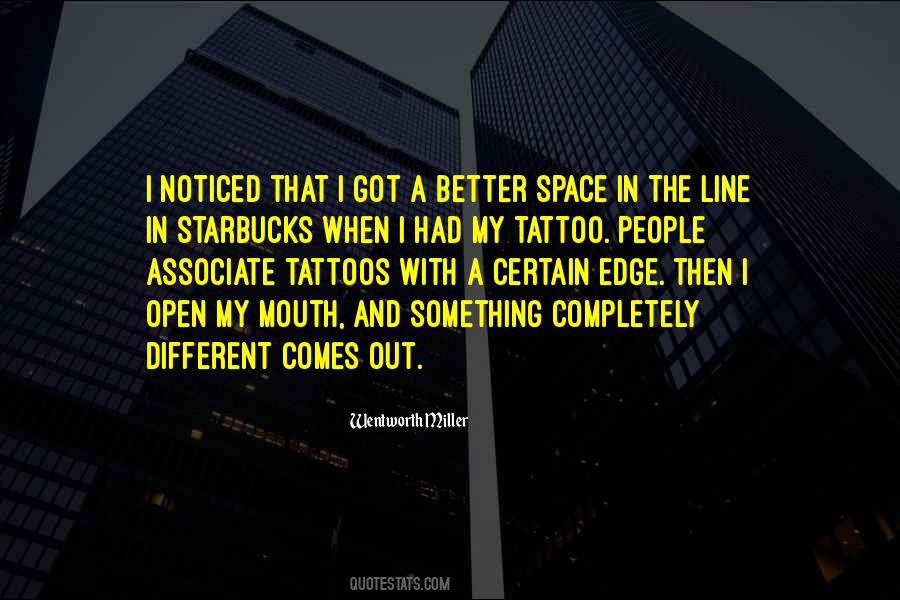 #78. My ideal guy is my future husband. Not sure who he is yet, but he's out there. What impresses me in a gay guy? A warm smile, stubble, easy to talk to, thoughtful tattoos, kind eyes, wit, positivity, wanderlust, ambition, and a cute ass. - Author: Tyler Oakley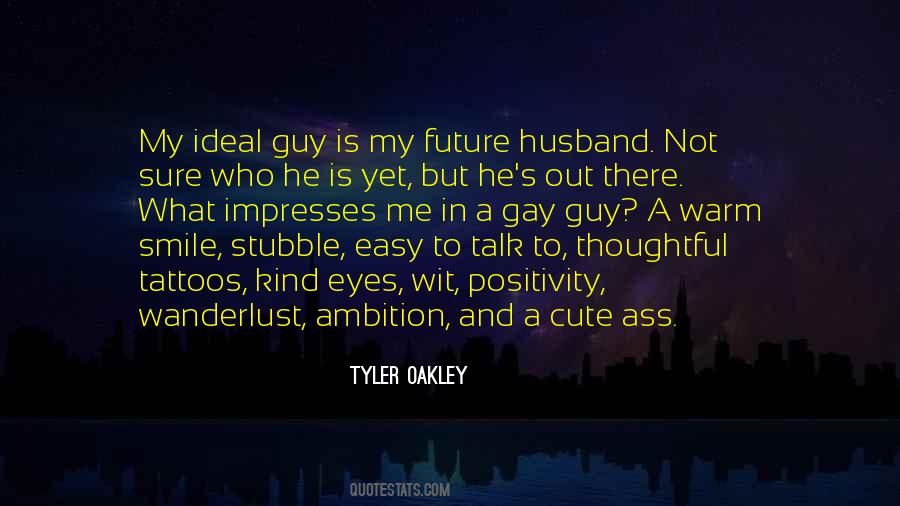 #79. I'm sorry, but in my generation and where I came from, only sailors got tattoos. Not ladies. - Author: Andie MacDowell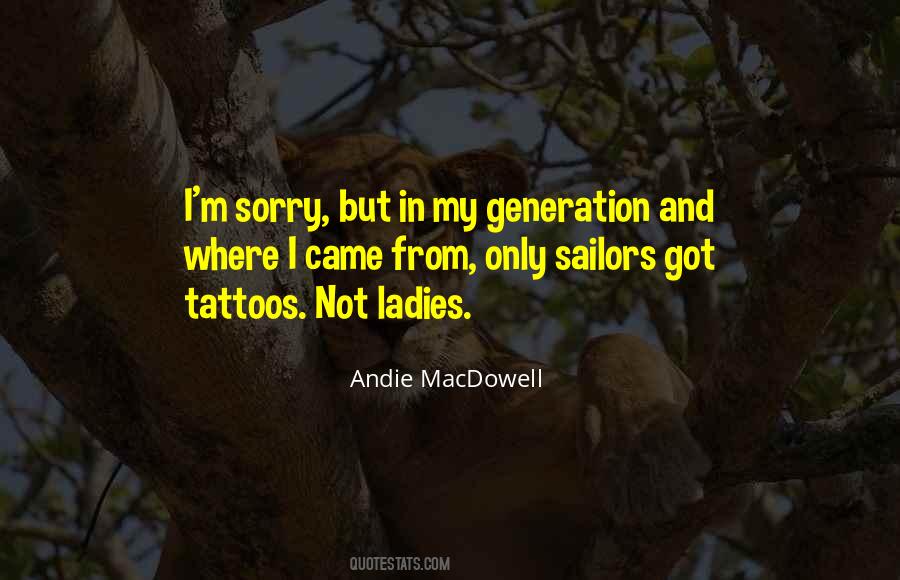 #80. The thing that probably trips me up the most are people getting tattoos of stuff that I've designed in my books. That always spins me out in a weird way. It seems like such a permanent commitment to something I've done. I don't know that I could do that for anyone else. - Author: Jonathan Hickman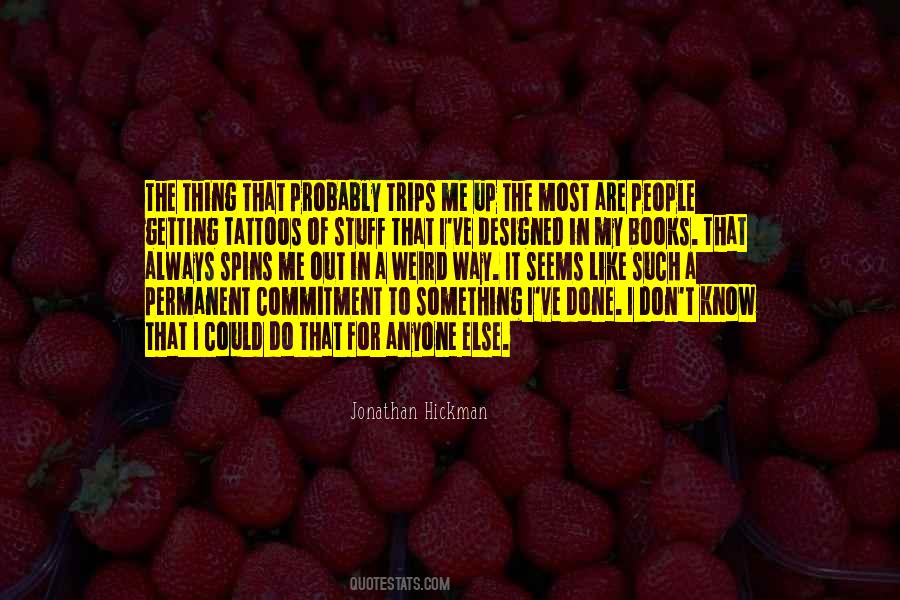 #81. I told them you had ugly tattoos and a weird squash-shaped dick," I say, trying to keep up my bitch mode. - Author: Aly Martinez
#82. Grinning, I stroked his arms, over the tattoos and muscles. "Today has been fucking perfect, Judd. You can't know how perfect."
"Oh, I know. I've been counting my blessings since the moment I woke up with you next to me. - Author: Bijou Hunter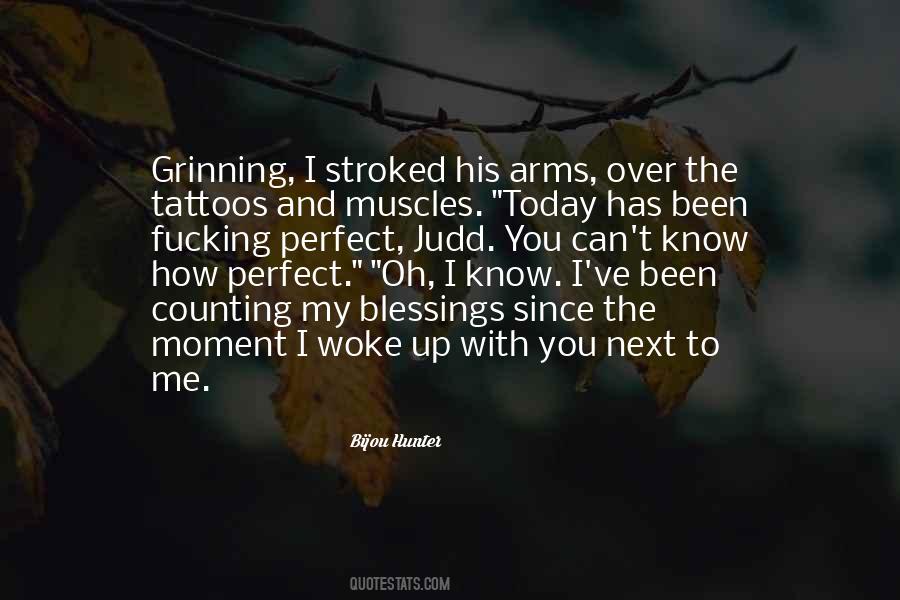 #83. Don't cut it," he said gruffly.
"But no one'll see my tattoos if I don't."
"Wear it up."
-Dimitri, Rose, Dimitri - Author: Richelle Mead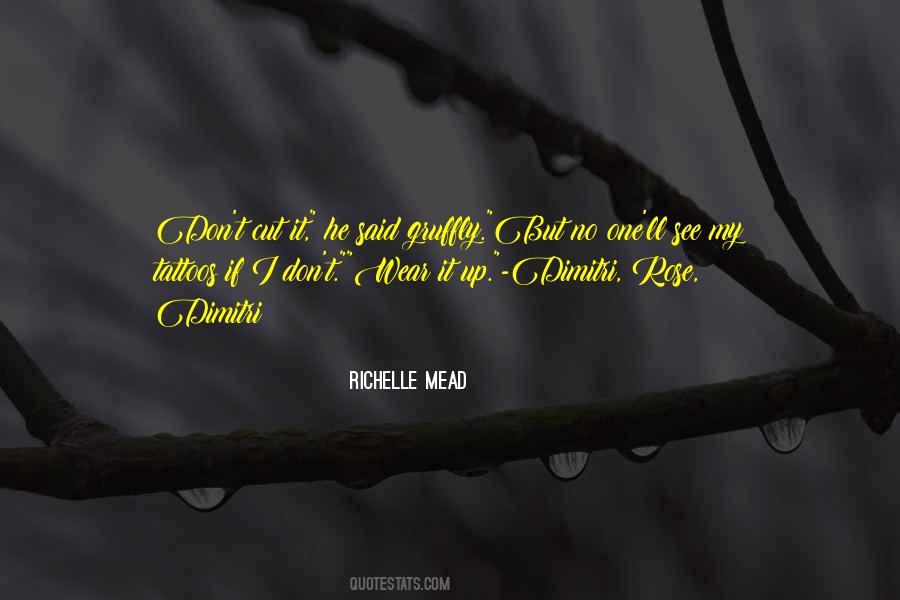 #84. At the end of the day, the Lord knows I have no malice in my heart. But I've got tattoos, and I still fornicate. - Author: Pharrell Williams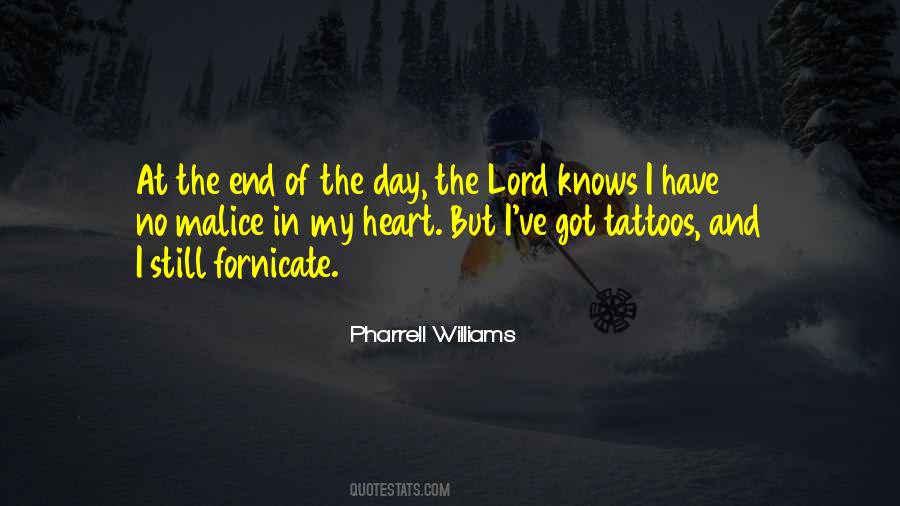 #85. Did you freak out this much when you got your tattoos?" I asked him, smiling at the apprehensive expression on his face.
He shifted, seeming to feel my pain a thousand times more than I. "Uh ... no. This is different. This is much, much worse. - Author: Jamie McGuire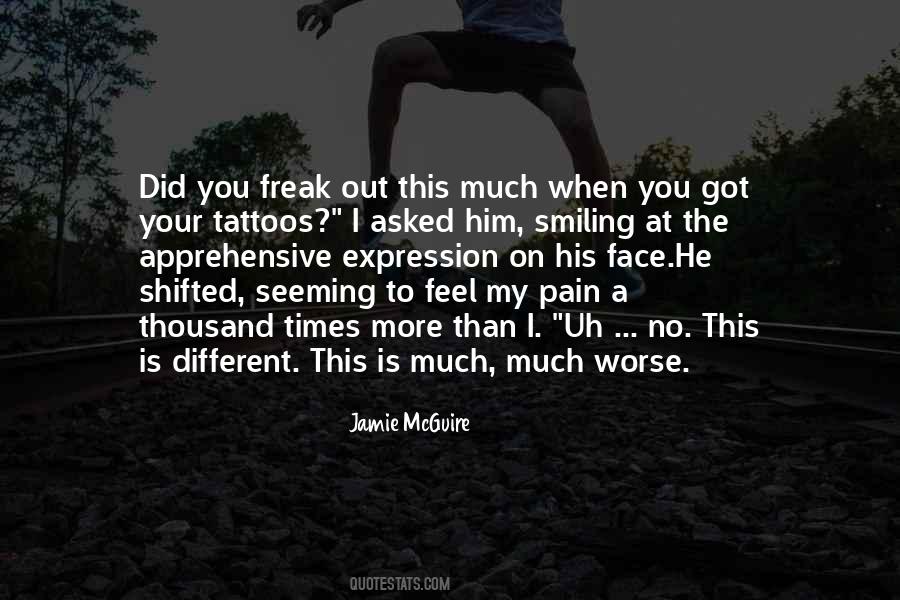 #86. Everything is always spur-of-the-moment. All of my tattoos I decide that second and do it, - Author: Avril Lavigne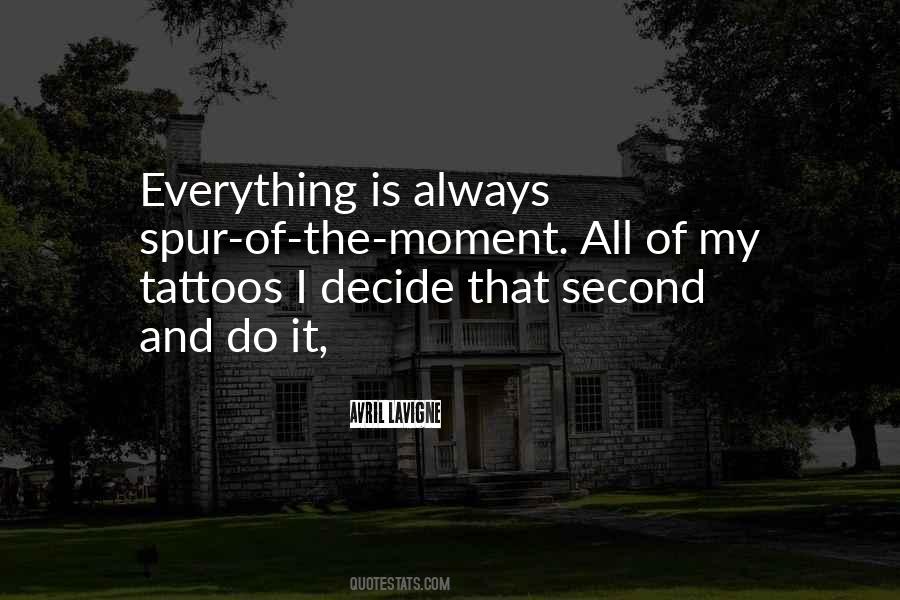 #87. I've been so anti-tattoos my whole life. - Author: Robin Wright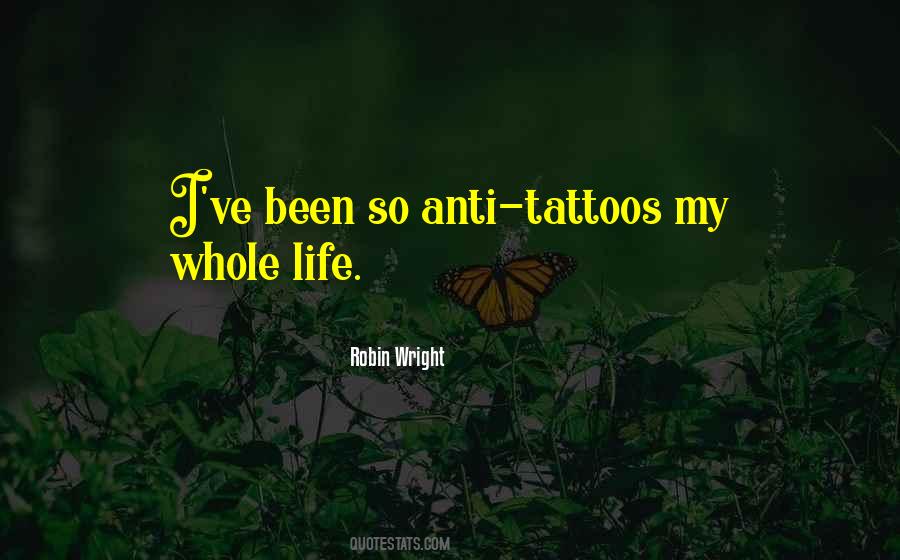 #88. Tattoos are my way of expressing myself without the need for words. - Author: Jay Park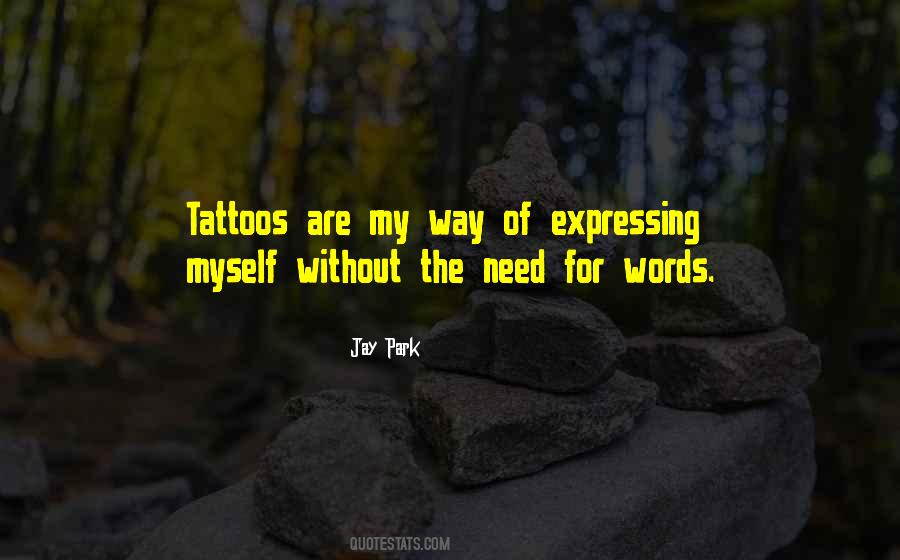 #89. I've got nothing against tattoos. I don't have one myself. If I did, it would be right there next to my watch. It would say Your wife's birthday is August 2nd, your anniversary is September 18th, don't let Ron White drive your car again. - Author: Jeff Foxworthy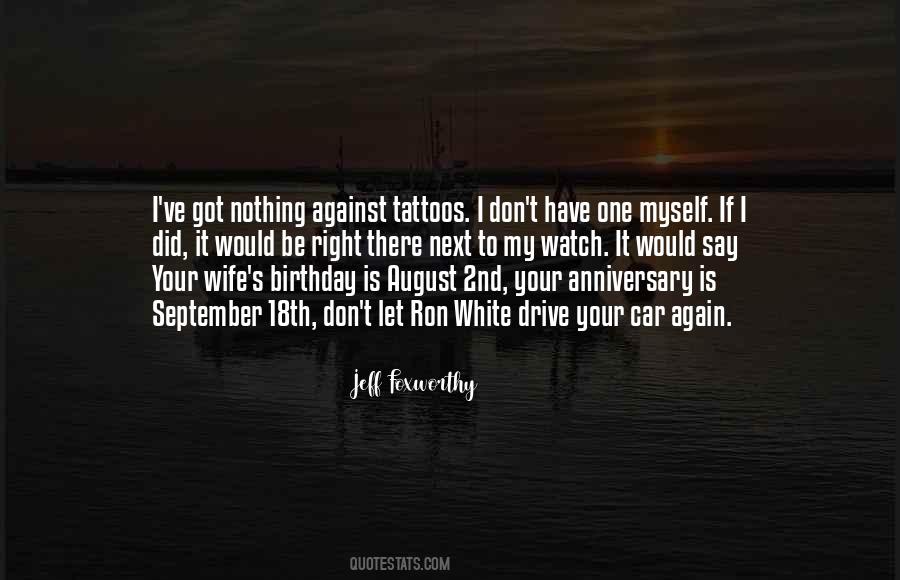 #90. If I ever lose a role because of my tattoos, I'll quit Hollywood and go to work at Costco. - Author: Megan Fox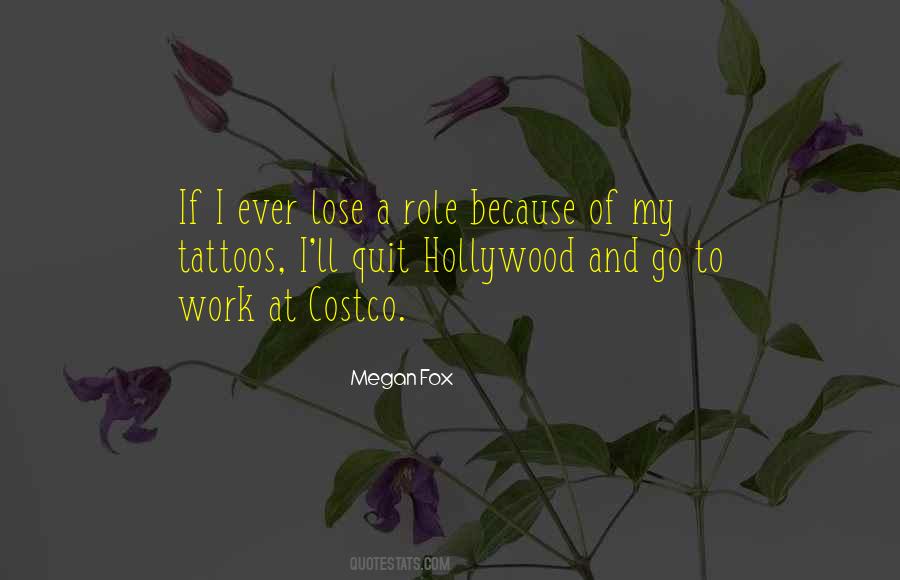 #91. Three of my tattoos can be considered spiritual or faithful. - Author: Samuel Larsen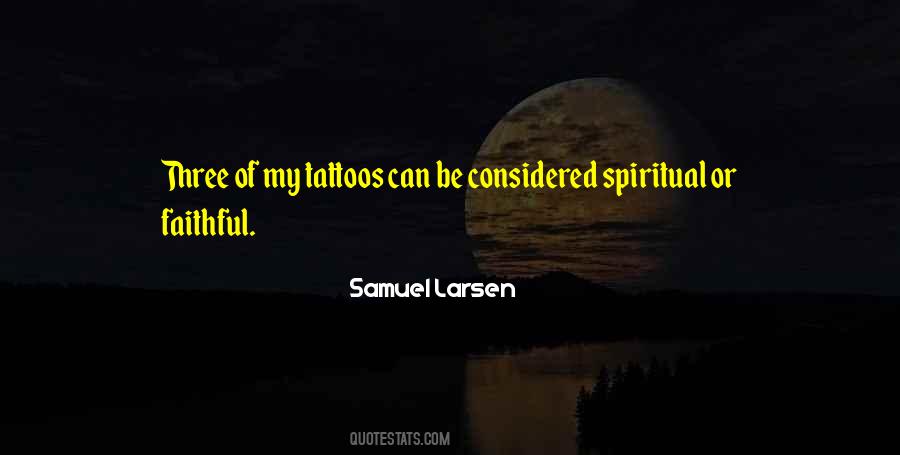 #92. I always get forwarded these weird pictures of people getting Kenny Powers tattoos. That's probably the craziest thing I've ever seen: Somebody will ink my face on their body for eternity. - Author: Danny McBride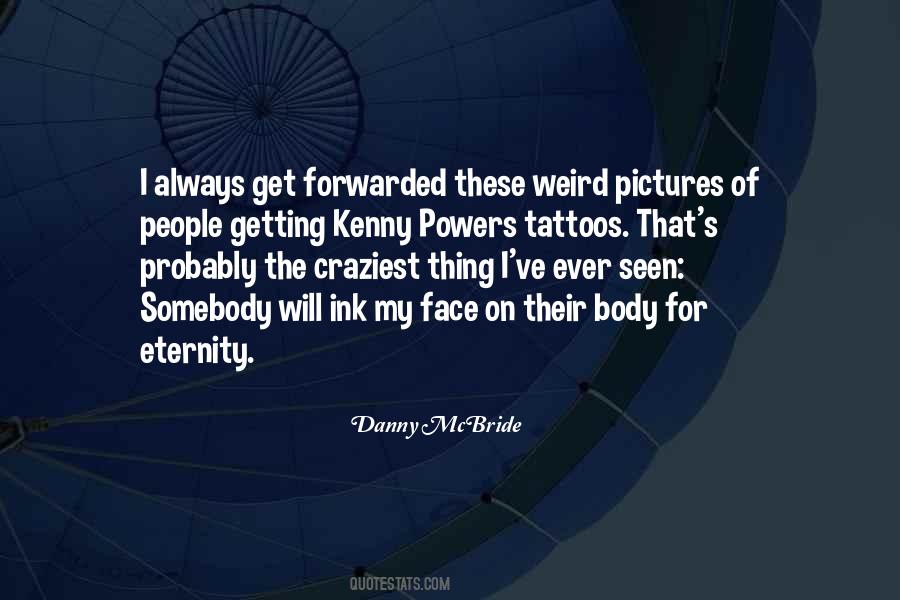 #93. Loving without judgment or fear of abandonment is. . . . the toughest activity known to mankind and I think with best friend that can be even more pronounced because you aren't my mom, we don't have kids together - but we do have matching tattoos. - Author: Rebecca Traister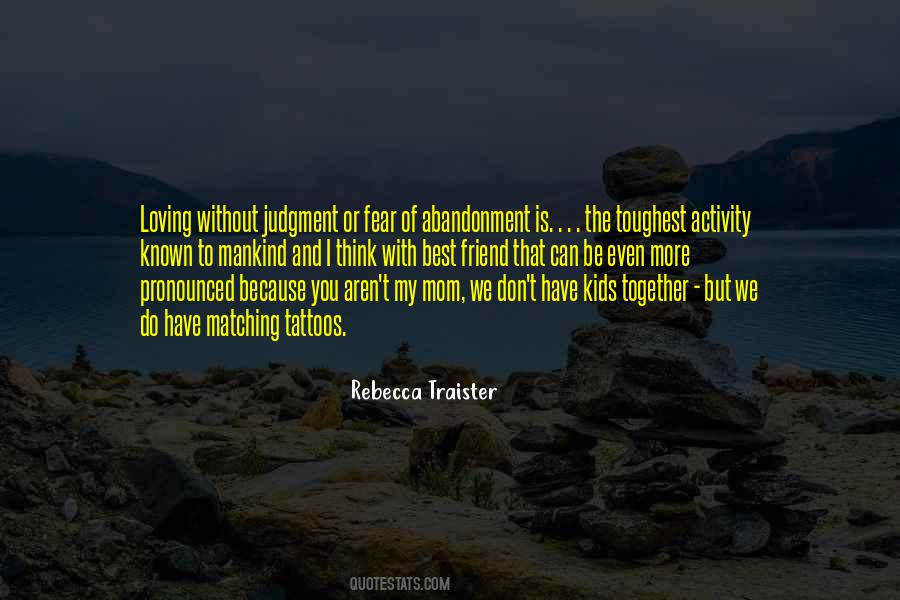 #94. I have never pictured my own wedding. I do want to get married. I think it's a nice idea. Though I think husbands are like tattoos
you should wait until you come across something you want on your body for the rest of your life.. - Author: Sloane Crosley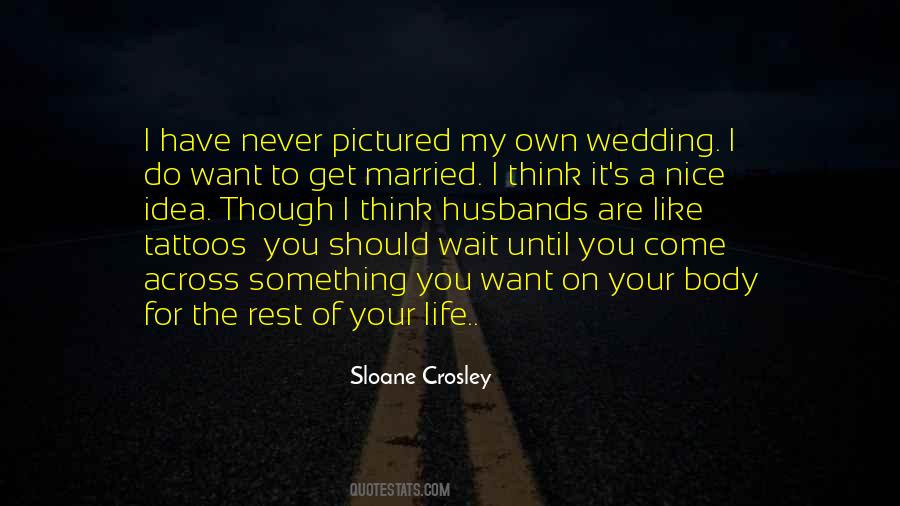 #95. My skin is my canvas. The artwork on it represents something that is very powerful and meaningful in my life. I look at my skin as something of a living diary because all my tattoos represent a time in my life. And I never wish to shut the door on the past, so I carry it all with me. - Author: Dave Navarro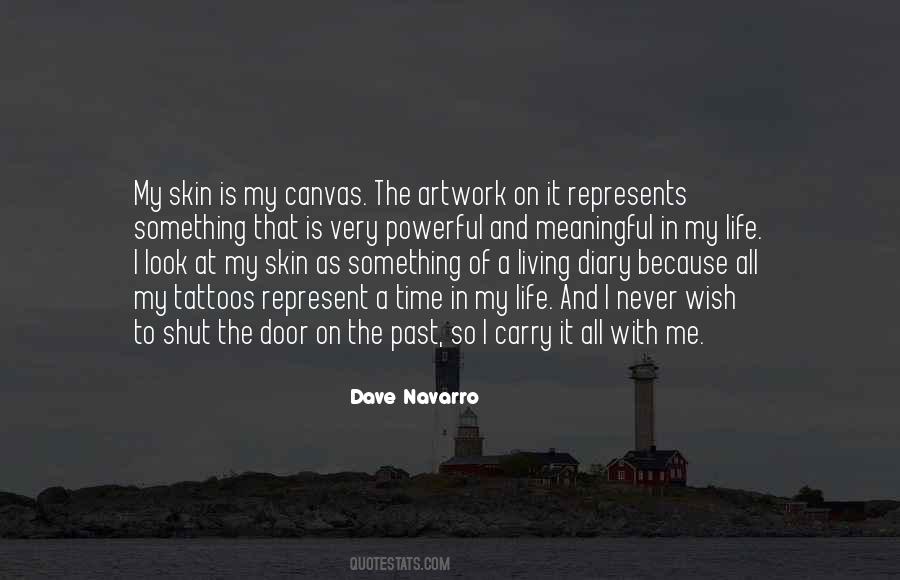 #96. I'm never getting a tattoo. My secrets are etched safely on the inside and I intend to keep them there. - Author: Lisa O'Donnell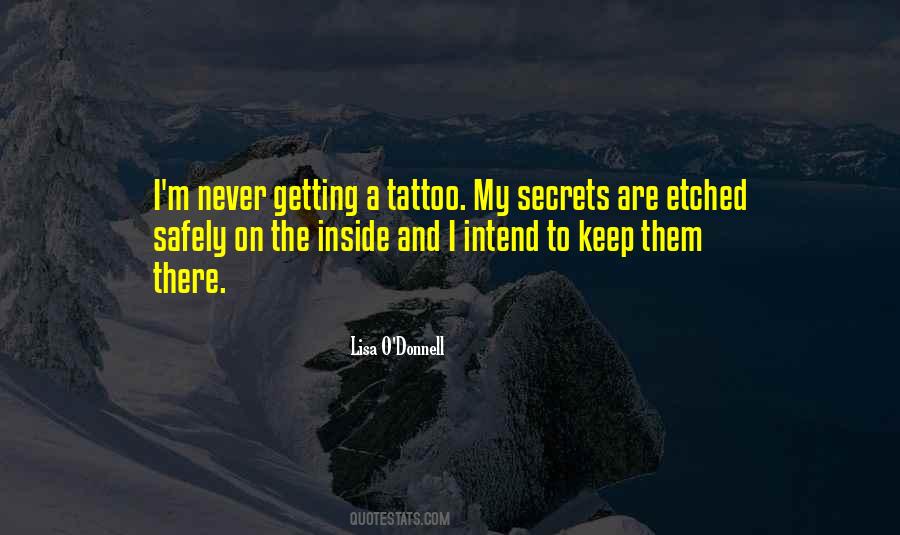 #97. People look at my tattoos, and the majority of them are religious images, so people think, 'Oh, he must be very religious'. I respect all religions, but I'm not a deeply religious person. But I try and live life in the right way, respecting other people. - Author: David Beckham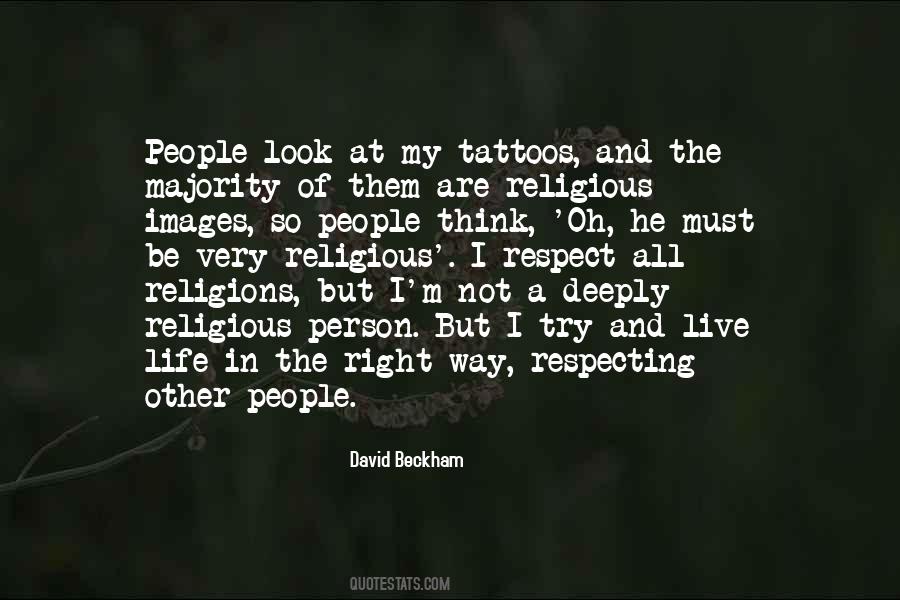 #98. I love showing off my tattoos. - Author: Allison Anders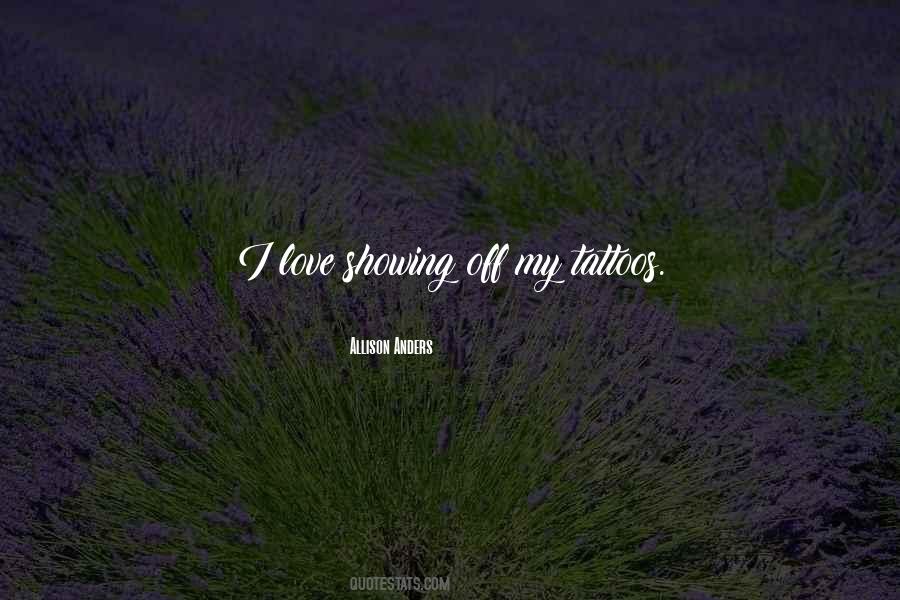 #99. My tattoos remind me of all that I have been through. - Author: Riff Raff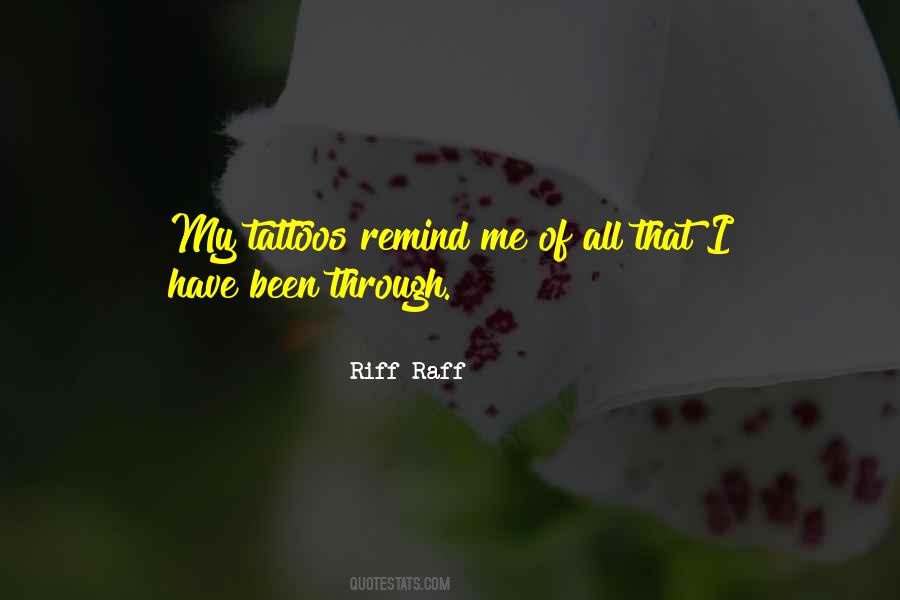 #100. A lot of my friends have tattoos; I realized that it's not only just a part of pop culture, but a bit of a map on someone's body, which says something about people. A part of their life, like an armor or a crest. - Author: Christian Louboutin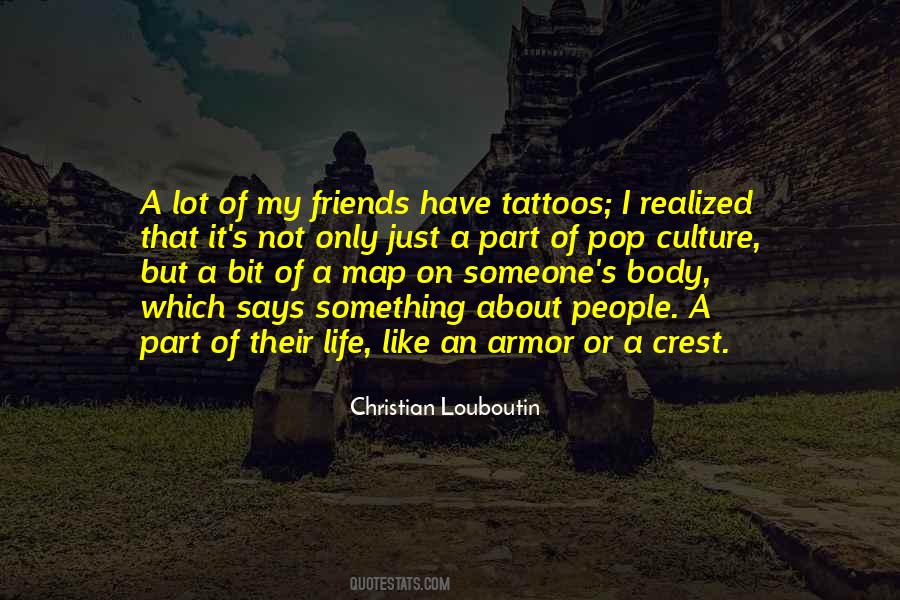 Famous Authors
Popular Topics