Morning Tea Famous Quotes & Sayings
List of top 57 famous quotes and sayings about morning tea to read and share with friends on your Facebook, Twitter, blogs.
Top 57 Quotes About Morning Tea
#1. When we rise in the morning ... at the table we drink coffee which is provided to us by a South American, or tea by a Chinese, or cocoa by a West African; before we leave for our jobs we are already beholden to more than half the world. - Author: Martin Luther King Jr.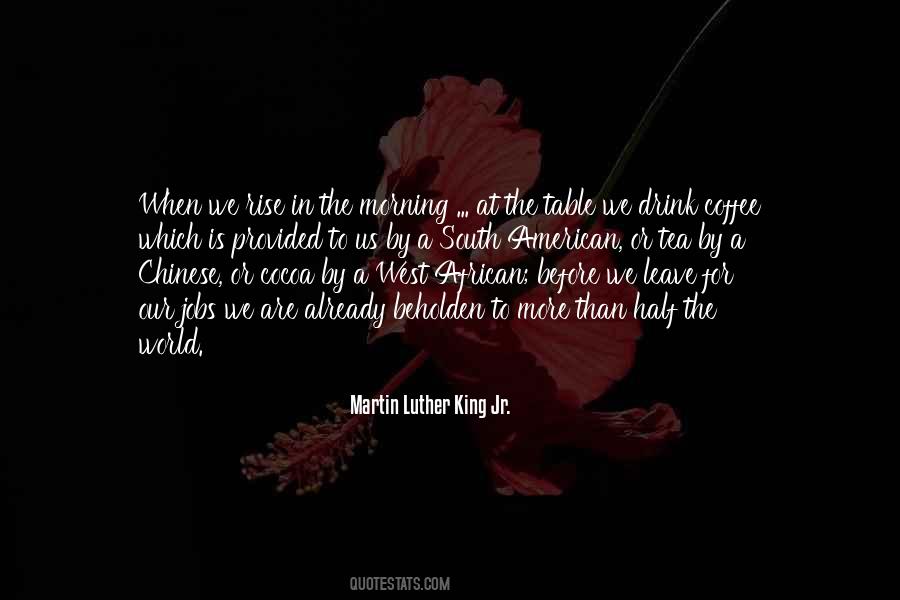 #2. At morning, I'm unruffled - I'll sit with my tea and Muse Cat beside me and listen to the soft chime of the grandfather clock ... - Author: John Geddes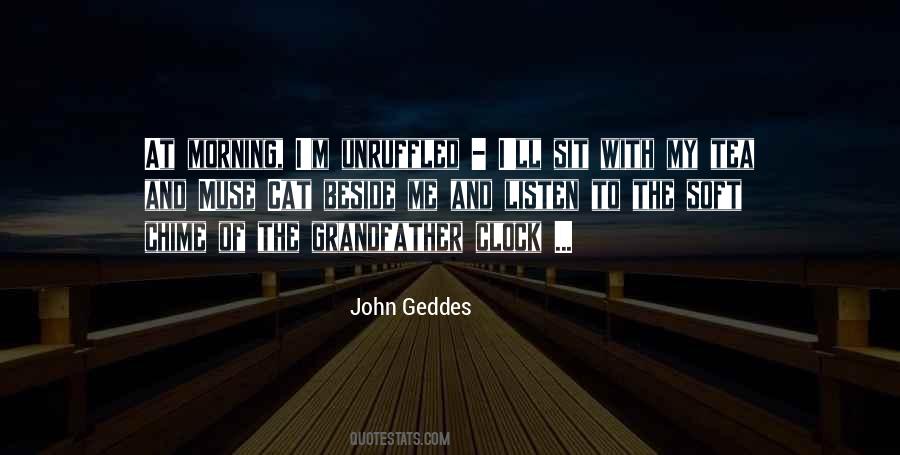 #3. I slipped some ... surprises in the tea after y'all left. Ma and Dad should both sleep 'till noon. I might have killed Grandpa, we'll see in the morning. - Author: Abigail Roux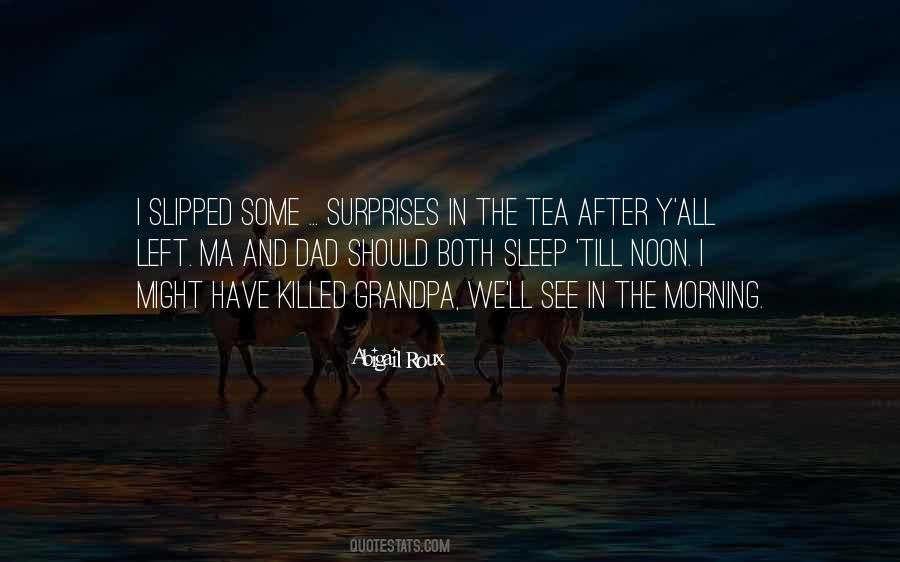 #4. I have a Viking stove. The color is butter lemon, and I had to wait several months for it, because that color wasn't available and I really wanted butter lemon! But I don't know that it's seriously ever been cooked on. I mean, I make tea every morning. Does that count? - Author: Andy Cohen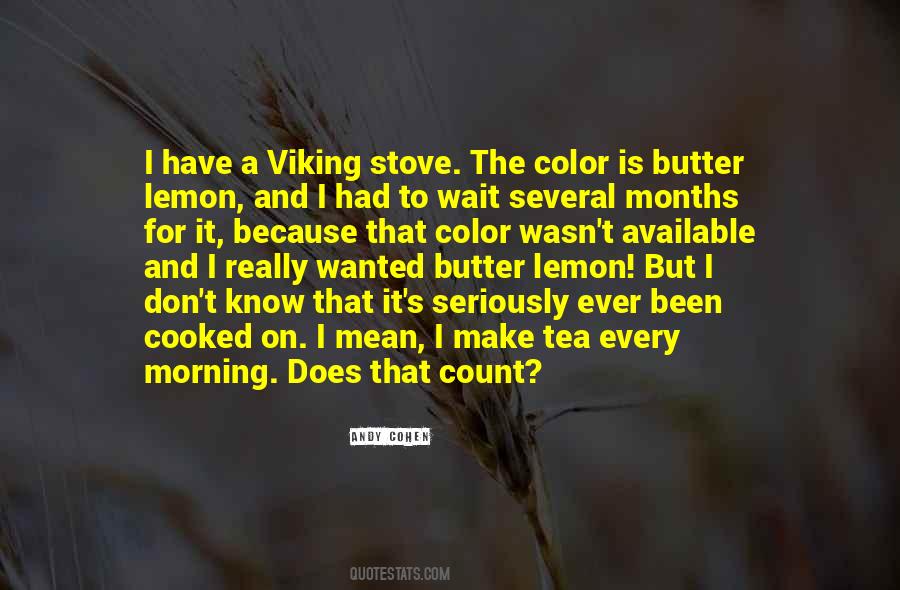 #5. The pressures of business relationships: so I tell the guy I usually have my tea time at 10 o'clock every morning. He calls me at noon (very upset) because I didn't meet him on the golf course. - Author: Eric Christopher Jackson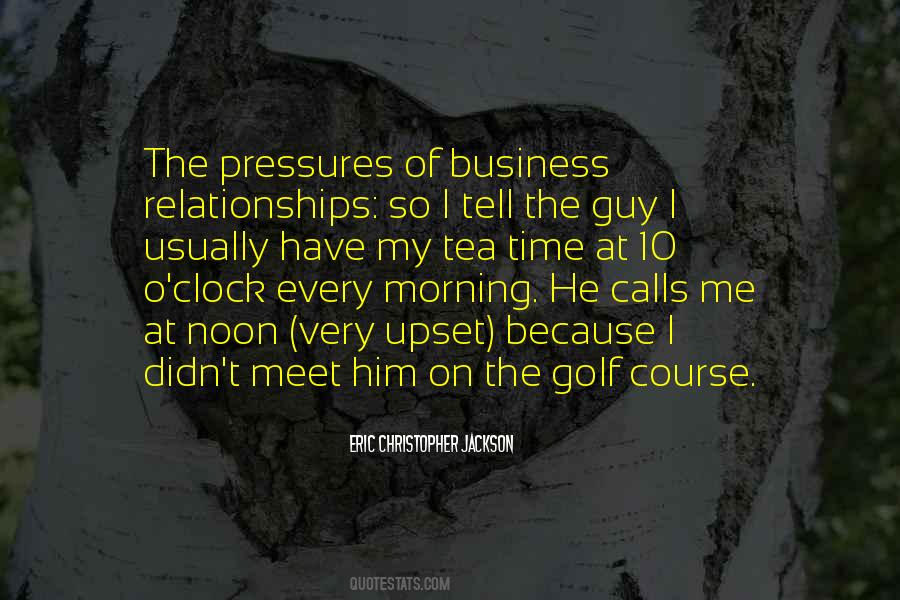 #6. For my part, life is so many things I don't care what it is. It's not my affair to sum it up. Just now it's a cup of tea. This morning it was wormwood and gall. Hand me the sugar. - Author: D.H. Lawrence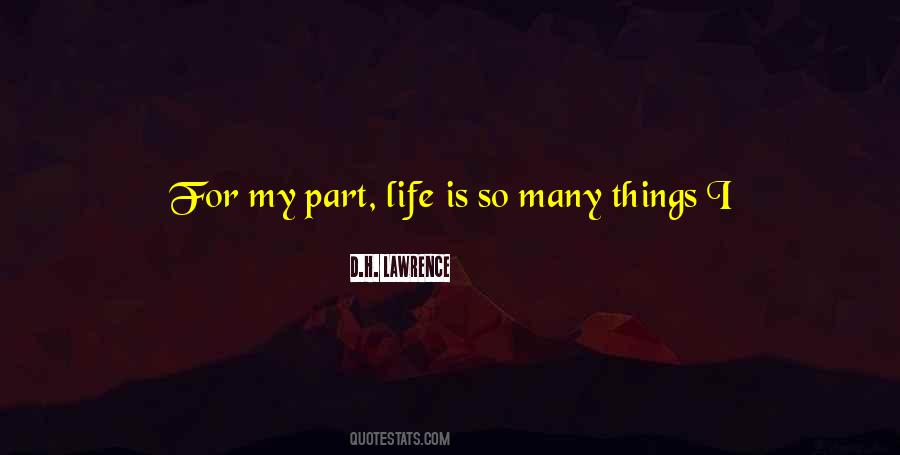 #7. You go away and have a nice cup of hot tea,' said the agent, soothingly, 'and you'll be as right as anything in the morning. - Author: P.G. Wodehouse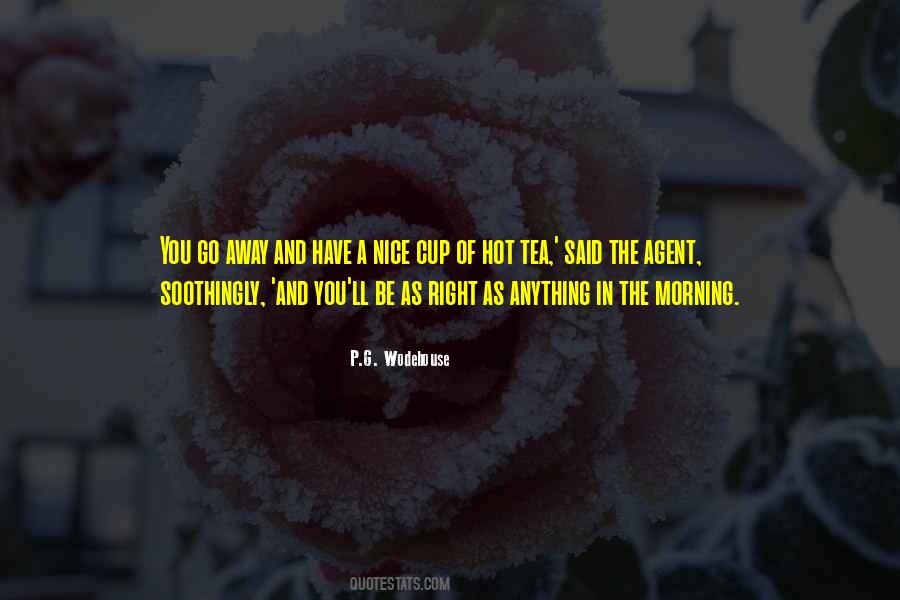 #8. Dad has brought me a cup of tea in bed this morning! I said, 'Vati, why are you waking me up in the middle of the night? Are you on fire? - Author: Louise Rennison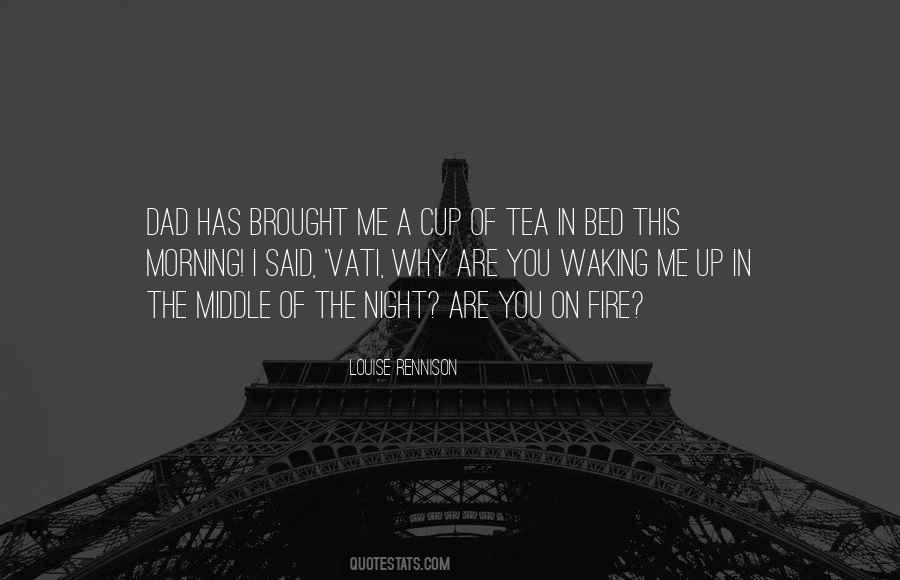 #9. That is love, making endless tea for someone who never drinks it, just in case this is the morning they might actually want a sip.' -ppg 4 - Author: Annabel Pitcher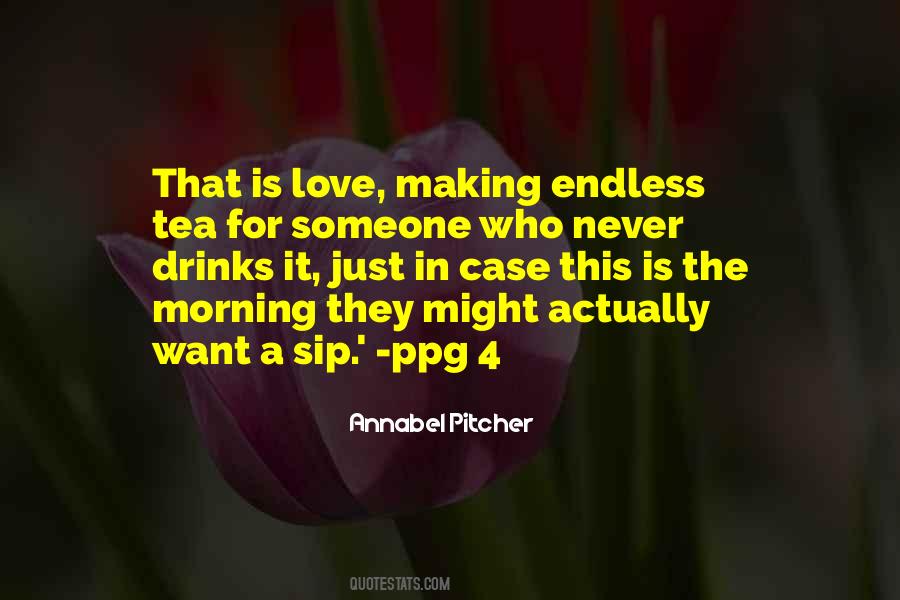 #10. I start early in the morning. I'm usually out in the woods with the dog as soon as it gets light; then I drink a whole lot of tea and start as early as I can, and I go as long as I can. - Author: Robert Stone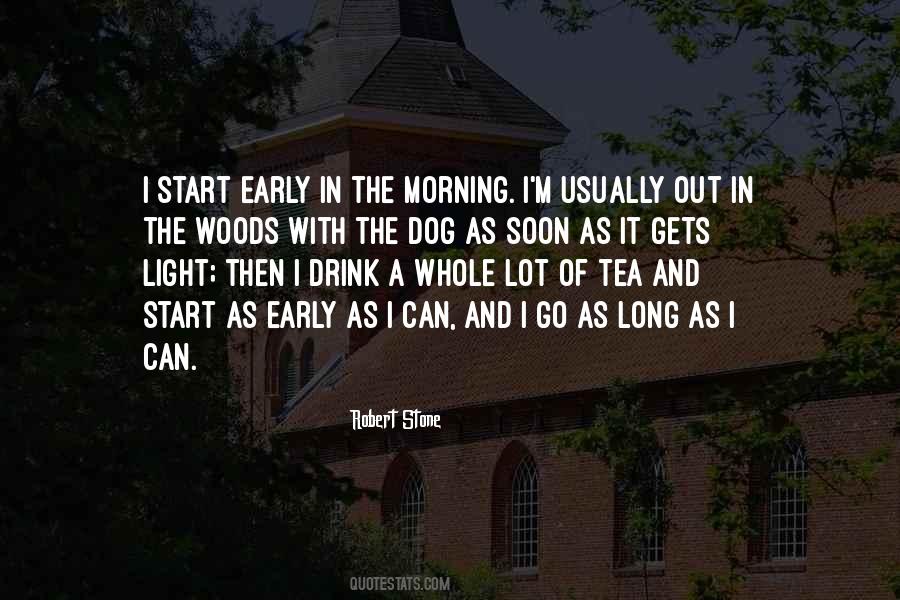 #11. When I stay with the couple who are my closest friends, I hear them laughing and talking in bed, and sometimes in the middle of the night one of them goes down and makes tea, and when the clock goes off in the morning, they start again, talking to each other. - Author: Nuala O'Faolain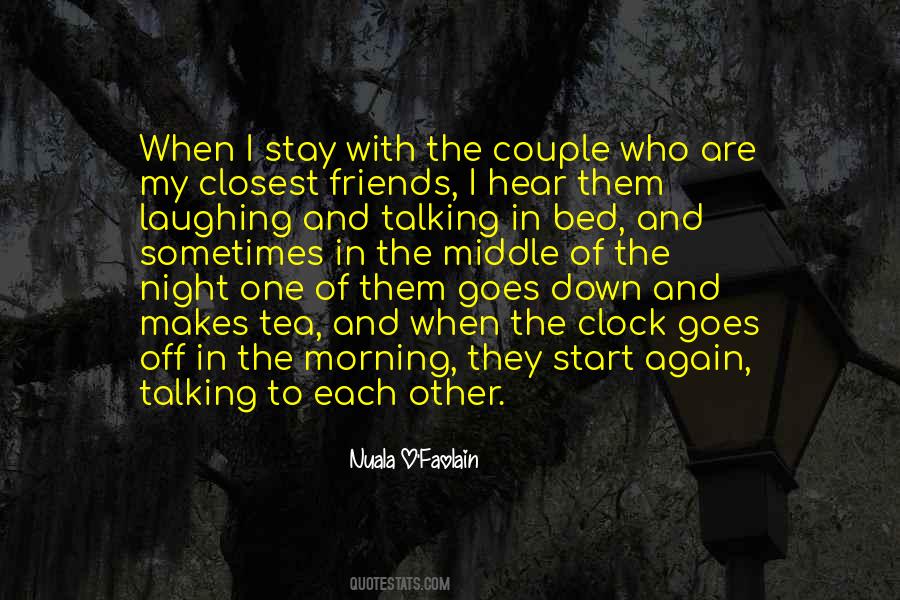 #12. You know, the men go to tea houses with the expectation that they will have a nice quiet evening and not read about it the next morning in the newspaper. - Author: Arthur Golden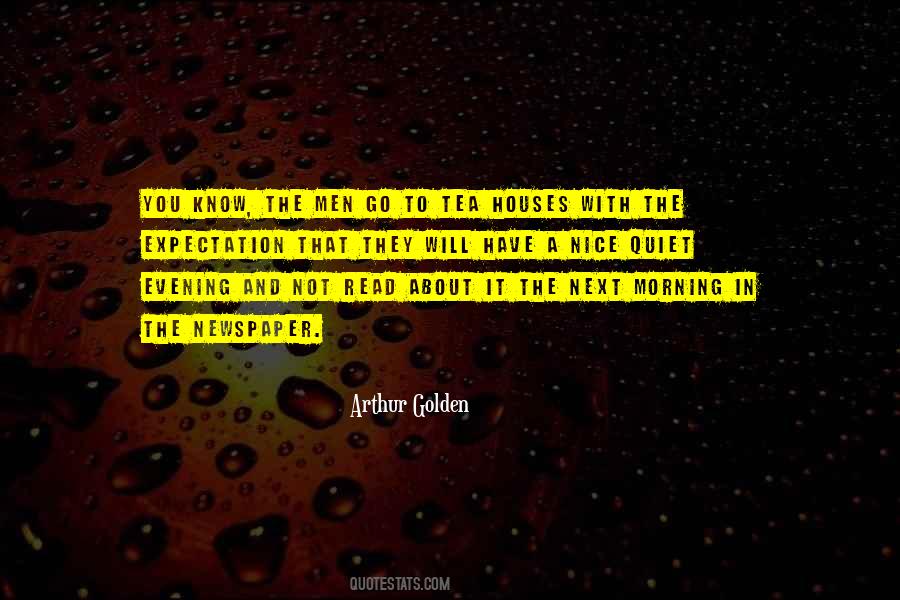 #13. I try to appreciate the simple things. I've just been camping with my son and I enjoyed that just as much if not more than a holiday in a posh hotel. I like making a cup of tea and bacon sarnie in the morning. - Author: Bill Bailey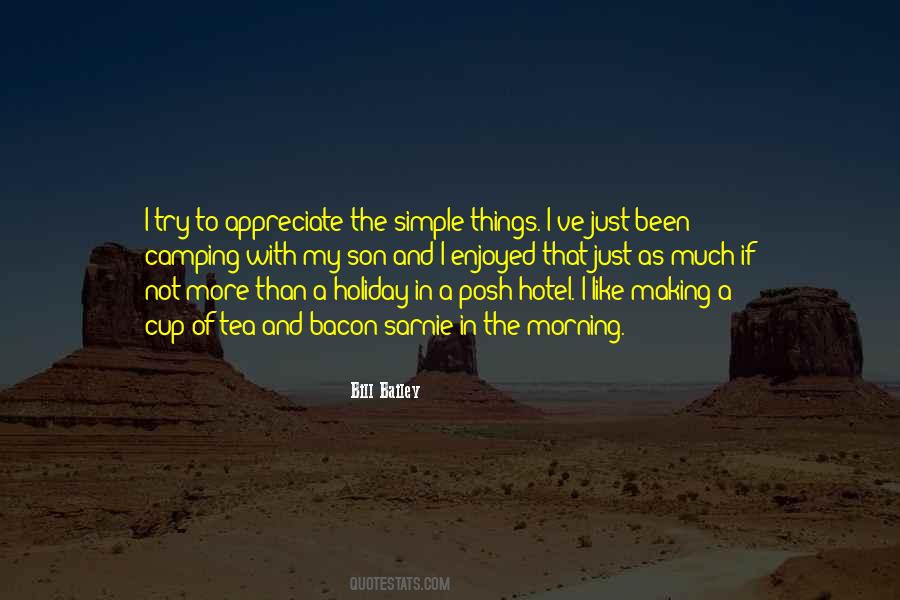 #14. A hardened and shameless tea-drinker, who has, for twenty years, diluted his meals with only the infusion of this fascinating plant; whose kettle has scarcely time to cool; who with tea amuses the evening, with tea solaces the midnight, and, with tea, welcomes the morning. - Author: Samuel Johnson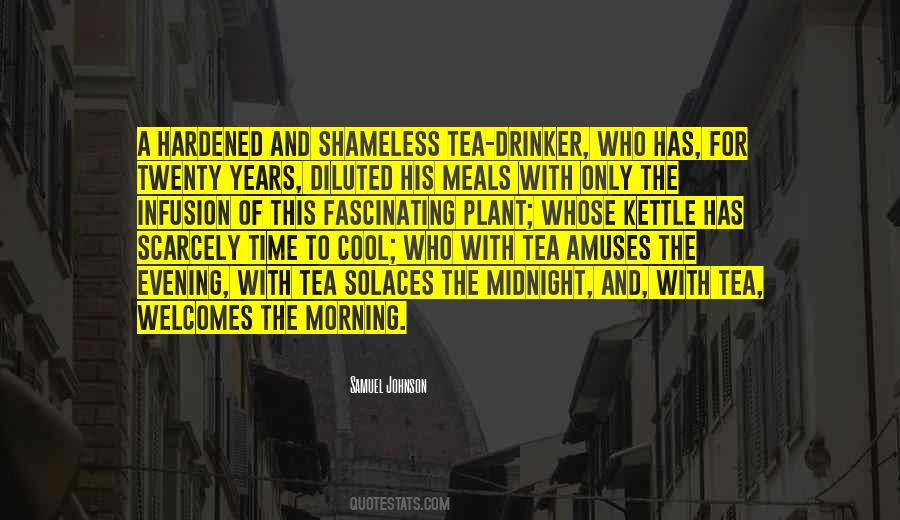 #15. Sorry! I don't want any adventures, thank you. Not Today. Good morning! But please come to tea -any time you like! Why not tomorrow? Good bye! - Author: J.R.R. Tolkien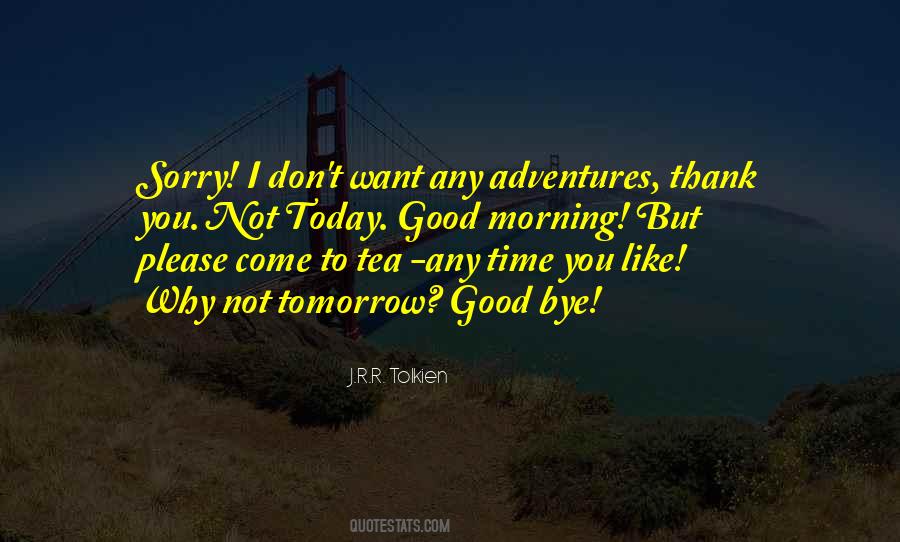 #16. All in all, this is an excellent place to partake of morning tea, but surprisingly few of the inhabitants of Taunton seem to wish to avail themselves of it. At - Author: Kazuo Ishiguro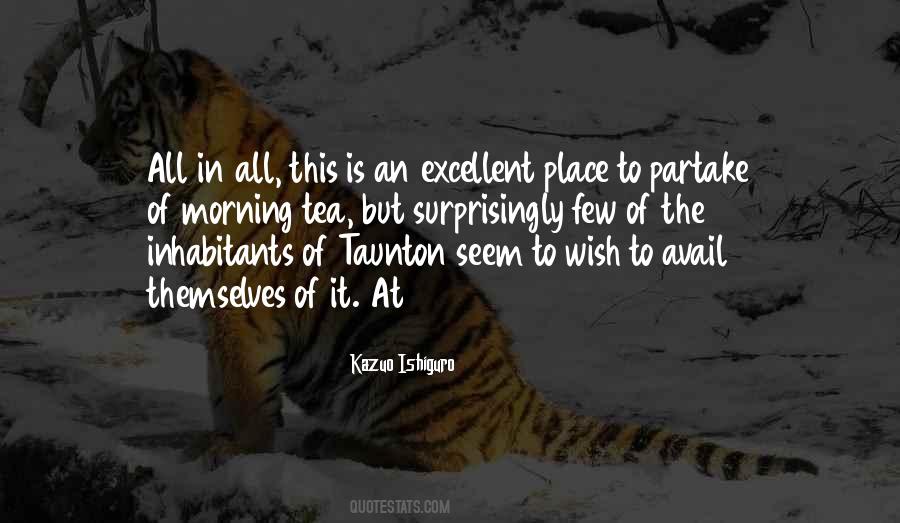 #17. My occupation doesn't really allow for routines, but I'm pretty consistent about tea in the morning. - Author: Asher Roth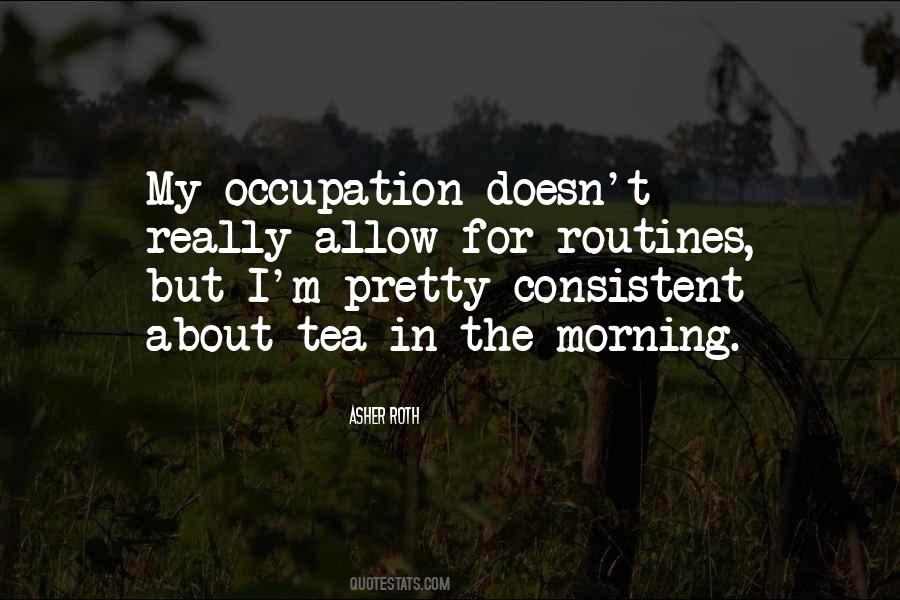 #18. I have no desire to spend every night of the next few months at balls and soirees or drowning in tea with morning callers. - Author: Sarah M. Eden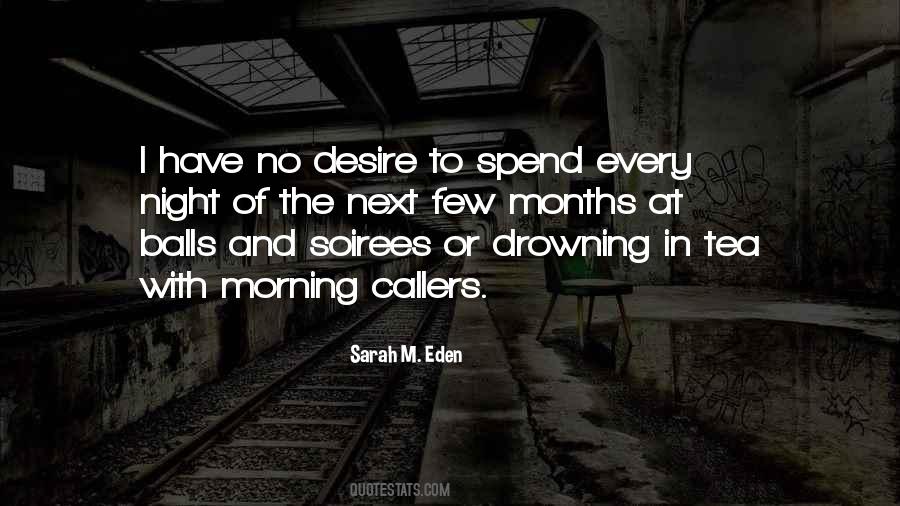 #19. But I try to steal other moments. Sometimes I get up very early in the morning and enjoy a quiet house and cup of tea before the craziness begins. Other times, I'll take a quick walk on the beach. You can find peace in a few minutes. - Author: Cindy Crawford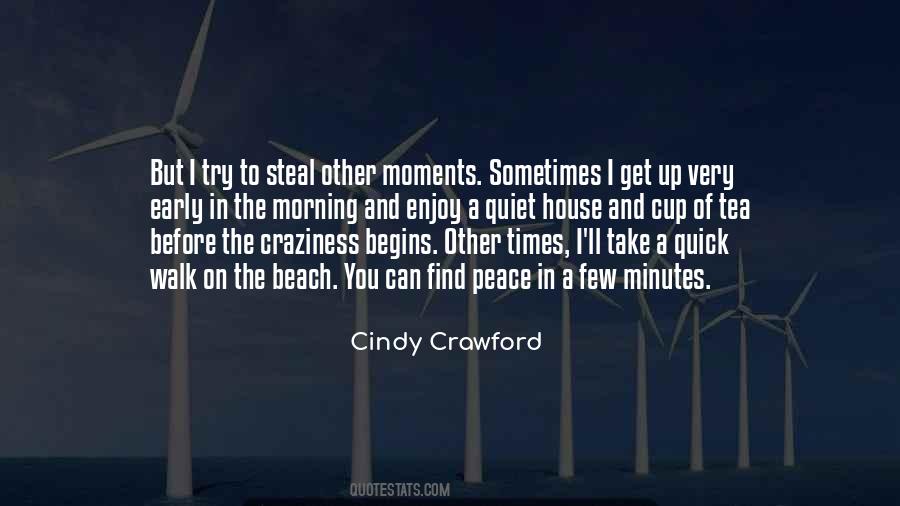 #20. Mrs. Earwig (pronounced Ar-wige, at least by Mrs. Earwig) believed in shiny wands, and magical amulets and mystic runes and the power of the stars, while Granny Weatherwax in cups of tea, dry biscuits, washing every morning in cold water and, well ... mostly she believed in Granny Weatherwax. - Author: Terry Pratchett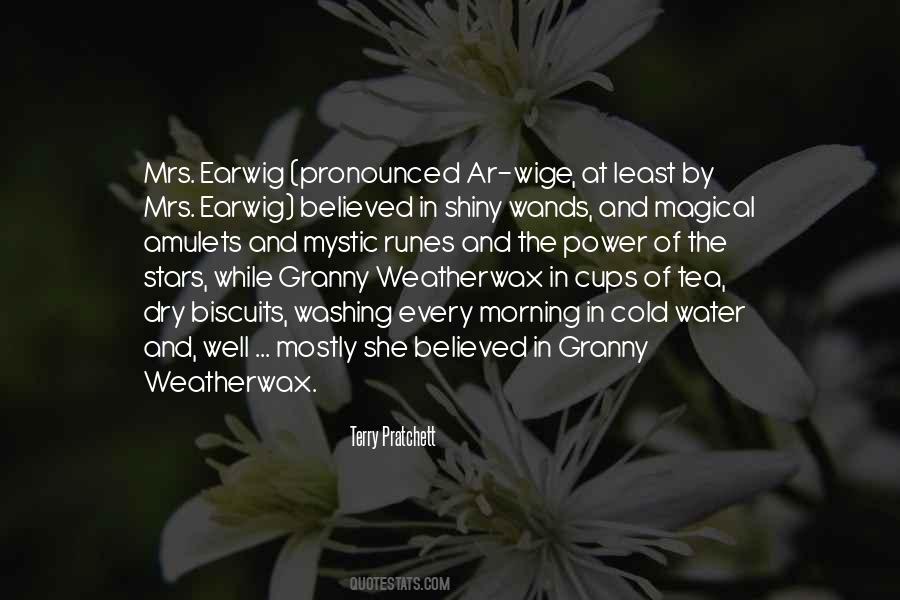 #21. I used to take my morning tea at her kiosk and I took an interest in what she was doing. I later learnt she was taking care of her grandchildren. Sadly, she was taken ill and had to close her nylon-walled smoky shack. But all the wit and cunning of the character came from her. - Author: Stanley Gazemba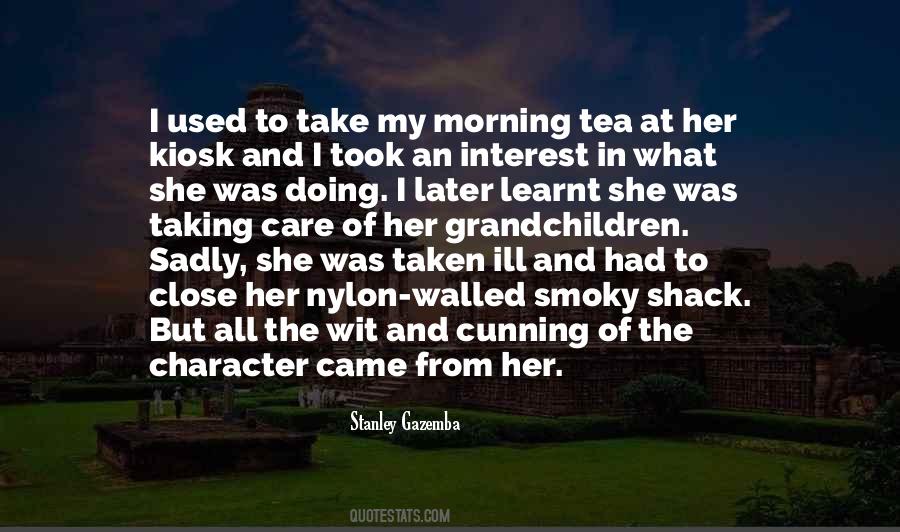 #22. I get a thick book full of death, destruction, strife, and chaos. That's what I take with my morning tea. - Author: Barack Obama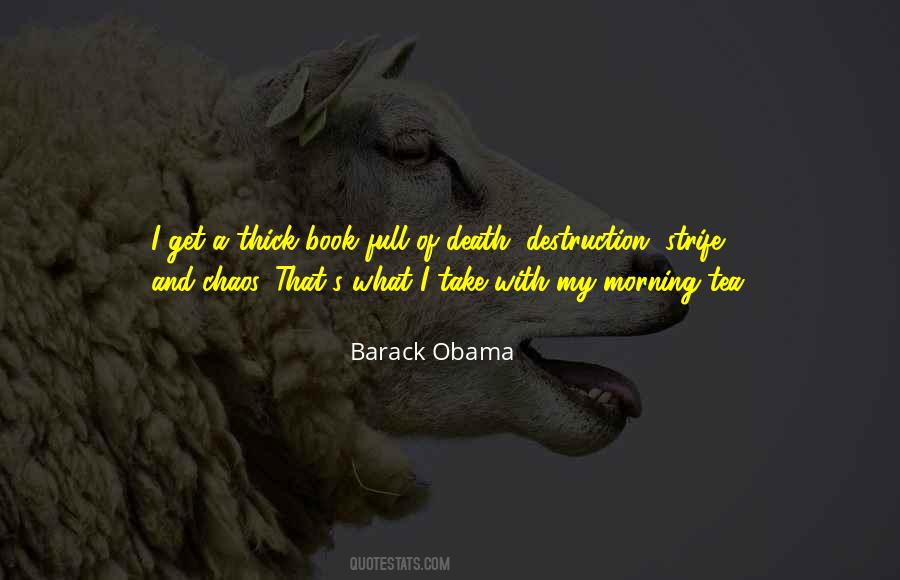 #23. You can't drink 'English afternoon tea' in the morning," the barista said to her, his eyes blazing like shards of crystal meth about to ignite. "Do you want to be responsible for fucking up the universe? - Author: Christa Carmen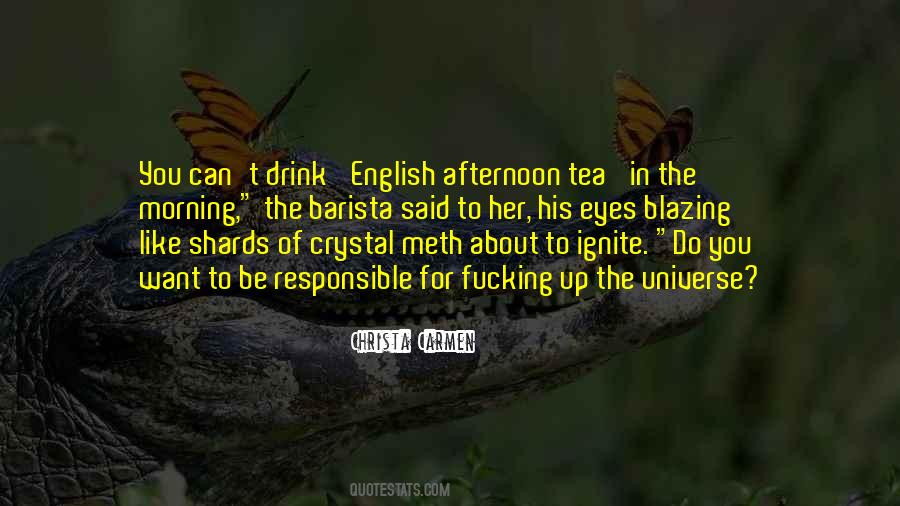 #24. You're great but you're not there when I go to bed at night or get up in the morning. You don't make me a cup of tea after a hard day at work, or rub my back in the bath. I'm sick of being lonely. Is that so wrong? - Author: Eleanor Prescott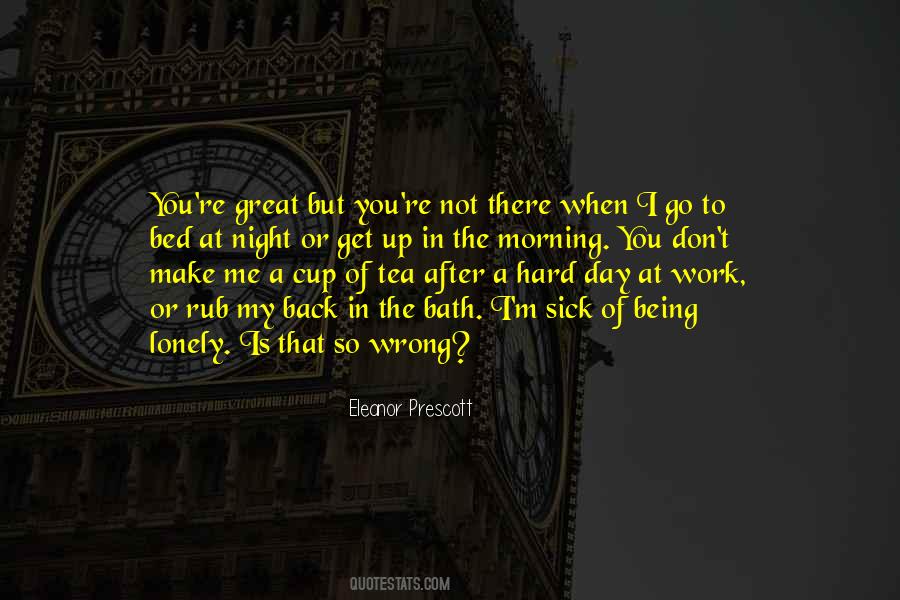 #25. She drinks vodka in the evening and green tea in the morning. - Author: Anne Berest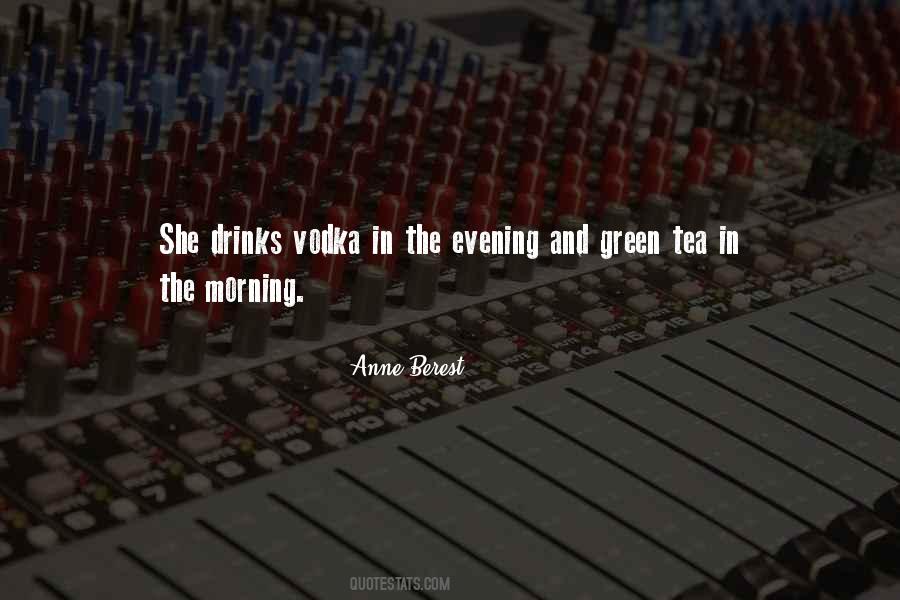 #26. I always take my wife morning tea in my pyjamas. But is she grateful? No, she says she'd rather have it in a cup. - Author: Eric Morecambe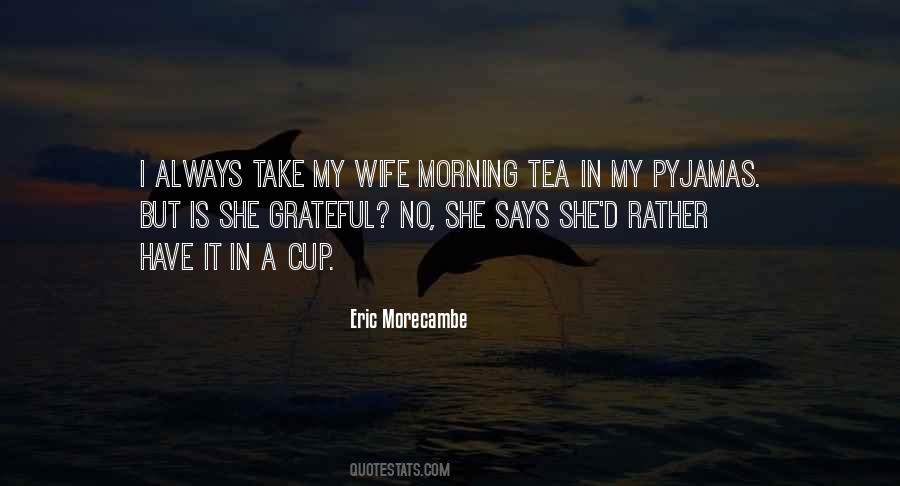 #27. I'm a full grown man and I'm not tall enough to ride a rollercoaster. So I will sit on the teacups, eat my tea and biscuits and reminisce with the cheshire cat who lives in my head. Oh hello Mr. Cheshire, lovely weather this morning. Mr. Cheshire? Oh my god. - Author: Thom Yorke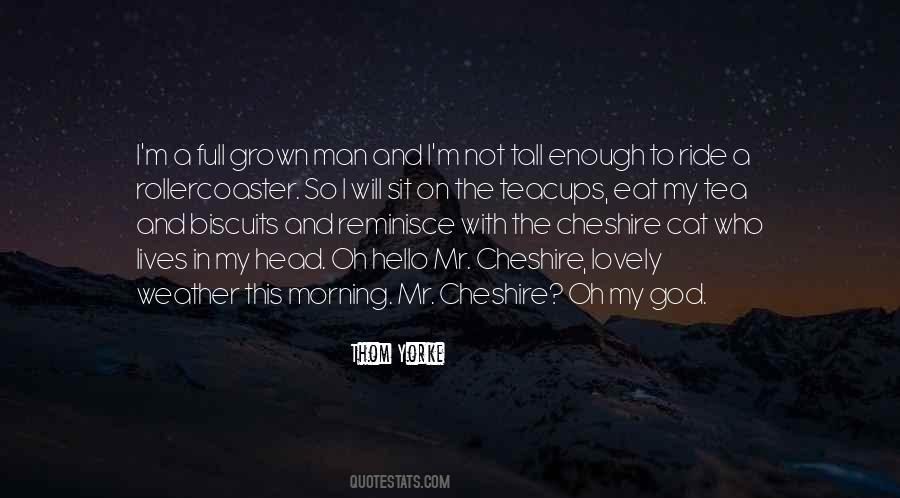 #28. She went from opera, park, assembly, play,
To morning walks, and prayers three hours a day.
To part her time 'twixt reading and bohea,
To muse, and spill her solitary tea,
Or o'er cold coffee trifle with the spoon,
Count the slow clock, and dine exact at noon. - Author: Alexander Pope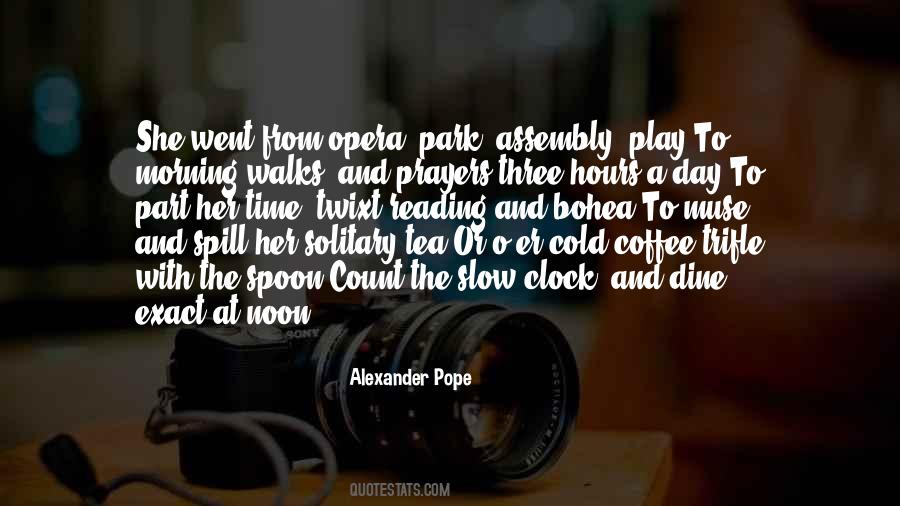 #29. The only decisions I'm making at the moment are whether I have tea, coffee, toast or cornflakes in the morning. - Author: Sam Allardyce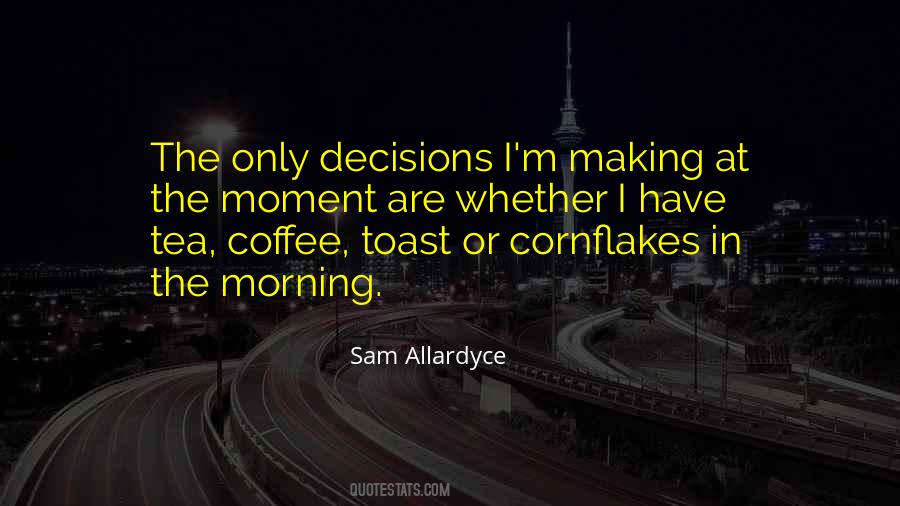 #30. This morning, I went to wipe my hands on a tea towel, and while I was using it, it seemed like it felt a bit light. I unfolded it and realized my daughter had cut little bits out of it to make frocks for her dolls! - Author: Emma Thompson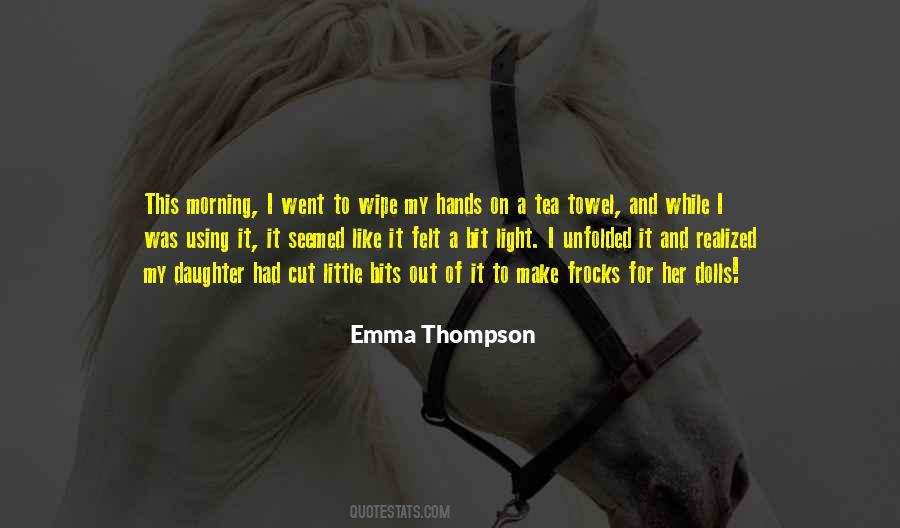 #31. I'm singing 'English Tea' from my new album 'Chaos and Creation in the Backyard.' I have a cup of tea in the morning, so it's something good to wake up to. - Author: Paul McCartney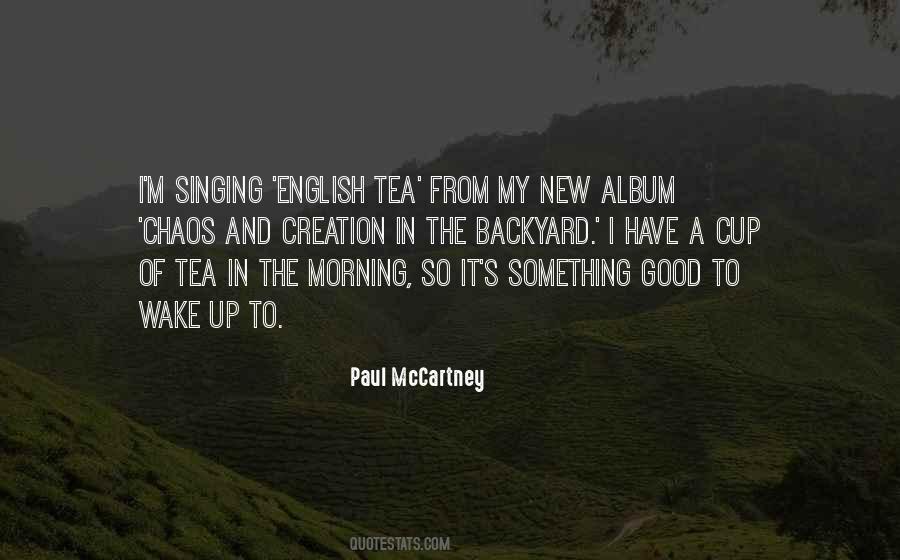 #32. I like coffee in the morning and decaf green tea throughout the day ... When I was younger and modeling, to kick-start a diet I would do a juice cleanse. - Author: Christie Brinkley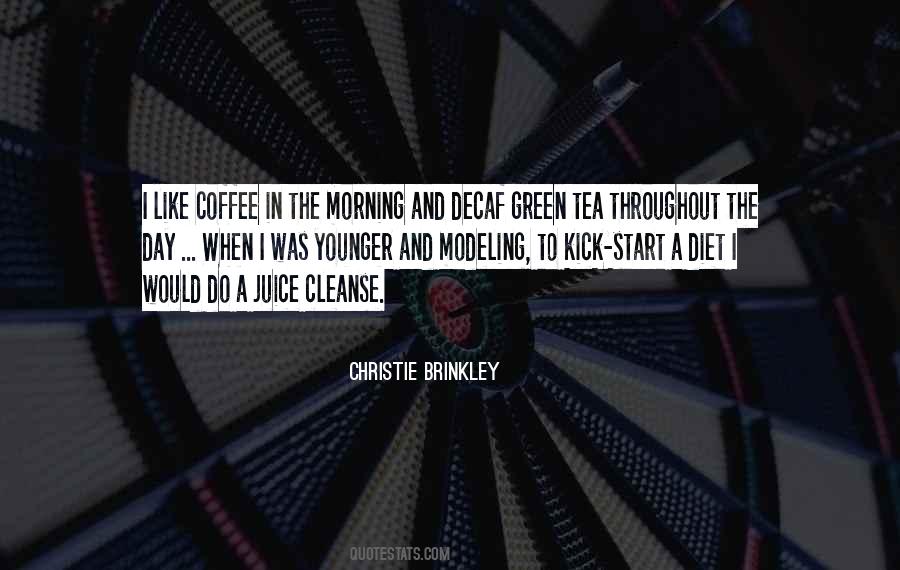 #33. Every morning just before breakfast I don't want no coffee or tea, just me and my good Buddy Wieser, that's all I ever need. - Author: George Thorogood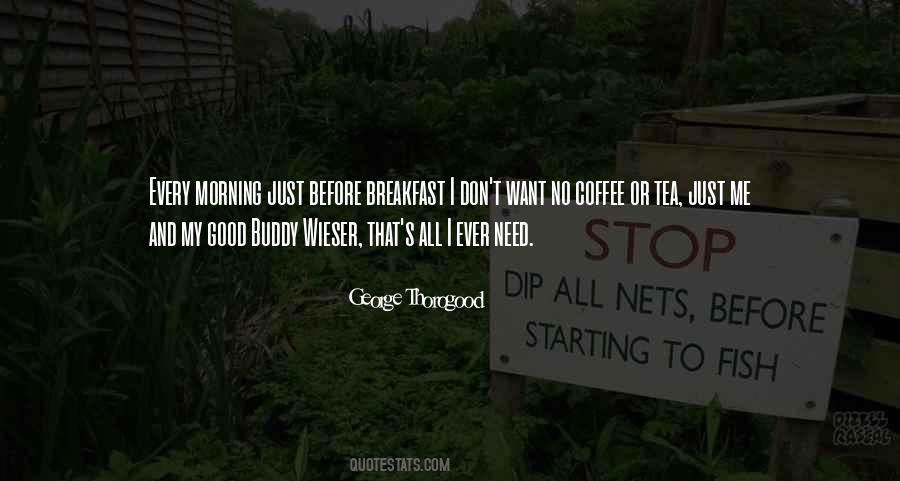 #34. Drinking tea is as sacred as doing yoga. Sleeping silently, relaxed, is as sacred as prayer. Looking at a tree, talking to a friend, walking early in the morning, working in the factory or in the office, is as holy as anything else. This is the understanding that is needed for Tao to happen. - Author: Osho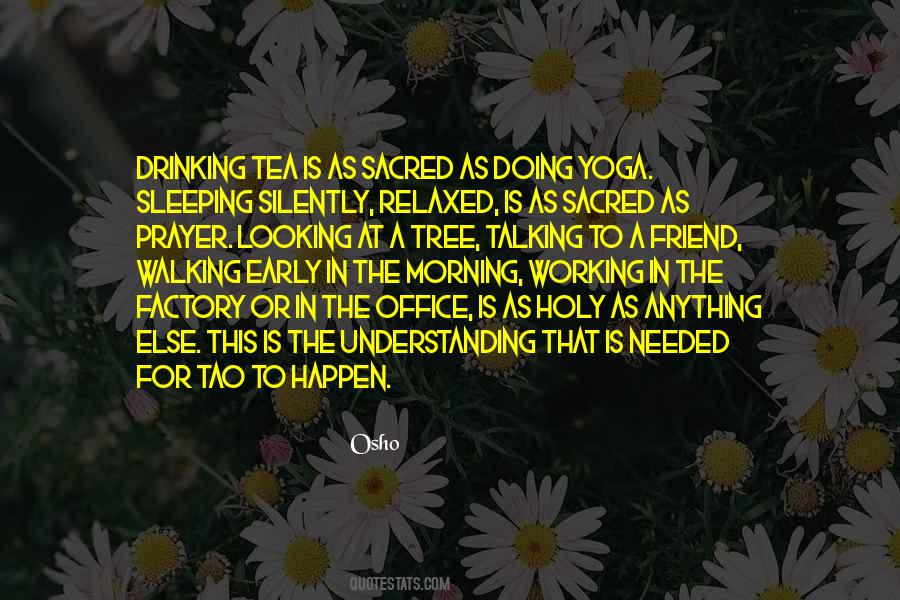 #35. The policemen had clearly been there all morning: four big white tea mugs from the canteen were drained and drip-stained, red-and-gold wrappers from caramel log biscuits were folded into interesting shapes on one side of the table, rolled up into tight little balls on the other. - Author: Denise Mina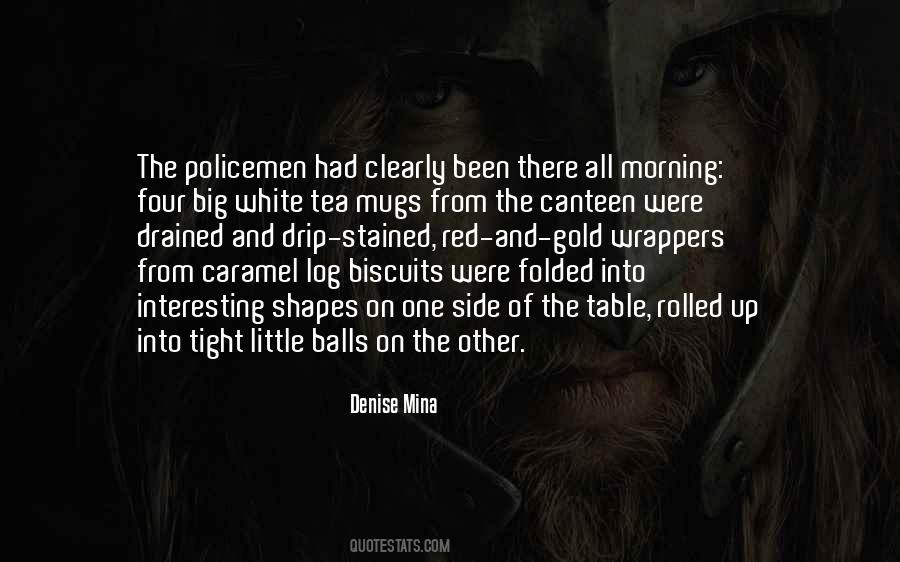 #36. I don't want to be in my car all day. I love getting up in the morning in Venice and walking my dogs down to the cafe to get my tea, and then perhaps going to a bookstore and sitting and reading, then walking to the beach. - Author: Jessica Chastain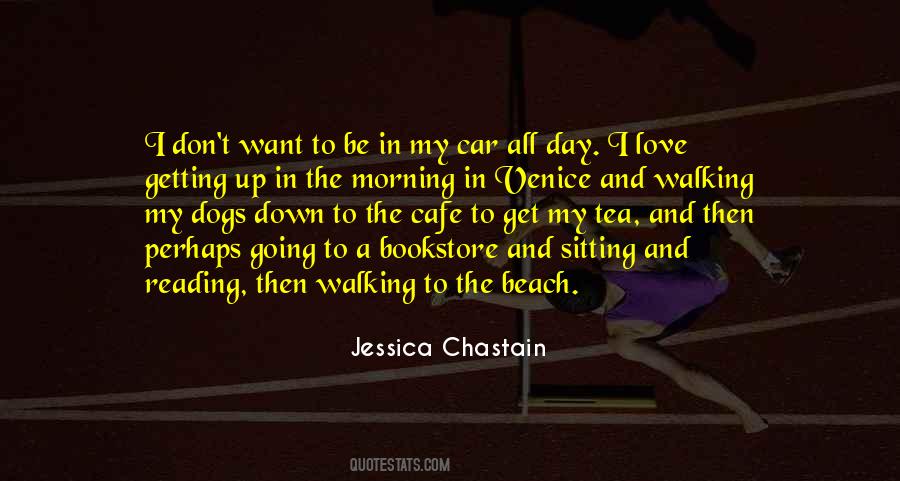 #37. I'm a deeply boring person in real life; I don't do any drinking and going out until four in the morning. I'll usually head straight home for a cup of tea. - Author: Bonnie Langford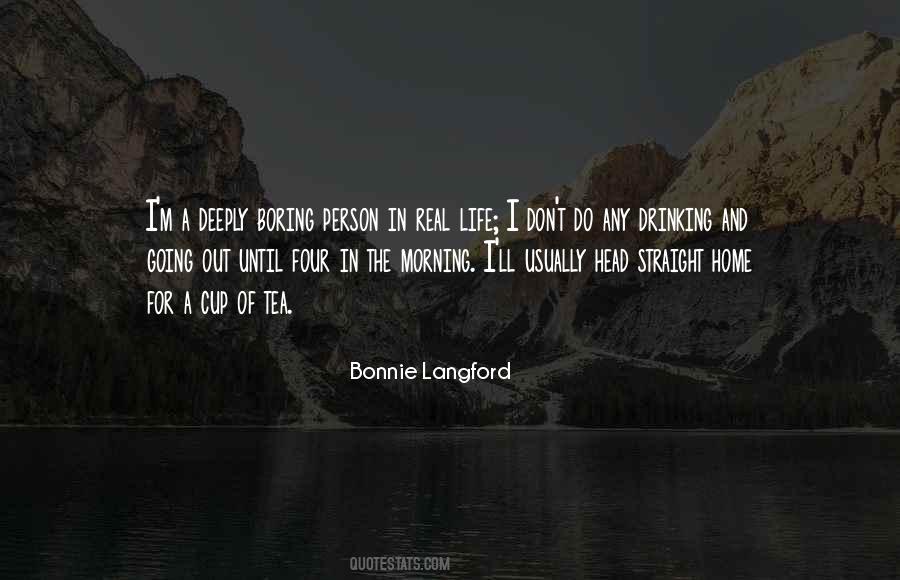 #38. I am a creature of habit with my food and snacks. I make sure to get in all three meals and drink my Eboost every morning, and lots of hot tea keeps me going! - Author: Kristen Taekman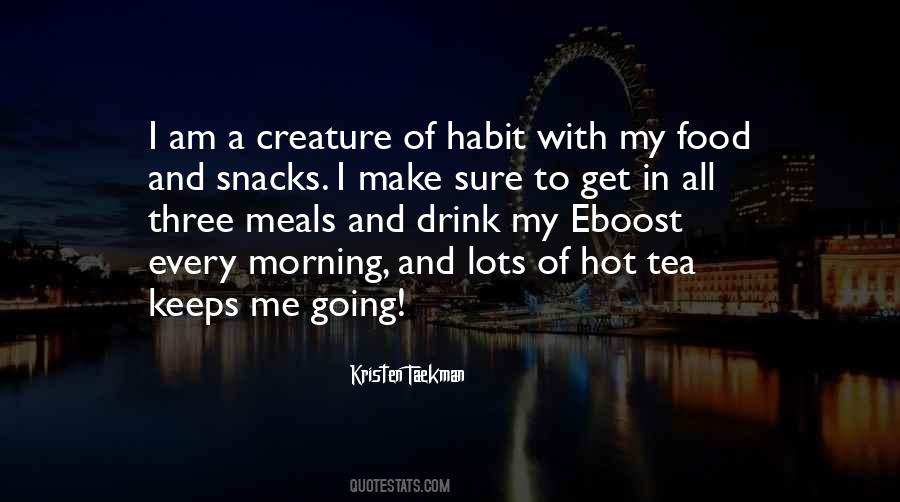 #39. Good humour was miles behind a second cup of morning tea. It was too early for nonsense. - Author: Zeenat Mahal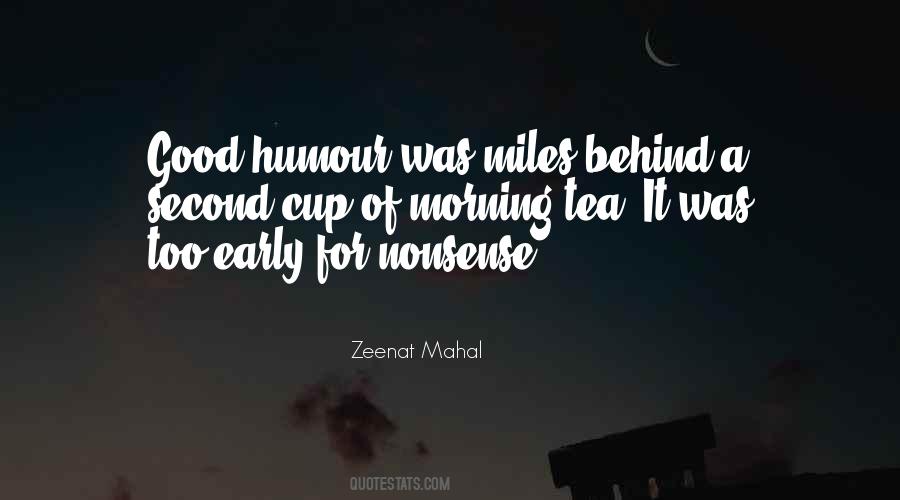 #40. A thoughtful cup of tea brought to your bedside each morning means more to me than the huge bouquet of flowers bought once a year. - Author: Penny Jordan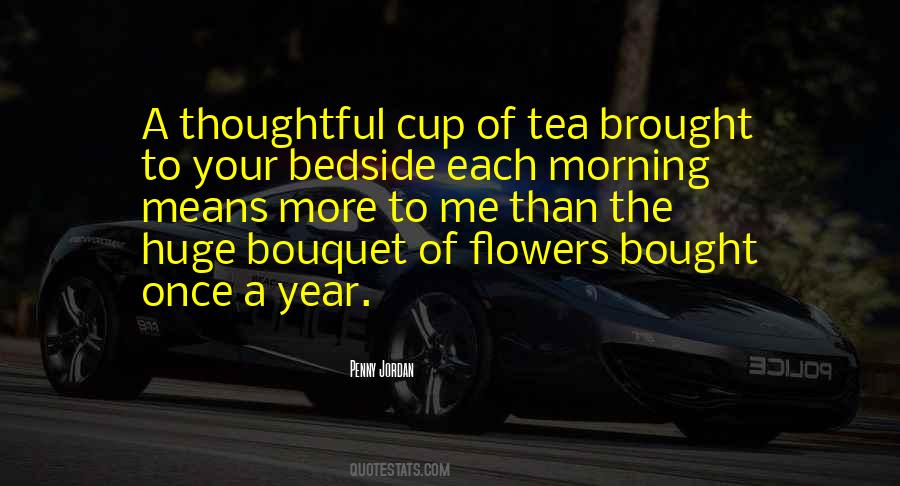 #41. Every morning I read the obituaries. If it ain't there I make myself a cup of tea and carry on like I have the past century or so. - Author: Lois Greiman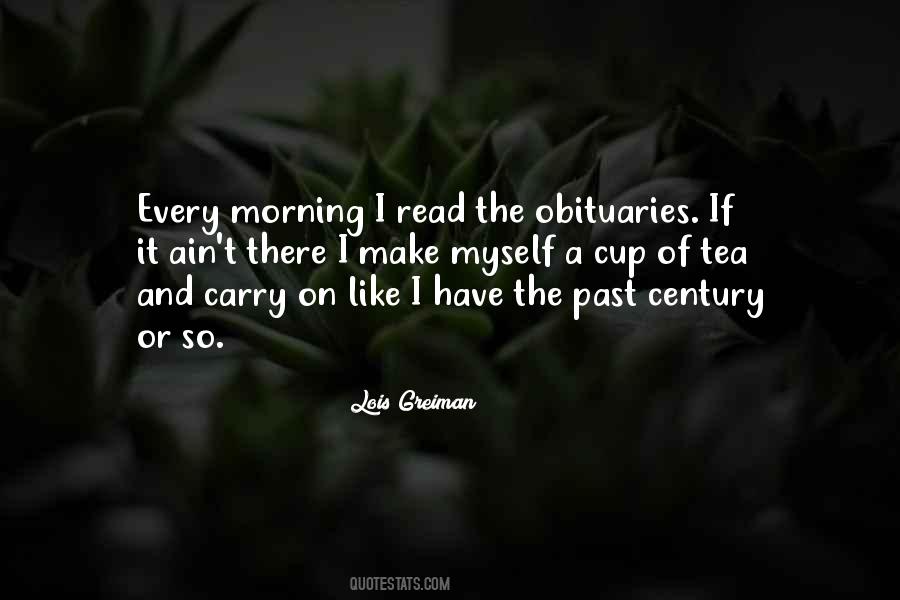 #42. The best thing that you can do to deal with these high speed times is to slow down, inwardly, to take a little more time for meditation, a little more time to enjoy your morning cup of coffee or tea, and to look around at the people in your life with a little more love. - Author: Frederick Lenz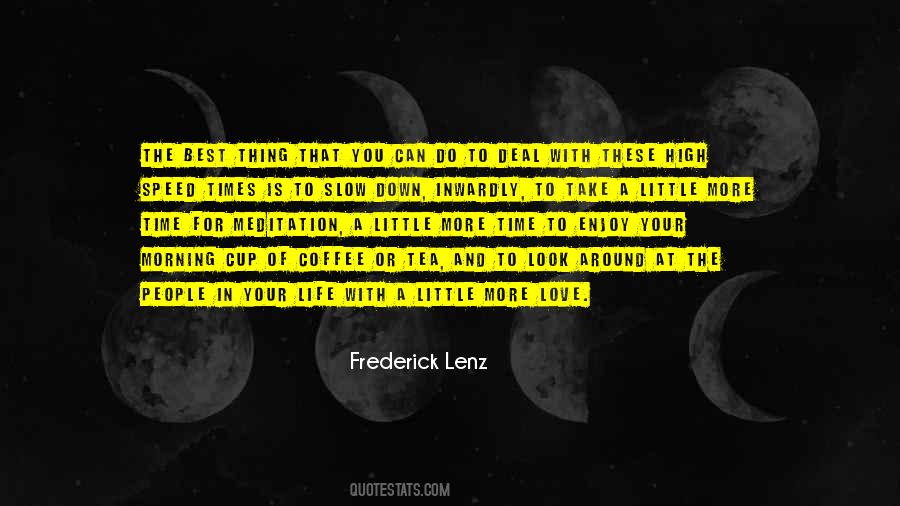 #43. No tea for you. How could you do that to John? I got home from the beach at four this morning, and he shows up at eight, distraught, fully armed, waving his nightstick! - Author: Jennifer Echols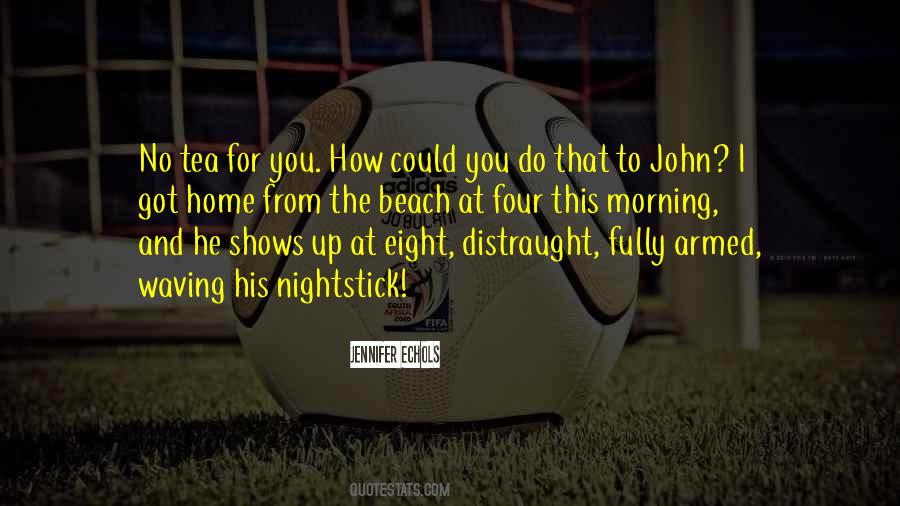 #44. Chrysanthemum
Silence - monk
Sips his morning tea. - Author: Matsuo Basho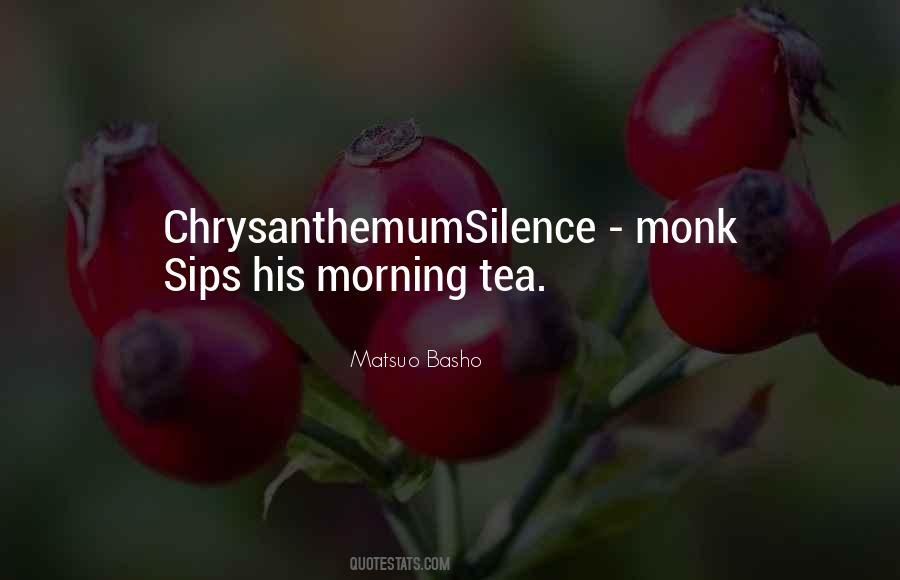 #45. Drugs is like getting up and having a cup of tea in the morning. - Author: Noel Gallagher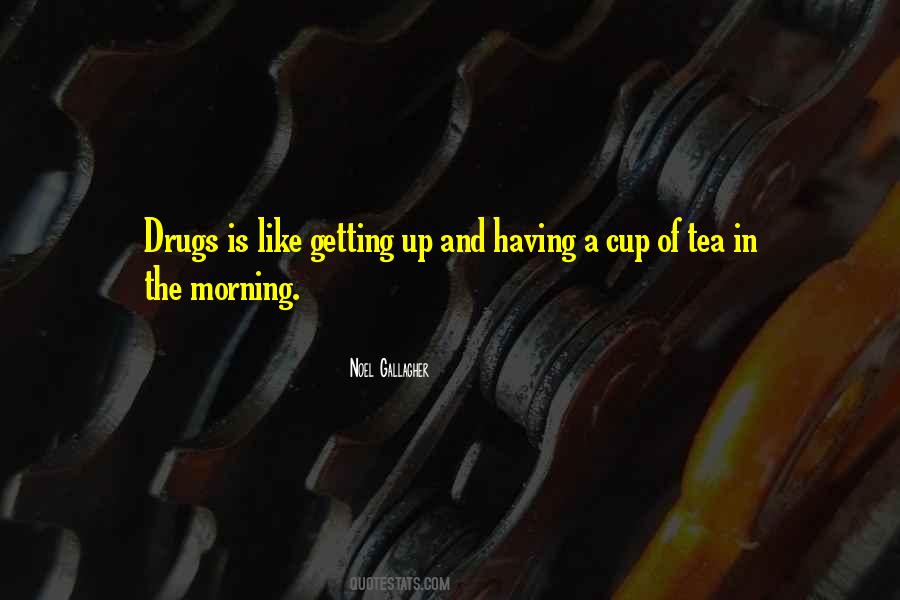 #46. Next morning while imbibing his morning tea beneath his pink silken quilt Bernard decided he must marry Ethel with no more delay. - Author: Daisy Ashford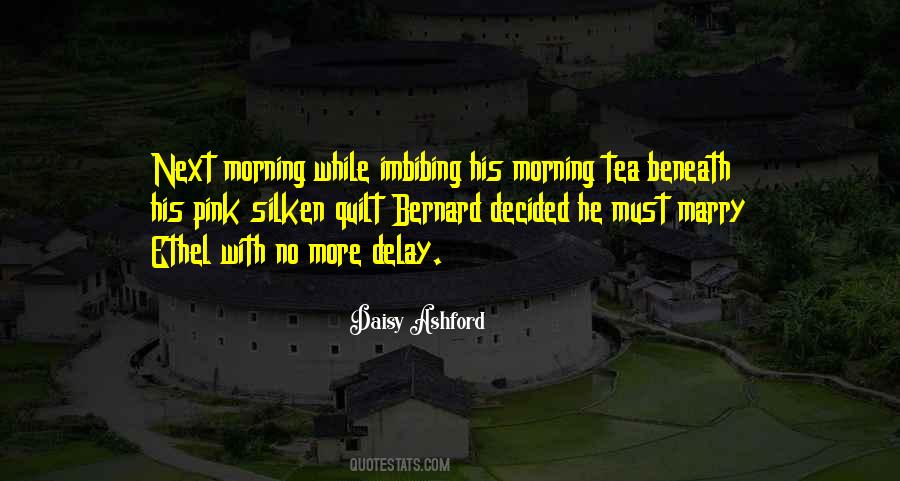 #47. I created 'America's Next Top Model' one-hundred percent. I was in my kitchen making tea one morning, and I looked out the window, and the idea popped into my head. I wanted it to be 'American Idol' meets 'Ford Supermodel of the Year' meets 'The Real World.' - Author: Tyra Banks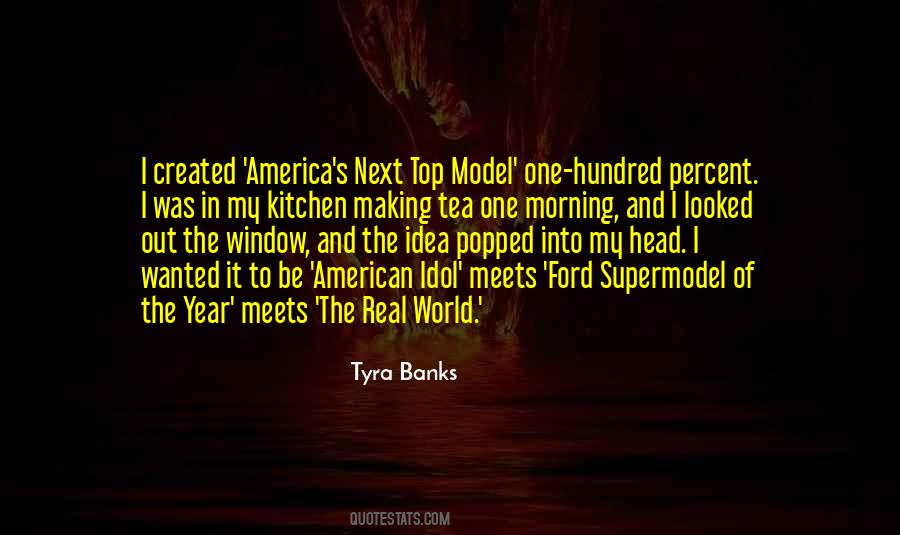 #48. Mrs Forrester ... sat in state, pretending not to know what cakes were sent up, though she knew, and we knew, and she knew that we knew, and we knew that she knew that we knew, she had been busy all the morning making tea-bread and sponge-cakes. - Author: Elizabeth Gaskell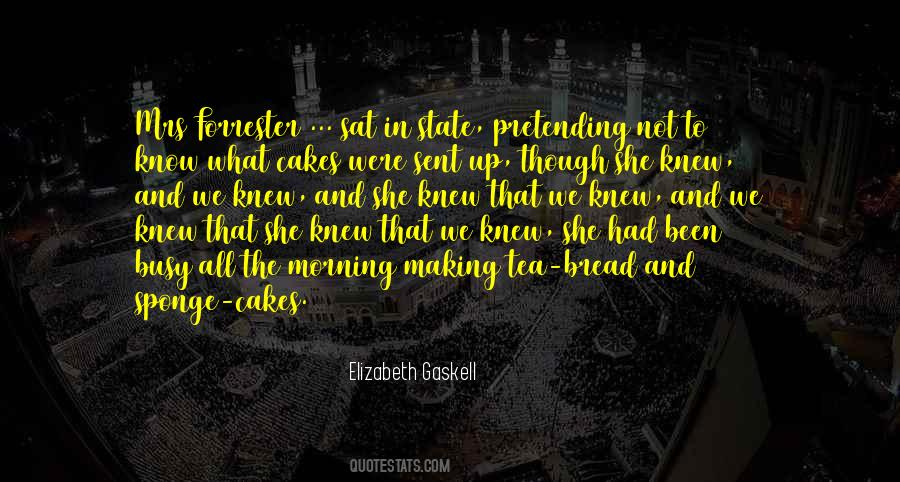 #49. There is nothing quite like a freshly brewed pot of tea to get you going in the morning. - Author: Phyllis Logan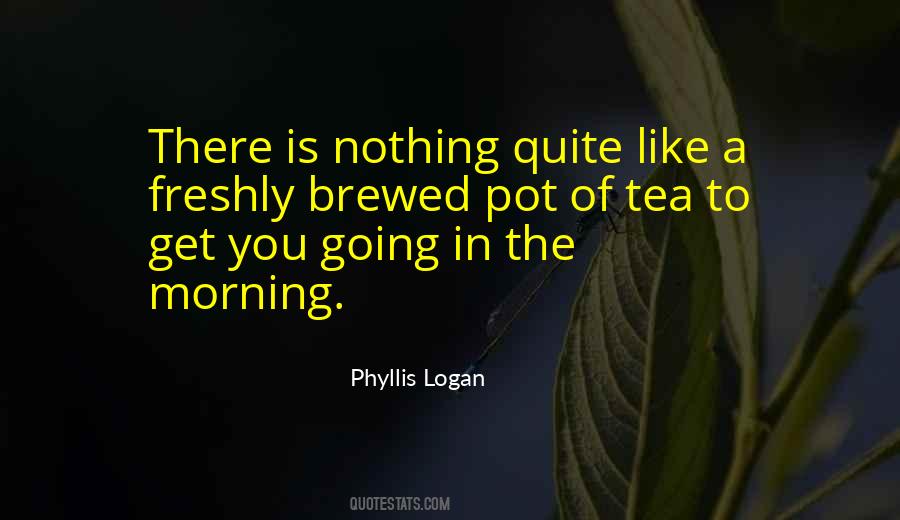 #50. I do have one very brutal writing ritual. If I'm working in the morning, I don't allow myself a cup of tea until I've written two paragraphs. It's harsh. - Author: Anthony Lane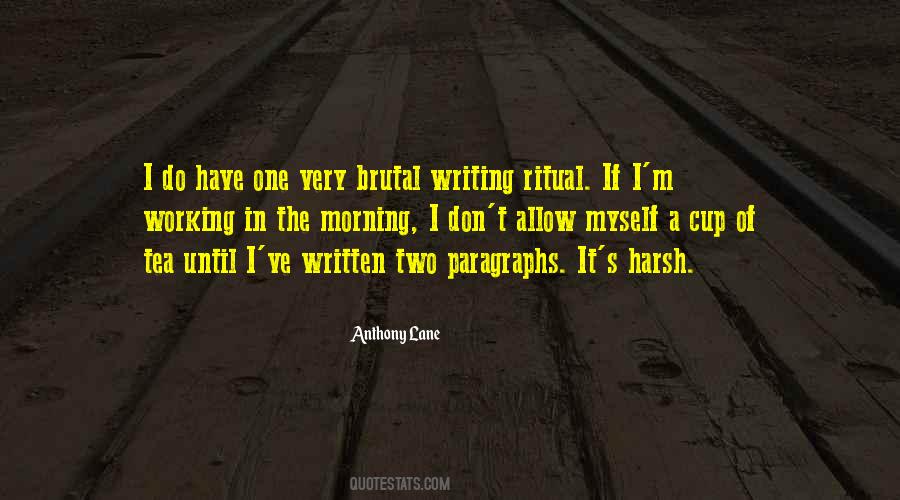 #51. I love the smell of Chai Tea in the morning... (What should have been said in "Apocalypse Now") - Author: Sakinaa Davies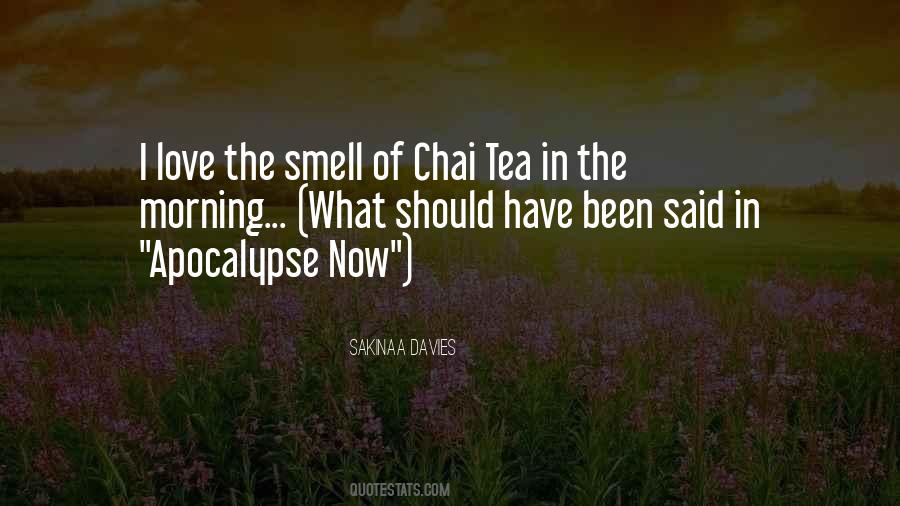 #52. Which of the following two groups contains the most former grand dragons of the Ku Klux Klan - the first 59 Tea Party people you run into this morning, or the U.S. Senate Democratic caucus? - Author: Howie Carr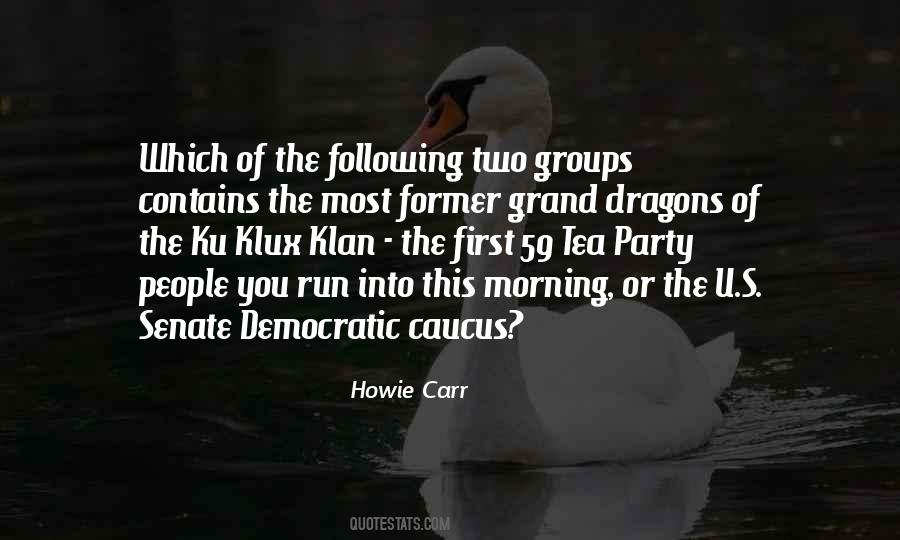 #53. My favorite meal would have to be good old-fashioned eggs, over easy, with bacon. Many others, but you can't beat that on a Sunday morning, especially with a cup of tea. - Author: Gary Oldman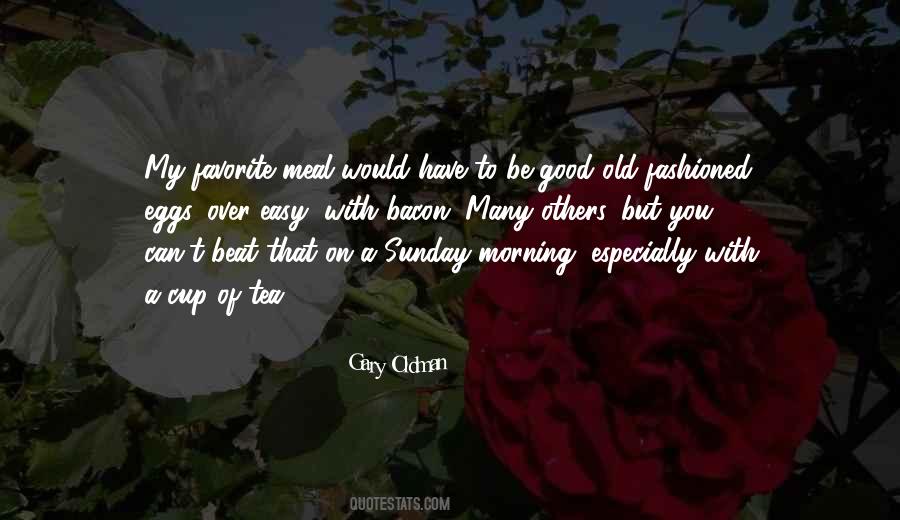 #54. With tea amused the evening, with tea solaced the midnight, and with tea welcomed the morning. - Author: Okakura Kakuzo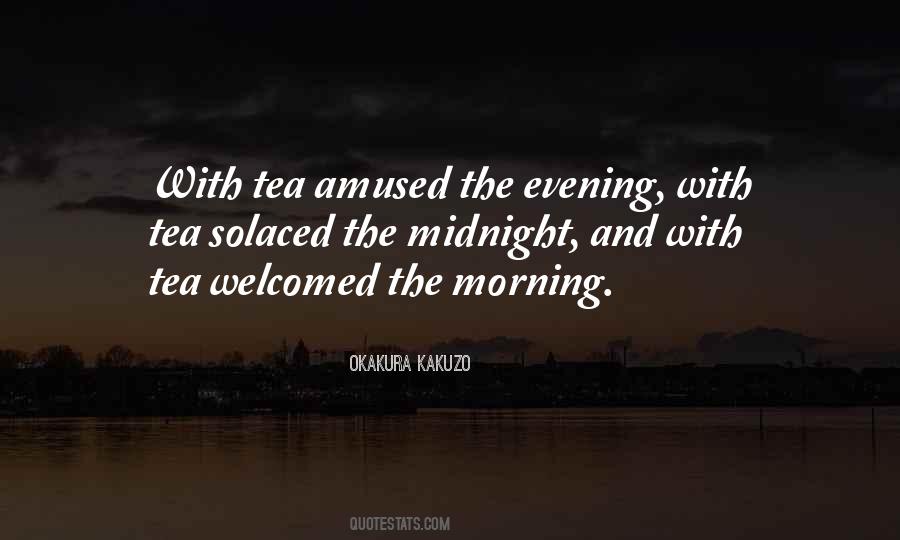 #55. All well-regulated families set apart an hour every morning for tea and bread and butter - Author: Joseph Addison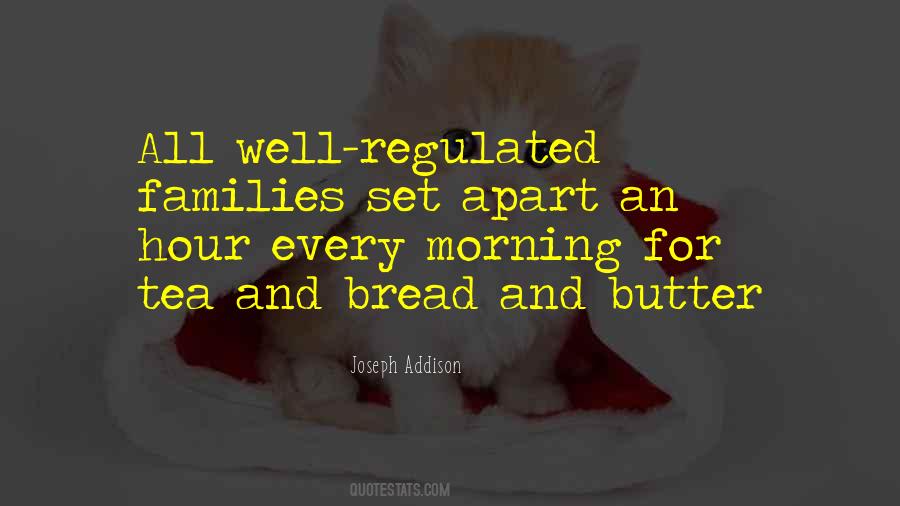 #56. The morning cup of coffee has an exhilaration about it which the cheering influence of the afternoon or evening cup of tea cannot be expected to reproduce. - Author: Oliver Wendell Holmes, Sr.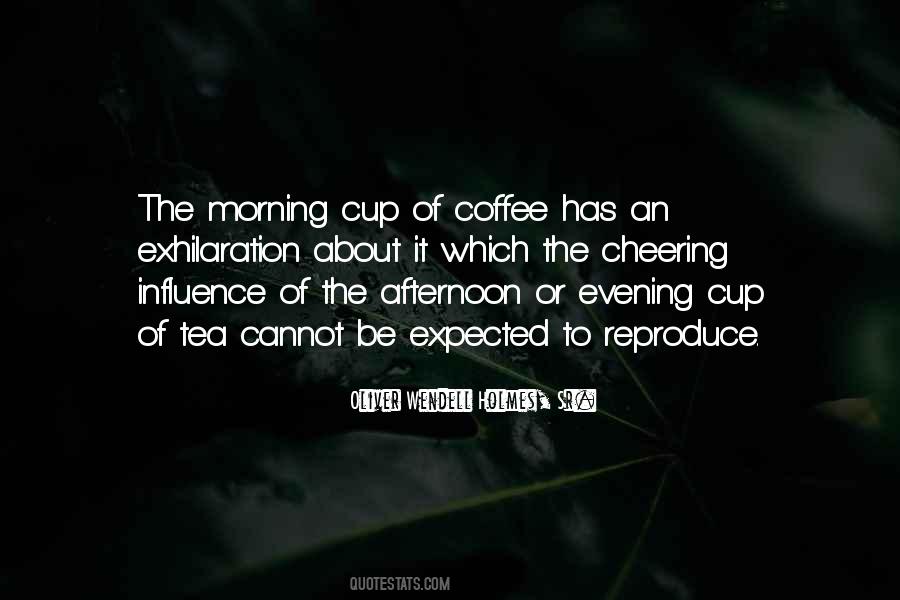 #57. I drink a bucket of white tea in the morning. I read about this tea of the Emperor of China, which is supposedly the tea of eternal youth. It's called Silver Needle. It's unbelievably expensive, but I get it on the Web. - Author: Antonio Banderas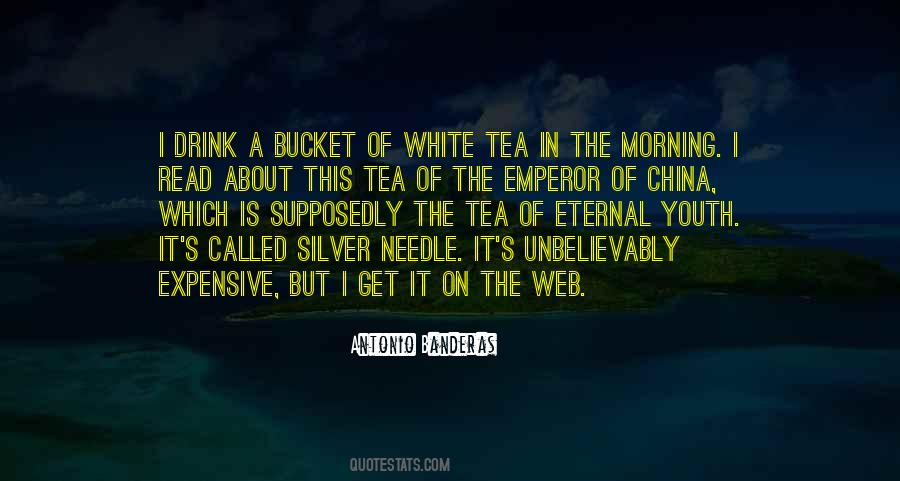 Famous Authors
Popular Topics