James Bond Famous Quotes & Sayings
List of top 100 famous quotes and sayings about james bond to read and share with friends on your Facebook, Twitter, blogs.
Top 100 Quotes About James Bond
#1. The paper tiger hero, James Bond, offering the whites a triumphant image of themselves, is saying what many whites want desperately to hear reaffirmed: I am still the White Man, lord of the land, licensed to kill, and the world is still an empire at my feet. - Author: Eldridge Cleaver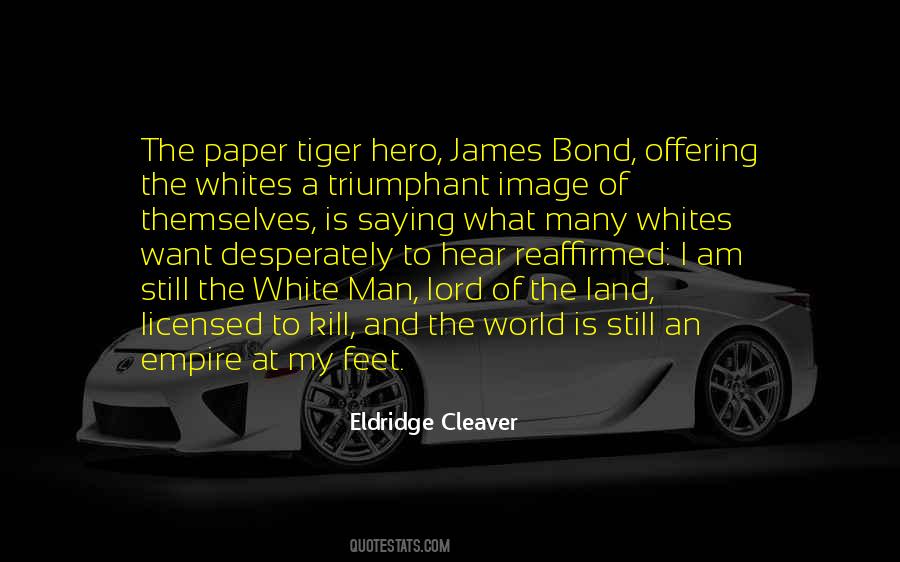 #2. I want to play James Bond - are you kidding me? I'm putting my name in the ring! - Author: Orlando Bloom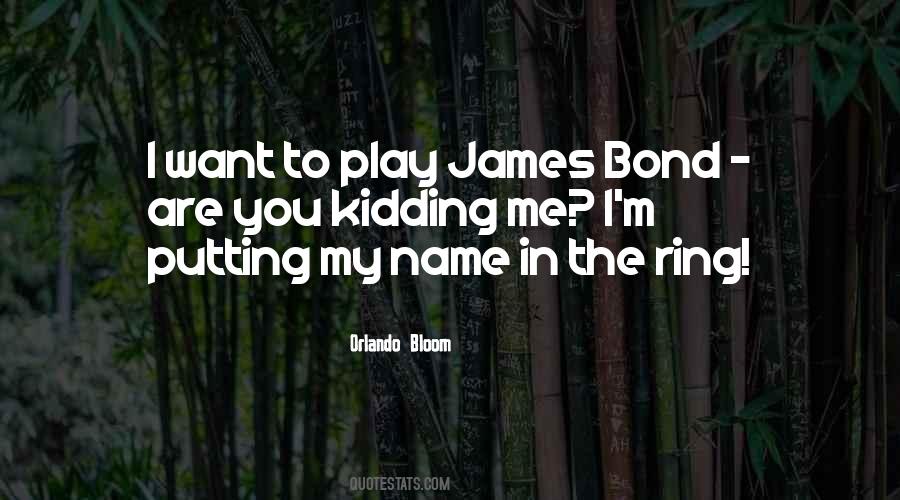 #3. I've found that one must try and teach people that there's no top limit to disaster-that, so long as breath remains in your body, you've got accept the miseries of life. They will often seem infinite, insupportable. They are part of the human condition. - Author: Ian Fleming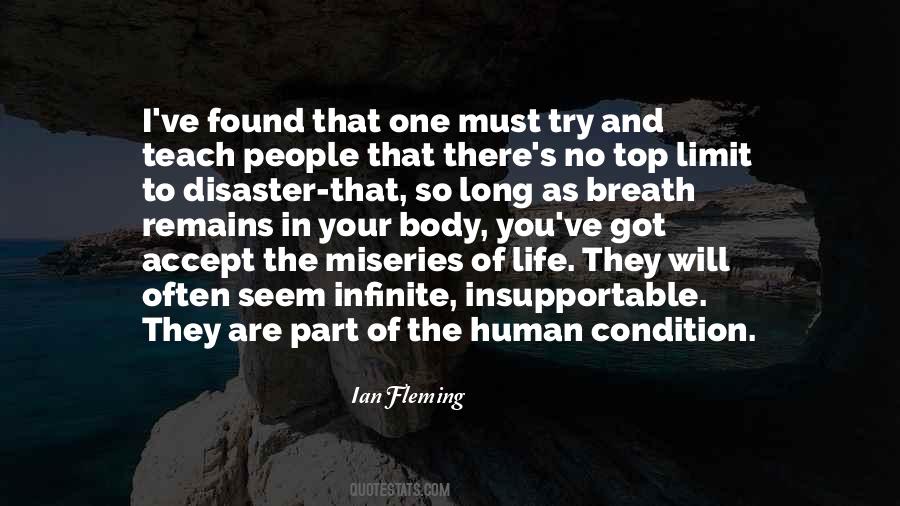 #4. I don't regard James Bond precisely as a hero, but at least he does get on and do his duty, in an extremely corny way. - Author: Ian Fleming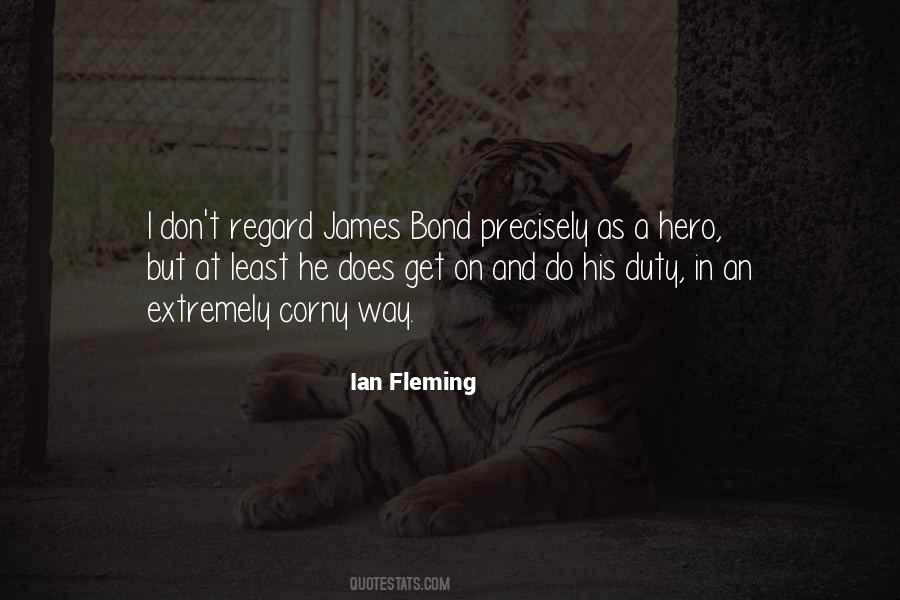 #5. I really don't know if I'm doing any good,' he said. 'James Bond just unscrews things,' said Anathema. - Author: Terry Pratchett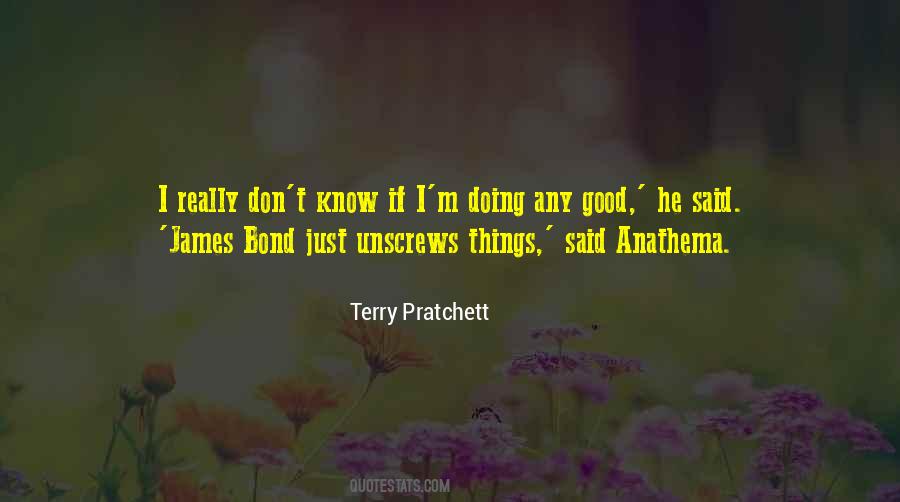 #6. And then one day when you're playing your little game you'll suddenly find yourself pinned down like a butterfly. - Author: Ian Fleming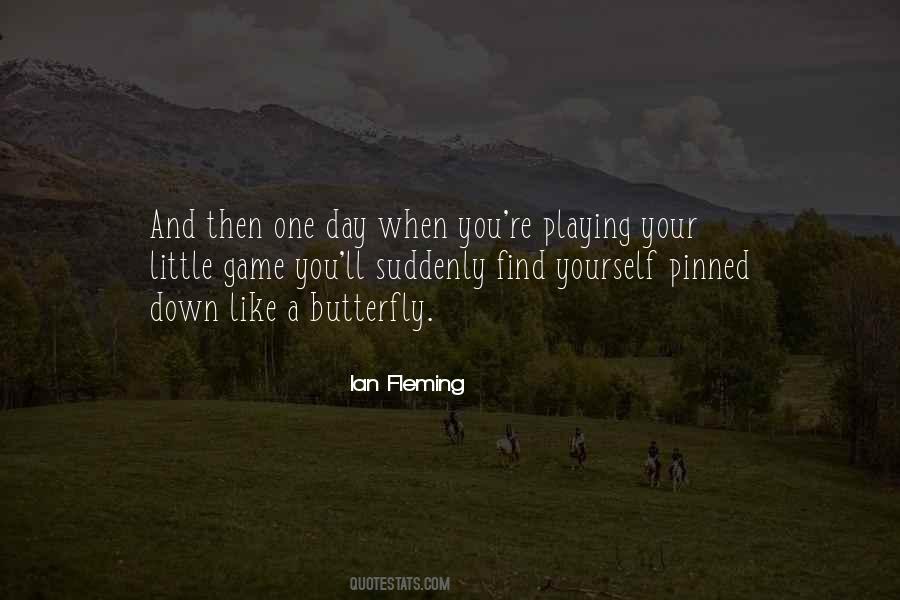 #7. I did about 2000 covers altogether, for all sorts of books - from Shakespeare to James Bond - and I always had the idea that I must give 100%, no matter who the author was. - Author: Dick Bruna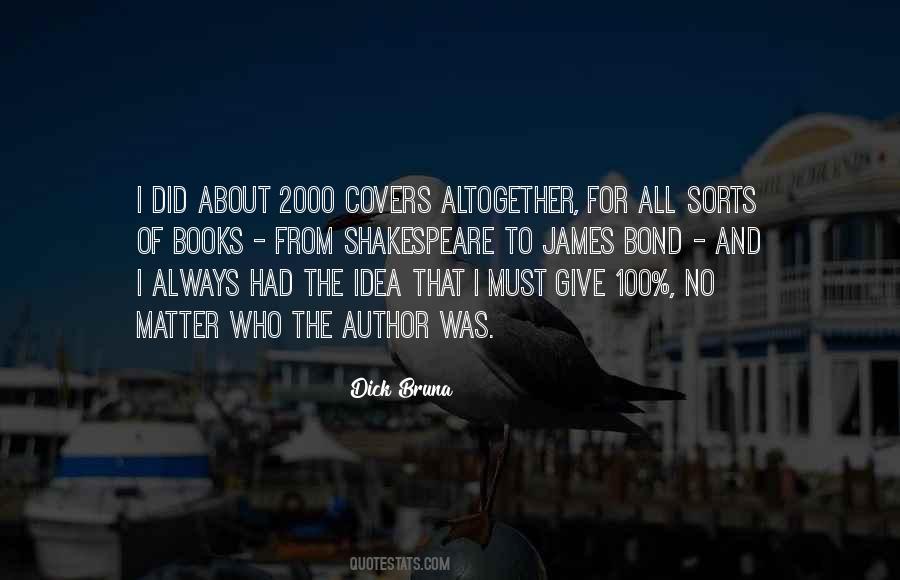 #8. Thor - the Batman or James Bond of the gods - has once again conquered the forces of evil. - Author: Jostein Gaarder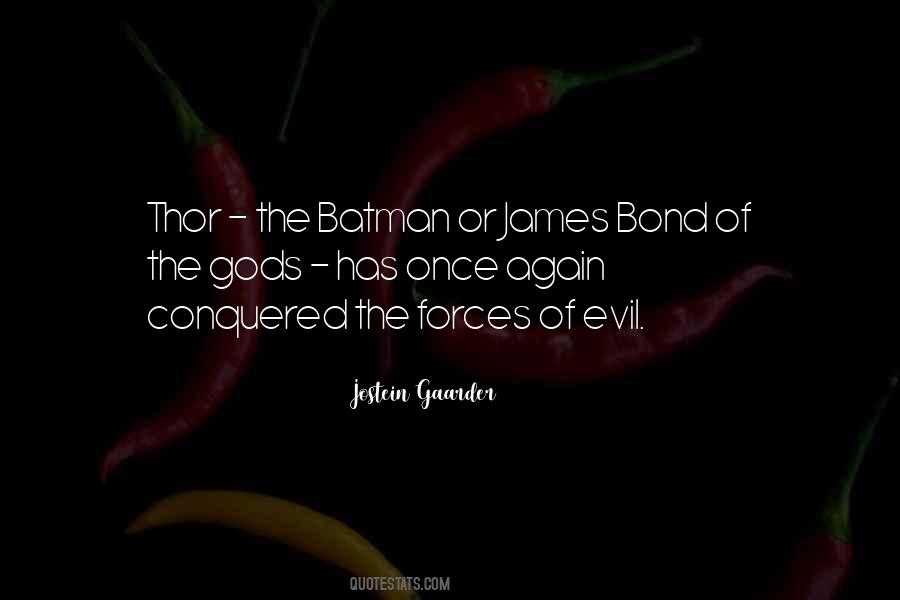 #9. Having rain on your tuxedo is a pretty good reminder that you're not James Bond. - Author: Joel Edgerton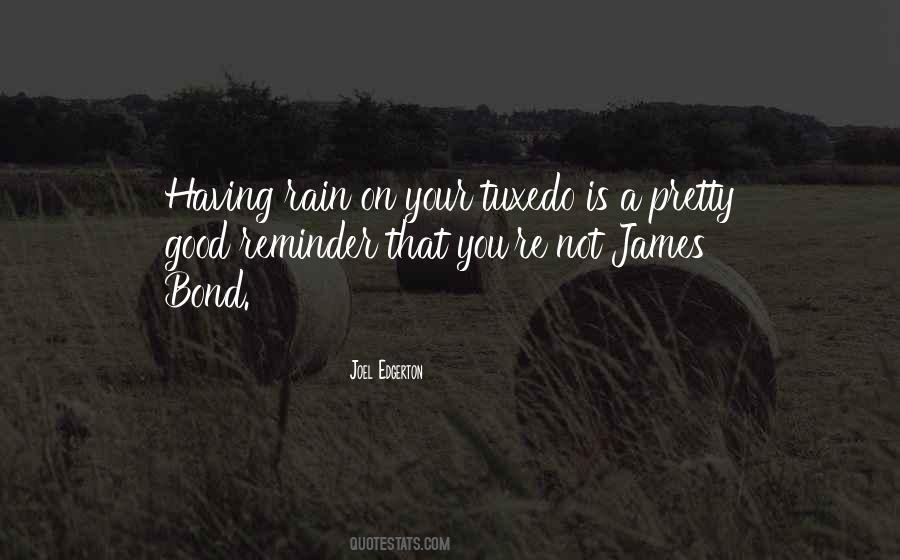 #10. To speak against religion (the Christian) is breaking down the bond of good government. - Author: James L. Petigru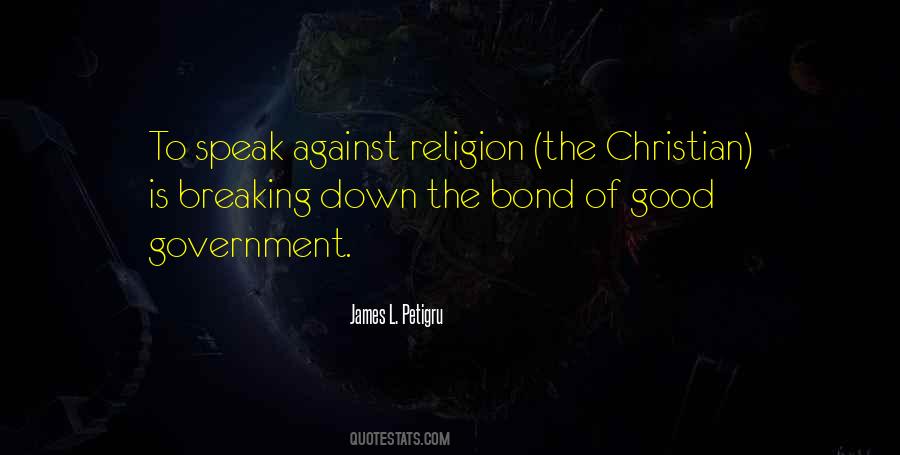 #11. I really enjoyed 'Casino Royale' because suddenly something changed with this modernity and with Daniel bringing life to James Bond in a very new way. - Author: Berenice Marlohe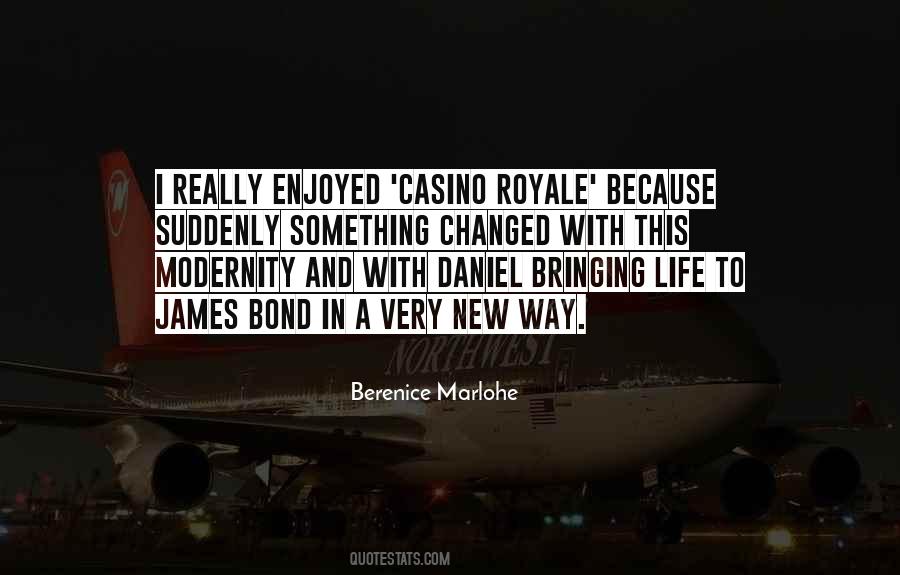 #12. To Fleming, and to his readers, James Bond was a real person living in the modern world. The details of his life appear only sporadically in the books, but they proved vitally important in grounding him in his time, which made his extraordinary and often implausible adventures seem possible. - Author: Henry Chancellor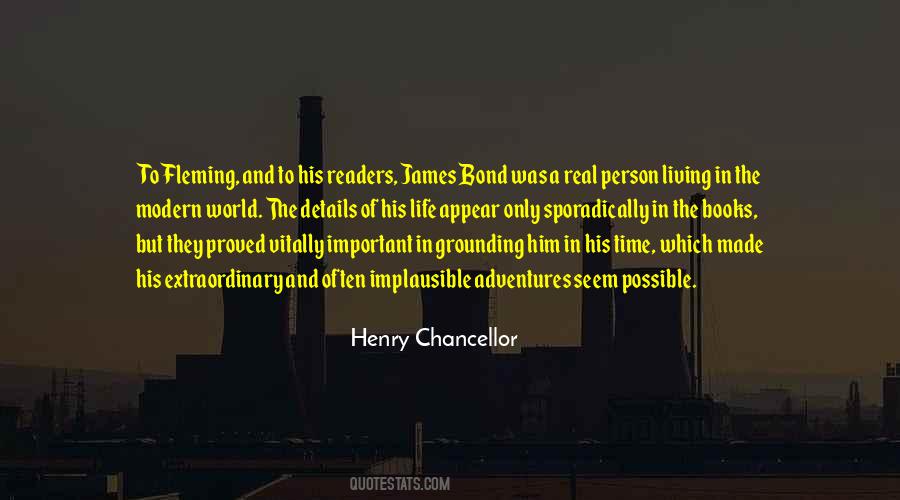 #13. No action hero is more closely associated with cars than James Bond. - Author: Richard Hammond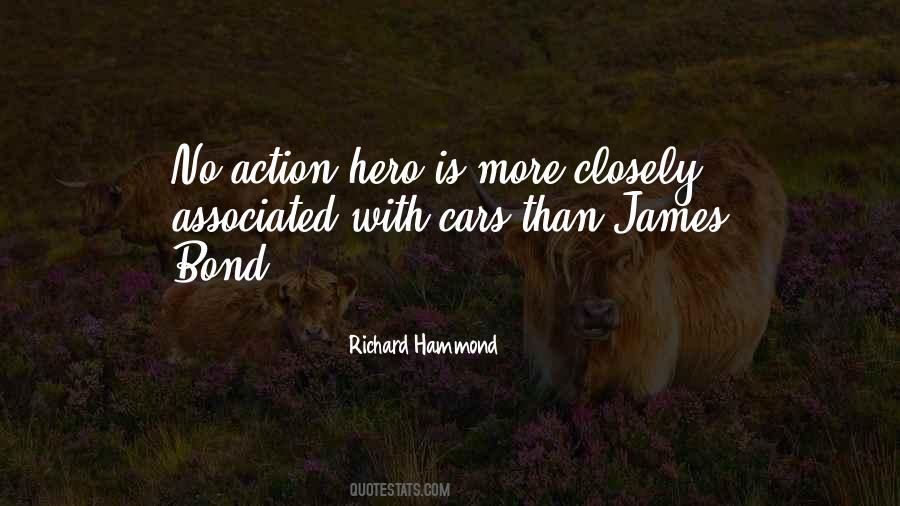 #14. You make James Bond look like he shops at a thrift store and cuts his own hair. - Author: Melissa McClone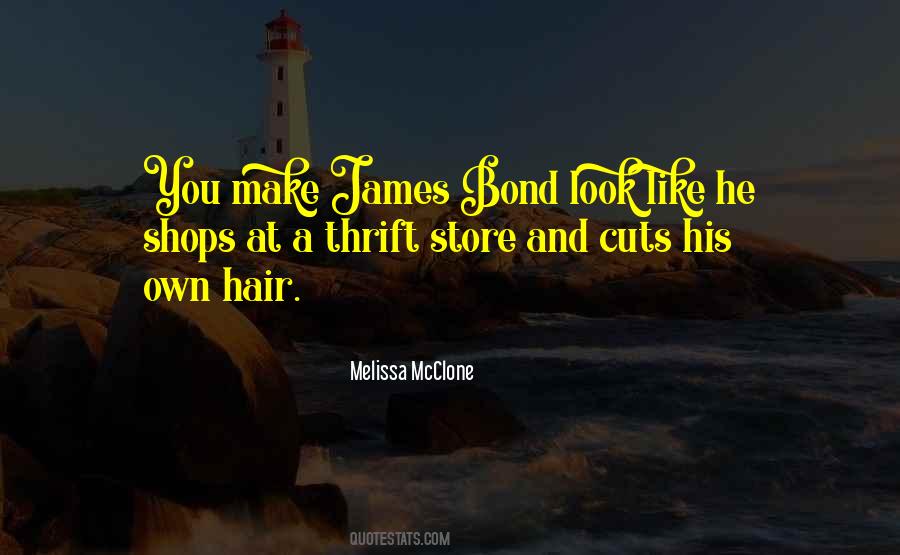 #15. Most little girls in England grow up wanting to marry
a prince. Bex grew up wanting to kick James Bond's butt and assume his double-0 ranking. - Author: Ally Carter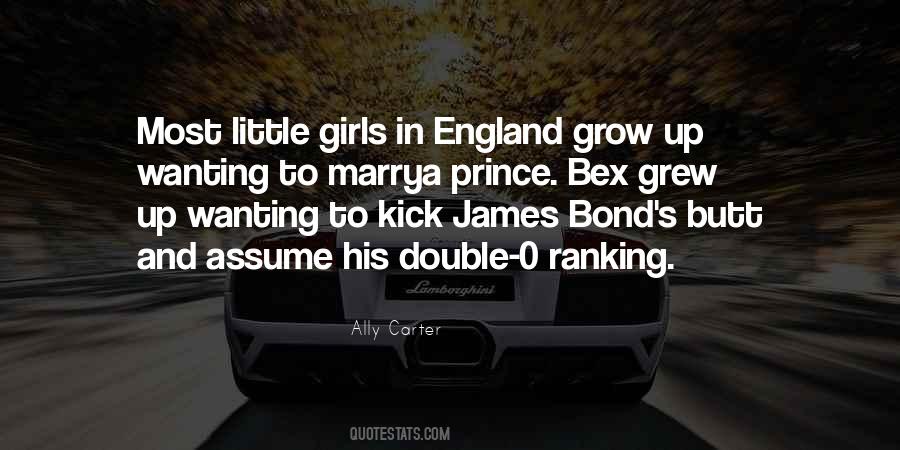 #16. He turned to Kingsley. "You and what army?"
"I don't need an army."
"What? Are you the French James Bond or something?"
"Of course not. James Bond is vanilla. - Author: Tiffany Reisz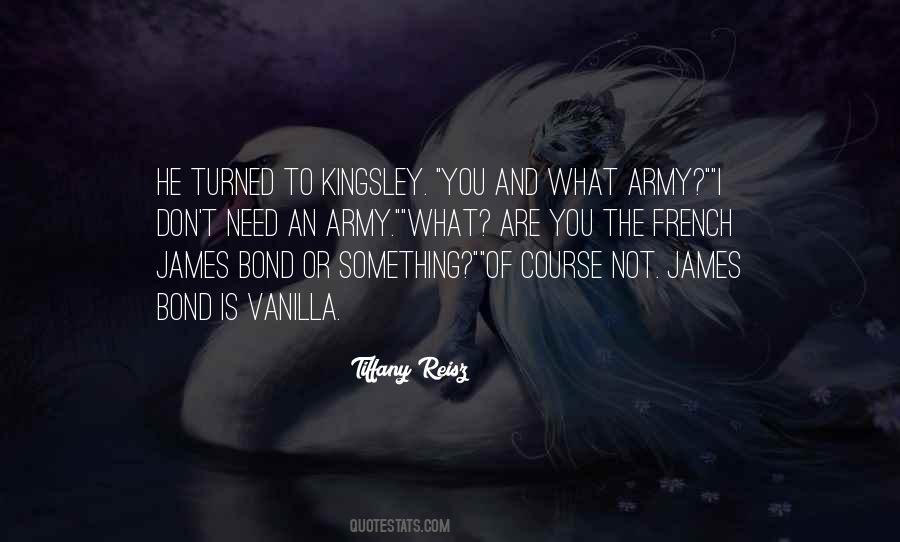 #17. I've been identified with James Bond or Thomas Crown for so long; suave, elegant, sophisticated men in suits. it's like you've been giving the same performance for 20 years. - Author: Pierce Brosnan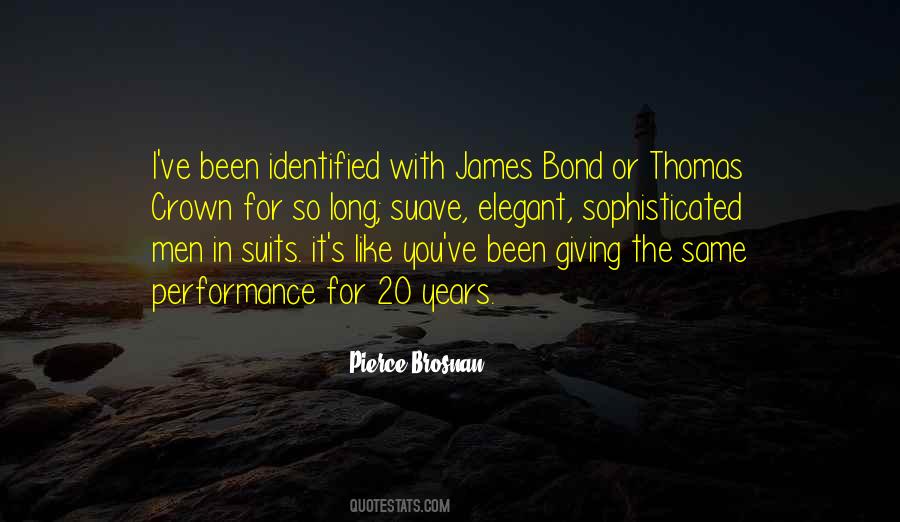 #18. I realize that they giggle and I actually laugh, that they show their cleavage and I have none to show, but just so you know, I am also a girl. I'm one of the three wise MEN. And it's gay to think that James Bond is hot. - Author: John Green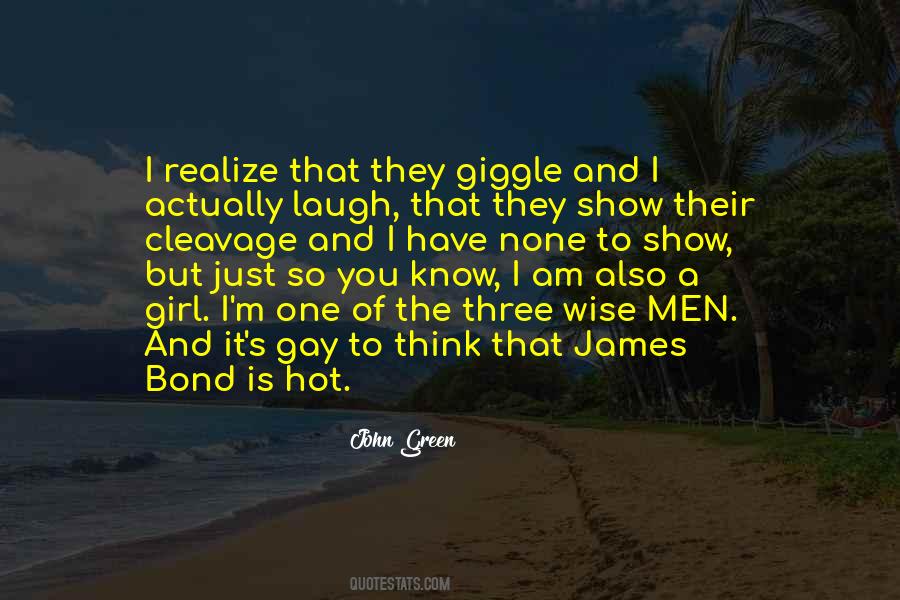 #19. I started my career wanting to make a 'James Bond' movie, and I couldn't get hired! I made 'The Bourne Identity,' and ultimately the impact of that film was that it changed the 'James Bond' franchise. - Author: Doug Liman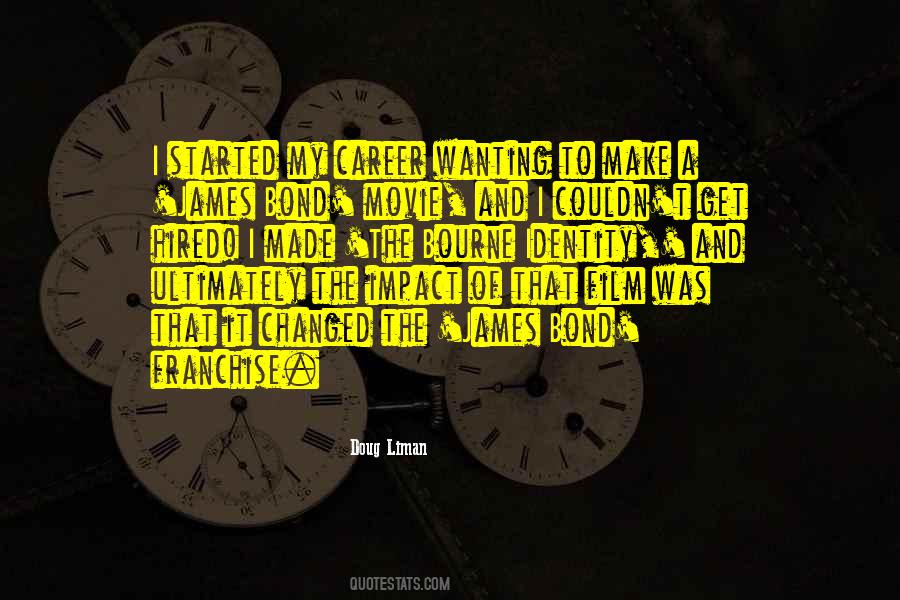 #20. Surround yourself with human beings, my dear James. They are easier to fight for than principles. - Author: Ian Fleming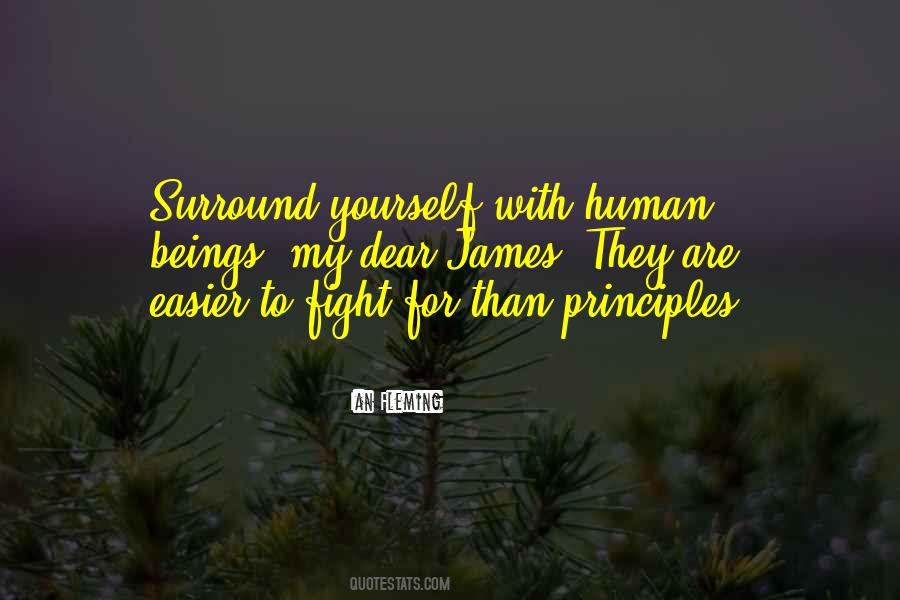 #21. I'm a huge James Bond fan and watched the movies growing up. - Author: Taran Killam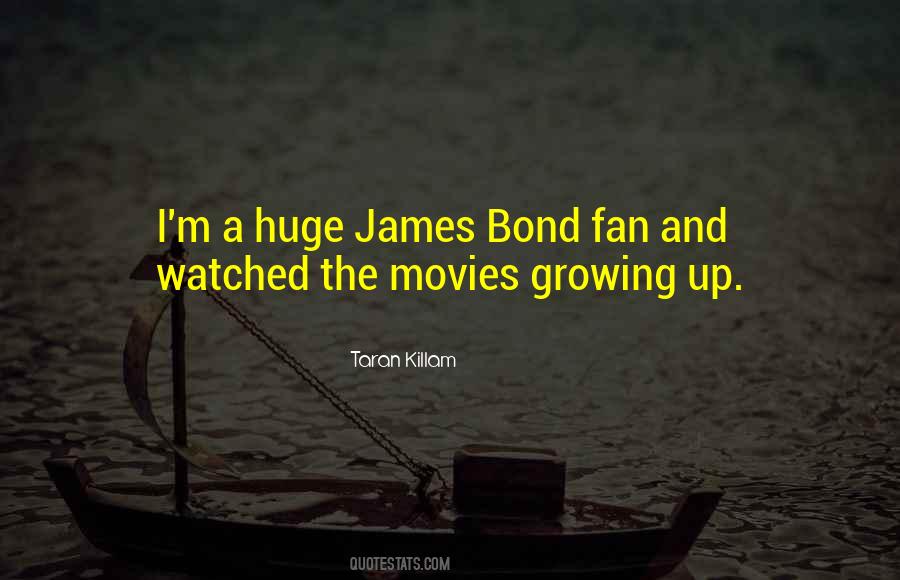 #22. When I was shooting 'The Bourne Identity,' I had a mantra: 'How come you never see James Bond pay a phone bill?' It sounds trite, but it became the foundation of that franchise. - Author: Doug Liman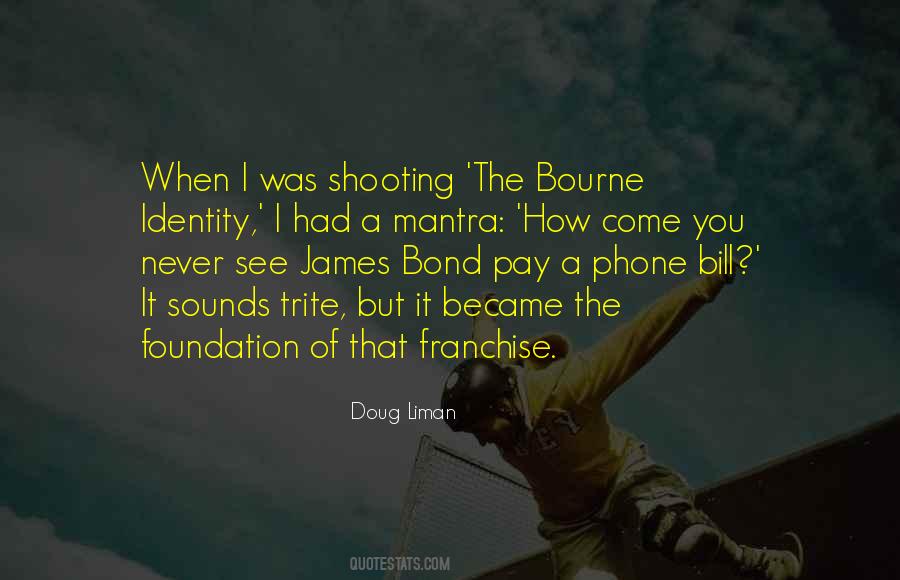 #23. Alas, my being the James Bond of vampires isn't the whole issue. Vanity must wait. - Author: Anne Rice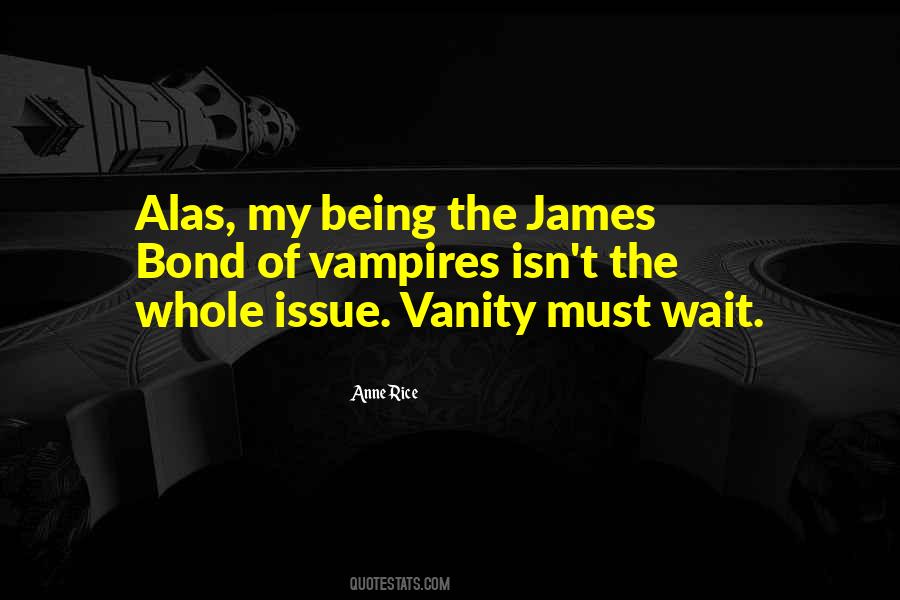 #24. I don't stop when I am tired, I stop when I am done - Author: James Bond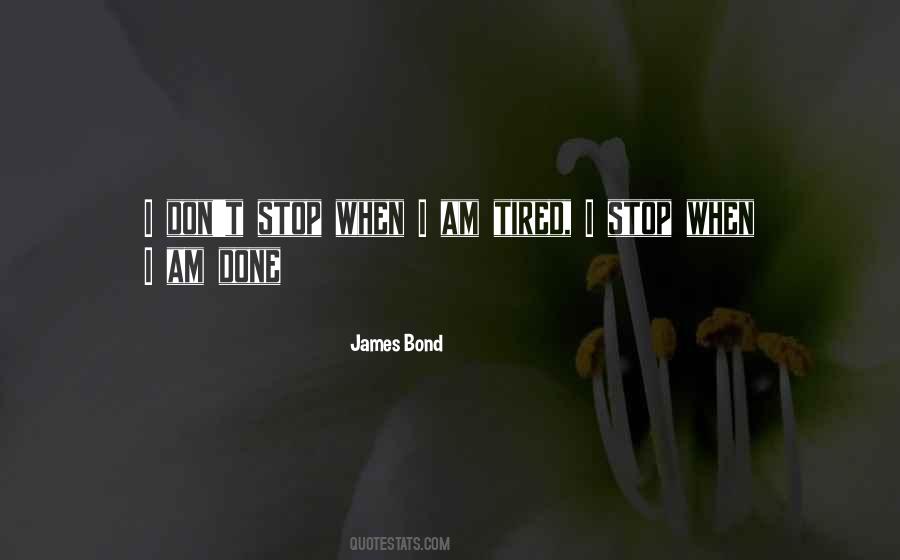 #25. James Bond:
a paid assassin of plutocratic cartels,
a womanizer,
a dipsomaniac,
a speed demon,
a materialist. - Author: O Anna Niemus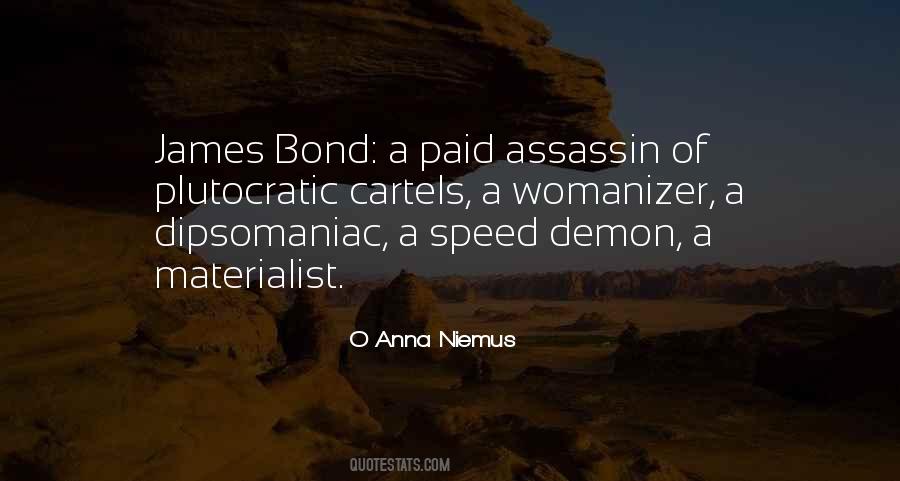 #26. There was no actual person who was James Bond, despite all the books. - Author: Terence Young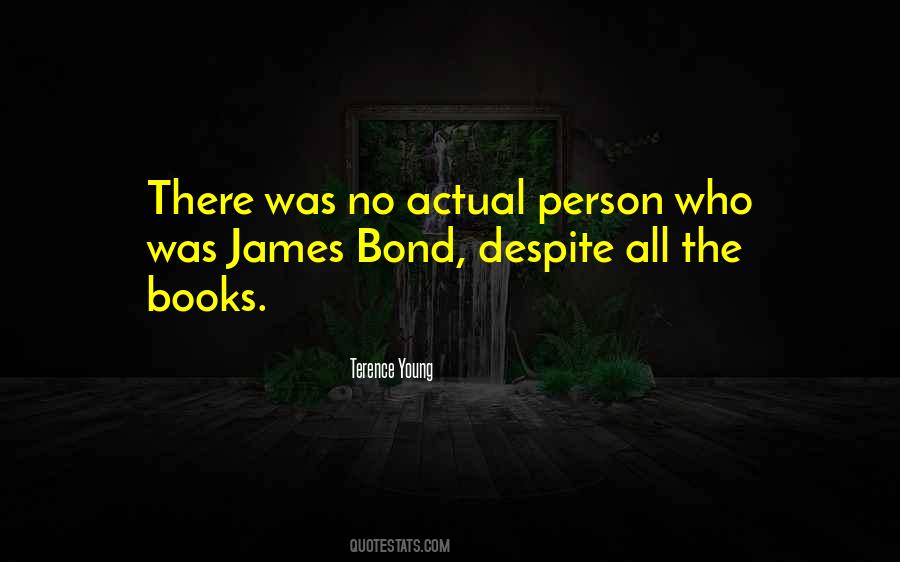 #27. I want to learn how to pick locks, swordfight, throw pottery - it's all research. It's like the curious person's version of James Bond's license to kill. I've got a license to learn. - Author: Patrick Rothfuss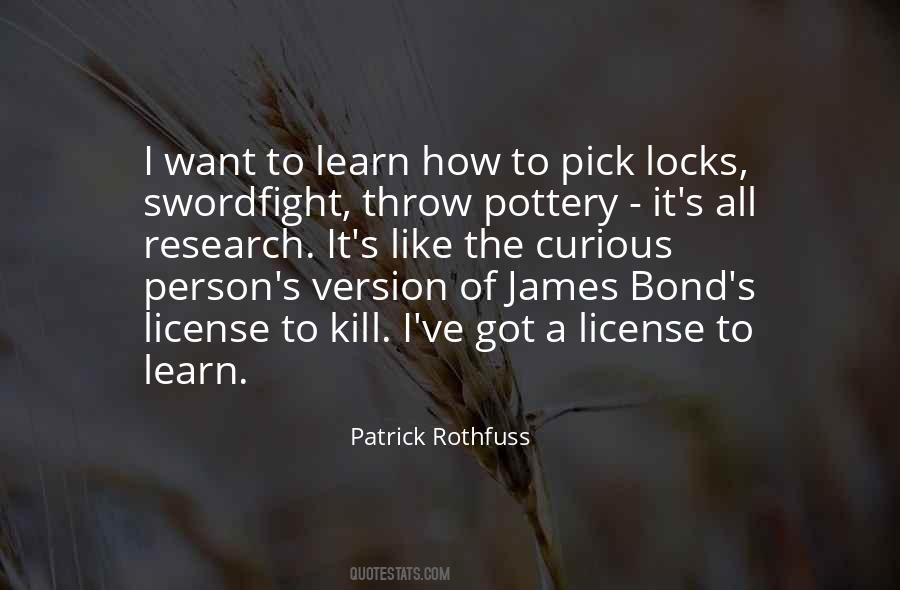 #28. I don't think anyone except the few people who have played James Bond can tell you how strange and special it is and how much your life changes. - Author: Timothy Dalton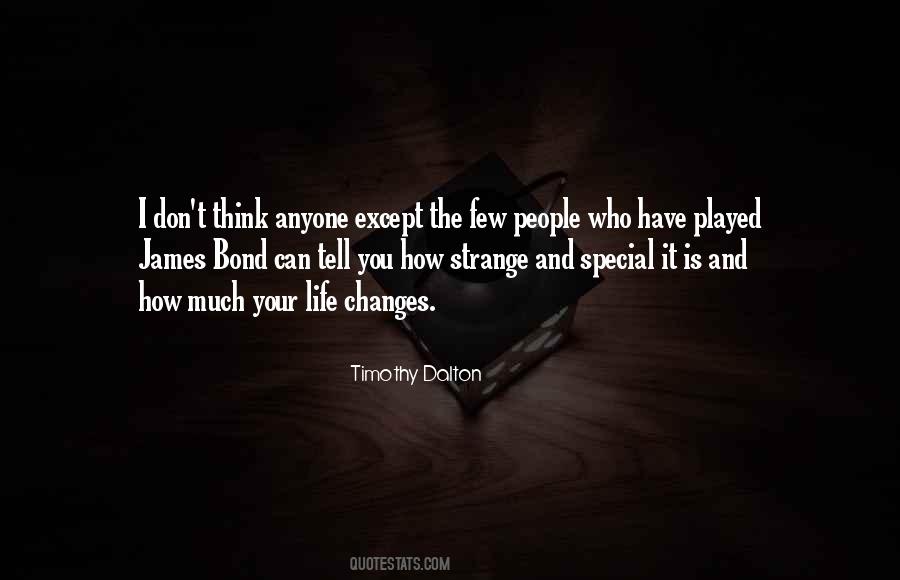 #29. I'm Italian; I take my time. We're not really fast. We're very slow. I had my first child at 40, my second child at 45, James Bond at 50. I'm so curious as to what's next! - Author: Monica Bellucci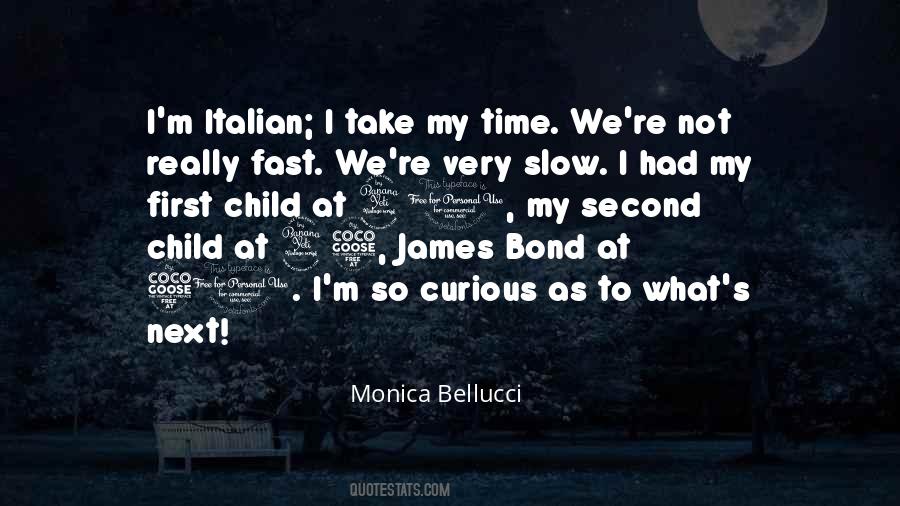 #30. Bill Gates is just a monocle and a Persian Cat away from being one of the bad guys in a James Bond movie. - Author: Dennis Miller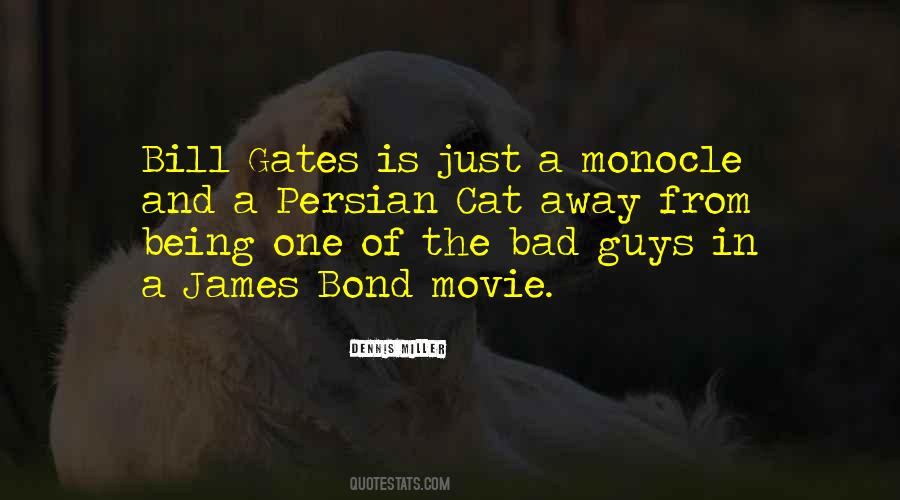 #31. we saw a man walking in our midst who would have made James Bond feel insecure. Indiana Jones would have looked like a momma's boy compared to the man in the leather jacket with two days' growth of beard who walked to where my mother stood and then - horror of horrors - winked at her. - Author: Ally Carter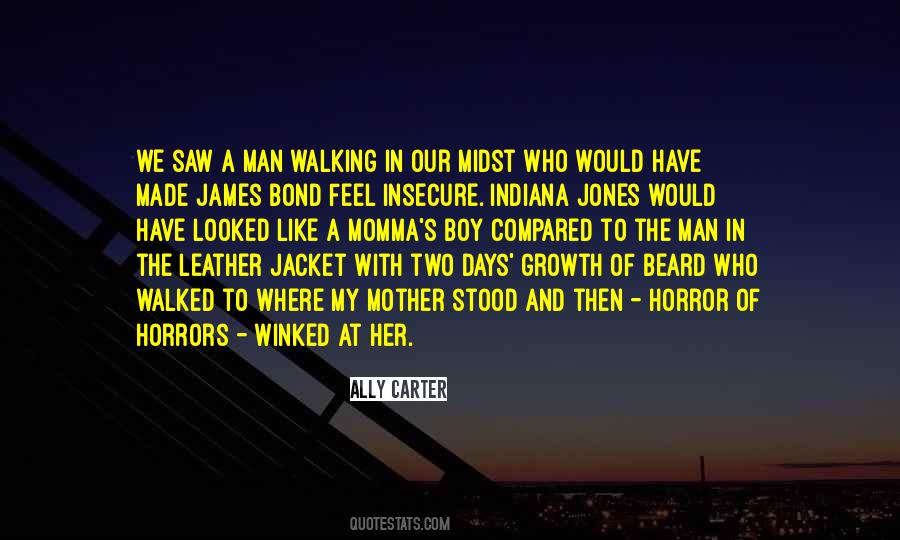 #32. When I wrote the first [Bond novel] in 1953, I wanted Bond to be an extremely dull, uninteresting man to whom things happened ... when I was casting around for a name for my protagonist I thought by God, [James Bond] is the dullest name I ever heard. - Author: Ian Fleming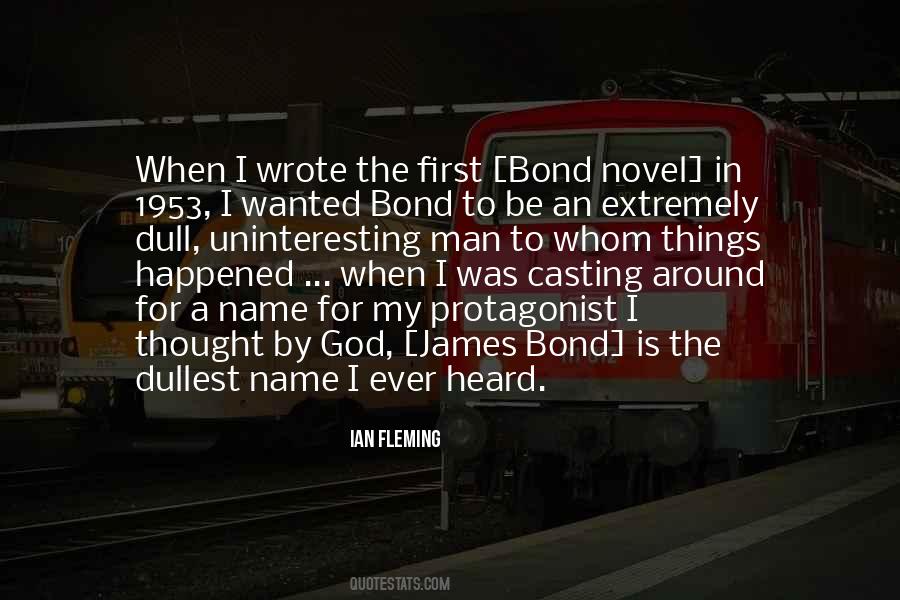 #33. I am a gay man who loves James Bond films and snooker - all kinds of working-class pursuits. - Author: Mark Gatiss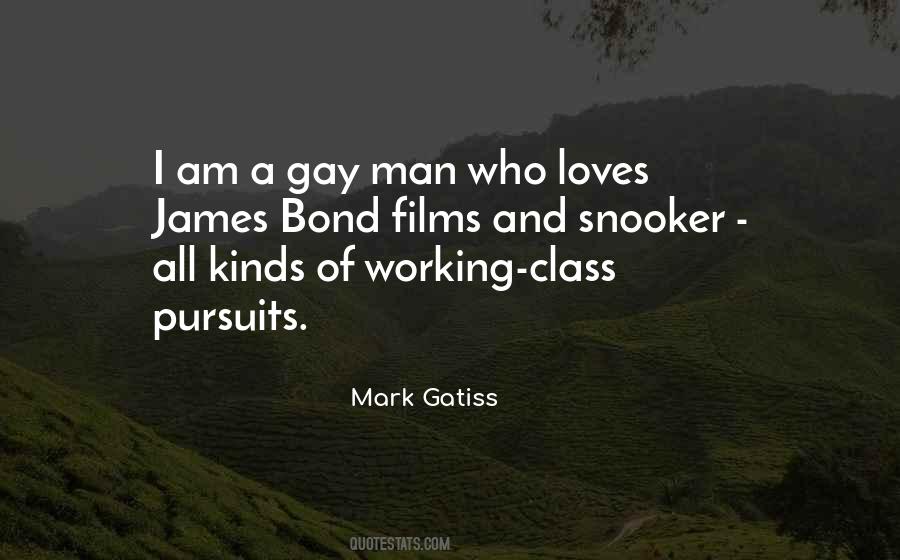 #34. You do a James Bond film, you're being part of an anachronism, a tradition. - Author: Minnie Driver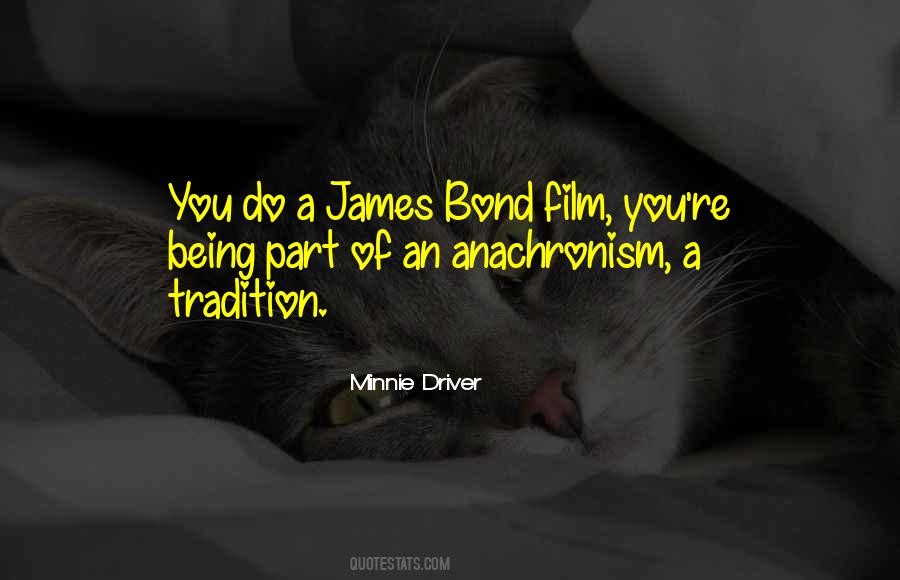 #35. I think the James Bond thing has sailed. But of course I would want to be a Bond villain. They are great parts. I think it's highly unlikely, but one can always dream. - Author: James Purefoy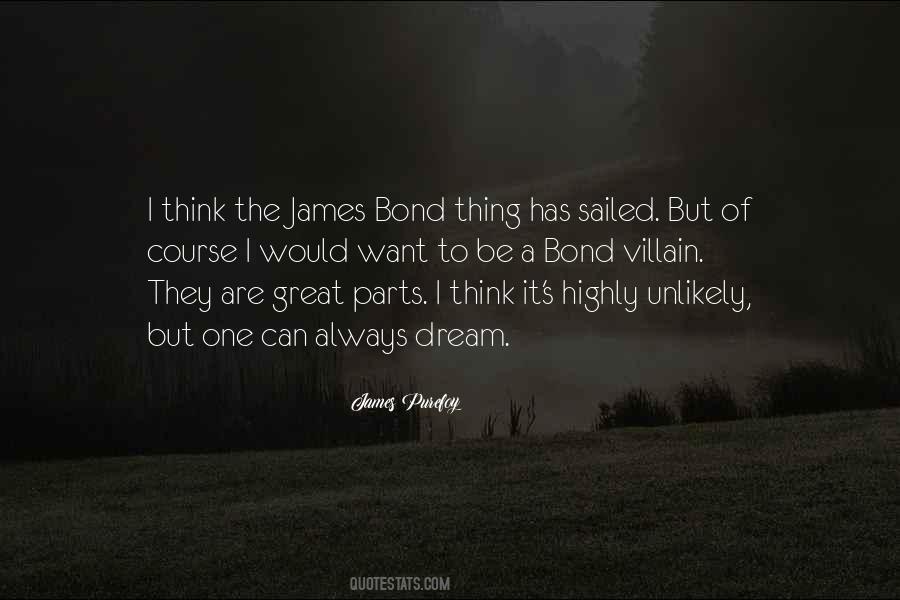 #36. Opinions become dangerous to a state only when persecution makes it necessary for the people to communicate their ideas under the bond of secrecy. - Author: Charles James Fox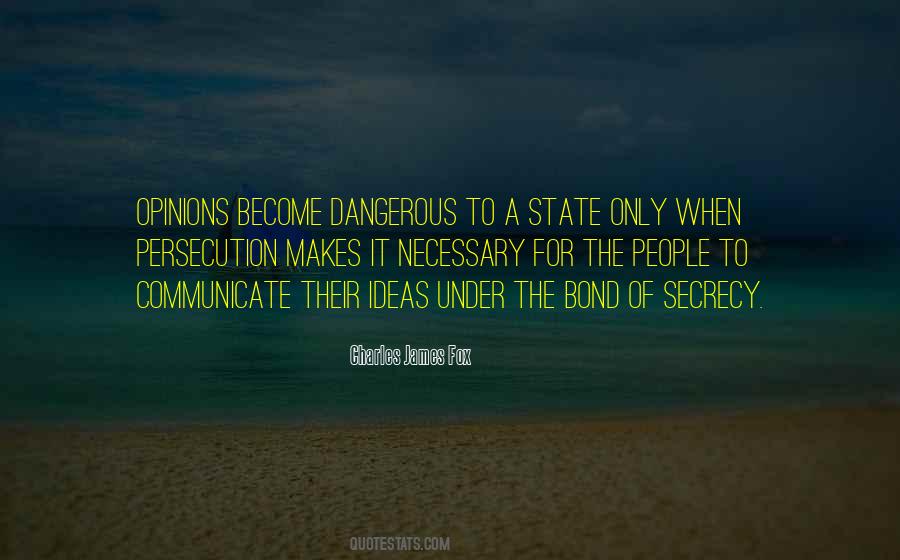 #37. James Bond in his Sean Connery days ... was the first well-known bachelor on the American scene who was not a drifter or a degenerate and did not eat out of cans. - Author: Barbara Ehrenreich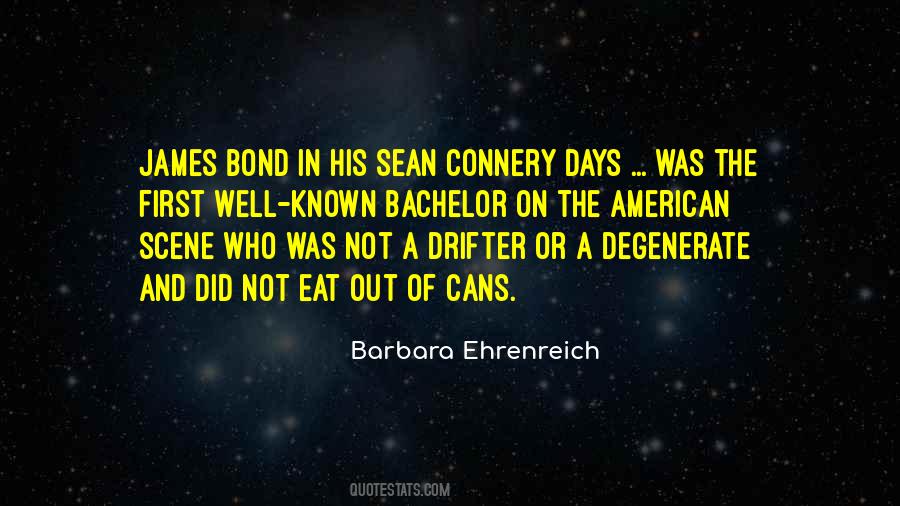 #38. I'm not James Bond. There's your headline! It's very clear to me that he's the furthest from my character that it's possible to be. It's somebody I play. - Author: Daniel Craig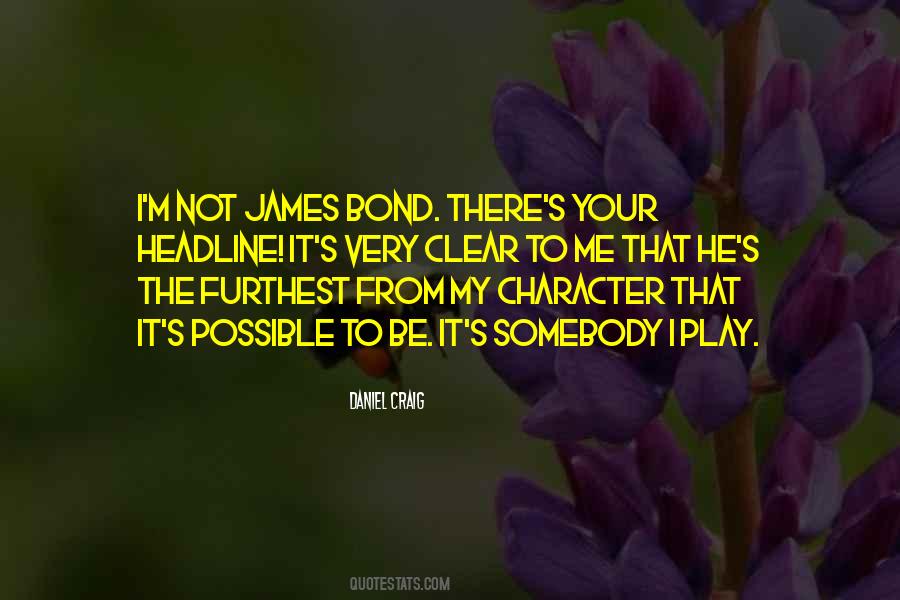 #39. In the last James Bond movie, the villain was a culture captain, a tycoon of culture, a Murdoch figure. It's not as if people don't know what is going on. - Author: Thomas Frank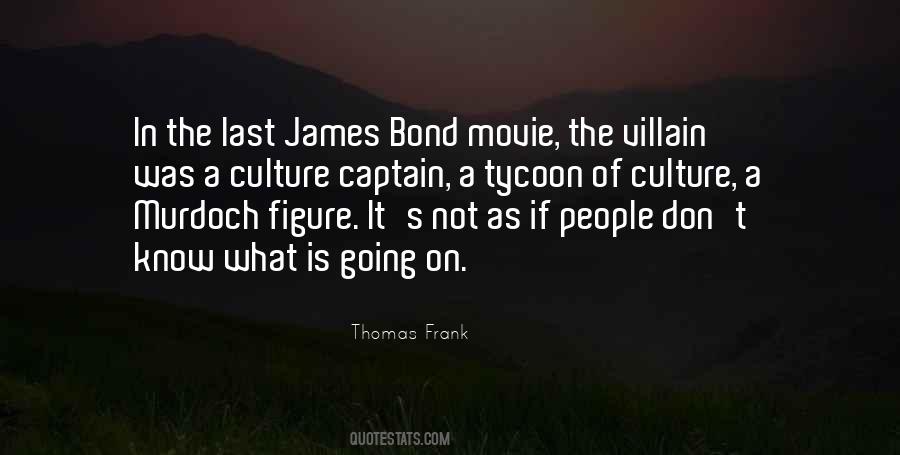 #40. Every bond is a bond to sorrow. - Author: James Joyce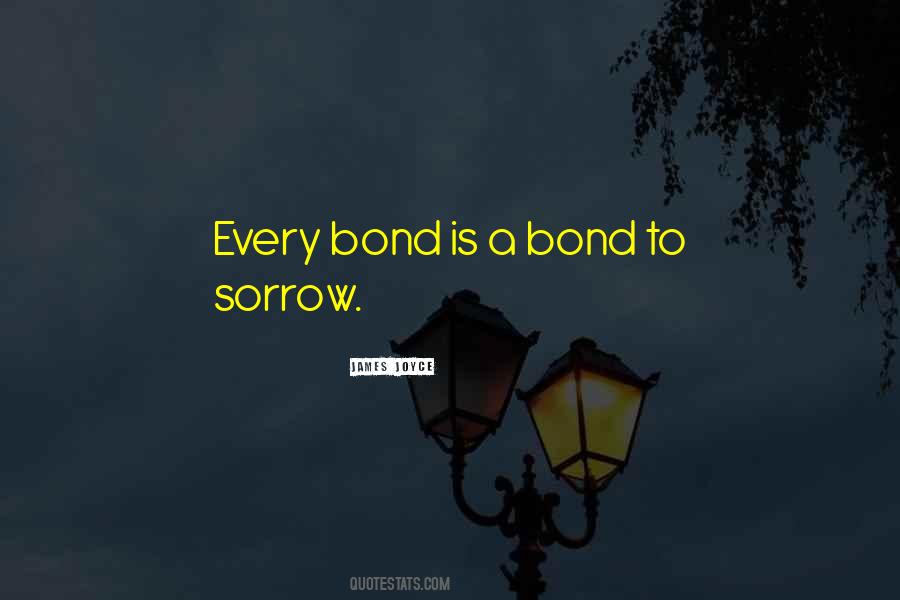 #41. I created Batman about 10 years before Ian Fleming created James Bond. - Author: Bob Kane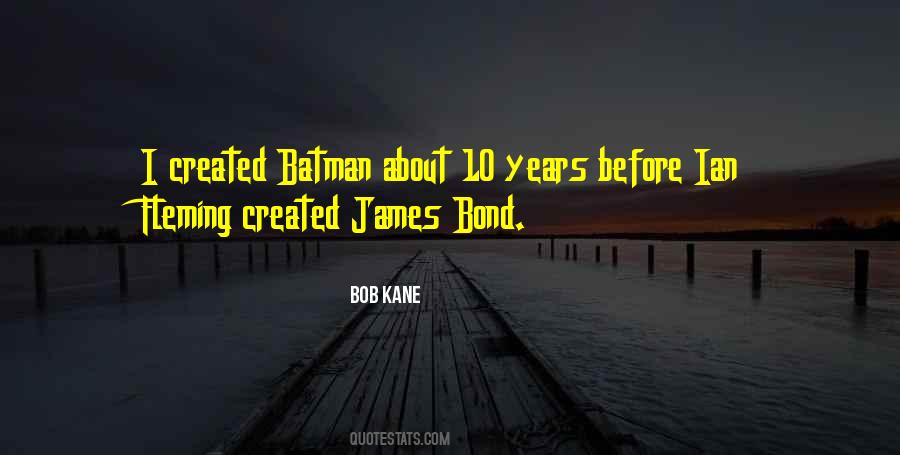 #42. His new neighbor made James Bond look like an alcoholic slacker. - Author: Alexi Lawless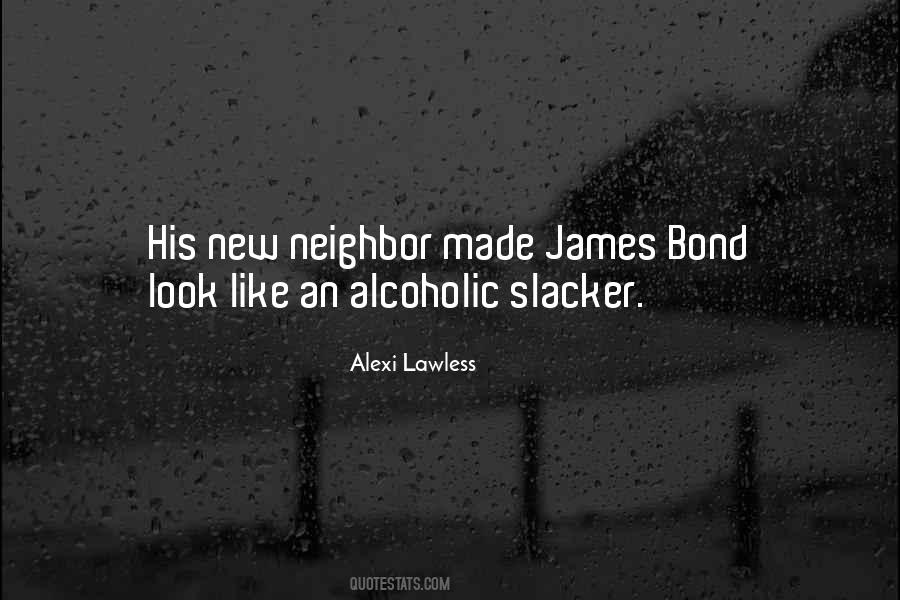 #43. All women love semi-rape. They love to be taken.It was his sweet brutality against my bruised body that made his act of love so piercingly wonderful. - Author: Ian Fleming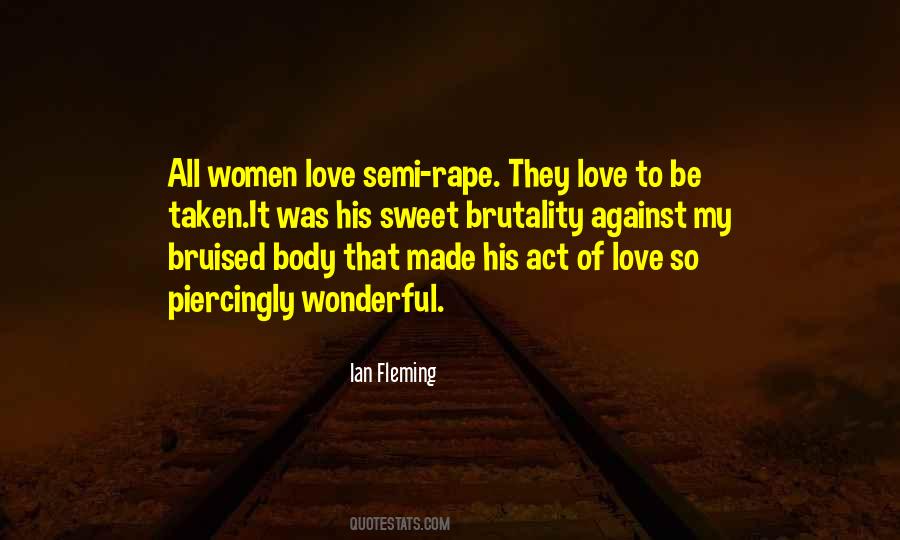 #44. Today's readers can be roughly divided into two groups, those who accept the fantasy villains of childhood, as in the James Bond stories and Arnold Schwarzenegger films, and those who insist on credibility. - Author: Sol Stein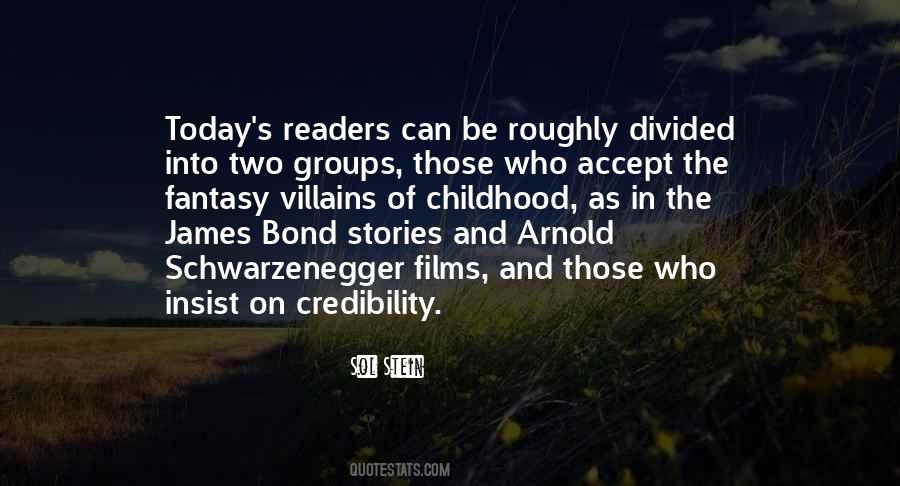 #45. I can bore for England on the subject of James Bond. But I knew I couldn't do it frivolously; I had to take it very seriously, however much fun I was having. And I had to make myself, you know, absolutely steeped in Bond and in Fleming and that world. - Author: William Boyd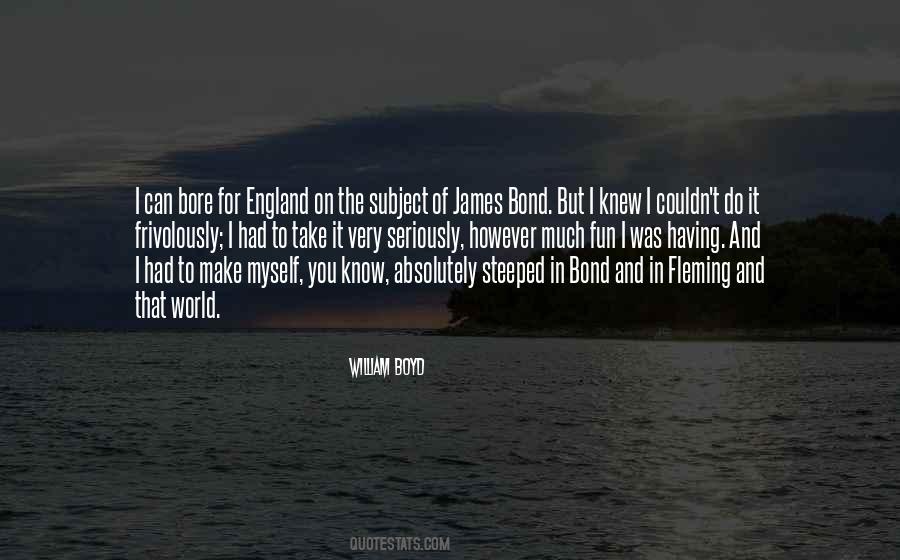 #46. Sometimes you wanna be James Bond, and sometimes you wanna be Marlon Brando until you realize you can't be either! - Author: Albert Hammond Jr.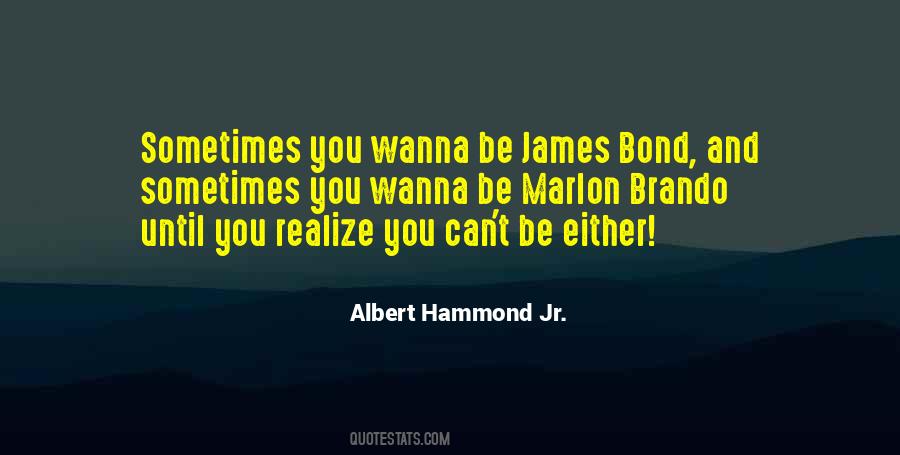 #47. I'm just trying to think what other sequels there were. There was the James Bond movies and not many. I think sequels have become a recent idea of franchising. - Author: Ridley Scott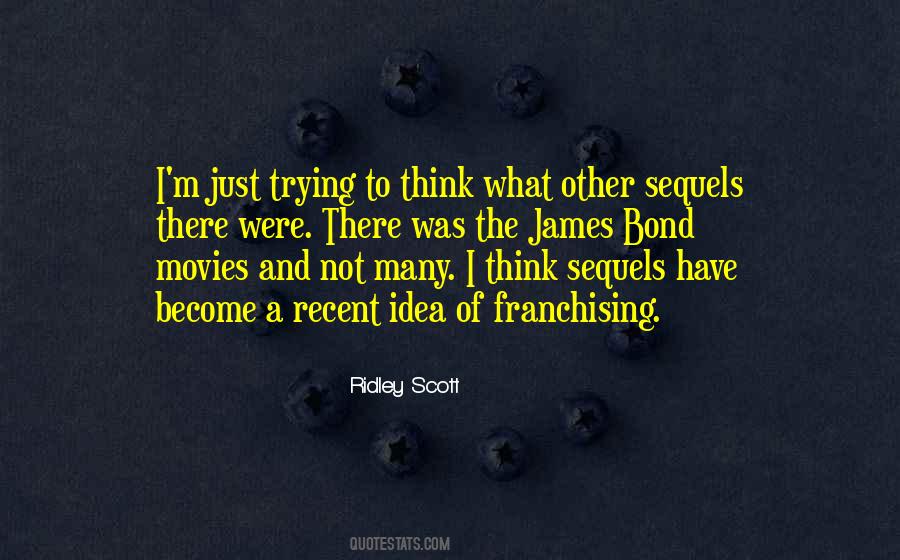 #48. I'm a huge fan of the 'James Bond' genre. - Author: Chris Diamantopoulos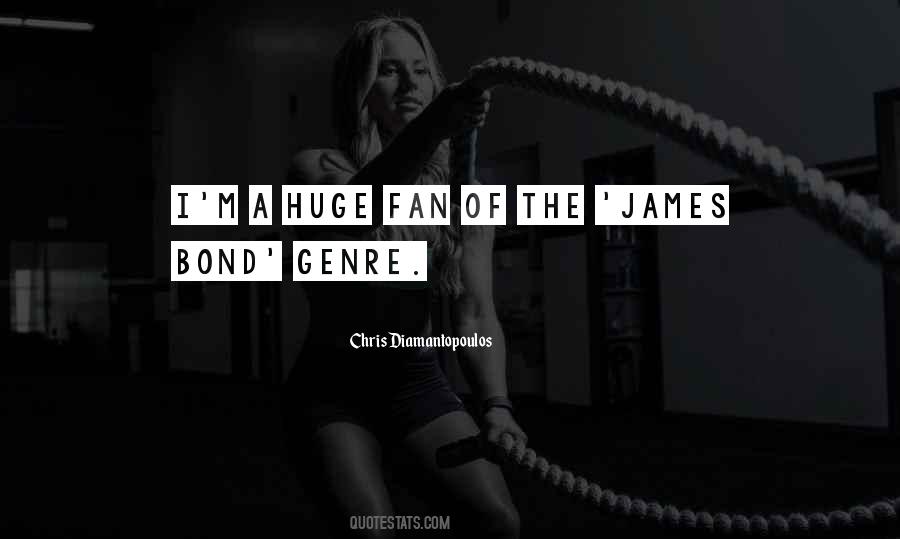 #49. I have always weirdly seen myself as more of a character actor. I have never been suave. I could never see myself playing James Bond. I suppose I could fake it, but I am certainly not James Bond in real life. - Author: James Marsden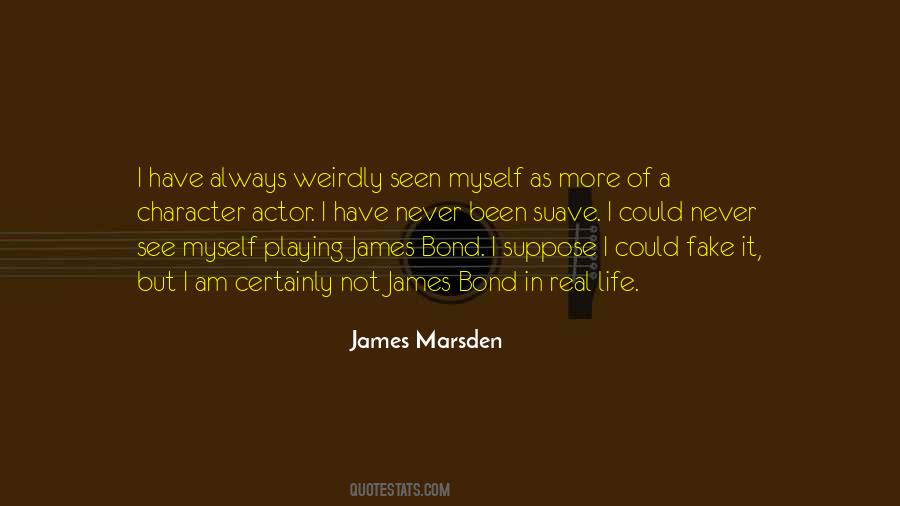 #50. [James Bond's qualities of] self-containment, his powers of decision, his ability to carry on through till the end and to survive ... I like to think I acquired them before Bond. - Author: Sean Connery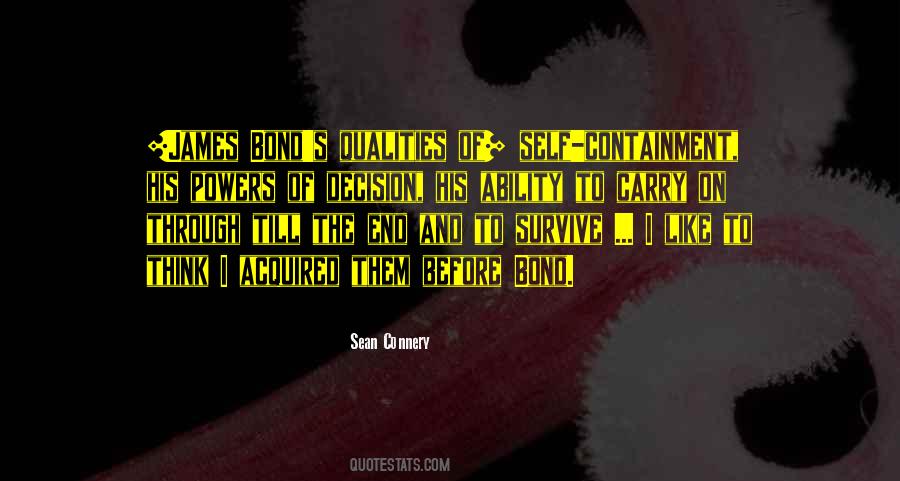 #51. In part, it's so difficult to come up with something original, to come up with a character nowadays. If you created a globetrotting adventurer, he'd be compared to Indiana Jones. If you created a super spy, he'd be compared to James Bond. - Author: Marc Guggenheim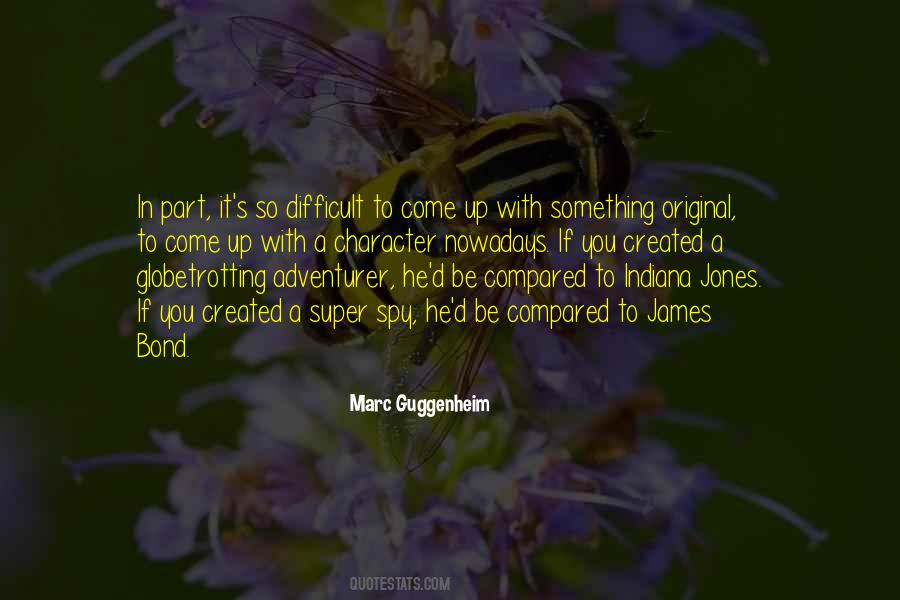 #52. This whole alien-in-his-body was starting to sound better and better. First, he got to hang out with a hot girl, and now he was going to be James Bond. - Author: Wesley Chu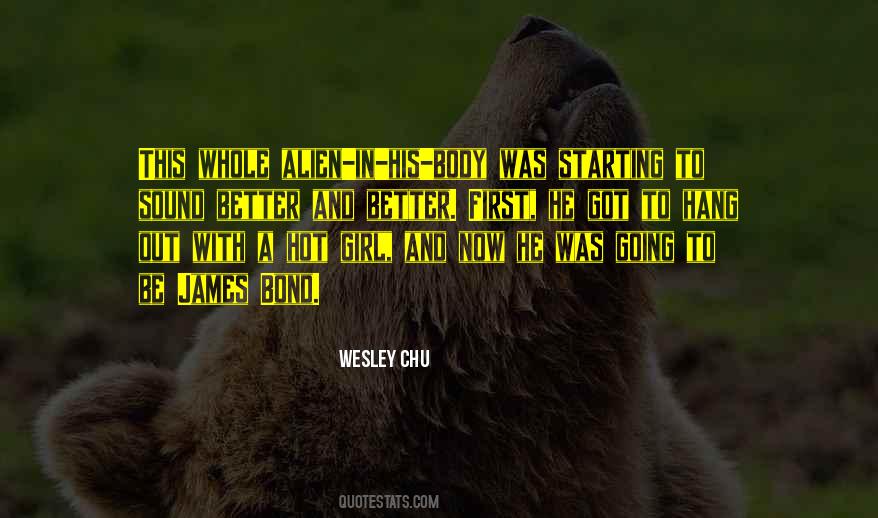 #53. I'm a true woman, not a Bond girl. That's why I say all the time, 'James Bond lady,' 'James Bond woman.' - Author: Monica Bellucci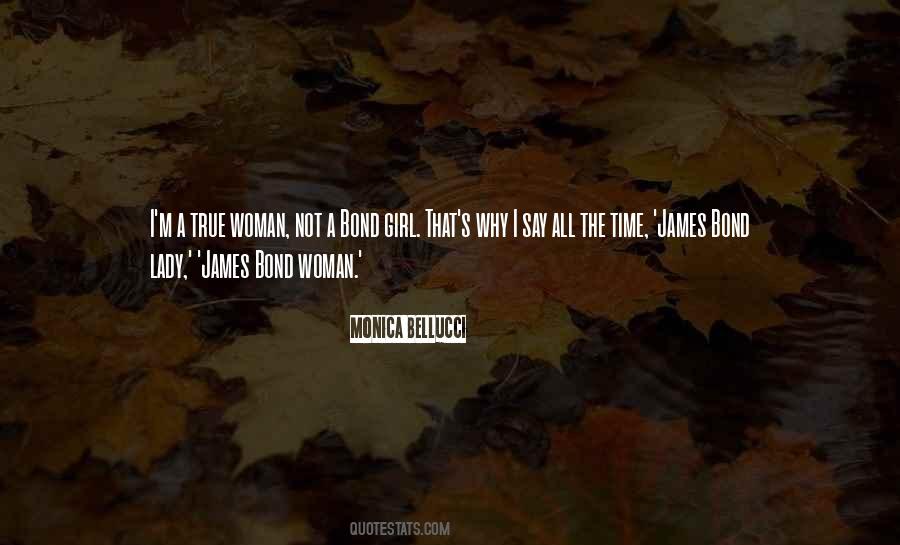 #54. When had his life turned into a porn version of a James Bond movie? - Author: Carla Swafford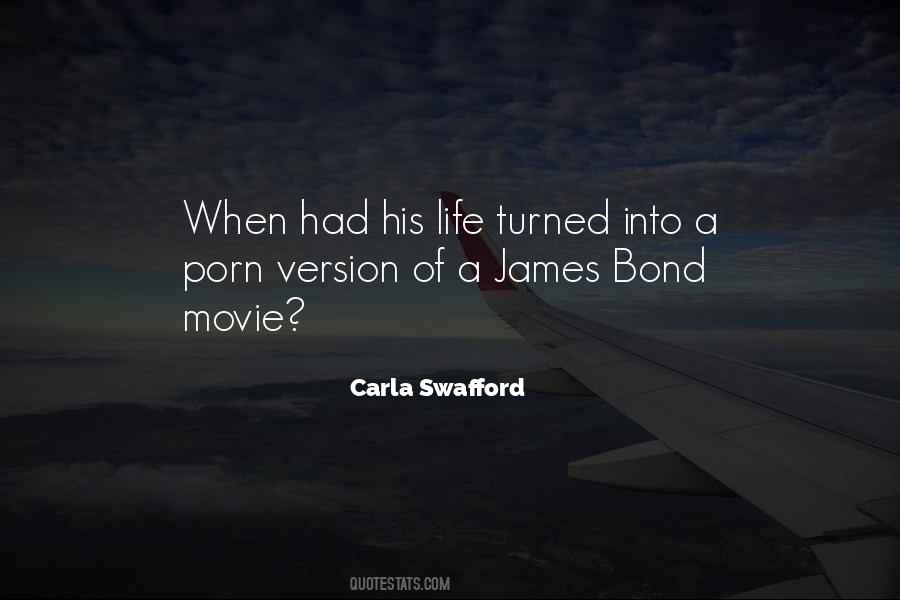 #55. Like their parents, kids flock to see James Bond and Derek Flint movies - outrageously antiheroic heroes who break all the taboos, making attractive the very things the kids are told they shouldn't do themselves. - Author: Johnny Carson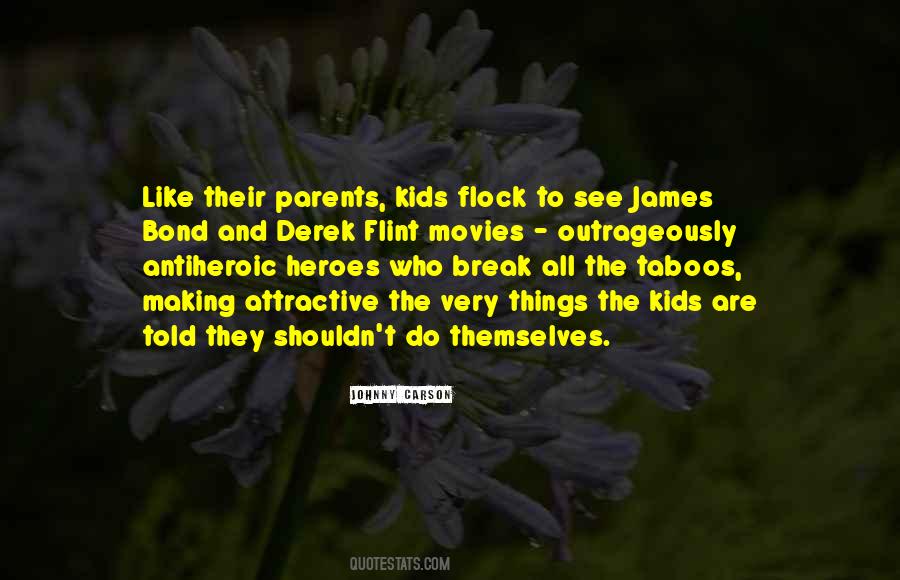 #56. You do not interrupt a man when he is explaining his master plan after having been soundly defeated. Don't you watch any James Bond Movies? - Author: Katie MacAlister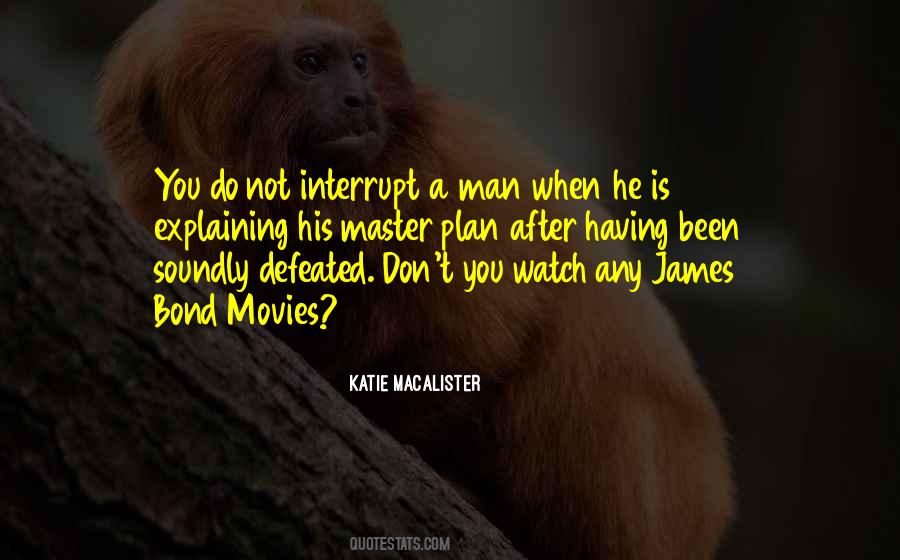 #57. It's very easy to confuse Sean Connery with James Bond. Sometimes in the entertainment industry, people believe the cake is more real than the baker. - Author: Judd Nelson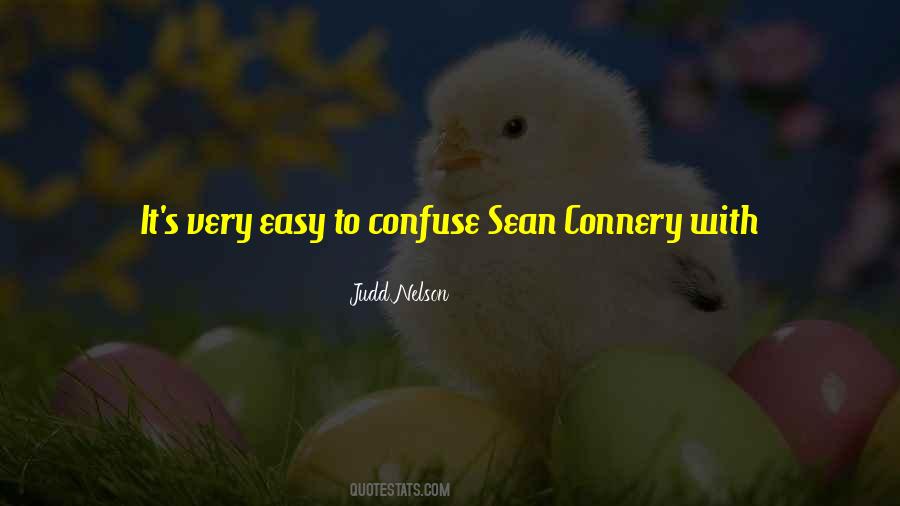 #58. Only you can determine your own worth. No one else but you, but they can certainly help when you need it. We are a family not by blood but by bond and family must stand together - Author: James Terzian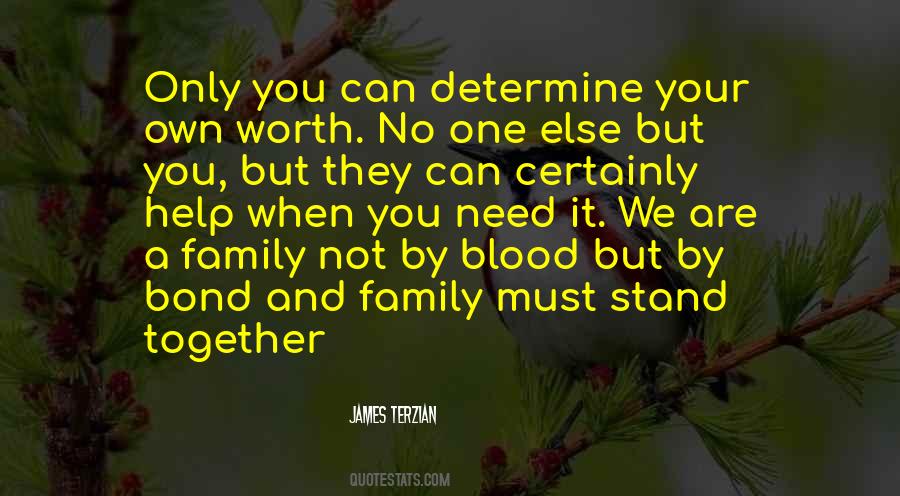 #59. My advice is this. For Christ's sake, don't write a book that is suitable for a kid of 12 years old, because the kids who read who are 12 years old are reading books for adults. I read all of the James Bond books when I was about 11, which was approximately the right time to read James Bond books. - Author: Terry Pratchett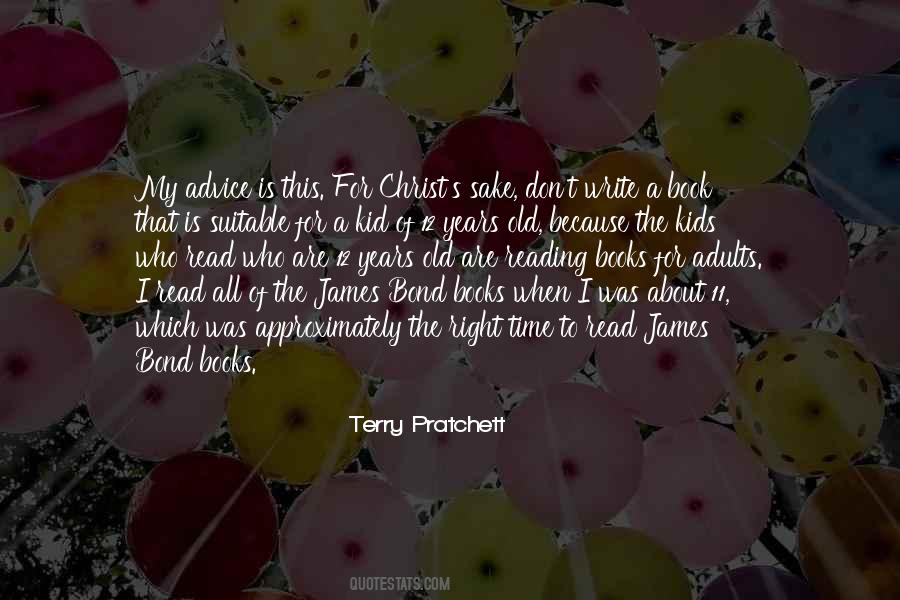 #60. I totally heard by chance that they were doing the casting for a James Bond movie, and that one of the auditions was taking place in Paris. So I tried myself to contact every name involved in the movie I could possibly find on the IMDb! - Author: Berenice Marlohe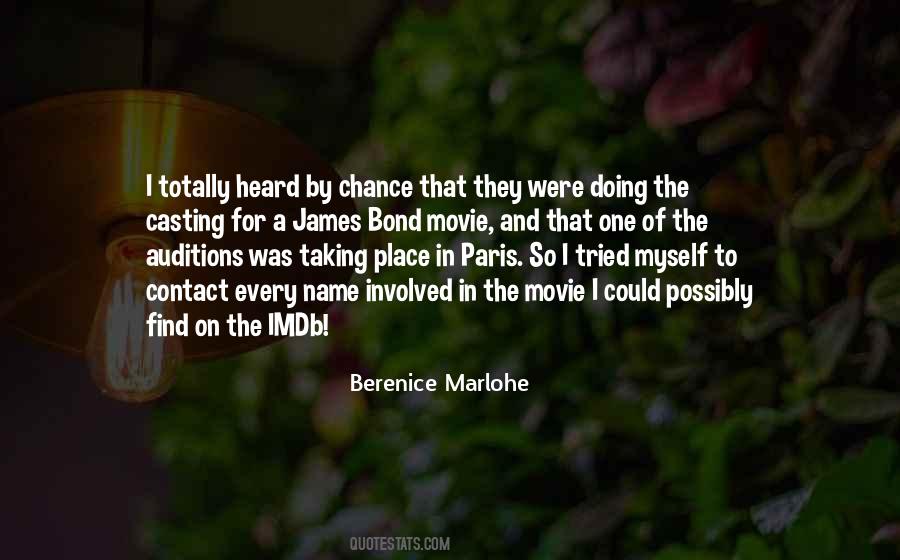 #61. Don't try to sound cool. Guys do that all the time, and I'm telling you it's a complete turnoff, okay? Just be you. You're cute; live with it. But don't try to sound like James Bond or something, because you're not. - Summer Sumner - Author: Ridley Pearson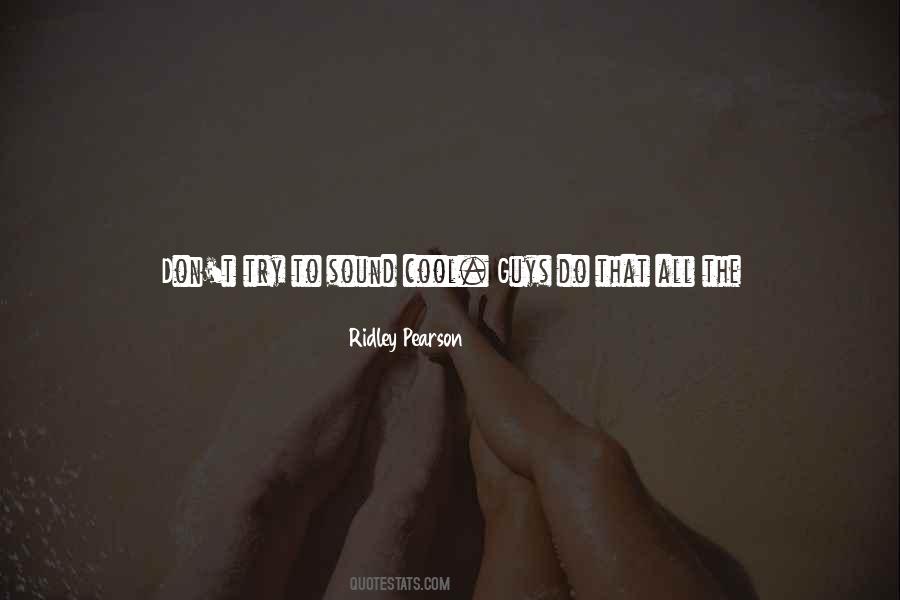 #62. If they had offered me James Bond, I probably couldn't have gone to England anymore in my life. James Bond with an accent? That would have been something. - Author: Antonio Banderas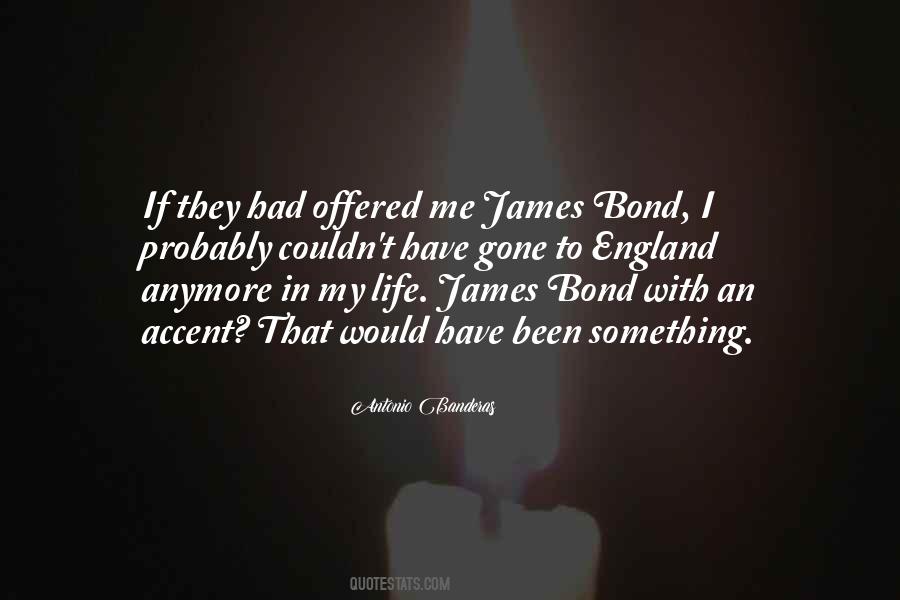 #63. Look at every action movie in Hollywood. Every leading man from Spider-Man to Batman to James Bond, 'Bourne Identity', every one of them possesses martial arts skills. - Author: Donnie Yen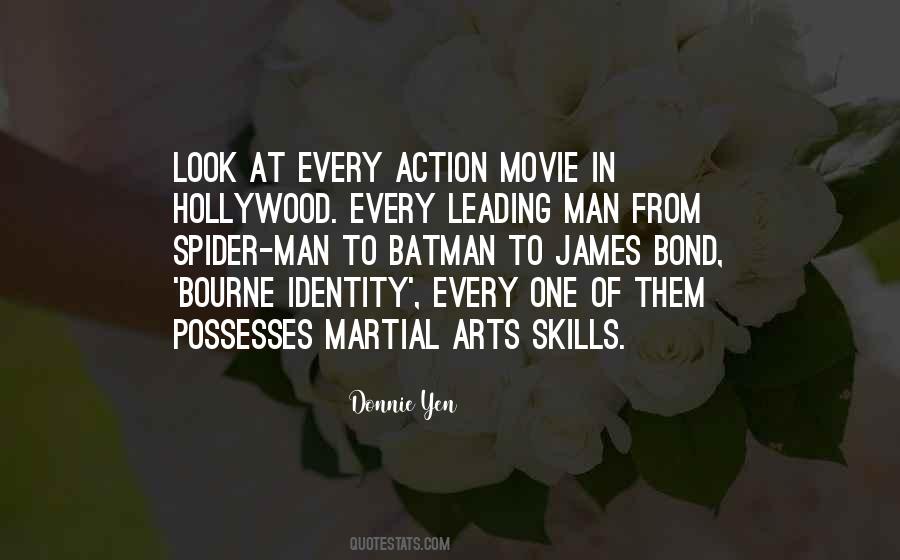 #64. By voluntarily adopting a dominated body posture you display the fact that you have accepted to be inferior. - Author: J.F. Bouchard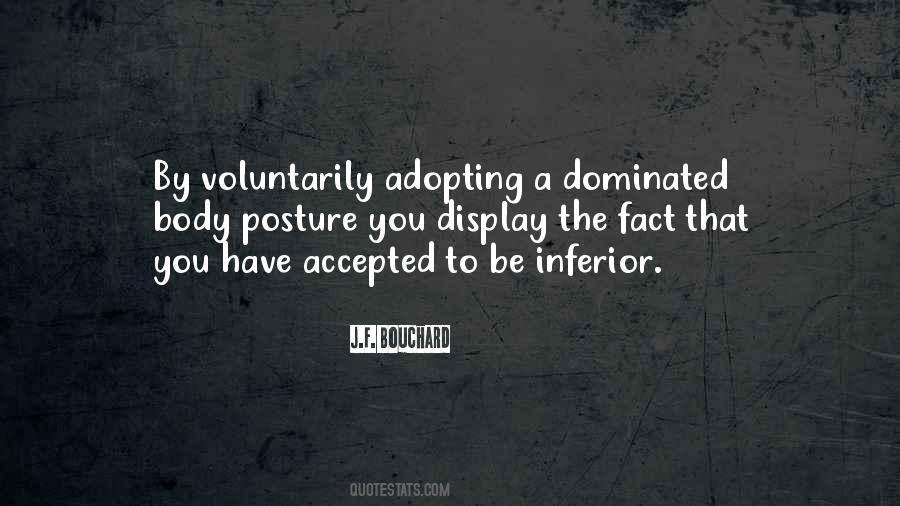 #65. Oh my God. I thought I was going to have an aneurysm right there in line. Your hair smells really good? Your hair smells really good? Who did he think he was? James Bond? You don't tell someone their hair smells good. Not in a mall. - Author: Meg Cabot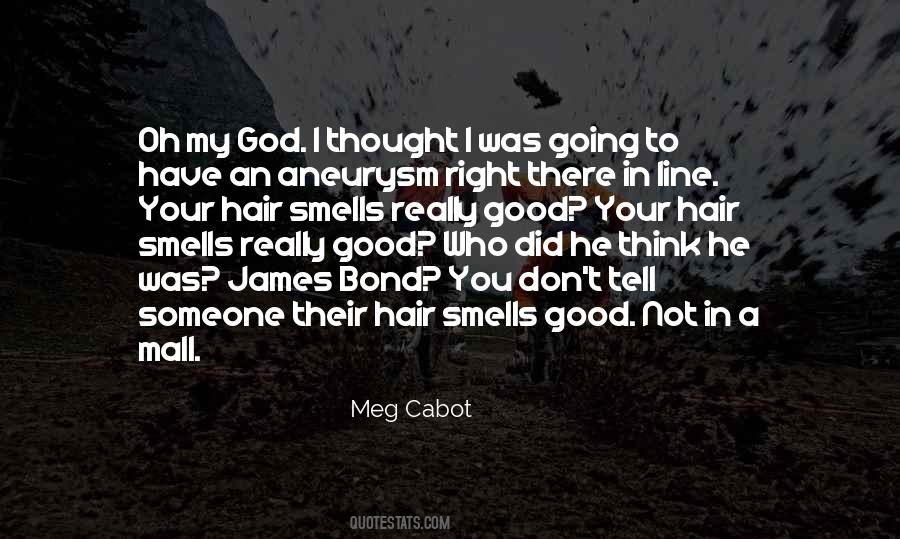 #66. The name's Bond. James Omar Bond. - Author: Eoin Colfer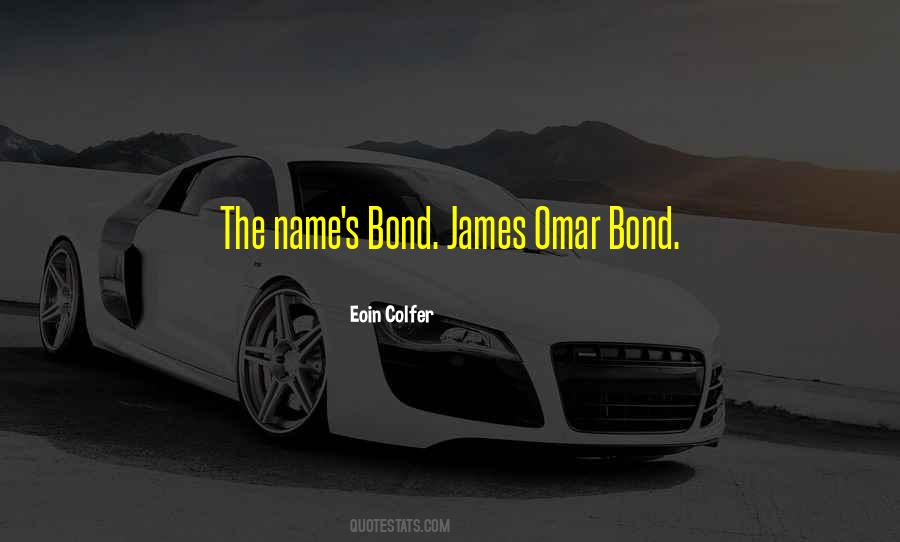 #67. I believe I can do it, but one of the reasons I don't really get into the debate is people keep talking about a black James Bond: how a black man should play him. - Author: Colin Salmon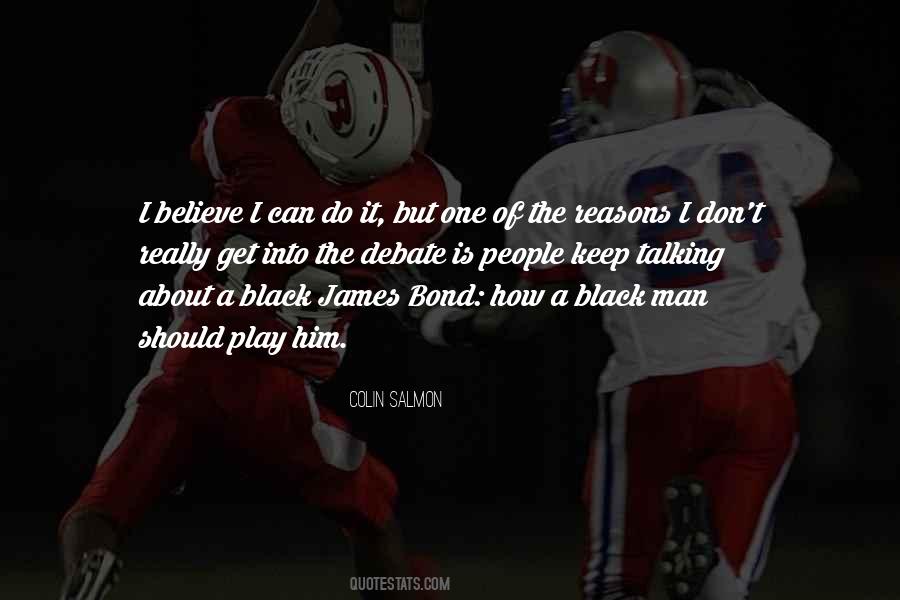 #68. This is exciting," said J.Lo. "We are sneaky agent men, like Bond James Bond."
"I don't know where you pick this stuff up. - Author: Adam Rex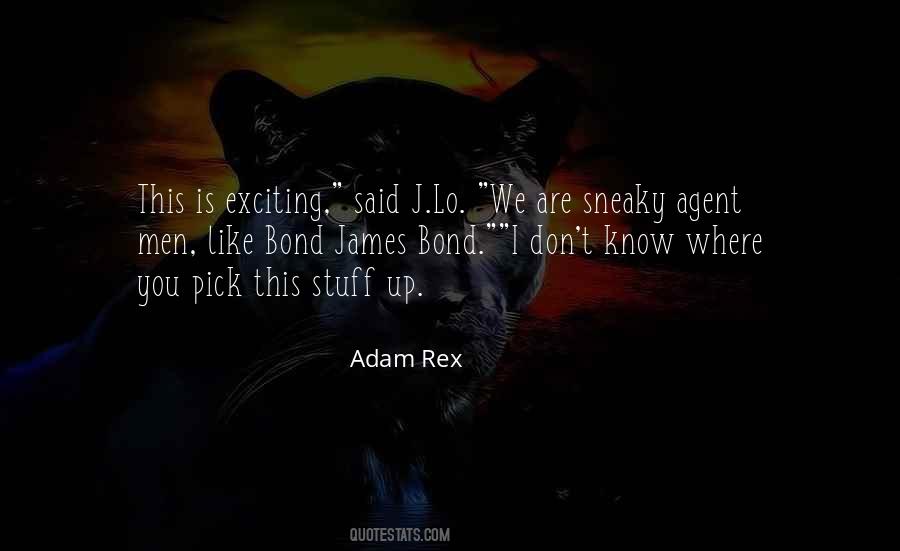 #69. Now write this: 'The greatest rapture of my life was afforded me on a boat in Nassau by Fatima Blush,' and sign it 'James Bond, 007.' - Author: Barbara Carrera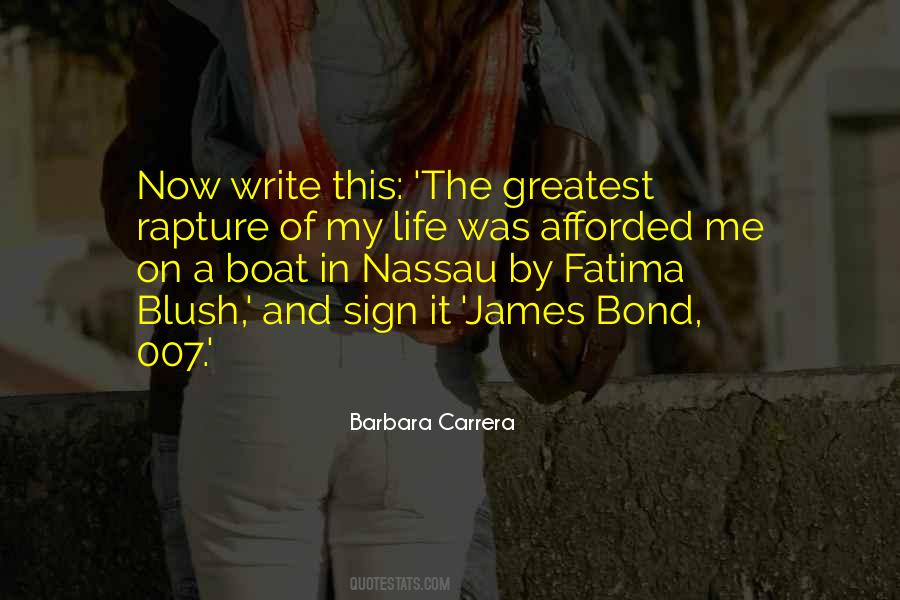 #70. I've always thought that there is a great female James Bond movie to be done. I'm not literally calling her Jane Bond, I mean, but a female secret agent. - Author: Aaron Sorkin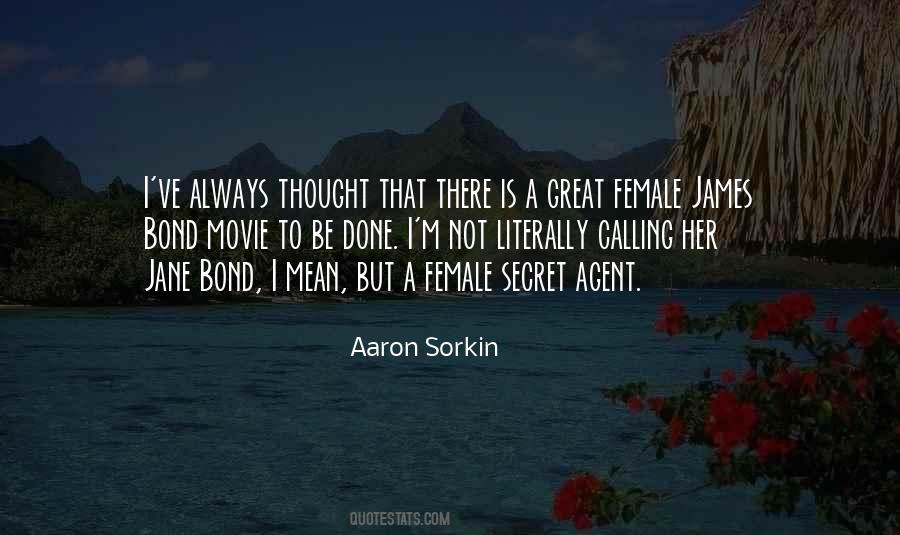 #71. James Bond has a license to kill, rockstars have a license to be outrageous. Rock is about grabbing people's attention. - Author: Gene Simmons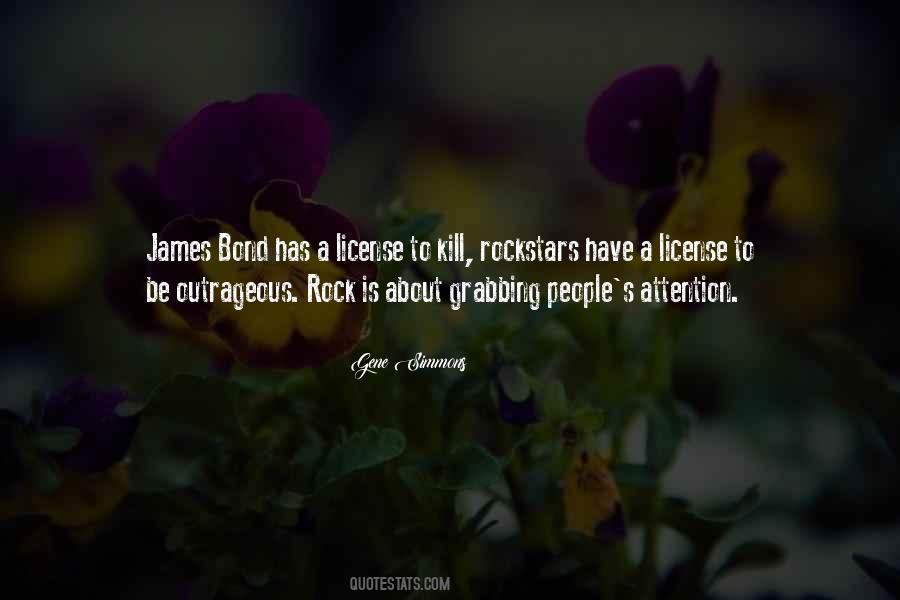 #72. James Bond was an early favourite, although I didn't understand much of it. I read the Bible a lot, too. You might say that this was my favourite, since I seemed to read it so often. - Author: Philip Kerr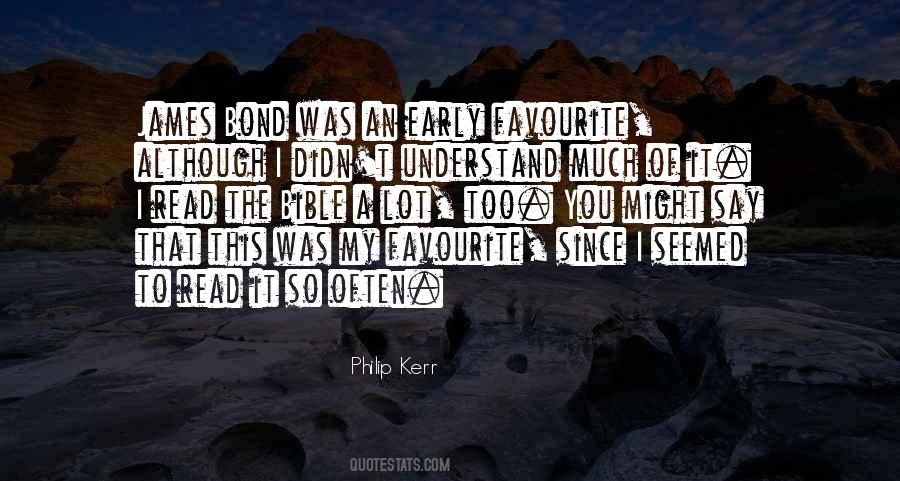 #73. I was reading this James Bond book, and right away I realized that, like most books, it had too many words. - Author: Dave Barry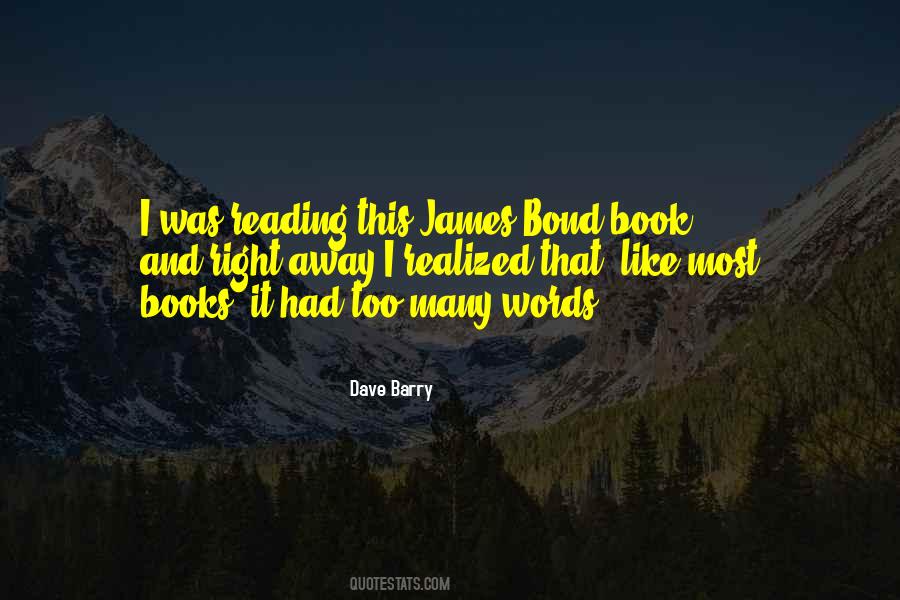 #74. We need James Bond with a library science degree. - Author: Robin Sloan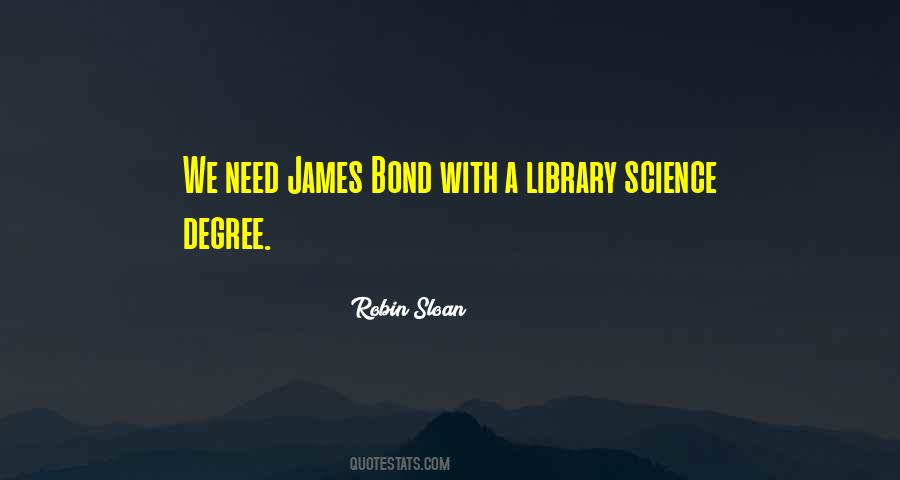 #75. I don't understand why James Bond has to be a man all the time. When Pierce Brosnan retires, why not one of us? - Author: Sarah Michelle Gellar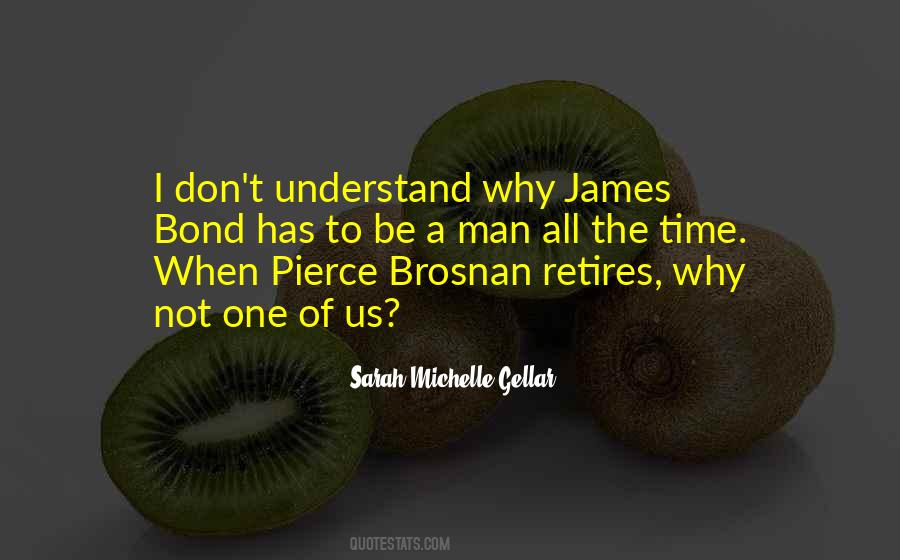 #76. I don't know how we had about eighteen international stars in it, all playing James Bond. - Author: Val Guest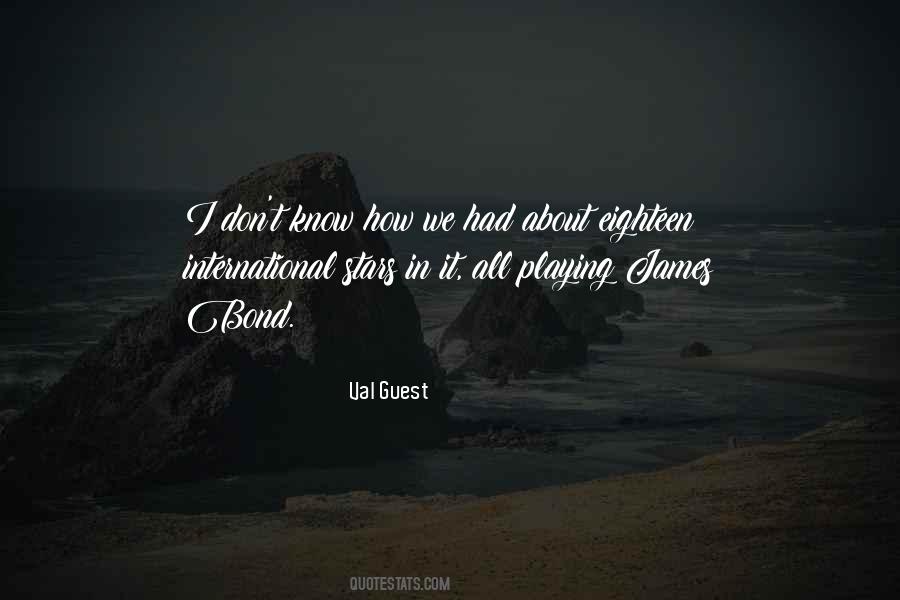 #77. When you're a young boy, you're looking at older men for role modelling. Before I loved De Niro, I loved Clint Eastwood; I loved John Wayne. And James Bond. - Author: Ben Mendelsohn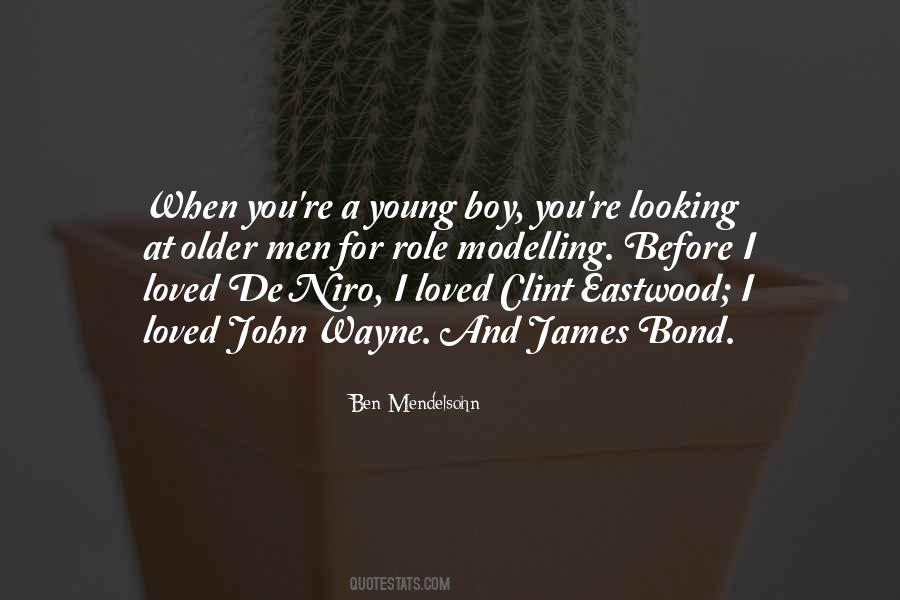 #78. I always read a lot as a kid and I'd spend long periods of time in my room reading ... I wasn't reading anything great until I got older, but I used to read Agatha Christie mysteries and all of Ian Fleming's 'James Bond' novels. - Author: Michael Riedel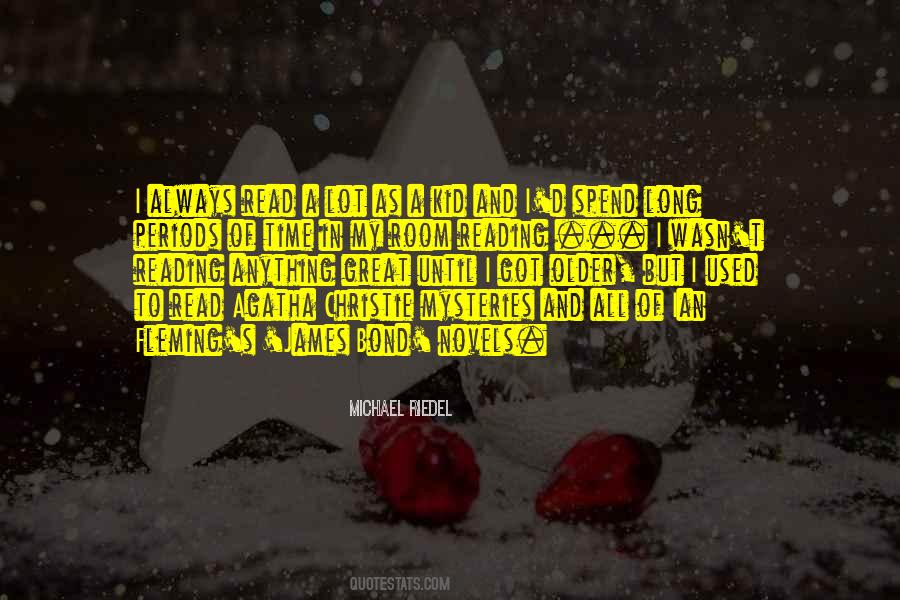 #79. James Bond had very little to do with the navy at all: it was a convenient front. Bond was secret service from the start ... - Author: Henry Chancellor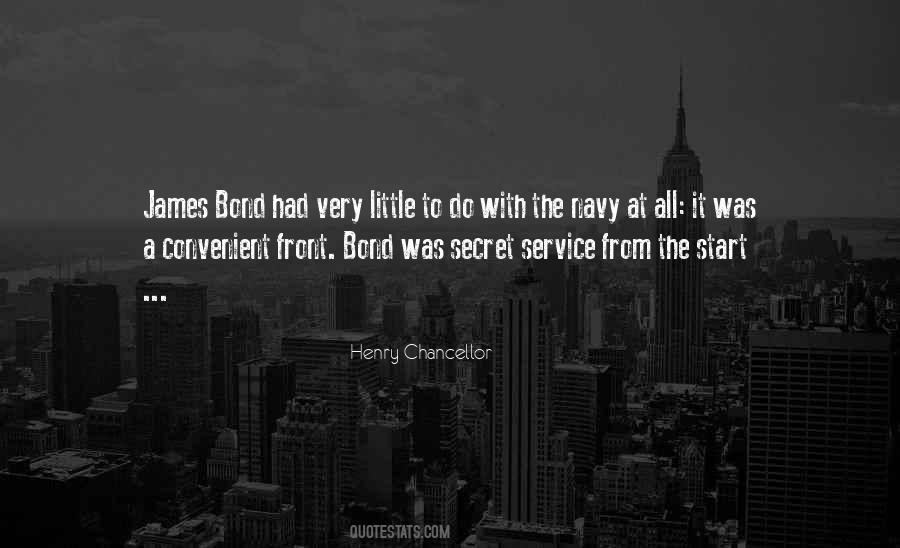 #80. Unfortunately, we don't have a depth of African scriptwriters, so it's easier to Africanize something that already works. Local script writers are giving me James Bond budget scenes that I can't even produce. - Author: Mo Abudu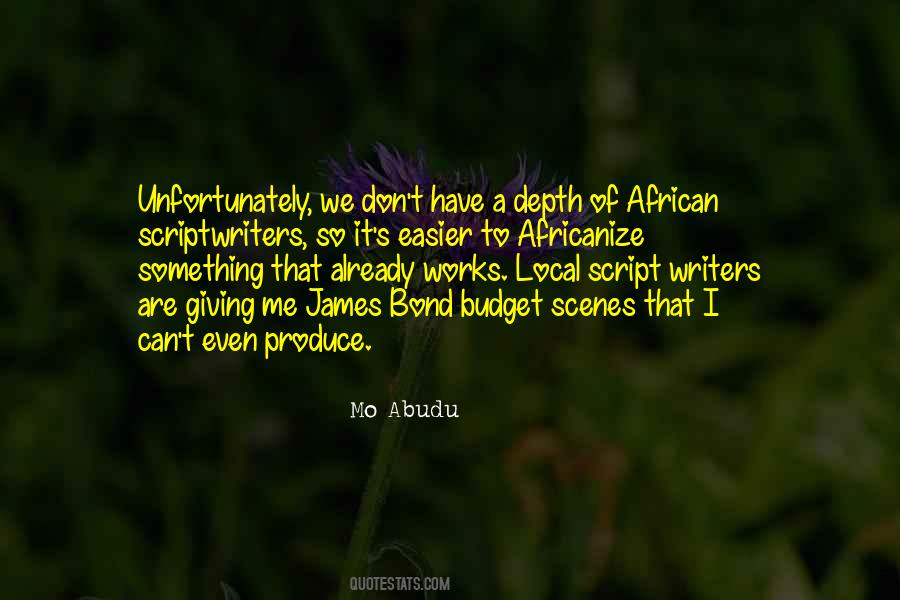 #81. When I was a kid, I wasn't looking at the small-budget films myself. I was looking at 'James Bond' and all the major films, so I still have that energy. I still love those films. - Author: Mads Mikkelsen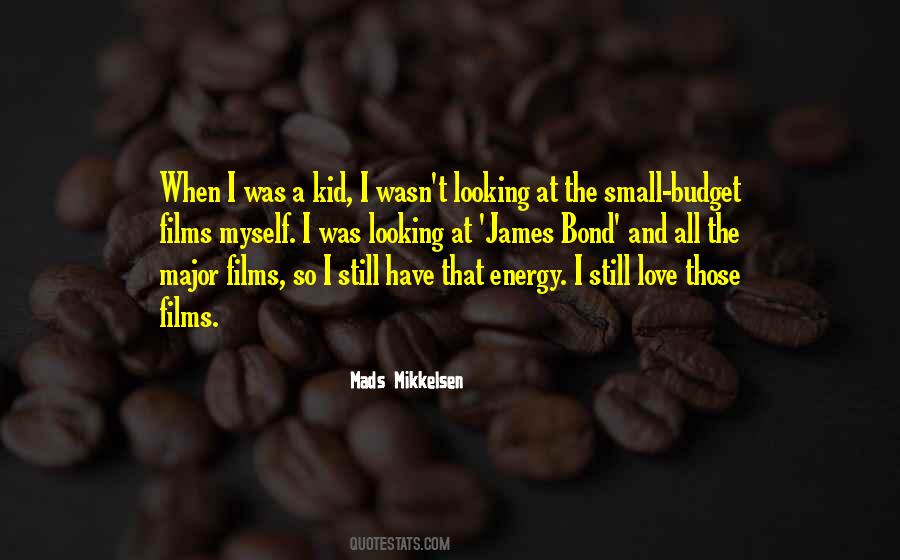 #82. There's one major difference between James Bond and me. He is able to sort out problems! - Author: Sean Connery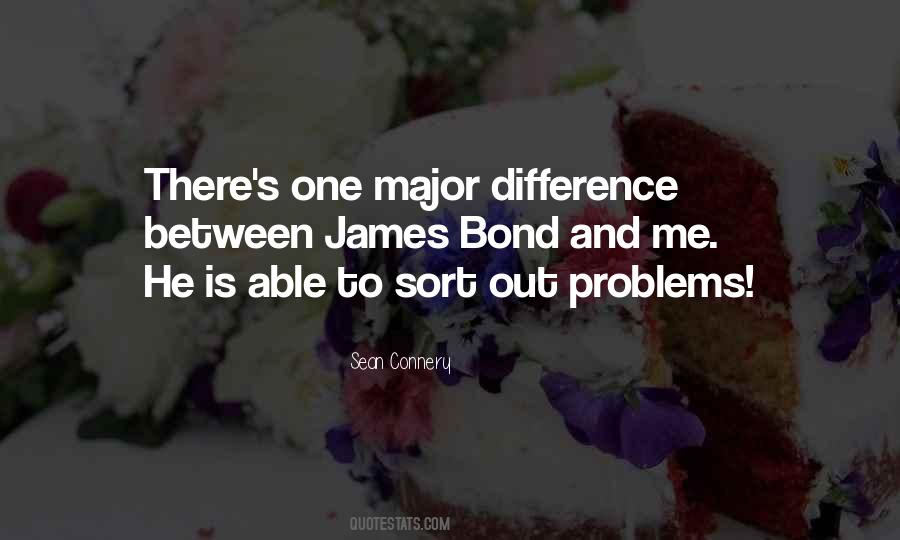 #83. They had a table near the rail round the huge floor. Bond was spellbound. He found many of the girls very beautiful. The music hammered its way into his pulse until he almost forgot what he was there for. - Author: Ian Fleming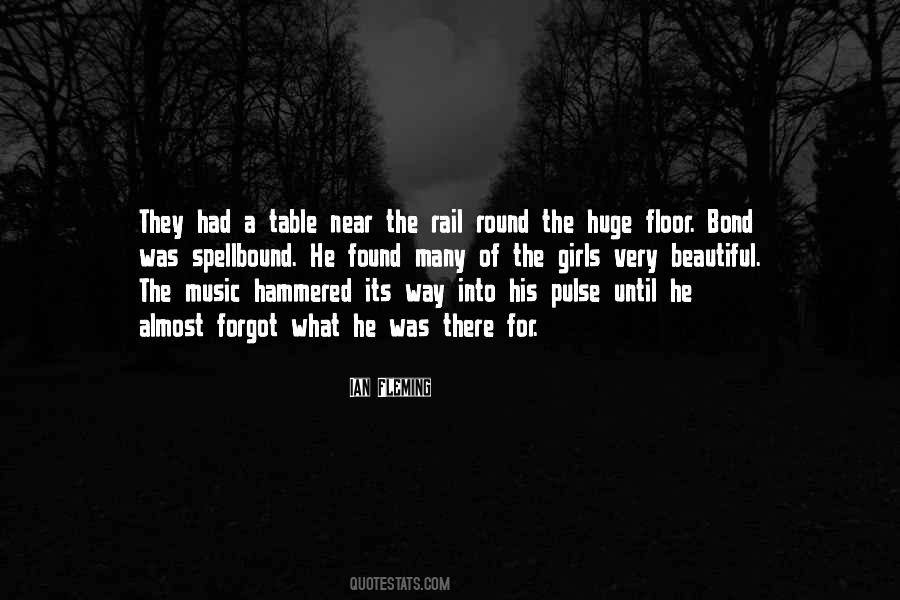 #84. Every young male actor dreams of being James Bond in an action movie. And that's their first role. But the truth is, when it comes down to it, that's not relatable. - Author: Brendan Dooling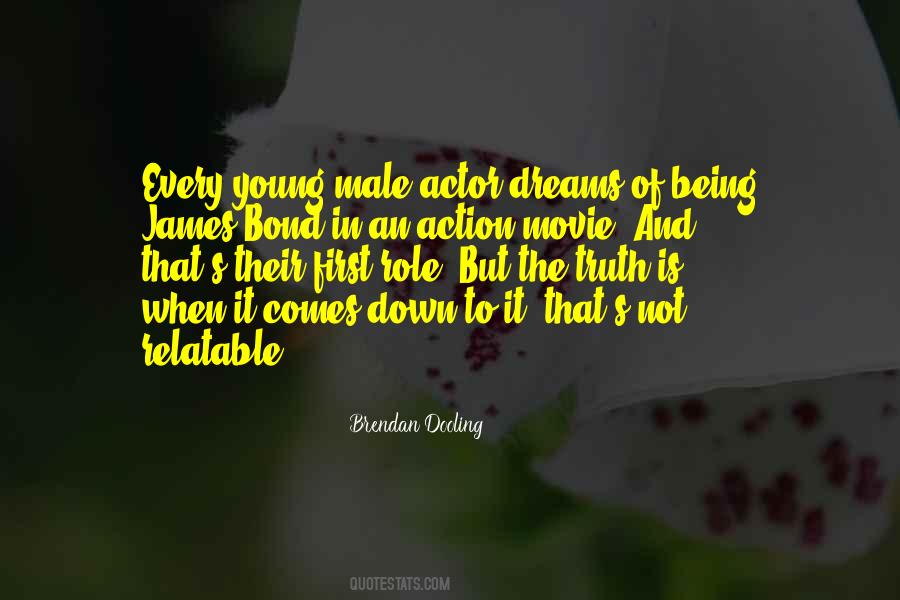 #85. I'm looking for Commander James Bond, not an overgrown stunt man. [on meeting Sean Connery] - Author: Ian Fleming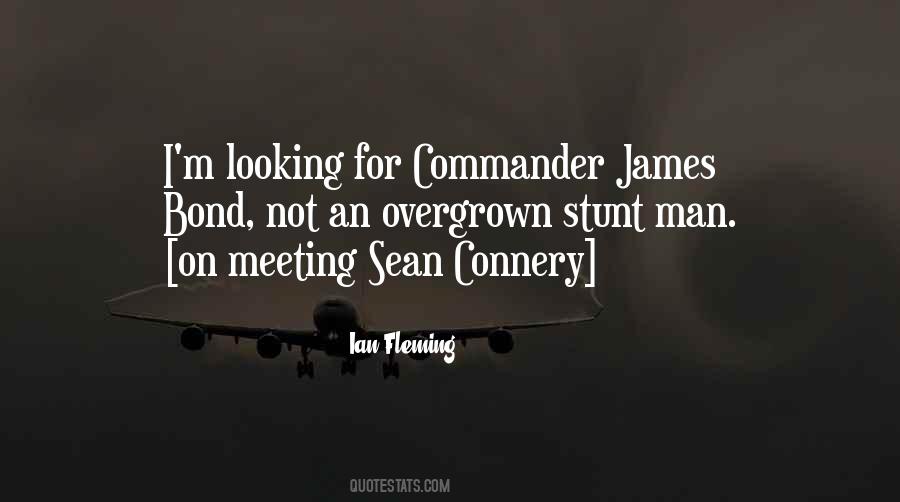 #86. The appeal of the paranormal bad boy - or James Bond super-spy, as one example of male escapism - can sometimes make everyday problems seem less dire. Thus, a few hours spent immersed in the world of the wicked yet alluring hero is the equivalent of a mini-vacation. - Author: Jeaniene Frost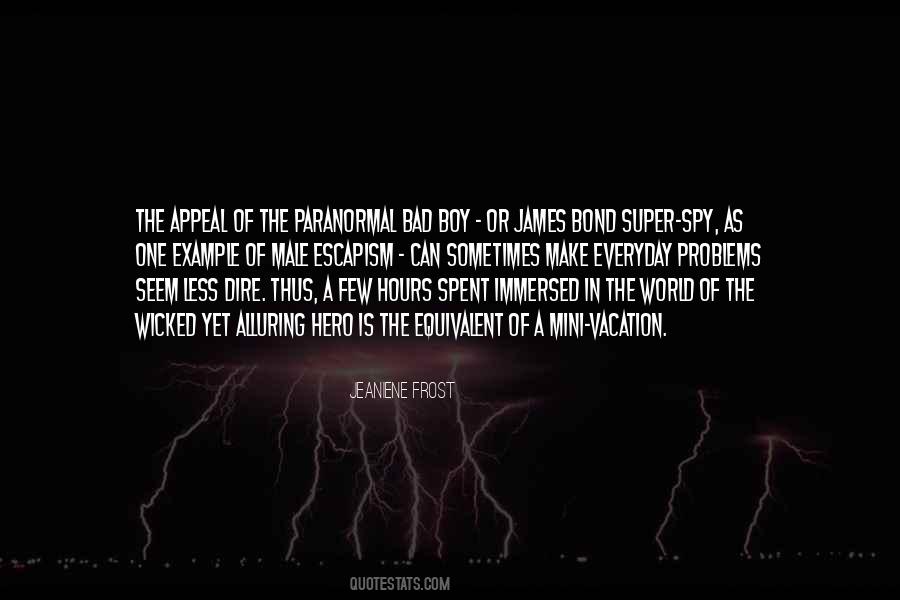 #87. I don't like James Bond. They made him a super hero, but he is just an agent, a human being. In my movies, secret agents are more realistic, I didn't want to portray them in the most glowing colours. - Author: King Hu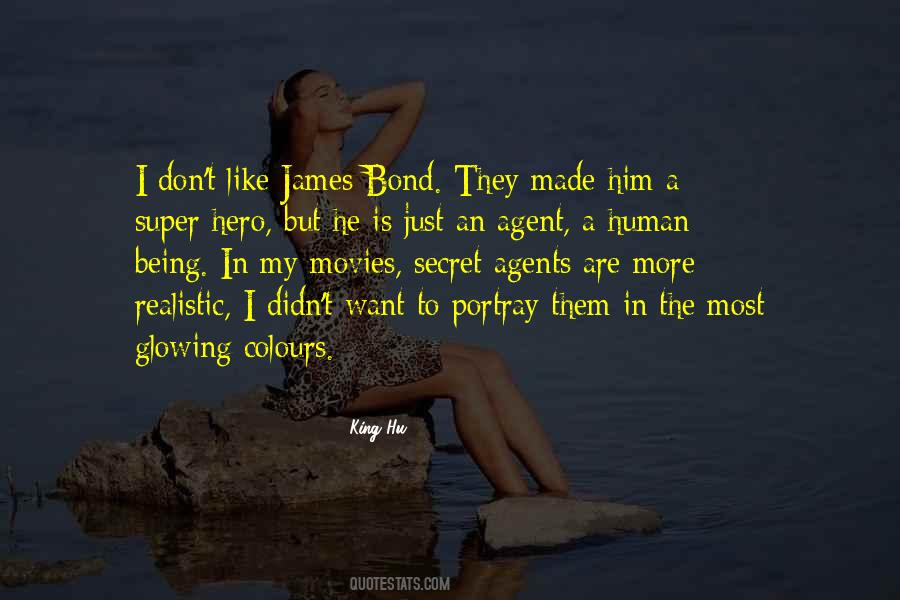 #88. One would think that it would be very easy, with an iconic character like James Bond, to keep making the films, but it hasn't been. But, it sure has been entertaining and rewarding. - Author: Barbara Broccoli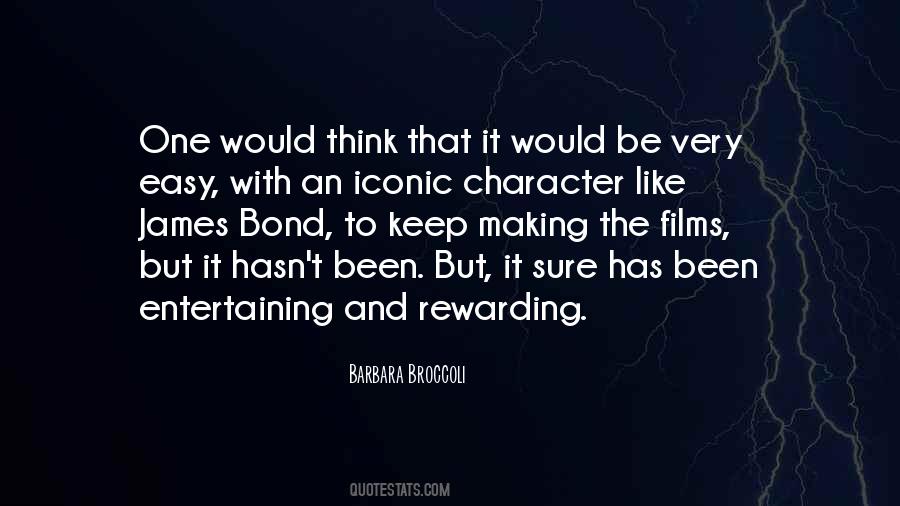 #89. Some people made me out like the villain. I'm supposed to be the Bond villain, but actually I'm James Bond. - Author: Vincent Tan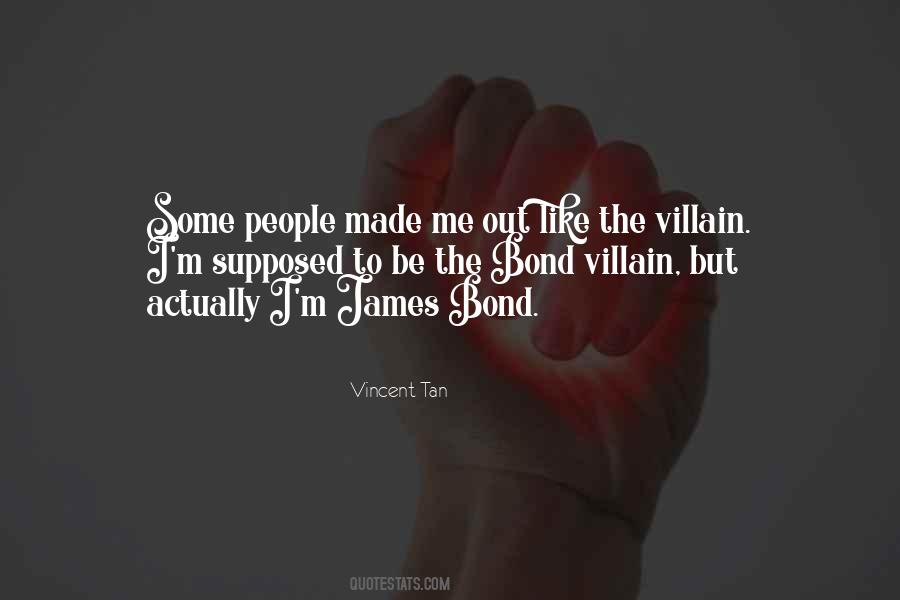 #90. What kid doesn't want to pretend they're James Bond? - Author: Jamie Dornan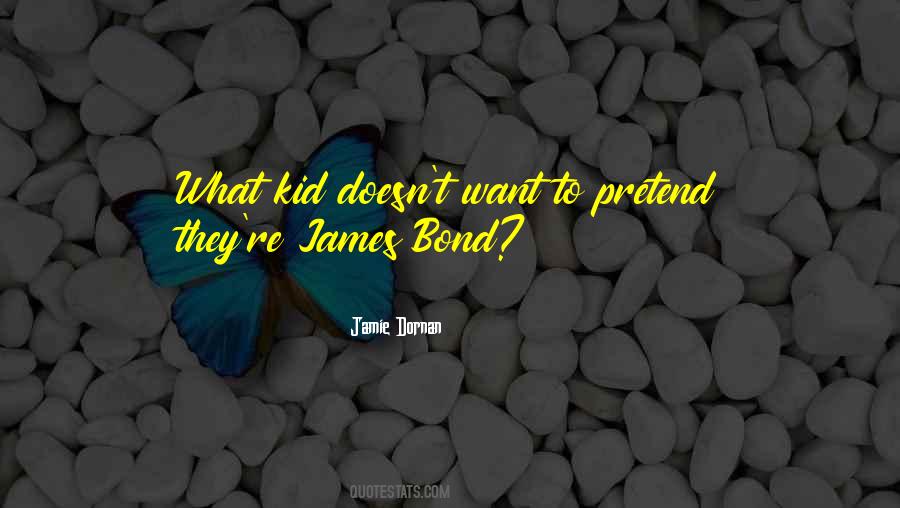 #91. It was cold autumn weather, but in spite of the cold they wandered up and down the roads of the Park for nearly three hours. They agreed to break off their intercourse; every bond, he said, is a bond to sorrow. - Author: James Joyce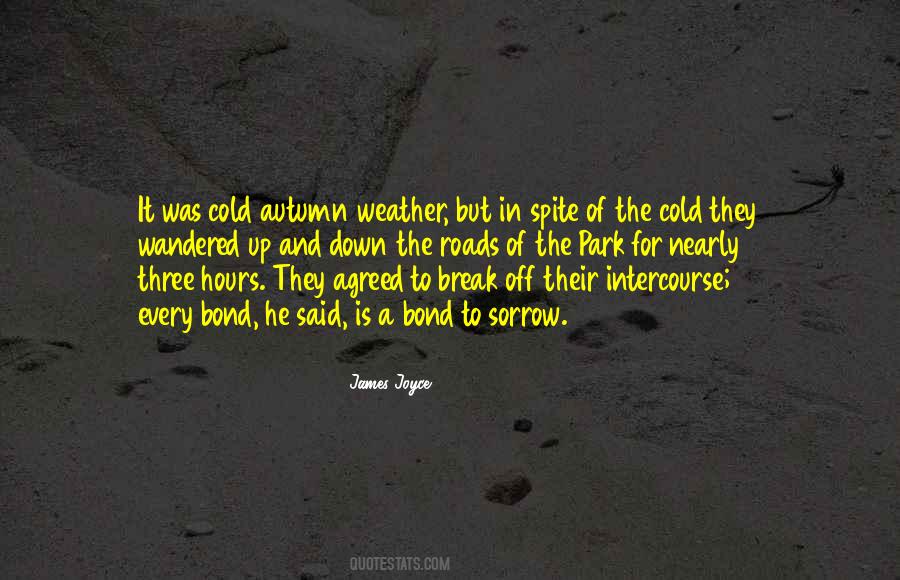 #92. In high school, I dressed up as every James Bond girl. I was a teenage Pussy Galore. - Author: Winona Ryder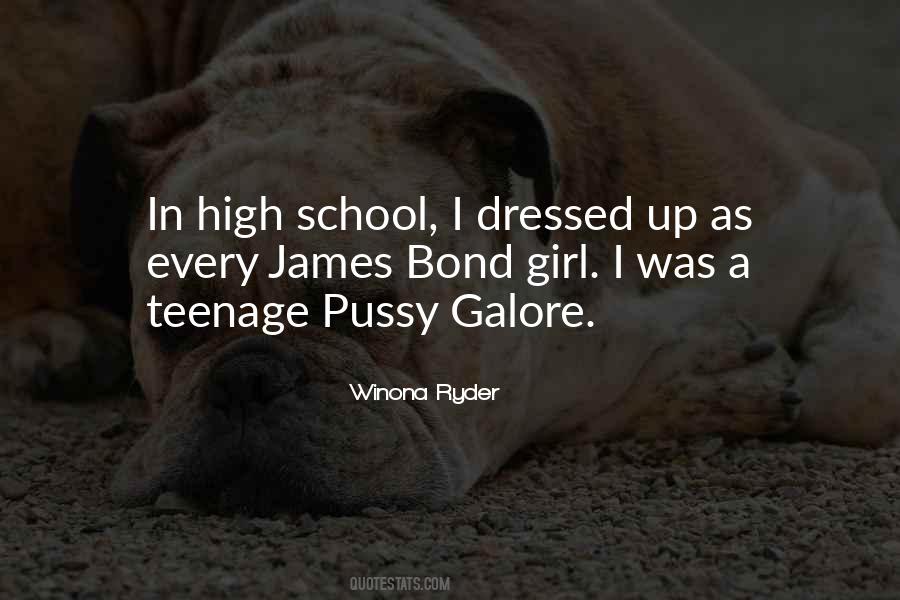 #93. On one level, I would prefer never to hear the words 'James Bond' again, but on another level, it is part of my blood and my life. And it's the only movie in the world that offers a British actor the chance of international recognition. - Author: Timothy Dalton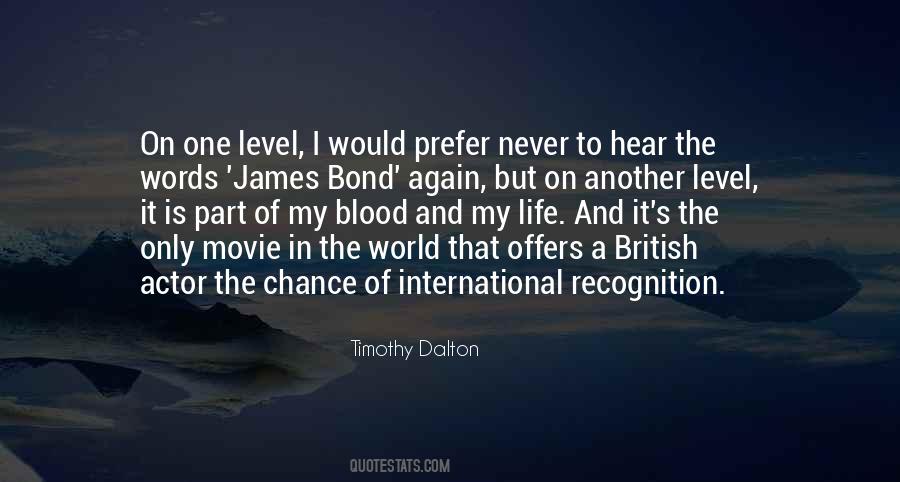 #94. I can be the best James Bond there is. - Author: Hrithik Roshan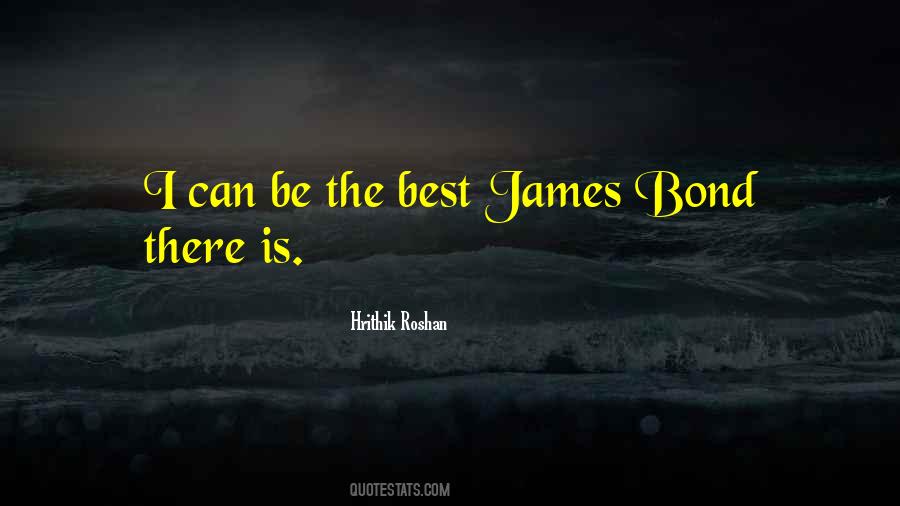 #95. It is not just a question of blowing up a building or shooting a prime minister. Such bourgeois horseplay is not contemplated. Our operation must be delicate, refined and aimed at the heart of the Intelligence apparat of the West. - Author: Ian Fleming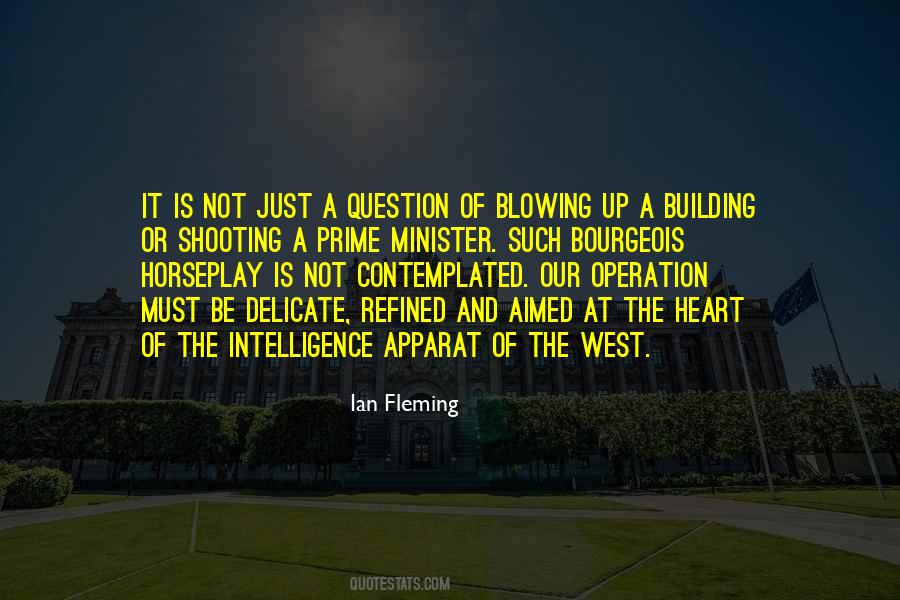 #96. Wyatt Fox. It suited him. Clean, masculine, not a syllable wasted. Like James Bond, if 007 included cowboy-marine-firefighter in his stable of personae.
Fox.

Wyatt Fox. License to thrill - and send your panties plummeting. - Author: Kate Meader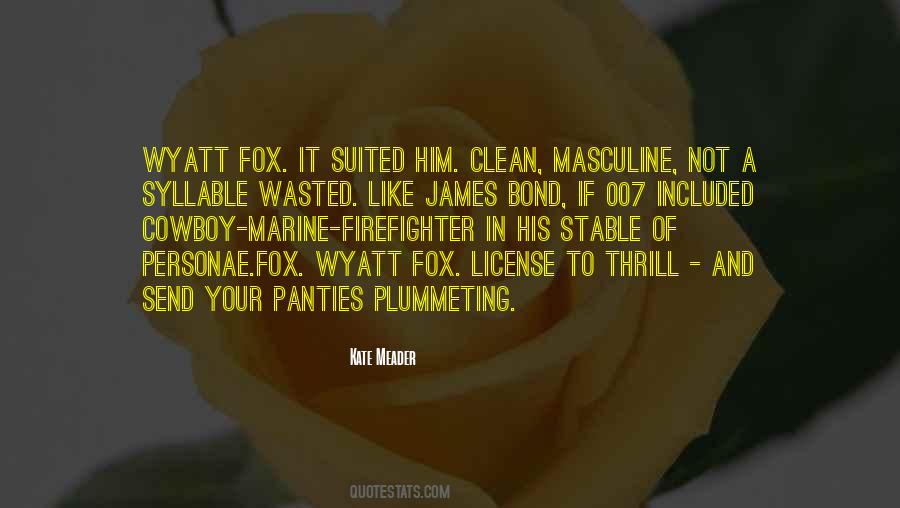 #97. Your on the planet too. Why should James Bond have all the action, fun, money, and resort hotel living. - Author: Paul Kyriazi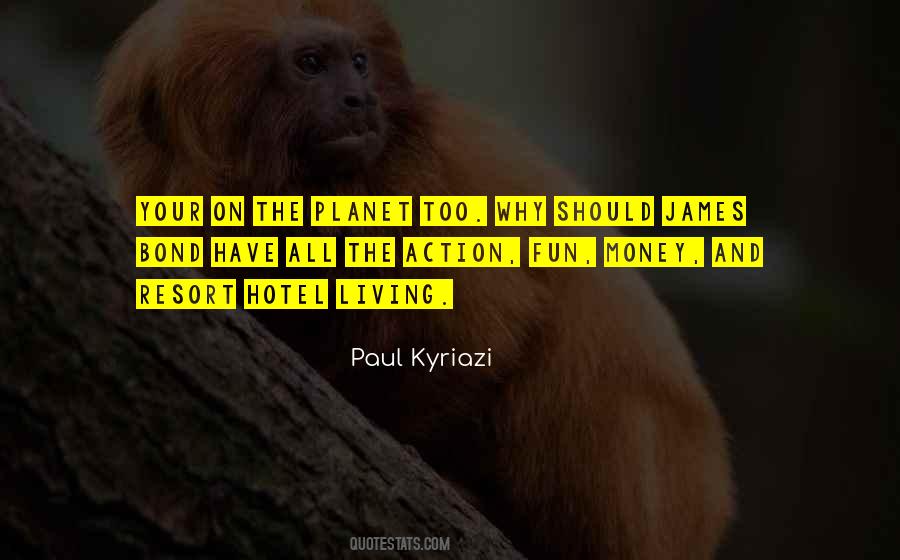 #98. I cannot even remember a time before being conscious of James Bond. - Author: Barbara Broccoli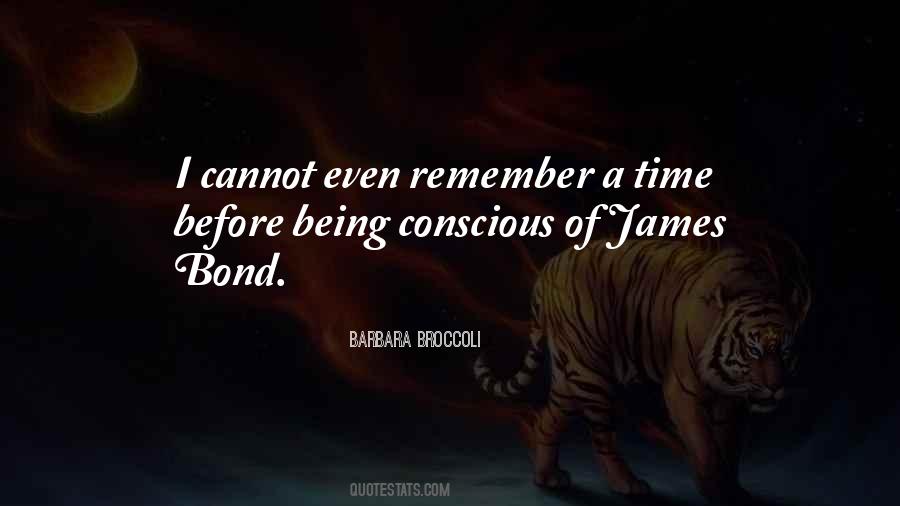 #99. I'm not imagining me being the James Bond girl, because anyway I don't have the good maturation. - Author: Audrey Tautou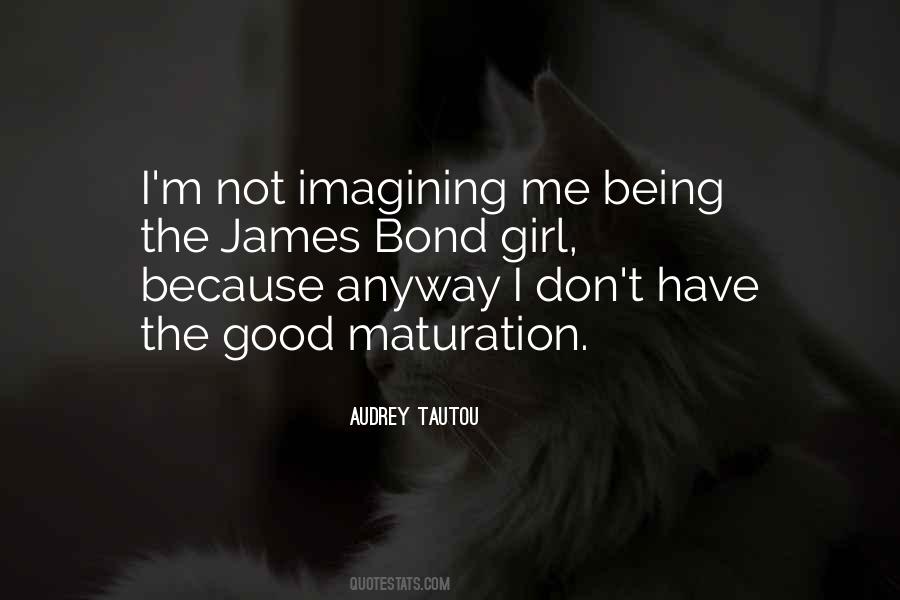 #100. Increasingly, the real estate developers can't get bank loans for their project financing in China. They're now going into the Hong Kong market to raise money in the bond market at very, very high rates, as high as 15, 20 percent. - Author: James Chanos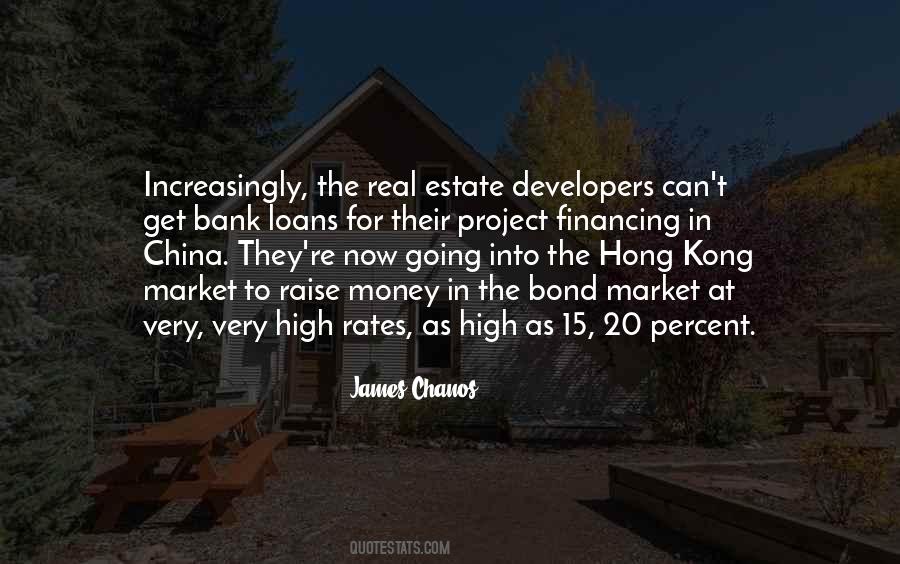 Famous Authors
Popular Topics