Gotta Famous Quotes & Sayings
List of top 100 famous quotes and sayings about gotta to read and share with friends on your Facebook, Twitter, blogs.
Top 100 Quotes About Gotta
#1. And girls tell me he's hot." He grinned and finished, "I wouldn't know, seein' as I'm a guy but I look like him and I'm smokin' hot so he's gotta be hot. - Author: Kristen Ashley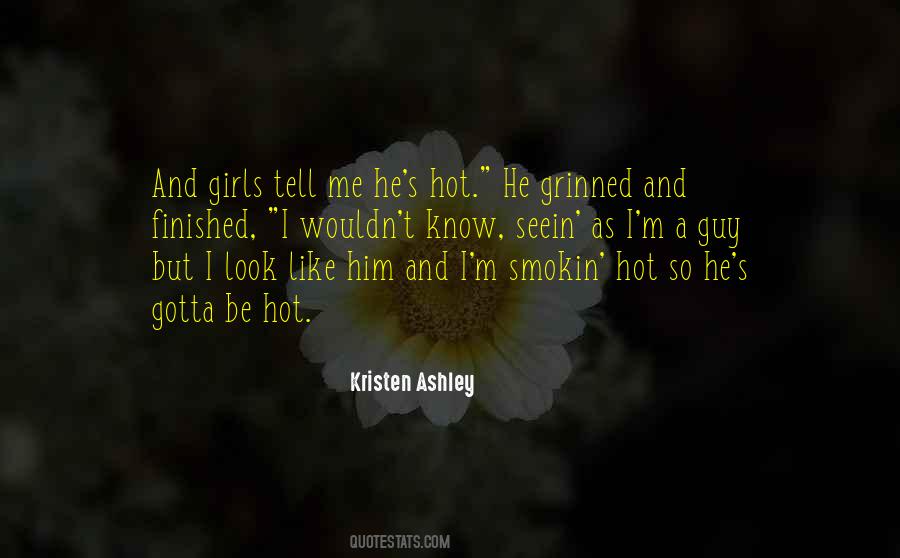 #2. We all gotta die, and we all gotta live with the things our dark sides do. People are afraid of their darkness, though. Spend their whole lives so scared of dyin' that they never get to live. Spend their whole lives pushin' down that darkness, until there ain't no light at all. - Author: Suzanne Palmieri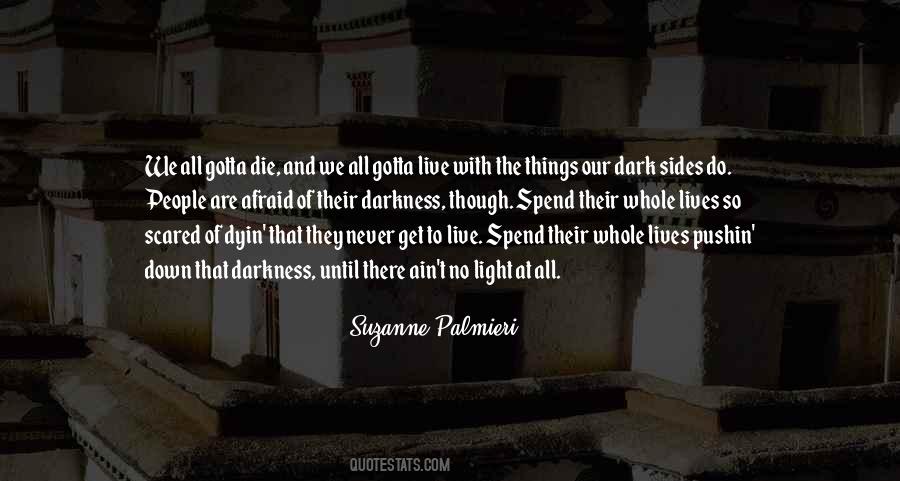 #3. You pray for rain, you gotta deal with the mud too. That's a part of it. - Author: Denzel Washington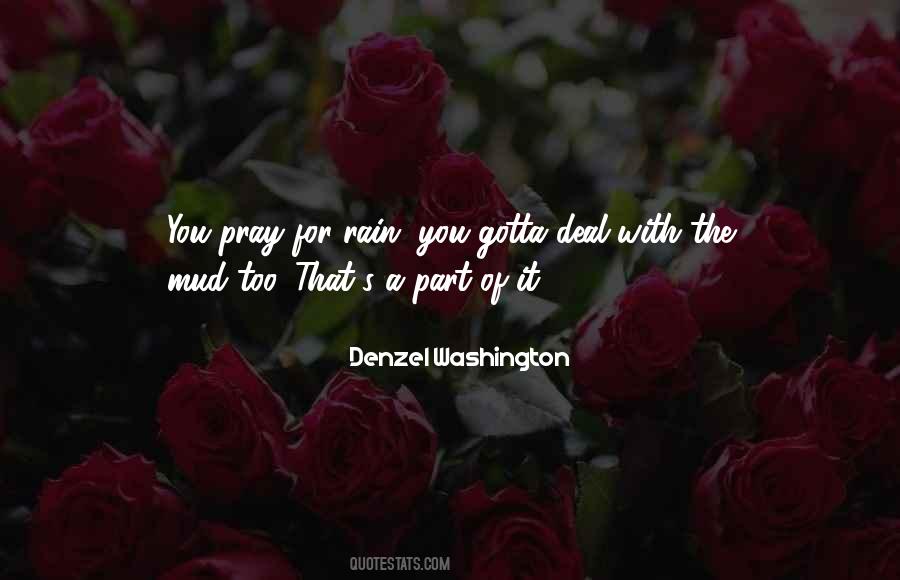 #4. You gotta love the cops. They start the night ready to shoot someone's eyes off and at the same time ready to carry a child with a grandmother's tenderness. Ready to shatter and ready to soothe at the touch of a trigger, a good cop is an amazing animal. - Author: Marc Parent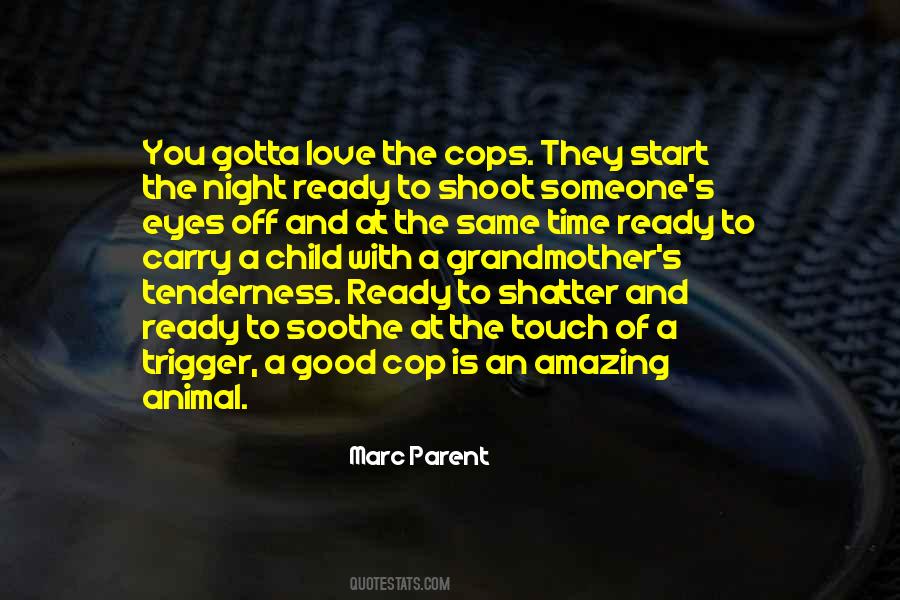 #5. Amy said, "So, you're making a flamethrower?"
"Amy, we gotta be prepared. We don't know what we'll find in that place, but for all we know it could be the Devil himself."
"David, what possible good is that thing gonna do?"
"Oh, no, you didn't hear me. I said it's a flamethrower." Girls. - Author: David Wong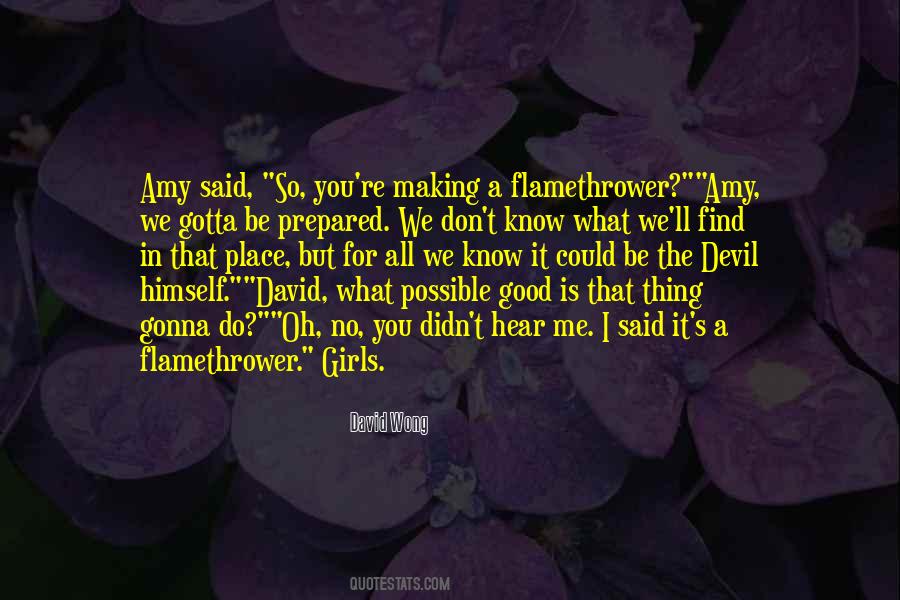 #6. You gotta know when it's time to hang up. But when I finally go, let me go out on stage, my perfect ending. Don't let me go when I'm sick or asleep. Let me be in motion. - Author: Bobby Womack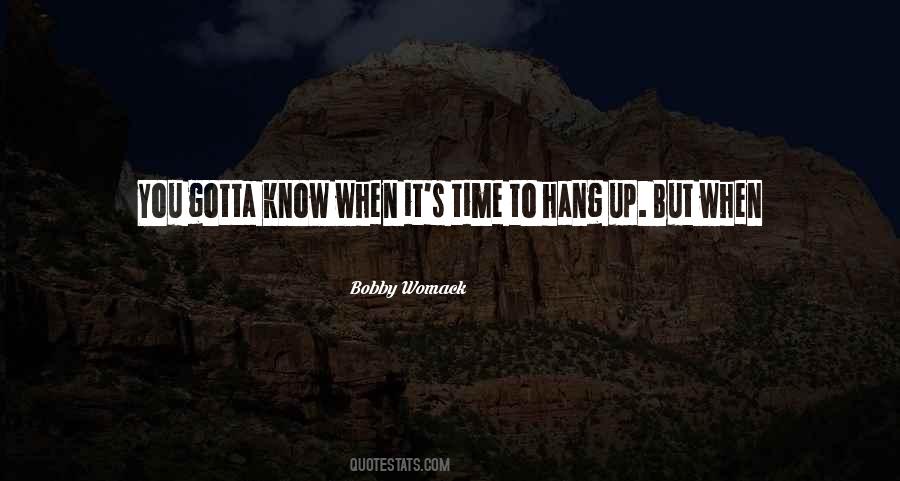 #7. Listen to me. I said you need to strive to better than everyone else. I didn't say you needed to be better than everyone else. But you gotta try. That's what character is. It's in the try. - Author: Eric Taylor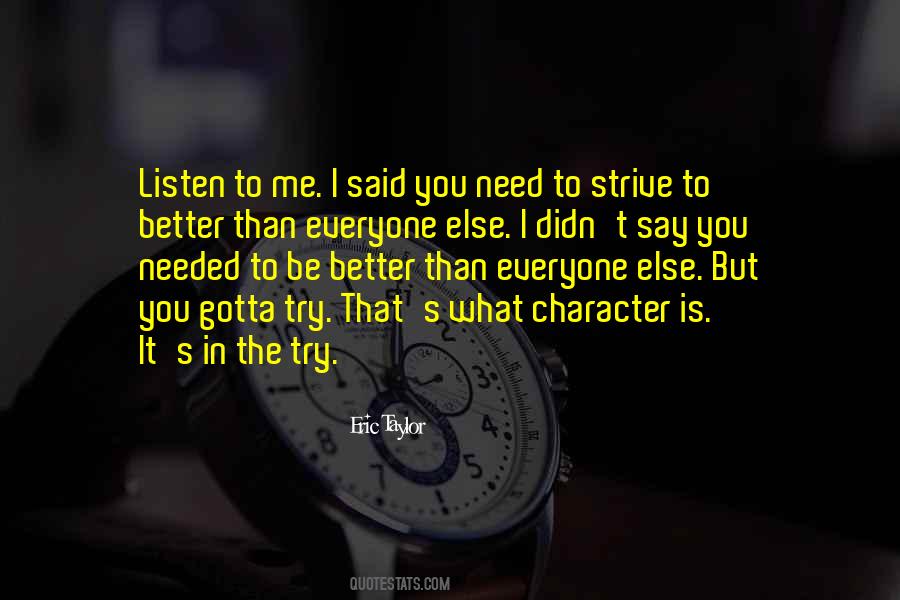 #8. I don't mean to take the bow off the end of your rain, but you gotta be smart about your first boyfriend. - Author: C. Kennedy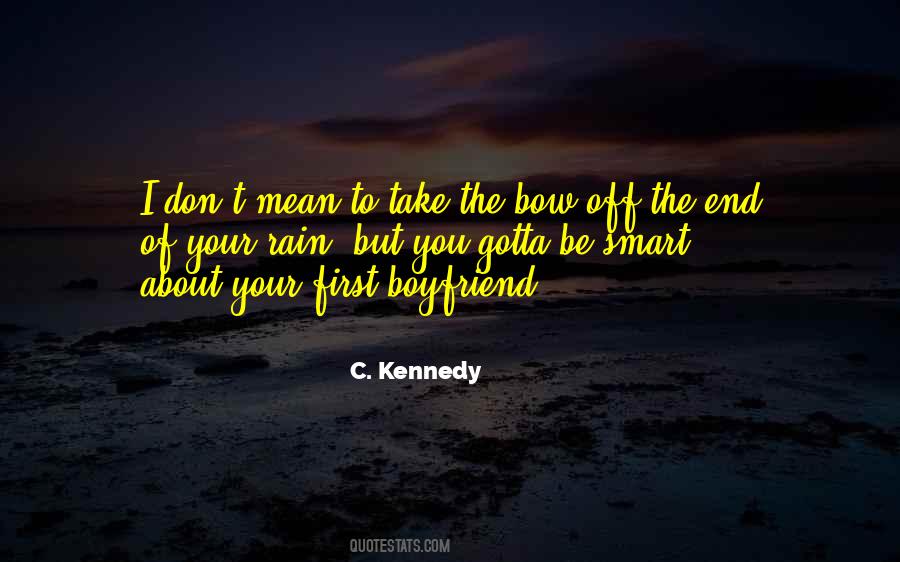 #9. So I'm gonna write it down to scream it out, and I'm never gonna be the same again. Fear is the color you've all exposed, now I gotta get up here and prove the importance of my clothes of my pose. I suppose, again. - Author: Tegan Quin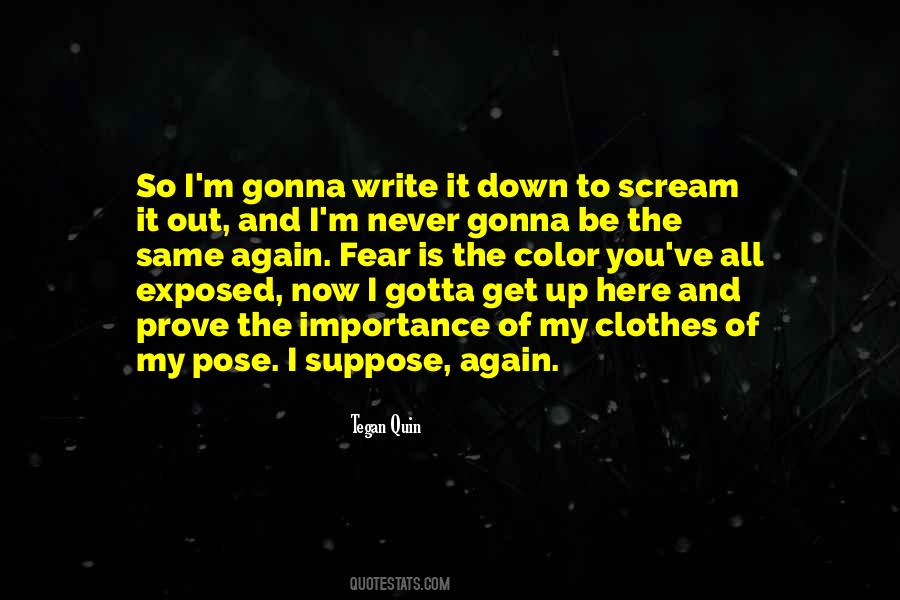 #10. You know, most girls sleep with a teddy bear or an extra pillow. But I gotta say, that's kinda hot ... - Author: Rachel Vincent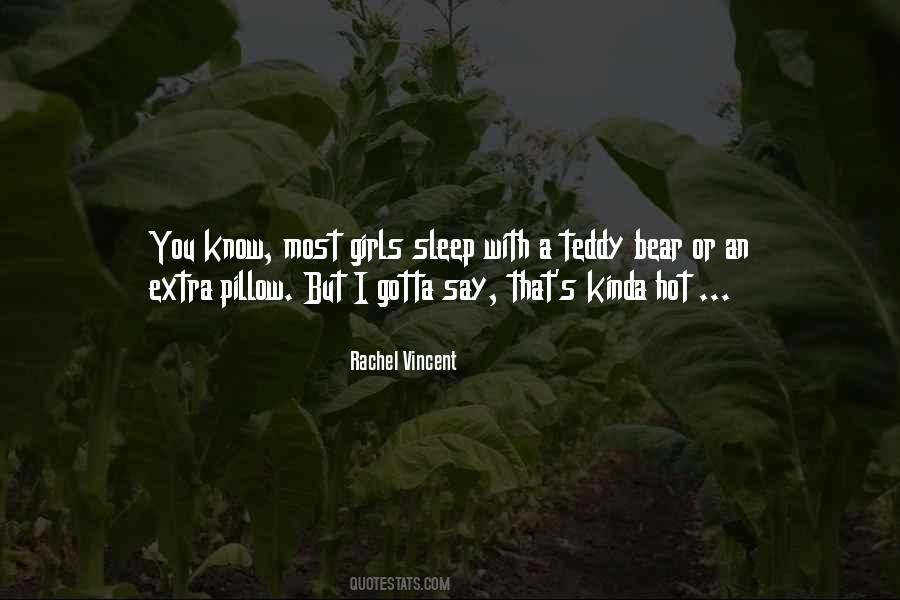 #11. You gotta look for the good in the bad, the happy in your sad, the gain in your pain, and what makes you grateful not hateful. - Author: Karen Salmansohn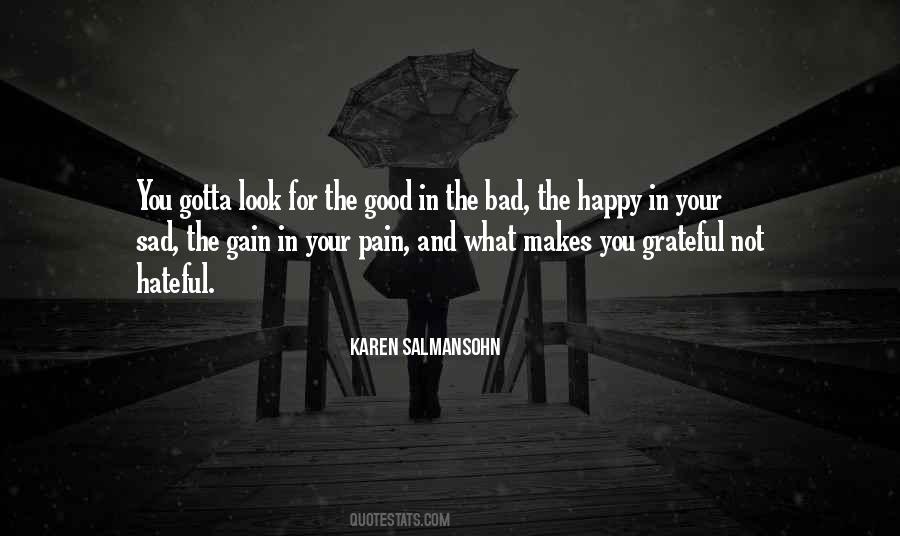 #12. Gotta keep moving; can't stop; stagnation kills. - Author: Lisa Mangum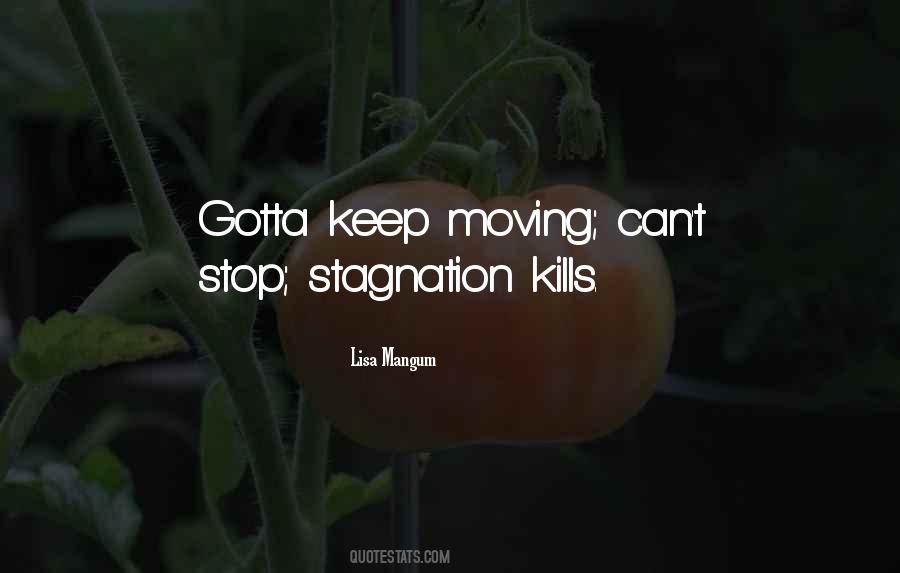 #13. When I'm feeling sad, or lonely, and I don't know what I'm doing and I don't know where I'm going, I imagine the Cool Awesome Future Version of Myself just telling my present self, "It's okay. You just gotta grab that giraffe by the ears and ride it on out." - Author: Jenna Marbles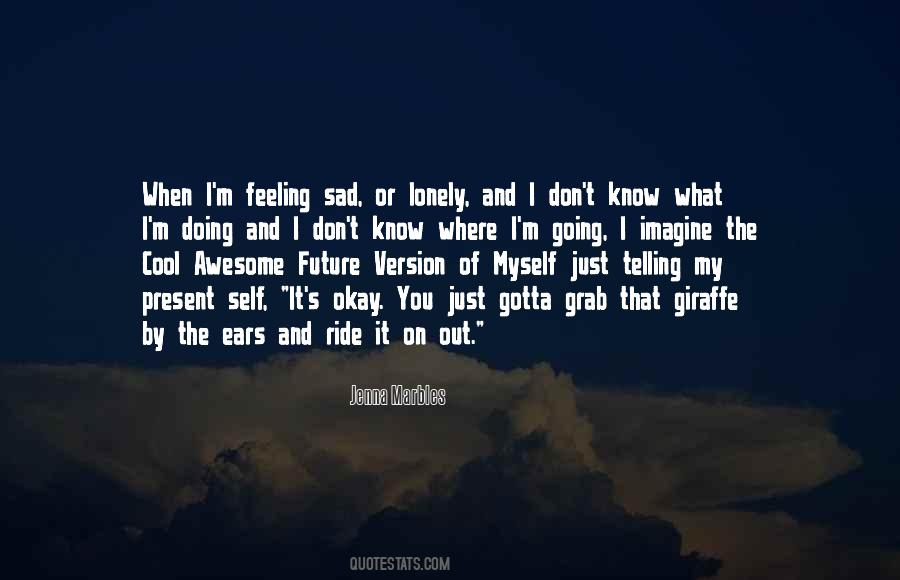 #14. Sometimes you've gotta hide the medicine in the food. You can't slap somebody in the face with facts, all the time. It's too harsh - Author: Michael B. Jordan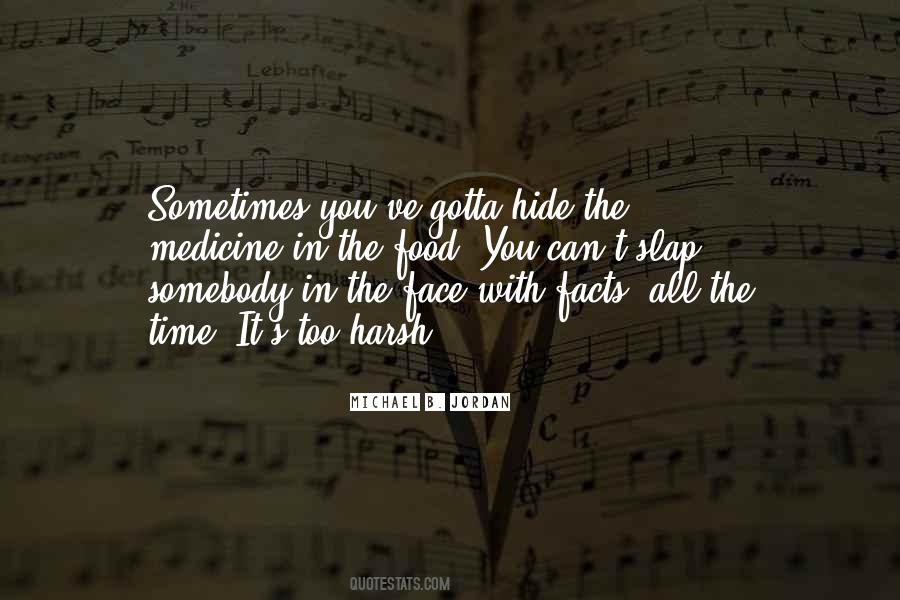 #15. If you want to be a rock star, you're not going to just walk on stage. You gotta go practice in the garage until your fingers bleed. I always say that - the same with writing and the same with filmmaking - if it's really your passion, you've just got to stick with it and do it. - Author: Robert Rodriguez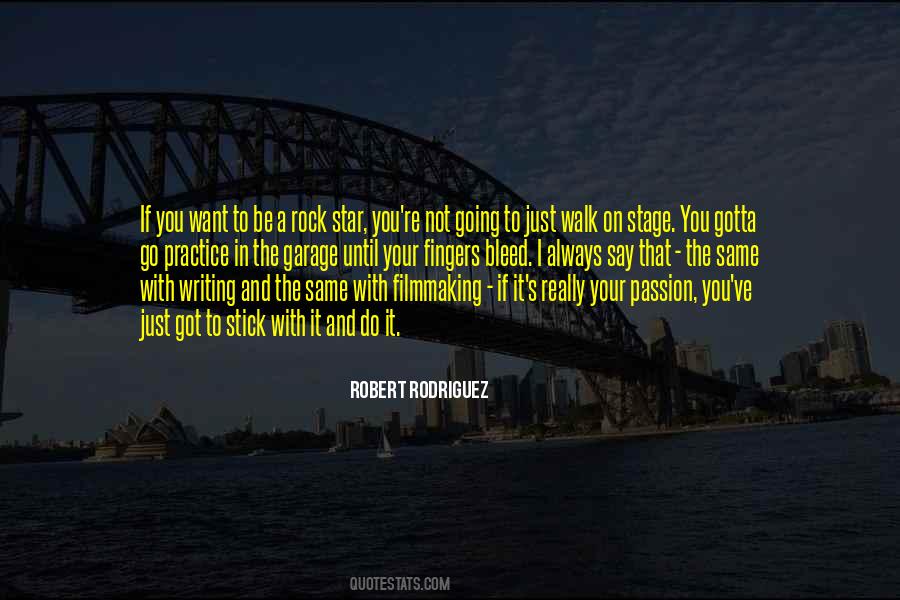 #16. A guy's gotta live, you know, gotta make his way and find his meaning in life and love, and to do that he needs coffee, he needs coffee and coffee and coffee. - Author: Libba Bray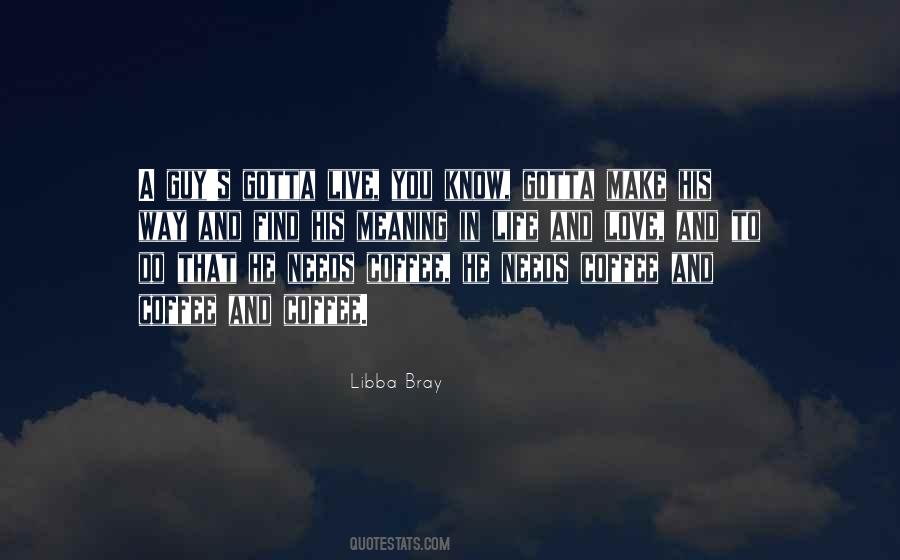 #17. There's not much simplifying. You gotta know what you gotta know. That's how the quarterback position is, and I wouldn't have it any other way. - Author: Jimmy Garoppolo
#18. I know we just met today, but I gotta see you tomorrow. I know this is our first date, I don't expect you to swallow. - Author: Ted Nugent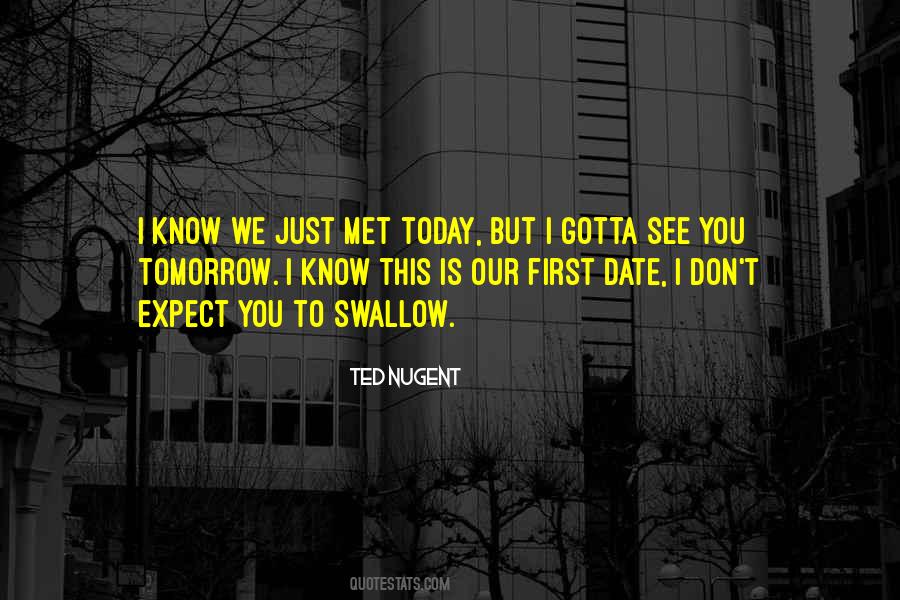 #19. Sometimes it all gets a little too much, but you gotta realize that soon the fog will clear up. - Author: Shawn Mendes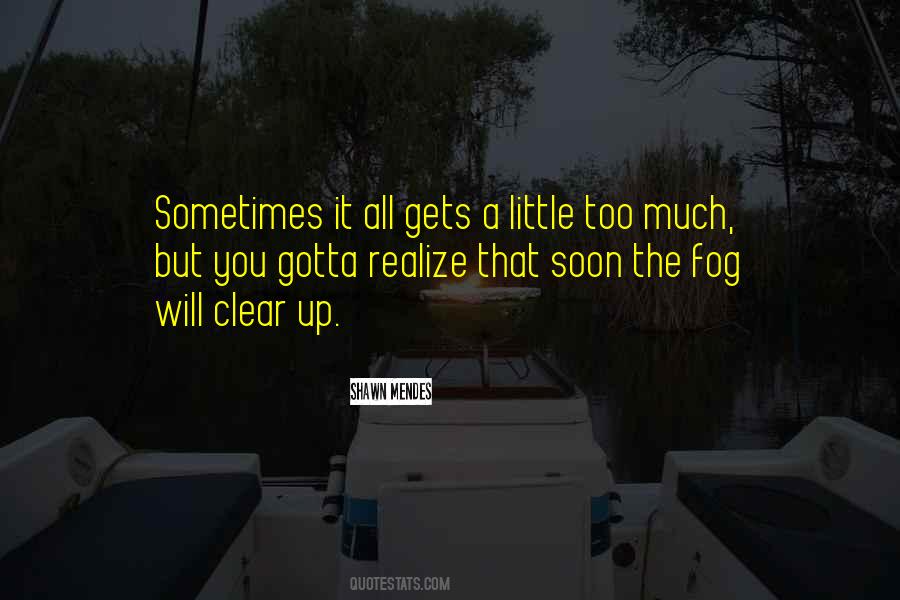 #20. & he ill, he real, he might gotta deal
He pop bottles & he got the right kinda bill - Author: Nicki Minaj
#21. It was a slow process. You gotta remember I hadn't recorded a song sober in seven years. So it took me awhile to even feel like I could record a song sober. - Author: Eminem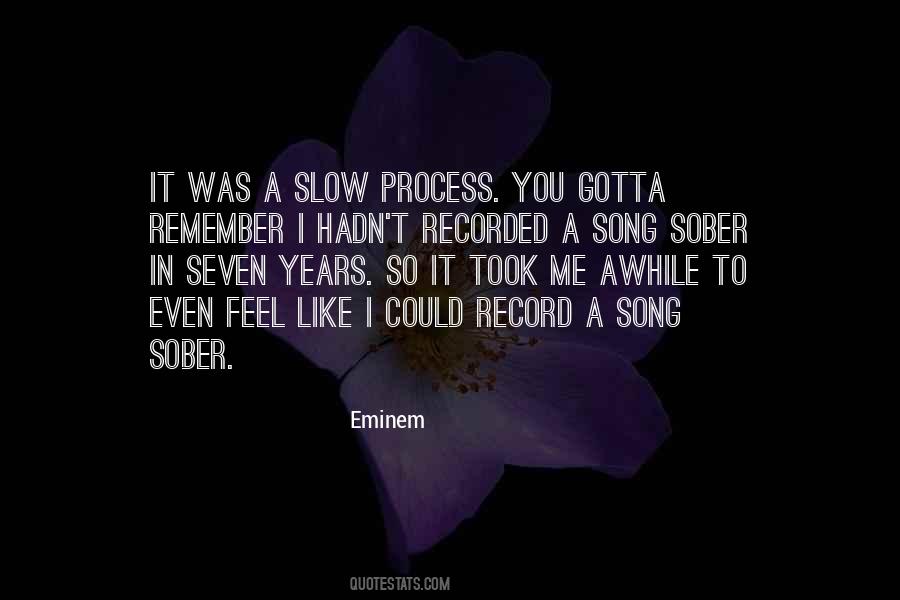 #22. The key to fashion is, you don't want to look like you're trying. You've gotta be natural. - Author: Hakeem Olajuwon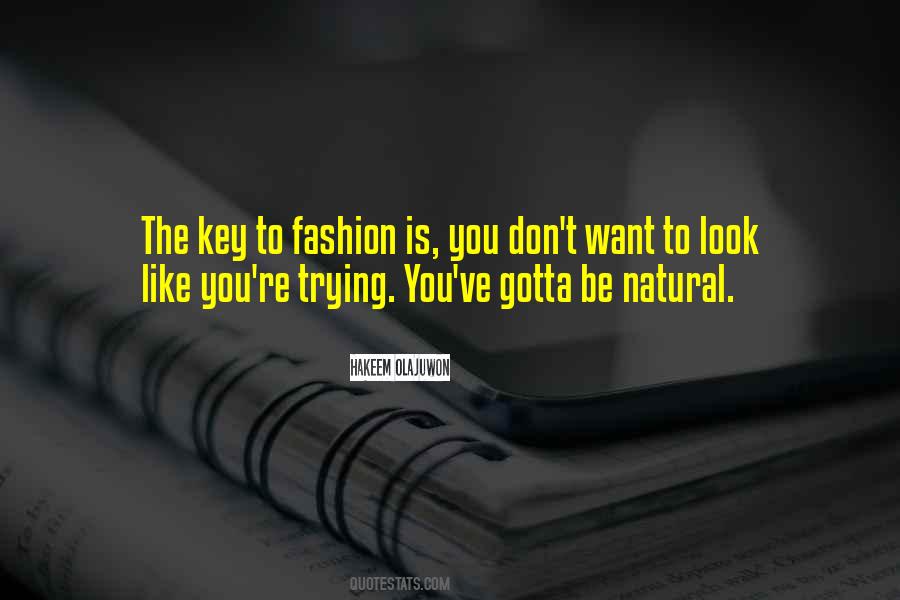 #23. She can't wear that dress! It's indecent. Her ass is hangin' out."
...
"Son, take my advice, you gotta get this girl in hand. You can't let her run around with her ass hangin' out. You allow it once, she'll do it again. Trust me, I know. - Author: Kristen Ashley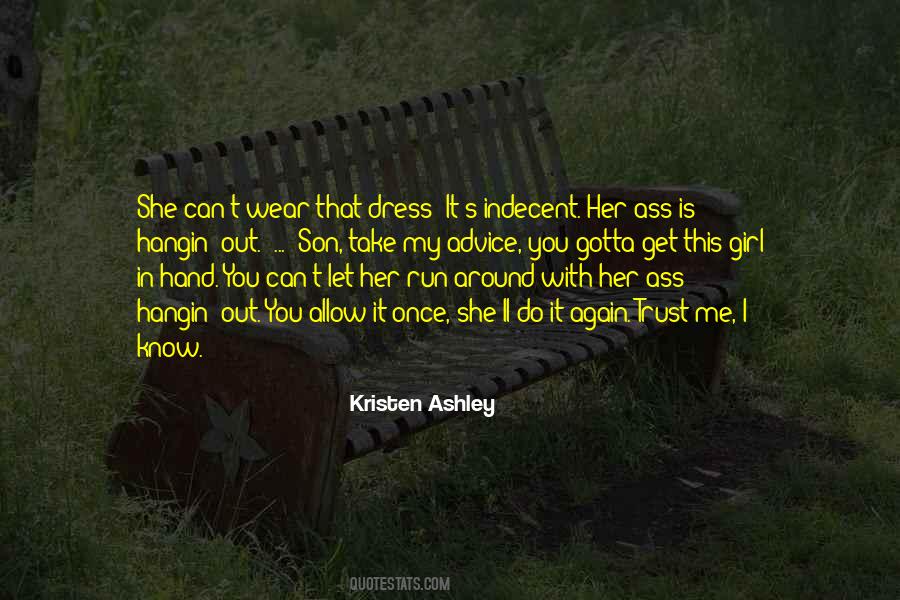 #24. Yo, Dekko, who do I gotta blow around here to get a shower? - Author: Kresley Cole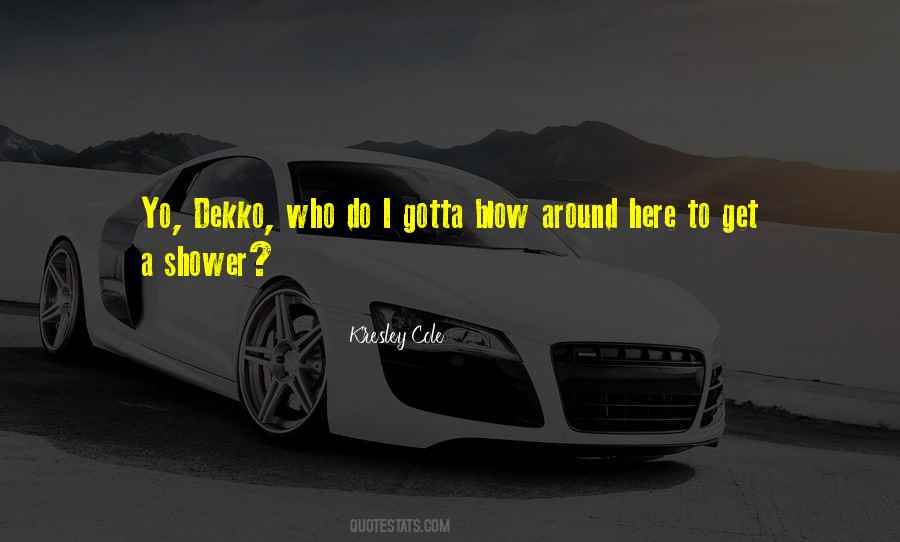 #25. I think that's who you should be servicing as an actor is the fans. You don't wanna alienate new people from coming in, but you gotta first and foremost service your fans. - Author: Krysten Ritter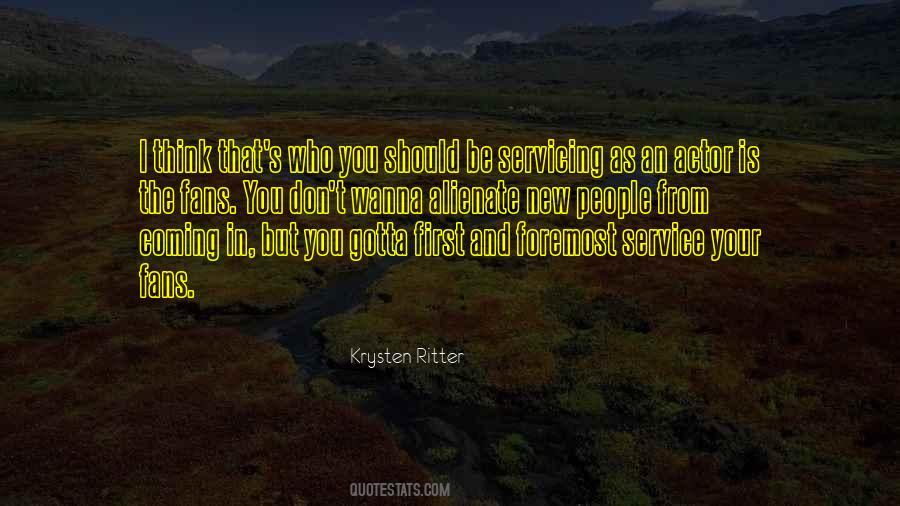 #26. I never feel like I've done good enough. That's why I'm always so excited about working because I gotta keep pushing myself to do better work, to do great work. - Author: Bryce Wilson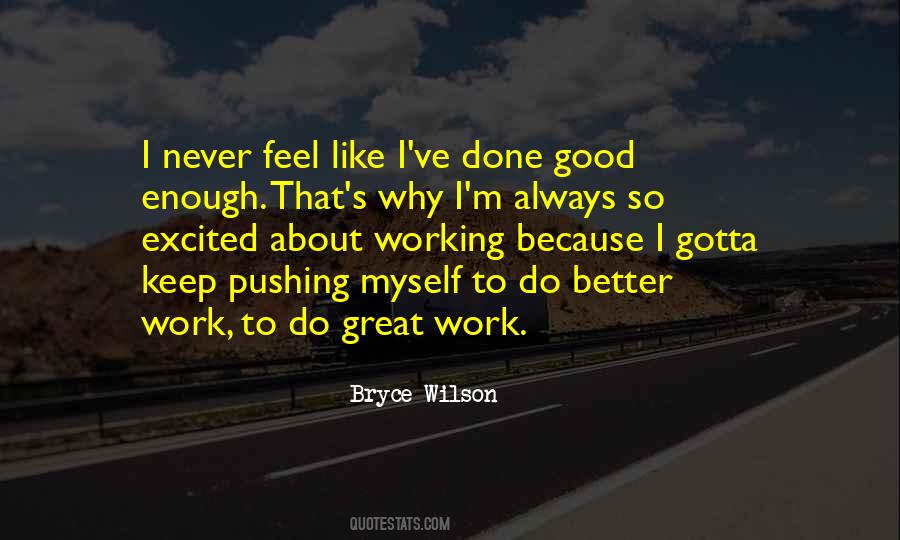 #27. I gotta make a living. I make no bones about that. Most actors do. But within that context, I've never not tried to make something as fresh and alive as I possibly could make it. - Author: Alan Arkin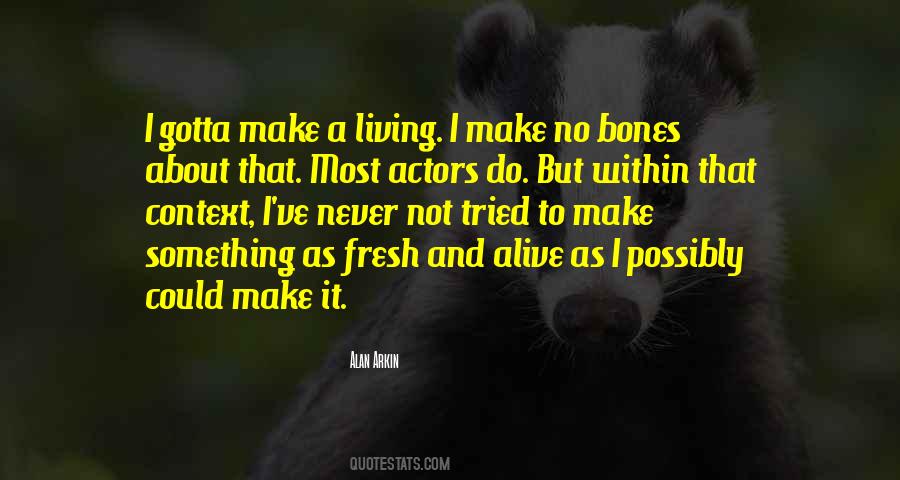 #28. The sense of urgency is real for me, because the window of opportunity is closing. Gotta get back to the Super Bowl, gotta get back there and win it. - Author: Steve McNair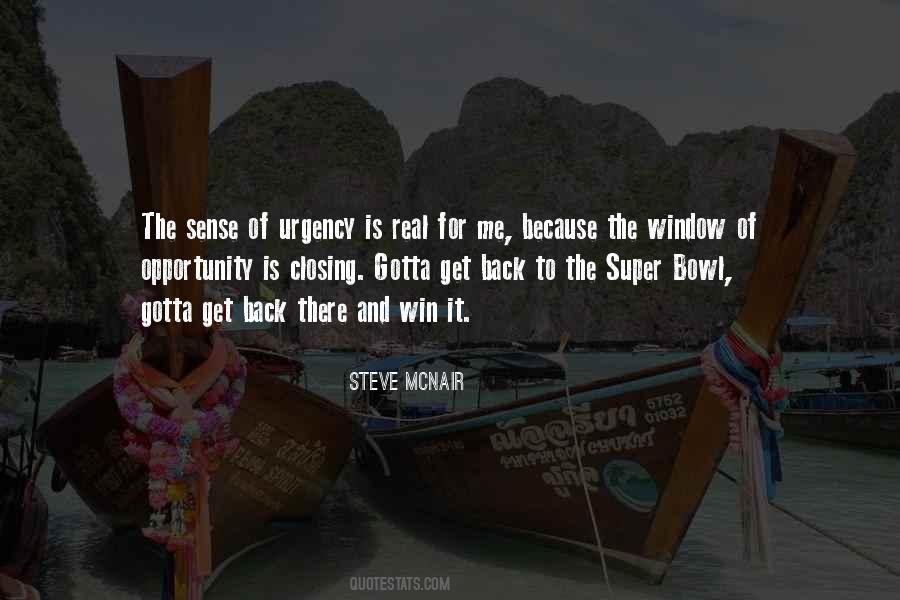 #29. There's something to be said that if everyone likes something there's gotta be something fucking wrong with it on some level. Unless it's ice cream. - Author: Marc Maron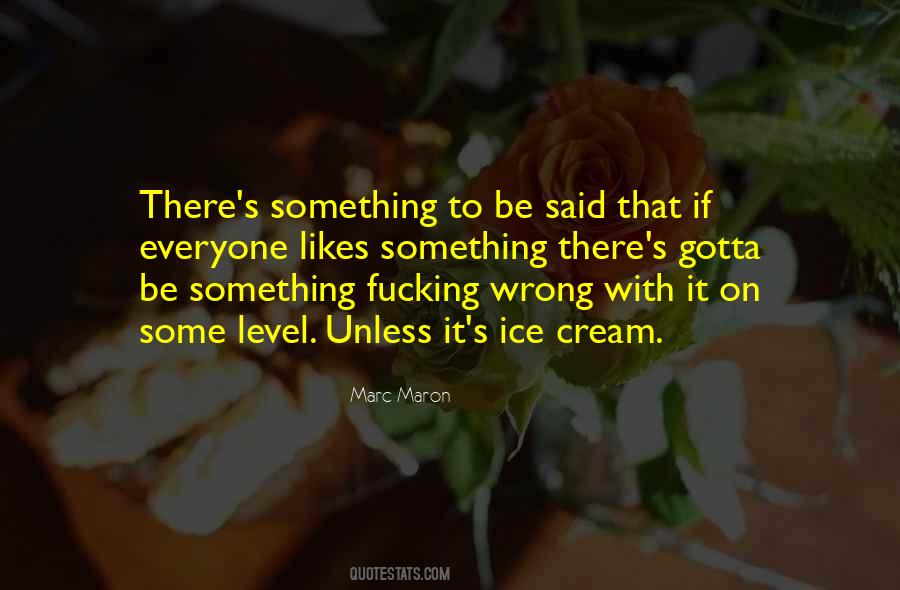 #30. We in the 25th hour,
It's now or never.
We gotta get it 'fore it's gone forever.
In the end, time waits for no man ...
What's your plan? - Author: Reks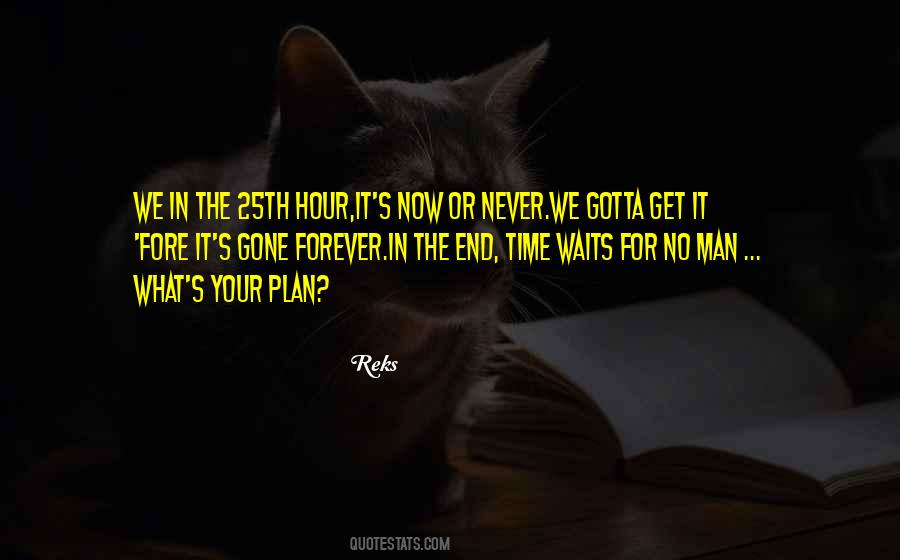 #31. Say it. Say your mine, Maddie. You own my heart now, baby. I gotta have yours too. - Author: K. Langston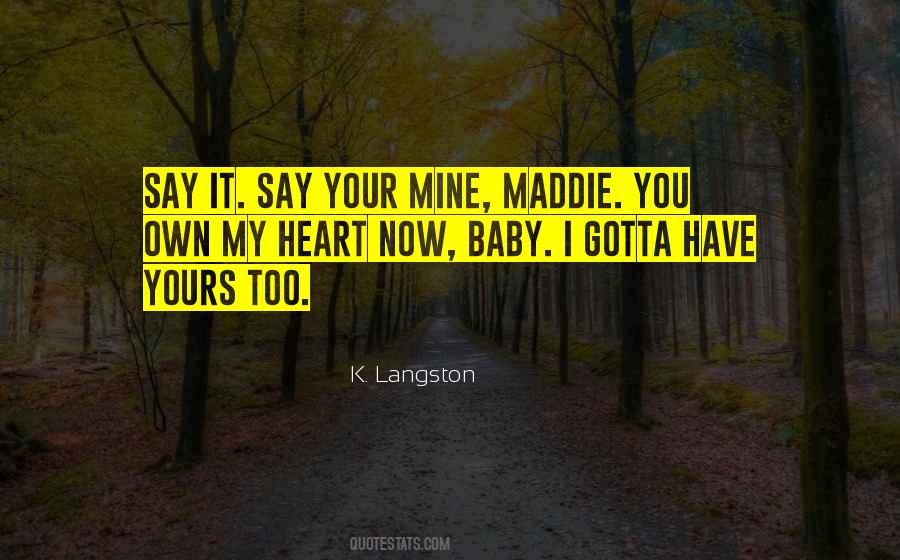 #32. Whatever you do, stay focused. Because any stuff is not going to last forever. Once you get a show at something, you gotta roll with it. You can't sit on your ass. You better keep working. You better stay motivated. - Author: Juicy J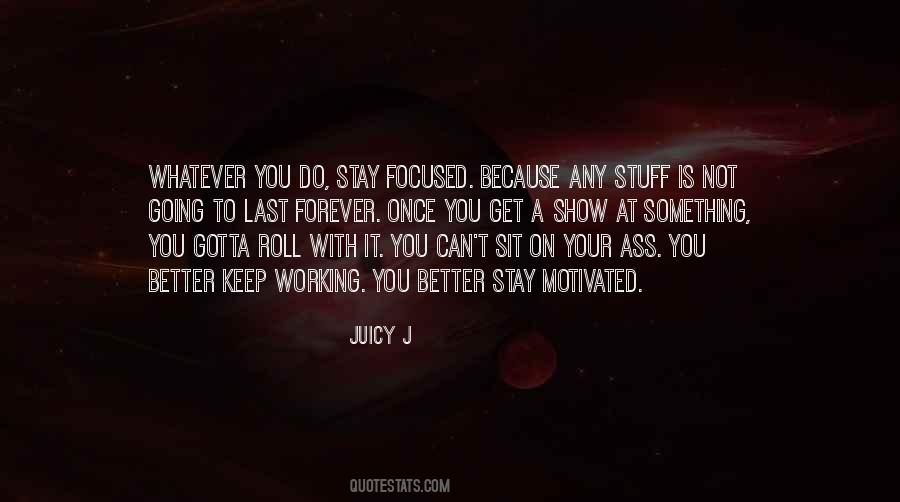 #33. What is it in us that makes us feel the need to keep pretending ... we gotta let ourselves be. - Author: Christina Aguilera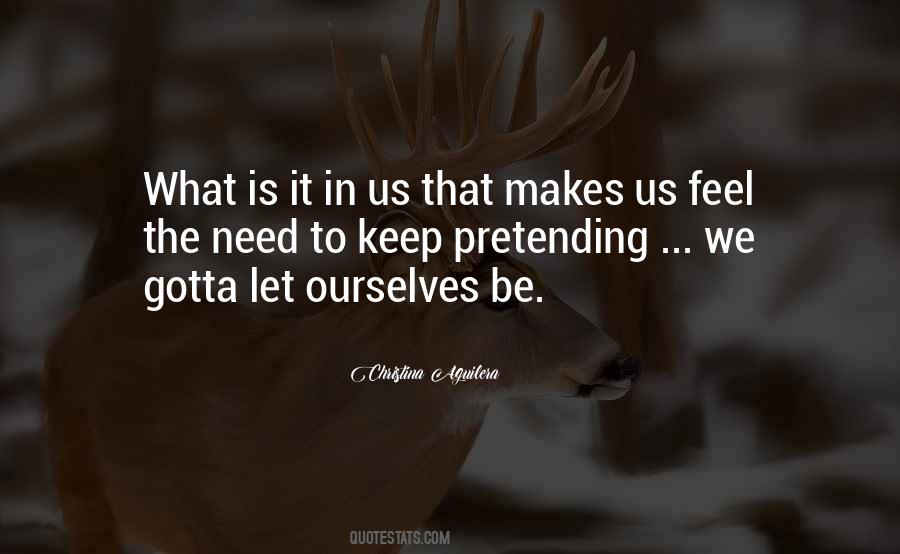 #34. The whole LSD, STP, marijuana, heroin, hashish, prescription cough medicine crowd suffers from the "Watchtower" itch: you gotta be with us, man, or you're out, you're dead. This pitch is a continual and seeming MUST with those who use the stuff. It's no wonder they keep getting busted. - Author: Charles Bukowski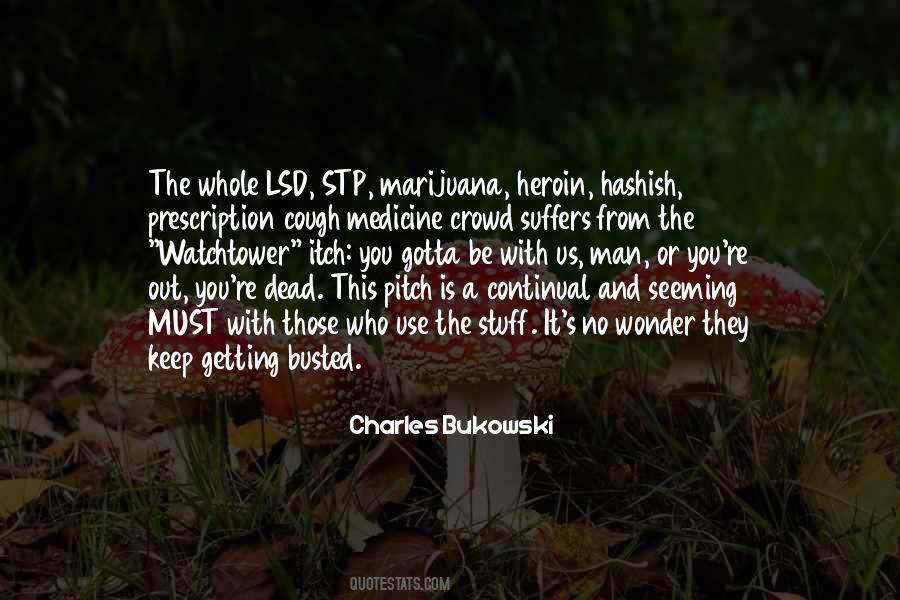 #35. Sometimes, you gotta pretend everything is okay - Author: Unknown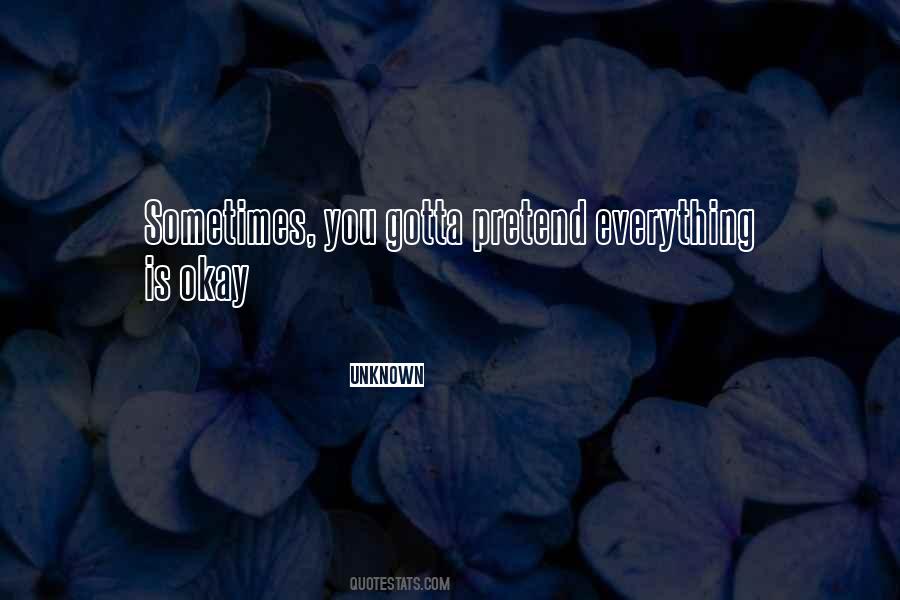 #36. The combination of what's written and just being in the moment is always the best way. You gotta start out with something solid and then you play. - Author: Jim Carrey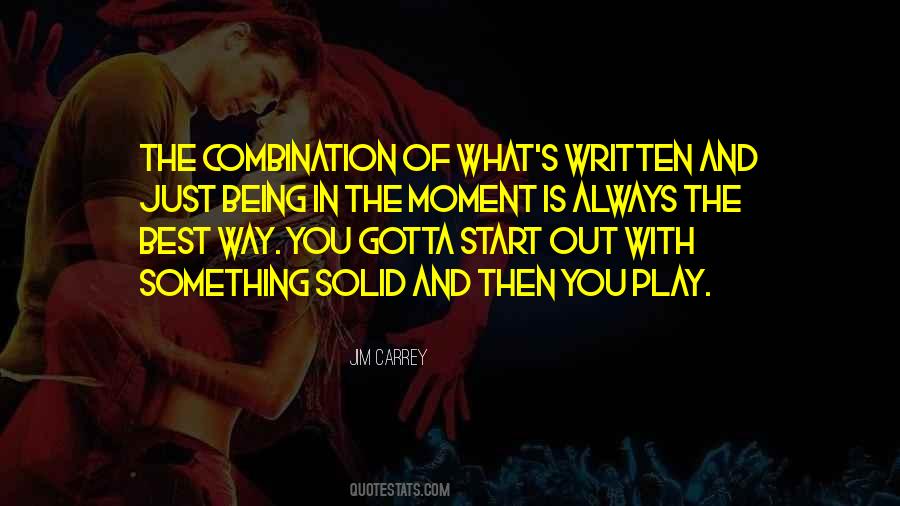 #37. I want a long career in music, so you've gotta keep trying things out; it's gotta get progressively better. - Author: Gin Wigmore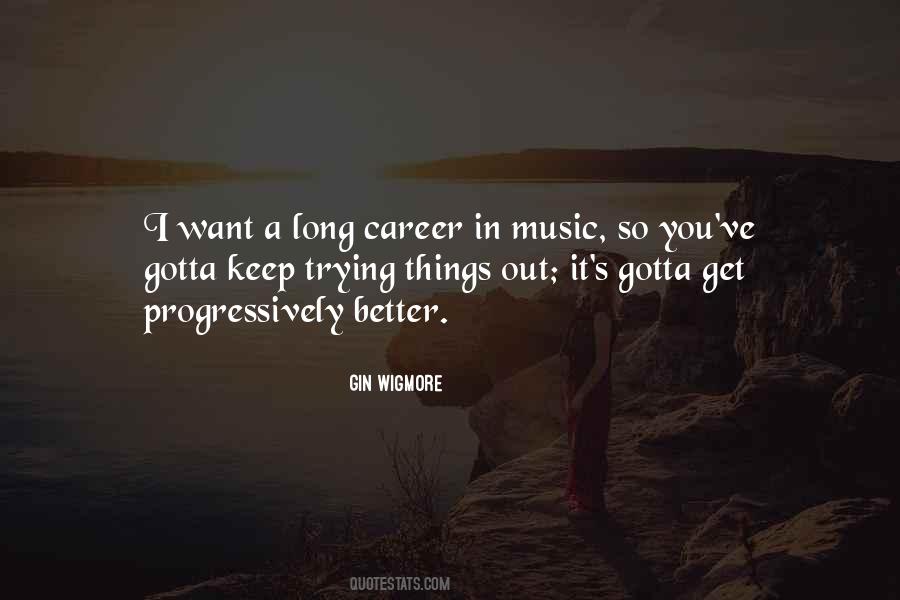 #38. Brooklyn, where I grew up, is a competitive burg - there's always a pretty boy around the corner there, and you gotta look better than him. - Author: Theophilus London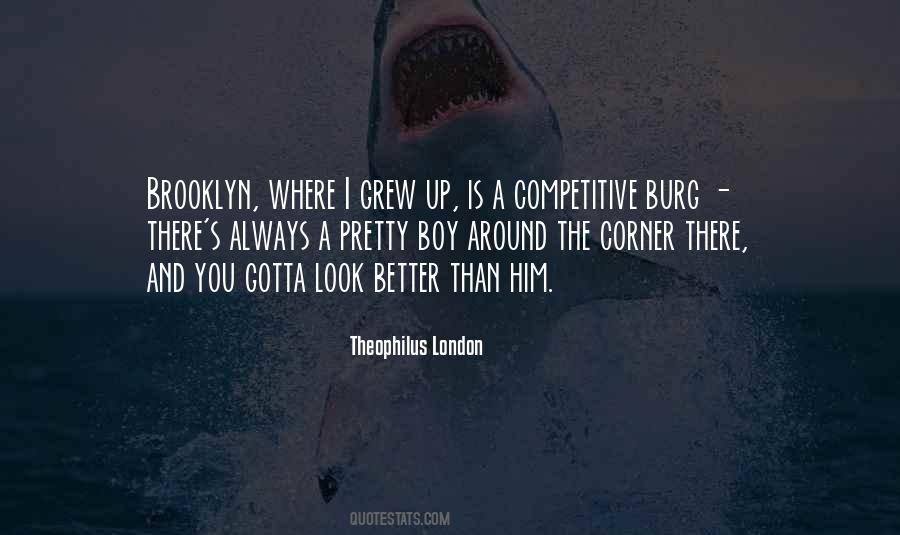 #39. All I gotta do is my job, do what it is that I bring to the table - that fire - and put the thump on these songs, and everything's gonna work from there. - Author: Mystikal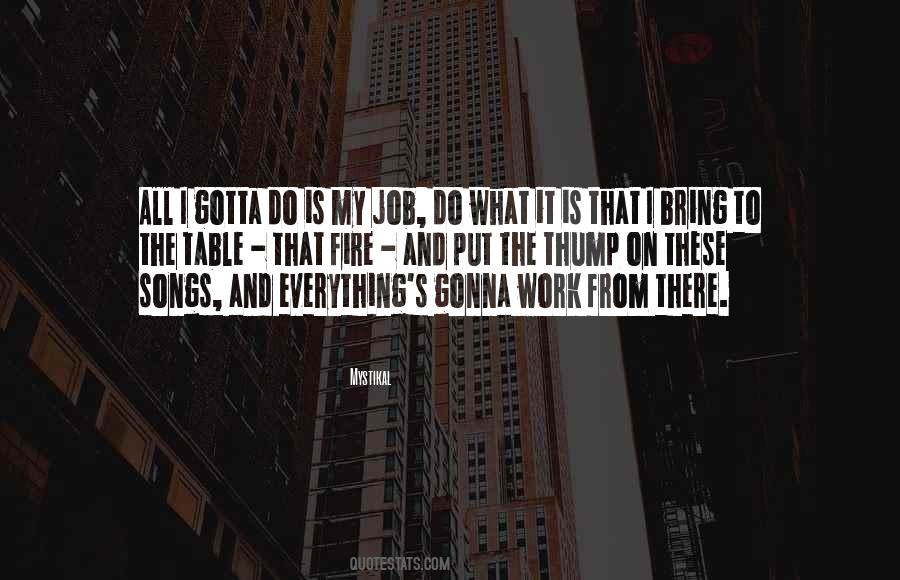 #40. My philosophy is: if you don't bear a cross, you can't wear a crown so you gotta go through some form of humiliation to reach tribulation. - Author: Peter Tosh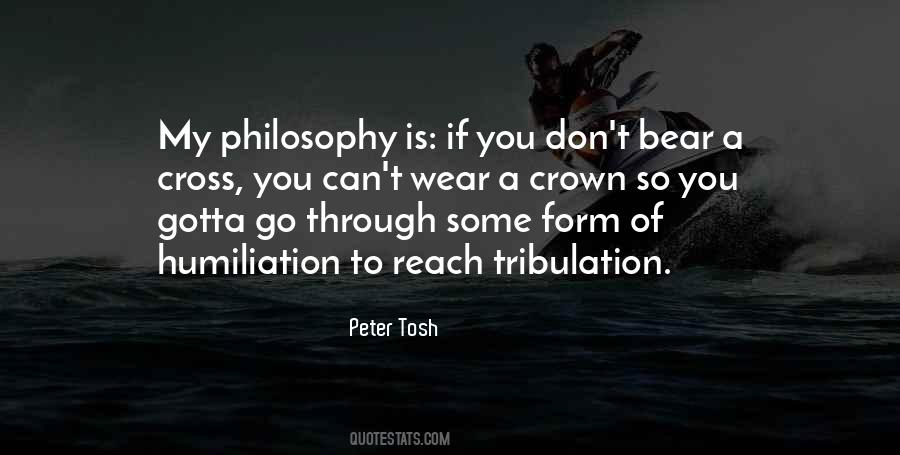 #41. Some things in life, you don't get. You gotta go take it ... Or you'll never have'em. - Author: Eric Thomas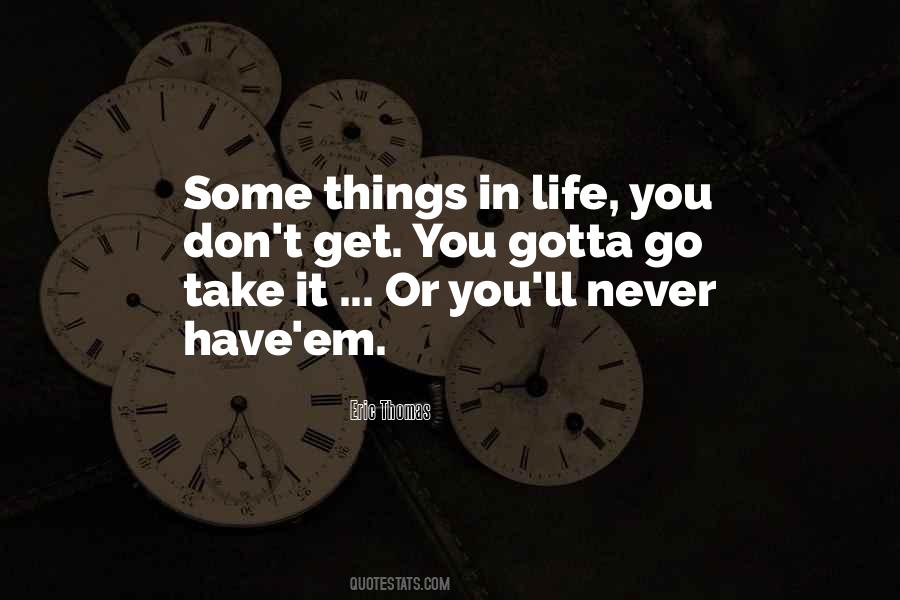 #42. You've gotta dive into the abyss if you wanna get anything good. Every record, you've gotta go down in the abyss and hope that you come out of it alive. - Author: King Tuff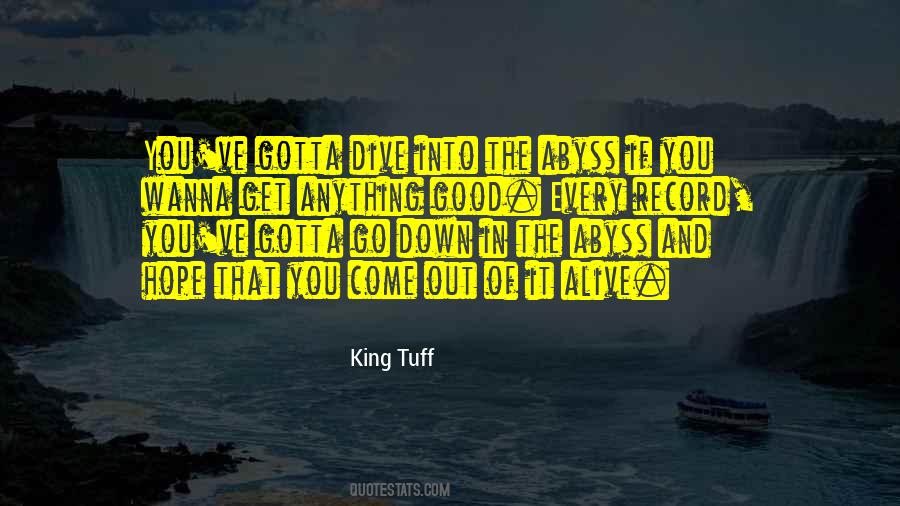 #43. I'm just really a free spirit. You gotta be like that. 'Cause life ain't that complicated. It's only that complicated when you make it that way. I just wanna wake up and move with the way it goes. If it's meant to happen, it will happen. - Author: Nayvadius Cash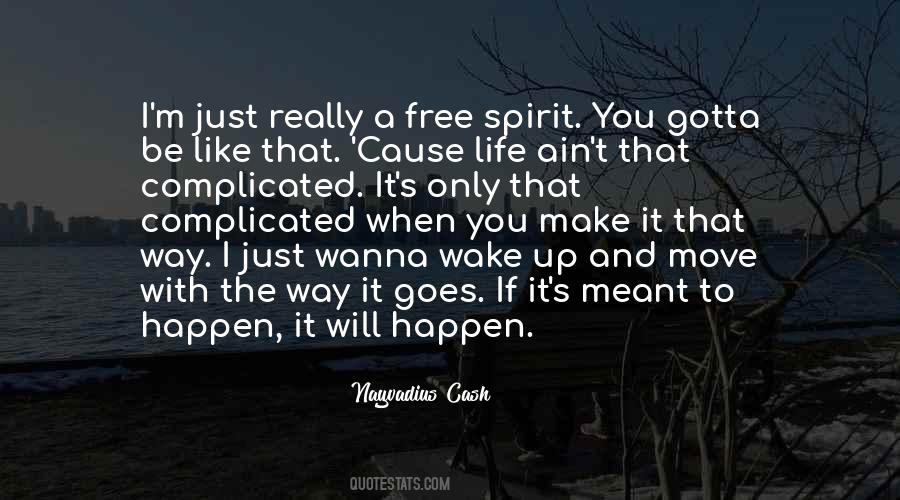 #44. My whole deal when I do accents or dialects is I gotta fool the locals. If I fool the locals then I've done my job. - Author: Brion James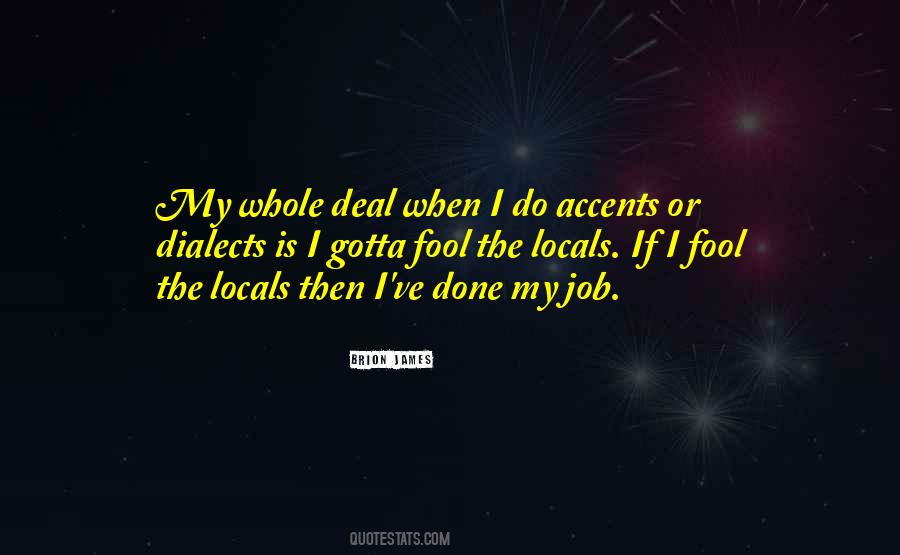 #45. Sometimes life gives you a little punch in the stomach ... You just gotta catch your breath and keep going. - Author: Tanya Masse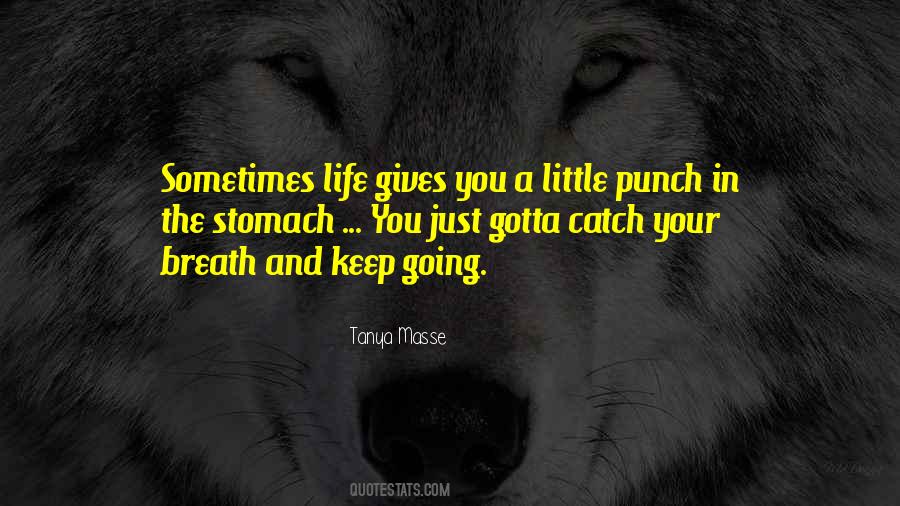 #46. Your whole life people tell you to do what you love. But if you gotta do something else to pay the bills, you don't automatically have to be miserable. - Author: Jeph Jacques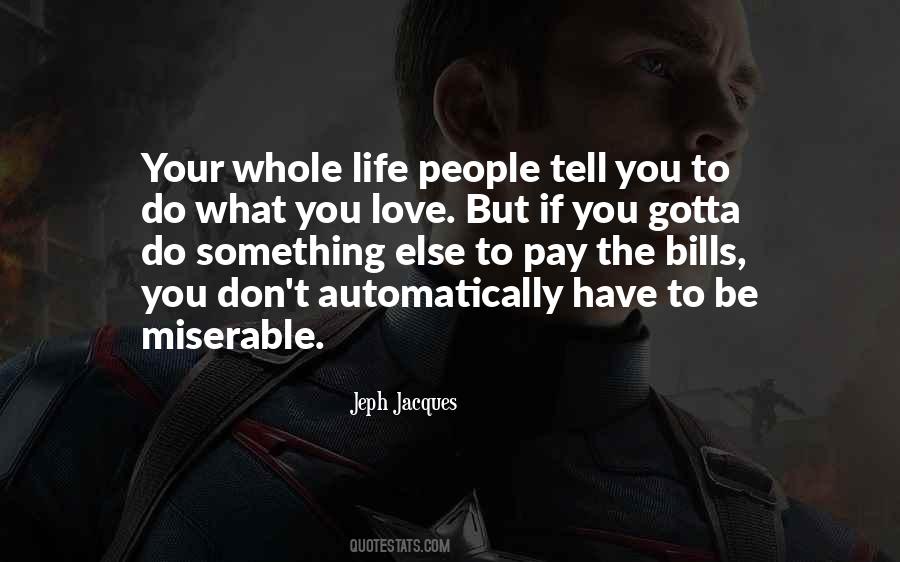 #47. Gotta get a tight grip, don't slip, loose lips, sank ships, it's a trip, I love the way she licks her lips. - Author: Tupac Shakur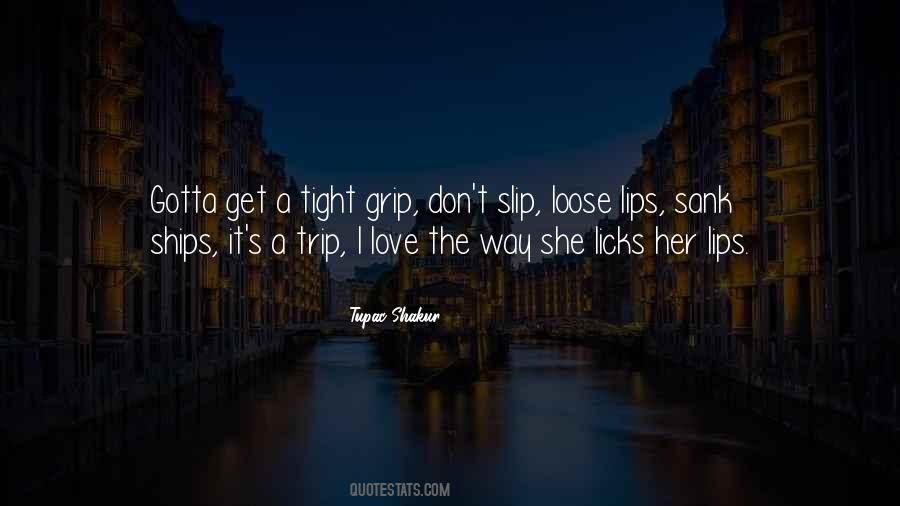 #48. One thing you gotta know about me is I have absolutely no filter. I have no problem saying what the hell I think of someone. - Author: Kobe Bryant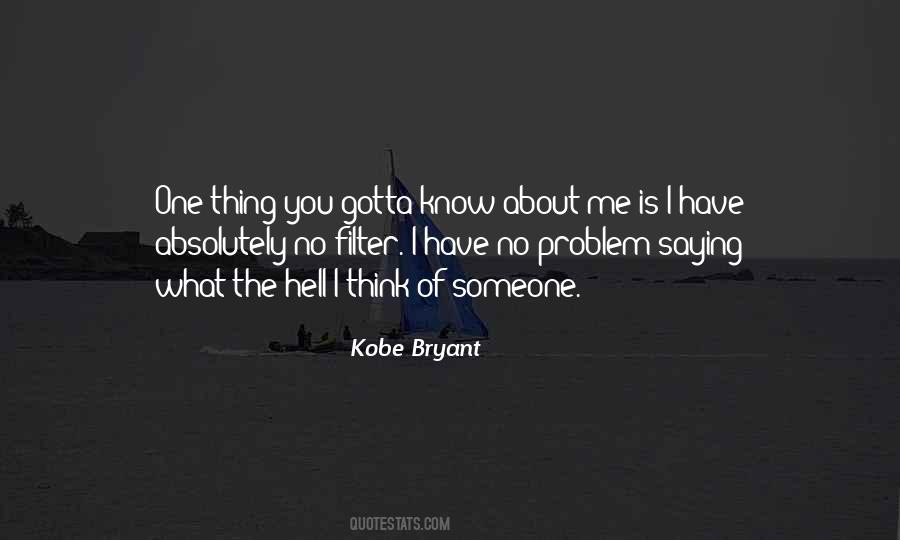 #49. The Road
Life isn't a destination
It's a journey.
But you gotta be heading somewhere
or you're just a mouse
going round.
Even if
the place you wind up
isn't the place
you where bound - Author: Carolee Dean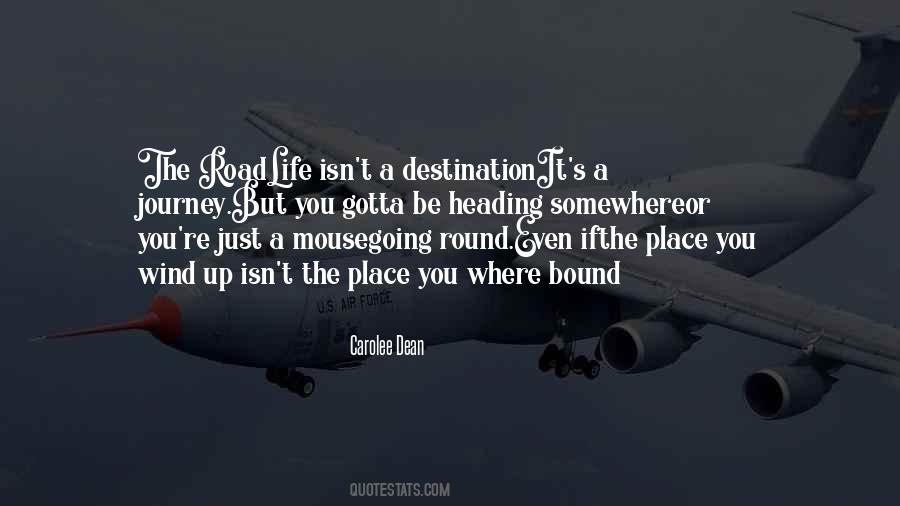 #50. Everyone's got their hands out waitin' for you to take one. You gotta learn when to take someone's hand before you fall. - Author: Kristen Ashley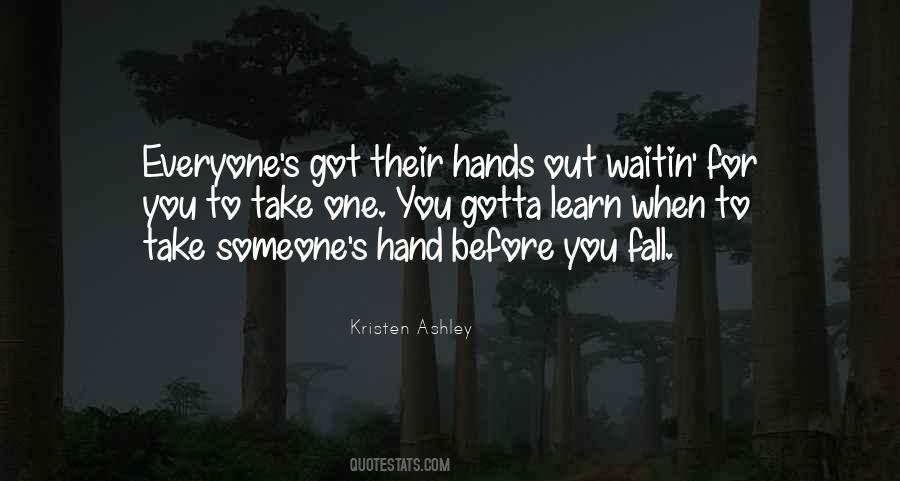 #51. Sometimes, to help the people you love, you've gotta commit a felony. - Author: Christopher Titus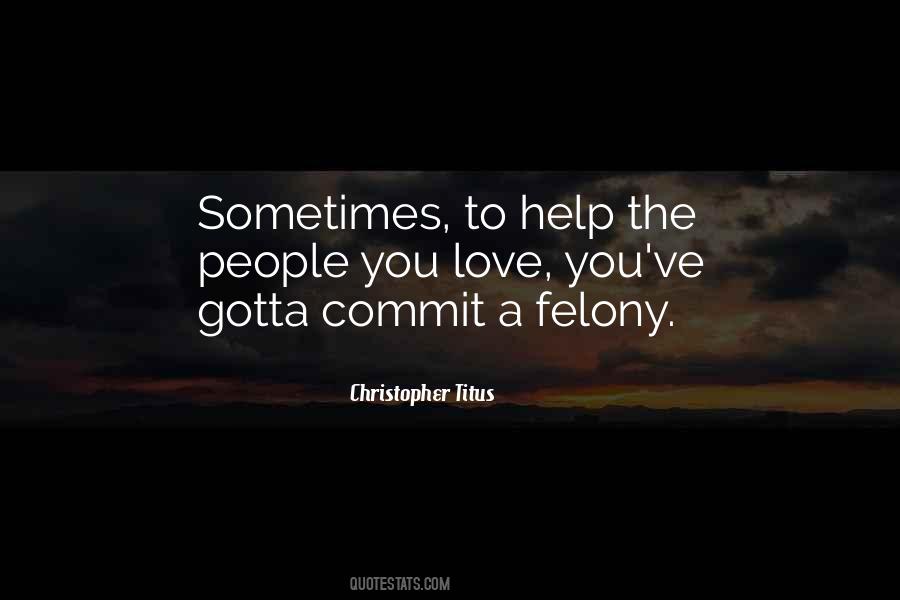 #52. Growing up, I was taught that a man has to defend his family. When the wolf is trying to get in, you gotta stand in the doorway. - Author: B.B. King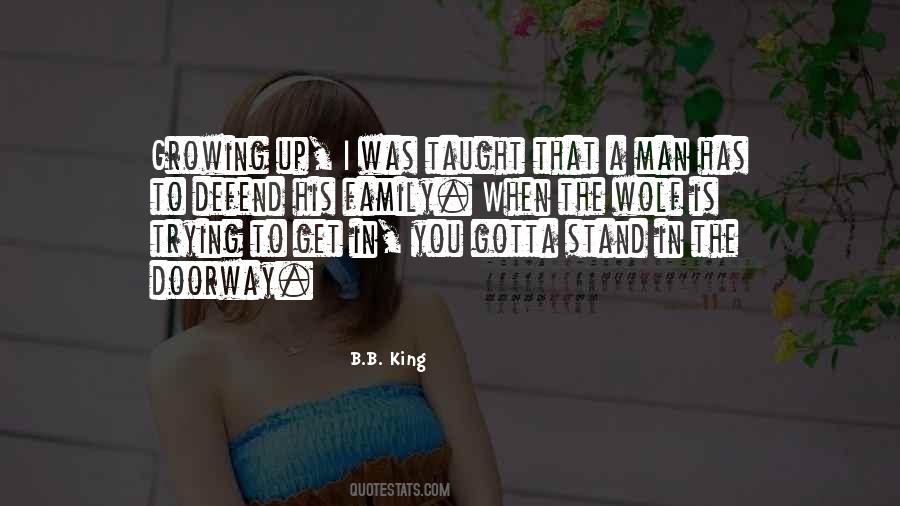 #53. You gotta be able to change worlds. - Author: Courtney Love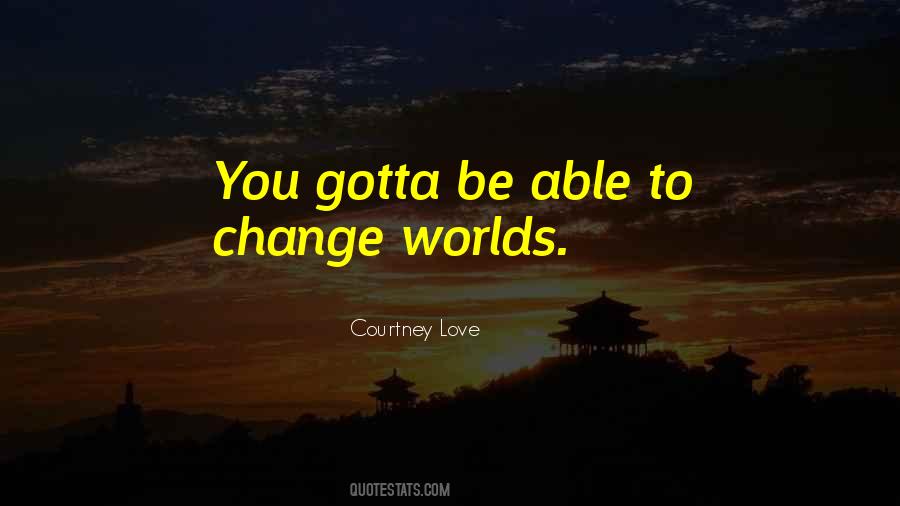 #54. Someday, I'll be living in a big ole' city, and all your ever gonna be is mean. Someday I'll be big enough so you can't hit me, and all you're gonna be is mean. Why you gotta be so mean... - Author: Nicole Hite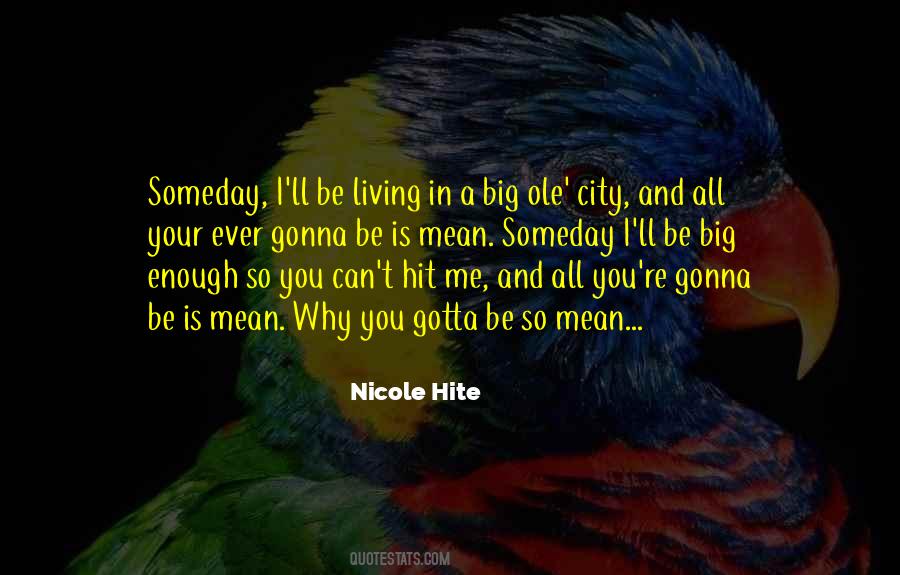 #55. As a quarterback, you have to love it. As much as you like to turn around and hand the ball off - the whole traditional football game - as a quarterback, you gotta love putting it in the air. - Author: Joe Montana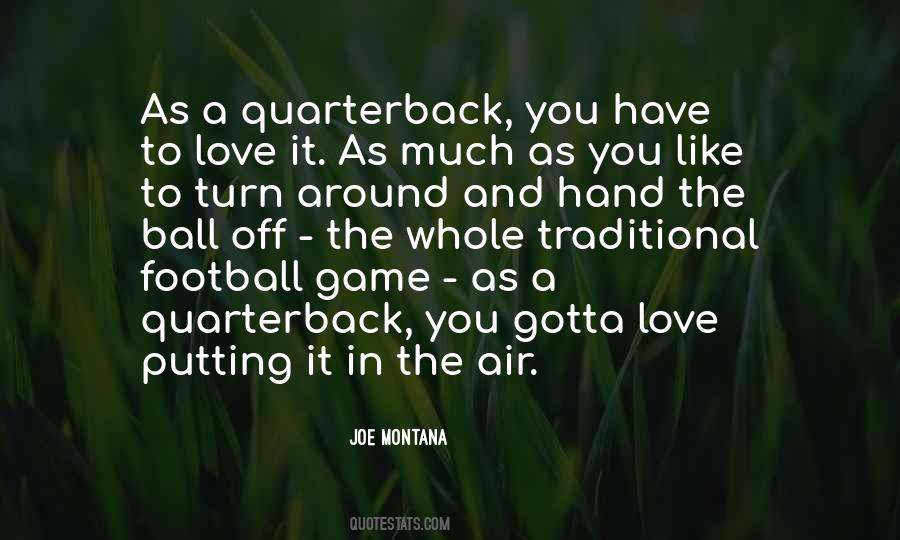 #56. My mother used to tell me: "You gotta smile more. Because if you don't smile, the way you look at people, they'll think you're mad at them." - Author: Denzel Washington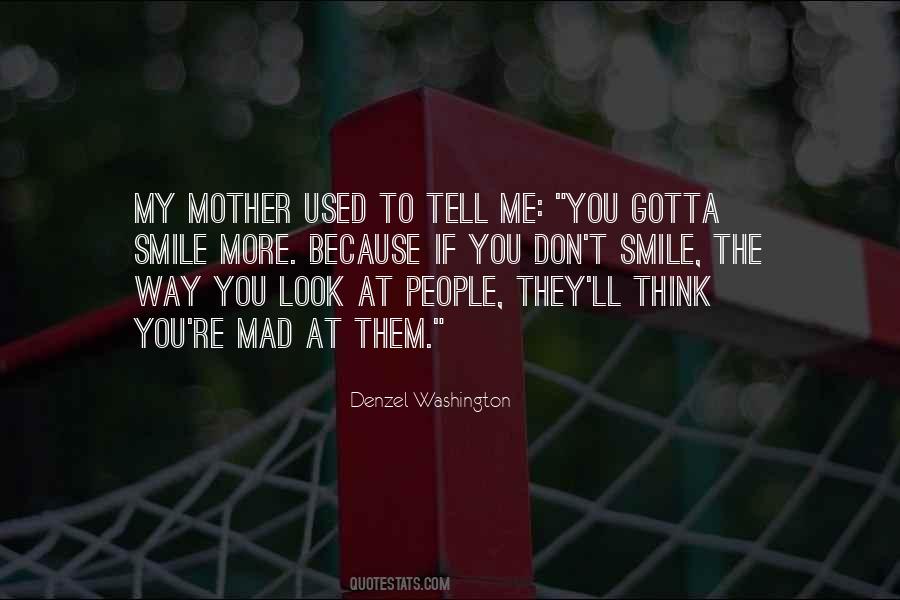 #57. He must have caught my vibe because his eyes cut to me then he said into his phone, Kia's about to have a shit fit or a breakdown. I gotta be available for either one. - Author: Kristen Ashley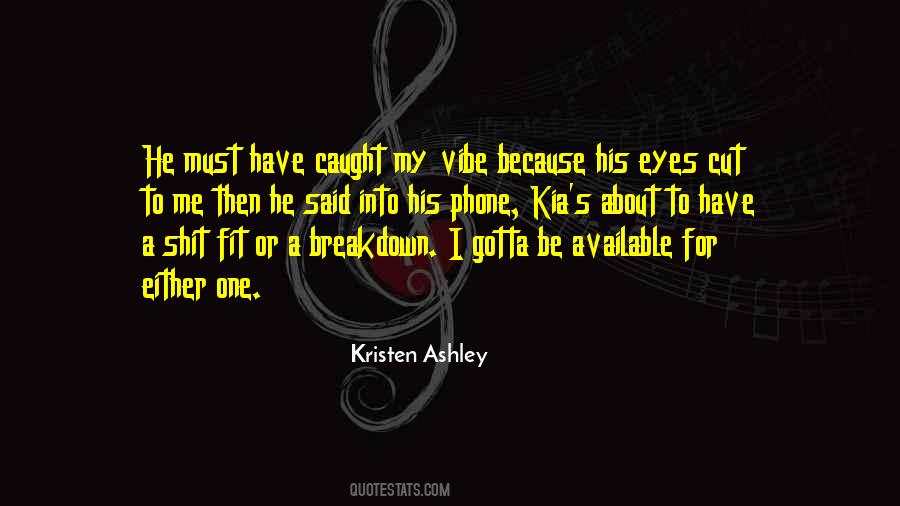 #58. I don't agree when the USA, that lives by a constitution, says, OK, just because you look this way, we're going to ask you for your documentation, or you gotta go back to your country. - Author: Pitbull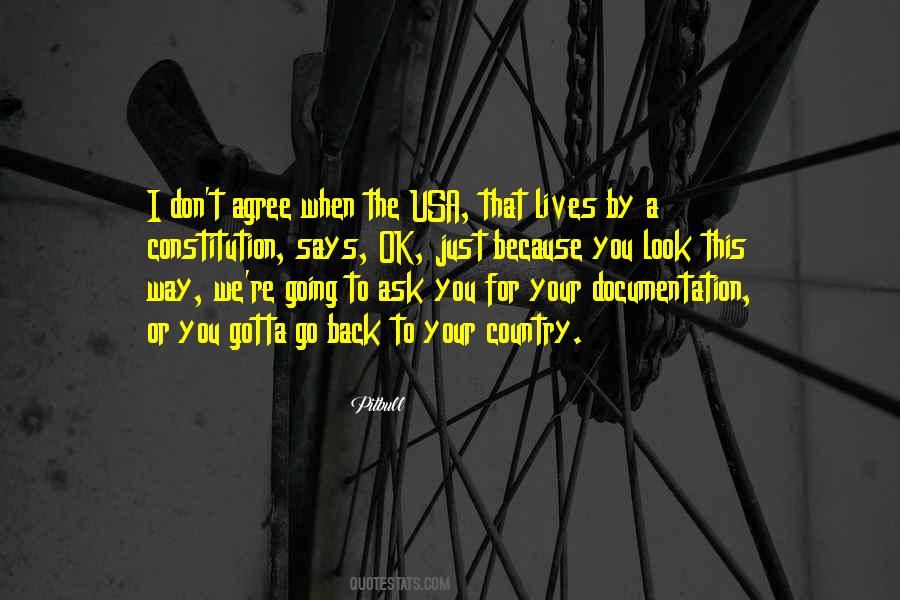 #59. There are only so many letters in the alphabet. When I talk to young musicians or authors and they ask for advice, I say, 'You gotta learn all the letters of your own personal alphabet. With music, you need to know all the different kinds of music and everything in and around your given instrument.' - Author: David Lee Roth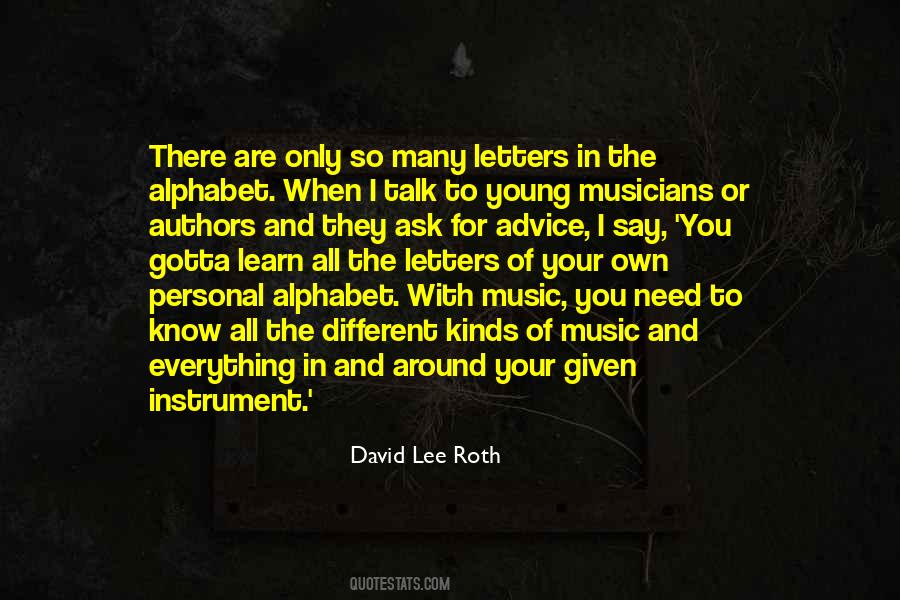 #60. When you a ghetto star, when you a hood star, you gonna take care of your grandmother, your mother. When you on that next level, you gotta take care of the city, the streets. - Author: Young Jeezy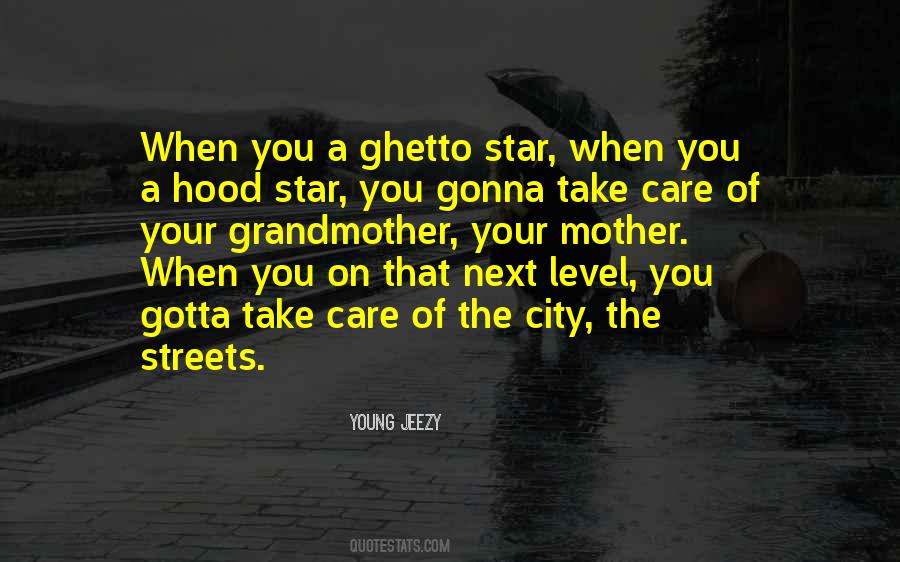 #61. No one gives you anything in life. You gotta work hard and go after it to get it. - Author: Rob Dyrdek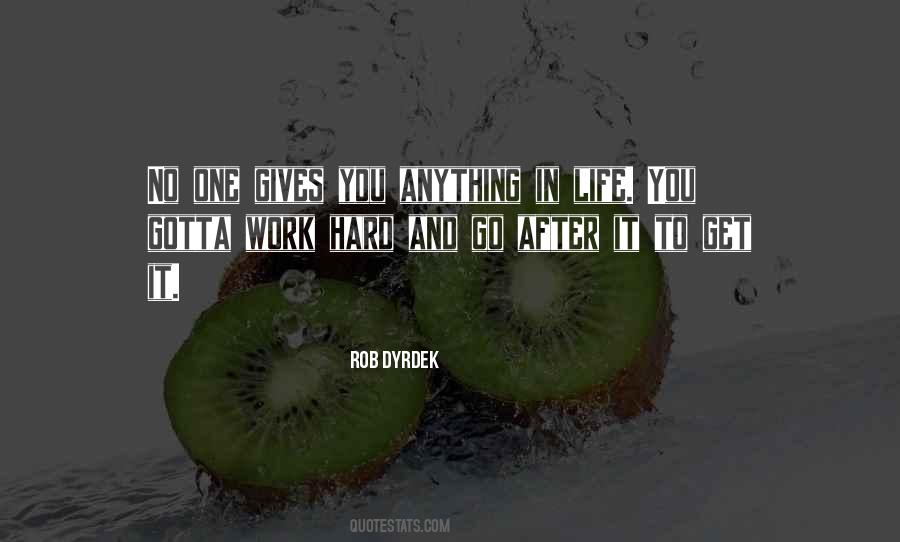 #62. Just because you encountered some grit doesn't mean you gotta quit. - Author: Kristen Callihan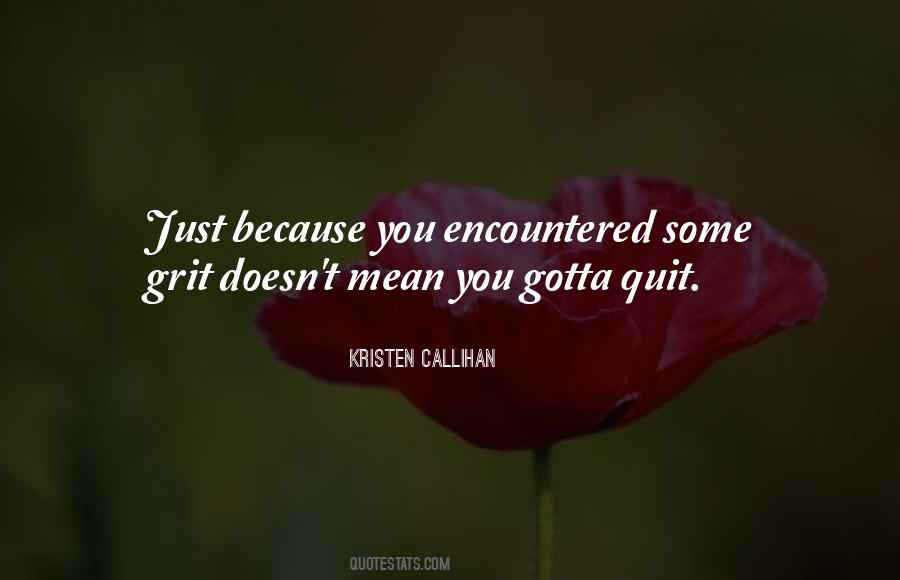 #63. I guess it doesn't matter how much homework you do. When you're on set, you gotta forget it and throw it out the window and, hopefully, some magic happens. - Author: Juan Pablo Di Pace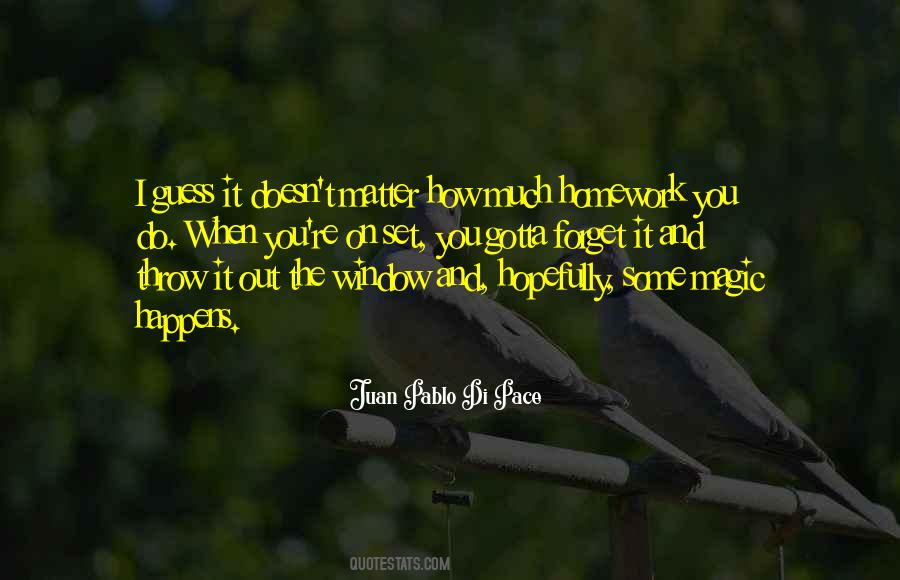 #64. You've gotta find a way to get out of your own way, so you can progress in life. - Author: Steve Carlton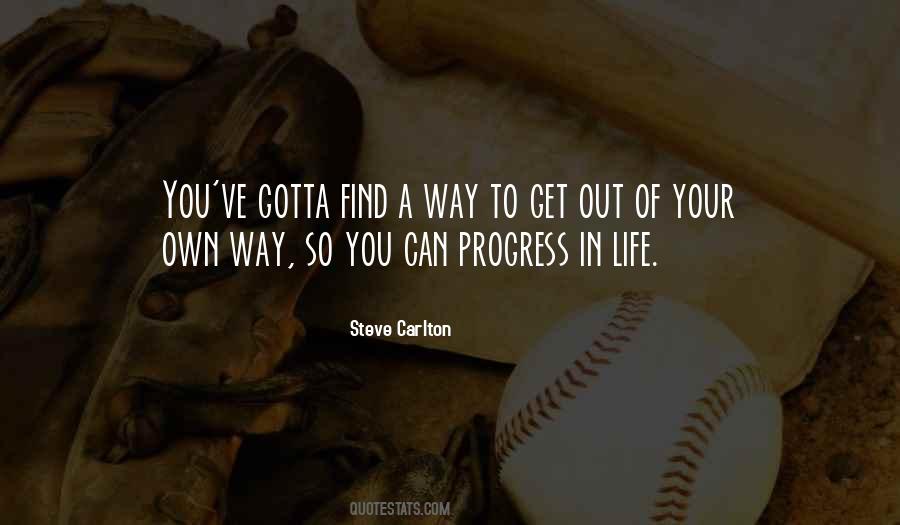 #65. We gotta control inflation, quit spending our money on everything. But this years tax increase, why it's the biggest in history. - Author: Hank Williams Jr.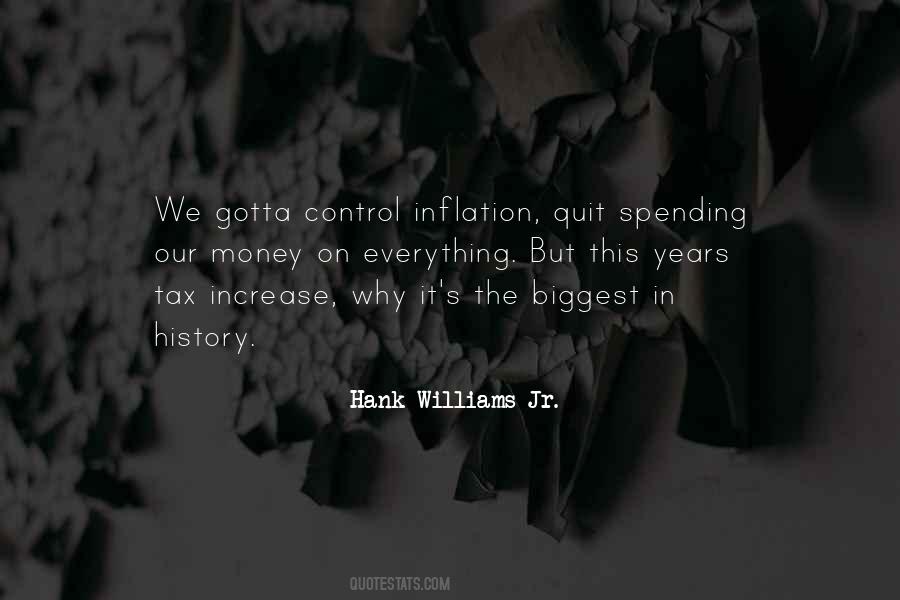 #66. You gotta understand, there are two different kinds of Asians - the kind who are good at school, obey their parents, go to college - that kind of stuff. And then you have my family - me, my brother, all of my cousins - we're just wretched people. - Author: Bobby Lee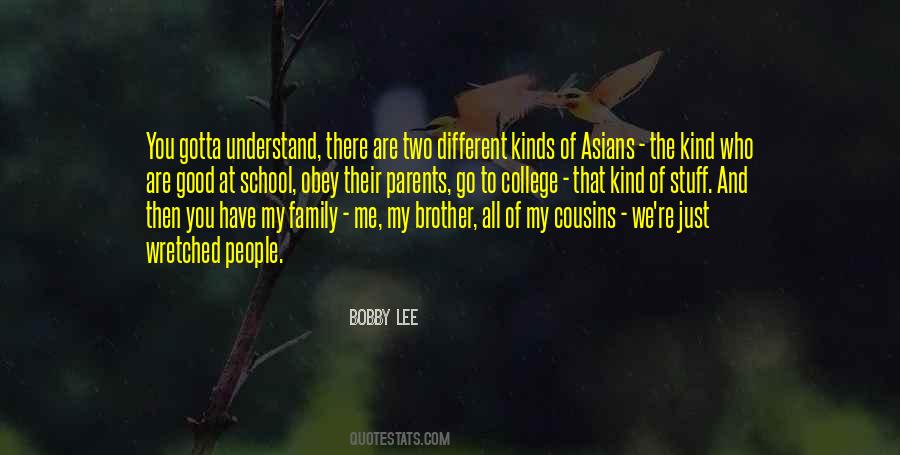 #67. You just gotta love someone with full force, even if it hurts you. Even if you end up regretting it, at least you gave it your all. - Author: Magan Vernon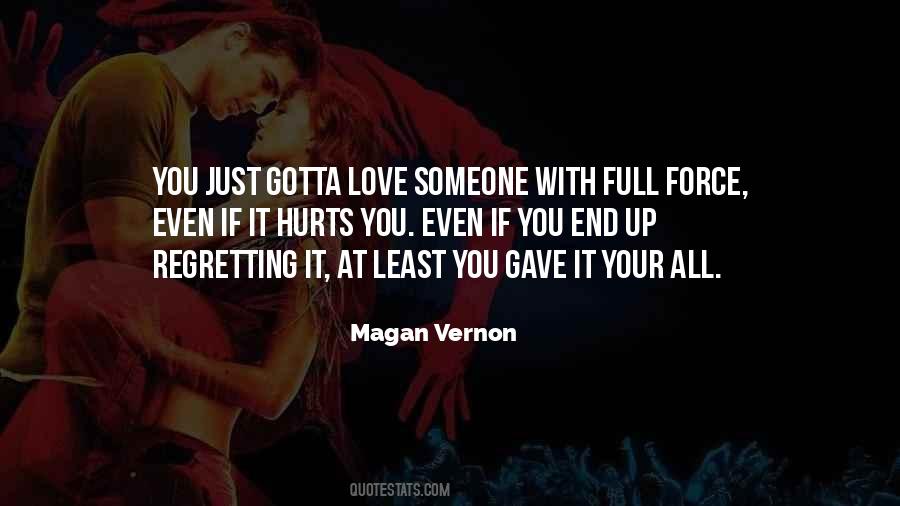 #68. Everyone's gotta make their own way. - Author: Hayley Williams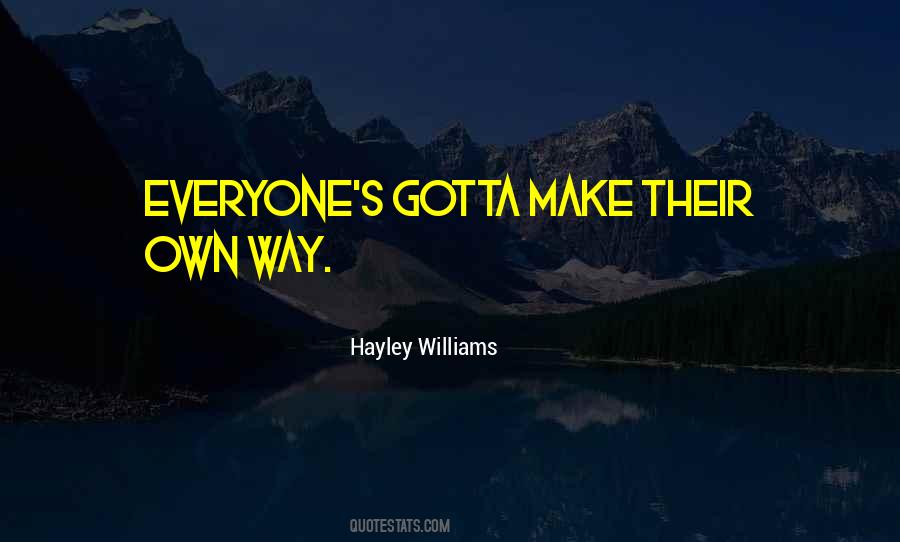 #69. Sometimes you just gotta suck at being the person people think you are. - Author: Ellie Rose McKee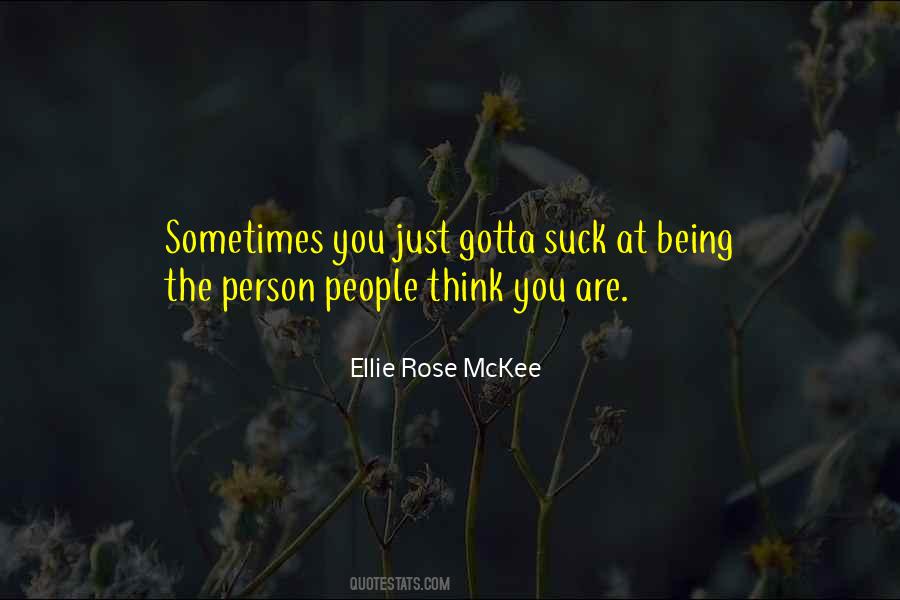 #70. You gotta keep ur head up even when the road is hard never give up. - Author: Tupac Shakur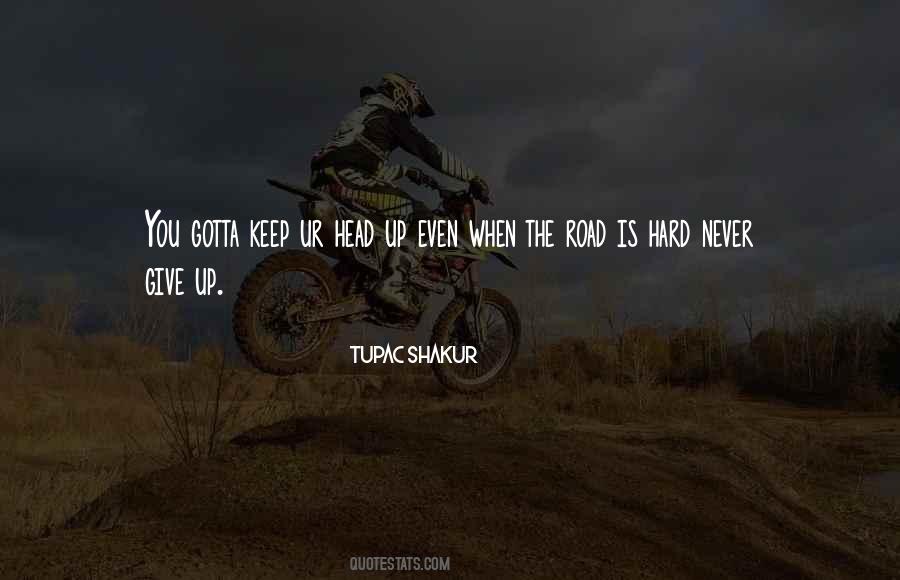 #71. I give [Barack Obama] a 10 [on a scale of 1 to 10] because he's not God, and he inherited a couple of wars, and a financial mess.I want to see him curse somebody out on TV. You can't finesse a bull. He's gotta throw down. He's in the shark tank. - Author: Tracy Morgan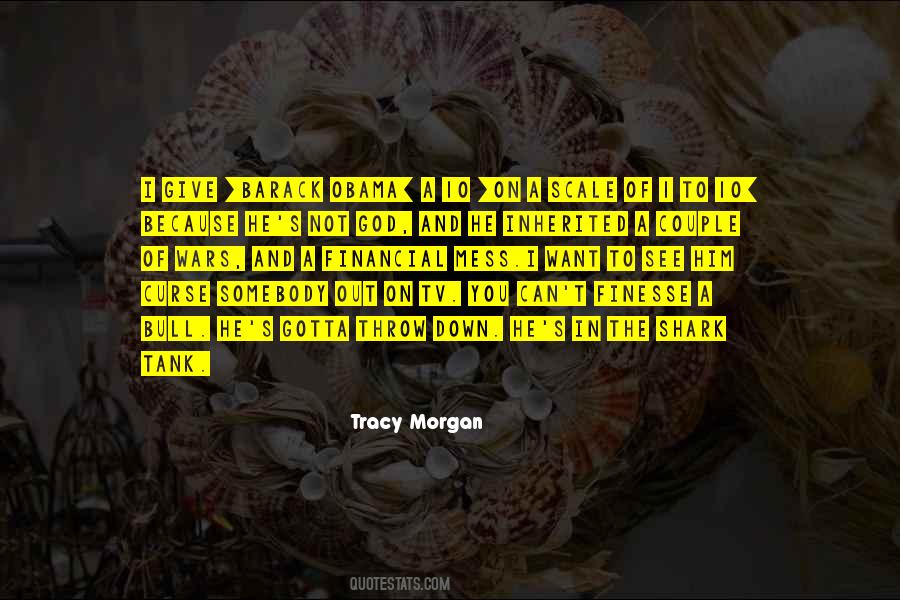 #72. Stand back! I gotta get some rocket fuel out of the fridge! - Author: Adam Savage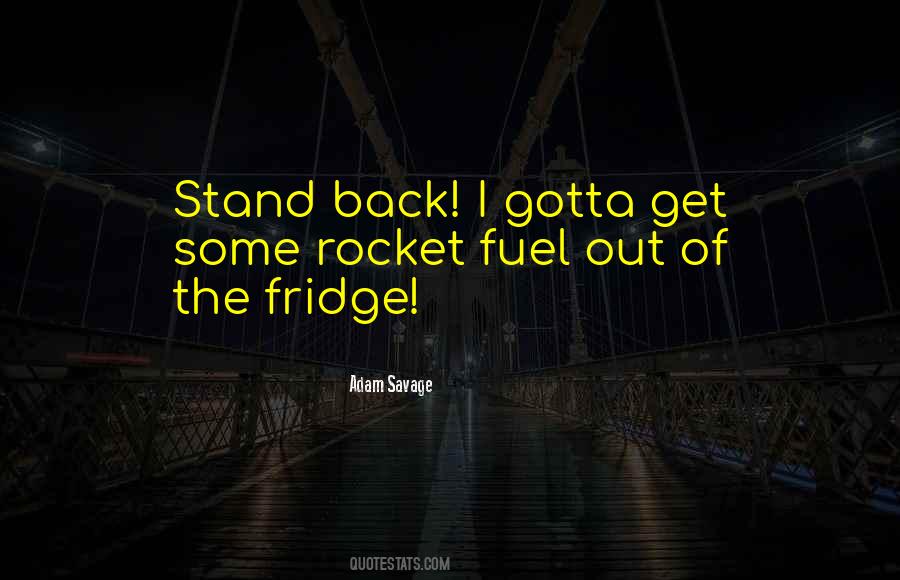 #73. A woman's gotta do what a woman's gotta do. - Author: Yvonne Montgomery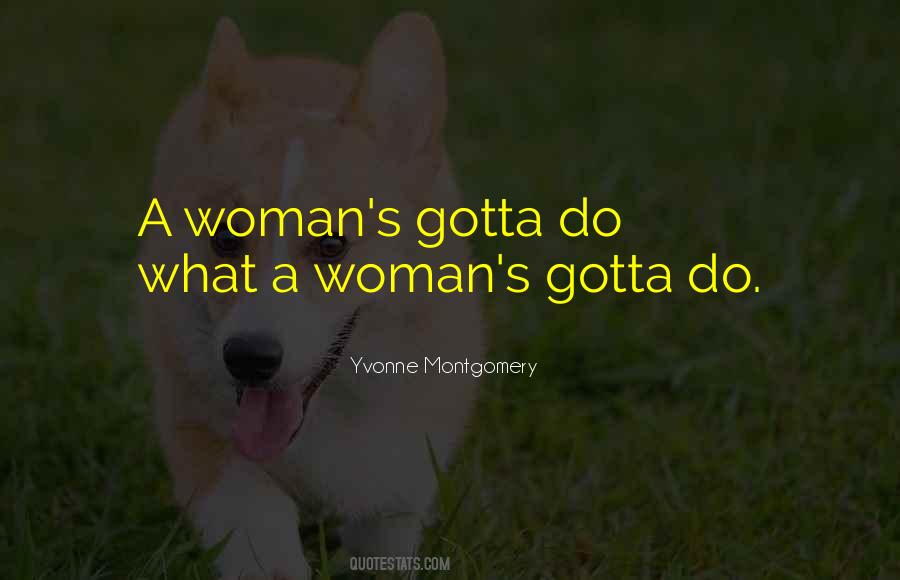 #74. You've already decided what you're going to do, and all that's left is to set the wheels in motion. I mean, it's your life. Basically, you gotta go with what you think is right. - Author: Haruki Murakami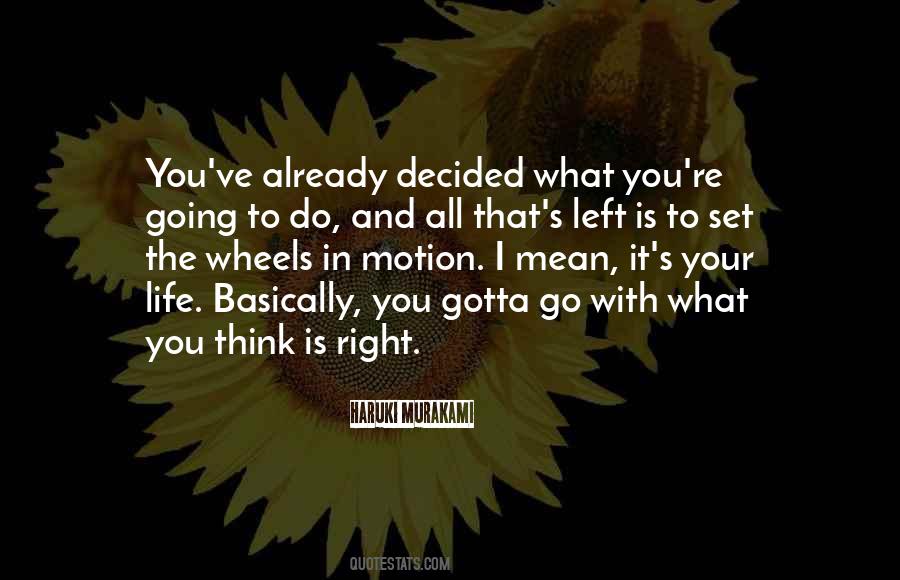 #75. As a person, I have a lot of different sides to me, and I genuinely just embrace them. I don't think, 'Oh, I gotta put on my cool face now!' - Author: Tinashe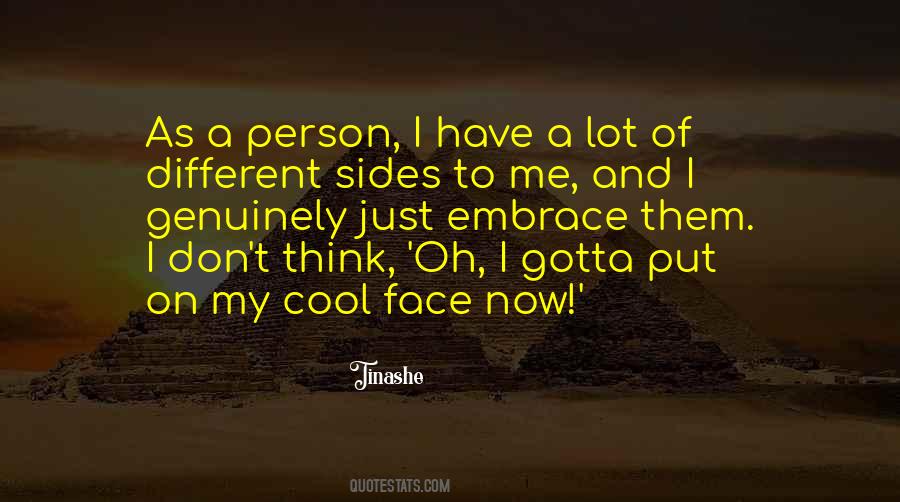 #76. Hey, man, I toss a stick for a living. Gotta spice up that deal, y'know. Gotta stand out. - Author: Breaux Greer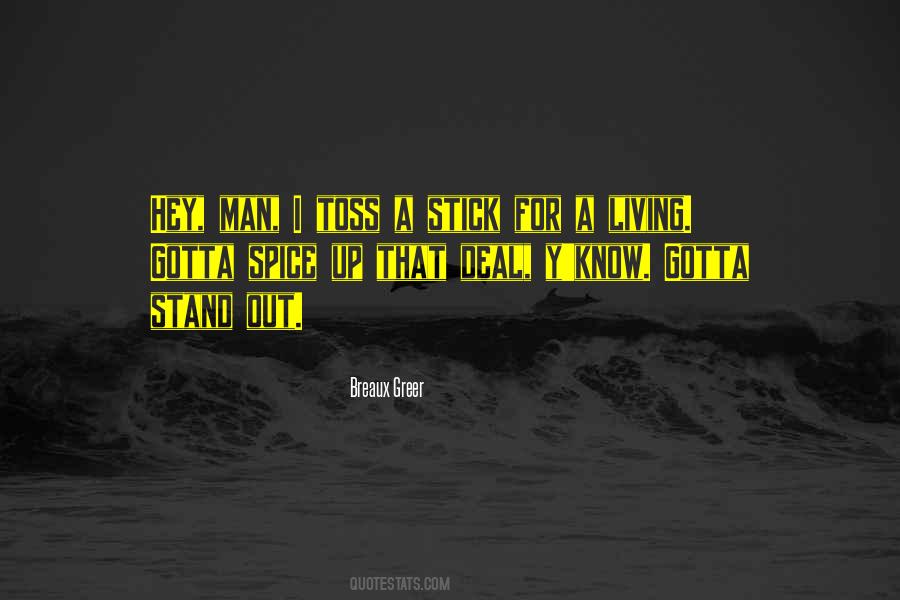 #77. As an actor, sometimes you've gotta take the jobs that you may not want to do. It's so hard to work as an actor. - Author: Travis Fimmel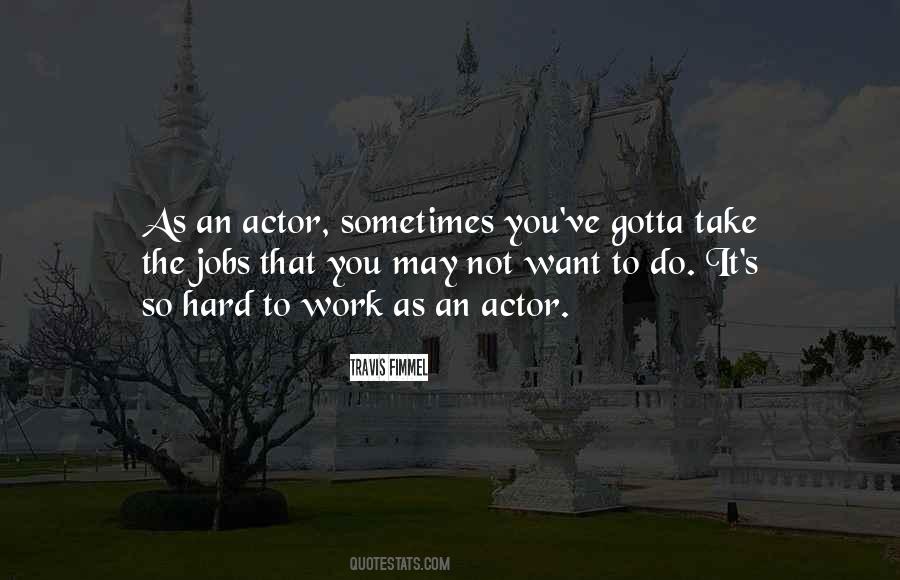 #78. I always say, the only time you gotta worry about getting booed is when you're wearing a white uniform. And I've never been booed wearing a white uniform. - Author: Pete Rose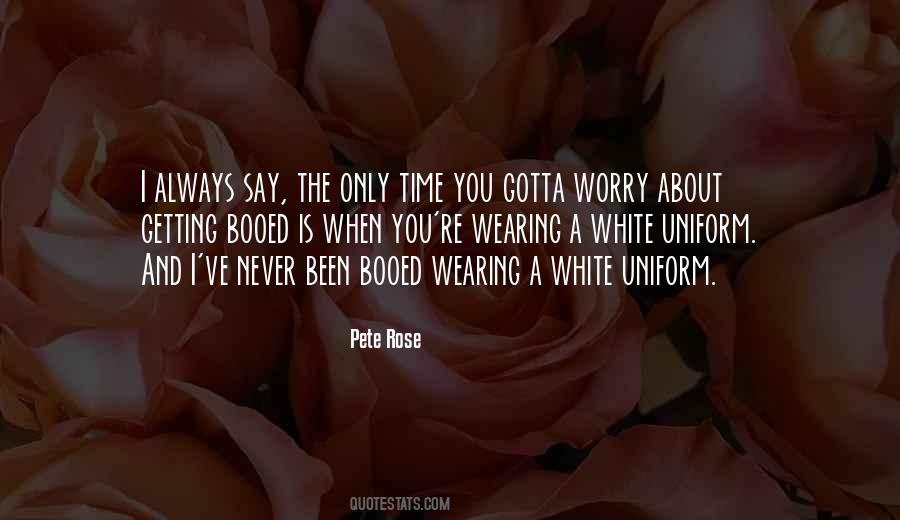 #79. Getting over it/ just means getting around it/ and sometimes/ you gotta go through it/ leave it torn and blasted apart - Author: Shane Koyczan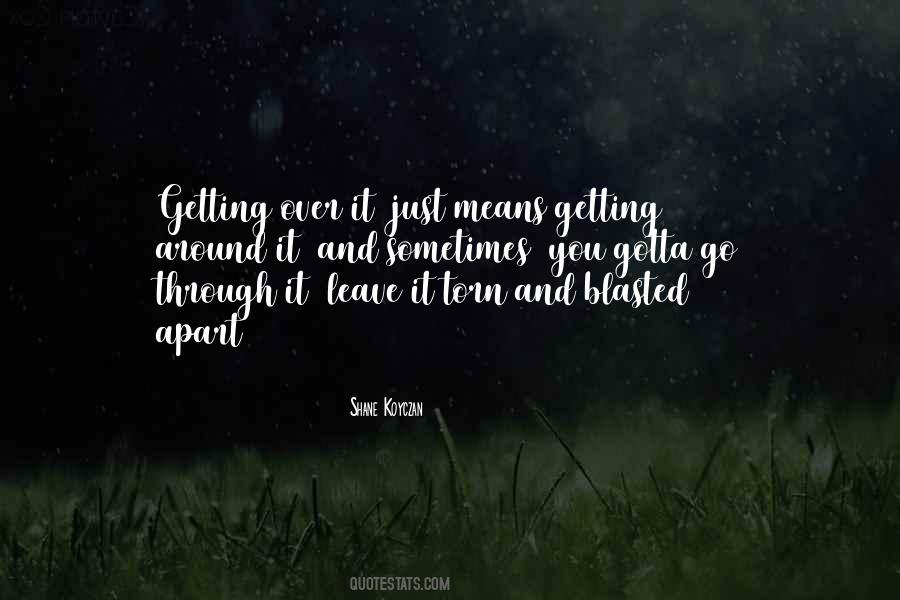 #80. When life tries to define you with its hardship, you gotta push back, look it straight in the eye and say, 'No matter what life throws at me, I'm going to keep telling myself that I will overcome.' And every time you own that truth, you write your own life script. - Author: Nikki Rosen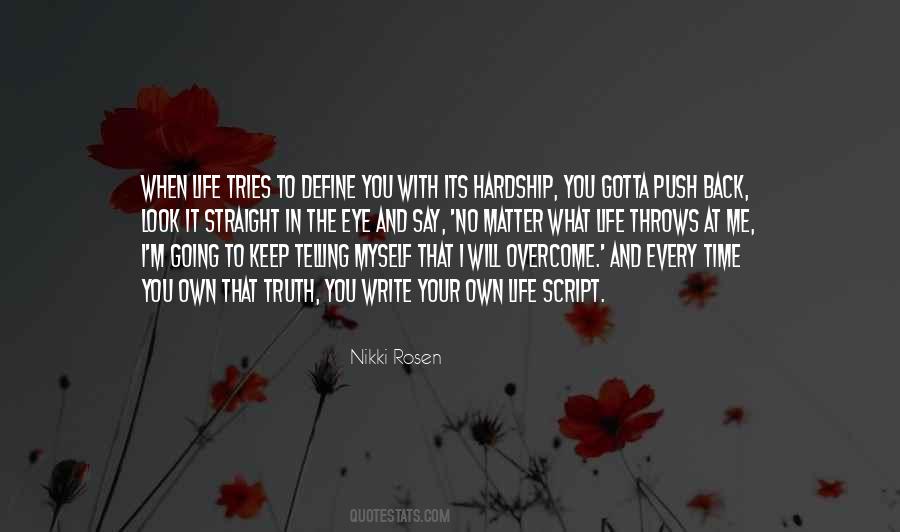 #81. Scuse me diary ... gotta take care of a pressing problem in my jeans right now.

Same day - later.

What? At least I didn't come over your nice, clean pages, right? - Author: K.C. Wells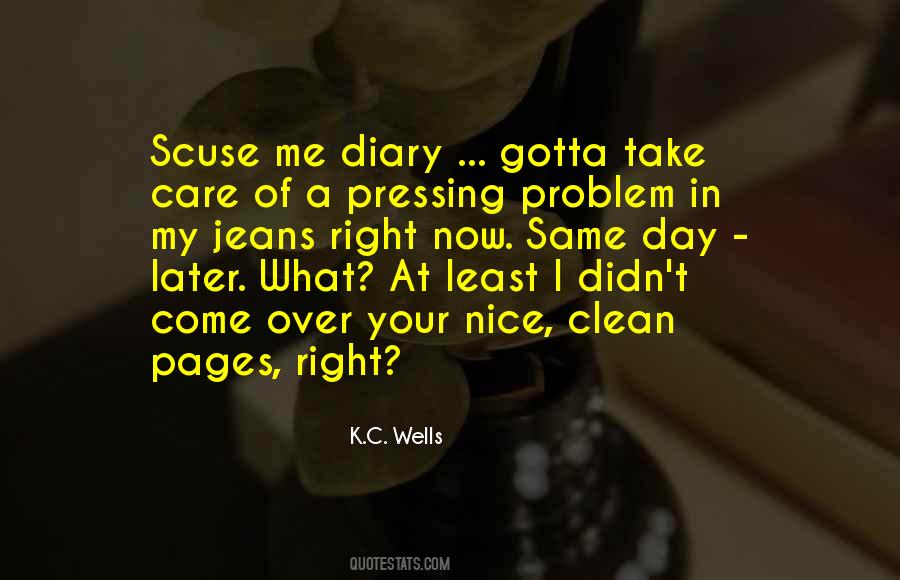 #82. Sometimes you just gotta let some tears out or you'll burst. -Miz Allemond - Author: Kimberley Griffiths Little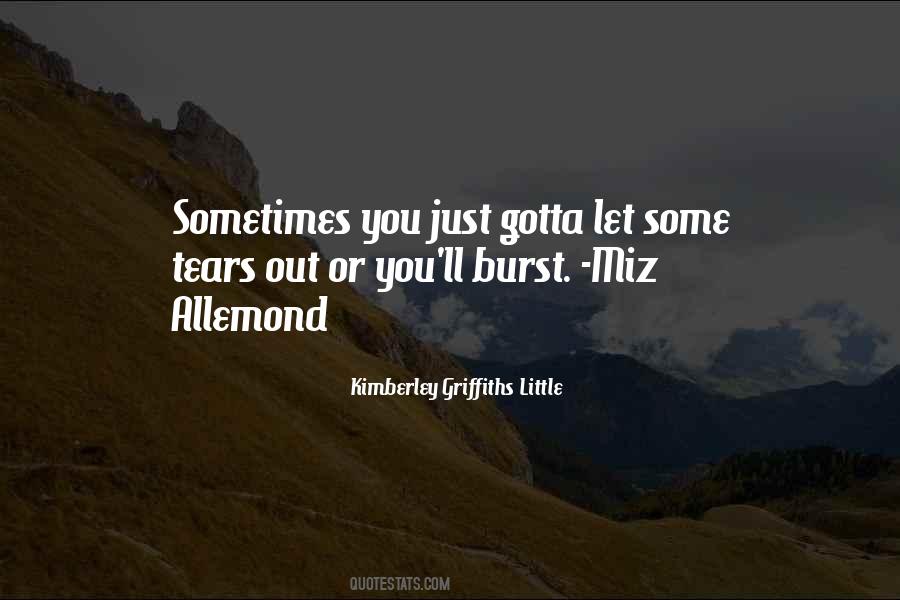 #83. You gotta learn your body, how clothes fit on you. - Author: Theophilus London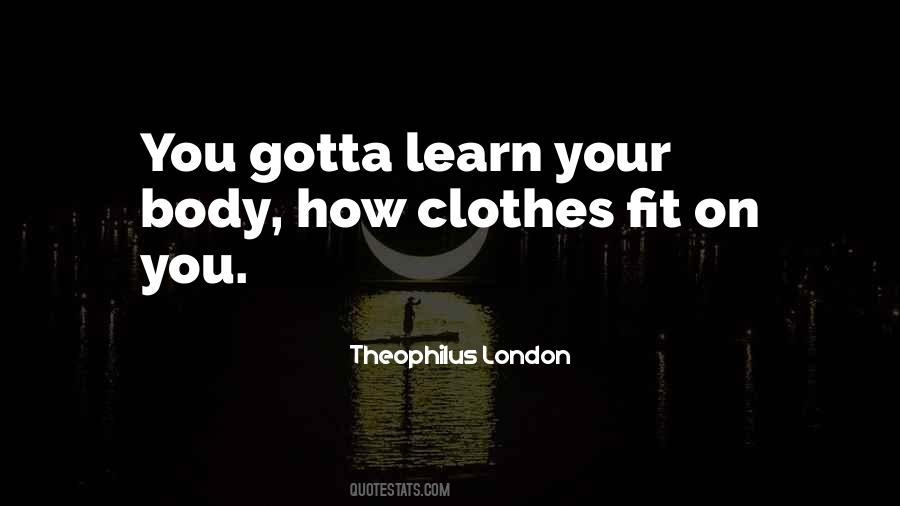 #84. We also want to try and slow down all this foolishness that's going on between the East and West. We gotta understand that Hip Hop is now universal. Hip Hop is not East coast or West coast. - Author: Afrika Bambaataa
#85. Sometimes I take off my skully and wear glasses, so I've gotta brush and make sure my hairline is straight. - Author: French Montana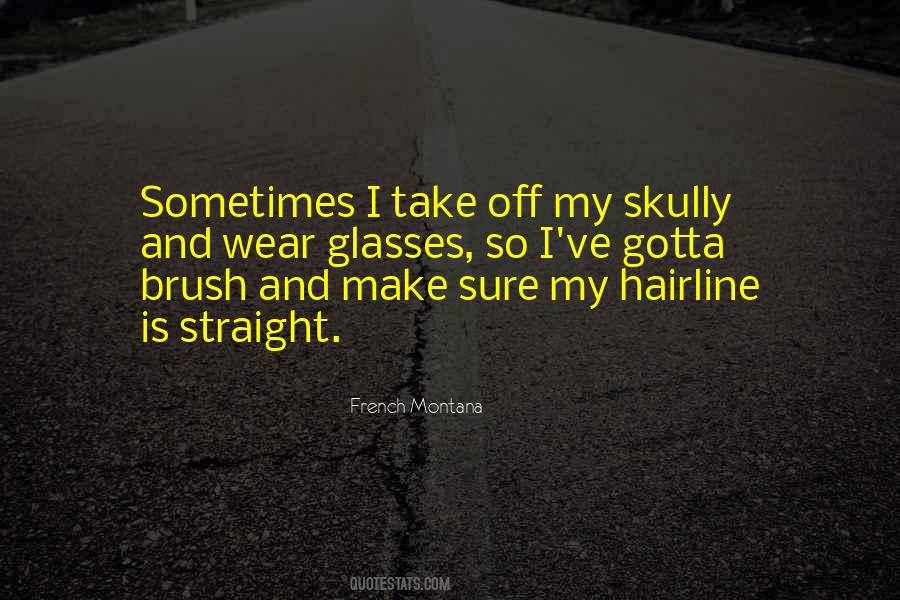 #86. Hard times don't last, darlin'. But hard people do. You gotta hang tough. - Author: Julie Ann Walker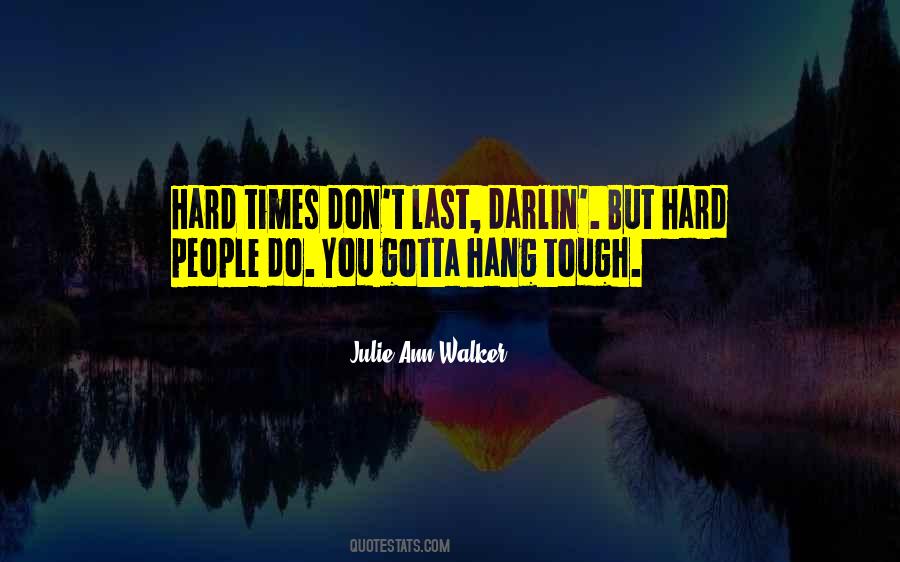 #87. Cool it," cried Olga. "Working hard is what I do! Can't be perfect. Going to school not cheap and what are you doing here, a beauty nobody want. My first year was ok, only five or ten times knocked down, then later more and more. He says I'm no lady and gotta work harder for his dollar. - Author: J.M.K. Walkow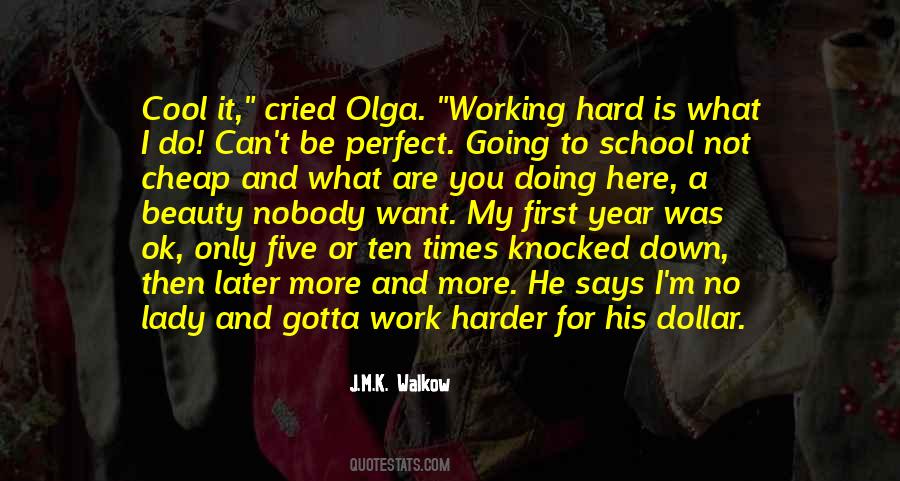 #88. A thing that most creatives don't do well is that you've gotta learn to listen. - Author: Lee Clow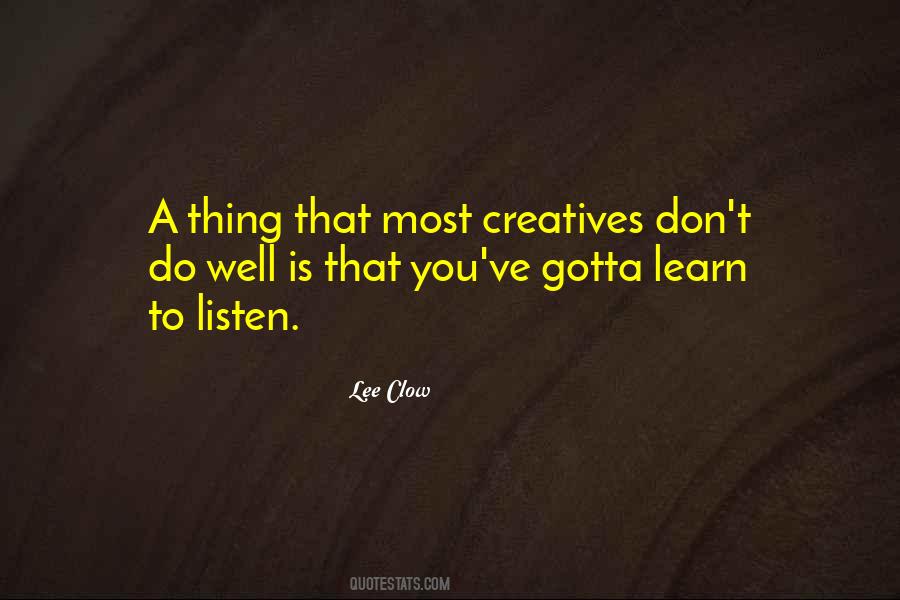 #89. Someone stole my wallet last week. The guy called me up and he was mad at me. He was like 'you gotta get your finances together. You got no cash, your credit cards are maxed out. You don't even have minutes on your calling card. I had to use my card to call you.' - Author: Mike Birbiglia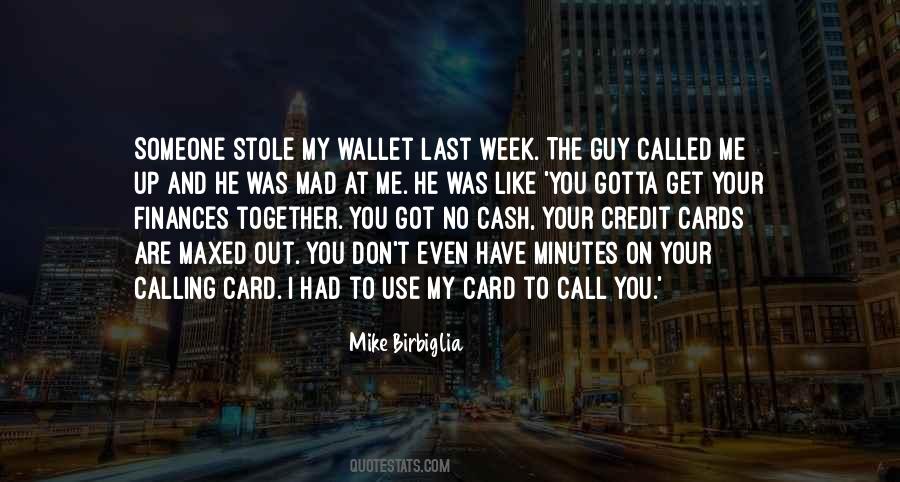 #90. I'm no missionary, and I can't wear any armor, either. I just gotta be the way I am. - Author: Jim Croce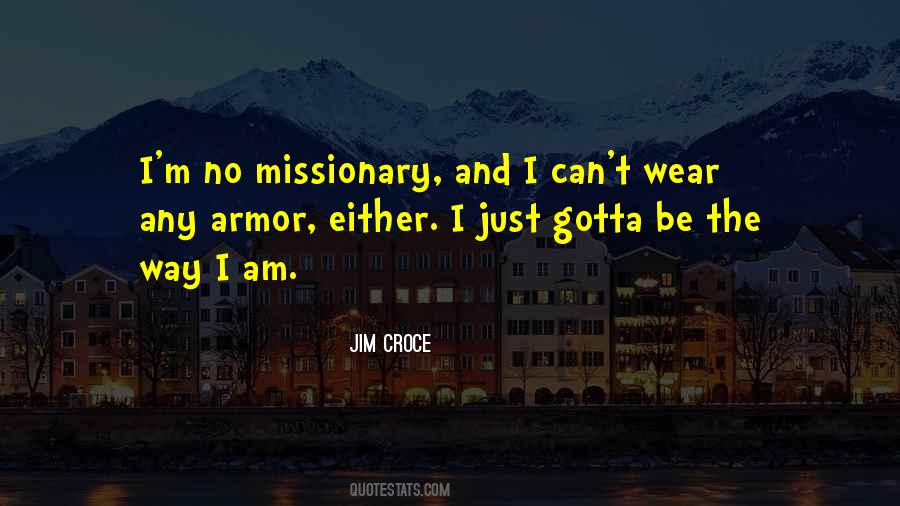 #91. So now, all alone or not, you gotta walk ahead. Thing to remember is if we're all alone, then we're all together in that too. - Author: Cecelia Ahern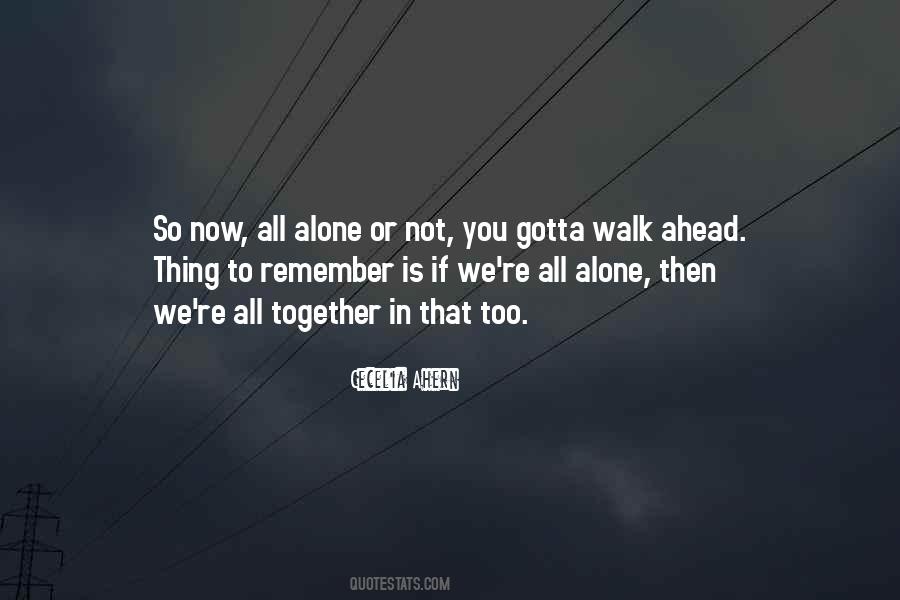 #92. I'm actually a very shy person, which is why I always chose to be in the kitchen. You can make people happy and entertain them, without really being there. You can make a very short appearance and then say, 'I've got something on the stove, gotta go!' - Author: Giada De Laurentiis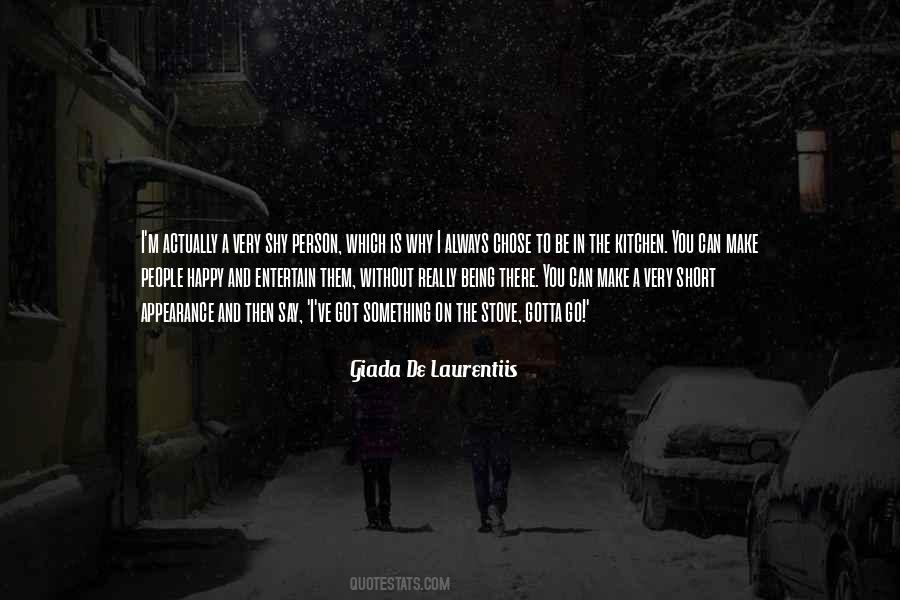 #93. Even when a pilot goes, you shoot it in March or April, and then you have to rush it through post-production by May. If they greenlight it, then you go and there's no time to think about it. And then, you've gotta start shooting in July, so you're off to the races. - Author: Tony Goldwyn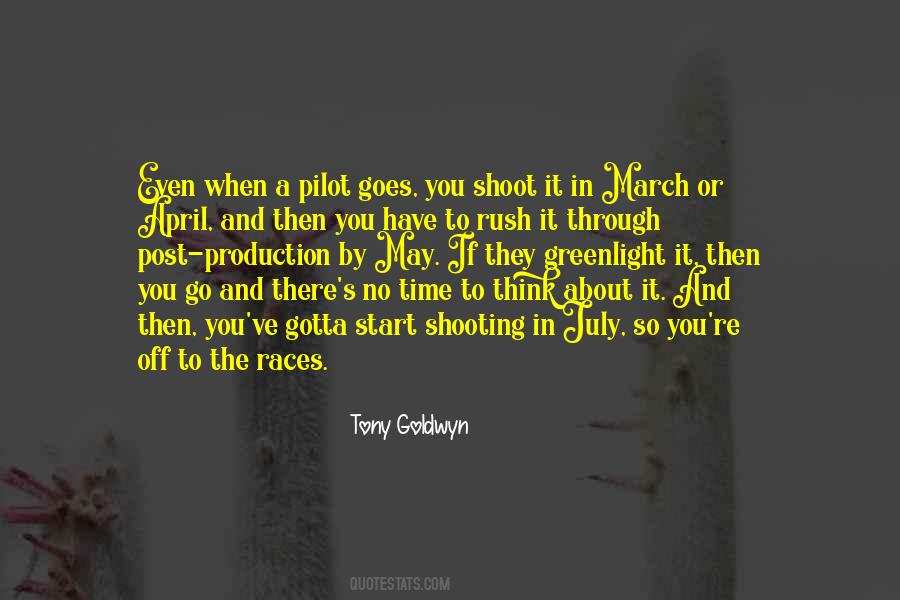 #94. Sometimes you gotta look yourself in the mirror and say, 'You are the prettiest princess in all the land.' I do it once a week. - Author: Jack Barakat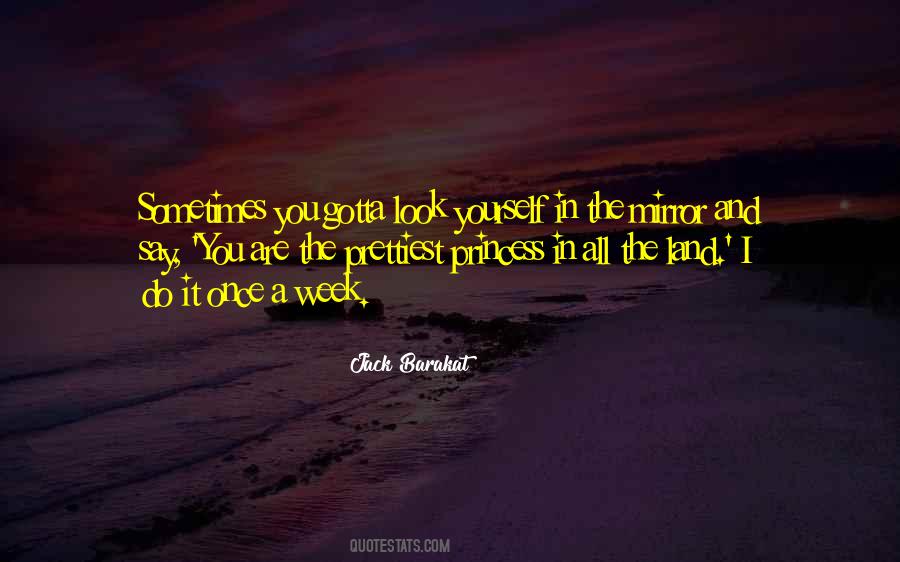 #95. You gotta keep the ball off the fat part of the bat. - Author: Satchel Paige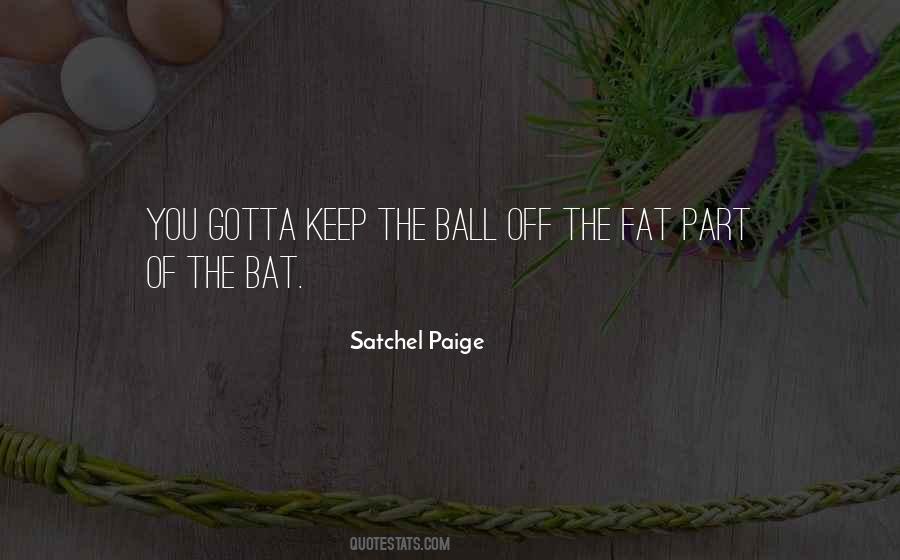 #96. Don't take no shit off fools. An' you judge a person by what's in 'em, not how they look. An' you do the right thing. You gotta be one of the good guys, son: 'cause there's way too many of the bad. - Author: Garth Ennis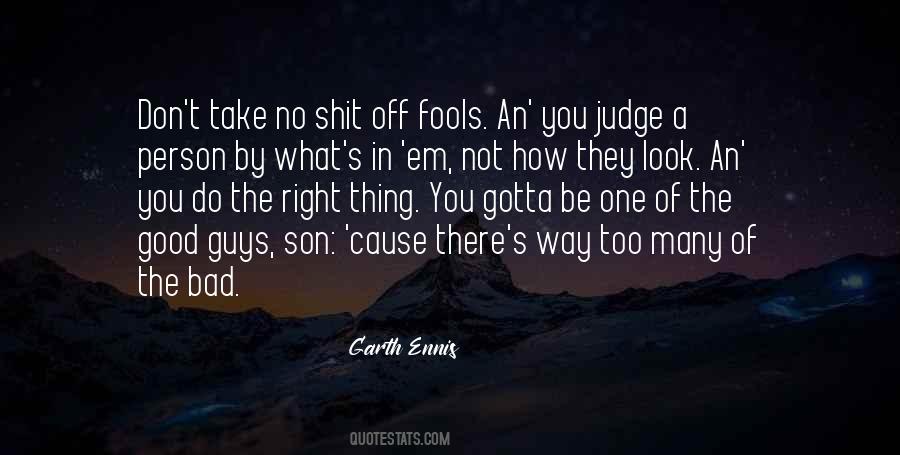 #97. I gotta go," I wheezed. "This is shitty, you know? How do you live like this?"

"Rachel!" he cried, but it was too late,

(Rachel and Al) - Author: Kim Harrison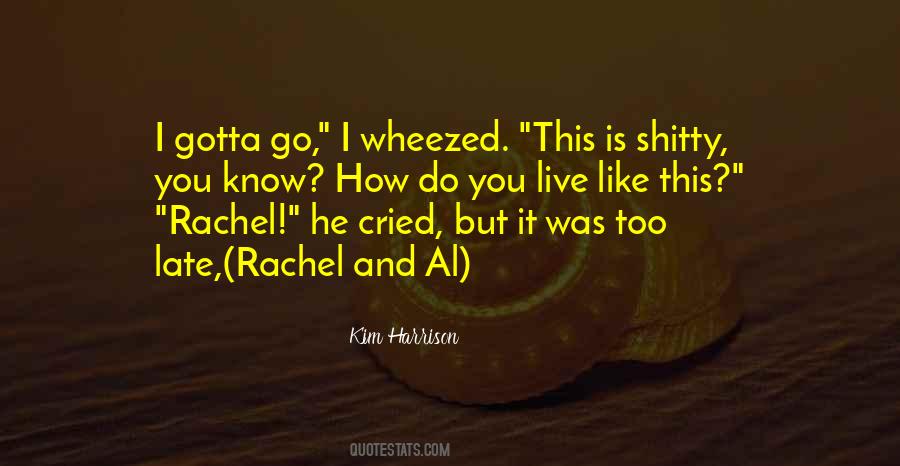 #98. For actors, you've gotta sometimes fill in your backstory. - Author: Anna Gunn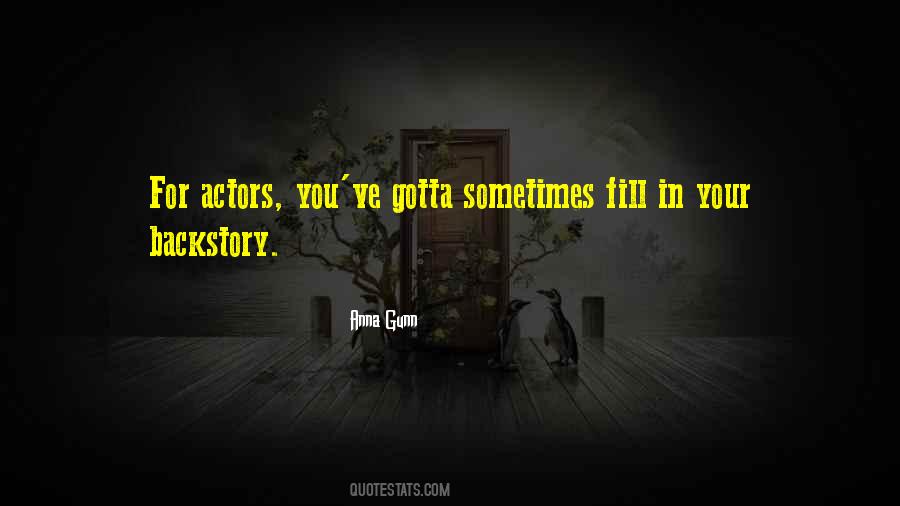 #99. You gotta have a gimmick. - Author: Ethel Merman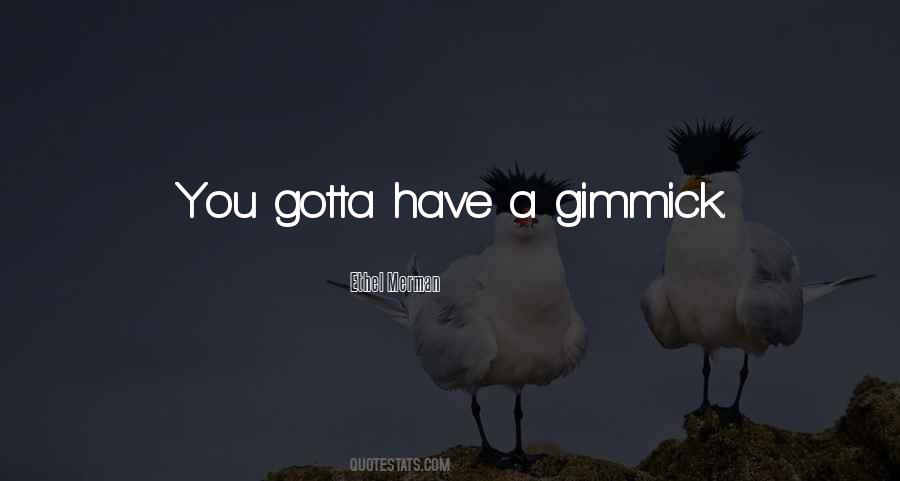 #100. We gotta appreciate Grandpa while he's still with us, an not save our caring for his funeral day. - Author: V.C. Andrews
Famous Authors
Popular Topics