Blue Color Famous Quotes & Sayings
List of top 100 famous quotes and sayings about blue color to read and share with friends on your Facebook, Twitter, blogs.
Top 100 Quotes About Blue Color
#1. I definitely associate music with color. For example, my first record has a red cover but it is totally green and blue to me. - Author: Kaki King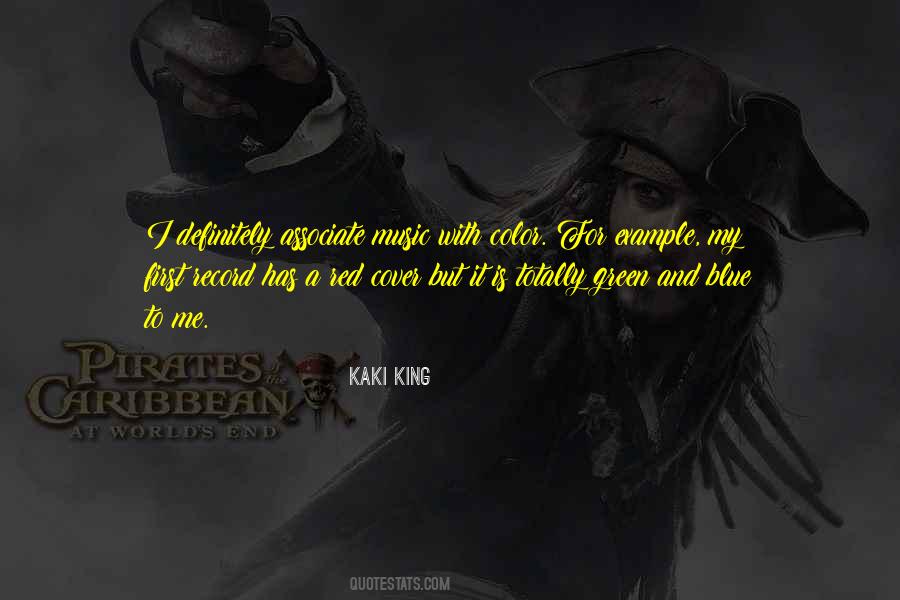 #2. She investigated further: moving along with little kisses down his throat and over his collarbone until she came to the same location on his neck that on hers was currently a decorative black and blue color. She bit him. Hard. Alexia never did anything by halves. - Author: Gail Carriger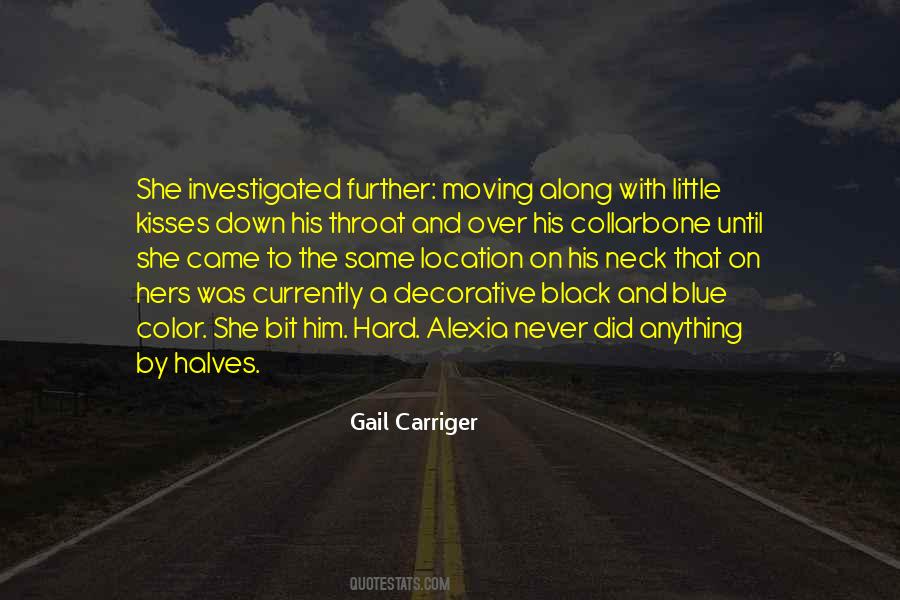 #3. Inside were long rows of blue teleportation booths. Their shape and color always reminded me of Doctor Who's TARDIS. - Author: Ernest Cline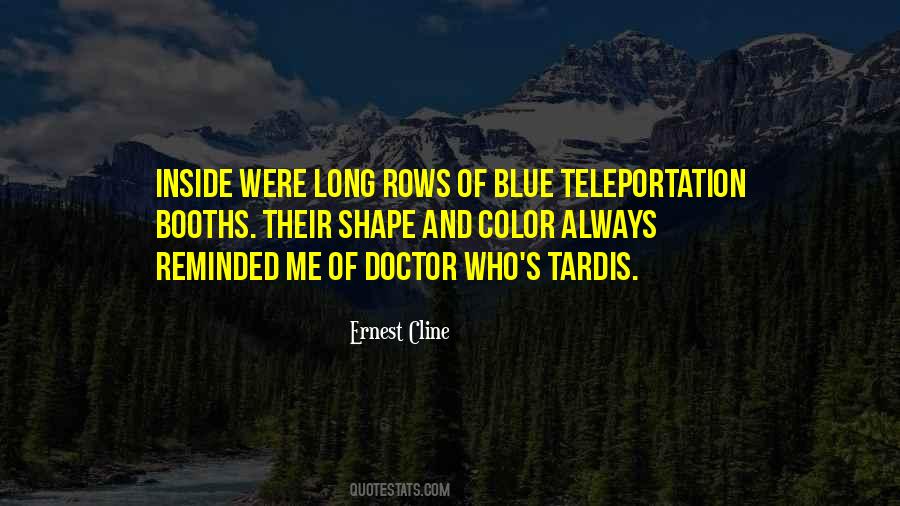 #4. When I act, I feel like I am a color in someone else's painting - I can be the best blue that there is, but I'm still only part of their entire picture - but, with music, when I am performing with Reserved For Rondee, I am the painter, you know? - Author: Billy Magnussen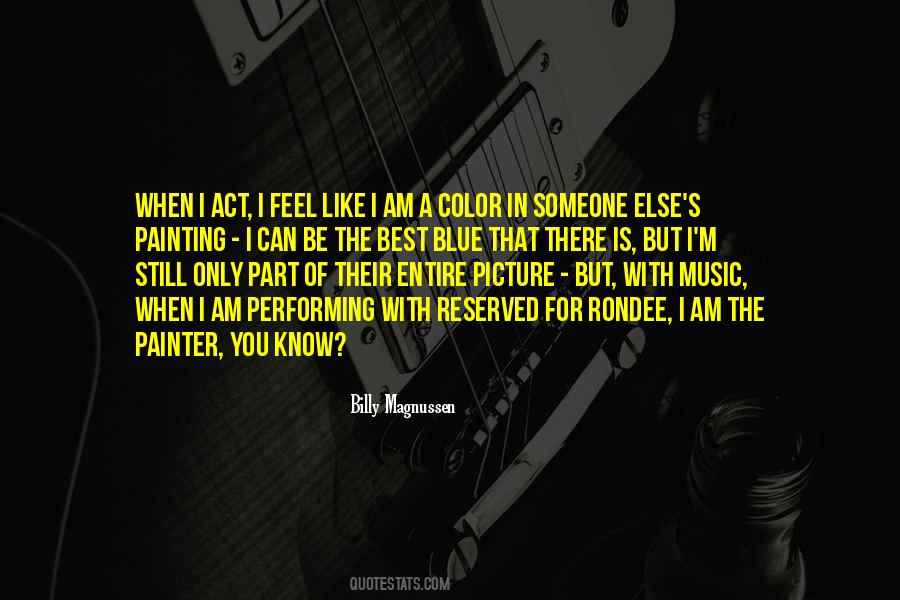 #5. Blue doesn't desbribe loss. Grief robs the world of color. Turns it heavy and gray. - Author: Ellery Adams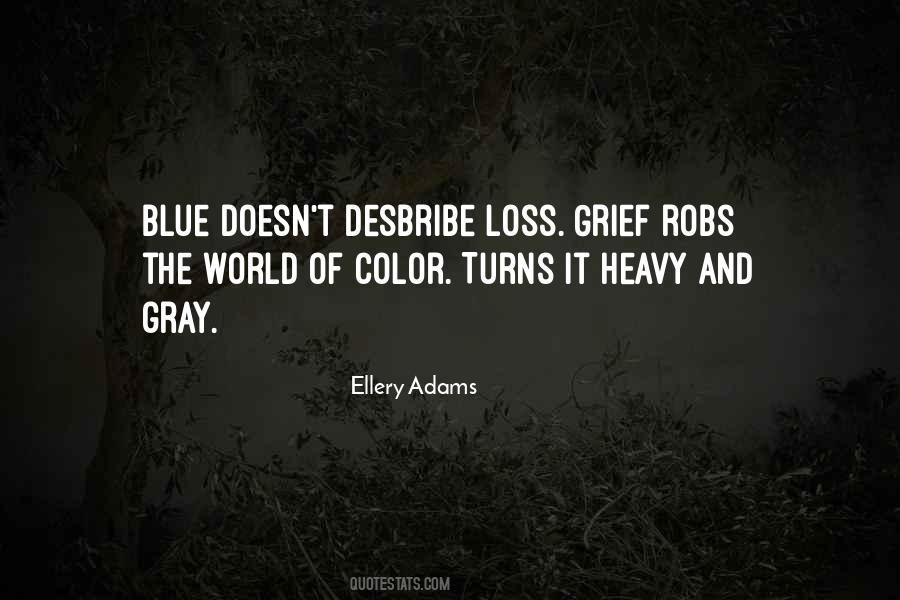 #6. Who ever felt canary yellow and light blue are a suitable color should be tarred and feathered. - Author: Rae Z. Ryans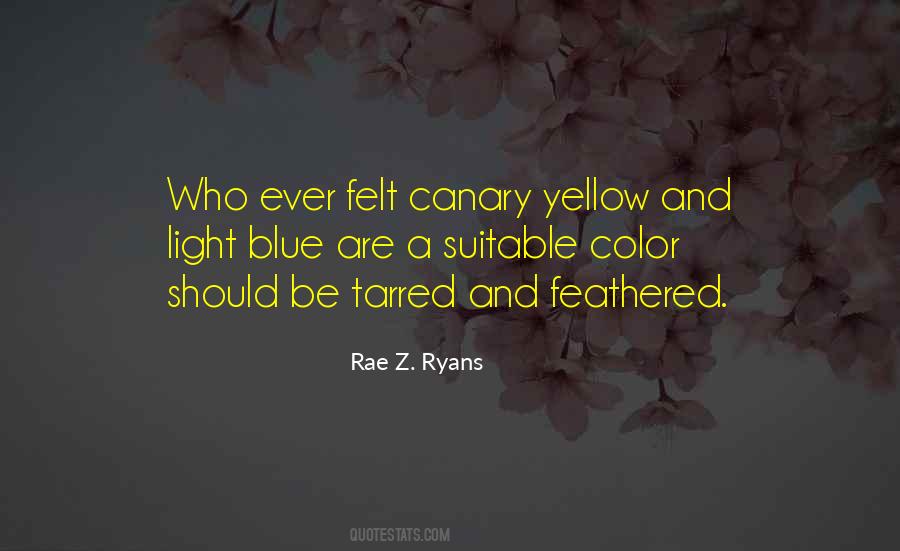 #7. If artists do see fields blue they are deranged, and should go to an asylum. If they only pretend to see them blue, they are criminals and should go to prison. - Author: Adolf Hitler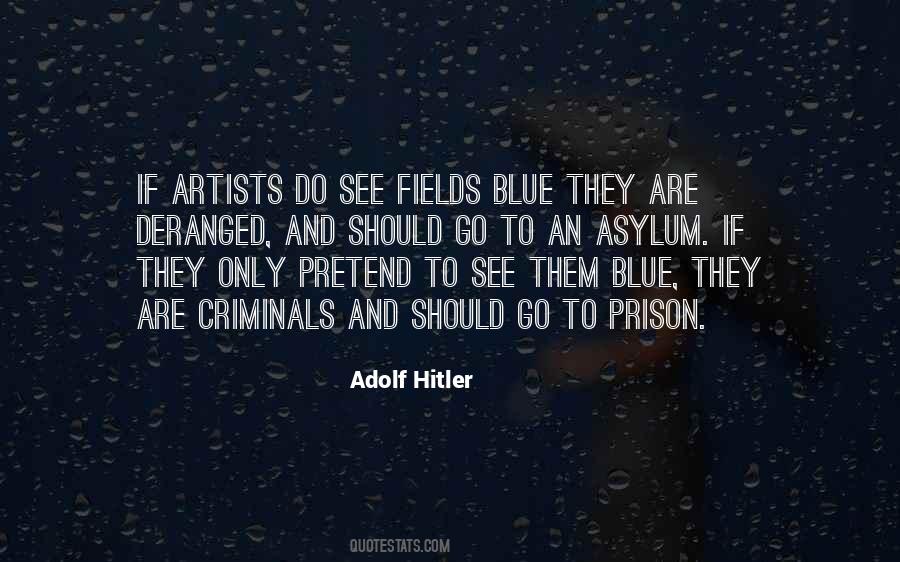 #8. But the nice man had cold eyes. When interacting with his fascinated lady-harem, they had been blue. But when he turned his attention to me - however briefly - I could have sworn that they turned gray, the color of water beneath a sky from which snow will soon fall. - Author: Stephen King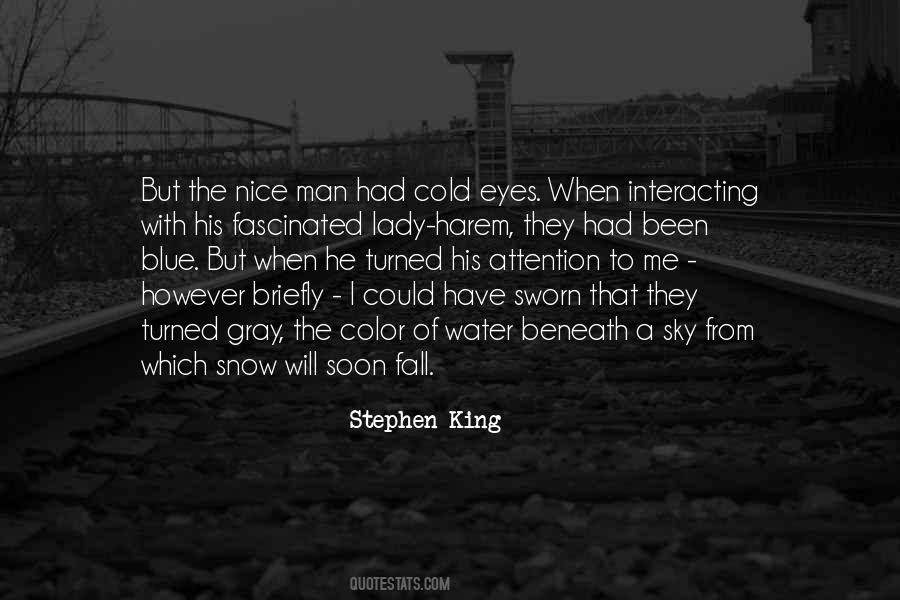 #9. The grass he walked through was new and a sweet smell clung to his clothes. There was blue dye on his hands from the wild irises ... that the color of the sky was a shade that could never be replicated in any photograph, just as Heaven could never be seen from the confines of Earth. - Author: Alice Hoffman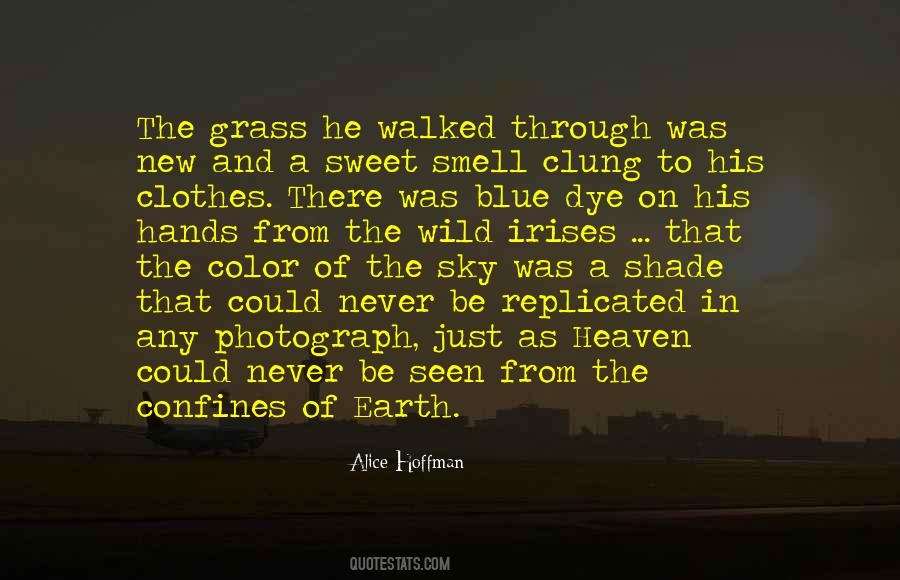 #10. Just look at the Chinese characters used for the names of the days of the week. Color-wise, Monday (Moon) would be yellow. Tuesday (Fire) is red. Wednesday (Water) is blue. Thursday (Wood) is green. Friday (Gold) would be gold, Saturday (Earth) would be light brown. sunday (Sun) would be white. - Author: Nagaru Tanigawa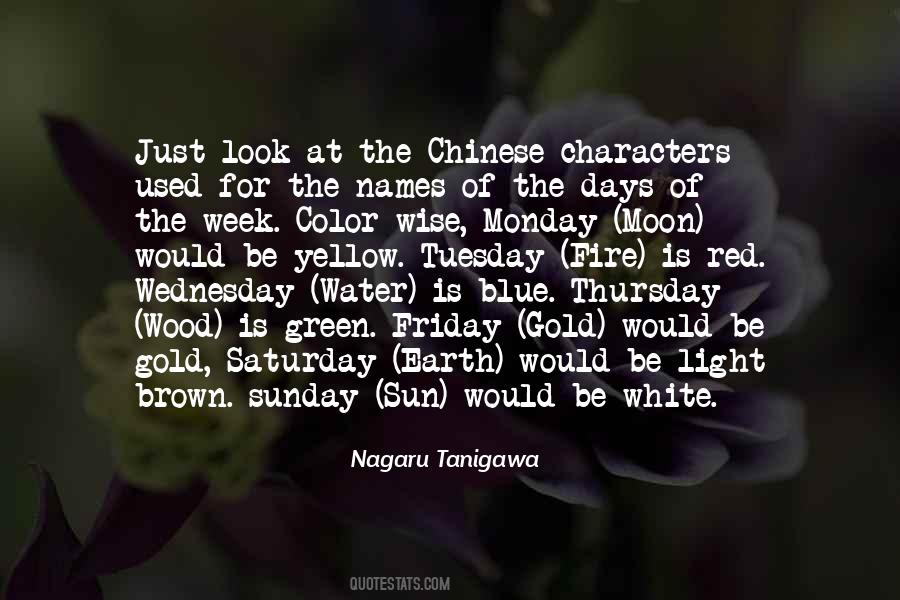 #11. Do you know what O'Keefe Says about blue? he asked her, blowing out a cloud of smoke, warming to her voice, though he did not remember her face clearly from the opening night's exhibition.
What?
That it is the color that will remain after everything is destroyed. - Author: Alice Walker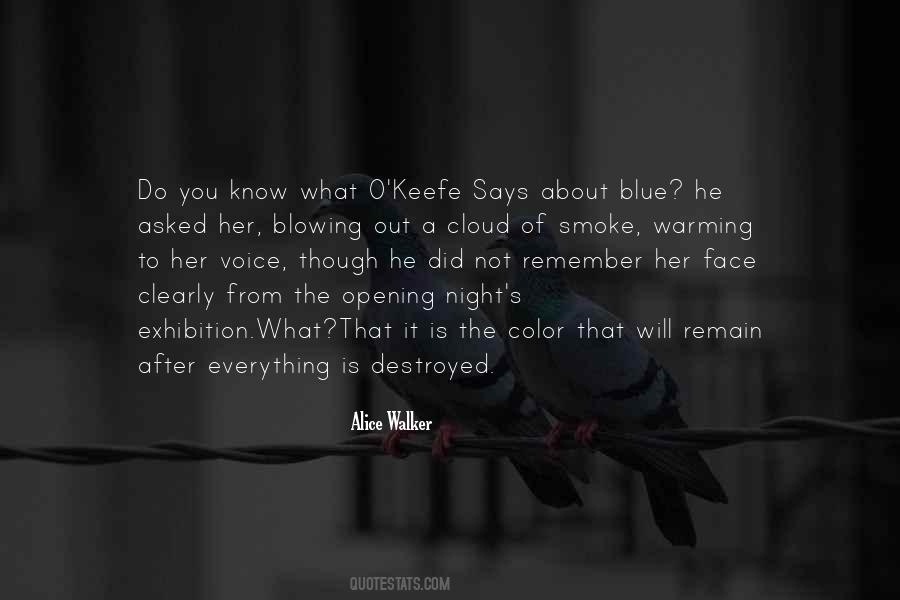 #12. You know harmony only exists in music-isn't that amazing? I think that if you see earth from very far away, the color is blue. That is very interesting because blue is the color of communication. - Author: Yoko Ono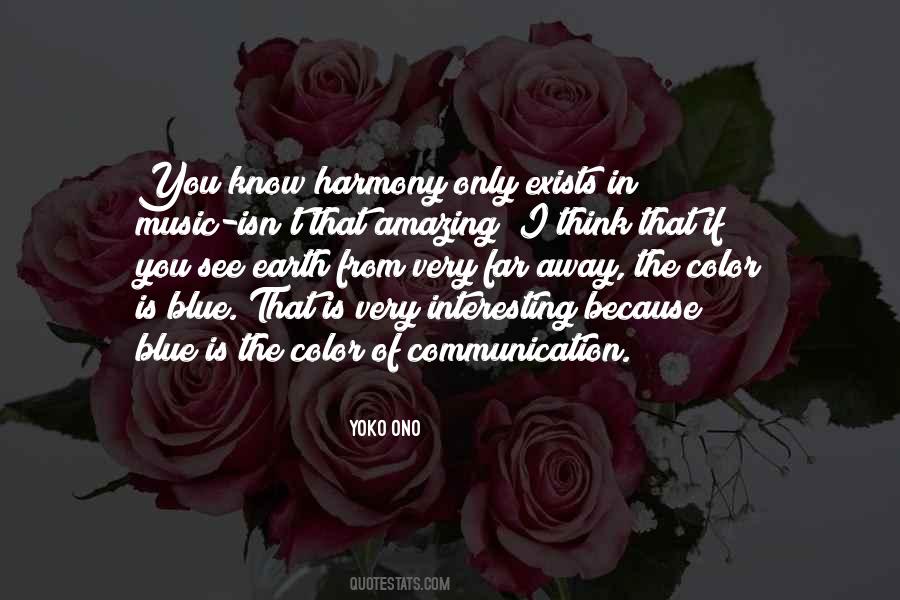 #13. Why did I not remember, when I looked so deep into his eyes, that blue can be such a cold color? Why did I not notice that while I was saying so much, he was saying so little? I was a fool; I saw only the charmer and missed the snake entirely. - Author: Brandy Purdy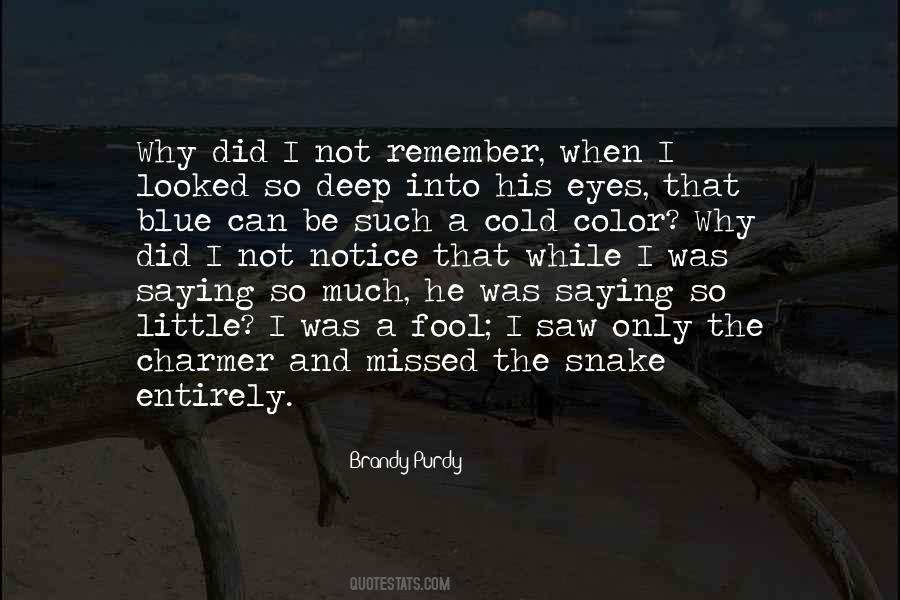 #14. When I haven't any blue I use red. - Author: Pablo Picasso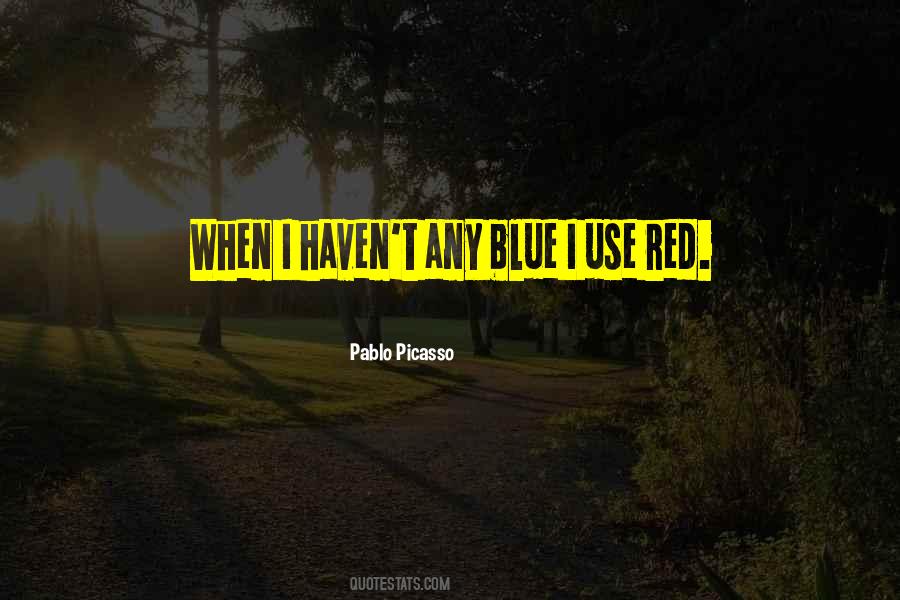 #15. She's your Herald," Derek said. "That's your color. Blue for humanity."
My what?
He made a big show of moving a few feet to the side.
I looked at him.
"In case your head explodes," he said helpfully. - Author: Ilona Andrews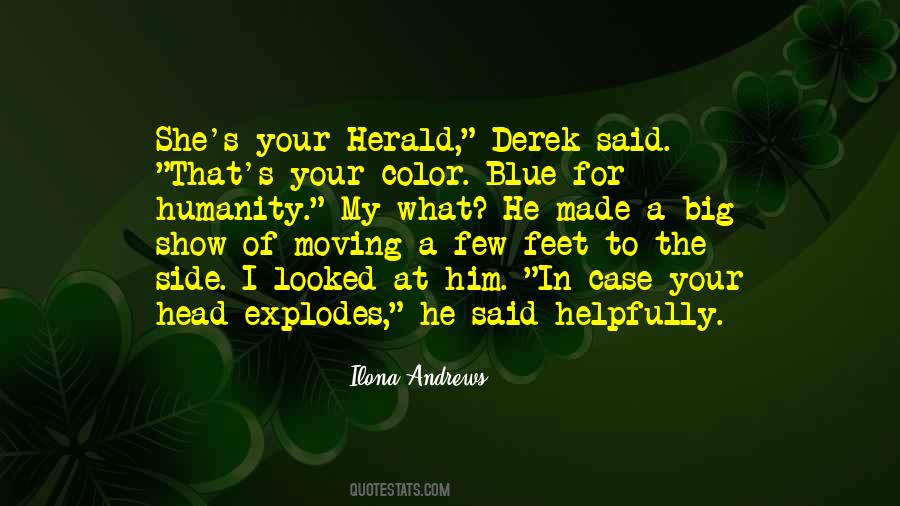 #16. And I thought about the color and I realized what blue it was. It was the soft and changeable, essential blue of a well-worn pair of pants.
Pants = Love - Author: Ann Brashares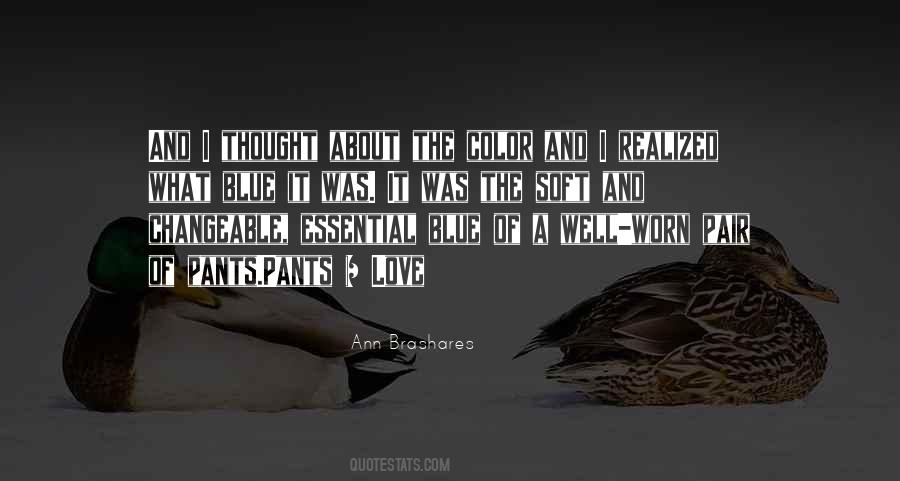 #17. I was actually hoping the Royals would pick me. It was the main team I wanted to go to. Their colors are Royal blue and that's my favorite color.? - Author: Zack Greinke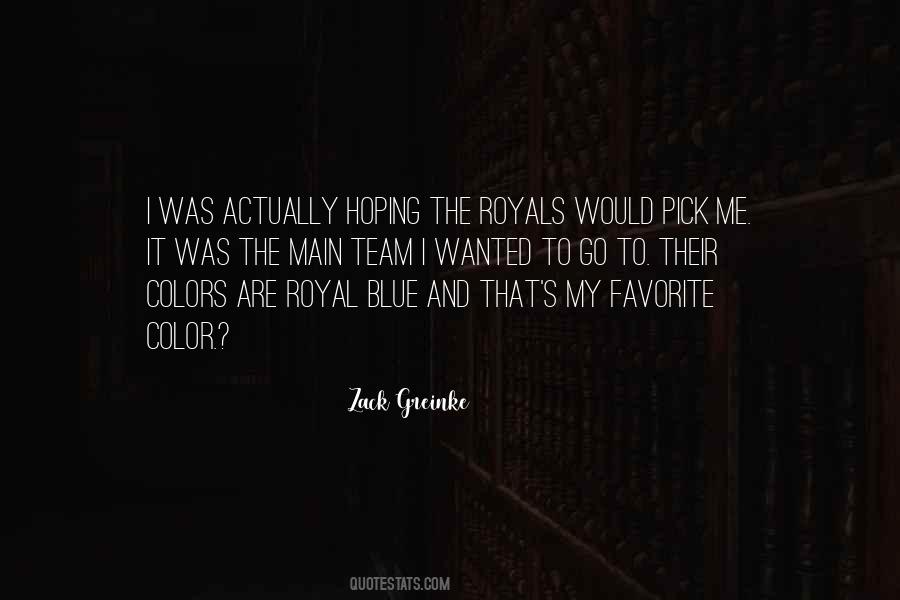 #18. I have broken the blue boundary of color limits, come out into the white; beside me comrade-pilots swim in this infinity. - Author: Kazimir Malevich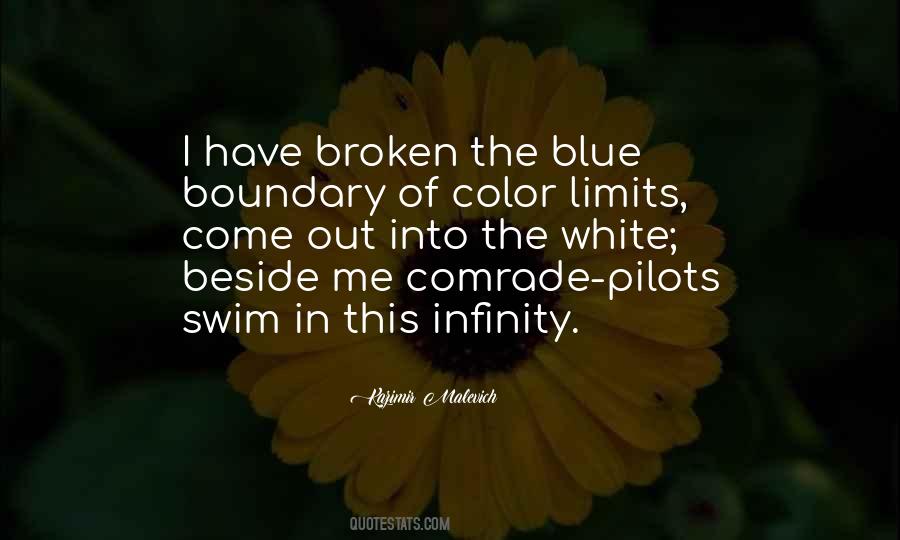 #19. Blue stands for many things at the end of time: for the forgotten, blazing blue stars of aeons past; the antithesis of redshift, the color of uncut veins beneath your skin.
This story is written in blue ink, although you do not know that yet. - Author: Yoon Ha Lee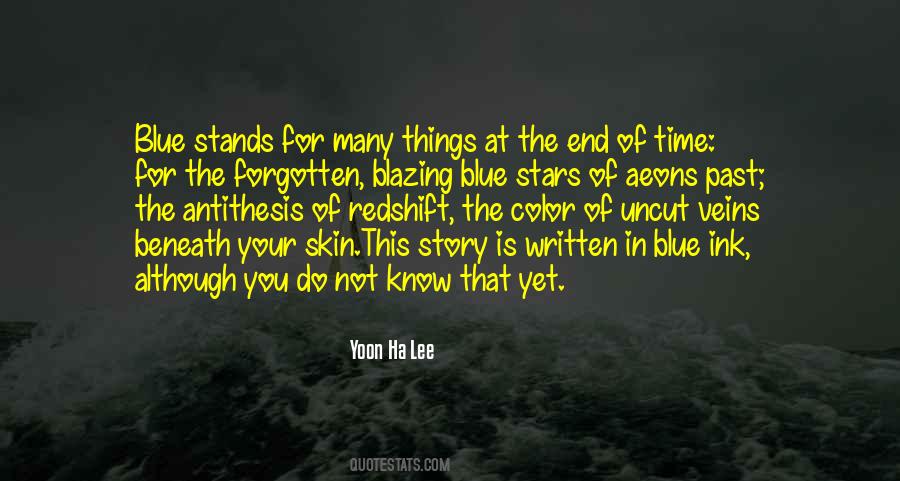 #20. He still has the most unusually blue eyes I've ever seen. Dark and deep and drenched in passion. I always wondered what it'd be like to see the world through such a beautiful lens. I wondered if your eye color meant you saw the world differently. - Author: Tahereh Mafi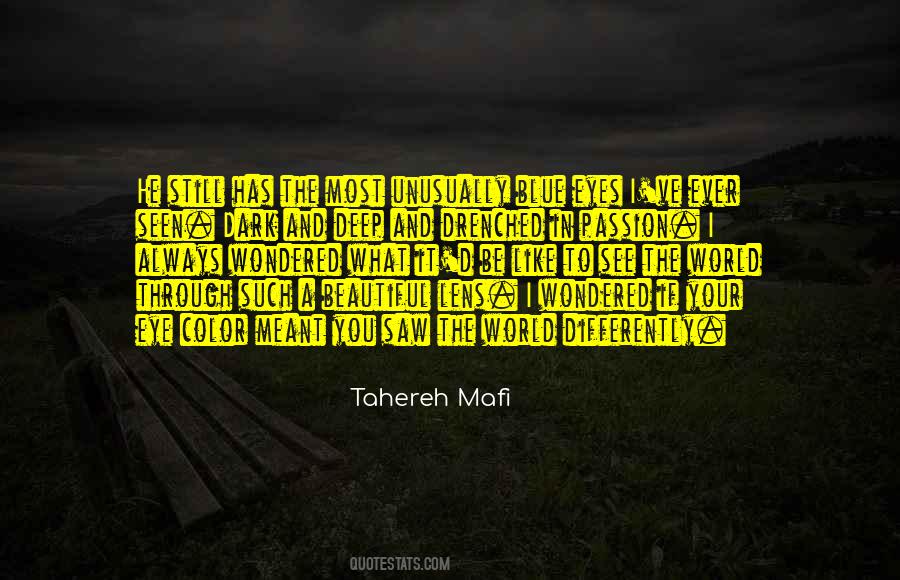 #21. That won't be enough for me, Auburn. I can already tell. And whoever's favorite color is blue won't stand a chance in this tent, because I'm about to make sure that the only thing she ever thinks about when she sees a tent again is Oh My God. - Author: Colleen Hoover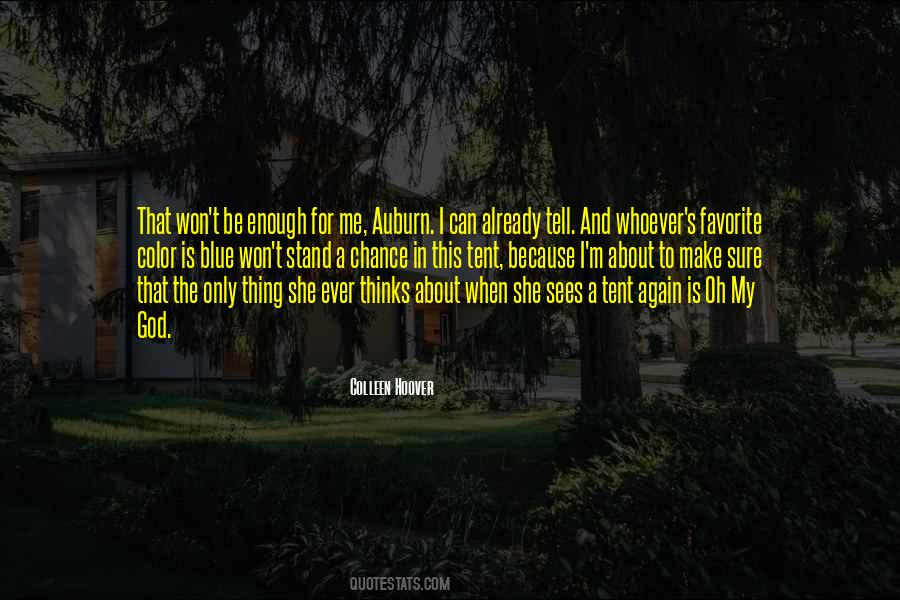 #22. The story of Little Blue Riding Hood is true. Only the color has been changed to prevent an investigation. - Author: Stan Freberg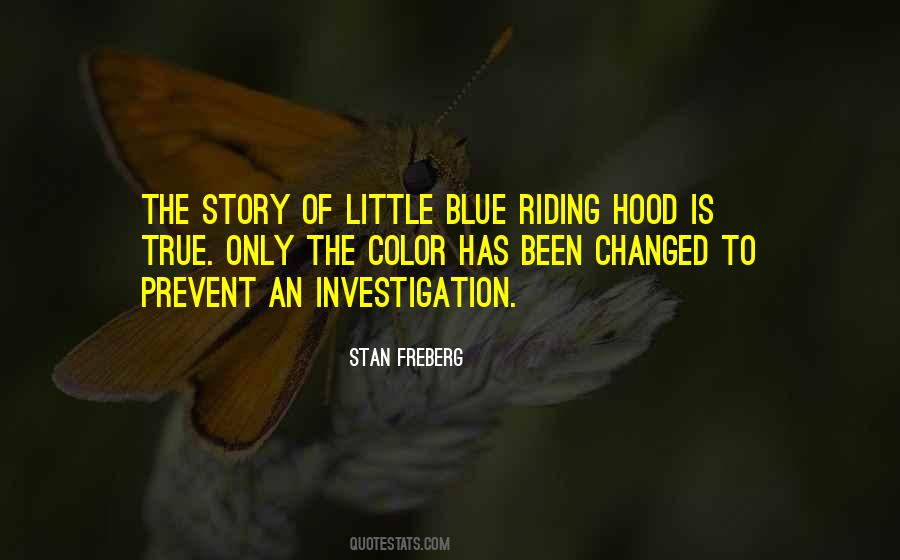 #23. Love is blue. A clear cerulean when new. A bright, bold, true blue in its glorious throes. And when it hurts, as it inevitably will, love turns deep, dark, the color of a bad bruise. - Author: Nina Malkin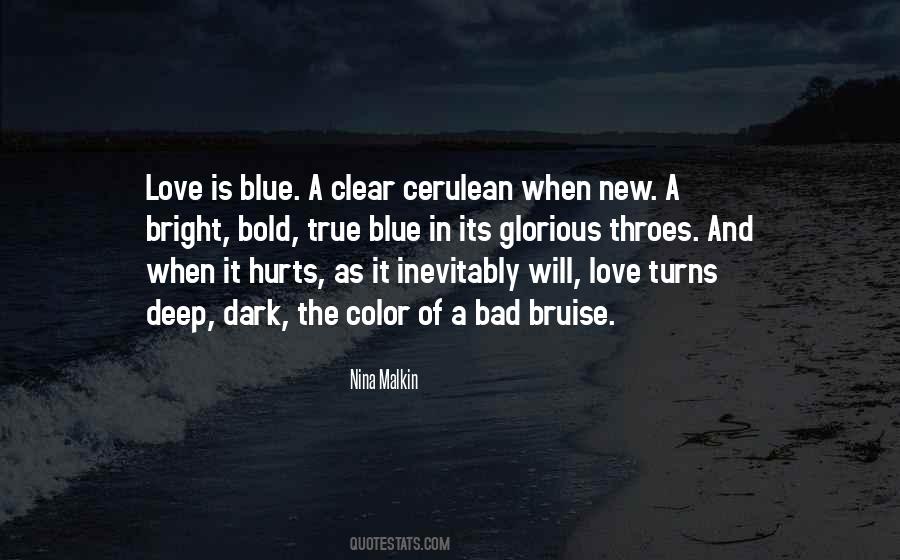 #24. The distinct blue, red, and yellow colors ... though they have not the kind of harmony which is produced by a variety of broken and transparent colors, have the effect of grandeur. - Author: Joshua Reynolds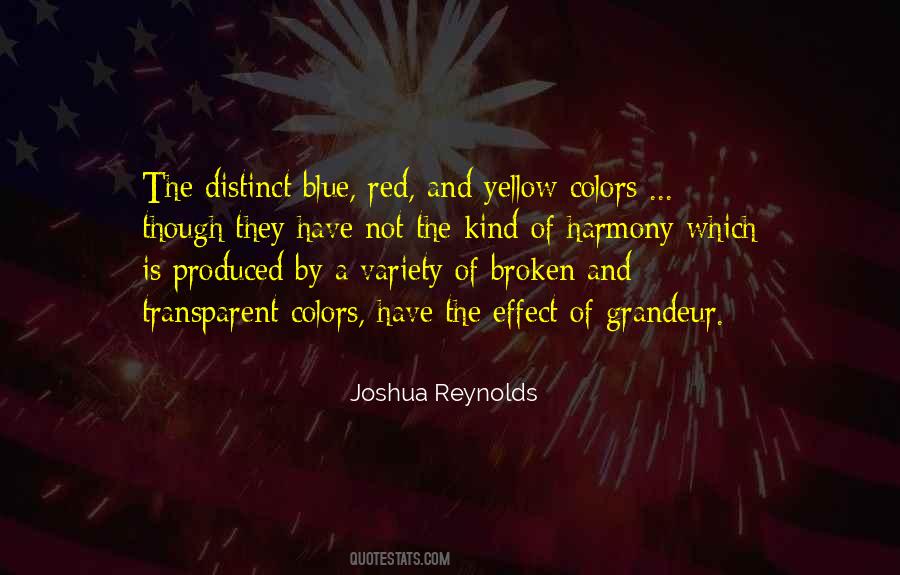 #25. The Mediterranean has the color of mackerel, changeable I mean. You don't always know if it is green or violet, you can't even say it's blue, because the next moment the changing reflection has taken on a tint of rose or gray. - Author: Vincent Van Gogh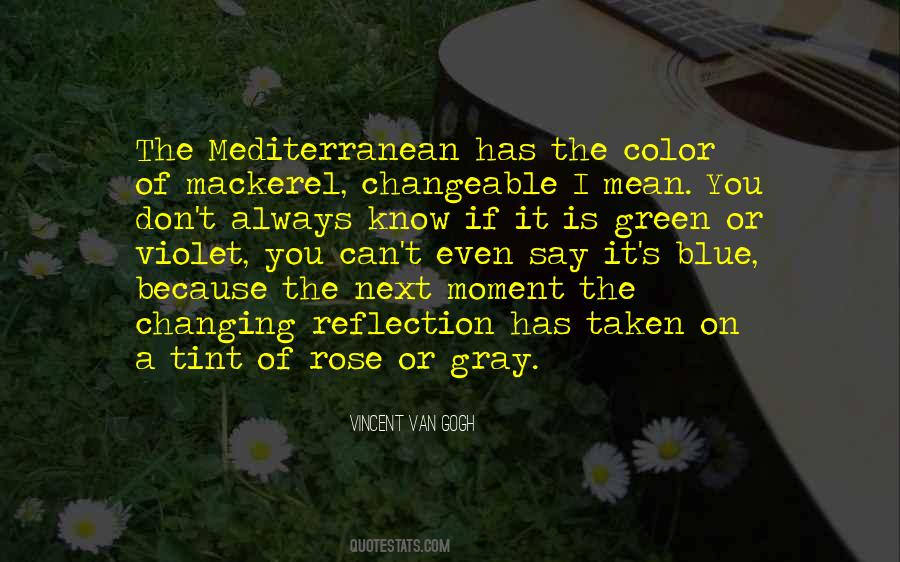 #26. They had turned brown or blue and rotted. Brown and blue, the real colors of death. Who made black the color of death? Black was the color of night, and the potential of a cool breeze. Just - Author: Will McIntosh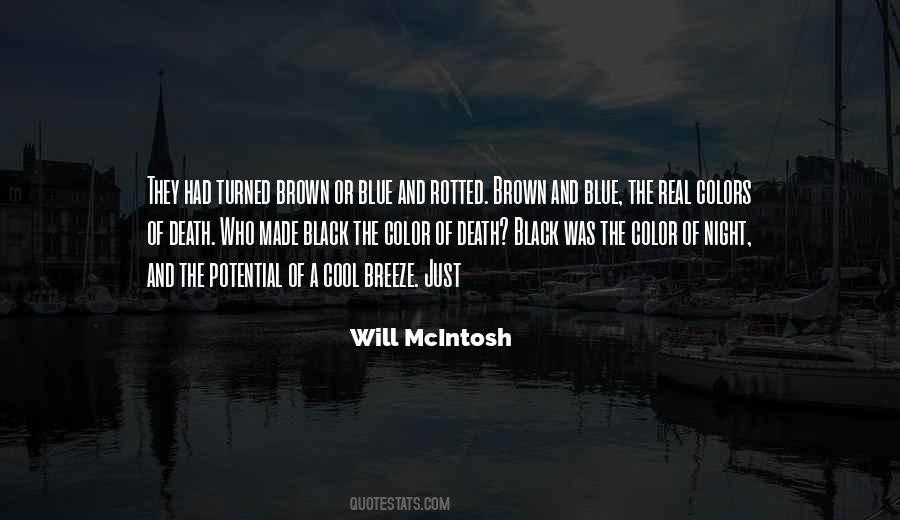 #27. If I let a blue mood run rampant, before I know it I'm obsessing about the color of the satin lining in my coffin - will it match my dress? That's when I feel like Alice in Cancerland falling down the rabbit hole and just have to stop. - Author: Kris Carr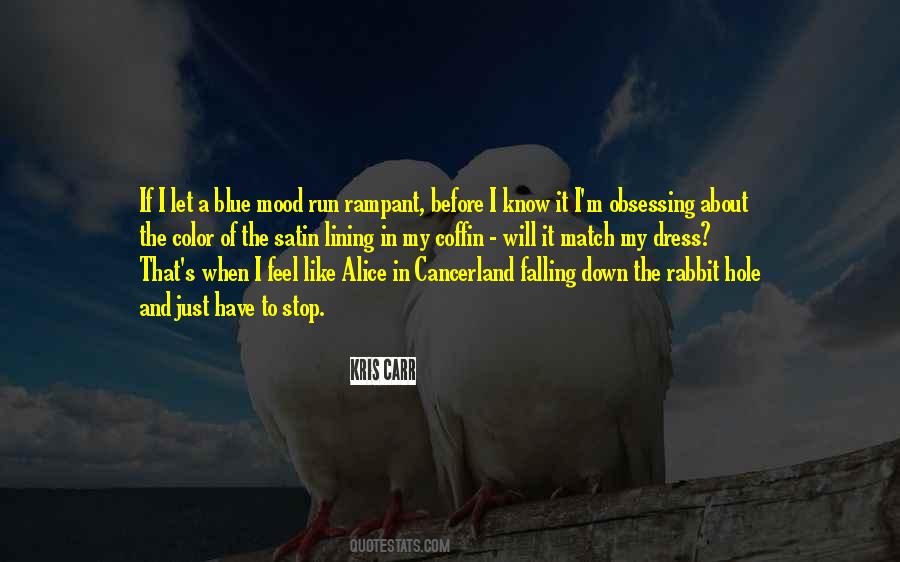 #28. Blue Boy proves that if you don't quite fit in, then you might as well stand out with as much wit, color and audacity as you can muster. - Author: Josh Kilmer-Purcell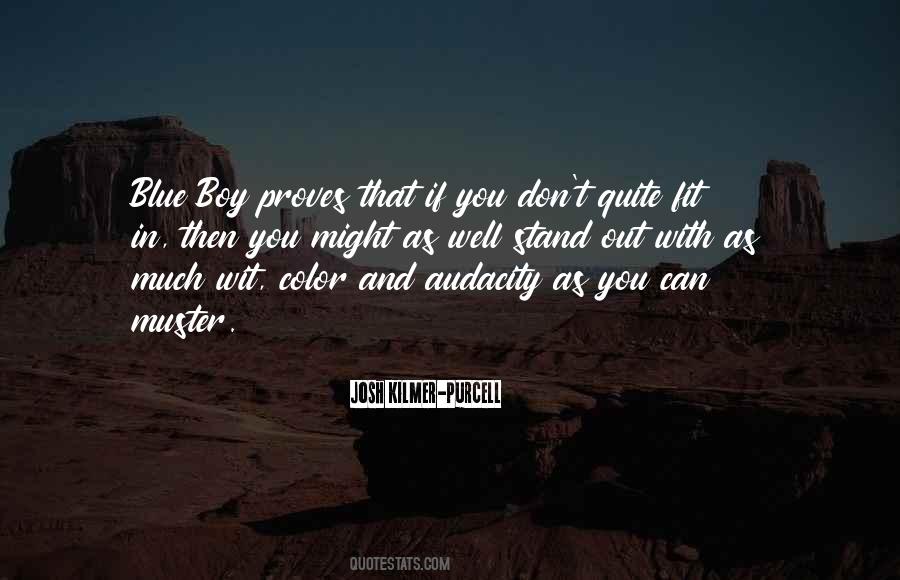 #29. If you gathered together all the shades of blue in the world and picked the bluest, the epitome of blue, this was the color you would choose. - Author: Haruki Murakami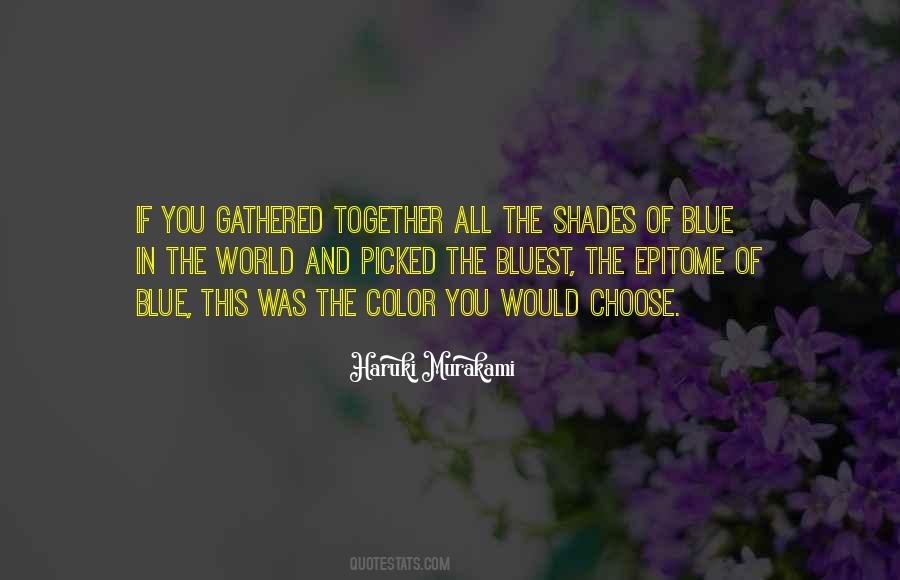 #30. Blue wasn't my favorite color, - Author: Rick Riordan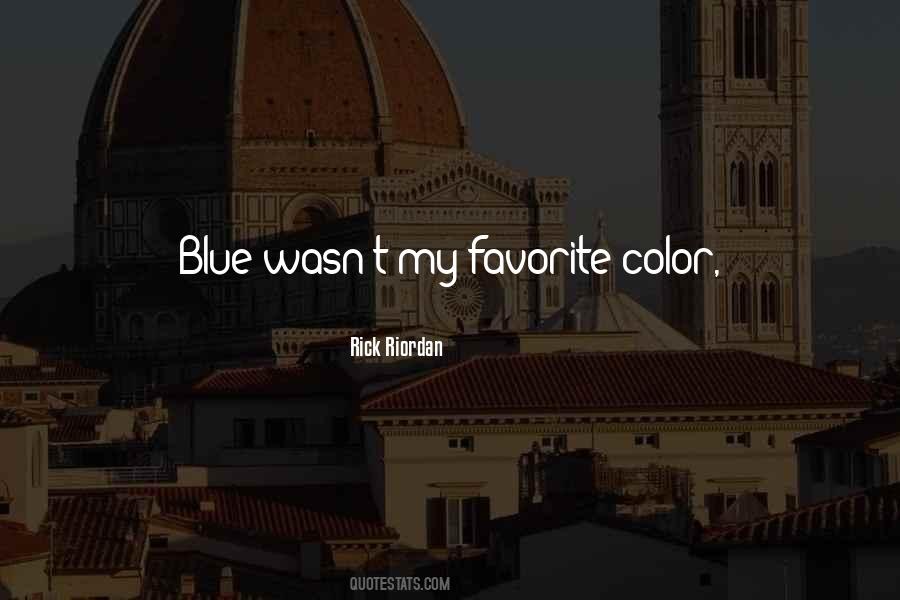 #31. Some people live such boring lives,its black and white,so dead! I choose to color my life with Fun, some blue some green,some red.-RVM - Author: R.v.m.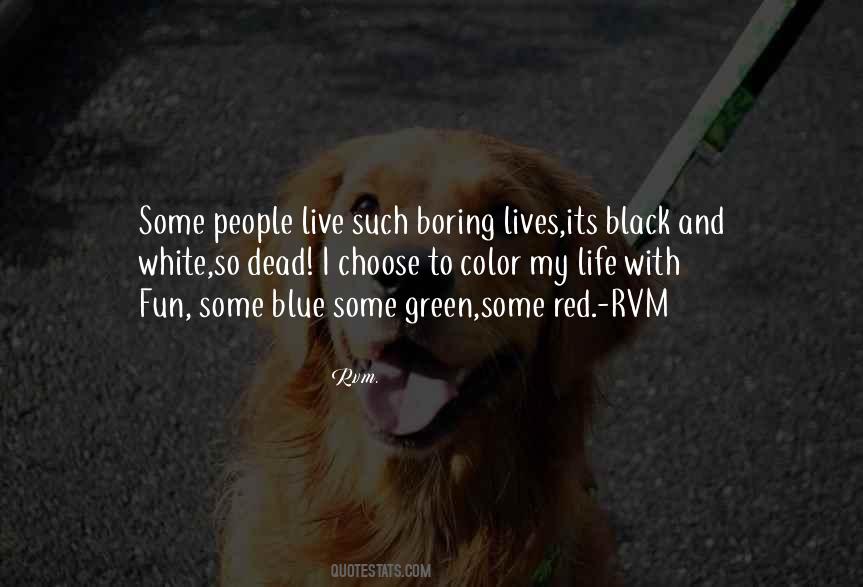 #32. Yellow can express happiness, and then again, pain. There is flame red, blood red, and rose red; there is silver blue, sky blue, and thunder blue; every color harbors its own soul, delighting or disgusting or stimulating me. - Author: Emil Nolde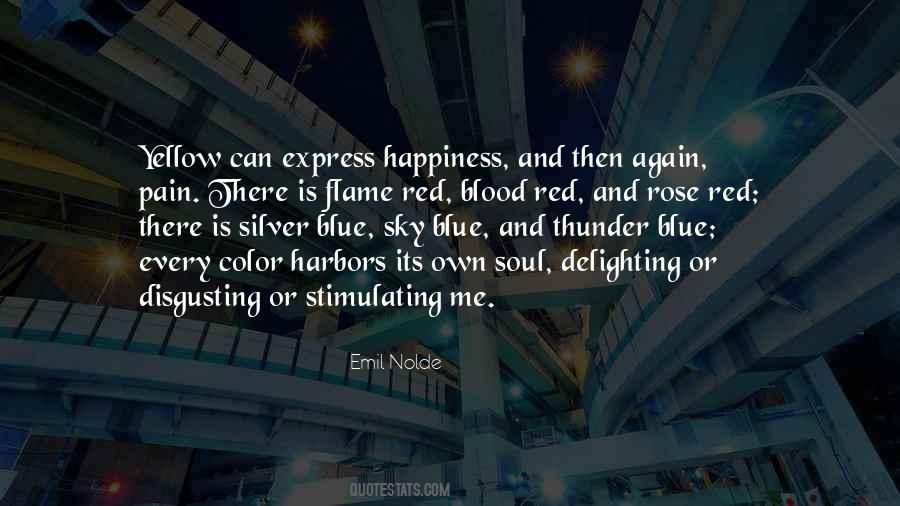 #33. The sea, as much as the light, gives this curve of coast it's flavor. The light takes it's color from the sea, sometimes seems to be emerging from it. And the sea here is ever-present. On clear days it coats the air with a transparent tinge of palest blue that salts and sharpens every detail. - Author: James D. Houston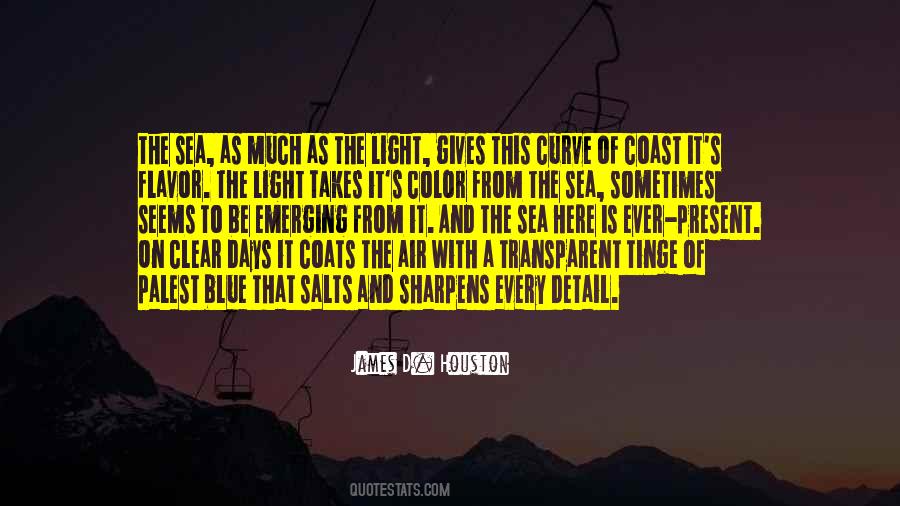 #34. I've been told that the color blue can actually cause the body to produce calming chemicals, helping one to relax.
I wonder if that's true. I wonder if it's false. I wonder what it says about me that I feel nothing. - Author: Caroline Nolan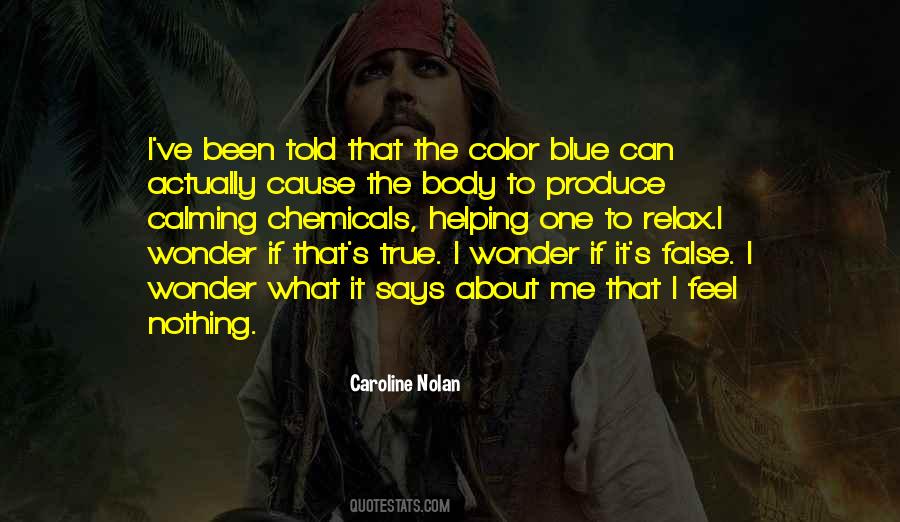 #35. I love blue more than any other color. I am inordinately attracted to any blue substance: to minerals like turquoise and lapis lazuli, to sapphires and aquamarines; to cobalt skies and blue-black seas; Moslem tiles - and to a blue flower whether or not it has any other merit. - Author: Eleanor Perenyi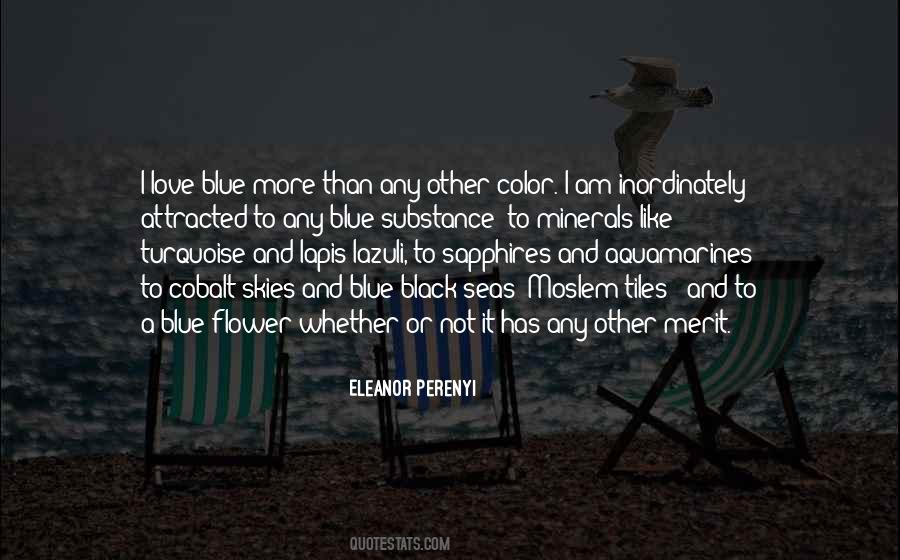 #36. When a person looks through a colored lens, everything seems to be that color. If the lens is tinted yellow or blue, everything seems yellow or blue. A person who looks at life through the lens of gratitude will always find things to be grateful for. - Author: Zelig Pliskin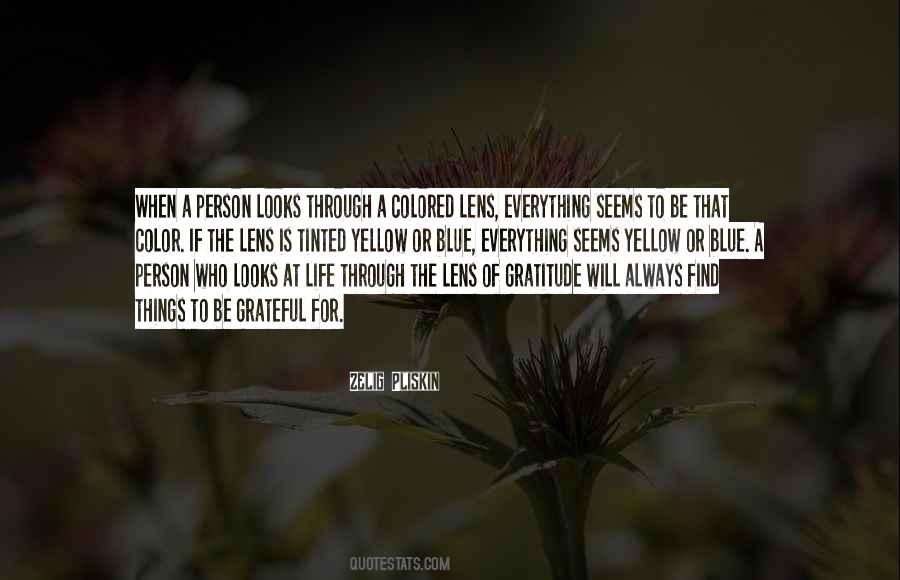 #37. She was dressed in the softest grape blue, a gentle color neither navy nor purple, nor yet silver. It was subtle, expensive and extremely flattering. - Author: Anne Perry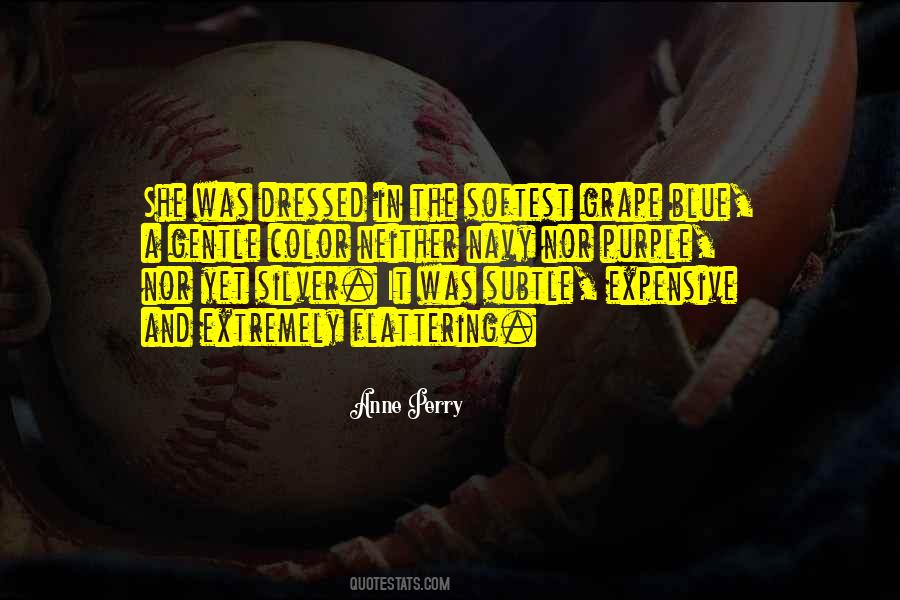 #38. 88. Like many self-help books, The Deepest Blue is full of horrifyingly simplistic language and some admittedly good advice. Somehow the women in the book all learn to say: That's my depression talking. It's not "me." 89. As if we could scrape the color off the iris and still see. 90. - Author: Maggie Nelson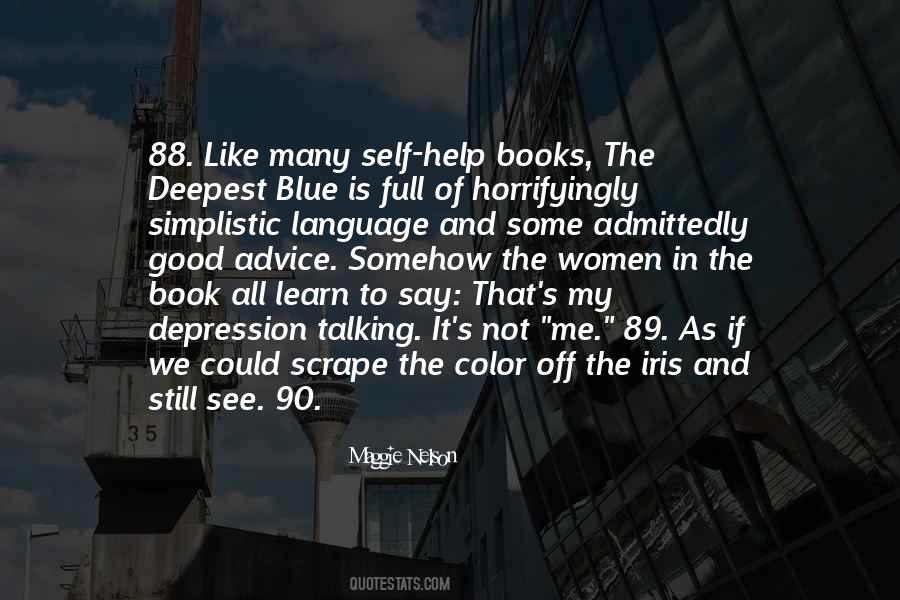 #39. His eyes were so blue as to be startling; I decided I'd never seen blue eyes before, until that moment. They were the color of morning, the color of the ocean; the color of the sky. - Author: Melanie Benjamin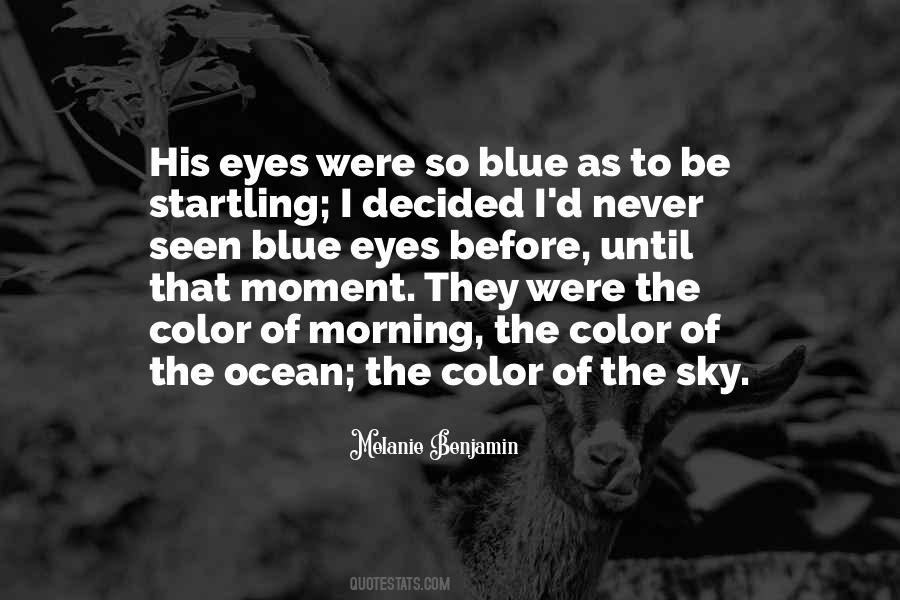 #40. Forever is a question you start asking when you look at the ceiling. It becomes a word you hear in the same way that people who associate sound with color might hear a flat sky-blue. The open sky through which forgotten satellites travel. Forever. - Author: John Darnielle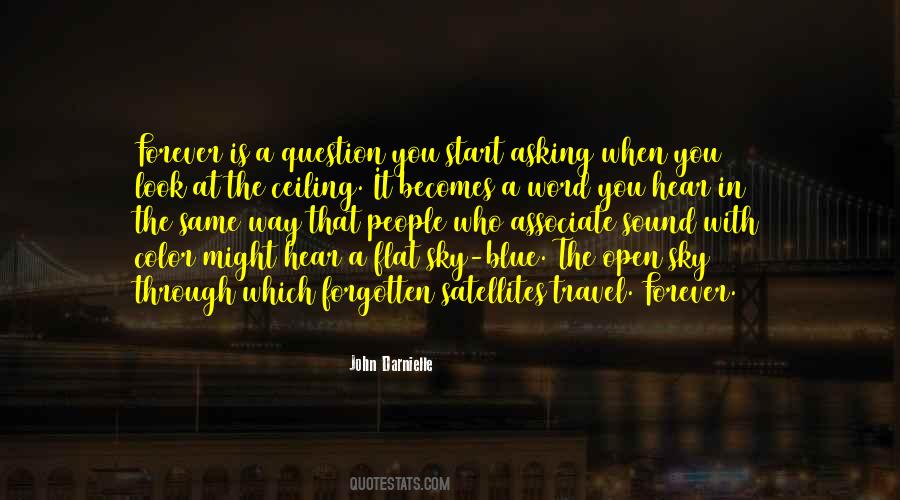 #41. Being a die-hard Knicks fan, I remember hunting down these orange-and-blue Nikes that they only released in England. And I used to hunt for sneakers when I DJ'd in Japan. But then Nike flooded the market with a head-spinning array of color combinations and it just didn't seem cool anymore. - Author: Mark Ronson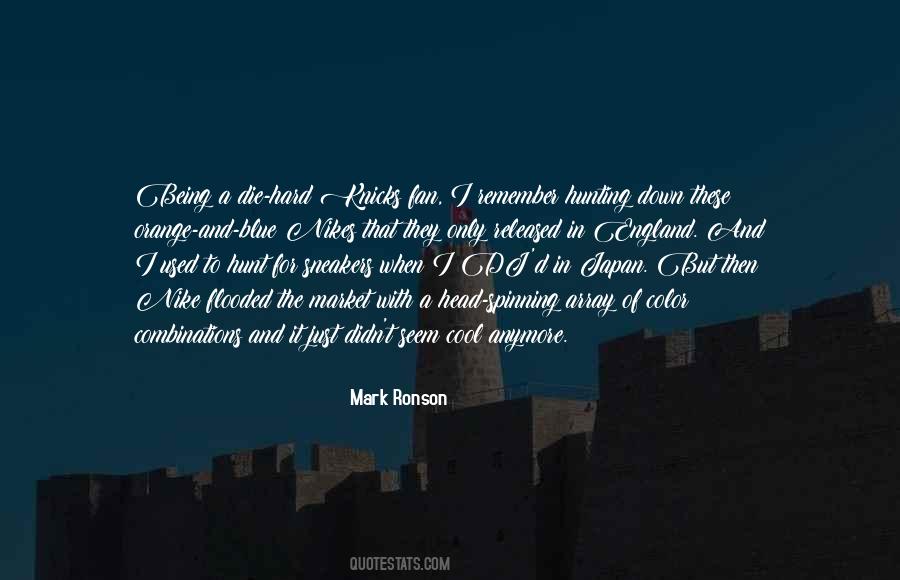 #42. A heart as blue as a Companion's eyes, or the color of the clear winter sky. - Author: Anonymous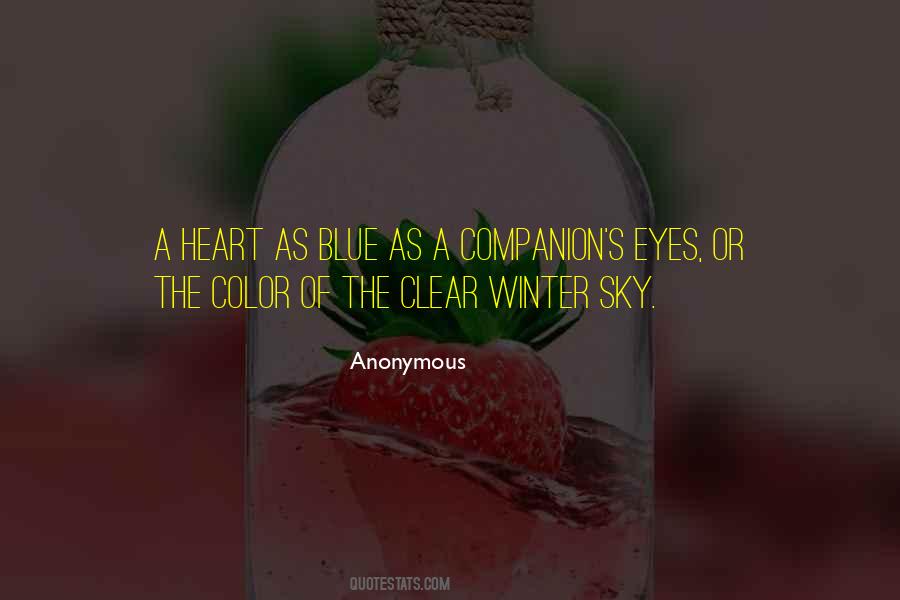 #43. I ripped through the blue shade of the constraints of color. - Author: Kazimir Malevich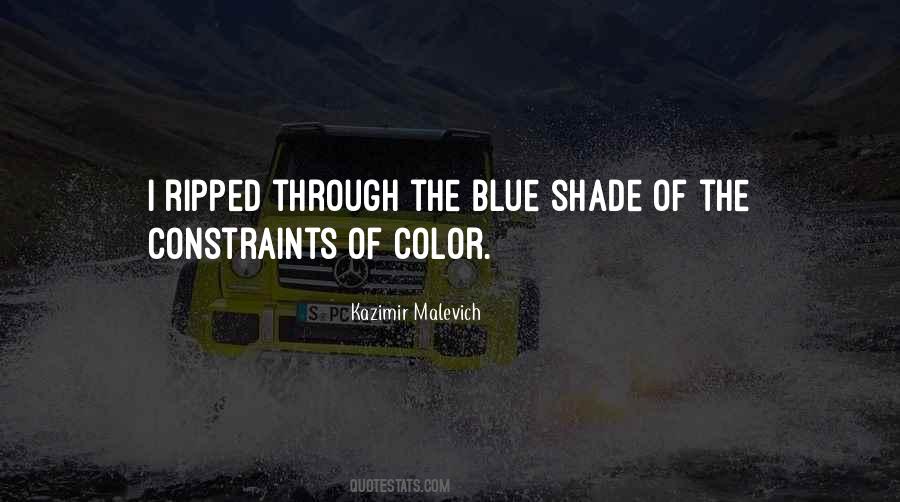 #44. Every time a couple moves they begin, if their attention is still drawn to one another, to see each other differently, for personalities are not a single immutable color, like white or blue, but rather illuminated screens, and the shades we reflect depend much on what is around us. - Author: Mohsin Hamid
#45. Midnight blue is the only color that can ever compete with black. - Author: Christian Dior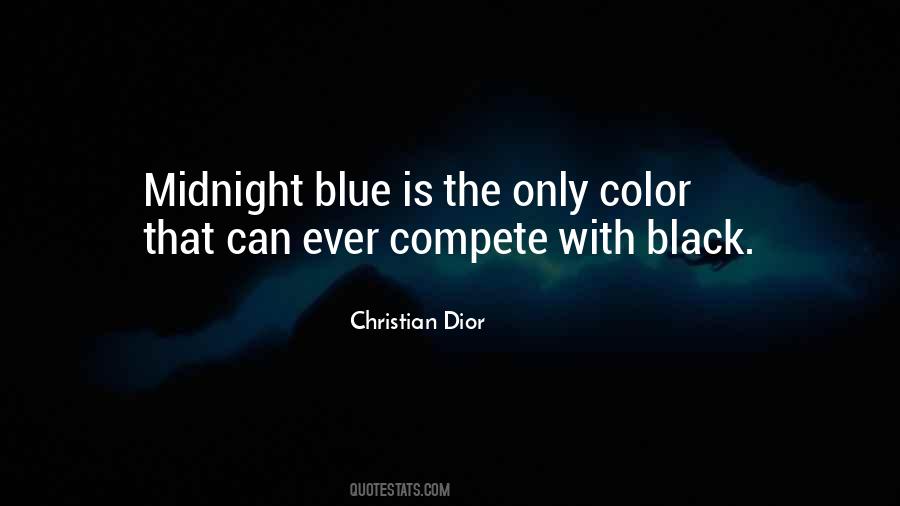 #46. There are nine different words in Maya for the color blue...but just three Spanish translations, leaving six butterflies that can be seen only by the Maya, proving beyond doubt that when a language dies, six butterflies disappear from the consciousness of the earth. - Author: Earl Shorris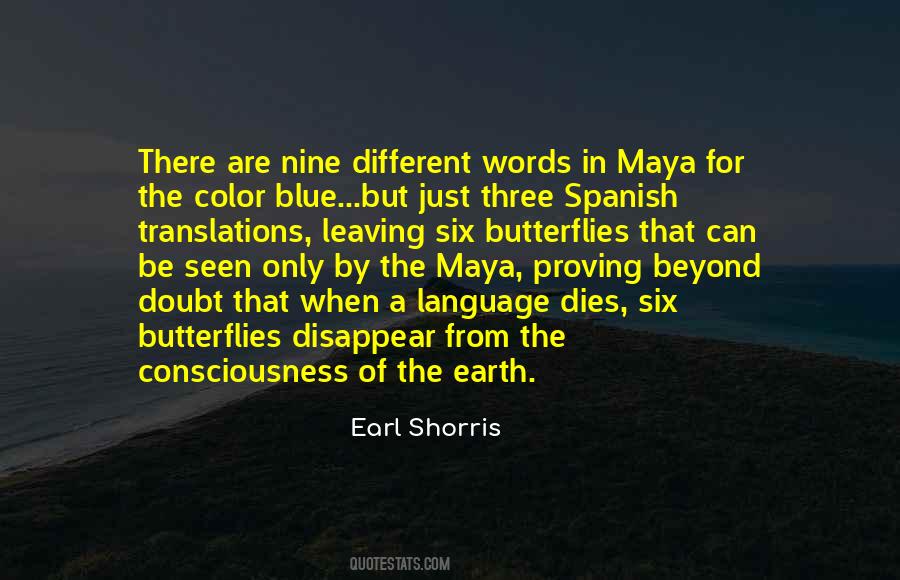 #47. As they clean the walls with wet cloths and sponges, they uncover the earlier paints, most prevalent a stark blue that must have been inspired by Mary's blue robes. Renaissance painters could get that rare color only from ground lapis lazuli brought from quarries in what is now Afghanistan. - Author: Frances Mayes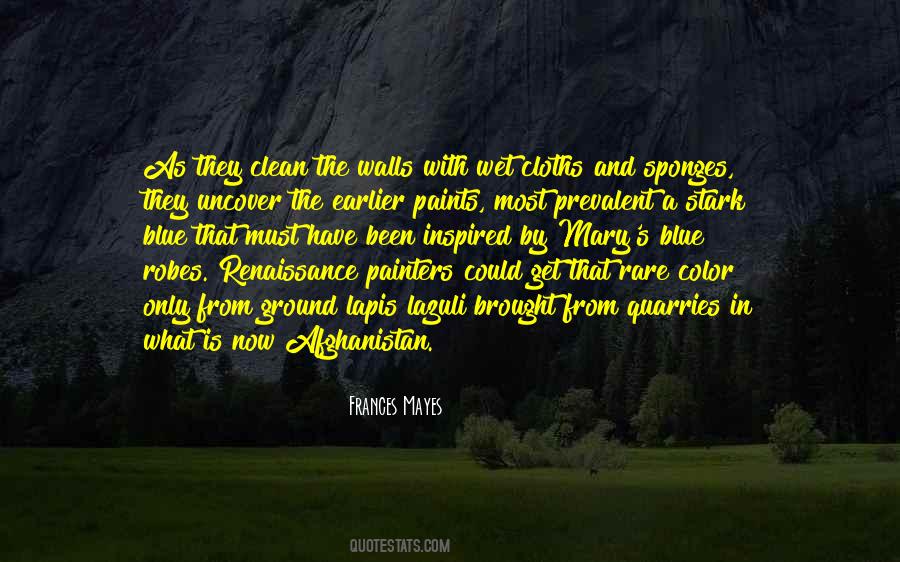 #48. Honey lamb, there are a lot of things in this world I feel insecure about. Religion. Our national economic policies. What color socks to wear with a blue suit. But I've got to tell you that my performance in that hotel room last night isn't one of them. - Author: Susan Elizabeth Phillips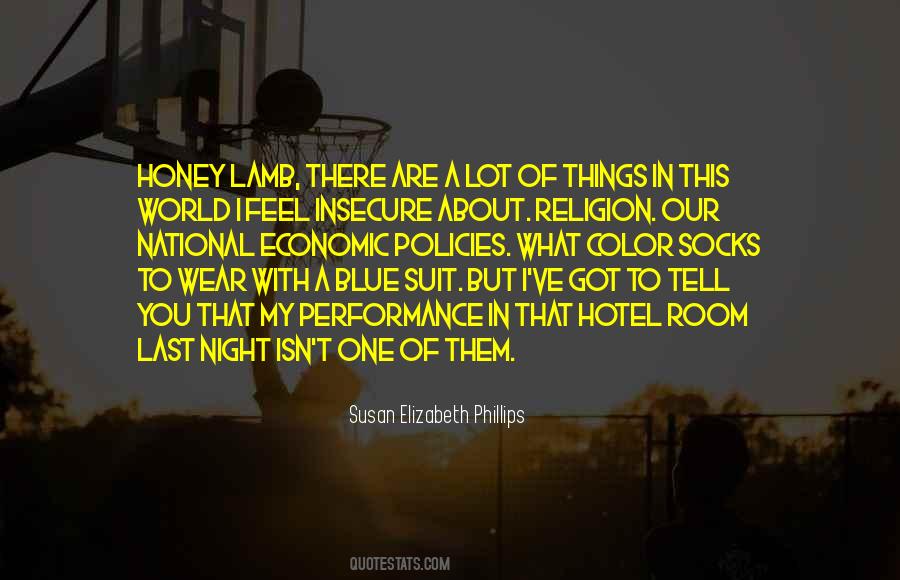 #49. When yellow lights struggle with blue shades in hairlike lines. - Author: Thomas Hardy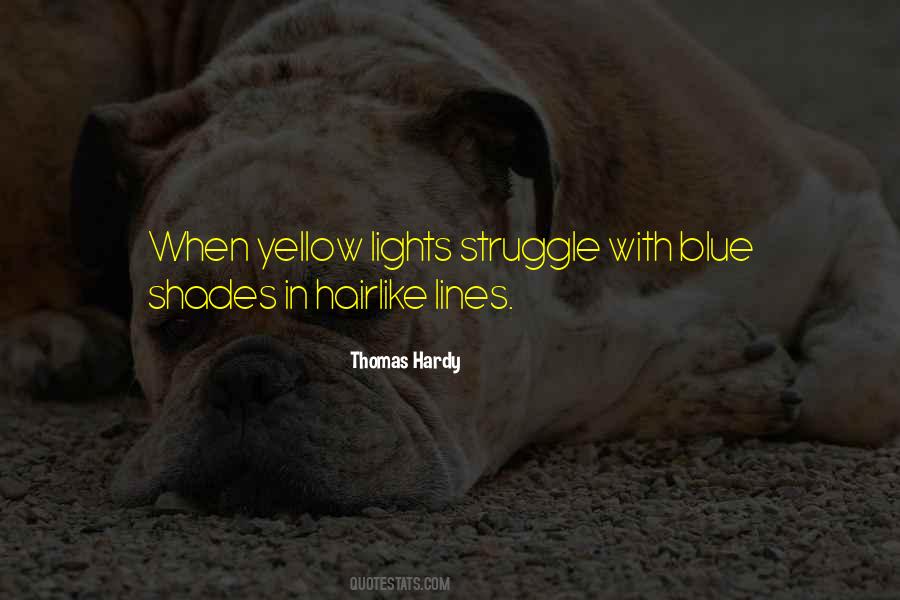 #50. Blue had always struck her as such a serene, soothing color, yet all social media offered was endless agitation and posturing. It was worse than the court of Versailles. - Author: Deborah Harkness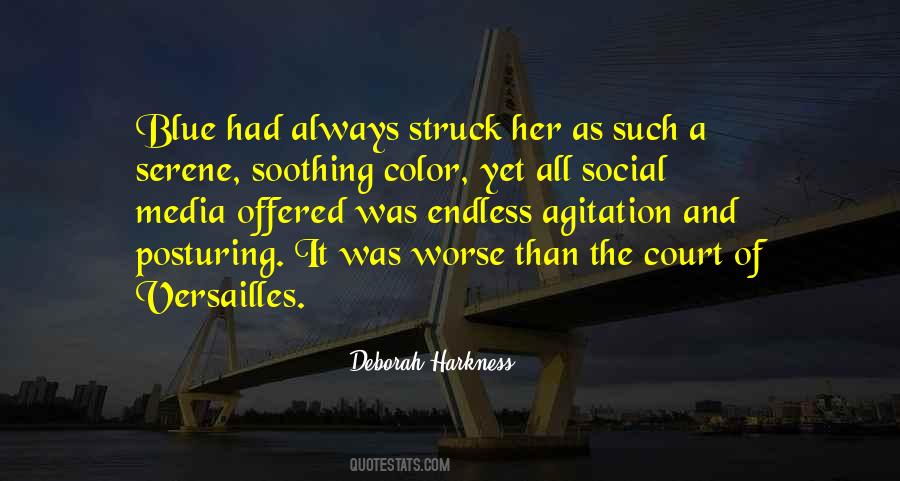 #51. Deep in the drilled-in mud of the fields behind me, our bulbs are wrapped in their brittle skins with their messages of color stored inside. Blue iris, yellow crocus, tulips of all colors. - Author: Anna Smaill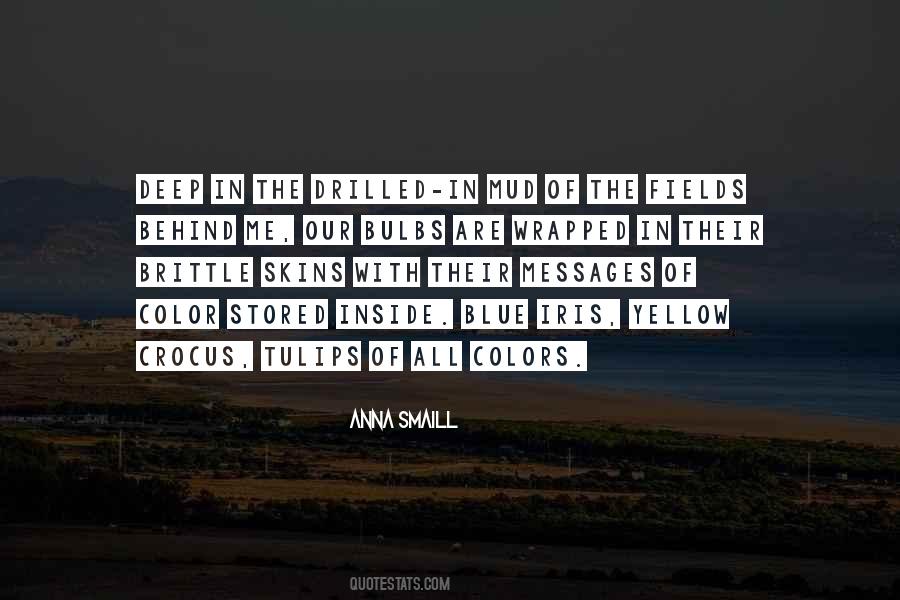 #52. Love ice cream, I love pancakes, I love the color blue - bullshit. Because when I said love - I meant I bled for you. When the word love actually leaves my lips - I'm speaking it into existence. I'm empowering my soul - I'm joining with yours. - Author: Rachel Van Dyken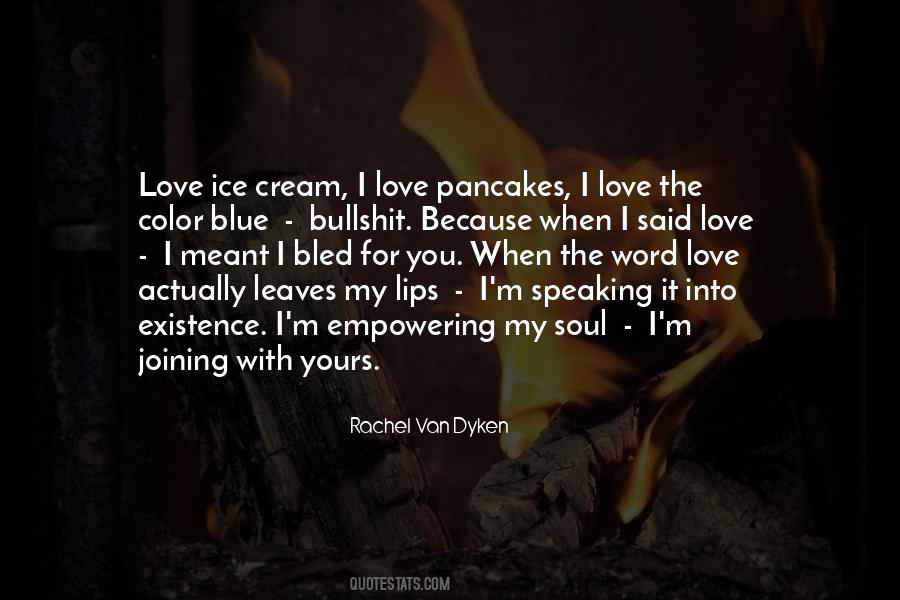 #53. He just hadn't expected to have his equilibrium roughly jostled by a pair of blue eyes this evening. He couldn't remember ever seeing eyes quite that color before. So achingly lovely they made him restless. He felt oddly as though he needed to do something about them. - Author: Julie Anne Long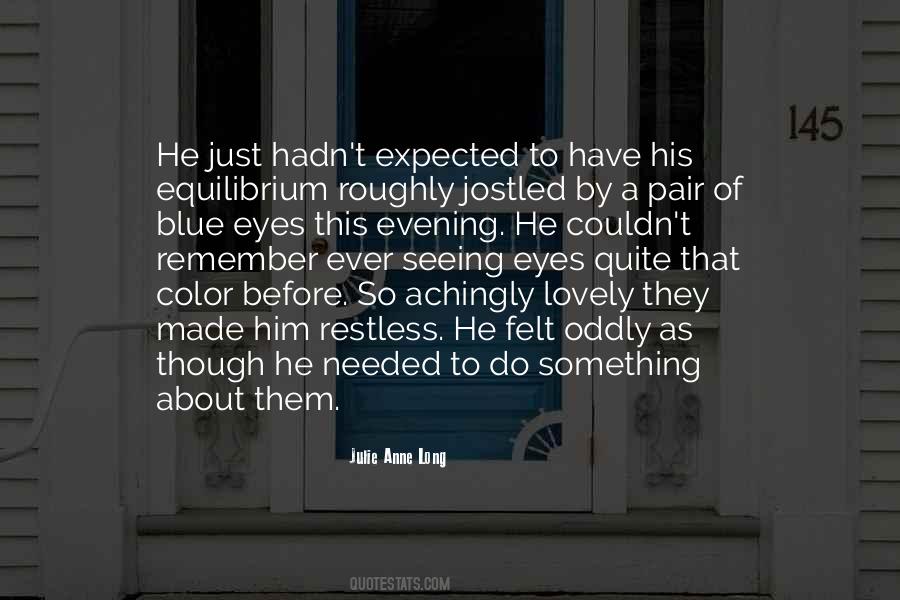 #54. I started thinking about how rain is depicted in illustrations. In comics that use gouache or watercolor, they use light blue, so I started using that color. - Author: Lucien Smith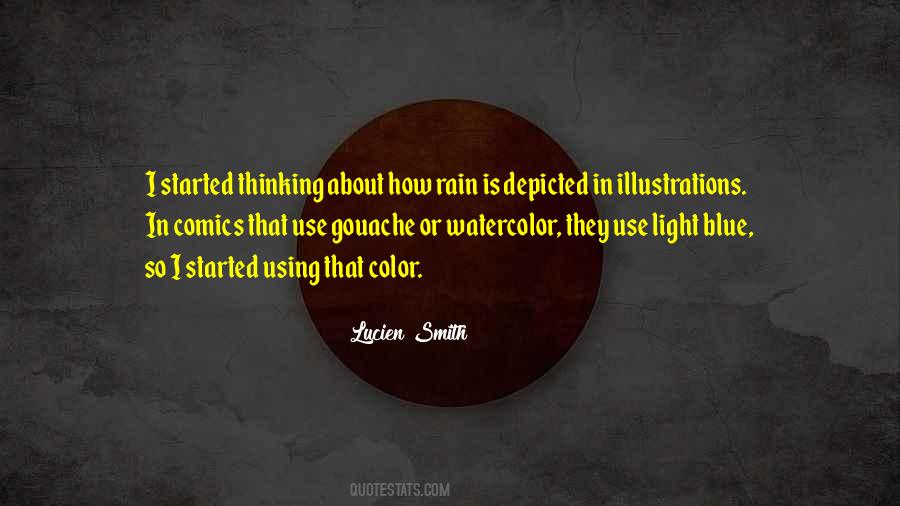 #55. His hands massaged my back as I looked into his eyes. His eyes were the strangest color of grey. They were almost a translucent grey/blue. - Author: Scott Hildreth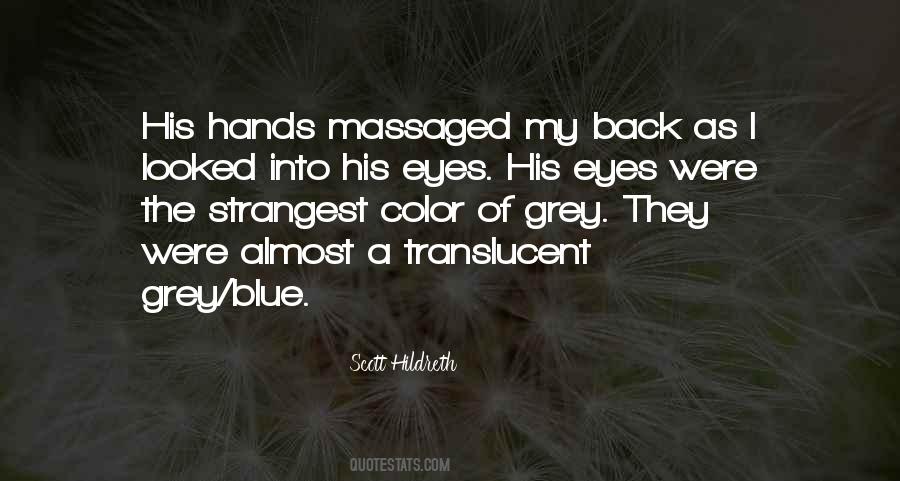 #56. She could not imagine why these companies all chose shades of blue for their logos. Blue had always struck her as such a serene, soothing color, yet all social media offered was endless agitation and posturing. It was worse than the court of Versailles. Come - Author: Deborah Harkness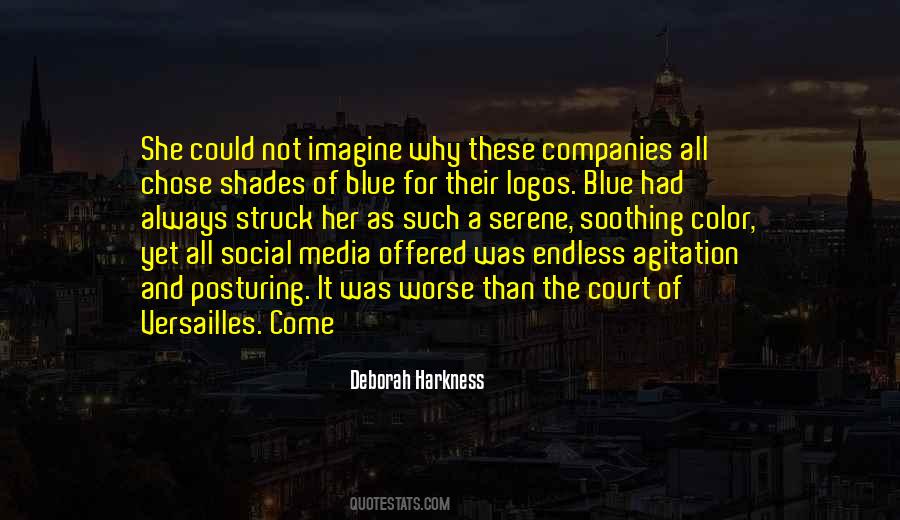 #57. When nature made the blue-bird she wished to propitiate both the sky and the earth, so she gave him the color of the one on his back and the hue of the other on his breast. - Author: John Burroughs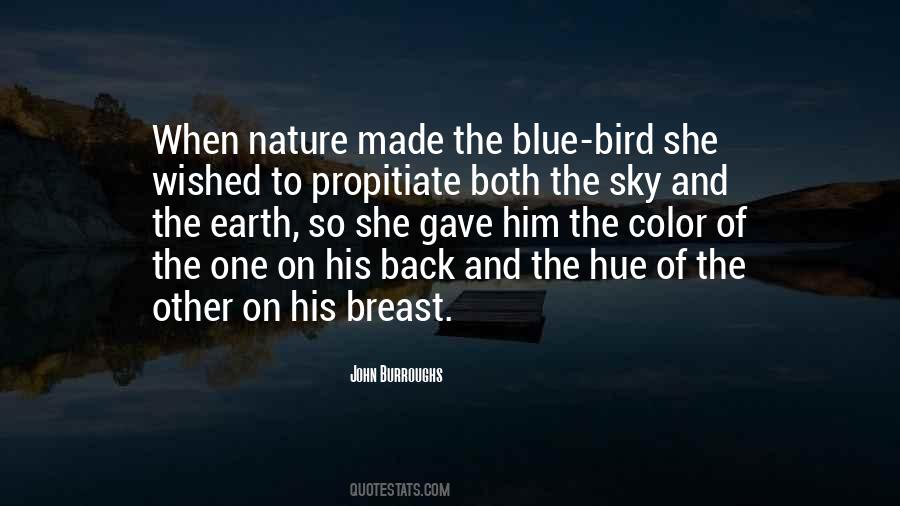 #58. I didn't even know what color lavender was. I think most men would consider it light blue, or something. - Author: Larry Correia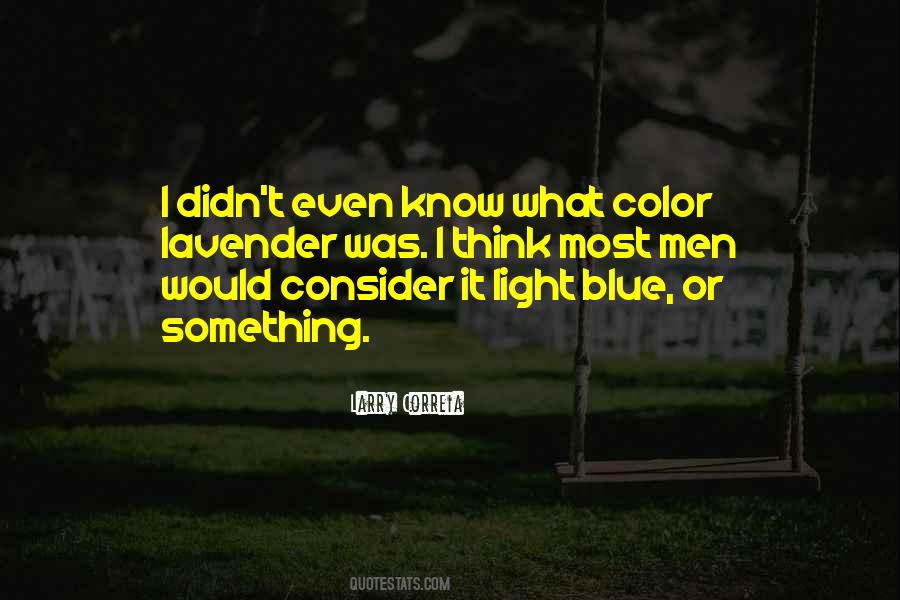 #59. What's your favorite color?" he whispered against my skin as though he were asking a highly intimate question. "Blue." "Like the ocean or the sky?" "Like your eyes." He turned me - Author: Alyssa Rose Ivy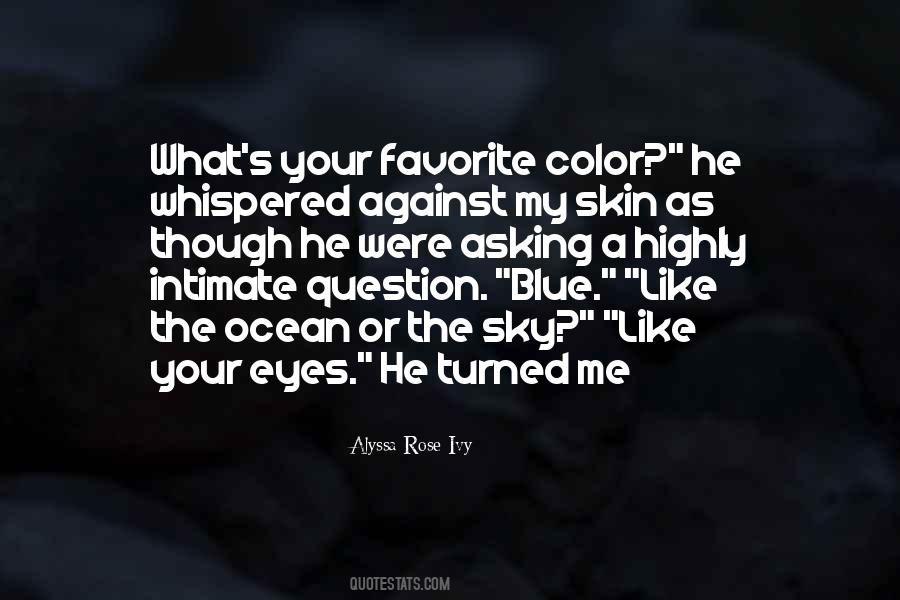 #60. Wow, just imagine missing school on the day when they were learning blue. You'd spend the rest of your life wondering what color the sky is. - Author: Daniel Quinn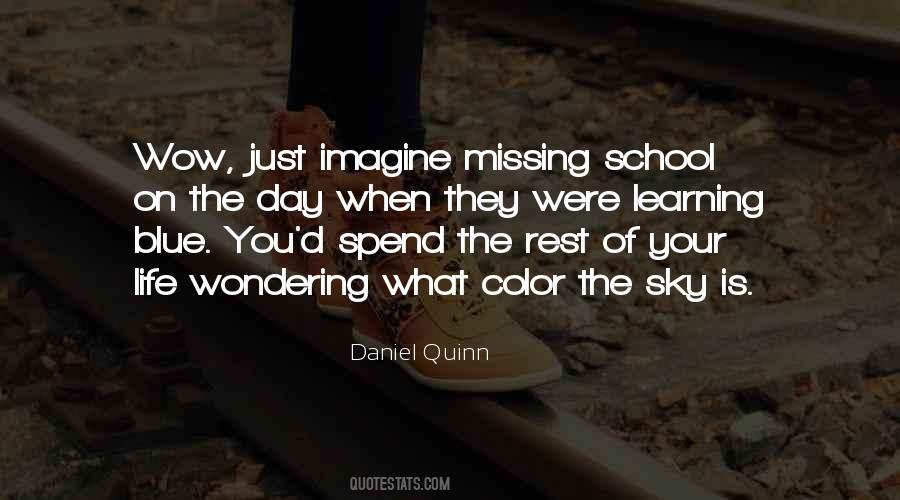 #61. Blue and pink made mud, made dirt, made rock
I am mud, I am dirt, I am rock
I am nature, a force of nature
I am the color that remains
when everything else is washed away - Author: Nina LaCour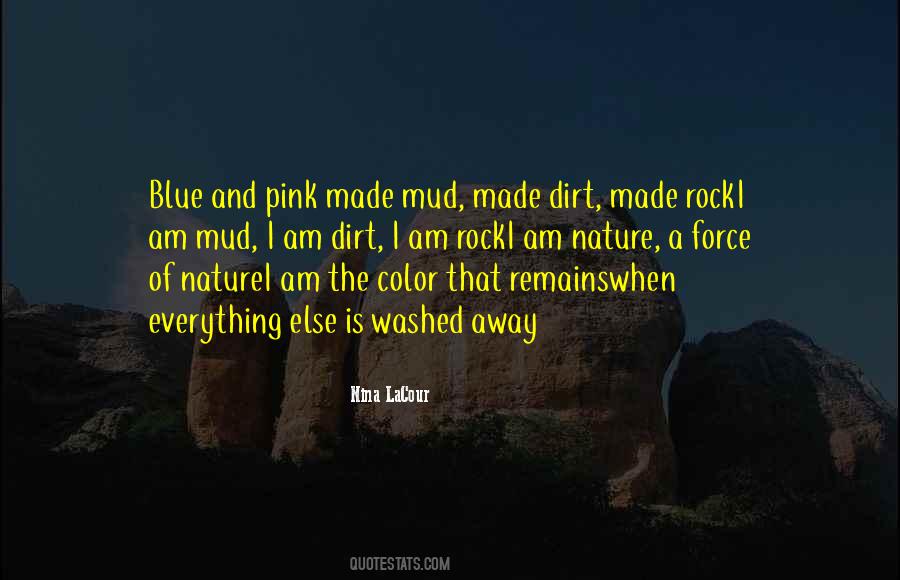 #62. If I were today on my deathbed, I would name my love of the color blue and making love with you as two of the sweetest sensations I knew on this earth. - Author: Maggie Nelson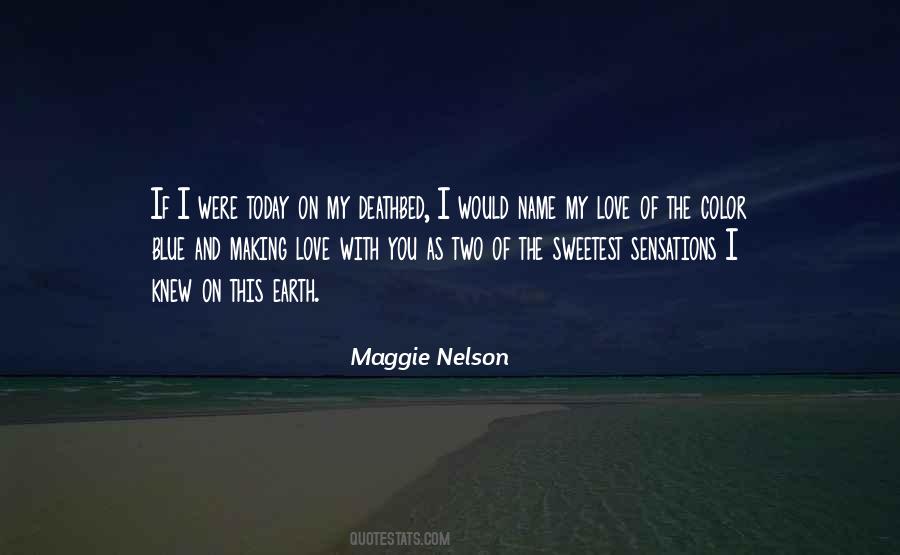 #63. Artists can color the sky red because they know it's blue. Those of us who aren't artists must color things the way they really are or people might think we're stupid. - Author: Jules Feiffer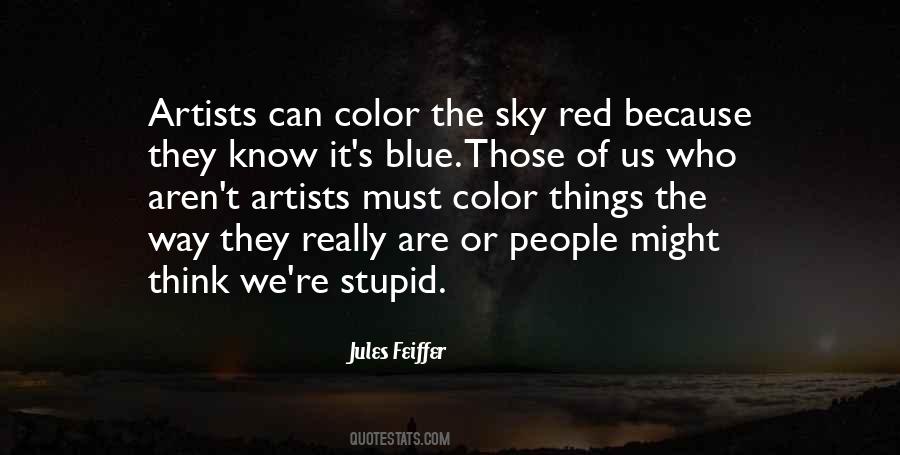 #64. Kerrigan?" she choked, cupping his face in both of her hands. "Come back to me."
Suddenly, he drew a deep breath before he opened his eyes to look up at her. Instead of their normal black hue, they were a bright, crystal blue - the same color they had been when he was human. - Author: Kinley MacGregor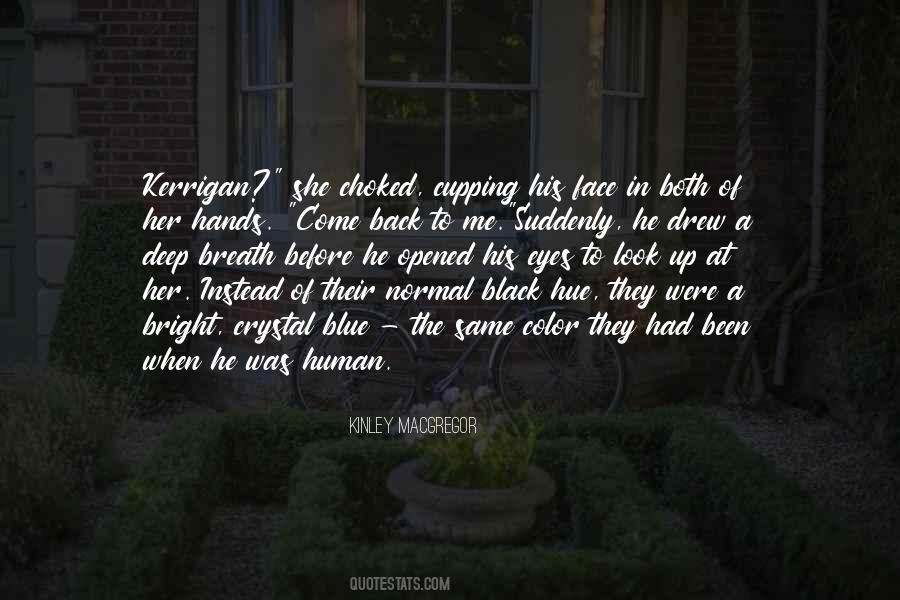 #65. For you, a comet, under a blue sky, leaves trail of color,
For you, a star, dreams of being able to kiss you, dream to hear your voice
For you, full moon, keep vigil for you, my girl, keep vigil for you, my love. - Author: Miguel El Portugues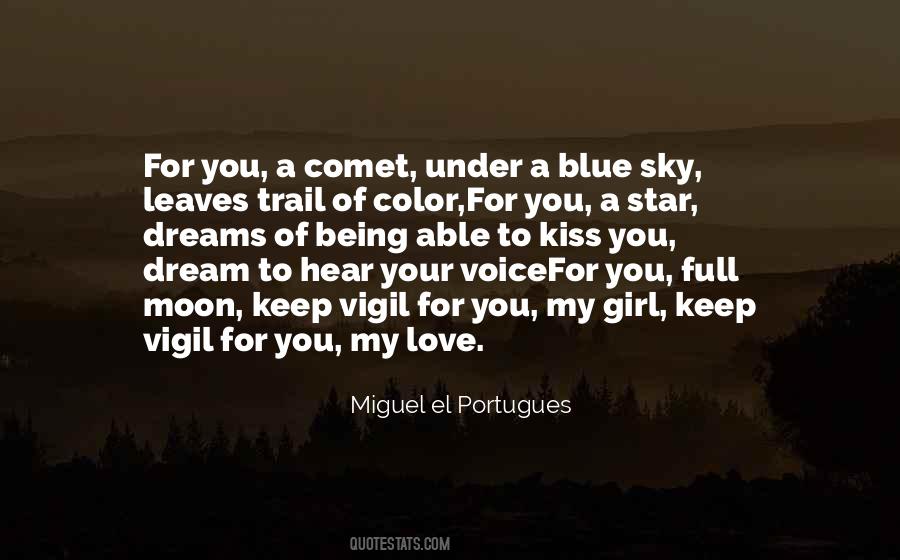 #66. From the floor, I see the tops of the Philadelphia skyline out of her window. Staring at it, I realize that the night sky isn't really black, which is the way I've always thought of it. It's actually a dark shade of blue, the darkest possible. - Author: Siobhan Vivian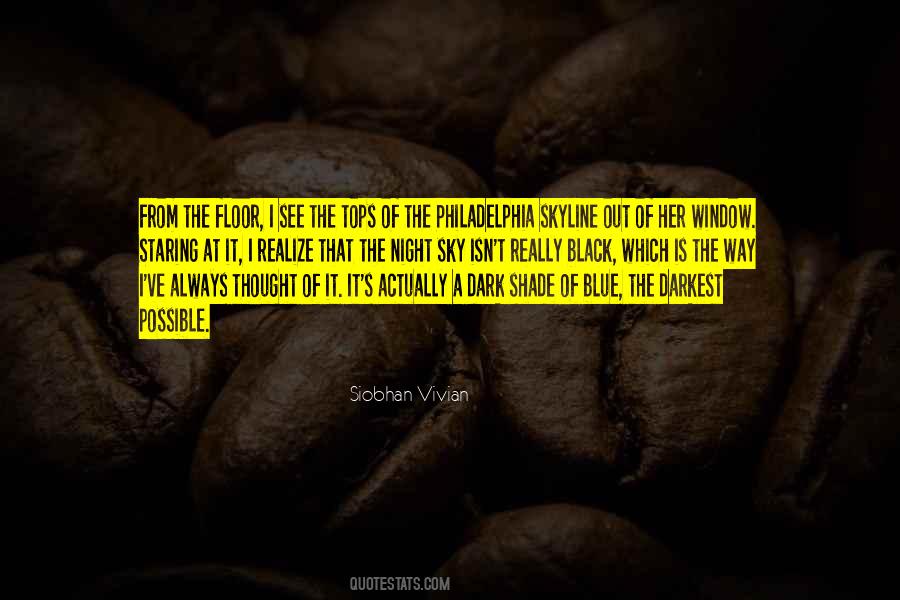 #67. My favorite color is blue, and my secret favorite color is pink. - Author: Paul Dano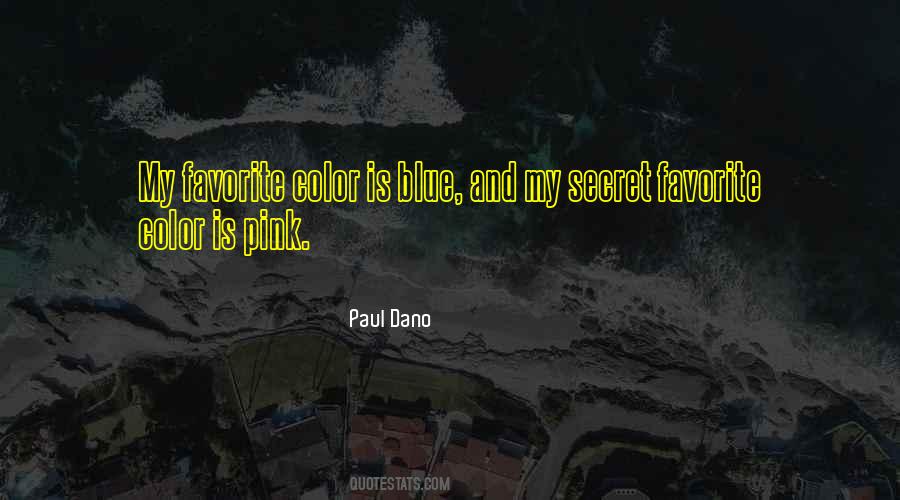 #68. I peek up at his features, at the crooked grin i want to savor, at the color in his eyes i'd use to paint a million pictures. - Author: Tahereh Mafi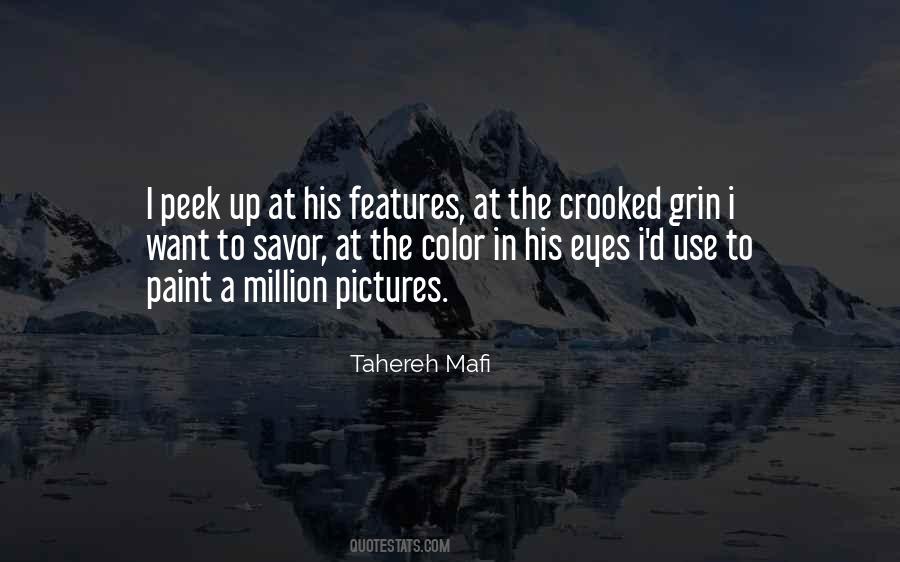 #69. But while the color may sap appetite in the most literal sense, it feeds it in others. - Author: Maggie Nelson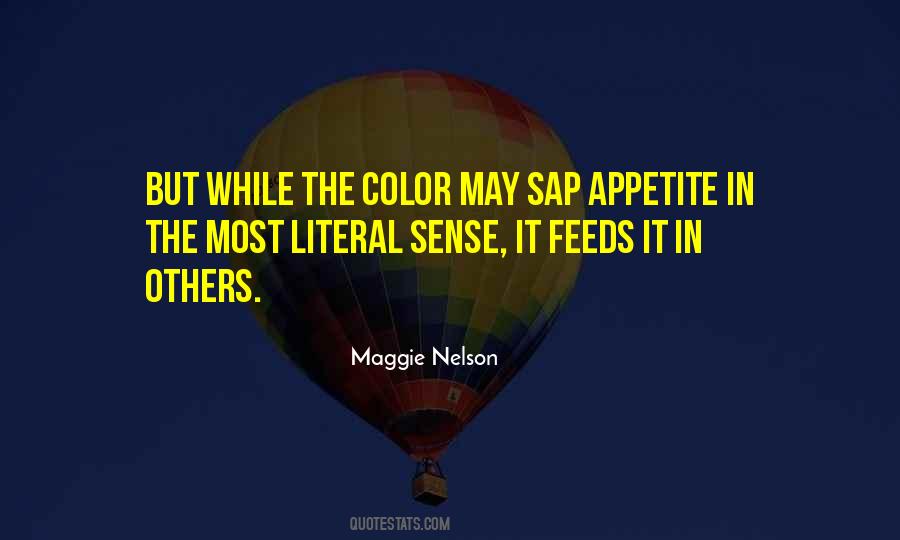 #70. It was the time when the field mice ventured out, after the hawks had settled in the trees but before the owls came to hunt. The sky was now the color Elv liked best - a tender dark blue, falling to earth like ashes. - Author: Alice Hoffman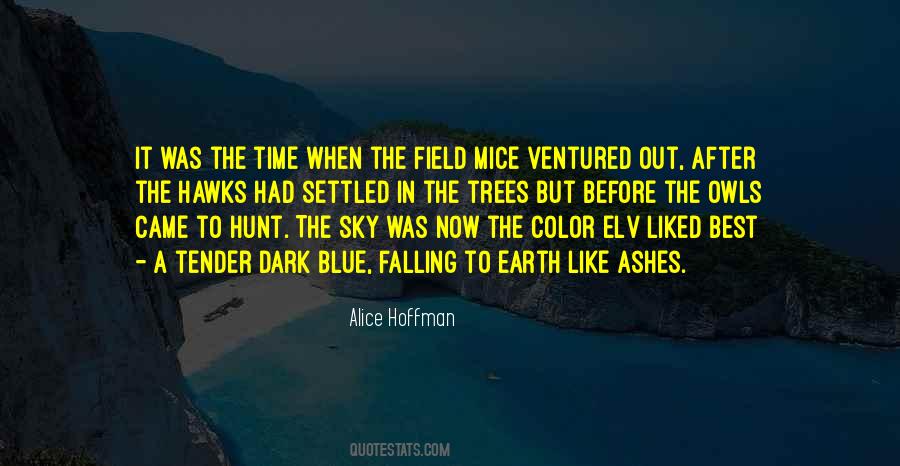 #71. A taste of whiskey had changed her mood, as a touch of acid will change the color of blue litmus paper. - Author: Ross Macdonald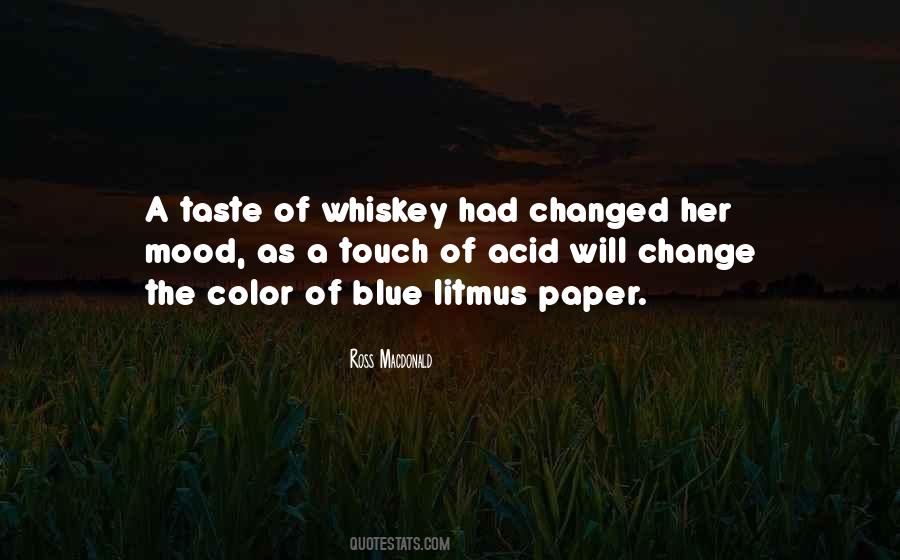 #72. Like many self-help books, The Deepest Blue is full of horrifyingly simplistic language and some admittedly good advice. Somehow the women in the book learn to say: That's my depression talking. It's not "me."
As if we could scrape the color off the iris and still see. - Author: Maggie Nelson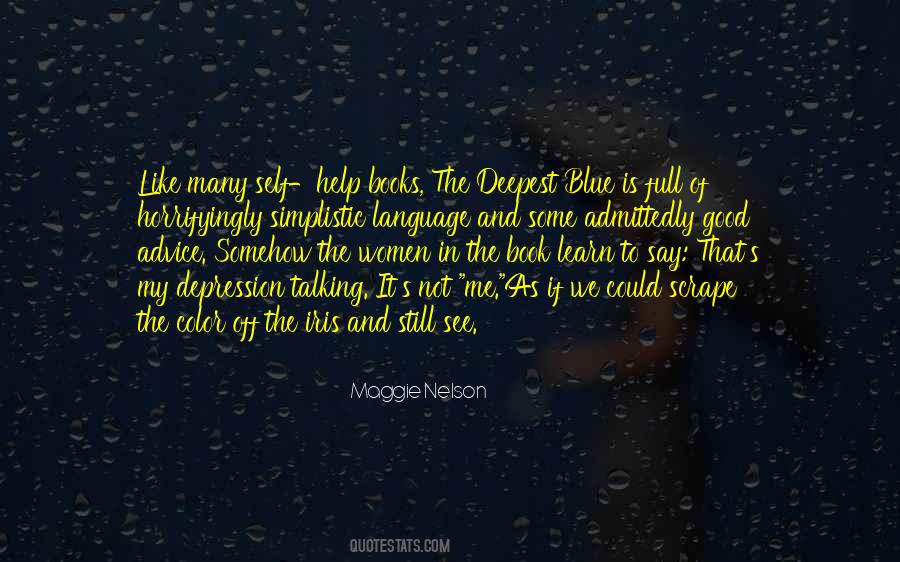 #73. If I describe a person's physical appearance in my writing, which I often do, especially in fiction, I never say someone is "black" or "white." I may describe the color of their skin - black eyes, beige skin, blue eyes, dark skin, etc. But I'm not talking about race. - Author: Jamaica Kincaid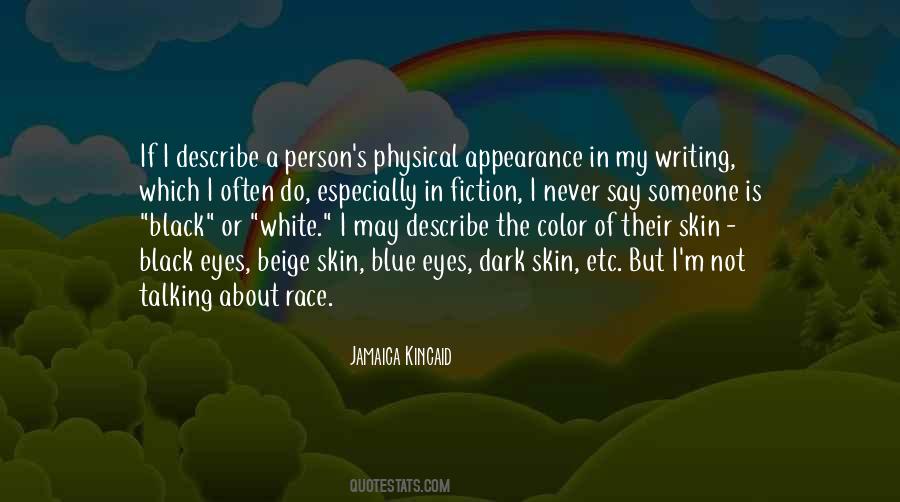 #74. To see the full miraculous essentiality of the color blue is to be grateful with no necessity for a word of thanks. To see fully, the beauty of a daughter's face is to be fully grateful without having to seek a God to thank him. - Author: David Whyte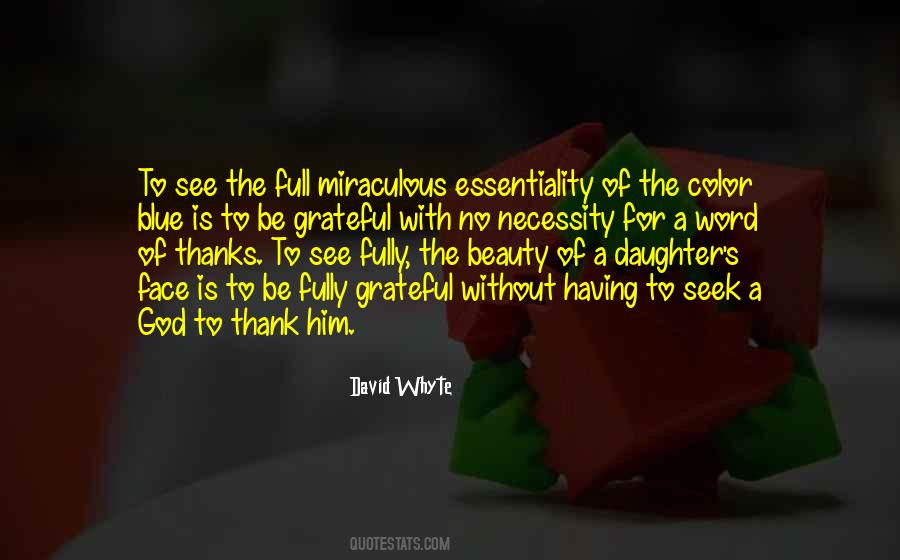 #75. The sky was a flawless blue, the color of surgical gloves. - Author: Mira Grant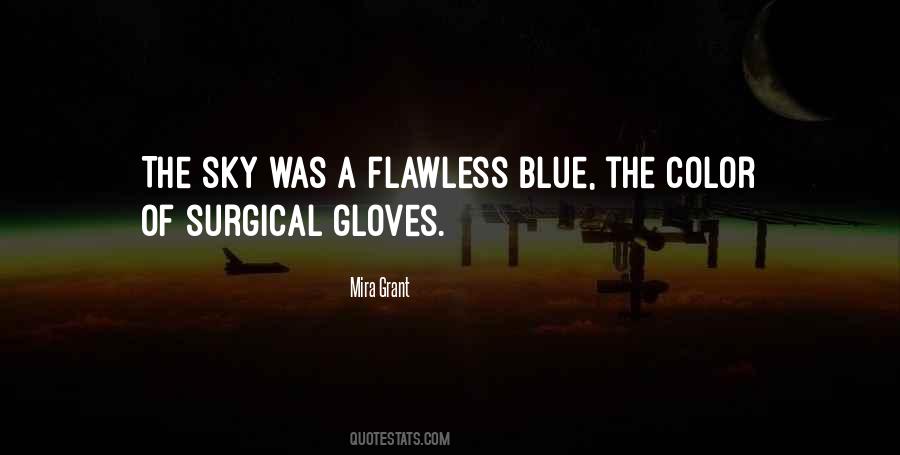 #76. My father once nearly came to blows with a female dinner guest about whether a particular patch of embroidery was fuchsia or magenta.
But the infinite gradations of color in a fine sunset - from salmon to canary to midnight blue - left him wordless. - Author: Alison Bechdel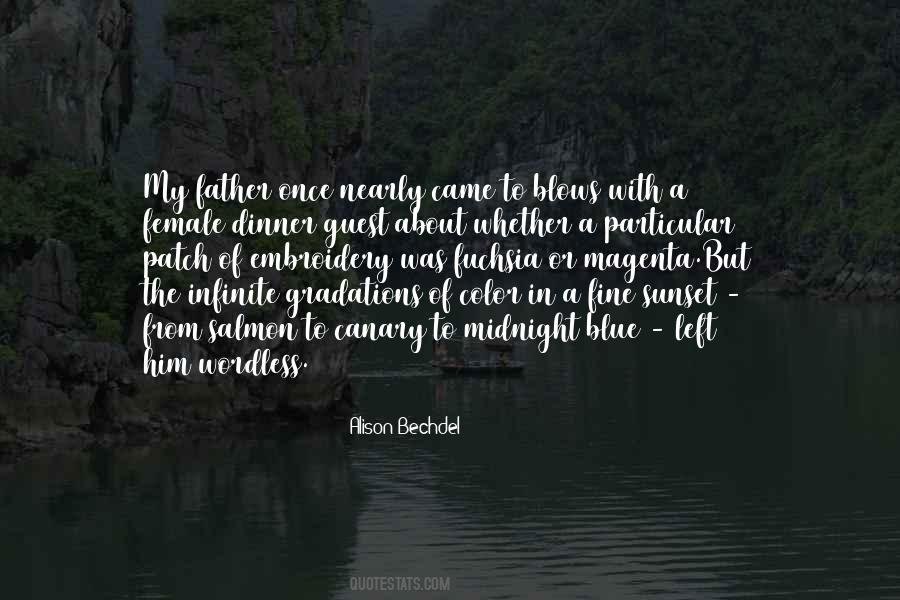 #77. The blue of the sky is one of the most special colors in the world, because the color is deep but see-through both at the same time. - Author: Cynthia Kadohata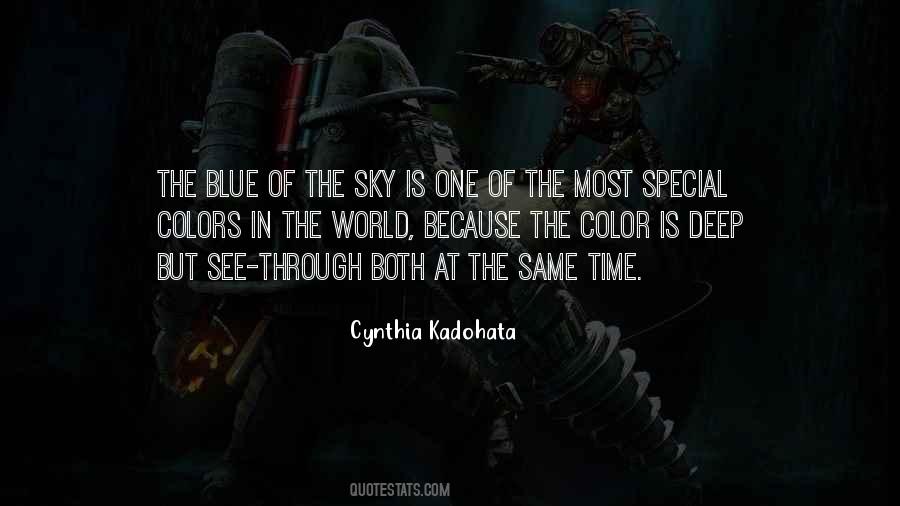 #78. I've built my wardrobe color palette around red, so I'm happy with it, but I do get pangs when I see beautiful brunettes. I've already been blue, green, black, and blonde. - Author: Florence Welch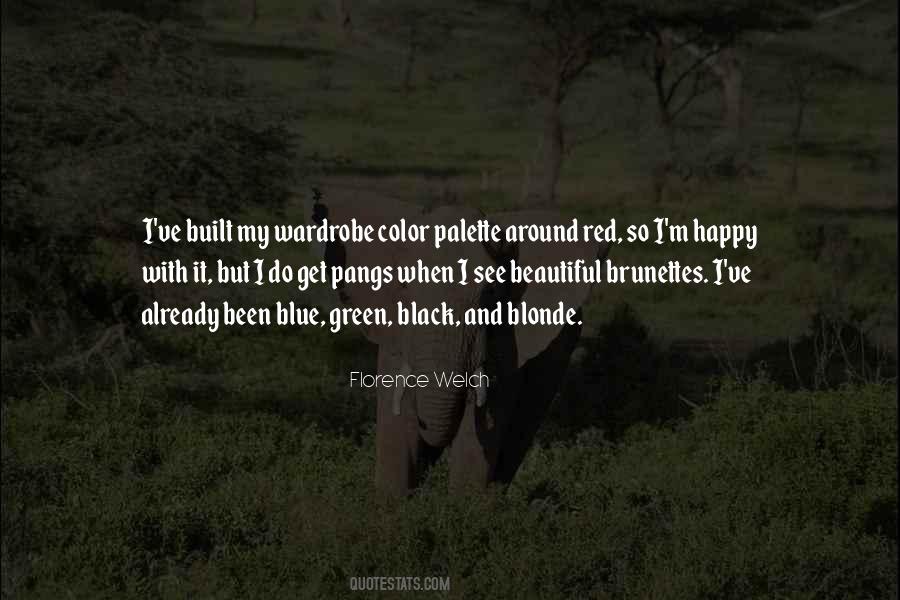 #79. There was no one color that could paint Lena Duchannes. She was a red sweater and a blue sky, a gray wind and a silver sparrow, a black curl escaping from behind her ear. - Author: Margaret Stohl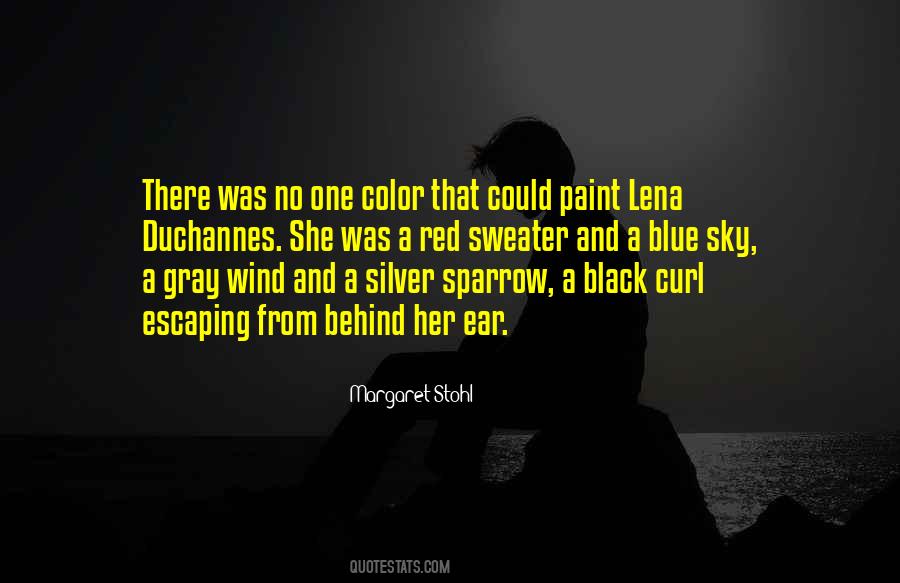 #80. Her favorite color is blue. She says that blue is associated with vastness; the skies are blue, the oceans are blue. - Author: Mahbod Seraji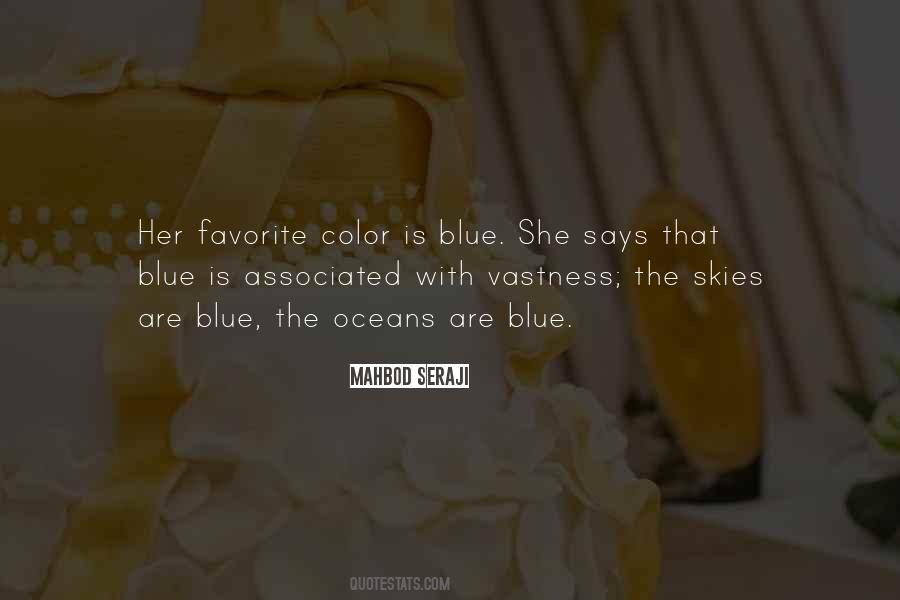 #81. The first of all single colors is white ... We shall set down white for the representative of light, without which no color can be seen; yellow for the earth; green for water; blue for air; red for fire; and black for total darkness. - Author: Leonardo Da Vinci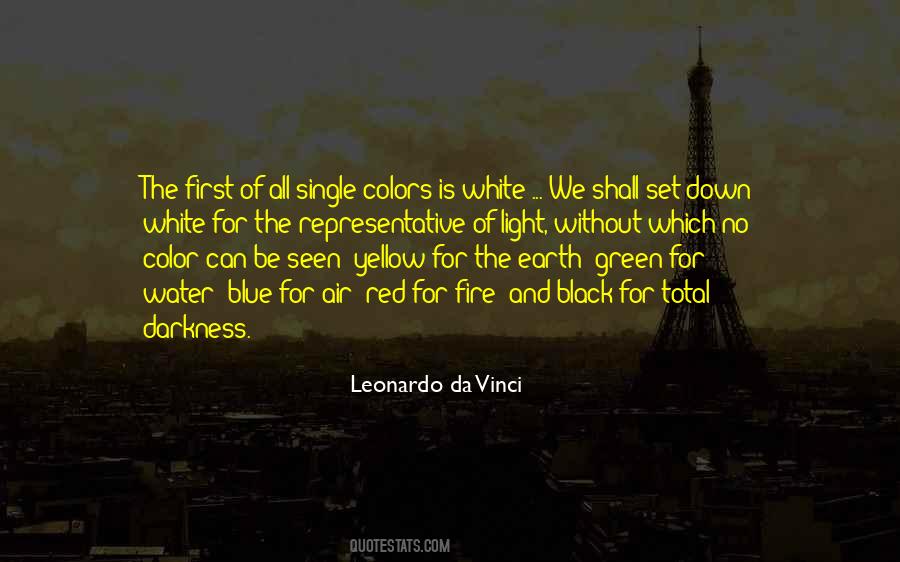 #82. I remember looking at James Joyce's journals. It was just amazing - it looked like ants had written on the page. So much writing on one page, every corner of the page was filled. Some of the lines were underlined in yellow or blue or red. A lot of color, intense writing. - Author: Juan Felipe Herrera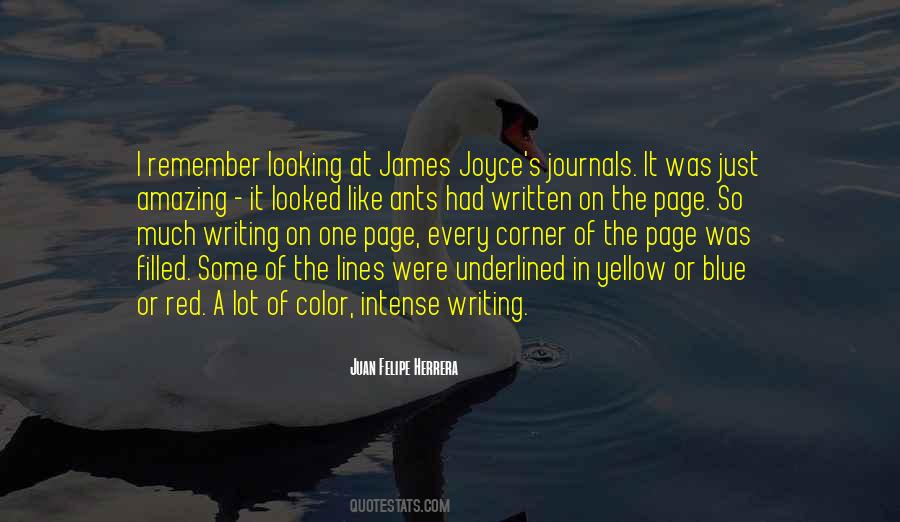 #83. I don't want a rainbow... Rainbows have too many colors and none of them receive the appreciation they deserve... I'd prefer a fading red or a striking golden, a shimmery silver or a sober blue... Ruling the sunset sky alone! - Author: Debalina Haldar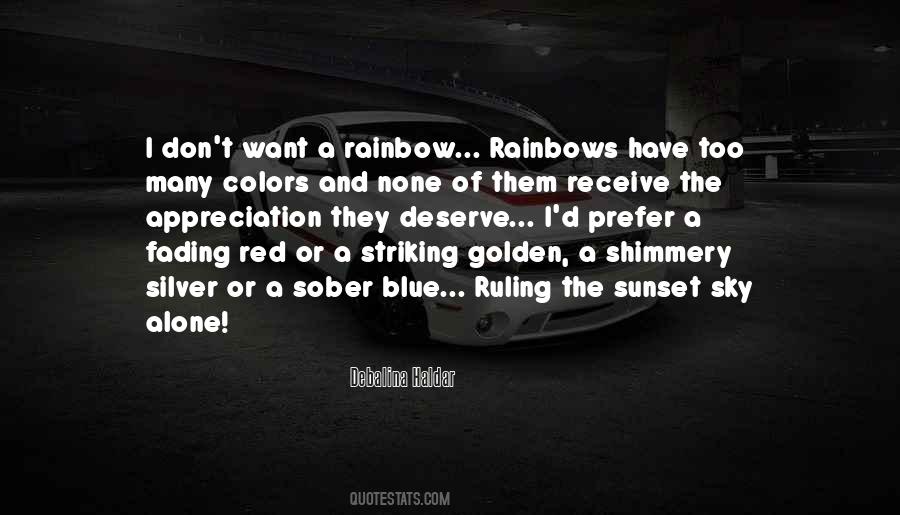 #84. Most blue-based colors help make the smile appear whiter and have the added benefit of making you look younger. Shimmering nude gloss also works well if bright pops of color are not your thing. - Author: Tim Quinn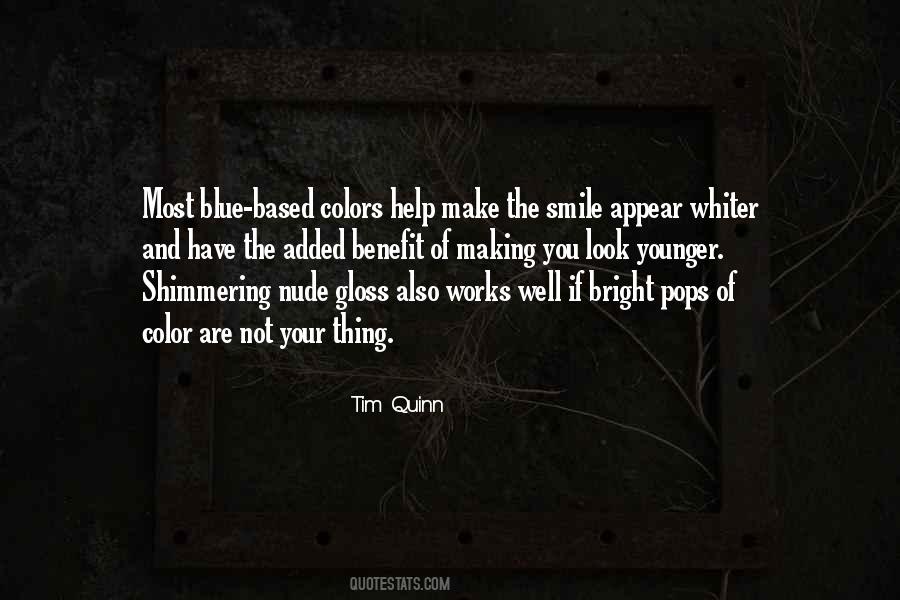 #85. She lifted her chin and returned his unyielding gaze. "Do what you will."
His blue eyes darkened to the color of a moonlit sky. "You should be careful, milady, about issuing such an invitation. - Author: Shelly Thacker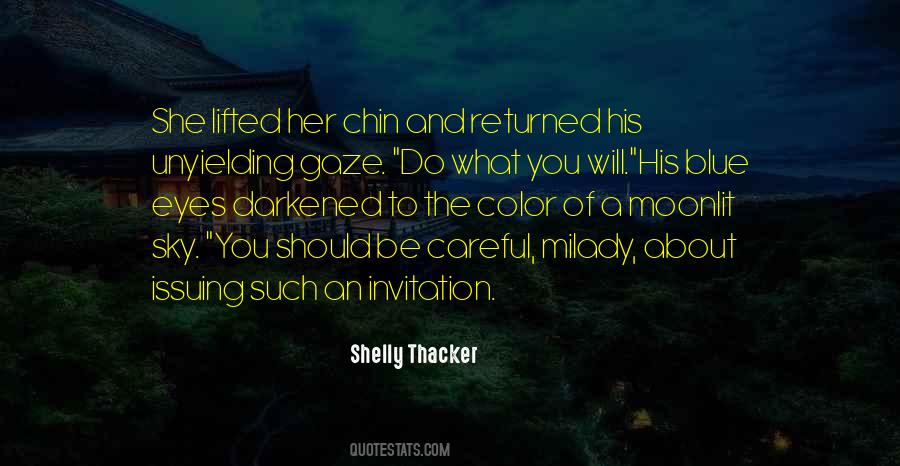 #86. Crater Lake is a caldera lake in the western United States, located in south-central Oregon. It is the main
feature of Crater Lake National Park and is famous for its deep blue color and water clarity. The lake
partly fills a nearly - Author: Vishwa Nayak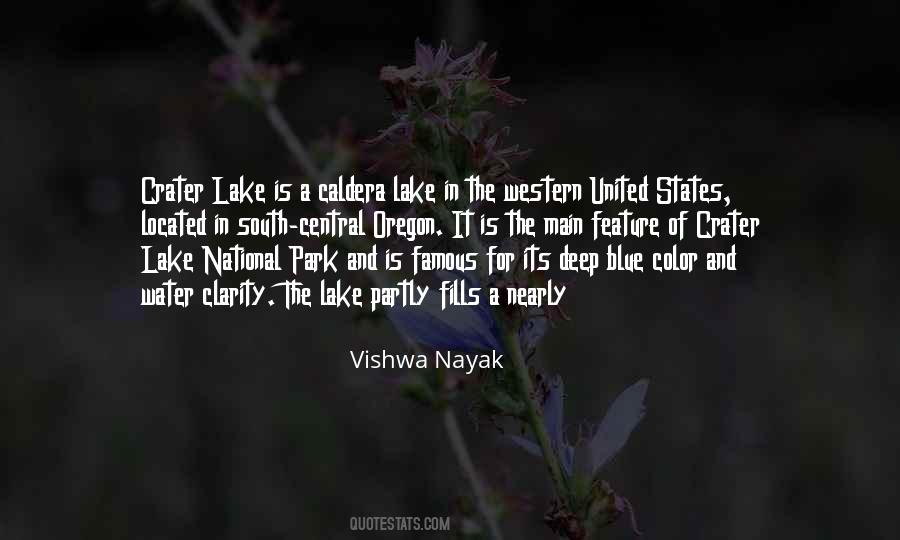 #87. The true person is
Not anyone in particular;
But like the deep blue color
Of the limitless sky,
It is everyone,
Everywhere in the world. - Author: Dogen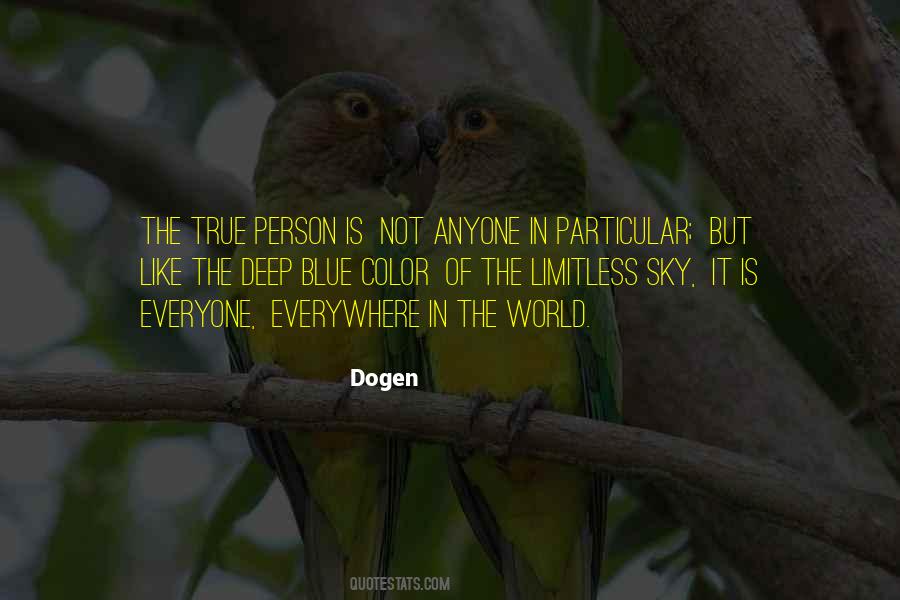 #88. I'm standing in a river. It's blue. Dark blue. Reflecting the color of the evening sky. - Author: Ally Condie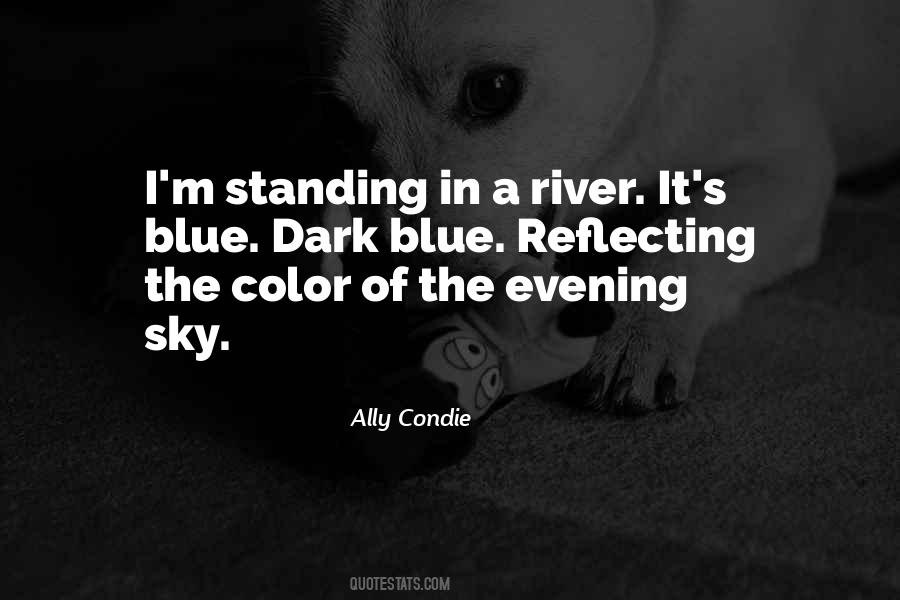 #89. Never before Raphael had blue meant the color of sin, of seduction. Of pain. - Author: Nalini Singh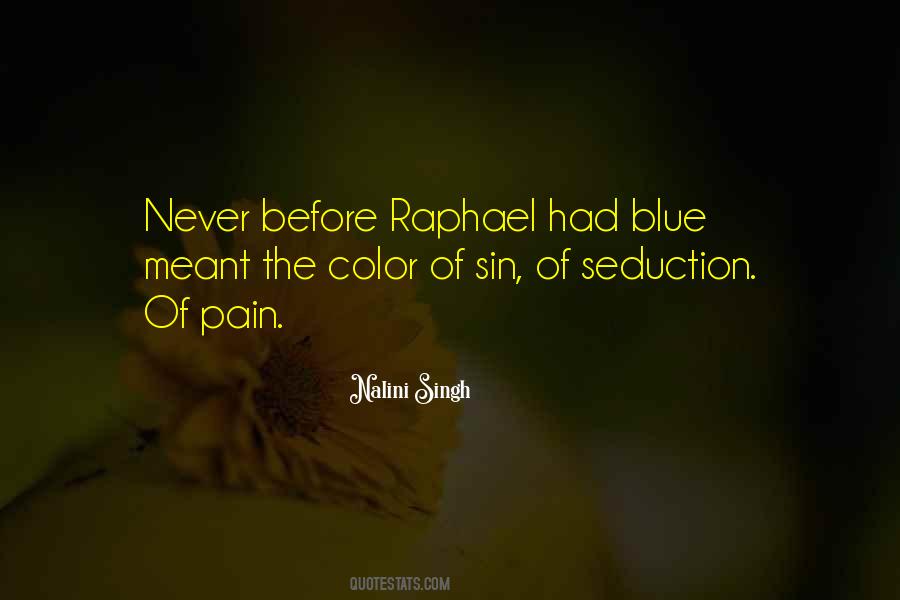 #90. If there is any sea as blue as the Caribbean I have never beheld it, and when it is seen at twilight, it is most spectacular, but then you will hear more of this later, for I have had much time to contemplate the color of this sea. On - Author: Anne Rice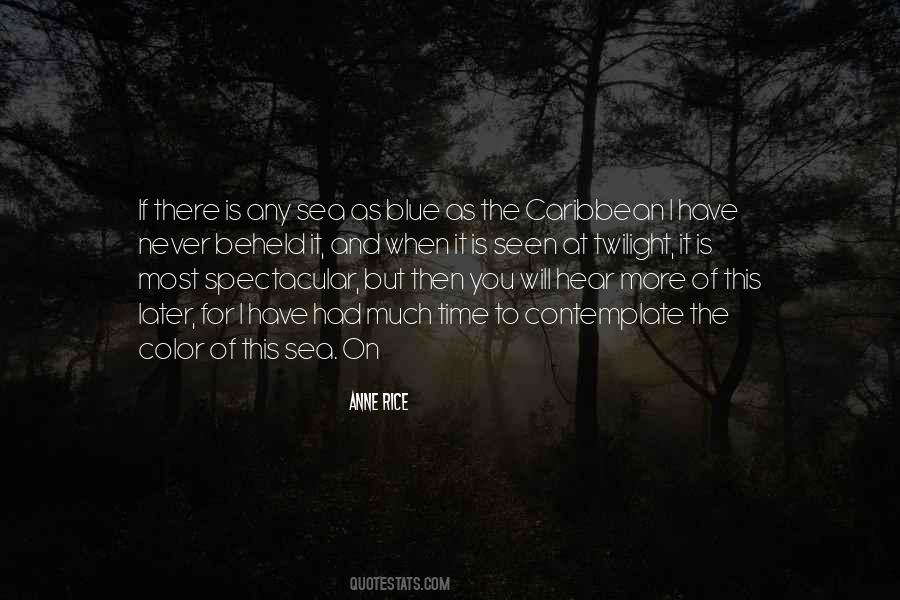 #91. Your hair is the color of dirt," she said. "It knows where it came from." "That's funny," Blue noted, "because then mine should be that color, too. - Author: Maggie Stiefvater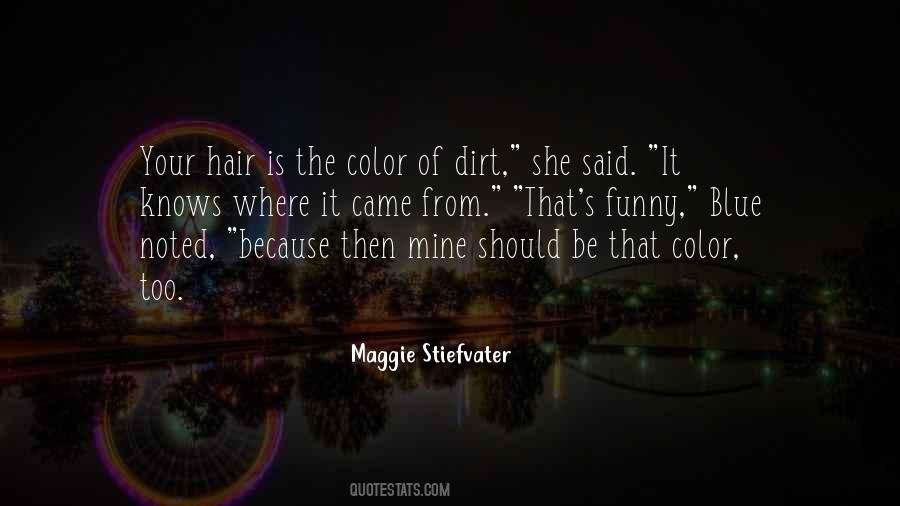 #92. Be the prettiest book I ever seen. The cover is pale blue, color a the sky. And a big white bird - a peace dove - spreads its wings from end to end. - Author: Kathryn Stockett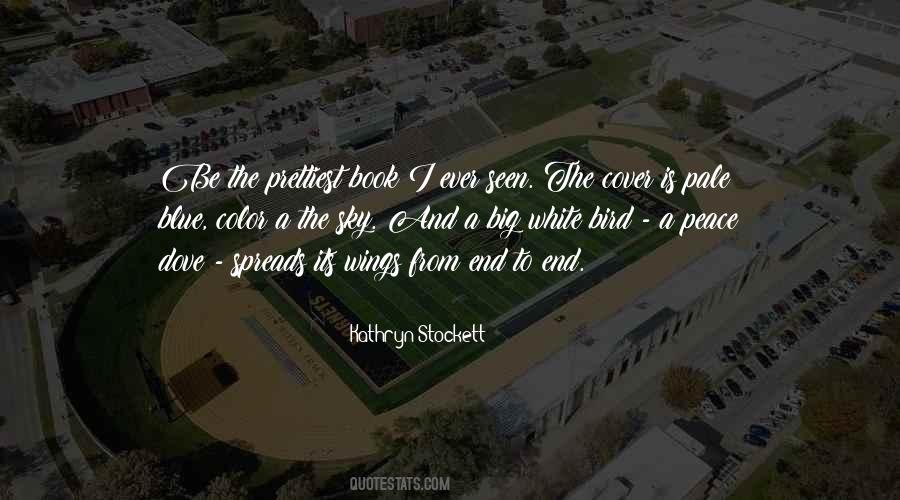 #93. The only problem I have with American money is that it's all kind of the same color, so I'm always having to look. Whereas with Australian money, you have purple, blue, yellow ... We keep it nice and simple. - Author: Emily Browning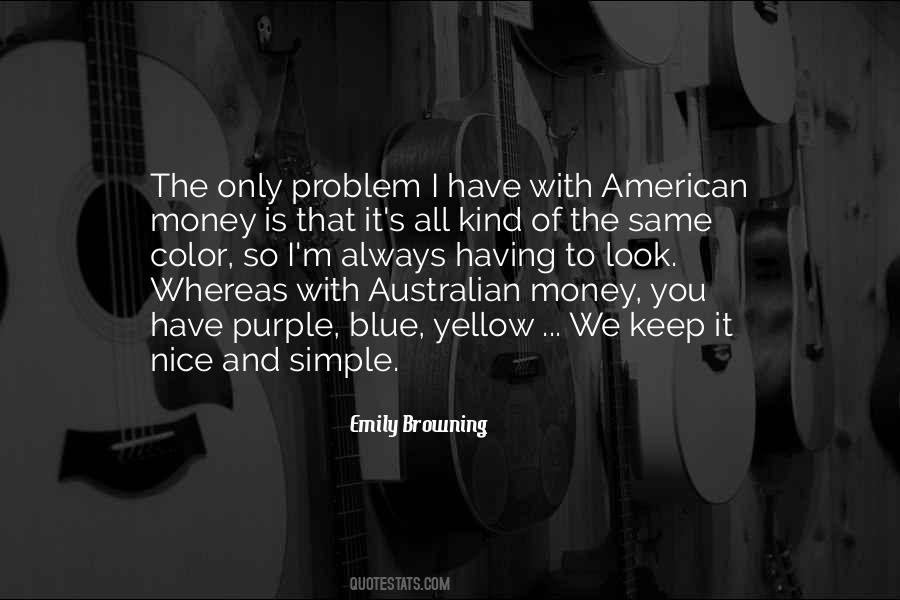 #94. Besides, skin color was skin color, right? It was just the color of your goddamned skin. There was nothing anybody could do about that. You were born with it. Like some people were born with big feet or blue eyes. You didn't make the choice. Your parents did. Or God did. - Author: Pete Hamill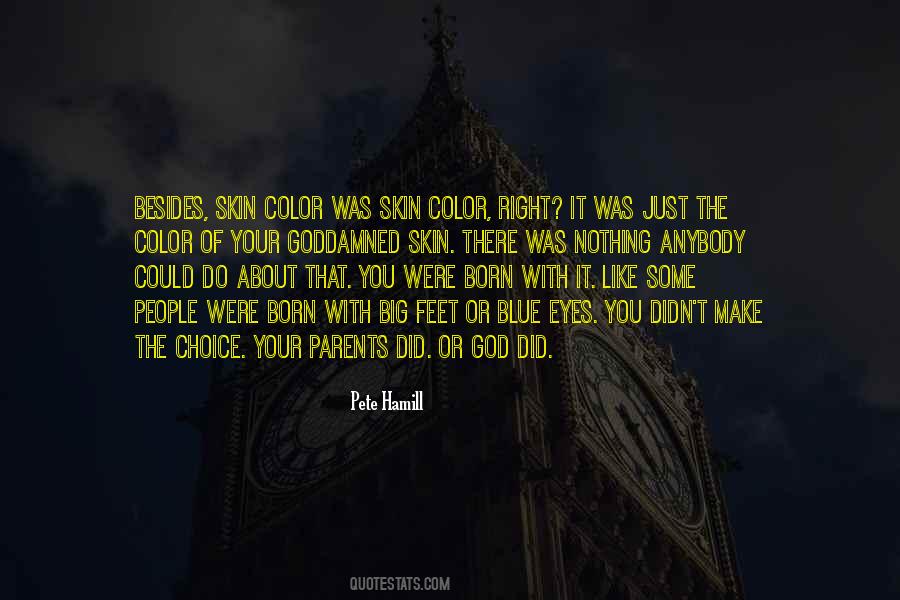 #95. I invented the colors of the vowels!
A black, E white, I red, O blue, U green
I made rules for the form and movement of each consonant, and, and with instinctive rhythms, I flattered myself that I had created a poetic language accessible, some day, to all the senses. - Author: Arthur Rimbaud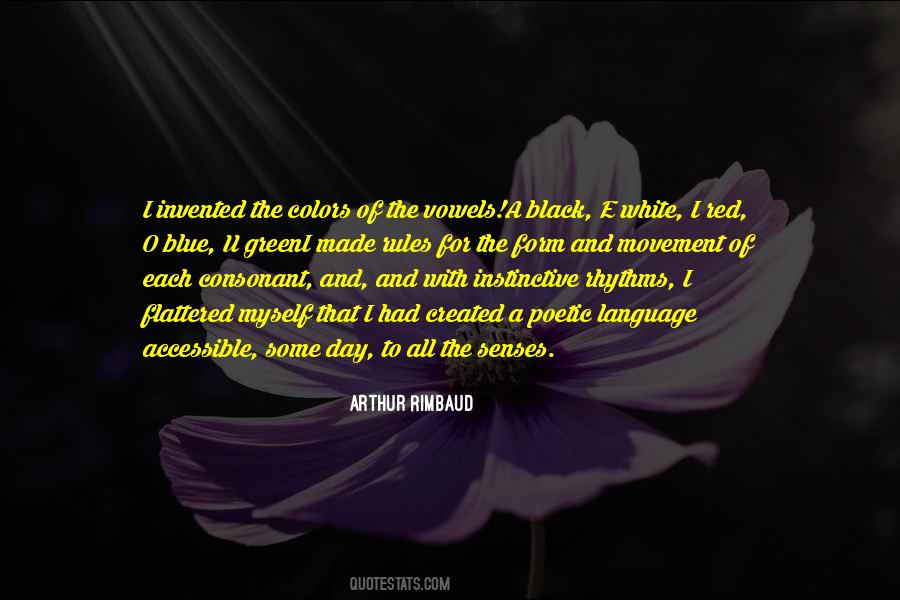 #96. I'm quite British; I've got big, flat feet, and I can't wear heels. I've got very, very pale Celtic skin, so my legs are always a frightening blue color. So when you take out clothes that reveal your legs, shoes that have any kind of heel, no shop will actually take my money. - Author: Caitlin Moran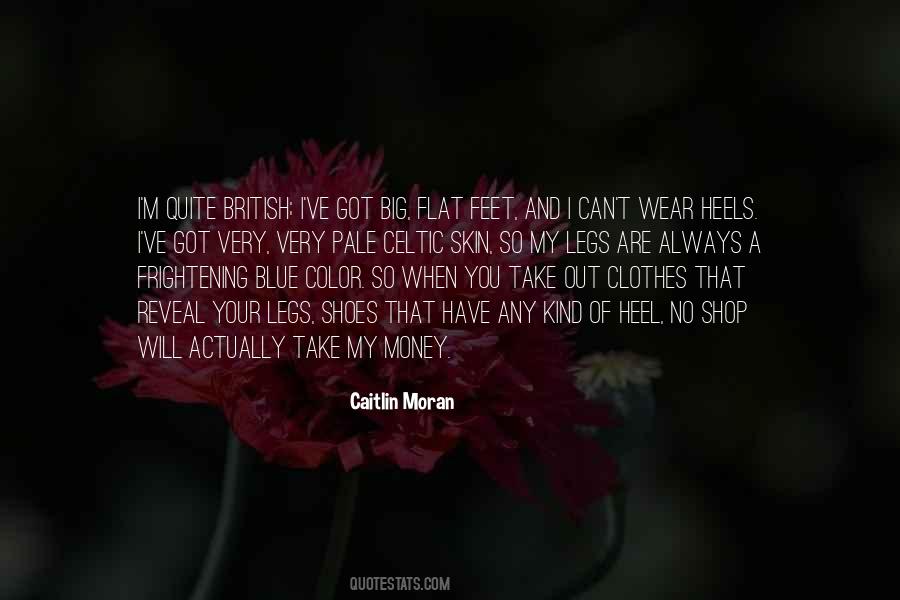 #97. In response to how he checked the weather, "I just whip out my blue card with a hole in it and read what it says: 'When color of card matches color of sky, FLY!'" - Author: Gordon Baxter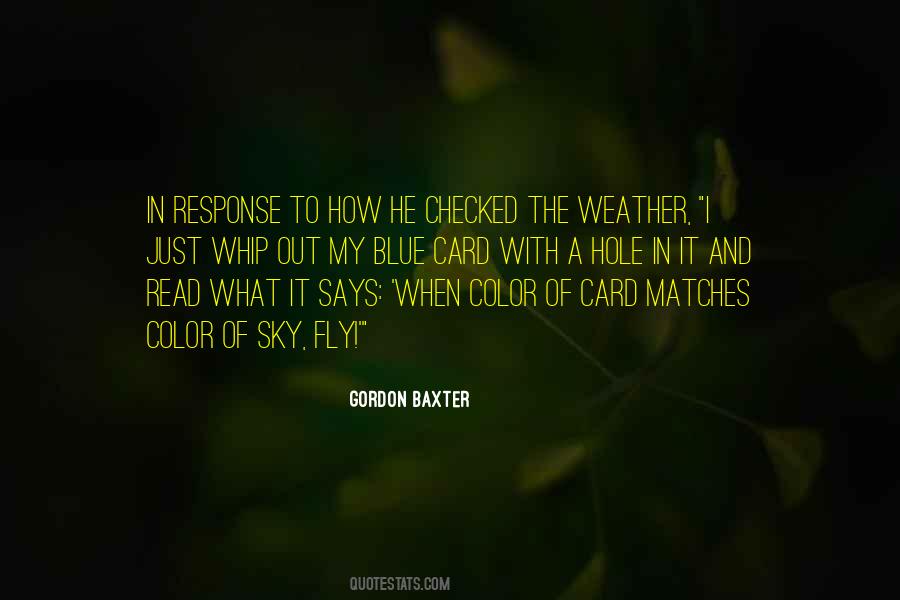 #98. Down in the street little eddies of wind were whirling dust and torn paper into spirals, and though the sun was shining and the sky a harsh blue, there seemed to be no color in anything except the posters that were plastered everywhere. - Author: George Orwell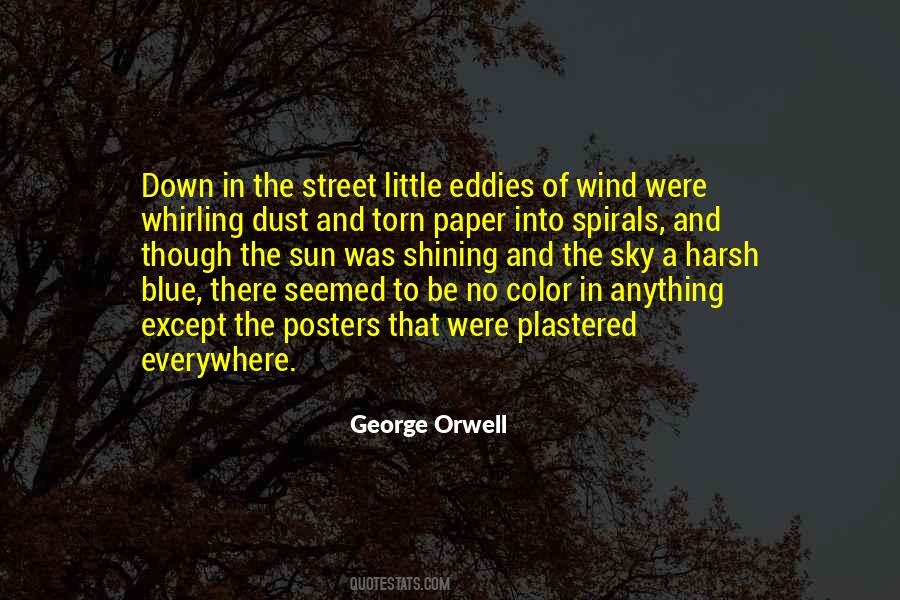 #99. People fall in and out of love with the rising and setting of the sun. Rather like a boy who loves the color green one day, only to discover on the morrow that he truly prefers blue. - Author: Renee Ahdieh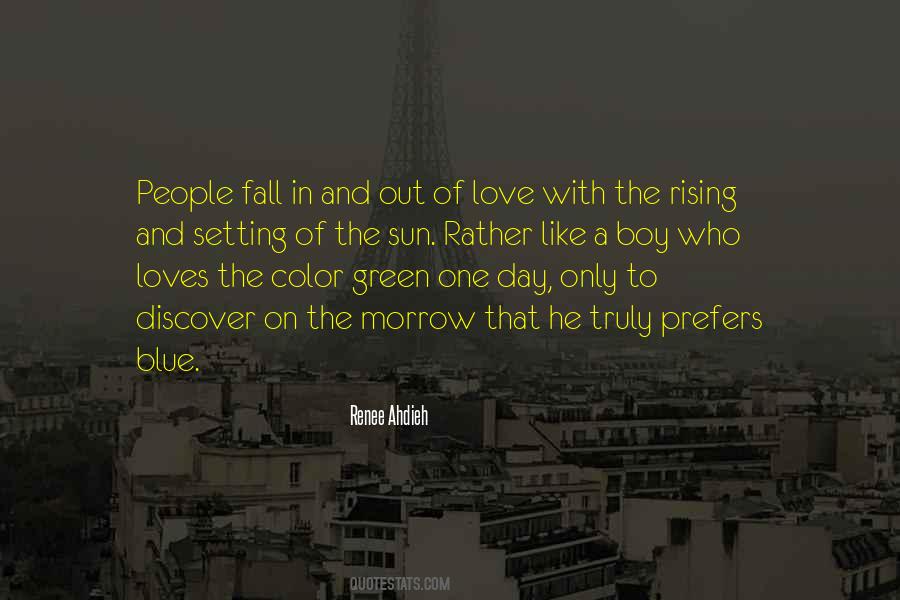 #100. Cool! me too!"); } else { System.out.println(userInput + "? My favorite color is better! I like blue!"); } System.out.println("What is your favorite - Author: R. Chandler Thompson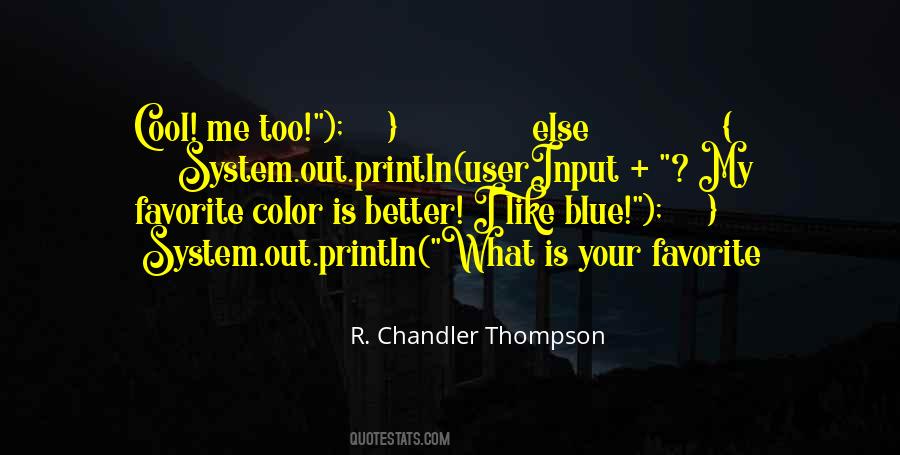 Famous Authors
Popular Topics