Black And Blue Famous Quotes & Sayings
List of top 100 famous quotes and sayings about black and blue to read and share with friends on your Facebook, Twitter, blogs.
Top 100 Quotes About Black And Blue
#1. You need to look hot now that you've got three guys giving you the eye.""
Three?"
"Sweet blue-eyed blond trapper ... Muscled blond trapper number two, who buys you cards ... And that gorgeous, 'Where have you been all my life' dude with the raven-black hair and dark eyes. - Author: Jana Oliver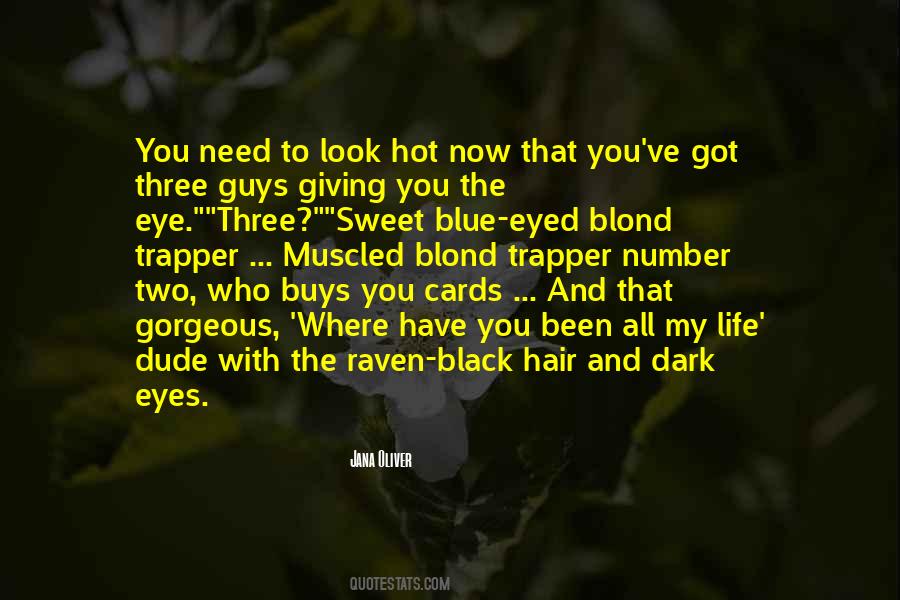 #2. Now that Karen has been resurrected, I can travel beyond the black mirror. I can discover who I have lost with the
floating hearts and severed heads of my medicine. I must now whisper my other friends back too. I'm sad they're gone ... sad and blue. - Author: Nicholaus Patnaude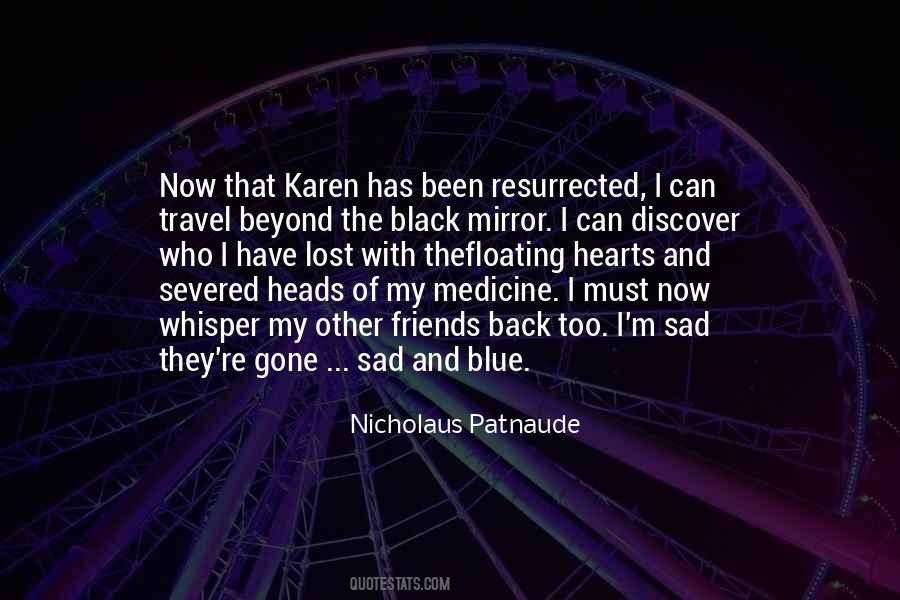 #3. My essentials are skinny jeans, loose-fitting tees, big jumpers, and the leather jacket. Everything is black or blue - I don't own anything colorful. - Author: Jamie Campbell Bower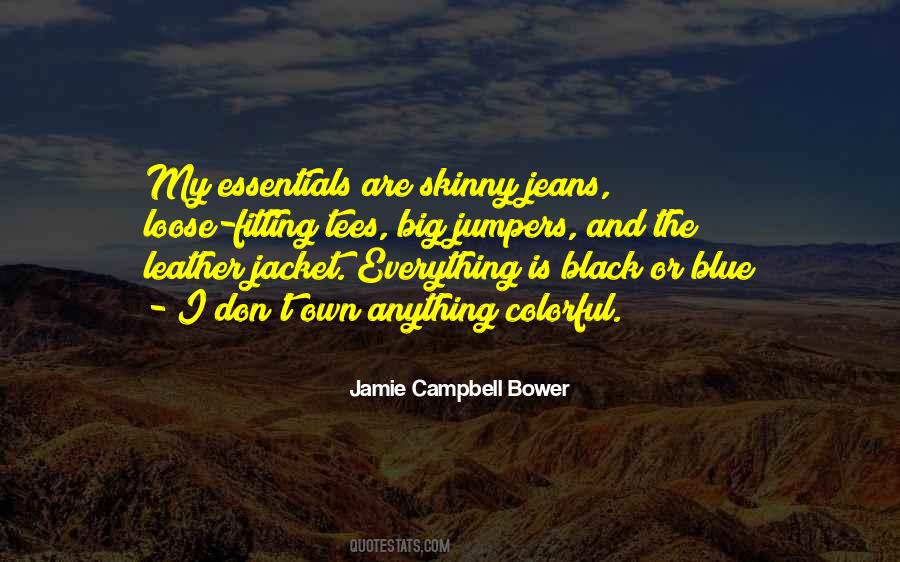 #4. Let me live deep while I live; let me know the rich juices of red meat & stinging wine on my palate, the hot embrace of white arms, the mad exultation of battle when the blue blades flame crimson, and I am content ... Conan the Cimmerian. - Author: Robert E. Howard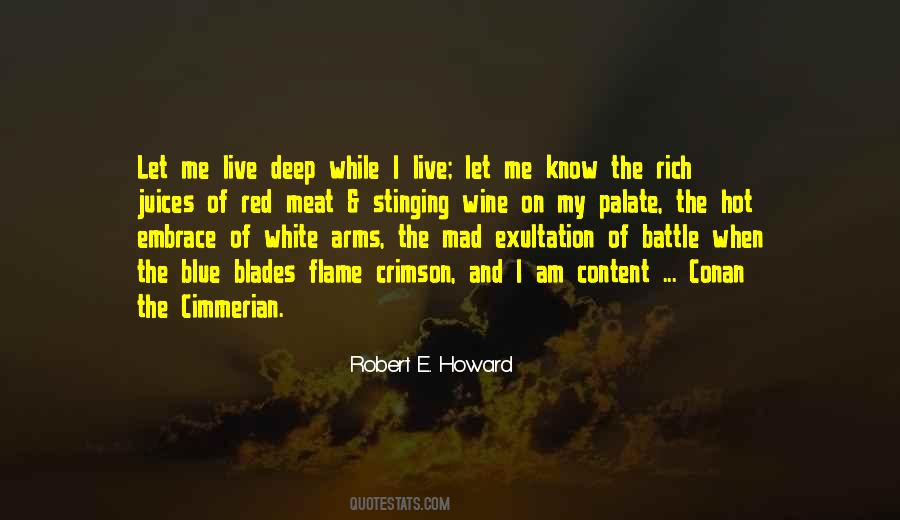 #5. You see the Earth as a bright blue and white Christmas tree ornament in the black sky. It's so small and so fragile - you realize that on that small spot is everything that means everything to you; all of history and art and death and birth and love. - Author: Rusty Schweickart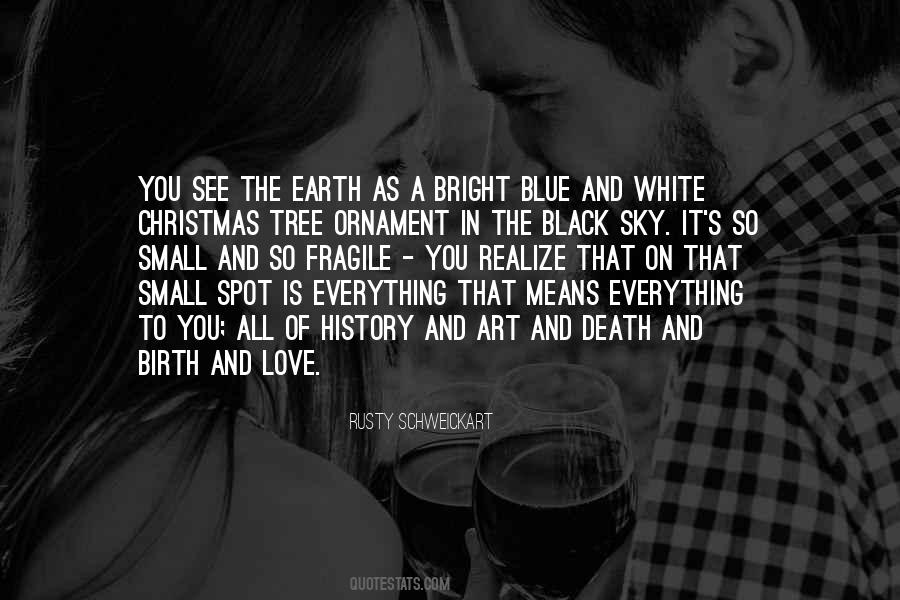 #6. A sparrow-size moth with a blue body and black wings, splayed on a flower between a slant of sun and shade. - Author: A.G. Howard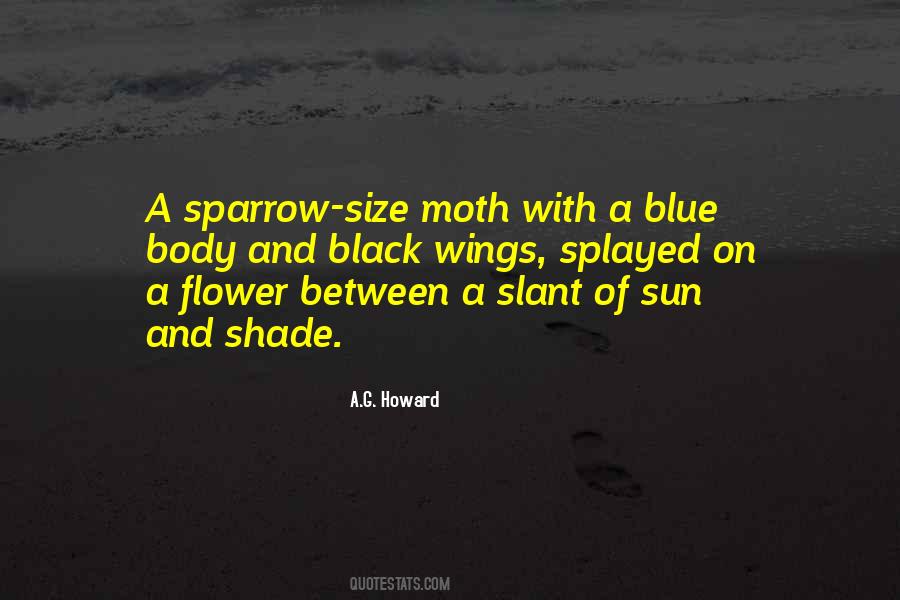 #7. The day before I left to fly in New York, I went in the ocean and was just lying on my black looking up at the sky, which was that Hawaii blue. Just that moment was worth the entire thing. The ocean is everything. It can heal you. - Author: Gavin Rossdale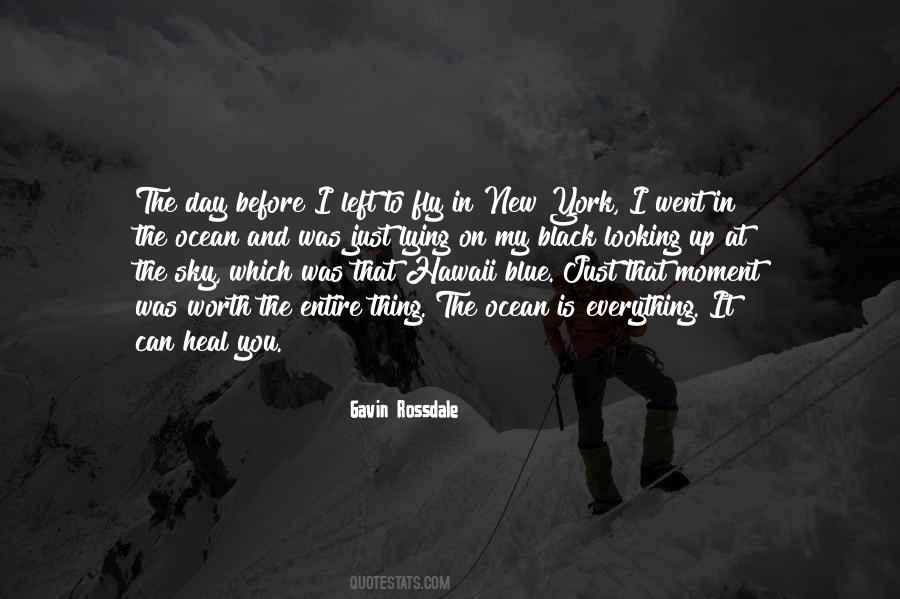 #8. I use very little red. I use blue, yellow, a little green, but especially ... black, white and grey. There is a certain need in me for communication with human beings. Black and white is writing. - Author: Hans Arp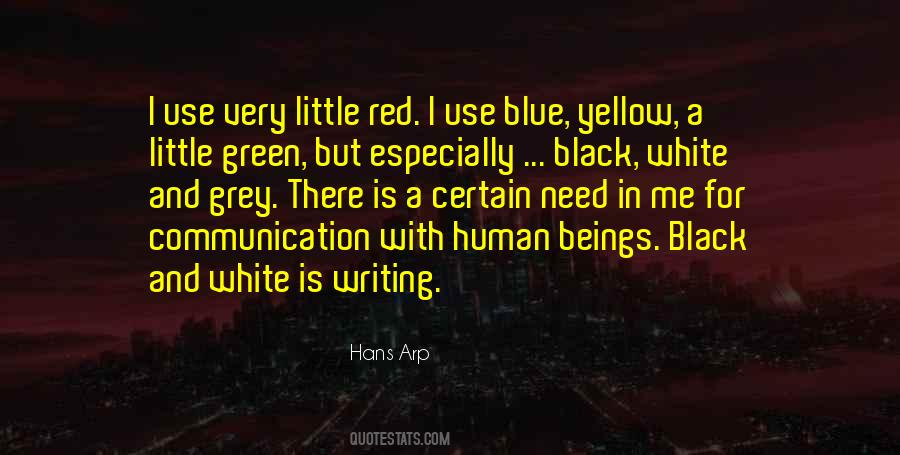 #9. Look, they're wearing light blue gauzy frozen superhero capes because I have told them that Anna is a junior superhero with a black sister and a gay brother- both of whom are off ruling other countries because, y'know, they have jobs. You do your mothering your way. I'll do my mothering mine . - Author: Shonda Rhimes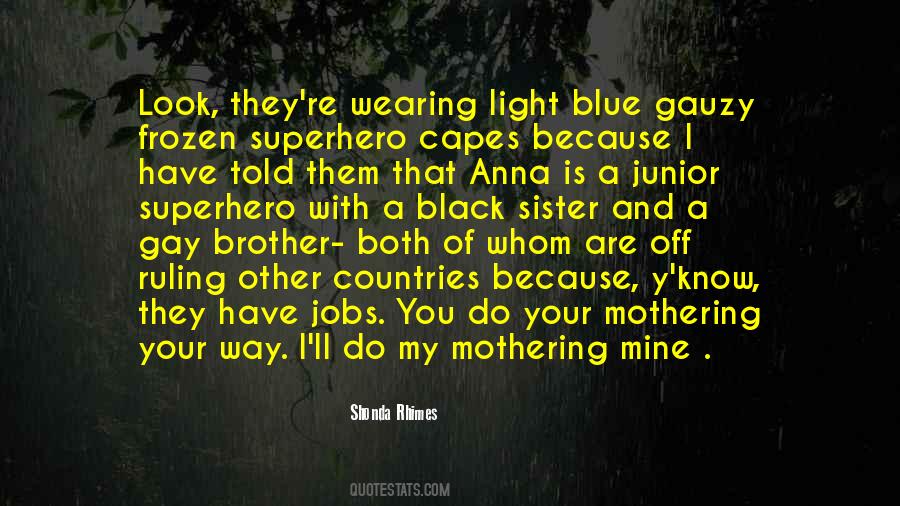 #10. There is no shortage of well-known pirates, including: Henry Morgan, Captain Kidd, Blackbeard, Blue beard, Yellowbeard, and Yellow beard with Black Roots, who surmised that, if blondes have more fun, then blond pirates must have a heck of a lot more fun. - Author: Cuthbert Soup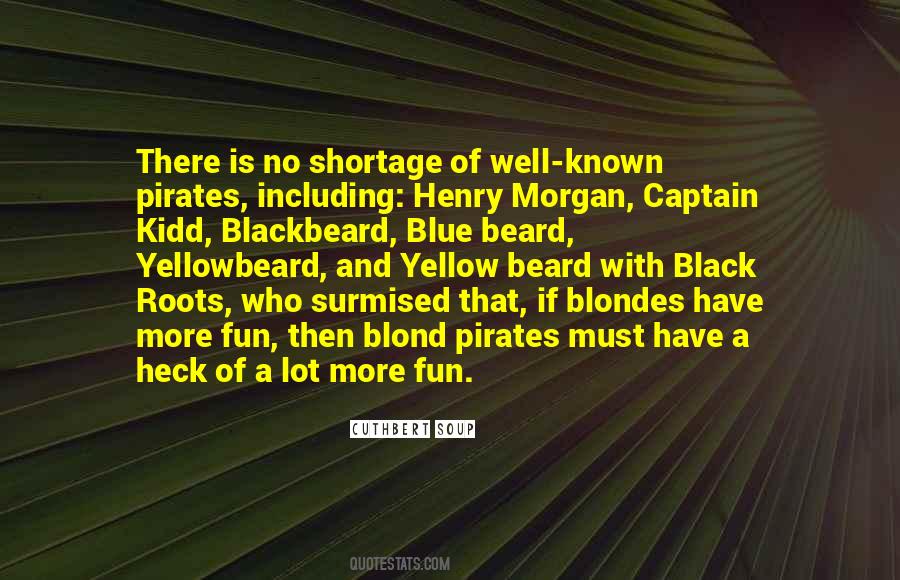 #11. I wore white kabuki makeup, had blue-black hair. At one point, I shaved an inch and a half around my hairline and continued the white makeup up so it made my head look slightly deformed. I thought it was hilarious. - Author: Melissa McCarthy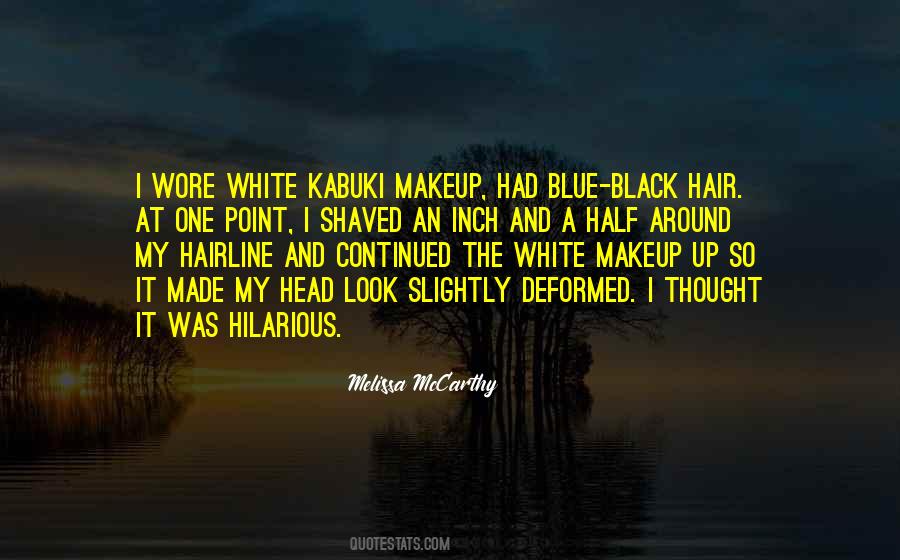 #12. His hair was still wet, and he was in a black long-sleeved T-shirt and tattered blue jeans. His feet were bare. Casual. Comfortable. Gorgeous. - Author: Mary Lindsey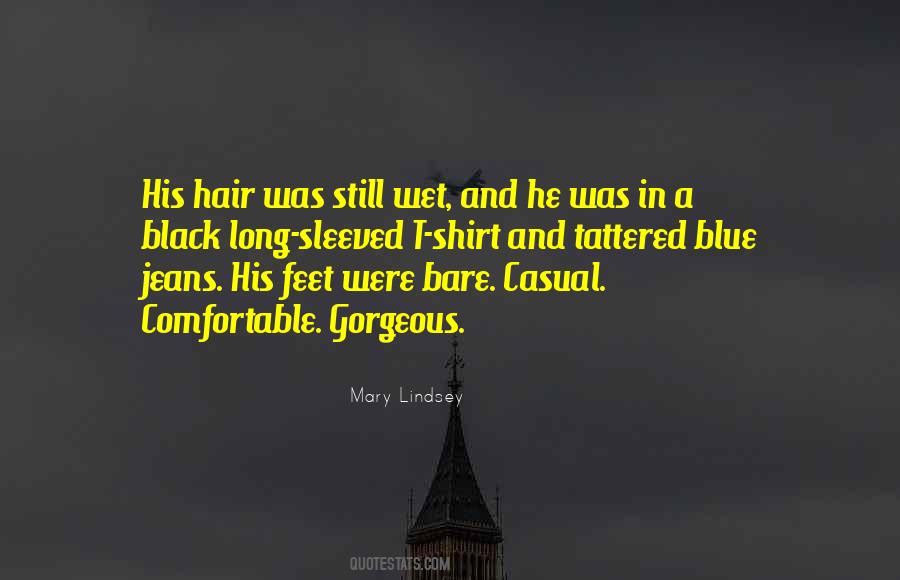 #13. And my coffee is Blue Mountain and I drink it black, which is unusual for a teenage girl, but it's definitely the way good coffee should be drunk if you have any respect for the bitter beans. - Author: Ruth Ozeki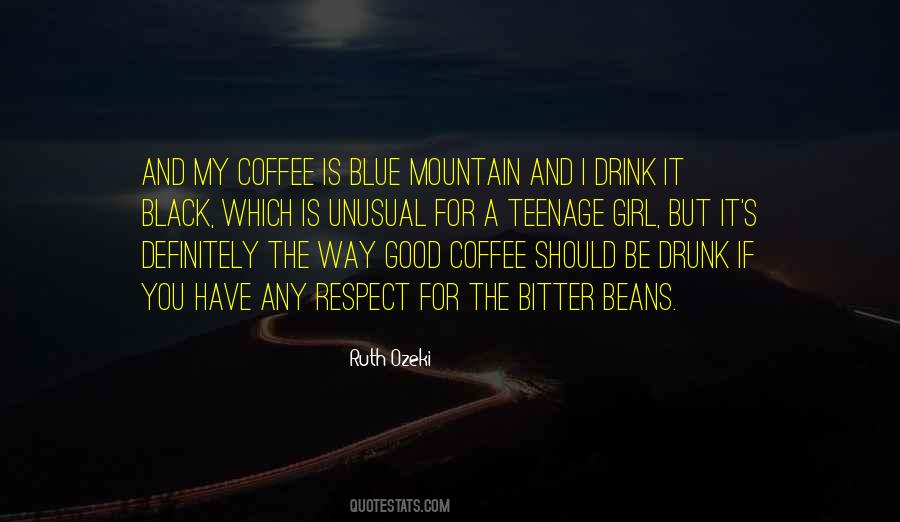 #14. Did you stand there in shock at the sight of that black smoke rising against that blue sky? Did you shout out in anger, in fear of your neighbor, or did you just sit down and cry? - Author: Alan Jackson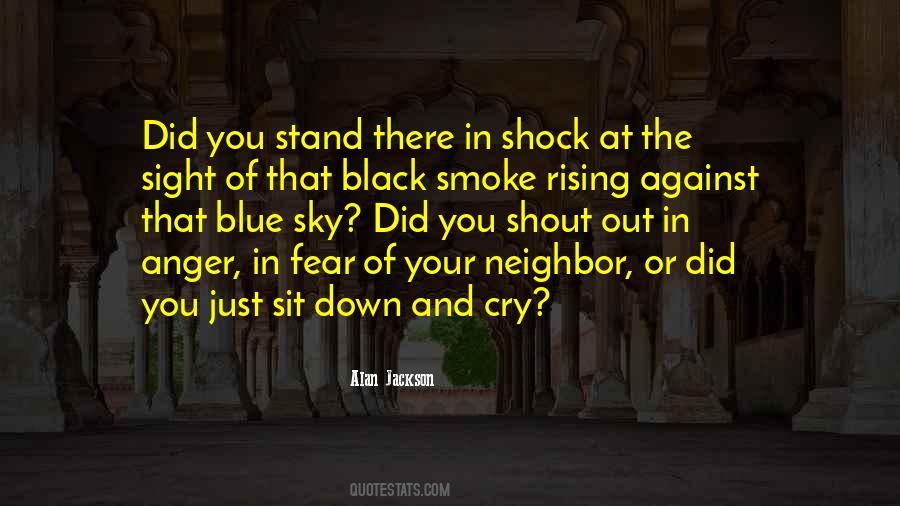 #15. A very loud popping sound echoed across the seminar room. Each graduate student gazed in complete and utter shock as they realized that Professor Emerson had snapped the whiteboard marker in two. Black ink spread across his fingers like a starless night, and his eyes ignited into an angry blue fire. - Author: Sylvain Reynard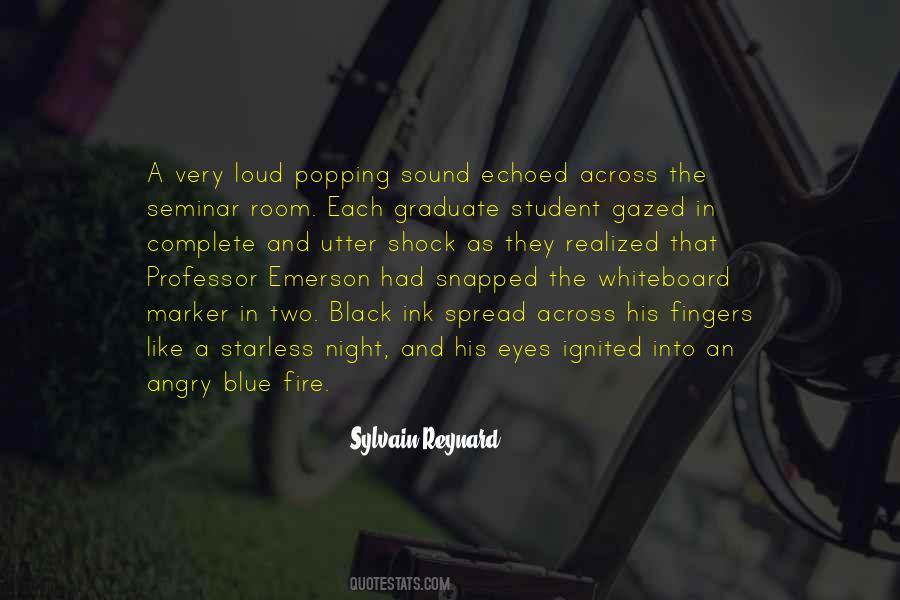 #16. It was only later, replaying the scene in her mind again and again, that she began to believe it was the expression of a man who was methodically unplugging himself from reality, one cord at a time. The face of a man who was heading out of the blue and into the black. - Author: Stephen King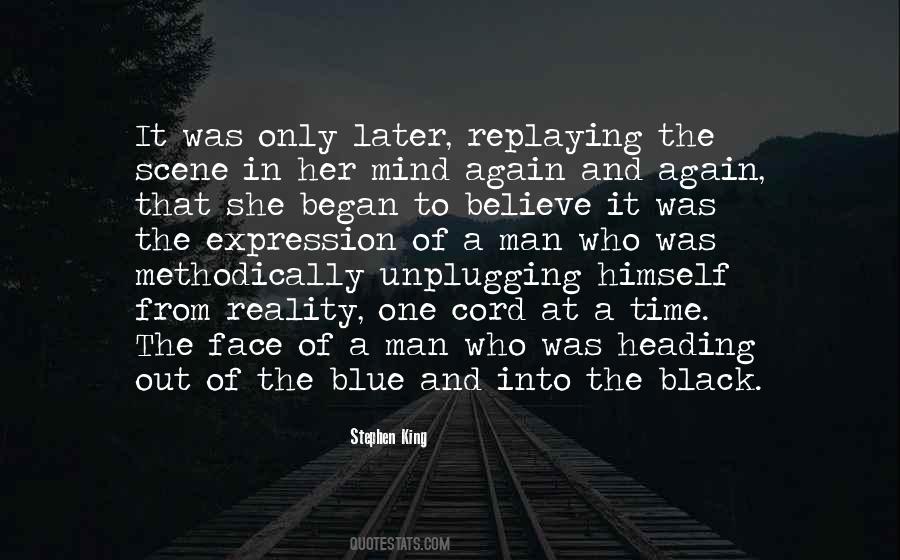 #17. I like colorful tales with black beginnings and stormy middles and cloudless blue-sky endings. But any story will do. - Author: Katherine Applegate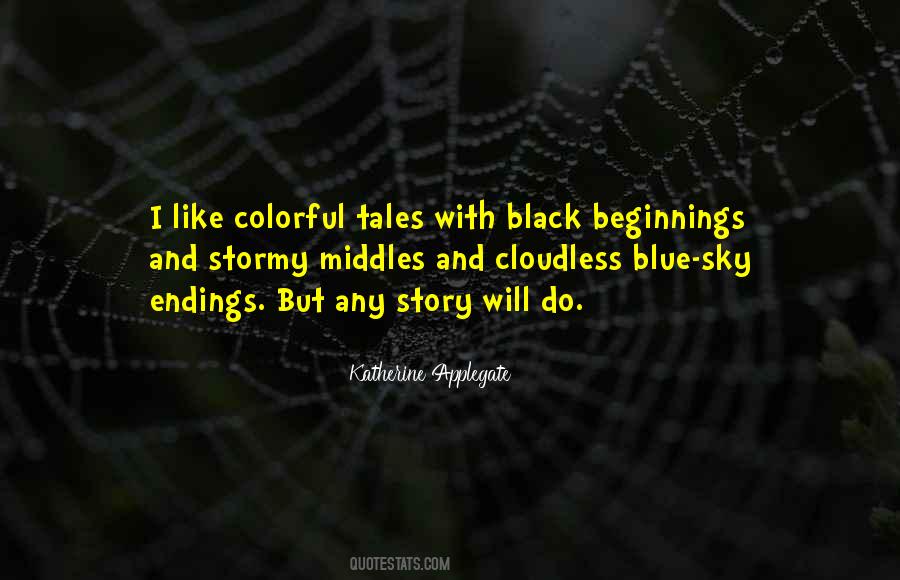 #18. One mile farther and I come to a second grave beside the road, nameless like the other, marked only with the dull blue-black stones of the badlands. I do not pause this time. The more often you stop the more difficult it is to continue. Stop too long and they cover you with rocks. - Author: Edward Abbey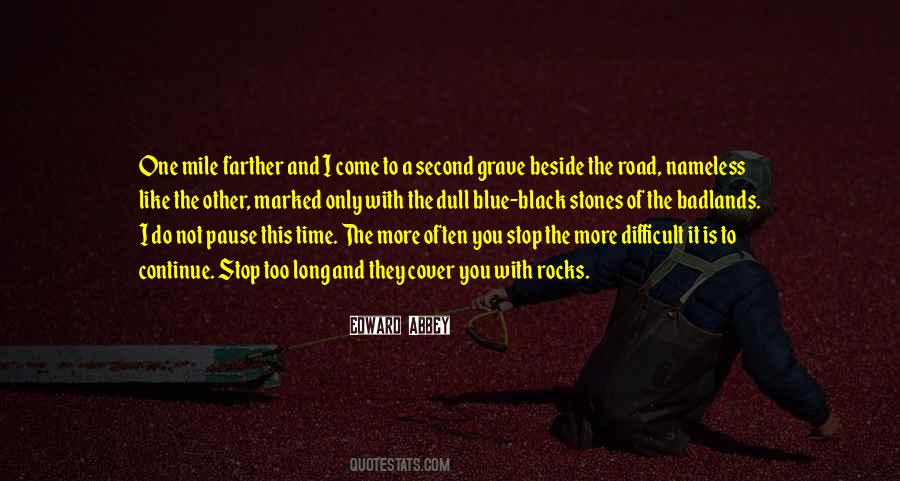 #19. Like a black pirate flag on the blue ocean of air, a hawk hung ominous; then, plummet-wise, dropped to the hedgerow, whence there rose, thin and shrill, a piteous voice of squealing. By - Author: Kenneth Grahame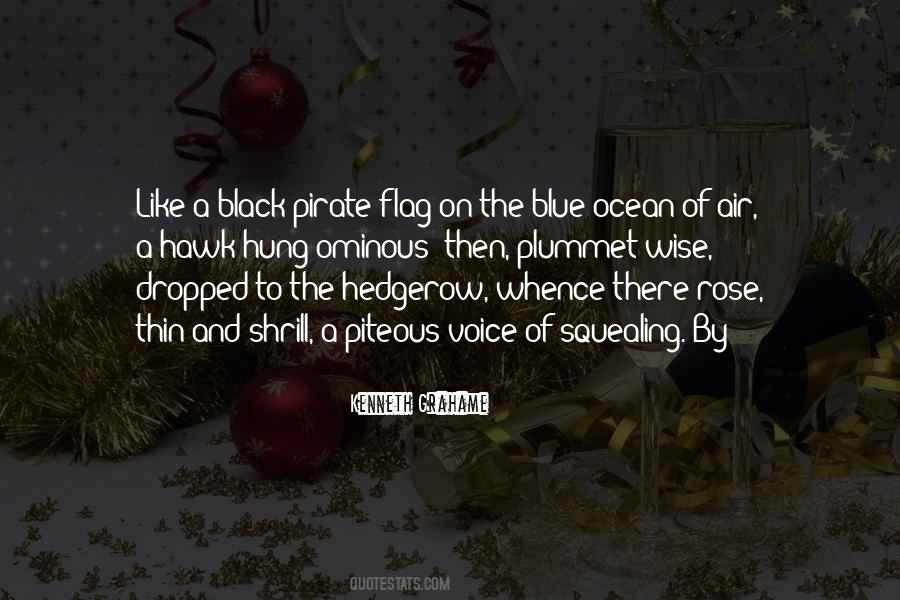 #20. A murderer's light spilled out from the sunset. It flooded William Street with its ruddy glow and ran beneath the blue-black hail clouds and up the boulevard like hot blood. - Author: Richard Flanagan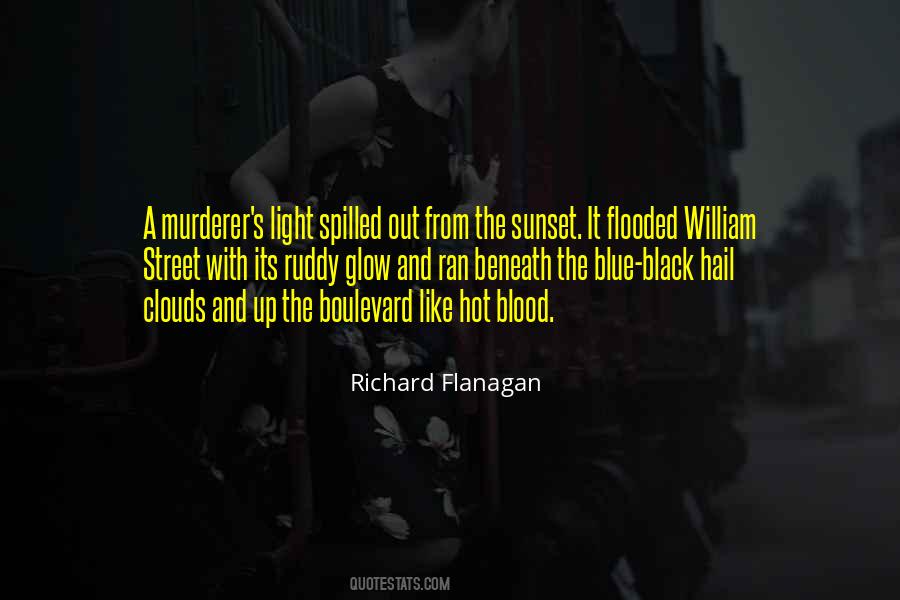 #21. Little more black, little more blue. And we'll just put that in using little crisscross strokes or
or little X's, whatever you want to call them. Whatever. - Author: Bob Ross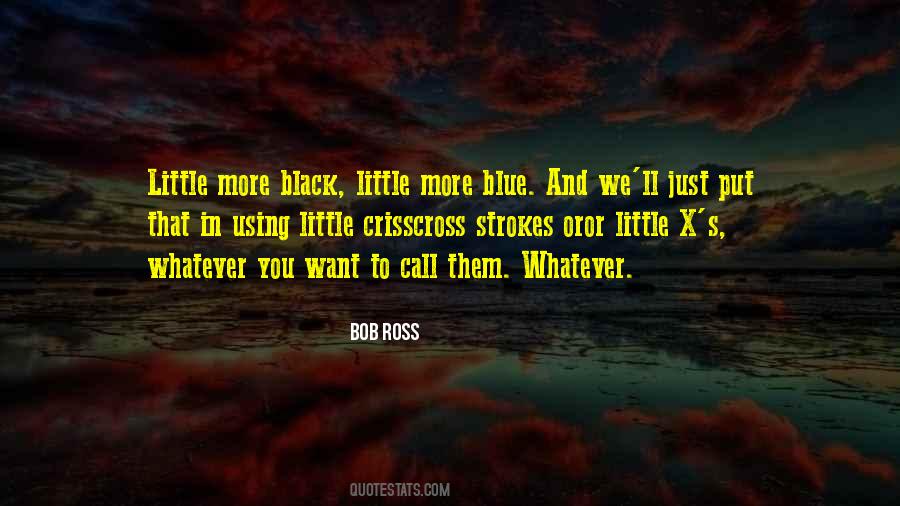 #22. Yet knowing the physics steals none of the wonder as the sky turns from blue to crimson, then deep purple, and finally embraces the black of night as Earth's rotation - Author: Gerald Schroeder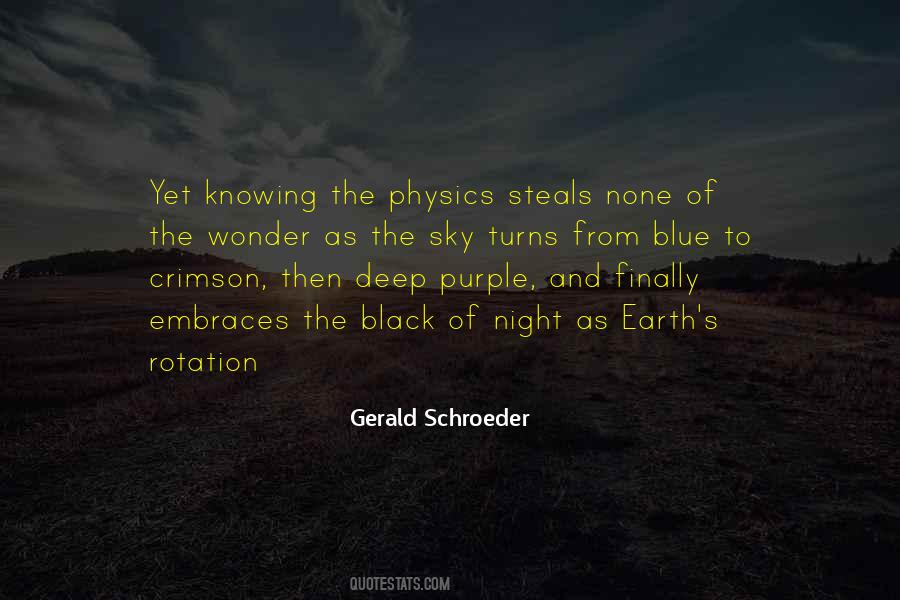 #23. We have two nations, and it's not black or white. It's red and blue. Under Republican leadership, cities tend to do better. Cities are destroyed under Democrats, because they don't know how to deal with the constituency; they're terrified. - Author: Greg Gutfeld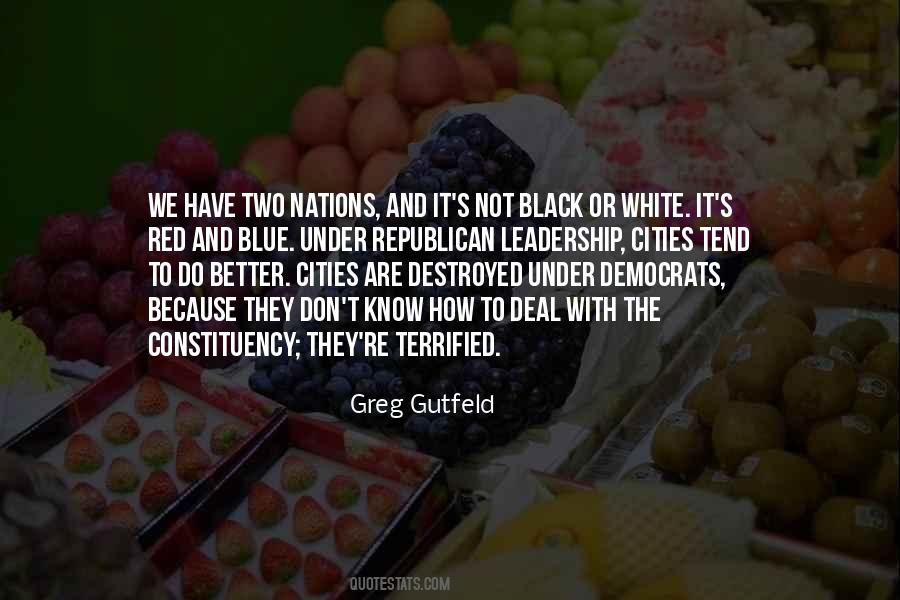 #24. Being a playwright is like the equivalent of doing a jigsaw puzzle that has 1,500 pieces, and it's a jigsaw of a blue sky. Not a cloud in sight. - Author: Lewis Black
#25. He flashed up in her vision like a flare, auburn hair and that constant furrow between his eyes: one blue, one black. Antari. Magic boy. Prince. - Author: Victoria Schwab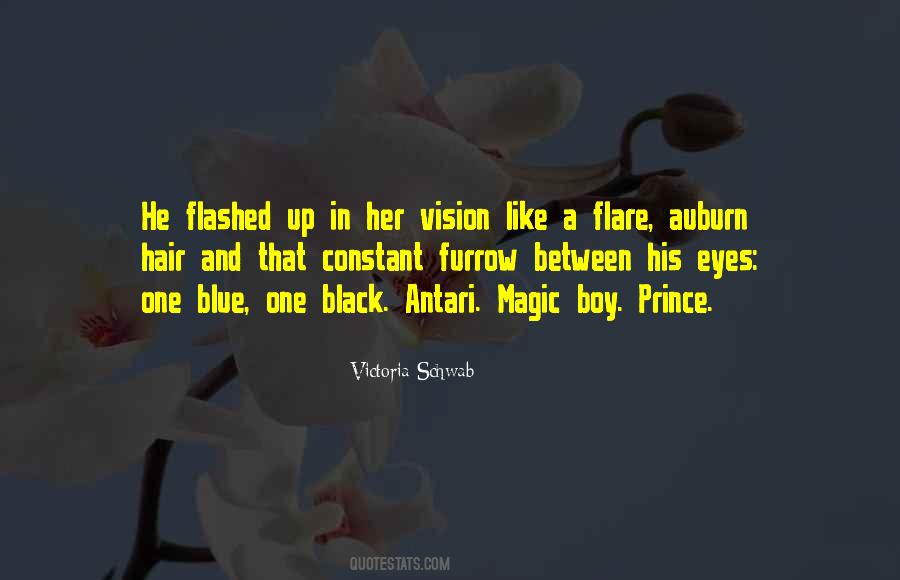 #26. They had turned brown or blue and rotted. Brown and blue, the real colors of death. Who made black the color of death? Black was the color of night, and the potential of a cool breeze. Just - Author: Will McIntosh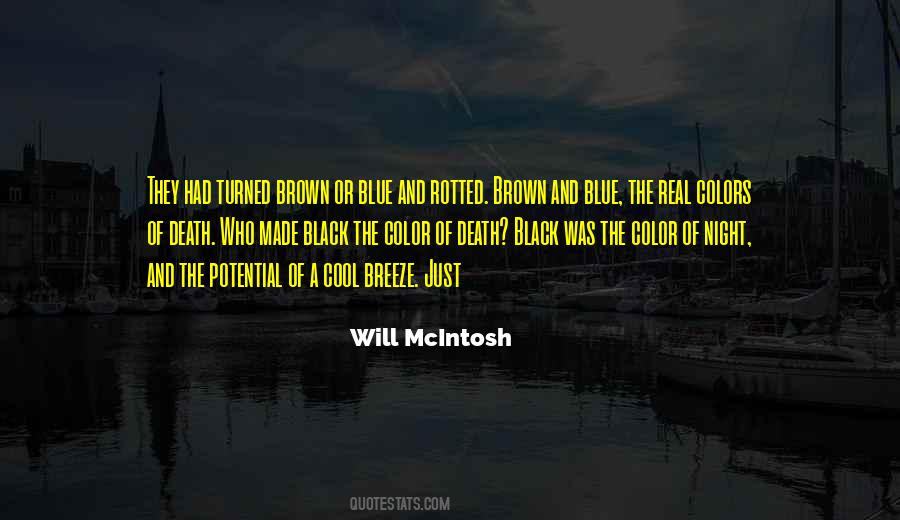 #27. His aster-blue eyes shown out from a face blackened by bruises and soot, his fair hair glittering in the firelight. Dressed all in black, silhouetted against flame, he looked rather like a demon, raised from the dead, trading for souls on the other side. - Author: Cinda Williams Chima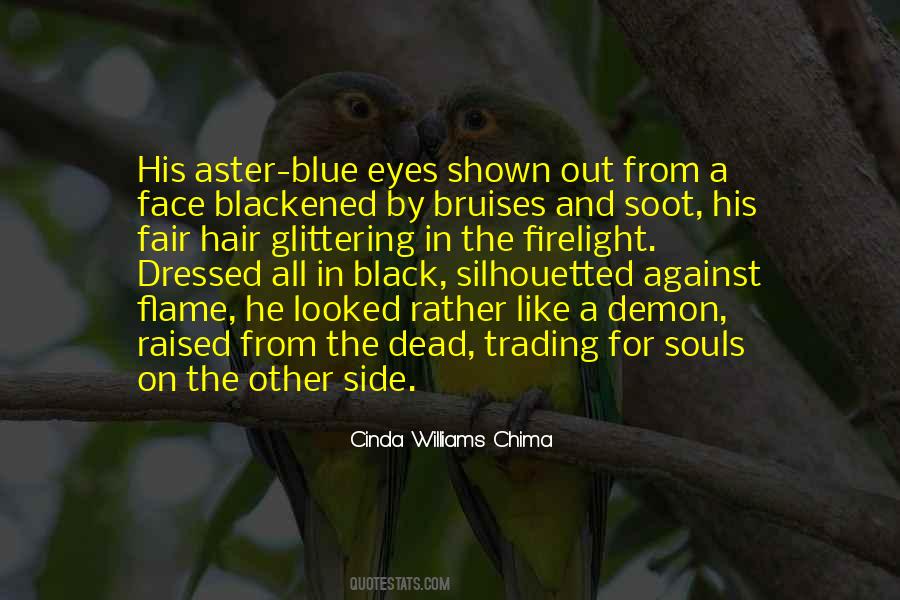 #28. Some people live such boring lives,its black and white,so dead! I choose to color my life with Fun, some blue some green,some red.-RVM - Author: R.v.m.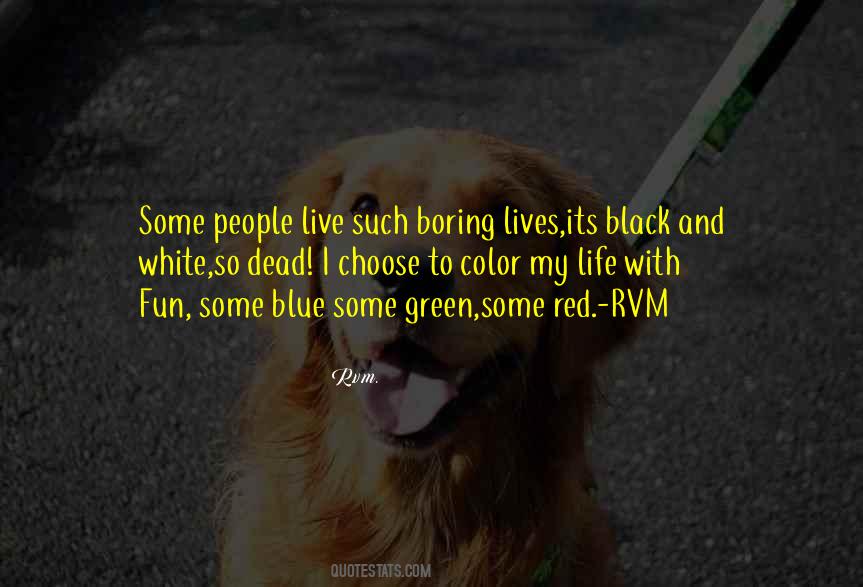 #29. The moon is quite a show off given the chance. The stars make a sound when they shine so bright. Water so blue and so black. - Author: Dave Matthews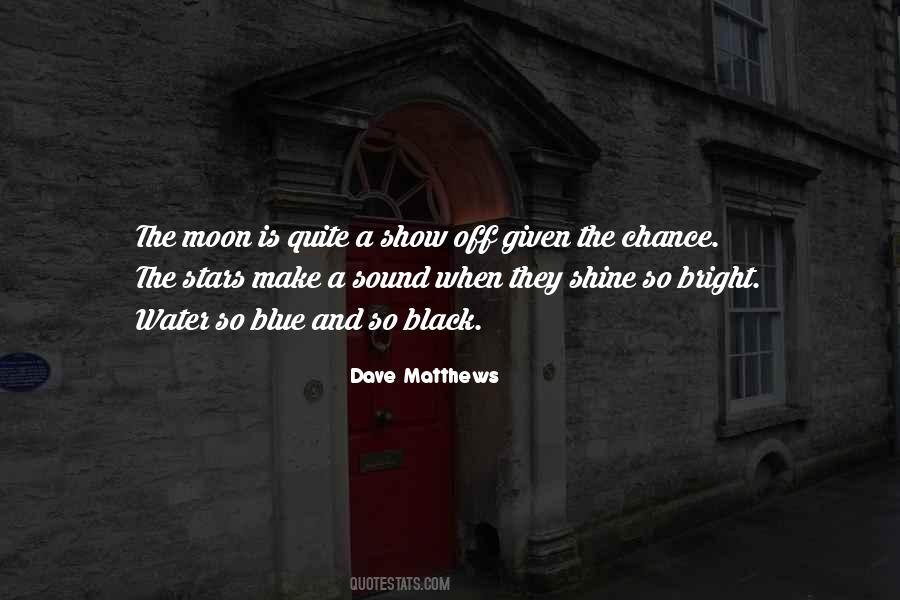 #30. I wear mostly black Main Line or T ... But the other day, the sun was shining so I wore blue jeans. It caused so much excitement in the office! People were literally coming up from the floor below and peering behind my desk saying; we hear you're wearing blue jeans and we have to have a look - Author: Alexander Wang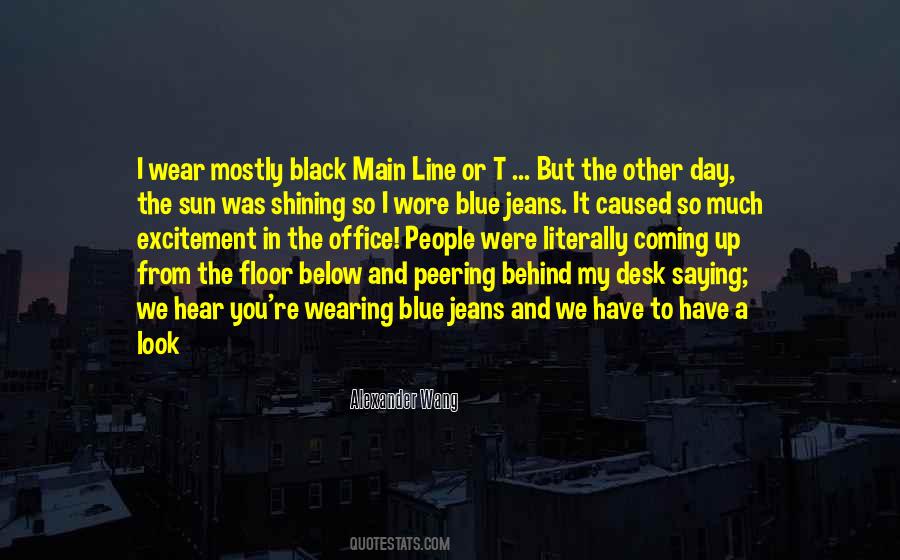 #31. I love blue more than any other color. I am inordinately attracted to any blue substance: to minerals like turquoise and lapis lazuli, to sapphires and aquamarines; to cobalt skies and blue-black seas; Moslem tiles - and to a blue flower whether or not it has any other merit. - Author: Eleanor Perenyi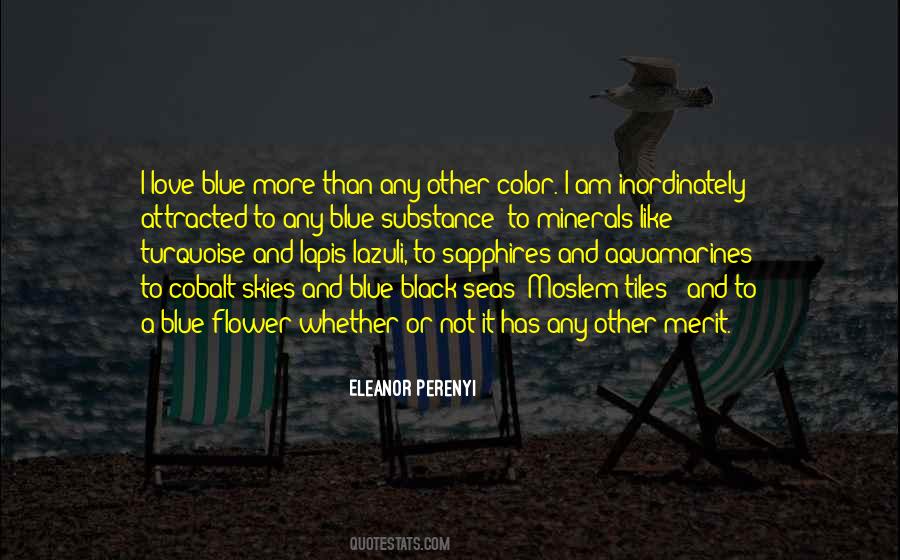 #32. She noticed a monger's window where, on a bed of ice, a wonderful scene was worked in fish. A skiff made of flounder fillets rode waves of shrimp and blue-black mussels. A whole salmon was a lighthouse, shot out rays of glittering mackerel. All framed by a border of crab claws. She - Author: Annie Proulx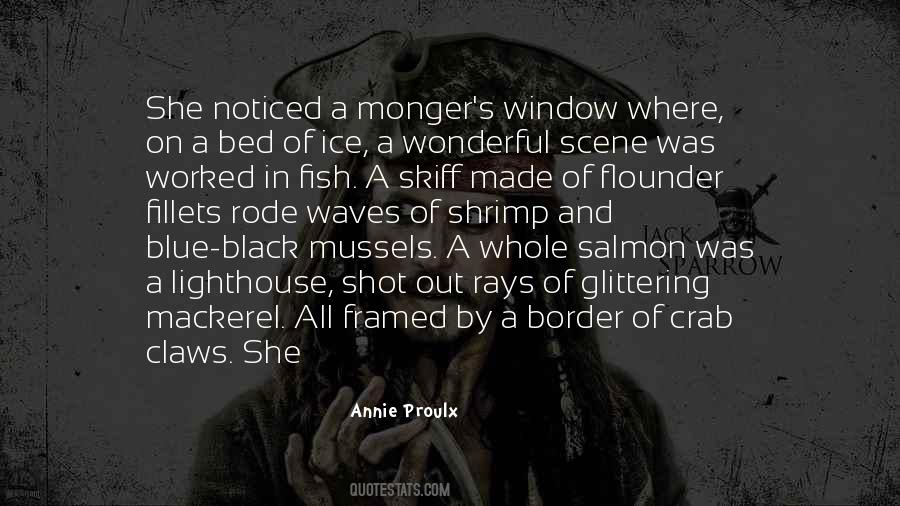 #33. Patience. I colored patience gray, hung over with black clouds. I colored hope yellow, just like the sun we could see for a few short morning hours. Too soon the sun rose high in the sky & disappeared from view, leaving us bereft and staring at blue. - Author: V.C. Andrews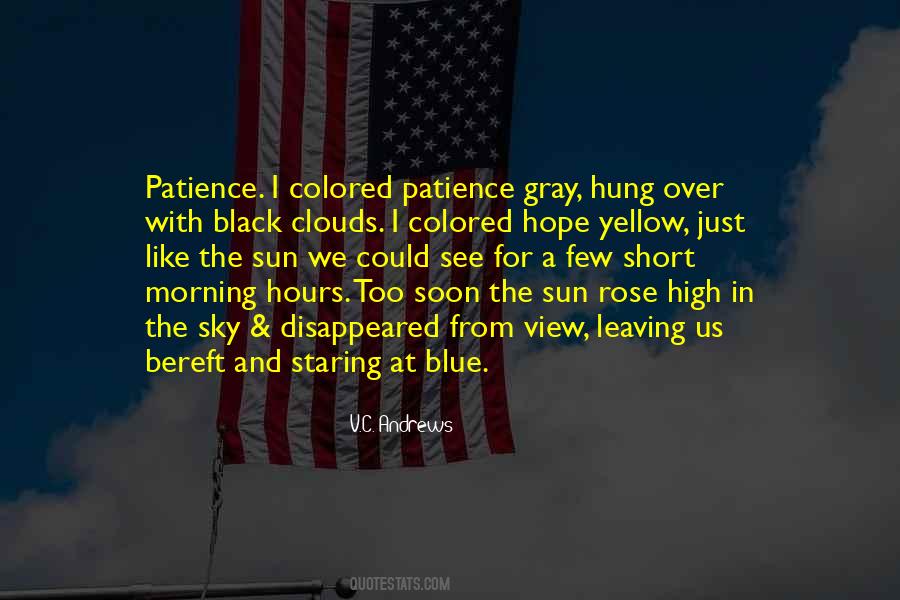 #34. I felt a little lost between the blue and white of the sky and the monotony of the colors around me- the sticky black of the tar, the dull black of all the clothes, and the shiny black of the hearse. - Author: Albert Camus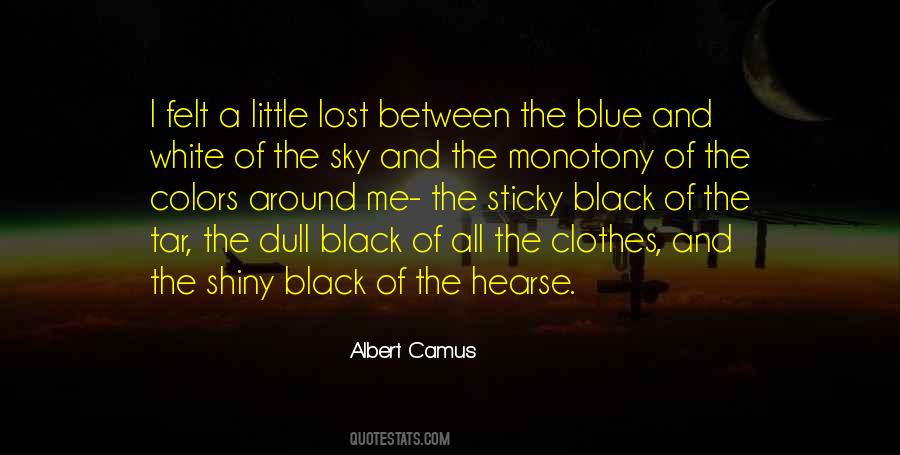 #35. Zebra print leggings. A black leather jacket. Boots as big as your head, a pink feather boa, blue jeans, Hanes T-shirts in white and black - - Author: J.R. Ward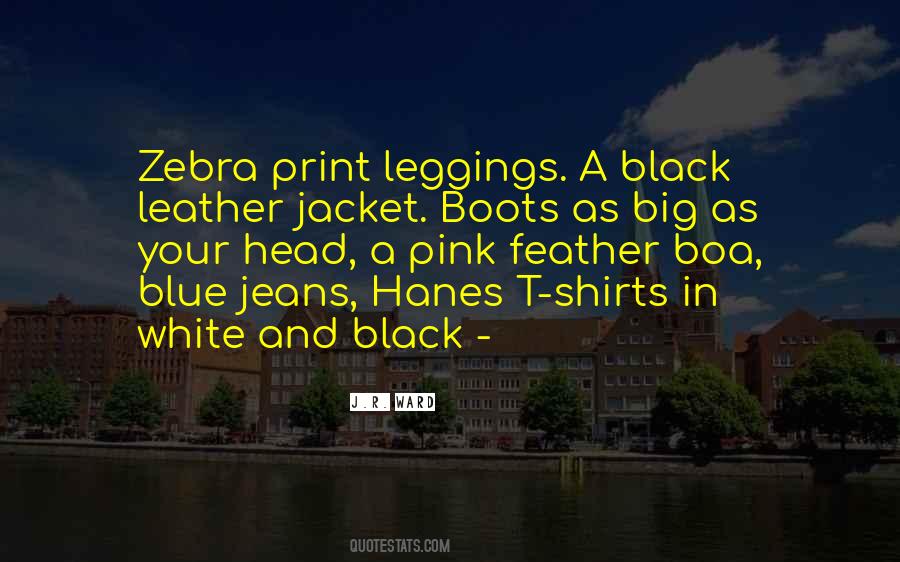 #36. Men imagine gods to be born, and to have clothes and voices and shapes like theirs....Yea, the gods of the Ethiopians are black and flat-nosed, and the gods of the Thracians are red-haired and blue-eyed. - Author: Michio Kaku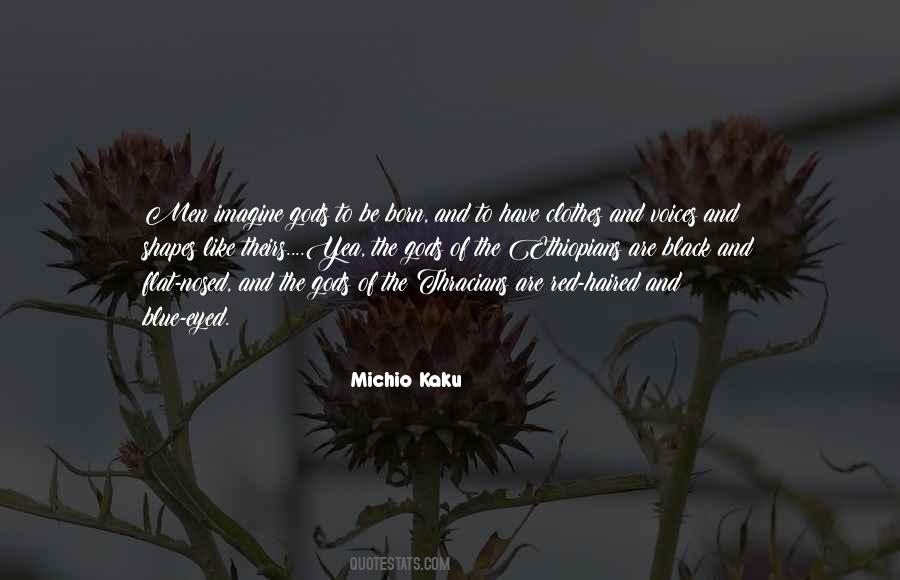 #37. I wear white or pale-blue shirts and black knit ties: They don't draw attention to me in any kind of peacockish way. - Author: Charlie Siem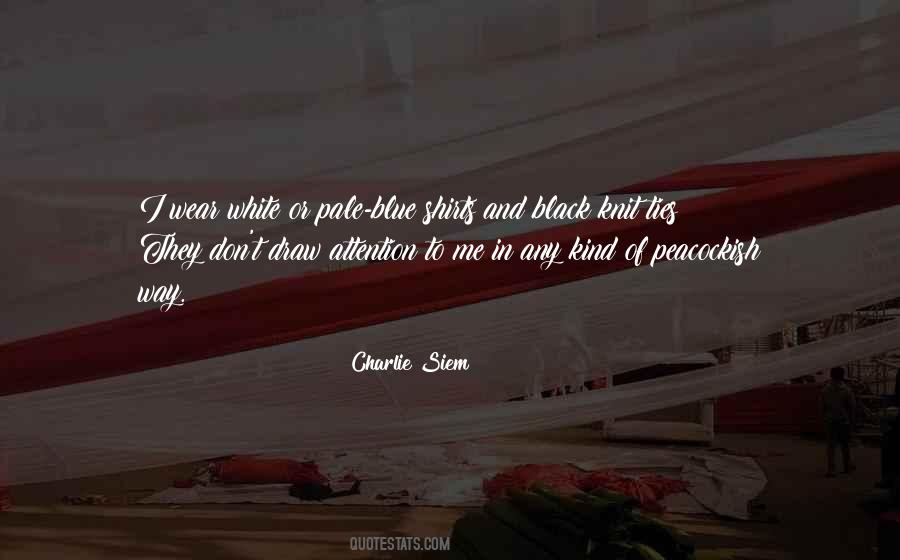 #38. Out of the blue and into the black - Author: Stephen King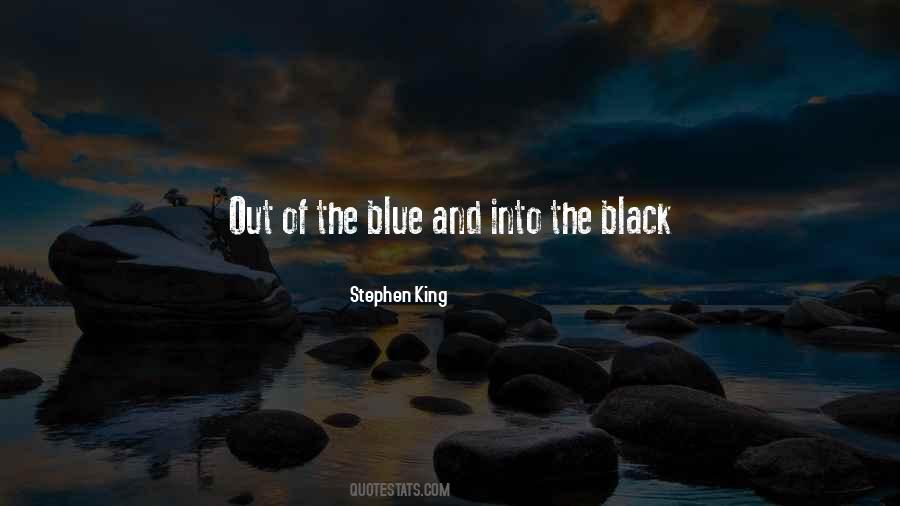 #39. It is dark now. The snow is deep blue and the ocean nearly black. It is time for some music. - Author: May Sarton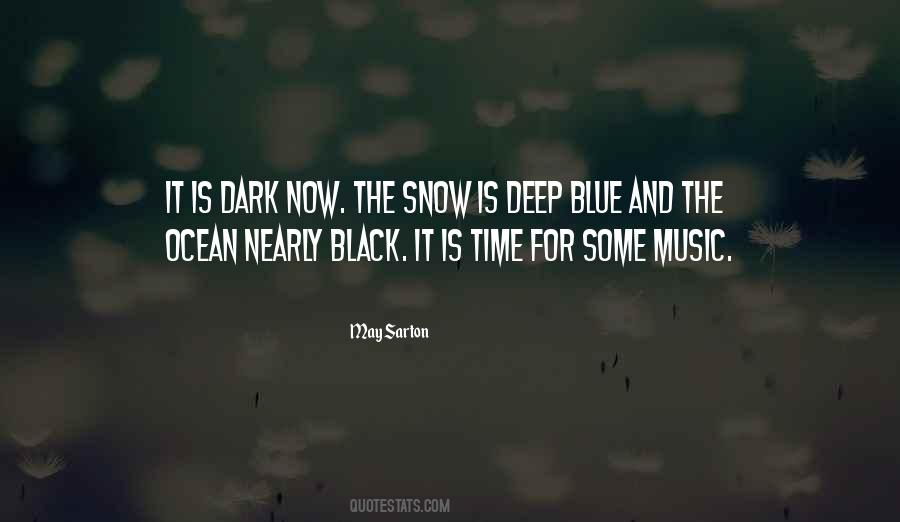 #40. There was a time when black and navy blue suits were pretty much everything you saw. That has completely changed. People are wearing big checks, checks with browns and blues and shades of gray, and the scale is very large, and some of them are very bold with heavy contrasts. - Author: Patrick Grant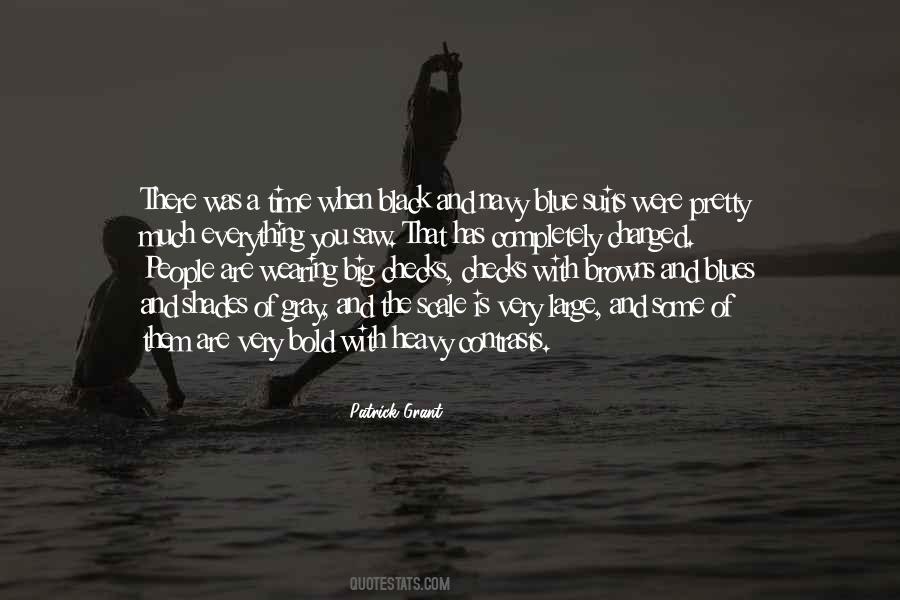 #41. Hand-barrow - a tall, strong, heavy, nut-brown man, his tarry pigtail falling over the shoulder of his soiled blue coat, his hands ragged and scarred, with black, broken nails, and the sabre cut across one cheek, a dirty, livid white. - Author: Robert Louis Stevenson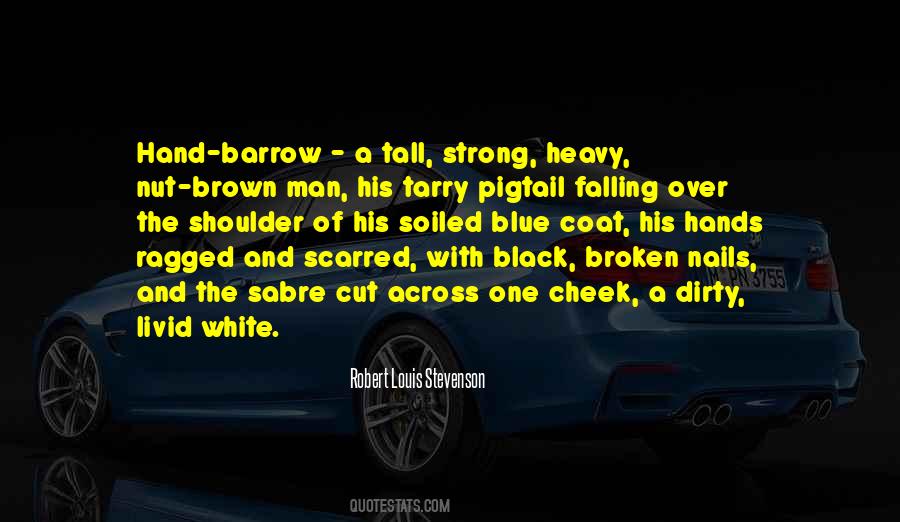 #42. was in black dress slacks, a white shirt, and navy blue suit jacket. - Author: Gayla Drummond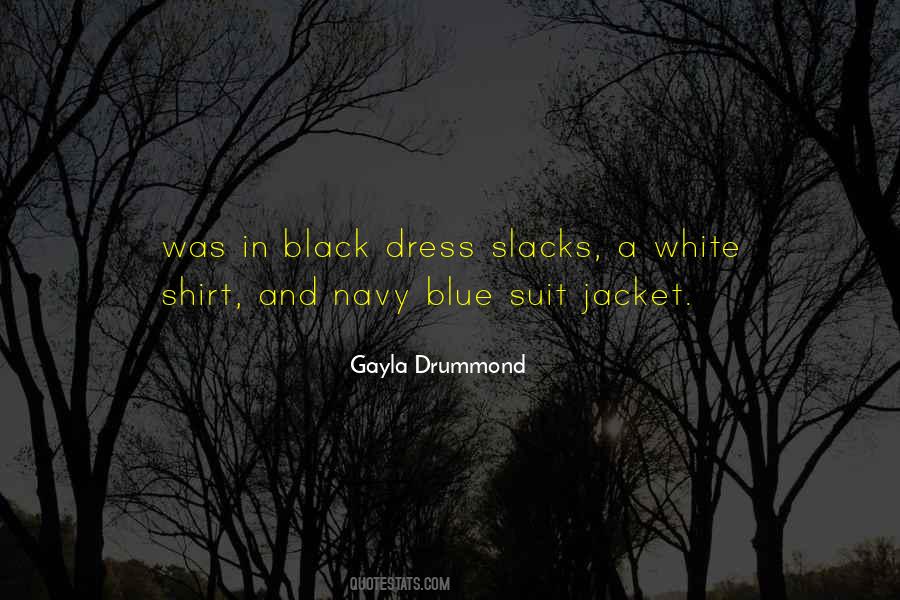 #43. You hear lots of notes, don't you? Some have a major sound. Some have a minor sound. But there's not one blue note among all these black and white keys. The real blues, the soul of the sound, comes from the spaces in-between. - Author: David Mutti Clark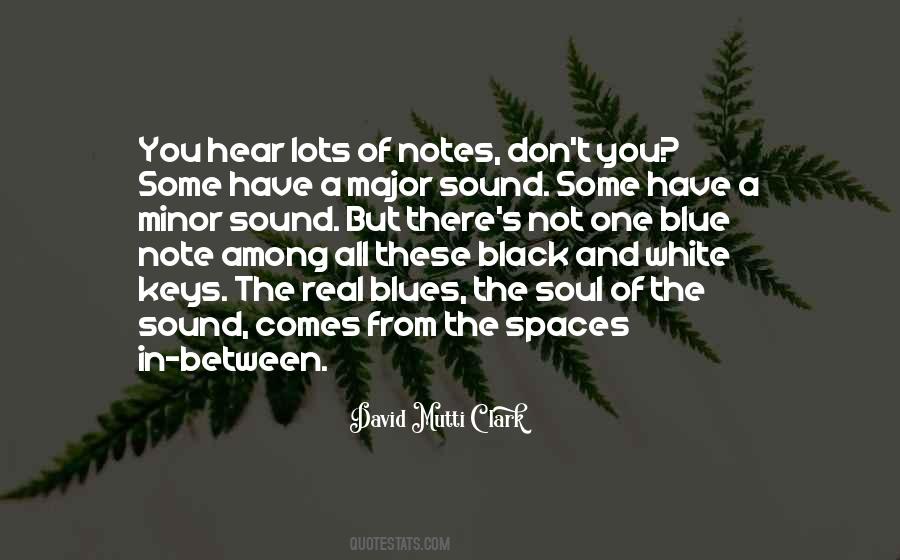 #44. Everything about the stranger radiated sensual grace and ease. High Fae, no doubt. His short black hair gleamed like a raven's feathers, offsetting his pale skin and blue eyes so deep they were violet, eevn in the firelight They twinkled with amusent as he beheld me. - Author: Sarah J. Maas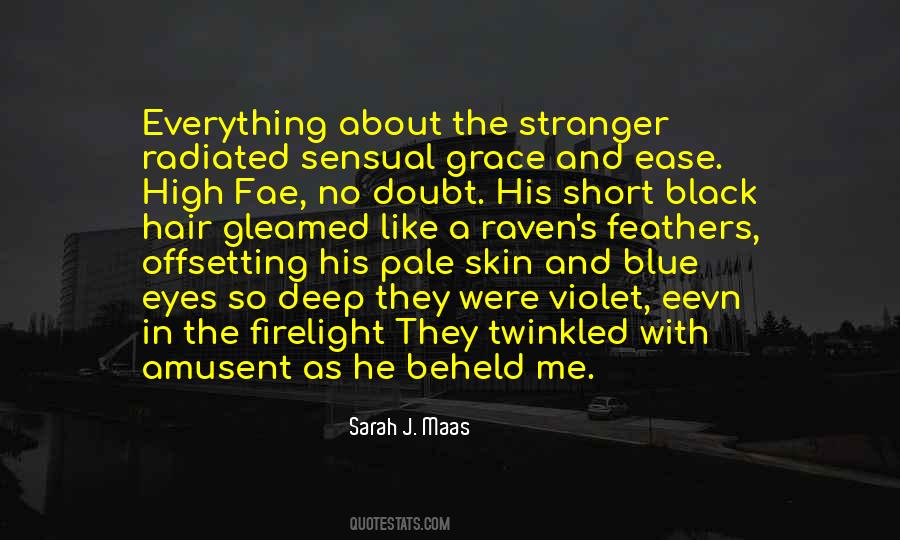 #45. I am a simple man and I use simple materials: Ivory Black, Vermilion, Prussian Blue, Yellow Ochre, Flake White and no medium. That's all I've ever used in my paintings. - Author: L. S. Lowry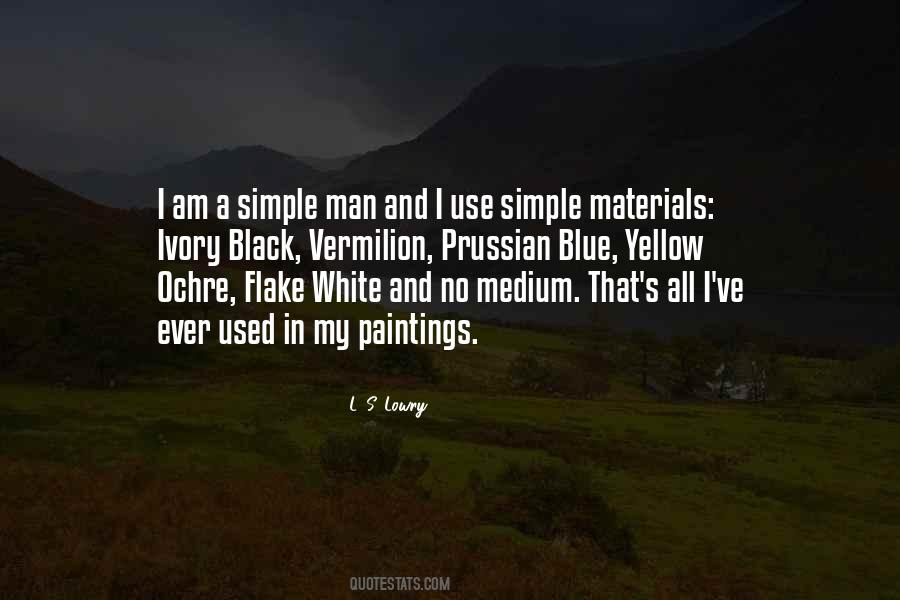 #46. The whole passage was underlined in bleeding, water-soaked black ink. But there was another ink, this one a crisp blue, post-flood, and an arrow led from "How will I ever get out of this labyrinth!" to a margin note written in her loop-heavy cursive: Straight & Fast. - Author: John Green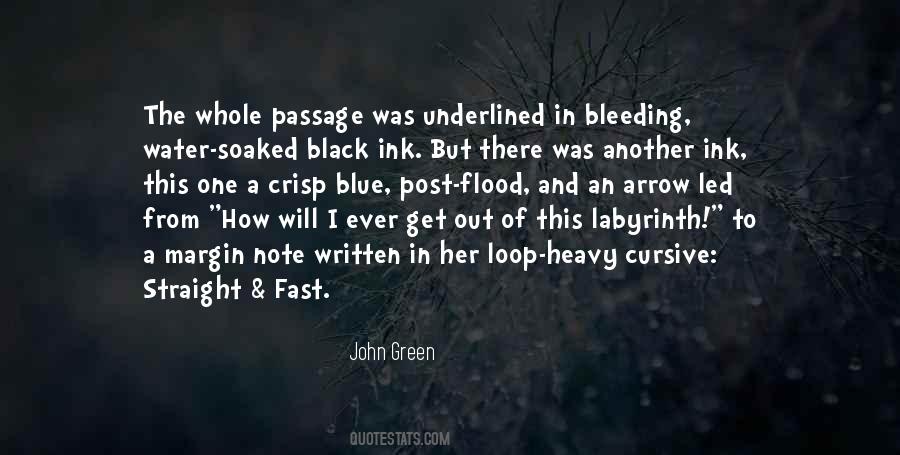 #47. She investigated further: moving along with little kisses down his throat and over his collarbone until she came to the same location on his neck that on hers was currently a decorative black and blue color. She bit him. Hard. Alexia never did anything by halves. - Author: Gail Carriger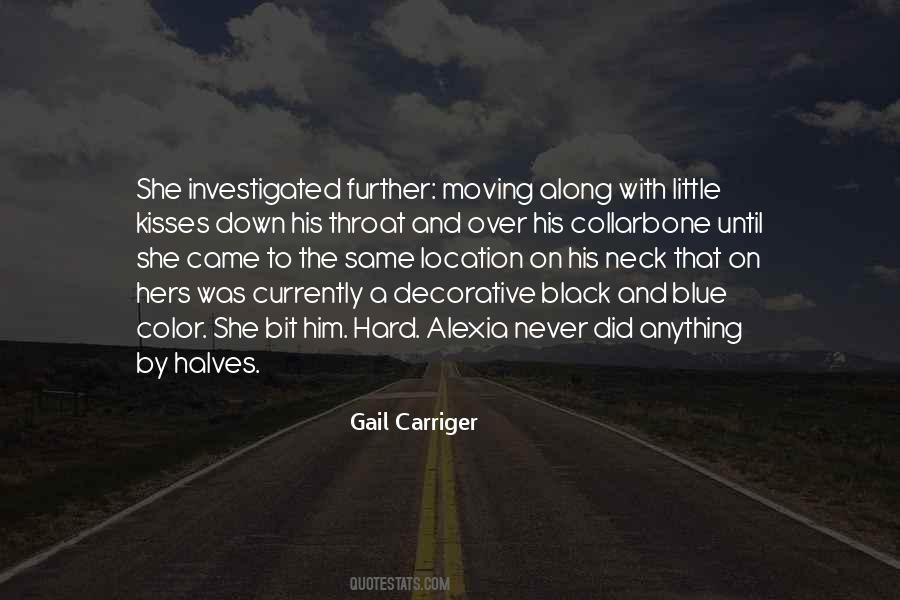 #48. Mogadishu the beautiful - your white-turbaned mosques, baskets of anchovies as bright as mercury, jazz and shuffling feet, bird-boned servant girls with slow smiles, the blind white of your homes against the sapphire blue of the ocean - you are missed, her dreams seem to say. - Author: Nadifa Mohamed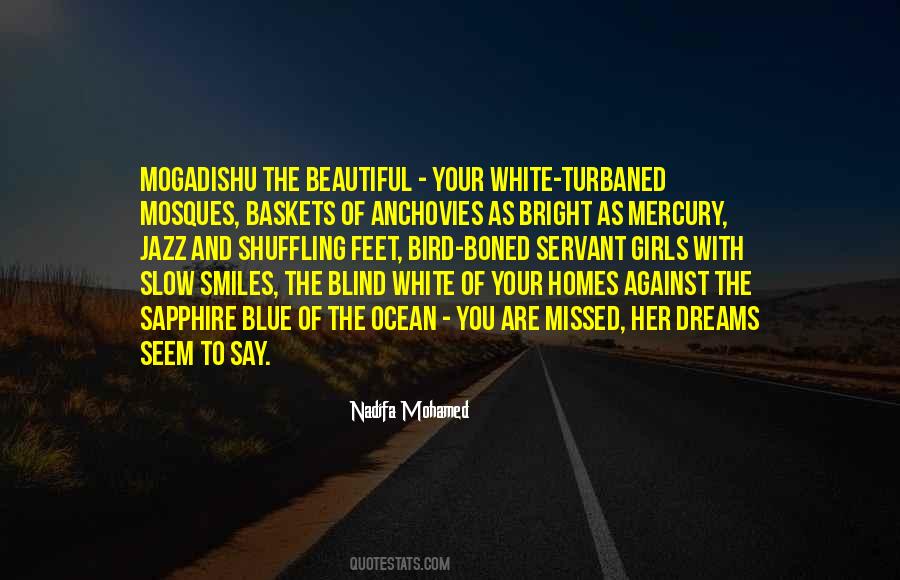 #49. Ah, well, then you've never stood on a beach as the waves came crashing in, the water stretching out from you until it's beyond sight, moving and blue and alive and so much bigger than even the black beyond seems because the ocean hides what it contains. - Author: Patrick Ness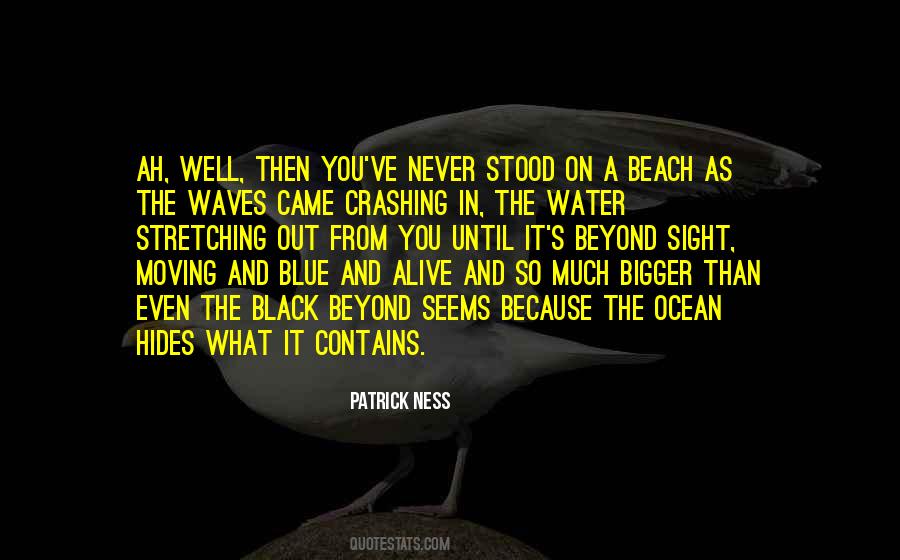 #50. I have always been drawn to designing fashions that are rebellious, like black leather jackets on suburban kinds, a corset dress, punk, blue jeans. I love that. Fashion changes all the time, and what is considered extreme or elegant or luxurious (or not luxurious) is changing all the time. - Author: Jean Paul Gaultier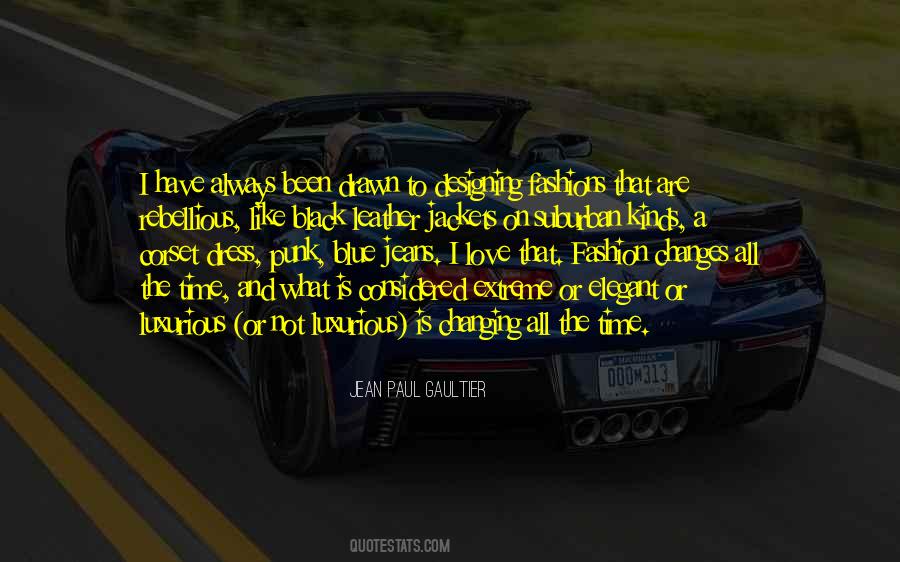 #51. At first when the rain fell from the sky so wide and deep it smelled like sage, my favorite smell I went up on the plateau to watch it come to see the gifts it always brought but this rain changed from blue to black and left nothing. - Author: Ally Condie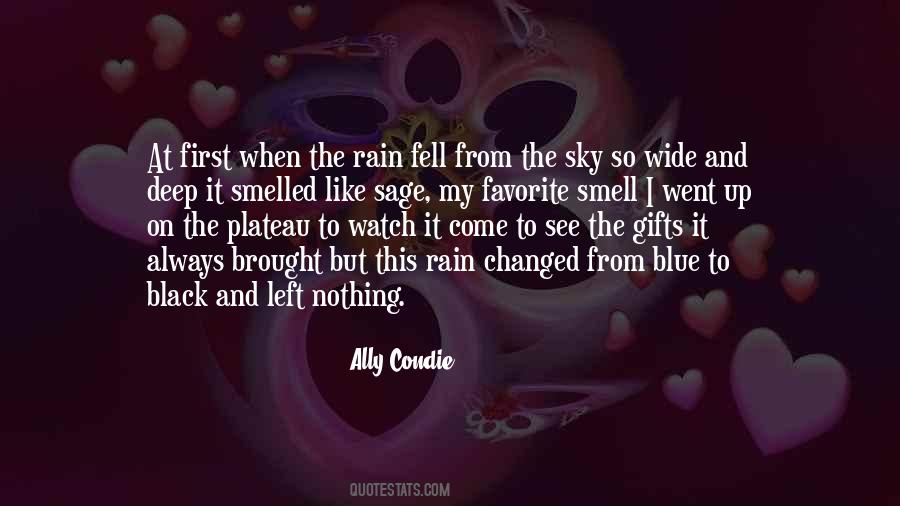 #52. Brutal abnormalities - Hellish, grotesque monstrosities Who made us fall, one and all. They beat us black and blue - And too Their Fathers showed us things, Inhuman things - Forbidden things! - Author: Daniel Torridon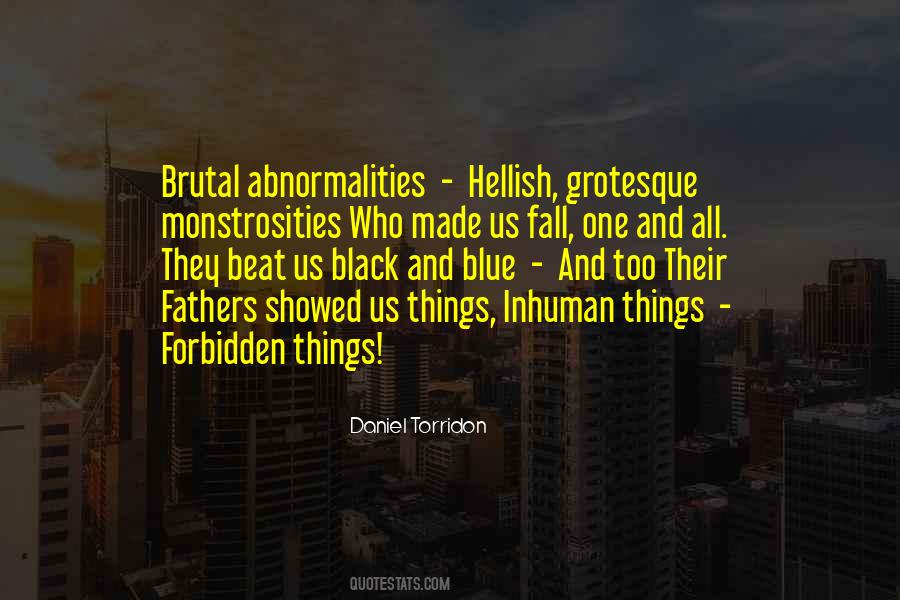 #53. They say the sea is actually black and that it merely reflects the blue sky above. So it was with me. I allowed you to admire yourself in my eyes. I provided a service. I listened and listened and listened. You stored yourself in me. - Author: Anonymous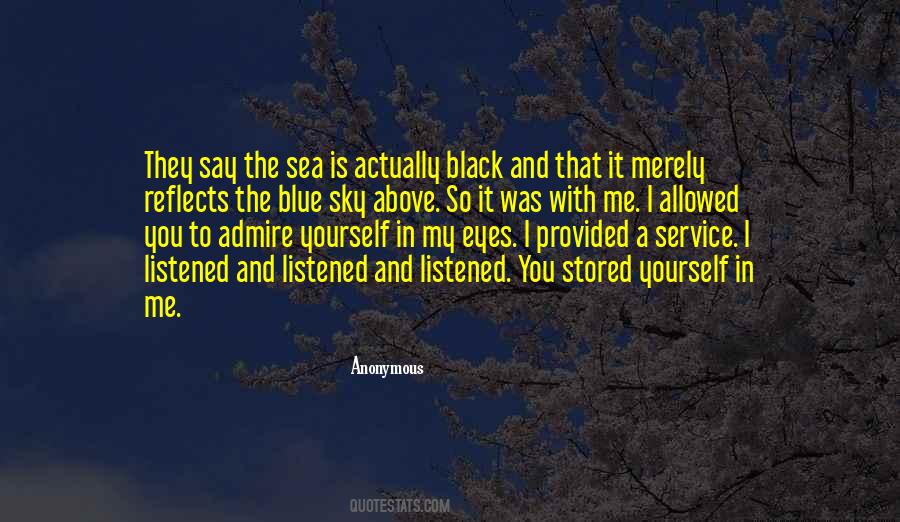 #54. Black hair and blue eyes are my favorite combination. - Author: Cassandra Clare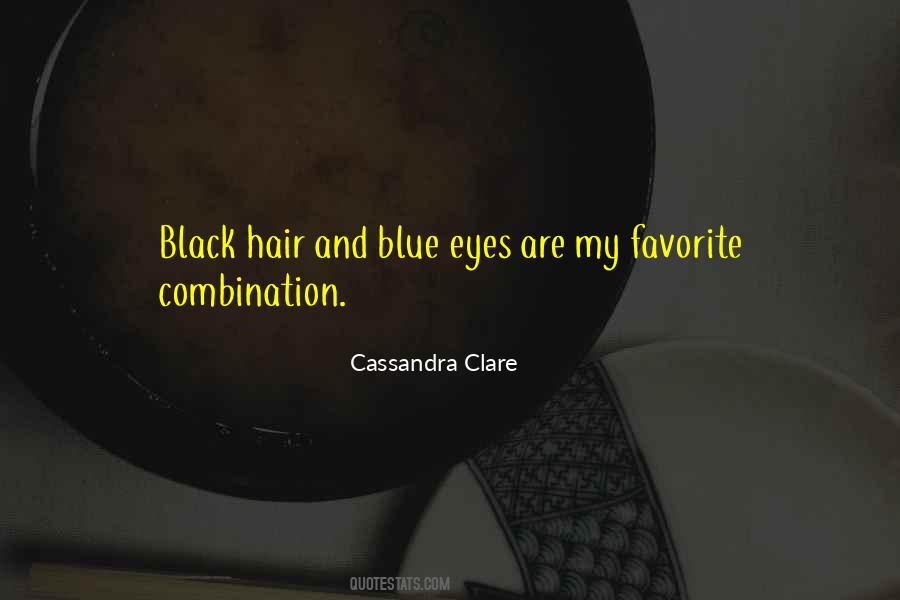 #55. Hazel, Hazel, blue of eye. Kissed the boys and made them cry, - Author: Holly Black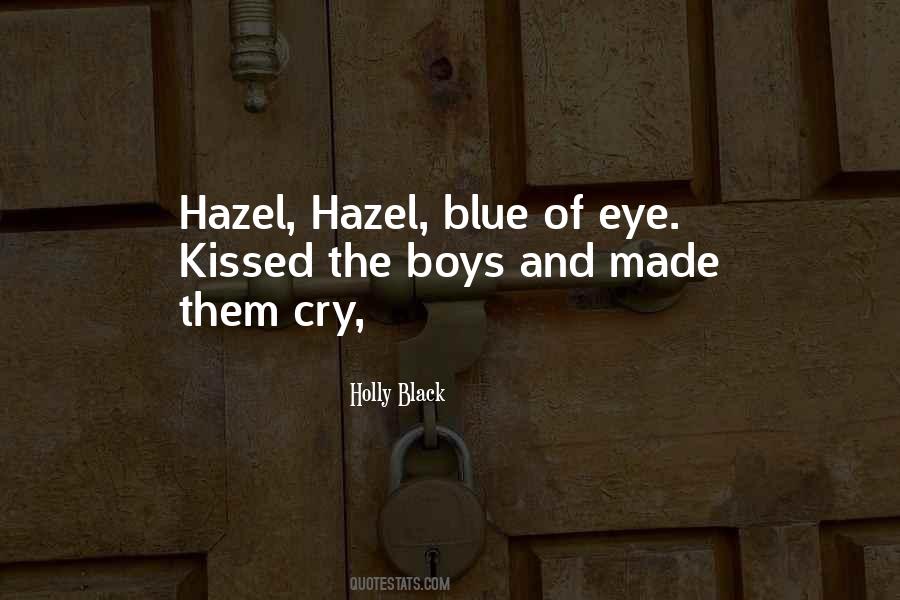 #56. If I hadn't learned my lesson, I would have wished we could stay there forever. But I knew better now. We'd seen what we'd come to see. The way to trick death. Breathe in. Breathe out. Watch as it all rises upwards, black and blue into the even bluer sky. - Author: Alice Hoffman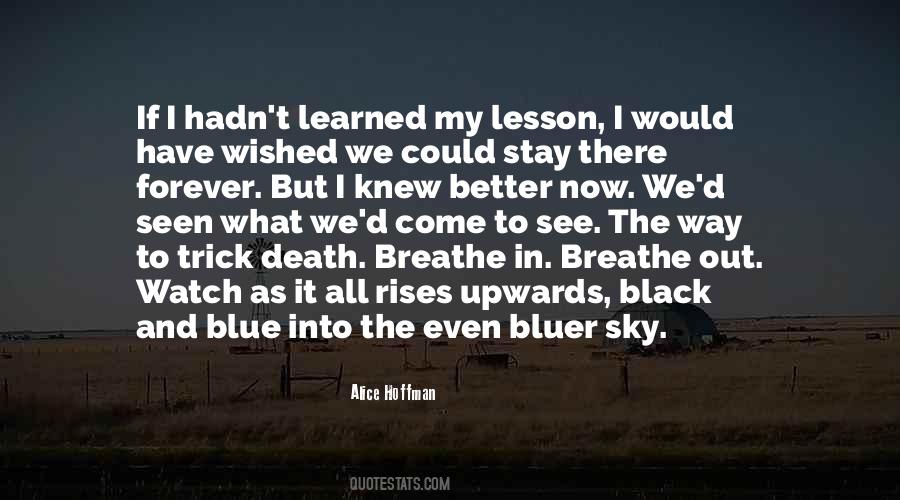 #57. No black man wants a blue-eyed black child, and no white man wants a kinky-haired white child. Nature didn't mean it to be that way. - Author: Muhammad Ali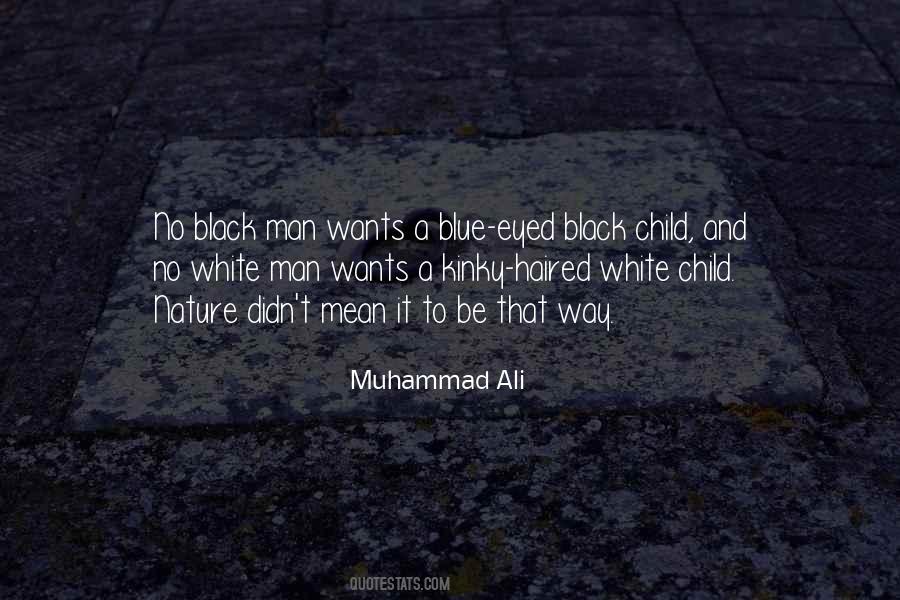 #58. How immense must be the force of life which turns a baby , who can just distinguish a great blot of blue and purple on a black background, into the child who thirteen years later can feel all that I felt on May 5th 1895 - now almost exactly to a day, forty-four years ago - when my mother died. - Author: Virginia Woolf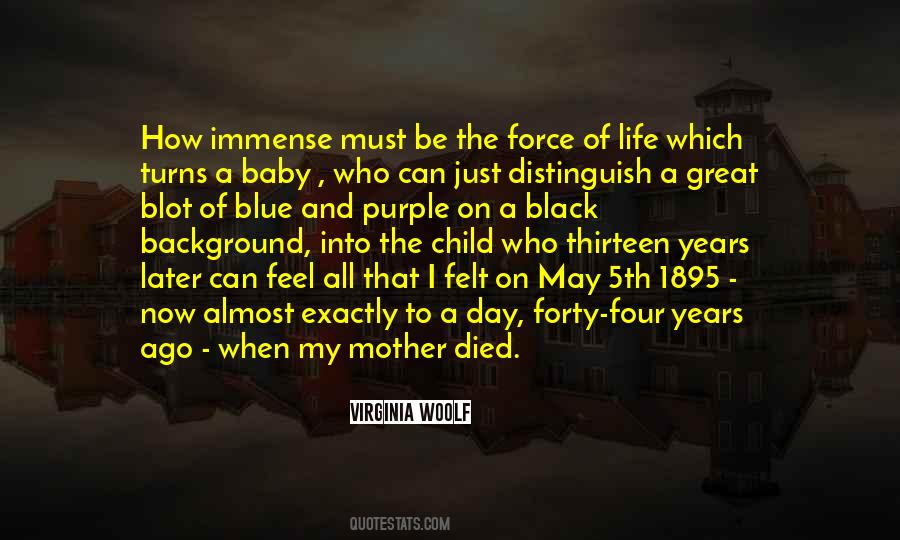 #59. In her red dress and black boots, she stood straight and tall, blue eyes flashing with righteous fury, breasts rising and falling rapidly. Se had never looked more beautiful. - Author: Trinity Faegen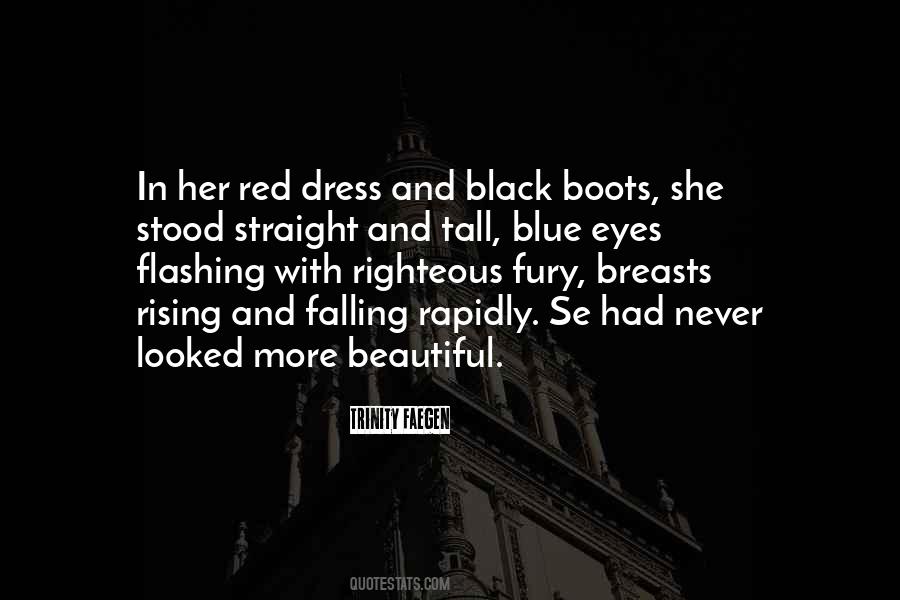 #60. I was black and blue for about two years, but it's paid off tremendously. You know, if you get enough whacks, your reflexes pick up, and I've become quite good - if somebody throws keys or something, I can catch them. - Author: Lucy Lawless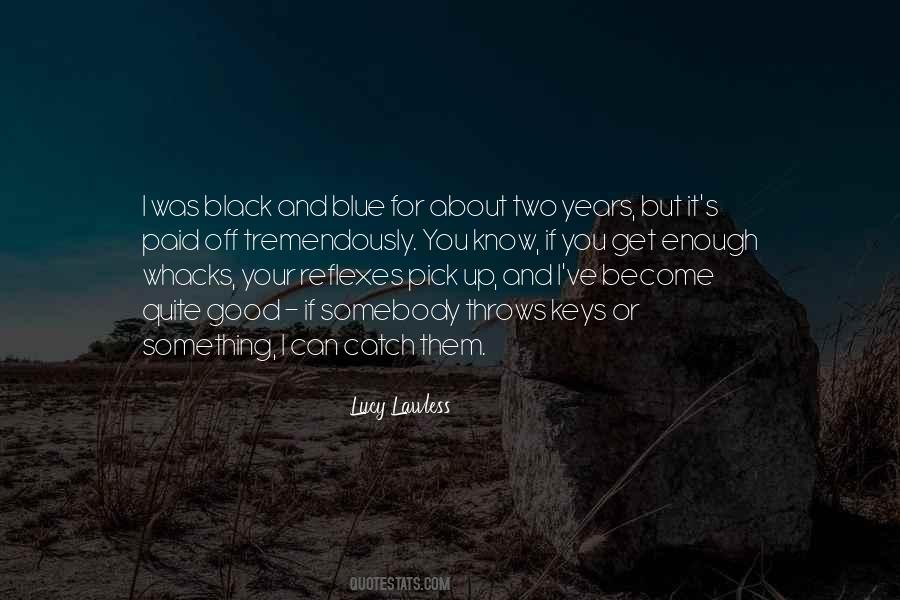 #61. She looked up and saw, high in the sky beyond the racing black clouds, a ragged scrap of blue sky. Enough to make a cat a pair of trousers. - Author: Rosamunde Pilcher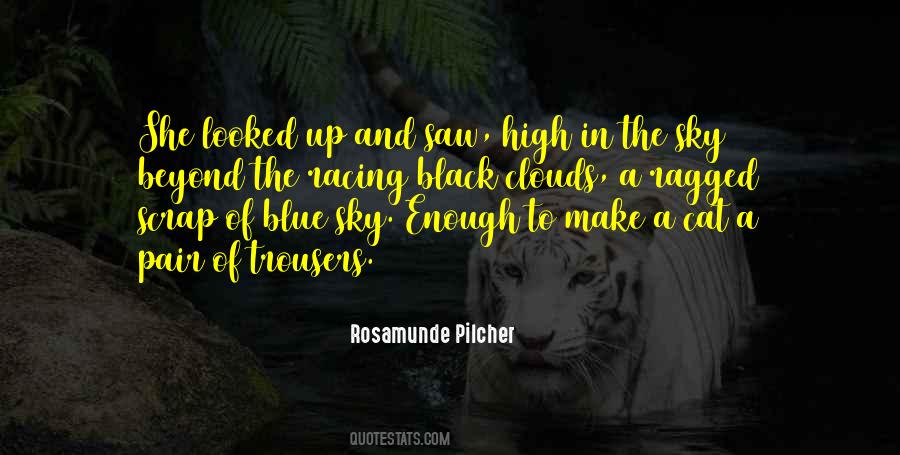 #62. Ethiopians imagine their gods as black and snub-nosed; Thracians blue-eyed and red-haired. But if horses or lions had hands, or could draw and fashion works as men do, horses would draw the gods shaped like horses and lions like lions, making the gods resemble themselves. Xenophanes - Author: Christopher Hitchens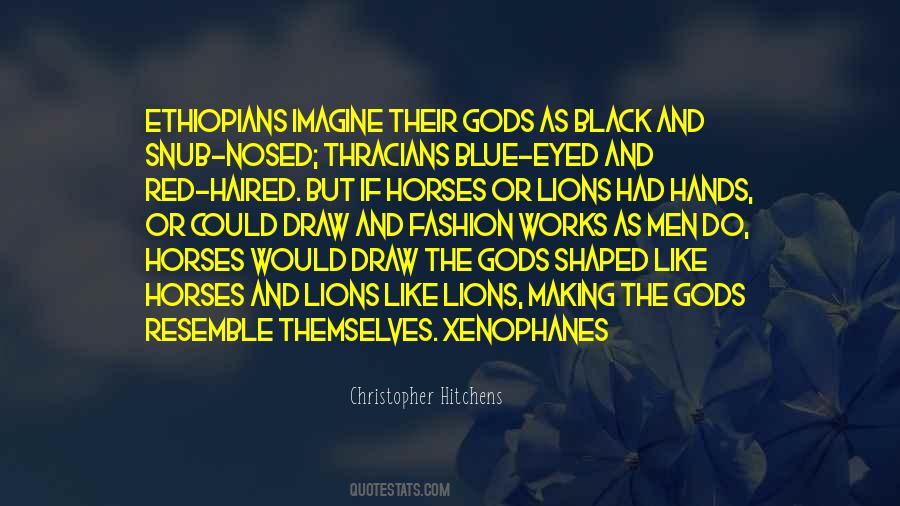 #63. Words can bruise and break hearts, and minds as well. There are no black and blue marks, no broken bones to put in plaster casts, and therefore no prison bars for the offender. - Author: Marlene Dietrich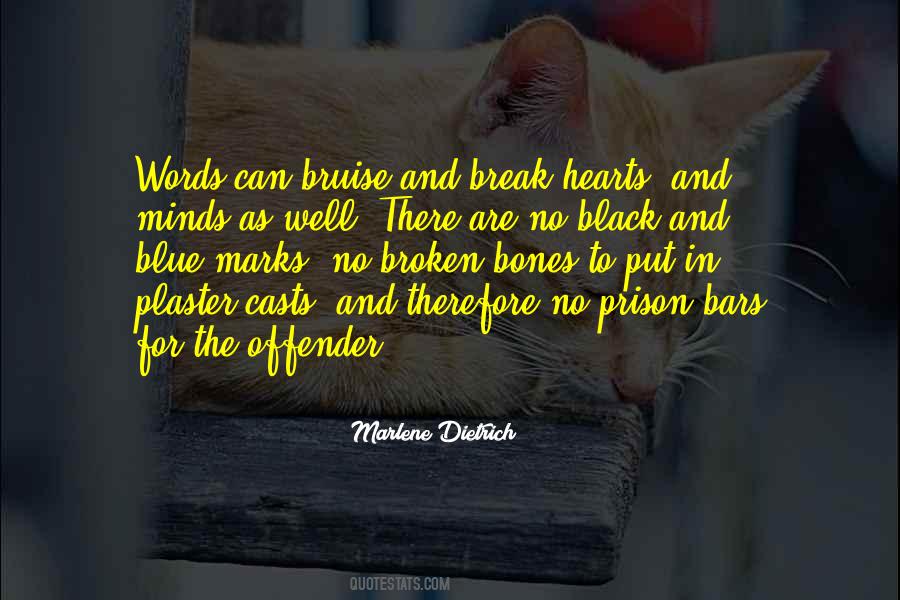 #64. I invented the colors of the vowels!
A black, E white, I red, O blue, U green
I made rules for the form and movement of each consonant, and, and with instinctive rhythms, I flattered myself that I had created a poetic language accessible, some day, to all the senses. - Author: Arthur Rimbaud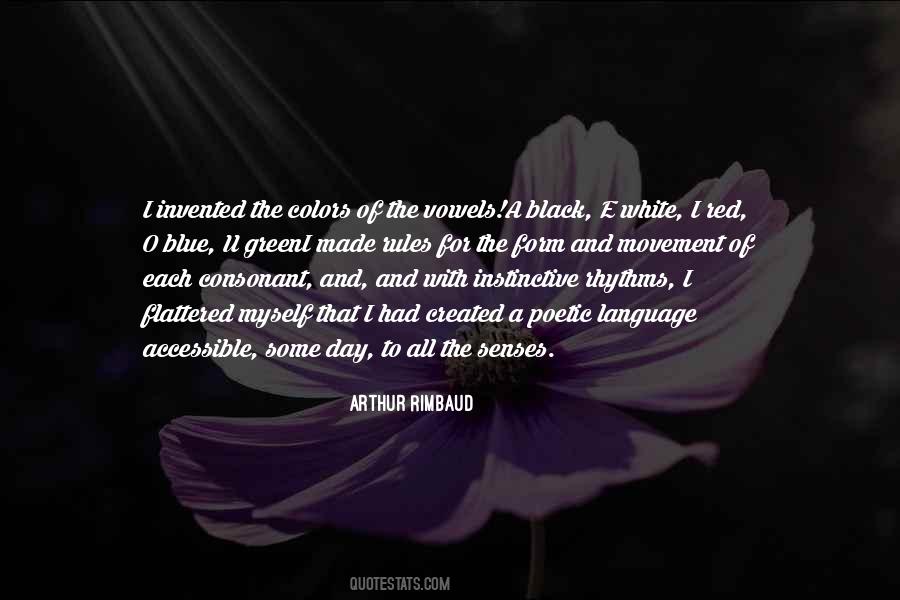 #65. In the summer, it's short greens and tall greens and sometimes a smudge of other colors. In winter, it's squinty white,and sometimes deep when it looks flat. In early spring and late fall, the town gets brown and black, like an old photograph. - Author: Blue Balliett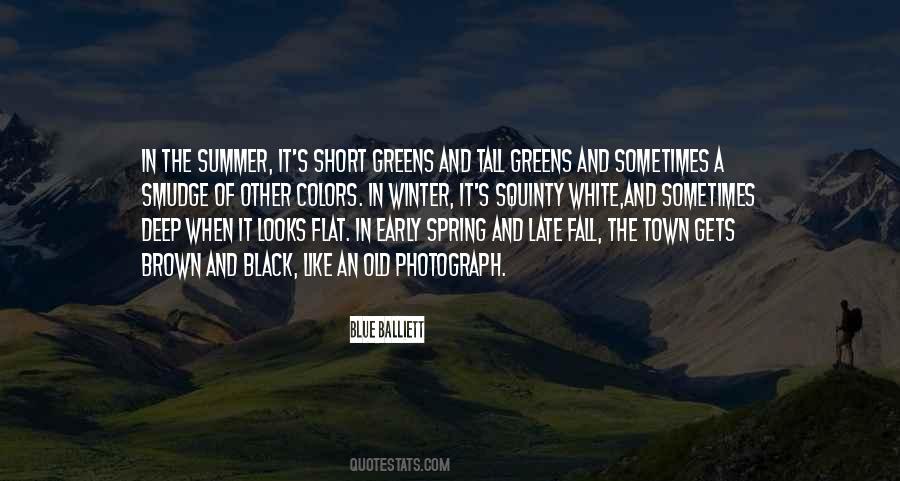 #66. Yet there are moments when the walls of the mind grow thin; when nothing is unabsorbed, and I could fancy that we might blow so vast a bubble that the sun might set and rise in it and we might take the blue of midday and the black of midnight and be cast off and escape from here and now. - Author: Virginia Woolf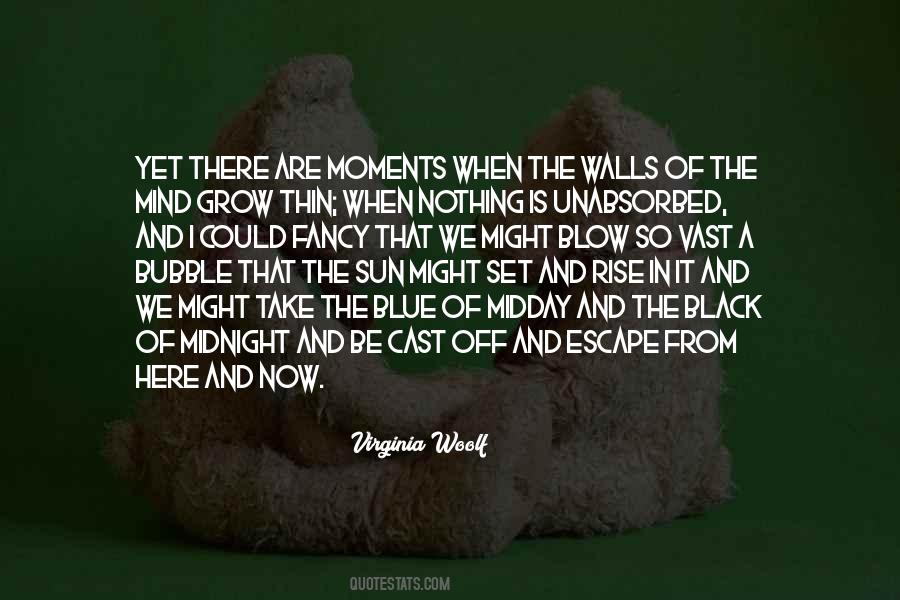 #67. Now the red eyes and the light above seemed to bore into Charles, and again the pupils fo the little boy's eyes contracted. When the final point of black was lost in blue he turned away from the red eyes, looked at Meg, and smiled sweetly, but the smile was not Charles Wallaces smile. - Author: Madeleine L'Engle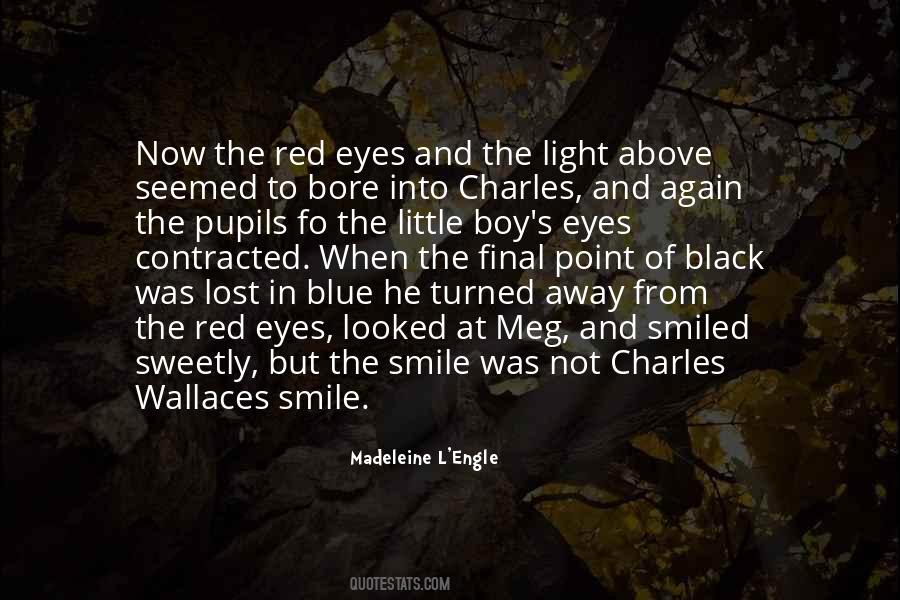 #68. How can a river that rises in a black forest and discharges in a black sea be celebrated as blue? - Author: Tessa De Loo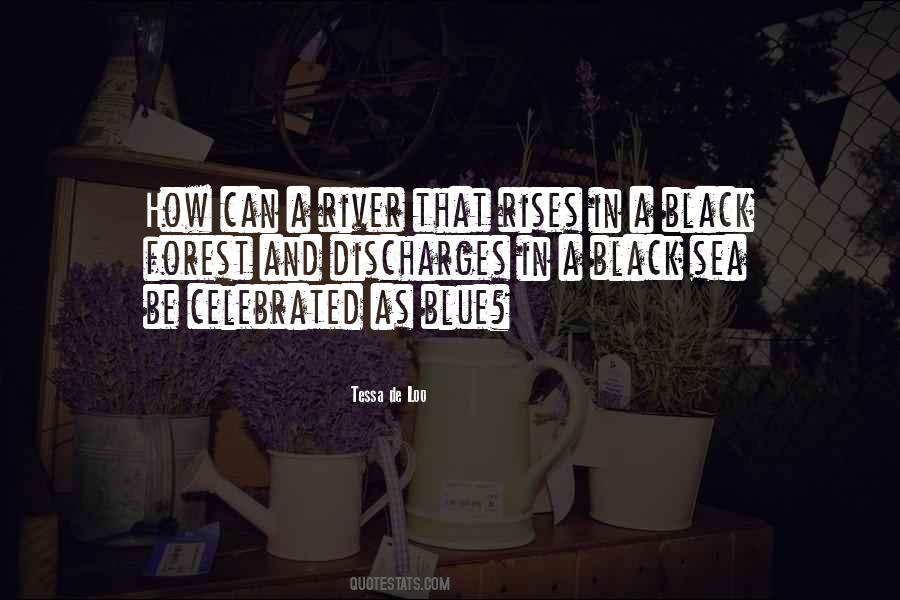 #69. I have been black and blue in some spot, somewhere, almost all my life from too intimate contacts with my own furniture. - Author: Frank Lloyd Wright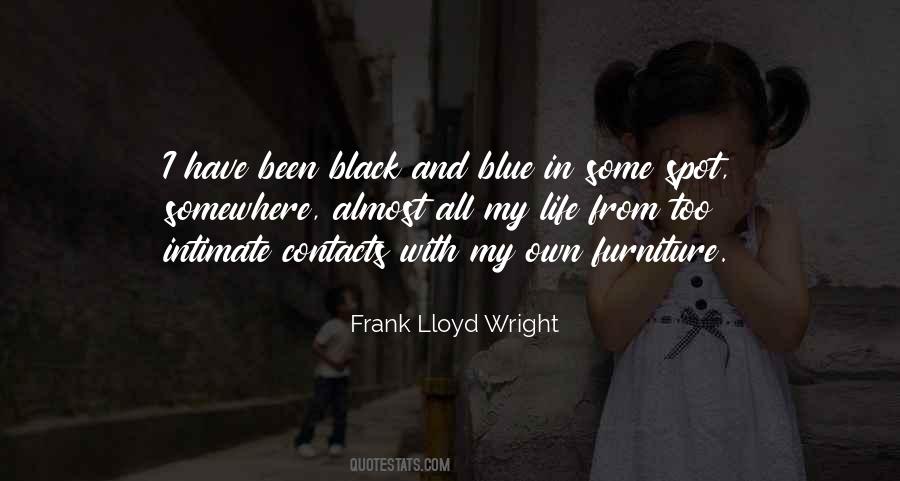 #70. The artist, busy and unsettled, can find a moment's peace - and even whole-being rejuvenation - by quietly attuning to a red sky, a gray sky, a black sky, a blue sky. - Author: Eric Maisel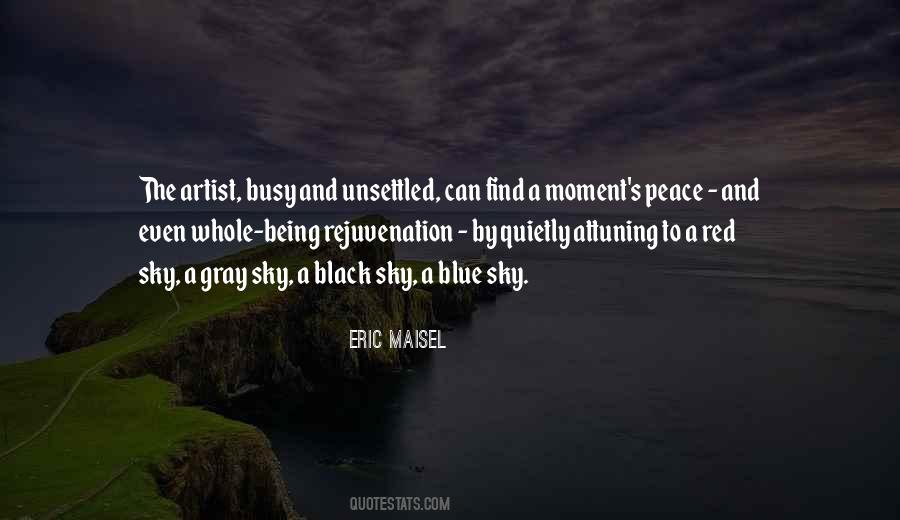 #71. When I was younger, I was very princessy. I always wanted to be blond-haired and blue-eyed. This was before Mulan, so I was very upset about all the Cinderellas. I always tried to imagine that maybe Snow White was Chinese since she had black hair. - Author: Grace Lin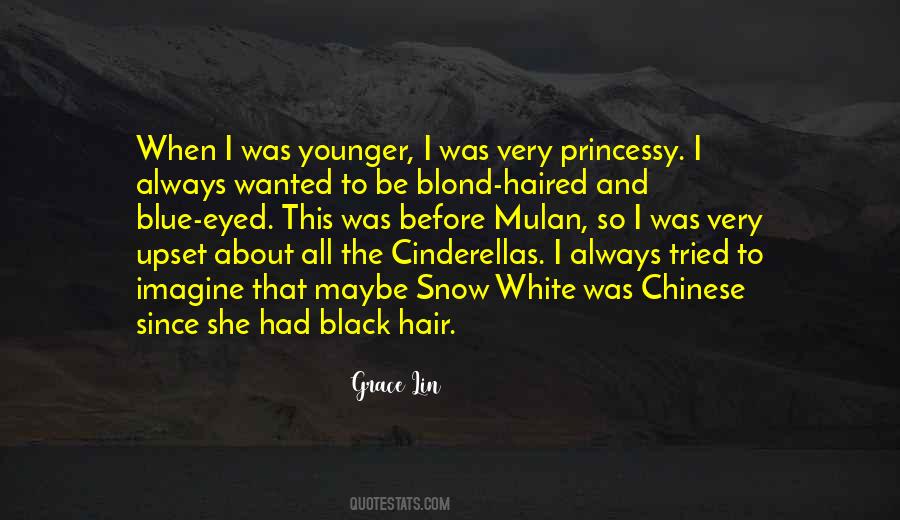 #72. Paco Montegrifo was the sort of man who decides, as soon as he's old enough to make such decisions, that black socks are strictly for chauffeurs and waiters and opts instead for socks of only the darkest navy blue. - Author: Arturo Perez-Reverte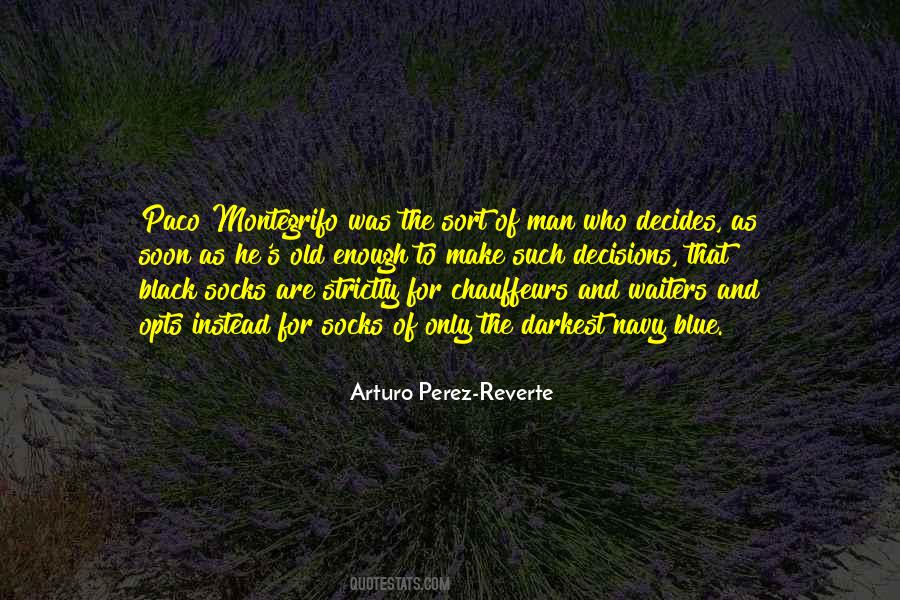 #73. He pointed at Abby's electric-blue pumps. "Women wear these evil creations around to confuse us. Sure, they make a girl's legs look good, but that's the black magic, my friends. They want us to feel their pain and not understand why. - Author: Tessa Bailey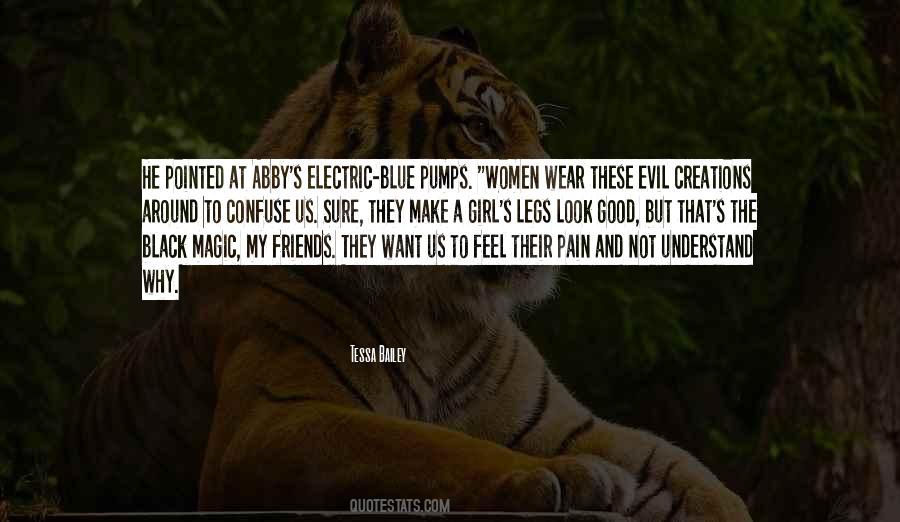 #74. His gaze met hers. It was crazy. Dressed down in worn blue jeans and a black shirt, he was the most beautiful man she'd ever seen.
And the moment was sort of perfect.
Even with the deer head staring over his shoulder like a total creeper. - Author: J. Lynn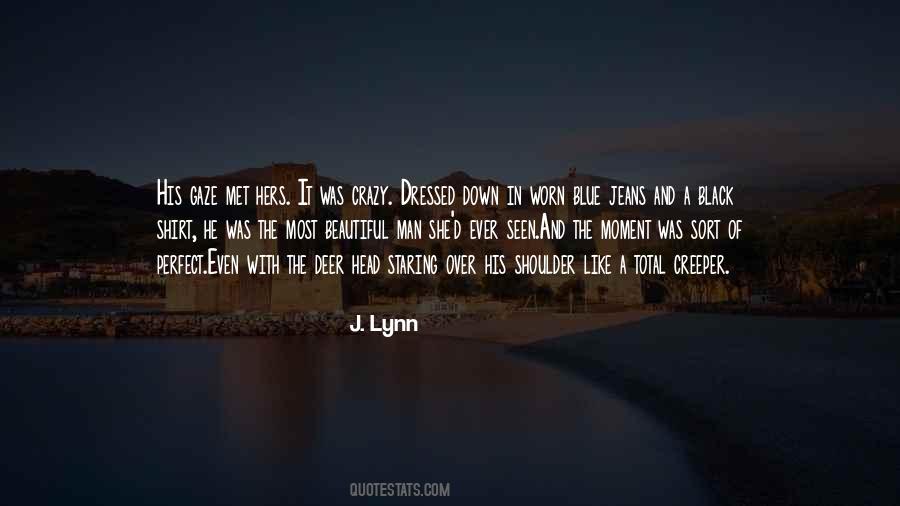 #75. Not only does a lens distort forms, but the ordinary plate makes an unholy mess of colour in its tone relations. Yellow becomes black, and blue white. Black sunflowers against a white sky - what a travesty! - Author: Walter J. Phillips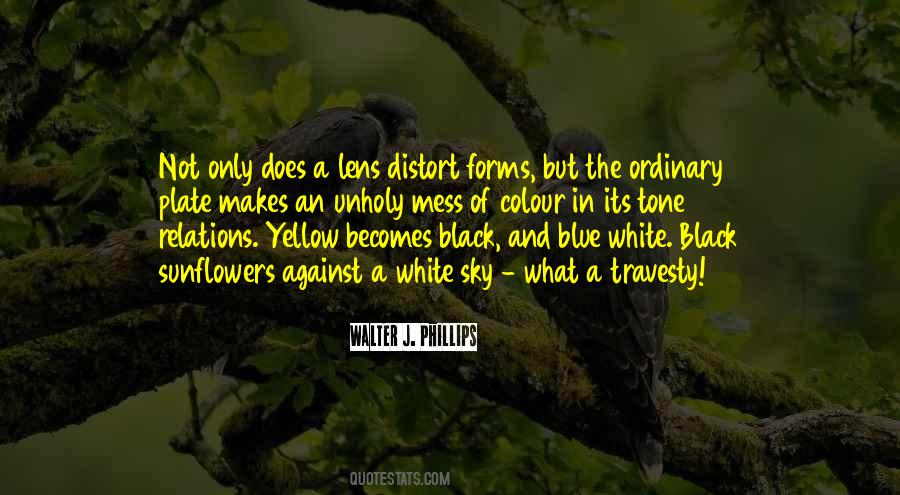 #76. Mrs. Conners I will take you last 'cause I know you like it kinky. You are into some rough stuff and that black lacy teddy really is set off by all those blue veins on your thighs. - Author: Alex Morgan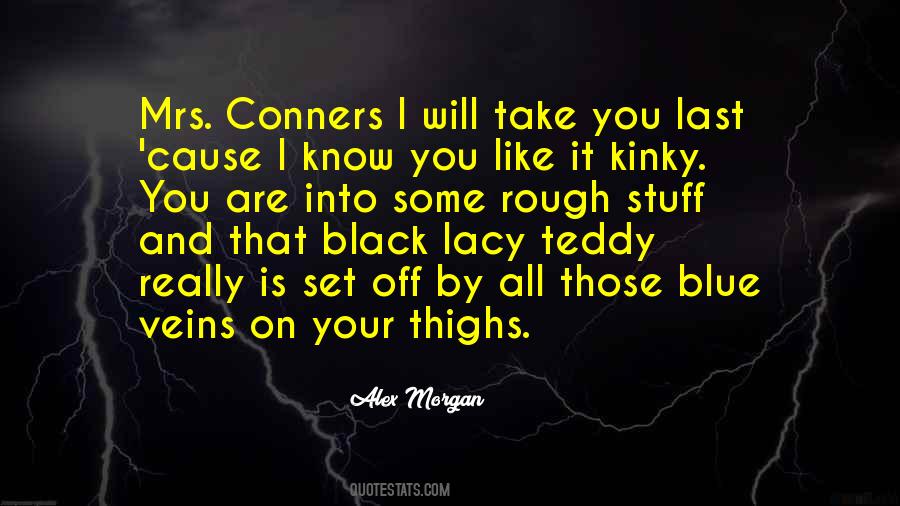 #77. May you always see a blue sky overhead, my young friend; and then, even when the time comes, as it has come for me now, when the woods are black, when night is fast falling, you will be able to console yourself, as I do, by looking up at the sky. - Author: Marcel Proust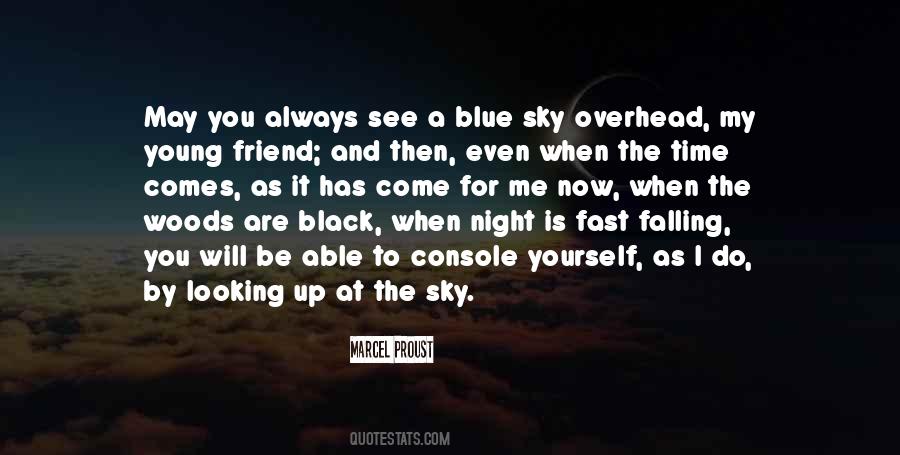 #78. I've built my wardrobe color palette around red, so I'm happy with it, but I do get pangs when I see beautiful brunettes. I've already been blue, green, black, and blonde. - Author: Florence Welch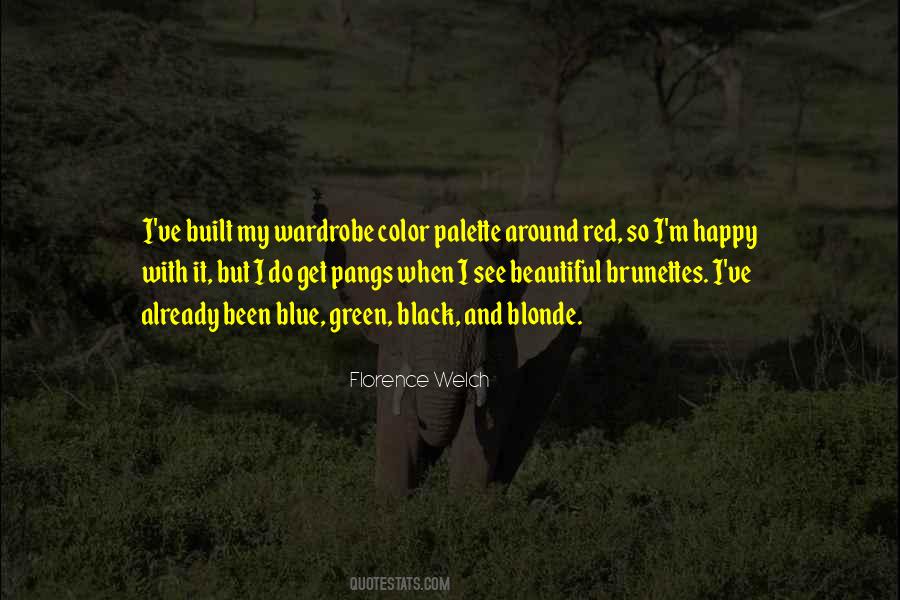 #79. There was no one color that could paint Lena Duchannes. She was a red sweater and a blue sky, a gray wind and a silver sparrow, a black curl escaping from behind her ear. - Author: Margaret Stohl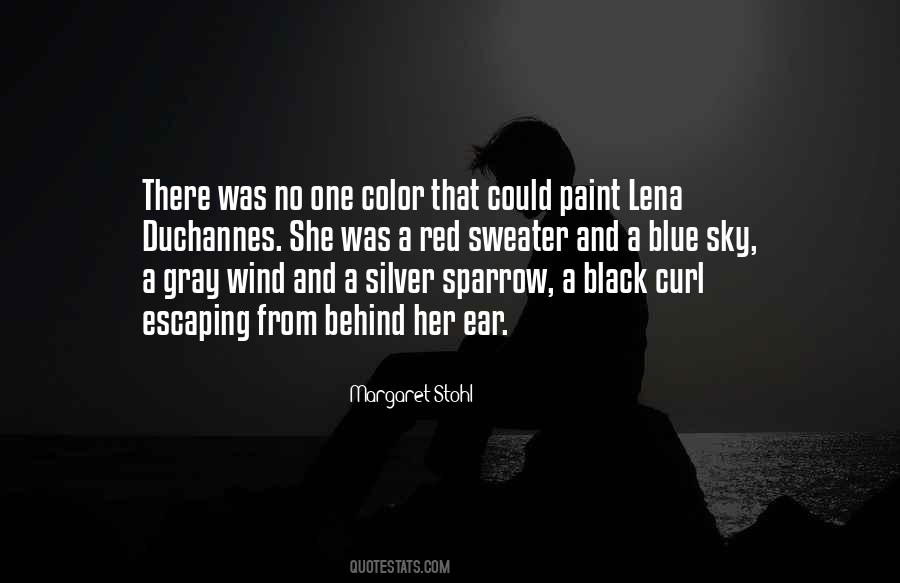 #80. The magic of the craft has opened for me a world in which I shall confront, within two hours, the black dragons and the crowned crests of a coma of blue lightnings, and when night has fallen I, delivered, shall read my course in the starts. - Author: Antoine De Saint-Exupery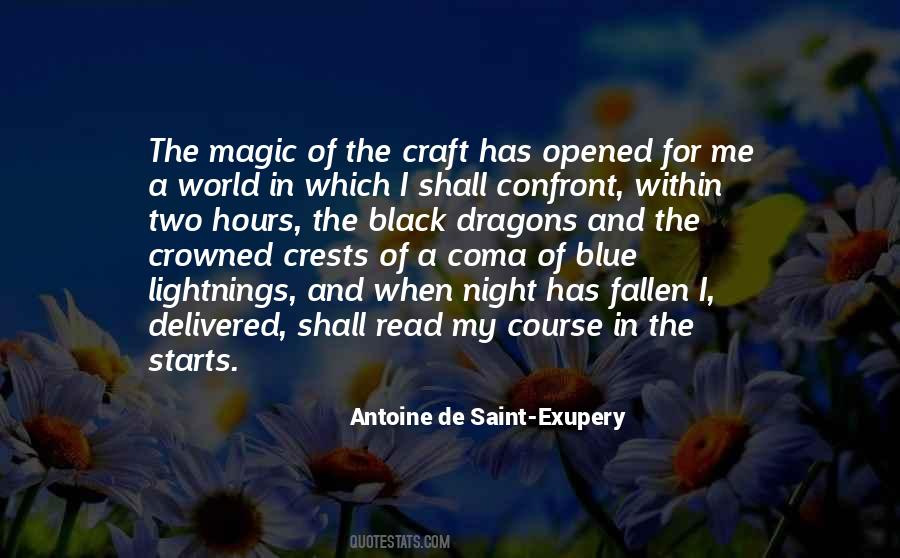 #81. She turned to him, shook her head. Her black hair tossed, and the beams of the late-afternoon sunlight played upon it, sending brief ripples of red and green and blue through it the same way that light, shimmering on the black surface of oil, creates short-lived, wriggling rainbows. - Author: Dean Koontz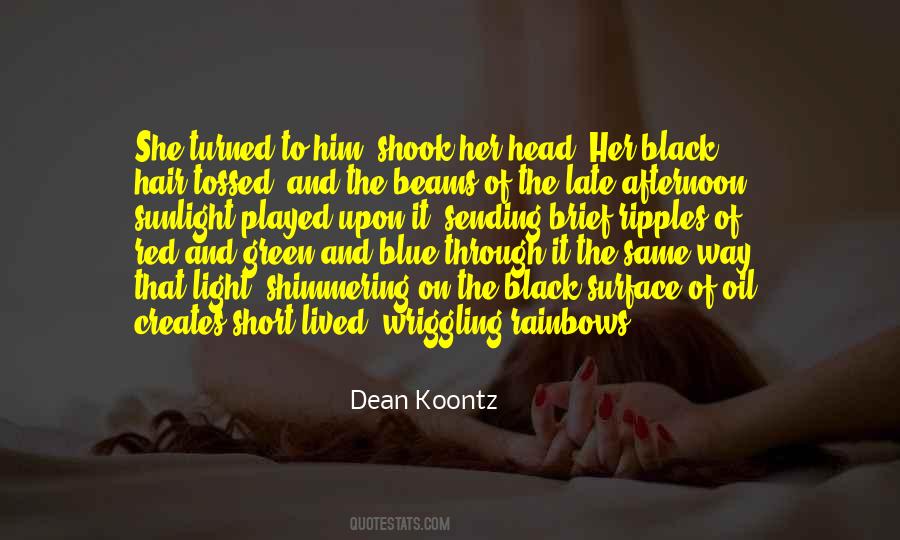 #82. The first of all single colors is white ... We shall set down white for the representative of light, without which no color can be seen; yellow for the earth; green for water; blue for air; red for fire; and black for total darkness. - Author: Leonardo Da Vinci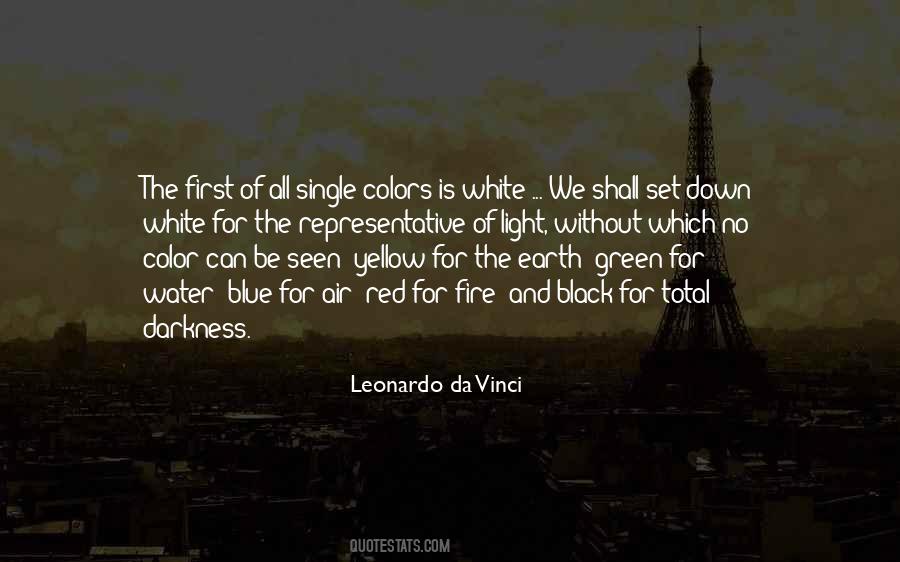 #83. Erith, he said and bowed his head.
Her blue-black hair hung to her hips in soft waves. - Author: Donna Grant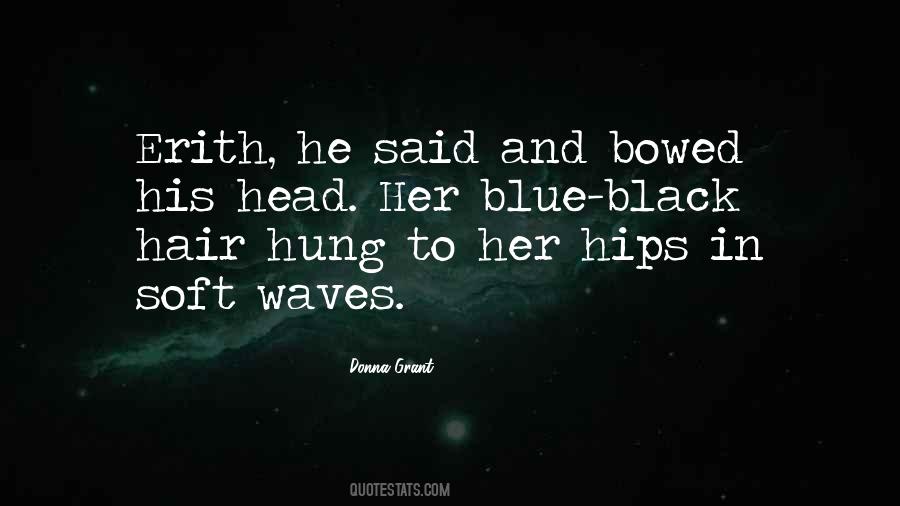 #84. Red-heeled shoes and silk stockings clocked in black. Gray satin breeches with silver knee buckles. Snowy linen, with Brussels lace six inches deep at cuff and jabot. The coat, a masterpiece in heavy gray with blue satin cuffs and crested silver buttons, hung behind the door, awaiting its turn. - Author: Diana Gabaldon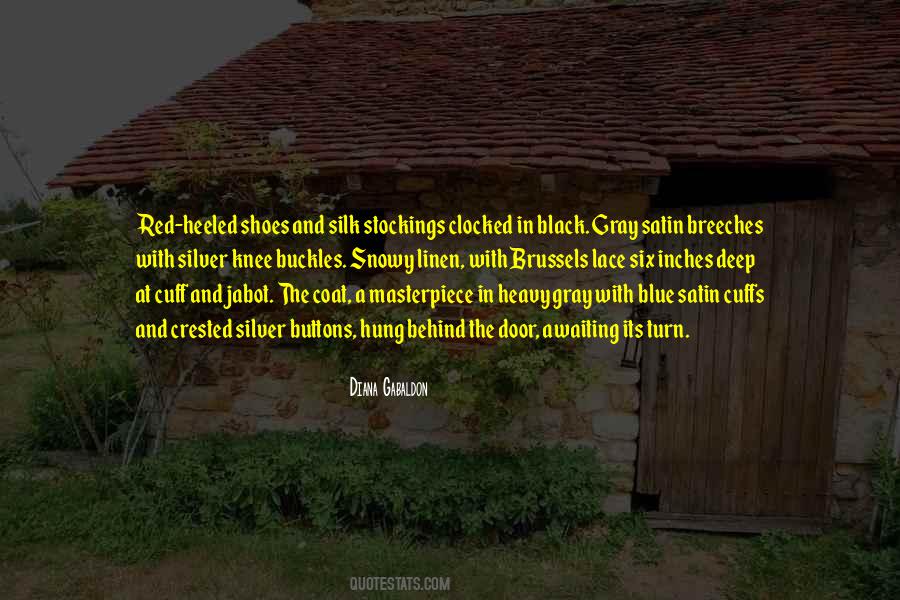 #85. There was a cold wind out on the street. It picked up the dust, whirled it about and suddenly scattered it, flinging it down like black chaff. There was an implacable severity in the frost, in the branches that tapped together like bones, in the icy blue of the tram-lines. - Author: Vasily Grossman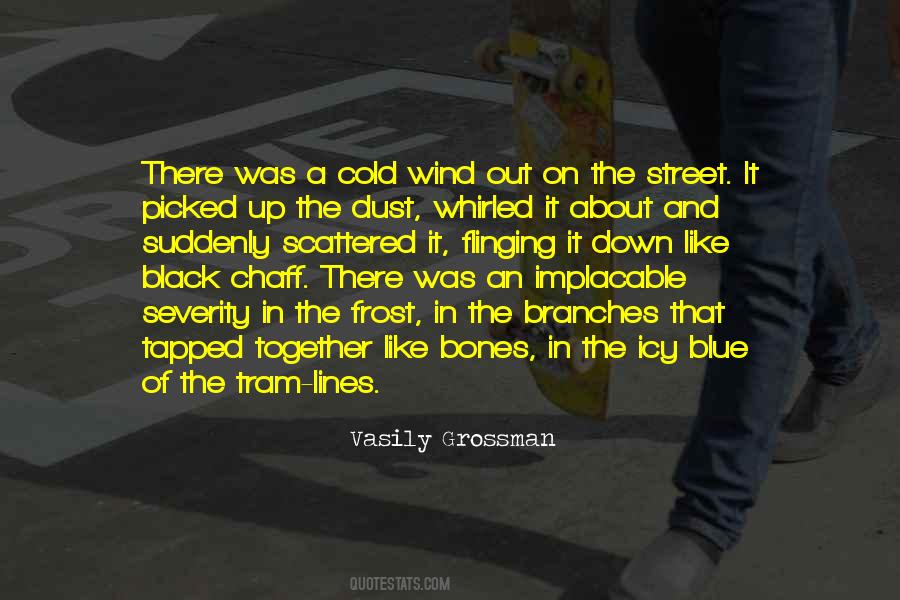 #86. Can you get a summer snow-globe instead of a winter one with green grass and flowering azalea bushes and blue sky? Because I'm here, inside it. If you shake it, perhaps it fills with black smoke, not swirling snowflakes. - Author: Rosamund Lupton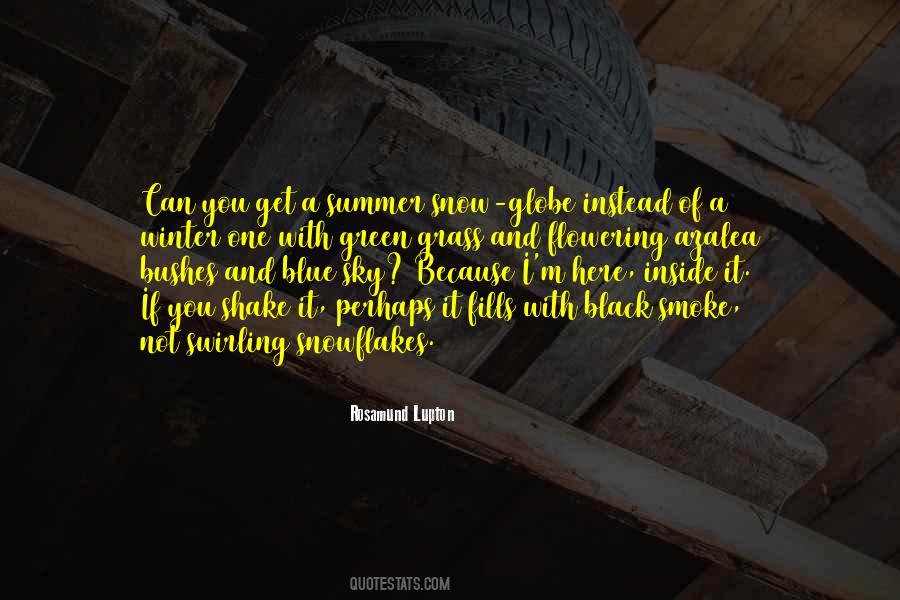 #87. When I was first starting out, you'd have to bang an old upright piano and stick a mike in it and it would always feed back and you could never turn it up loud enough to be heard and I would beat my hands black and blue and bloody. - Author: Edgar Winter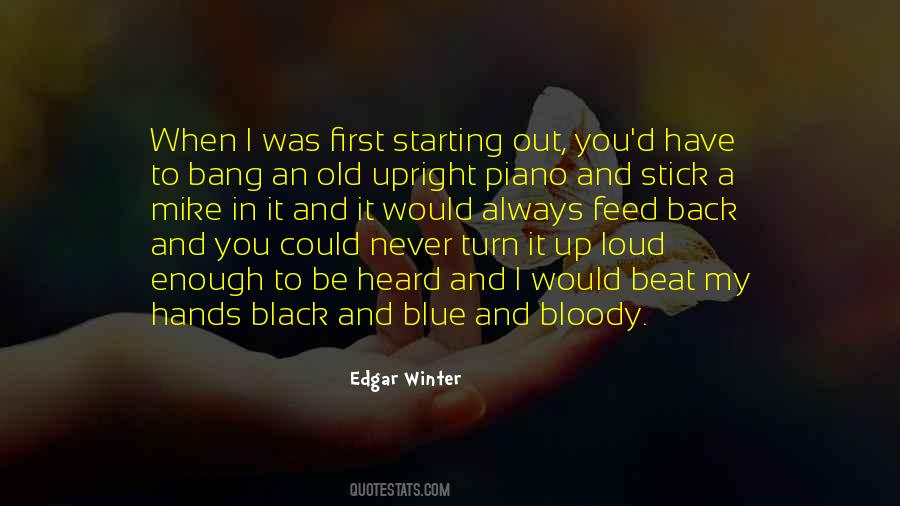 #88. We will remember what it was like to lose you, our pain the black background of our electric blue joy. We will remember that there are few answers to our questions; the questions that seem to float into an endless expanse of sky. - Author: Kelly Wilson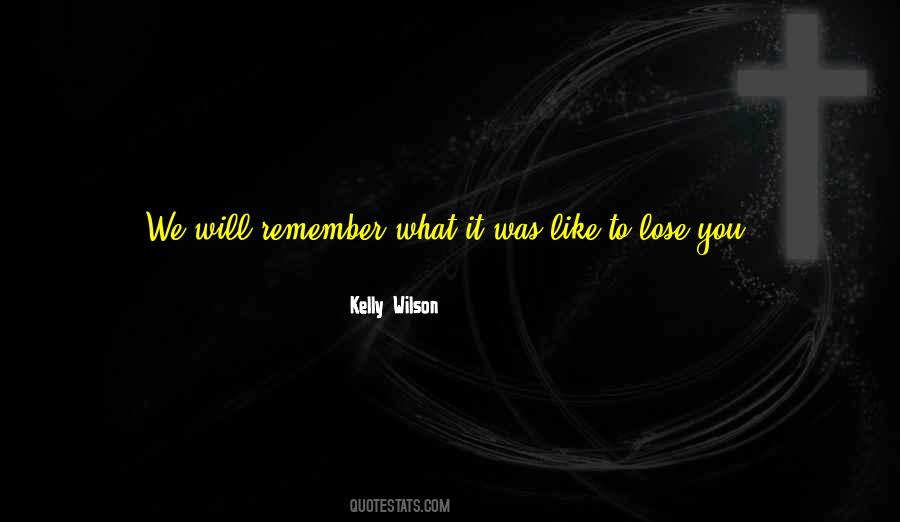 #89. There are not more than five primary colors (blue, yellow, red, white, and black), yet in combination they produce more hues than can ever been seen. - Author: Sun Tzu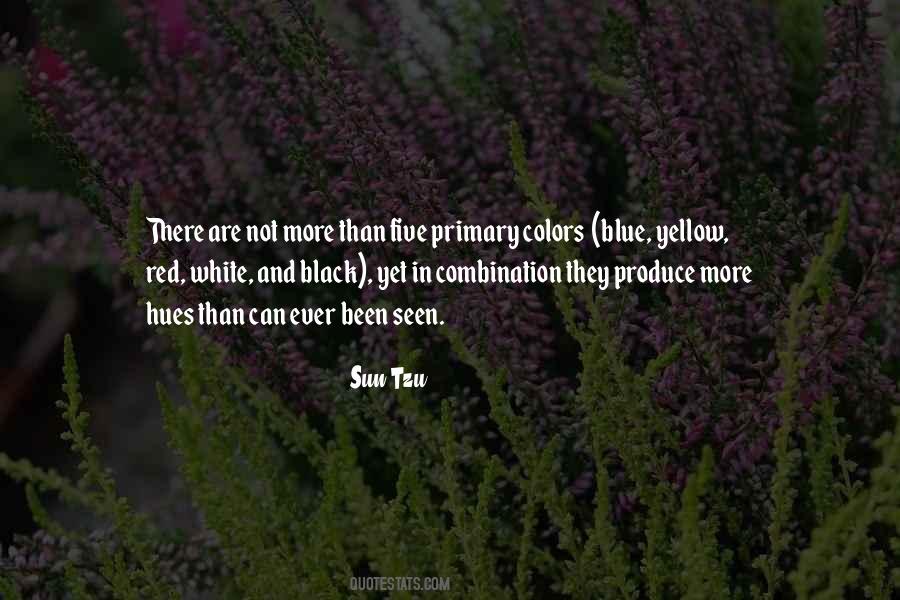 #90. Magnus grinned. Black hair and blue eyes are my favourite combination. - Author: Cassandra Clare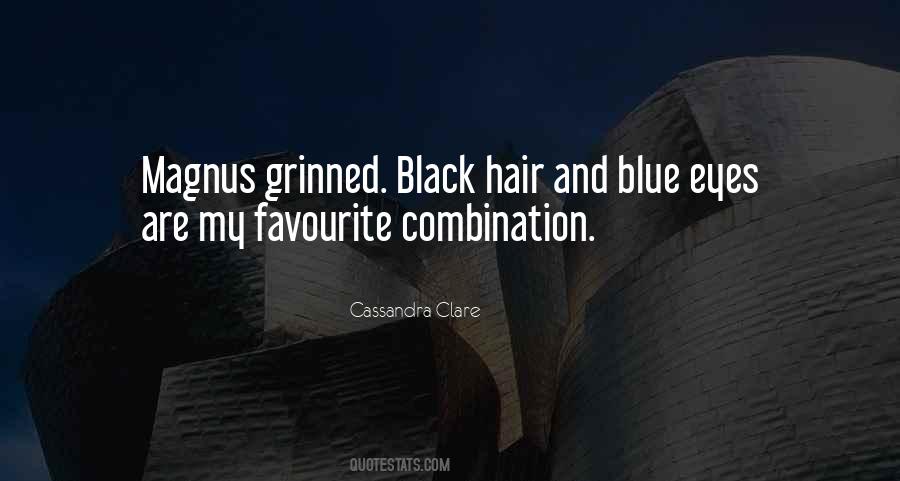 #91. Painting is marvelous; it makes you happier and more patient. Afterwards you do not have black fingers as with writing, but blue and red ones. - Author: Hermann Hesse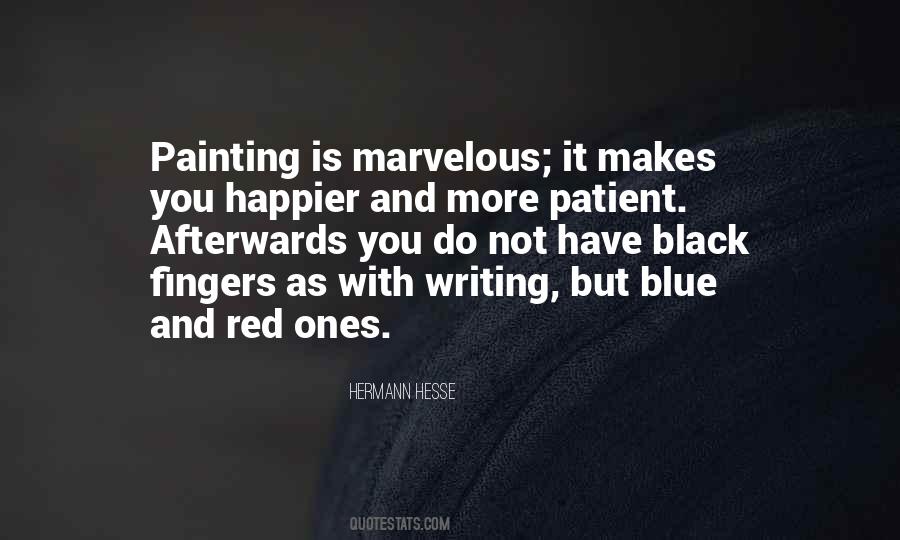 #92. He was all silver and ashes, not like Will's strong colors of blue and black and gold. - Author: Cassandra Clare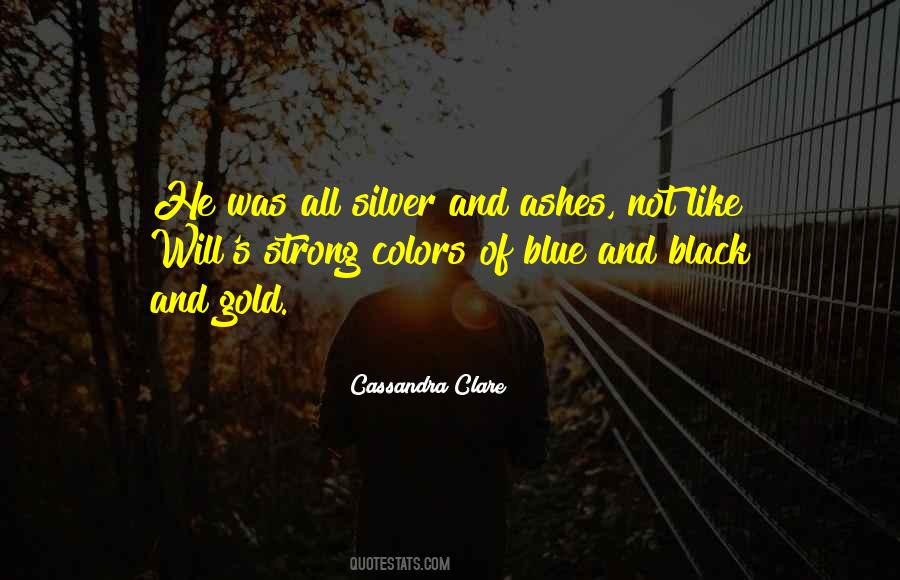 #93. One of the biggest myths debunked by science is that dogs see only in black and white. Contrary to that popular belief, dogs have dichromatic vision, meaning that they can see shades of yellow and blue. - Author: Victoria Stilwell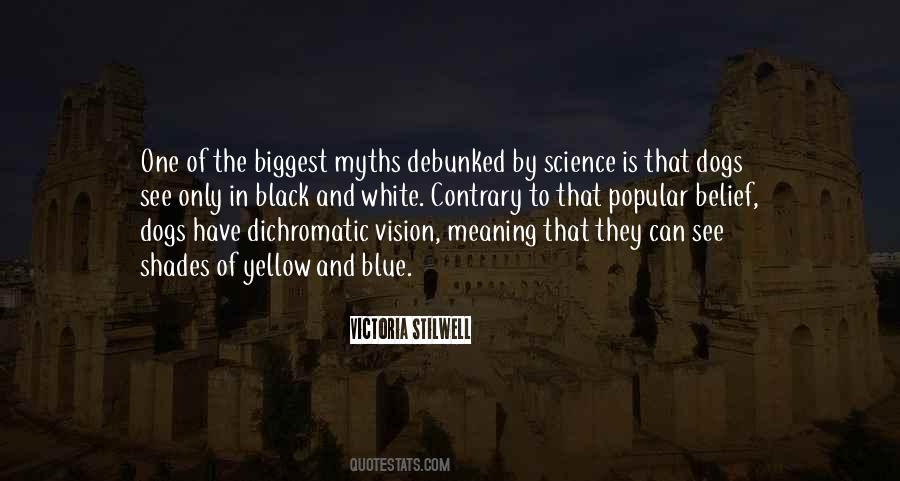 #94. [...]They offended Hood,' he stated flatly.
'And How they did that?' Silk enquired.
'They demanded a tithe upon the temple. I demonstrated Hood's tithe.'
'And who are you to judge?' Smokey demanded. The lad's Dark, almost blue-black eyes edged aside to Smokey. 'I am Hood's Sword. - Author: Ian C. Esslemont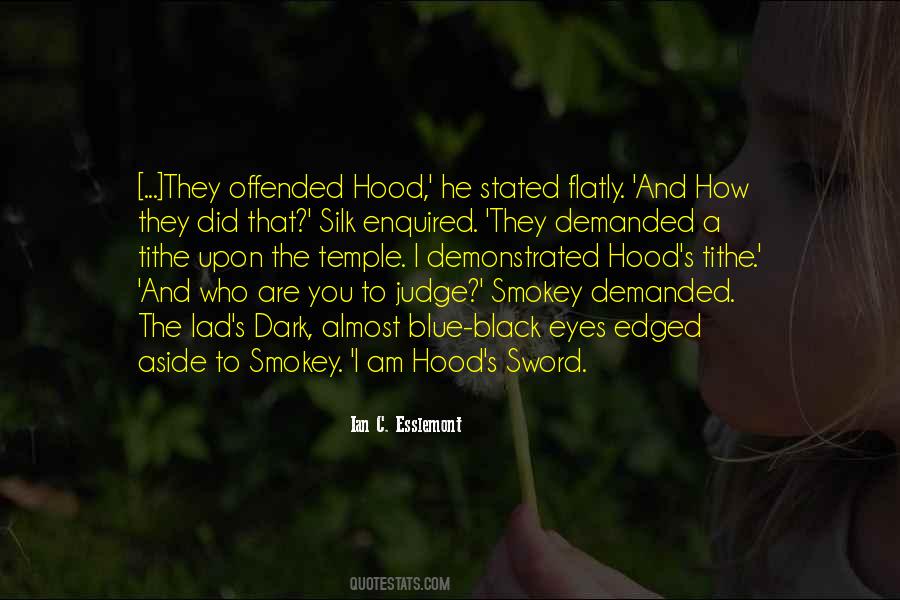 #95. am not a well-schooled woman. Instead, I have learned my lessons from experience, mistakes, and the heat of battle. If ever there was a shining alumnus from the school of hard knocks, it is I. My diploma can be found, printed in black and blue, at points of varying interest from head to toe. - Author: Chris Kreski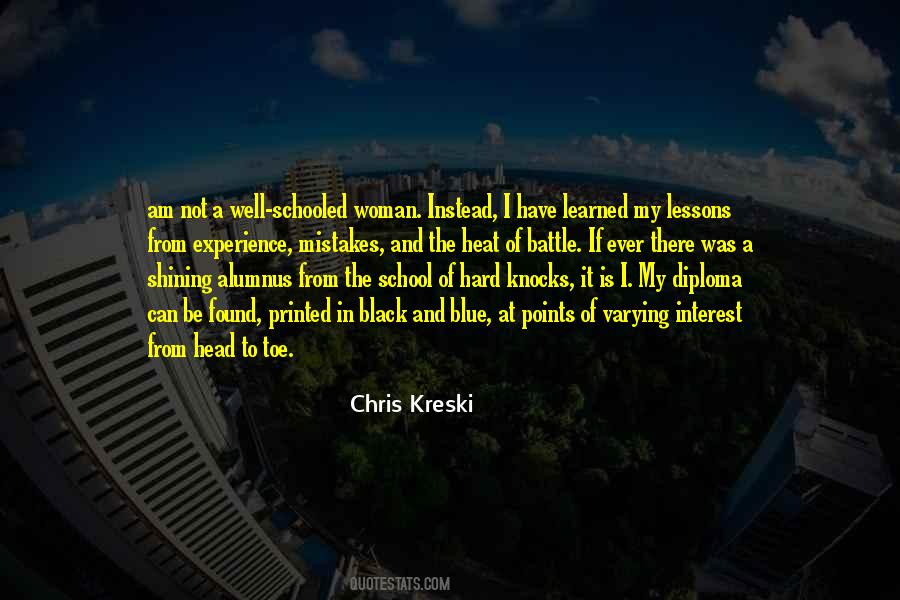 #96. Every time she meets him, she feels like he was a new paper ready to be drawn. And she could clearly remember how the first time she met him, he was like a sketch paper filled with grey and blue and black, all mixed up together forming a confusing storm, - Author: Basma Salem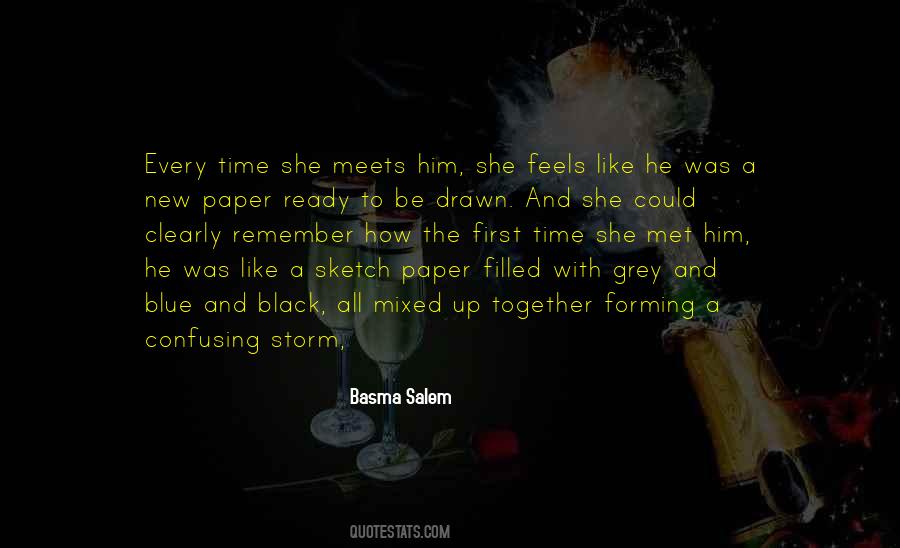 #97. My mother was a stout woman with a man's name - Billie. She was plain-faced with honest eyes - no black grease by the lash line, no blue powder on the lids, eyebrows not plucked up high and thin. - Author: Charles M. Blow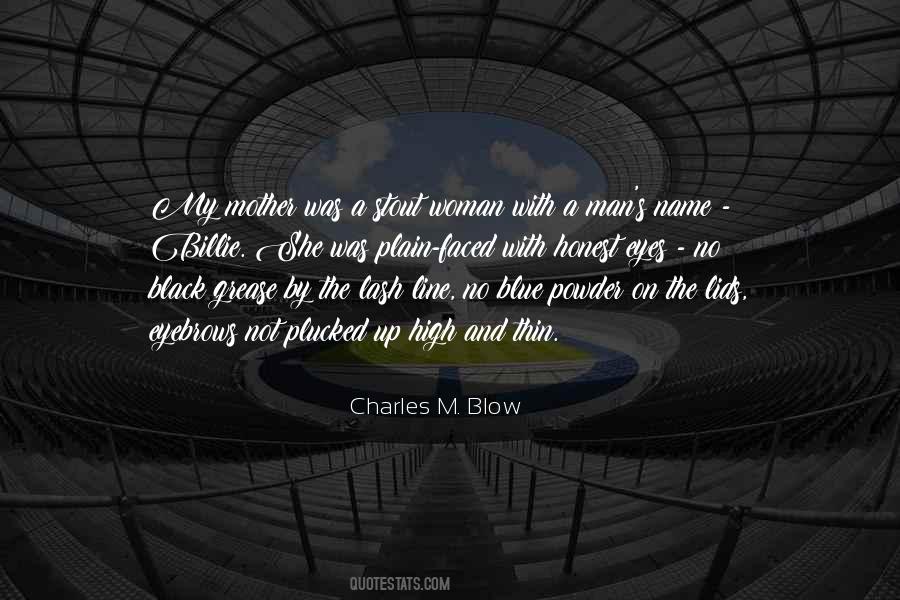 #98. A silhouette was striding down the center of the road, heading for the alley we'd just vacated. Lean, tall, a long black coat rippling behind him, he was instantly recognizable. Even from this distance, I could see the glow of his sword, blue-black and deadly, and the glint of a cold silver eye. - Author: Julie Kagawa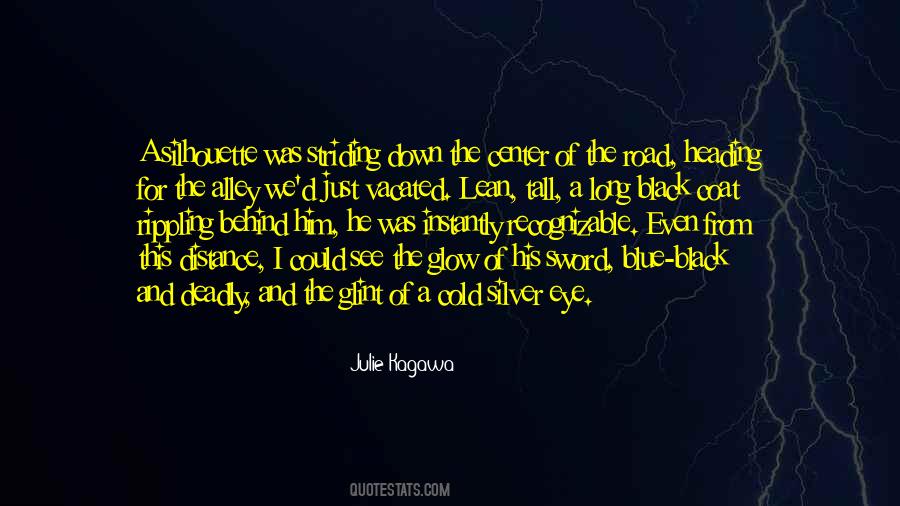 #99. The Ethiopians say that their gods are snub-nosed and black the Thracians that theirs have light blue eyes and red hair. - Author: Xenophanes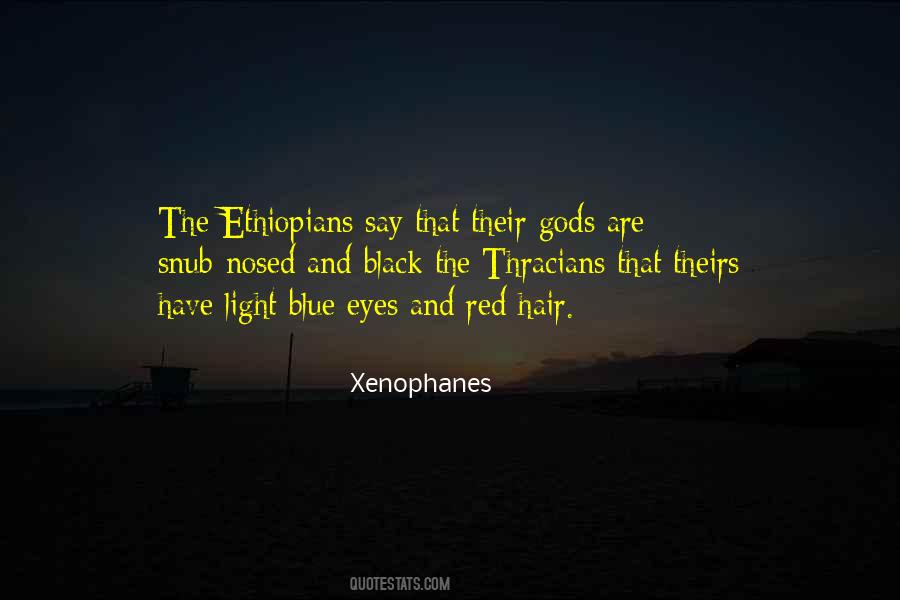 #100. He looks at me with his blue eyes or black eyes, and every time he does, I just know I'm
right where I want to be. - Author: Katy Evans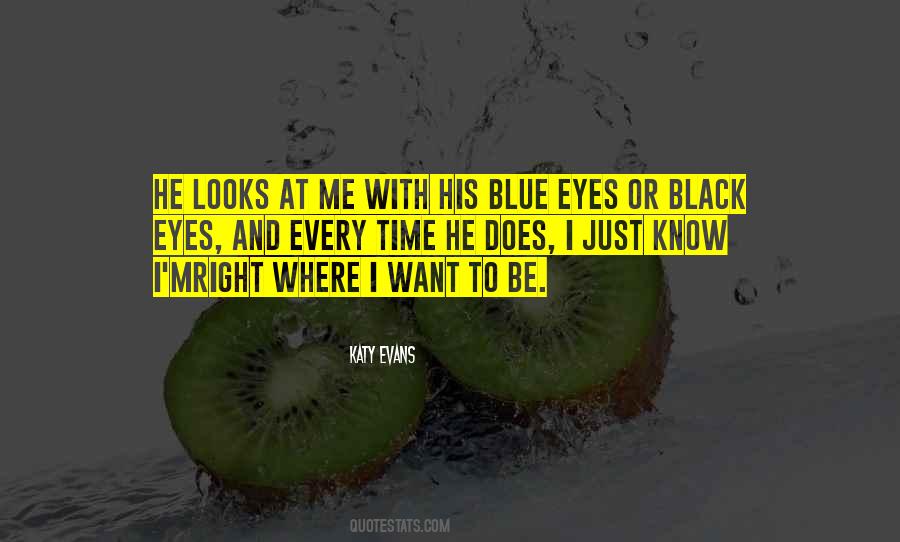 Famous Authors
Popular Topics