Being Mom Famous Quotes & Sayings
List of top 100 famous quotes and sayings about being mom to read and share with friends on your Facebook, Twitter, blogs.
Top 100 Quotes About Being Mom
#1. I could imagine being his mom and loving him a lot, if that makes sense. - Author: B.J. Novak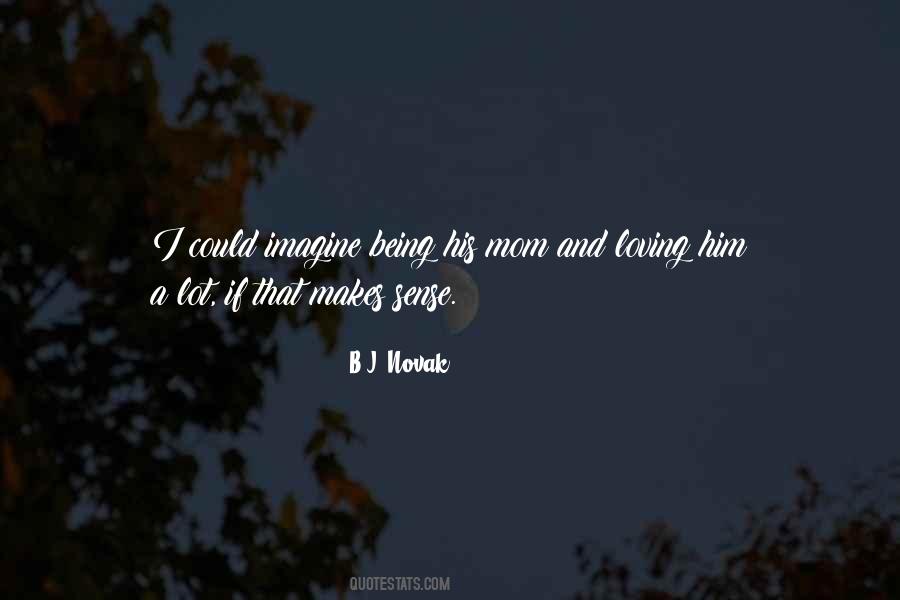 #2. My mom being a psychotherapist, I've been brought up with that whole psychoanalytical terrain. - Author: Helena Bonham Carter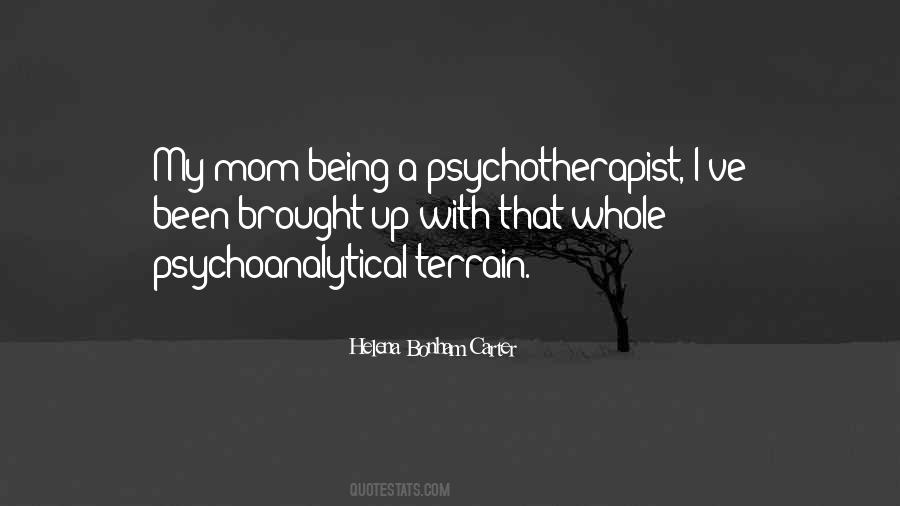 #3. Mom. I have something to tell you. I'm undead. Now, I know you may have some preconceived notions about the undead. I know you may not be comfortable with the idea of me being undead. But I'm here to tell you that undead are just like you and me ... well, okay. Possibly more like me than you. - Author: Cassandra Clare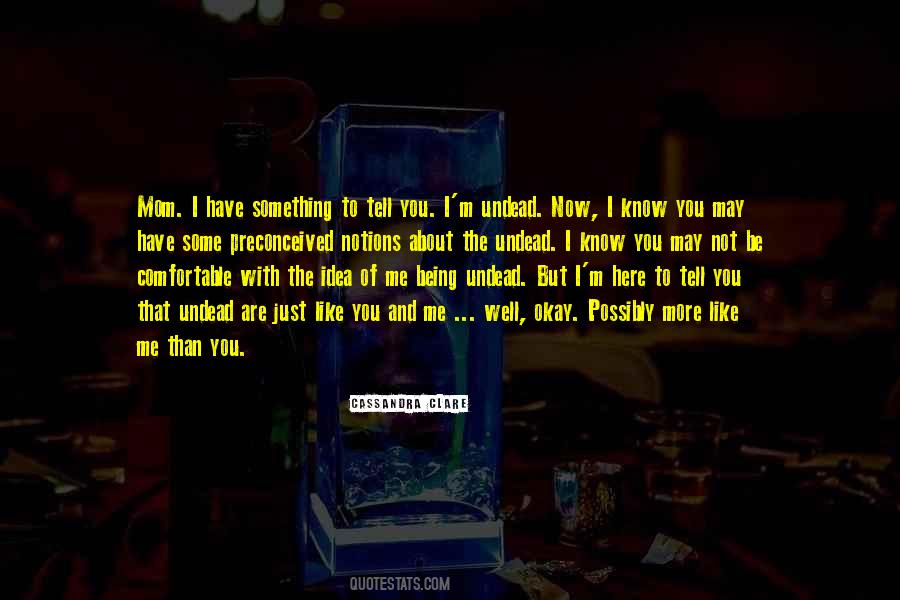 #4. On the first day of middle school I wore high-heeled shoes that you weren't allowed to wear. I remember being so embarrassed because in every class I went to they kept pointing out that I couldn't wear these shoes. I wanted to call my mom and have her bring me new shoes! - Author: Emma Stone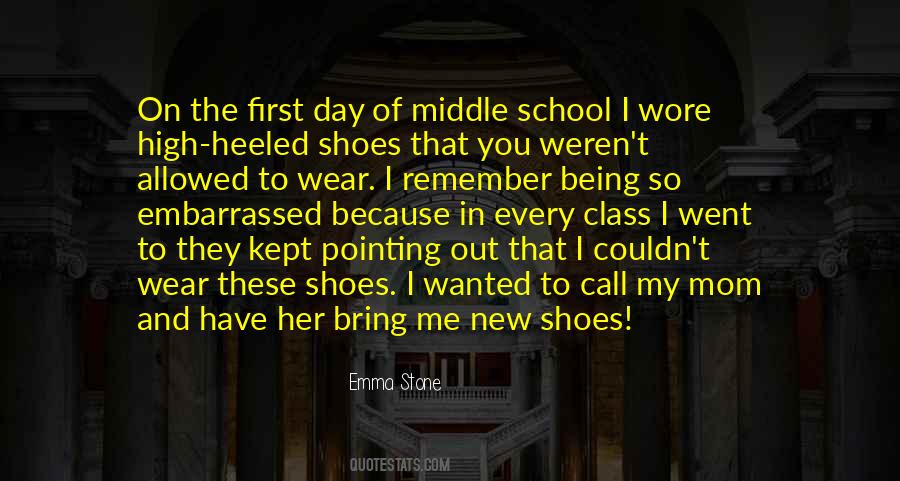 #5. Being a mom kind of grounded me in a way. Your body takes on a whole new meaning. - Author: Kelly Overton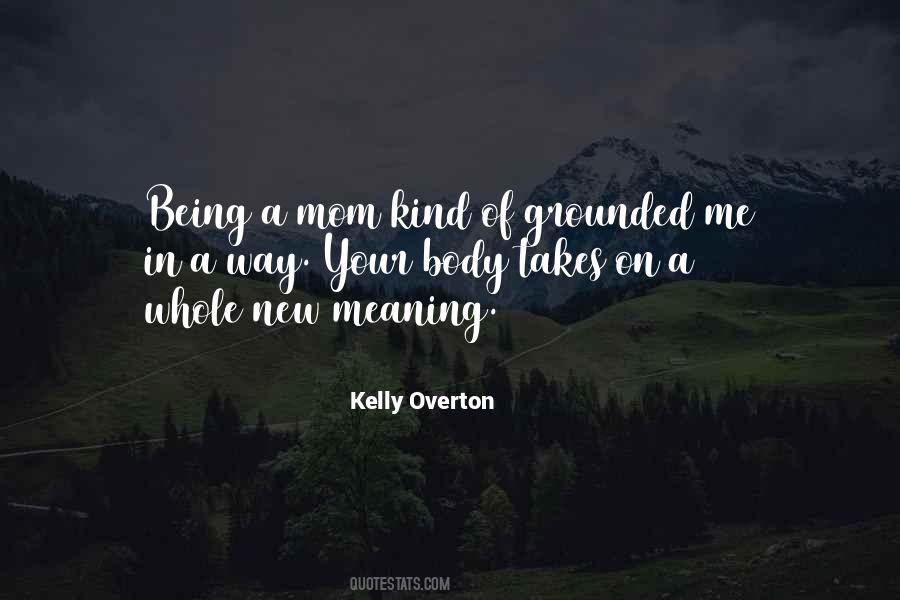 #6. My mom told me as a youngster I was always intellectual, like as far as being able to adapt fast and quick. But I had a fun childhood, went to regular school. - Author: Chris Brown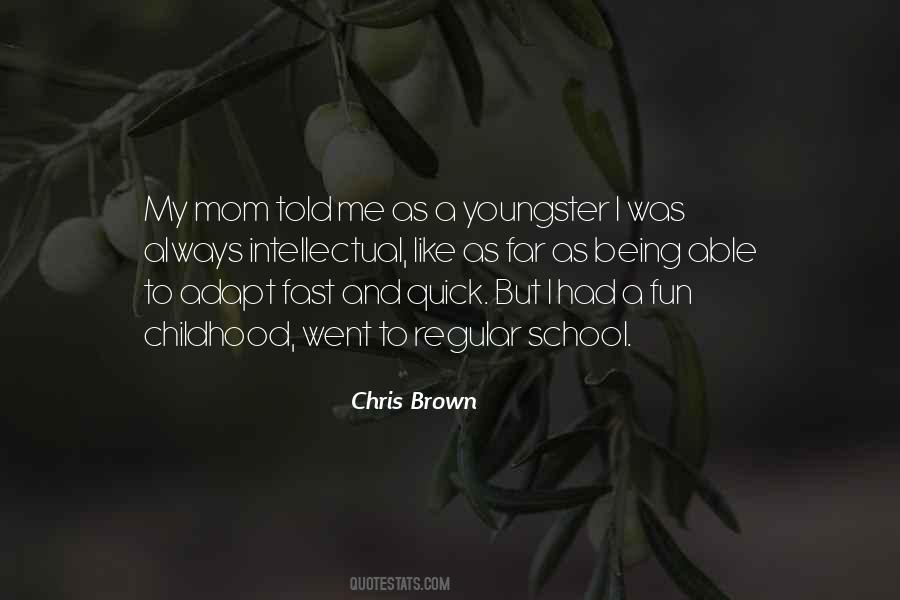 #7. My mom has raised me saying, "Always be yourself." So to be able to play a character that verifies just that, is such a thrill and adventure for me. - Author: Atticus Shaffer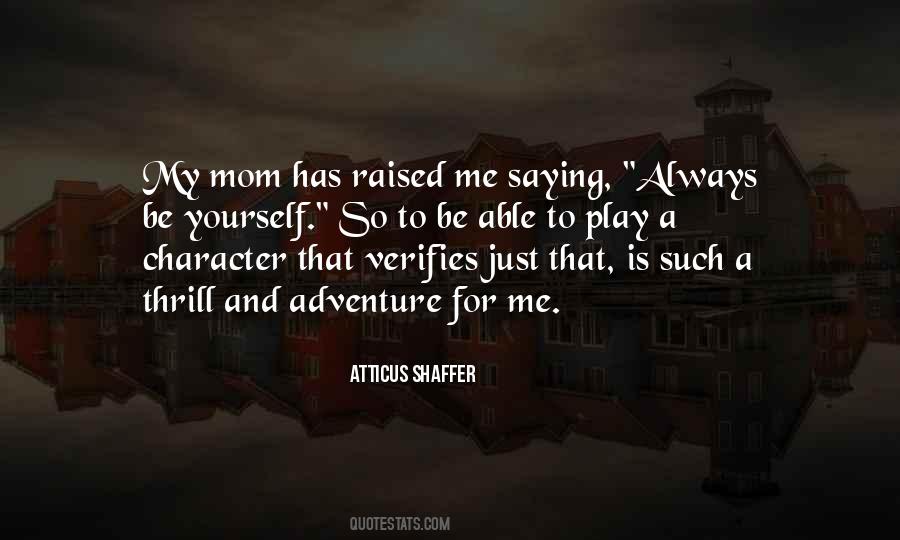 #8. Whatever I talk about is what I'm interested in at the time. Politics are big with me. But being a mom is taking up most of my time. My act is more family-oriented than it is about politics. - Author: Wanda Sykes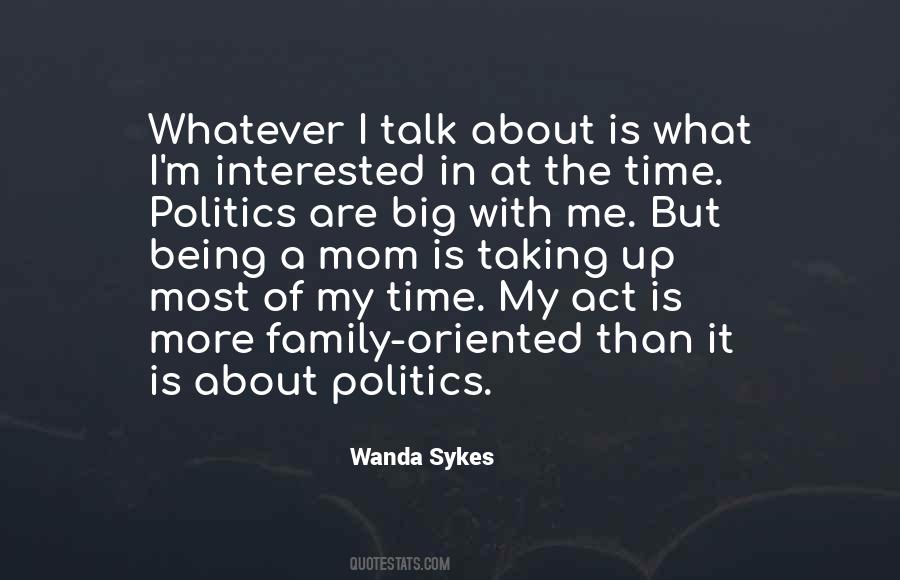 #9. As far as I'm concerned, there's no job more important on the planet than being a mom. - Author: Mark Wahlberg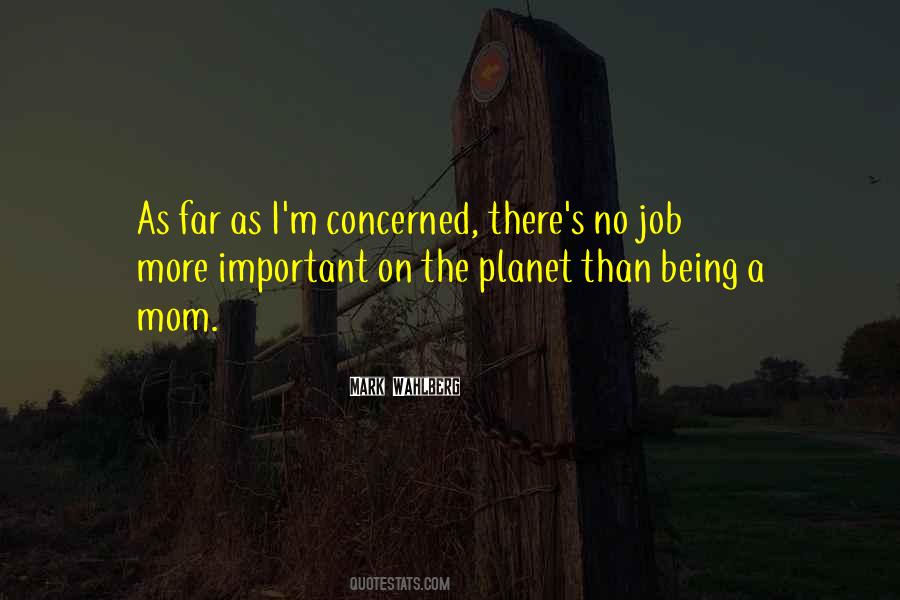 #10. My mom has a rare talent for being able to open up the refrigerator, and with the peas, the leftover eggs, the cream, the spinach, the cheese, and a little rice, she can just whip up incredible risotto. - Author: Cote De Pablo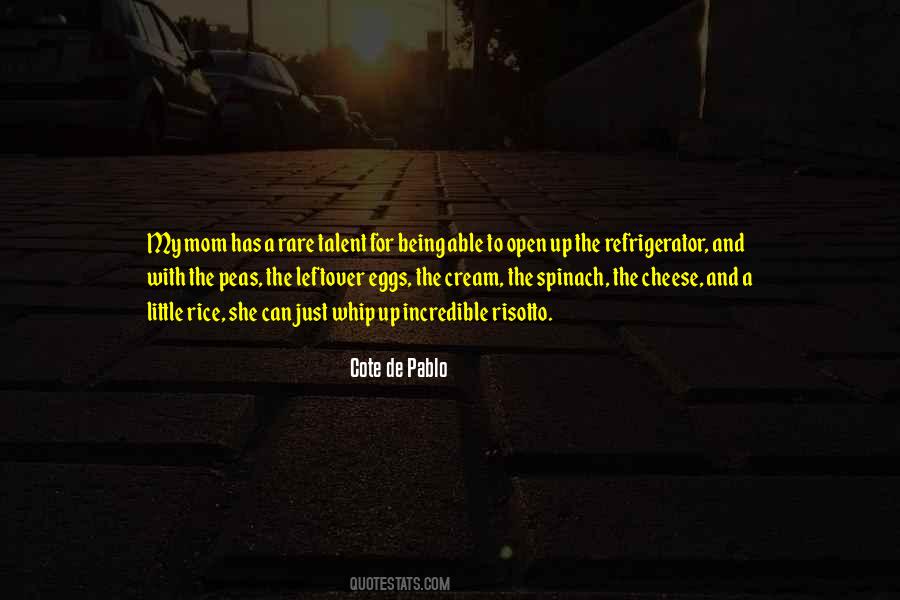 #11. My kids make me laugh every day. And they're so supportive. As I get older, they understand those things I worried about - the guilt of being gone - in a way that's so healing for me, when they say, "Mom, we know you love what you do. We love to watch you do what you do." - Author: Reese Witherspoon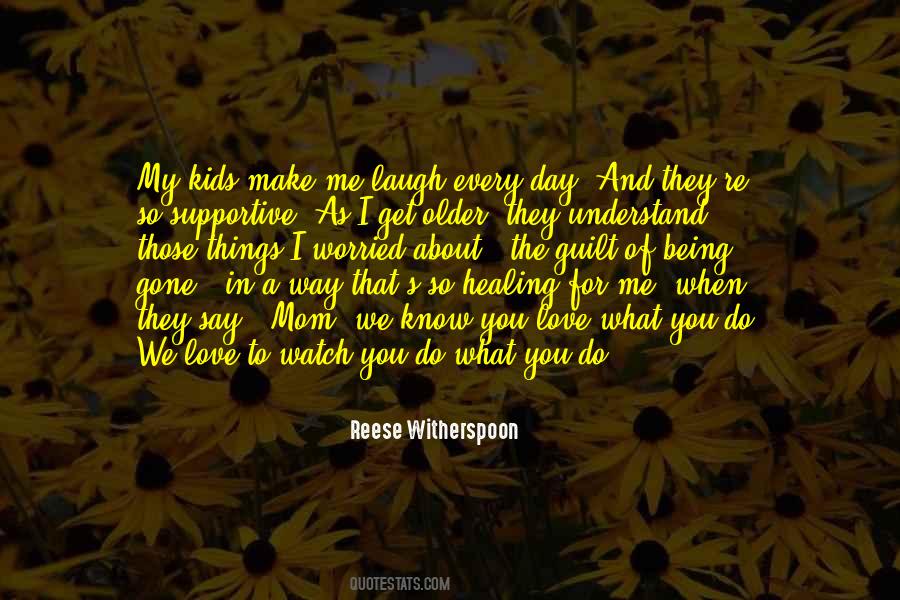 #12. I hope telling the story of how I went from being a single mom to serving in the Texas State Senate to running for governor will remind others that with the right leadership in government, where you start has nothing to do with how far you go. - Author: Wendy Davis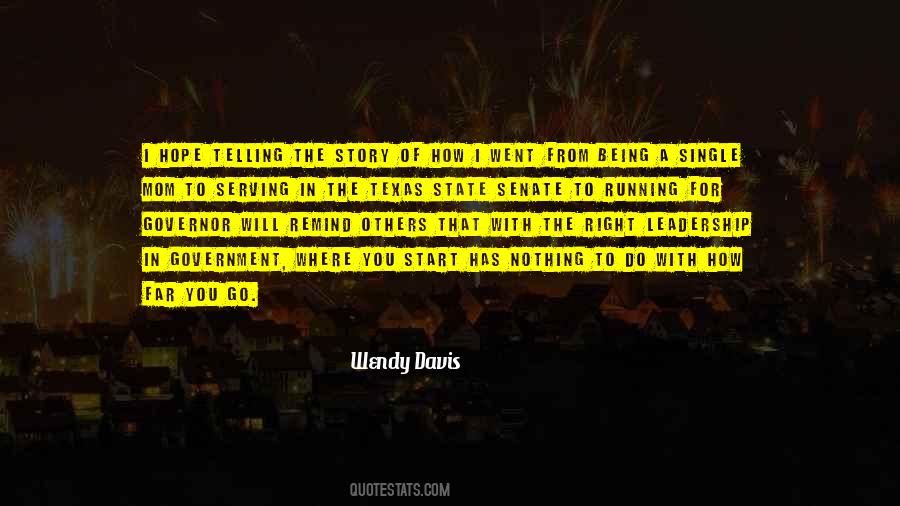 #13. Growing up with three older brothers and being the youngest and the only girl, my mom always made me tough. She's taught me over the years how to be a strong, independent woman, how to carry yourself in a positive way and anything that my brothers can do, I can do. - Author: Diana Lopez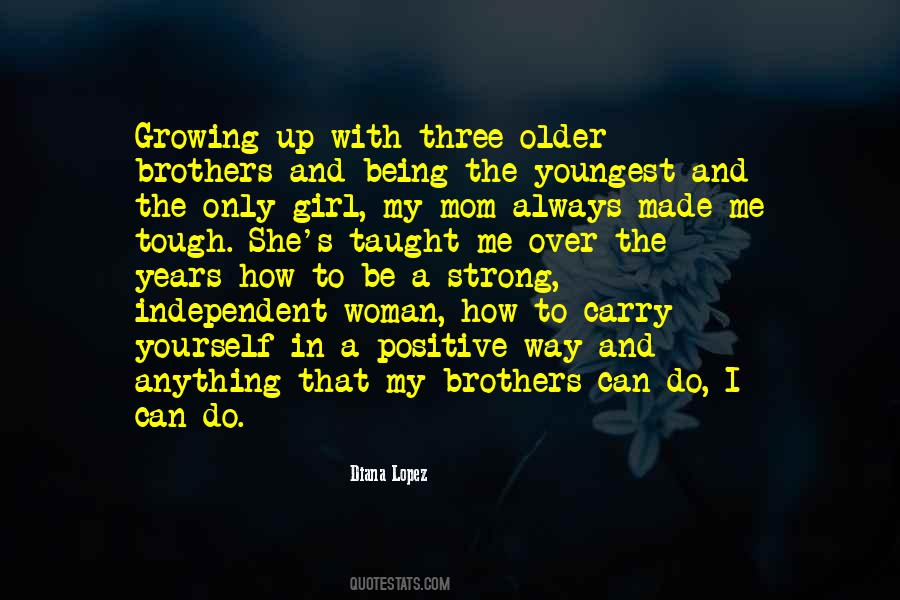 #14. You never wondered, Did Mom like being in the kitchen? - Author: Kyung-Sook Shin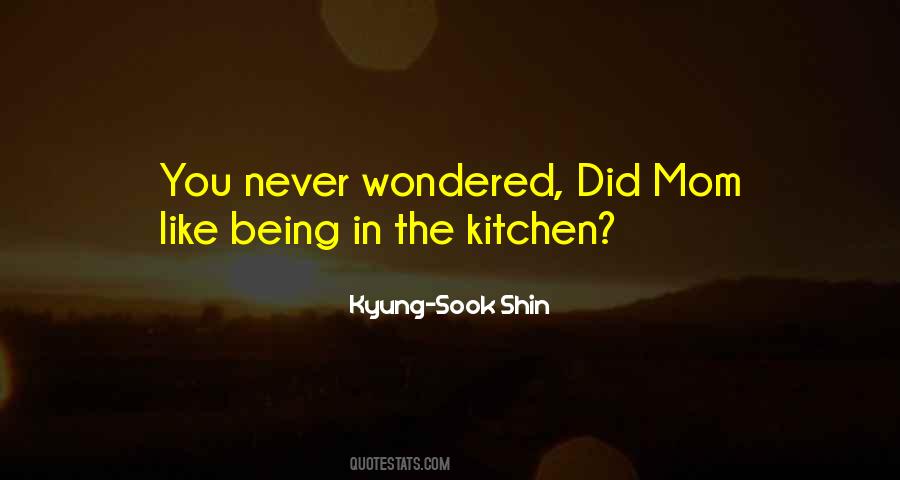 #15. Being a mom is hard, I think a lot of working moms feel that way. - Author: Gwen Stefani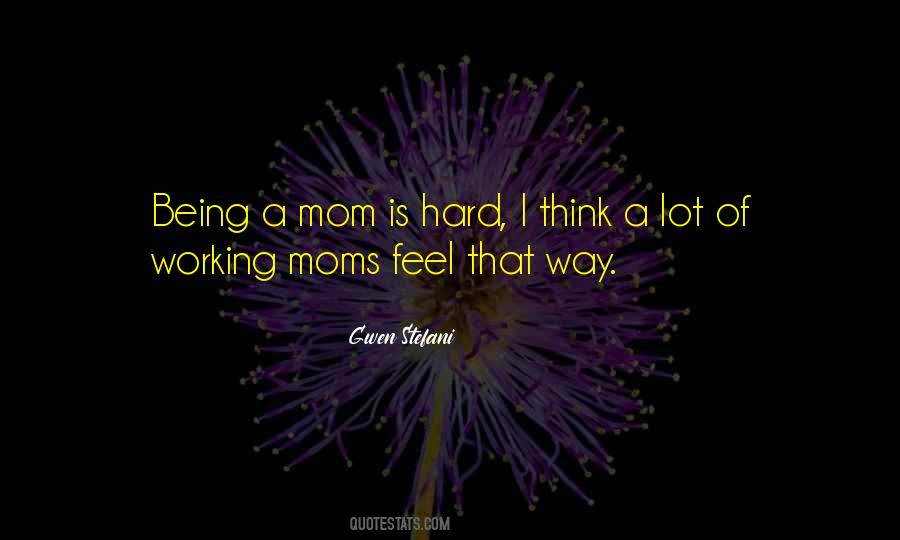 #16. Well, you do have all those gray hairs." I point to the few silver strands coming through.
"They're not gray," Mom barks at me as she opens her door. "They're strands of glittery goodness. - Author: Margaret McHeyzer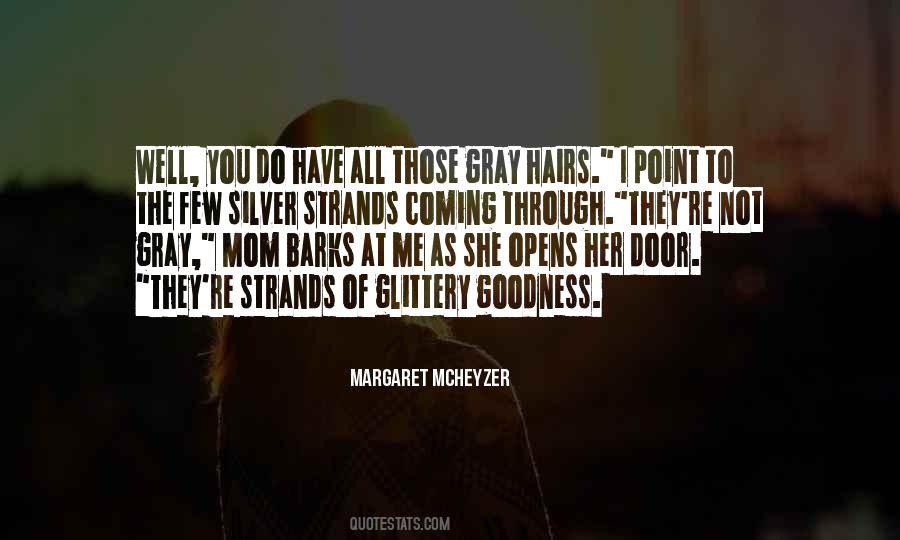 #17. Grim sighed heavily. "I swear I'm getting a migraine."
"My mom suffers from those a lot, too."
"Being around you, I imagine she does. - Author: Sherrilyn Kenyon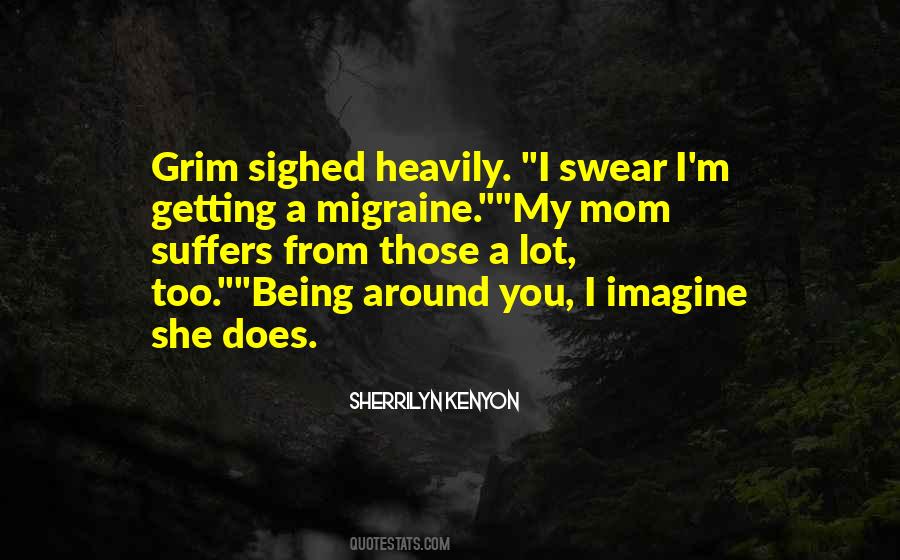 #18. I love every second of being a mom. - Author: Lily Aldridge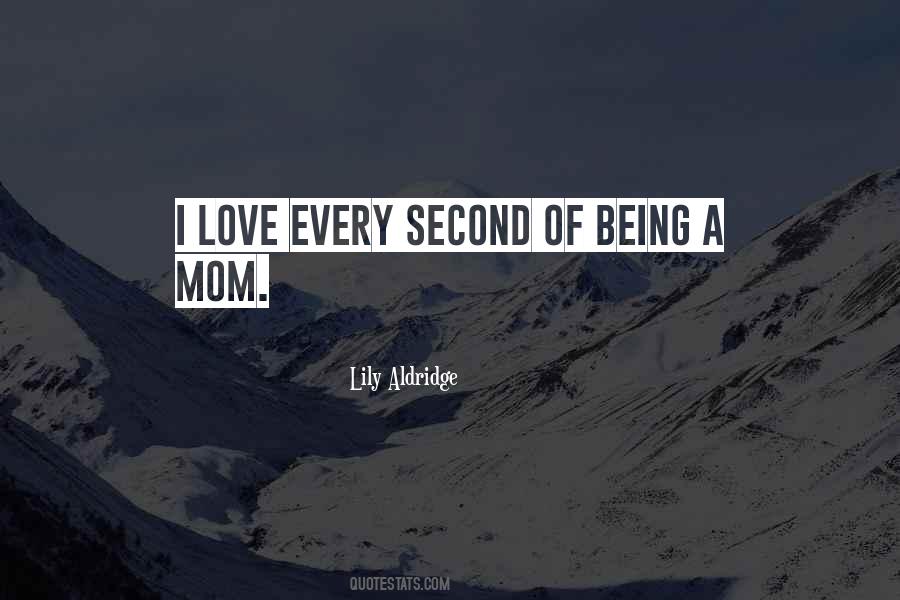 #19. I'm probably a little more like my dad. But because of my mom, I never saw being a woman as being an impediment to being able to do something. She had her Ph.D. before I was born. - Author: Mary Cheney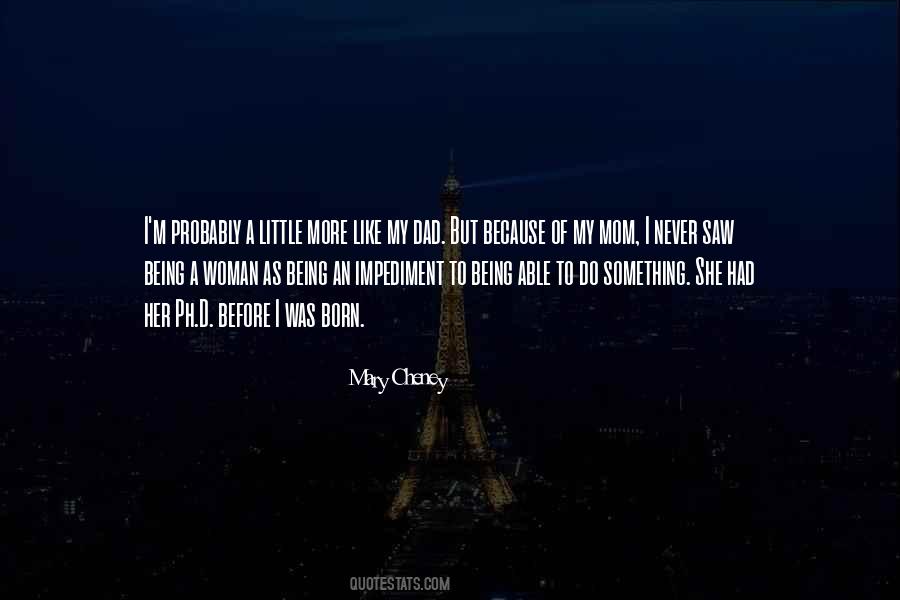 #20. I remember taking my mom and dad to the premiere of 'The Inbetweeners Movie' and being really nervous. My mom was like, 'Laura, don't worry: I've watched all of the first series of the TV show, so I understand what this is going to be like.' - Author: Laura Haddock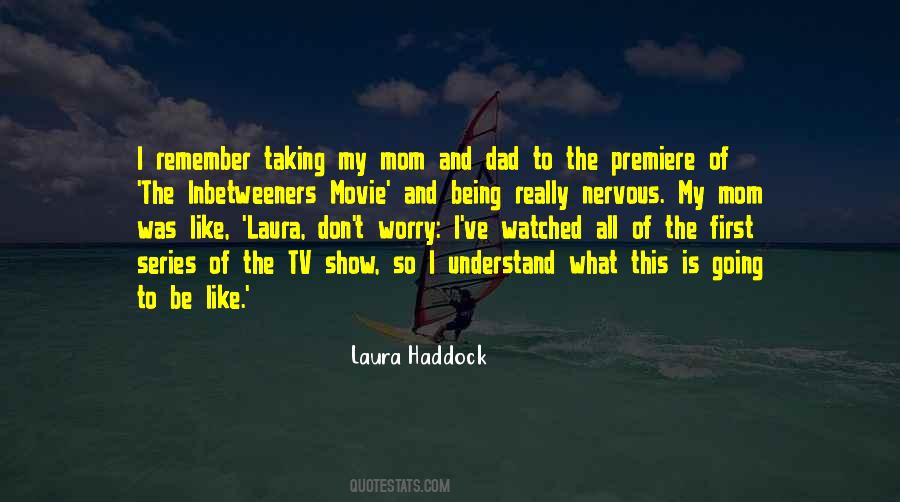 #21. Tom Cruise isn't that big of a guy," my mom always says. I love how she tries to avoid using the word "short."
Yeah," I tell her in return, "but he compensates by being Tom Cruise."
Not that anyone really wants to BE Tom Cruise anymore now that he's a crazy couch jumper. But whatever. - Author: Ann Edwards Cannon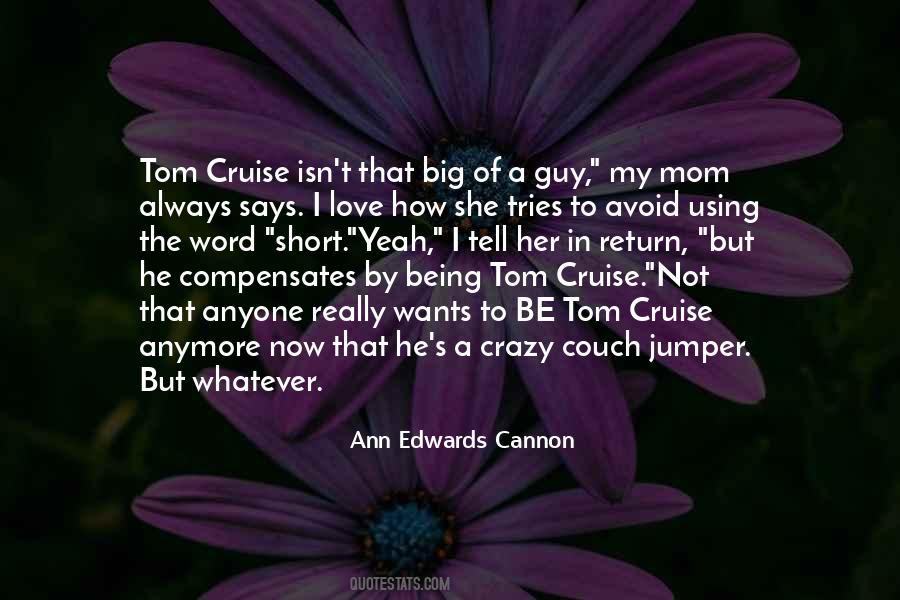 #22. I'm a soccer mom. I'm T-ball, soccer, karate, homework, keeping them on their schedules. I love being the snack mom, when I get to bring the cut oranges. I have one of those coolers with wheels. I'm at every game, every practice, sitting on my blanket. I love it. - Author: Pamela Anderson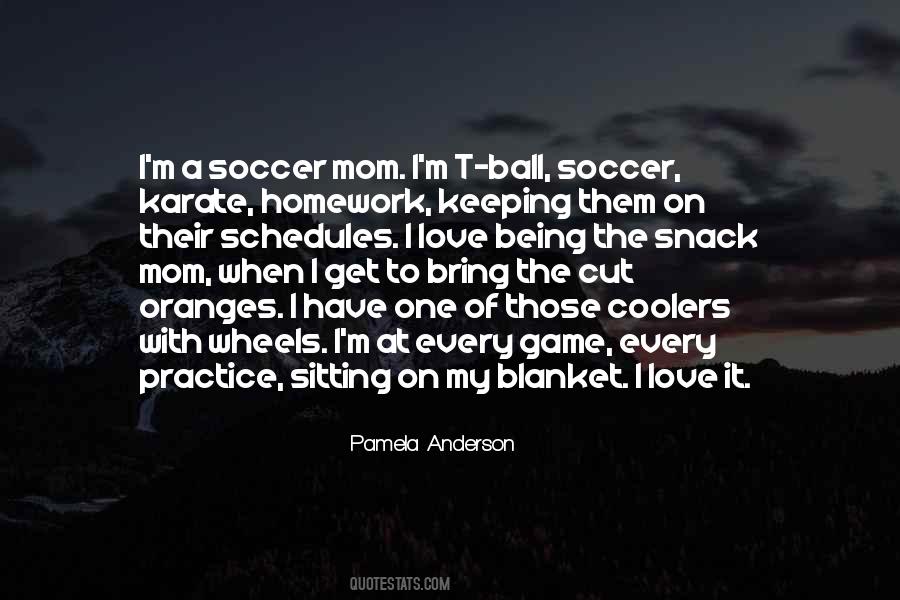 #23. One thing I've learned best from my mom is to be yourself and not everyone will get you and that's okay. I try to bring that into everything that I do and just understand that I will not be everyone's cup of tea and that's fine. - Author: Tyler Oakley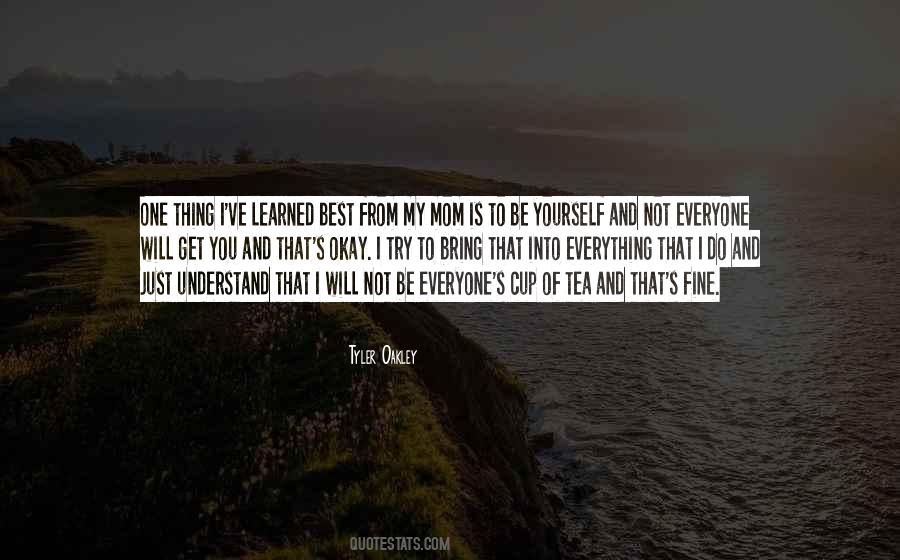 #24. When we lived in a suburb of Atlanta, Georgia, my sister and I did a local play. My whole family got involved. My mom did the makeup. My sister and I were being homeschooled, and my parents wanted us to be socialized. We had a lot of fun with the other kids hanging out backstage. - Author: Danielle Panabaker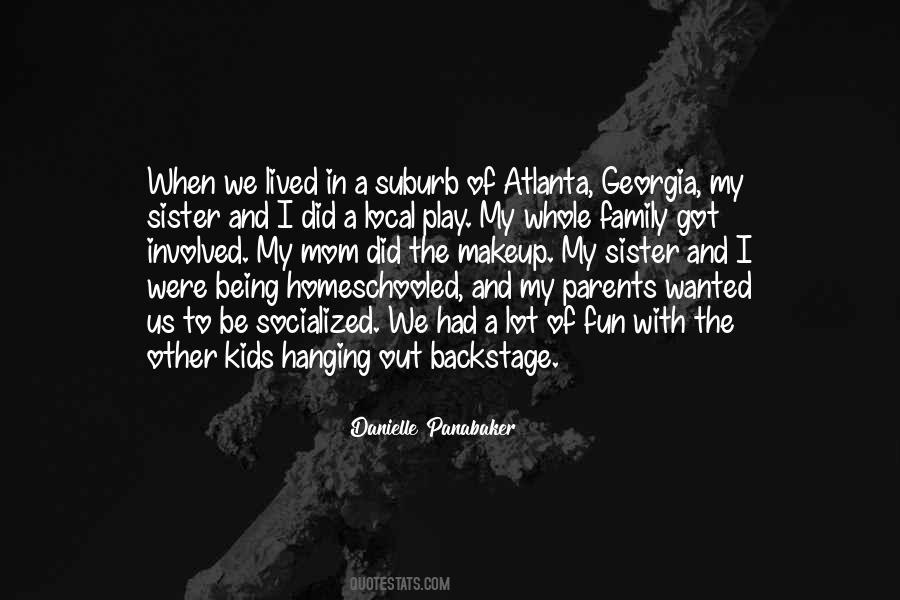 #25. Now you're being ridiculous. If your mom changed into a carrot, I'd think she'd change back before someone ate her, werewolf or not. - Author: Jazz Feylynn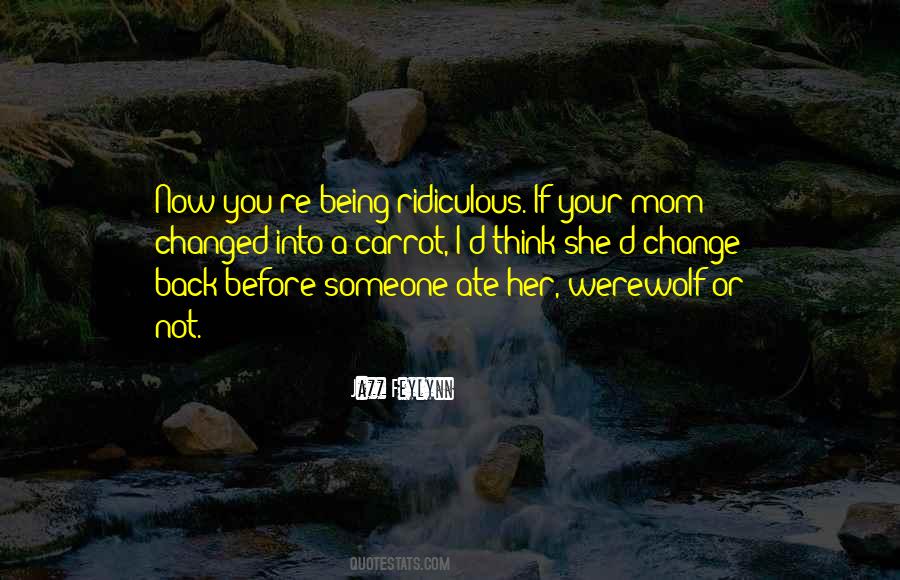 #26. question. "I don't know. I like Boston. And I like being close to my mom." "And your sisters." Arden hesitated. This was officially a first date, - Author: Nancy Thayer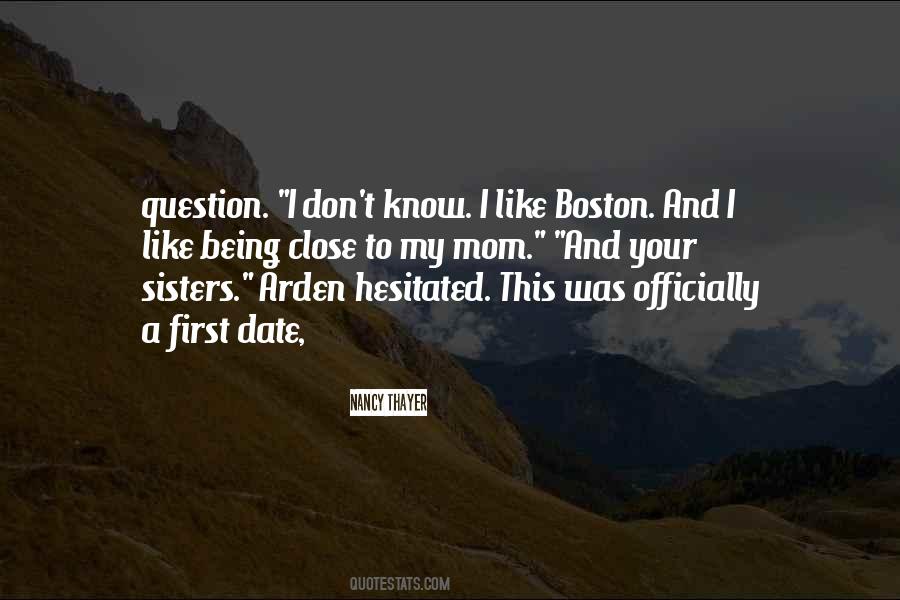 #27. Mom and Dad had gathered their love like kindling, burned it together. And now that love is being scattered all over the place. - Author: David Arnold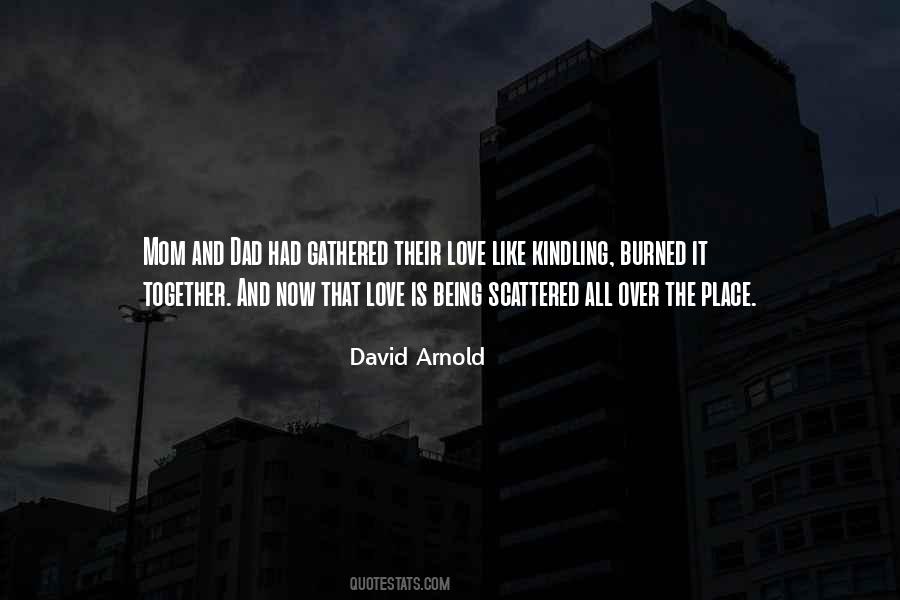 #28. I think that being a mom has made me a better person. I'm much more patient and much more chill than I was before. - Author: Cobie Smulders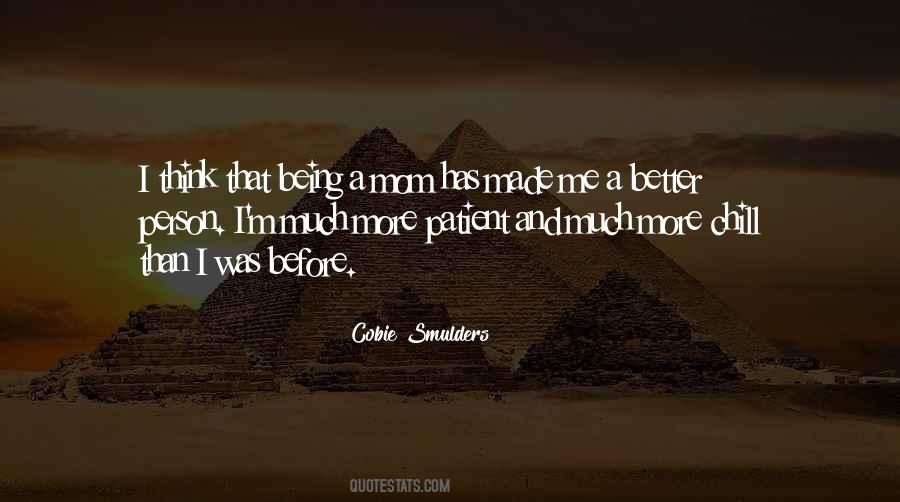 #29. I didn't plan on being a single mom, but you have to deal with the cards you are dealt the best way you can. - Author: Tichina Arnold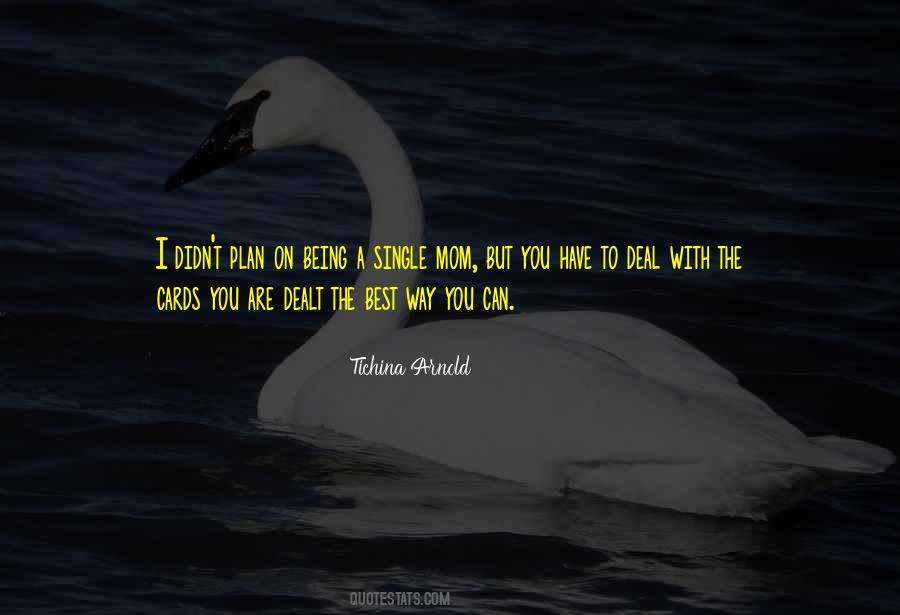 #30. For me, already being part of a single parent household and knowing it was just me and my mom, you'd would wake up times and hope that the next day you'd be able to be alongside your mother because she was out trying to make sure that I was taken care of. But all I cared about was her being home. - Author: LeBron James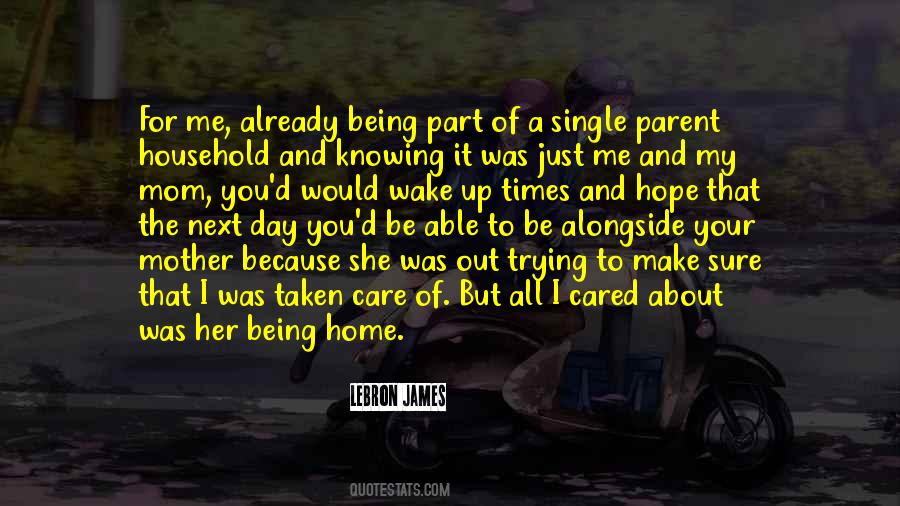 #31. Picture the moment when your mom and dad first saw you as something other than a pretty, tiny version of them. You as them, but improved. Better educated. Innocent. Then picture when you stopped being their dream. - Author: Chuck Palahniuk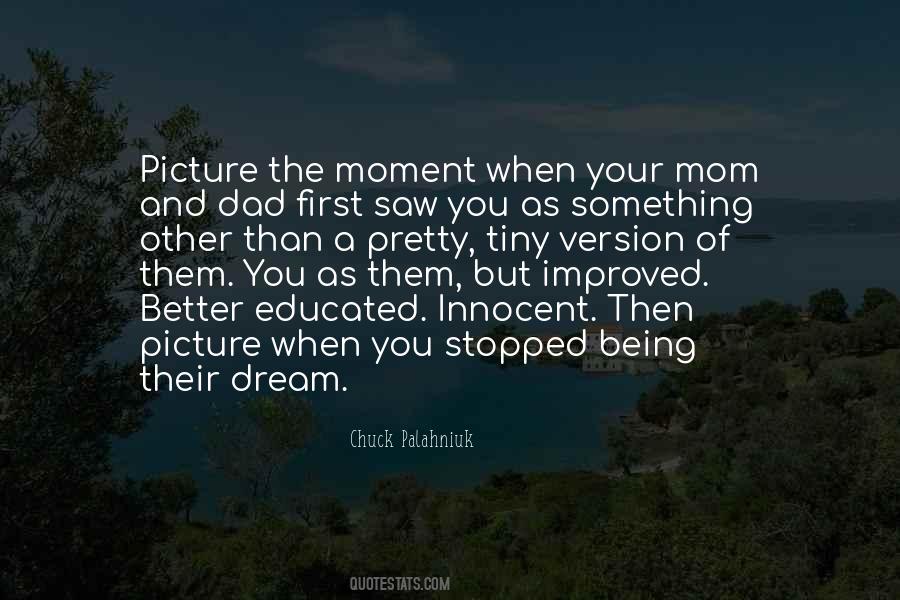 #32. I wouldn't be honest if I didn't say my mom. Apart from the fact that she's my mother, she's a brilliant comedian and a force as a producer. She paved the way for women to produce and star in their own films, and to balance that with being the matriarch of our family is really inspiring. - Author: Kate Hudson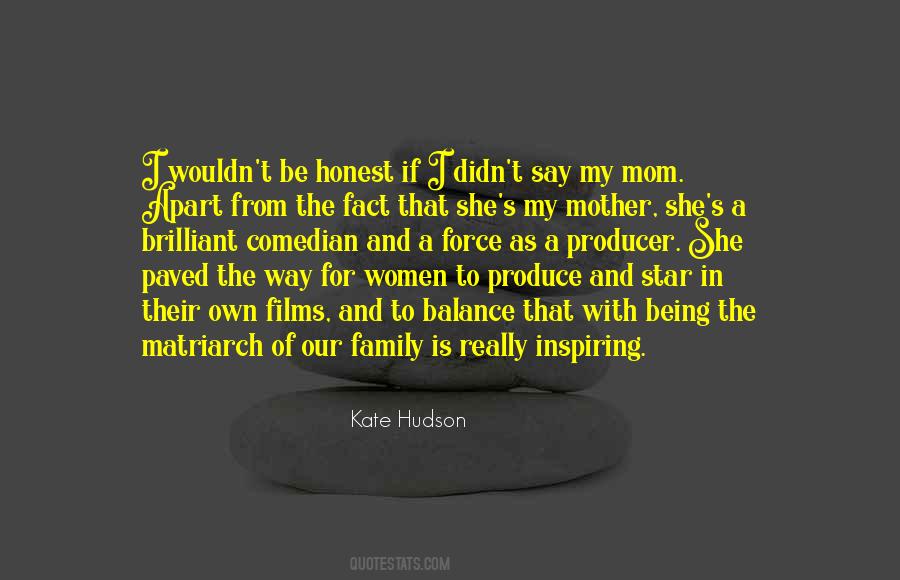 #33. It's hard either way, at home or on the bus, I think the hardest thing probably for me is going one second from being mom to right out on the stage and having to be that person too. It's hard to switch gears. - Author: Lee Ann Womack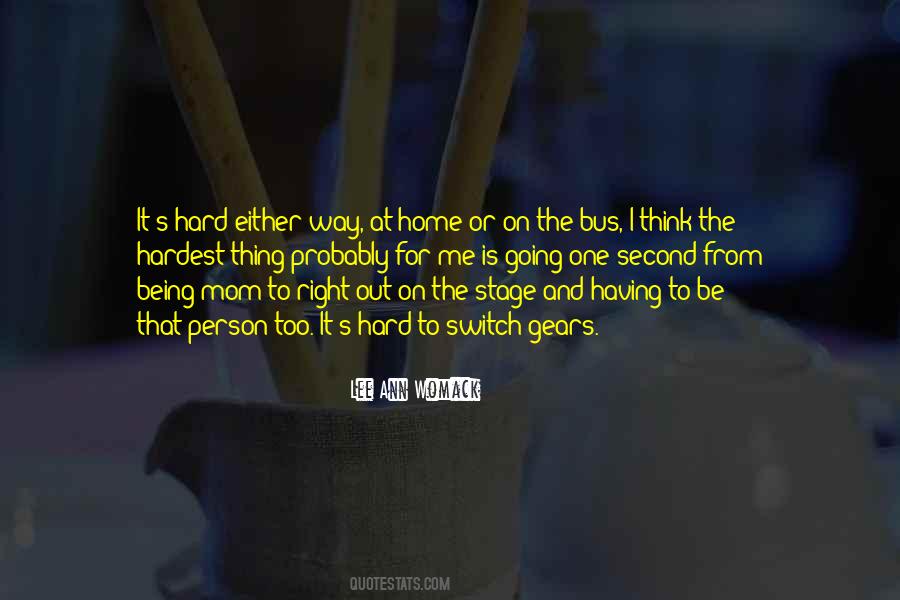 #34. Mom actually said that?" Cassie's face shown with happiness. "She always hated my math!"
"Nah," Martin said. "She was just being that way for you. She thought it was what you needed to hear. If parents told us what they really think about stuff, we could figure them out like regular people. - Author: Clare B. Dunkle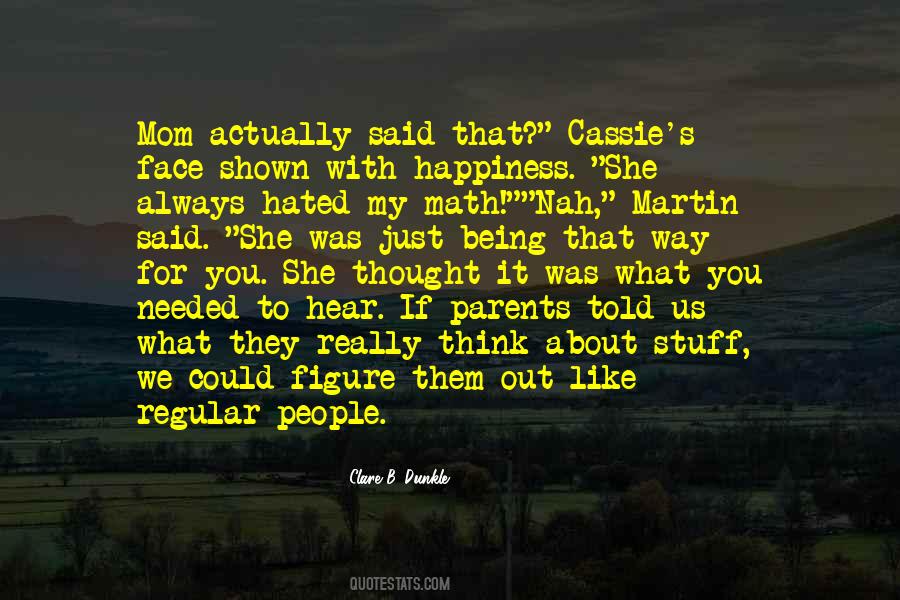 #35. I was a terrible reader as a kid. I mean terrible. Super slow and very unfocused. It took me forever to read a book, and I remember being well into high school and still needing my mom to sit down and read aloud to me so I could pass my English tests and such. - Author: John Corey Whaley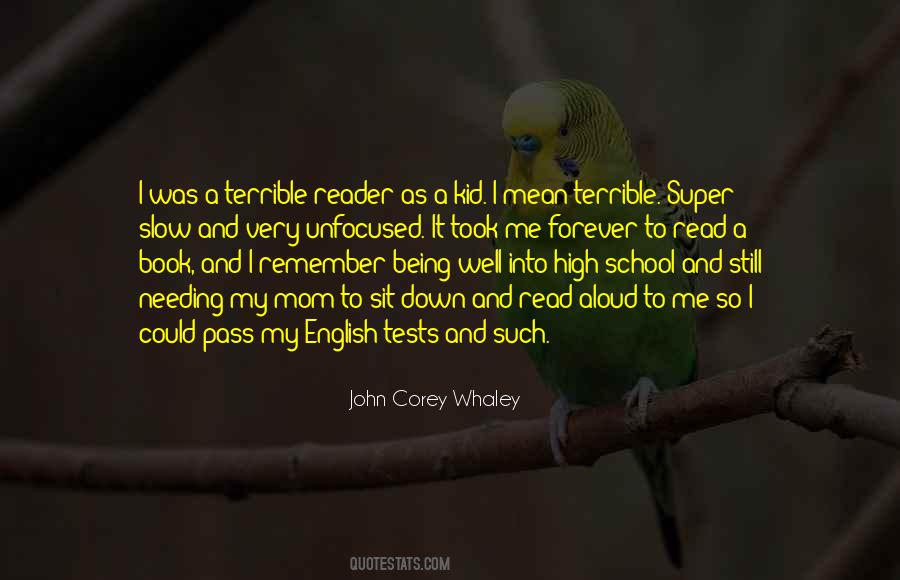 #36. The Five Keys
1.Always be involved in her life 2.Respect and honor her mom.
3.Treasure every moment with her.
4.Pray for her every day.
5.Be her hero. - Author: Harry H. Harrison Jr.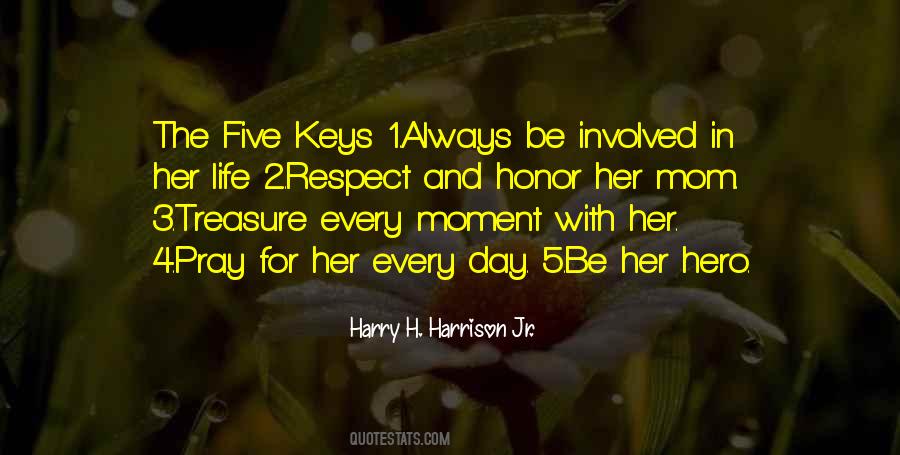 #37. Then you've got Georgetown, and I really just like everything about them. When I went down there with my mom, it really opened my eyes to what they were all about. I have to factor in what a school like that can do for me, even away from being a basketball player. - Author: Nerlens Noel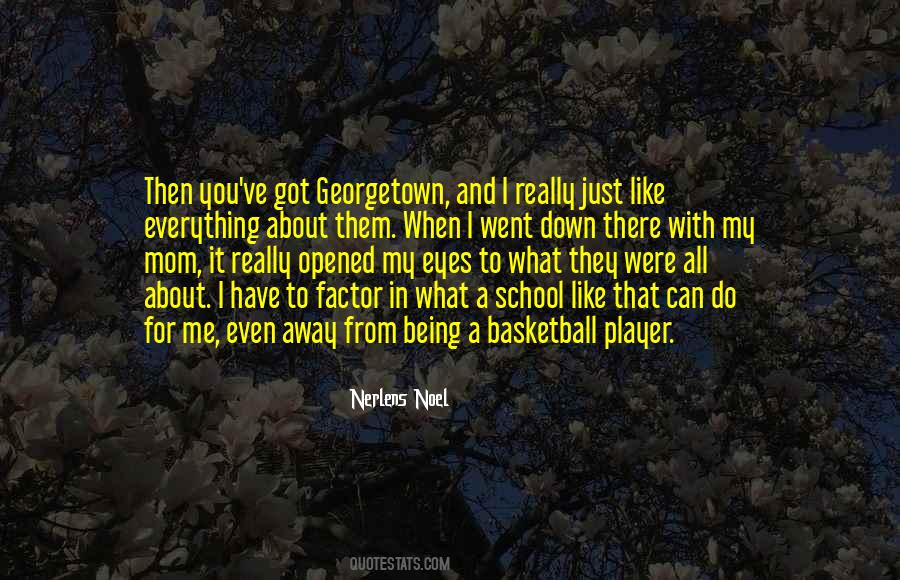 #38. Galen, who forgot this little thing called "tact" when he accused my mom of being a runaway fish-princess. - Author: Anna Banks
#39. One of the things that was great about my mom, as a mom, was that she always knew when she was being kind of ridiculous. - Author: Kimberly McCreight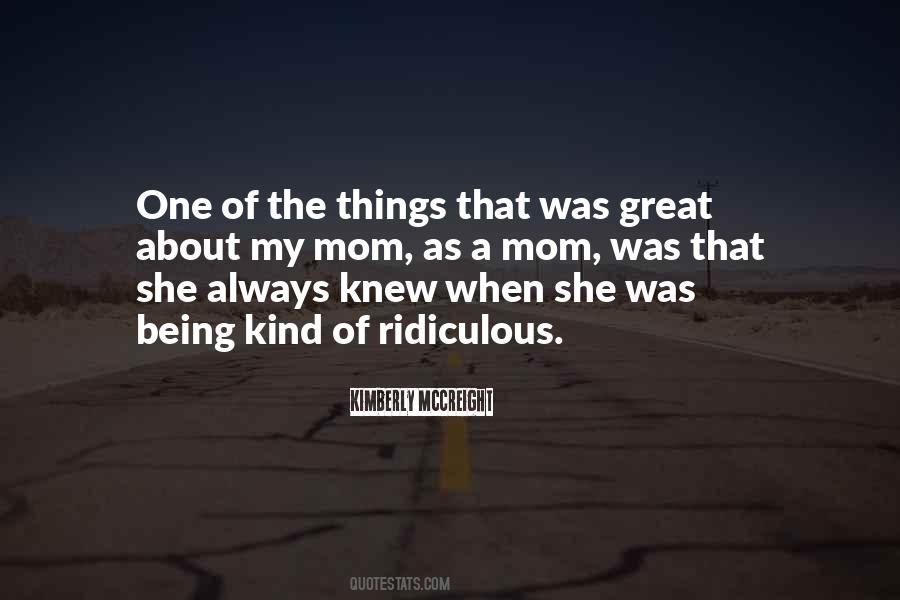 #40. One of the people on my Mom's Council,
he used to be a boxer.
My Mom always says he always says Get up on the 1.
You don't want them to count to 2
'cause then it's easy to count 3
while you go on being down. Always
Get up on the 1. - Author: Virginia Euwer Wolff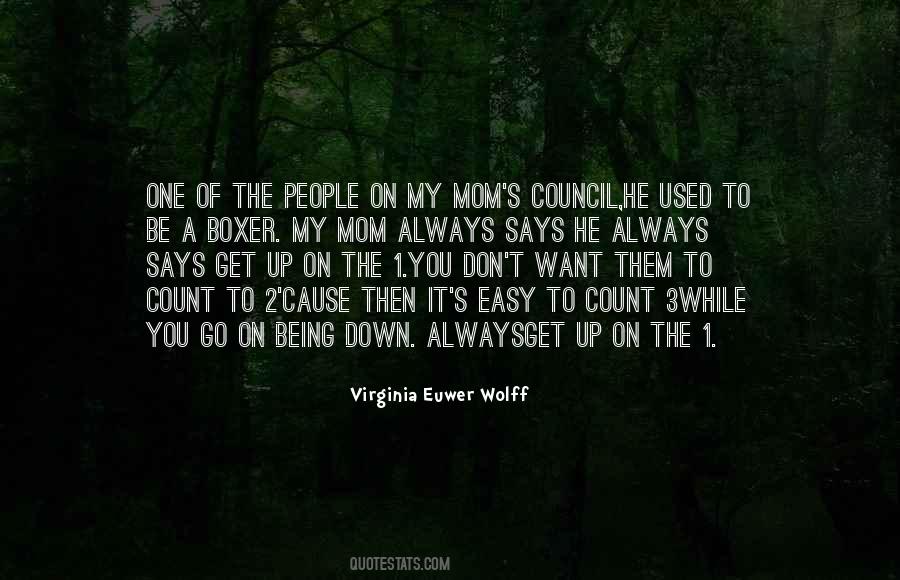 #41. My mom is very good at being passive-aggressive, and my Dad is a total wiseass, so I think the mixture of the two of them is my comedy. But, I am definitely the first comedian in my family. - Author: Amy Schumer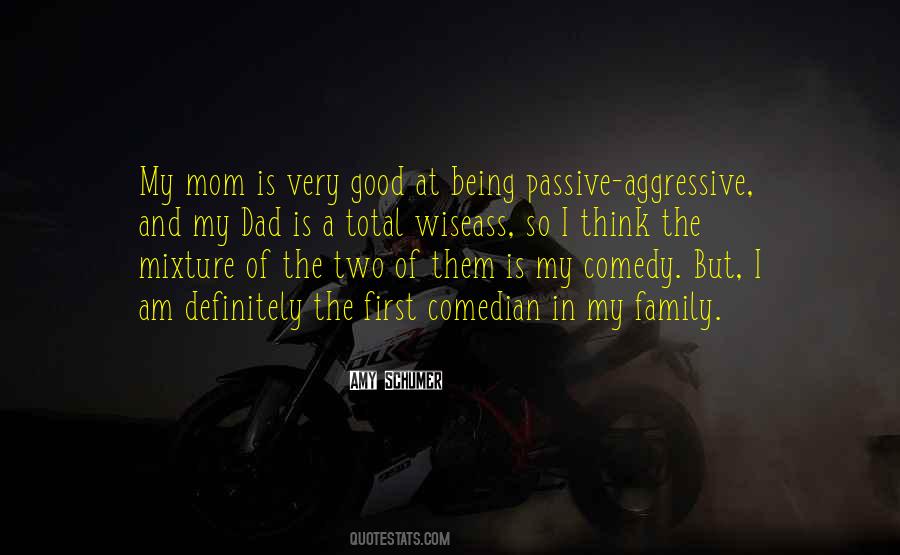 #42. My mom is two people to me. She's my mom number one, and then she's this lady most comedians know as being a legendary owner of a nightclub that's responsible for starting a lot of heavy careers. - Author: Pauly Shore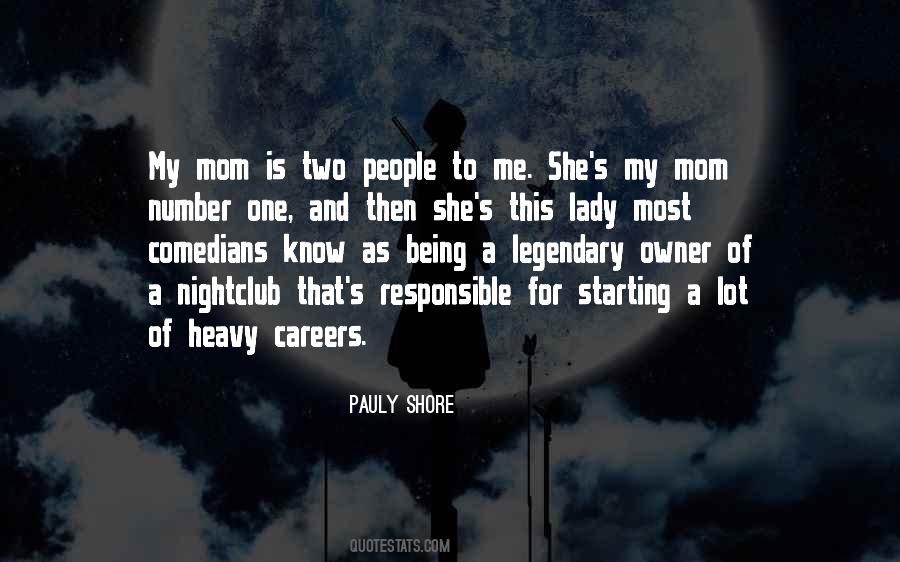 #43. It's superfun being a mom, but it's hard too. - Author: Gwen Stefani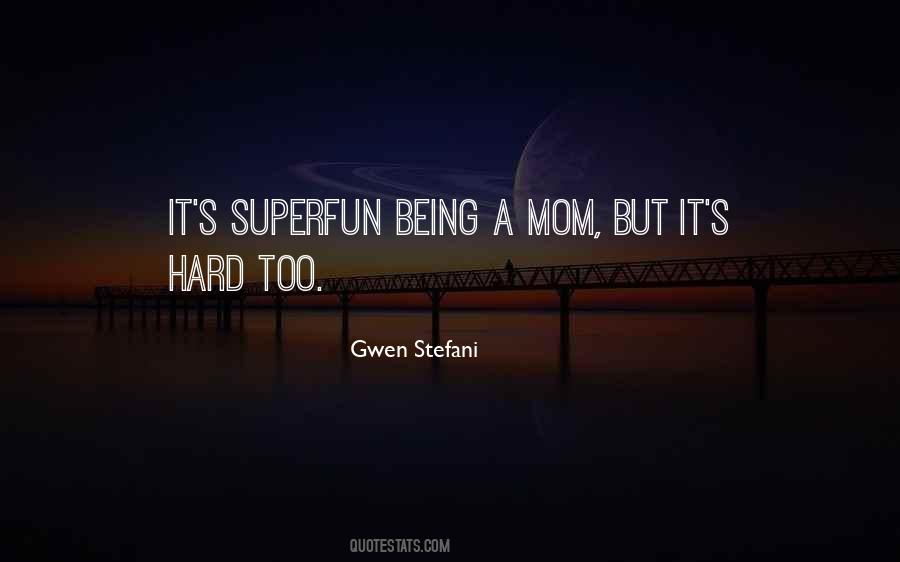 #44. Mom was silent for a moment. I'm sorry, Melissa, but can you blame me for worrying? In less than an hour I found out you're being stalked by a killer, sleeping with a stranger, and hiding with him in an empty apartment. You have to admit that sounds ... unsettling. - Author: Robin DeJarnett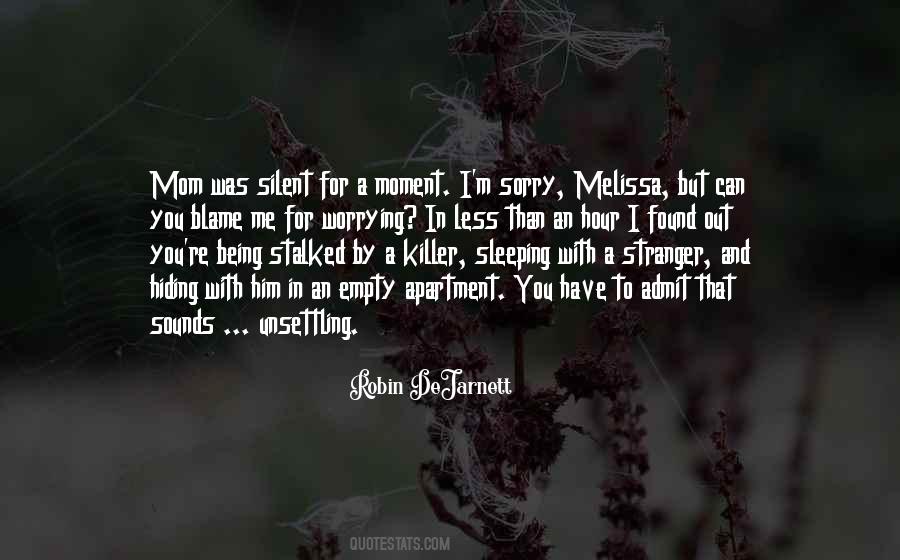 #45. My mom called Grandma today and told her we would no longer be attending family parties. My mom told her we have had enough of being blamed for something Brian did and everyone brushing it off like it was no big deal. - Author: Erin Merryn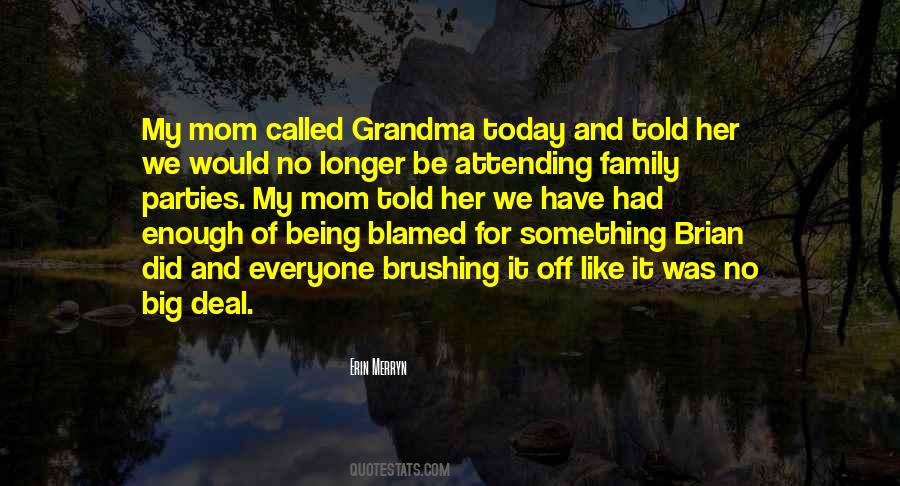 #46. My mom always said fighting with me as a kid was like going to court. I'm trying to realize that being right is not the most important thing. - Author: Gillian Jacobs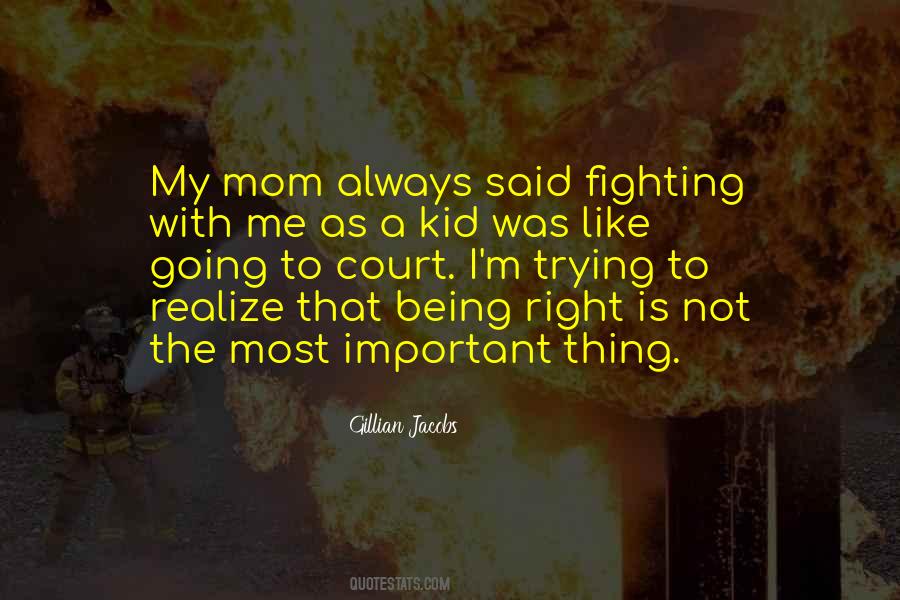 #47. I'm so proud to represent the people of South Florida. I was so honored when President Obama asked me to serve as chair of the Democratic Party. But there's one job I'm even more proud of, and that's being a mom to my three kids, Rebecca, Jake and Shelby. - Author: Debbie Wasserman Schultz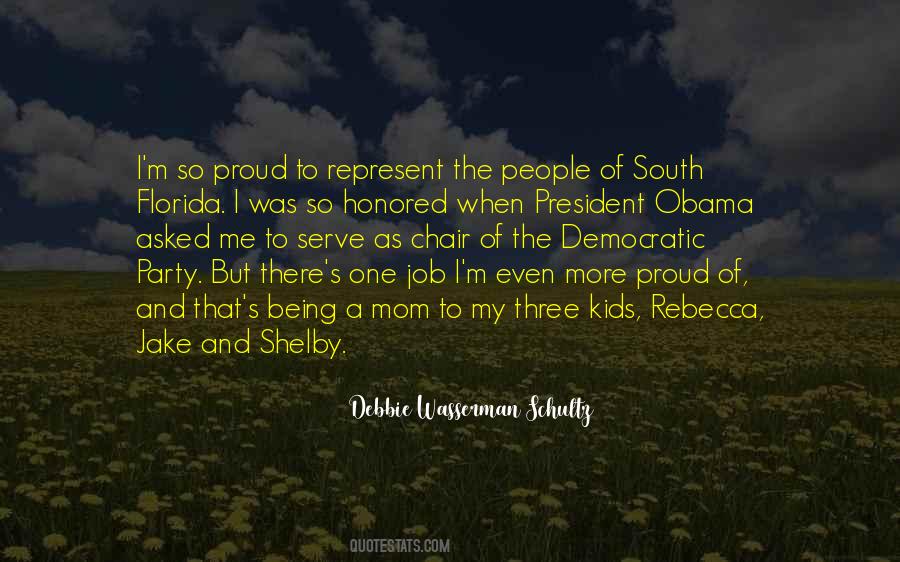 #48. I naturally wanted to be saved, so when I came home I told my mom I wanted to be confirmed. That's the way I related to it, being raised an Episcopalian. I went to Dallas and got confirmed. - Author: T Bone Burnett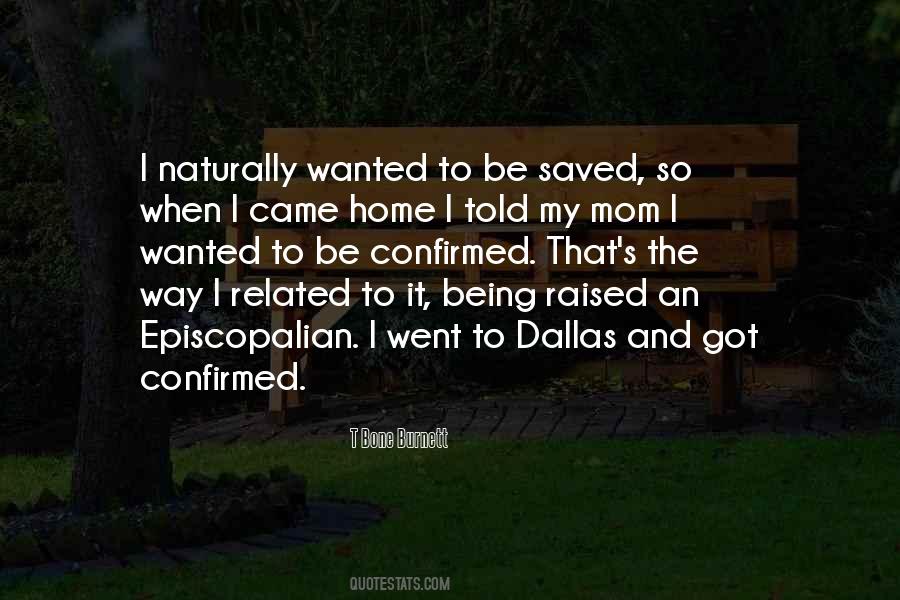 #49. Being a mom has been my most important job to date, and I take my job very seriously, and I have a lot of fun doing it. - Author: Jessica Capshaw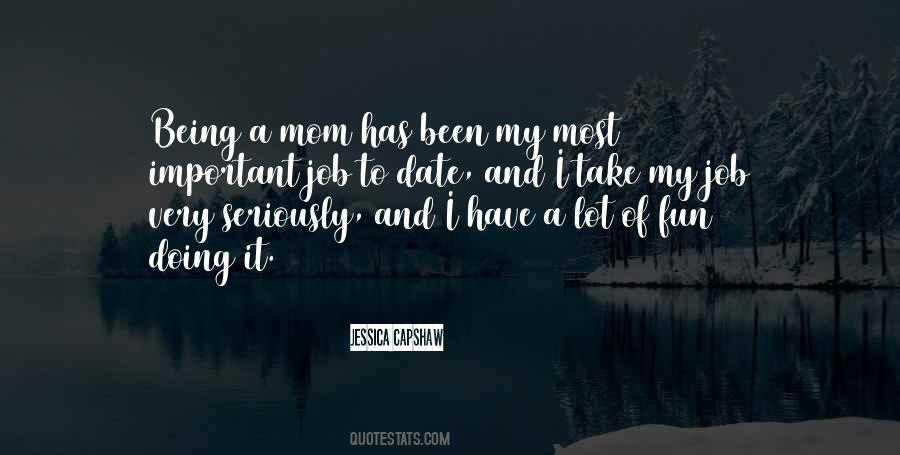 #50. I want a partner in crime and a Bonnie to my Clyde. I've just been so focused on my career. Women don't like being number two, so I've been glad to keep my distance so I could focus on me, get my life together and take care of my mom without disappointing the woman I love. - Author: Shemar Moore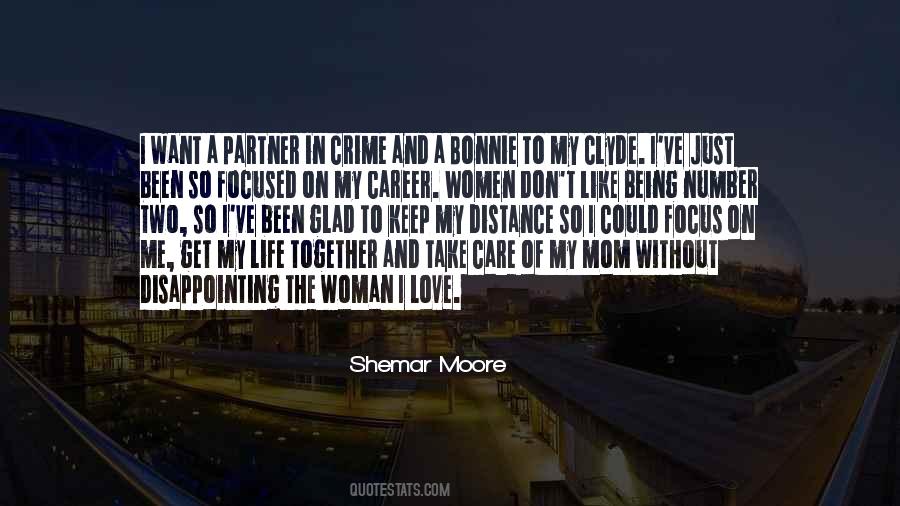 #51. Dad: Honey, have you seen my glasses? I cant find them. Mom: I haven't seen them. Calvin: (with glasses, to Dad) Calvin, go do something you hate! Being miserable builds character! - Author: Bill Watterson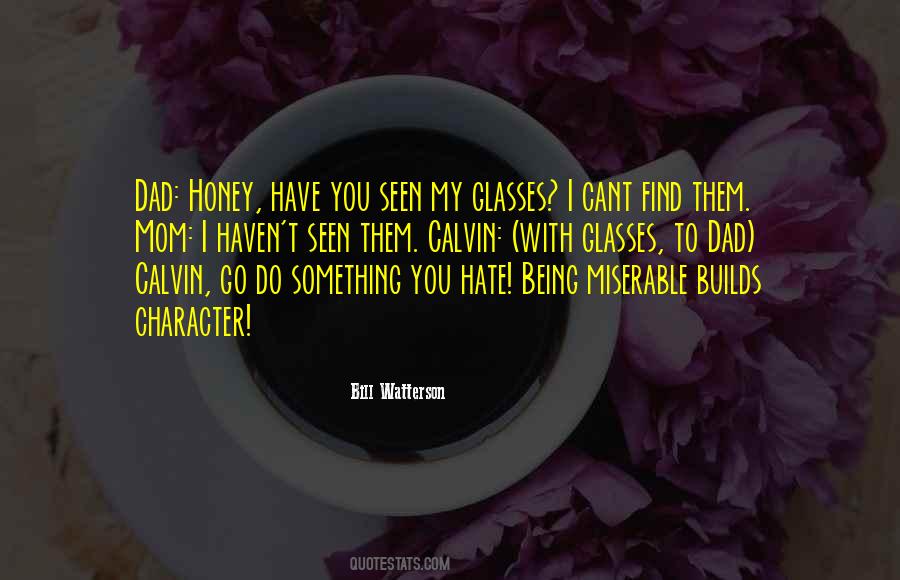 #52. My heroes always are mostly my parents - my father especially, and my mom, who's passed on already. My dad is a very strong man, and by him being educated, and a principal and school superintendent over 37 years, he plays such a big role in my life. - Author: Dikembe Mutombo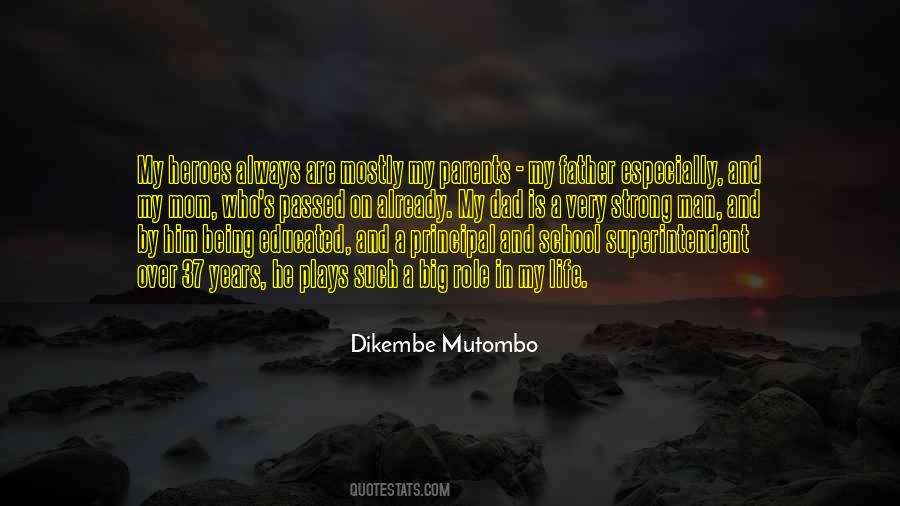 #53. My dad, being a jingle writer, and my mom, being a jingle singer, they hooked me up with some people when I was a kid that worked with children's jingle singing groups. I used to sing jingles as a kid. - Author: Reeve Carney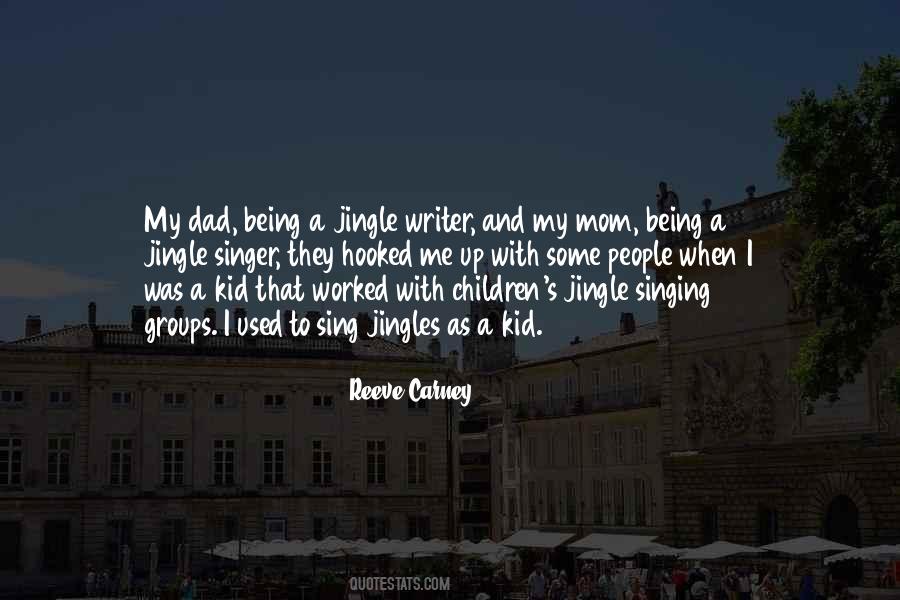 #54. Because of my unique experience as my mom's child, the beginning of my journey was more about me trying to figure out who I was on my own. My mom is one of the greatest moms and so supportive of all my siblings and of all of us being who we are, and not who she wanted us to be. - Author: Tracee Ellis Ross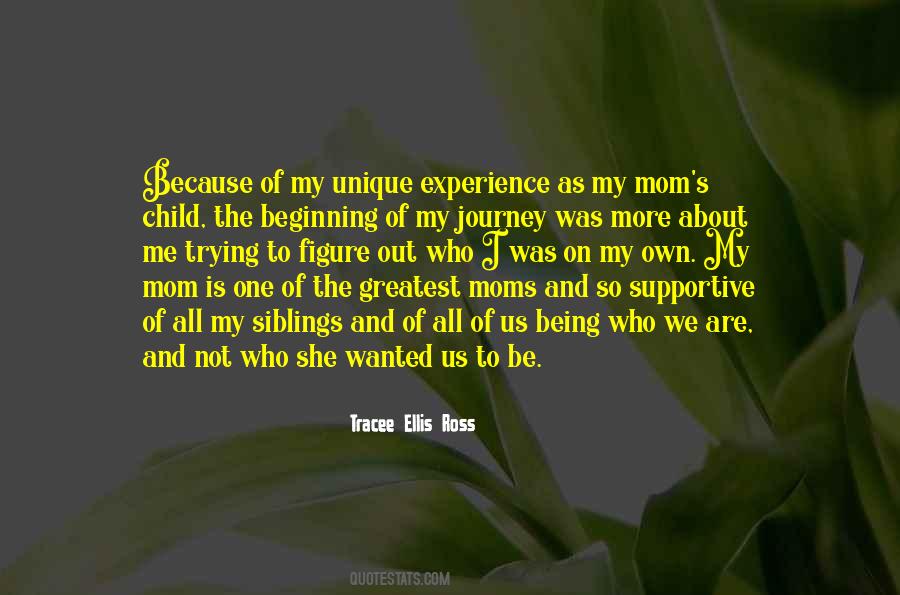 #55. The enemy will do anything to rob my joy of homeschooling and parenting. He wanted me to live in bondage and feel guilty and like I was never doing enough to have me miss the real joy of just being home with my children. - Author: Tamara L. Chilver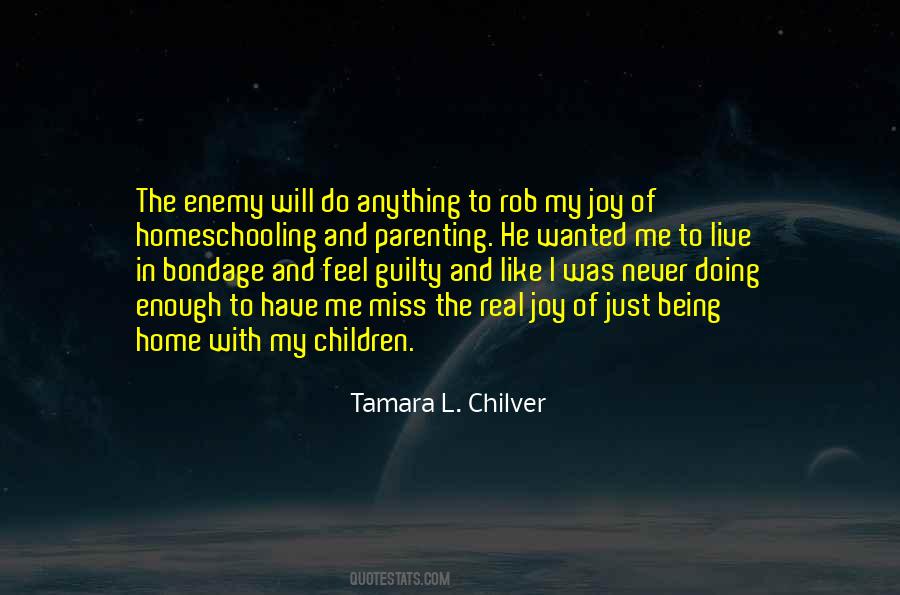 #56. The most important job in life is being a mom. - Author: Audrey Hepburn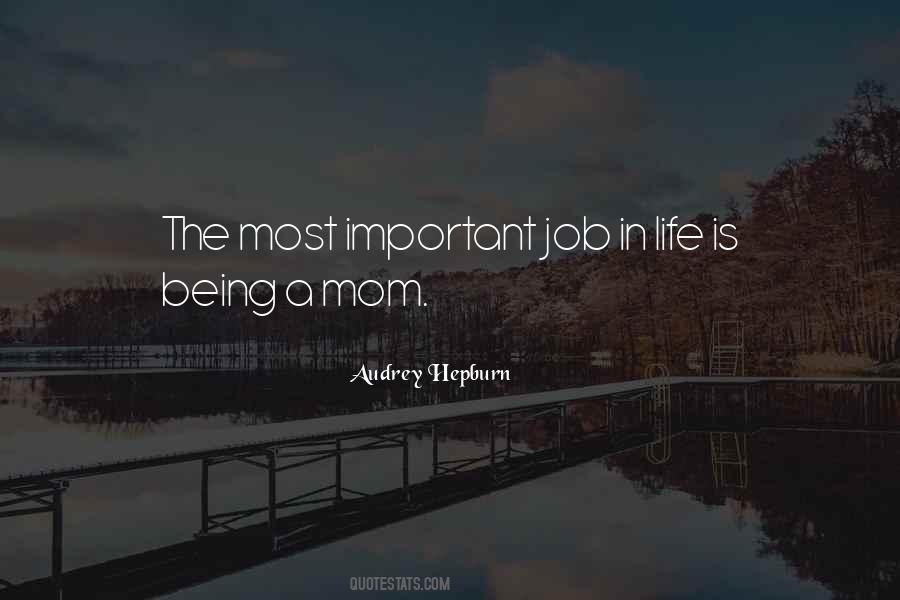 #57. The best situation is being a single parent. The best part about is that you get time off, too, because the kids are with their mom, so it's the best of both worlds. There's a lot to be said for it. - Author: Larry David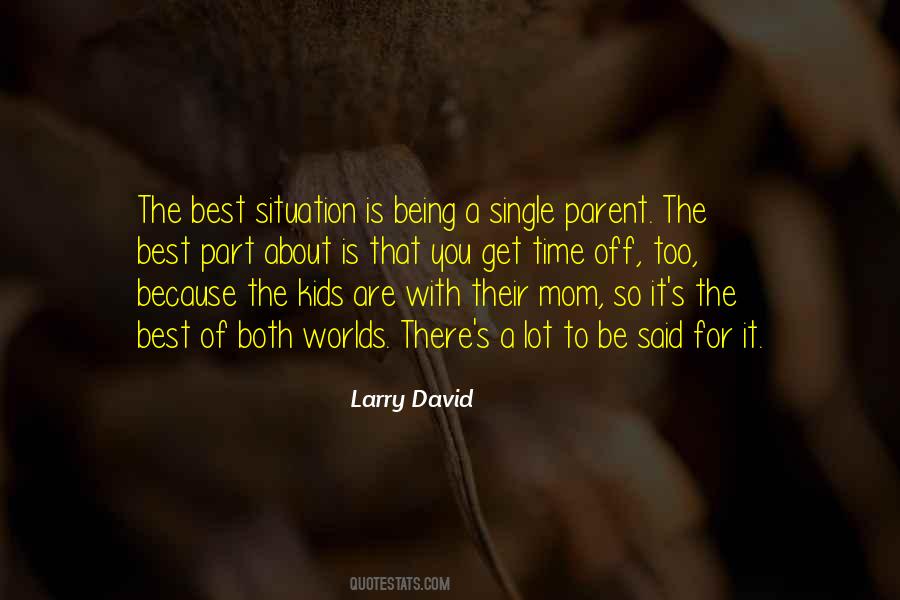 #58. My mom used to sell fabric and lace when I was younger. She would bring back these elaborate fabrics from Nigeria. I always enjoyed being around it. However, it wasn't until I started making music that I started taking a vested interest. - Author: Tinie Tempah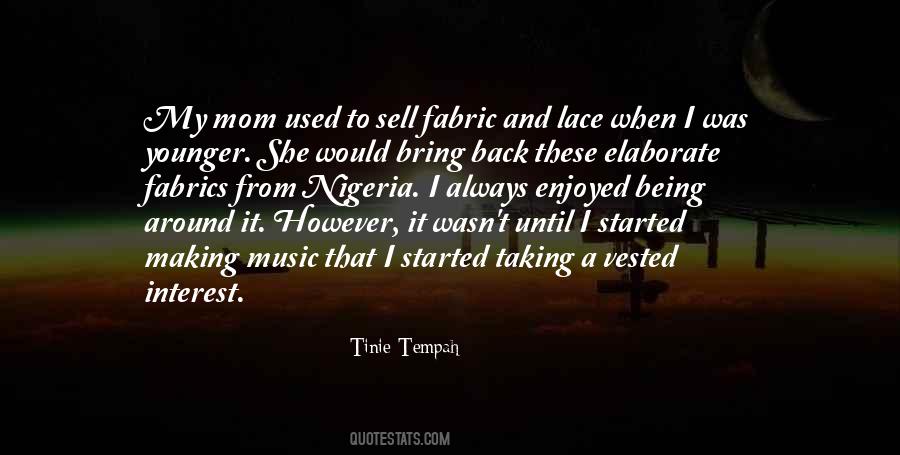 #59. That's the hardest thing about being a mom. You want to be cool, and you want them to like you all the time, but you can't always have that. You're gonna have times where you have to say no, and you won't be the most popular person in the house. - Author: Martina Mcbride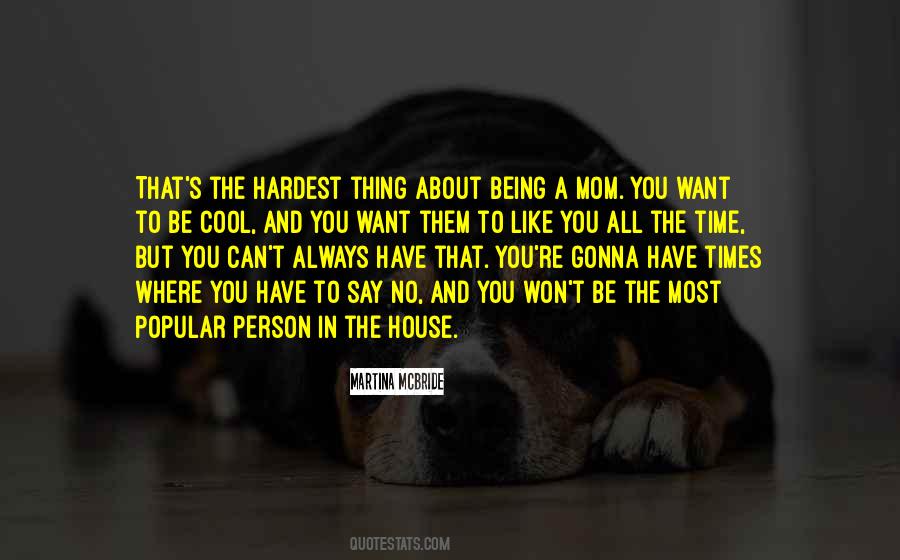 #60. What I do love is the traveling ... and getting paid for it! I like being in front of a camera ... It's an outlet. It's fun! If you look through my photo album, they are all modeling poses. My mom was a young mom, so she took tons of pictures of me. - Author: Crystal Lowe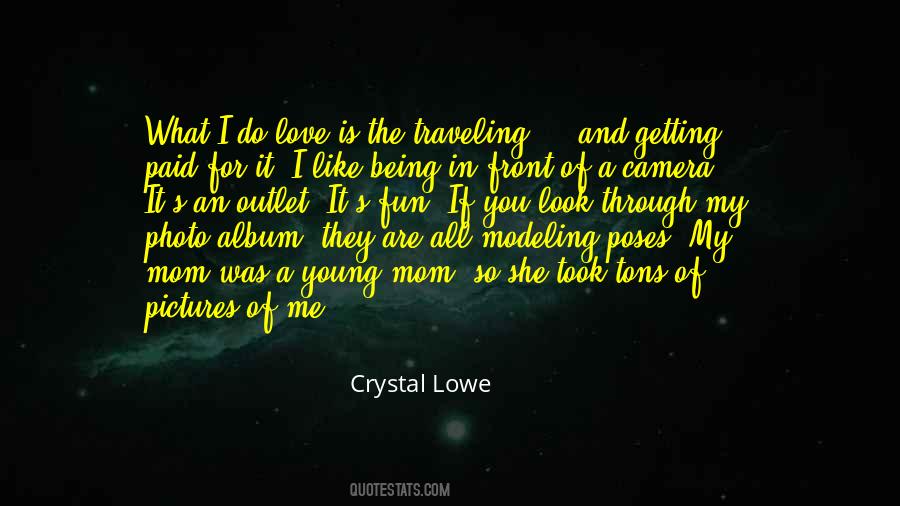 #61. I used to do plays and some television commercials when I was younger. I guess my mom's being an actress got me interested in that, but music definitely took its place. - Author: Lenny Kravitz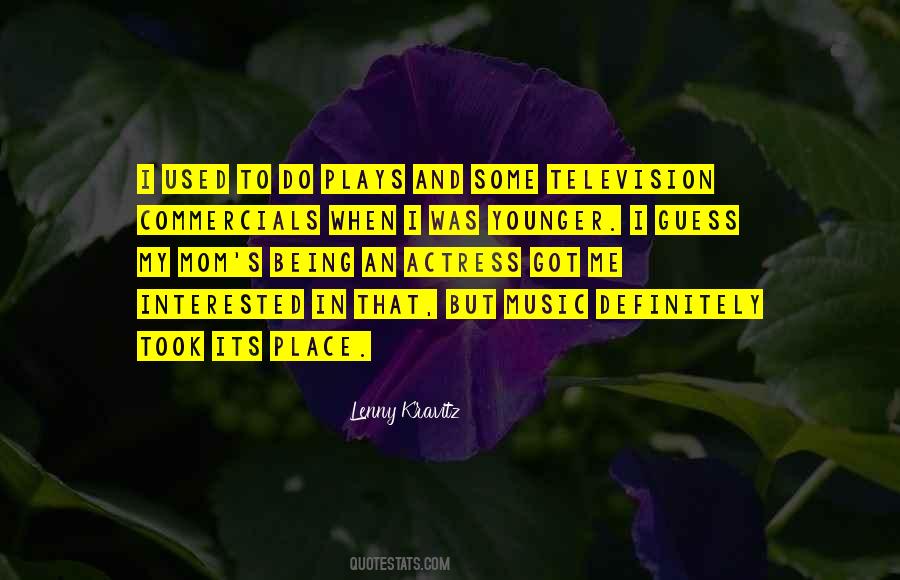 #62. Don't get me wrong. Being a mom is no picnic. Raising the kids is the mother's
responsibility. It's a thankless, solitary job, like sheriff or Pope. - Author: Stephen Colbert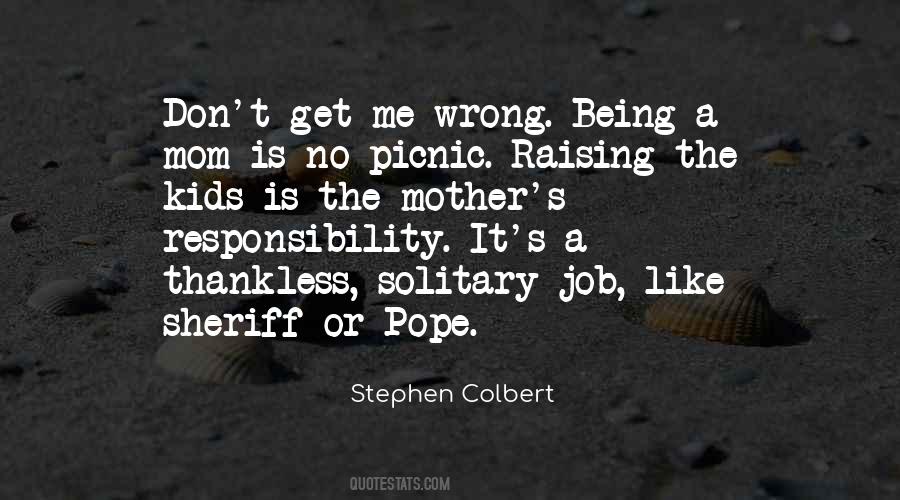 #63. Don't compare yourself to other MOMS ... We are all just winging it, just some hide it better than others. - Author: Tanya Masse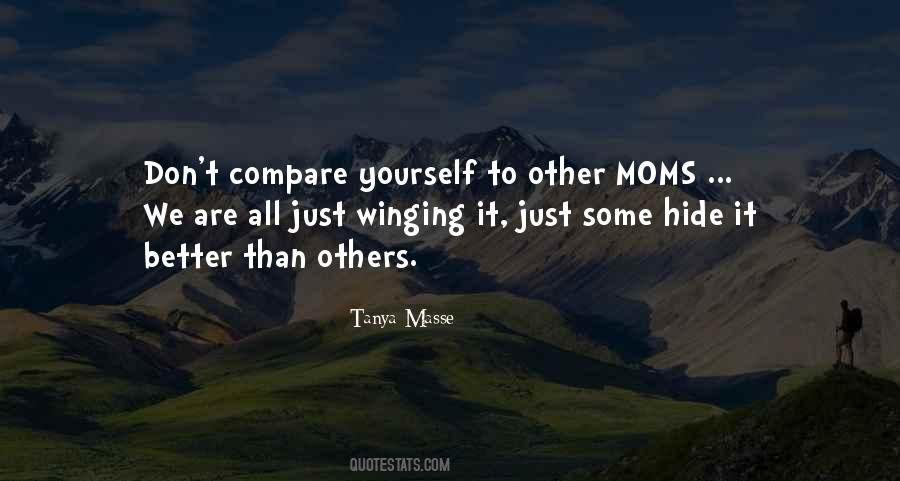 #64. Sometimes being a MOM is like a good
ol' country song! You lose your sleep, you lose your hair, you lose your patience, you lose your energy, you lose your memory AND you lose your SANITY! But you DO IT all for LOVE! - Author: Tanya Masse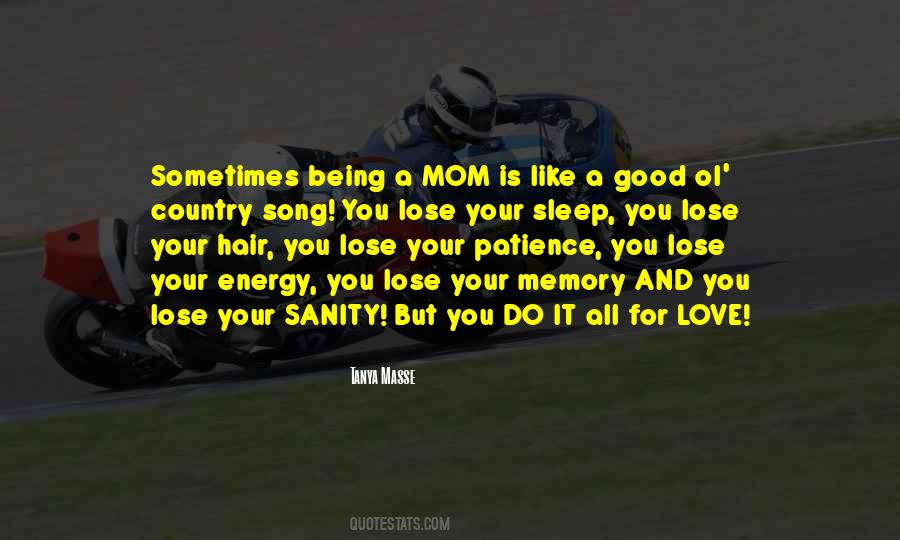 #65. It's been very hard, after being mostly a mom, to develop an adult life of my own. And not being married anymore, I have to come up with challenges. - Author: Danielle Steel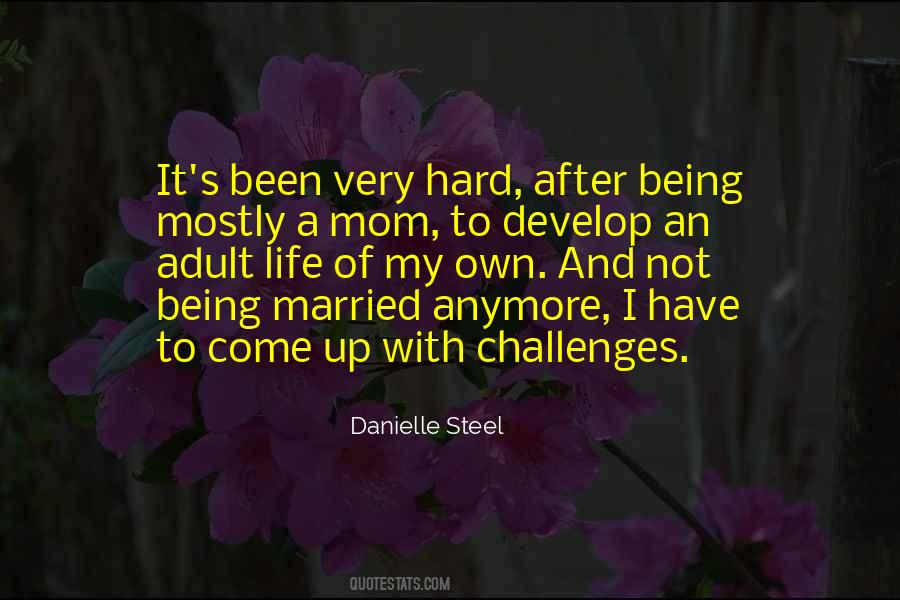 #66. I know first-hand the challenges that come with being an on-the-go mom, and I am constantly looking for great products that fit into my busy schedule. I've tried every goop and elixir known to man. - Author: Eva LaRue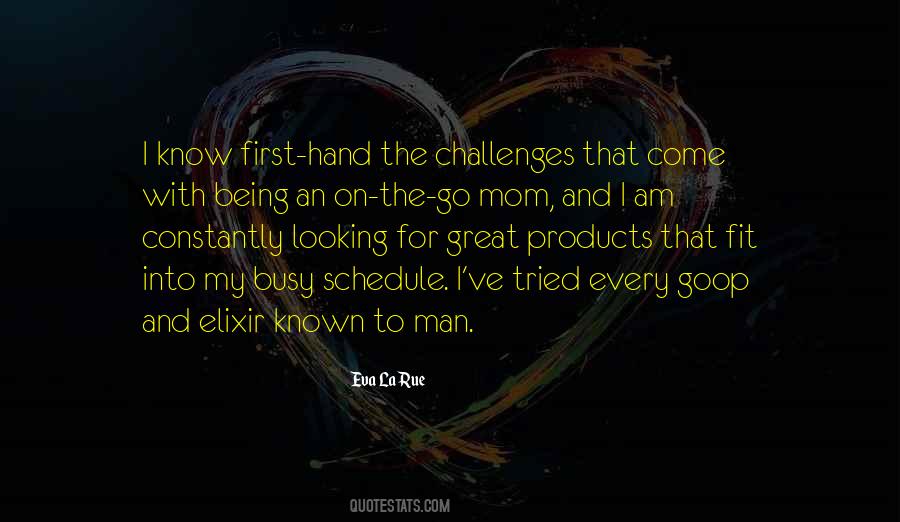 #67. Well it's like eating at my mom's you get what's being served and if you don't like it they still make you eat it - Author: Wen Spencer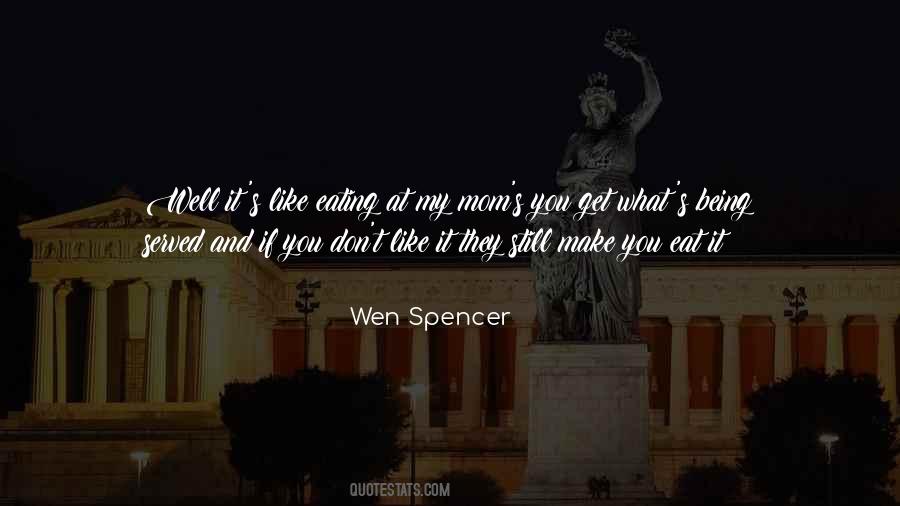 #68. My dad being a DJ, I heard all the hits, no matter what. My mom always had on the radio because my dad was on it. - Author: Chad Channing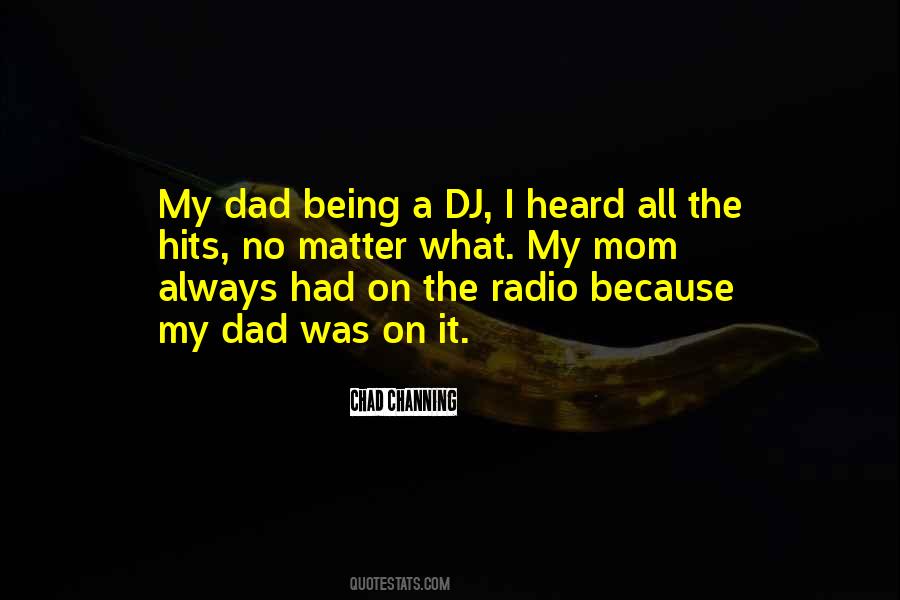 #69. I always had an interest in fashion because my mom is a celebrity fashion stylist. I grew up being on set or in showrooms. - Author: Jasmine Tookes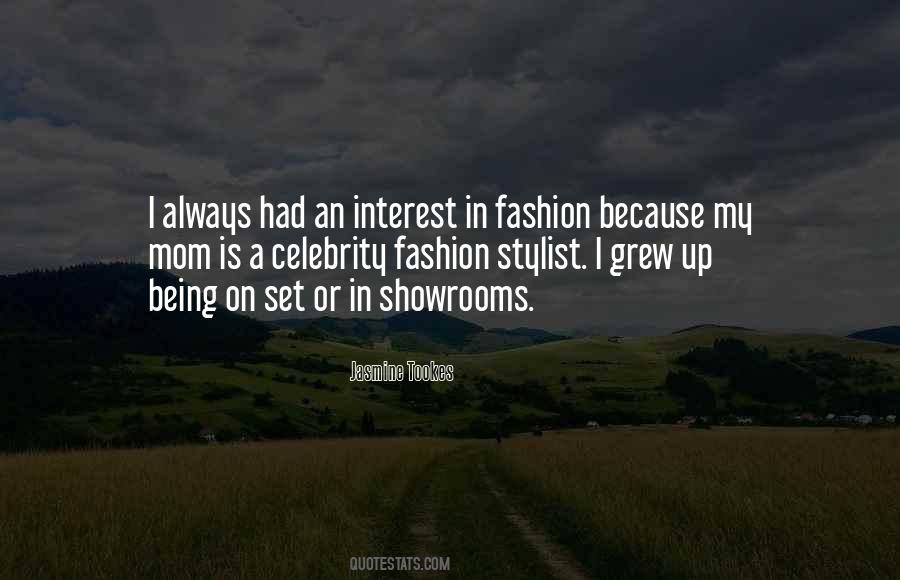 #70. MOM - noun - One who sacrifices her body, sleep, social life, spending money, eating hot meals, peeing alone, patience, memory, energy and sanity for LOVE! - Author: Tanya Masse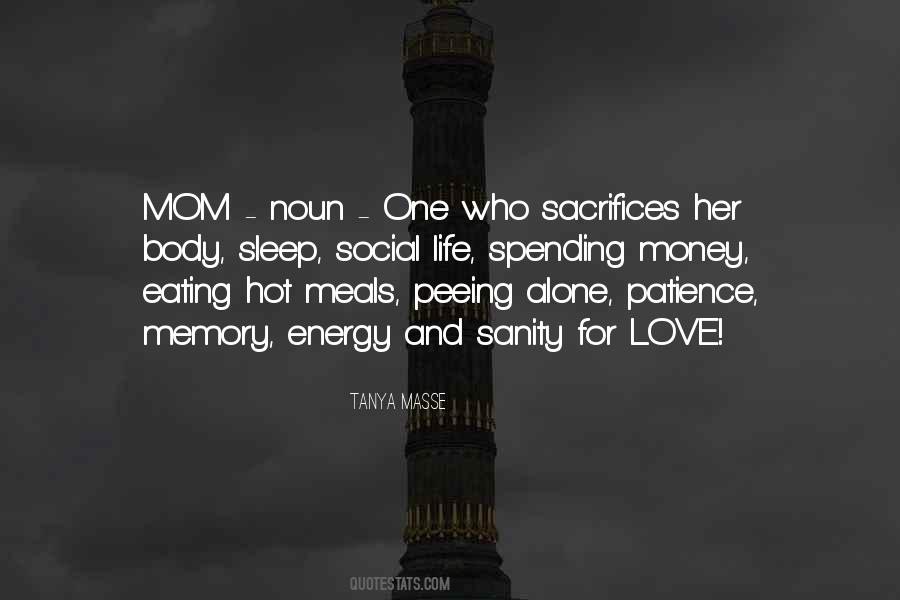 #71. I grew up in church. My mom's a minister, and my grandmother was an ordained minister. I was always very mindful of the presence of a greater being I call God. - Author: Mahershala Ali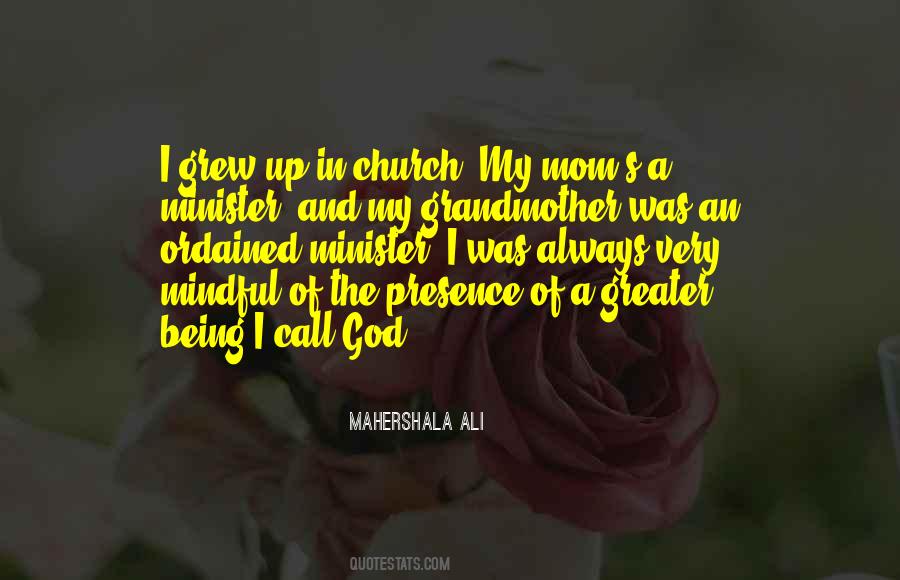 #72. Being a working mom, you want to make a difference in our schools, which is making a difference in our children and ultimately it's making a difference in our community. - Author: Kimora Lee Simmons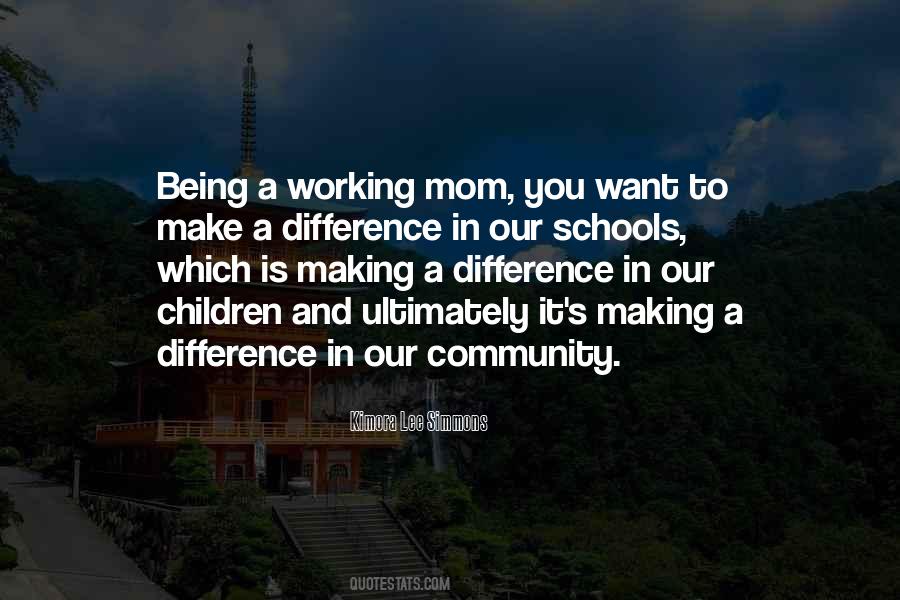 #73. I was consumed with being a mom. I didn't think beyond that. - Author: Teri Hatcher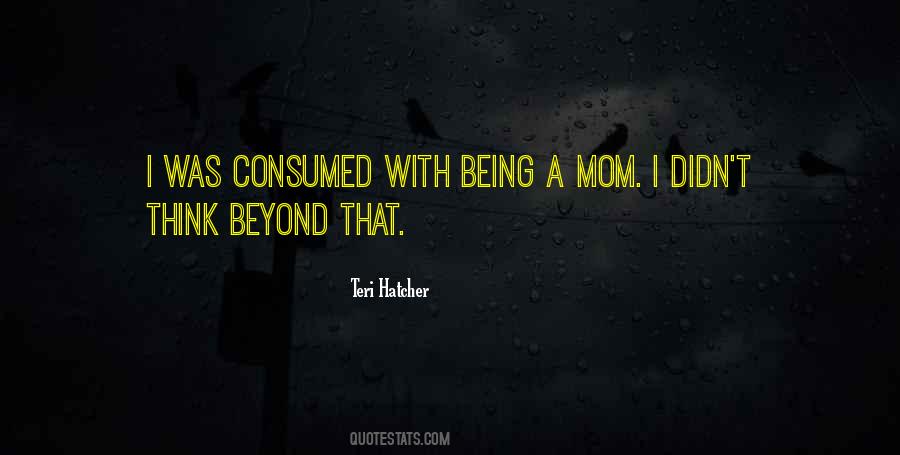 #74. I love the surprise element of being a mom. - Author: Jessica Capshaw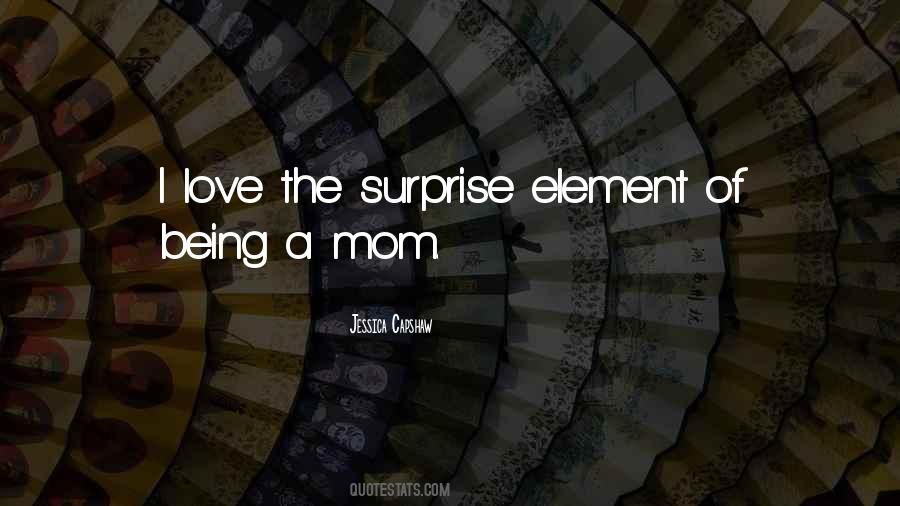 #75. I always knew I wanted to have children. When I met my husband, Rande, I thought, 'This is the guy.' When you are getting ready to become a mom, being in love with someone just isn't enough. You need to think about whether he would be a good parent and raise your children with similar beliefs. - Author: Cindy Crawford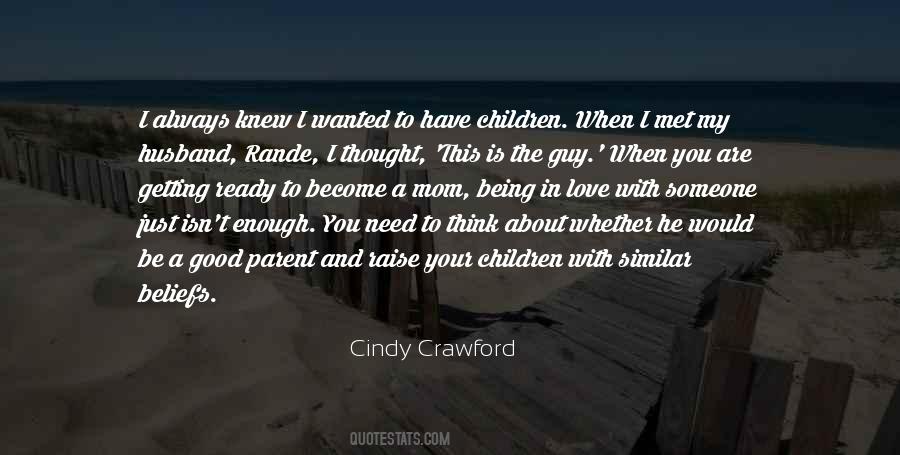 #76. But my dad said it was no excuse.
"But I love him!" I had never seen my sister cry that much.
"No, you don't."
"I hate you!"
"No, you don't." My dad can be very calm sometimes.
"He's my whole world."
"Don't ever say that about anyone again. Not even me." That was my mom. - Author: Stephen Chbosky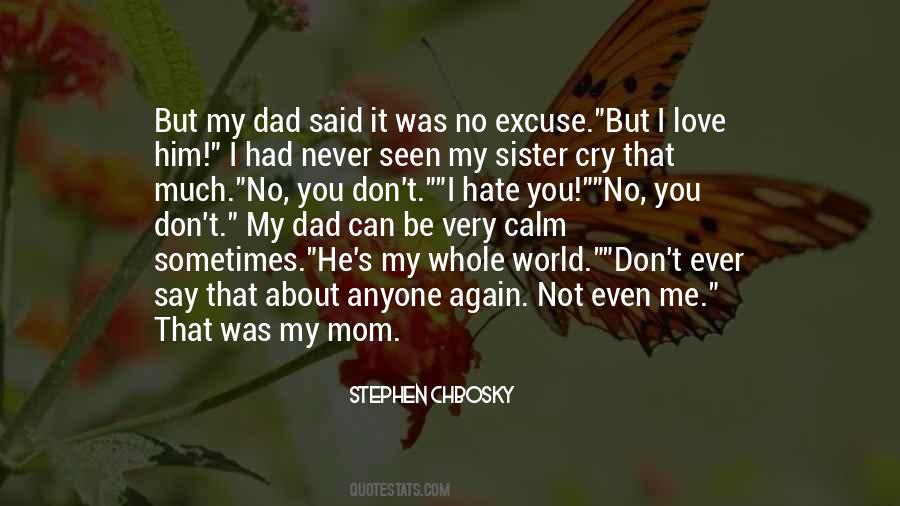 #77. I share the same advice that my mom gave me - stay hydrated and sleep well. And that being a beautiful person on the inside is what really matters. - Author: Jessica Alba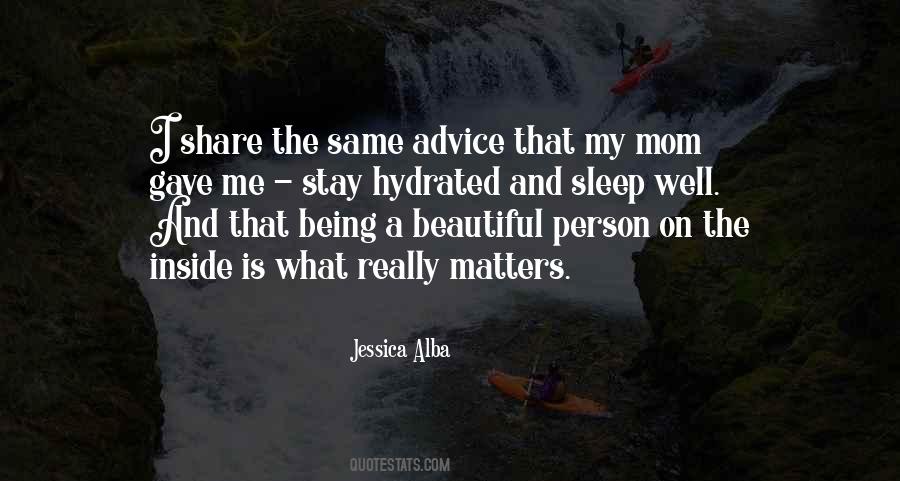 #78. Never being number one in your list of priorities and not minding at all. - Author: Jasmine Guinness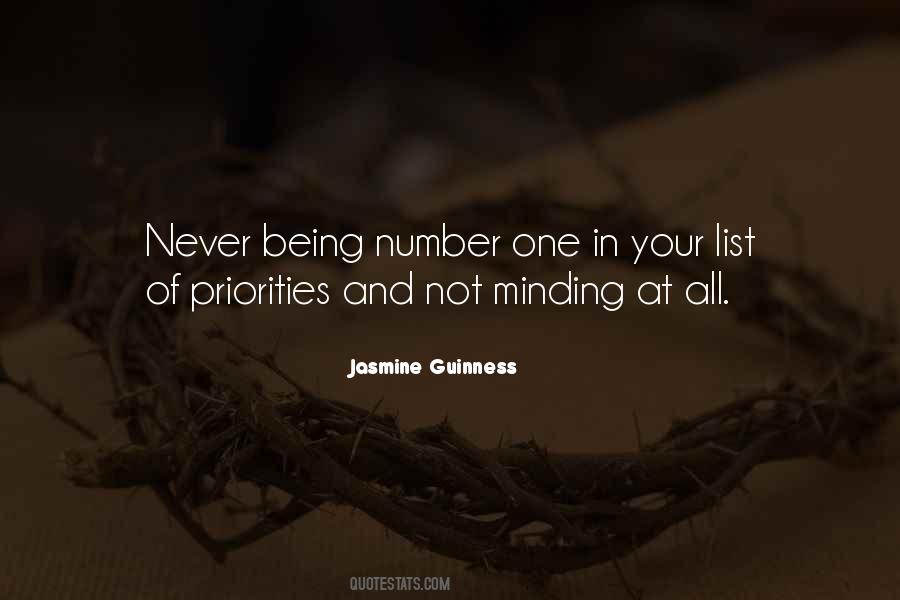 #79. Being a Sikh meant having to do what Mom and Dad said, and going to temple, and Mom and Dad choosing who I would marry. But going to an American school taught me that I was the one who's supposed to make those choices. - Author: Sheena Iyengar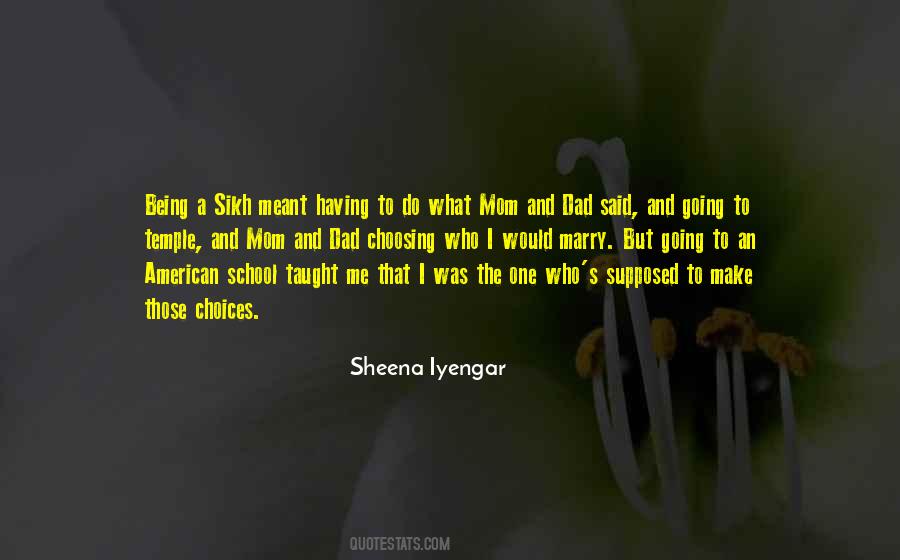 #80. Being a mom is hard, but I don't want people to feel like they always have to go straight to the TV dinner or go to the fast food because you have a busy, hectic life. - Author: Tia Mowry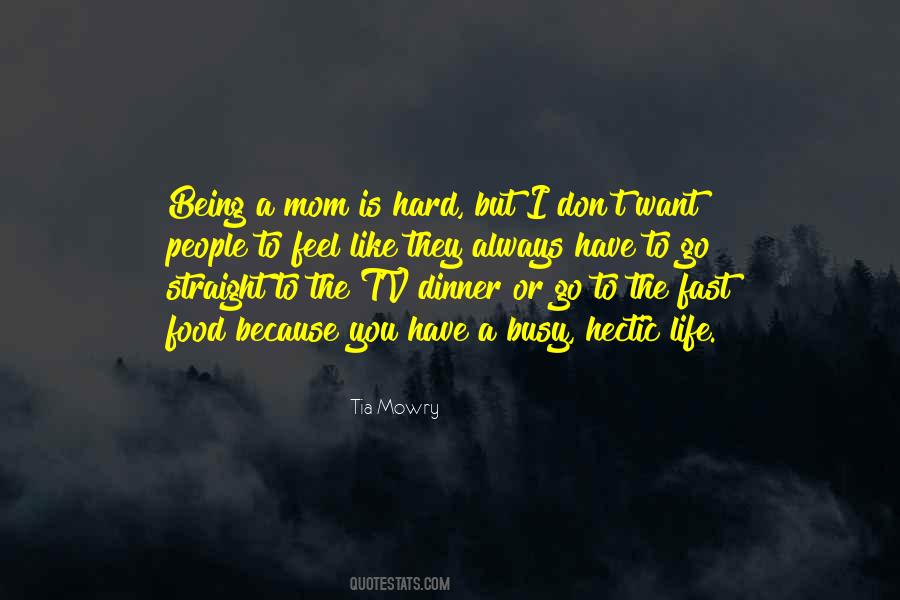 #81. He's good, all right," Mom said. "But I guess there's something else. About being sure. Sure about anything. Right comes with right timing. - Author: Deb Caletti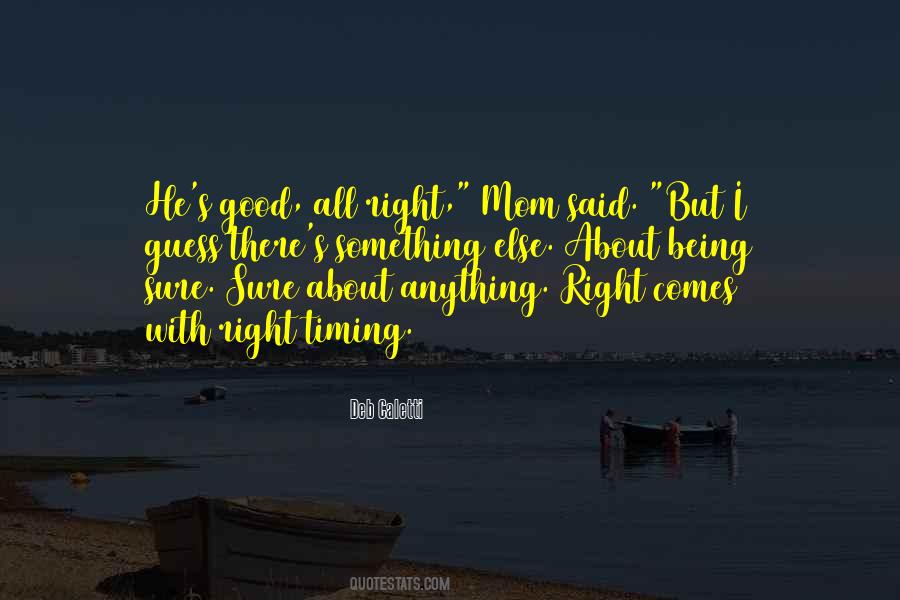 #82. I love being around my mom and my dad. - Author: Maddie Hasson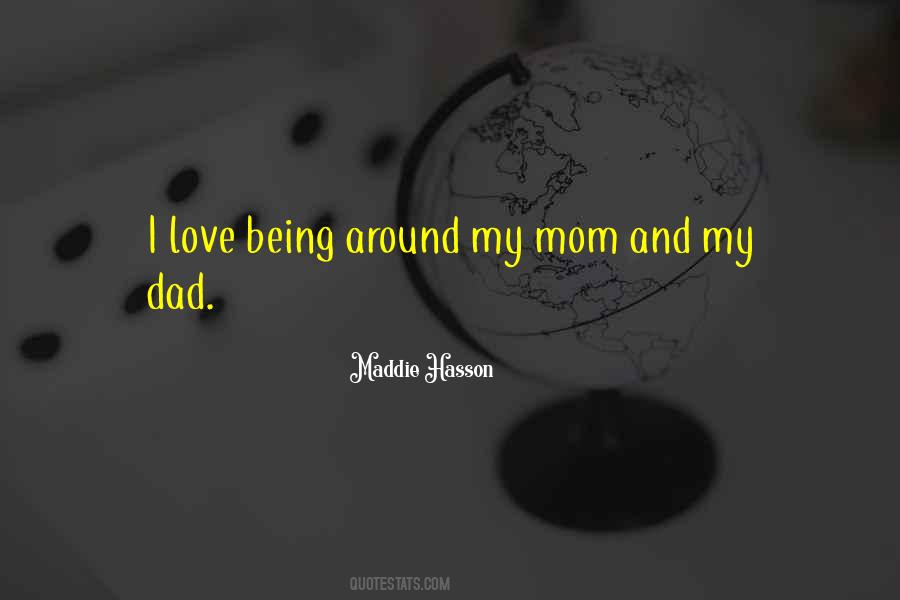 #83. Our bodies are made to nurture and cuddle and all of those amazing things that come along with being a mom. - Author: Alyssa Milano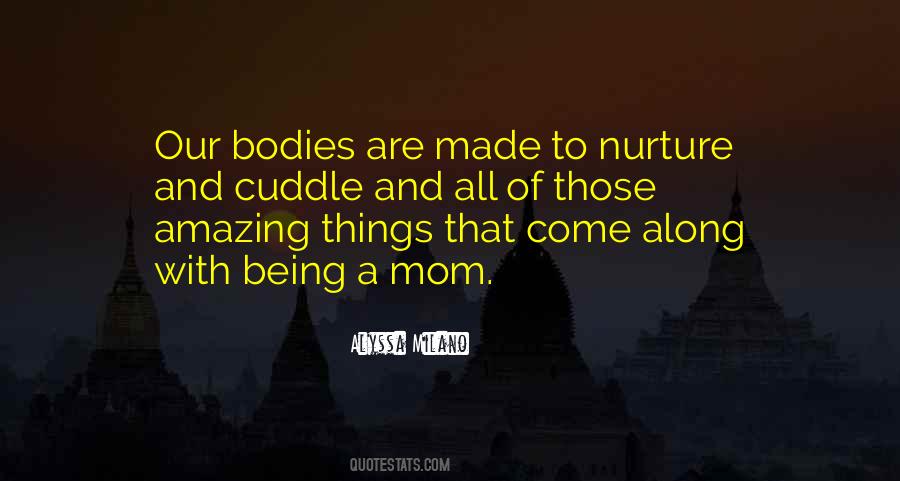 #84. I feel such a sense of empowerment being a mom. But I do wonder: How do they/we do it all? - Author: Kourtney Kardashian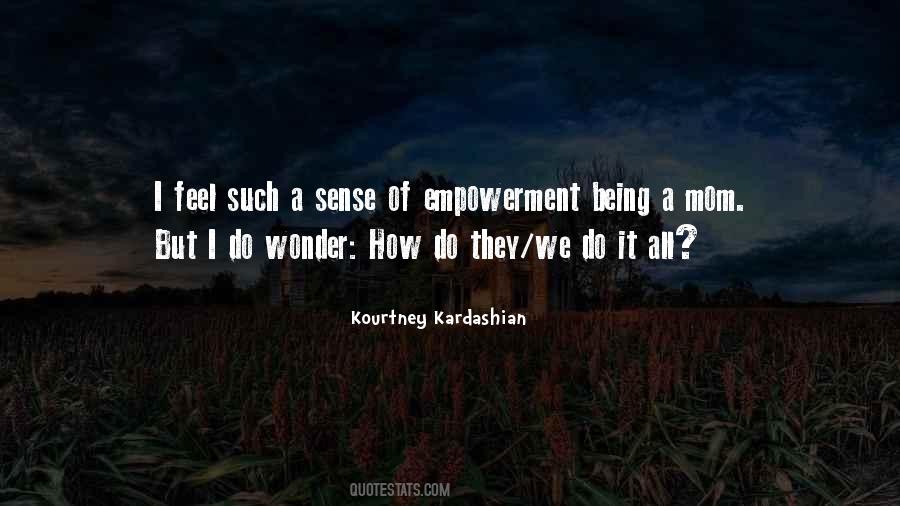 #85. And thus I wonder about so many gay men I've met since, pillars of the community, out to everyone else but Mom, who still refer to their lovers as something between a roommate and a valet. Just who is being protected here, and who thinks queer is wrong? - Author: Paul Monette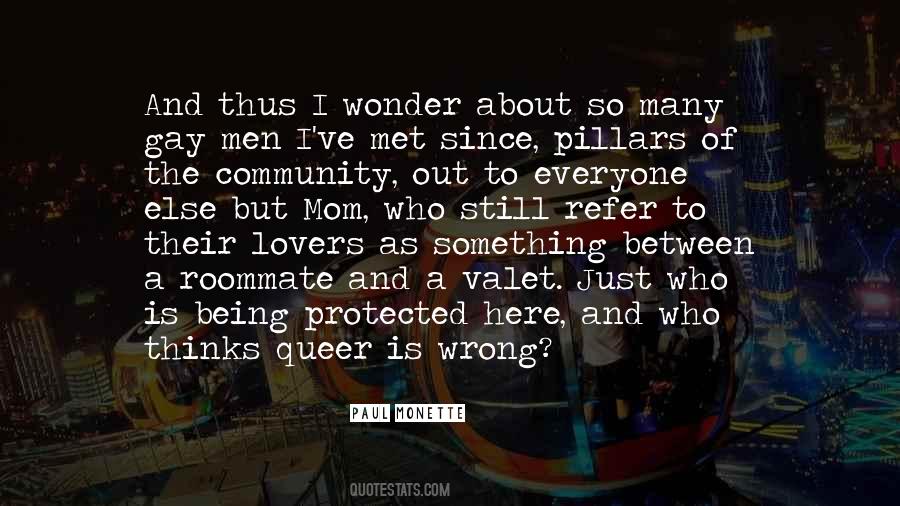 #86. I hate to say it, but all that stuff they try to tell you about women being empowered and how it's fine for a woman to ask a man out, well, it's crap.'
I look down at my watch. 'Seven fifty-three p.m.'
'What does that mean?'
'Official time of death of feminism,' I reply, and mom laughs. - Author: Robin Epstein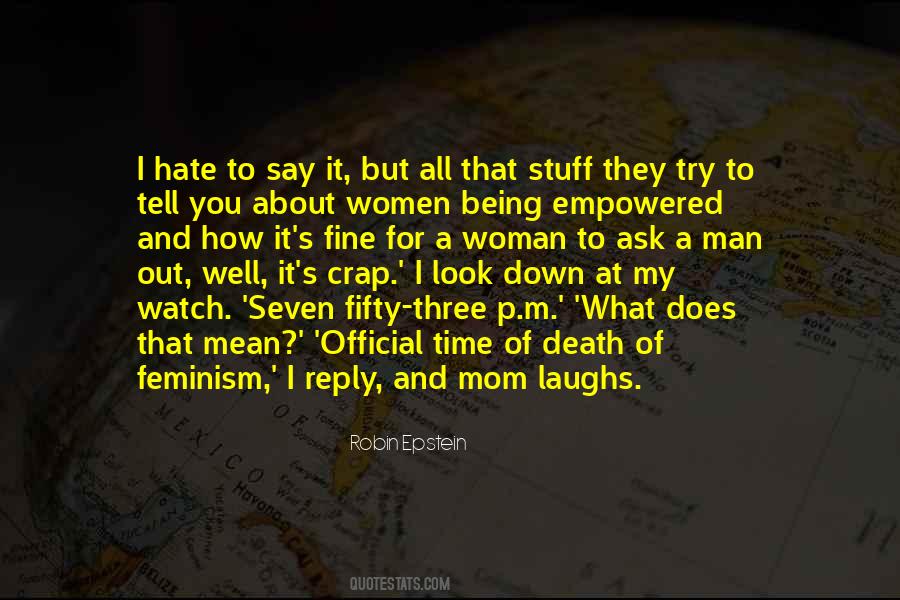 #87. Dude, fix your hair and try applying a little makeup tonight. You are a girl, right?" I swear to goodness, Mom gave birth to Crystal and not me. "You two suck at being my best friends. - Author: Angela McPherson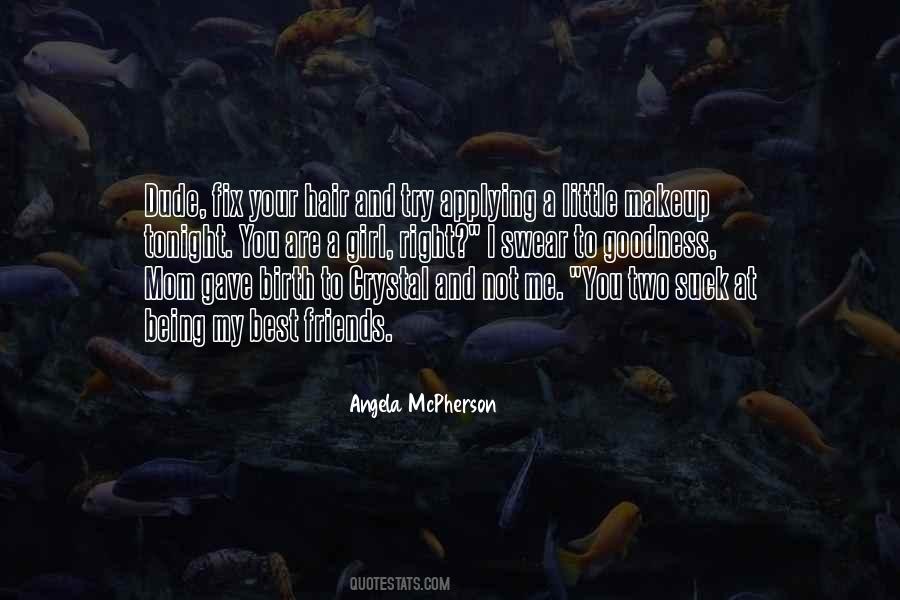 #88. I'd heard my mom talk about your first love being the one that sticks with you - Author: Kiera Cass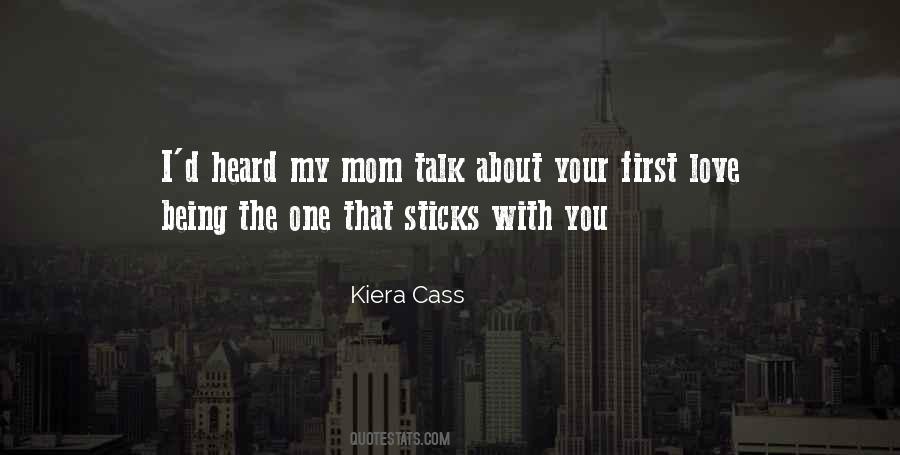 #89. No. Sorry. You have spent months being the biggest jerk to me. You don't get to decide to like me one day and think I will forget that. I want someone to care for me like my dad cared for my mom. And you aren't him. - Author: Jennifer L. Armentrout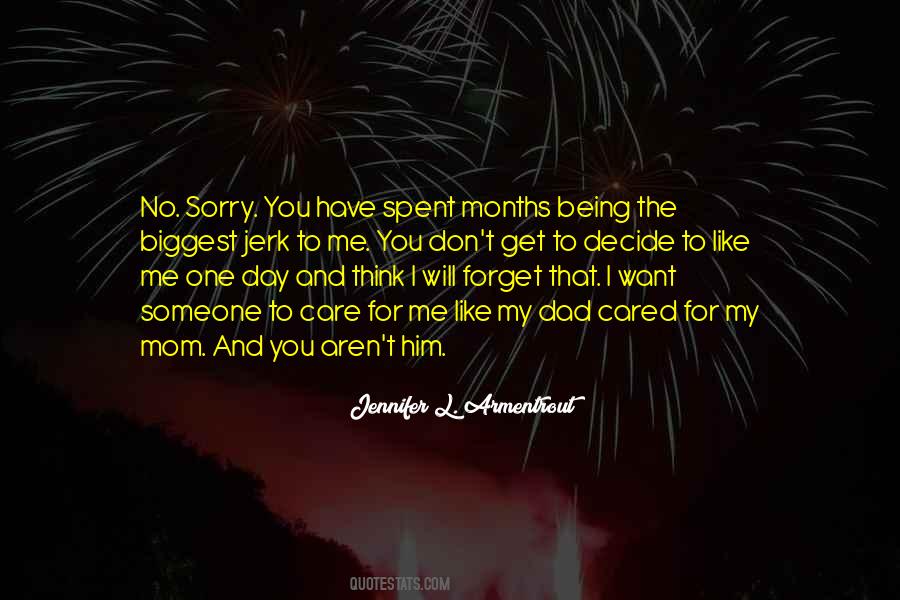 #90. They see me as being this Super Mom on TV who also can more than handle a difficult husband, and they assume I'm going to be just full of wisdom as a mother and wife myself. - Author: Patricia Richardson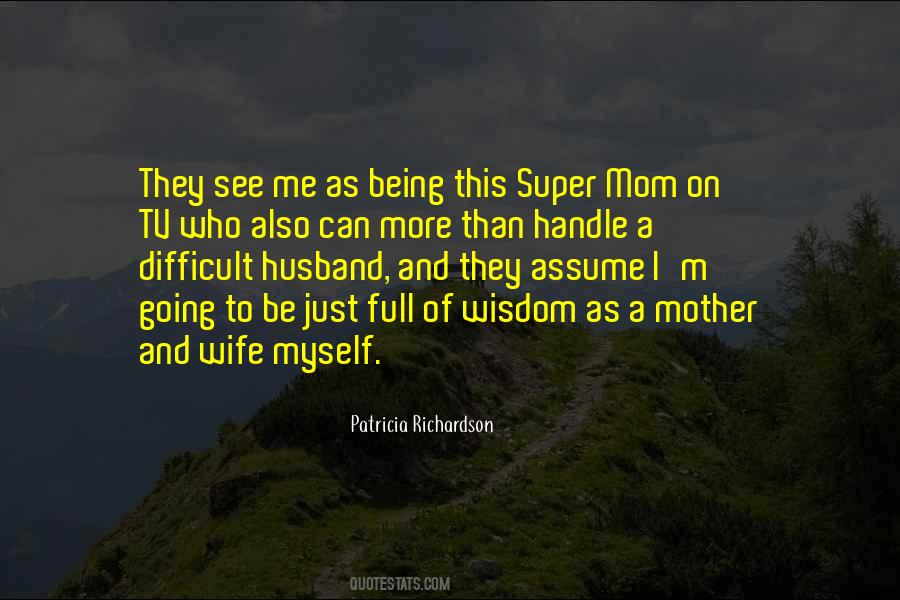 #91. Being able to take care of myself is something that my mom really instilled in me. - Author: Stevie Nicks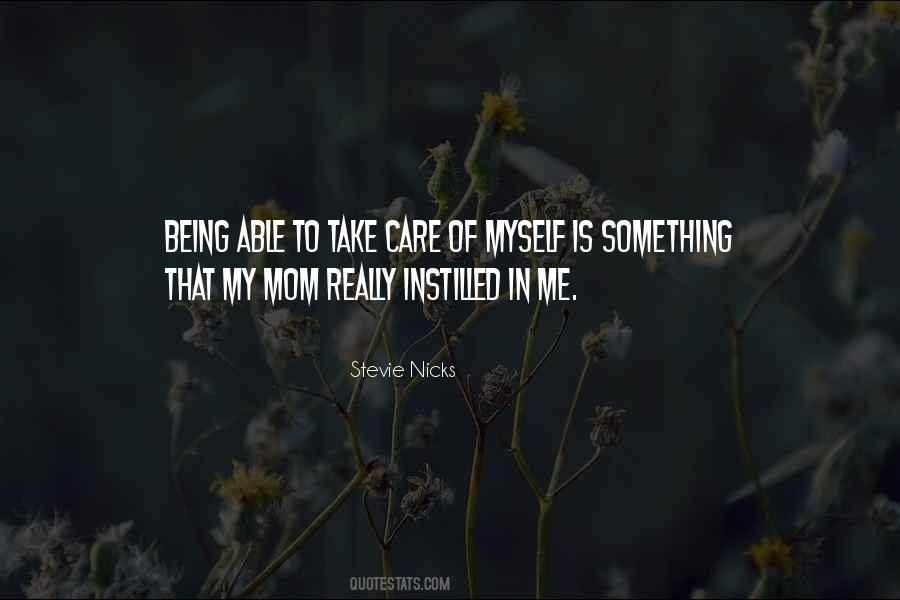 #92. It's been a huge joy, this experience of being a mom ... I don't know how to articulate it yet, because it is so fresh. - Author: Claire Danes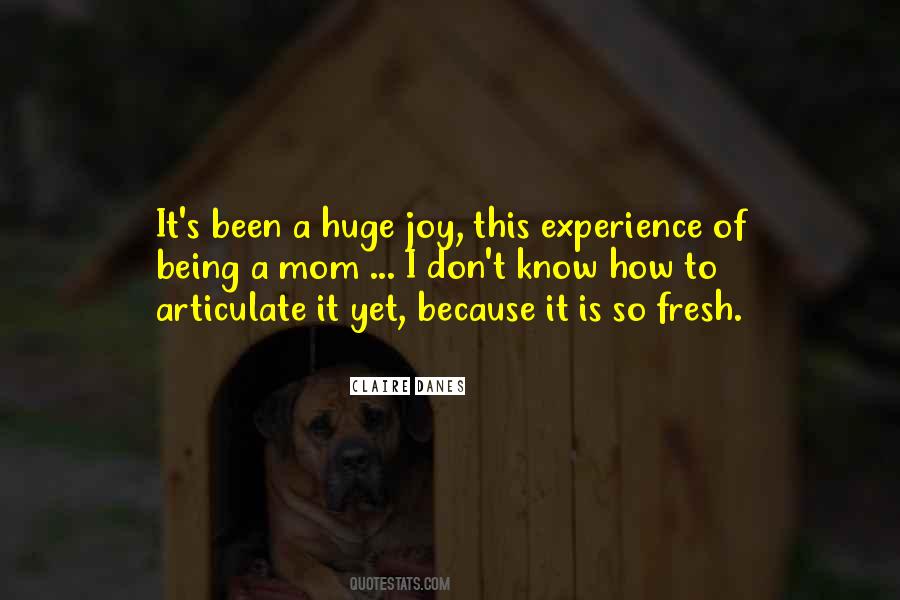 #93. My job makes me travel a lot and too often I'm away from my children, but I don't ever stop being a mom inside my head and my heart. There is no higher love than that. - Author: Vanessa Paradis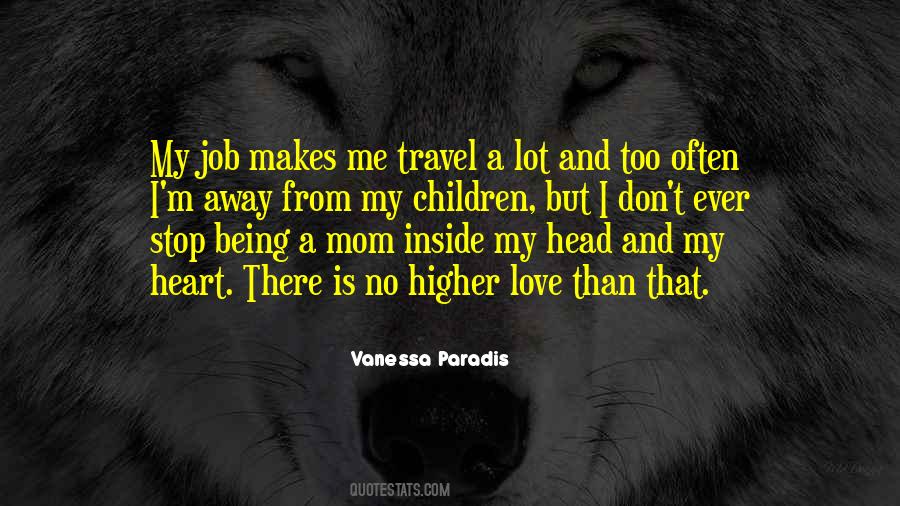 #94. It's a constant challenge trying to find balance between styling, designing and being a mom. - Author: Rachel Zoe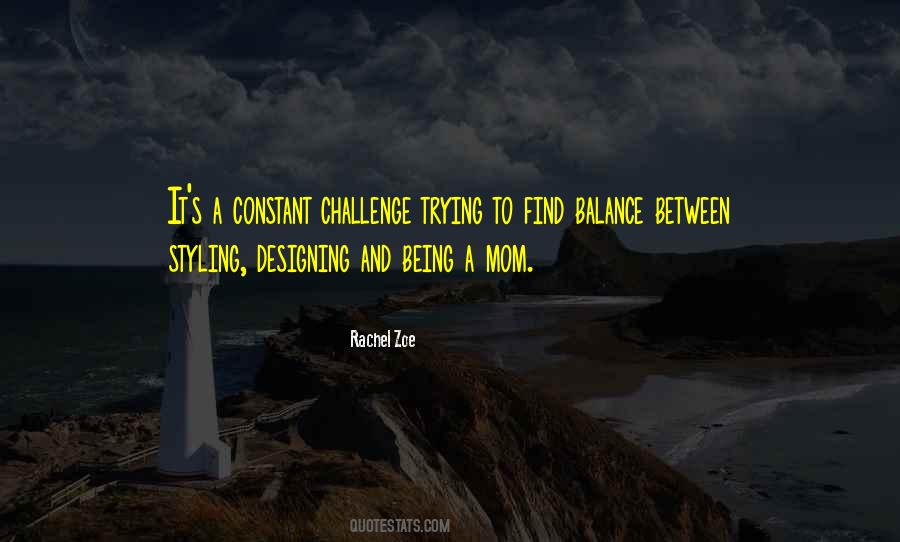 #95. My mom took all of my behavior personally. Everything I did, she thought it was an act of rebellion against her. But it was just me being me. - Author: Pink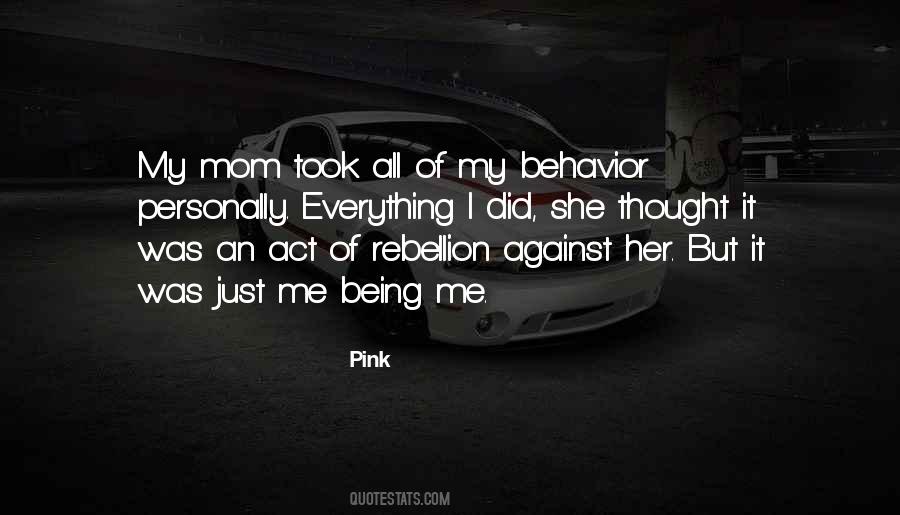 #96. I'm a mom first. That's all I really care about - being a good mom and a good wife. The writing always comes second for me. - Author: Amy Koppelman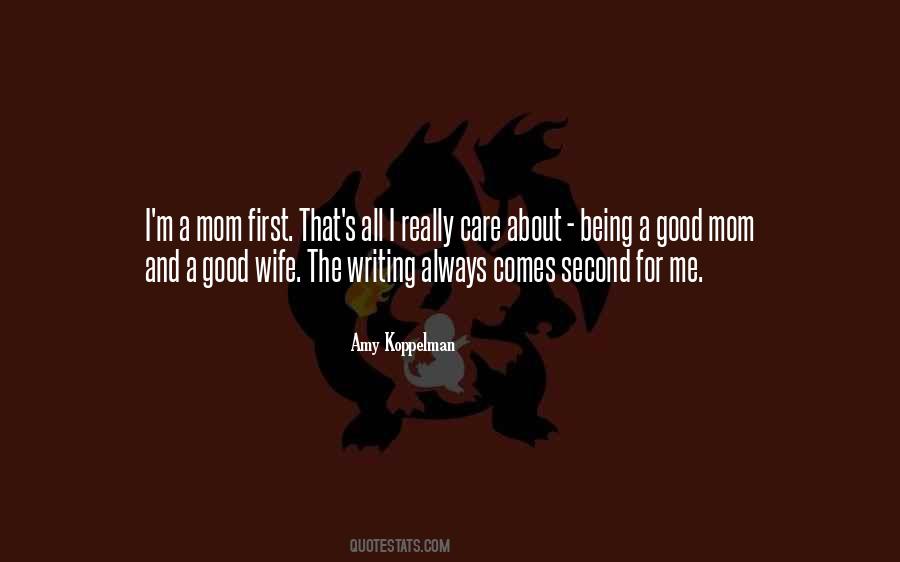 #97. I was fortunate enough to have my kids early, so being a mom always ended up being a better gig than these other parts that came along. So I always justified not really working a lot because I had a family. - Author: Heather Langenkamp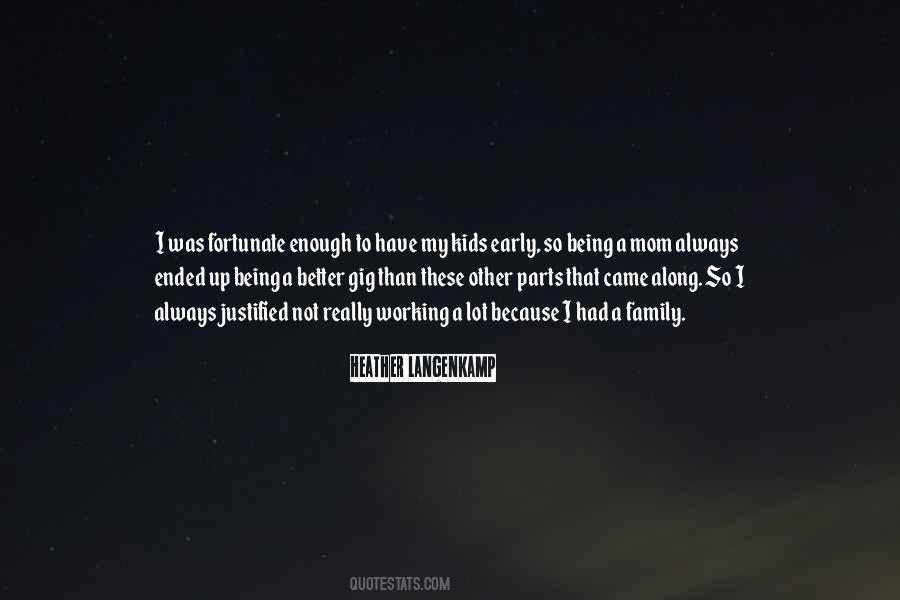 #98. My mom was always like, "If I know that my kid is having fun, she's gonna do whatever she wants. Whether that's gymnastics, learning the car, acting or just being a normal kid, she's gonna do what makes her happy." That's how I've always lived my life. - Author: Chloe Grace Moretz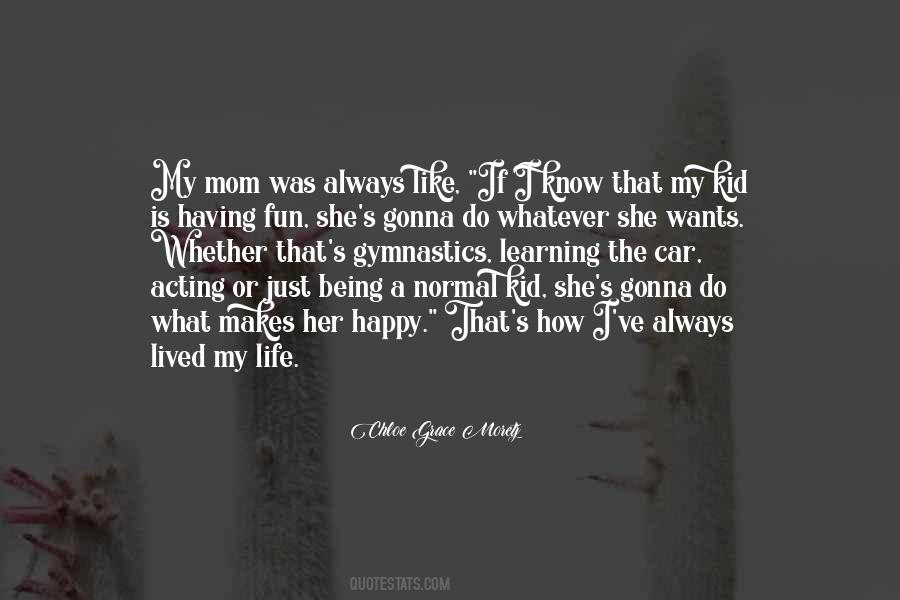 #99. Being an only child, I didn't have any other family but my mom and dad really, since the rest of my family lived quite far away from London. - Author: Tom Hardy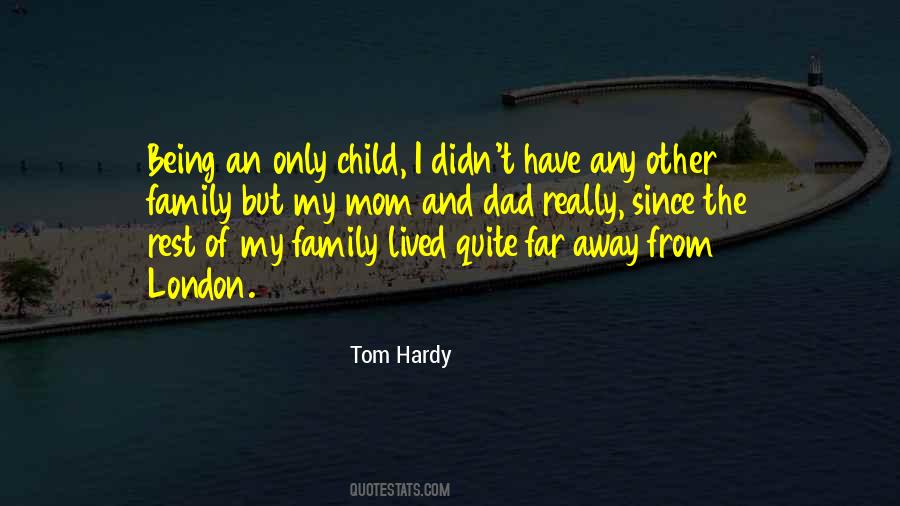 #100. I'm really clear about my priority in life-it's being a mom. - Author: Teri Hatcher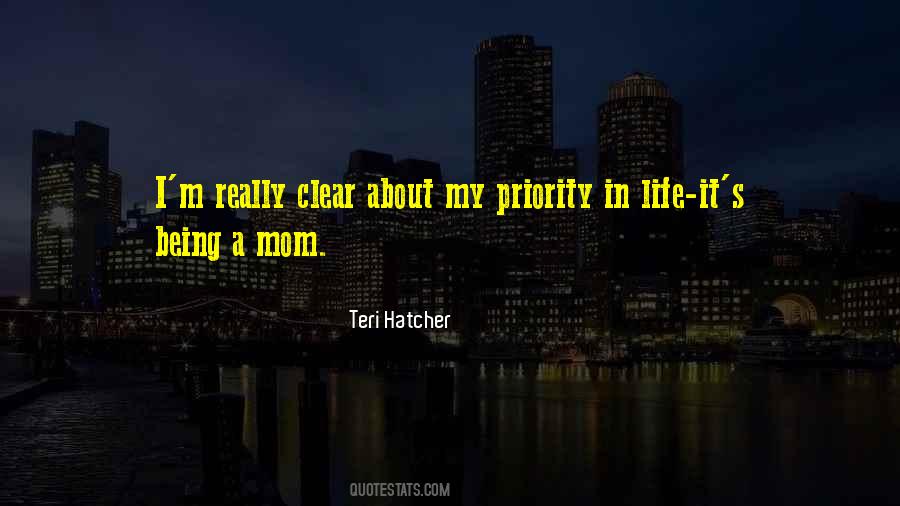 Famous Authors
Popular Topics