Awareness Of Self Famous Quotes & Sayings
List of top 100 famous quotes and sayings about awareness of self to read and share with friends on your Facebook, Twitter, blogs.
Top 100 Quotes About Awareness Of Self
#1. Keeping a personal journal a daily in-depth analysis and evaluation of your experiences is a high-leverage activity that increases self-awareness and enhances all the endowments and the synergy among them. - Author: Stephen Covey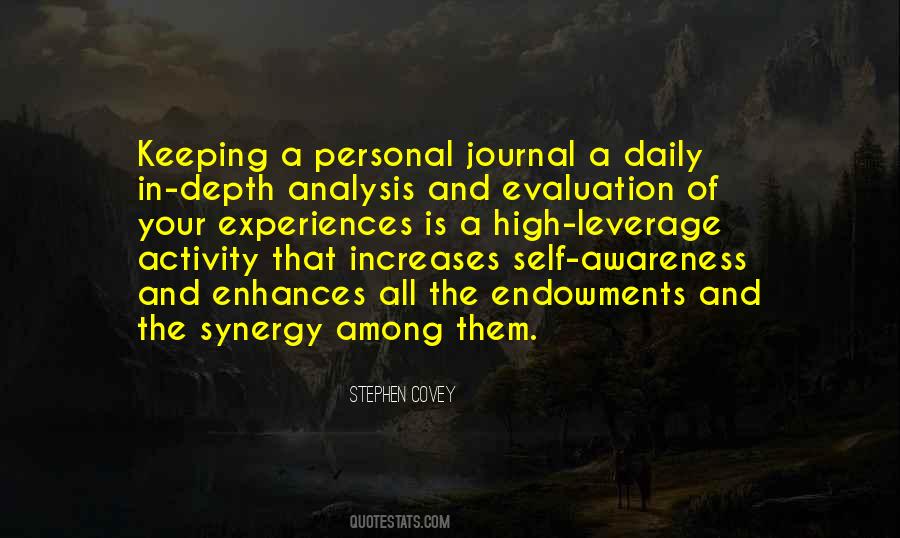 #2. Being more self-aware means welcoming more light into a dull life. When we throw light upon our self-perceptions, we immediately realise that the light has always been there, yet we had created an illusion of darkness. - Author: Raphael Zernoff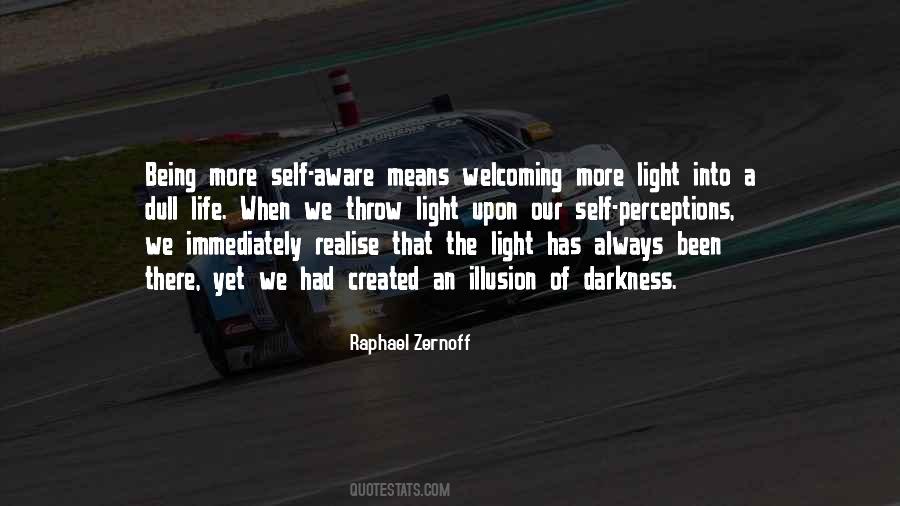 #3. Self-awareness is a supreme gift, a treasure as precious as life. This is what makes us human. But it comes with a costly price: the wound of mortality. Our existence is forever shadowed by the knowledge that we will grow, blossom, and, inevitably, diminish and die. - Author: Irvin D. Yalom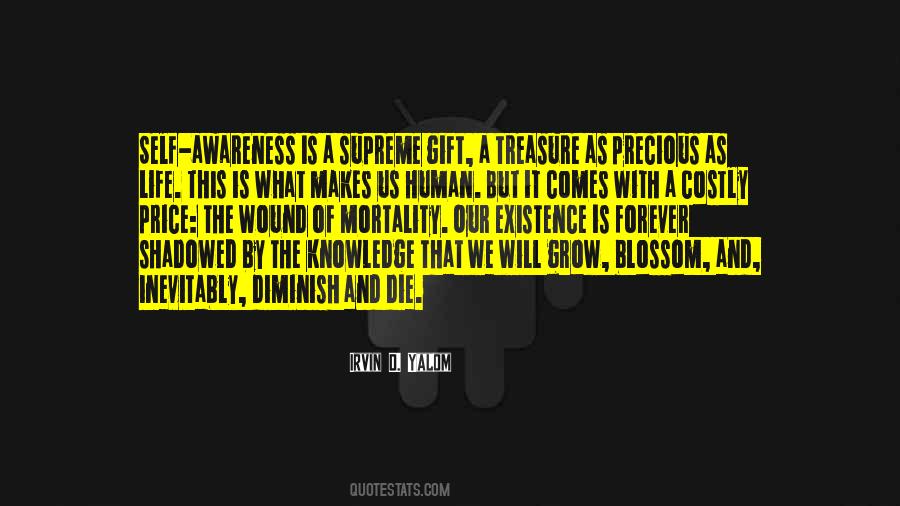 #4. Note To Self!
I will stay calm and relaxed no matter what confronts me today, tomorrow and everyday forth! - Author: Allan Rufus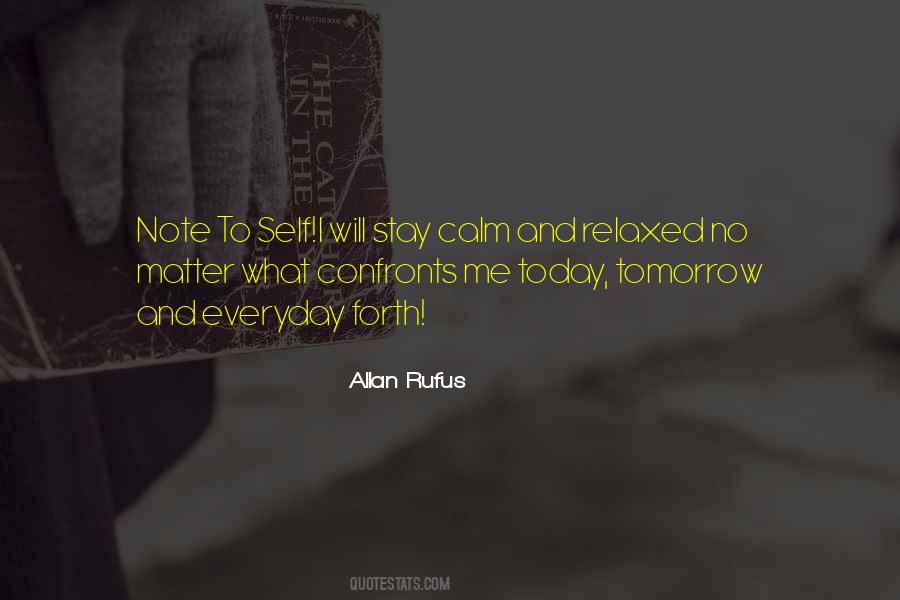 #5. Seek spirituality of thy soul. - Author: Lailah Gifty Akita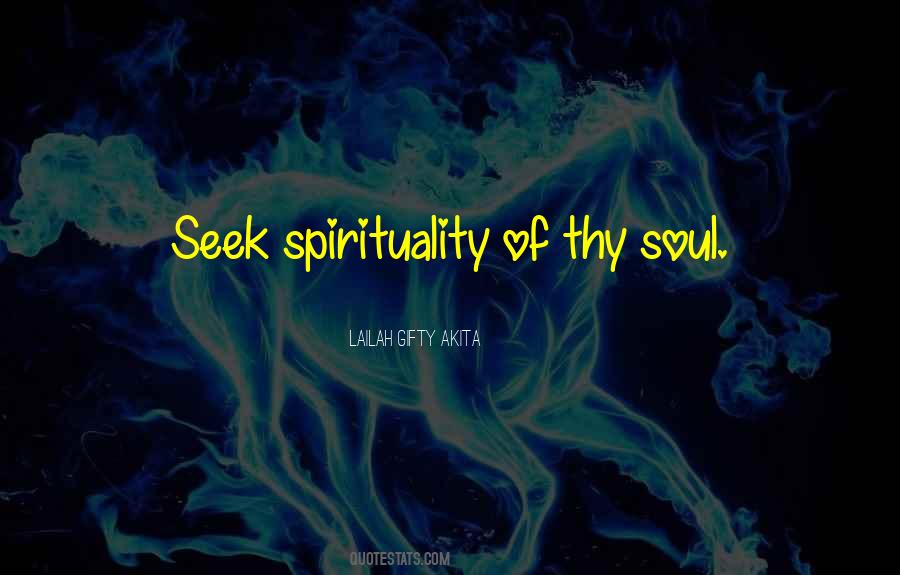 #6. Are you repeating someone else's narrative, taking it for granted? Talk therapy sessions and 12-step recovery shares help develop the ability to present a coherent life narrative through the safe structure of clear rules of communication that support healthy self-expression and self-awareness. - Author: Alexandra Katehakis
#7. In his moments of pride he had said all those things, half in fun and half in earnest, and he began to wonder how he could have been so many kinds of a fool for so long without realising it. - Author: Paul Laurence Dunbar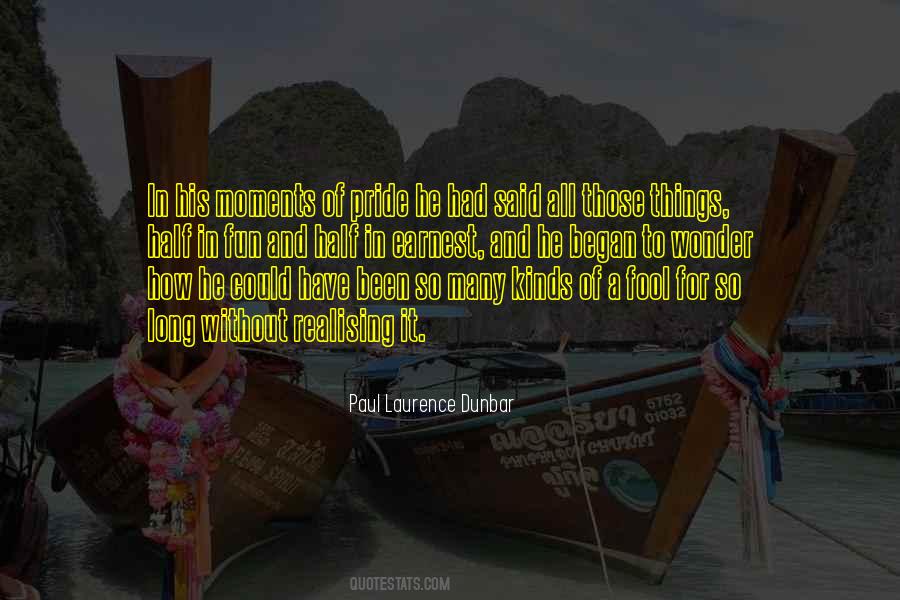 #8. Self-awareness: it is one of the chief bonuses of advancing age. It is our consolation prize. - Author: Louise Doughty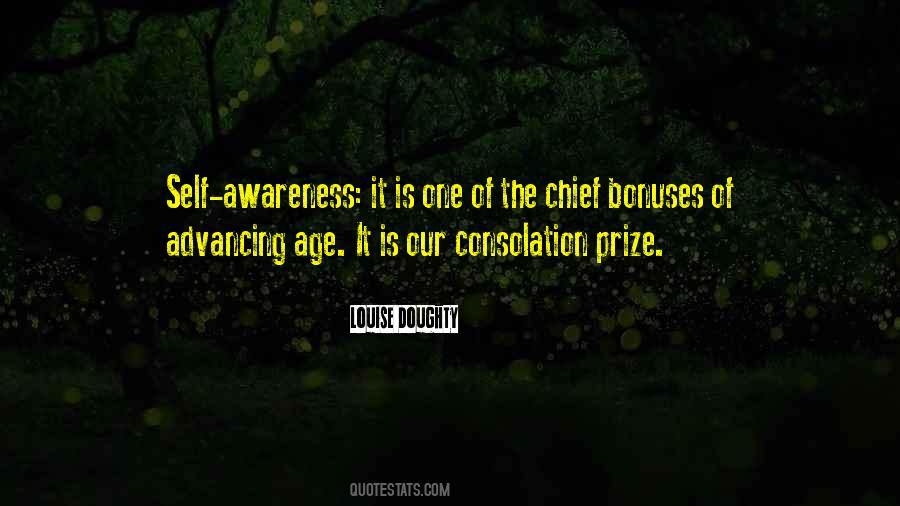 #9. Mindfulness removes the emotional fogs of negative thoughts with the light of awareness. - Author: Amit Ray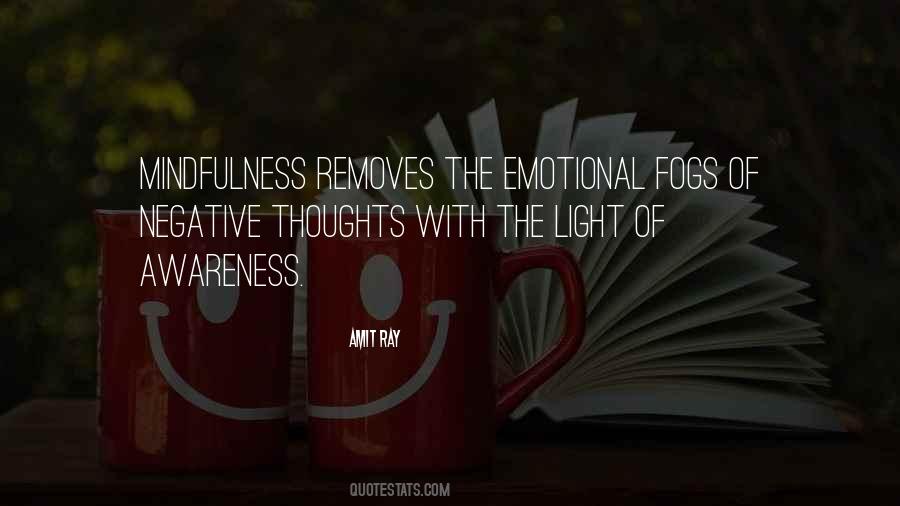 #10. I don't have to say so because people can see it from leagues away. I am ugly, shy and anachronistic, but by dint of not wanting to be those things I have pretended to be just the opposite. - Author: Gabriel Garcia Marquez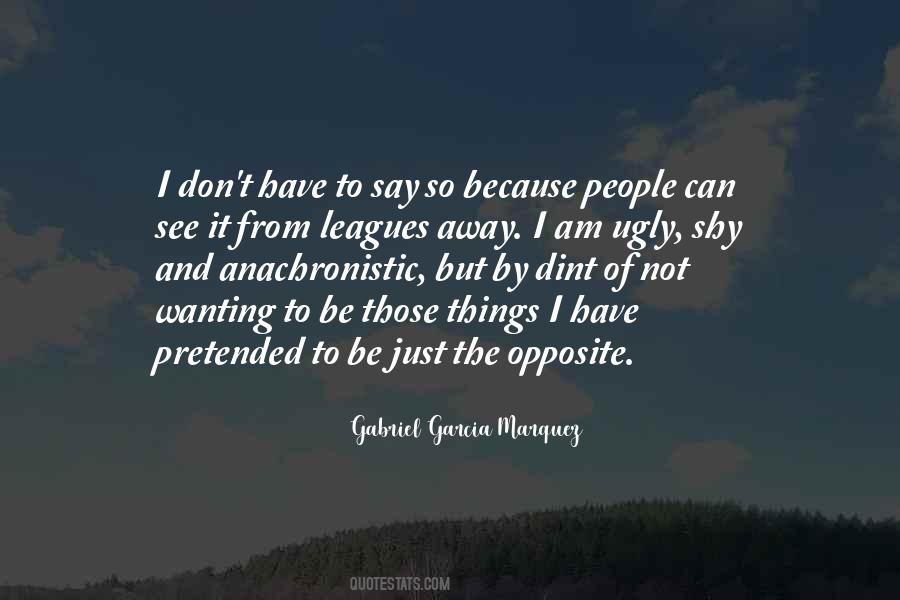 #11. Every time I rap about being a big girl in a small world, it's doing a couple things: it's empowering my self-awareness, my body image, and it's also making the statement that we are all bigger than this; we're a part of something bigger than this, and we should live in each moment knowing that. - Author: Lizzo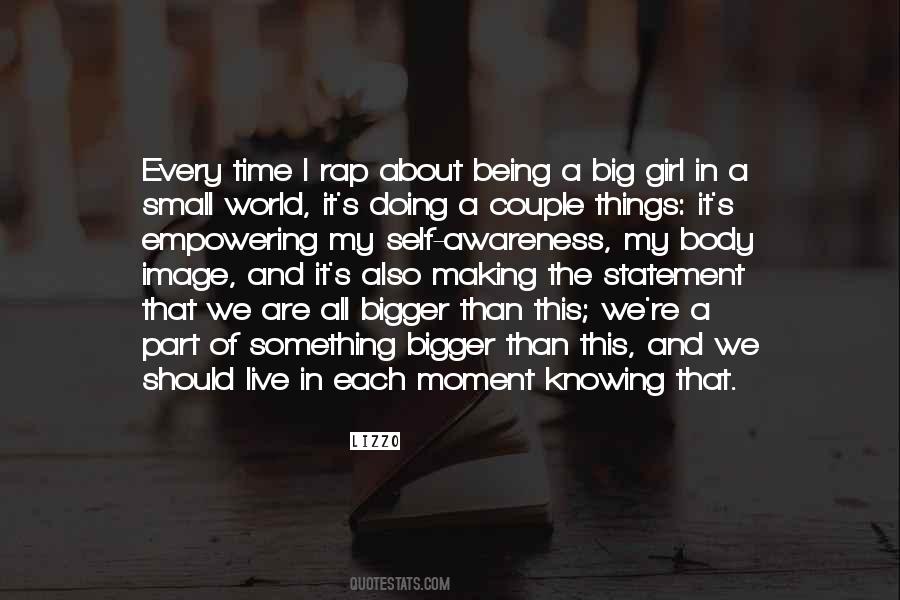 #12. All your sufferings can be alleviated by no other person but you. - Author: Abhijit Naskar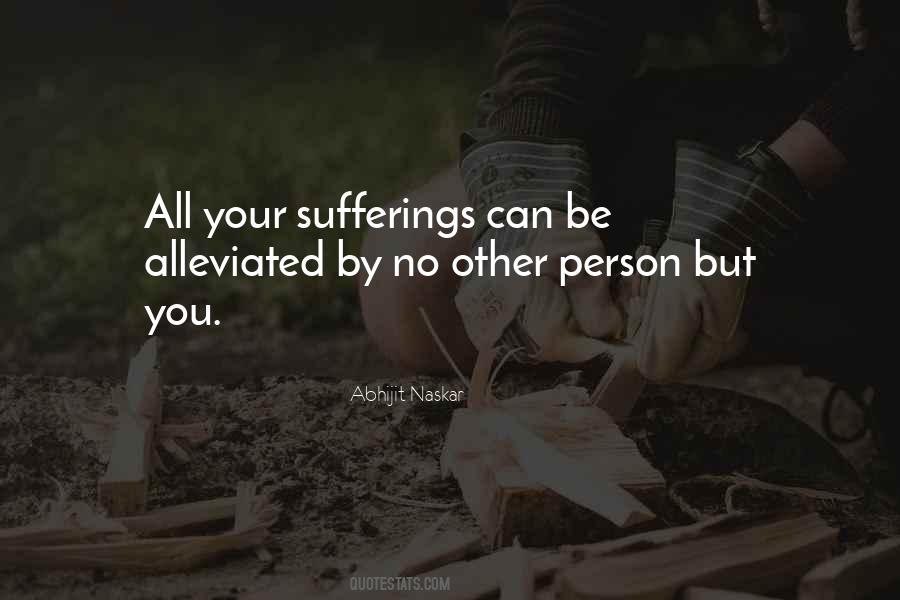 #13. Was I like honey thinking it's a small bear, not realizing the bear is just the shape of its bottle? -Cheryl - Author: Miranda July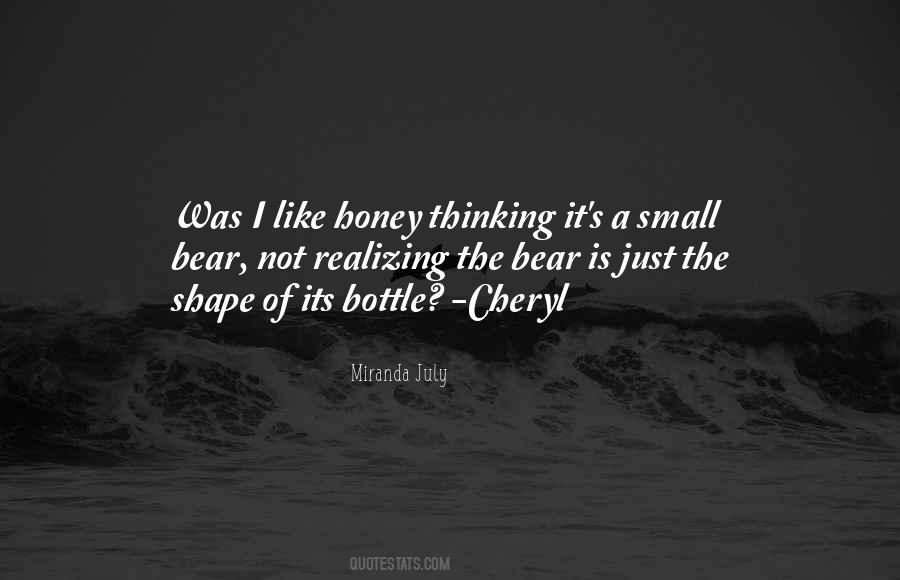 #14. I'd spend about an hour, my room darkening around me, wondering what the hell happened to make me so unsure of who I even was. Because who you are is supposed to be the easiest question in the world to answer, right? Only for me it hadn't been easy for a very long time. - Author: Jennifer Brown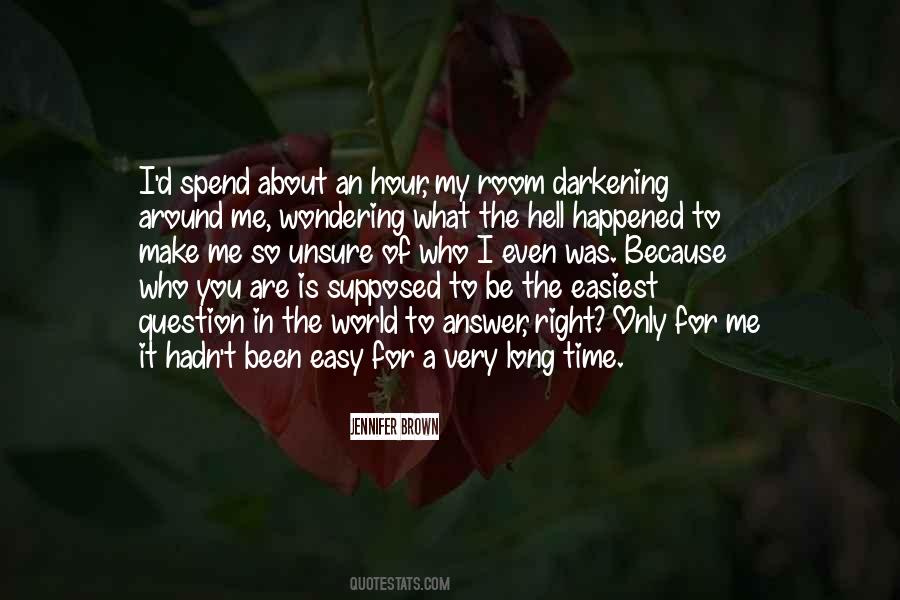 #15. Humans are wired to want to share love, the essence of our being, with others. The more we close this area off by holding onto anger, frustrations, resentments and disappointments, the less we are able to love ourselves and others. - Author: Antonia Hall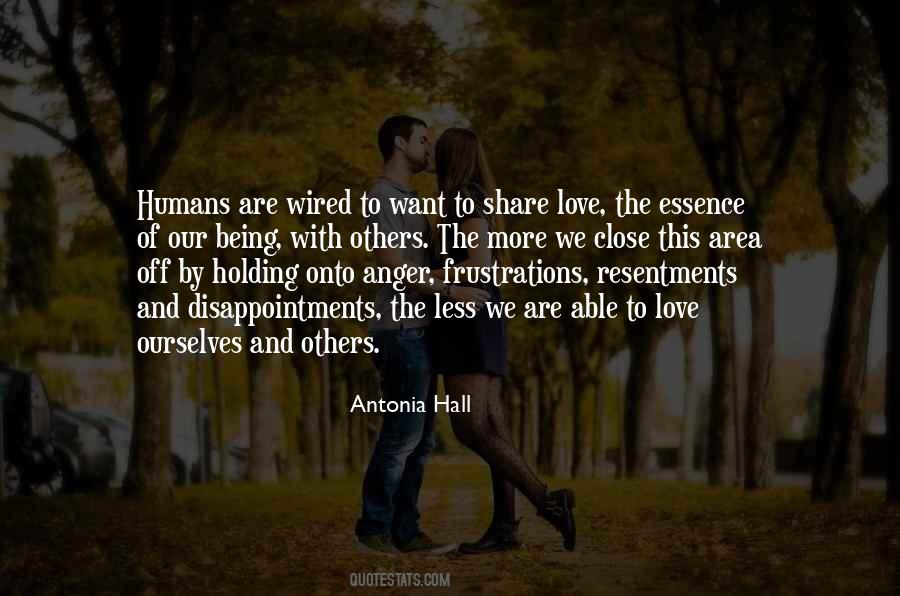 #16. First know the Self and then talk of social reformation. - Author: Abhijit Naskar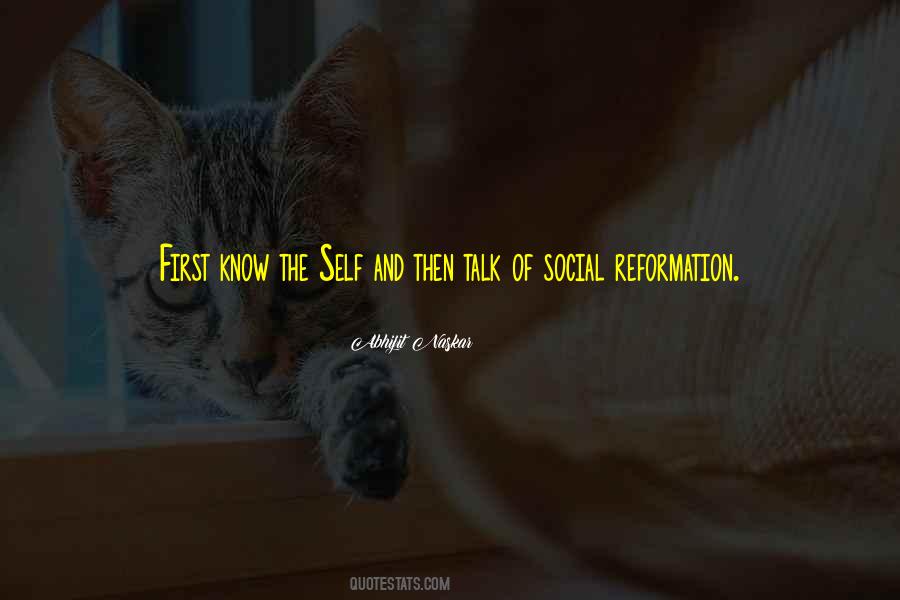 #17. When we pay attention and listen instead of denying, suppressing, fearing, or disliking our spontaneous feelings, we gain great access to our natural intuition. - Author: Deborah Sandella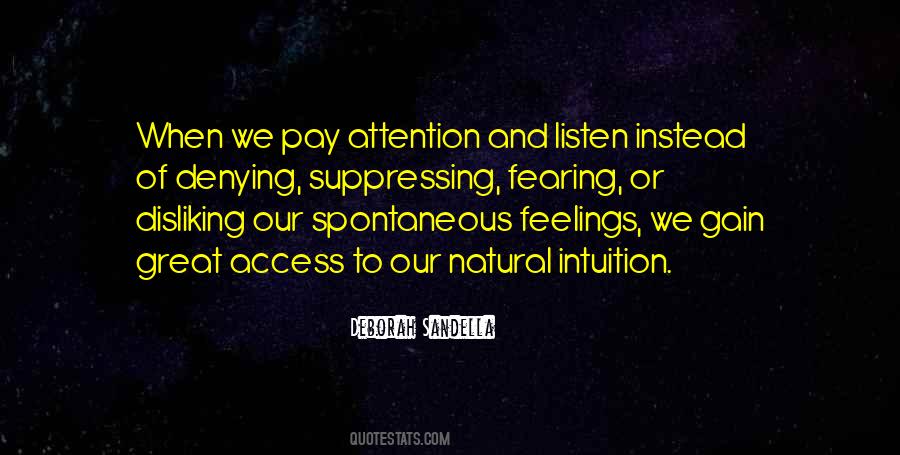 #18. Awareness of the self is more acutely at the heart of things than it has ever been before. On the foundation of self-awareness alone rest all our hopes for a new politics, a new society, a revitalized life. If we do not genuinely know ourselves, the void will now, at last, surely rise up to meet us. - Author: Vivian Gornick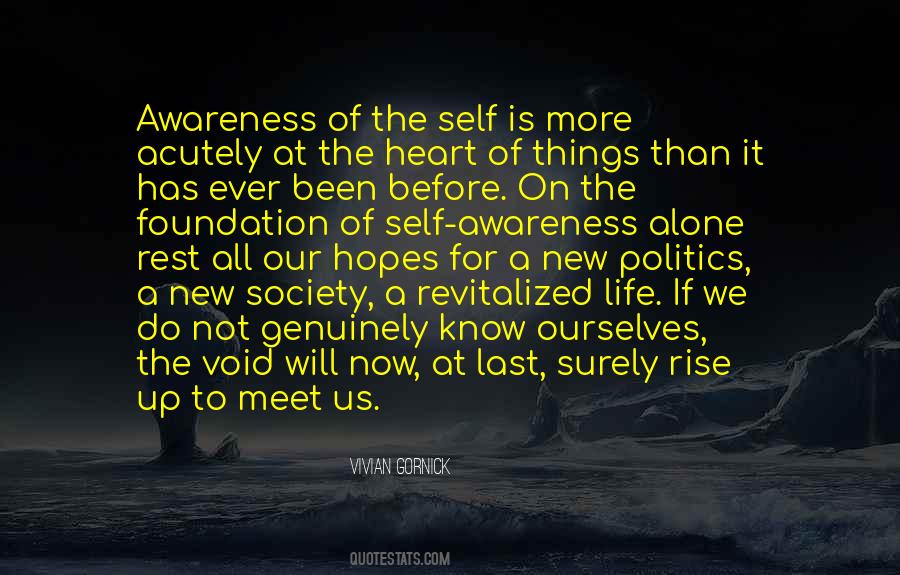 #19. The pursuit of historical relevance is an under appreciated endeavor. - Author: Michael Dwinnell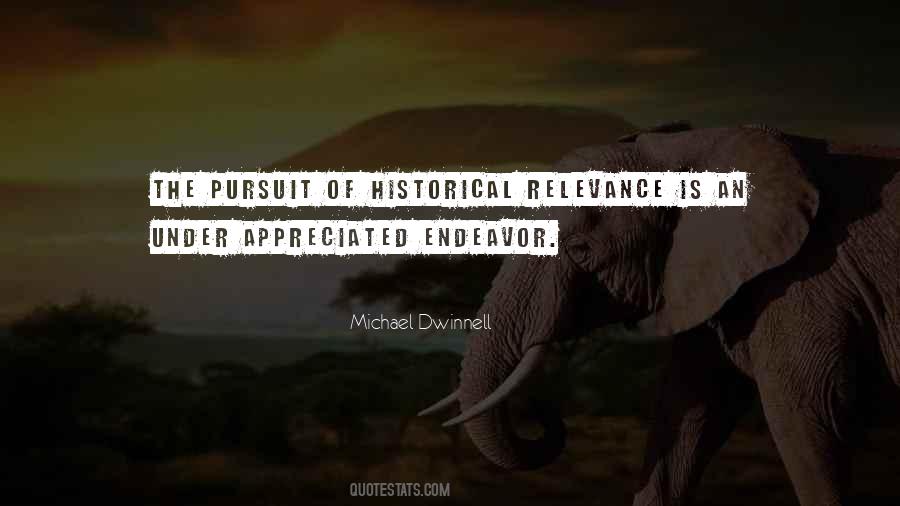 #20. The only way to take command of your life is to realize that you are never going to be in control of it. - Author: Toni Sorenson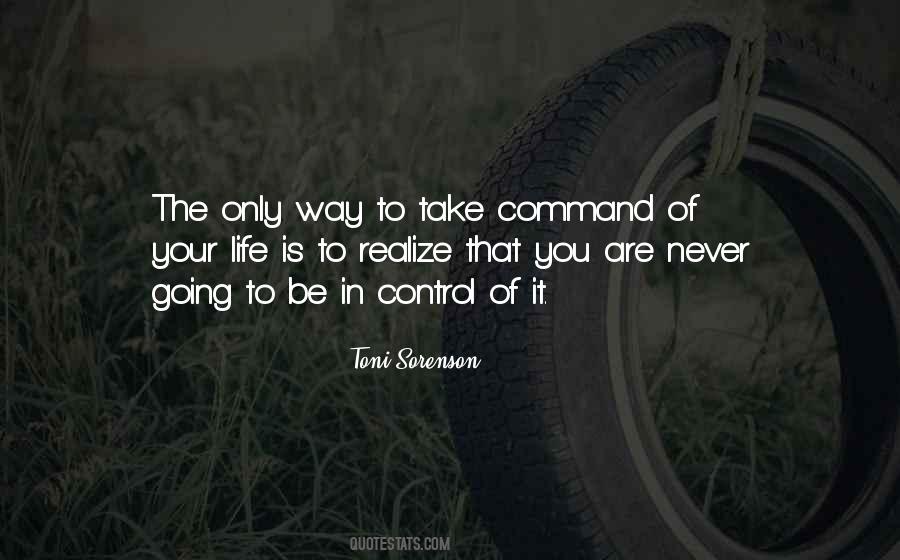 #21. Every book is a revolution. Books are our ticket out of boredom, despair, loneliness - but also ignorance. - Author: Heidi Cullinan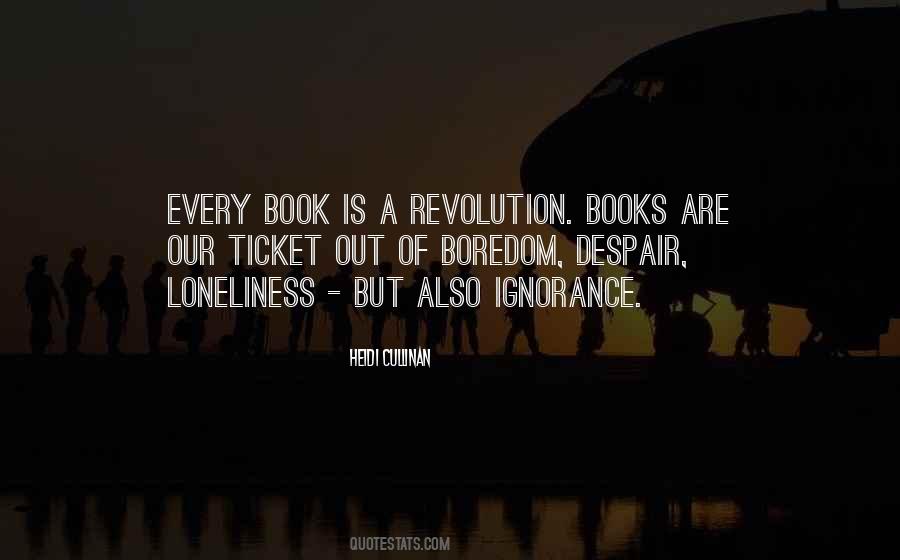 #22. Sometimes we all get dusty by a few mundane and tiring affairs - and merely need a gentle soul wash to see, and get deeply entangled with, the fervors of life again. - Author: Pawan Mishra
#23. As we increase in our awareness and our integration of Self the process of integration grows and expands as we begin to incorporate the fullness of our nature, that of our spiritual nature or our Soul. - Author: Genevieve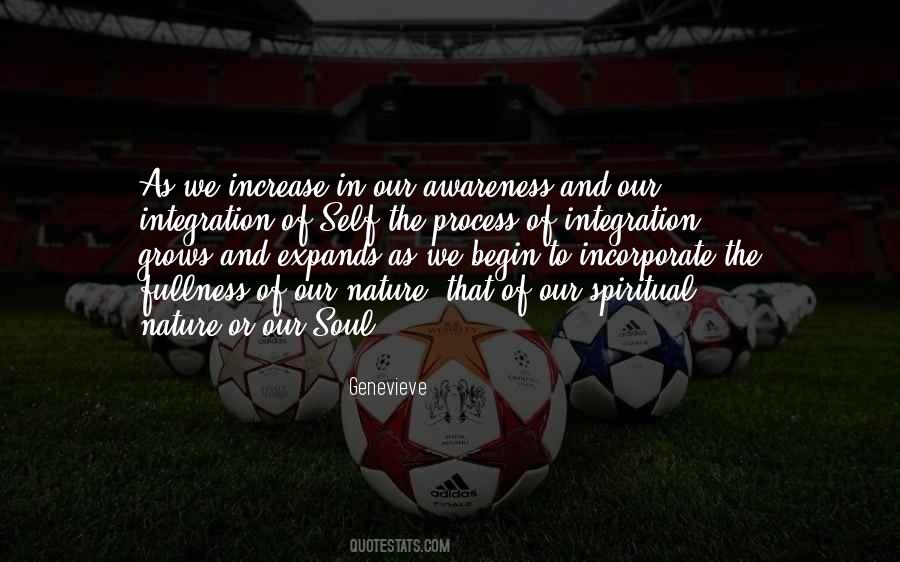 #24. Some people think humility is thinking lowly of yourself. Some people think it's not thinking about yourself. But, to me, the best definition of humility is radical self-awareness from a distance, seeing themselves from a distance and saying, what's my problem? - Author: David Brooks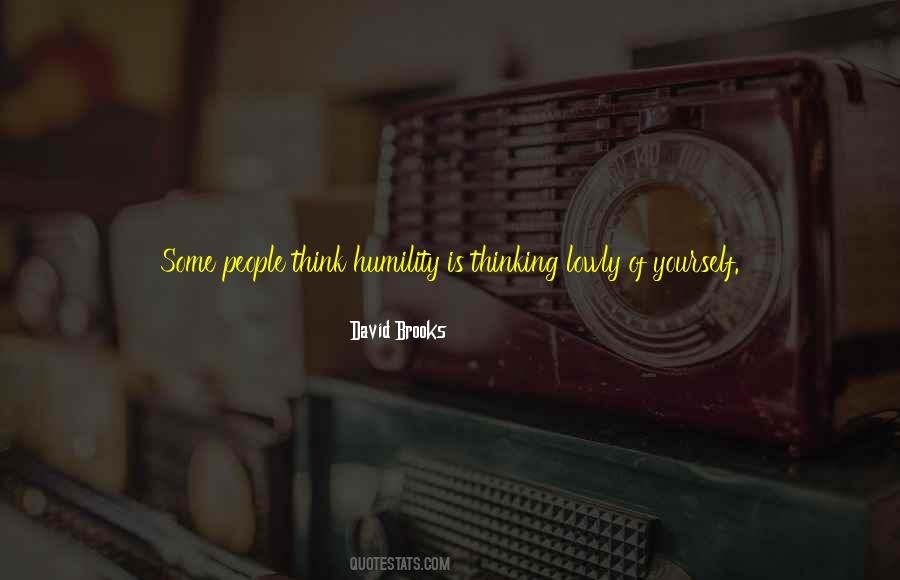 #25. Our lives consist of a series of internal battles, deep within us, where weapons don't exist and technology is unable to create devices that better the best of yesterday. Our knowledge is our only defense; caution, our only friend. - Author: A.J. Darkholme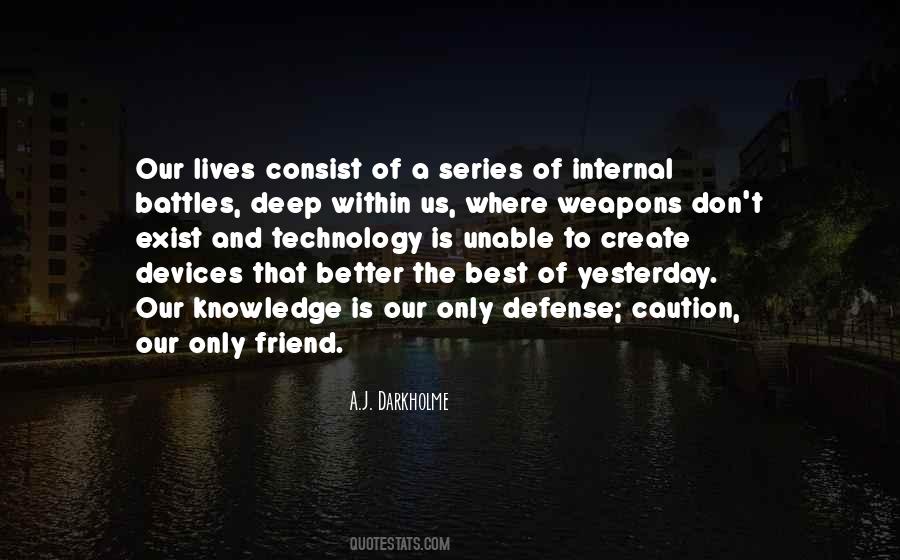 #26. I'd define it as self-awareness: an ability to trust your own judgment. An ability to see through veils of bullshit or spins on stories or propaganda. Maybe an ability to think for yourself. - Author: Joe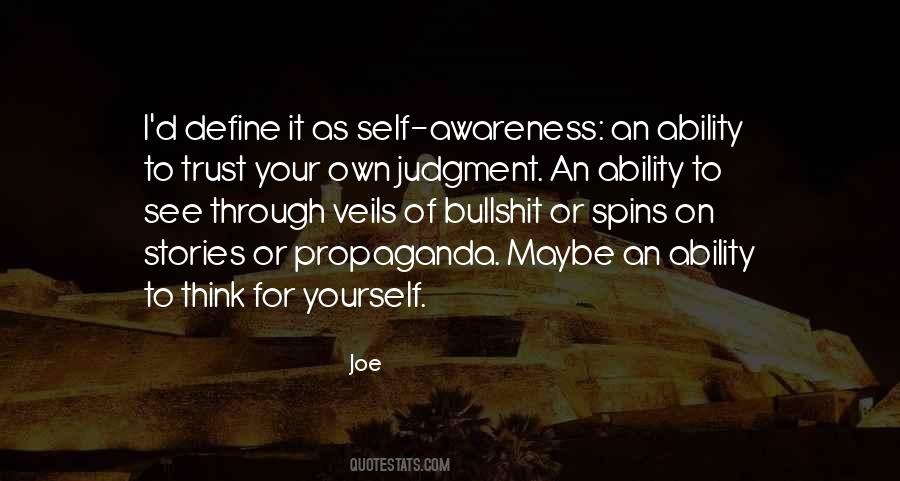 #27. One of the goals of a spiritual practice is self-awareness, and one of the best tools of self-awareness is simple emotional vulnerability. - Author: Moby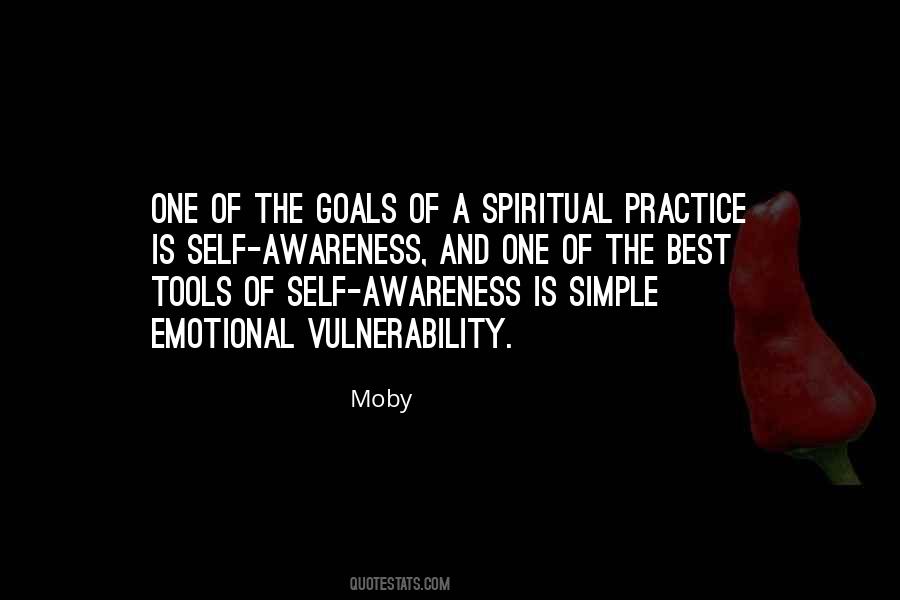 #28. I think there's something quite interesting about the almost tragic quality of a lot of overwrought prose, because it has a much more self-conscious awareness of its own failure to touch the real. - Author: China Mieville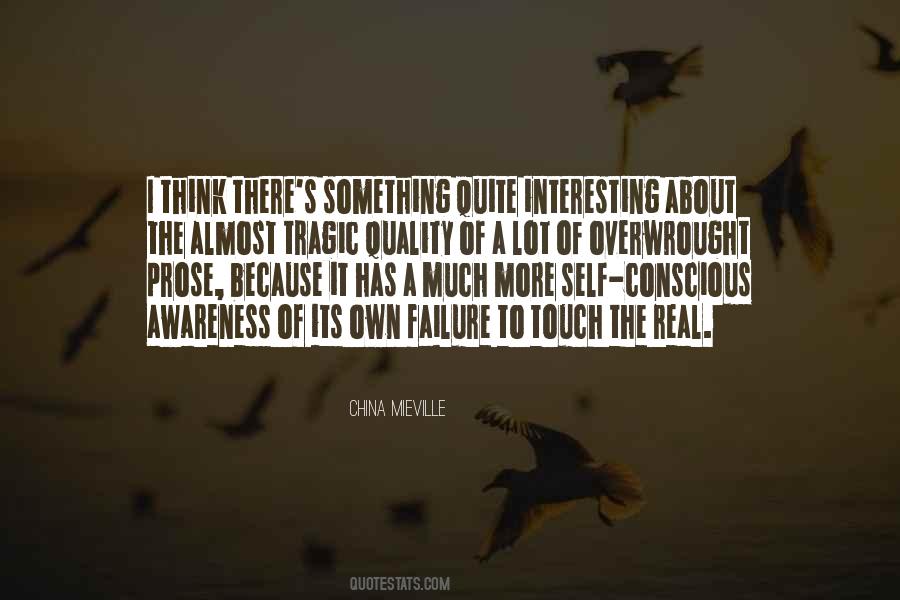 #29. To live without love for others is to live in aridity, to be self-serving and fruitless. To live without understanding is to live without sense or purpose. To live without awareness is to live as the deaf, blind and dumb in a world of vibrant light and sound. - Author: Belsebuub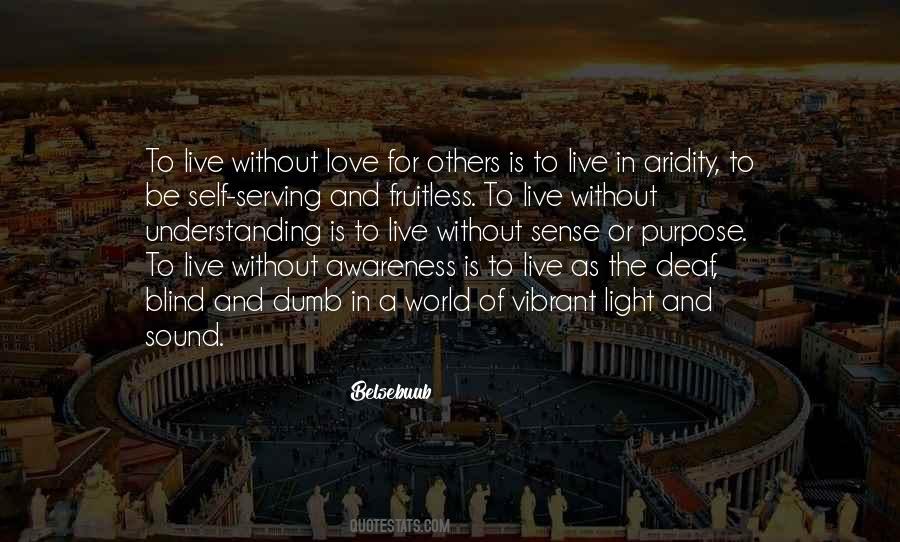 #30. Self-discovery is a process of dissolution and creation. Dissolution means envelopment in eternity. Creation is bringing into focus new awareness - Author: Frederick Lenz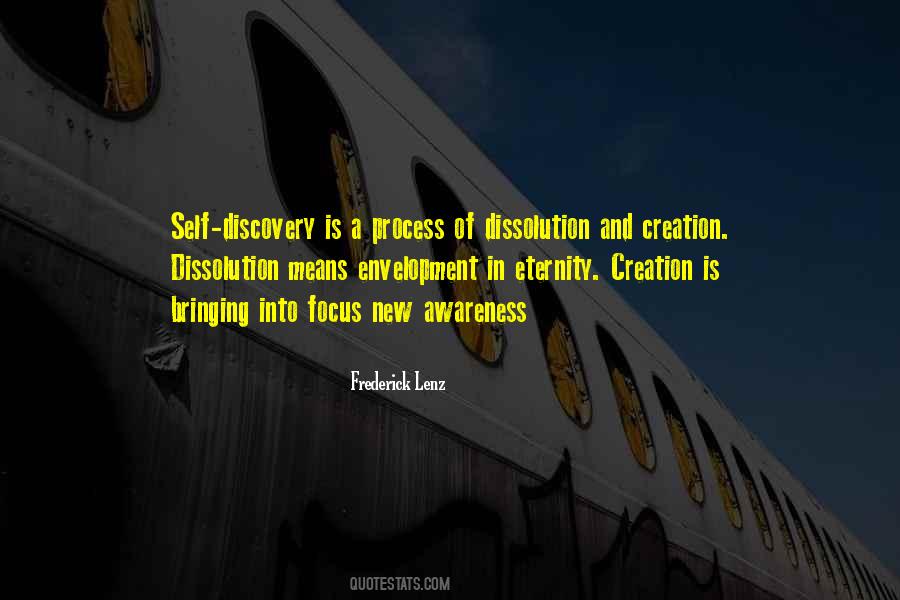 #31. Bring a mirror and let a dirty face recognize itself. - Author: Bernard Of Clairvaux, Saint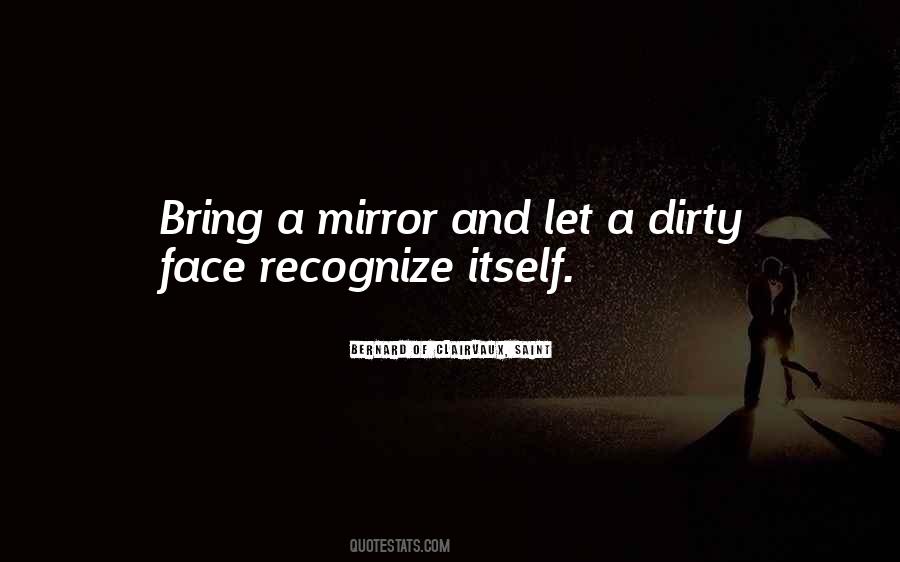 #32. Those who seek to listen to their own inner voice forget to listen to the judgment of others. - Author: Vironika Tugaleva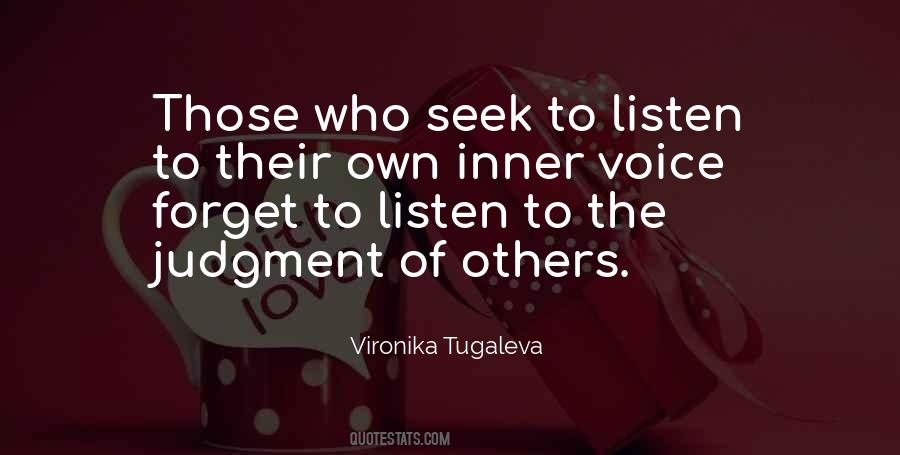 #33. The book from which to learn religion, is your own mind. - Author: Abhijit Naskar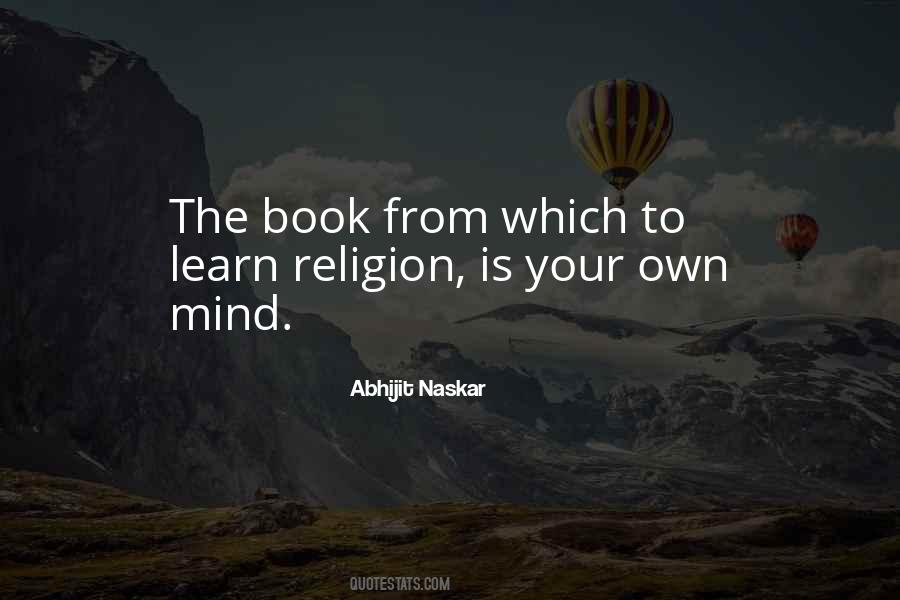 #34. The purpose of my work is not to educate people, rather it is to enrich human life with self-awareness. - Author: Abhijit Naskar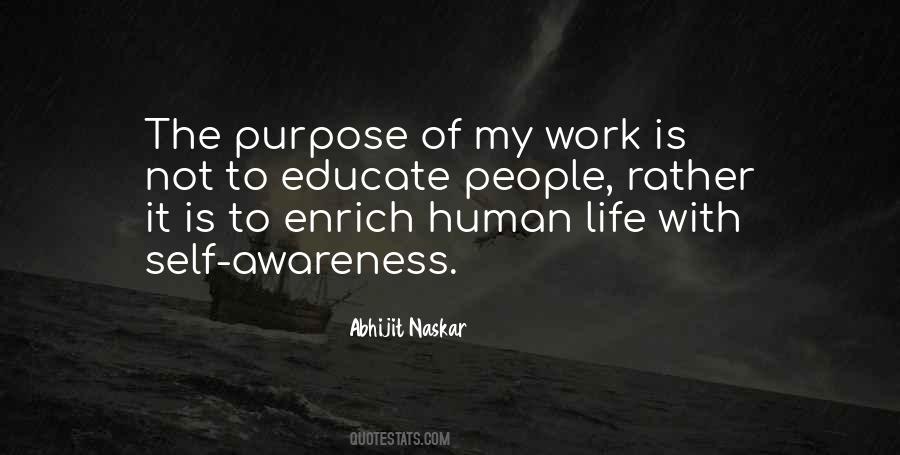 #35. One of the great paradoxes of life is that self-awareness breeds anxiety. - Author: Irvin D. Yalom
#36. I was in martial arts starting at the age of 14, and I got my black belt by the time I was 18. Soon after, I was teaching an entire school, with about 150 students. It was unbelievably intense because of the self-awareness part of becoming a black belt. - Author: Brad D. Smith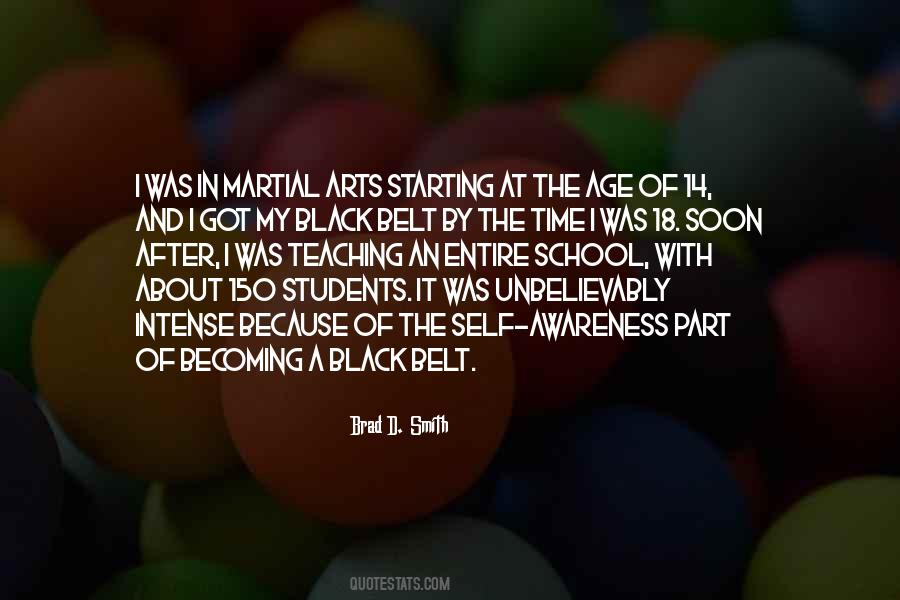 #37. You are an endless conglomeration of awareness. You're not one singular self. You're a corporation. - Author: Frederick Lenz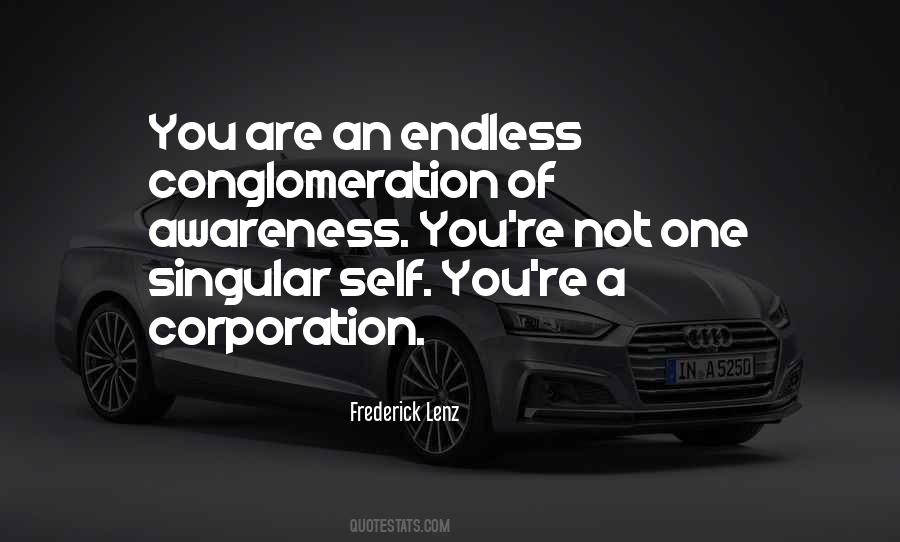 #38. They are denied access to the more advanced techniques of releasing the kundalini energy, which bring about quantum leaps in self-awareness. - Author: Frederick Lenz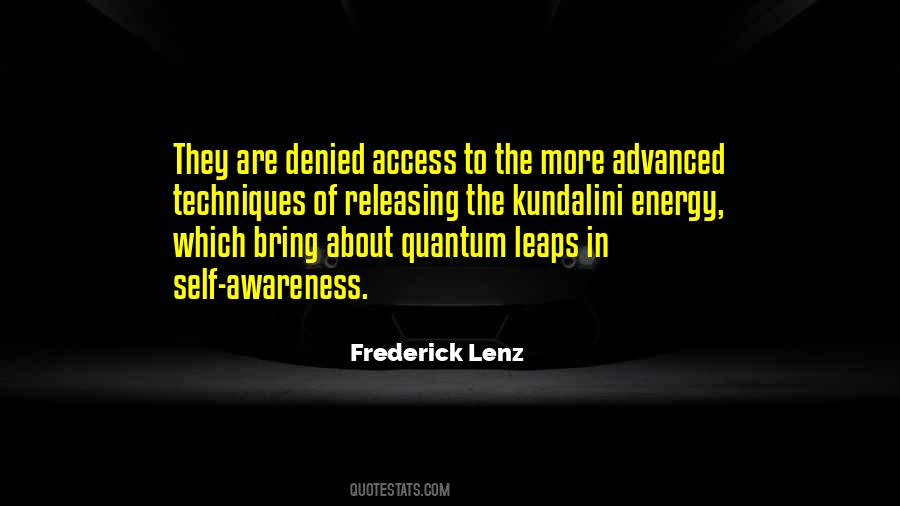 #39. The fragrance of meditation is enlightenment. - Author: Swami Dhyan Giten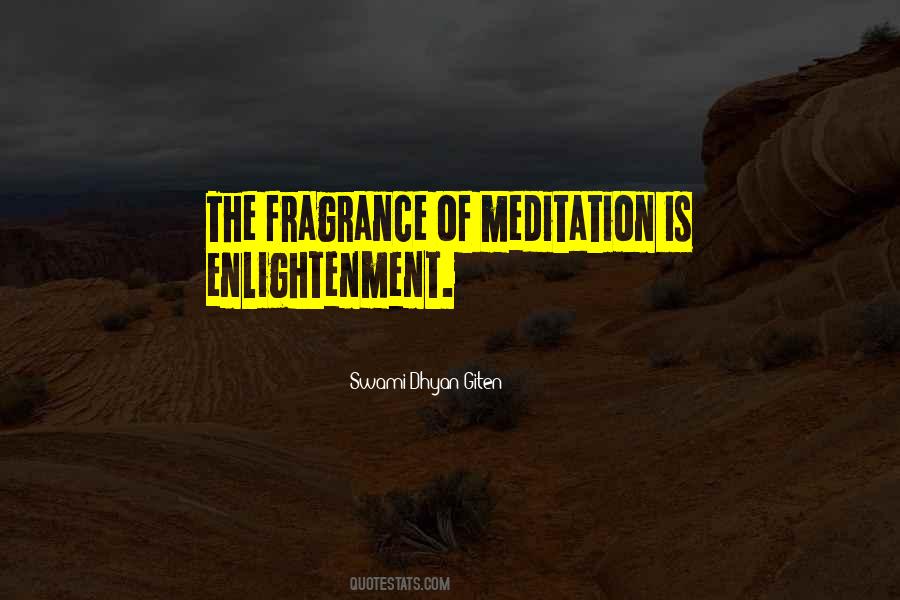 #40. A conscious understanding of the kind of cloth we wear, each moment of time, makes us be aware of what we must do or what we should never think of doing because of the cloth we wear! - Author: Ernest Agyemang Yeboah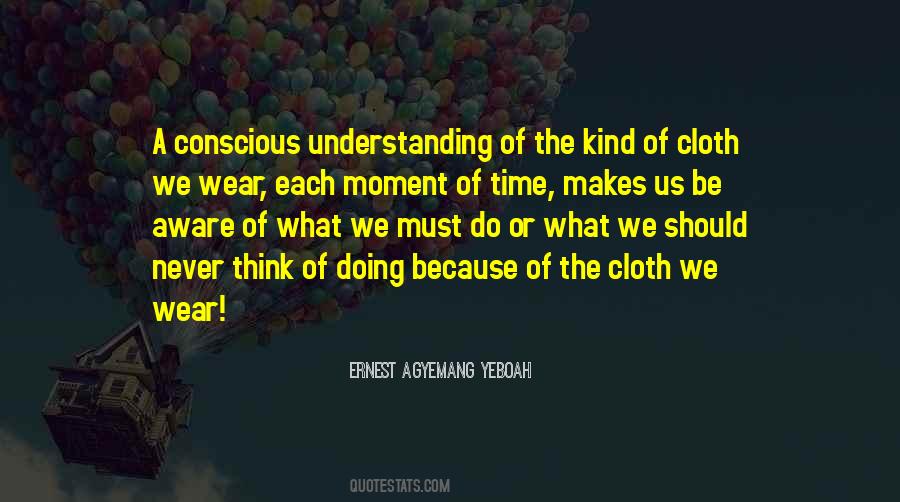 #41. We are who we are because of what we learn and what we remember. - Author: Abhijit Naskar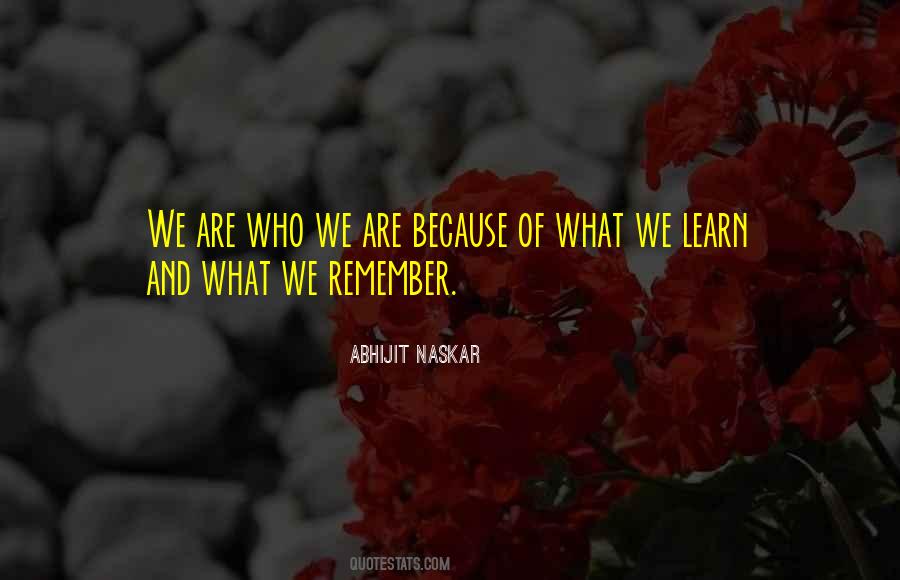 #42. A teacher is a sower of seed, a spiritual agriculturist, while he who teaches himself is the wise farmer of his own mental plot. - Author: James Allen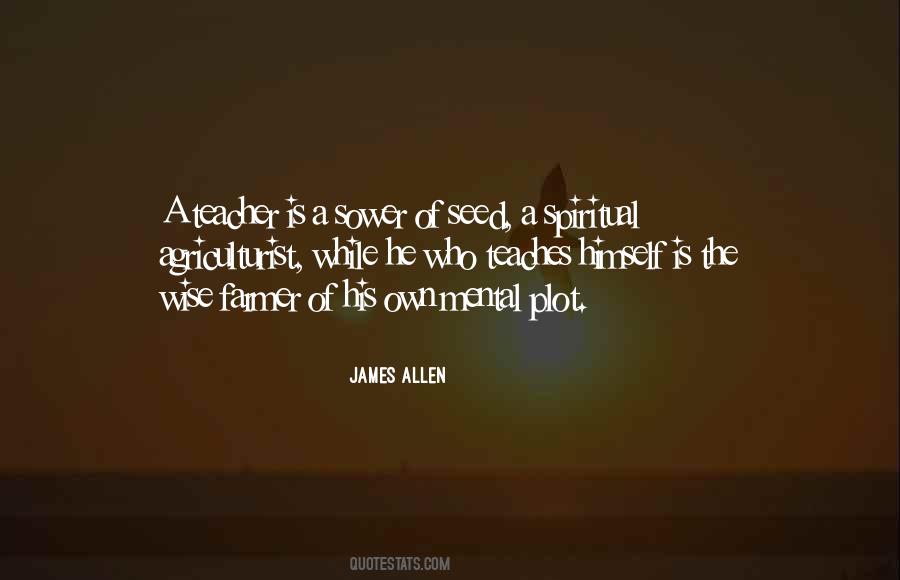 #43. God use times of adversity to revive the spirit of every man. - Author: Lailah Gifty Akita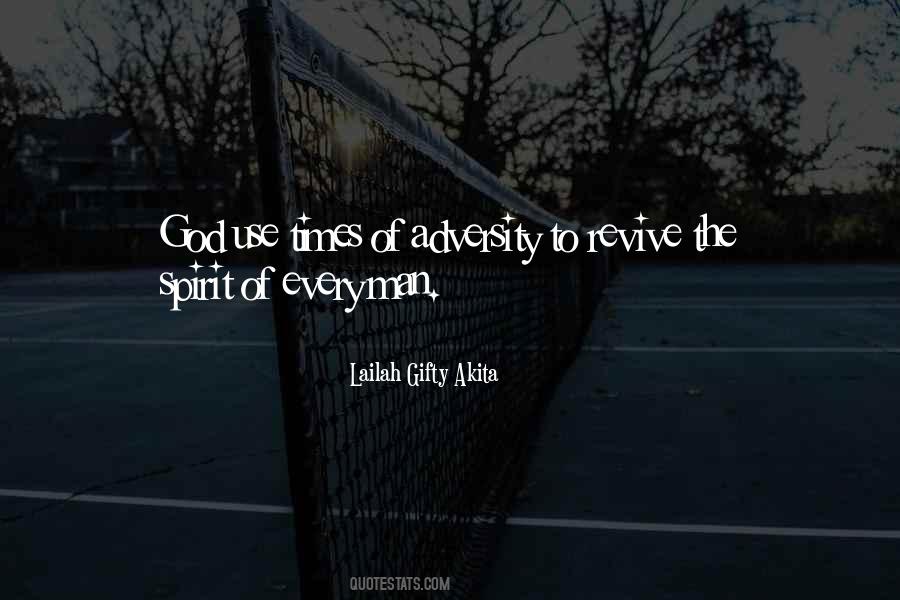 #44. To attempt to know myself 'apart' from God is to choose to know nothing more than 'a part' of myself. - Author: Craig D. Lounsbrough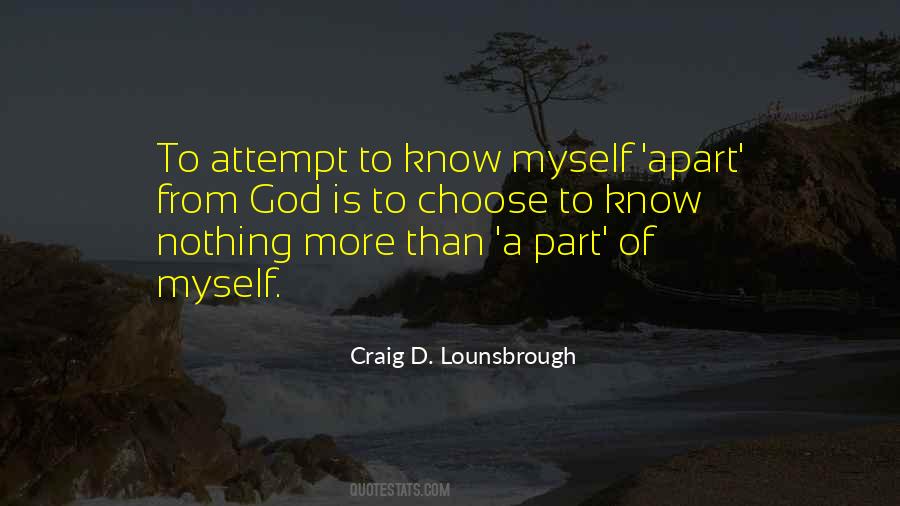 #45. We discover part of our true self only by conspicuous inspection of the depths of our conscience. - Author: Kilroy J. Oldster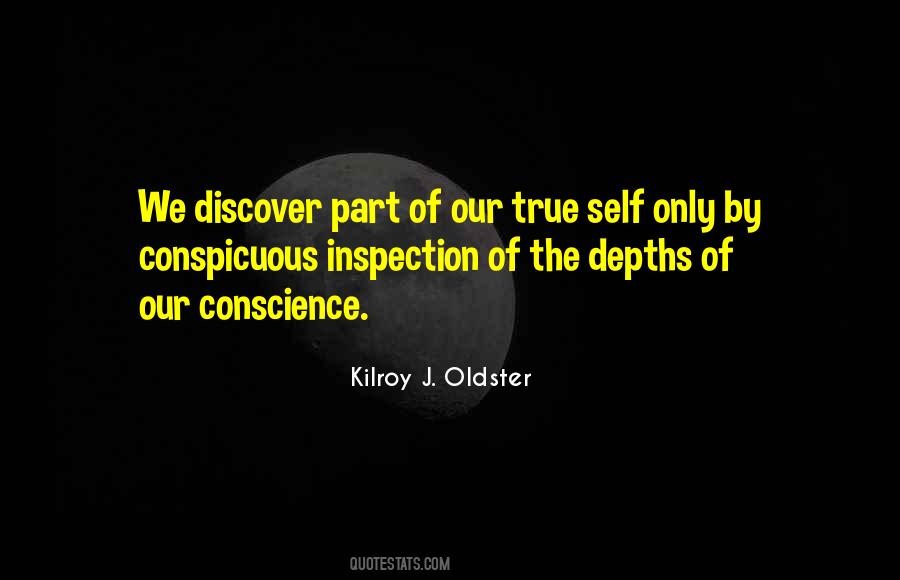 #46. It is understandable why a person might shirk a brutal self-assessment until the unforgiving talons of a reckless life rips their thin skin covertures into shreds leaving a person ensnared in their destructive thoughts and lacerated with bolts of self-incrimination. - Author: Kilroy J. Oldster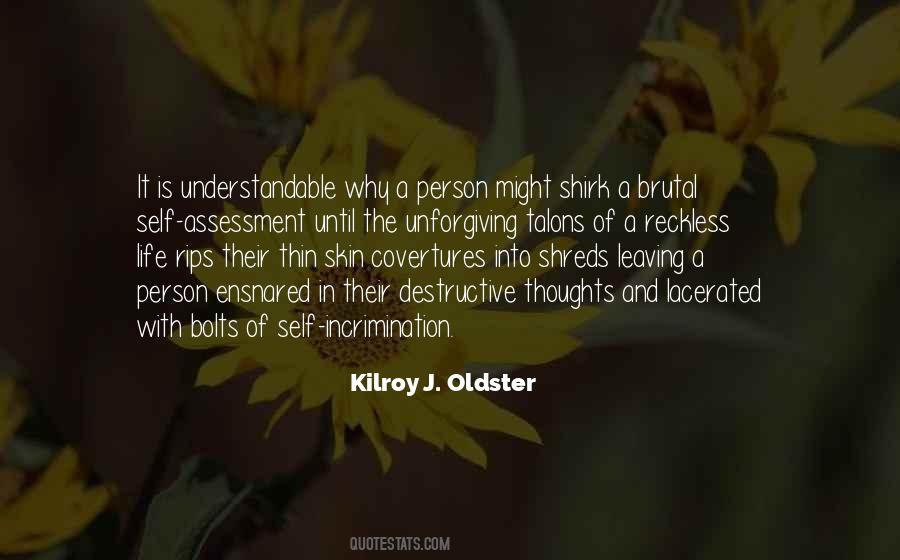 #47. Racism is not simply about one man's irrational hatred of another but his self-hatred, doubting his own moral goodness and purpose. - Author: Michael R. French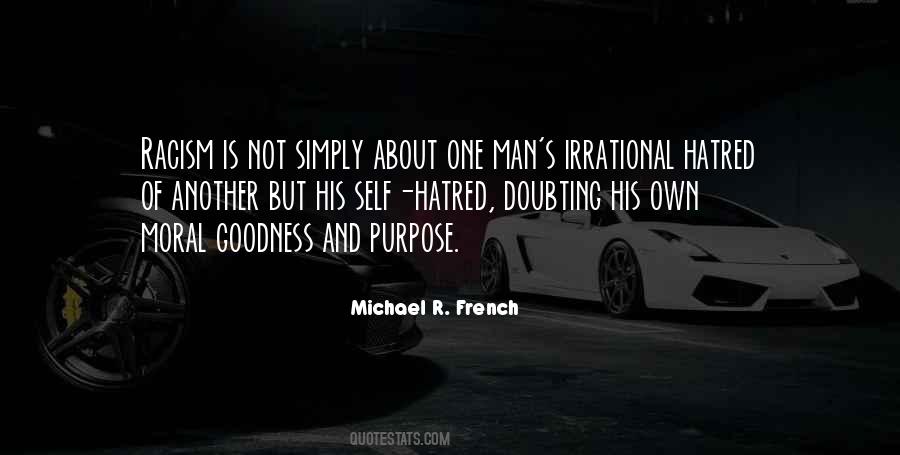 #48. Being self-aware is not the absence of mistakes, but the ability to learn and correct them. - Author: Auliq Ice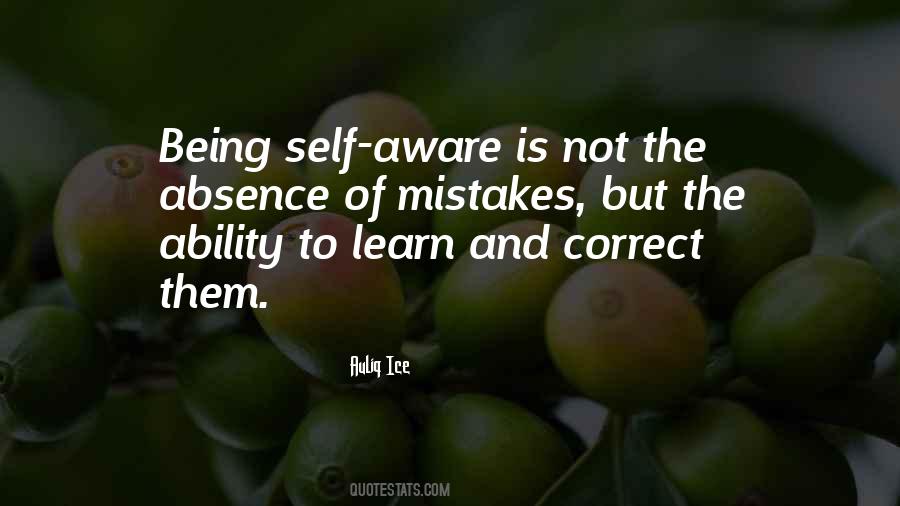 #49. There is a God part in you. The consciousness. The pure Self. Learn to listen the voice of that Power. - Author: Amit Ray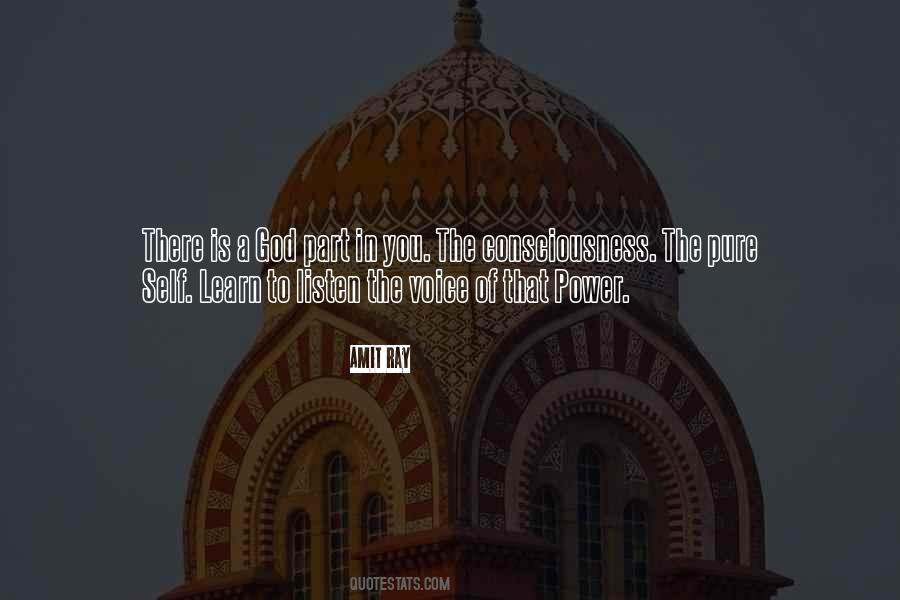 #50. I'm not dieting anymore. I want to eat what my body is asking of me. Just listen to your body in general - it's all self-awareness. - Author: Mary Lambert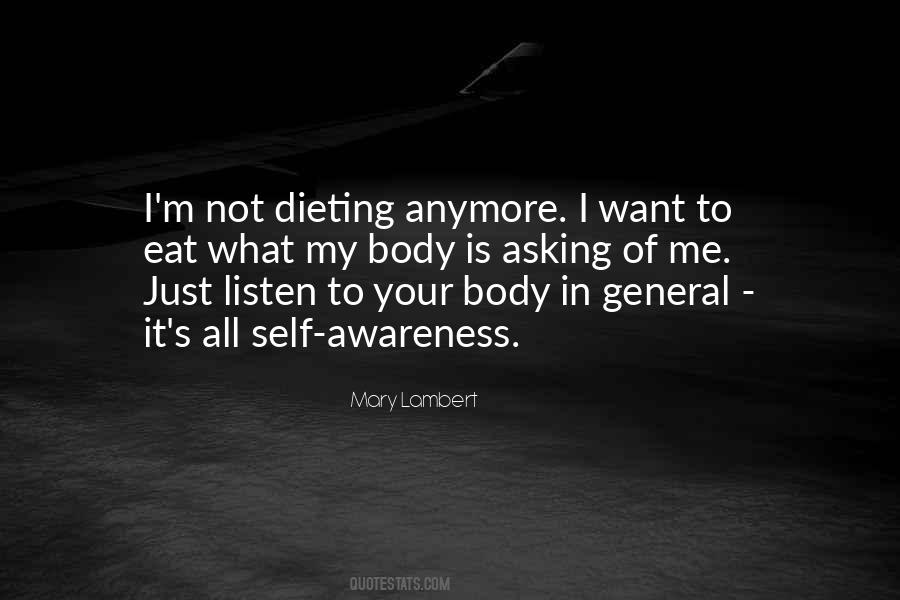 #51. We admire elephants in part because they demonstrate what we consider the finest human traits: empathy, self-awareness, and social intelligence. But the way we treat them puts on display the very worst of human behavior. - Author: Graydon Carter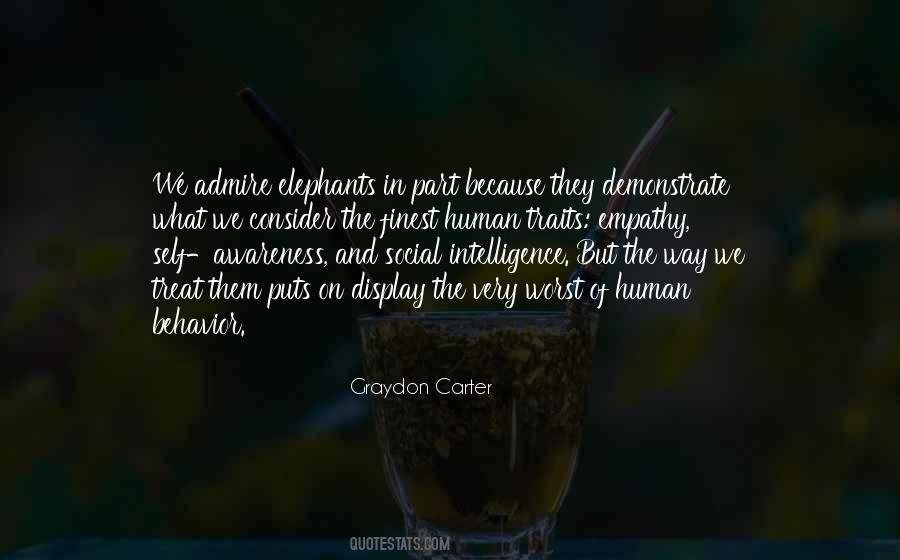 #52. When my turn on the program comes, I am not nervous at all - because all this is happening out of time, out of space. I am, for a moment, a figure of my own fantasy, and I play my appointed role as if I were in the movies. - Author: Eva Hoffman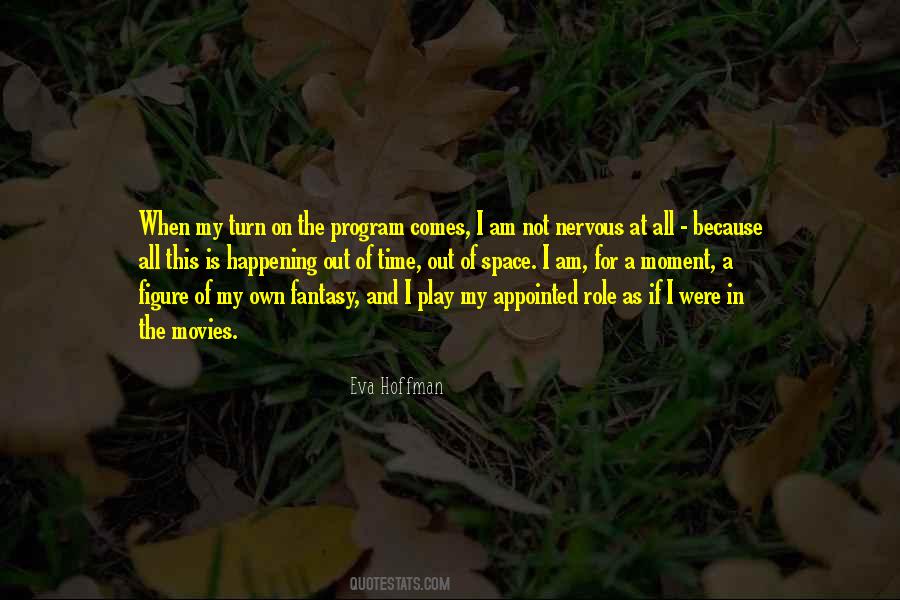 #53. Whereas the average individuals "often have not the slightest idea of what they are, of what they want, of what their own opinions are," self-actualizing individuals have "superior awareness of their own impulses, desires, opinions, and subjective reactions in general." - Author: Abraham Maslow
#54. When you assess your own life, consider it with the eye of a gardener. Underneath the surface lies rich, fertile soil waiting to nurture the seeds you sow. Even more than you can imagine will grow there if given a chance. - Author: Steve Goodier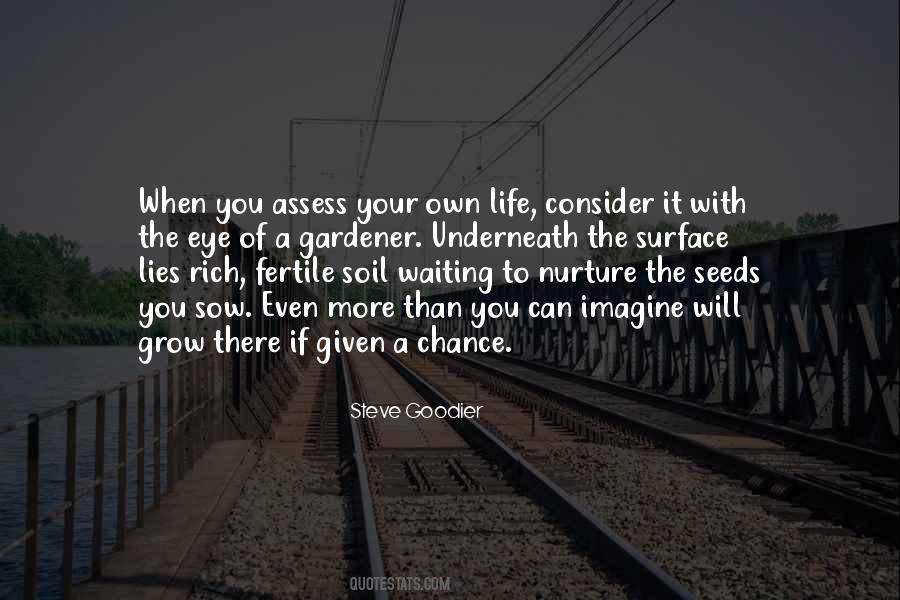 #55. Love and self are one and the discovery of either is the realization of both - Author: Leo Buscaglia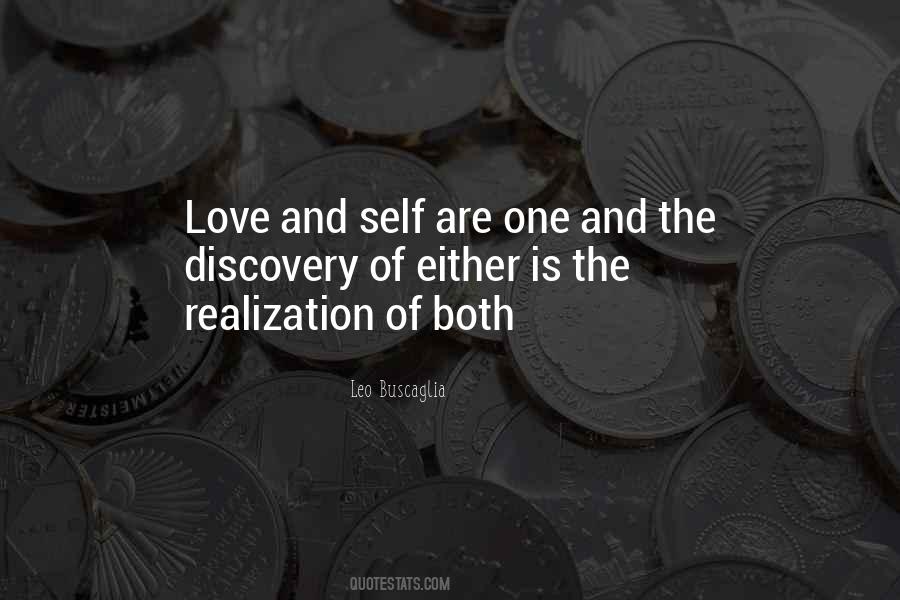 #56. We are trapped in a net of our our own self-doubt, on the programming force fed to us by parents, schools, society. In a certain light, on certain days, you can see that net. And once you can see it, you can learn to make it go away. - Author: Chloe Thurlow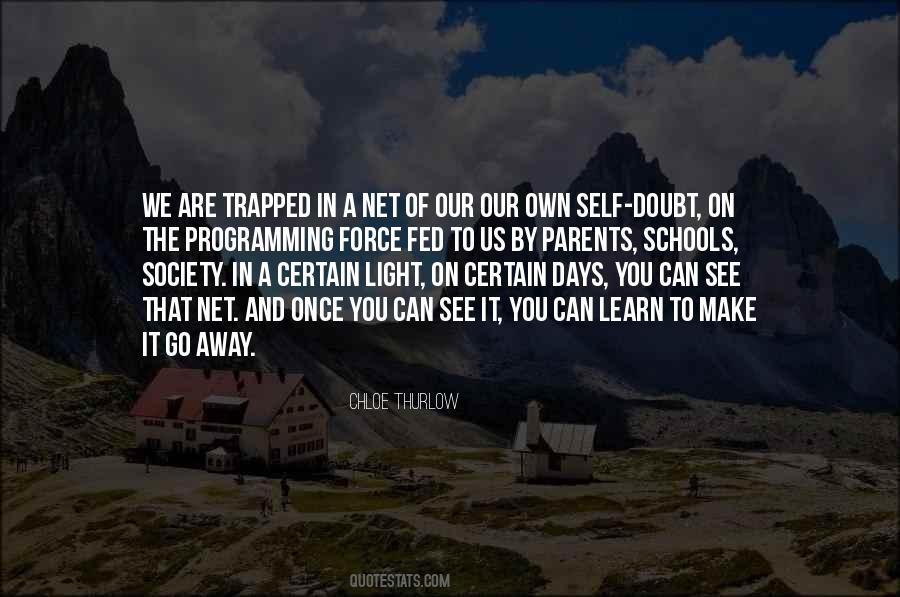 #57. Write it on your heart you are the most beautiful soul of the Universe. Realize it, honor it and celebrate the life. - Author: Amit Ray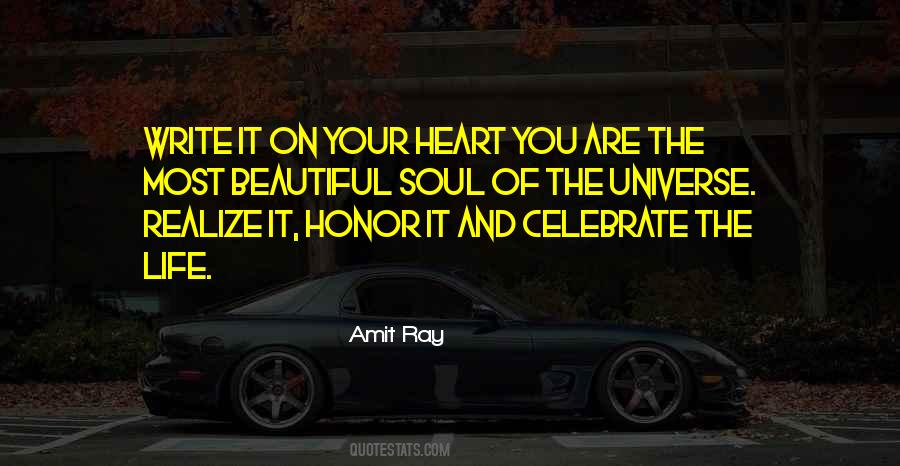 #58. I think there is a place where self-awareness becomes self-preoccupation if you don't take what you have discovered and bring it to bear on the conditions of the world. - Author: Marianne Williamson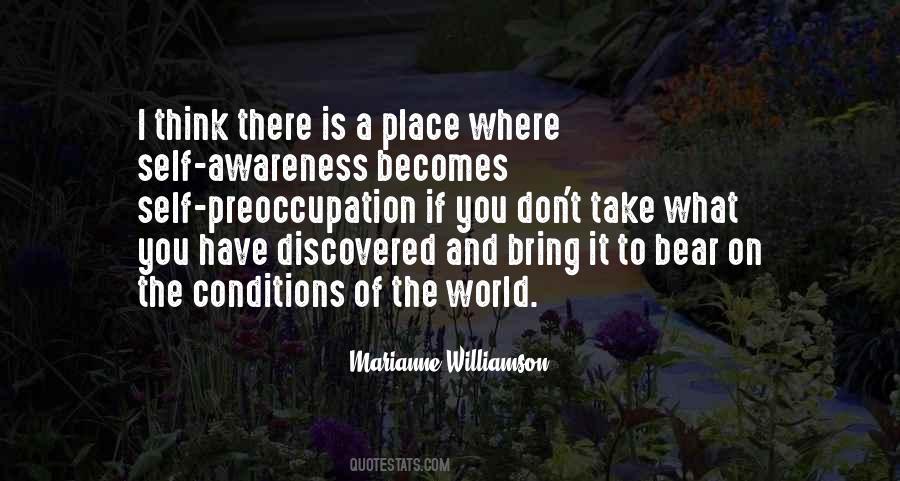 #59. But unlike Lachlan and Alison, my demons aren't self-induced. My demons are fate's way of telling me I won't escape unscathed. - Author: Kaitlyn Oruska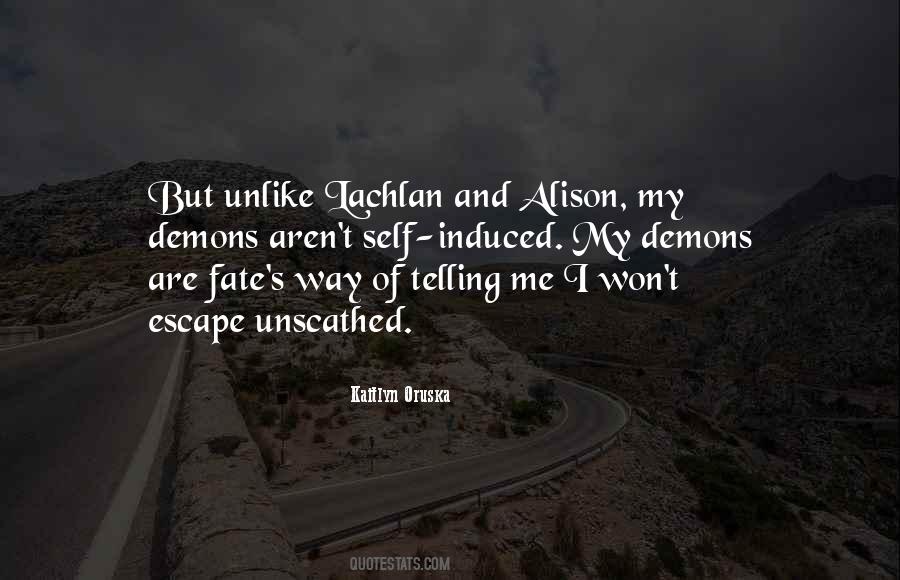 #60. Some men are born out of their due place. Accident has cast them amid certain surroundings, but they have always a nostalgia for a home they know not. - Author: W. Somerset Maugham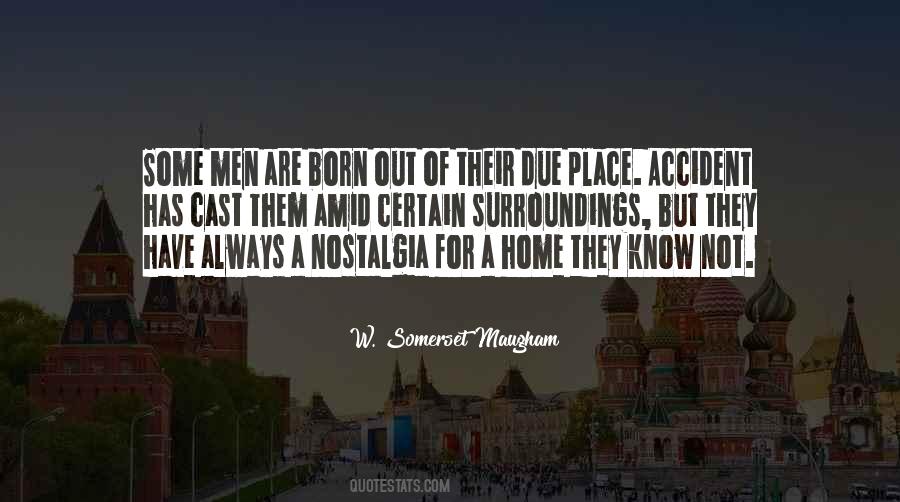 #61. Greed robs you of more value than the price of what you've gained. - Author: A.J. Darkholme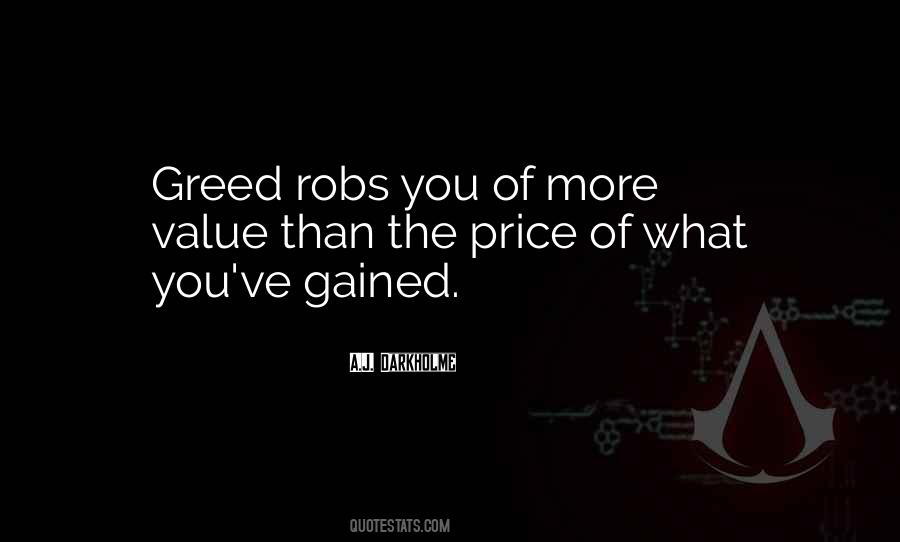 #62. We can't control on how each day will fall, but we can control how we fall into each day. Learn to make adjustments to match the circumstances. - Author: Anthony Liccione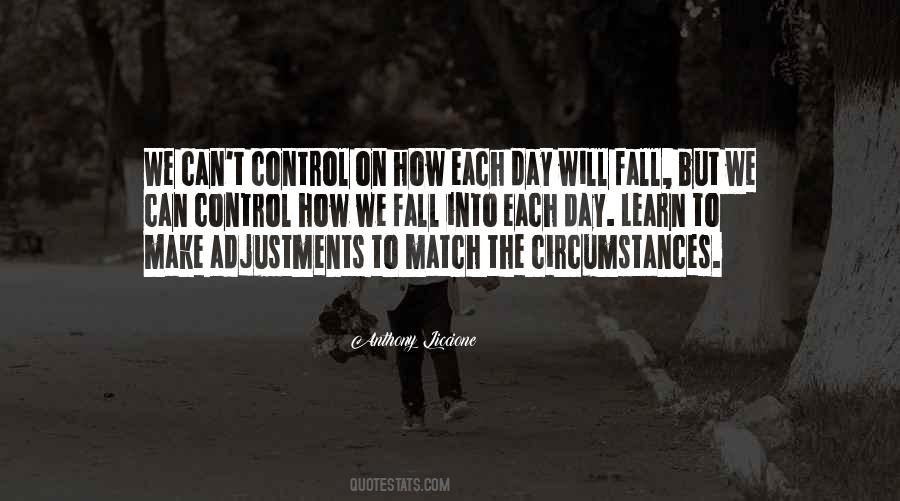 #63. Keeping 'pure focused applied awareness of the Self (Soul)' (shuddha upayog) is the same as being in the Absolute Supreme Self-form (Parmatma swaroop). - Author: Dada Bhagwan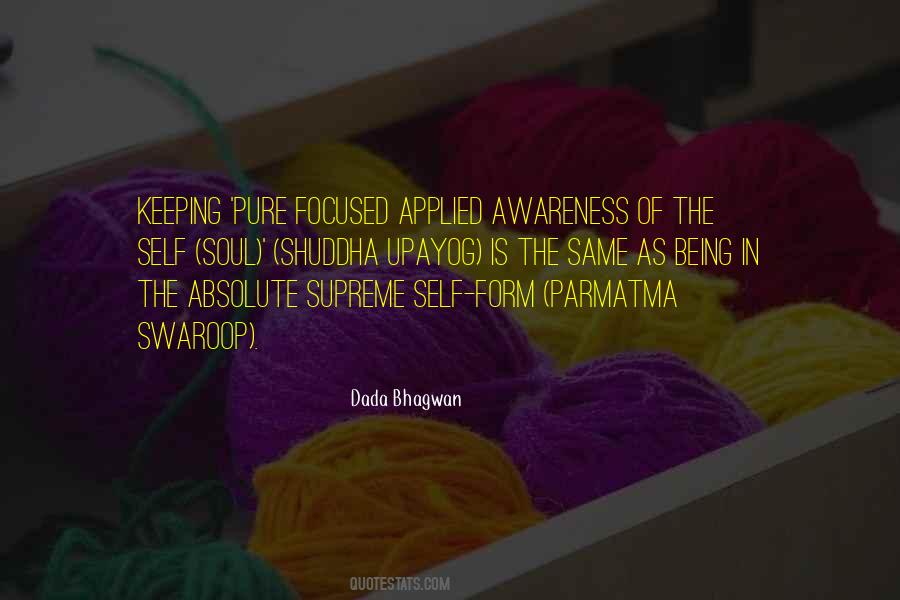 #64. Religion is the Self revealing secrets of the Self to the Self. - Author: Abhijit Naskar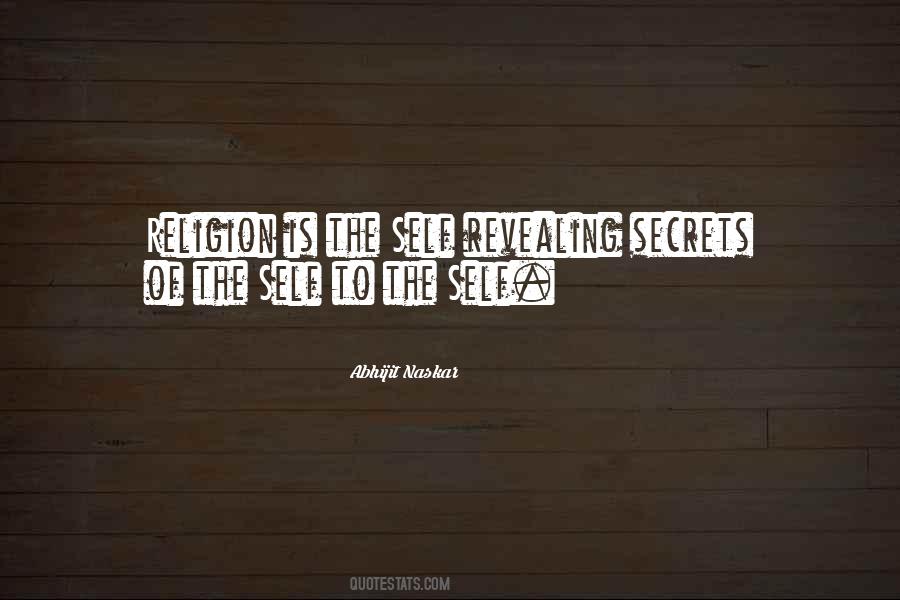 #65. When you cease to fear your solitude, a new creativity awakens in you. Your forgotten or neglected wealth begins to reveal itself. You come home to yourself and learn to rest within. Thoughts are our inner senses. Infused with silence and solitude, they bring out the mystery of inner landscape. - Author: John O'Donohue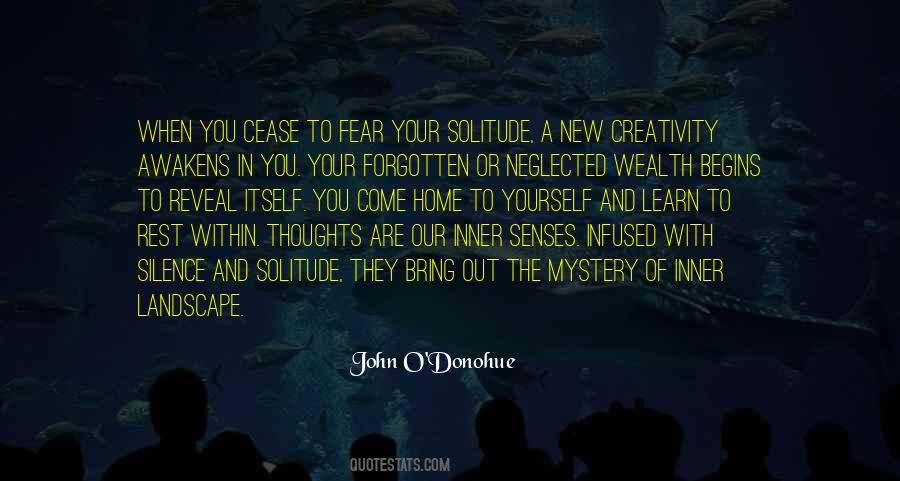 #66. Neuroscientists have discovered that when you ask the brain to meditate, it gets better not just at meditating, but at a wide range of self-control skills, including attention, focus, stress management, impulse control, and self-awareness. - Author: Kelly McGonigal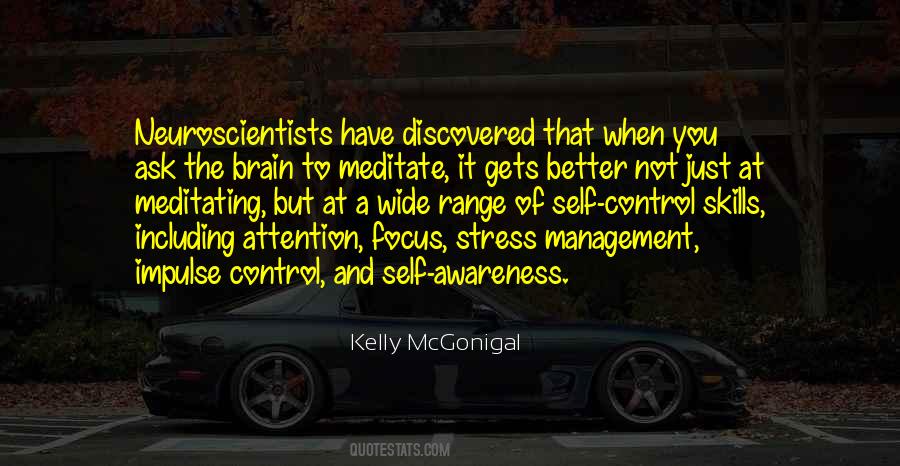 #67. No amount of money can buy you style. Having good style takes thought, creativity, confidence, self-awareness, even sometimes a little bit of work. - Author: Sophia Amoruso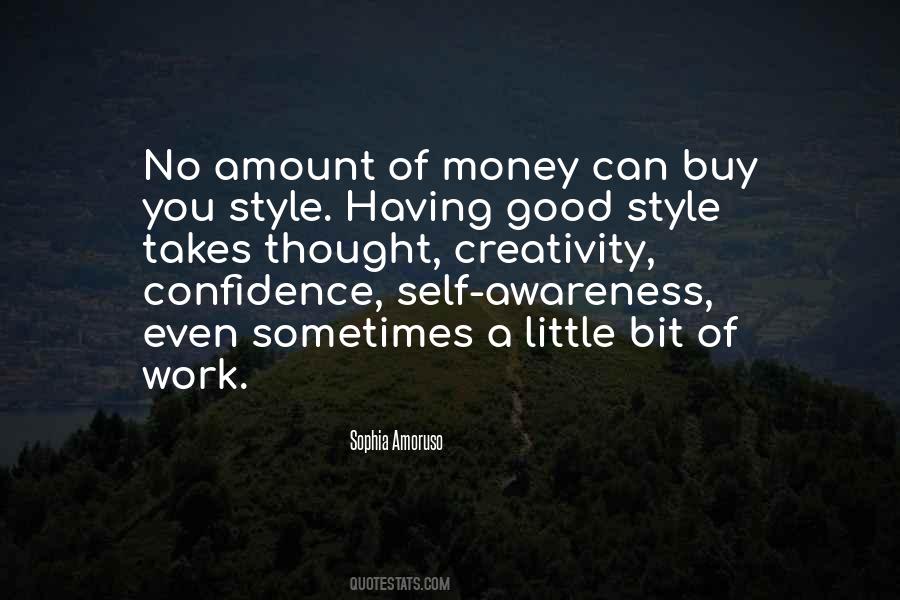 #68. All of us must come to an honest, open self-examination, an awareness within as to who and what we want to be. - Author: M. Russell Ballard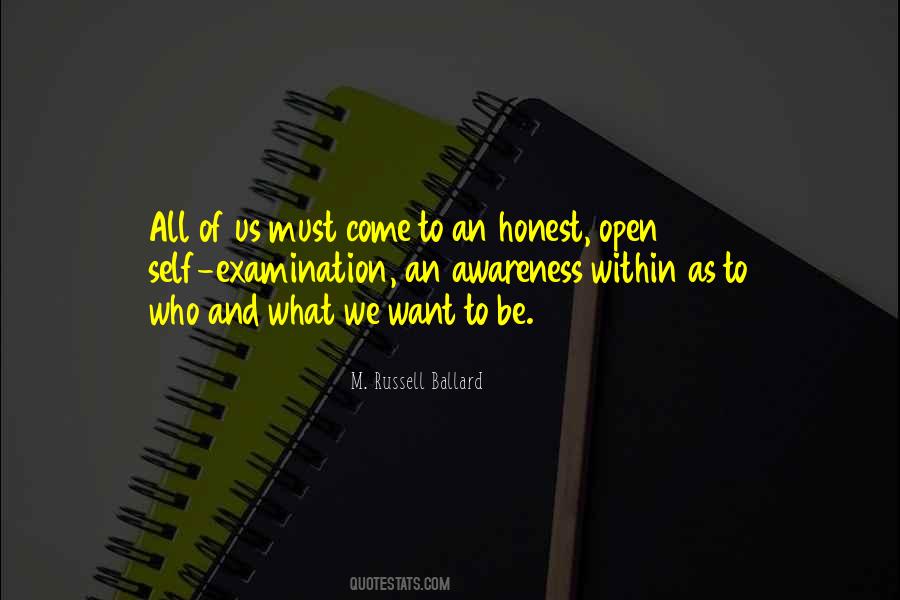 #69. My heart needs only one thing. It needs to be guided Along the age-old path Of life-blossoming self-awareness. - Author: Sri Chinmoy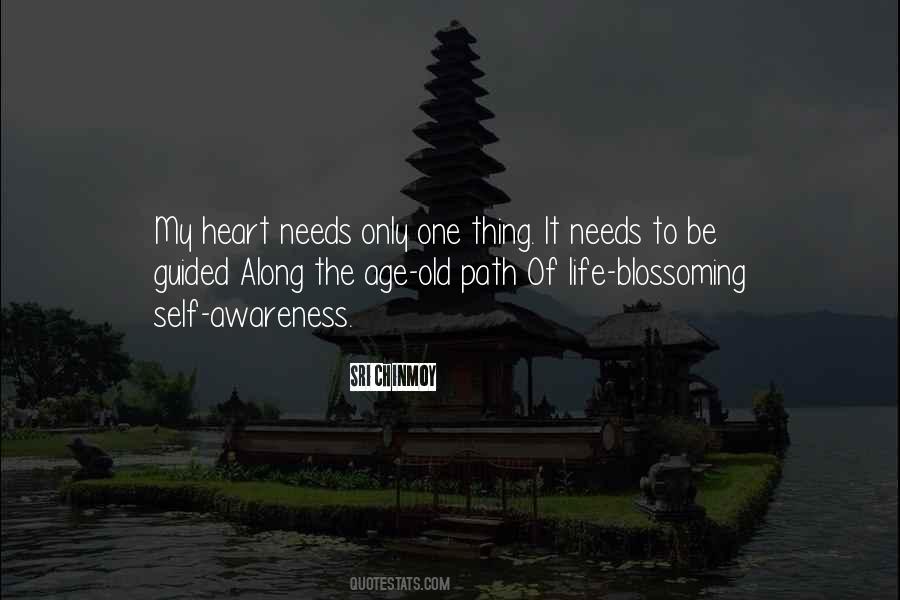 #70. Those who are actively seeking enlightenment will not find it because the act of looking for it is the distraction from it. - Author: Enza Vita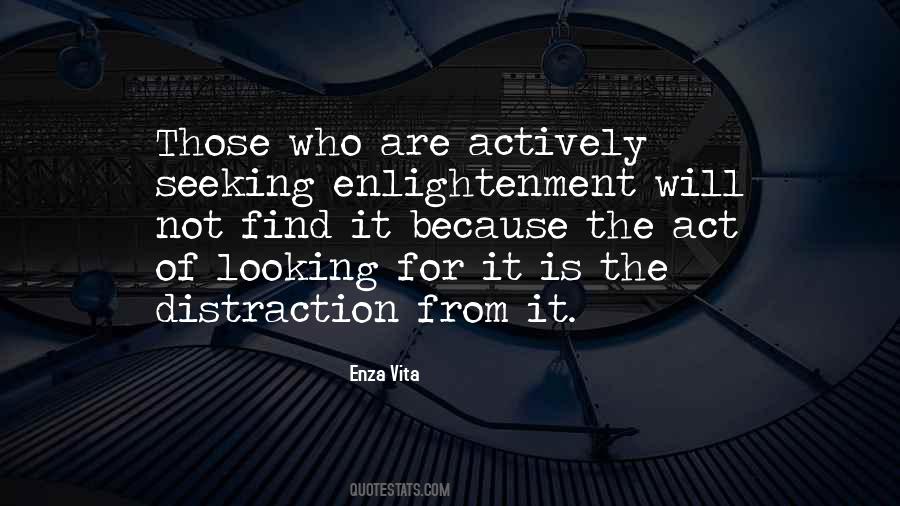 #71. Generally speaking, writers who have been at it for a while, and who are any good at it, suffer from an acute kind of self-knowledge. The unexamined life is not a risk for them. - Author: Mark Slouka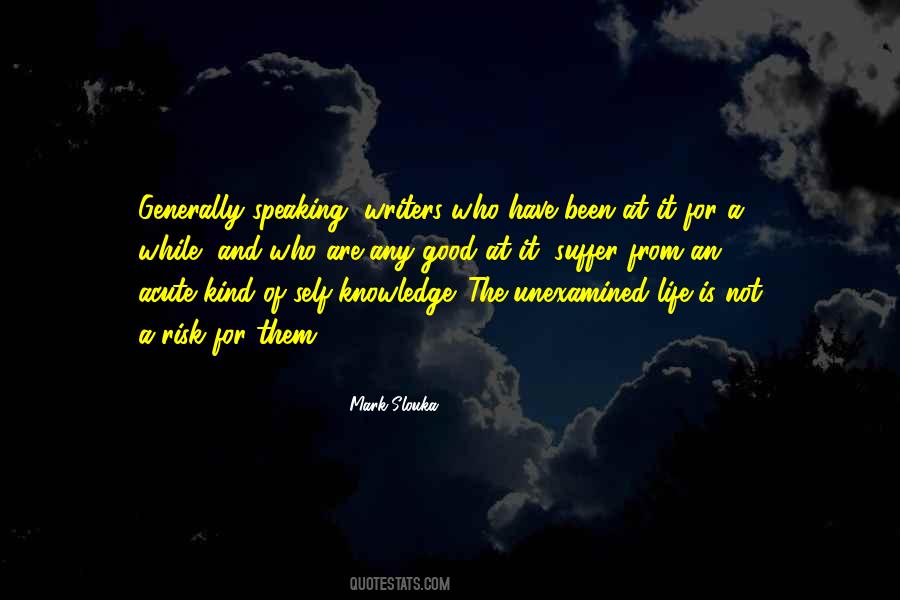 #72. Nothing can touch the one who is oodasin (one unperturbed by worldly life). After attaining Knowledge of the Self, if one applies awareness of the Self, one can remain unperturbed (oodasin). - Author: Dada Bhagwan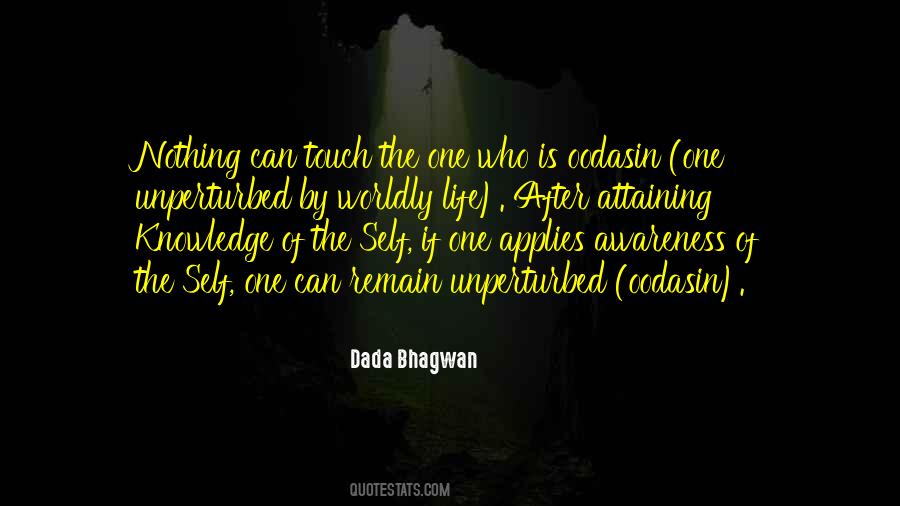 #73. You need to remember that. If you're to have decent lives, you have to know who you are and what lies ahead of you, every one of you. - Author: Kazuo Ishiguro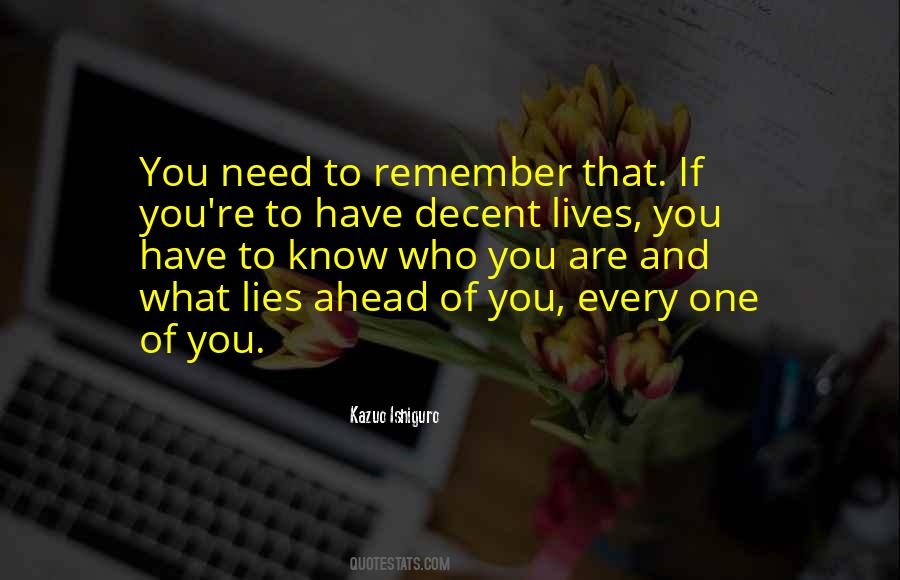 #74. Yoga is about balance, both mind and body, as well as increasing self-awareness, with by-products of better strength and flexibility. - Author: M.E. Dahkid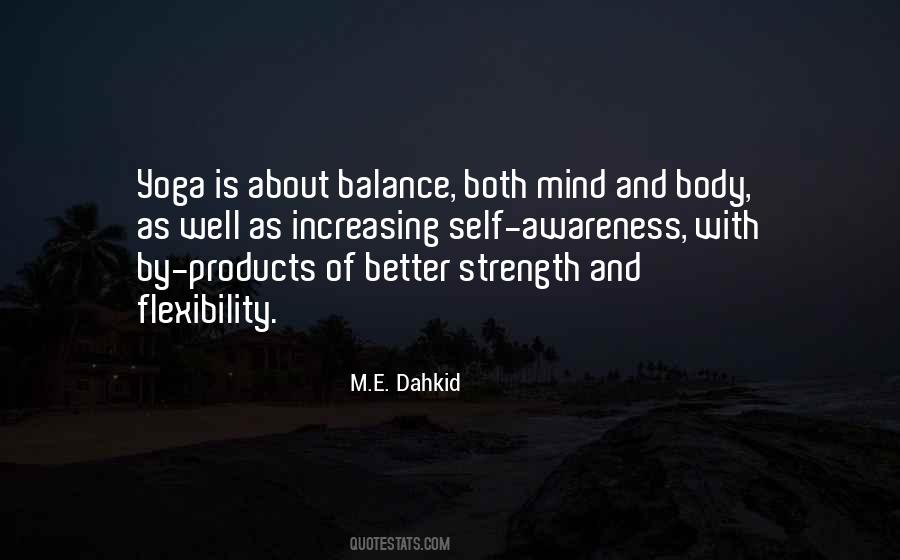 #75. The foundation stone of all philosophy is self-knowledge and being true to thy self. A person must address an inner necessity in order to realize the fundamental truth about oneself, seek self-improvement, and gain knowledge through experience. - Author: Kilroy J. Oldster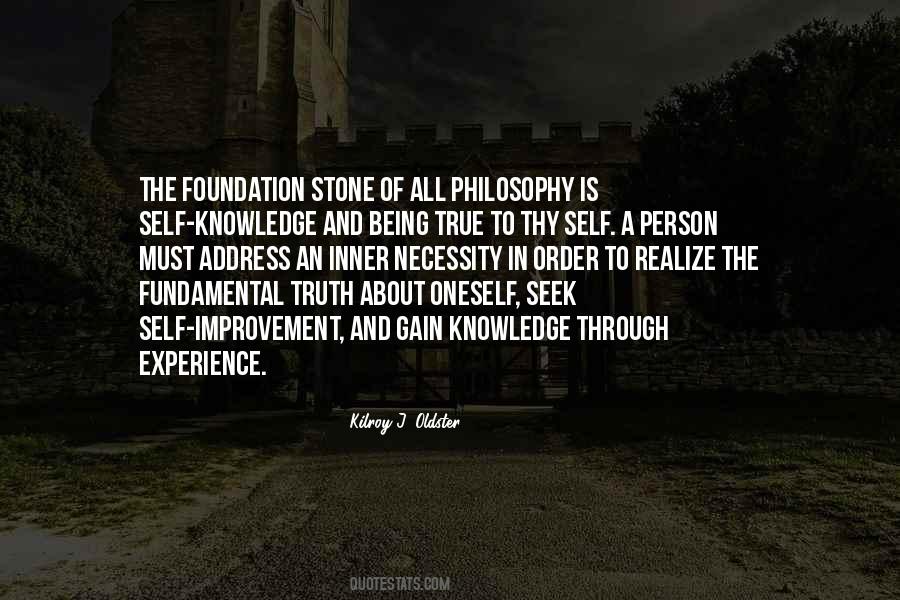 #76. The self can only be realized, and the realization can only happen, out of personal experience. - Author: Roshan Sharma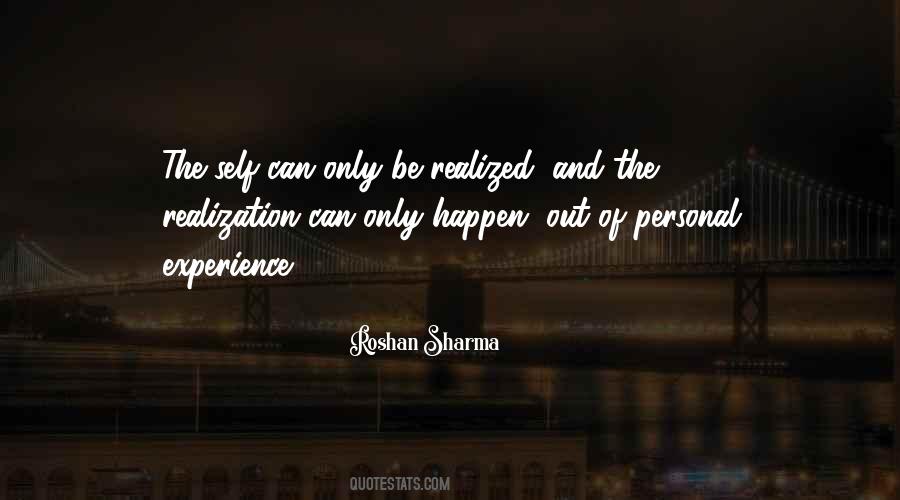 #77. Why wait? So precious is this life - this gift - this temporary blindness. Burn and drown and embrace the false dark, then grasp the unthinkable height of resulting joy. For in the end, in the light of truth when the flesh is cast off, there is nothing but this. - Author: Jennifer DeLucy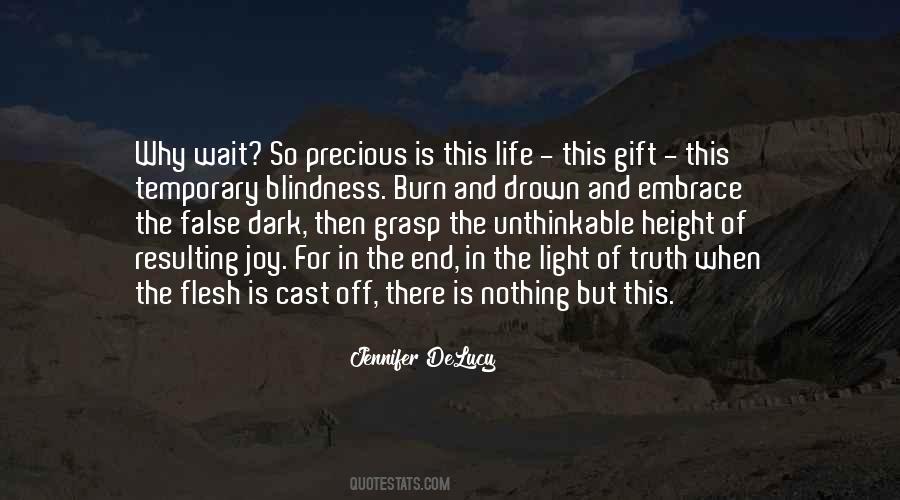 #78. Yes! I'm me! I am careful and logical and I look up things I don't understand! When I hear people use the wrong words, I get edgy! I am good with cheese. I read books fast! I think! And I always have a piece of string! That's the kind of person I am! - Author: Terry Pratchett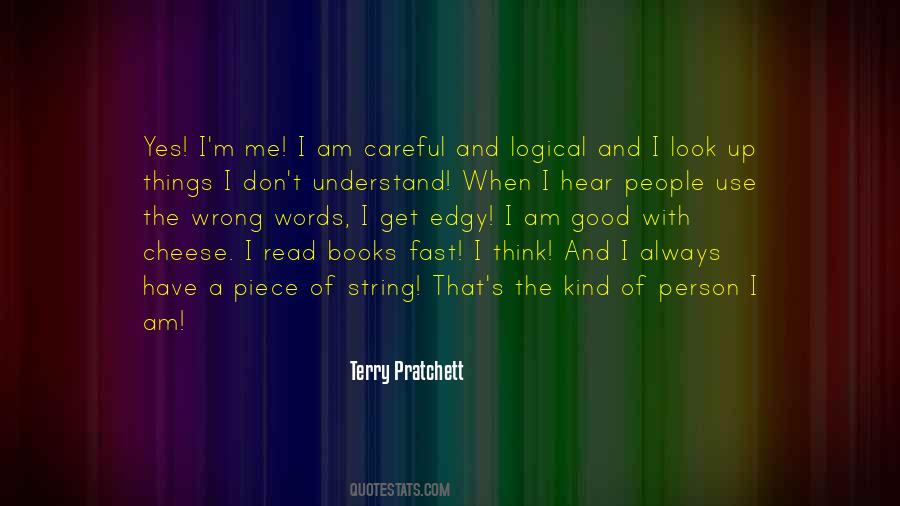 #79. There's just something unsettling about studying your reflection. It's not a matter of being dissatisfied with your face or of being embarrassed by your vanity. Maybe it's that when you gaze into your own eyes, you don't see what you wish to see - or glimpse something that you wish weren't there. - Author: Dean Koontz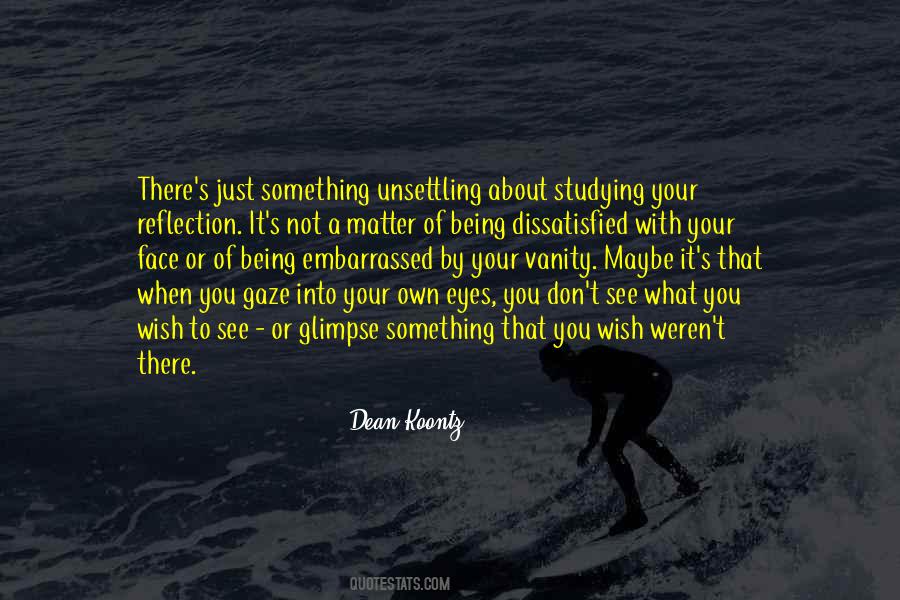 #80. The real virtue is not to be free from desires but to be content with what you have. - Author: Abhijit Naskar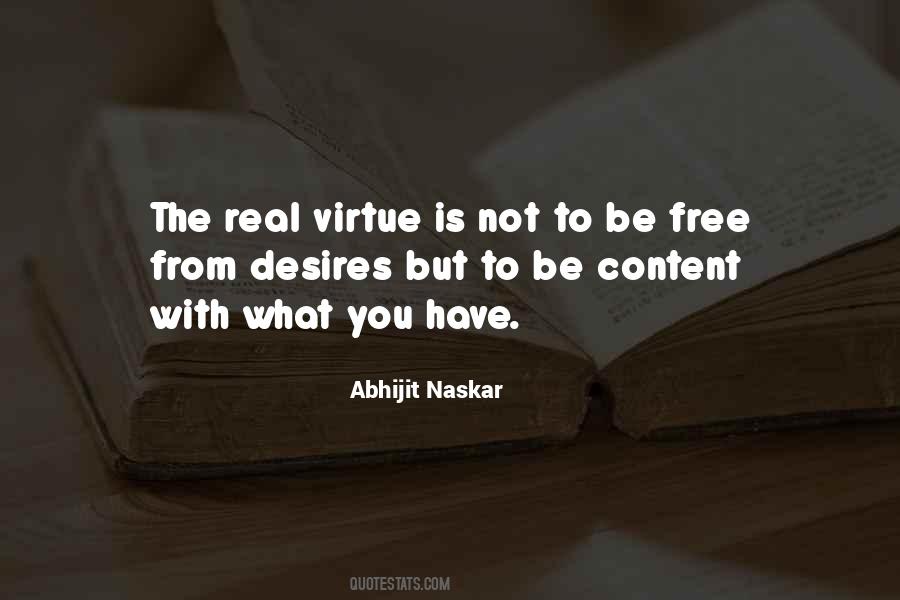 #81. Do not become self-absorbed, but become self-aware. - Author: Abhijit Naskar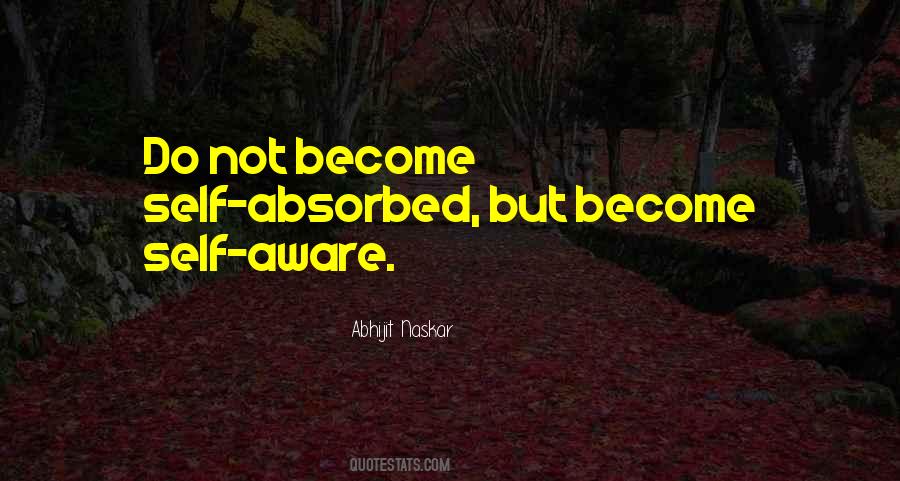 #82. While there are many that journey who seek, not all that travel will find, for they are bound by what they have been taught and not of what they know."

- The Tapestry of Spirit - Author: Erik Paul Rocklin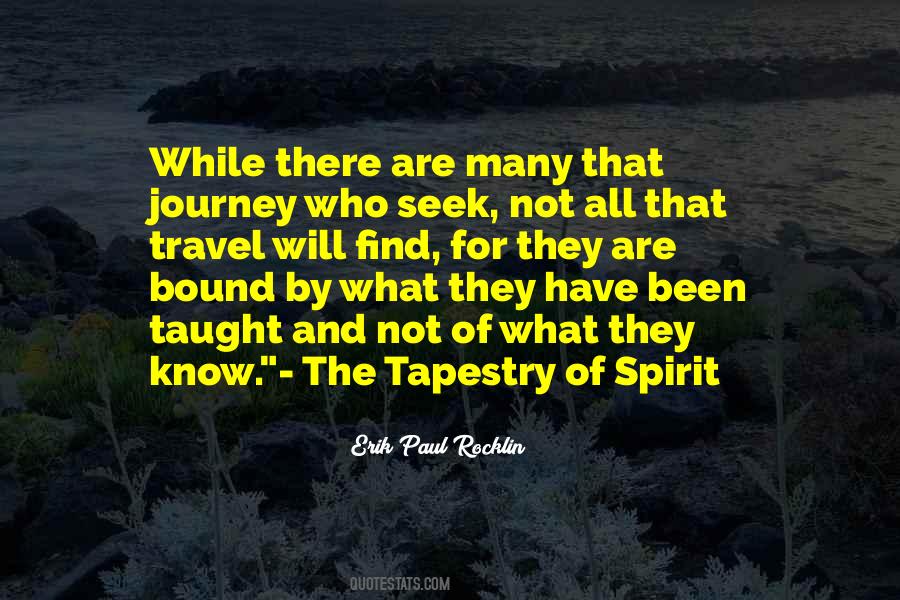 #83. In deep of suffering, I found my soul. - Author: Lailah Gifty Akita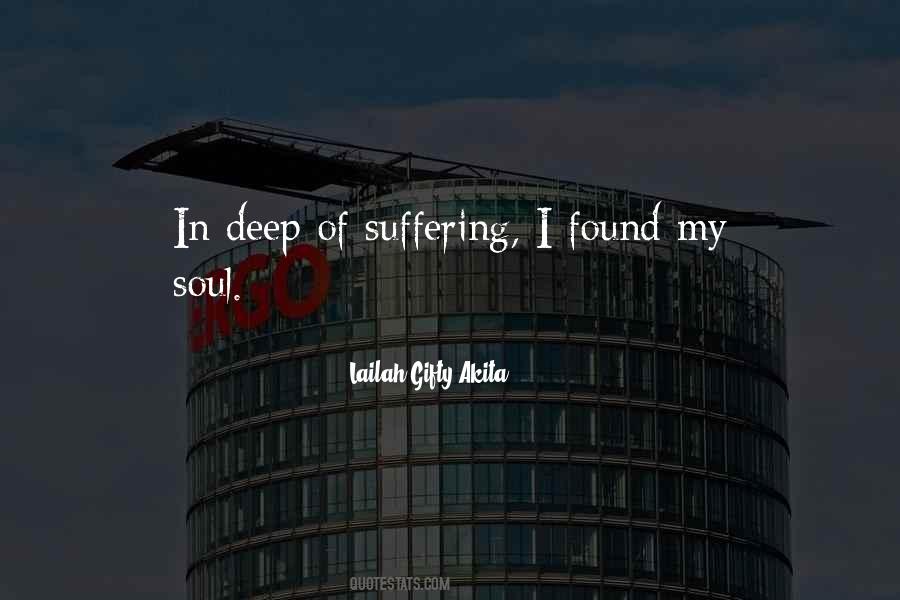 #84. The totally alive, totally conscious, and totally aware Universe takes care of itself completely. It is totally self-reliant and totally self- sufficient. it is perfect. - Author: Chris Prentiss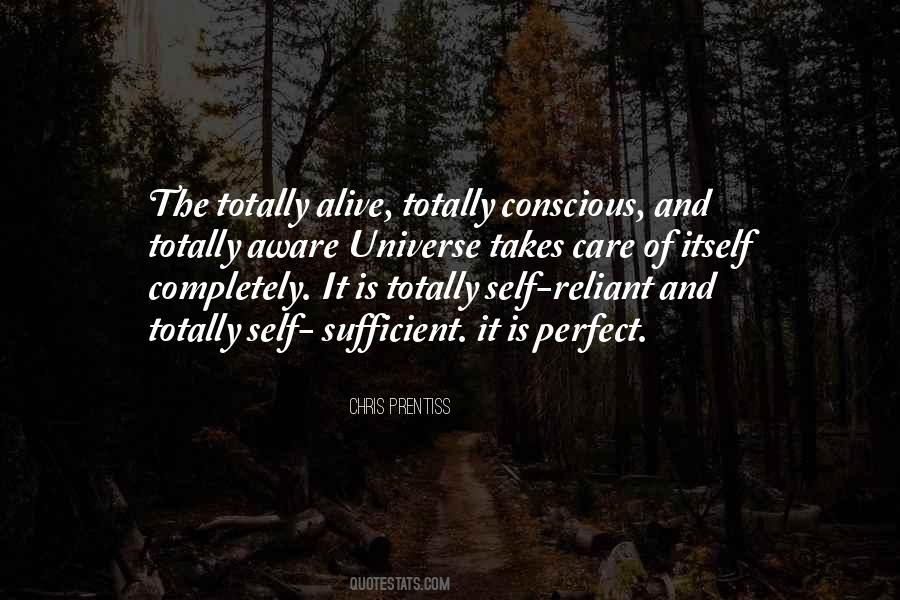 #85. How could a man know the truth of his own soul? - Author: Alexandra Ripley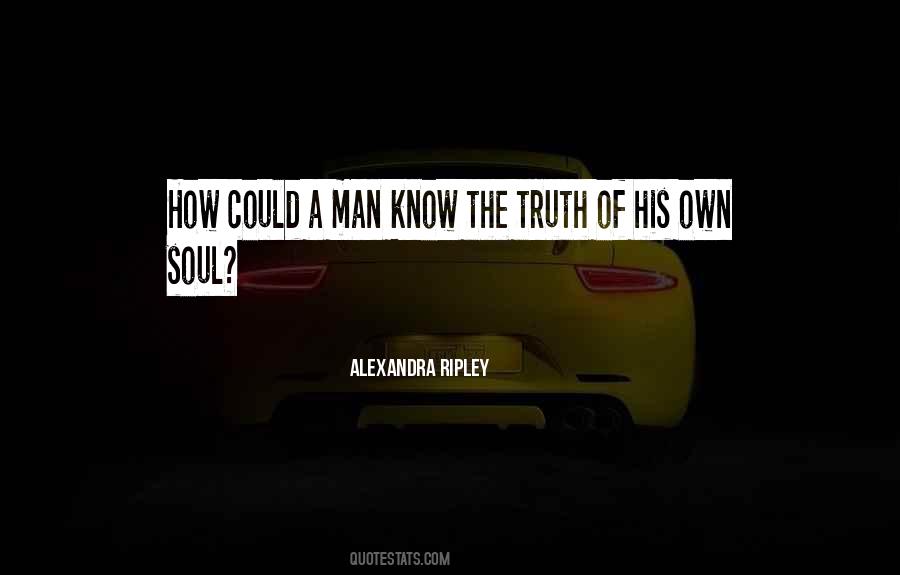 #86. In the end, the sum of my vices is all me. - Author: Melina Marchetta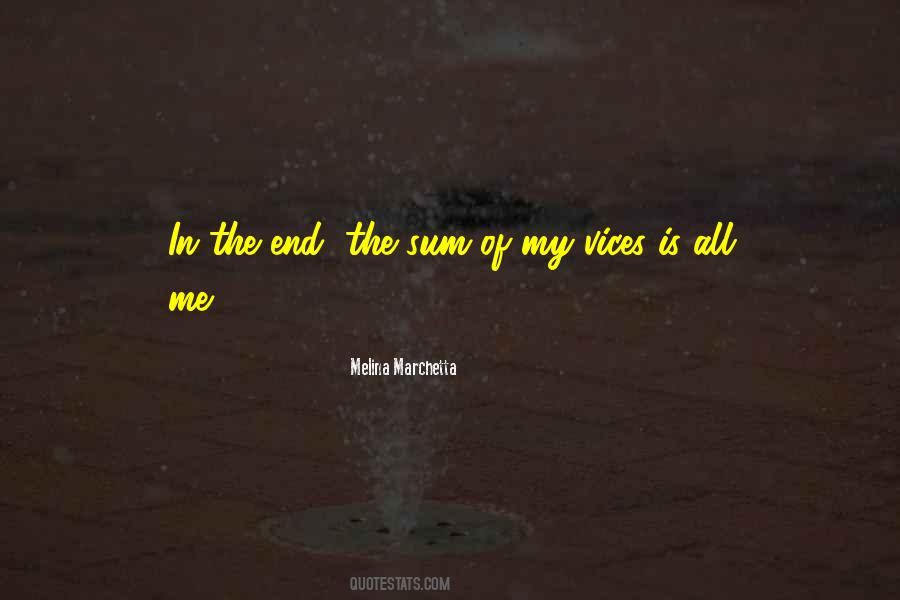 #87. We must be able to love other people or forever endure the stain of disgraceful loneliness. By recognizing and expressing empathy for other people, we come to accept our own fallibility. - Author: Kilroy J. Oldster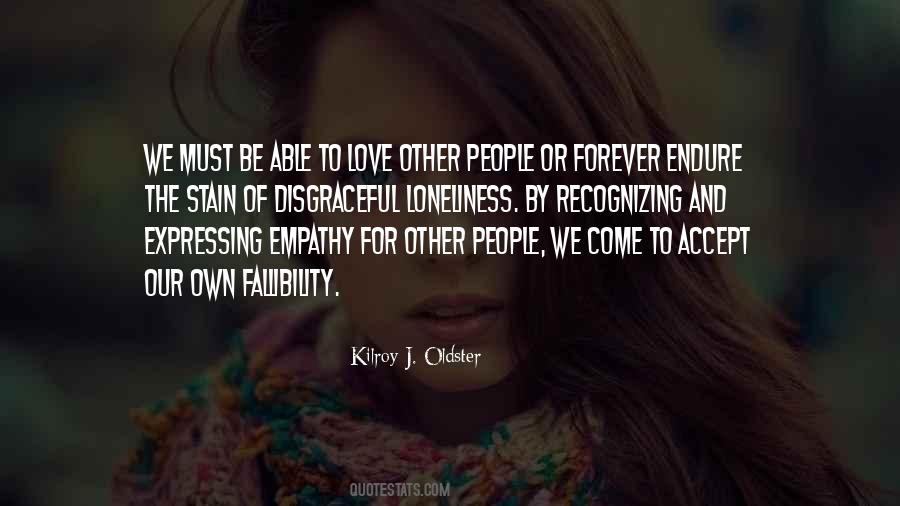 #88. Self-love is a good thing but self-awareness is more important. You need to once in a while go 'Uh, I'm kind of an asshole. - Author: Louis C.K.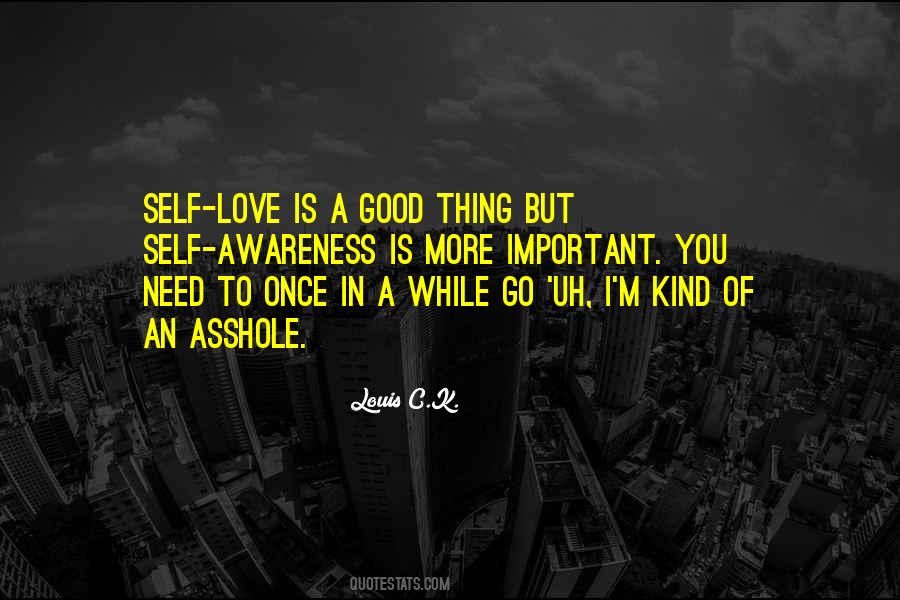 #89. Mature striving is linked to long-range goals. Thus, the process of becoming is largely a matter of organizing transitory impulses into a pattern of striving and interest in which the element of self-awareness plays a large part. - Author: Gordon W. Allport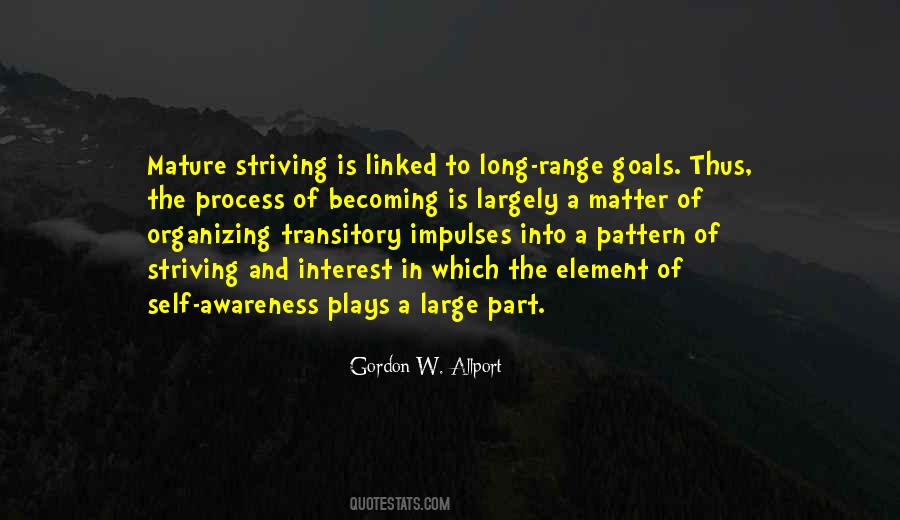 #90. Tomorrow when you wake up, be aware of how you dress your thoughts and emotions, because at the end of the day no matter what you look like, if your inner being isn't beautiful, neither are you. - Author: Nikki Rowe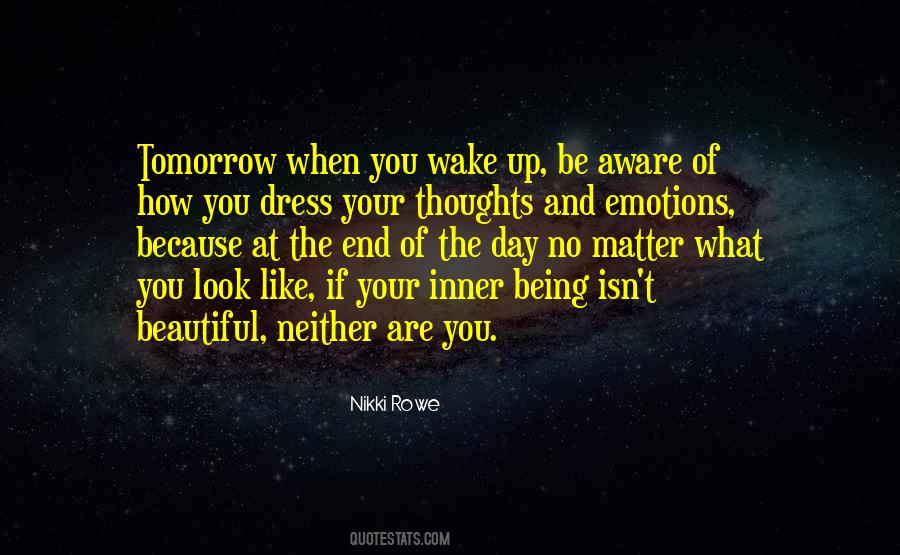 #91. Among the earliest forms of human self-awareness was the awareness of being meat. - Author: David Quammen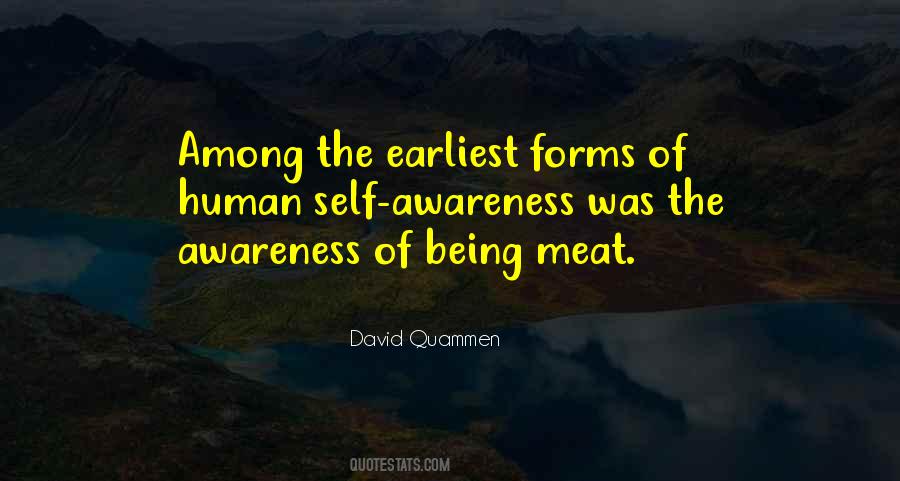 #92. Low self-confidence is simply a problem of Awareness. Once you are aware of the Truth about yourself, you will be able to understand why you are the way you are and, most importantly, learn to love and accept yourself. - Author: Robert Anthony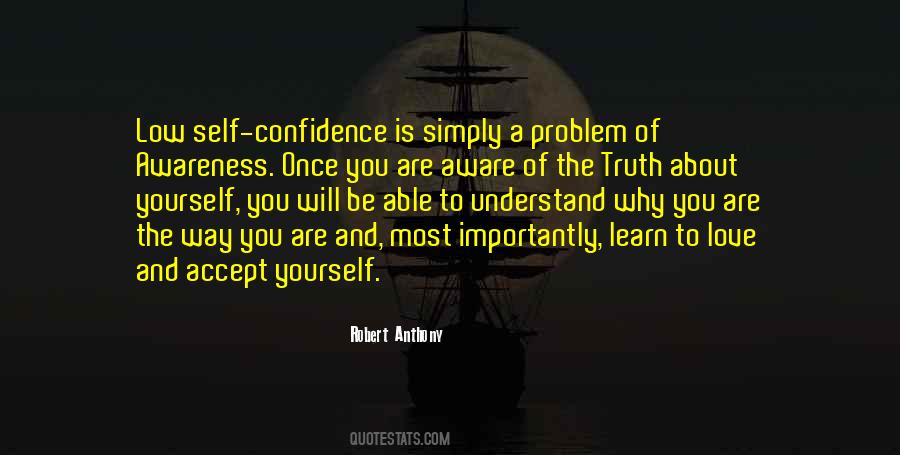 #93. Healing is achieved through turning on the light of your soul and allowing it to shine. - Author: Janet Gallagher Nestor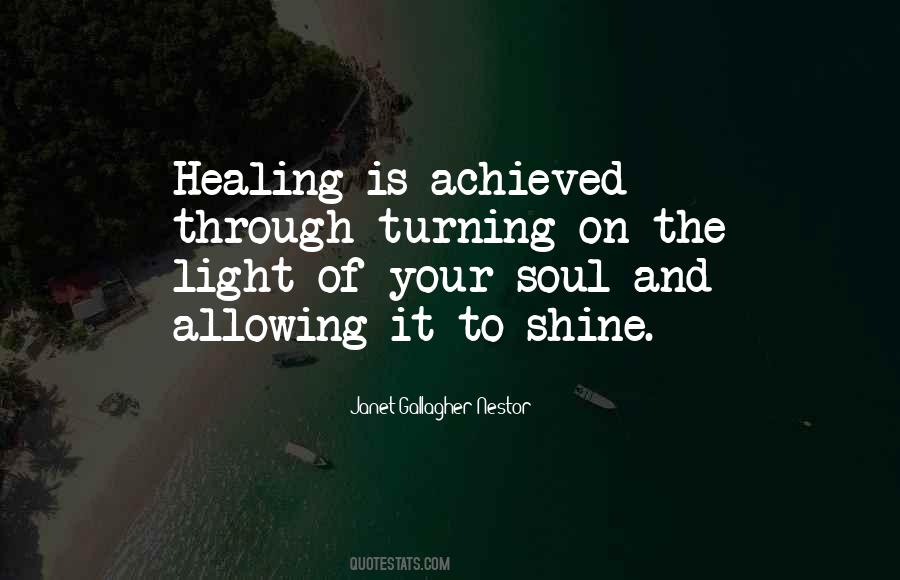 #94. A man who rightly governs self, may also govern family without the crippling cowardice, crutch of control. - Author: T.F. Hodge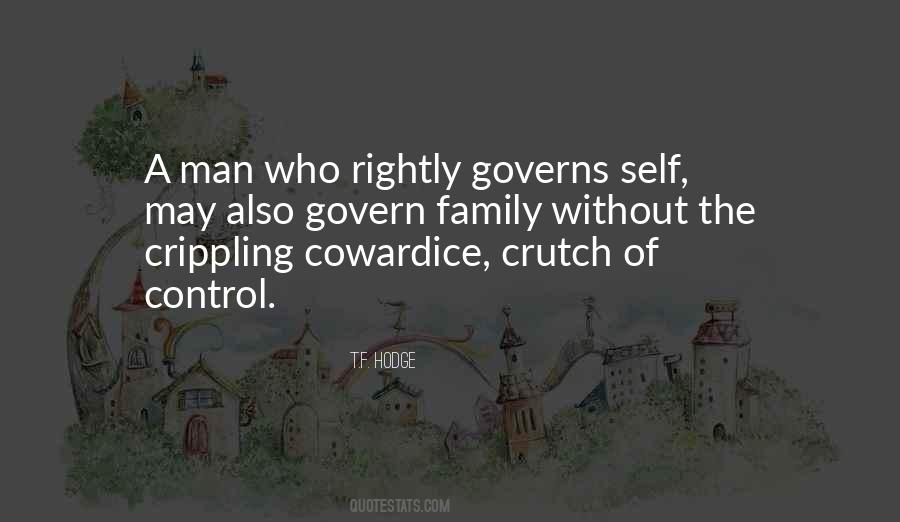 #95. All we do is to look after the opinions and learning of others: we ought to make them our own. - Author: Michel De Montaigne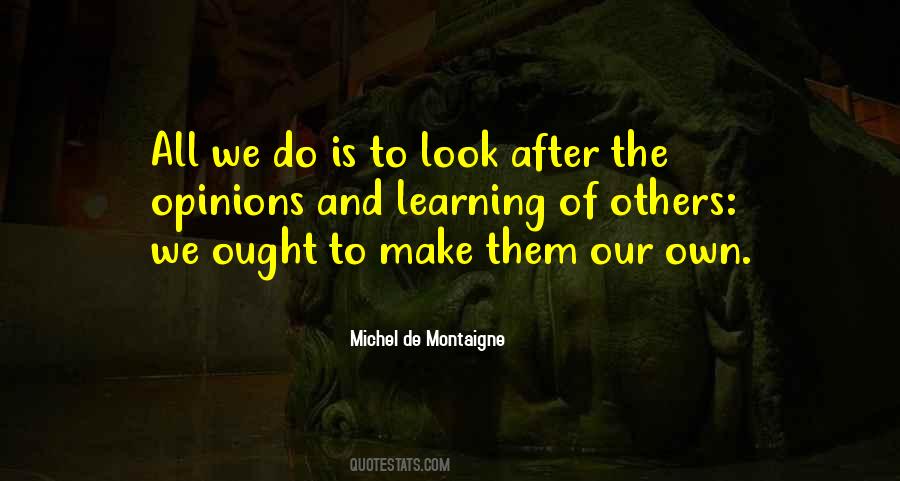 #96. Your faith provides you focus and vision for your life. It is your true north compass and GPS of self-awareness and self-management. Your faith is your lens to focus on how your talents, skills, gifts, and abilities will allow you to live on purpose - Author: Thomas Narofsky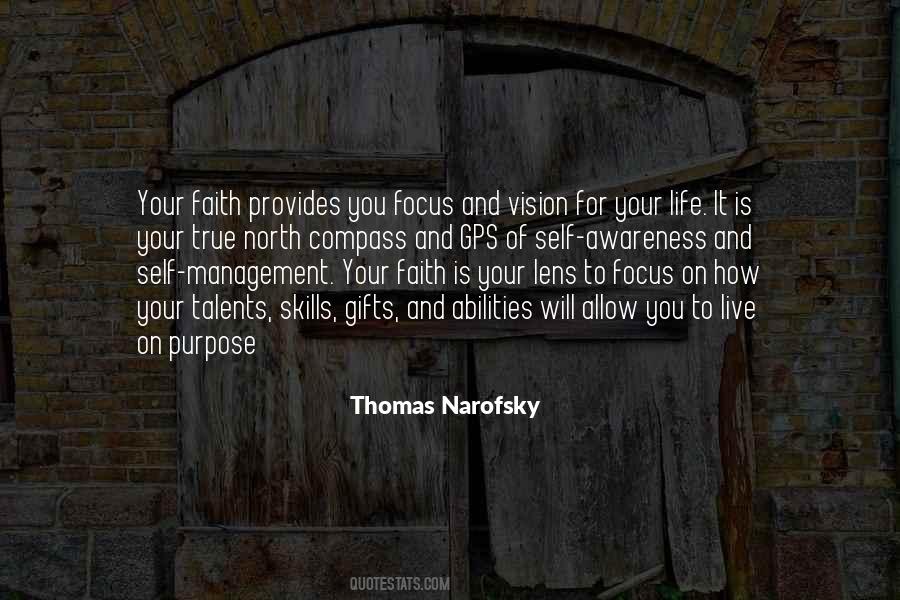 #97. Could indicate the cocky self-awareness of a male in prime condition. - Author: Michel Faber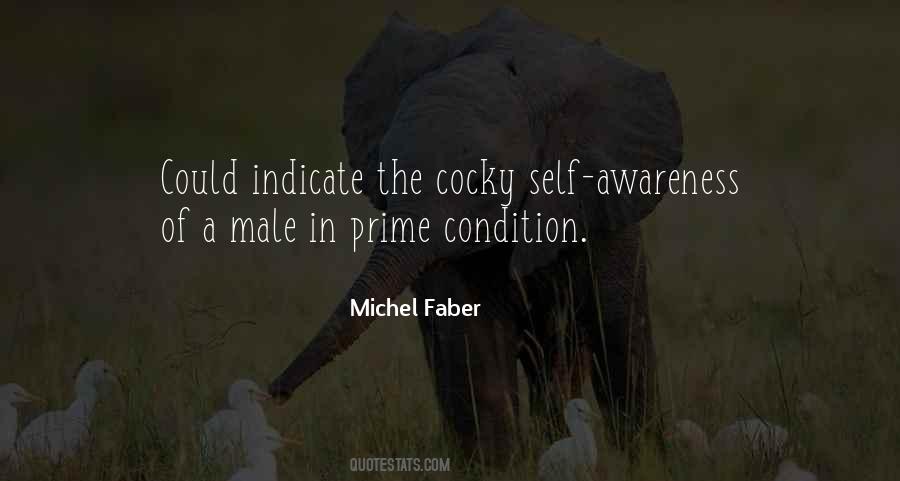 #98. People who repeatedly attack your confidence and self-esteem are quite aware of your potential, even if you are not. - Author: Wayne Gerard Trotman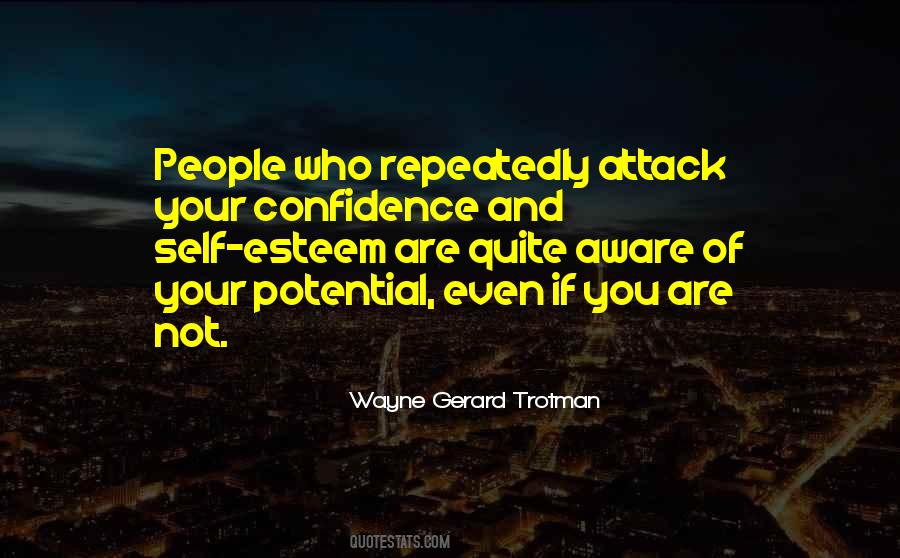 #99. We are like water, aren't we? We can be fluid, flexible when we have to be. But strong and destructive, too. And something else, I think to myself. Like water, we mostly follow the path of least resistance. - Author: Wally Lamb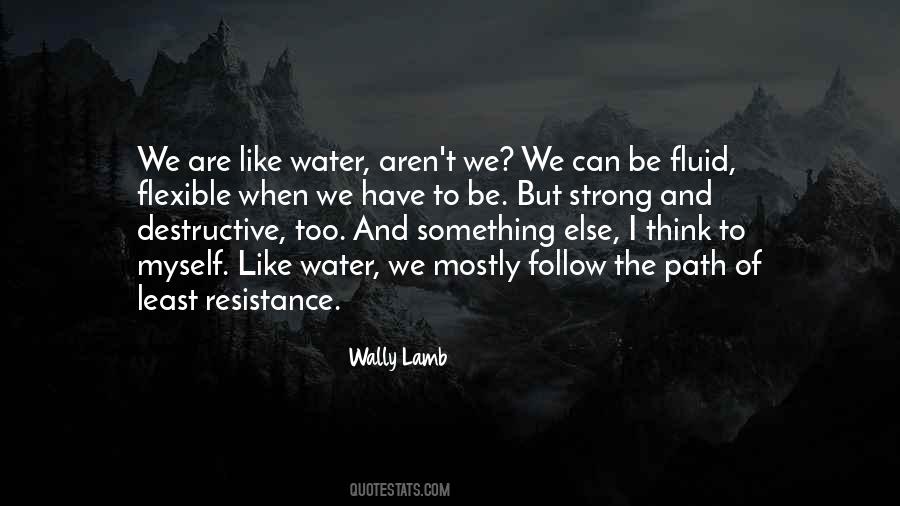 #100. I am Chandubhai' is good or bad focused applied awareness (shubha-ashubha upyoga). 'I am Pure Soul', is the focused pure applied awareness of the Self (shuddha upayog). With good-bad focused applied awareness (shubha-ashubha upayog) instillation in the worldly life occured. - Author: Dada Bhagwan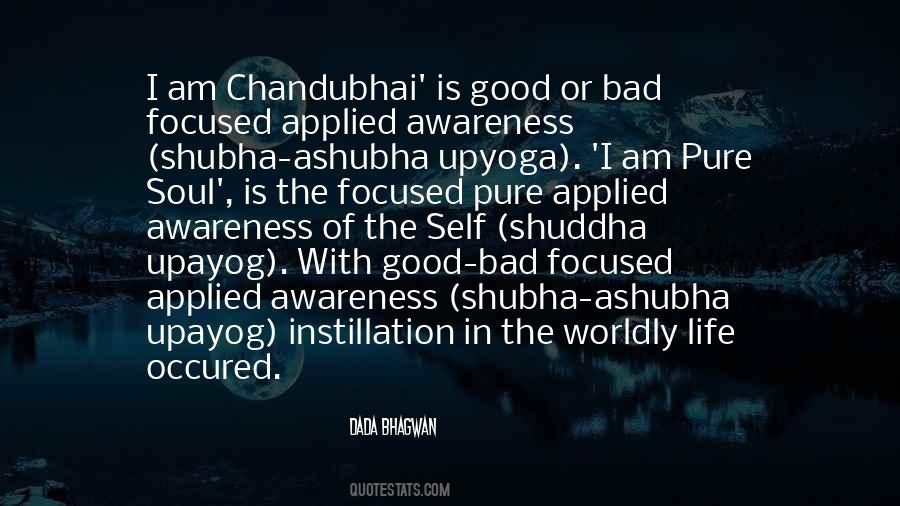 Famous Authors
Popular Topics