Out Shopping Famous Quotes & Sayings
List of top 100 famous quotes and sayings about out shopping to read and share with friends on your Facebook, Twitter, blogs.
Top 100 Out Shopping Quotes
#1. Most everything I do revolves around tae kwon do. That said, I like to be a typical girl and go shopping. I have three nieces and nephews that I like to hang out with. I'm also finishing my last semester at the University of Houston, where I'm majoring in childhood education. - Author: Diana Lopez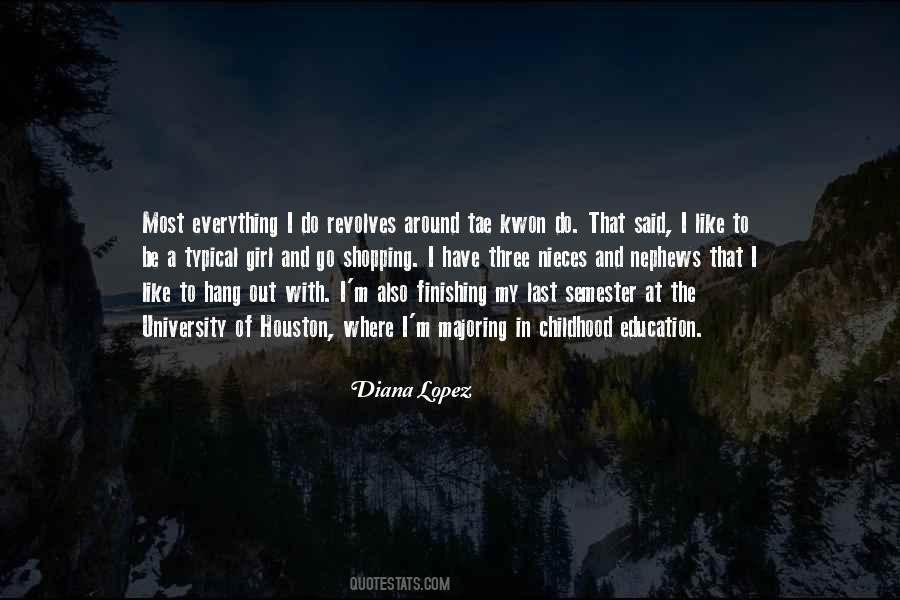 #2. I do love to shop. But I'm a social shopper. I like to do it while hanging out with my friends. Some of them hate shopping because they treat it like something you have to plan, like a grocery list. But if I'm out and I pass a store, I just pop in. - Author: Nicole Richie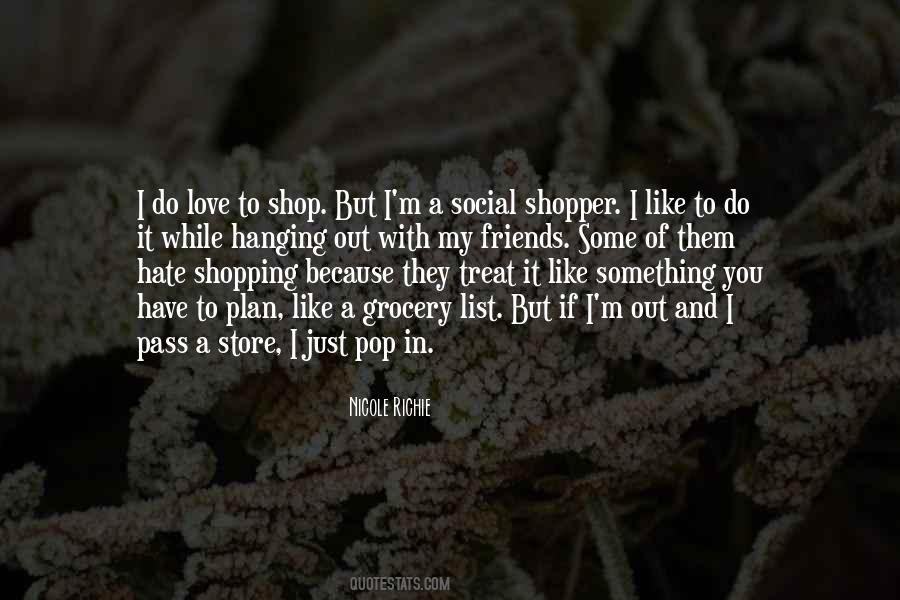 #3. If you were shopping for a father, you'd have to take out a serious loan to afford mine. He's the best. - Author: Peter DeLuise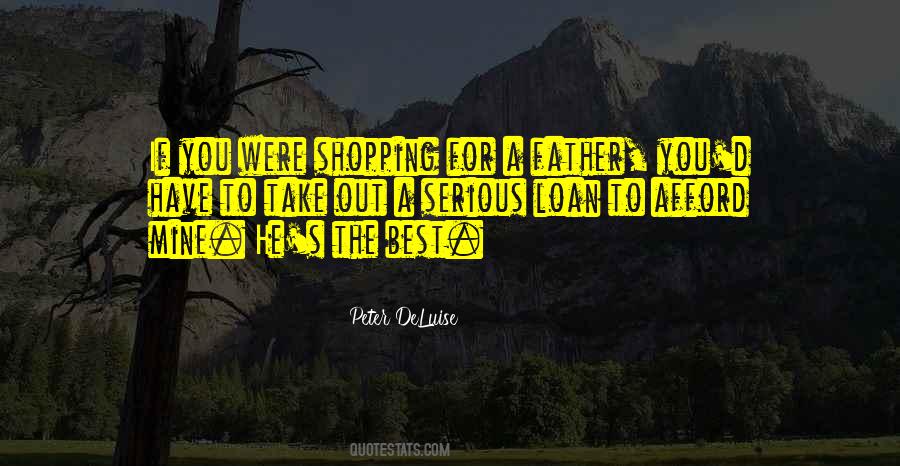 #4. I wasn't the demonstrative type. I didn't say I love you all the time, and I wasn't girlish or giggly. I hated shopping in pairs and preferred staying home with a good romance novel than a girls' night out. But I figured sometimes you have to meet someone halfway. - Author: C.D. Reiss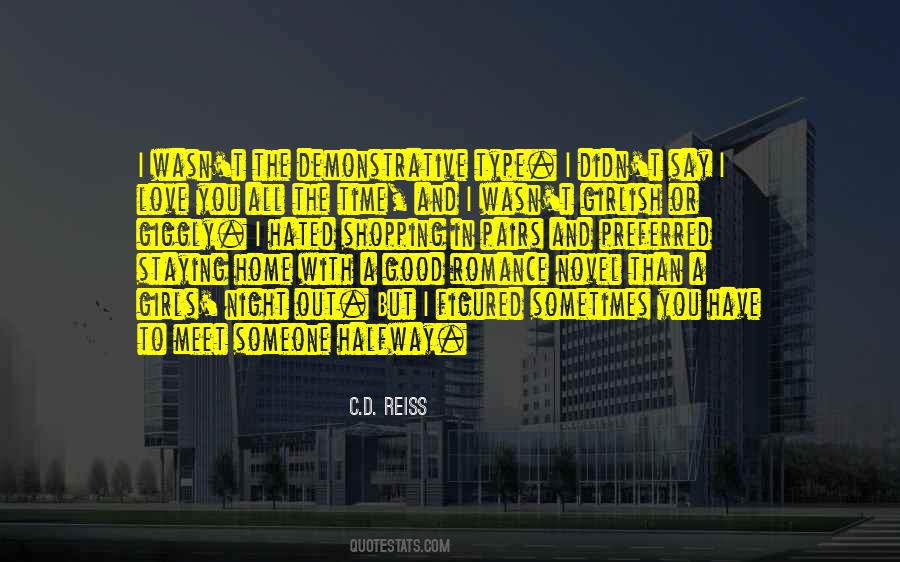 #5. I don't care how much it costs or who it's by as long as it fits me. I love shopping, but I go to the same stores I've always gone to: Guess, Bebe, Coach. I can't really skip out of that realm. - Author: JWoww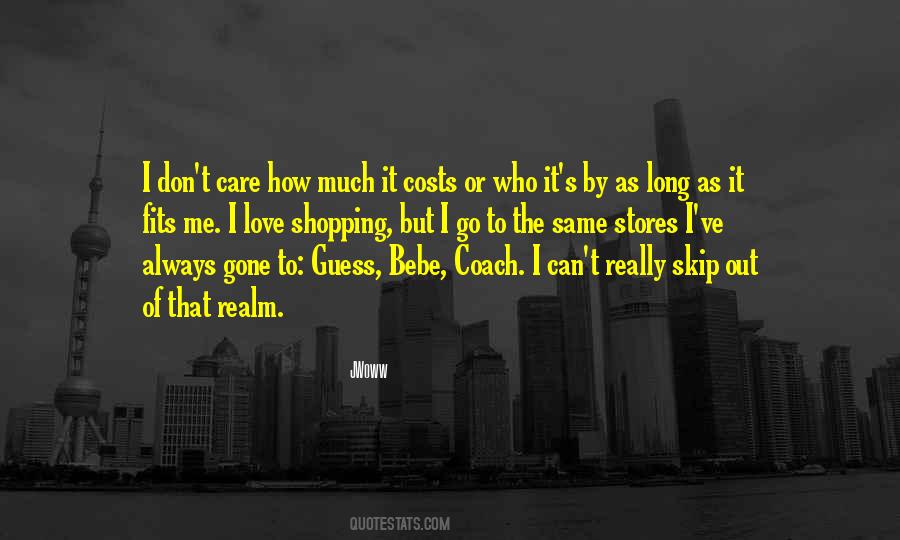 #6. I often find myself grateful for the comfort of strangers; a man who gave up his seat for me on the bus, a woman who helped me out with a heavy shopping bag. Remembering small acts of kindness puts the world in a finer, sweeter order. - Author: Sally Brampton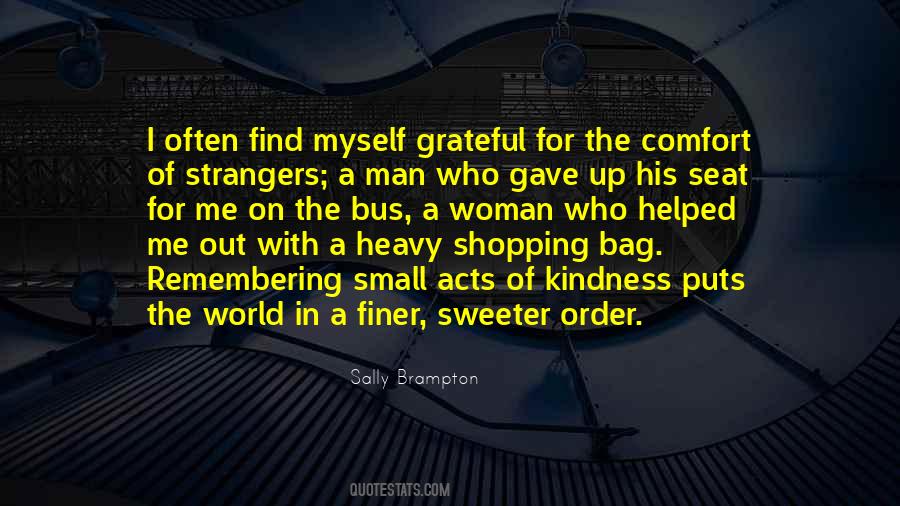 #7. I've got four women in my house - my wife and my three daughters - and I tell you what, it's pretty scary. I keep my head down and if we're out shopping I try and look in a man's shop while they make their minds up. - Author: Ian Holloway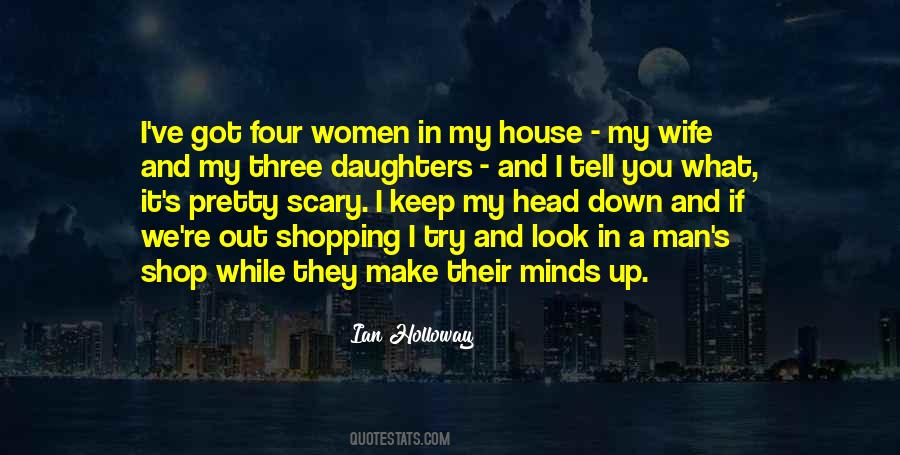 #8. The terrible thing about the Internet and Amazon is that they take the magic and happy chaos out of book shopping. The Internet might give you what you want, but it won't give you what you need. - Author: Tom Hodgkinson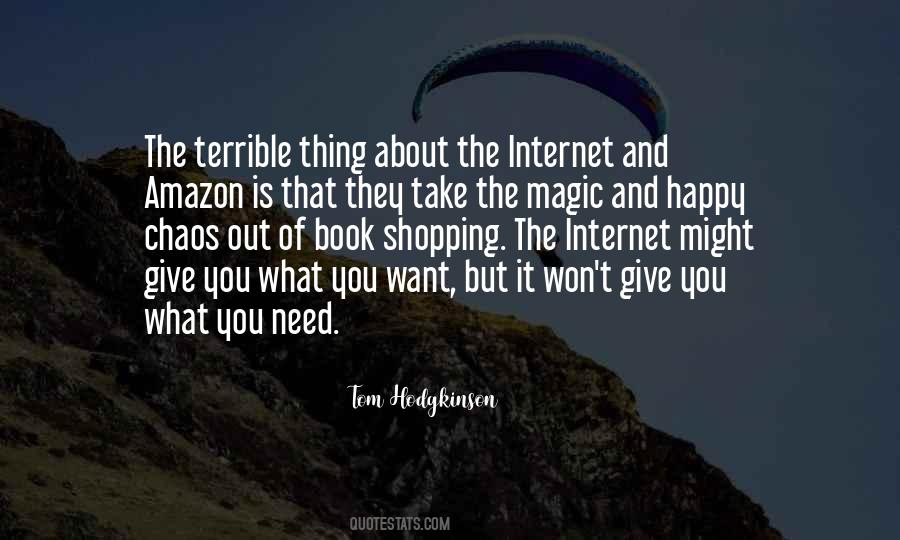 #9. It turns out I will buy any yarn, even yarn I will never use, if the store discounts it by more than 50 percent. - Author: Stephanie Pearl-McPhee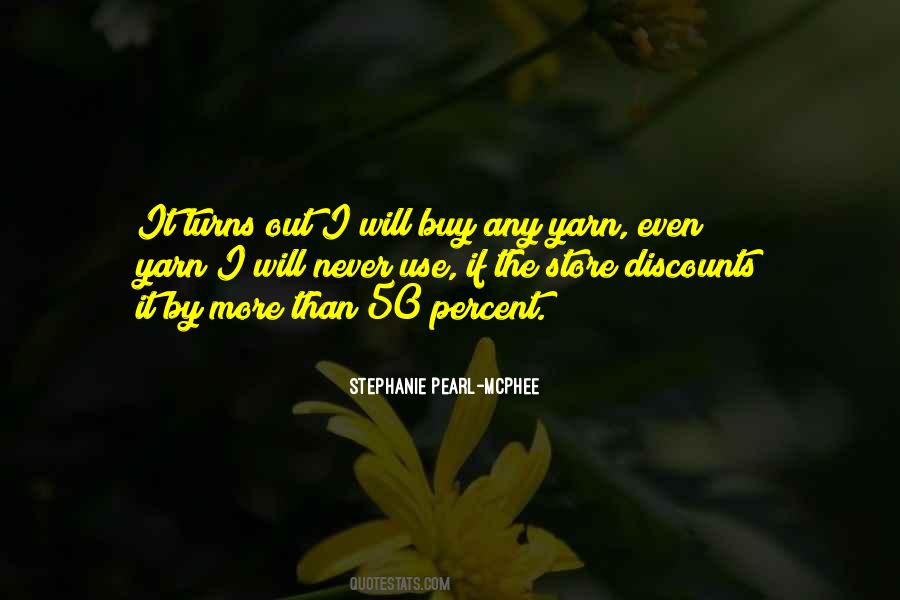 #10. I think when you're really stressed out and can't really face reality ... you shop. - Author: Rachel Zoe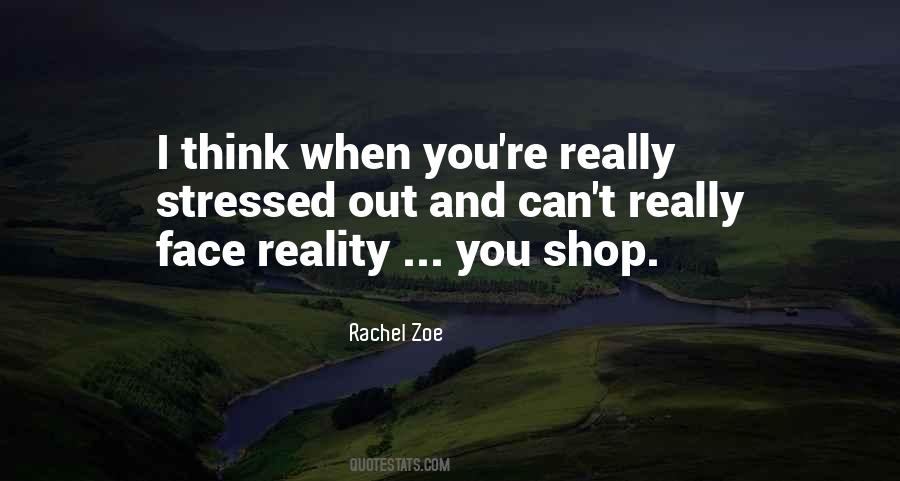 #11. Avoid triggers. If you're an alcoholic, stay out of bars. If you're a depressed or impulsive shopper, don't go shopping. When you have to, go in with a list, rush in, and rush out. If you watch too much television, don't sit in your favorite chair. In fact, move it (or the TV) to another room. - Author: Richard O'Connor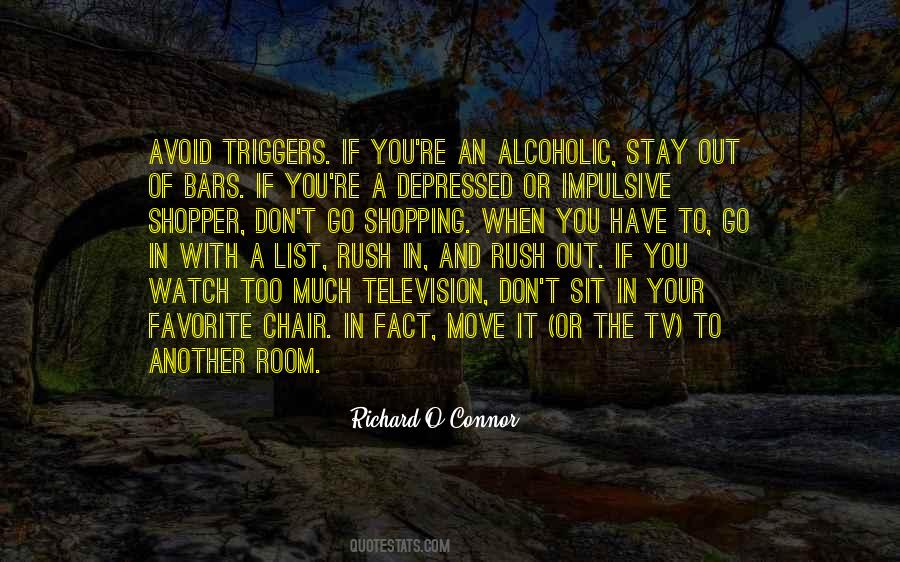 #12. My parents were dishonest people. If it was my birthday, I knew my mother took me to the K-Mart and she stole my toy. She'd put it in the shopping cart and we'd walk out. I was raised with that. - Author: Vincent Gallo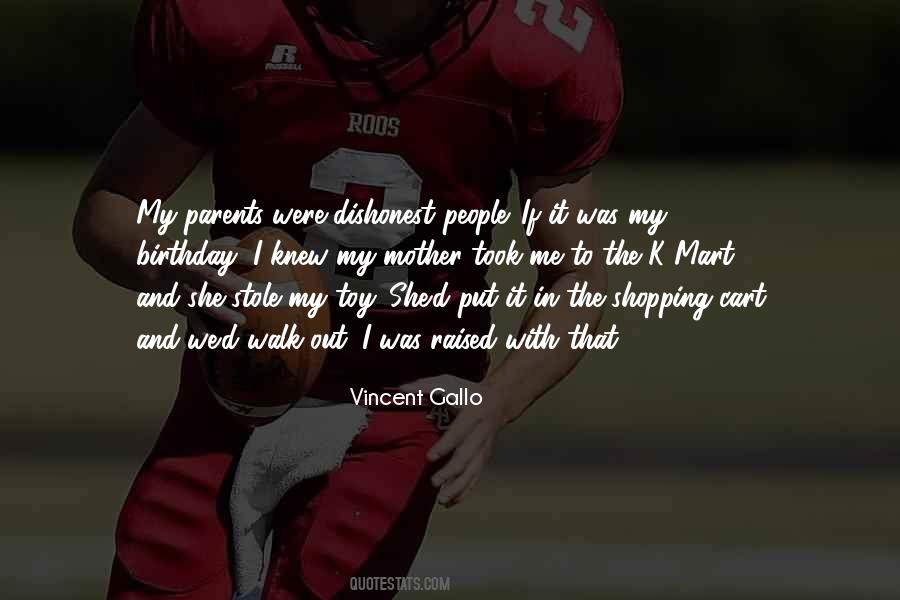 #13. I love Tate Modern; there's such great style and shopping here. I love the galleries and the pubs out on the street, just having your pint as the sun is setting. - Author: Drew Barrymore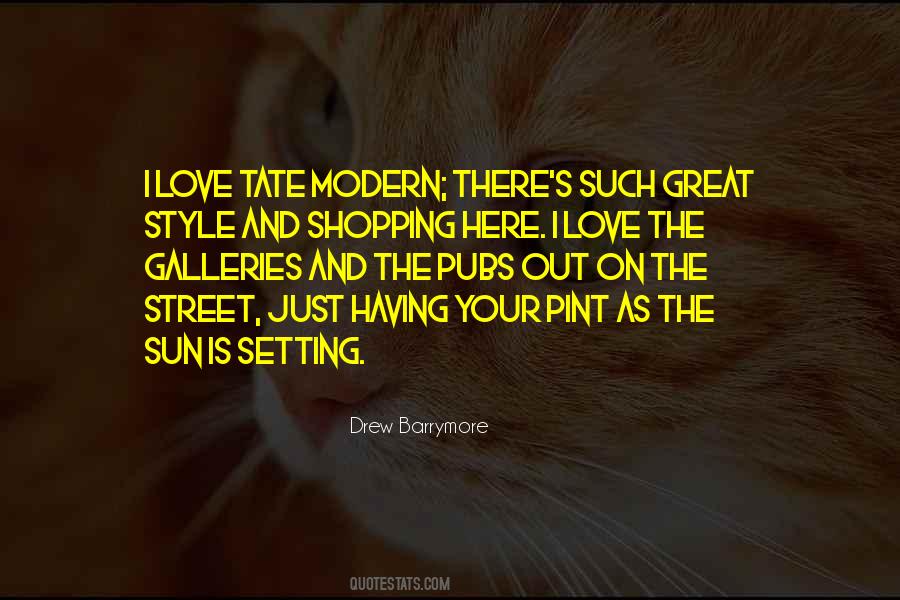 #14. Why are there so many people out here?' Boomer asked as we bobbed and weaved roughly forward.
'Christmas shopping.' I explained.
'Already? Isn't it early to returning things?'
I really had no sense of how his mind worked. - Author: David Levithan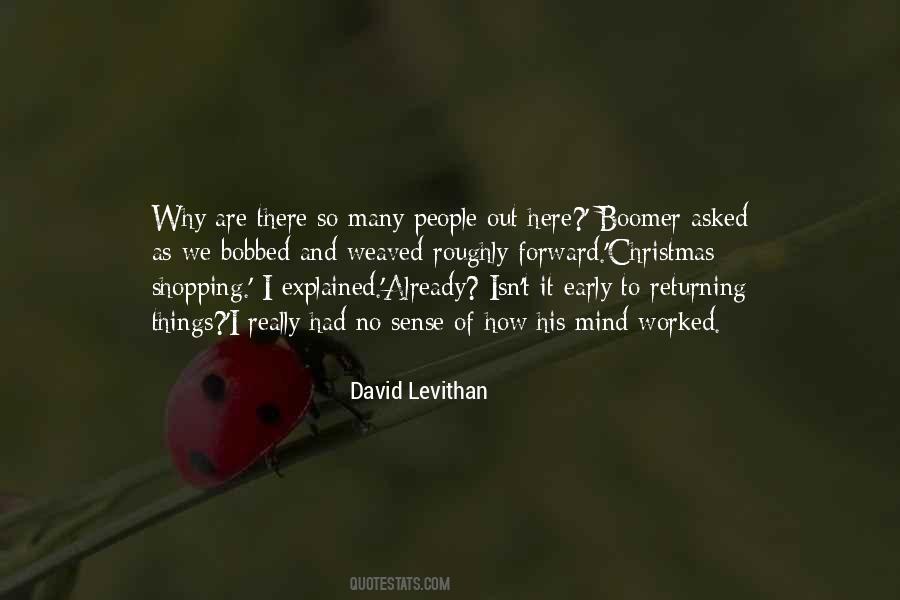 #15. I only put clothes on so that I'm not naked when I go out shopping. - Author: Julia Roberts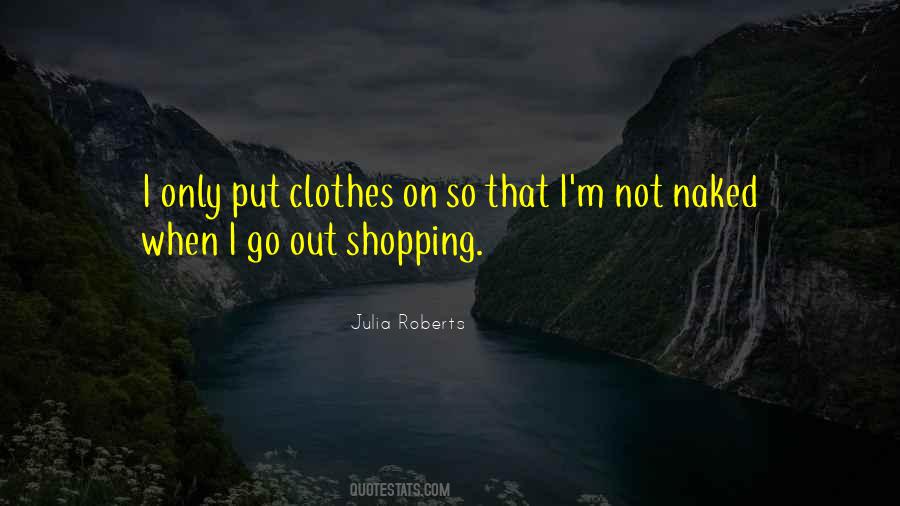 #16. One quarter of what you buy will turn out to be mistakes. - Author: Delia Ephron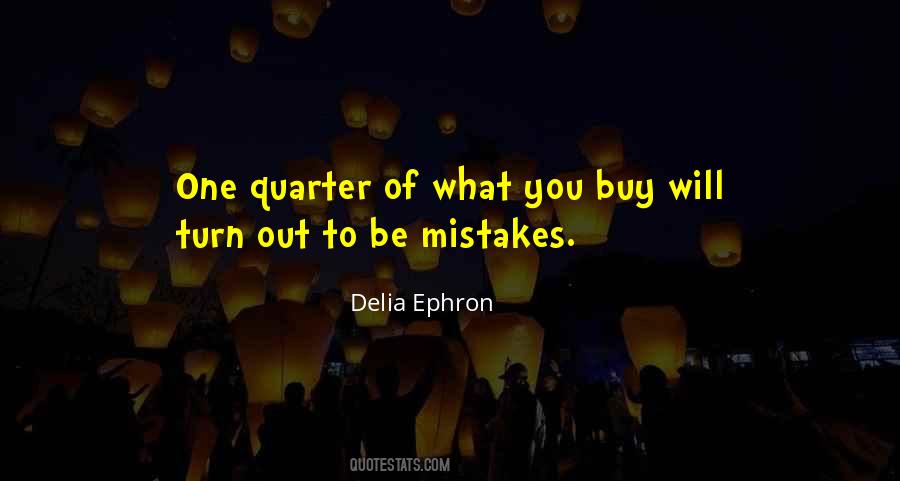 #17. My future in-laws are out shopping and plotting my demise, I suppose. - Author: Chelsea Ballinger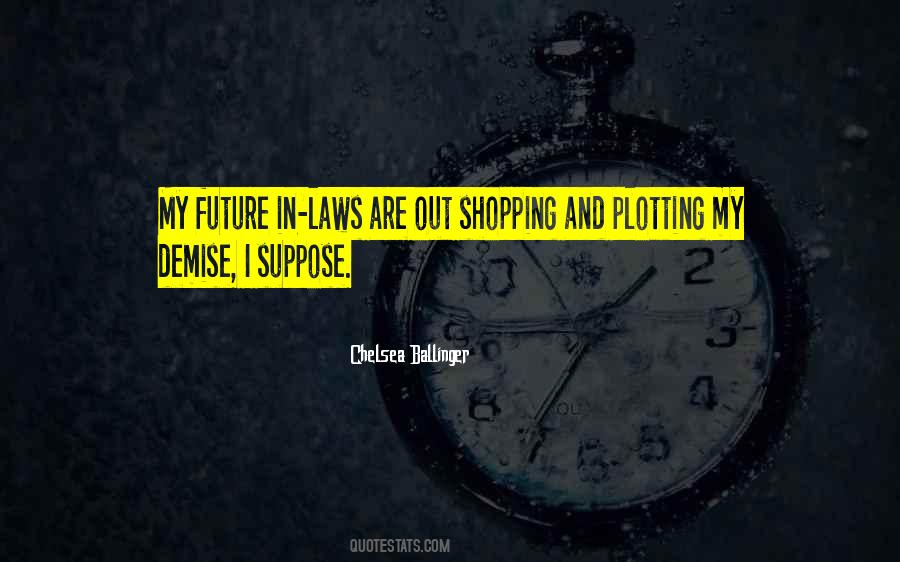 #18. I'm always "shopping," because I think it's important to know what's out there. - Author: Erin Wasson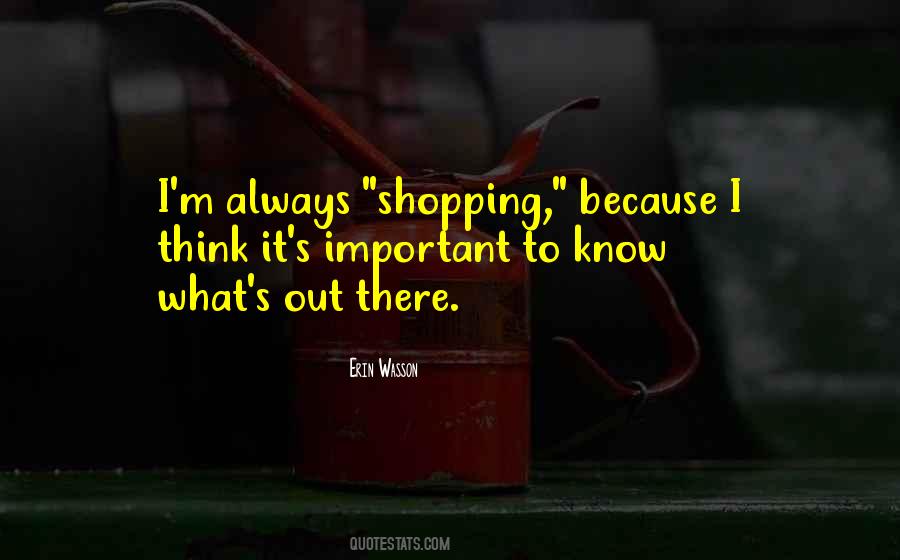 #19. Tonight the city is full of morgues, and all the toilets are overflowing. There's shopping malls coming out of the walls, as we walk out among the manure. That's why I pay no mind. - Author: Beck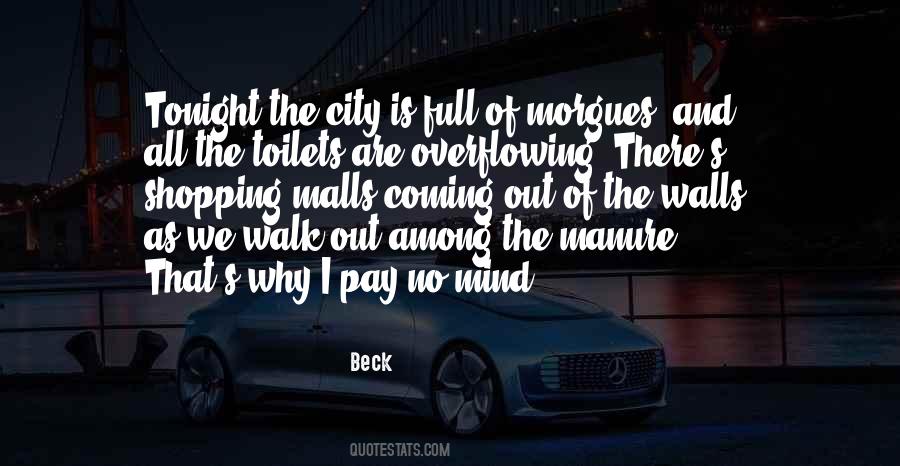 #20. The biggest moment of flexibility in our shopping habits is when we have a child, because all of your old routines go out the window, and suddenly a marketer can come in and sell you new things. - Author: Charles Duhigg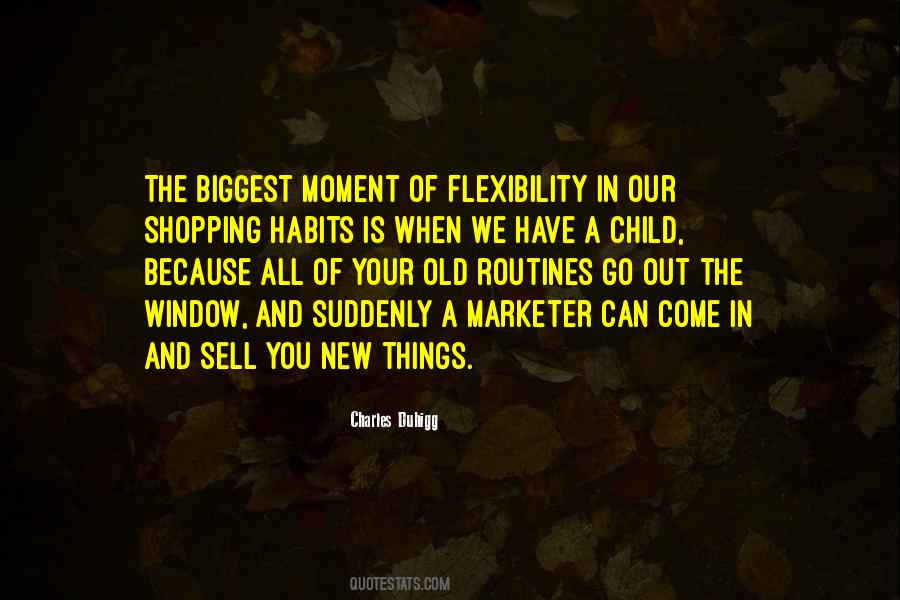 #21. It's not like I'm hanging out at shopping malls or going to celebrity golf tournaments. I'm so in my own little world. I got my dog, my music, my brother, a couple of friends. - Author: Jared Leto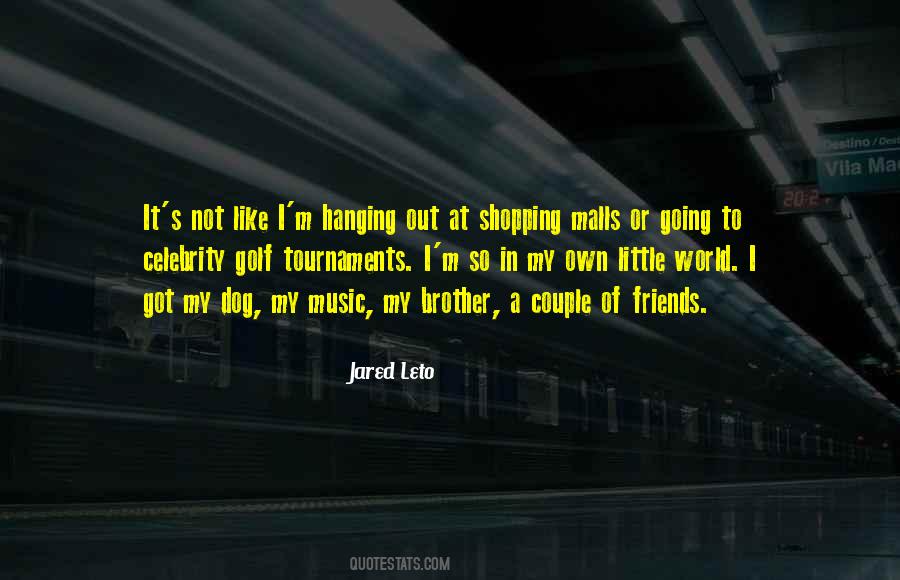 #22. Commercial real estate always trails residential, and as residential growth flourishes, shopping centers flourish and service the communities, and jobs come out. - Author: Johnny Isakson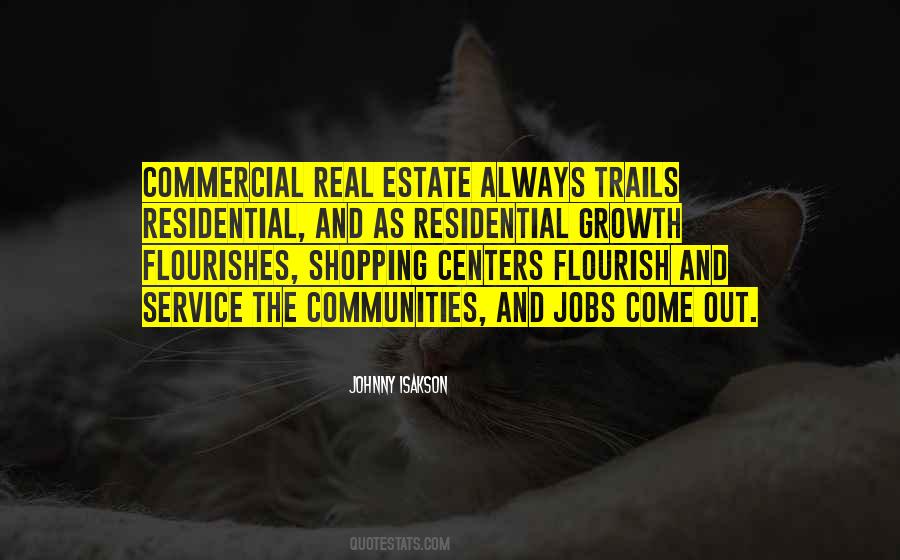 #23. I have this great test to see if a girl's a real friend. When we're shopping I'll pick out an outfit that I know looks hot and one that is awful. If my friend says the bad one looks good, I know she's not a good friend. - Author: Paris Hilton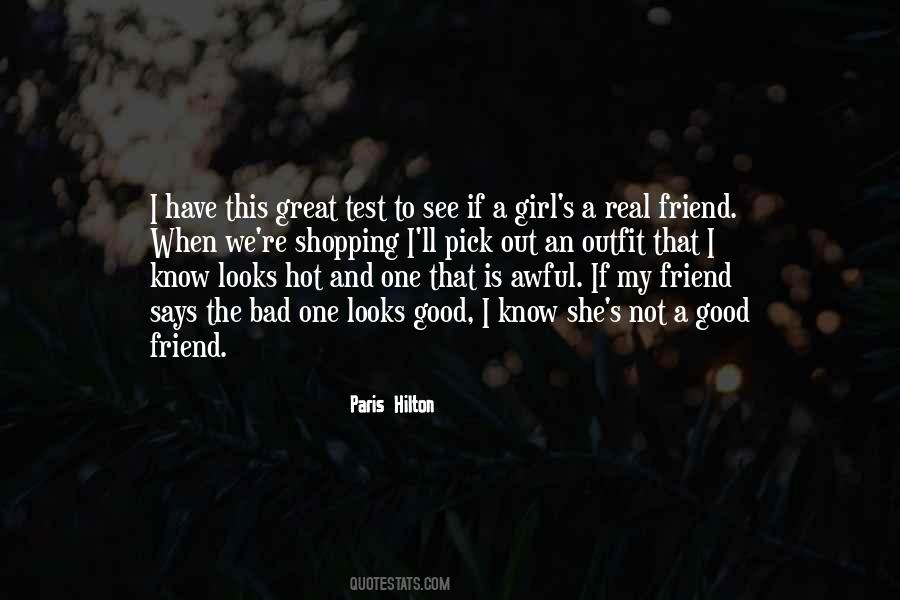 #24. The best way to find out what we really need is to get rid of what we don't. Quests to faraway places or shopping sprees are no longer necessary. All you have to do is eliminate what you don't need by confronting each of your possessions properly. - Author: Marie Kondo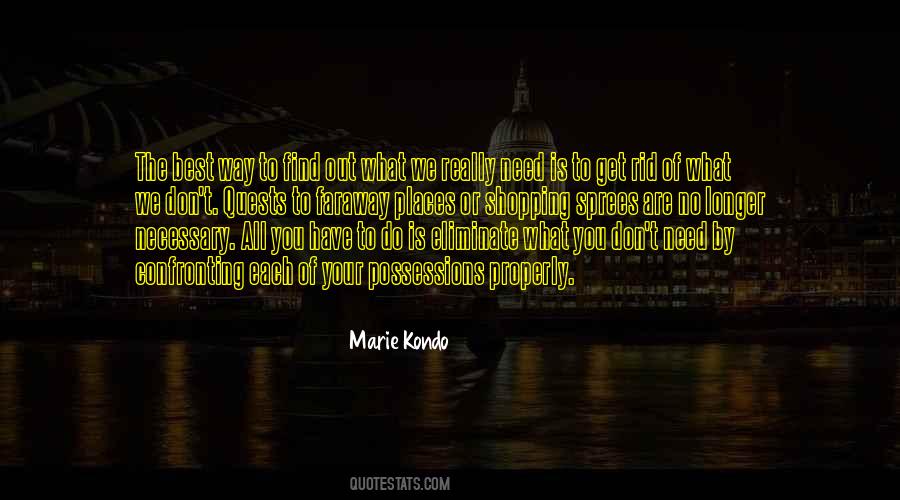 #25. It is past time that consumers recognize the emerging power of 'Made In America' products and services. The nation's shopping list needs this header: Check out what is made here before you 'go' overseas. - Author: Jackie Speier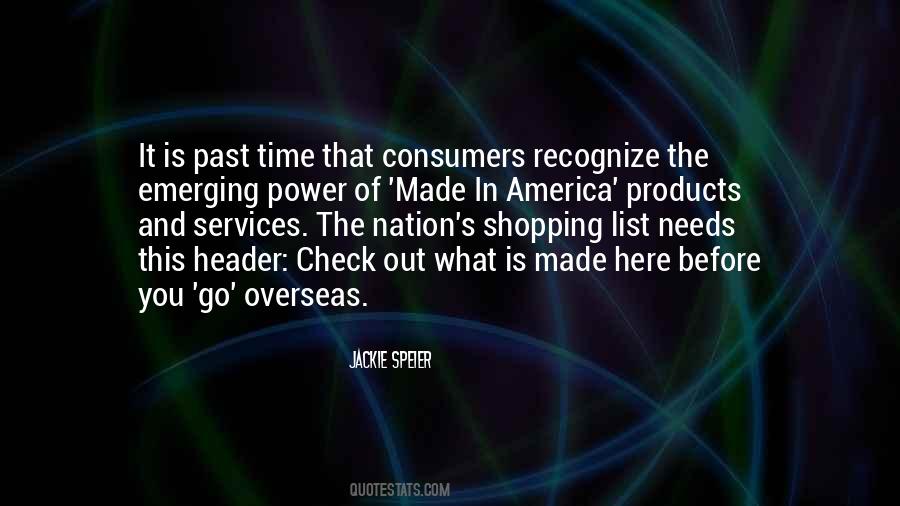 #26. I'll be out shopping, and all it takes is for one person to recognise me and it can get scary. - Author: Bonnie Wright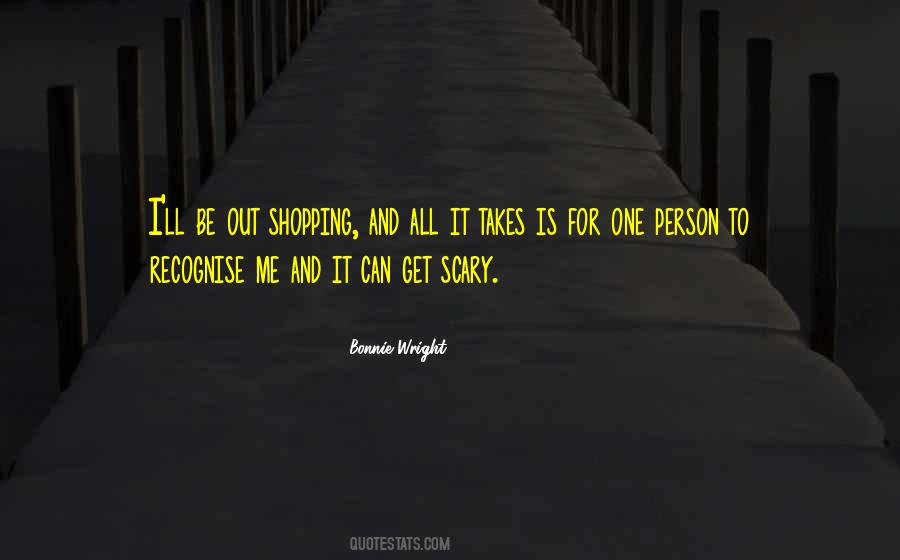 #27. We are seeing pioneers moving out to the Internet, banks that are taking transactions, retail shopping on the Internet, and although it's going to take most of a decade before most adults are turning to the Internet for a high percentage of their act - Author: Bill Gates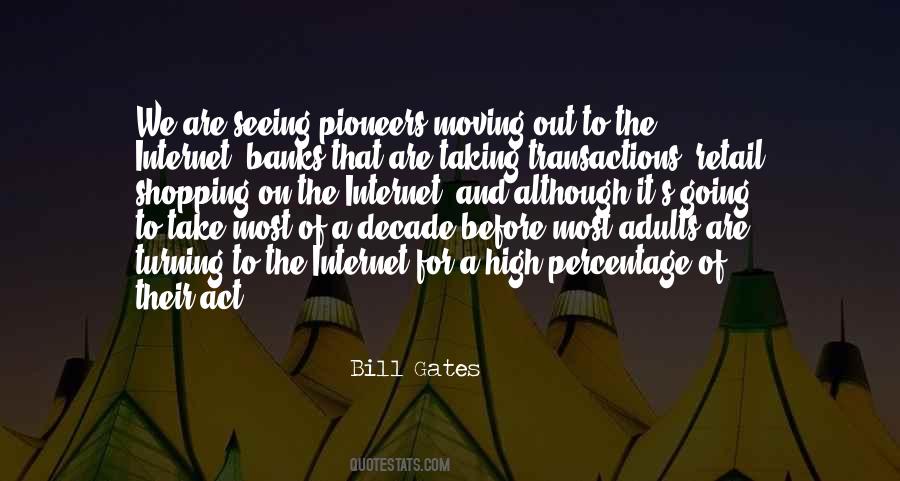 #28. Grocery shopping is so passe,' she said. I'm a modern woman. I dine out. - Author: Lyn Benedict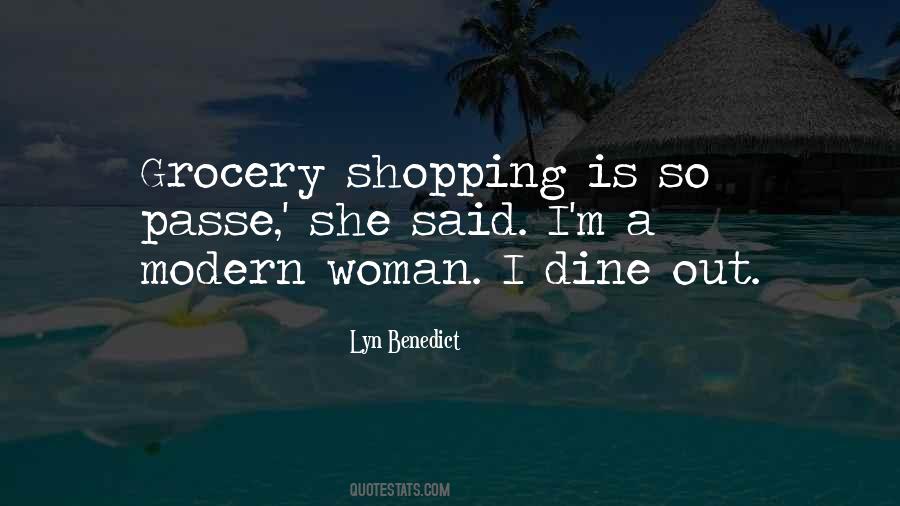 #29. Grocery shopping," Kira's gaze raked over him. "Well, honey, one thing about it, I don't think you have to worry about buying beef while you're out. It looks like you have plenty in residence as it is. - Author: Lora Leigh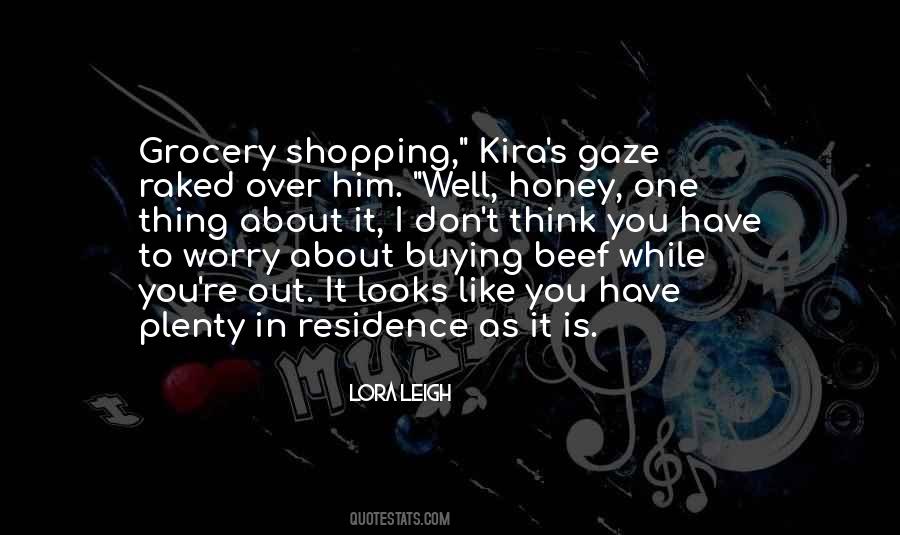 #30. I hate shopping. I don't go shopping. If I do, I run in and out. - Author: Bai Ling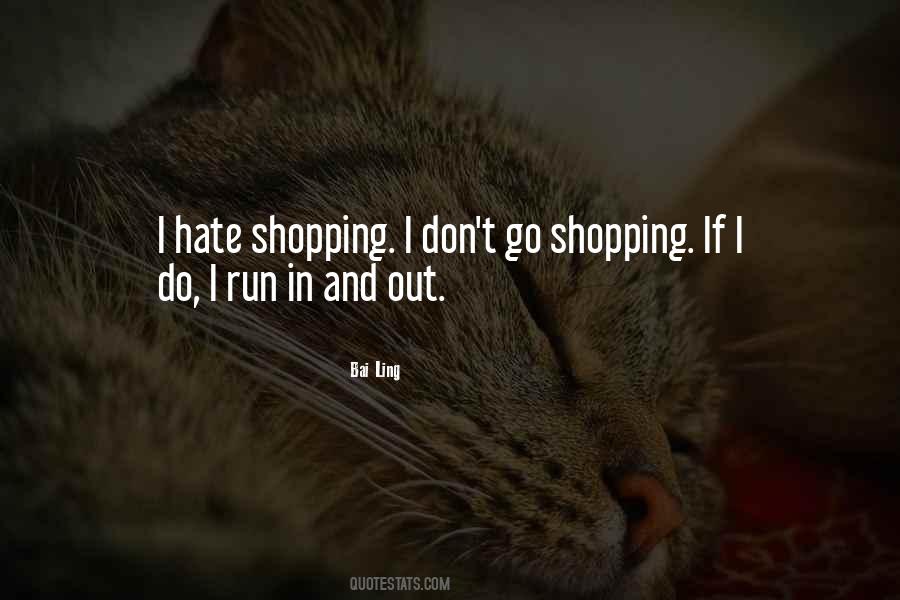 #31. I was never officially signed with Akon, but it was a shopping deal. That was around the time he was going through some problems with his label at Interscope. I waited, but when a deal didn't happen, I just went out on my own. - Author: French Montana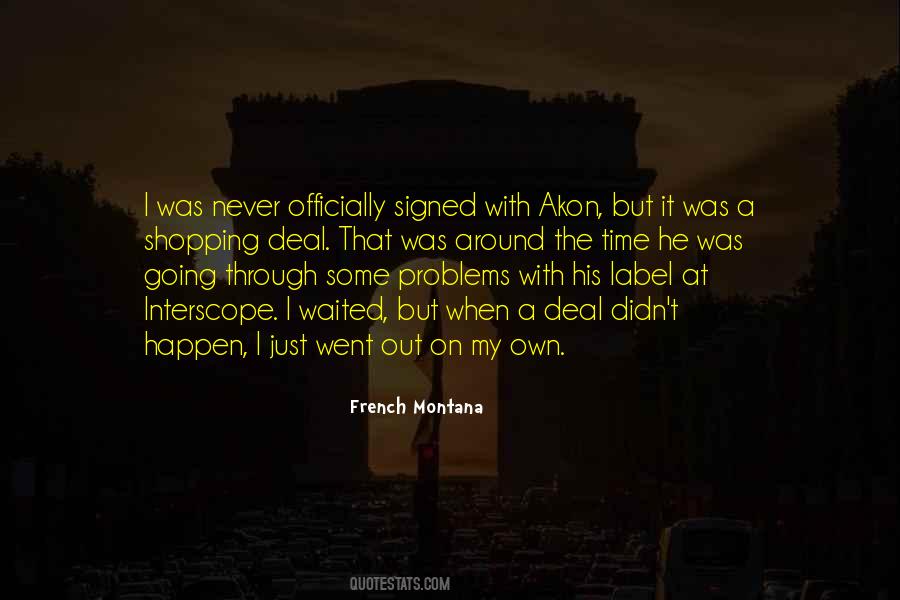 #32. Well, I'm pretty domestic actually. I walk my dog. I go grocery shopping. I hang out with friends. I'm pretty normal, whatever normal is, on my off time. - Author: James Iha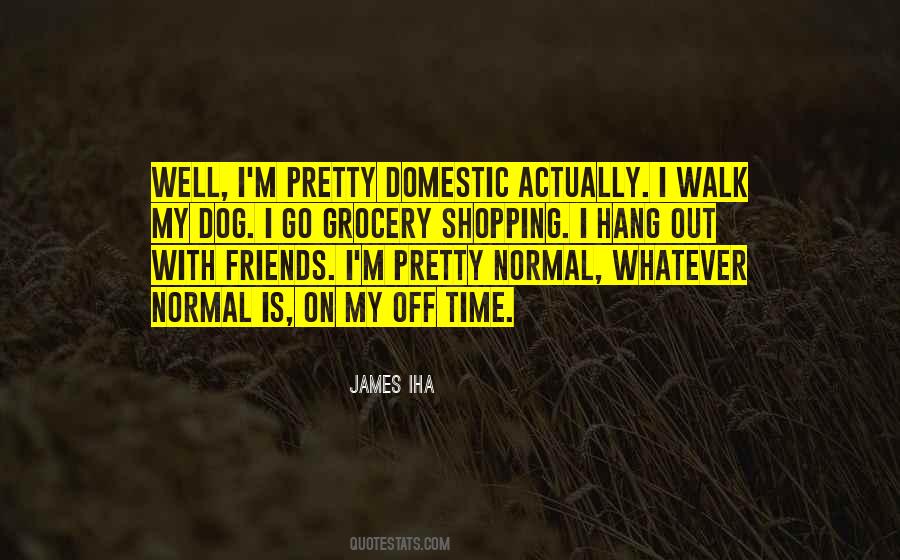 #33. Whenever someone comes up to me and says, 'I'm having trouble shopping.' I tell them to pull out their 10 favorite, most-worn pieces, then build a wardrobe around them. Those staples are going to be different for everybody. - Author: Lauren Conrad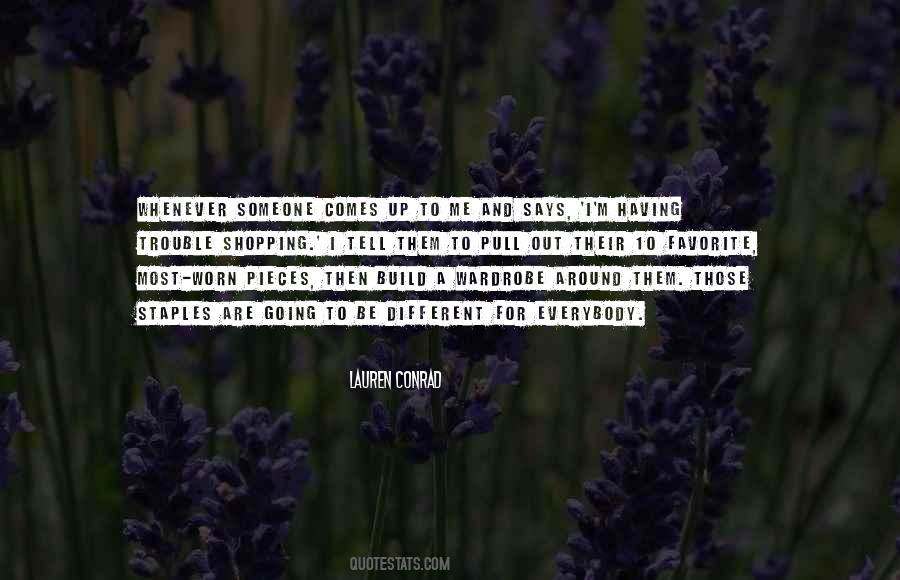 #34. It's annoying when you've got a guitar and you're working on music and then you have to go and do the shopping or someone calls your mobile and you get distracted or you have to go out and do something. - Author: Michael Kiwanuka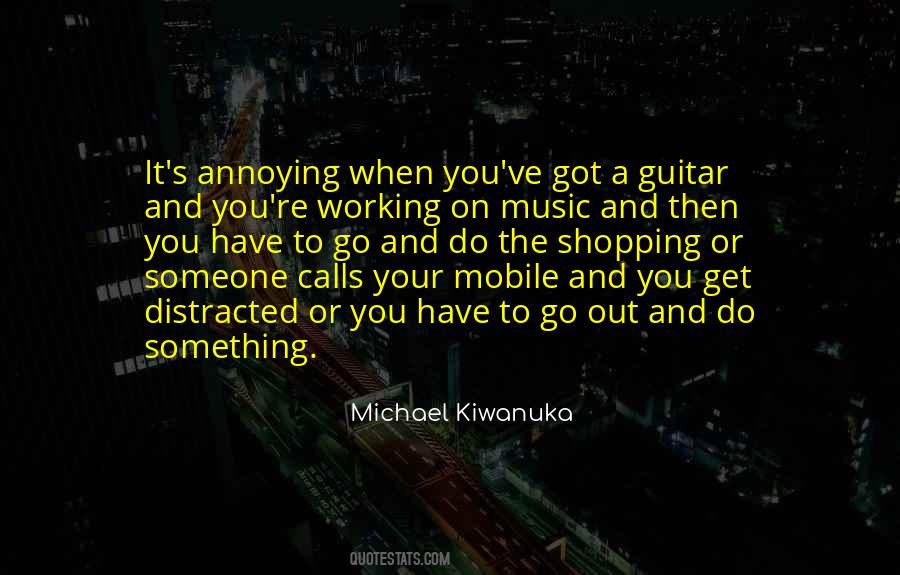 #35. There is a new codeword going round school. DFS. It means 'desperate for sex.' It sounds like you are talking about the furniture shop. For the record, I'm certainly DFS. In fact I am permanently shopping in DFS with no hope of getting out of the store. - Author: Rae Earl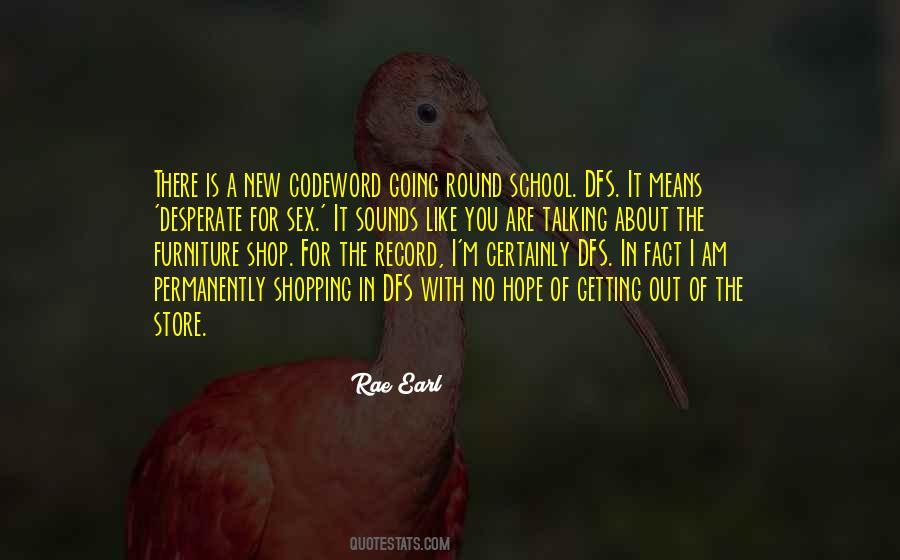 #36. I've found out it's fun to go shopping. It's such a feminine thing to do. - Author: Marilyn Monroe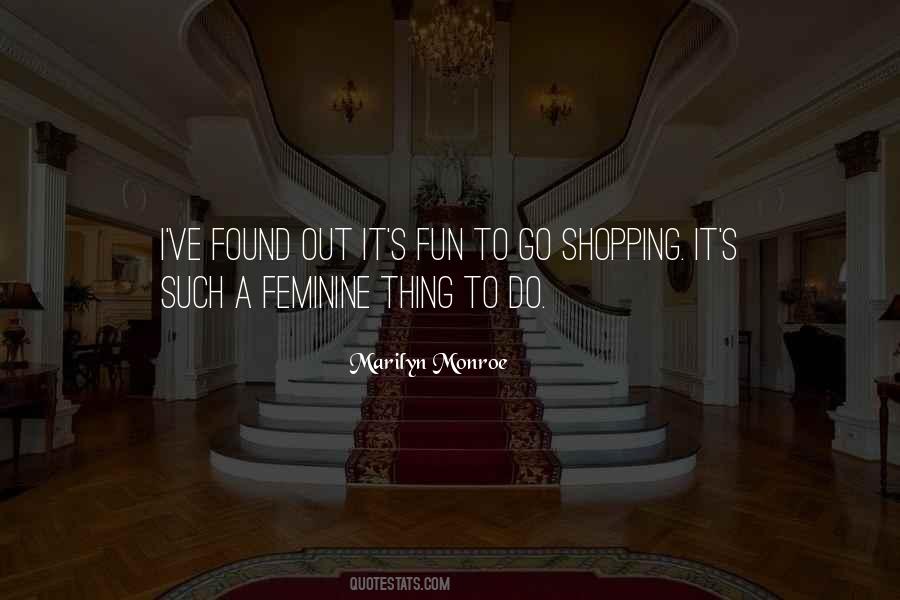 #37. Man, Duke and I work our fannies off. We don't eat expensive dinners out. We don't go to the mvies or buy our clothes anywhere but Kmart
our biggest treat is taking the kids to Walmart on Friday nights, having a fast food hamburger and doing the grocery shopping. - Author: Lori Copeland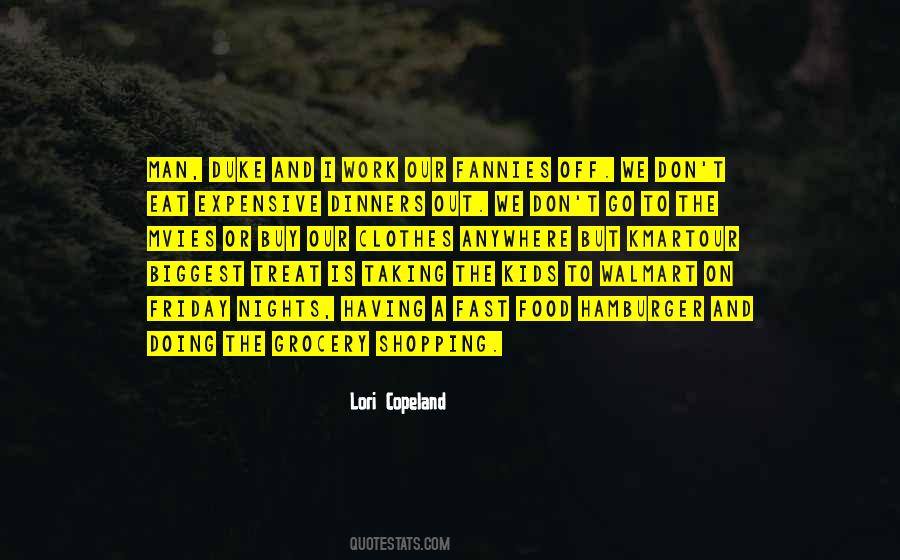 #38. Like many other moms out there, I try to buy safe products for my family, but that can't be the only solution. You can't hire a team of scientists to do your shopping for you. At some point the government has to step in and ensure that chemicals are safe before our children are exposed to them. - Author: Jessica Alba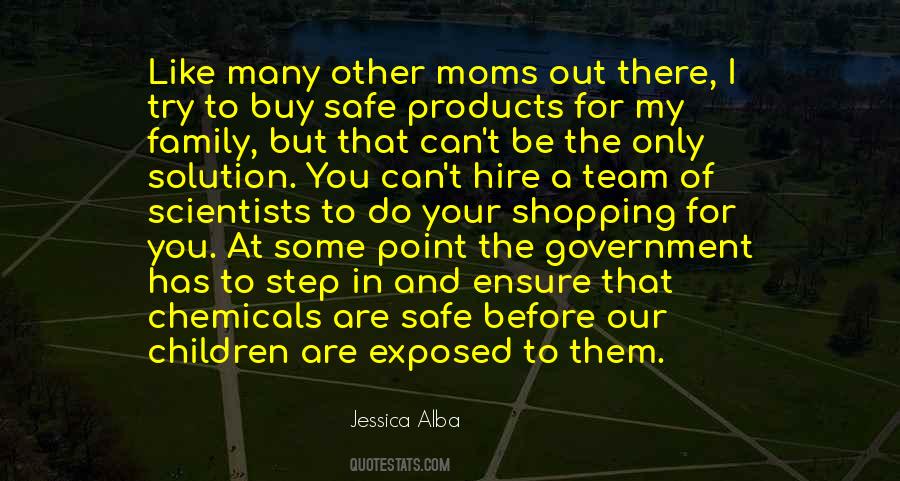 #39. This bright place isn't really a sanctuary. For, ambushed among its bottles and cartons and cans, are shockingly vivid memories of meals shopped for, cooked, eaten with Jim. They stab out at George as he passes, pushing his shopping cart. Should we ever feel truly lonely if we never ate alone? - Author: Christopher Isherwood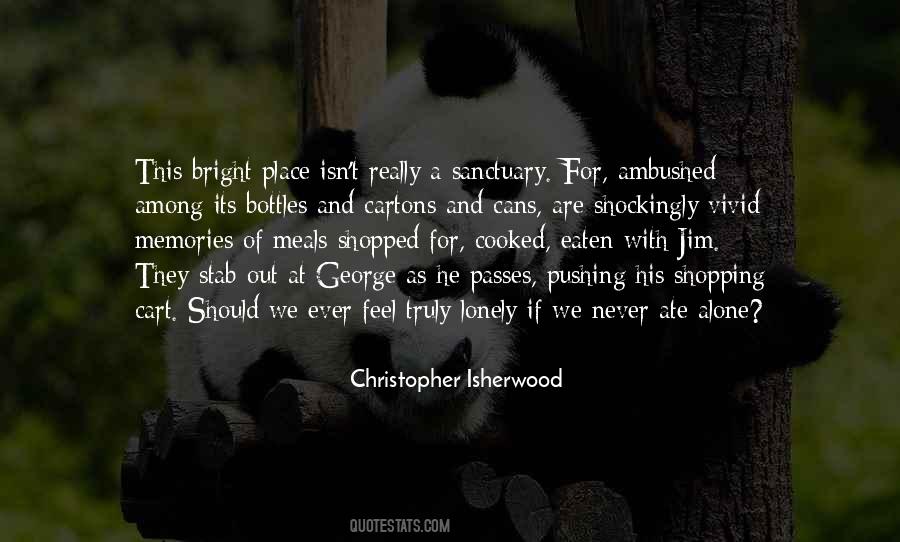 #40. With the average tenure of sales directors being three years, it's not too great a stretch to conclude that they spend their first 12 months finding out what's broken, the next 12 months papering over the cracks, and the final 12 months shopping their CV for a new job. - Author: Nicholas A.C. Read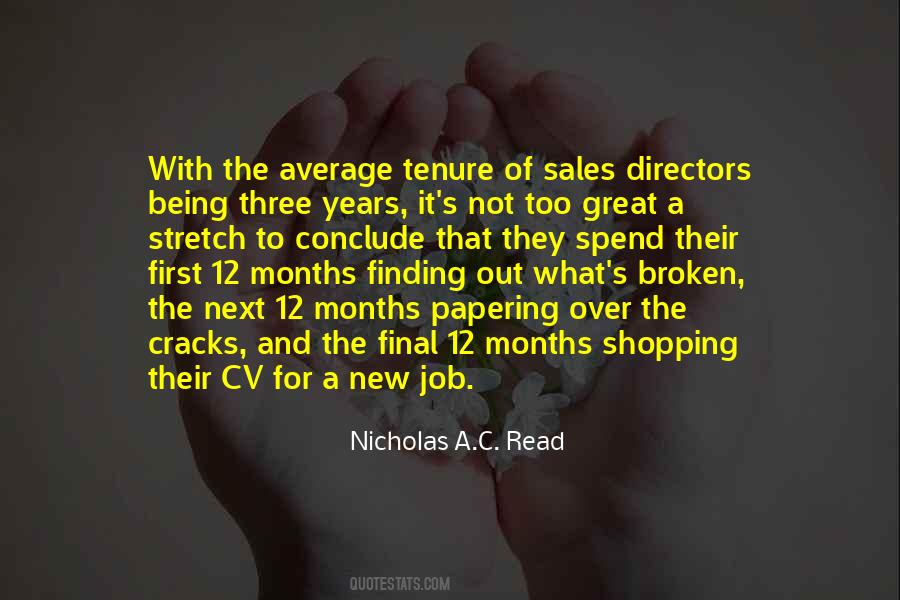 #41. I do a lot of thrifting, but I don't go shopping in a concerted way very often. I find things by accident that I can't talk myself out of, like armadillo purses. - Author: Mackenzie Davis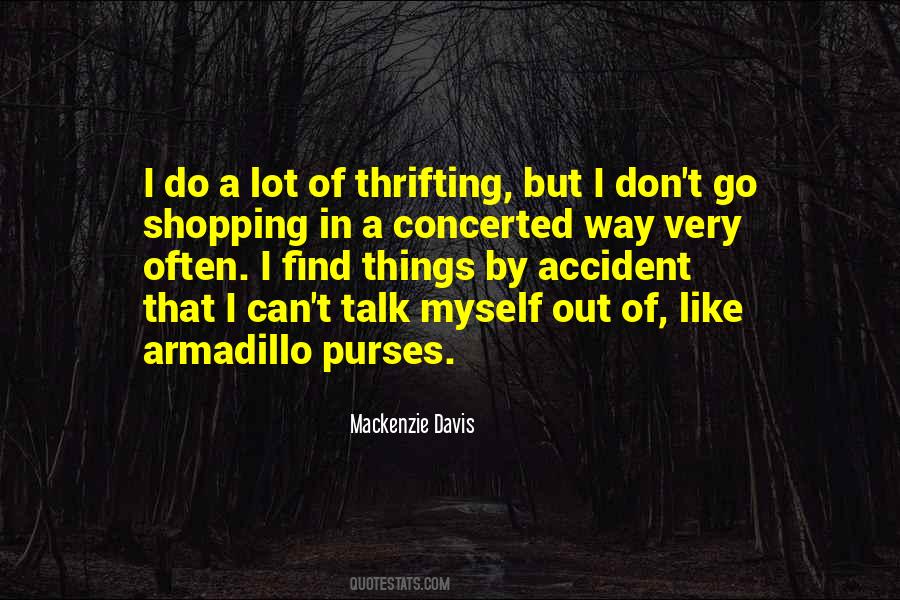 #42. I want my wardrobe to be full of good clothes, so that when I'm deciding what to wear, I don't run out of options. I love shopping! - Author: Virat Kohli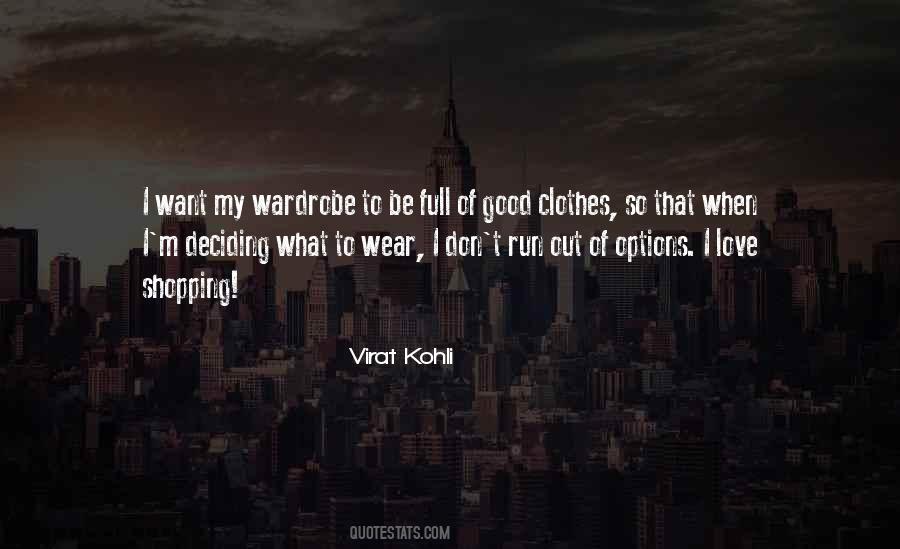 #43. Where was the "exit" sign? Why did they make it so difficult to get out of shopping center parking lots? You'd done your shopping - they weren't going to get any more money out of you. What was their objective here? - Author: Liane Moriarty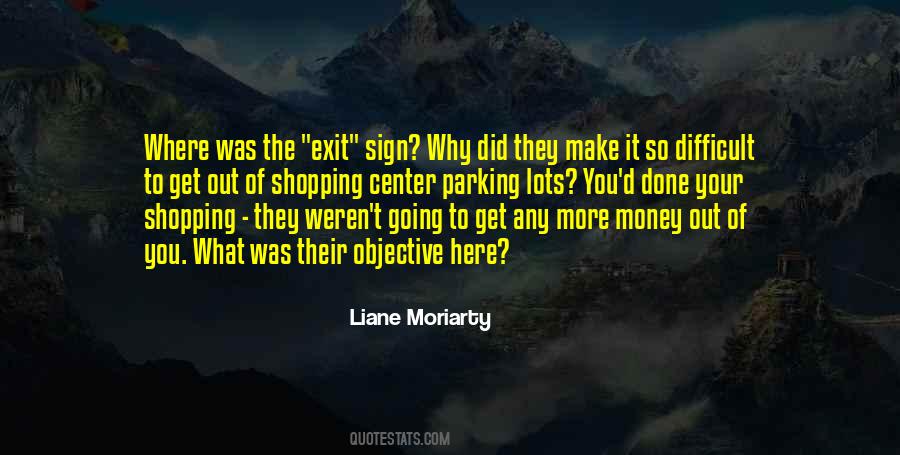 #44. Friends are not a number. You can't collect connections. You can't just go out one day and be like, "Hey, I need some friends!" *goes shopping, scours social media* - Author: Connor Franta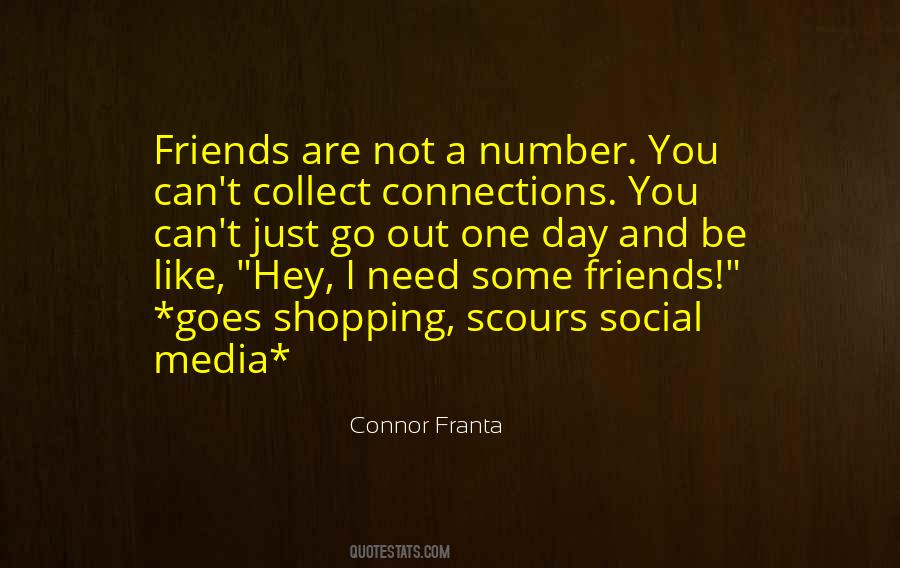 #45. I quickly discovered that trying to go play golf while living in Manhattan was about as easy as trying to grab a taxi while standing out in front of Saks Fifth Avenue in the freezing rain on the last shopping day before Christmas. - Author: Dan Jenkins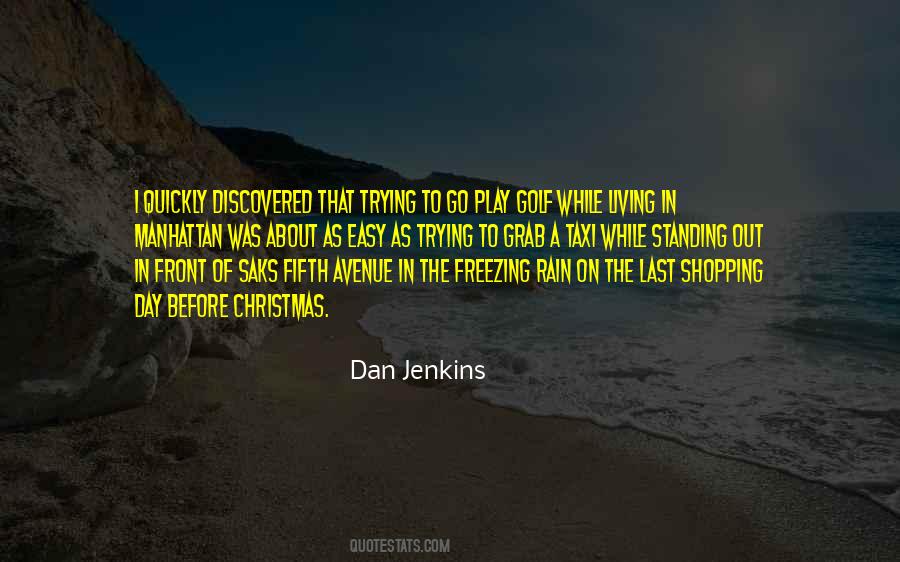 #46. Over to the Asia Society, and now she's out doing a bit of Christmas shopping. She says you, ah, you're meeting her later tonight? - Author: Donna Tartt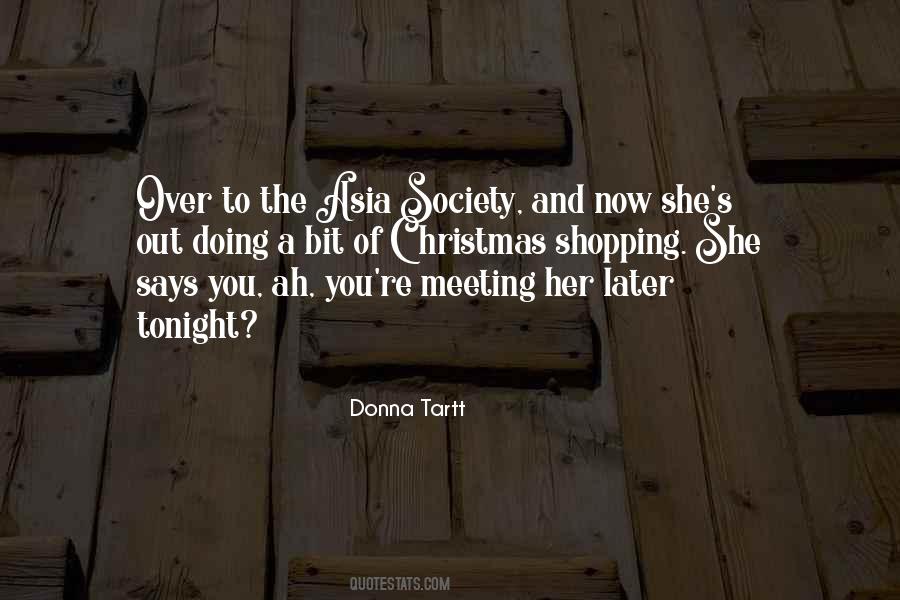 #47. I don't have a stylist, and I do most of my shopping online, just because it's easier. I don't have any nails to manicure, and it takes me 30 minutes to get ready for a night out, as long as I've decided what to wear first. - Author: Zara Phillips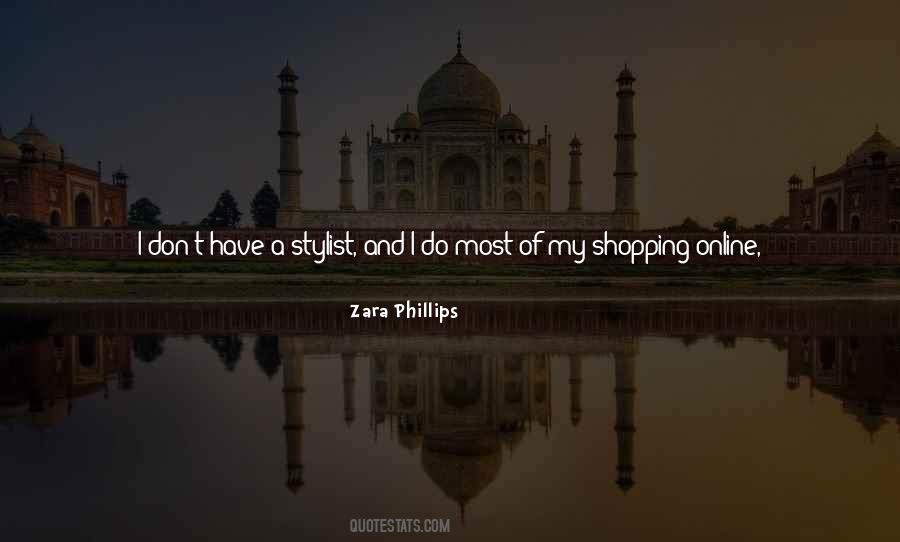 #48. I will go out of my way to avoid the shopping crowds and the extreme consumerism - I hate all that. - Author: Annie Lennox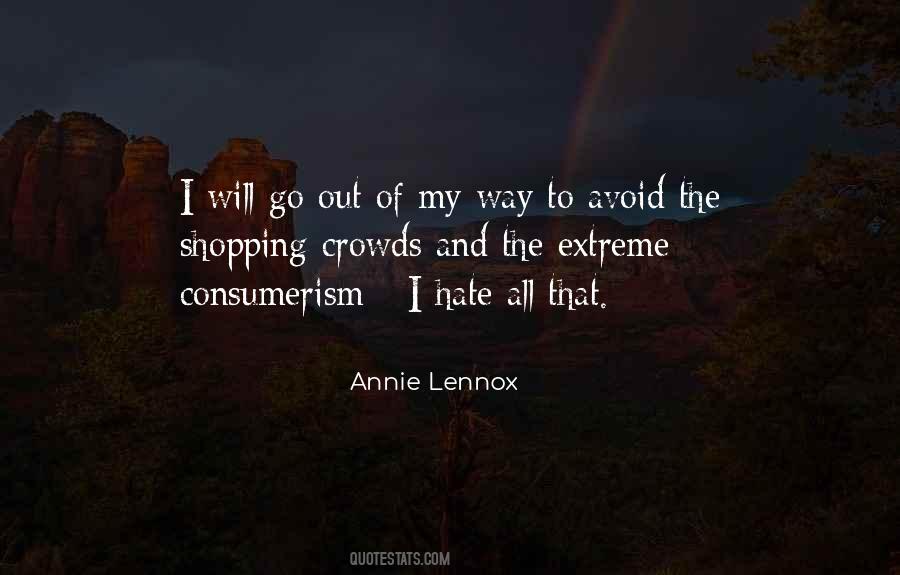 #49. She stuffed the goodies into her hidden running belt, jogged out of the park, and went shopping for duct tape, a razor blade, paper clips, and another disposable phone. - Author: Janet Evanovich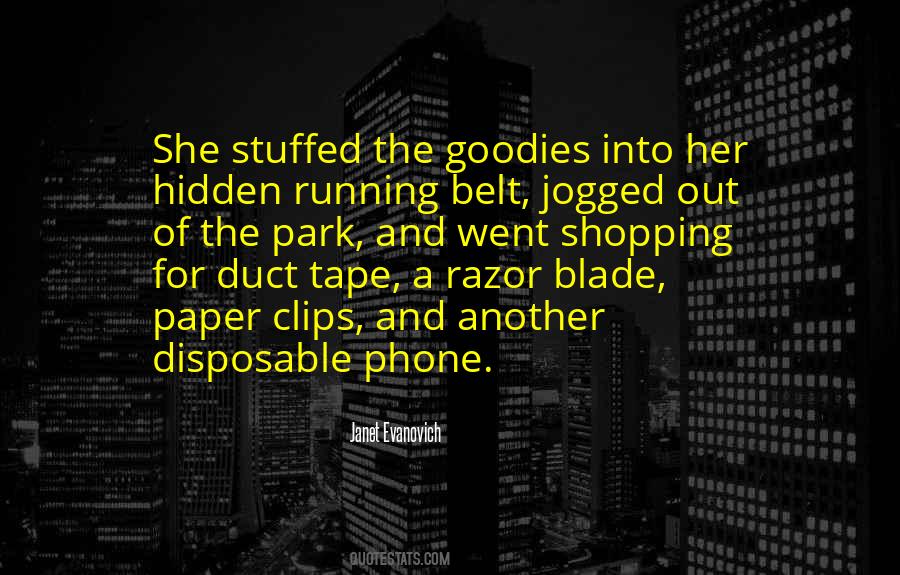 #50. I think participating in GISHWHES is a crash course in facing our fears: people go to crowded shopping malls wearing scuba gear, order from a fast food restaurant in Shakespearean verse or jump out of airplanes among many other tasks. - Author: Misha Collins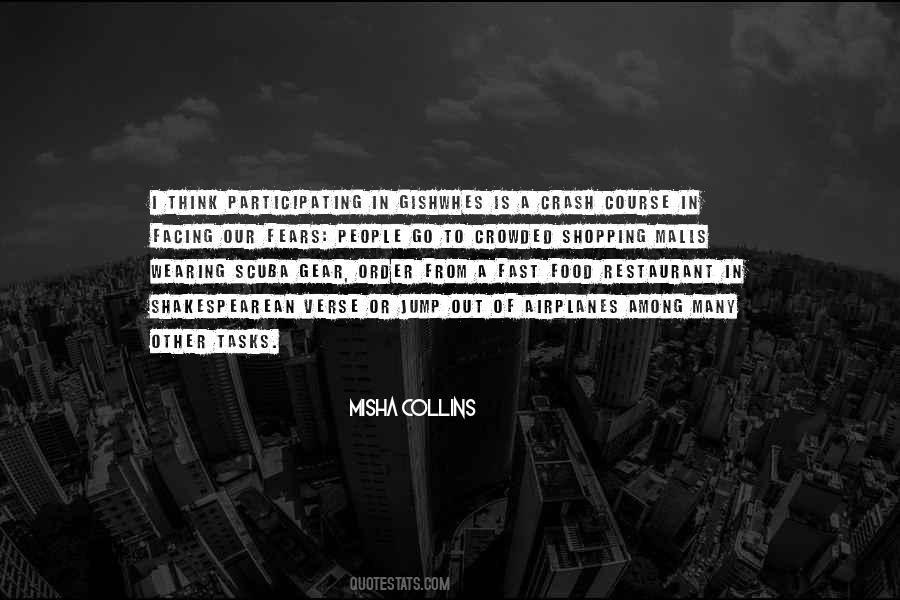 #51. But pink's a nice color."
"Not for goblins. Pink is the color of pure evil."
I had a flashback to shopping for one of my nieces in the all-pink Barbie aisle at Toys "R" Us. I had to admit, it had creeped me out. I nodded. "I can see that. - Author: Lisa Shearin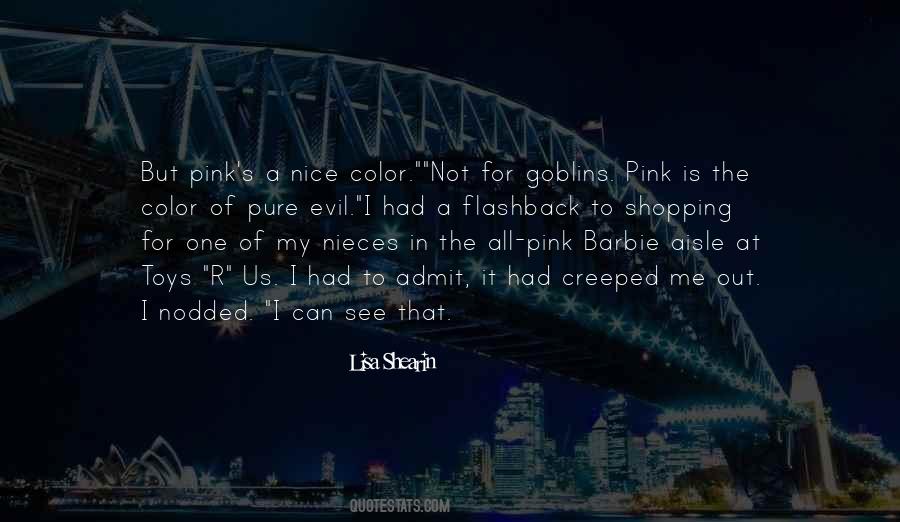 #52. I love shopping at Zara or Topshop. I'm not going to go out and spend $1,200 on a Chloe top that I'm probably going to spill something on. - Author: Phoebe Tonkin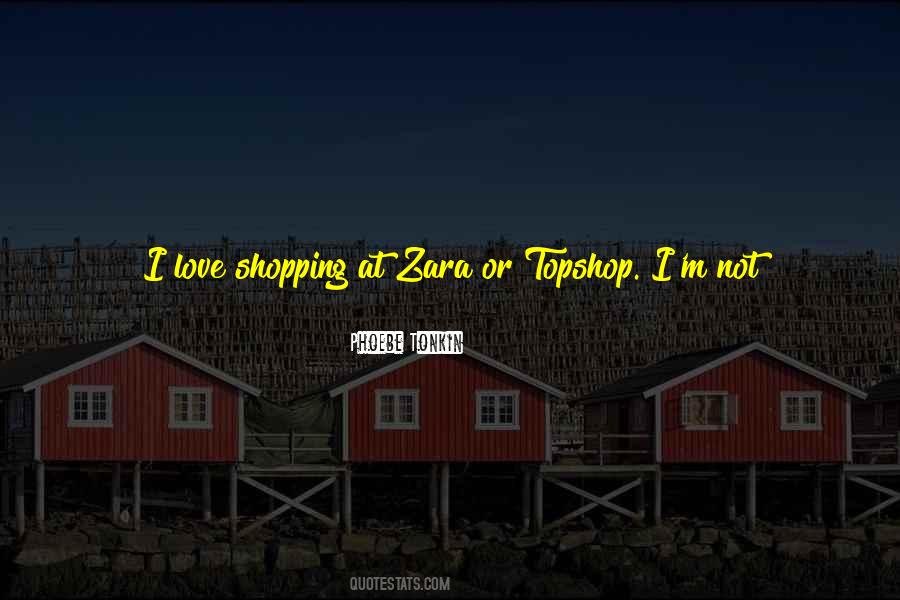 #53. Just recently I was in Target with my mom shopping, and out of the blue, I see this father and his two daughters and he says, 'Can they get a picture with you?' And I'm thinking to myself, 'Am I the one millionth customer or something?' - Author: Atticus Shaffer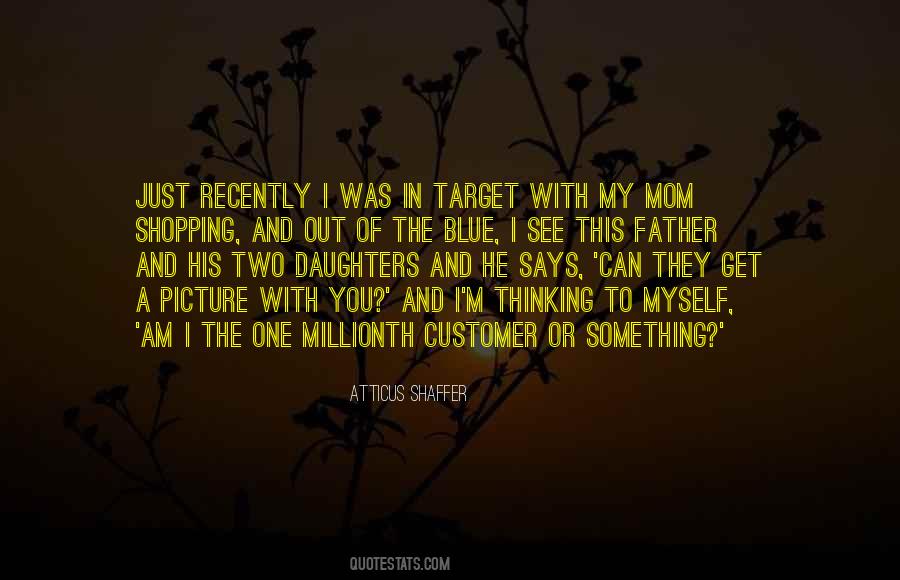 #54. The town is mobbed out with Saturday shoppers looking for Christmas bargains. You can almost breathe in the raw greed which hangs in the air like vapour. As the late afternoon darkness falls, the lights look tacky and sinister. - Author: Irvine Welsh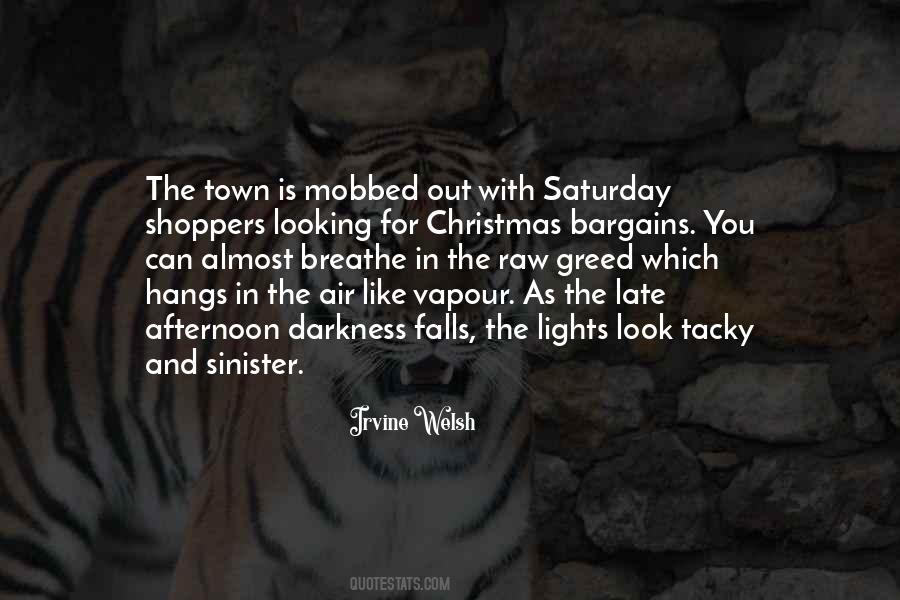 #55. I've been meaning to go shopping for boxing gloves, but I've been putting it off. I just need to knock it out and be done with it. - Author: Jarod Kintz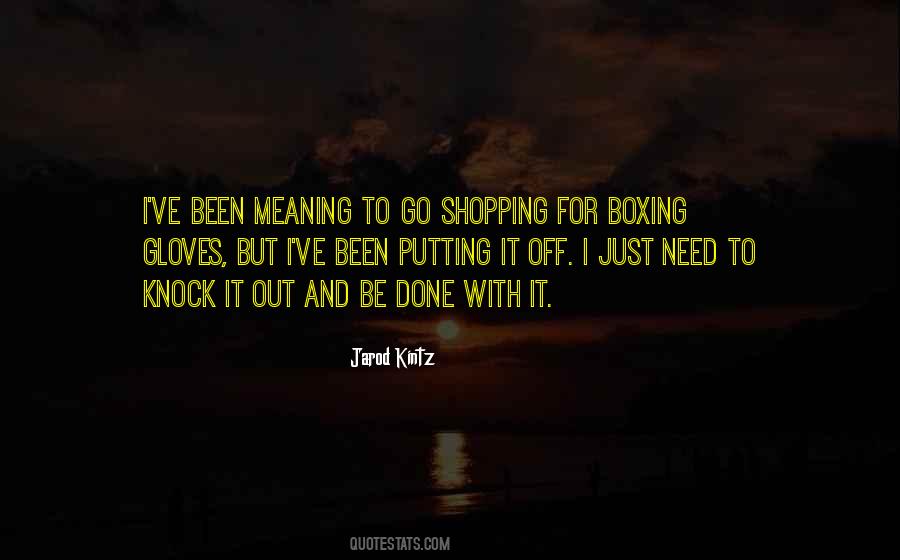 #56. Erin and I spent four hours shopping for dresses and shoes Tuesday night. She was going all out in her intention to make Chaz regret any decision he'd made that didn't include worshipping at her feet. - Author: Tammara Webber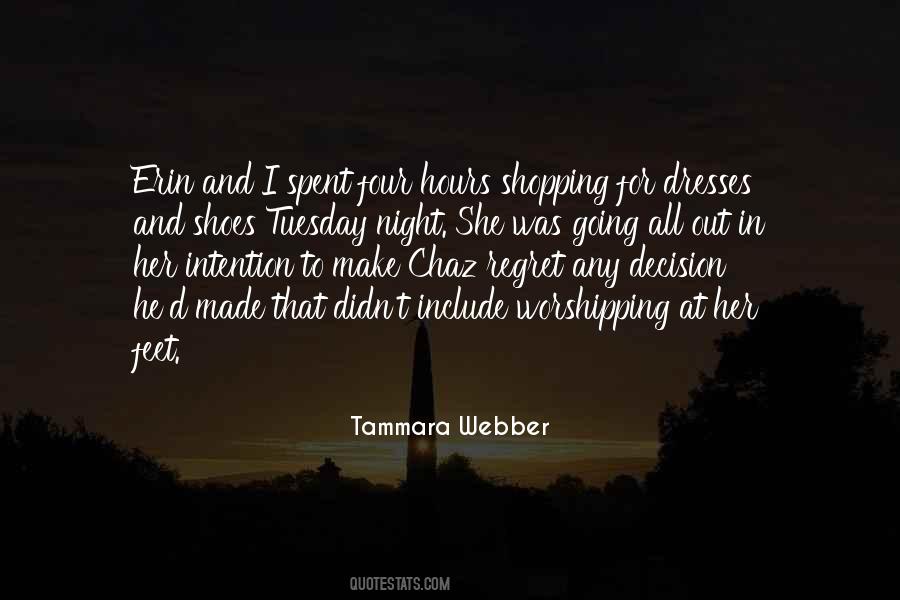 #57. On the day after Christmas, some store or another will always take out and ad saying there are only 364 shopping days to Christmas. No one is amused. - Author: Gerard Del Re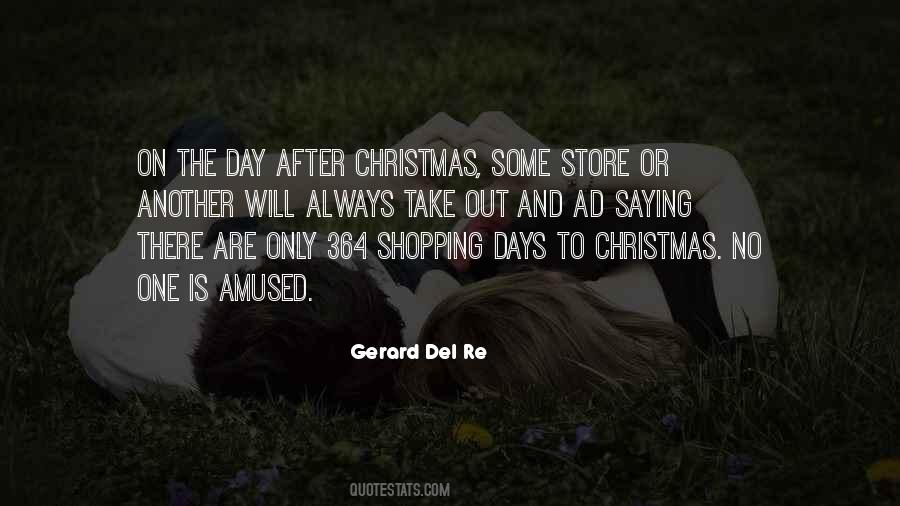 #58. When you're out grocery shopping for your family, maybe you can put a can of cat or dog food in your cart and bring it to an animal relief center. - Author: Rachael Ray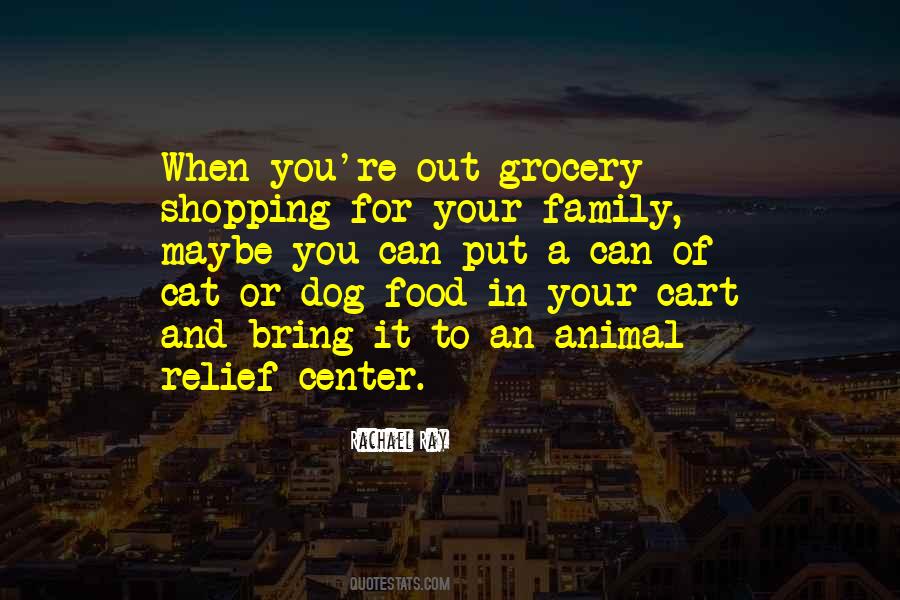 #59. When people come to my act any time after Thanksgiving, I usually say, You shouldn't be here. You should be shopping. Our economy depends on you! You should be out there buying stuff.' - Author: Lewis Black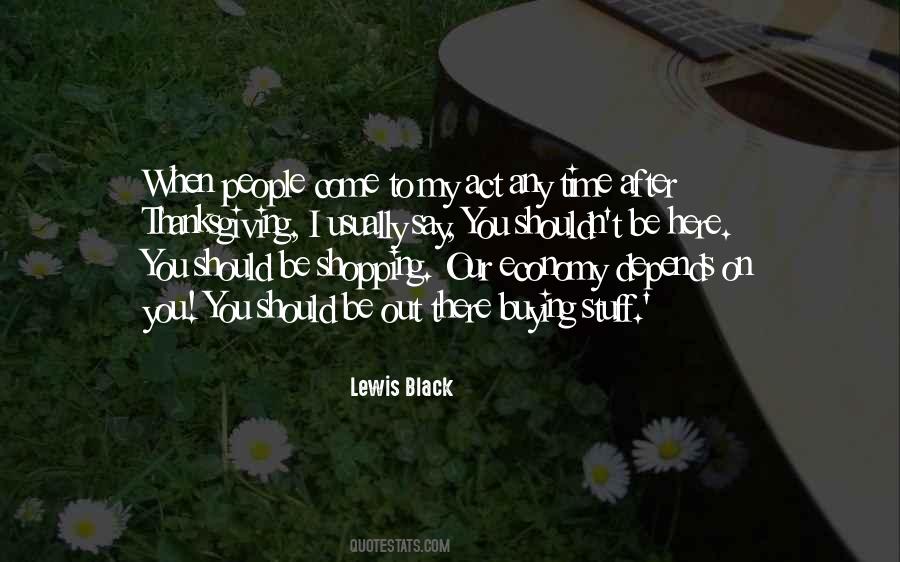 #60. You went shopping with Rebecca?'
'Yep,' I said, pulling the shoes out of the box.
His brows went to the heavens.
'Wow, those are like ... Jenn shoes.'
'These are not hooker shoes,' I said defensively.
'Well played,' he said. - Author: Karina Halle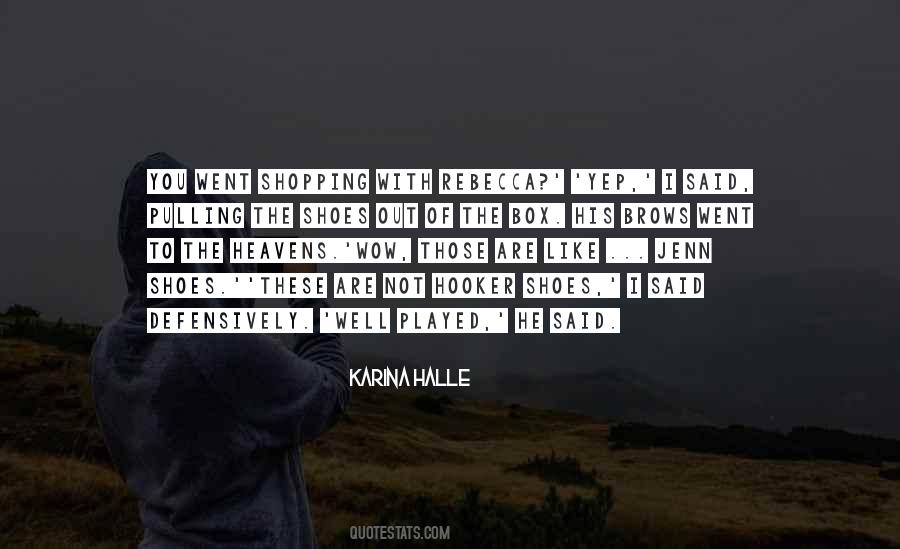 #61. I should probably confess that ice cream is my favorite food, and I eat it every night. When I go grocery shopping, I try to buy a new flavor, rather than reverting back to a favorite flavor. I'm on a mission to taste every flavor of ice cream out there! - Author: Becca Fitzpatrick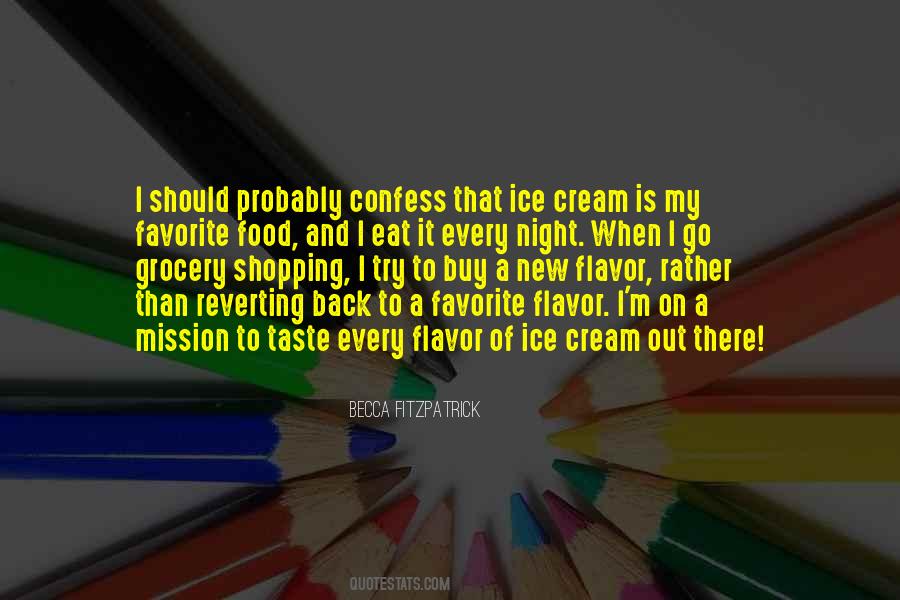 #62. Every day is different when I'm home, but mainly I just surf. There's no nightlife or shopping, so it's pretty mellow but really nice to come back to after a trip or an event. If you're traveling, you're all stressed out, then you get to Kauai, and nothing matters anymore. - Author: Alana Blanchard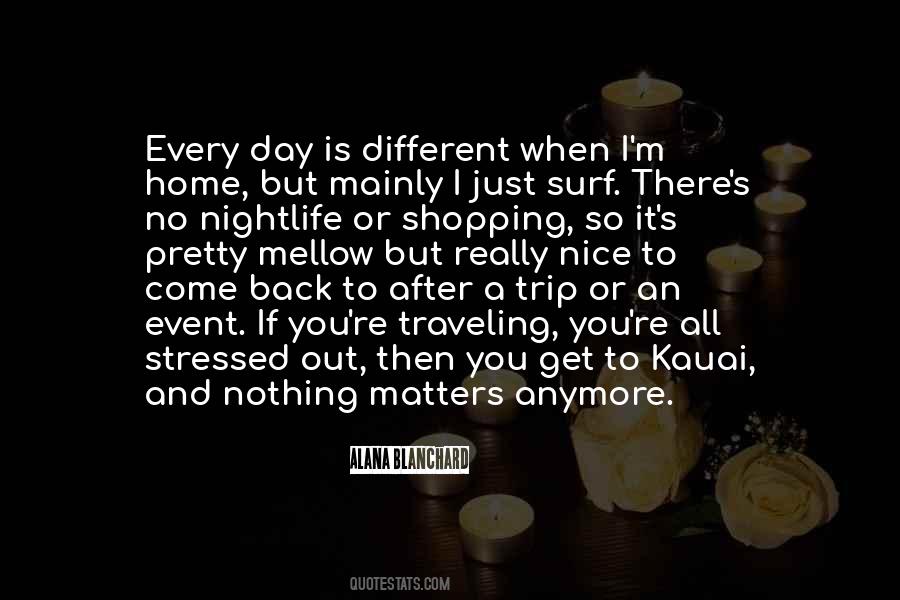 #63. Last guy I was interested in turned out to be an incestuous necrophiliac," she said. "So no, not currently dating, and definitely not doing any more shopping in the 'sociopath' category - Author: Mira Grant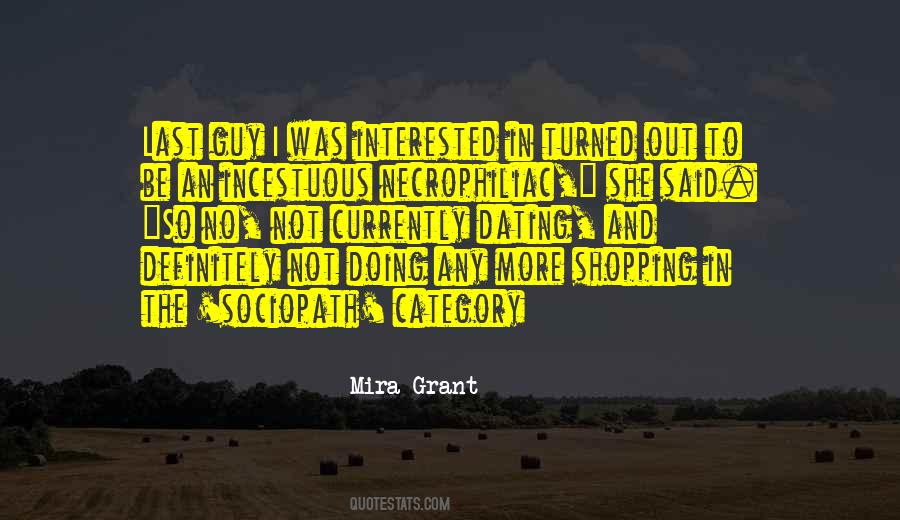 #64. A new lover. Fresh knowledge and a virgin body to paw. Shopping together for wicker furniture in the mall. Visiting the lingerie store. Picking out matching shotguns. - Author: Kenneth J. Harvey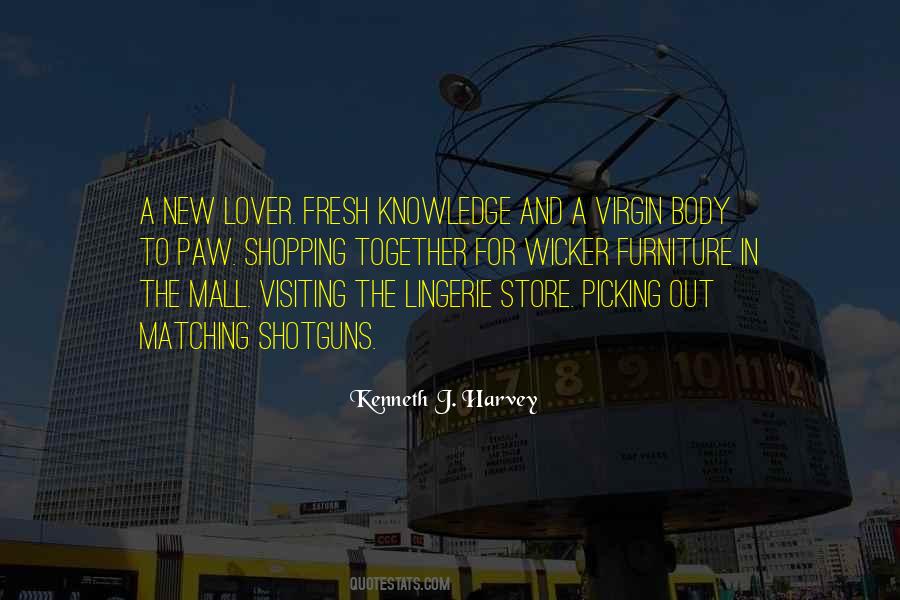 #65. Sephora's business is really smart and clever - I'm all for anything that gets people up and out and into the social experience of shopping. - Author: Marc Jacobs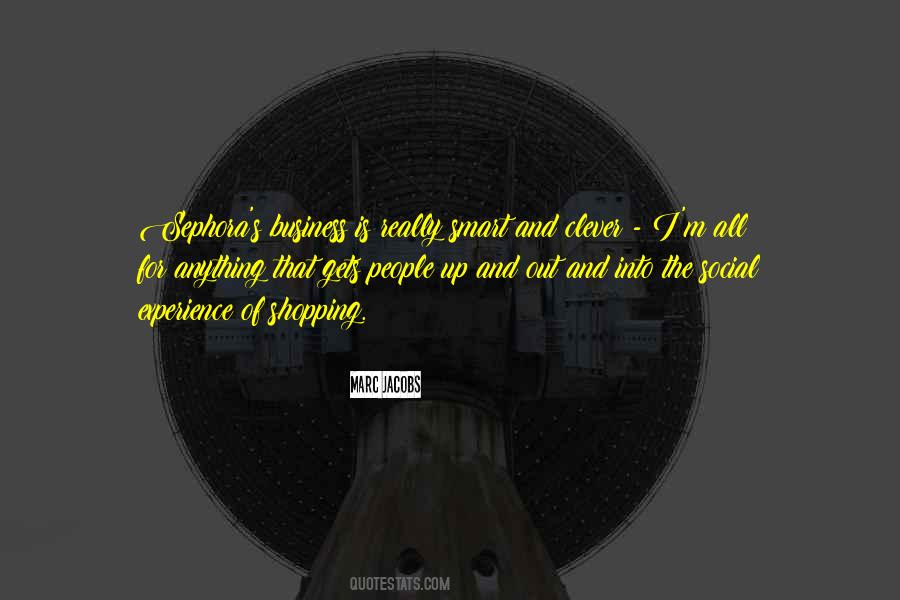 #66. When I'm out for a walk or out shopping, then I'll probably have 20 different conversations a day with people about Blackburn Rovers. You can't really escape from it. I am still really proud to come from Blackburn. It is a place I still hold very dear to my heart, which is why I want to stay here. - Author: David Dunn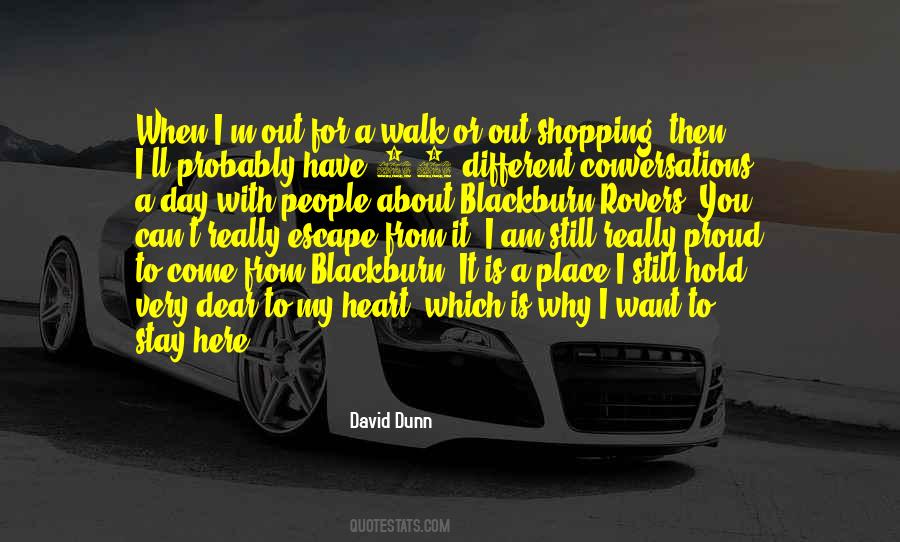 #67. I just stopped reading a lot of books. I mean, I read books that I have to read for school, but I don't actually pick up a book and read for fun. On my time off, I go to movies, hang out with friends, go shopping ... just little things. - Author: Mark Indelicato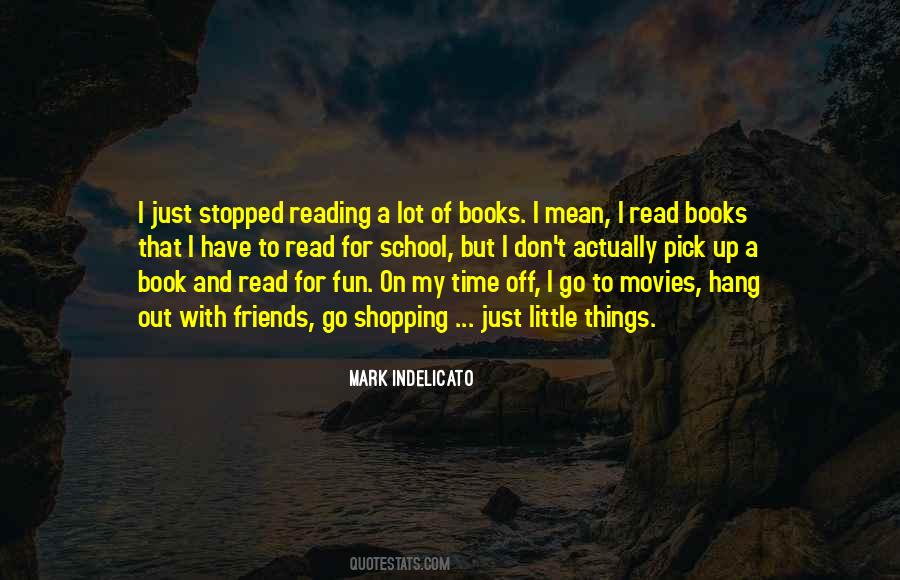 #68. You don't go to the library and walk along and pick out a topic. You are riding the bus, or shopping at Safeway, and all of a sudden the idea comes to you. - Author: Edward P. Jones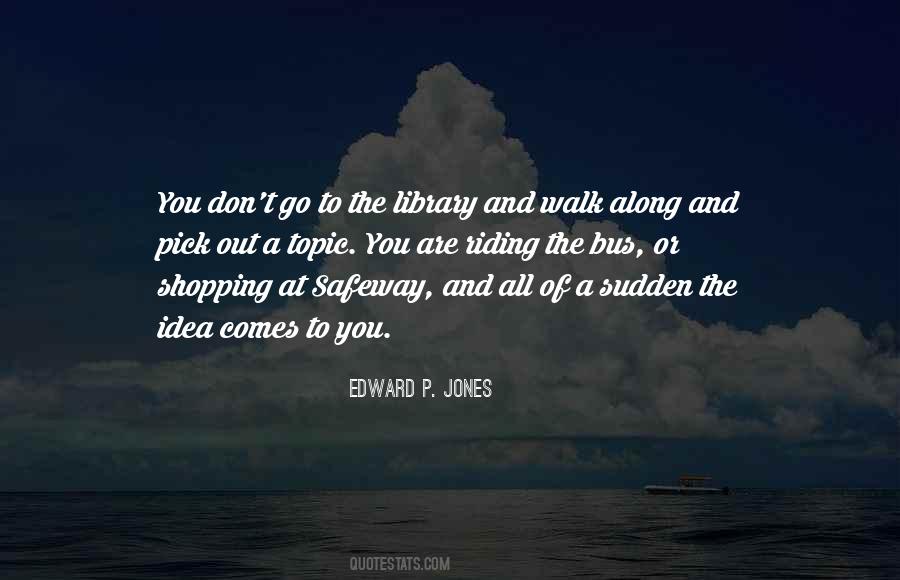 #69. For me, prayer is not so much me setting out a shopping list of requests for God to consider as it is a way of 'keeping company with God.' - Author: Philip Yancey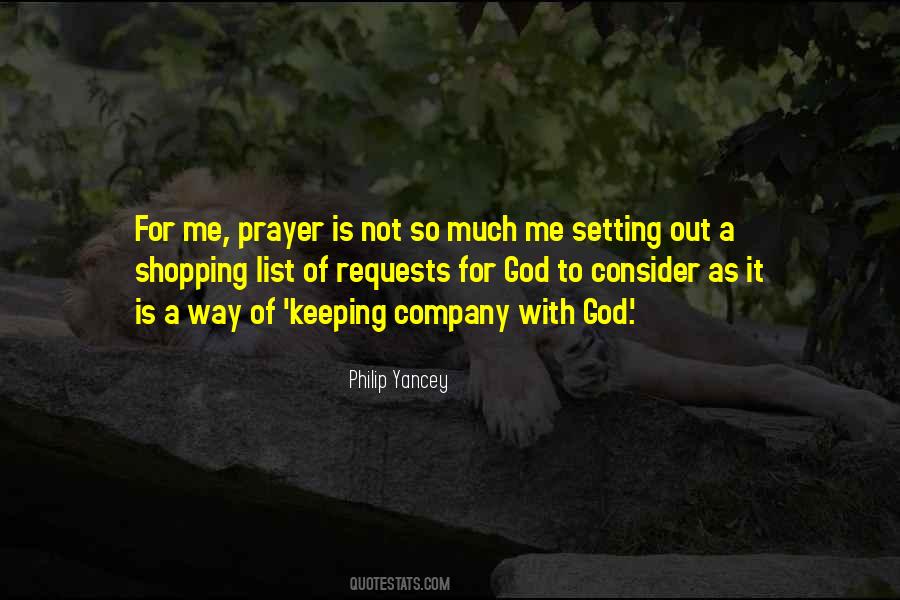 #70. After I had the Caesarean, I was told I had really strong stomach muscles and so would heal very quickly. And I did. I was up walking about within three hours. Six days after having her, I was out shopping and shortly after that I made it to David Walliams' wedding. - Author: Denise Van Outen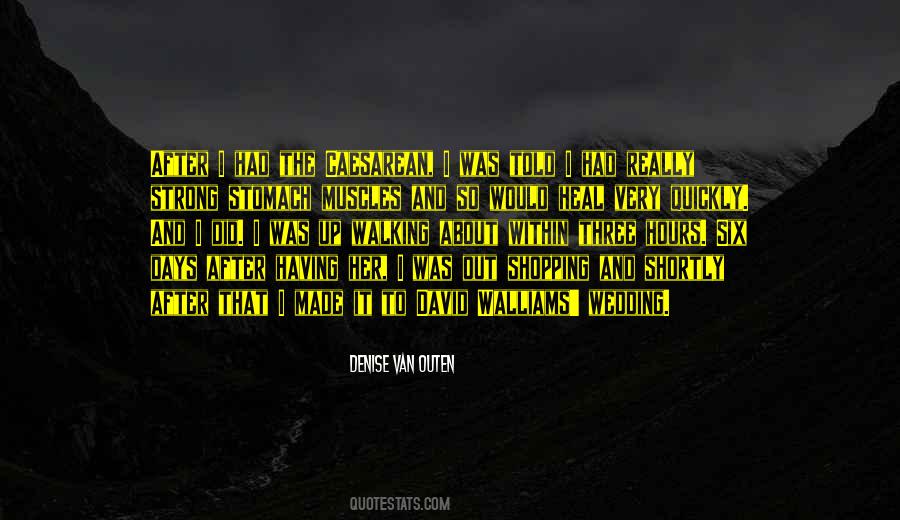 #71. I'm a bit of a clothes hoarder, admittedly. I try to weed out stuff. My girlfriends come over for cheese and wine and go shopping in my wardrobe. They especially love it when they get stuff with a tag still on. - Author: Jennifer Aniston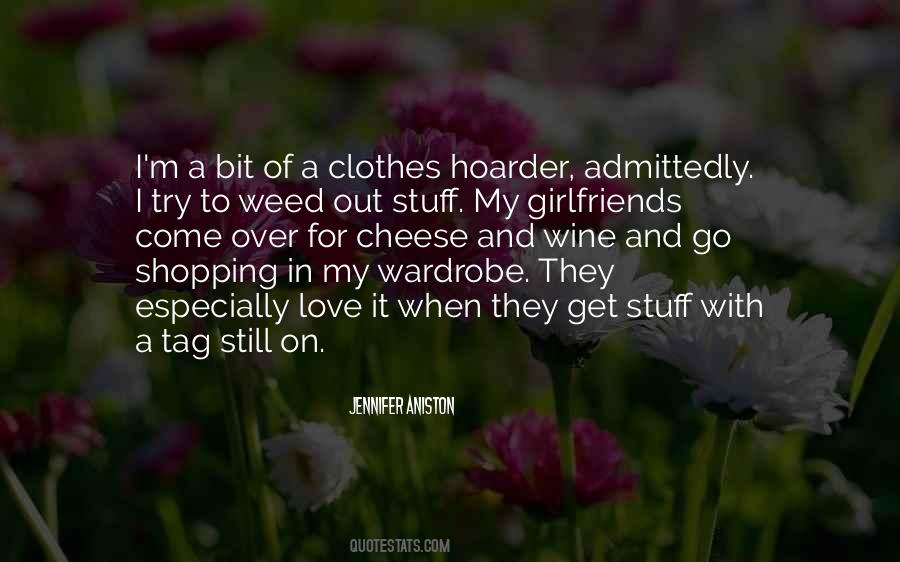 #72. Do you want to know something? I have three pairs of kid gloves. I've had kid mittens before from the Christmas tree, but never real kid gloves with five fingers. I take them out and try them on every little while. It's all I can do not to wear them to classes. - Author: Jean Webster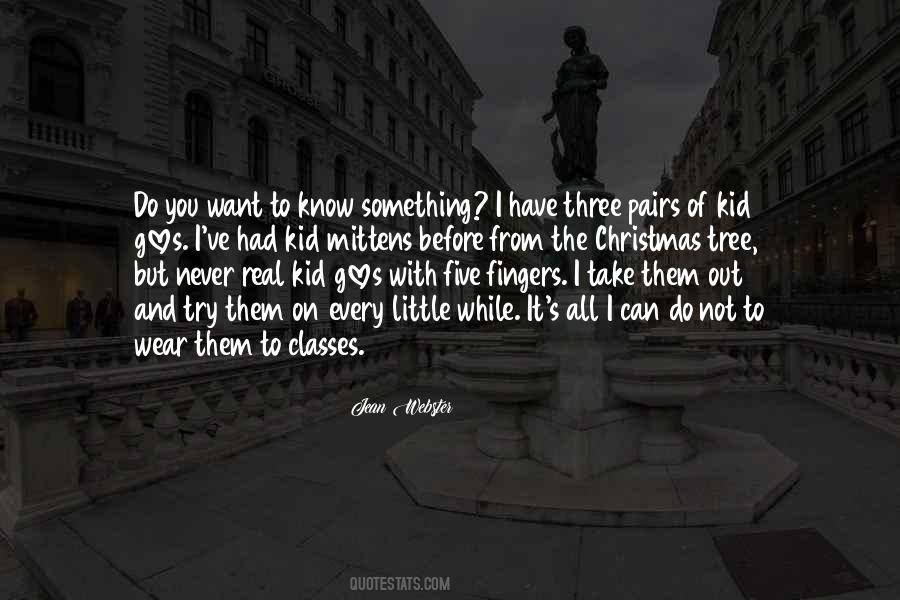 #73. If you stay half-alert, you can pick the spectacular performers right from your place of business or out of the neighborhood shopping mall, and long before Wall Street discovers them. - Author: Thomas Rowe Price Jr.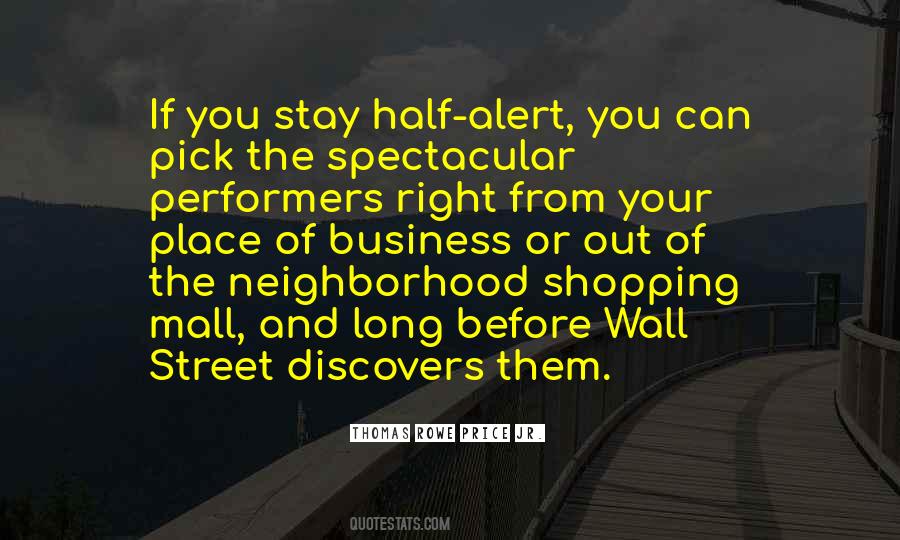 #74. It's better to spend a lot on a getup you love than a fraction of that on something, or even five of those somethings, that you'll never bother to take out of the shopping bag. By the way, this advice also applies to discount love interests. And half-price sushi. - Author: Patricia Marx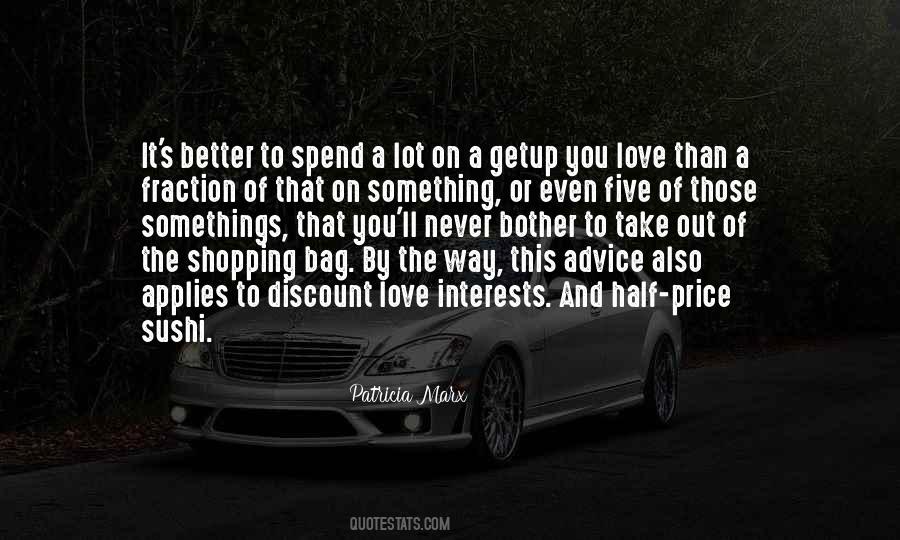 #75. Groceries became a revelation: the people coming out with bundles of food. It's all like a great ceremony, and the whole drudgery of shopping has become my inspiration. - Author: Corita Kent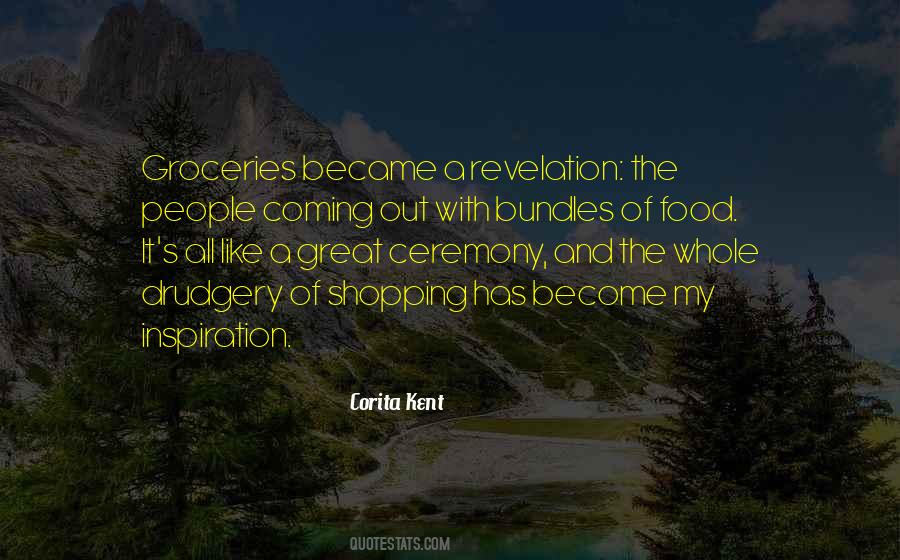 #76. I toss the formal dress from 1905 onto the chair next to him. He glances up, removing the headphones.
"Did you decide to do a bit of shopping in London?"
I give him a wry smile. "Does this look like something I'd buy? Your great-grandfather picked it out. - Author: Rysa Walker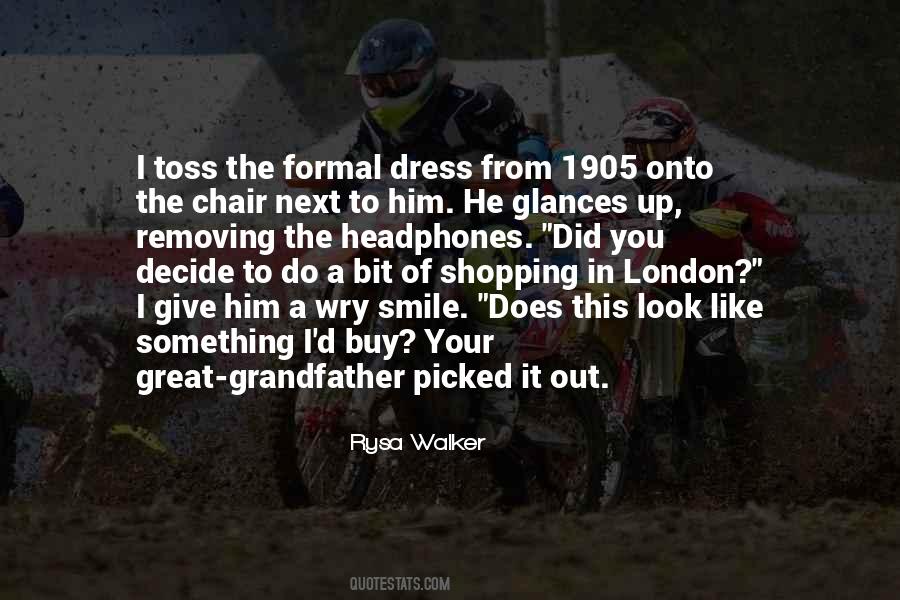 #77. One of the difficulties of not knowing for so long whether we were doing a fifth season or not was that we weren't really allowed to go out shopping for work. - Author: Claudia Black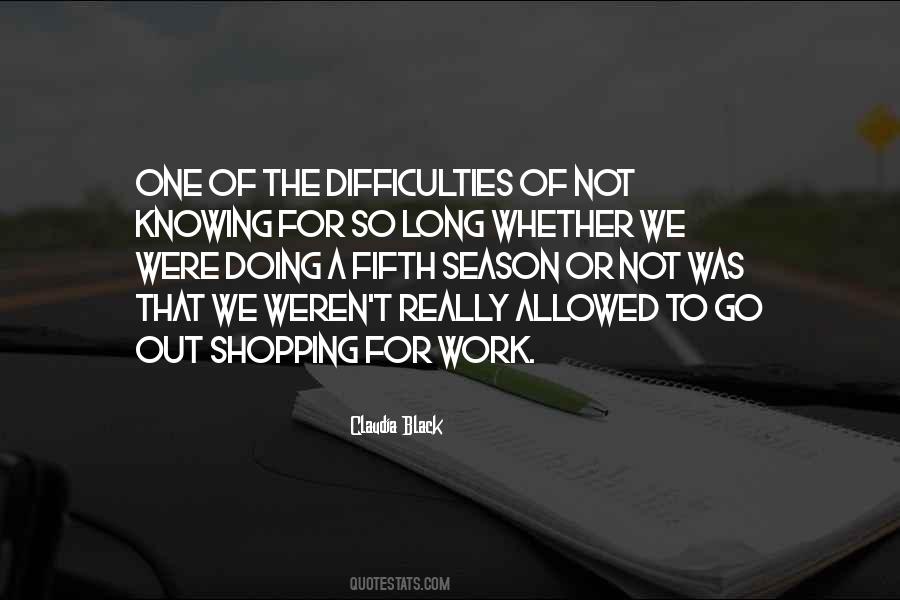 #78. I was in the shopping mall because that's where I go lately. For the last couple of weeks, I've been going there every day, trying to figure out why people go there. It's kind of a personal project. - Author: Stephen Chbosky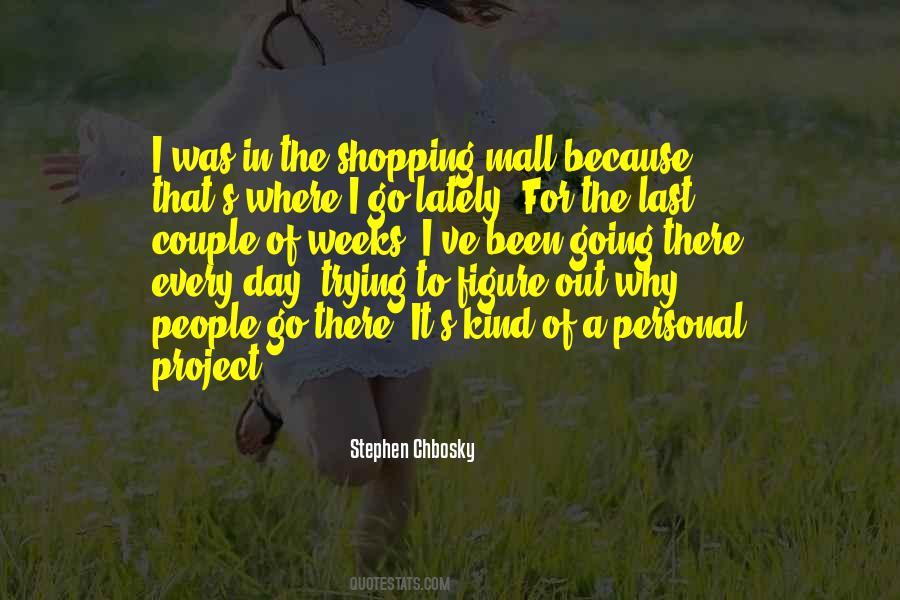 #79. For what might happen if we lift
the codicils on belching?
If sex were permitted in the shopping malls? If people
were allowed to sing arias
from Don Giovanni, loudly and out of tune, waiting in line
at Department of Motor Vehicles? - Author: Lucia Perillo
#80. A farm is a good thing, when it begins and ends with itself, and does not need a salary, or a shop, to eke it out. - Author: Ralph Waldo Emerson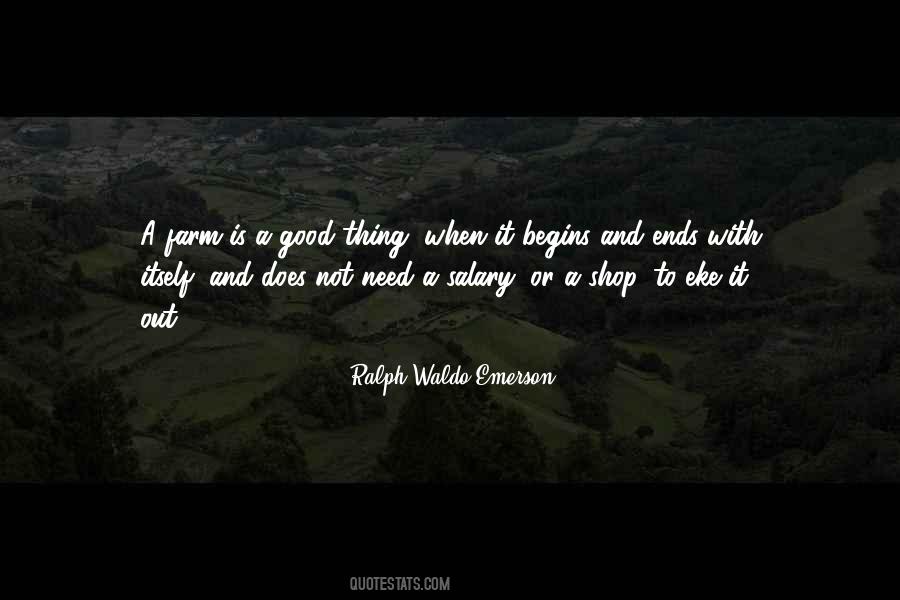 #81. Shopping, eating, and being with my friends. So, anytime that I am at home chillin', I will find a way to shop online. I'm like, "If I'm not allowed out of the house tonight then I am shopping online!" - Author: Miley Cyrus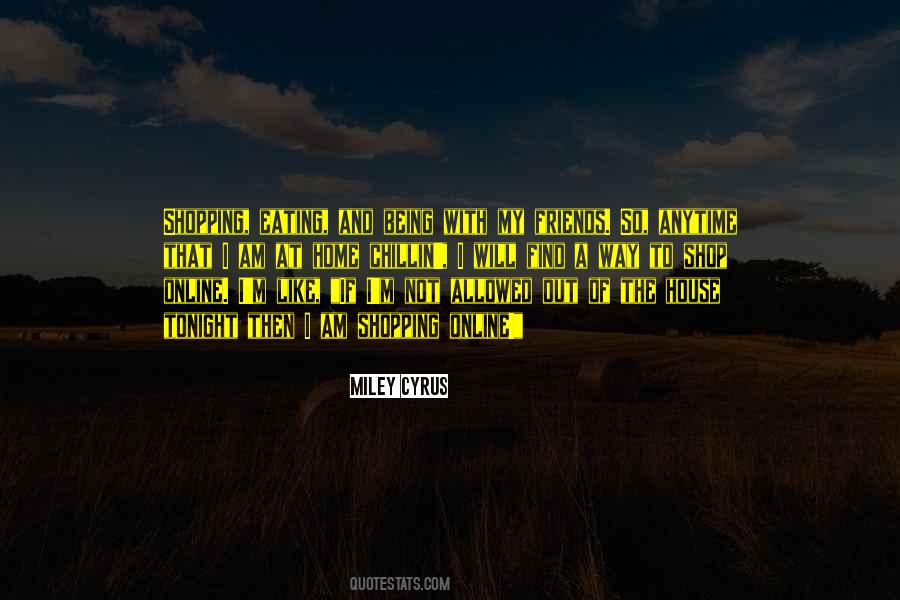 #82. Men are like shoes. Some fit better than others. And sometimes you go out shopping and there's nothing you like. And then, as luck would have it, the next week you find two that are perfect, but you don't have the money to buy both.- - Author: Janet Evanovich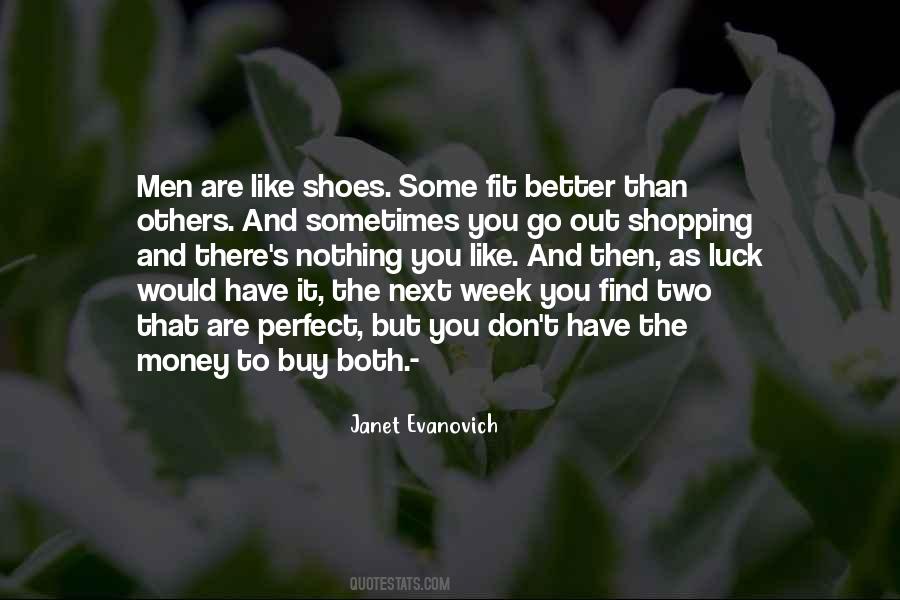 #83. I'd watch my father get up at 5 o'clock and go down to the Eastern Market in Detroit to do the shopping for his restaurant, and get that business going and then go out on his vending machine business. - Author: Ed Bradley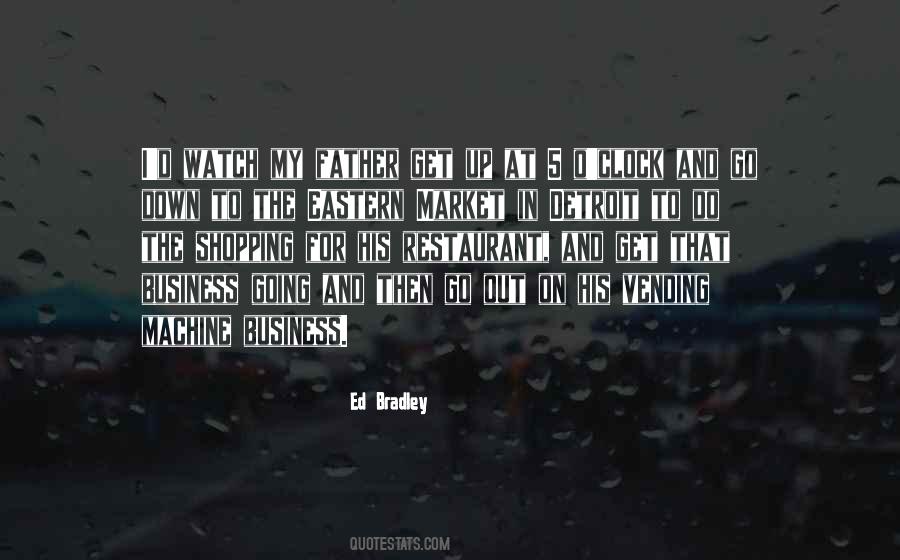 #84. I love doing normal things - movies, shopping, going out with friends, writing, reading, taking hot bubble baths - that's a big one for relaxation. I also love to go to art and history museums. - Author: Christina Aguilera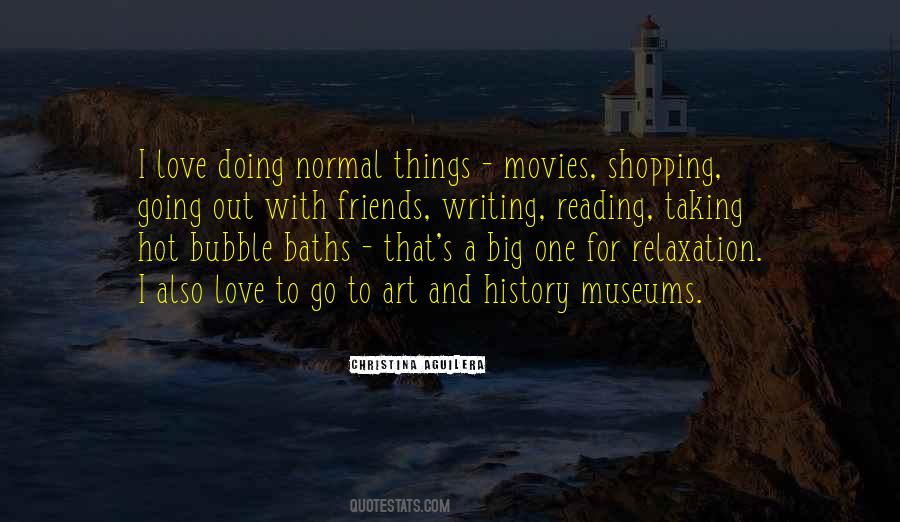 #85. I reached out gave her hand a squeeze. "We need to focus on the shopping now, Dar, or else we'll succumb to the Curse of Target." "What's that?" "Where you walk in with a plan to spend twenty bucks, and you walk out having spent a hundred on - Author: Emma Scott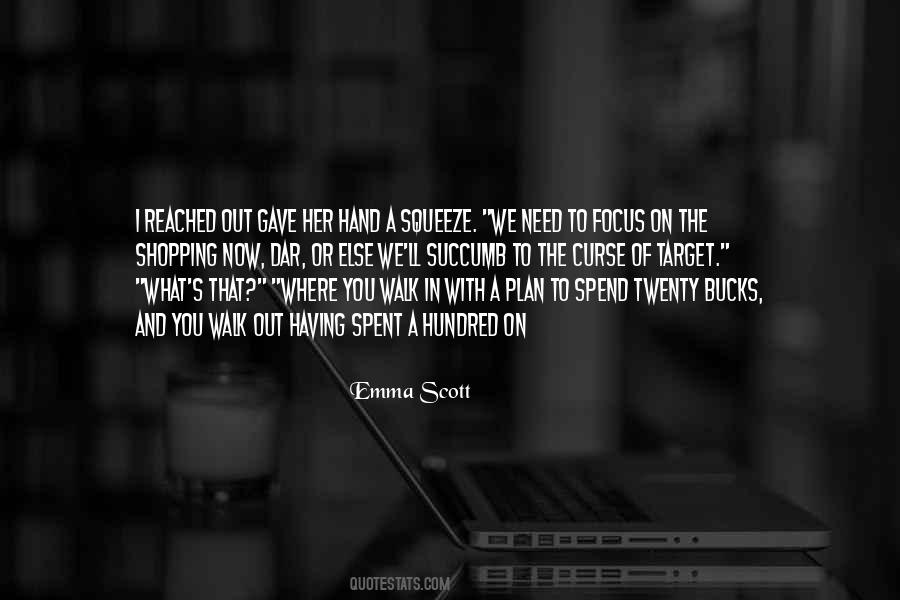 #86. The thrill in fashion for me is taking a risk and daring myself to make it work. Even when I go shopping, I always buy something twisted and I know I'm going to have to figure out somehow to pull it off and make it my own. - Author: Rihanna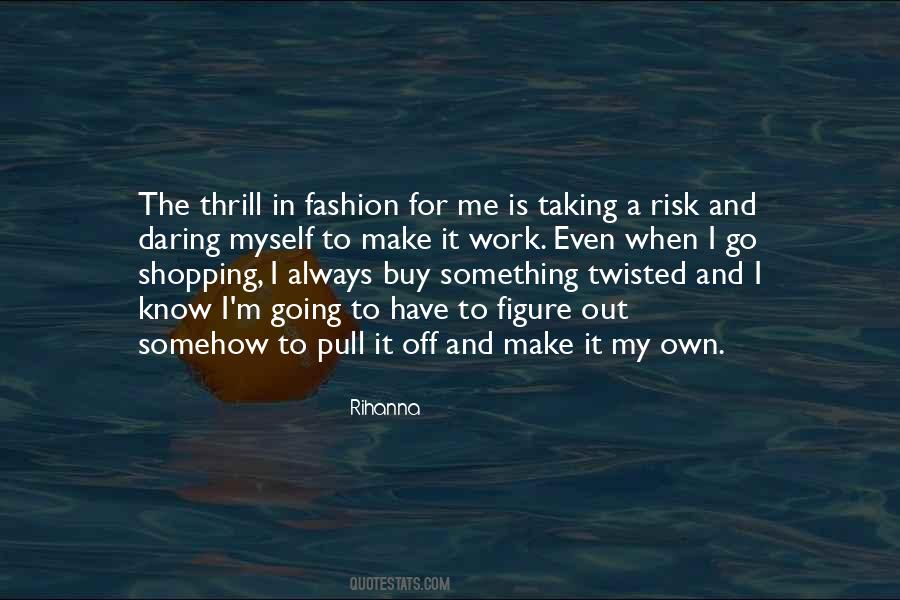 #87. While we're out shopping this afternoon, maybe we can find a Scottish man for me." Effie waggled her eyebrows. "I know just the size I want. - Author: Vonnie Davis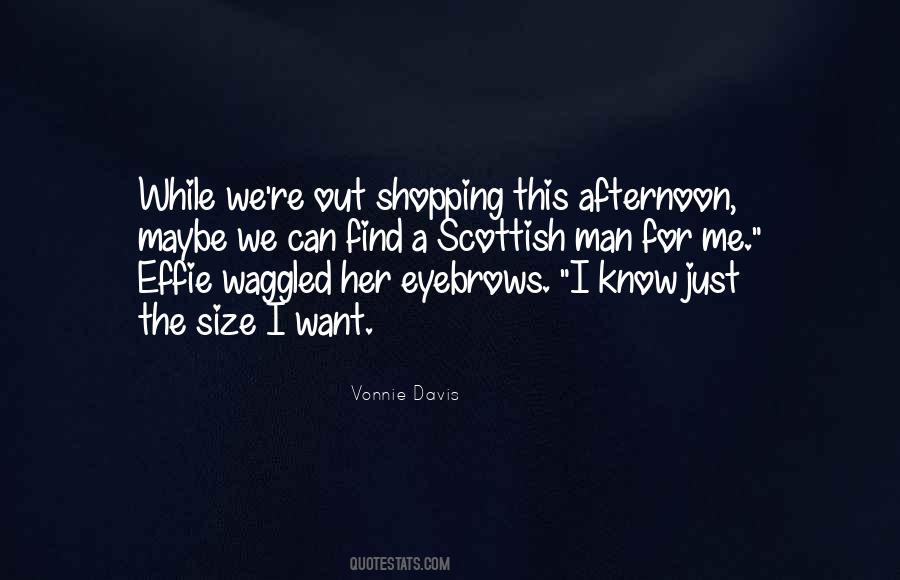 #88. Aren't you a little old for your mom to be picking out your clothes for you? Really? Shopping at the Children's Place at your age? I'm sure there's some third-grader dying to know who bought the last navy I-sore shirt. (Nekoda) - Author: Sherrilyn Kenyon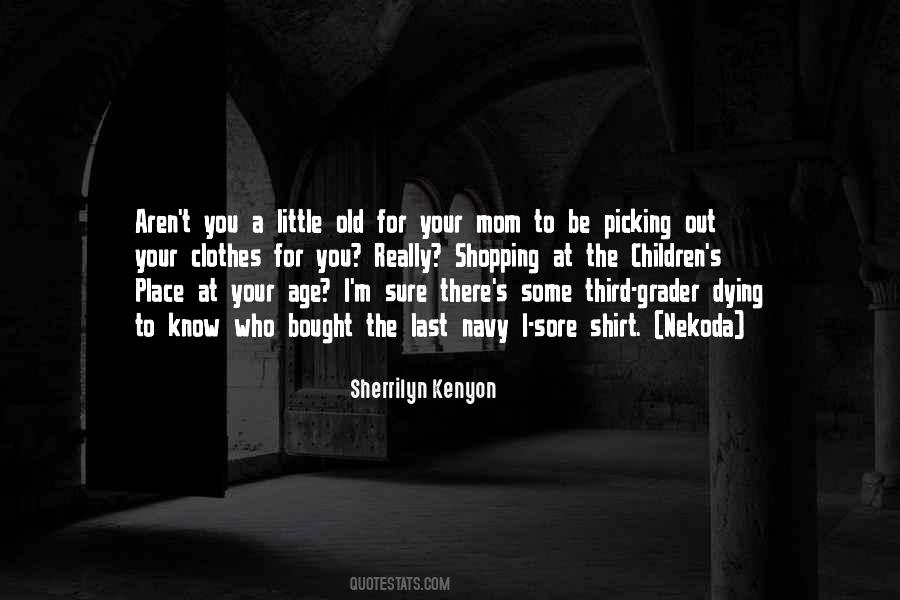 #89. I think that what's perceived as punk out in shopping malls or in chain stores or on MTV has almost nothing to do with what punk is about. - Author: Jello Biafra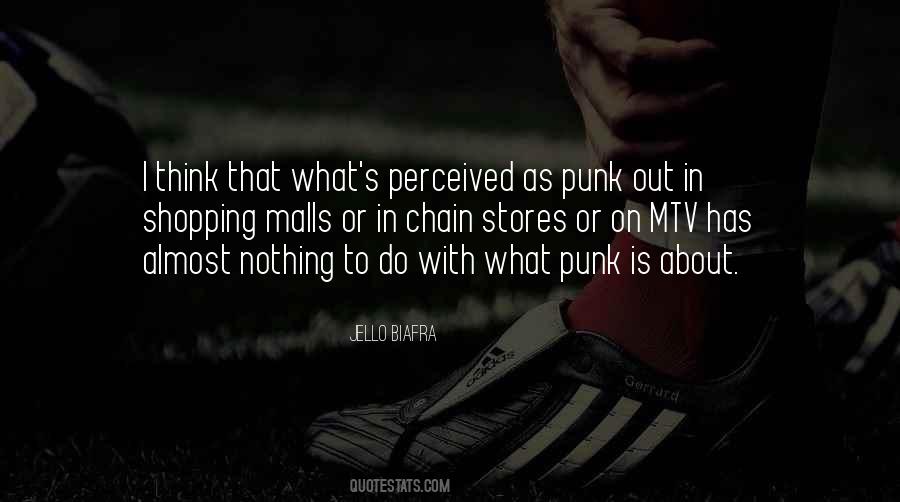 #90. In the world of interactive multi-media highways we are all traveling somewhere interactively and we are all shopping for something, our dreams, our hopes, our ambitions for ourselves, for those we love - these little scenarios we play out endlessly in our mind. - Author: Frederick Lenz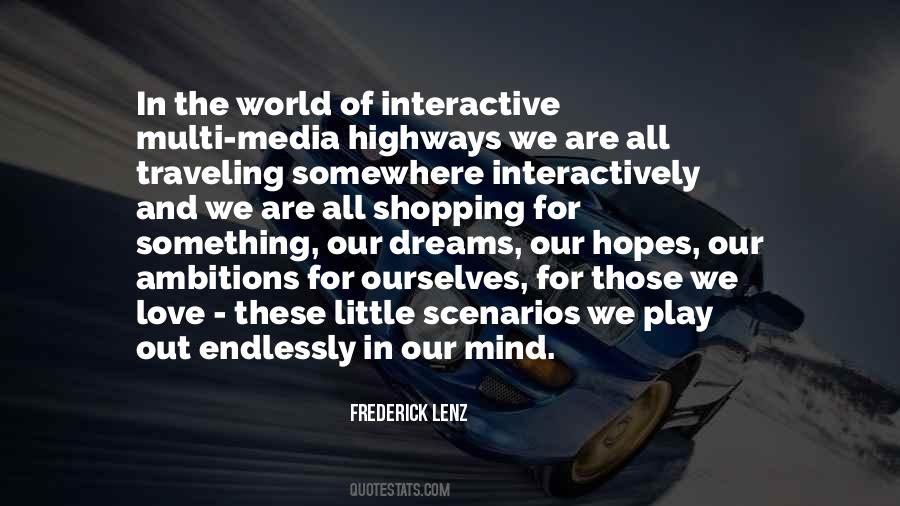 #91. Laser light flickered all over him as if he was a packet of biscuits at a super-market check-out. - Author: Douglas Adams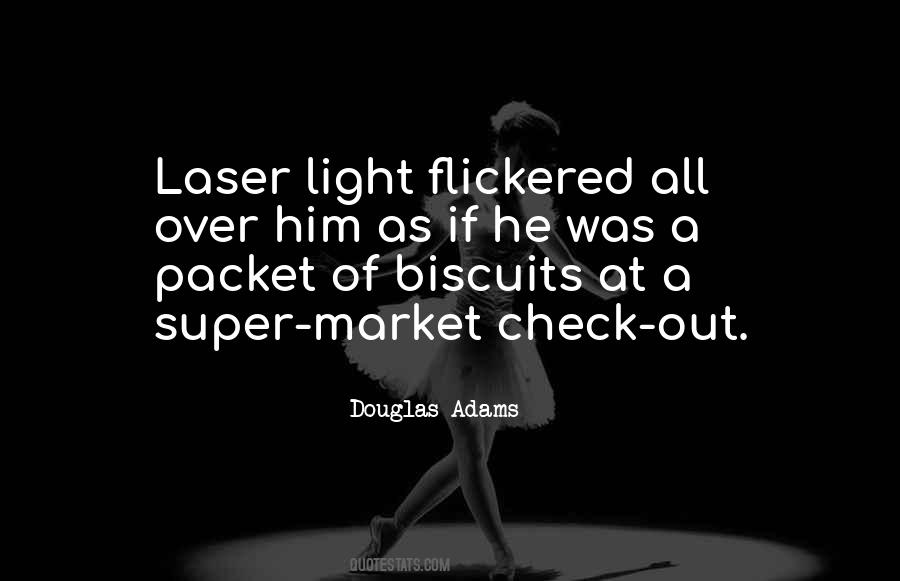 #92. At the end of the day, taking 50% off a $250 dress still means walking out of the store $125 poorer. - Author: Ian Lamont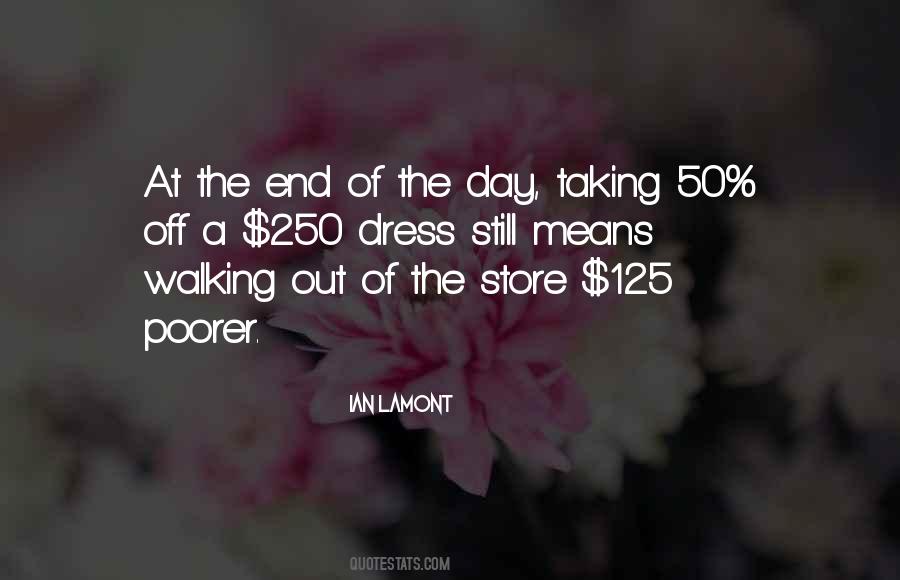 #93. If she was going to die she wanted to go out with chocolate in one hand and a shopping bag in the other. - Author: Caroline Hanson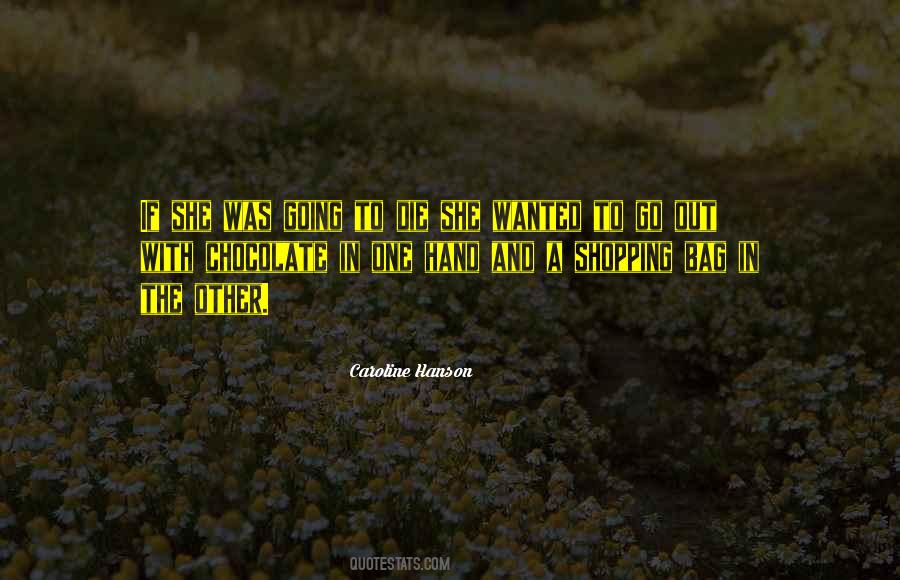 #94. I've just been livin' a normal life, going shopping, going out, gettin' pissed. I keep sitting on my arse doing nothing. - Author: Lady Sovereign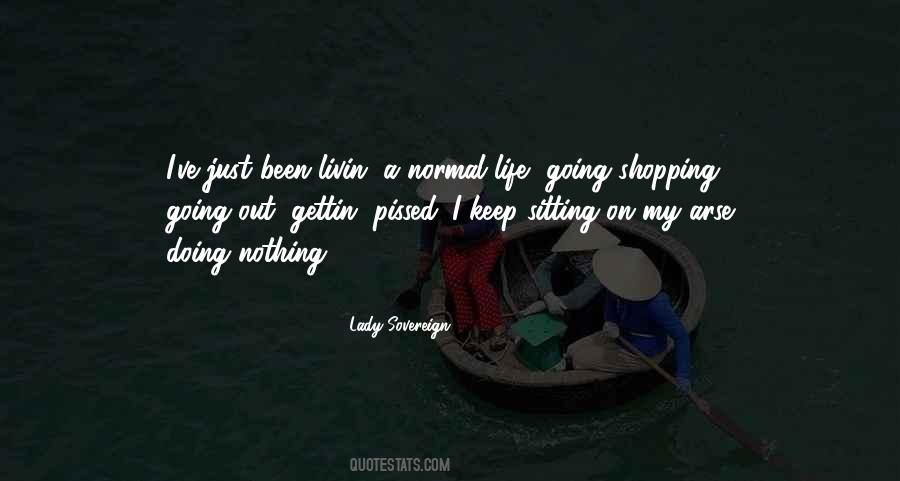 #95. Capitalism is destroying the planet. The two old tricks that dug it out of past crises
War and Shopping
simply will not work. - Author: Arundhati Roy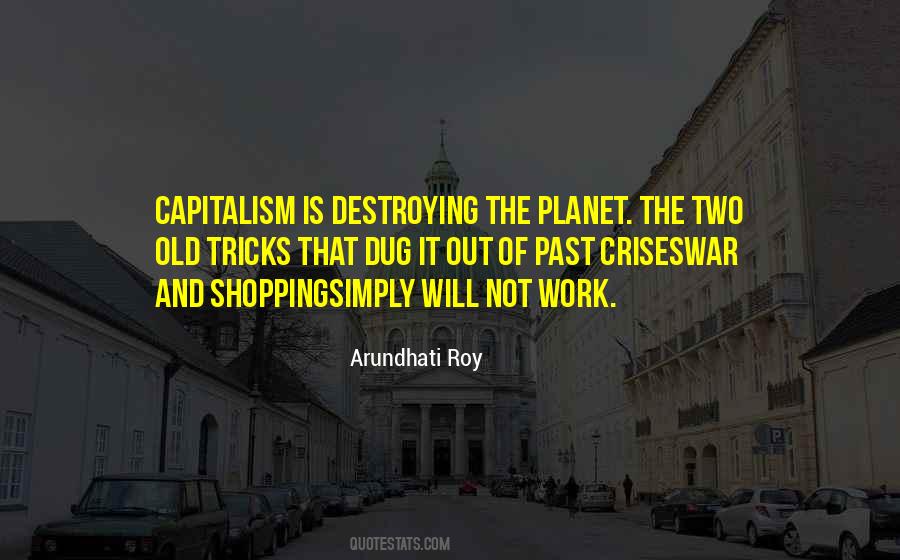 #96. Men go shopping just as men go out fishing or hunting, to see how large a fish may be caught with the smallest hook. - Author: Henry Ward Beecher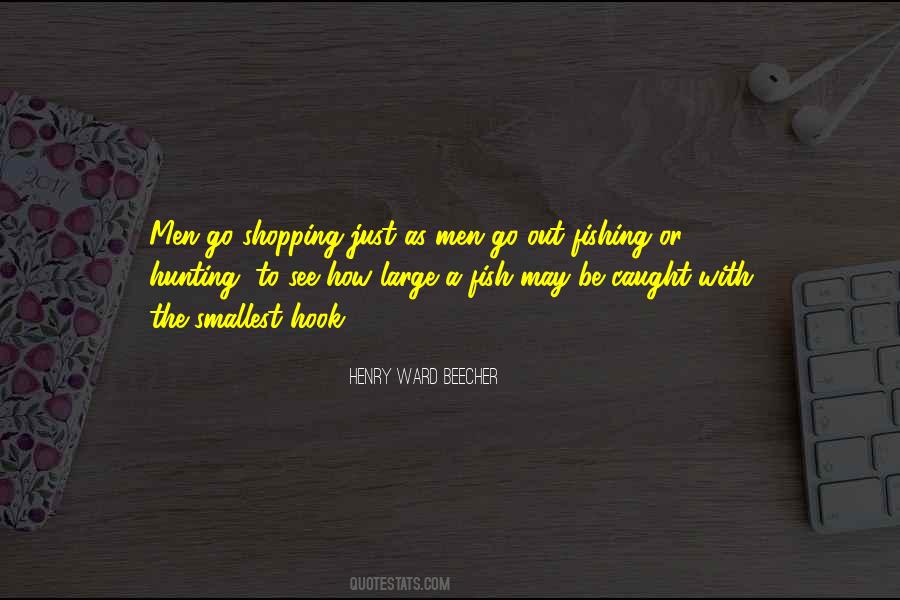 #97. If I'm out shopping and someone talks to me, I get startled, as I'm not a natural celebrity. - Author: Simon Weston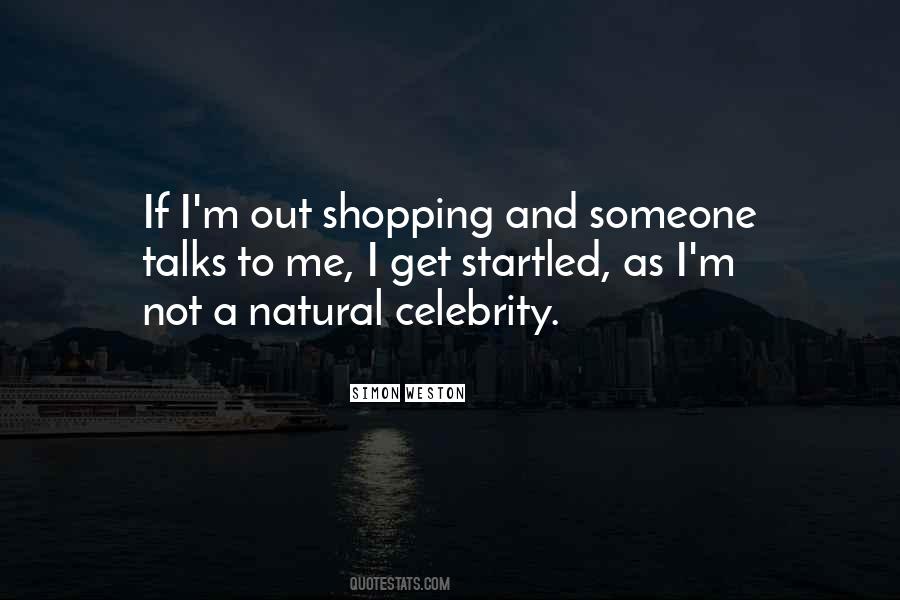 #98. People are shuffling by in long coats, with shopping bags and takeout, smoking cigarettes and feigning laughter - filling up their lives with distractions to shut out the chaos. - Author: Rob Payne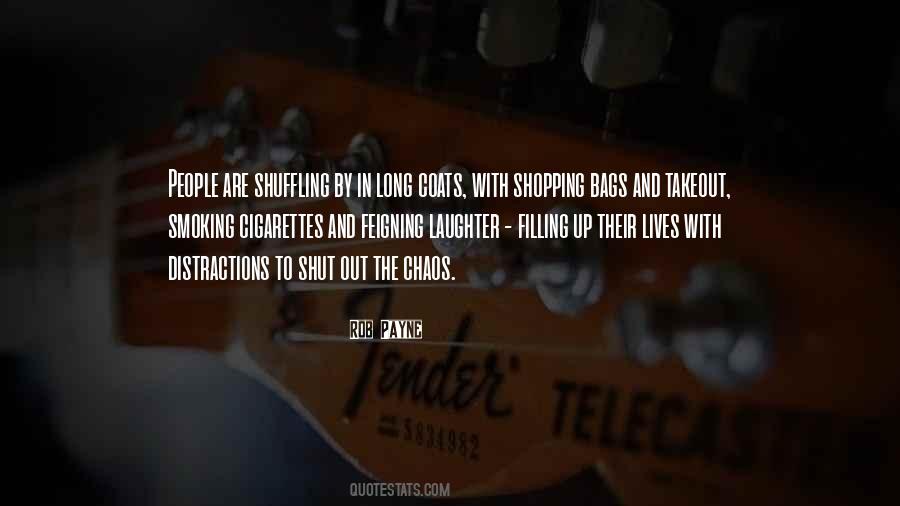 #99. As consumers, we can buy organic and non-GMO verified products, so look out for those labels when shopping! - Author: Zoe Lister-Jones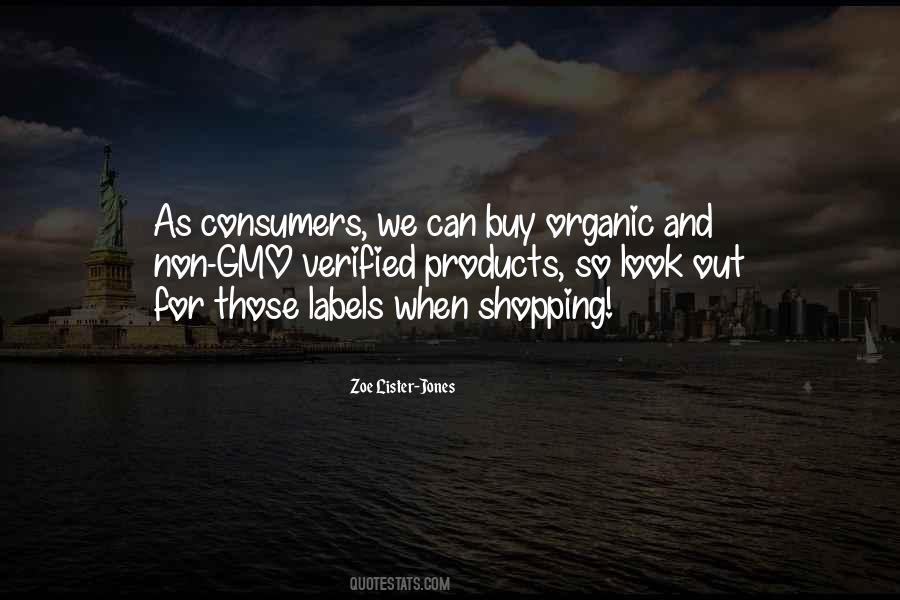 #100. I imagined the towns were filled with people like me - lonely people who wanted to fly away, who wanted more from life than a dreary existence of one-stop shopping, but either didn't know what that meant, or didn't have the guts to go out and find it. - Author: Tiffanie DeBartolo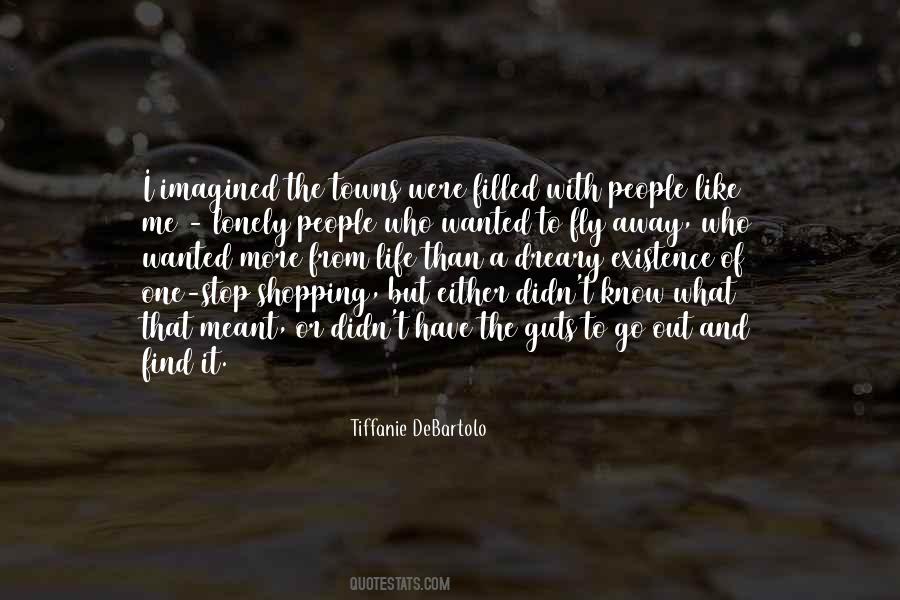 Famous Authors
Popular Topics