Let It All Out Famous Quotes & Sayings
List of top 100 famous quotes and sayings about let it all out to read and share with friends on your Facebook, Twitter, blogs.
Top 100 Let It All Out Quotes
#1. If I let a little of the emotion out, all of it will come out, and it will never end. - Author: Veronica Roth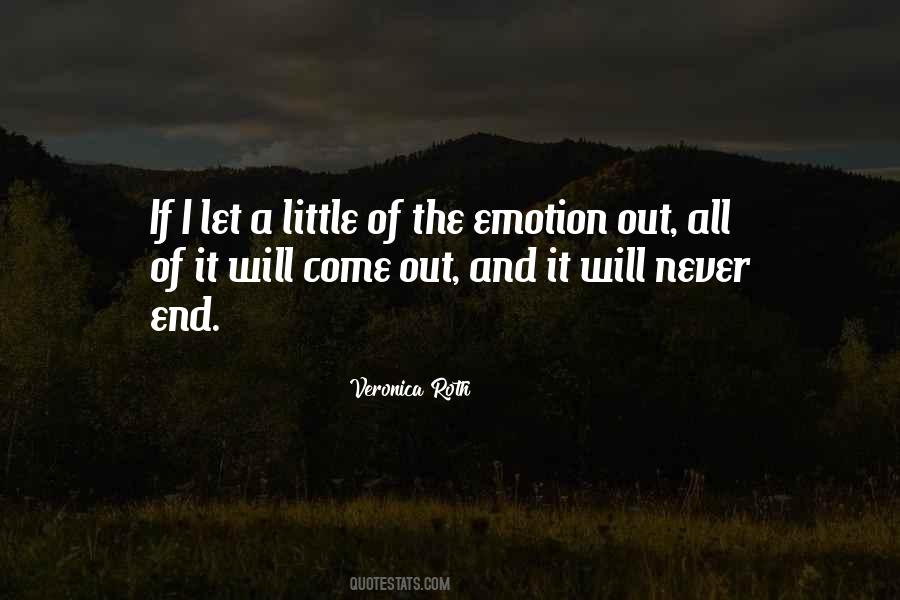 #2. There is a time in late September when the leaves are still green, and the days are still warm, but somehow you know that it is all about to end, as if summer was holding its breath, and when it let it out again, it would be autumn. - Author: Sharyn McCrumb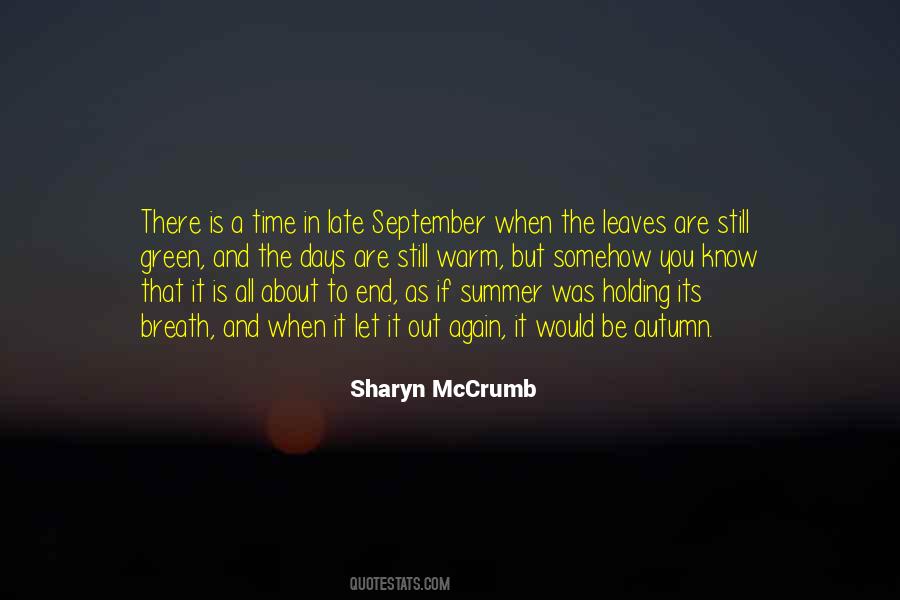 #3. I let out a string of curses that would put even the boy's locker room to shame, ending with an emphatic kick to the mailbox post.And the worst part was of coure it wasn't there yet. My weird nerves all day were pointless. - Author: Kiersten White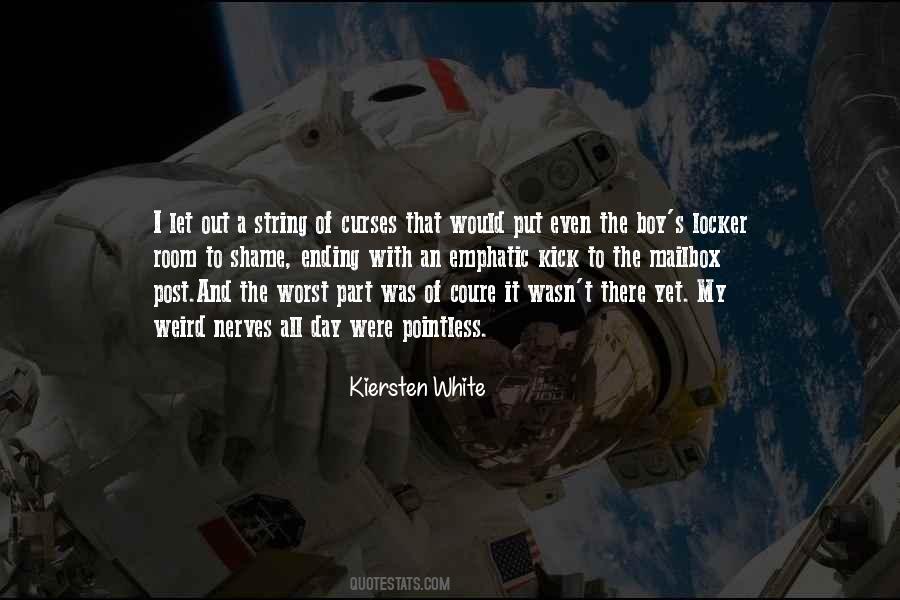 #4. I've never met a woman who is not strong, but sometimes they don't let it out. Then there's a tragedy, and then all of a sudden that strength comes. My message is let the strength come out before the tragedy. - Author: Diane Von Furstenberg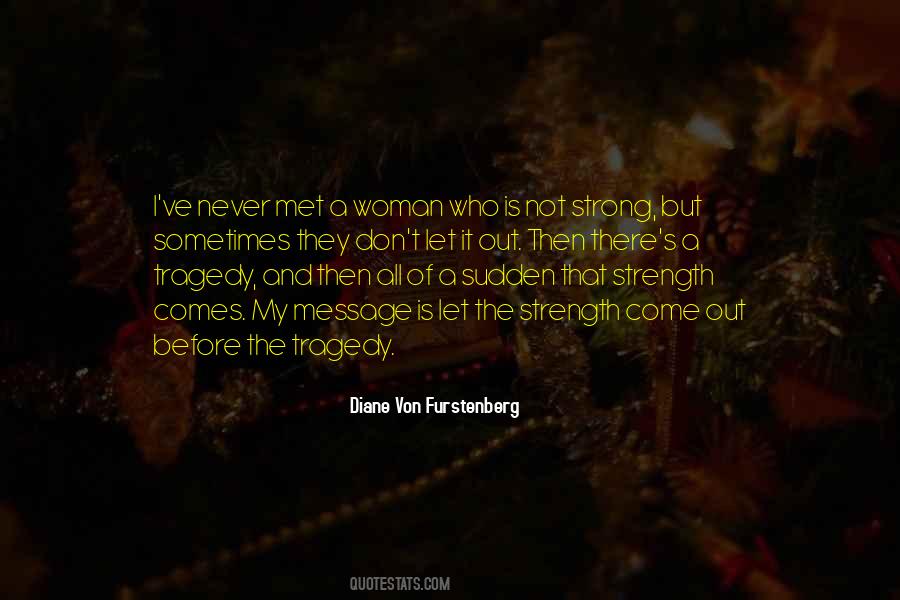 #5. So I want to let women of all sizes out there know, you can do whatever you put your mind to. It doesn't matter what size you are, what color you are, you can do whatever, whatever, whatever you put your mind to! - Author: Amber Riley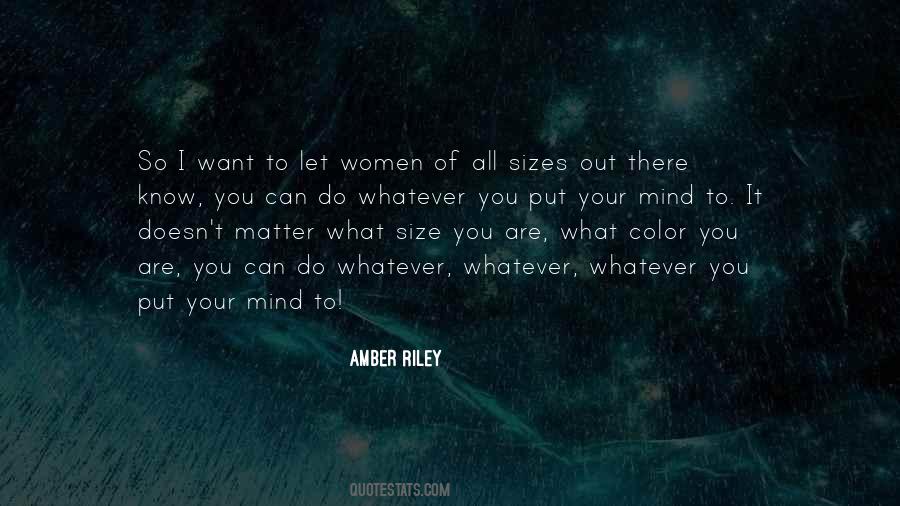 #6. Writing is challenging work because it's so easy to get consumed with how it's going, what's going to happen to it, who's going to like or not like it. You want to get all of that stuff out of your head and just let the work flow. - Author: Wayne Dyer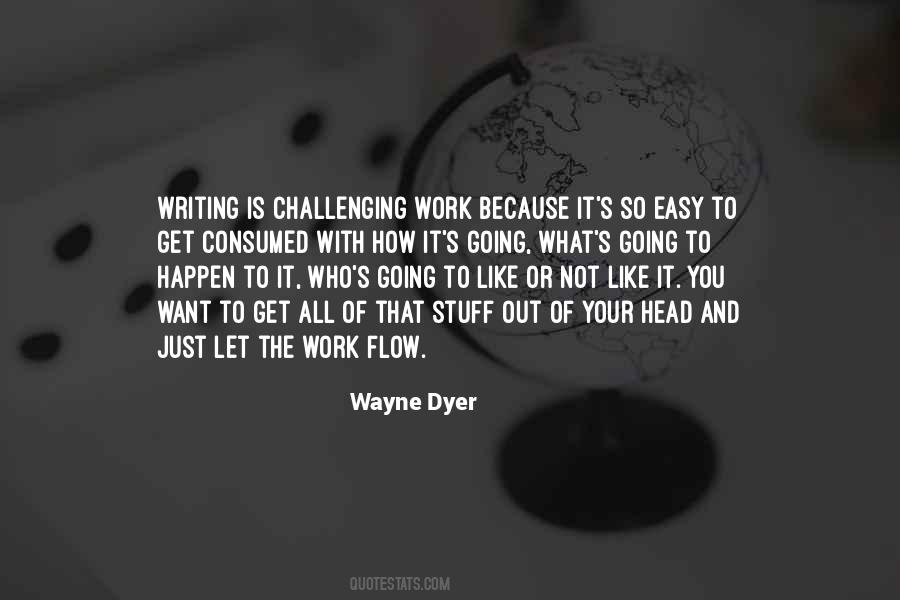 #7. There didn't seem to be any difference at all between LOSING YOUR MARBLES and HAVING A BREAKDOWN, and whether you called it a BUGHOUSE or a SANNY-TARIUM, there were still bars on the windows and they wouldn't let you out if you wanted to go. - Author: Stephen King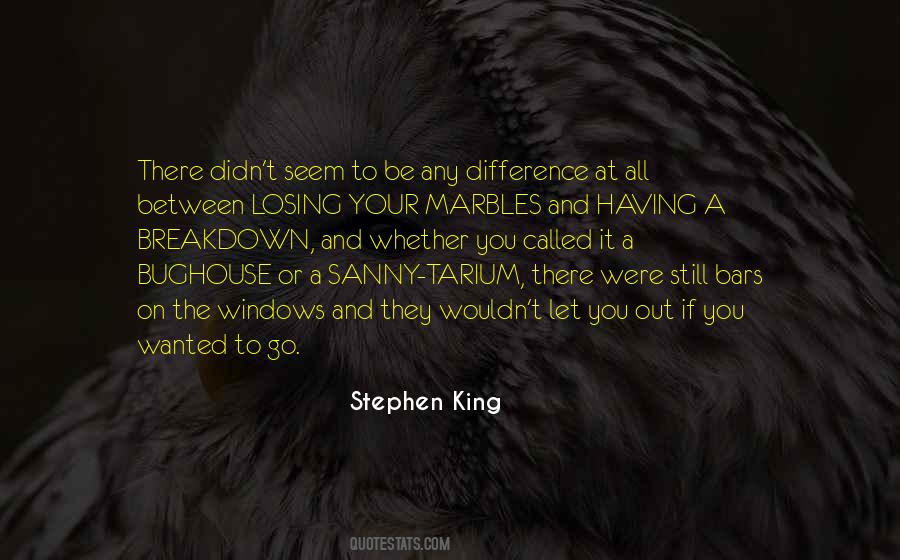 #8. Dames. Sometimes all they got to do is let it out and a few buckets later there's no way you'd ever know. - Author: Frank Miller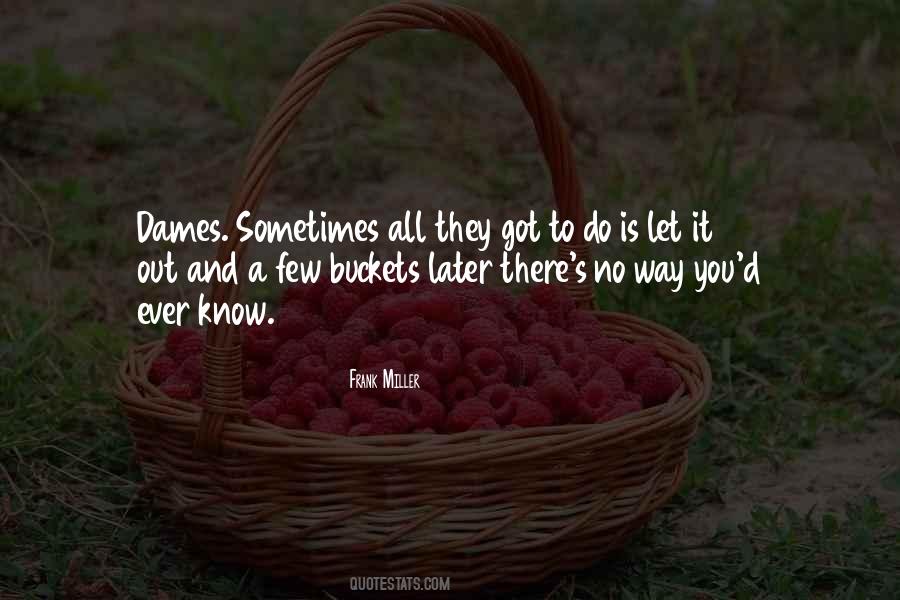 #9. Of course, it took a while to learn all this. Anytime I messed up, my boss would let me know. Right away he'd cuss me out, tell me I was a worthless piece of shit. But I never got pissed at David. In my mind, I thought, I'm better than that and I'll show you. As it happens, that's exactly the - Author: Chris Kyle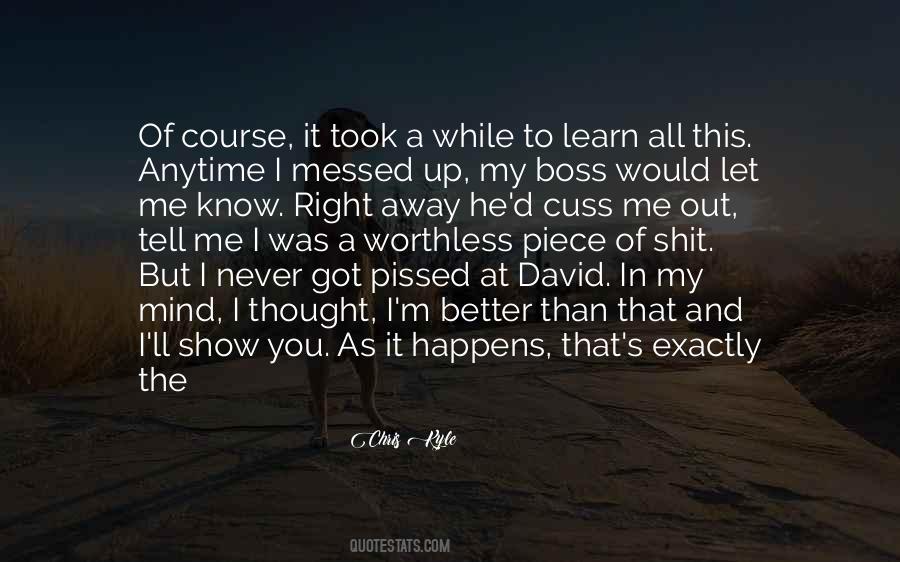 #10. Is that a yes?" he asked, pushing his fingers through my hair, fanning it out around my shoulders and searching my face intently. "Please let it be yes," he said with a gravelly edge. "Stay with me tonight. Let me hold you, even if that's all it is. Let me keep you safe. - Author: Becca Fitzpatrick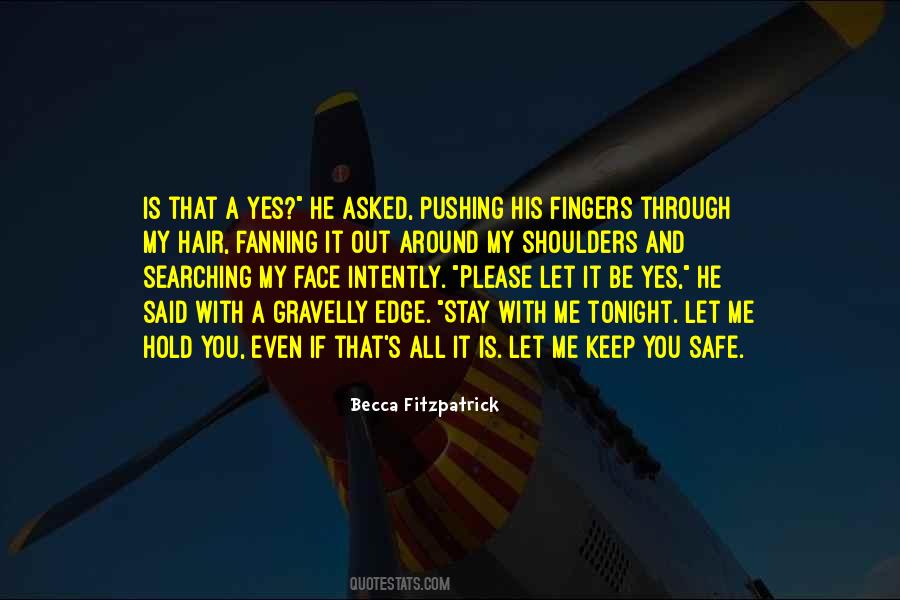 #11. Every third step I ran, my breath exploded out of me all in a rush. One step to suck in another cold lungful. One step to let it excape. One step of not breathing. - Author: Maggie Stiefvater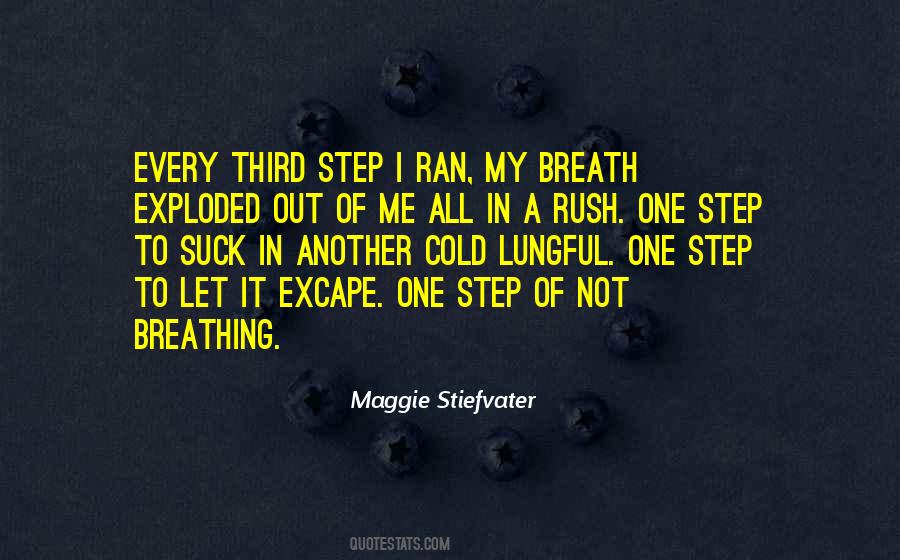 #12. Plot is a framework on which to drape other things. So once that's working, I can just let it go and do all the stuff that I love - 'Trojan horse' it. There are so many great YA heroines, and that's fantastic, but what about the emotionally complex boy out there? That's who I tend to write about. - Author: Patrick Ness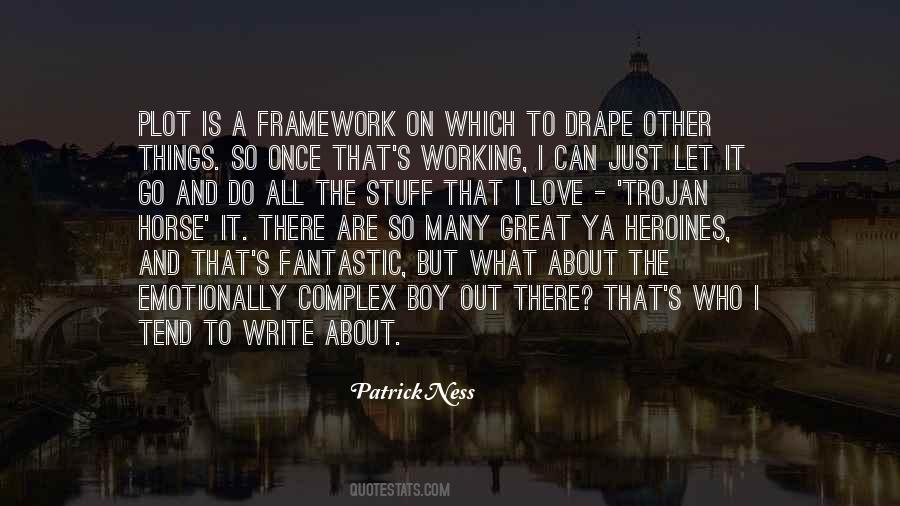 #13. Oh I can't keep it in; I can't keep it in, I've gotta let it out I've got to show the world; world's got to see, See all the love; love that's in me - Author: Cat Stevens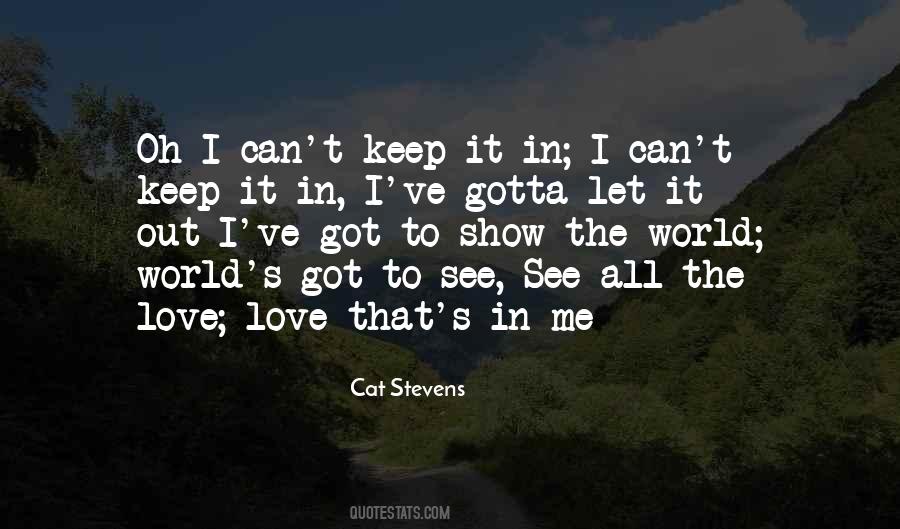 #14. Goodnight, child. This is a damn shame. Let's drop it out of the picture." He gave her two lines of hospital patter to go to sleep on. "So many people are going to love you and it might be nice to meet your first love all intact, emotionally too. That's an old-fashioned idea, isn't it? - Author: F Scott Fitzgerald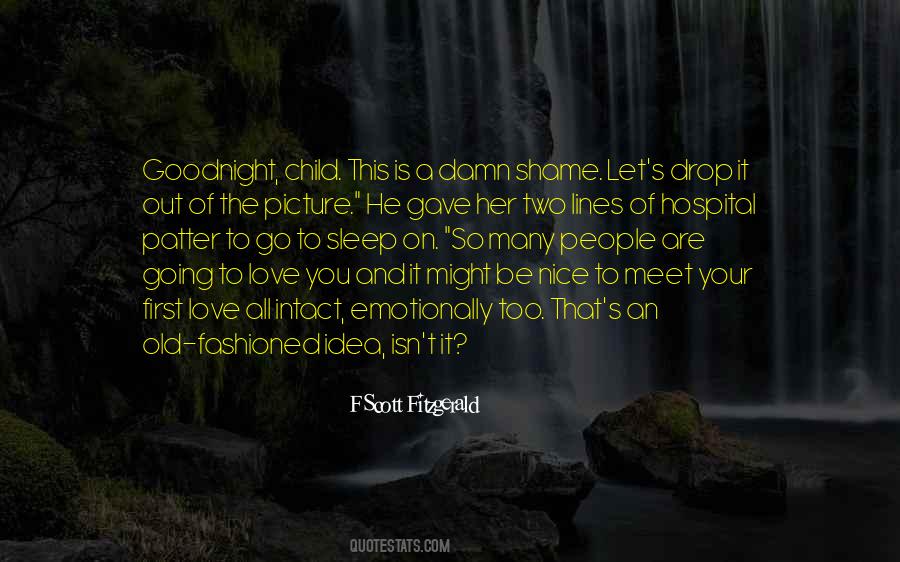 #15. One thing I've learned is that strange things do happen. They happen all the time. Today, for instance, my best friend Jill's cat spoke. We were making brownies in the kitchen when we heard it say, 'Let me out. - Author: Alice Hoffman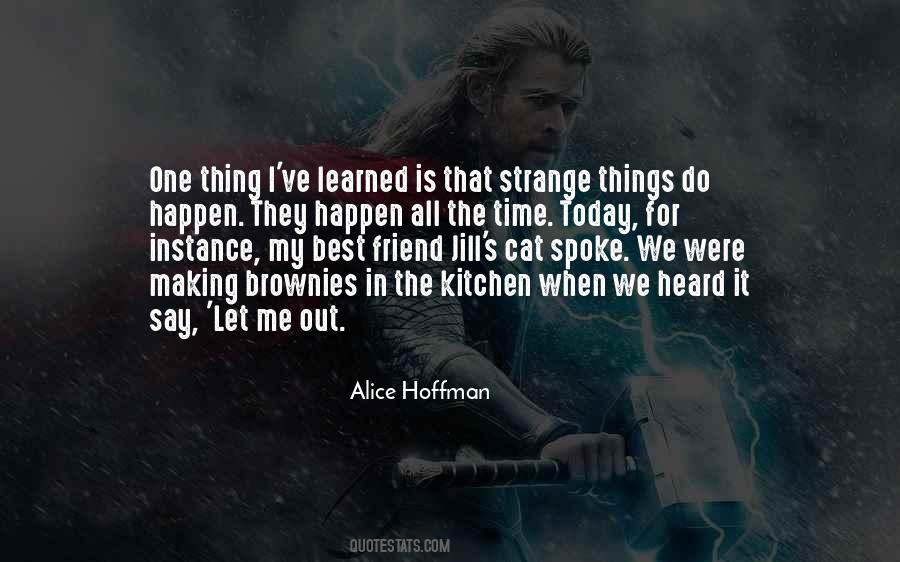 #16. In other words, let's face it: Life is basically unfair. But even in a situation that's unfair, I think it's possible to seek out a kind of fairness. Of course, that might take time and effort. And maybe it won't seem to be worth all that. It's up to each individual to decide whether or not it is. - Author: Haruki Murakami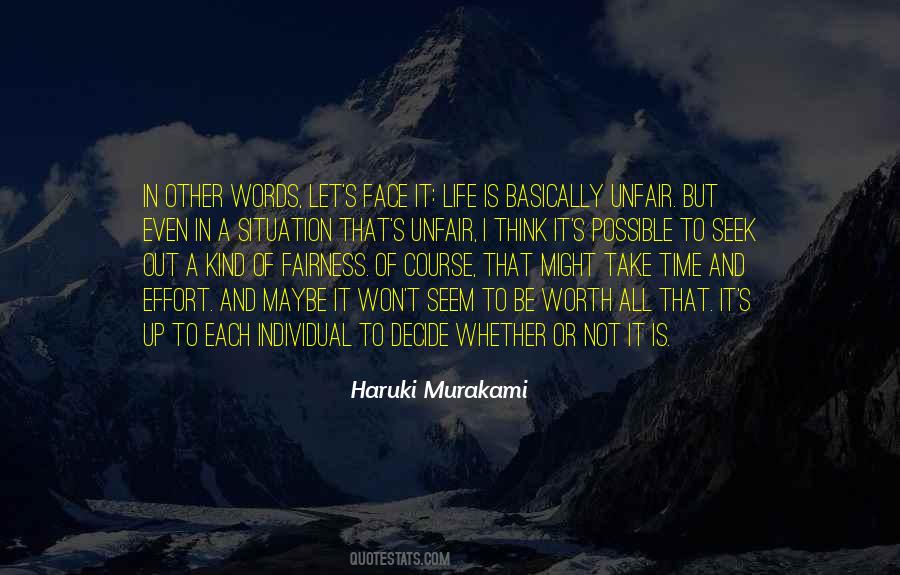 #17. What had once been grand houses were divided meanly into many small apartments, let at prices out of all proportion to what wages it was possible to earn. Rooms were sub-let, and sub-let again, so that what constituted a family had long been forgotten. - Author: Sarah Perry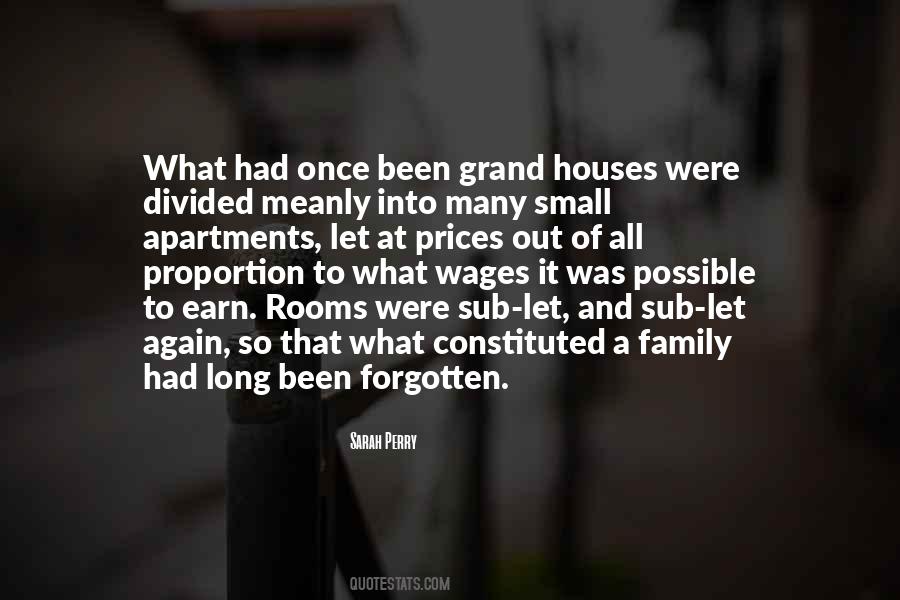 #18. [I'm] an extremely private dude and all this is happening so damn quick. I really haven't had any time to rationalize it. But it's nothing that I'm going to let freak me out or take control of me or my thoughts or my real life. - Author: Heath Ledger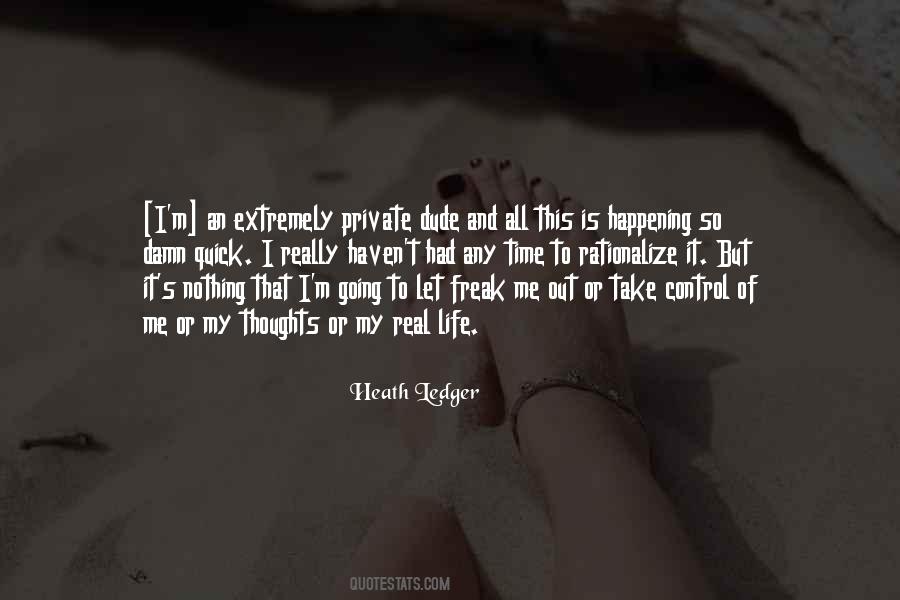 #19. The Odds Of Possibility Is Within You, All You Have To Do Is Let It Out To Obtain Your Destiny ... Keep Your Head Up And Stay Strong - Author: Terrin White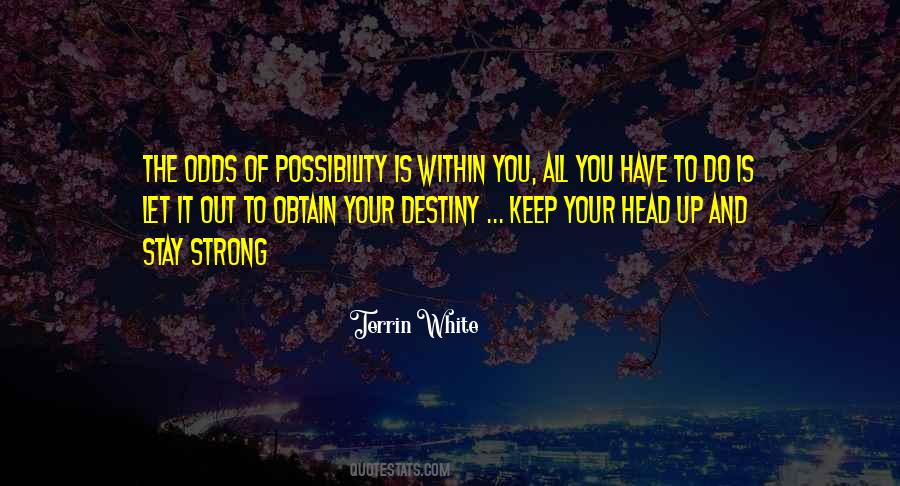 #20. You feel the call. That's the important thing. Now answer it as fully as you can. Take the risk to let all that is in you, out. Escape into the open. - Author: Elizabeth Berg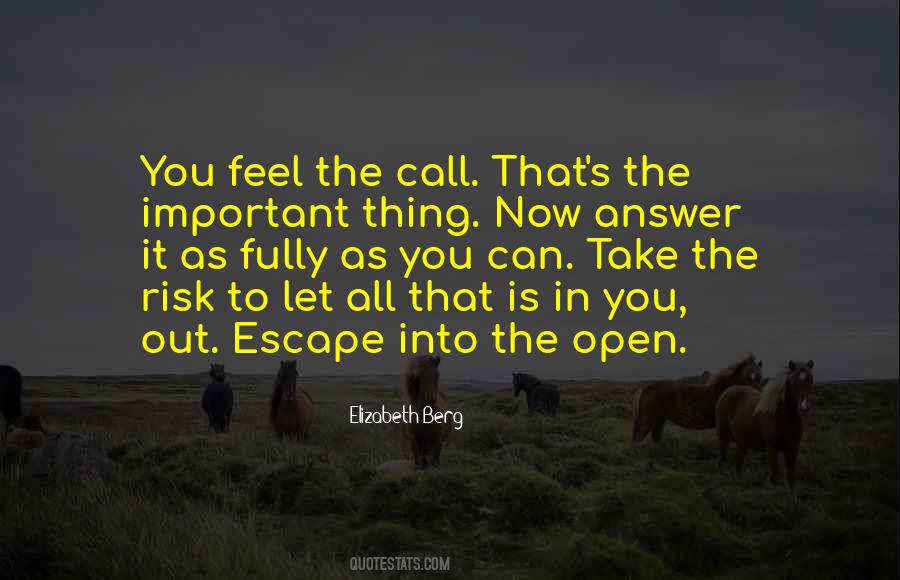 #21. If you take one rivet out of an airplane, it will be all right, it'll keep flying. You take another rivet out of the airplane and it still flies. So what the heck, let's take more rivets out of the airplane, and sooner or later, the airplane drops from the sky. - Author: Ted Danson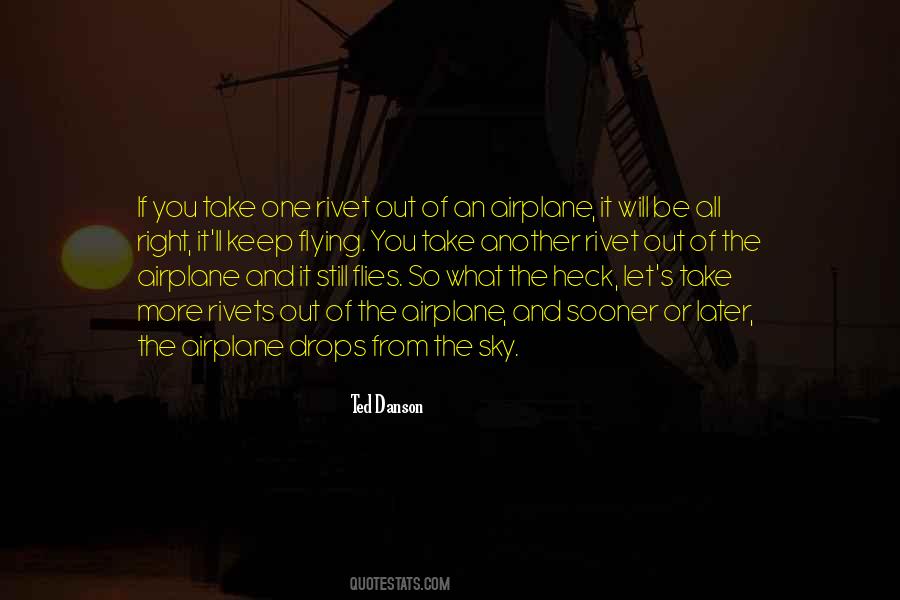 #22. We looked at each other standing on the podium, and I think we all were tearing up. But we had to keep it cool. I think we did. Then we let out a breath. - Author: Michael Irvin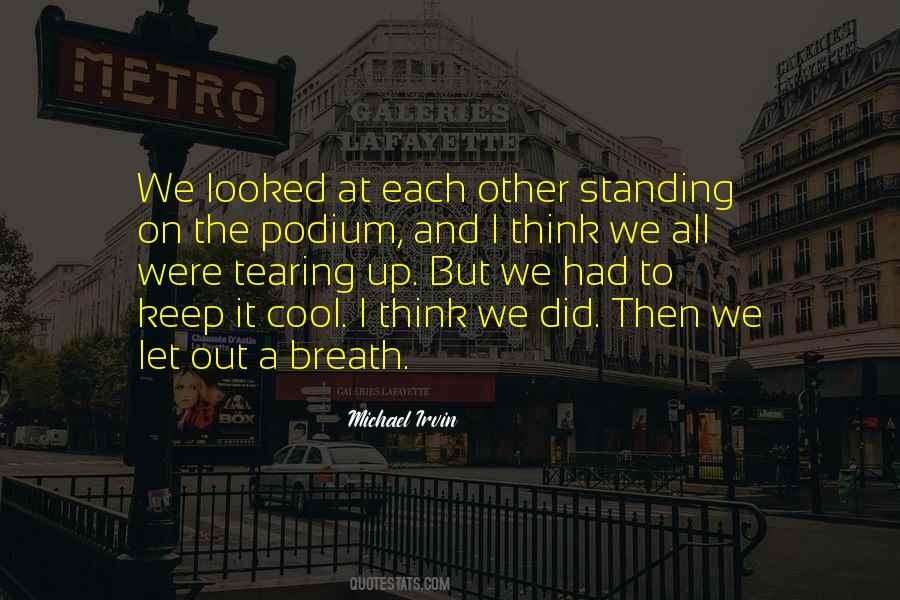 #23. All the body wants to do biologically is decompose. Once you die, it's, 'Let me out here! I'm ready to shoot my atoms back into the universe!' - Author: Caitlin Doughty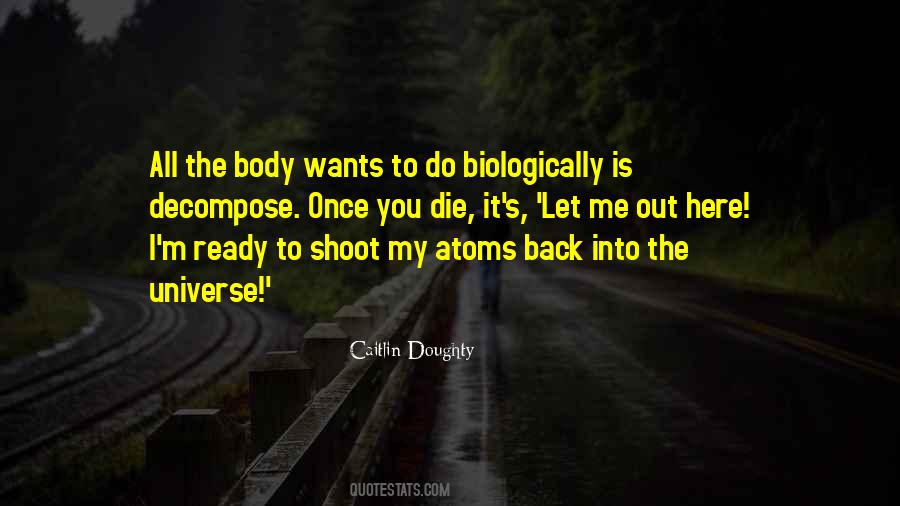 #24. My version, of course, is not this flag-waving, let's all get on the Jesus train and ride out of hell. I'm not that kind of guy. It's an embrace that life is good, worth living and yeah, it's not easy, but there are more pluses than minuses. - Author: Billy Corgan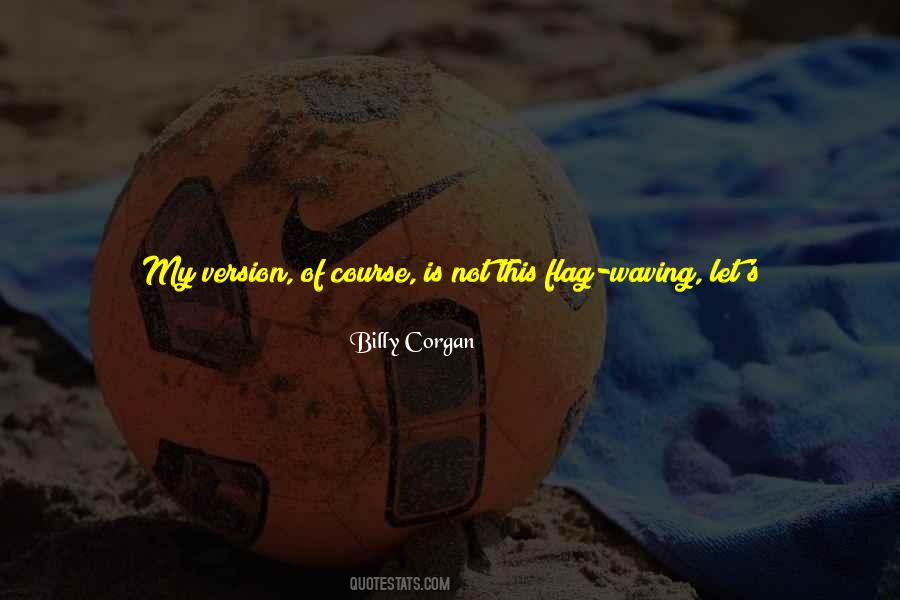 #25. Yeah, we're back to the whole brother-marrying-sister thing. Let's get it out of our systems - all together, One, two, three: GROSS! - Author: Rick Riordan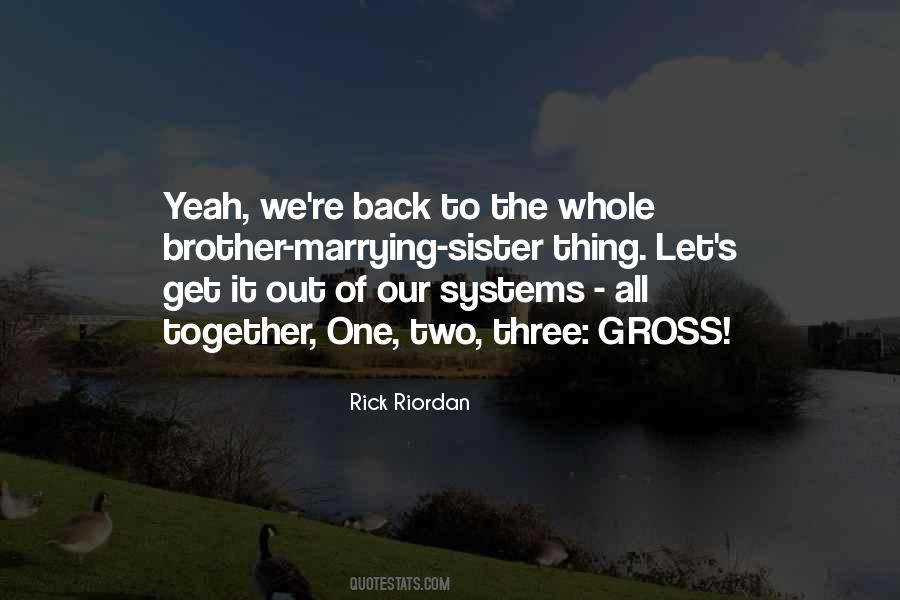 #26. Famine, poverty, abuse, you can't keep that all blocked out. If you let those things teach you, influence you, change you, those are the events that transition you without you even knowing it to become more compassionate. - Author: Richard Rohr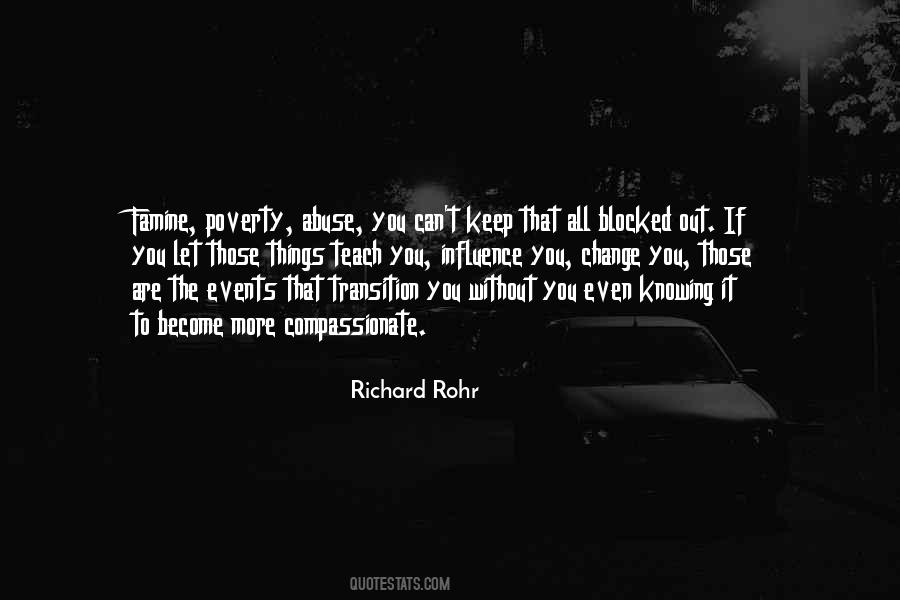 #27. Just by the nature of making the choice to be true to who I am, I'm political. Sometimes that's all you need to do: Show up and be black, gay and Christian in America and actually say it out loud. And refuse to let anything or anybody take that away from you. - Author: Billy Porter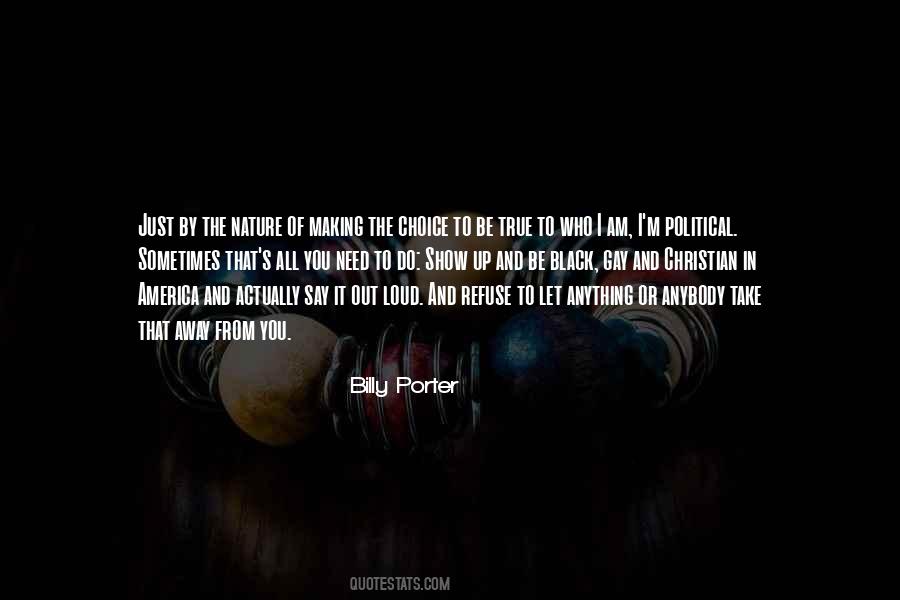 #28. But still, I need a reason to admit it, let it all fall free as the carpet is ripped out from under me. I need permission to allow myself to admit the simple fact that I love you. - Author: Shvaugn Craig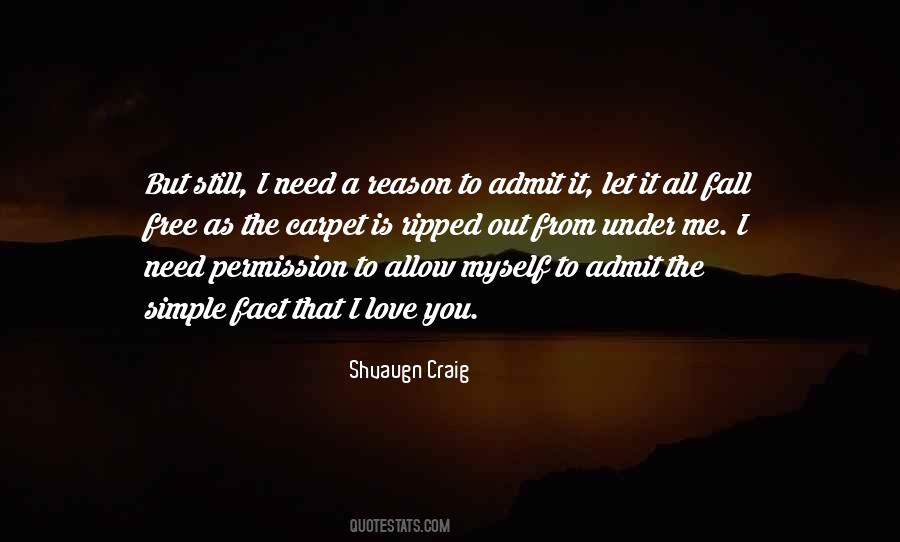 #29. (Alexander)'Sometimes I forget all this for months on end. Sometimes I think of it day and night. Sometimes I think, unless I find out the truth of it, I shall go mad.'
(Hephaistion)'That's stupid. You've got me now. Do you think I'd let you go mad? - Author: Mary Renault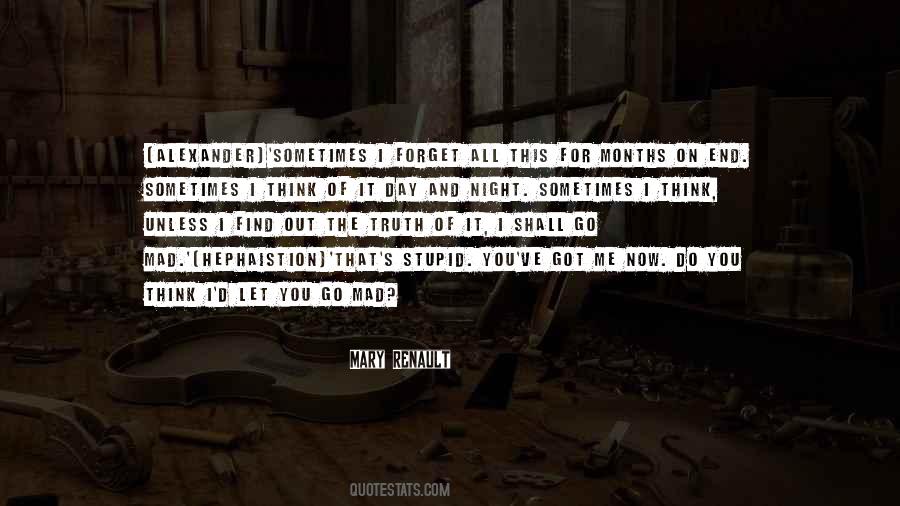 #30. Many people can listen to their cat more intelligently than they can listen to their own despised body. Because they attend to their pet in a cherishing way, it returns their love. Their body, however, may have to let out an earth-shattering scream in order to be heard at all. - Author: Marion Woodman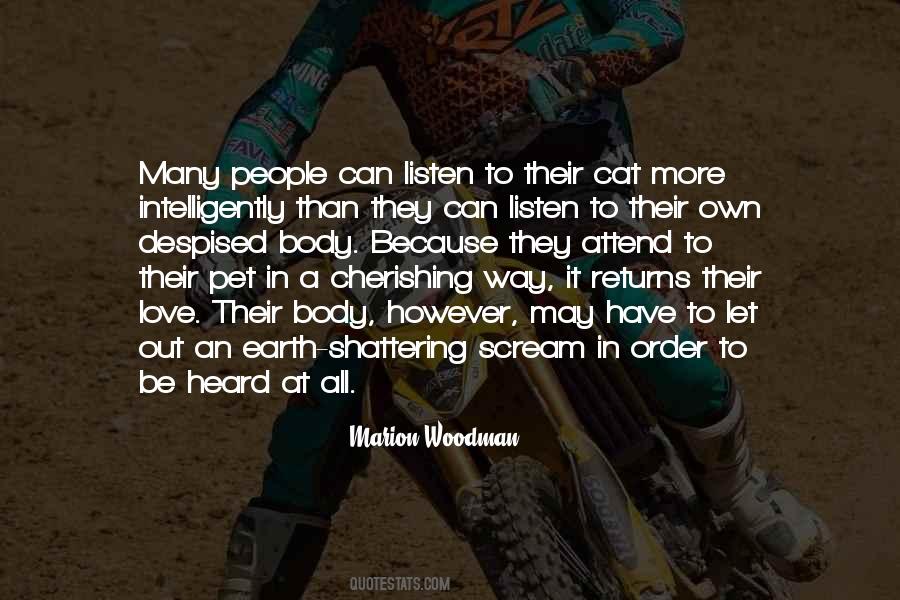 #31. Let go. Let go of all the stress and drama in your life. It's not worth it, and your body is far too important - too precious - to be bothered by a simple psych-out. You will figure it all out eventually, so why make life more complicated? - Author: Matthew Moy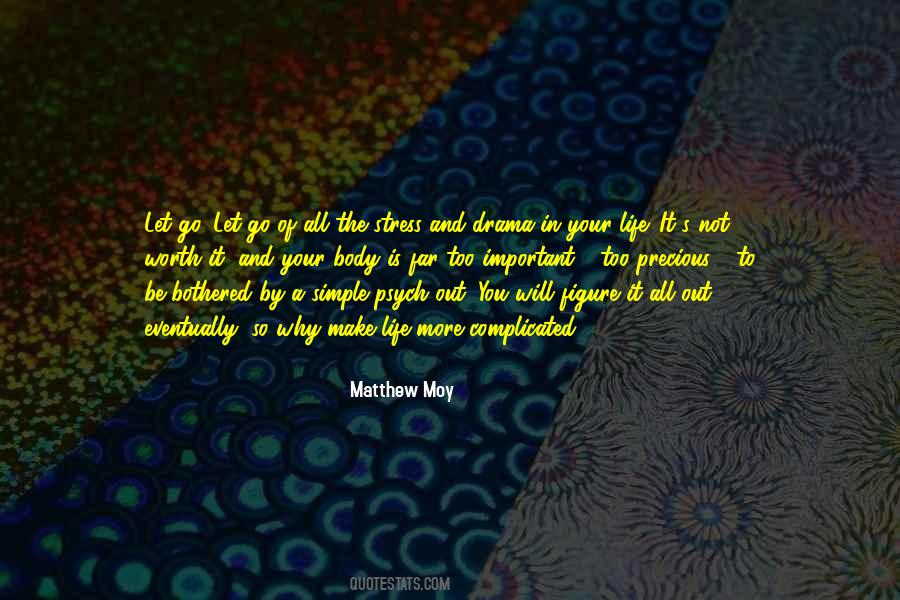 #32. That was a mean thought, and not funny at all. I let it turn to sand and blow out of my head. - Author: Christopher Buehlman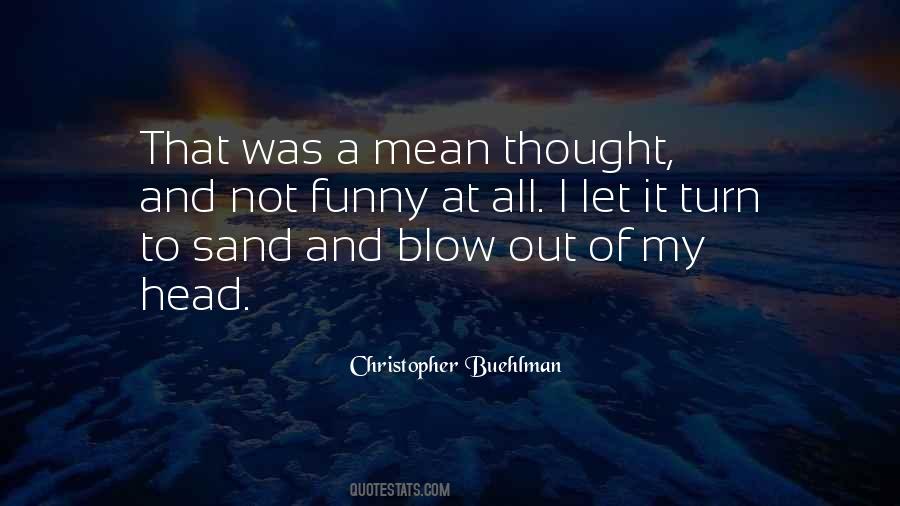 #33. All right. I owe you a character. Should we buy another one?" Ross chuckled. "Now you're getting the hang of it." He sighed. "No, let's see if we can get out of town alive. - Author: Daniel Suarez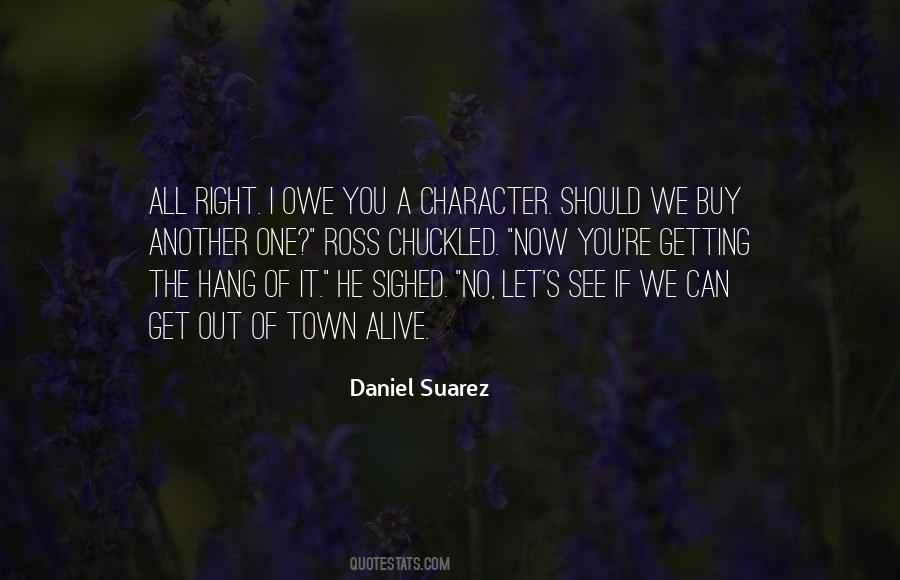 #34. Let America add Mexico to Texas, and pile Cuba upon Canada; let the English overswarm all India, and hang out their blazing banner from the sun; two thirds of this terraqueous globe are the Nantucketer's. For the sea is his; he owns it. - Author: Herman Melville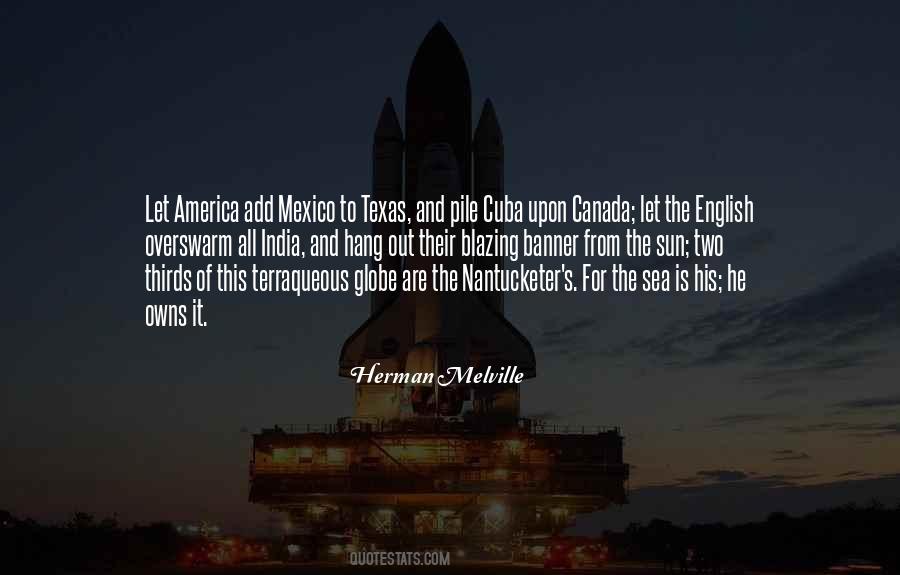 #35. I've been offered all the reality TV shows but have turned them down. If I did it as 'Johnny,' there'd be no jungle left! It was really hard regaining control of myself, so I am reluctant to let 'Johnny' back out of the box. - Author: Johnny Vegas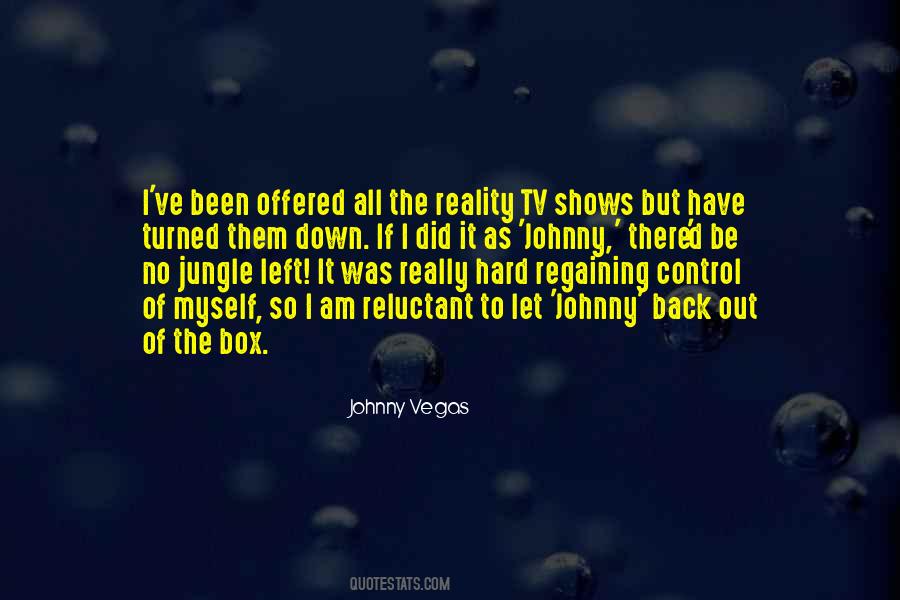 #36. I think love is something you figure out later on in life, and you have to make a lot of mistakes to figure out what love is, which is why we all have shitty, tumultuous relationships when we're younger, and it's harder to let go, - Author: Alexandra Daddario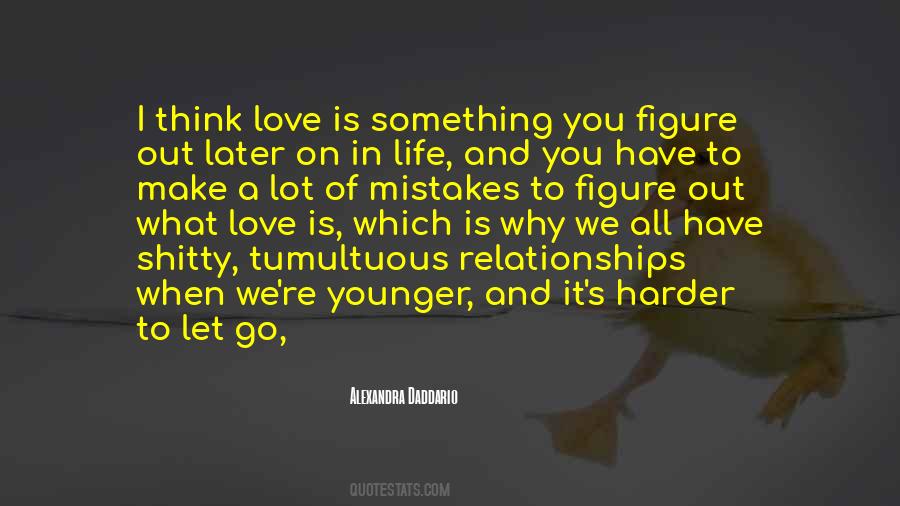 #37. There's something about the ukulele that just makes you smile. It makes you let your guard down. It brings out the child in all of us. - Author: Jake Shimabukuro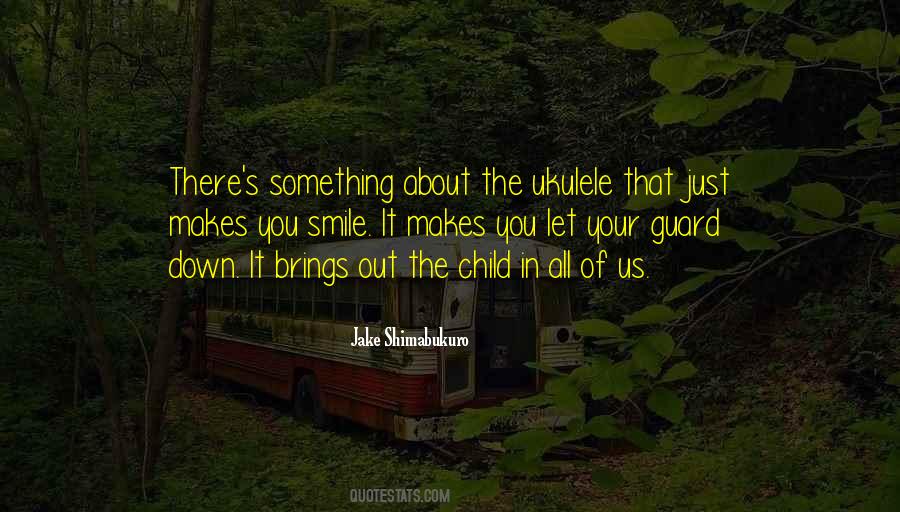 #38. I can't help it. You bring it out in me," he accused. "No," I said. "You're choosing to let me get to you. Don't. It's all in the mind. - Author: Donna Lynn Hope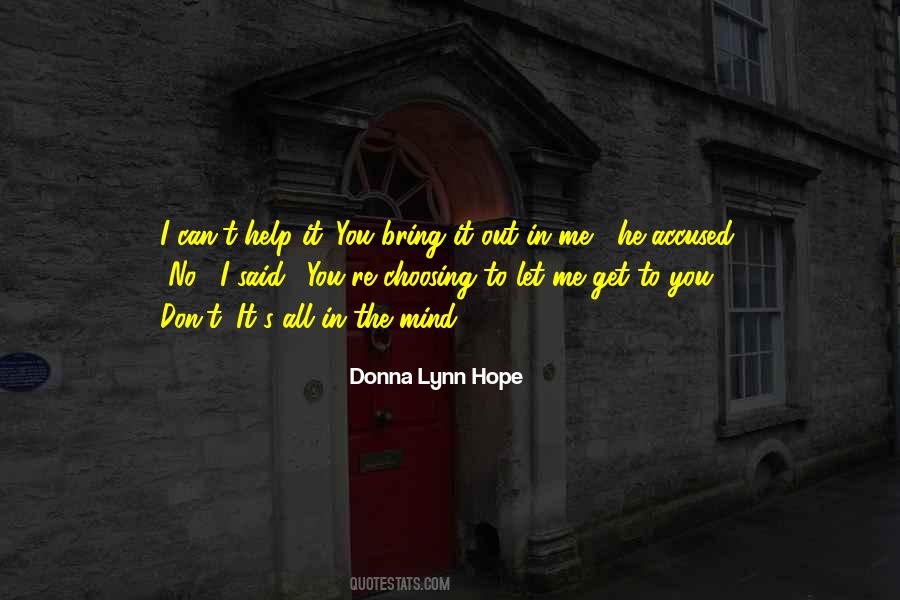 #39. All my life I have been seeking to climb out of the pit of my besetting sins and I cannot do it and I never will unless a hand is let down to draw me up. - Author: Seneca The Younger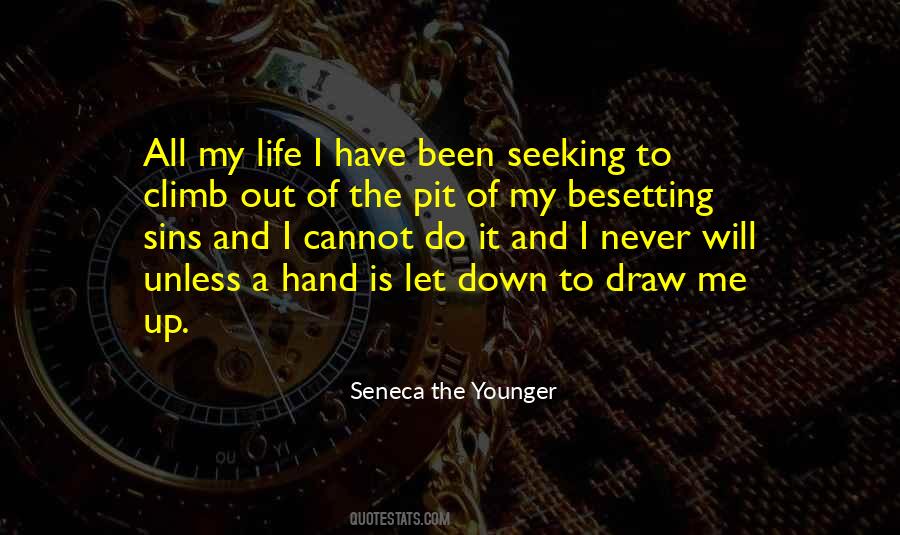 #40. You have to let it all hang out, let go of the ideas that were more comfortable and embrace some of the sadness in your life. - Author: Madeleine Peyroux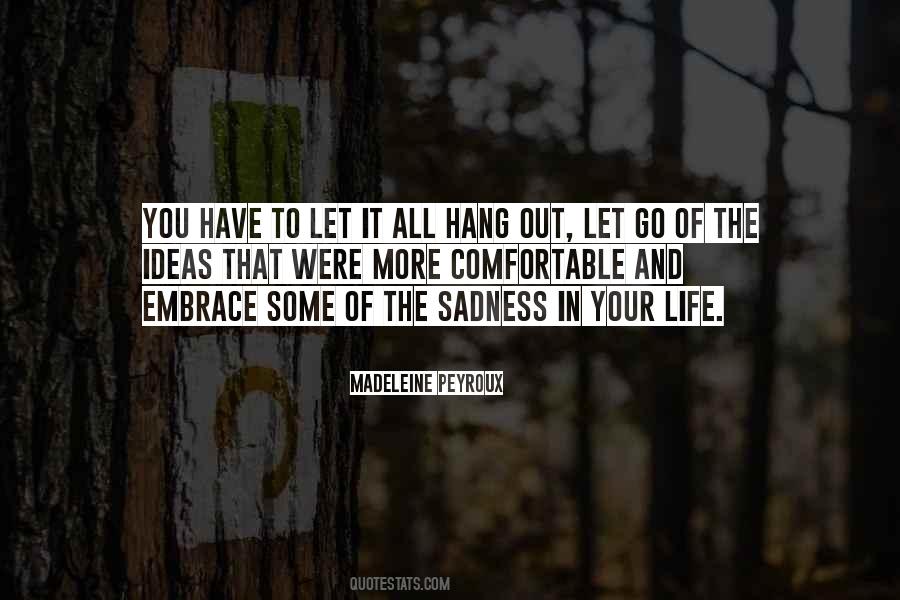 #41. We're all stuck here for a while, so let's try to work it out. - Author: Jonathan Haidt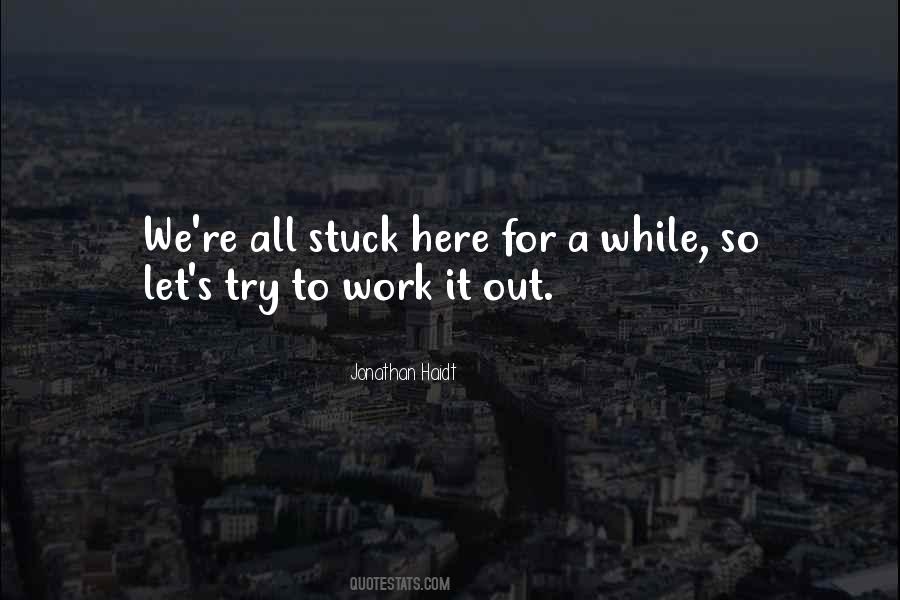 #42. If you're in a spiritual slump, let me give you a prescription: go on a mission trip.33 There is no better or sure way of coming out of the cage of routine. It's a cure-all. - Author: Mark Batterson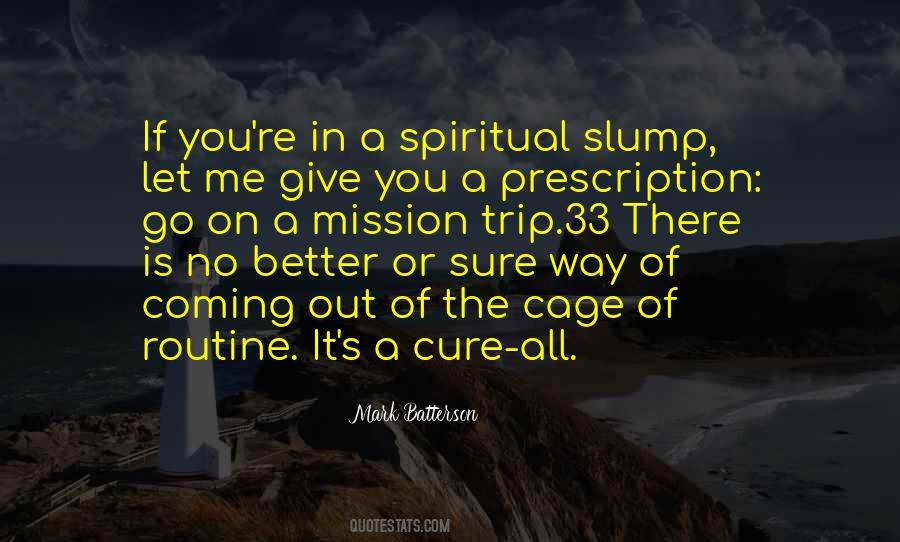 #43. I'm a human being, just like everybody else. I'm up some days and down others. Some days, I just refuse comment. If I'm feeling a little down, I won't say anything. But if I'm really up, I'll let it all hang out. I do have a slight propensity to put my foot in my mouth. - Author: Ted Turner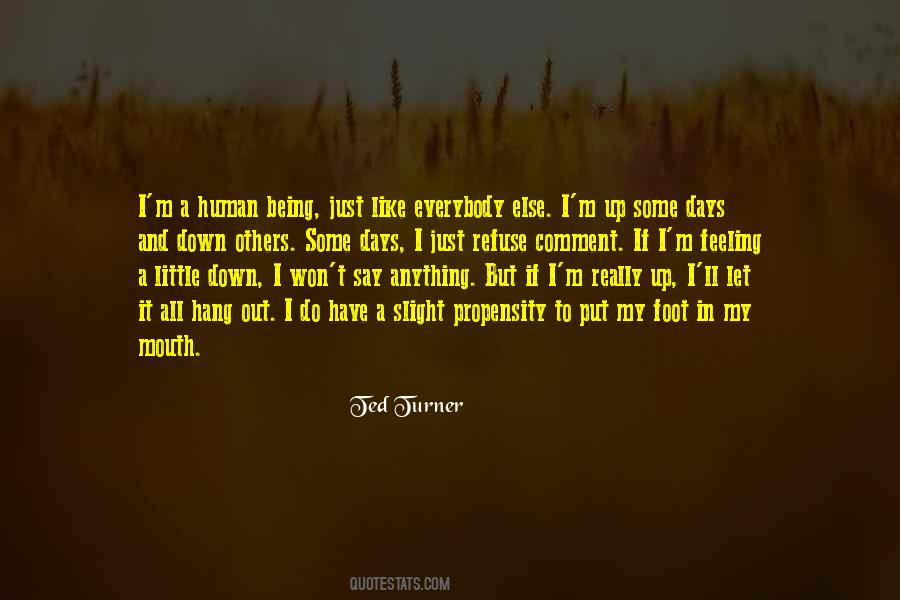 #44. There are going to be days when you're undone, stressed out, tired spent.
And I'll still love you just as much in those moments as I ever have, maybe even a little more, because it'll mean you let me get close enough to know the real you. That's all I want. - Author: Leo Christopher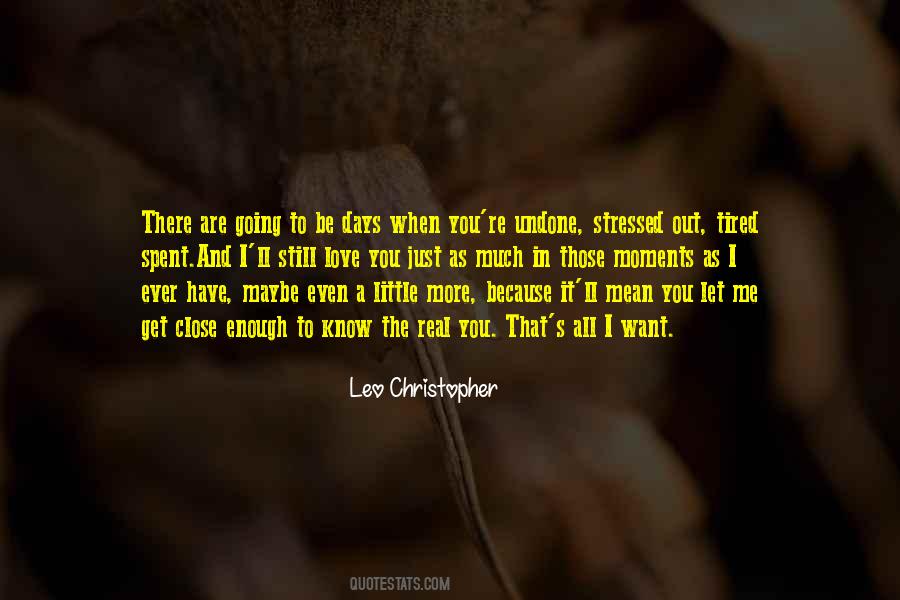 #45. If you are not for us, then you are against us! One day we will be living alongside you in those mansions. Your choice. Share or lose it all. We're going to take Africa away from its colonial masters. Step aside gracefully, we'll let you stay. Fight us and we'll drive you out. - Author: Richard H. Mcbee Jr.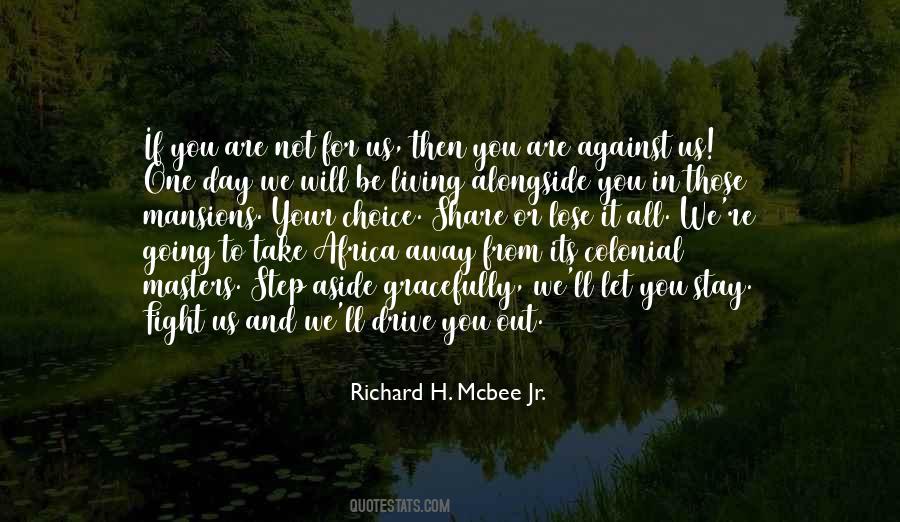 #46. It turns out that my memory is just not that great, so for specific scenes with people doing stuff, sometimes I'd have the details all wrong or I couldn't remember what happened exactly, so I just let that be. - Author: Rick Moody
#47. Don't forget Mer. This government sat by while you went without food. They let my brother get beaten in the square. All the talk in the world won't undo what we are. They put us in a corner we could never get out of on our own, and they're not I'm a rush to pull us out. Mer, they just don't get it. - Author: Kiera Cass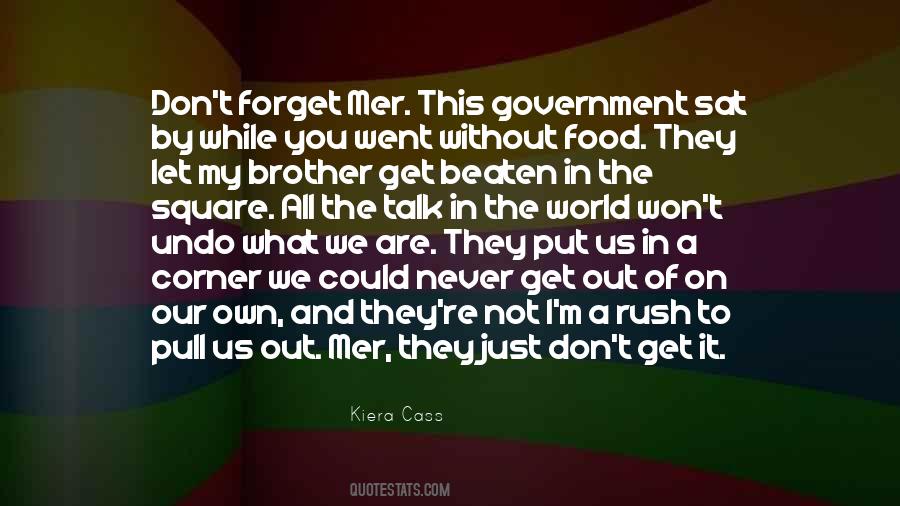 #48. Life was all about choices. You chose what to make out of what you had. And I wasn't going to let it make me its bitch. I could be a mature adult who knew her limits. I could be a good person. Maybe not all the time, but enough. - Author: Mariana Zapata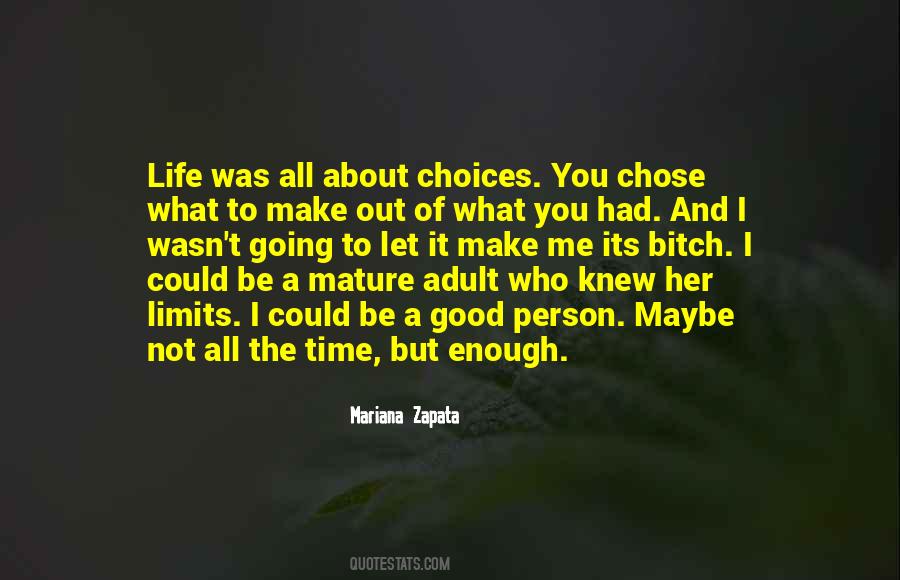 #49. If more women were in power, they wouldn't let wars break out," she said. "Women can't be bothered with all this fighting. We see war for what it is- a matter of broken bodies and crying mothers. - Author: Alexander McCall Smith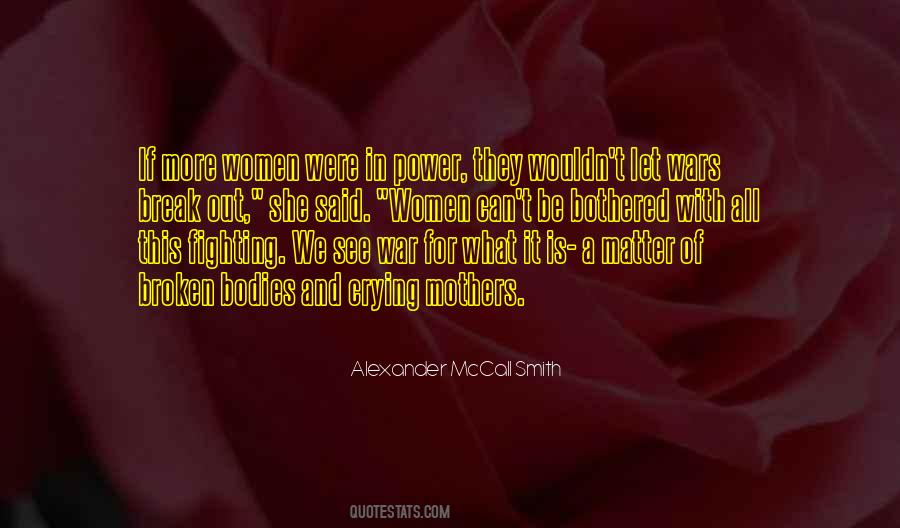 #50. Onstage is the one time in my day that I can let it all out. - Author: Brittany Howard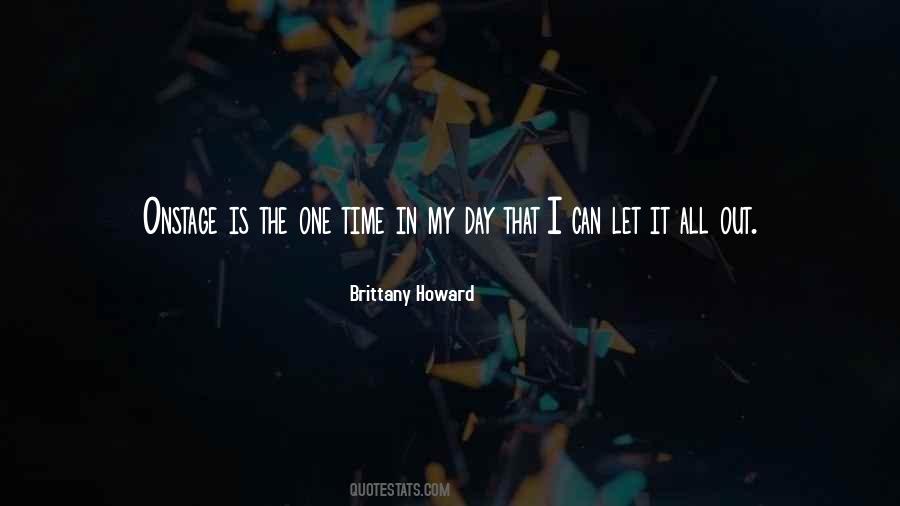 #51. I've really learned over the years how to control my adrenaline and let it all out when they shoot the gun versus letting the crowd and the lights and the camera get to me. - Author: Tyson Gay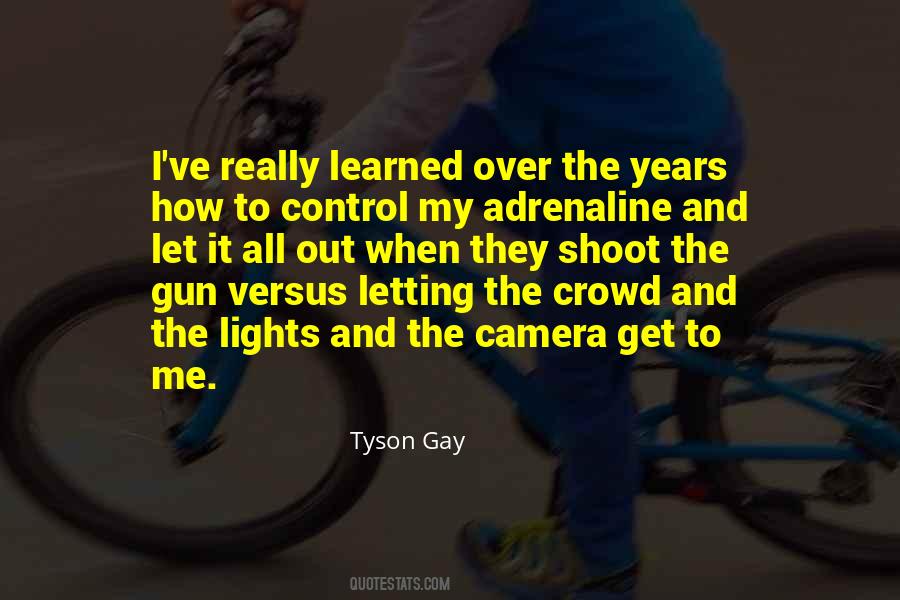 #52. Pain of the past never goes away, you just find a way to deal with it. And in the future ... all the promise it holds ... that's what keeps you moving forward, and out of the darkness. - Author: Samantha Towle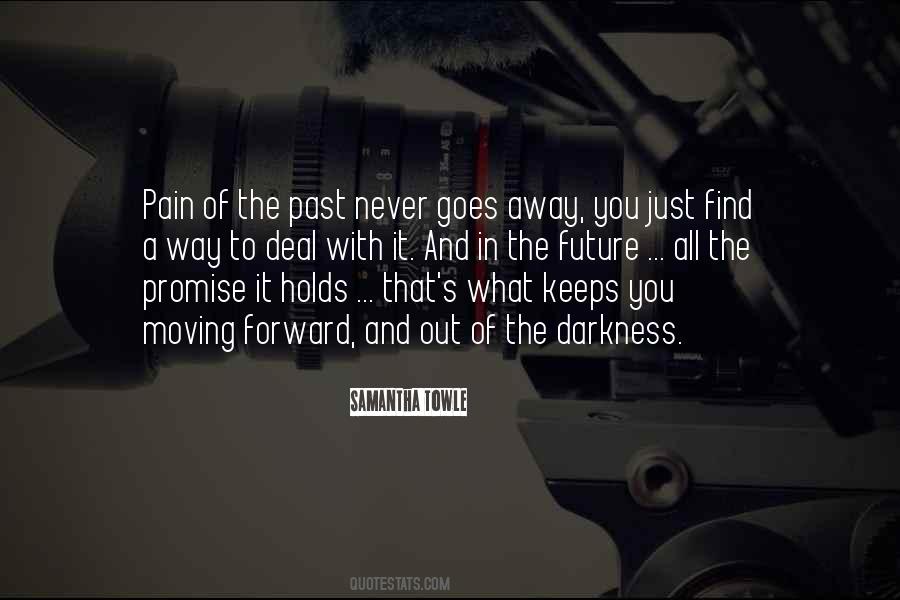 #53. The songs I was writing still had lyrics or sentiments that didn't match what I was feeling. It was old, negative energy coming out of me still, but it needed to all get out so I could trash those songs and put them in the bin. And then I was able to let the new songs out. - Author: Damien Rice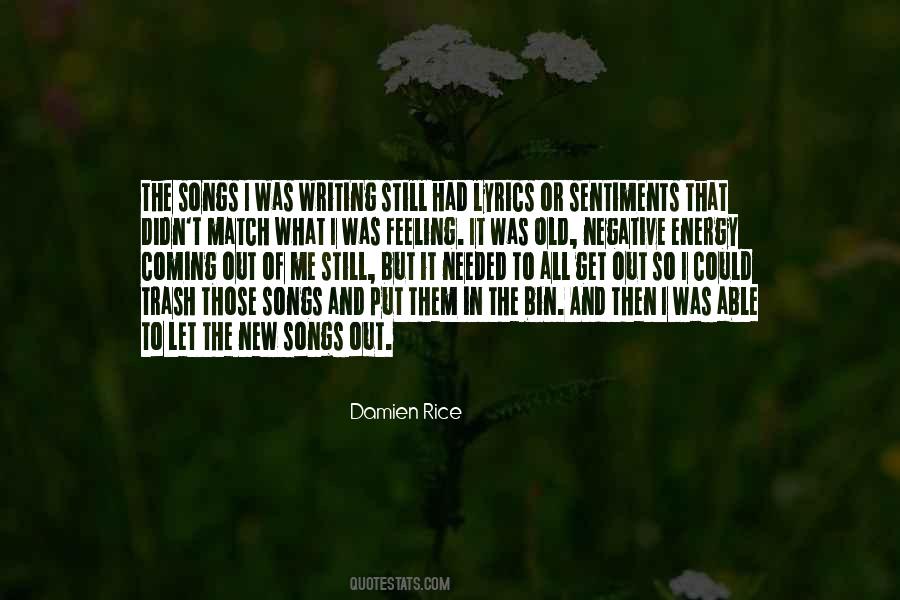 #54. It's easier to make up stories
than it is to write them down. When I speak, the words come pouring out of me. The story
wakes up and walks all over the room. Sits in a chair, crosses one leg over the other, says,
Let me introduce myself. Then just starts going on and on. - Author: Jacqueline Woodson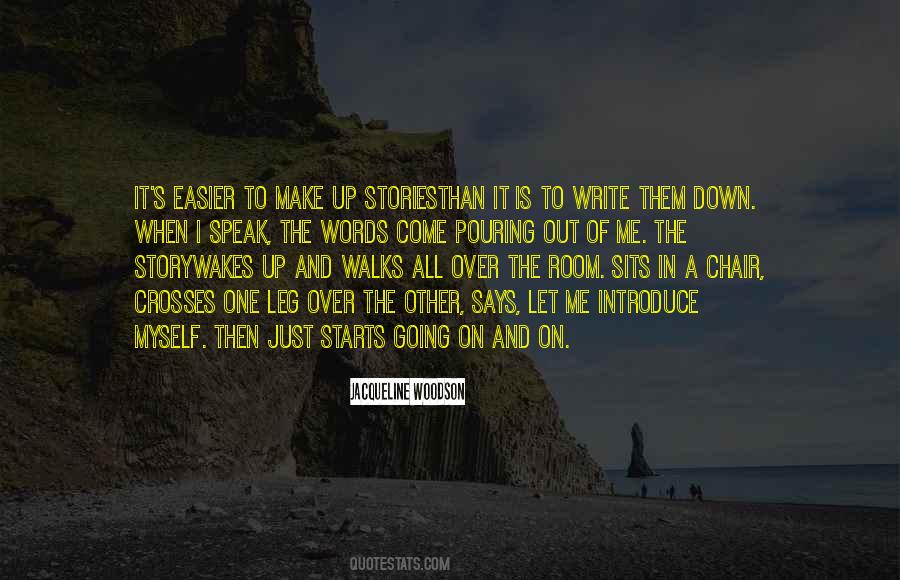 #55. I've never been averse to a little risk - after all, writing without risk is not really writing at all. Sometimes one has to just let fly with a high concept piece and see where the pieces fall. As it generally turns out, the central story is familiar, but just with different rules of engagement. - Author: Jasper Fforde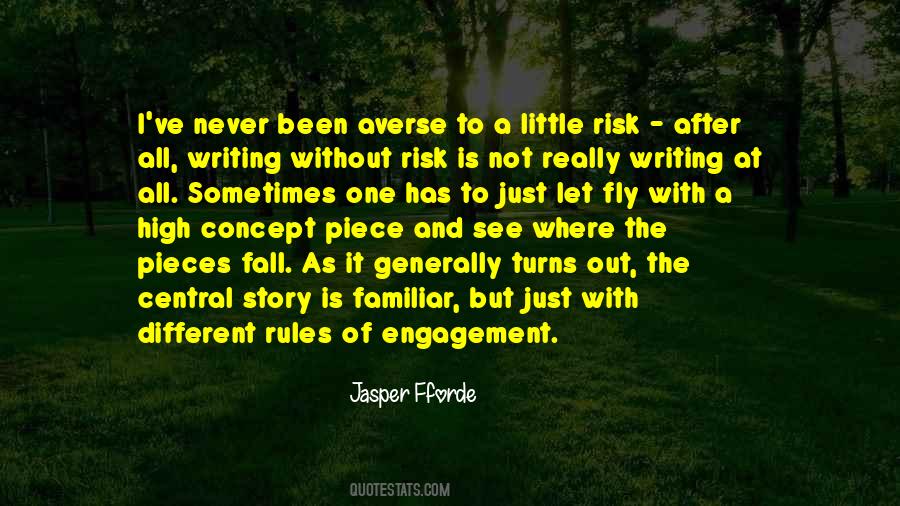 #56. I've got to sing for Pops; I've got to keep my father's legacy alive because he started all of this. So I started calling people, and nobody would give me a chance, but I didn't let that stop me. I took money out the bank and I started making me a record, and I did it in this guy's basement. - Author: Mavis Staples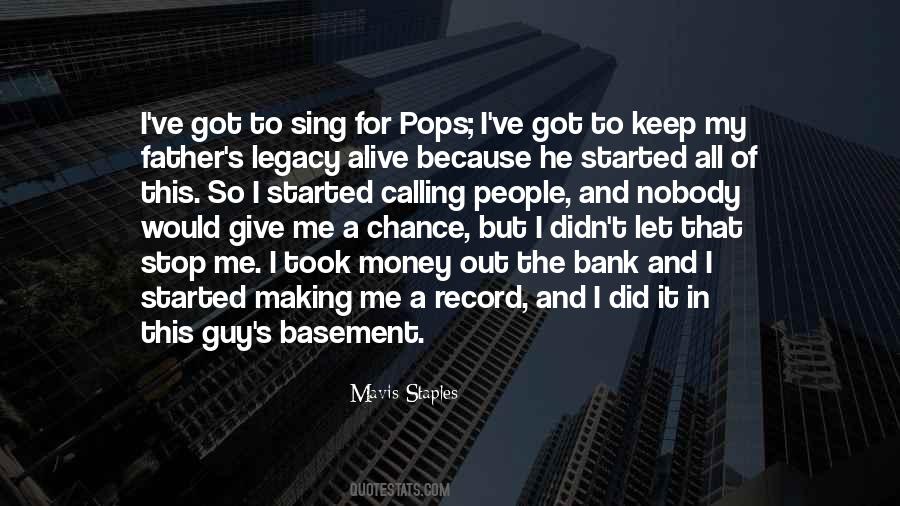 #57. I got this idea about being afraid to let go of something and being afraid of sinking into a state of almost anesthesia, where you have to trust other people. Just the paranoia of it all. And it seemed to suit the frenetic track. So I just wrote it out and, you know, said it. - Author: Nick Rhodes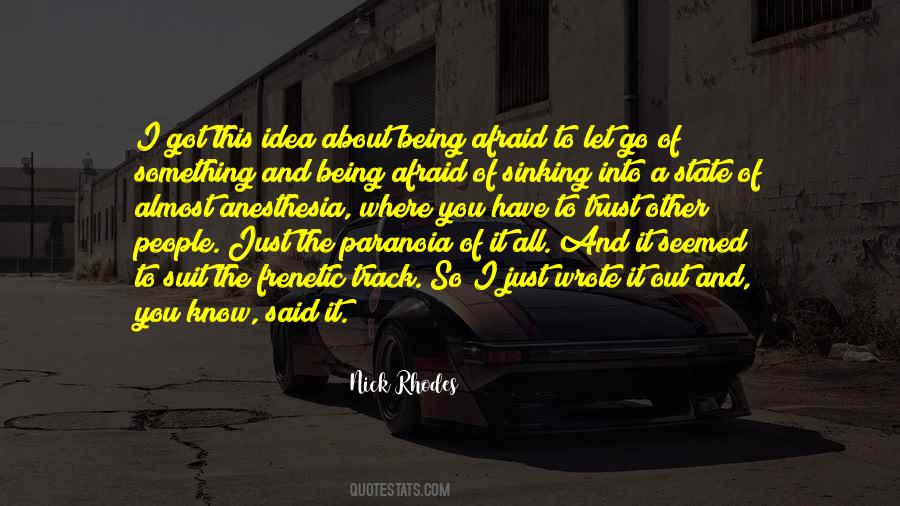 #58. I'm not a method actor, I don't write my character's history or all those kinds of things. I'm more about the 90 percent of the brain that is subconscious. I like to just pick certain pieces, let it soak in, and then let it kind of emerge out. - Author: Cary-Hiroyuki Tagawa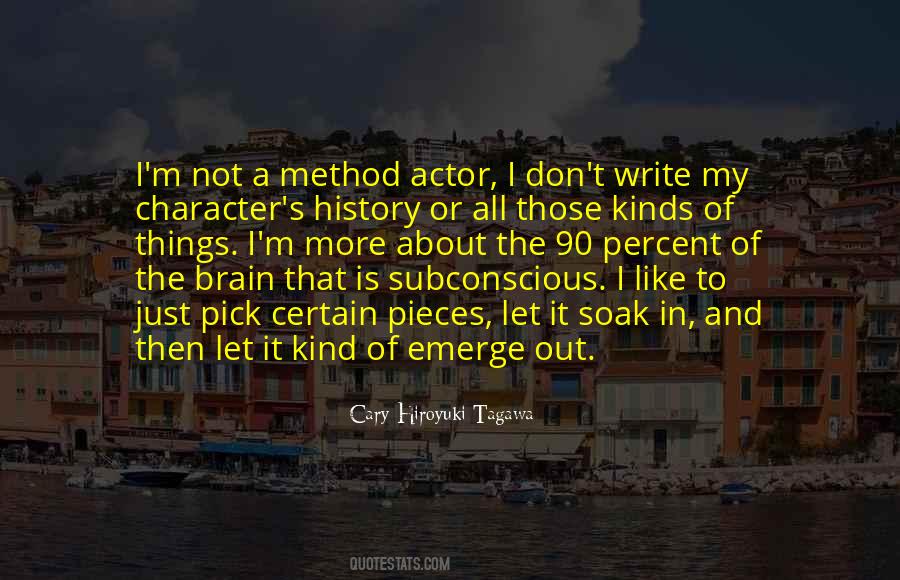 #59. By all means let's be open-minded, but not so open-minded that our brains drop out. -this quote is actually found in Carl Sagan's book The Demon Haunted World: Science as a Candle in the Dark, where he attributes it to engineer James Oberg, who says he stole it from someone else. - Author: Richard Dawkins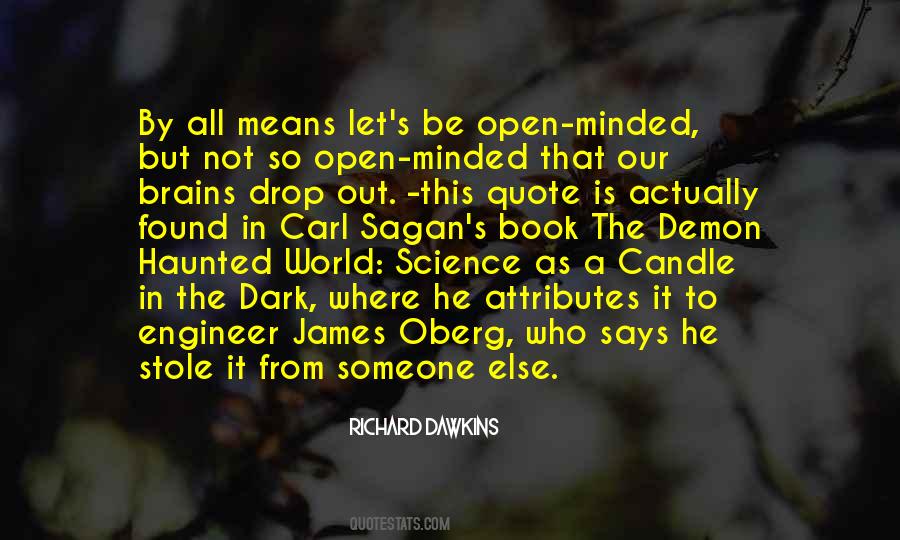 #60. You have to let yourself be fully present in every moment. Just be awake for it, do you know what I mean? Go all in and wring every last drop out of the experience. - Author: Jenny Han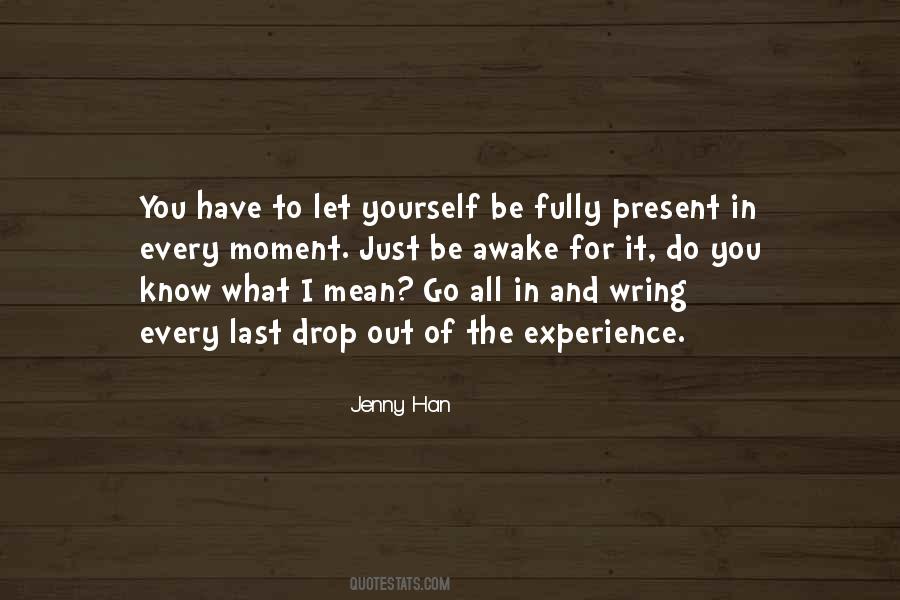 #61. The old man nodded. "There's a saying, 'Death hath a thousand doors to let out life; I shall find one.' We all have a door that waits. I know that. I accept it. But the children. That's what I struggle with. - Author: Ruta Sepetys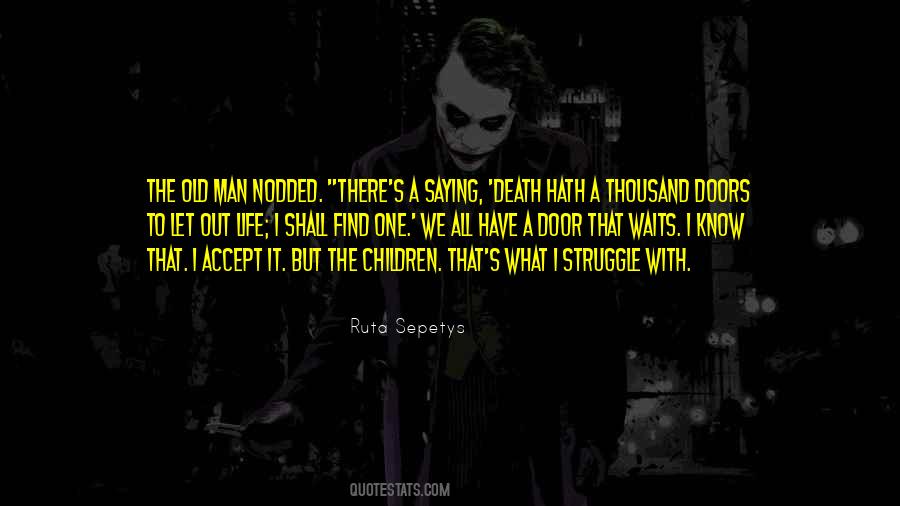 #62. As we were walking along, Britta took her book out of her schoolbag and smelled it. She let all of us smell it. New books smell so good you can tell how much fun it's going to be to read them. - Author: Astrid Lindgren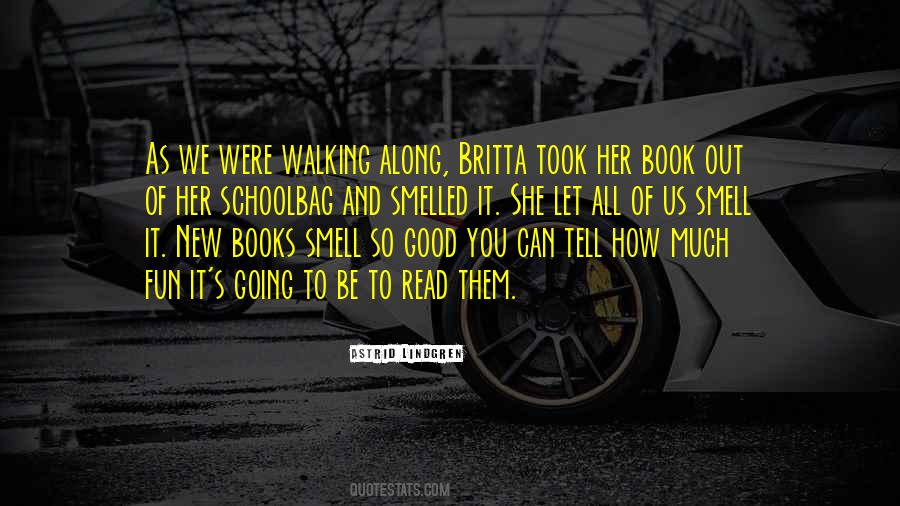 #63. That's what love can do for you if you let it: build a person out of all your broken pieces. It doesn't matter if the stitches show. The stitches, the scars just prove you earned it. - Author: Elan Mastai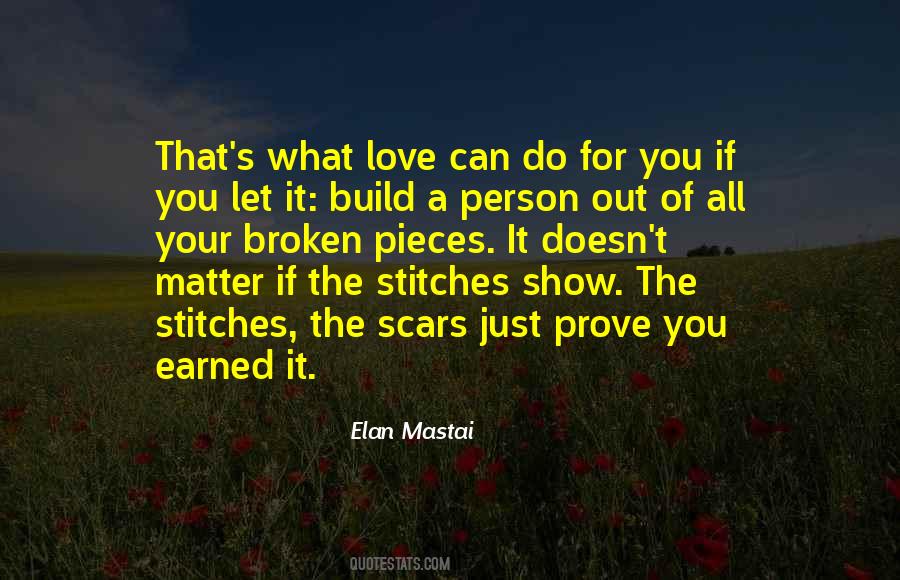 #64. Sometimes,' Beauty said softly, sipping from her silver goblet, 'everyone needs to let the beast inside them out for a while'. She laughed, a sound like a waterfall meeting the sea and more glitter escaped from her fingertips. 'I like to see it. We all have our dark lusts. We should enjoy them. - Author: Sarah Pinborough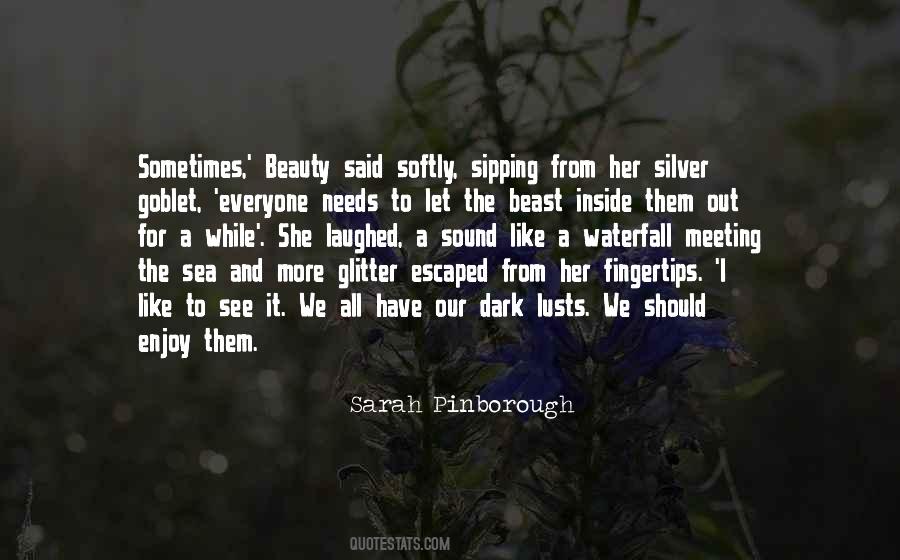 #65. In prayer one must hold fast and never let go, because the one who gives up loses all. If it seems that no one is listening to you, then cry out even louder. If you are driven out of one door, go back in by the other. - Author: Jane Frances De Chantal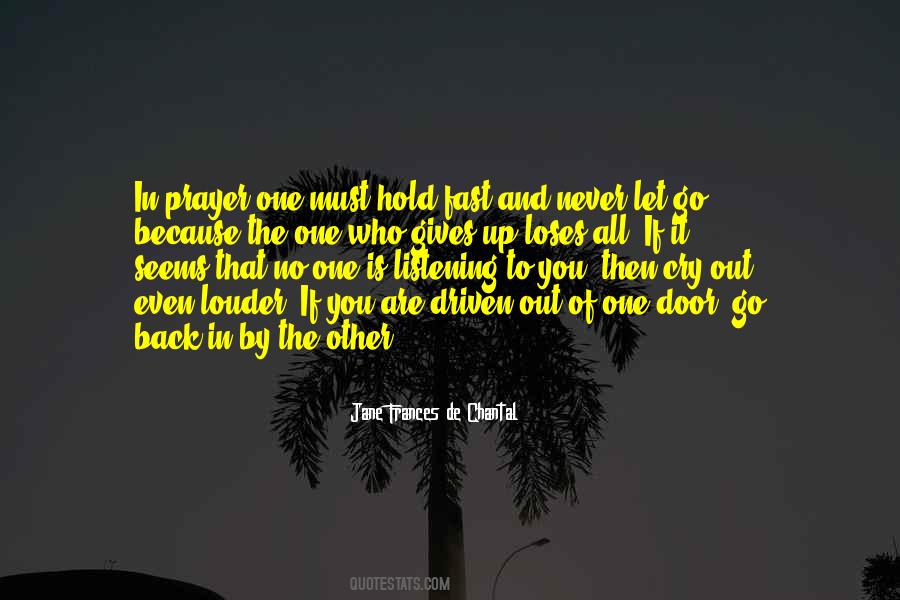 #66. Music is good for everybody. They say it soothes the savage beast. Well, I think theirs a beast in all of us. So let's get some more music and soothe all the beasts out there. - Author: B.B. King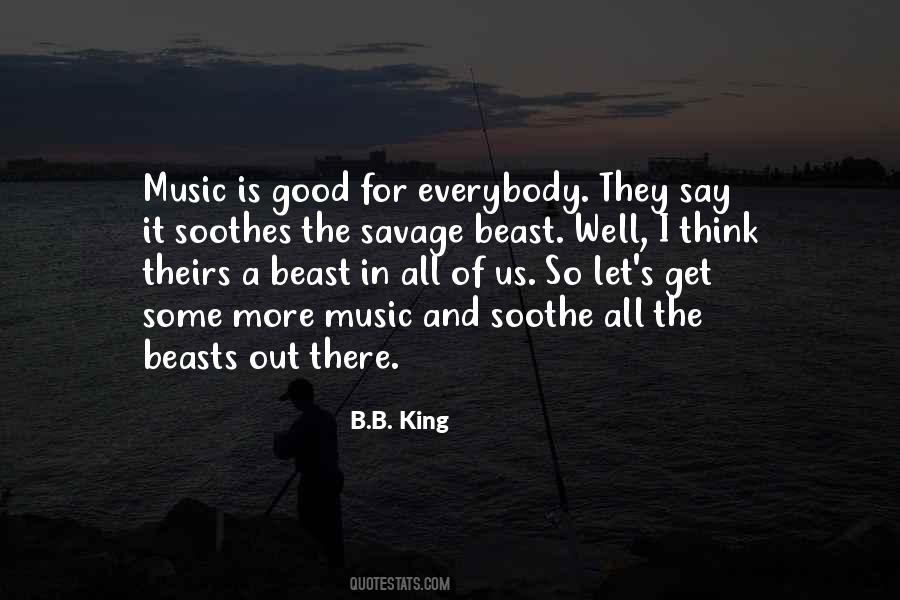 #67. Babe, you think I found the women of my dreams at 45 years old and I'm gonna let anything happen to her, think again. That's a long fuckin' time to wait for what you want. I waited. I found it. I'm pullin' out all the stops to take care of it. - Author: Kristen Ashley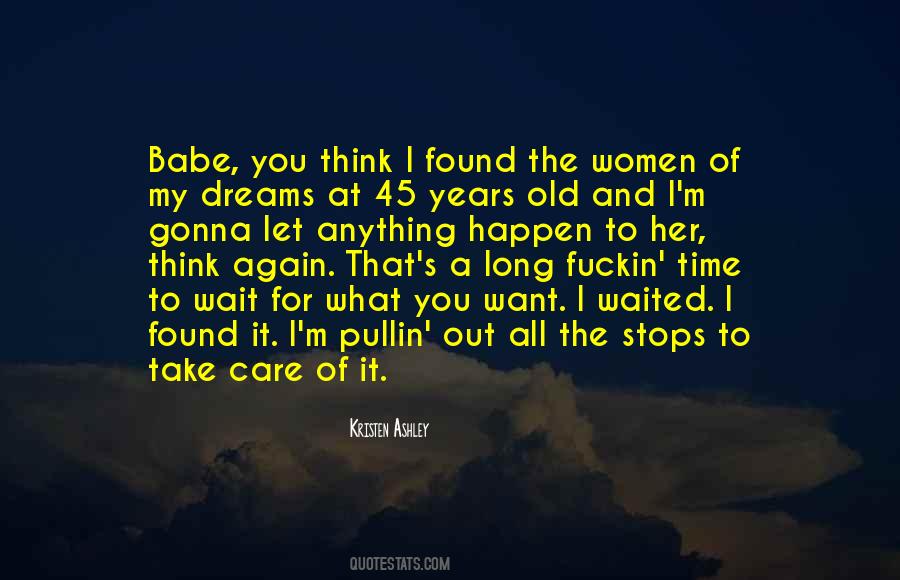 #68. Lisa, I apologize to you, I was wrong, I take it all back. Always be yourself. If you want to be sad, honey, be sad. We'll ride it out with you. And when you get finished feeling sad, we'll still be there. From now on, let me do the smiling for both of us. - Author: Matt Groening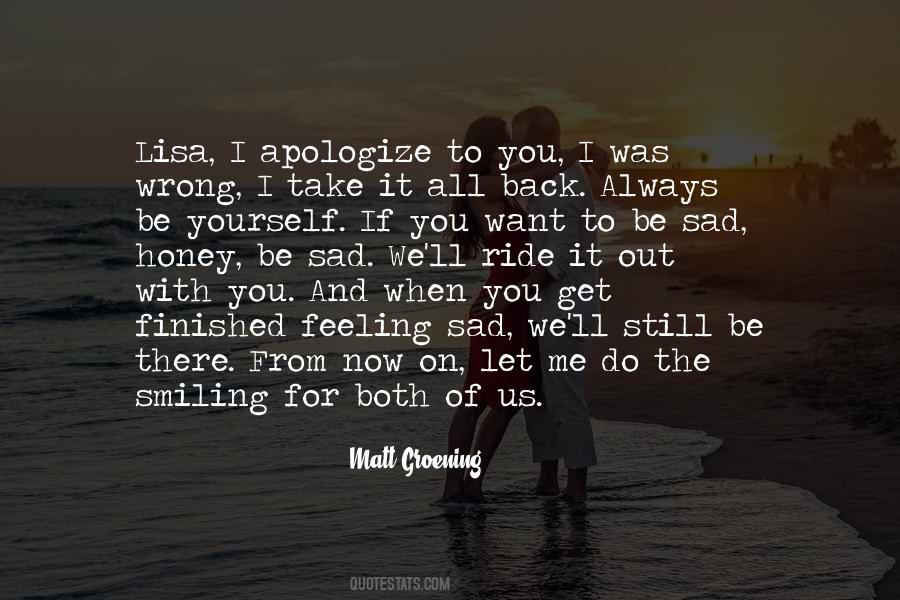 #69. All right, I figure I got a beating coming. Let's get at it."
"That's not why I came."
"Why did you then?"
"To find out why you did it."
Jeff looked at the floor. "I don't know."
"Want to do it again? - Author: Catt Ford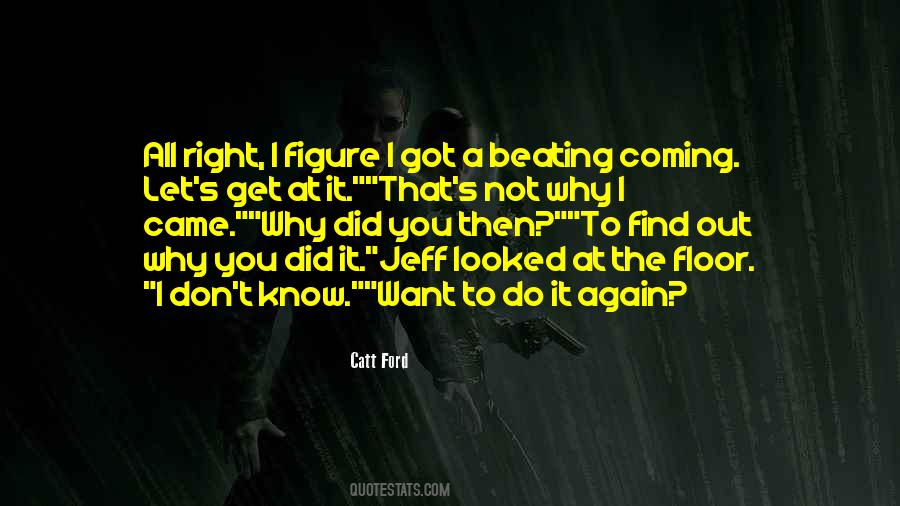 #70. I won't tell you how I managed to break in, since I don't want the authorities figuring out, but let's just say that if you're going to make a gate, make sure it reaches all the way to the ground. - Author: Meg Cabot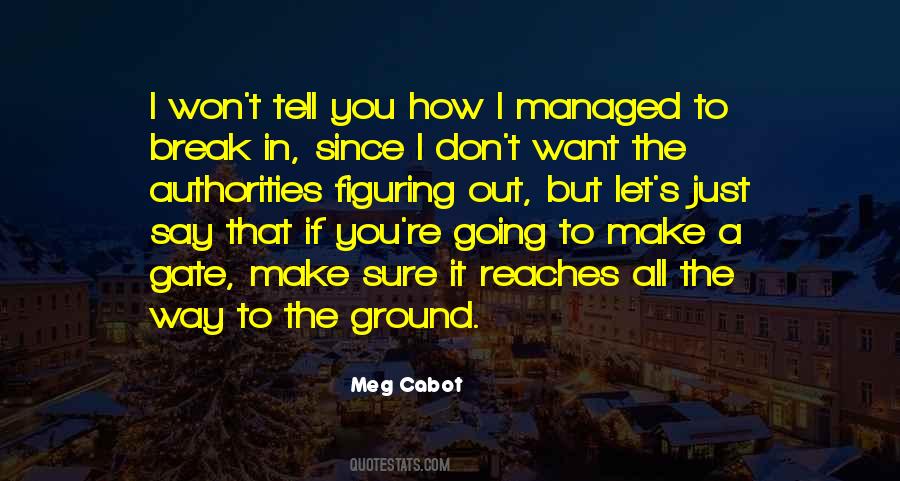 #71. Kristina, my wife, and I thought about this one day when the kids were, of course, watching television. And we took a big blanket and put it in the backyard and said, 'Let's go out on our back and look at the sky and call it sky television.' We saw all kinds of things. - Author: Clyde Edgerton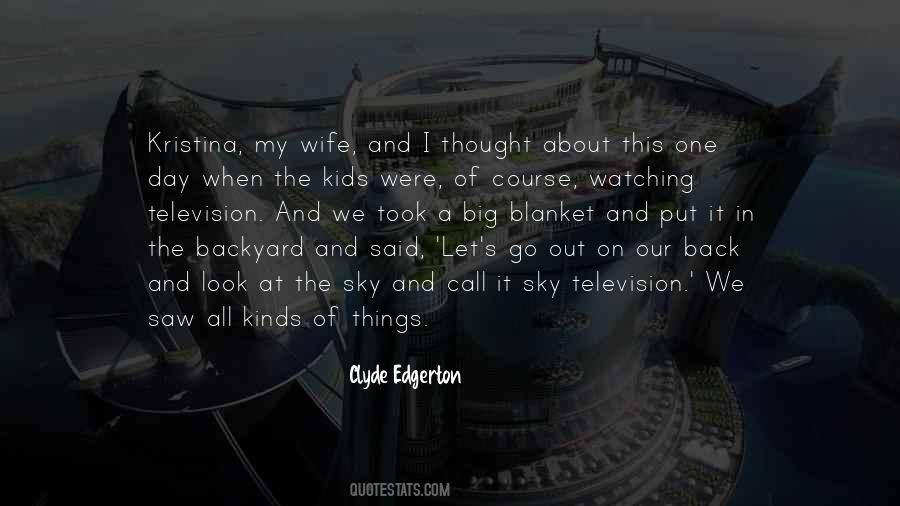 #72. That's all you've got for me?" I drew a long breath and let it out slowly. "You know. I might be able to get more clues from Google. - Author: Jayde Scott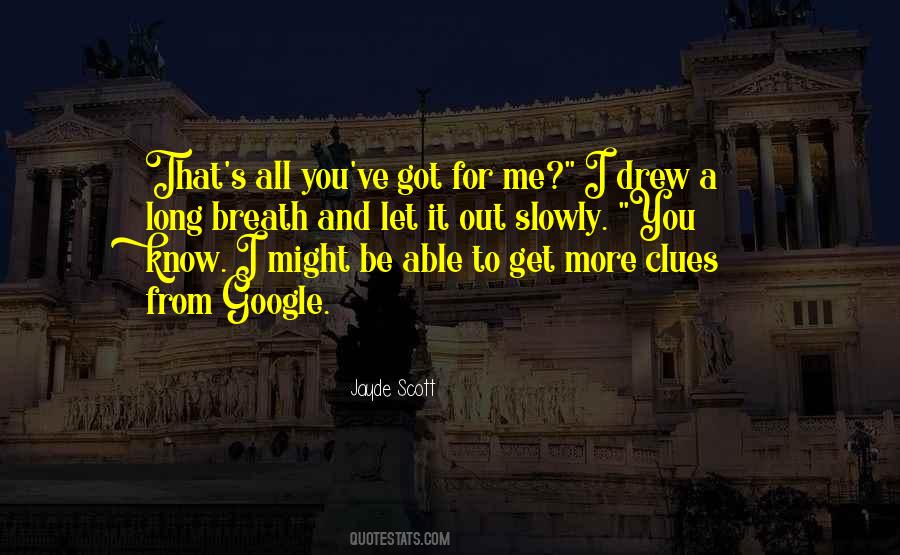 #73. I write all year, and at the end of the year I put an album out. And if sucks, it sucks, and if it's good, it's good. I just let it lay where it lays. It doesn't stop from doing another one next year. - Author: Toby Keith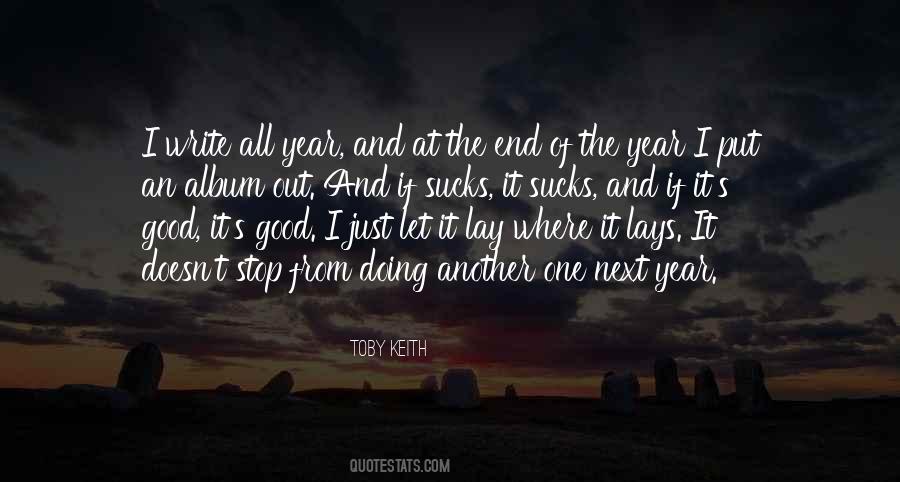 #74. All the emotions she had bottled up in the last year came spilling out in that kiss. She had forgotten how it felt to be held and wanted. It was as if someone had opened her heart and let out some of the pain. - Author: D.P. McHenry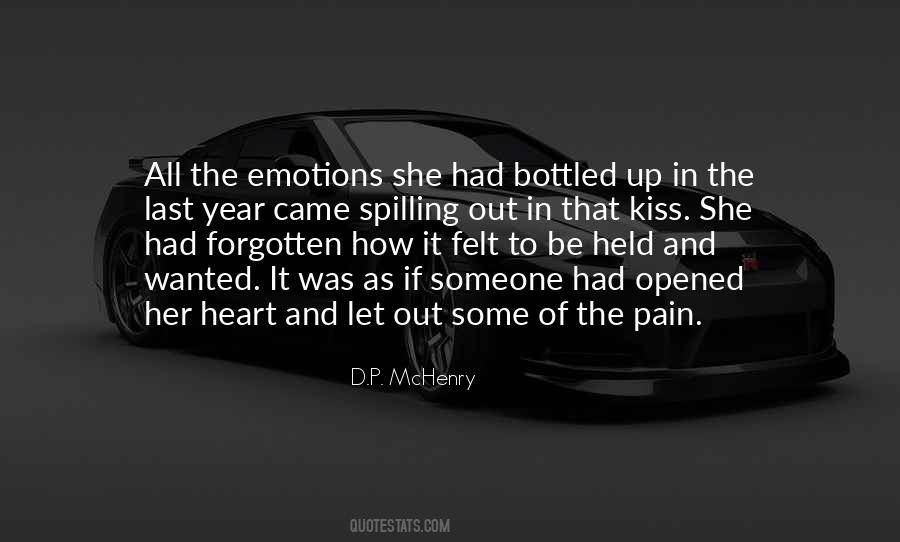 #75. A man came up to me at a party and asked if I wanted to be in his video game. I of course said yes. And then it turned out it was 'Assassin's Creed', so that was great. They let me ad lib a lot and mess about and be very snarky indeed, and I'm thrilled by the success of all their hard work. - Author: Danny Wallace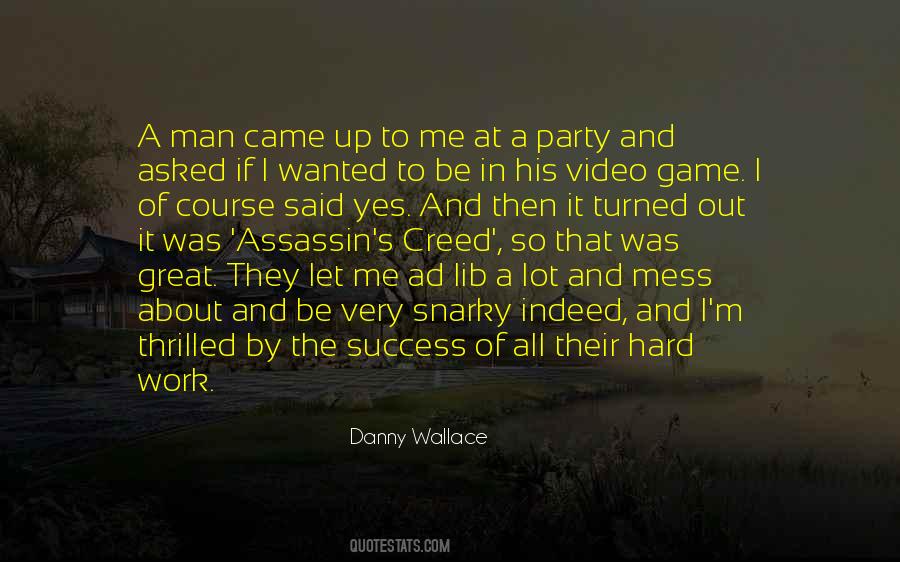 #76. All you decent, well-meaning gentlemen, let me ask you, have you any idea what sort of place the world is becoming all around you? The days when you could act out of your noble instincts are over. Except of course, you here in Europe don't yet seem to know it. - Author: Kazuo Ishiguro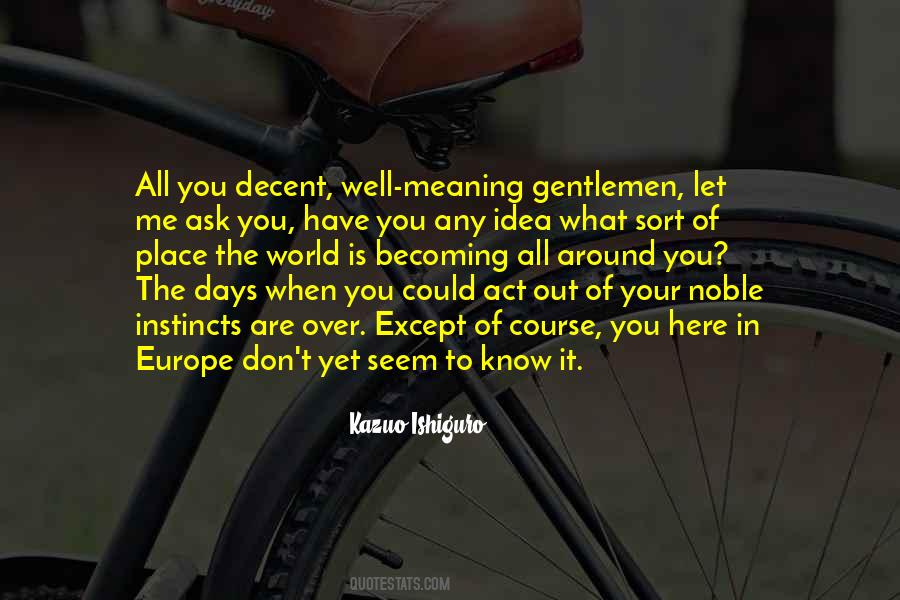 #77. I think the world is filled with so much hype and PR bull. Frankly, it all comes out in the end. Good or bad, I'd rather just let our accomplishments really speak for themselves. - Author: William Clay Ford Jr.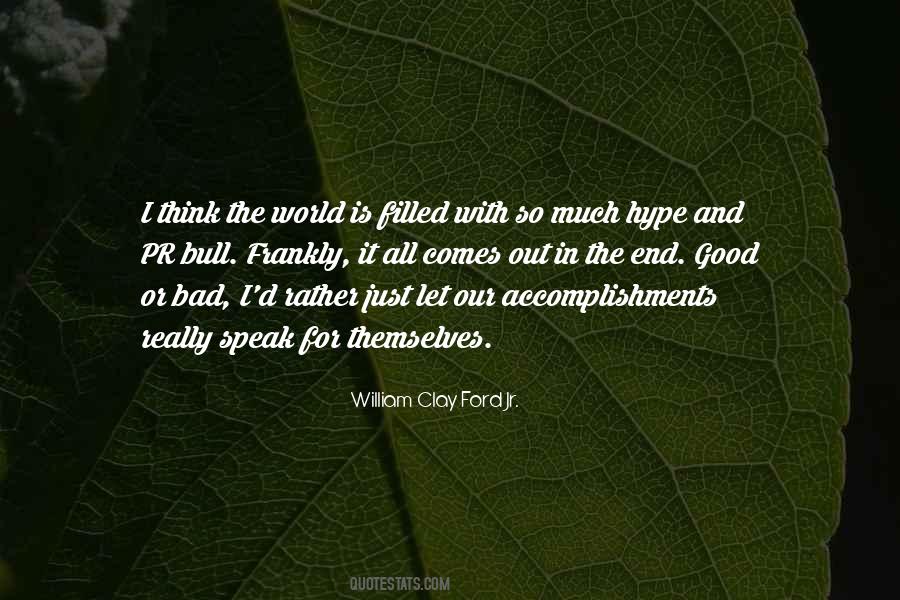 #78. Oh, do fuck off. You Muslims and your aversion to drink. Fucking slaughter the greater part of the Western fucking world in Allah's name, but someone wants to toast to your health and suddenly it's all piety, prayer, throw out the pork, and let's put draperies around the women. - Author: Christopher Moore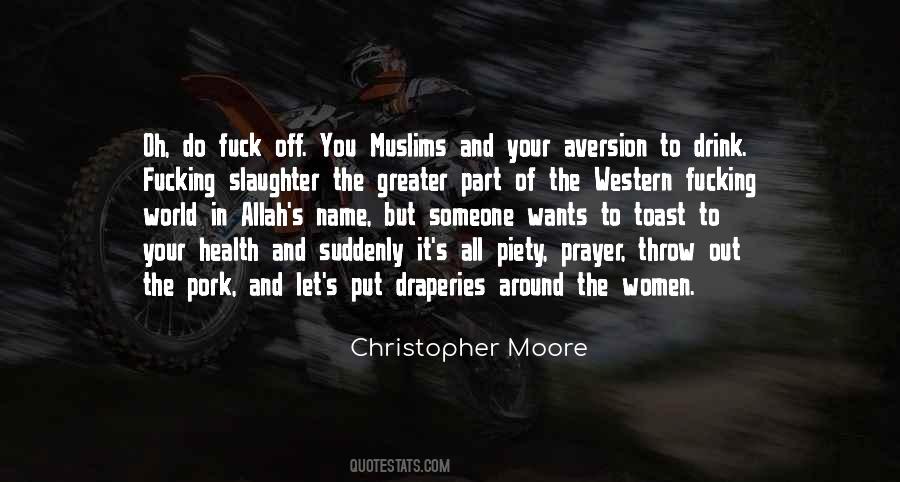 #79. It was as if the pearly gates had just opened and God had walked out and said, "Pax, my son, I'm going to free you from your addiction. I'm going to let you see why you've been using heroin and all the other drugs for the past ten years. - Author: Pax Prentiss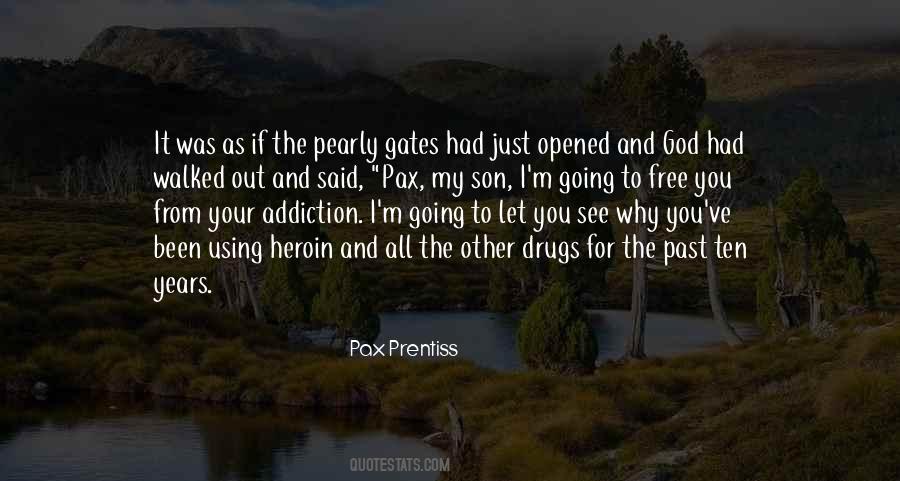 #80. Let's all put our weapons down," Piper said. "Coach, you first." Hedge clenched his jaw. "Just one thwack?" "No," Piper said. "What about a compromise? I'll kill them first, and if it turns out they were friendly, I'll apologize." "No!" Piper insisted. "Meh." Coach Hedge lowered his club. - Author: Rick Riordan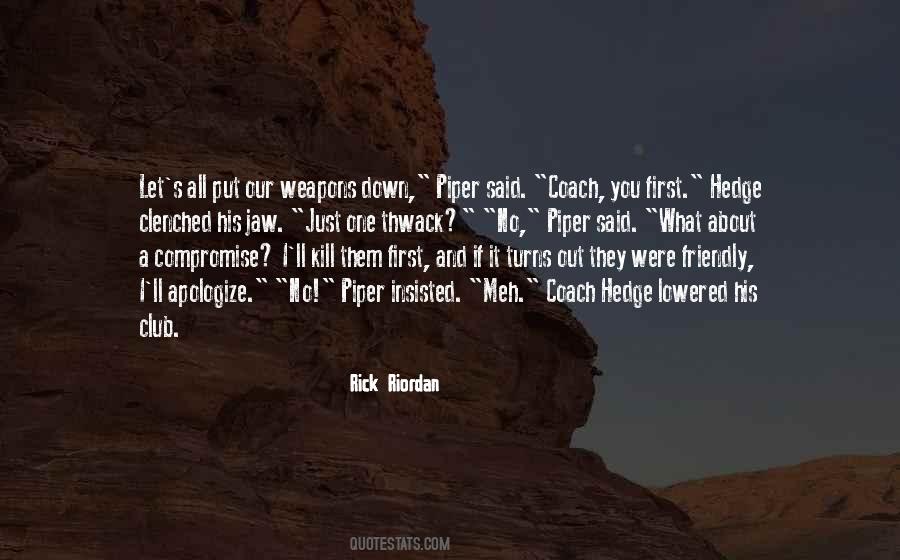 #81. All this new stuff goes on top
turn it over, turn it over
wait and water down
from the dark bottom
turn it inside out
let it spread through
Sift down even.
Watch it sprout.
A mind like compost. - Author: Gary Snyder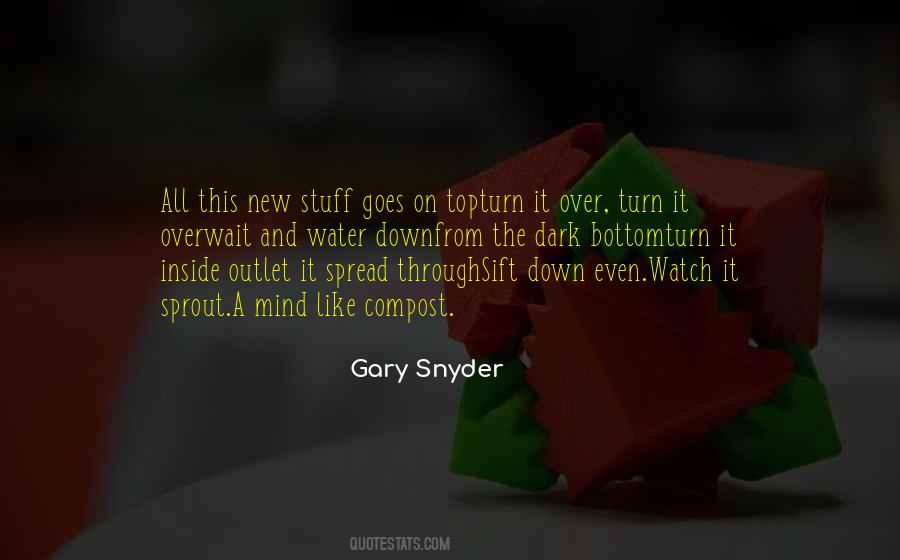 #82. On tour I feel like it's always so go go ... you're always just taking in and storing information and feelings and things. So for me I need time off to let all those things come out and settle. - Author: Tristan Prettyman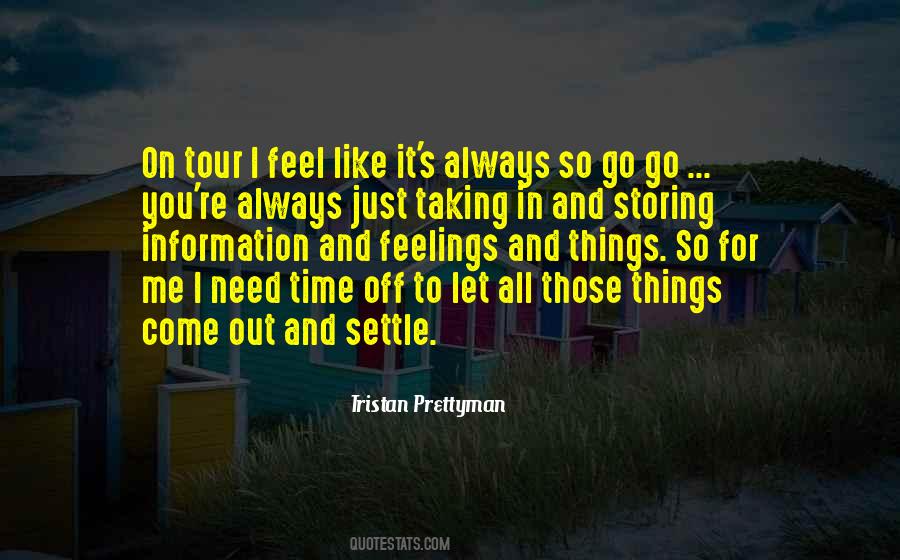 #83. I think we all have experiences when we were young where we either had an interaction with someone we admired or you know, had a vision of how they were and found out that they weren't necessarily that and that it tends to be a big let down sometimes. - Author: John Cena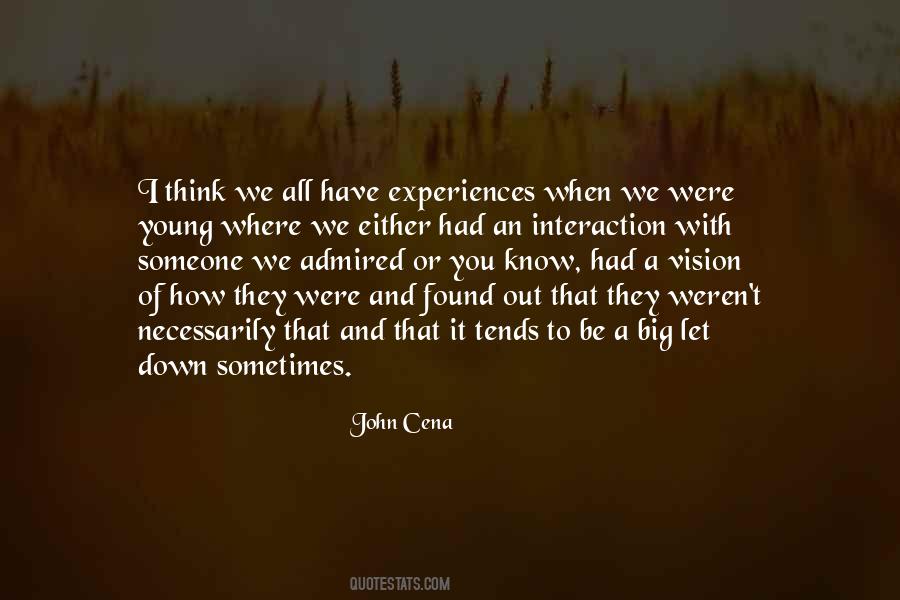 #84. A knowledge of craft is not the enemy of creativity. You sit down to write and realize, today's going to be a really unconscious day and I'm going to let it all out. Or, today's going to be analytical. And some days all mixed up. - Author: K.M. Soehnlein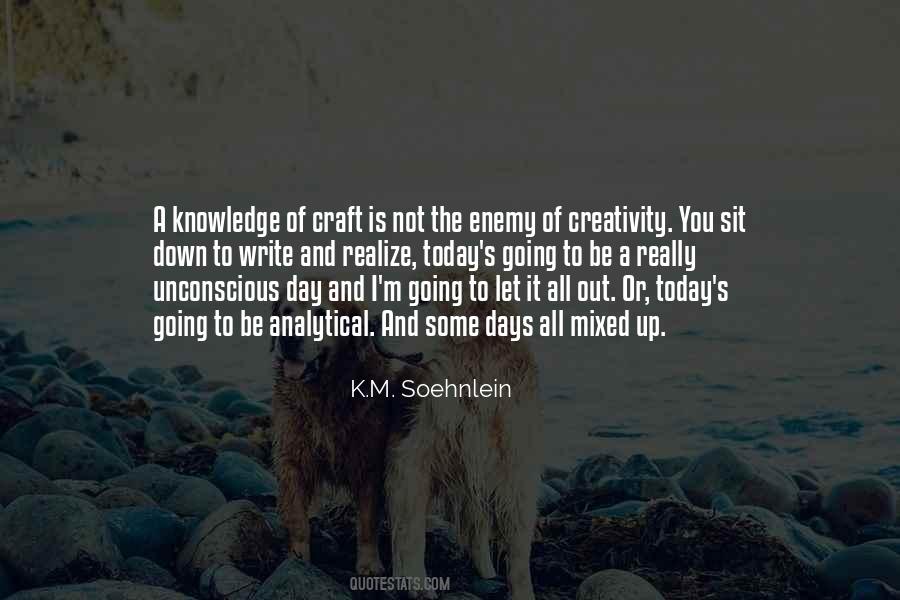 #85. For all my life, I had stored my love in a a place down inside me that had no outlet. I contained it there. Kept it to myself. Afraid to let it out. Thought if I did, it'd seep out and I'd be left with none. I didn't have much to start with. - Author: Charles Martin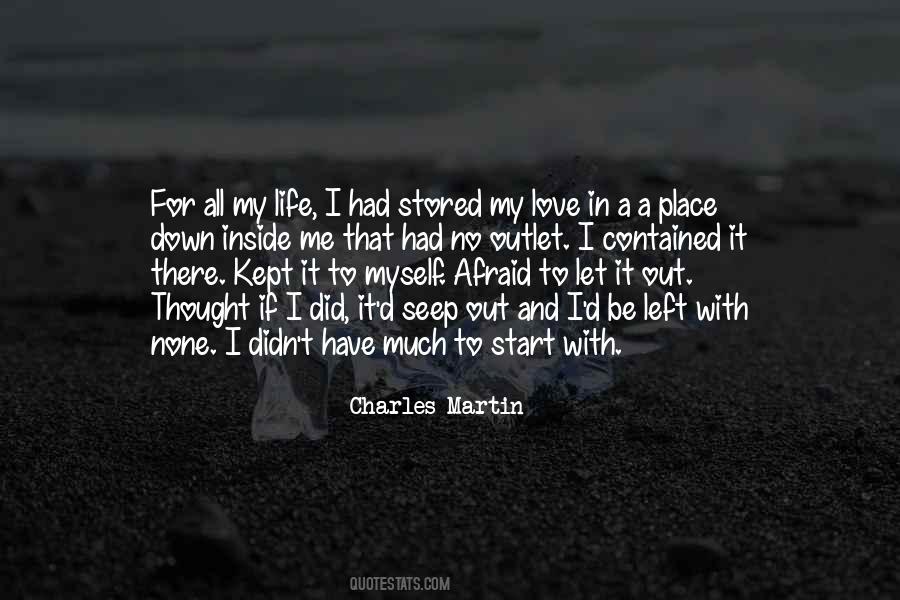 #86. There you go ... let it all slide out. Unhappiness can't stick in a person's soul when it's slick with tears. - Author: Shannon Hale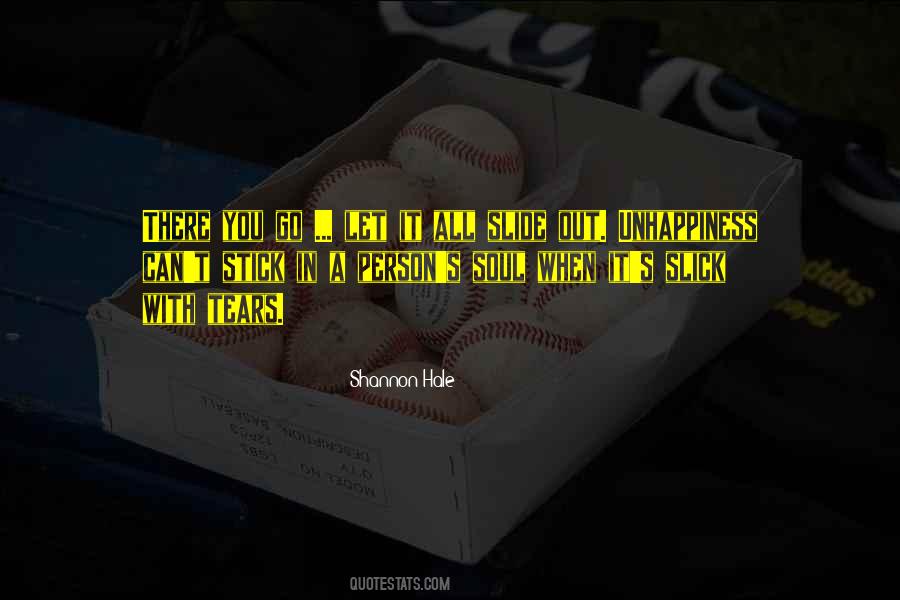 #87. I'm Peter on the mountaintop, stirring to see The Glory in all its God-radiance, stammering out that it's good to be here; let's build shelters and never depart. But there's always the descent from the mount. The meeting of the crowd, the complaining, the cursing. Page 124 - Author: Ann Voskamp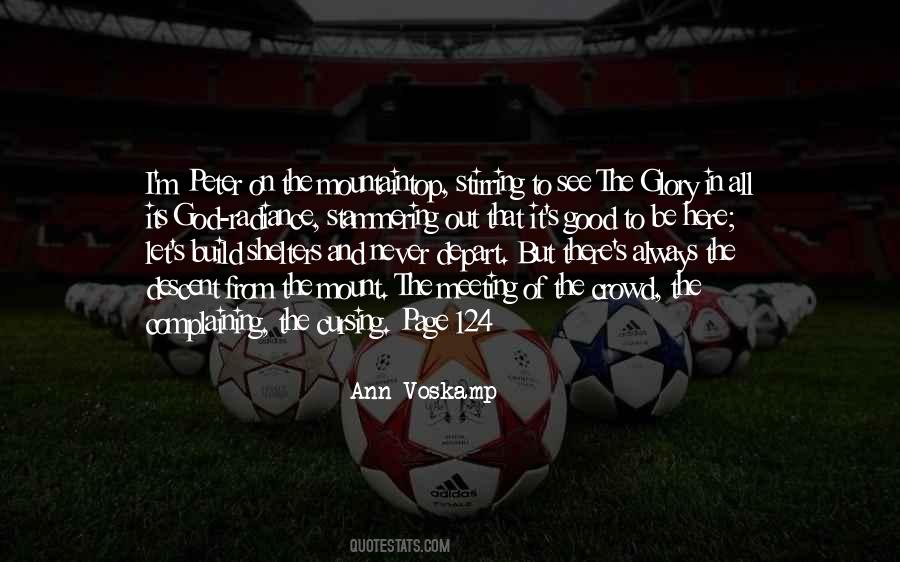 #88. If it were not for the outside world, we would have no inside world to understand things by. Least of all could we understand God without these millions of sights and sounds and scents and motions, weaving their endless harmonies. They come out of His heart to let us know a little of what is in it. - Author: George MacDonald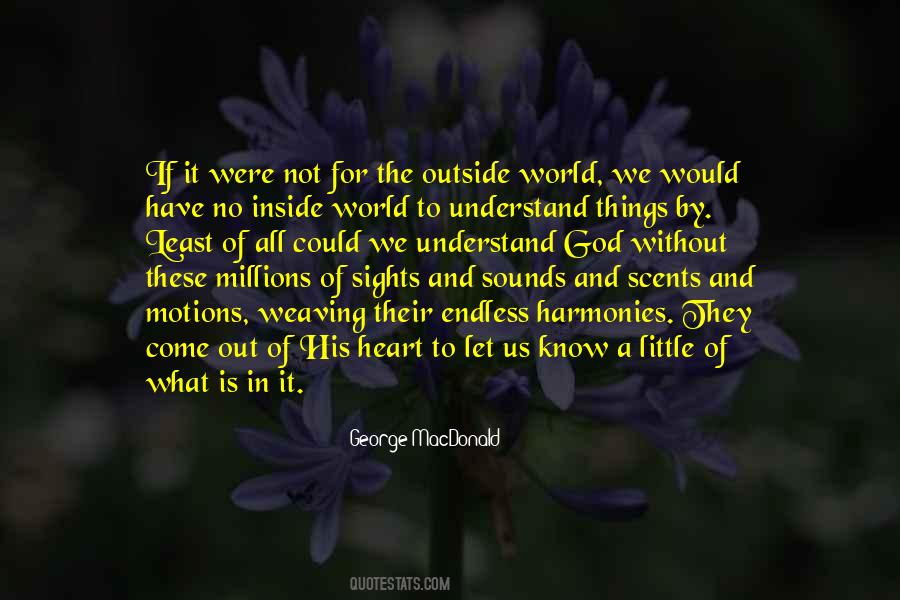 #89. Let it all out. If only I could. Letting it all out would involve me exploding like a firework, a beautiful riot of rainbow sparks bouncing around the car and lighting up the entire lot. - Author: Nick Burd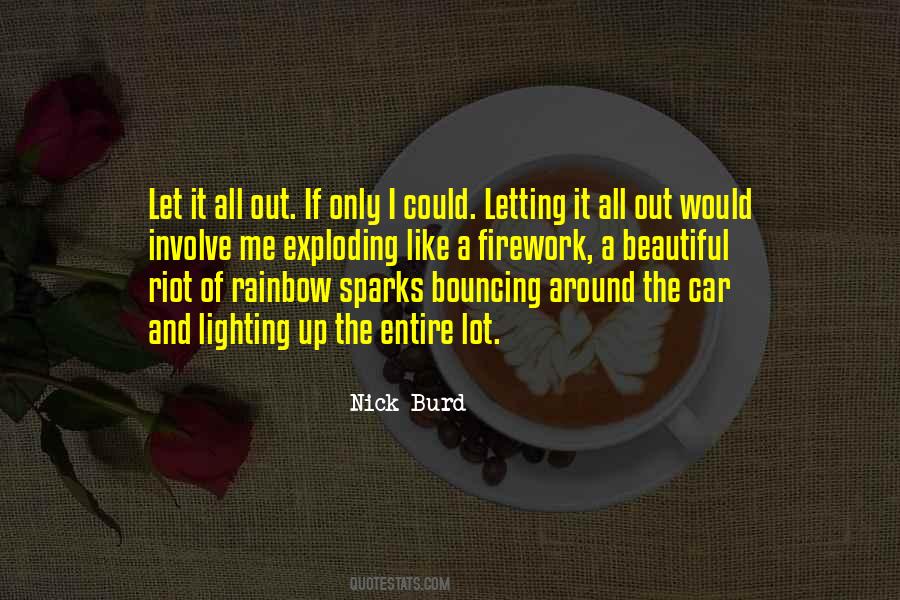 #90. I started meeting the right people, like [producer] Dave [Okumu], who explained to me how songwriting is really simple - "just like shitting," he said. "You gotta let it all out." When he put it like that, however disgusting it is, it made a lot of sense to me. - Author: Jessie Ware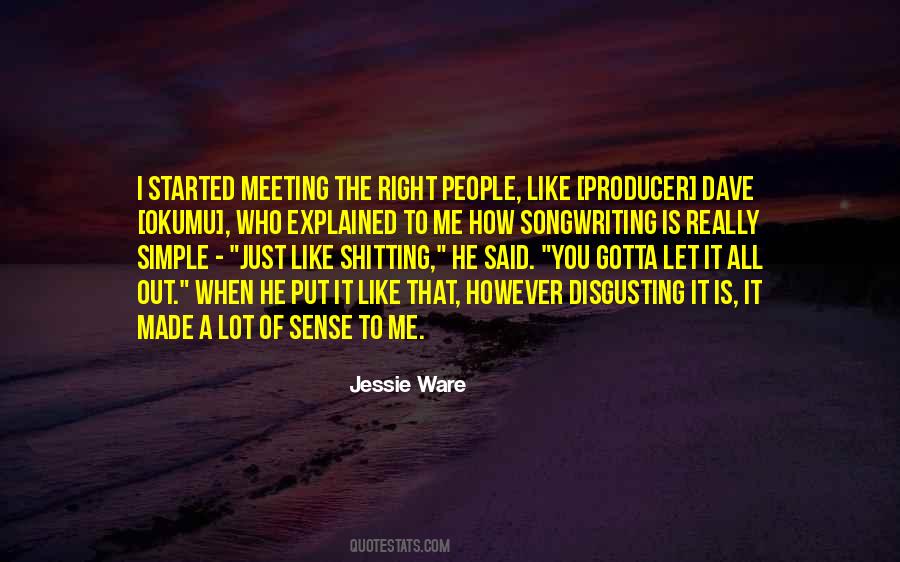 #91. All the same, our eyes spoke of something good, something deep, something that could grow and flower if the world we lived in would allow it. Something too precious to put into words. Something I would not dare let out into the light of day, not yet. - Author: Juliet Marillier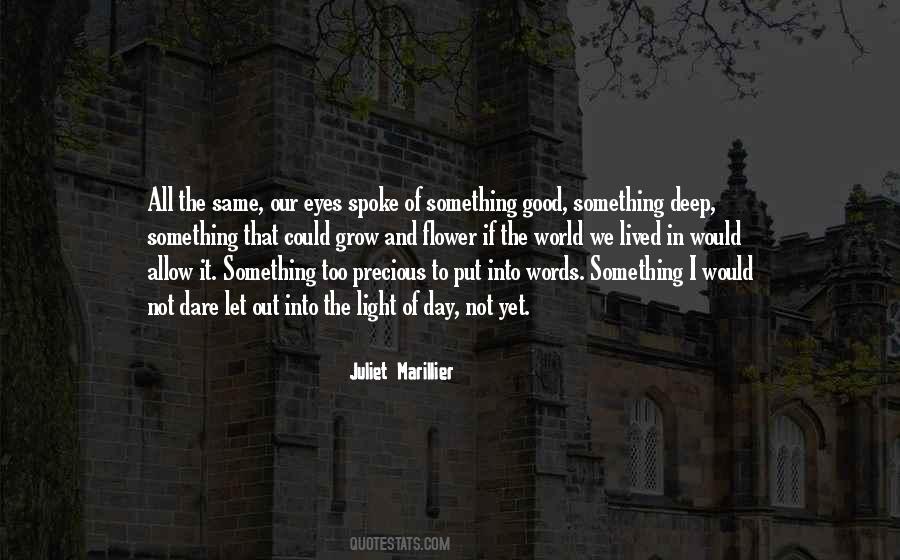 #92. It was cruel. Like opening a birdcage to let the bird fly out, whilst all the while it's tethered by the leg, and freedom is only an illusion. - Author: Laini Taylor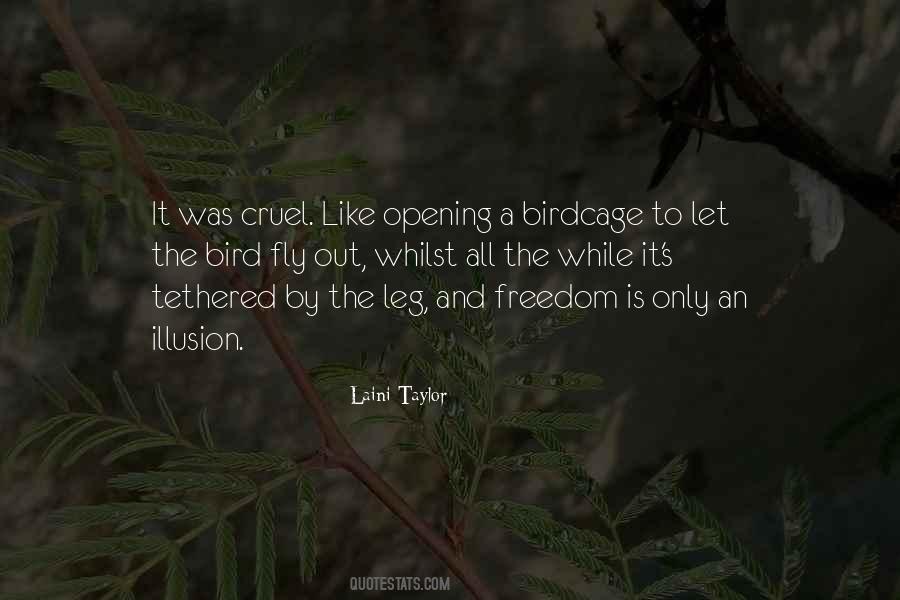 #93. He always kept his shit together. He was the fucking foam on the latte that rose above all of it. He'd been there for them whenever they needed him, always. He hadn't let his friends down. But at this moment, he resented the hell out of every one of them. - Author: Joey W. Hill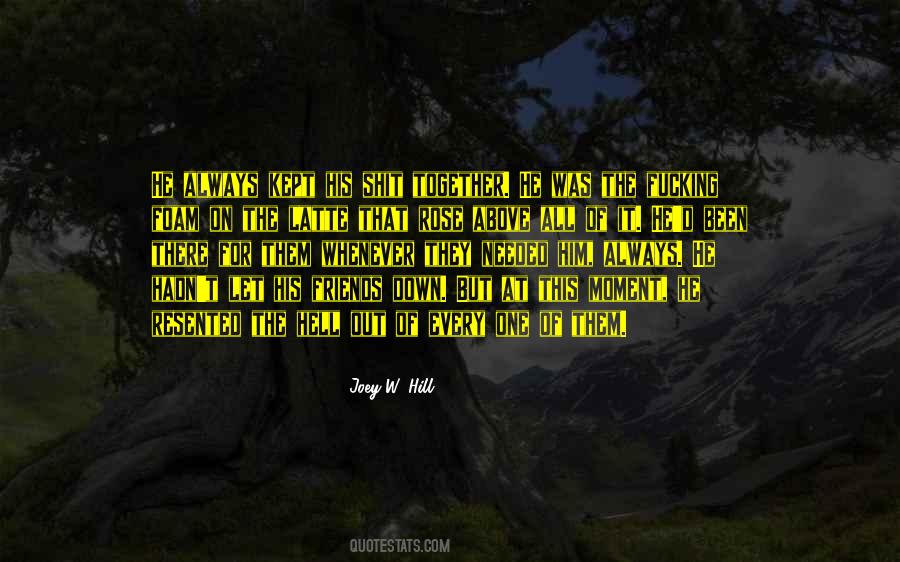 #94. When you can't cry because all you are is pain, and if you let some of it out, you might cease to exist. - Author: Ally Condie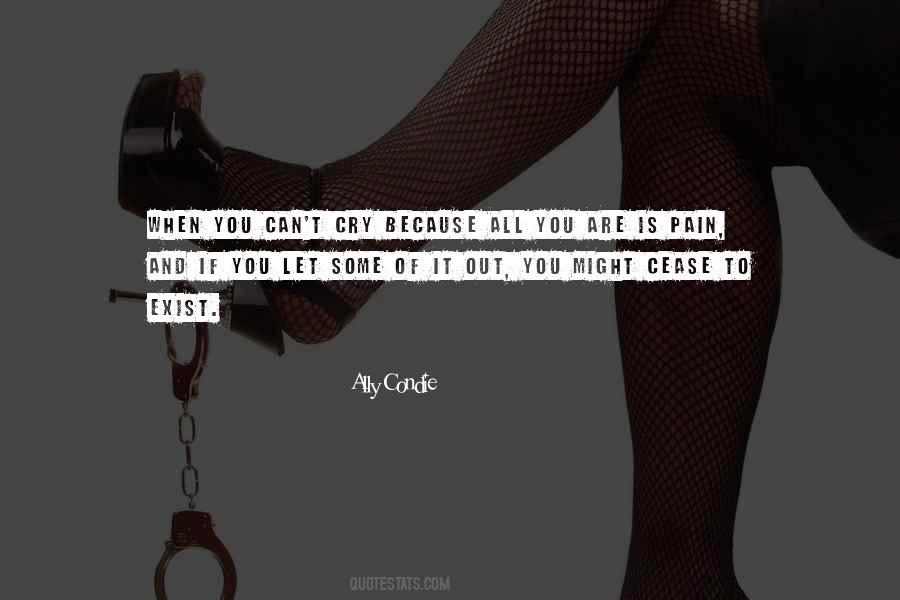 #95. I don't care to be famous. But at the same time, you look at all the role models these little girls have, and they don't have anyone to look up to. I mean, it's weird, but if I just hid out and didn't let myself be known, who would they look up to instead, you know? - Author: Bethany Hamilton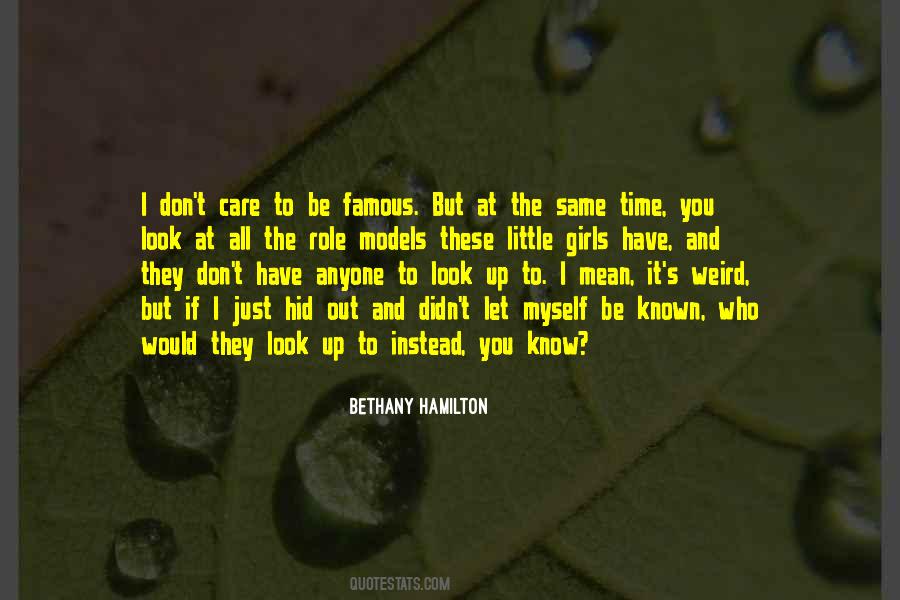 #96. I cared nothing; my point of view in that instance, as in all others like it, was, that if the paper chose to send an outsider and an ignoramus to criticise works of art - especially the works of a new and tentative and experimental school - then, on the head of the paper let the just doom fall. - Author: Arthur Machen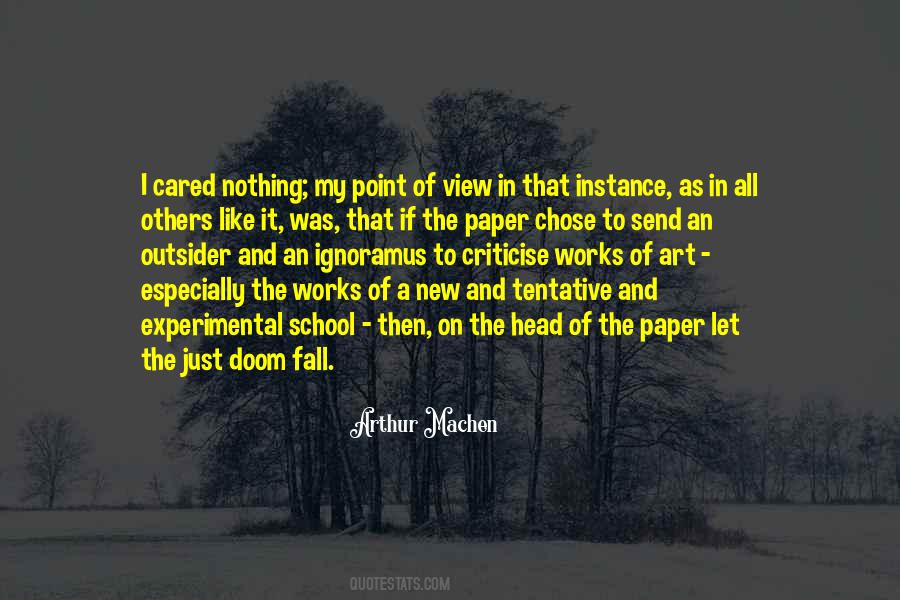 #97. Everything you say makes sense, sir. I guess it's logical. But with all due respect, you're out of your fucking mind. Come on, Sam. Let's go home. - Author: Huntley Fitzpatrick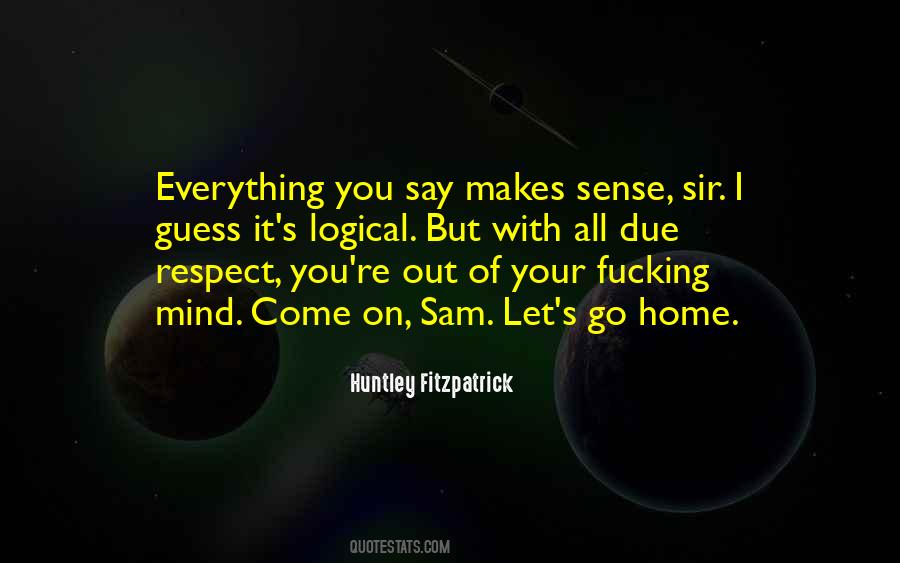 #98. Clear out all of those doubts and fears. Let the past be the past. It's time. - Author: Bryant McGill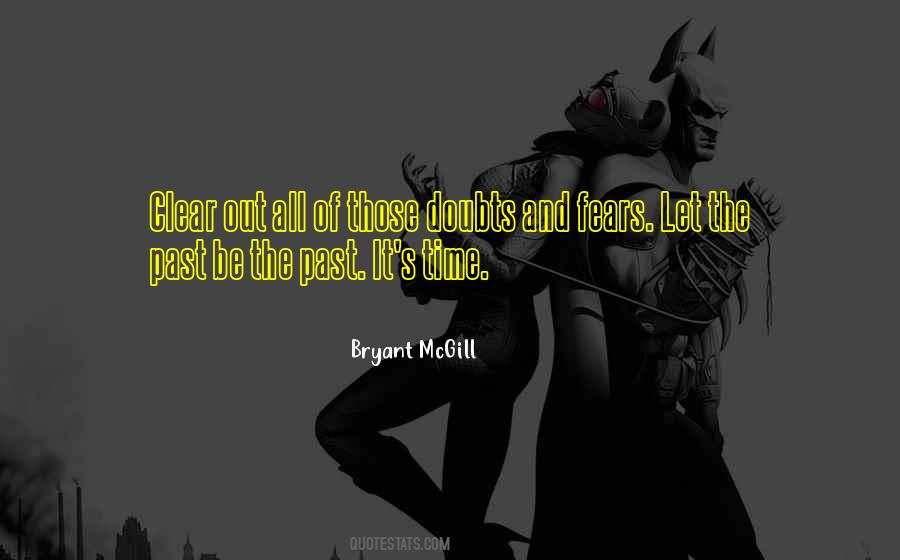 #99. Nostalgia is the bane of rock 'n' roll. He had the courage to let it all hang out ... He was a considerable talent. - Author: Jim DeRogatis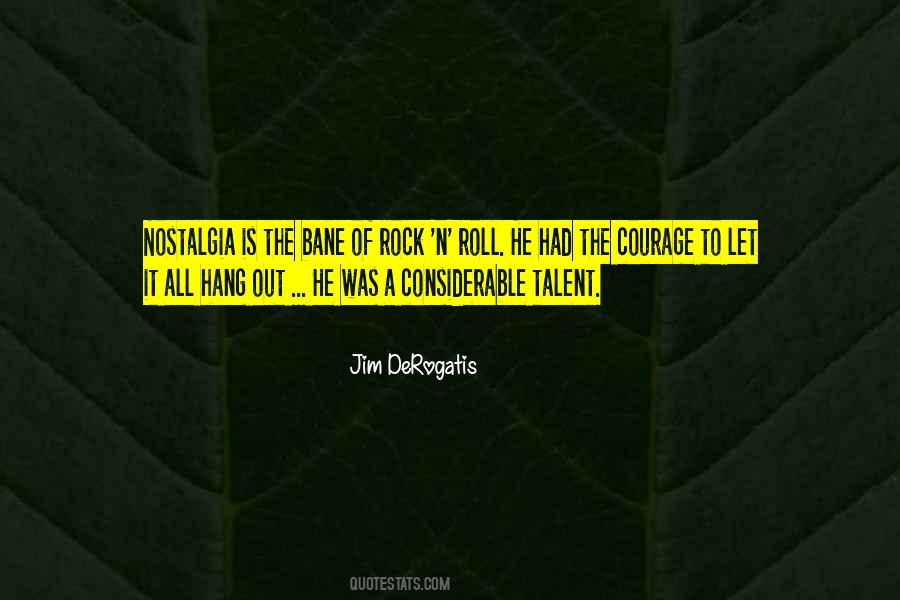 #100. It truly means a lot. I promise to not let you down, and I'll still be spending all my extra time making sure I'm giving you one hundred percent. This is the best job I could've ever hoped for, especially right out of college, - Author: Melody Anne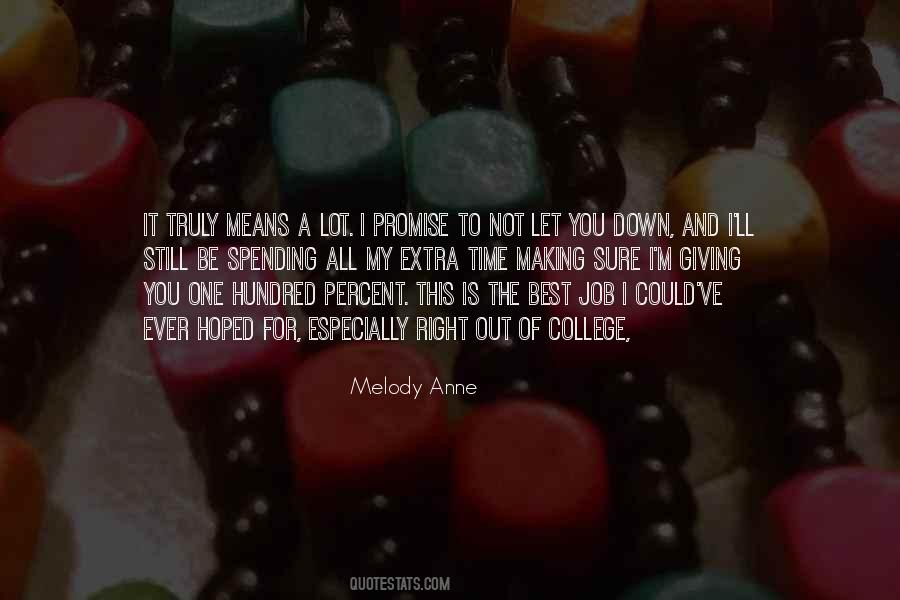 Famous Authors
Popular Topics