I'm Going On Vacation Famous Quotes & Sayings
List of top 68 famous quotes and sayings about i'm going on vacation to read and share with friends on your Facebook, Twitter, blogs.
Top 68 I'm Going On Vacation Quotes
#1. Well, The Dirty Dozen was like a vacation. - Author: Clint Walker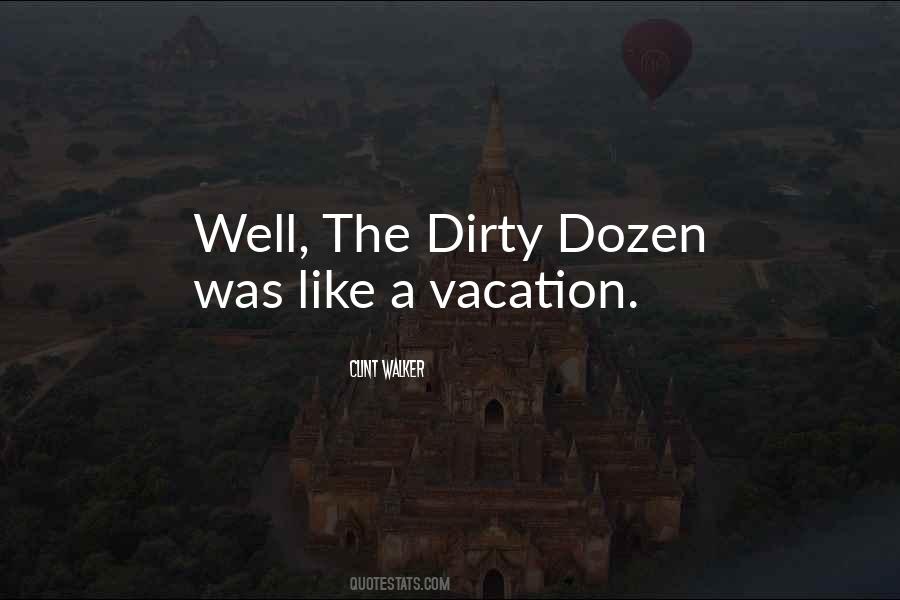 #2. I prefer to do cable TV because it allows you the time to do other things. I definitely have an eye on doing more work in features and playing different characters, but I am also a big fan of going on vacation and playing golf and going to the beach. - Author: Bailey Chase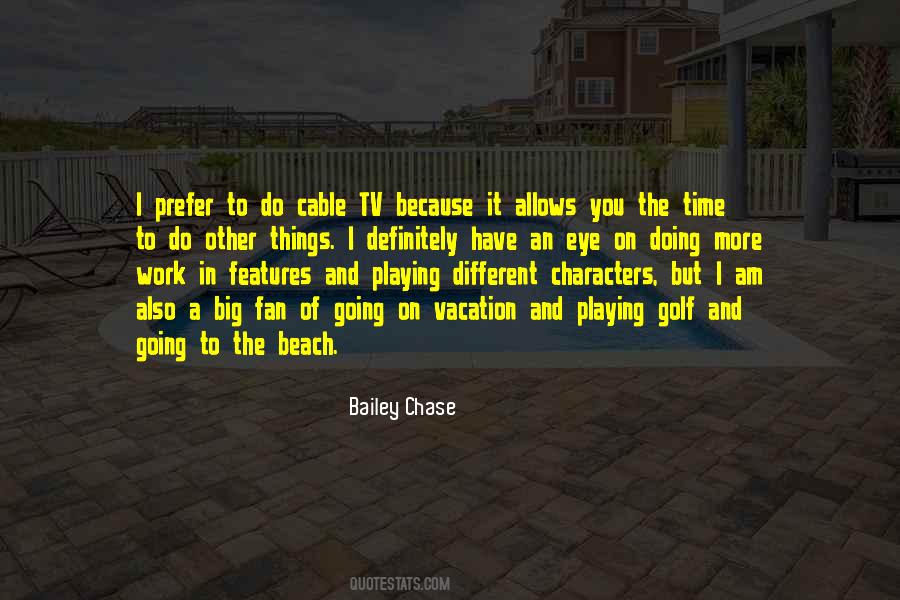 #3. Nothing. You need nothing. I provide you with what you need, and what I don't provide, you don't need. Think of it as a vacation from adulthood. - Author: C.D. Reiss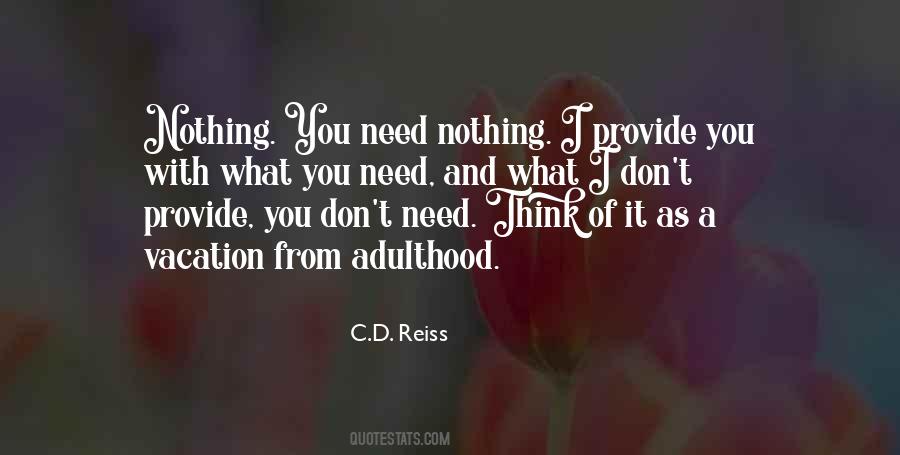 #4. Meditation is mind's vacation! - Author: Mehmet Murat Ildan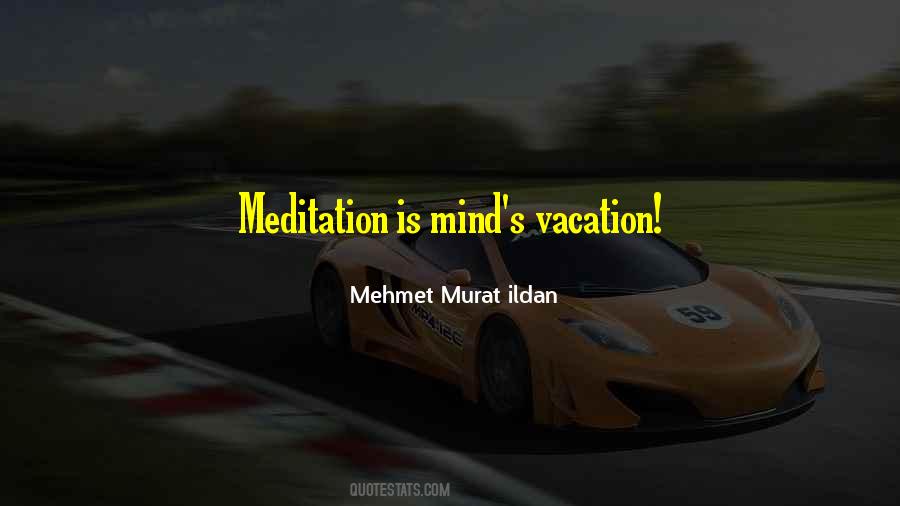 #5. Seven a.m. on the first day of summer vacation was, to her mind, a dangerous time to be awake. Even God had to be sleeping in. - Author: Victoria Kahler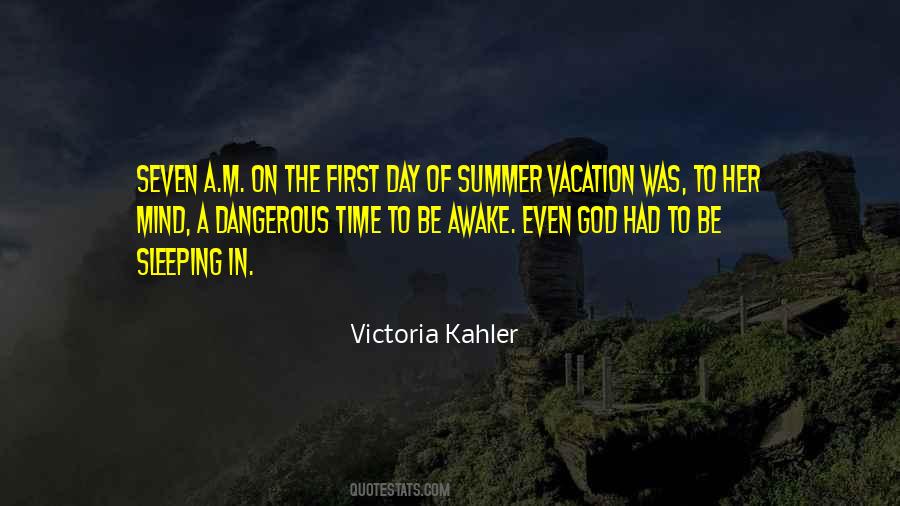 #6. When I go on vacation, I take very few clothes and a whole lot of books. It's the most soothing thing in the world. Reading 'Moby-Dick' is like being in a time machine. I almost feel as excited as the first time I read it and I always find something new. - Author: Nile Rodgers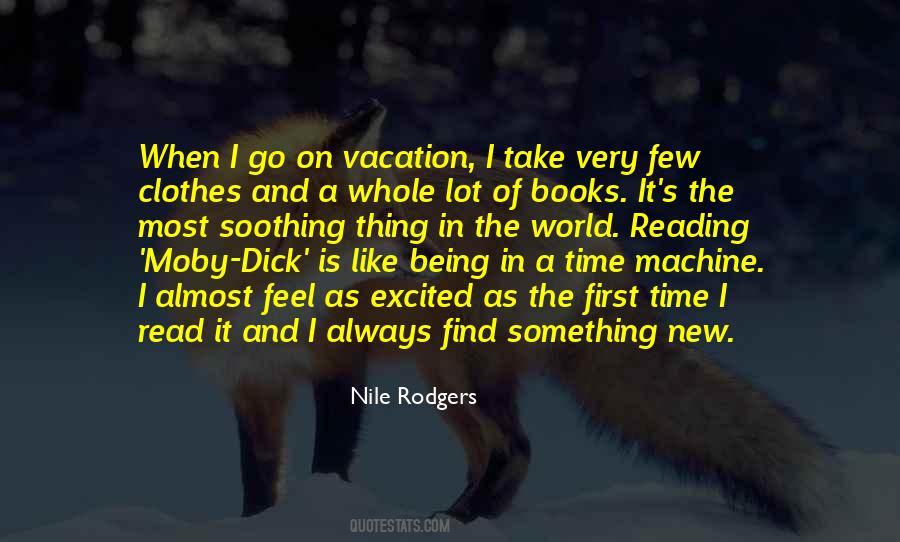 #7. To work for the sheer joy of it, to wake up and be really excited on a Monday, to love what you do so much that the idea of a long vacation looks boring - that's living. - Author: Manoj Arora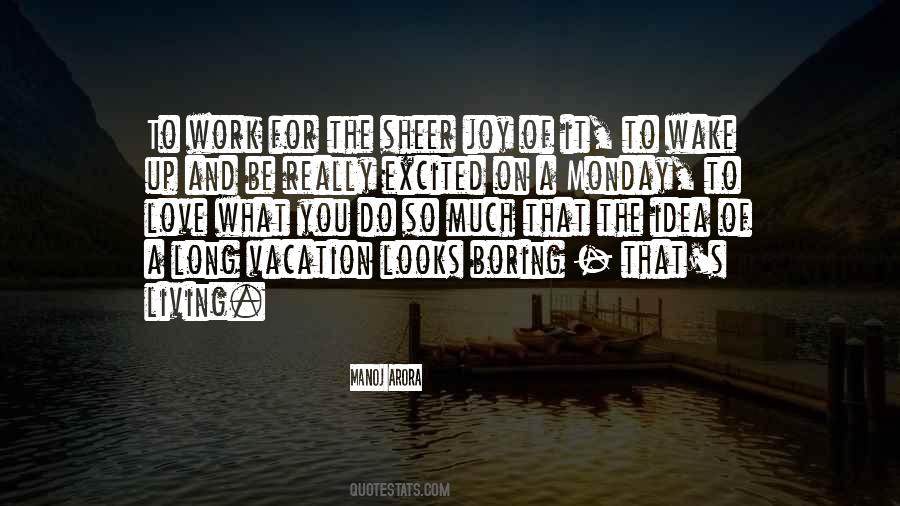 #8. I have never gone on a real trip, never taken a holiday. The best holiday for me is spent in my workshops when nearly everybody else is on vacation. - Author: Enzo Ferrari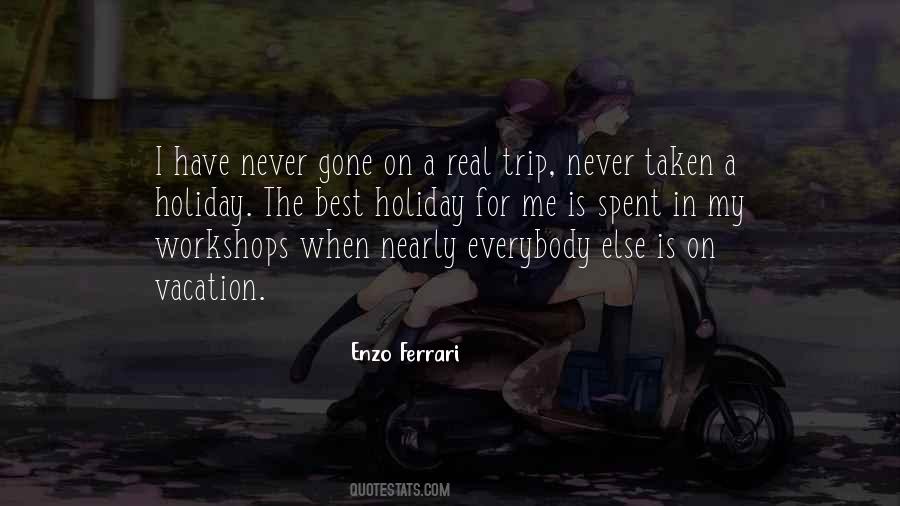 #9. You don't need a vacation when there's nothing to escape from. - Author: Jason Mraz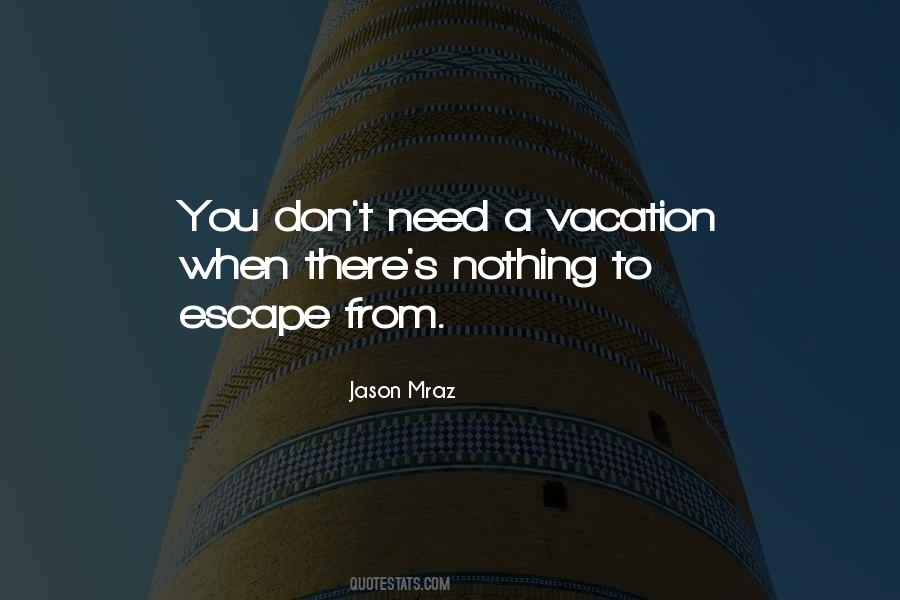 #10. Tell you what, you let me go, and I'll ask you plenty of questions about your race. Until then, I'm slightly distracted with how this little vacation on the good ship Holy Sh*t is going to pan out for me. - Author: J.R. Ward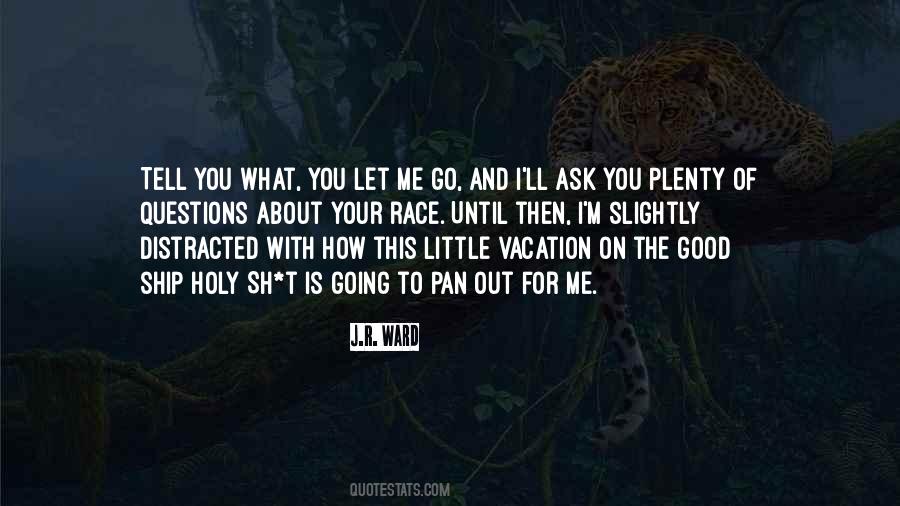 #11. She'd visited the Continent five times on vacation and twice on business trips with Alfred, so about a dozen times altogether, and to friends planning tours of Spain or France she now liked to say, with a sigh, that she'd had her fill of the place. - Author: Jonathan Franzen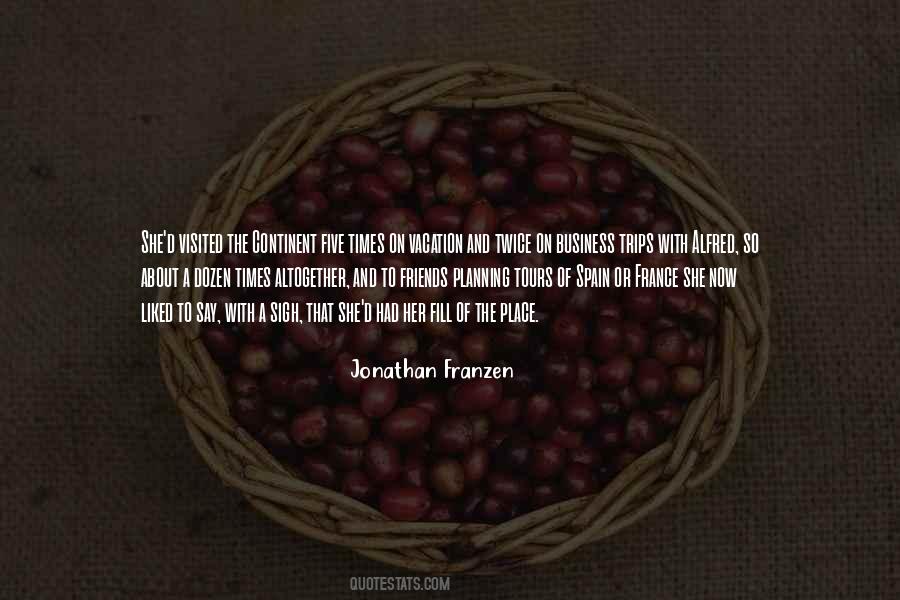 #12. Like the perfect beach vacation, where the routine is so blissfully uneventful that when you return home and friends ask how your trip was, you can't really recall what exactly you did to fill up so many hours. That's what being with Dex is like. - Author: Emily Giffin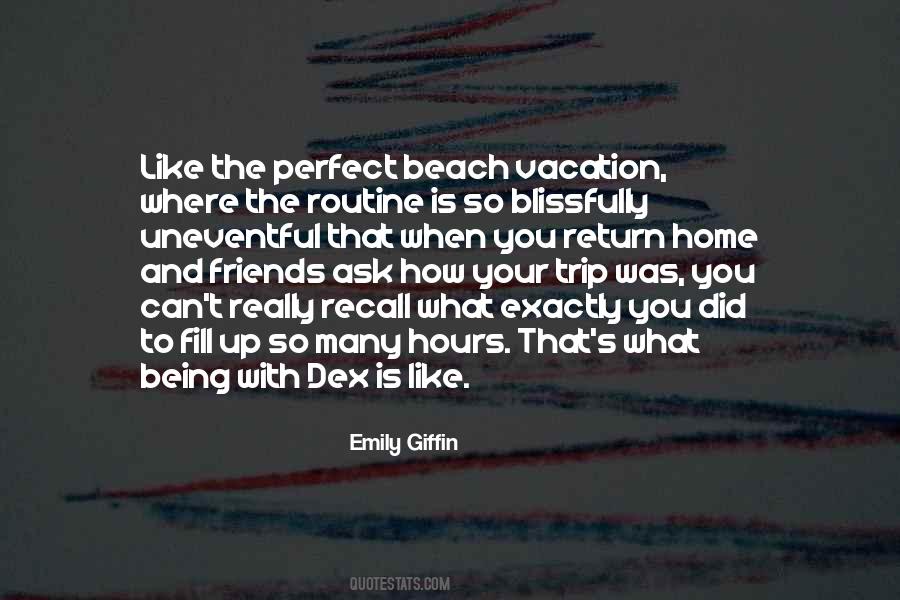 #13. To me you were home, to you I was just a vacation. - Author: Sade Andria Zabala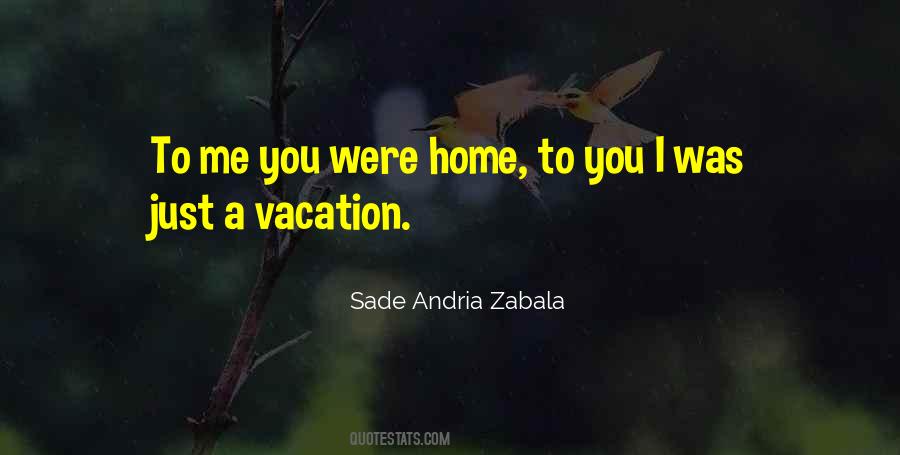 #14. Sexual tension is like a ruthless pigeon. Feed it once and it will follow you around forever. It never tires or goes on vacation. It just lingers. - Author: Chelsea Fine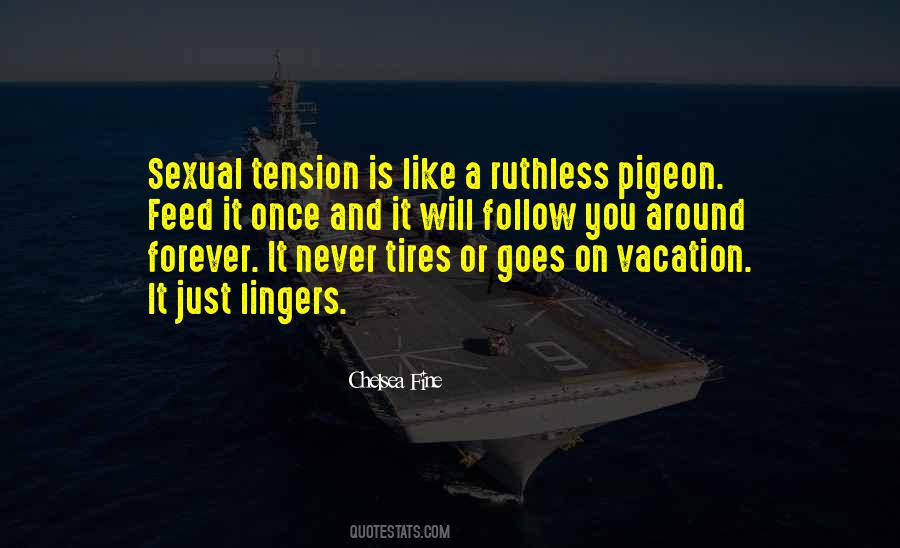 #15. Photography is there to construct the idea of us as a great family and we go on vacations and take these pictures and then we look at them later and we say, 'Isn't this a great family?' So photography is instrumental in creating family not only as a memento, a souvenir, but also a kind of mythology. - Author: Larry Sultan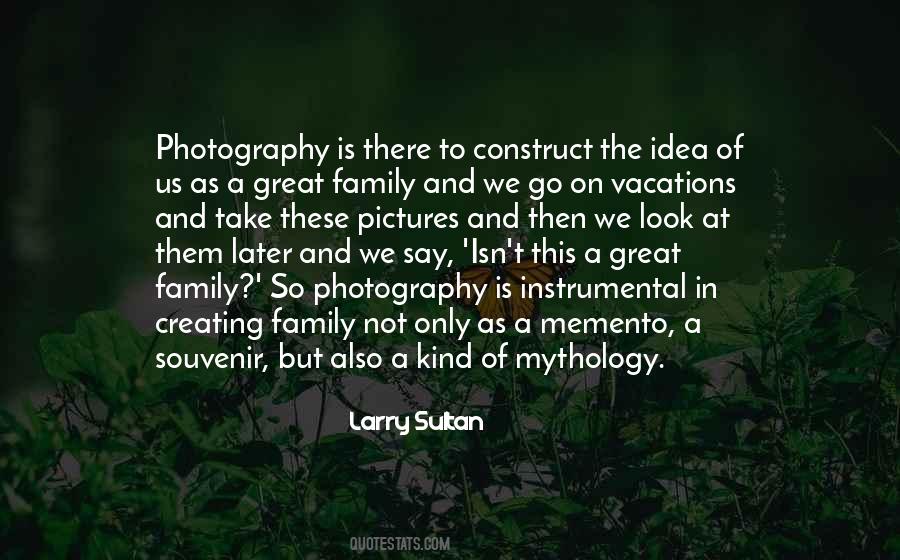 #16. I usually work seven days a week and rarely take vacations, which is both lame and unsustainable. I don't mind the idea of writing seven days a week, I suppose. Getting some work done early in the morning. But ideally I would love to take one day a week off. - Author: Brad Listi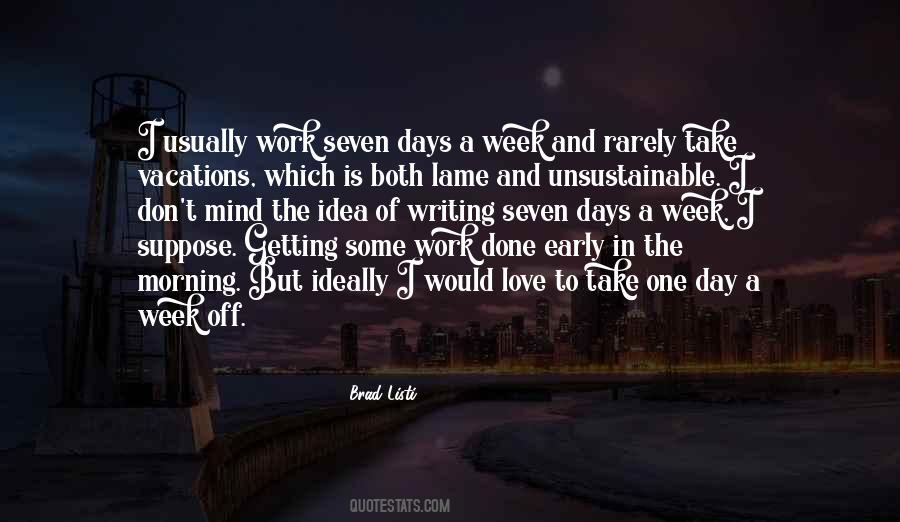 #17. Actually I brought a friend for you to meet." Ruby looked over at Kate. "Is she going on vacation here?" Kate smiled and stepped closer. "I wish I could go on vacation," she said easily. "But actually I - Author: Kirkland, Rainy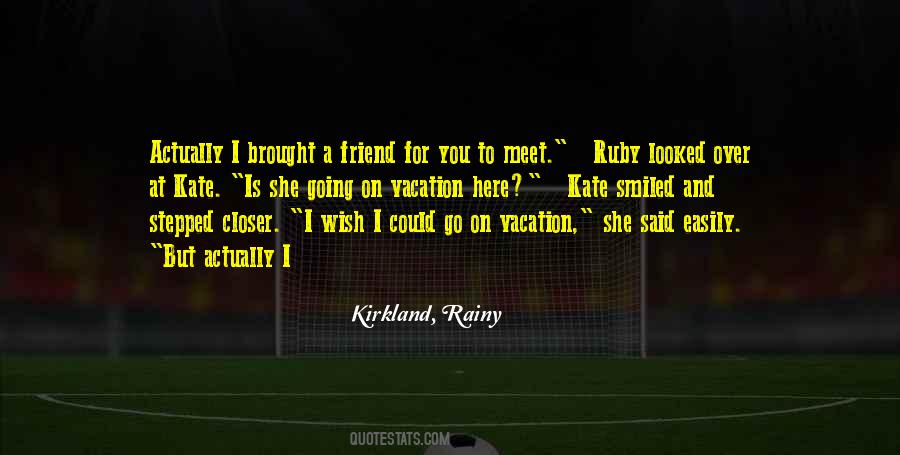 #18. The thing I love most about going on vacation is that I get to leave behind any kind of schedule. My entire life is scheduled from morning to night, and when I'm on vacation, there is no schedule. - Author: Kelly Clarkson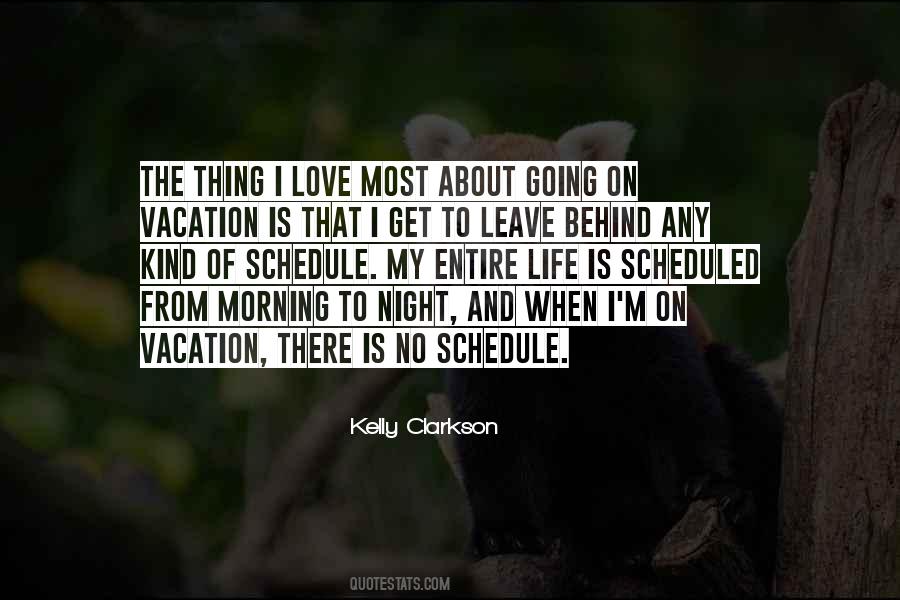 #19. Around the holidays, or anytime I'm going on vacation, I try to bump up my cardio or lose a pound before leaving. - Author: Stacy Keibler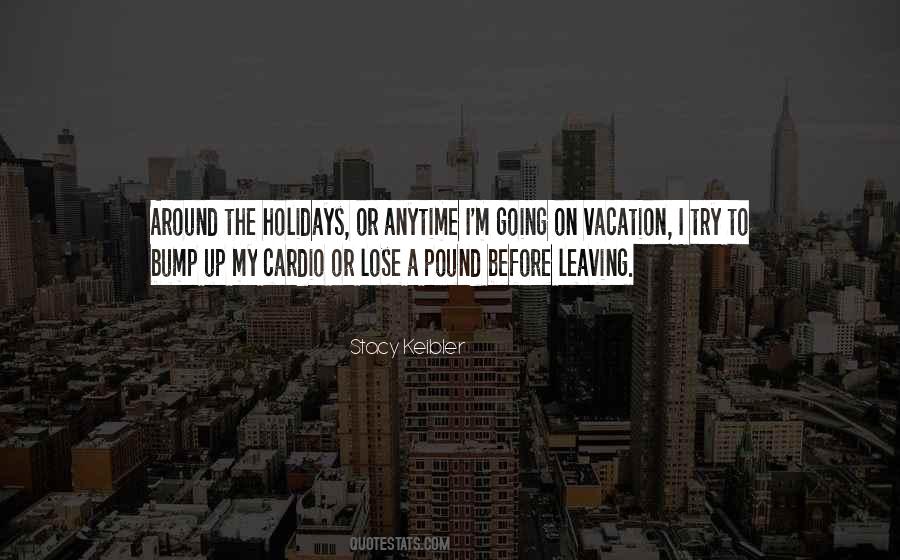 #20. The second book was probably the result of the relationship I was in at the time. We were only going to be compatible for a minute, and I think we both knew it. It's like how you can be a different person on vacation, but you know all along you're just visiting that mindset. - Author: Andrea Seigel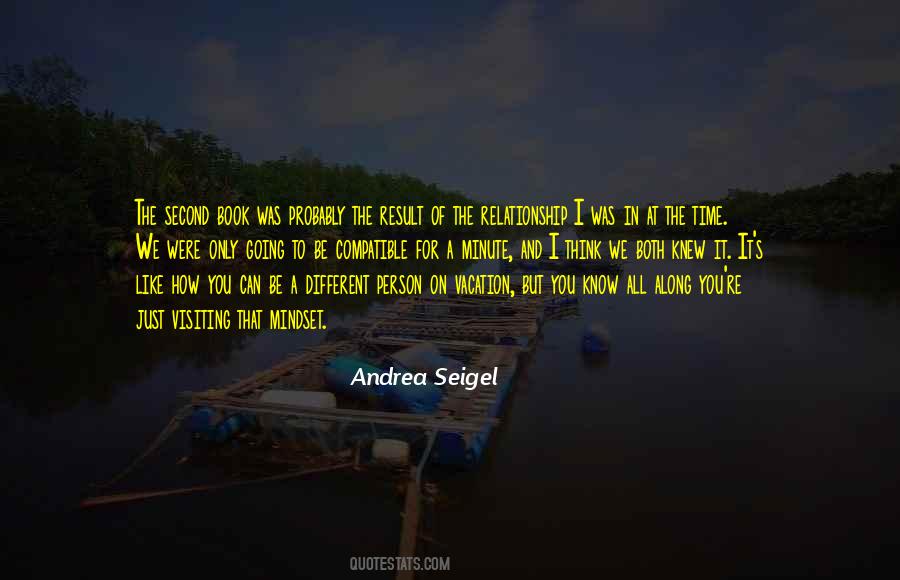 #21. Half the time on vacation, if I'm in a bikini, I allow myself - I eat, like, waffles and pancakes for breakfast, so that's me after, like, a big meal. I'm not the one that's like, 'Oh my gosh, I'm going to be on the beach.' - Author: Ashley Tisdale
#22. I studied at UC Santa Cruz before going on to do a grad program at UCLA. Santa Cruz was like an awesome hippie summer camp. I got to take a vacation from reality and hang out on beaches and in forests. - Author: Aaron Koblin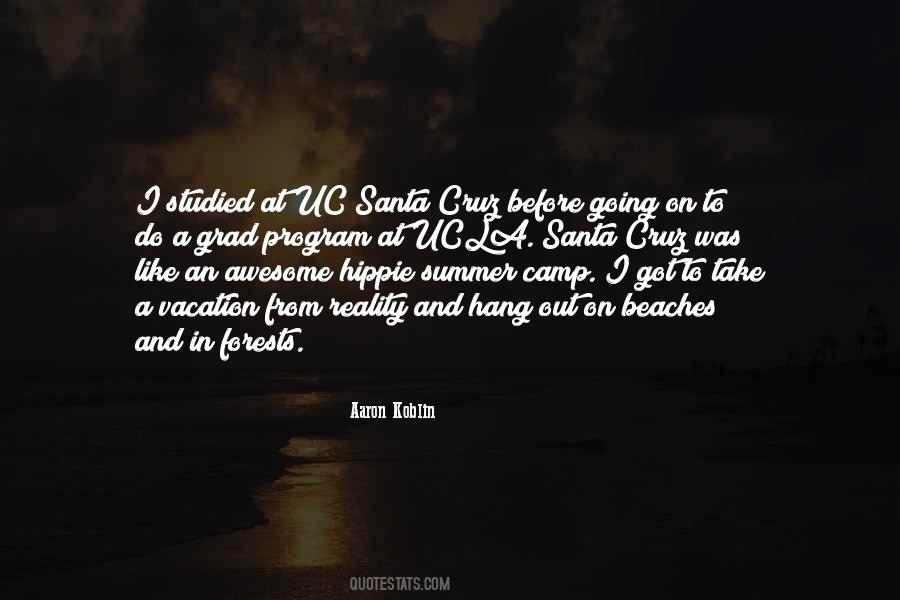 #23. Relaxing, going on vacation, sleeping, having fun when I want, golfing when I want, do whatever I want - I am going to enjoy it. - Author: Landon Donovan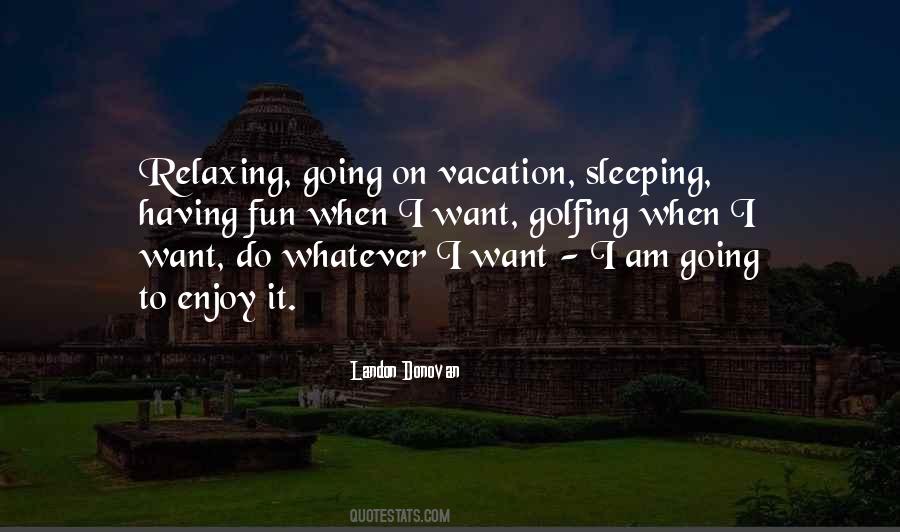 #24. By late 1953, going to New York on vacation, I had lined up several Time Inc. interviews - and what they did was give me a lifelong appreciation of the importance of luck in getting a job. - Author: Carol Loomis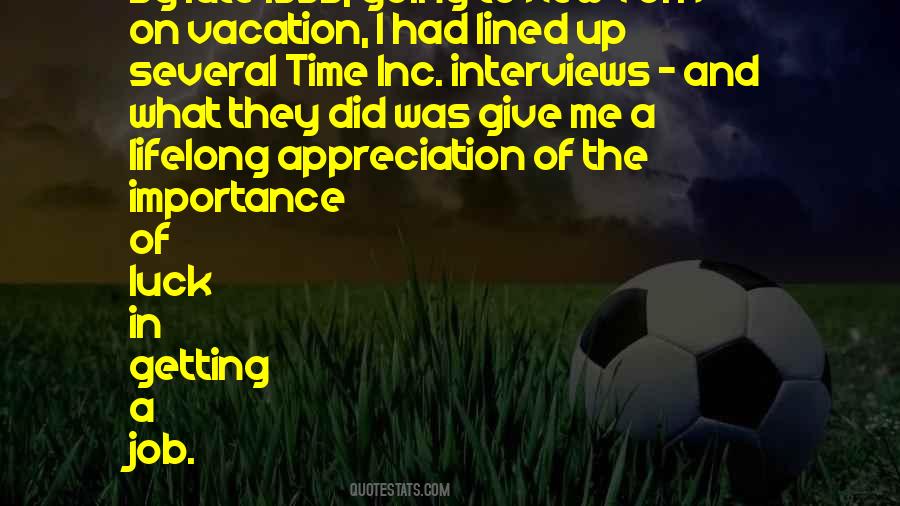 #25. I'm slightly distracted with how this happy little vacation on the good ship Holy Shit is going to pan out for me. - Author: J.R. Ward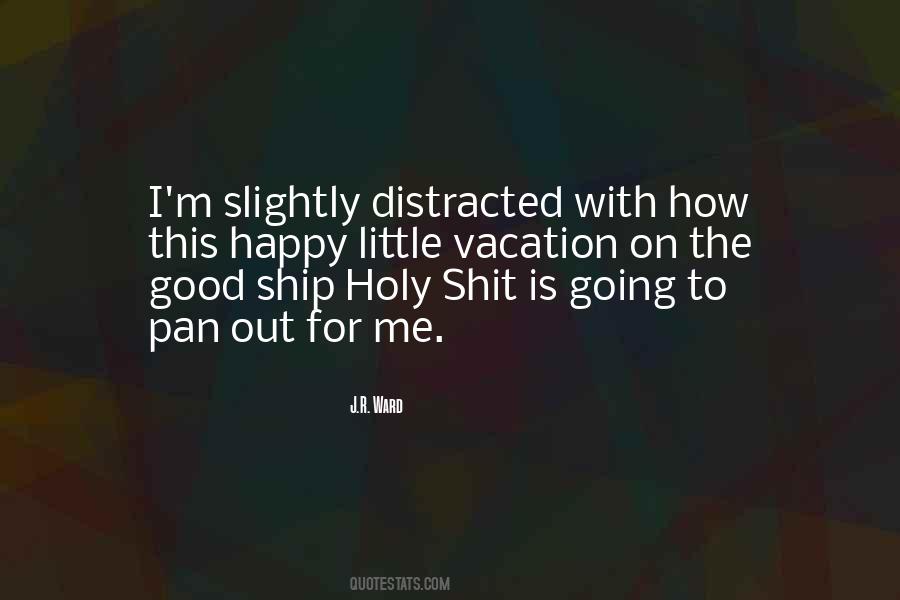 #26. I'm going to go away on vacation, I'm going to try to get away from the phone, away from scripts. I think it's important to sit back and think about what you want. - Author: Parker Stevenson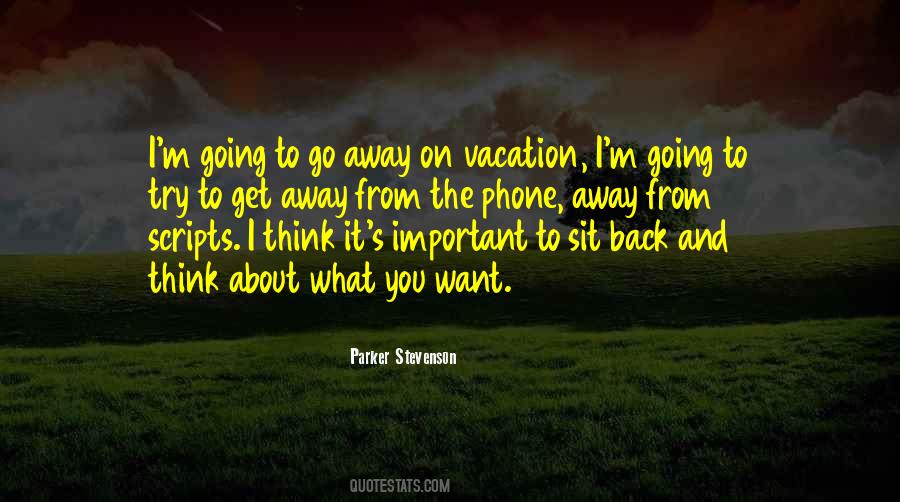 #27. Zane sighed. "I was so hoping this would be a normal vacation."
Ty smacked him on the side of the head. "Don't use bad words. - Author: Abigail Roux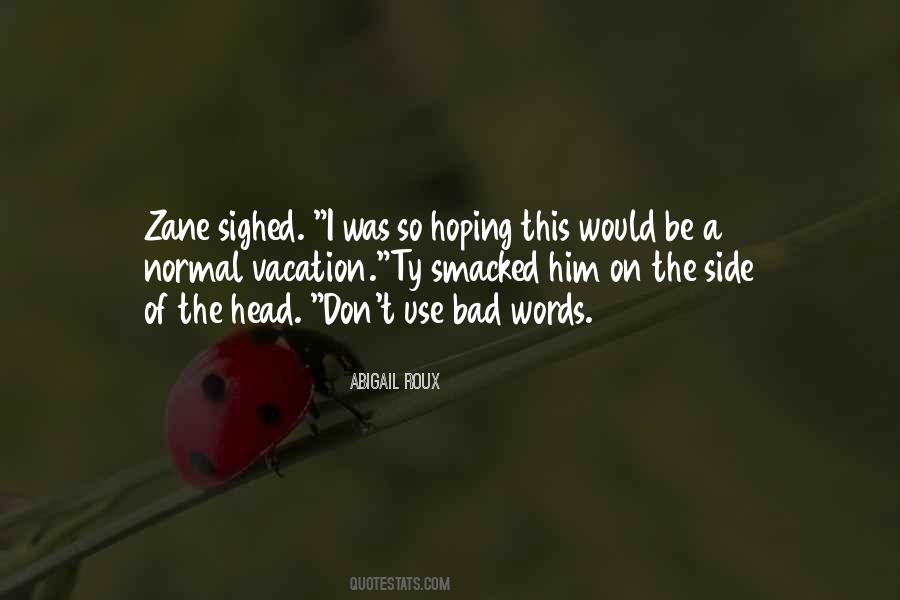 #28. I definitely have an eye on doing more work in features and playing different characters, but I am also a big fan of going on vacation and playing golf and going to the beach. With anything, it's about finding the balance. - Author: Bailey Chase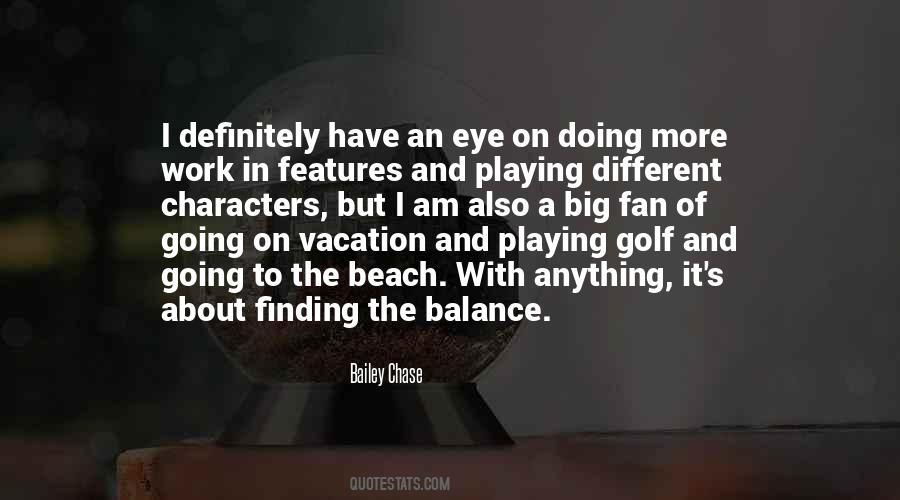 #29. I can't picture going to a beach, or anywhere on vacation, without a couple of books as companions. - Author: Rosecrans Baldwin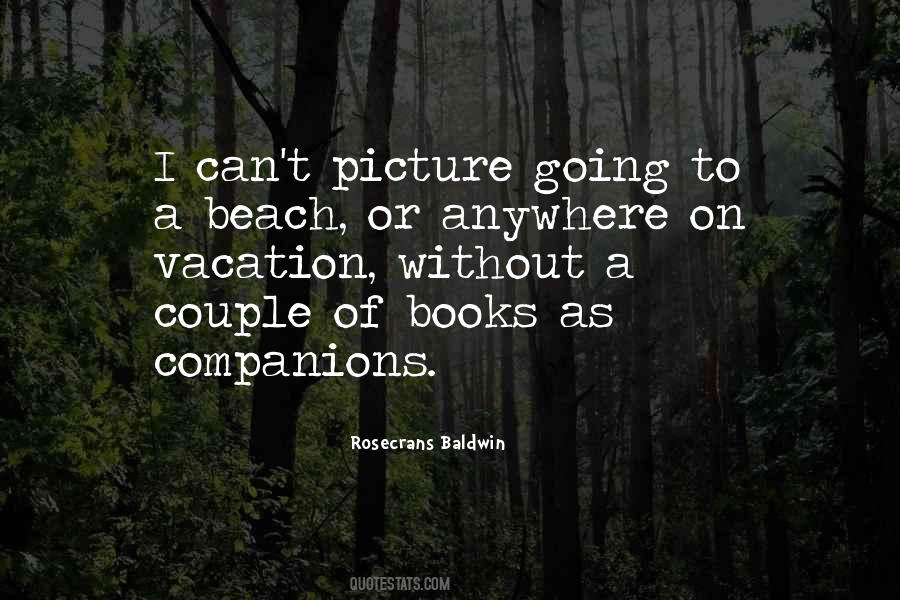 #30. I told Leonard, in the immortal words of Tom Cruise in Mission Impossible 2, 'I'm going on vacation. If I tell you where I'm going, then it won't be a vacation.' - Author: Shaquille O'Neal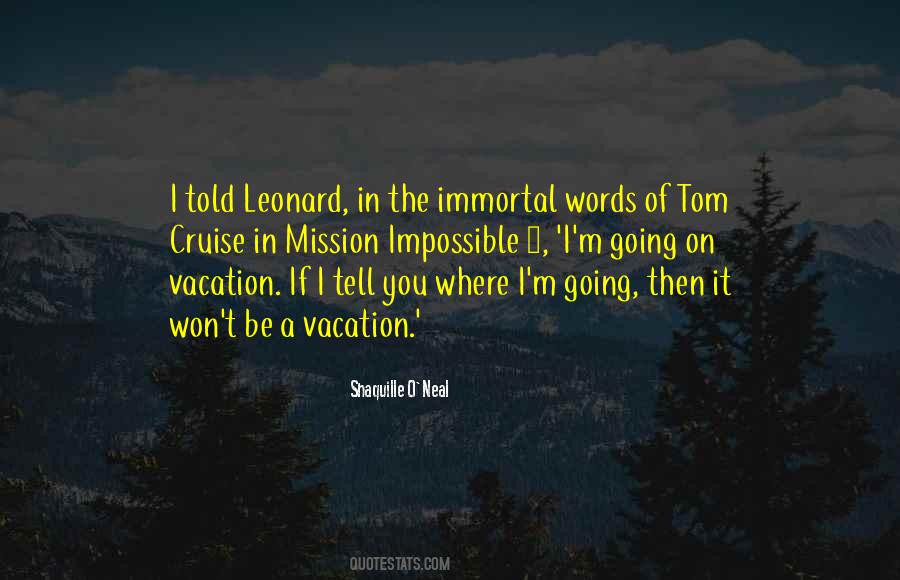 #31. You're not on vacation, Bluelick. No sitting still while I do all the work. I'm going to give you my tongue again. This time I expect you to use it. We're going right to the edge, but not over. Understand? - Author: Samanthe Beck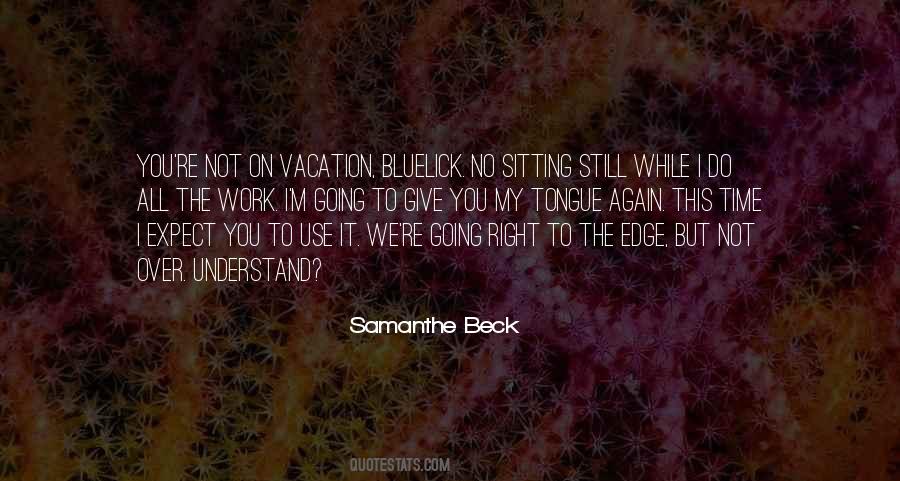 #32. The readers are the ones who let us live our dreams. I try to write books which are really compelling - that you'd take on vacation and rather than going out, you'd read in your hotel room because you had to find out what happened. Hopefully that's what readers are responding to. - Author: Harlan Coben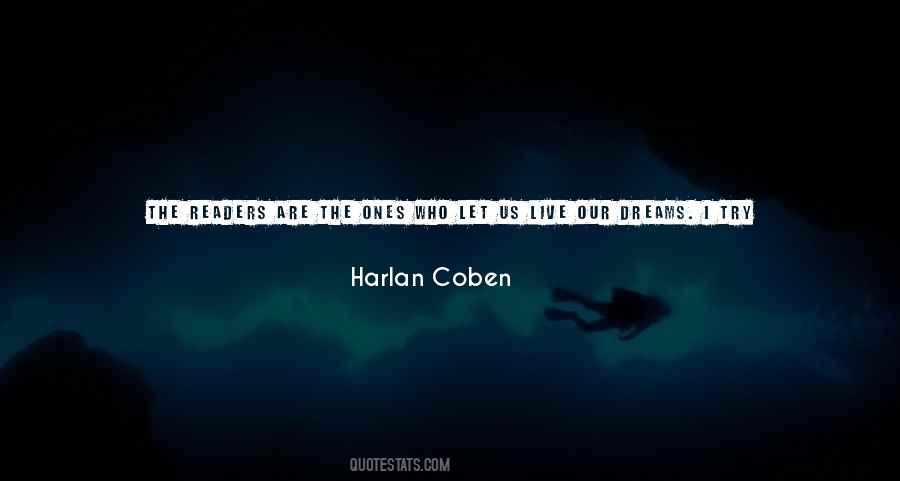 #33. I've talked to a number of actors who have gained weight for roles, and just the sheer physical toll it puts on one's knees and shoulders - no one wants to do it again. I'm 57 and I don't think I'm going to take on any job or go on vacation again and see to it that I can gain 30 pounds. - Author: Tom Hanks
#34. I was sitting at a friend's place in Michigan on vacation, having a beer on the patio. I was a little hefty. I said to myself: "Okay, I'm going to finish this weekend off strong, then after that I'm going to shut her down. I'm going to start taking better care of myself." - Author: Chris Pronger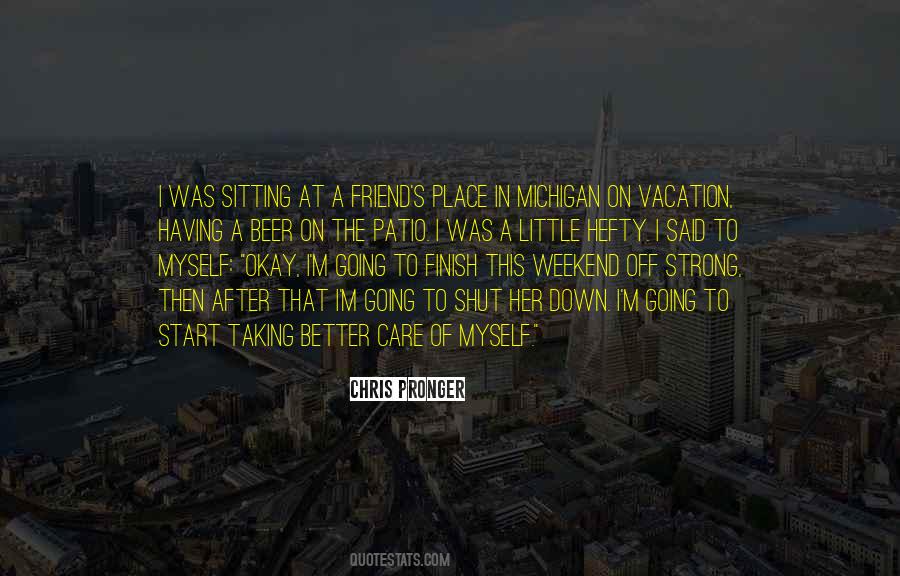 #35. Every time I'm home, it's like a vacation, but I've been playing in bands since I was 11. I guess our goals were always small goals. It started off my goal was just to be in a band. Then it was to have a drummer that would show up. - Author: Brittany Howard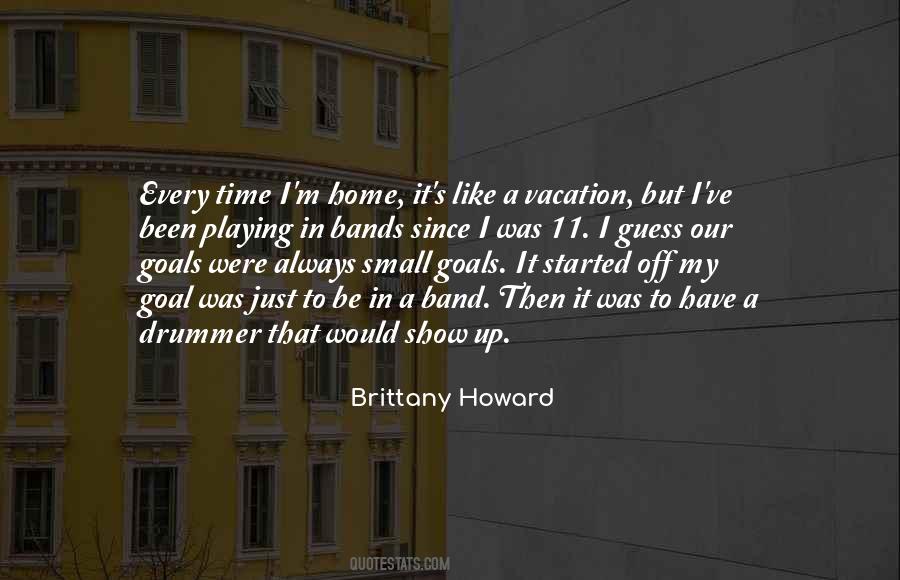 #36. This is the strangest family vacation ever," Liam said. - Author: Deborah Blake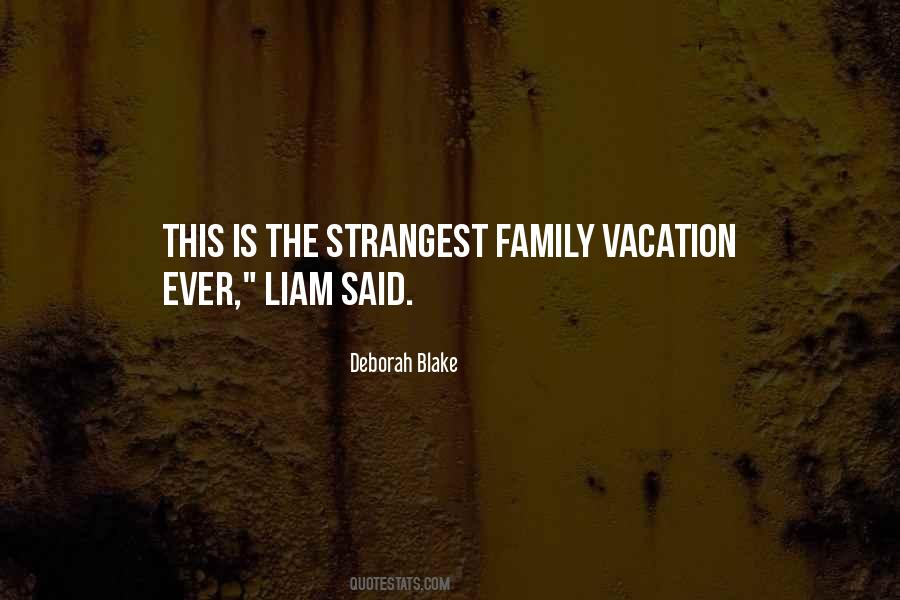 #37. Remember when vacation photos meant toting along a bulky camera? - Author: Peter Diamandis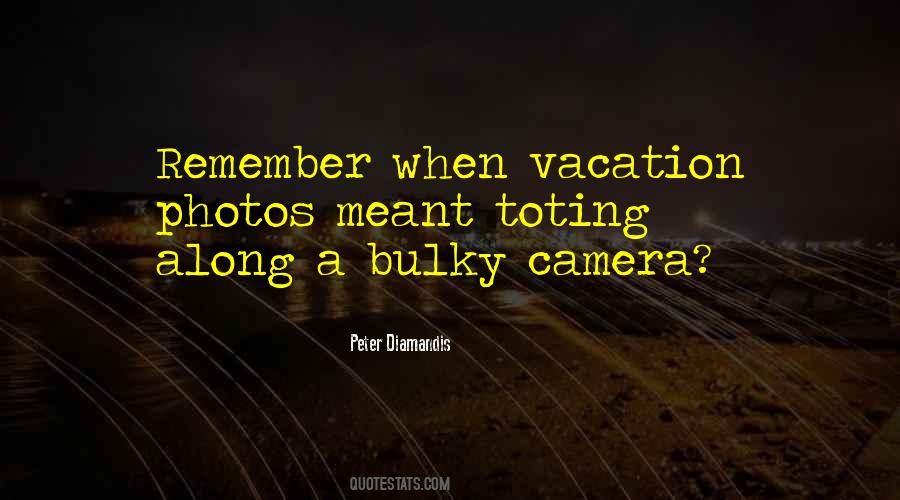 #38. People are suspicious of single men on vacation, after they get to a certain age: they assume that they're selfish, and probably a bit pervy. I can't say they're wrong. - Author: Michel Houellebecq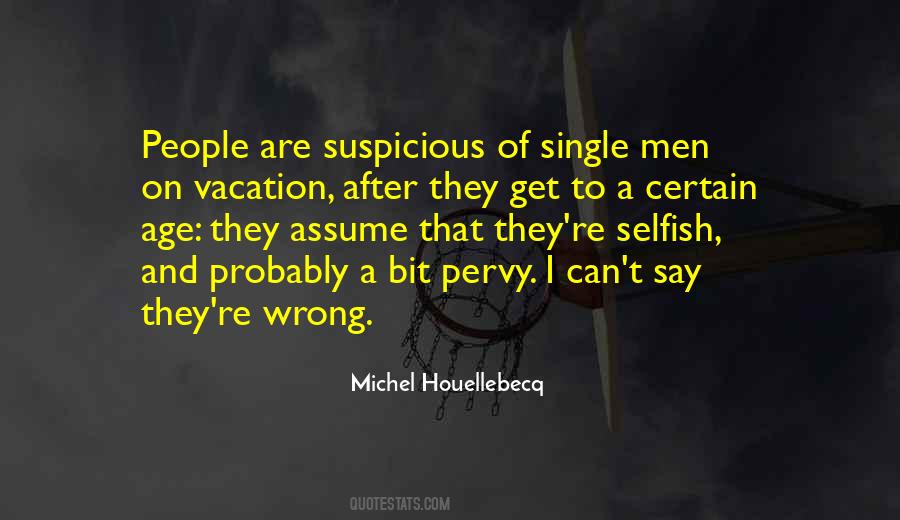 #39. There's a lot of pressure, and it's a long battle, to coach at the elite level. My wife and I didn't take a vacation for 10 years. - Author: Liang Chow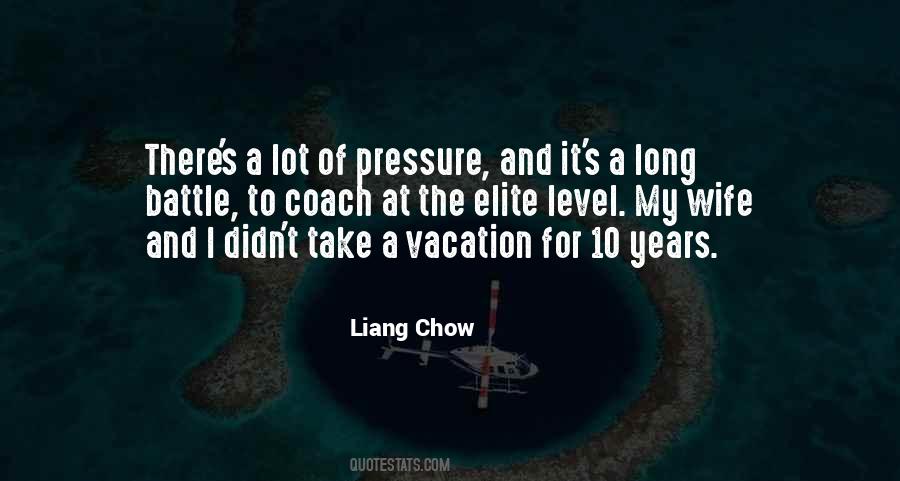 #40. Our lives are structured by our memories of events. Event X happened just before the big Paris vacation. I was doing Y in the first summer after I learned to drive. Z happened the weekend after I landed my first job. We remember events by positioning them in time relative to other events. - Author: Joshua Foer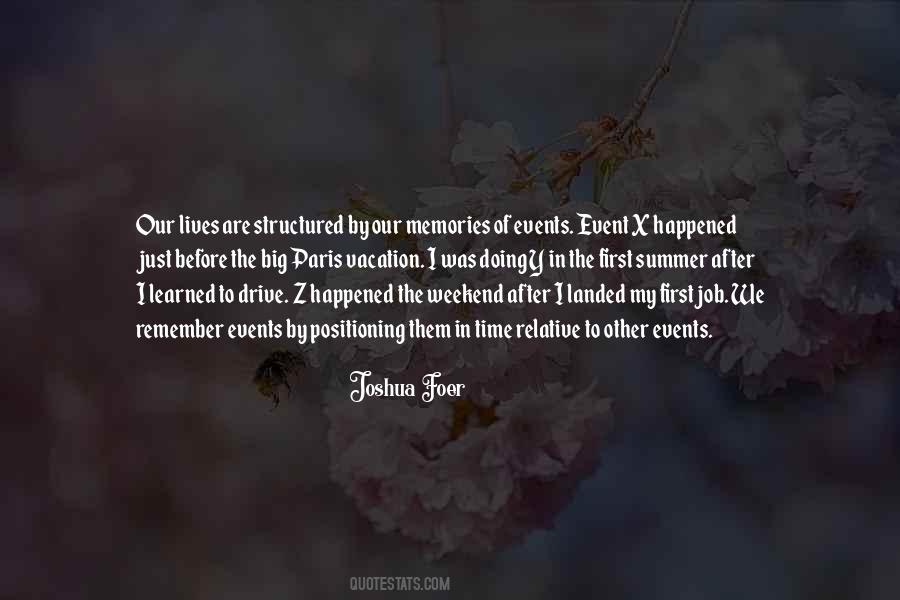 #41. I go to Japan every November on vacation, and the one thing I never return home without is yuba, which is the thin skin that forms atop boiling soy milk. You skim it off and either eat it fresh or dry it. - Author: Hanya Yanagihara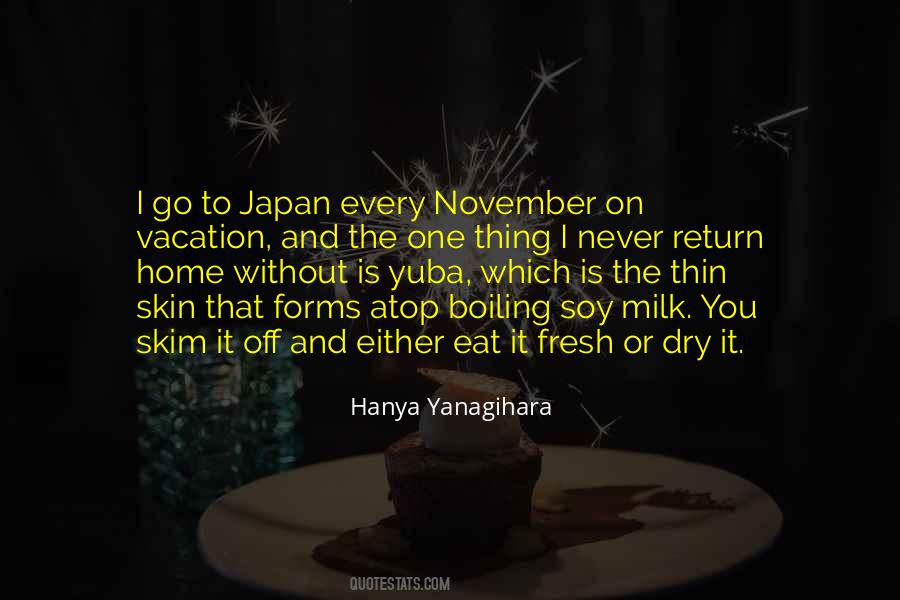 #42. Though most tourists accepted the occasional comic misadventure, it was important to them that overall their vacation should be pleasant. When you spend money on a holiday you are essentially purchasing happiness: if you don't enjoy yourself you will feel defrauded. - Author: Alison Lurie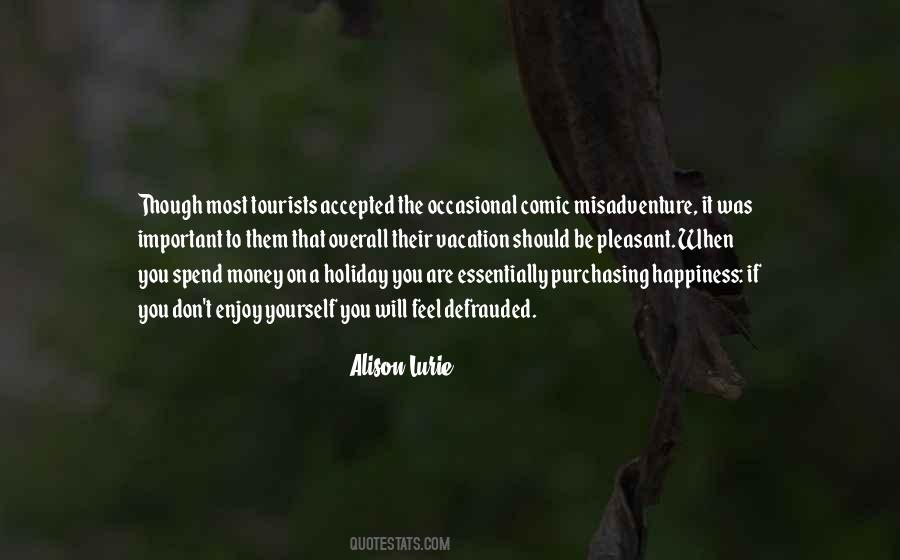 #43. When you look at a flower with an appreciative heart and get lost in the magical beauty, you really get a vacation from the everyday stressful life. - Author: Debasish Mridha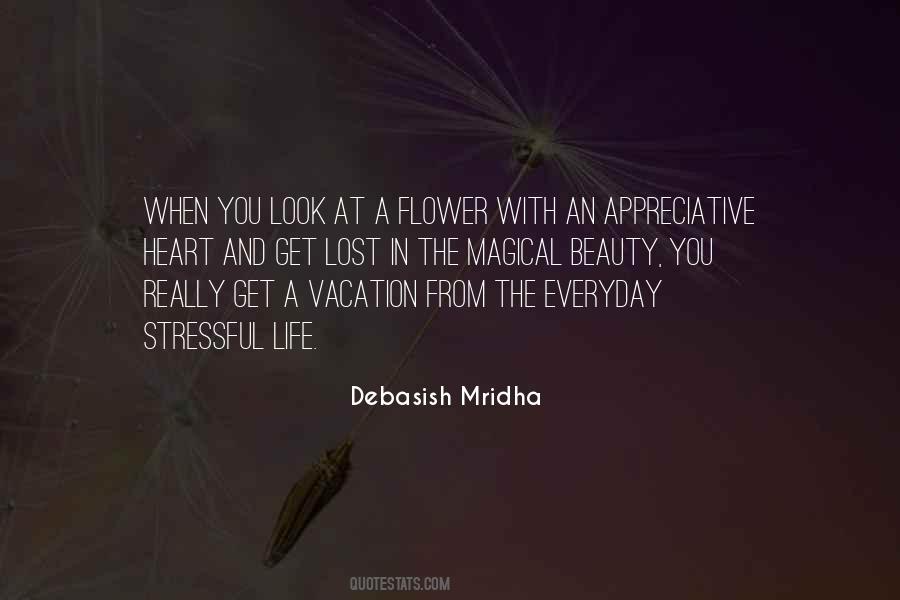 #44. In the technology industry, a 48 hour work week would be, for most, a vacation. - Author: Jason Calacanis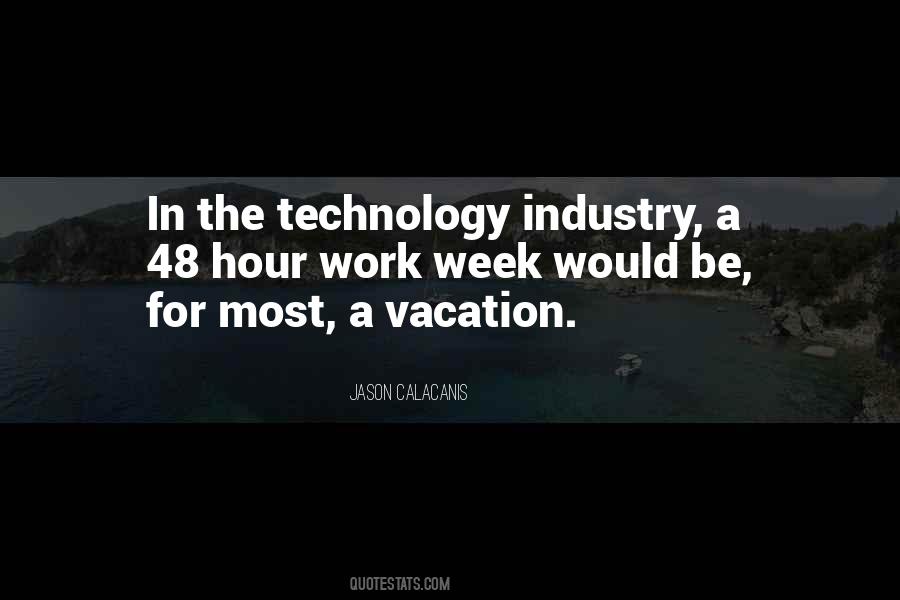 #45. Every voyage is a new glorious experience. - Author: Lailah Gifty Akita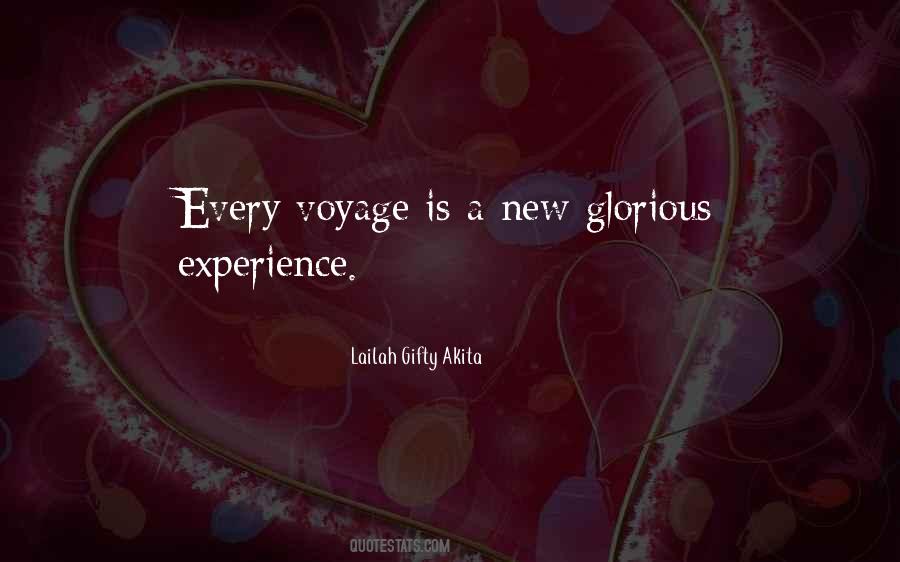 #46. Laughter erupted from her belly and shot out her mouth like pigeons through an open cage door, schoolchildren bursting into summer vacation, water from a tapped hydrant. - Author: Dennis Vickers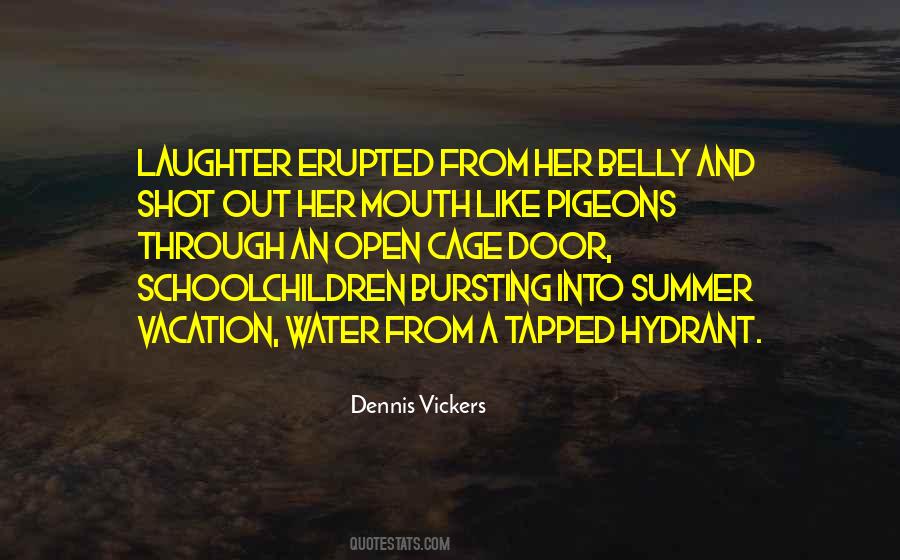 #47. Submission was such a nice mini-vacation, in that respect, a pleasure cruise through sex with heightened senses and emotions, and no thought to the outside world until. - Author: Abigail Barnette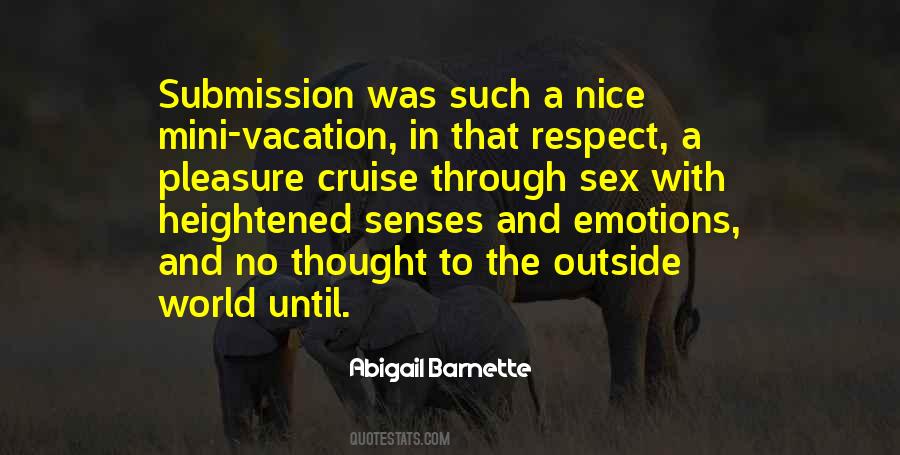 #48. Then the concerts came to an end, the weather turned bad and my girls left Balbec, not all at once, as the swallows leave, but within the same week. - Author: Marcel Proust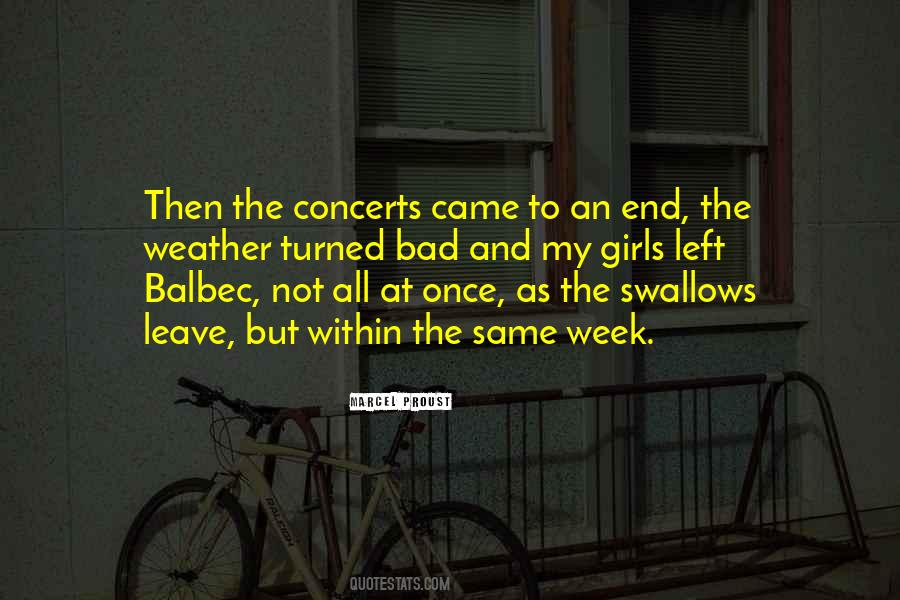 #49. I am a disaster magnet. I came home from our first anniversary vacation with jellyfish stings, a puncture wound from a wrought iron pineapple and a cork-shaped bruise in my cleavage. - Author: Molly Harper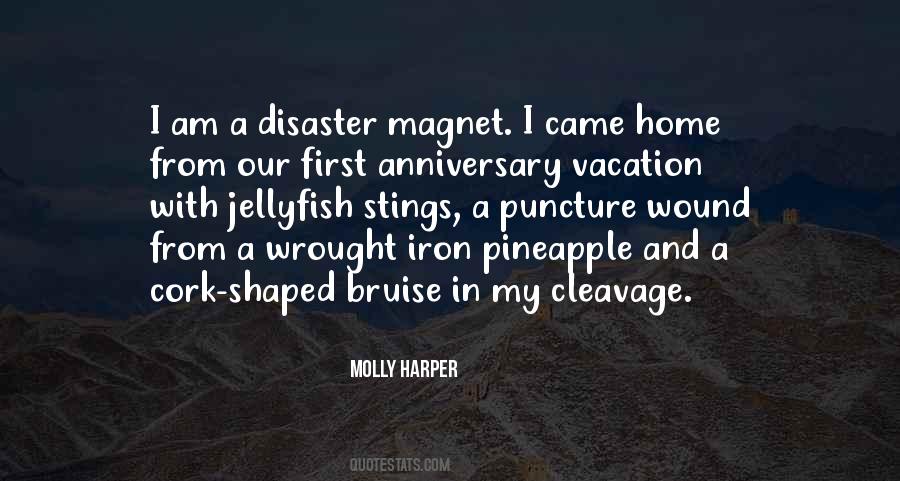 #50. Relax and renew your mind. - Author: Lailah Gifty Akita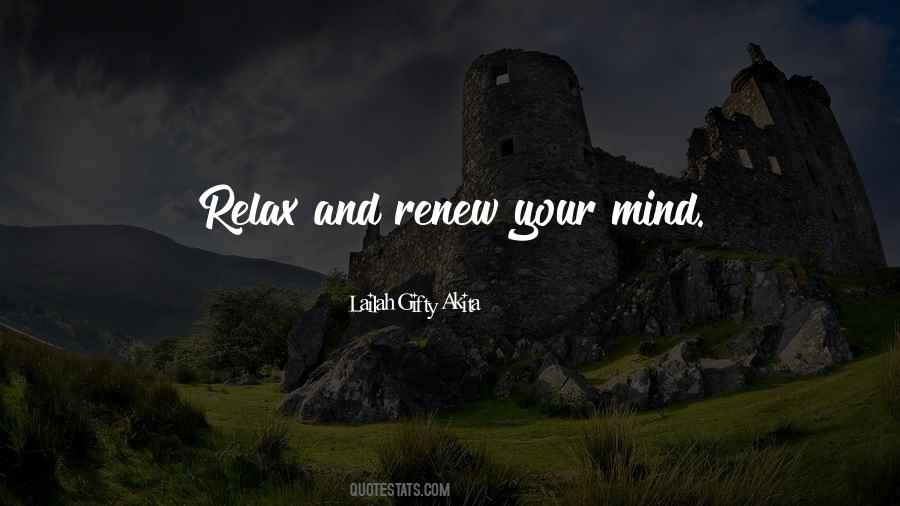 #51. I'm a one-hundred-percent, made-in-Florida, dope-smugglin', time-sharin', spring-breakin', log-flumin', double-occupancy discount vacation. I'm a tall glass of orange juice and a day without sunshine. I'm the wind in your sails, the sun on your burn and the moon over Miami. I am the native. - Author: Tim Dorsey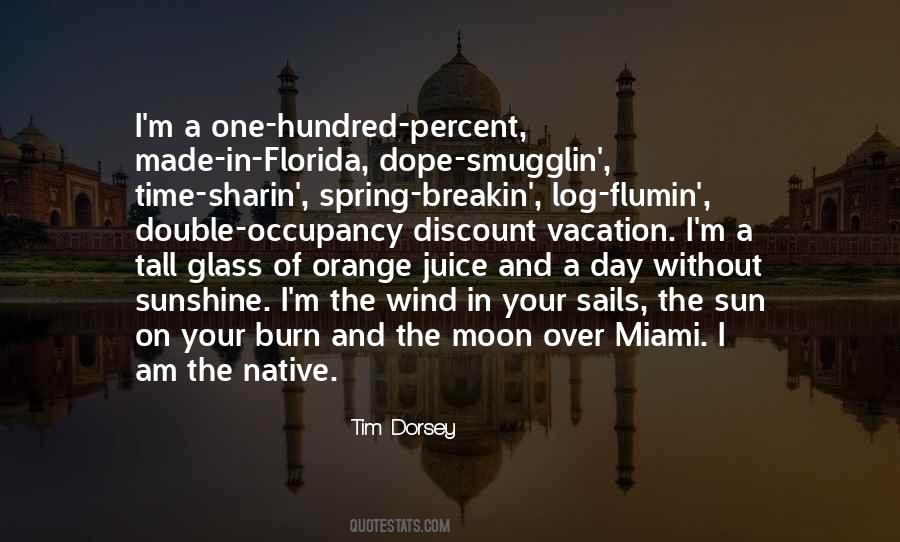 #52. Everyone has the right to go on a vacation without kids if they want. - Author: Laura Schlessinger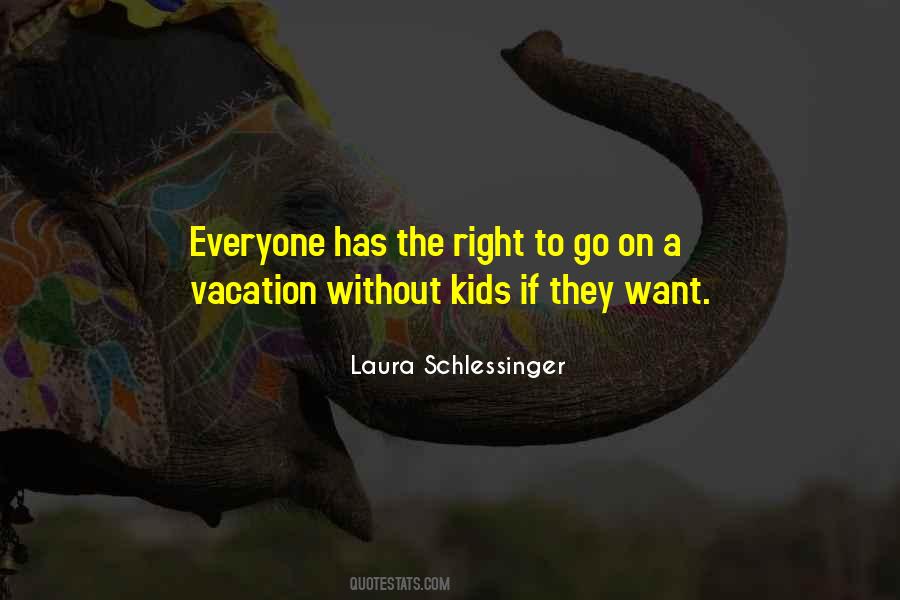 #53. Unless you're under 12 or into role playing, you shouldn't be wearing Mickey Mouse ears #AHOLE - Author: A.O. Storm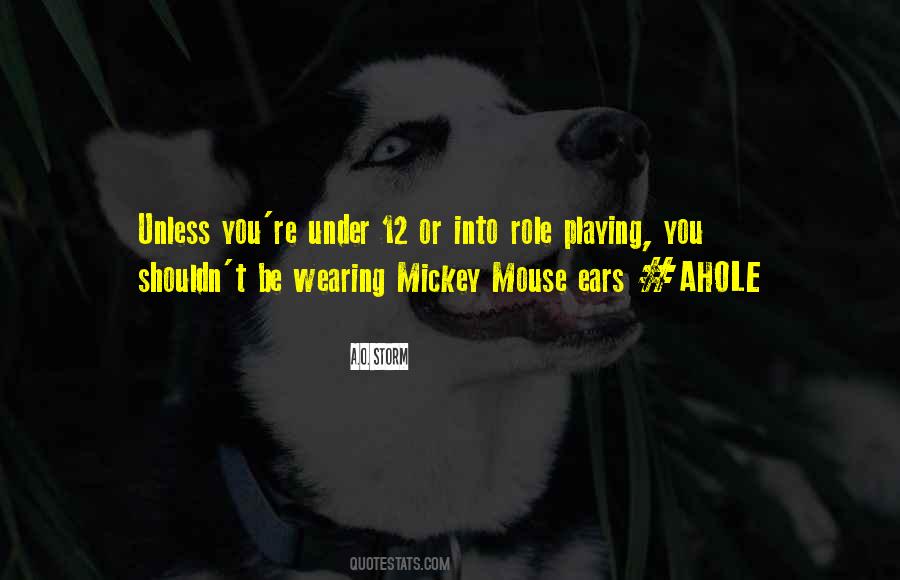 #54. Ibiza is a popular vacation place for a lot of the players in Spain. If you go in the summer, there are some of the world's most famous movie and music stars, so nobody cares about soccer players. - Author: Xavi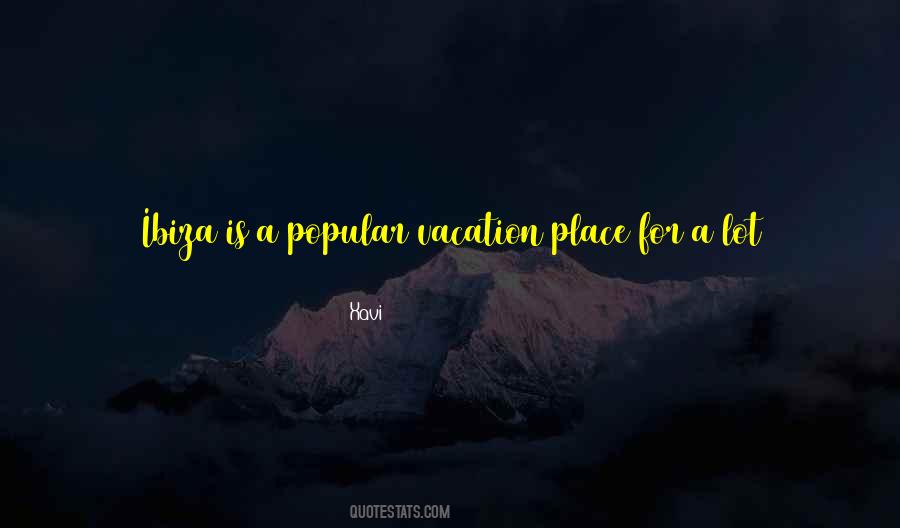 #55. My dad was a telegraph operator for the Cotton Belt Railroad. He worked seven nights a week from 4 until midnight, no vacation. - Author: Johnny Gimble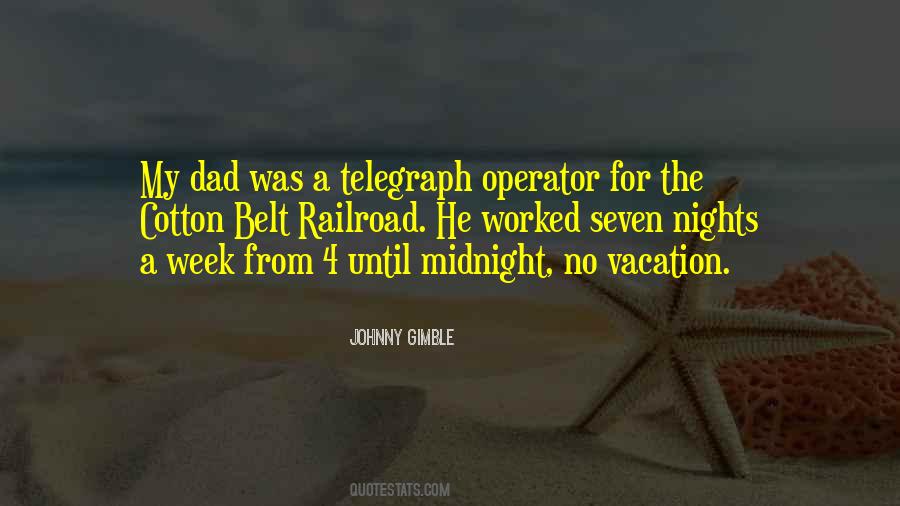 #56. Read a lot when you're on vacation, but nothing that has to do with your business. - Author: H. Jackson Brown Jr.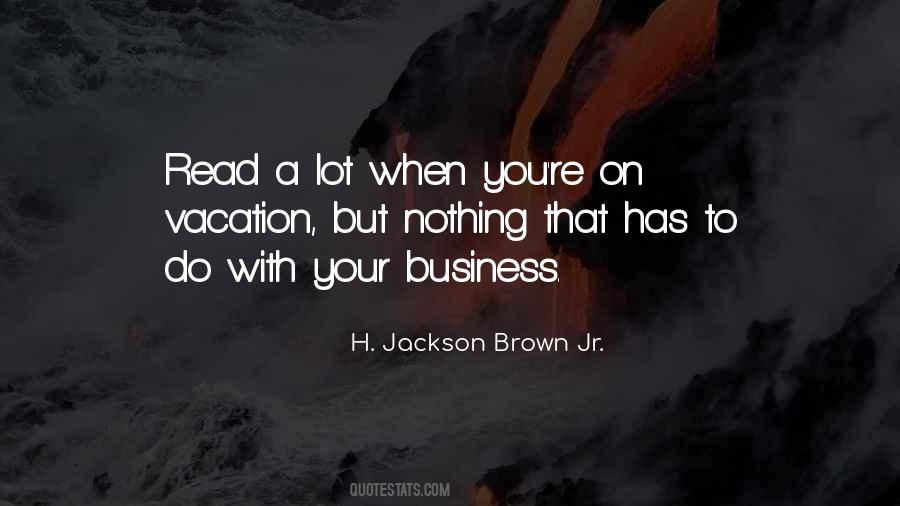 #57. Mussolini never killed anyone, he just sent dissenters abroad for vacation. - Author: Silvio Berlusconi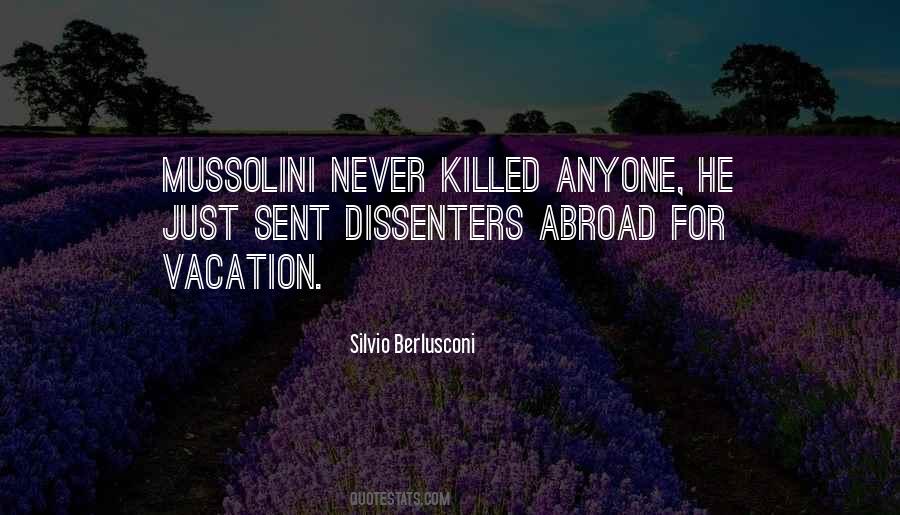 #58. Creativity is the gift that keeps on giving. - Author: Eric Maisel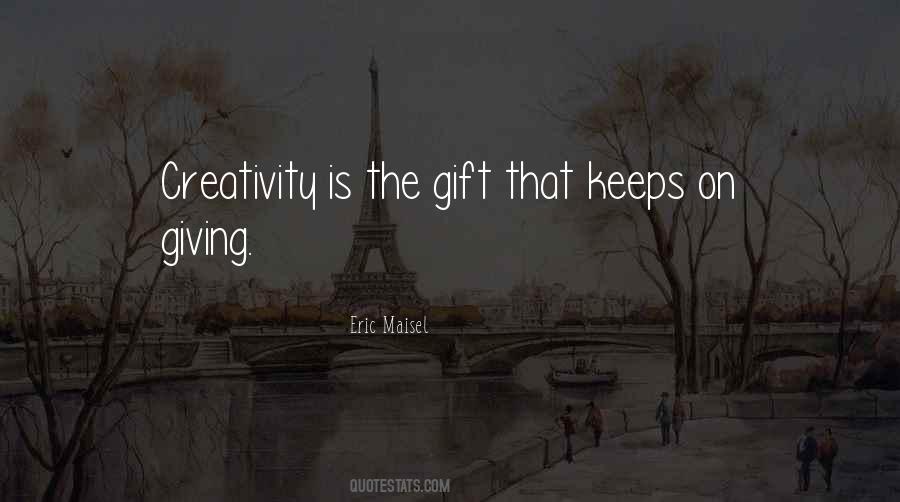 #59. I'd like to dial it back 5% or 10% and try to have a vacation that's not just e-mail with a view. - Author: Elon Musk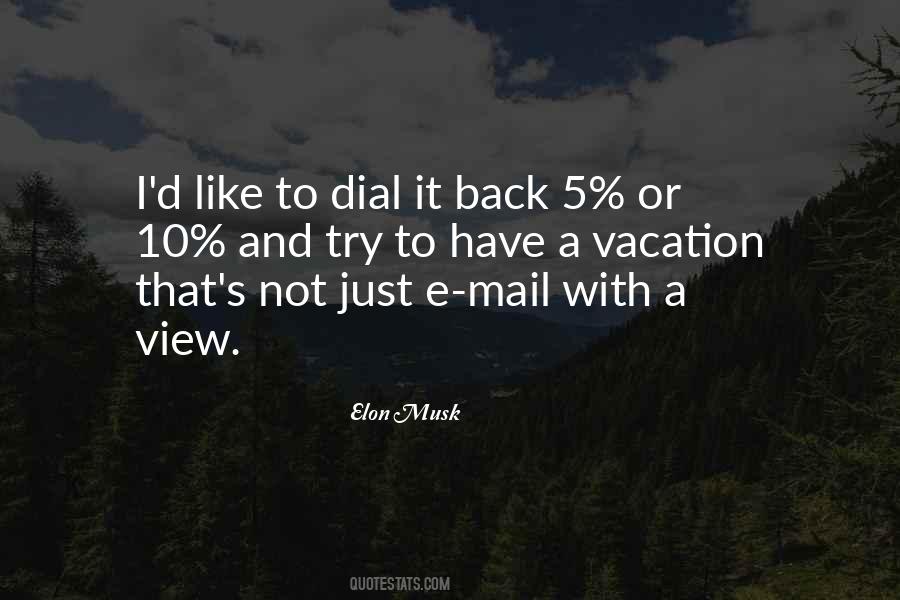 #60. The women's movement ruined a permanent vacation. - Author: Natasha Leggero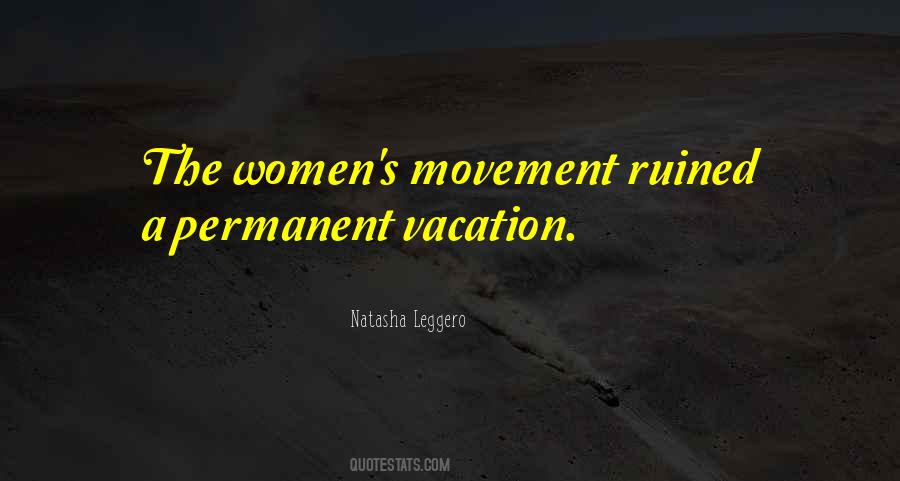 #61. I watched Ricki Lake's documentary, 'The Business of Being Born,' and that led me to call a midwife, and not an ob-gyn, when I found out I had conceived. My delivery was not easy - they call it 'labor,' not 'a vacation!' - but I was incredibly grateful that I did it that way. - Author: Sarah Wayne Callies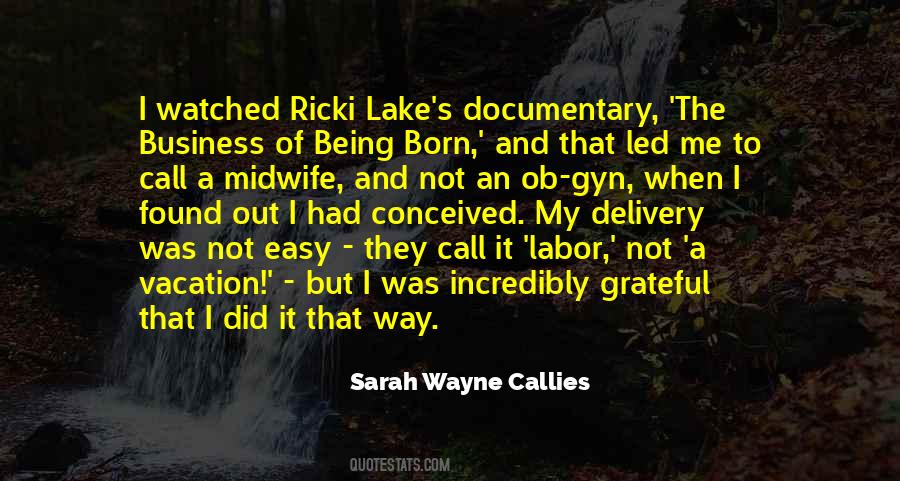 #62. That's why people take vacations. No to relax or find excitement or see new places. To escape the death that exists in routine things. - Author: Don DeLillo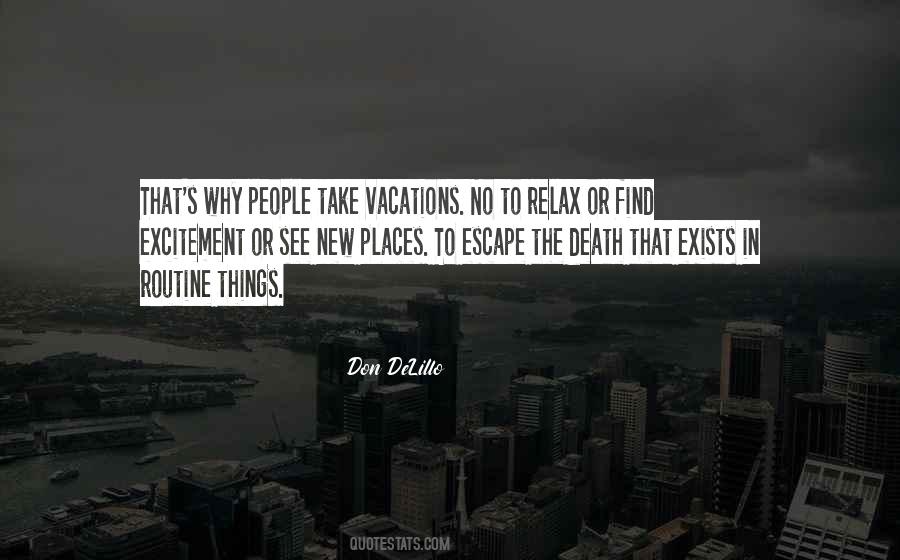 #63. Fictional realms are usually terrible places to vacation, as they tend to be full of monsters and conflicts - Narnia and Middle-earth would both be good places to get killed - but I wouldn't mind visiting the worlds of Iain M. Banks's 'Culture.' You'd just have a hard time getting me to leave. - Author: Tim Pratt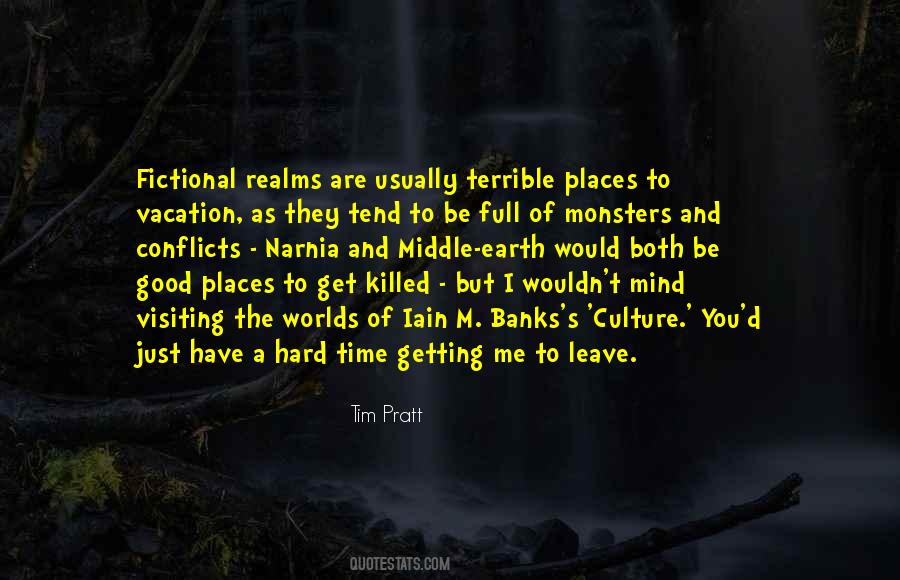 #64. I have liberal friends. They are misguided, they are wrong. I disagree with them. I don't want them to vote. I want them to go on vacation in November. - Author: Sean Hannity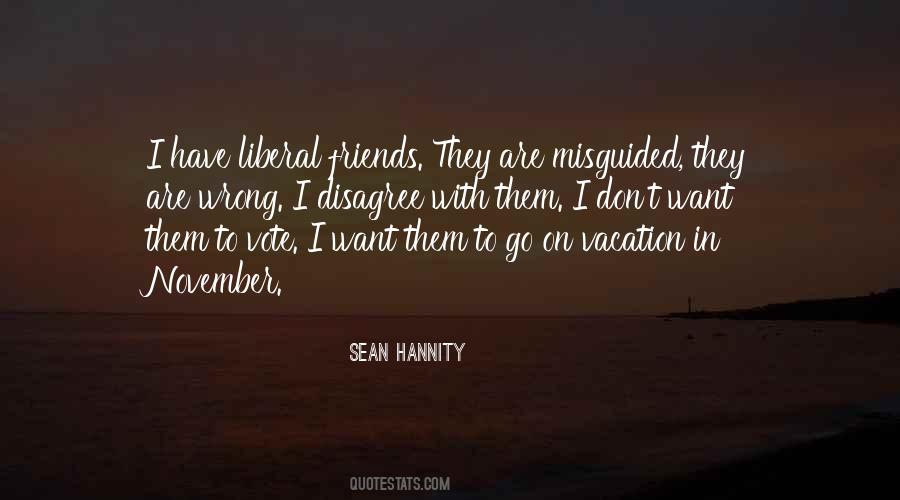 #65. They should know that just because things get difficult, it's no reason to believe God is on vacation. - Author: Harry H. Harrison Jr.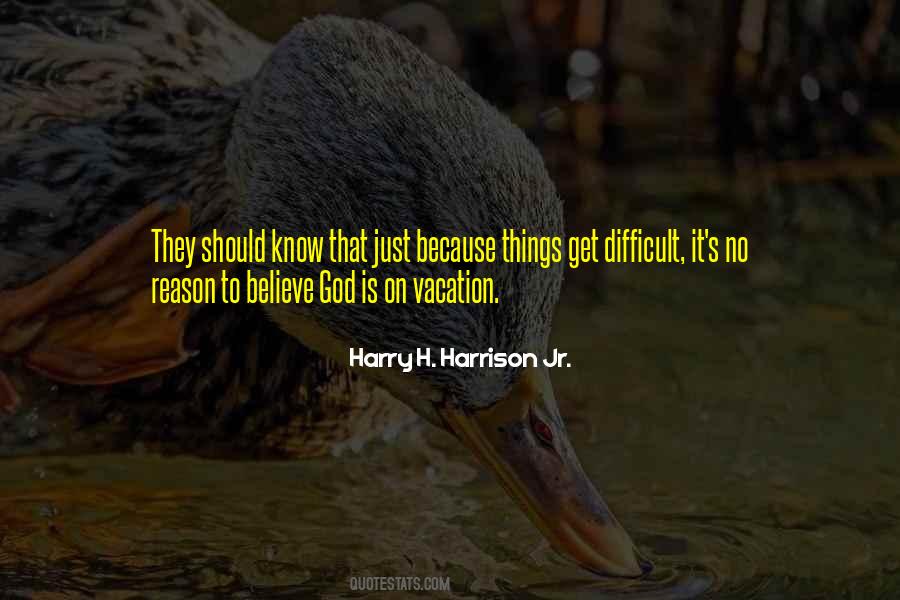 #66. I sold a bunch of stuff. I sold Omaha Steaks, vacation packages ... the worst, though, was Time Life Books, because no one wants Time Life Books. No one wants an 'Encyclopedia Brittanica' showing up at their house. - Author: Adam DeVine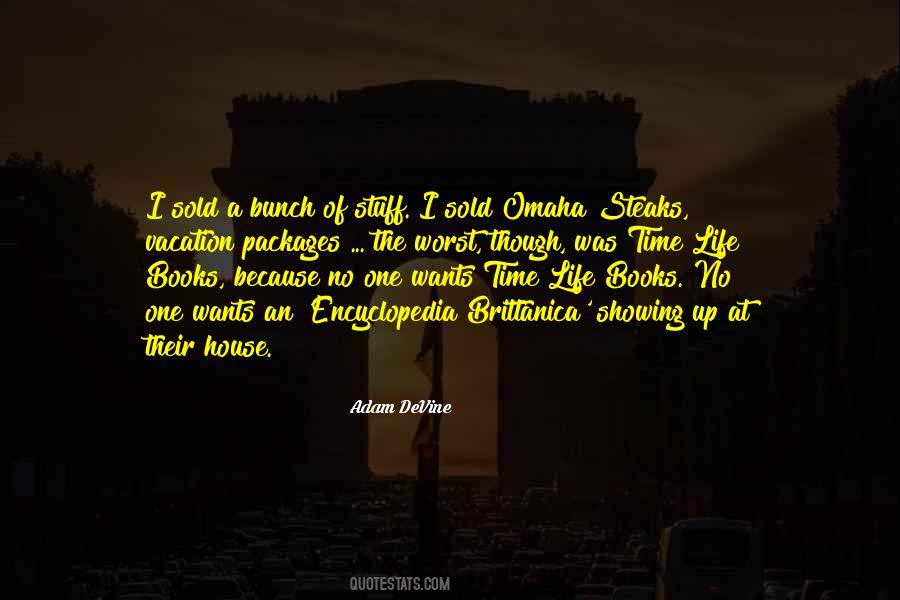 #67. Laughter is an instant vacation. - Author: Milton Berle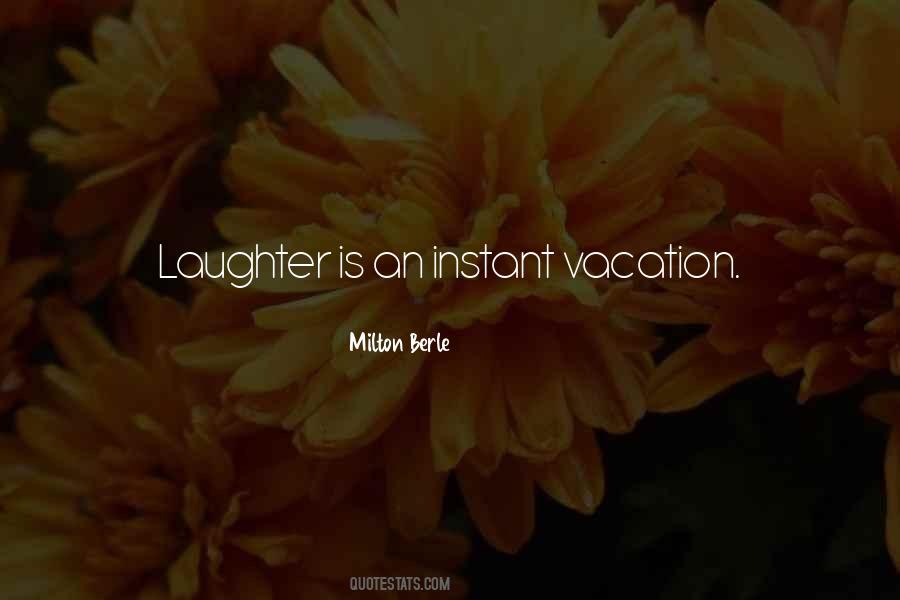 #68. The overuse of prescription drugs provides a vacation from personal responsibility. - Author: Bruce H. Lipton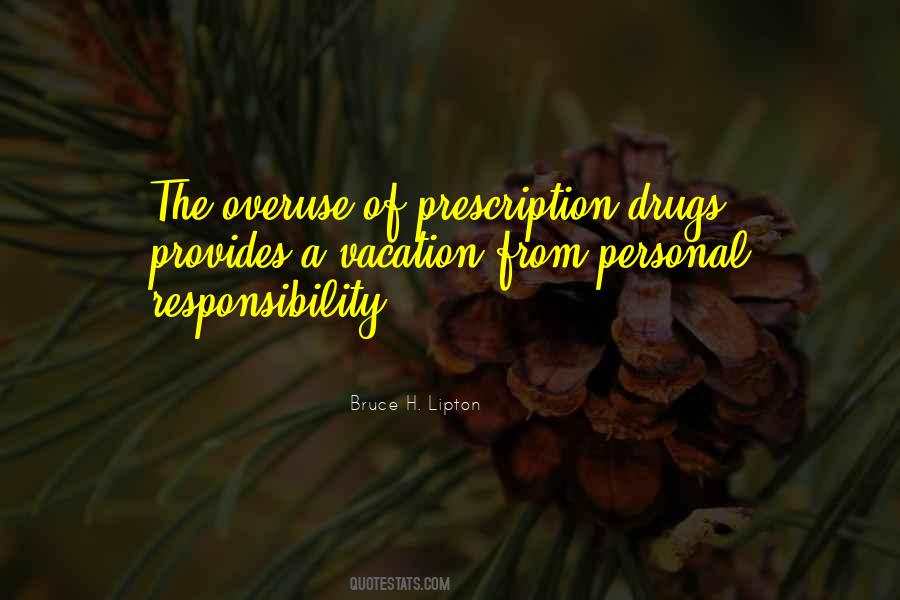 Famous Authors
Popular Topics