If You Don't Understand Famous Quotes & Sayings
List of top 100 famous quotes and sayings about if you don't understand to read and share with friends on your Facebook, Twitter, blogs.
Top 100 If You Don't Understand Quotes
#1. There's a limit that you will not be able to go past if you don't understand the importance of reading. - Author: Eric Thomas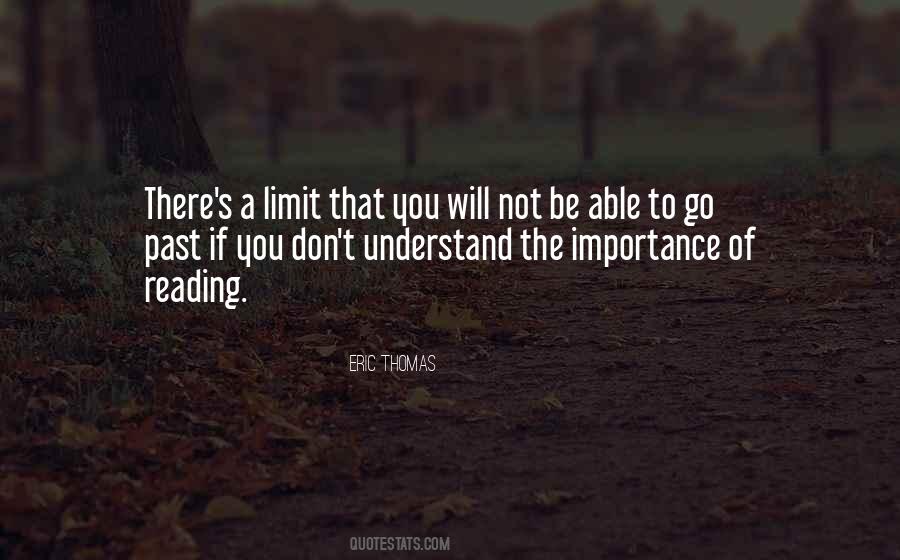 #2. If you don't believe it you won't understand it. - Author: Saint Augustine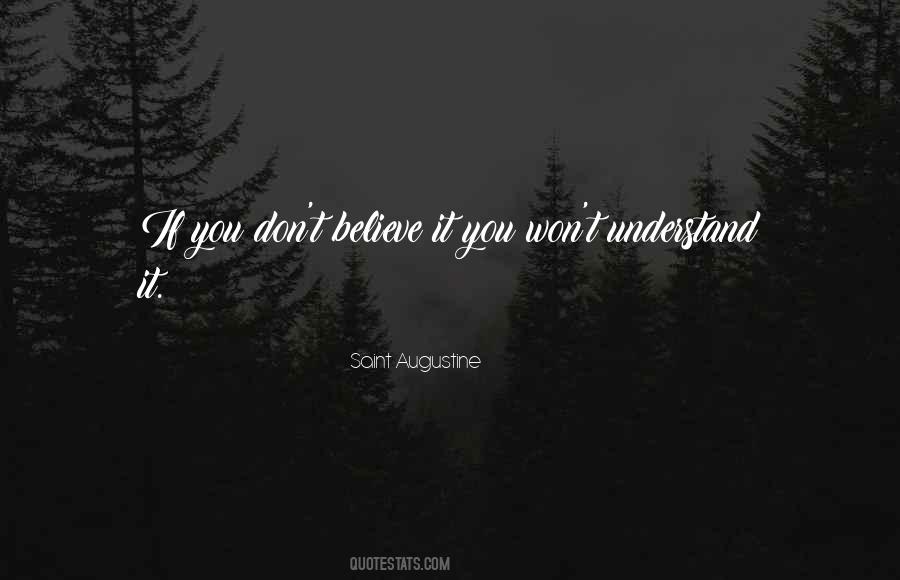 #3. A fellow's a fool when he marries who don't go to work deliberately to study and understand his wife. Women are awfully understandable if you only go at it right. - Author: Eleanor Hallowell Abbott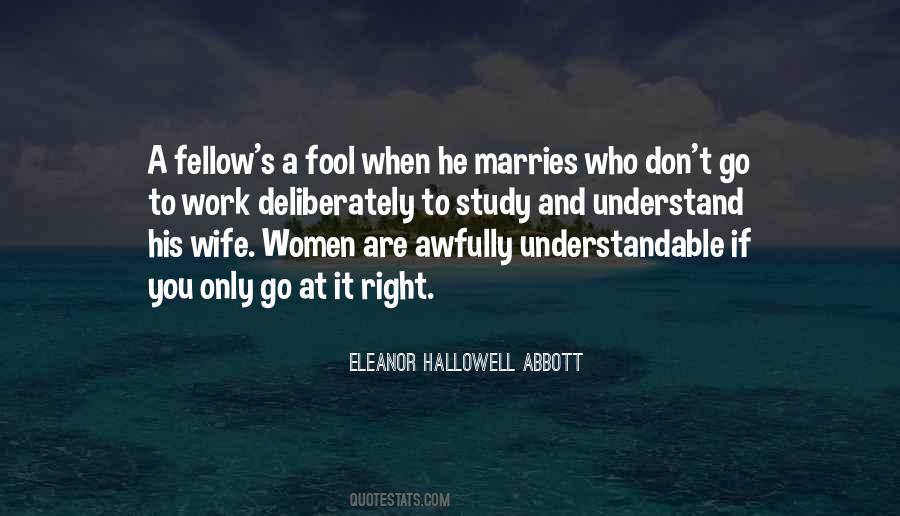 #4. And, anyway, friendship is different in another language; a foreign friend doesn't have to understand what you feel, and I don't expect it. It's enough if he understands what you just said. - Author: Michael Chabon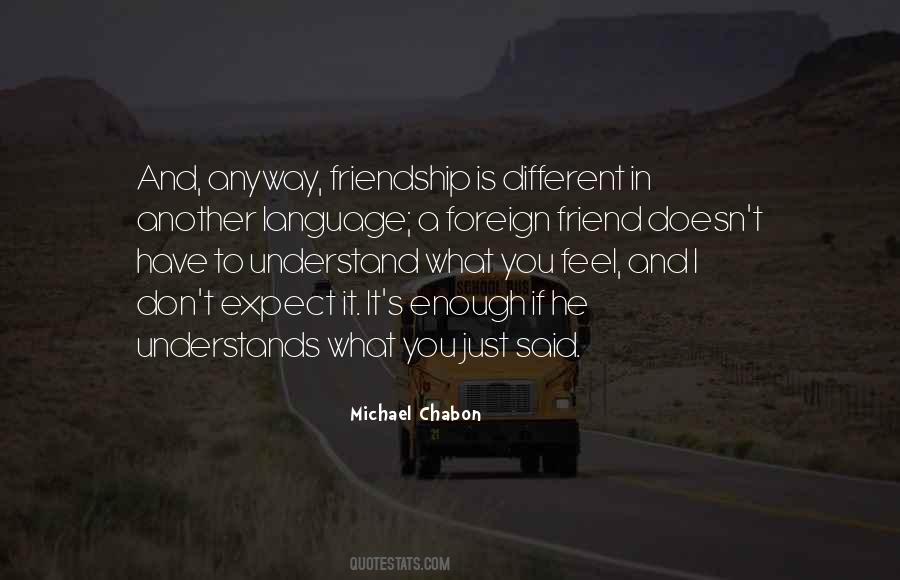 #5. If you hire only those people you understand, the company will never get people better than you are. Always remember that you often find outstanding people among those you don't particularly like. - Author: Soichiro Honda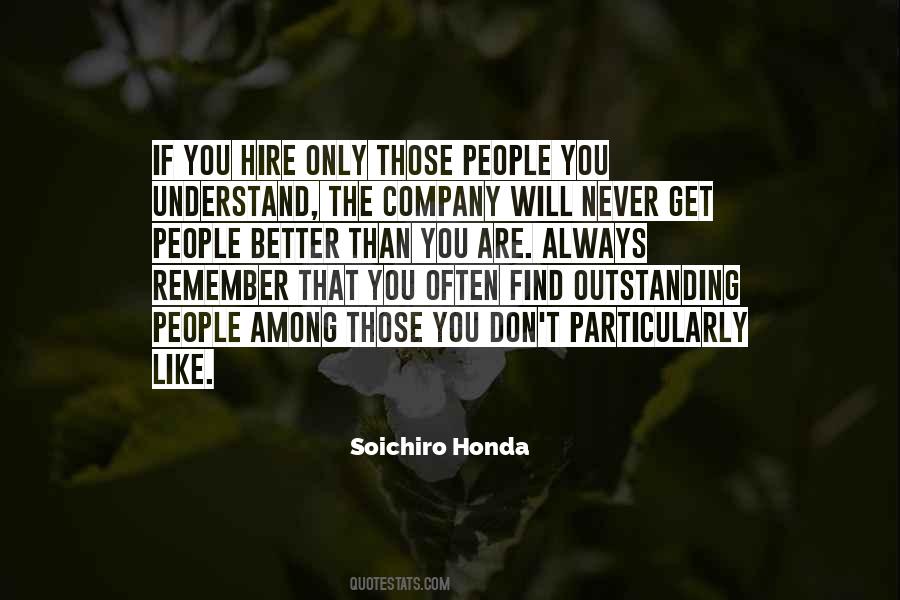 #6. You can have your own language. You can have your own dialect; you can have your own way of saying things, but if you don't actually understand the way the language fits together, it's chaos. - Author: Nick Earls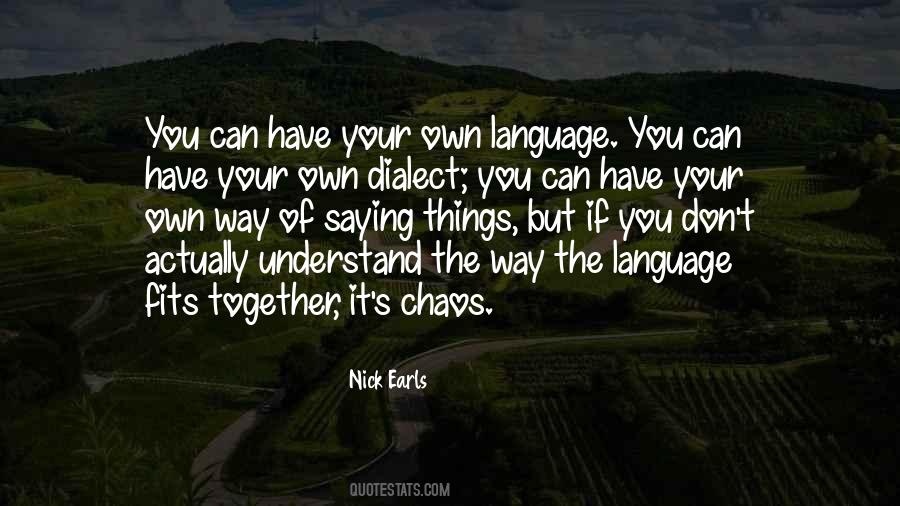 #7. Don't judge me until you understand me. You can't understand me if you've already judged me. - Author: Orson Scott Card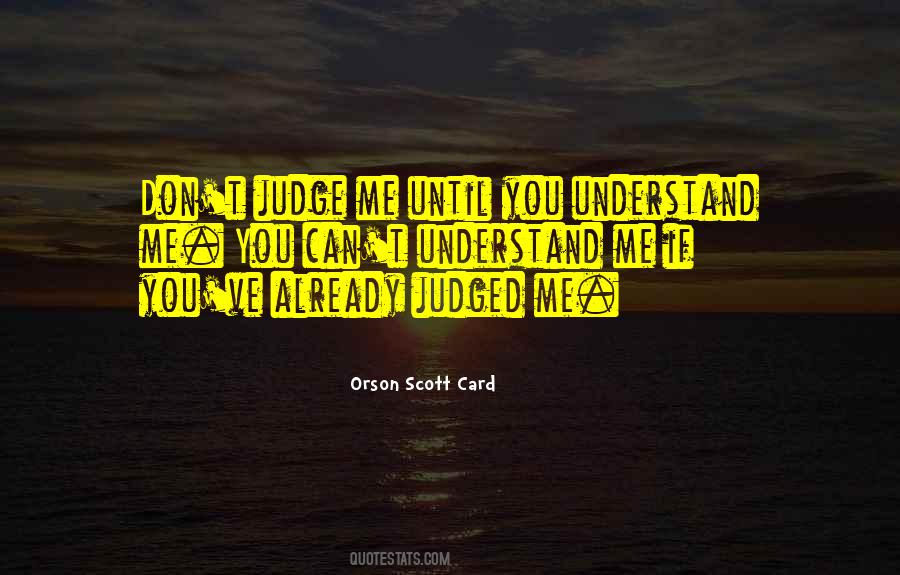 #8. I will never tell another person, "I don't understand you ... " and why? Because if I say that, it means that I am disabled in a way. The inability to connect to another's perspective is, I believe, a disability. - Author: C. JoyBell C.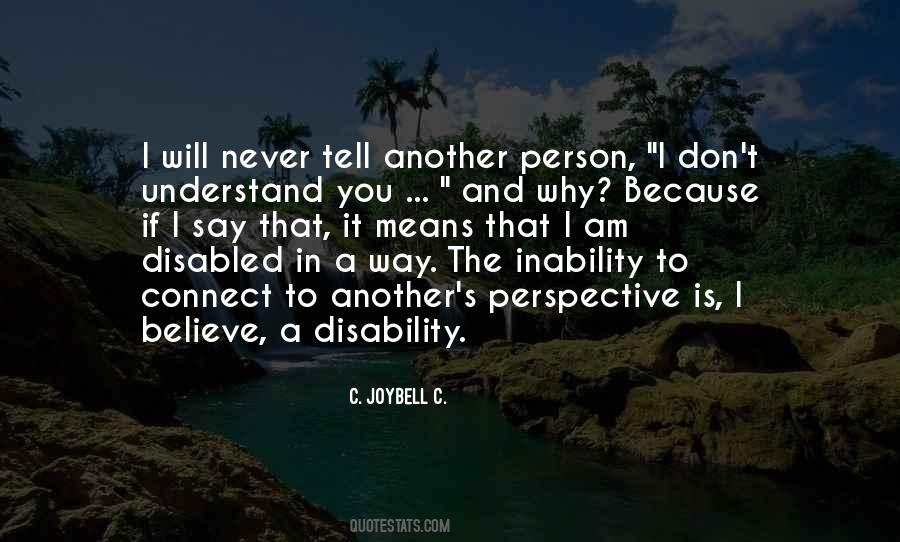 #9. I still don't know if you understand!" "That everyone is of equal significance and that the differences between individuals are more important than the differences between broad classes? Oh yes, I'm coming to understand that really well." I - Author: Jo Walton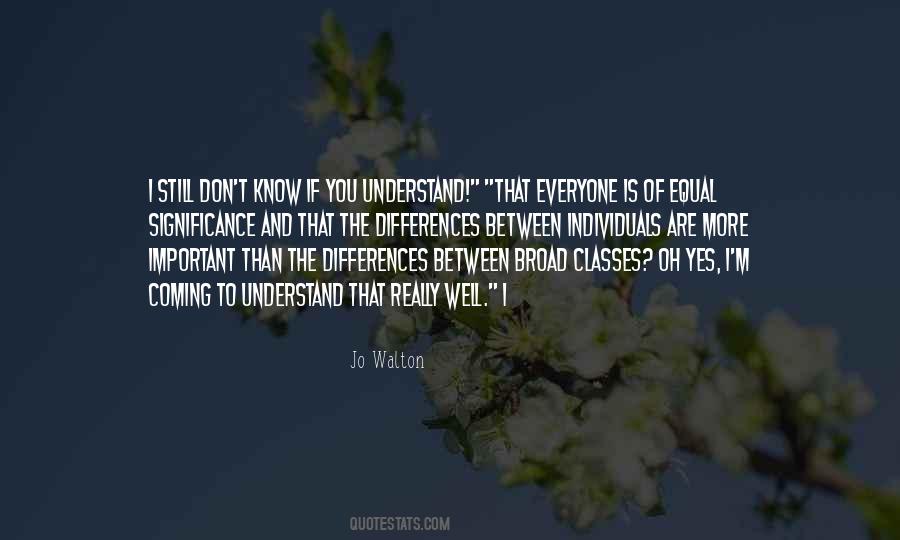 #10. The biggest advice is being true to what you want to do. Don't worry if other people understand it or don't understand it. If what you're doing has merit, it will find its way. - Author: Dean Koontz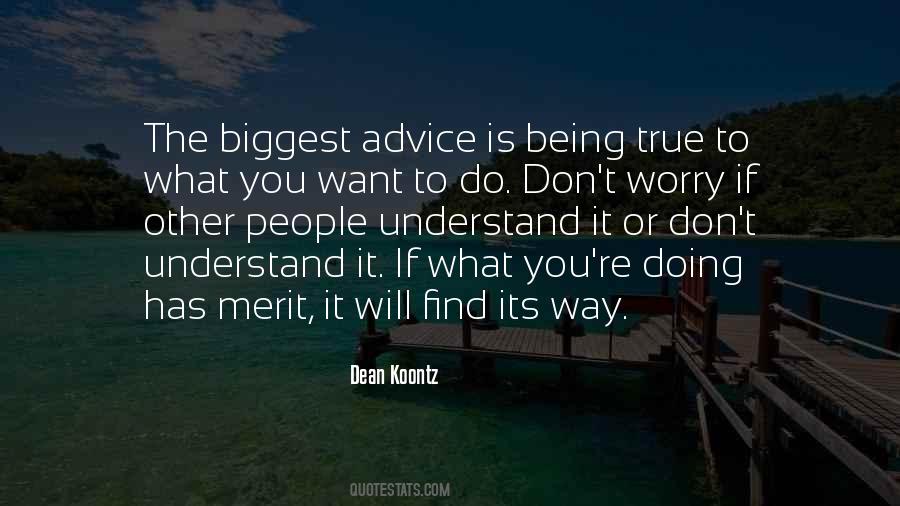 #11. If you can't explain what you are doing to a nine-year-old, then either you still don't understand it very well, or it's not all that worthwile in the first place. - Author: Albert Einstein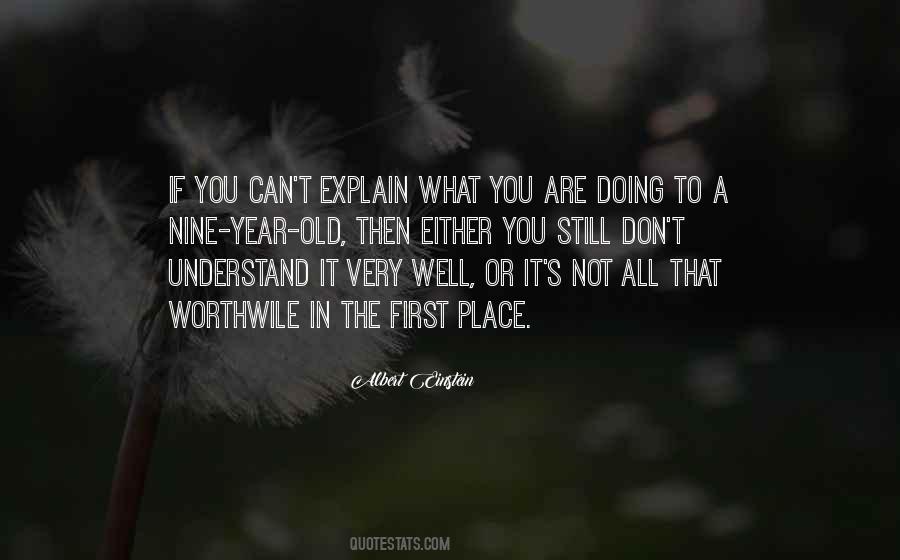 #12. Do you understand? I don't want you to do a thing if you don't understand it. - Author: Kristin Cashore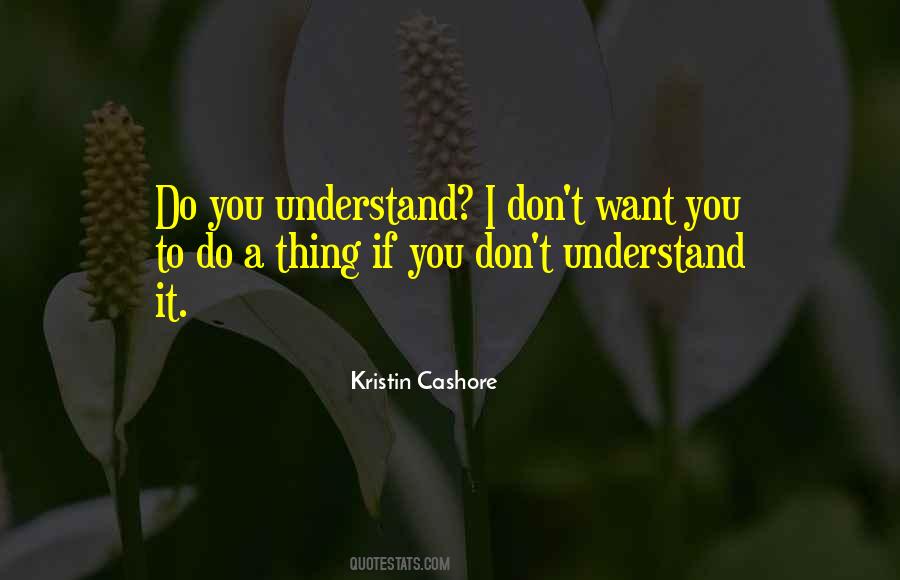 #13. He should have just checked it. I don't understand why some people insist on hauling those giant bags around everywhere they go - not when you can check one bag free on international flights. Check it at the gate if you don't trust the belt system. - Author: Sabra Hunter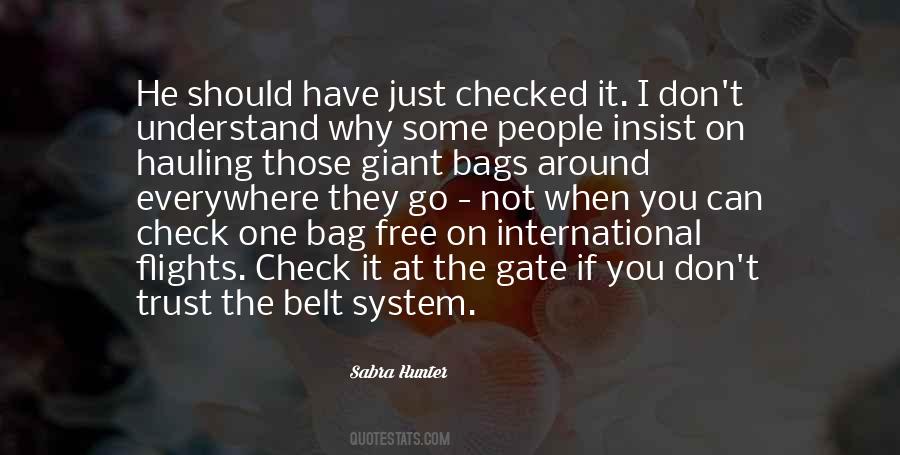 #14. If you don't know or didn't understand, ASK! It's your responsibility to find out. Research; demonstrate an unquenchable desire to know everything about your job. If something is broken or not right, take the initiative to fix it or make - Author: Dick Couch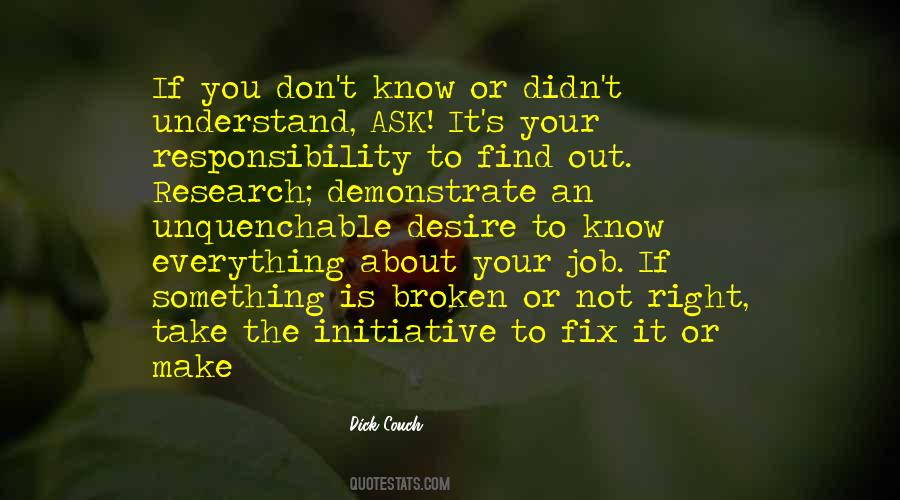 #15. A lot of the geeks in Silicon Valley will tell you they no longer believe in the ability of policymakers in Washington to accomplish anything. They don't understand why people end up in politics; they would do much more good for the world if they worked at Google or Facebook. - Author: Evgeny Morozov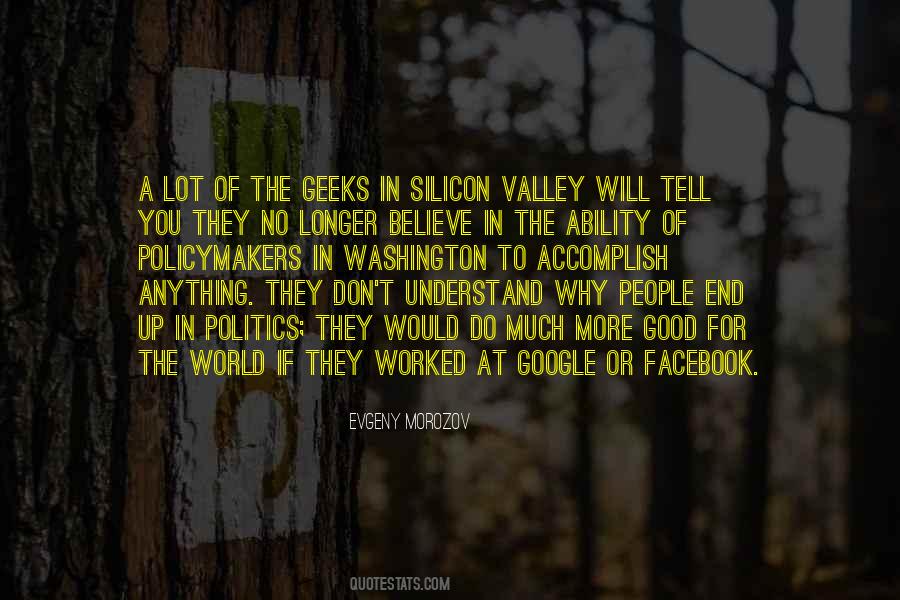 #16. Alright, but I don't like this at all Syd. But I trust you. If you say you're not upset, then I'll let it go, for now. Just understand that I won't let anything or anyone hurt you, not even me.

Relatively Famous - Author: Heather Leigh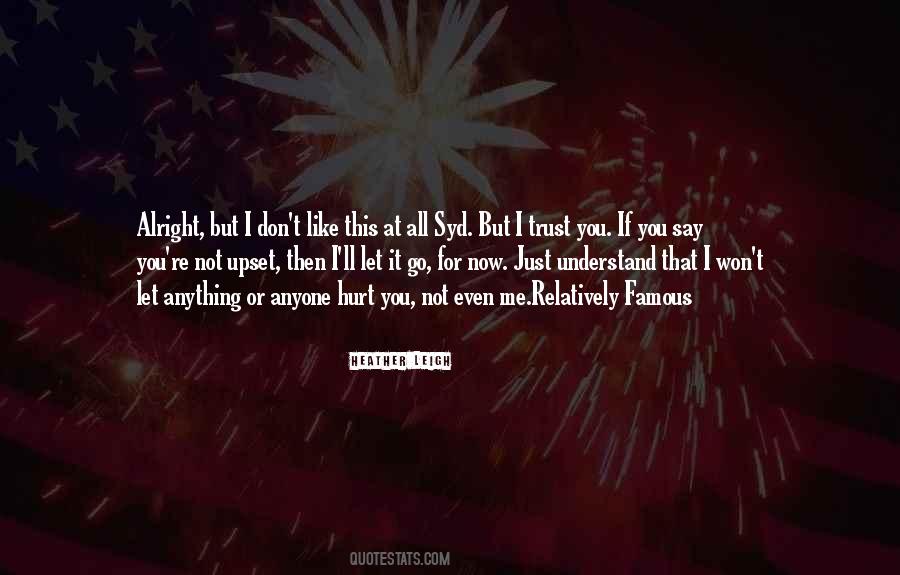 #17. If you live in a democracy and don't have freedom of information, it's not a democracy. And people have to understand that if you don't have freedom of information online, it's not going to be offline, either. - Author: Birgitta Jonsdottir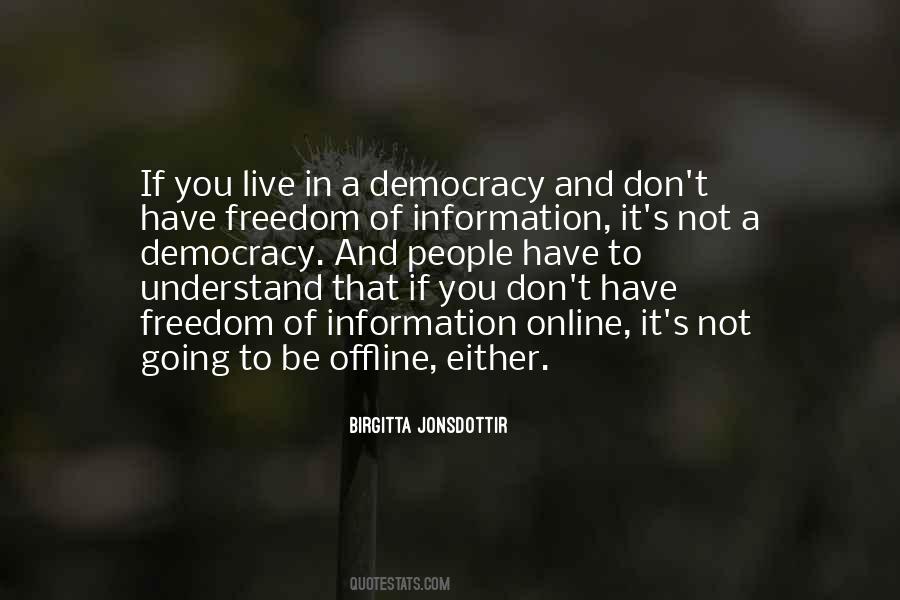 #18. I don't think you understand what it means when a demon falls in love, Layla. It doesn't go away. It doesn't fade, even if we want to. We love until death. That's not just something we say. We love and we love once and it's forever. - Author: Jennifer L. Armentrout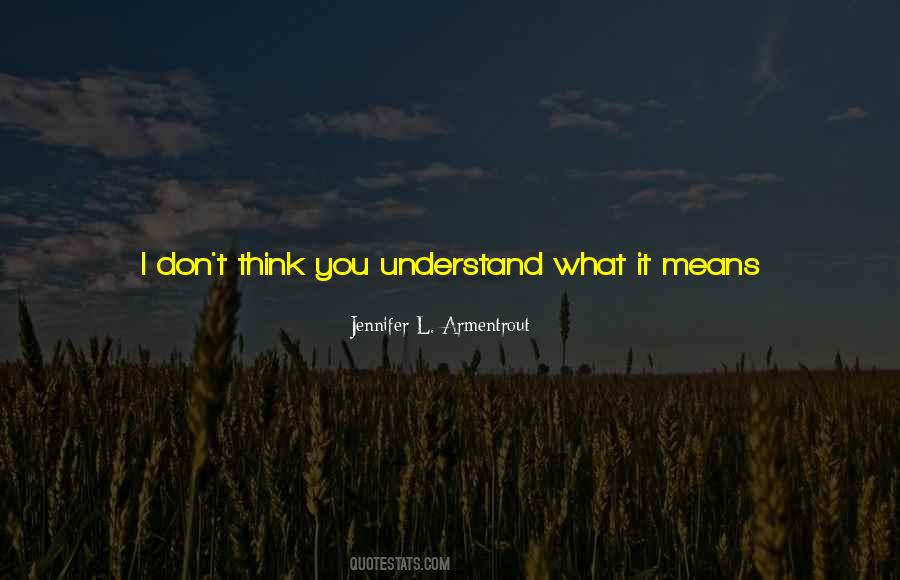 #19. For me, geopolitical issues are becoming more important, because how can you understand economy if you don't understand geopolitics? People think economists just deal with spreadsheets and charts. That's a narrow-minded caricature. - Author: Nouriel Roubini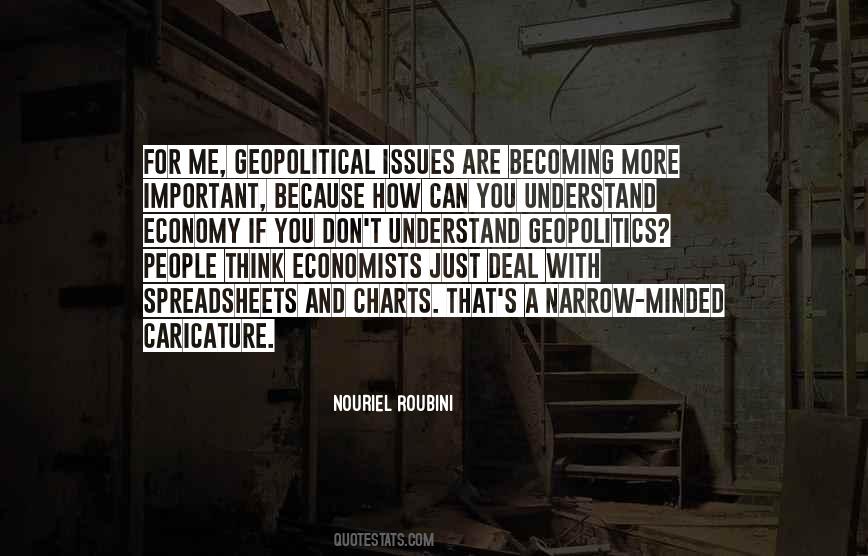 #20. 5. Your kids will be so grateful if you label and organize your photos now and if you stick a note on keepsakes explaining their significance. We settle a lot of estates, and it's frustrating to the next generation when they don't understand why something was left to them. - Author: Anonymous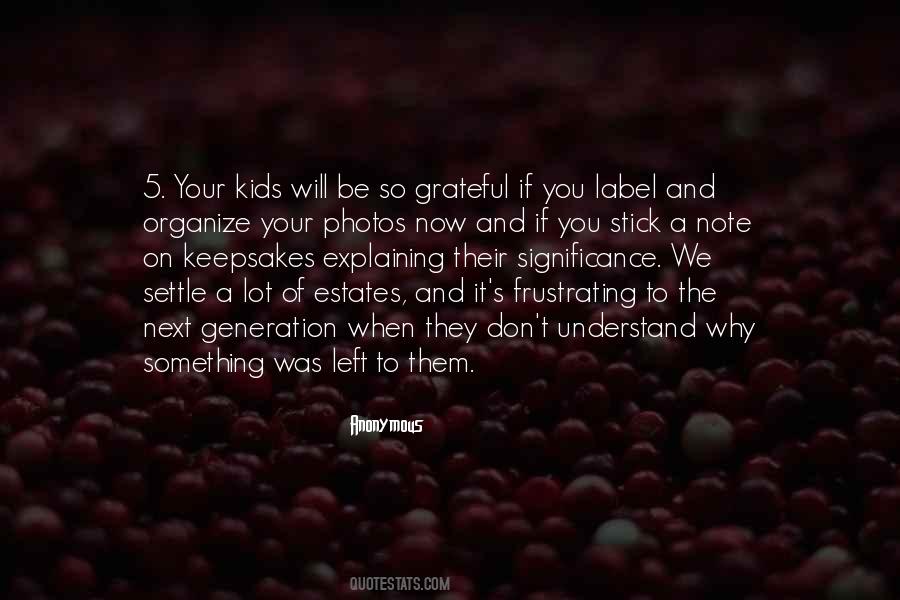 #21. I don't understand," Holden said. "If you didn't do this, then who did?"
"See now, that's a good question, on several levels. Depending on what you mean by 'this. - Author: James S.A. Corey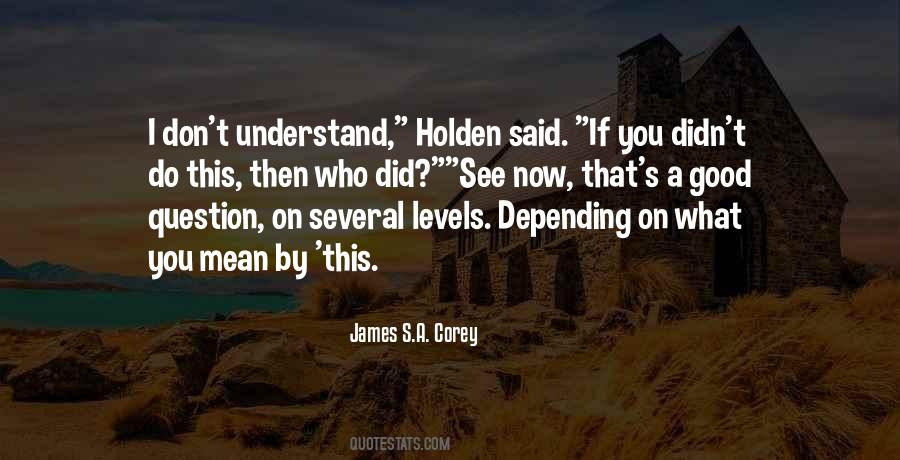 #22. If you continually diet, you are putting your body in a quasi-famine situation. It slows your metabolism down and breaks the thermostat. Diets don't work. They don't help you understand why you're eating more than your body wanted in the first place. - Author: Susie Orbach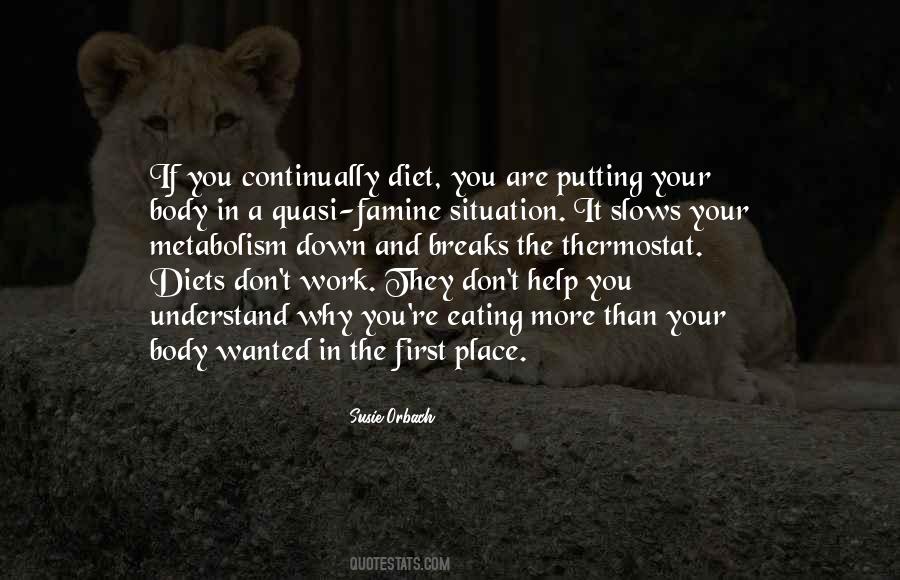 #23. You need to forgive people you don't understand; if not, try to understand people you want to forgive. - Author: Shannon L. Alder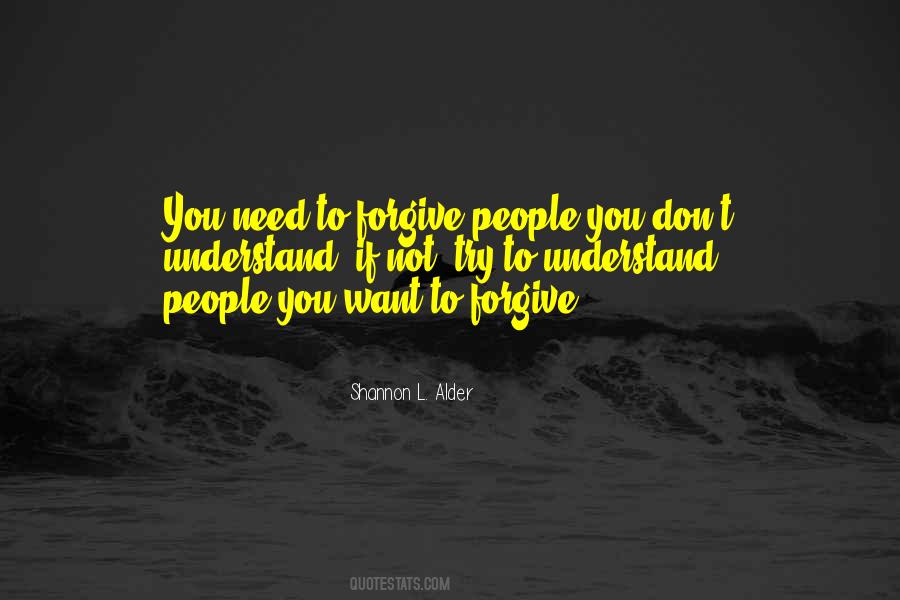 #24. I learned that if you bring black people together, you bring them together with a song. To this day, I don't understand how people think they can bring anybody together without a song. - Author: Bernice Johnson Reagon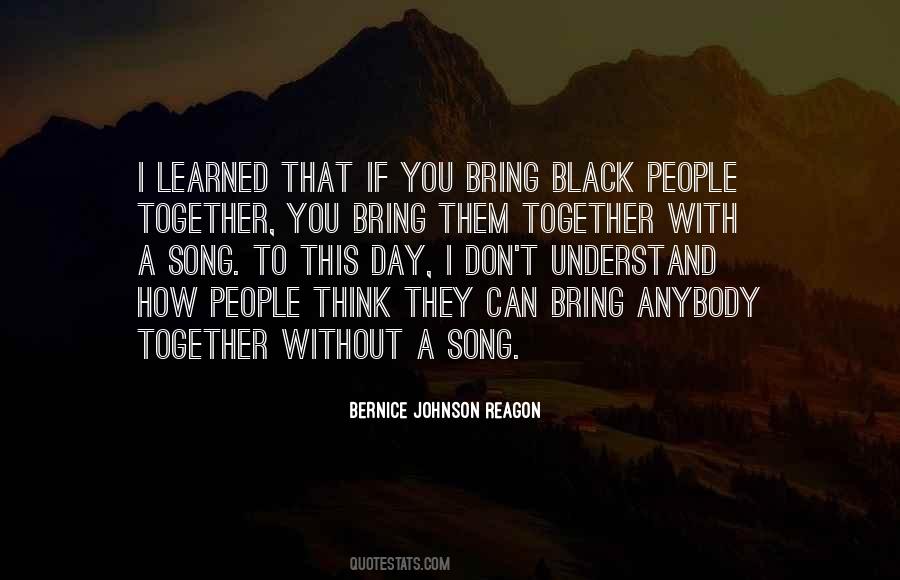 #25. In the scriptures, we are told you can't really understand happiness unless you understand sadness. You don't know pleasure if you don't know pain. It's part of life. So can you learn something from somebody who has gone from success to success to success? I don't think so. - Author: Clayton Christensen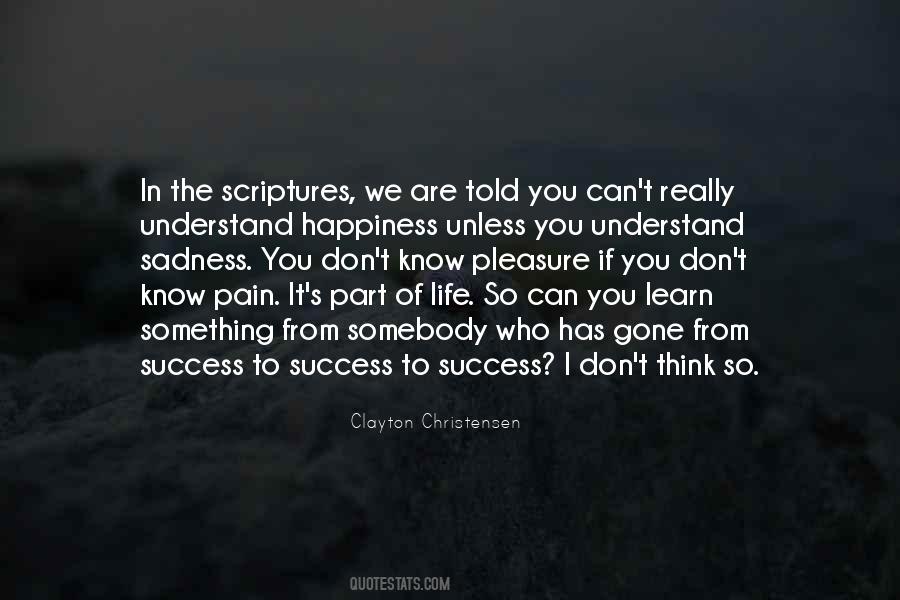 #26. I motivate others by making sure that they understand to go after their dreams and don't let anyone tell you you can't. If you are motivated enough and put the work in that you can achieve anything in life that you set your mind to. - Author: Magic Johnson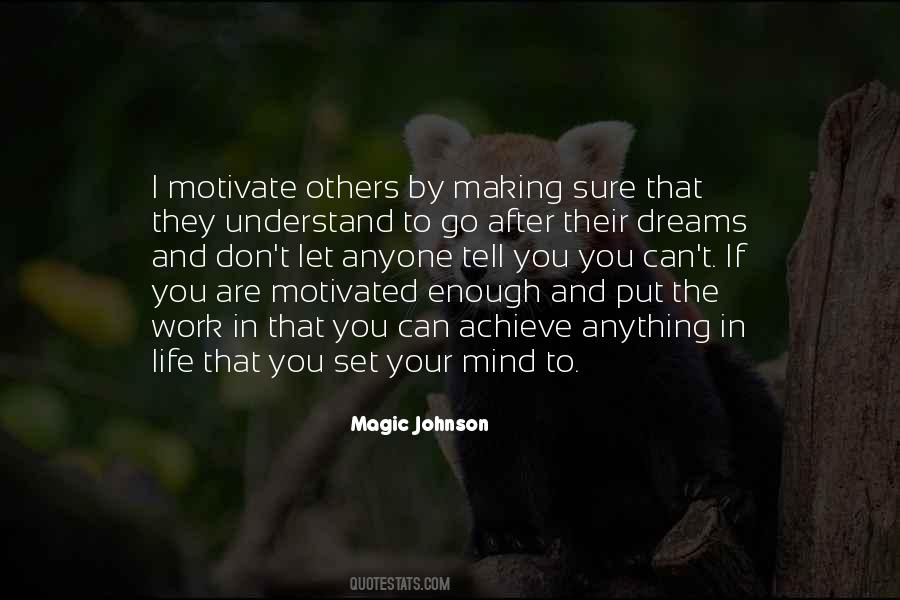 #27. Twenty-eight years in business and you understand the importance of problem solving and the importance of efficiency, because if you don't become efficient, you don't run a business well, and you are out of business. And I think some of those principles could be applied to leadership in Washington. - Author: Steve Daines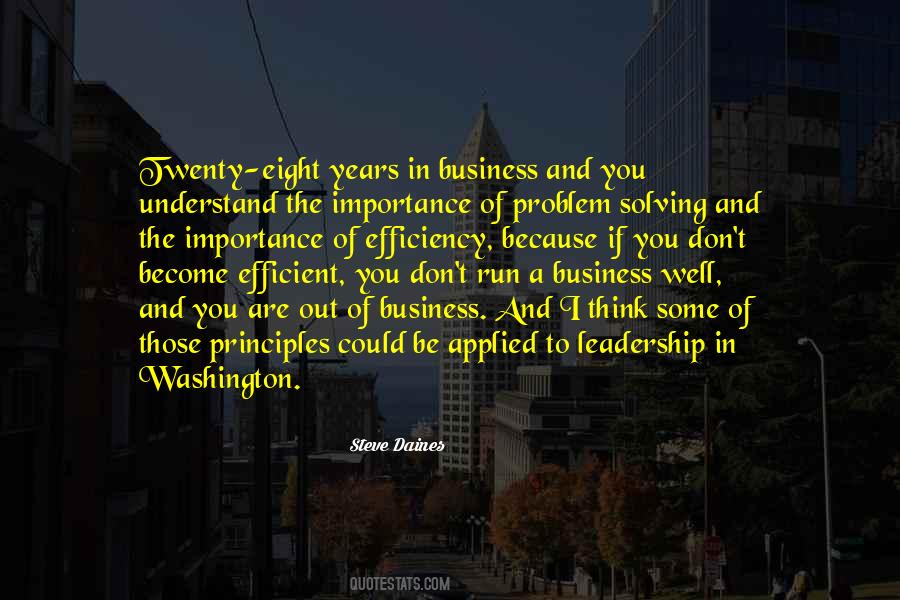 #28. Don't tell me anymore. You should have your dream, as the old woman told you to. I understand how you feel, but if you put those feelings into words they will turn into lies. (from Thailand) - Author: Haruki Murakami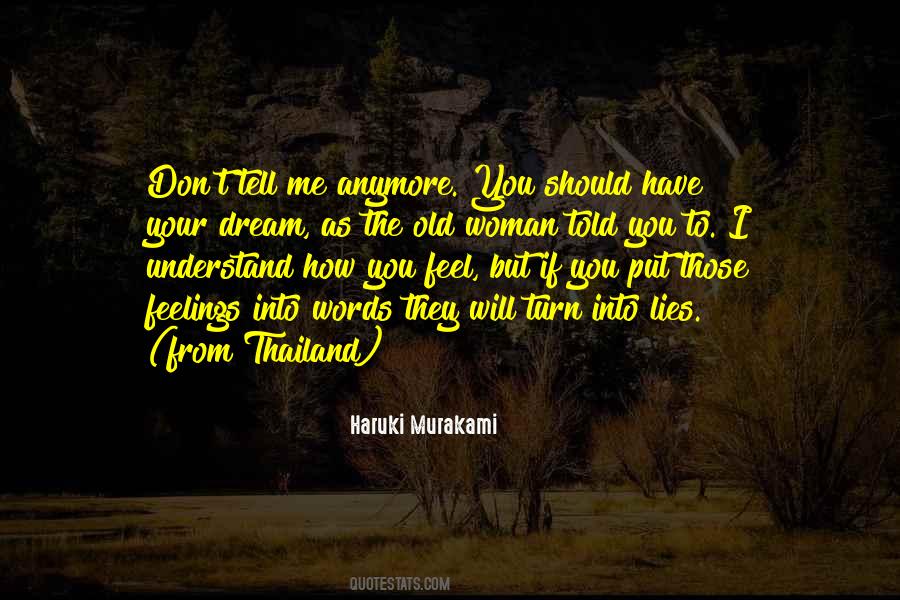 #29. I'm really sensitive. And they don't understand that, because my most comfortable feeling is anger. So I'll get angry if you said something to hurt my feelings or you're making me uncomfortable, I'll get angry, and be ready to do something about it. - Author: Curtis Jackson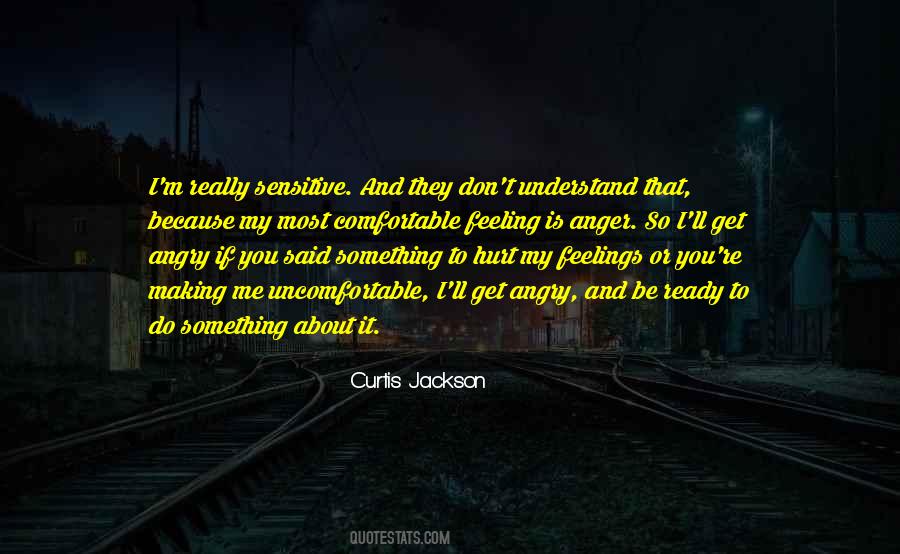 #30. They were unwillingly to give 100 percent if they didn't personally think it was important. What you don't understand is the champions know it's all important. - Author: Tony Dungy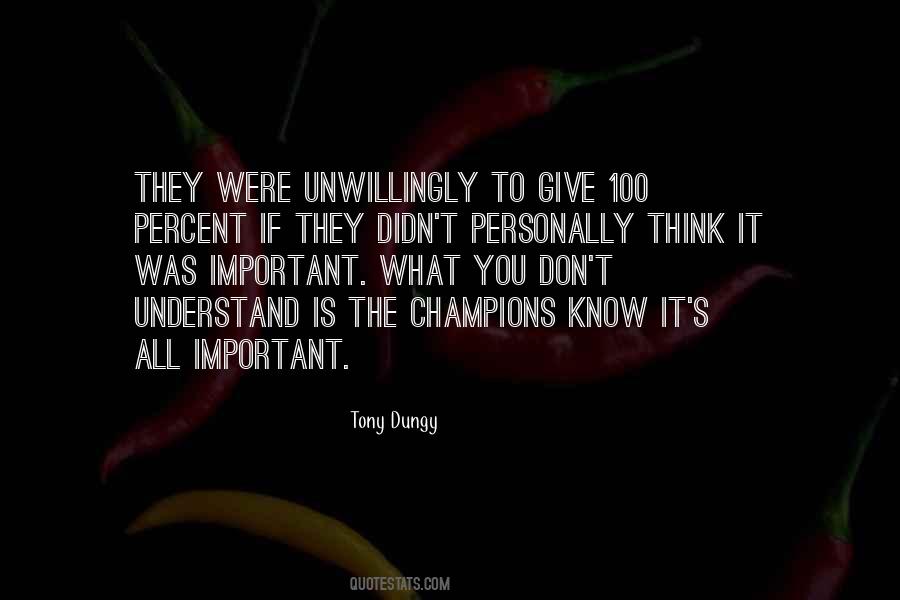 #31. The arts are not just instantaneous pleasure - if you don't like it, the artist is wrong. I belong to the generation which says if you don't like it, you don't understand and you ought to find out. - Author: Ethel Barrymore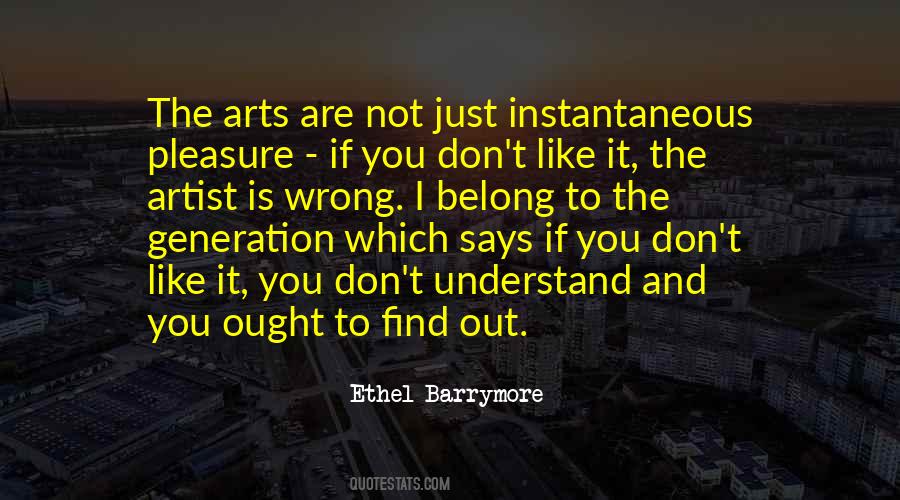 #32. If you don't understand how a woman could both love her sister dearly and want to wring her neck at the same time, then you were probably an only child. - Author: Linda Sunshine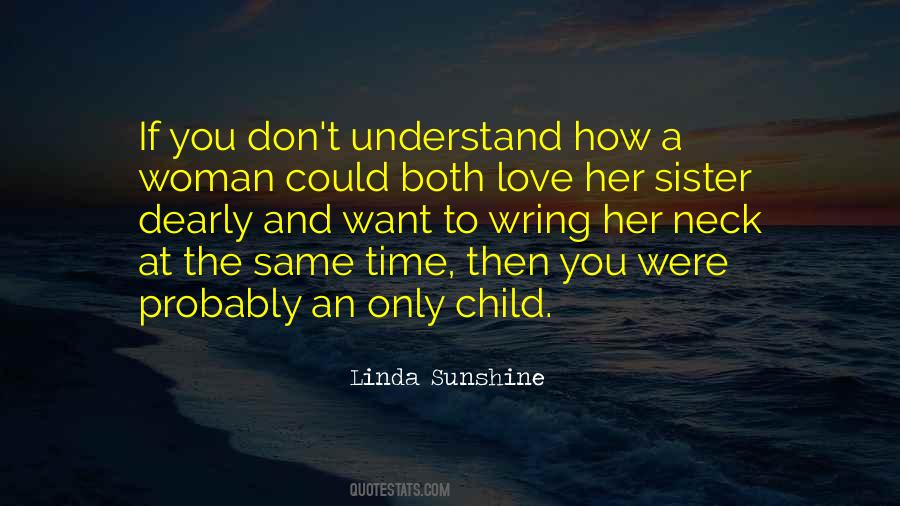 #33. If you can't summarize an issue on one page, you don't understand the issue well enough. - Author: Ronald Reagan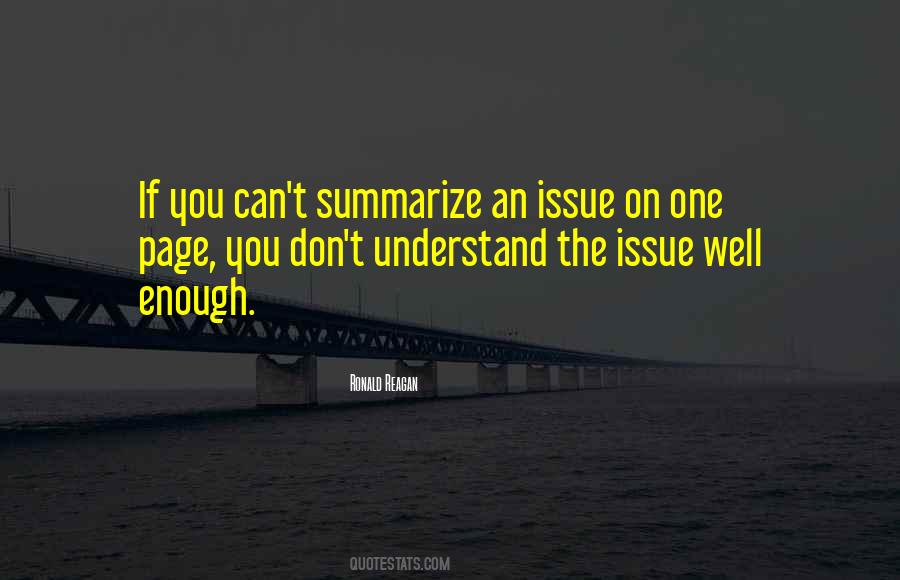 #34. You've gotten drunk on so many kinds of wine. Taste this. It won't make you wild. It's fire. Give up, if you don't understand by this time that your living is firewood. - Author: Rumi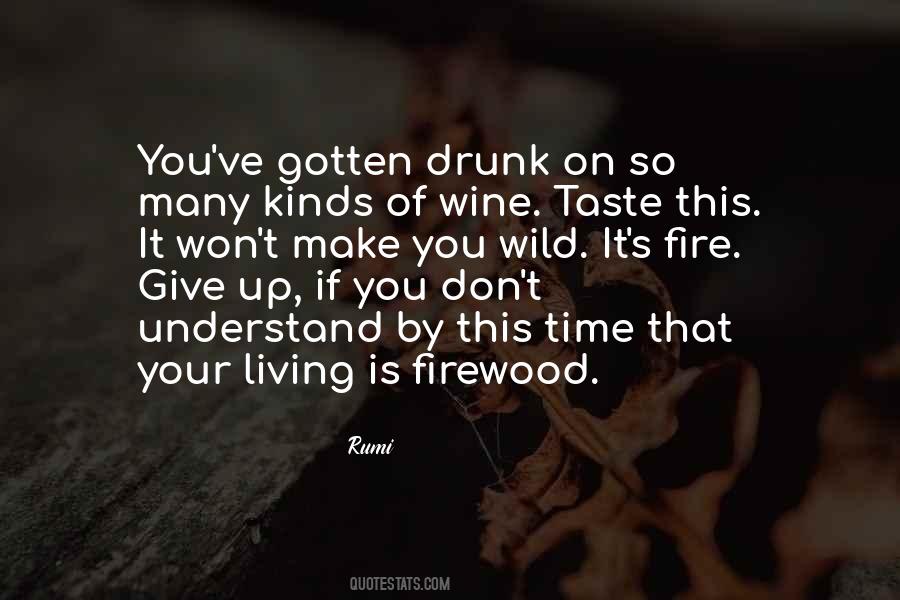 #35. We are in the entertainment business and we all know if you are top of the tree you get the big money. Those of us who have been in it are the fortunate ones but we understand that we probably don't deserve it as much as the nurses or teachers. - Author: Gary Lineker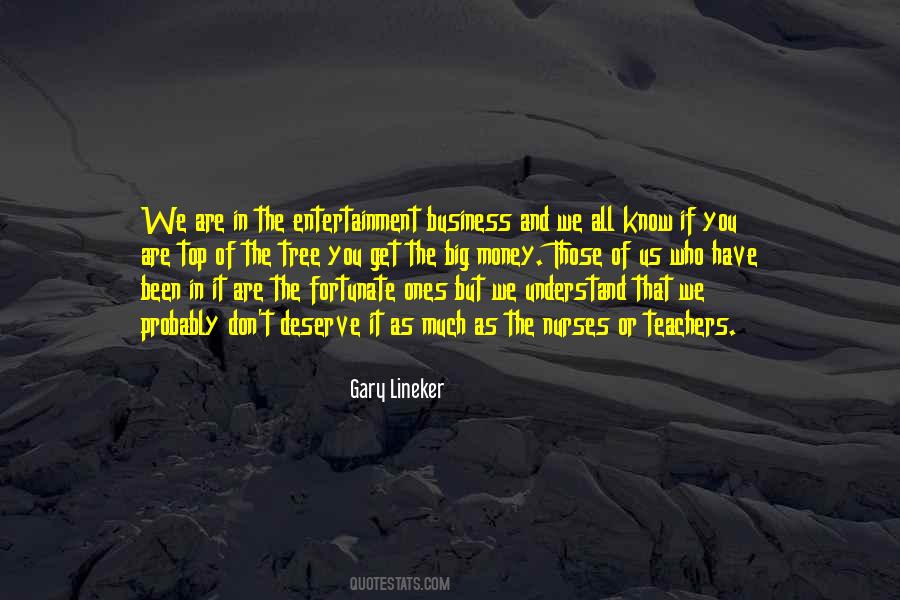 #36. In business
every business
the bottom line is understanding the process. If you don't understand the process, you'll never reap the rewards of the process. - Author: Donald Trump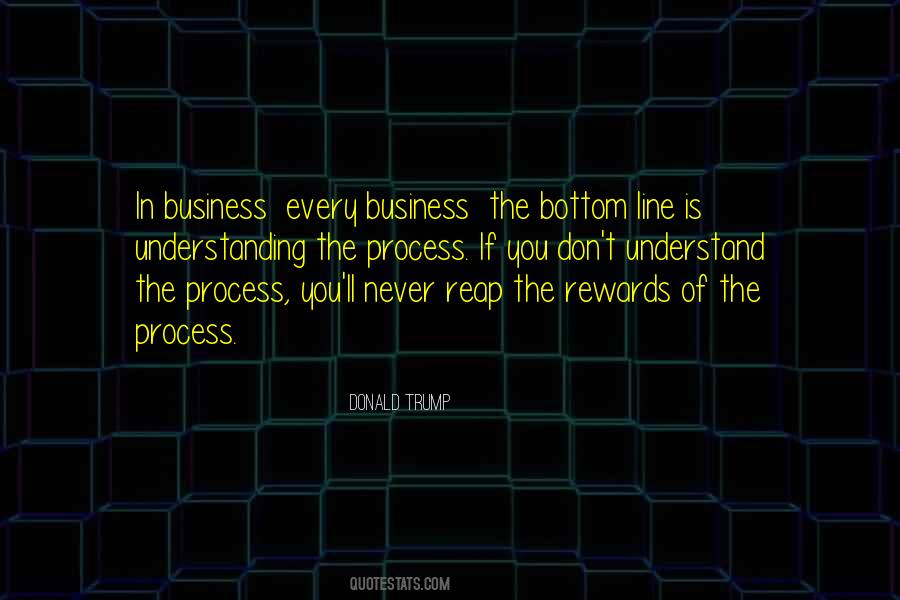 #37. If you think technology can solve your security problems, then you don't understand the problems and you don't understand the technology. - Author: Bruce Schneier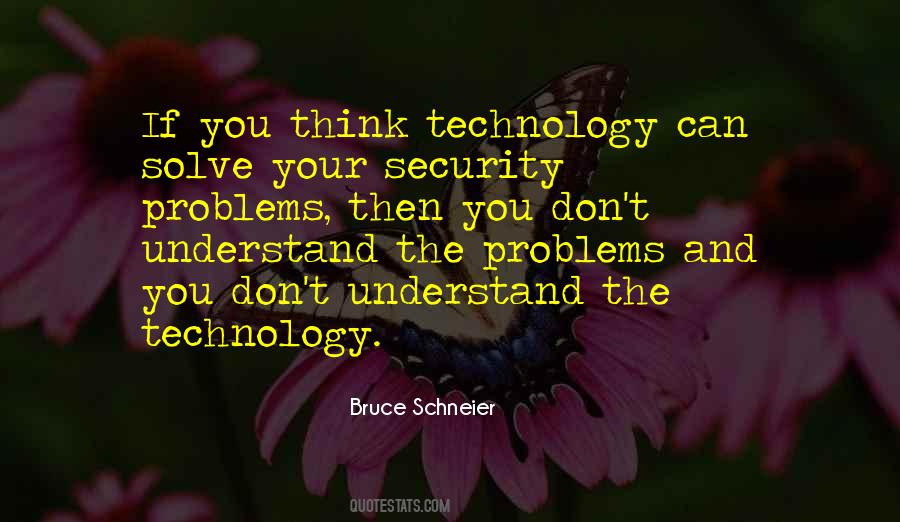 #38. I think you can be the greatest orator of all time, the greatest motivator of all times, but if those players know that you don't care about them, and you don't try to understand them, then they're never going to hear what you have to say. - Author: Mike Singletary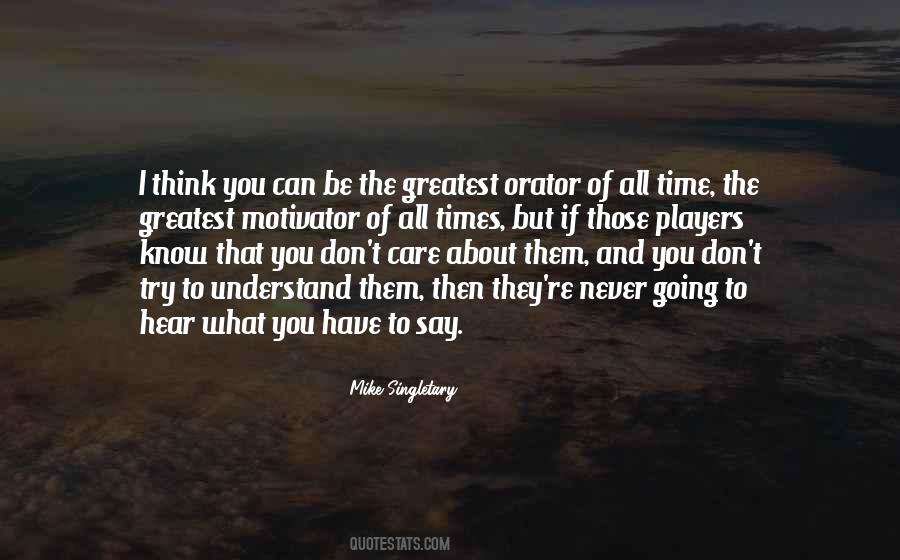 #39. I don't understand what people are talking about in different rhymes glorifying jail. If you like going to bed early, getting yelled at, seeing a fight, seeing somebody getting their head split open, or fighting over the TV then that's the place for you. - Author: Sadat X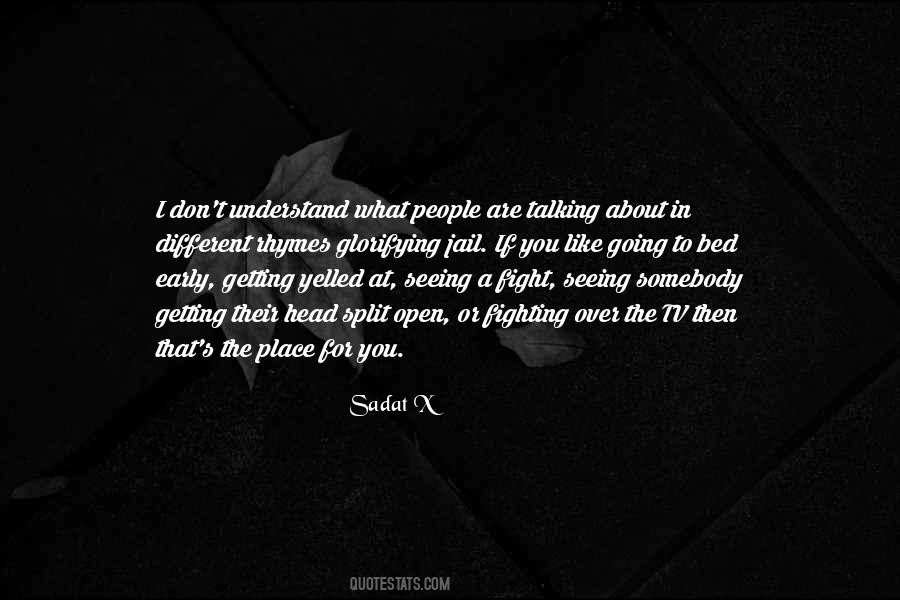 #40. If you understand or if you don't
If you believe or if you doubt
There's a universal justice
And the eyes of truth
Are always watching you - Author: Enigma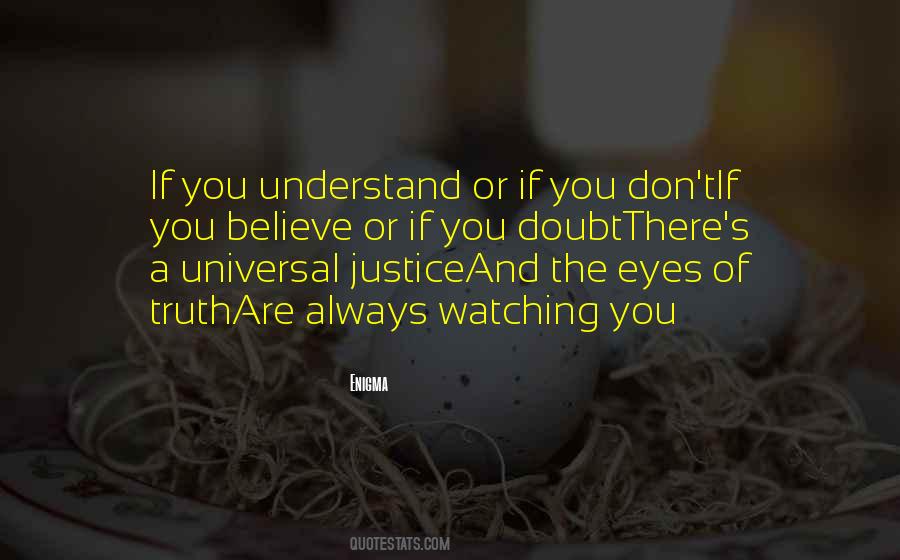 #41. If you spend seventy-two hours in a place you've never been, talking to people whose language you don't speak about social, political, and economic complexities you don't understand, and you come back as the world's biggest know-it-all, you're a reporter. - Author: P. J. O'Rourke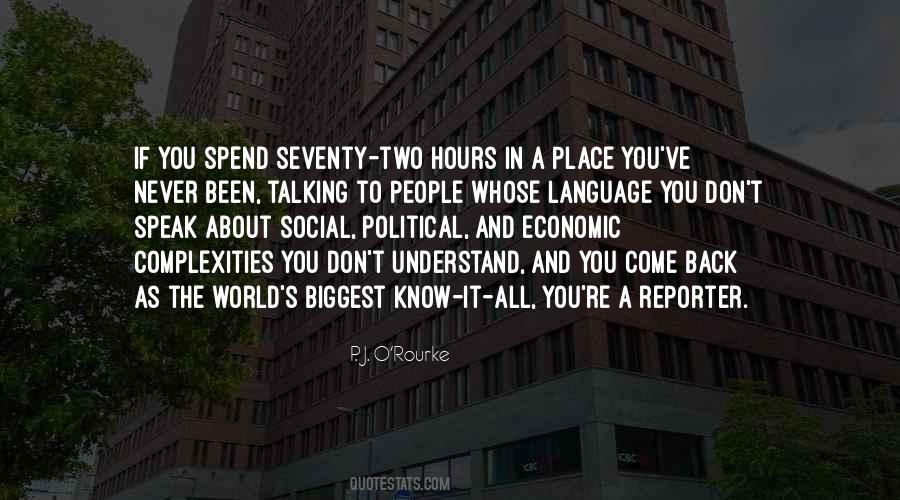 #42. If you don't understand what al Qaeda was trying to do on 9/11, if you don't have a sense of who Osama bin Laden is as a person, if you don't have a sense of what al Qaeda, the organization, was on 9/11, 9/11 appears to be more or less inexplicable. - Author: Peter Bergen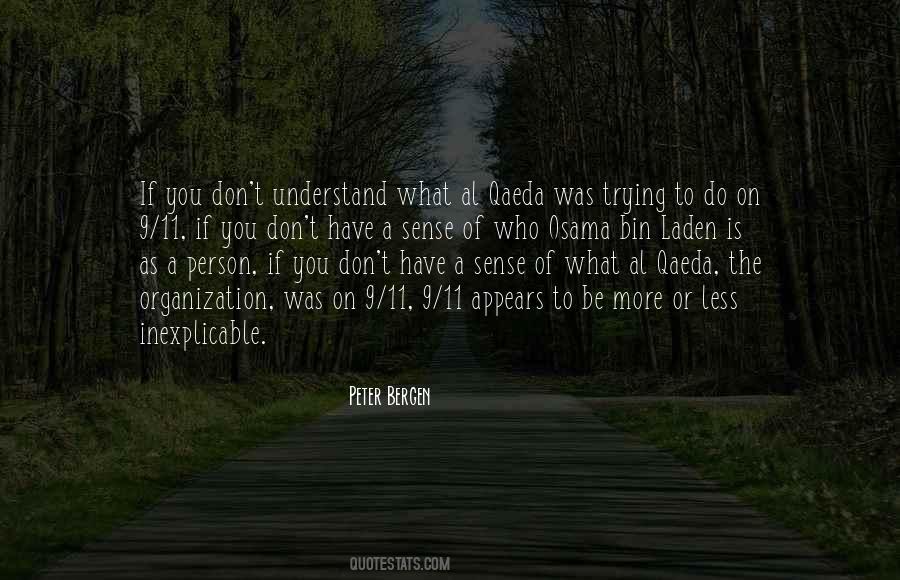 #43. Say nothing if you don't understand, stay silent if you do. - Author: Ted Bell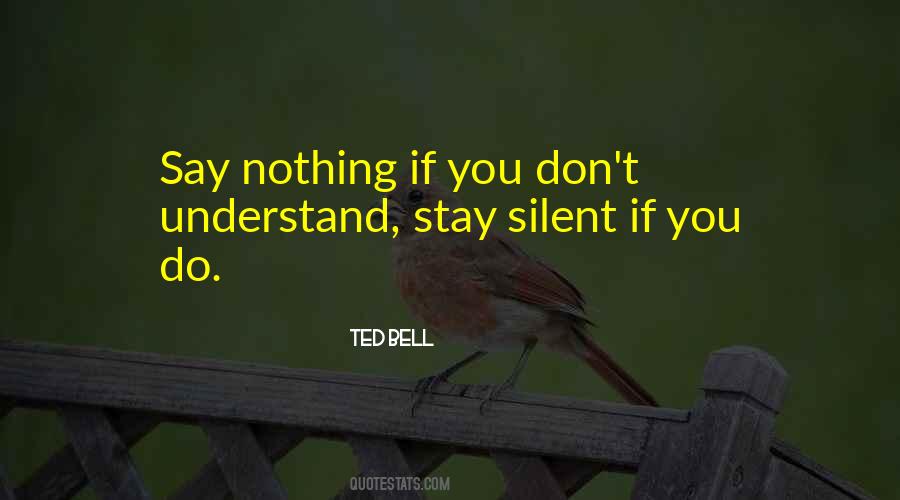 #44. Addie believes in books. They are more interesting than real life and easier to understand. Sometimes you can guess the ending. Things usually work out, and if they don't, you can always tell yourself it was only a book. - Author: Kim Church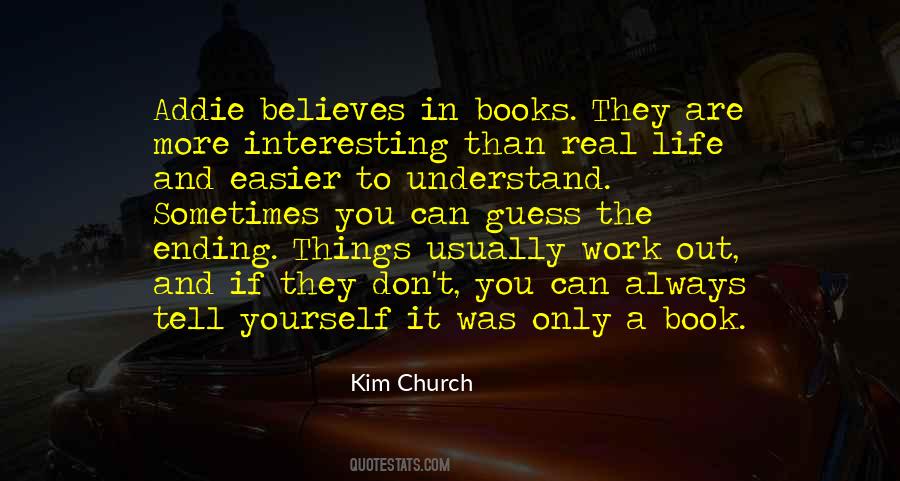 #45. In the light of the crappy little lamp, all I was looking at was a frizzy mop of blonde hair and a bare back with one big angry red patch on it, but Jesus fucking God she was beautiful, and if you don't understand that, I'm sorry for you. - Author: John Barnes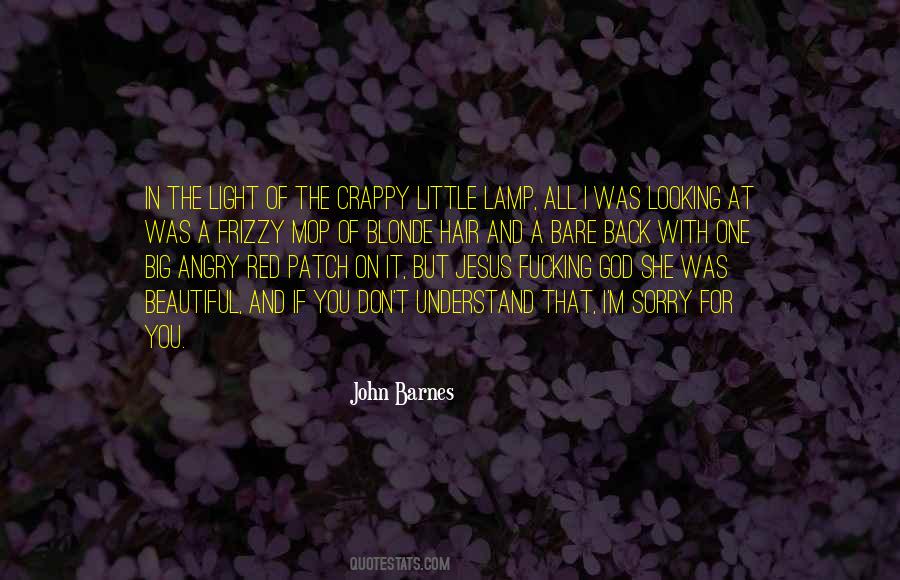 #46. I really don't understand minimalism. It is so polite and boring. If you don't want anyone to notice you, you should stay home and grow your own vegetables. - Author: Roberto Cavalli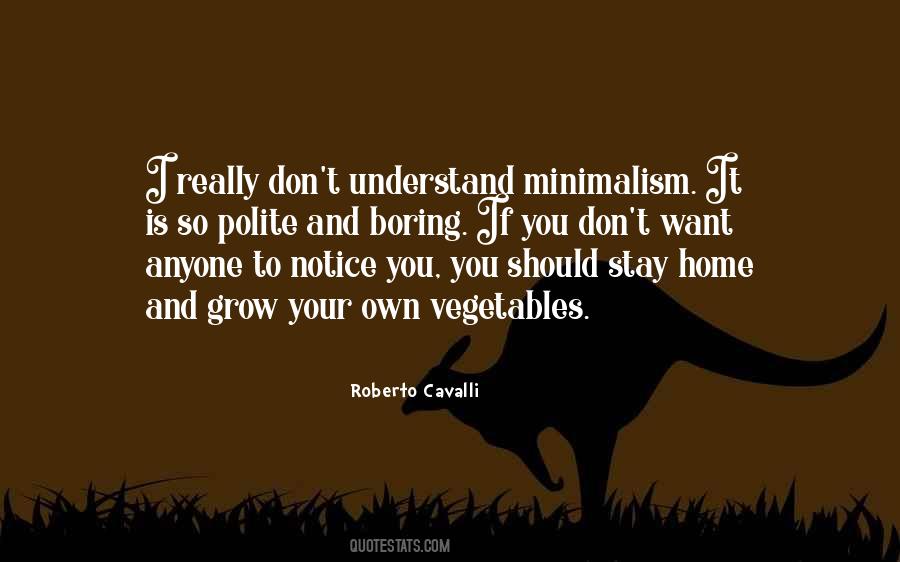 #47. If you don't understand yourself you don't understand anybody else. - Author: Nikki Giovanni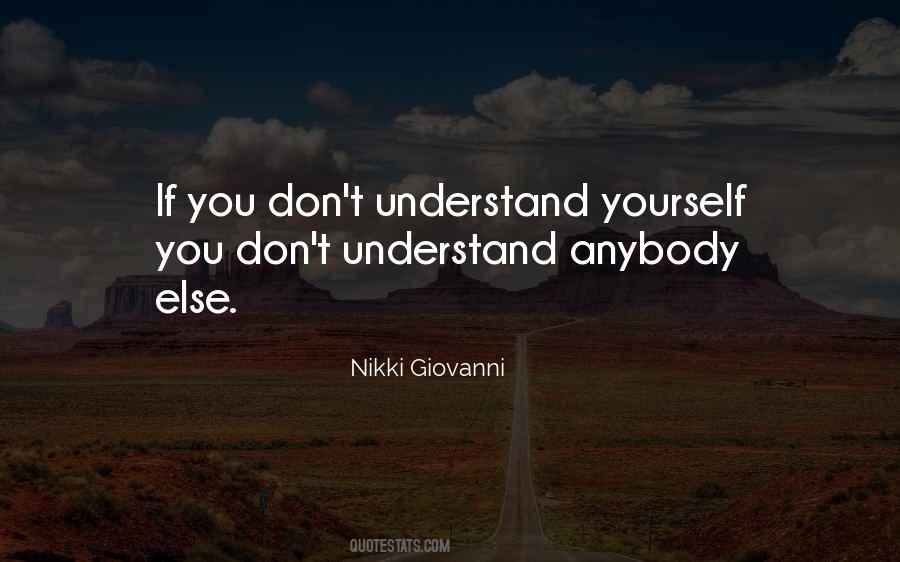 #48. And if you don't like me, as I do you; I understand. Because who would really choose a daisy, in a field of roses? - Author: Unknown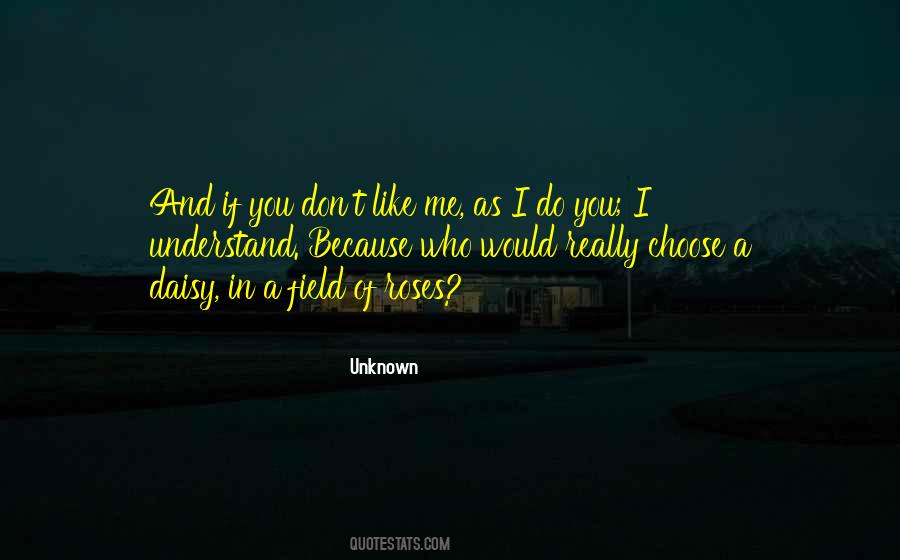 #49. It never pleases me to punish willful disobedience, Isabel. Having to punish you for that sort of thing means I've failed to communicate what it is I expect out of you. It means I'm failing you as a Dom if you don't understand what my wants and needs are, and I hate failing at anything. - Author: Ella Dominguez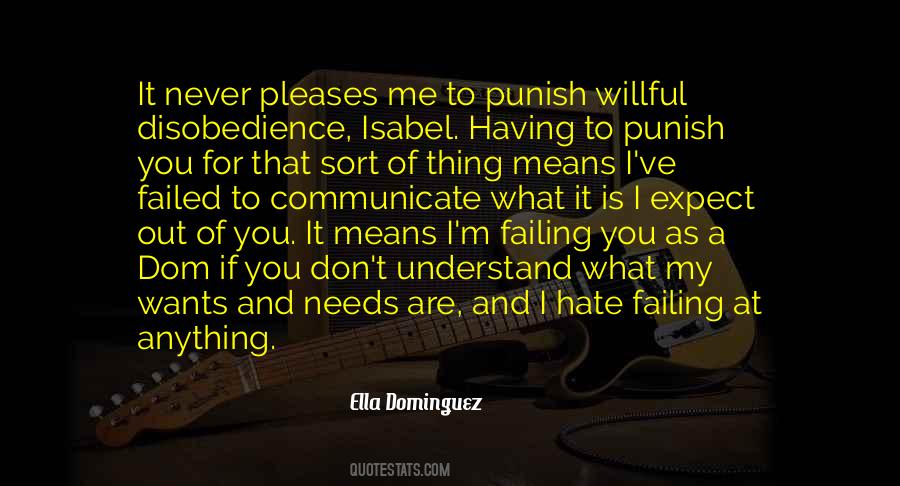 #50. [To beginning readers (ages 4 to 8) at a reading of "Noelle's Treasure Tale"]: If you discover a word in my book that you don't understand, ask your parents so they can look it up in the dictionary for you. - Author: Gloria Estefan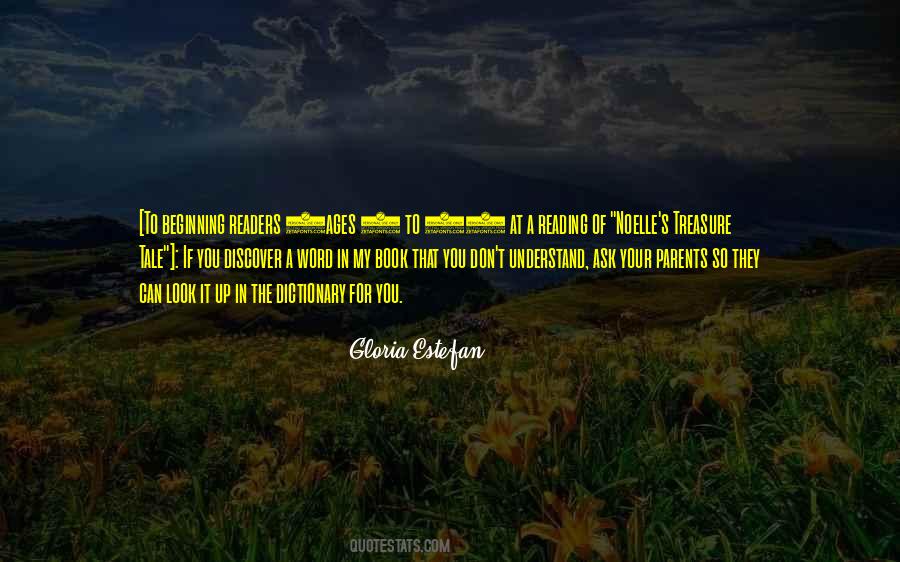 #51. People always mean well, but they don't understand that when you're seriously depressed, suicidal ideation can be the only thing that keeps you alive. Just knowing there's an out - even if it's bloody, even if it's permanent - makes the pain almost bearable for one more day. - Author: Terri Cheney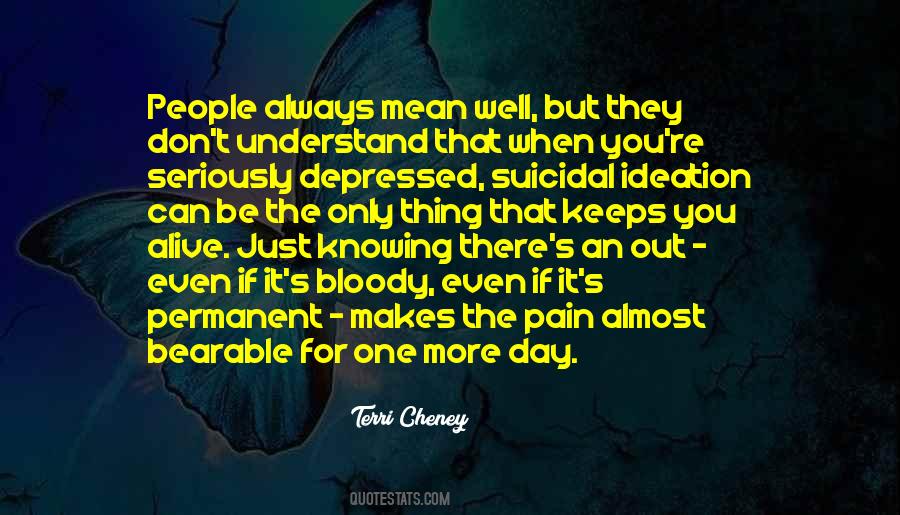 #52. When you do a good comedy show, you have to understand that if you don't have drama or sad moments, then the comedy turns into a clowning kind of situation. - Author: Jaime Camil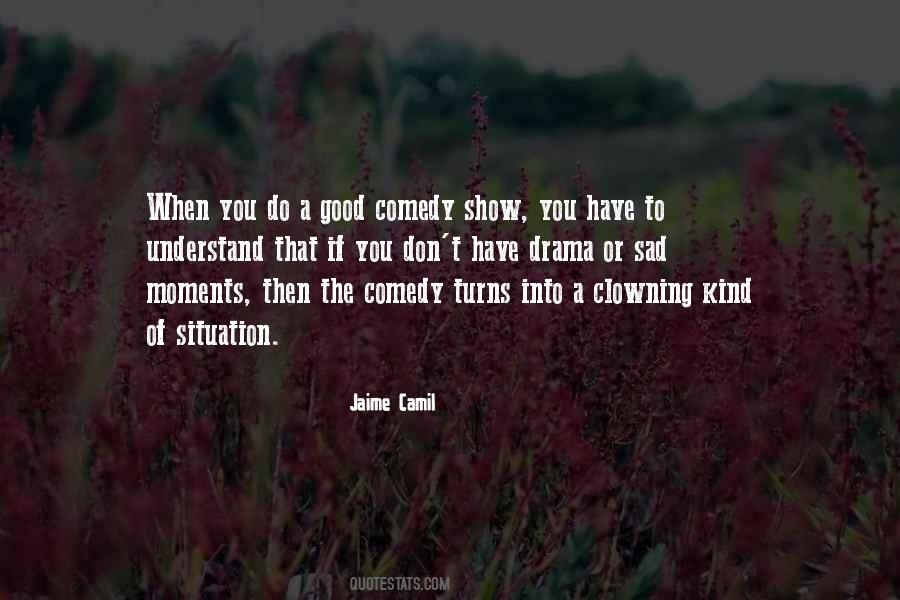 #53. If you don't understand it, don't mess with it. - Author: Louis Armstrong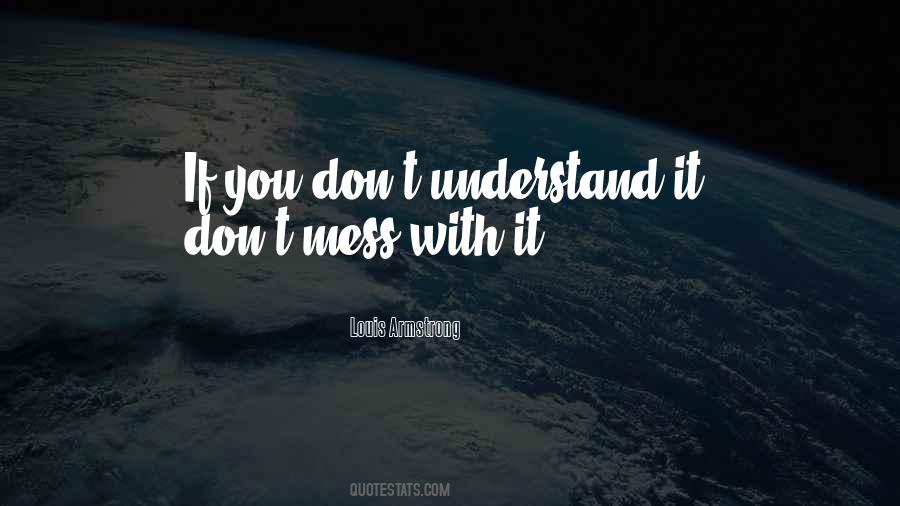 #54. Honestly.I don't understand Zen.It seems if you don't answer properly,or if you are rude,people get enlightened. - Author: Jerry Pinto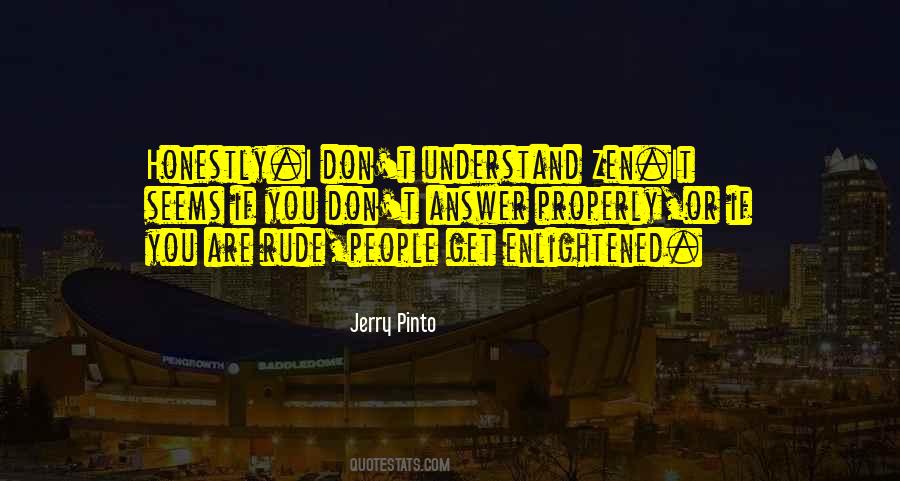 #55. I'm not sure why, but I seem to be drawn to stories about abuses of power. But I'm also drawn, not so much to victims' stories, as stories that tend to show how power works. Because if you don't understand the criminals, you can't figure out how to stop the crimes. - Author: Alex Gibney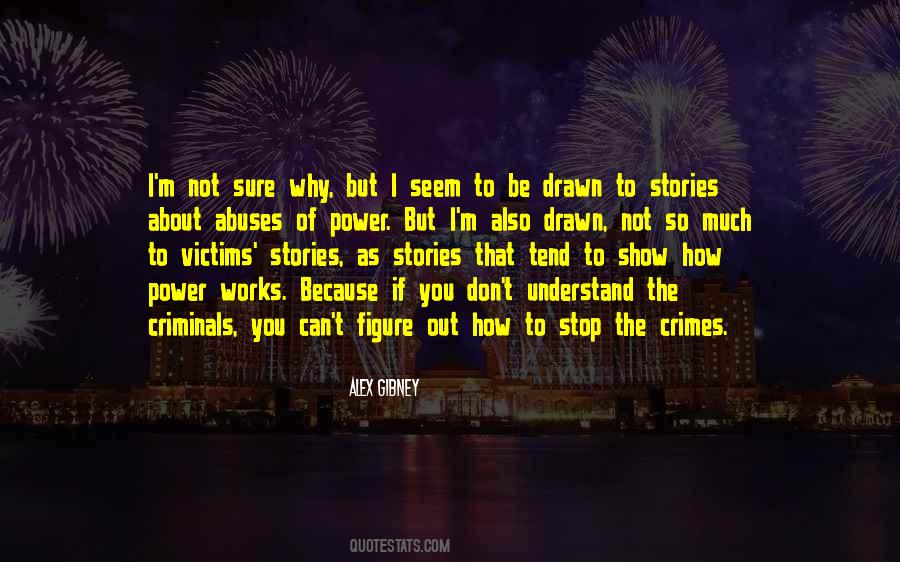 #56. I think if you're fame-hungry, go out to a nightclub and get drunk ... why do that? I don't understand how some people would want fame so bad that they'd go out and get negative attention to earn it. - Author: Zac Efron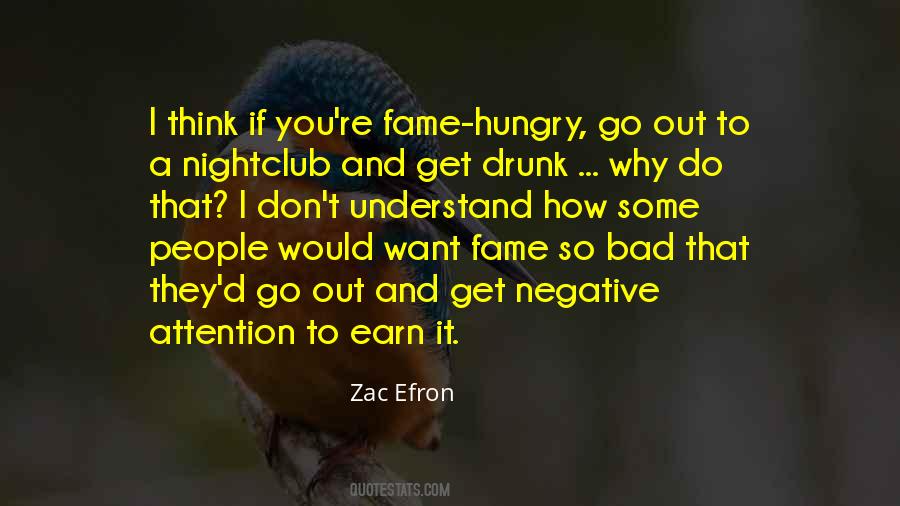 #57. Now here is what you need to understand: If you don't turn your adversity into a ministry, then your pain remains your pain. But if you allow God to translate your adversity into a ministry, then your pain becomes someone else's gain. - Author: Mark Batterson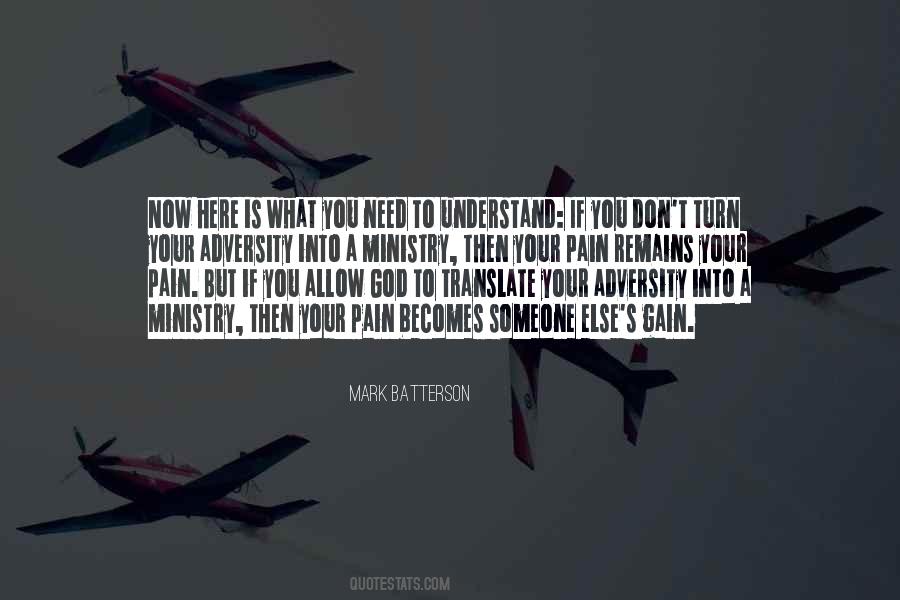 #58. Knowing the only way out is education, even if you don't have parents that are extraordinarily wealthy. I understand that I have to be an active participant in [my daughter's] education in order for her to thrive in the world. - Author: Viola Davis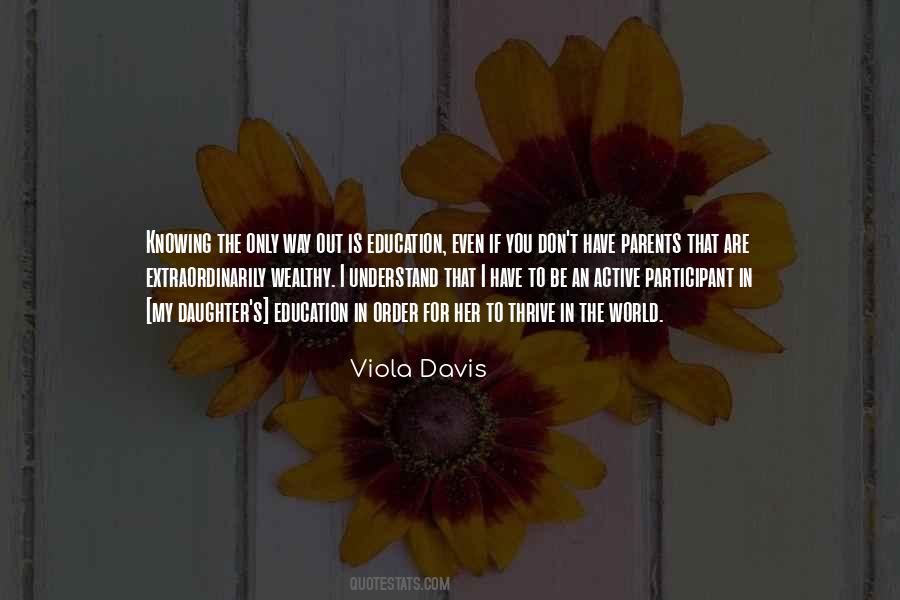 #59. Frankly, I guess, I don't really understand why people, why so many people, are so risk averse. You know, there's always ways to wiggle your way out of any situation if you're motivated enough. - Author: Eric Betzig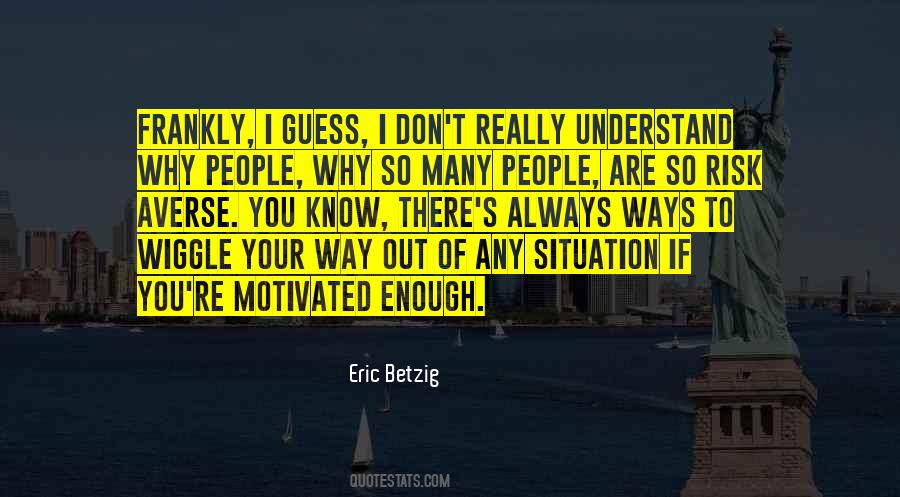 #60. I feel we don't really need scriptures. The entire life is an open book, a scripture. Read it. Learn while digging a pit or chopping some wood or cooking some food. If you can't learn from your daily activities, how are you going to understand the scriptures? (233) - Author: Swami Satchidananda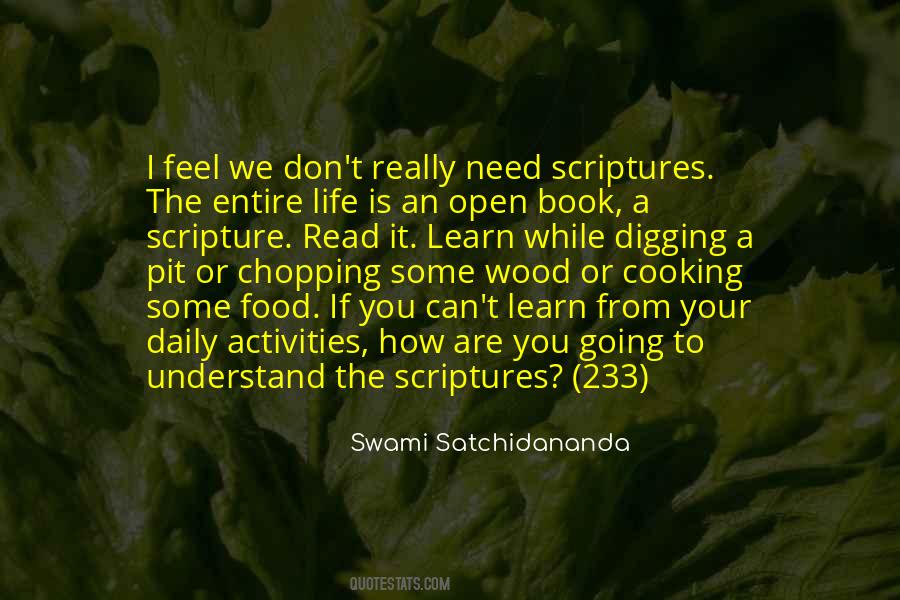 #61. And if you do see any pirates, I don't want you to pick up any rough manners from them. Do you understand? - Author: Alexander McCall Smith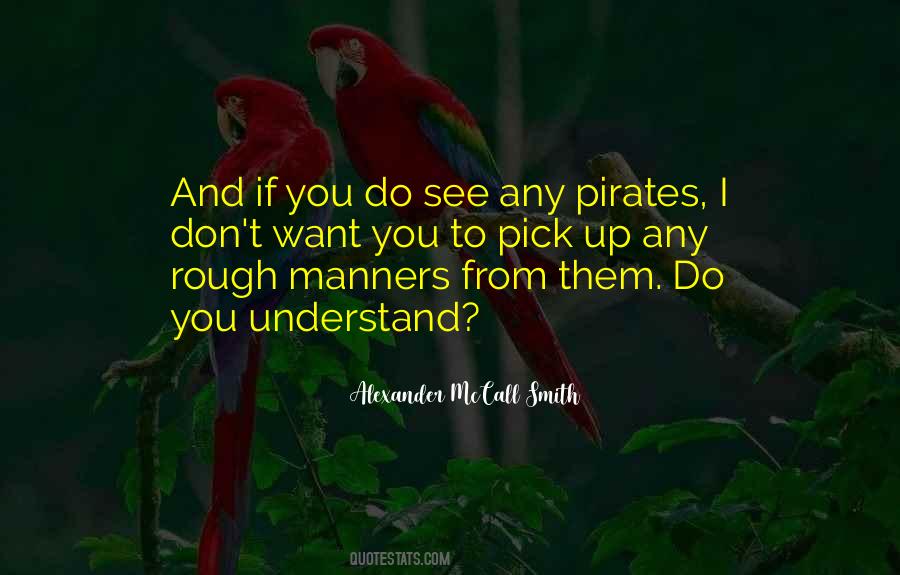 #62. Well understand this! If you want to join our sales team; I don't need pillion riders; I need high drivers who grasp the handle-bars. - Author: Martin Carver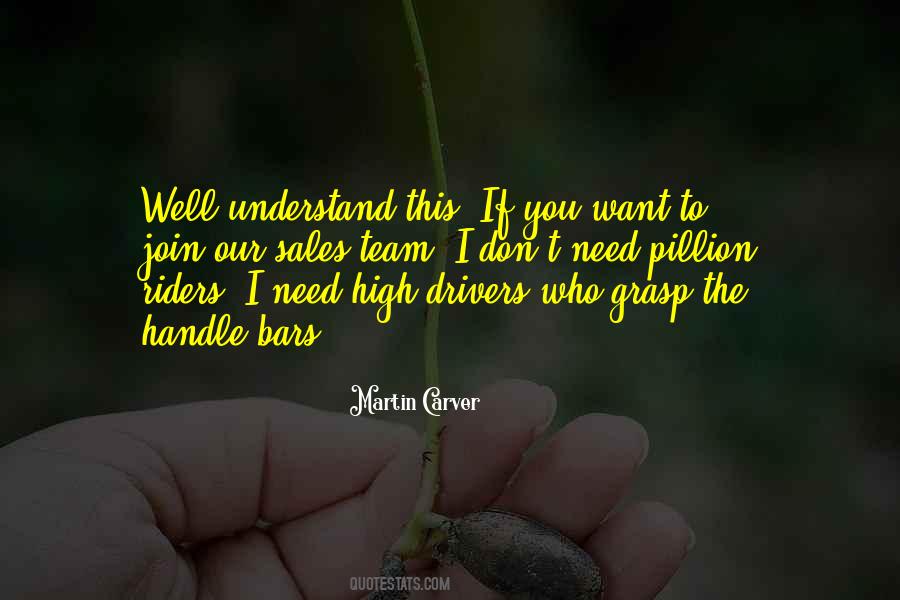 #63. For a songwriter, you don't really go to songwriting school; you learn by listening to tunes. And you try to understand them and take them apart and see what they're made of, and wonder if you can make one, too. - Author: Tom Waits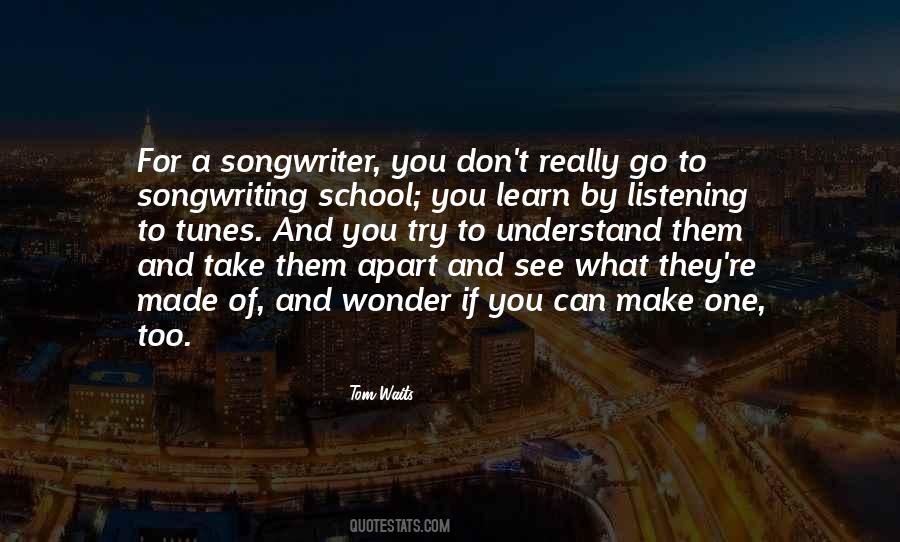 #64. I ... flipped open the lid, thinking my lute might enjoy the feel of a little sun on its strings. If you aren't a musician, I don't expect you to understand. - Author: Patrick Rothfuss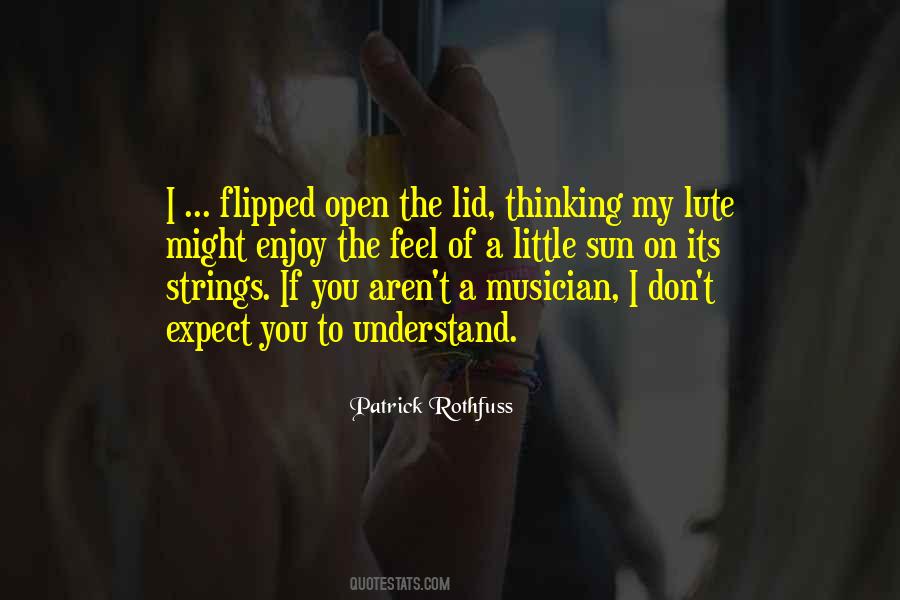 #65. If you don't understand the past, the future won't make much sense either. - Author: DJ Spooky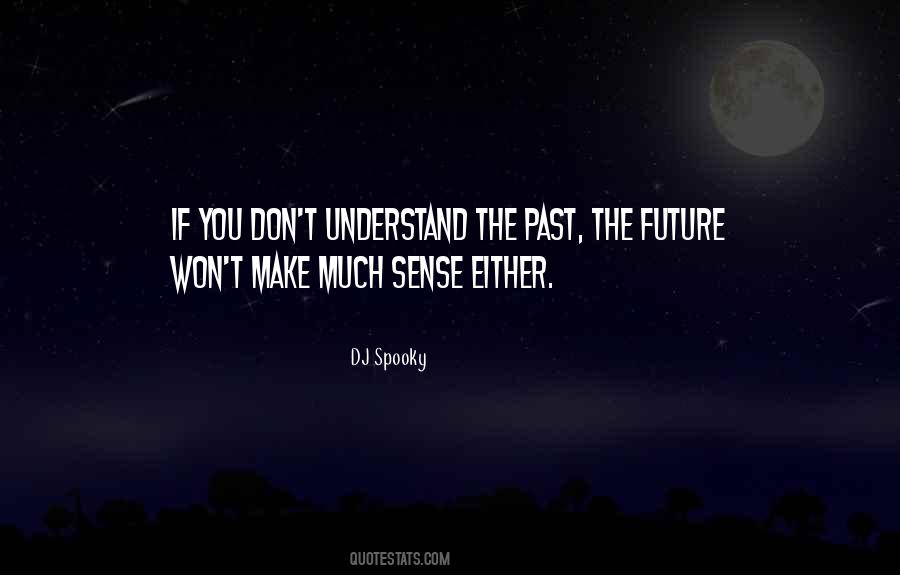 #66. Engineers are funny animals. If you tell an engineer about a problem, any problem, his first instinct is to measure it. Tell an engineer you don't love him anymore and he'll ask for a graph of your love over time so that he can understand exactly how big the problem is and when it started. - Author: Phil Lapsley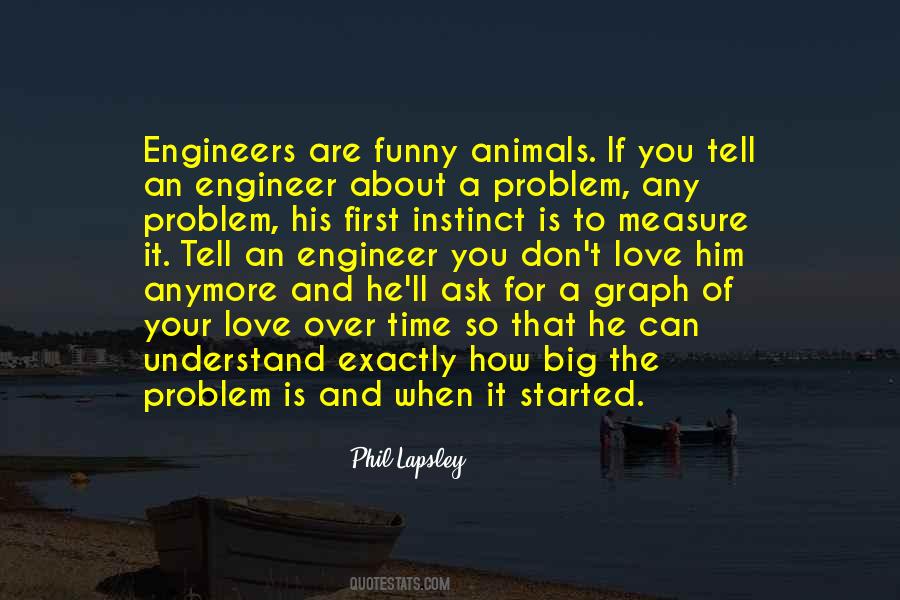 #67. Who gives fuck... does one die or one win... both in the end are in the graveyard... as for now I will focus on if you don't understand me probably is for good. - Author: Deyth Banger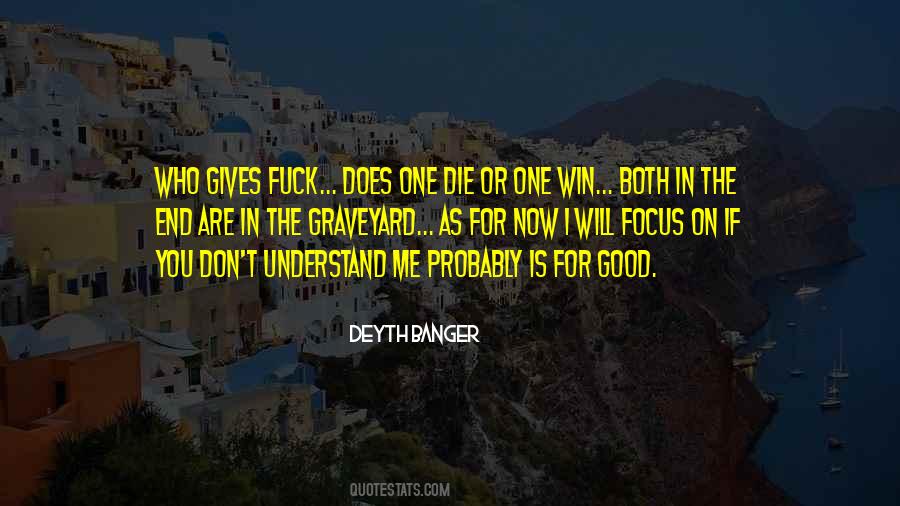 #68. If you spend 72 hours in a place you've never been, talking to people whose language you don't speak about social, political, and economic complexities you don't understand, and you come back as the world's biggest know-it-all, you're a reporter. Either that or you're President Obama. - Author: P. J. O'Rourke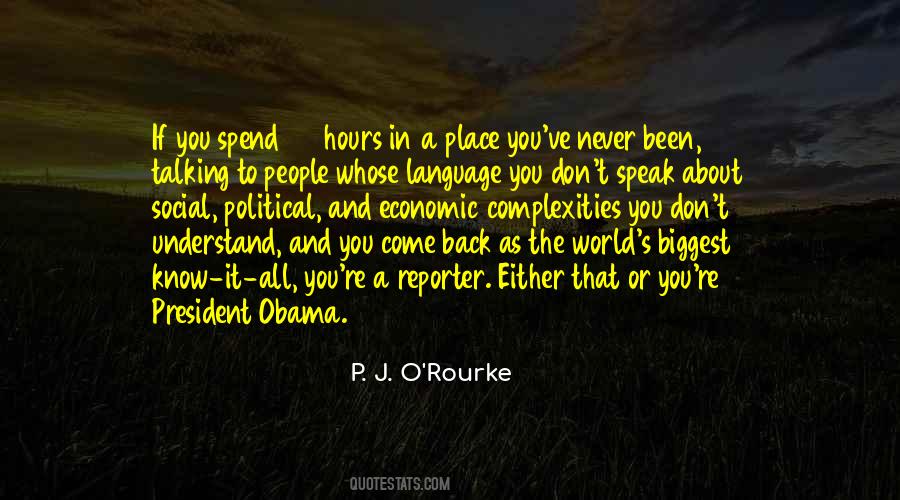 #69. If you're a human being, you can attempt to do what other human beings have done. We don't understand talent any more than we understand electricity. - Author: Maya Angelou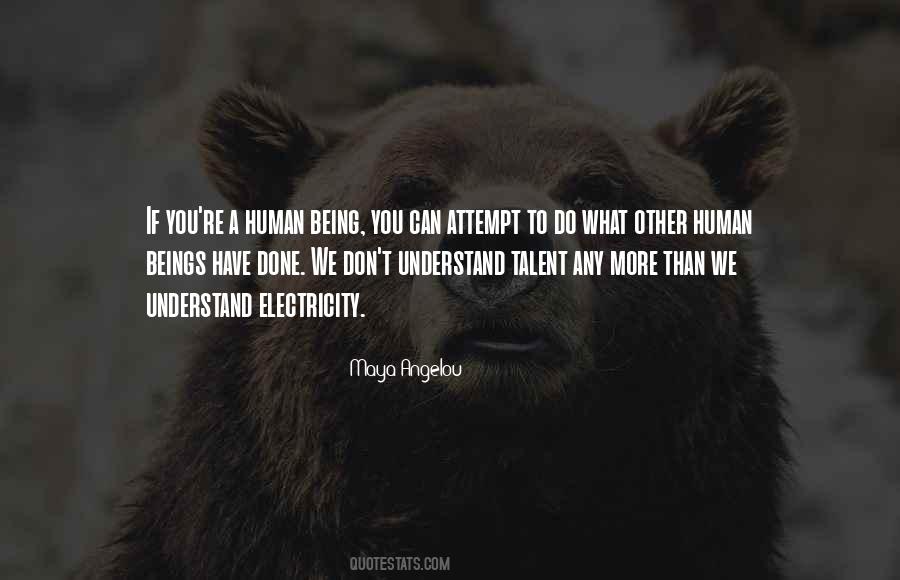 #70. It is one of those weird social things. Even as parents we say, oh, don't be sad. You know, come here, we'll distract you with some ice cream or something. And I don't know if that's always the best thing. But it's certainly - you understand why people do it. - Author: Pete Docter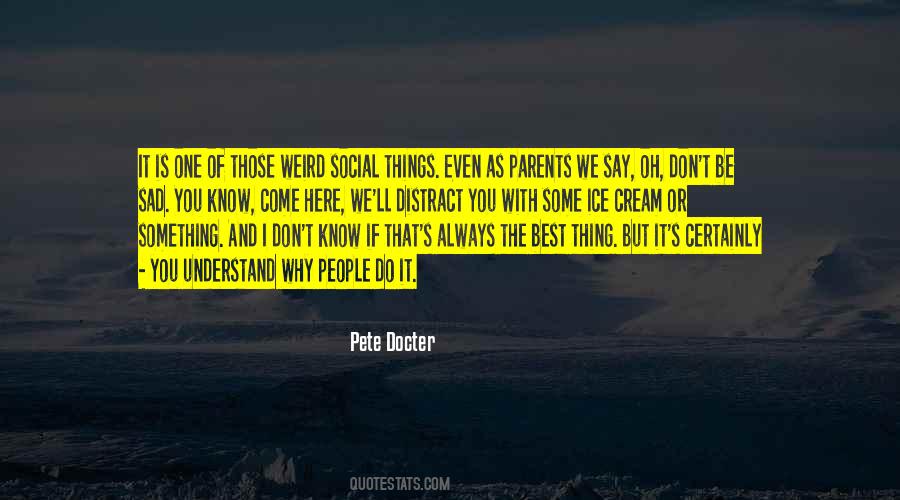 #71. The mankind doesn't deserv the title "KIND", after all they aren't kind they search ways to destroy you if this is understand as a kind, I don't know where to go. - Author: Deyth Banger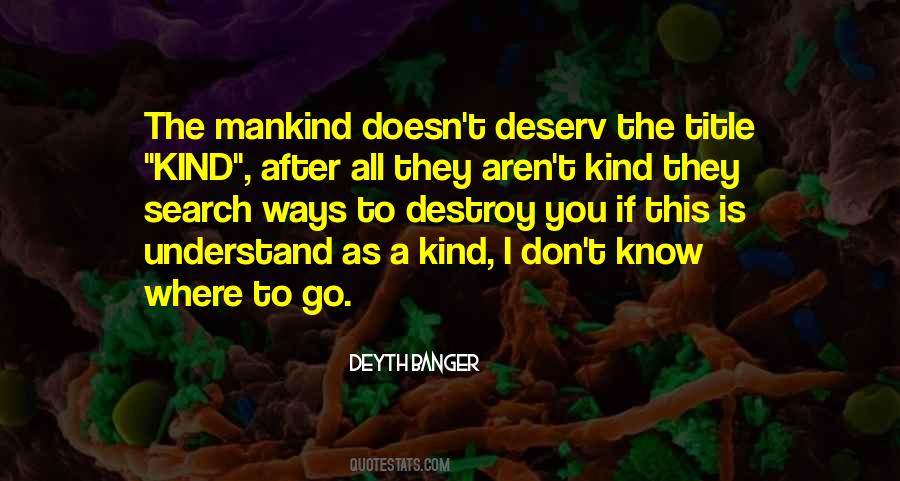 #72. Styling is my form of painting. I can understand the process behind it, the being afraid to start, and the diving into it. I've learned not to be afraid of doing something that might not be right. If you don't try then you won't know. - Author: Lori Goldstein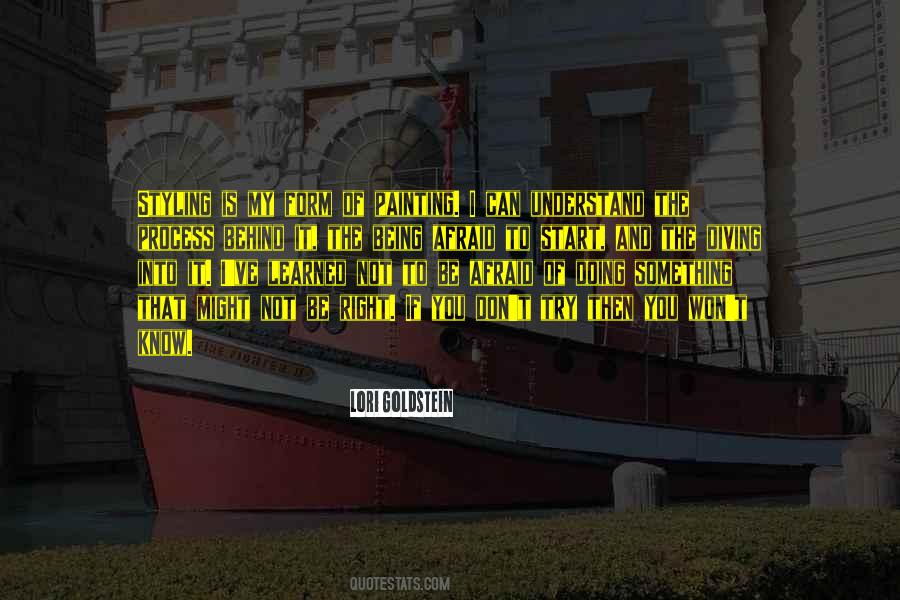 #73. You don't deserve to understand truth
if all that you want is just the normal life. - Author: Toba Beta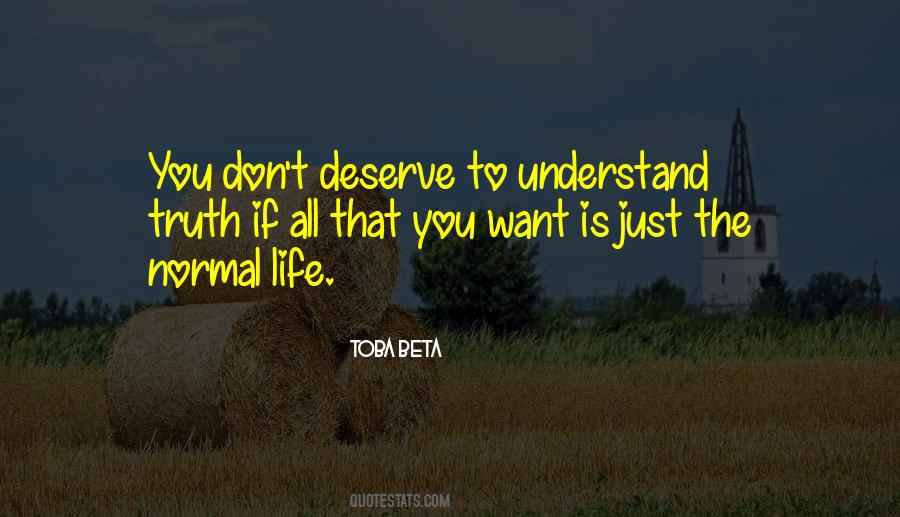 #74. You just cry if you want to." Eustacia's voice was kind but firm. "Women cry. Men don't understand it, but crying is what we do. - Author: Melanie Dickerson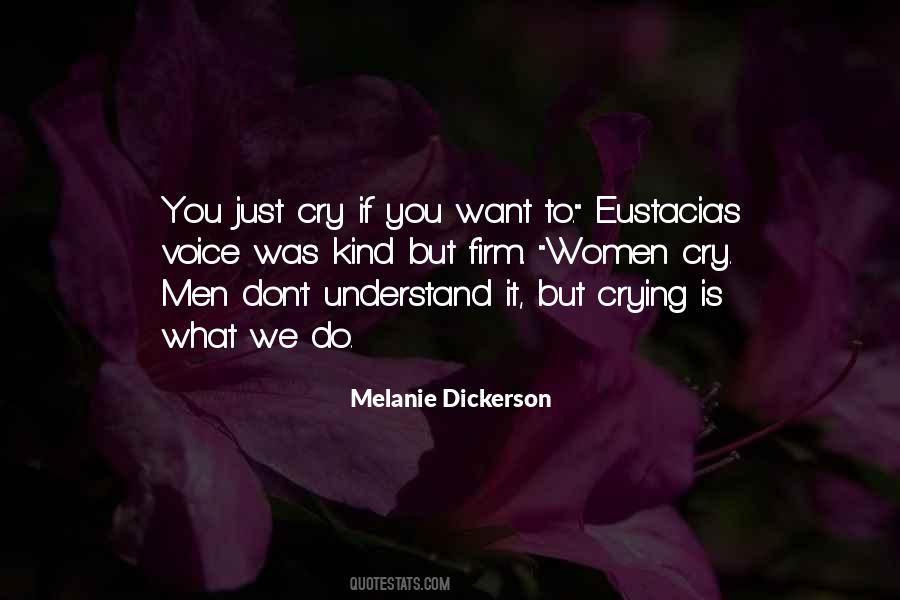 #75. This is it: somehow, in these pictures, the mystery of the accident is contained, and the explanation for Dara's subsequent behavior, for the silences and disappearances. Don't ask me how. I just do. If you don't understand that, I guess you've never had a sister - Author: Lauren Oliver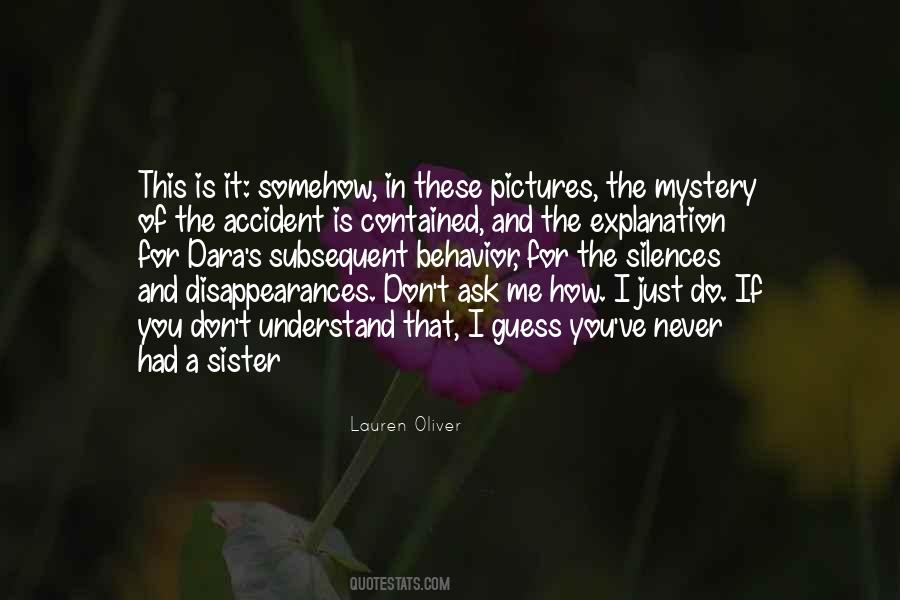 #76. When you arrive in L.A. as an Englishman, you might as well be on the moon. People just don't understand you if you speak too fast, and most people there think you're Australian. Ordering was incredibly complicated. I was speechless. - Author: Ben Chaplin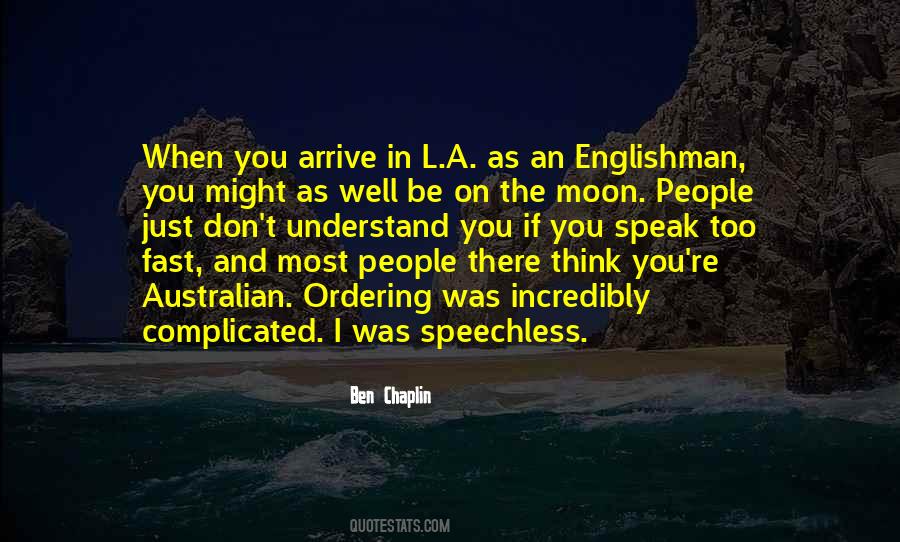 #77. People always slow down for a train wreck. It's like junk food. If you don't feel good about yourself, you want to read crap about other people, like gossip in high school. You don't understand why it's there, but somehow it makes a lot of people feel better. - Author: Angelina Jolie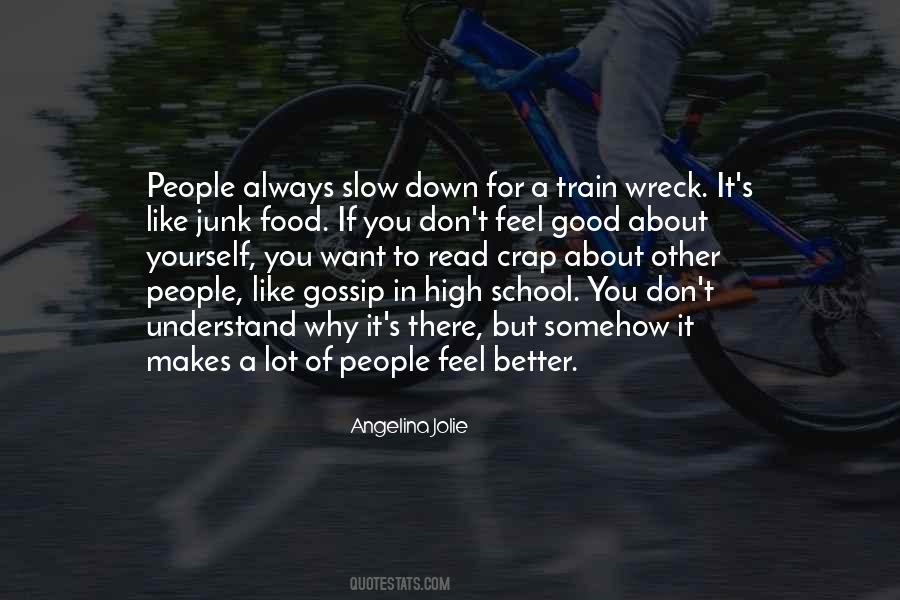 #78. Parents have to understand: if your kid isn't you, don't blame the kid. - Author: Chaz Bono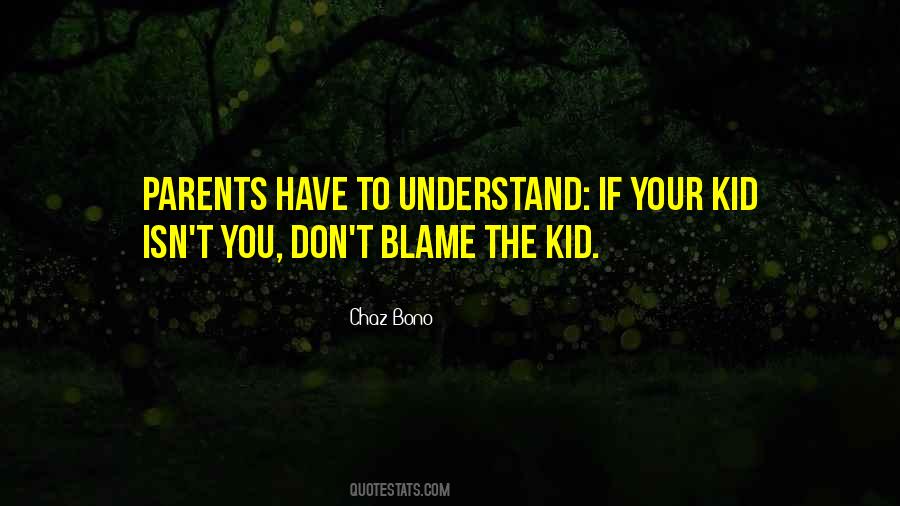 #79. People who work on the user interface side need to have empathy as a key characteristic. But if you are writing device drivers you don't really need to understand humans so well. - Author: Andy Hertzfeld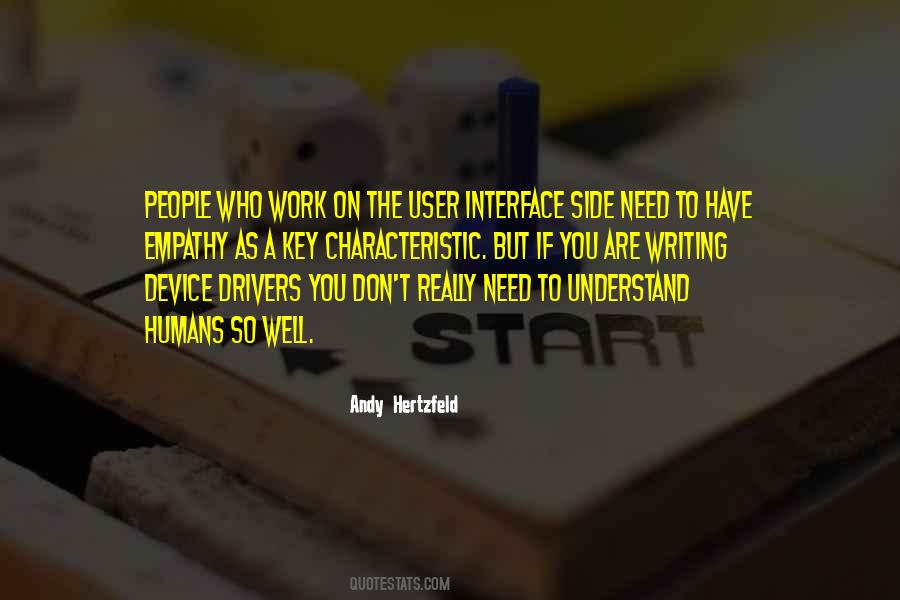 #80. We're basically loners. If I didn't have the kids, I'd be alone a lot, and I'd be okay with that. I don't need to be entertained by people. I want my space, so I understand you feeling trapped. - Author: Bijou Hunter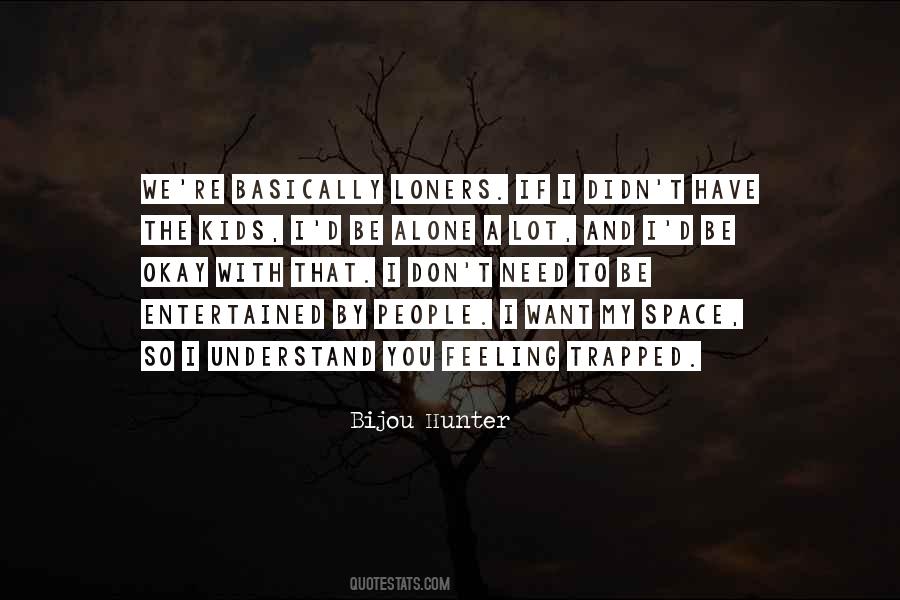 #81. If you are explaining, you're losing. It's a bumper sticker culture. People have to get it like that, and if they don't, if it takes three seconds to make them understand, you're off their radar screen. Three seconds to understand, or you lose. This is our problem. - Author: Lawrence Lessig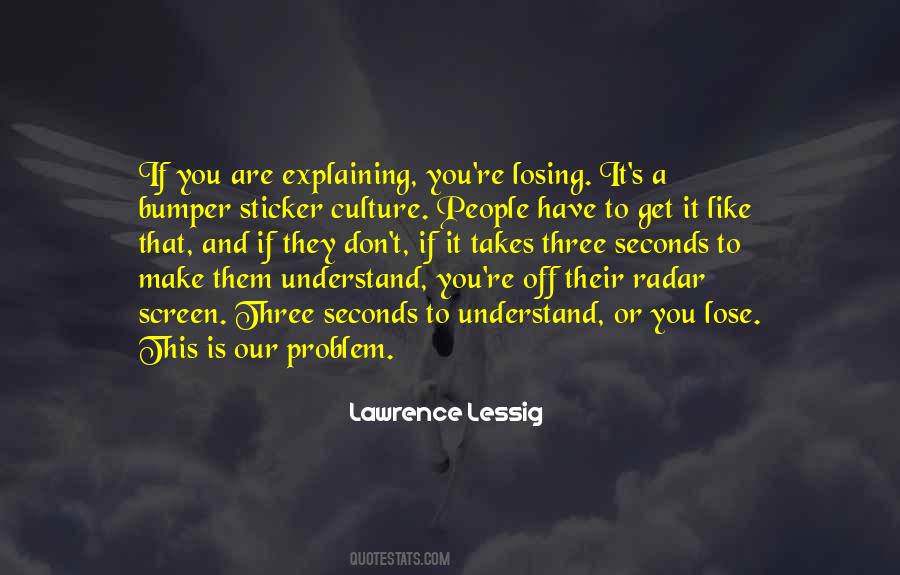 #82. But I'm completely innocent in this case. I'm the victim. Don't you understand? If she'd just dressed in an appropriate manner, nothing would have happened. I'm a peaceful man, and now I'm going to prison.
Conversation on Radio Fake 112.8 MHz
In The Shadow of Sadd. - Author: Steen Langstrup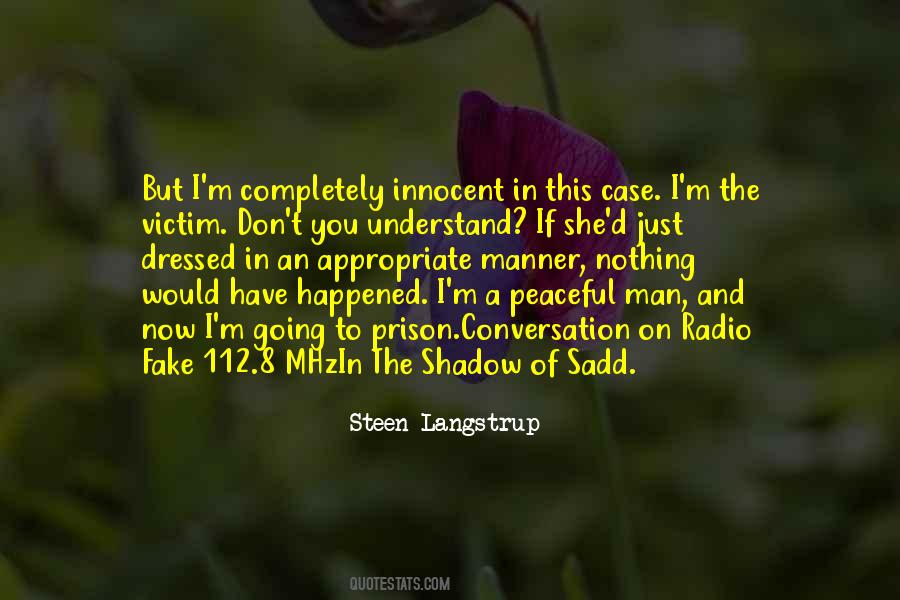 #83. If you can't explain it simply, you don't understand it enough. - Author: John C. Maxwell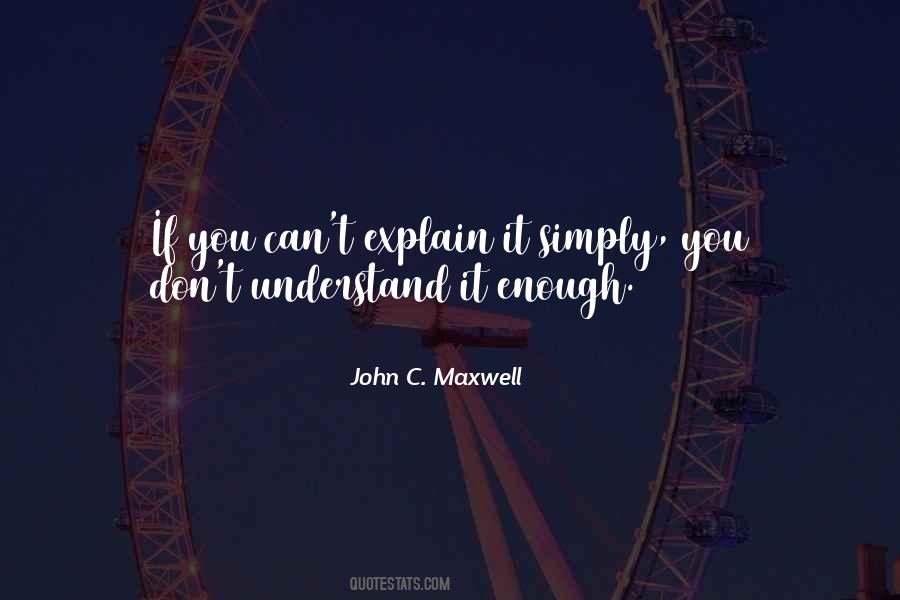 #84. Even if you didn't lose your job, if you're one of the two-thirds of Ontarians who don't have a pension, you lost savings. Even if you've earned most of that back now, you are a changed person. You are less secure, less confident. And I understand that. - Author: Dalton McGuinty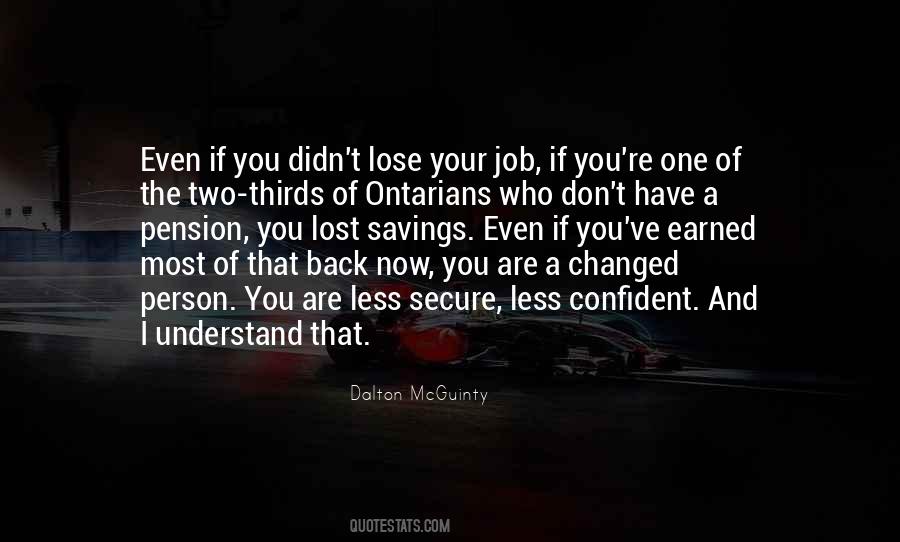 #85. I don't understand why it's a sin if you love something and want to keep it from having to suffer. - Author: Jodi Picoult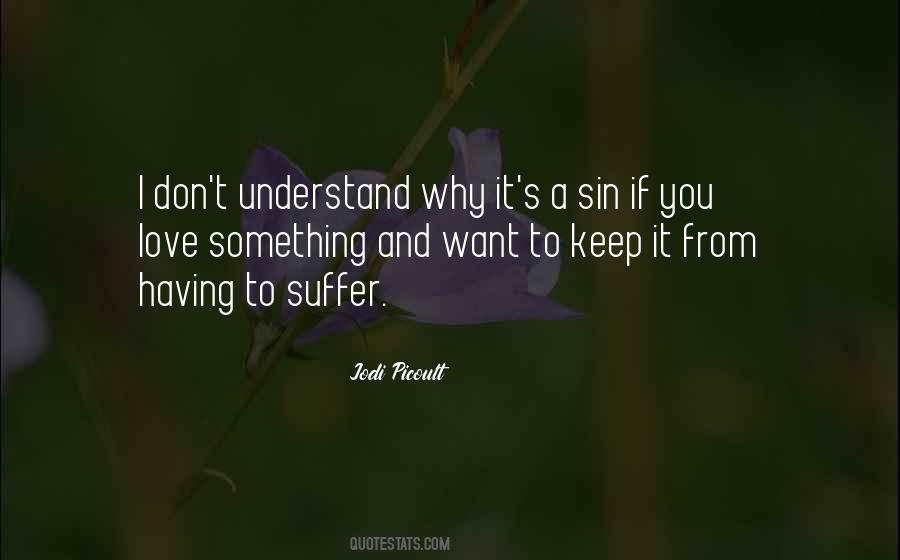 #86. Don't play any game if you don't understand the rules no matter how nice winners trophy looks like - Author: Sonja Smolec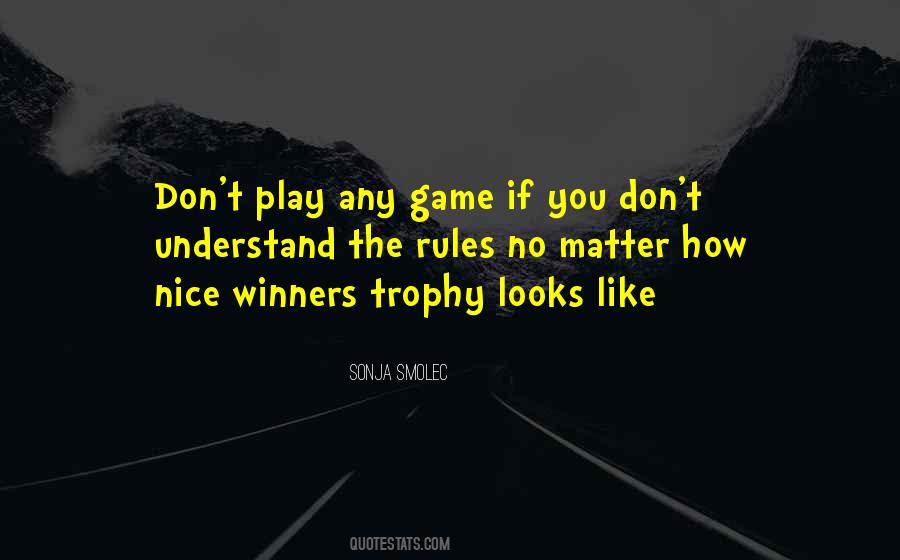 #87. But if you don't understand that story is character and not just idea, you will not be able to breathe life into even the most intriguing flash of inspiration. - Author: Elizabeth George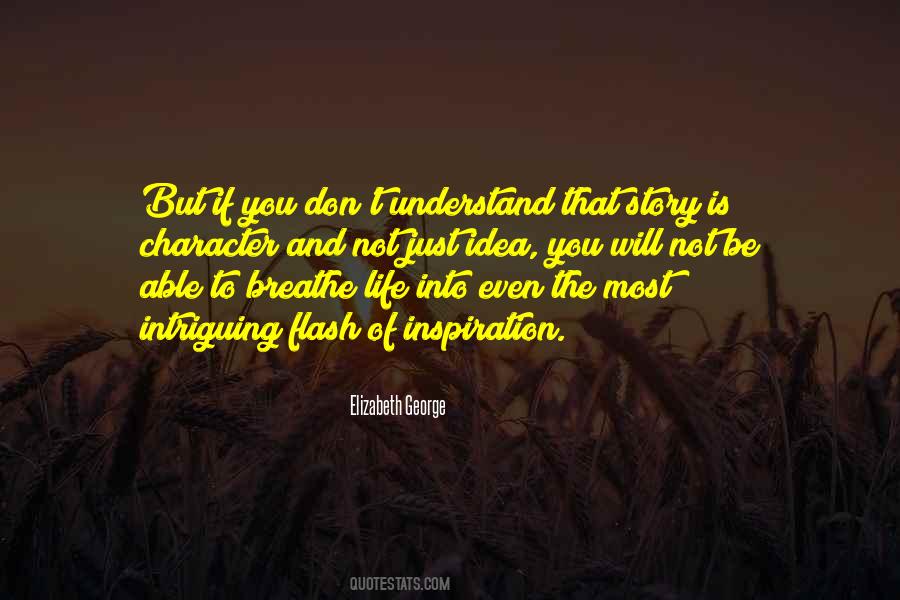 #88. It's very important for people to know themselves and understand what their value system is, because if you don't know what your value system is, then you don't know what risks are worth taking and which ones are worth avoiding. - Author: Ben Carson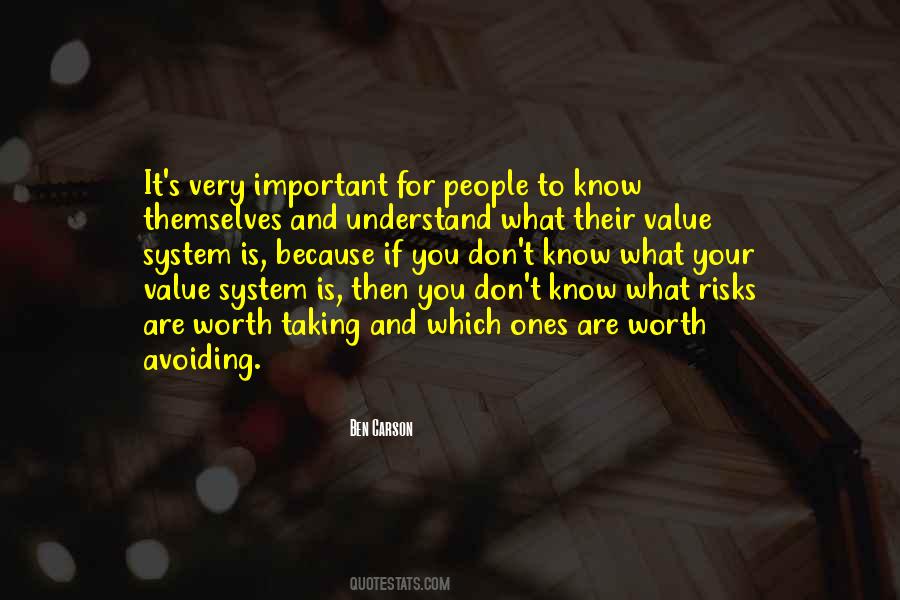 #89. You cannot get an influence from the cuisine of a country if you don't understand it. You've got to study it. - Author: Ferran Adria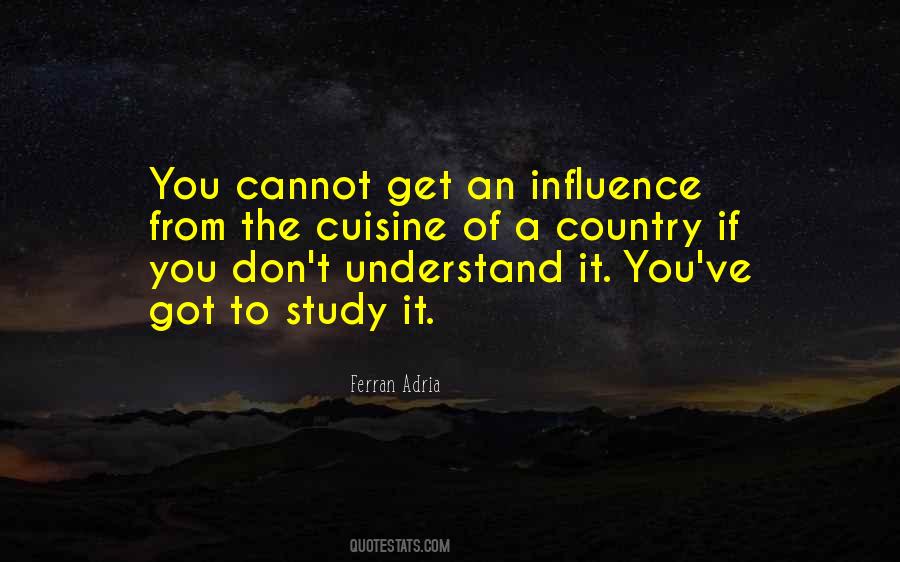 #90. Well, suppose intelligent people don't believe, but that's from intelligence, and you, I say, squirt that you are, what do you understand about God? You were taught by some student, and if he'd taught you to light icon lamps, you'd do it. - Author: Fyodor Dostoyevsky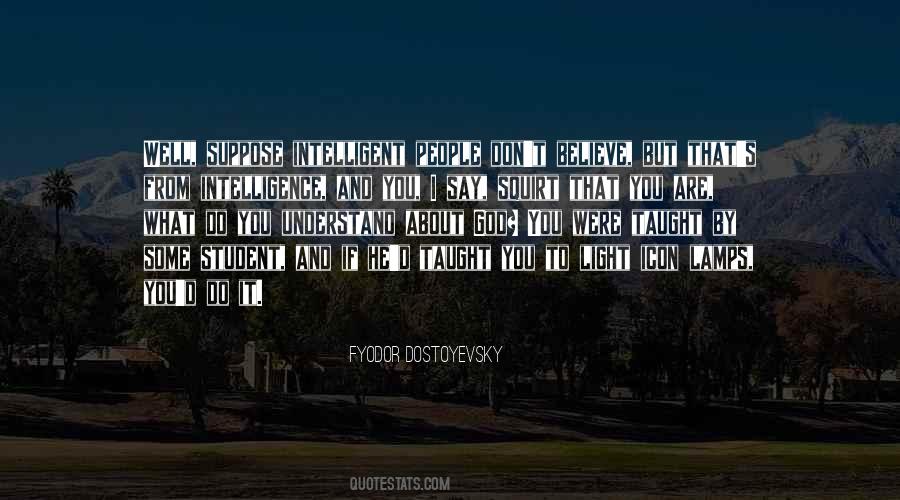 #91. If you think of the typical Herbalife distributor and their level of sophistication, to this day I still don't understand the marketing plan - true story. - Author: Bill Ackman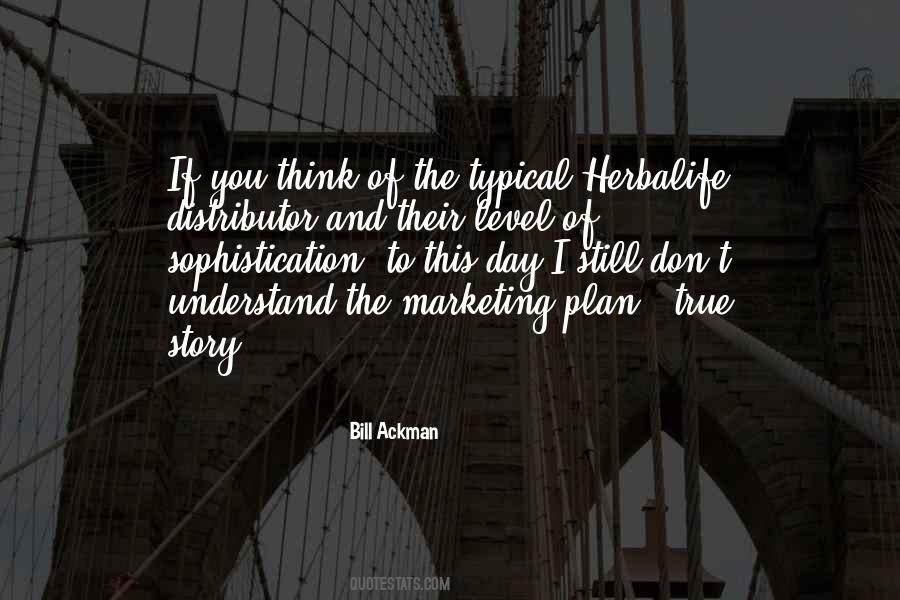 #92. The beauty of the ragamuffin gospel lies in the insight it offers into Jesus: the essential tenderness of His heart, His way of looking at the world, His mode of relating to you and me. 'If you really want to understand a man, don't just listen to what he says, but watch what he does. - Author: Brennan Manning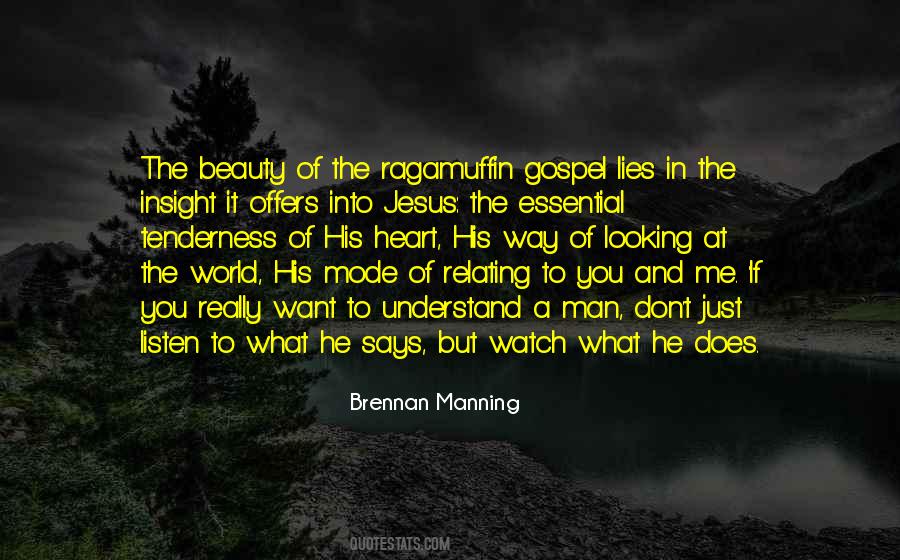 #93. You aren't going to be successful as a diplomat if you don't understand the strategic context in which you are actually negotiating. It is not deal making. It's not. - Author: Condoleezza Rice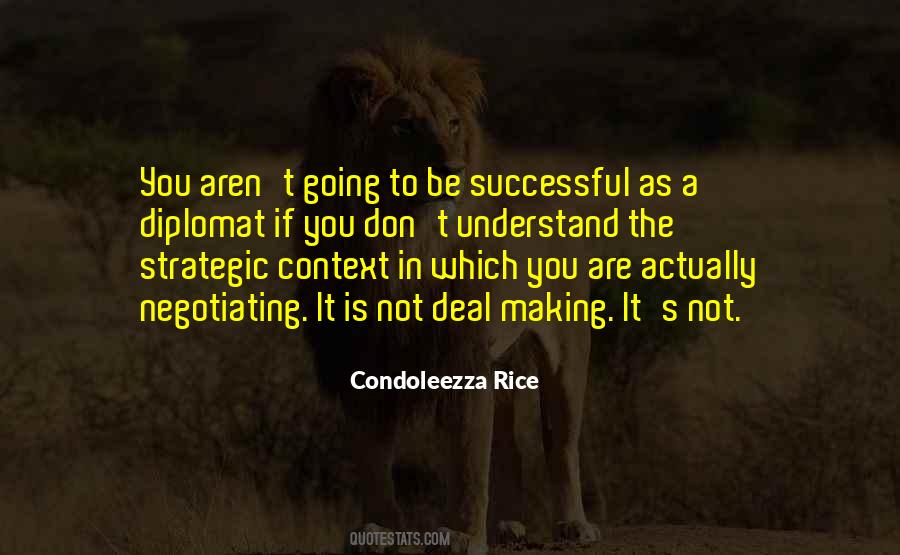 #94. Really, darling, it's a no-brainer. You know, I understand not everybody is for gay marriage. But if you're not for gay marriage, don't marry a gay person. That's what I say - Author: Whoopi Goldberg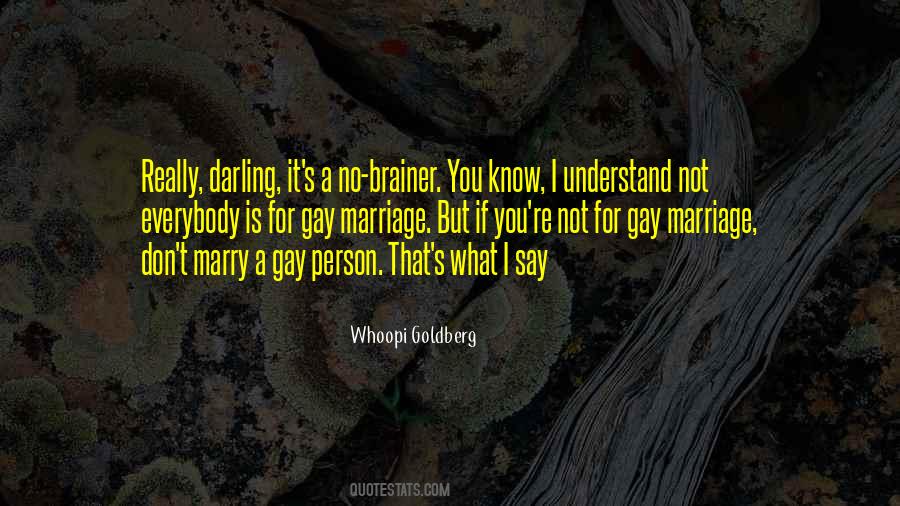 #95. Why would you create a movie for black people if you don't understand the history and perspective of the people you are doing it for? You need historical perspective to make sound decisions. - Author: Tim Reid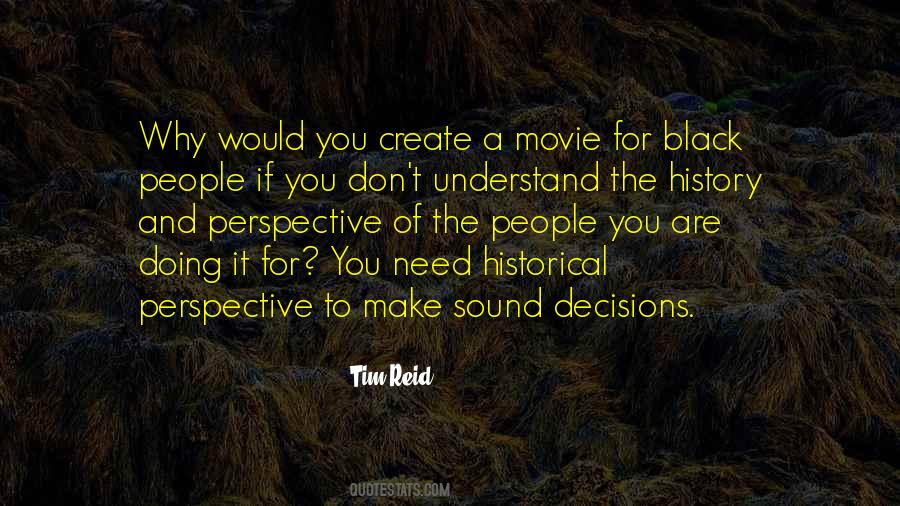 #96. This of course is the way to talk to dragons, if you don't want to reveal your proper name which is wise, and don't want to infuriate them by a flat refusal which is also very wise. No dragon can resist the fascination of riddling talk and of wasting time to trying to understand it. - Author: J.R.R. Tolkien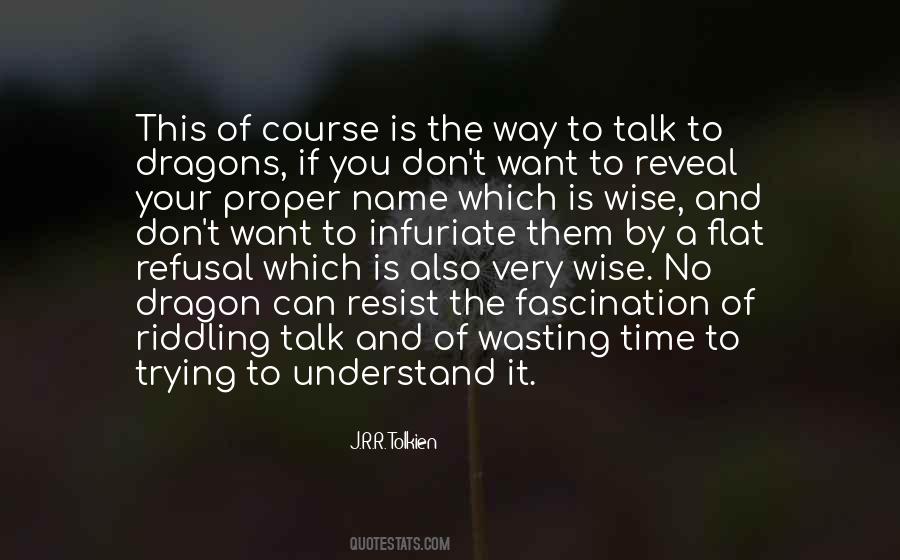 #97. Your cell phone is on the nightstand. Call me immediately if something changes. I don't care if you are merely dizzy or if you start seeing pink dragons, do you understand?
I solemnly swear I will call you the second a pink dragon shows up. - Author: Jessica Fortunato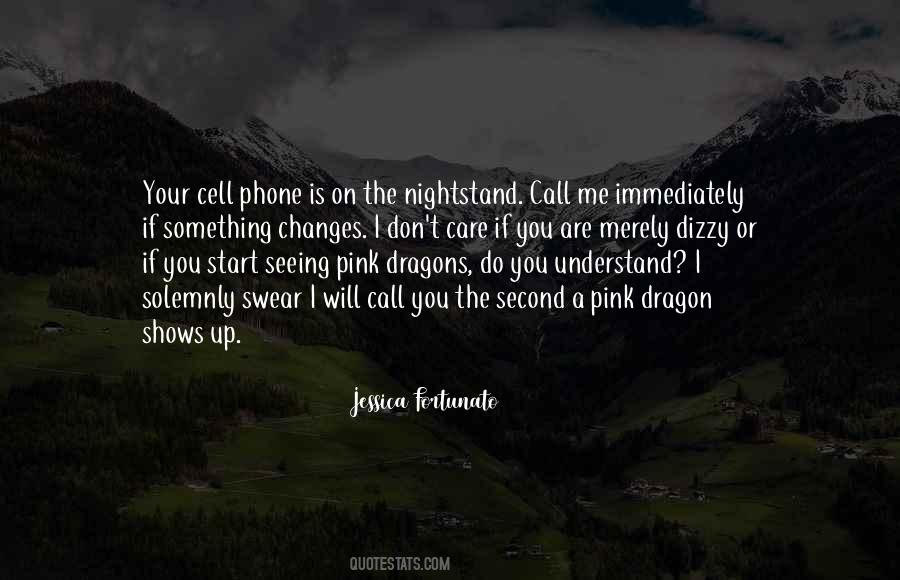 #98. All sorrows can be borne if you put them into a story or tell a story about them. But if we cannot find a way of telling our story, our story tells us- we dream these stories, we develop symptoms, or we find ourselves acting in ways we don't understand. - Author: Stephen Grosz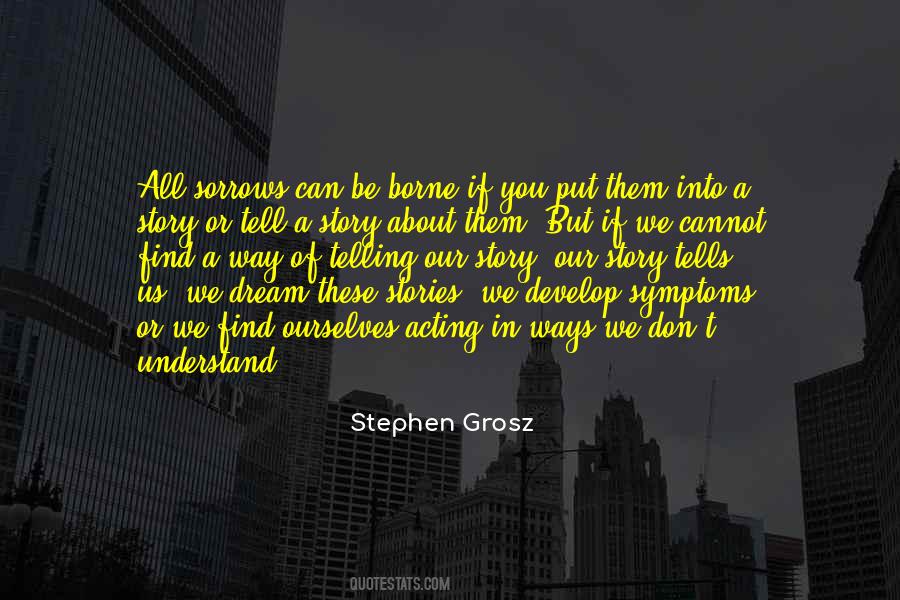 #99. If you don't understand the details of your business you are going to fail. - Author: Jeff Bezos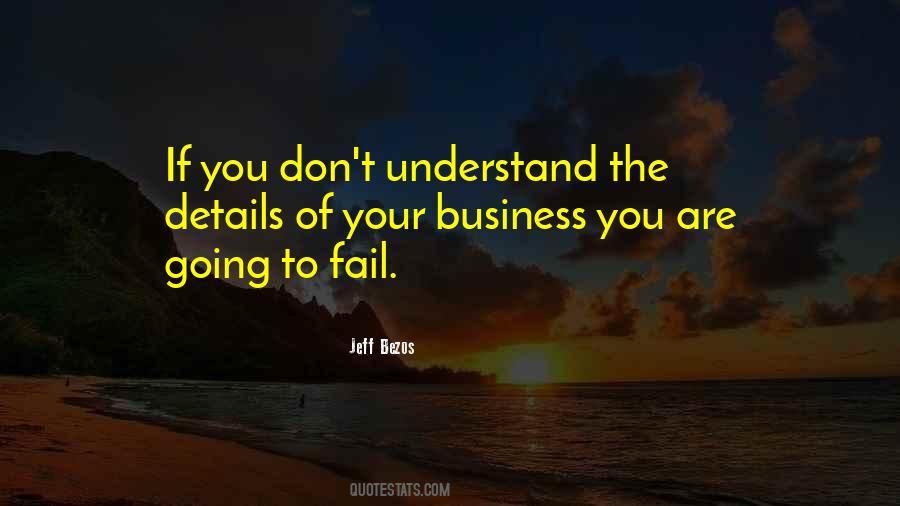 #100. If you love me, Henry, you don't love me in a way I understand. - Author: Richard Siken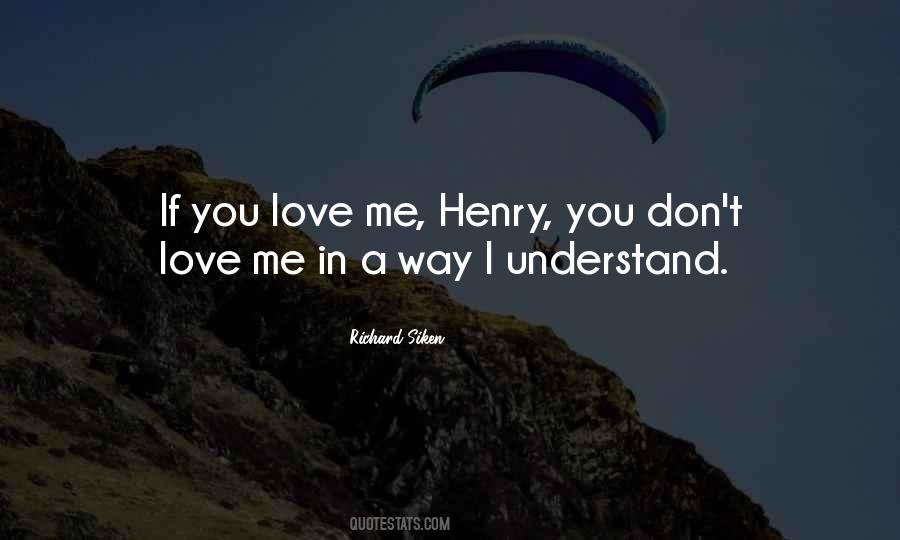 Famous Authors
Popular Topics