Hike Famous Quotes & Sayings
List of top 100 famous quotes and sayings about hike to read and share with friends on your Facebook, Twitter, blogs.
Top 100 Hike Quotes
#1. I grew up climbing mountains in Montana and Wyoming and my wife and I were engaged on top of a mountain peak: Hyalite Peak in Montana. It was a 15-mile hike to get to the top of that, round-trip - thankfully, she said yes. - Author: Steve Daines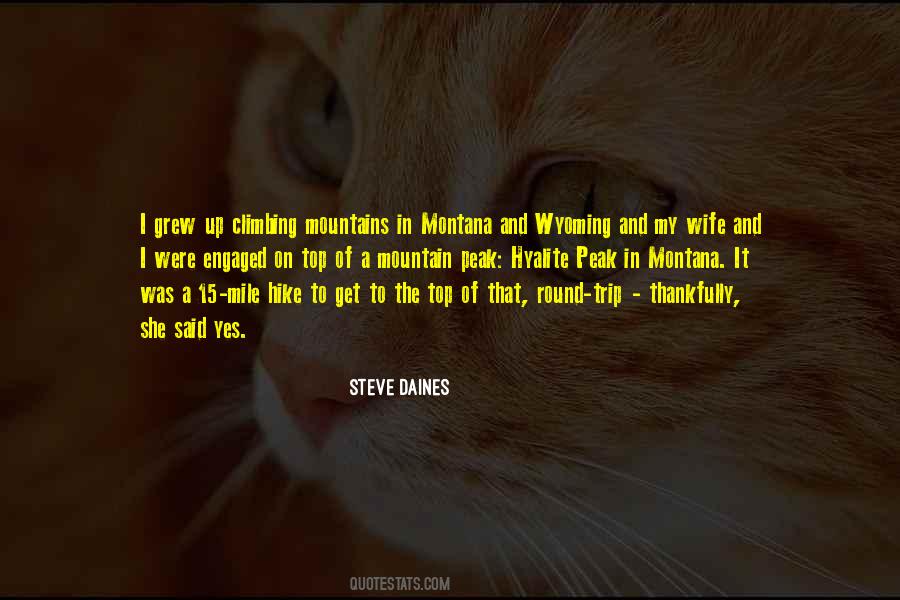 #2. I was a very unpredictable child. I'd pack a bag and go off and do a hike in the mountains for 10 days. - Author: Kiesza
#3. We are built to walk. Not to SoulCycle and jog and hike. Walking is mental. You sharpen your thoughts and process your emotions. - Author: Caroline Kepnes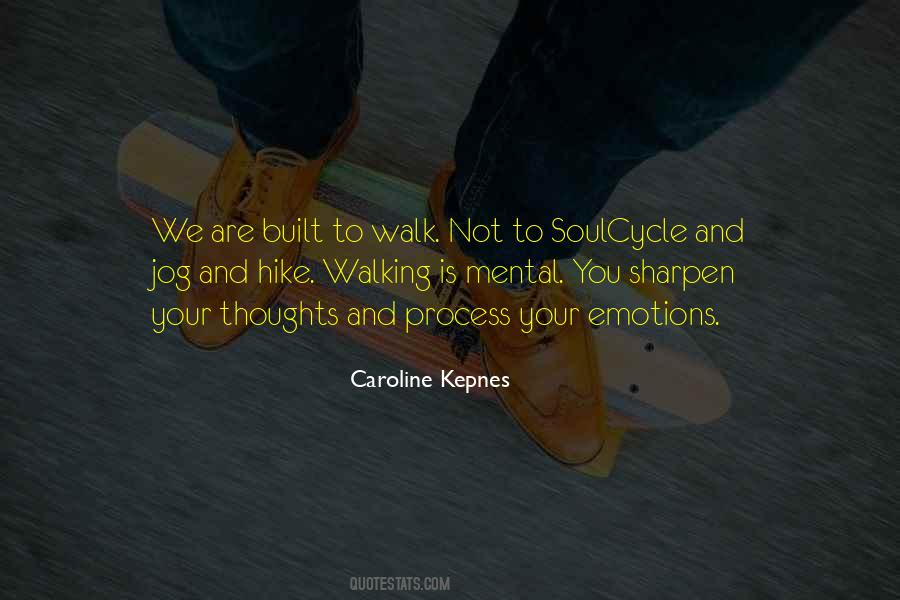 #4. In winter I go skiing on Saturdays and Sundays when the slopes are quieter due to changeover day for tourists, and in summer I hike up into the mountains at sunset, just as the village is settling down to dinner. - Author: Vanessa Mae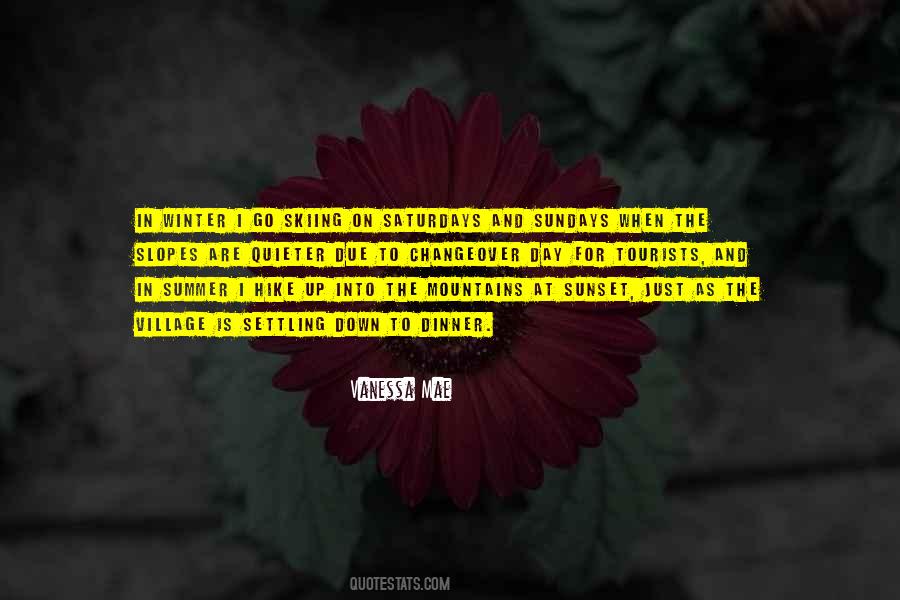 #5. I am almost a vegetarian, and I meditate, do yoga and love to hike. - Author: Diane Von Furstenberg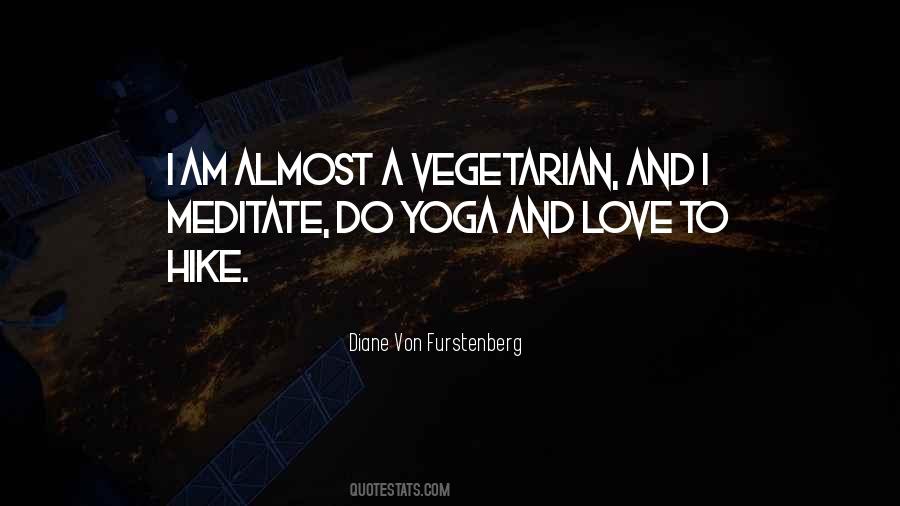 #6. There are many different ways now to experience nature. Get out there and hike. - Author: Ed Begley Jr.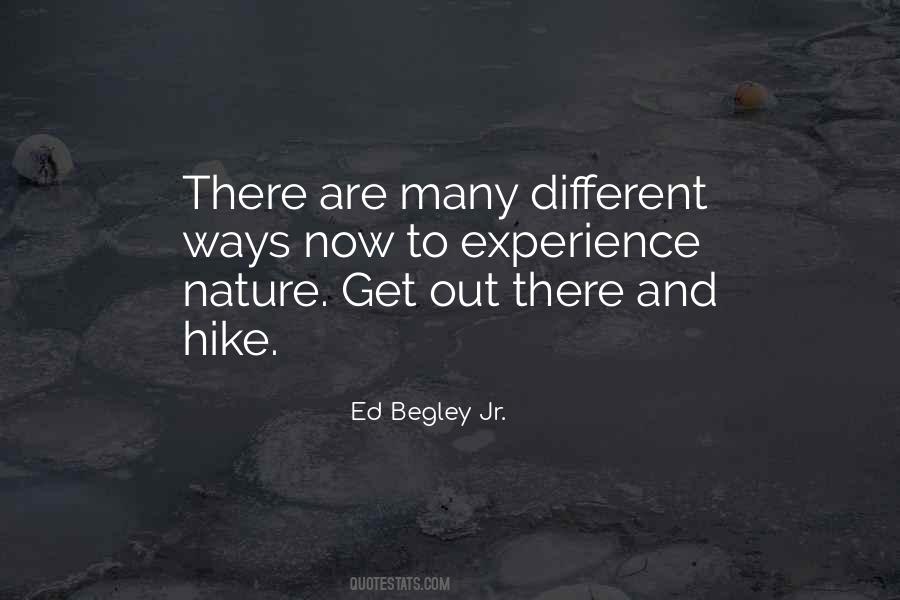 #7. Personally, I think every guy who calls himself straight should take a hike on the gay Appalachian Trail at least once in his life. - Author: Brad Boney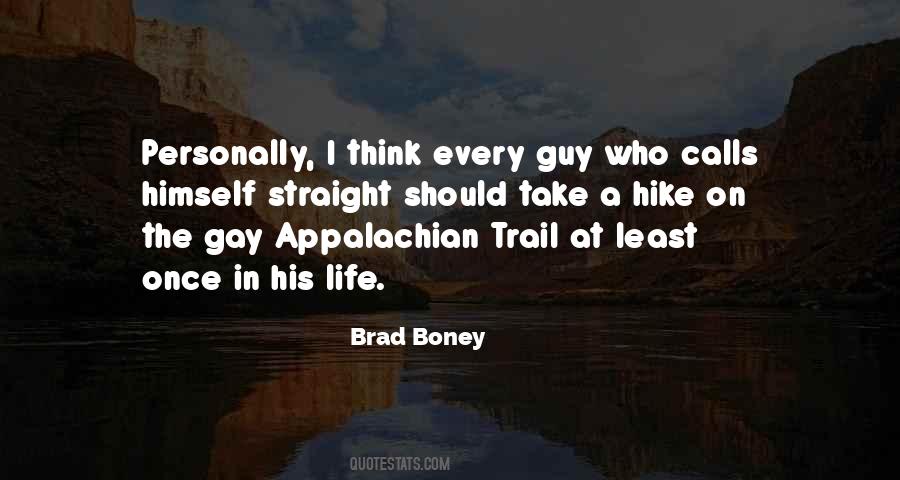 #8. Along with rock climbing, I hike and I like to go to the beach, anything outdoors and anything that takes me out of the everyday. - Author: Christa B. Allen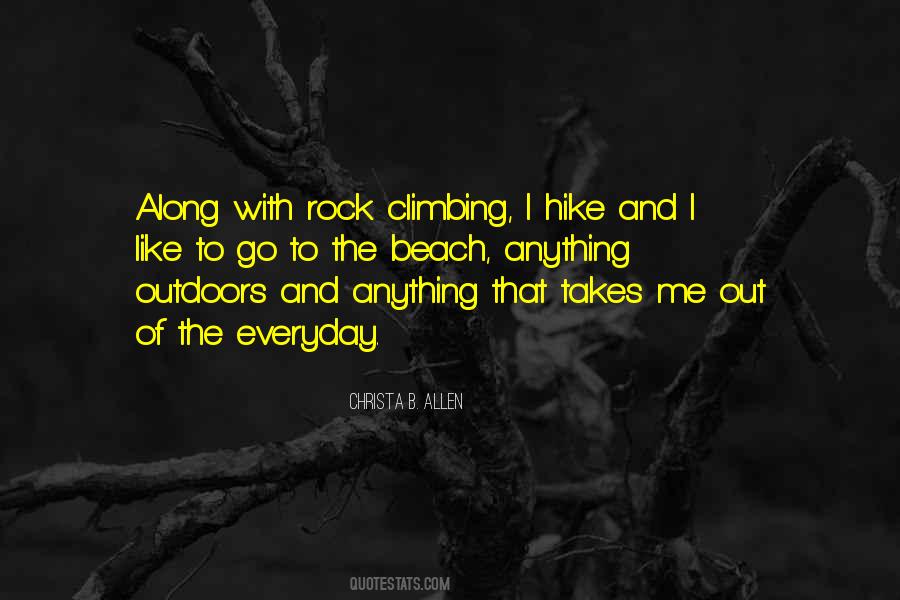 #9. Get out there, even if it's a hike or something, just break up the monotony of going to the gym. - Author: Jessica Biel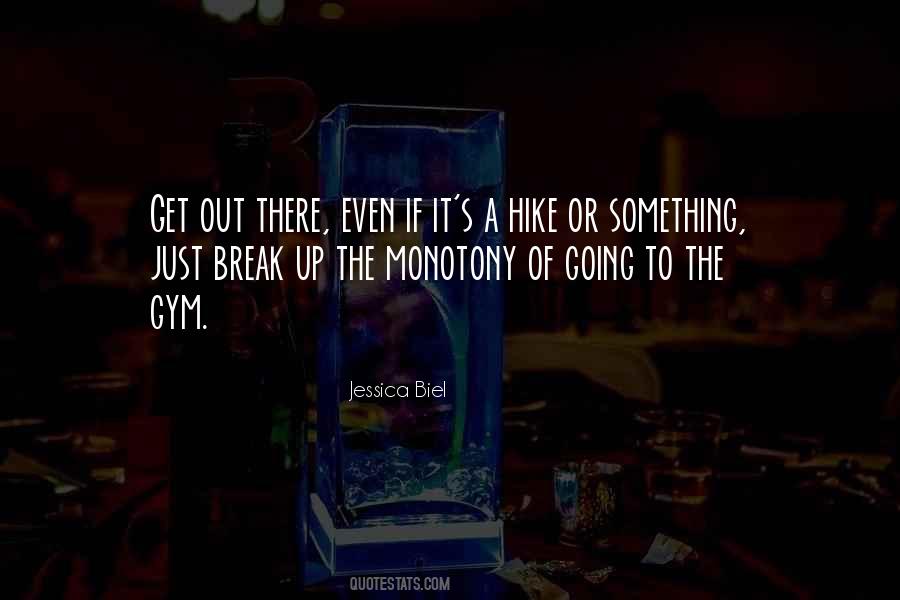 #10. I never boned a honey that I didn't like,
I never saw a mile that I couldn't hike.
I never had a spliff to make me choke,
I never had a pocket that was broke. - Author: Dres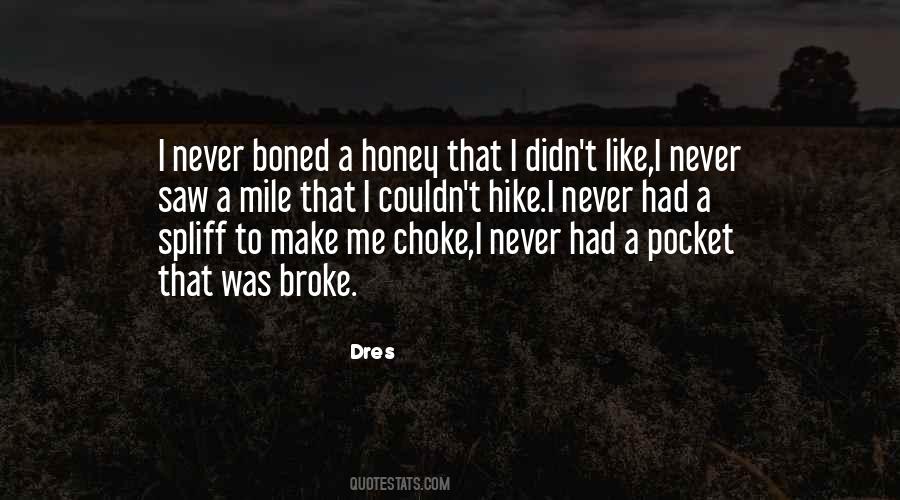 #11. From those who agonize that they may no longer be able to write off their private jet to someone who doesn't feel like making the three mile hike to the well to get water and carry it back, everyone struggles. - Author: Henry Rollins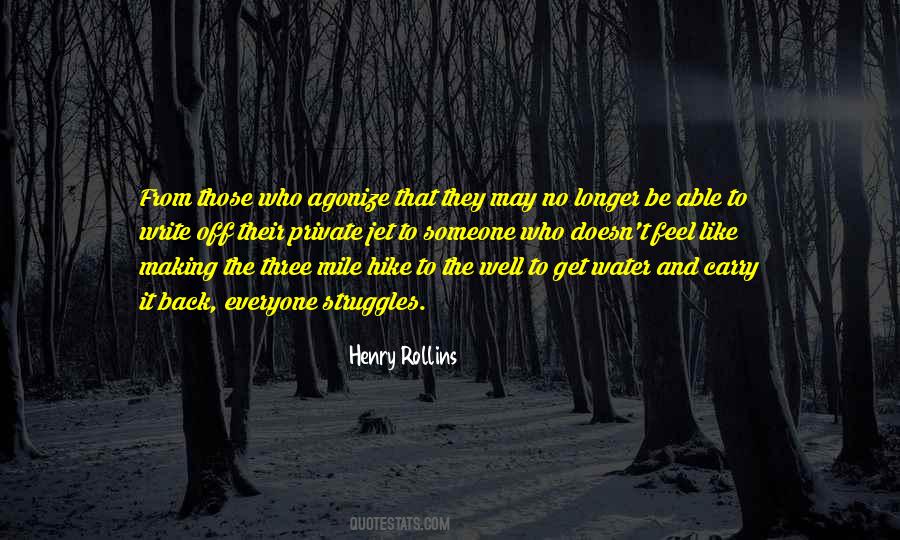 #12. Rachel had decided he WAS handsome during their hike to the camp. Though the way he kept telling her to speak more quietly or to look where she was going was annoying. By the time they finally got there, she was beginning to think his looks were his only good attribute. - Author: Teri Hall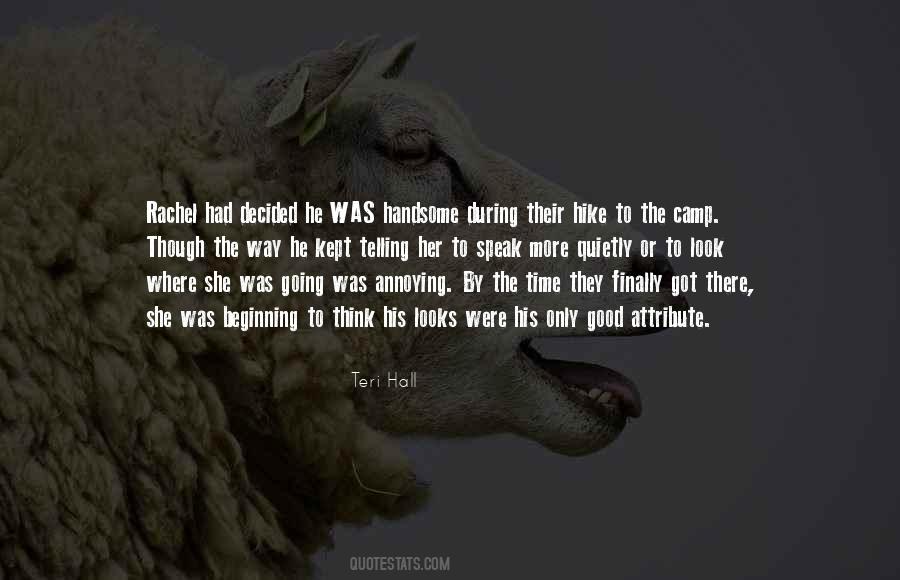 #13. I'd like to say I'm on a natural high," Cam said.
"This hike would have ruined John Denver," Roland agreed. - Author: Lauren Kate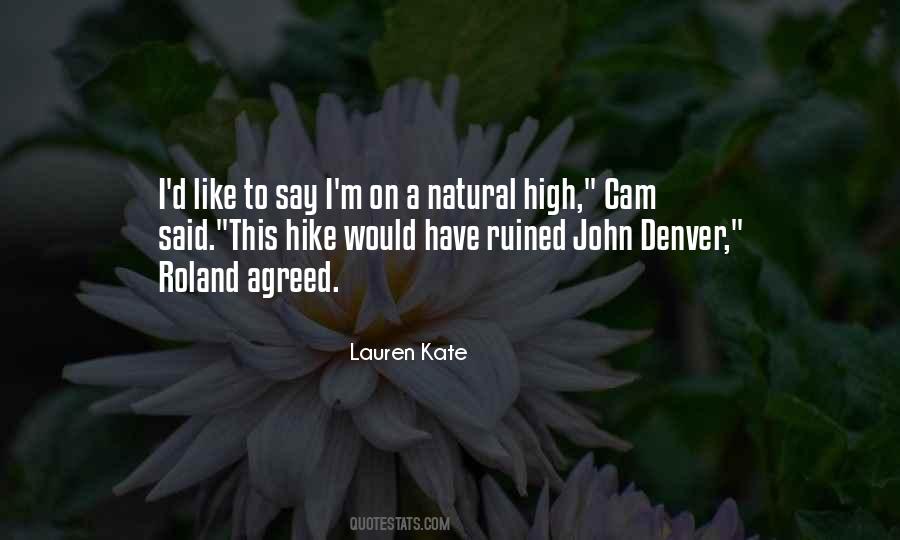 #14. I love the weather in L.A., and I can drive 20 minutes to the beach, hike minutes from my house or go snowboarding a couple hours away. - Author: Jud Tylor
#15. Sucess is like a mountain that keeps growing ahead of you as you hike it ... Err in the direction of kindness. - Author: George Saunders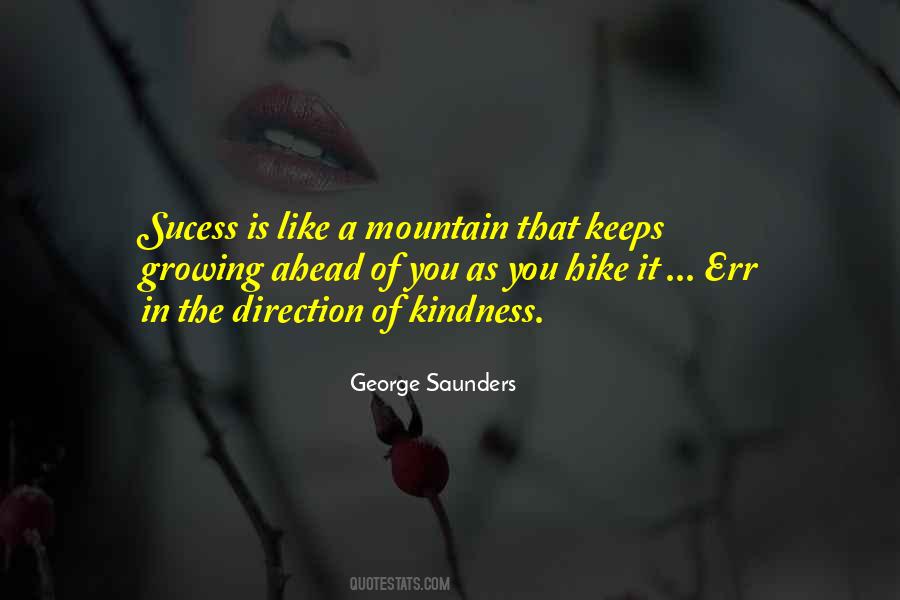 #16. Nature is our friend - trees, squirrels, grass, fields, meadows, oceans - without people. Hike. Walk. Stroll. Bike. Swim. Be in a still place and feel eternity. Have a great time. Just feel it. - Author: Frederick Lenz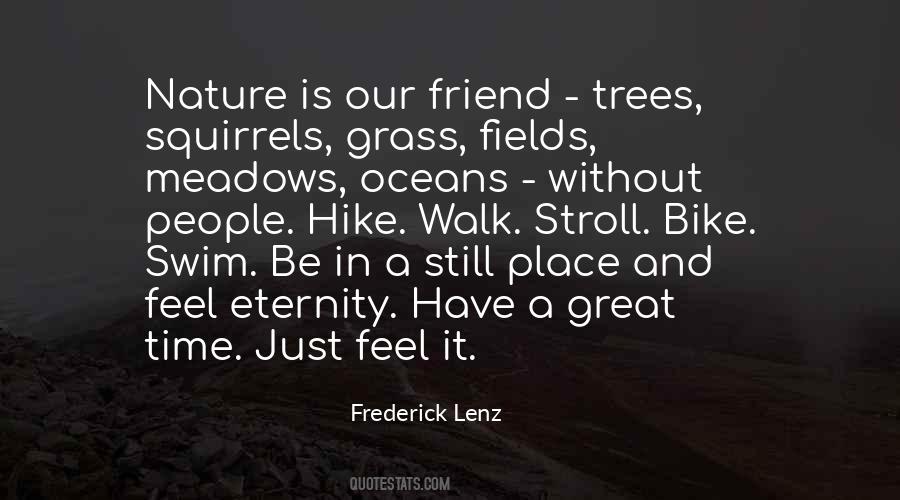 #17. True Faith steps in when understanding takes a hike! Lean not on your own understanding! EL - Author: Evinda Lepins
#18. I really don't like the gym. I like experiences, so I take any chance I get to go on a bicycle or on a hike. - Author: Blake Lively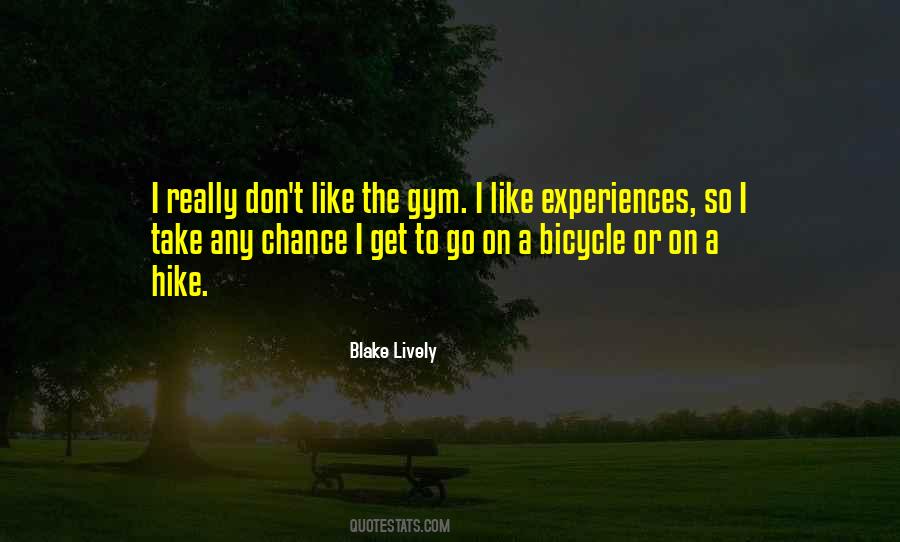 #19. Congratulations on turning 60
Now you can wear what you like
No one cares, and more particularly
You're fine telling 'em 'Take a hike' - Author: John Walter Bratton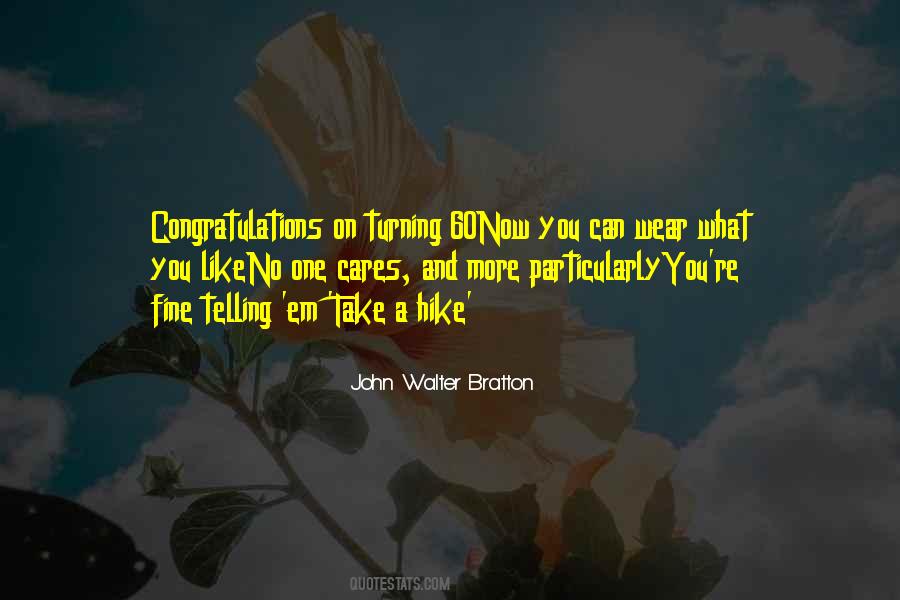 #20. Always seek for balance in your life: If you stayed long in the darkness, walk long in the light; if you talked too much, stay silent for a good while; if you climbed the high mountains, hike long on the plains! Balance everything! - Author: Mehmet Murat Ildan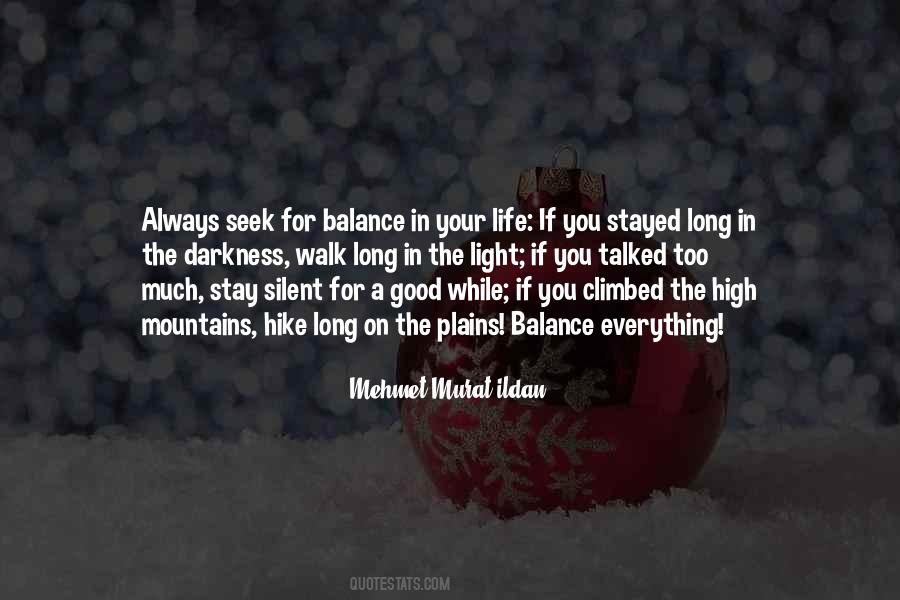 #21. So much of being able to hike the PCT depended upon mind control: the stout decision to move forward, regardless. - Author: Cheryl Strayed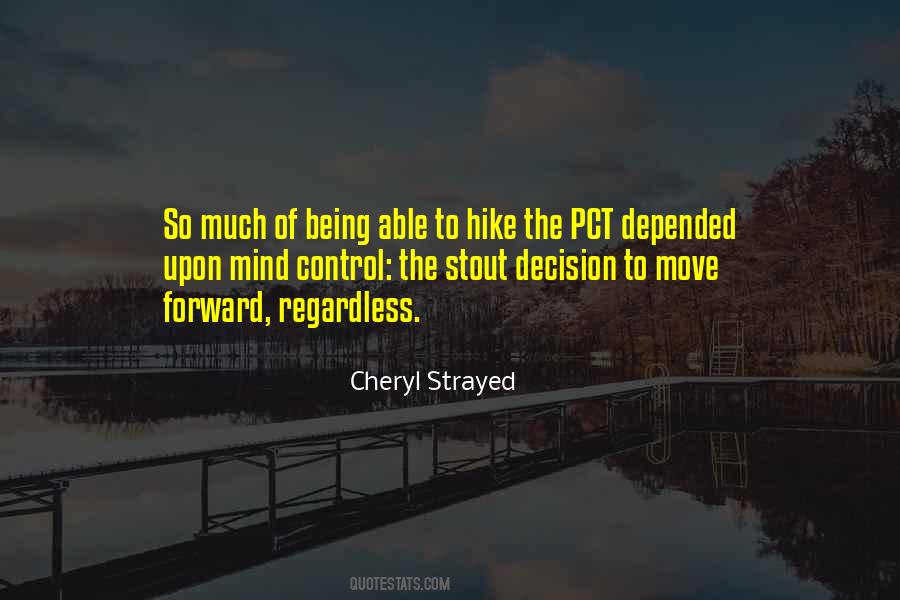 #22. When I do get time, I like to hike and I take lots of vitamins and powders to keep healthy. - Author: Catherine Bell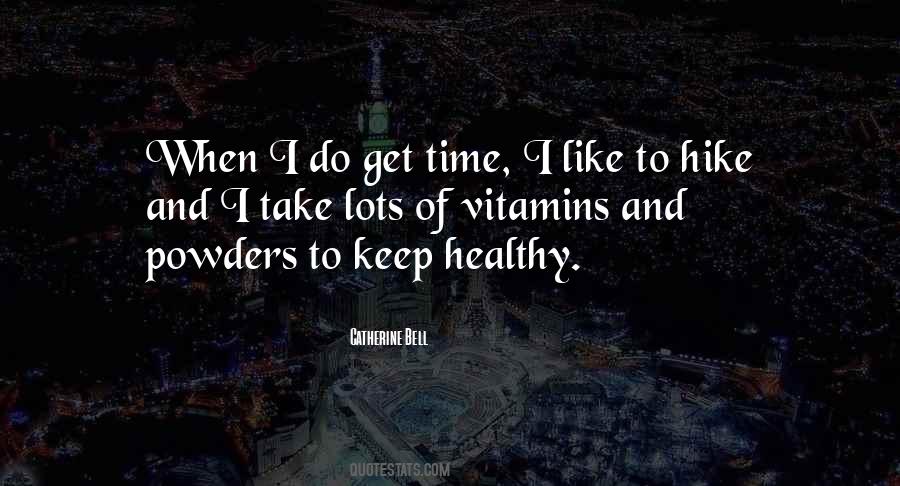 #23. Some of the things that beat the shit out of you ... can beat the bullshit out of you too. - Author: Henry V. O'Neil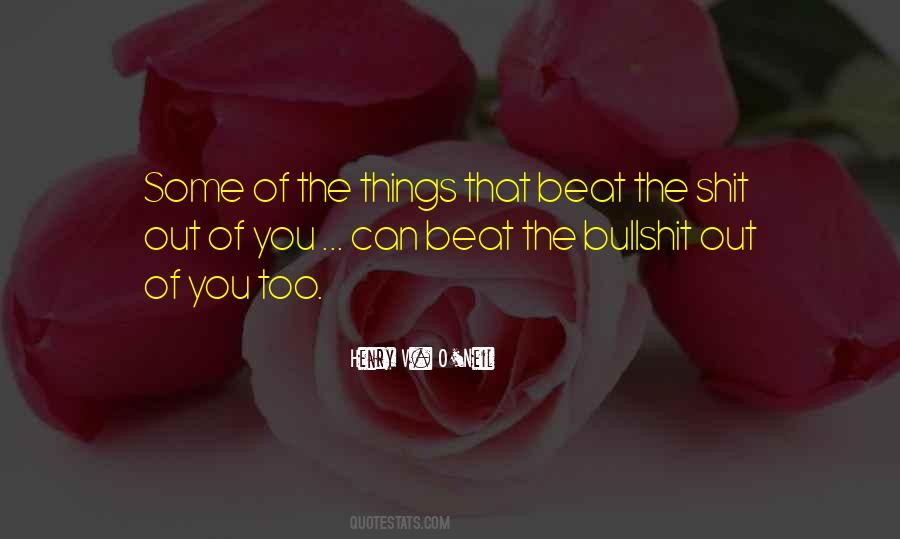 #24. Judging a story by the ending alone, or life by its death alone, is as pointless as judging a long hike through the mountains by the fact that when you get back to where you parked your car, there's a pit toilet full of you know what and beer cans. - Author: Emily Henry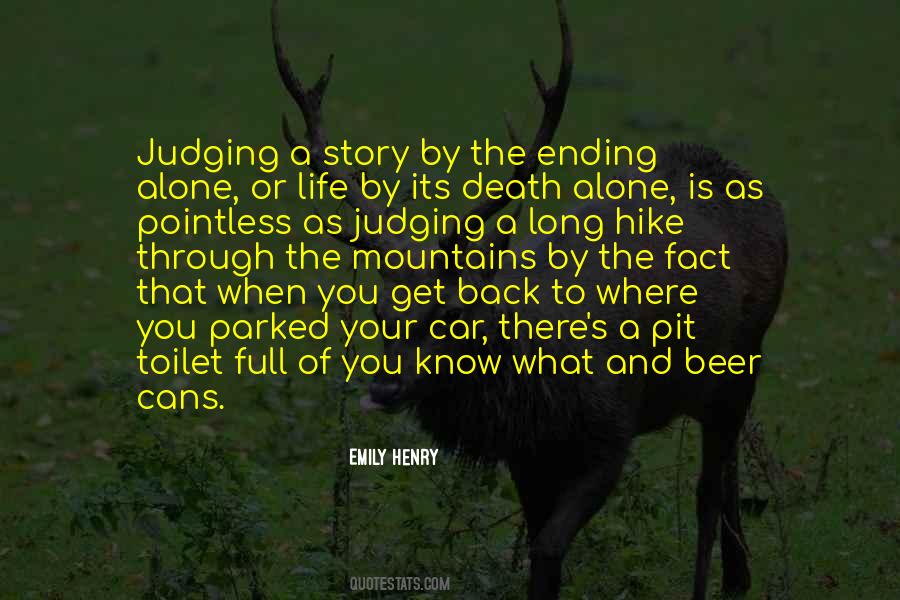 #25. Have you ever dreamt about doing something totally foolish, something so absurd that perhaps you were afraid to tell anyone except possibly those closest to you? I harbored such a secret for most of my adult life - I secretly wanted to hike the Appalachian Trail [A.T.] from Georgia to Maine. - Author: Dennis R. Blanchard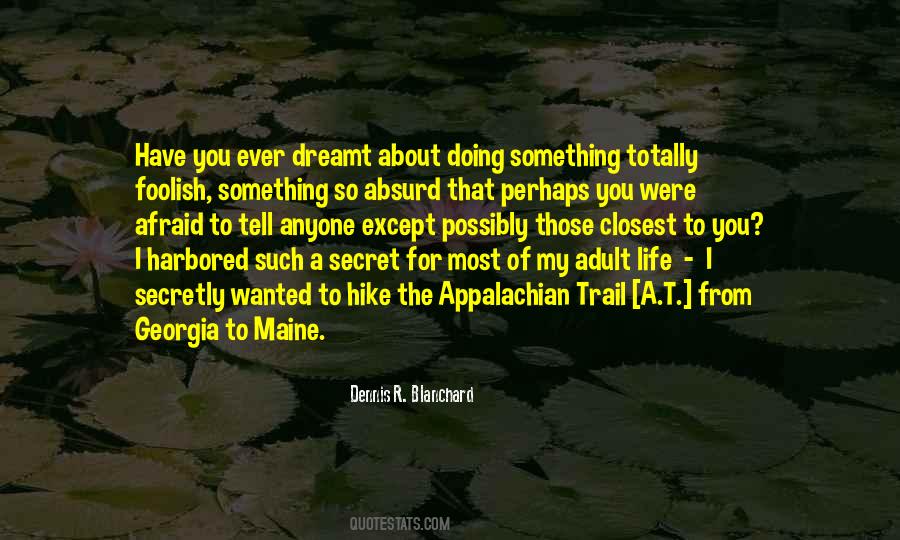 #26. I enjoy working out. That is important for me. Whether it's a hike with my dog or an hour at the gym, I like to maintain an active lifestyle. - Author: Cara Santana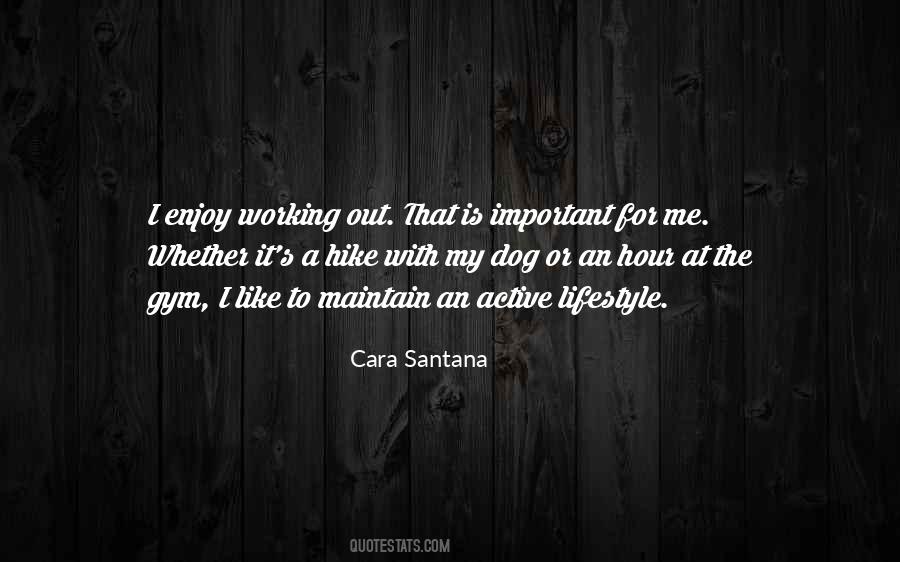 #27. I like to read. I go to movies quite a bit. I often go to see friends in theater productions. I hike, stretch and work out. I like to sing. I love going back to acting class and working on new material. - Author: Juliet Landau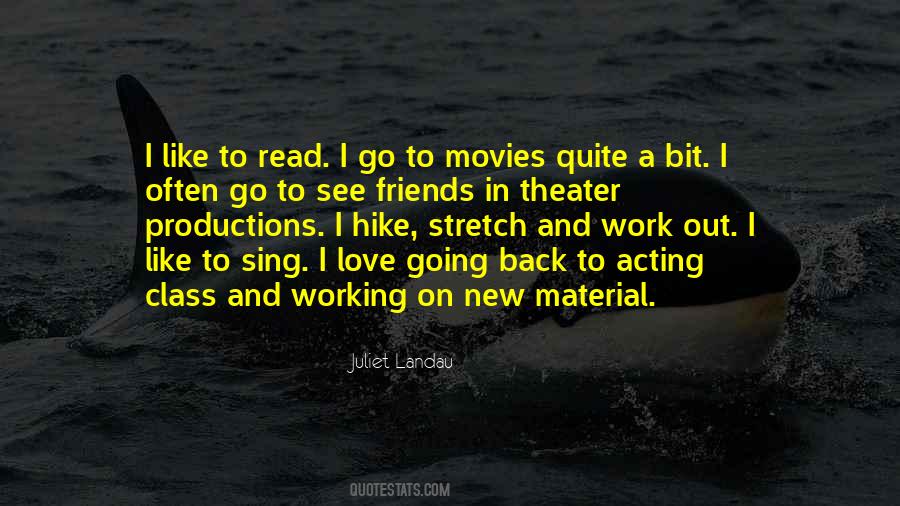 #28. Treating myself is more about just going out and having a great hike, or going on a long motorbike ride. - Author: Tricia Helfer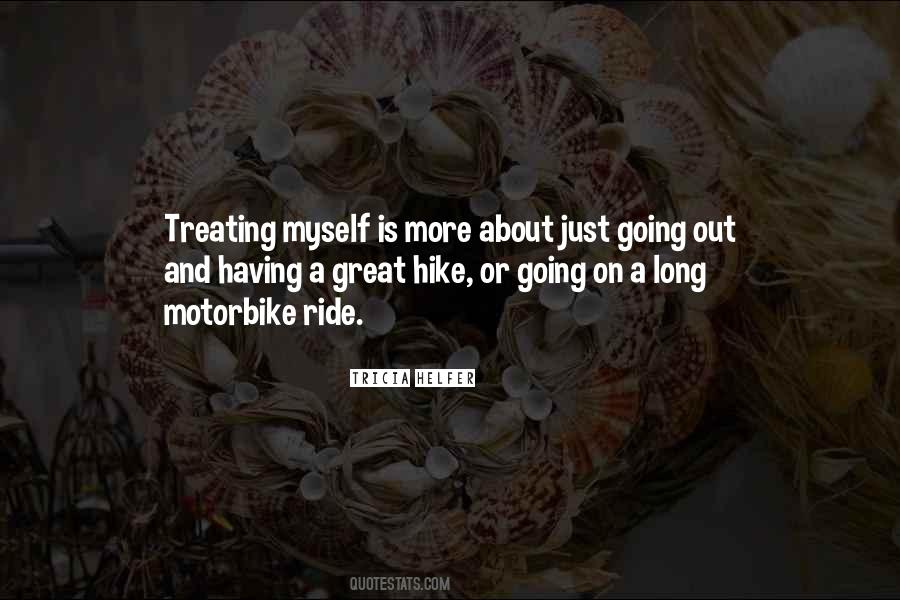 #29. Everyone was in a hurry. Everyone was out for themselves. No one gave a shit about anyone else. Long ago, kindness, courtesy, and civility had taken a hike. - Author: Kristen Ashley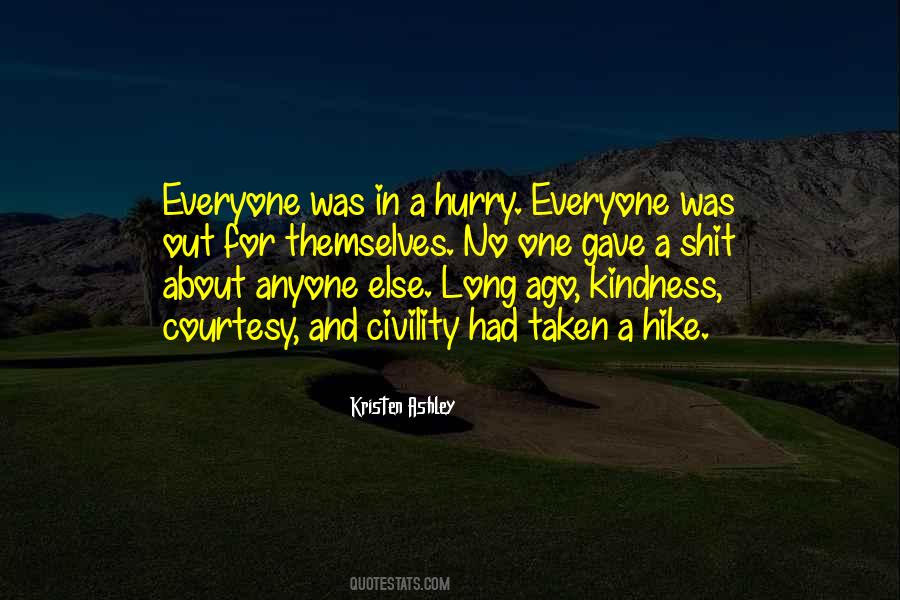 #30. On and on you will hike.
And I know you'll hike far
and face up to your problems
whatever they are. - Author: Dr. Seuss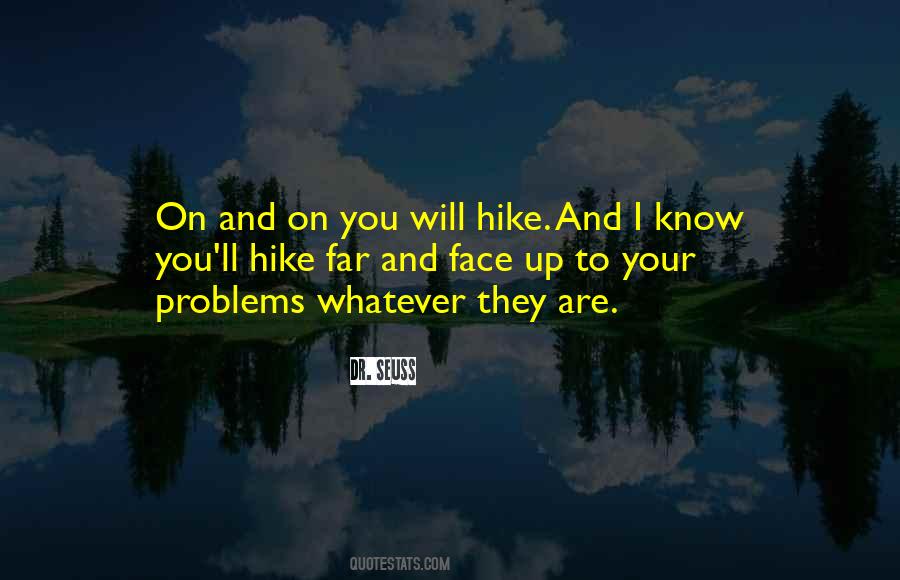 #31. I get started at 5:30 in the morning and write till 10 A.M. Then I hike six or seven miles before going back to work. - Author: Don Winslow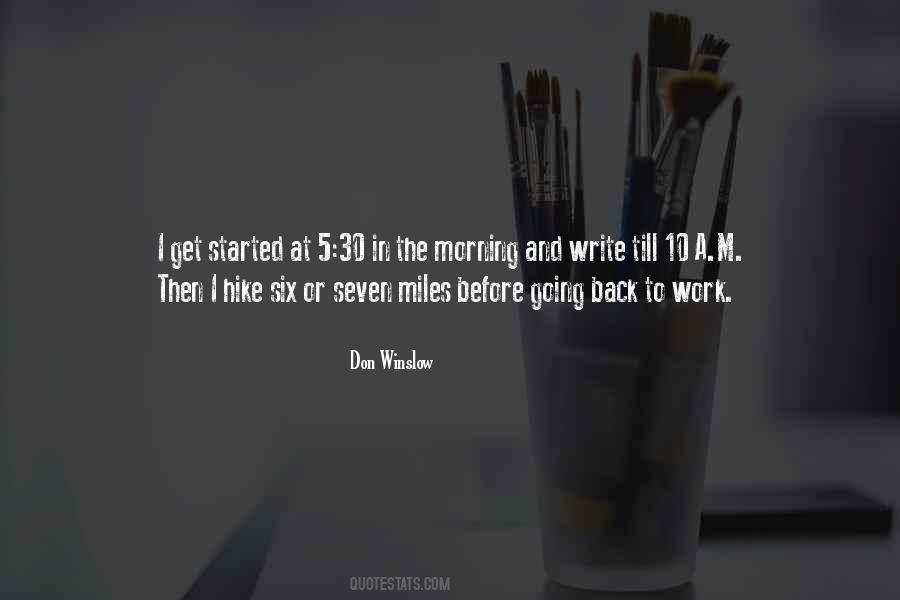 #32. There is no limit to the hunger politicians have for the money you've worked so hard for ... You can tell them to take a hike, but then the guns come out. - Author: Neal Boortz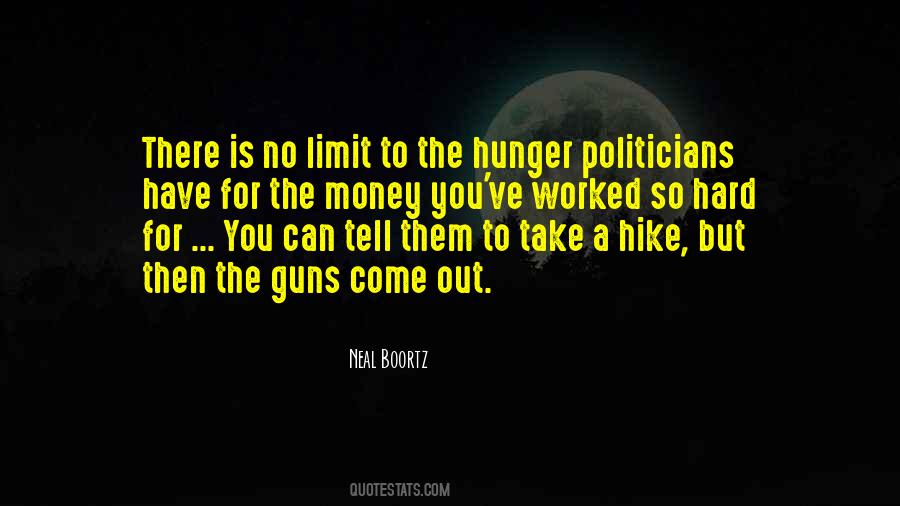 #33. I like to be able to wear something that is appropriate for wherever the day takes me: to work, on a hike and then out to dinner. I like to take the formality out of the day's schedule and be ready for any off-road detour. - Author: Matthew McConaughey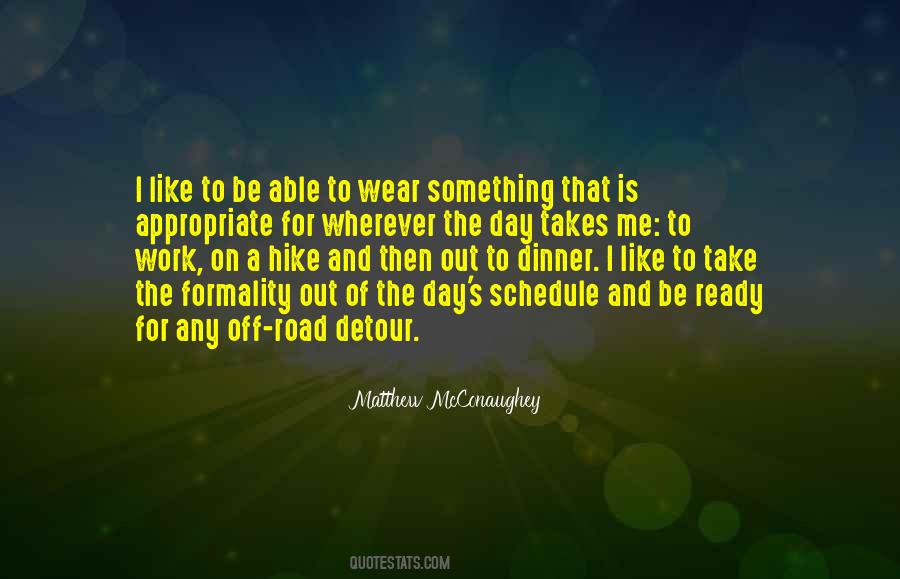 #34. I'm a pretty active person. I love yoga, crossfit, Zumba, and got to get that occasional hike in at Runyon Canyon when I can. I also love mentoring youth. - Author: Sufe Bradshaw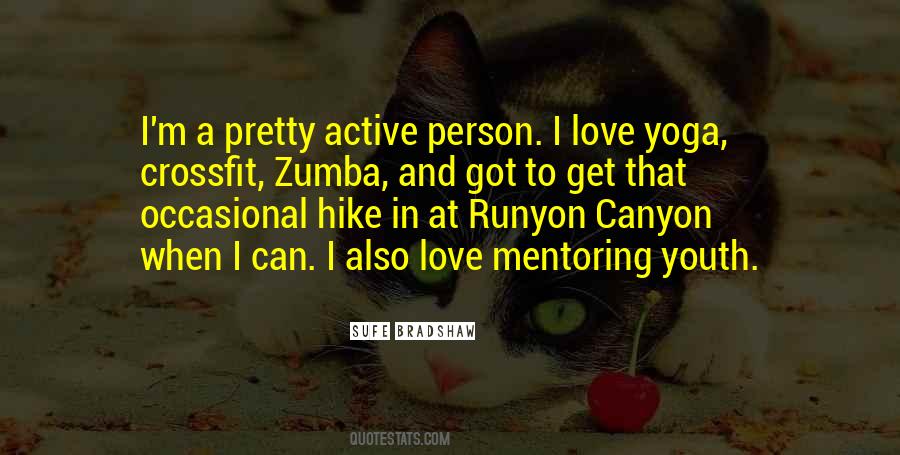 #35. For me, relaxing is going on a 10-mile hike. When I have time off, I like to be at home and spend time with my animals, and things like that.I'm not the girl that goes out for facials, and manicures and pedicures, all the time. I wish I did. It would be better for me, but I get annoyed. - Author: Tricia Helfer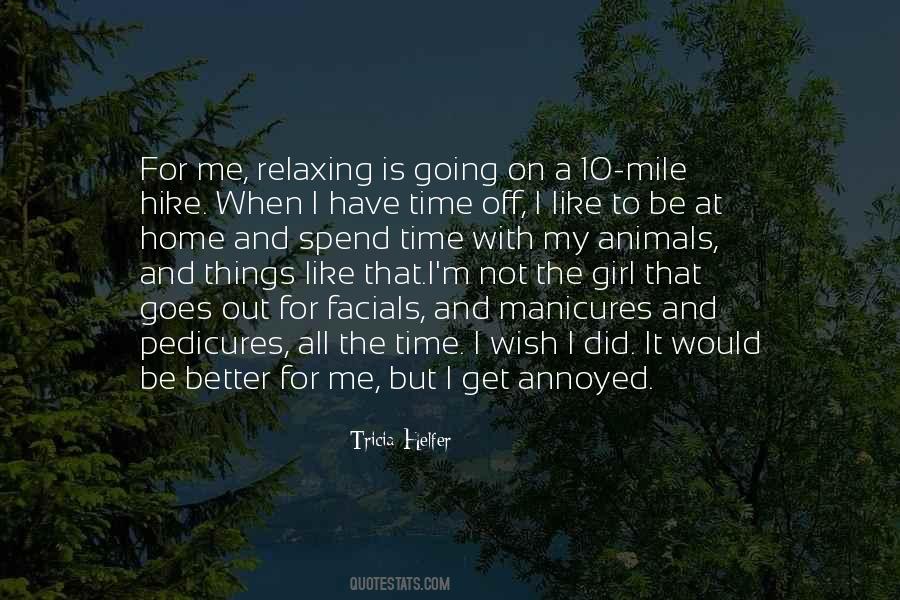 #36. Moving right along
In search of good times
And good news,
With good friends you can't lose.
This could become a habit.
Opportunity just knocked,
Let's reach out and grab it,
Together we'll nab it,
We'll hitch-hike, bus, or yellow cab it. - Author: Jim Henson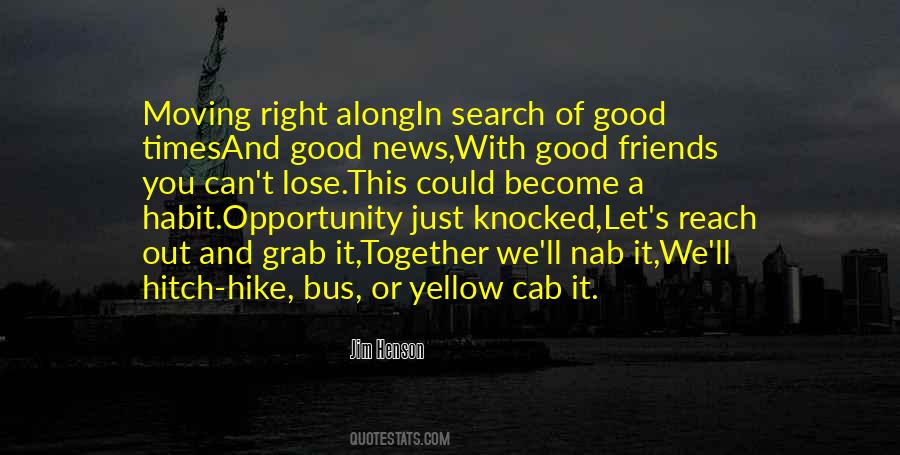 #37. Succeeding, whatever that might mean to you, is hard, and the need to do so constantly renews itself (success is like a mountain that keeps growing ahead of you as you hike it). - Author: George Saunders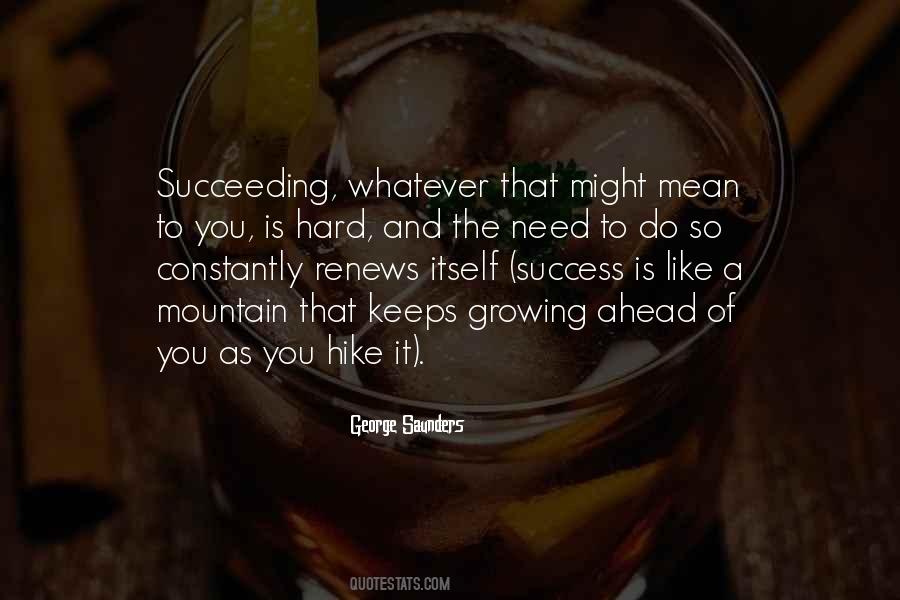 #38. I looked up at the blue sky, feeling, in fact, a burst of energy, but mostly feeling my mother's presence, remembering why it was that I'd thought I could hike this trail. - Author: Cheryl Strayed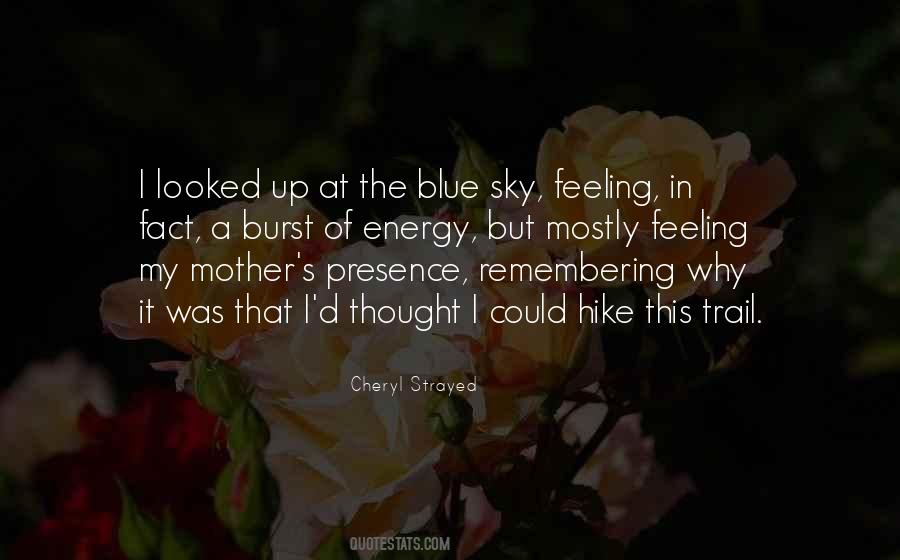 #39. Were practicality the explanation for my spontaneous hike, I could have sung my purpose that afternoon, 'Wanking in a Winter Wonderland. - Author: Jim Provenzano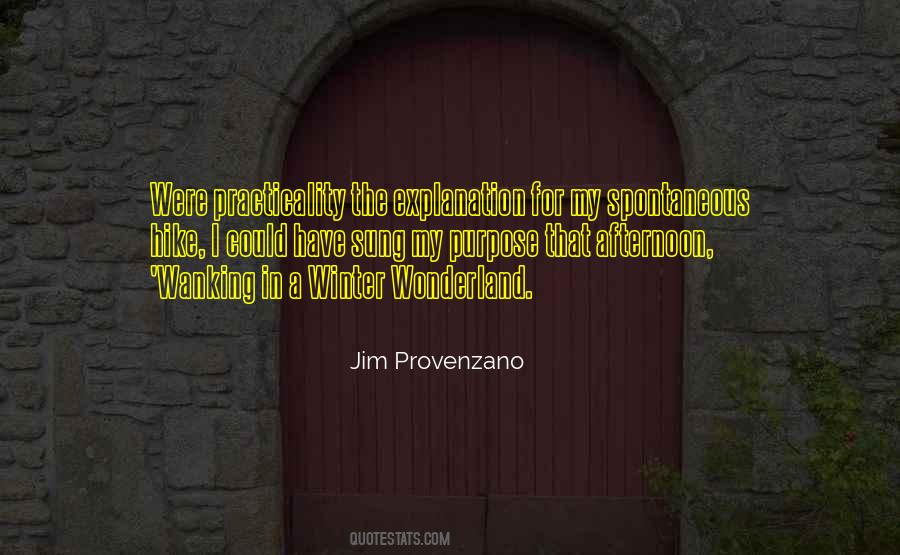 #40. I love the outdoors. I love to hike. I spend a lot of time in LA and so I hike all the hills. - Author: Matthew Kane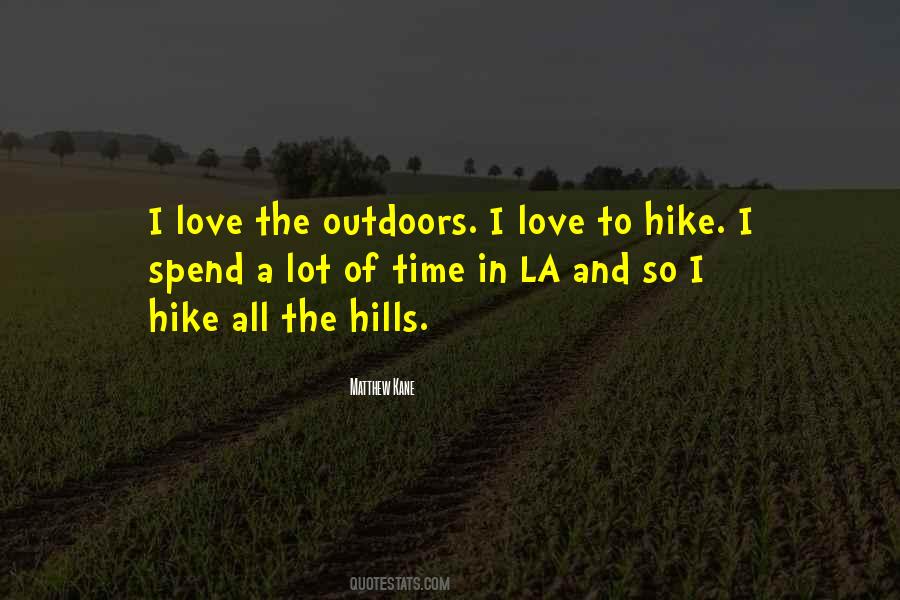 #41. I hike every day with my dog, after the kids are off to school. I tend to get wrapped up in all the things that need to be done during the day, so I really am strict about setting that time aside for myself and not scheduling anything before eleven, so I can get my hike in. - Author: Natalie Maines
#42. Now, to find dinosaurs, you hike around in horrible conditions looking for a dinosaur. It sounds really dumb, but that's what it is. It's horrible conditions, because wherever you have nice weather, plants grow, and you don't get any erosion, and you don't see any dinosaurs. - Author: Nathan Myhrvold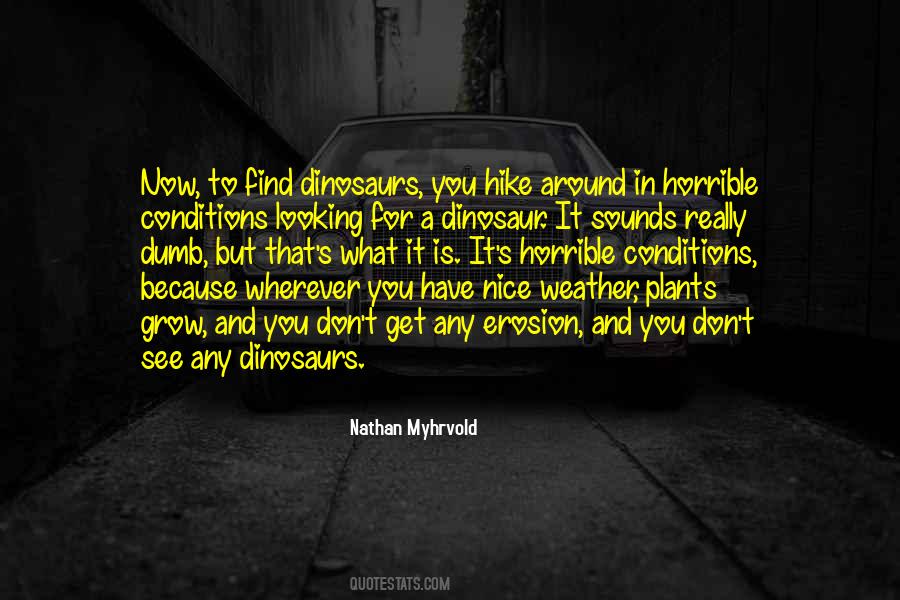 #43. How one deals with the death of a loved one is a highly personalized affair. Some people weep for days; others take a hike in the woods or count rosary beads. - Author: Douglas Brinkley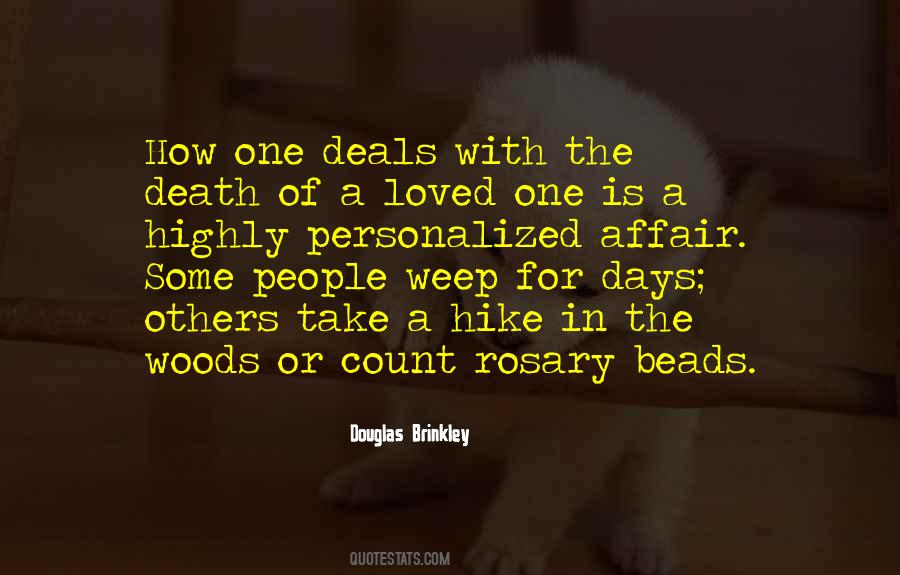 #44. What I do like is hiking. And that's what filmmaking is. It's a hike. It's challenging and exhausting, and you don't know what the terrain is going to be or necessarily even which direction you're going in ... but it sure is beautiful. - Author: Joss Whedon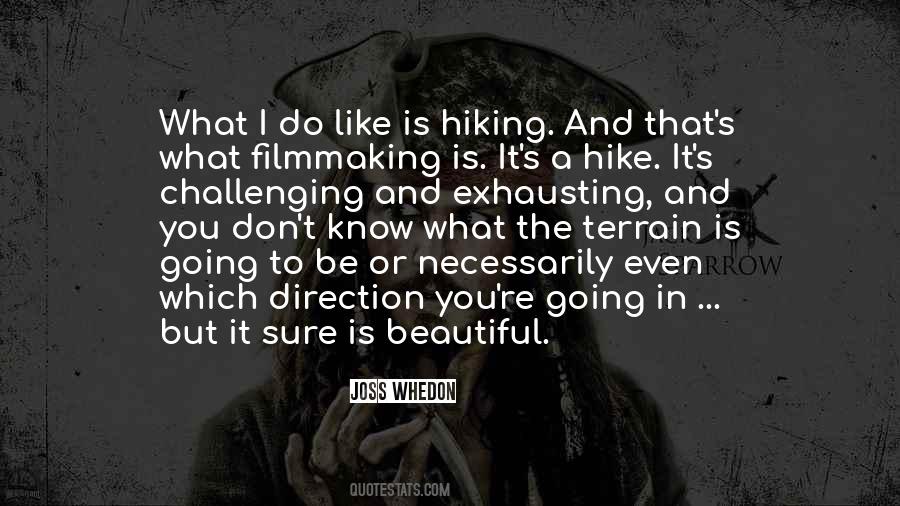 #45. I can't go anywhere without being bugged by somebody. I'd love to just hike out down the street, or drop in a restaurant, or wander in the park, or take my kids somewhere without collecting a trail of people. But I can't. - Author: Johnny Carson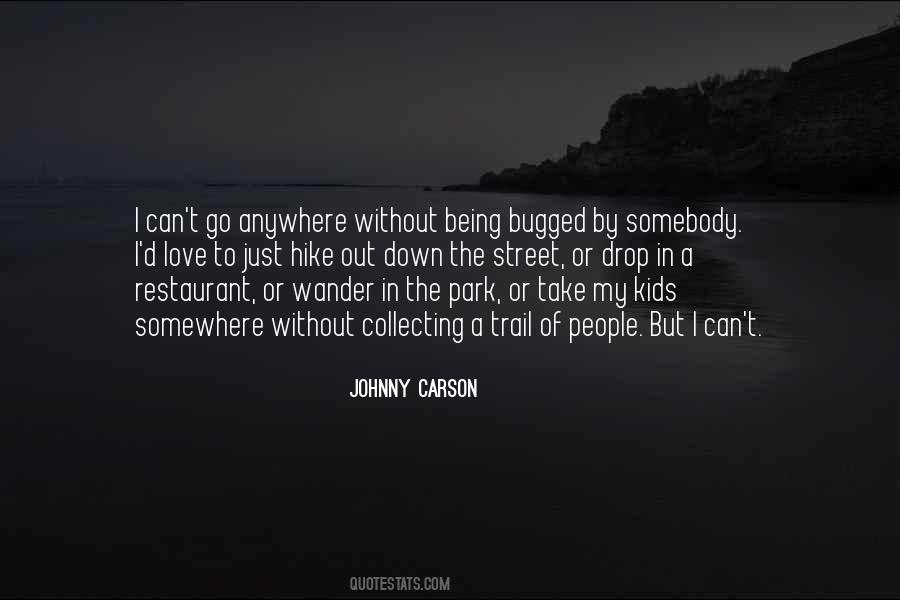 #46. I work out with our trainer, Jocelynne Boschen of Alpha Sport L.A., hike a lot, and eat healthy. I love cooking so prepare a lot of my own food and avoid processed foods. No fast food. No soda. - Author: Elizabeth Banks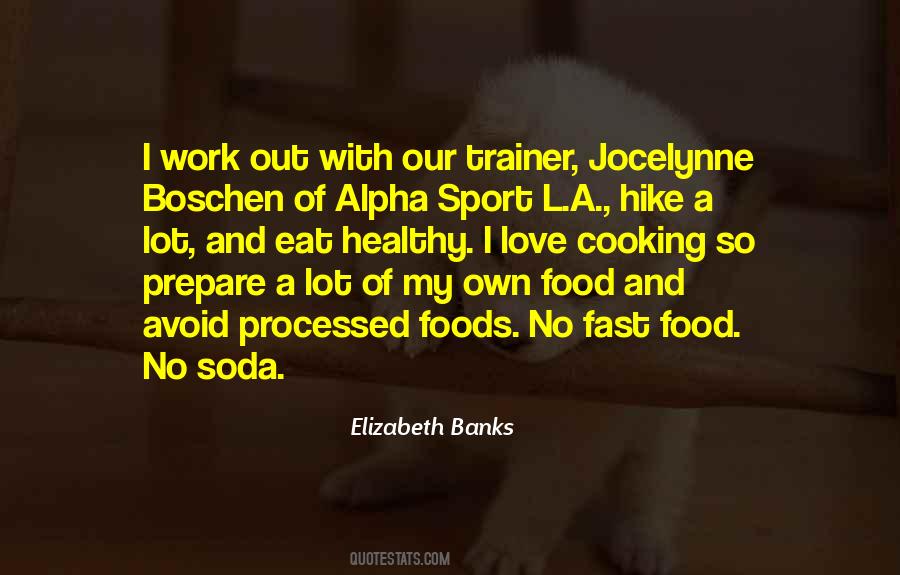 #47. I like to hike with my dog, Webster. It helps clear my mind. - Author: Calista Flockhart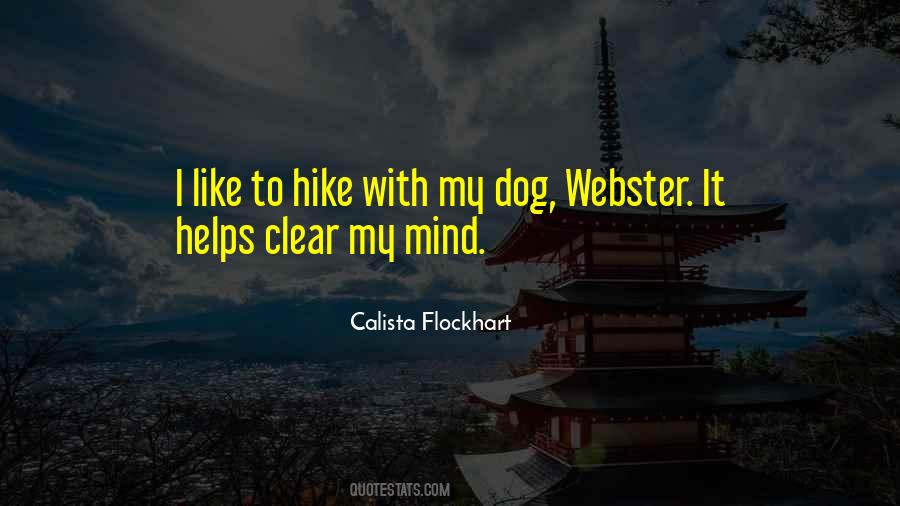 #48. It's only a two-day hike. But it lasts a lifetime. - Author: National Geographic Society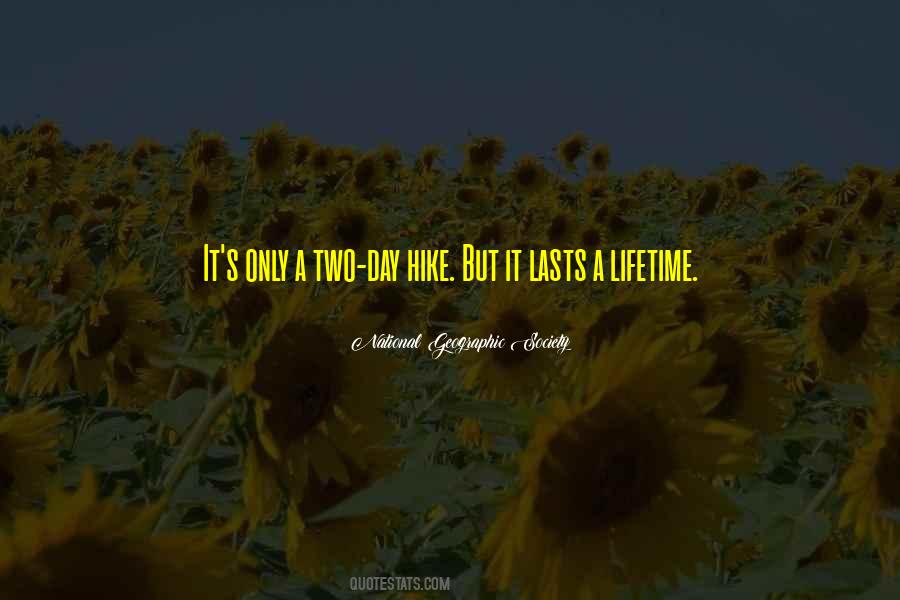 #49. History is sacred - like a nature hike. 'Leave only footprints, take only memories. - Author: Rysa Walker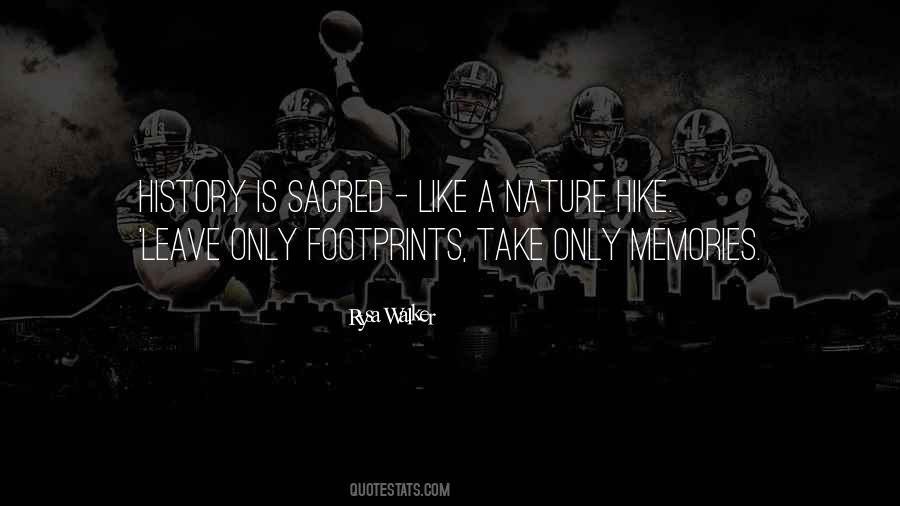 #50. I was a gymnast for twelve or thirteen years. Then I got into surfing and now I paddle board and hike and do whatever I can. I think it's my love of the outdoors. - Author: Serinda Swan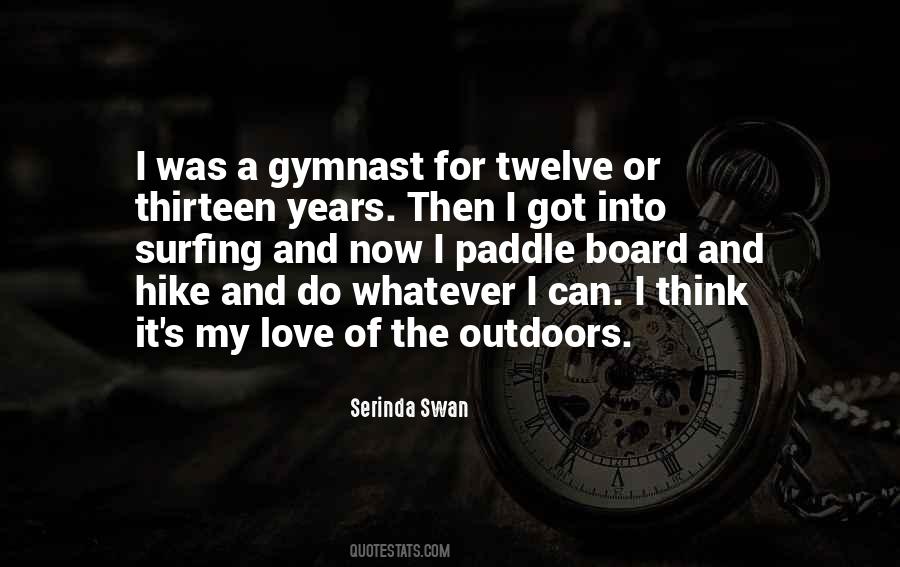 #51. I need your help. I am injured, near death, and too weak to hike out of here. I am all alone. This is no joke. In the name of God, please remain to save me. I am out collecting berries close by and shall return this evening. Thank you, Chris McCandless. - Author: Christopher McCandless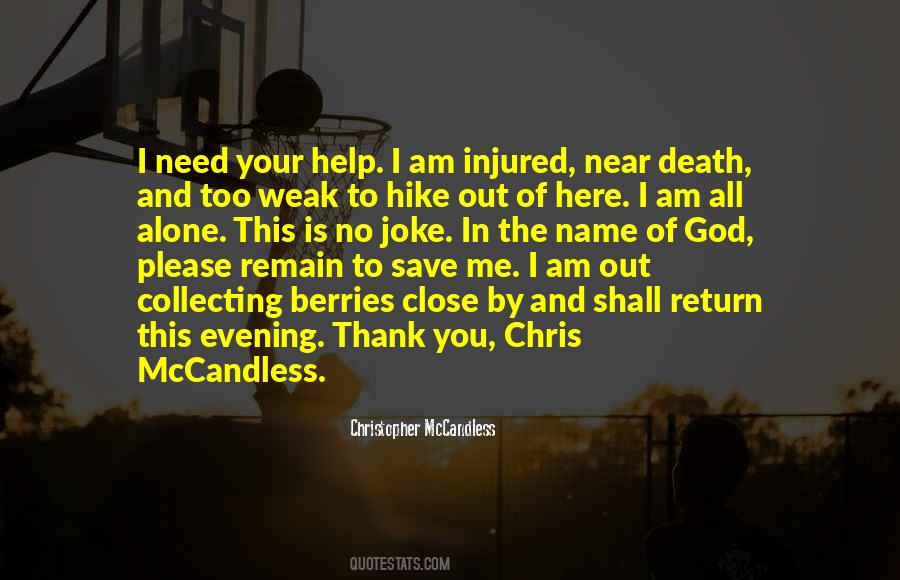 #52. Aside from marrying my husband and having my children, hiking the PCT was the best thing I ever did. The hike very literally forced me to put one foot in front of the other at a time when emotionally I didn't think I could do that. - Author: Cheryl Strayed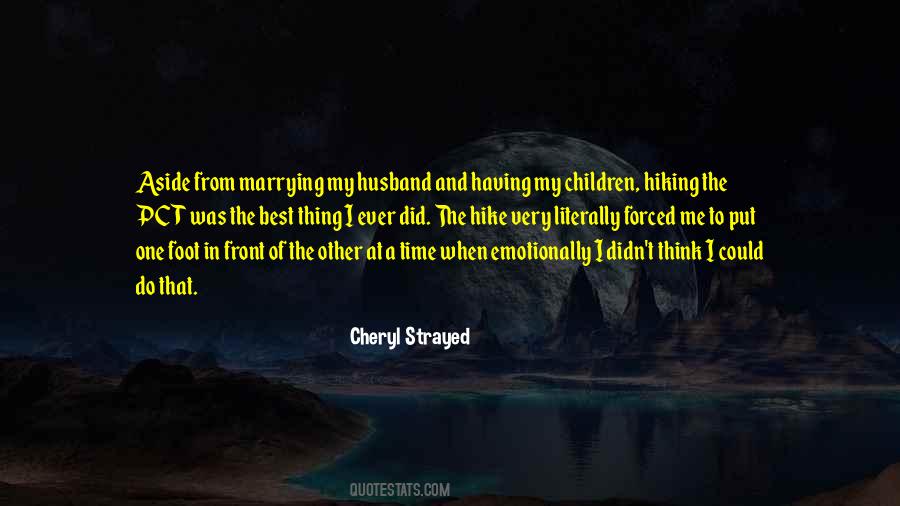 #53. I have a Lab, it's fun to hang out and hike with the dog, people come up to him, and pet him, it's fun. - Author: George Eads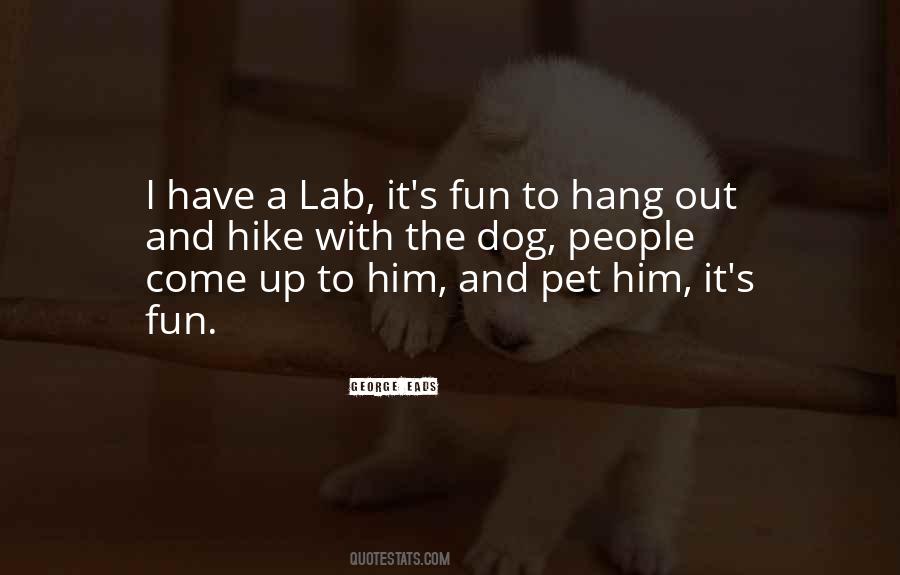 #54. Seamus: "I was wondering if you would like to go get some coffee"
Cara: "Well that depends ... do you like to take long walks?"
Seamus: "Yes"
Cara: "Do you like sex?"
Seamus: "Yeees"
Cara: "Then take a f***ing hike and leave me the hell alone. - Author: Erin McCarthy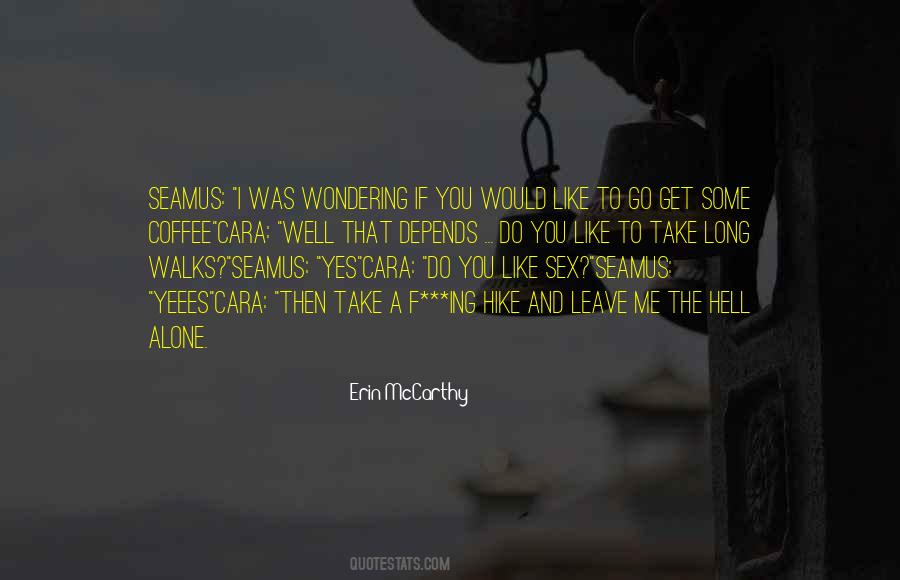 #55. Speed is not a priority, just enjoy your hike - Keep smile - Author: Barry Perdana Putra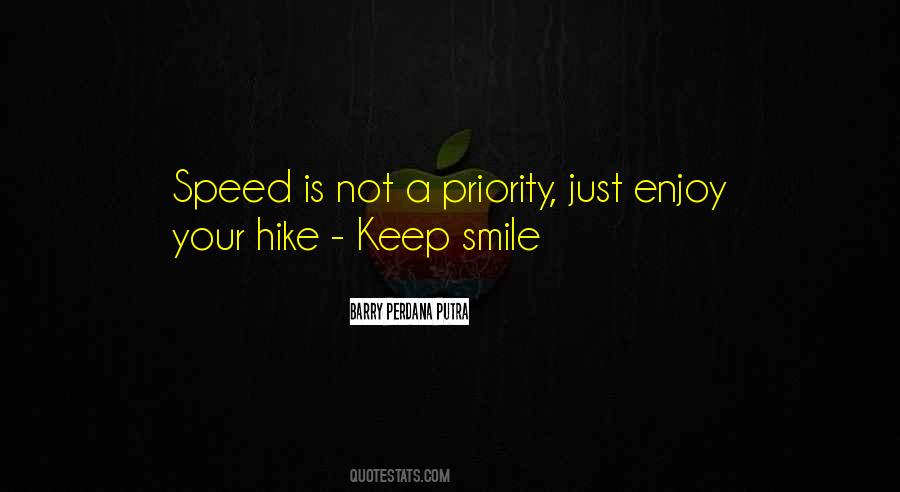 #56. I run or hike three to four times per week and believe that an "everything in moderation" approach to dieting is the best way to keep your mind and body healthy and your taste buds happy. - Author: Ian Anthony Dale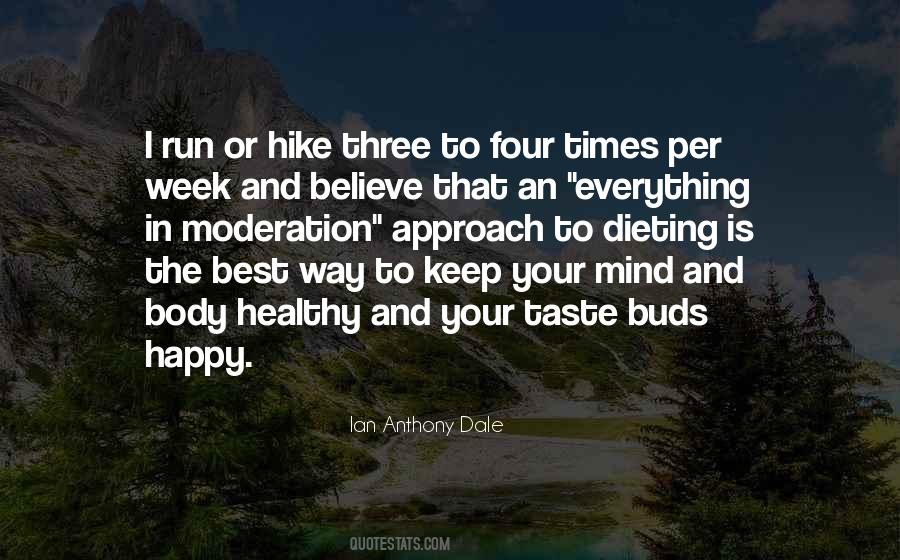 #57. In my spare time, I paint, garden, hike and enjoy massages for my weary writer's back. - Author: Rolonda Watts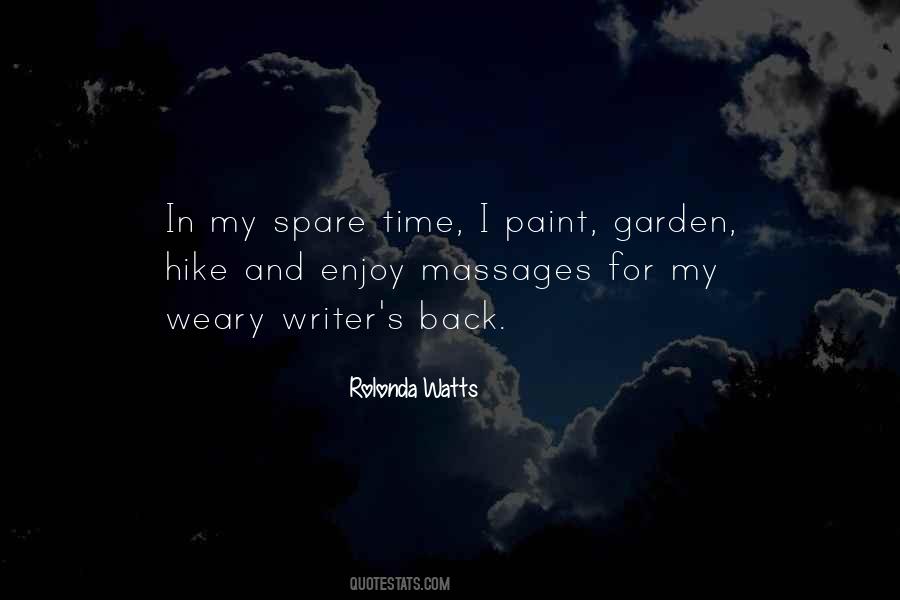 #58. Well, that was fun," She said stiffly , glaring at Jax."Next time why don't you hike your leg on me like I'm a friggin tree? - Author: J.D. Tyler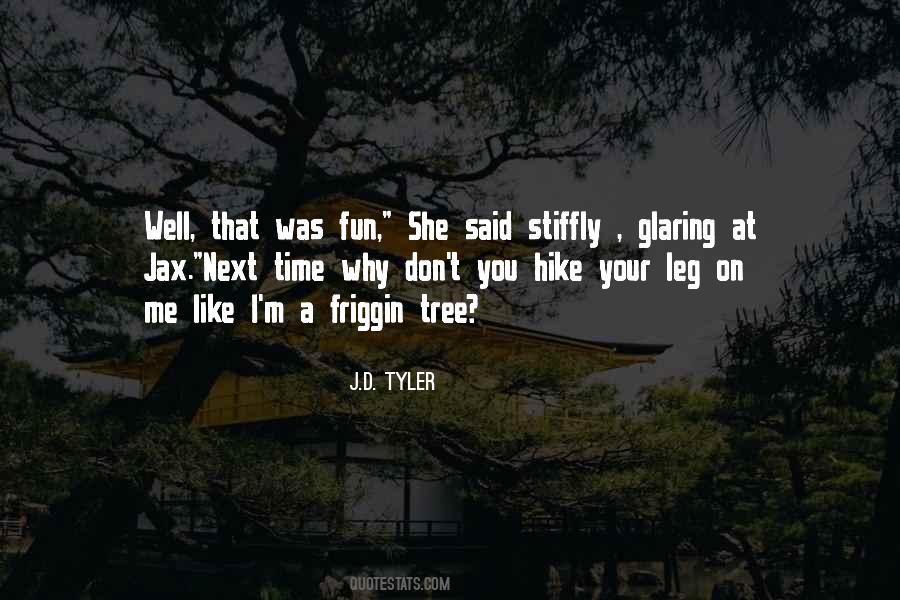 #59. On Sunday morning, it's Brooklyn Bagels on Beverly Boulevard. We get them hot. Then we walk some of the famous Silver Lake steps or hike in the hills to the highest vantage point to see the reservoir. - Author: Jill Soloway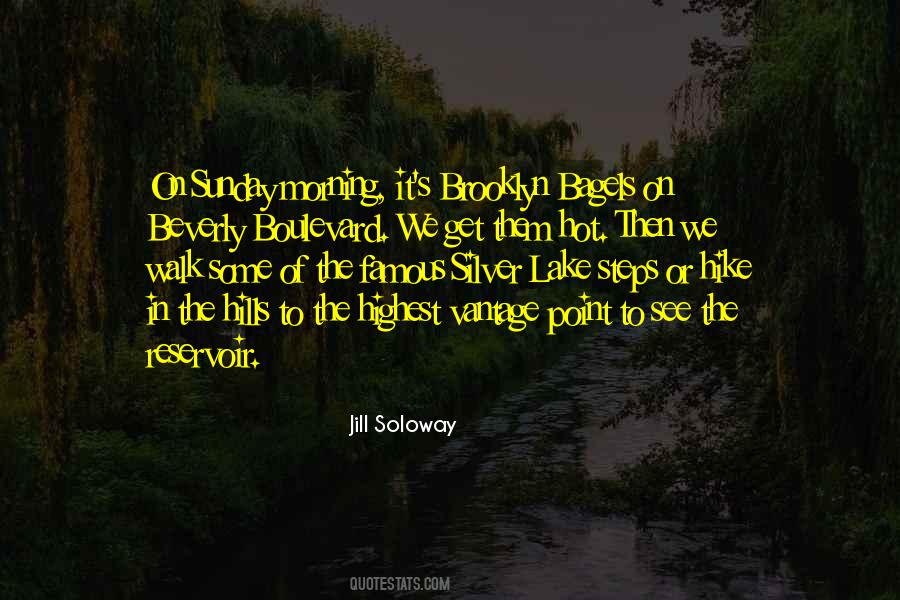 #60. If you don't provide a product that is satisfying people, no matter what your ideology, they tell you to take a hike. - Author: Bill O'Reilly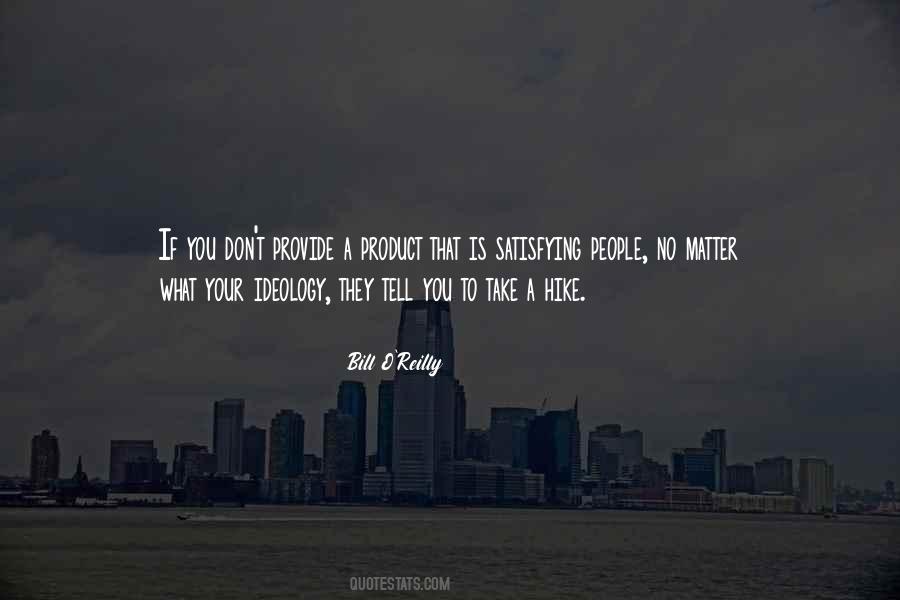 #61. On one 50-mile summer hike, Gates demonstrated the persistence and tenacity that was to be his trademark later in life. - Author: James Wallace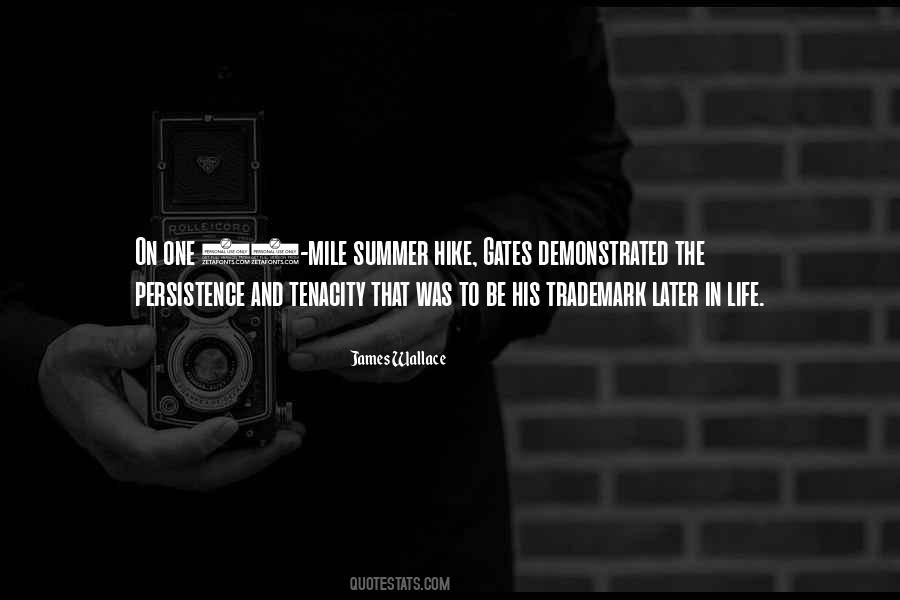 #62. I'll never forget it. I was starting to hike up the red rocks, and honestly, it was as if I heard the rock say, 'You have the answers. You are your teacher.' I thought I was having an auditory hallucination. - Author: Gwyneth Paltrow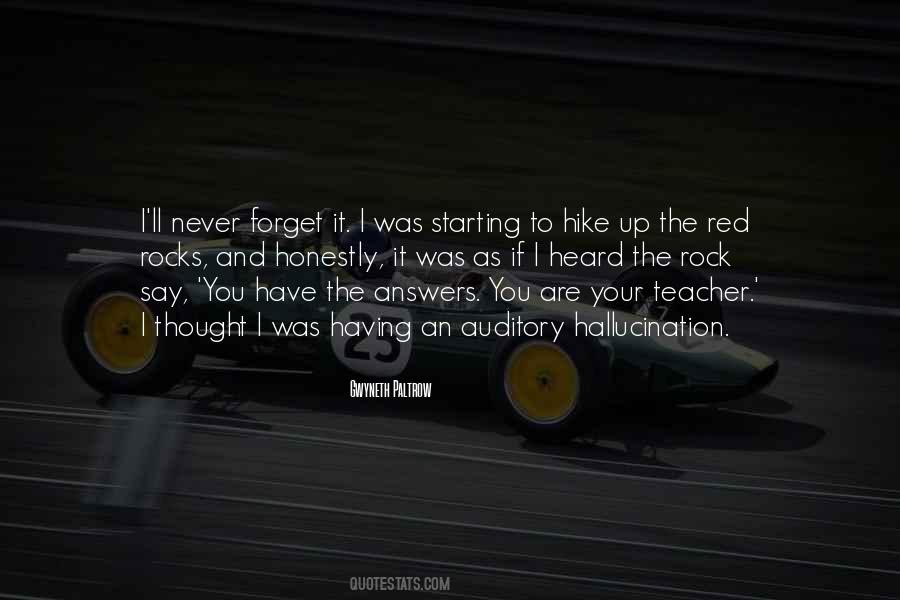 #63. I love to ride horses, hike in the woods with Juliette and appraise Longhorns. - Author: Janine Turner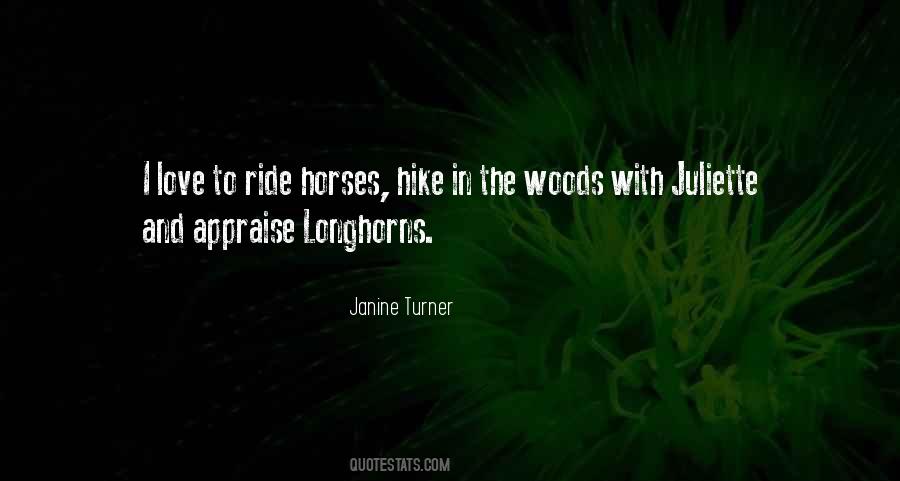 #64. Hiking is something that I really, really like to do. It's distracting, you're in nature, and you get a nice workout that way. I would tell everyone to hike as much as they can - you just feel so much better when you get outdoors. I'm also into yoga. - Author: Odette Annable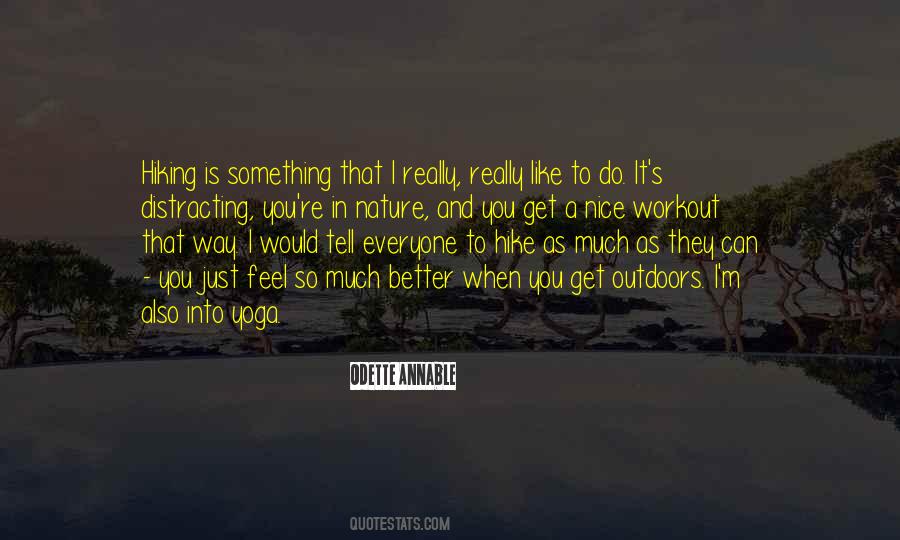 #65. They shouldn't call anything a boot camp unless you're going off to war. Standup boot camp has been a fantastic thing, for the people putting it on. They keep you out in the woods and won't let you come back until you're funny. Lenny Bruce came up with his Religions Inc. bit on a day hike. - Author: Andy Kindler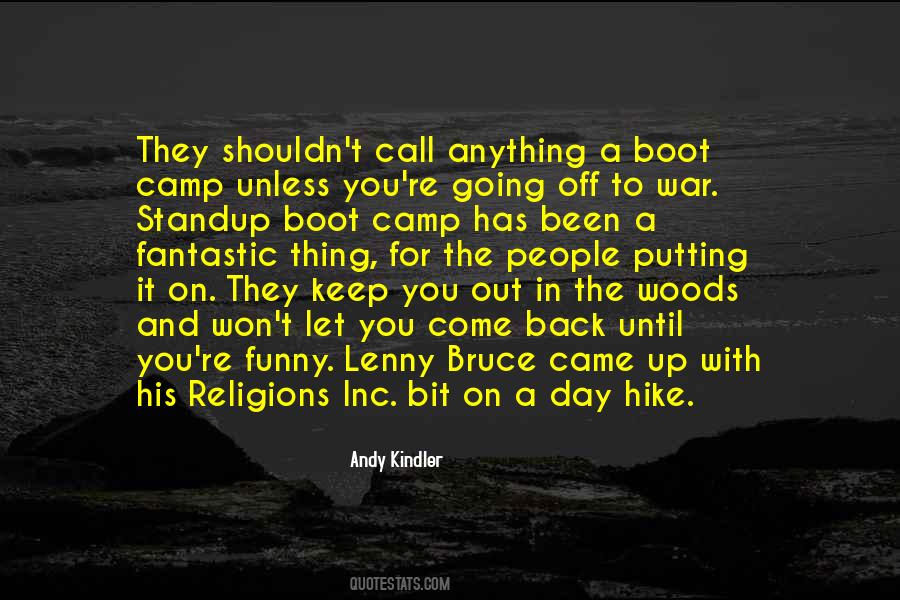 #66. Hiking is the best workout! ... You can hike for three hours and not even realize you're working out. And, hiking alone lets me have some time to myself. - Author: Jamie Luner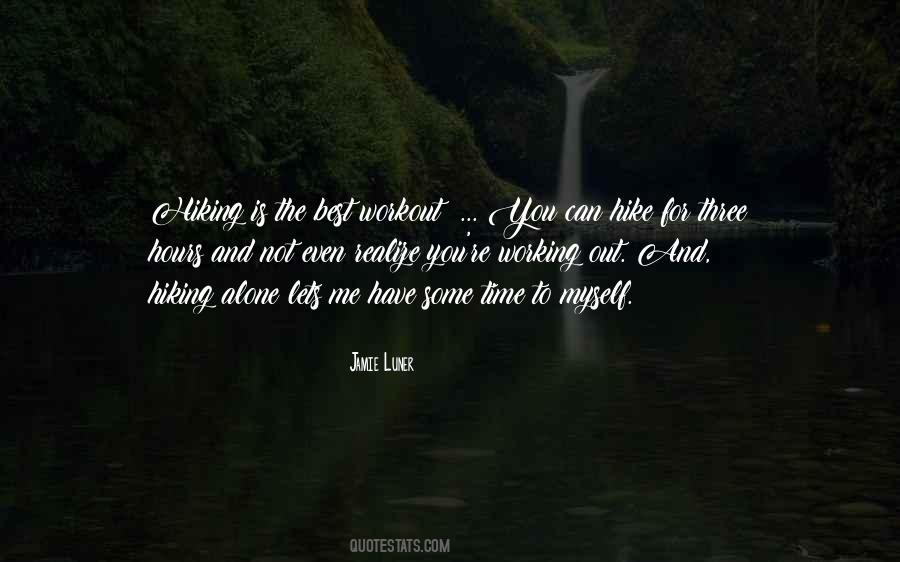 #67. To "hike" along a deep-rutted, pebbly lane in frail, silver-hued slippers with high French heels, is not an exhilirating experience. - Author: L.M. Montgomery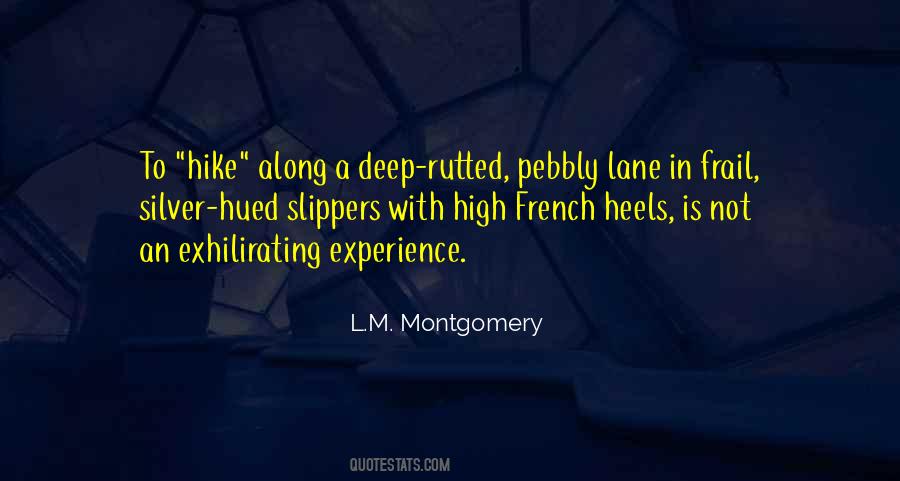 #68. I see myself being married to my girlfriend and backpacking all over the world. If I can go out and do a 15-mile hike and climb a 12,000-ft. peak, I'm good to go. - Author: Matt Long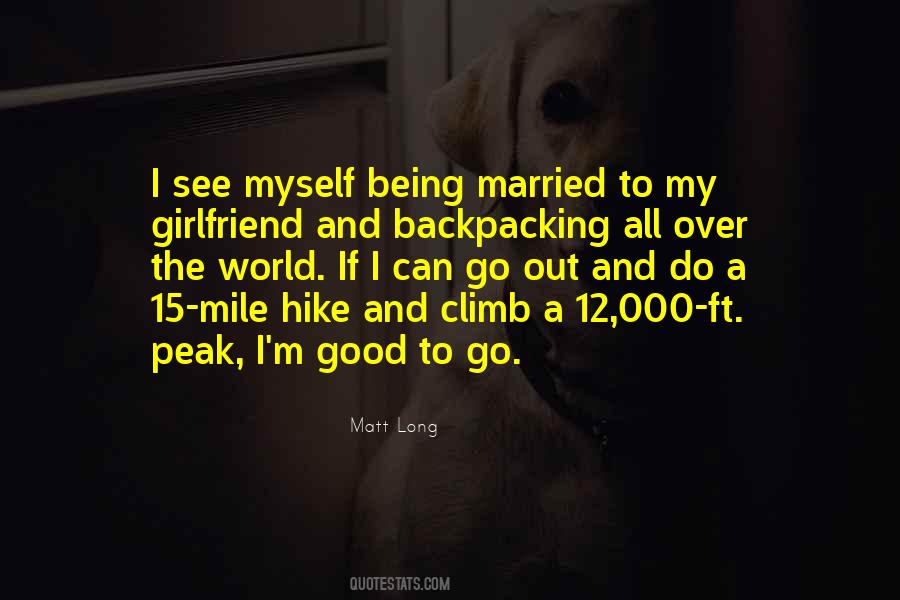 #69. I'd set out to hike the trail so that I could reflect upon my life, to think about everything that had broken me and make myself whole again. - Author: Cheryl Strayed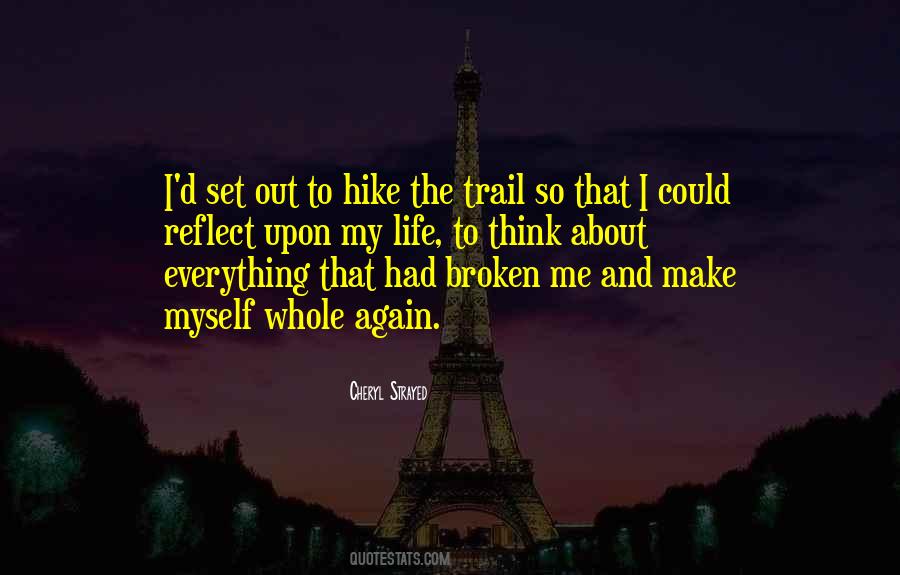 #70. I love to do things like sail and hike, but they don't give me the satisfaction of knowing the potential of something you've learned in the lab. - Author: Craig Mello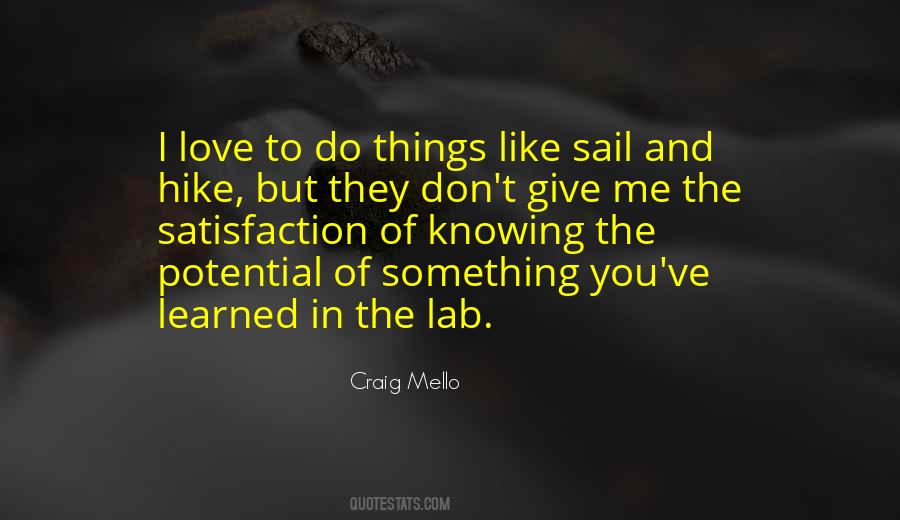 #71. Seated here in contemplations lost, my thought discovers vaster space beyond, supernal silence and unfathomed peace - Author: Giacomo Leopardi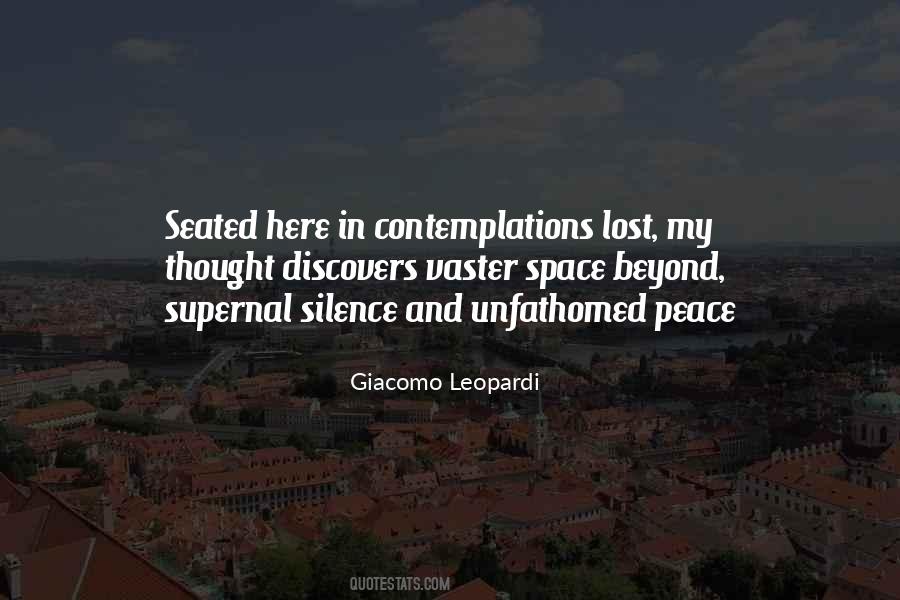 #72. Even then, when the hike was perfect, I would wonder, 'Now what?' And take a picture. Take another picture. Like a man with a photogenic girlfriend he didn't love. - Author: Jonathan Franzen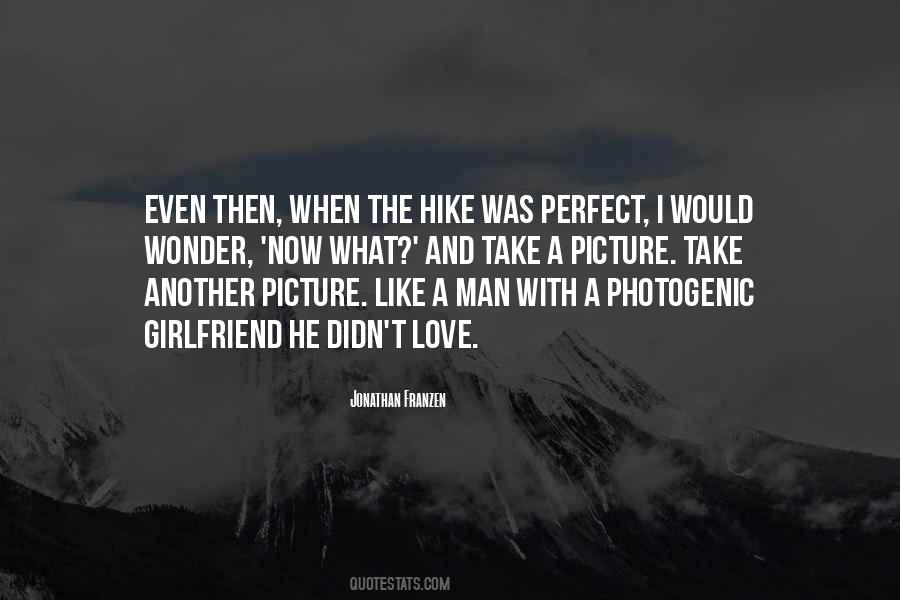 #73. We have such an embarrassment of riches when it comes to choice. Do you want to hike in the Alps? There are 300 pairs of shoes you can order within the next 10 minutes. You have your choice of everything. - Author: Nick Offerman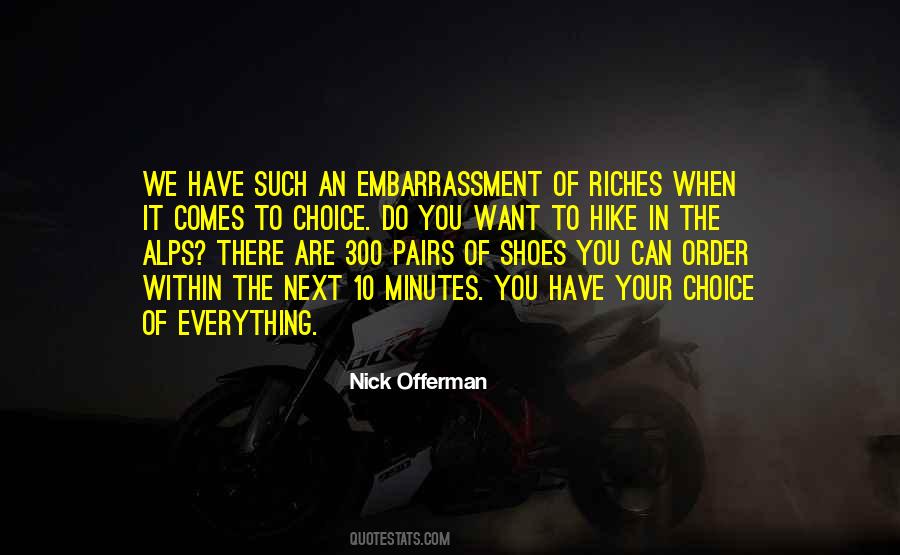 #74. I love to be outdoors, so I like to hike, bike and go to the beach. - Author: Jillian Rose Reed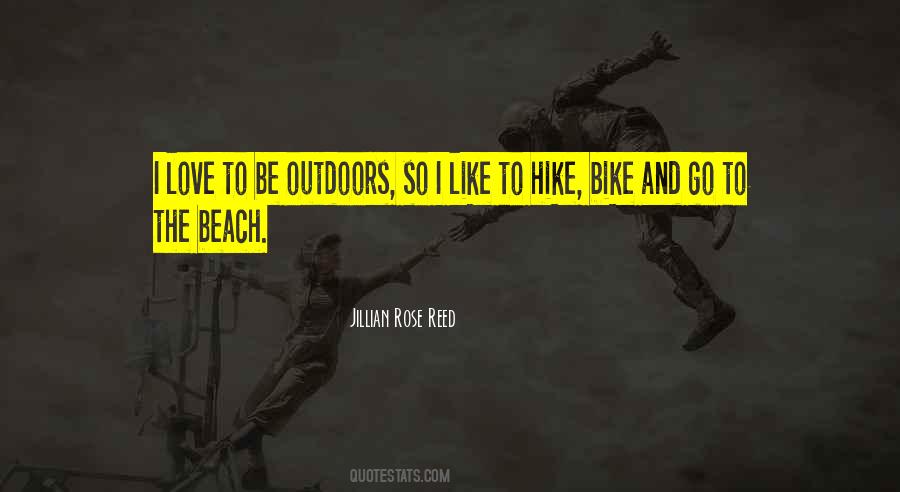 #75. Reflectors need to be placed on trees every 50 feet so people can hike at night with flashlights. - Author: Dave Barry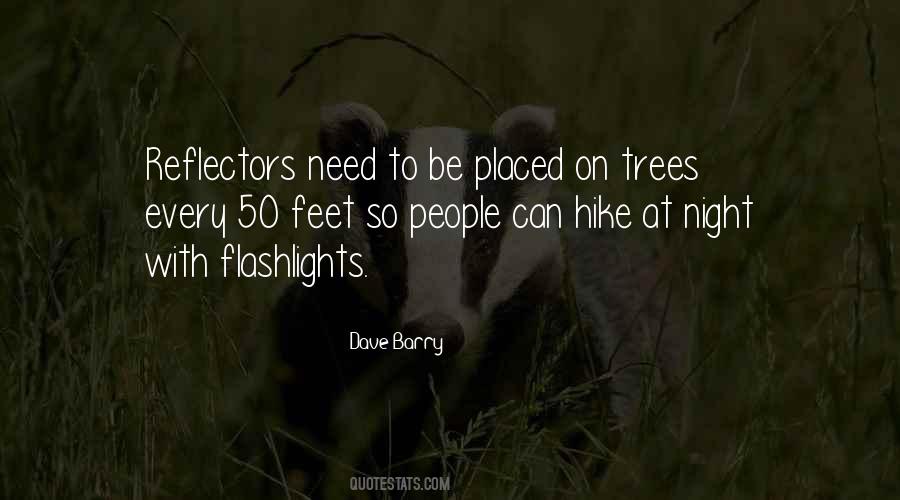 #76. If a tax hike makes it to my desk, I'll veto it in less time than it takes Vanna White to turn the letters V-E-T-O! - Author: Ronald Reagan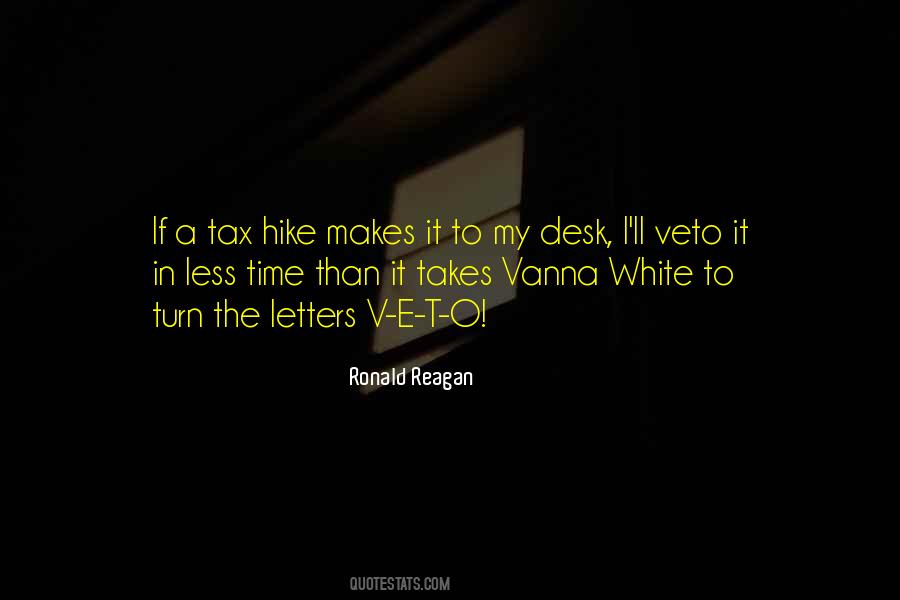 #77. Take lots of time for yourself, discovering yourself-pursue not only a profession but other life passions, I always make time to rock climb or hike or write a few short stories. Also, find good people and surround yourself with them. Most importantly, always believe you will, unequivocally. - Author: Sarah Silverman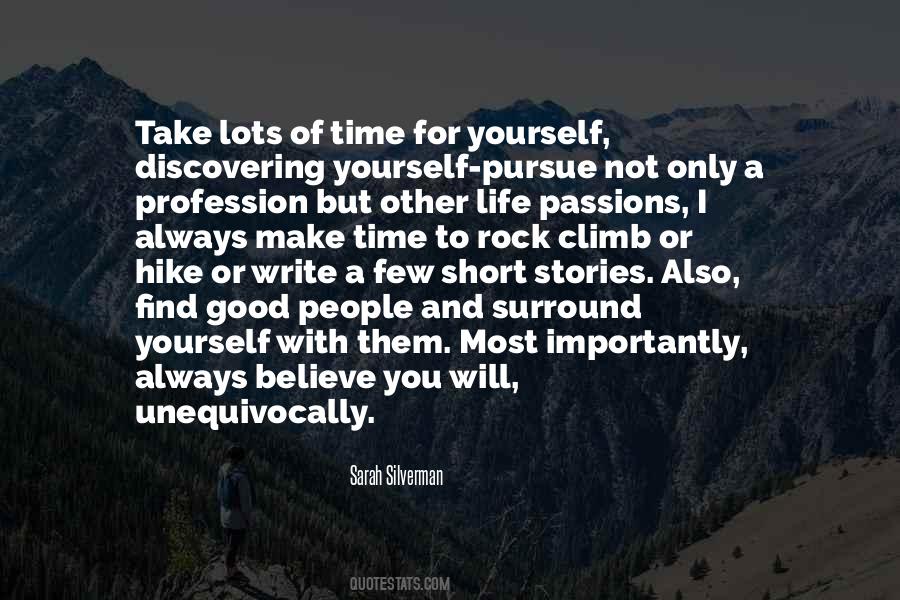 #78. These days I travel so much it's hard to get into a routine. When I'm on the road, I tend to use hotel gyms. When I'm home in L.A., I like to hike and hit the surf. All in all, I try to keep a balanced diet and exercise routine, which has stood me in good stead to date. - Author: Curtis Stone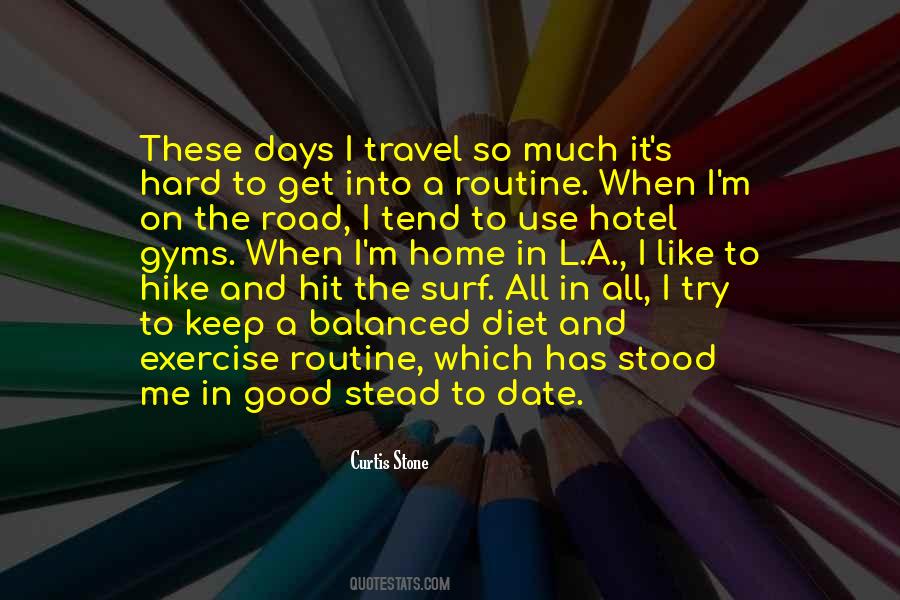 #79. I bicycle 12,000-foot mountain passes, run, cross train, skate-ski, hike and mountain bike. - Author: Carre Otis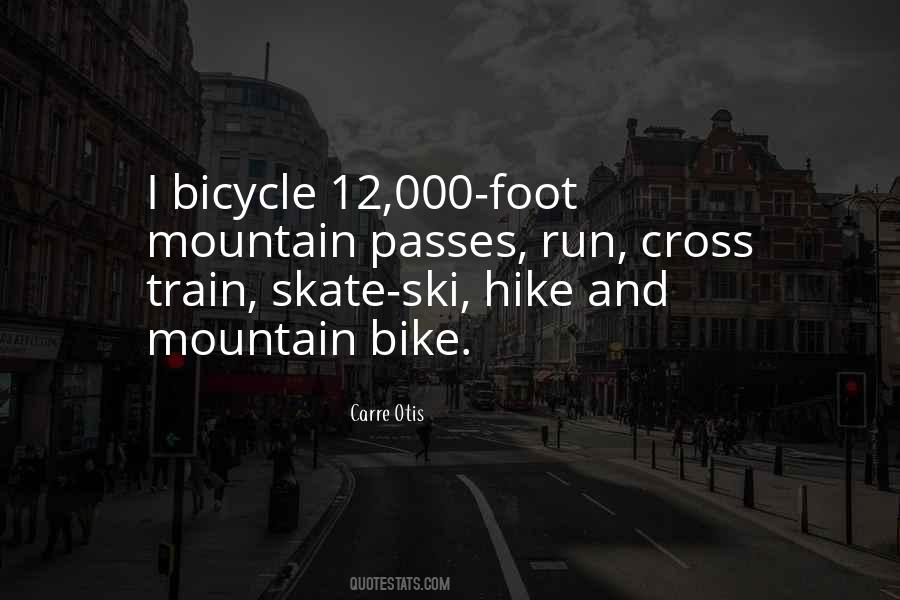 #80. Today we have badminton set up, as well as a hike around the grounds, and trivia questions in the evening. Any questions?"
"When did we sign up for the senior citizen cruise?" Christian ridiculed. - Author: Rachel Van Dyken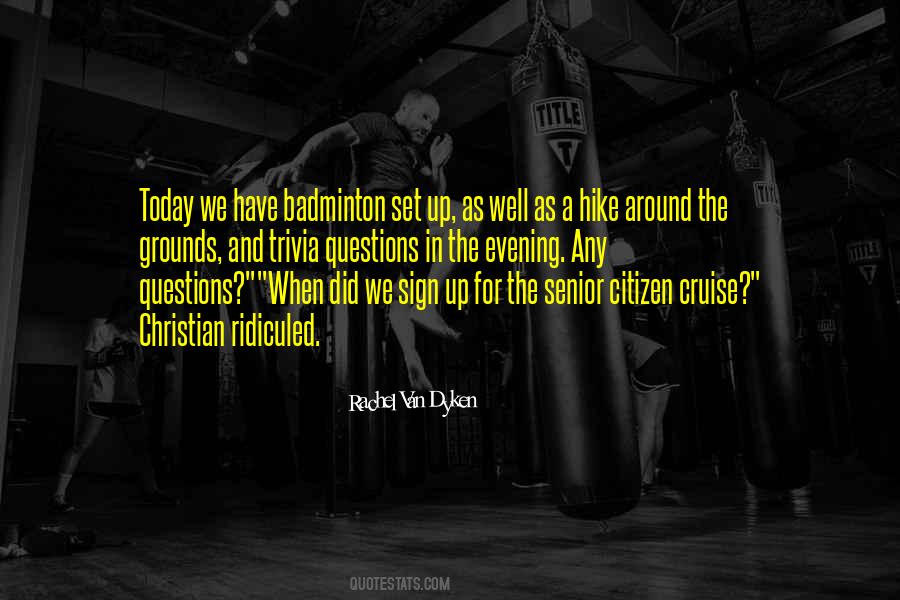 #81. Surfing and climbing are both useless sports. You get to be conquistadors of the useless. You climb to the summit and there is nothing there. And you could hike to the top from another direction. How you get there is the important part. It's the same with surfing. - Author: Yvon Chouinard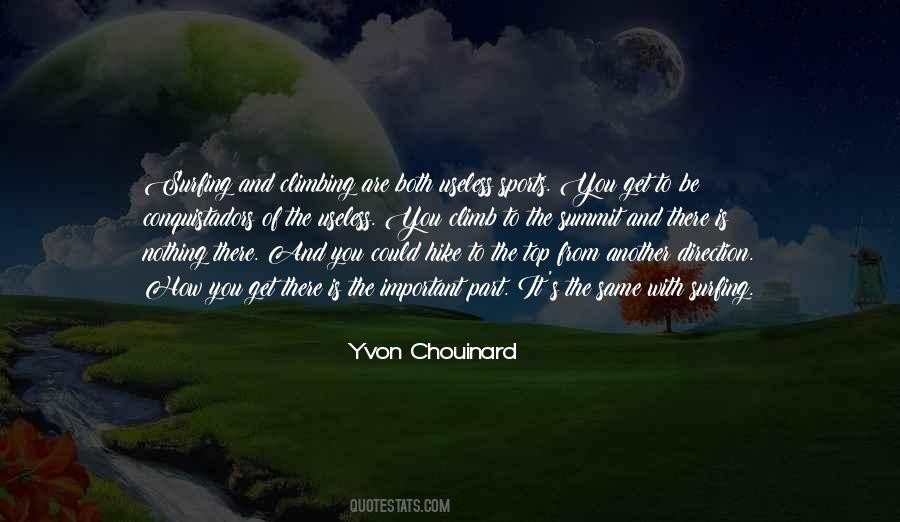 #82. Also, I walk and hike in several different nearby parks near our home several early mornings a week. - Author: Malcolm Boyd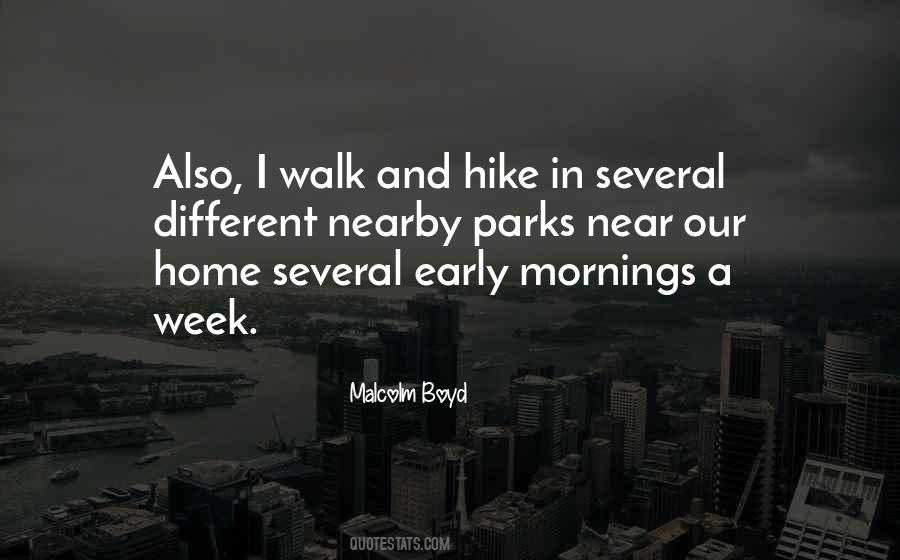 #83. When a man finds the woman he really loves, the one he respects and wants to call wife, there is nothing on earth he won't do for her. No mountain he won't hike. No river he won't wade. No door he won't open. She is Eve and there's not a snake crawling that can keep them apart. - Author: Yolanda Joe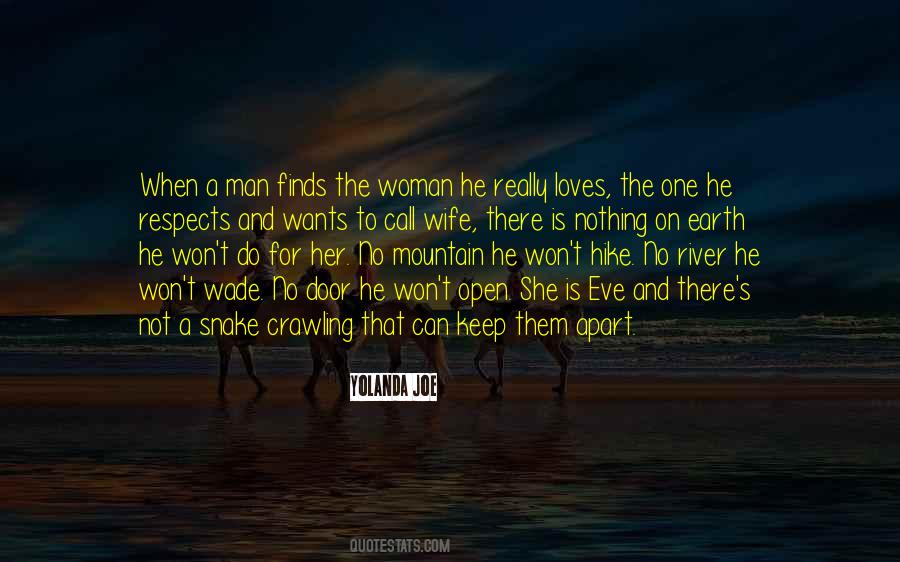 #84. When visiting the Grand Canyon, make sure you hike into the canyon. And be careful not to fall or step in mule poop. - Author: McKenna Shay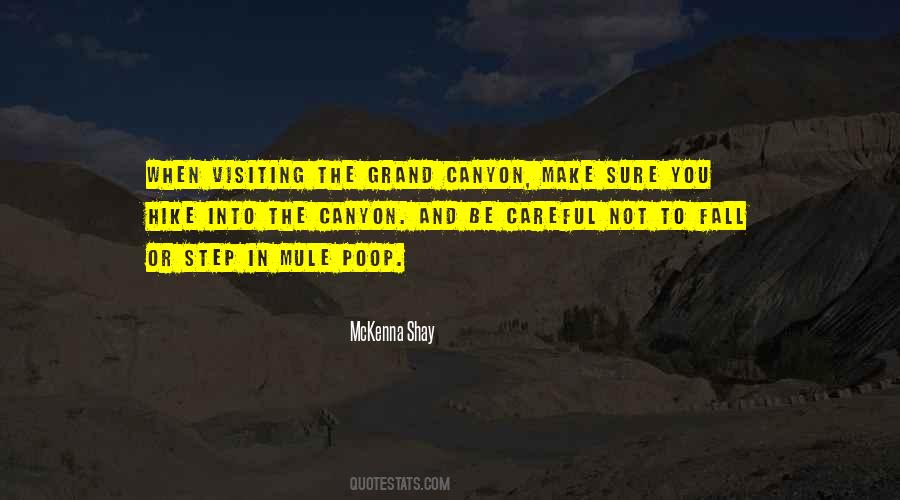 #85. Chair lifts need to be in some places so that we can get to wonderful views without having to hike to them. - Author: Dave Barry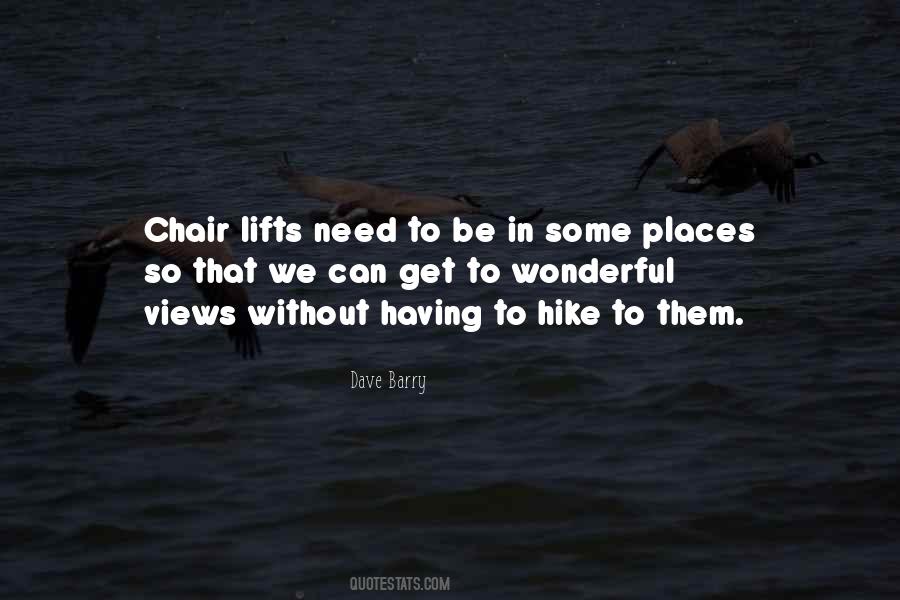 #86. The one instrument that has relative political autonomy is monetary policy. Central banks do not need to go to Congress to get approval for an interest rate hike. - Author: Mohamed El-Erian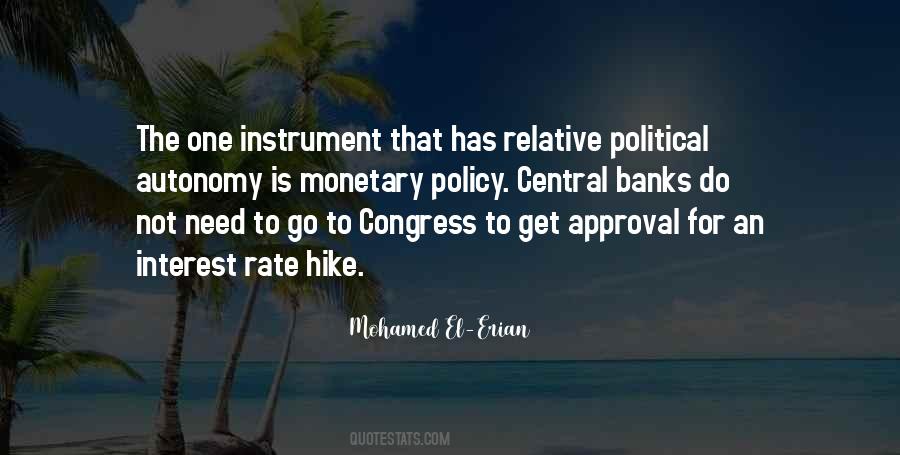 #87. You're the only one I wanted to be with. I was being kind to everyone else for your sake. Personally, I wish they would all take a long hike or a swim, but I think that's out of the question this late in the year. - Author: Dominique Eastwick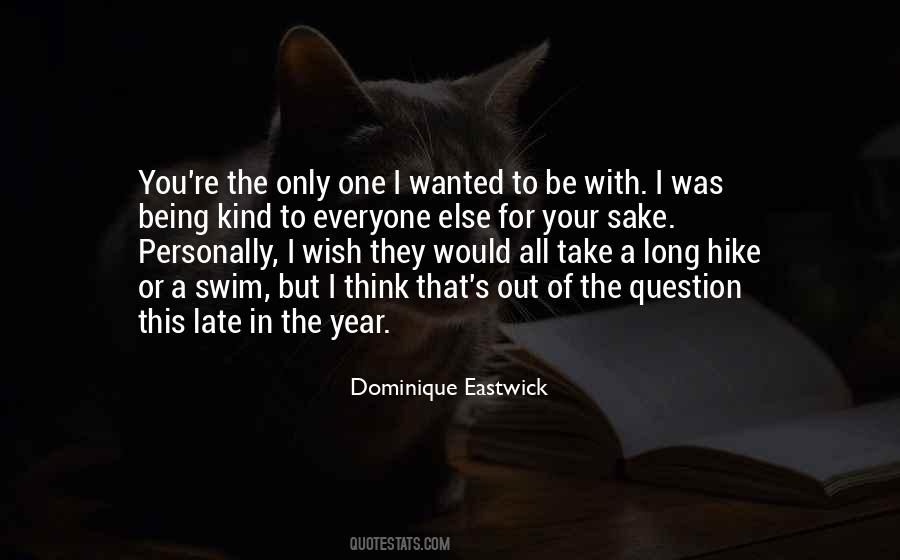 #88. I love being outdoors, playing beach tennis, going for runs in the sand, or doing a three-hour hike with my best girlfriend, Mieko. - Author: AnnaLynne McCord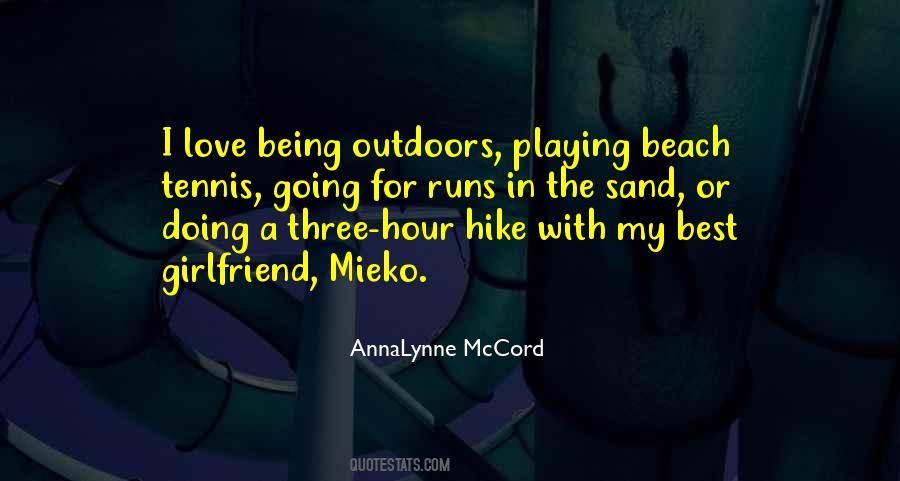 #89. I do Pilates twice a week; I hike and I go to the gym. My days of being that hardcore-workout person are over. Don't get me wrong, I still want to be the hot mom! - Author: Alicia Coppola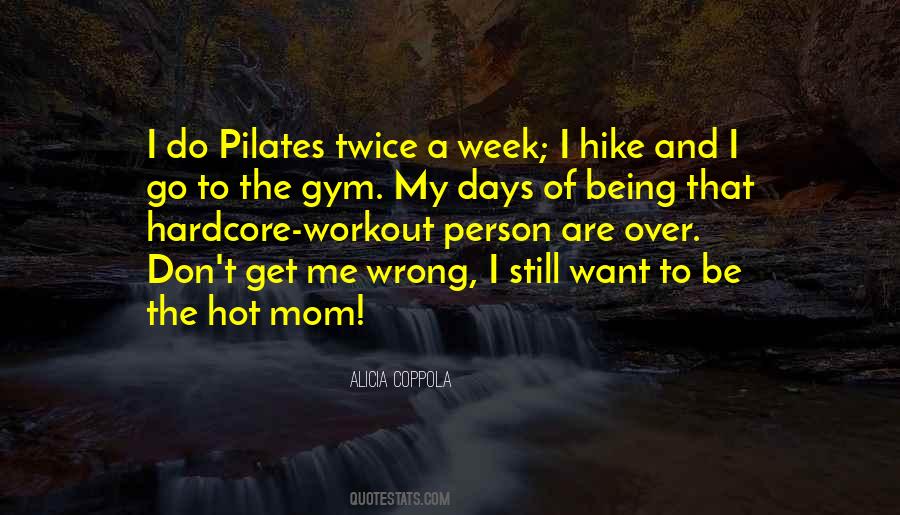 #90. To hike out alone in the desert; to sleep on the valley floor on a night with no moon, in the pitch black, just listening to the boom of silence: you can't imagine what that's like. - Author: Nicole Krauss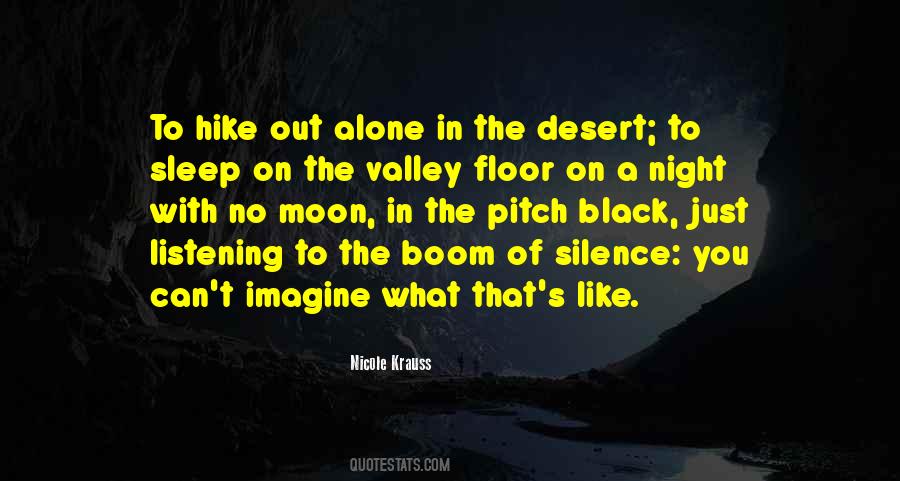 #91. I'm just a glutton for spas and messages. And I love to surf and hike. - Author: Carolyn Murphy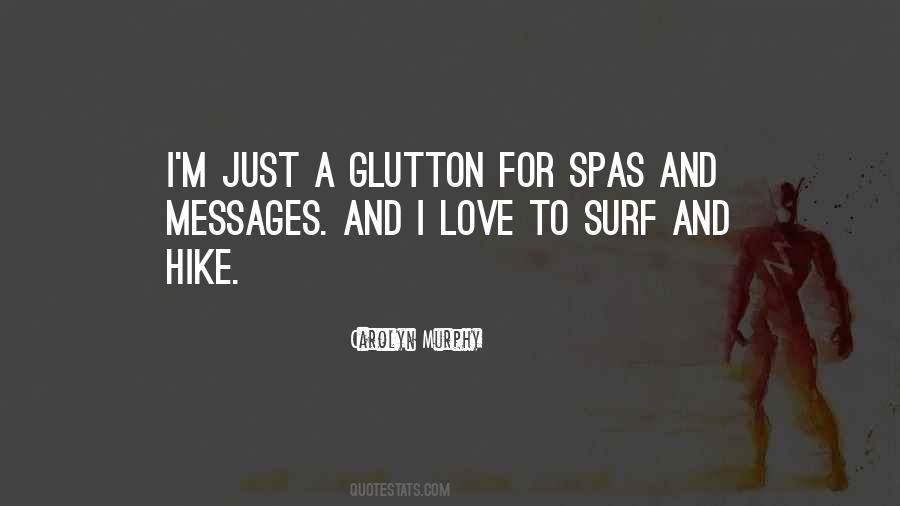 #92. I do like working out. I feel my best when I work out, but you know, I'm human. I like to ride my bicycle and lift weights and hike. When I am diligently working out, ideally, I like to work out four days a week. If I can do that, I feel good about myself. - Author: Shemar Moore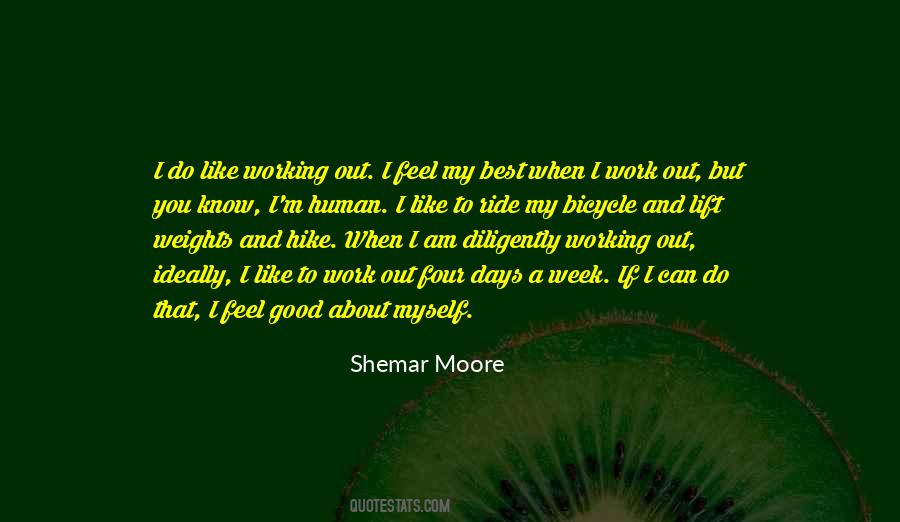 #93. But the fact is, it's illegal for the Administration to spend North west taxpayers' money to develop this rate hike proposal, just so it can turn around and raise their energy rates. - Author: Maria Cantwell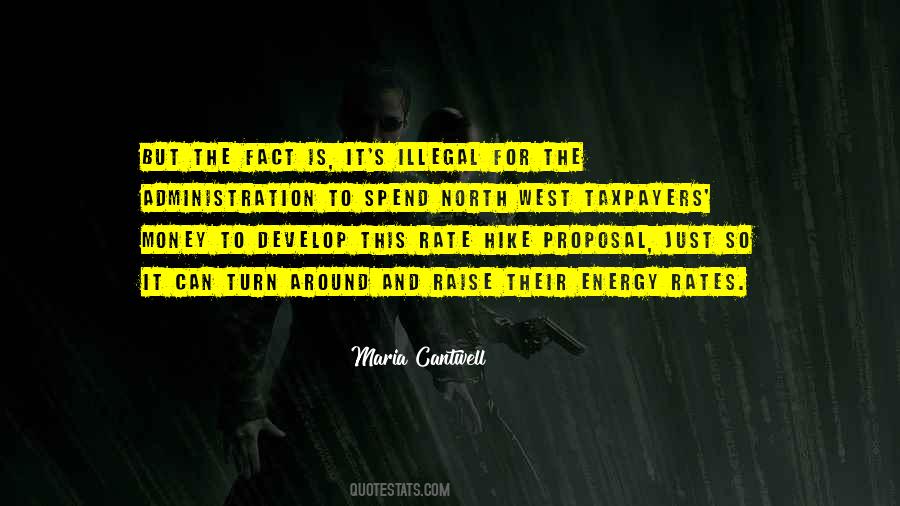 #94. If I'm anywhere close to where I can hike or swim, that's my favourite thing to do. - Author: Lily Cole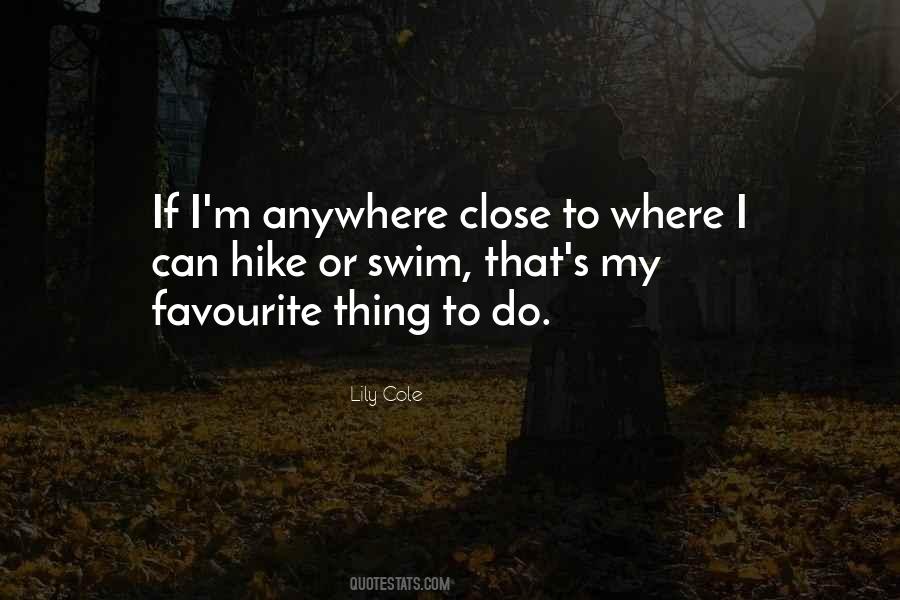 #95. S.O.S. I NEED YOUR HELP. I AM INJURED, NEAR DEATH, AND TOO WEAK TO HIKE OUT OF HERE. I AM ALL ALONE, THIS IS NO JOKE. IN THE NAME OF GOD, PLEASE REMAIN TO SAVE ME. I AM OUT COLLECTING BERRIES CLOSE BY AND SHALL RETURN THIS EVENING. THANK YOU, CHRIS MCCANDLESS. AUGUST? - Author: Jon Krakauer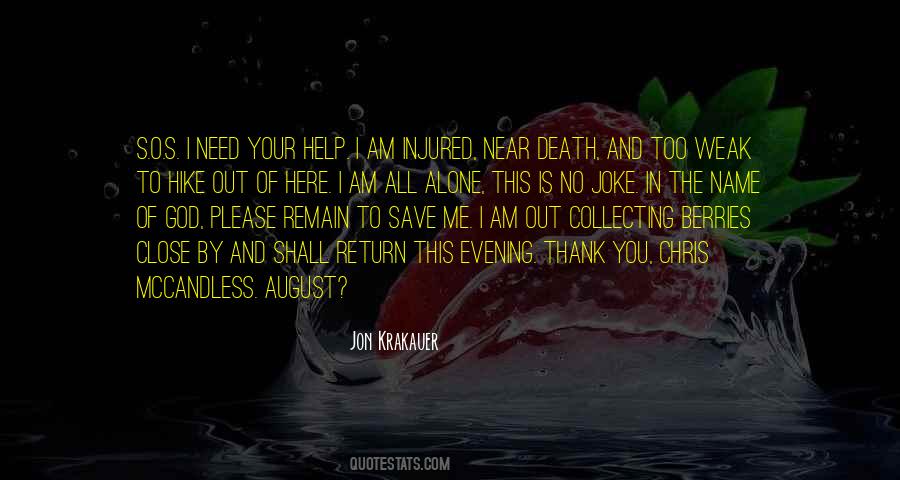 #96. I hike and make sure everything I eat is organic. - Author: Janice Dickinson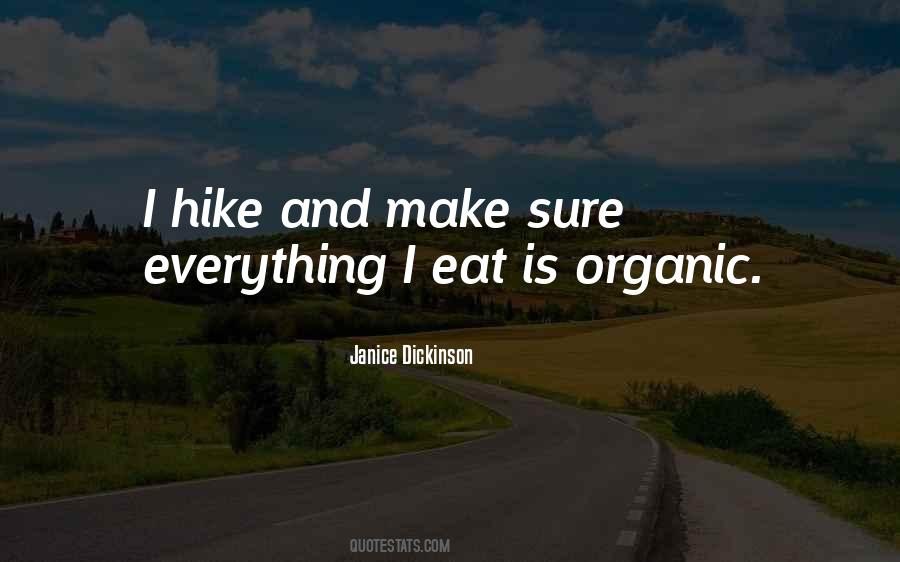 #97. I shot Footloose nearby, and we used to hike. Very fond memories. - Author: Dianne Wiest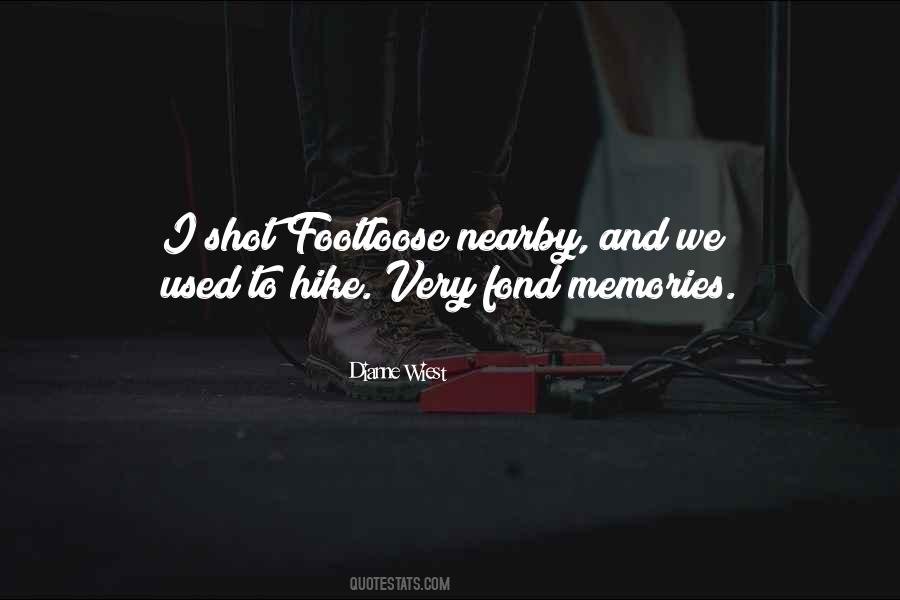 #98. I run about four days per week and do some sort of hike or yoga/stretching on the other three. Kind of self-propelling my body and muscles forward in my own controlled chaos helps me find the ground a little bit easier on the daily. - Author: Madi Diaz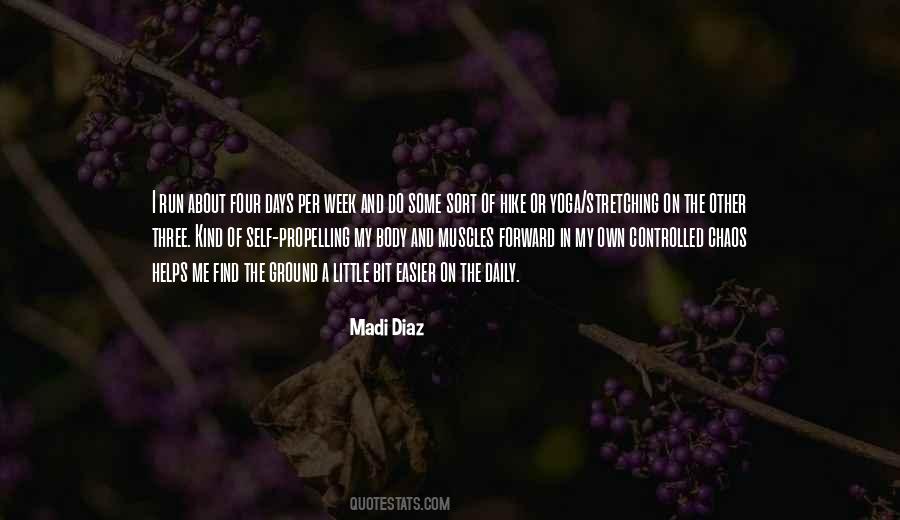 #99. I've tried to meditate, but I feel like I always overthink the process. When I need to calm my mind, I will go for a family hike. - Author: Jacob Vargas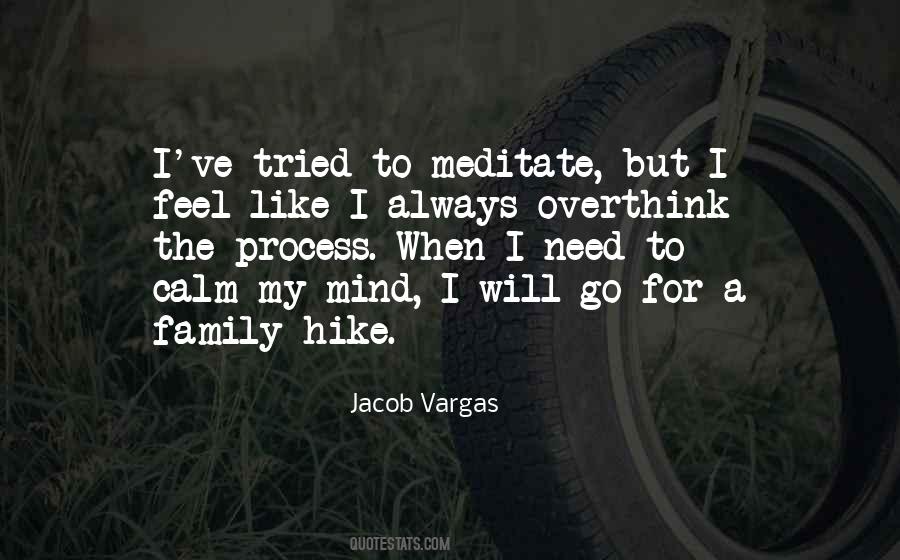 #100. I don't have a normal job, so I really appreciate having friends who are writers and artists. It's fun to have a group of people you can call in the middle of the day to go for a hike. - Author: Natalie Portman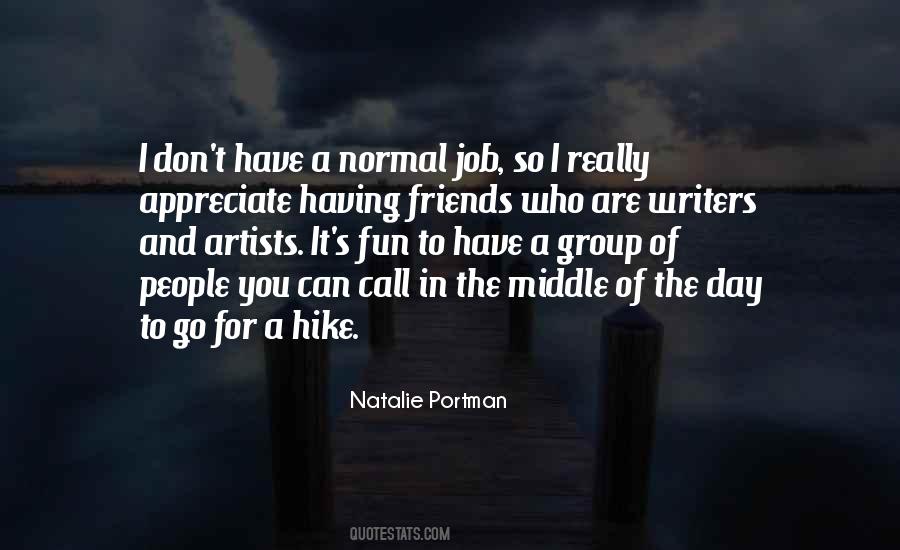 Famous Authors
Popular Topics