Get Scared Famous Quotes & Sayings
List of top 100 famous quotes and sayings about get scared to read and share with friends on your Facebook, Twitter, blogs.
Top 100 Get Scared Quotes
#1. Drizzt turned and tried to catch him, but the huge man bowled the drow over and continued on. Face first into a tree. Before Drizzt could get over to help, Wulfgar was up again and running, too scared and embarrassed, to even groan. - Author: R.A. Salvatore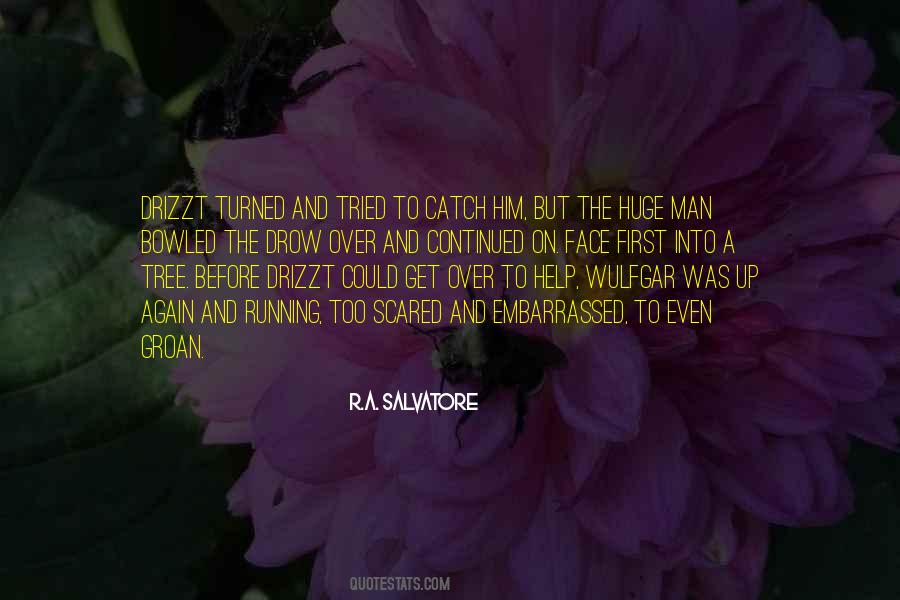 #2. If you're going through hell, Keep on going, don't slow down, If you're scared, don't show it You might get out Before the devil even knows you're there. - Author: Rodney Atkins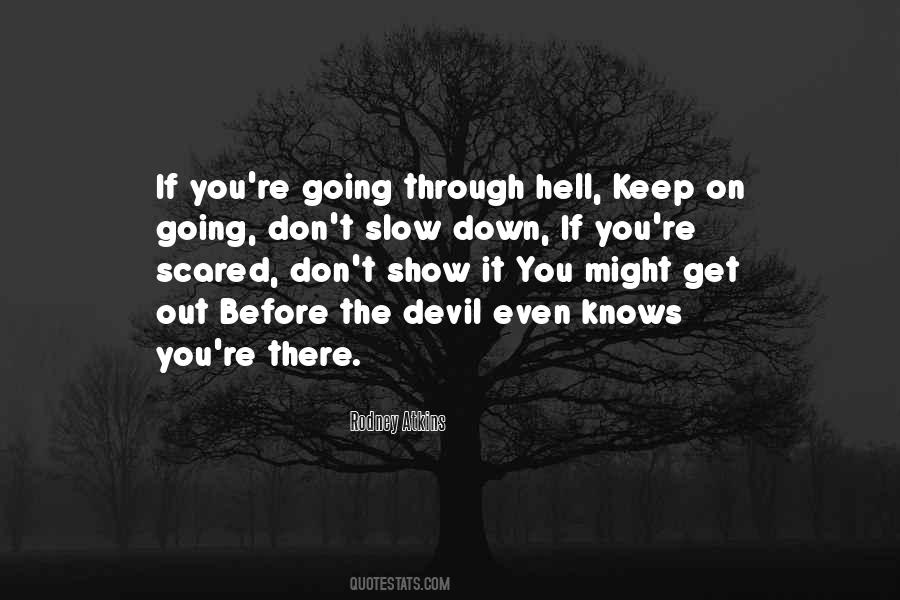 #3. If there's one thing I've realized, it's that you have to be honest. Even if you're scared, even if you're worried that you're going to get your heart stomped on, even if you think that the truth is going to ruin everything, you have to put it out there. Because otherwise, you're fucked. - Author: Lauren Barnholdt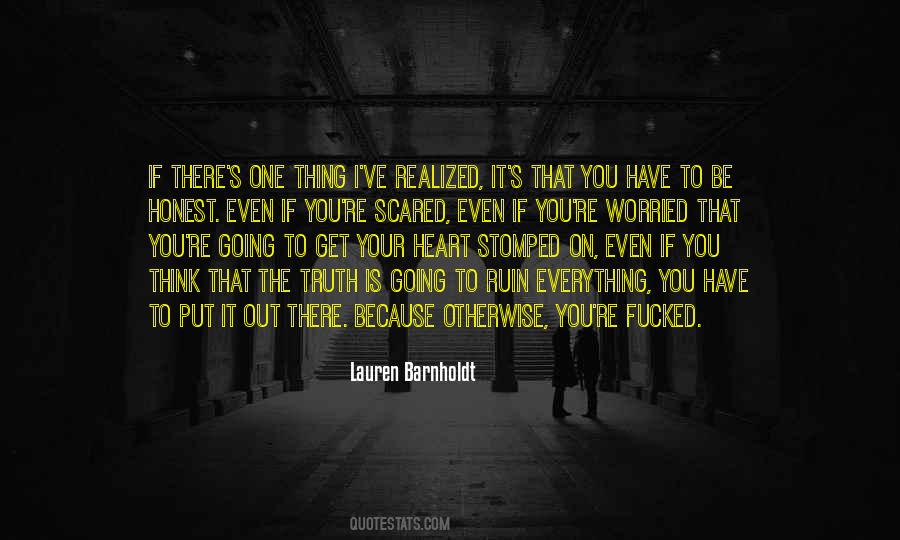 #4. I haven't ridden a bike in a while because I'm so scared I'll get hit and die. - Author: Alysia Reiner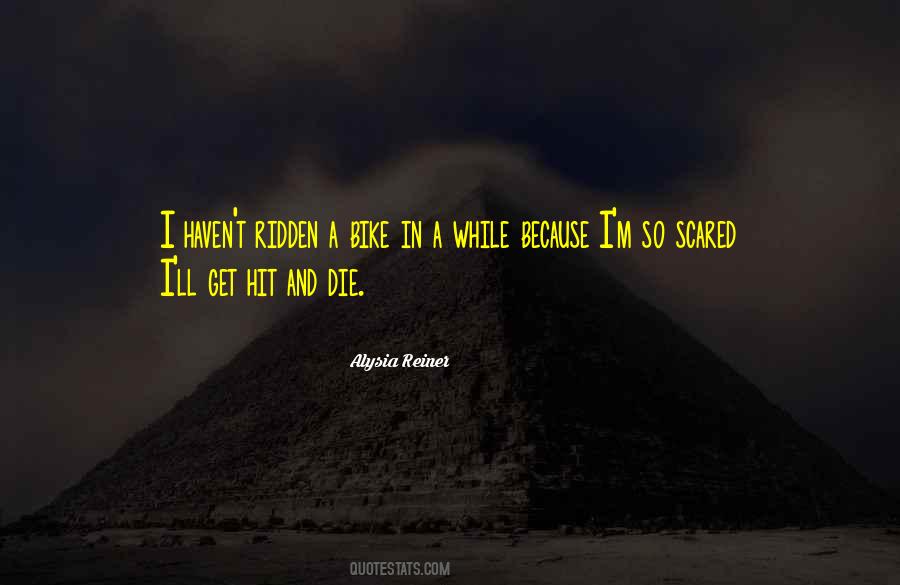 #5. I get scared as crap to perform but I push myself to do it. I don't know what I would be doing without it. - Author: Phillip Phillips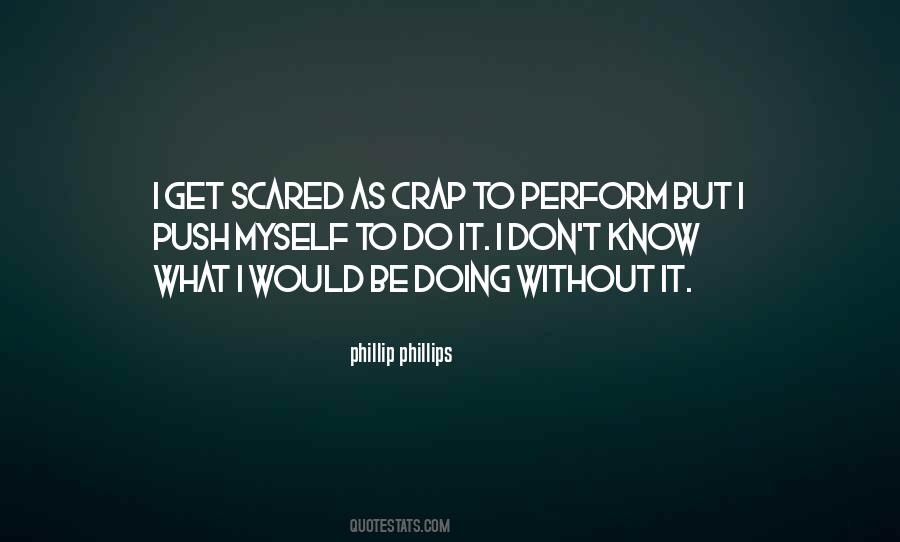 #6. On days where I feel the karma is in balance I'm not afraid of death. And when I feel it's weighing heavily on the negative side, then I get very scared and just think about eternal damnation and how unpleasant that would be. - Author: Will Oldham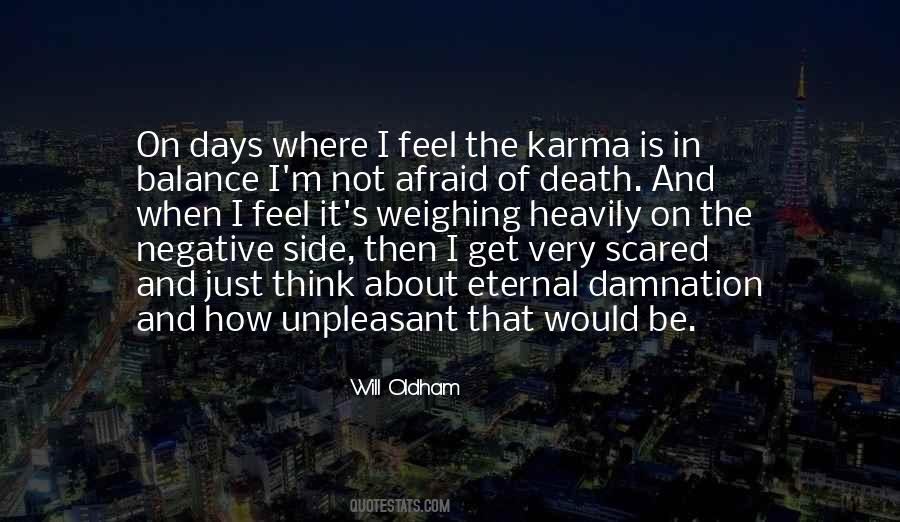 #7. I love you so much, and there are so many things that I didn't get to tell you. I was so scared of the way you loved me, Caleb. - Author: Tarryn Fisher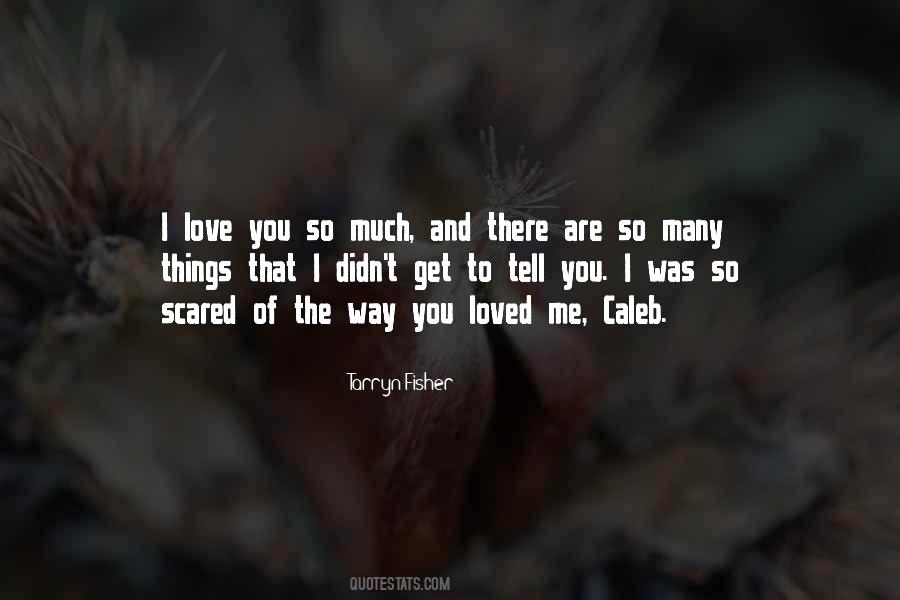 #8. I saw that streak in him when he told me, 'Get the hell out of here or I'll wipe you out., I got the hell out of there, Liston really scared me. - Author: Muhammad Ali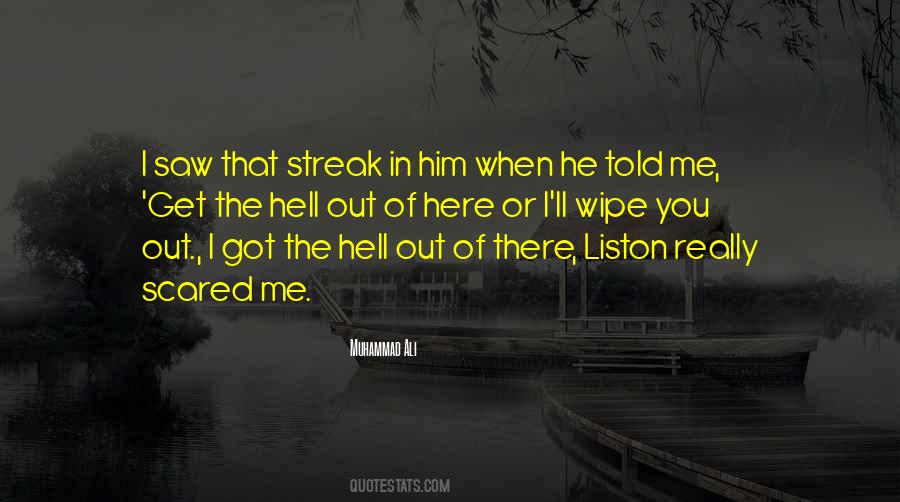 #9. I think there's a reason that horror appeals to teens. There's a lot of useful lessons to take away from reading horror. We get to be scared in the comfort and safety of our own homes. We can put the book down if we get too scared, and no one will ever know if we decide not to pick it up again. - Author: Holly Black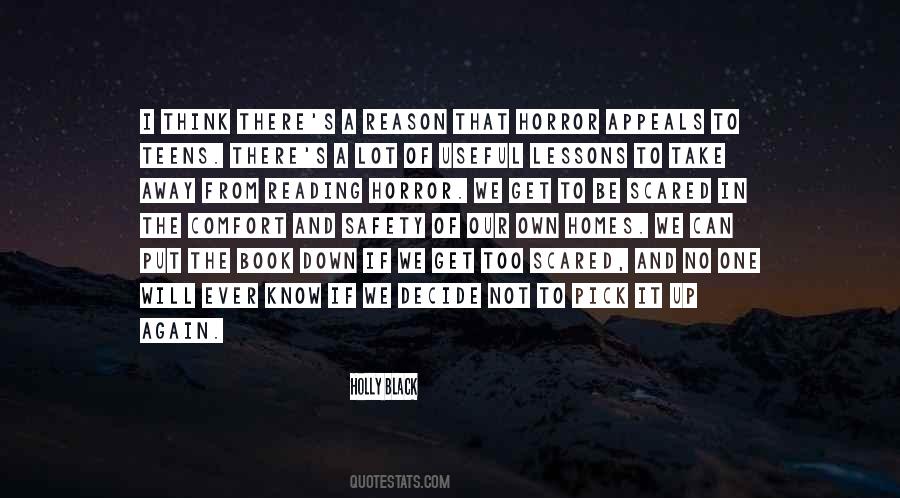 #10. Most people come out of their Ph.D. experience trying to prove themselves, trying to get ahead, trying to get published. You're scared everybody else is going to do your research and get your topic. - Author: Bernice Johnson Reagon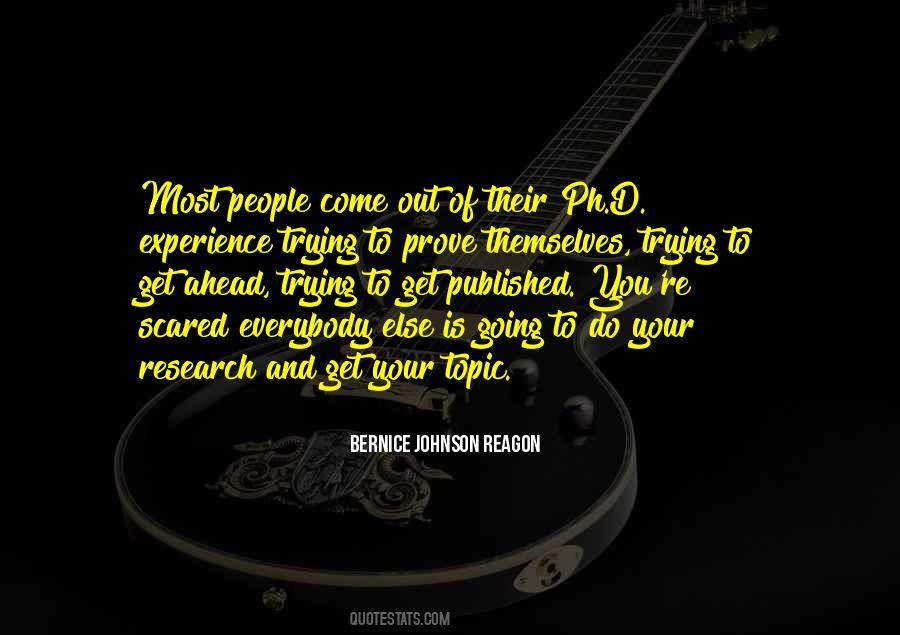 #11. I still love Delhi but get scared of the madness sometime. I know that my fans love me. But it gets a bit tough to handle when, in their excitement, they start touching and poking you to see if you're for real. - Author: Preity Zinta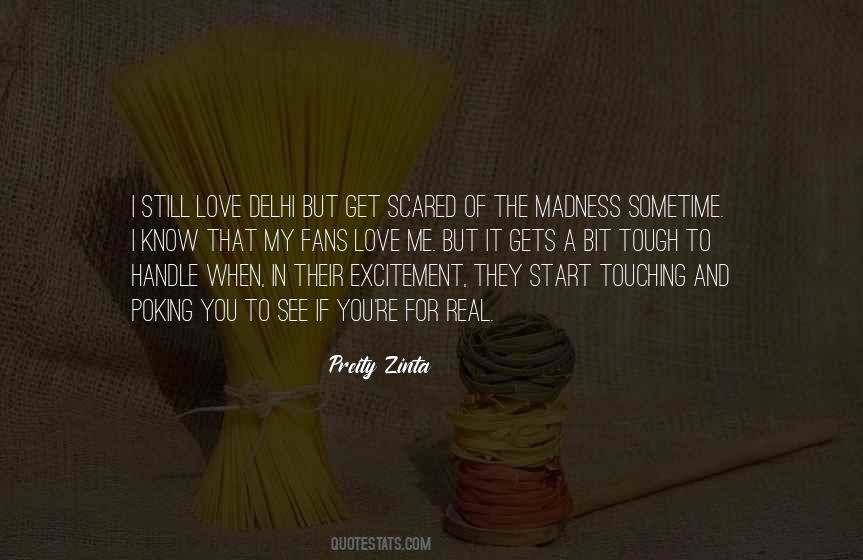 #12. Until then we're going to keep making memories like this, moments when we're the only two people in the whole world. And when we get scared or lonely or confused, we'll pull out these memories and wrap them around us and they'll make us feel safe. And strong. - Author: Laurie Halse Anderson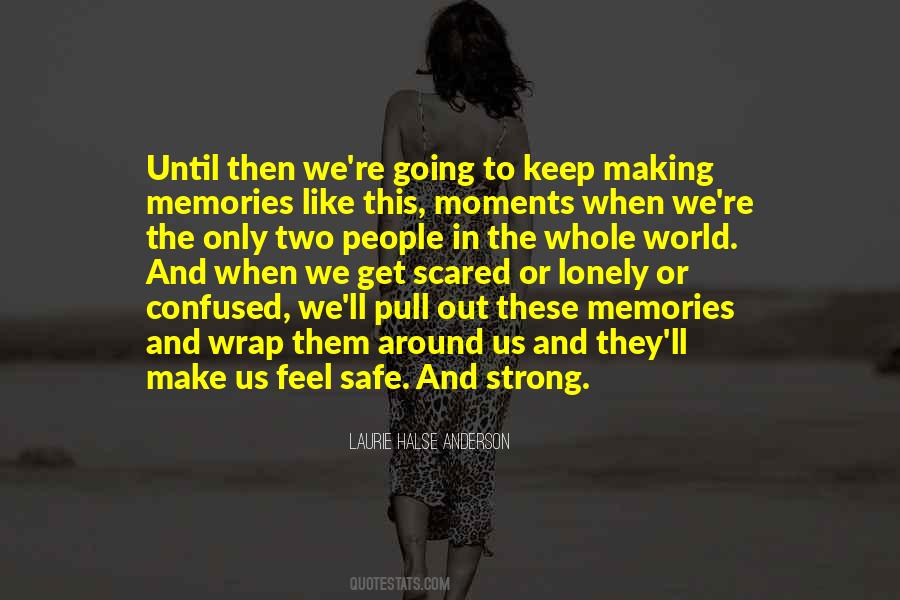 #13. I do get scared of the dentist, so a drive-through dentist might make me feel more at home. If I got to stay in my car. - Author: Jessica Pare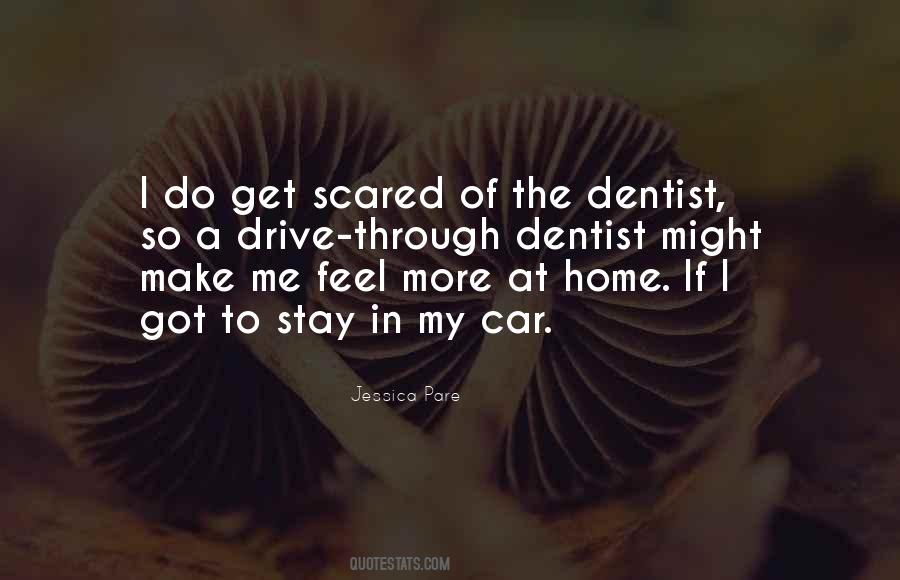 #14. The ability to get to the verge without getting into the war is the necessary art. If you try to run away from it, if you are scared to go to the brink, you are lost. - Author: John Foster Dulles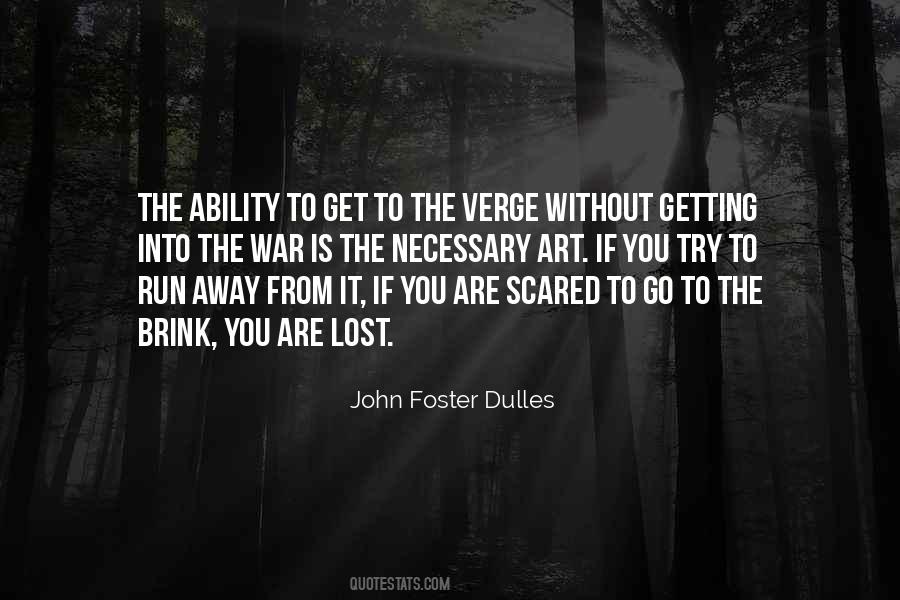 #15. I was heart broken, scared, I had a lot of anxiety, I was worried, I felt weak, and I had no idea how I was ever going to come up with the strength. But I just closed my eyes, and took a blind leap. I knew I had to get out of there. - Author: Bob Casey Jr.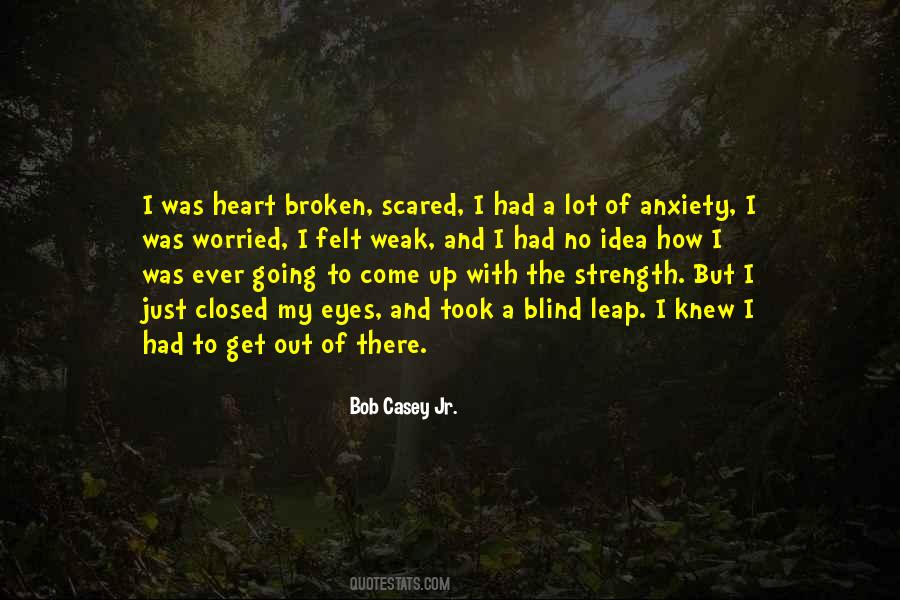 #16. I think a lot of people, when they read about a woman who acknowledges her sexuality and her feelings, get really scared. They say they want to be fearless, but in reality they're terrified. If they acknowledge their deepest feelings, they might have to change their lives. - Author: Erica Jong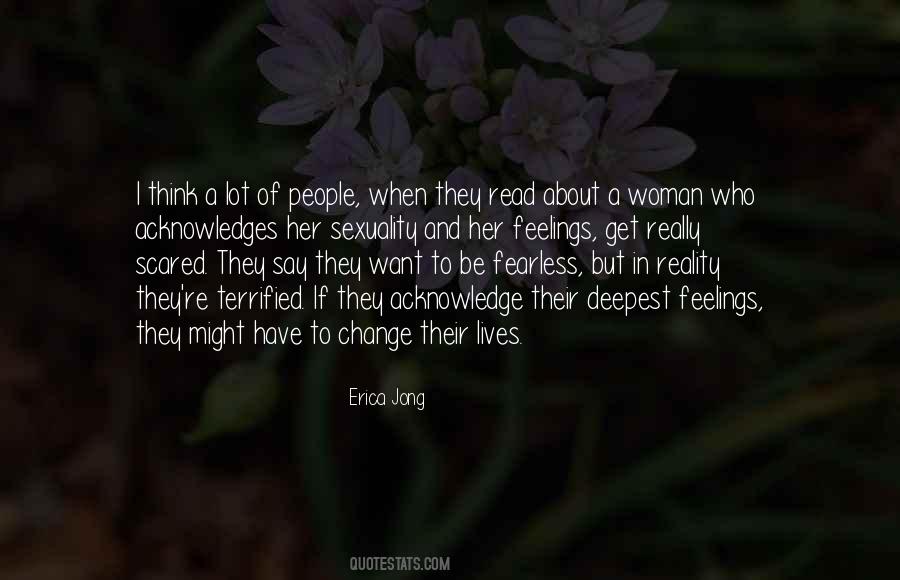 #17. I think today women are very scared to celebrate themselves, because then they just get labeled. - Author: Charlize Theron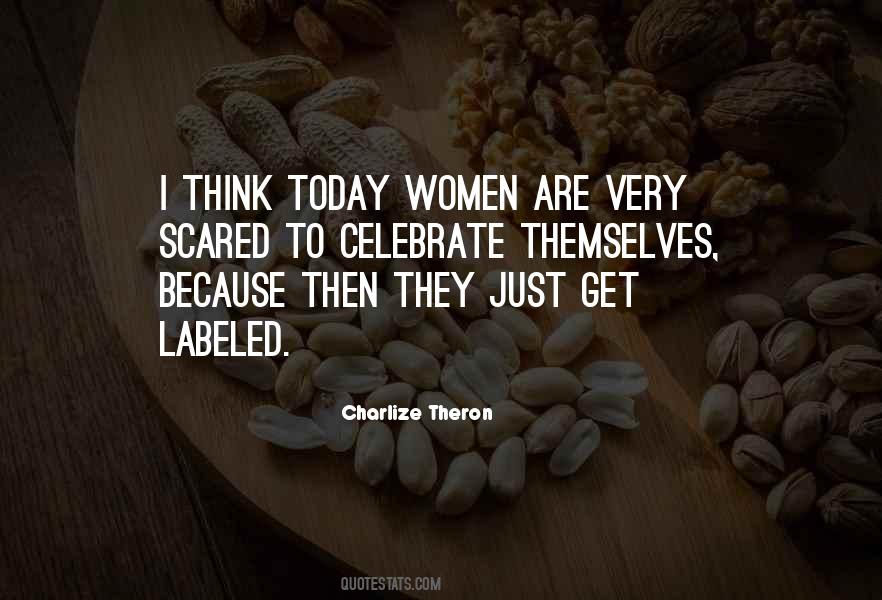 #18. Being Tranquil didn't sound so bad to him. He'd been terrified of being swallowed up by the darkness for so long it seemed like it would be a relief to get it over with. You were only scared of becoming nothing until you were nothing.
Just like dying - Author: David Gaider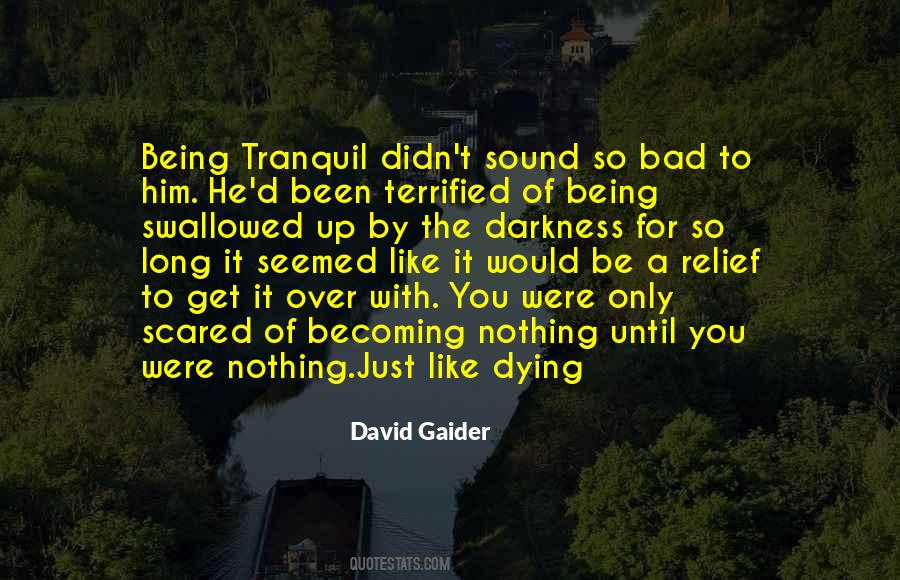 #19. I can remember neing in high school, walking through Central Park on a chilly day, and the sound of stamping on the crispness of autumn leaves would make me think of the sensation of my head cracking open. And I would get really scared and run all the way home, running for cover. - Author: Elizabeth Wurtzel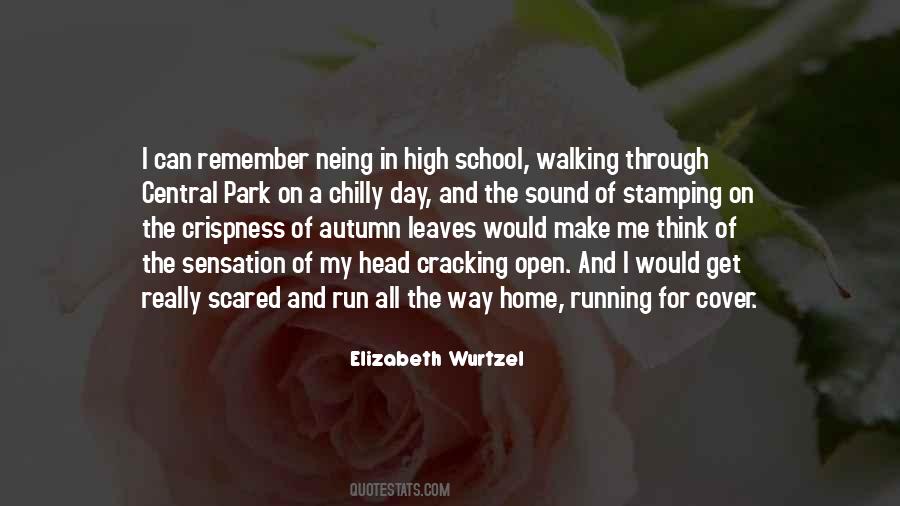 #20. I get scared of a lot of attention. I get scared of the spotlight. And I'm not talking about on the basketball court. - Author: Jeremy Lin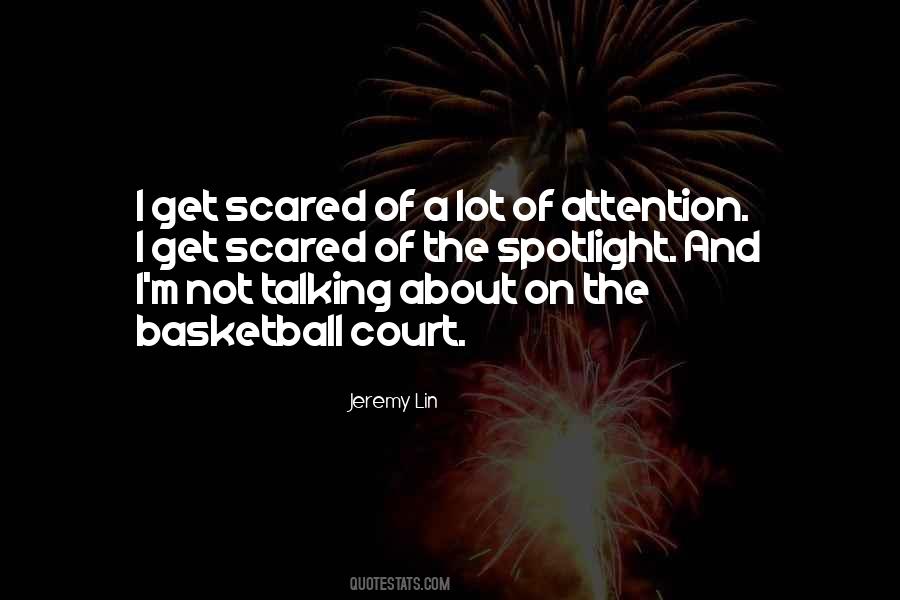 #21. Everybody stood dead still. It was as if now that we were about to get out of the Tower for the first time since the flood, we were scared, like we were crossing some line that we wouldn't be able to uncross.
Greenleigh - Author: B.E. Scully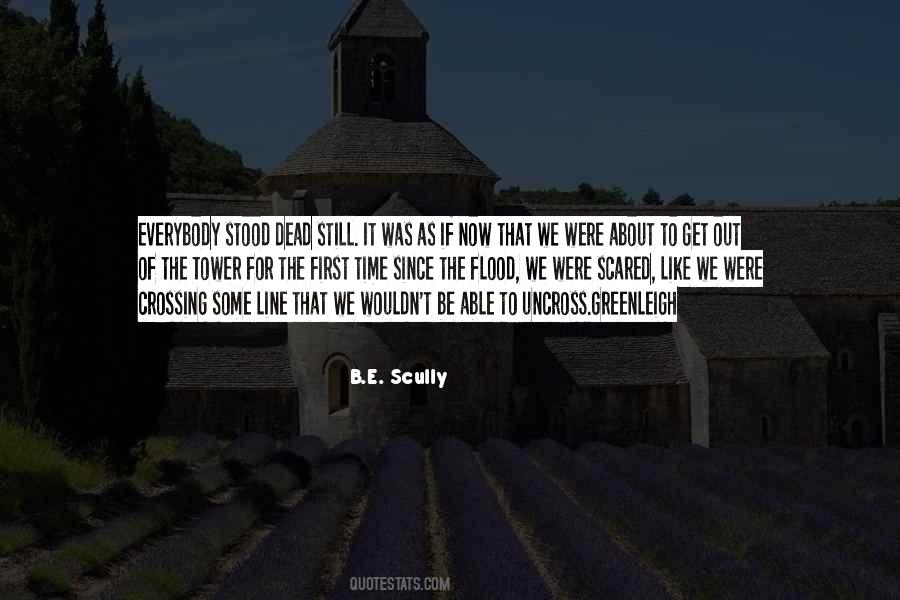 #22. I am so scared of what will kill me in the end for I am not prepared, I hope i'll get the chance to be someone, to be human, look what we've done - Author: Ellie Goulding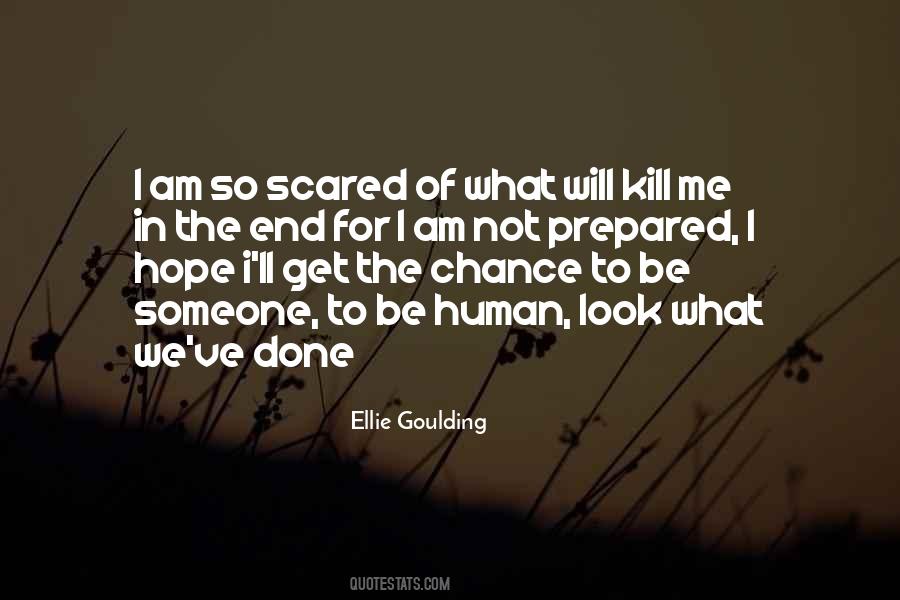 #23. Face your path with courage, don't be scared of people's criticism. And, above all, don't let yourself get paralyzed by your own criticism. - Author: Paulo Coelho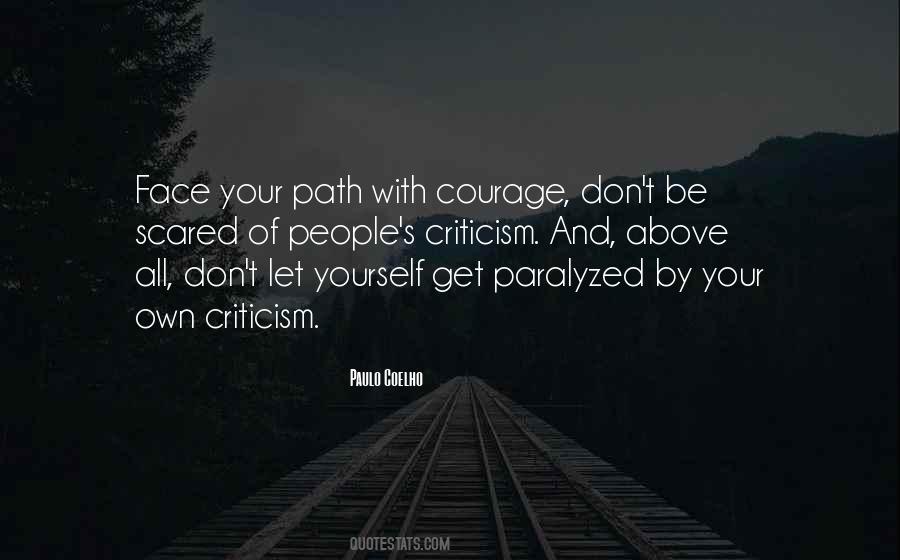 #24. I used to be scared of the Candyman. You'd say his name three times in the mirror and then he'd come get you. I was terrified of that stuff becoming true. My older cousins used to say things to make us believe crazy stories like that, so I was scared of the Candymanuntil I knew better. - Author: Tony Harrison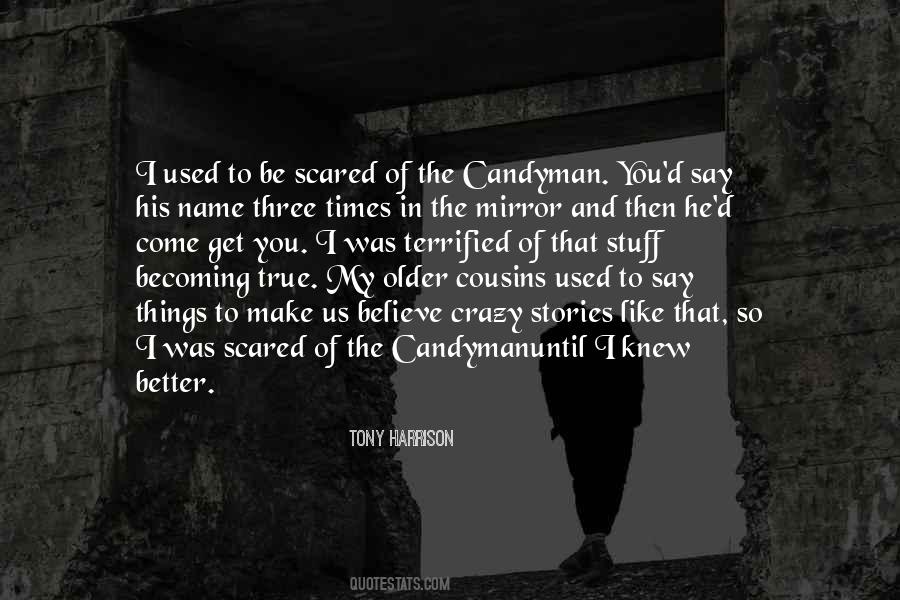 #25. Hannah shouldn't have to get braces. Maybe she can't afford them or maybe she's scared to get them. Either way, she shouldn't have to fill her mouth with metal so that some shitheads will leave her alone. - Author: Julie Murphy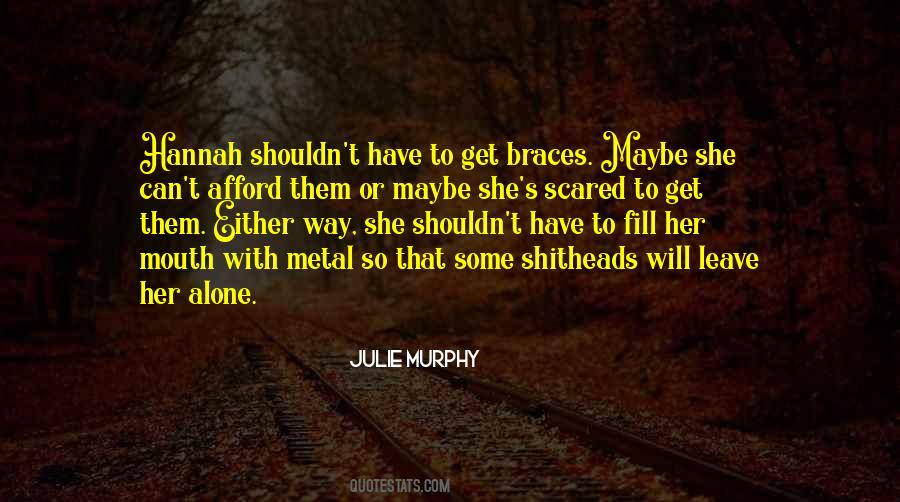 #26. I always get scared. I can't read scripts. I'm scared, scary movies and stuff. - Author: Vanessa Ferlito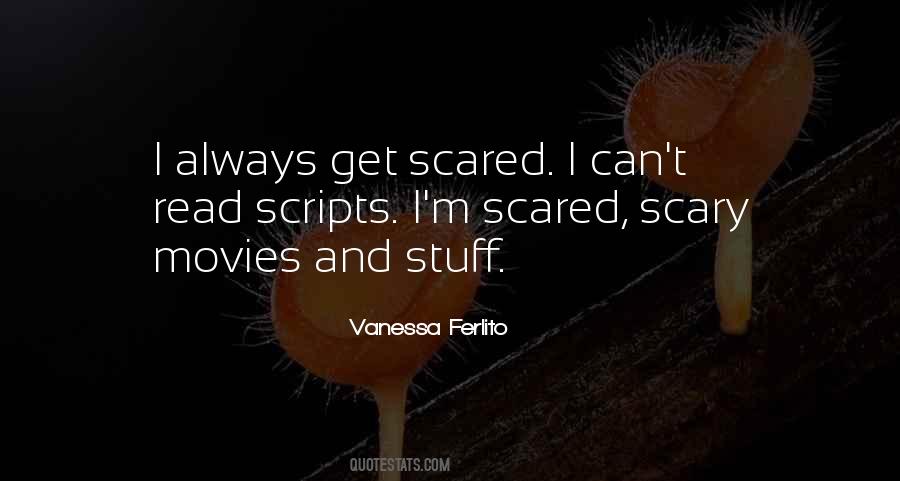 #27. ...you need the tiniest bit of bravery. People get scared when you try to do something, especially when it looks like you're succeeding. People do not get scared when you are failing. It calms them. That's why the show Intervention is a hit and everyone loves "worrying about" Amanda Bynes. - Author: Mindy Kaling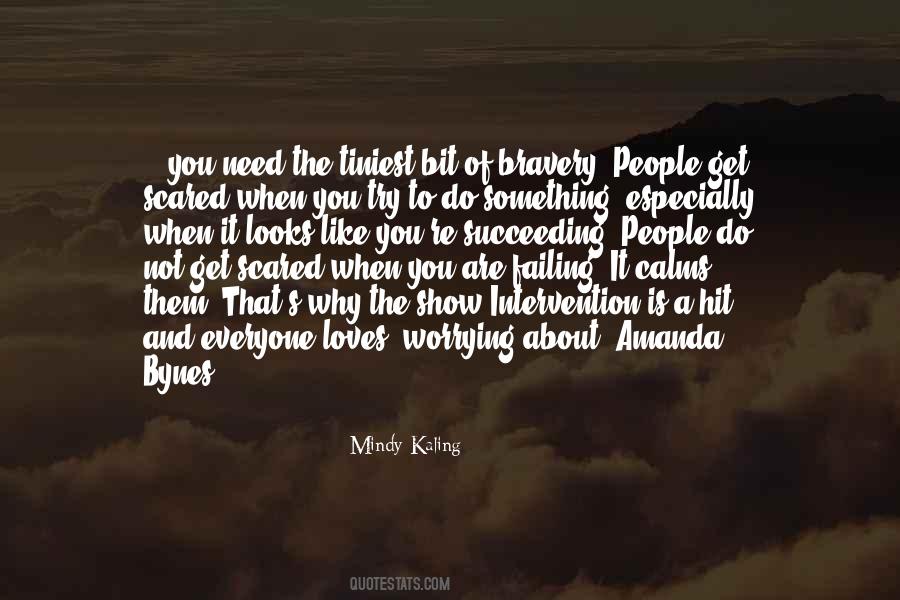 #28. I want you to be with me in the dark. To hold me. To keep loving me. To help me when I get scared. To come right to the edge and see what's there. - Author: Jenny Downham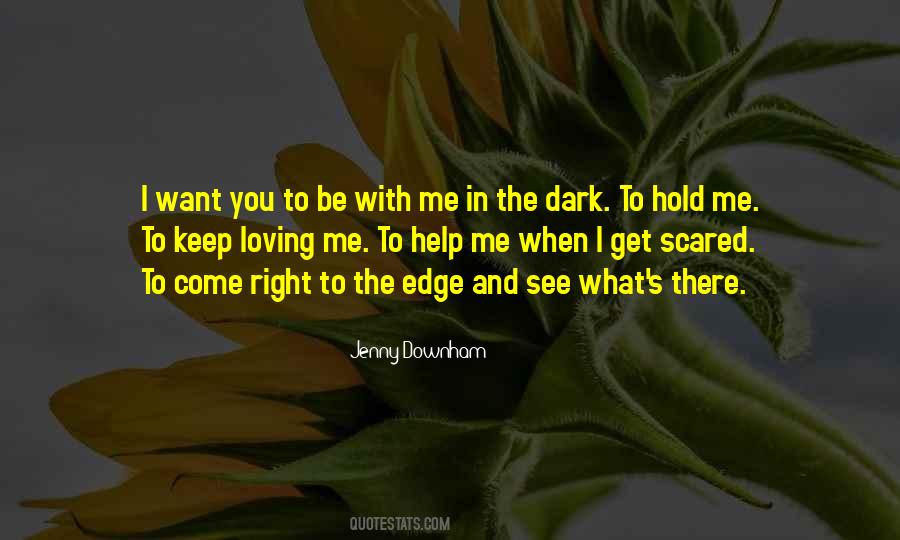 #29. I just love to watch people get scared. It's like, 'Yes, I accomplished my goal!' - Author: Kathryn Newton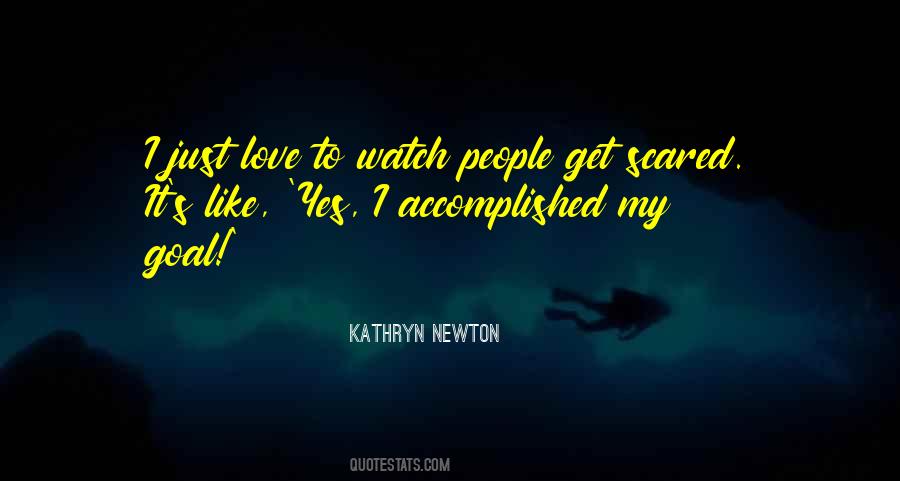 #30. I have a personal ambition to live my life honestly and honor the true love that I've had and also the people I've had around me. I want to stay hopeful, even though I get scared about why we're even alive at all. - Author: Lana Del Rey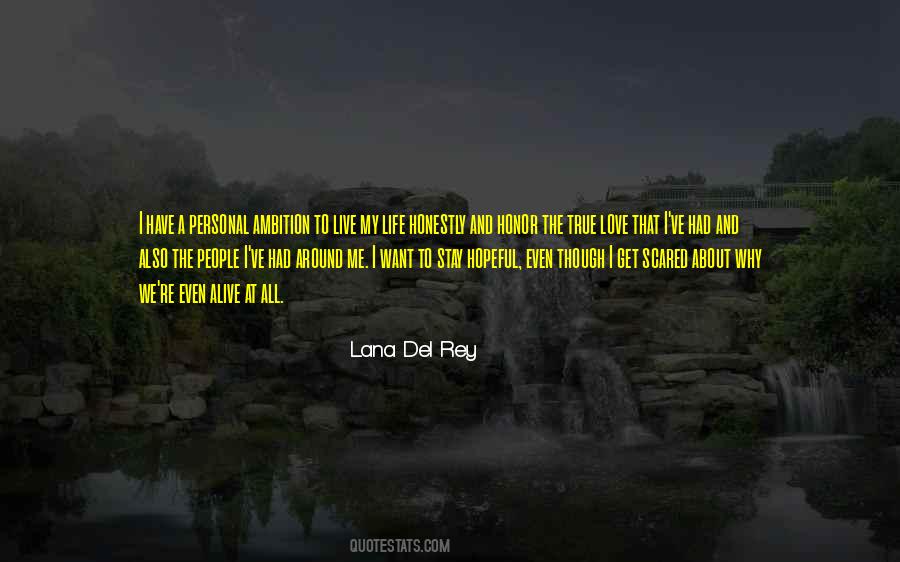 #31. AT&T works in Hell. I can't think about it very long or I'll get really, really scared of AT&T. - Author: MaryJanice Davidson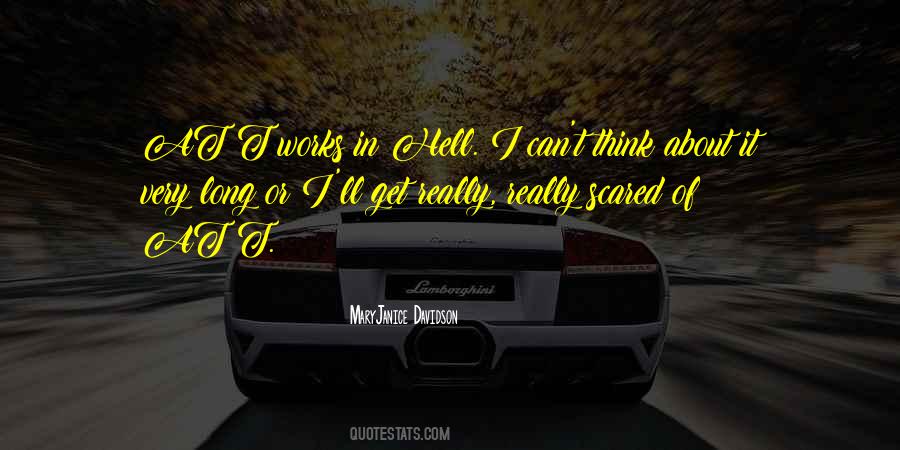 #32. Your "scared" and my "scared" are two different things.'
'What's that supposed to mean?' she asked.
'As you get older, you don't recover from things so easy.'
'As you get older, you also get tired?'
'Yeah,' I said, 'you get tired. - Author: Haruki Murakami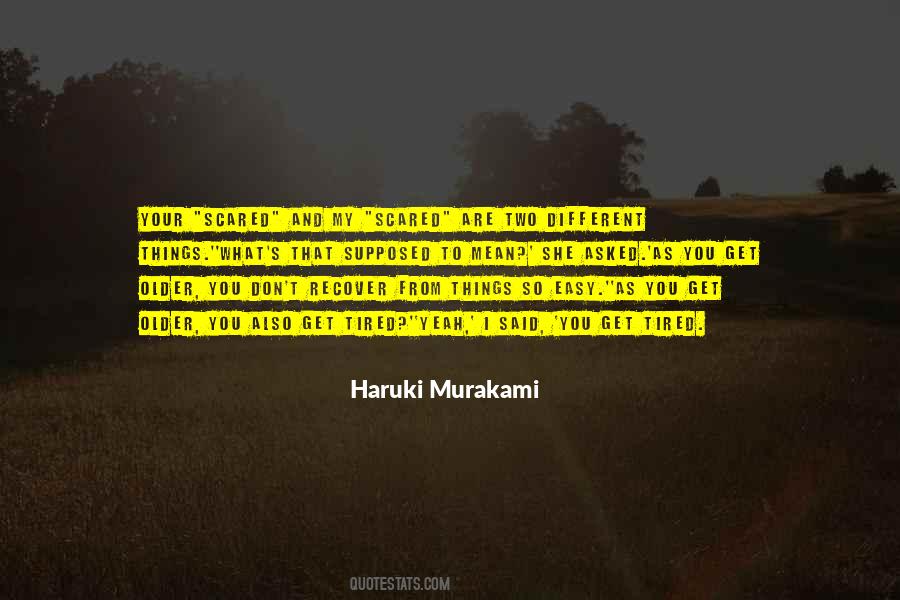 #33. Most of the time, I'm not scared. I get on with life, not because I'm a fatalist, but because that's the most congenial way of dealing with things. Indeed, most of the time, I'm not conscious of dealing with anything. - Author: John Diamond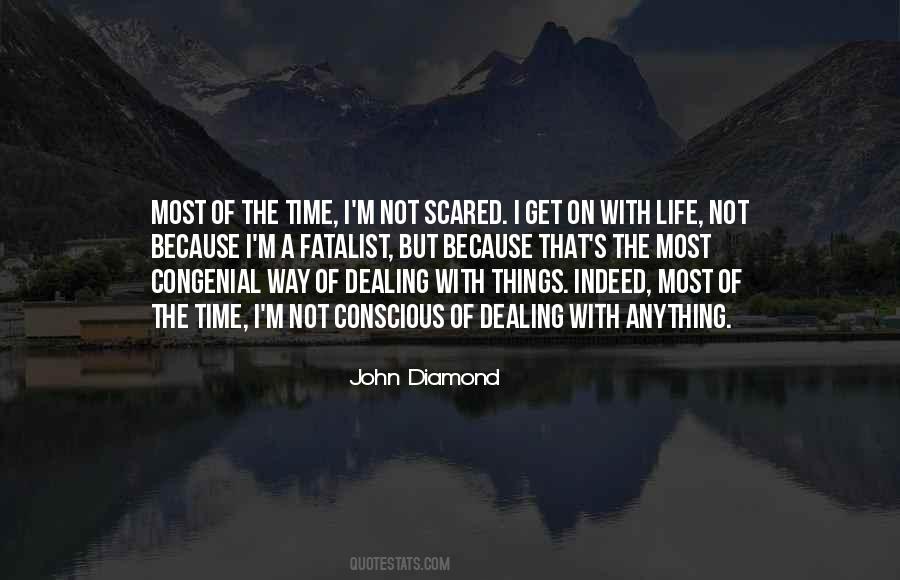 #34. It was tough for me at school ... trying to blend in and get along with other kids. I was an oddity and kids are scared of things they don't understand. - Author: Kimora Lee Simmons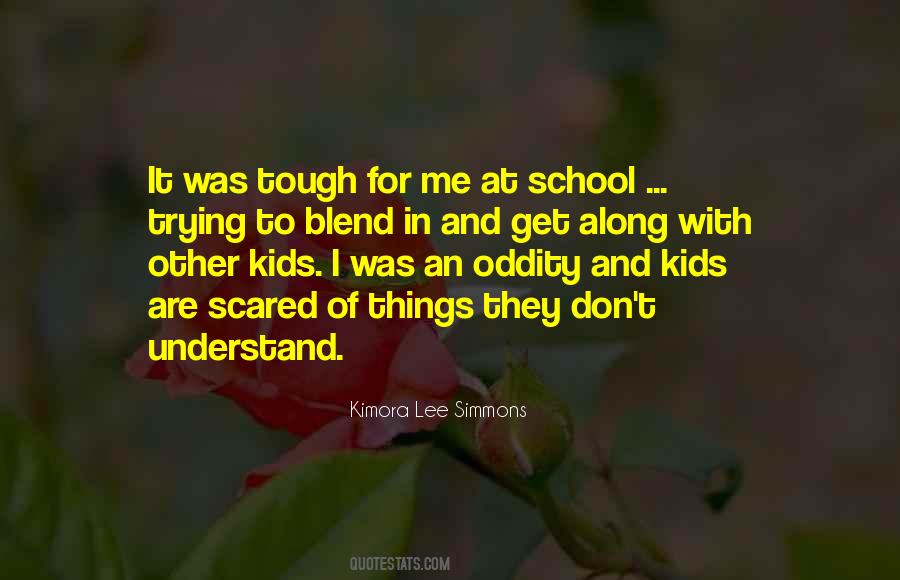 #35. I still get scared at night. Every tiny creak, every little noise, I open my eyes real wide and listen with them. Have you noticed that? When it's dark and you can't see a thing, you open your eyes really wide and glance back and force, like your eyes become your ears? - Author: Ellen DeGeneres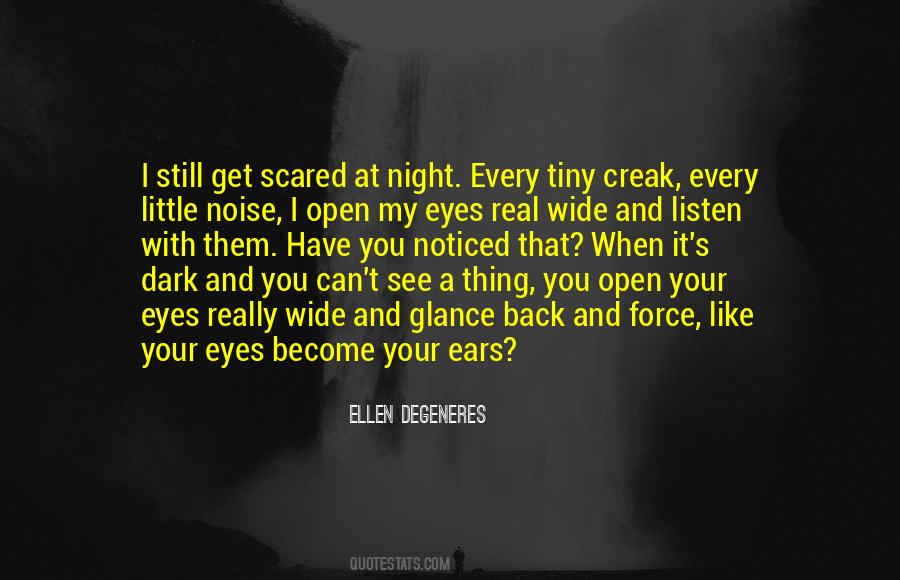 #36. I know how scared you get of the unknown. To you ... I must be kind of a security blanket. - Author: S.C. Stephens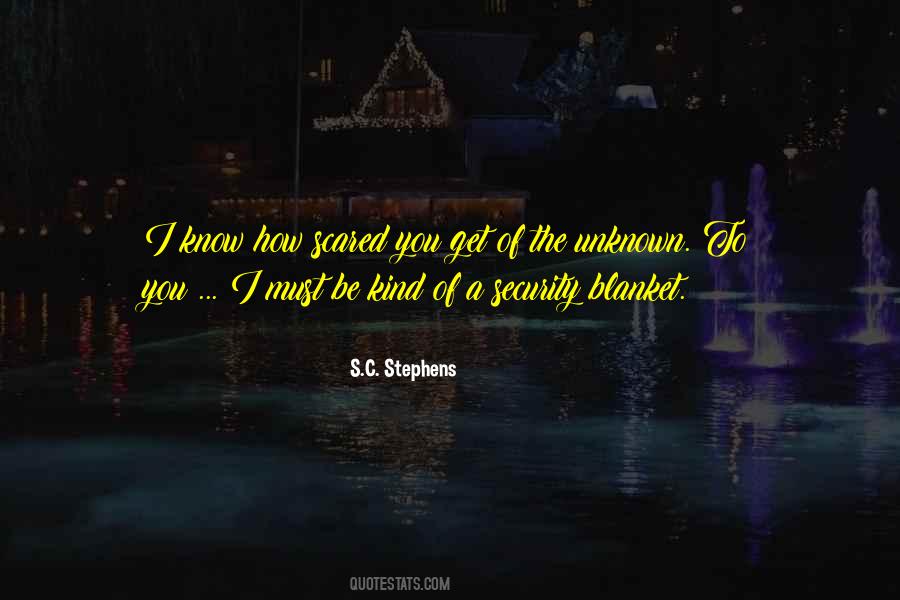 #37. A lot of film directors are quite scared of actors. They are a bit of a nightmare sometimes, but I like them. It looks like cunning, but you try to get extra things from them all the time, by stealth, by making them feel confident, so they trust you and you can push a bit. - Author: Danny Boyle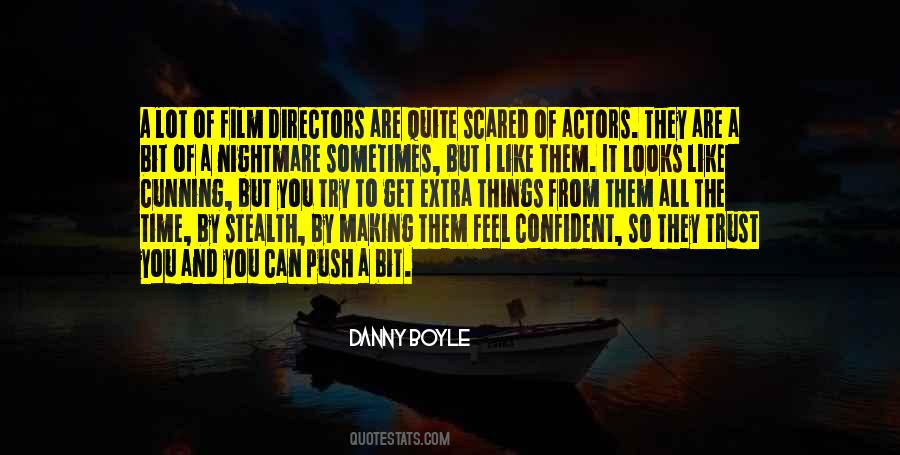 #38. Little known fact: When you get really scared and too many scary things happen at once, you can leave your body. I don't know if it's your soul or your consciousness or what, but you can literally float up in the air over your body and watch what it's doing. - Author: Dinah Katt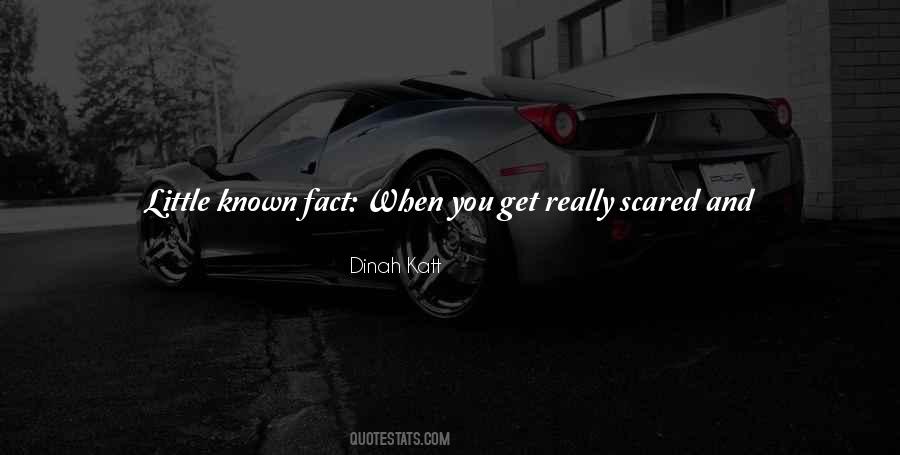 #39. Scared of words? I don't see why
anybody ought to fear words. Words are tools;
you have to know how to use them to get done
the job you want to get done. Can't do the work
if you're scared of the work. - Author: Thylias Moss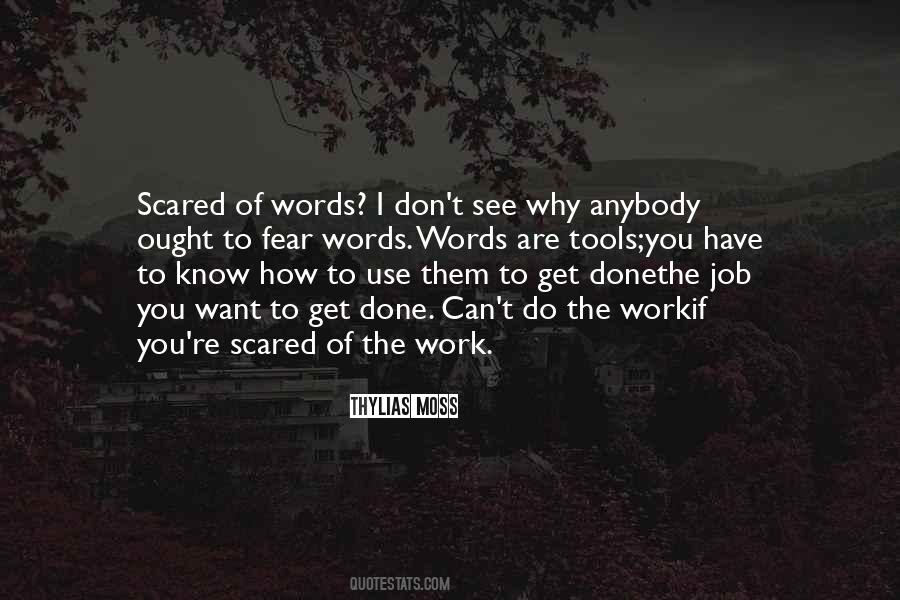 #40. I mean do women like to get the crap scared out of them at the movies? Sure. Of course. - Author: Jerry O'Connell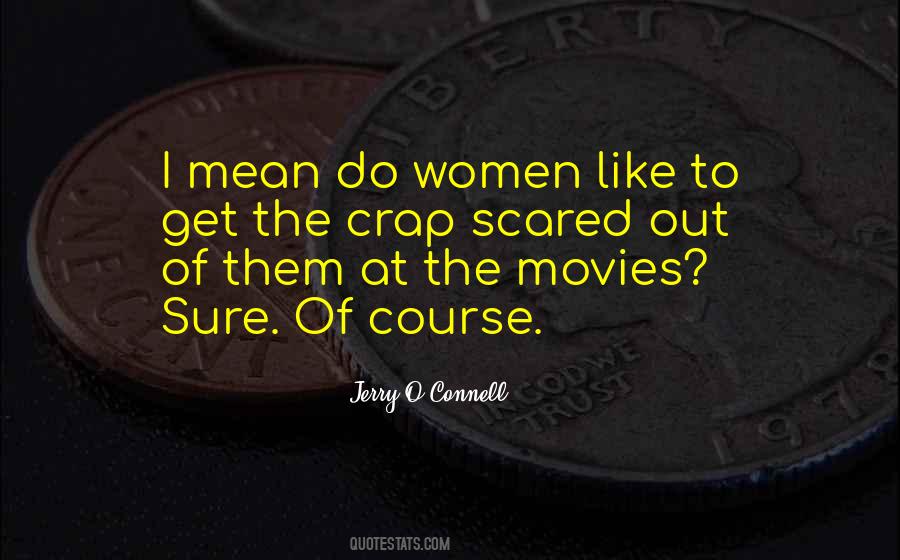 #41. I was relying on Suliman being alive.THen when all that seemed to be left of him was Percival, I was so scared I had to go out and get drunk. And then you go and play into the Witch's hand!" "I'm the eldest!" Sophie shrieked. "I'm a failure!" "Garbage!" Howl shouted. "You just never stop to think! - Author: Diana Wynne Jones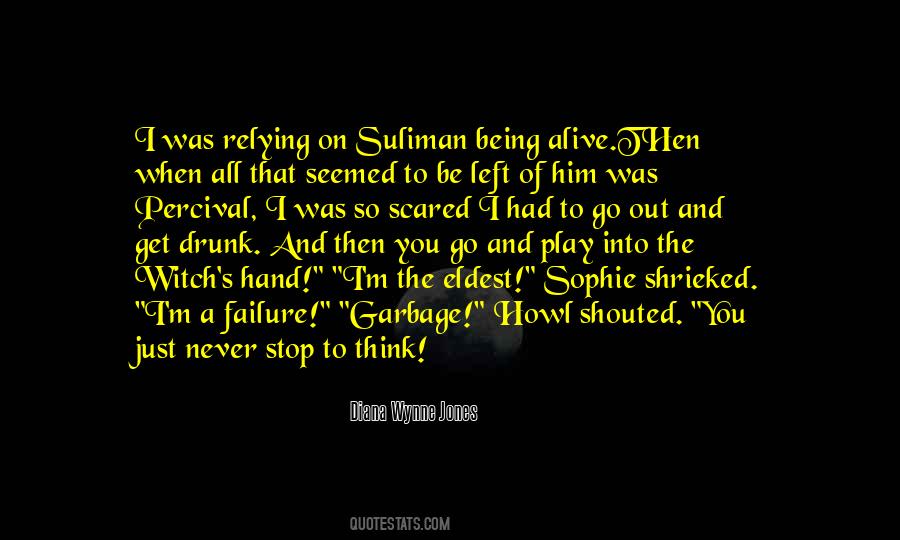 #42. They warned me, 'you're going to be doing the screen test with Daniel Radcliffe a week after the audition.' And then in the hair and make up department, he walked up behind and scared me. But you get used to him quickly because he tries to make you feel very welcome and at home. - Author: Evanna Lynch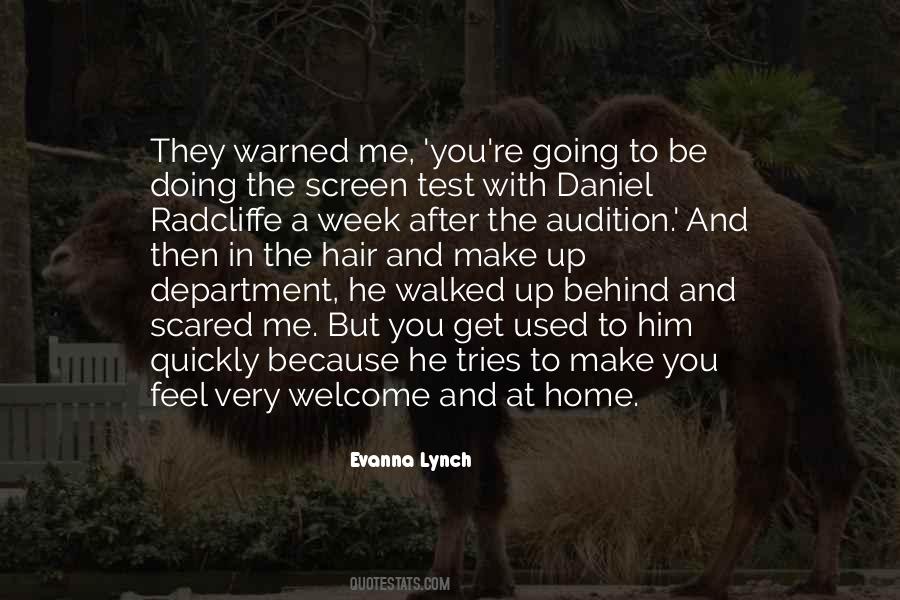 #43. Everyone gets scared, and everyone falls. The key is to get right back up and try again. - Author: Shannon Miller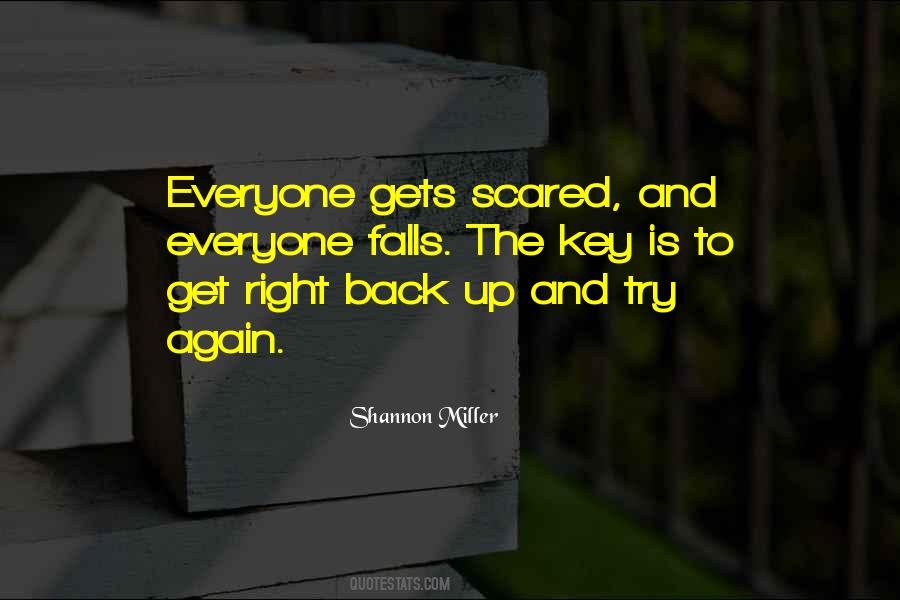 #44. I get very anxious and am scared in crowds and things like that. - Author: Daniel Johns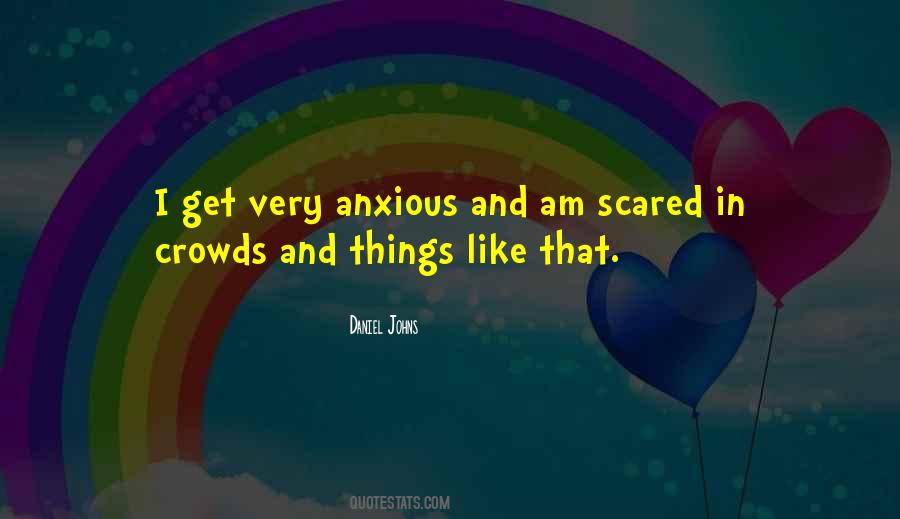 #45. Do the scary thing first, and get scared later. - Author: Lemony Snicket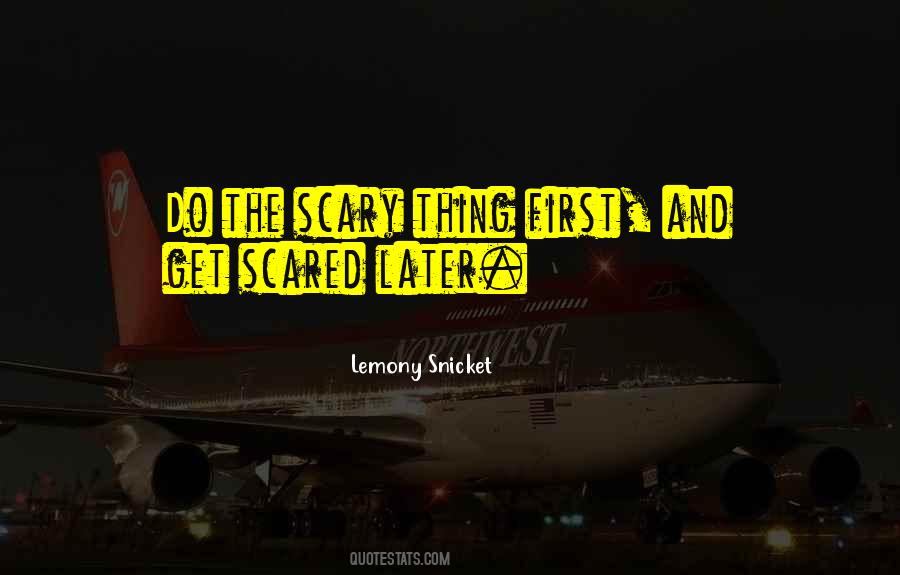 #46. I'm scared of saying something that may get taken the wrong way. - Author: Tony Stewart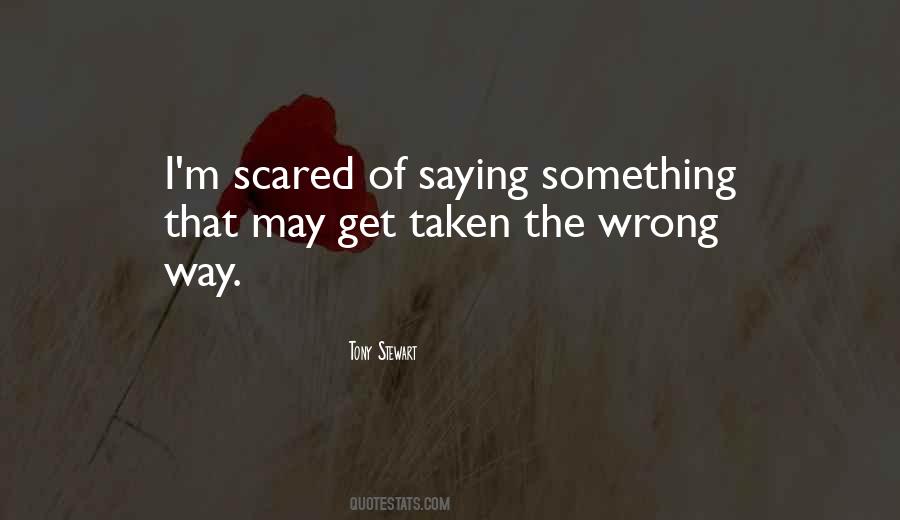 #47. The next time you get scared, get sacred! - Author: Abiola Abrams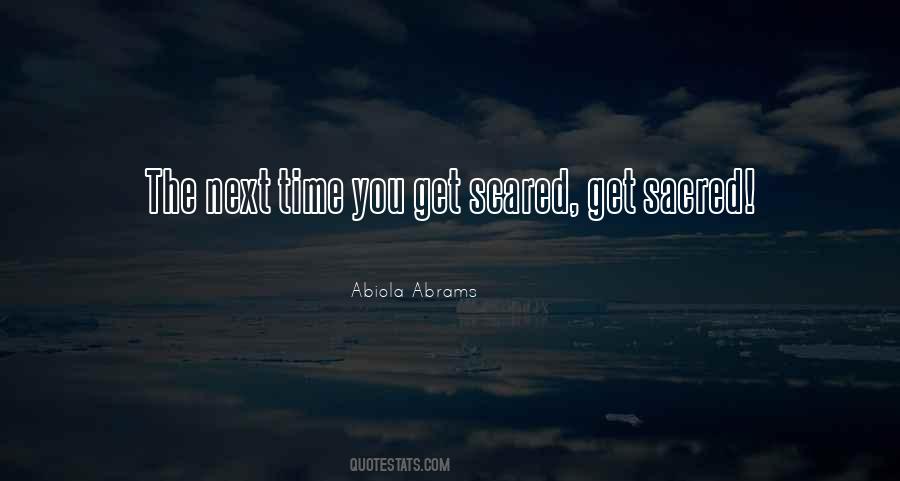 #48. The reason there are bugs in the bed," he explained, "is that they're too scared to get down on the floor. - Author: Nicholas Clapp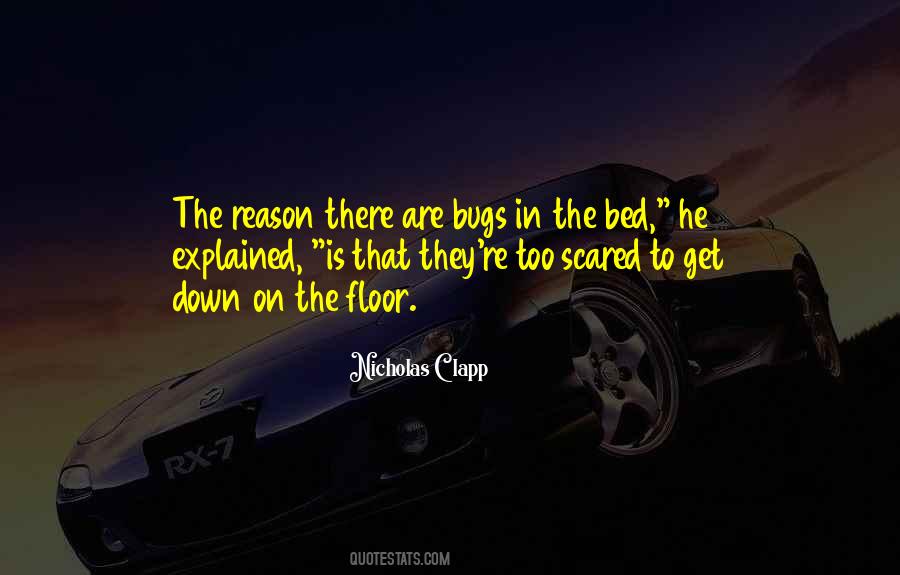 #49. Ganesh was rooting for Wilkin, and it scared the hell out of him. Because when a Hindu god feels the need to offer you strength and compassion, you know the shit's about to get real. - Author: Zander Marks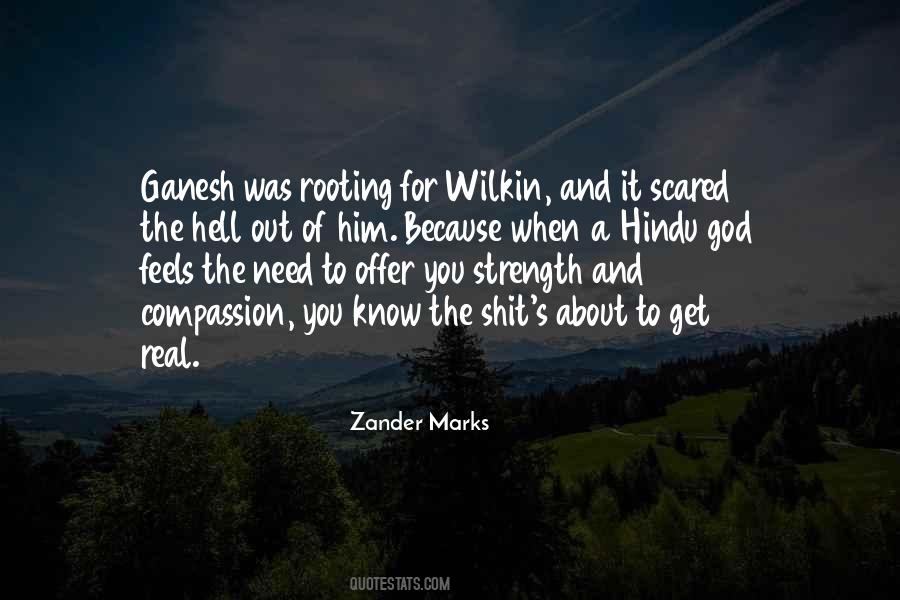 #50. I can get sad, I can get frustrated, I can get scared, but I never get depressed - because there's joy in my life. - Author: Michael J. Fox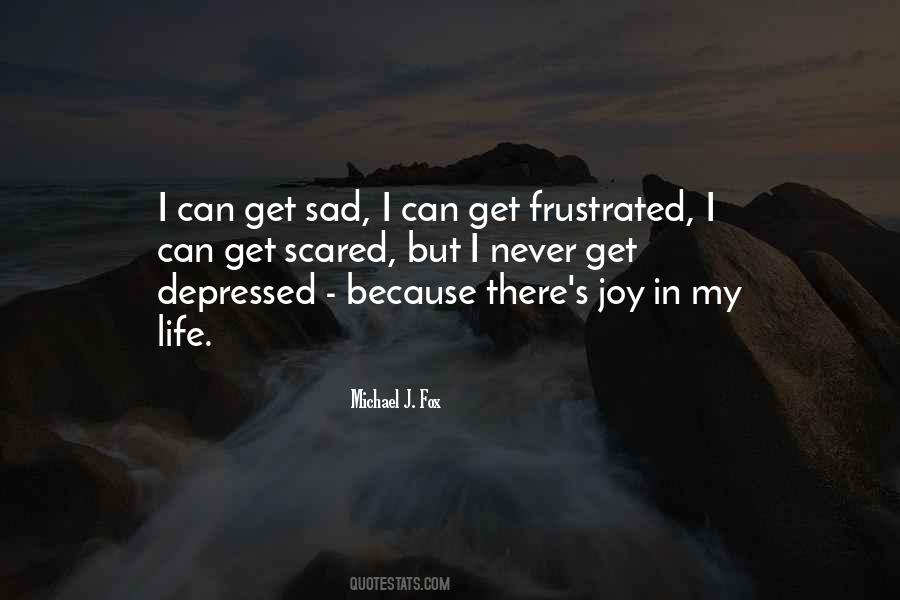 #51. I didn't introduce thug life to America. Thug life is America. I don't get why the whole world is fearing me. I am scared, but so are they. It's like I am having a panic attack cause I have 15,000 people wanting to do what I want, listing to everything I say. - Author: Tupac Shakur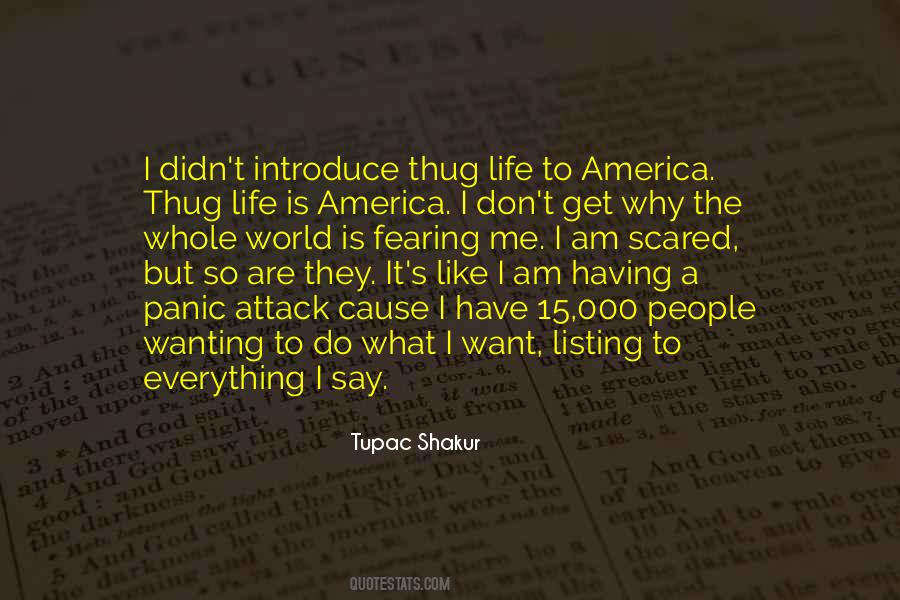 #52. Which made me laugh, of course. If you ever want to get truly hysterical, just get really, really scared, and then have somebody say something funny. You get caught between the laugh and the sob, and it's hard to find your way out. - Author: Kristen D. Randle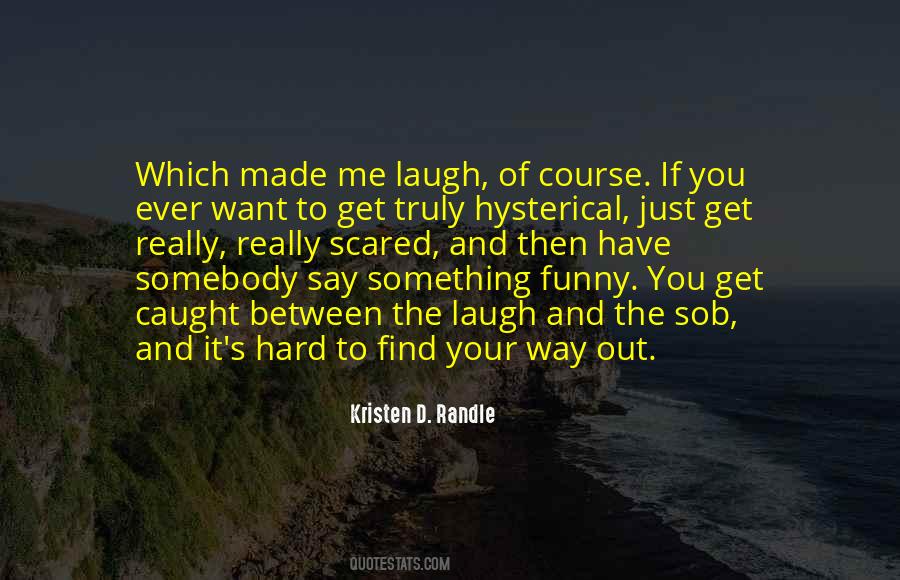 #53. Actors shouldn't be scared. Don't get scared on film. - Author: Kodi Smit-McPhee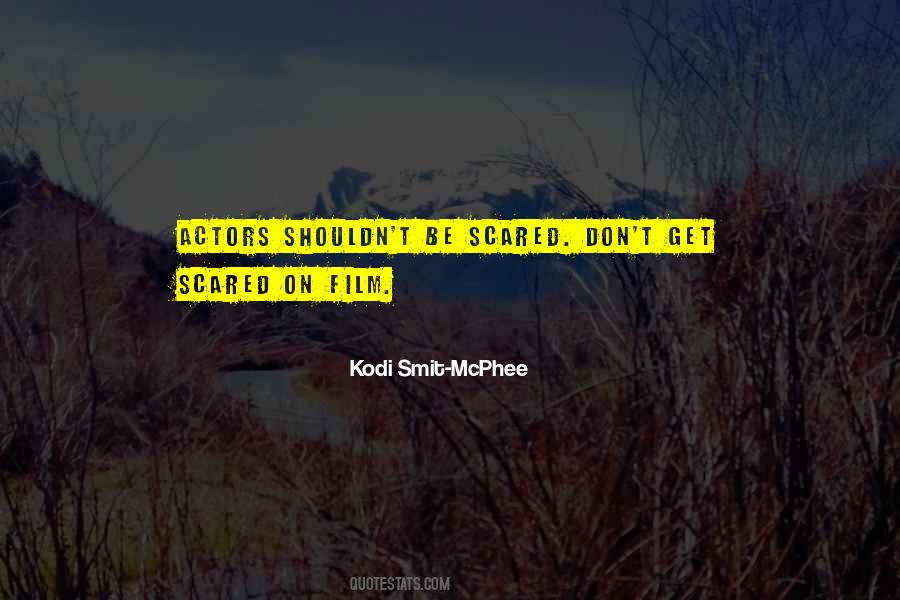 #54. A man who will not get scared on some occasions, lacks good sense. - Author: E.W. Howe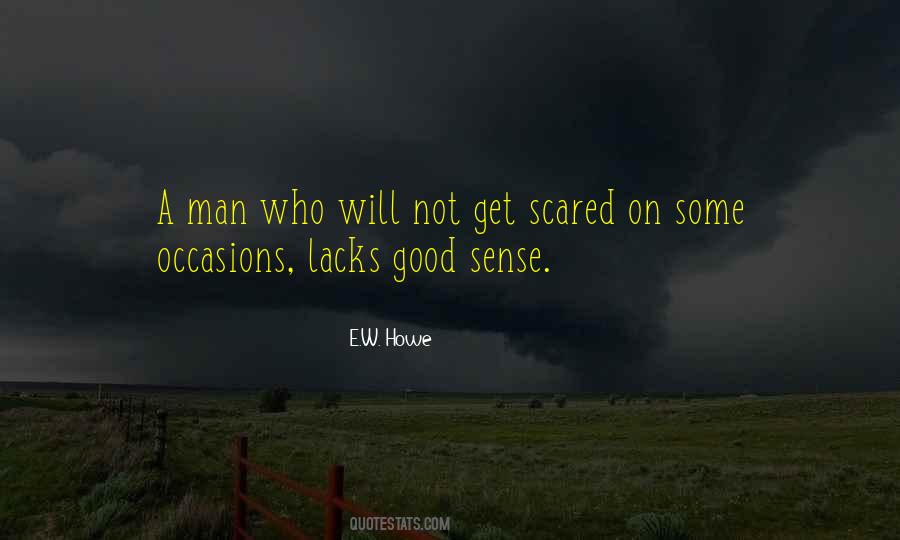 #55. Most people get scared away from having an opinion. It's not so much my opinions everybody relates to, it's that I don't care about being punished for it. - Author: Ronda Rousey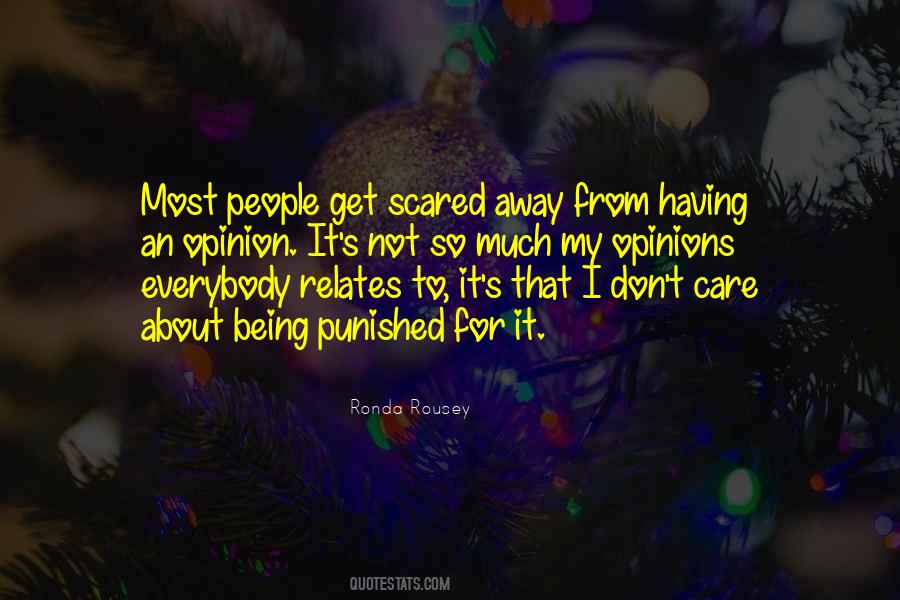 #56. I'm not the biggest horror fan. I get scared so easily. If I'm just walking on set, and someone taps me on the shoulder, I scream and jump and freak out. - Author: Taissa Farmiga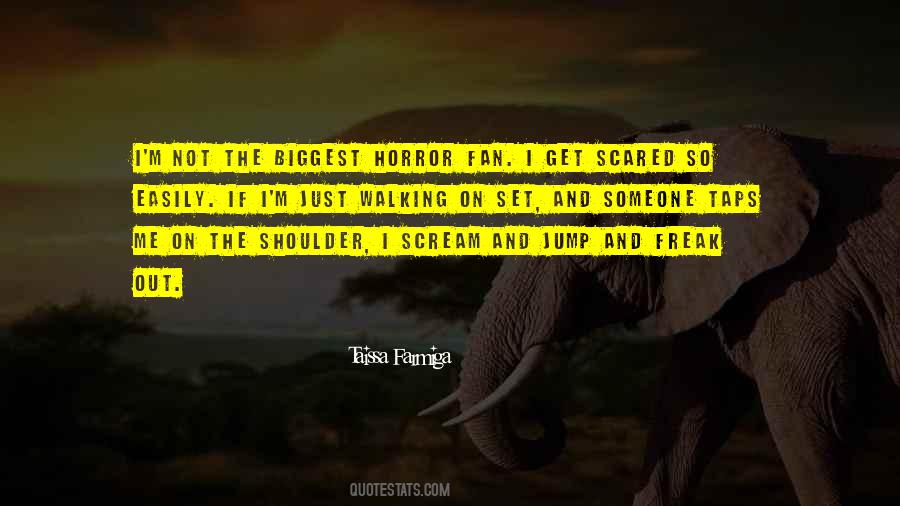 #57. There aren't many great adverts for marriage or parenthood. It always looks so stressful, and that's what I've been scared of. What you don't realise is how much you're going to get back. - Author: Robbie Williams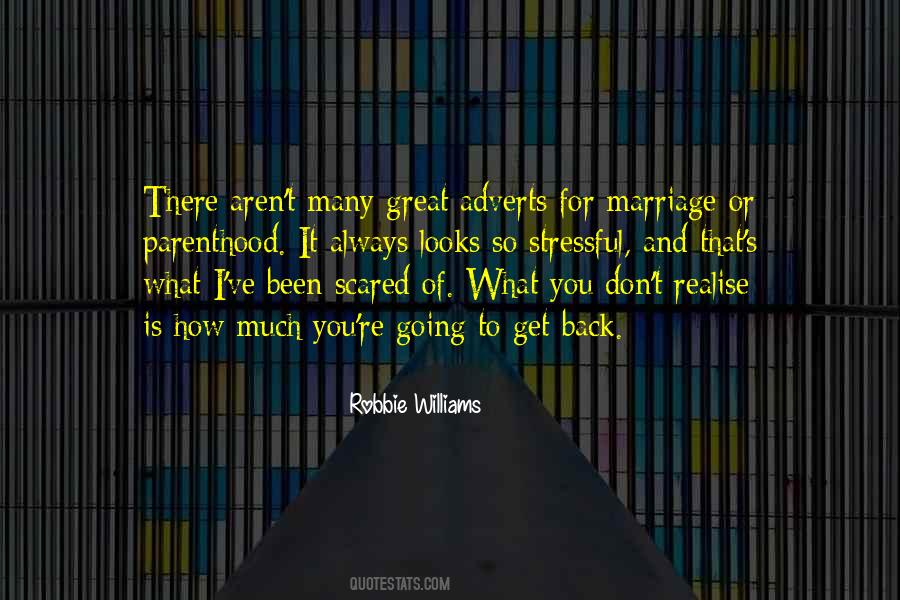 #58. Somebody stop the world. I'm scared and I want to get off. - Author: James Delano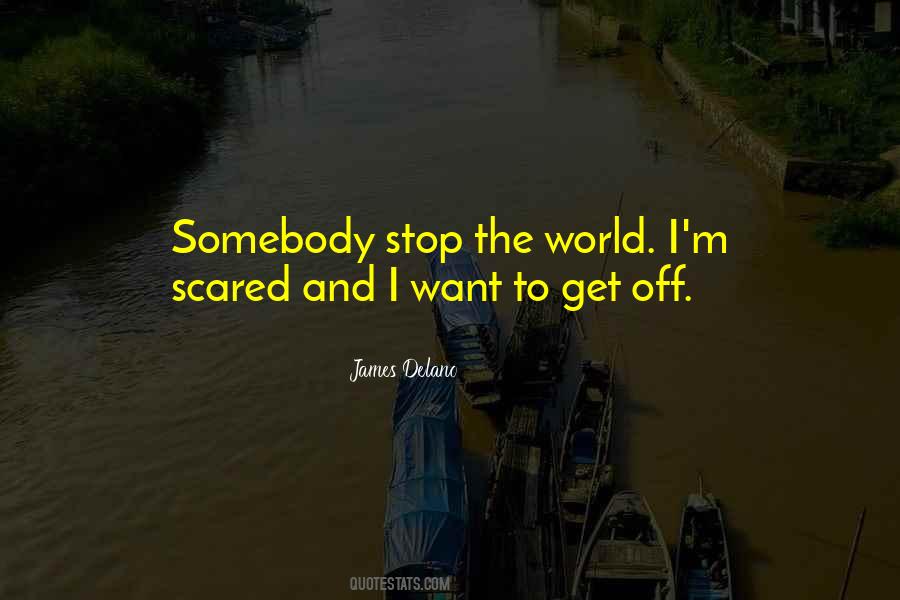 #59. Wayne's cool. I ran into him at my hangout back home, and he's just cool. I actually have this beat that I want him on, but I was too scared to get it to Clancy to get to them, but Wayne's cool. - Author: Tyler, The Creator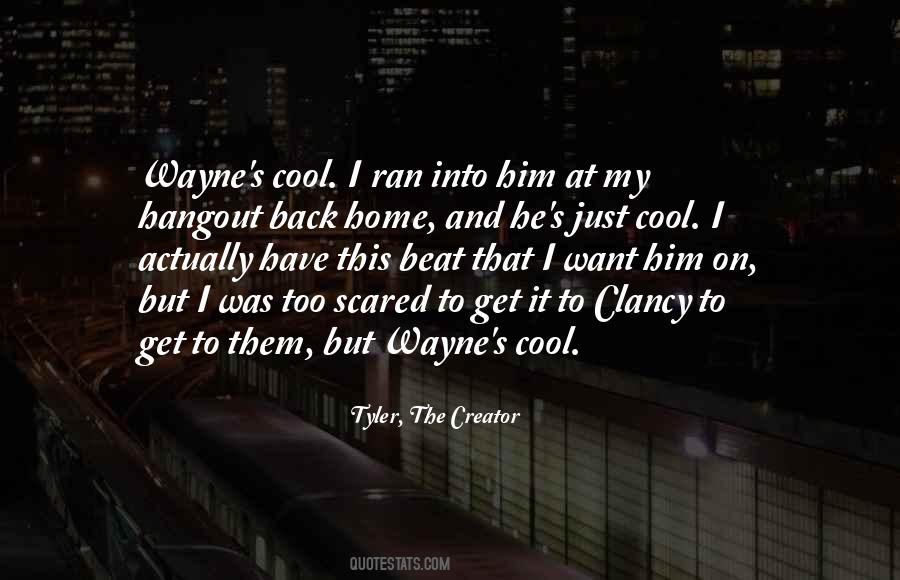 #60. There are still times when I am walking up, and I look at the Capitol, and I think, 'Oh my goodness.' Right now, I am kind of scared to go onto the floor and speak. Once I get used to it, though, they probably won't be able to keep me off there. - Author: Bobby Schilling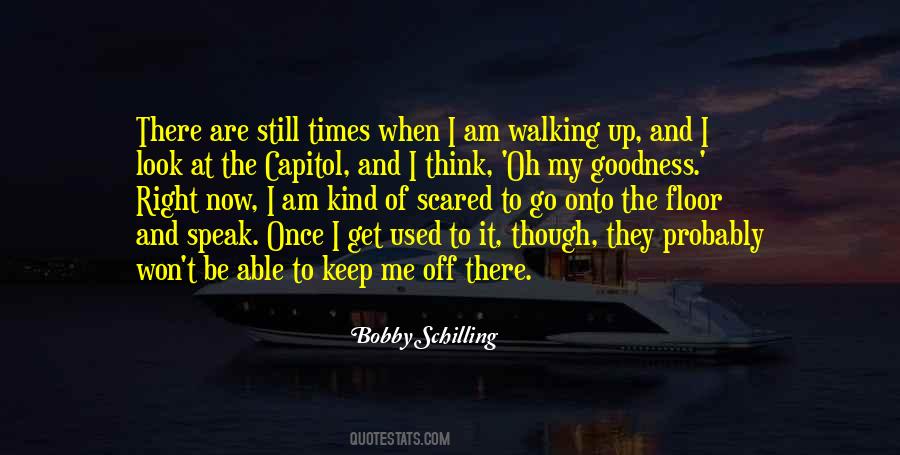 #61. I am scared of spiders! And I still get a little afraid every time I have to do something new or have to get out in front of a big crowd. The first time I sang "Swag It Out" live, I was really scared. - Author: Zendaya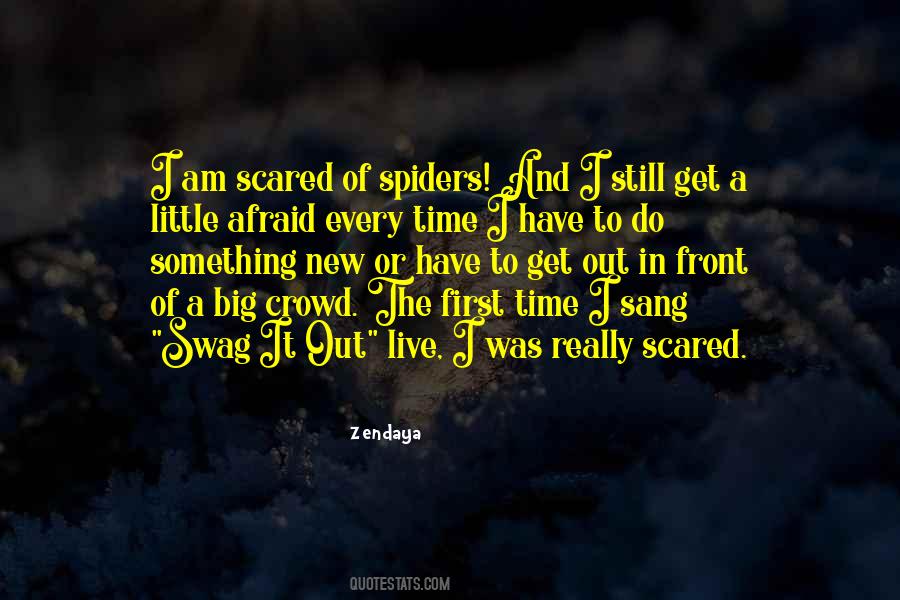 #62. I'd love to work with Tarantino, Scorsese, Sofia Coppola - all of them! I love thrillers and action movies. I love good horror films. I watched them so much when I was younger that I find it impossible to get scared. - Author: Cara Delevingne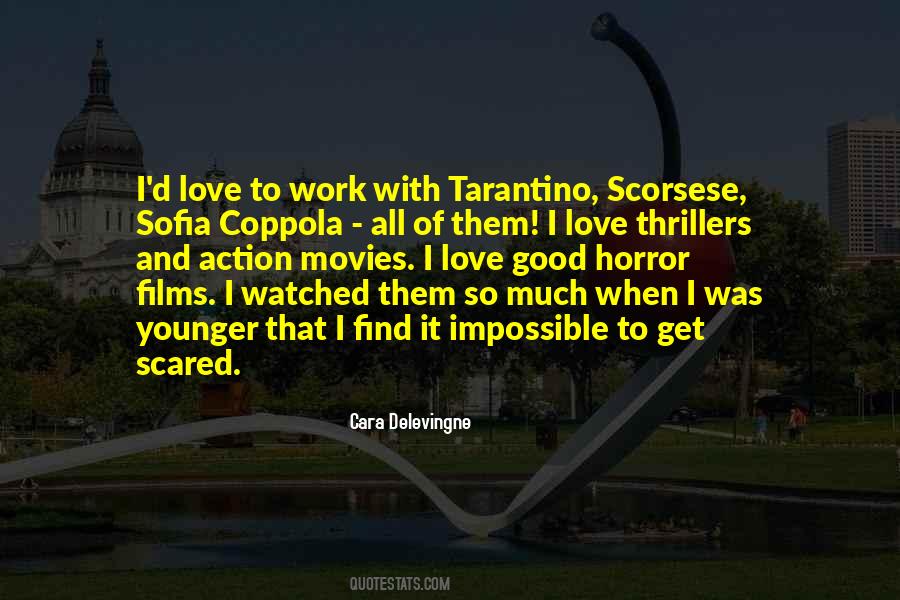 #63. I want a girl with extensions in her hair,
Bamboo earrings, at least two pair,
A Fendi bag and a bad attitude,
That's all I need to get me in a good mood.
She can walk with a switch and talk with street slang,
I love it when a woman ain't scared to do her thing. - Author: LL Cool J
#64. Most of those takes were one take. I made those records in three minutes. I didn't have time to get nervous or scared the first time I sang it. It was all 'live' and I enjoyed it so much. - Author: Bobby Vinton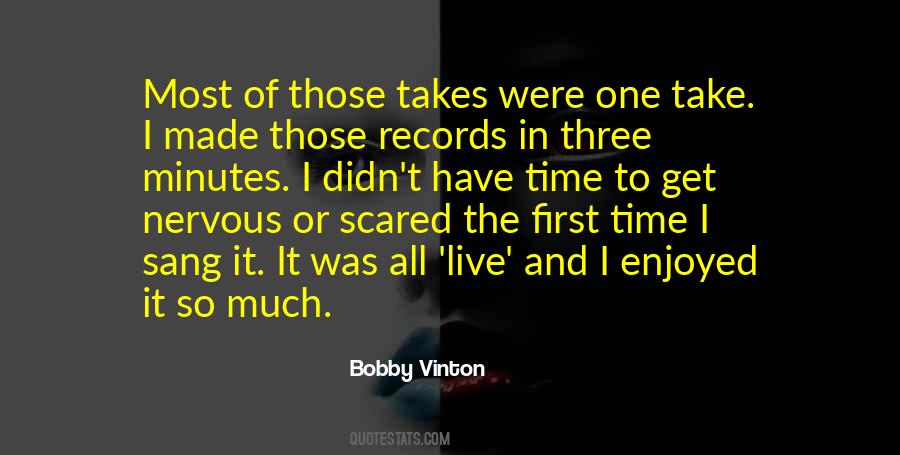 #65. I'm not at the point where I'd feel safe in a house alone. I would be really scared. I'm the kind of person that when I get up to go use the bathroom I have this big long hallway, and I just know someone's going to jump out and get me. - Author: Britney Spears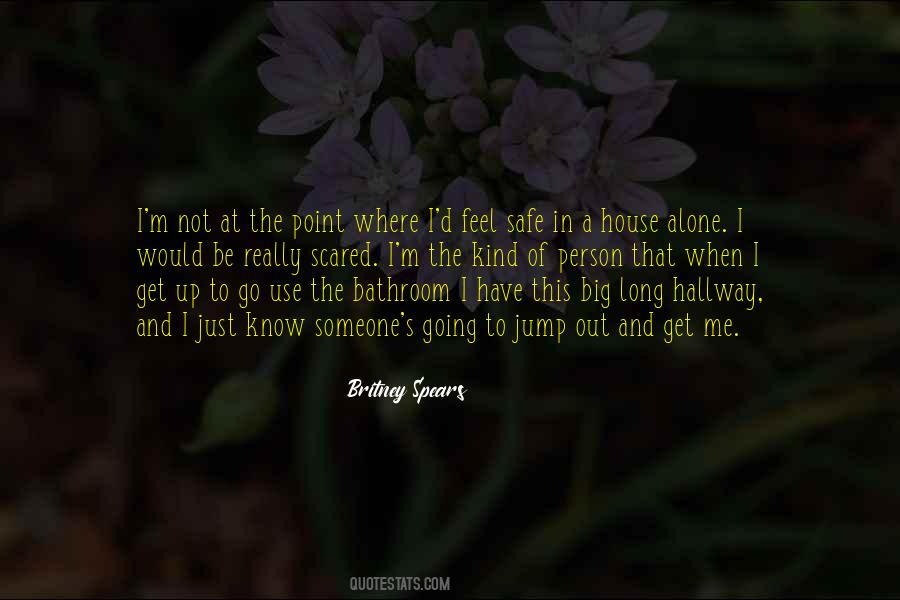 #66. It's a hundred dollars for ten minutes." "Fuck, that's a lot! She doesn't have a golden pussy!" I hear the Bogeyman laugh that nasty laugh of his. It's slow and deep, making me even more scared. "Her pussy is golden, you'll be the first. So pay up or get your filthy ass out of my trailer! - Author: Michelle Horst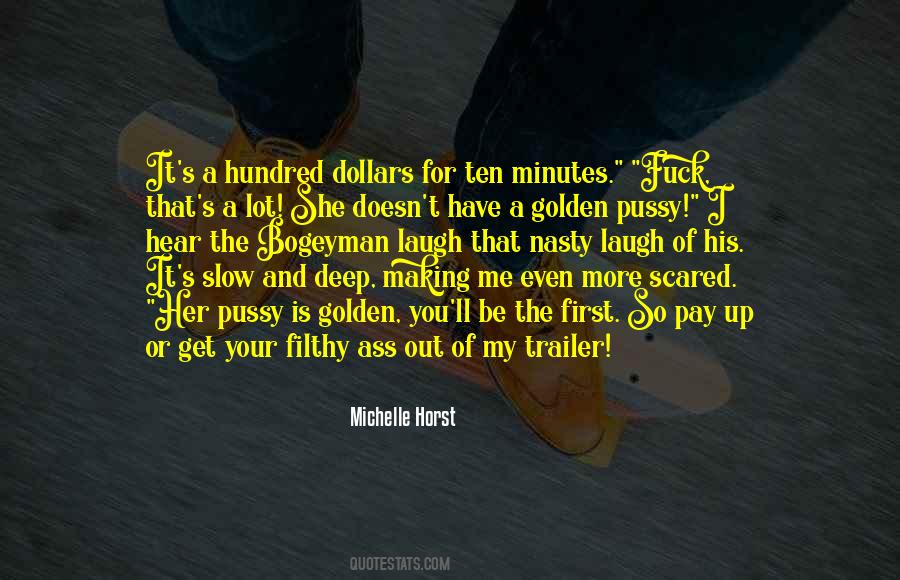 #67. Sometimes I get so scared."
"Fear is a form of alertness. - Author: Kim Stanley Robinson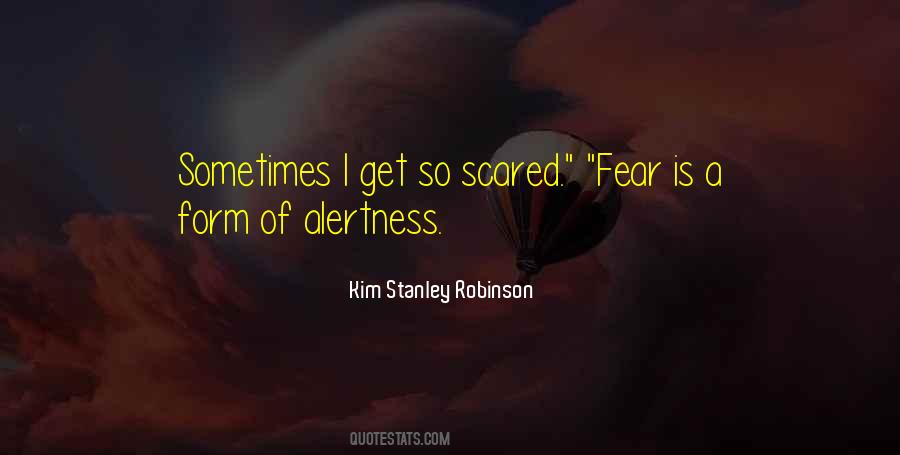 #68. The kid who is scared is the one the bullies go after. I used to get beat up pretty badly. - Author: Robert M. Pirsig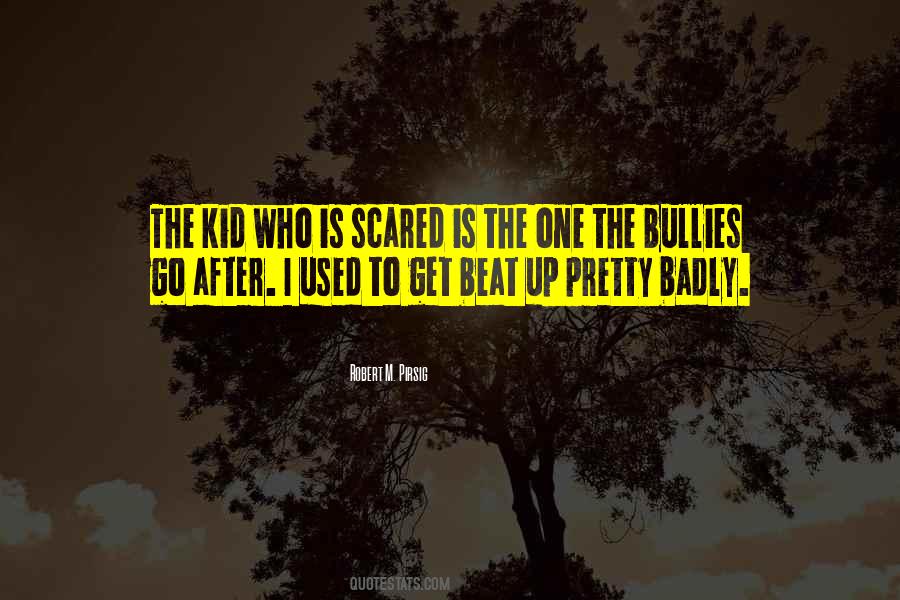 #69. Use your safe word if you get scared, honey."
"I'm fine." Her voice came out husky.
"Yes, you are, aren't you? - Author: Cherise Sinclair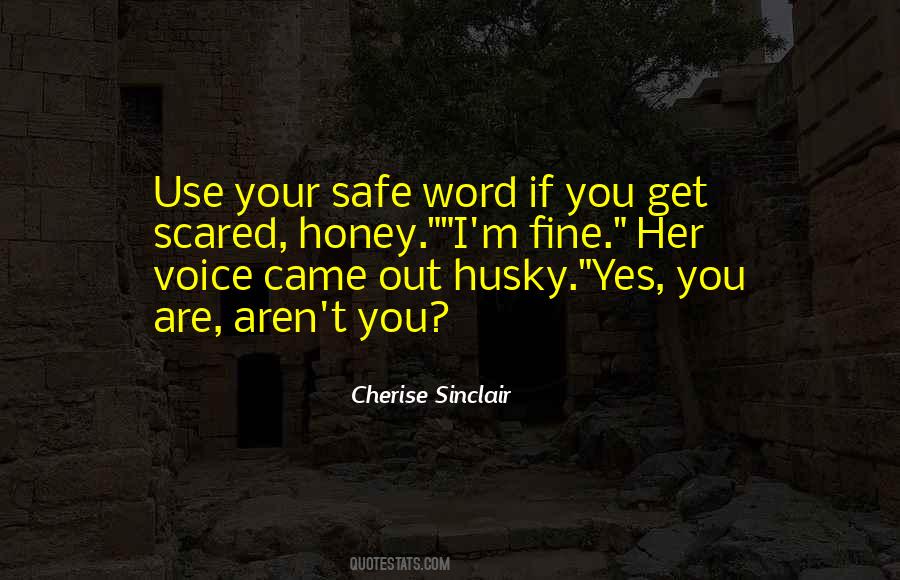 #70. Get scared later, and if you're scared now remember what Kit always said. If you're not scared, she told me, it's not bravery. And you want to be brave, don't you, Snicket? - Author: Lemony Snicket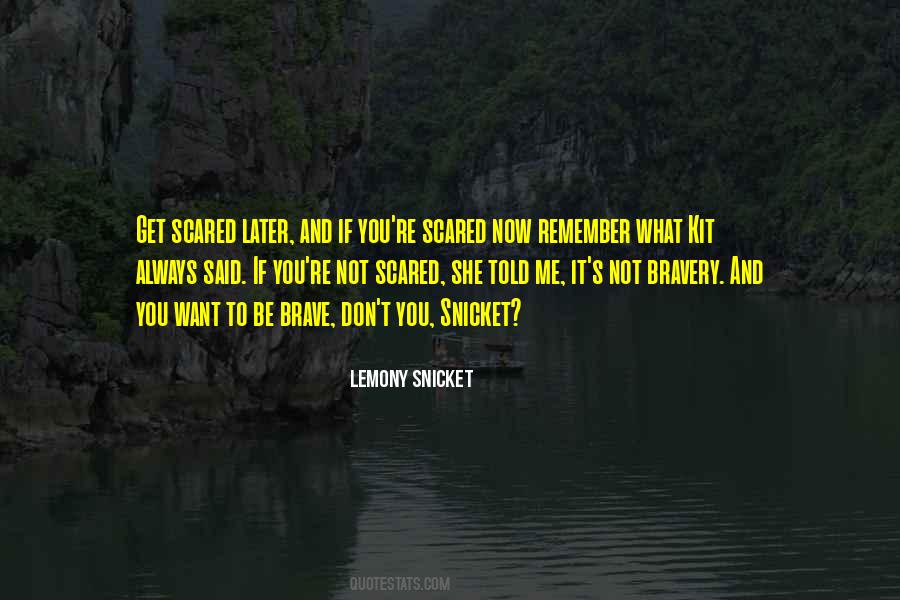 #71. I get scared when I approach teachers and tell them that I'll probably be able to attend only half the classes, .. I'm scared that they're going to drop me. In the fall of 2002 I signed up for five classes and had to drop three of them. - Author: Amanda Beard
#72. It is not the homeless, mentally ill or extremely cunning people that we have to be afraid of. When someone loses everything that meant something to them is when people should get very afraid. A person that has nothing to lose is the scariest person on earth. - Author: Shannon L. Alder
#73. Don't be scared, Shroom said. Because you're going to be scared. So when you start to get scared, don't be scared. - Author: Ben Fountain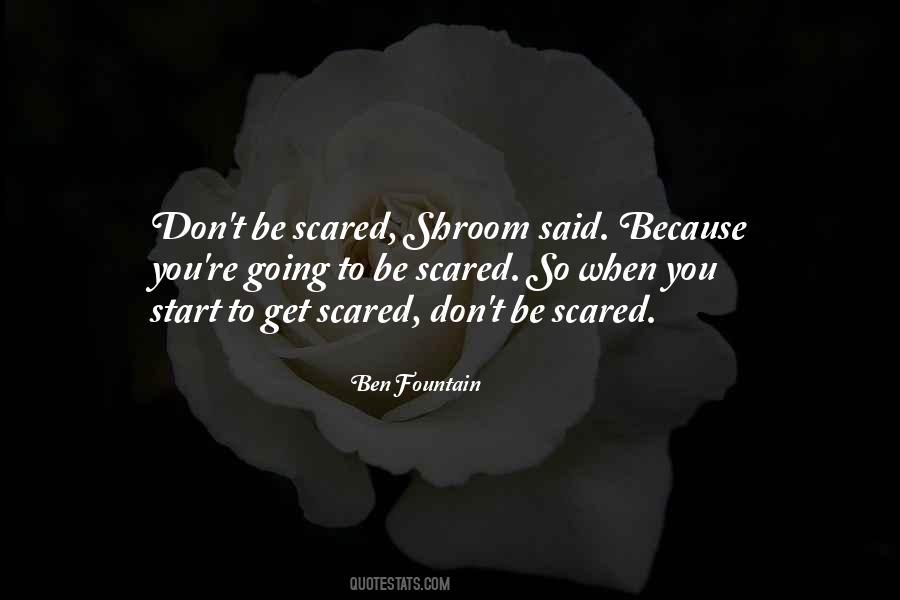 #74. Can we be blamed for feeling we're too old to change? Too scared of disappointment to start it all again? We get up every morning, we do our best. Nothing else matters. - Author: Deborah Moggach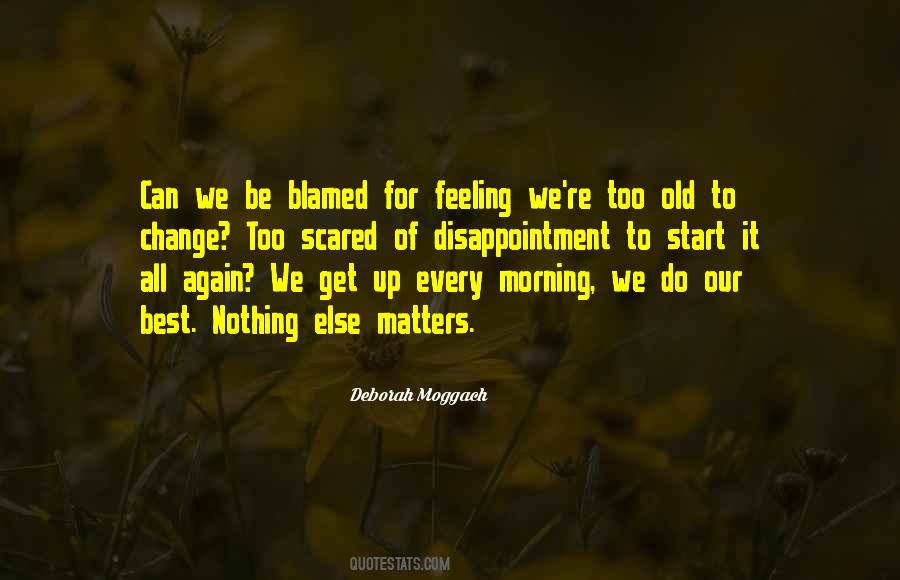 #75. We all gotta die, and we all gotta live with the things our dark sides do. People are afraid of their darkness, though. Spend their whole lives so scared of dyin' that they never get to live. Spend their whole lives pushin' down that darkness, until there ain't no light at all. - Author: Suzanne Palmieri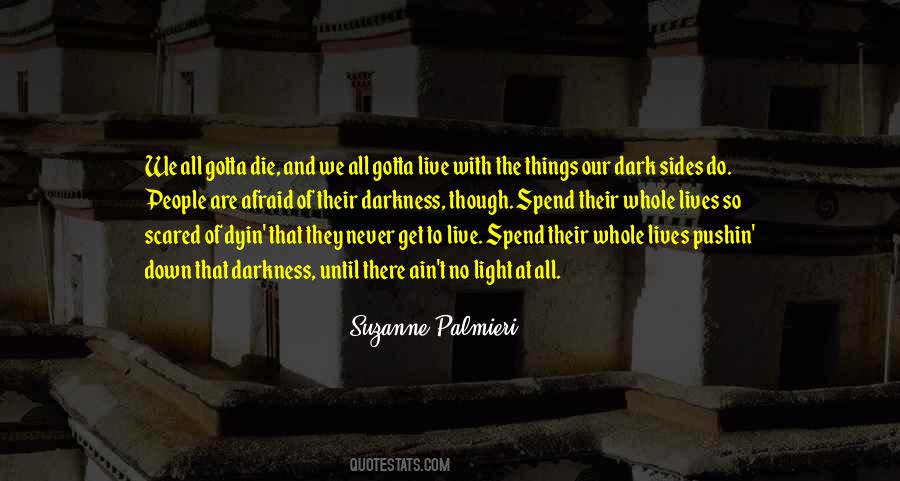 #76. The best thing to do when you're in this world, don't you agree, is to get out of it. Crazy or not, scared or not. - Author: Louis-Ferdinand Celine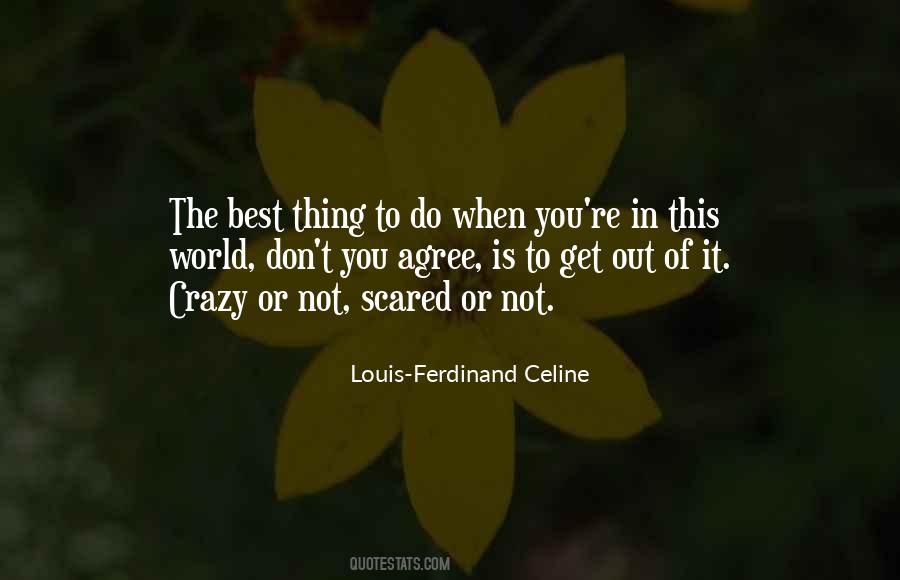 #77. Every time I get scared or feel like I'm not going to be good enough at something, I say that mantra to myself. "Pretend you're good at it." - Author: Jenny Lawson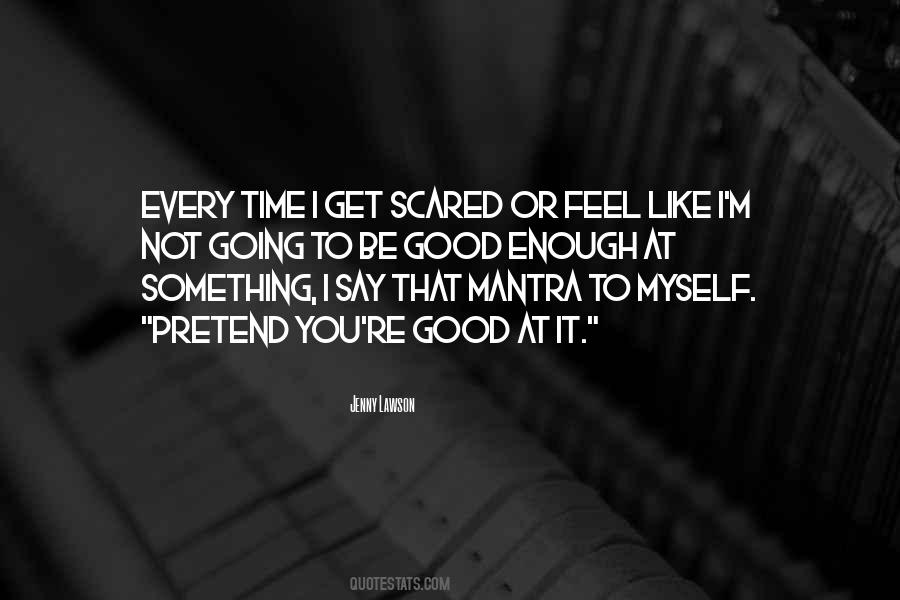 #78. I felt excited to go to school, and that scared me. I knew it wasn't the simulating learning environment I was anticipating, or seeing my new set of friends. If I was being honest with myself, I knew I was eager to get to school because I would see Edward Culllen. And that was very, very stupid. - Author: Stephenie Meyer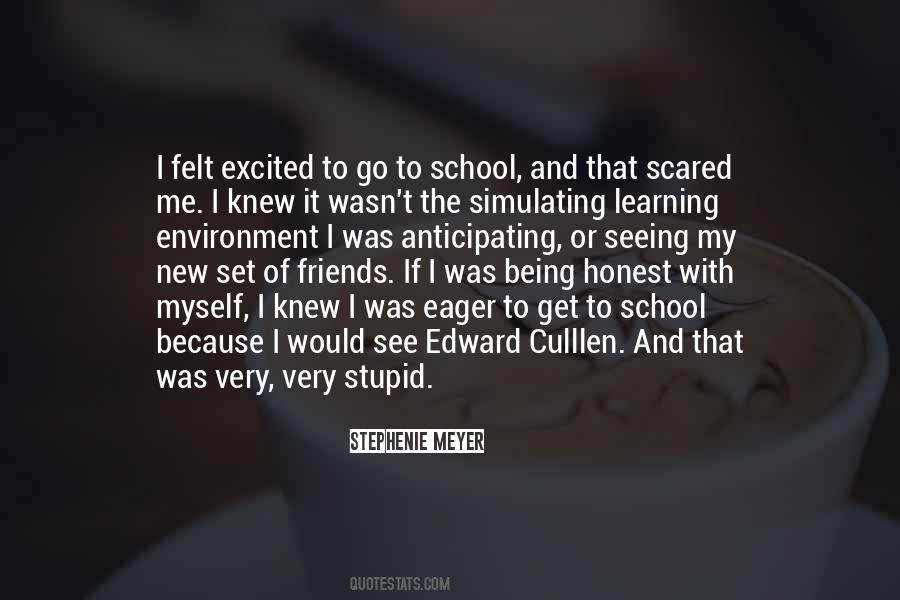 #79. I used to be as scared of public speaking as I was of sharks. Every time I teach I get an endorphin high off the fact that I did not have a panic attack. I teach and swim in order to measure my improvement as a human. I am no longer terrified of quite so many things. - Author: Heidi Julavits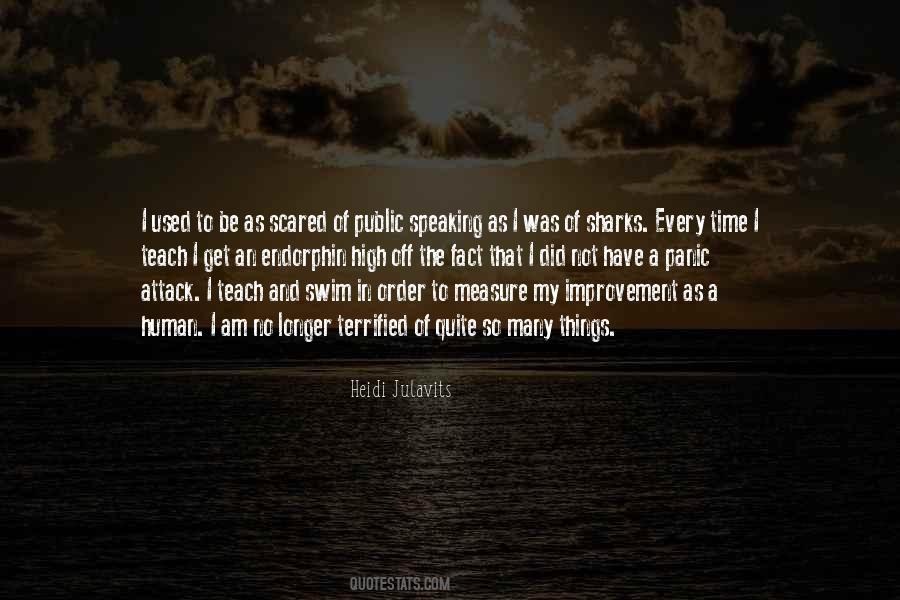 #80. For as long as I can remember, I've had trouble with feelings. Other people get scared, nervous, or shy, excited, or happy, sad. I seem to have only two settings: blank or empty. - Author: Michelle Hodkin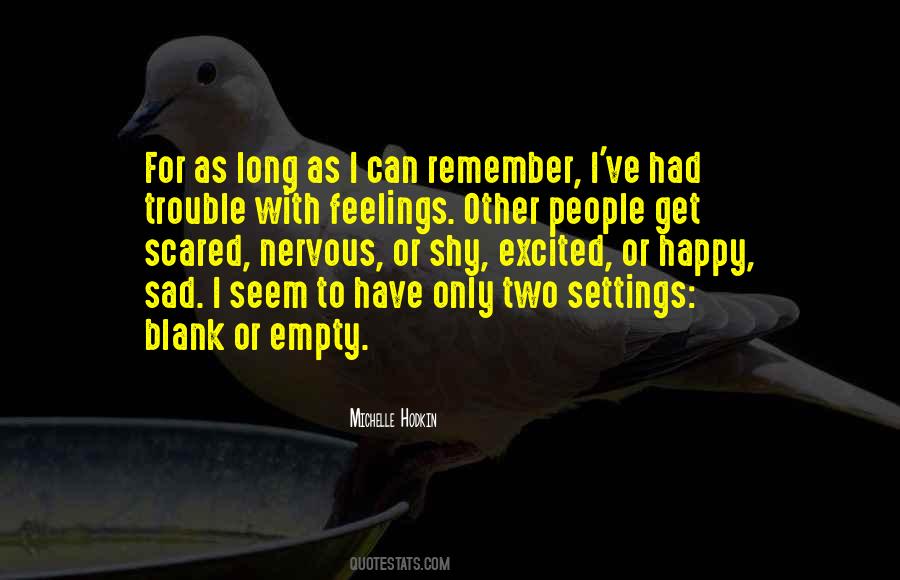 #81. But you know it's hard to tell
When you're in the spell if it's wrong or if it's real
But you're bound to lose
If you let the blues get you scared to feel - Author: Joni Mitchell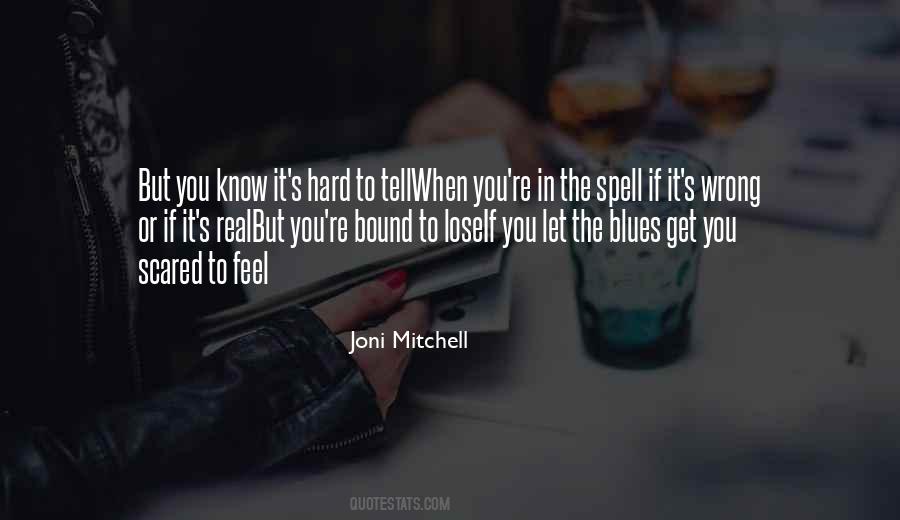 #82. I, too, get scared, but it's at such moments that I discover a wisdom that is beyond me, and I go forward. - Author: Paulo Coelho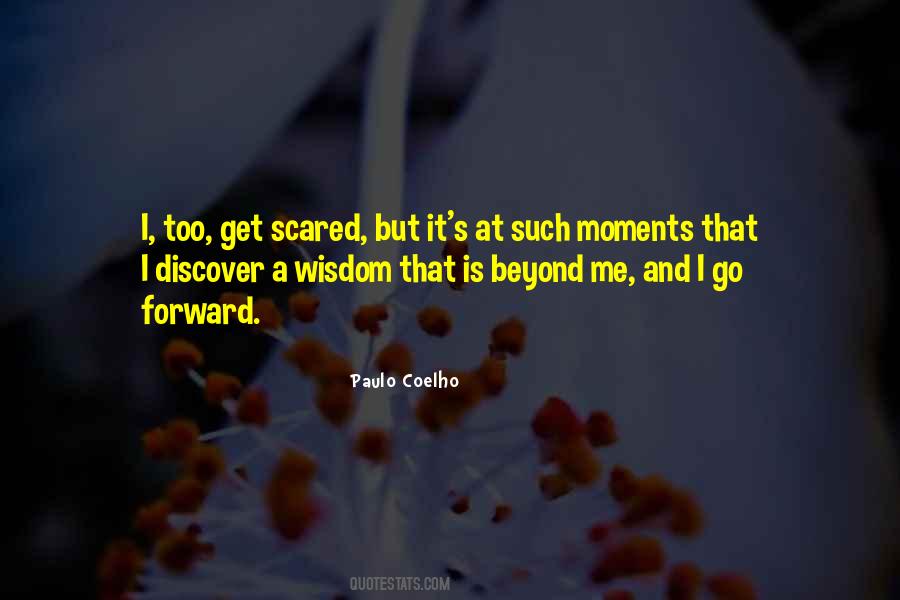 #83. I've always slightly envied other actors I know who have different reputations. I think, 'God, you don't get people coming up to you, going, 'Hey!' - because they're scared of you.' - Author: Martin Freeman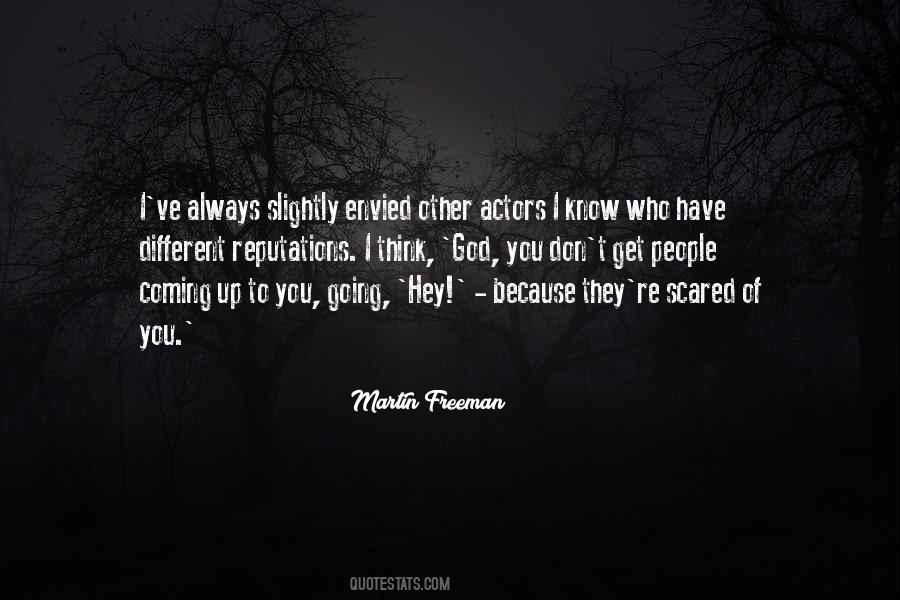 #84. I'm a really claustrophobic person to begin with. I hate elevators, especially crammed elevators. I get really scared. So I think that it's very definitely scary when girls are all around me and I can't go anywhere. At the same time, I guess I got to get used to it, you know what I mean? - Author: Justin Bieber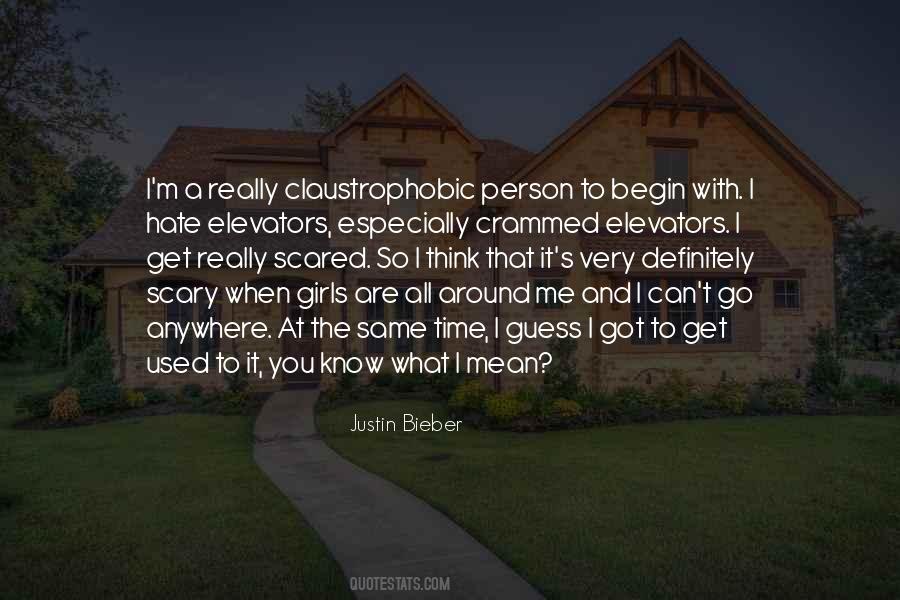 #85. As a child I would get scared with those bad dreams
now incomplete dreams haunt me! - Author: Subhasis Das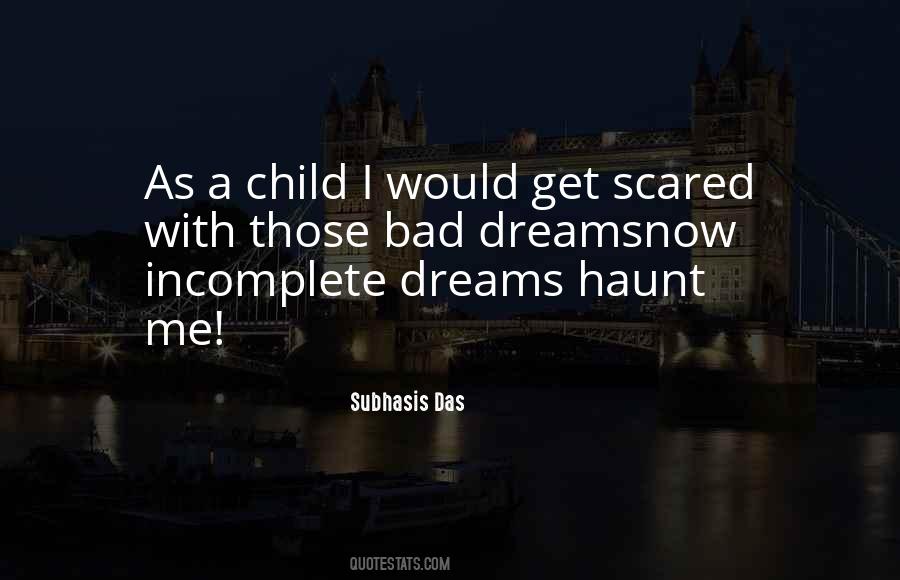 #86. I always get a little bit scared reading reviews. - Author: Gugu Mbatha-Raw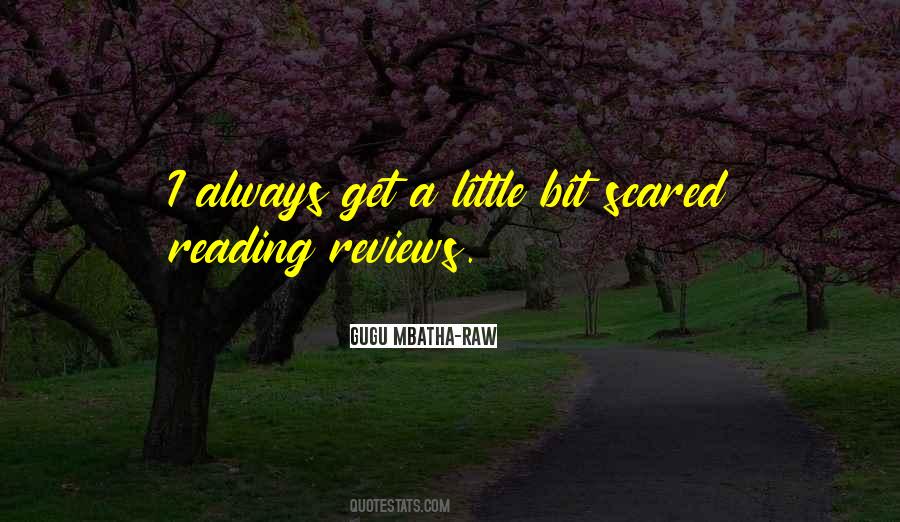 #87. It's 'cause I hated the place so much. I wasn't going to let it beat me. I figured, let it get me once and I'd be finished. I was scared I'd just keep slipping down and down. - Author: Haruki Murakami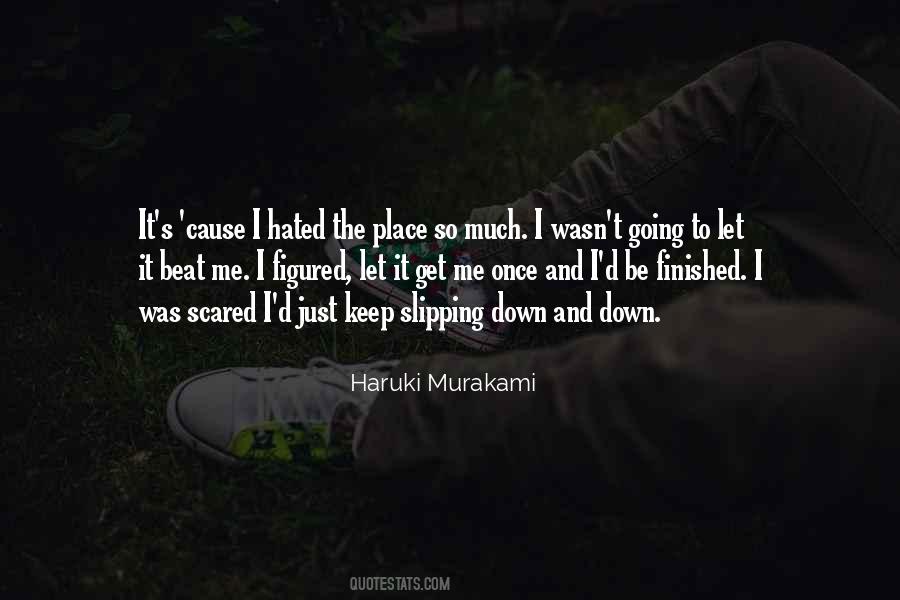 #88. I just suddenly thought, people really get off on being scared. They pay money to see green foam come out of people's mouths. - Author: Ozzy Osbourne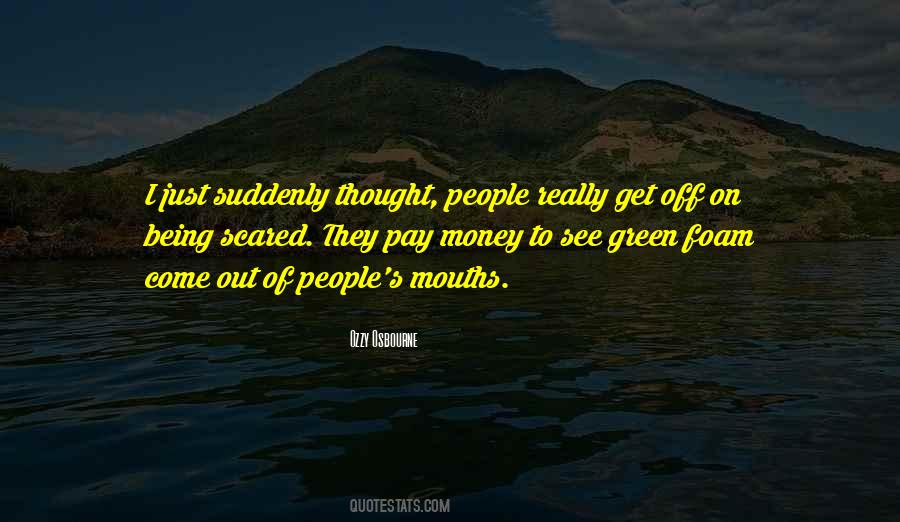 #89. Do you realize how many abusers are walking around unpunished? How many rape charges are dropped because of 'insufficient' evidence, or how many date rapists get away with what they've done because the victim is too scared to tell anyone? - Author: Elle Kennedy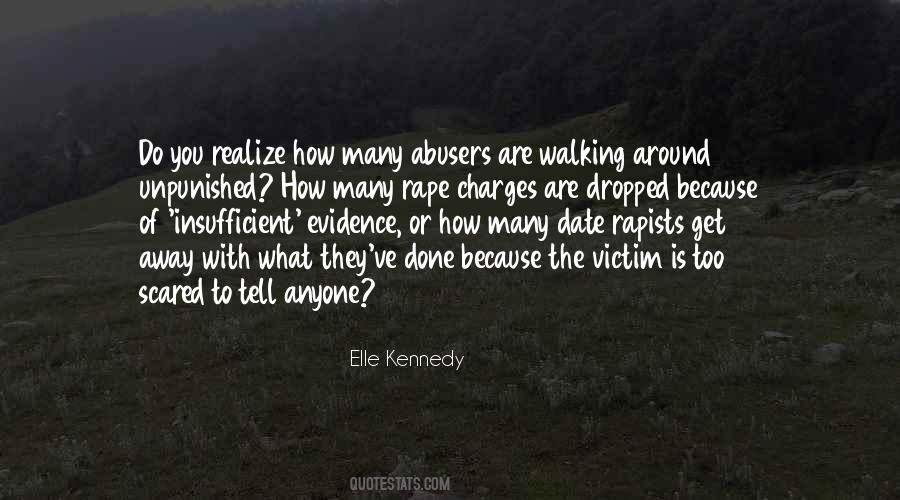 #90. When someone pushes you down you must get up and stand on your own two feet even if your scared to do it. Only you can set limits to your success. - Author: Sunny Leone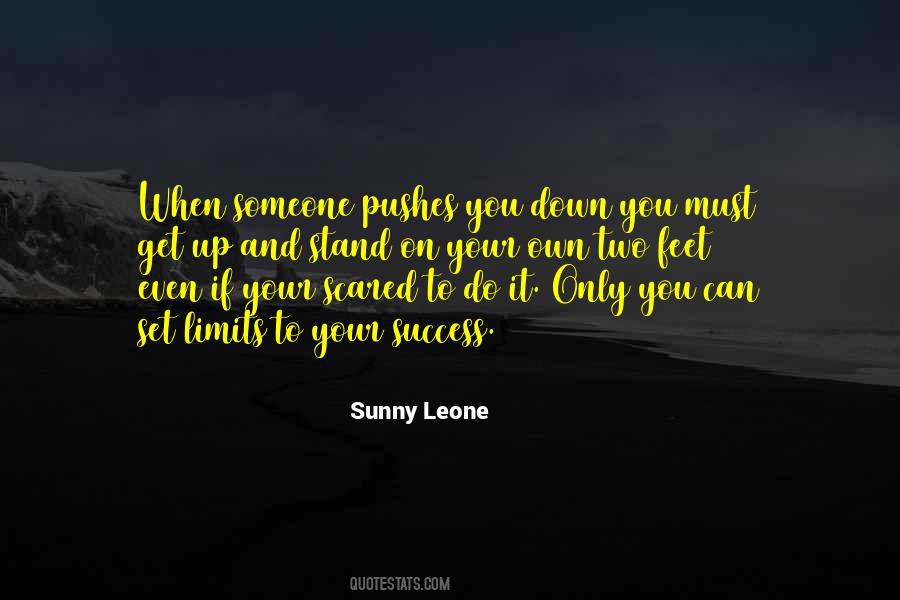 #91. This isn't the girl I fell in love with. My sweet, giving, patient, loving, caring, fun-loving Skye disappeared when you were kidnapped. I'm so scared I'll never get her back. - Author: J.L. McCoy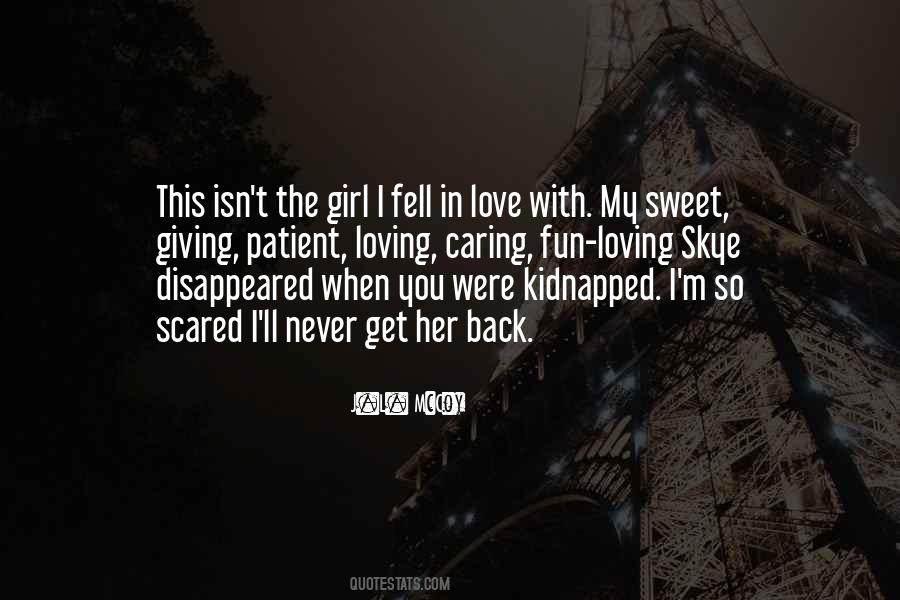 #92. I'm not a huge fan of horror movies myself because I'm a big baby and I get too scared to watch them. - Author: Katrina Bowden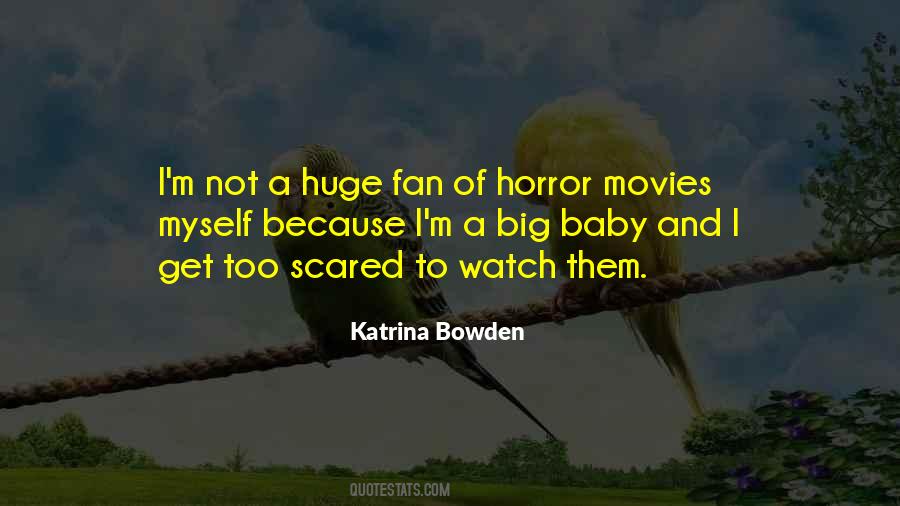 #93. When I can stand up without scaring the shit out of a hospital full of people, will you maybe want to go get married or something? Because I'm scared to death I'm going to lose you if I don't make you legally mine. - Author: Mercy Celeste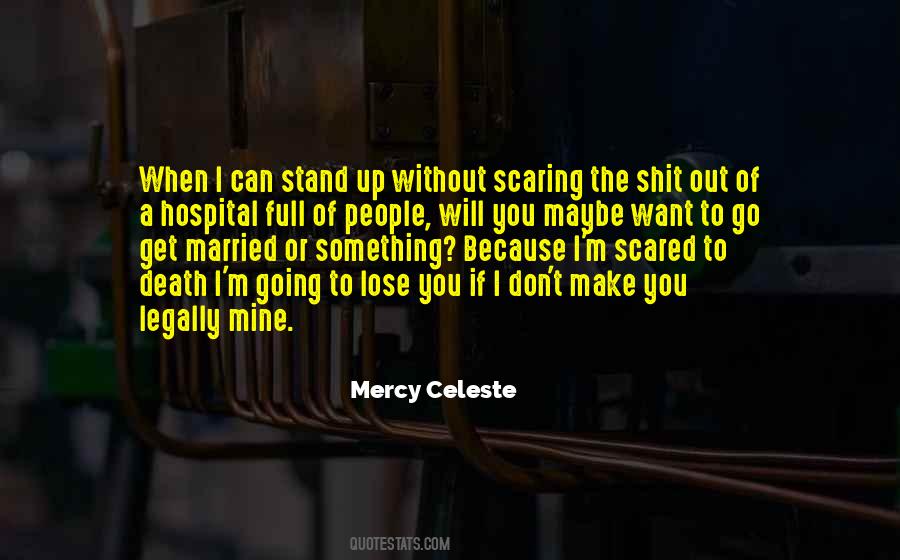 #94. I do get scared about the physical danger from drug dealers. But it's not in the same league as the danger I feel eating an $80 lunch with my privileged friends to discuss hunger and poverty. That's when my soul feels imperiled. - Author: Jonathan Kozol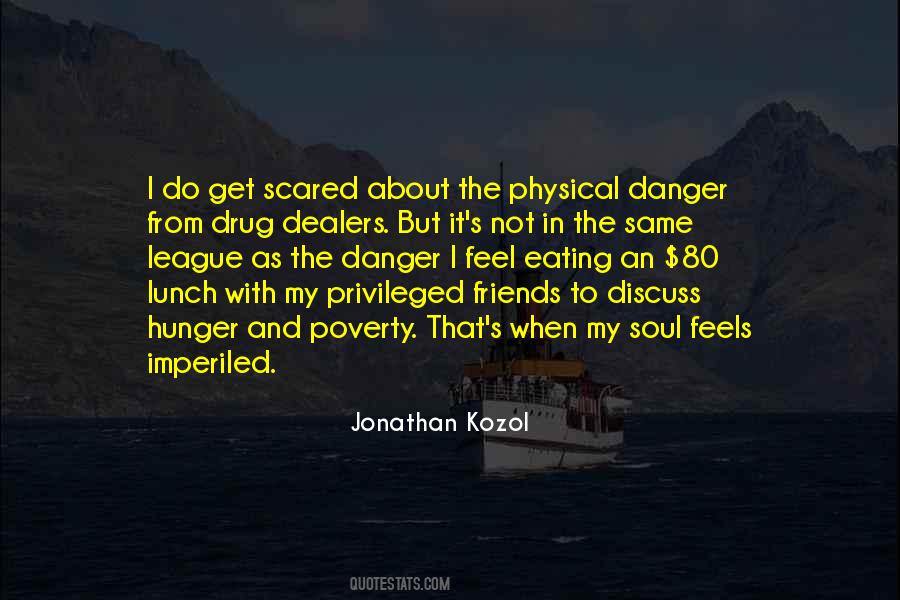 #95. It's an industry of lonely people in a crowd, Bill Margold was saying. 'They're scared to get close to each other. You're far better off having someone to sleep next to then having someone to sleep with because you have to trust someone you sleep next to. - Author: Louis Theroux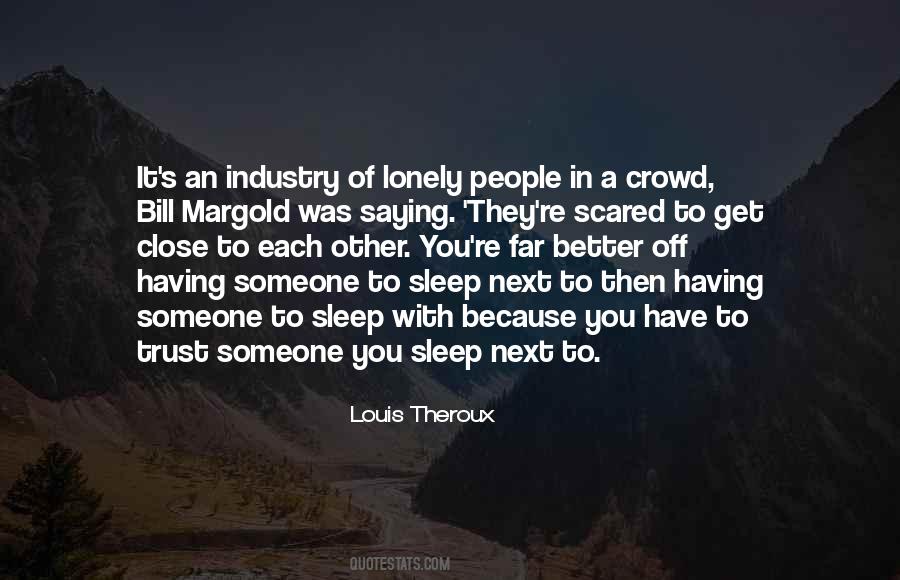 #96. I began to get a feeling ( ... ) of being the only sane man in a nut house. It doesn't make you feel superior but depressed and scared, because there is nobody you can contact. - Author: William S. Burroughs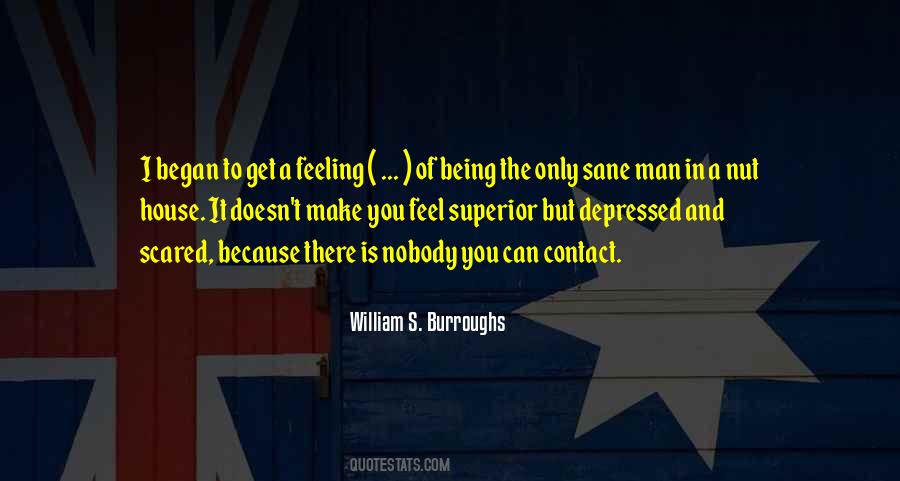 #97. Dont get scared of death. Get rich! Then die. - Author: Craig Benzine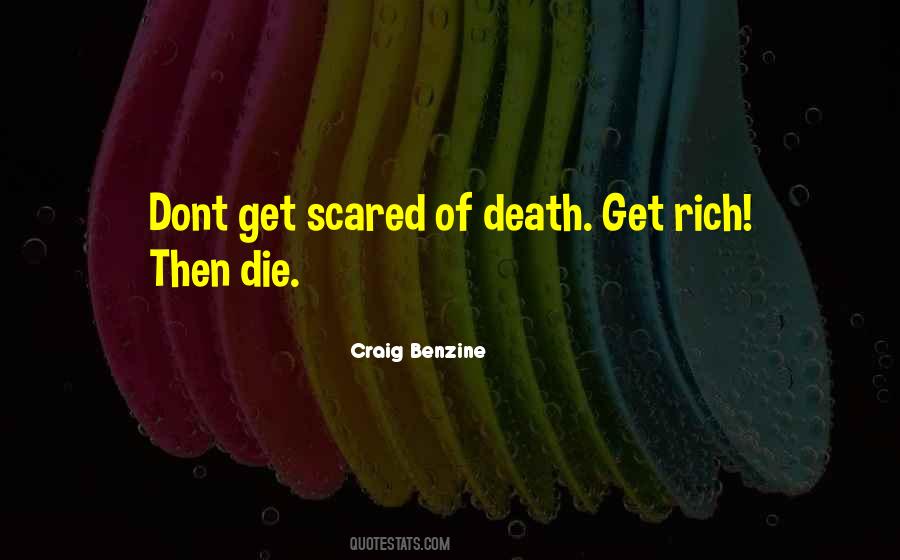 #98. I often tell people to stop being afraid of writing bad poetry, or bad anything. I think that a lot of times, when people claim that they have writer's block, or that they get stuck, it's just because they're scared of writing bad things. - Author: Sarah Kay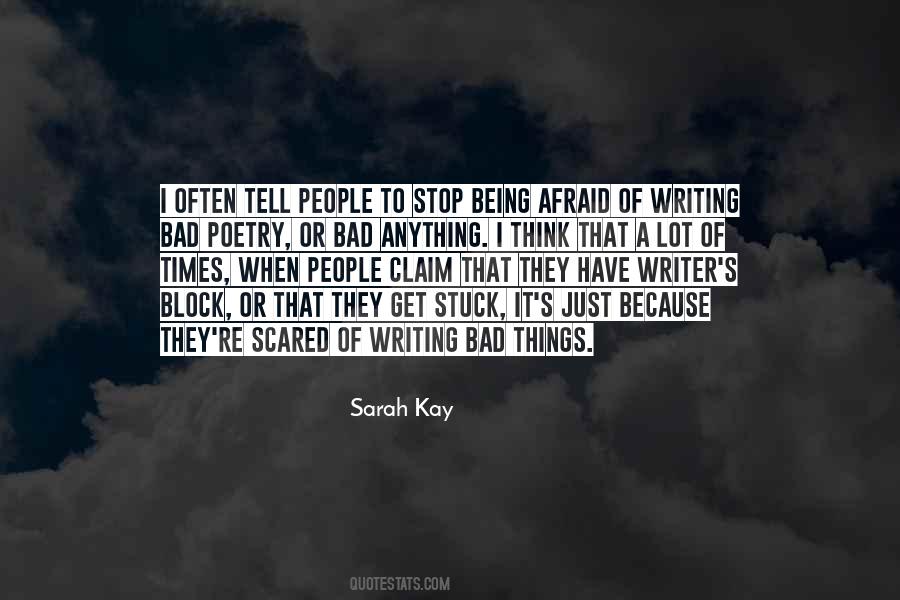 #99. I'm the kind of person who becomes silent when I get scared, because I hope Death will not notice me if I am very still and very quiet. It has worked well so far. - Author: Mindy Kaling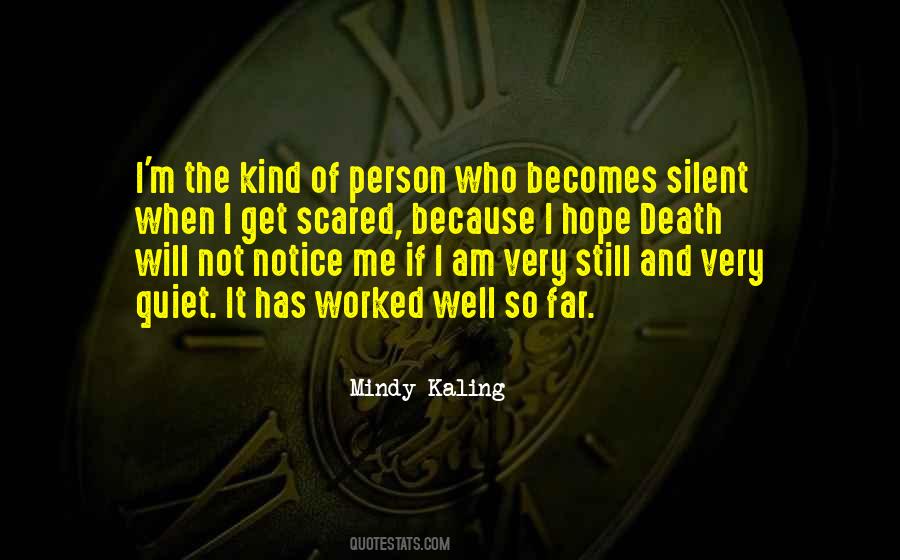 #100. Hustling sex for cash ain't dangerous if you learn the tricks quick, and that means puttin' yourself in a different mindset. Always scout for an exit for when you need it. Act confident and tough and you won't get hurt. Being scared or nervous will get you cut up and stuffed in a fuckin' bag. - Author: Jon Michaelsen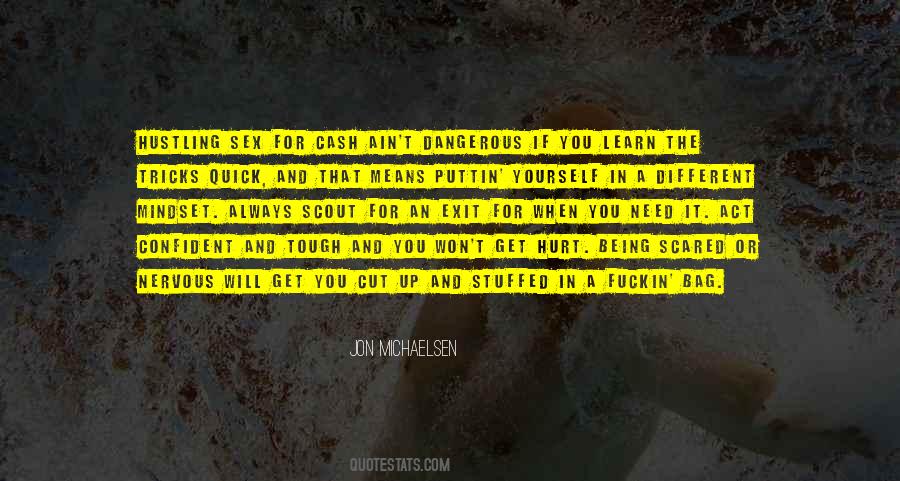 Famous Authors
Popular Topics