Don't Wait For Me Famous Quotes & Sayings
List of top 90 famous quotes and sayings about don't wait for me to read and share with friends on your Facebook, Twitter, blogs.
Top 90 Don't Wait For Me Quotes
#1. Television viewing has become for me a completely different experience, because I don't watch shows on a weekly basis. I wait until the DVD or I TiVo everything and wait until the end of a season and watch it all over a weekend. For me that's a really satisfying experience, like reading a book. - Author: Alan Ball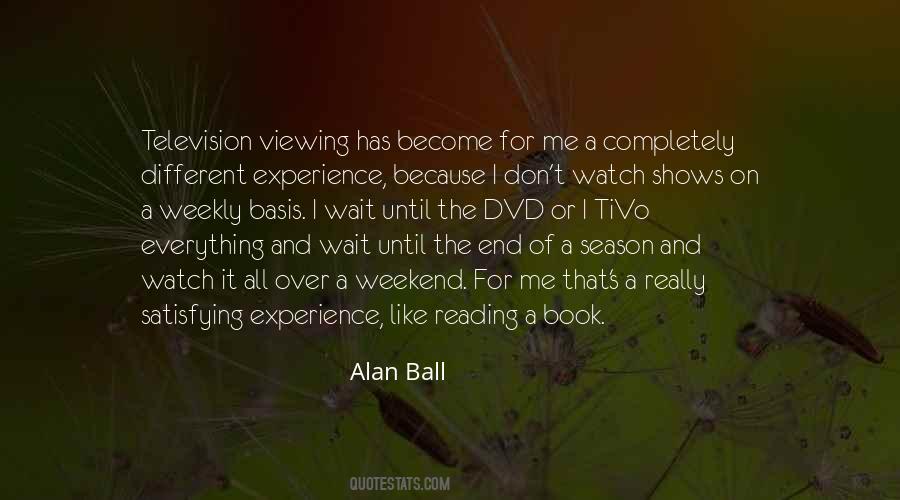 #2. He was standing by the window, looking down, when I went in. Even the sight of his back, sloping a little at the top with the inclination of his head, did something to me. And anyone that can love a back, can love.
("Don't Wait Up For Me Tonight") - Author: Cornell Woolrich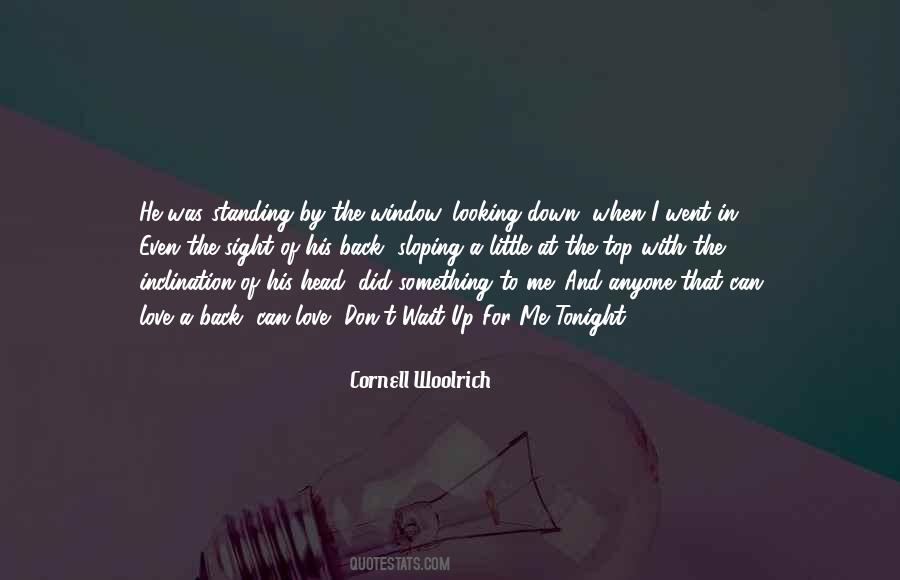 #3. Your heart is pure, your soul is free. Be on your way, don't wait for me. - Author: Celine Dion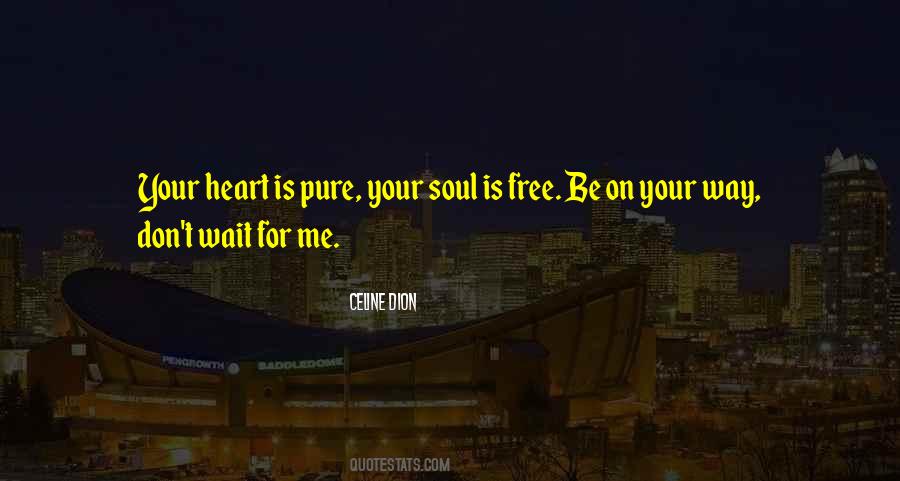 #4. I texted back: Did you make it home?
A few minutes passed while I stared at my phone. Yeah. Fam showering me with affection. U cld learn frm them.
I think you get enough attention.
I'm needy.
Boy, don't I know that. - Author: Jennifer L. Armentrout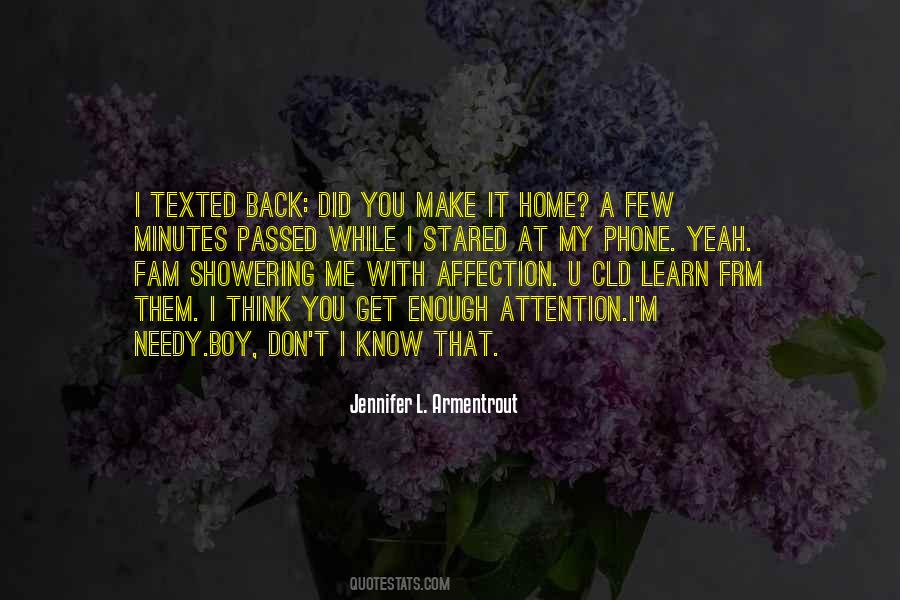 #5. So in some ways my life, my background has been isolating and I think I'm a bit more scared as a person. I don't walk alone or in the dark. If I go out the driver will wait for me to go into the house. - Author: Petra Stunt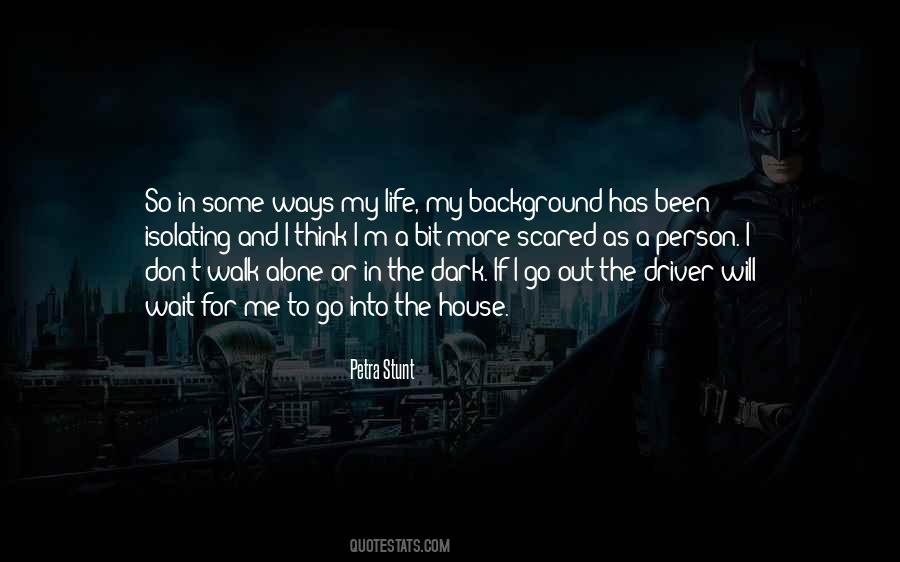 #6. I can't wait for everyone to read 'Don't Look Back.' It's something very different for me, my first romantic suspense novel, so I'm very excited to be sharing the book, finally. - Author: Jennifer Armentrout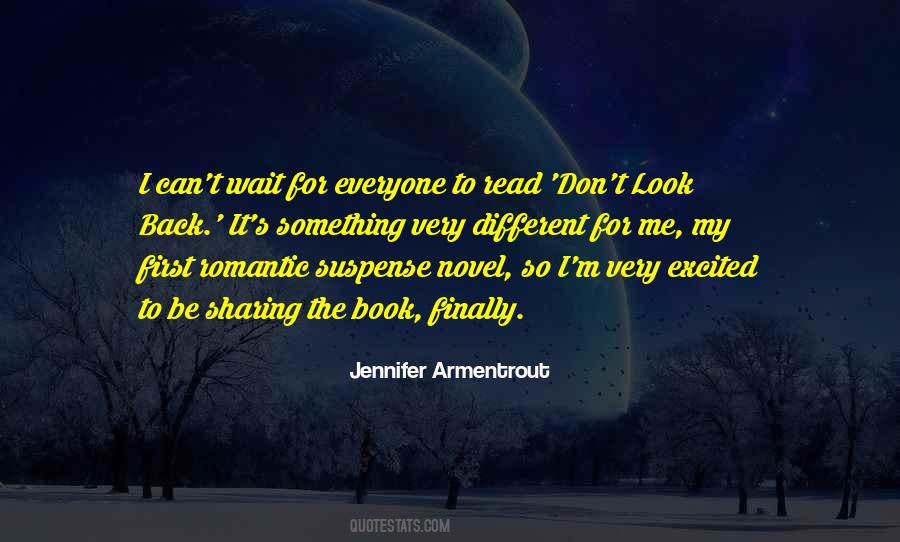 #7. I literally touched down in Kosovo and the president, prime minister and mayor were waiting for me to get off the plane. Apparently that's unheard of. They don't wait for nobody. - Author: Rita Ora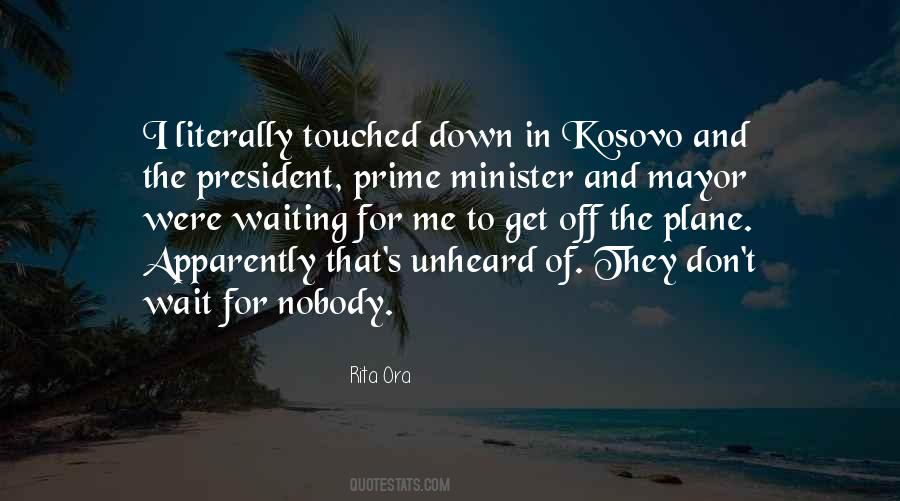 #8. It's a good thing you're an aging orphan," he murmured, gently pushing the hair away from her face. "I don't have to wait around to get anyone's permission."
"Permission for what, you rat bastard?" she said.
"Such language, dragon. I'm afraid you're going to have to marry me. - Author: Anne Stuart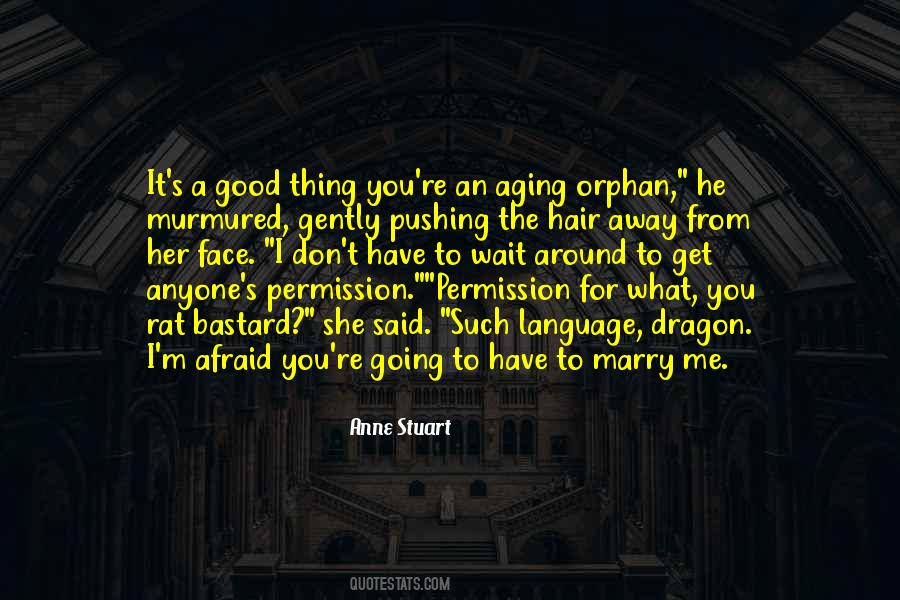 #9. Marissa, " he mumbled, taking her hand. "Don't want to see you drink so much?" Wait, not really what he'd been going for. "Ah...don't you to see me drink so much...want."

Whatever. God...he was so confused.~Butch - Author: J.R. Ward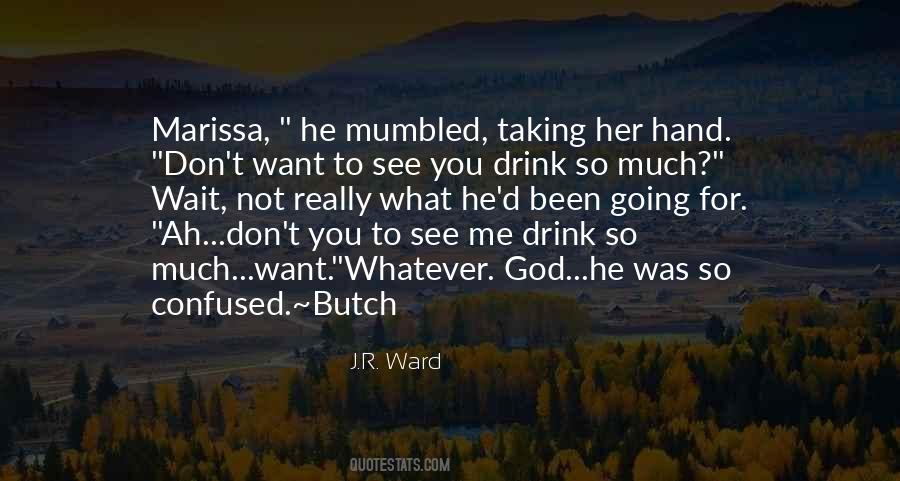 #10. I've been in love with you for months. I'm telling you now because I think you love me, too, Anna. You just don't think you're supposed to. You'll tell me when you're ready. I can wait. - Author: Tracey Garvis-Graves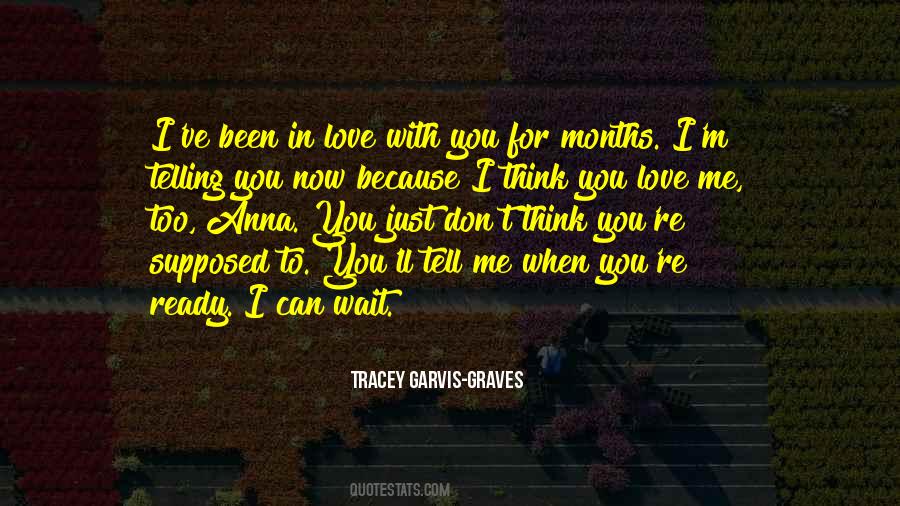 #11. Why? I mean, how could you know? I don't understand."

"Nothing to understand. There is no great mystery in friendship. You brought yourself here, just as I brought myself here to wait for you. I don't even mind that you've kept me waiting. - Author: Ari Berk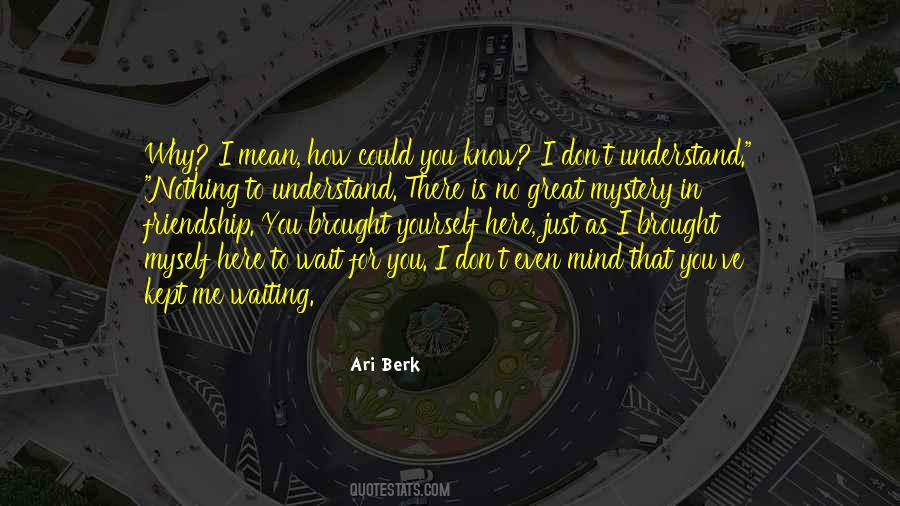 #12. I'm too impatient to wait for things to happen to me. If I should be out of work for two months I would go crazy. So as soon as I'm free, I start writing. While it is necessary for me to write, I know that if I go too long without acting on the stage I don't feel well. - Author: Erland Josephson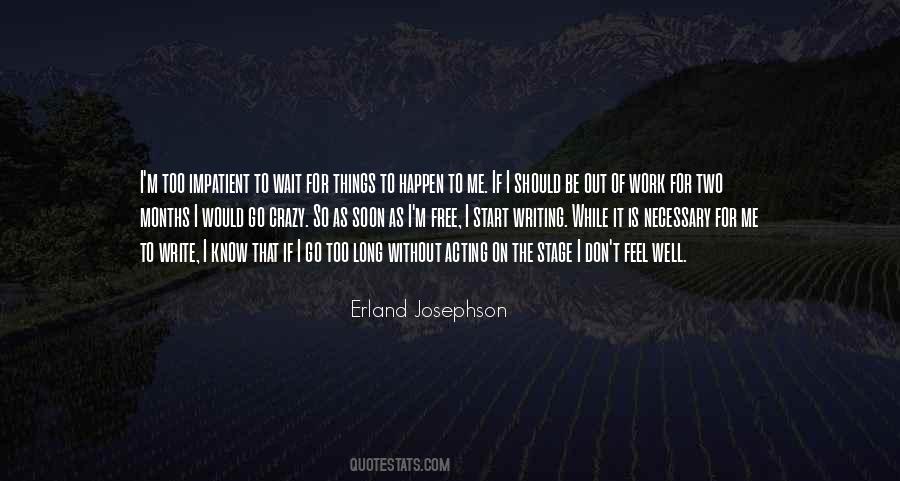 #13. I don't write quickly or a lot. Well actually I write quickly, but I don't have a store of things. I will wait for that erotic moment - like the one which struck me when someone said "have you ever heard of Kester Berwick?" - Author: Robert Dessaix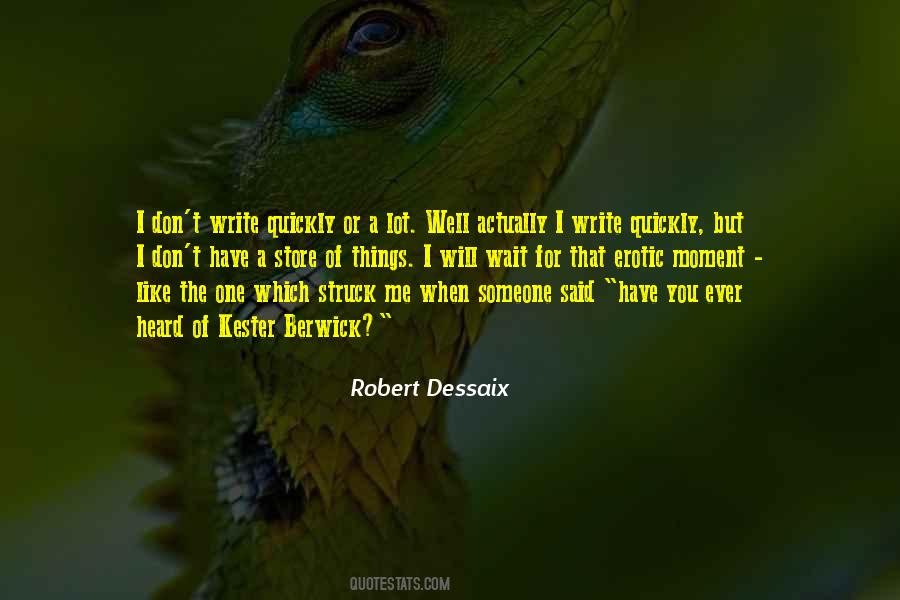 #14. You wait up for me I don't wake up for you. Would you like the company or are you sick of me. When your love lets you go you only want love more. Even when love wasn't what you were looking for
Speak slow, tell me love where do we go. - Author: Tegan Quin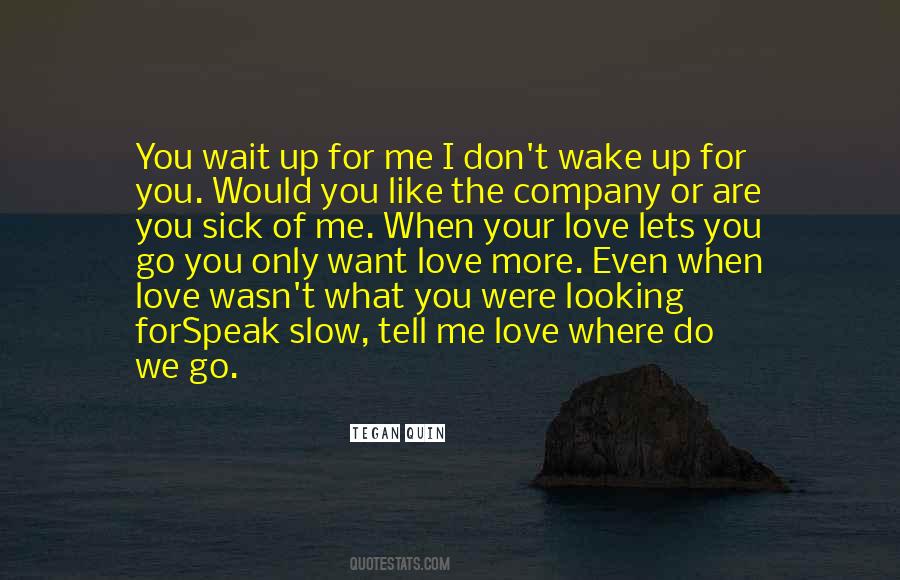 #15. Don't wait for me," he whispers, and he kisses me again. "I don't want you to wait. - Author: Robin York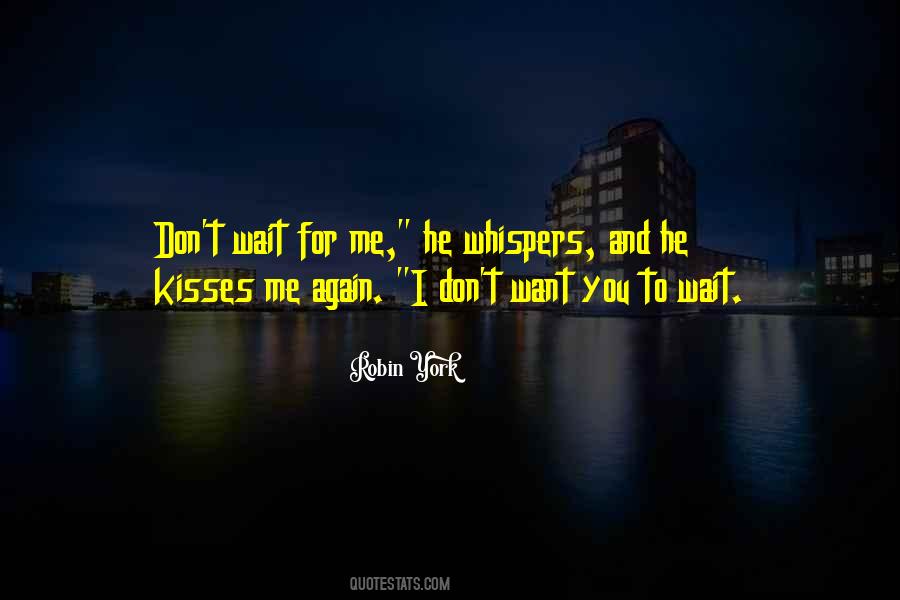 #16. Once people show me who they are? I believe them. I don't wait around for them to keep beating me down. - Author: Alison Perry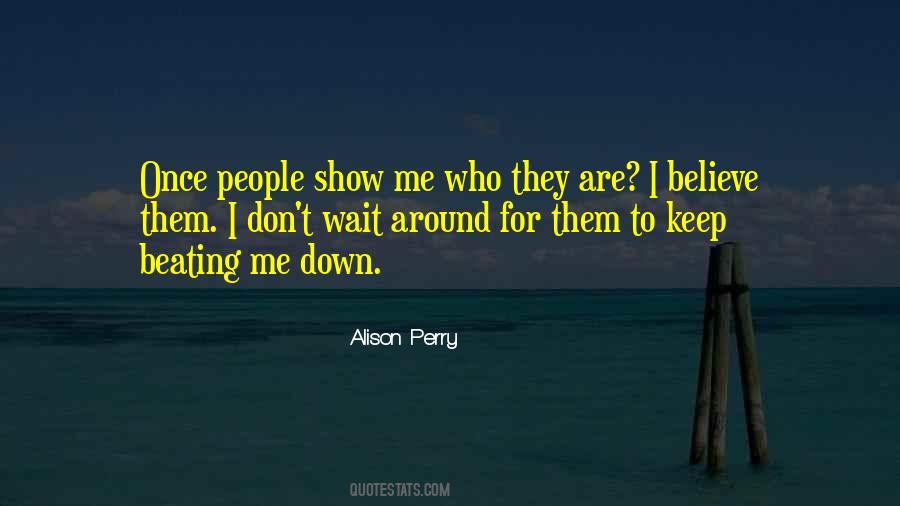 #17. Learn everything you can learn now while you are young. If you think you are old now, well let me remind you that NOTHING IS TOO LATE. If you will start it now, you are never too old to do it! Don't wait for another year older for you to learn something new. JUST DO IT. (You listen to Nike!) - Author: Diana Rose Morcilla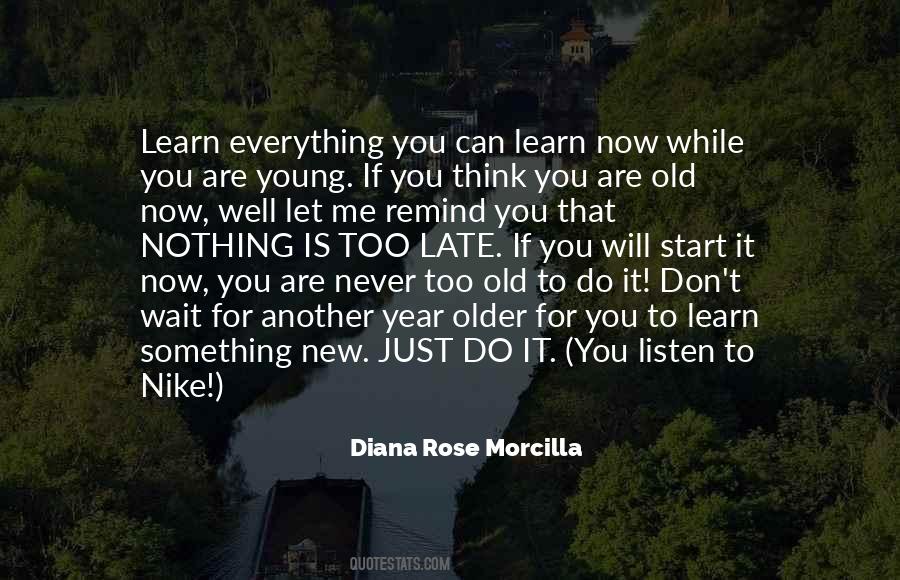 #18. I don't think there's a date minimum or maximum. I don't get the whole 'All right, you've got to wait three days to call after the date.' If I got a number from a girl, I'd call that night. There's no science to it for me. You just do what it is that you feel like doing. - Author: Channing Tatum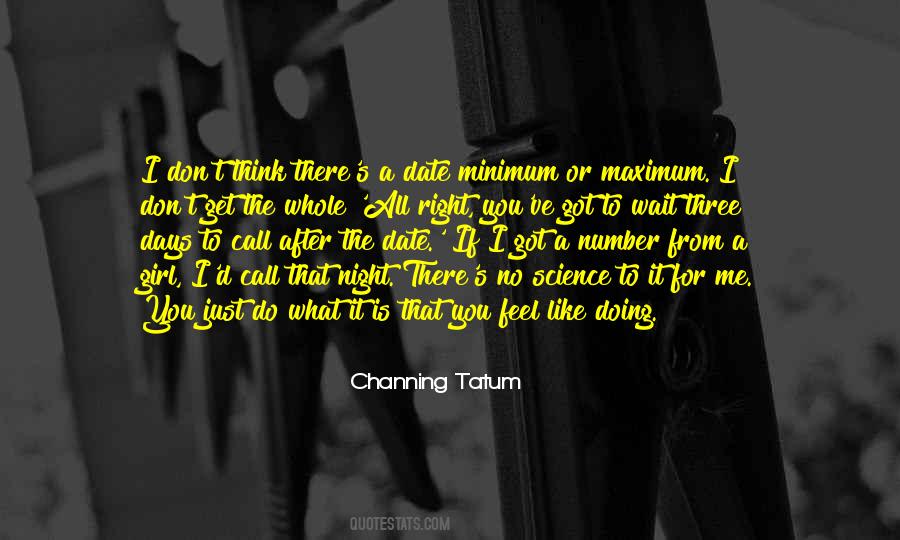 #19. Art is free, but of course you have to be alert to catch it when it comes onto the canvas. I don't choose the ideas, they choose me. I don't wait for them. They come without my permission! - Author: Mirka Mora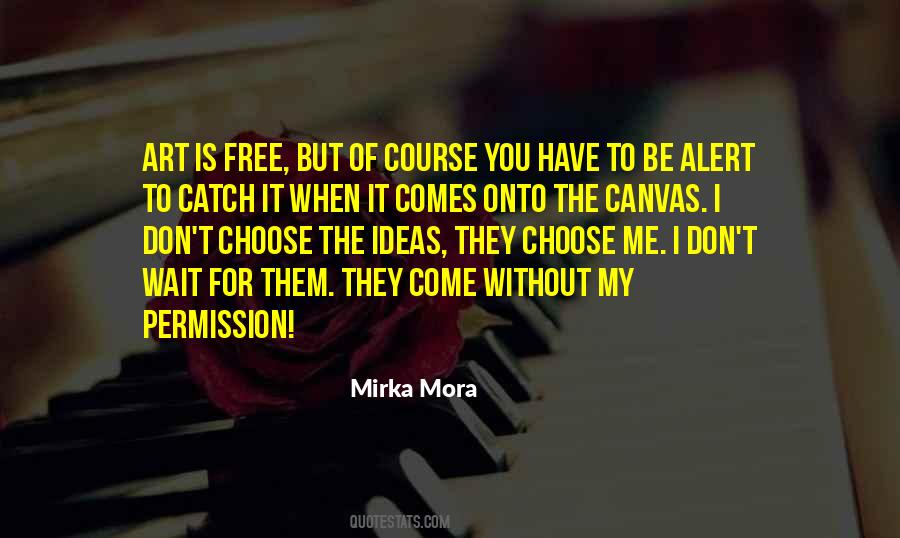 #20. If I want to know how I'm doing at work, I don't wait for a pat on the back; I ask the people who will give me a clear, objective opinion. When I need a real, arms-wrapped-around-me hug, I go to someone who does that. I stopped getting disappointed by my expectations from non-huggers. - Author: Chandra Wilson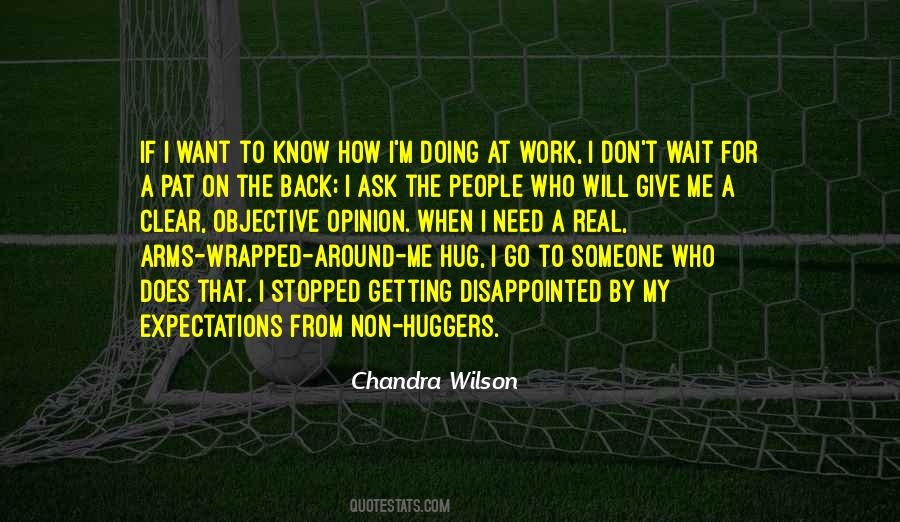 #21. I don't want you to leave without me. A wife belongs with her husband, and he belongs with her. I'm always selfish with you, asking you to move here, asking you to wait until it's good for my career before you leave, but there it is. - Author: Christina Lauren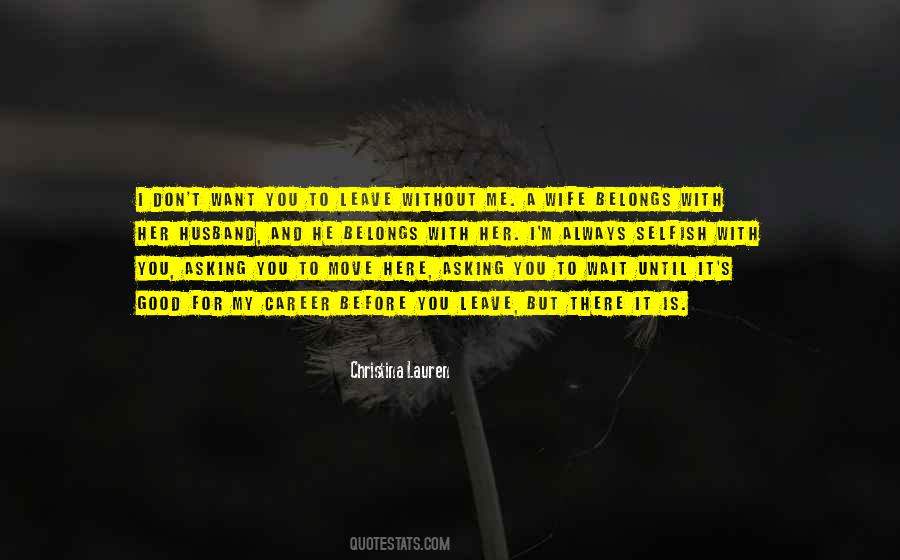 #22. Don't wait for me anymore.
I hope for love for you.
I hope for this more than anything else, maybe even more than my own happiness.
And in a way, perhaps that means I love Xander best of all. - Author: Ally Condie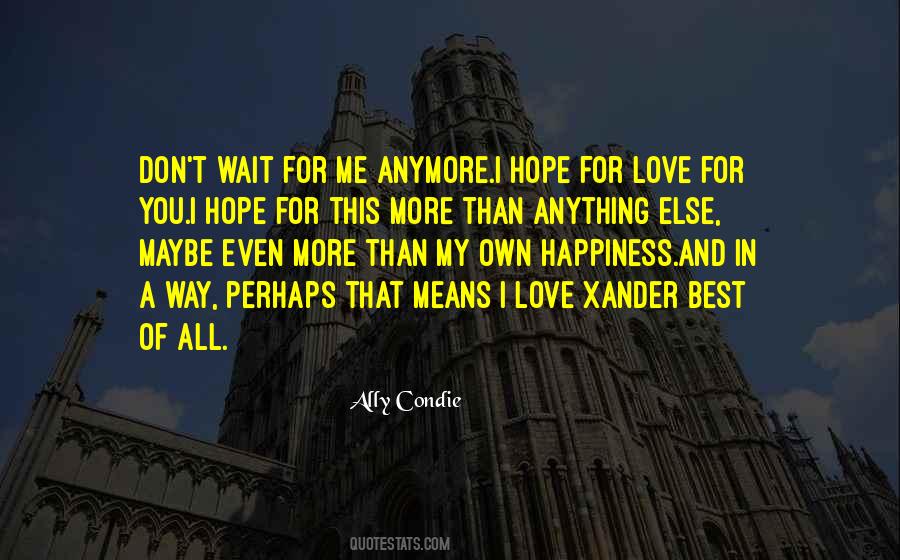 #23. For God's sake, don't let her watch Cinderella. What kind of example is that? A mindless twit who can't even remember where she left her damn shoe, so she has to wait for some douchebag in tights to bring it to her? Give me a frigging break! - Author: Emma Chase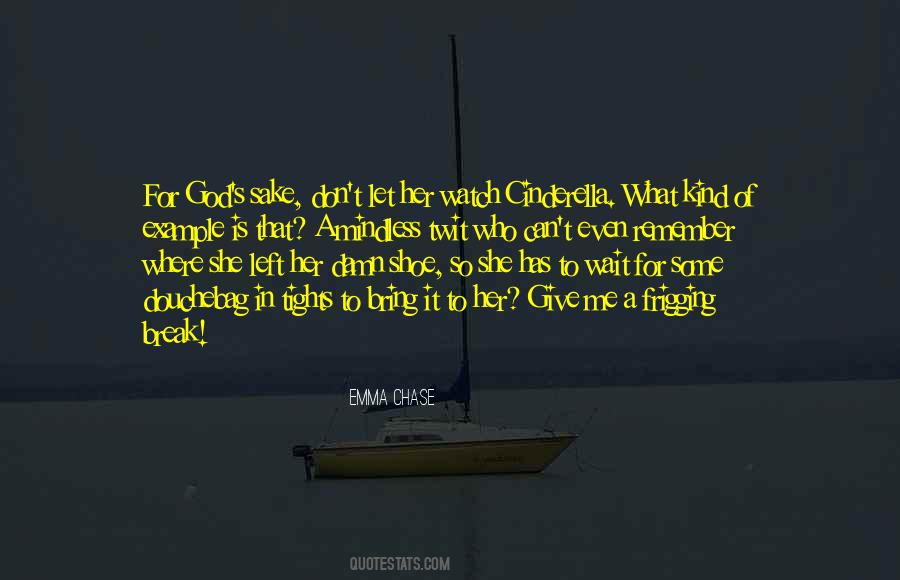 #24. I'll wait for you to find me again. So don't take too long.
-Dmitri - Author: Nalini Singh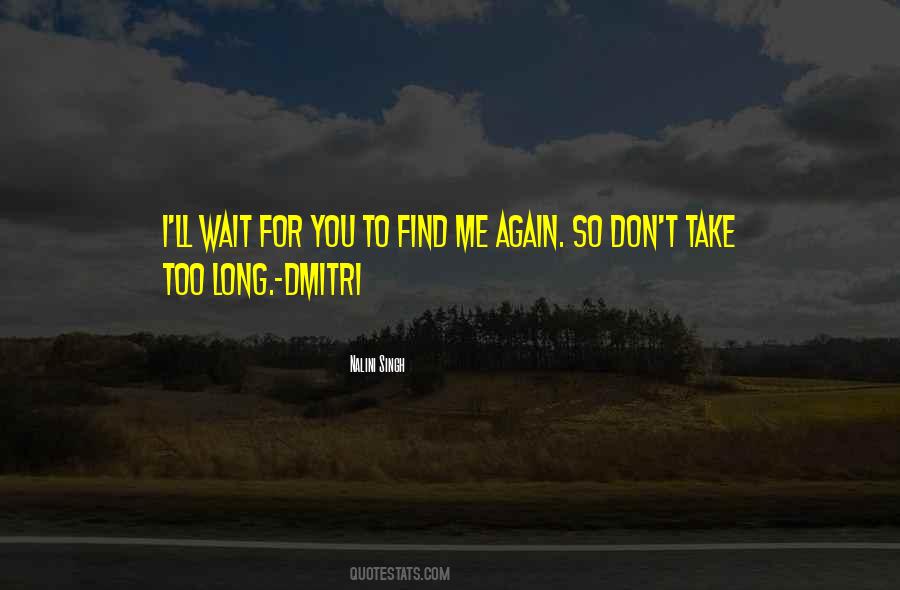 #25. I'll call you," he repeated.
"If you call me, I won't pick up the phone."
"You will wait by the phone for my call, and when it rings, you will pick it up and you will speak to me in a civil manner. If you don't know how, ask someone. - Author: Ilona Andrews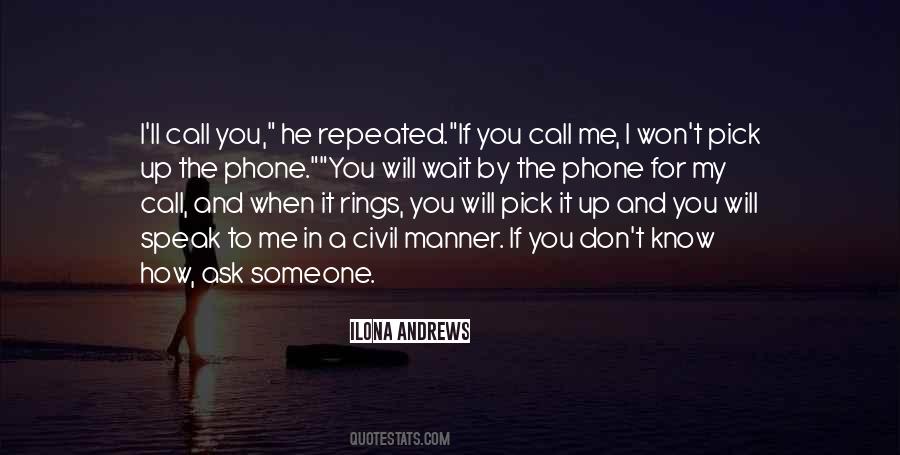 #26. Don't ever wait around for your life. Go get what you want. Because believe me, no one's going to give it to you. - Author: Jill Shalvis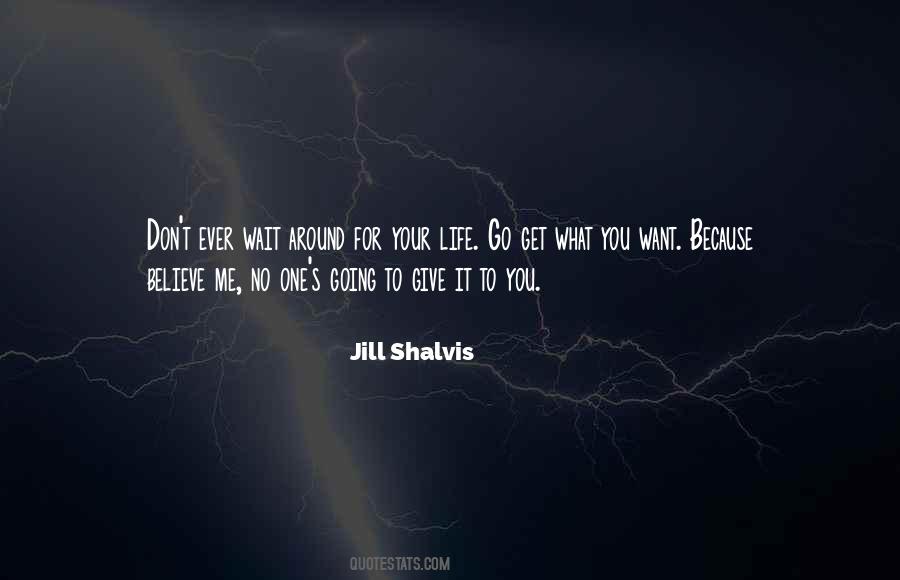 #27. I just have a way about me where people know that they don't tell me what to do, they kind of just wait for me to do it. - Author: Estelle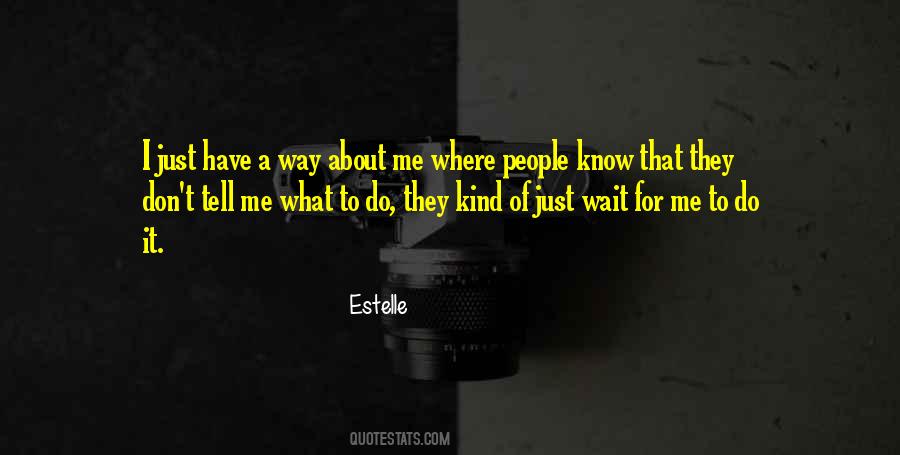 #28. I don't care what it's called. I just want to be with her at the end. I'm not giving up. Meghan, I'll be with you soon. Please, wait for me. - Author: Julie Kagawa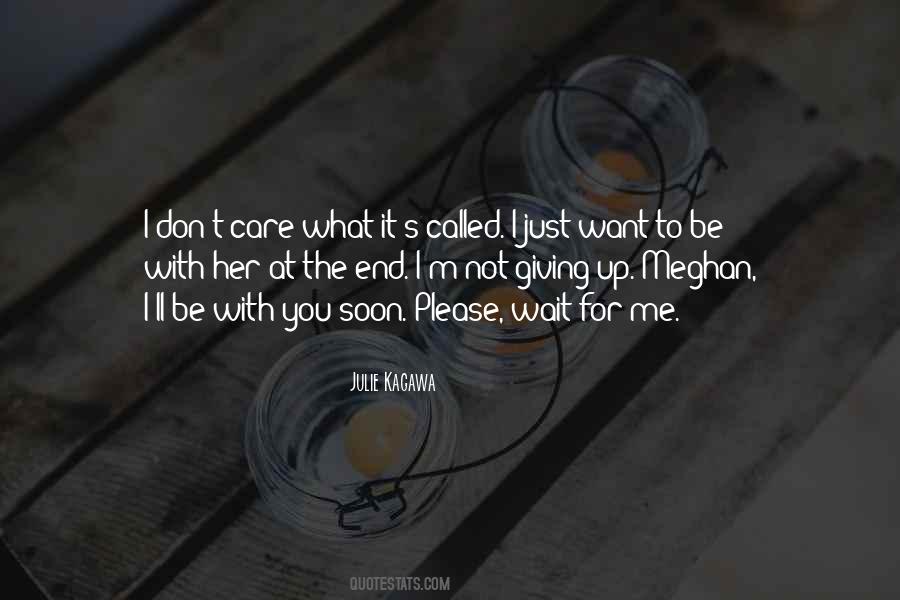 #29. I'm a comedian so I'm not waiting around for someone to write a part for me. I don't have to wait for somebody else to create my next job; I have the ability to basically write my own ticket. - Author: Wanda Sykes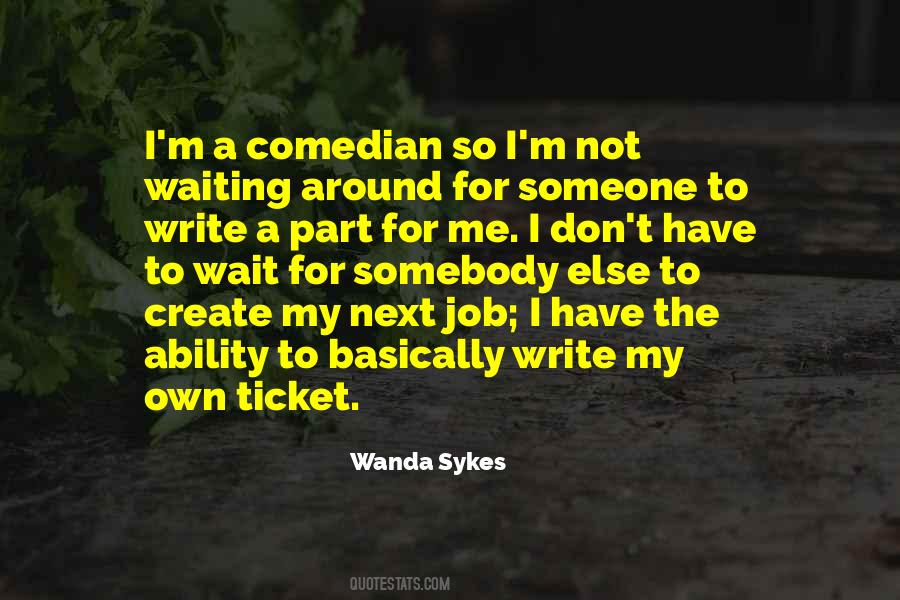 #30. I don't wait for people to give me respect. I always give them respect. - Author: Mariano Rivera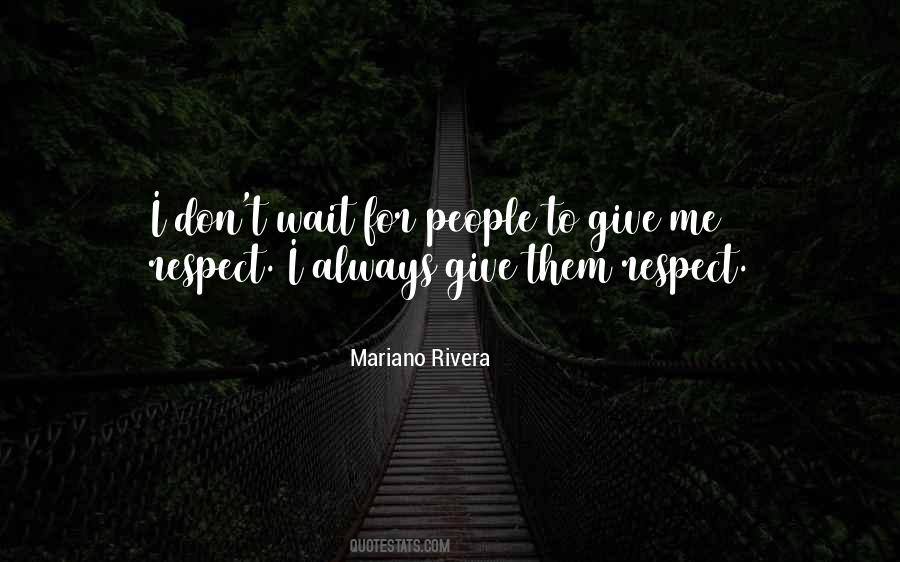 #31. Come away with me and be my wife." She gave a harsh laugh. "If you want a wife, send for one by mail, or wait for the next wagon train to cross the mountains." He came toward her. "I can give you a good life. I don't care how you got here or where you've been before. Come with me now. - Author: Francine Rivers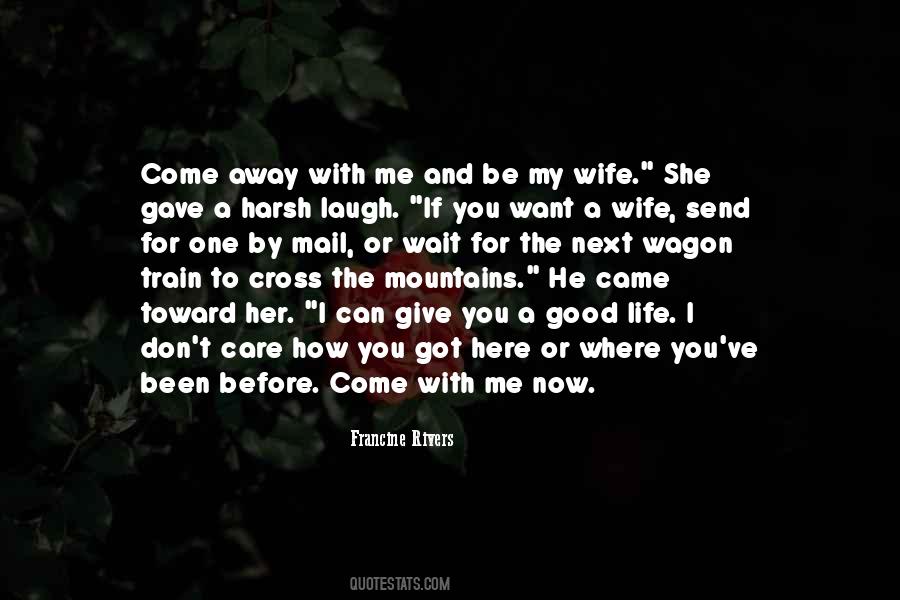 #32. I'm very, very lucky to be a working actor, but I've also been careful. I don't just take anything. 'Durham County' came to me. You have to look at the quality of work you do, and 'Durham' set the standard. I wait for things that keep me really interested. - Author: Hugh Dillon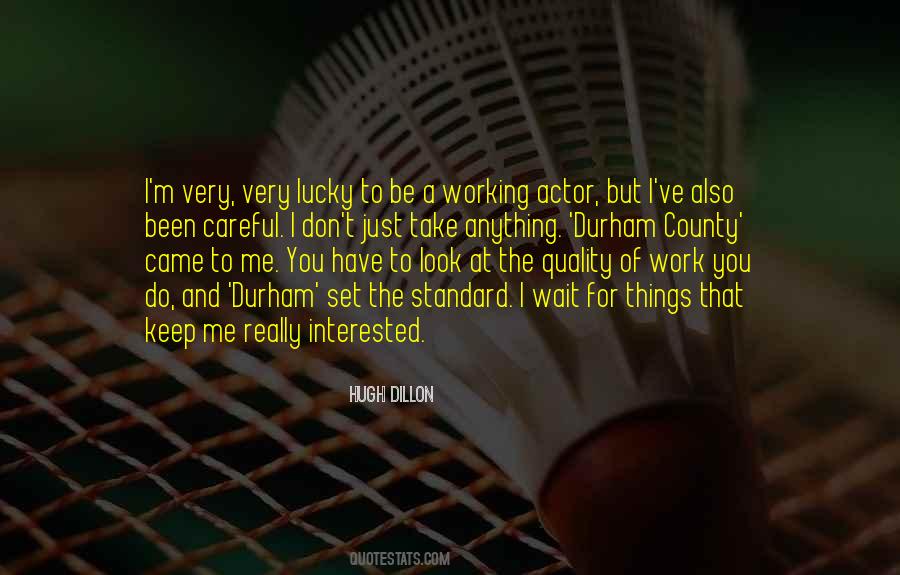 #33. I'll wait for you, Luce, until you're ready. Just tell me now, so I don't sit around getting my hopes up ... do you think that maybe someday you'll want me, too? - Author: Jay McLean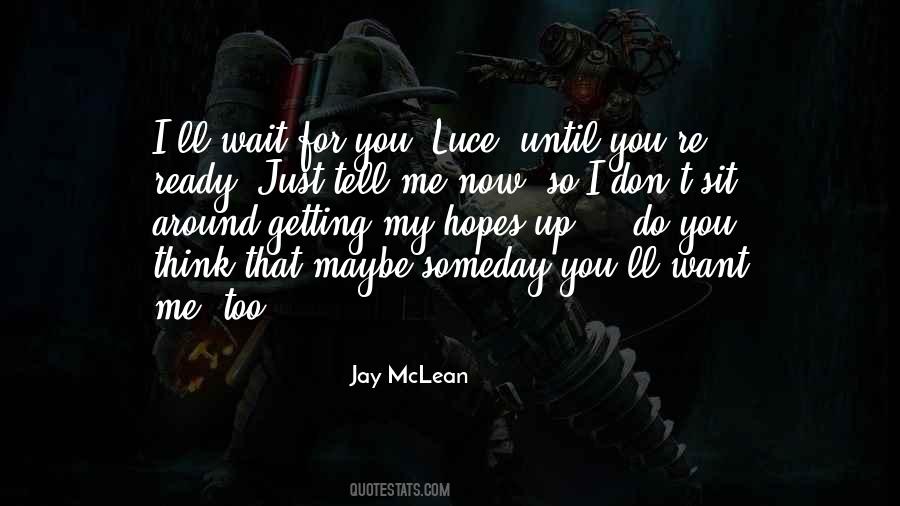 #34. It's always weird when people approach me to make an investment. I tell them, 'I don't need any more money. I'm good.' Then I wait for their expression. That part is entertaining, because people look at you like you're crazy when you say you don't need any more money. Who says that? - Author: Dr. Dre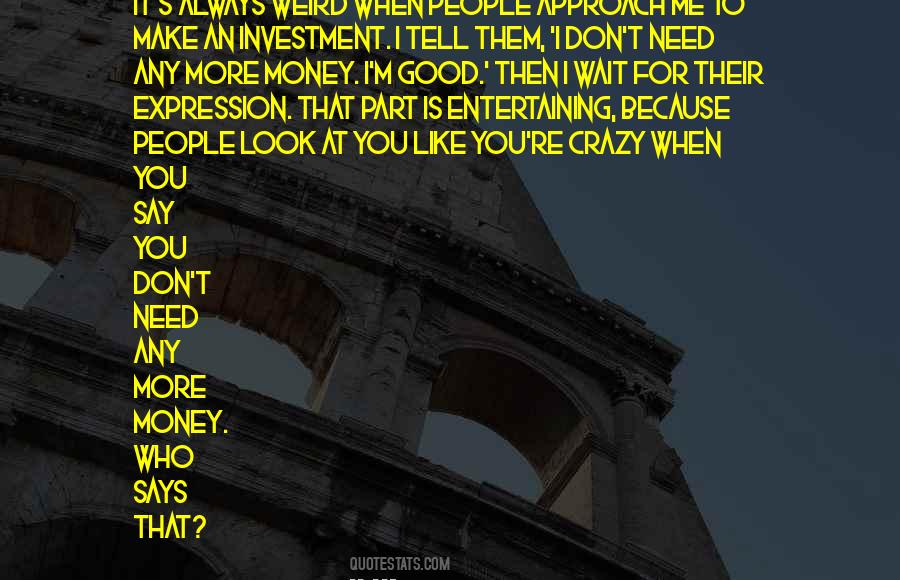 #35. For me, songwriting is something I have to do ritually. I don't just wait for inspiration; I try to write a little bit every day. - Author: Sean Lennon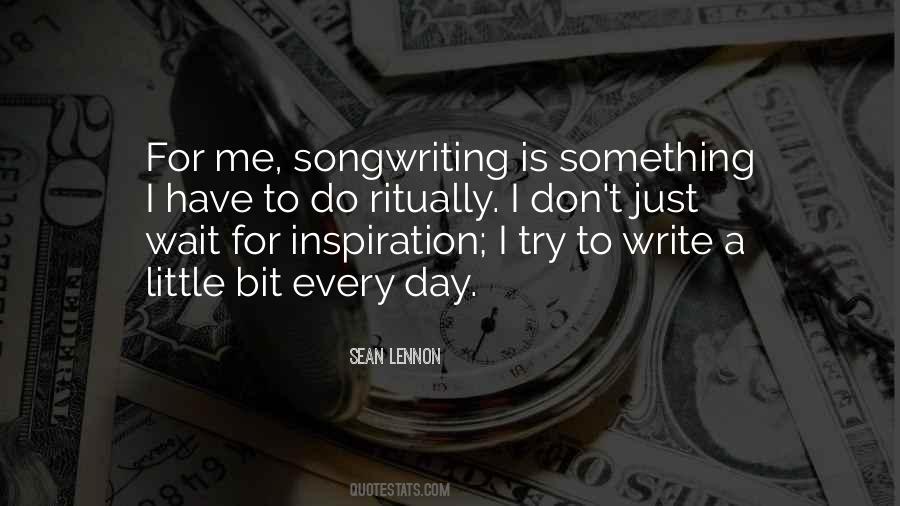 #36. My father really taught me that you really develop the habit of writing and you sit down at the same time every day, you don't wait for inspiration. - Author: Anne Lamott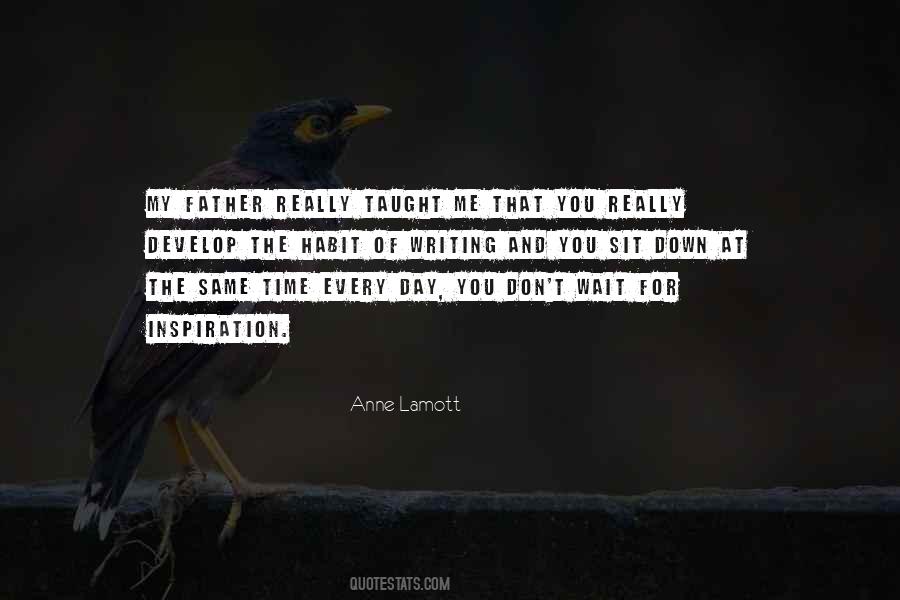 #37. I have no plants in my house. They won't live for me. Some of them don't even wait to die, they commit suicide. - Author: Jerry Seinfeld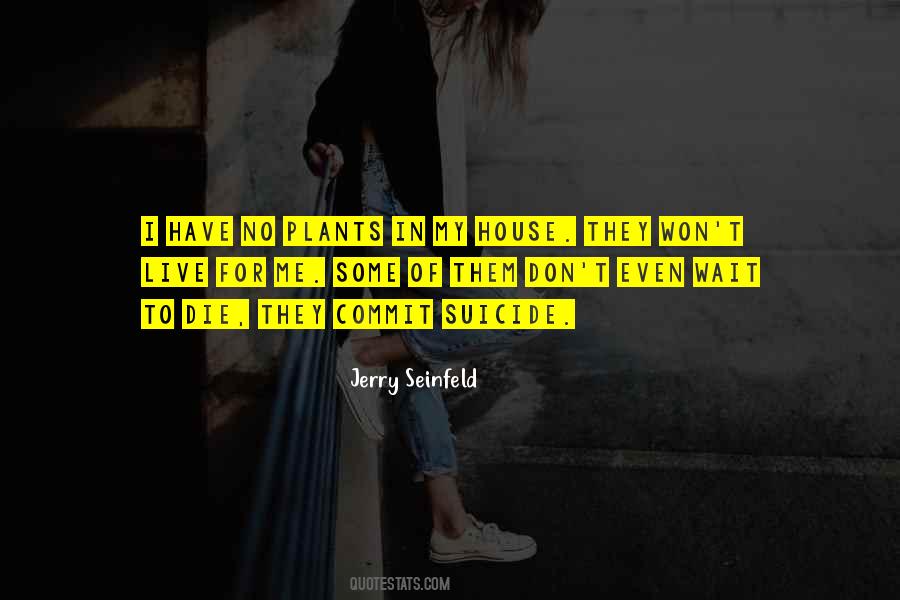 #38. I like to be in the now, now. Sometimes musicians have to wait for me to be genuine with it. As an actor, I don't have that luxury. You have to make it legit when they say 'action.' - Author: Jill Scott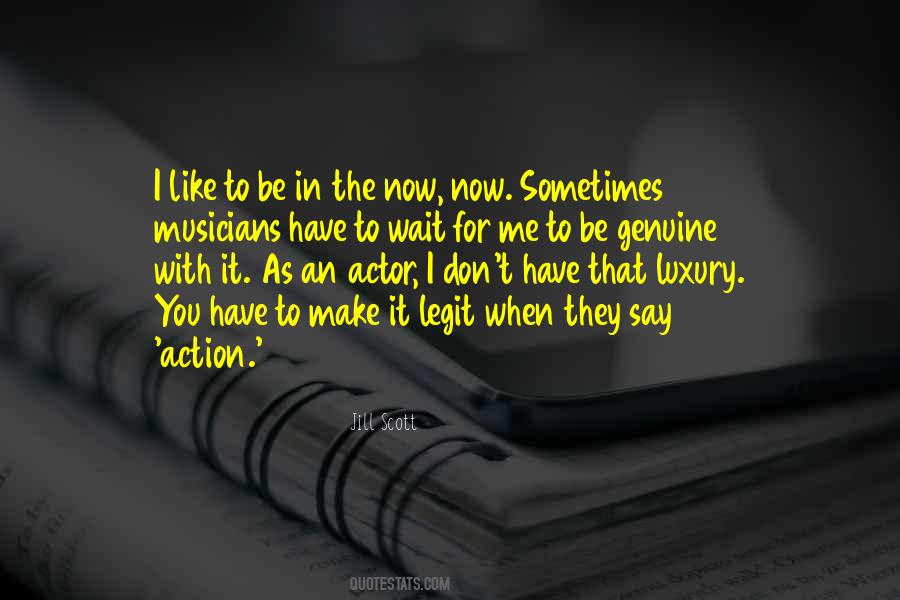 #39. I pay a lot of attention to box office because I understand it. TV ratings? I don't know how to interpret them, since I'm new to TV, so I'm just going to wait for somebody to tell me. - Author: Oren Peli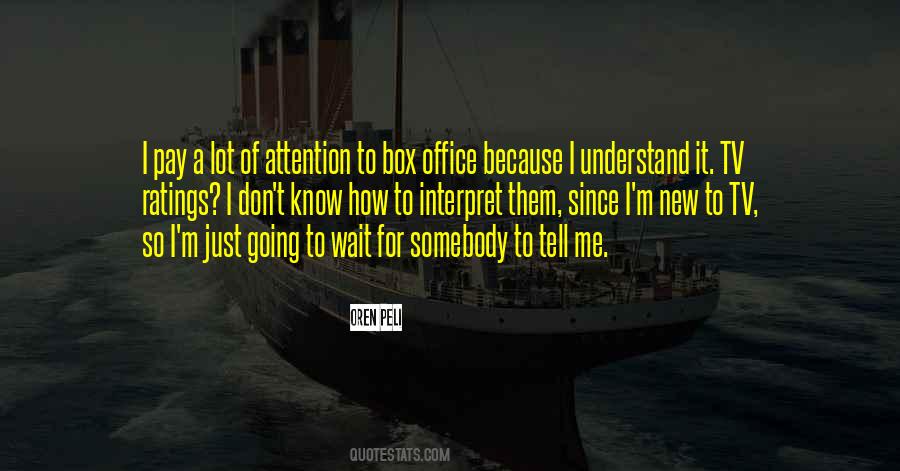 #40. Shigure Sohma: [got Tohru a maid costume for White Day] I can't wait to for her to call me master while wearing this.
Hatsuharu Sohma: Just don't get arrested, okay? - Author: Natsuki Takaya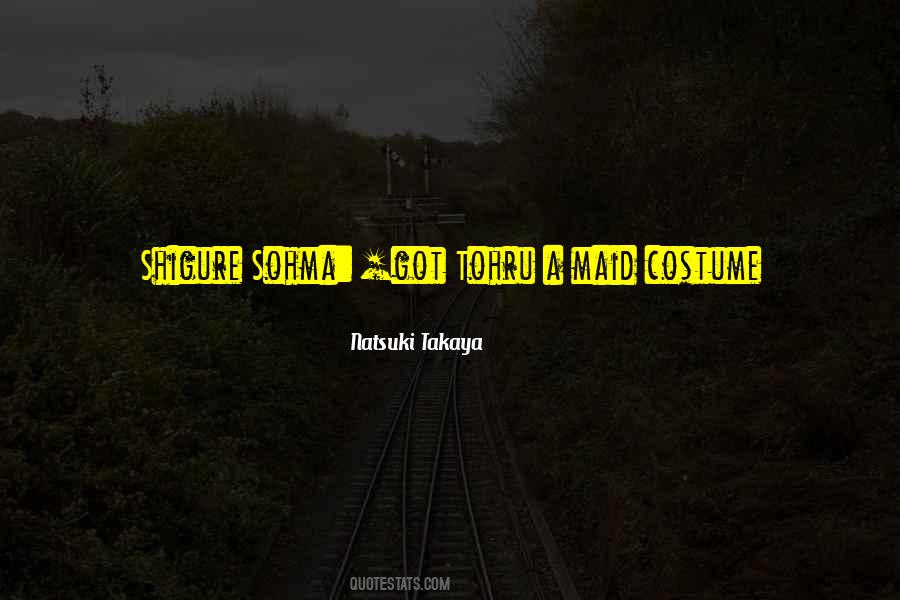 #41. She racked her brain for the training session she'd taken on bear encounters, but it had been a long time ago. Stay still. It can't see me if I don't move. No, wait - that's what you're supposed to do for a T-Rex. - Author: Vivian Arend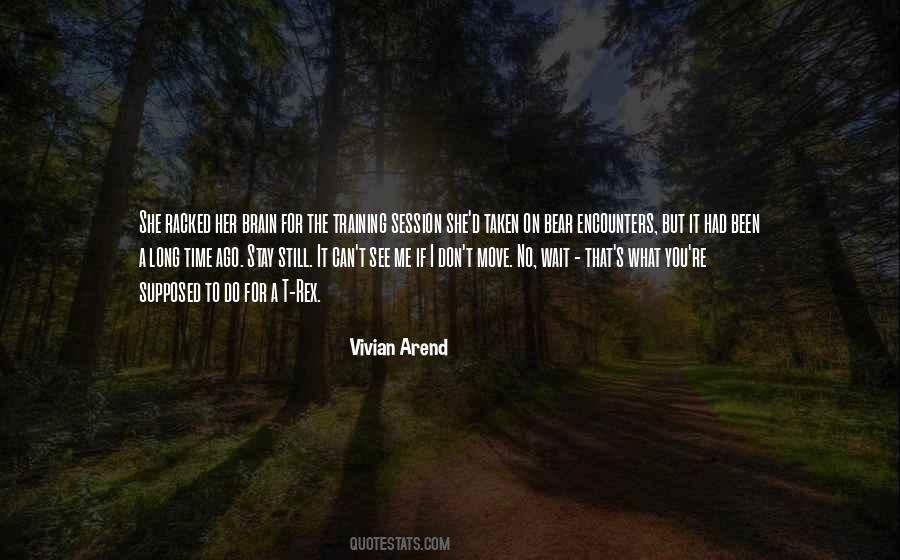 #42. Don't wait up for me tonight, for the night will be black and white. - Author: Gerard De Nerval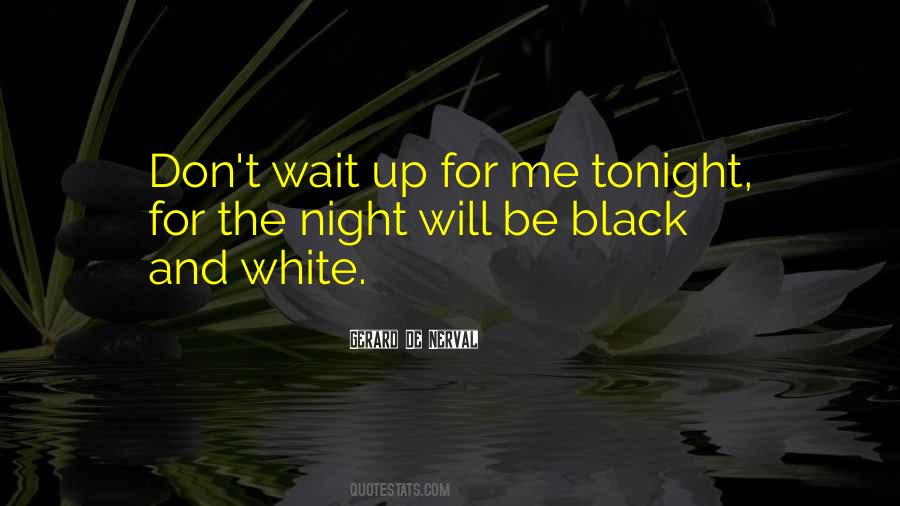 #43. How I wish, how fervently I ache, to take my mother's hand, kiss her check,tell her I love her, and watch her smile. For me it was not, nor can ever be. But for you, reach out now. Reach out for your mother's hand-the hands of those you love. Say I love you.
Don't wait. - Author: M.J. Burke Sr.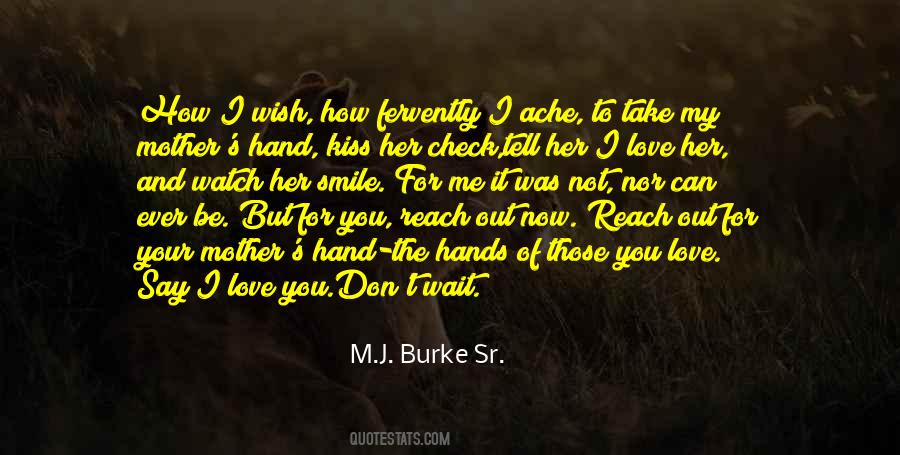 #44. OMG! Look at that! They're ALL wearing the same butt-ugly ensemble! Wait, don't tell me. They were giving them away for free with a purchase of a McDonald's Happy Meal! - Author: Rachel Renee Russell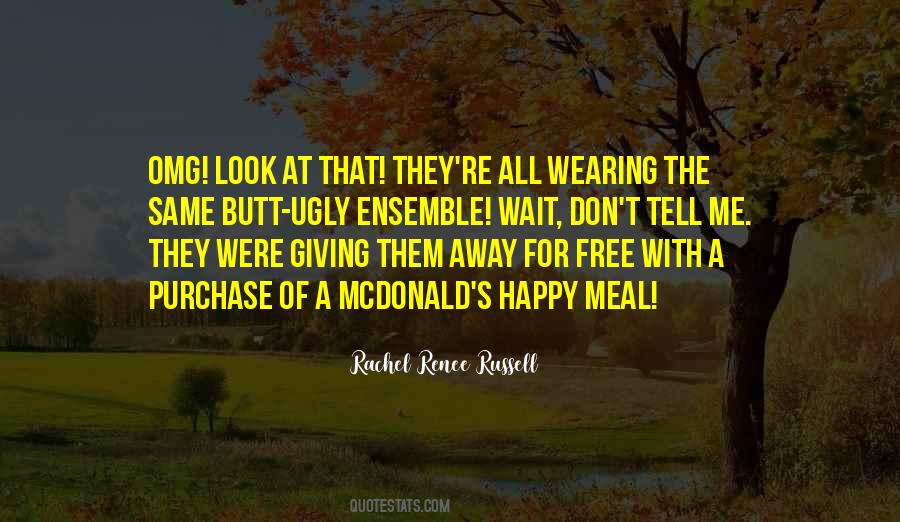 #45. He stops pacing and turns toward me. You won't wait for me. I won't let you give up what should be the best year of your life. I had to grow up way too fast; I'm not taking that away from you, too. It wouldn't be fair. I don't want you to wait for me, Layken. - Author: Colleen Hoover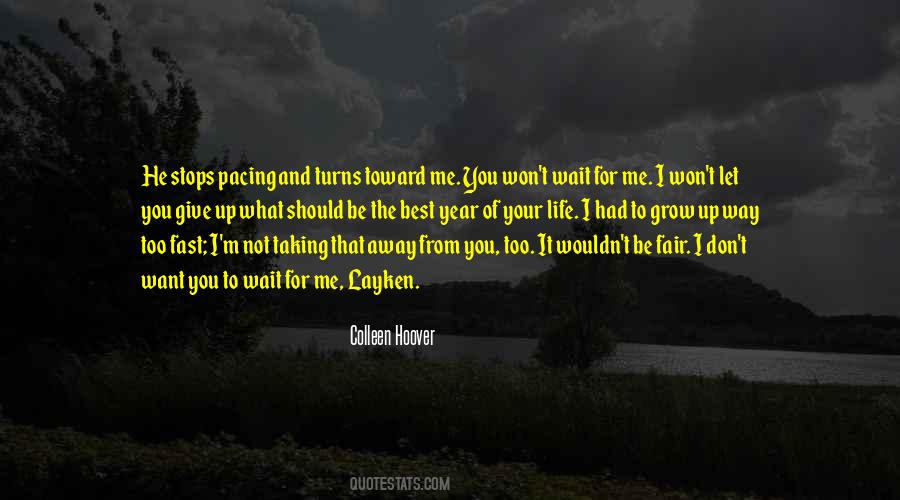 #46. But wait, wait," Ivan was laughing, "don't get so excited. A fantasy, you say? Let it be. Of course it's a fantasy. But still, let me ask: do you really think that this whole Catholic movement of the past few centuries is really nothing but the lust for power only for the sake of filthy lucre? - Author: Fyodor Dostoyevsky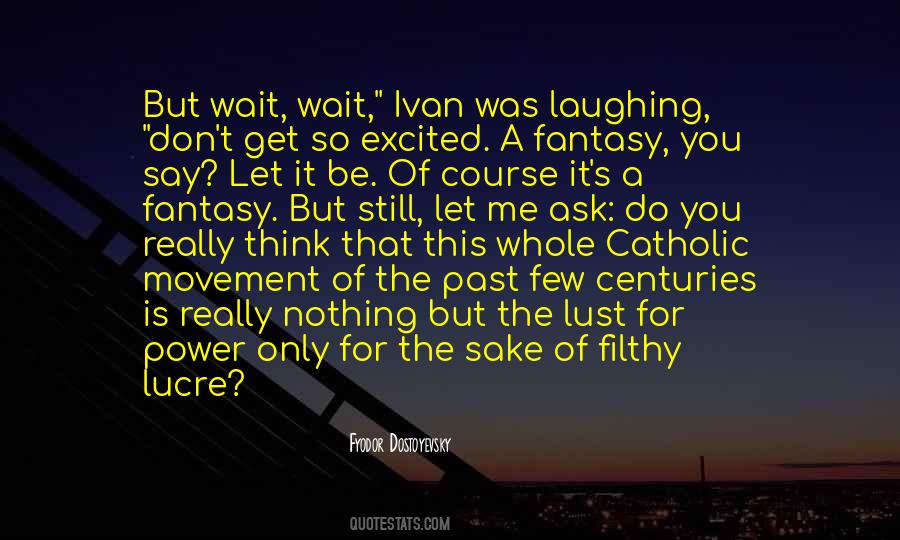 #47. Someone tried to kill me, and I'm going swimming. I'm going swimming, because it doesn't matter. I'm going swimming, because I don't matter. I'm going swimming, because that's what Claires do. We swim and we daydream and we read and we wait for someone to care, and they never, ever, ever do. - Author: Jennifer Lynn Barnes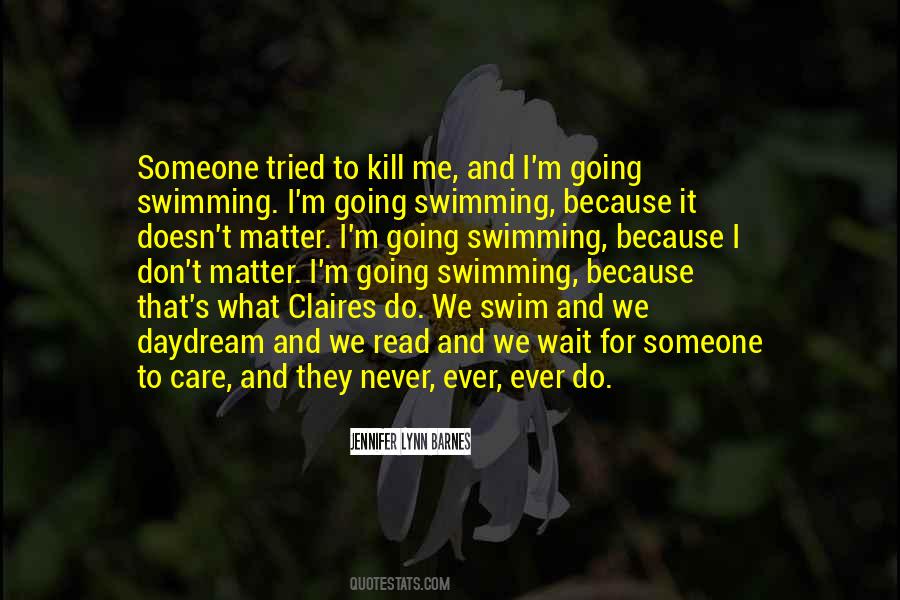 #48. For me the experience of writing is really an experience of losing control. ... I think it's very much like dreaming or like surfing. You go out there and wait for a wave, and when it comes it takes you somewhere and you don't know where it'll go. - Author: Margaret Atwood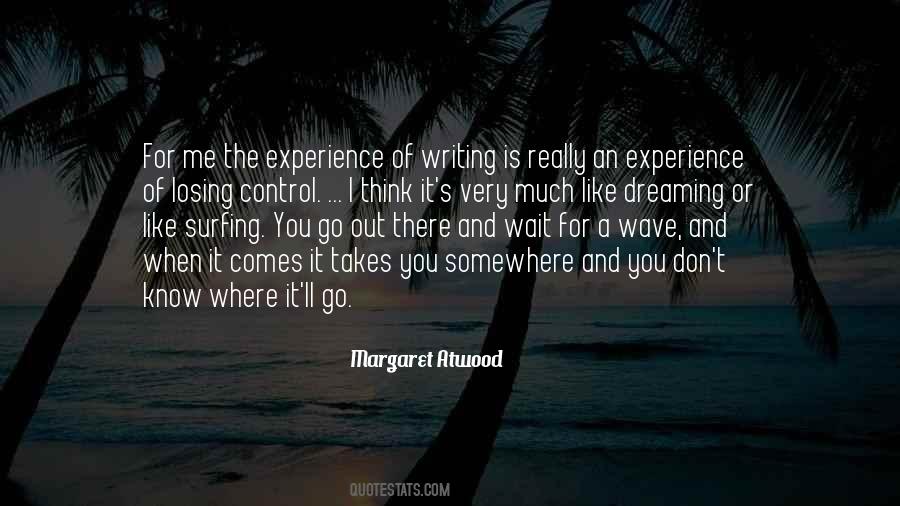 #49. For me, businesses are like buses. You stand on a corner and you don't like where the first bus is going? Wait ten minutes and take another. Don't like that one? They'll just keep coming. There's no end to buses or businesses. - Author: Sheldon Adelson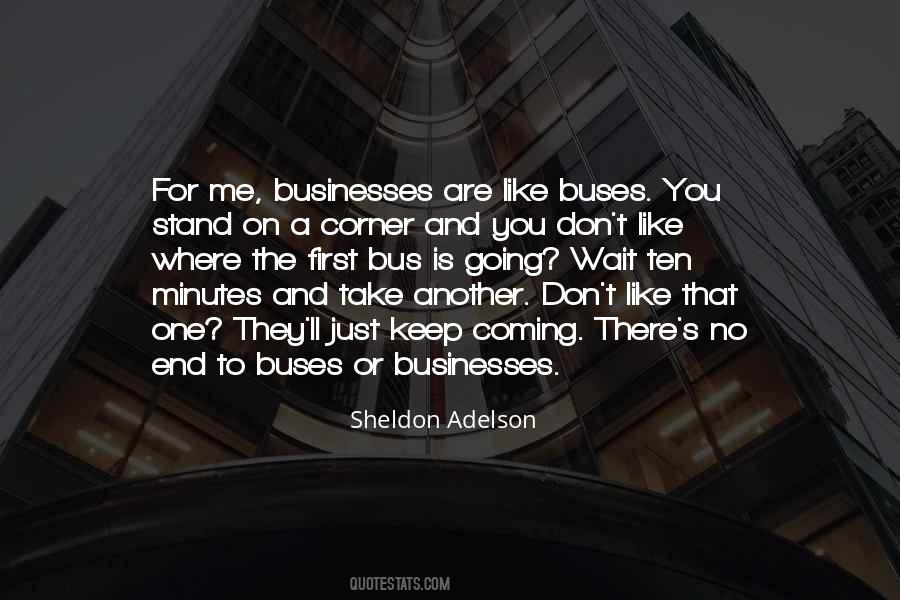 #50. Because you know, we live in an era now where everything is pushed. We live in a push world where everything gets pushed to you. It's like, I don't have to wait for you to send it to me, I'll go get it off the Internet. So it was difficult to be back in that sort of situation. But it was cool. - Author: Ja Rule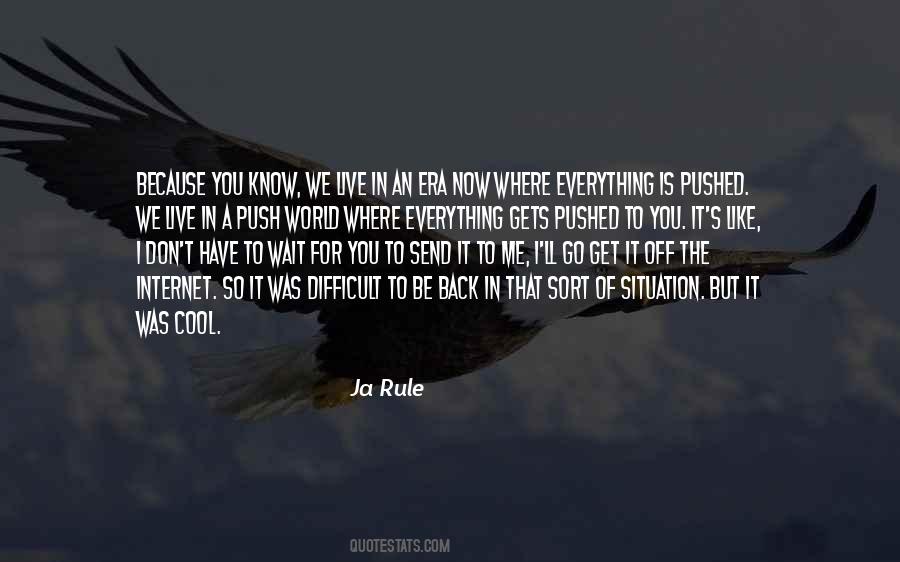 #51. It makes it easier to wait for the man God has for me," Said Elly, "Because I already have the most important relationship. I can spend my life loving and being loved by the perfect Bridegroom. I don't have to wait for a man to fall in love with me to make me happy. - Author: Jennae Noelle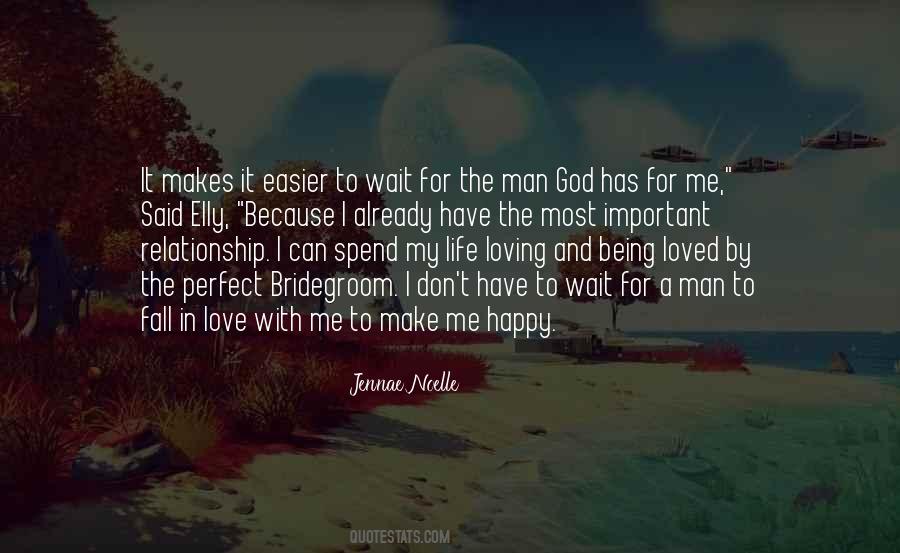 #52. Don't believe those tales you hear about my being all-in. Wait until you see me in action for your team and then form your opinion of my worth to your team. I assure you that I am delighted to be a Pirate and that I will do my best to bring another pennant to the Smoky City. - Author: Vic Willis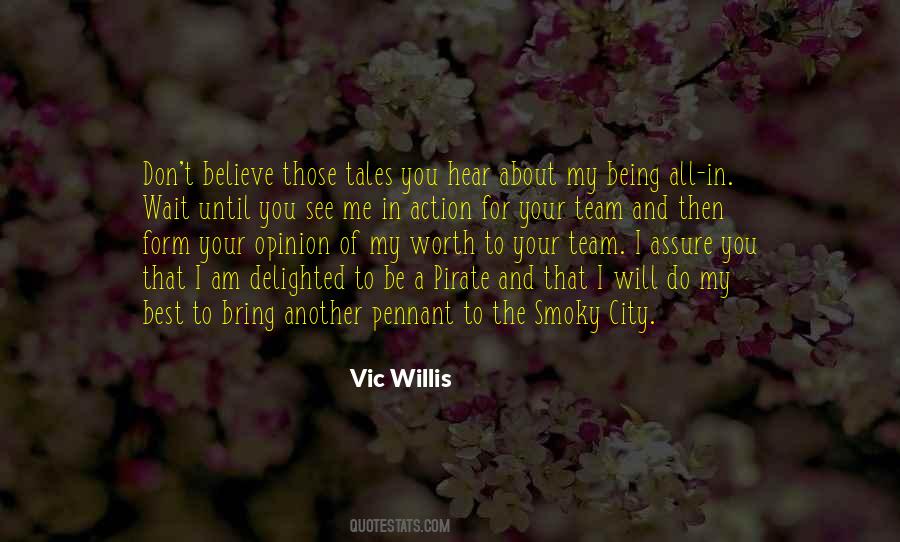 #53. I hate the world sometimes," Anthea said. "The unfairness of it. I won't force you to see me if you don't want to - but nobody can stop me loving you, and I'll wait for you all my life if I have to. - Author: Kate Saunders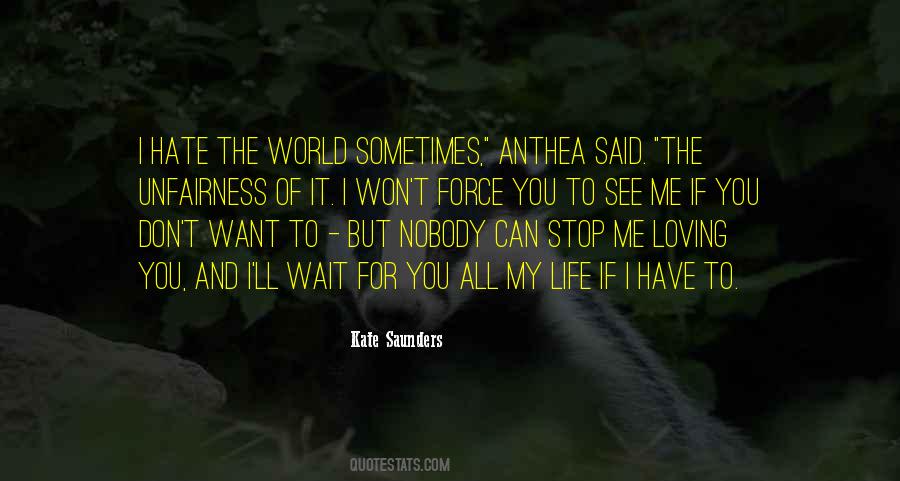 #54. I need you, Charlotte, I need you like air, like light. Without you there's only darkness. There's emptiness. Tell me what you want me to do. I'd wait forever for you. Just don't tell me you don't want me back. - Author: Nancy Gideon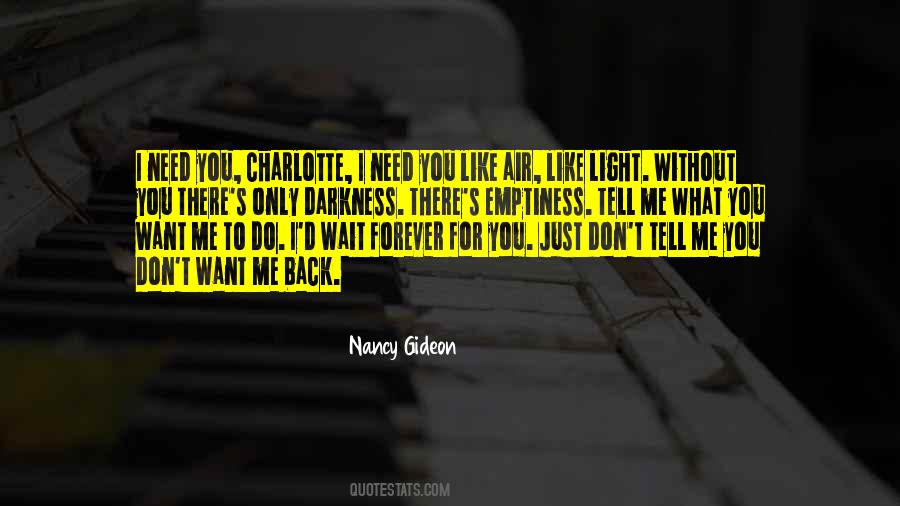 #55. Did we win?" Salan asked as Karol stood. "Hell yes, we did," Karol said, glad that he didn't have to lie to say it. "You just stay there and wait your turn. And don't get impatient. We don't rush the cunning men for pinpricks and scrapes." "Be all right with me if they rushed a little, sir. - Author: Daniel Abraham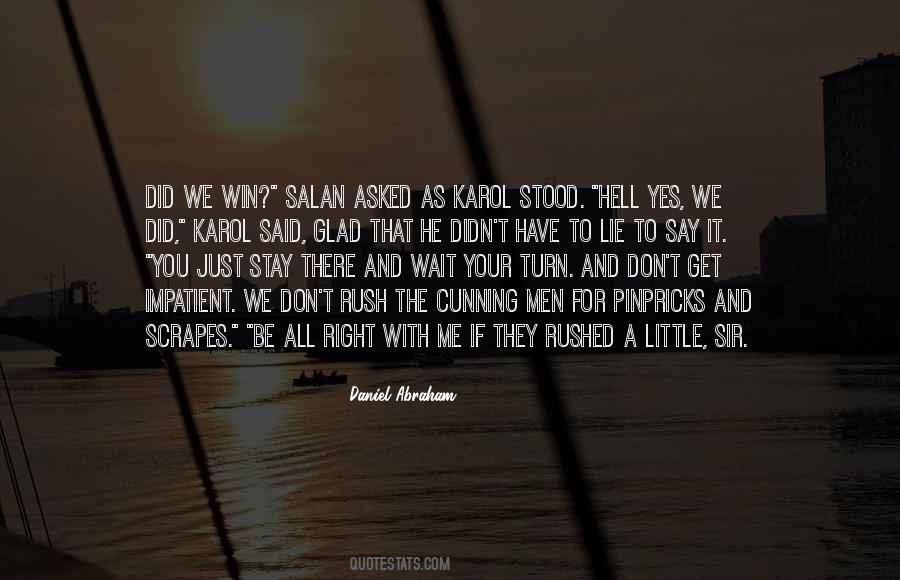 #56. I don't find the songs; they find me. I just strum my guitar and wait for a lyric to come. - Author: James Taylor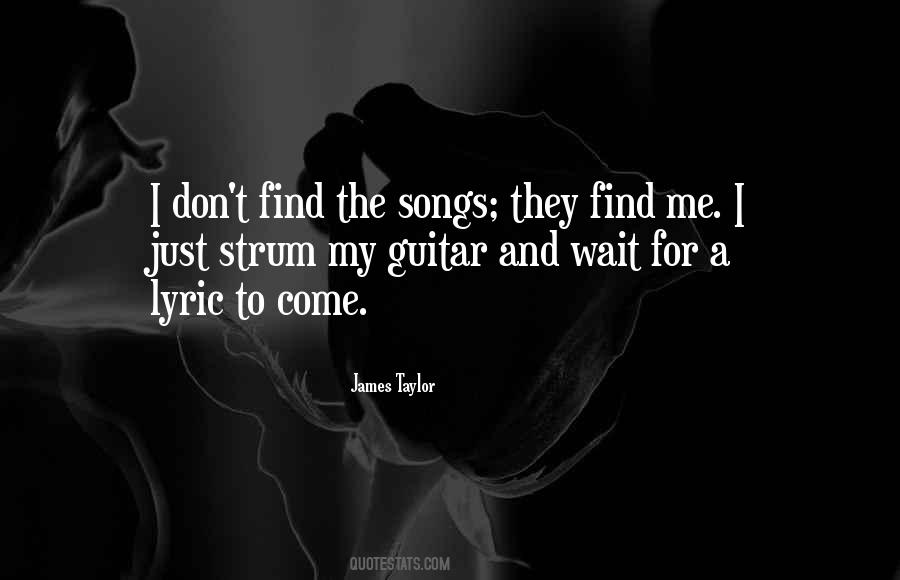 #57. Was it too much to ask you to wait for me? To believe in me? Don't you know how much I love you? - Author: Colleen Houck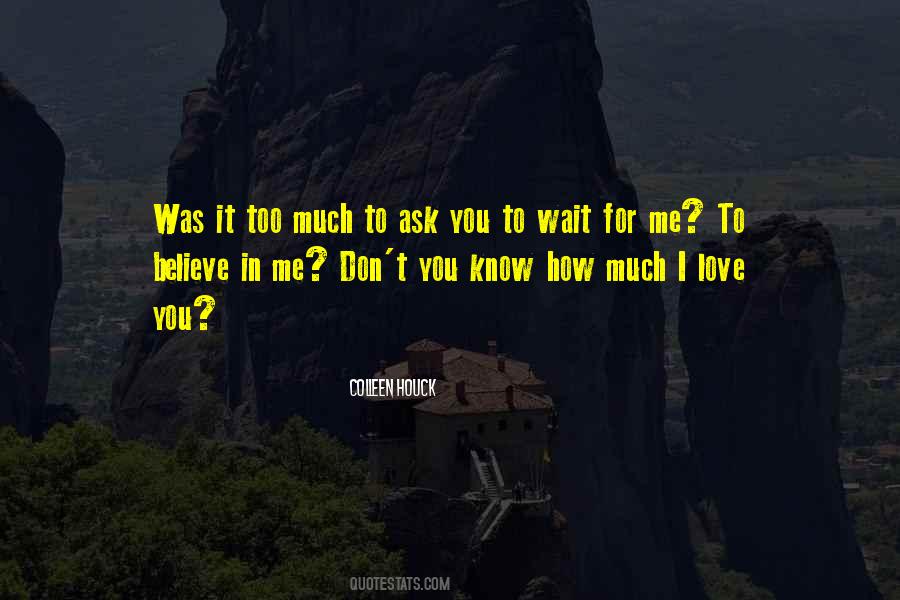 #58. I thought you'd forgotten," she said, legitimately surprised. it had never left her mind
especially in light of recent developments
but she'd thought it had slipped his.
"I don't forget anything," he teased. "Especially something like that. Wait for me, and we'll talk. - Author: Richelle Mead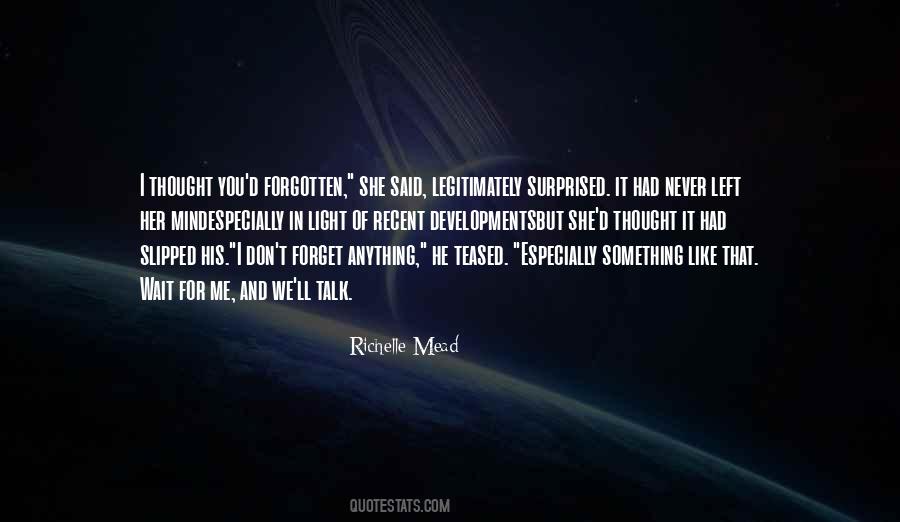 #59. People ask me if I live each day like it's my last, and I don't. I live each day like it's my first, and I can't wait for the next one. - Author: Kris Carr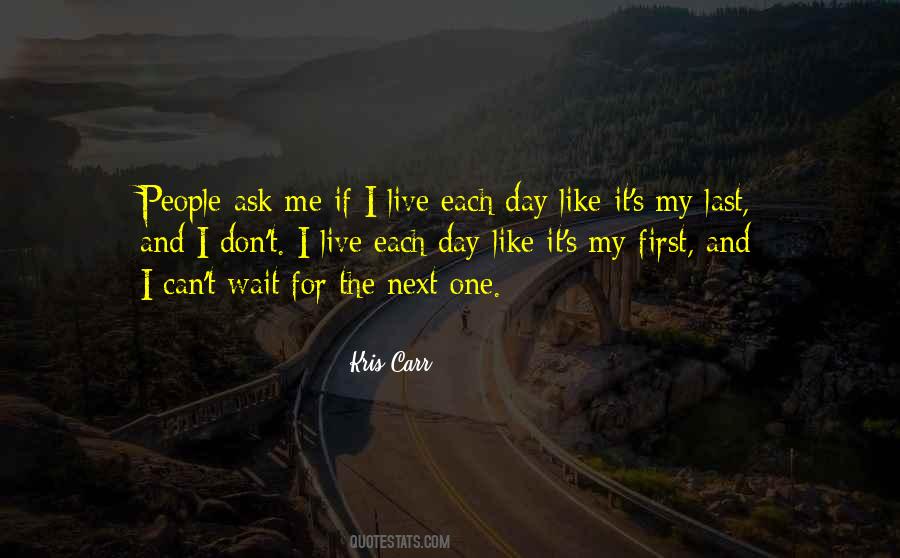 #60. I don't know what to say," he breathed into her hair, squeezing the air from her. "Fuck. Just wait for me."
That was all he needed to say. "I will. - Author: Cherrie Lynn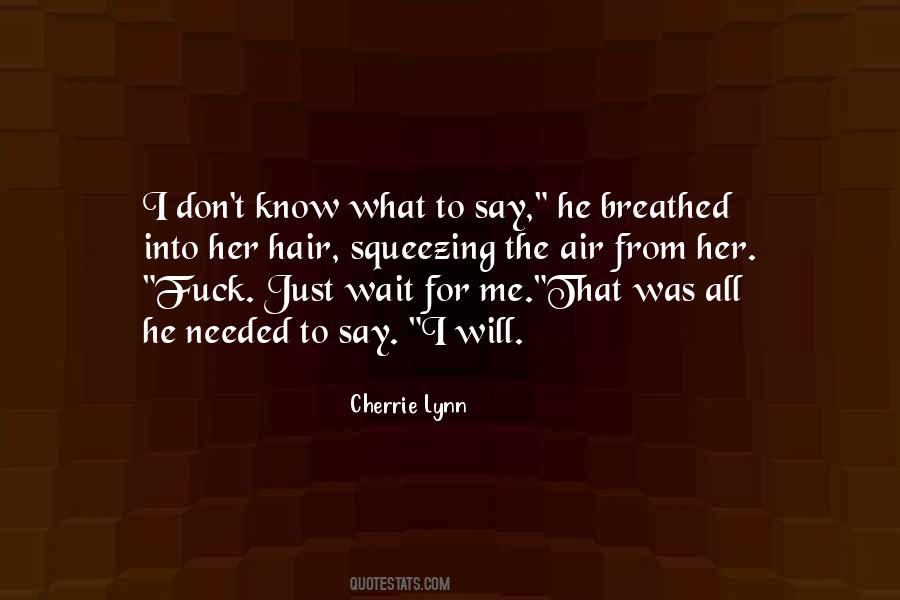 #61. As I brush my long, brown hair, the girl in the mirror with blue eyes too big for her head stares back at me. Wait ... I don't have blue eyes! Then I realize I haven't been looking into the mirror. I've been staring at a poster of Kristen Stewart for five minutes. My own hair is actually fine. - Author: Andrew Shaffer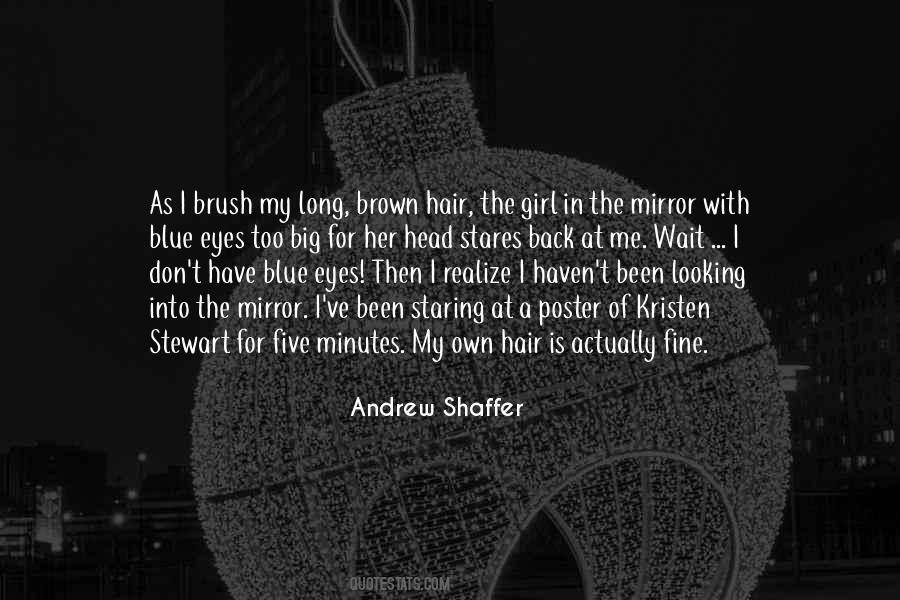 #62. I'm going to kiss you now, Evie, and when I do, it's going to mean that you're mine. I don't care how far away from each other we are. You. Are. Mine. I'll wait for you. And I want you to wait for me. Promise me you won't let anyone else touch you. Promise me you'll save yourself for me. - Author: Mia Sheridan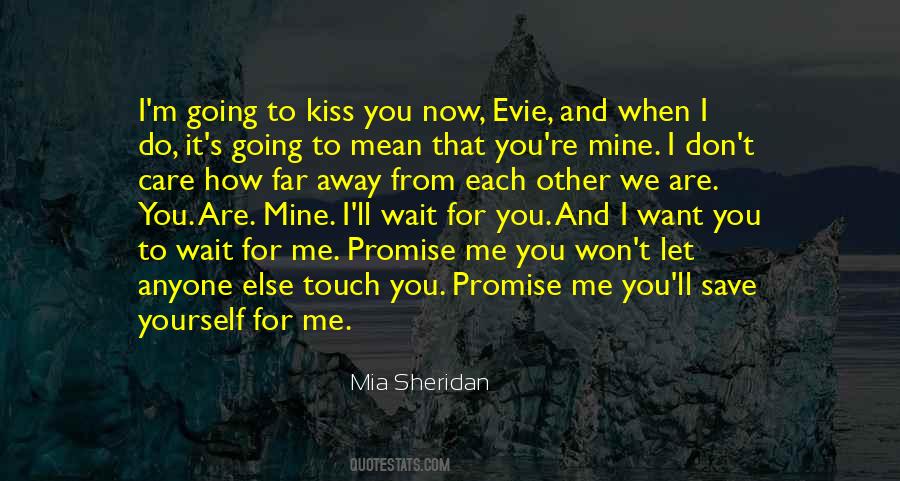 #63. Don't wait for answers, just take your chances. Don't ask me why. - Author: Billy Joel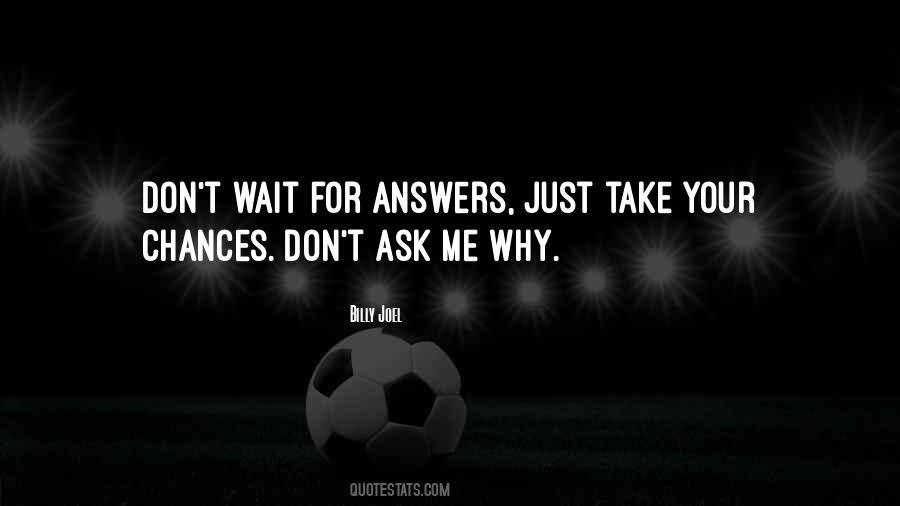 #64. Being broke didn't seem so awful as it had yesterday, being broke but being at peace with the world.
("Don't Wait Up For Me Tonight") - Author: Cornell Woolrich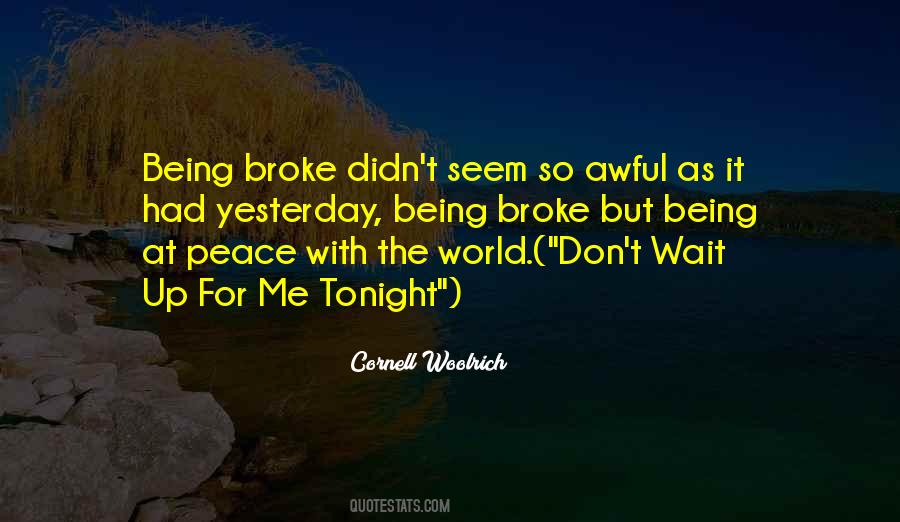 #65. It is impossible for me to get involved in films that I don't like, so I just wait for a project that really tickles my fancy. - Author: Lou Doillon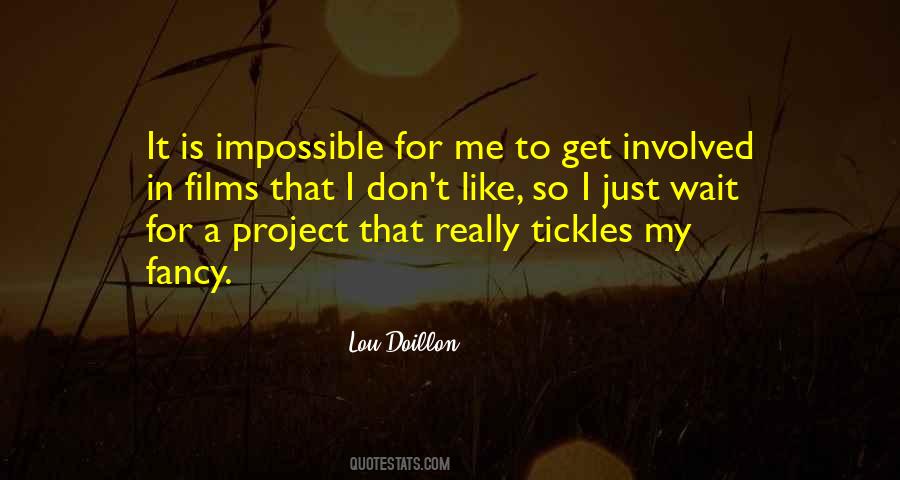 #66. Please don't miss me too much. Please don't be too sad. Find someone else to love, because you have much love to give and it's a gift that shouldn't be wasted. You , Jesse, were the rose that made my life sweet.I will wait for you in heaven. - Author: Lurlene McDaniel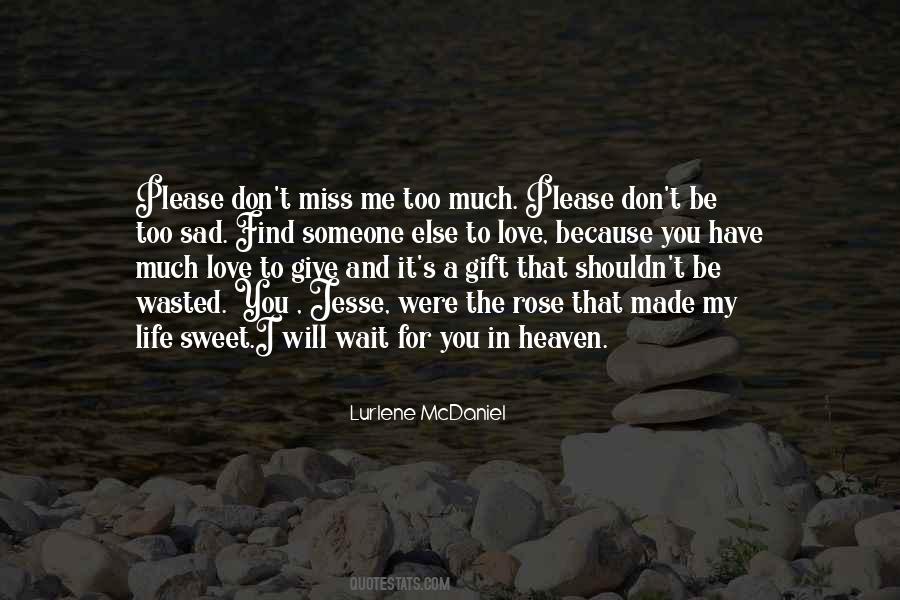 #67. I'll be glad to get out on the water again, and gladder still to see Divvytown. I knew it was my home port that first time I saw it.'
'The pirate town? Sa save us all. Does someone wait for you, dearie?' Ophelia asked.
Jek laughed aloud. 'They all wait for me. They just don't know it yet. - Author: Robin Hobb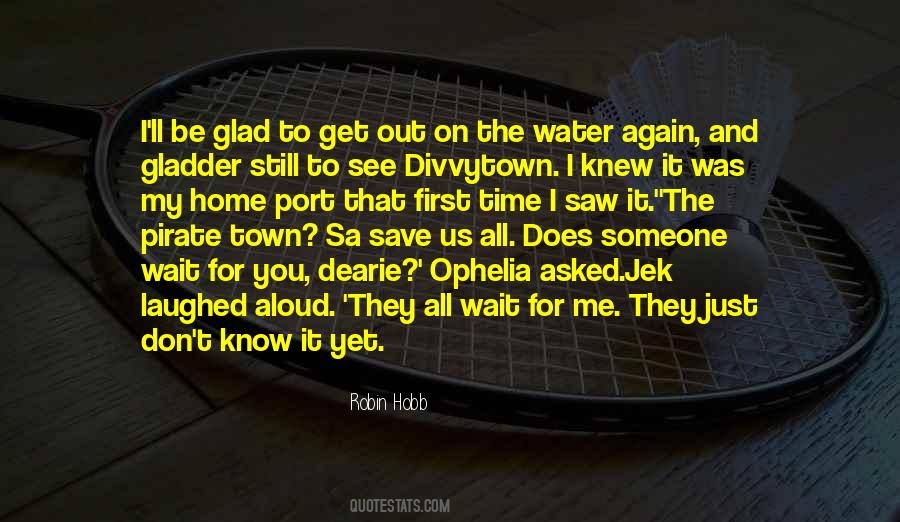 #68. I want her to wait for me. I want her to wait for me so bad. I don't want to think about her ever allowing anyone bedsides me to love her. - Author: Colleen Hoover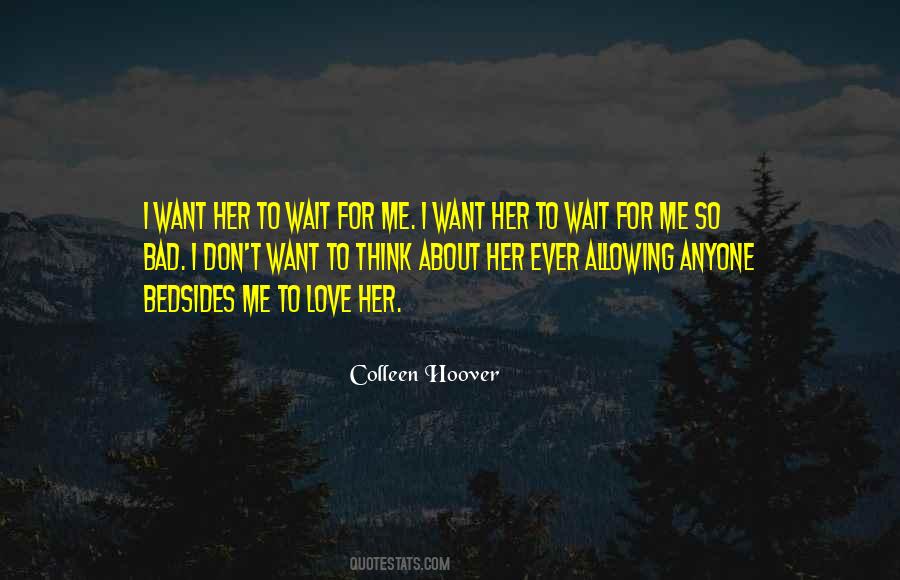 #69. Don't blameme in the morning when you're irrevocably obsessed with me."
"I don't think I need to wait until morning for that to happen, - Author: Lindy Zart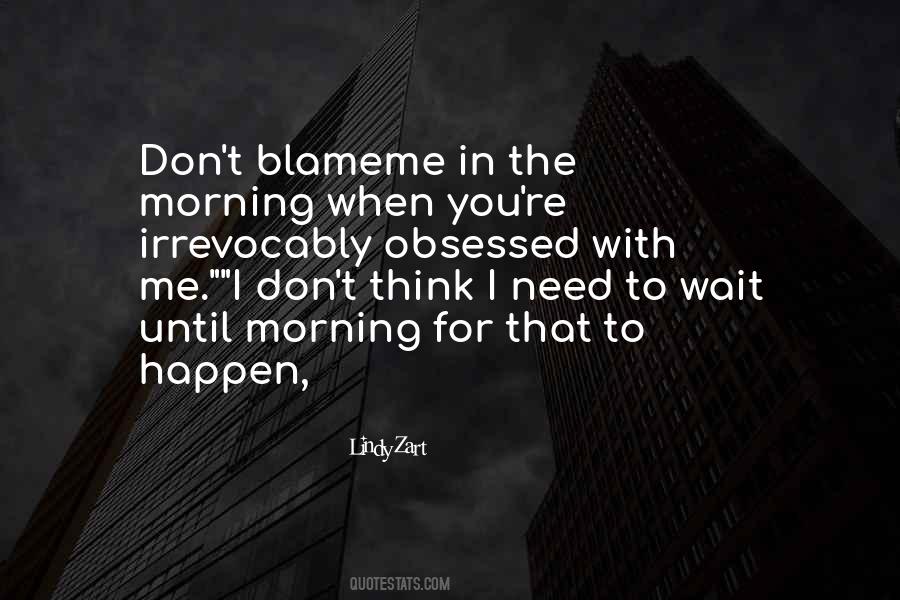 #70. I started out as a writer and a director. I started acting because I wanted to know how to relate to the actors. When people ask me what I do, I don't really say that I'm an actor, because actors often wait for someone to give them roles. - Author: Chadwick Boseman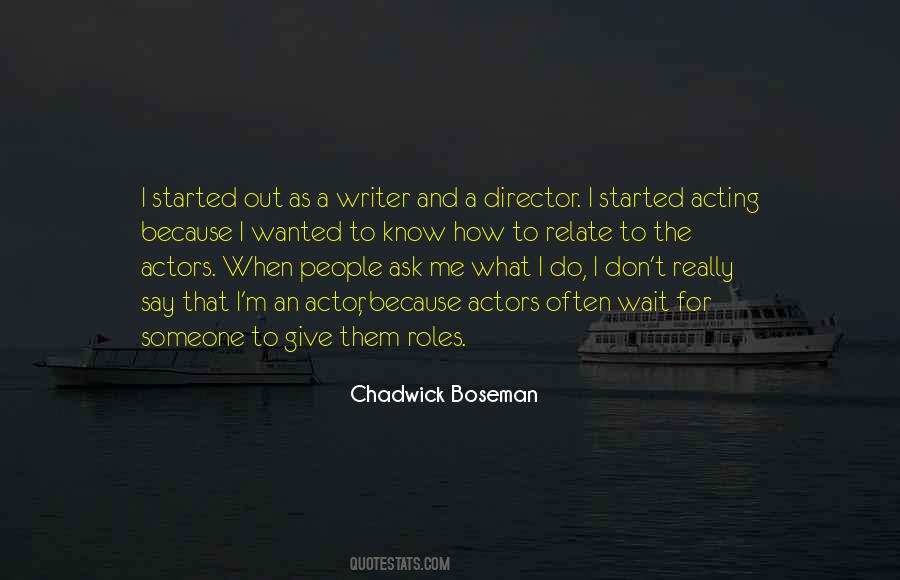 #71. Will you wait for me on the platform then?'
Suki looked at Rollo and cast her eyes upward. 'I suppose so.'
Retra smiled at her. 'Don't you mean, "I guess so"? - Author: Marianne De Pierres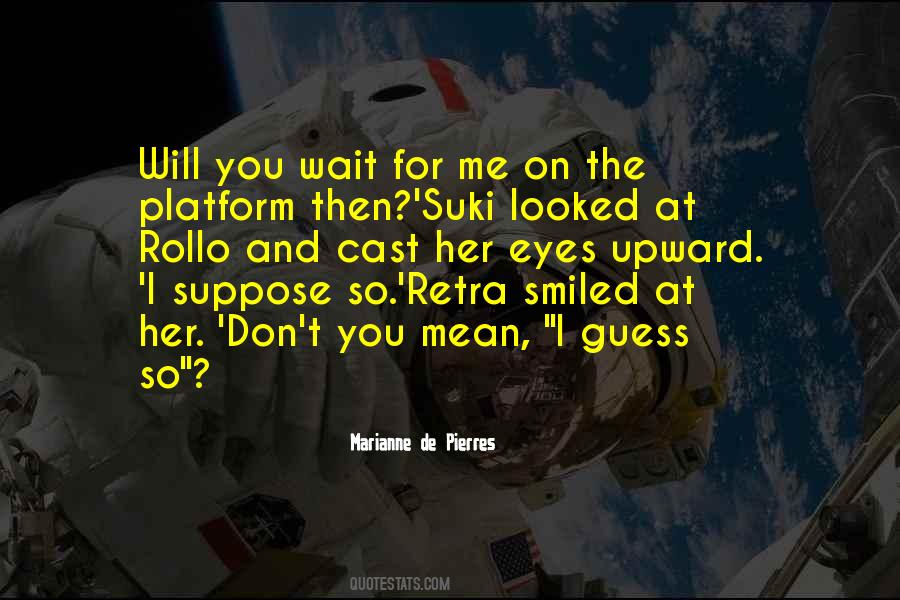 #72. For my Em. Don't wait this long. Come let me love you. - Author: Renee Carlino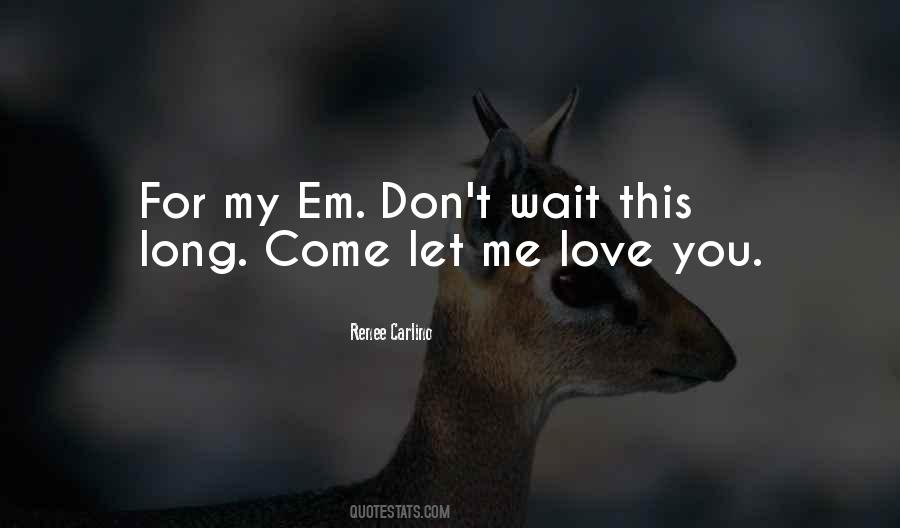 #73. What did one do around here?
Nothing. Wait for summer to end.
What did one do in the winter, then?
I smiled at the answer I was about to give. He got the gist and said, 'Don't tell me: wait for summer to come, right? - Author: Andre Aciman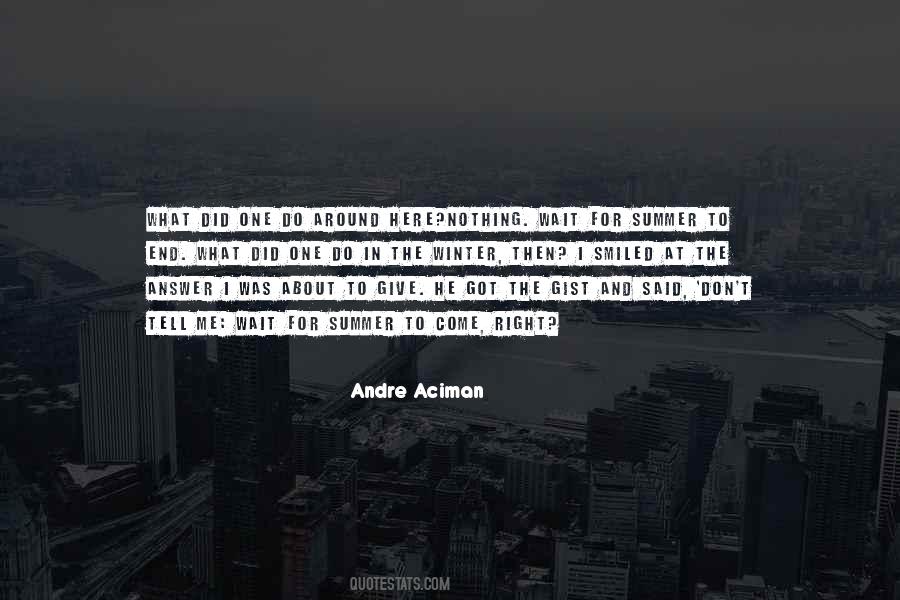 #74. Living inside of all this anxiety is difficult. I don't know if I should grab at life or wait for it to grab me. - Author: Suzanne Hayes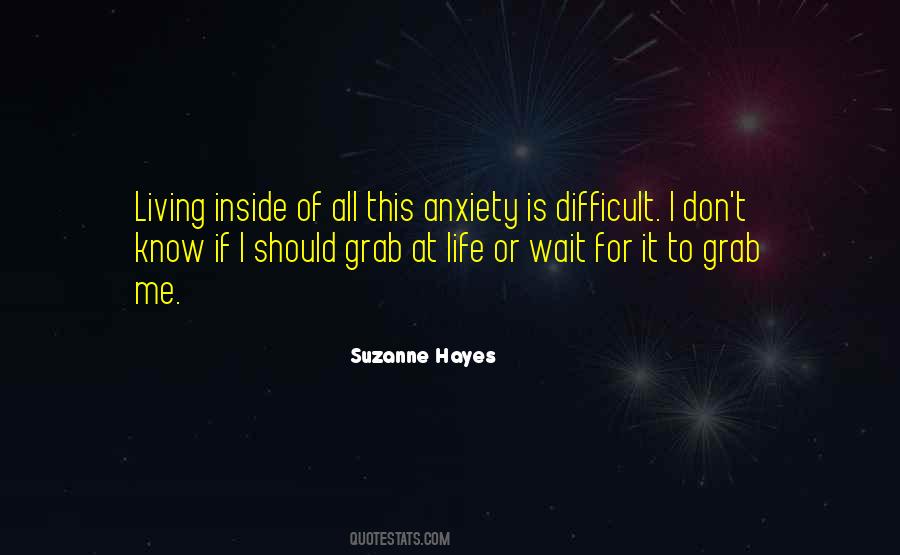 #75. Perhaps you are just close to what you have been waiting for all along and ideas start formulating in your mind and advising you to "give up". Tell them "not me". - Author: Israelmore Ayivor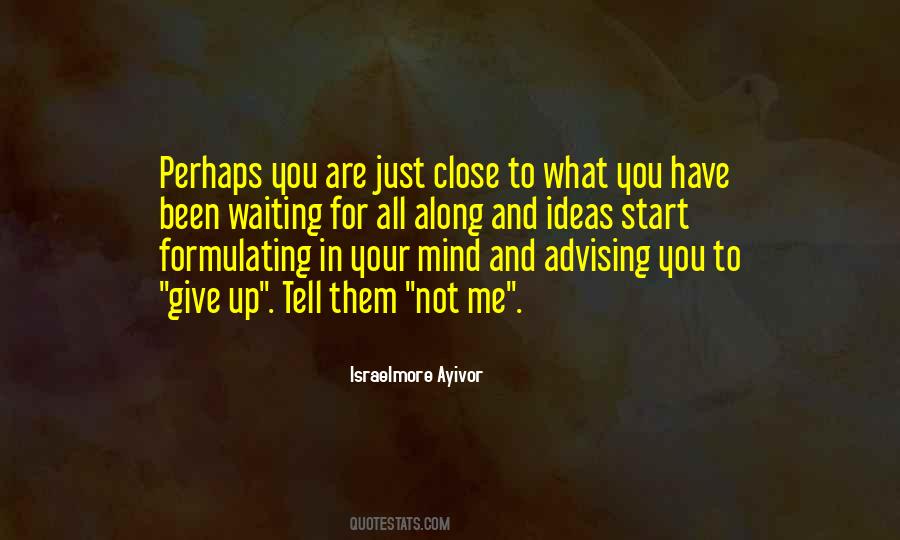 #76. I whispered to him,
You'll regret it if you let me go.
I don't wait for a man, if he's not willing to grow'
He didn't believe me, he made his choice
&
That was the last time, he ever heard my voice. - Author: Nikki Rowe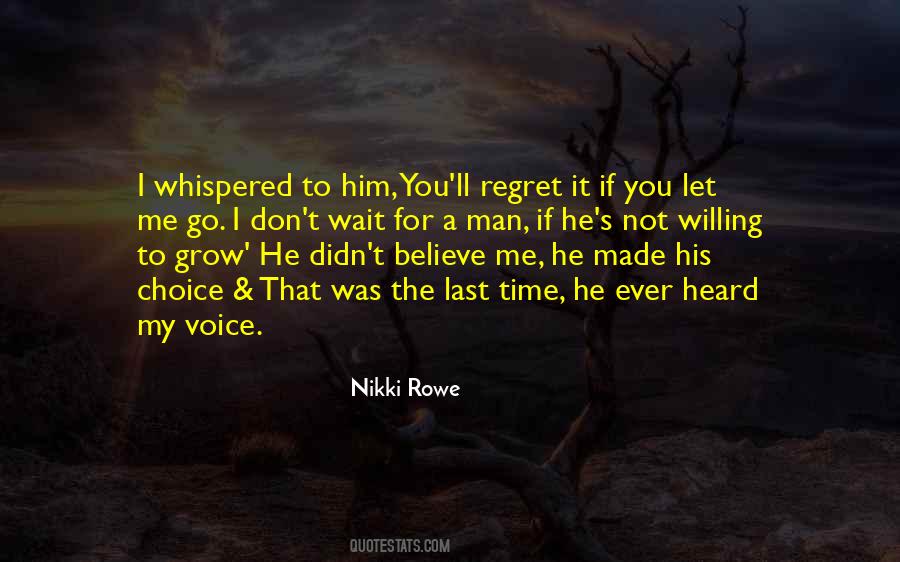 #77. I like both music and acting, and they both have a lot in common - timing, immediacy, stuff like that. But acting is more regimented. You wait around for hours, you don't get to write the script, you get hired. Music represents me better. I'm not acting; I'm just expressing myself. - Author: Lukas Haas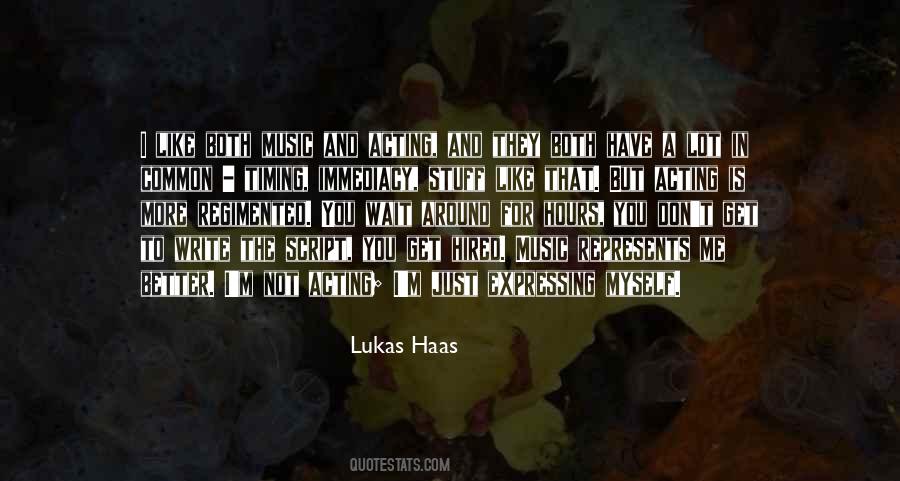 #78. So long, Mom I'm off to drop the bomb So don't wait up for me But while you swelter Down there in your shelter You can see me On your TV - Author: Tom Lehrer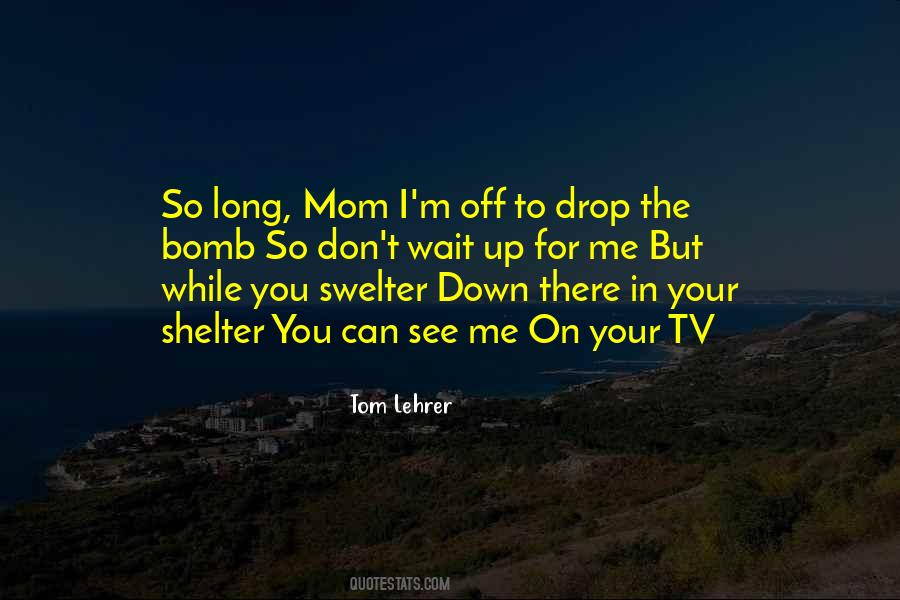 #79. I don't know what it is. I simply can't stand it. It's like a hand reaching out of the dark. It is fear - blind fear as if it were lying in wait somewhere for me. - Author: Erich Maria Remarque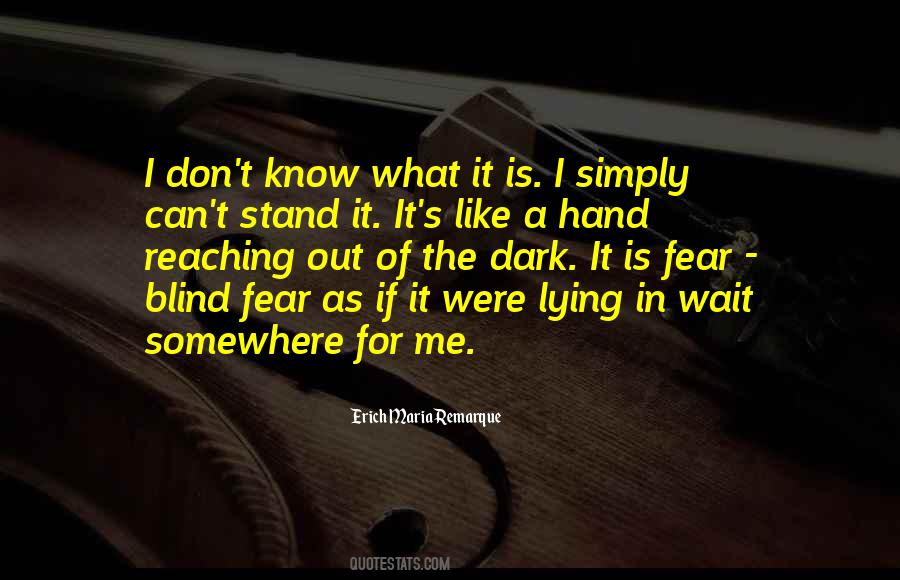 #80. I've just always been very aware and careful of everything, so that I can be ready for the perfect opportunities as they come. I don't take anything for granted or wait for anything to come to me. - Author: Katy Perry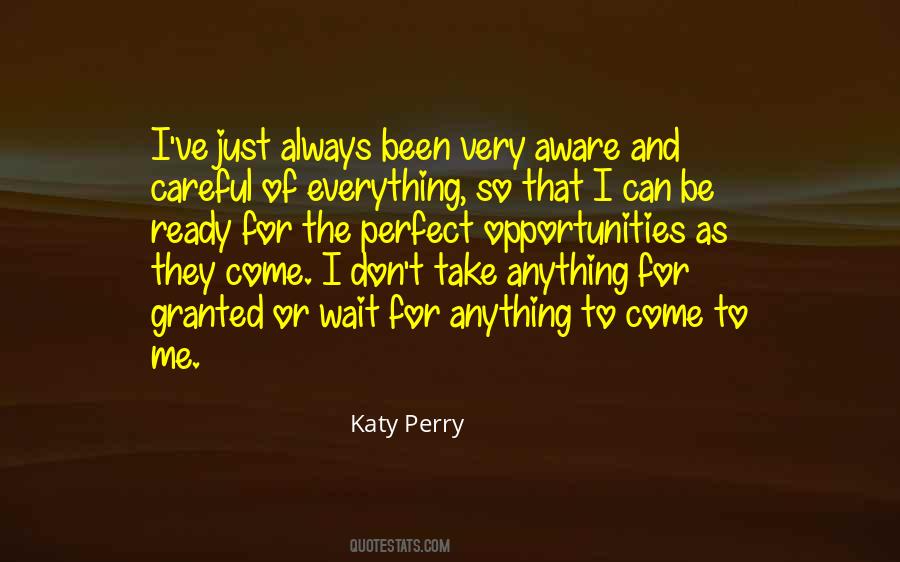 #81. PLUTO is the limit for me.
Someday they will spell victory with my T. That day is Today. Don't wait for the green light. Rise, poise, beauty, youth, wear a smile, put some style, straighten those shoulders and walk out BOLD. - Author: Me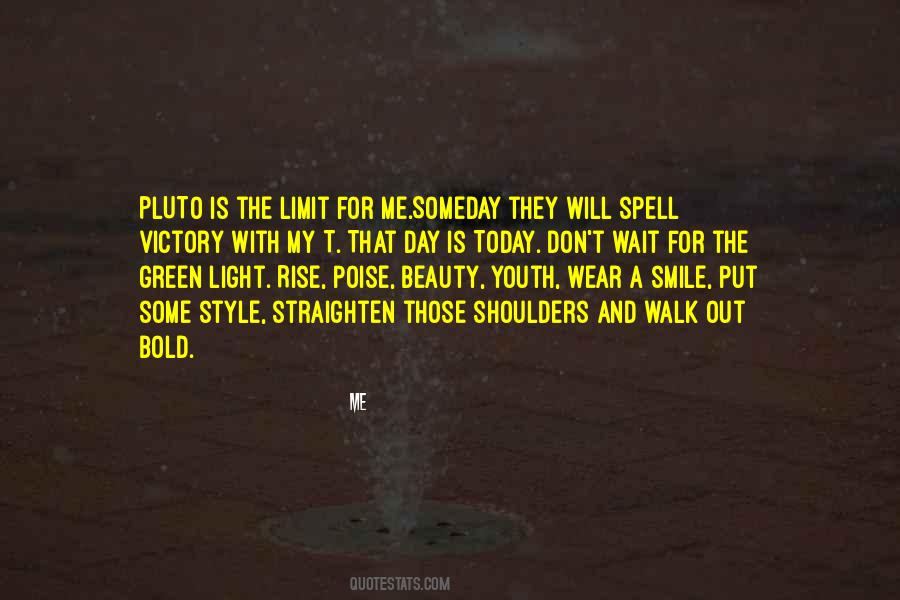 #82. Don't get me wrong, marriage is good. Good for other people."

"Oh, honey, I can't wait till it's your turn. You are going to be so fun to watch when you fall in love."

"That may just be the meanest thing you have ever said to me. - Author: Laurie Roma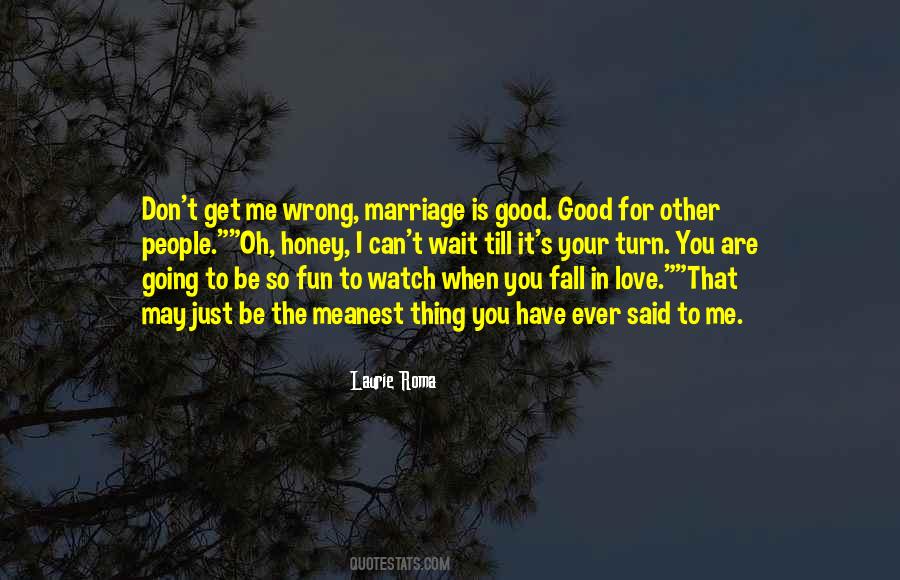 #83. Izzy -I don't know why you'd wait for me, but if you do, I promise to make myself worth that wait. Or I'll try. I can promise I am going to try. - Author: Cassandra Clare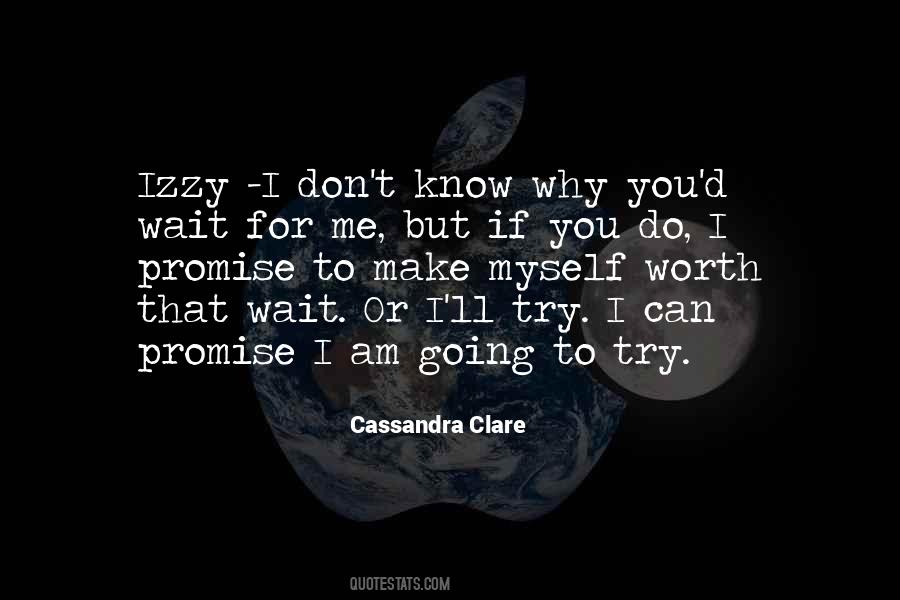 #84. Morning has animated something in me, too, some dormant thing that for years has known only how to sit and wait. Get a move on, it says. Don't let the day get away. - Author: Isla Morley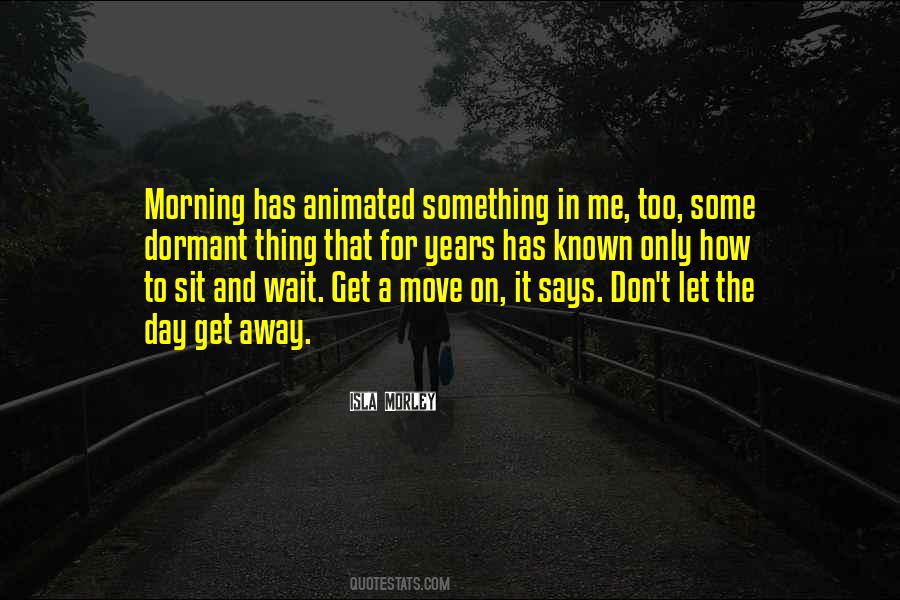 #85. At times, I get very lonely because people are afraid to talk to me or don't wait for me to write a response. I'm shy and tongue-tied at times. I find it difficult to talk to people who I don't know. - Author: Stephen Hawking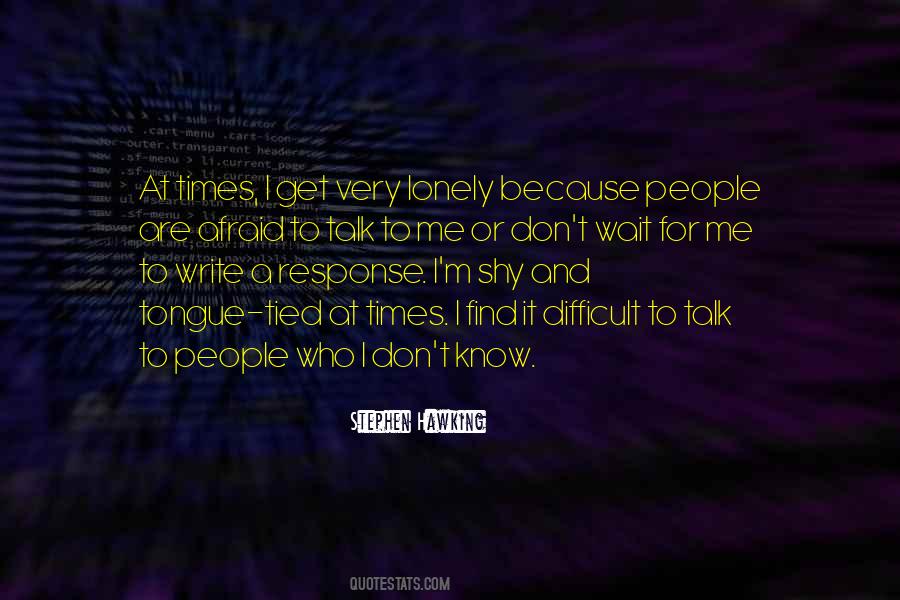 #86. You'll find another.'
God! Banish the thought. Why don't you tell me that 'if the girl had been worth having she'd have waited for you'? No, sir, the girl really worth having won't wait for anybody. - Author: F Scott Fitzgerald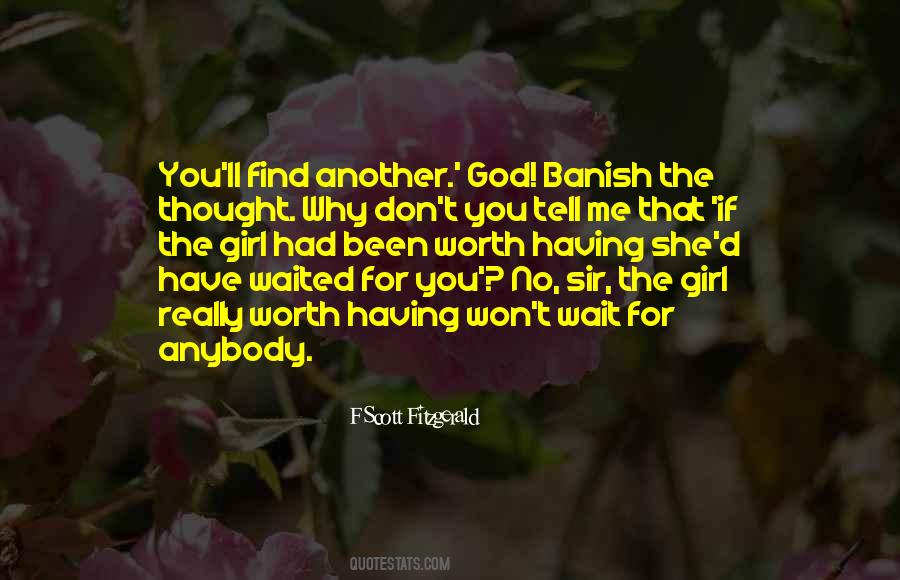 #87. So when I'm killed, don't wait for me, Walking the dim corridor; In Heaven or Hell, don't wait for me, Or you must wait for evermore. You'll find me buried, living-dead In these verses that you've read. - Author: Robert Graves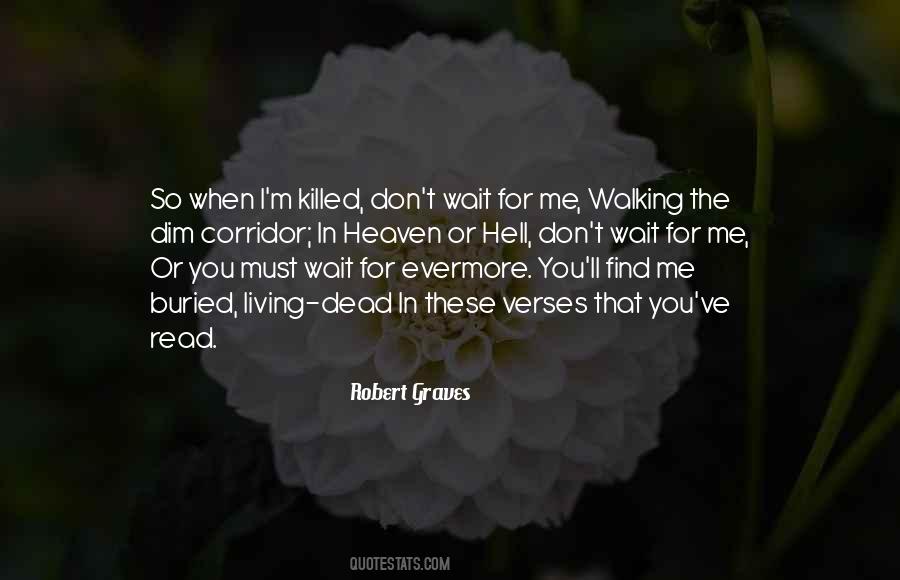 #88. Still, I'm lucky: I feast on solitude, I will never miss the crowd. I could read the great books but the great books don't interest me. I sit in bed and wait for the whole thing to go one way or the other. just like everybody else. - Author: Charles Bukowski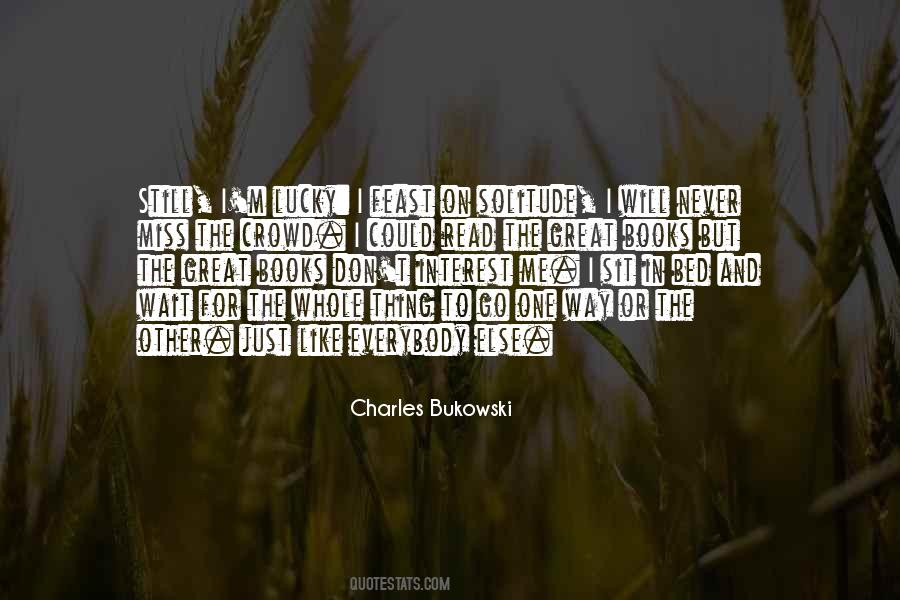 #89. and - wait, I'm sorry, did you call me Ryan Theodore?" She waves her hand as if the question is inconsequential. "I don't know your middle name so I had to make one up. Because, sweetie, you really needed to be middle-named for mangling those poor onions. - Author: Sarina Bowen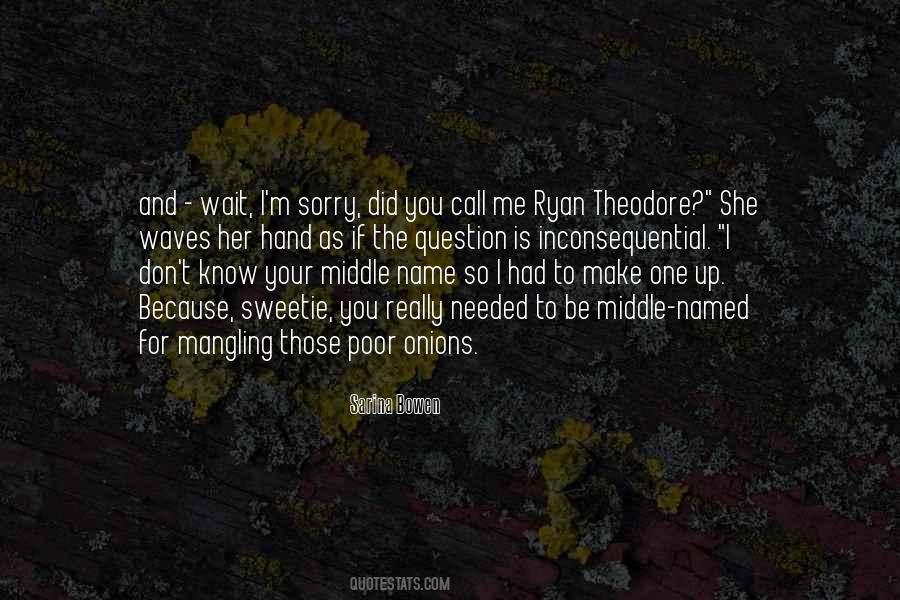 #90. I'm living my life waiting for the man who comes for me like one did for Anna, with hungry eyes behind the wheel and rope in the trunk. I'm ready. But I don't know how much longer I can wait. - Author: Mindy McGinnis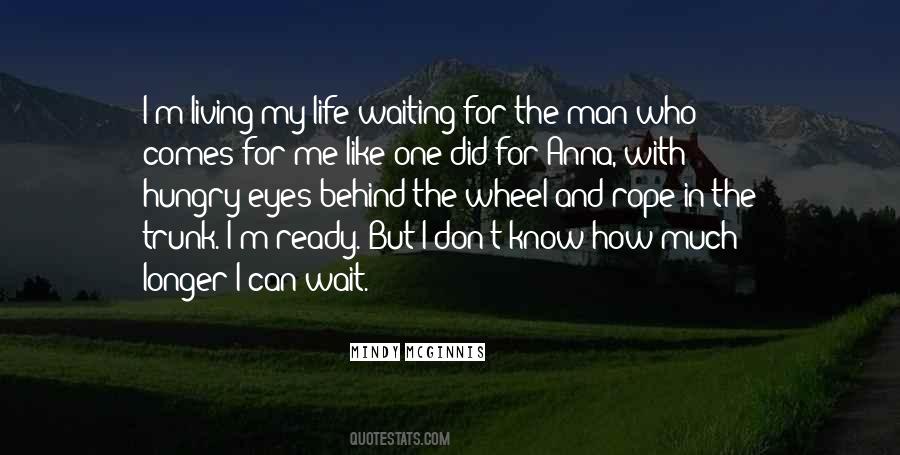 Famous Authors
Popular Topics