Before You Speak Famous Quotes & Sayings
List of top 100 famous quotes and sayings about before you speak to read and share with friends on your Facebook, Twitter, blogs.
Top 100 Before You Speak Quotes
#1. Before you go further,
let me tell you what a poem brings,
first, you must know the secret, there is no poem
to speak of, it is a way to attain a life without boundaries ... - Author: Juan Felipe Herrera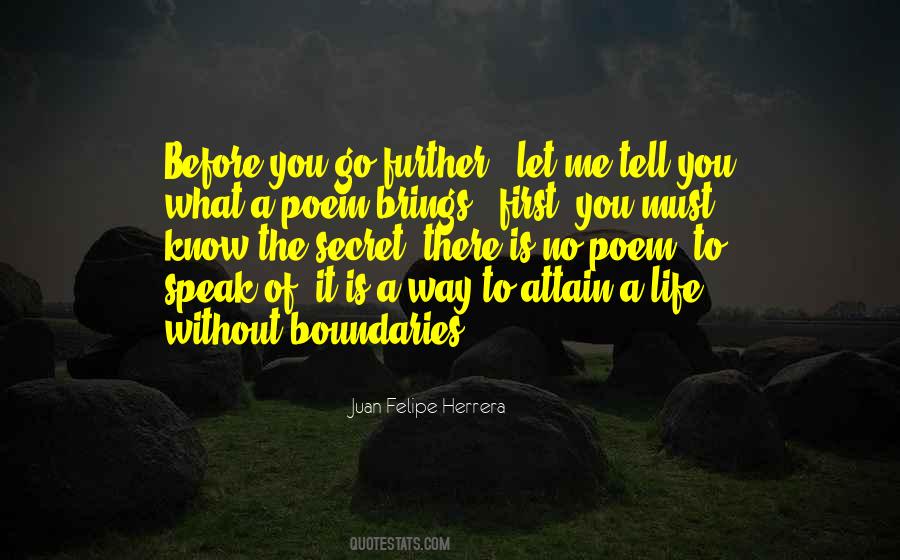 #2. You stand before a god! Speak your eloquence for all posterity. Be Profound!"
"Profound ... huh." Temper was silent for a long moment, studying the cobbles of the alley mouth. And then he lifted his helmed head faced Shadowthrone, and said "Fuck off. - Author: Steven Erikson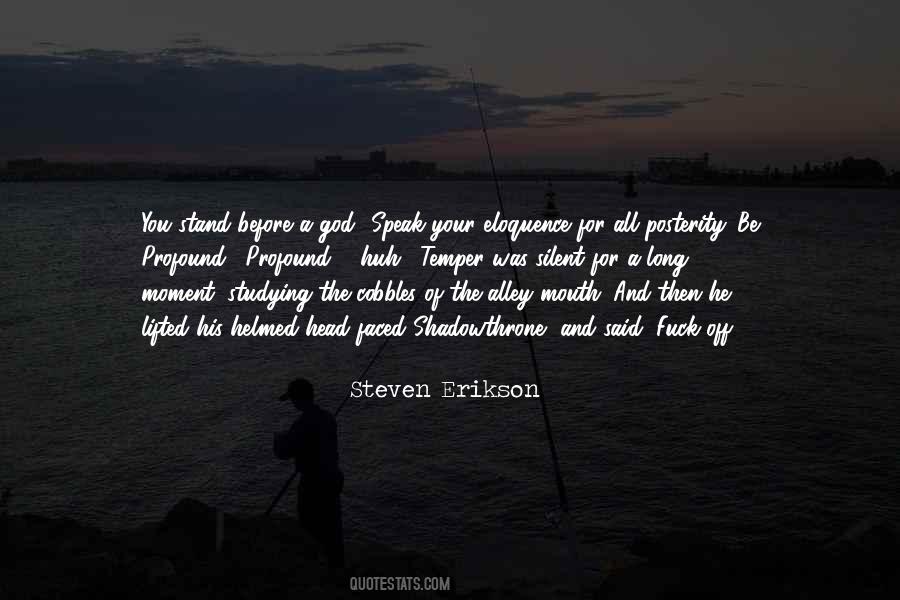 #3. Think before you speak is criticism's motto; speak before you think, creation's. - Author: E. M. Forster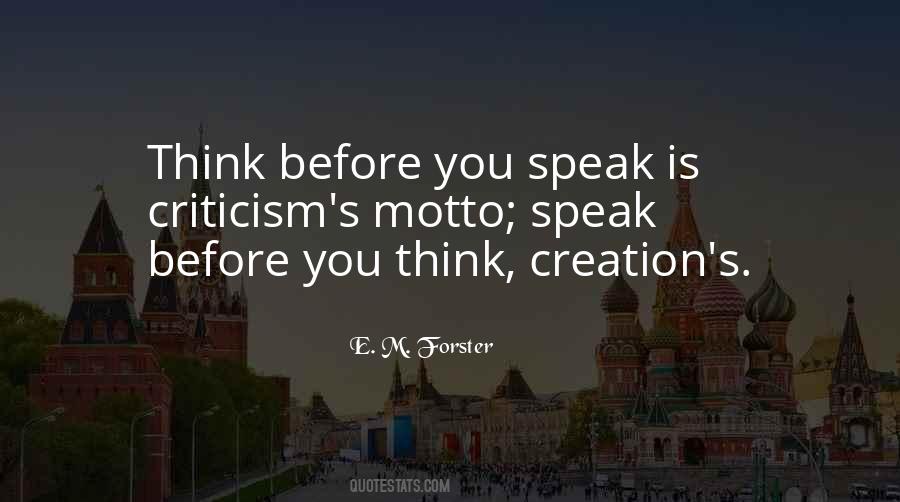 #4. Before you speak, ask yourself: Is it kind, is it necessary, is it true, does it improve the silence? - Author: Sathya Sai Baba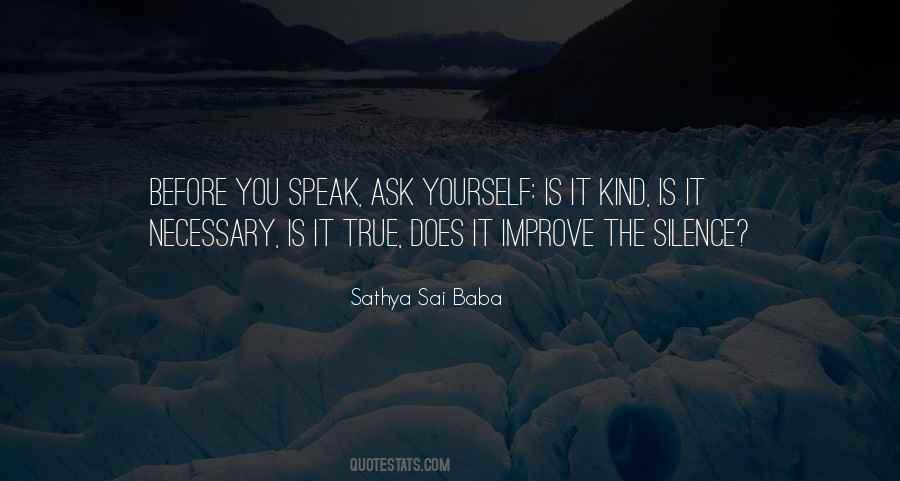 #5. Seek to understand before you speak as if you understand. - Author: Johnnie Moore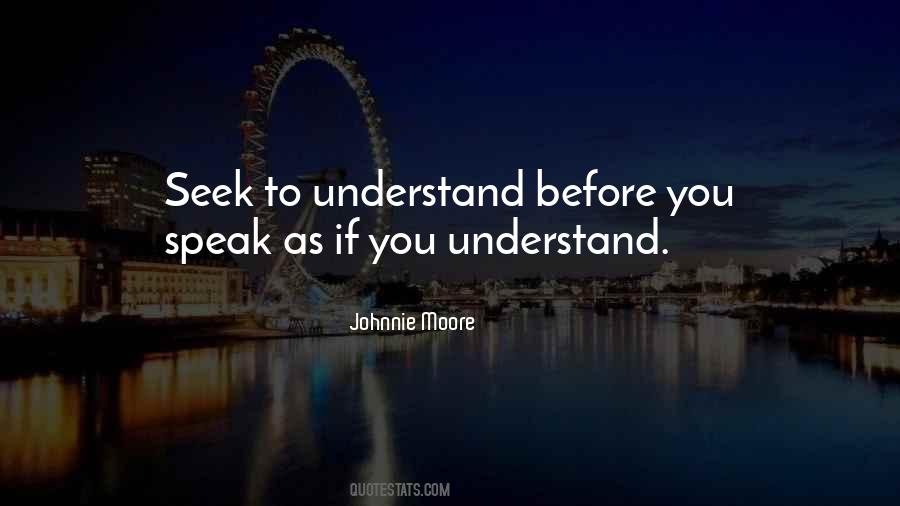 #6. You are master of what you say until you utter it, once you deliver it, you are its captive. Preserve your tongue as you do your gold and money. One word could bring disgrace and the termination of a bliss. - Author: Hazrat Ali Ibn Abu-Talib A.S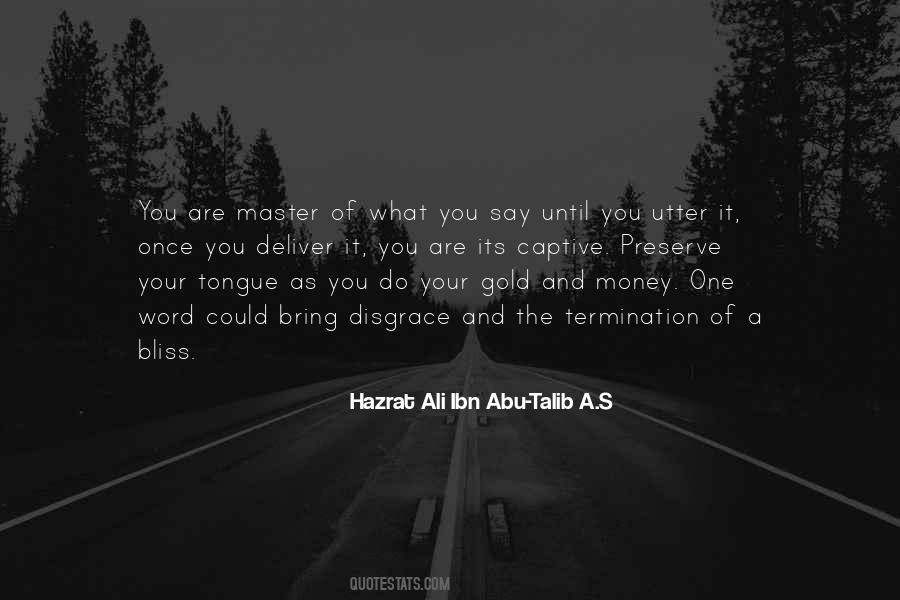 #7. But I think you should be careful, Batyushka, that God does not speak in the voice of your own wishing. We have never needed saving before. - Author: Katherine Arden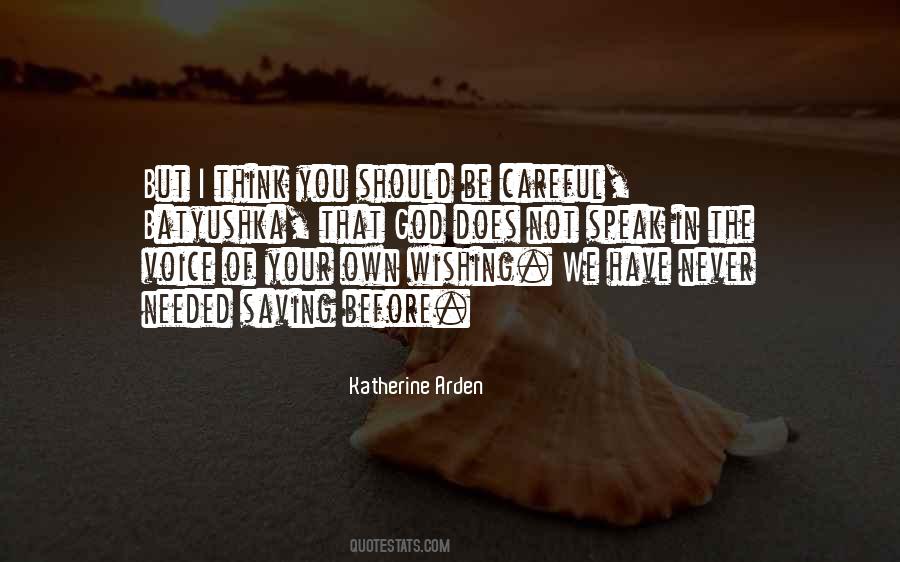 #8. Think before you speak. Your own words can cure or curse you. The power in your tongue can spill blessings or lessons. - Author: Bianca McCormick-Johnson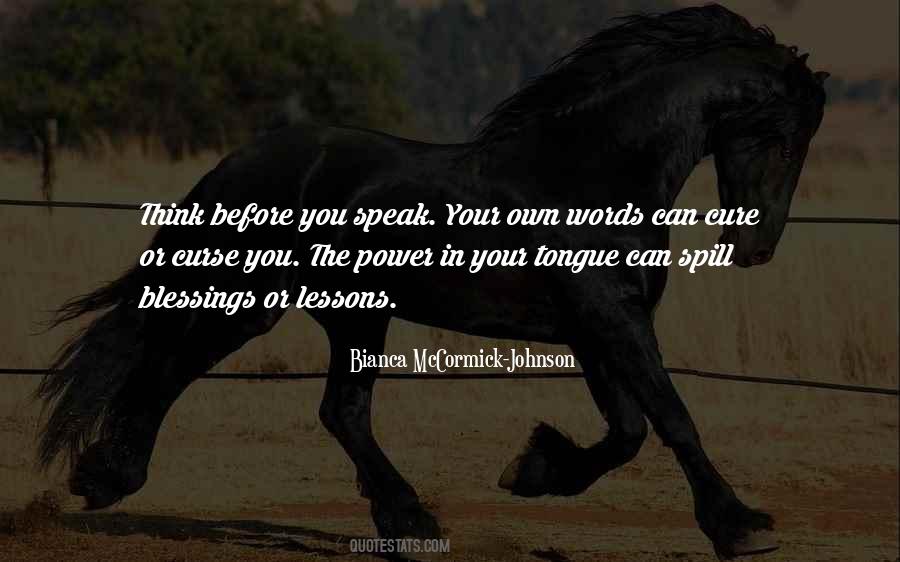 #9. Mrs. Leigh-Waters looked even more distressed. "Oh, Louisa, you mustn't ... "
"Speak ill of the dead?" Daniel asked, before Louisa could answer. "It's not the done thing, no, but death doesn't change what a person was in life. - Author: Jennifer Ashley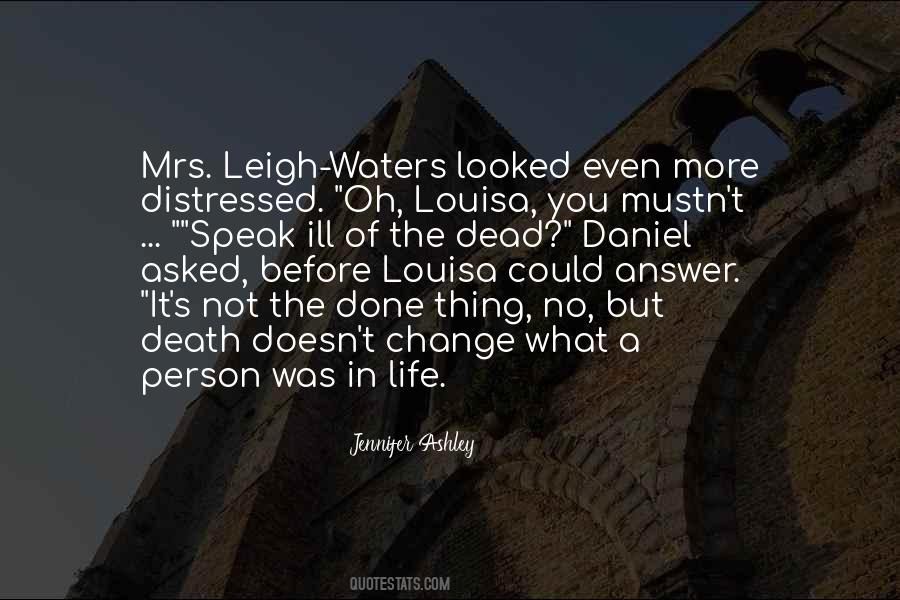 #10. Stop changing the subject," Taylor snapped. "And think before you speak."
Roo pressed her lips together and then sighed. "How long do you want me to think?"
Niall let out a snort of laughter. - Author: Barbara Elsborg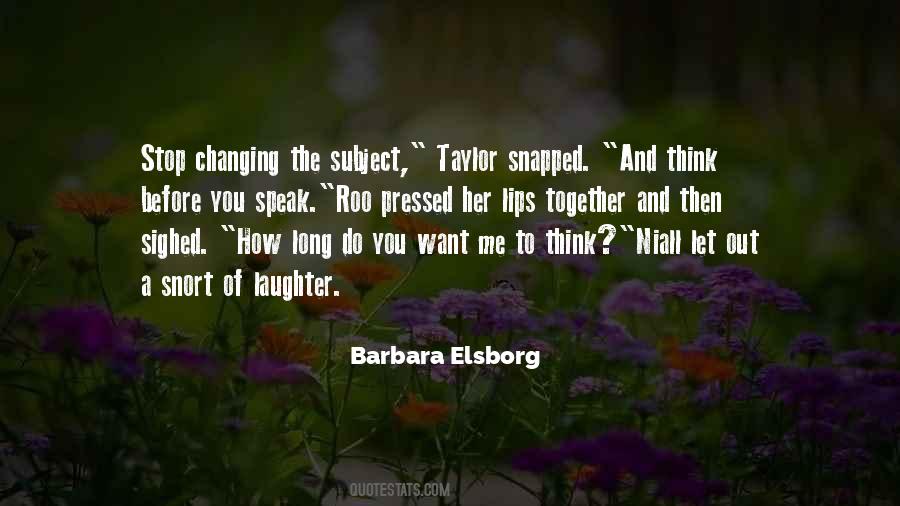 #11. Practice, practice, practice in speaking before an audience will tend to remove all fear of audiences, just as practice in swimming will lead to confidence and facility in the water. You must learn to speak by speaking. - Author: Dale Carnegie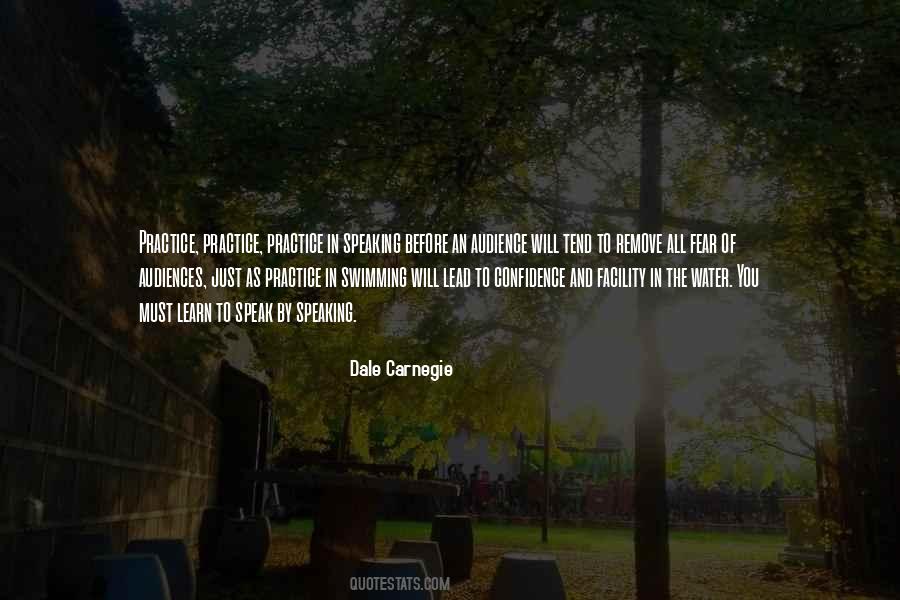 #12. Hear twice before you speak once. - Author: Anonymous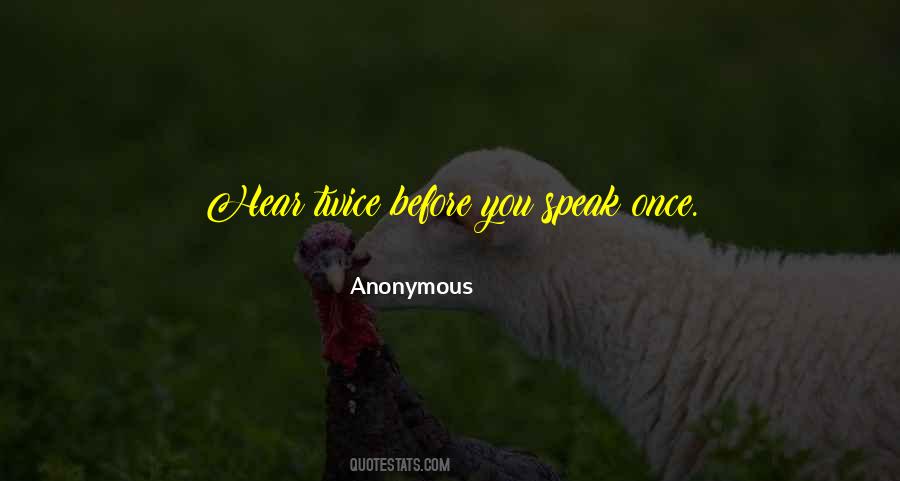 #13. Before you speak, my friend, remember, a spiritual man contain his anger. Angry words are like slap in de face. - Author: Chris Abani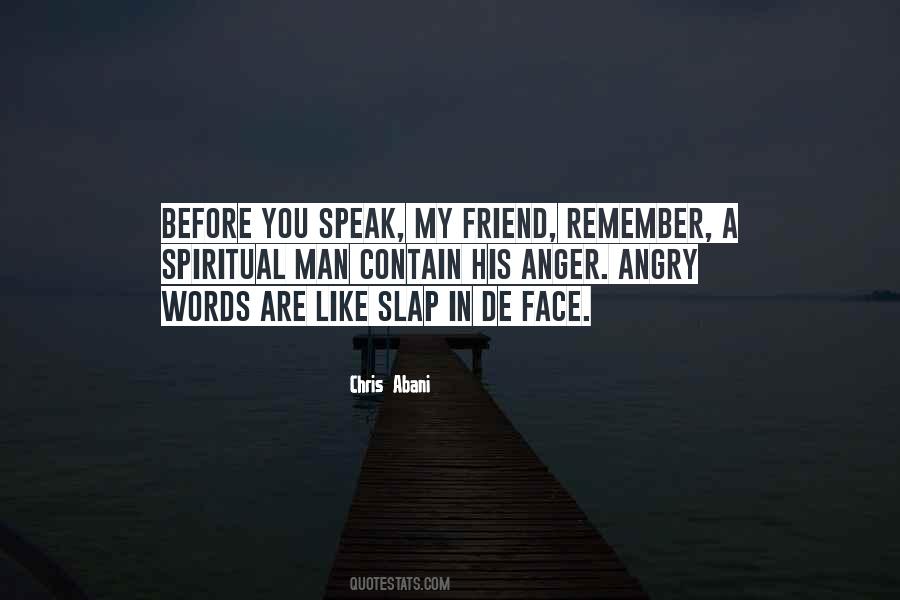 #14. I must leave you, Claudia. 'Tis unlikely we will have another opportunity to speak alone again before tomorrow." His lips brushed against hers in a kiss so brief that it was over almost before she realized it began. "Do not kiss anyone else until then. I want you to save your kisses for me. - Author: Elizabeth Elliott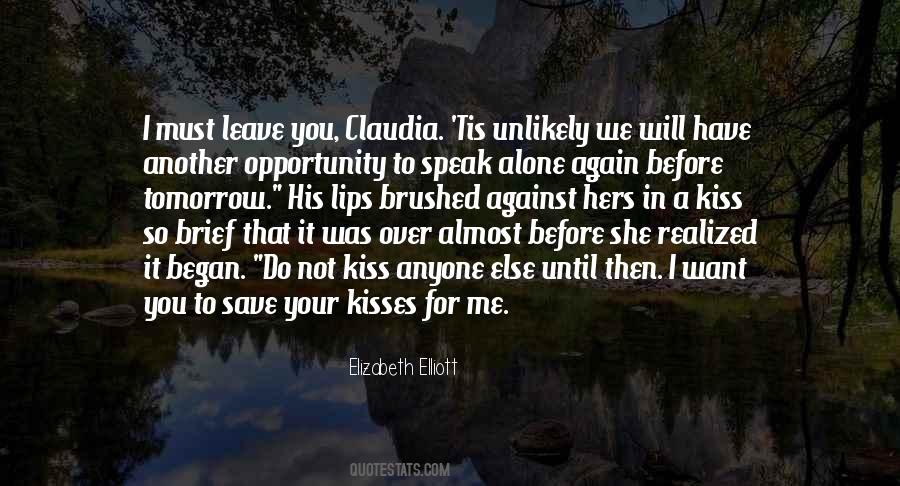 #15. Life isn't about just talking, it's about thinking too. - Author: Marie Symeou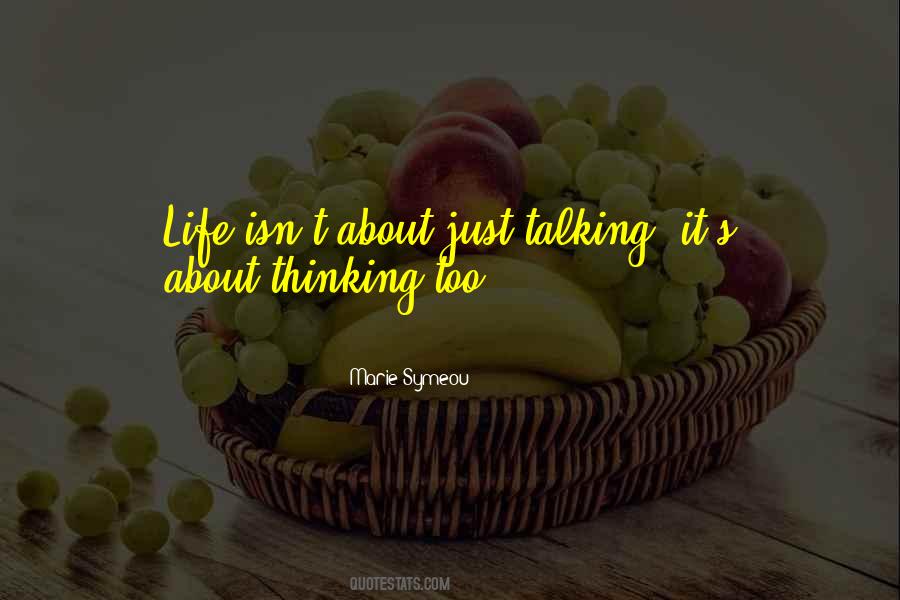 #16. The best thing you can do is to be a woman and stand before the world and speak your heart. - Author: Abbey Lincoln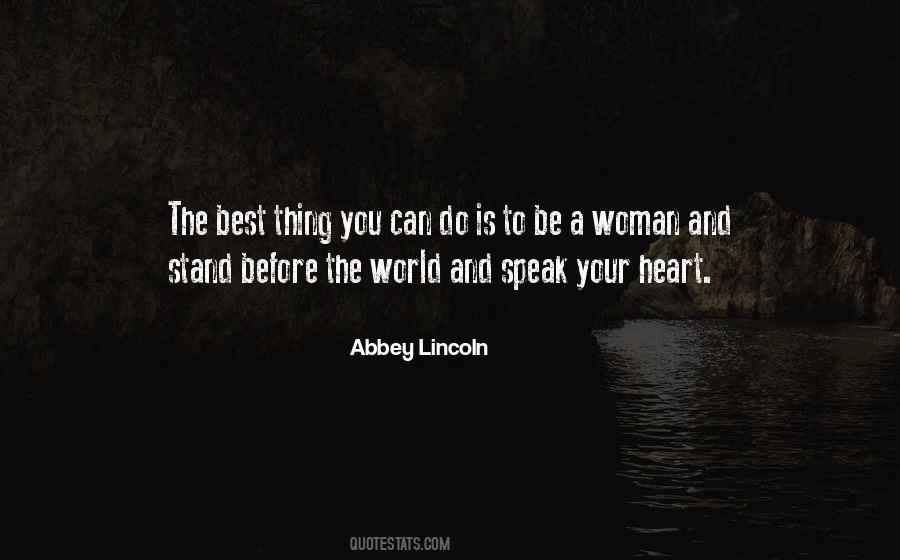 #17. Think before you speak, think twice before you shout, think three times before you go mad. - Author: William, Saroyan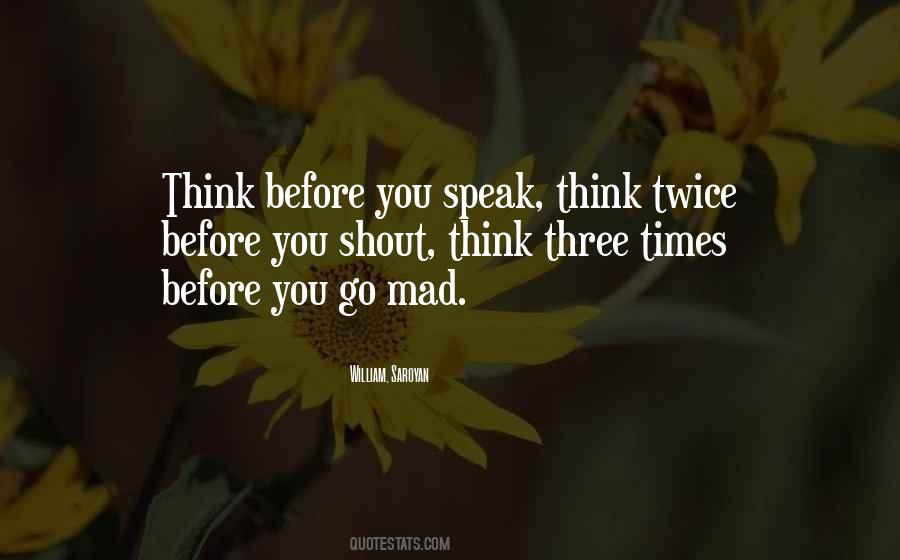 #18. Before you speak, it is necessary for you to listen, for God speaks in the silence of the heart. - Author: Mother Teresa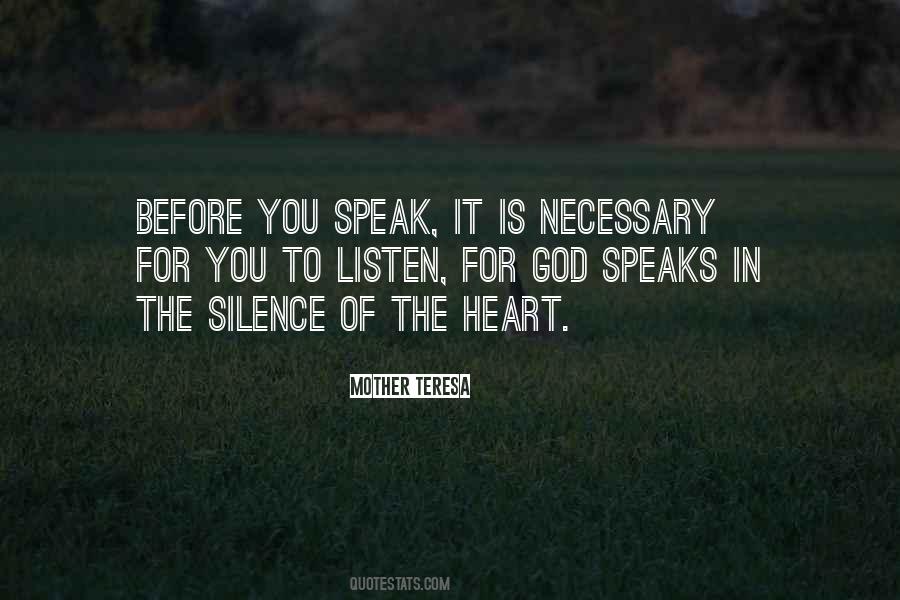 #19. puts her little finger in my face. "I don't speak Behemoth, so I'll talk slow. You should learn some manners before the villagers chase you with fiery torches. You shouldn't go around putting your hands on people, no matter how hot you are. - Author: Alexa Riley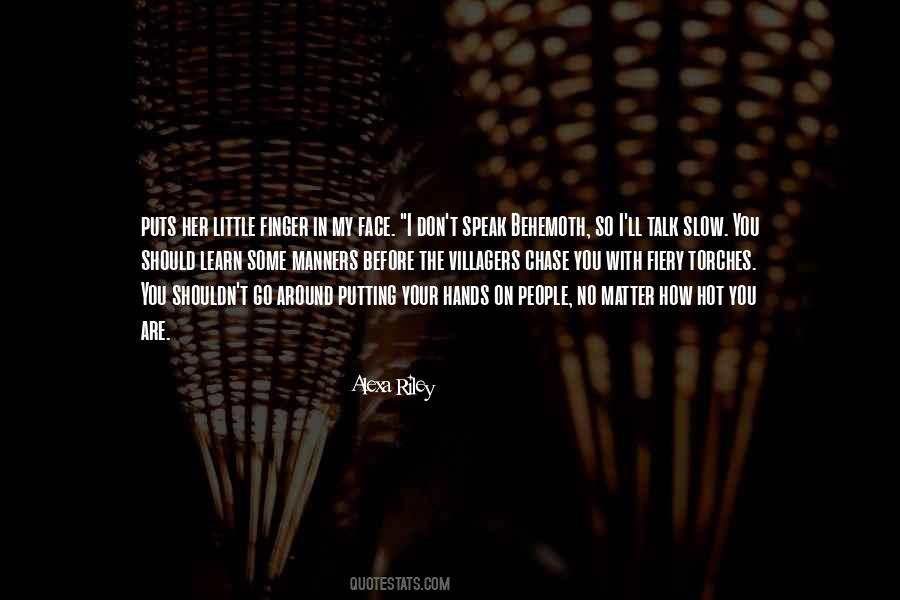 #20. Siarad Cymraeg?" said Old Shacob.
"He wants to know if you speak Welsh," said the surveyor.
"NO!" yelled the official at the old man before him.
"Tamn it all; his language, man!" shouted Dan. "What you expect in Wales - Chinese, or what?! - Author: Geraint Goodwin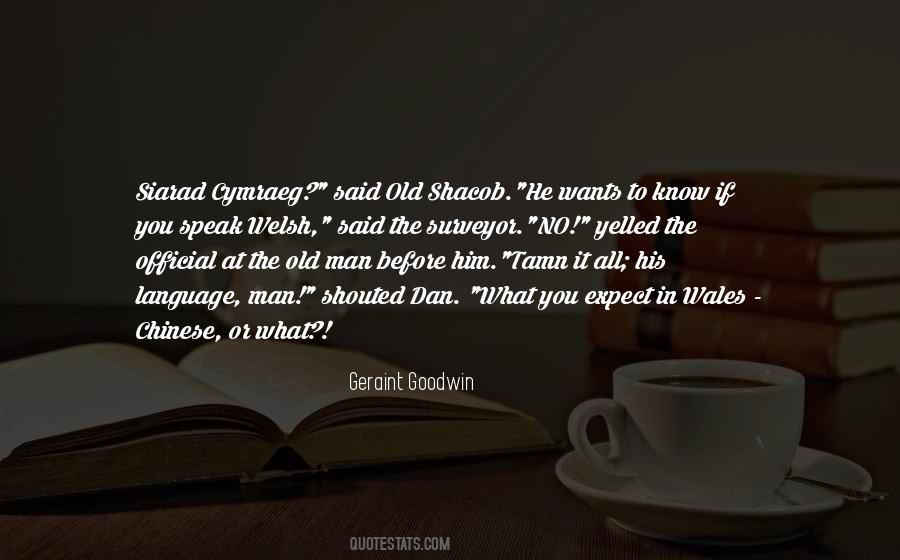 #21. Go a little easy on the people around you. Try to reel in judging thoughts. Think before you speak. - Author: John Manning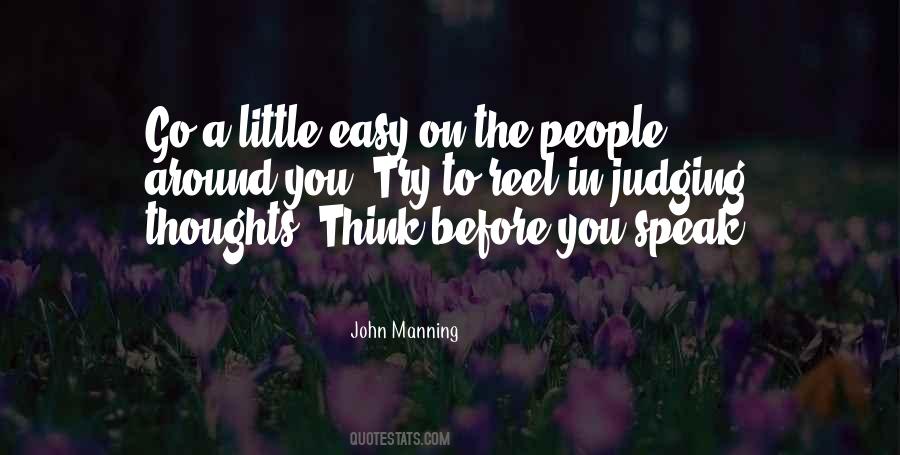 #22. It is only the young and callow and ignorant that admire rashness. Think before you speak. Know your subject. - Author: Cass Gilbert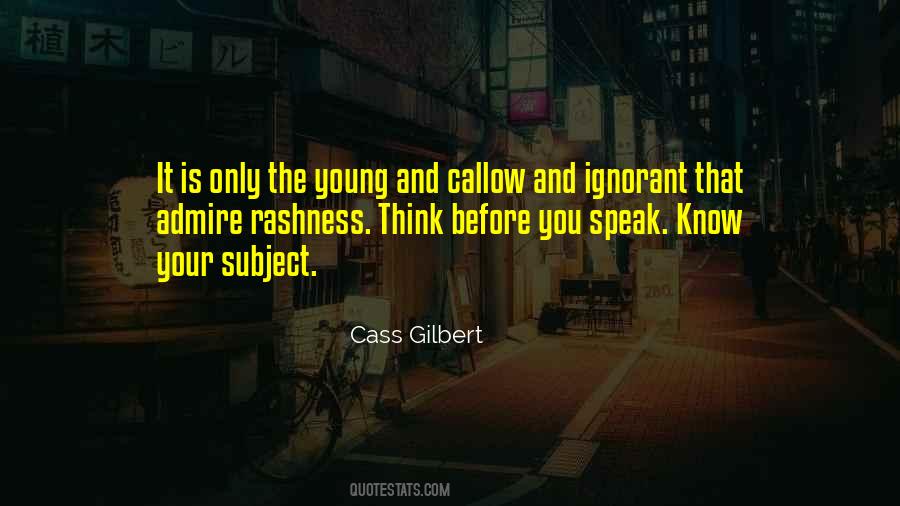 #23. Before you can speak the truth with your lips you must know truth in your heart.
Psalm 15:2 - Author: Deborah Brodie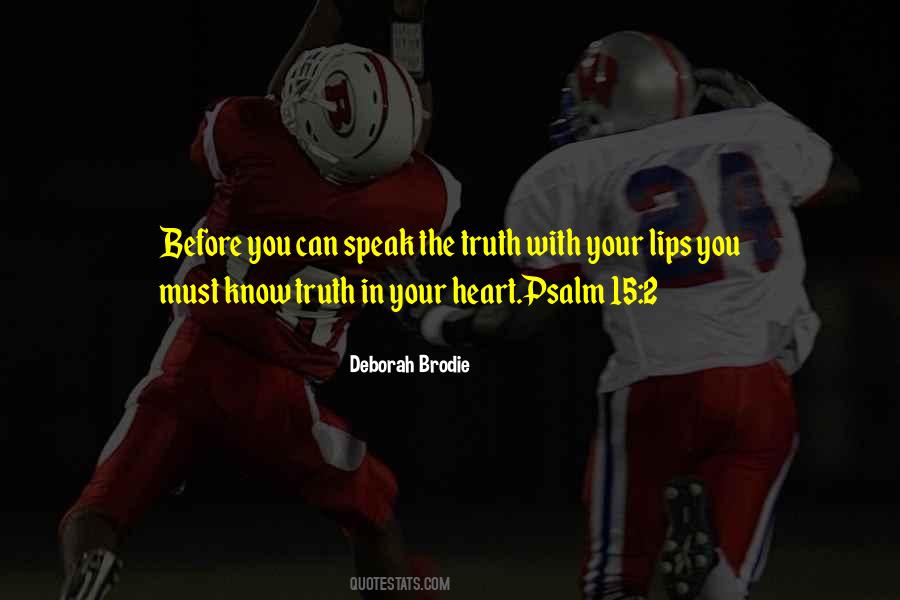 #24. 4 For you are not a God who delights in wickedness; evil may not dwell with you. 5 The boastful shall not stand before your eyes; you hate all evildoers. 6 You destroy those who speak lies; the LORD abhors the bloodthirsty and deceitful man. - Author: Anonymous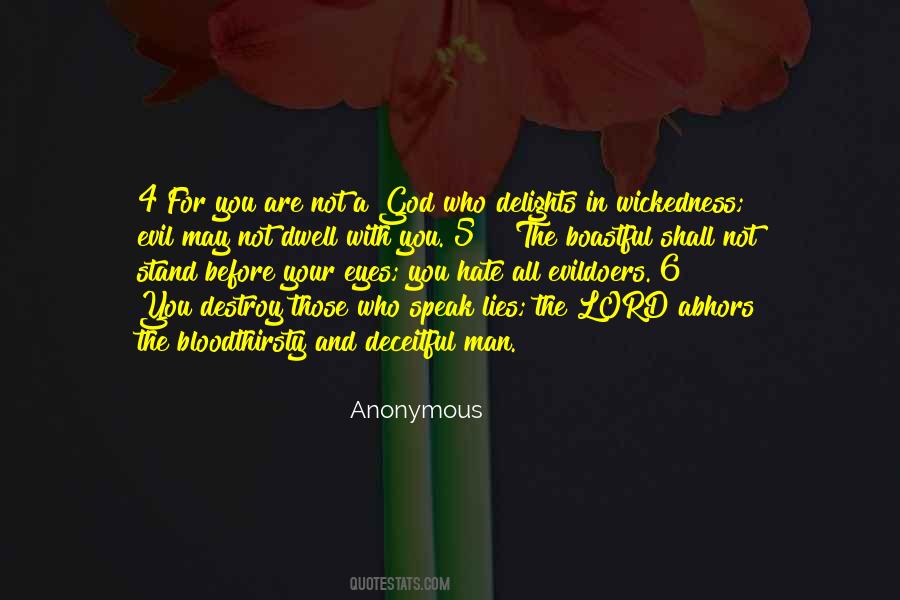 #25. When angry count to ten before you speak. If very angry, count to one hundred. - Author: Thomas Jefferson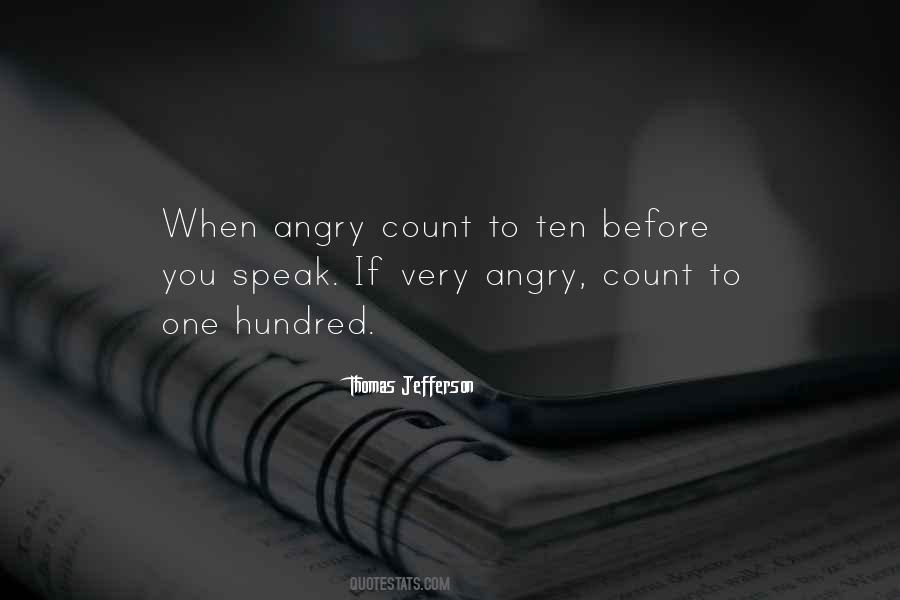 #26. Before I could cry or scream I whirled around and stalked to my bedroom,slamming the door behind me.
I hope they all drown.
"Zoey your mother and I need to speak with you."
Great. Clearly they didn't drown. - Author: P.C. Cast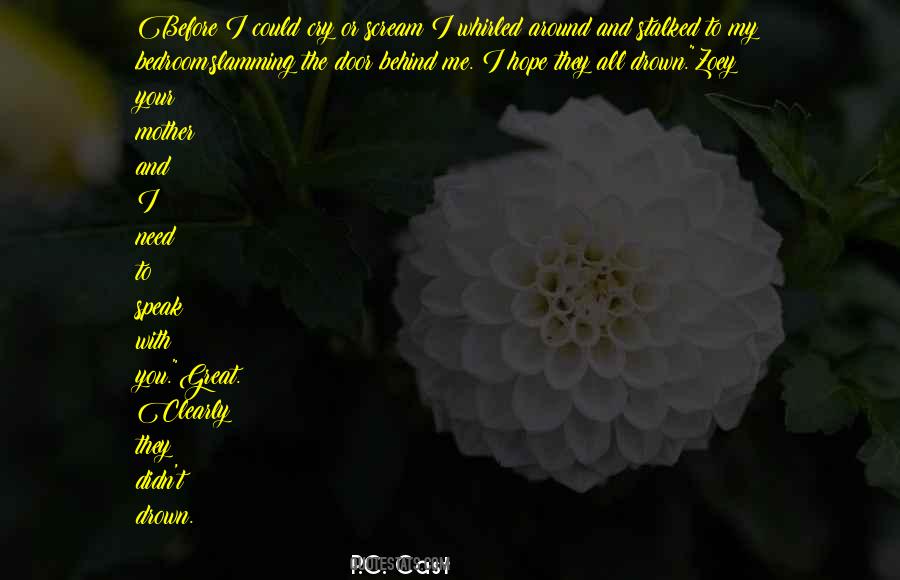 #27. Allow God to have complete liberty in your life when you speak. Before God's message can liberate other people, His liberation must first be real in you. Gather your material carefully, and then allow God to "set your words on fire" for His glory. - Author: Oswald Chambers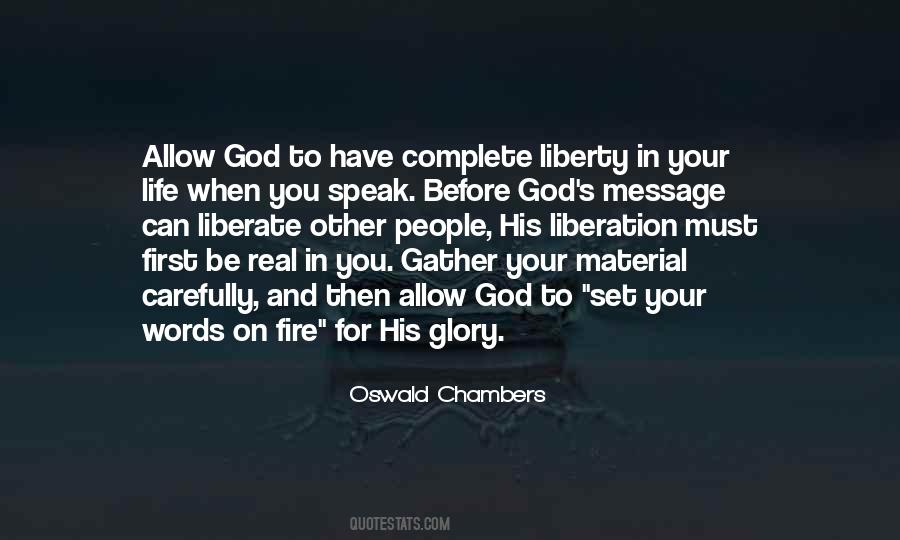 #28. A person should always think before they speak ... especially words that will hurt & destroy. Once you have spewed words of harm out into the universe ... you can never retrieve them. Always try to use your words to better brighten humanity ... not to further darken it. - Author: Timothy Pina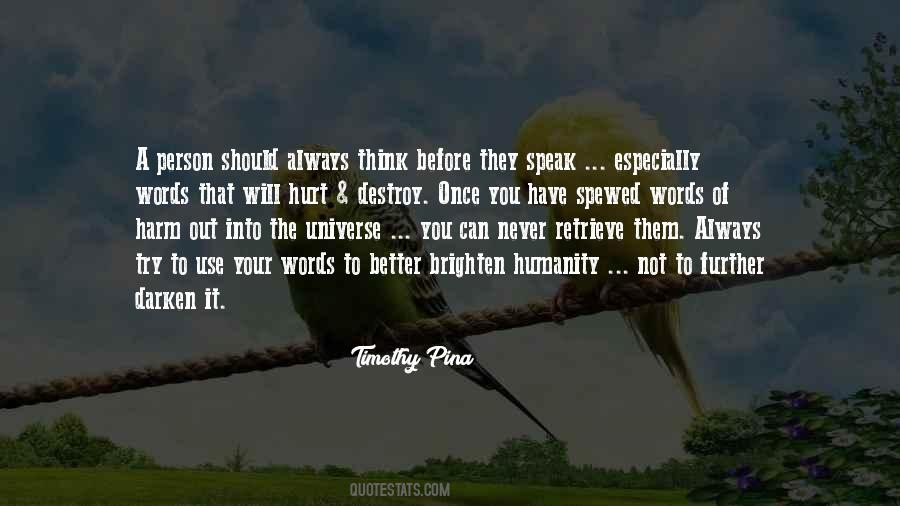 #29. You must sit down to speak this language,
It is so heavy you can't be polite or chatter in it.
For once you have begun a sentence, the whole course of your life is laid out before you"
-quoted in "The Geography of Bliss - Author: Bill Holm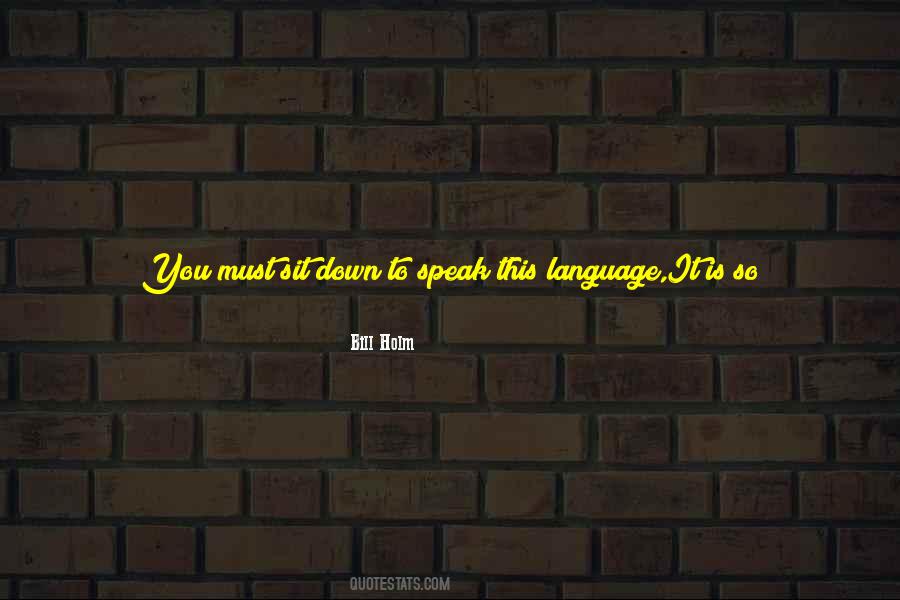 #30. Someone may look normal on the outside, but that doesn't mean they are on the inside. Some people may look stunning, but on the inside they are plagued by a mental illness. Never judge someone by how they look. Think before you speak; don't come to conclusions about someone. - Author: Various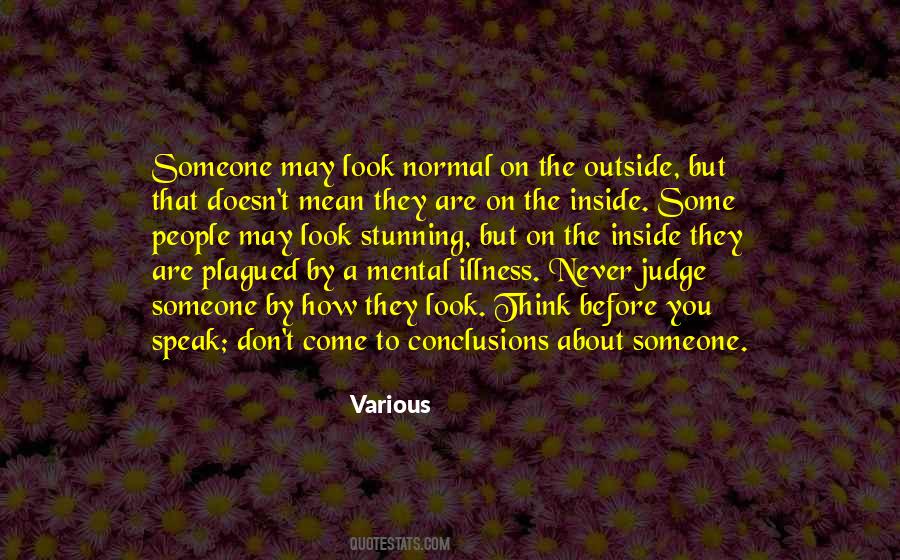 #31. Keep quiet and ponder! Speak and say something! - Author: Ernest Agyemang Yeboah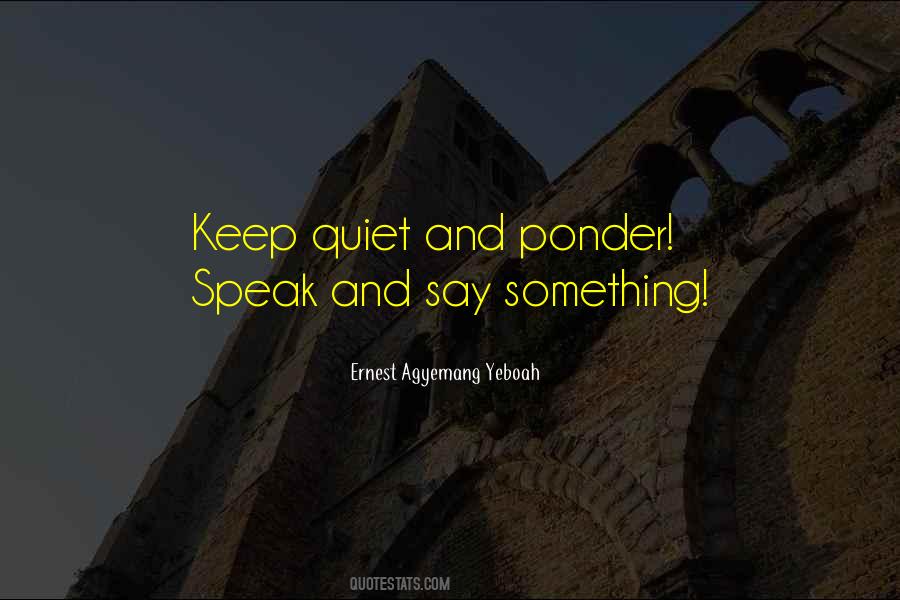 #32. Think before you act; think twice before you speak. - Author: Thomas Browne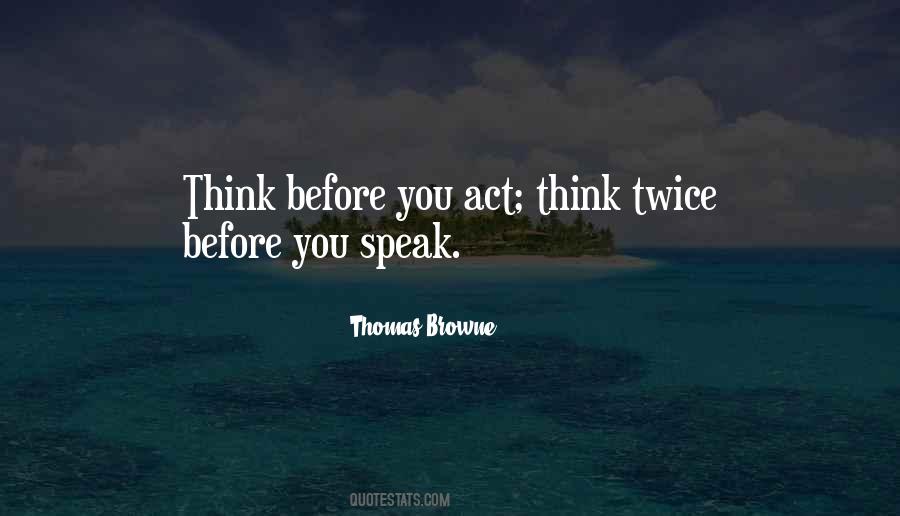 #33. Okay, I'm going to let you in on a little secret: I'm a very superstitious person. I'm walking onto the plane as we speak. I'm putting my hands on the outside of the plane and my feet are on the lip of the plane. I have to do it every time before I fly. - Author: Jessica Chastain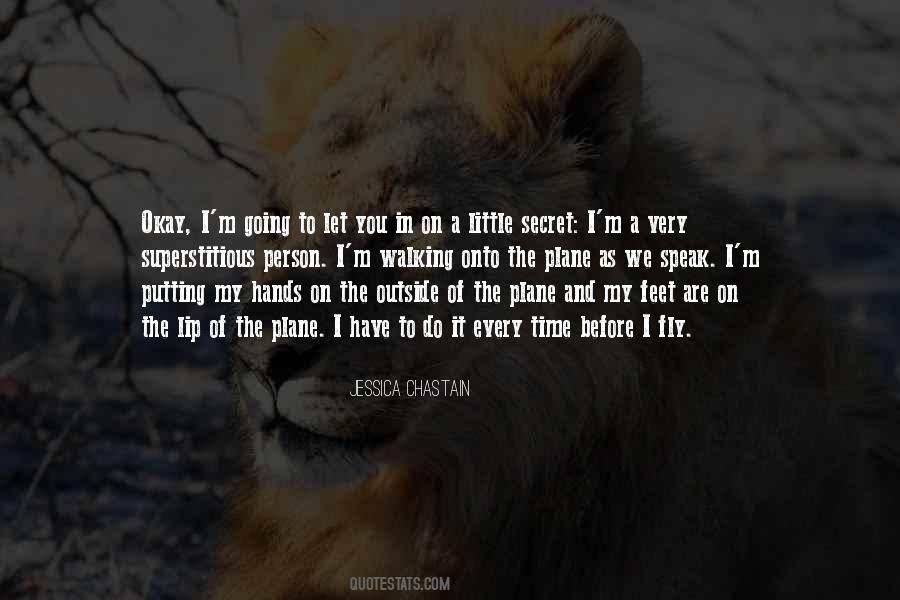 #34. Think before you speak, unless it's urgent - Author: Benny Bellamacina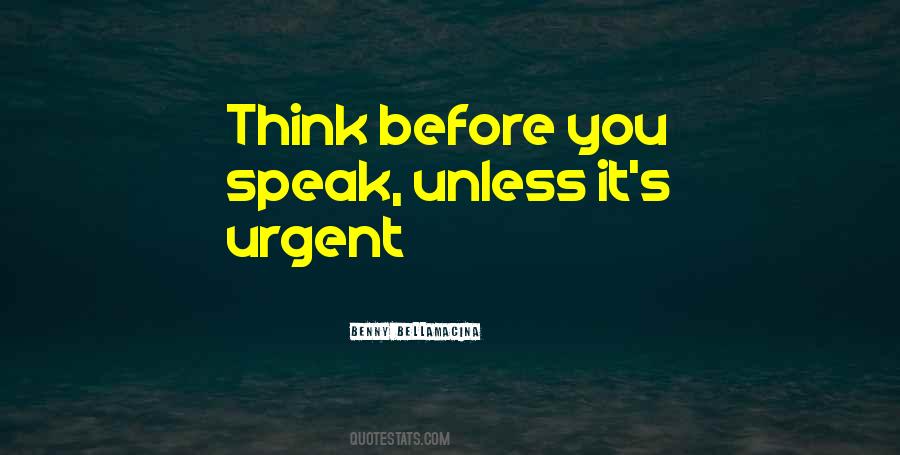 #35. You gave us power in our words, so I think before I speak, and that way when I speak, they know I'm here to teach. - Author: DMX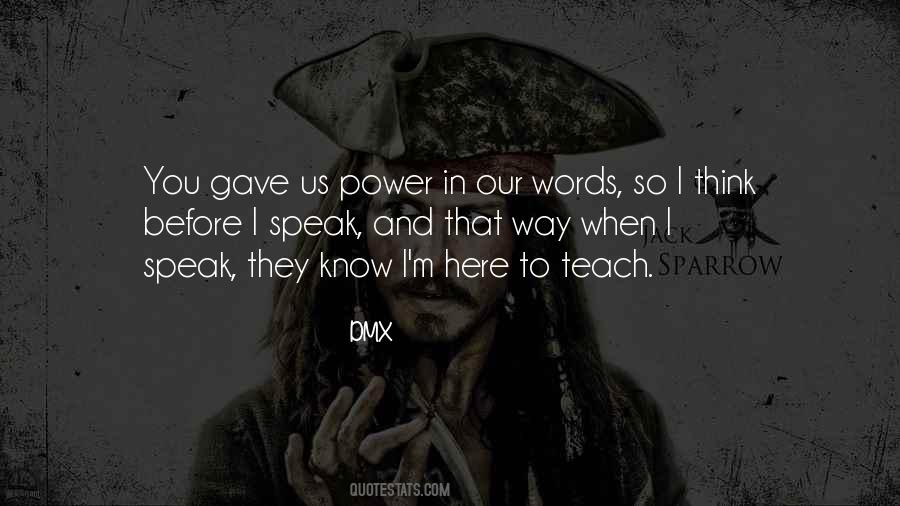 #36. Tomorrow you may want to persuade somebody to do something. Before you speak, pause and as yourself, How can I make this person want to do it? - Author: Dale Carnegie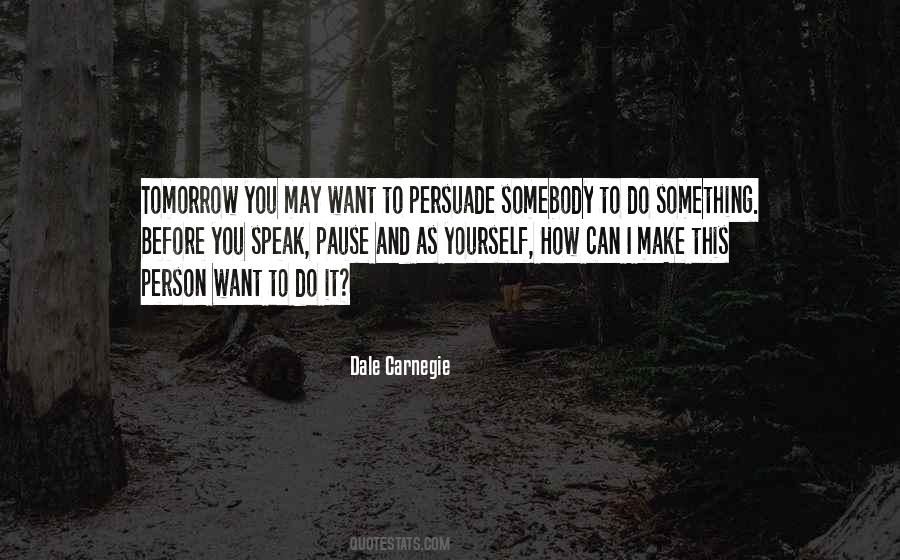 #37. Take Care Of Your Tongue Like The Way You Take Care Of Gold & Silver. - Author: Hazrat Ali Ibn Abu-Talib A.S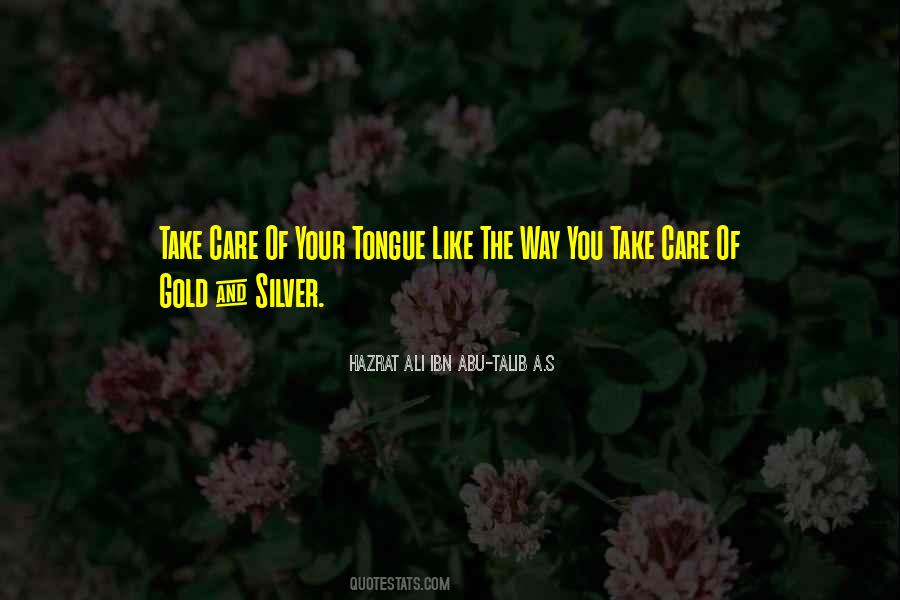 #38. Think before you speak, your words could hurt someone's feeling more than you intended it to. - Author: Justin Bieber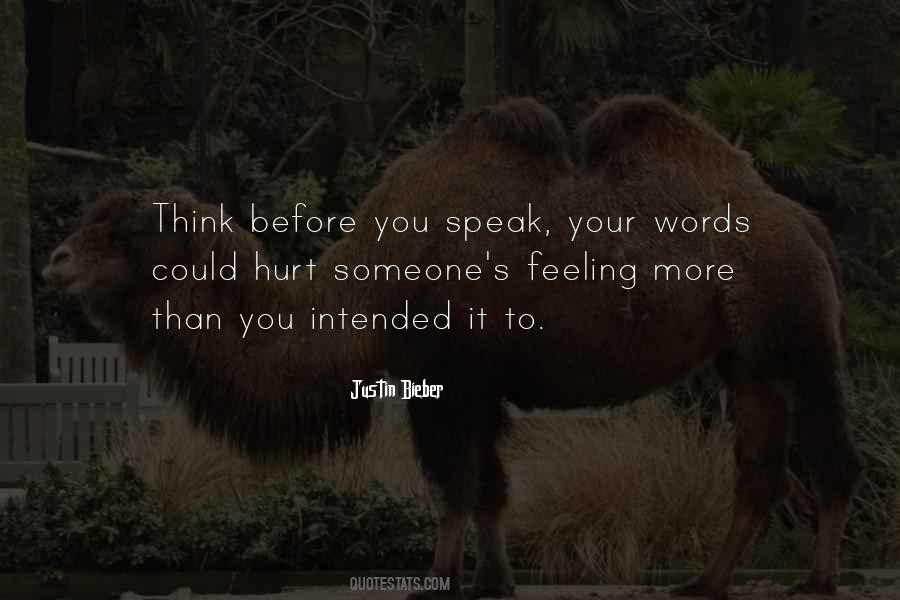 #39. We've all been hurt by words before. So before you speak, think about how your words might affect someone else. - Author: Naya Rivera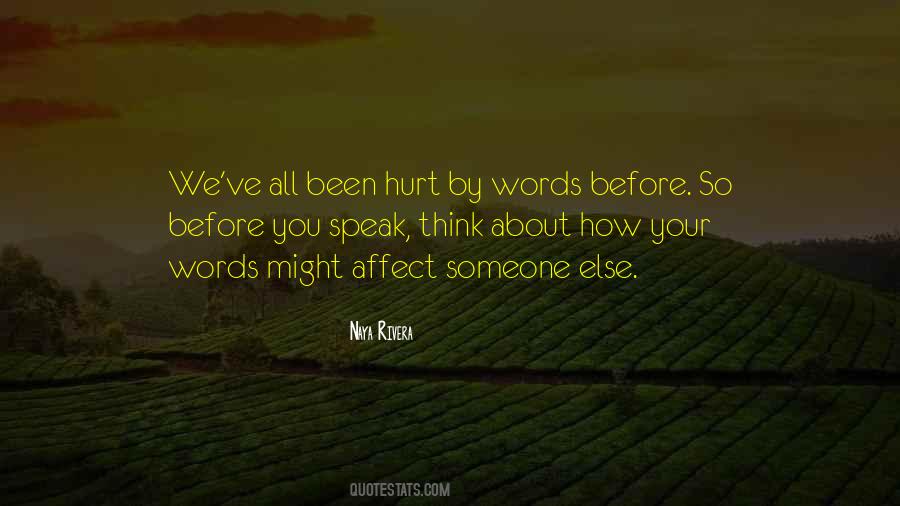 #40. Wait a minute. Are you limping?" Before he could speak, she said, "You can ride, though, right?"
"I assume you're referring to a horse?"
She smiled and jammed her hands down on her abundant hips. "Cowboys," she muttered under her breath as she sat back down. - Author: B. J. Daniels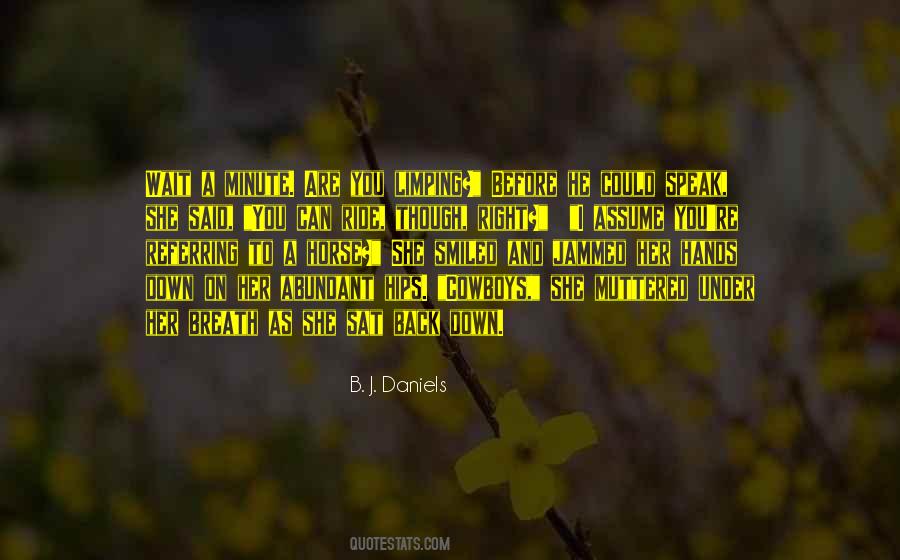 #41. Leave safety behind. Put your body on the line. Stand before the people you fear and speak your mind - even if your voice shakes. When you least expect it, someone may actually listen to what you have to say. Well-aimed slingshots can topple giants. - Author: Maggie Kuhn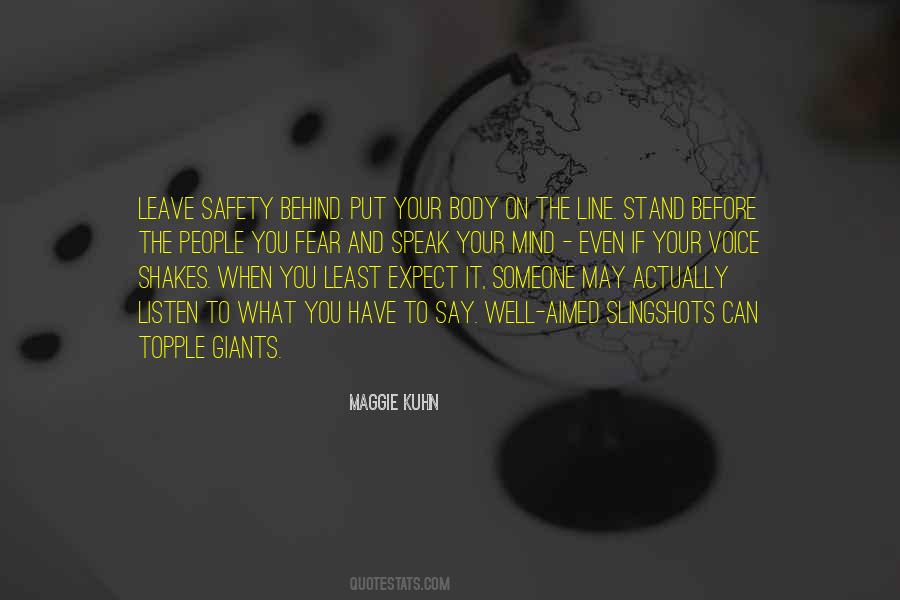 #42. Think twice before you speak, because your words and influence will plant the seed of either success or failure in the mind of another. - Author: Napoleon Hill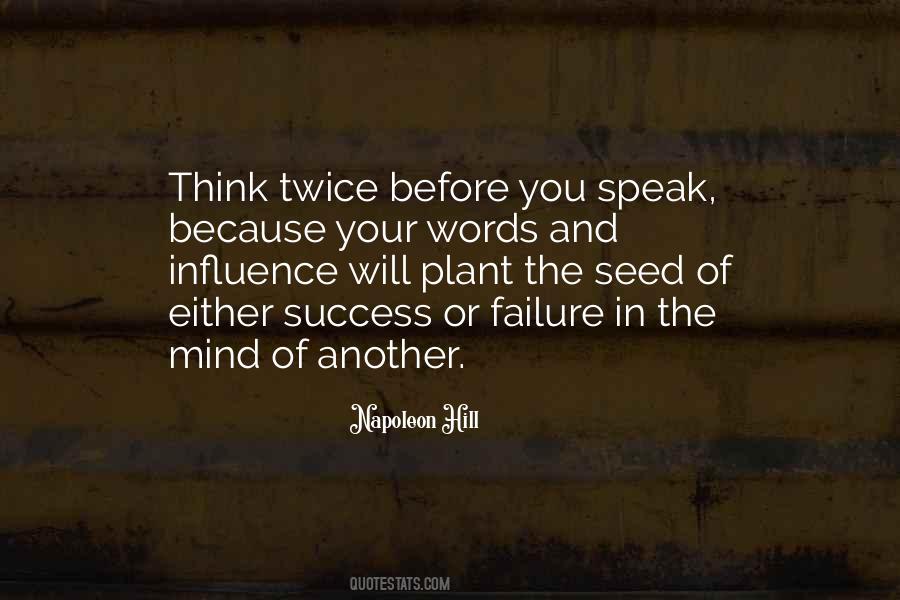 #43. When I'm around you, I feel too drunk to speak to you. And I've never even tasted alcohol before, but I'm sure kissing you is what being drunk feels like. If that's the case, I'm already worried for my sobriety because I can see myself becoming addicted to kissing you.. - Author: Colleen Hoover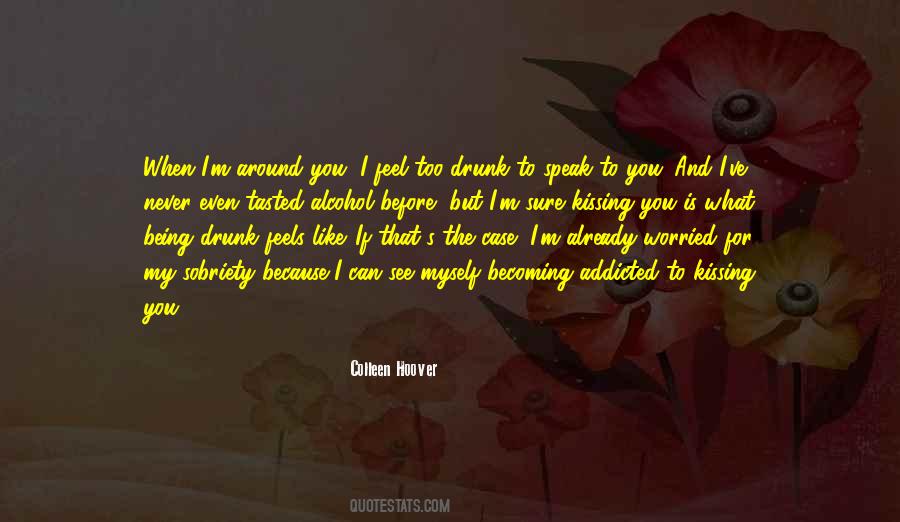 #44. My definition of prayer is simply communicating with God. It's a love relationship first and foremost. Prayer is baring your soul to the One who loved you before you even knew of Him and letting Him speak to your heart. - Author: Stormie O'martian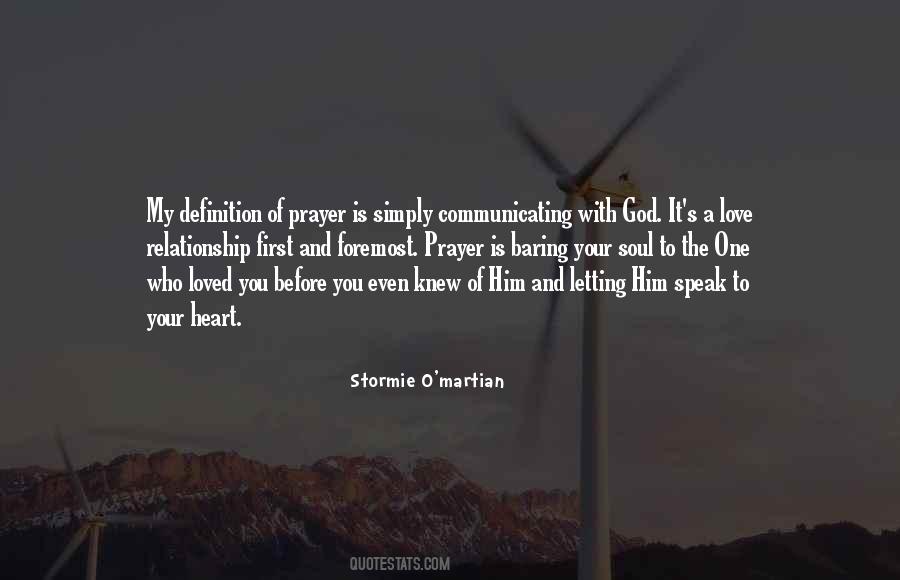 #45. Think before you speak, and don't say everything you think. - Author: Alexander Lebed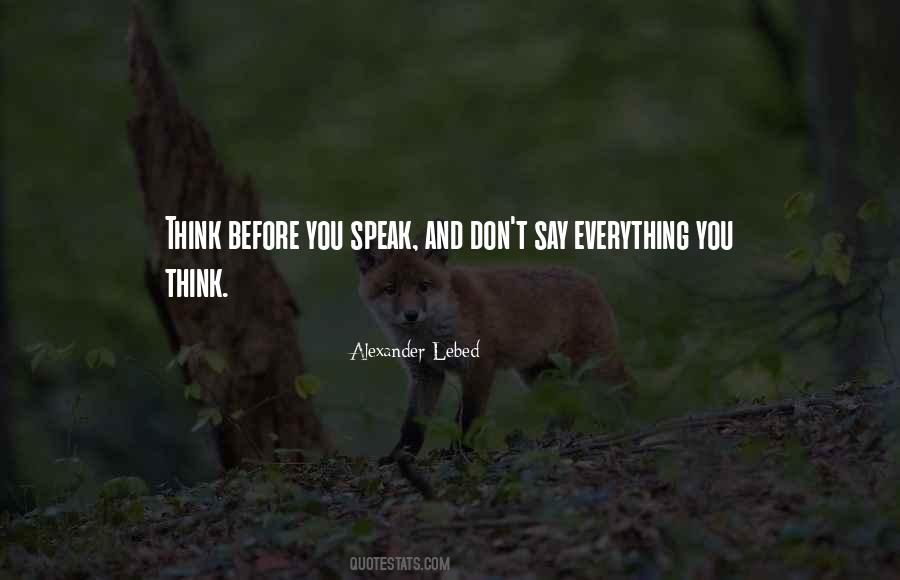 #46. When you got a question," Polly said before Granada could ask, "first be silent. Look around you. Let creation speak the truth to you." She - Author: Jonathan Odell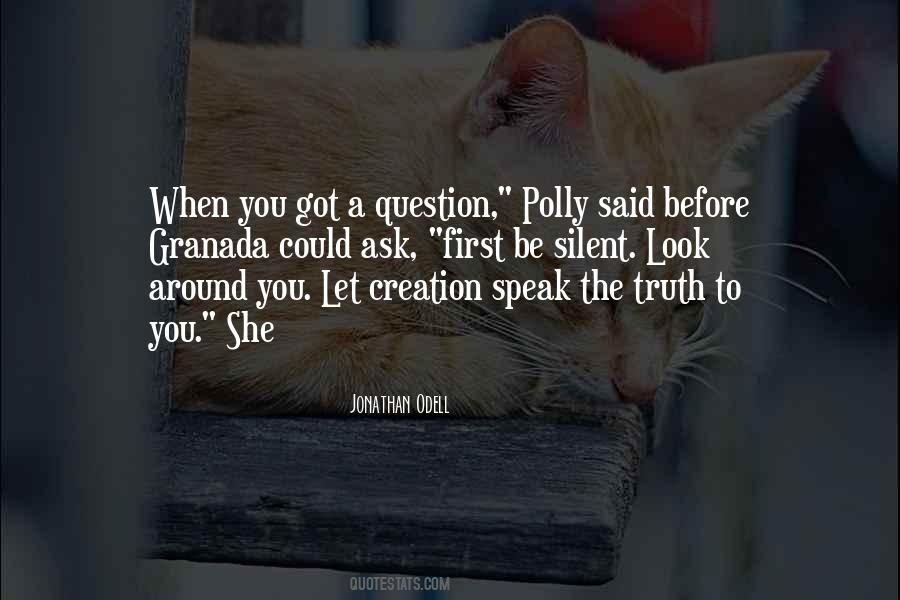 #47. You really don't think very much of me, do you?" he chuckled."You speak of me against judgment, yet you stand before me accuser and judge all in one. - Author: Rebe James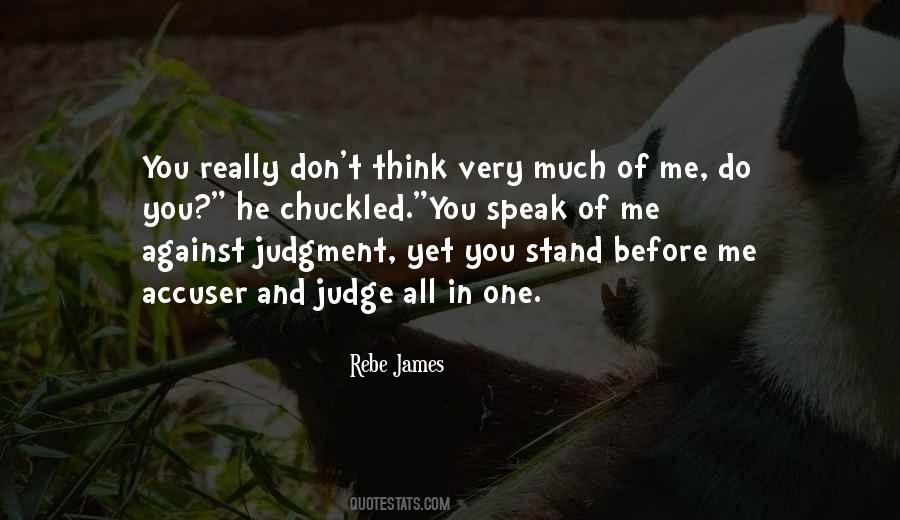 #48. Think twice before you speak, and then you may be able to say something more insulting than if you spoke right out at once. - Author: Evan Esar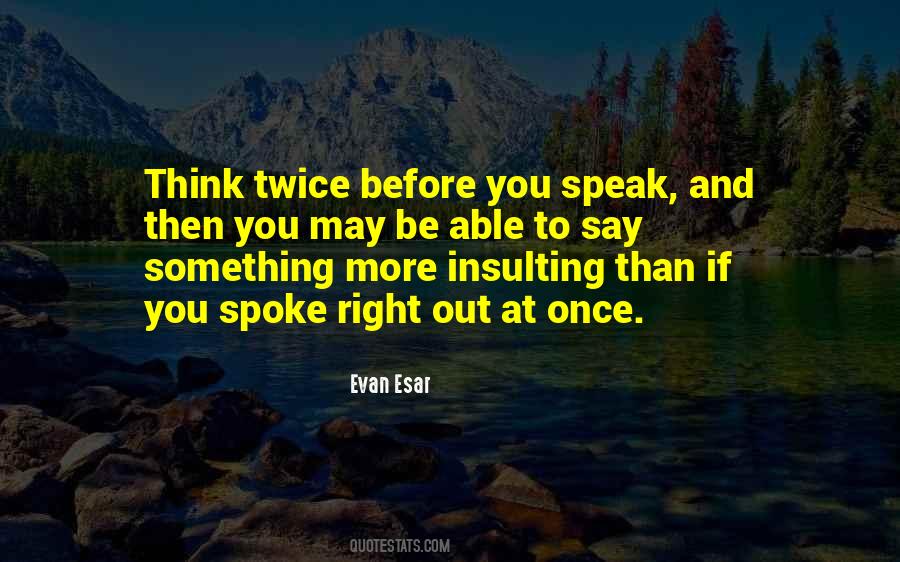 #49. O God my Truth, make me one with You in eternal love. Often I become weary with reading and hearing many things. You are all that I want and desire. Let all teachers be mute and all creation keep silence before You. Speak to me, You, and You alone. - Author: Thomas A Kempis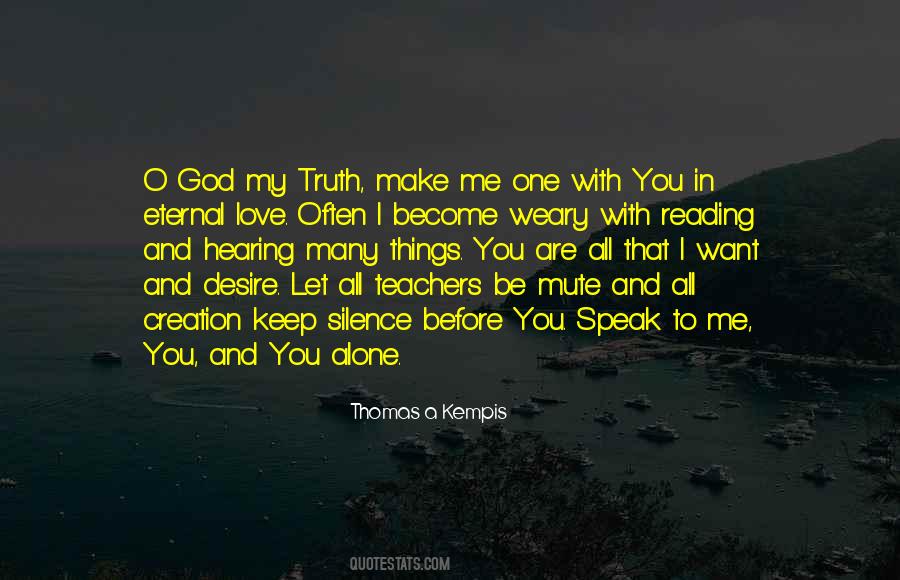 #50. Students, when you want to say something, think about it three times before you say it. Speak only if your words will benefit yourselves and others. Do not speak if it brings no benefit. - Author: Dogen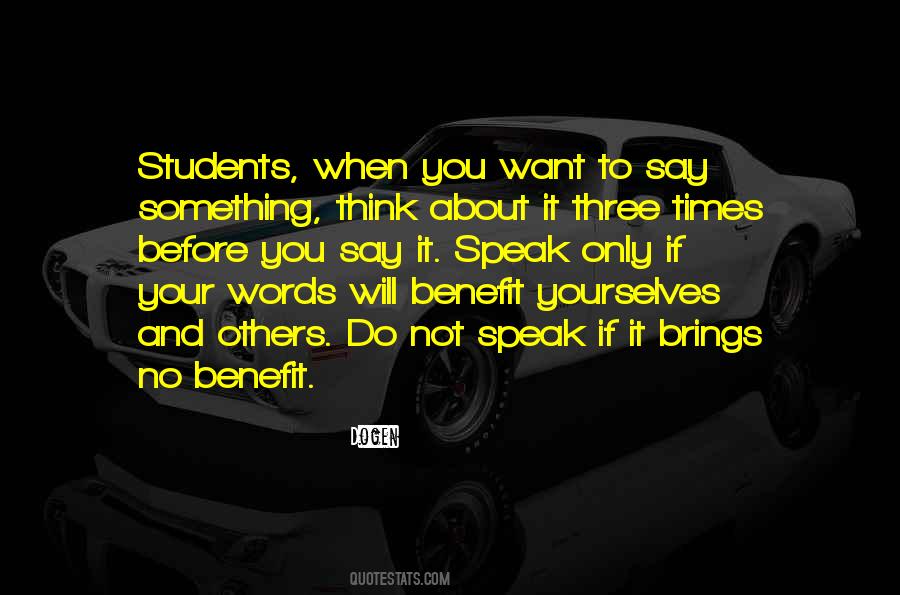 #51. What are you doing out here, Kat?"
Several moments passed before I could speak "I just blew up a bunch of windows. - Author: Jennifer L. Armentrout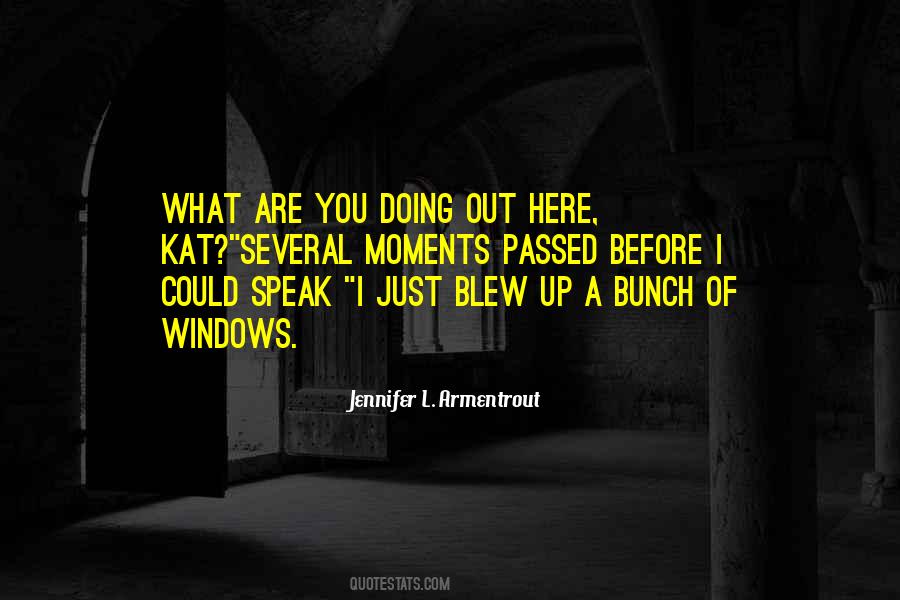 #52. It was truly a lesson in don't take something at face value. You know, so many of us do in life. Whether it's because of how somebody looks or because of what they're wearing or what have you, you kind of assess a person in the first five minutes before they even speak. - Author: Shemar Moore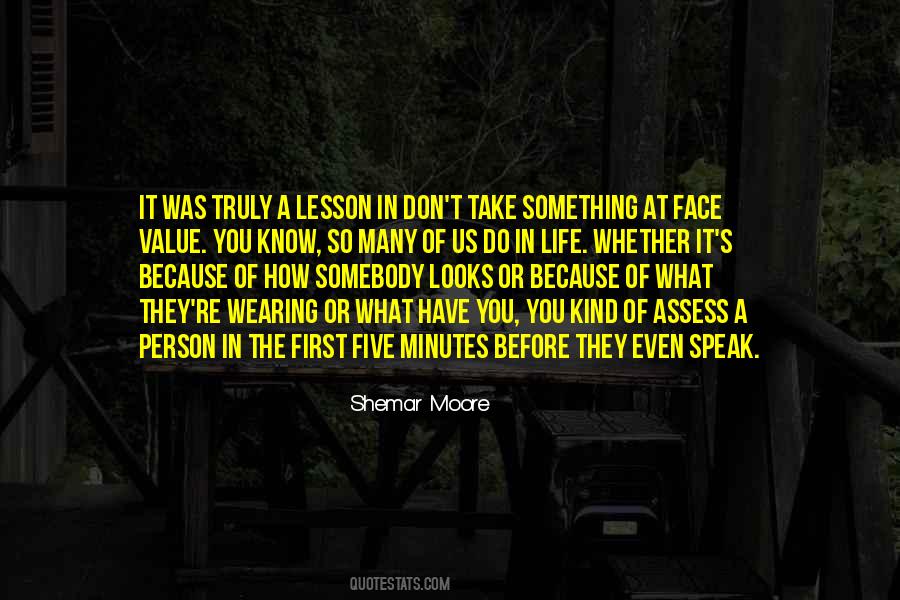 #53. If you think before you speak the other guy gets his joke in first. - Author: Jimmy Nail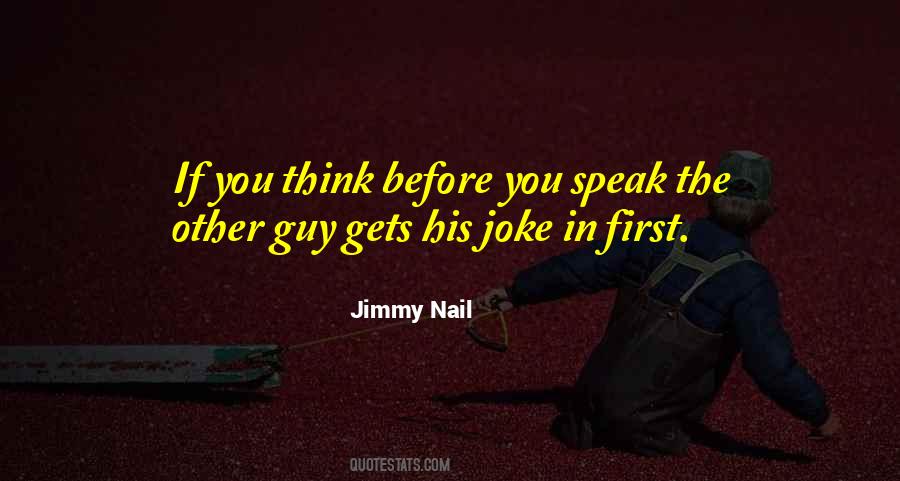 #54. Always speak the truth, think before you speak, and write it down afterwards. - Author: Lewis Carroll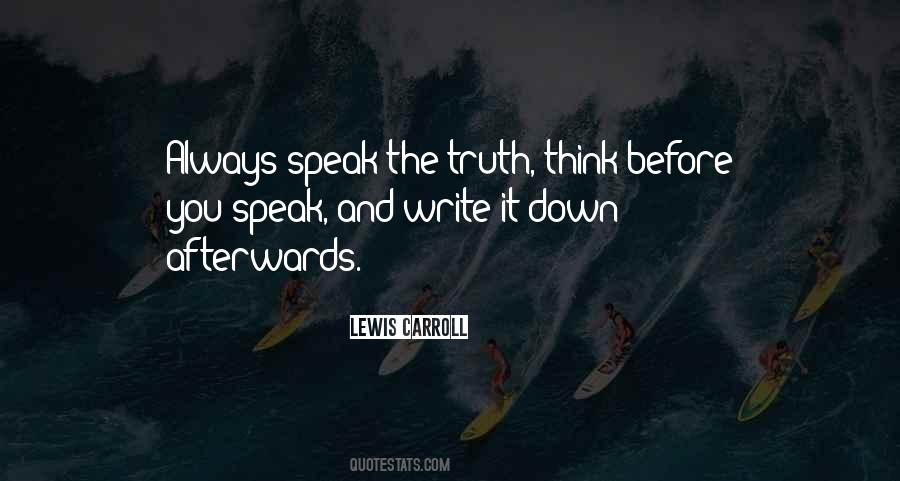 #55. If you say bullshit on things come in handy,
better revise it before others say otherwise. - Author: Toba Beta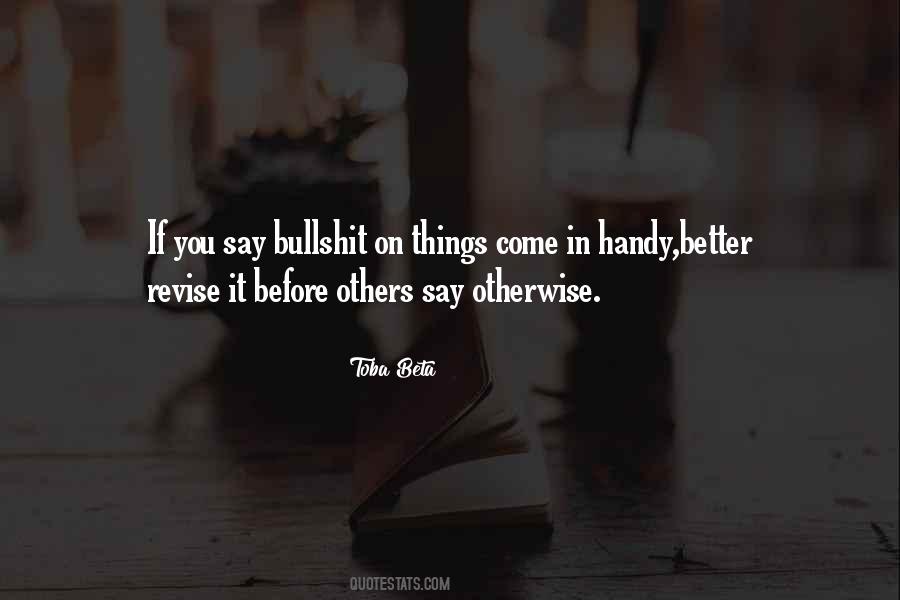 #56. Be sure of your heart before you speak. - Author: Lisa Mangum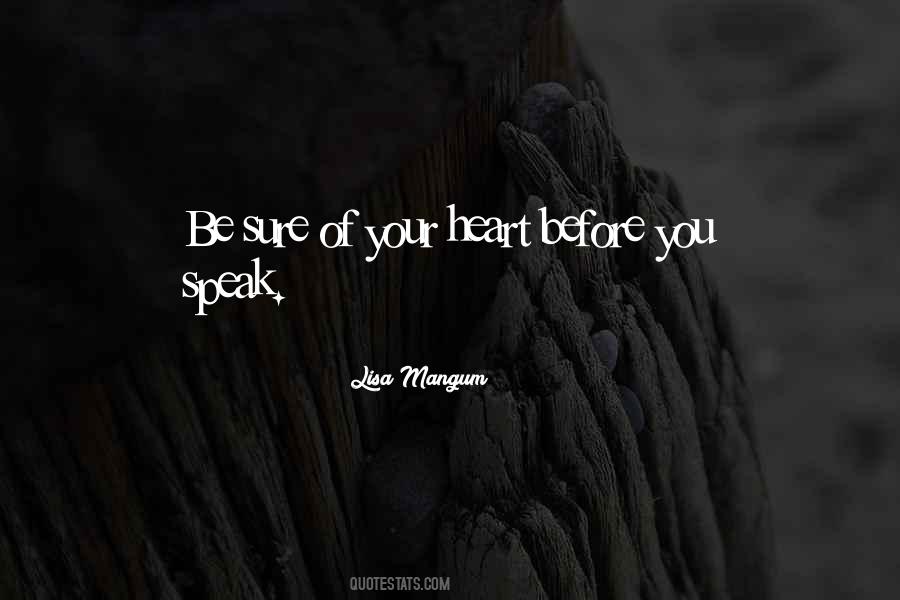 #57. If you want your lie to be believed then you need to speak thousand truths before you lie. - Author: Amit Kalantri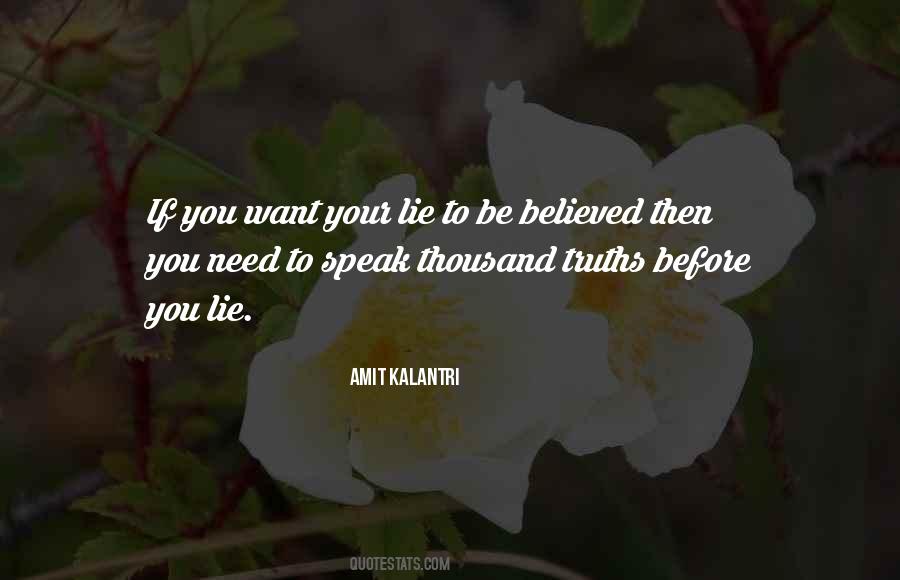 #58. Speak clearly if you speak at all, carve every word before you let it fall. - Author: Oliver Wendell Holmes, Sr.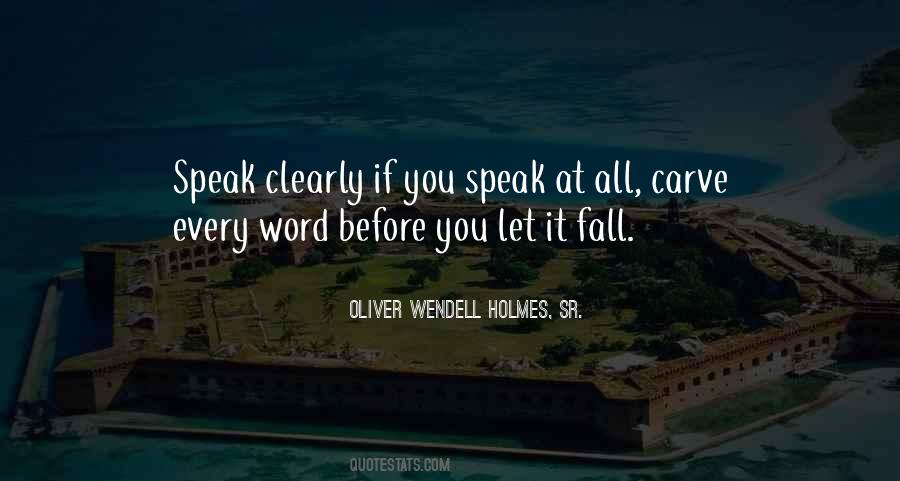 #59. Words spoken can not be recalled so think twice before you speak. - Author: William Shakespeare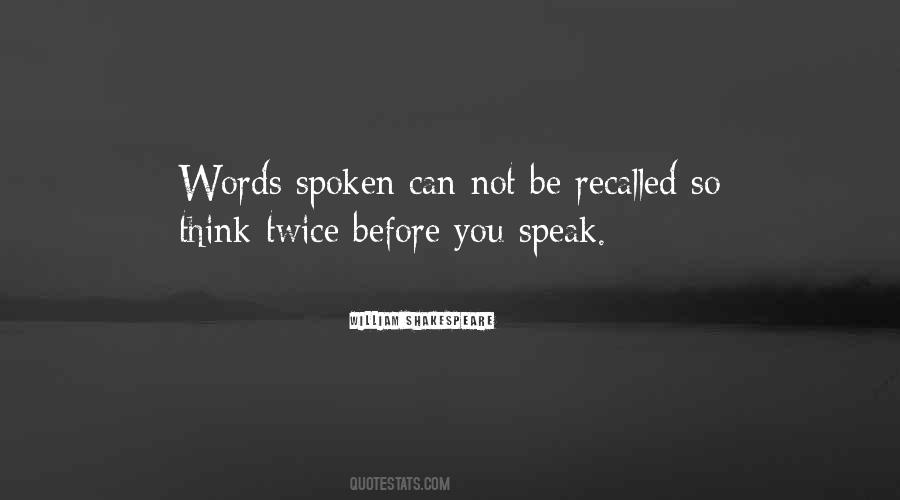 #60. With our bodies we make statements before we speak, our presentation is a language spoken without words. You - and only you - get to decide what it is you're trying to say. - Author: Hannah Hart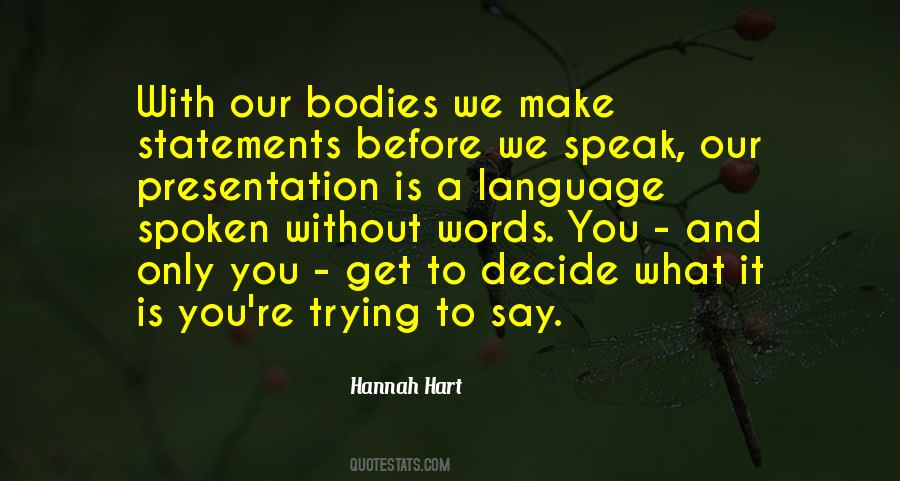 #61. If you see me or another model in a bar, wait until you are spoken to before you speak. - Author: Jessica Hart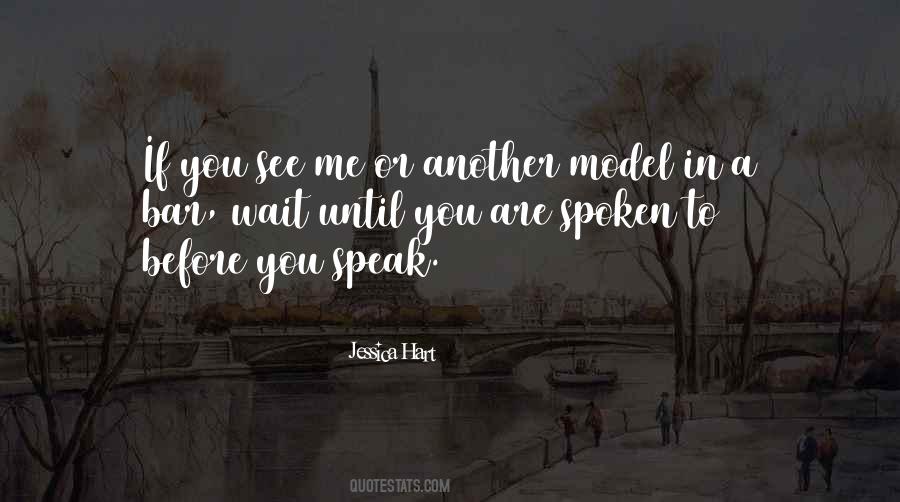 #62. I'm late," she snapped before Summerset could speak. "But here's the thing, I'm not always late, but you're always ugly. Who's got the real problem? - Author: J.D. Robb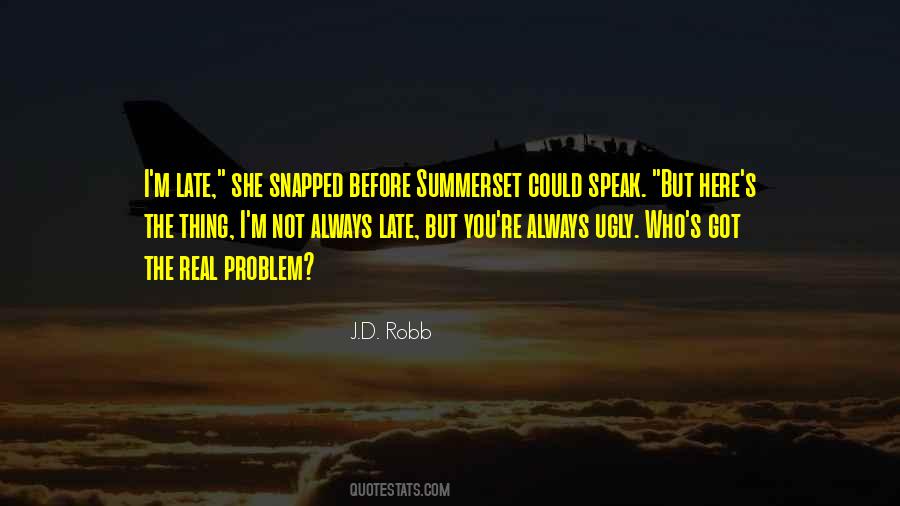 #63. People will make judgments before you even speak based on the way you look. Most definitely your physical appearance matters. The way you dress, your hygiene - it all matters. - Author: Jonathan Adler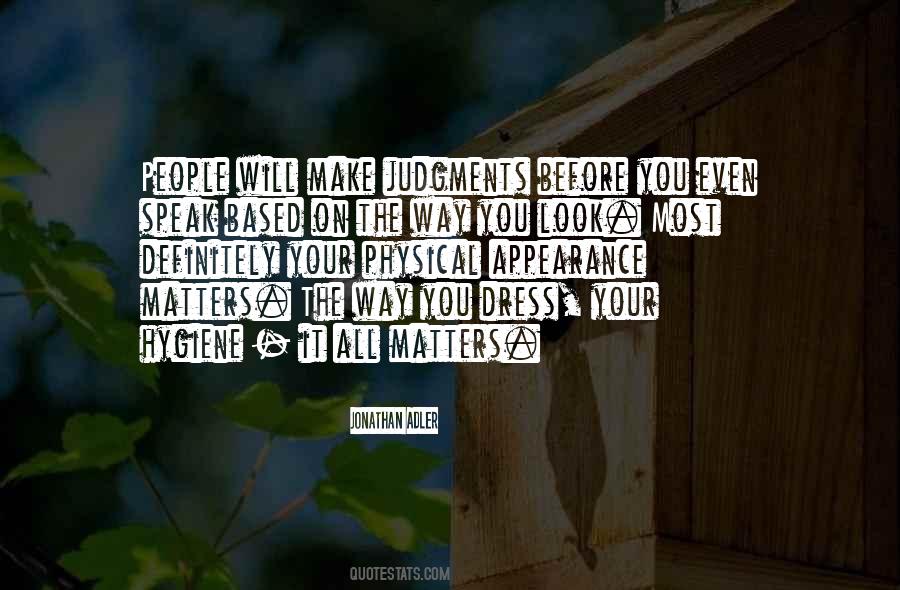 #64. I learned to play by ear before I learned music theory. For me, that makes sense. After all, children learn to speak before they read and write. The more you understand of music - how harmony and time signatures work, and what chords and inversions are - the more you'll enjoy it. - Author: Jools Holland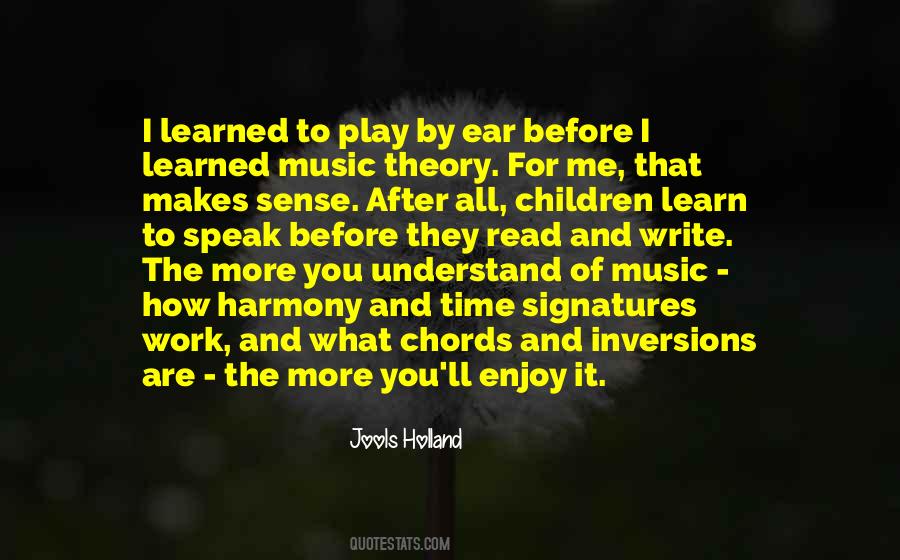 #65. I'm afraid" "Of what?" "That I'm never going to be able to speak to you. Or that you give up on me before I do" "I'm not giving up on you. You're my infinity Pi. - Author: Kylie Fornasier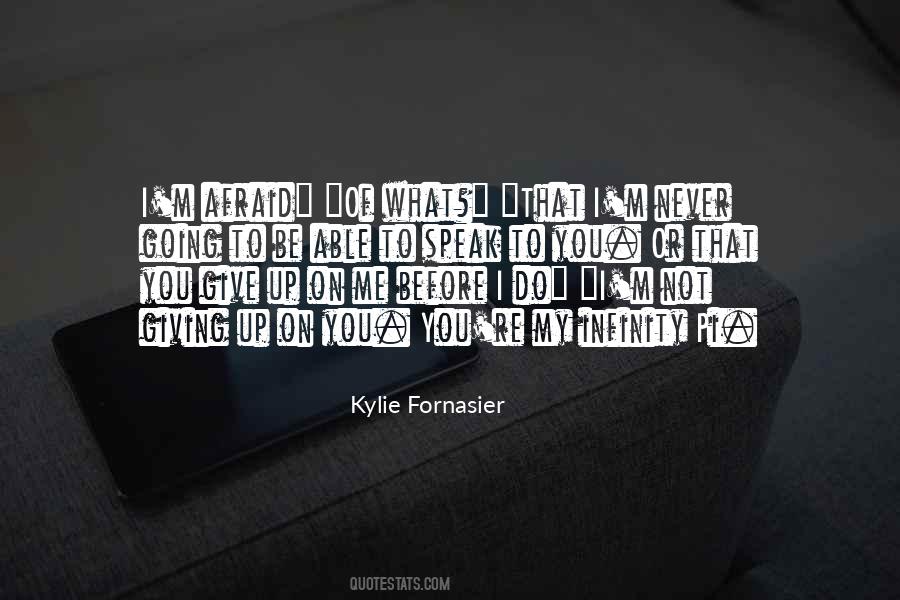 #66. She is holding on tight to this talk of flowers, as I did before, when I was afraid and alone. If you sing and speak of blooms and petals that come back after a long time of being winter-still, you don't have to think about things that don't. - Author: Ally Condie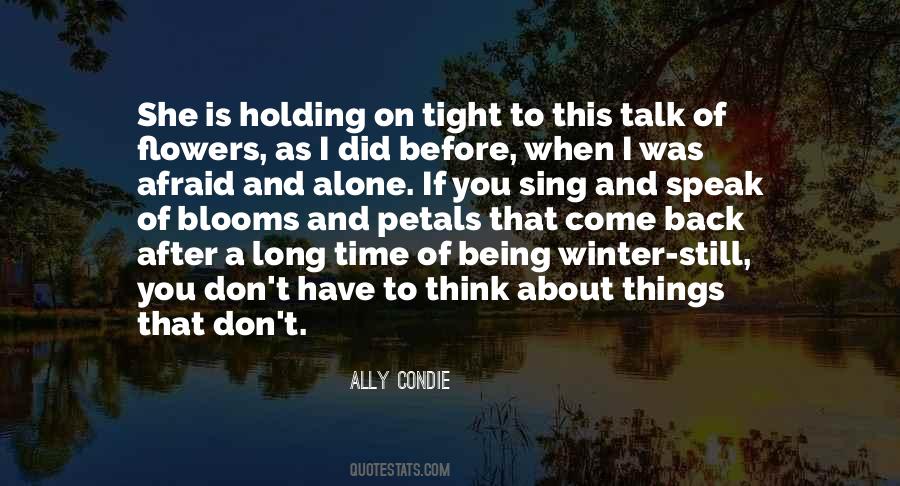 #67. THINK before you speak. Is it True, Helpful, Inspiring, Necessary, Kind? - Author: Alan Redpath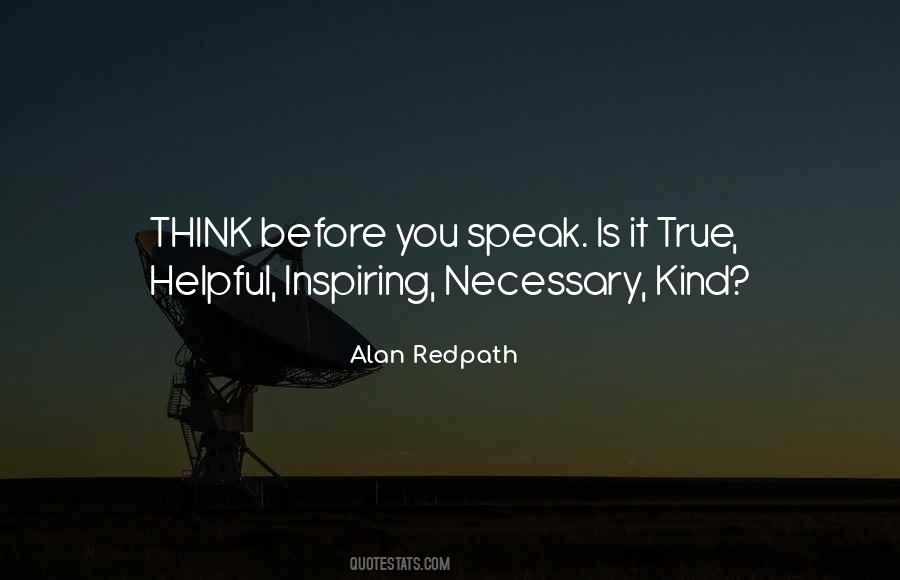 #68. My people, you gotta think before you move, you gotta speak before you cry, you gotta live before you die. - Author: Lil B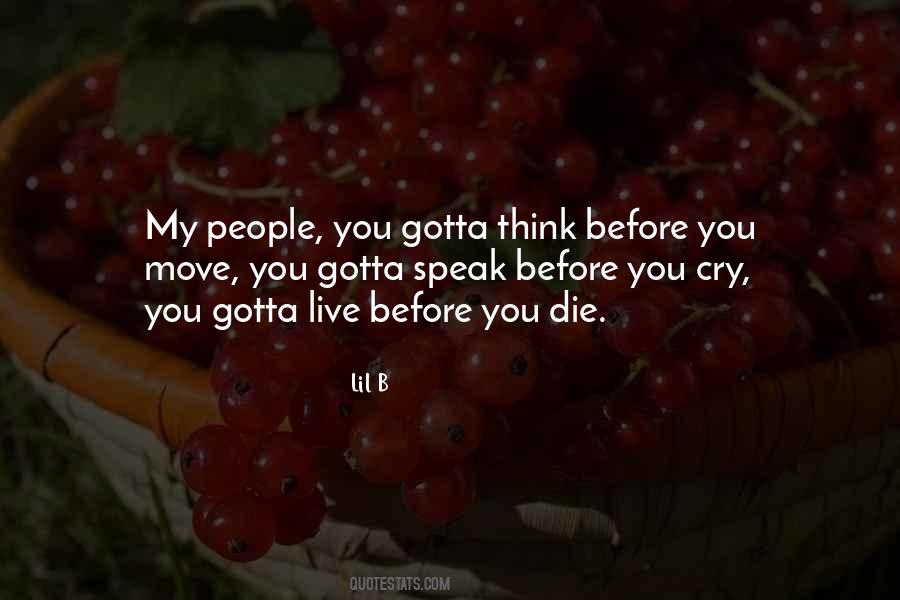 #69. Be not too hasty either with praise or blame; speak always as though you were giving evidence before the judgement-seat of the Gods. - Author: Seneca The Younger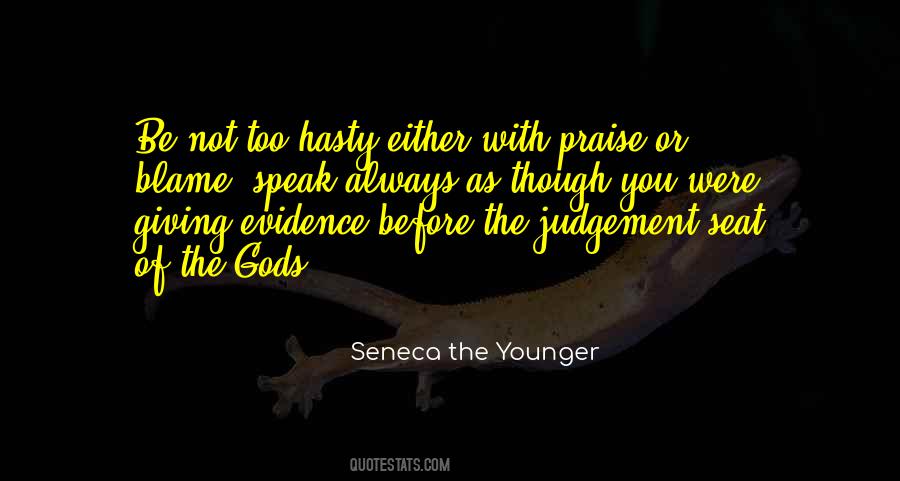 #70. You know, whether it be humans or animals. So even humans - before we can speak or we can understand a baby's cognition - they're already showing us signs that they want choice. - Author: Sheena Iyengar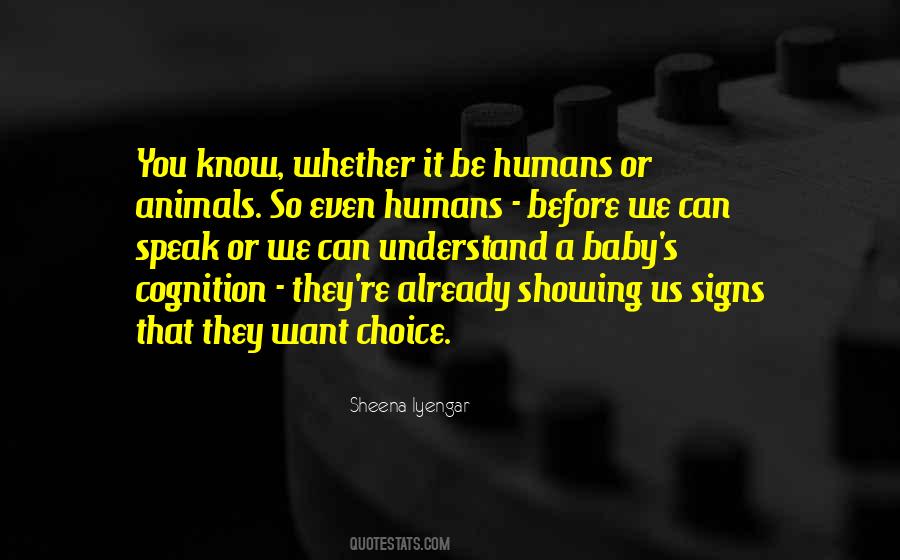 #71. Proud folk separate themselves from others, judging them ... To criticize others we must hold them from us, at arm's length so to speak. And then before you know where you are you've pushed them away and you're the poorer. - Author: Elizabeth Goudge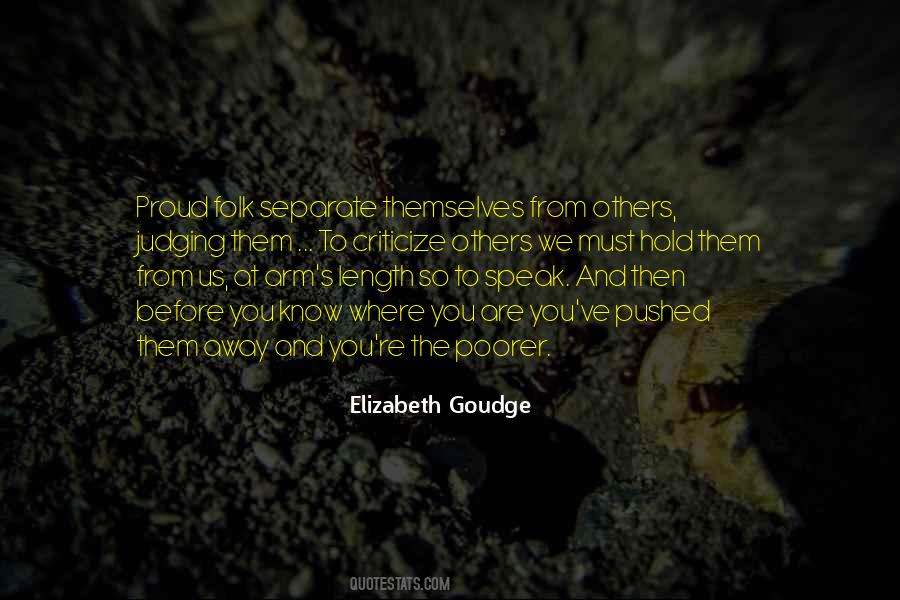 #72. The man chuckled. "You would do well to speak kindly of her. She will be your Queen before long.
"Over my dead body," Rose snapped. - Author: Brandi Gillilan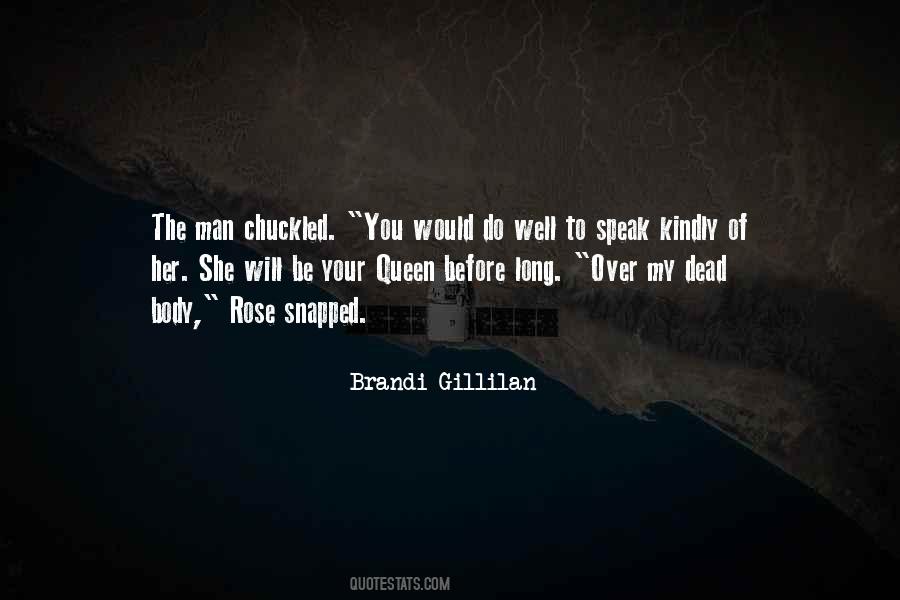 #73. I opened my mouth to respond, then decided to do that thing where you think before you speak. - Author: Jessi Kirby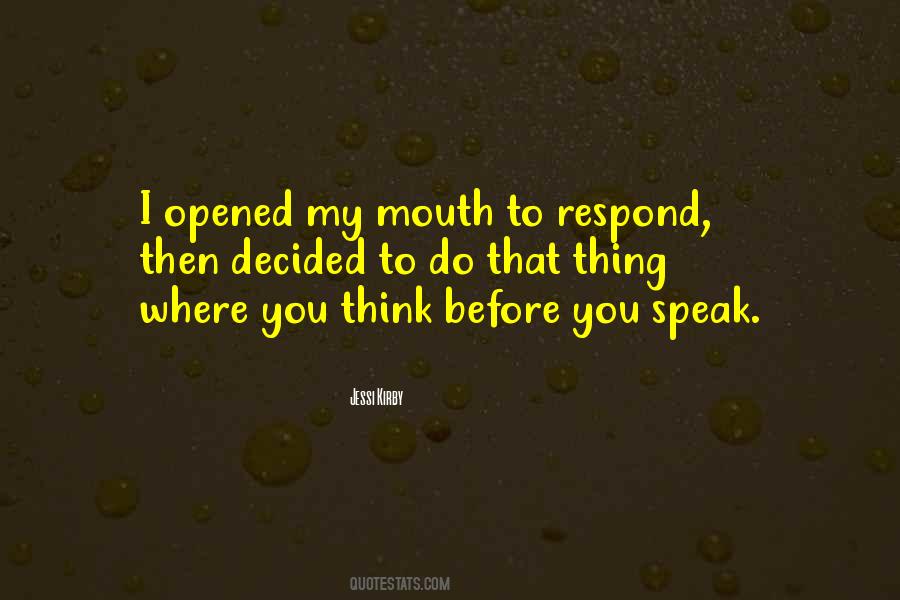 #74. Our fellow Negro citizens could be summed up in something Tessie said after watching Sidney Poitier's performance in To Sir with Love, which opened a month before the riots. She said, You see, they can speak perfectly normal if they want. - Author: Jeffrey Eugenides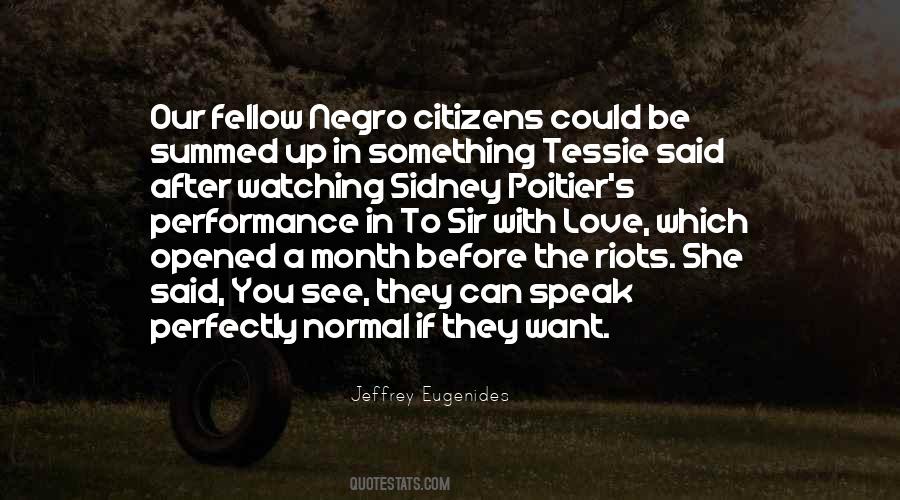 #75. Before you speak words of hatred, so count with peace in your voice to ten. - Author: Kristian Goldmund Aumann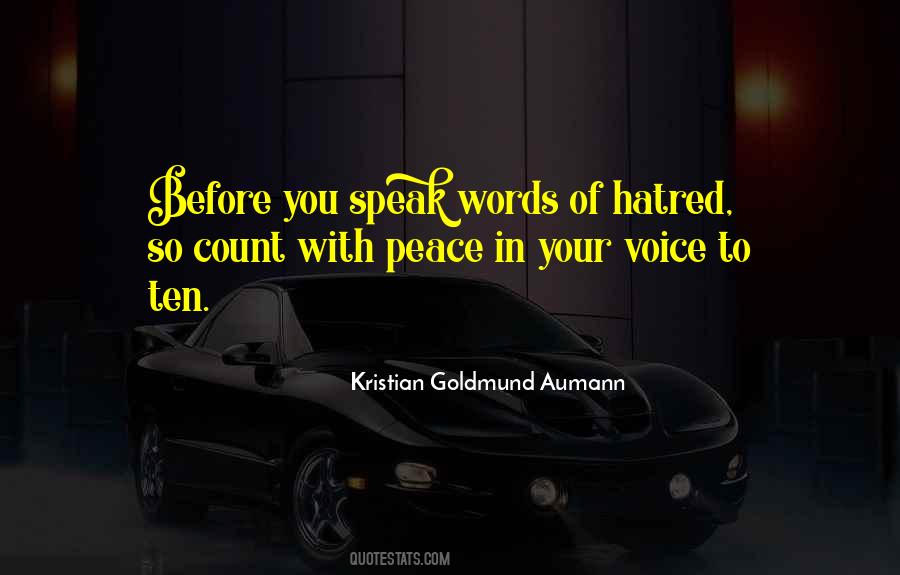 #76. One must speak in such a way that although someone else, or many others, or an infinite number of people have said it before, it seems as though you said it first. - Author: Juan Ramon Jimenez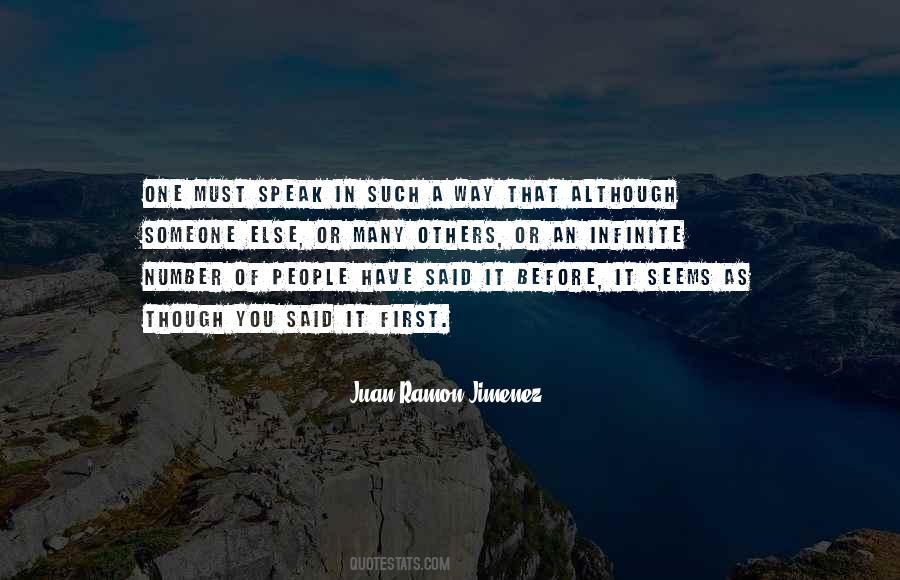 #77. We live in a day that nobody's lived in before: where you can touch more people. The message I'll speak tonight and the message that I speak at home, people in India will hear. It's just an amazing day. - Author: Joel Osteen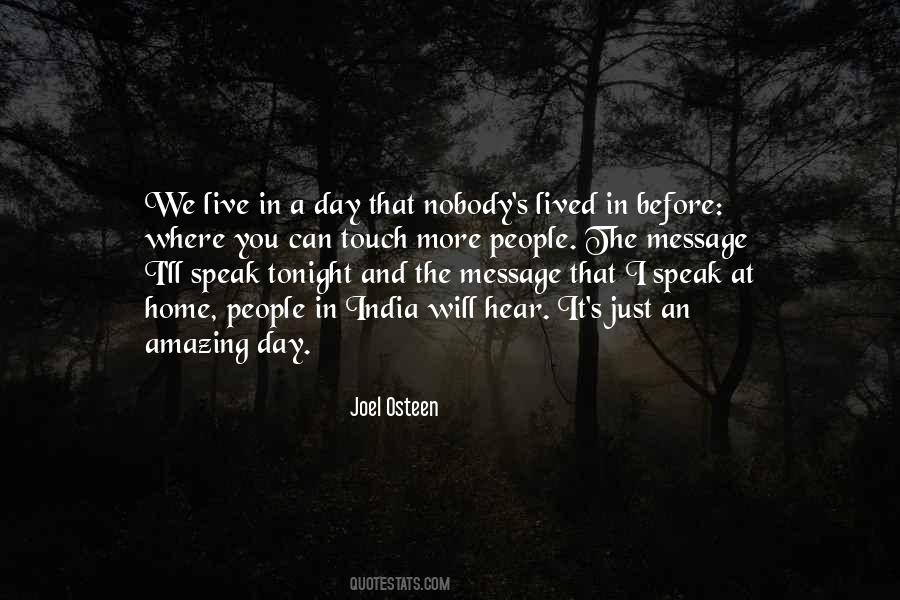 #78. Before you act, think.
Before you speak, listen.
Before you take, give.
Before you scorn, empathize.
Before you condemn, forgive.
Before you wound, love. - Author: Matshona Dhliwayo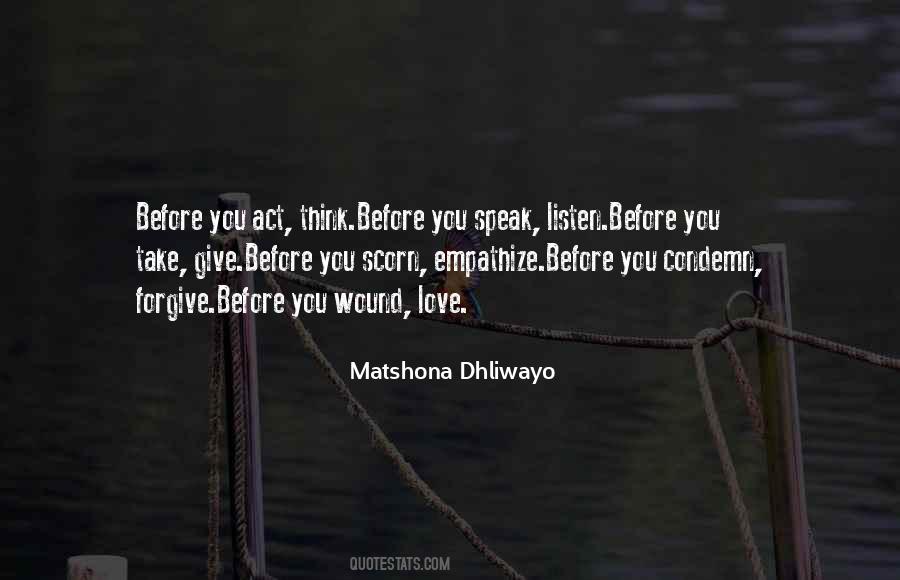 #79. Think before you speak. Read before you think. - Author: Fran Lebowitz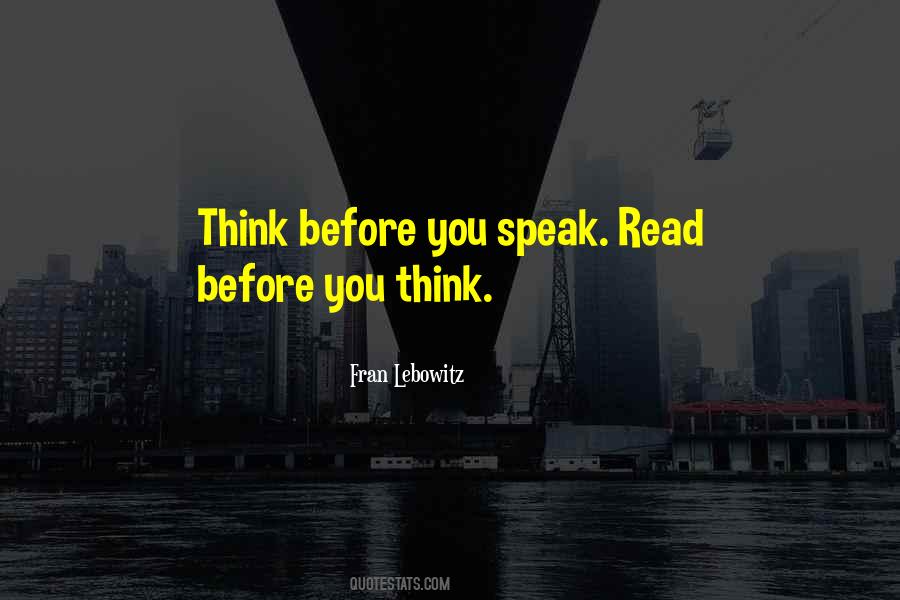 #80. Think before you speak ... ... think before you don't. - Author: Sameh Elsayed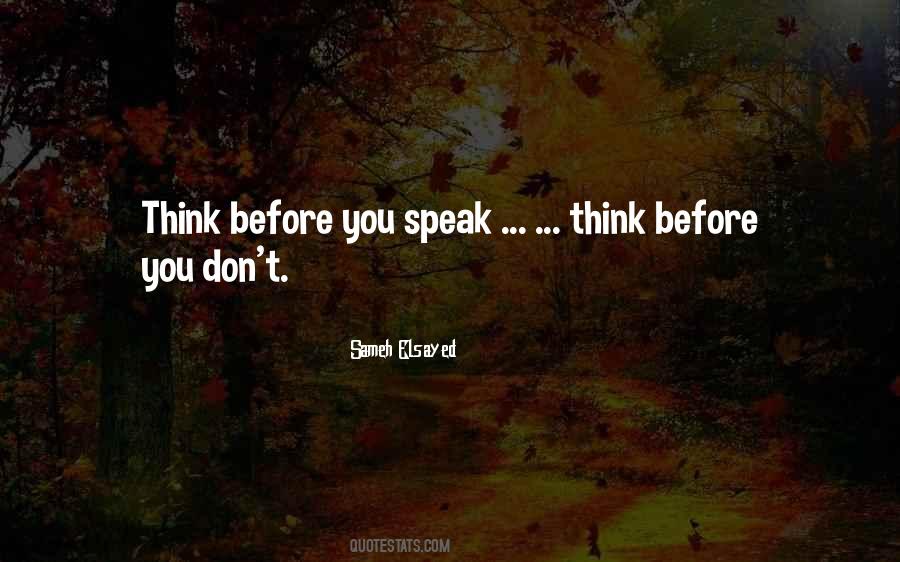 #81. A fool is made more of a fool, when their mouth is more open than their mind. - Author: Anthony Liccione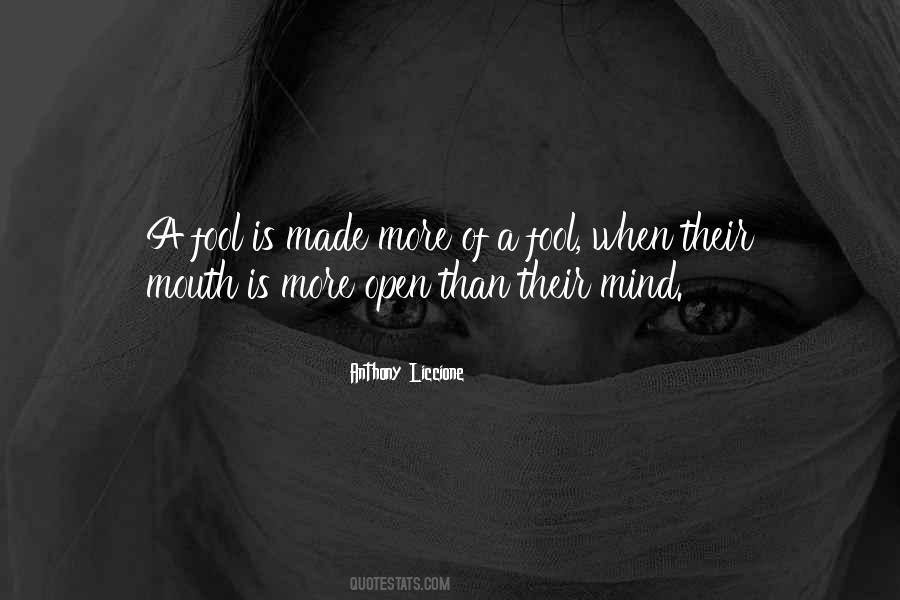 #82. It was one of those parties where you cough twice before you speak and then decide not to say it after all. - Author: P.G. Wodehouse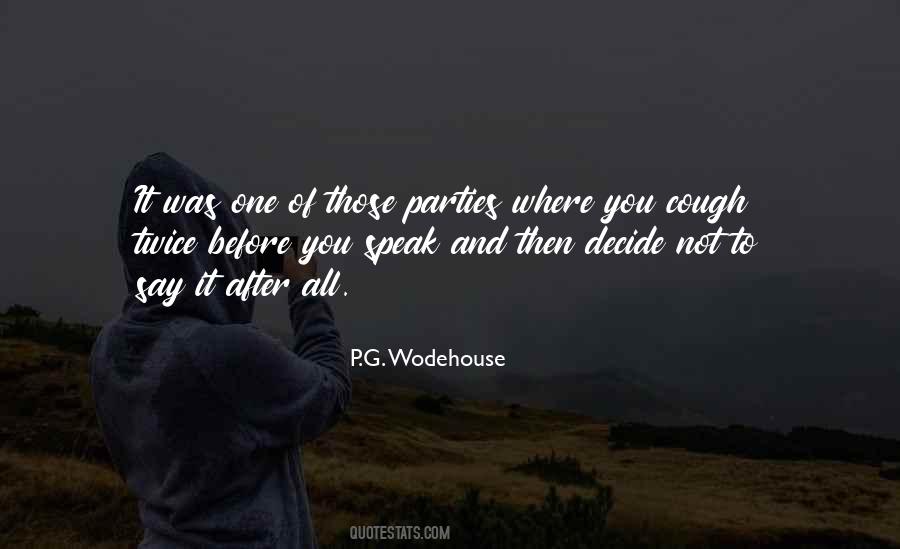 #83. Before you speak, make certain you have something worthwhile to say. - Author: Groucho Marx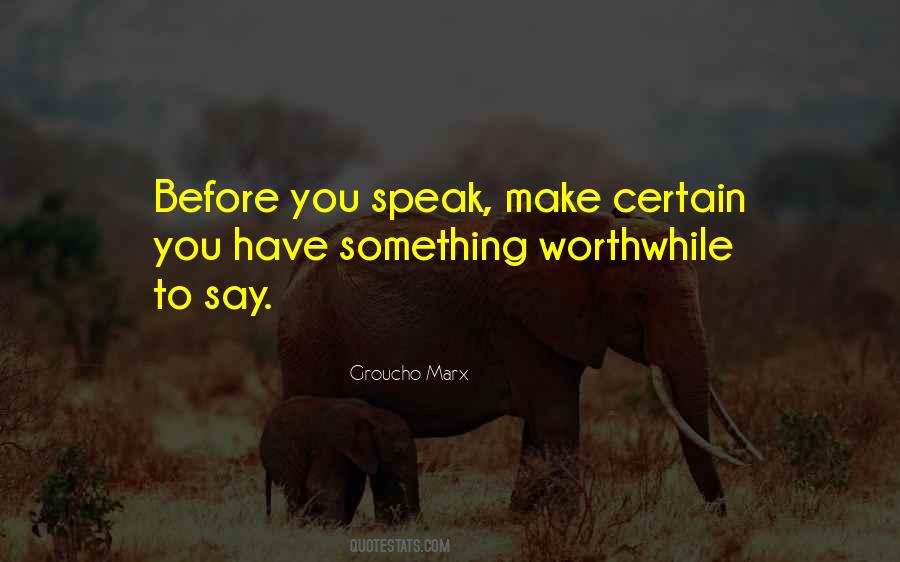 #84. Think about rethinking what you're thinking, before speaking the thought you were thinking, and cause unintended consequences for speaking what you probably shouldn't have been thinking. - Author: T.F. Hodge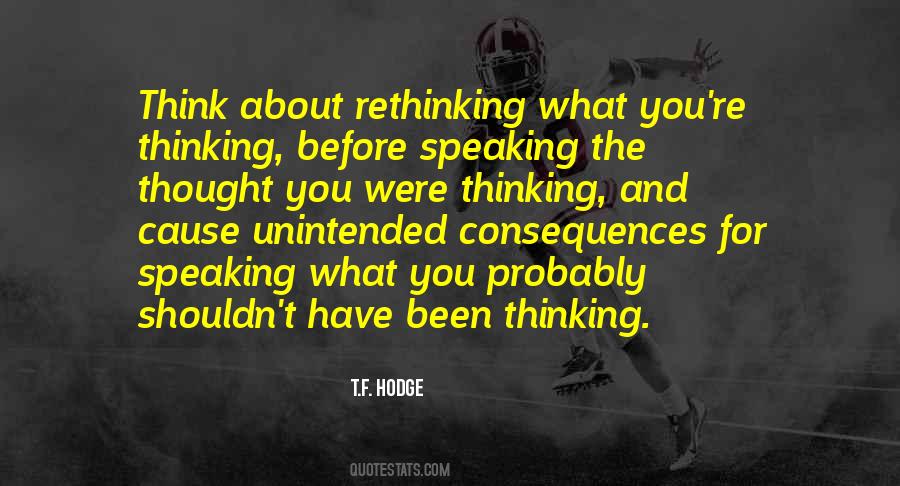 #85. Before you go to sleep tonight, let go of your day; everything is alright. Just bow your head, speak your prayer, and trust in Him who will forever care. - Author: Lisa Mischelle Wood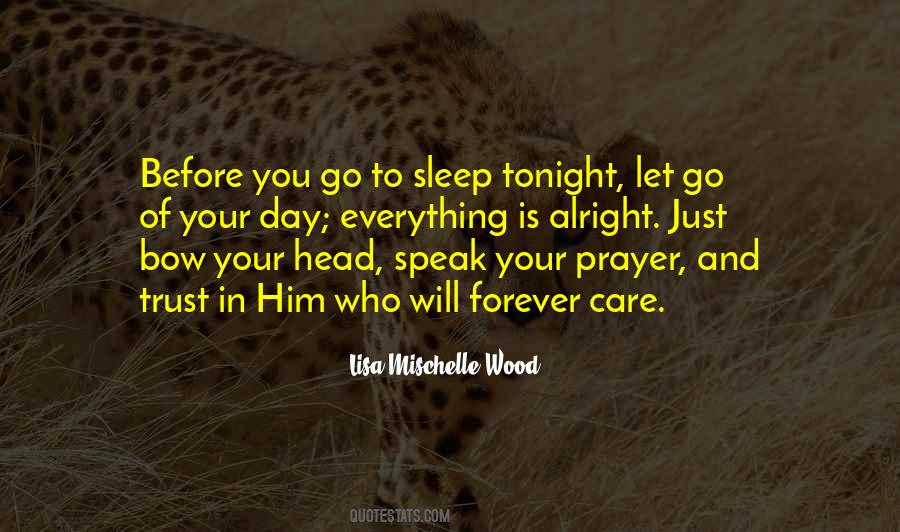 #86. The real power of silence is to keep silent. The real power of silence is in the works of silence! - Author: Ernest Agyemang Yeboah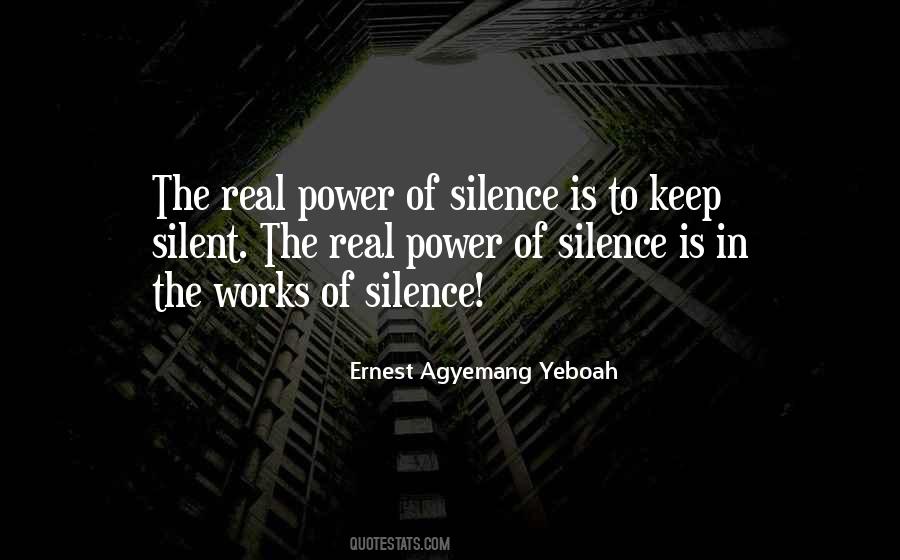 #87. Naturally, it is with some temerity that the pupil speaks before the master, because you know more about the Common Market than anybody. - Author: Margaret Thatcher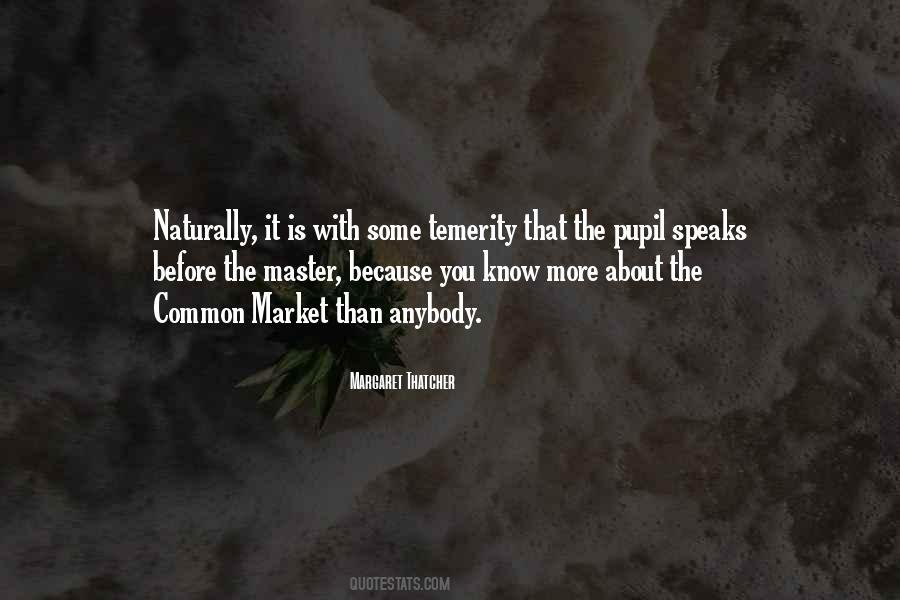 #88. Think before you speak. Spend less than what you make. And whatever happens, try to make the best of what's going on. - Author: Mike Leonard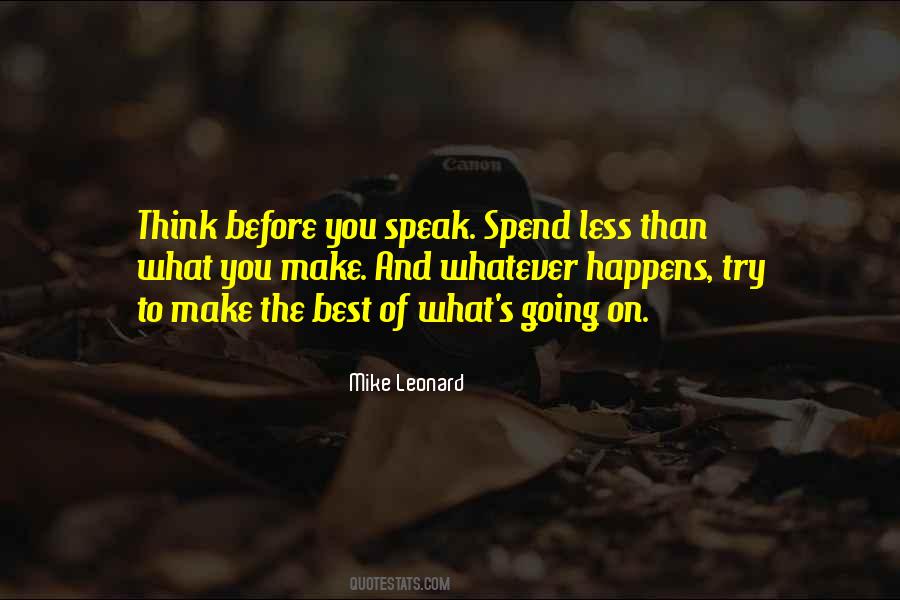 #89. Before you code, think. Before you write, read. Before you speak, listen. Before you comment, reflect. Before you release, test. - Author: Addy Osmani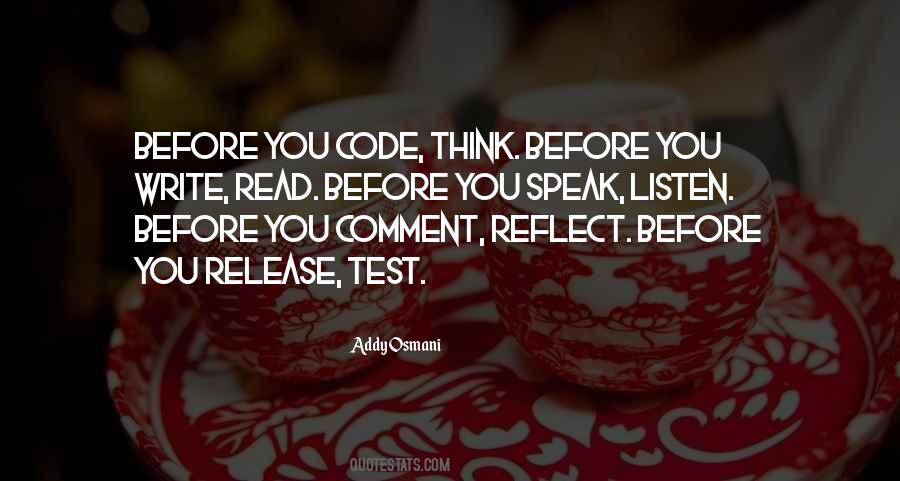 #90. There's a certain rhythm to comedy that is almost like you're dancing and you just go on autopilot, so to speak. There's something just beautifully enjoyable about comedy in that respect. It's a joy to be able to do that. Drama, you get to go to depths that you haven't gone to before. - Author: James Wolk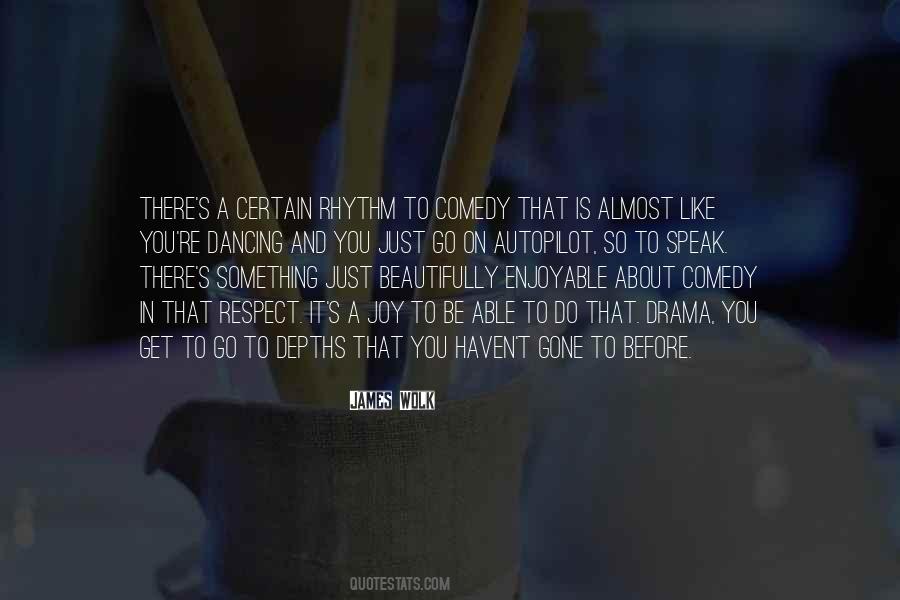 #91. Before you speak, think if what you intend to say catches in one of the three sieves:
1. The sieve of truth
2. The sieve of love
3. The sieve of necessity - Author: Socrates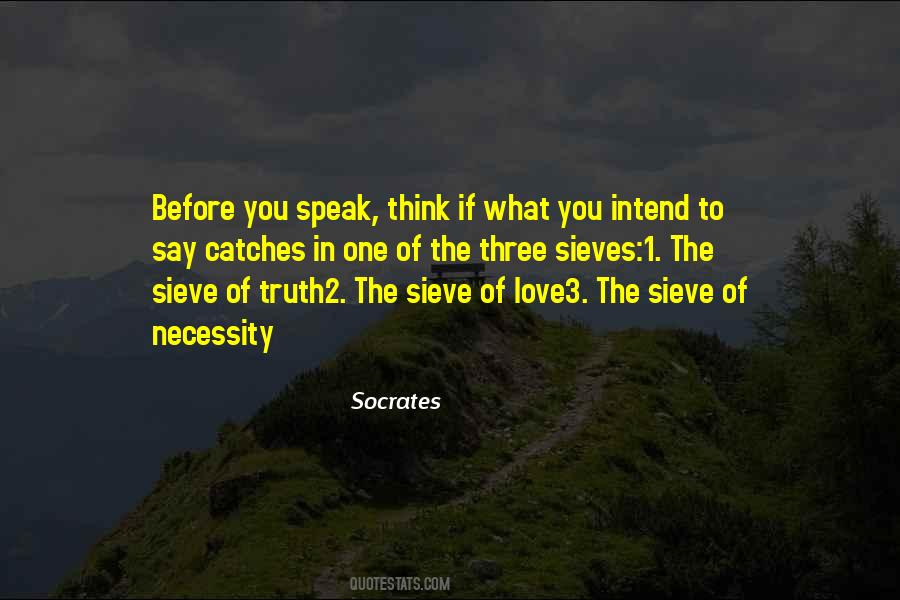 #92. Words create. Know what you want to create before you speak - Author: Bangambiki Habyarimana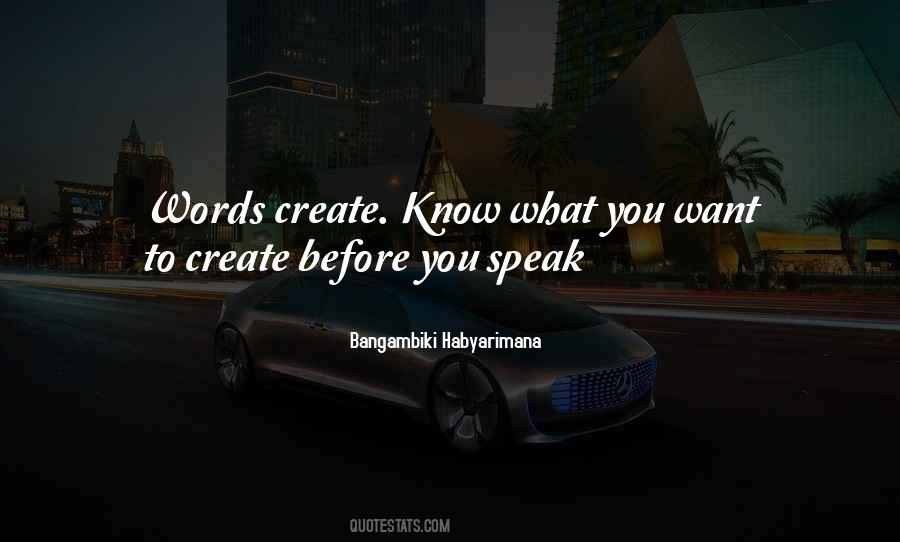 #93. I will not let her speak because I love her, and when you love someone, you do not make them tell war stories. A war story is a black space. On the one side is before and on the other side is after, and what is inside belongs only to the dead. - Author: Catherynne M Valente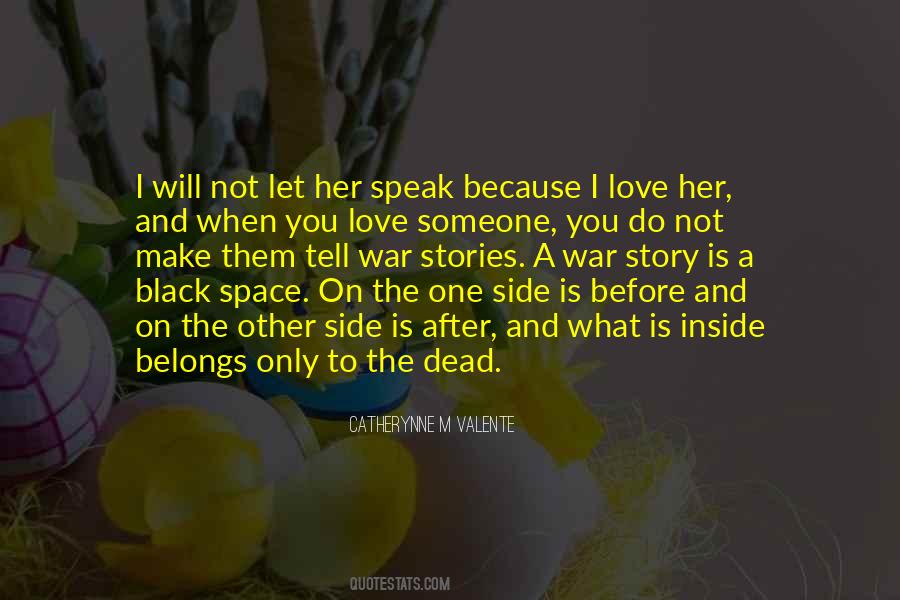 #94. why talk and say the unsaid words in haste when silence can speak the unspoken words? - Author: Ernest Agyemang Yeboah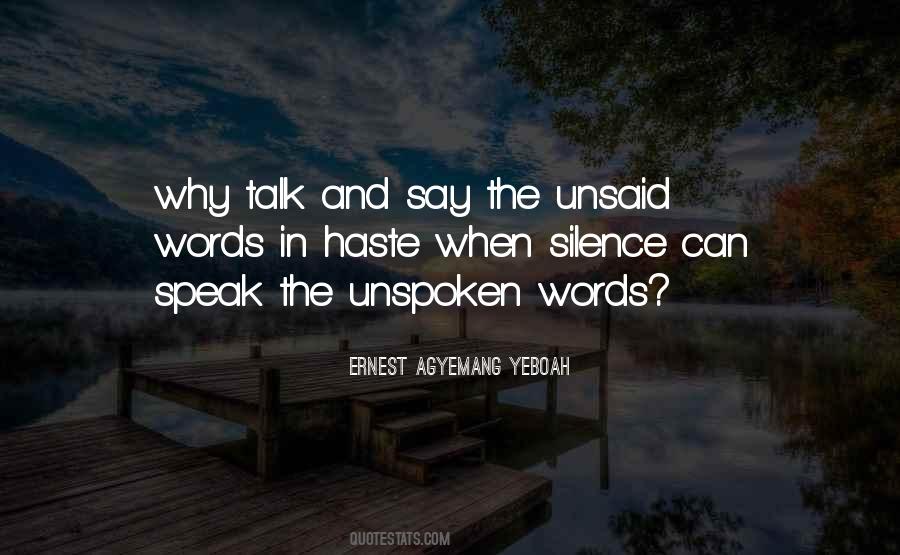 #95. Before you speak, listen.
Before you write, think.
Before you spend, earn.
Before you invest, investigate.
Before you criticize, wait.
Before you pray, forgive.
Before you quit, try.
Before you retire, save.
Before you die, give. - Author: William Arthur Ward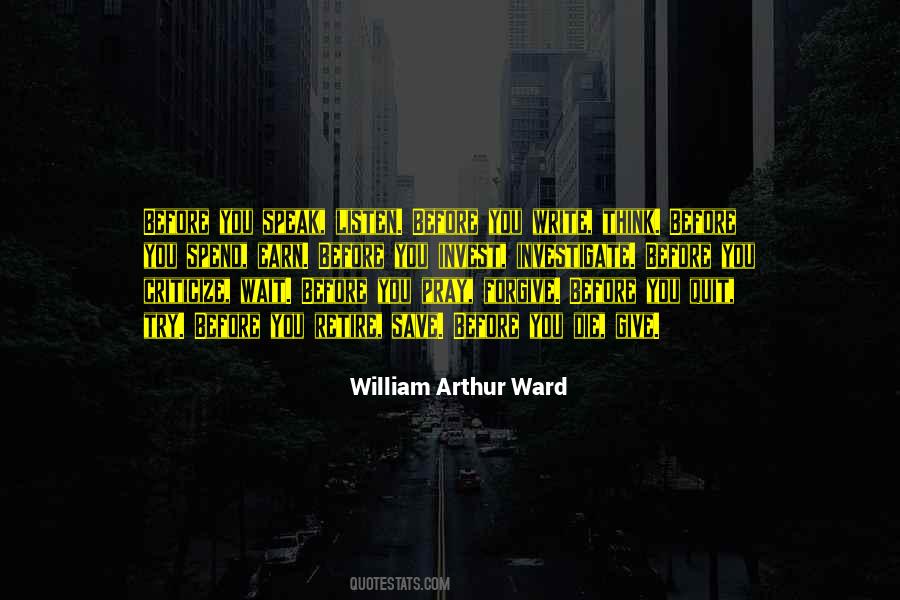 #96. O God, You Who are the truth, make me one with You in love everlasting. I am often wearied
by the many things I hear and read, but in You is all that I long for. Let the learned be still, let all
creatures be silent before You; You alone speak to me. - Author: Thomas A Kempis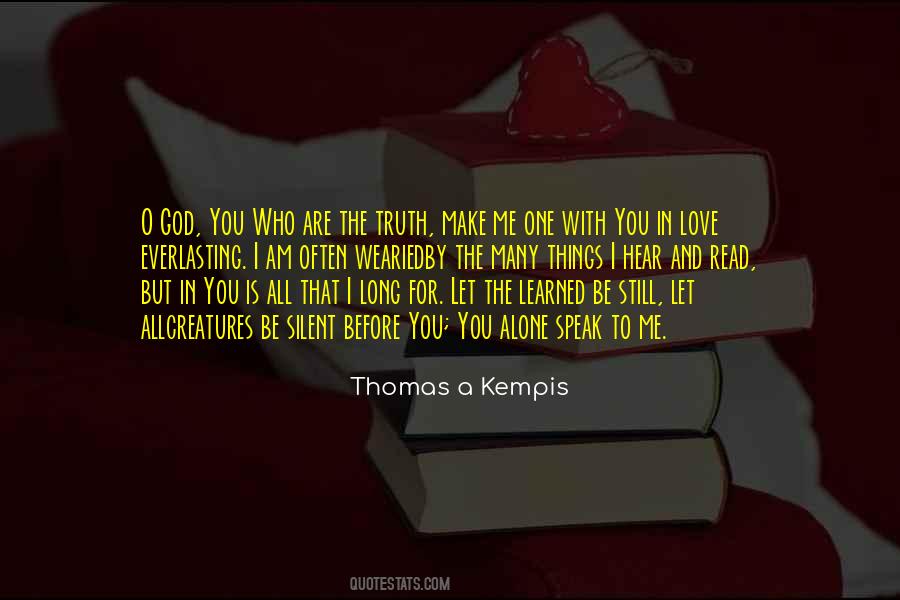 #97. Words once uttered, cannot be buttered, so season them all before you speak - Author: Carrie King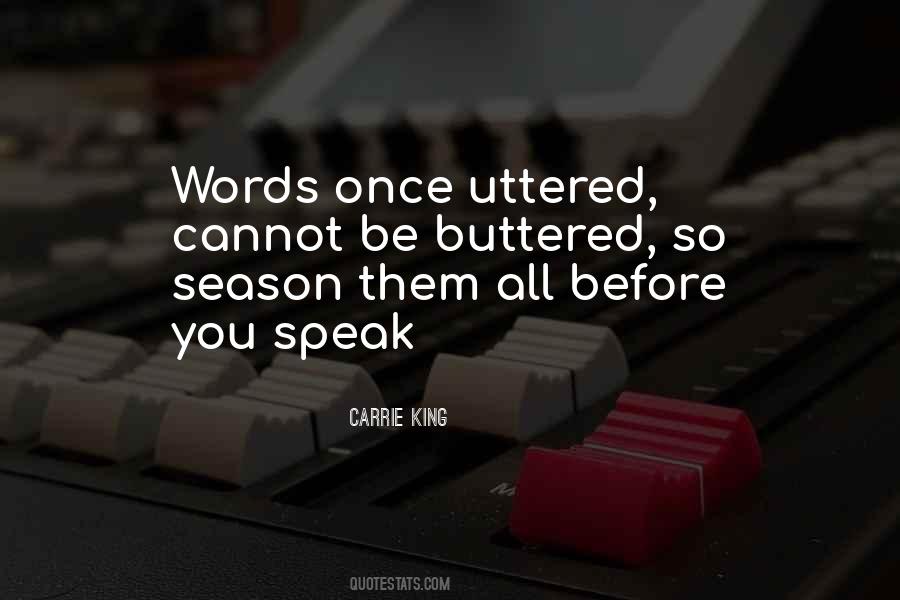 #98. Before prayer, endeavor to realize whose Presence you are approaching, and to whom you are about to speak. We can never fully understand how we ought to behave towards God, before whom the angels tremble. - Author: Teresa Of Avila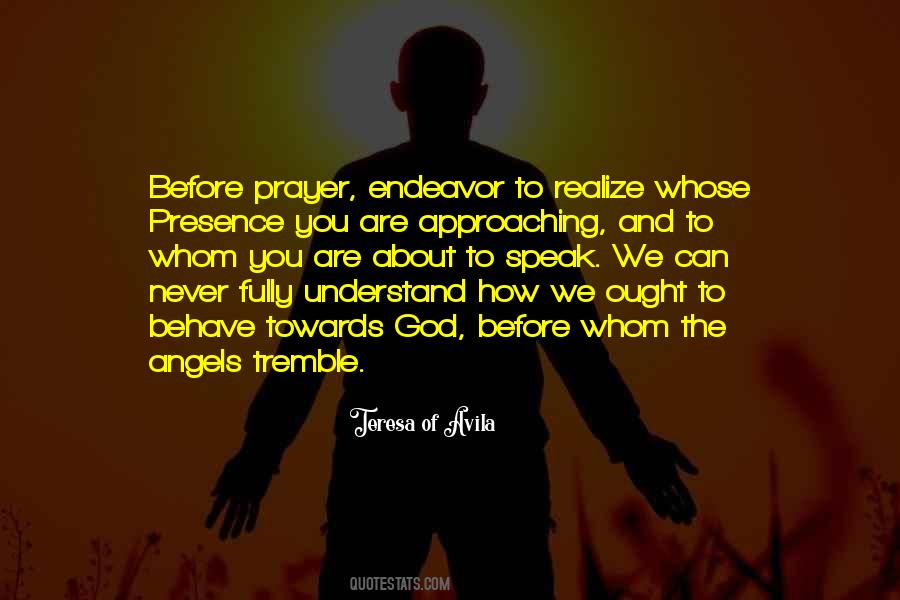 #99. And so you have a life that you are living only now, now and now and now, gone before you can speak of it, and you must be thankful for living day by day, moment by moment a life in the breath and pulse and living light of the present - Author: Wendell Berry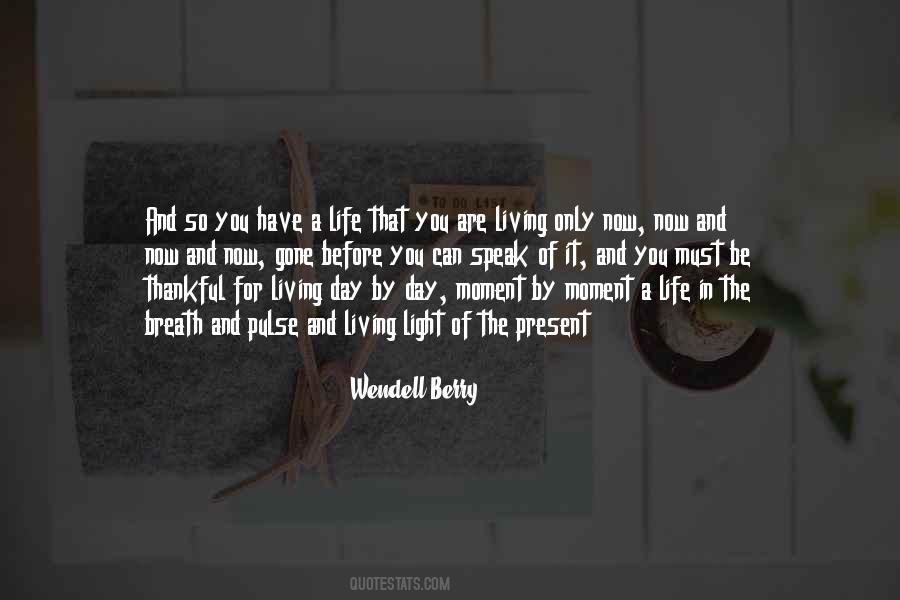 #100. Better to remain silent and thought a fool, than to speak out and confirm that you didn't do the assigned readings before the strategic planning retreat. - Author: Abraham Lincoln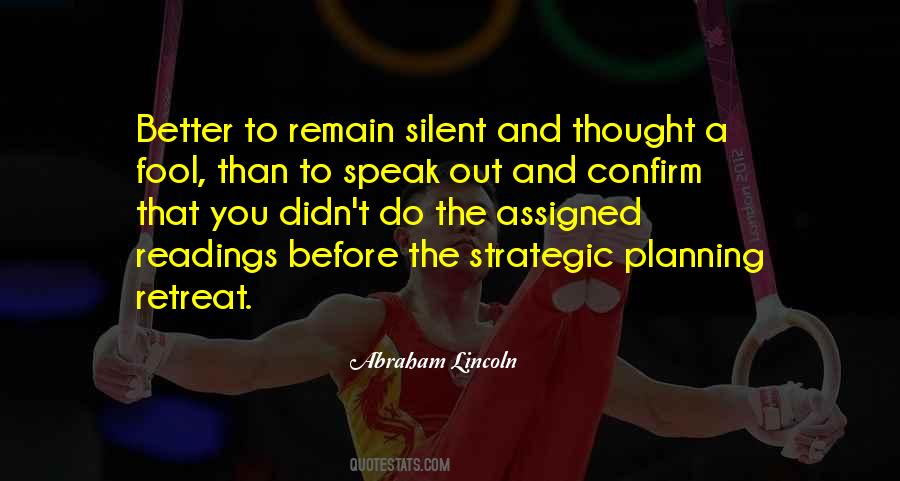 Famous Authors
Popular Topics