You Want It Famous Quotes & Sayings
List of top 100 famous quotes and sayings about you want it to read and share with friends on your Facebook, Twitter, blogs.
Top 100 You Want It Quotes
#1. If you see a blatant error or misconception about yourself, you really want to set it straight. - Author: Jimmy Wales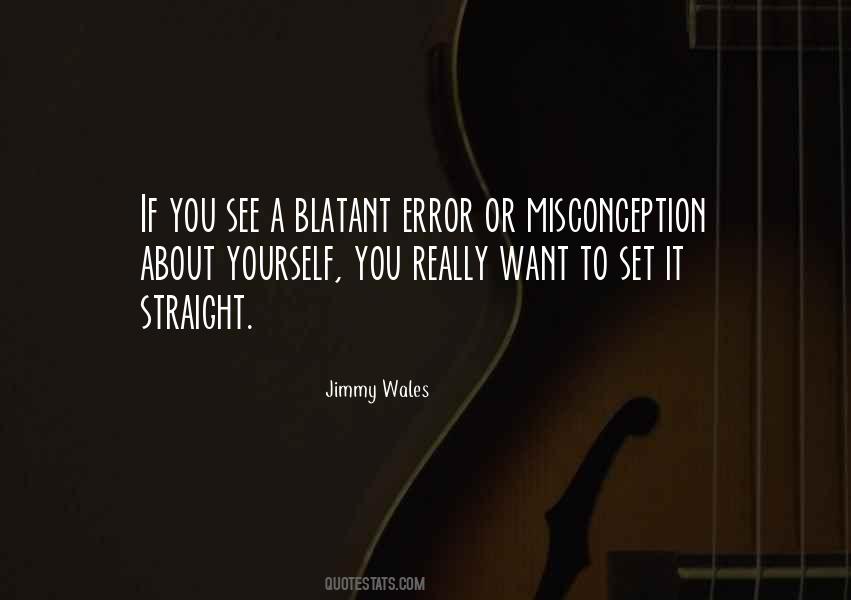 #2. I'll tell you something that's completely true - you can, as a man, obtain everything you want with the truth. If you lie, first of all you've got to be a very good lying actor, which is tres difficile. And it's going to give you poison inside the body. - Author: Jean Reno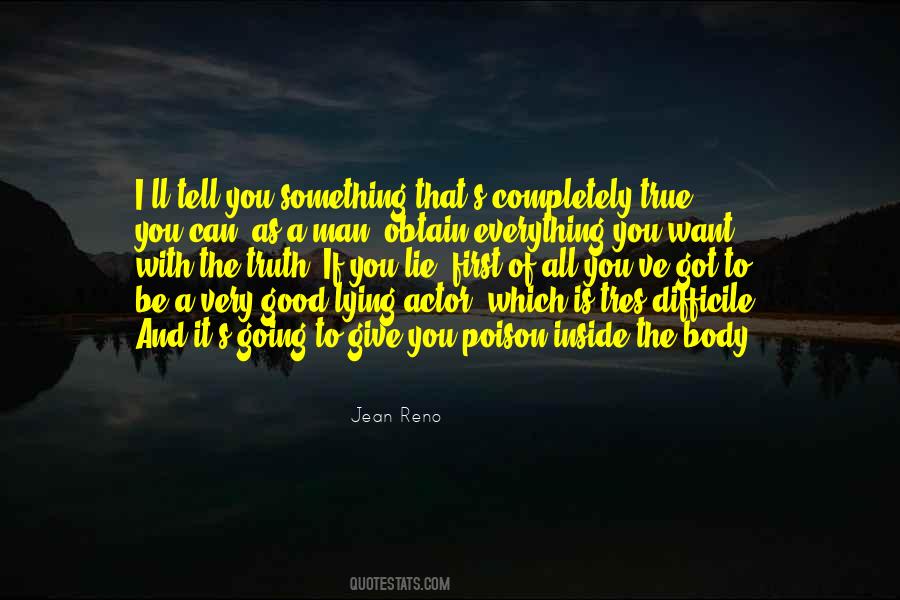 #3. Everything about you fascinates me, Sophie. The smell of your skin. The sound of your voice. Your long legs. Your sense of humor. Your personality. You don't seem to need me, and if you don't need me, it is much more gratifying that you want me. - Author: Elisa Marie Hopkins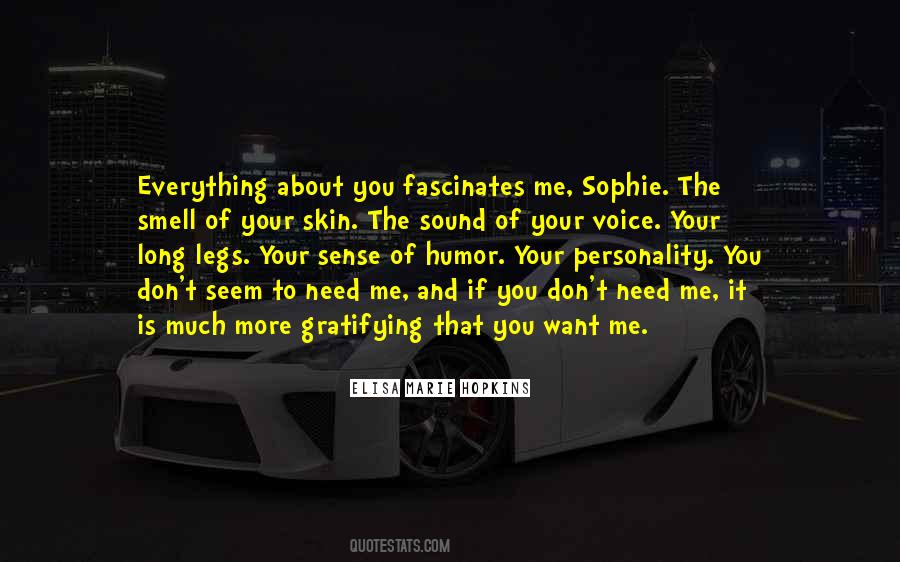 #4. Then "wrong" is right, and "right" is wrong! Yet I'll tell you this, to help you out of your dilemma: believe nothing I say. Simply live it. Experience it. Then live whatever other paradigm you want to construct. Afterward, look to your experience to find your truth. - Author: Neale Donald Walsch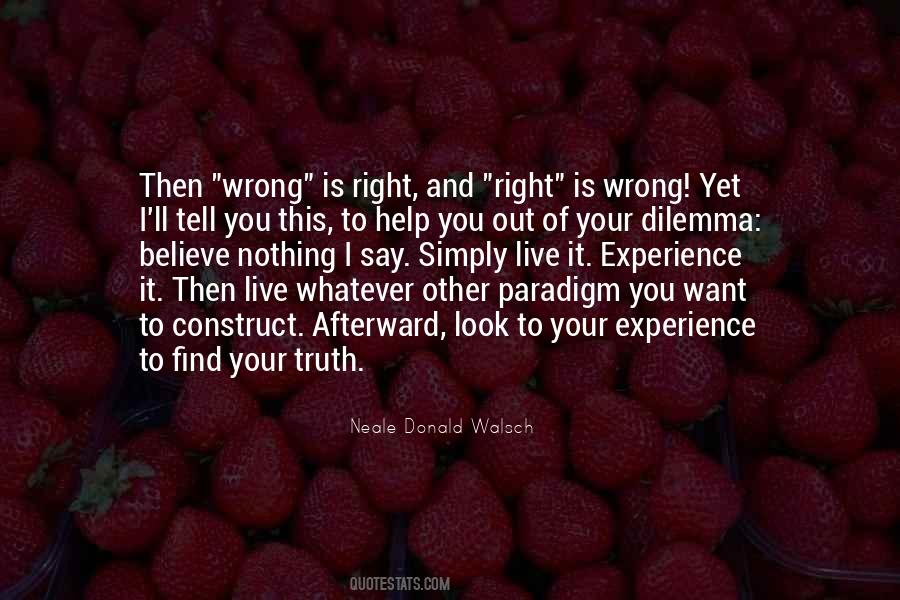 #5. You don't want to continue to do one thing and only one thing. You want to keep challenging yourself and if you do well at it, great, if you fall on your face, you tried. Like, she's really terrible at comedy! Who knew? But if you didn't try and put yourself out there you'd never know. - Author: Lucy Liu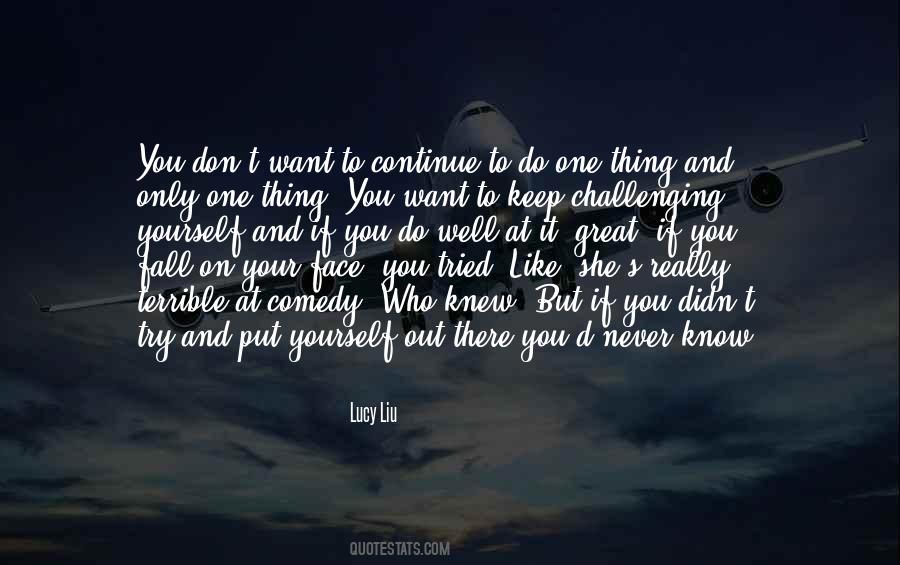 #6. I think summer, at least as I've experienced it, can be joyous but it can also be tough emotionally. Physically, it can be hot to the point of being unbearable and I think you want to capture that frustration, but also the release. - Author: Rostam Batmanglij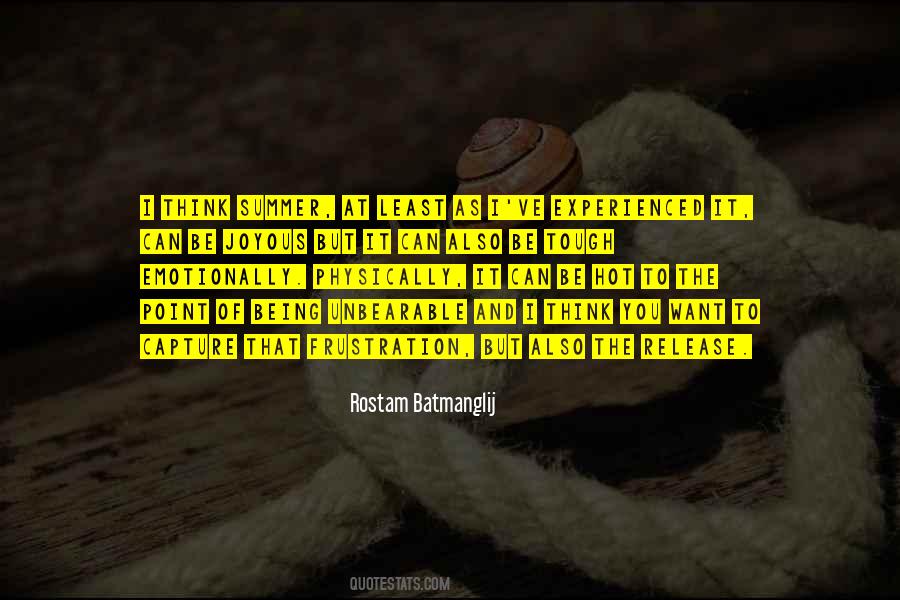 #7. And when they start talking, and they always do, you find that each of them has a story they want to tell. Everyone, no matter how old or young, has some lesson they want to teach. And I sit there and listen and learn all about life from people who have no idea how to live it. - Author: Paul Neilan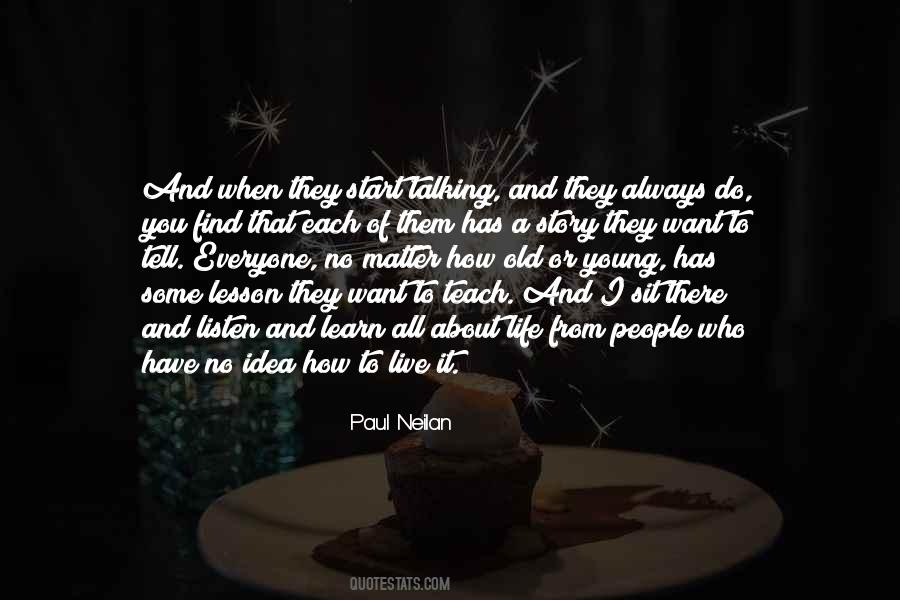 #8. No offense, Jaron, but I don't want your life. Even locked away behind closed doors I got a taste for how awful it can be."
"Did anyone try to kill you while I was gone?"
"No."
"Then you didn't even get a taste. - Author: Jennifer A. Nielsen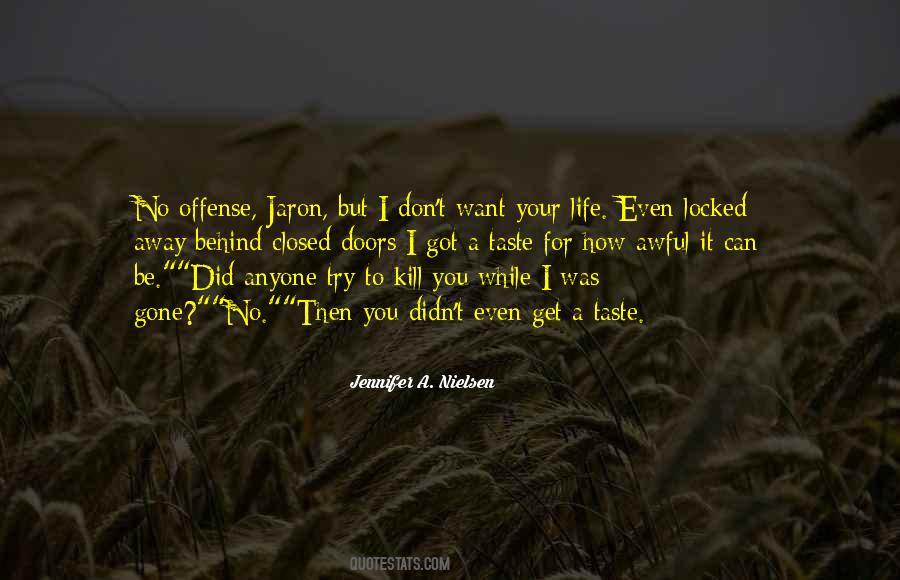 #9. Protective coloration ... you learn to use it to get along in the world if you want. Only I got sick of living in the box the world prescribed; it was far to small to hold me. So I knocked down a few walls. - Author: Bruce Coville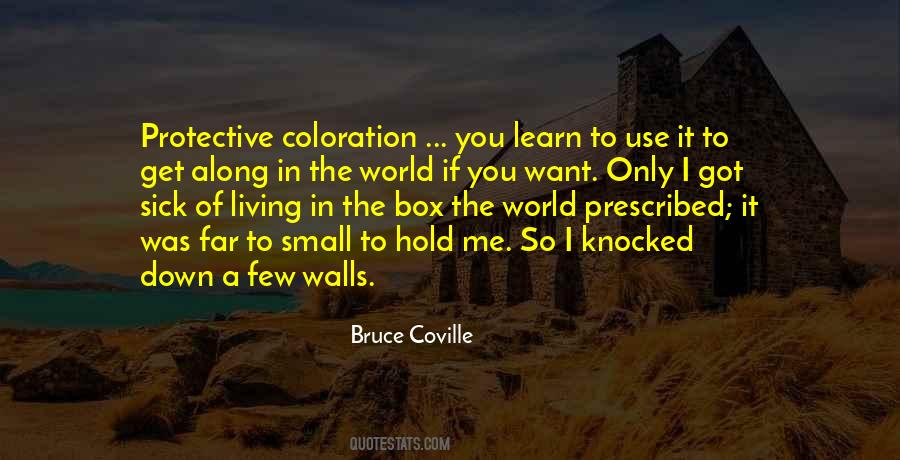 #10. A poet might die at twenty-one, a revolutionary or a rock star at twenty four. But after that you assume everything's going to be all right. you've made it past Dead Man's Curve and you're out of the tunnel, cruising straight for your destination down a six lane highway whether you want it or not. - Author: Haruki Murakami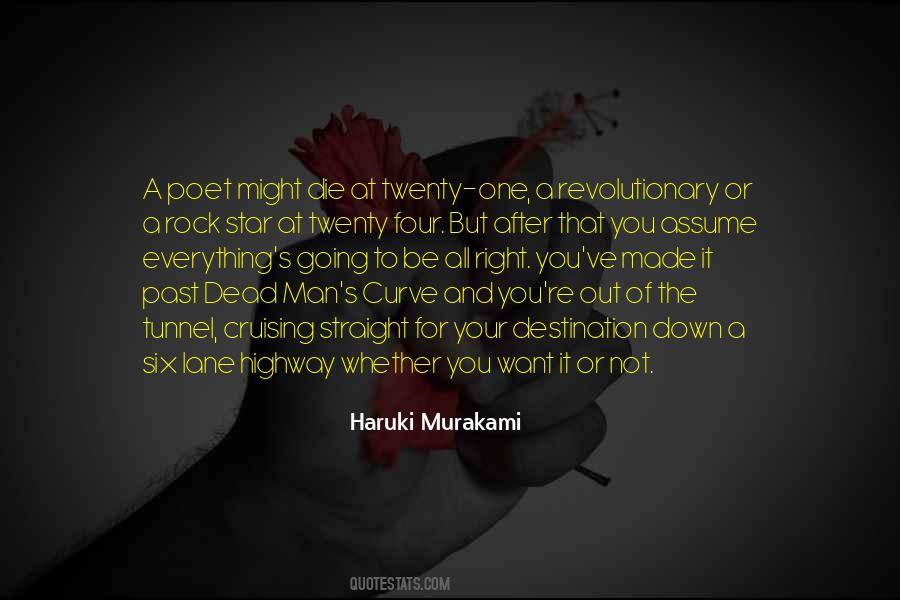 #11. Boy, it's a tough planet if you want it to be. But a great planet if you let it. - Author: Gary Busey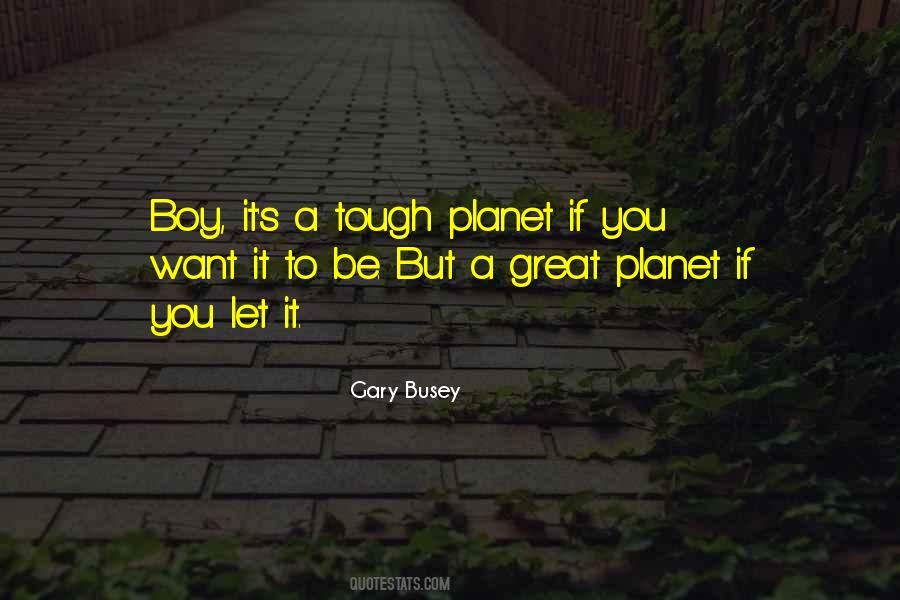 #12. I don't want to be in some relationship that's just about trading apologies when things get hard. Doing that won't make it all OK, you know? So, no, I don't forgive you. But I fucking accept you, including all the shit you do that tests my patience. Because I love you. - Author: Liora Blake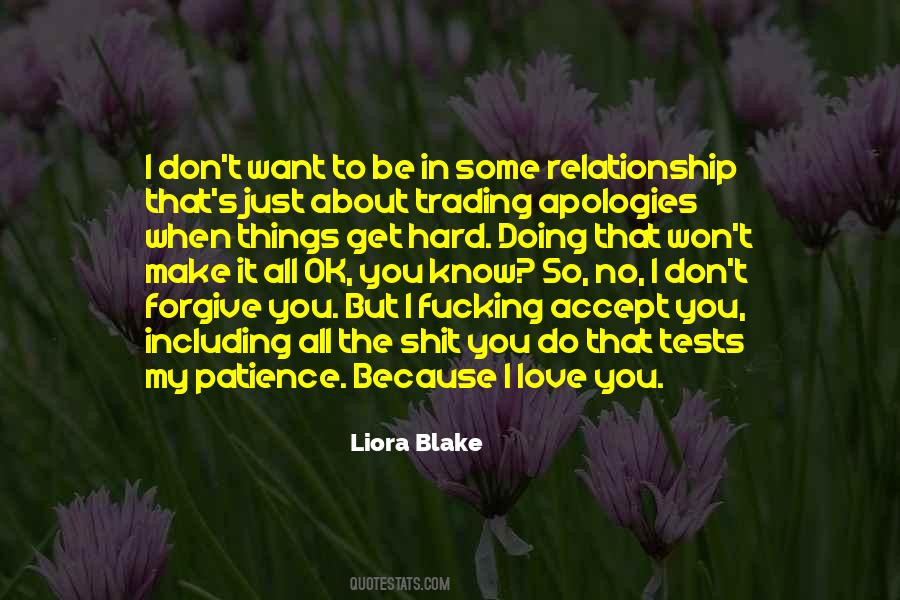 #13. So much of what folks want in the world turns out to be just a thing they say. Words change the way you feel for a small time and that just about goes as far as it can go toward being a true thing. - Author: Robert Bausch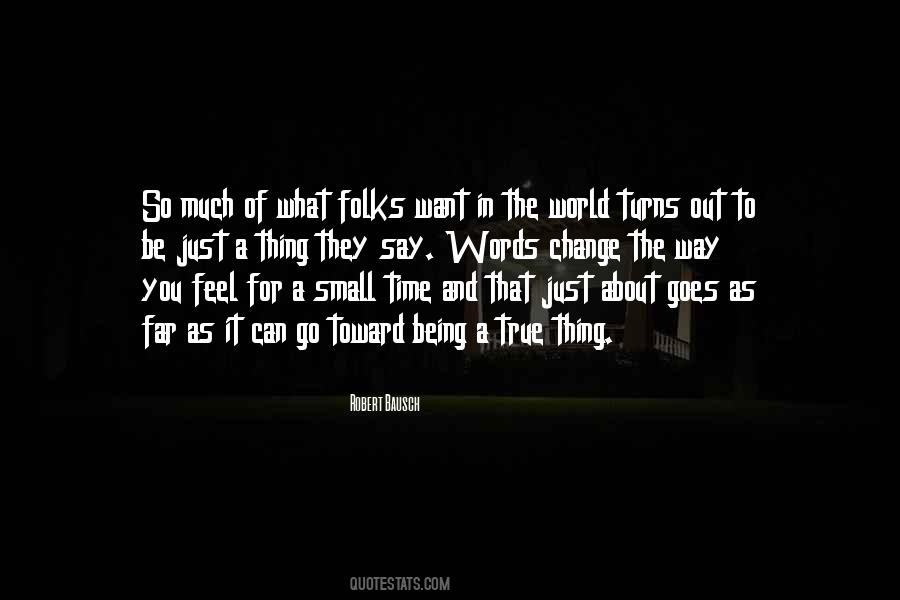 #14. You rich kids are all the same. Daddy may give you everything you want but the world won't, and it's my job to teach you that. - Author: Evelyn Smith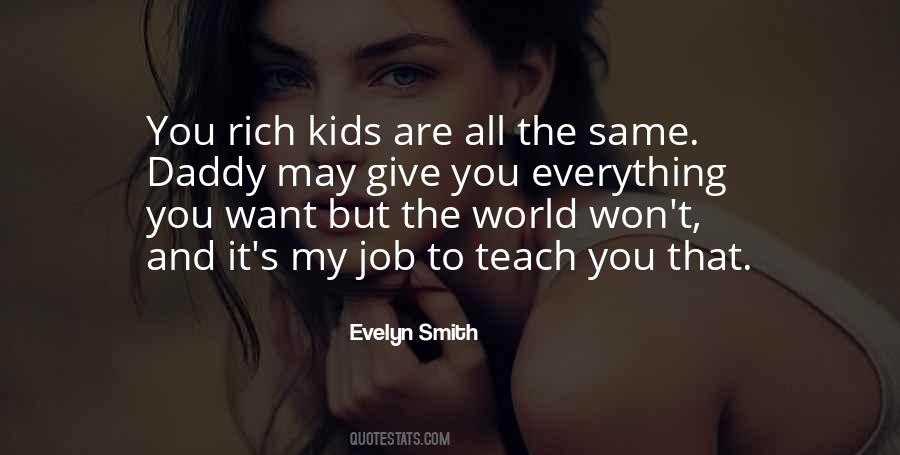 #15. Oh Lord, I've been so selfish, so consumed with myself I haven't been able to see anyone else's pain but my own. I've let anger blind me. I've let self-righteousness stop me in my tracks and keep me from having the kind of relationship with you that I want. I need to let it go. - Author: Lynette Eason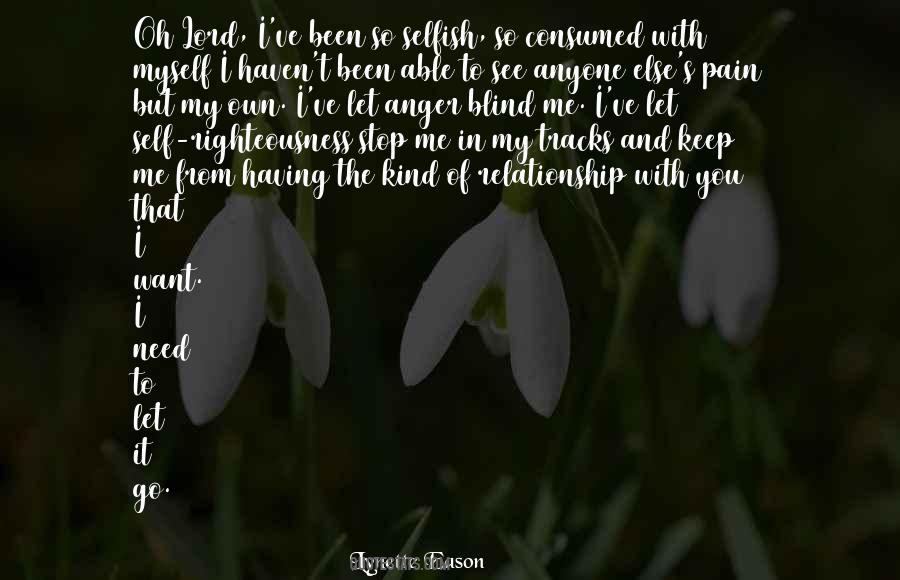 #16. I have a responsibility to not look crazy in public. I don't want to be the person where later in life when I have kids, to say, 'Don't do this' and my kids go, 'But Mom, you did it.' - Author: Raven-Symone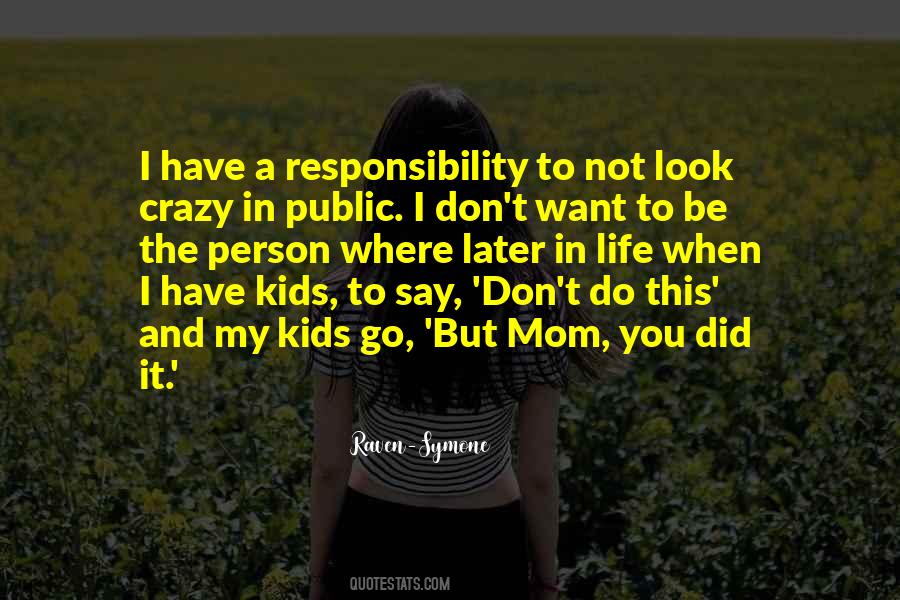 #17. If you want to know what an ultimate goal would be, of course it would be utter peace. - Author: David Miscavige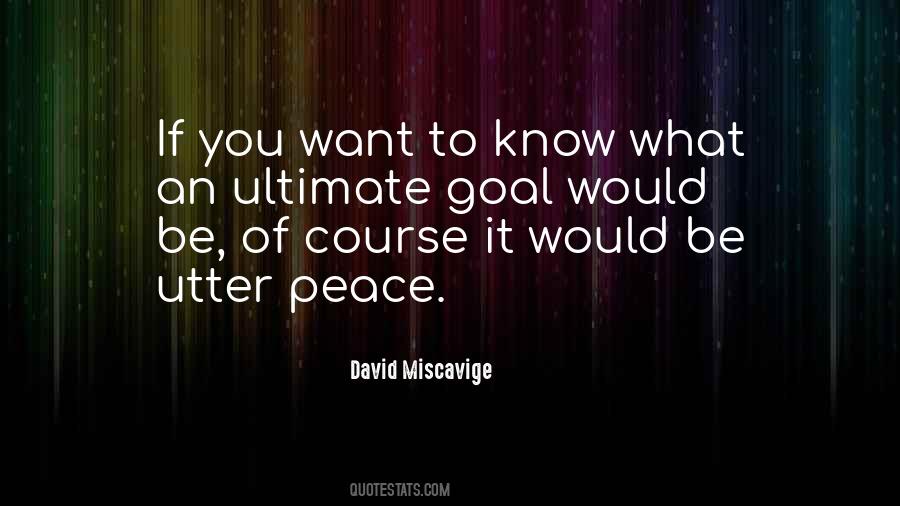 #18. Dale: "No, no
curse it, Beka, you're the prickliest woman I've ever met!"
Goodwin: "No, I am. But she comes very close, I have to say."
- Dale Rowan and Clara Goodwin when Beka didn't want to accept money for being Dale's "luck - Author: Tamora Pierce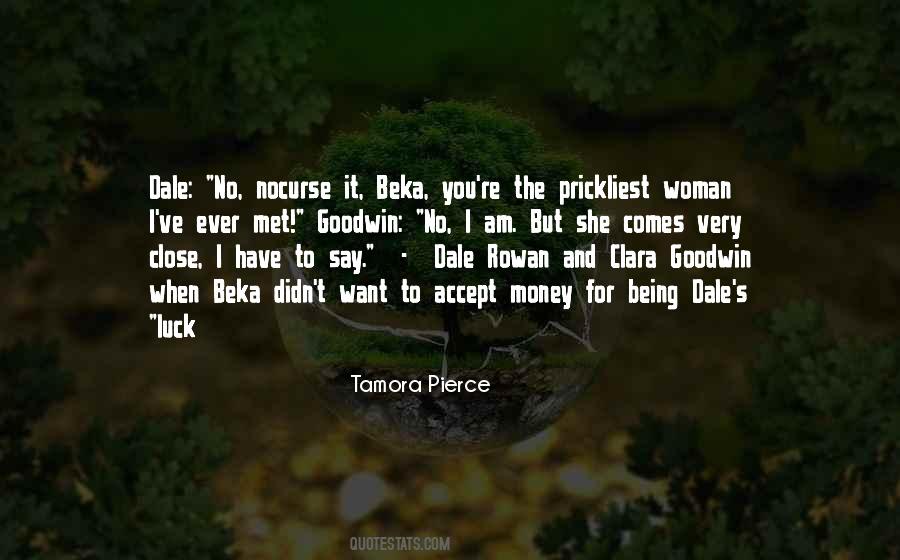 #19. The beauty of being an Author is, It's your story and you can write what ever you want. - Author: Toni House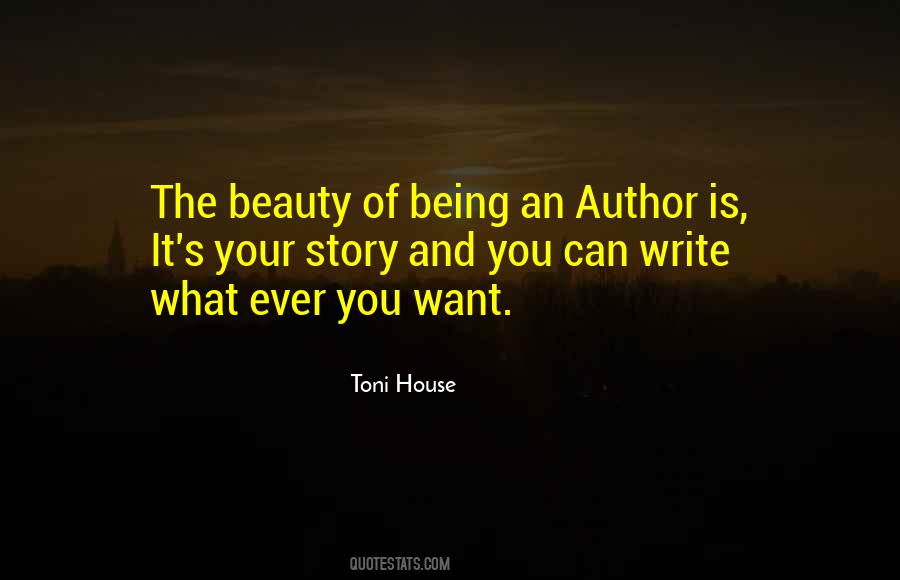 #20. You know, I like to think my life is kind of like the books I read, only I'm the author. I can write the story I want. The future can be anything I want it to be." He moved his head side to side, considering my words. "That works, as long as your story has a blond stud that fucks like an animal. - Author: Adriana Locke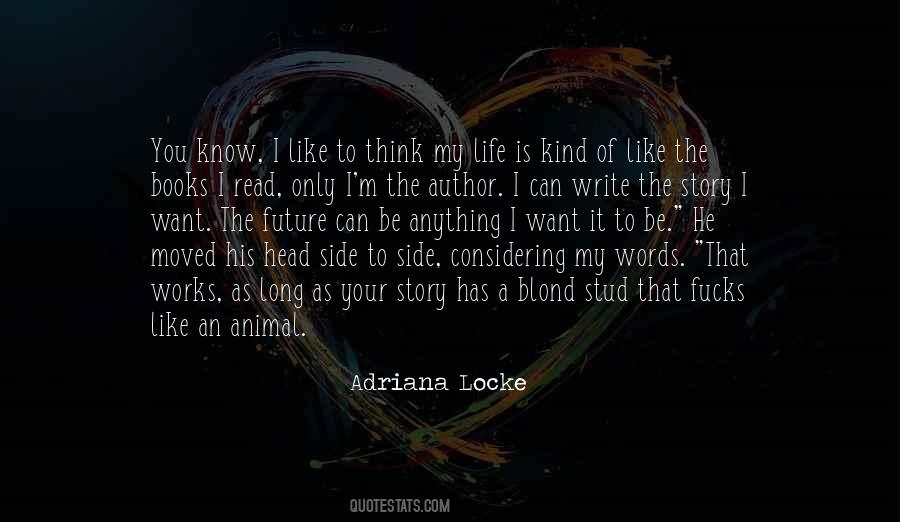 #21. Unfortunately, the simplest things - such as thinking for myself, creating my own reality and being whatever the hell I want to be each day of my life - are a sin. To be a good Christian basically means to give up the reigns of your life and let some unseen force do it for you. - Author: Brandon Boyd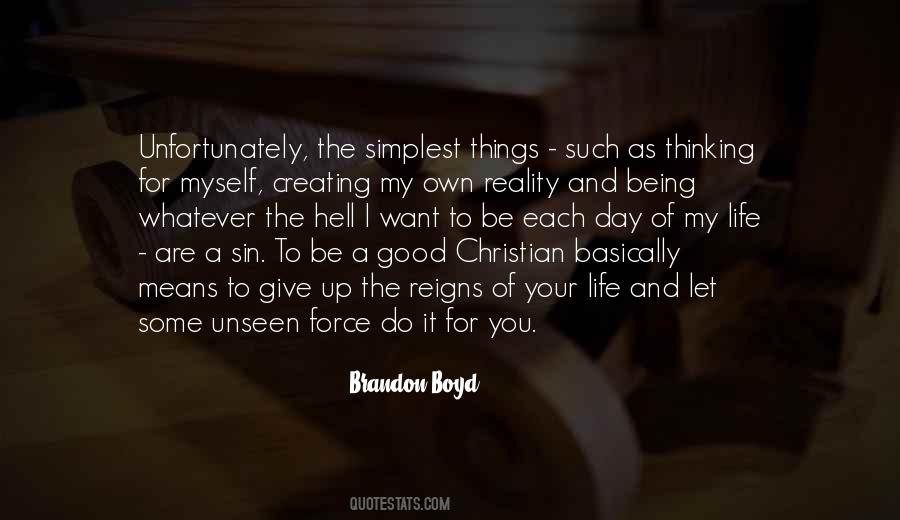 #22. The thing is, what I'm tryin' to say is -
they do get on a lot better without me, I can't help them any. They ain't mean. They buy me everything I want, but it's now - you've-got-it-go-play-with-it. You've got a roomful of things. I-got-you-that-book-so-go-read-it. - Author: Harper Lee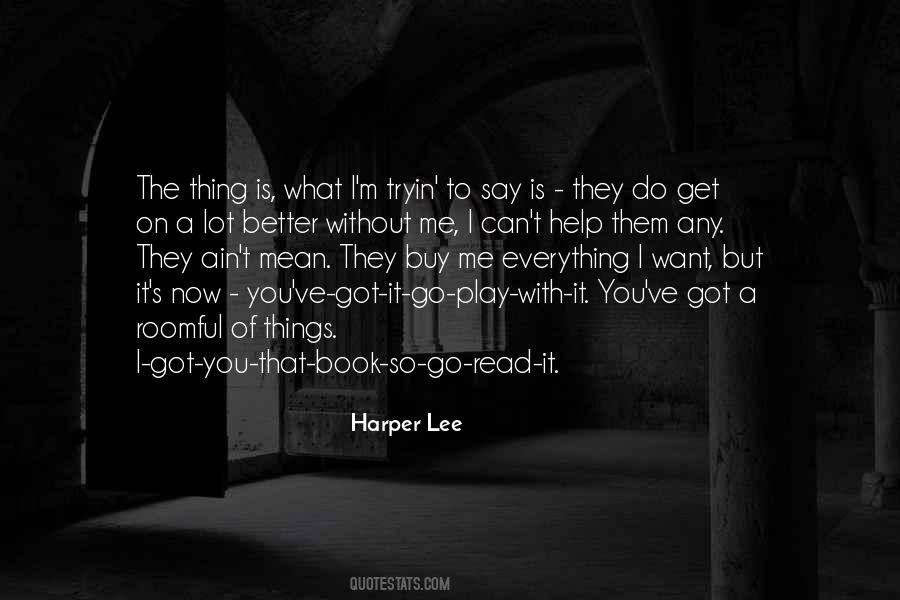 #23. It is in the contemplation of what you desire that you create what it is you want for yourself - Author: Wayne Dyer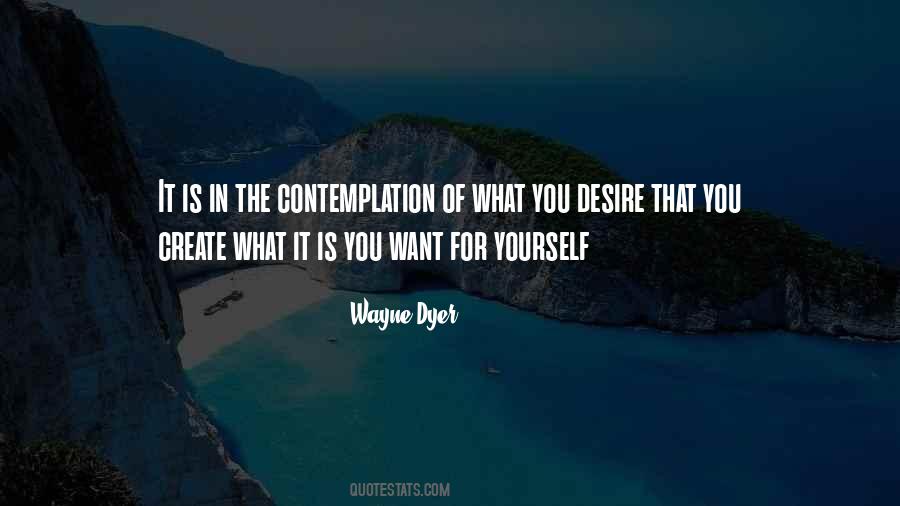 #24. I feel like I have to do the best job I can to basically say, "OK, I understand - you have every right to be angry, but anger is not a plan. Here's what I want to do, and that's why I hope you will support me, because I think it will actually improve the lives of Americans." - Author: Hillary Clinton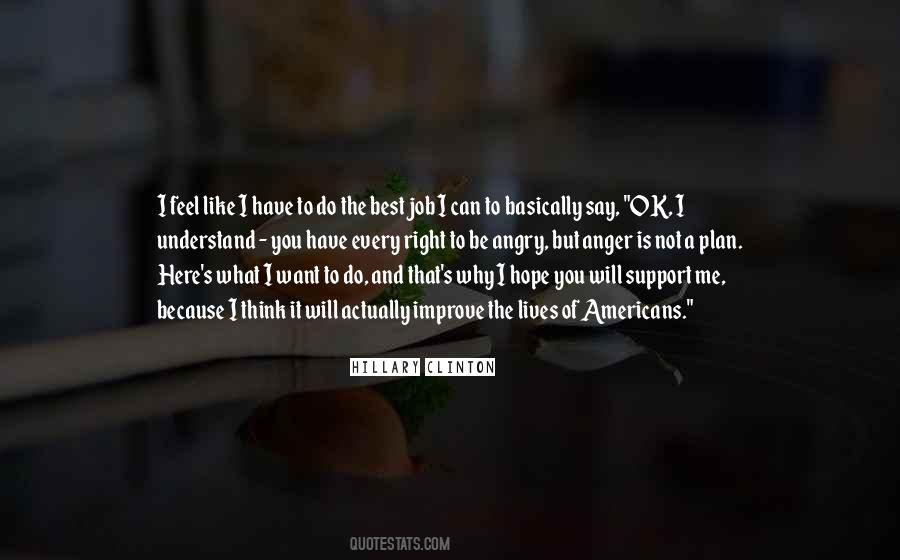 #25. You've got to stop thinking of me that way. When it's just you and me, I'm not a Five and you're not a Six. We're just Aspen and America. And I don't want anything in the world but you. - Author: Kiera Cass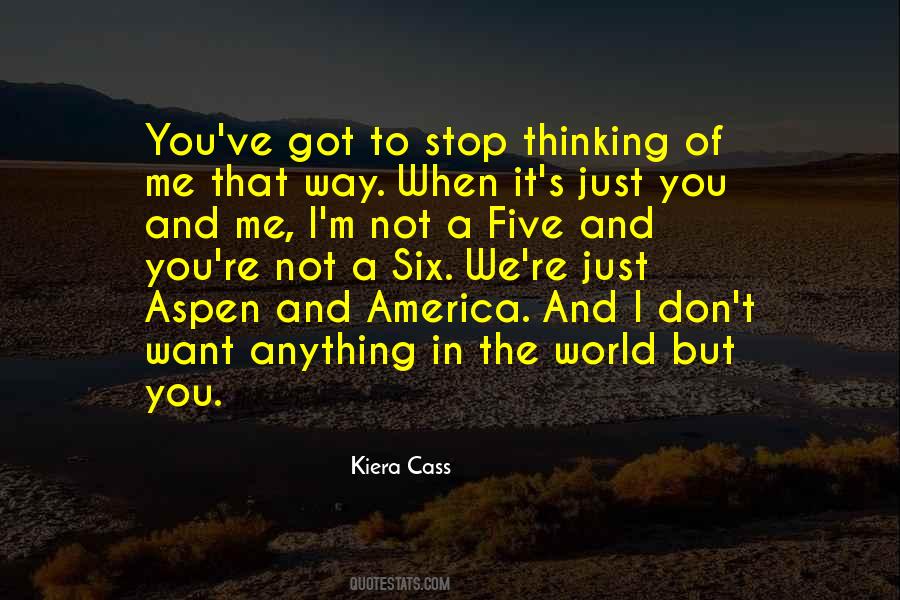 #26. I sighed. "Now what do I do?" He leaned against my wall. "What do you want to do?" "Since when has that mattered?" "It's always mattered. It doesn't mean you'll get what you want, but what you want always matters. That's what defines you. - Author: Richard Paul Evans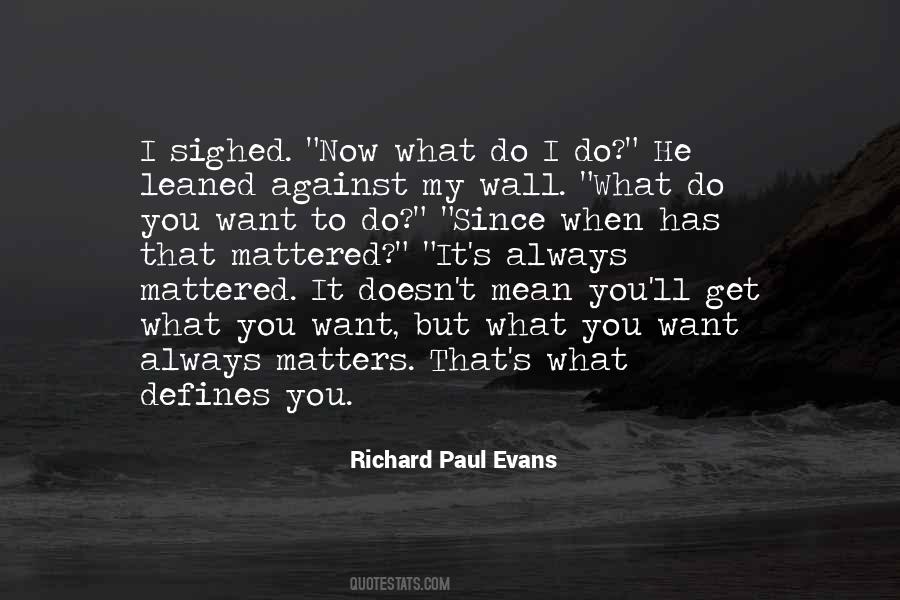 #27. I fear no fate(for you are my fate,my sweet)i want no world(for beautiful you are my world,my true) and it's you are whatever a moon has always meant and whatever a sun will always sing is you here is the deepest secret nobody knows - Author: E. E. Cummings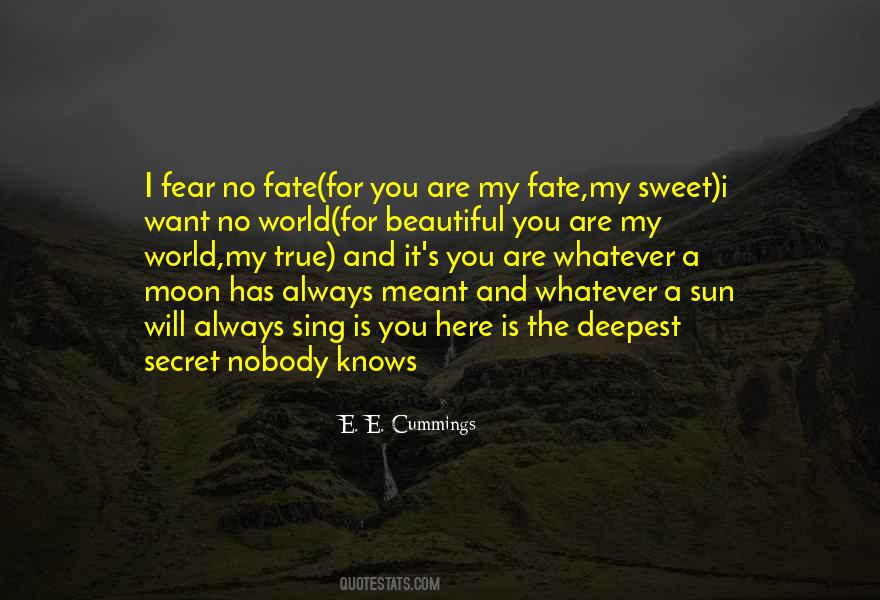 #28. I like songs that make me feel tough. Like 'Back in Black.' You want to hear it again and get in a fight. - Author: Chris Stapleton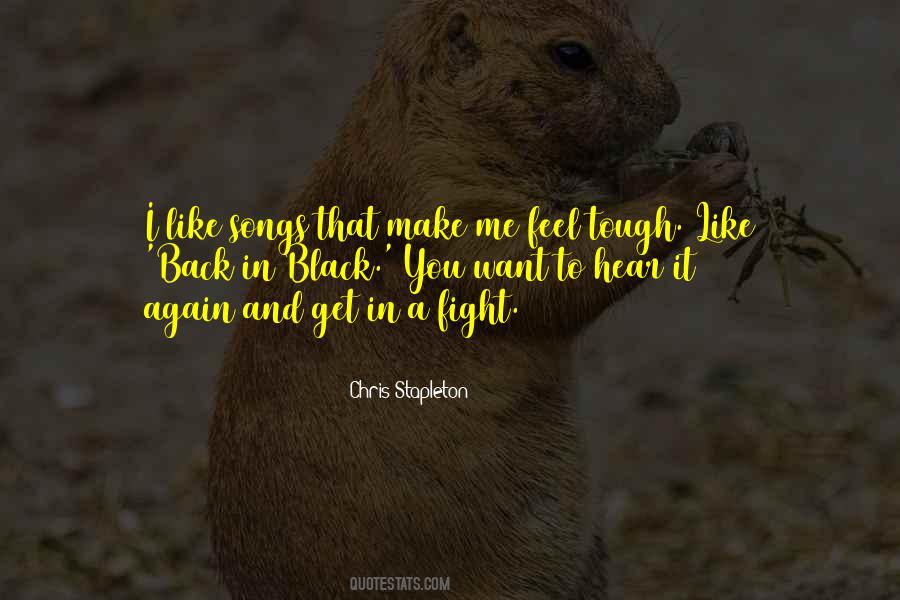 #29. I give him a skeptical look. "You want to show me your dick?"
"If it'll help convince you." He drains the last drops of his Scotch and stands up. "Come on, let's go. - Author: Kendall Ryan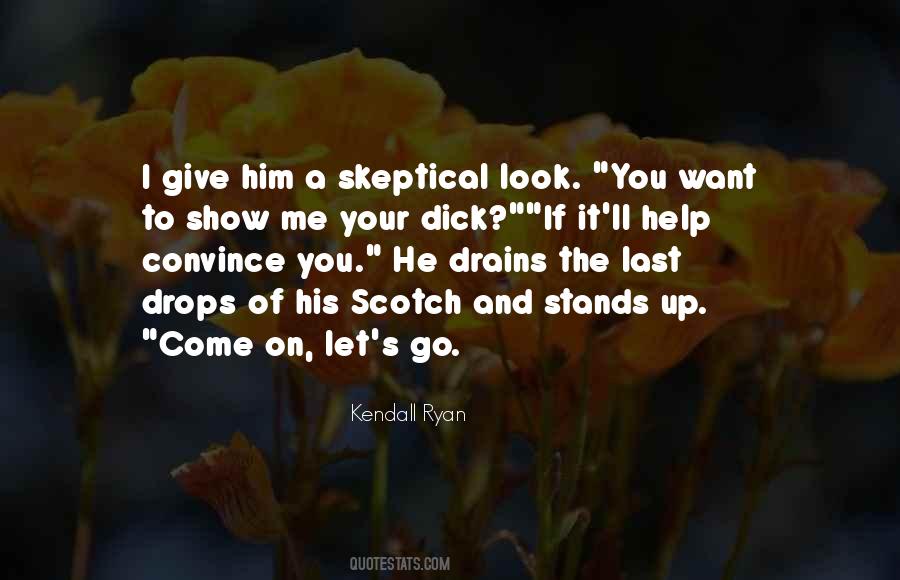 #30. If you want to achieve the unimaginable, you start by imagining it. - Author: Chris Guillebeau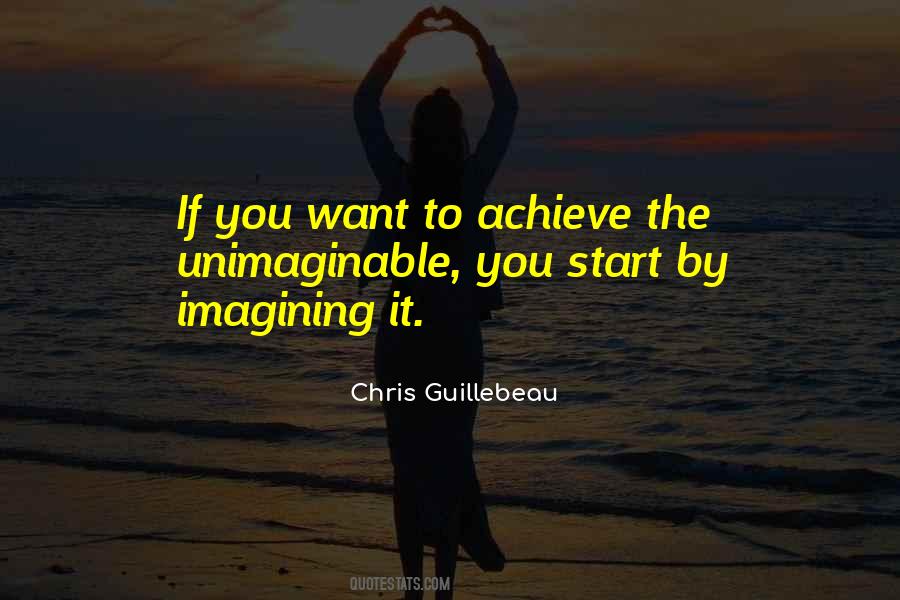 #31. When you force a man to act against his own choice and judgment, it's his thinking that you want him to suspend. You want him to become a robot. - Author: Ayn Rand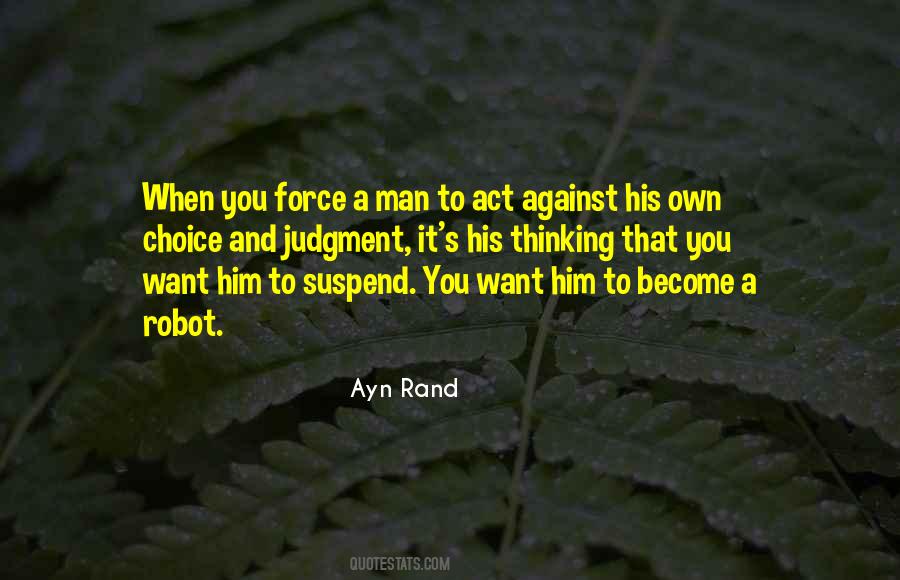 #32. You ever go to shop for tuna, and it says "dolphin safe", and you look at it and kind of go, "Yeah, but"-like somehow you think it's not going to be as good? Like, "I want to do the right thing-but it's probably kind of bland without the dolphin." - Author: Louis C.K.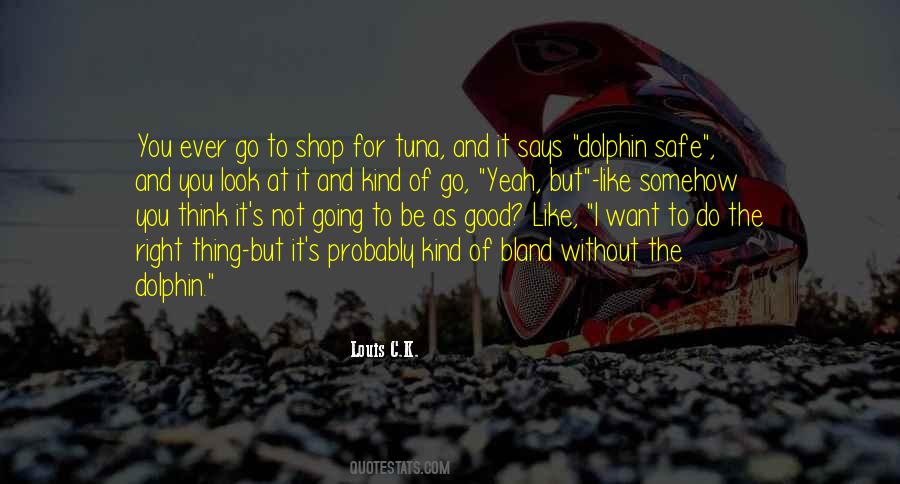 #33. Every time you get a chance to move forward, you just hijack your own future. it's like - you don't actually want to... You're in control of your own life. And yet you act like you're permanently buffeted by events outside your control. - Author: Jojo Moyes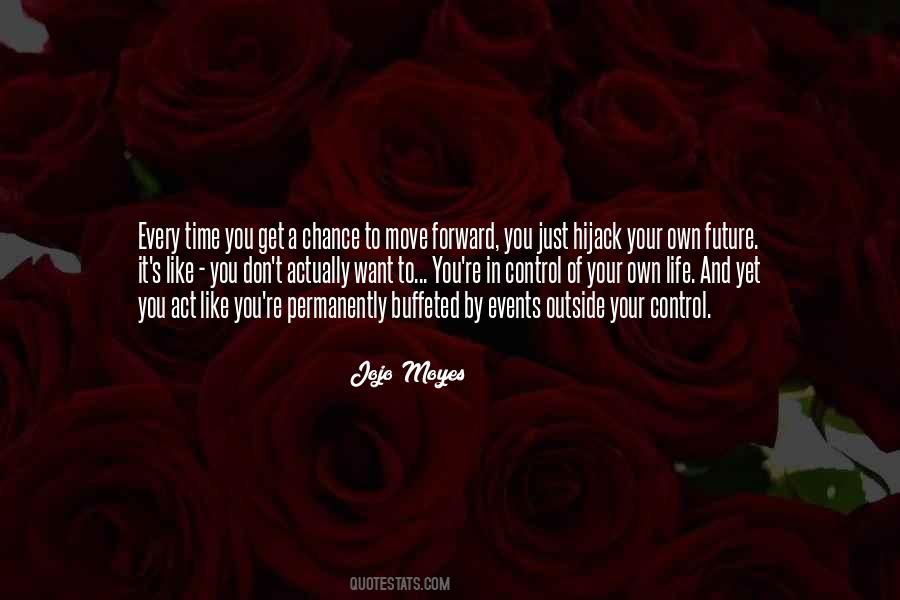 #34. She took a deep breath and forgot to exhale. She wondered what it would be like if she licked him up one side and down the other.
"What are you thinking?"
She suddely felt kind of hot and dizzy and accidetally let Layla out.
"That i want to lick yout tattoo" she whispered. - Author: Rachel Gibson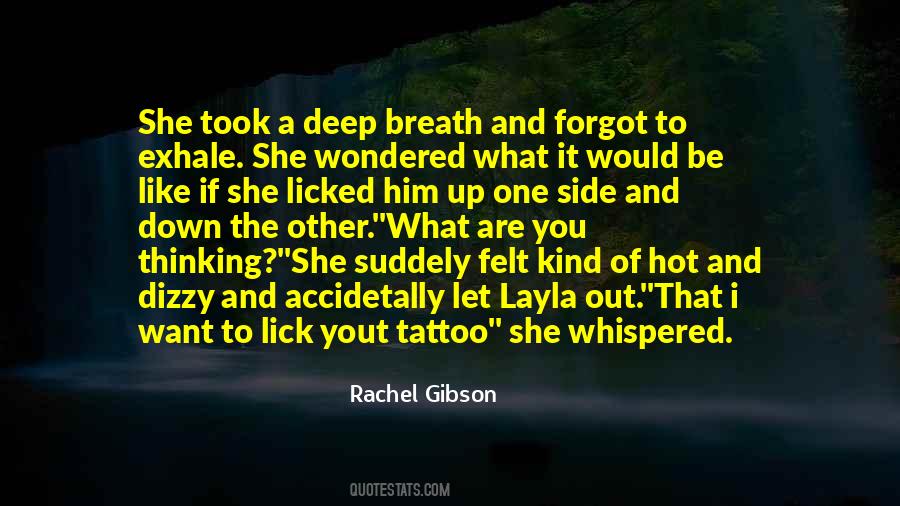 #35. If you want to give the devil a message, write it on the bottom of your shoes. - Author: Andrew Wommack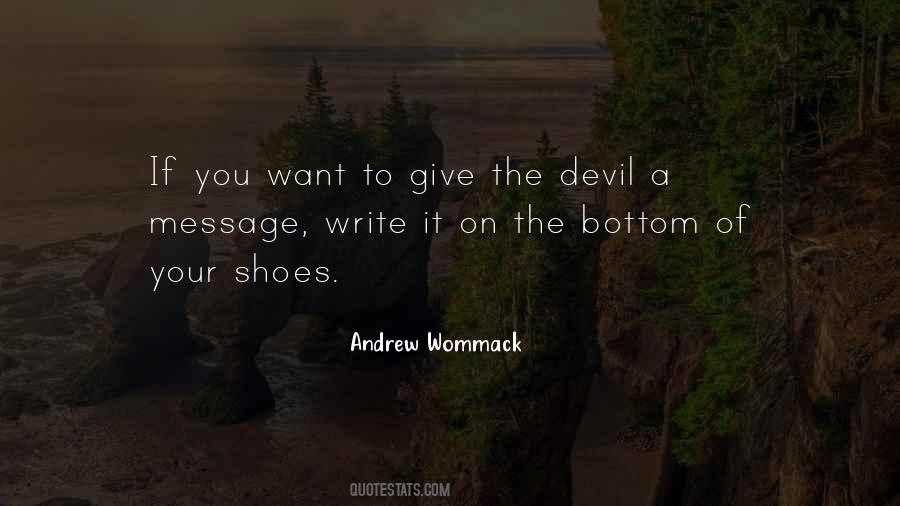 #36. To be in love with the person who want to "Be the one that you can't live without" and is willing to prove it with their love for you, is one of the greatest joys in life. - Author: Ellen J. Barrier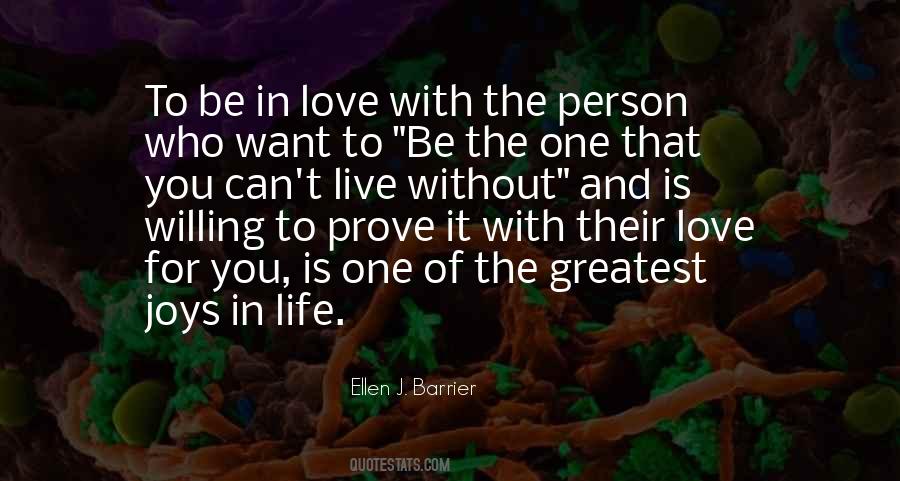 #37. I brought you here to tell you this: sometimes what we are searching for does not exist. We may sacrifice for it, even bleed for it, but it was never meant to be ours. - Author: Esther Dalseno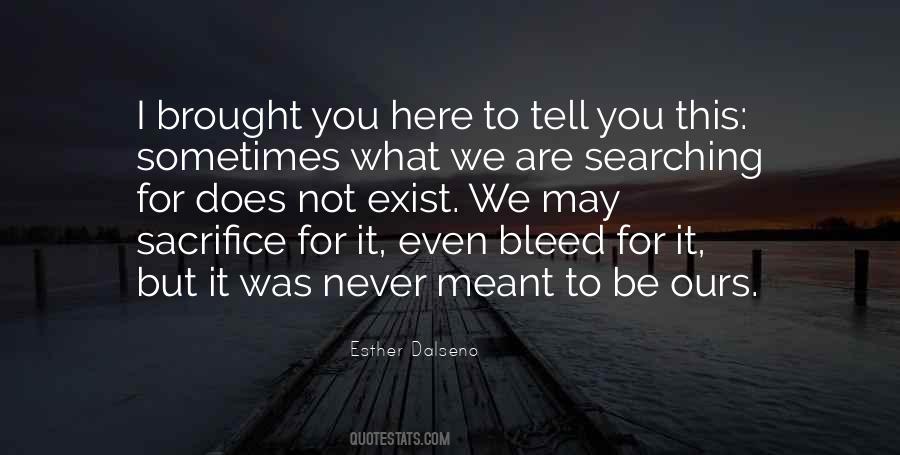 #38. It was long before I got at the maxim, that in reading an old mathematician you will not read his riddle unless you plough with his heifer; you must see with his light, if you want to know how much he saw. - Author: Augustus De Morgan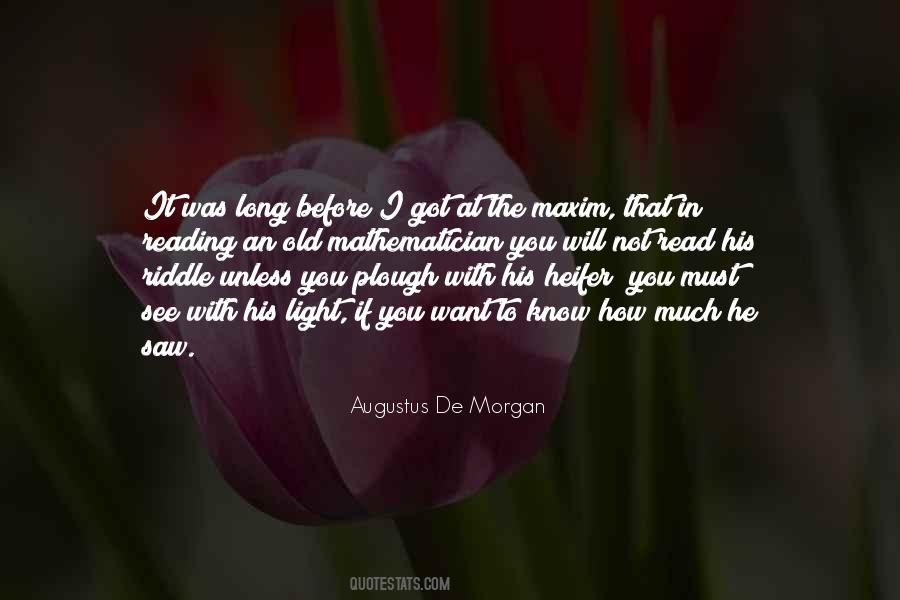 #39. Do you know that conversation is one of the greatest pleasures in life? But it wants leisure. - Author: W. Somerset Maugham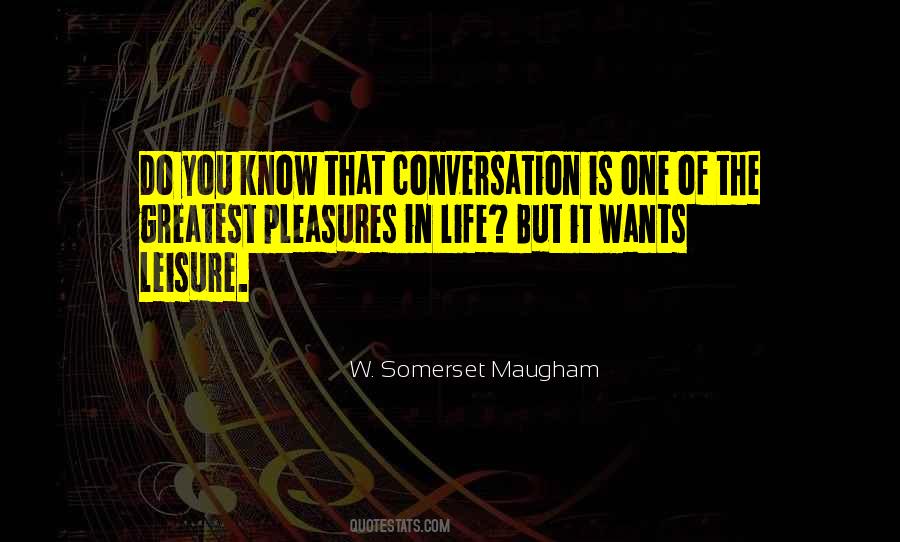 #40. Misfortune simply is. And when you wall it off, you do not have a clear conscience, because perhaps you are supposed to dedicate all your efforts and all your attention to it. And all you can say in your own defense is 'I want to live. - Author: Czeslaw Milosz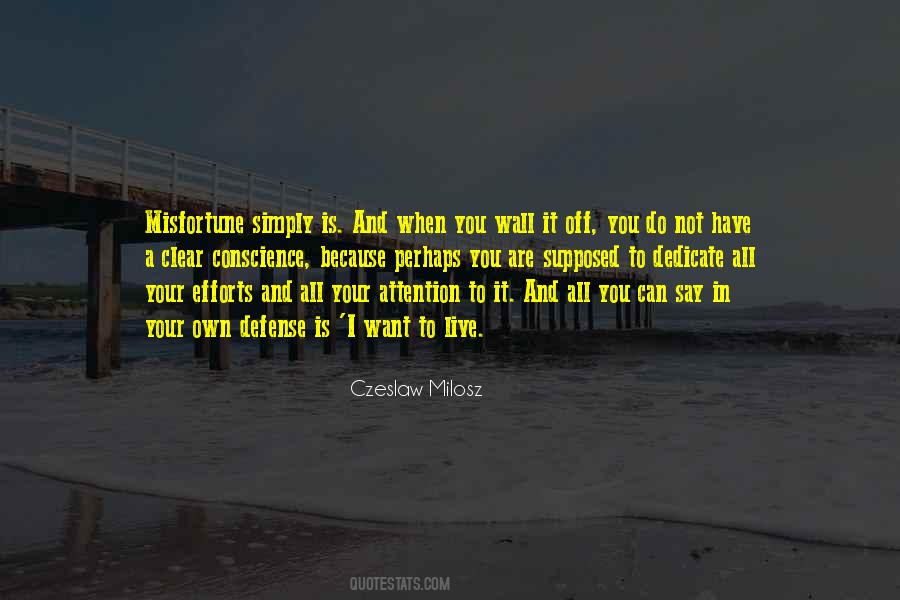 #41. You have to love what you do to want to do it everyday. - Author: Aaliyah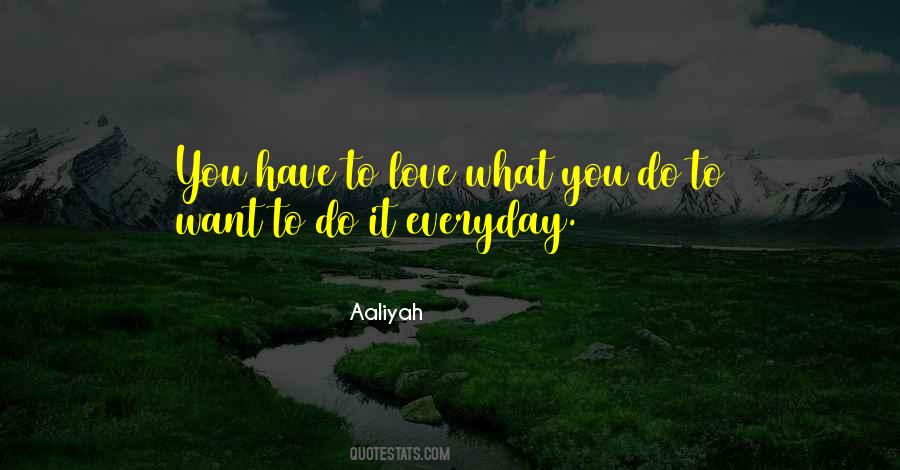 #42. You think that because I want to do what's right, because I want to make things better, I'm weak," Claire said. "Or that I'm stupid. But I'm not. It takes a lot more strength to know how bad the world is and not want to be part of that, give in to it. And I do know, Kim. Believe me. - Author: Rachel Caine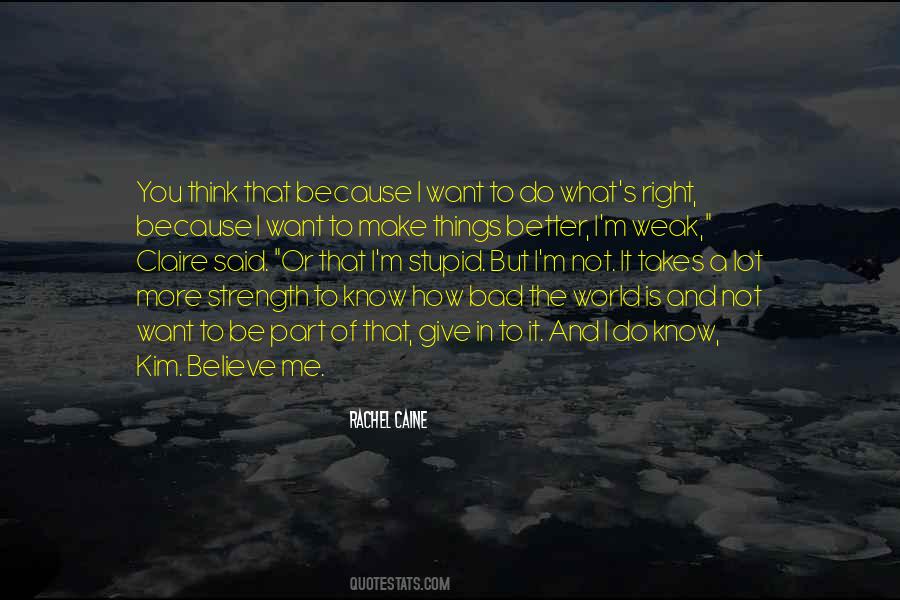 #43. Too many people, right now are playing it small. If you want to be SUCCESSFUL, Live BIG, Think BIG, & make every day of your life COUNT! - Author: Joel Brown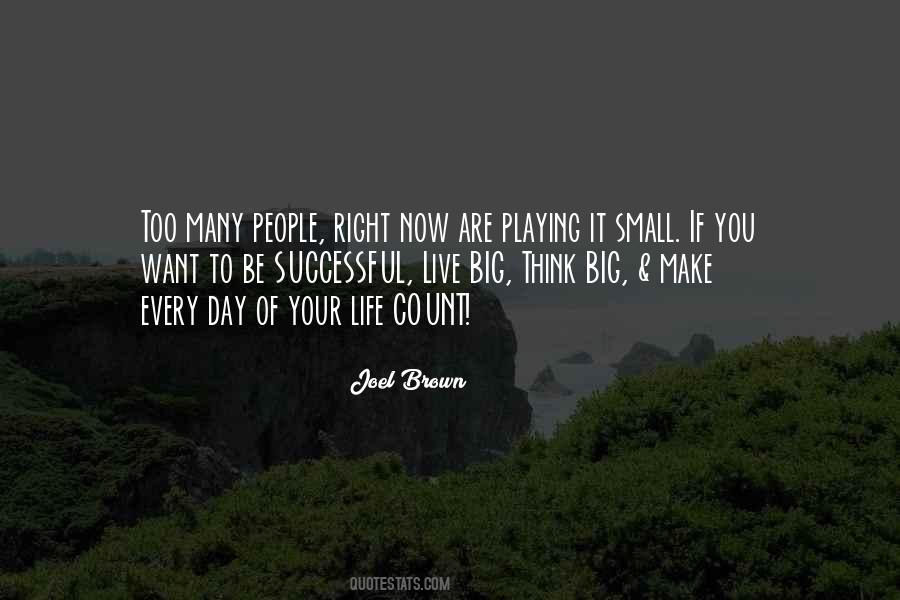 #44. I want to be a good example for my son. That's the best way to parent - to be the example of what you want to see in them. That's definitely how my parents parented and how my grandparents parented. And it works. - Author: Bryce Dallas Howard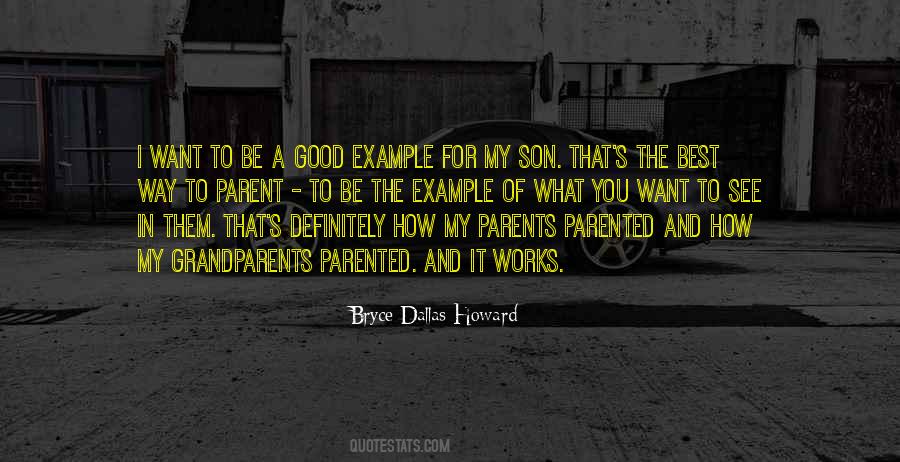 #45. High school, you don't want to go back and do it over again. - Author: Marguerite Moreau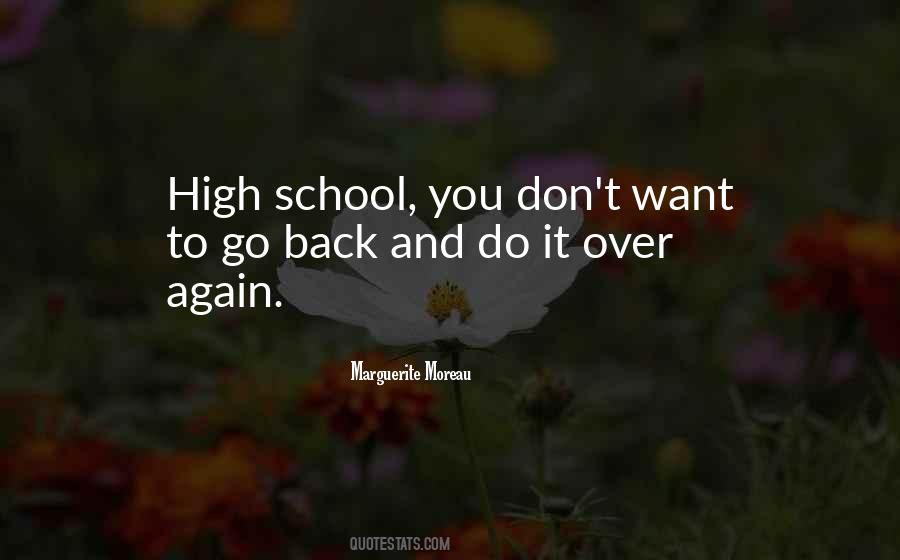 #46. Do you really want to know what it's like, being a spy? Never sure to whom you're giving your allegiance, and knowing that most of your colleagues will die gruesomely, often by your hand? Fine. Let me show you. - Author: Delilah S. Dawson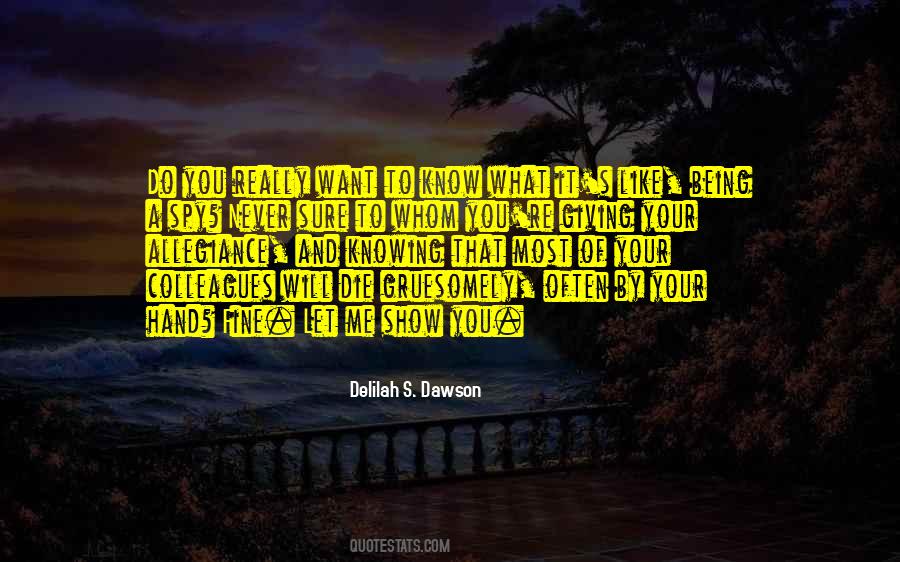 #47. The thing about interviews is that if someone interviews you, and they're an idiot, then they make you sound like an idiot, too. They ask you stupid questions, and they bring you down to their level. It's tempting to not ever want to talk to anybody, but you can't do that. - Author: Dean Wareham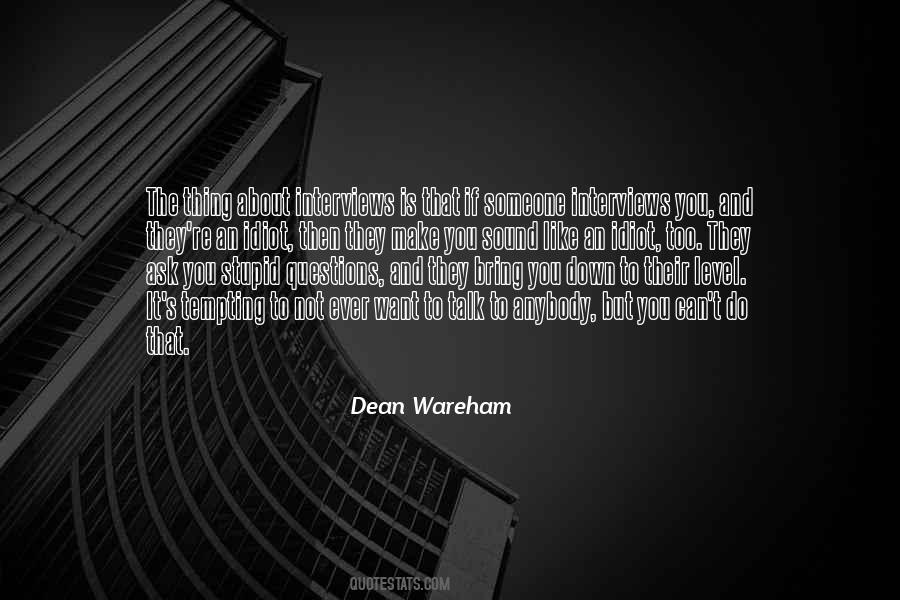 #48. I wanted to express myself. I wanted to be creative and I didn't want to worry about someone bossing me around in the process. You have to struggle no matter where you are to get to where you're going, so I'm like, working it honey! - Author: Michelle Rodriguez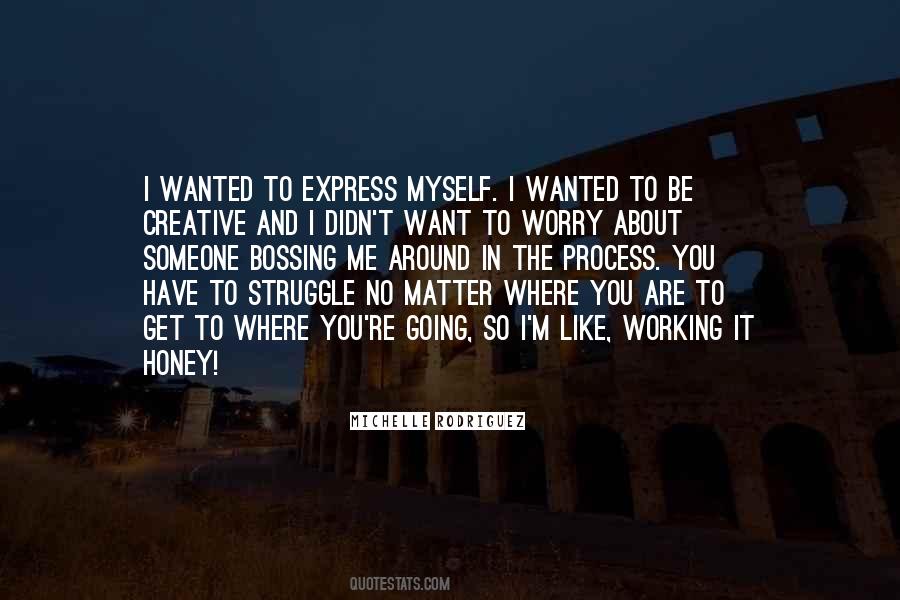 #49. It makes it fun. When an actor plays a character, you want what that character wants. Otherwise it doesn't look authentic. So I really want to defeat Jimmy - I mean Jimmy as the character. - Author: Alan Alda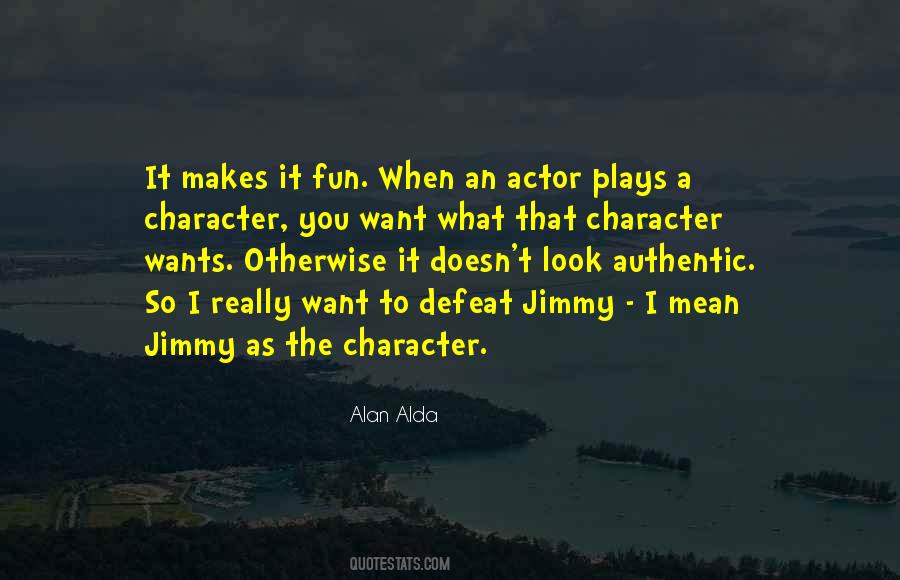 #50. I mean, I always think when you're an actor you have to be the guy running into the burning building rather than running out of it, if you want to make some noise as an actor. - Author: Dylan McDermott
#51. It doesn't matter how much money you've got, or how many connections, there's always something you want that's out of reach. - Author: Jenson Button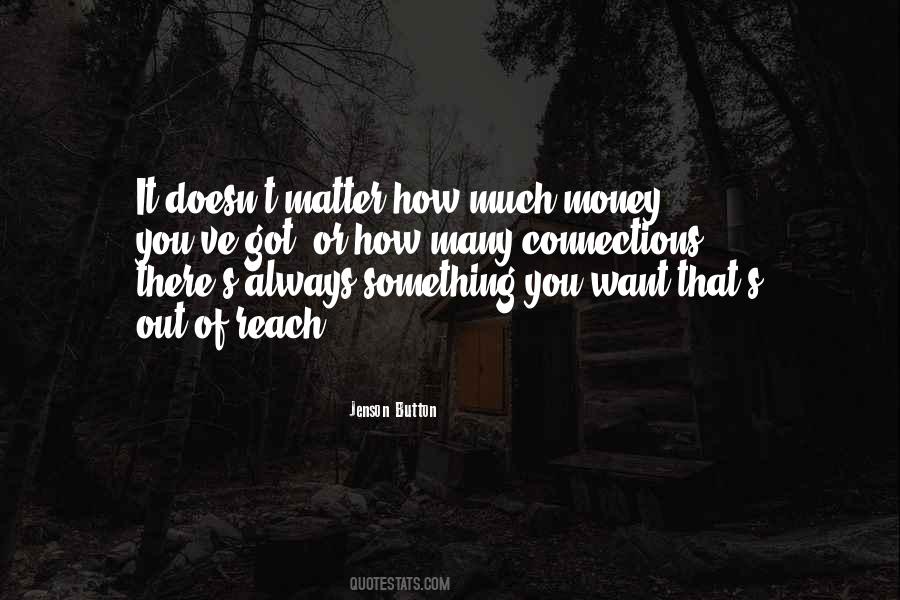 #52. I think when people see photos of you out and about in your personal life, they assume that you've asked for it or that you want that attention, but I don't think anyone in their right mind asks for that kind of thing. - Author: Liam Hemsworth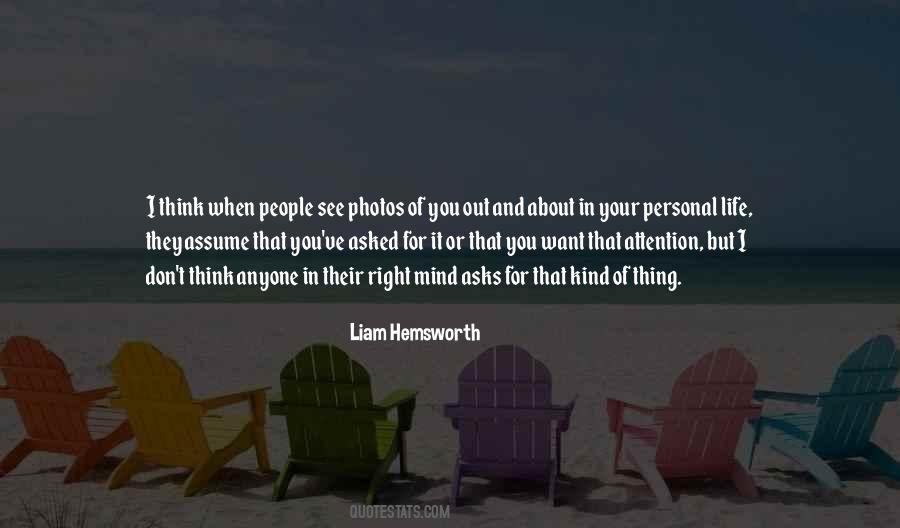 #53. I guess that's the thing about a hero's journey. You might not start out a hero, and you might not even come back that way. But you change, which is the same as everything changing. The journey changes you, whether or not you know it, and whether or not you want it to. I had changed. - Author: Kami Garcia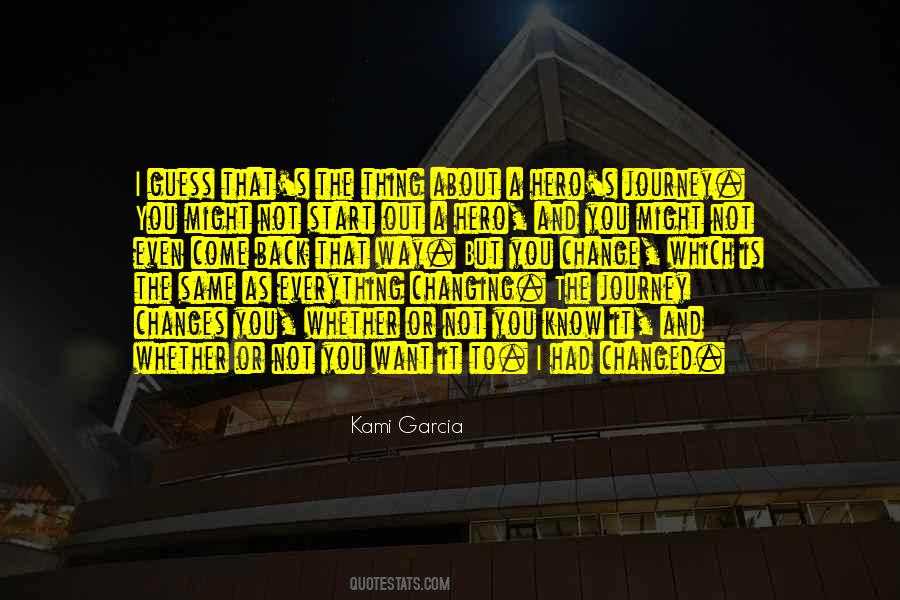 #54. I want my team to be more detached from the wins and losses and be more focused on doing the little things well. When you focus on getting the win, it can suffocate you, especially during the playoffs when the pressure gets thick. - Author: Sue Enquist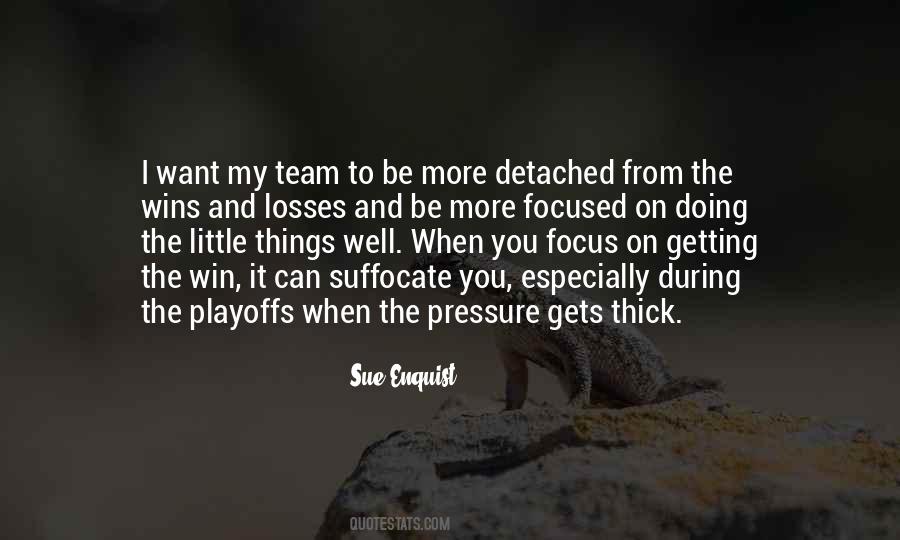 #55. The thing I hate most in acting is asking permission to do things. What you really want to do is say, 'This is my need; this is what's going to get me further; this is what's going to be alive. I don't ever say, 'Do you mind if ... ?' I just come in and do it. - Author: Lance Henriksen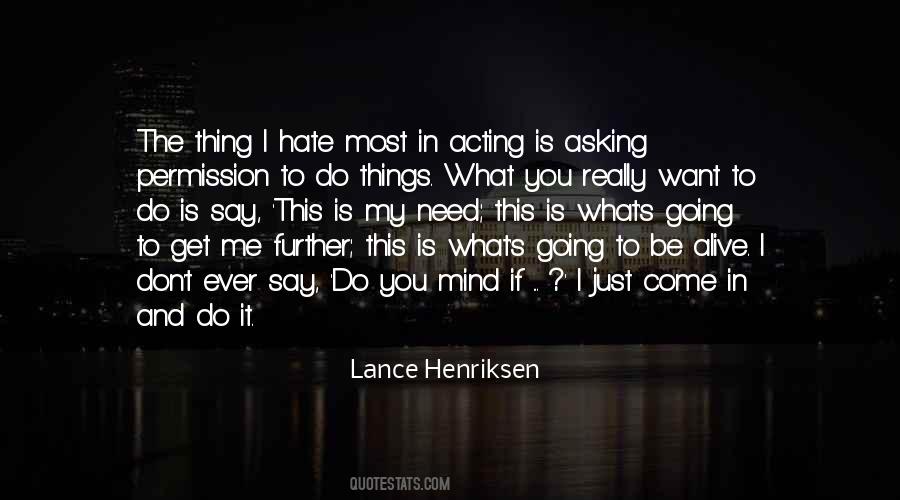 #56. The pain never goes away, Freya, but it becomes manageable. One day, you'll wake up and realize you can breathe a little easier than the day before. Until then, all you can do is lean on people closest to you... lean on me. I want you to. - Author: Jessica Prince
#57. You want the vote so badly that you think it worth while to become hysterical over it.' 'There is not much hysteria in the movement, only hysteria is the thing that strikes a hysterical press as most worthy of note. - Author: Stella Benson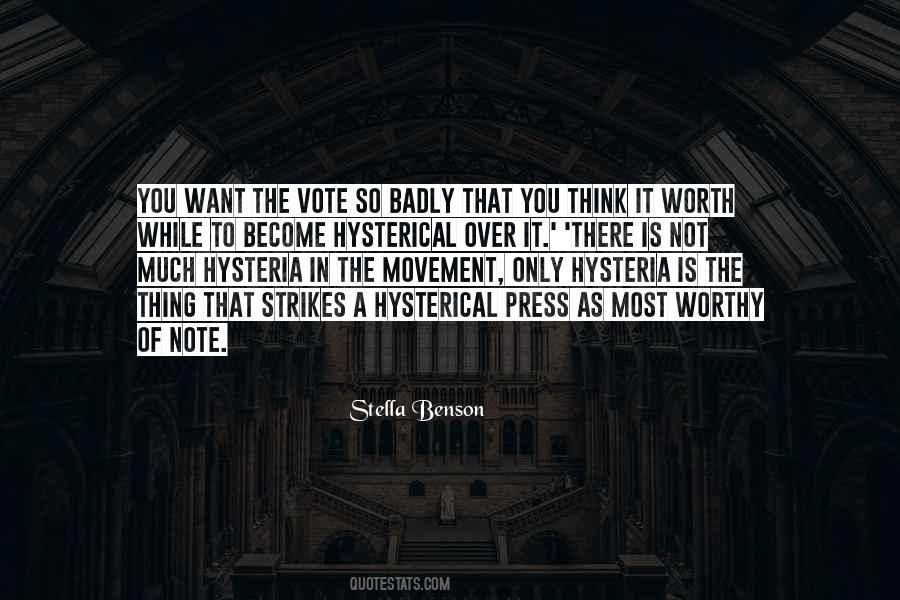 #58. We do not want to be told what we know. We do not want to call things by their names, although we're willing to call one another bad ones. We call meanness nobility and hatred honor. The way to make yourself a hero is to make me out a scoundrel. You won't admit that either, but it's true. - Author: Thomas Wolfe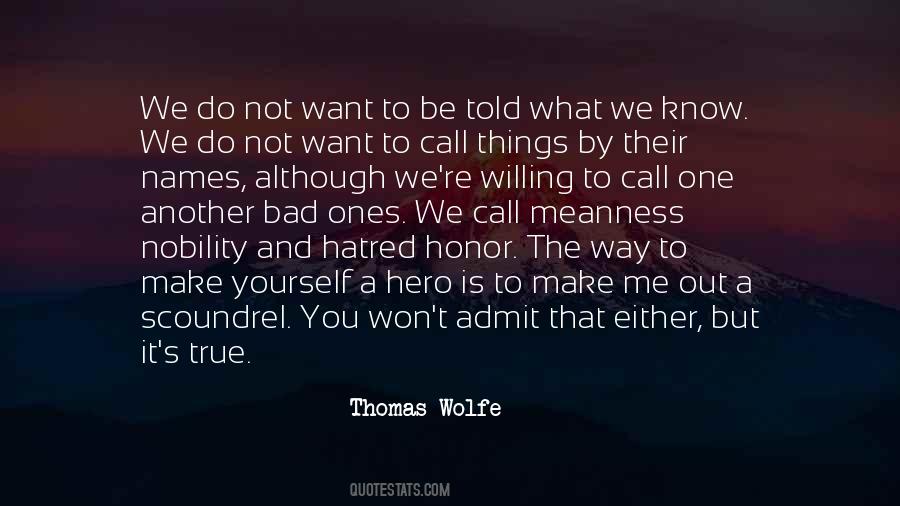 #59. I can understand going for Botox at 45-50, when you want to keep things in place. But I don't understand 25 year olds going for Botox or under the knife. You don't require it. Your skin is fresh, young. Why would you do that to yourself? - Author: Kajol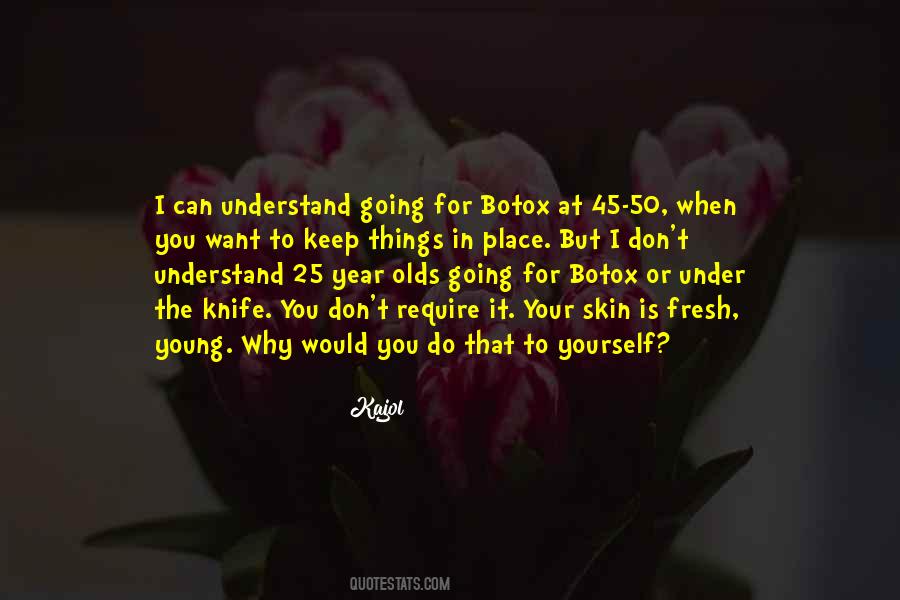 #60. I am no fan of books. And chances are, if you're reading this, you and I share a healthy skepticism about the printed word. Well, I want you to know that this is the first book I've ever written, and I hope it's the first book you've ever read. Don't make a habit of it. - Author: Stephen Colbert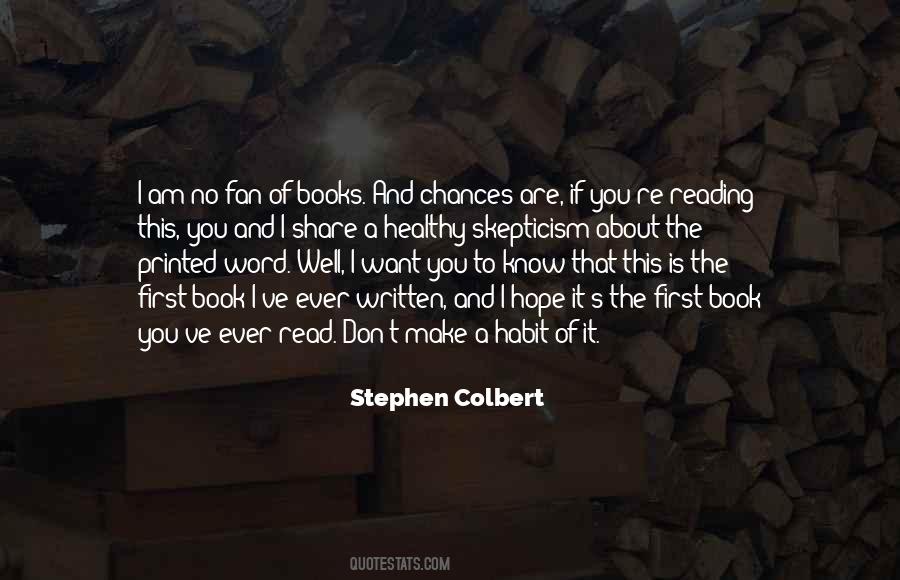 #61. Heckling is an act of cowardice. If you want to speak, get up in front of the microphone and speak, don't sit in the dark hiding. It's easy to hide and shout and waste people's time. - Author: Billy Connolly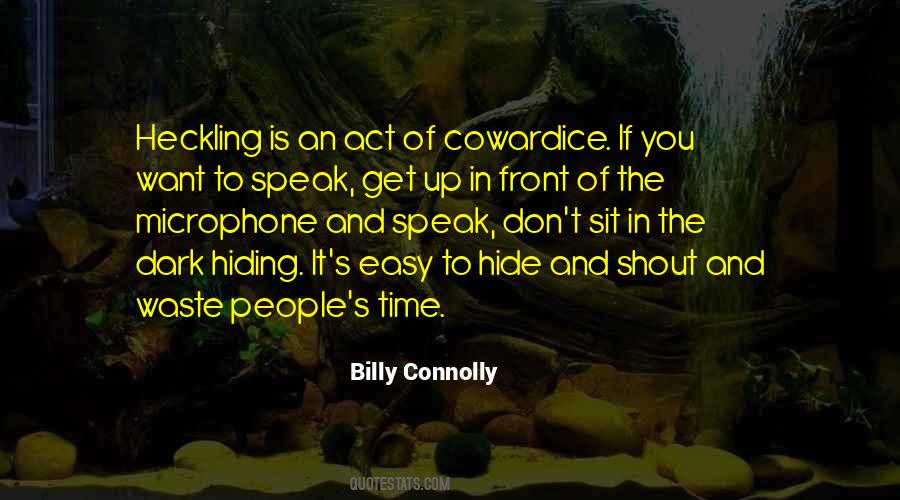 #62. Do you think it's so snobbish, to want to see something besides one's fellow citizens abroad? - Author: Sinclair Lewis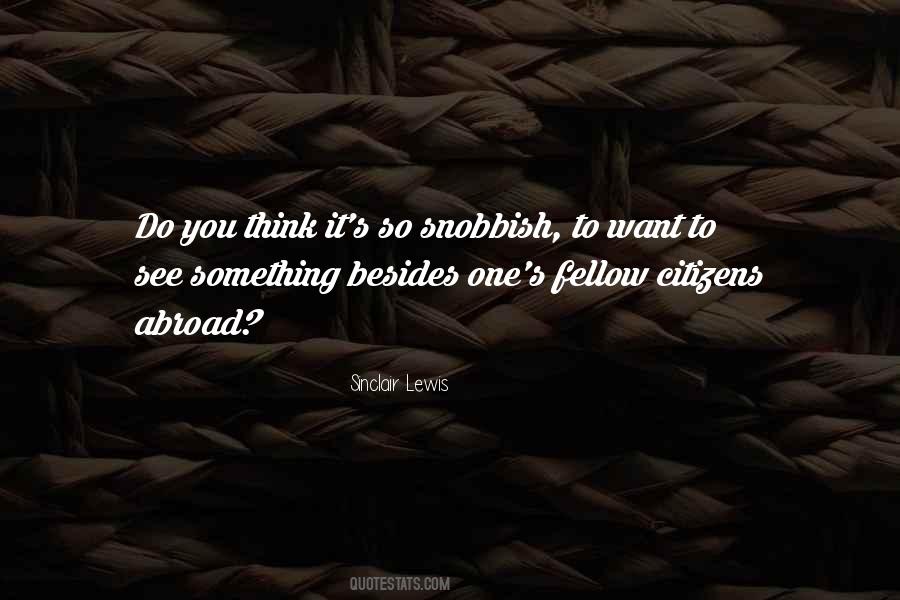 #63. When you want to say something very important, tell it with a short sentence! There is no time for long stories! - Author: Mehmet Murat Ildan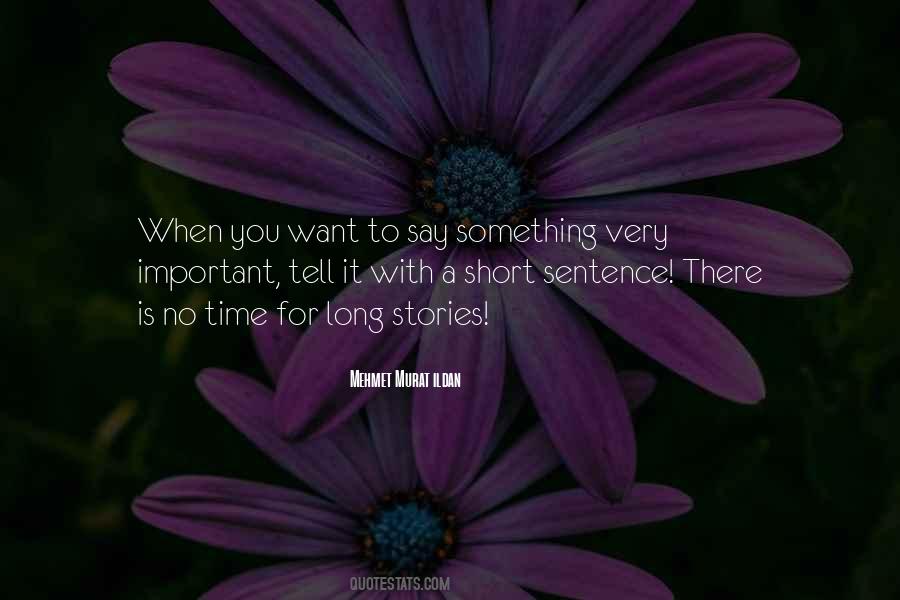 #64. You want me. And you hate that you want me. I know how you feel. Let's get it out of our systems and go back to hating each other next week. - Author: Amanda Usen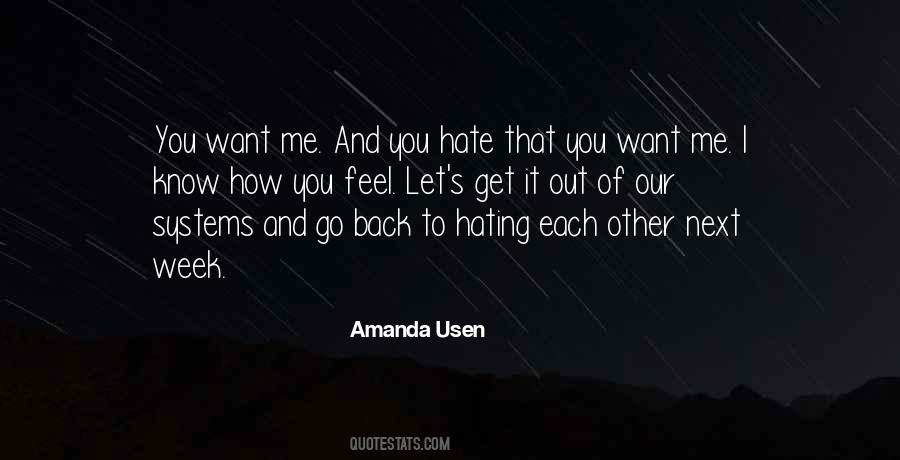 #65. The primary thing I should do, apart from being a good husband, brother, son, and friend, is to be a citizen activist. But I'm afraid it takes away from the writing. Not that anything depends on whether I put an essay in 'The Nation' or not. But you want to participate. - Author: Tony Kushner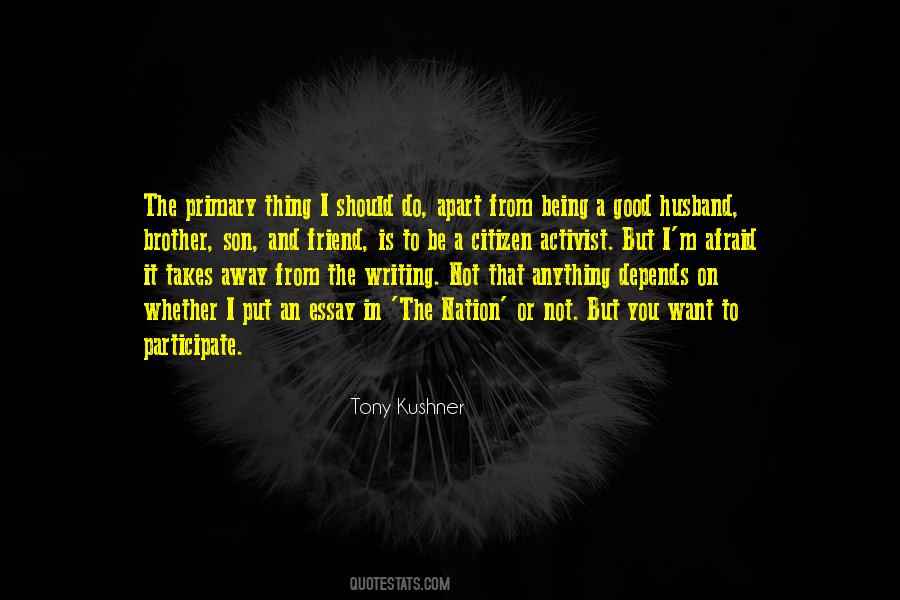 #66. The study of the traditions doesn't necessarily make you want to convert to another tradition, but it helps you to see your own differently and expands your outlook. - Author: Karen Armstrong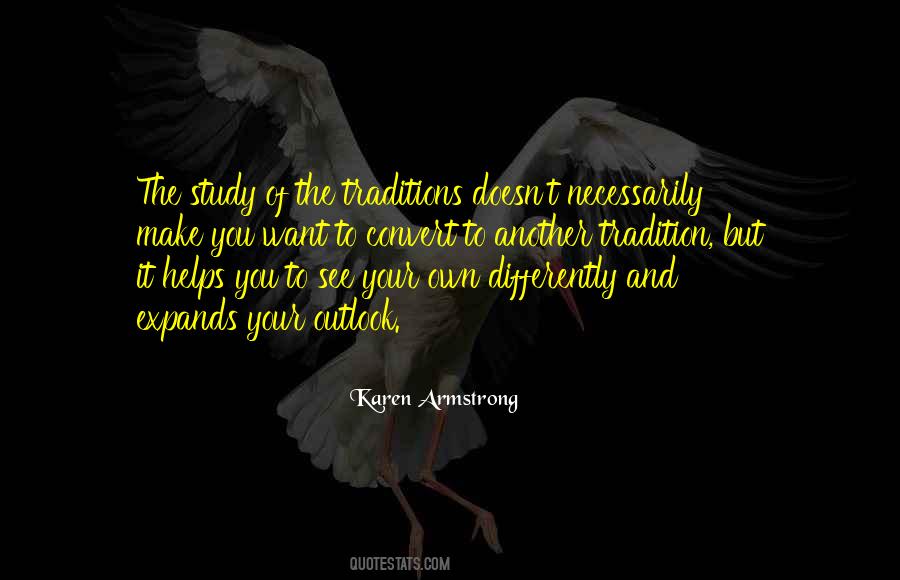 #67. Wisdom is being able to see the world for what it is, rather than what you want it to be. - Author: Patrick F. Rooney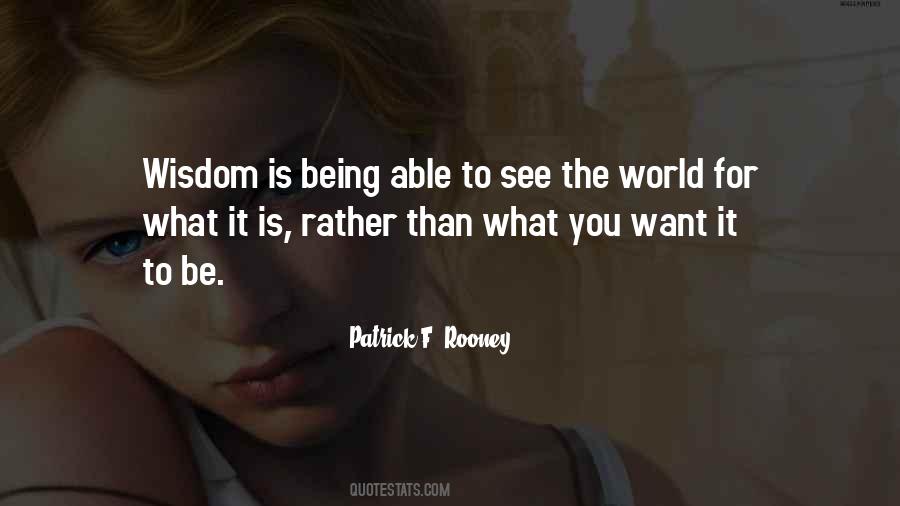 #68. There's one thing I want you to do for me."
"Anything." He pleaded.
"When you're all alone, sitting in the silence behind bars, separated from your freedom. Ask yourself. Was it worth it?" She closed her eyes and pulled the trigger. - Author: Michelle Umland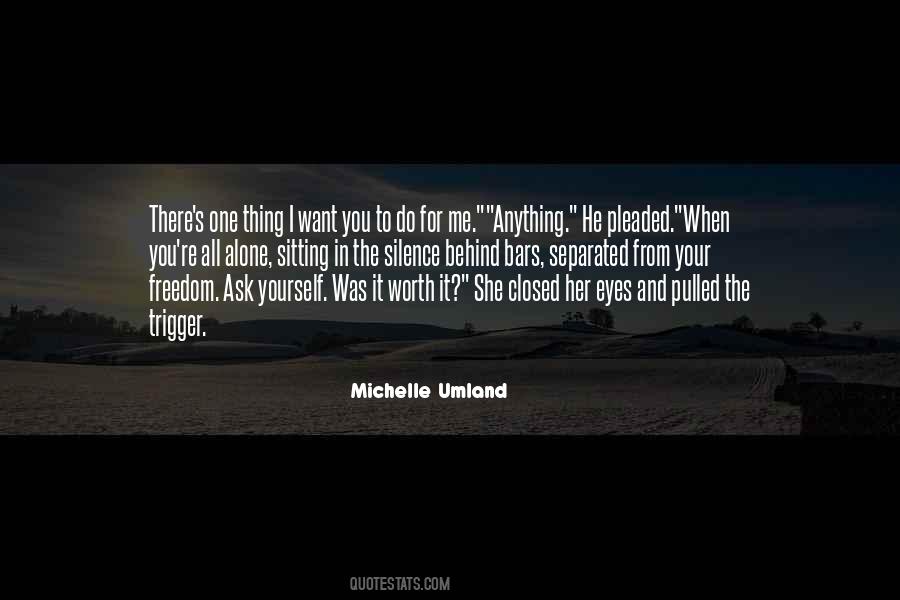 #69. The cap-and-trade plan is more market driven than anything else. If you want to discourage carbon use, you have to make it more expensive, but what is crucial is that this be a worldwide program that includes China and India. - Author: Phil Gramm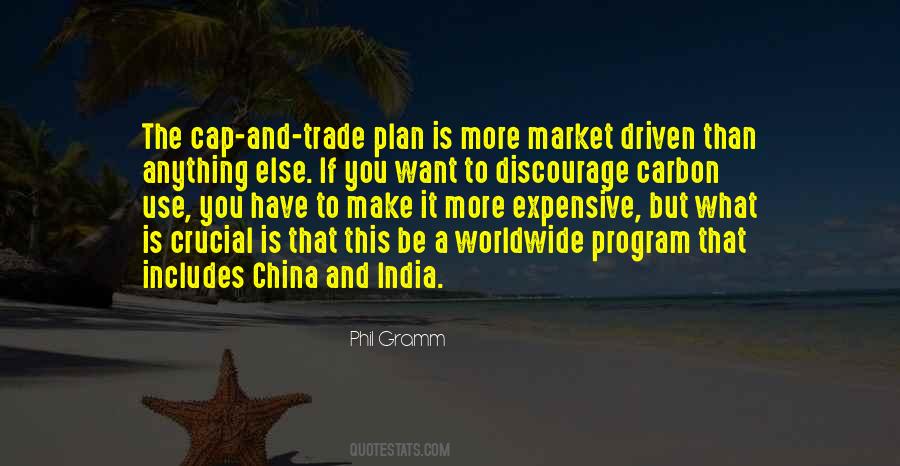 #70. If you want to cry go ahead. Son, there are just some time in a man's life when he has to let it out. - Author: Rachel Gibson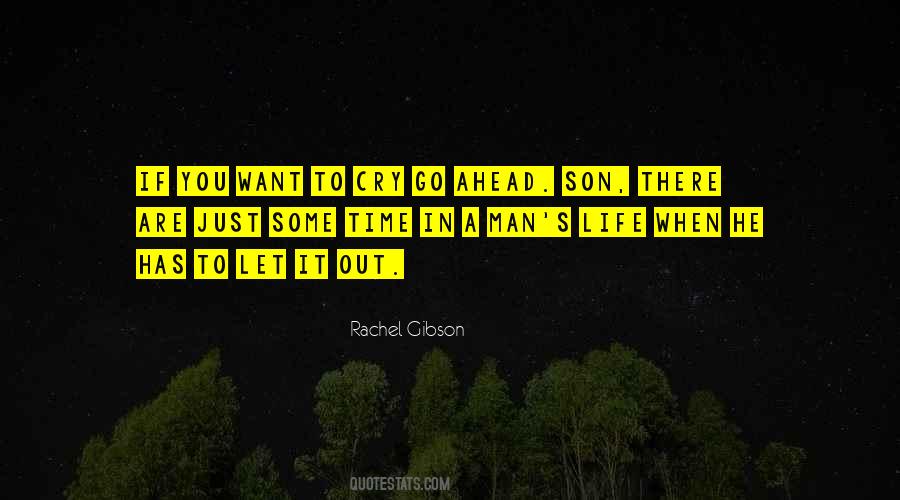 #71. I discovered that the real meaning of Christmas has nothing to do with you at all. It is about a very special gift. I want to you tell you about this gift. - Author: Soraya Diase Coffelt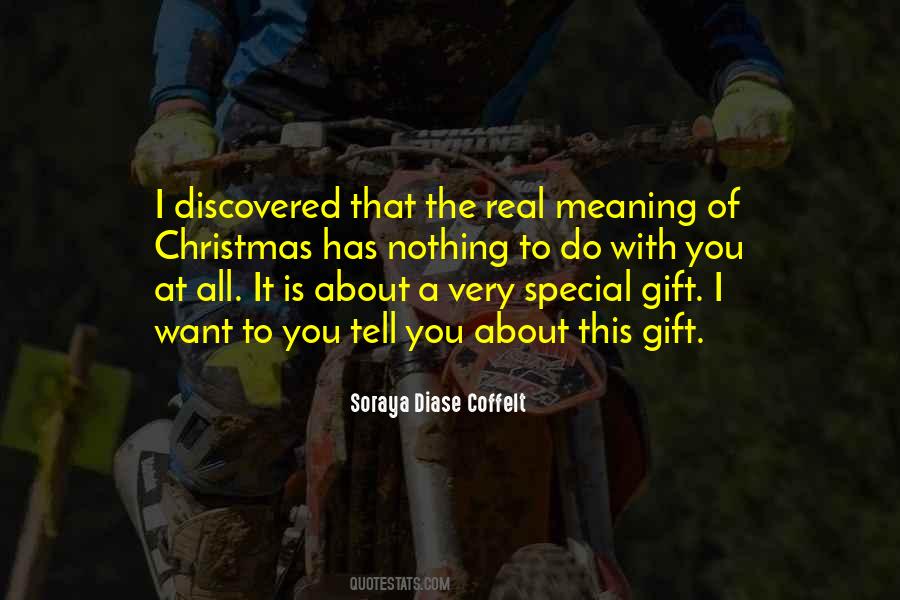 #72. everything i know about love
is that it hurts
and is almost always never returned
the way you want it to.

but i have hope
because i do not know everything. - Author: AVA.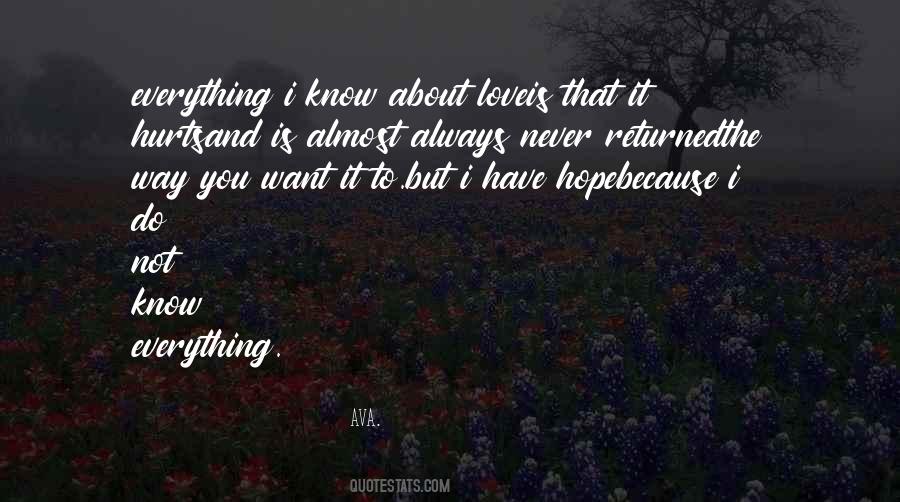 #73. When Jim Irsay called me five years ago, he told me, 'I want you to be our coach and help us win the Super Bowl.' He told me, 'We are going win it the right way. We are going to win it with great guys; win it with class and dignity. We are going to win it in a way that will make Indianapolis proud.' - Author: Tony Dungy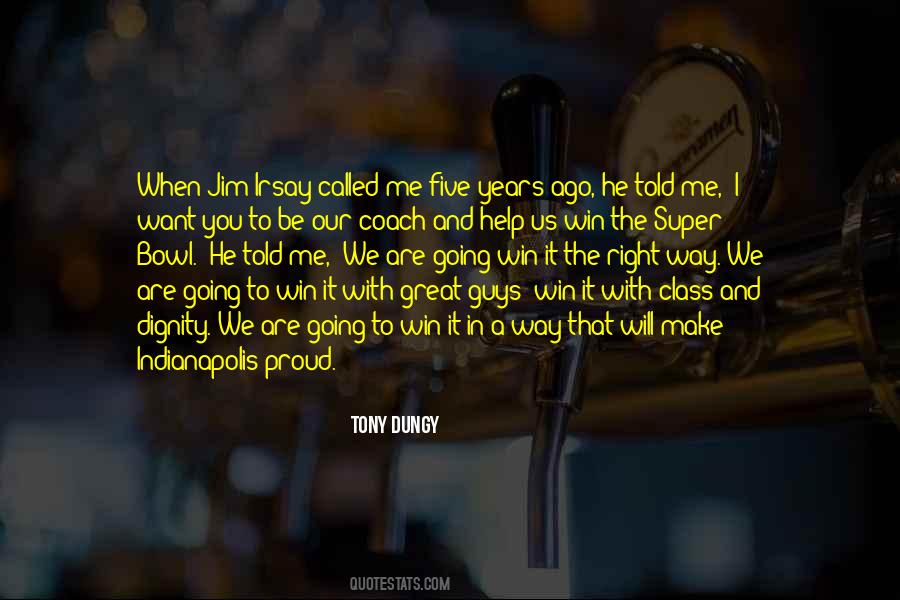 #74. If you're lucky enough to live without want, it's a natural impulse to be altruistic to others. - Author: Moutasem Algharati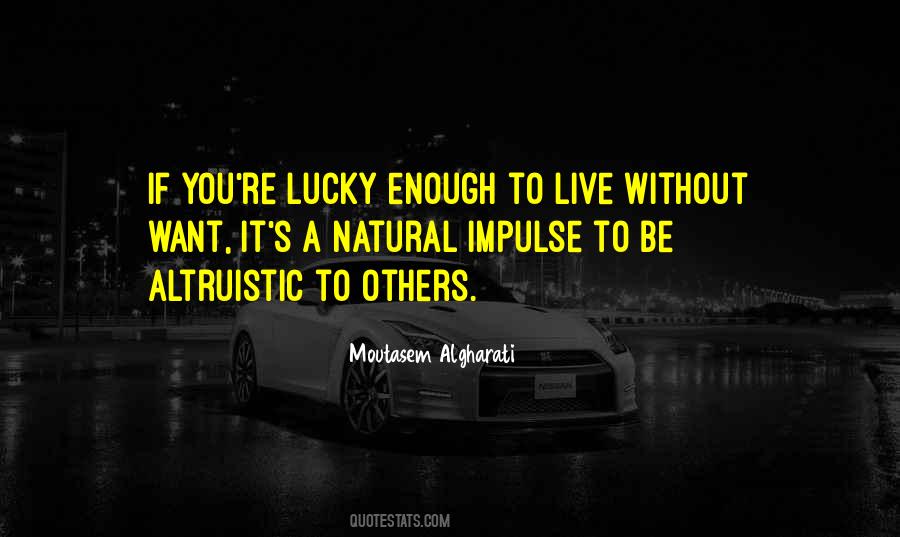 #75. Acting is something that I always wanted, but I never paid attention to the notion that it might actually work out. You have all sorts of ideas about what you want to do - at one stage, I wanted to be a jockey - but this is the one that's a big deal. - Author: Olivia Thirlby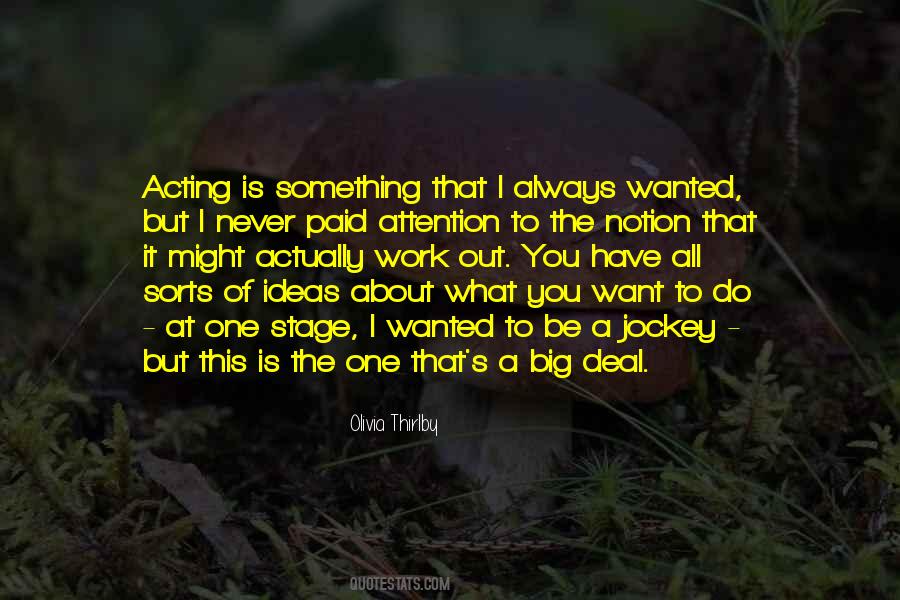 #76. It's very common for people to recommend something to me because they're going on what I've already written, when, what really is the case, is that you want to write about something you haven't written about, in ways that you haven't done before. - Author: Tom Stoppard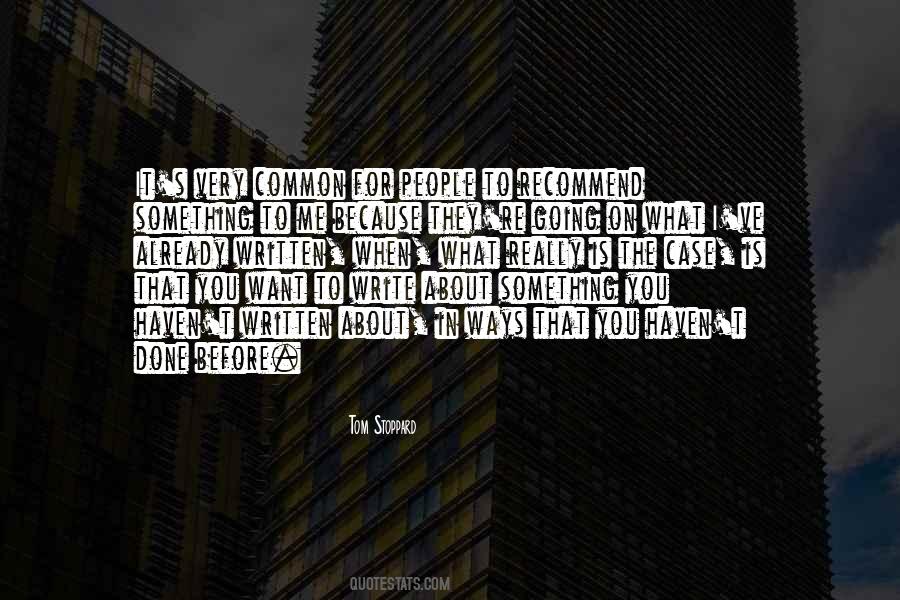 #77. I believe, along with many others, that you must first ask for what you want before you can have it. - Author: Wally Amos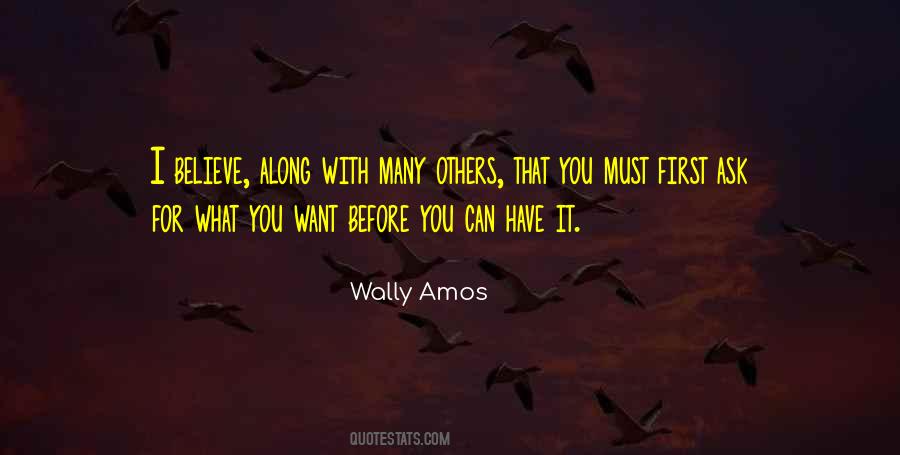 #78. With you, I want it all. If I get a taste of what it could be, I won't ever want to let it go. I fell in love with you when I was sixteen, and that's never changed. But trusting you with my heart again is different. With you, I need to know it's forever. - Author: Abbi Glines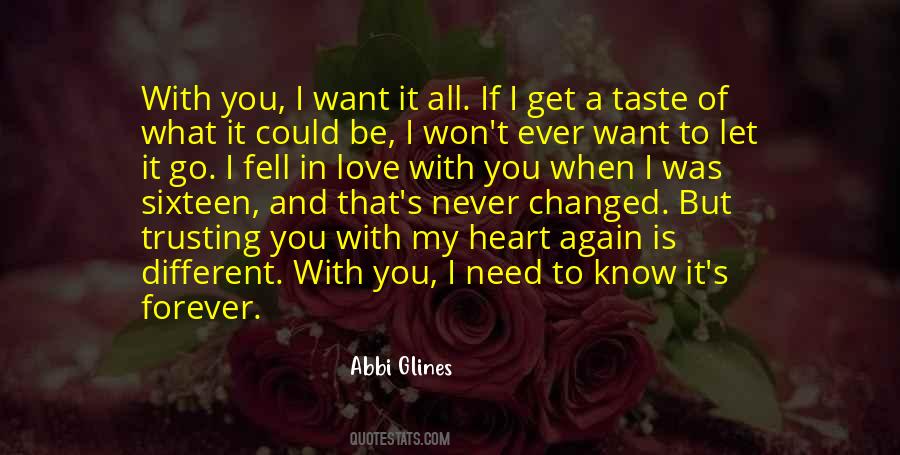 #79. Sounds to me like you're praying Violet, not wishing. When we wish, it's usually for something frivolous...Something not serious. Like what you want for your birthday. Prayers are for more serious things." -Mom - Author: Brenda Woods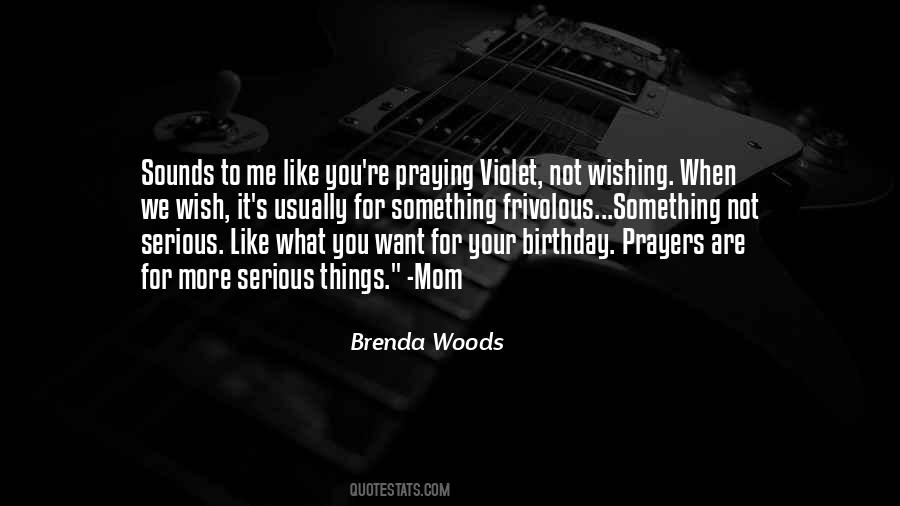 #80. Tell me what you want?" His breath was warm against her lips.
"I want you."
"How? Give me permission, tell me it's okay to strip you naked, kiss you wherever the need takes me, and f**k you until you can't see straight."
"Yes, yes, please, all of that. - Author: Dominique Eastwick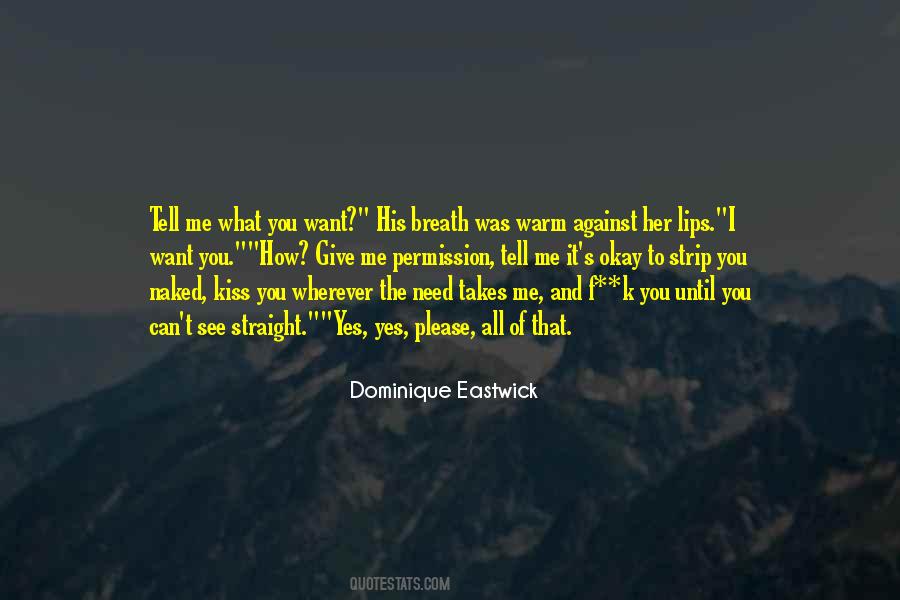 #81. It's like when you are excited about a girl and you see a couple holding hands, and you feel so happy for them. And other times you see the same couple, and they make you so mad. And all you want is to always feel happy for them because you know that if you do, then it means that you're happy, too. - Author: Stephen Chbosky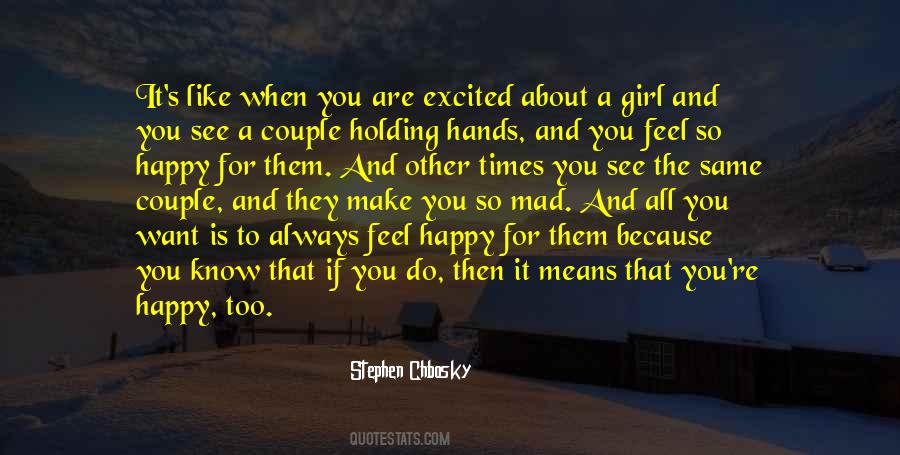 #82. You wish for something, you've wanted it for years, and you're sure you want it, as long as you know you can't have it. But if all at once it looks as though your wish might come true, you suddenly find yourself wishing you had never wished for any such thing. - Author: Michael Ende
#83. I want to know what it feels like to kiss a guy. And you've had a lot of practice, so I know you're a good kisser.
Are you simultaneously complimenting me and calling me a whore? - Author: Abigail Roux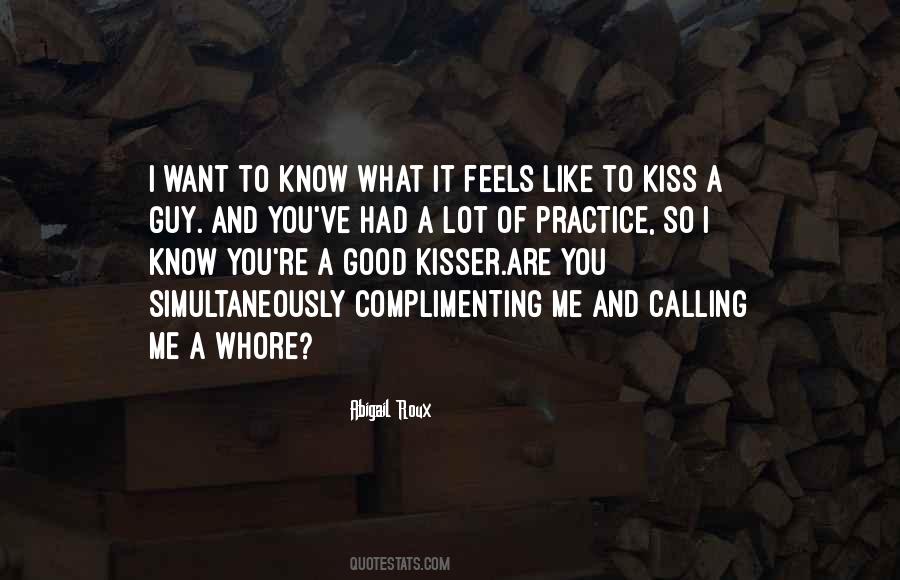 #84. Do not trust anybody but yourself. If people want to help you, fine. Put it on paper and understand exactly what every word says. - Author: Art Alexakis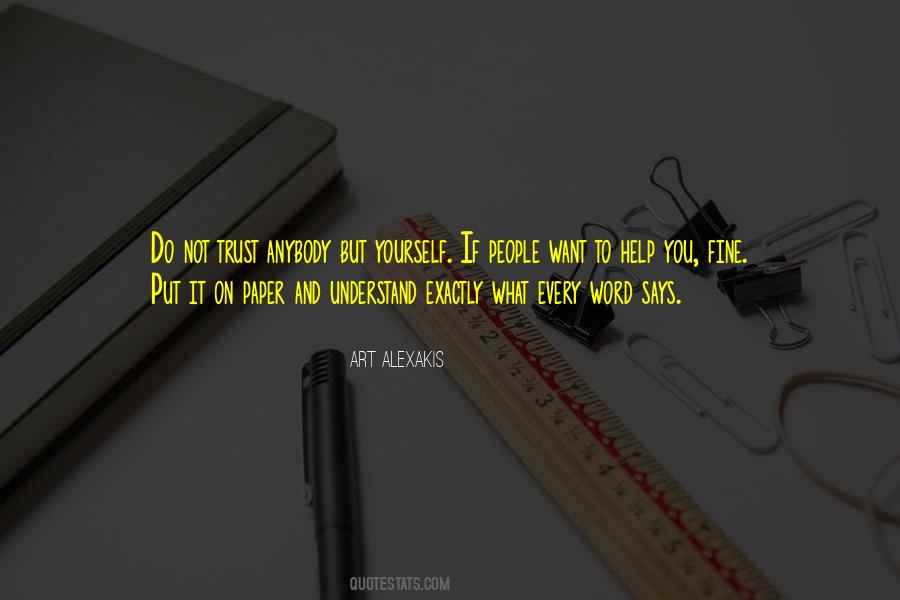 #85. Screw poetry, it's you I want, your taste, rain on you, mouth on your skin. - Author: Margaret Atwood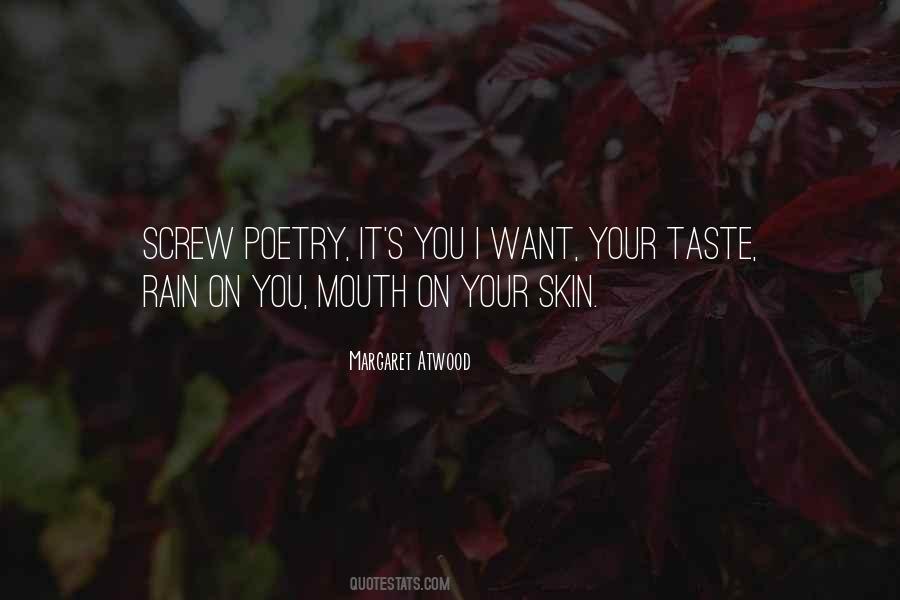 #86. TV's not the problem, and I'm tired of it being posed as this antithesis to creativity and productivity. If TV's getting in your way of writing a book, then you don't want to write a book bad enough. - Author: Andrea Seigel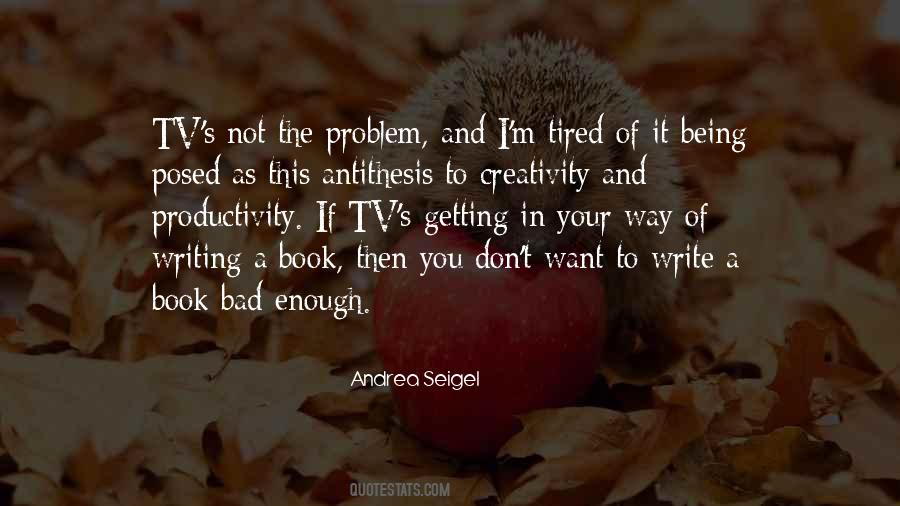 #87. He's the type of bloke you would want to have on your side. When you see an Indian side with Ganguly in the line-up, you know it's game on. You don't have to like or dislike him. You have to respect him. - Author: Steve Waugh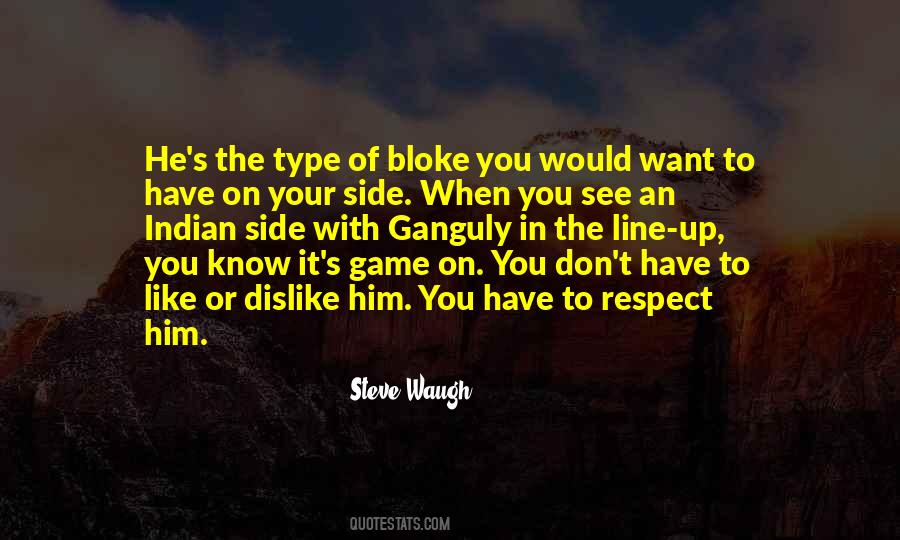 #88. I think you want a little unofficial help. Three undetected murders in one year won't do, Lestrade. But you handled the Molesey Mystery with less than your usual - that's to say, you handled it fairly well. - Author: Arthur Conan Doyle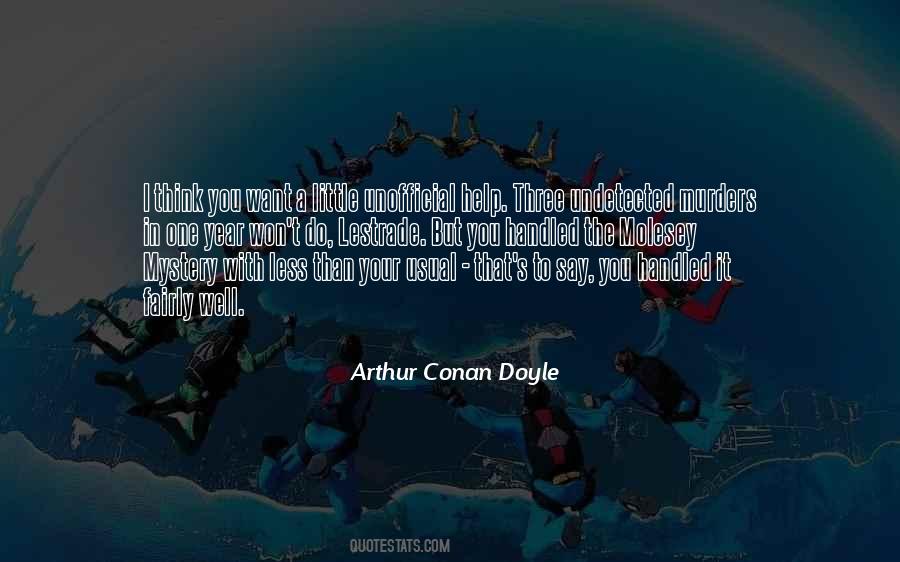 #89. It's like reading a good book. The kind where you don't want to skip pages to see what happens at the end. Each moment is a story in itself. - Author: Renee Carlino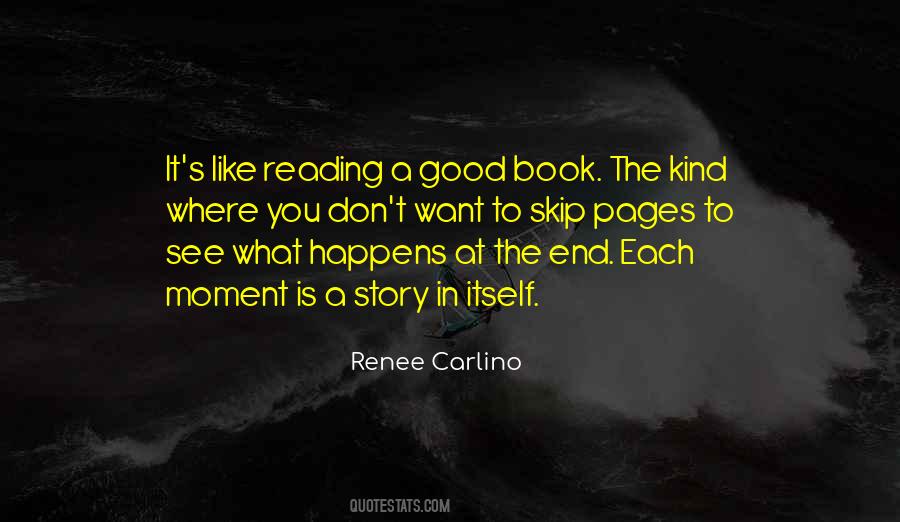 #90. There's no way around grief and loss: you can dodge all you want, but sooner or later you just have to go into it, through it, and, hopefully, come out the other side. The world you find there will never be the same as the world you left. - Author: Johnny Cash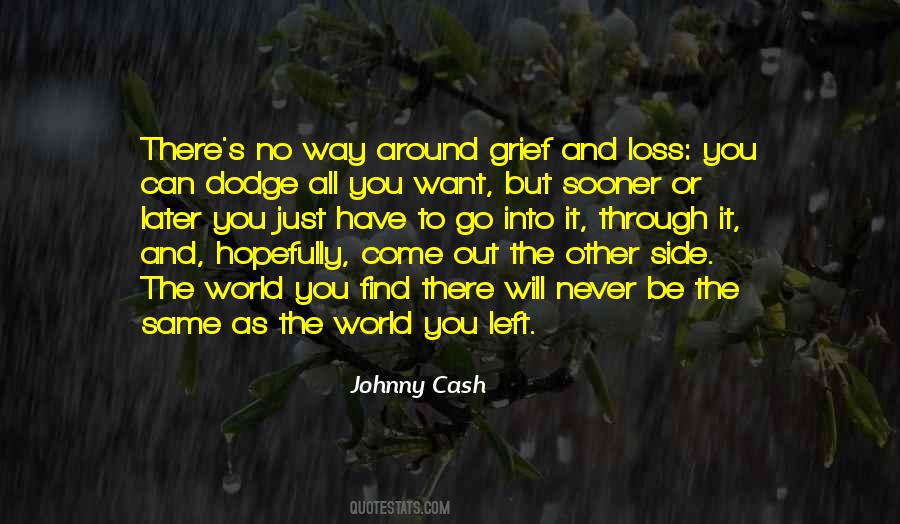 #91. All things want to open. You must feel
that need, and use it ...
And then, suddenly, she understands, and,
somewhere in her heart, she lets it be what it wants to be ... and it opens. - Author: Neil Gaiman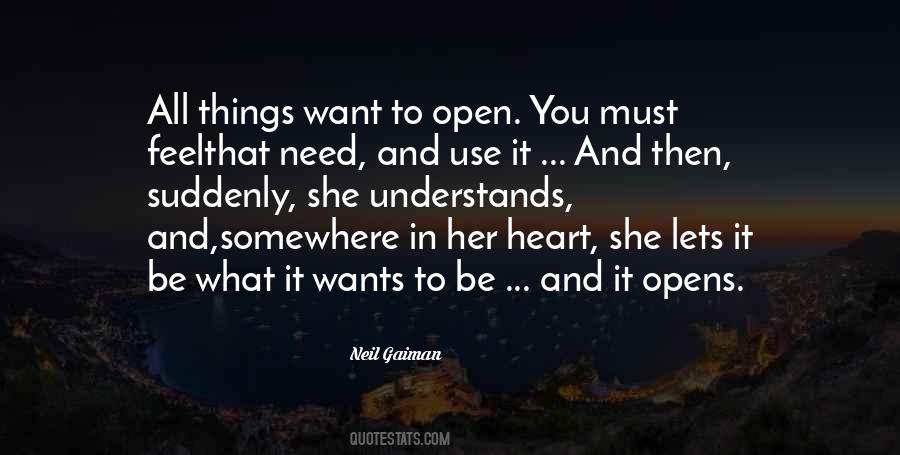 #92. When you die, they can make you into diamonds now. It's scientific. That's how I want to be remembered. I want to shine. - Author: Neil Gaiman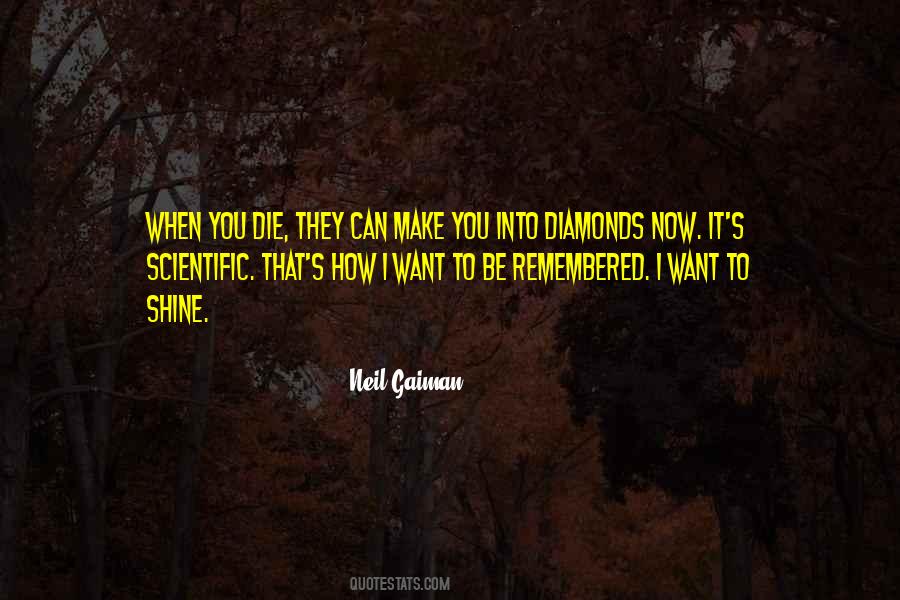 #93. It's not a query of staying wholesome. It's a query of discovering a illness you want. - Author: Jackie Mason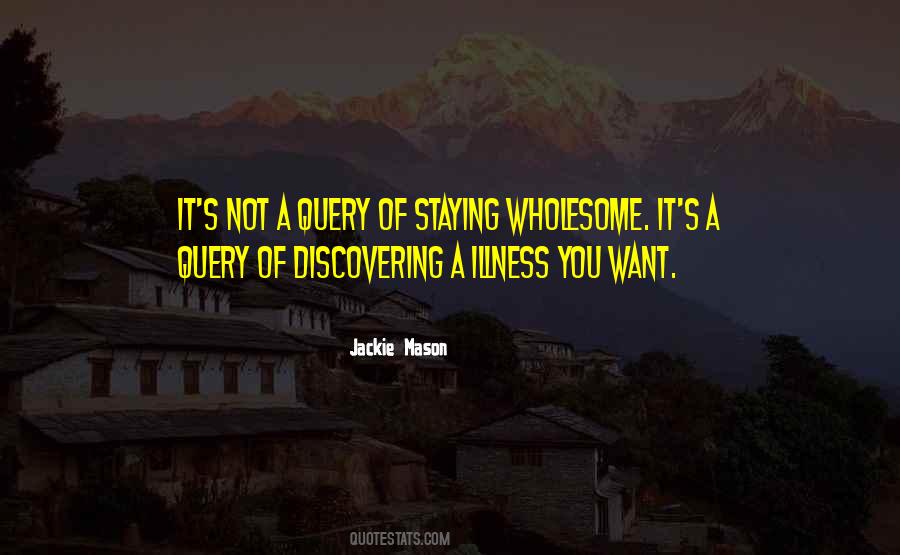 #94. Success is the accomplishment of any number of possible aims, dreams, aspirations or goals. It's very personal and unique to you. Your greatest desire could be someone else's idea of hell; you might want to be an award-winning chef while your best friend hates cooking. - Author: Nigel Cumberland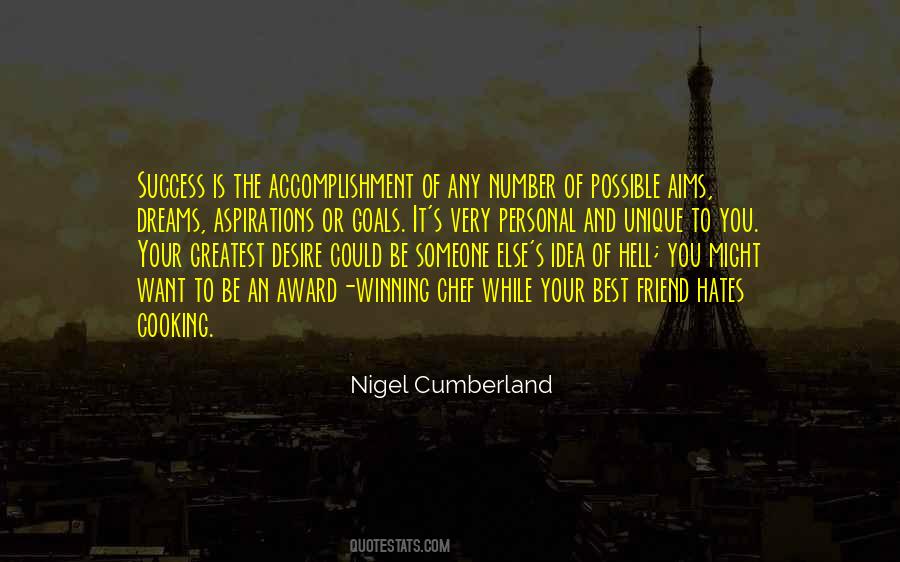 #95. No-one would want to go through a traumatic experience but when you've survived something life-shattering and risen above it, you achieve a kind of serenity. - Author: Jane Wilson-Howarth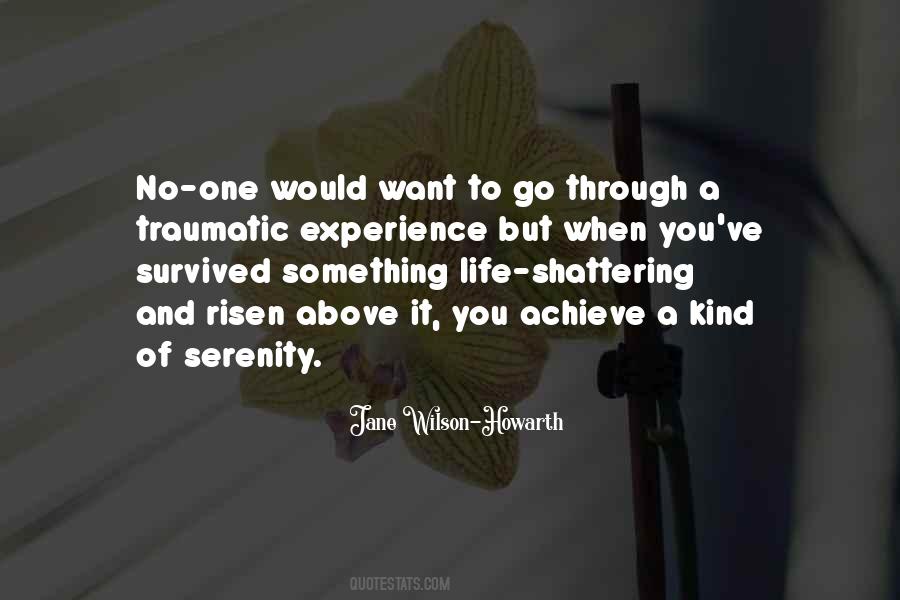 #96. But for the love of piss, make some sort of decision. If you don't want to eat babies and nail bloodbags to walls, that's your choice. What Sarren did or made you do in the past has nothing to do with it now. You're a vampire. Do whatever the hell you want. - Author: Julie Kagawa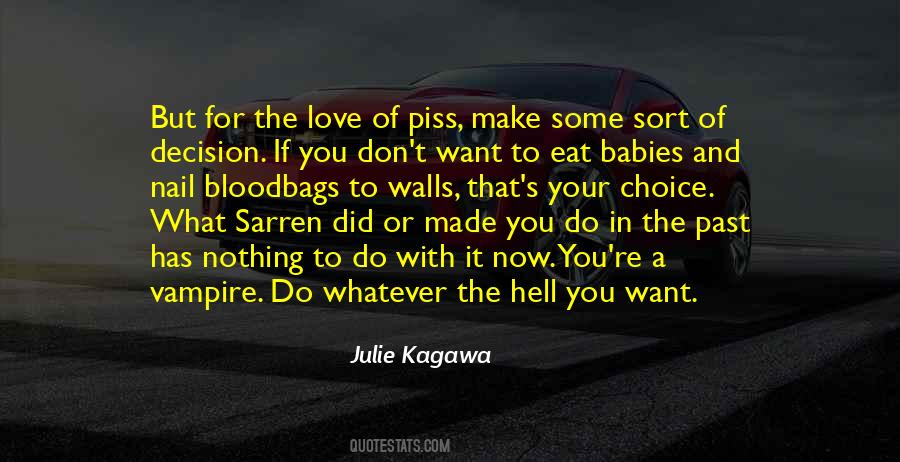 #97. It's not good enough to just keep producing technology with no notion of whether it's going to be useful. You have to create stuff that people really want, rather than create stuff just because you can. - Author: Genevieve Bell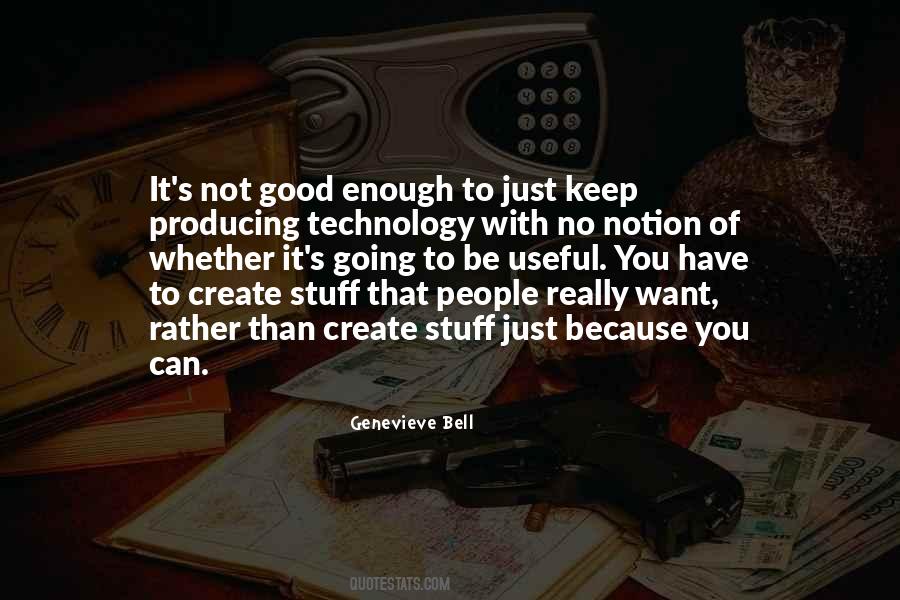 #98. He stops kissing, but his lips stay touching mine, lightly, like a feather would. "I'm bad for you, Sarah. I won't ever be the gentleman you need."
"Maybe I don't want gentle."
He pulls something from his dress pants and presses it into my hand. "And that is my fault. - Author: Tara Brown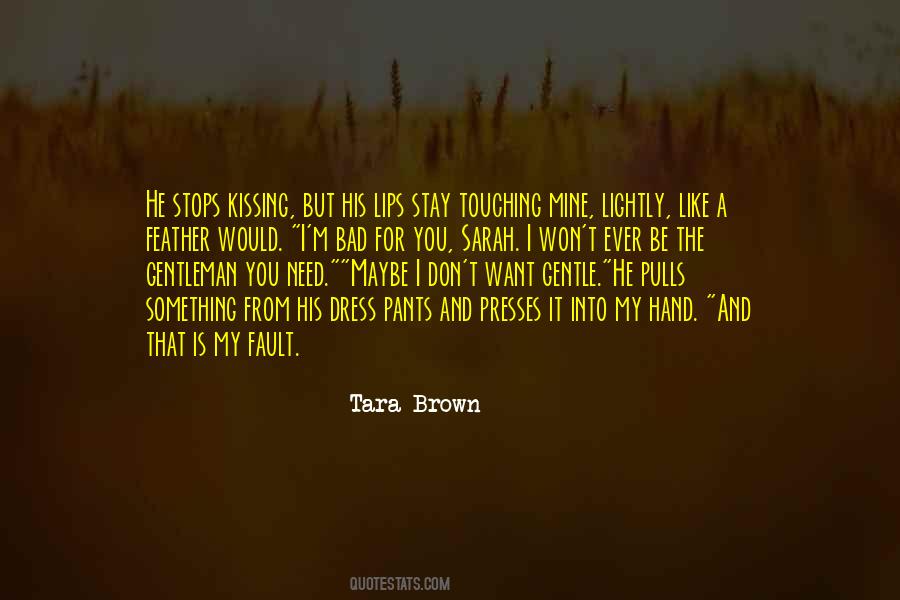 #99. I learnt that no matter what names they give you, nothing applies until you wish it to. No insult, no barb yours to bear unless you want it to. Use it, if you want. Make it into a weapon and let it boomerang back to those who uttered it. Just don't let it overpower your life. - Author: Sweety Shinde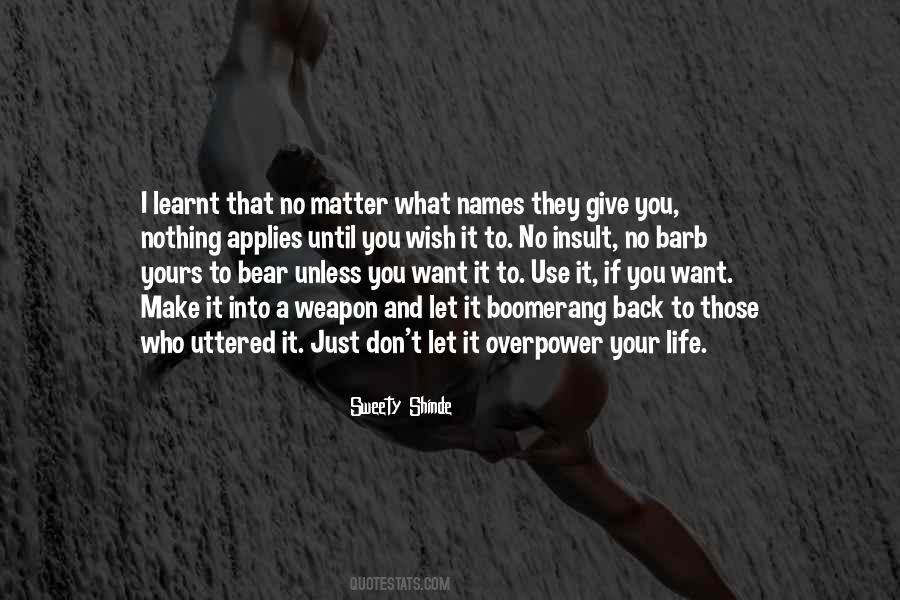 #100. Any tournament you go to, you want to win it. - Author: Martina Hingis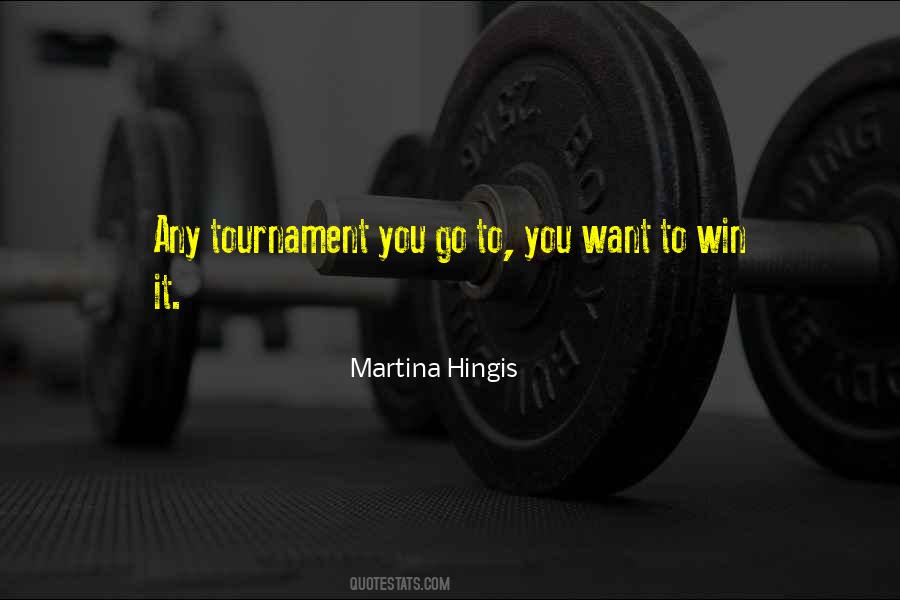 Famous Authors
Popular Topics