You Think About It Famous Quotes & Sayings
List of top 100 famous quotes and sayings about you think about it to read and share with friends on your Facebook, Twitter, blogs.
Top 100 You Think About It Quotes
#1. It's hard to care about people when you're always afraid you might lose them. But I think not caring is worse. - Author: Amber Argyle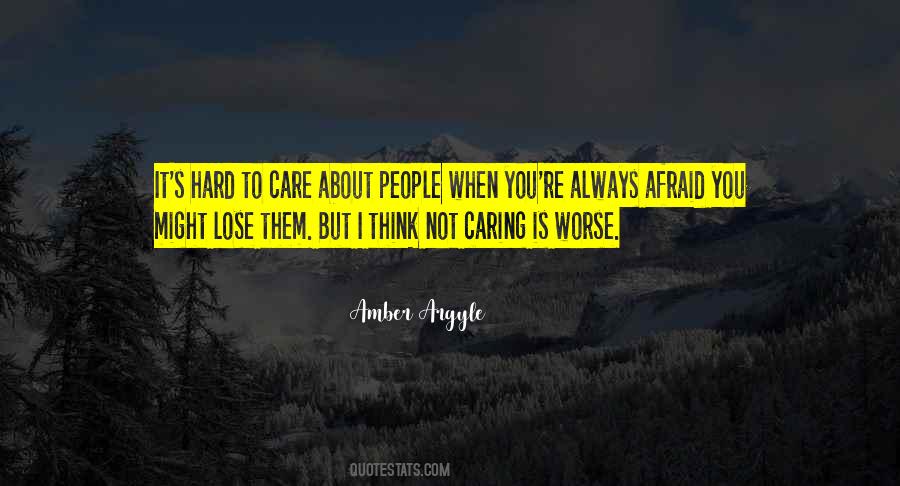 #2. You can use power for good or bad, for control or freedom. You grew up watching your dad abuse it one way and it made you take the opposite direction. That's what we all think. Everything's about balance. That's what sustains life. Maybe your role is to keep your dad in check? - Author: Katie Kacvinsky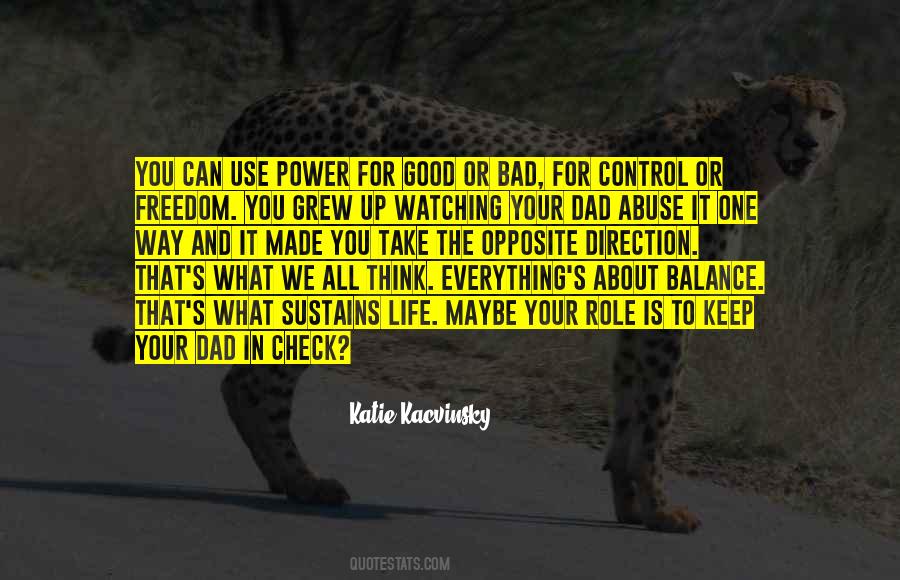 #3. Whatever you can think about, you can have it realized, provided you can work out the suggestions of your imaginations. - Author: Israelmore Ayivor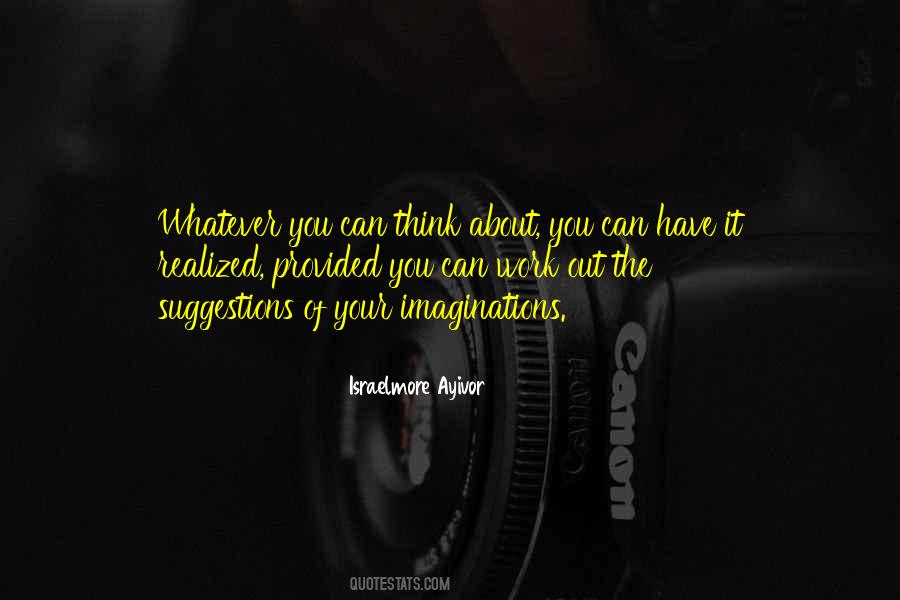 #4. When you're eleven you think every idea is born with you, that no one ever tried it the right way before. Your example, your own honesty, will make you a hero to everyone who knows you - and better, it will make people come to their senses and stop telling vicious lies about each other. - Author: Elana Dykewomon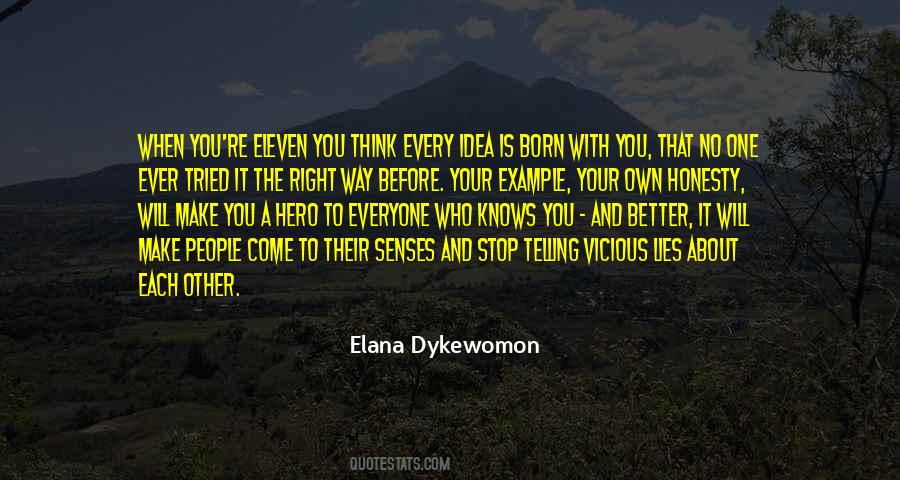 #5. You can't create a movie as you think about it. And what's in the scene is not what's being seen. A shot always means something other than what it is. All are vehicles. A landscape is just a vehicle. The viewer might think different things, and I'm not going to intervene. - Author: Bruno Dumont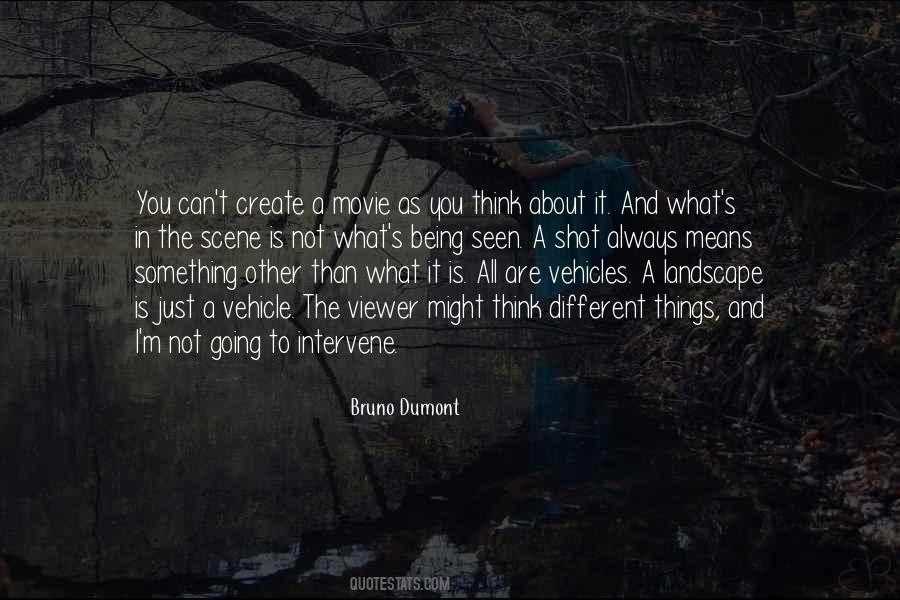 #6. I wanted to forget you, too," Sage said morosely. "Even now, I still do. With you right here in front of me. Even after last night. It still hurts to think about when you left. How it felt to be so alone. How much I don't want to care about you anymore. - Author: Sibylla Matilde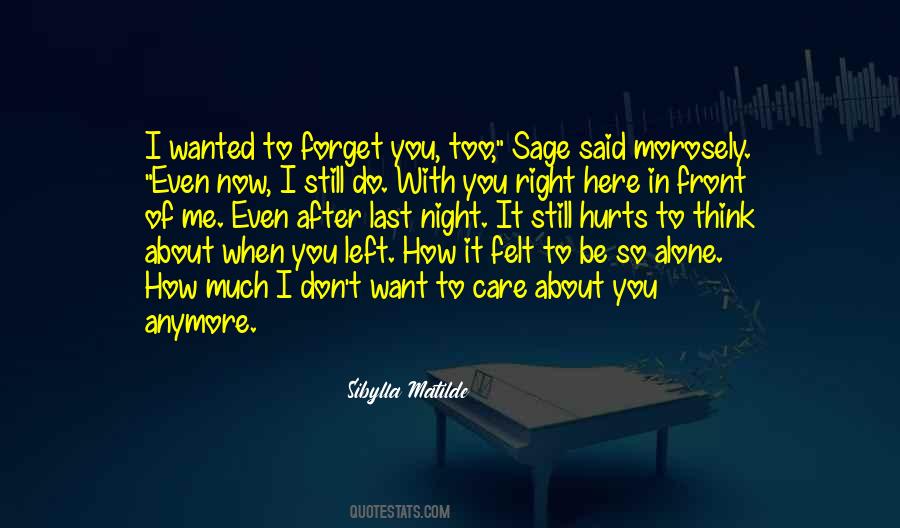 #7. I mean, I think having a great family like I do. You know, I tend to want to give it all I have when I'm at the golf course, and then when I leave I don't want to think about golf at all. And I just remind myself almost daily that golf's just my job, it's not who I am. - Author: Webb Simpson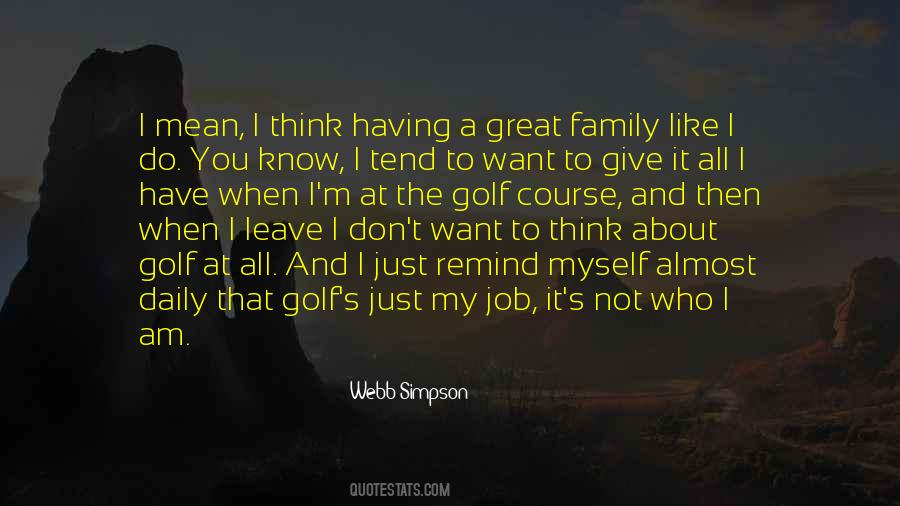 #8. Think of all the fabulous things that have happened in the world because someone has just done it-you know, just jumped off the cliff and worried about the dangers when it's all over. - Author: Kris Radish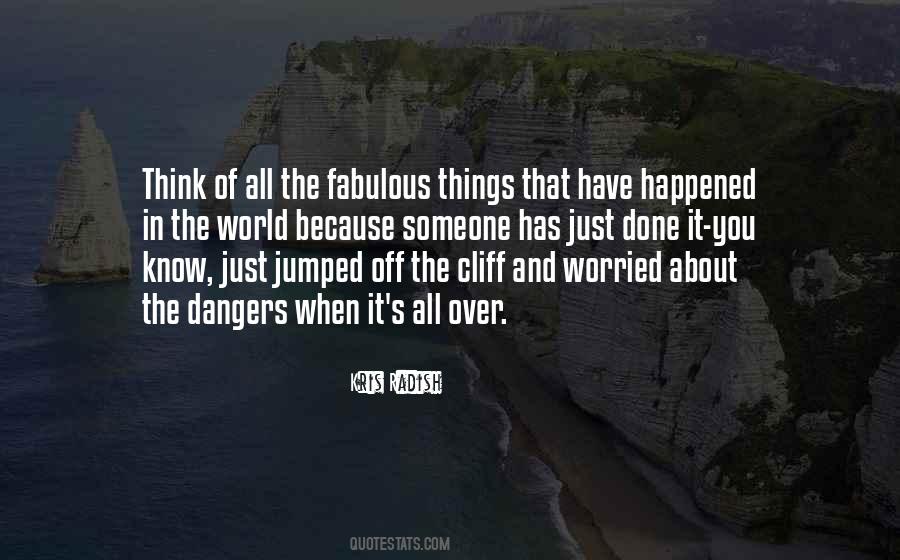 #9. Have you ever thought about what that word Lord means? We sometimes think of it as another name for God, but it's actually a title. It refers to a master, owner, or a person who is in a position of authority. - Author: Francis Chan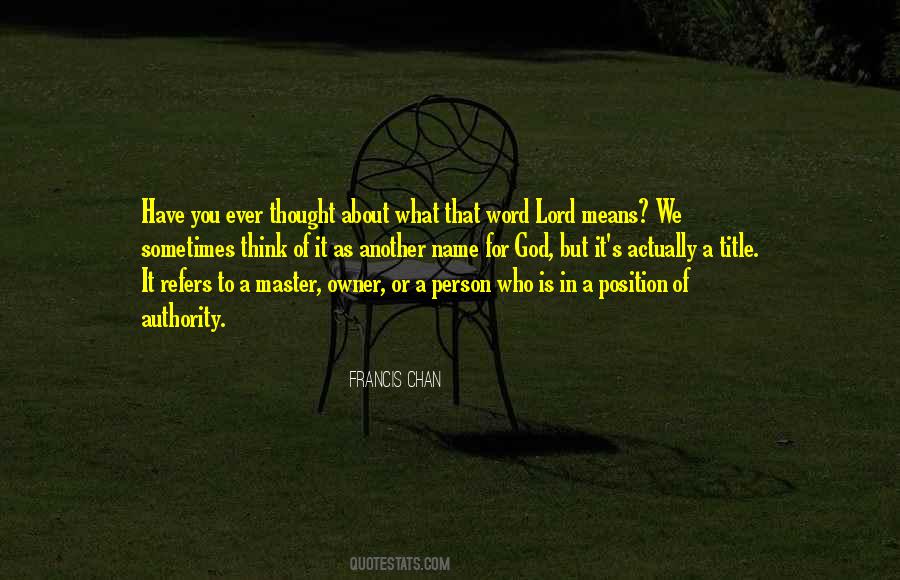 #10. When someone is in a car accident and they're driving at 100 mph, drunk, who's tape do you think his listening to at that time? Think about it. - Author: Billie Joe Armstrong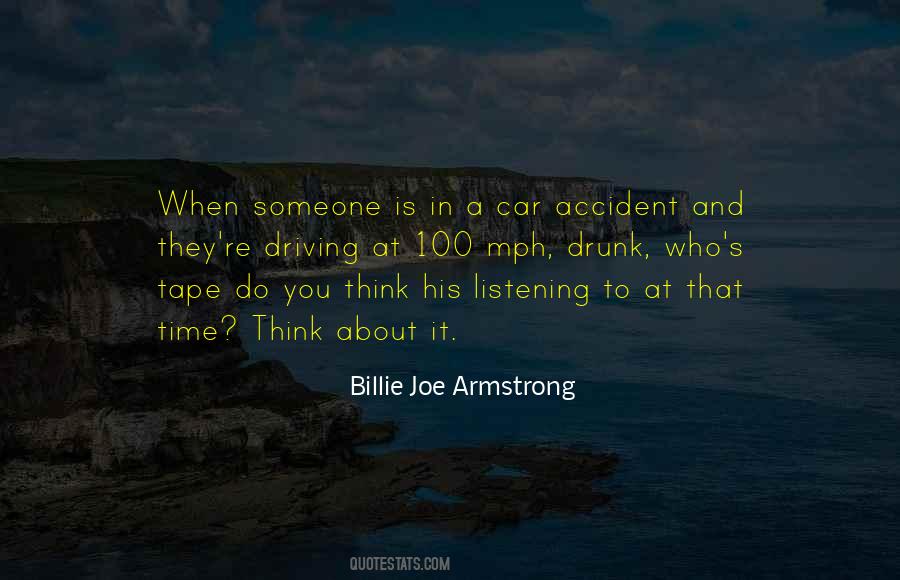 #11. Many Lexington natives believe they live in a special place, one impossible to leave. I'm not so sure about that - or it's more accurate to say I think a more general truth exists beneath it: the place you first call home stays with you always, whether you remain or go. - Author: Kim Edwards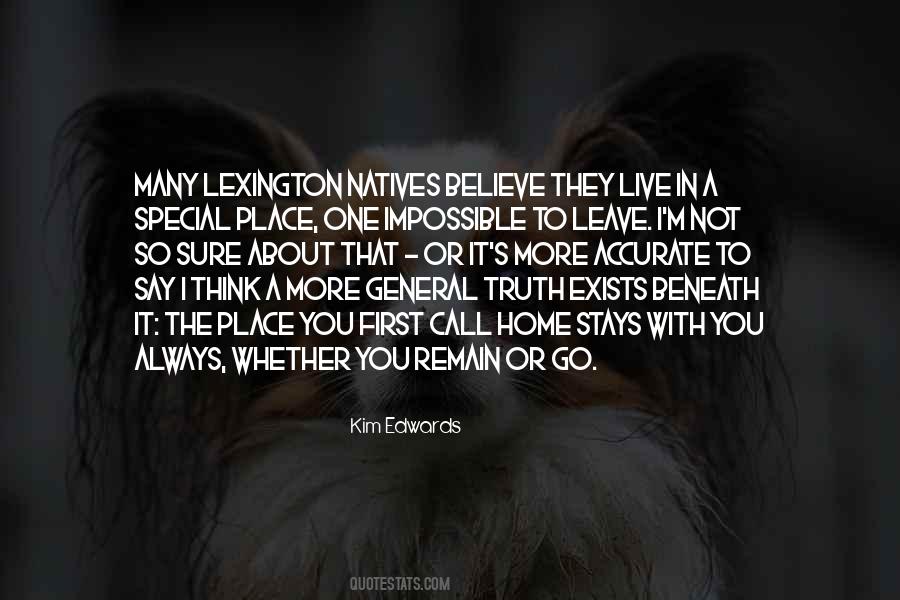 #12. Work really hard, think carefuly about how you spend every penny, and be absolutely true to your own vision of your clothes and your brand. It has to be personal. - Author: Patrick Grant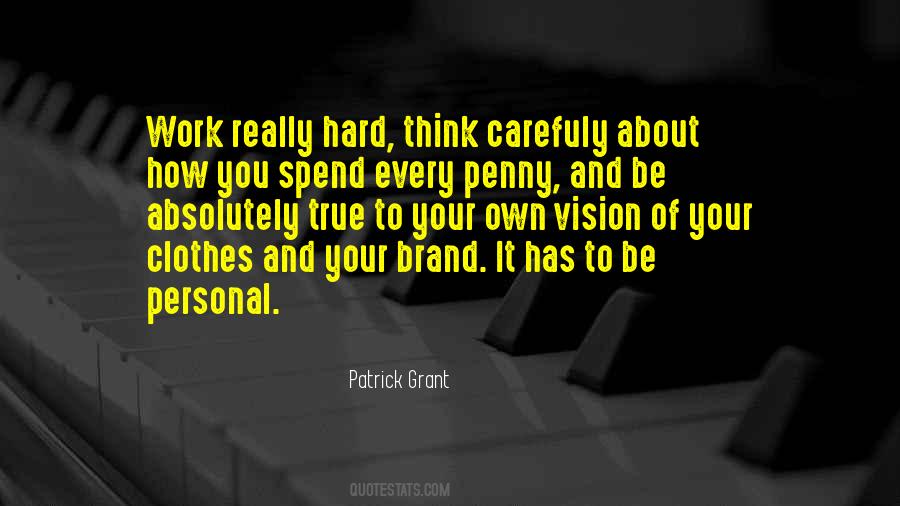 #13. Zombies are always moving fast in video games. It makes sense if you think about it. Those games are all about hand-eye coordination and how quickly can you get them before they get you. - Author: George A. Romero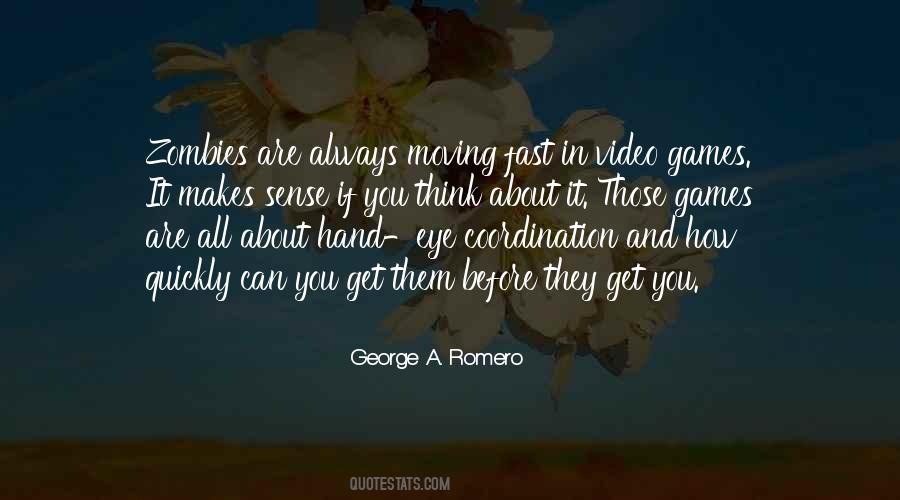 #14. Movie acting is about covering the machinery. Stage acting is about exposing the machinery. In cinema, you should think the actor is playing himself, if he's that good. It looks very easy. It should. But it's not, I assure you. - Author: Michael Caine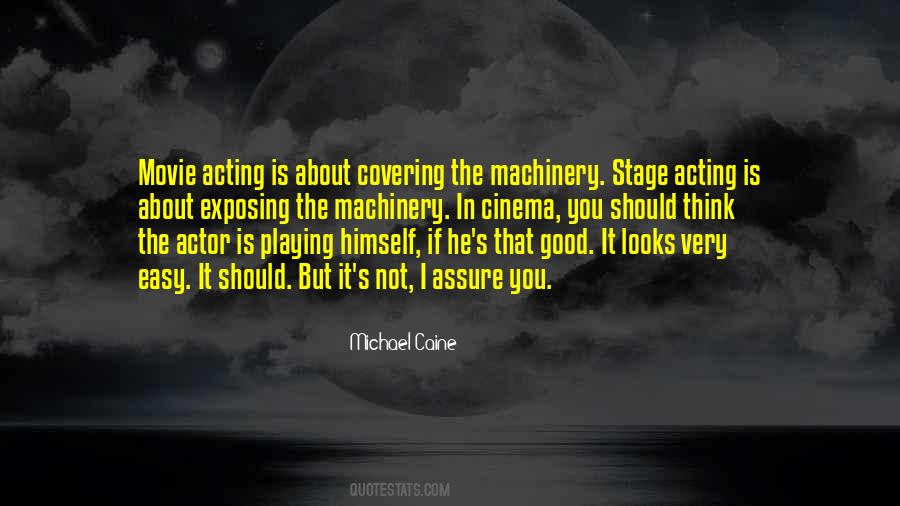 #15. I'm really inspired by the interplay of visual art and music, a total artistic environment where there's sound and visuals. When I think about that I get stimulated and excited. It's a feeling that you can't label with words. - Author: Black Francis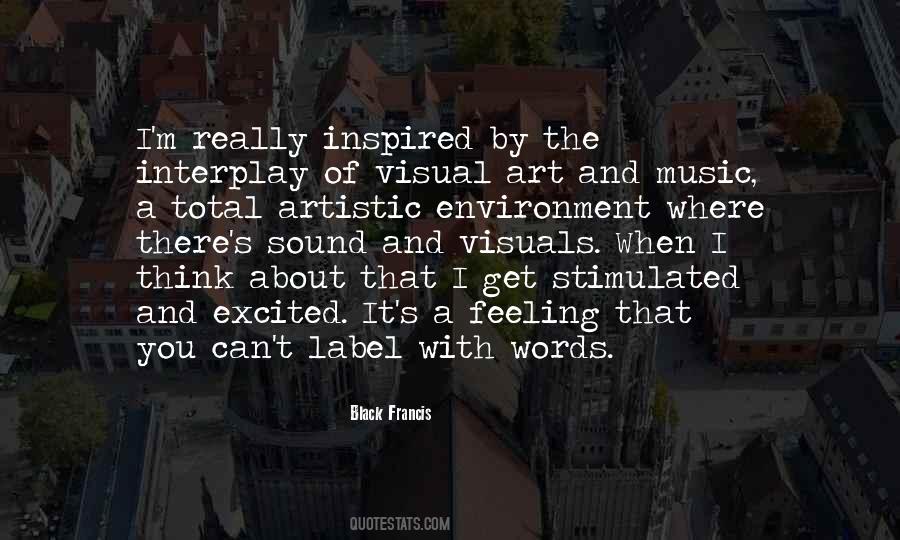 #16. Words can hurt you. In the larger world, it frames how people think about you, and it can hurt you in lots of little, subtle ways. - Author: Nathan Myhrvold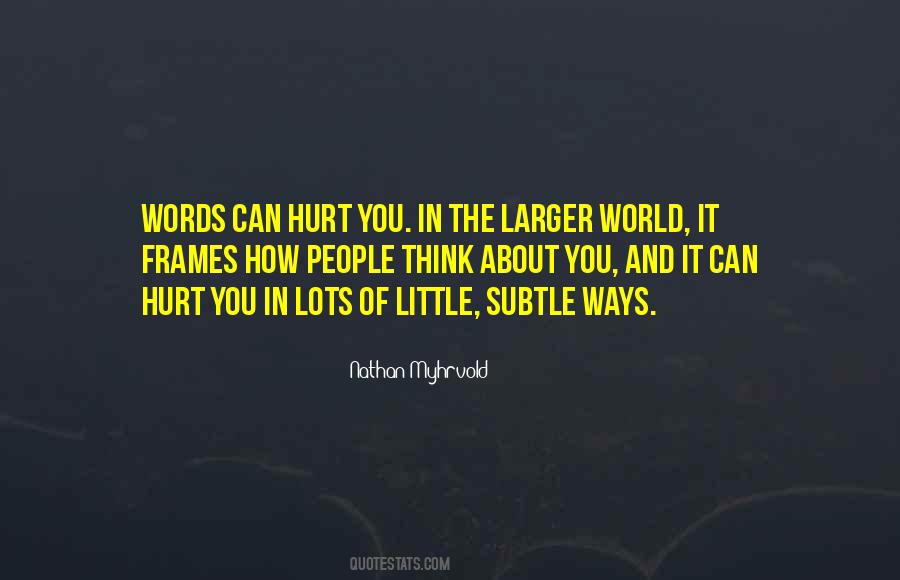 #17. Being kind to others helps you become kind to yourself ... think about it!
Bullying Ben - Author: Timothy Pina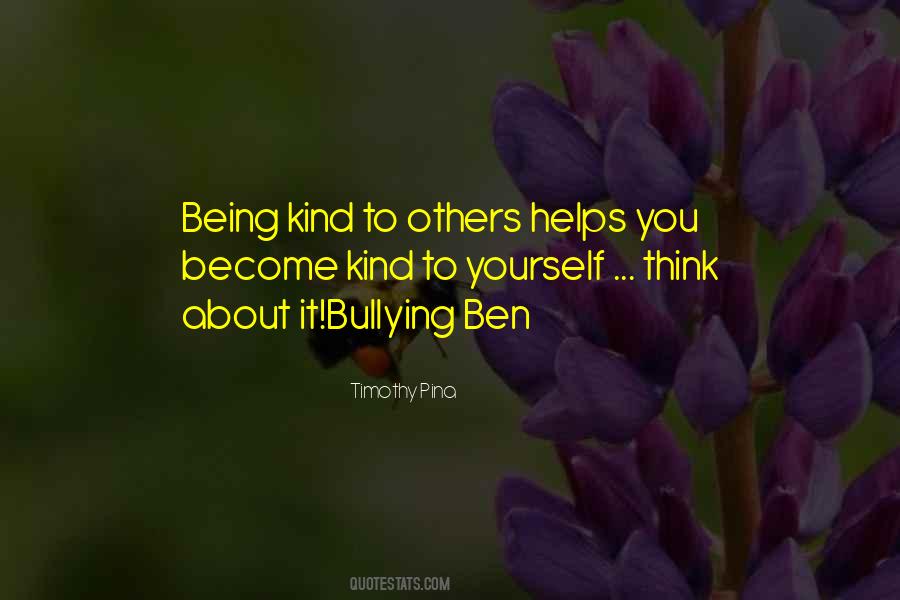 #18. If you look at the mythology of aliens, there's a lot about gold. It's about them coming for gold; whether that's a simplification or not. If you think of 'Chariot of the Gods,' there's this reoccurring theme of gold. - Author: Jon Favreau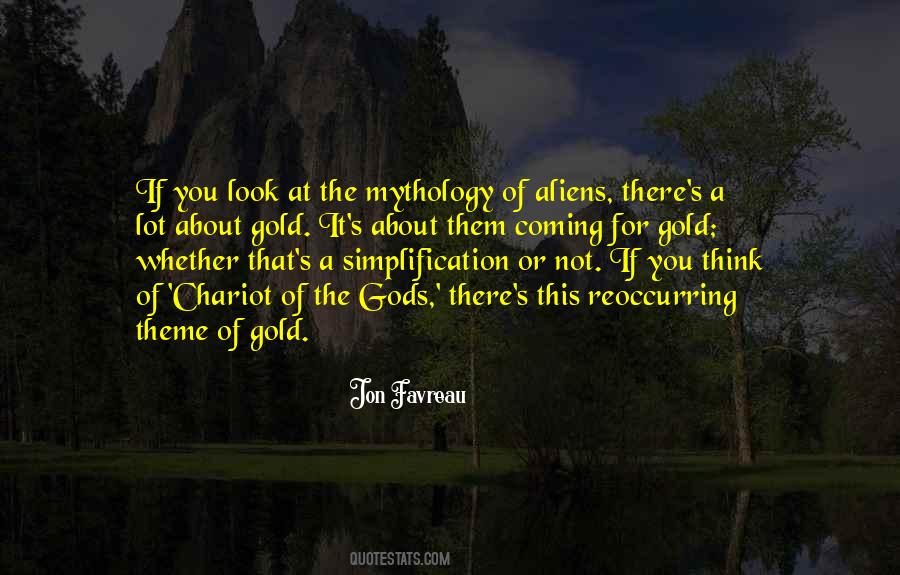 #19. I just needed some time to think and figure out shit in my head. The more I thought about it, the more I realized that it was too late. I've already given you my damn heart and I don't want it back." He leans down and smiles against my lips. "I want you," he whispers. - Author: Victoria Ashley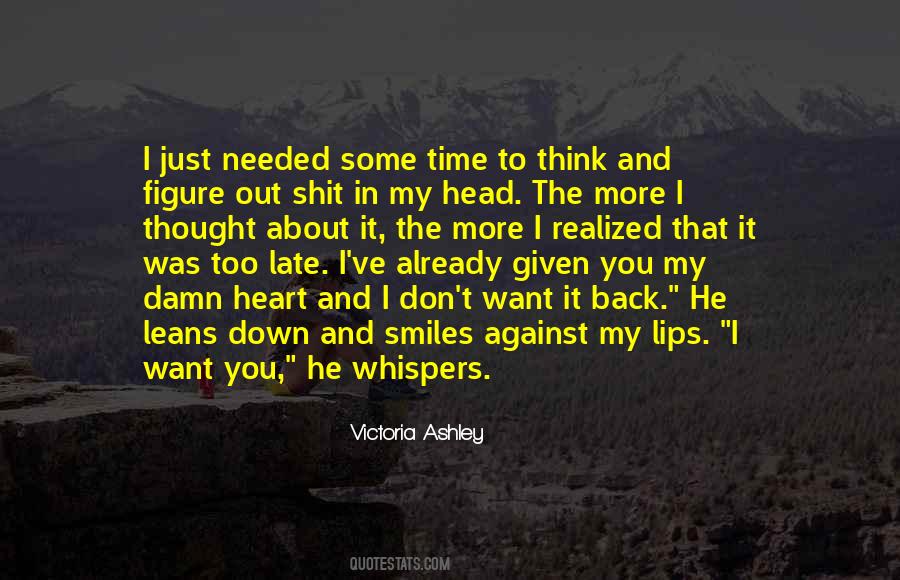 #20. If you are seeking the counsel of God on a directional matter in your life, never get so caught up in the specifics of your own situation that you selfishly forget about others. Don't neglect the poor. Think outside yourself. It's liberating! Likewise, - Author: John Crowder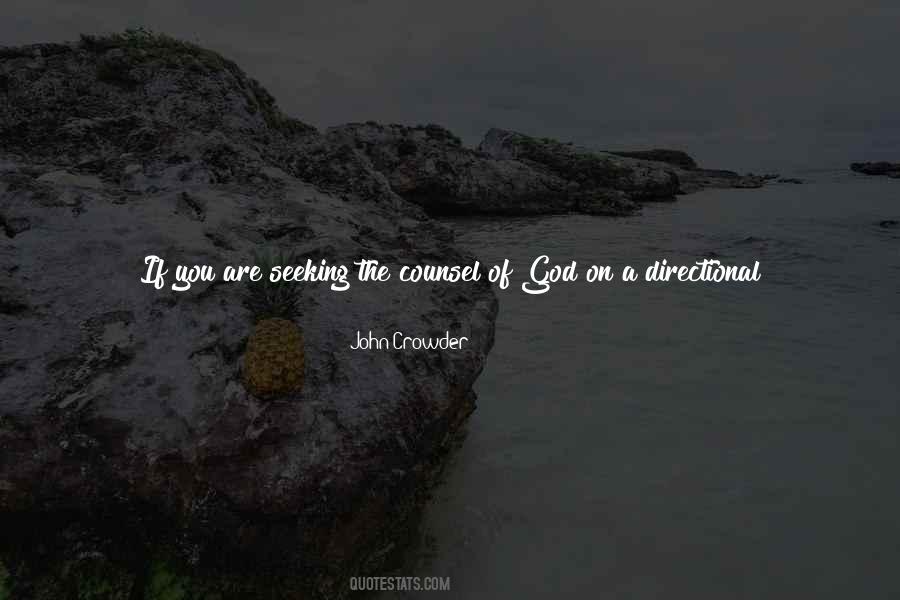 #21. I dress for myself because when I feel good, it doesn't matter what other people say. I think it's all about confidence and the way you carry yourself that draws people to you. - Author: Emma Roberts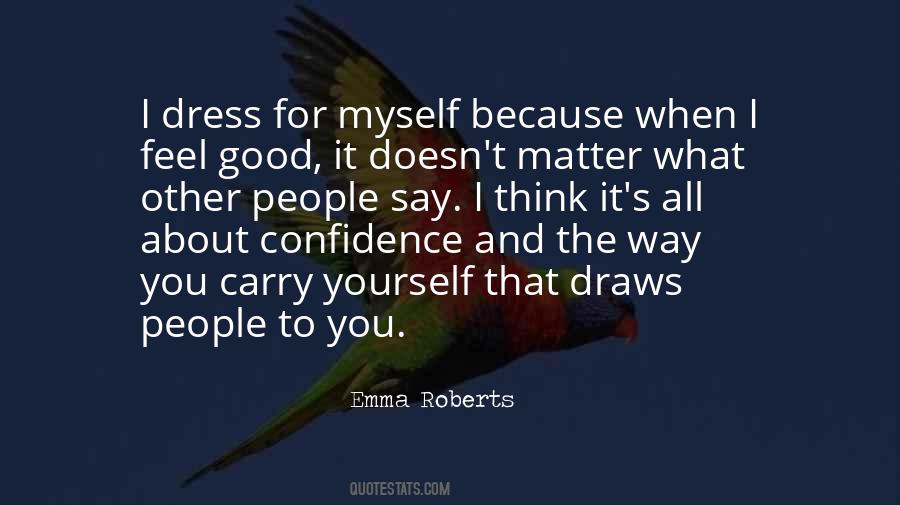 #22. A lot of people think that as a player, during the lockout, you just have your whole day free. It's not like that - especially for me. I wake up everyday, train in the morning from 9 a.m. to about 2 p.m. Then I have a business meeting here, have to meet this person there, it's non-stop for me. - Author: Carmelo Anthony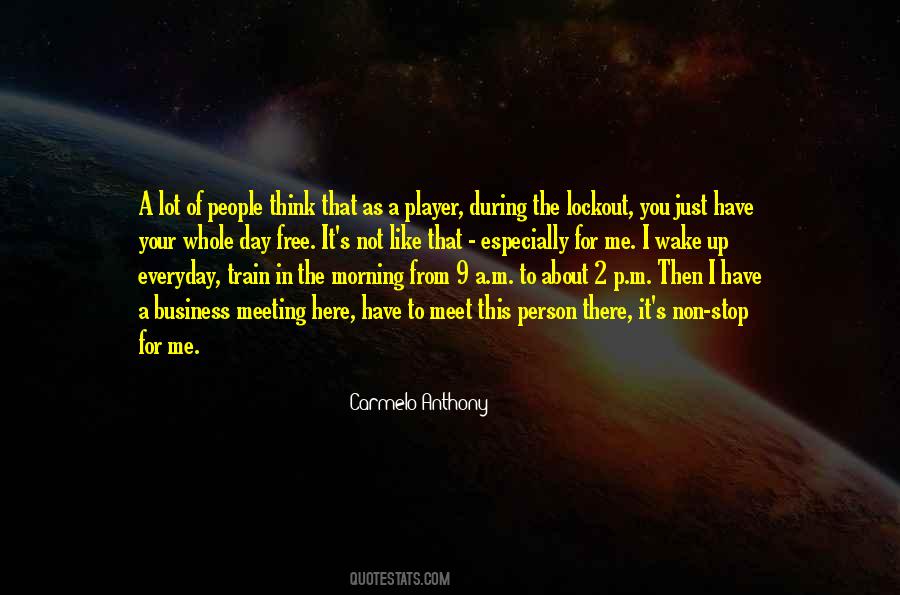 #23. I guess nobody assumes anybody is a libertarian. It's a more complex political discussion than most people are used to, to explain why you think the way you do about public education or drug laws, and why it's not as simple as being for or against something. - Author: Dave Barry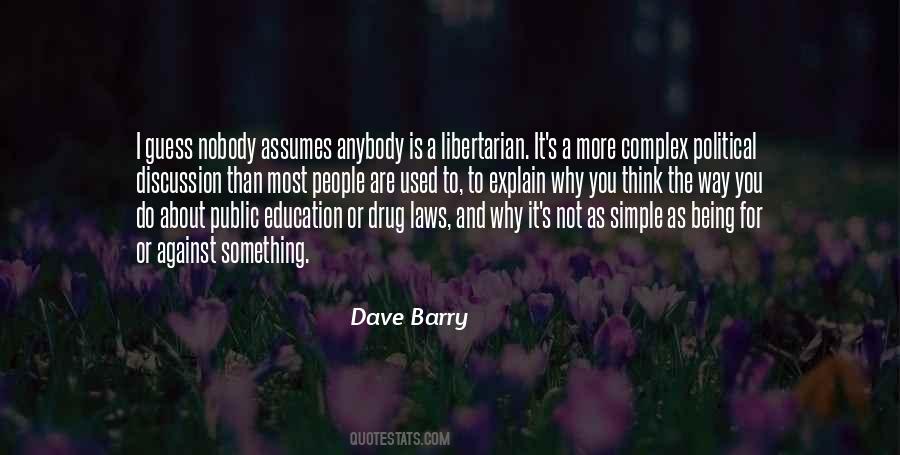 #24. Think about my invitation. It's not a bad way to start off the year - on the arm of the most eligible bachelor in
school . . . See you tomorrow, Goldilocks." Trent winked and,
finally releasing my captive hand, walked away. - Author: Anastasia Hopcus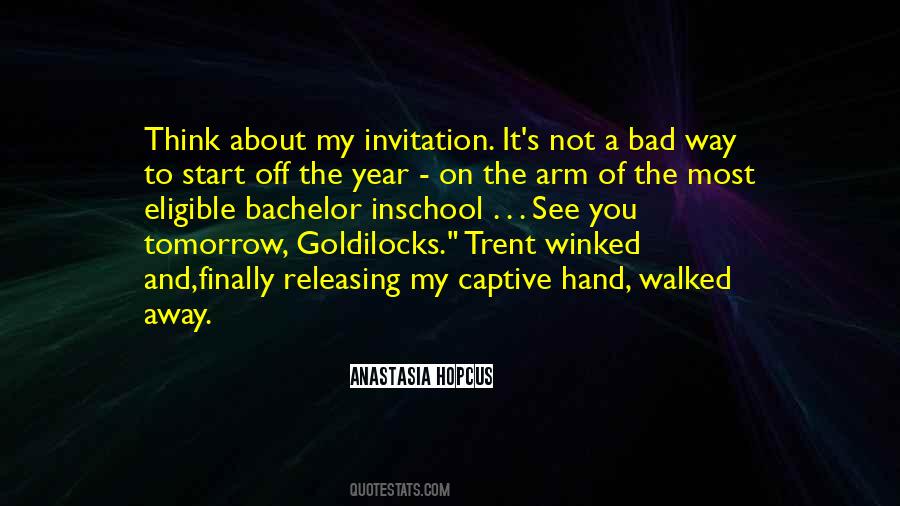 #25. Becoming a child again is what is impossible. That's what you have a legitimate reason to be upset over. Childhood is the most valuable thing that's taken away from you in life, if you think about it. - Author: Heather O'Neill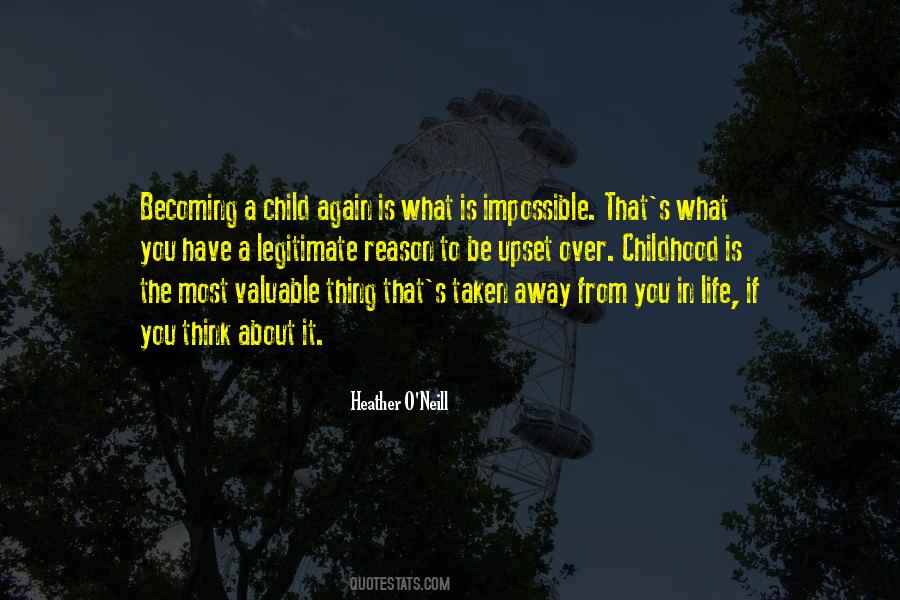 #26. If you think about a Thanksgiving dinner, it's really like making a large chicken. - Author: Ina Garten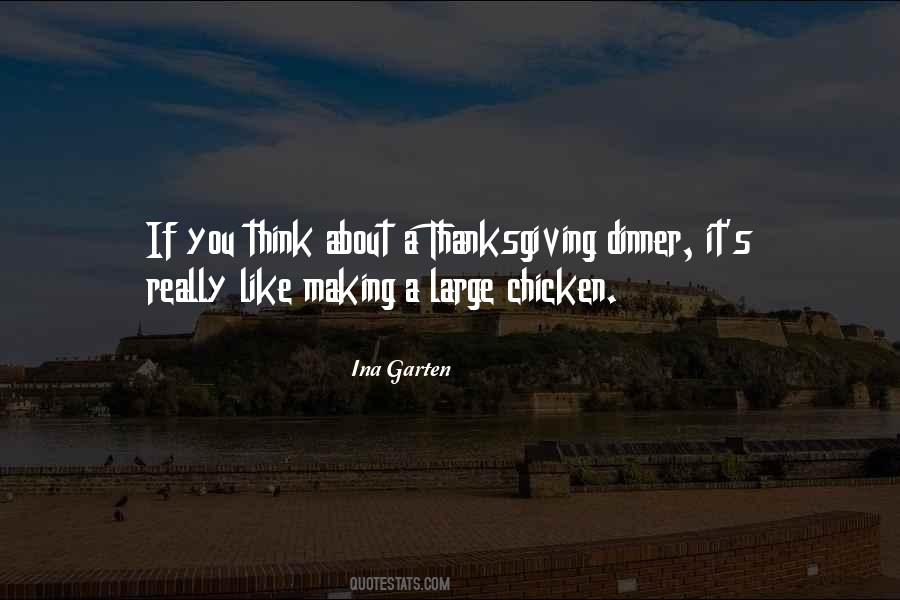 #27. I try to make a film that's very entertaining, very funny, but also gives you something to think about. And the strongest thing I have to offer is my point of view, to get across how I see the world in hopes that it can change the way other people see the world, hopefully for the better. - Author: Terry Zwigoff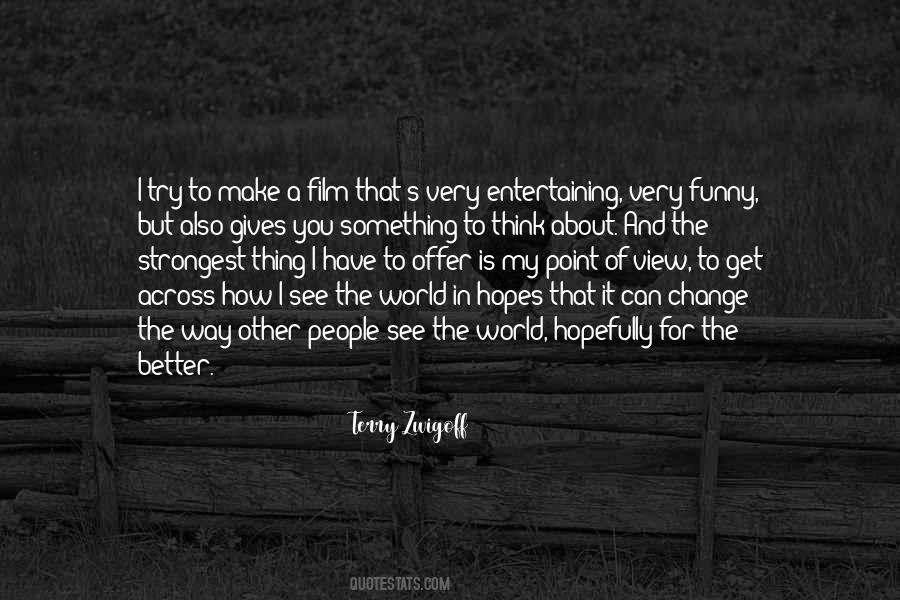 #28. I think when you talk about competing against others, the problem is that you refer to something that's been done already and try to beat it. - Author: Shigeru Miyamoto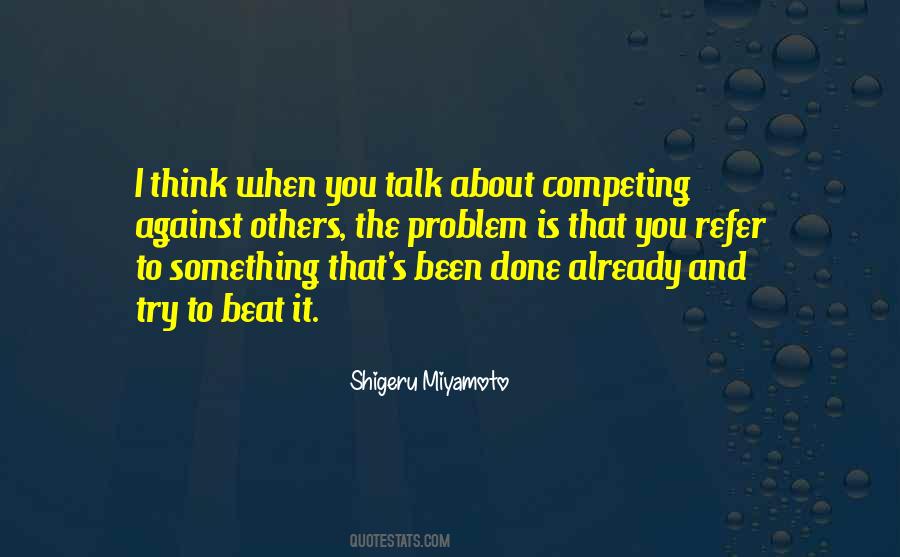 #29. Almost everyone prefers normality because normality brings comfort and security. But when you think about it, normality hinders the reason why you are on this earth. - Author: Euginia Herlihy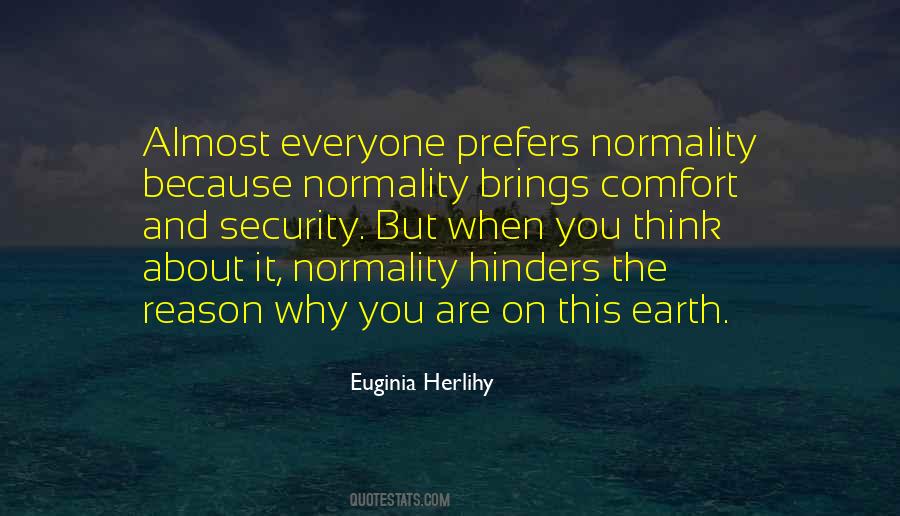 #30. Raising taxes is not a frivolous venture that you do on the editorial page of 'The New Republic,' for god sakes. It's something that you really have to think about and go through carefully. - Author: Arthur Laffer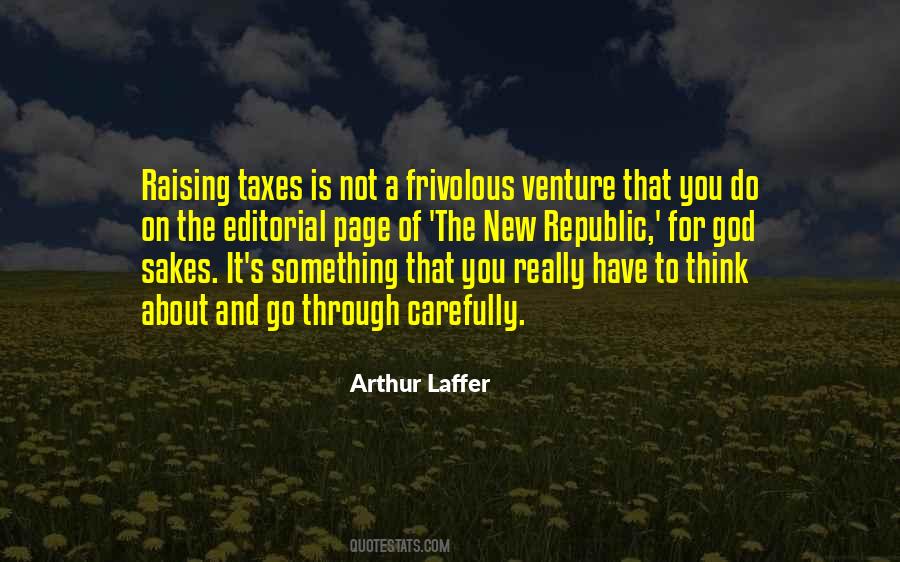 #31. I still don't think it's pathetic to cry over someone. It just means you care about them deeply and you're sad. - Author: Jenny Han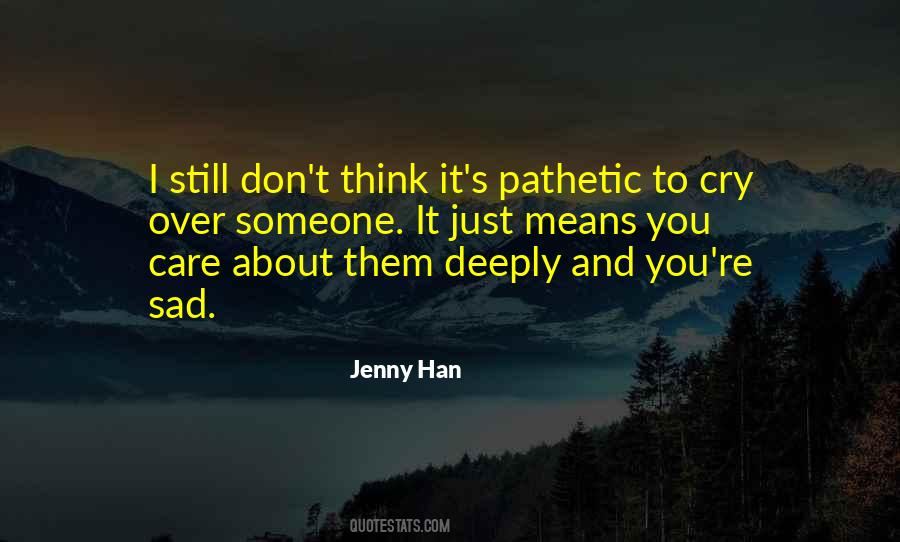 #32. Don't worry about how things look. People are going to think whatever they think. To hell with 'em. You can't worry about it. - Author: William Landay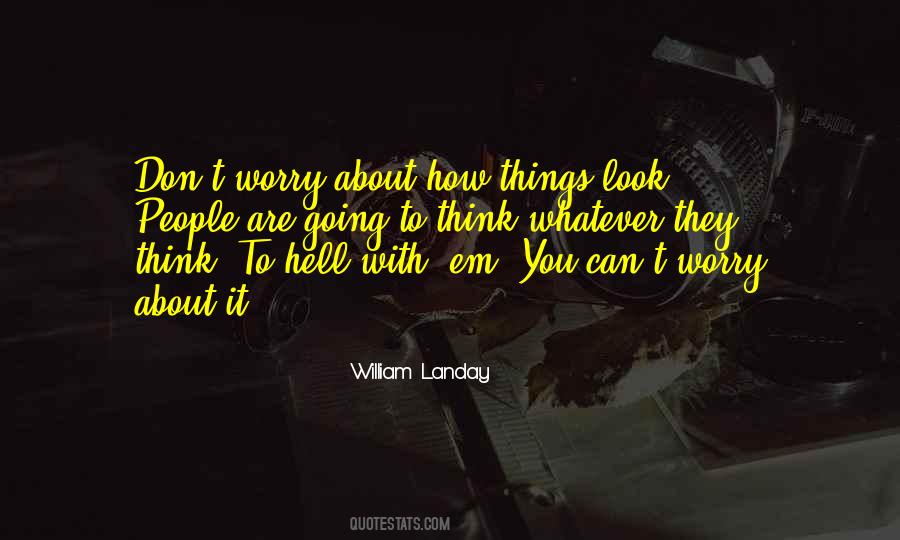 #33. The best way is to be strong enough to make your enemy think twice about attacking you, yet not so aggressive that he feels threatened. Keep your sword sheathed as long as you can, but once it is unsheathed, use it without hesitation. - Author: Lian Hearn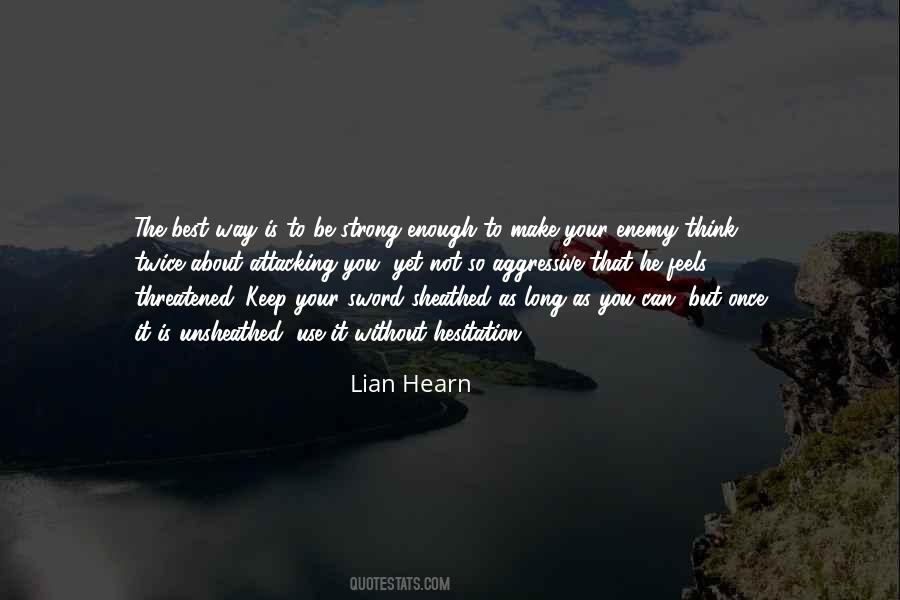 #34. There's a convention that one doesn't speak ill of the dead. That's stupid, I think. The truth's always the truth. On the whole it's better to keep your mouth shut about living people. You might conceivably injure them. The dead are past that. But the harm they've done lives after them sometimes. - Author: Agatha Christie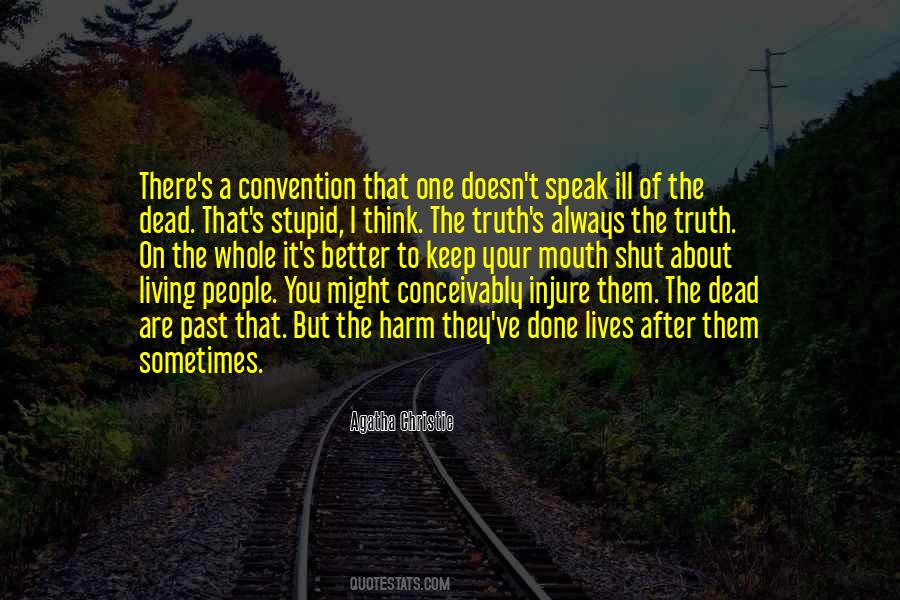 #35. Just imagine if you took all the money you've spent on these things and traveled around the world with it, instead, or bought books and read them. Think about how much you would know about life. - Author: Eustace Conway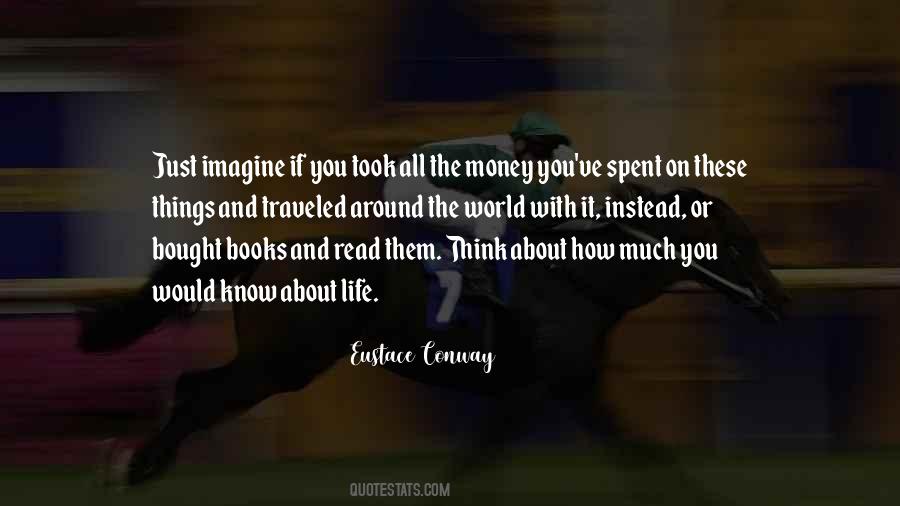 #36. Inaction breeds doubt and fear. Action breeds confidence and courage. If you
want to conquer fear, do not sit home and think about it. Go out and get busy. - Author: Dale Carnegia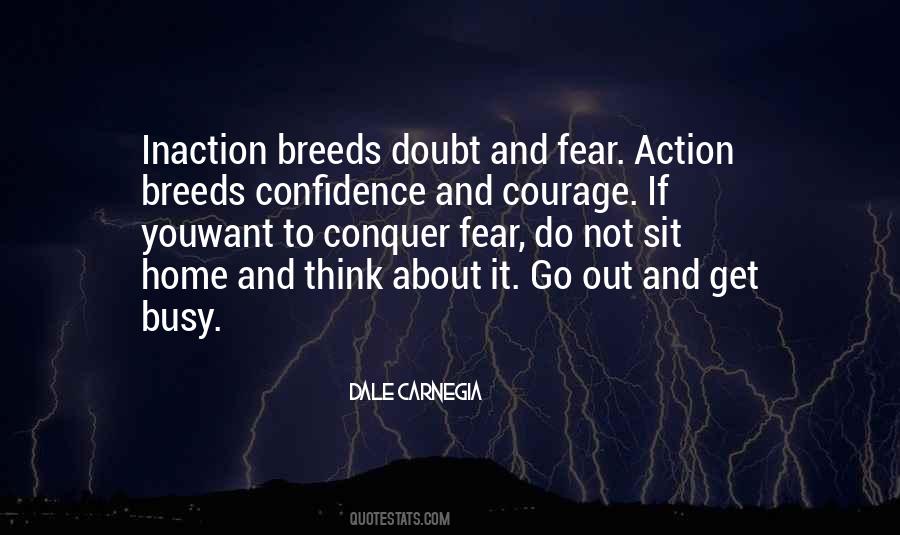 #37. Think about it. Every time you fail at a task you've actually learned something new. The question is what? - Author: Iimani David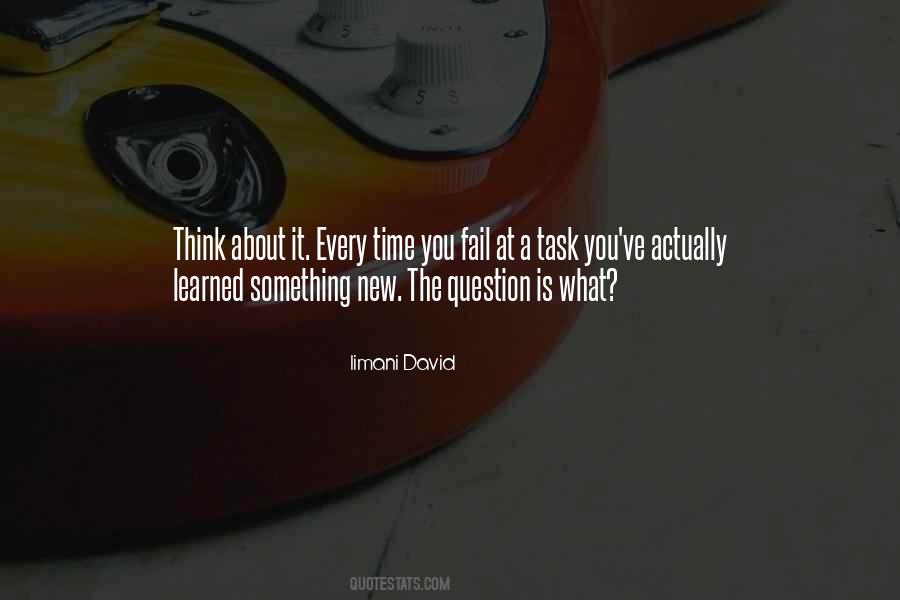 #38. I think if you enjoy teaching, if you enjoy talking about your craft, that's probably the best way to do it ... because once a player starts to get it, once he figures it out, he'll never forget it. - Author: Tony Gwynn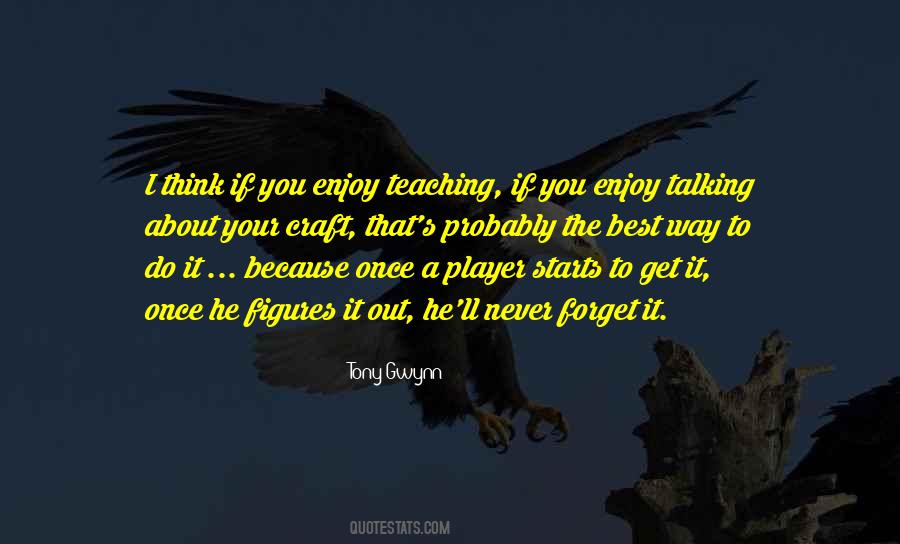 #39. Granted, prostate exams aren't the most enjoyable things in the world, but they only last about 10 seconds. It's well worth it. Just think of the possible consequences if you don't get it done. - Author: Len Dawson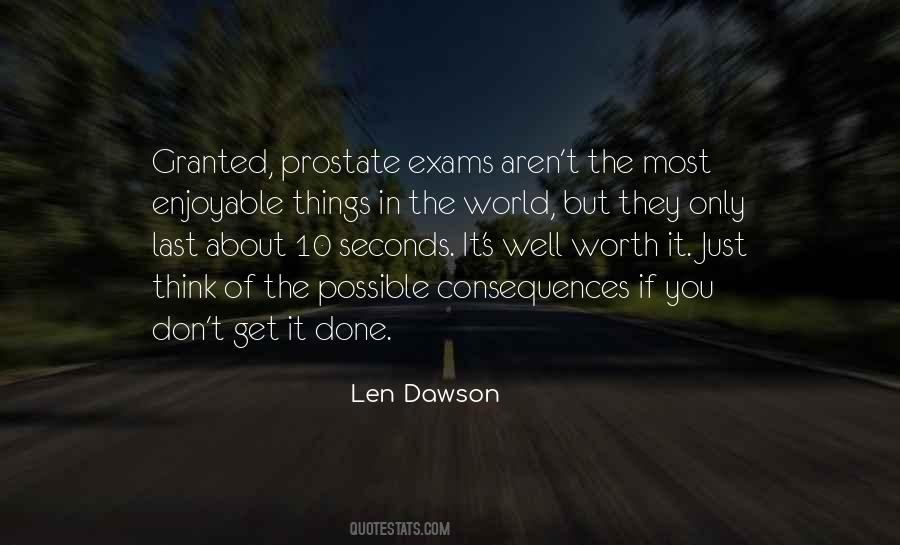 #40. You have no idea how difficult it was trying to listen to a single word you said today when all I could think about was how soft they are. How incredible they taste. How perfect they fit between mine. - Author: Colleen Hoover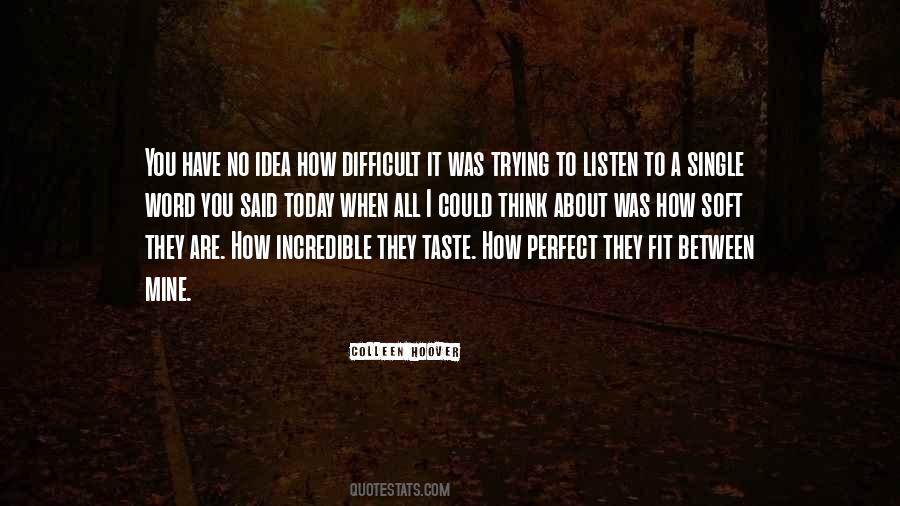 #41. It's insane that, since the Beatles and Dylan, it's assumed that all musicians should do everything themselves. It's that ridiculous, teenage idea that when Mick Jagger sings, he's telling you something about his own life. It's so arrogant to think that people would want to know about it anyway! - Author: Brian Eno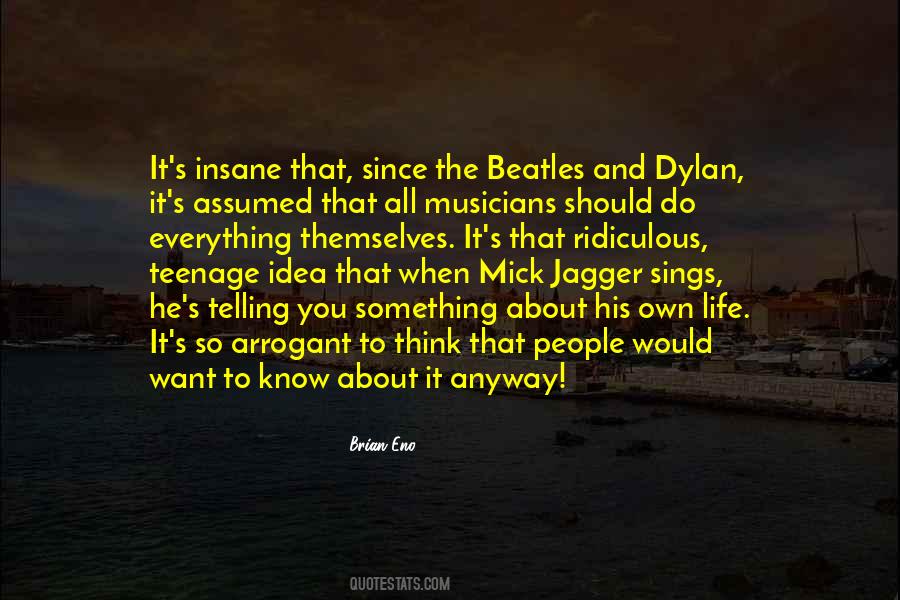 #42. I've been on swims where people have freaked out about sharks. You have to think about something else, otherwise it will absolutely paralyze you. I do math problems, anything. - Author: Lewis Gordon Pugh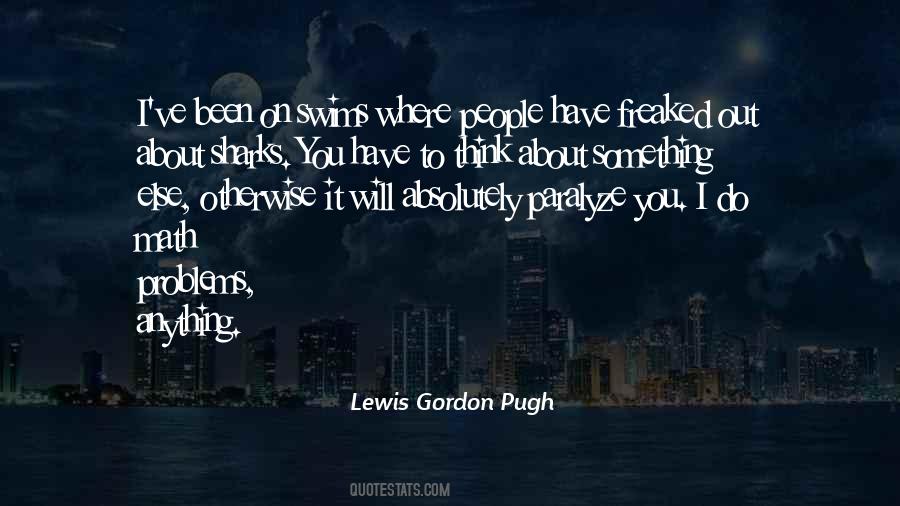 #43. By putting you into an enchanted sleep and allowing you to postpone the moment when you would have to think about what has happened tonight, I would do it. But I know better. Numbing the pain for a while will make it worse when you finally feel it. You - Author: J.K. Rowling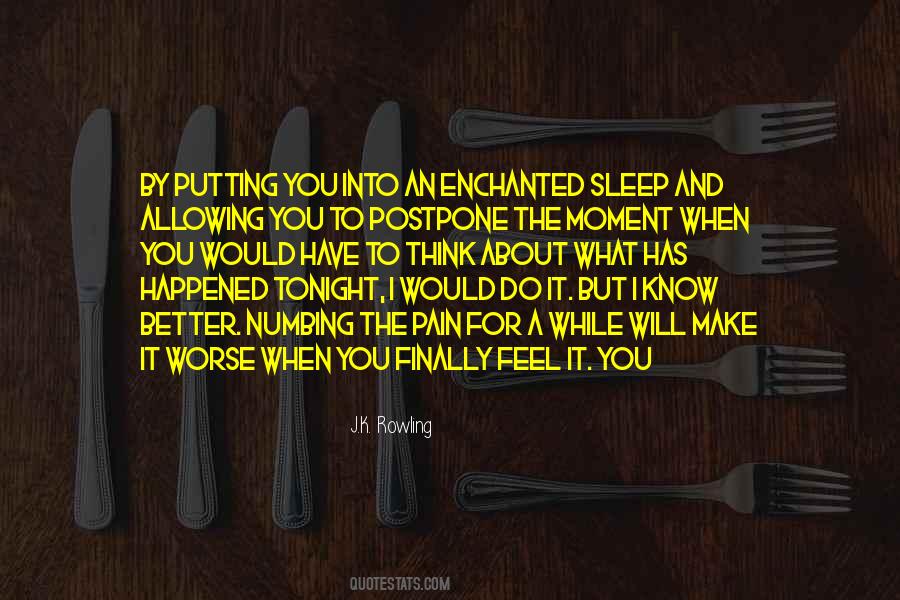 #44. When people call it that I always get pissed off because I always think depression sounds like you just get like really sad, you get quiet and melancholy and just like sit quietly by the window sighing or just lying around. A state of not caring about anything. A kind of blue kind of peaceful state. - Author: David Foster Wallace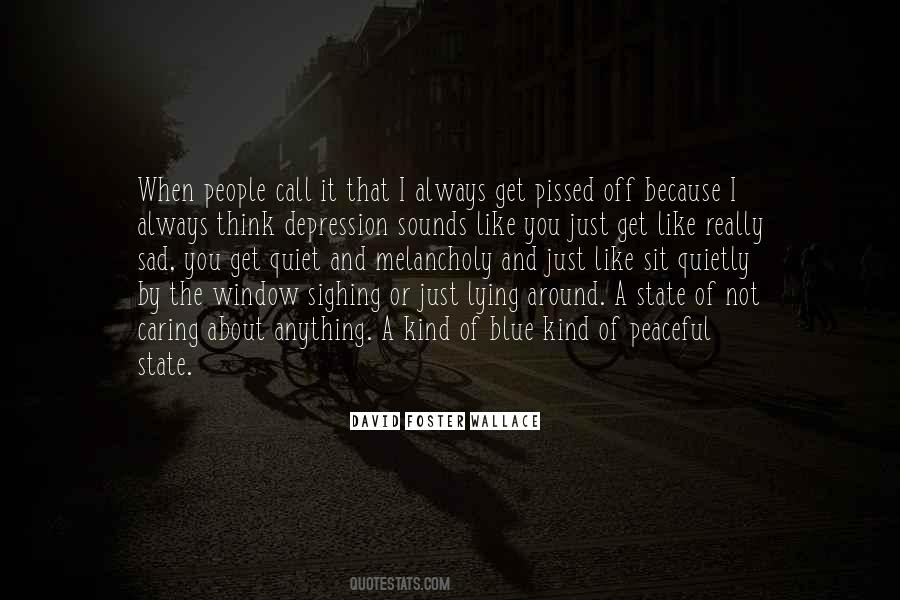 #45. I just think that's the job of an actor. I guess that's the variation that you're talking about. It's probably a byproduct of just constantly looking for something different, because that's what I feel like I'm supposed to do. - Author: Eric Bana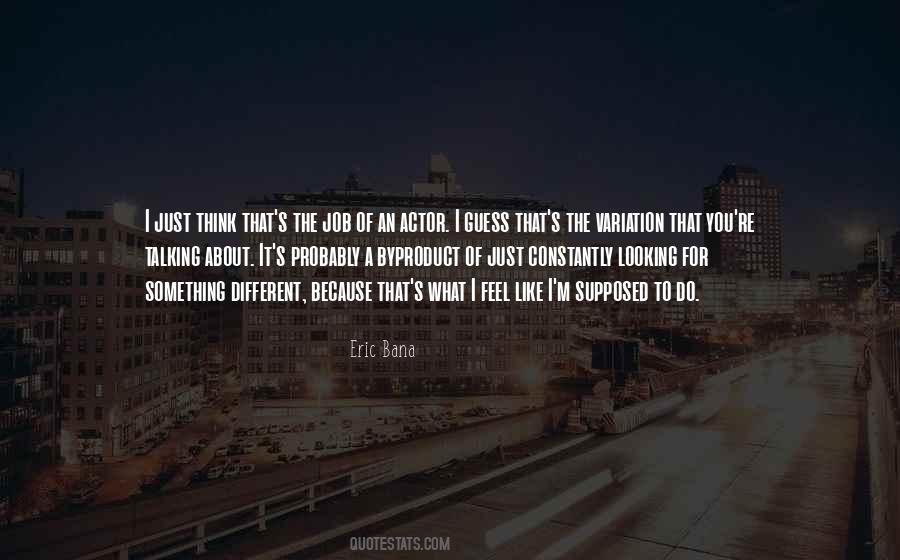 #46. I mean its an obsession, you follow the obsession but at the same time you have so many doubts, you know. Why am I wasting so much money going back to this place, taking more pictures? What's the point of it? No one cares about it. I think I care about it but maybe I am deceiving myself. - Author: Alex Webb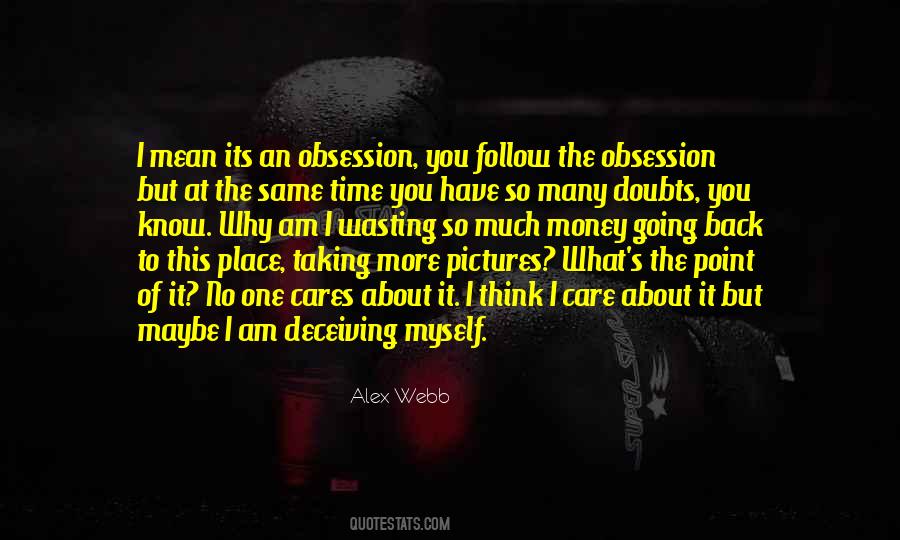 #47. Linc?"
"Yeah."
"About the other thing my dad said to you," I cringed.
"What else is he supposed to think?" he asked, a smile in his tone. "You're over here all the time. If not training, we're hanging out. I'm surprised he hasn't warned me off sooner. It's good to see he's paying attention. - Author: Jessica Shirvington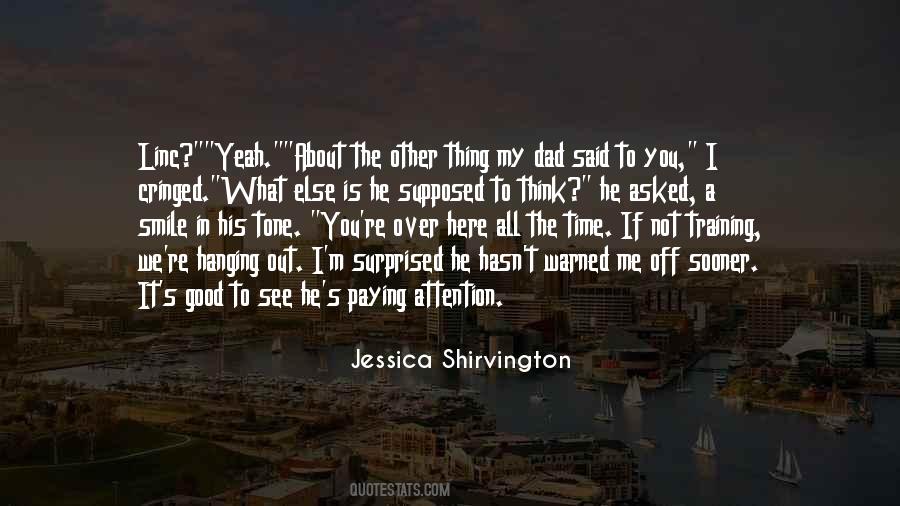 #48. I think about you all the time. I can't stop."
Shaking my head, I ran my palm over my wet face. This couldn't be happening to me. I would not allow it. I knew better.
"Addison, it's natural to form attachments to your teachers."
"Is it natural to picture them fucking you? - Author: Ella Frank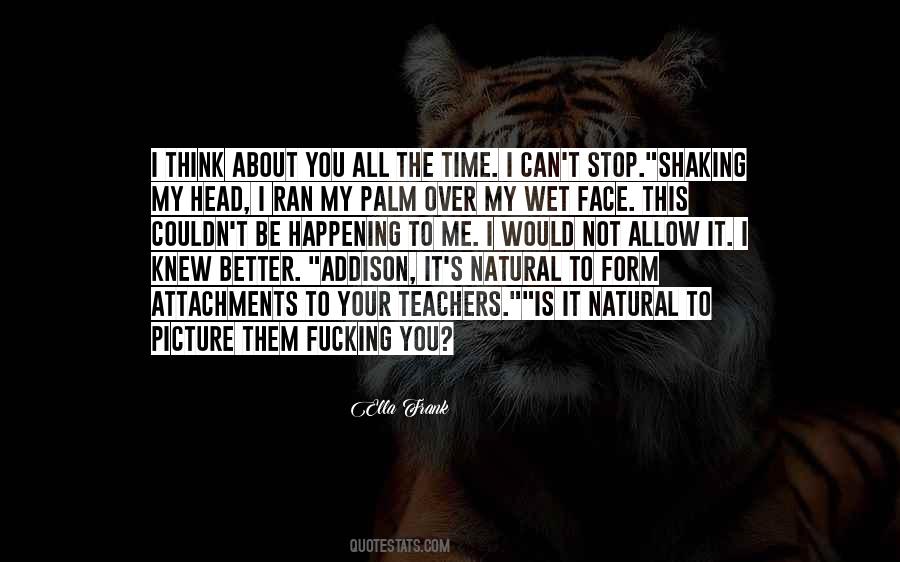 #49. When you think about it, Alaska is also near the North Pole, so she must also be friends with Santa. - Author: Jon Stewart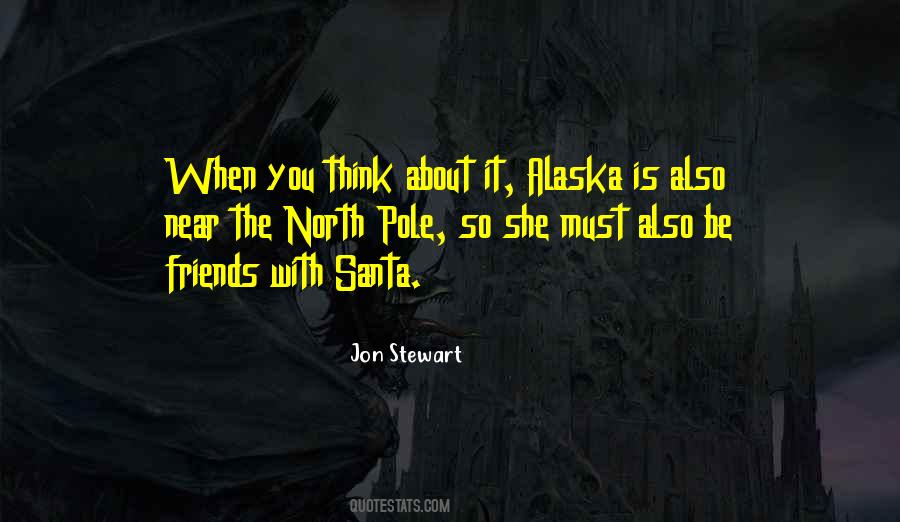 #50. I don't think love is about letting go; it's about treasuring it whilst you have it in your life. - Author: Victoria Walters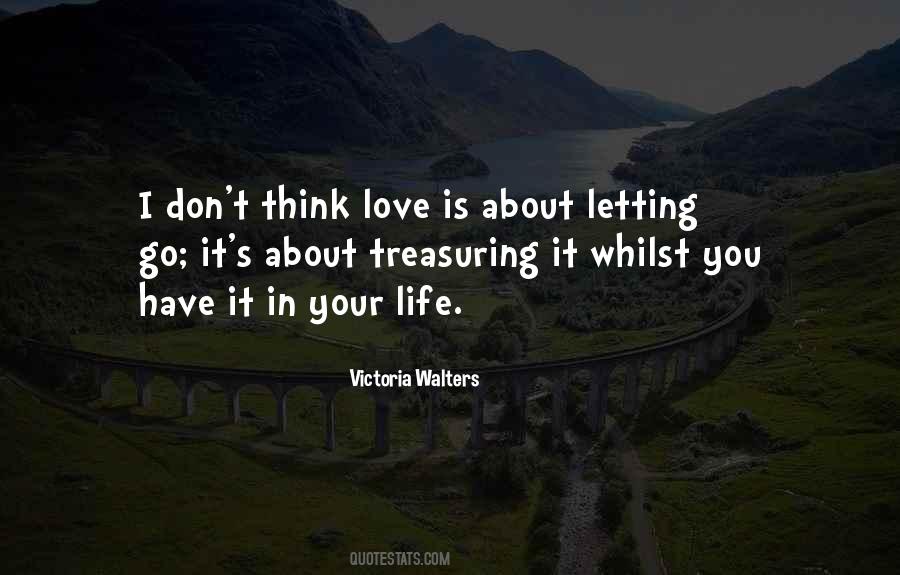 #51. It's a luxury being a writer, because all you ever think about is life. - Author: Amy Tan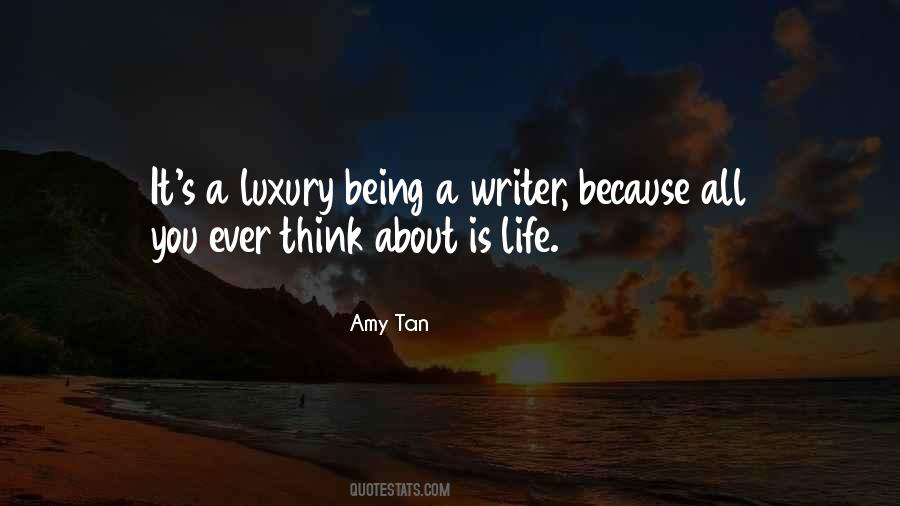 #52. Buddhists make it very simple for you to reach your heavenly reward. To reach Nirvana, all you have to do is live right, think right, and deny yourself just about everything. - Author: Catherine Coulter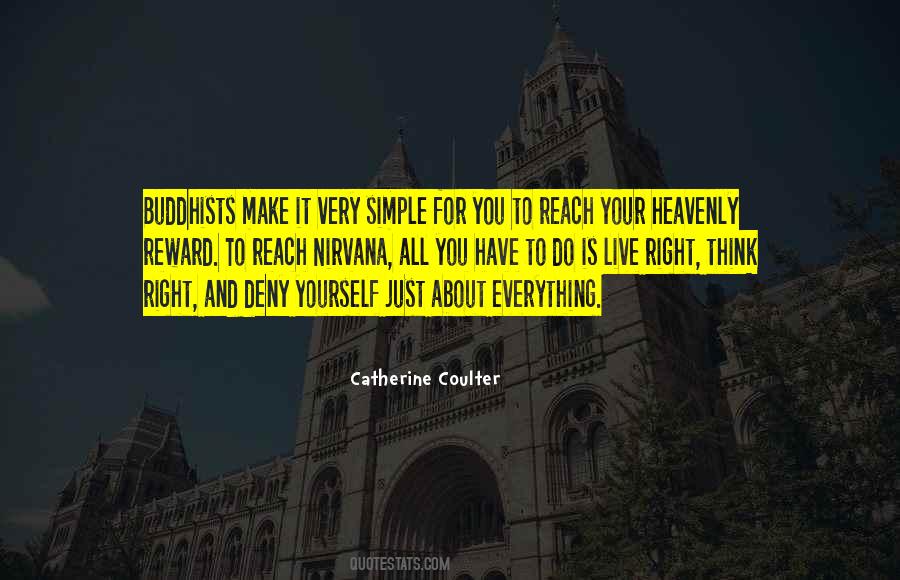 #53. I do think it's important to be honest about your feelings in a long term relationship because it's totally human to be attracted to other people. It's just about what you do about that attraction. - Author: Zoe Lister-Jones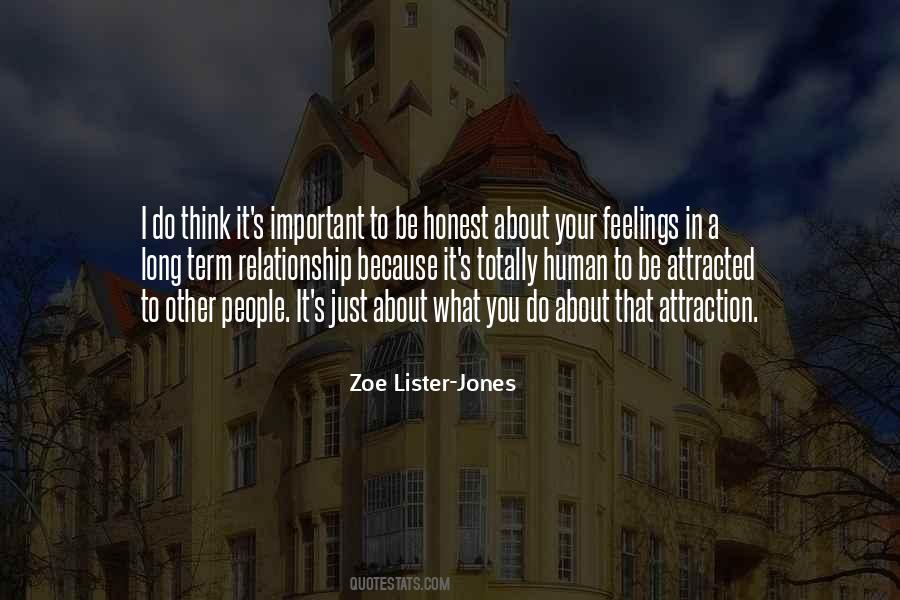 #54. If you think about it, Washington's overwhelming power in the world is founded on death, the awesome arsenal for killing people. - Author: William Greider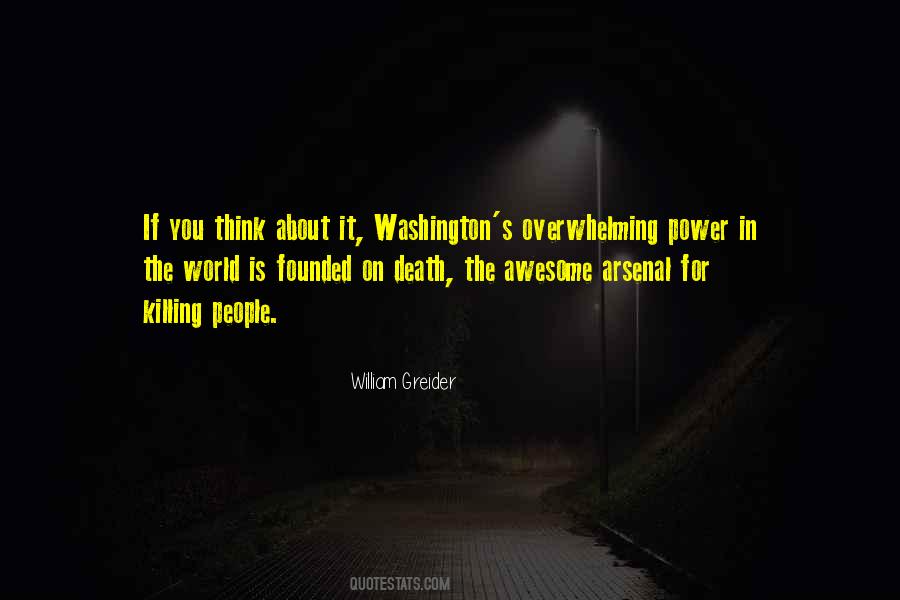 #55. Thinking and saying you are handicapable instead of handicapped will not change anything about your disease or illness. It will help you think more positively about it though. - Author: Tom Cunningham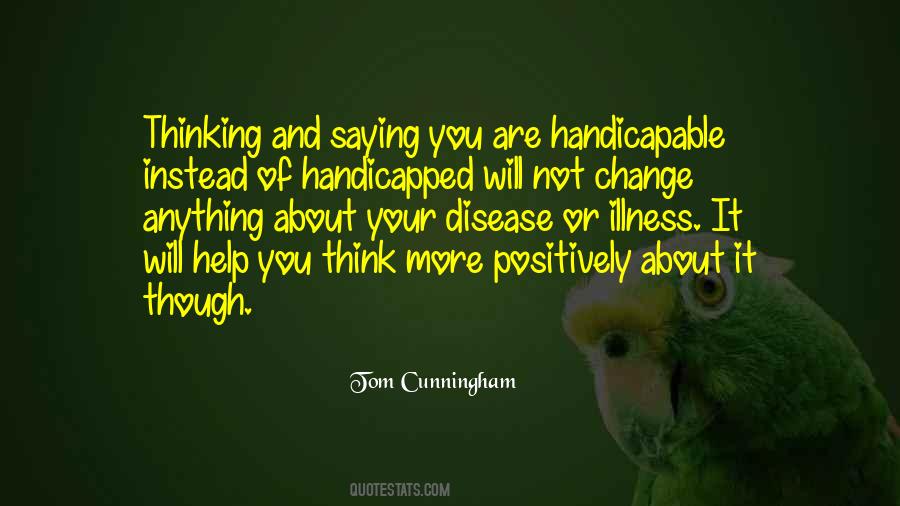 #56. Every kid thinks about the Heisman Trophy and dreams about it, but you never think it could happen to you. - Author: Carson Palmer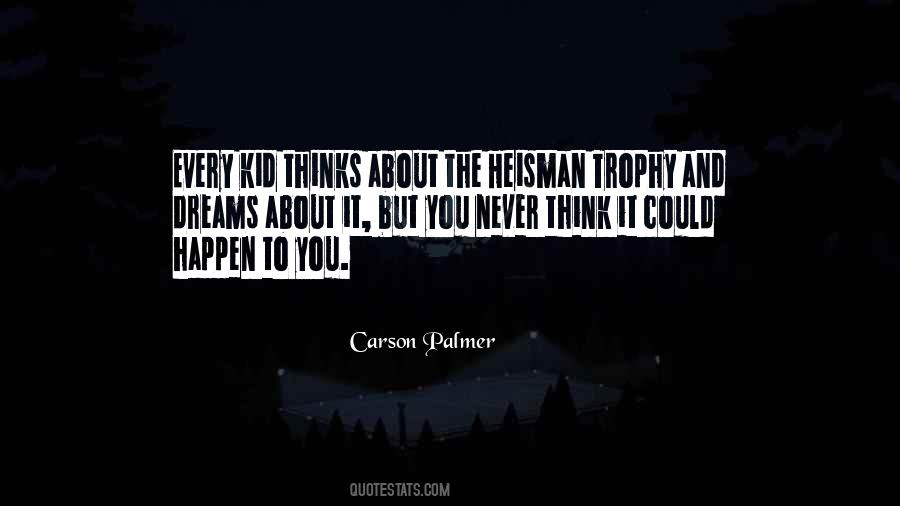 #57. If you think about becoming a writer, that's just really one of the big dreams I had. It's really important to have those dreams and pursue your passions. - Author: Deb Caletti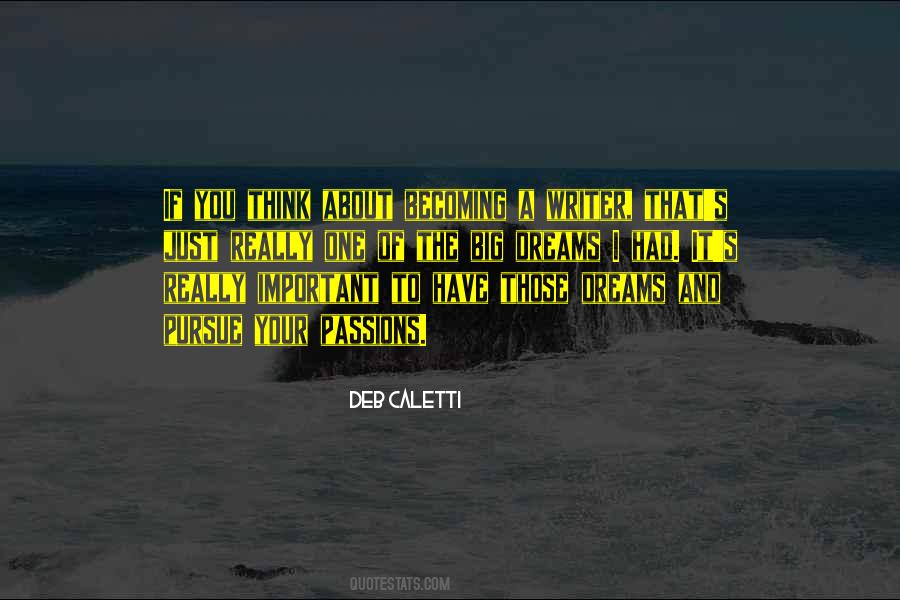 #58. What is love?" Noah said with a wry smile. "If it is having someone on you mind so continuously that you can't eat, sleep or think about anything else, then yes, I love her - Author: Lesley Pearse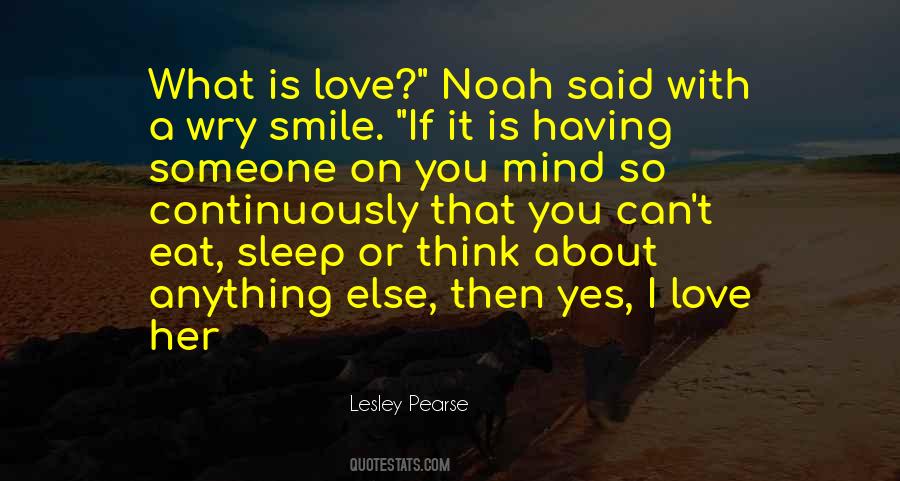 #59. One word can change your life forever.
I love you
I hate you
Think about it - Author: Alan Macmillan Orr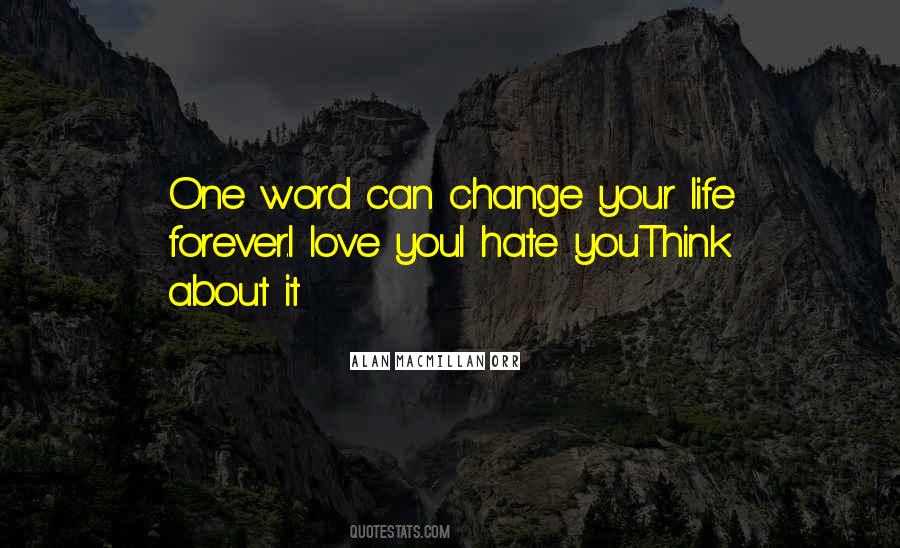 #60. Writing music on your own makes you think a lot about your life. Who are you? Would you change anything about yourself? This is where it comes from. - Author: Enya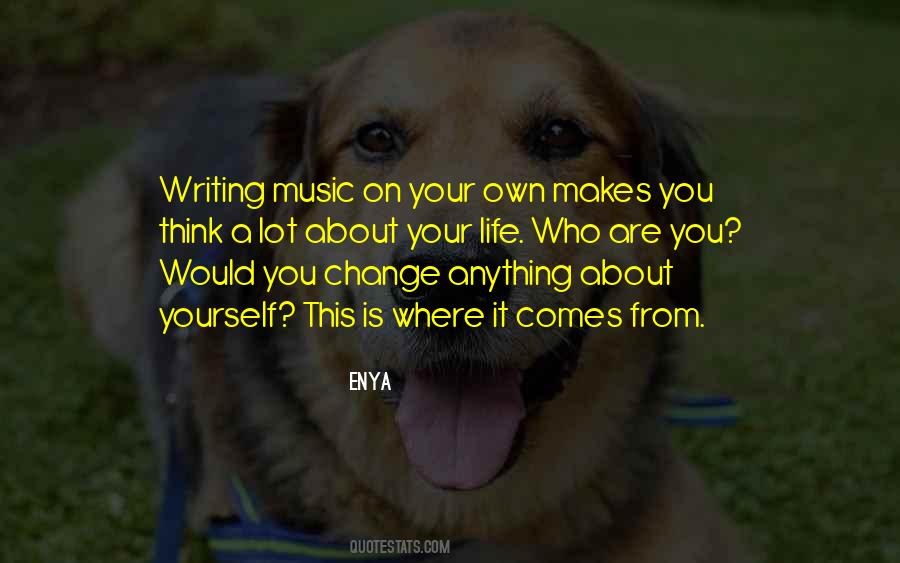 #61. If you talk about race, it does not make you a racist. If you see distinctions between the genders, it does not make you a sexist. If you think critically about a denomination, it does not make you anti-religion. If you accept but don't celebrate homosexuality, it does not make you a homophobe. - Author: Charlton Heston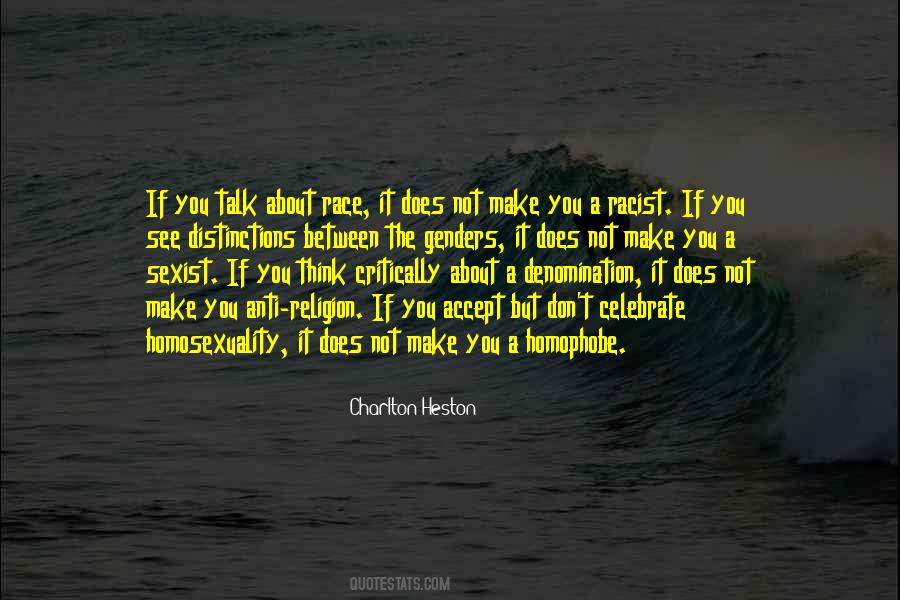 #62. I find with television, you have to play personality, whereas onstage, everyone talks about 'the character,' and what you do. It's a very different thing, because stage is much bigger, but on television, for things to come across to the public, I think you have to play a bit of your personality. - Author: John Barrowman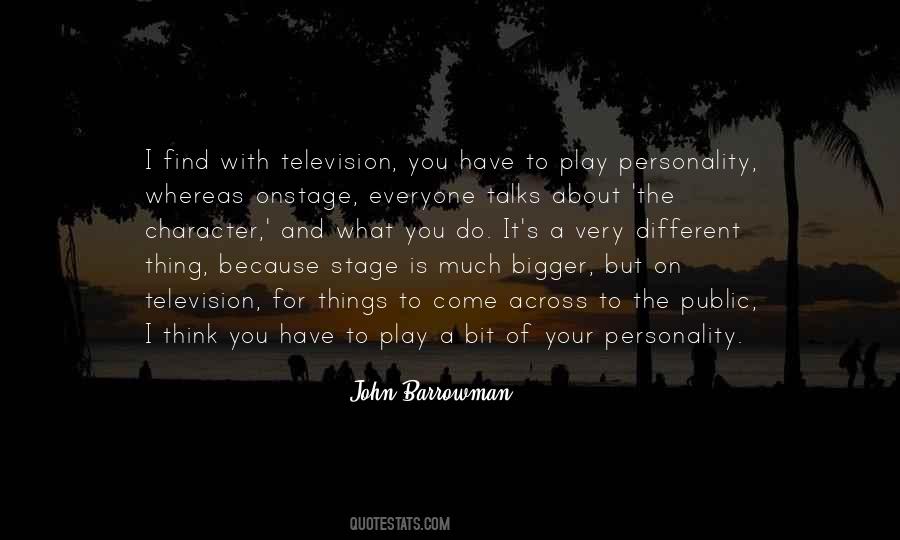 #63. What you think you know about a thing is always the first obstacle you face when trying to get to know it better. - Author: Devon Michael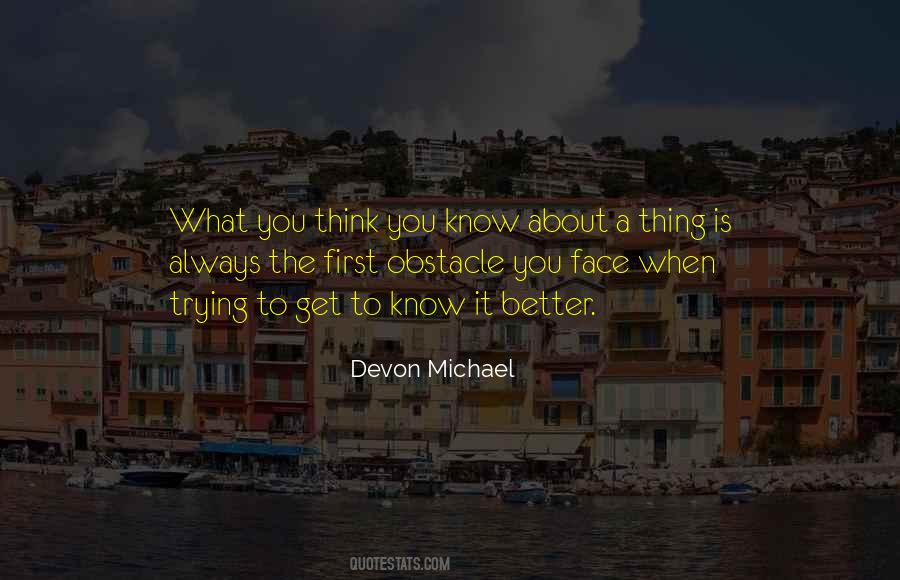 #64. Sometimes, it's not so bad to listen to some one talk about weapons or horses - or medicine. Honestly, when someone is trying to talk to you about those things, the important thing they're always saying is that they care enough about what you think to try to share themselves with you. - Author: Breeana Puttroff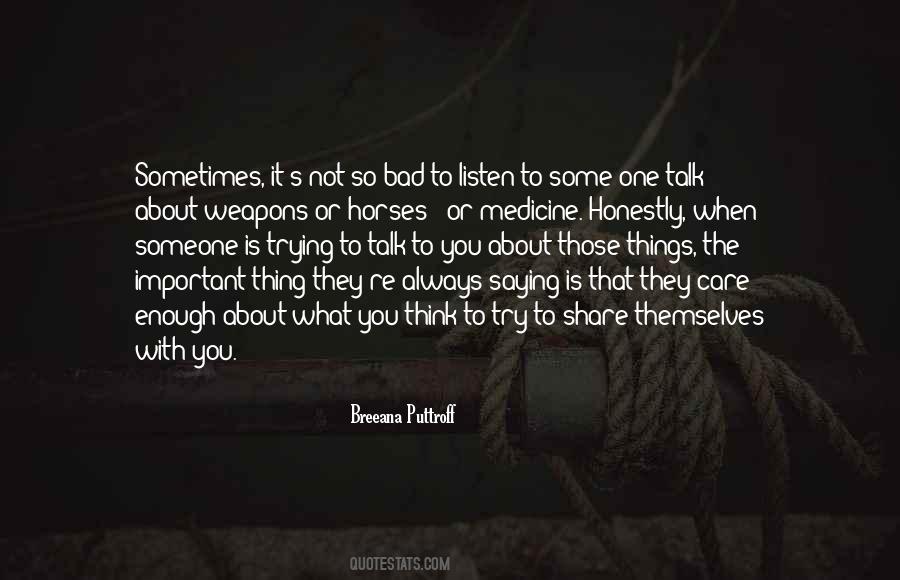 #65. What could be more boring than a novel that tells you how to think about everything that happens in it? - Author: Jonathan Dee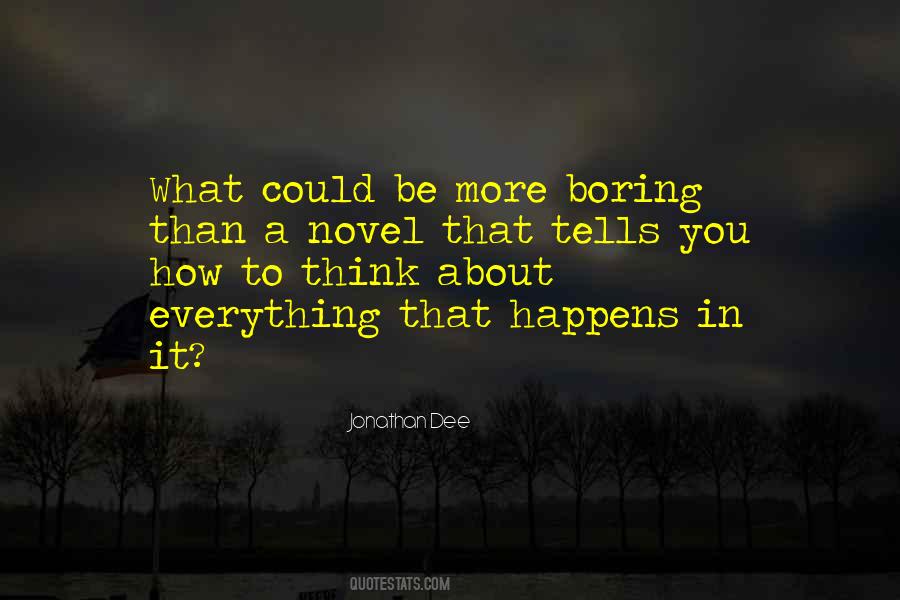 #66. You know that you know the truth, so what's it matter what others think they know about you? - Author: Me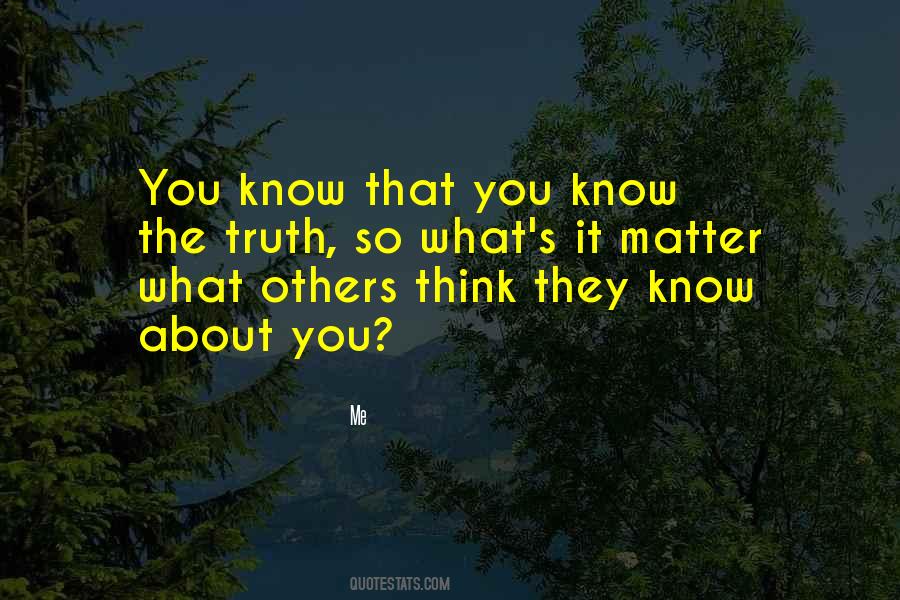 #67. I think when people see photos of you out and about in your personal life, they assume that you've asked for it or that you want that attention, but I don't think anyone in their right mind asks for that kind of thing. - Author: Liam Hemsworth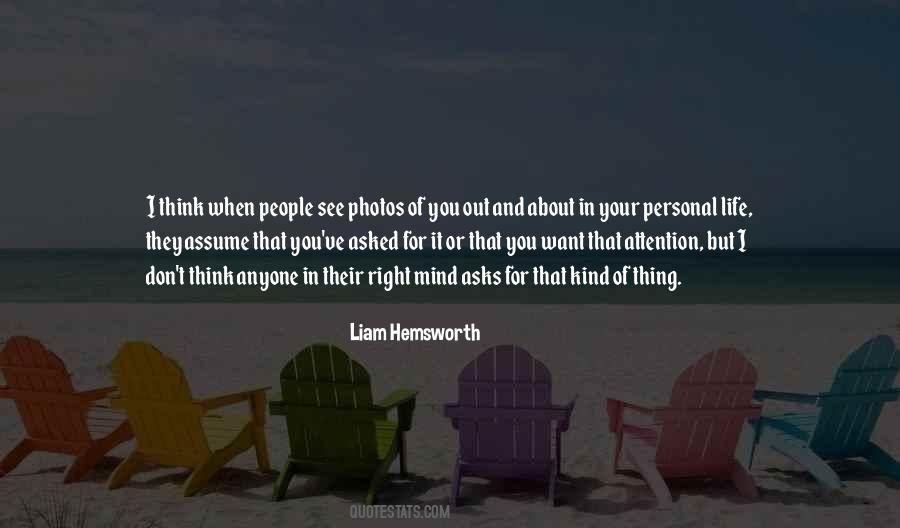 #68. The truth is, Ari, I miss El Paso. When we first moved there, I hated it. But now I think about El Paso all the time. And I think of you. Always, Dante P.S. - Author: Benjamin Alire Saenz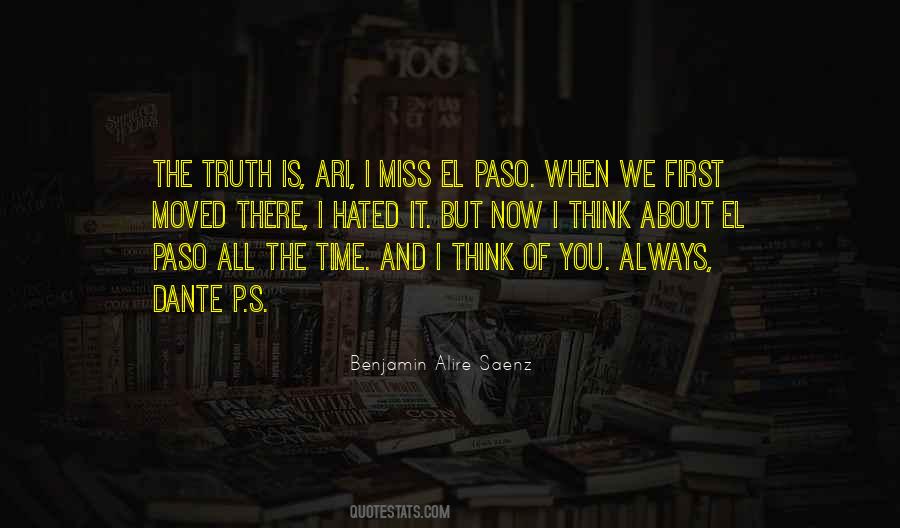 #69. I think when you go to a store and you go to the Justin Timberlake page and stream it from there, that's great, but that means you went to the store. iTunes Radio lets you discover it without you having to think about it. - Author: Eddy Cue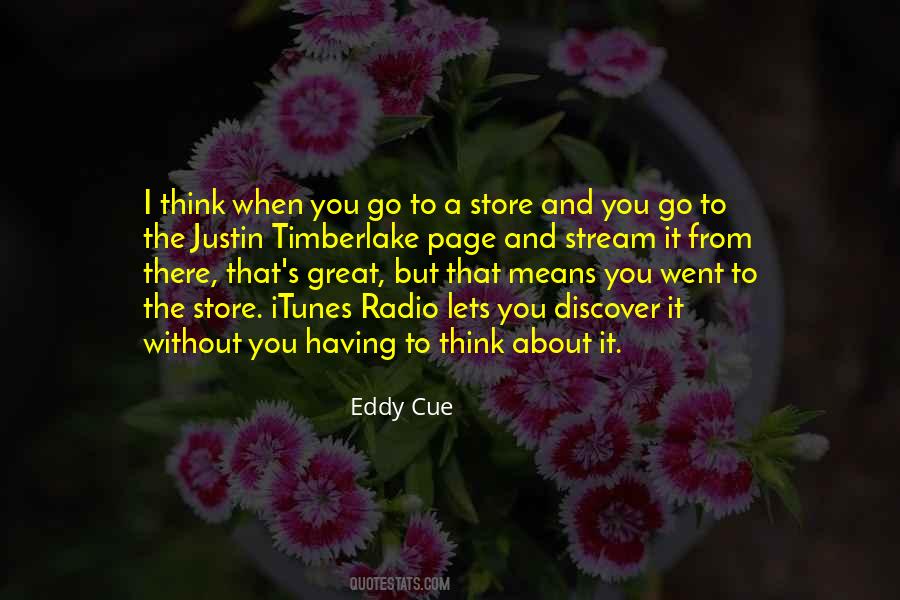 #70. I don't see my movies. When you ask me about one of my movies, it just goes in my memory because maybe sometimes I confuse one for another. I think all movies are like sequences, which is the body of my work. - Author: Bernardo Bertolucci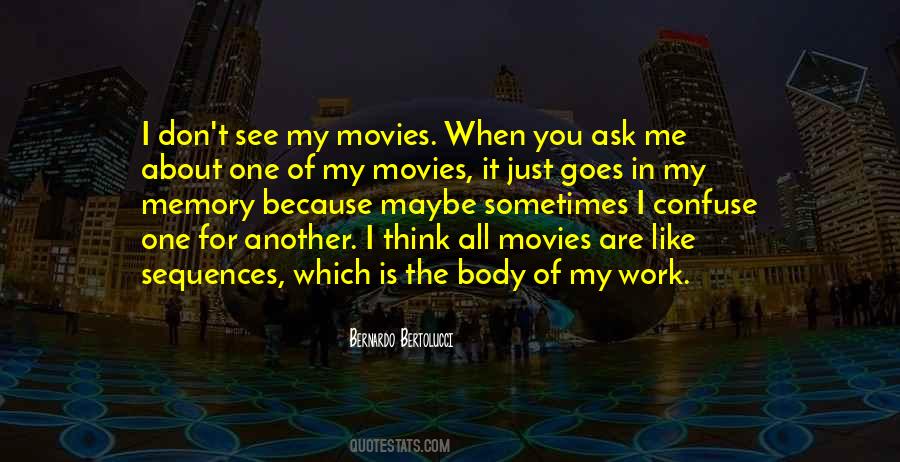 #71. I don't think music can be held. I don't think artists can be put into boxes or places. It's all about creating and making the best music you can. - Author: Trey Songz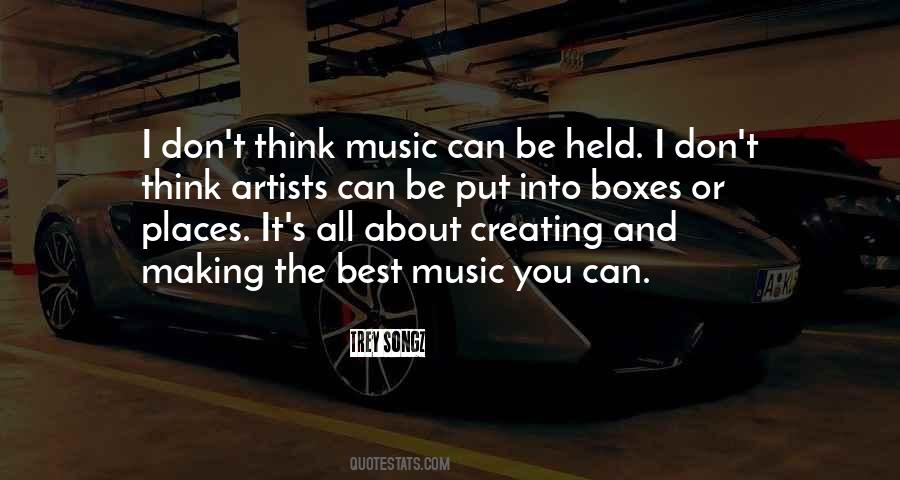 #72. Let me encourage you, if someone has wronged you, and you still get that cringing feeling on the inside when you see or think about that person, take it to God and allow Him to keep your heart soft and sensitive. - Author: Victoria Osteen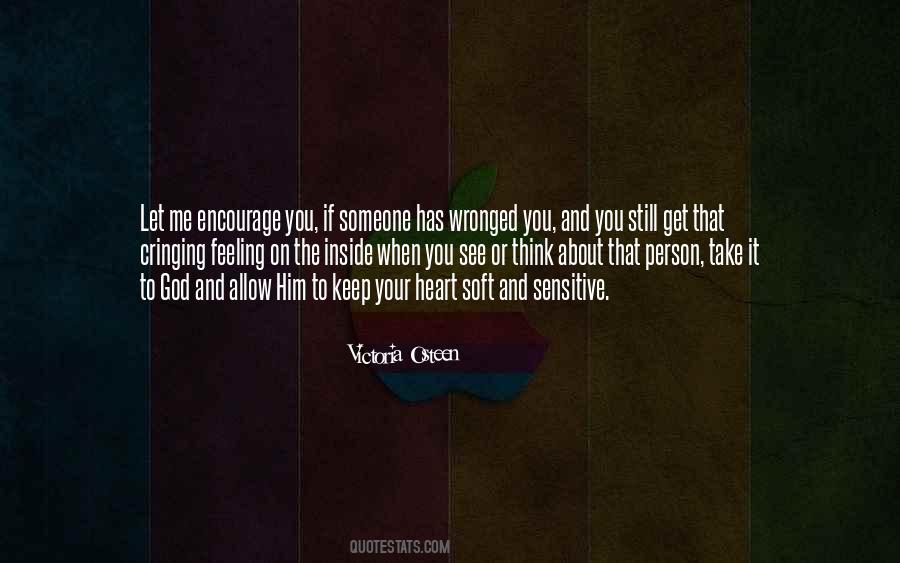 #73. The whole of science, and one is tempted to think the whole of the life of any thinking man, is trying to come to terms with the relationship between yourself and the natural world. Why are you here, and how do you fit in, and what's it all about. - Author: David Attenborough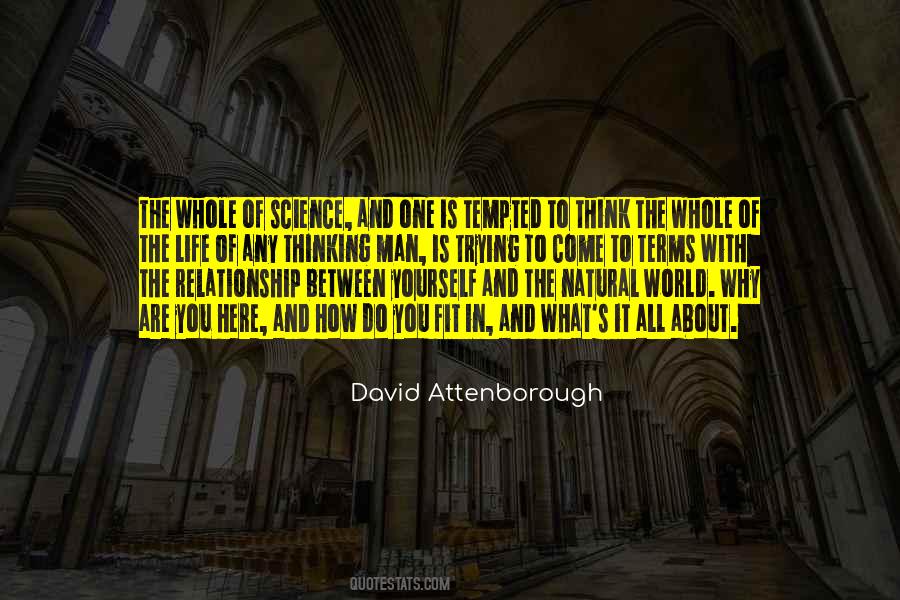 #74. Everything about this is embarrassing" she said. "D'you know how embarrassing it is to mention good and evil in a scientific laboratory? Have you any idea? One of the reasons I became a scientist was not to have to think about that kind of thing. - Author: Philip Pullman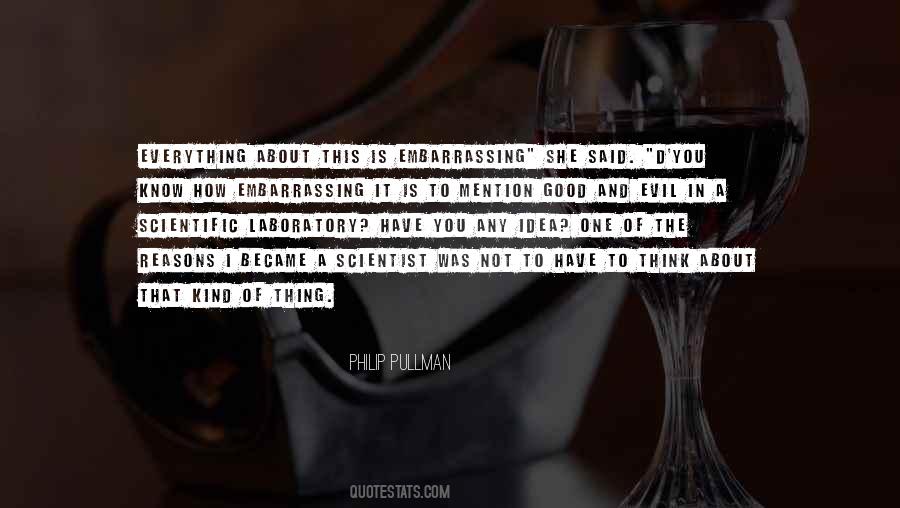 #75. You never know what you can handle until if comes time to handle it. The less you think about it the better you'll handle it. - Author: Art Hochberg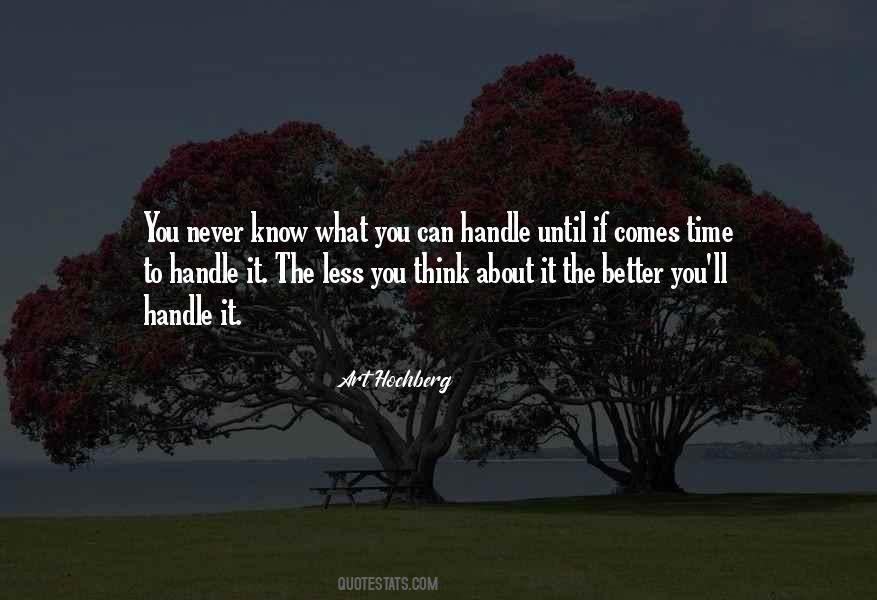 #76. I think I let go of the need for approval, ... It certainly feels good when you get it, but I used to be more desperate for it. Once I felt better inside about myself ... I could do everything based on how I want to do things. - Author: Ellen DeGeneres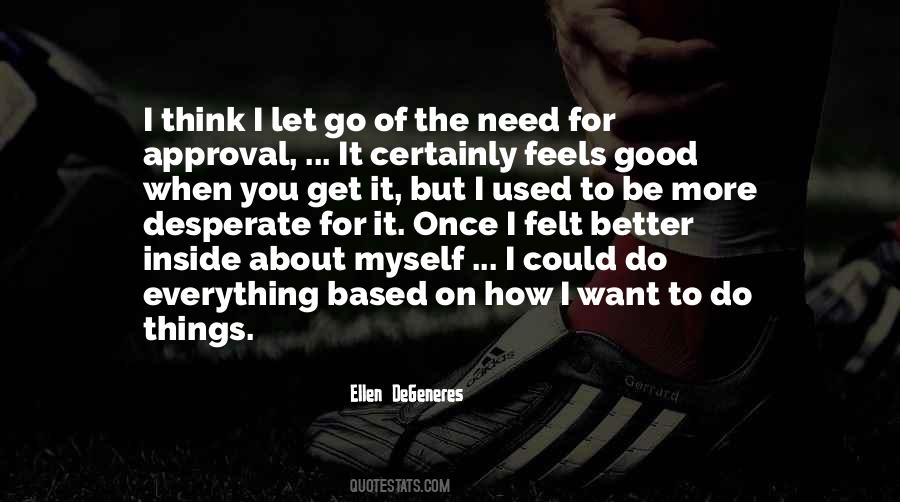 #77. Don't worry about what others think of you. It doesn't matter as long as you have your own Convictions and are proud of what you do.-RVM - Author: R.v.m.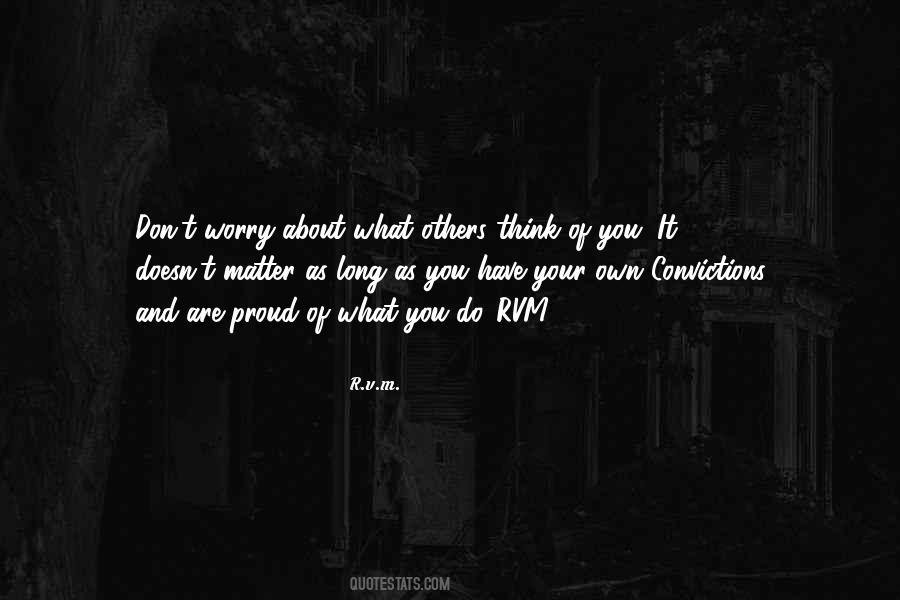 #78. Music is funny. I shouldn't even ever talk about music, because you can have all the ideas in your head, and it never goes exactly the way that you think it's gonna go. - Author: Alicia Keys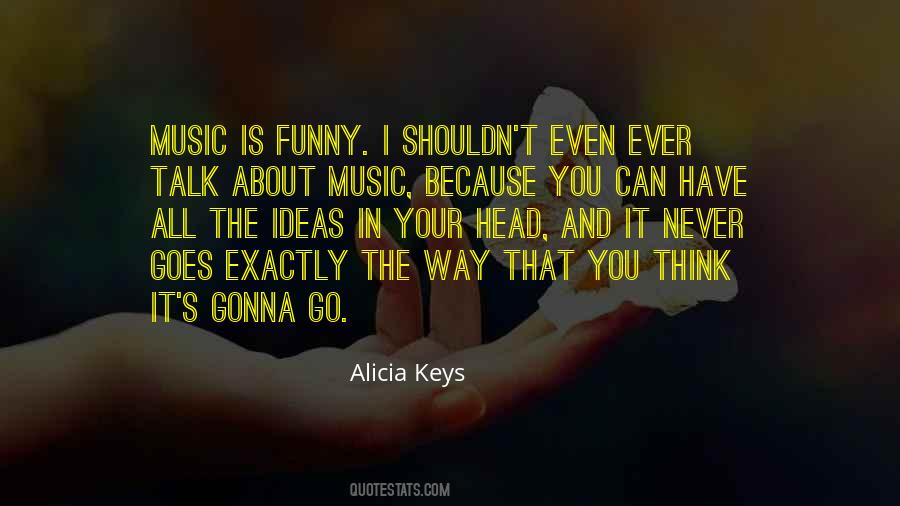 #79. For all the jokes and complaints about the aches of air travel, it's pretty marvelous, if you think about it. - Author: Tsh Oxenreider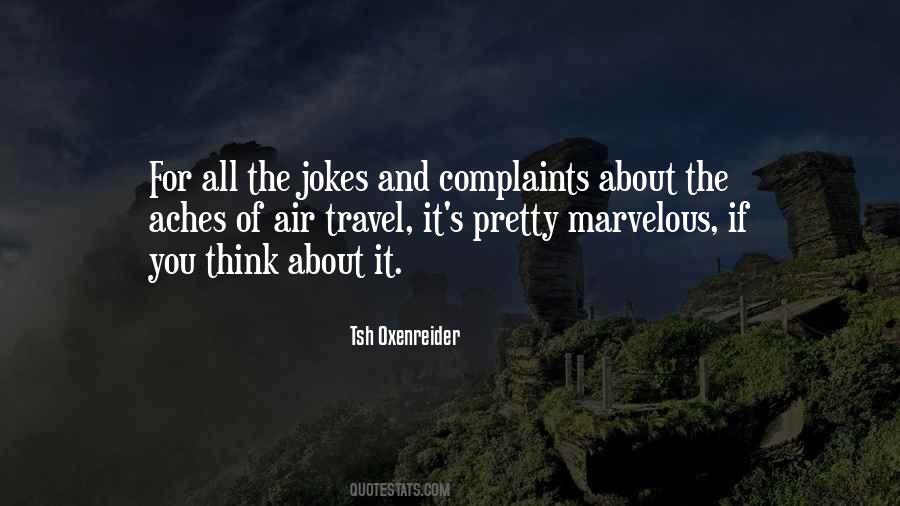 #80. People can have lovers..they can have friends..they can be together..but when you think about it..you'll see that originally..we're alone - Author: Ai Yazawa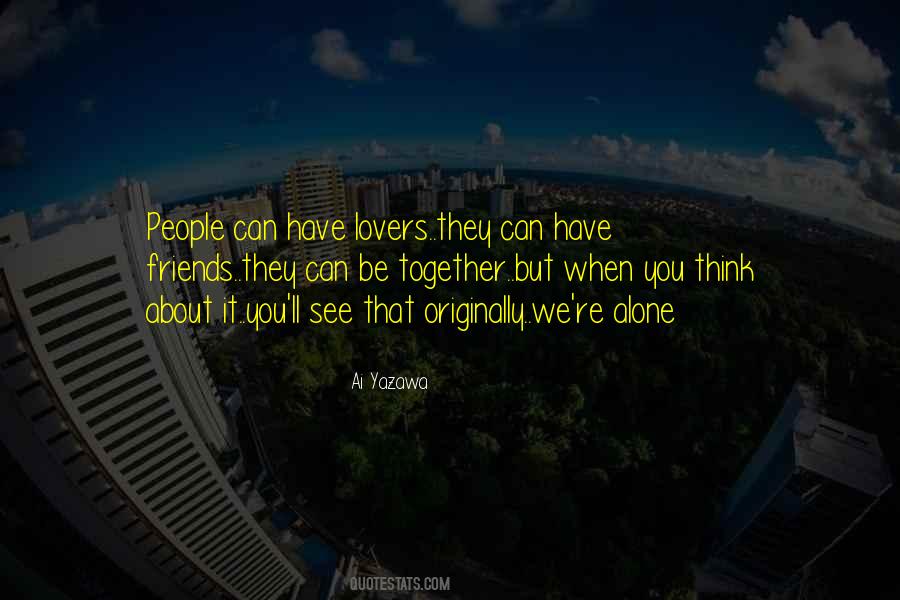 #81. When I think about you with him, it guts me. I feel like you ripped open my chest and tore out my damn heart. Do you even realize that? I know I should want you to be happy, but I can't wish it for anyone else other than me. I belong to you, and that's never going to change. - Author: Ashleigh Z.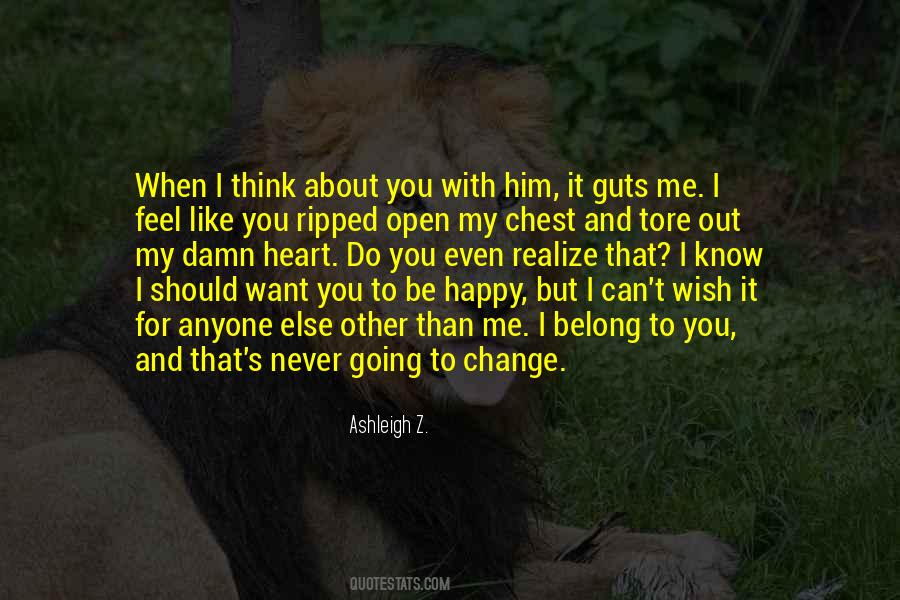 #82. I think that the most important requirement is to capture the essence of a piece of art. You look at it, essentially absorb it, and you have to be able to understand it visually without having to think about how it was done. I was already able to do that as a child. - Author: Wolfgang Beltracchi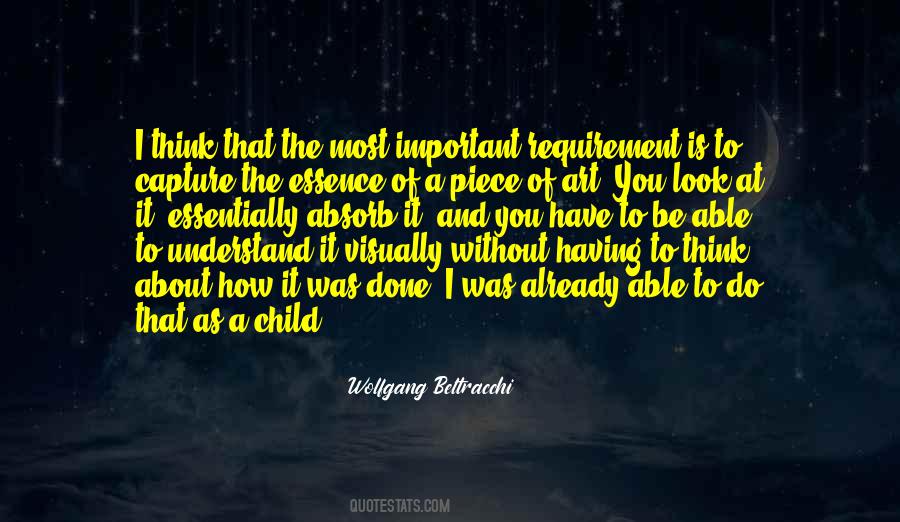 #83. It's about time you guys got here,' Oliver quipped. 'Alexei and I were starting to think you'd gotten lost.' Daphne sniffed. 'Please. We weren't lost. We were shopping.' 'That doesn't make it any better,' Oliver retorted. In fact, I'd say that makes it worse. - Author: Jennifer Estep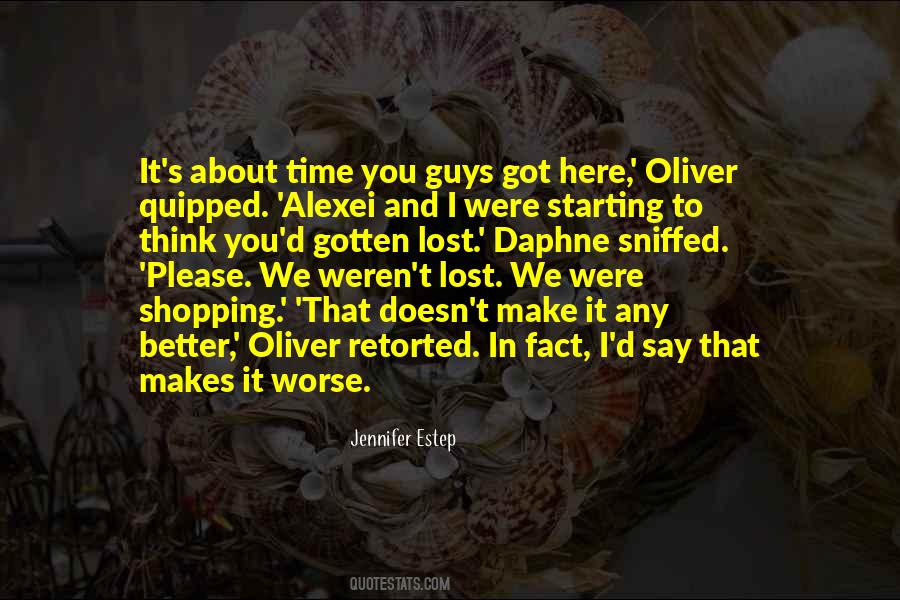 #84. Don't for a minute think that God has forgotten about you or doesn't have your back. And don't base God's love or desire to help you on your opinion of yourself. Base it on who God says He is. - Author: Susan May Warren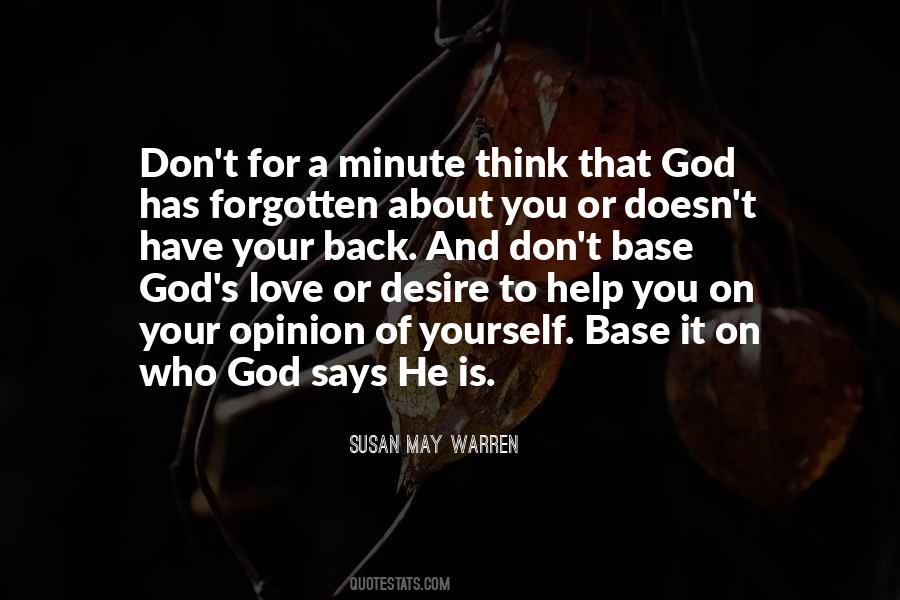 #85. I think the older you get, the more 'let's cut to the chase' you get, 'let's quit quibbling about this, let's tell it like it is.' - Author: Vicki Lawrence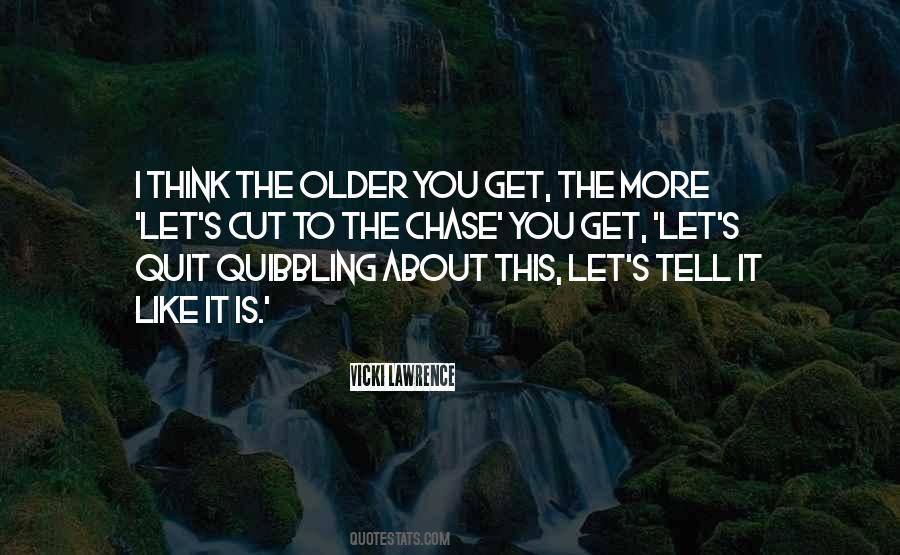 #86. I think that's the great thing about being with, having a dog, is it kind of forces you to be in the present because that's definitely where they're spending their time. - Author: Jennifer Aniston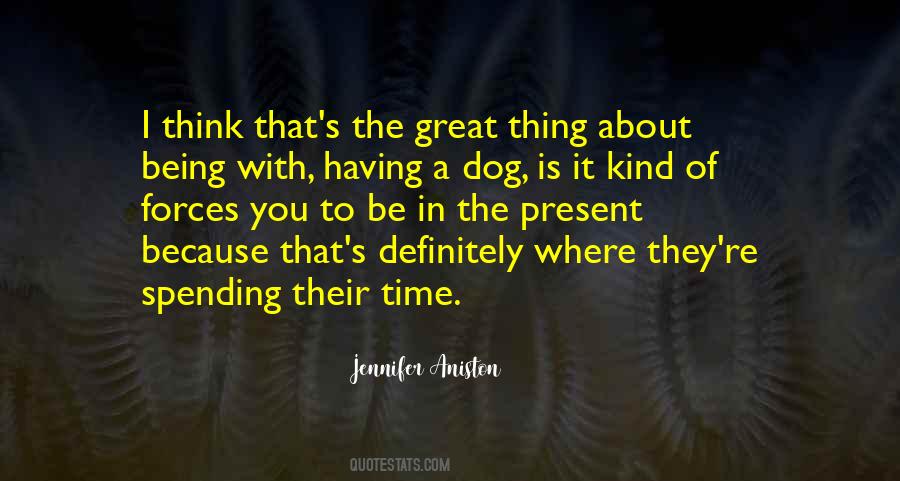 #87. This is a really good circus. It has lions, tigers, dogs, monkeys and about any other animal act you can think of. There are a lot of great acts, and it's a two part, two hour show. - Author: Howard Thompson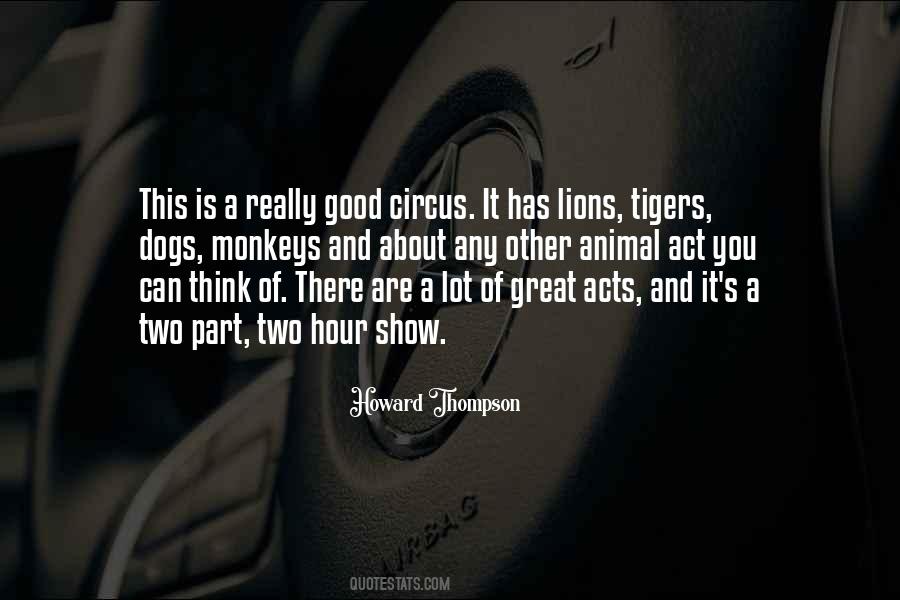 #88. I'd like to have another opportunity to serve. I believe in service. I enjoy it. I also like coming and going, you know, because I think that my private-sector life has contributed to how I think about public-sector challenges and what I do in the public sector. - Author: Deval Patrick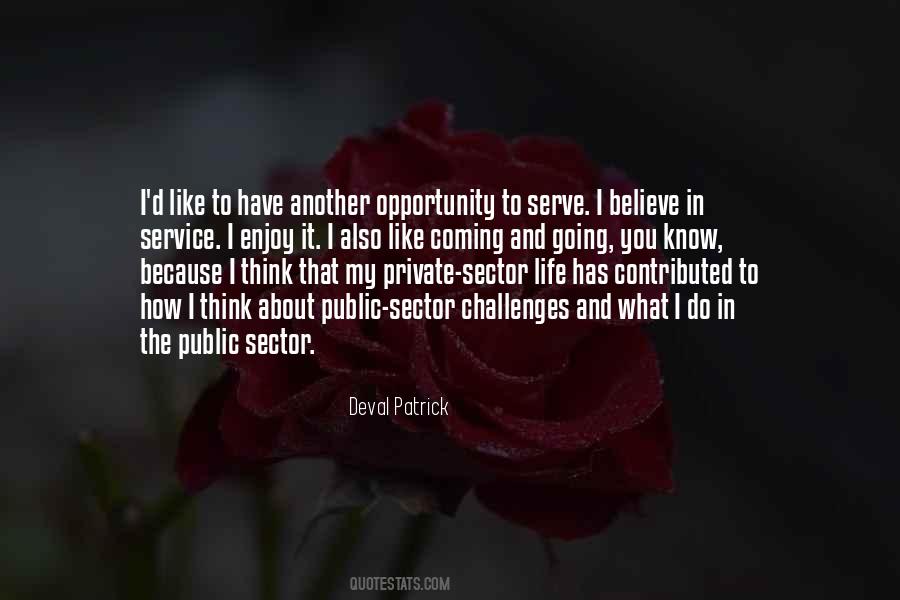 #89. I think anger and laughter are very close to each other, when you think about it. - Author: Albert Brooks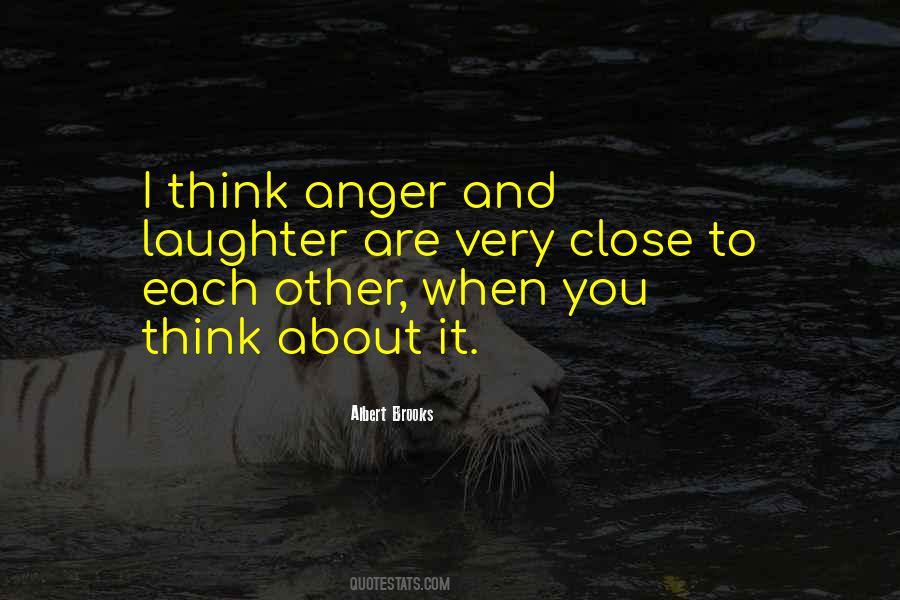 #90. I've gotten very good at scheduling my life, scheduling the scene and preparing myself for knowing, saving the energy, consuming the energy, knowing when to go for it and having the available reserves to be able to do that. You have to think about that, because it's endurance. - Author: Tom Cruise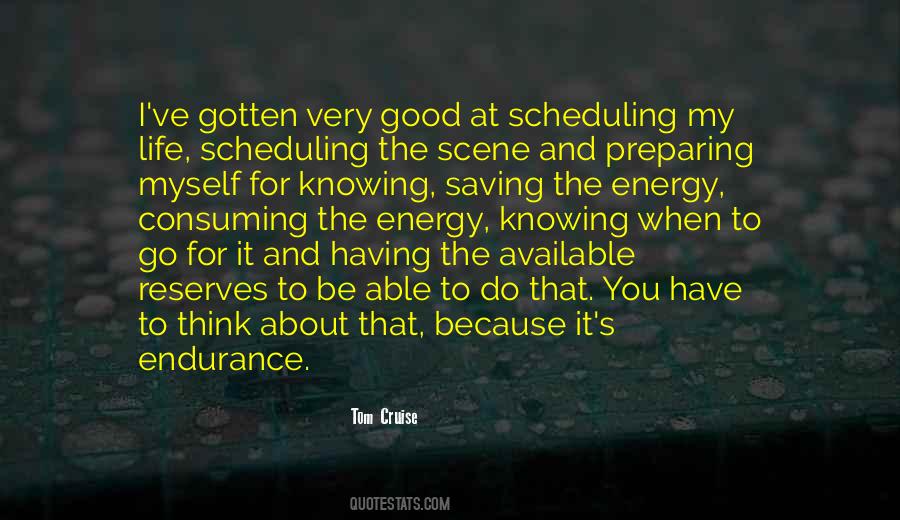 #91. We have to learn not to feel guilty about letting our imagination browse around, and you know, in writing fiction particularly. But I think, in any kind of writing, we have to learn to allow ourselves to approach it in a contemplative way. - Author: Sue Monk Kidd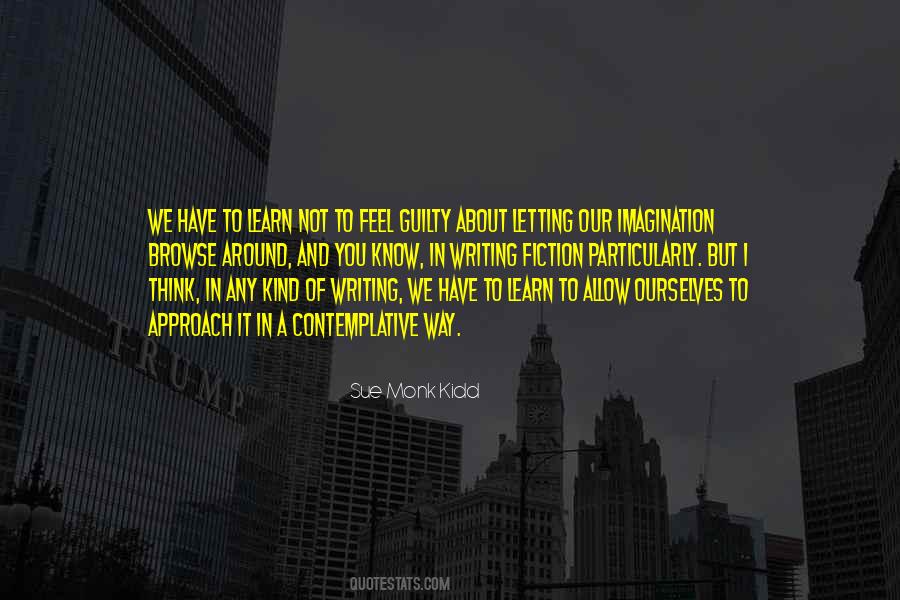 #92. It's a supernatural library filled with unfinished ghost stories, written by ghosts, where time has no meaning , and the Boogeyman wants to blow it all up. What exactly is it you think I can handle about any of that ? - Author: D.J. MacHale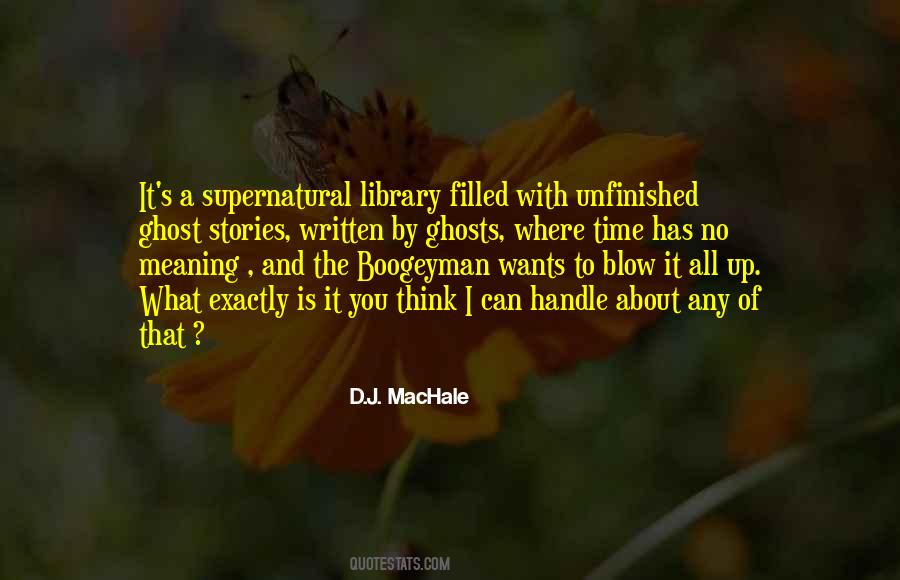 #93. I couldn't love anyone more than I do you, it would kill me. And I couldn't love anyone less because it would always feel like less. Even if I loved some other girl, that's all I would ever think about, the difference between loving her and loving you. - Author: Rainbow Rowell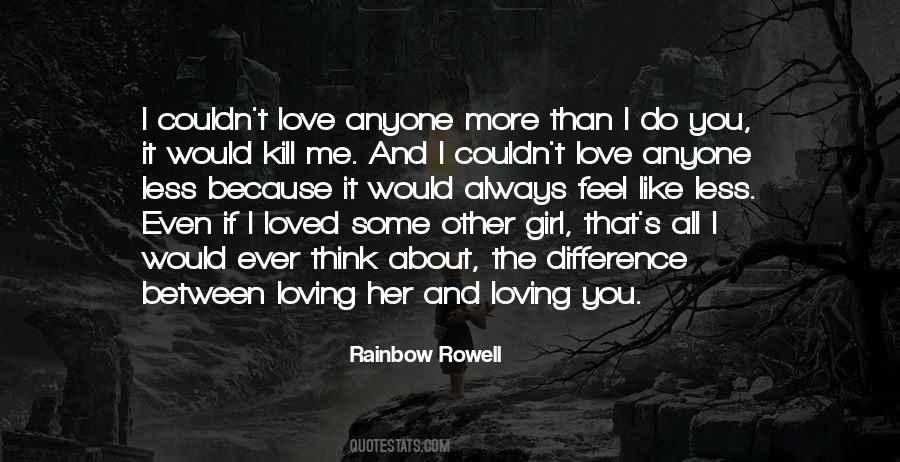 #94. The process of building trust is an interesting one, but it begins with yourself, with what I call self trust, and with your own credibility, your own trustworthiness. If you think about it, it's hard to establish trust with others if you can't trust yourself. - Author: Stephen Covey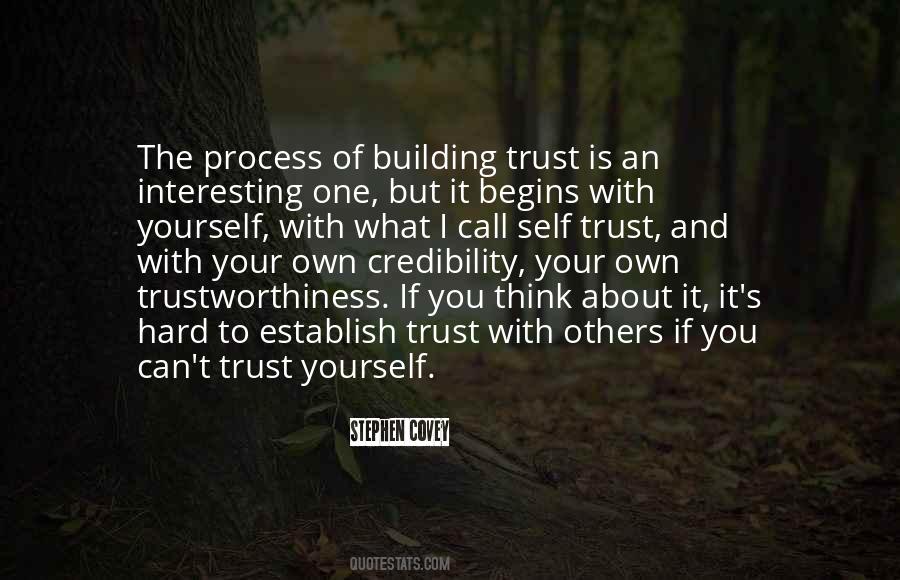 #95. I don't need to be liked, but I need to be vital - on set or on stage - and I think that probably would be my advice: Stay vital. It's about saying 'no' and asking the tough questions and believing in yourself when no one else will, but you have to know the rules to break them. - Author: Logan Marshall-Green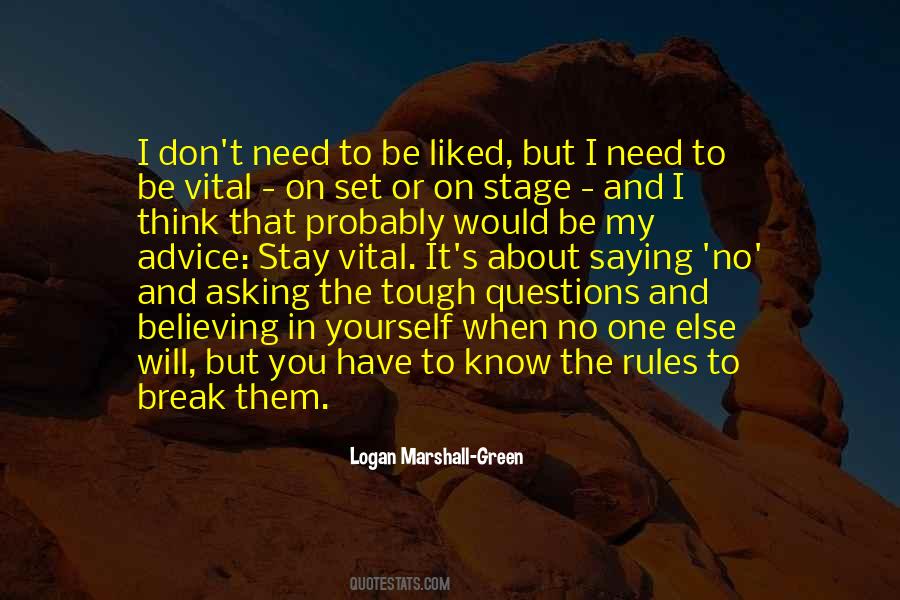 #96. When you're leading, you're generally trying to lead change, and I think it was Roy Amara, who said about technology, "We tend to overestimate the effect of a technology in the short run and underestimate the effect in the long run." And I think the same applies to change within an organization. - Author: Harry West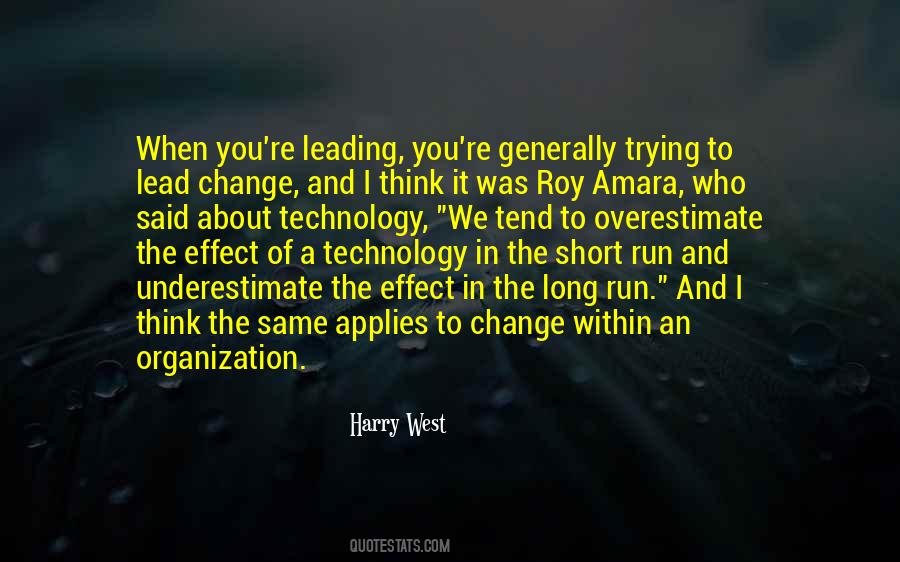 #97. The fear of old age is something that one feels when they're younger. Once you get to being old, you're already there, so you don't even think about it anymore. - Author: Paolo Sorrentino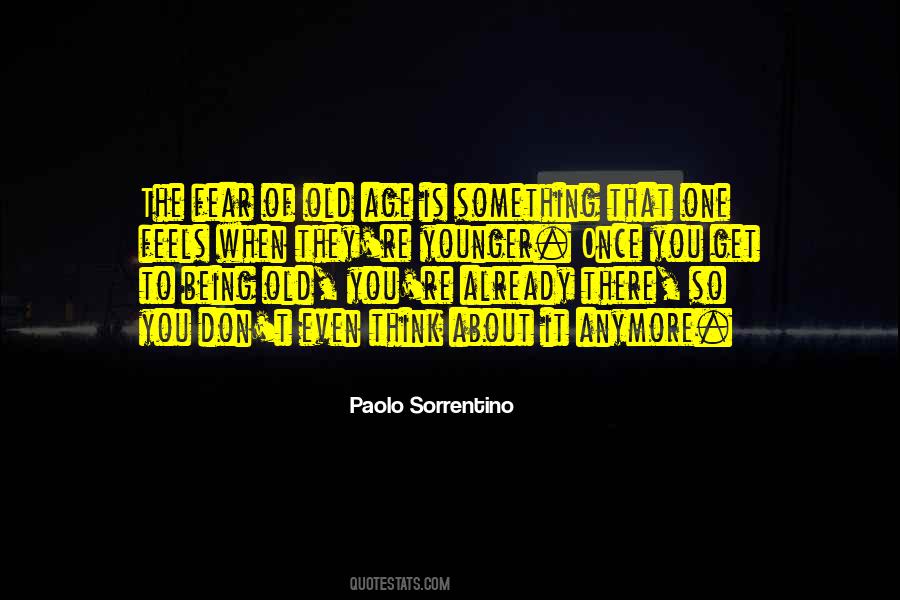 #98. If you're going to write about war, which my books are about, wars are nasty things. I think it's sort of a cheap, easy way out to write a war story in which no one ultimately dies. - Author: George R R Martin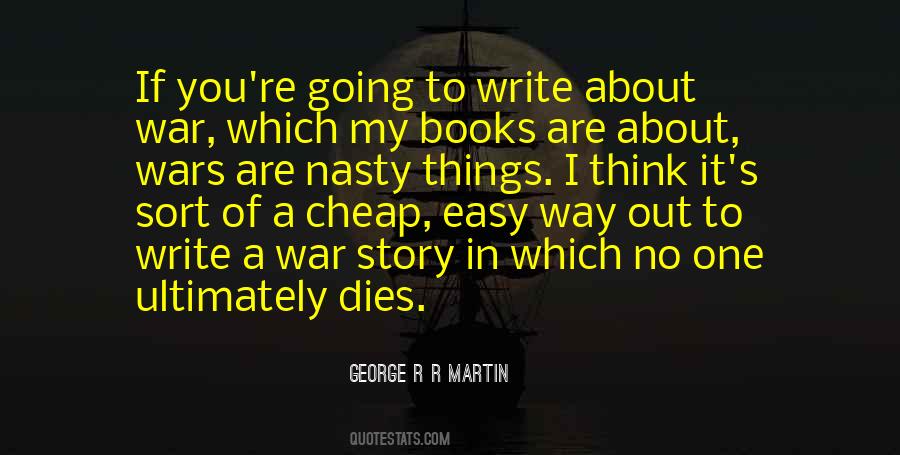 #99. I'm very wary about giving advice. I think it's very dangerous to give advice to people, except if you know them very well. - Author: Omar Sharif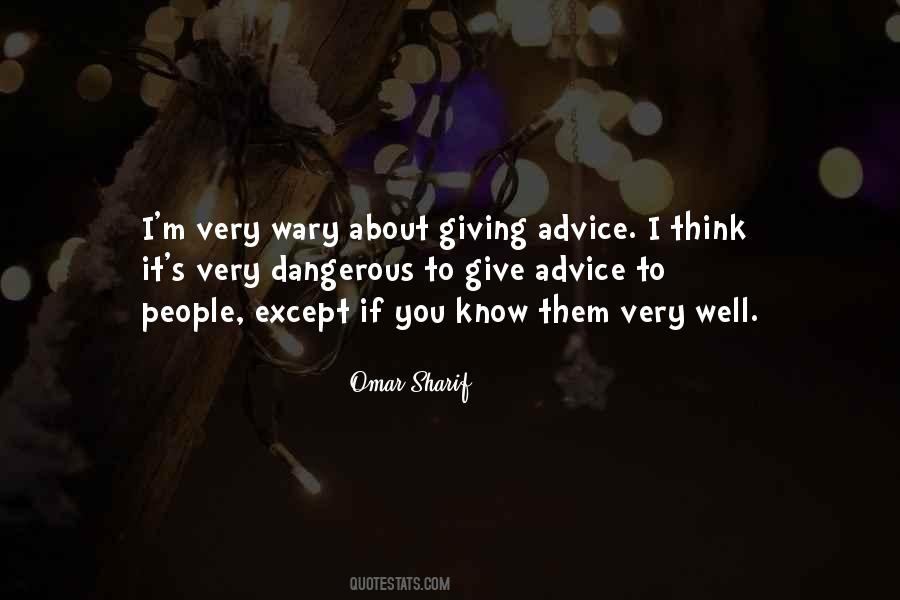 #100. I don't think it's about who you play, I think it's about who you are. - Author: Nick Saban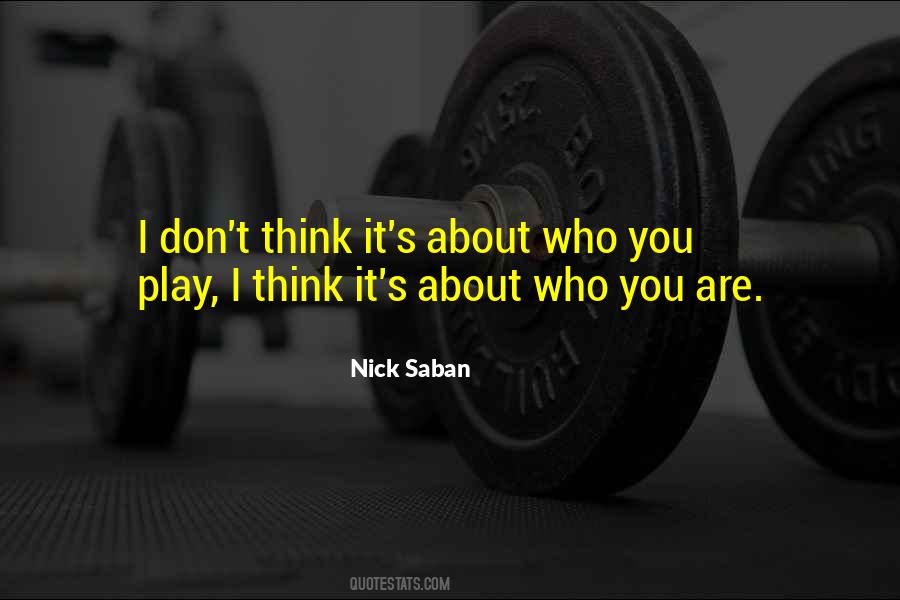 Famous Authors
Popular Topics