Win It Famous Quotes & Sayings
List of top 100 famous quotes and sayings about win it to read and share with friends on your Facebook, Twitter, blogs.
Top 100 Win It Quotes
#1. Politics is theater. It doesn't matter if you win. You make a statement. You say, I'm here, pay attention to me - Author: Harvey Milk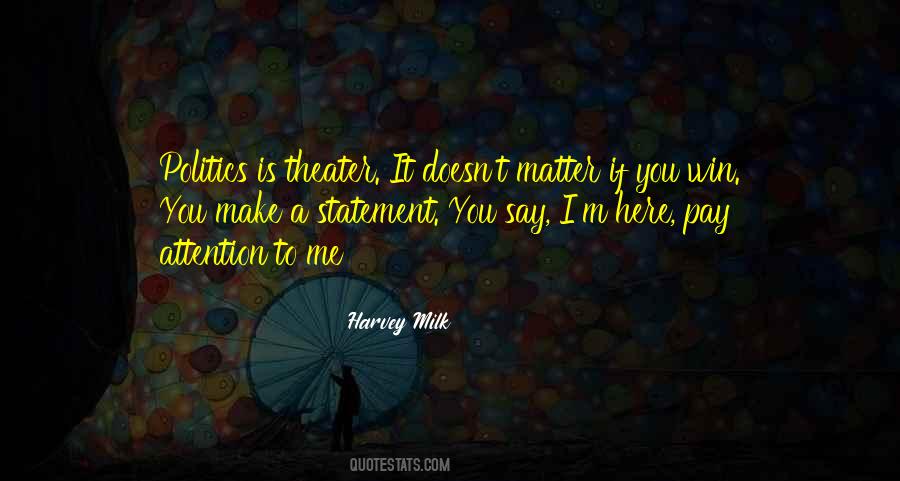 #2. I fire people that win gold medals, great champions, everything else, and, you know, it's not - it's not easy. People say oh well it comes easy for me, it doesn't. And it's never fun. It's all to easier though when I don't like somebody or when they're really, really bad then it becomes much easier. - Author: Donald Trump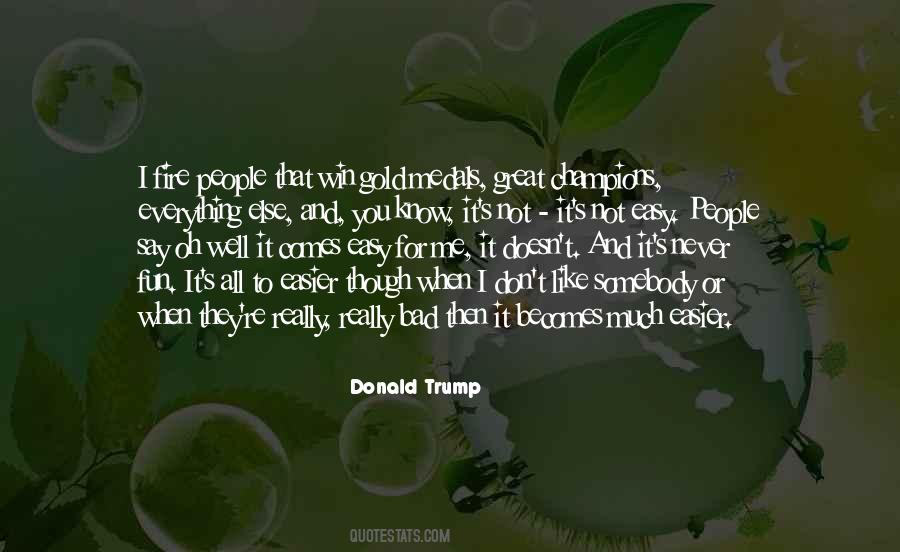 #3. The beauty of being an Author is, It's your story and you can write what ever you want. - Author: Toni House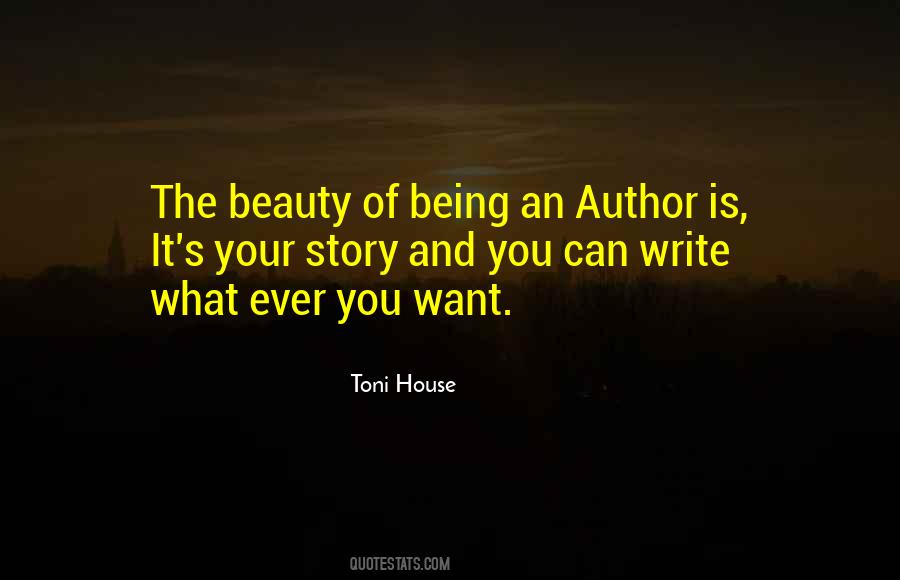 #4. And each forgets, as he strips and runs With a brilliant, fitful pace, It's the steady, quiet, plodding ones Who win in the lifelong race. And each forgets that his youth has fled, Forgets that his prime is past, Till he stands one day, with a hope that's dead, In the glare of the truth at last. - Author: Robert W. Service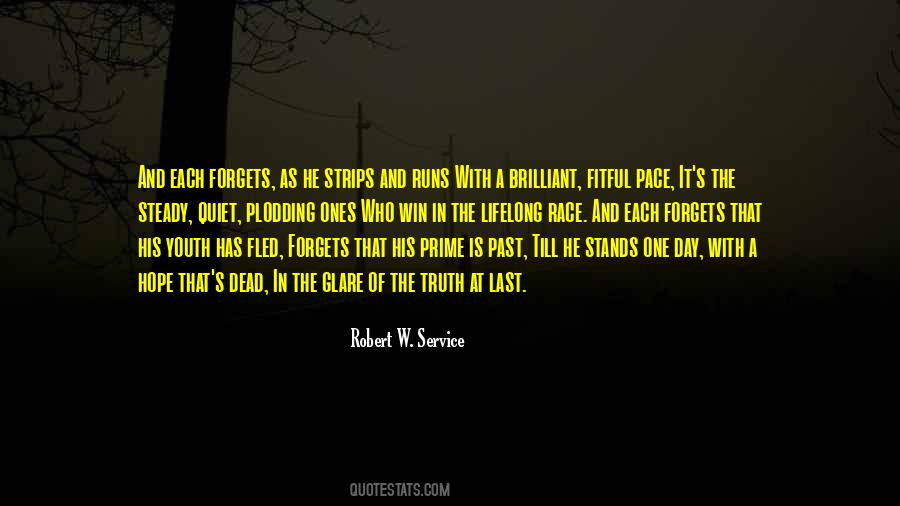 #5. It seemed impossible that a scrappy book like 'Goon Squad' could win an award like that. It's such an iconic honor. I think what the Pulitzer means to me is that I'll need to work very, very hard to try to live up to it. - Author: Jennifer Egan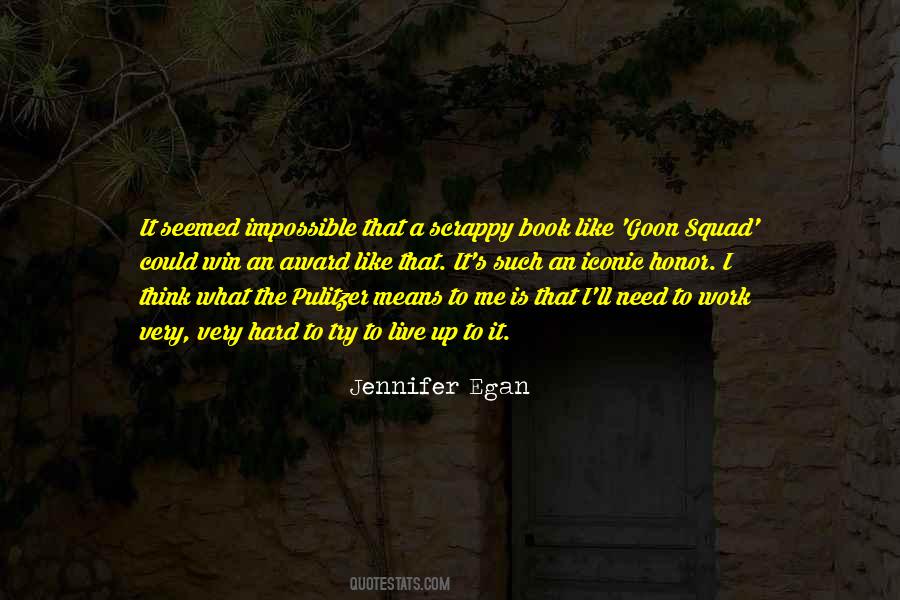 #6. I want my team to be more detached from the wins and losses and be more focused on doing the little things well. When you focus on getting the win, it can suffocate you, especially during the playoffs when the pressure gets thick. - Author: Sue Enquist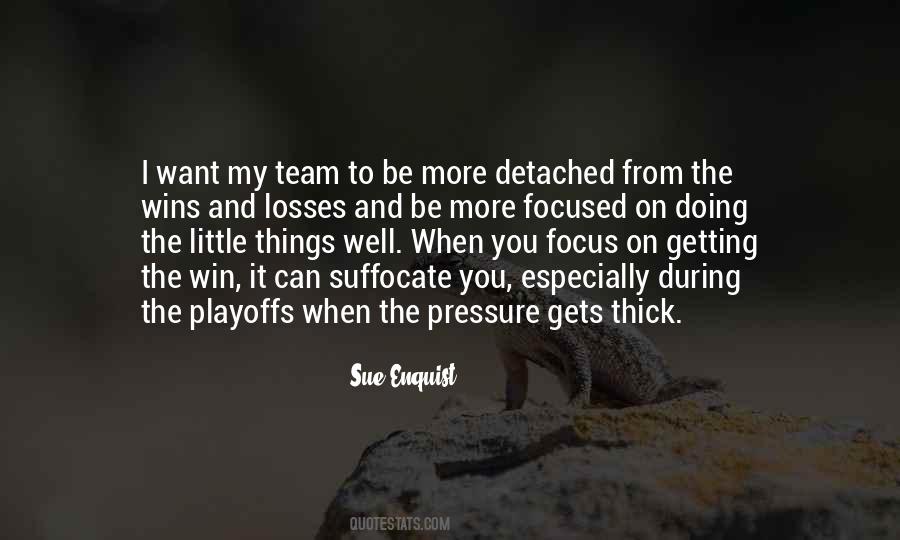 #7. Peter was lost. More than lost, really. Spectacularly, hopelessly, "tell the search party not to get their hopes up" lost. If there was a contest for getting lost being held at that moment, Peter wouldn't win because he wouldn't be able to find it. That's how lost he was. - Author: Mark Hill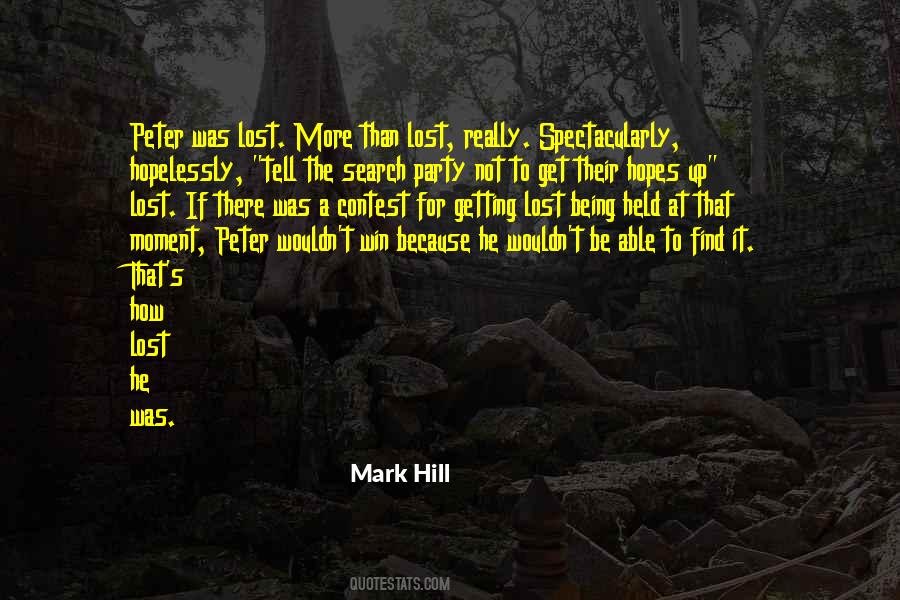 #8. There will never be another Mariano Rivera. He was a friend and a champion of a teammate. He really cared about the game of baseball, the way it was played, and whatever it took to win that night. - Author: Jorge Posada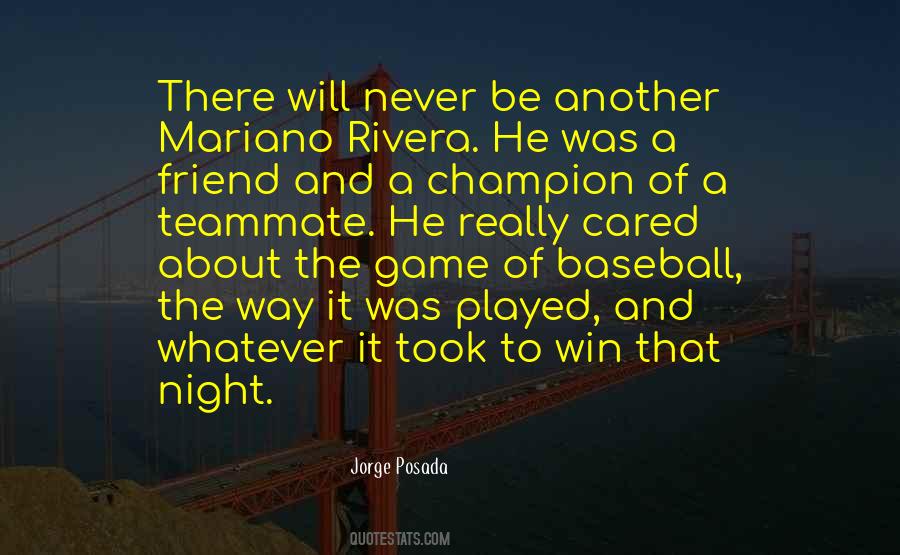 #9. I'll do whatever it takes to win games, whether it's sitting on a bench waving a towel, handing a cup of water to a teammate, or hitting the game-winning shot. - Author: Kobe Bryant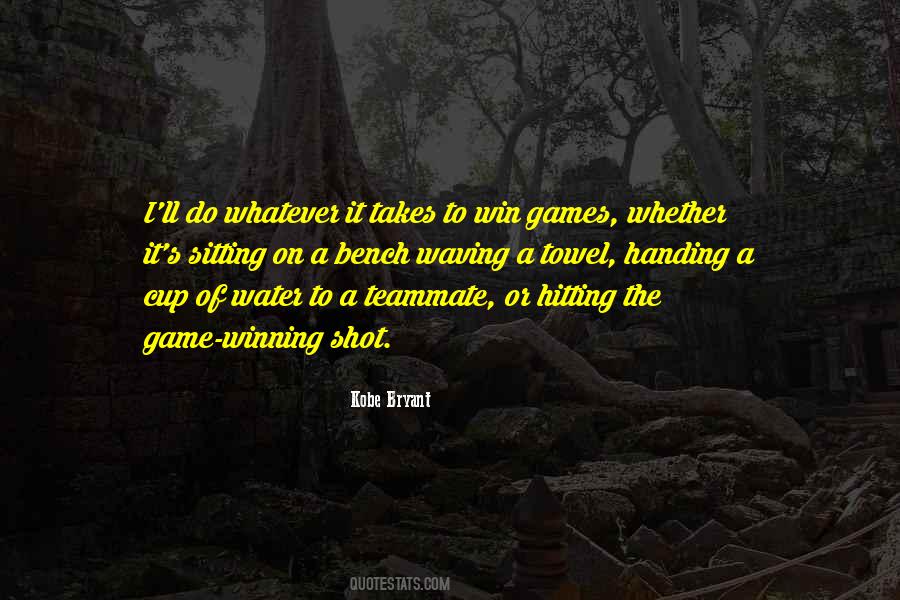 #10. My favorite definition of success is that it is a state of mind combined with a state of readiness. You can have one and be a flop; if you have both, you'll win every time. - Author: Carolyn Warner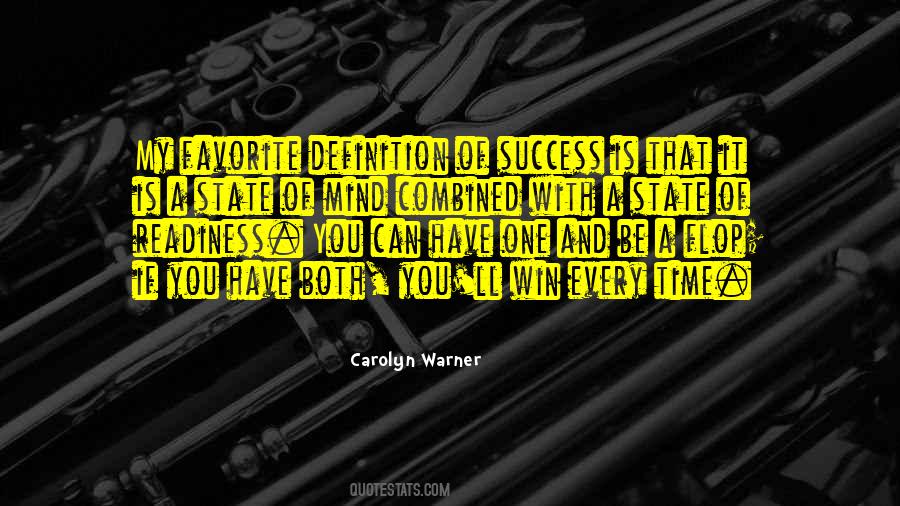 #11. Anyone can win two fights in one night, but it is the third fight that tells you if you have steel balls or not. - Author: Don Frye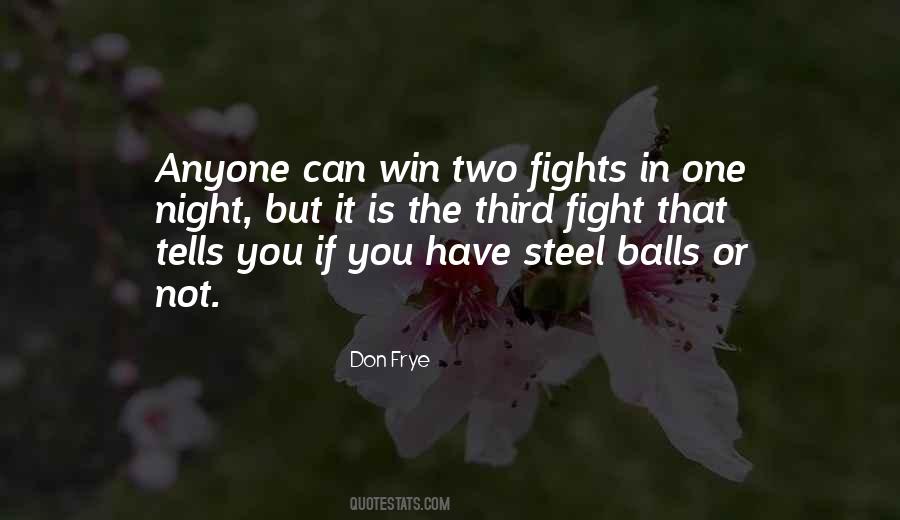 #12. When Jim Irsay called me five years ago, he told me, 'I want you to be our coach and help us win the Super Bowl.' He told me, 'We are going win it the right way. We are going to win it with great guys; win it with class and dignity. We are going to win it in a way that will make Indianapolis proud.' - Author: Tony Dungy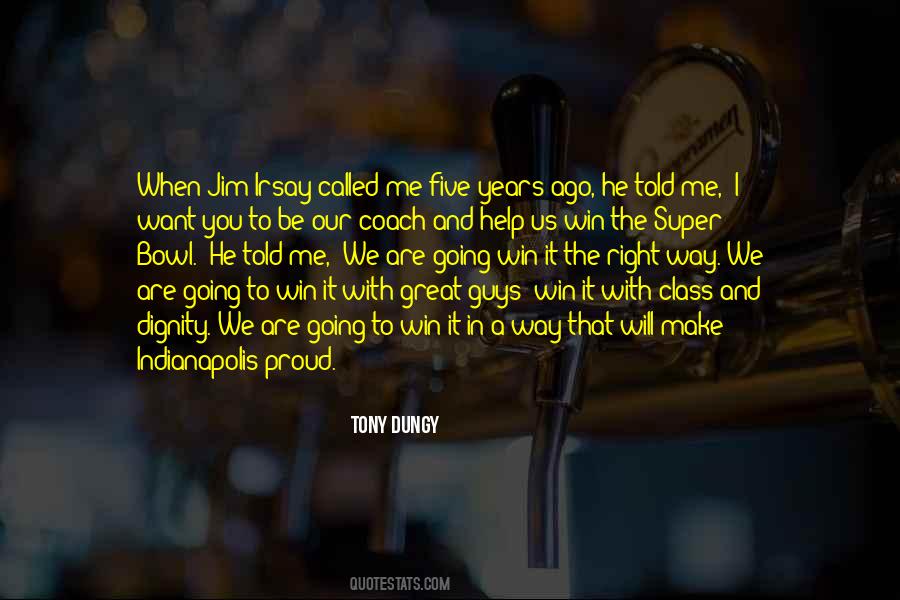 #13. When you win a race your on top that day, so take it for what its worth, have a good time and party, cause the next day when you get out of bed, the meter goes back to zero again. - Author: Bobby Allison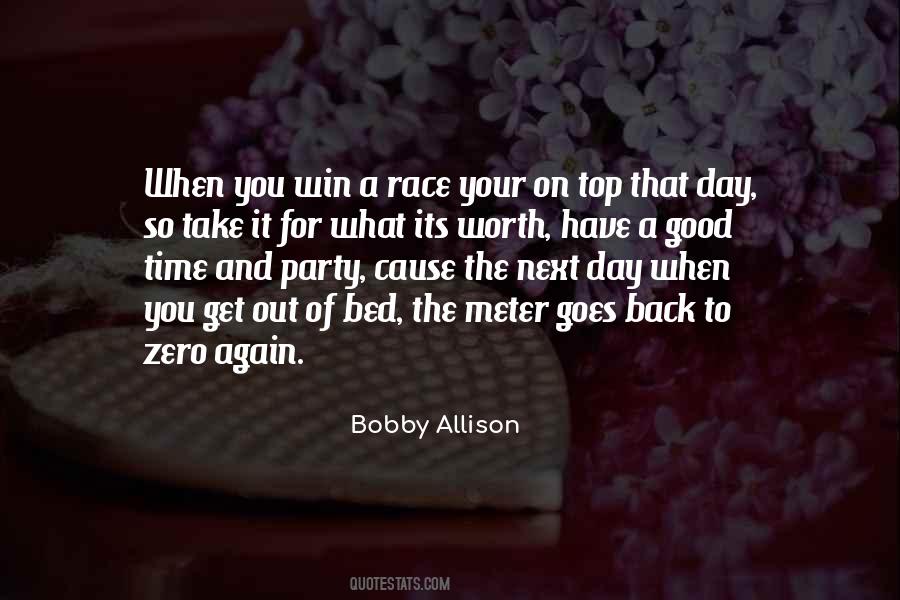 #14. Commissions add up, taxes are a big drag, margin ain't cheap. A good accountant costs money as well. The math on this one is obvious, yet investors often fail to recognize it: Keep your costs low and your turnover lower, and you will win in the end. - Author: Barry Ritholtz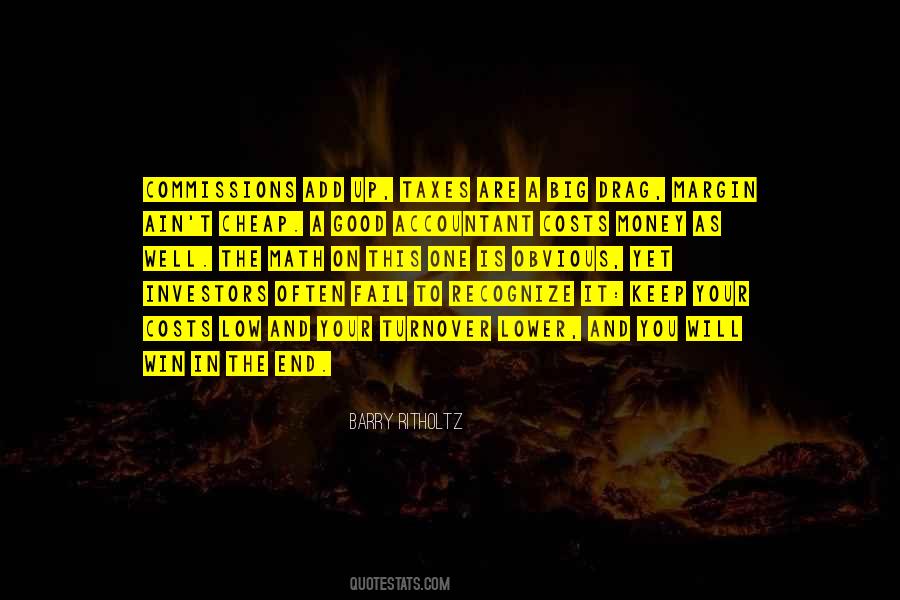 #15. I'd rather lose an argument than get into a long discussion in order to win it. - Author: Rafael Nadal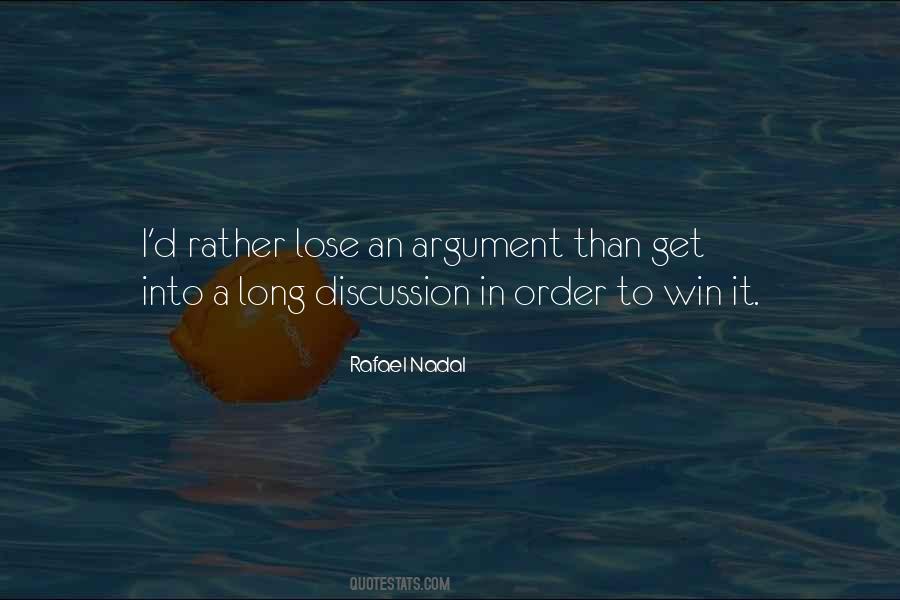 #16. It is not reasonable that art should win the place of honor over our great and powerful mother Nature. We have so overloaded the beauty and richness of her works by our inventions that we have quite smothered her. - Author: Michel De Montaigne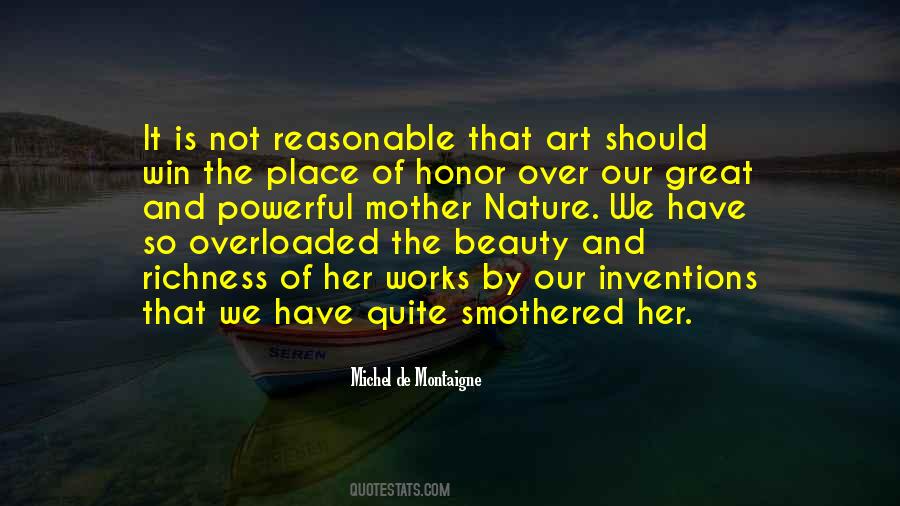 #17. Happiness then is the best, noblest, and most pleasant thing in the world, and these attributes are not severed as in the inscription at Delos-
Most noble is that which is justest, and best is health;
But pleasantest is it to win what we love. - Author: Aristotle.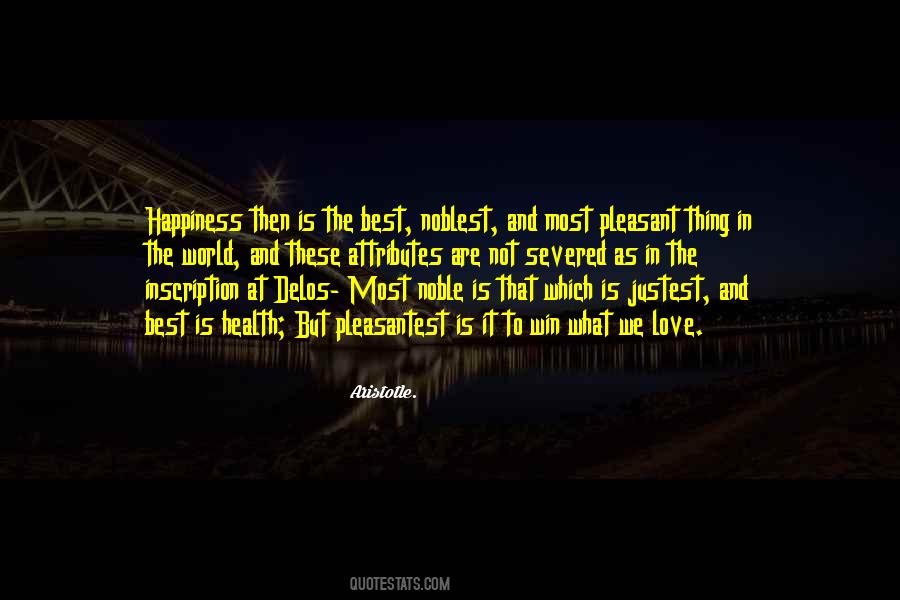 #18. There isn't a flaw in his golf or his makeup. He will win more majors than Arnold Palmer and me combined. Somebody is going to dust my records. It might as well be Tiger, because he's such a great kid. - Author: Jack Nicklaus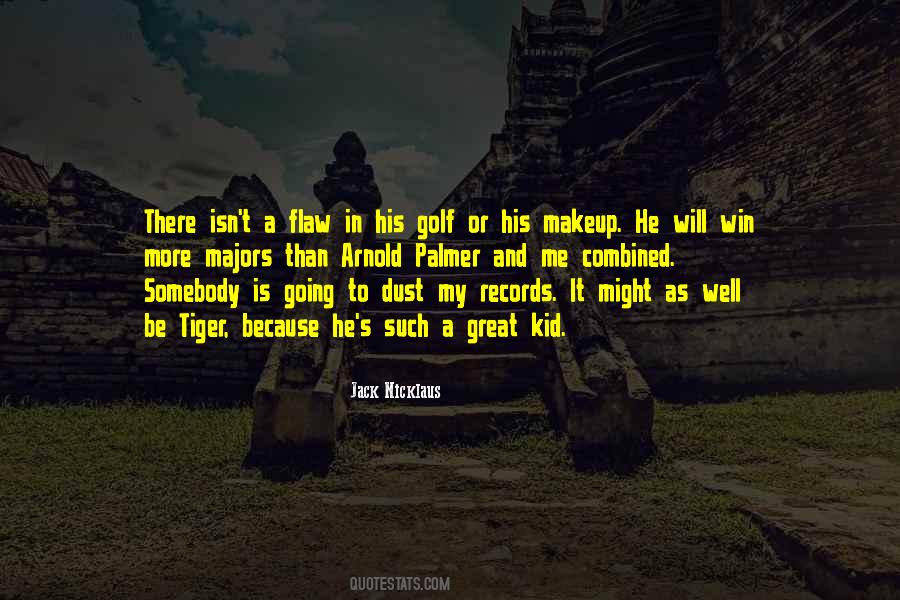 #19. You can have a striker who scores 50 goals in one season but if you win nothing it means nothing - Author: Branislav Ivanovic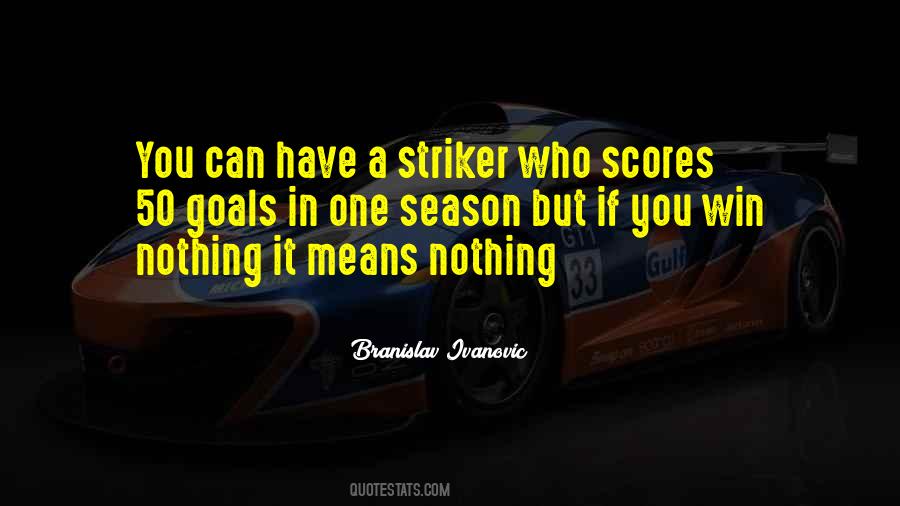 #20. So you win. No matter what, you win. It all works out for you in the end. Always. Someone or something's looking out for you. It's maddening. - Author: Lauren Groff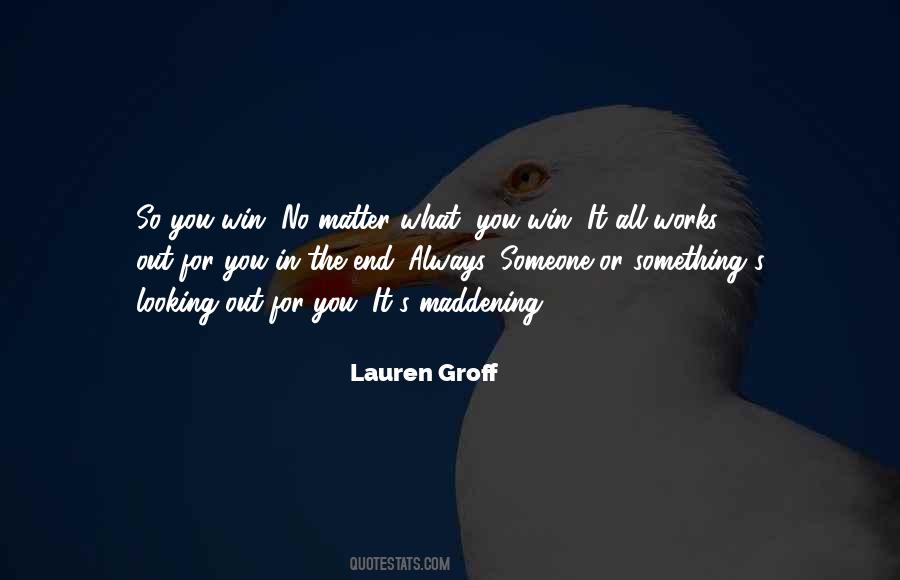 #21. Any tournament you go to, you want to win it. - Author: Martina Hingis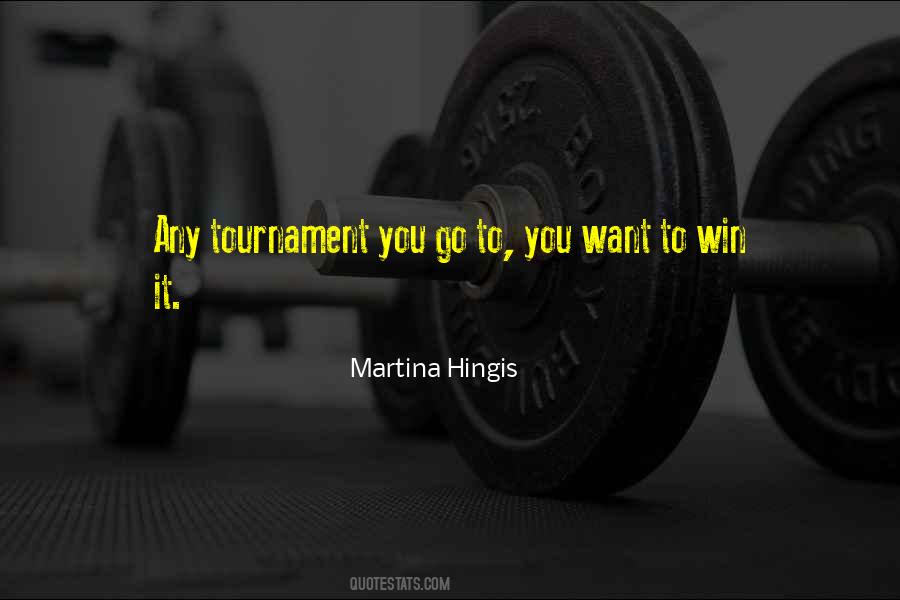 #22. When we win, it will tell every politician in America that if you are bold, if you do the right thing, if you tackle the tough issues, there will be people standing there right with you. - Author: Scott Walker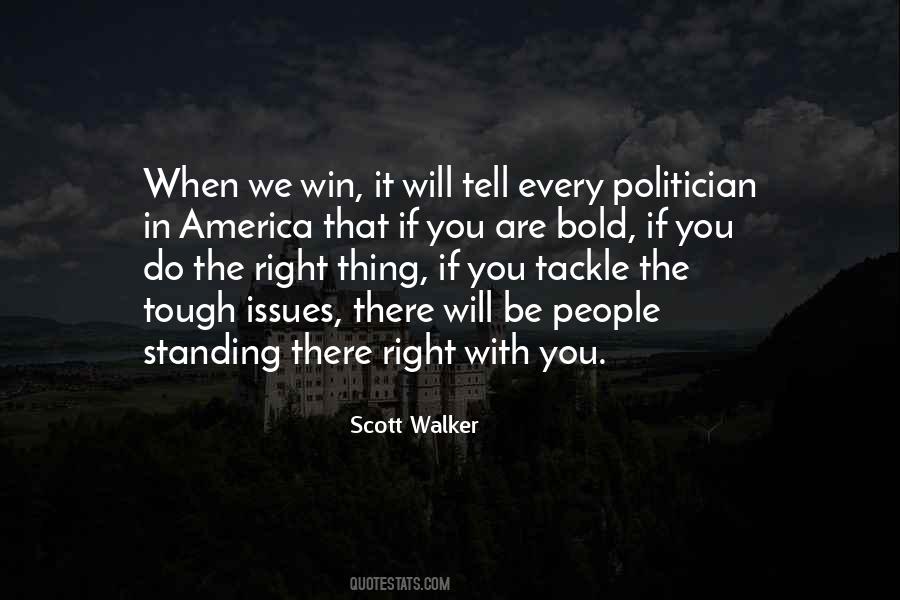 #23. If I am not playing at one hundred percent, it is going to be very difficult for me to win. - Author: Rafael Nadal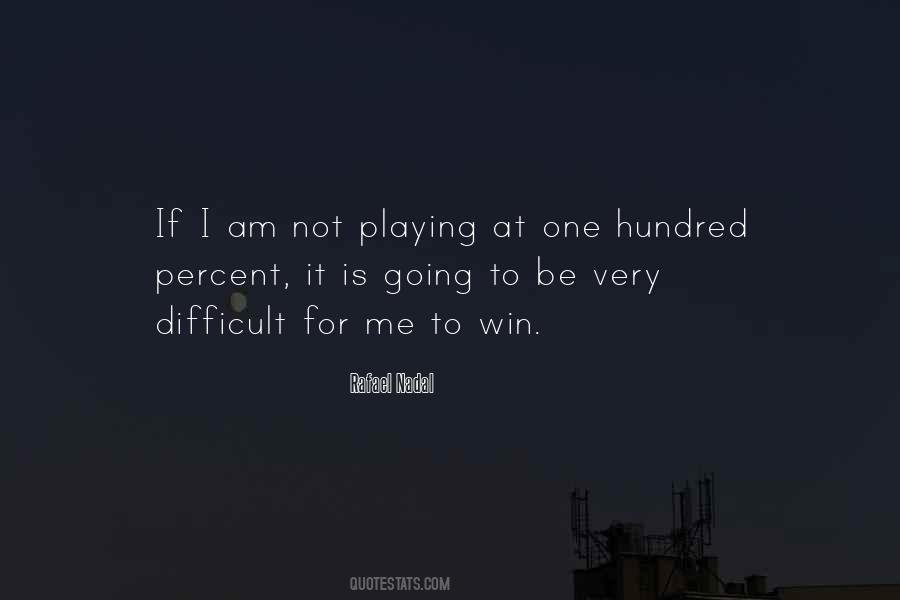 #24. When you lose the title, that doesn't mean you lose the contract to what you had. Just like when you win the title, it doesn't mean you win brains, PhDs and MAs. - Author: Don King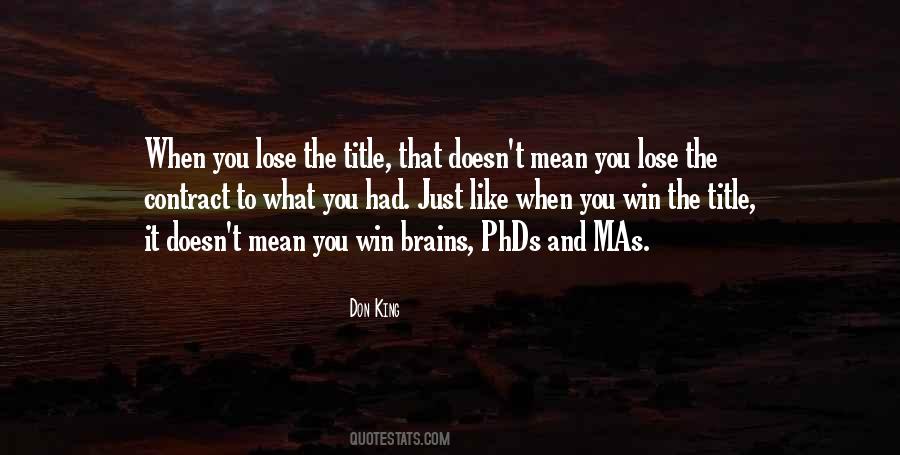 #25. Men fight for liberty and win it with hard knocks. Their children, brought up easy, let it slip away again, poor fools. And their grandchildren are once more slaves. - Author: D.H. Lawrence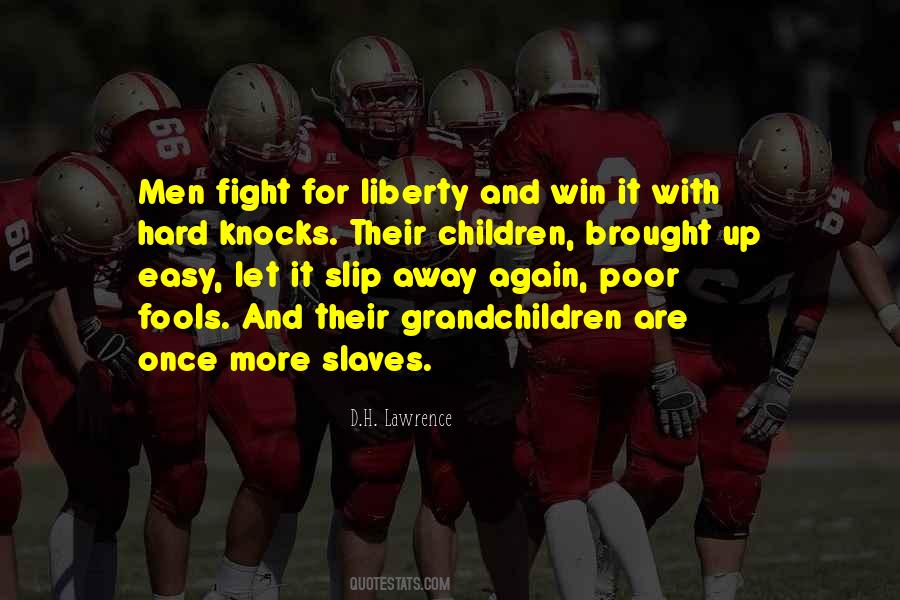 #26. Don't get me wrong. I don't take anything for granted. But it seems like the better I play, the more attention I get. And I can't get away from it. You play great, you get attention. But I hate attention. It is weird. I'm in a bind. The more you win, the more they come. - Author: Derrick Rose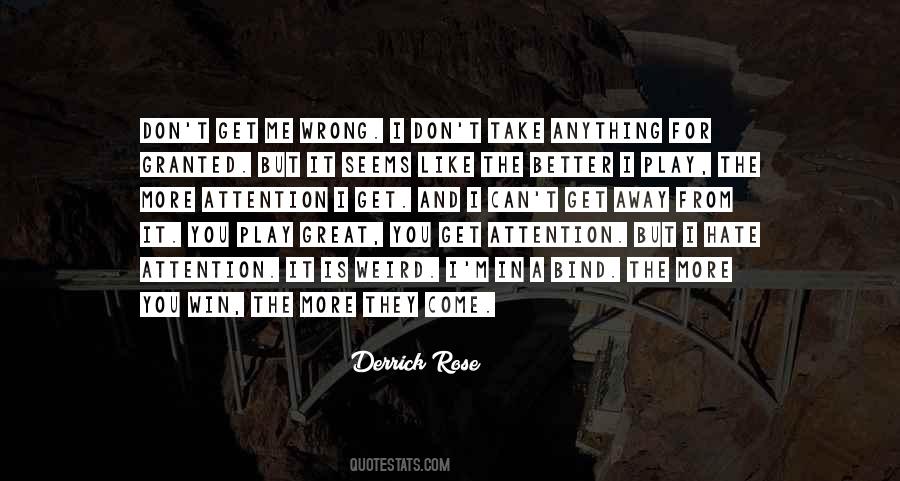 #27. With United, we'd all grown up together, we all wanted to win the biggest trophy in football. We did it togther. - Author: David Beckham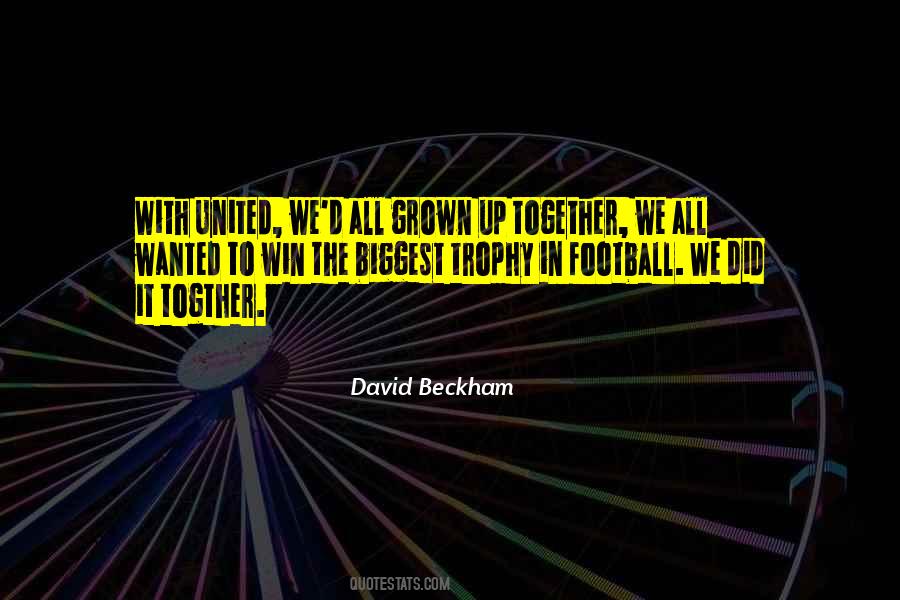 #28. Most people only work enough so that it feels like work, whereas successful people work at a pace that gets such satisfying results that work is a reward. Truly successful people don't even call it work; for them, it's a passion. Why? Because they do enough to win! - Author: Grant Cardone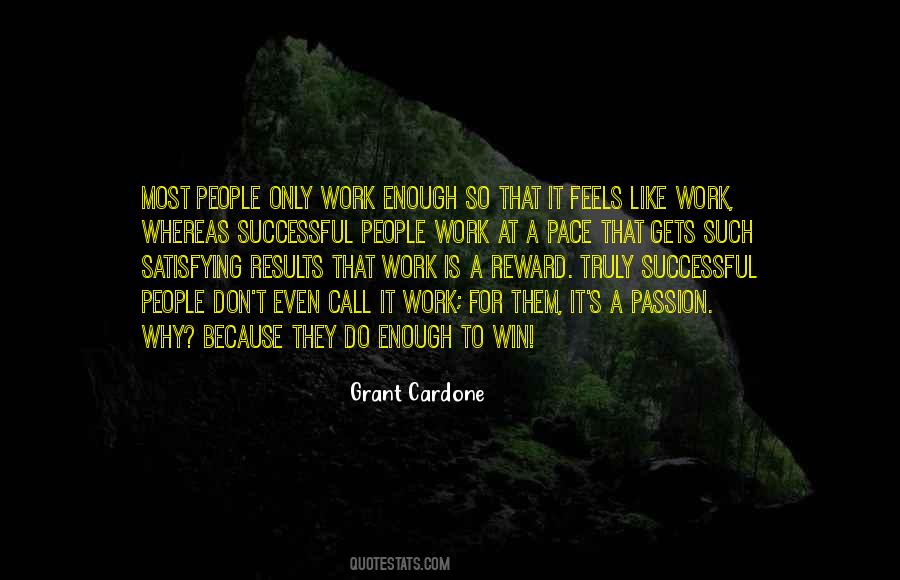 #29. As Jeopardy devotees know, if you're trying to win on the show, the buzzer is all. On any given night, nearly all the contestants know nearly all the answers, so it's just a matter of who masters buzzer rhythm the best. - Author: Ken Jennings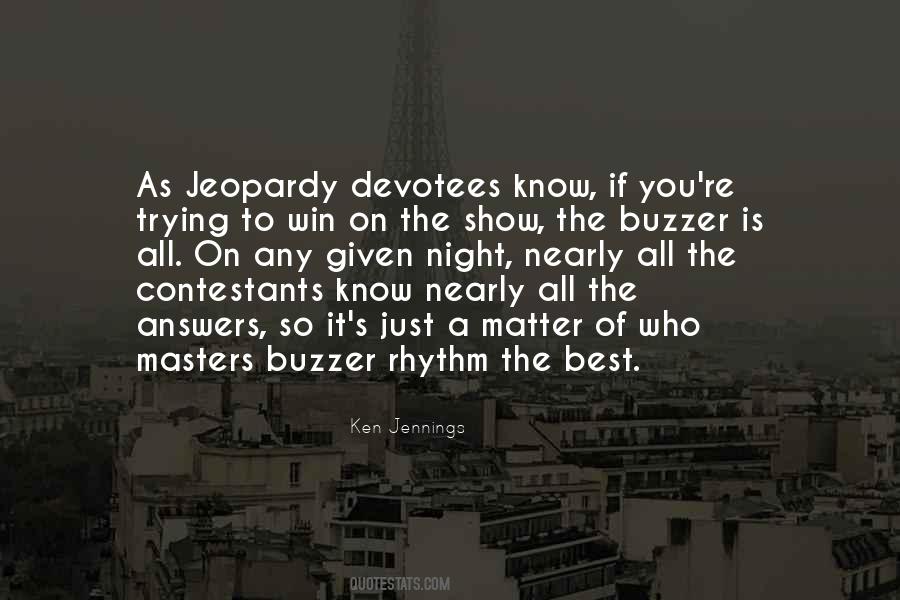 #30. Somehow whether or not the war is winnable is beyond our scope, an irrelevant detail. We don't do it to win anymore; we do it because it's what we know how to do. Get ready to go. Get ready to come back. And the moments in between we mark on the calendar. It's our battle rhythm. - Author: Angela Ricketts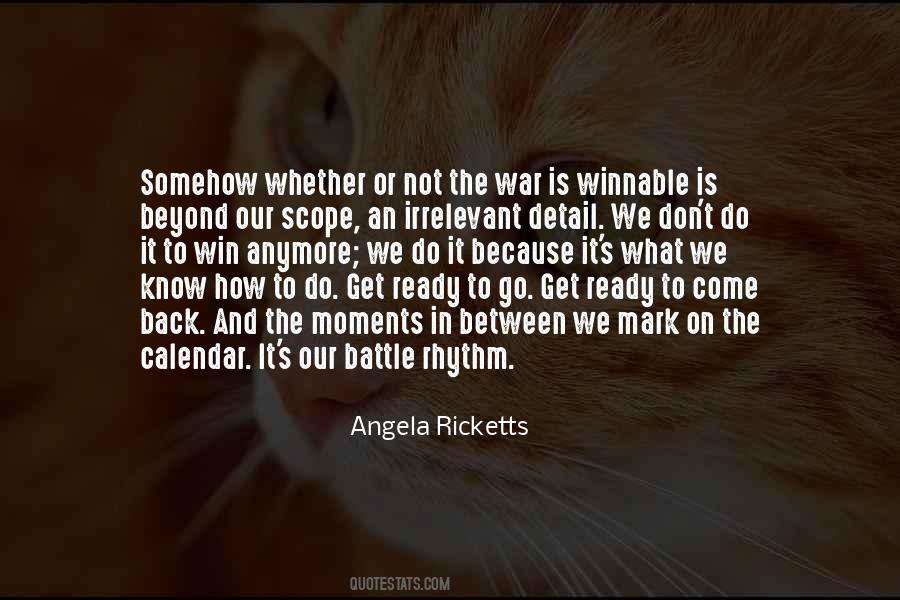 #31. The local farmers, of course, were bitching because the bean and corn harvests were going to be huge and the prices depressed. Of course, if it hadn't rained, they'd be bitching because their crops were small, even if the prices were high. You couldn't win with farmers. - Author: John Sandford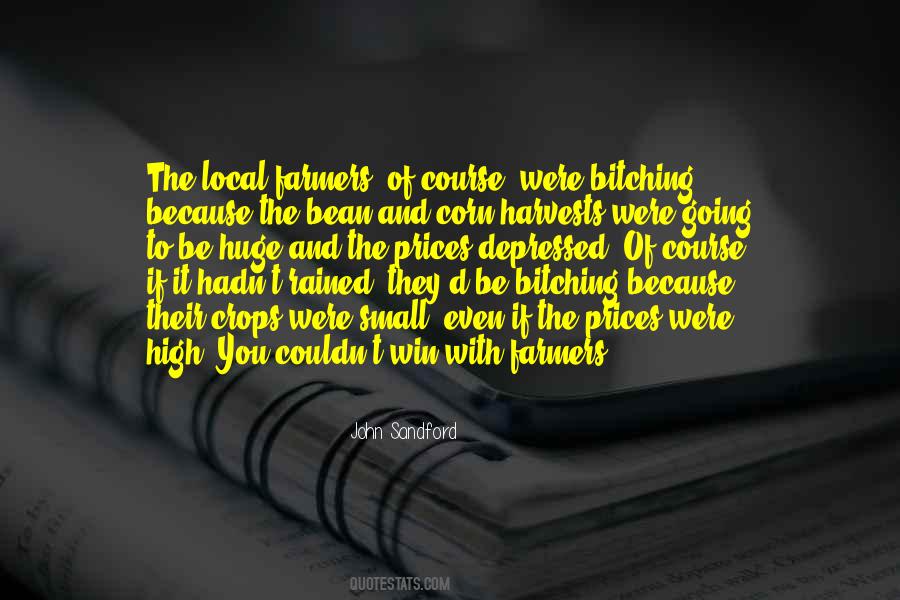 #32. A second basic fact that characterizes nonviolence is that it does not seek to defeat or humiliate the opponent, but to win his friendship and understanding. - Author: Martin Luther King Jr.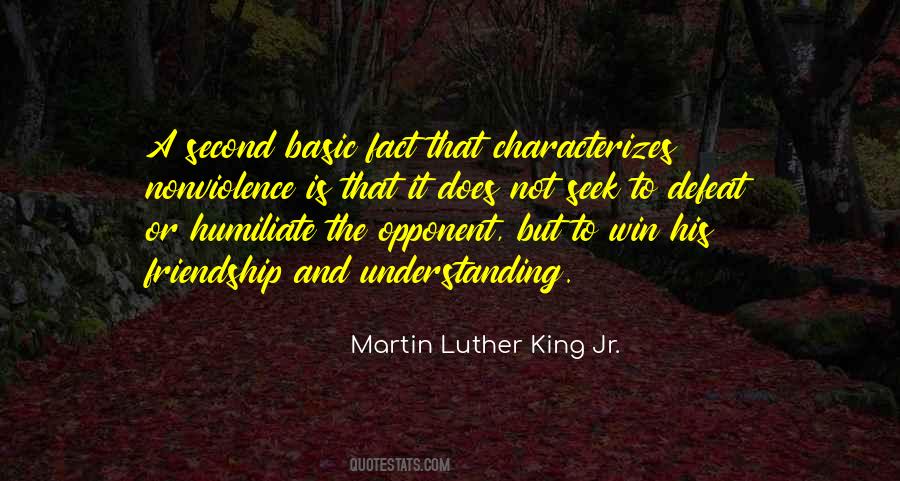 #33. Hillary Clinton and Barack Hussein Obama cannot win, and they are put in place to assure a victory by Mitt Romney ... this is the plan of all the insurance companies that are owned by Mormon interests. It is unfolding as the Mormon Church planned over the last fifty years. - Author: Roseanne Barr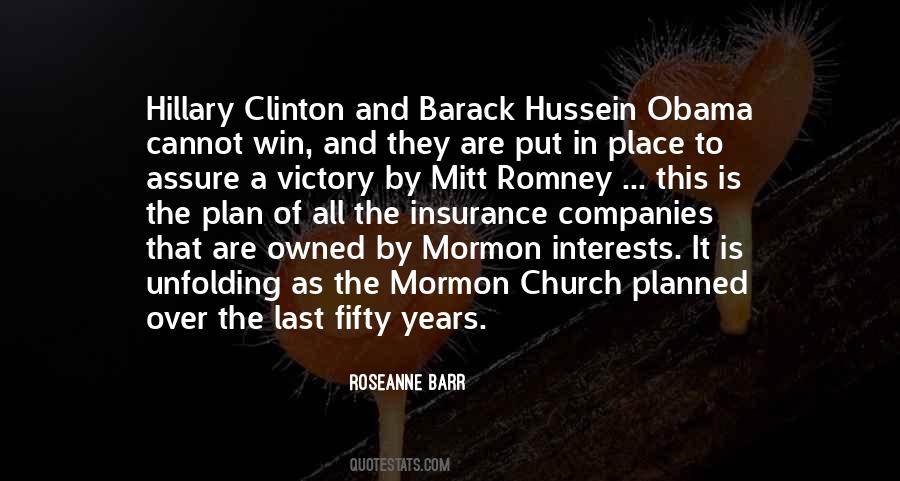 #34. The thing about information is that information is more valuable when people know it. There's an exception for business information and super timely information, but in all other cases, ideas that spread win. - Author: Seth Godin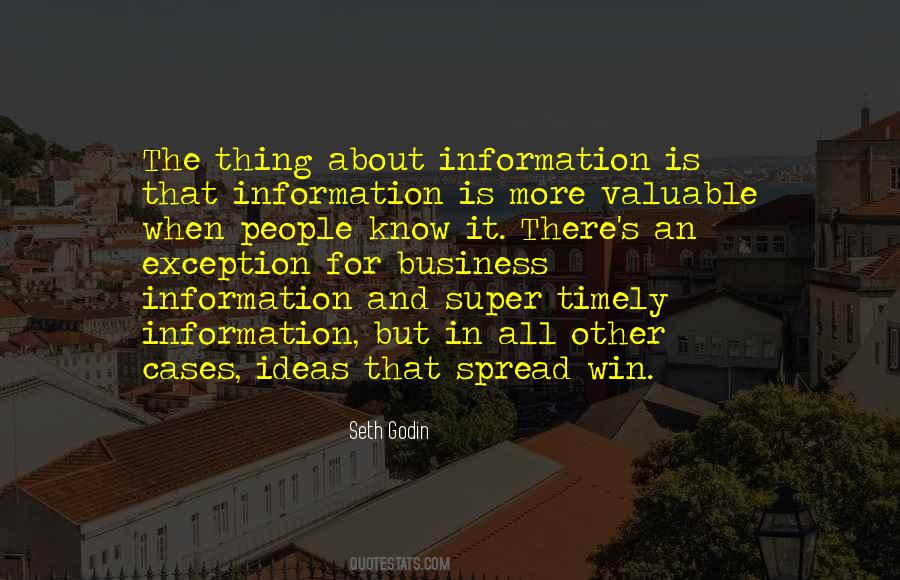 #35. I have found a way to beat myself
I win by losing, something like that
I'm told that I'm stupid
So ok, I'll be stupid
If I can't register the pain
Then it's not there
I'm not so stupid after all
I'll show them - Author: Henry Rollins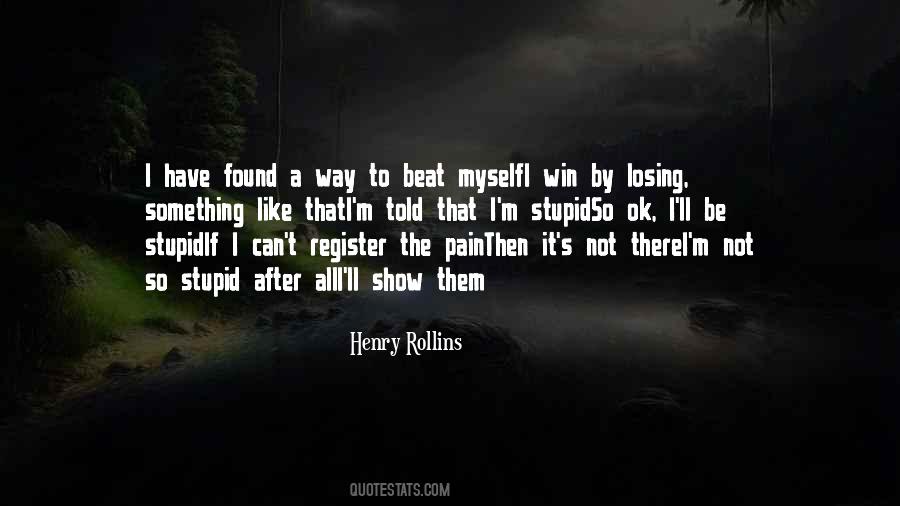 #36. You don't have to win to be a winner. If you give 100 percent, getting yourself mentally and physically prepared to play the game, if you look in the mirror and can say you give it everything to win, that's it. You're not going to win every time. - Author: Duke Snider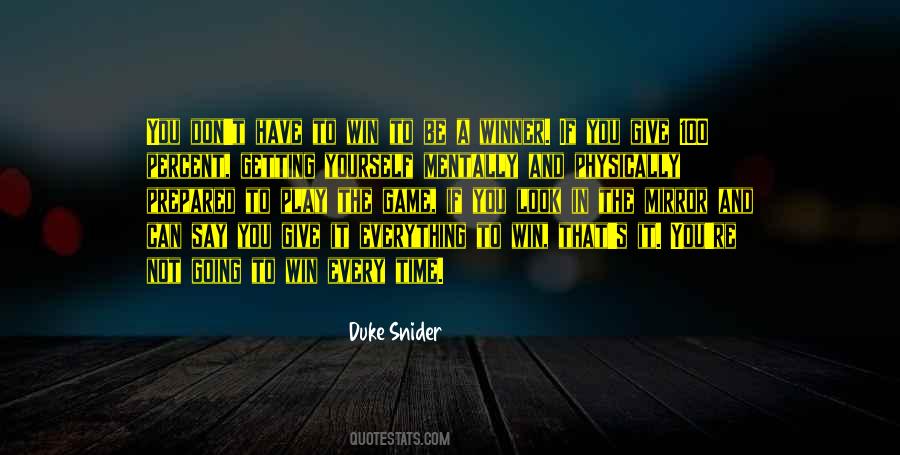 #37. It was almost as if I had a right to win. Thinking like that often seems to turn into sort of a self-fulfilling prophecy. - Author: Sam Walton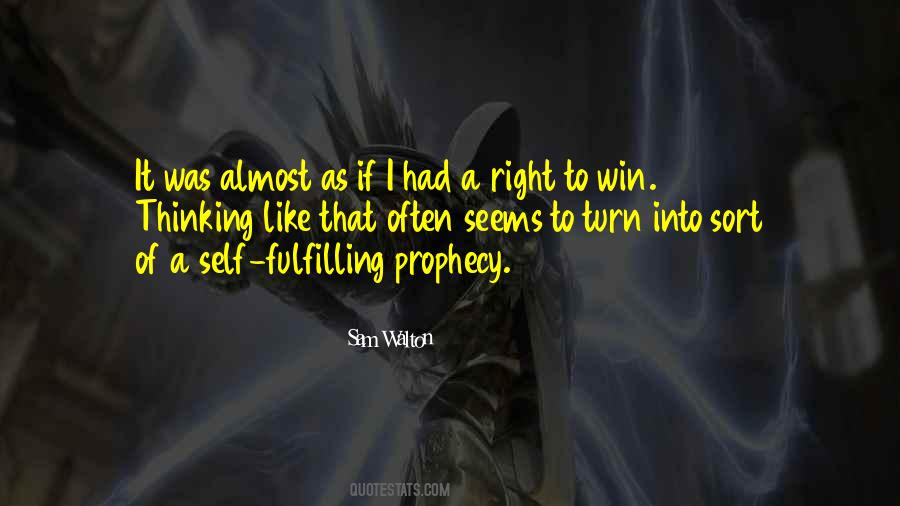 #38. I believe in destiny ... what's going to be is going to be. If I'm going to win, I'm going to win ... I don't give a damn what the other guy shoots. I'm going to win if it's my turn. - Author: Sam Snead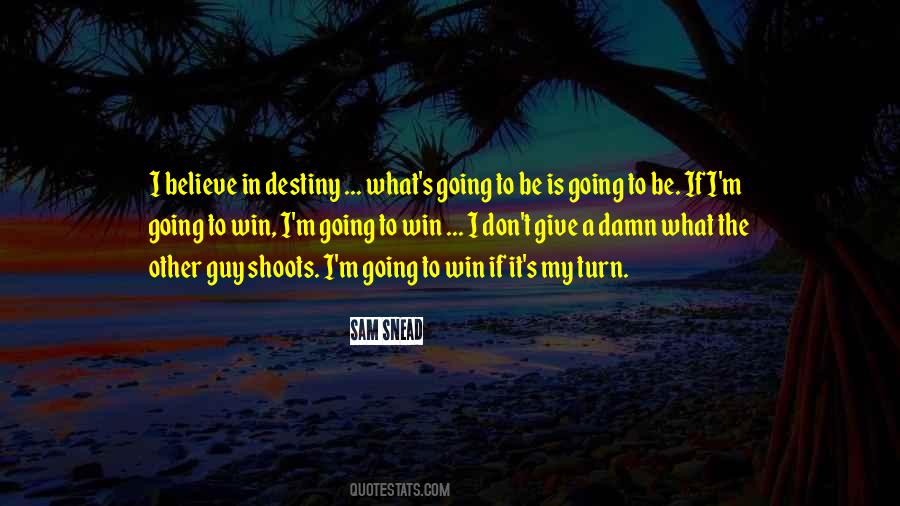 #39. We want and expect to win the silver or gold. A bronze would be a step back. In fact, we think it would be a put-down if we don't win the silver or gold. - Author: Betty Okino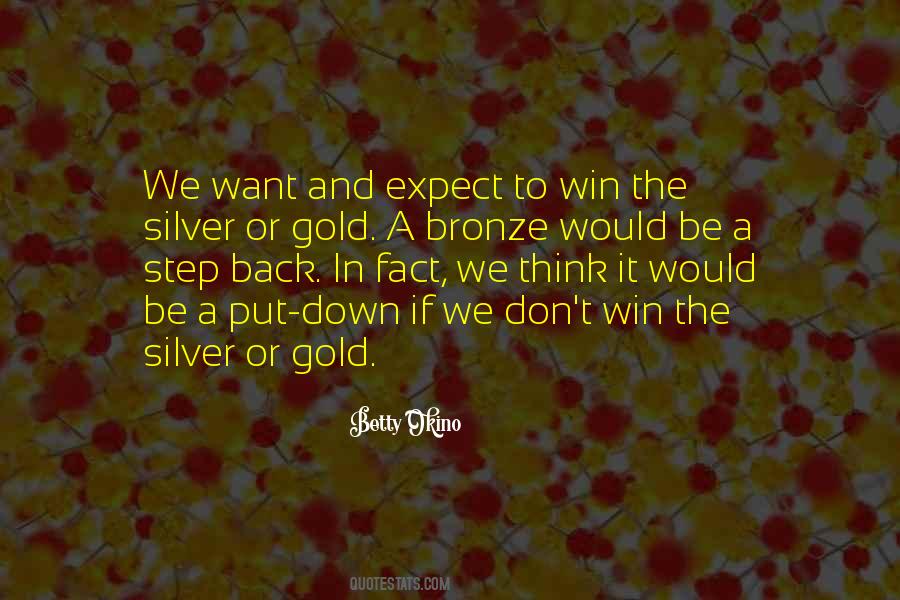 #40. The gospel is so valuable that no risk is unreasonable. Life is gained by laying it down for the gospel. If I live, I win and get to keep on preaching Christ. If I die, I win bigger by going directly to be with Christ... - Author: David Sitton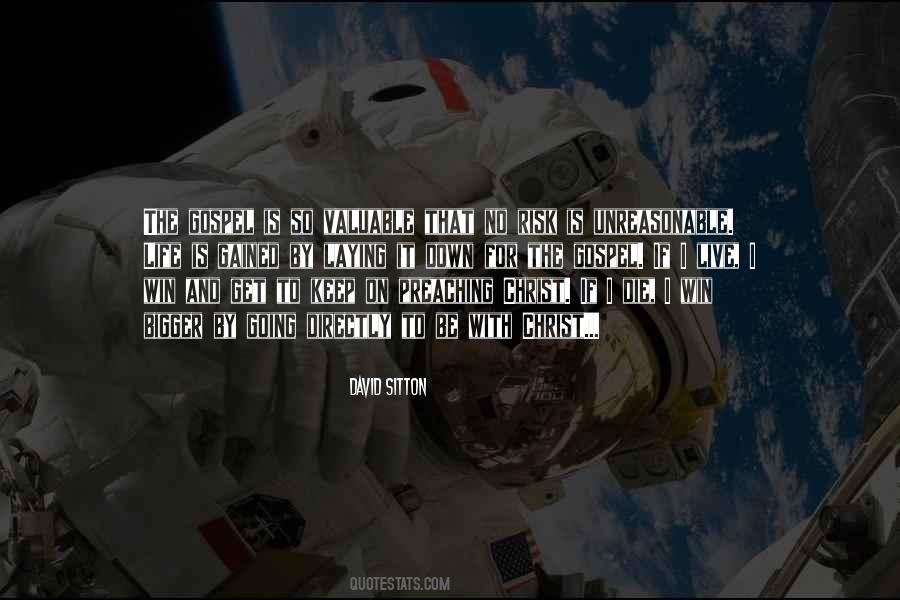 #41. The key is not the will to win ... everybody has that. It is the will to prepare to win that is important. - Author: Bobby Knight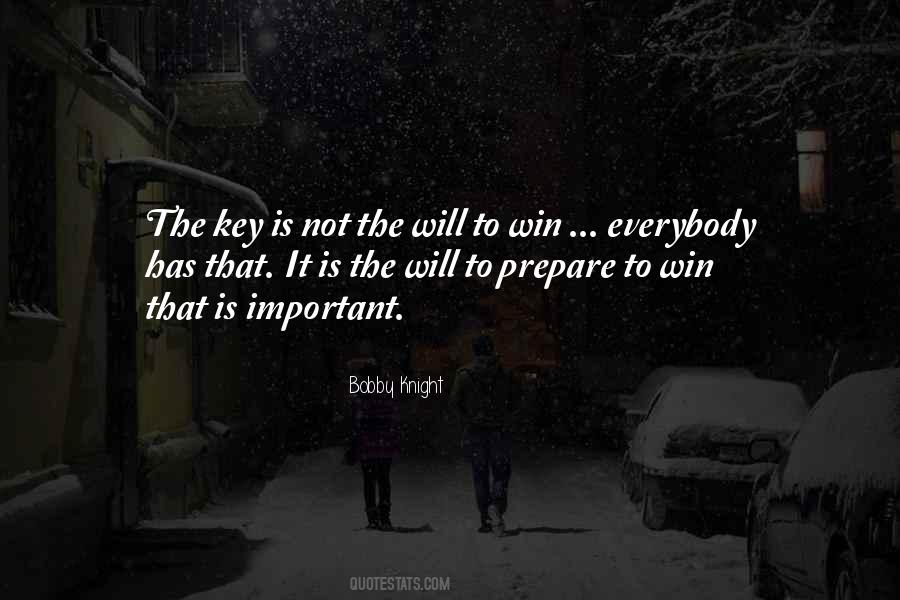 #42. That's the point, isn't it? We have to live on, no matter how hard it gets. We'll win in the end. - Author: Brandon Sanderson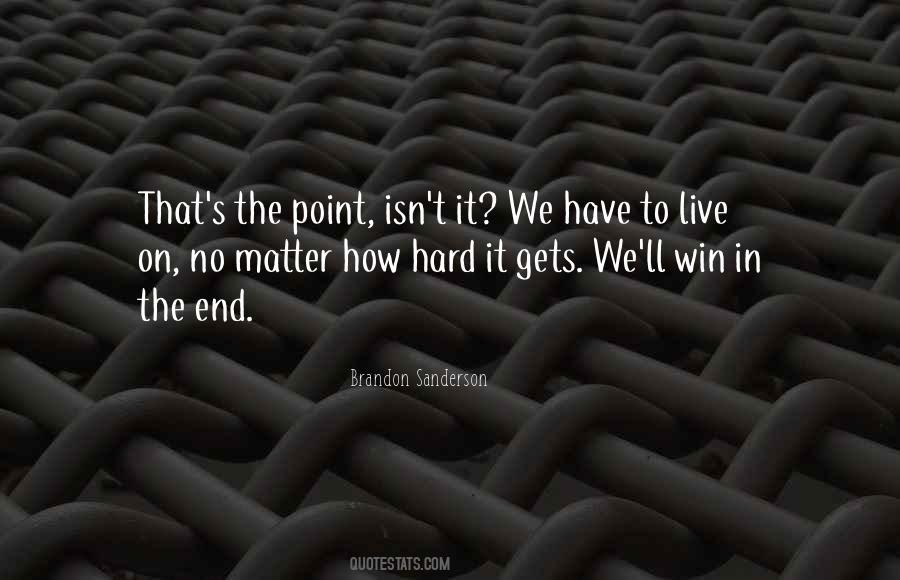 #43. I tried to be the leader ... that was my aim. But it is important to know how to win and how to lose. - Author: Vitali Klitschko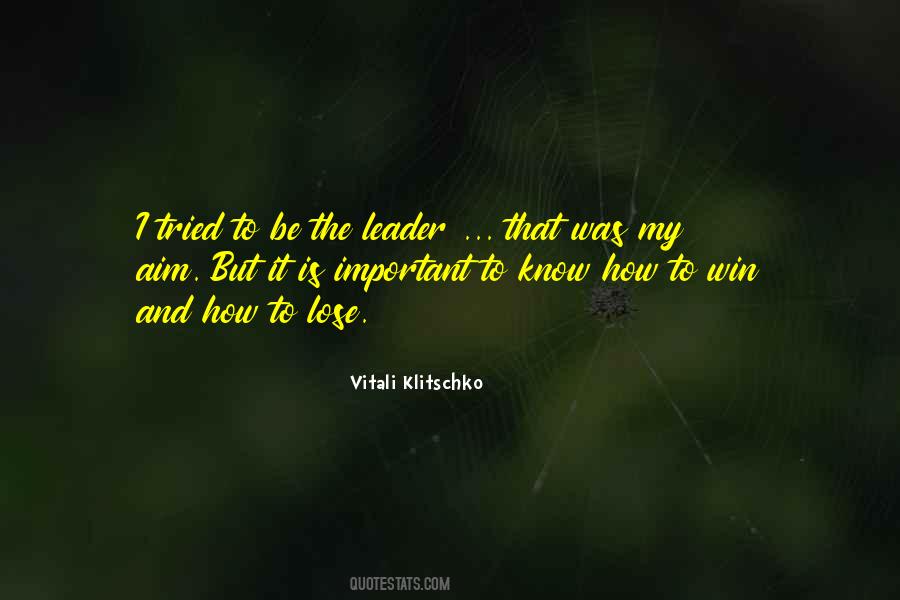 #44. As an occupation in declining years, I declare I think saving is useful, amusing and not unbecoming. It must be a perpetual amusement. It is a game that can be played by day, by night, at home and abroad, and at which you must win in the long run ... What an interest it imparts to life!. - Author: William Makepeace Thackeray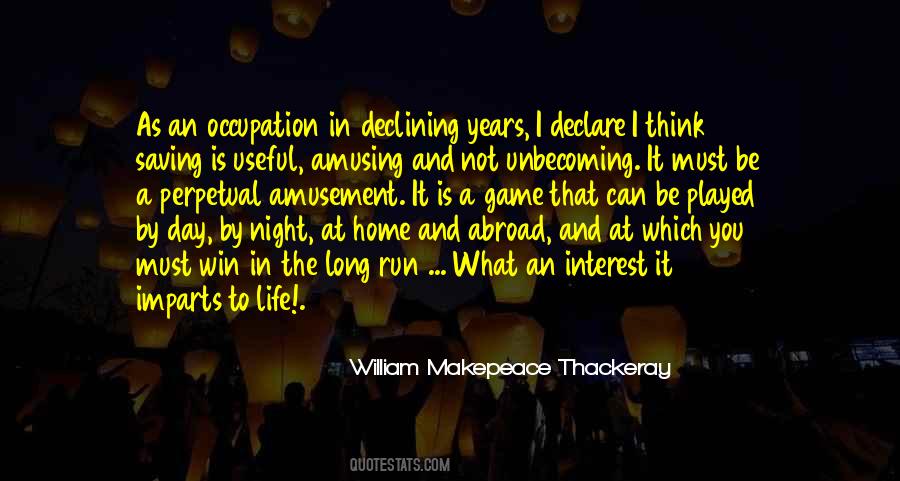 #45. It's huge. You win the first game of the series, you want to win the series. - Author: Joe Torre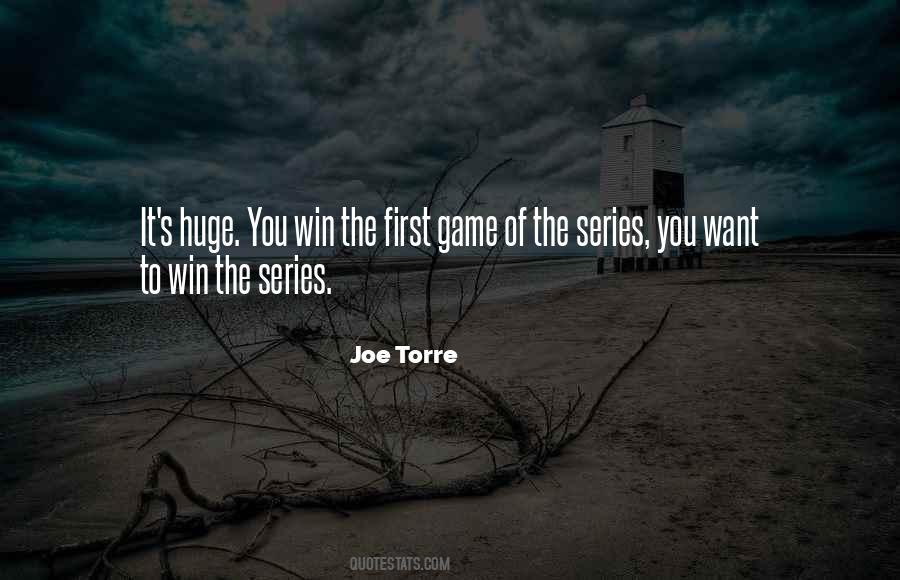 #46. If I'm nominated [for Grammy] I would love to win, and get up on the stage and just say thank you. It would be a great closing, for me, a great closing to a great career. - Author: Ginuwine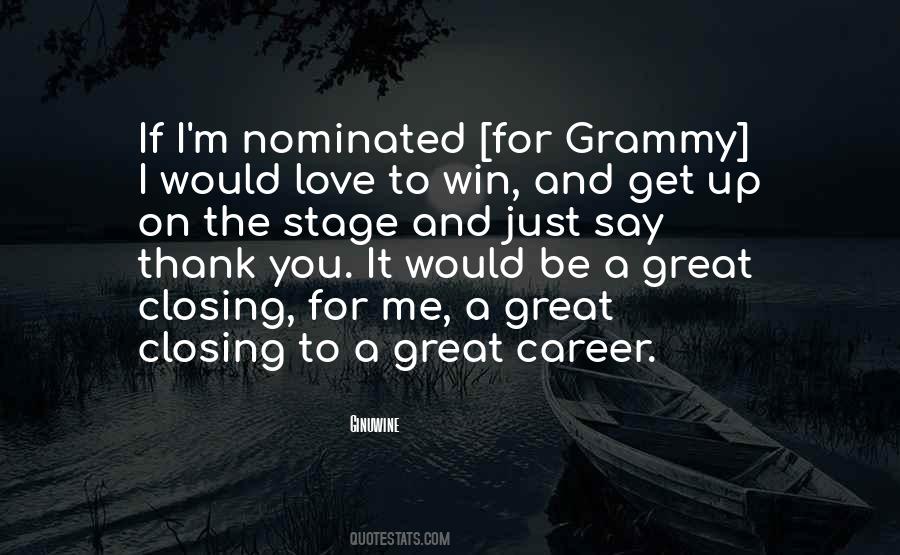 #47. Acting is a win-win situation. There is no risk involved. That's why I get tired of hearing actors who try to make out that there's a downside to it. Fame is an odd thing. It bugs you a little bit, but it's really not bad. - Author: John Corbett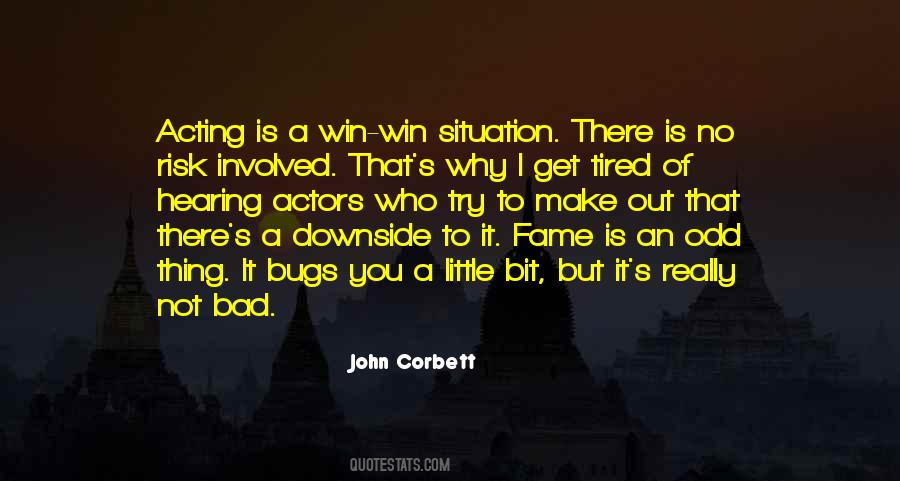 #48. In an IT lead world, incumbents generally win because they have the existing relationship with the IT organization. - Author: Aaron Levie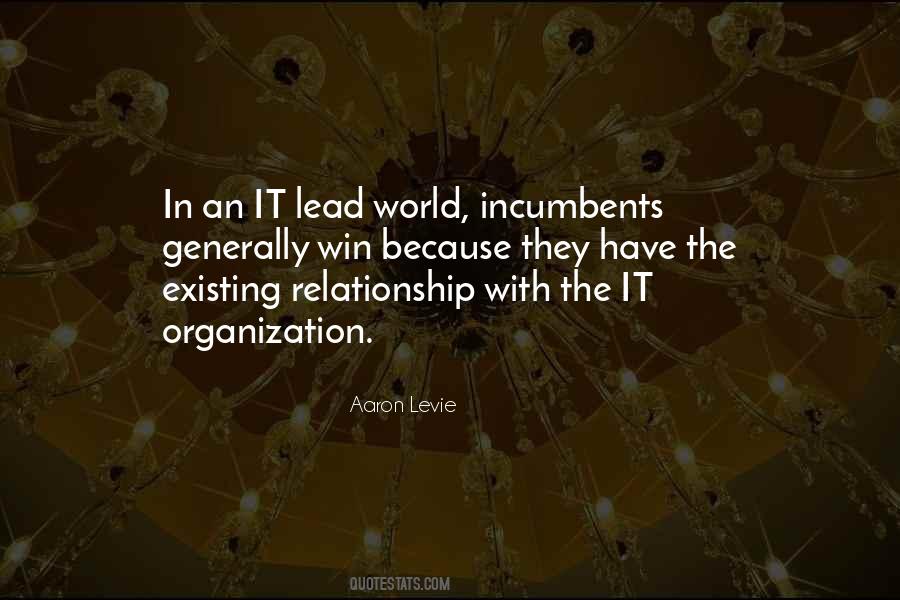 #49. Loyalty must be forged - to him, to his: stronger than iron, from experience, from risk - it can't be bought, or taught, or promised before the fact. Allegiance must be earned so it will hold, win or lose. - Author: Janet Morris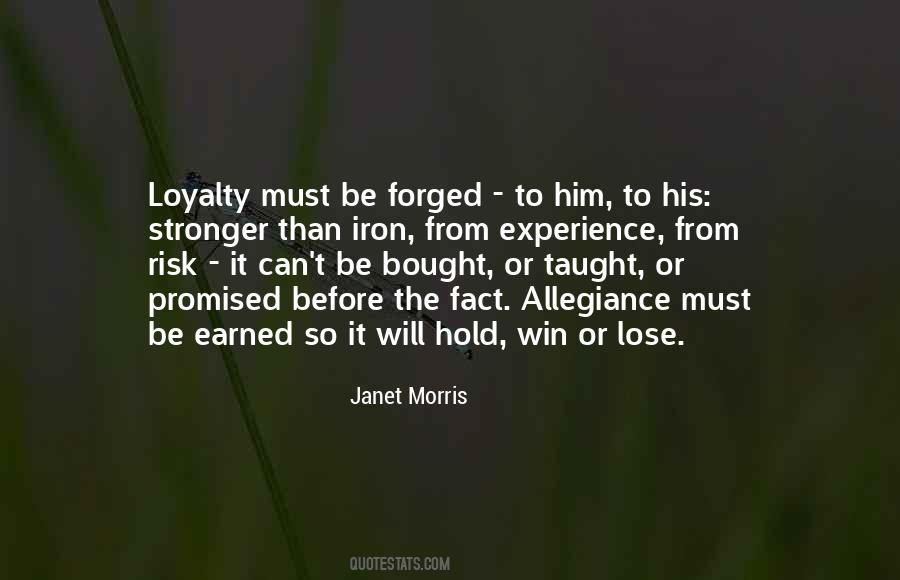 #50. The sense of urgency is real for me, because the window of opportunity is closing. Gotta get back to the Super Bowl, gotta get back there and win it. - Author: Steve McNair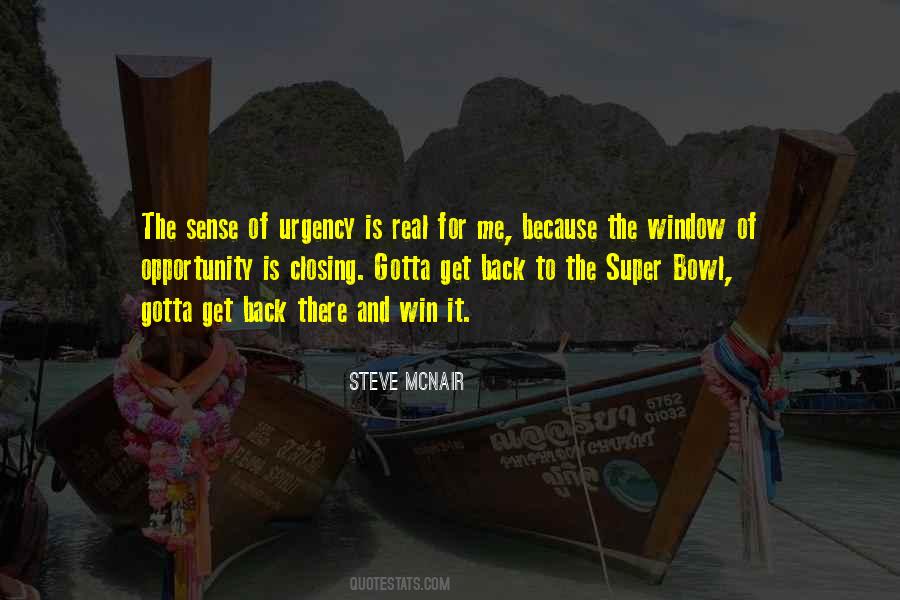 #51. Our doubts are traitors and make us
lose the good we oft might win, by fearing to attempt. In other words, a
wish is a good place to start but then you have to get off your butt and make it
happen. You have to pick up a quill and write your own damn story. (Mimi Wallingford) - Author: Suzanne Selfors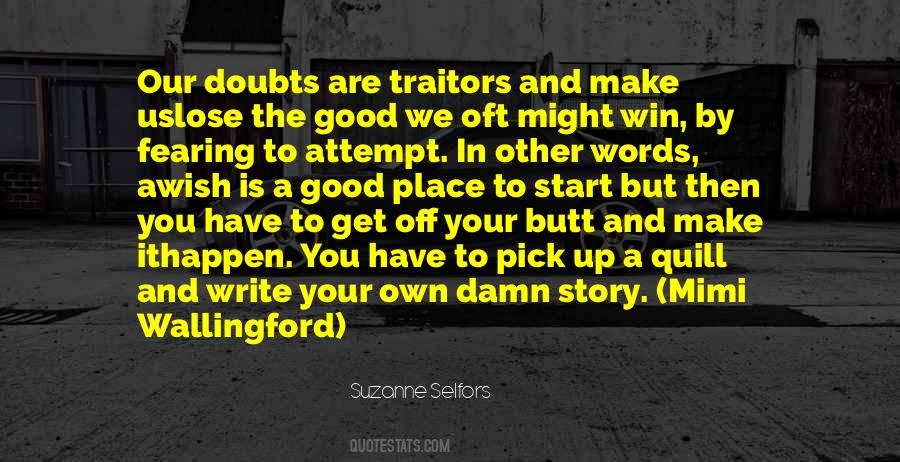 #52. It's easy to win. Anybody can win. - Author: Philip K. Dick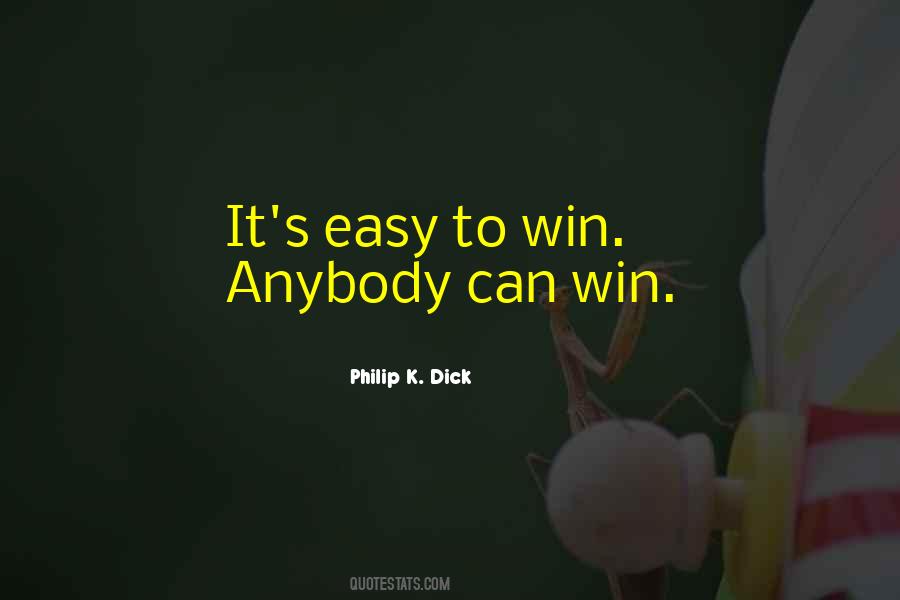 #53. I know it is something of a cliche to say that love makes all things possible, but I believe it does. It is not a magic wand that can be waved over life to make it all sweet and lovely and trouble free, but it can give the energy to fight the odds and win. - Author: Mary Balogh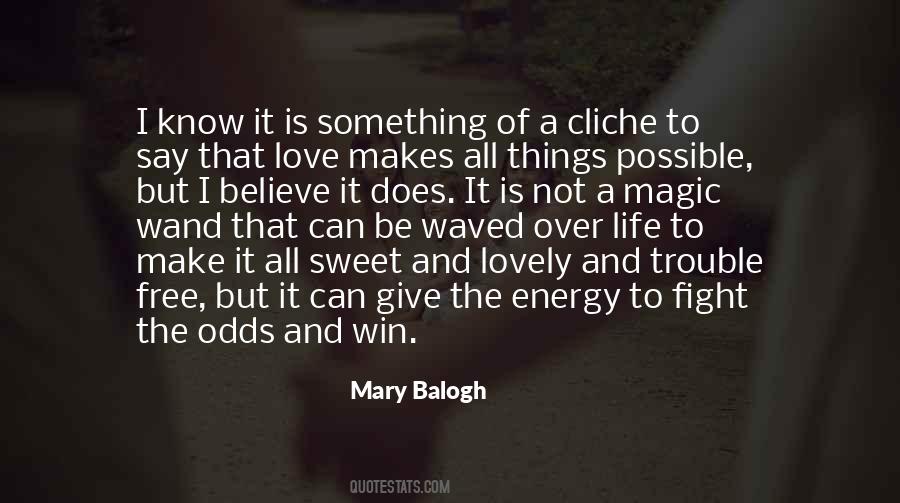 #54. They say win it.. I say win it.. Life is NOT only about winning but sometimes its also about pausing and feeling it - Author: Mehul Darooka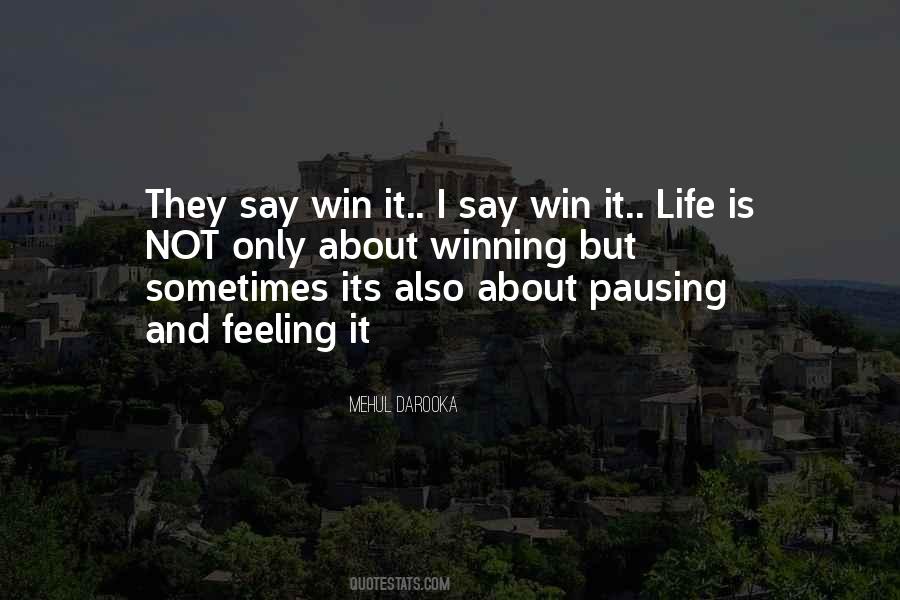 #55. I want to win at everything. I usually don't like things that I'm not good at, but it doesn't mean I don't want to win at them. - Author: Danica Patrick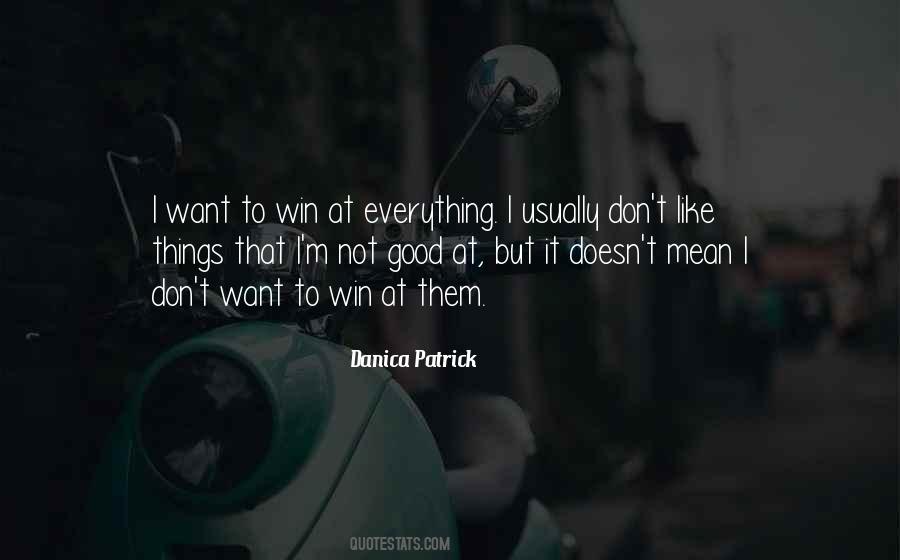 #56. I think George Bush is going to win in a walk. I really believe I'm hearing from the Lord it's going to be like a blowout election in 2004. - Author: Pat Robertson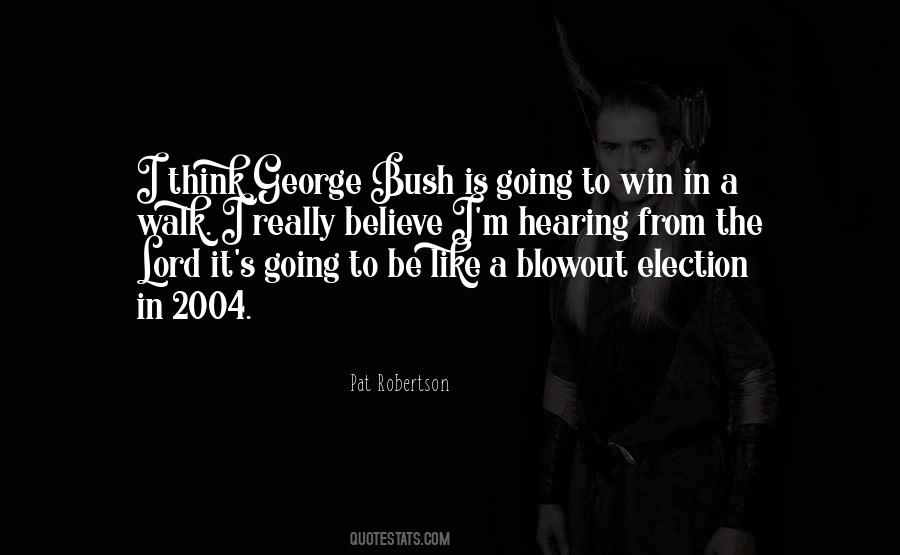 #57. When I was really low, when it was all I could do not to feel sorry for myself, I played that game too. I knew I could never win, but some days, the dark days, the allure of playing 'if only' was too strong to resist. - Author: Becca Fitzpatrick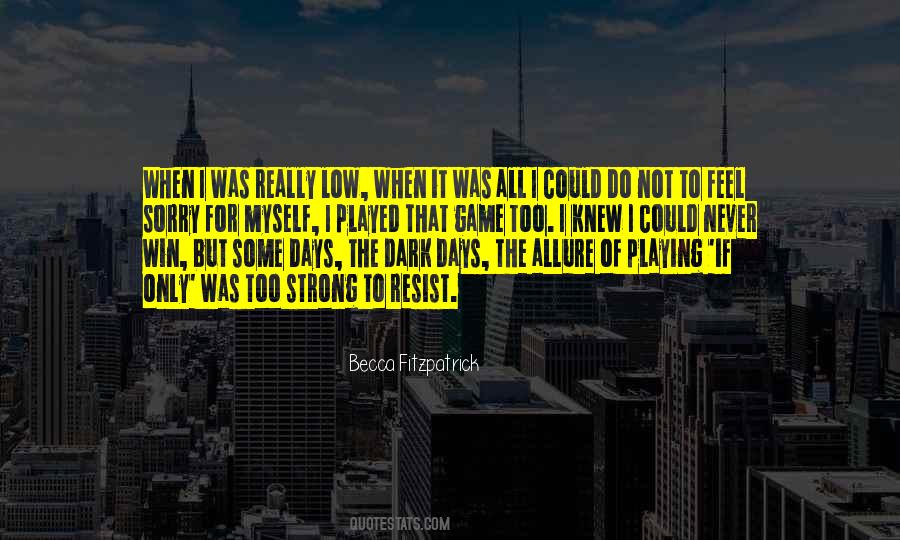 #58. Sometimes it's all about the win, sometimes it's about the skiing. - Author: Bode Miller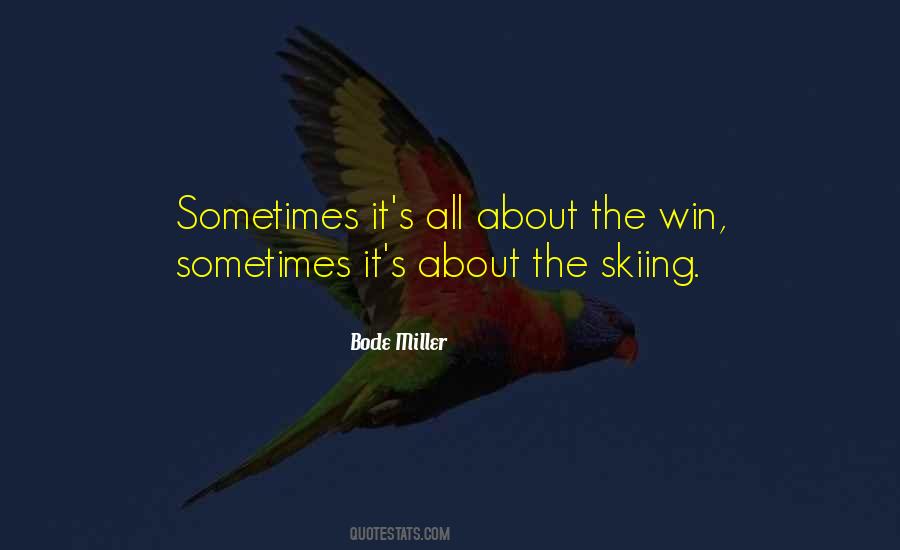 #59. I wouldn't say it came easy, but I understood how to win and I determined how I could do it. - Author: Kurt Busch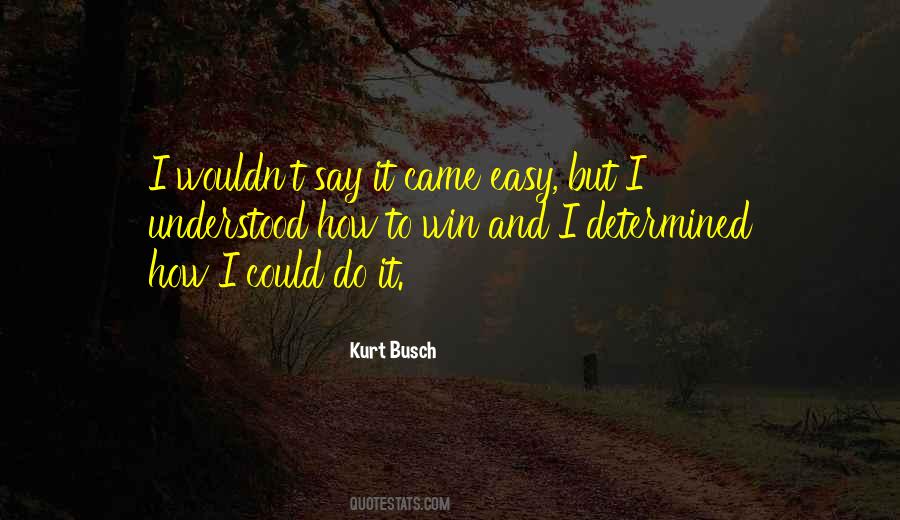 #60. If you win a National Championship, or you win two, people think you have not only seen the Holy Grail, but you've embraced it. Basically, I do what a lot of people do, but I've been able to win. - Author: Mike Krzyzewski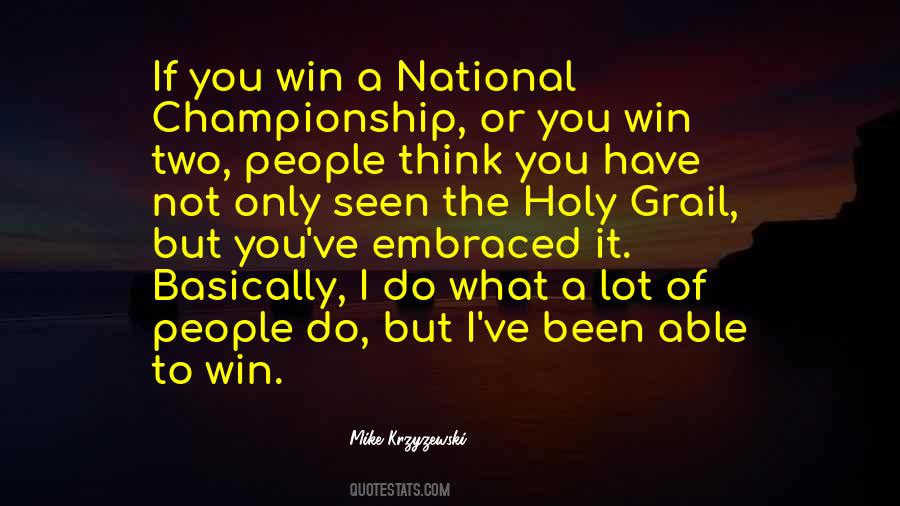 #61. Sometimes when they all talk I feel like shouting, 'so your life went wrong - why assume mine will? Maybe it'll work for me!' But this would only invite a pitying smile, and a 'she'll learn' comment. You can't win with them. You can't even compete. - Author: Kate Cann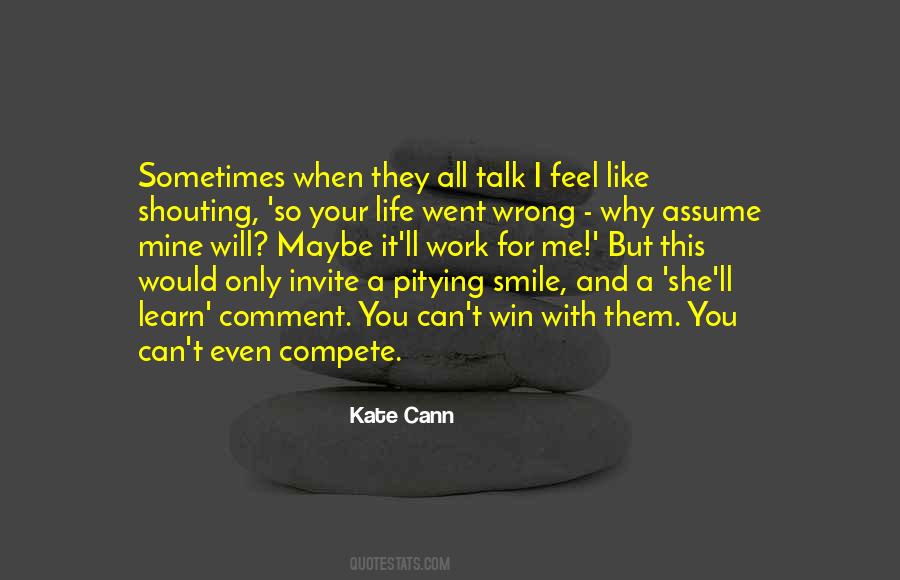 #62. Words move, turning over like tumbling clowns; like certain books and like fleas, they possess activity. All men equally have the right to say, 'This word shall bear this meaning,' and see if they can get it across. It is a sporting game, which all can play, only all cannot win. - Author: Rose Macaulay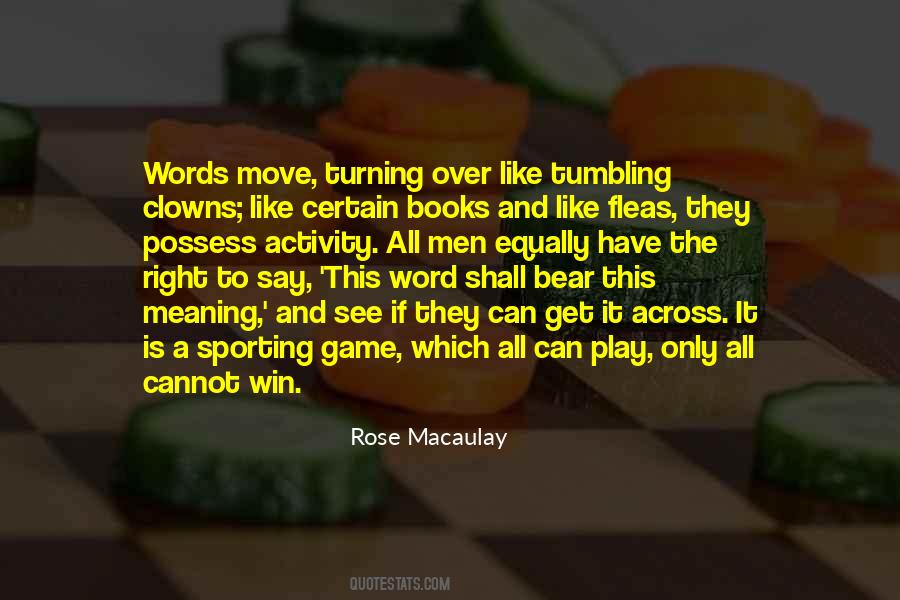 #63. I feel like I'm kind of a bit of a sponge in a way. Like, if people around me are going through things, I find it very hard not to be empathetic. - Author: Win Butler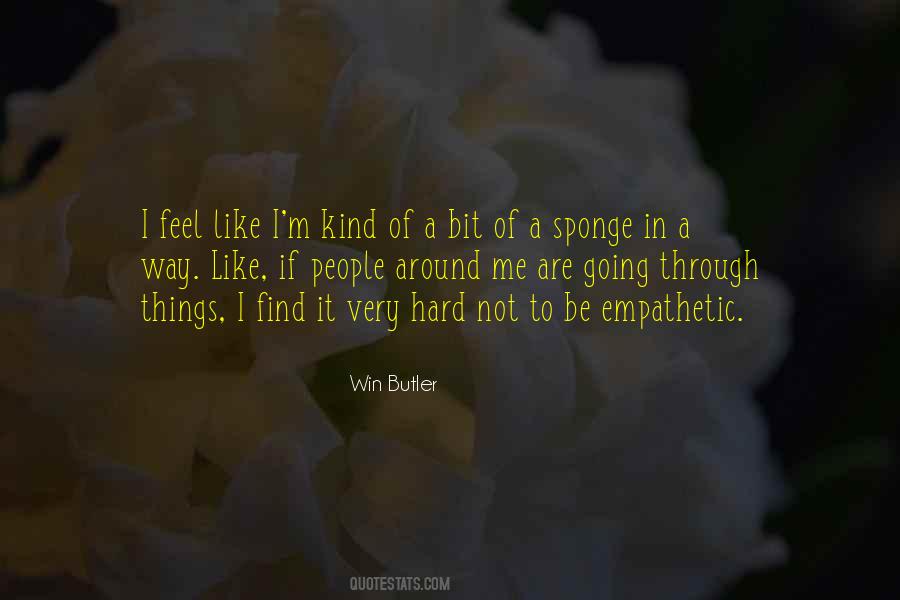 #64. What does it take to be a champion? Desire, dedication, determination, concentration and the will to win. - Author: Patty Berg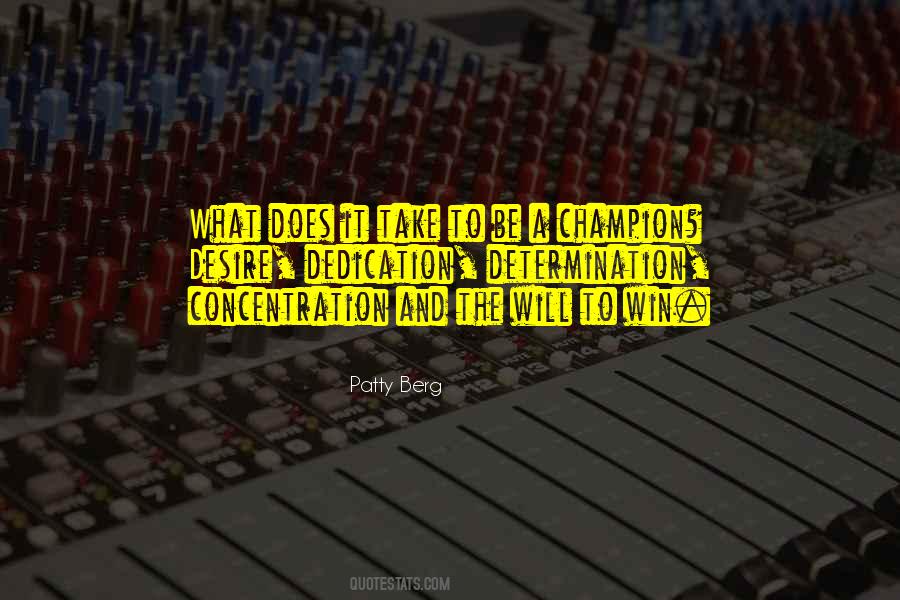 #65. Let's get rid of all the economic (expletive) this country represents! Bring it on, I hope the Muslims win! - Author: Chrissie Hynde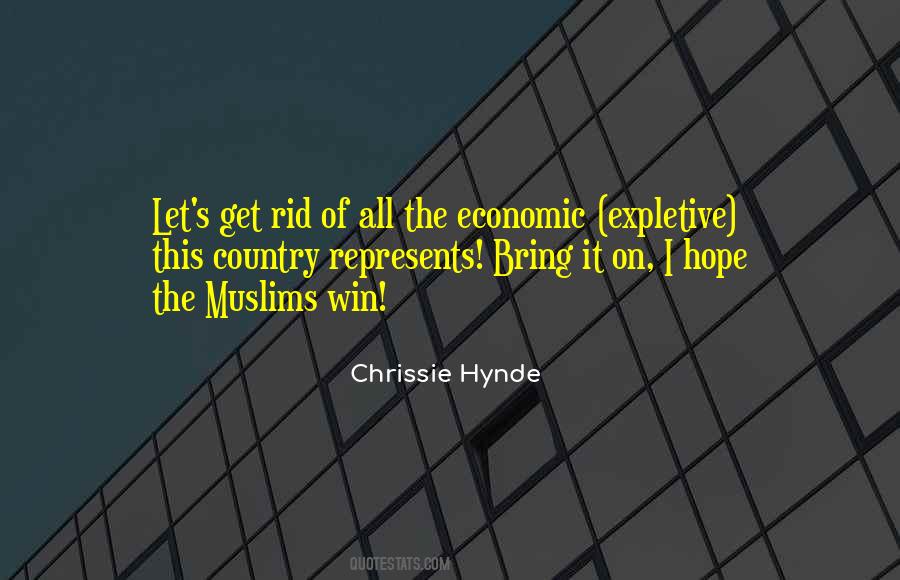 #66. It's not that I want to win, it's just that I don't want to lose. - Author: Gackt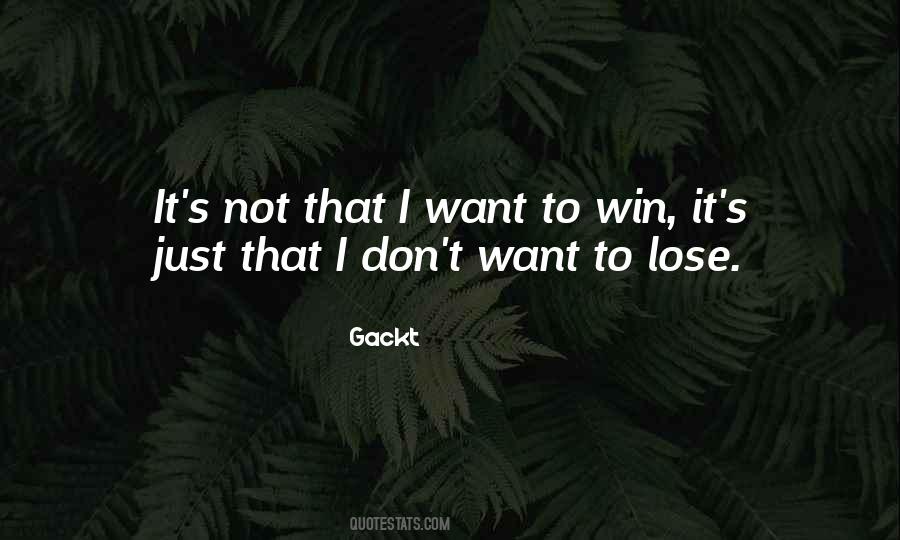 #67. So when they win, it's their hard work
And when they lose, it's their bad luck - Author: Sanhita Baruah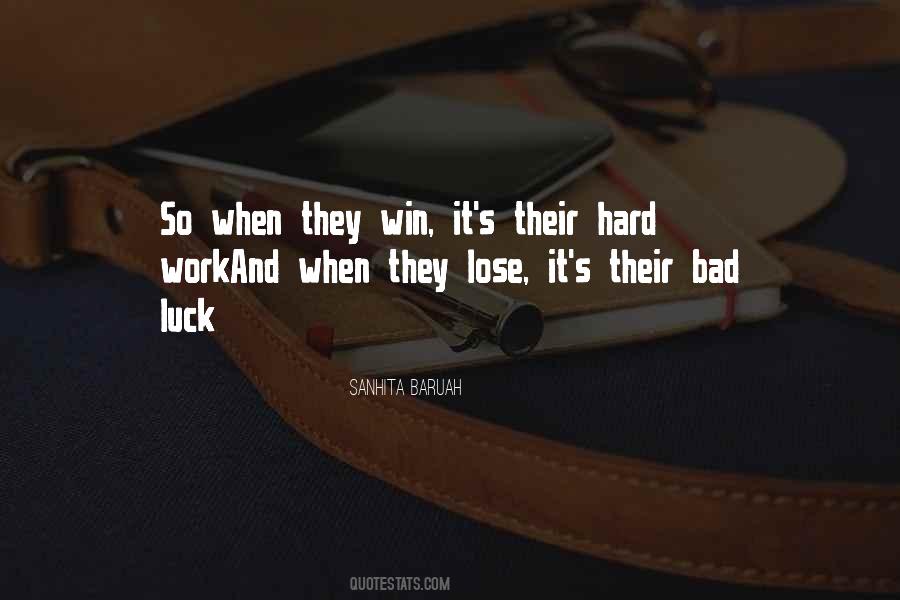 #68. I love the 1,500 meters. I knew that, if I had to do it to win, I'd run under 4:05. That means I could pick up 100 points, maybe even 150 points, on anybody in the world. - Author: Caitlyn Jenner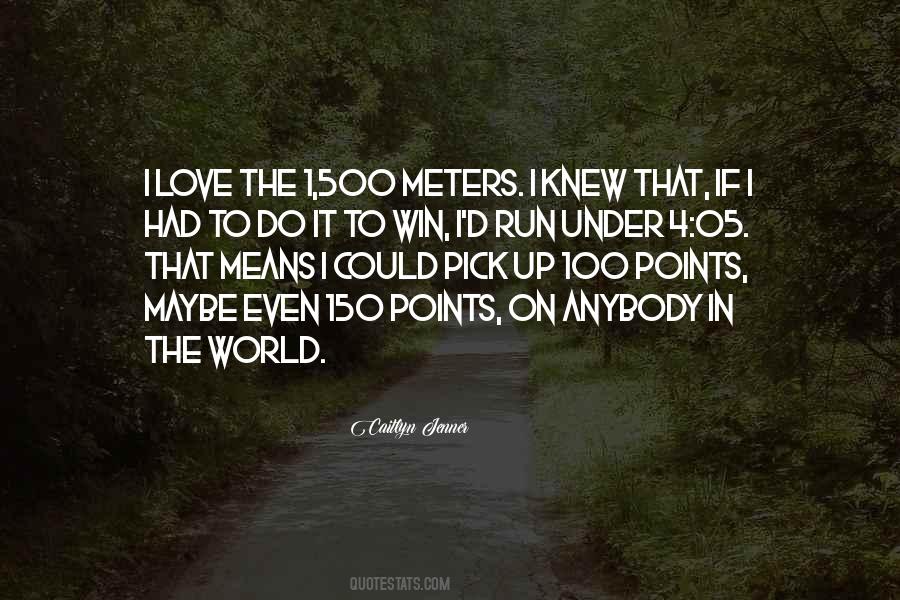 #69. I'm glad we were able to win this last one. I saw some good things tonight, ... It's just preseason, but we ran the ball good. I'm happy about that, and the first-team offense was pretty sharp. - Author: Bill Parcells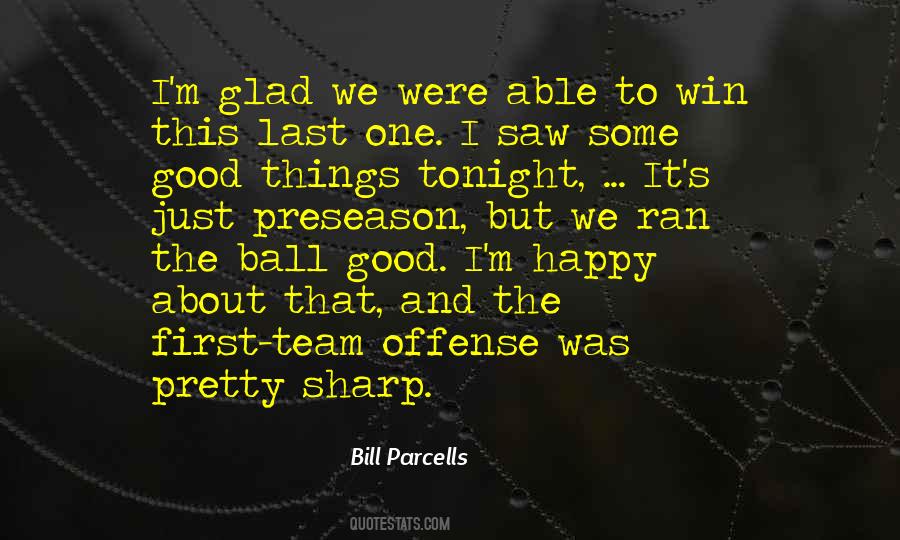 #70. This wasn't about the chase. We all knew who would win. It was about defiance. - Author: Pepper Winters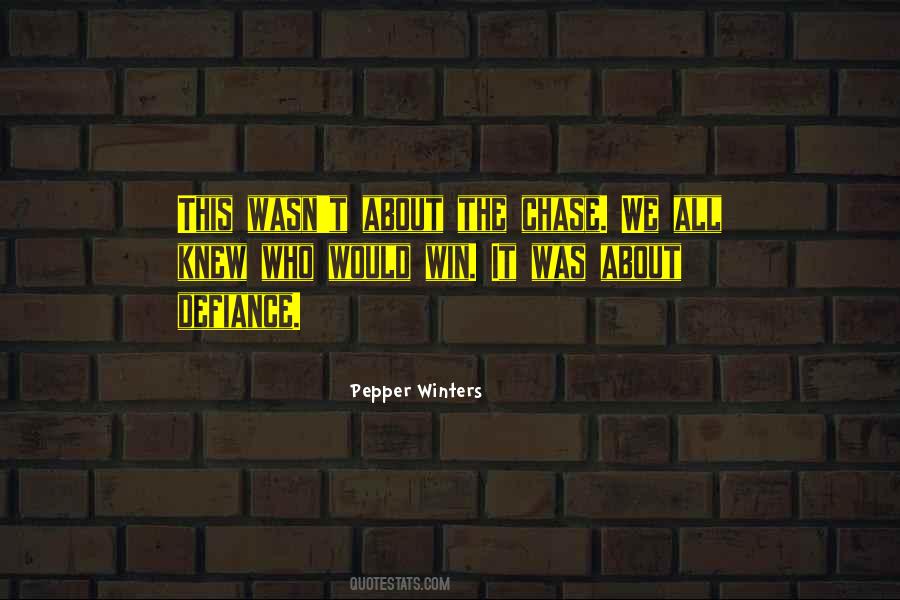 #71. It's better to fight because if you don't fight, you can't win. Besides, even when you don't win, you can change the game. - Author: Elizabeth Warren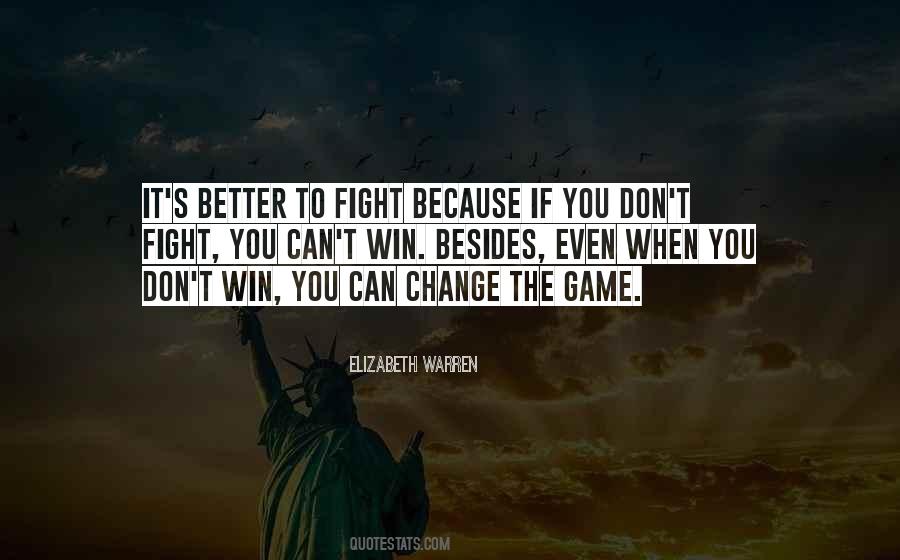 #72. And I flirted with the devil and he dealt me a card. He told me that you will never win. So I sold my soul to the devil. I never thought it could be this bad. And I got the devil takin' me away - Author: Hank Williams III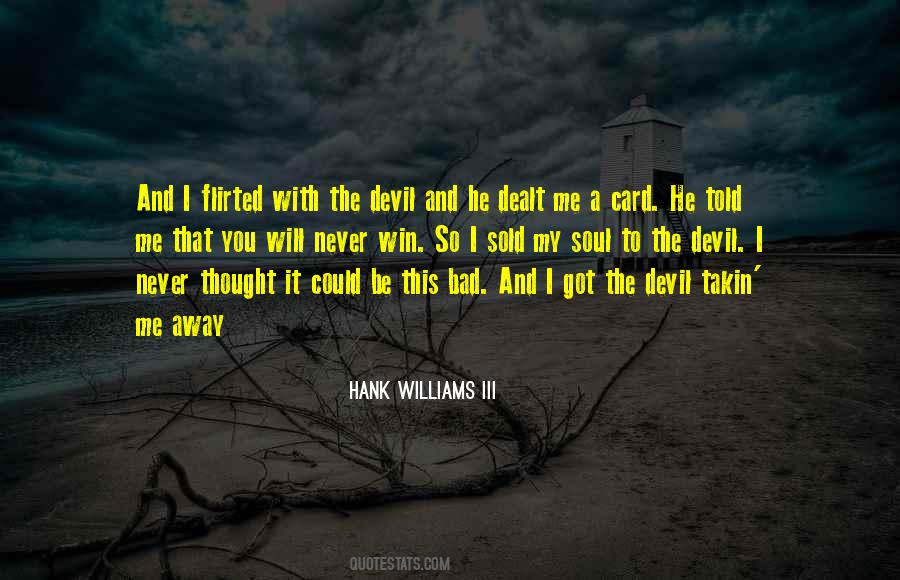 #73. A competitor will find a way to win. Competitors take bad breaks and use them to drive themselves just that much harder. Quitters take bad breaks and use them as reasons to give up. It's all a matter of pride. - Author: Nancy Lopez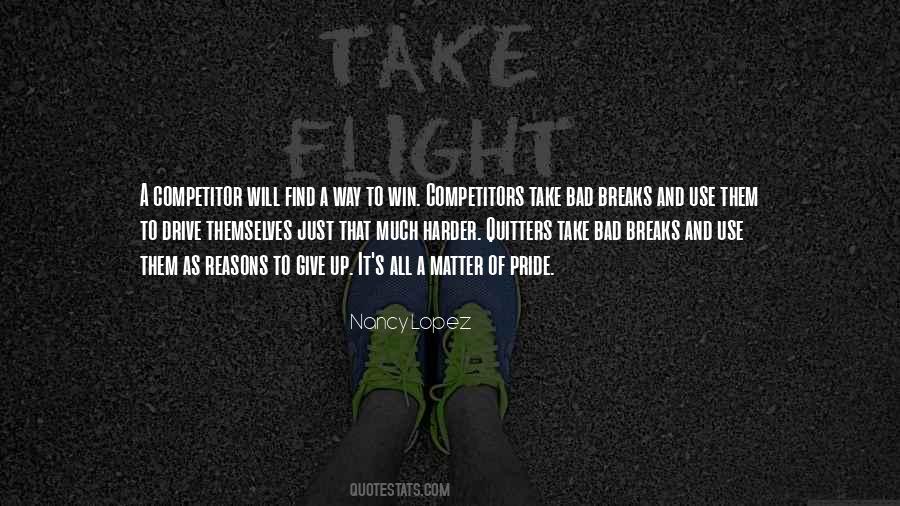 #74. At that moment his soul is fuller of the tomb and him who lies there than of the altar and Him of whom it speaks. Such stages have to be gone through, I believe, by all young and brave souls, who must win their way through hero-worship to the worship of Him who is the King and Lord of heroes. - Author: Thomas Hughes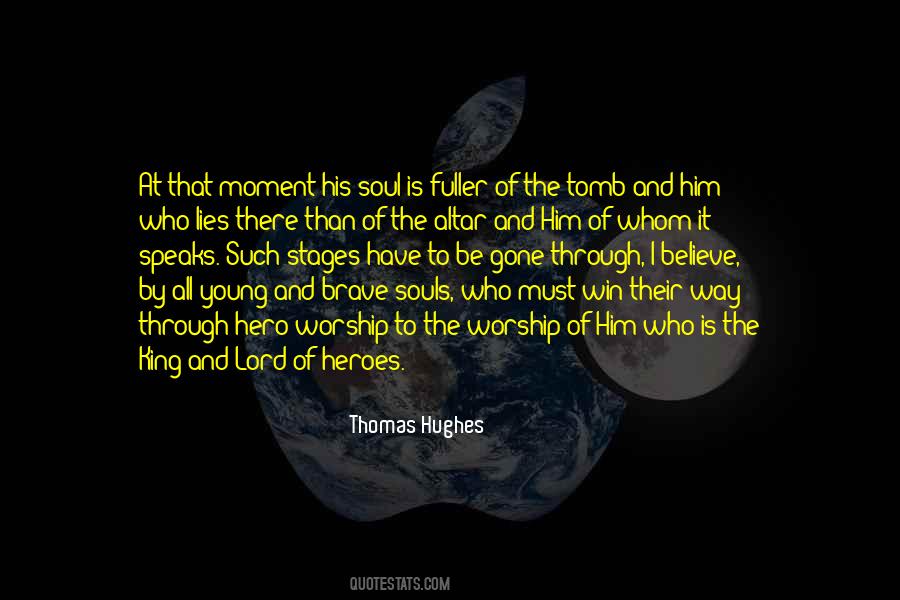 #75. These are the only moments that we have left. These precious seconds where the passion blots out everything else, and it is just us.
The rest is a war neither of us can ever win.
But, I already waved my white flag.
I have already surrendered. - Author: Amanda Grace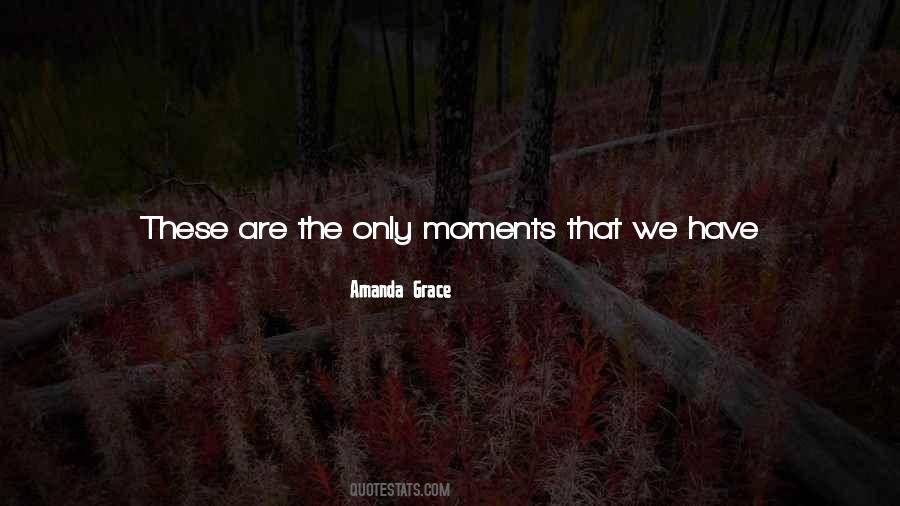 #76. You certainly get used to winning in general. Winning the Champions League is a very particular feeling, but it's really the journey that makes it special. Every journey that brings you toward a win is important. - Author: Clarence Seedorf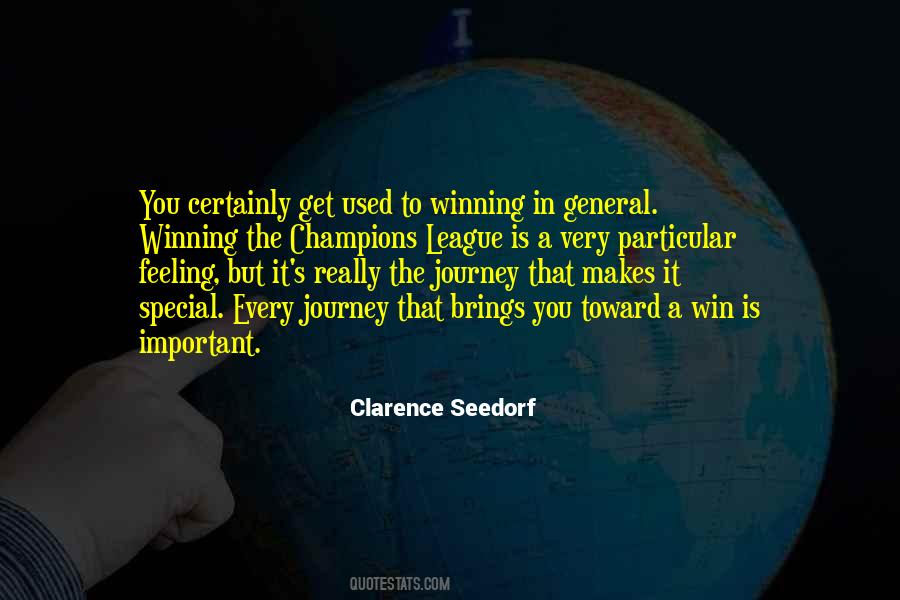 #77. Once Im in the ring, Im there to win no matter what it takes. Nobody and nothing can stop me, my will cannot be broken - Author: Ruslan Provodnikov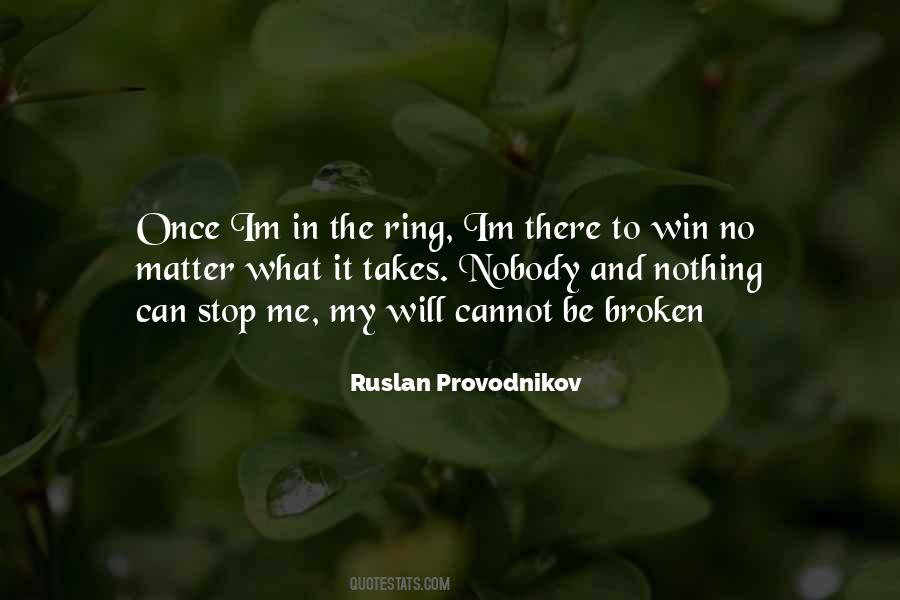 #78. If you can't joke about giant french ticklers and gas powered dildos in a fucking locker room then the terrorists win, E. Our freedoms are eroding. I'll pick up lube and condoms instead. Bring your hand. It's the only action you're getting. - Author: Celia Aaron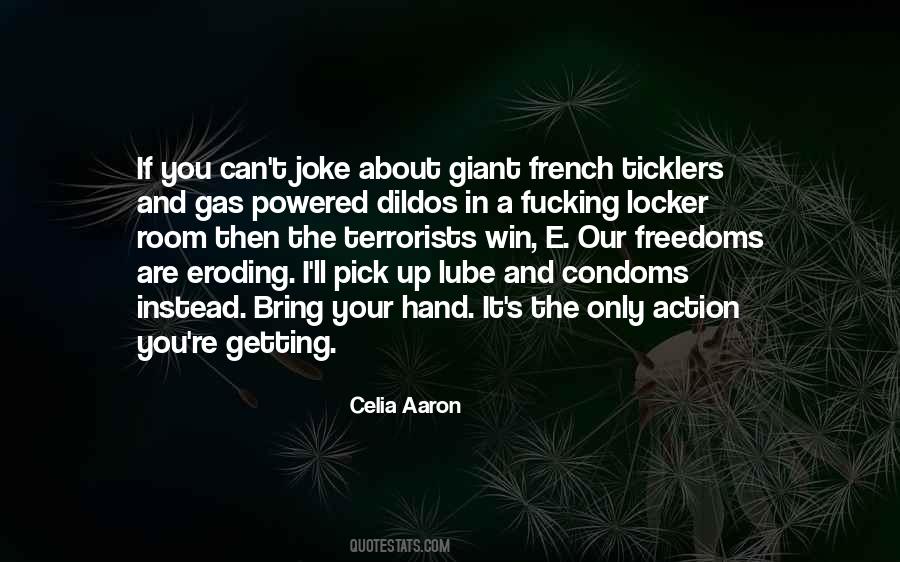 #79. If you have to fight a crowd of boys, it's best to go for the biggest one. That way you won't have to fight them all. The others will see that you mean business and you will win their respect. - Author: Suzanne Vega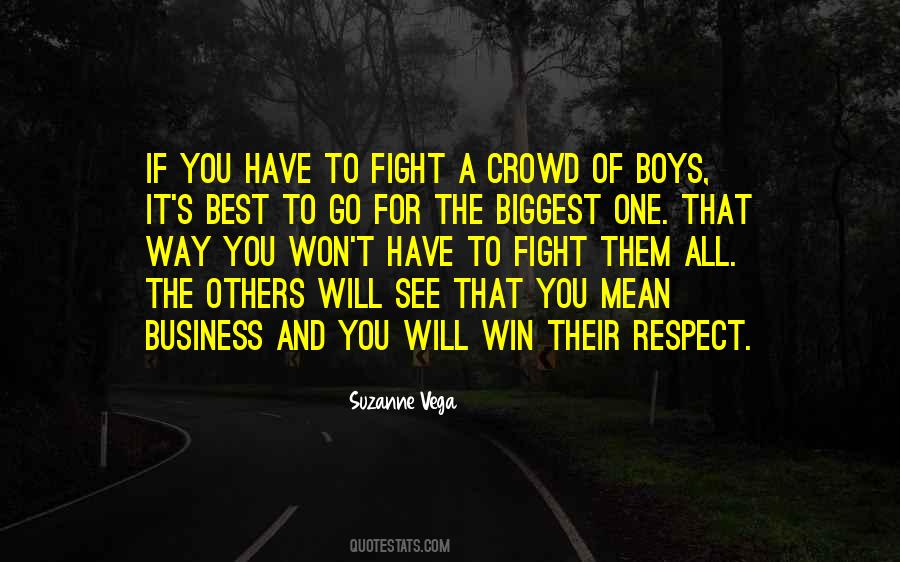 #80. Welcome to the ring. Enter those who dare, and let them share the spoils. Only they have earned it. Will you win? The ring offers no promises. But one thing's for sure: unless you get in the ring today, you don't even stand a damn chance. Decide what really matters, and get in the ring for it - now. - Author: Julien Smith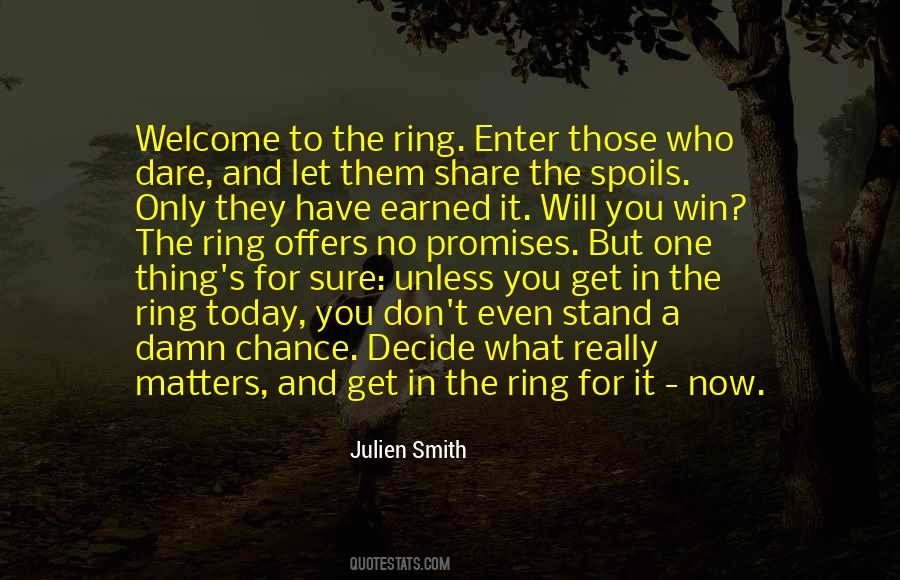 #81. If you fall it is not the end, for you shall win if you rise again.
-Reed Abbitt Moore- - Author: Reed Abbitt Moore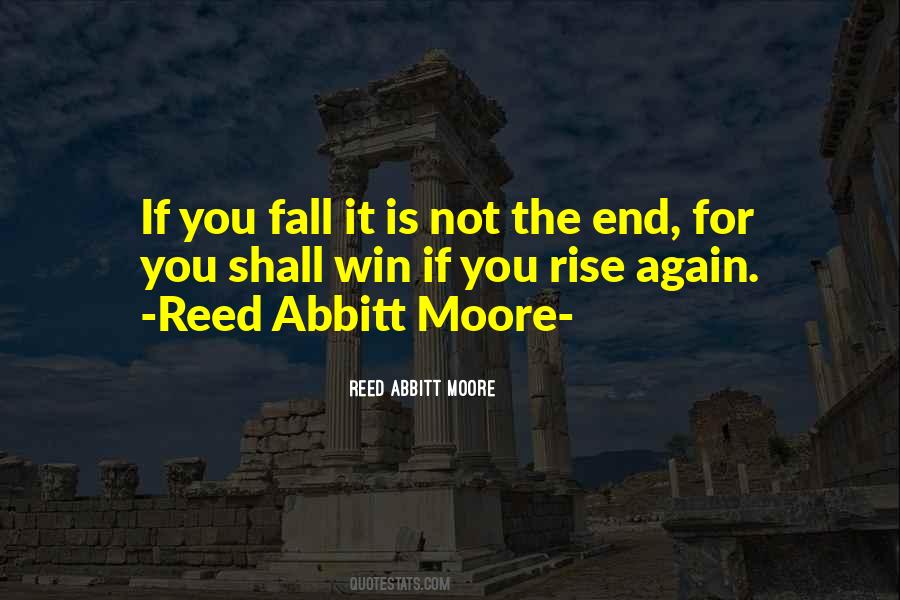 #82. I struggled to stay on the pace there in the back half. But, at the end of the day I wanted to win this race. The Millrose is a prestigious event and it's definitely something I wanted to do in my career. - Author: Kim Conley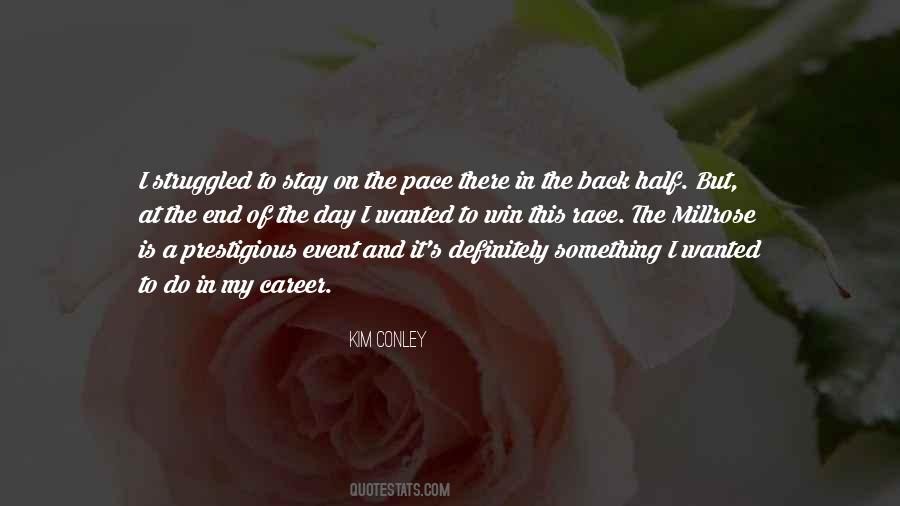 #83. William Shakespeare put it this way, Our doubts are traitors and make us lose the good we oft might win by fearing to attempt. - Author: Earl Nightingale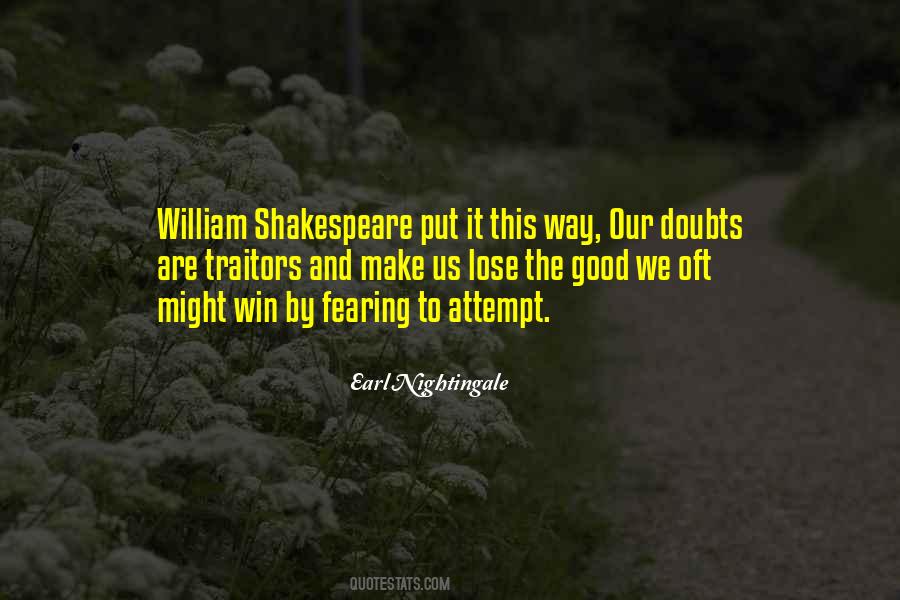 #84. No, let's make sure that people understand that this is a very important war that is helping to protect us here at home. And that we have no choice but to win it. As difficult as it is. - Author: John Boehner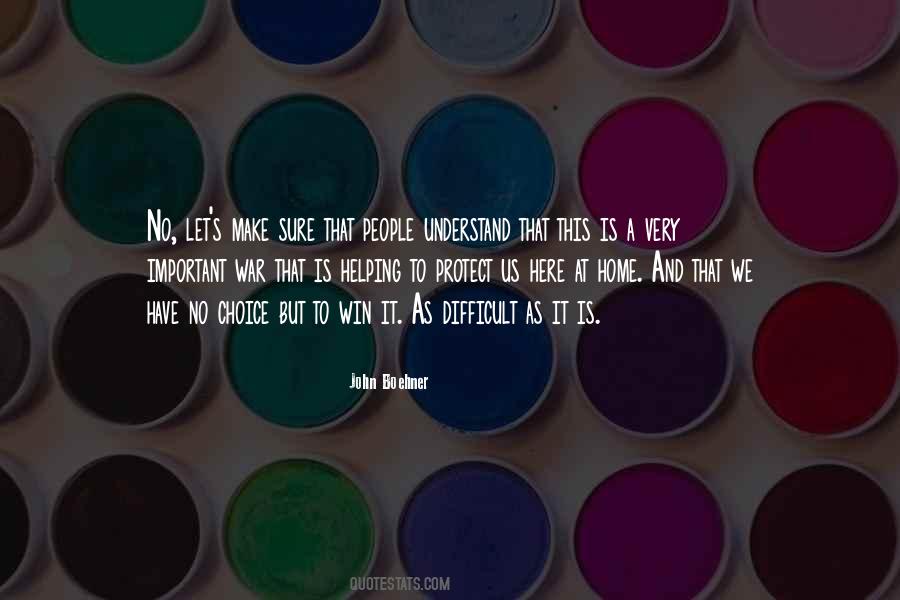 #85. Whether you win a match or lose a match, in terms of your emotions, it's important to be pretty levelheaded. - Author: Maria Sharapova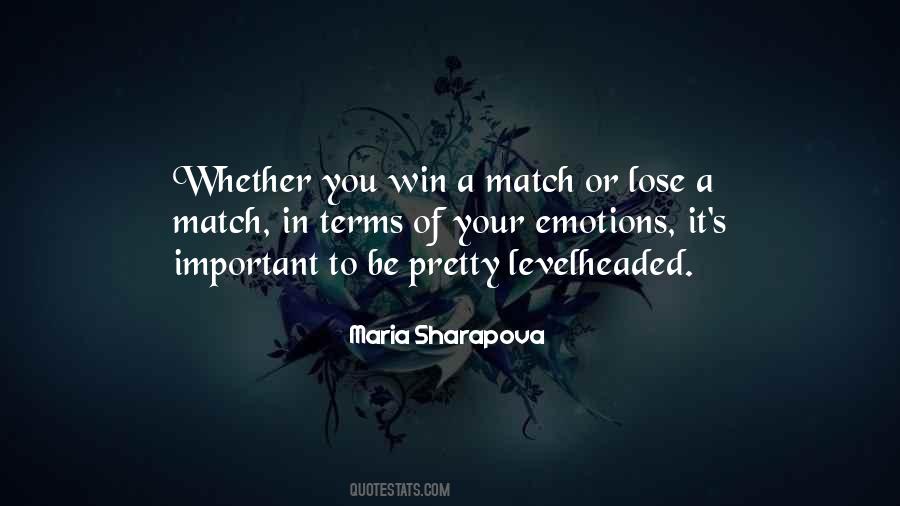 #86. We all have our moments of being fed up ... but give me your hand and I'll hold it. If you are being bullied I am thinking of you. You are not alone and it will get better. Don't let them win. It's okay not to be okay. - Author: Jessie J.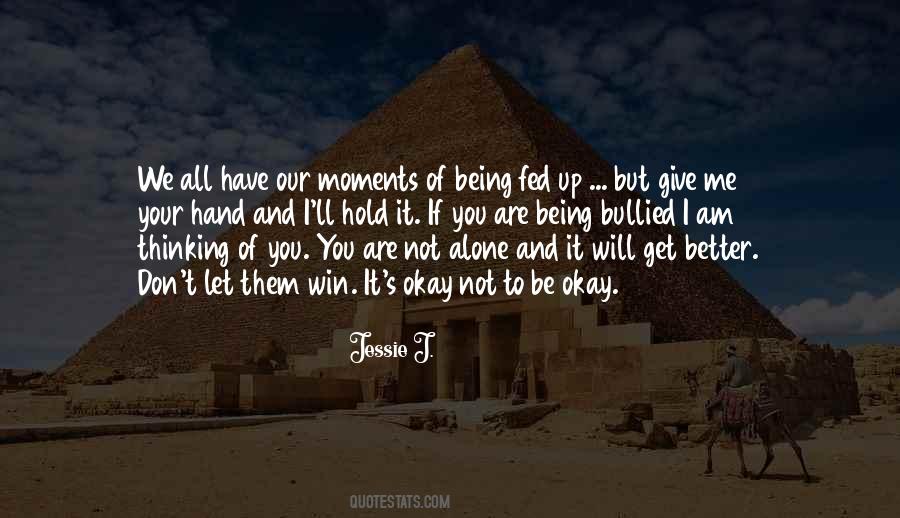 #87. It is better to lose and gain the love, than win and lose the love. - Author: Debasish Mridha
#88. People don't win because they're physically stronger. It's because they're stronger between the ears. - Author: Alex Shaffer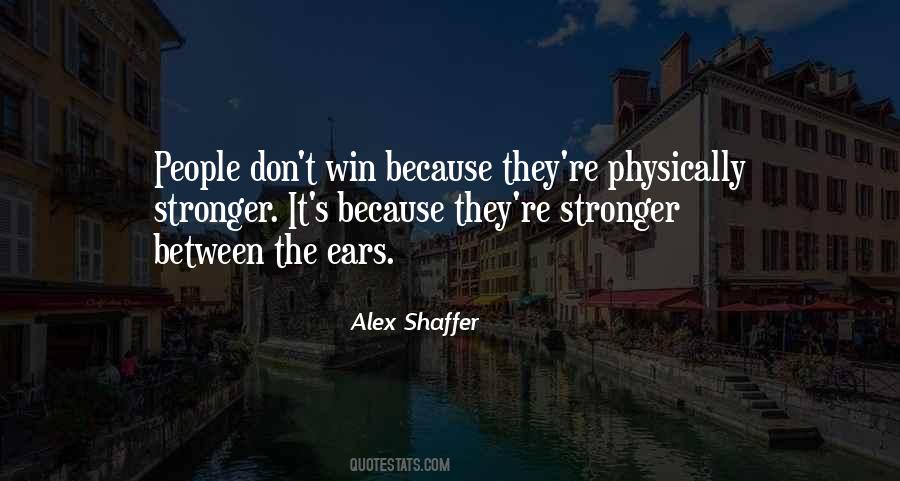 #89. Today, some chess games can't go in 40 minutes. One game not every time can finish fast, sometimes it's difficult to win and the ways are odd. - Author: Deyth Banger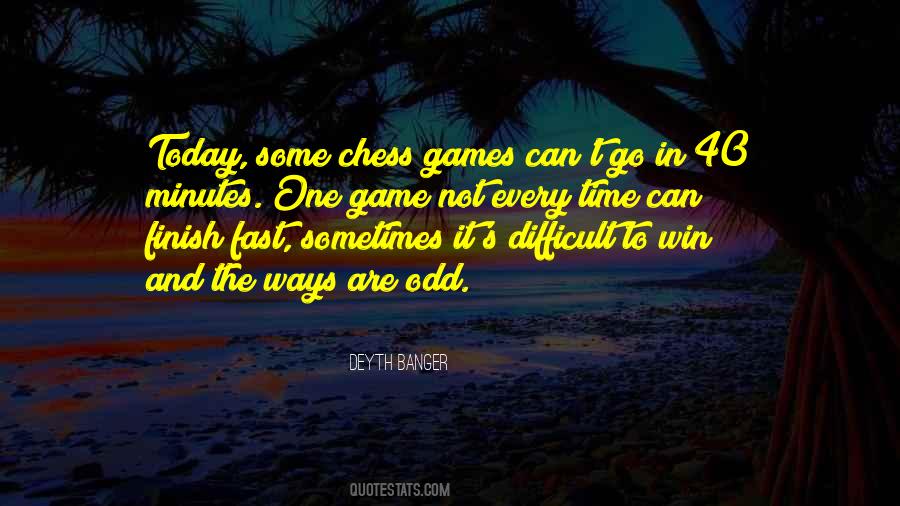 #90. A similar statement appears in the US Strategic Bombing Survey Summary Report (European War) (30 September 1945): The great lesson to be learned in the battered towns of England and the ruined cities of Germany is that the best way to win a war is to prevent it from occurring. - Author: George C. Marshall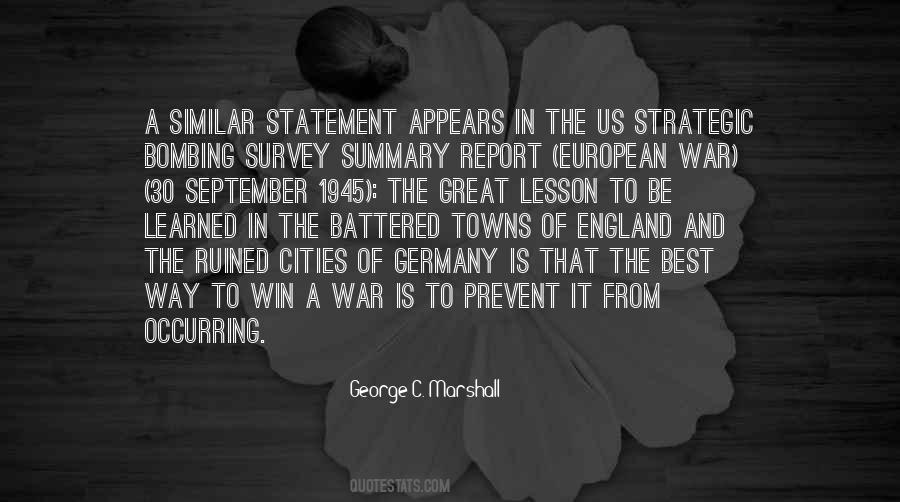 #91. I don't let individual statistics make me a focus or more of a focus. I just tried to come out and attack early and get a big lead. We were able to take it in overtime and win. - Author: LeBron James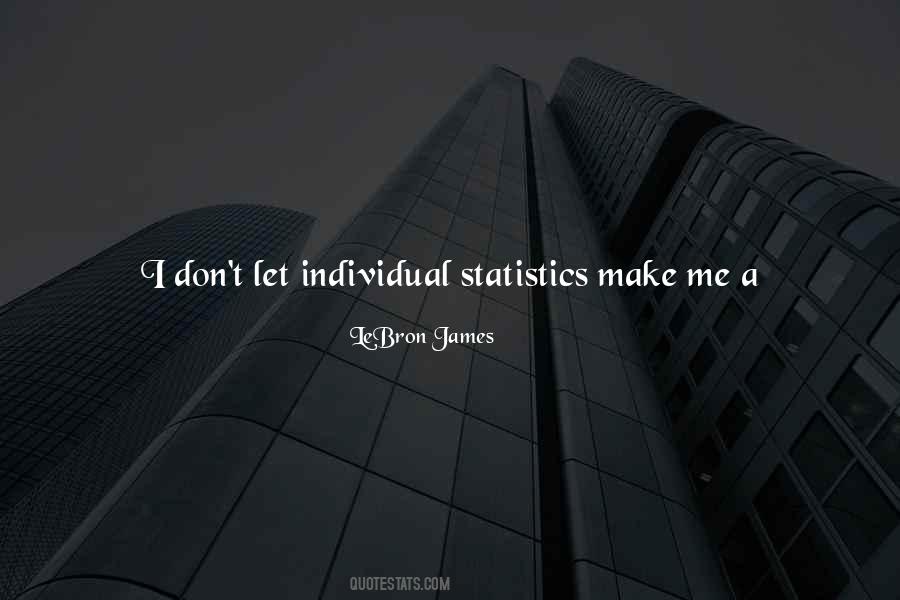 #92. It seems to me that man has engaged in a blind and fearful struggle out of a past he can't remember, into a future he can't foresee nor understand. And man has met and defeated every obstacle, every enemy except one. He cannot win over himself. How mankind hates himself. - Author: John Steinbeck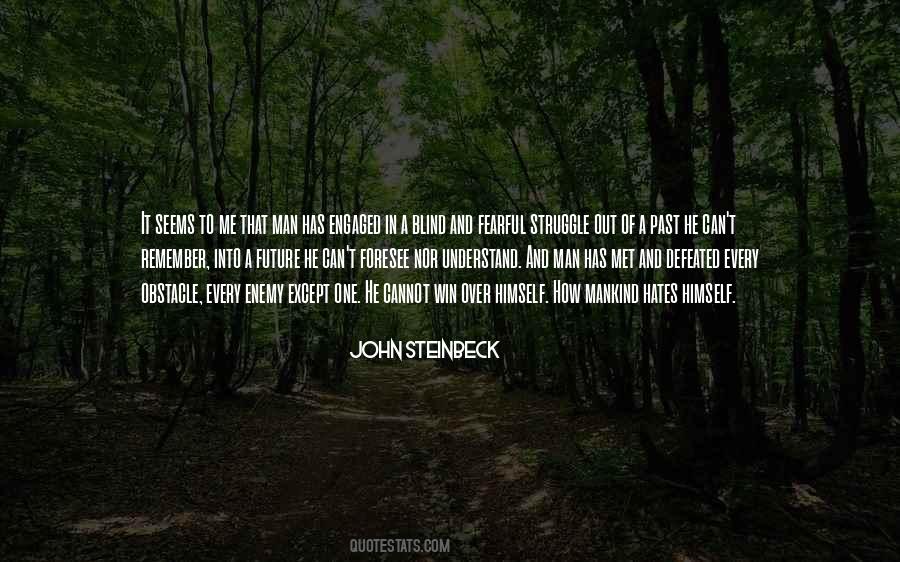 #93. Sometimes it takes a thousand tries to win - Author: Rihanna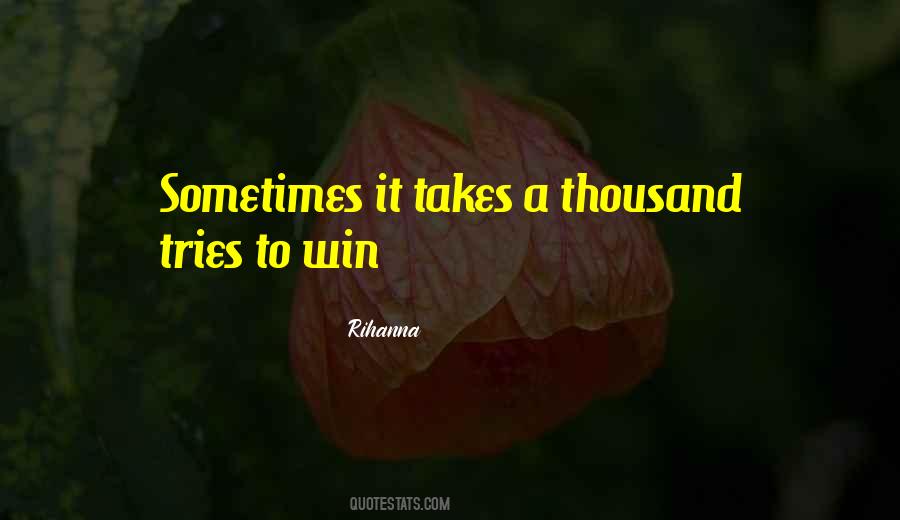 #94. Everything comes clear and you see exactly how you're goonna win the game: by doing you....I found my voice and no one was going to take it from me. (124) - Author: Eddie Huang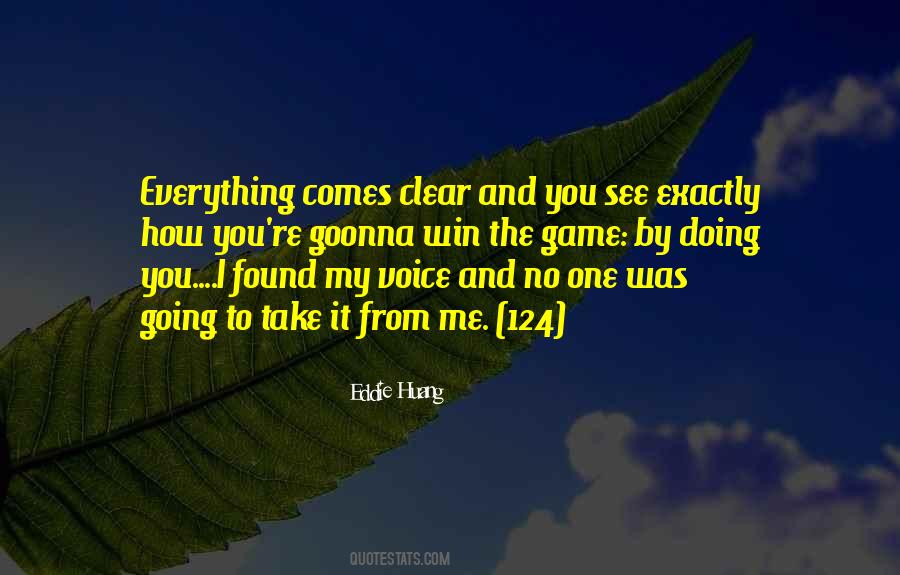 #95. By some special graciousness of fate I am deposited - as all good photographers like to be - in the right place at the right time. Go into it as young as possible. Bring all the asset you have and play to win. - Author: Margaret Bourke-White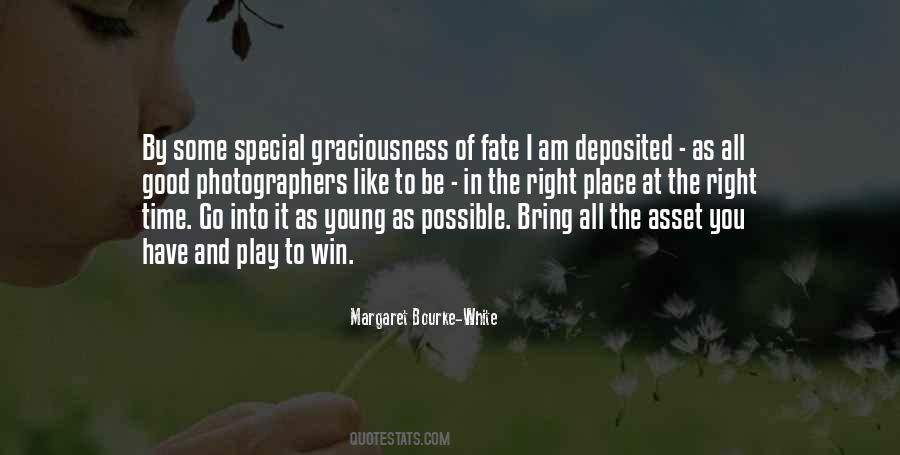 #96. It's the only way I think I'm ever going to walk away from the game, is to go ahead and say I'm going to, and then I've got to. There's no turning back now - win, lose or draw. - Author: Bobby Cox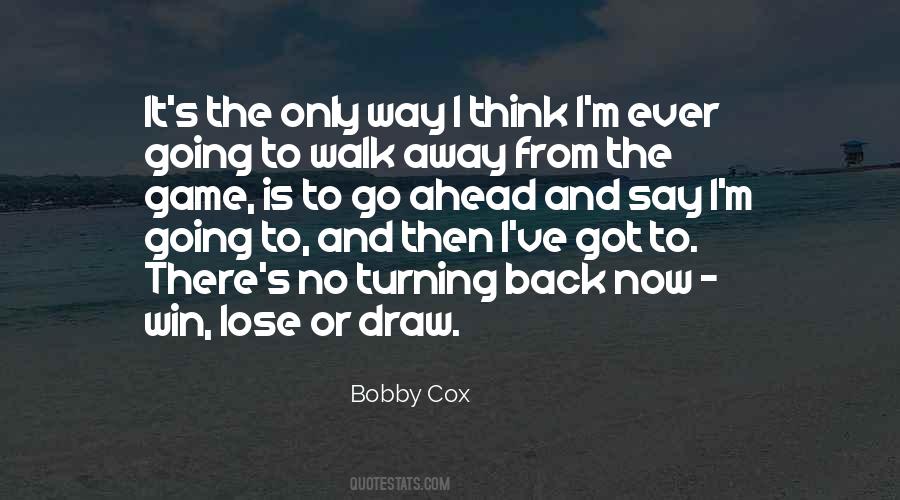 #97. It's like most anything. If you want to be a loser, there's always a way to dwell on the negative. If you want to win, there's always a way to think positively. - Author: Tony La Russa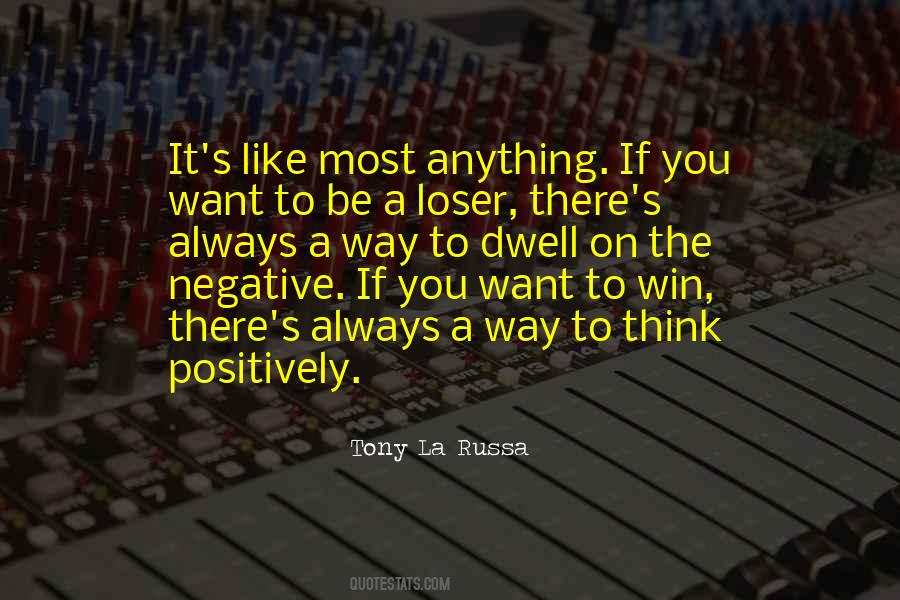 #98. In any compromise between food and poison, it is only death that can win. In any compromise between good and evil, it is only evil that can profit. - Author: Ayn Rand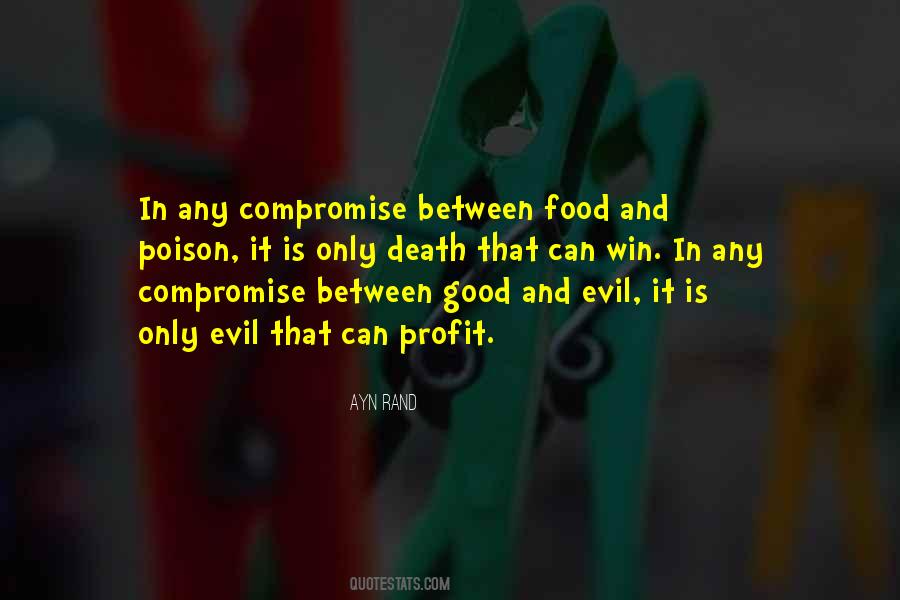 #99. In America, an acquittal doesn't mean you're innocent, it means you beat the rap. My clients lose even when they win. - Author: F. Lee Bailey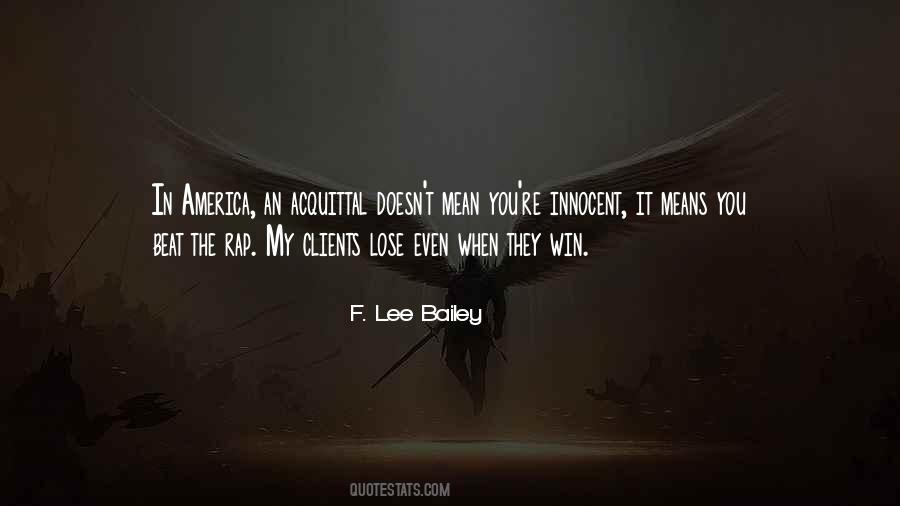 #100. Jim Rohrbach sticks to his rules. You can learn from him and win, or ignore him and lose. It's an easy choice. He gives trend following a good name! - Author: Michael Covel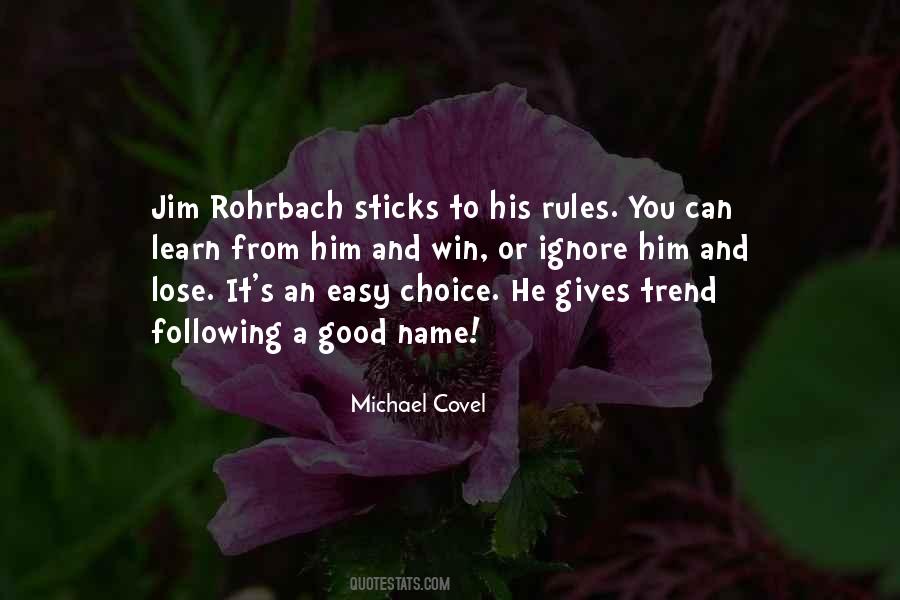 Famous Authors
Popular Topics