To Do Something New Famous Quotes & Sayings
List of top 100 famous quotes and sayings about to do something new to read and share with friends on your Facebook, Twitter, blogs.
Top 100 To Do Something New Quotes
#1. For me, self-gratification eventually took a backseat to trying to do something collaborative with other people, to trying to make something new. - Author: Ariel Pink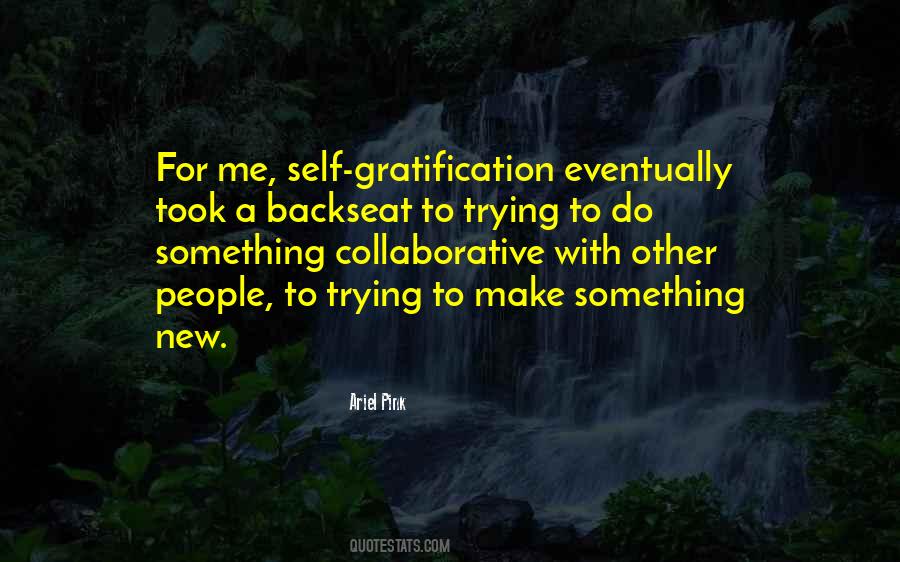 #2. The word try, means nothing. There's no such thing as trying to do something. The moment you begin a task, you're doing it. So just finish what you're doing. - Author: La Tisha Honor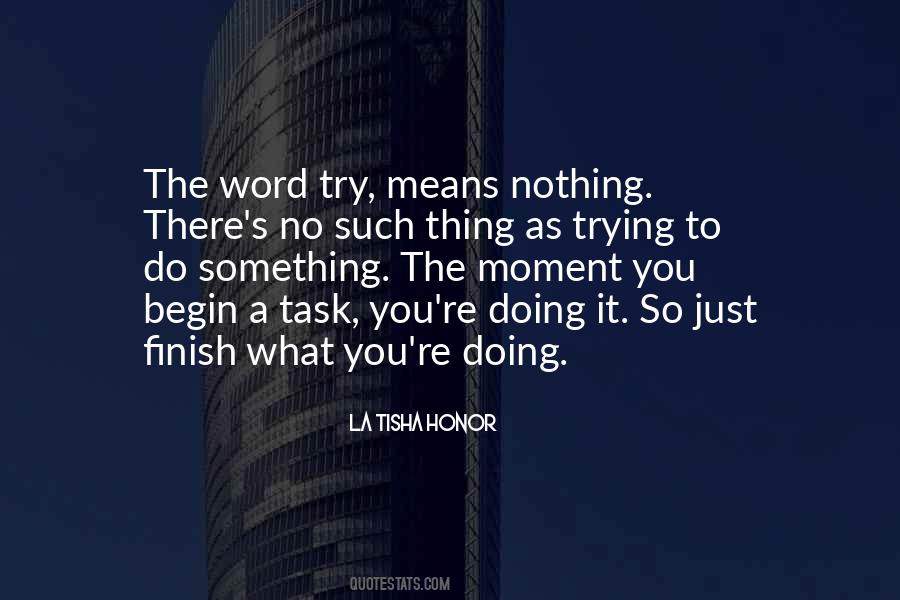 #3. Doing differently what's already done is old and boring. Do something new, that's yet to be done. - Author: Vikrmn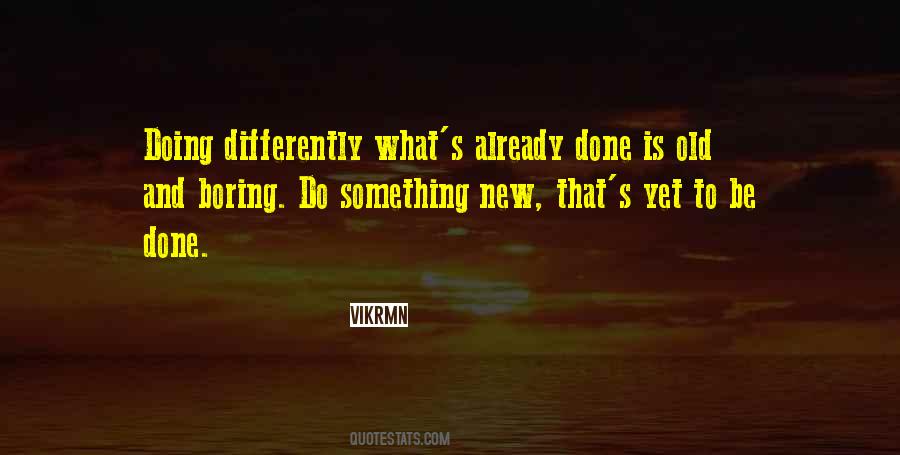 #4. As an artist, you're always trying to reach a new height, do something new, try something you haven't done before, and push your boundaries. - Author: Eric Balfour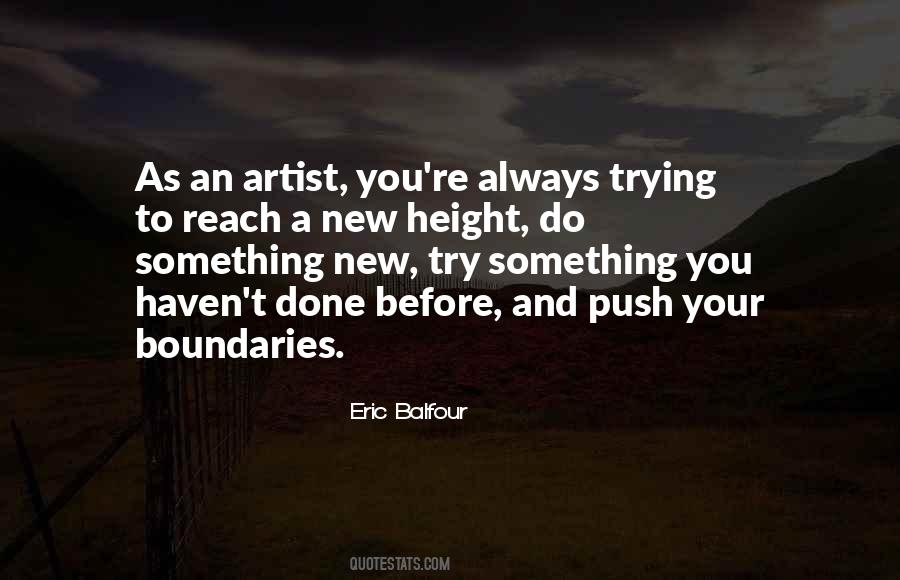 #5. But one must do something about the past. It doesn't just cease to be. It goes on existing and affecting the present, and in new and different ways, as if in some other dimension it too were growing. - Author: Iris Murdoch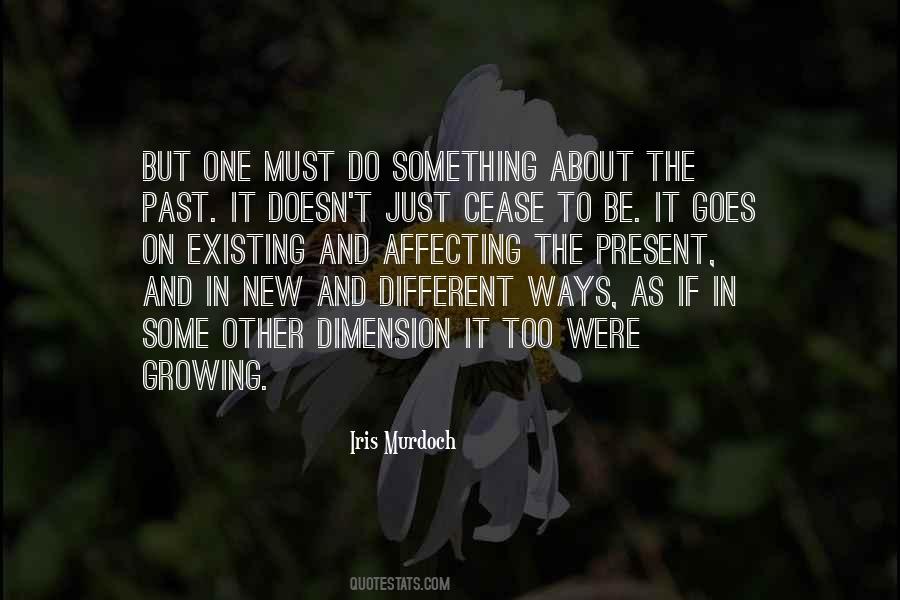 #6. You have not been given the task of creating something brand new from the vast world around you. All you are called to do is discover what is inside of you right now, the life you have been given. Once you find that, you can begin creating something external that aligns with and affirms your spark. - Author: Stephen Lovegrove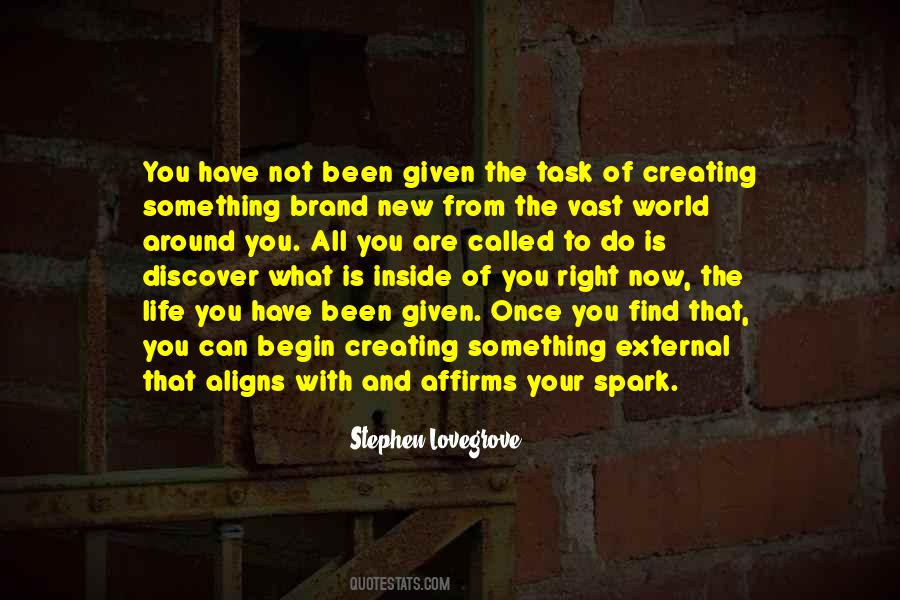 #7. I think it's the next thing, getting out of the comfort-zone readership, that at some point you have to try and break out of that and see if you can go in new directions. I wanted to do something that felt a lot bigger than a book that's going to sit on a toilet. - Author: Drew Magary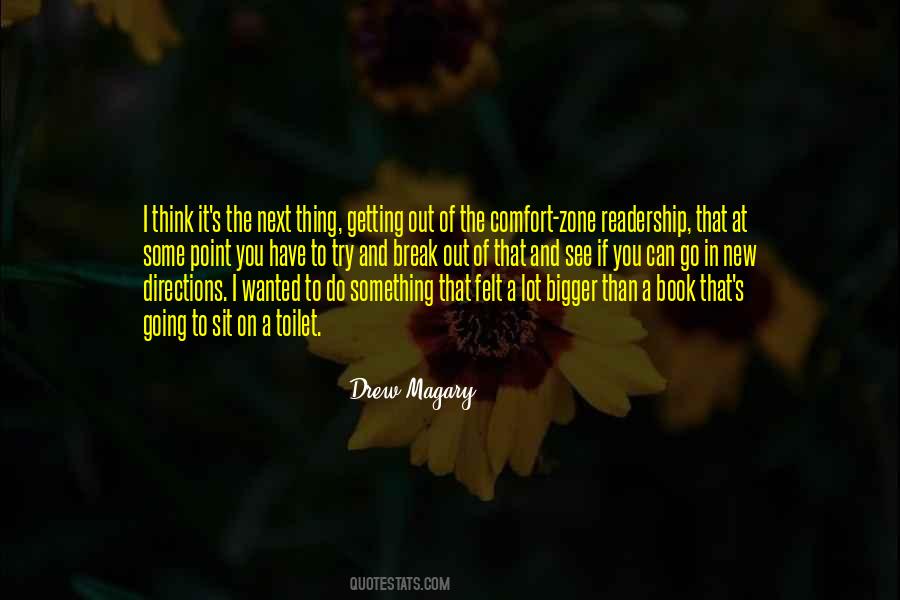 #8. When someone asks me to do something, something new, something I don't know about, and if I haven't done it, I'll say yes. Just so I can try something new. You never know what you might like. - Author: Osric Chau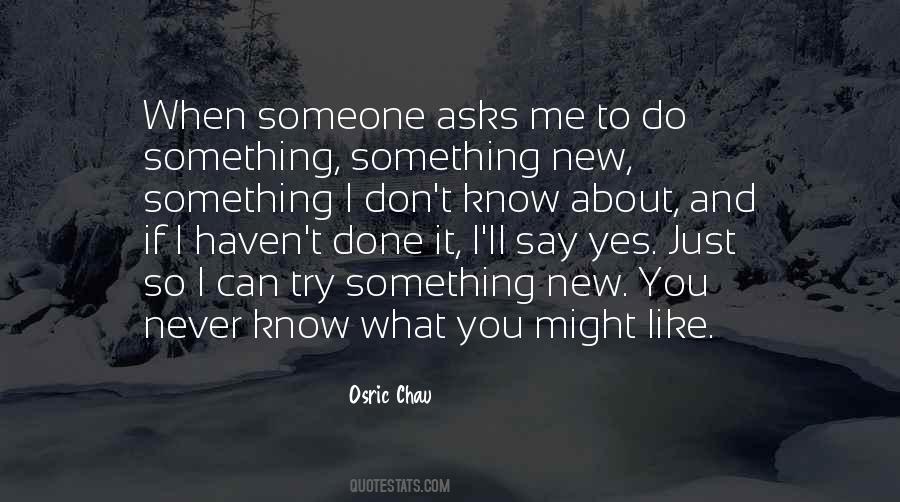 #9. I see that idea that we need a new form as something critical. I mean, we do need to invent and not be benchmarking all the time. That's important to me. - Author: William McDonough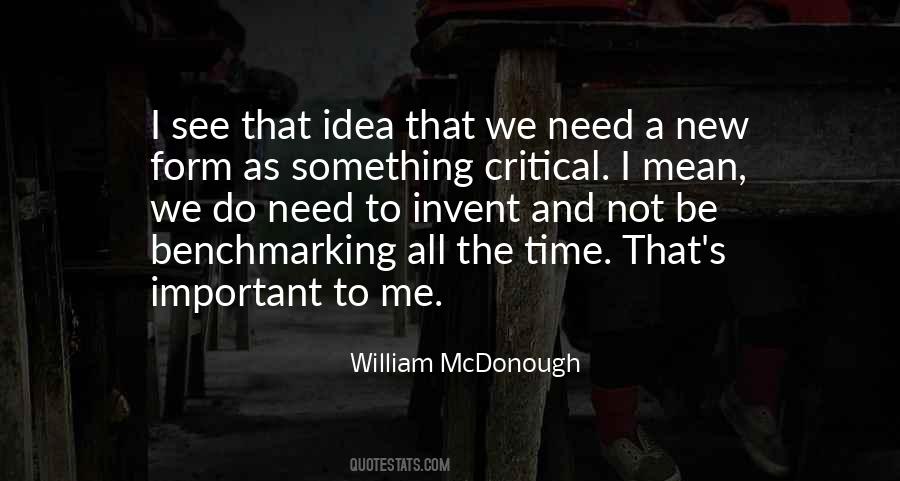 #10. The biggest thing about me, as an actor, is I'm never a finished product, you know? I always want to try something or be in a new genre because, one, it's much more fun to do that because you're not doing the same thing over and over. - Author: Aneurin Barnard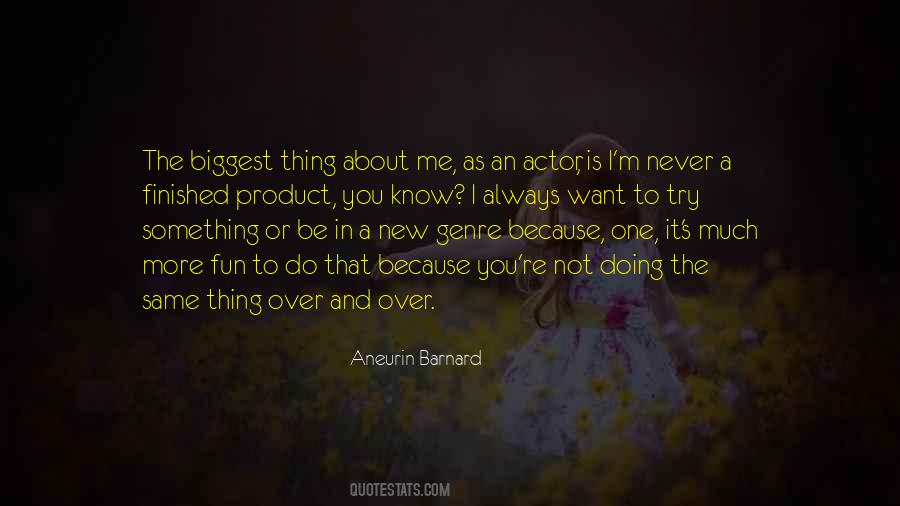 #11. Every actor has his own identity. I don't aspire to be Bond. My quest is to do something new, something different. - Author: Abhishek Bachchan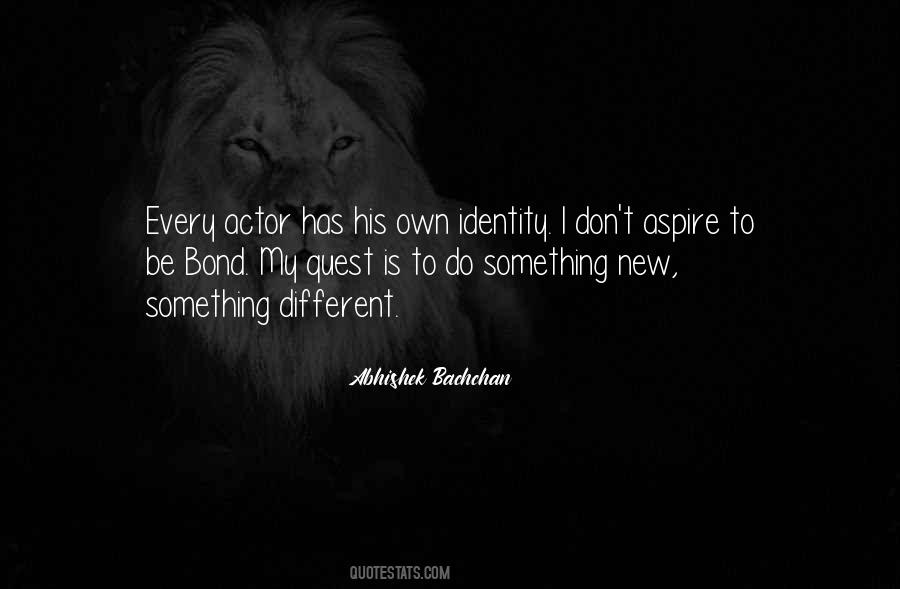 #12. I reside in a new colony for the Chinese-singing banjo player, with a population of one. At least I have something I have to do with my life. - Author: Abigail Washburn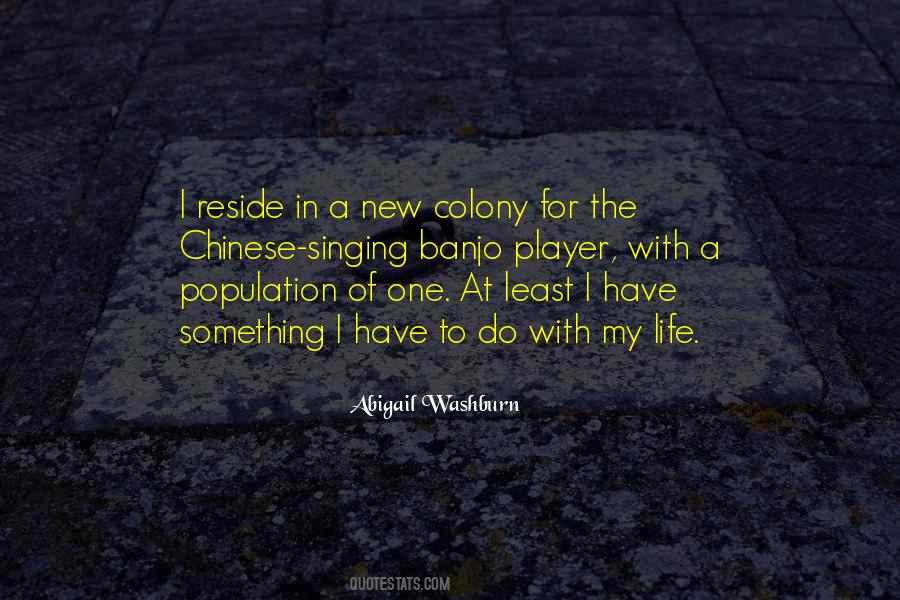 #13. There's nothing wrong with going out and playing for the fans that have been with you forever. I get it. It looks like a lot of fun. But that's not the thing that drives me. I already did that, and I appreciate everything I got from it, but I want to do something new and fresh. - Author: JC Chasez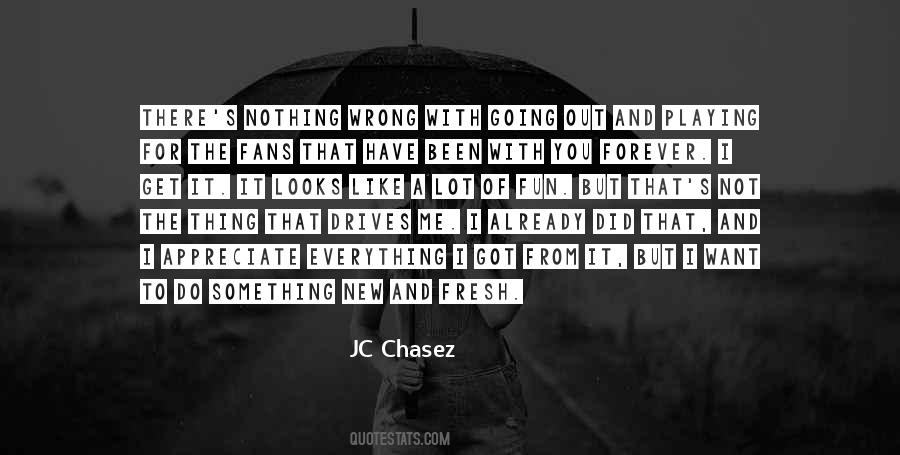 #14. Writing something new is an effective way to get rid of writer's block. Or you can observe the people around you and fantasize like I do. - Author: B.A. Gabrielle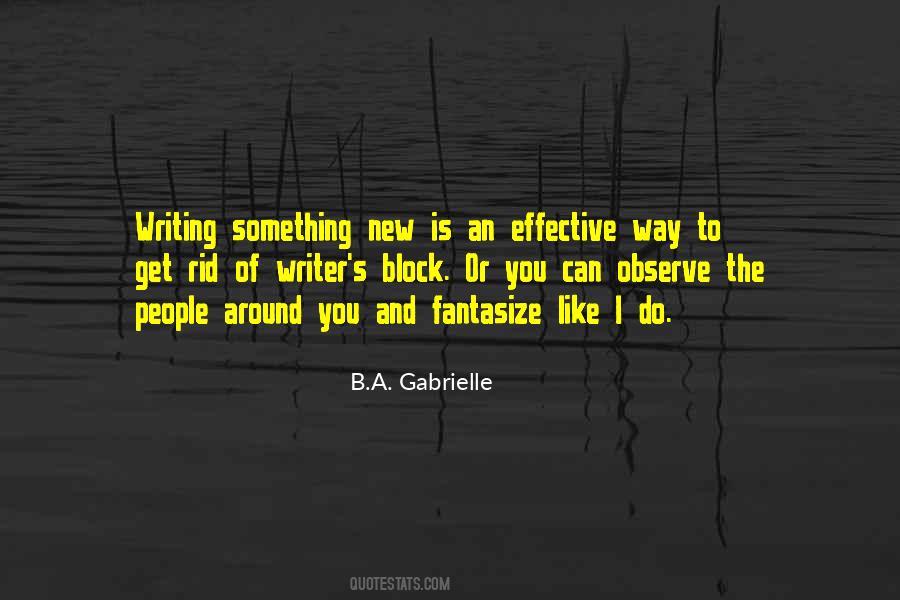 #15. There's something so romantic about being broke in New York. You gotta do it. You have to live there once without any money, and then you have to live there when you have money. Let me tell you, of the two, the latter is far better. - Author: Amy Poehler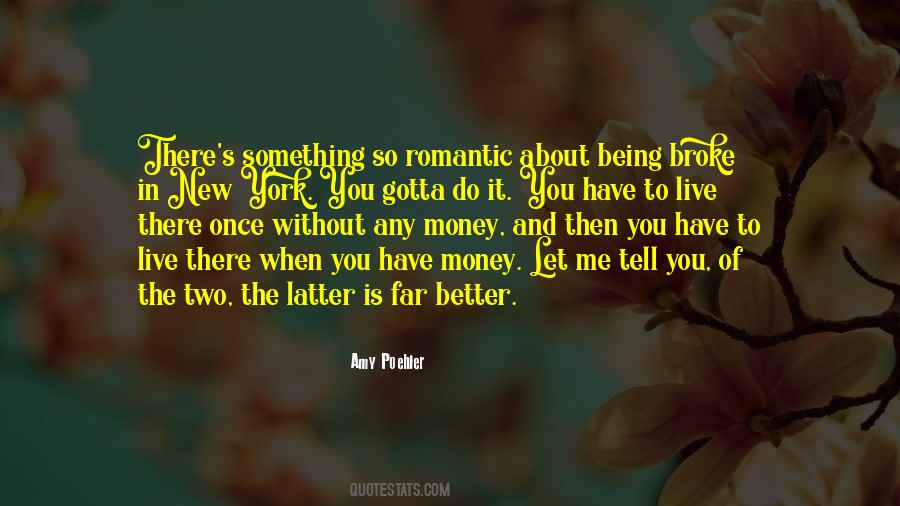 #16. There are no words to describe the pain of burying a child, and specifically there is no word to label their new, lifelong status. If you lose a spouse, you are a widow; if you lose a parent, you are an orphan. But what about when you lose a child? How do you name something you cannot comprehend? - Author: Lisa Belkin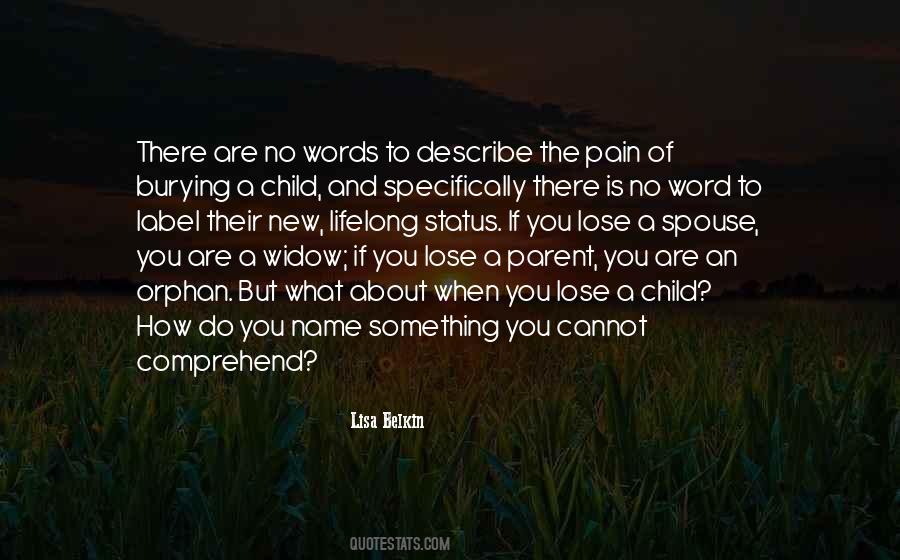 #17. When I started studying acting in New York, I didn't plan to be an action hero. I just wanted to learn acting because I felt it was something I needed to try to do for myself, to express something, my inner pain, or something I couldn't get out. - Author: Dolph Lundgren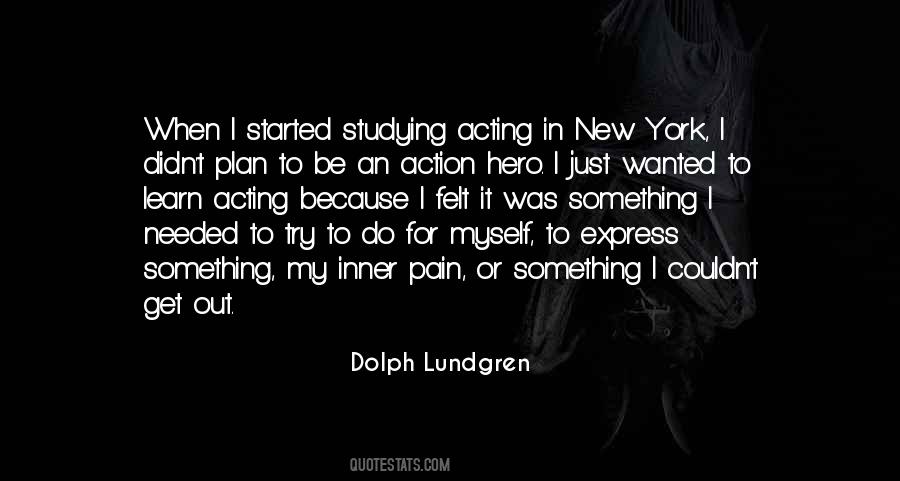 #18. There's an obvious marketing component to doing something digitally where you're reaching out to new readers that you can't do in the existing print marketplace, or that it's difficult to do in the existing print marketplace. - Author: Jim Lee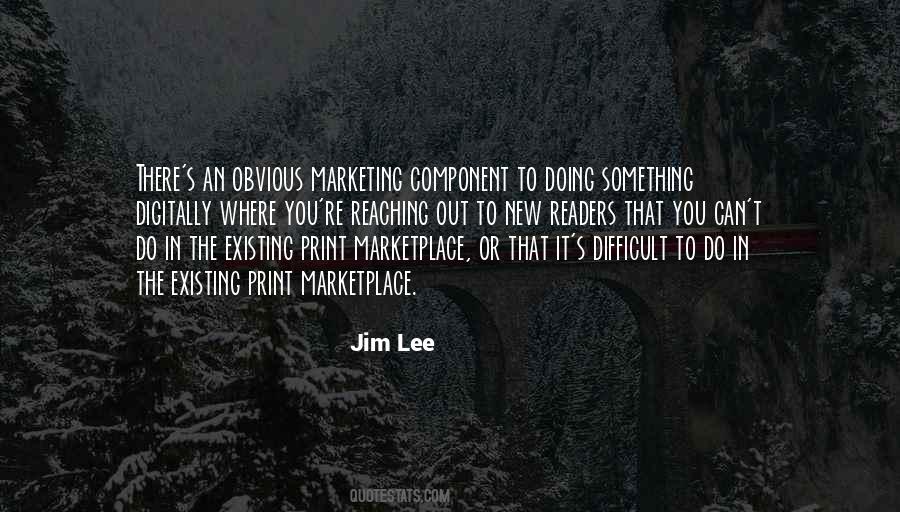 #19. You're always trying to do something that, on one hand, honors all those stories, that is still in some way the same character that Stan Lee and Jack Kirby were doing back in the sixties. But, at the same time, you want to be able to tell new stories and not just rehash what's come before. - Author: Jason Aaron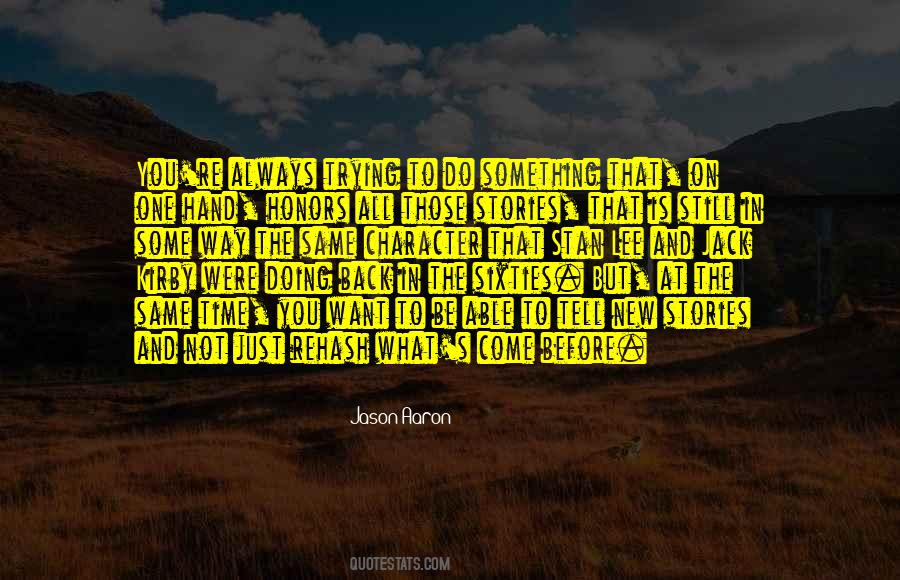 #20. That's like the greatest experiences of my life still, 'Friends,' so it's not something I want to get away from, but I do want to try and show something new. - Author: Matthew Perry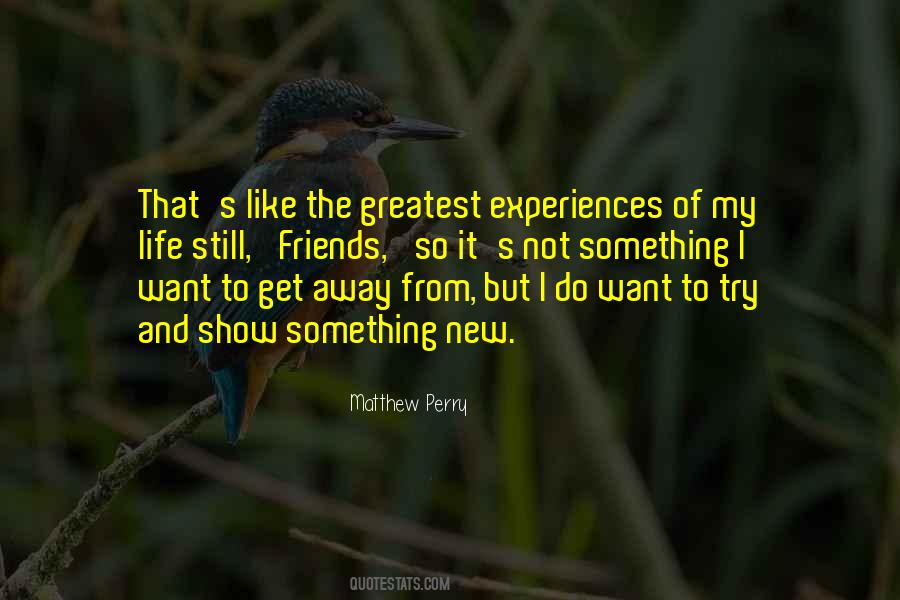 #21. There is still such a thing as subversive. Subversive makes hip people nervous. It's something new that scares you in a good way. I mean, subversive to me is a compliment. Subversive is something that influences people to do something against society that they haven't thought of before. - Author: John Waters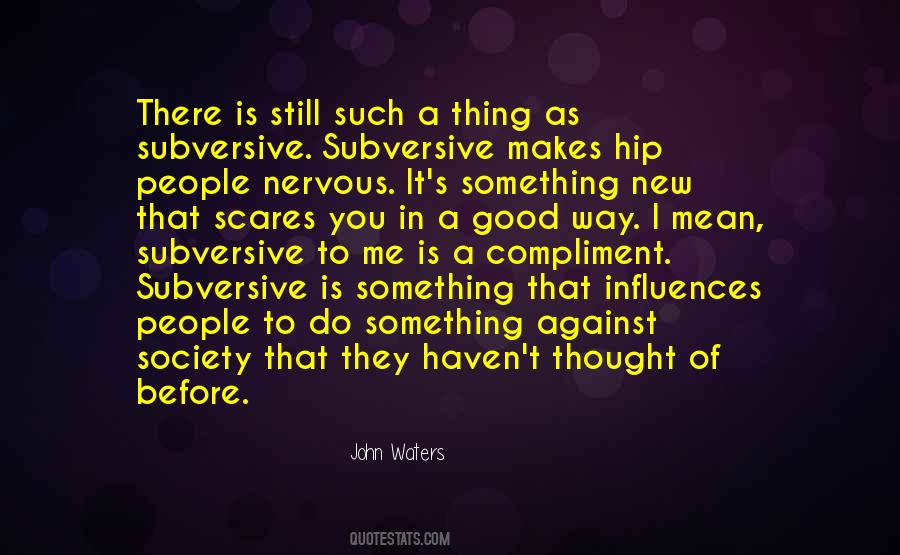 #22. The wife reads about something called "the wayward fog" on the Internet. The one who has the affair becomes enveloped in it. His old life and wife become unbearably irritating. His possible new life seems a shimmering dream. All of this has to do with chemicals in the brain, allegedly. - Author: Jenny Offill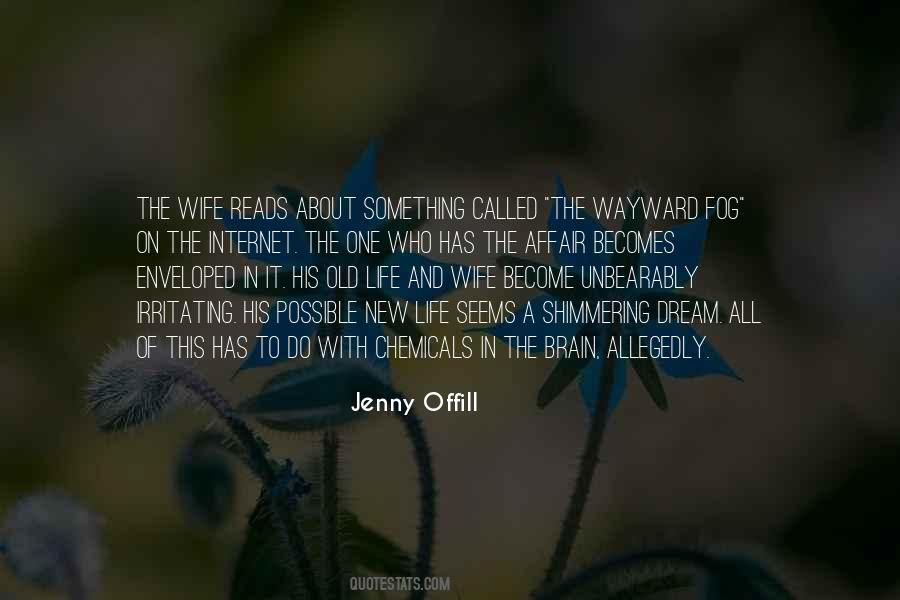 #23. I realized in all the cases where I was happy with the decision I made, there were two common threads: Surround myself with the smartest people who challenge you to think about things in new ways, and do something you are not ready to do so you can learn the most. - Author: Marissa Mayer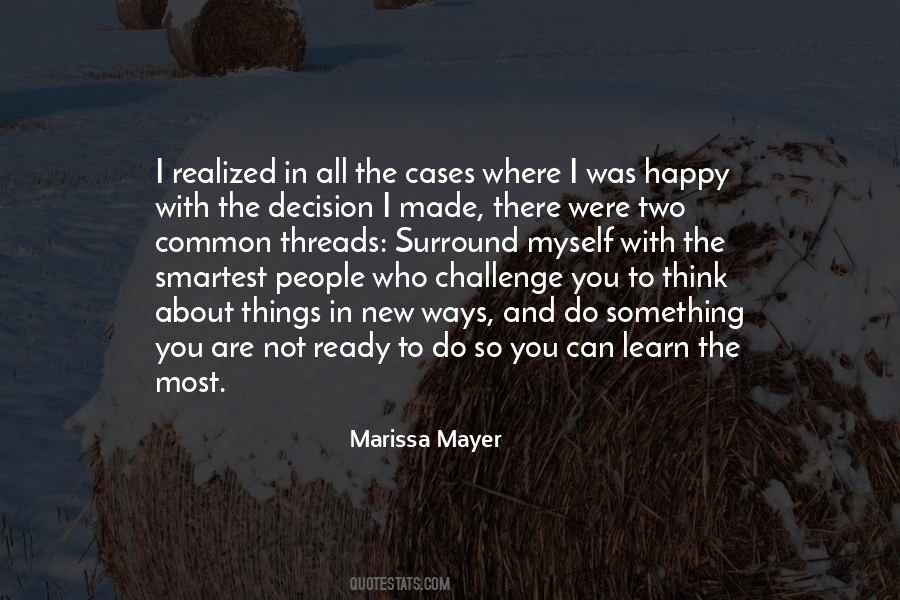 #24. I think we're entering a new period of filmmaking that's analogous to switching from black-and-white to color, or from silent to sound. The medium is completely flexible, and it's not bound by anything. If you imagine something, you can do it. - Author: Jean-Pierre Jeunet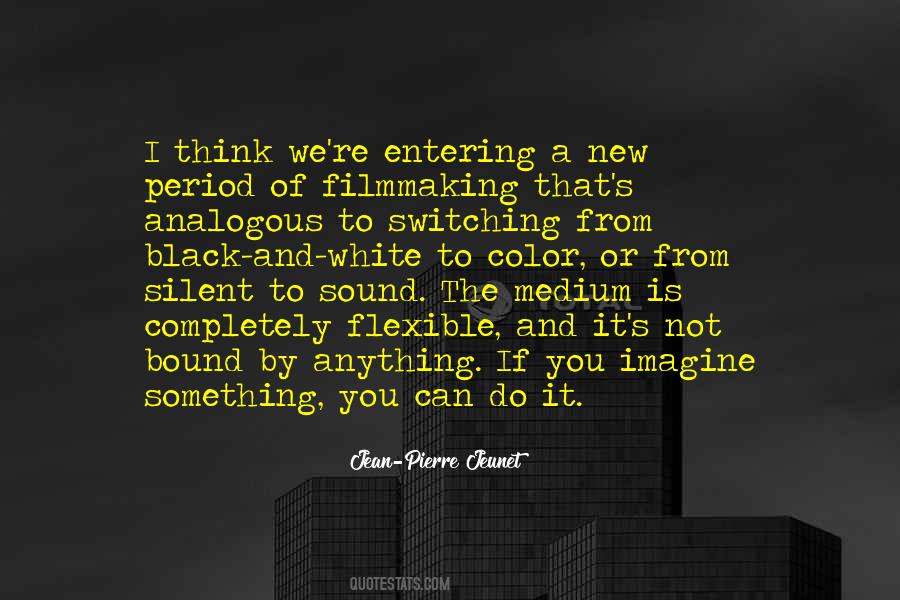 #25. I'm ready to do womenswear. You've always got to be inspired by something new - women have so much more shape and I'm about finding what to engineer around those shapes. - Author: Ozwald Boateng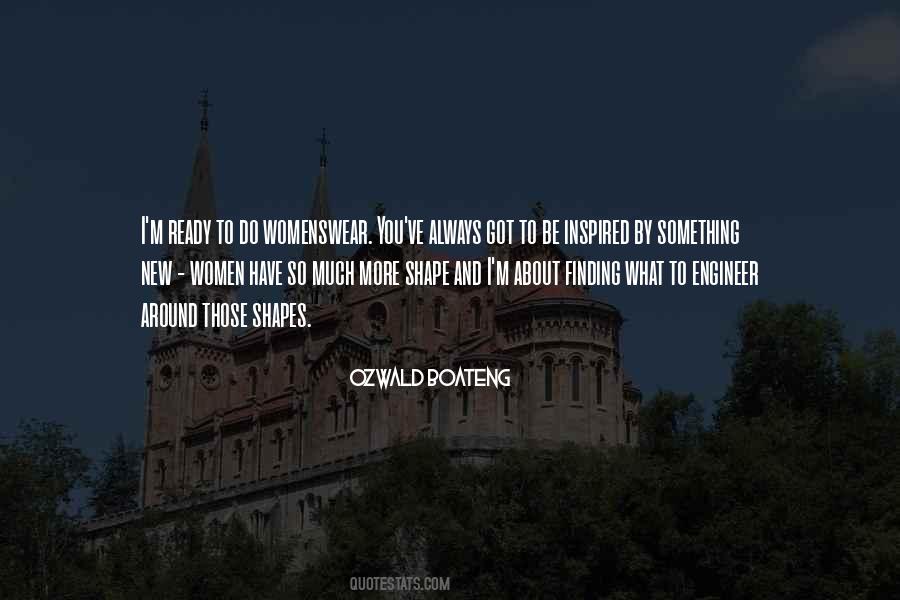 #26. Right now a lot of people are still choosing to go to Toronto instead of shooting in New York City, something I haven't done and something I hope I'll never have to do. - Author: Spike Lee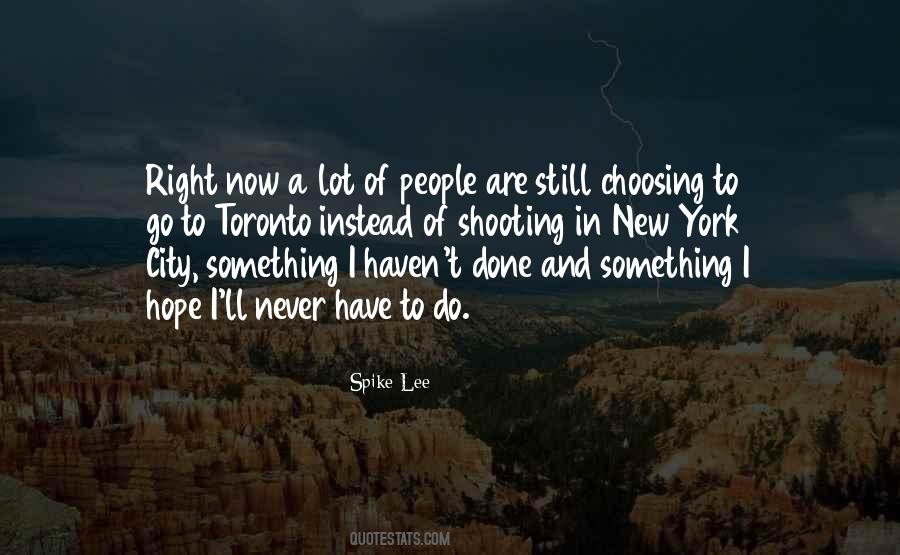 #27. No matter what you do, if you're trying to create something new, your environment has a massive impact on you. - Author: Alex Kapranos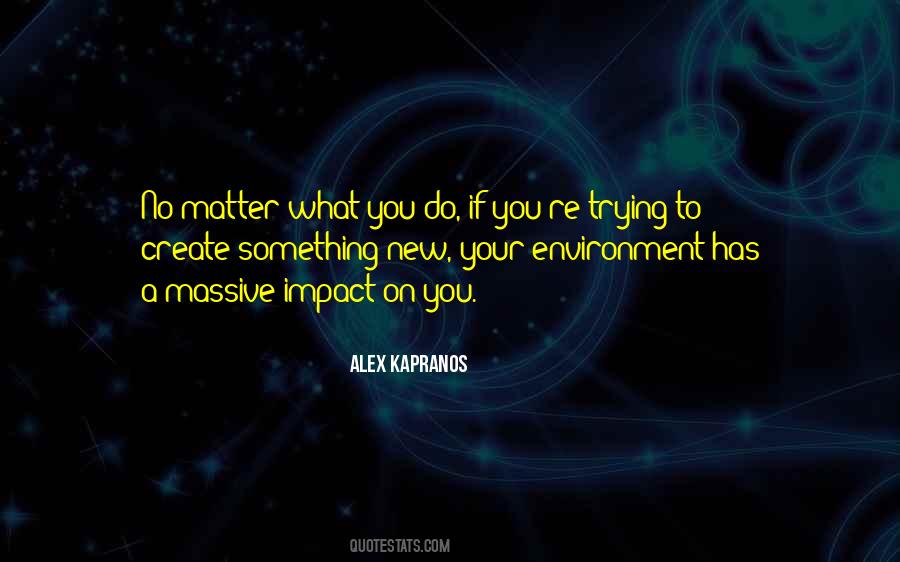 #28. I could always flip between emotions and be available to suddenly do something new. I think it's a part of playing, and you hang onto it when you're a kid. - Author: Dominic Monaghan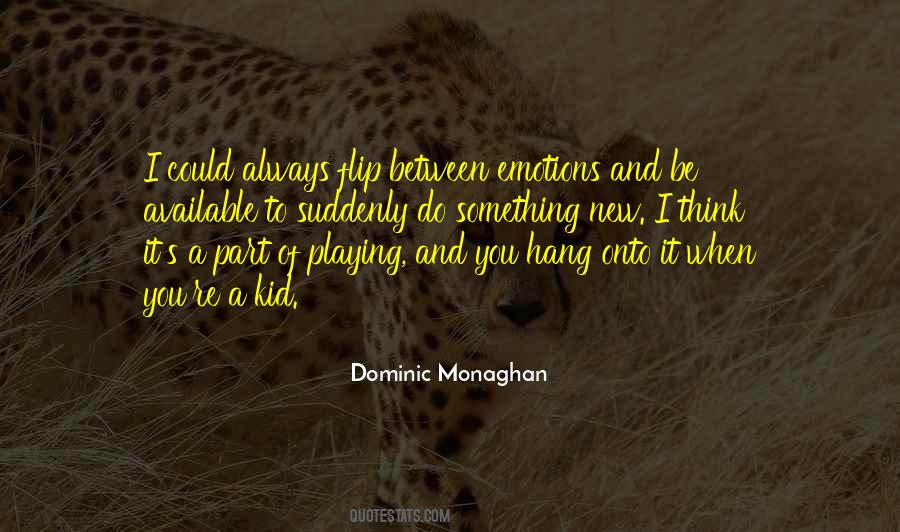 #29. This might be the most important question for every creator and maker in the world: how do you make something new if most people just like what they know? Is it possible to surprise with familiarity? - Author: Derek Thompson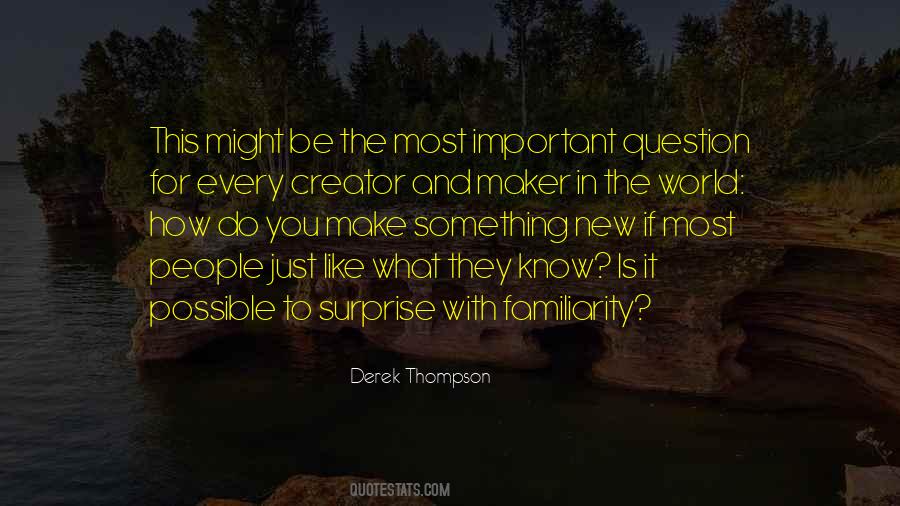 #30. I am not doing comedy because the genre is successful. If that was the case, I would have done a run-of-the-mill comedy film. I set my own trends. I like to give something new and different to my audiences. I want to do the kind of comedy that has been missing till now. - Author: Emraan Hashmi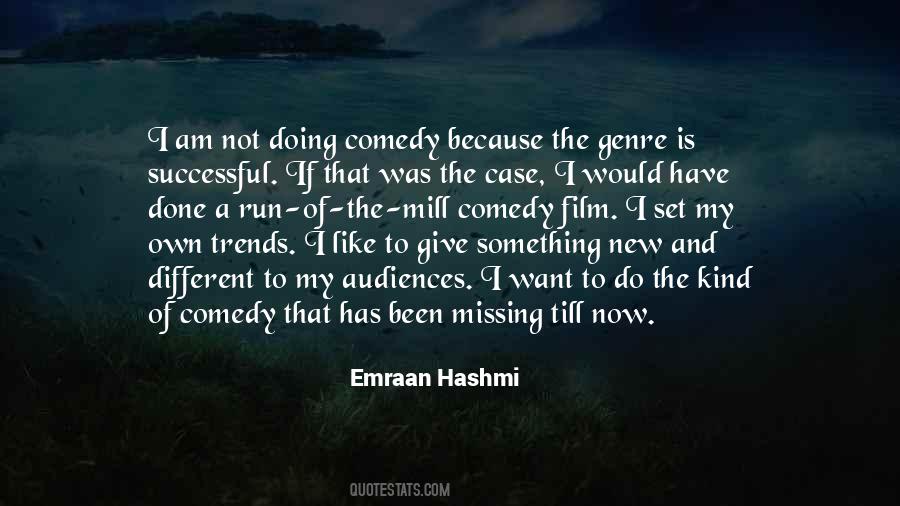 #31. I got to do something I never do, which is go to Starbucks and read 'The New York Times' until 7 a.m. I took my daughter to school on the East Side, which was a lot of fun. And I admit I played Call of Duty, one of those war video games. - Author: Joe Scarborough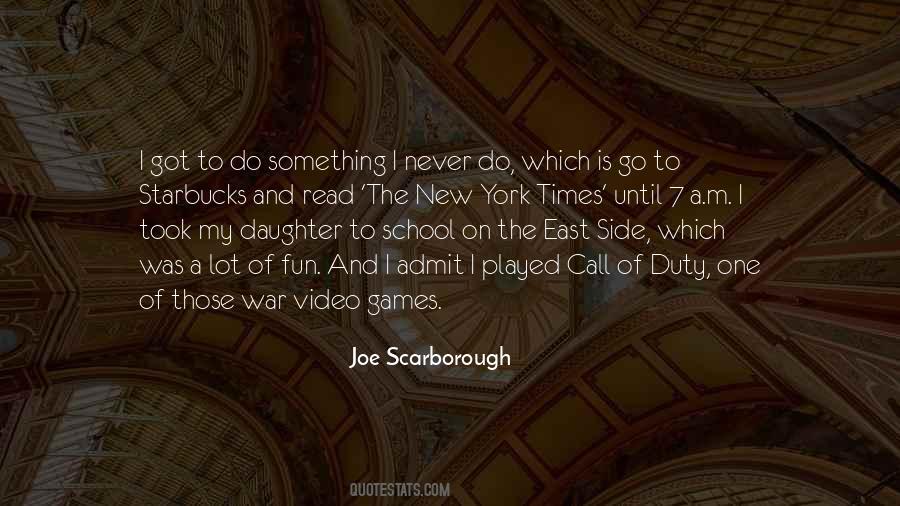 #32. I watch people who are not driven by creativity any more, and I think how dull it must be to produce the same kind of thing. If you don't feel you're reaching something new, then don't do it. - Author: George Michael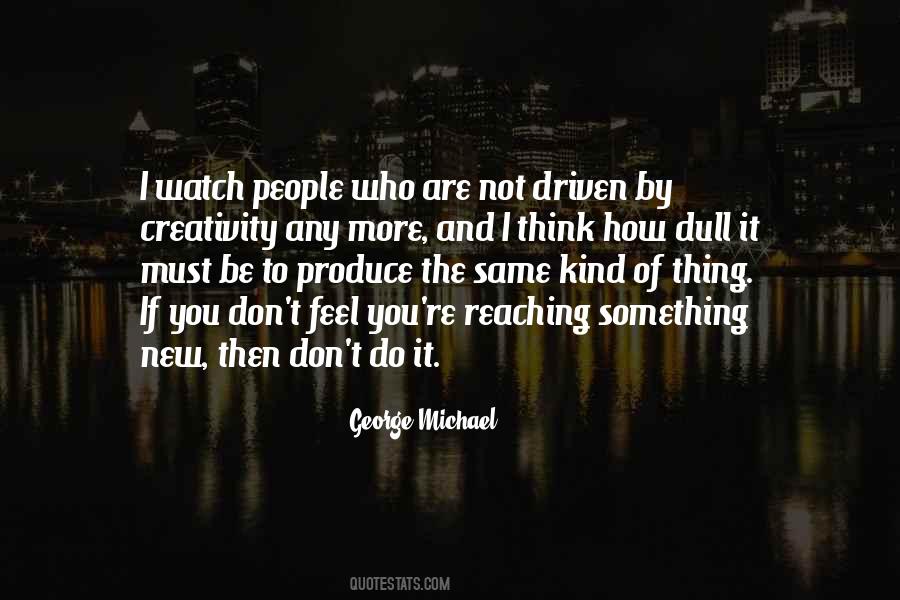 #33. Just because you can build a machine that is better than a person at something doesn't mean that it is going to have the ability to learn new domains or connect different types of information or context to do superhuman things. This is critically important to appreciate. - Author: Mark Zuckerberg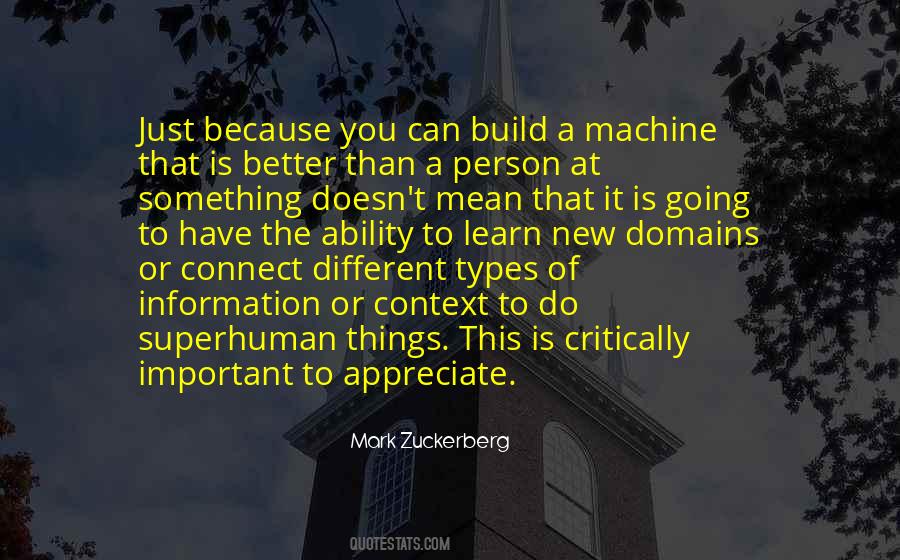 #34. L.A. is wonderful. They have something called sleep dentistry. You just go there, and they put you to sleep and go, 'Drrrrrr,' and by the time you wake up a few hours later, you have a whole new set of teeth. I mean, whatever you want them to do. - Author: Preity Zinta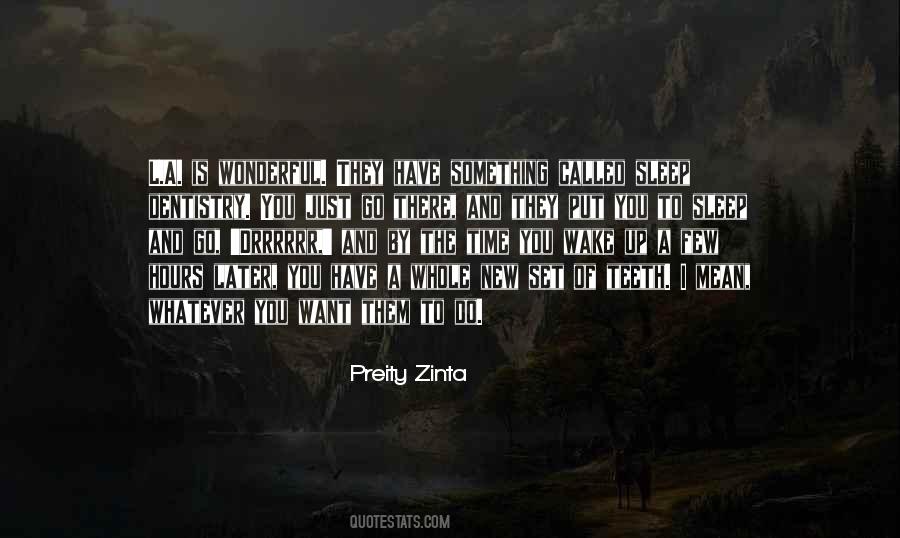 #35. In the universe we have not to do with repetitions, each time that a cycle is passed, something new is added to the world's evolution and to at its human stage of development - Author: Rudolf Steiner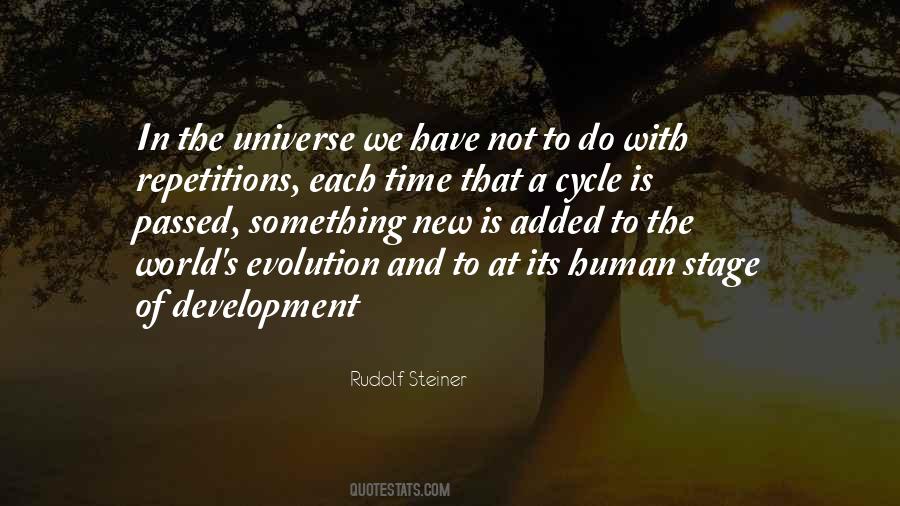 #36. I put pressure on myself to propose something new - I think it's the minimum that you can do as a fashion designer. - Author: Nicolas Ghesquiere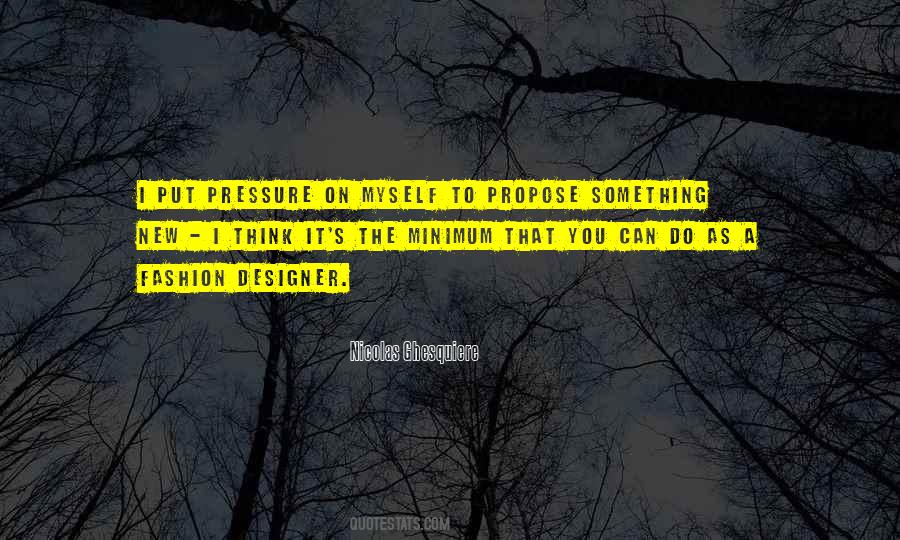 #37. It's always about trying to do something that's different and not repeating yourself because then you lose your creative stamina. You need to have new challenges. - Author: Alexandre Aja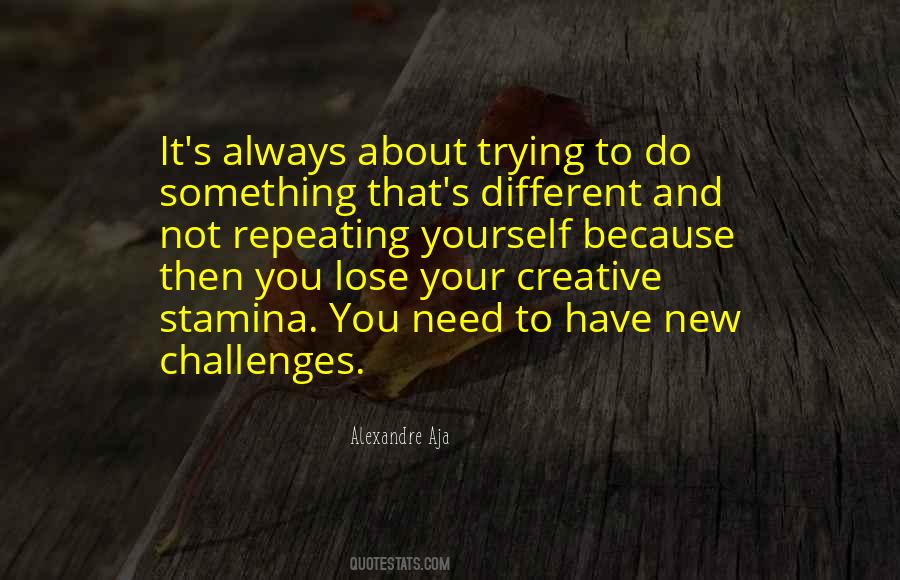 #38. For a time, people were getting arrested for photographing the Brooklyn Bridge. So to me, what it meant to do photography also changed. There was a new kind of politics to it - something that was very aggressive and dangerous - and a presumption that it would reveal some kind of truth or evidence. - Author: Trevor Paglen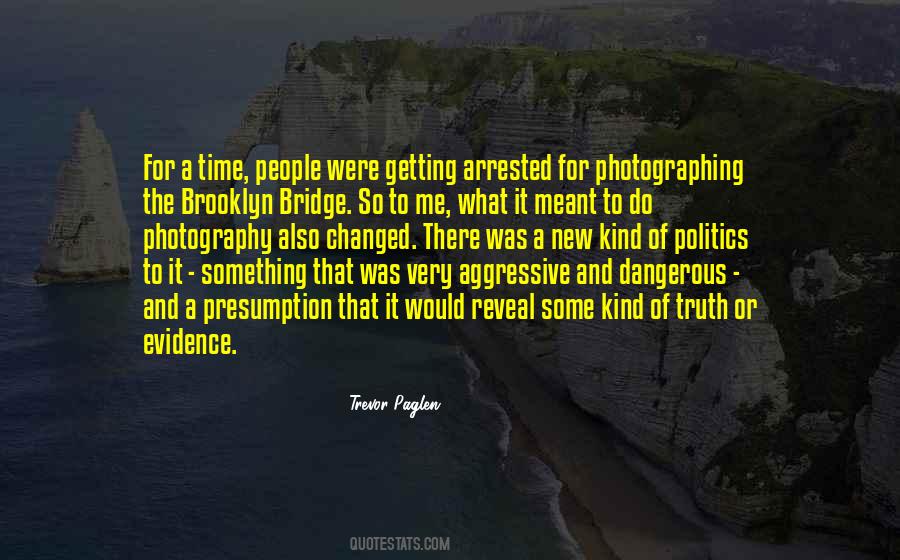 #39. Everyday something new pops into my mind: I could do this next or I could do that next. I want to grow more and more and show people different sides of myself, whether it's different kinds of music, different kinds of movies, or different kinds of television. - Author: LeAnn Rimes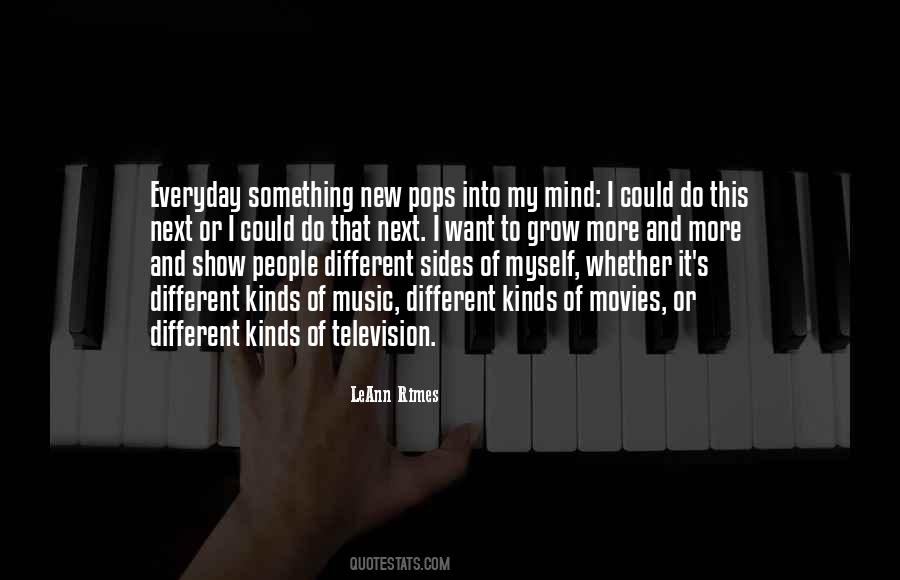 #40. If I have to go to New York or something, I'll bring my books and read and do homework. It's not really a big deal. - Author: Kara Hayward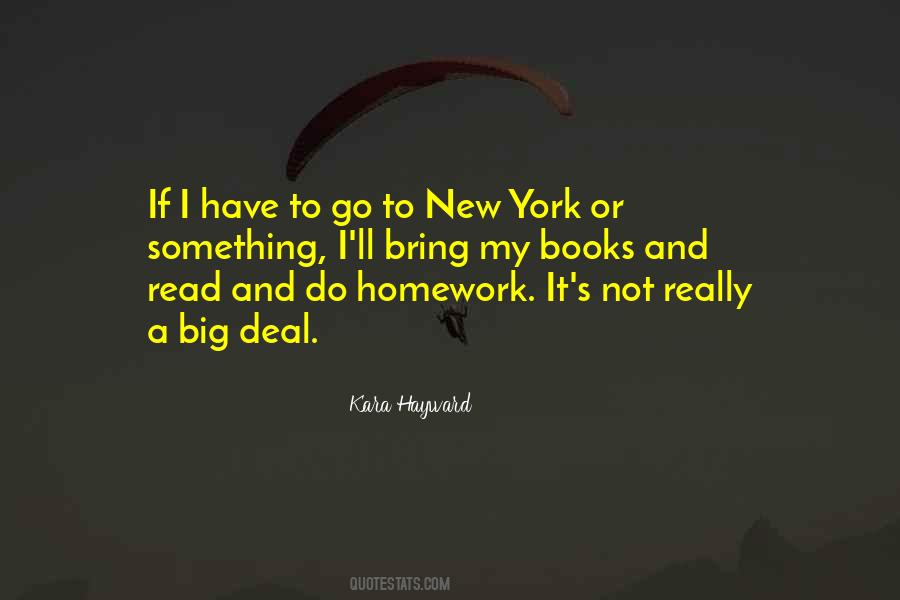 #41. I am always trying to do something new and different. The first step is curiosity, questions. You pay attention to what fascinates you. If you can't shake it, there is something there. - Author: Dana Spiotta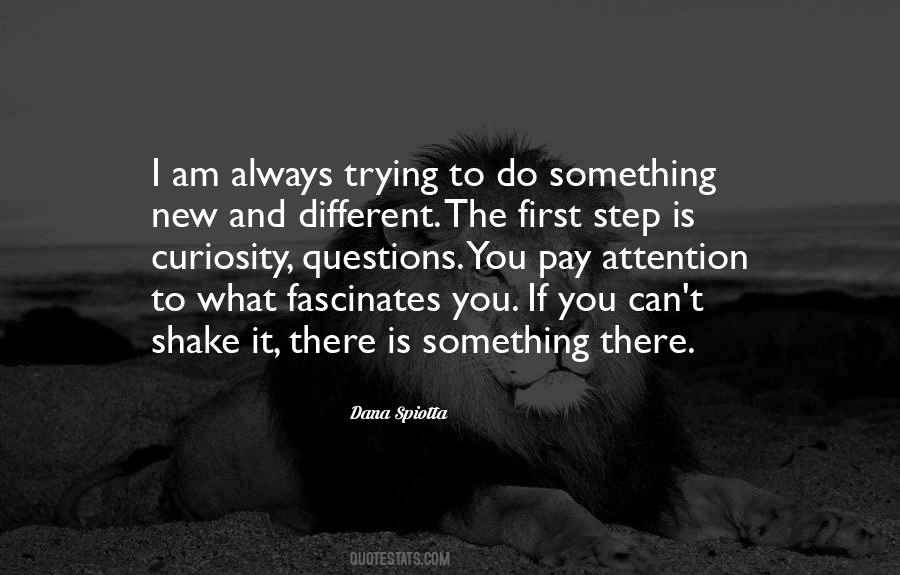 #42. Do not get attatched to the world as it is. Because the world is changing something new is coming. - Author: Jerry Weintraub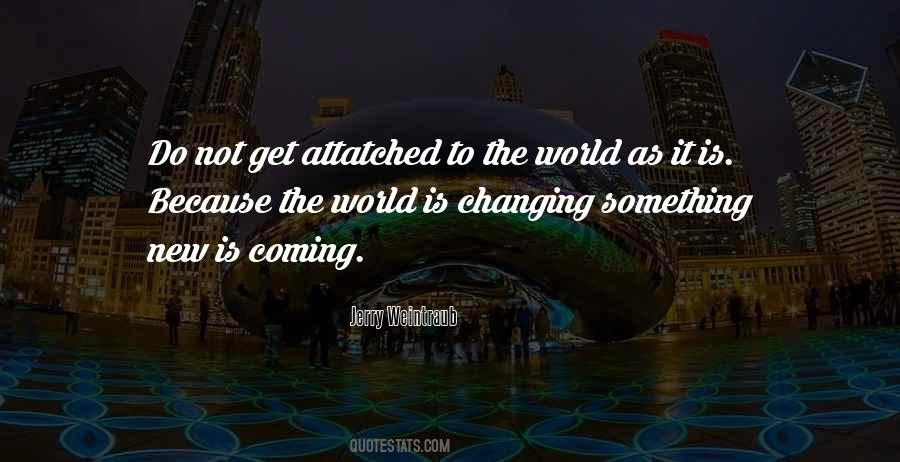 #43. Selling one's book to Hollywood is rather like selling someone your house. After it's sold, it isn't yours anymore. They can paint it a different color, tear it down and build something new, or do anything they want. - Author: Rick Riordan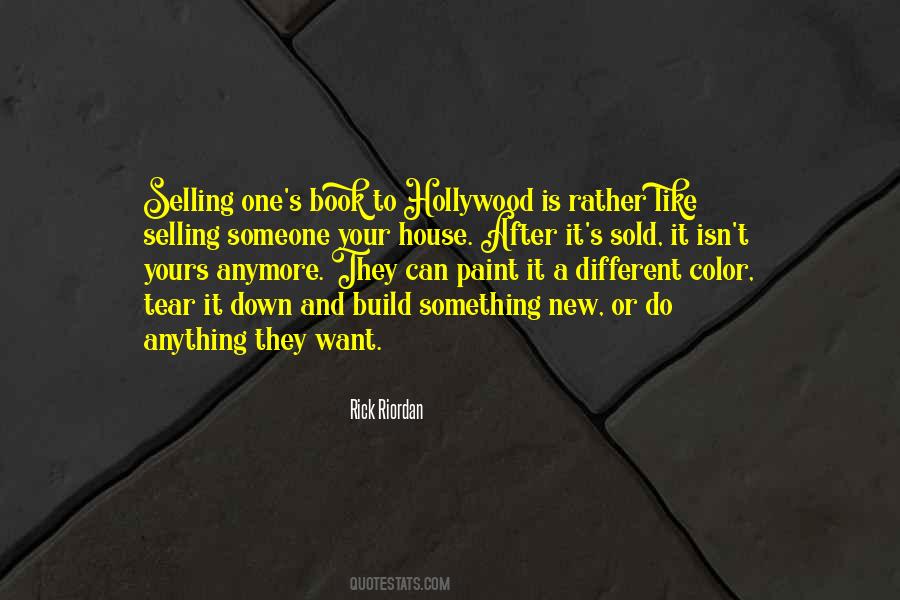 #44. We have a new class in this country: the deserving rich ... The deserving rich do nice things for each other. Comforting the unafflicted is something that comes naturally to them. - Author: Mary McGrory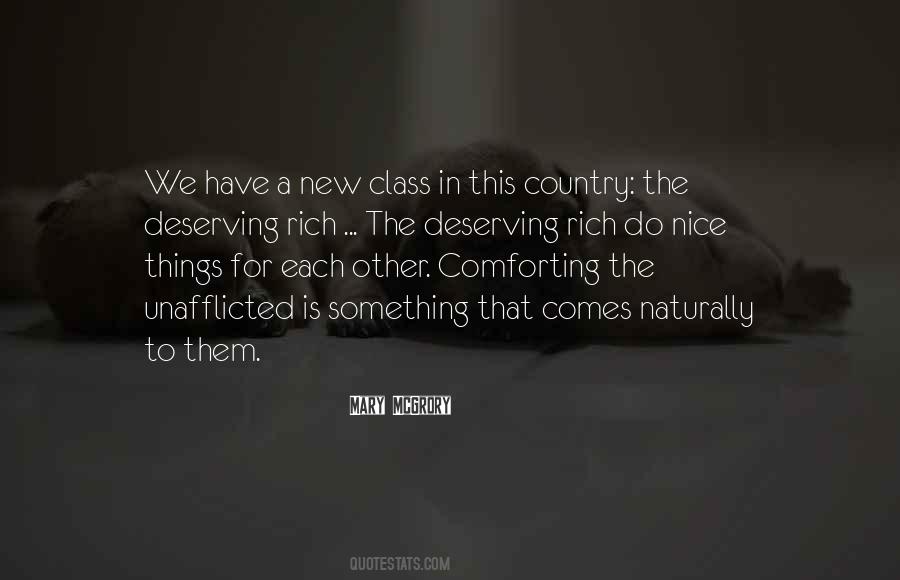 #45. The transition's of life's second half offer a special kind of opportunity to break with the social conditioning and do something really new and different. - Author: William Bridges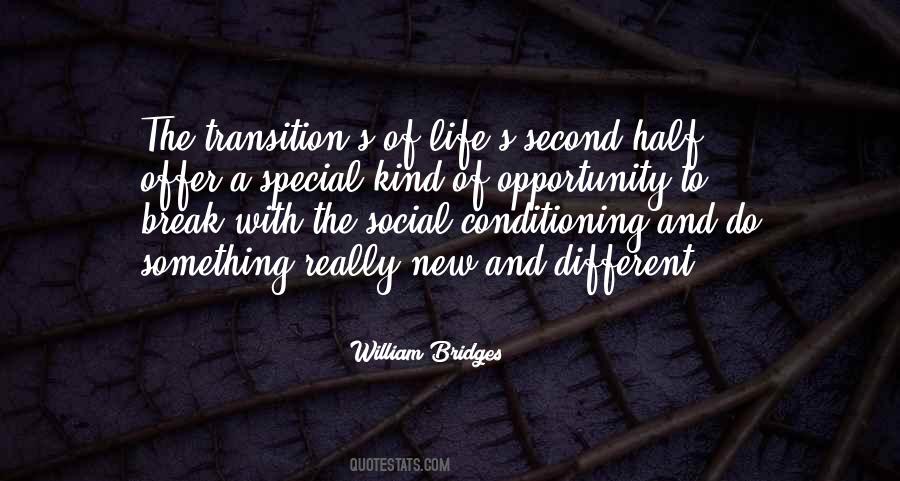 #46. To do something familiar and succeed is no surprise, but to try something new and fail--why, that is the start of an adventure. - Author: Maryrose Wood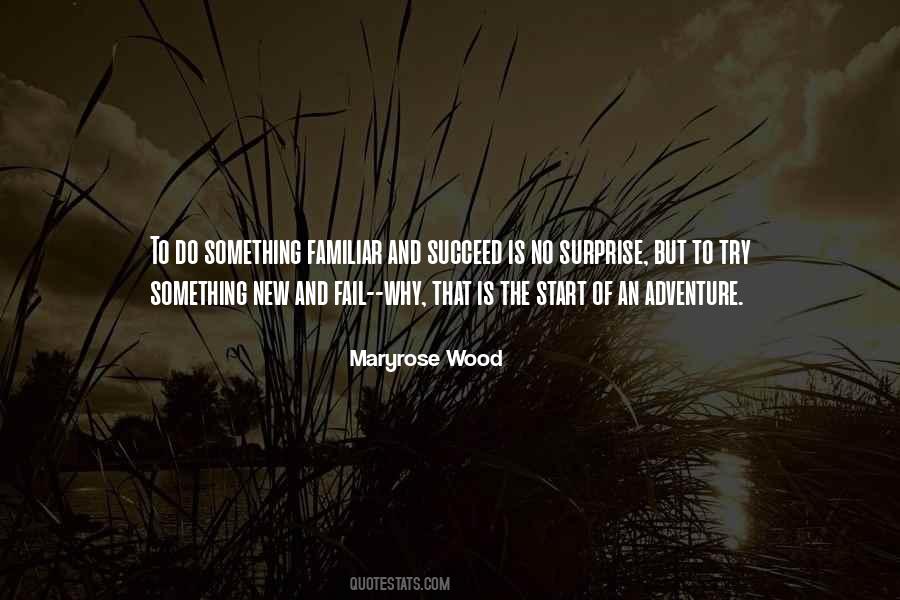 #47. What I'd like to pass on to my children is the thirst for knowledge. It's something I experience every day that I learned from my father. He always taught me that no matter how long you've done something, you can always learn something new and be better at what you do. - Author: Francesco Quinn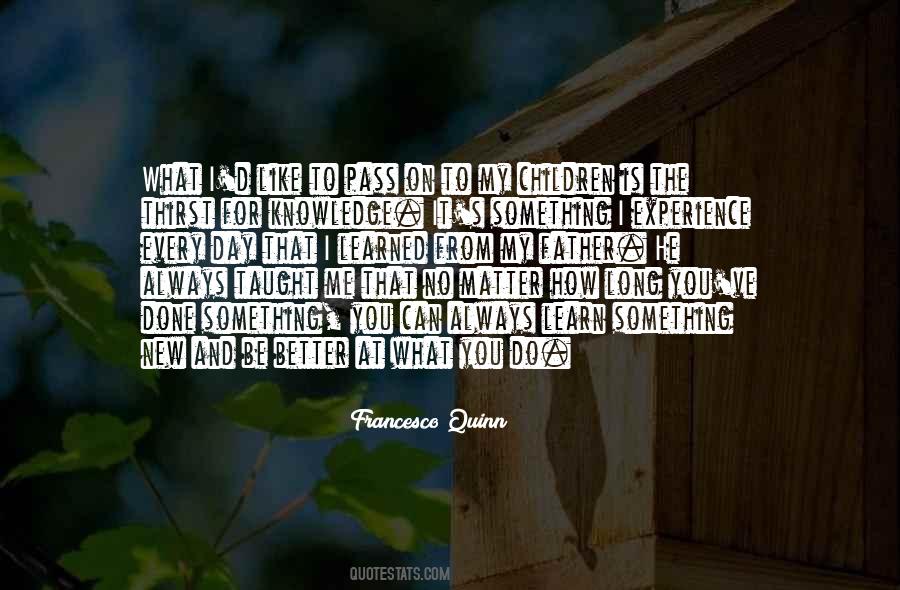 #48. Shake off the self-pity, shake off the defeat and get ready for God to do something new. He is going to pay you back for every injustice. - Author: Joel Osteen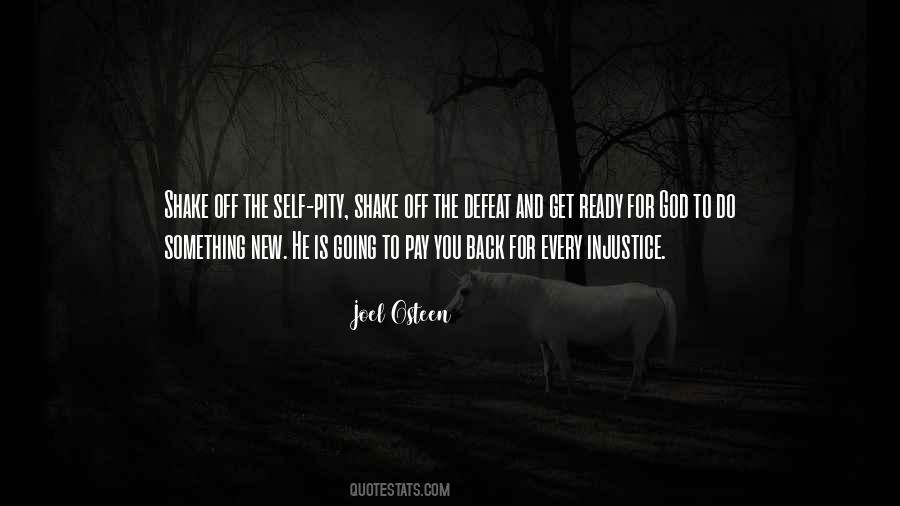 #49. glanced at the van sitting in the driveway before turning her gaze on the mountains in the distance, all lilac and orange in the rising sunlight. How easy would it be to just drive away? Never look back? Do something different. Something new. Something - Author: Julie Frayn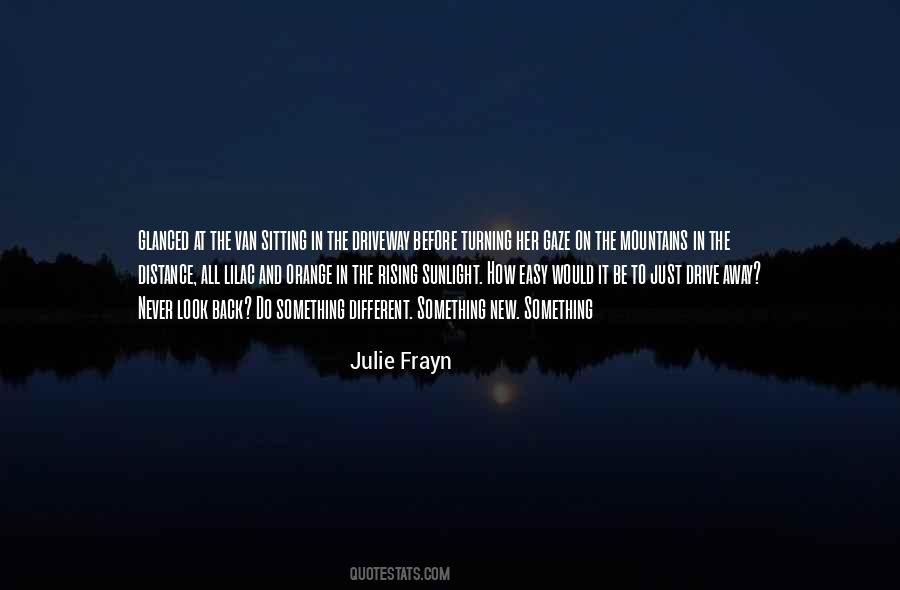 #50. I know how to create and make people feel something. Honestly, if I didn't do this, I would just have some minimum-wage job in New Mexico, and I would go out on the weekends and make just enough money to pay my insurance and pay for a couple beers, and that would be it. - Author: Freddie Prinze Jr.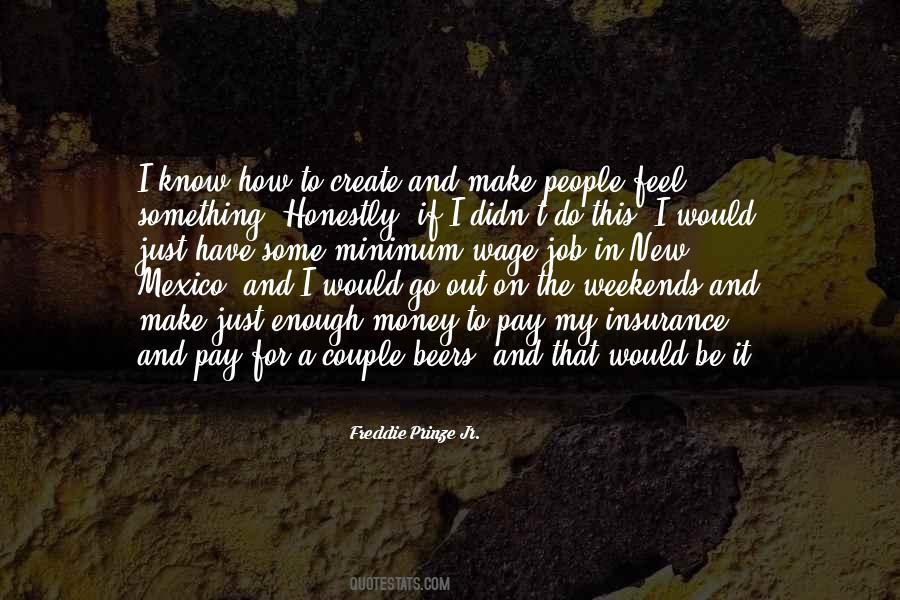 #51. I am scared of spiders! And I still get a little afraid every time I have to do something new or have to get out in front of a big crowd. The first time I sang "Swag It Out" live, I was really scared. - Author: Zendaya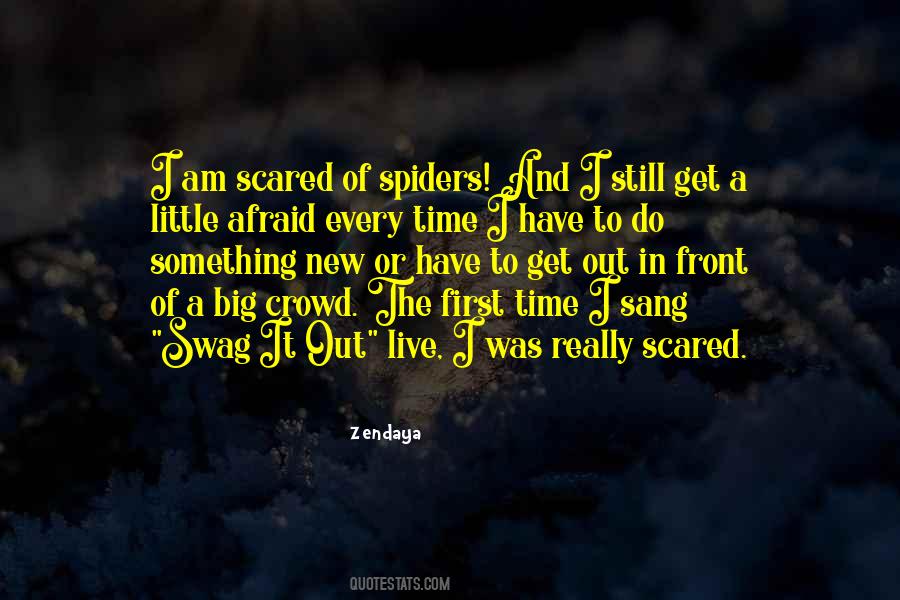 #52. I am really attracted to films. It's nice to do something new, all the time. That's why I like being an actor. - Author: Jane Levy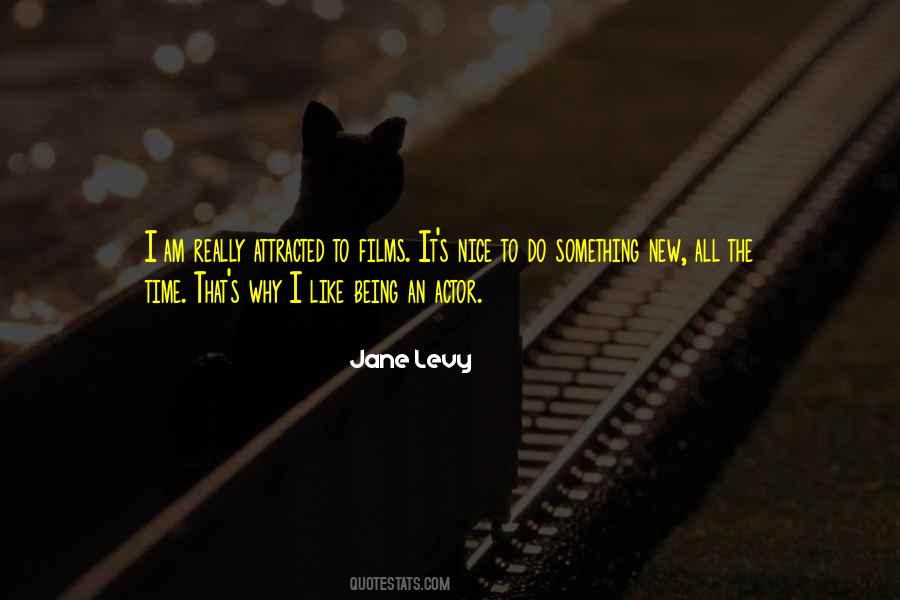 #53. We live in a nation where, when New Jersey figures out how to do something and does it well, and shows progress, it affects other states. - Author: Cory Booker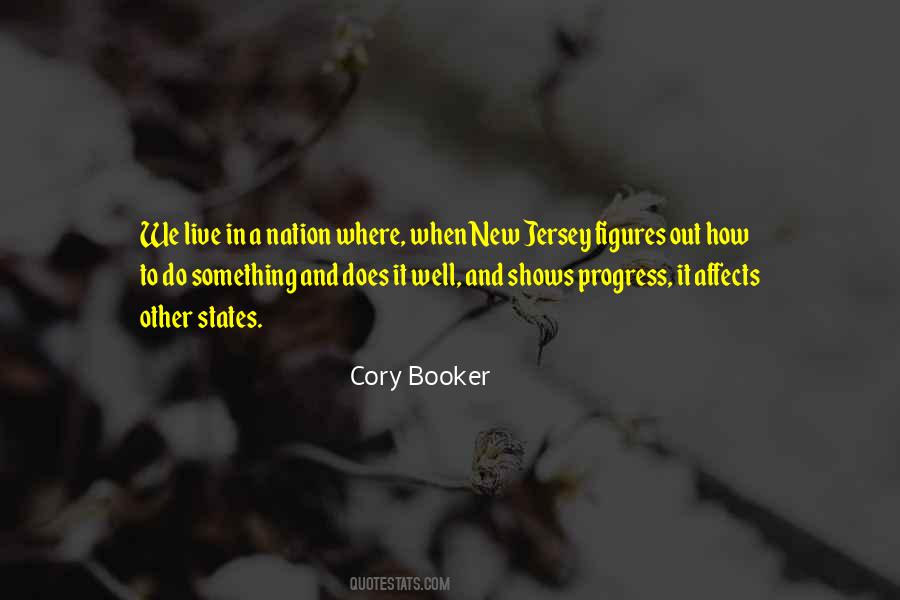 #54. There was a time when I was practicing law in New York and I wanted to find something else to do. So I ended up leaving the practice of law to pursue my art and it just happened to be out of Lego bricks. - Author: Nathan Sawaya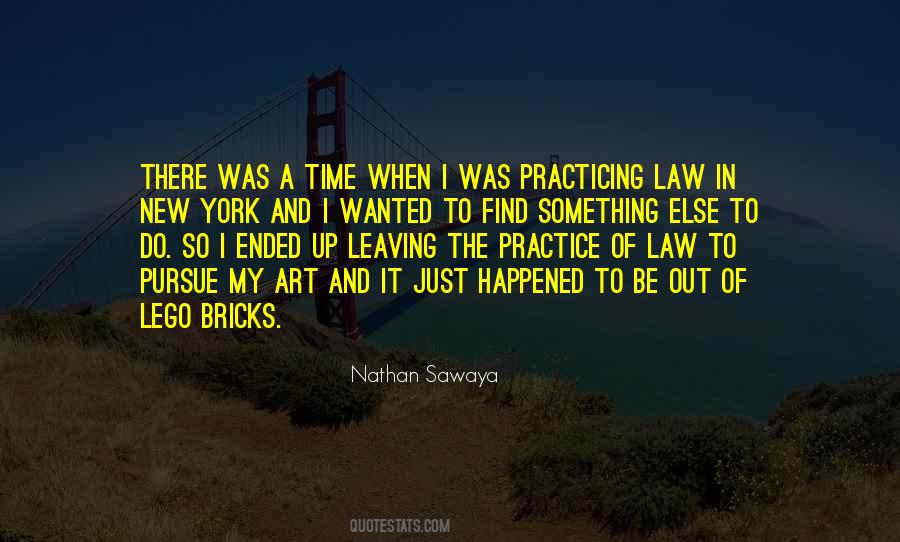 #55. I suspect that my thinking is an eclectic mix, not pure net-net because I couldn't do it anyway so you have to have a new something to hang your hat on. But the framework stays the same. - Author: Peter Cundill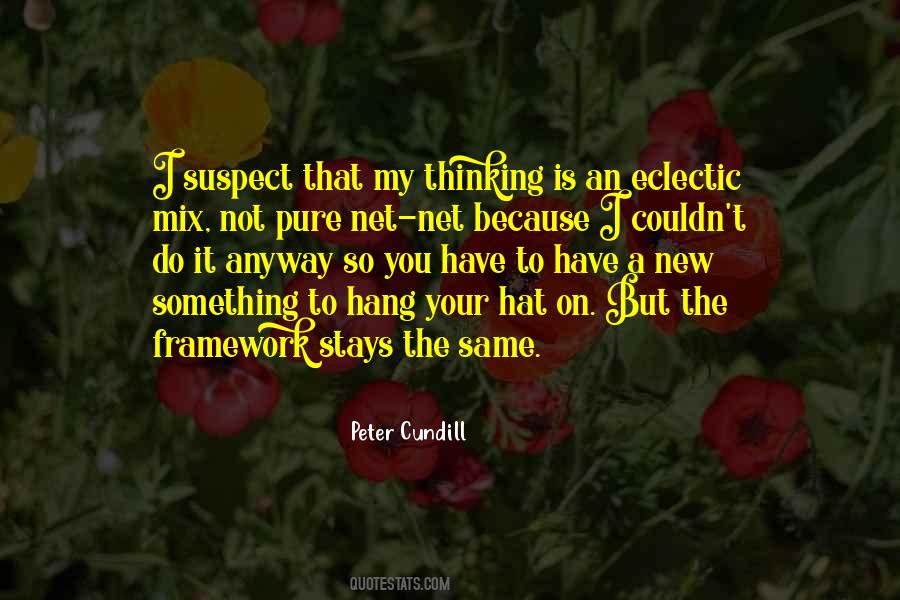 #56. My goal was to do something that incorporated all the stuff I do and have it feel like something new, like it was hopefully taking the stand-up special paradigm and turning it on its head. - Author: Nick Kroll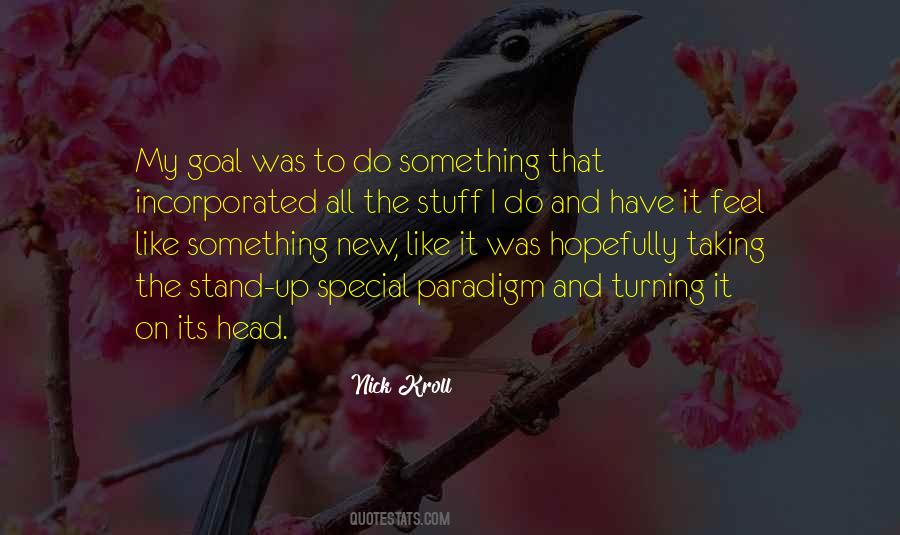 #57. People who are constantly looking for the opportunity to do something new are also people who are not going to be helped by having job titles - job titles create expectations of specialization and focus which don't map really well to creating the best possible experience for your customers. - Author: Gabe Newell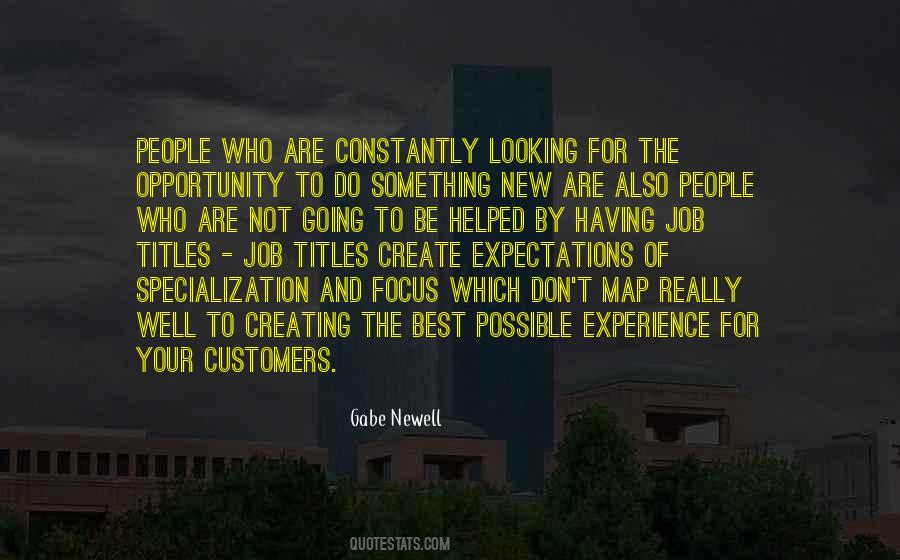 #58. For generations, Americans have expected something new and better in their lives with every passing day - something that will make life a little more fun to live and a little more enlightening to behold. Exploration accomplishes this naturally. All we need to do is wake up to this fact. - Author: Neil DeGrasse Tyson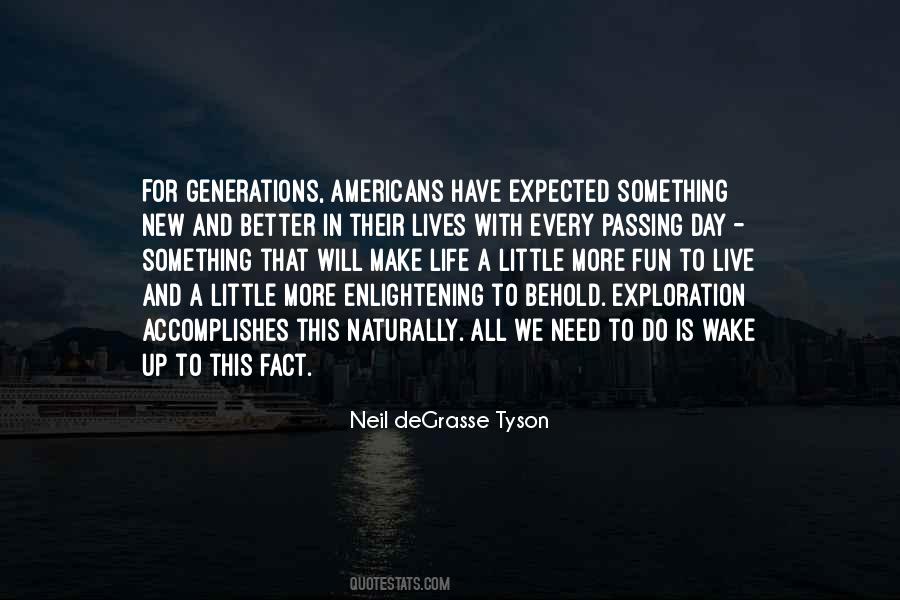 #59. I hate the traffic over there. Why don't they start to build moving pathways to replace all the streets? I see New York in a very futuristic way, but they must do something new. - Author: Gianni Versace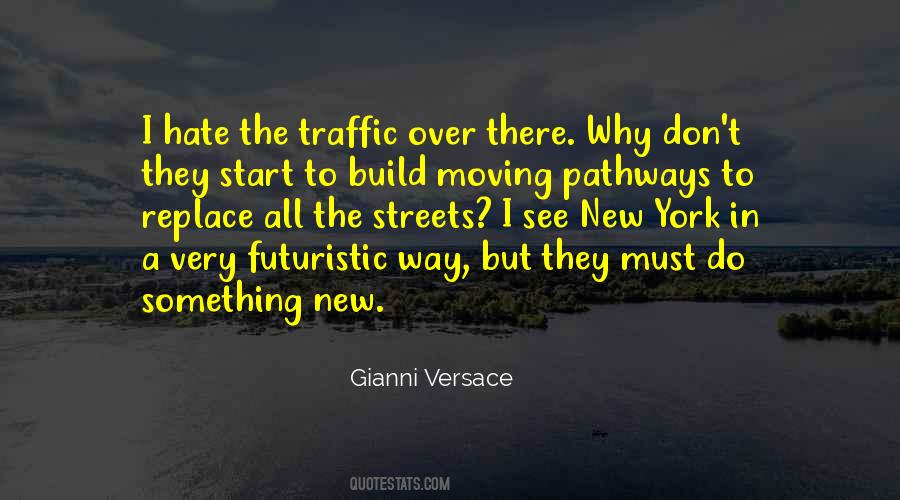 #60. The first year I was in New York, I met Martha Graham. She said, 'Well, Mr. Wilson, what do you want to do in life?' I was 21 years old, and I said, 'I have no idea.' And she said, 'If you work long enough and hard enough, you'll find something.' - Author: Robert Wilson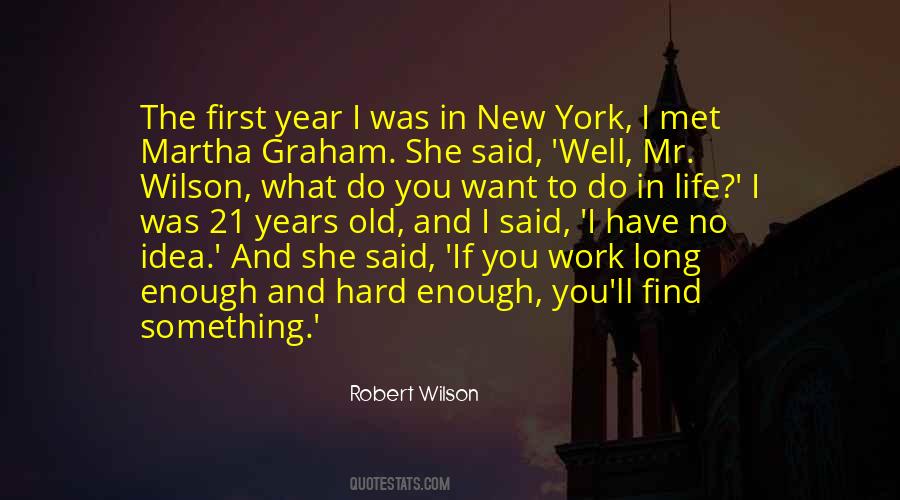 #61. I always love to do something different and new and be challenged by different characters. - Author: Emilie De Ravin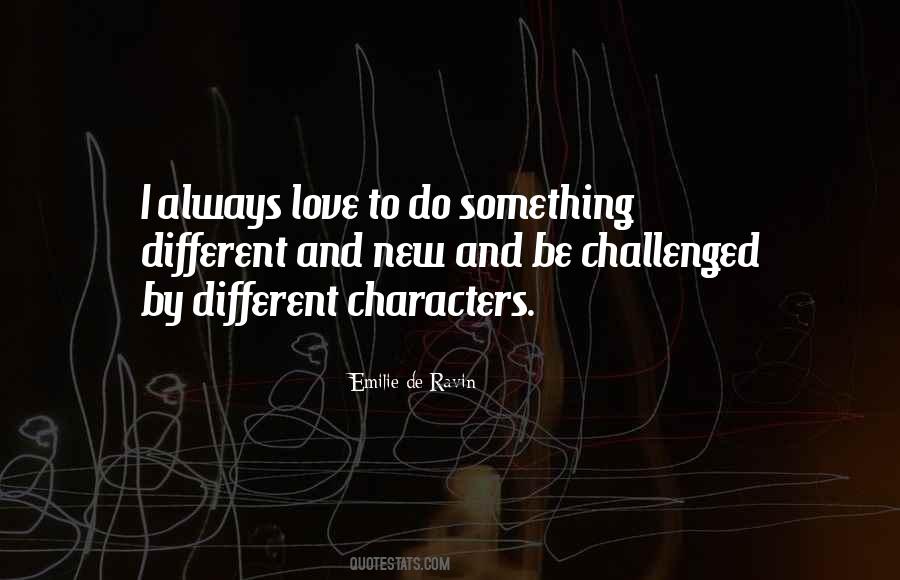 #62. Initiative and starting are about neither of these. They are about "let's see" and "try." If there's no clear right answer, perhaps the thing you ought to do is something new. Something new is often the right path when the world is complicated. - Author: Seth Godin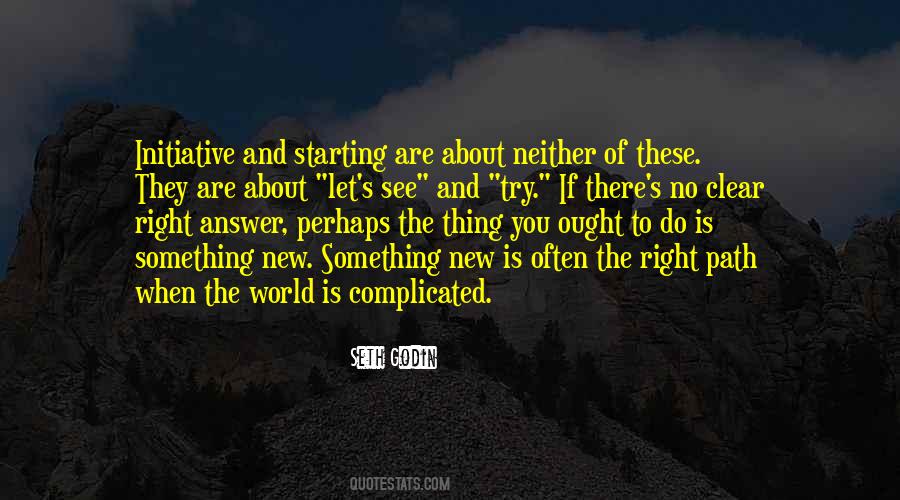 #63. I think when you get past your second album, it all becomes something of a routine. So you have to struggle against that, find a way of making what you do sound fresh and new each time. - Author: Van Morrison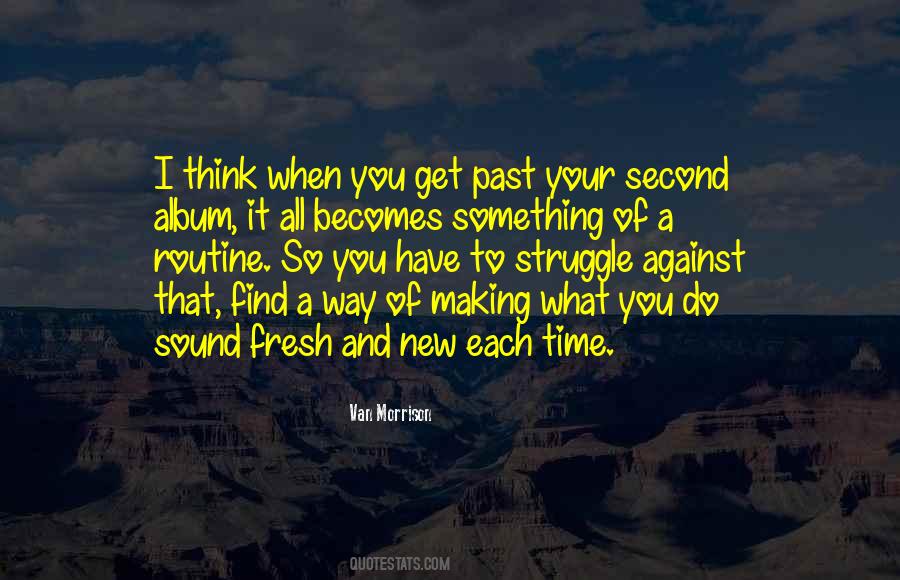 #64. The scientists do not get enough help, enough encouragement, to change their field from time to time because the pressure is too high or is to perform something. And once you start in a new field, you are a nobody to start with, you see. - Author: Heinrich Rohrer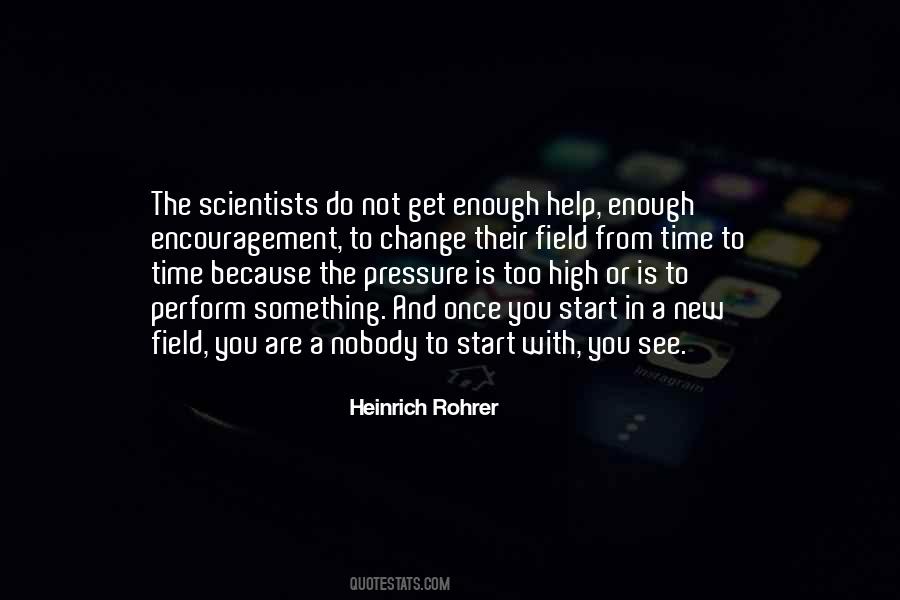 #65. I am a competitive person with myself. I always find new goals to achieve, new challenges to breakthrough, and I try and do something new every day. And I'm highly competitive with myself. - Author: Hilary Swank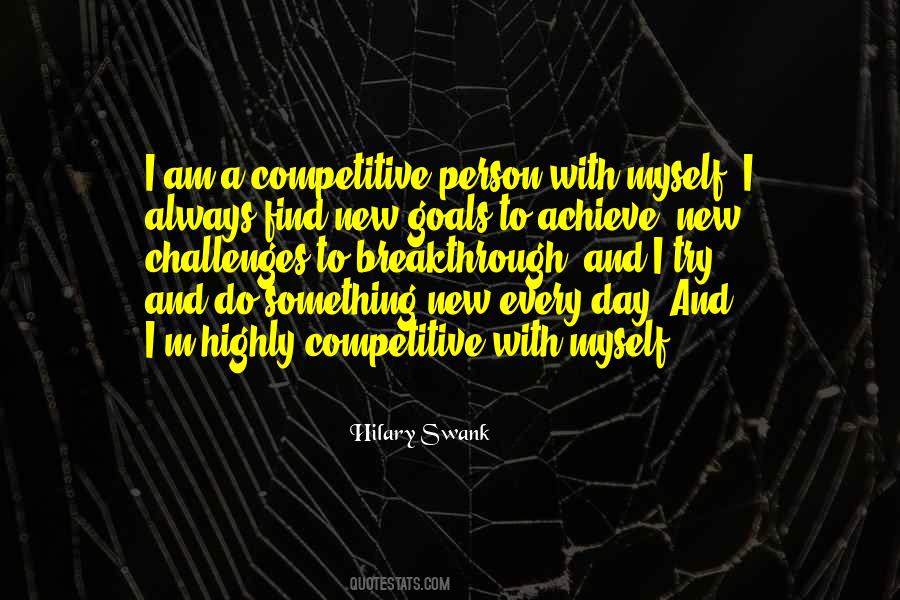 #66. This is a difference between being a governor and being in a legislature. Because when something doesn't work in New Jersey, they look at me, say: "Why didn't it get done? Why didn't you do it?" You have to be responsible and accountable. - Author: Chris Christie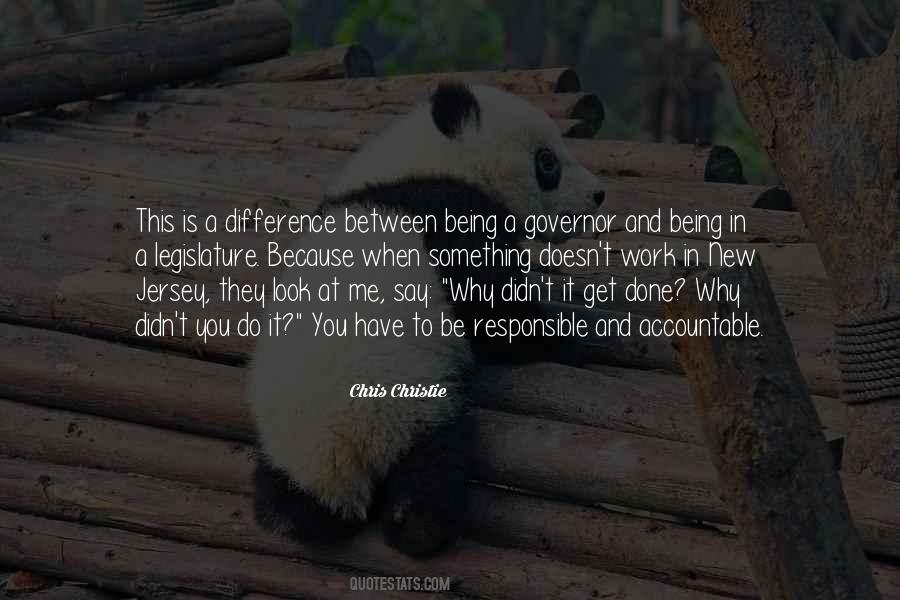 #67. I like to break down barriers and I think that Hollywood is doing the same thing over and over. I want to do something new and say, "Let's evolve as artists!" - Author: Gina Carano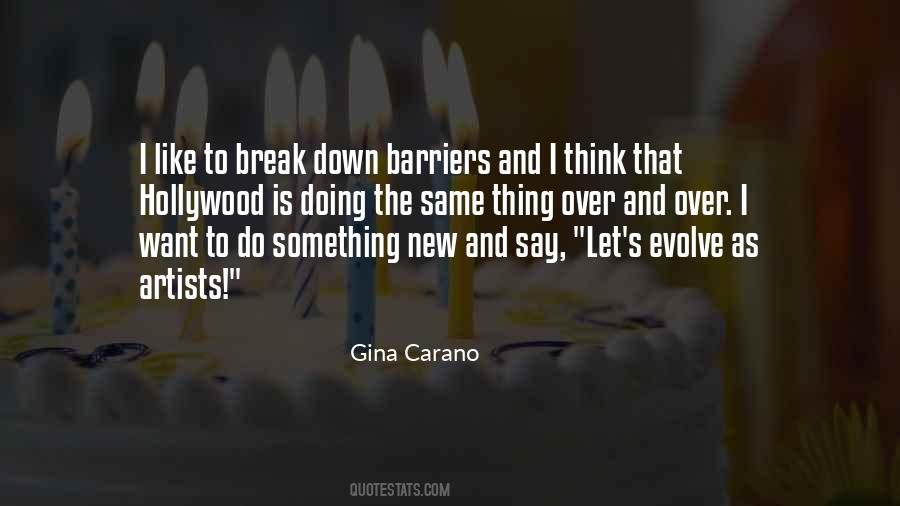 #68. Raising taxes is not a frivolous venture that you do on the editorial page of 'The New Republic,' for god sakes. It's something that you really have to think about and go through carefully. - Author: Arthur Laffer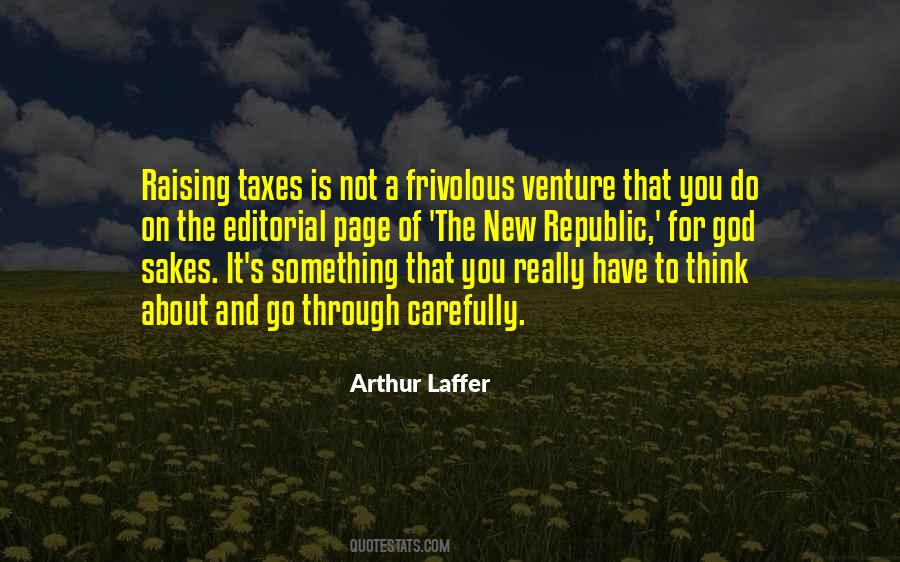 #69. This is something I've always wanted to do- to skate through a part of New York City that thousands of people ride through every week, feeling the energy of one of the original stomping grounds of street skating. - Author: Ryan Sheckler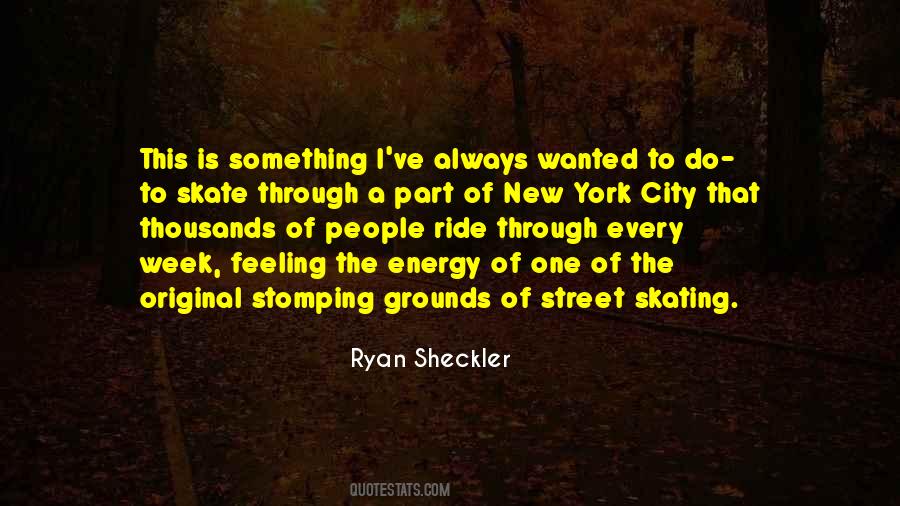 #70. Now, can I help you with something? I'm new, but I'll do my best to figure out how to get what you need."
...
"That's good to hear, Abby, since I need your breasts for a few minutes. - Author: Cherise Sinclair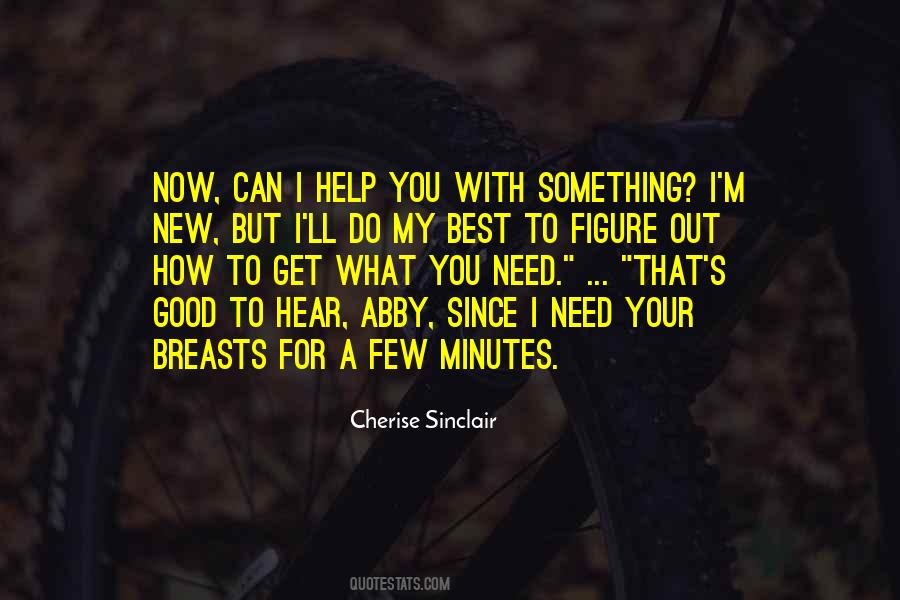 #71. Because of my New Line upbringing, half my heart goes to scrappy independents, and half goes to mainstream, down-the-middle pop culture events. And even with those, to try to keep something fresh and original with them and try to do things that the majors miss. - Author: Michael De Luca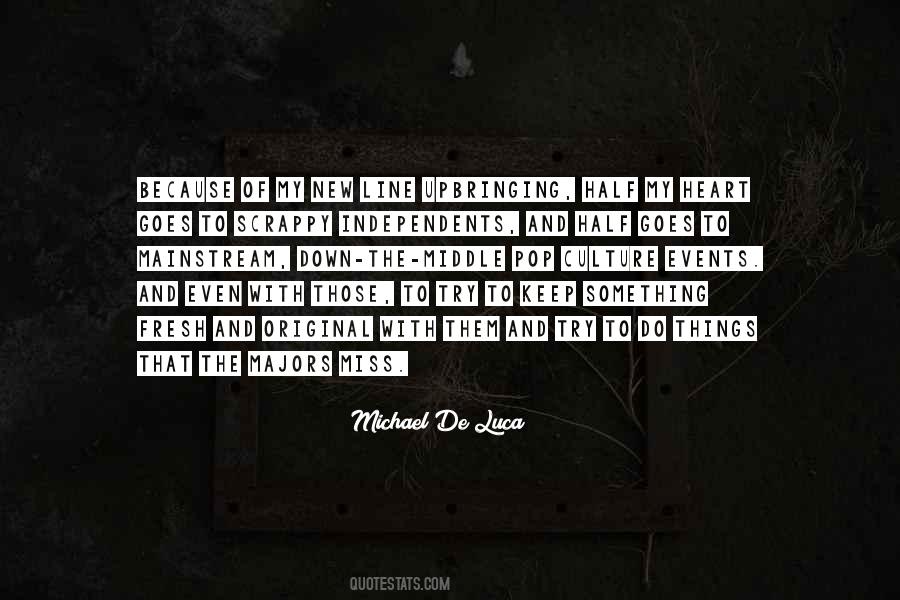 #72. I'm always tryin' to do something new, tryin' to look like a beginner. - Author: Meshell Ndegeocello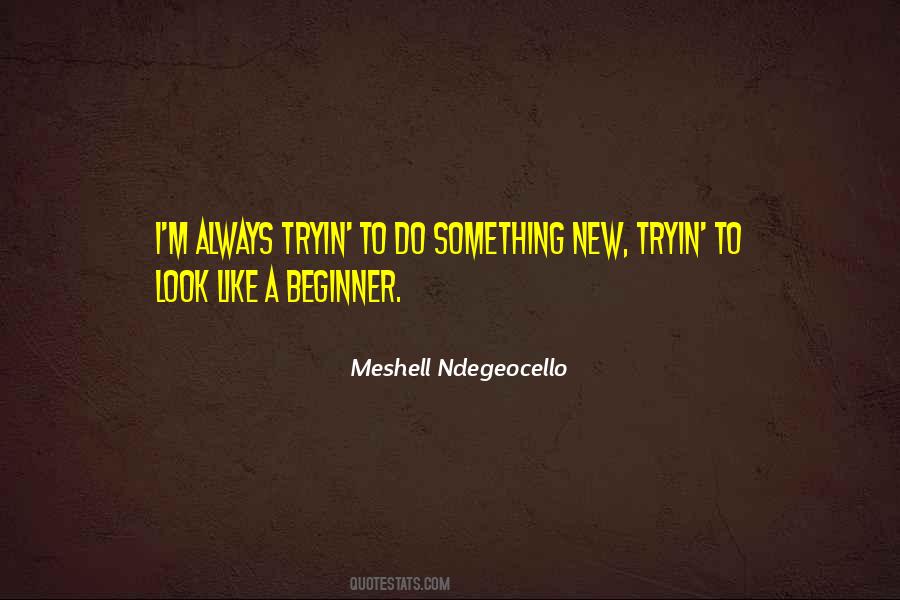 #73. The more she thought about it, the more she realised both sides had lost an important alternate perspective. And maybe that was what she'd been created for.
A girl from both worlds, who'd seen the follies and triumphs of each side.
And her job was to shake things up and do something new. - Author: Shannon Messenger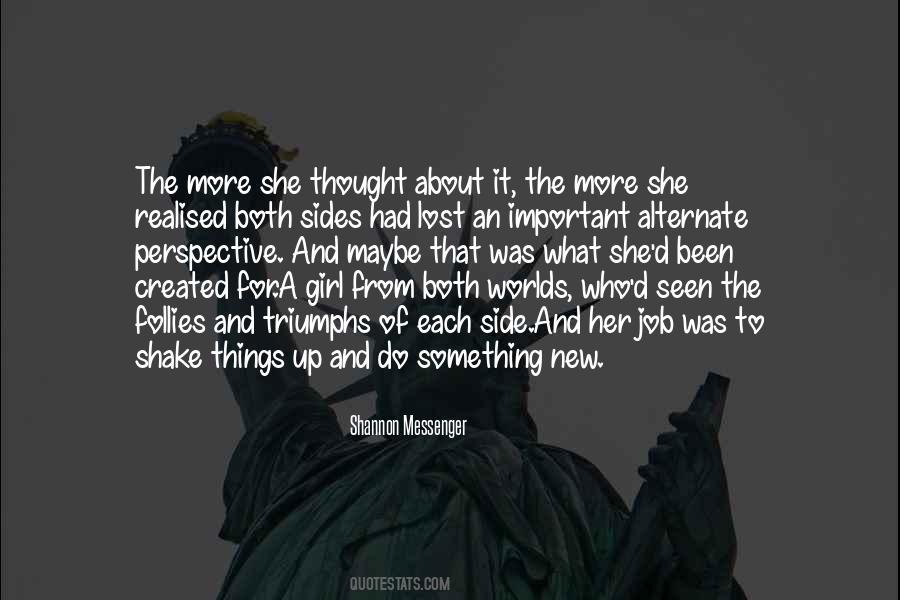 #74. I would love to spend a year living in New York; I've wanted to do that since I was 18. I'll be really disappointed if I'm 50 and haven't done something like that. - Author: Daniel Bruhl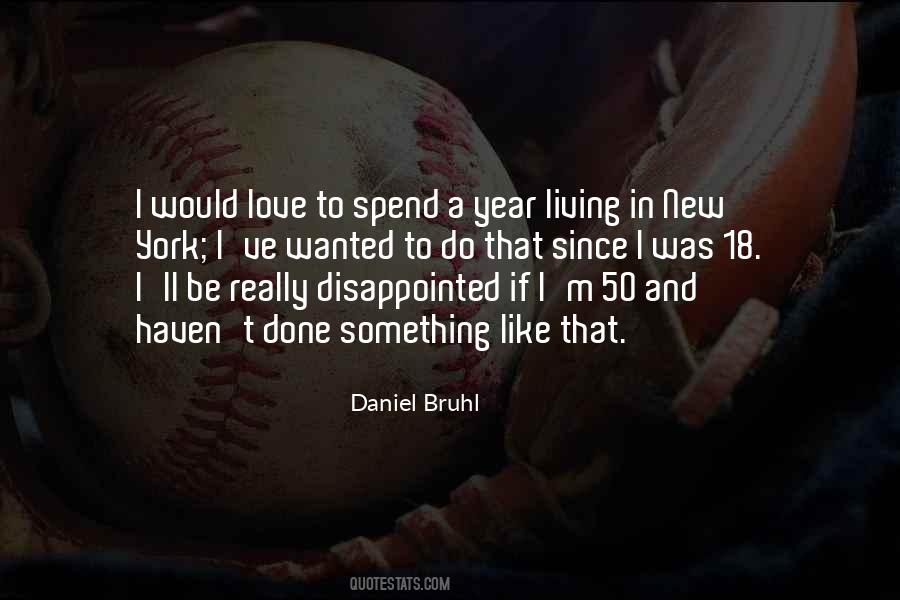 #75. Am I pushy? Yep. Do I like taking 'no' for an answer when 'no' means New Yorkers aren't going to get something they need? No. Do I push back and crack some eggs? Absolutely. - Author: Christine Quinn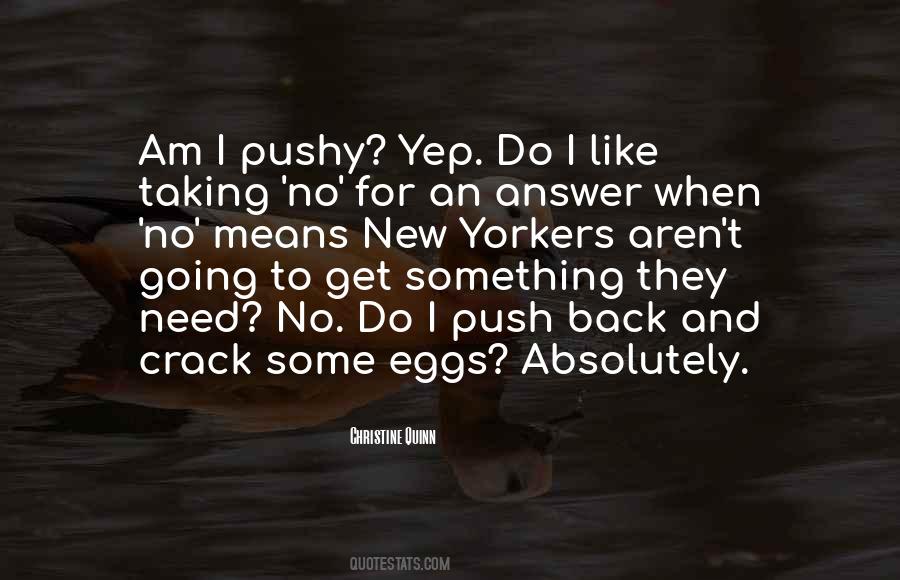 #76. I do think that at a certain point, the reboot sequel mode has to give way to original ideas and back to a place where, you know, films are, you know, a medium and the cinema is a place you go to see something that is, you know, wholly new. - Author: J.J. Abrams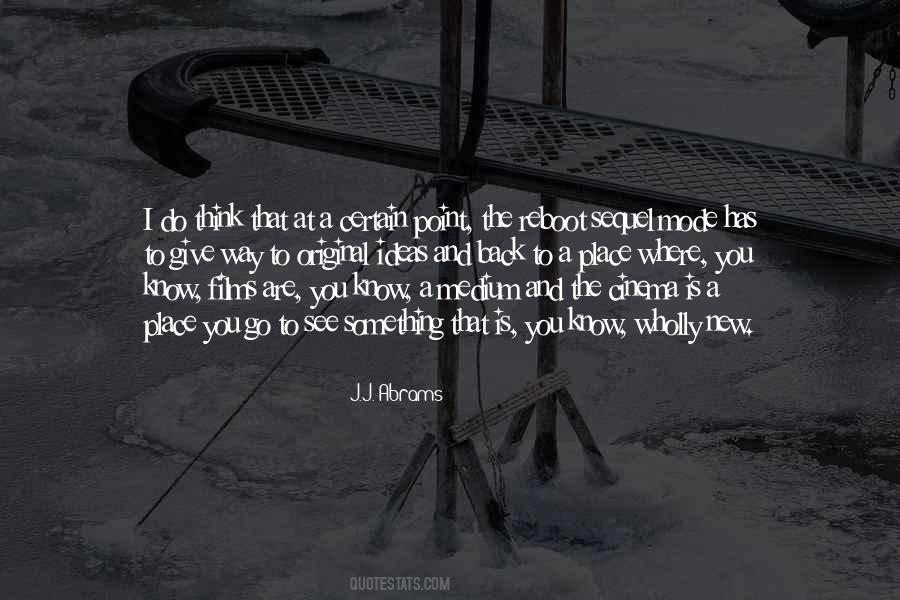 #77. The most exciting thing I aspire to do is to write something new that I know is going to work, or perform something that I know is going to make people laugh. - Author: B.J. Novak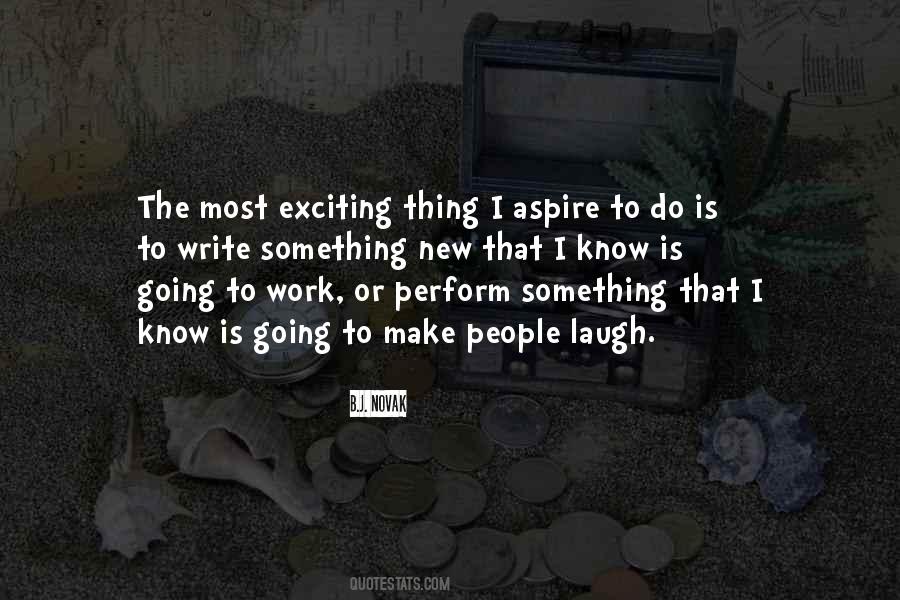 #78. The thing about cancer is that it can always exceed your worst expectations. There is something pornographic about cancer's ability to confound your imagination. Whatever new obscenity cancer comes up with to torment and torture you, it can always do worse tomorrow. - Author: Tony Parsons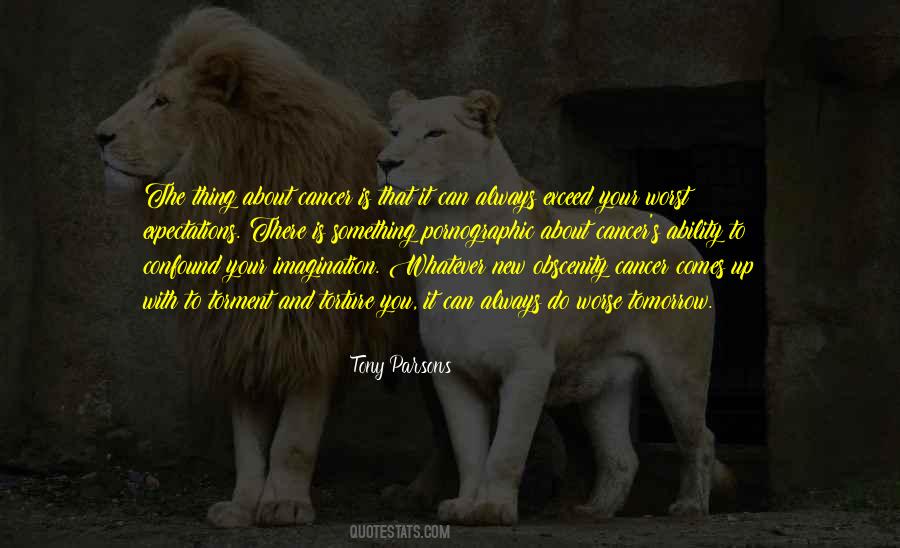 #79. I think I would rather want to create something new, but I really did enjoy doing that show. It was a really fun show to do. - Author: Laura Bell Bundy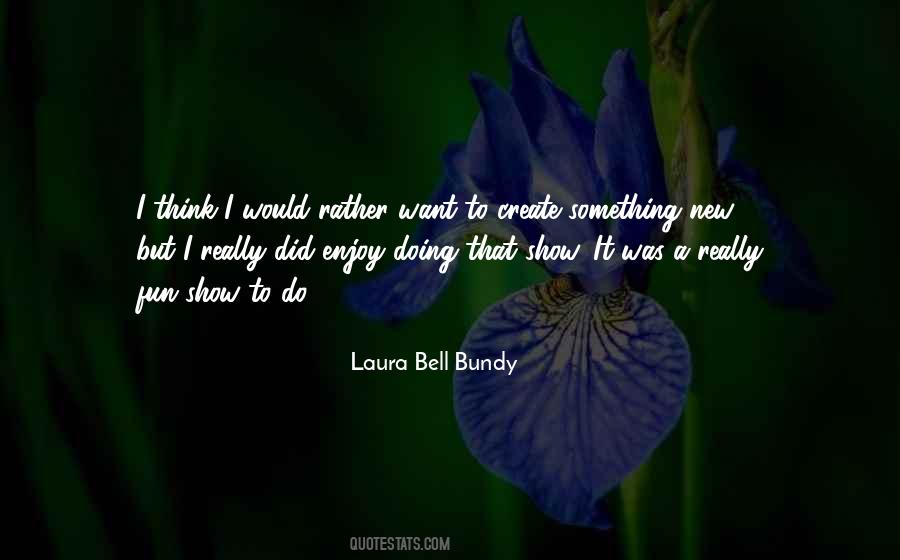 #80. My company, Against All Odds Productions, has done print on demand; we were the first to do a book with a CD-ROM in the early 1990s. We do custom covers. It's always fun to do something new. - Author: Rick Smolan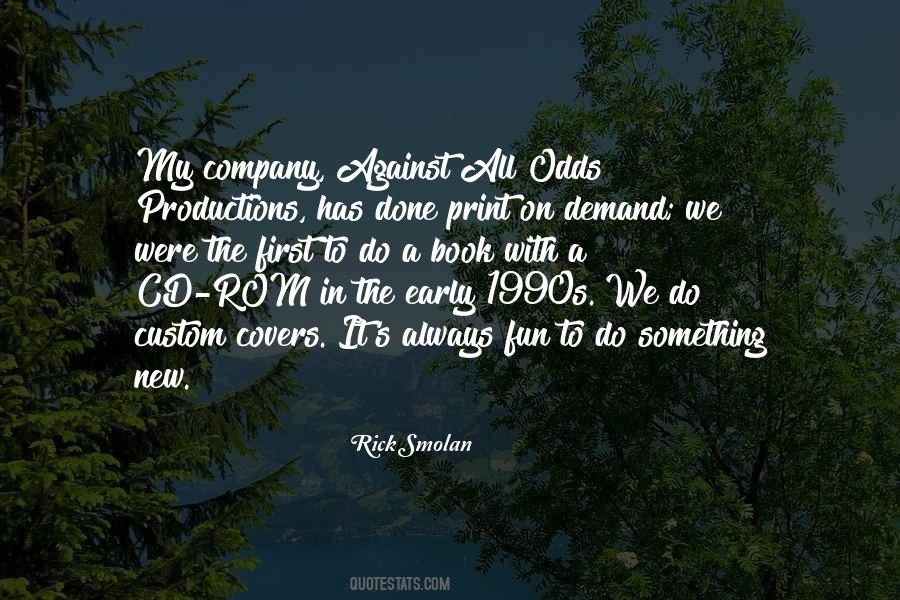 #81. I wanted to do something new. The world is becoming a global village and we have to understand these different cultures. There is a Danish culture, an Israeli culture and so on. So if you want to go to Denmark, then read the book. - Author: Enock Maregesi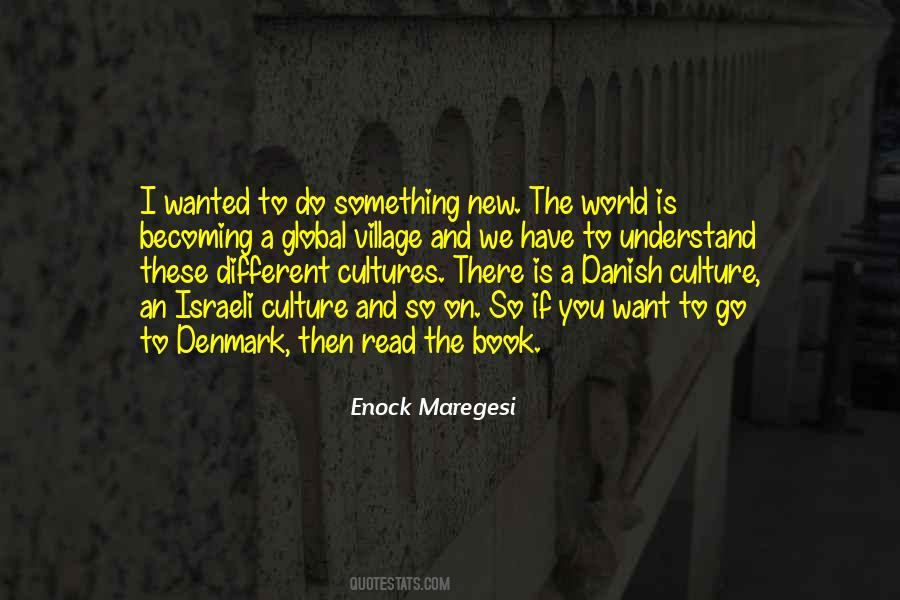 #82. This is the funny thing about New York - there are so many things to do at all times of the day, but there are still moments when you have no idea which of them to do, and feel extra silly because you know there has to be something out there for you to do; your mind just hasn't found it yet. - Author: Rachel Cohn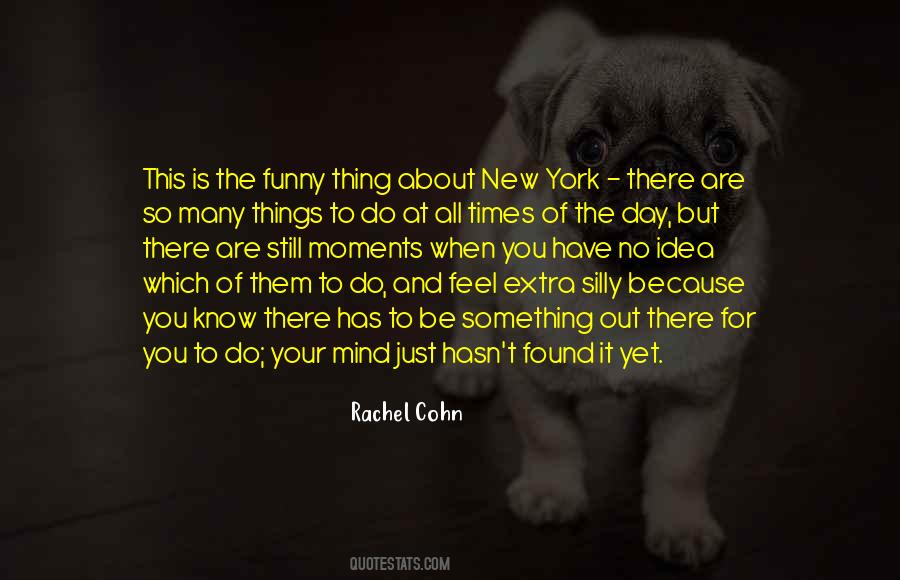 #83. That whole rivalry with the fans is not something that I can pay attention to right now. This is my new home, and whatever I can do to help out Seattle is what I need to do. - Author: B. J. Daniels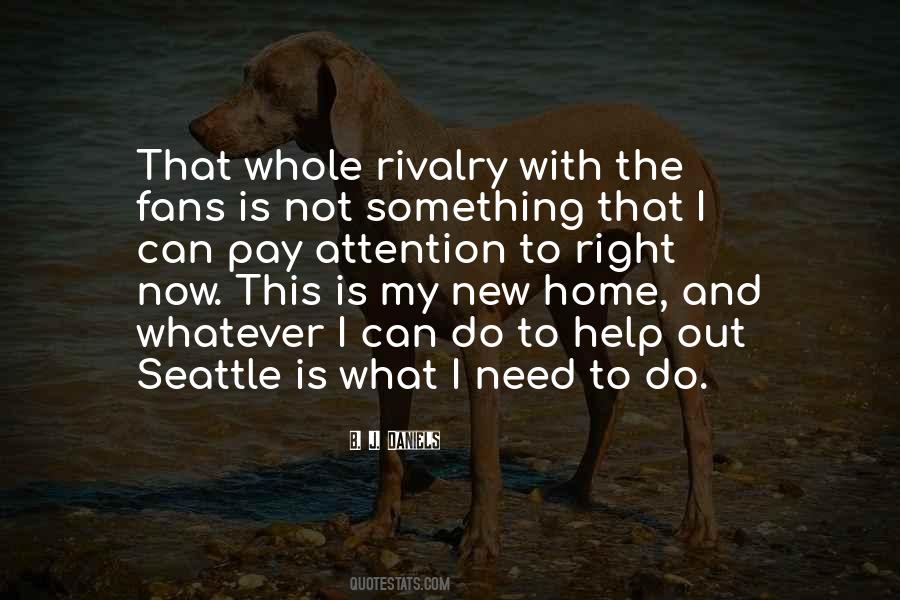 #84. Being stuck is a position few of us like. We want something new but cannot let go of the old - old ideas, beliefs, habits, even thoughts. We are out of contact with our own genius. Sometimes we know we are stuck; sometimes we don't. In both cases we have to DO something. - Author: Rush Limbaugh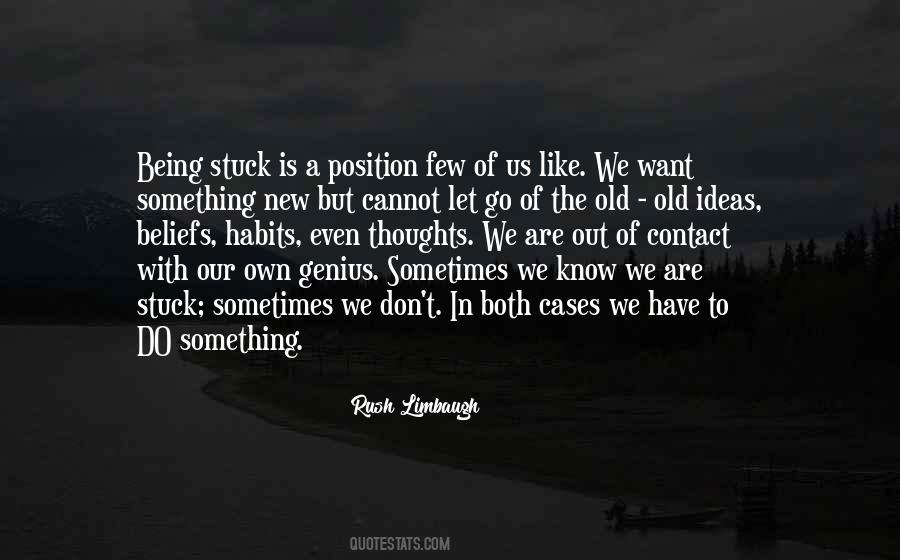 #85. Music for me is something I prefer to keep away form the whole business part of my life. I feel like everything I do, in a way, has some sort of business around it. So with my music I can have my privacy. If people don't have to pay for it then I think they can be a little more open to new ideas. - Author: Milla Jovovich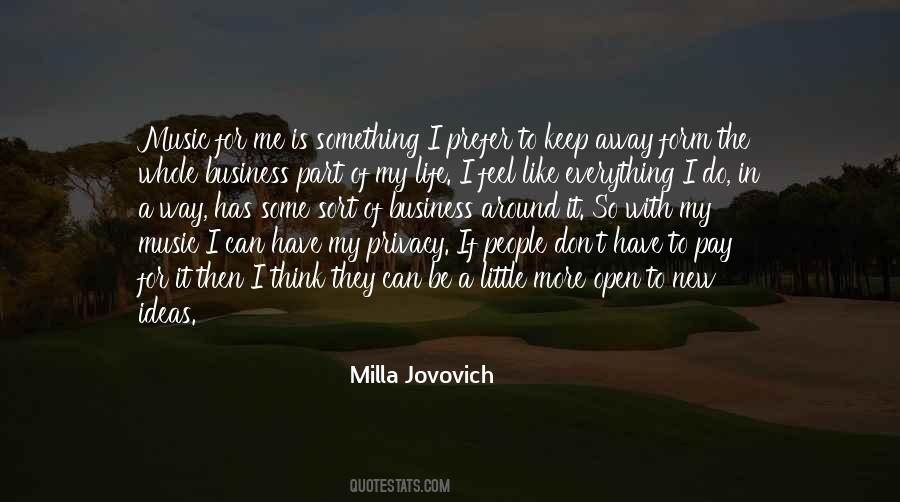 #86. When New Kids became really successful, I got a lot of offers to do parts in movies and TV shows, but I was really busy, so I pretty much turned everything down. But I always knew it was something that I would eventually put some energy into. - Author: Donnie Wahlberg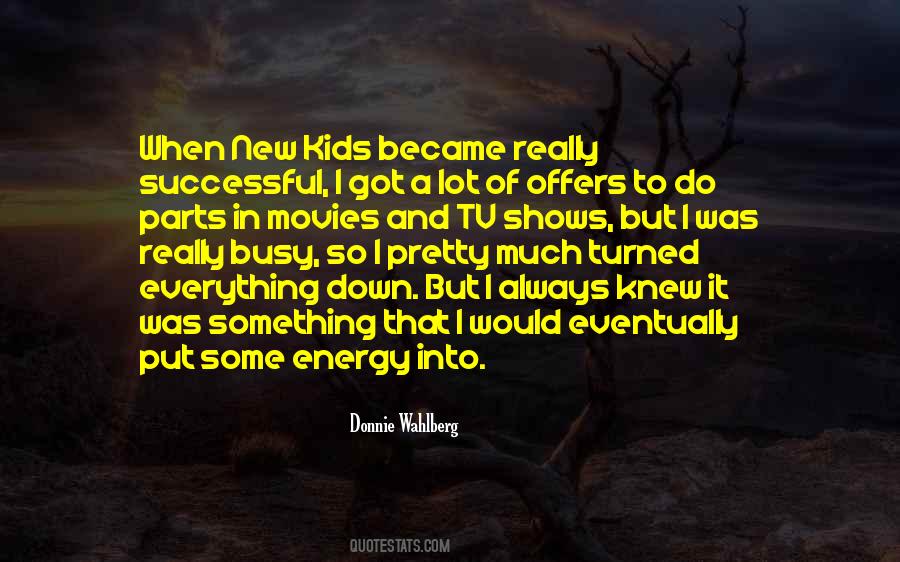 #87. Something about New York, man: You can do more comedy there probably than you can anywhere in the world. If you're interested in being funny, New York is the place to go. - Author: Dave Chappelle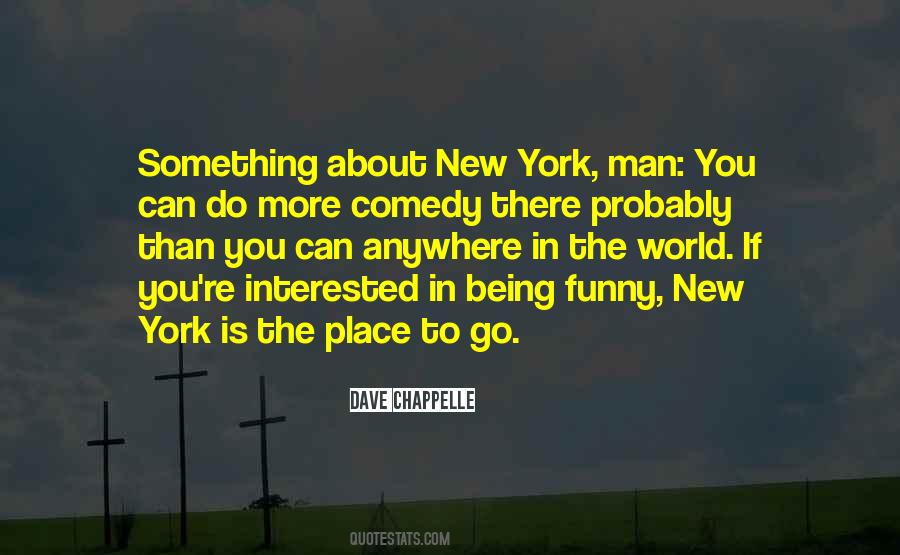 #88. One of our fundamental spiritual problems is this: we want God to do something new while we keep doing the same old thing. - Author: Mark Batterson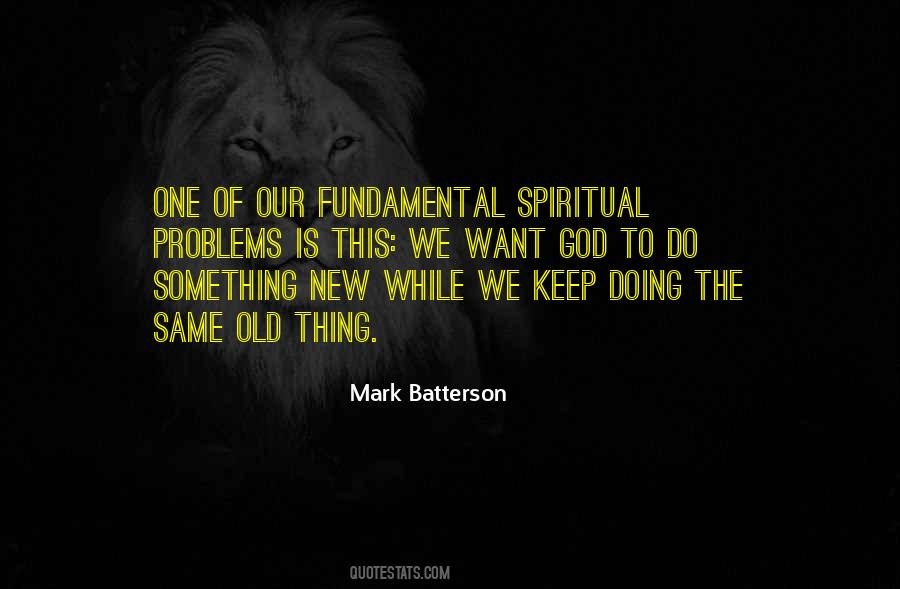 #89. 'Bloodshot,' for me, was unlike anything I'd ever done before, which was really the draw of it. In addition to trying to reconnect with my earlier work, I also wanted to try to do something that was completely new and different. - Author: Jeff Lemire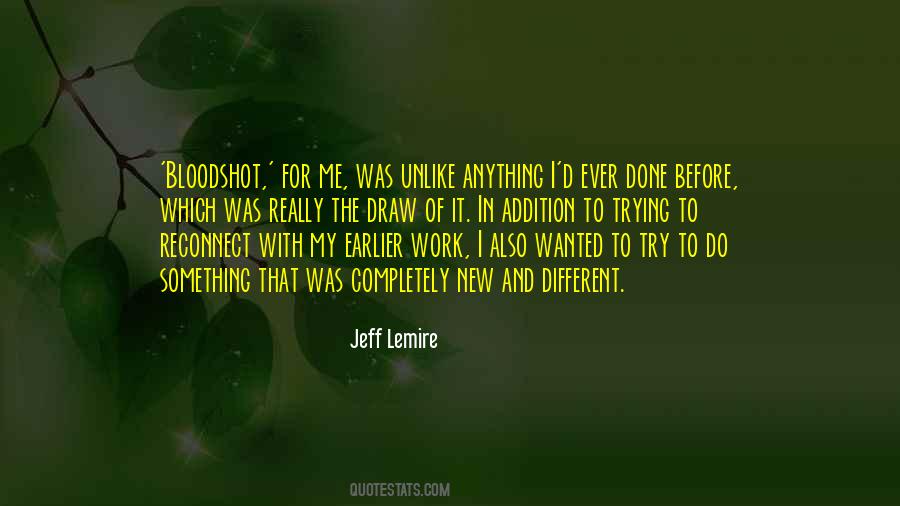 #90. I find that when people haven't found God and do not know the new birth and the Spirit is not on them, yet they have the ancient impulse to worship something. If they're not educated they kill a chicken and put a funny thing on their head and dance around. If they are educated they write poetry. - Author: A.W. Tozer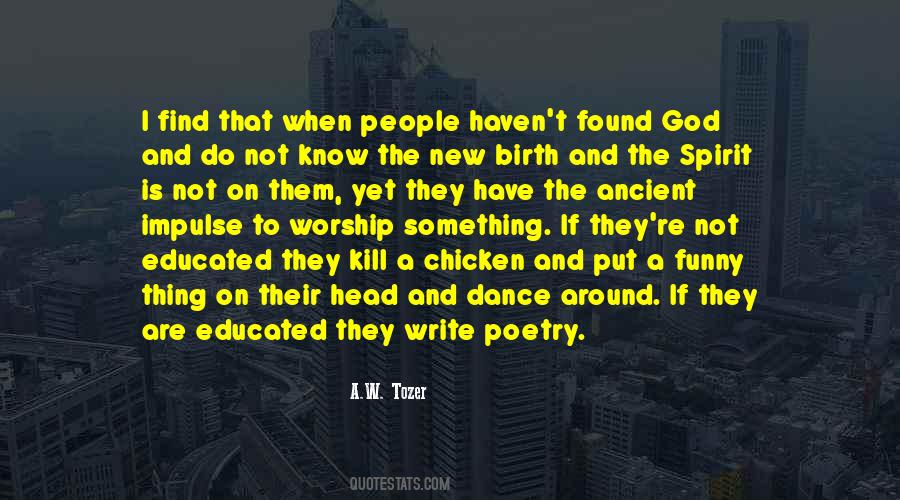 #91. I just need to do something new ... I've got the big remote control of life in my hands, and I'm ready to start pushing some buttons. - Author: Cecelia Ahern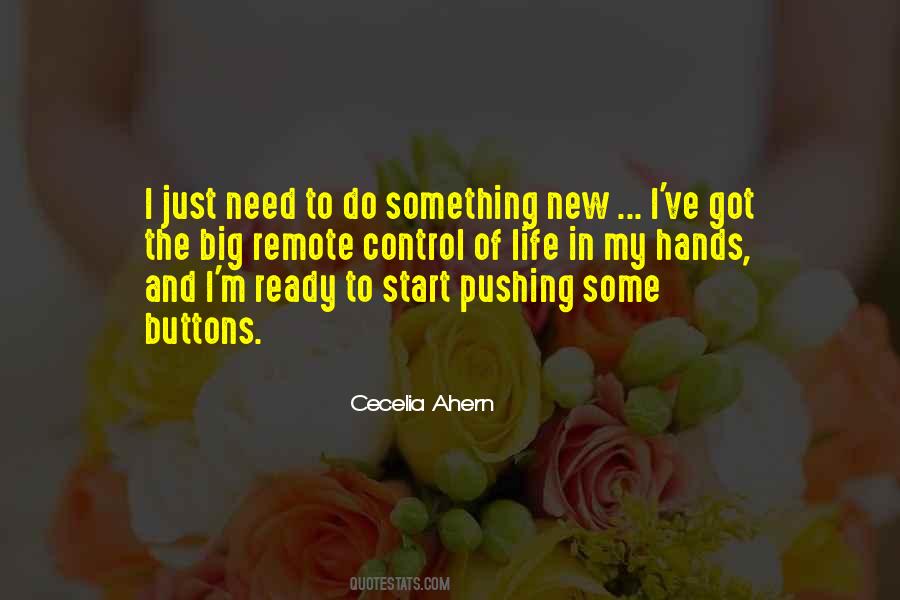 #92. Live your life like the novels that you love to read. Only do the things that when you look back, you are proud of what you accomplished, feel good about how you treated others and didn't regret not doing to trying something. Every day is a new chapter, write something. - Author: Taylor Berke
#93. For agnosticism is, in a sense, what I am preaching. I do not wish to reduce the sceptical element in your minds. I am only suggesting that it need not be reserved exclusively for the New Testament and the Creeds. Try doubting something else. - Author: C.S. Lewis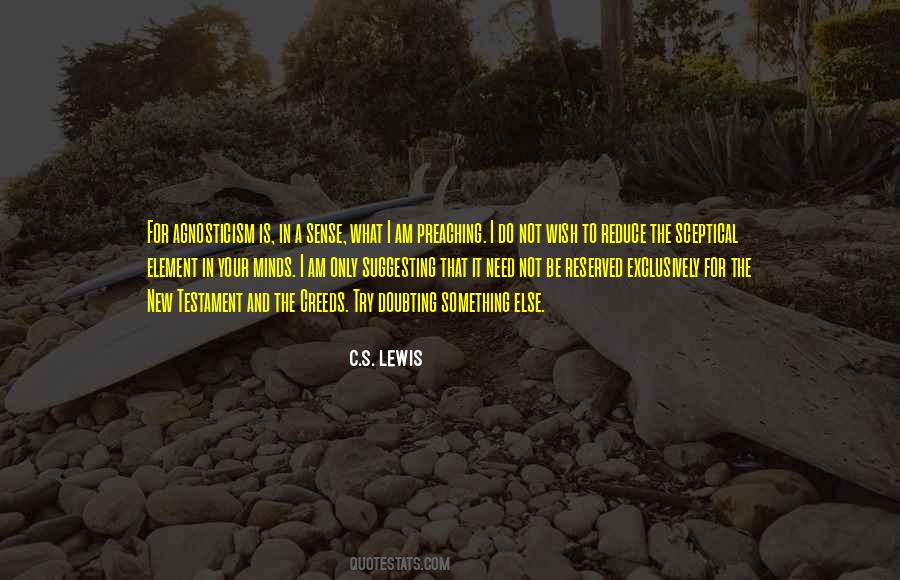 #94. Everything he knew was with a girl. Like reciting a learned lesson, something he could do because he had to. This - this was new. And exciting. And primal and raw and right. - Author: Brigid Kemmerer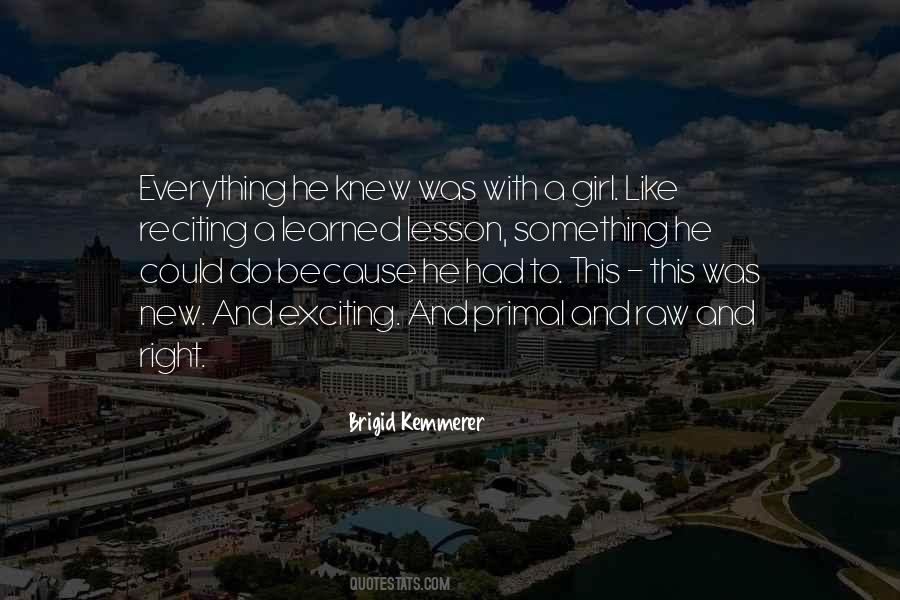 #95. There were mornings when I just didn't want to get out of bed. But once again, I'm in an adverse situation and having to deal with something new and learn how to do it. - Author: Picabo Street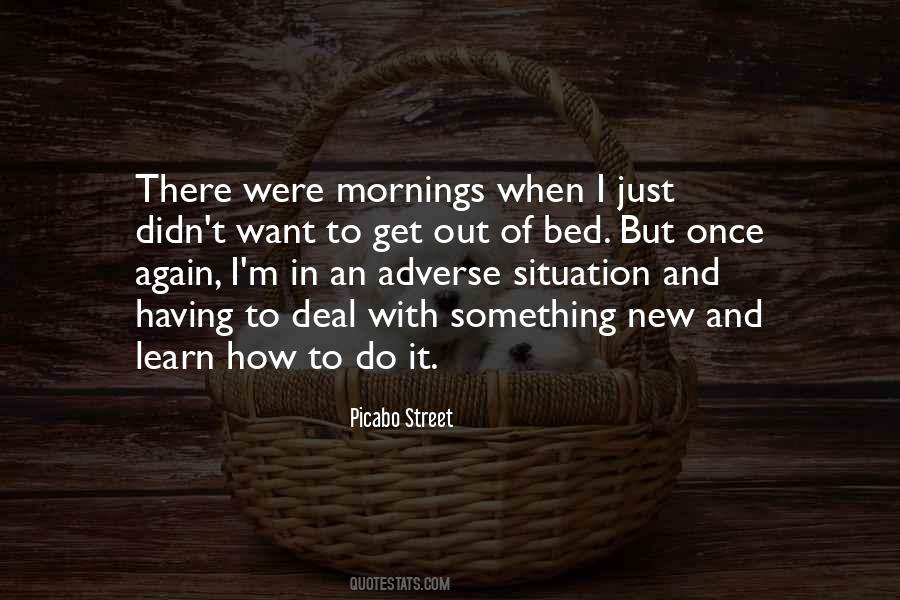 #96. You're not going to be immediately good at anything you do. You wouldn't quit on the first day of your new job, so why quit on the first try at doing something else? - Author: Jennifer Megan Varnadore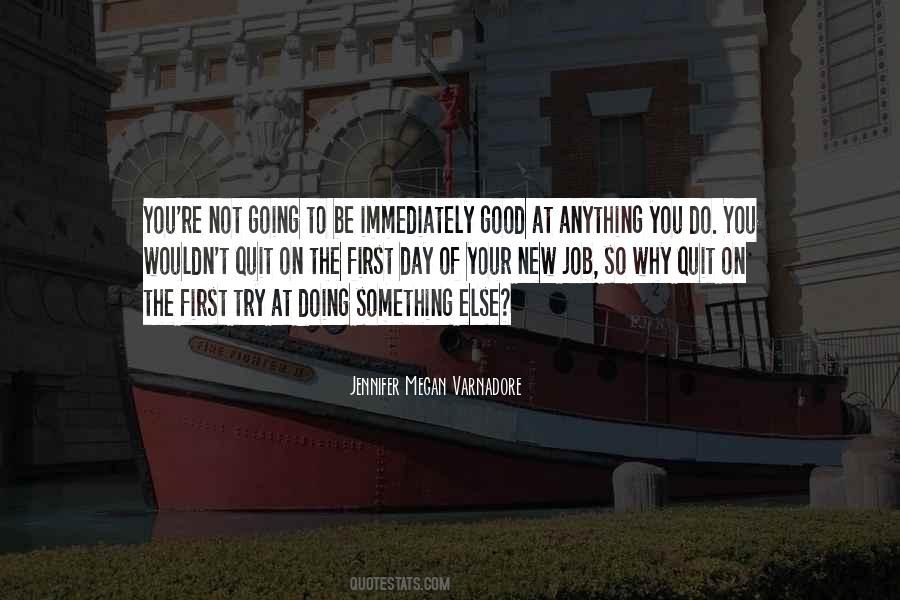 #97. Onstage, I don't feel any glory from people clapping in the audience, but when they're pushing me to do something new that feels good. - Author: Jack White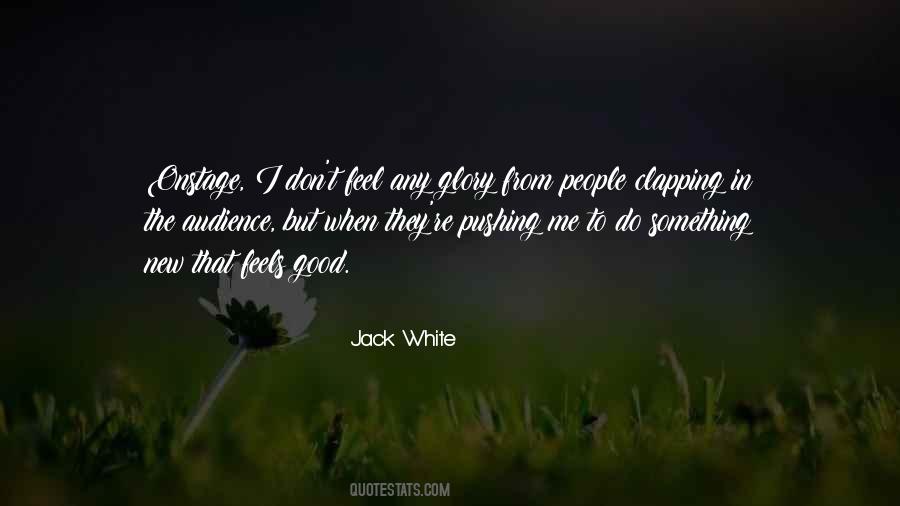 #98. If you want to be creative, don't try to do something new. Doing something new means NOT doing what's been done before, and that's a negative impulse. Negative impulses are frustrating. They're the opposite of creativity, and they never yield good ideas ... - Author: Eva Zeisel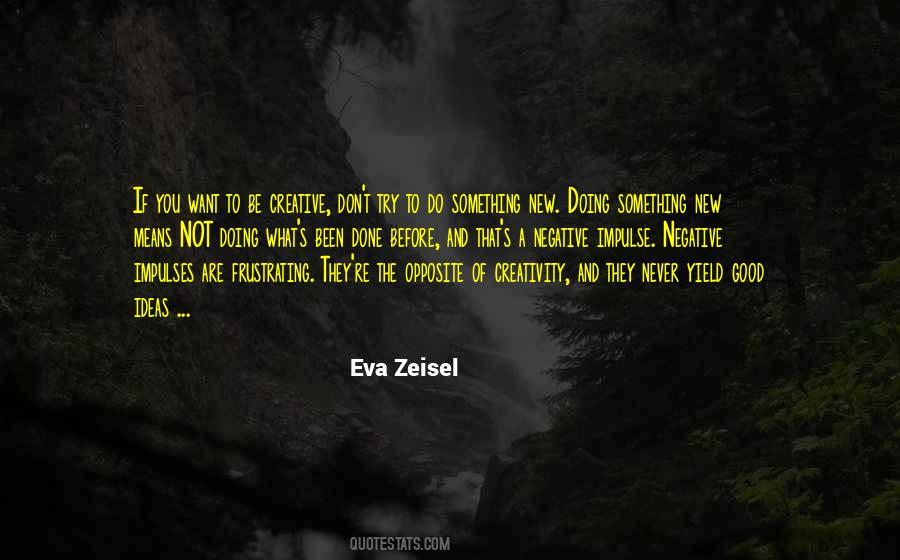 #99. Everybody has done something about Marco Polo. It's the tiredest, most trite and worked-over subject in the world, and that was why it appealed to me, because I wanted to do something really new and different about something that had been worked over all these centuries, and I think I did. - Author: Gary Jennings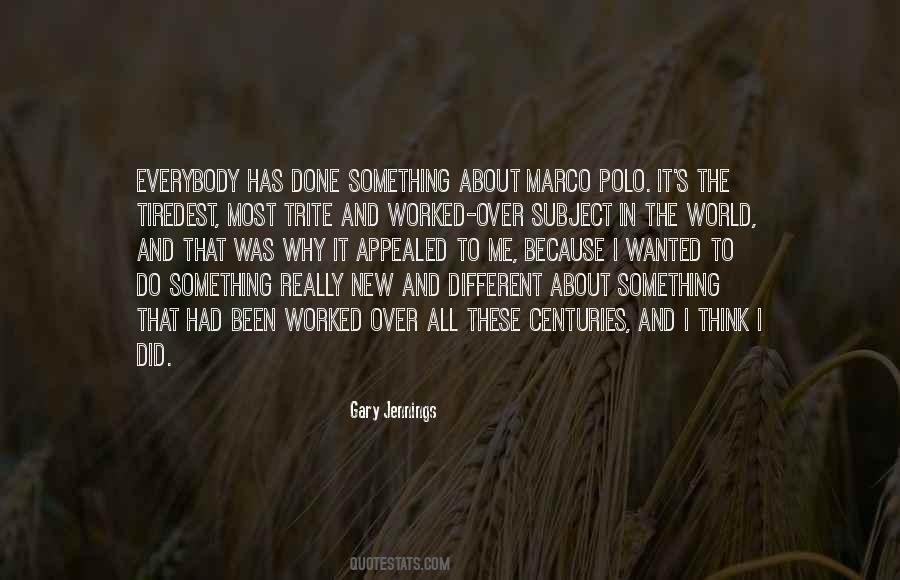 #100. I tend to do something for two years then move on to something new. Yoga, then biking, then weight lifting, then back to biking. The moment it feels like a rut, I switch and search for a new love. It's like having a midlife crisis, but without the new wife or cheesy BMW. - Author: Brad Meltzer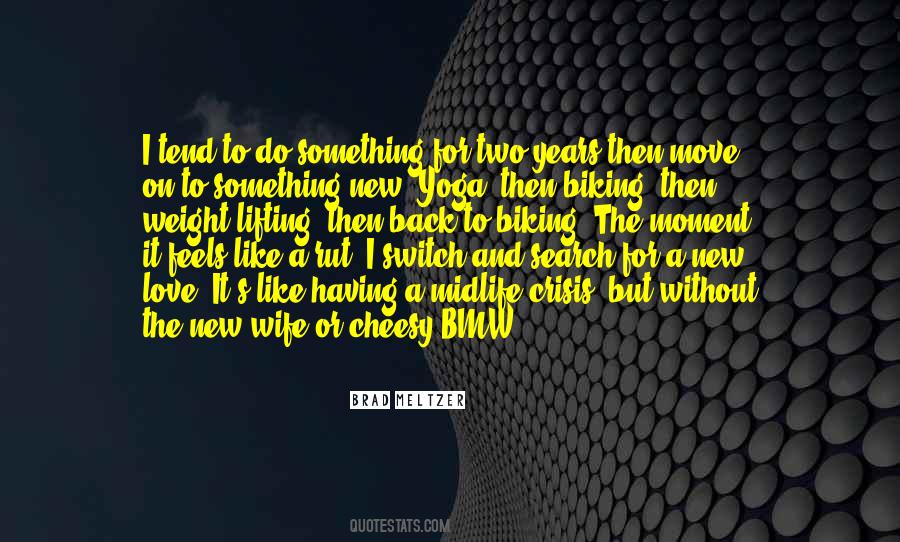 Famous Authors
Popular Topics