Tired Of Famous Quotes & Sayings
List of top 100 famous quotes and sayings about tired of to read and share with friends on your Facebook, Twitter, blogs.
Top 100 Tired Of Quotes
#1. Do not enforce the tired wolf
Dragging his infected wound homeward
To sit tonight with the warm children
Naming the pretty kings of France. - Author: John Crowe Ransom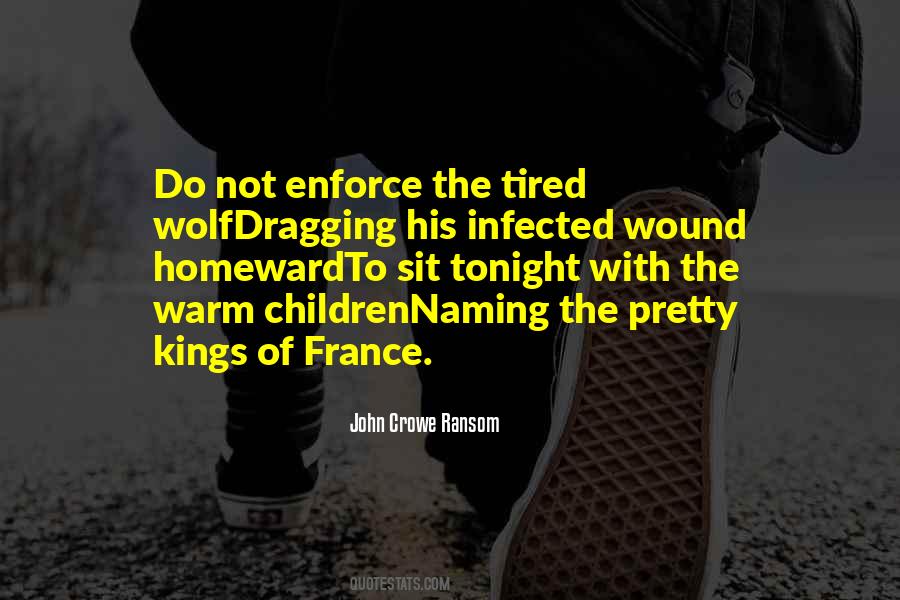 #2. I was tired of acting free when I was not, tired of acting strong when I was in fact weak. I hungered more for freedom than I cared for the approval of those around me. I had already discovered that their approval could never set me free. - Author: Anonymous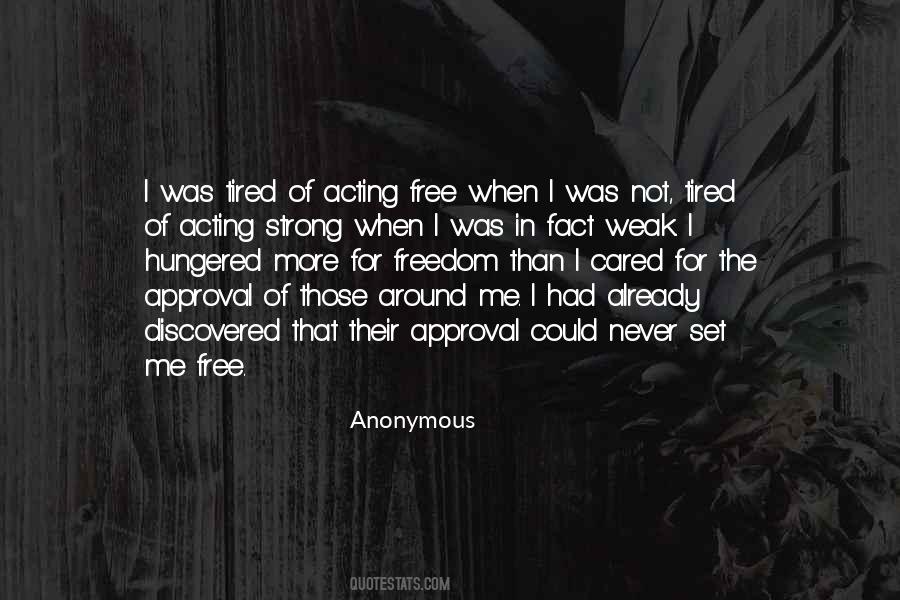 #3. My agent called me at 5:30am, and I thought the set of my movie had burned down, or Josh [Hutcherson] had died, or something ... I didn't realize! I was so tired! - Author: Jennifer Lawrence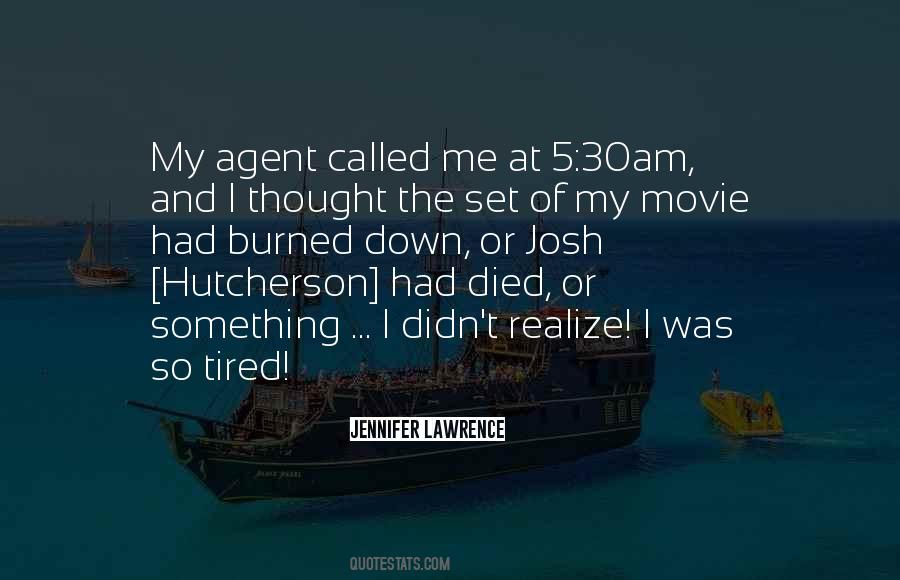 #4. It's drones over Brooklyn, you blink, you could get tooken,
And now you're understanding the definition of 'Crooklyn.'
Pigs on parade, but bacon fryin' and cookin',
Cause kids' tired of dyin' and walkin' round like they shooken. - Author: Killer Mike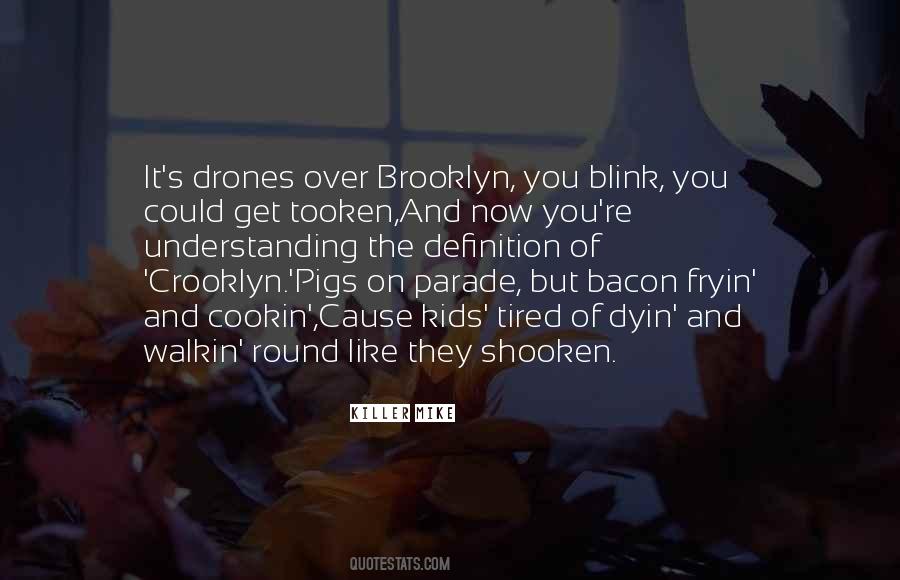 #5. Grief is a disease. We were riddled with its pockmarks, tormented by its fevers, broken by its blows. It ate at us like maggots, attacked us like lice- we scratched ourselves to the edge of madness. In the process we became as withered as crickets, as tired as old dogs. - Author: Yann Martel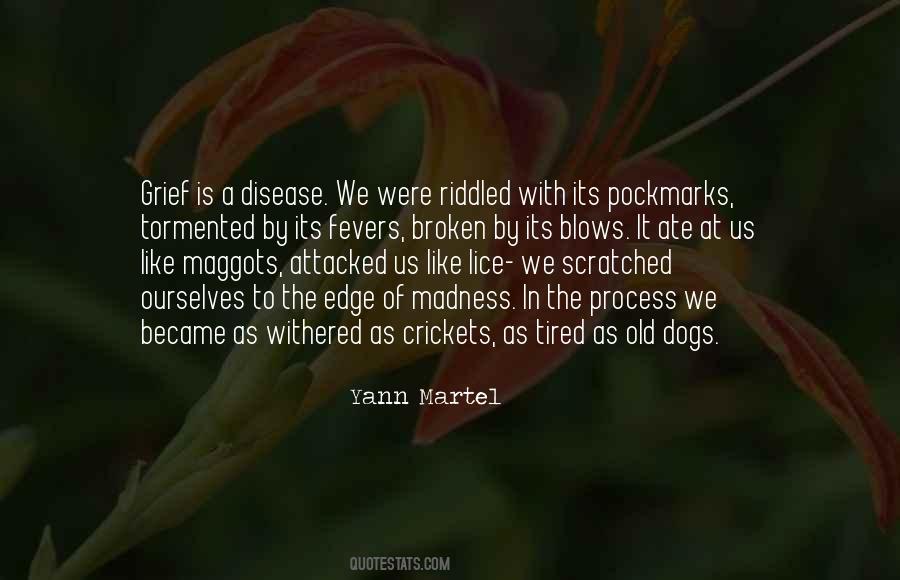 #6. I had a good-talking candle last night in my bedroom. I was very tired but I wanted somebody to be with me, so I lit a candle and listened to its comfortable voice of light until I was asleep. - Author: Richard Brautigan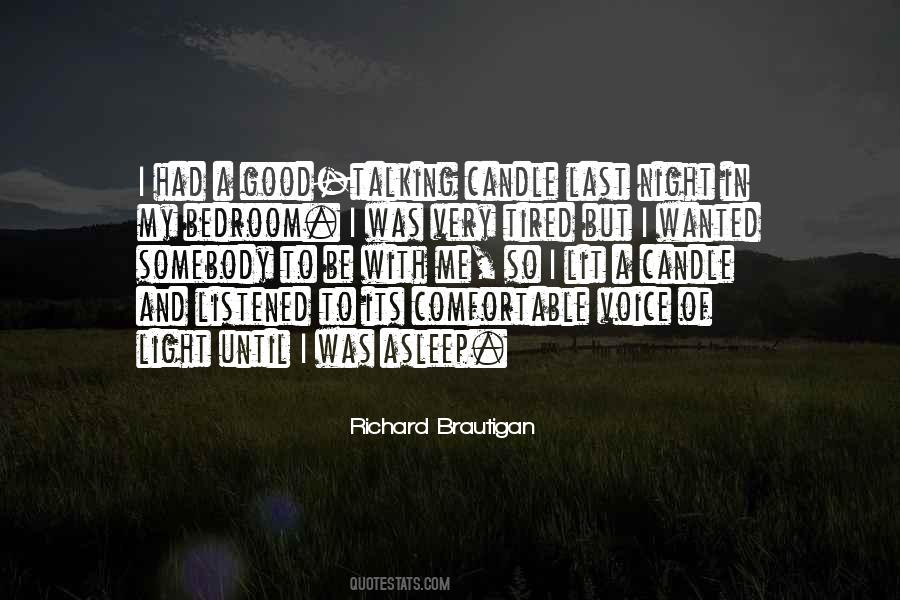 #7. I get tired of playing a guy who gets into a fight, then starts singing to the guy he's just beat up. - Author: Elvis Presley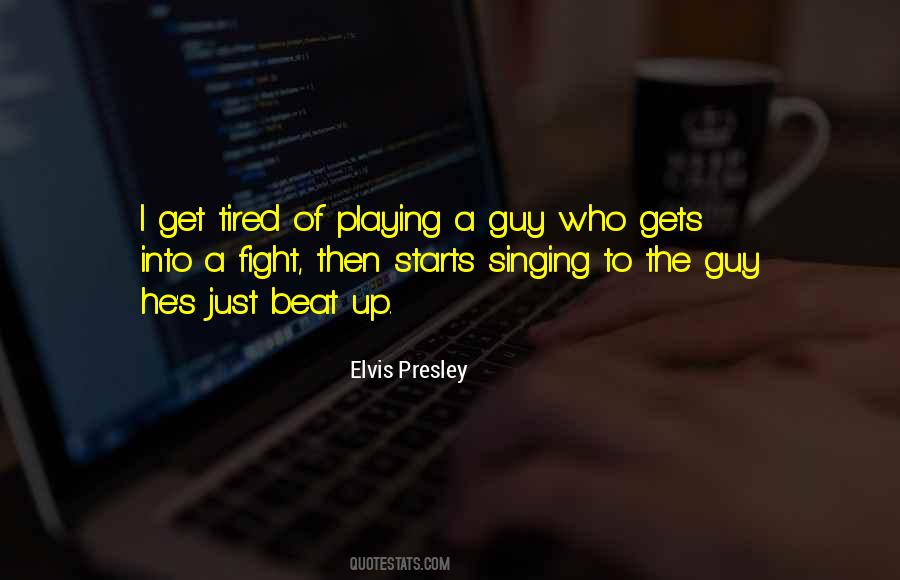 #8. There comes a day that we become tired of hearing empty promises and insincere apologies; not just from others, but also from ourselves. - Author: Steve Maraboli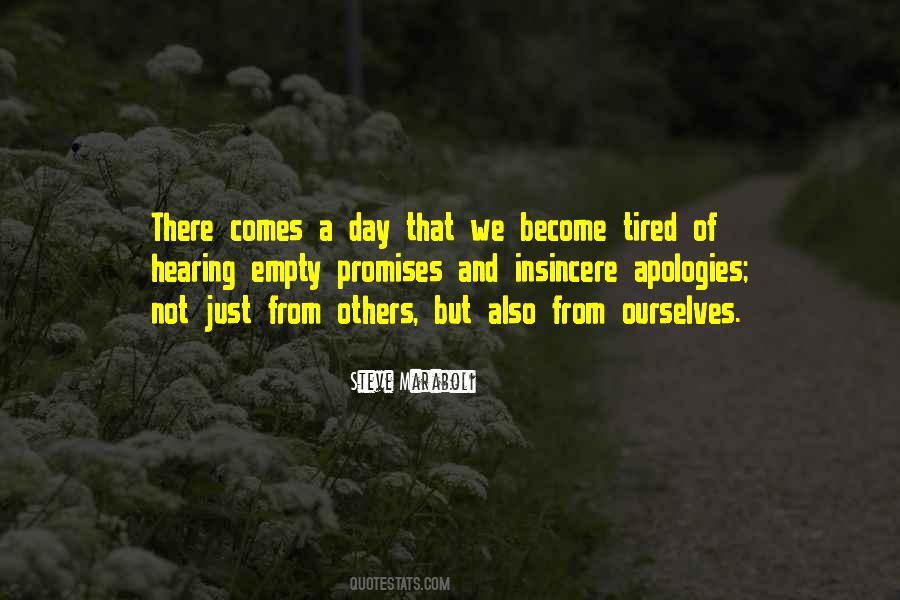 #9. I'm so fucking tired of being alone. I was scared that he'd tell me to fucking leave. Because that means going back to a life I can't see for myself anymore. - Author: Krista Ritchie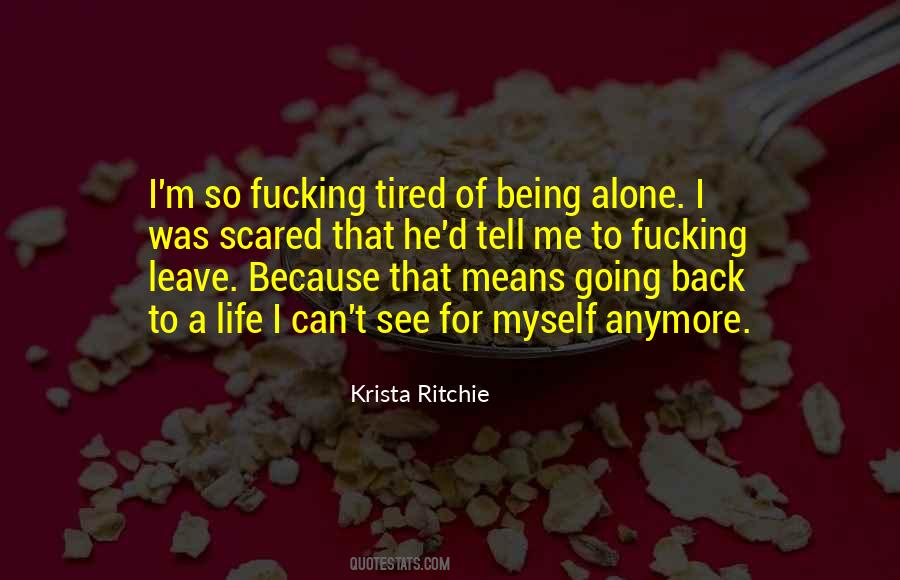 #10. I was tired of playing the child and acting the way many of my friends did - the ones who are afraid that love is impossible without even knowing what love is. - Author: Paulo Coelho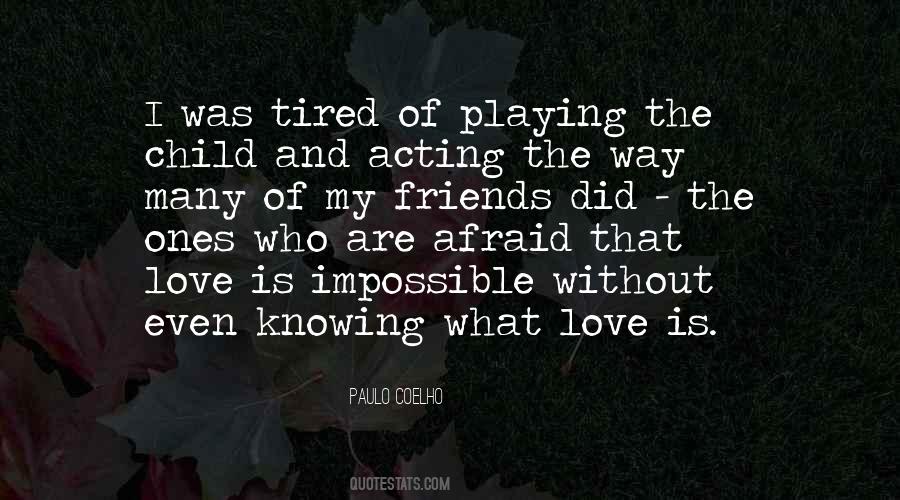 #11. Tired mothers find that spanking takes less time than reasoning and penetrates sooner to the seat of the memory. - Author: Will Durant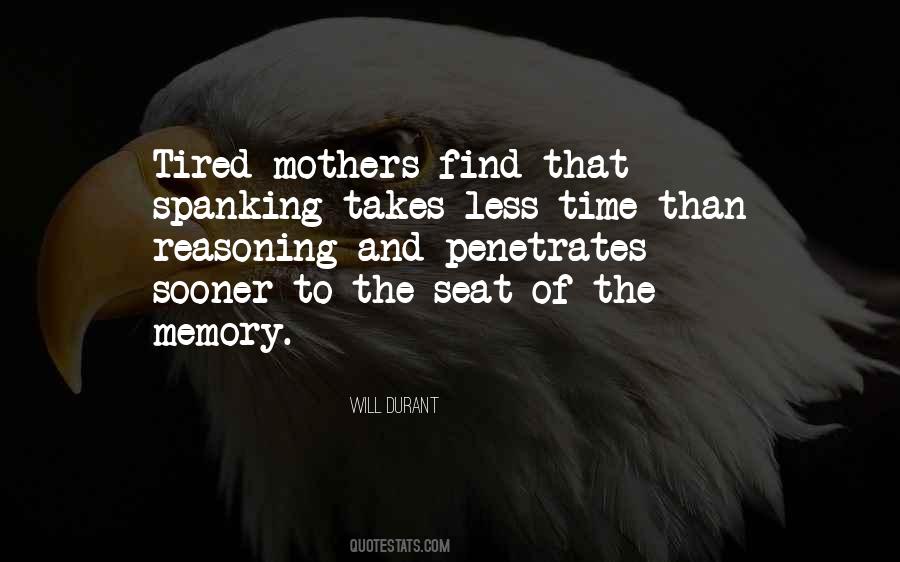 #12. Seasons have built our lives hour by hour in the twilight of long, darkening commutes, and we arrive home too tired to speak of love and this we say only with a goodnight kiss. - Author: Bruce Meyer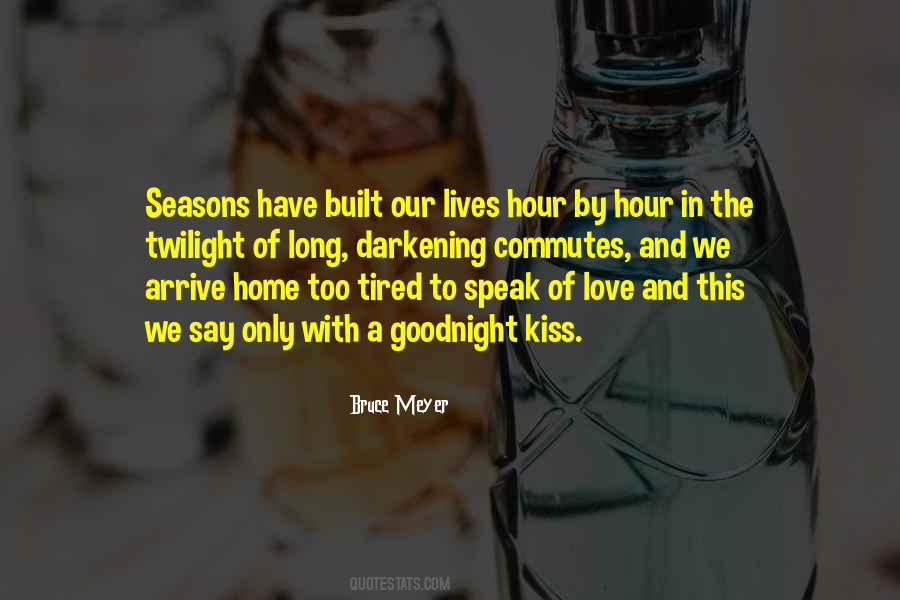 #13. Retired is being tired twice, I've thought, first tired of working, then tired of not. - Author: Richard Armour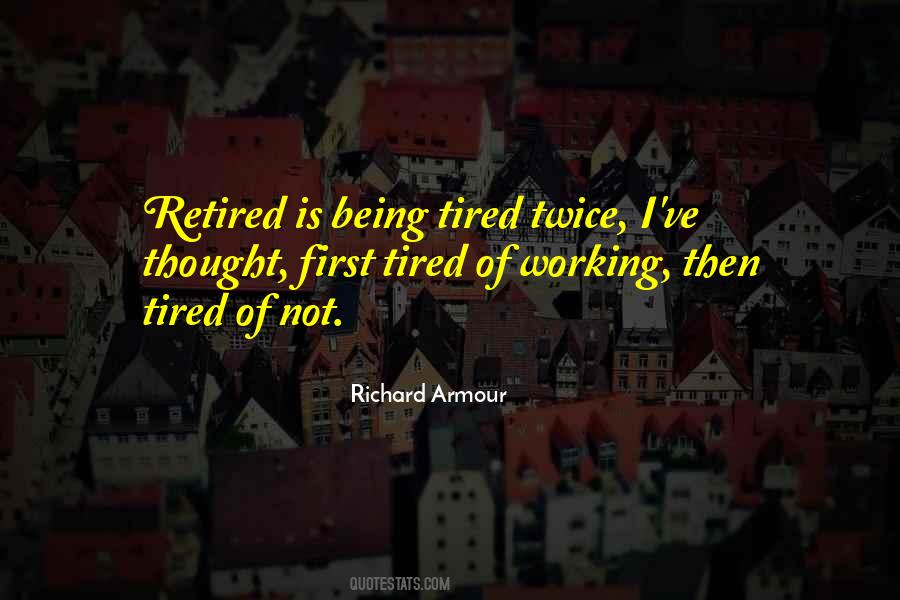 #14. There comes that phase in life when, tired of losing, you decide to stop losing, then continue losing. Then you decide to really stop losing, and continue losing. The losing goes on and on so long you begin to watch with curiosity, wondering how low you can go. - Author: George Saunders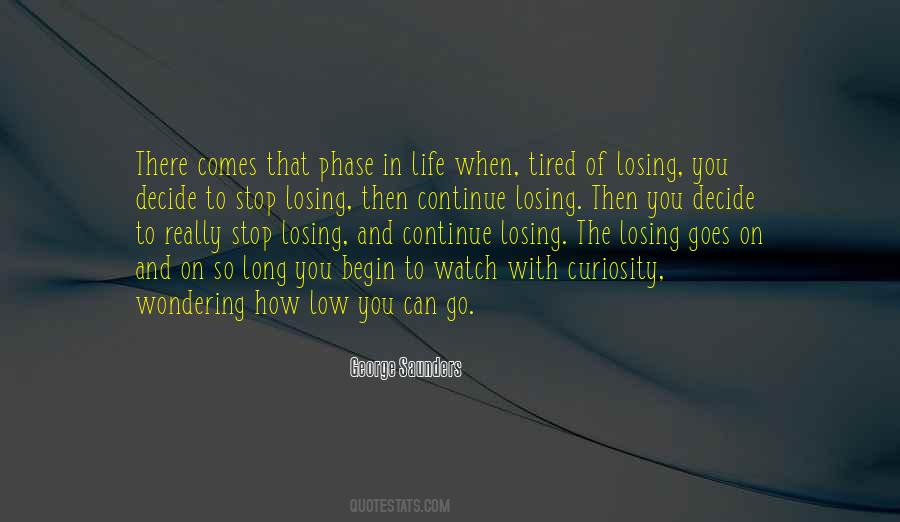 #15. I'm friends with Taylor Swift, and I am tired of people asking me questions about our friendship. When I post a picture of us on Instagram, I'm posting a picture of me and my friend. - Author: Sarah Hyland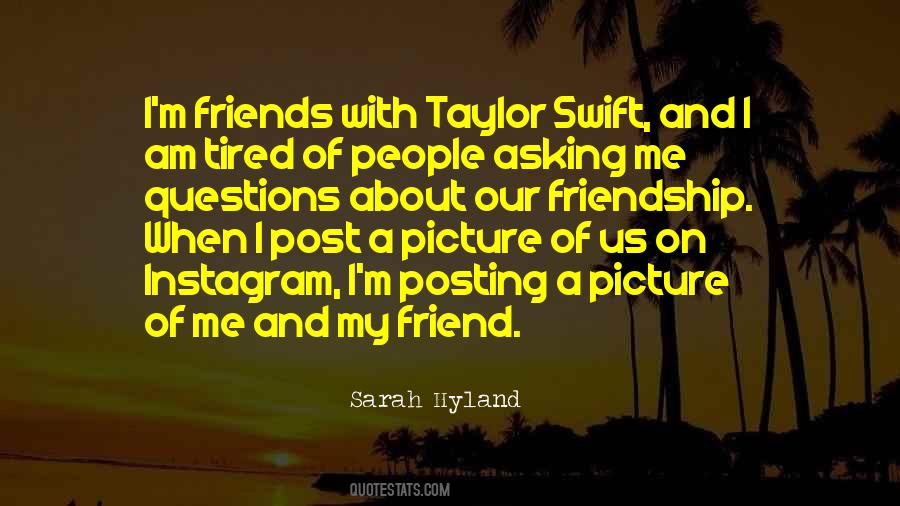 #16. I want to start a trend of women as we really look. Some good things, some not so good. I am tired of looking at frozen faces. - Author: Debra Winger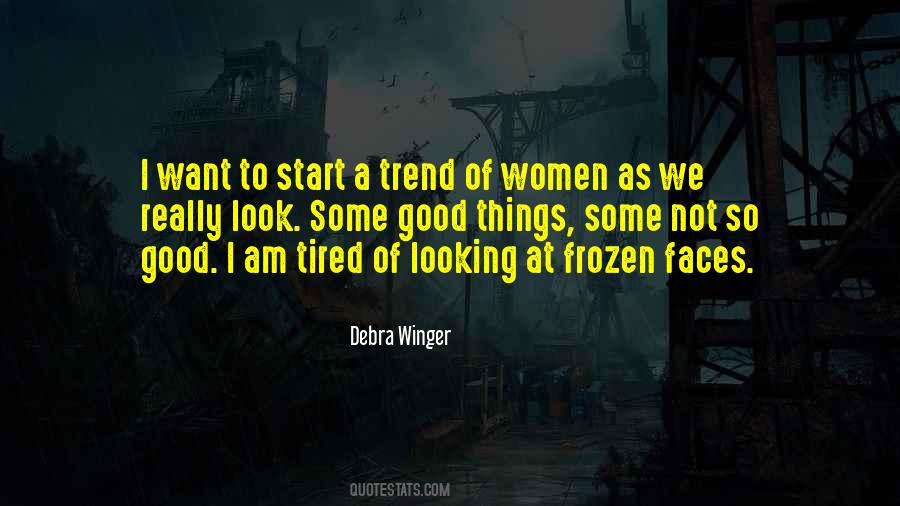 #17. I am tired of all these golfers who are happy with second place. The only one who will like you if you come in second place is your wife and your dog. And that is only if you have a good wife and a good dog. - Author: Gary Player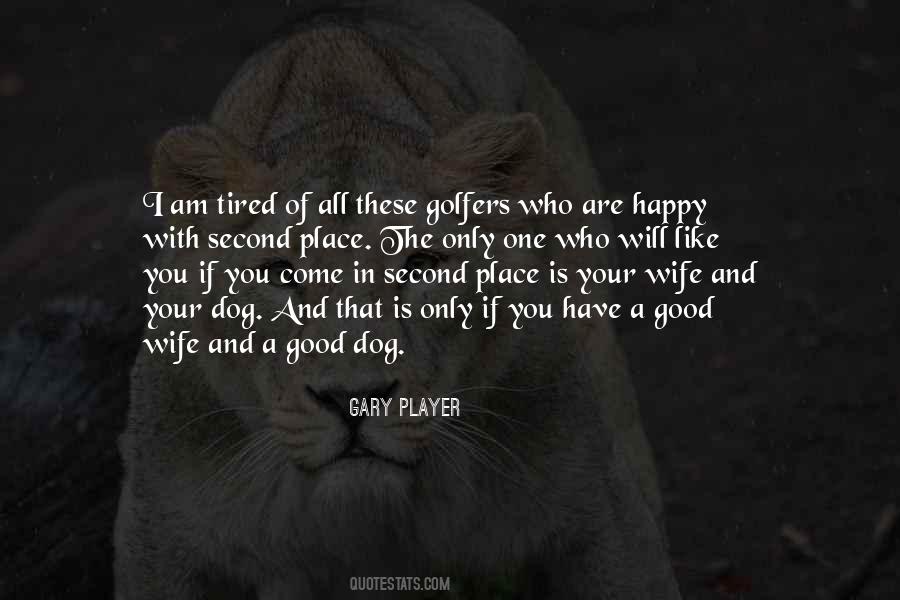 #18. This whole situation is so fucked up. This game. This thing between us. It's exhausting. God, I'm just so sick of it and tired of hating Mr. Black one minute to wanting a future with you the next. A future I know will never happen. - Author: Ella Dominguez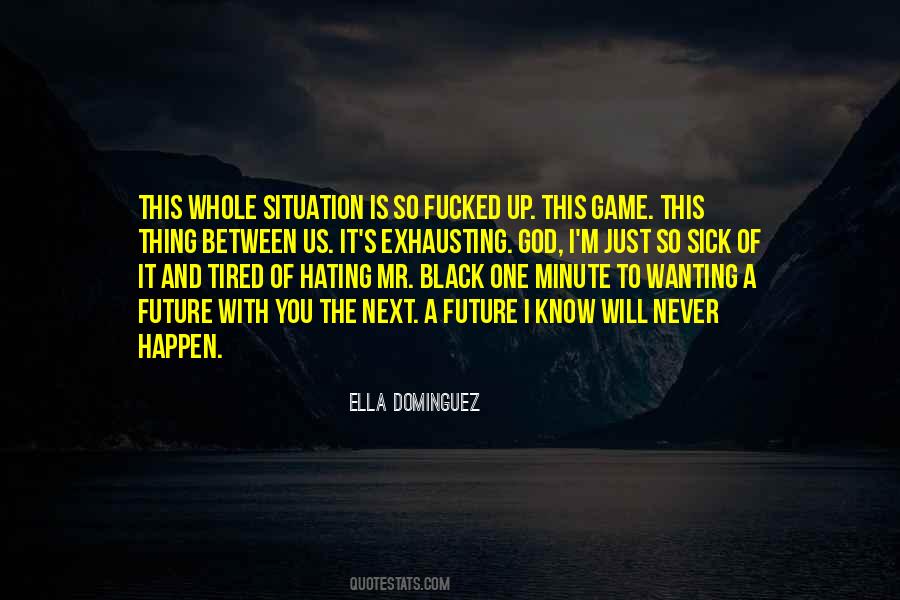 #19. What I am
is tired of jam. - Author: Russell Hoban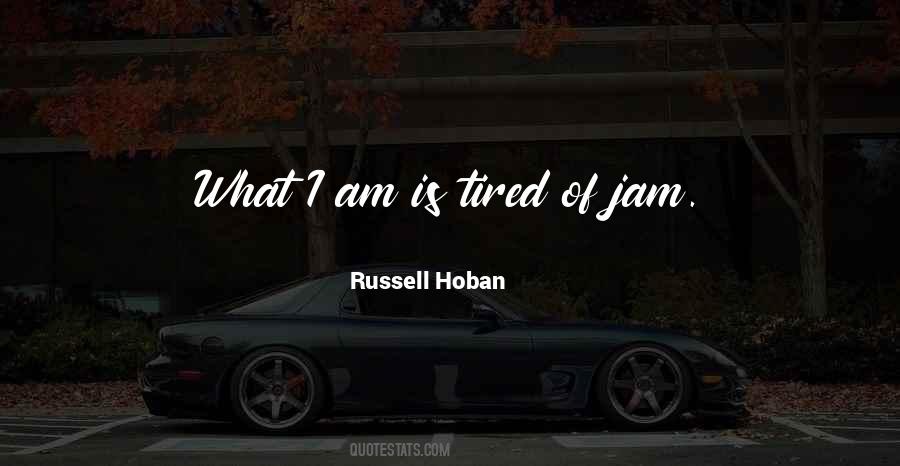 #20. Tired, ashamed, and mortified, I begged to sit down till we returned home, which I did soon after. Lord Orville did me the honour to hand me to the coach, talking all the way of the honour I had done him ! O these fashionable people! - Author: Fanny Burney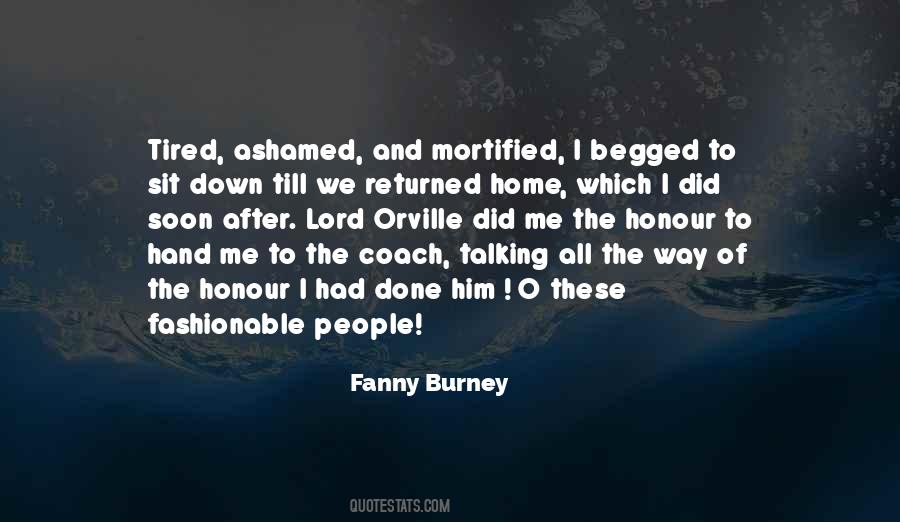 #21. I am tired of making history. I want to make progress. - Author: Mark Anthony Peterson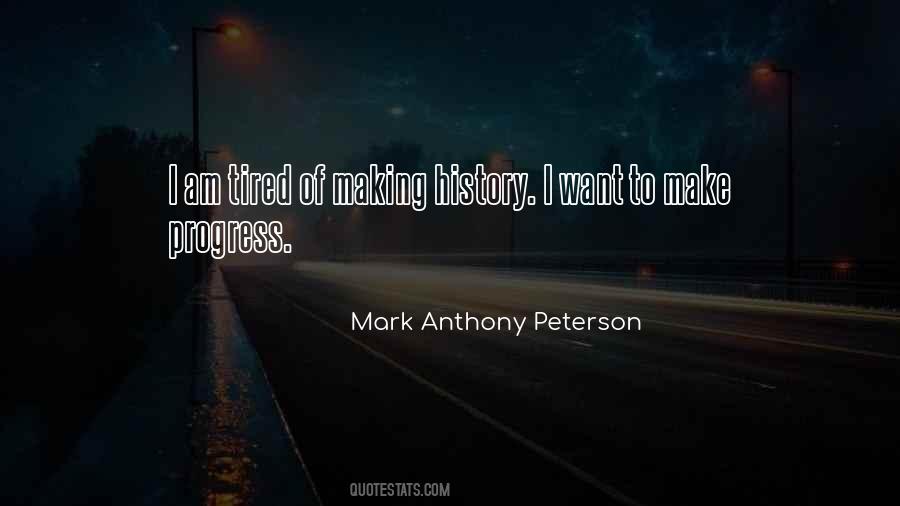 #22. I was kind of tired, I guess, of knowing people are flesh. Flesh and water. - Author: Banana Yoshimoto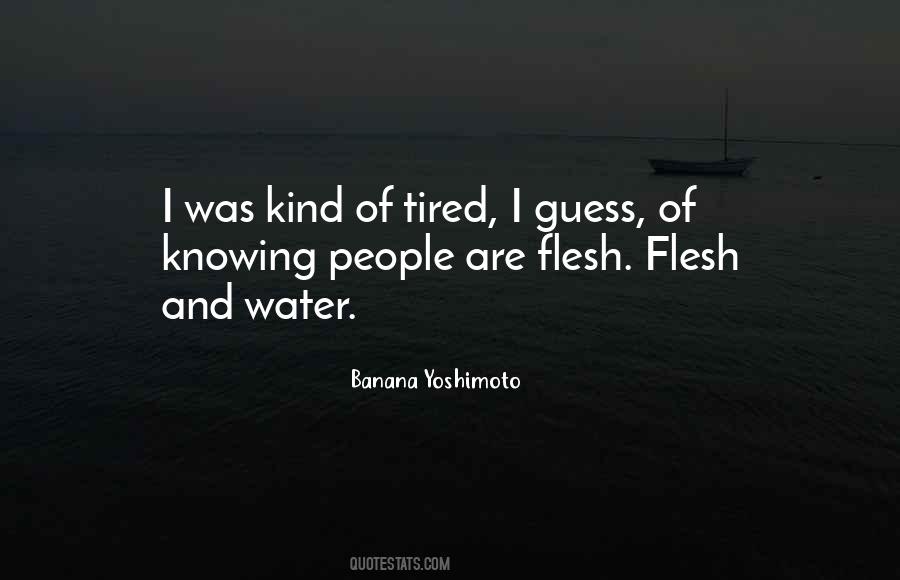 #23. Shams is a trumpet note of light
that starts the atoms spinning,
a wind that comes at dawn
tasting of bread and salt.
Move to the edge and over. Fly with the wings
he gives, and if you get tired, lie down,
but keep opening inside your soul. - Author: Rumi
#24. People are tired of the status quo. You see that in various movements in and out of our [the Republicans]party, but most candidates are offering hollow rhetoric, not specific solutions. - Author: Carly Fiorina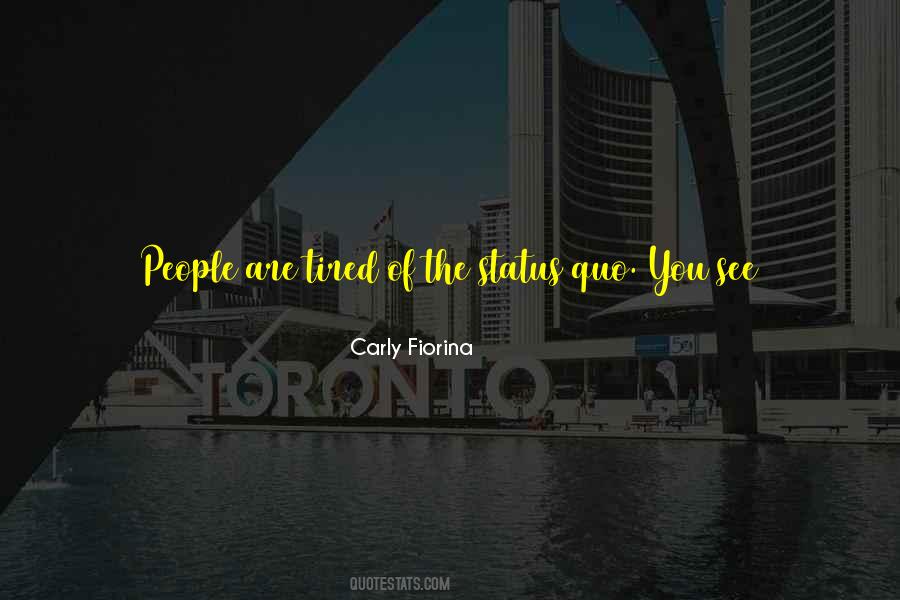 #25. The wages of sin are death, but by the time taxes are taken out, it's just sort of a tired feeling.
- Author: Paula Poundstone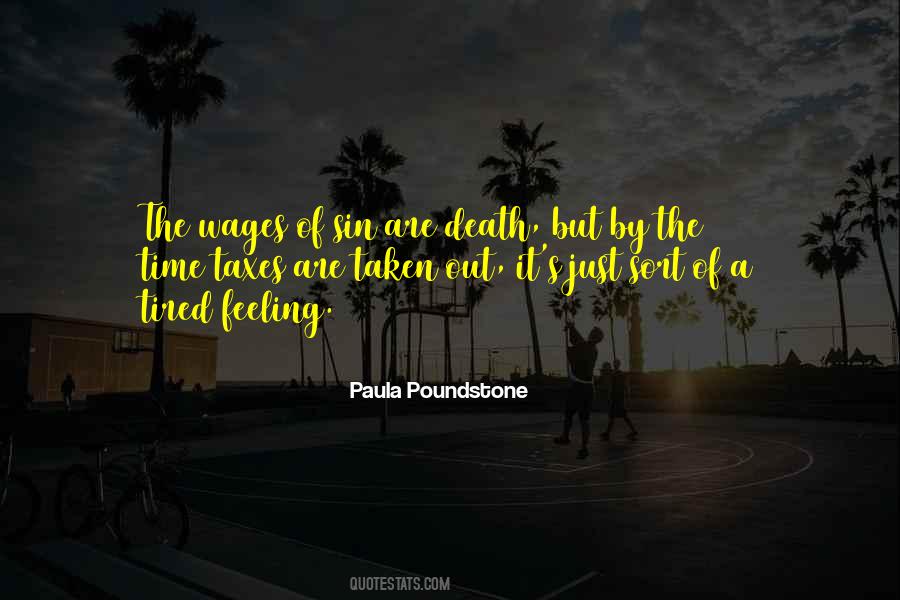 #26. I was tired of playing the goodie-two-shoes. - Author: Donna Mills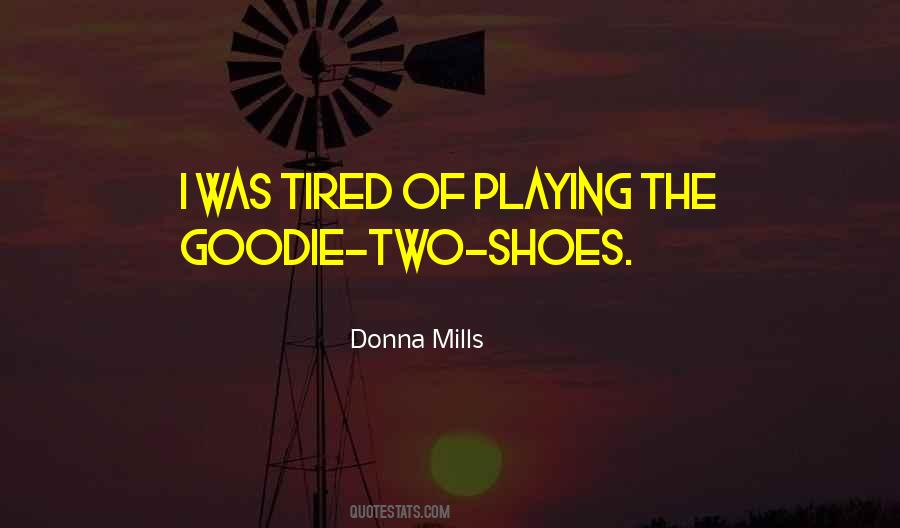 #27. By the way, in that same session an ad popped up that said, "Tired of masturbating?" I thought, "Nope. Try me again in about one-hundred-fifty years. - Author: Adam Carolla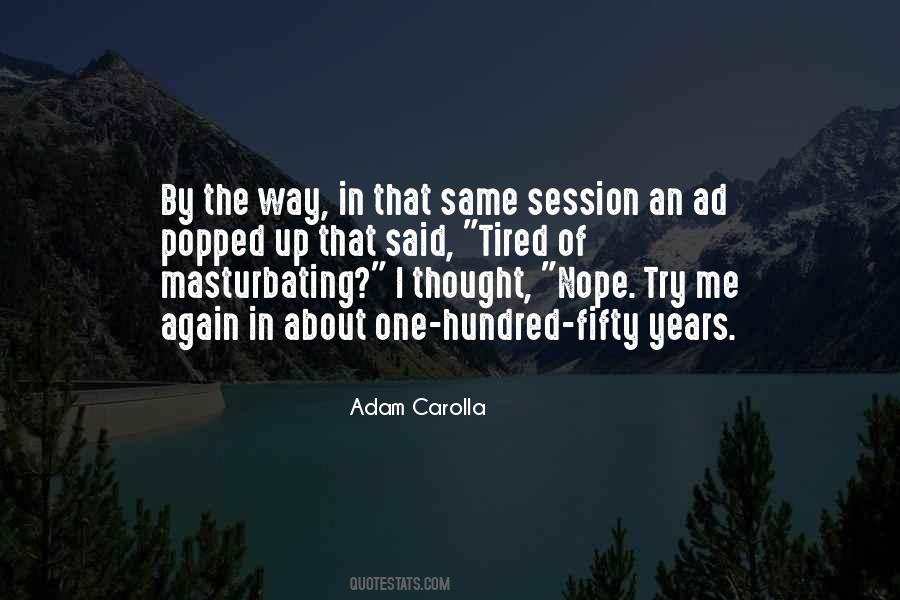 #28. I was tired of seeing the Graces always depicted as beautiful young things. I think wisdom comes with age and life and pain. And knowing what matters. - Author: Louise Penny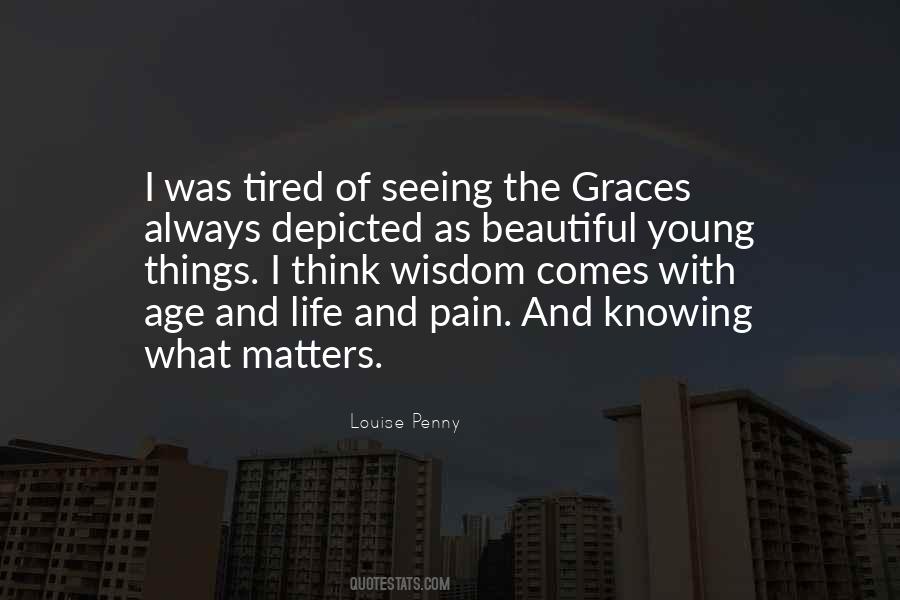 #29. I realized that's all I've ever wanted. You're all I've ever wanted, Evangeline. I'm tired of pretending that's not true. I'm tired of thinking I can replace you with someone else. Anyone else. I'm tired of not being with you. - Author: D.L. White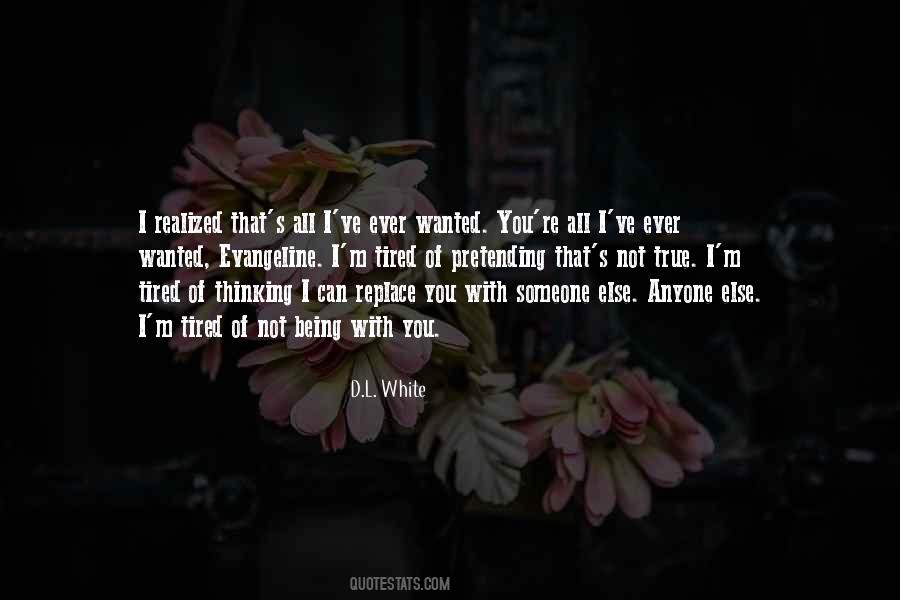 #30. It wasn't that she was sad - sadness had very little to do with it, really, considering that most of the time, she felt close to nothing at all. Feeling required nerves, connections, sensory input. The only thing she felt was numb. And tired. Yes, she very frequently felt tired. - Author: Nenia Campbell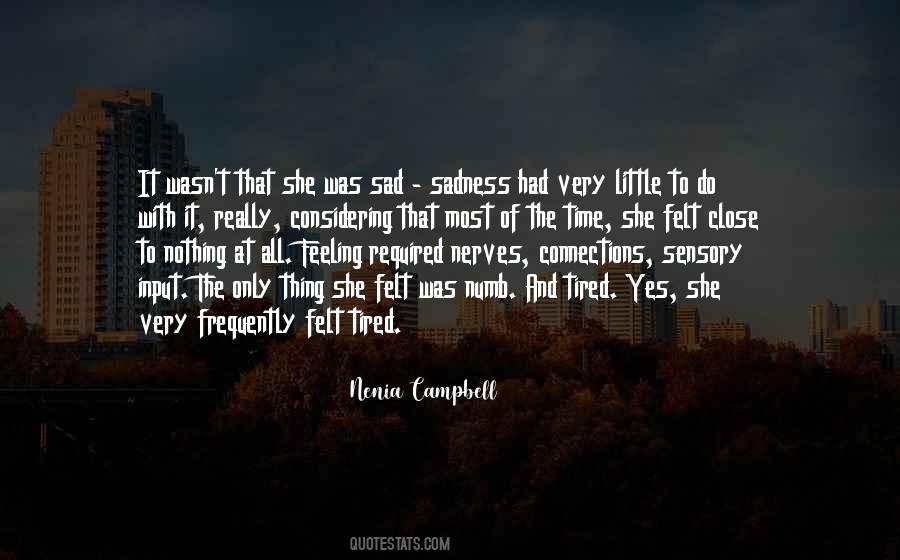 #31. I am so tired of fear. And I don't want my girls to live in a country, in a world, based on fear. - Author: Michelle Obama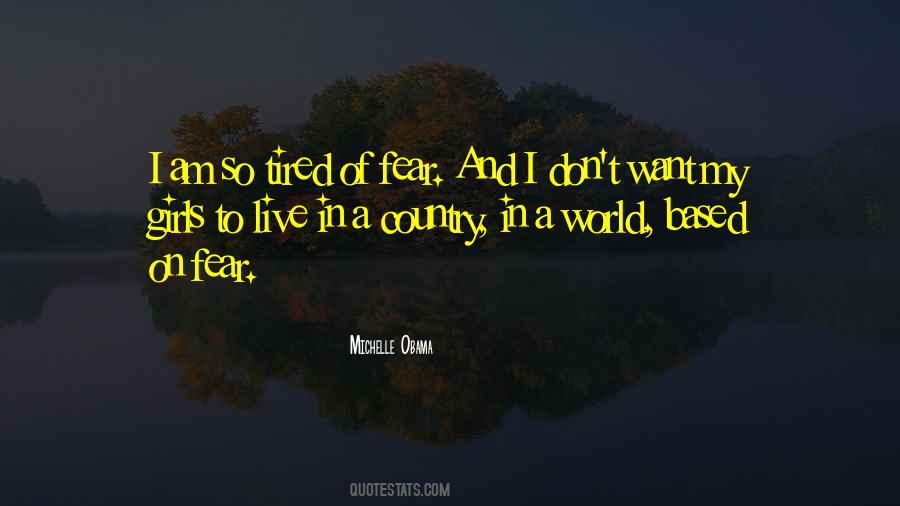 #32. The plot is so tired that even this reviewer, who in infancy was let drop by a nurse with the result that she has ever since been mystified by amateur coin tricks, was able to guess the identity of the murderer from the middle of the book. - Author: Dorothy Parker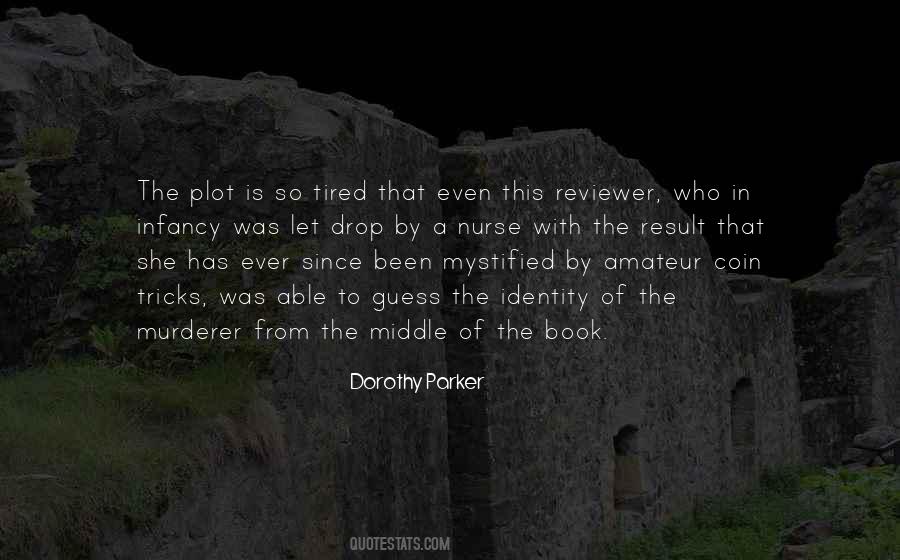 #33. I love working back home, but it is a small country, and we do get tired of watching each other. - Author: Mads Mikkelsen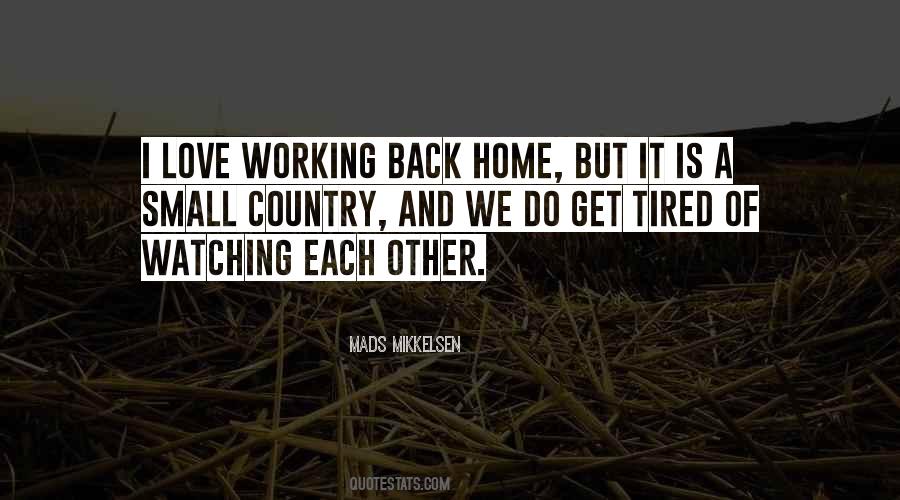 #34. I'd fallen asleep thinking I was much too tired to go on working and if I went on working, I'd lose it. I'd get a better hold of it in the morning; feel stronger. But I looked and looked at it and it seemed to me there was nothing to do. - Author: Milton Resnick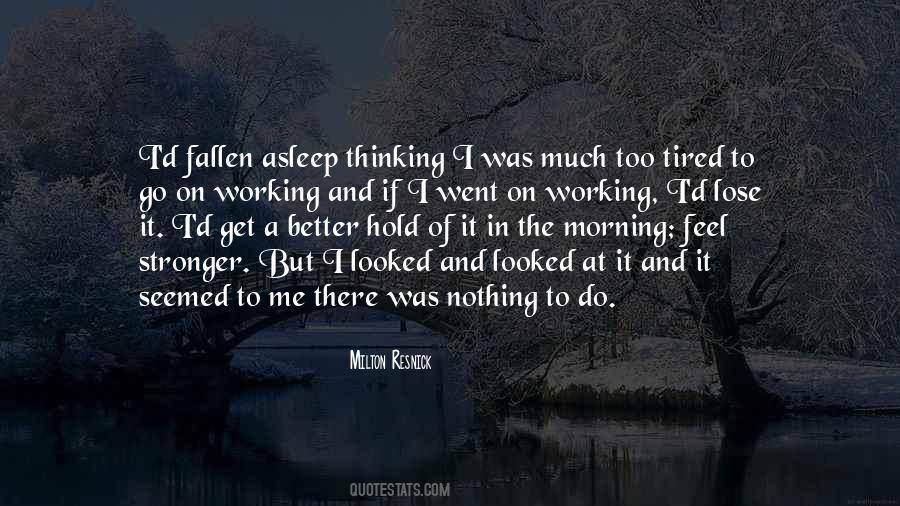 #35. Give me your hungry, your tired, your poor, that's what the Statue of Bigotry says. Your poor huddled masses, let's just club them to death, and get it over with. - Author: Lou Reed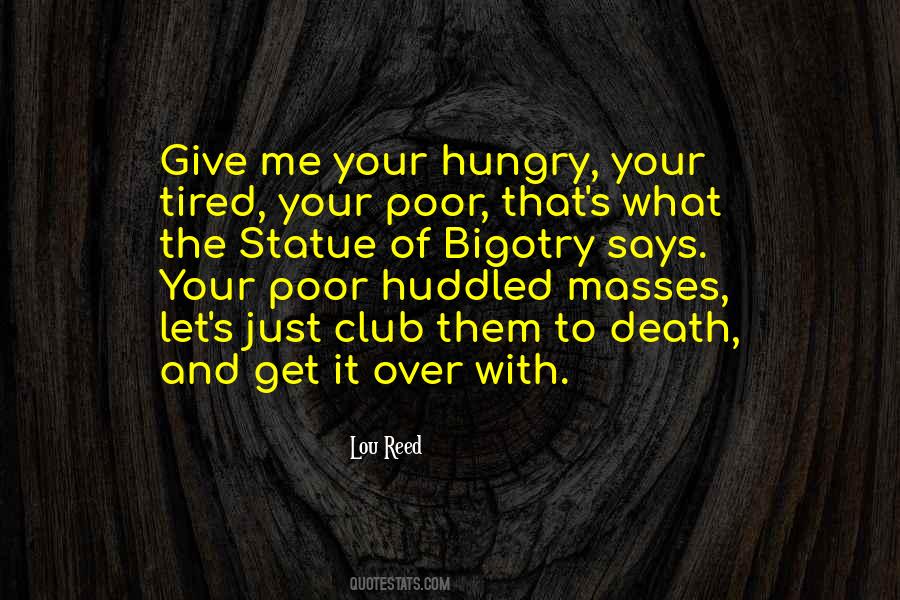 #36. People get tired of everything, and of nothing sooner than of what they most like. - Author: George Bernard Shaw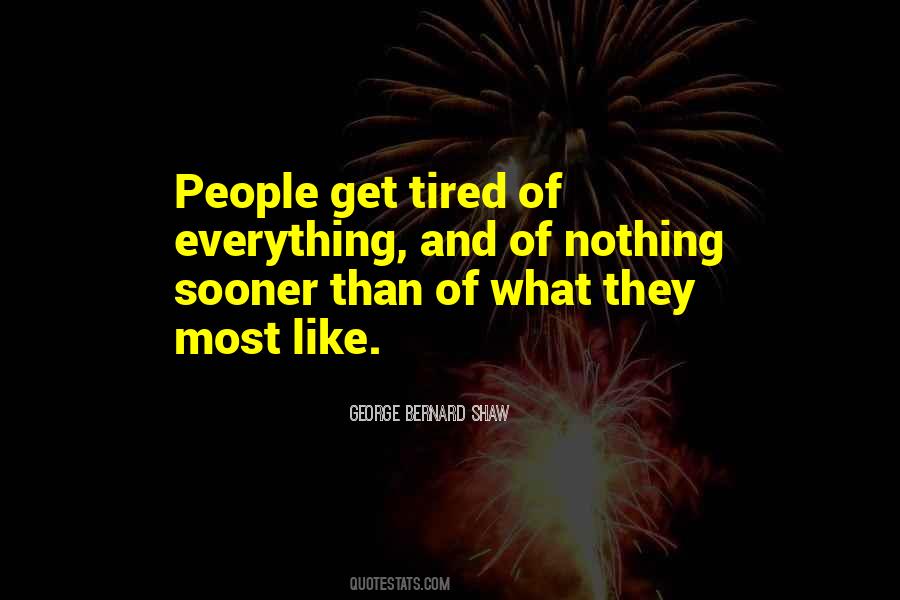 #37. People are tired of just watching their TV set passively. They are playing interactive games today. They are on the Internet interacting. They want to be part of their TV set. - Author: Bruce Nash
#38. They kissed, but it was a gentle kiss and there was no urgency. They were tired and they were ... healing. They had time. And time was the most beautiful word of all. - Author: Josh Lanyon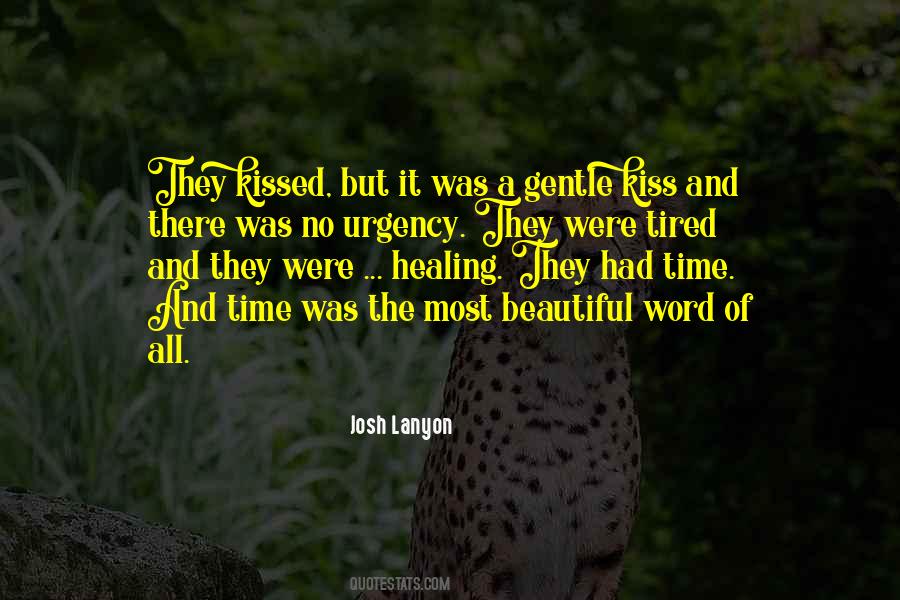 #39. This guy was making me tired. "Thanks for the afternoon's entertainment," I said. "I'll flush a copy of my bill down the toilet. You should be getting it in a couple of days. - Author: John Swartzwelder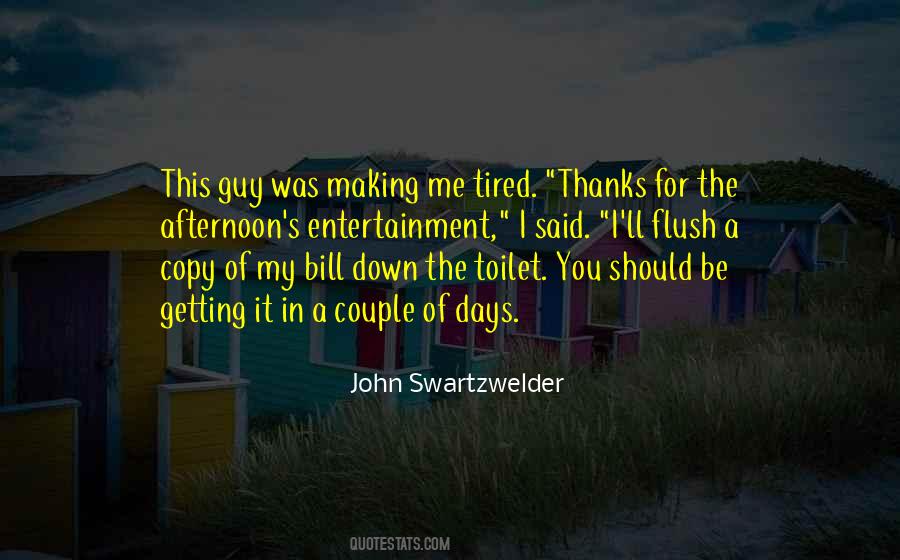 #40. I got a little tired of movies where I had to shoot people. I got to thinking about the power of film and what that power is. The power is in fact that it really can change people's minds. - Author: Nicolas Cage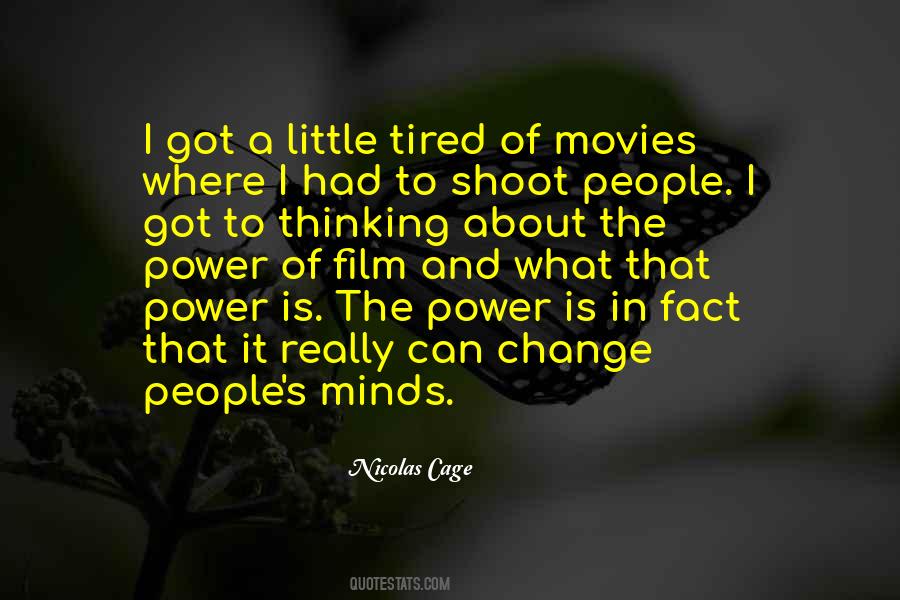 #41. Olivia, I'll put on a show in front of your friends, at your work, whenever we're in public. But I'm growing tired of pretending when we're alone. Don't tempt me. - Author: Jessica Hawkins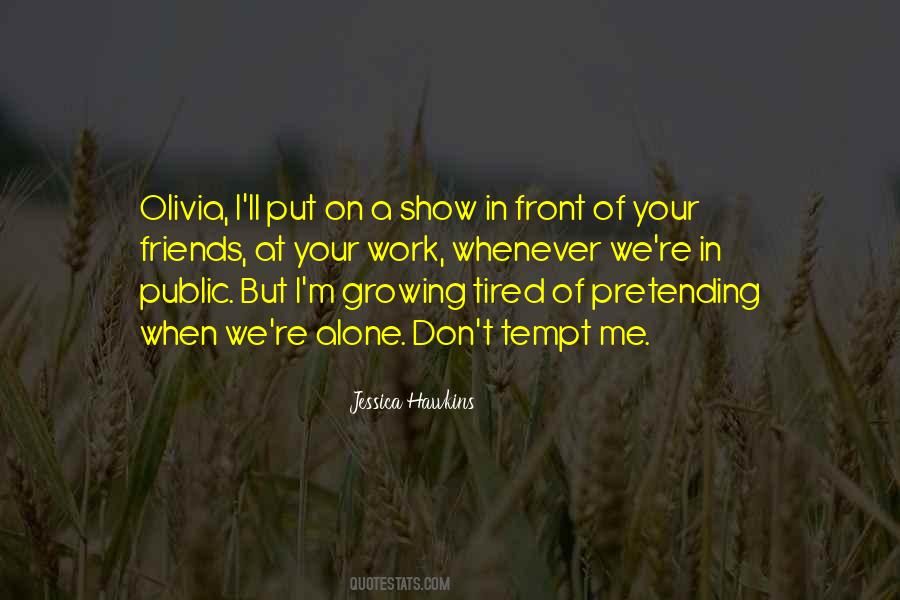 #42. I am tired of the superficial smiles that adorn the many ghouls among us. I am tired of the righteous indignation that hides beneath those visages that feign our best interest and deign to think we cannot and will not stand for ourselves. - Author: Corey Taylor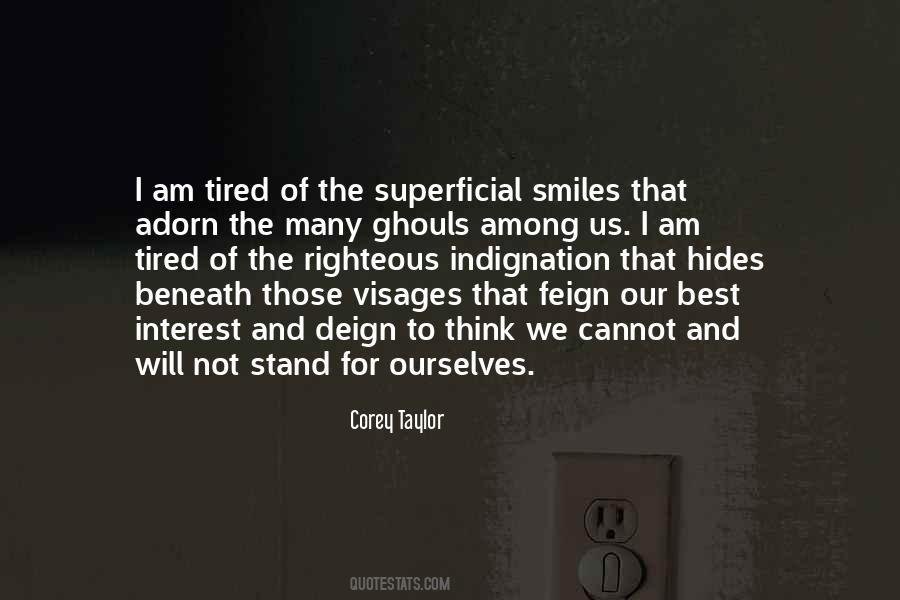 #43. I'm tired of doing rewrites for executives. - Author: Richard LaGravenese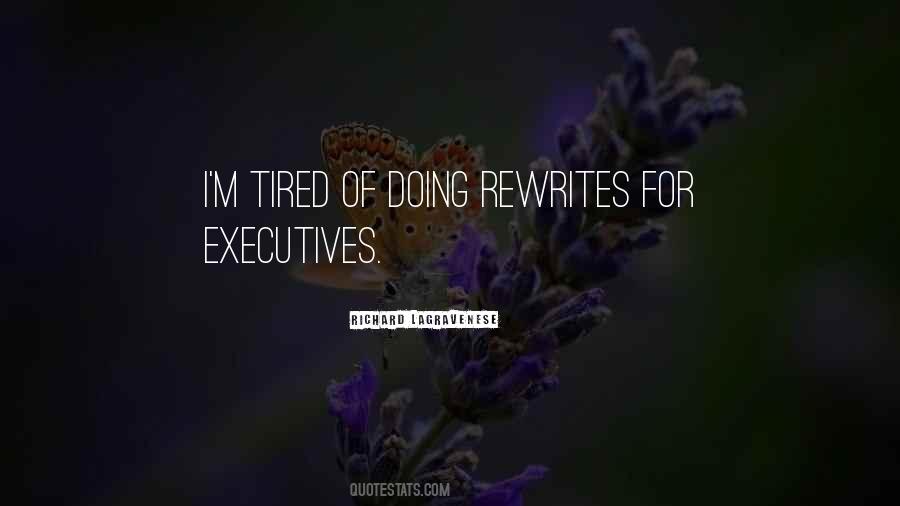 #44. He's like a song she can't get out of her head. Hard as she tries, the melody of their meeting runs through her mind on an endless loop, each time as surprisingly sweet as the last, like a lullaby, like a hymn, and she doesn't think she could ever get tired of hearing it. - Author: Jennifer E. Smith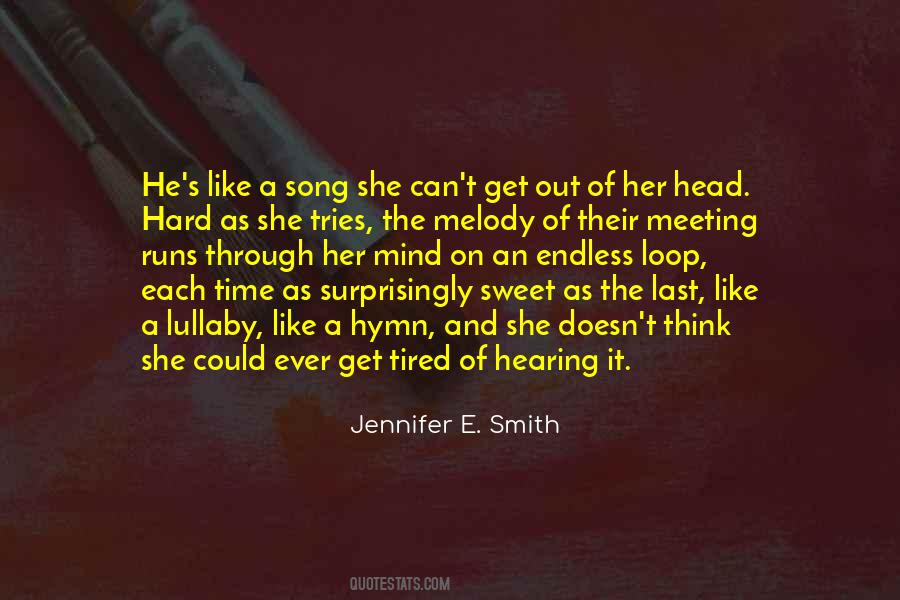 #45. I started to travel like this at the age of 15 so for me, it's normal. Some days you get tired and you feel, 'I want to stay at home a little bit more,' but it's only the moment. - Author: Rafael Nadal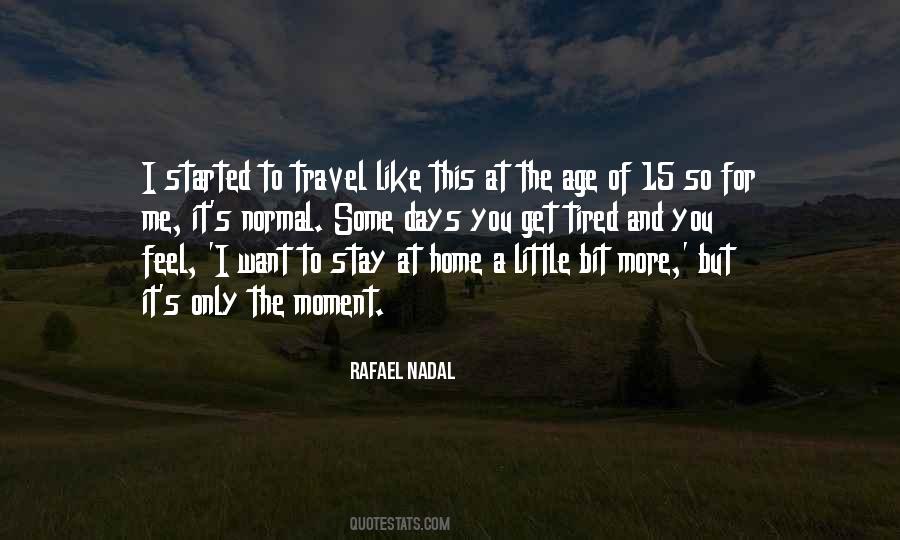 #46. Cotton rows crisscross the world
And dead-tired nights of yearning
Thunderbolts on leather strops
And all my body burning
Sugar cane reach up to God
And every baby crying
Shame a blanket of my night
And all my days are dying - Author: Maya Angelou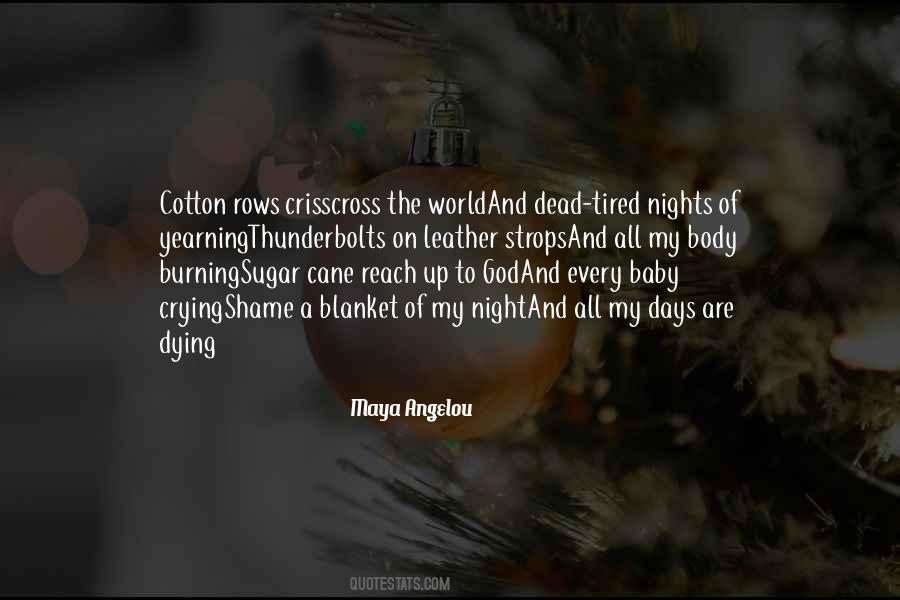 #47. Good Shepherd, You have a wild and crazy sheep in love with thorns and brambles. But please don't get tired of looking for me! I know You won't. For You have found me. All I have to do is stay found. - Author: Thomas Merton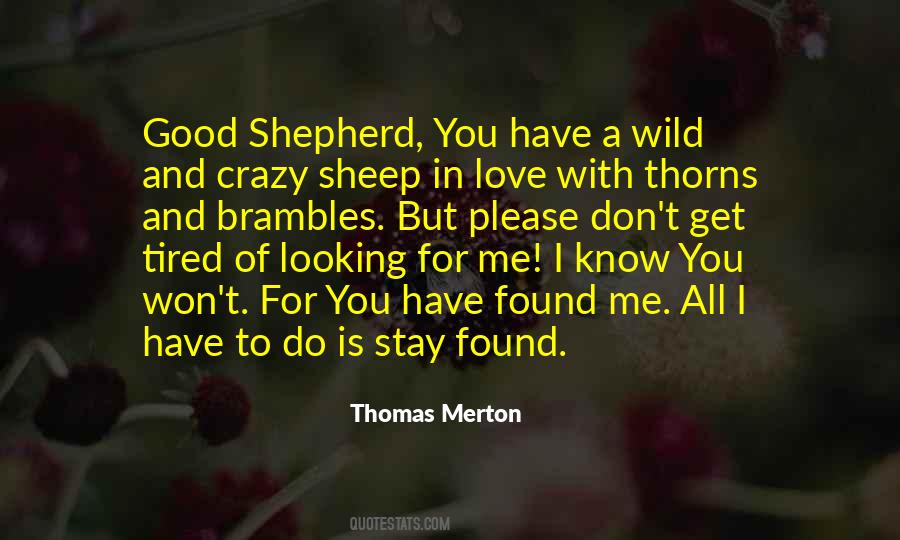 #48. I am thoroughly tired of the fable style of narrative and shall do my best to get up something entirely different and possibly little more worthy. - Author: George Ade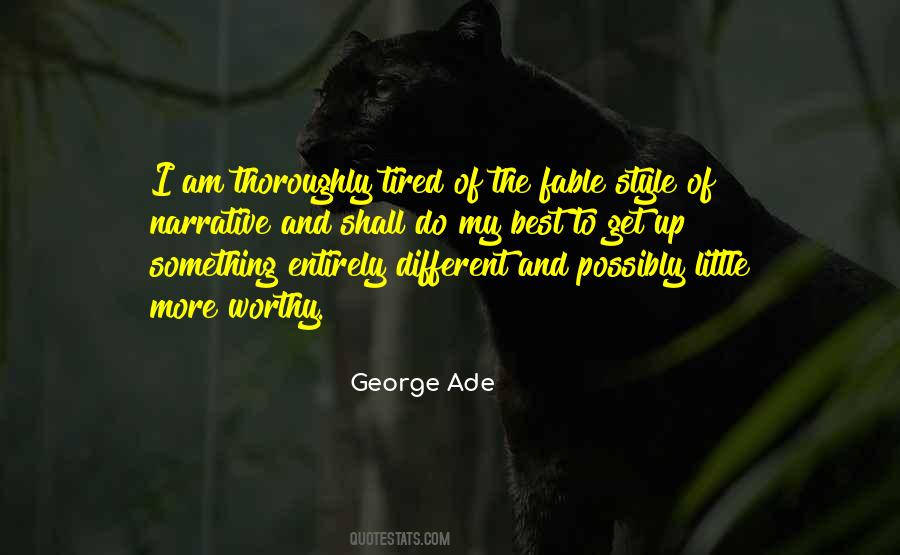 #49. I must be mad, or very tired, When the curve of a blue bay beyond a railroad track Is shrill and sweet to me like the sudden springing of a tune, And the sight of a white church above thin trees in a city square Amazes my eyes as though it were the Parthenon. - Author: Amy Lowell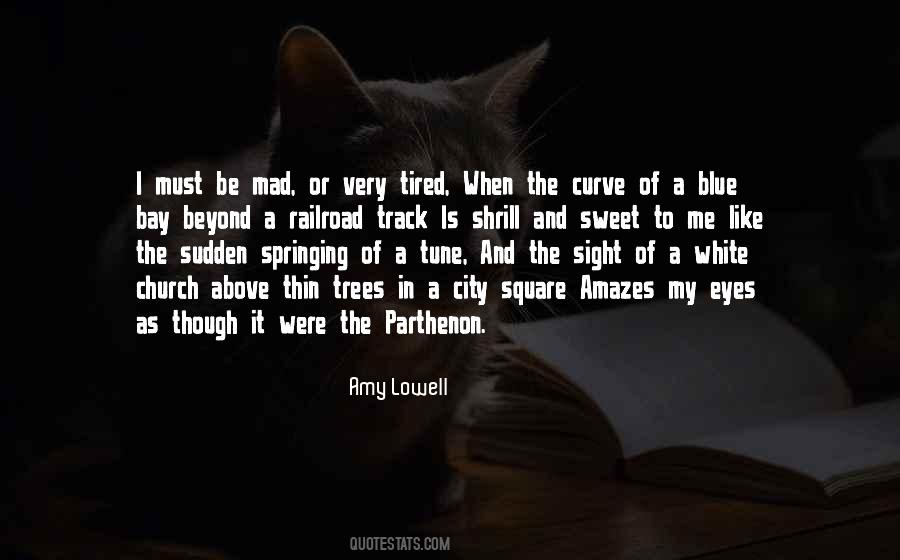 #50. I don't stretch my hand out anymore, but I never get tired of waiting for the next magic. - Author: Marlon Brando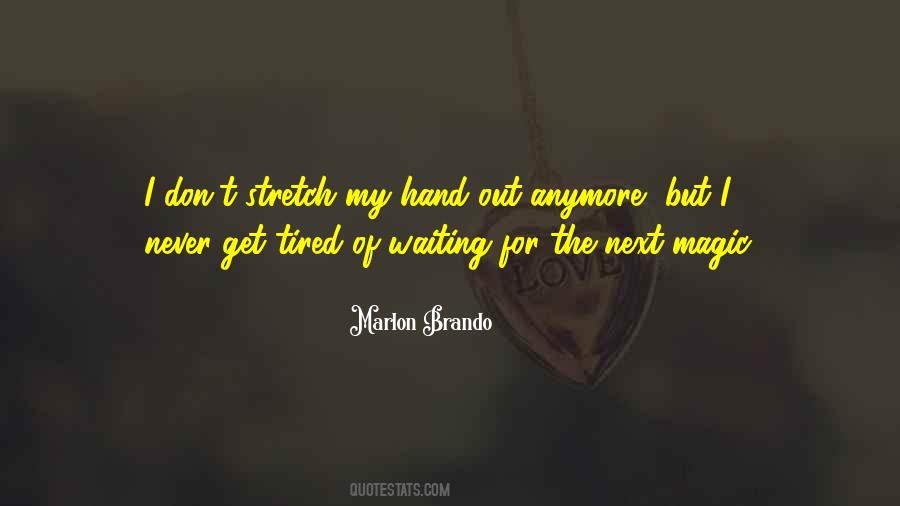 #51. Well, if it isn't Daniel X himself," Seth said with a yawn. "Become tired of living in this dump of a city already, eh? What can I do for you today? Death? Eternal enslavement? What's it going to be? - Author: James Patterson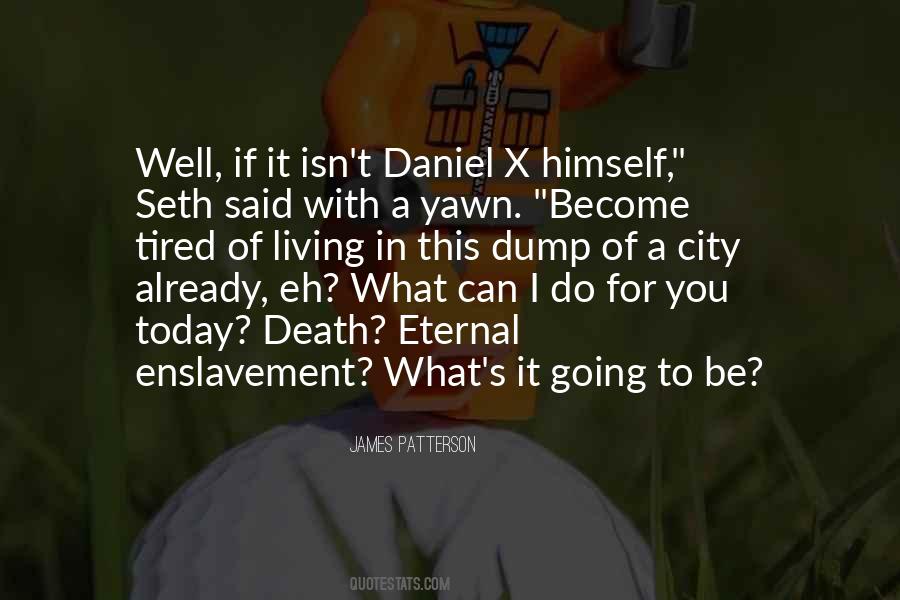 #52. God turns clouds inside out to make fluffy beds for the dogs in Dog Heaven, and when they are tired from running and barking and eating ham-sandwich biscuits, the dogs find a cloud bed for sleeping. God watches over each one of them. And there are no bad dreams. - Author: Cynthia Rylant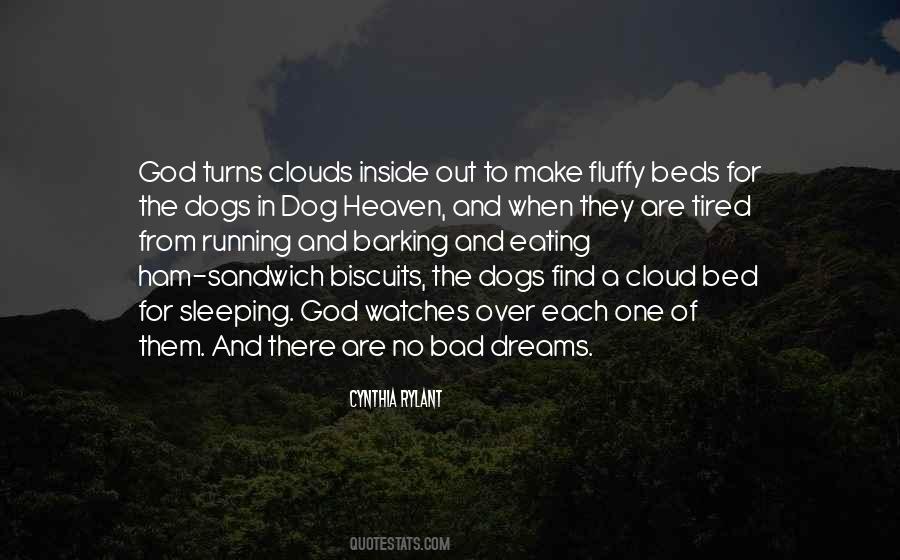 #53. I am sick and tired of publicity. I want no more of it. It puts me in a bad light. I just want to be forgotten. - Author: Al Capone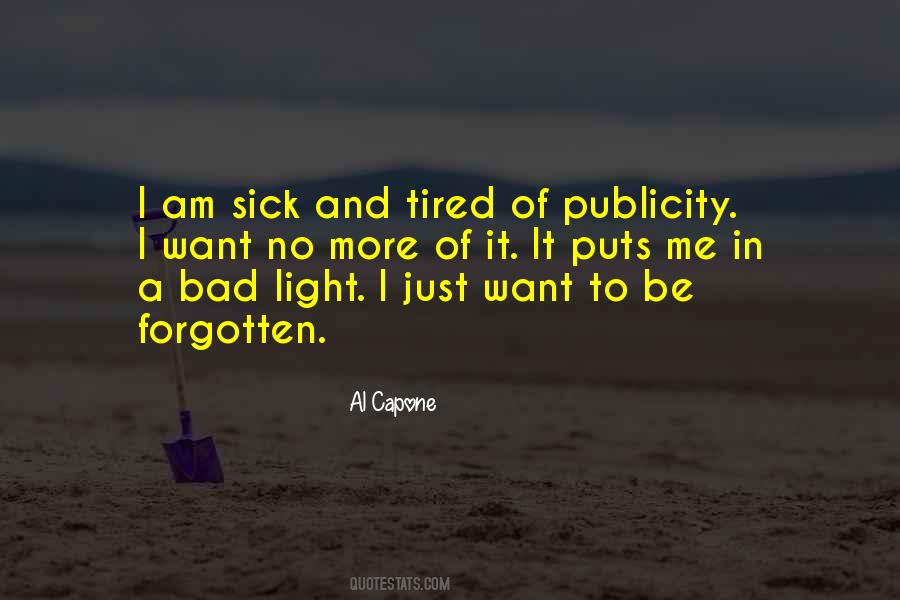 #54. In principle if I could not have a home I wouldn't. But not having a home would be too difficult procedurally, going from hotel to hotel, the gap of three hours where you're hungry and tired. - Author: Lee Child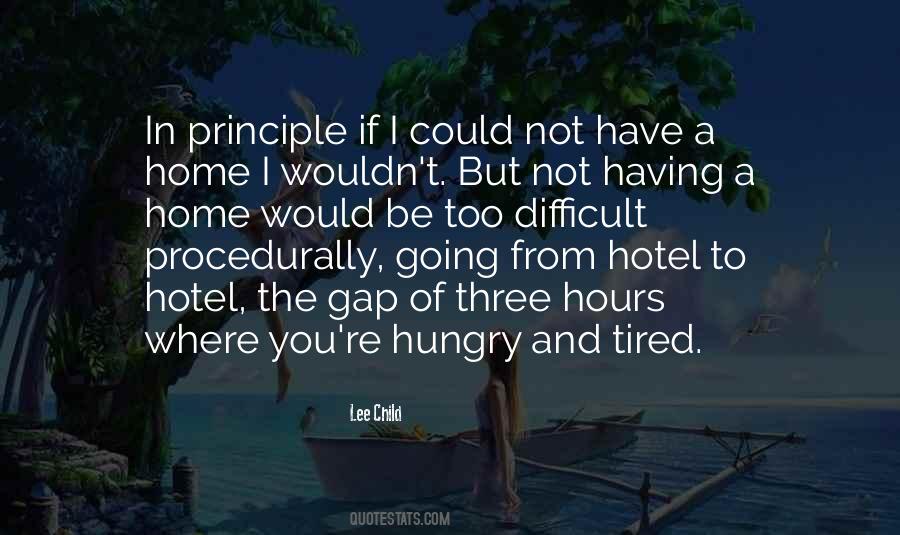 #55. so long. I'm just so tired of this game. I know I got the luxuries but sometimes I'd rather just have my man. Sometimes the game can drain you. - Author: K. Elliott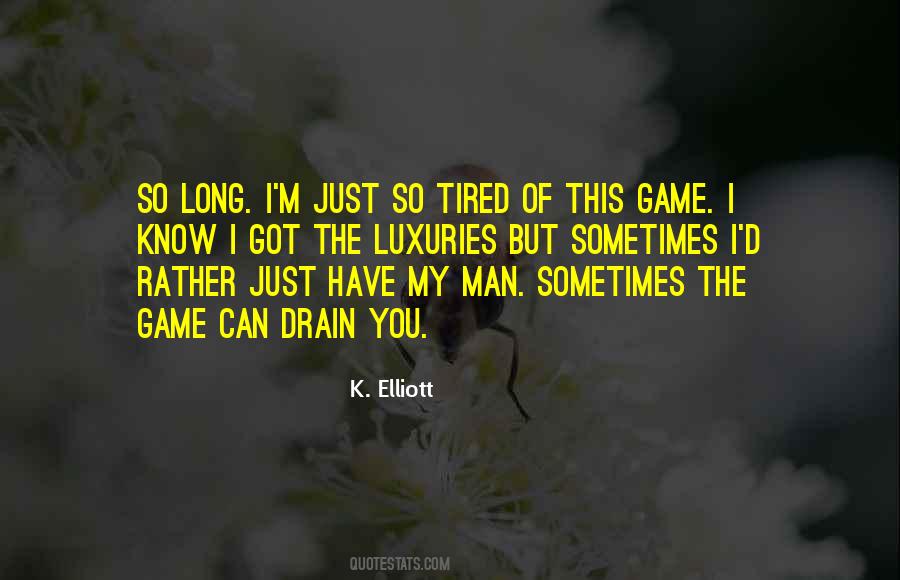 #56. If you keep pushing paint when you're tired of it, you lose sensitivity. I can only focus on painting for a few hours, so I'll stop and work on something quite different. - Author: Gary Panter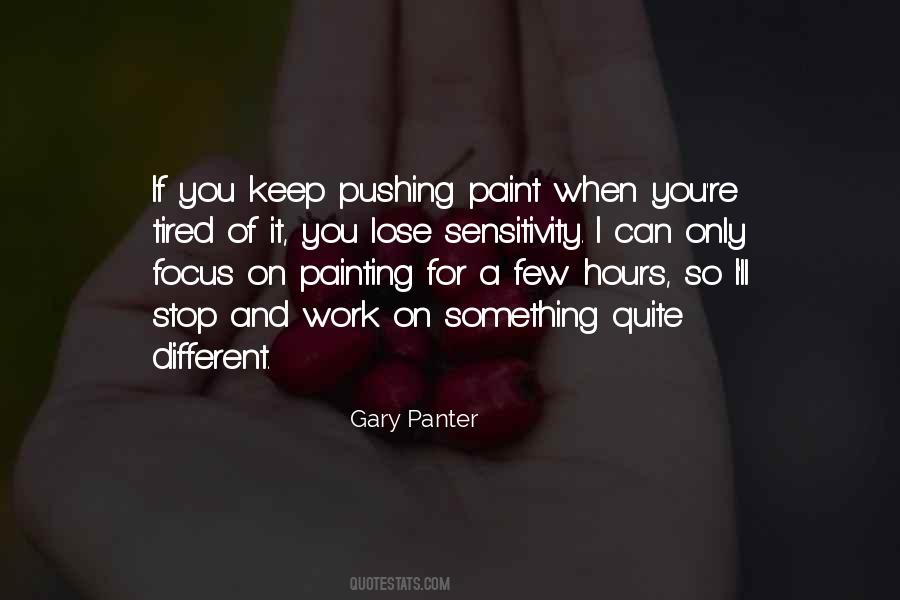 #57. Rather than fight the same tired battles that have dominated Washington for decades, it's time to try something new. Let's invest in our people without leaving them a mountain of debt. Let's meet our responsibility to the citizens who sent us here. Let's try common sense. - Author: Barack Obama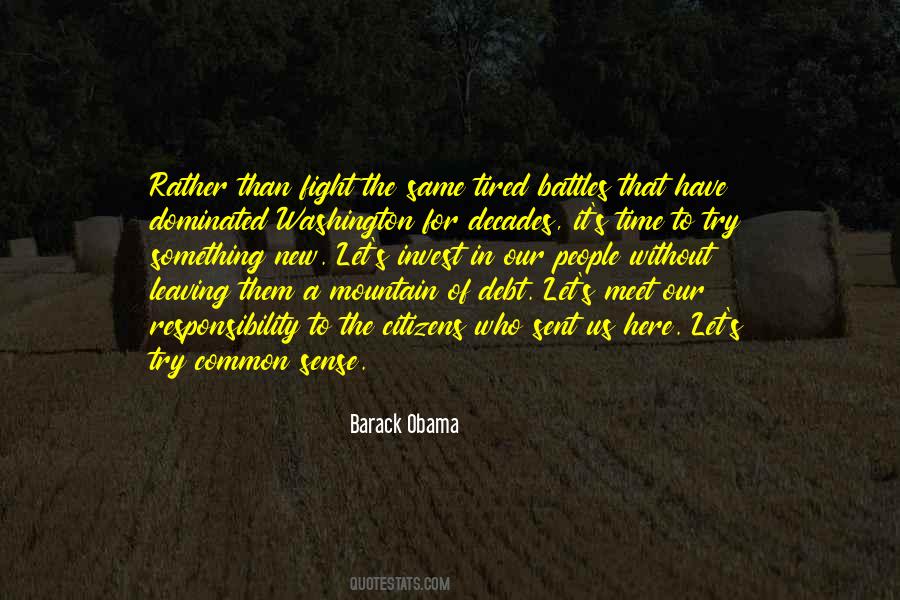 #58. On 'Whose Line,' we had six, seven, eight scenes per show, so everything was pretty quick. And there's a lot of games that we just got tired of, like 'Hats' and 'World's Worst' and 'Hoedown' and stuff. - Author: Ryan Stiles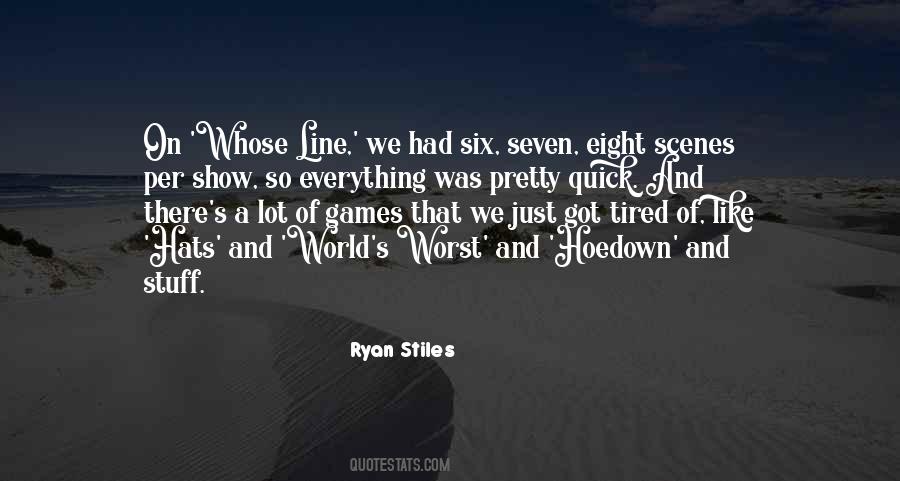 #59. The problem with all these tired excuses for inaction is that it suggests a fundamental lack of faith in American business and American ingenuity. - Author: Barack Obama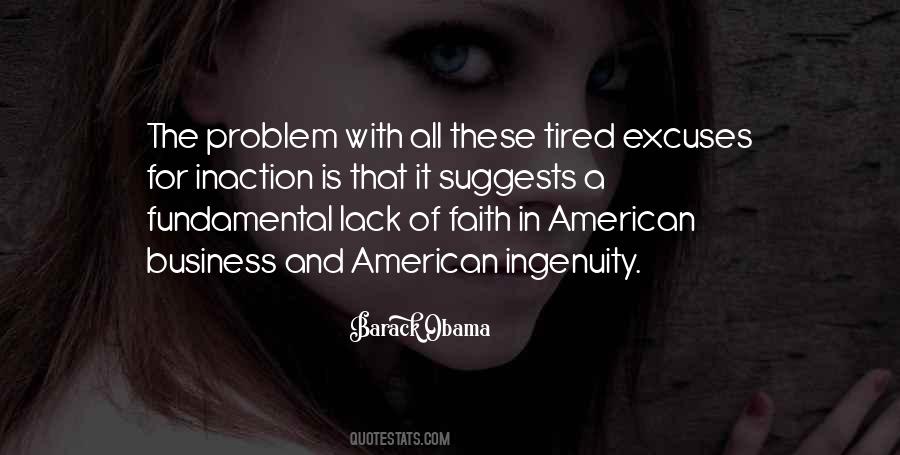 #60. You do get really exhausted doing films. You work such long hours, and after a while, things can get out of perspective, just like if anyone's tired, things get on top of them. - Author: Alan Cumming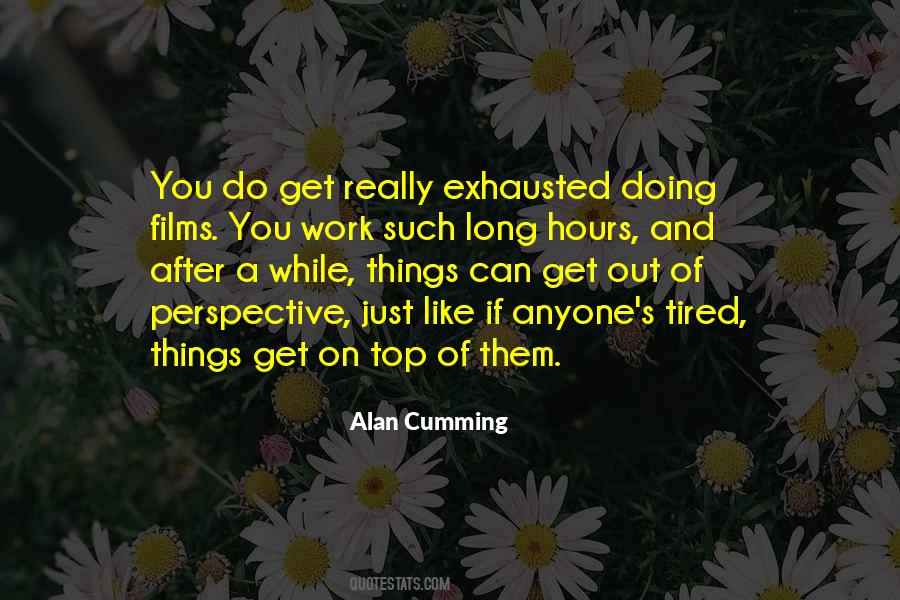 #61. I suspected you were tired of looking for things you should have found a long time ago. ~ Jared - Author: Julie Leto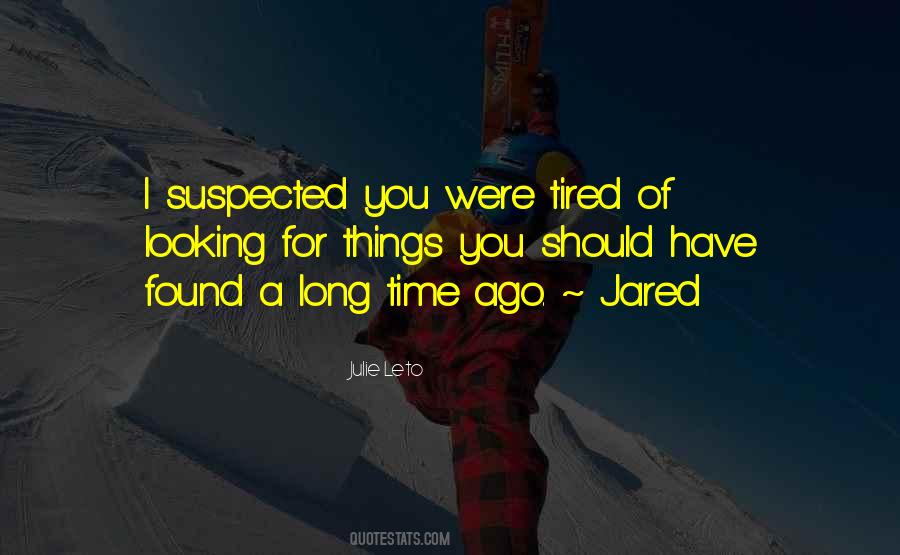 #62. TV's not the problem, and I'm tired of it being posed as this antithesis to creativity and productivity. If TV's getting in your way of writing a book, then you don't want to write a book bad enough. - Author: Andrea Seigel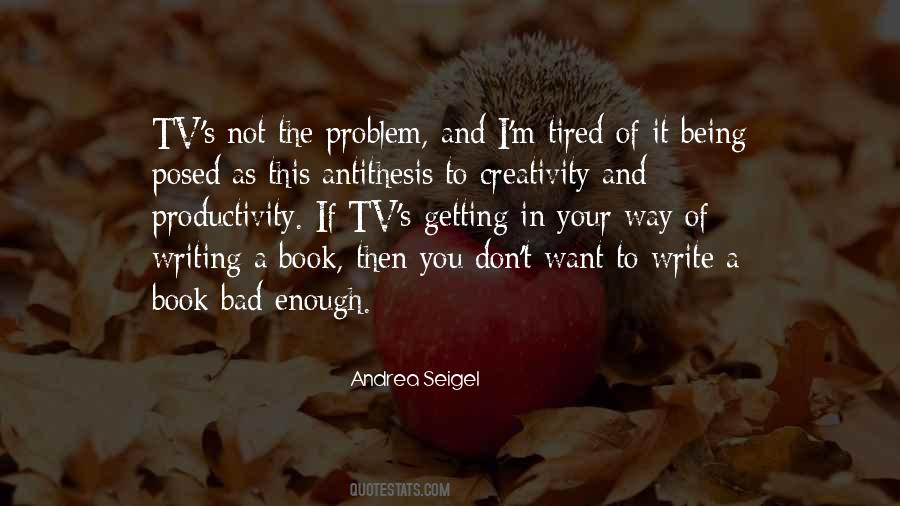 #63. I had to be different ... so I would not be inferior. We could not occupy the same space together. Like horses in a race, I was tired of jostling for position and losing. I chose a different course so that losing would not be an option. - Author: Julianne Donaldson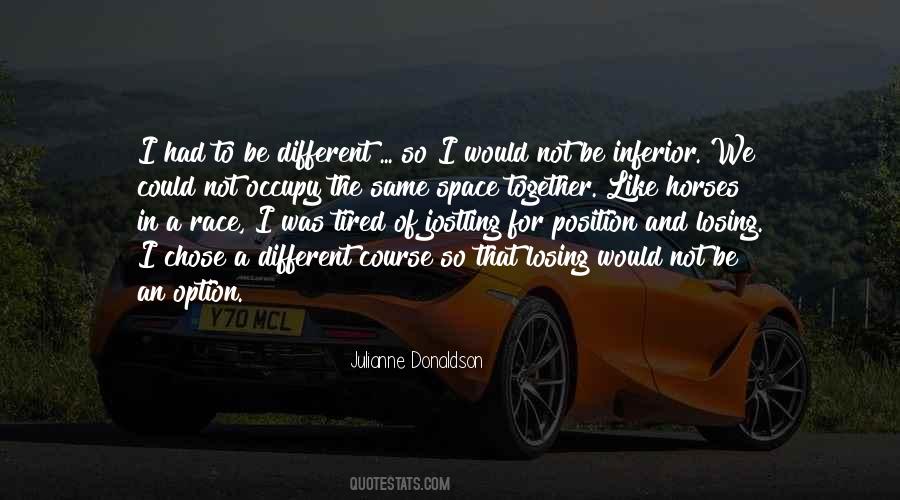 #64. Her waist goes in , her hips come out, her long black hair is coiled into a smooth bun on the top of her round head. She is very restful to the tired eye. - Author: Jean Rhys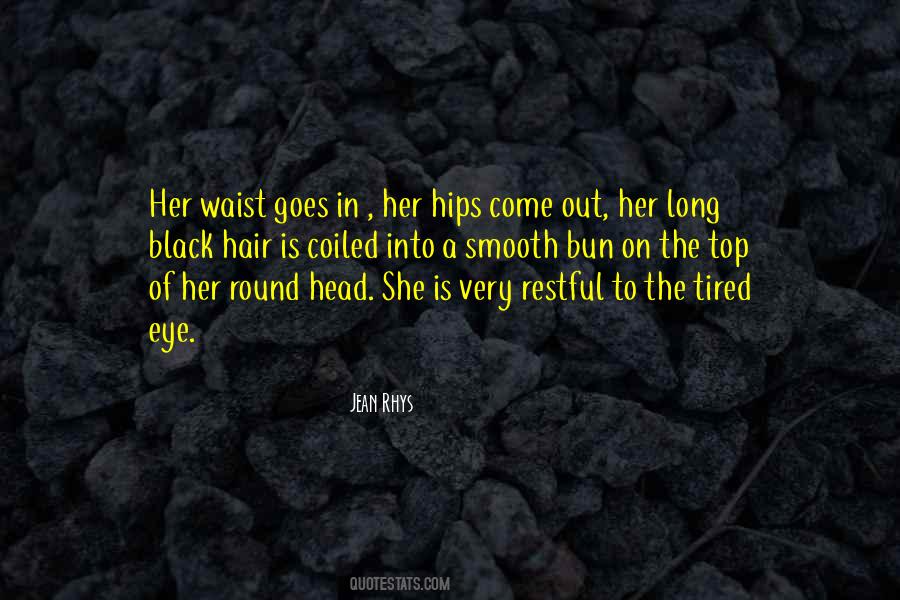 #65. I'm tired of being responsible for 203 lives, and I'm tired of deciding which mission is too risky and which isn't, and who's going on the landing party and who doesn't ... and who lives, and who dies. - Author: Christopher Pike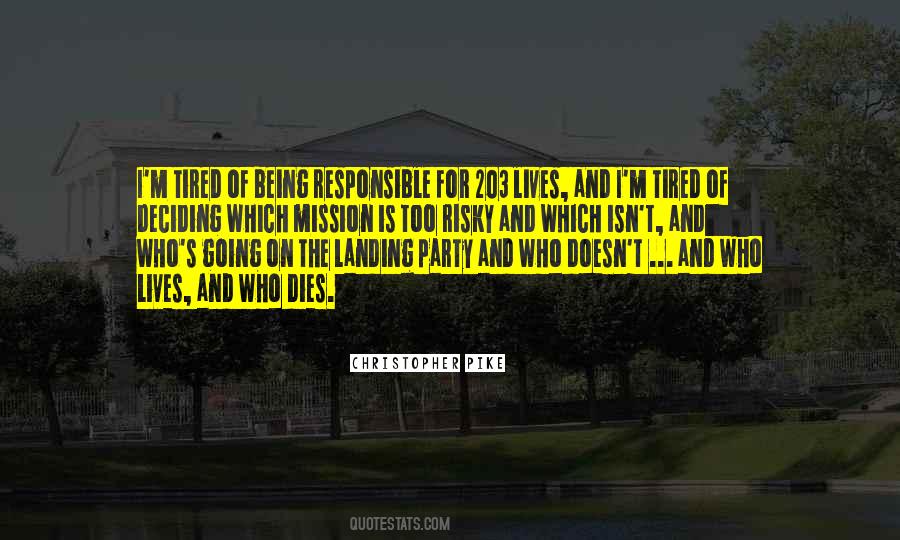 #66. He looked tired. And not the kind of tired you feel after a long day, but the kind of tired that lingers no matter how much sleep you get or how much coffee you ingest. The kind of tired that is less about rest and more about unrest. I - Author: T.M. Frazier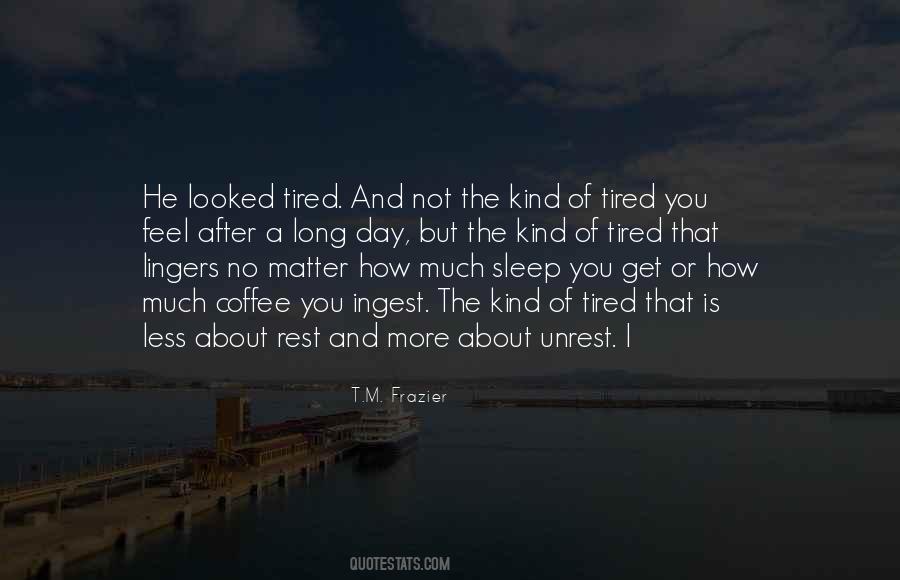 #67. There's a lot of good waiting for you on the other side of tired. Get yourself tired.. - Author: Andre Agassi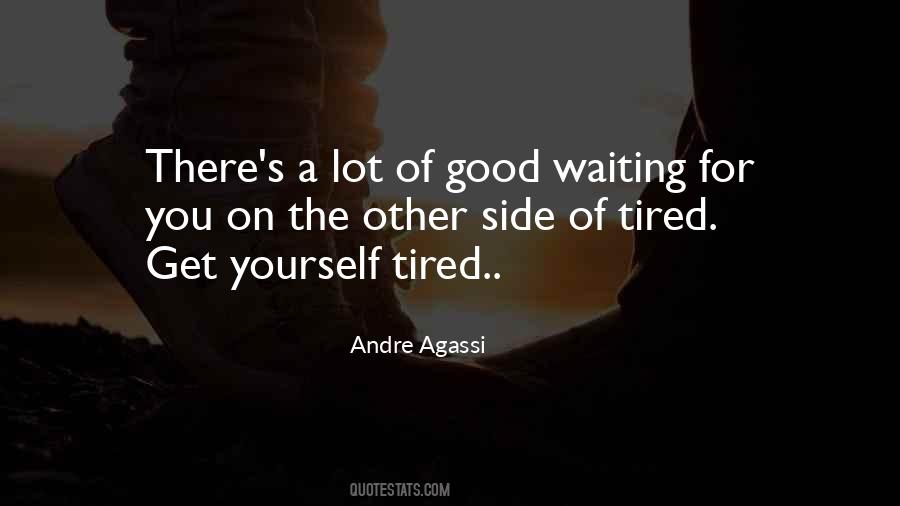 #68. Most couples get married because it's time, not because they're in love. They might have money issues, parental pressure, or they're simply tired of being alone - so they pick Mr. Good Enough and tie the knot. - Author: H.M. Ward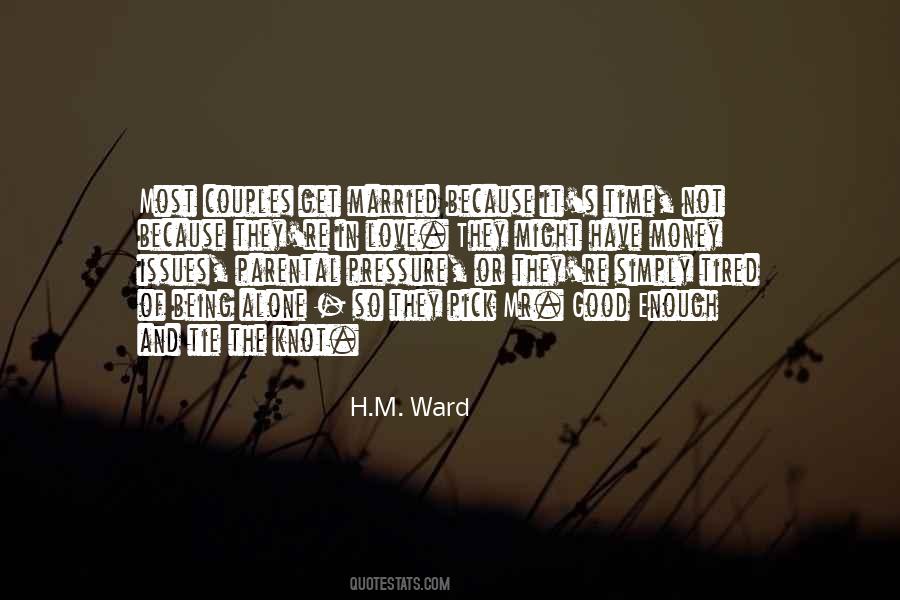 #69. Tired, but not the kind of tired that sleep fixes. - Author: Maureen Johnson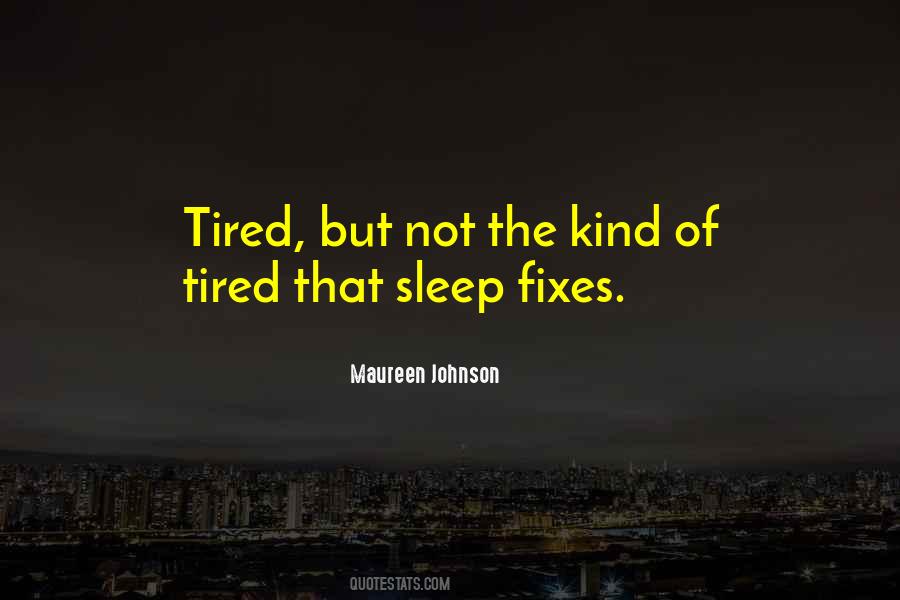 #70. It's true, too, that I'm tired of using books as political bullets and grenades. Books are too precious and wonderful to be used for long in such a fashion. - Author: Yann Martel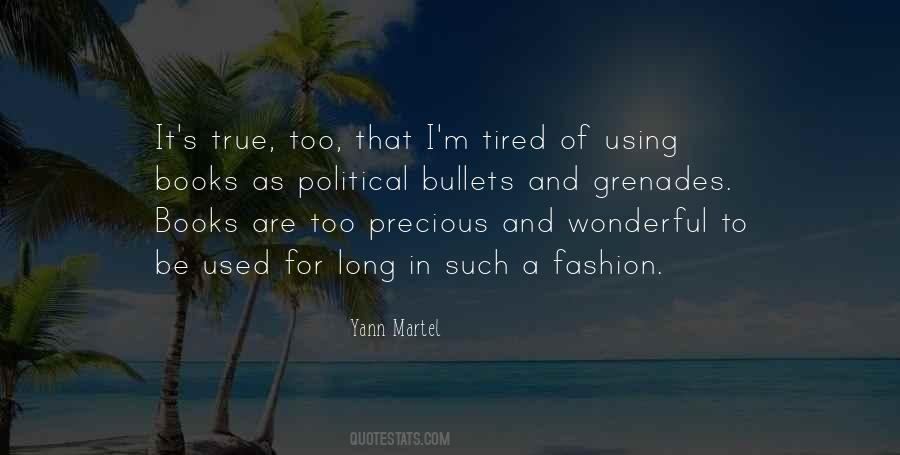 #71. Energy is a state of mind. Tell yourself you're tired and you will be. Tell yourself you feel great and you will - Author: Chalene Johnson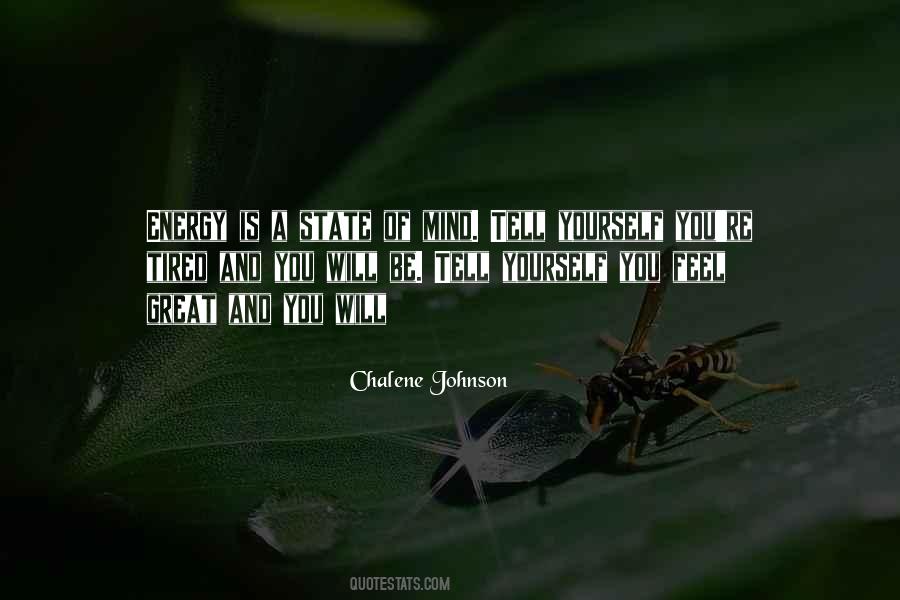 #72. Sigh for me, night-wind, in the noisy leaves of the oak. / I am tired. Sleep for me, heaven over the hill. / Shout for me, loudly and loudly, joyful sun, when you rise. - Author: Wallace Stevens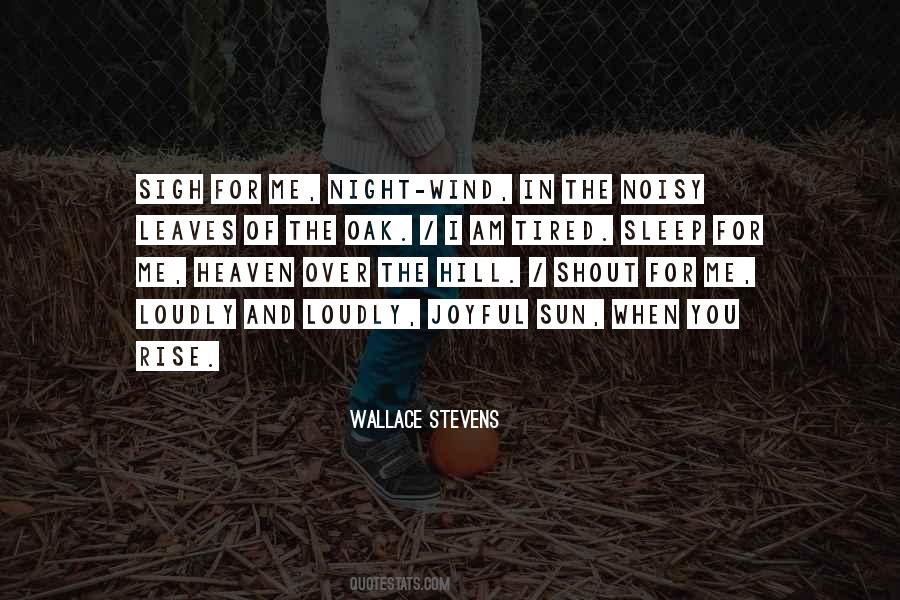 #73. I am tired of women playing action heroes like men, because they are not men. But sometimes they are written like men. - Author: Katee Sackhoff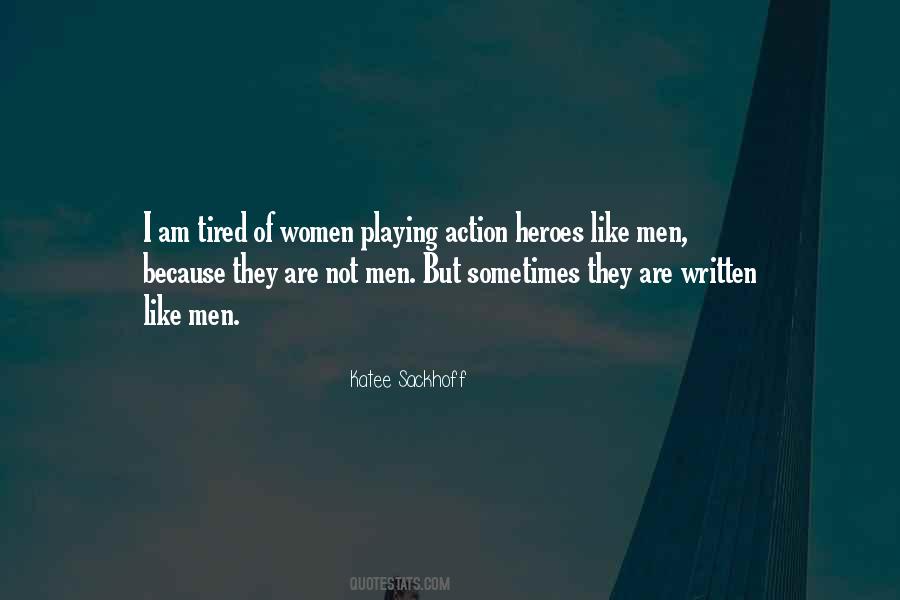 #74. i don't take breaks. you're either with me or you lose me to someone better than you. i refuse to give you a pass to freely fuck someone else then return to me when you're tired of being fucked over.. - Author: R H Sin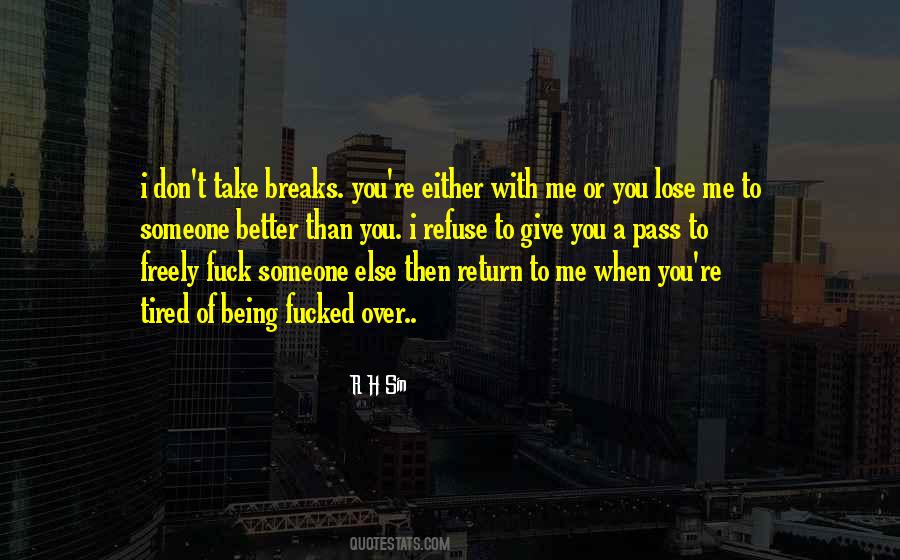 #75. It's funny when I hear people complain - particularly about the most fabulous parts of being a designer, like when you're getting ready to work on a show. I don't even know that I'm tired. I could stay up for six days straight! No drugs, no coffee, no nothing. I'm just so excited. - Author: Michael Kors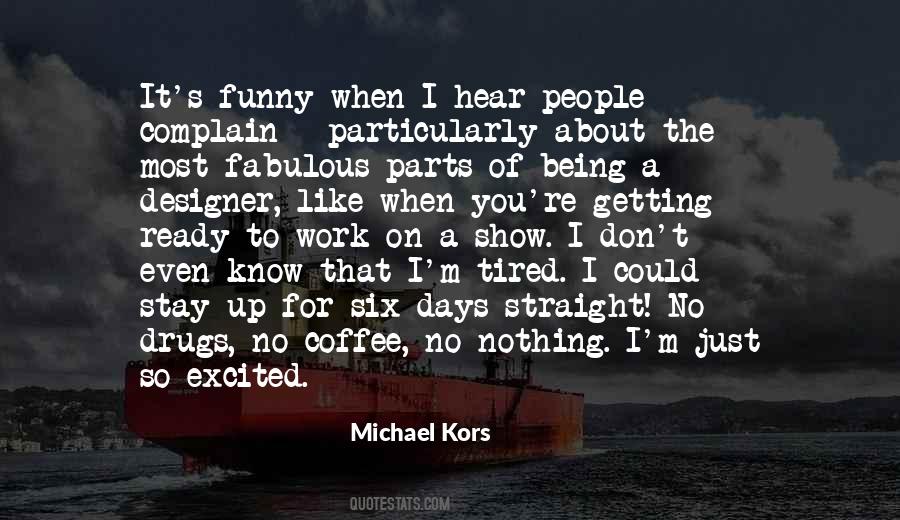 #76. Our citizens are tired of big government raising their taxes and cooking up new ways to micromanage their lives, our citizens are tired of big government killing jobs with their do-gooder policies. In short the people are Fed Up! - Author: Rick Perry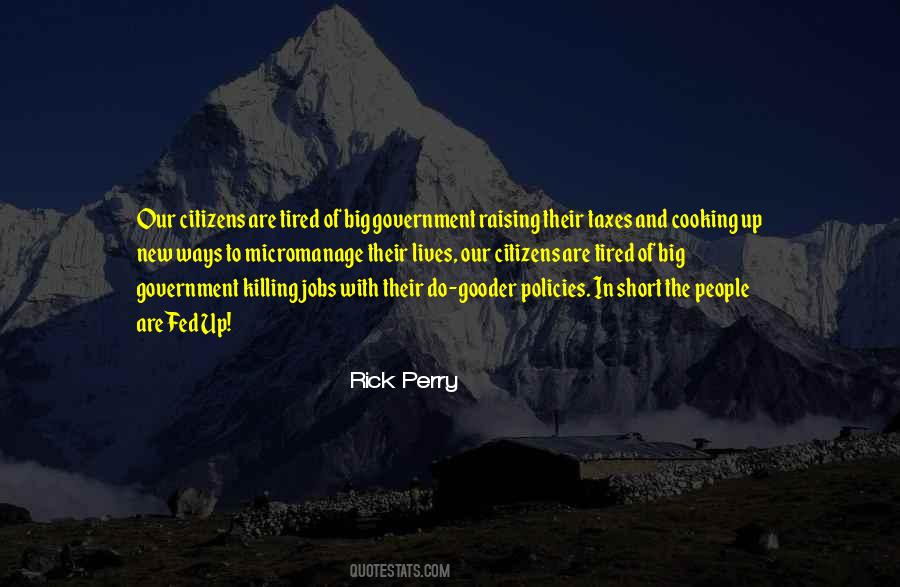 #77. lost a great innocence when I understood that I and my mind were not going to be on good terms for the rest of my life. I can't tell you how tired I am of character-building experiences. But I treasure this part of me; whoever loves me loves me with this in it. - Author: Kay Redfield Jamison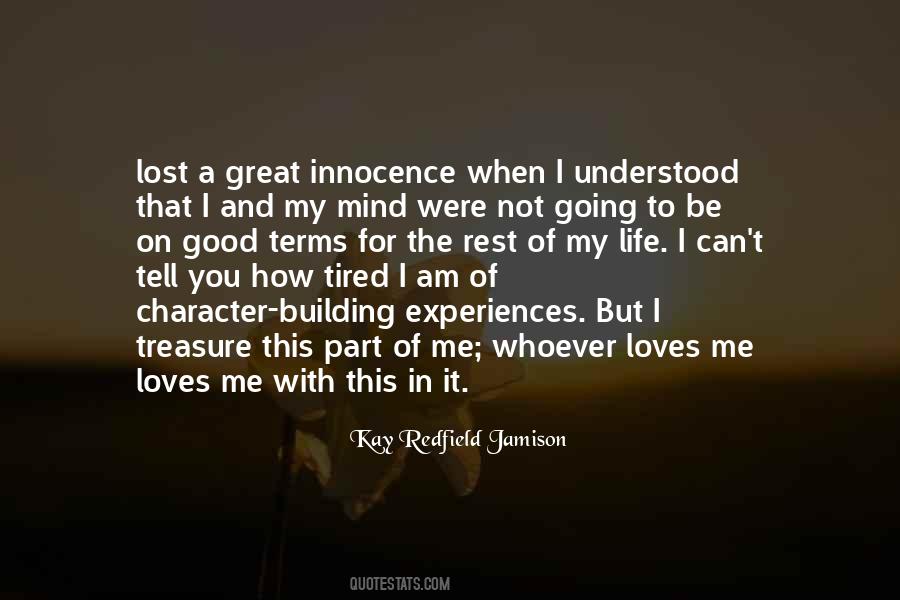 #78. A feeling is no longer the same when it comes the second time. It dies through the awareness of its return. We become tired and weary of our feelings when they come too often and last too long. - Author: Pascal Mercier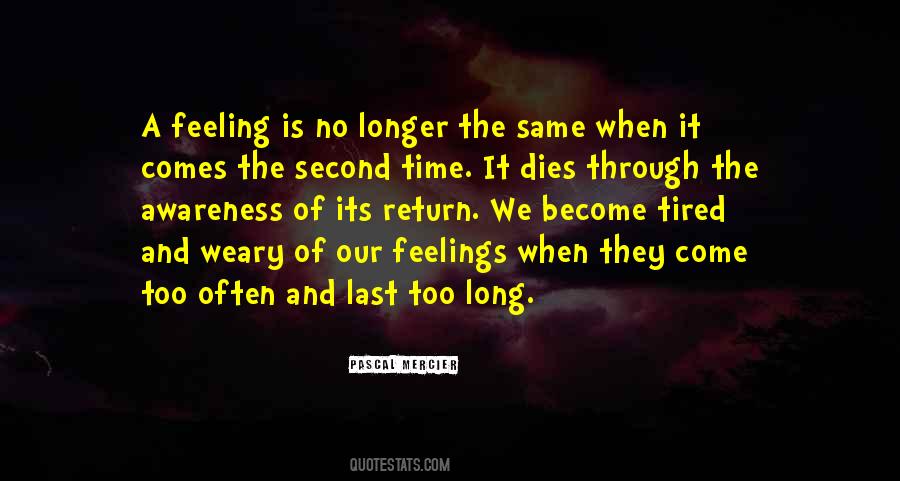 #79. We are as tired of each other's company as we are of the cold monotony of the black night and of the unpalatable sameness of our food. Physically, mentally, and perhaps morally, then, we are depressed, and from my past experience... I know that this depression will increase. - Author: Jenny Offill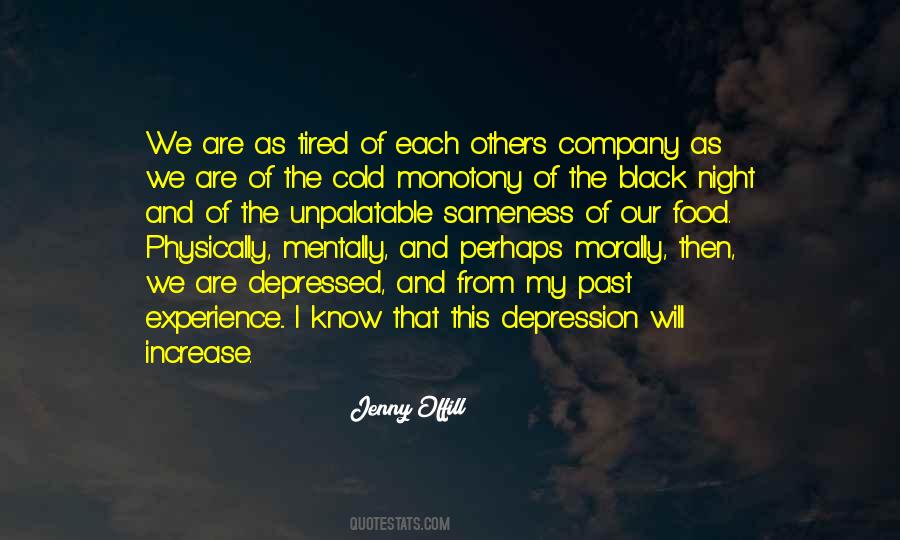 #80. I know people are tired of me not saying anything, but a guy doesn't have to answer to innuendos, - Author: Bill Cosby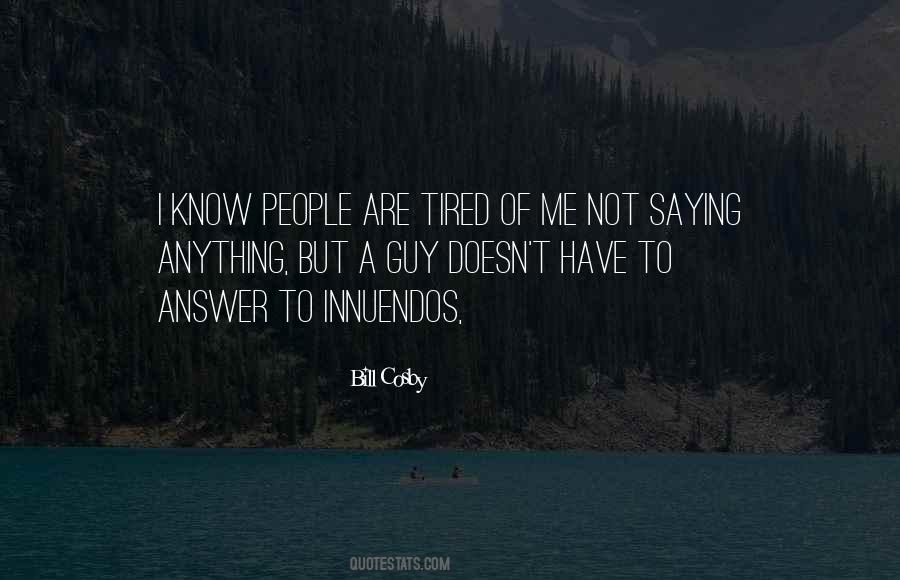 #81. I want to get my own show because 'Today' will eventually get tired of me, or the audience will get tired of me. - Author: Willard Scott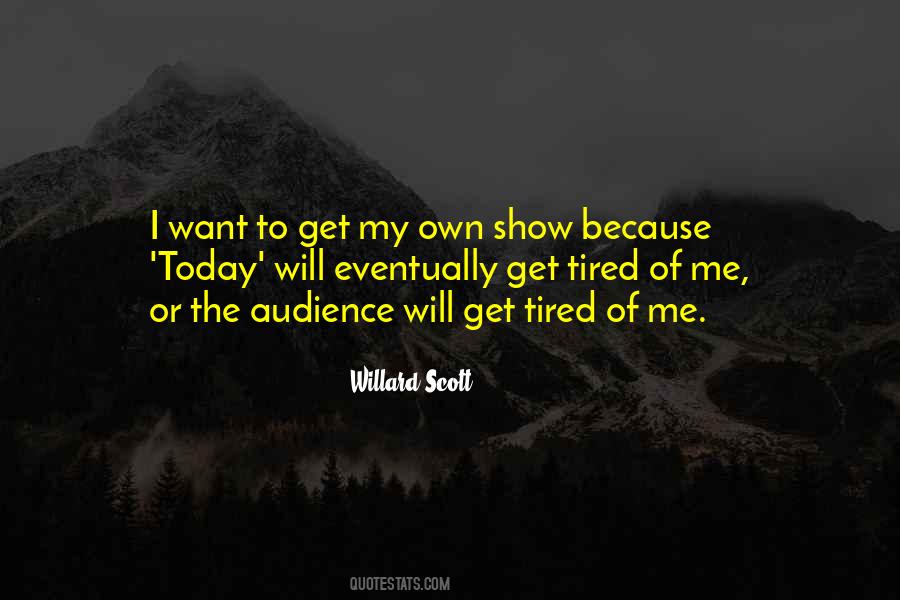 #82. I'm tired of biting my tongue. - Author: Robin Wright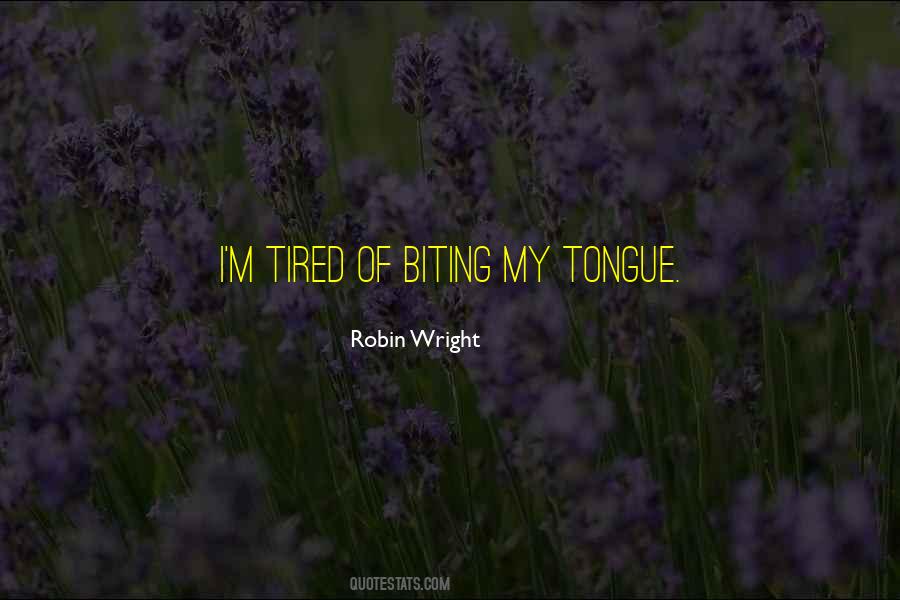 #83. I think the thing with fame is that everybody claims they all want your best. They all know what's good for you and you end up ragged, empty and tired. I did. I felt so empty. Everybody tried to grab a piece of me and everybody tried to push me into a corner. - Author: Heather Nova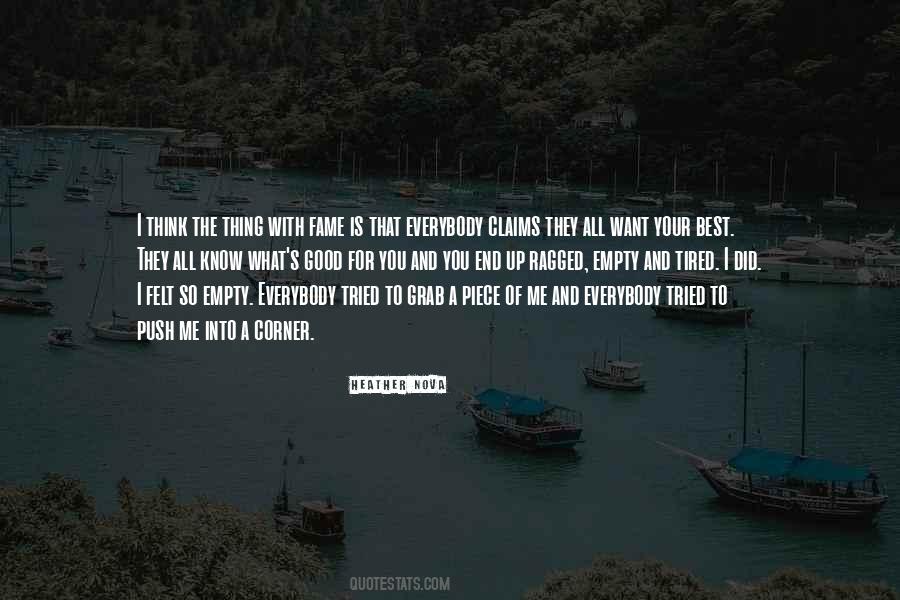 #84. How often, when I have told you that all men are false and perjury alike, and grow tired of us as soon as ever they have had their wicked wills of us, how often have you sworn you would never forsake me? - Author: Henry Fielding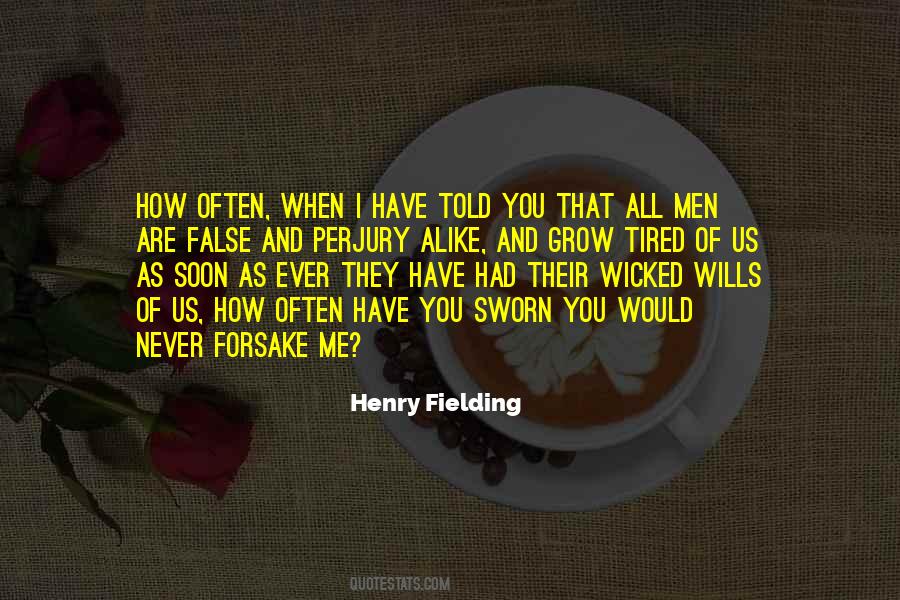 #85. The desire to build a house is the tired wish of a man content thenceforward with a single anchorage.
The desire to build a boat is the desire of youth, unwilling yet to accept the idea of a final resting place. - Author: Arthur Ransome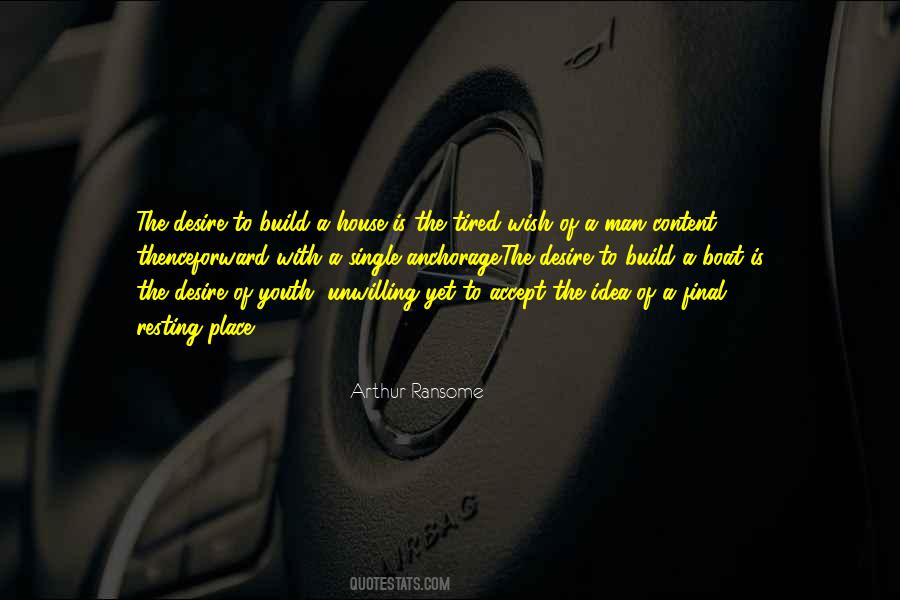 #86. I even get tired performing standup, which is normally a low-impact exercise in futility but looks hard the way I do it. That's why I take a lot of breaks, often stopping in the middle of a joke to catch my breath, or blame the crowd for not laughing before the punchline. - Author: Andy Kindler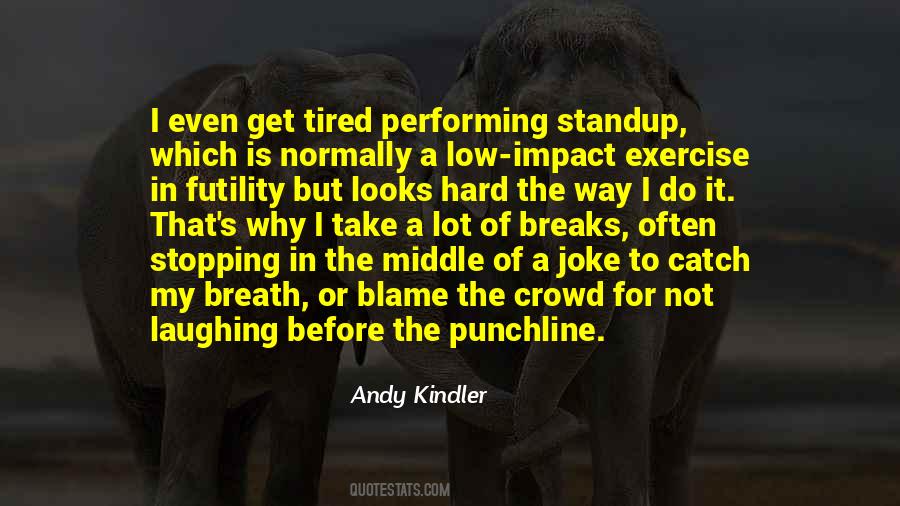 #87. I am fairly tired
bored beyond endurance
by the world we live in, and its ideals, and am ready to say so, not violently, but kindly, as one rubs salt into the back of a flogged sailor as though one loved him. - Author: Henry Adams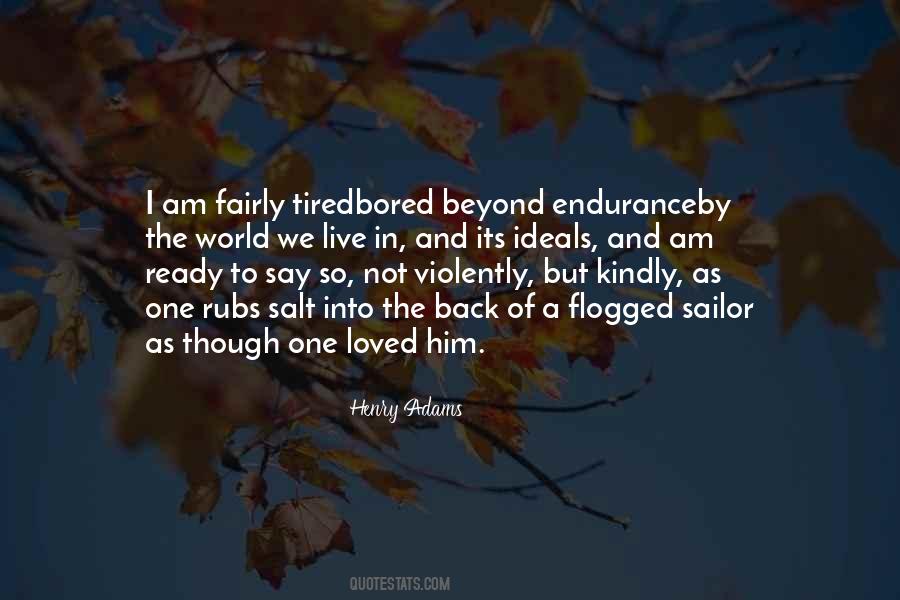 #88. She never seemed to be truly happy; she just seemed to be passing time while she waited for something else. She was tired of just existing; she wanted to live. - Author: Cecelia Ahern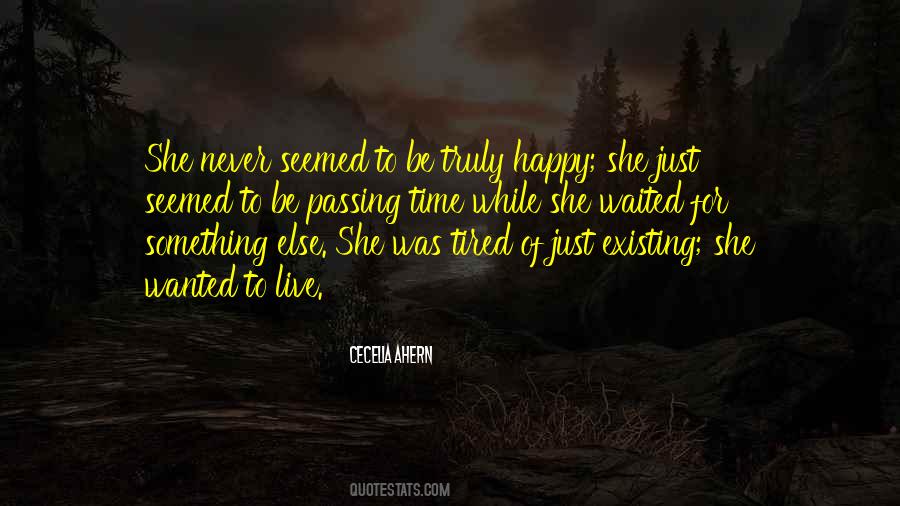 #89. Canadians know that our difficulties will not be resolved overnight. They are tired of politicians who pretend they will be. - Author: Kim Campbell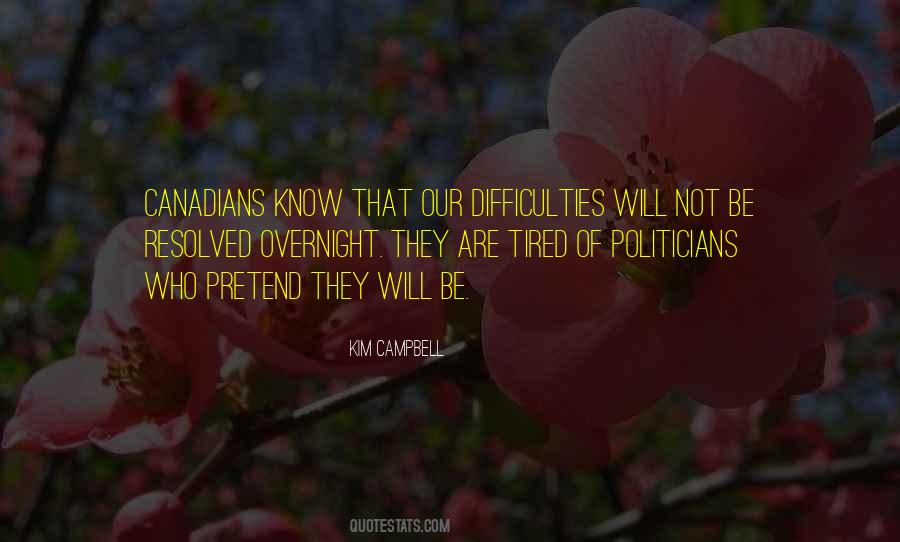 #90. The players don't play the position game as much as we used to play. A lot of young guys go up and down, shoot the puck, go for the rebounds. You're getting tired quicker because the body has to react where the puck is going to go. You cannot read it, because you don't have the puck on your stick. - Author: Jaromir Jagr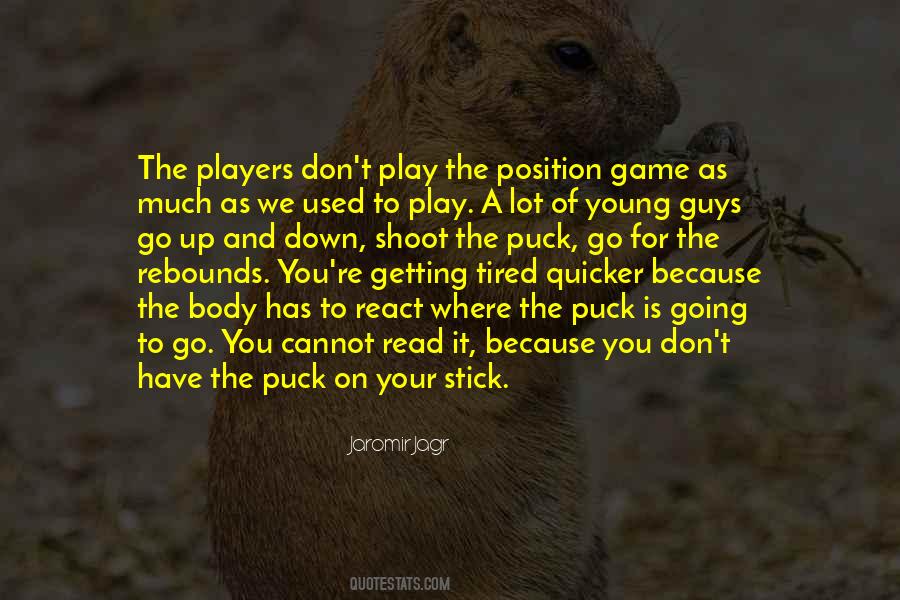 #91. A closed mouth gathers no foot.
A conclusion is simply the place where someone got tired of thinking.
A fool-proof method for sculpting an elephant: first, get a huge block of marble; then you chip away everything that doesn't look like an elephant. - Author: David Gries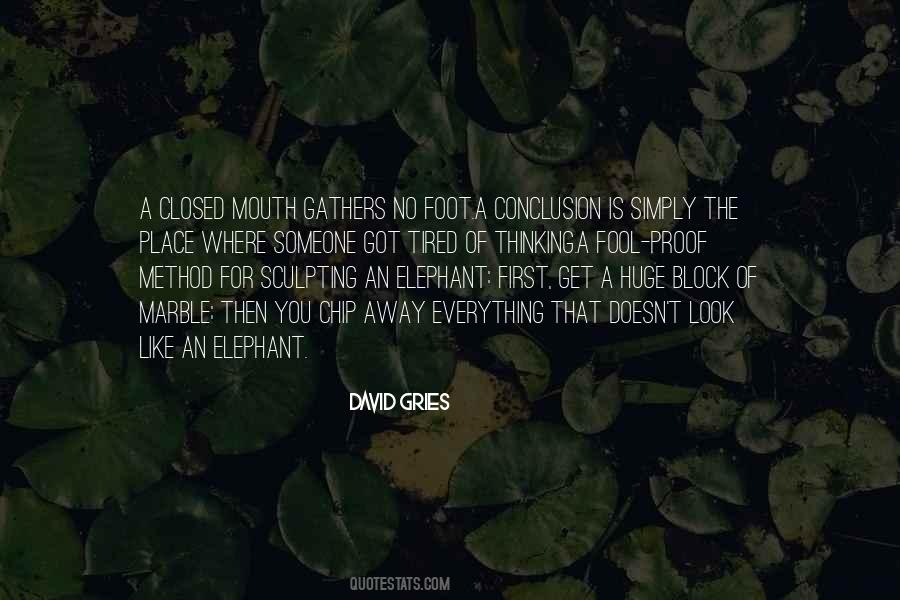 #92. Acting is a win-win situation. There is no risk involved. That's why I get tired of hearing actors who try to make out that there's a downside to it. Fame is an odd thing. It bugs you a little bit, but it's really not bad. - Author: John Corbett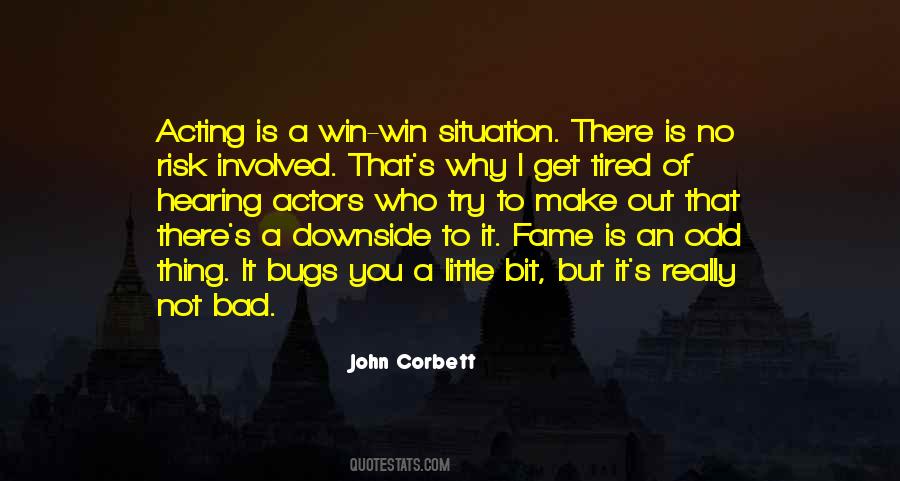 #93. It really boils down to this: that all life is interrelated. We are all caught in an inescapable network of mutuality, tired into a single garment of destiny. Whatever affects one destiny, affects all indirectly. - Author: Martin Luther King Jr.
#94. I was tired of pretending that I was someone else just to get along with people, just for the sake of having friendships. - Author: Kurt Cobain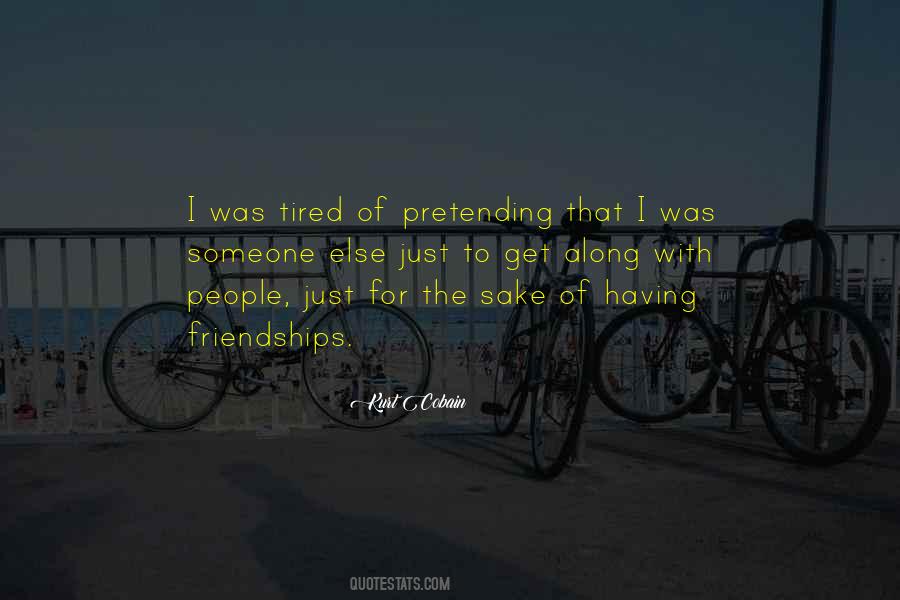 #95. I am tired of being roasted. I had a great deal of hard luck while manager of the team and somehow or other couldn't get the best out of the material I had at hand. - Author: Joe Kelley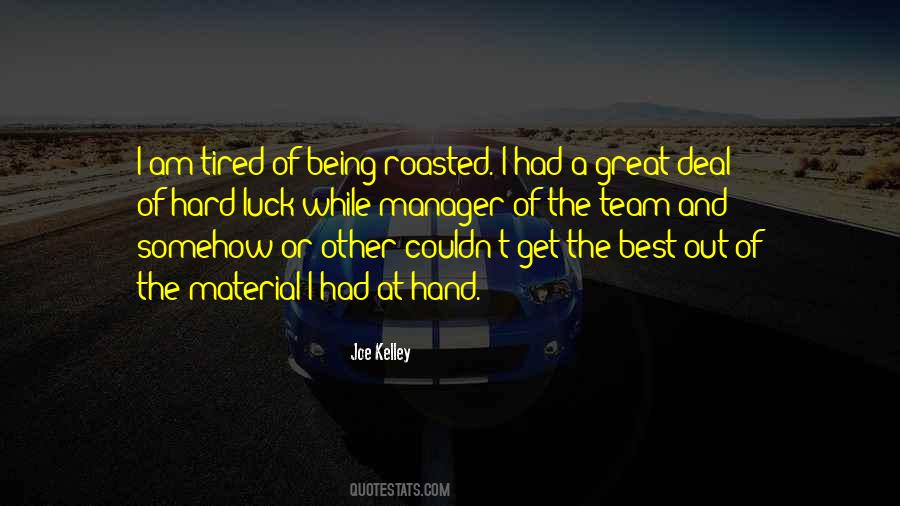 #96. I'm never going to get tired of finding you looking at me that way. Like you have to have me right now."
She laughed, then looked around to make sure Leah wasn't too close. "I just had you," she whispered ... - Author: Jill Shalvis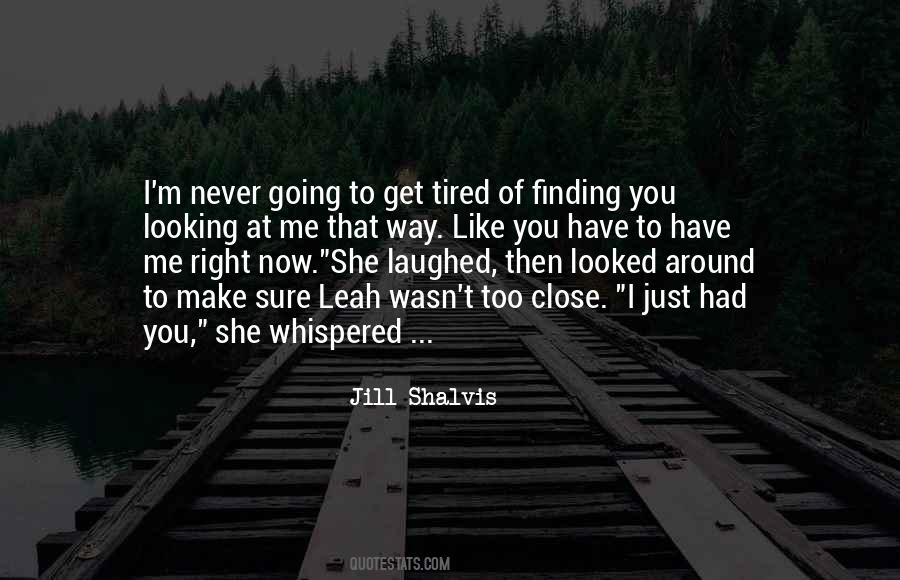 #97. People who are tired of K Street corruption and Wall Street greed are ready for Main Street Values. - Author: Mike Huckabee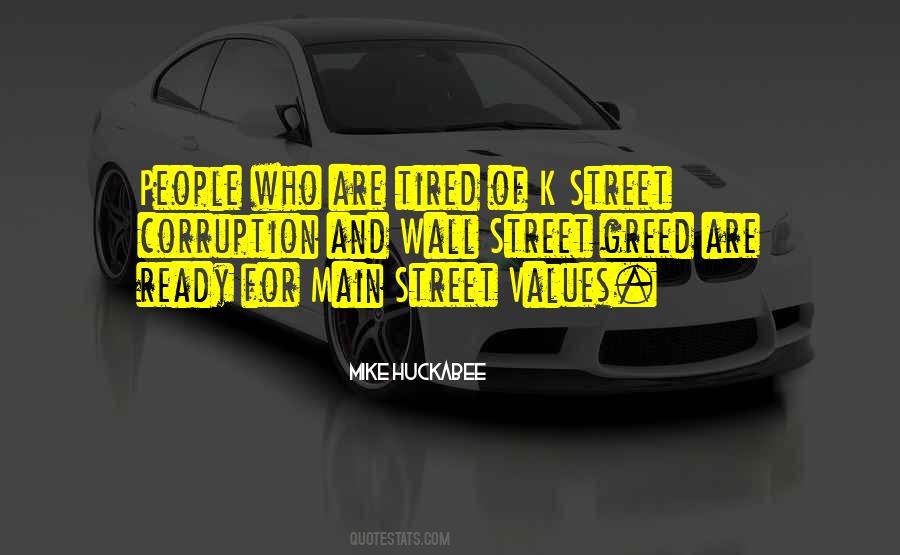 #98. My first time doing music was on acoustic guitar. I had a friend from Texas who taught me so much country, I entered a few country competitions. But eventually, I got tired of it. - Author: Shamir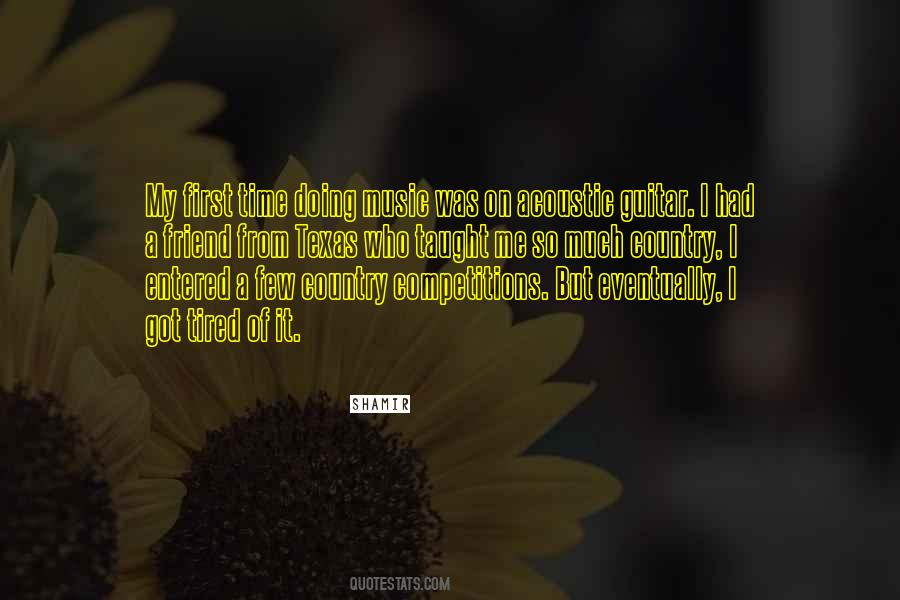 #99. Now that the spectres of violence and spoliation had fled, the few hundred people who made up "the world" never tired of meeting each other, always the same ones, to exchange congratulations on still existing. - Author: Giuseppe Tomasi Di Lampedusa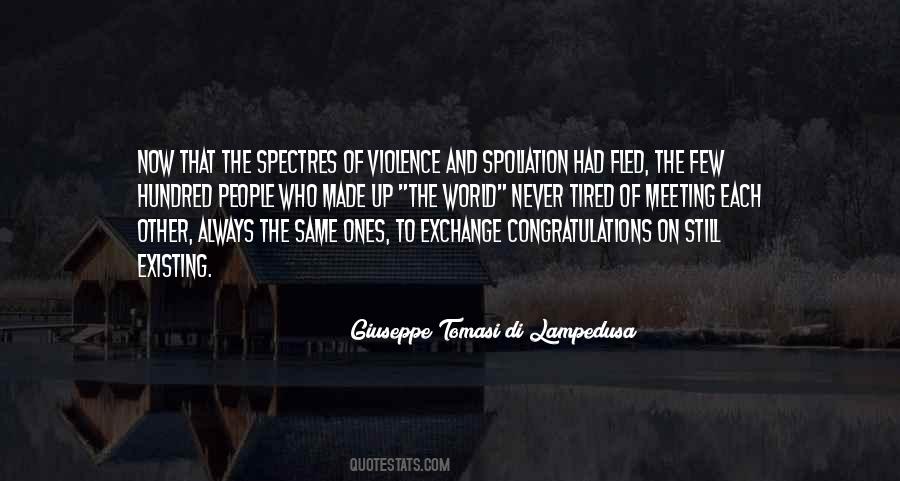 #100. When I moved to London at age 16, tired of the shuffle around other people's houses and ready to live on my own, I met my English brother and sister, who instantly claimed me as family. - Author: Allegra Huston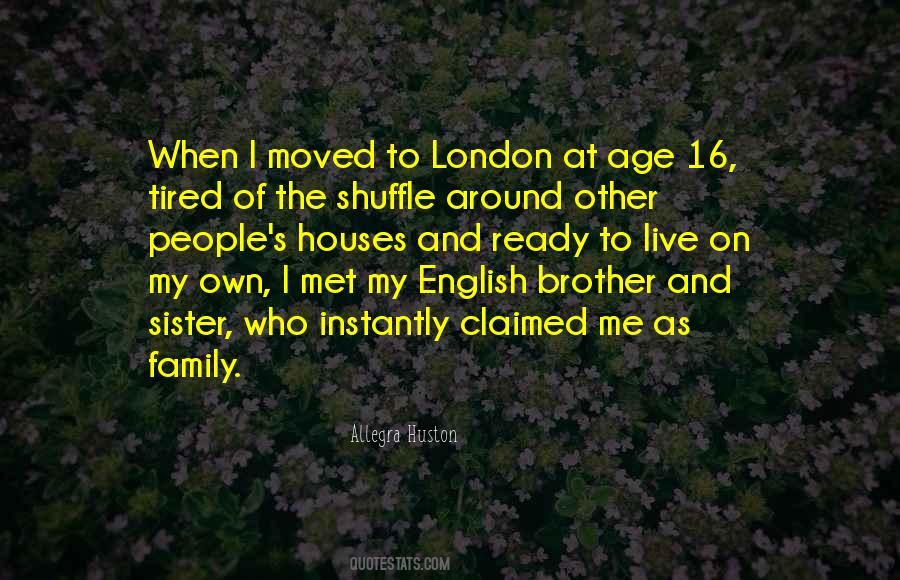 Famous Authors
Popular Topics