There's One Person Famous Quotes & Sayings
List of top 100 famous quotes and sayings about there's one person to read and share with friends on your Facebook, Twitter, blogs.
Top 100 There's One Person Quotes
#1. I know right a way there's a person that's very insecure; that he's trying to out do me. And, ah, like I was saying before, if you give one-hundred percent of your best, and you may have fault, but there is nothing you can do, because you gave one-hundred percent. - Author: Lou Ferrigno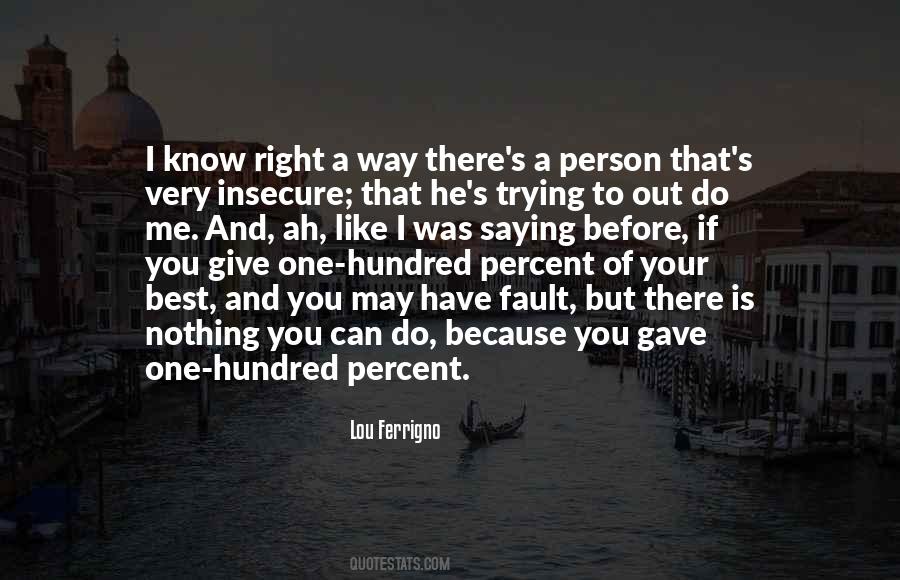 #2. I like when there are complicated relationships, that there's a little bit of self-serving parts of it as well as a devotion to a person, and that there's a mixture of both in there. It's just I think that's a little more true to life. It's not always purely one way or the other. - Author: Lisa Kudrow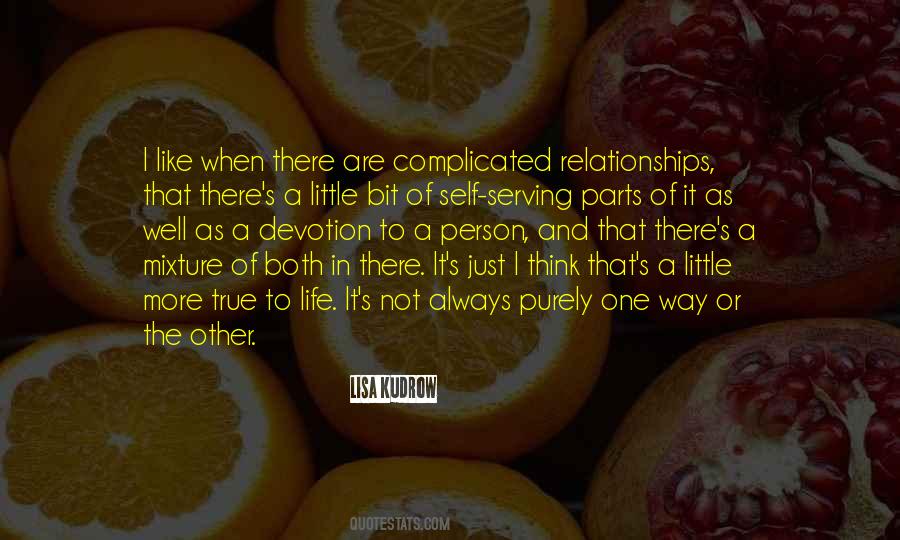 #3. There's definitely one person in this world I know I can count on. She's there in the mirror. - Author: E. Katherine Kottaras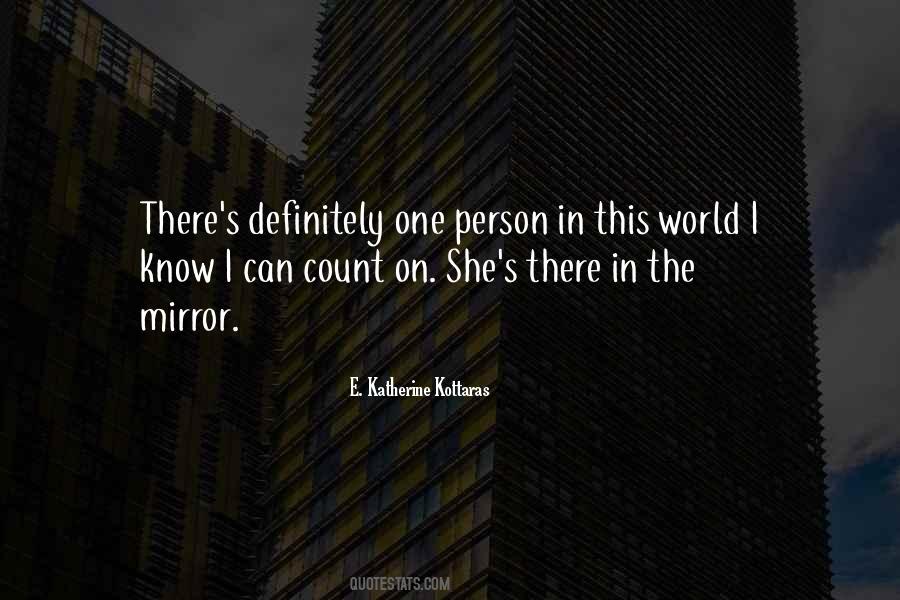 #4. We tend to assume that data is either private or public, either owned by one person or shared by many. In fact there's more to it than that, above and beyond the upsetting reality that private data is now anything but. - Author: Nick Harkaway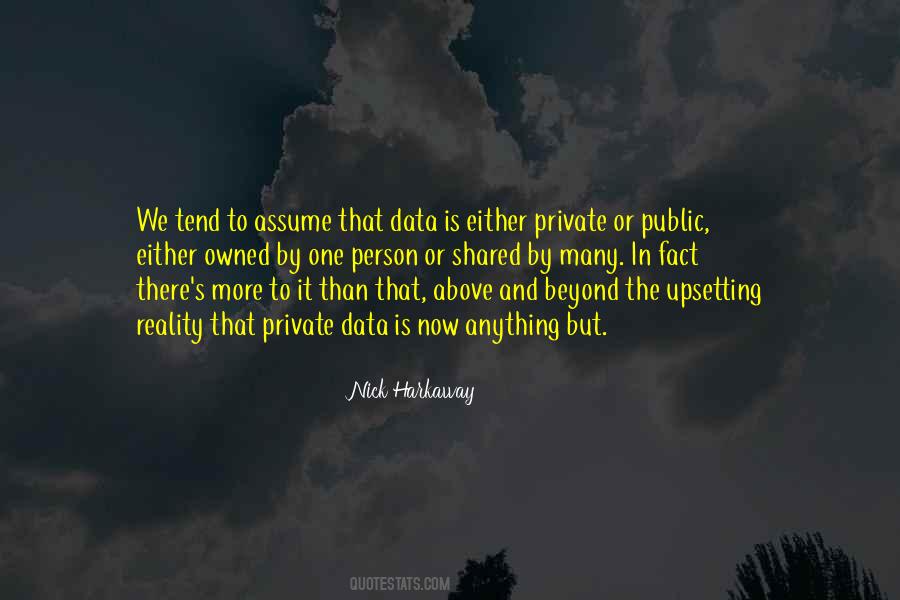 #5. The fact is, if a person has not experienced the love of his or her soul, within one's self, there is no chance that that person can go out and love, even though it is a faculty of love that you most powerfully need. - Author: Harbhajan Singh Yogi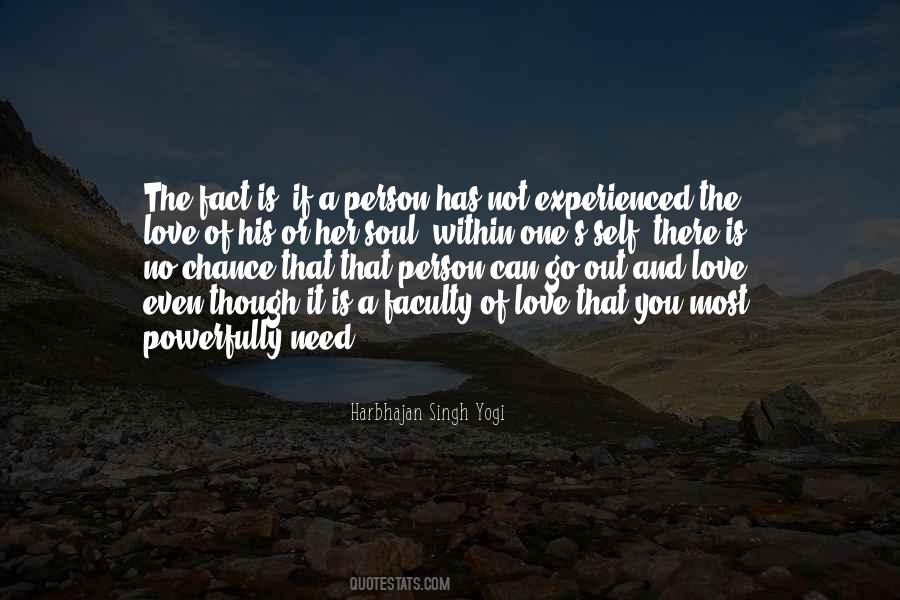 #6. There is a close connection between art and religion in the sense that both are concerned about questions of meaning - if not about the meaning of existence generally, then certainly about the meaning of one's individual life and how a person relates to his or her total community/environment. - Author: Freeman Patterson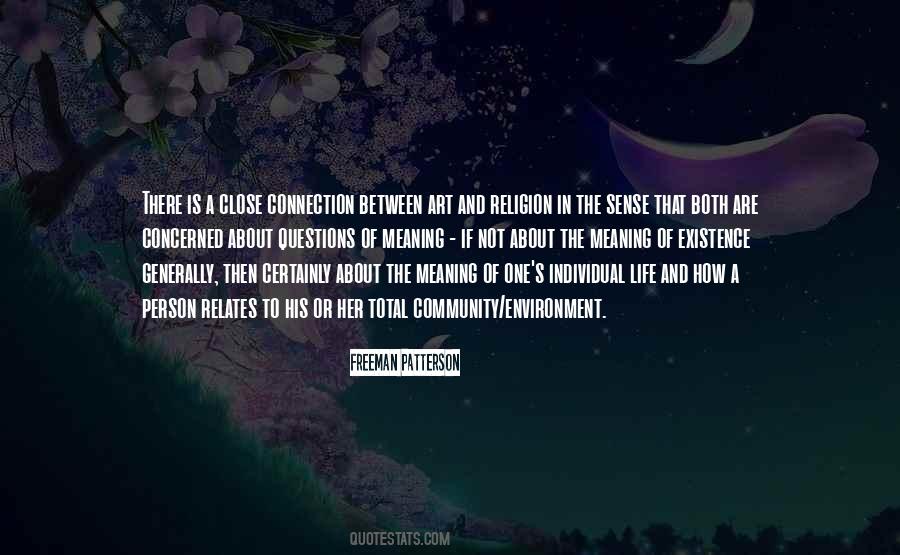 #7. The genuinely spiritual person is one who has lost all desire to be anyone but exactly who he is, without labels and without apologies. He is what he is and that's all there's is to it. Such a man is undivided, uncomplicated and contented. - Author: Vernon Howard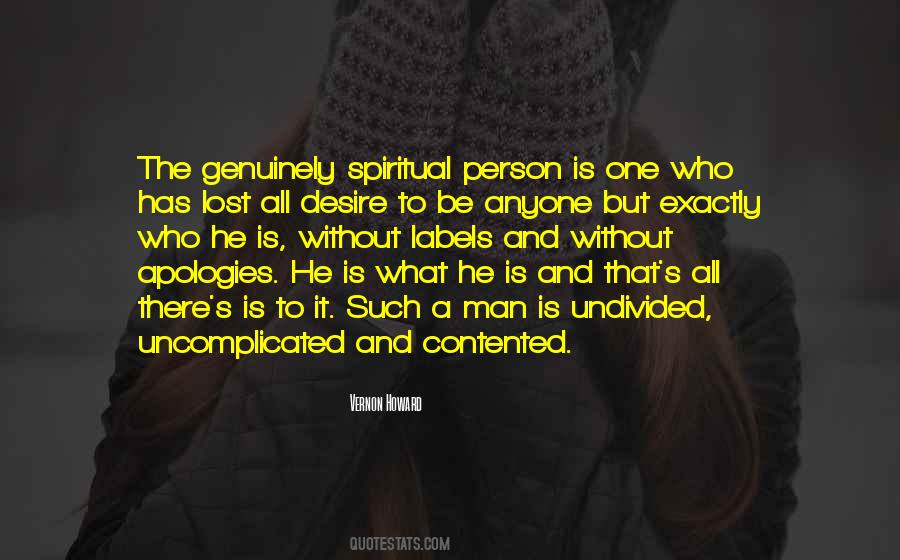 #8. In the existence of our lives, there are many coincidences that bring people together, but there's only one person that will own your heart forever, - Author: Jessica Sorensen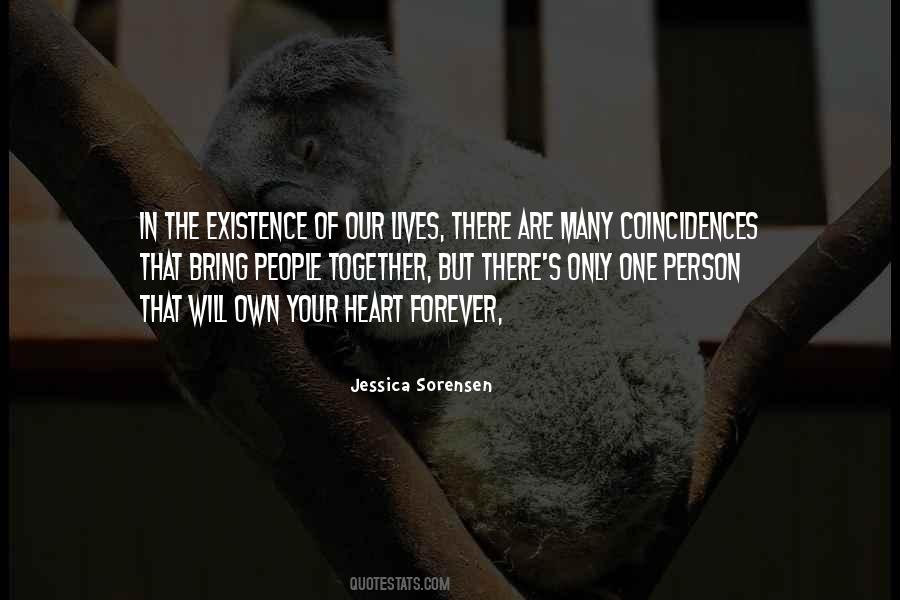 #9. There is only one person in the State Department that can sign off on State Department personnel being in a facility that doesn't meet security standards, and it's the secretary of state. - Author: James Lankford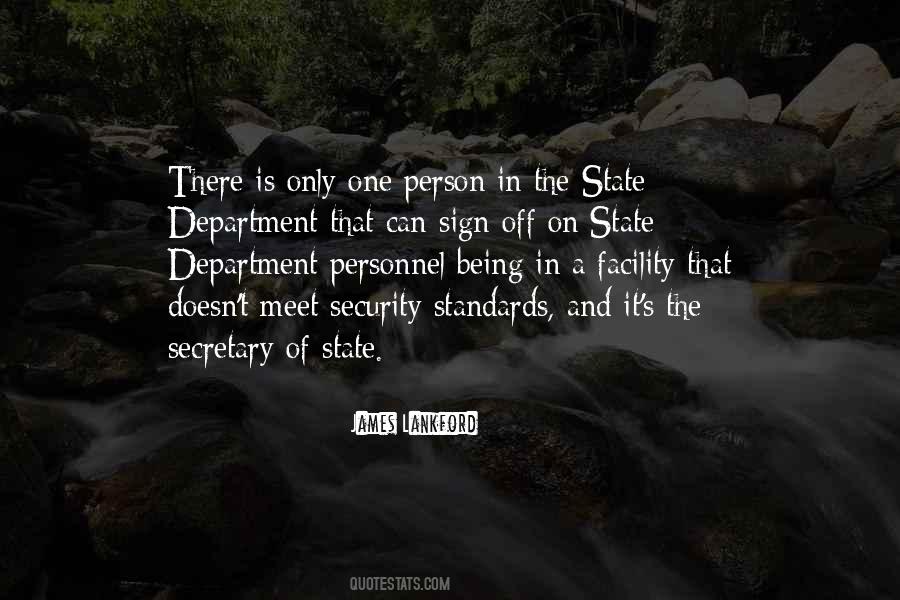 #10. But the problem is that even if you know that is the best thing to do, you often don't do it.
... it is true. It's as if there were two people inside you. One says: do this. Another says: do that. But both voices are inside the same person. - Author: Alexander McCall Smith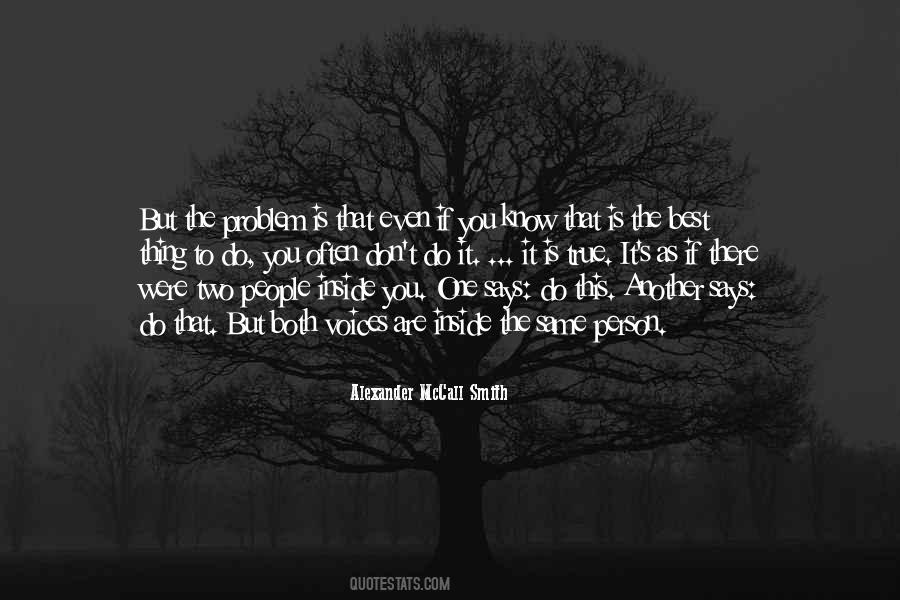 #11. Clearly, there are a thousand and one scenarios for how someone can slip through the cracks. I'll walk down the street and see a homeless person, and I'll want to stop them and say, How did this happen? Where's your mother? Are you physically ill? Mentally ill? - Author: William Baldwin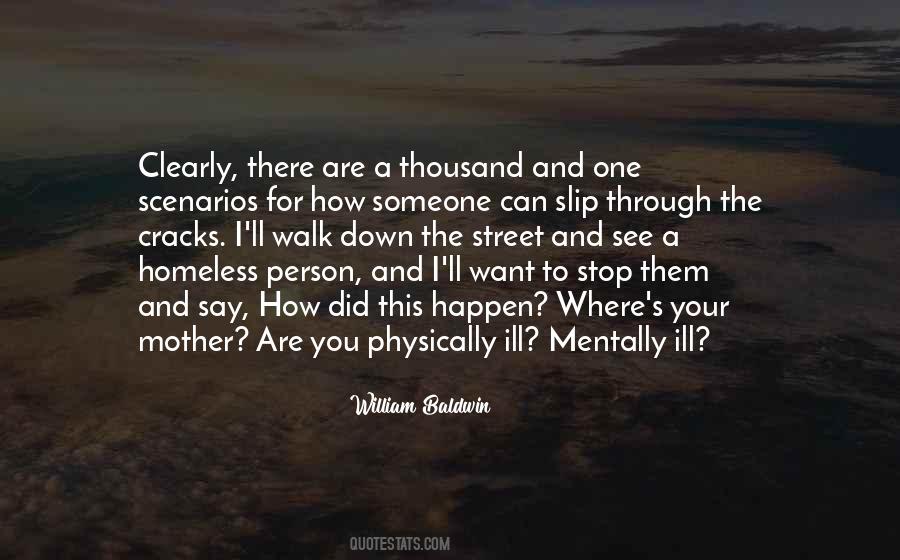 #12. I really would rather have gone to New York, since all my training had been in theater, but I didn't have the guts to go there alone. I knew only one person in New York, and that was a man. What I needed was a woman. That's the way Southern girls thought. - Author: Louise Fletcher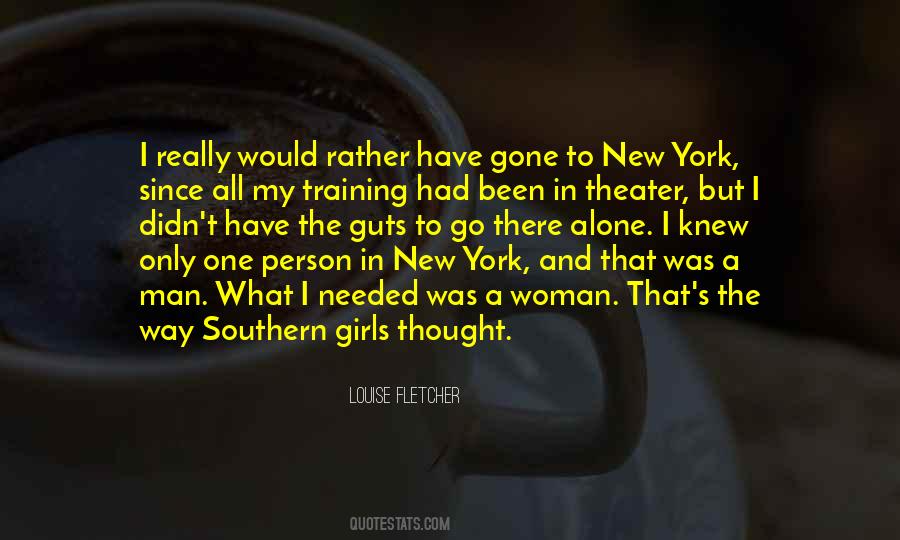 #13. There is such a thing as looking through a person's eyes into the heart, and learning more of the height, and breadth, and depth of another's soul in one hour than it might take you a lifetime to discover, if he or she were not disposed to reveal it, or if you had not the sense to understand it. - Author: Anne Bronte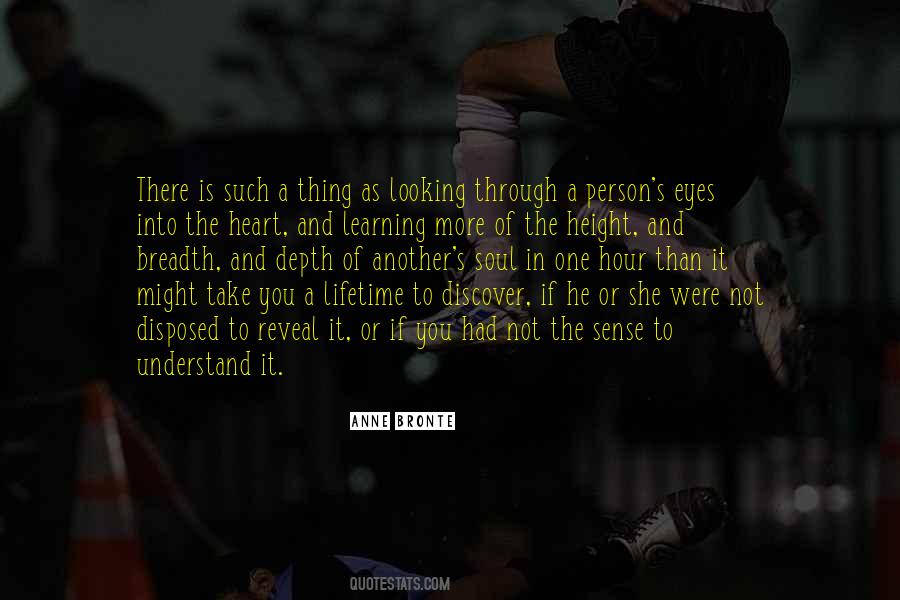 #14. I grew up in L.A., and it's one of those cities designed around cars instead of the people that live there. I spent hours every day stuck in traffic, having the experience of looking around and seeing one person in every car. - Author: Logan Green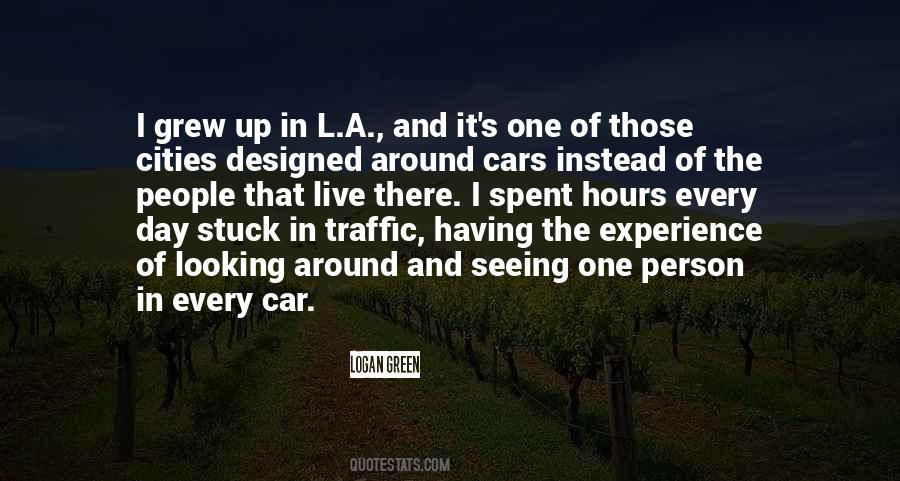 #15. No well-bred person goes ashore on someone else's island when there's no one home. But if they put up a sign, then you do it anyway, because it's a slap in the face - Author: Tove Jansson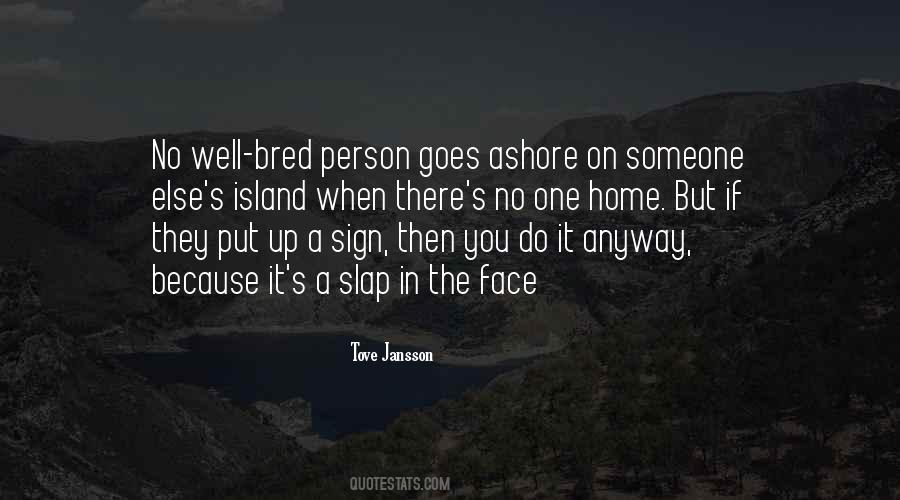 #16. It's amazing how much one person can stand if there are only small changes from one day to the next. - Author: Chris Dietzel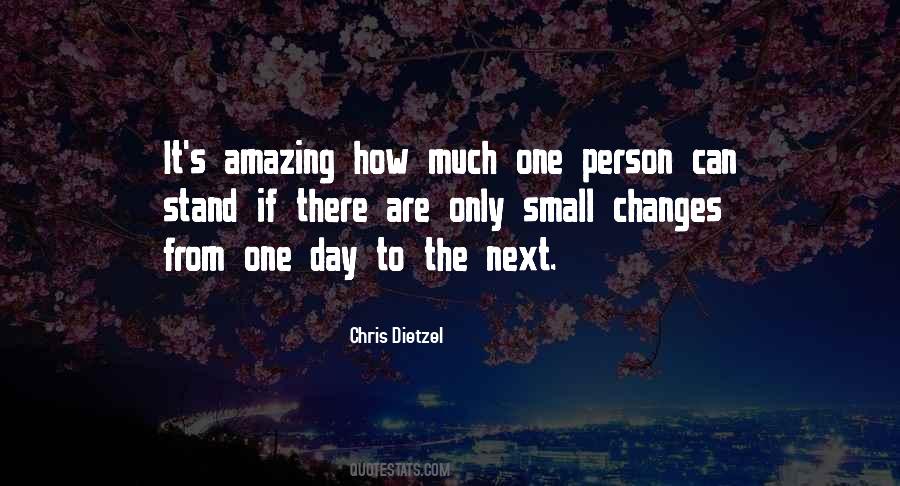 #17. There's only one person in this race who will be there, who's always been there for you, and that's Hillary Clinton's life story. - Author: Joe Biden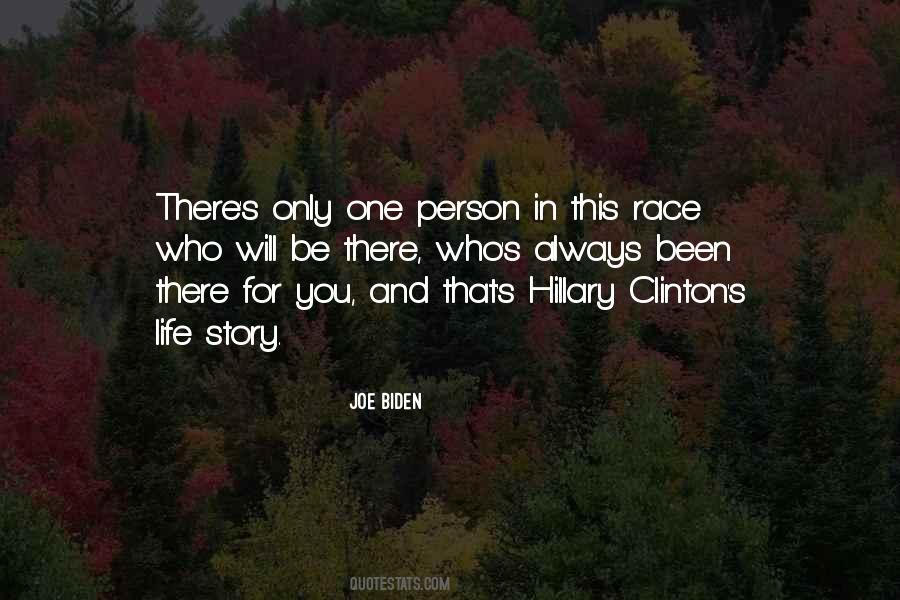 #18. There's still plenty of lead in this pencil, but I only write to one person now. - Author: Rod Stewart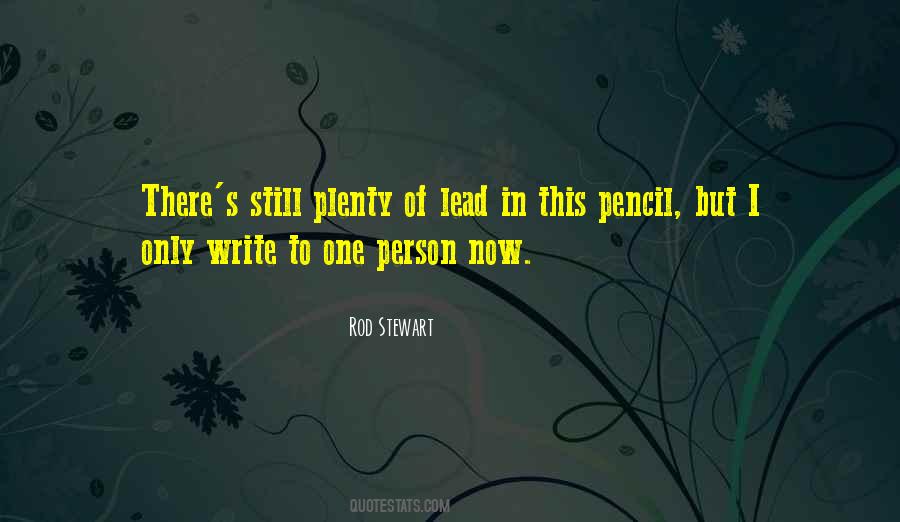 #19. There are two sides to me. One is the writer. That's a savage person who looks at everything as a story and, you know, wants to use real life in his books. The other part is the Midwesterner, who, you know, wants to say nice things about people and be polite. - Author: Walter Kirn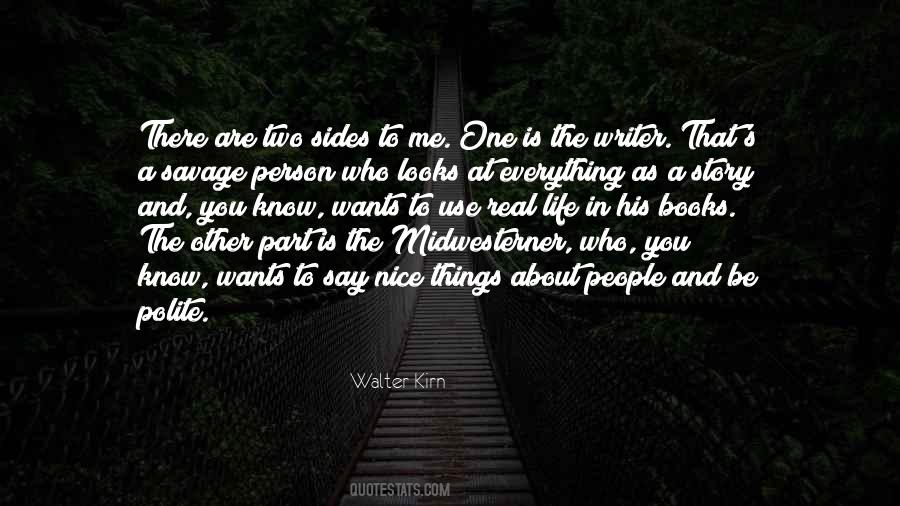 #20. It has been my experience that nothing changes a person's life more than the discovery of one solitary truth: There is a meaning and purpose to life. More specifically: There is a meaning and purpose to your life. - Author: Matthew Kelly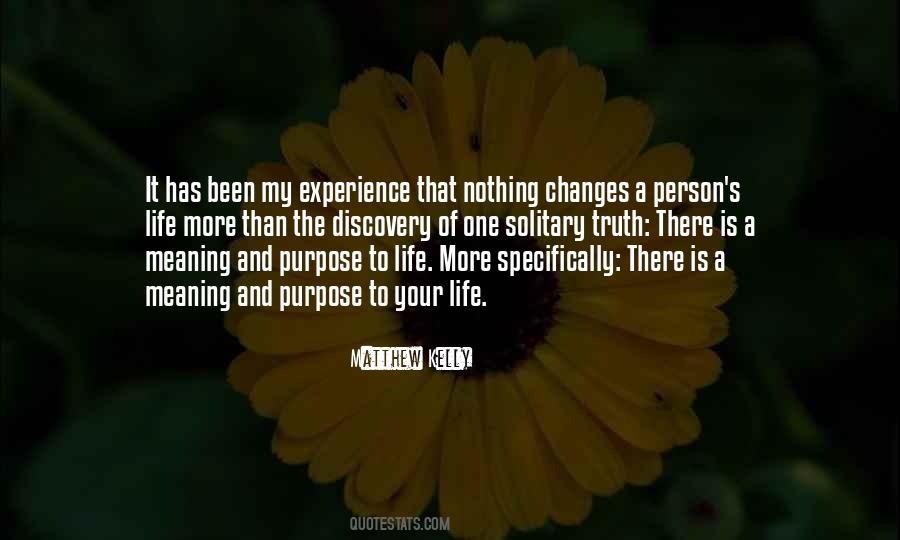 #21. There are times you feel the world has turned its back on you, you feel so alone, no one to turn to. There is one person who's willing to listen to you and He's always with you. Just say the word and He'll answer every question you have. - Author: Euginia Herlihy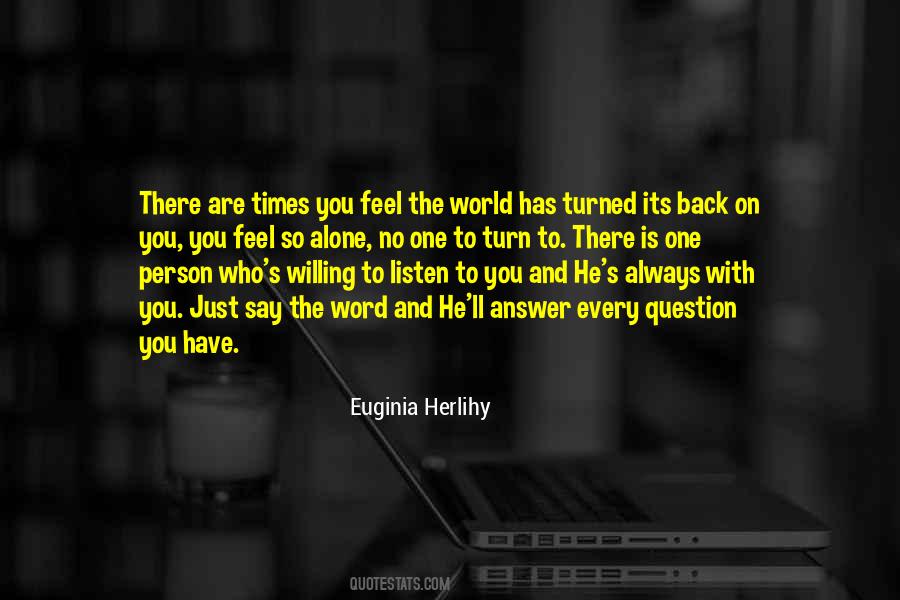 #22. When you're writing a song and there are five people invested in it, it's easy for one person to say, 'Oh, this song is about this and that', and everyone has to hear the idea and see if they can do better. - Author: Jason Mraz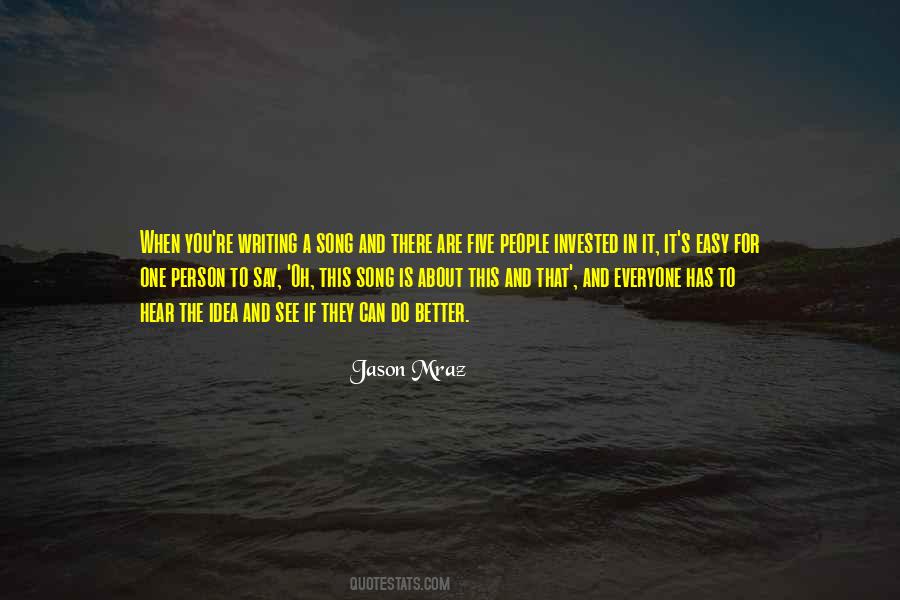 #23. Do you know what people really want? Everyone, I mean. Everybody in the world is thinking: I wish there was just one other person I could really talk to, who could really understand me, who'd be kind to me. That's what people really want, if they're telling the truth. - Author: Doris Lessing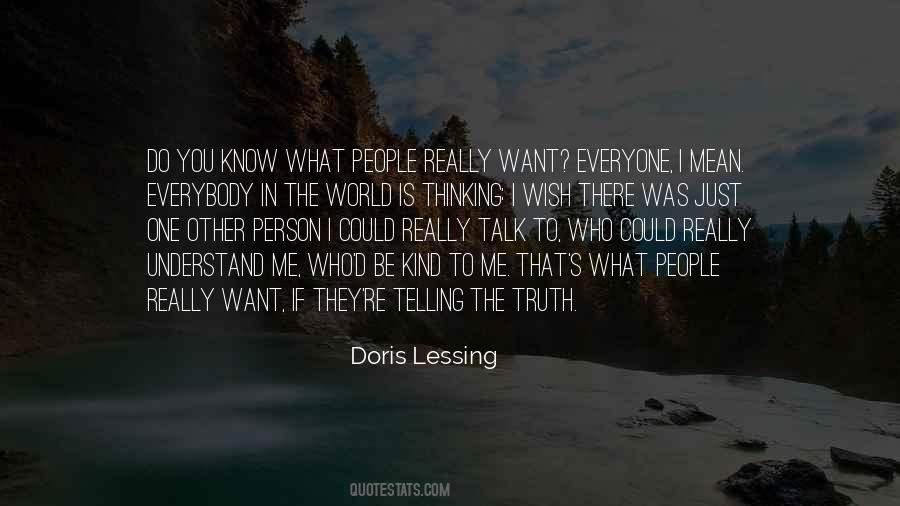 #24. You are a very special person. There is only one like you in the whole world. There's never been anyone exactly like you before, and there will never be again. Only you. And people can like you exactly as you are. - Author: Fred Rogers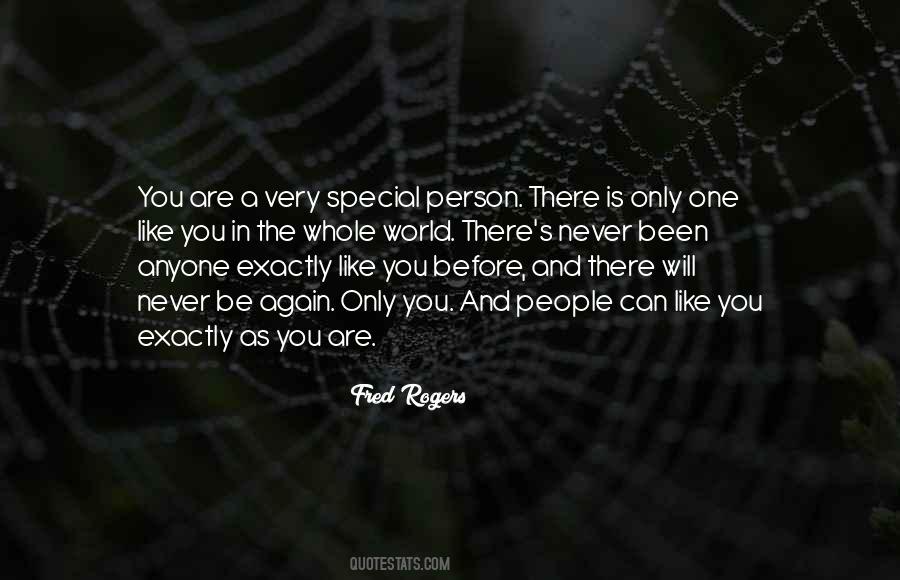 #25. There's nothing as quiet as that moment before one person is about to tell another something neither of them wants to hear. - Author: Brock Clarke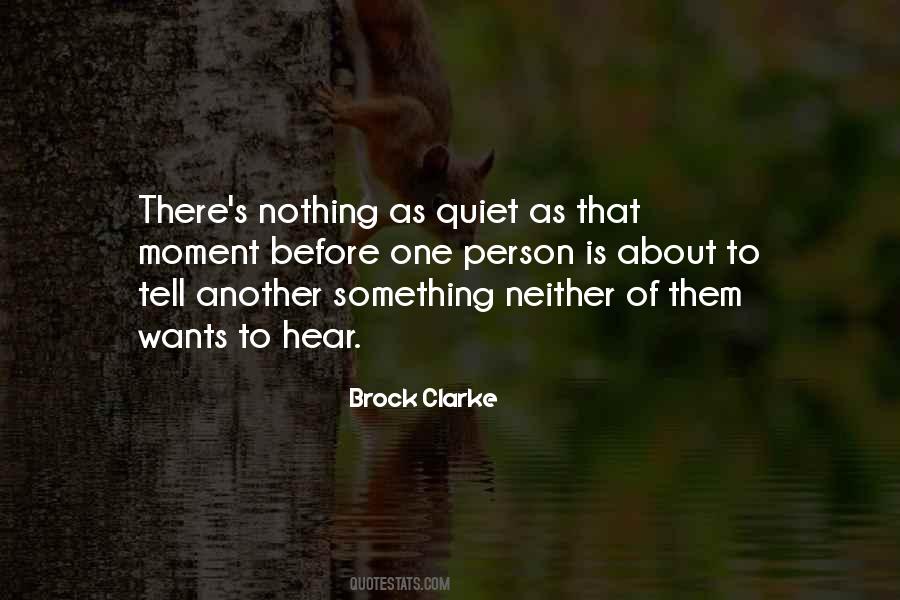 #26. There's only one person to blame for lack of self confidence - Author: Benny Bellamacina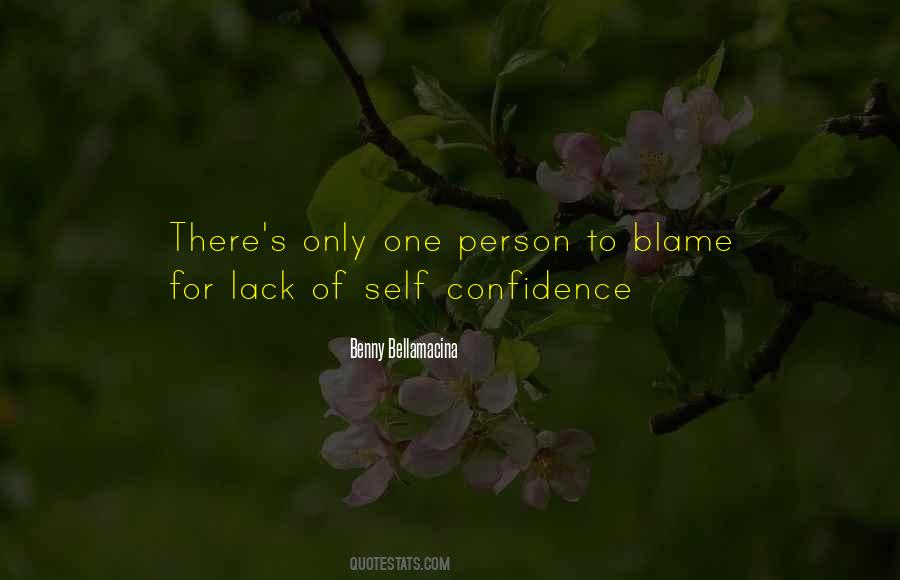 #27. There is one person that I have learned always sees the beauty in us, and that's our Savior Jesus Christ. - Author: Lindsey Stirling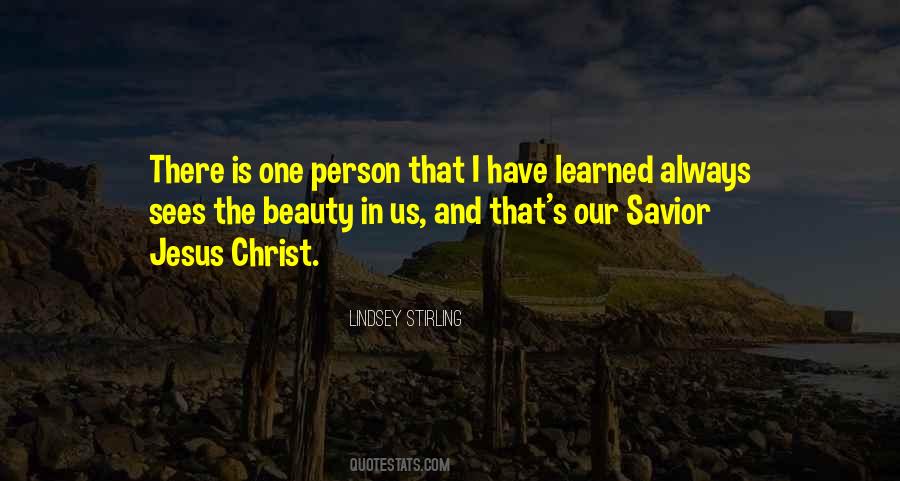 #28. One of the biggest religions on Roundworld was founded by a carpenter's son!' Ponder snarled. 'For years, the most powerful person on the planet was an actor! There's got to be room for Darwin! - Author: Terry Pratchett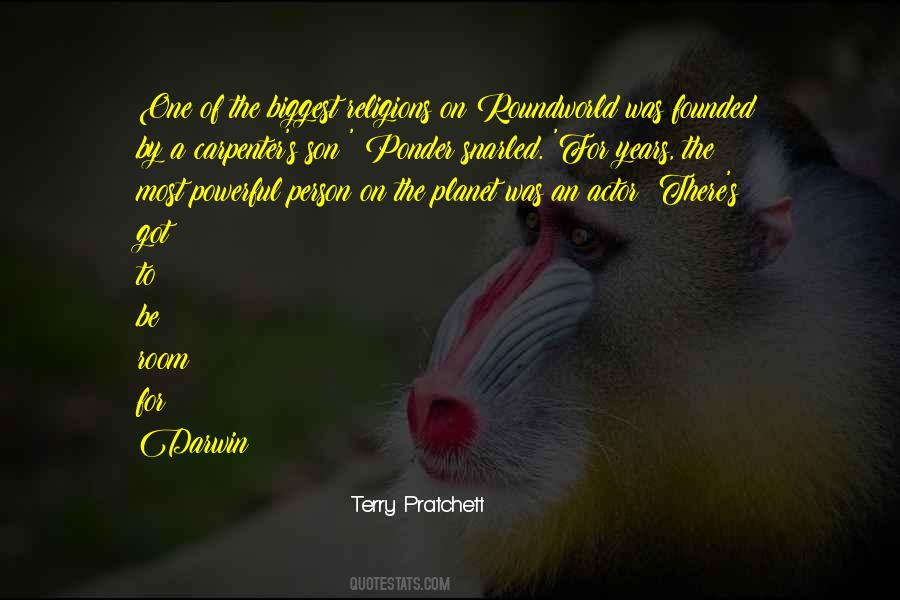 #29. There's no law that says that you cannot be a spiritual person and a sexual person. In fact, if you have the right consciousness, sex is like a prayer. It can be a divine experience. So why do they have to be disassociated with one another? - Author: Madonna Ciccone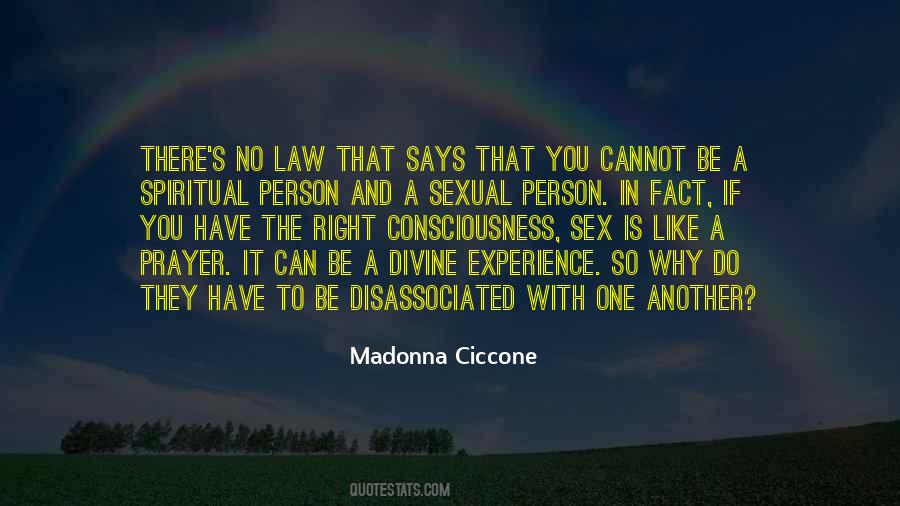 #30. I have spoken, and I was understood. It's not like I'm a tragic person who wasn't understood. All those books are in print, all those movies are still out there, the audience gets younger. So I don't have that "I've got to do one thing before I die." I did it. - Author: John Waters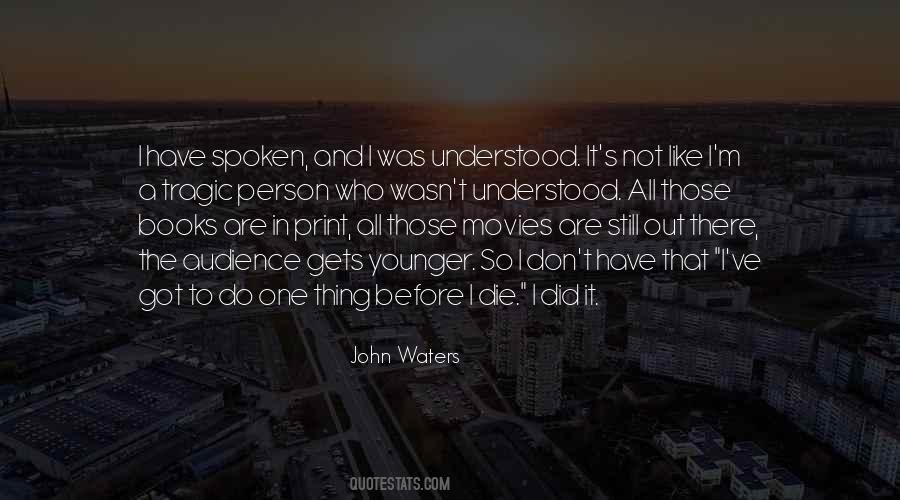 #31. There is a certain type of person to whom a closed door is a challenge - a dare, a taunt, a glove thrown down - and I am one of them. A closed door is more than a mystery to be solved: It's an insult. A slap in the face. - Author: Alan Bradley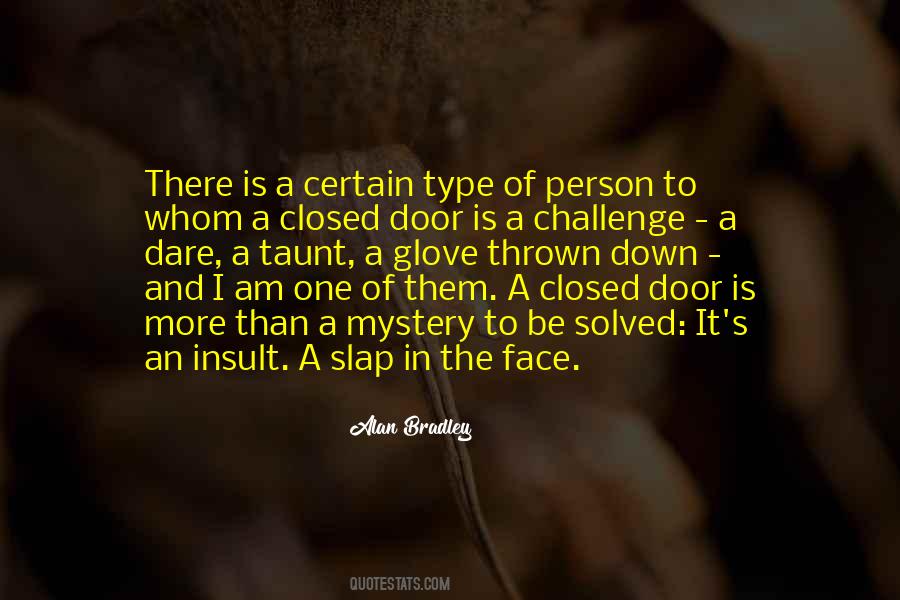 #32. If there's one person in the world you should be with, there must be one person in the world you shouldn't be with. - Author: Amy Zhang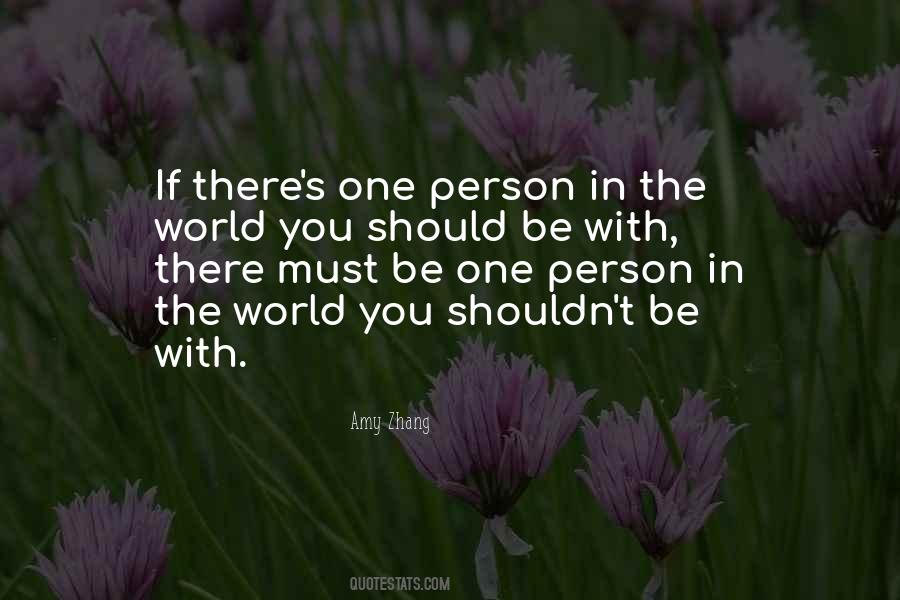 #33. There's no grander sight in the world than that of a person fired with a great purpose, dominated by one unwavering aim. - Author: Orison Swett Marden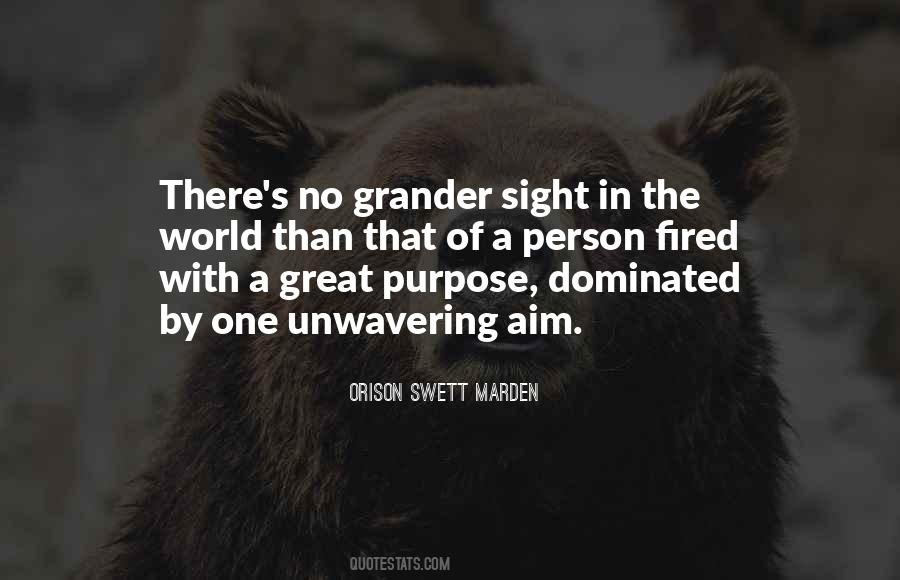 #34. Arsene Wenger is just an unbelievable manager. I think he's a tremendous person, and he is just as good as there is. You can't judge a manager on one game or on one stretch of games. You judge him over time. - Author: Stan Kroenke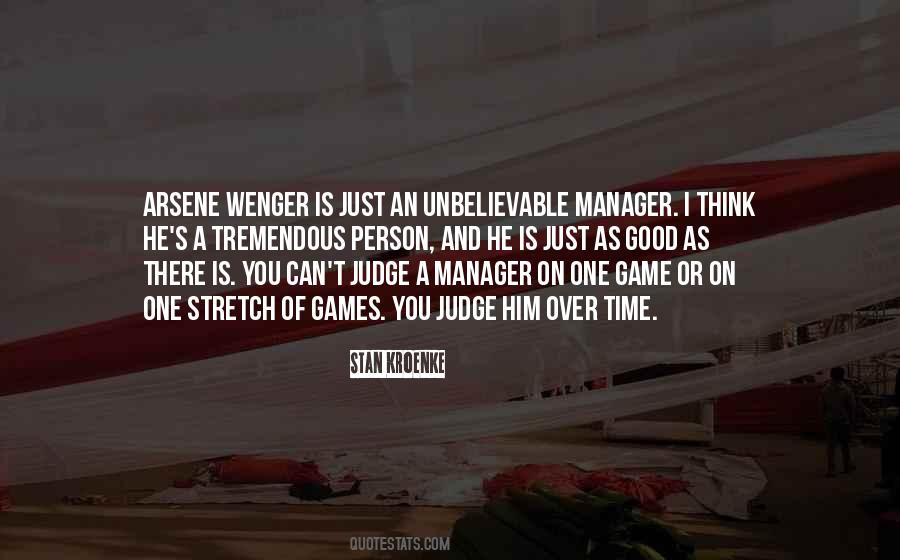 #35. There is one person I can think of better than me. And that's Zach Braff. What a cool guy. - Author: Zach Braff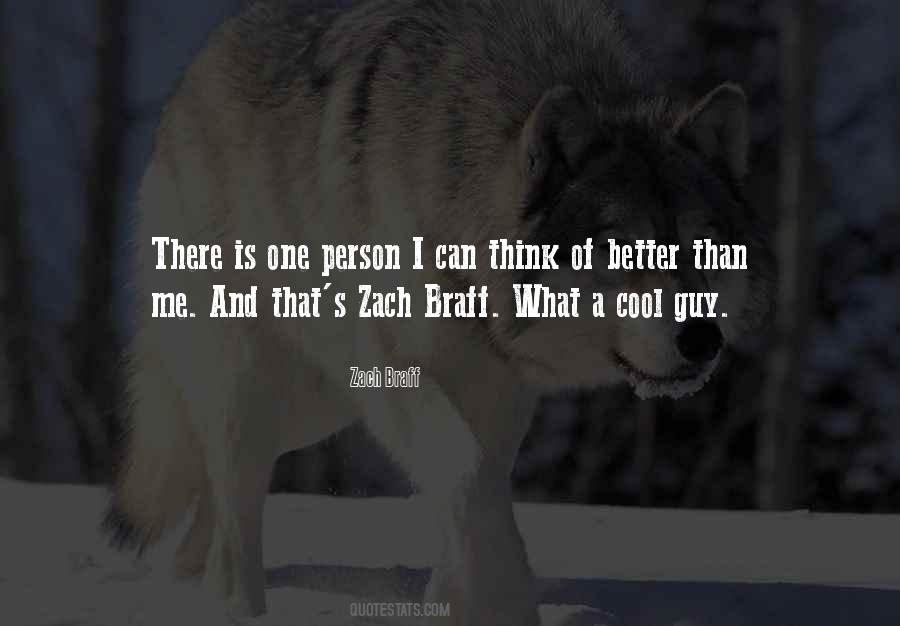 #36. I feel like there are so many people I admire for so many reasons that I can't look at one person's life and say, "I want that life." I want to make my own history. - Author: Blake Lively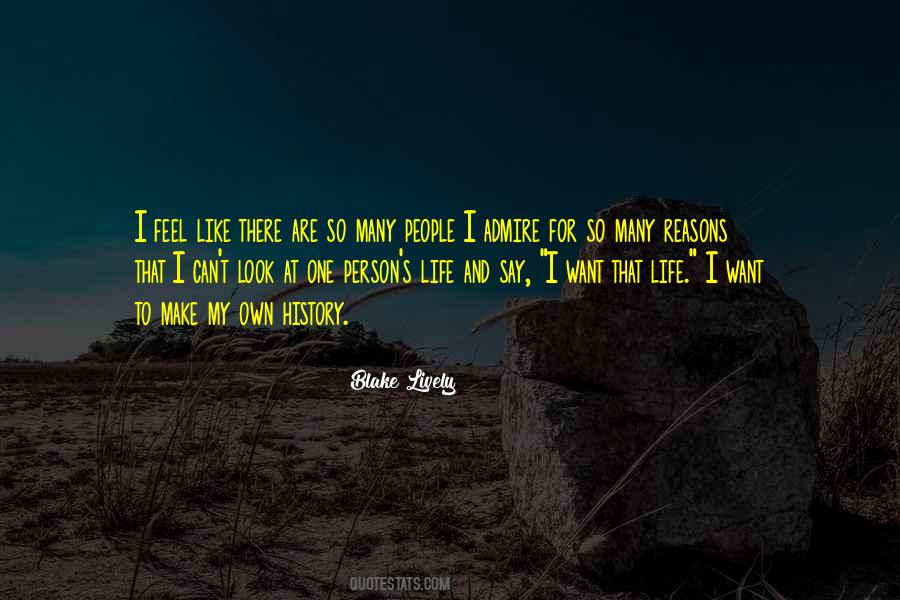 #37. There's One Person above all others who desires an extraordinary life for you. He is a Father who delights, like any good father, in the achievements and happiness of His children. His name is God! And nothing will please Him more than seeing you reach your highest potential. - Author: John Bevere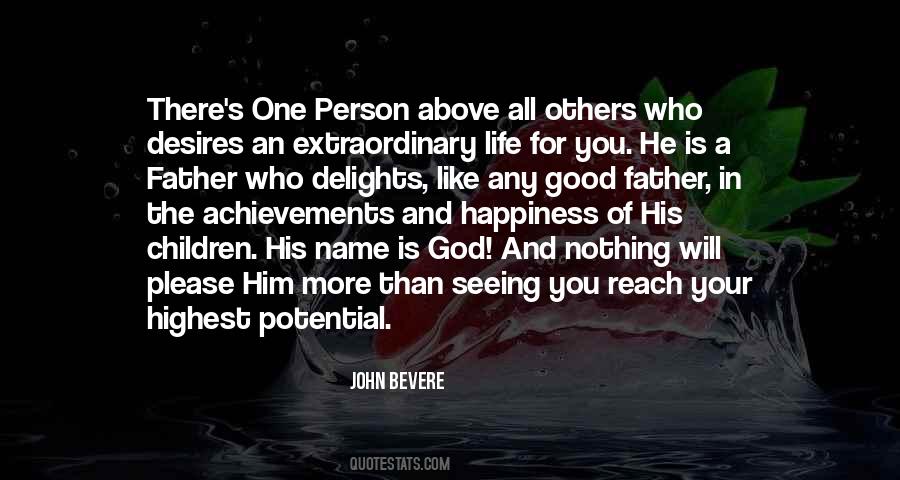 #38. For one woman, a college sophomore, "It's very special when someone turns away from a text to turn to a person." For a senior man, "If someone gets a text and apologizes and silences it [their phone], that sends a signal that they are there, they are listening to you. - Author: Sherry Turkle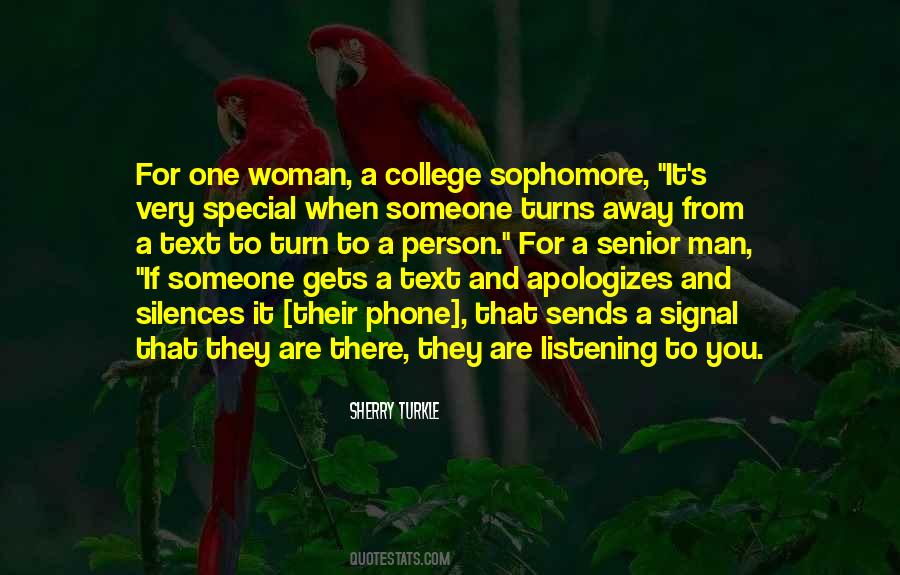 #39. It's so weird to say this about the icon and legend that is Cher, but she's like an old girlfriend. We still talk all the time. She's an incredible person personally and professionally, giving such amazing advice, stories for days, been there done that. She's one of a kind. - Author: Christina Aguilera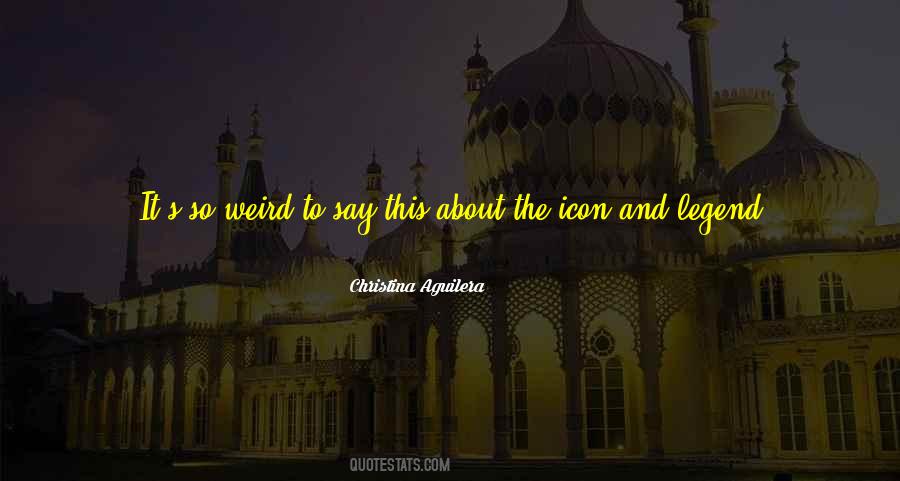 #40. If there is one phrase or action that every person on the planet would like to erase from his or her memory or have the chance to undo, it would be, 'Let's do it again.' - Author: Cheech Marin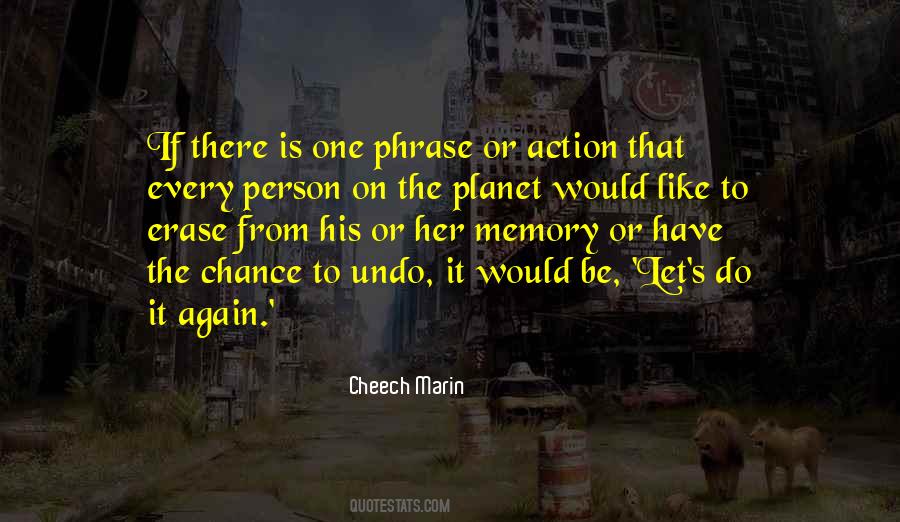 #41. Dreams are horrible, to don't talk about nightmares they are more often. But there is always one gift from a person which you know is dead, that's how it works and it will continue to work. - Author: Deyth Banger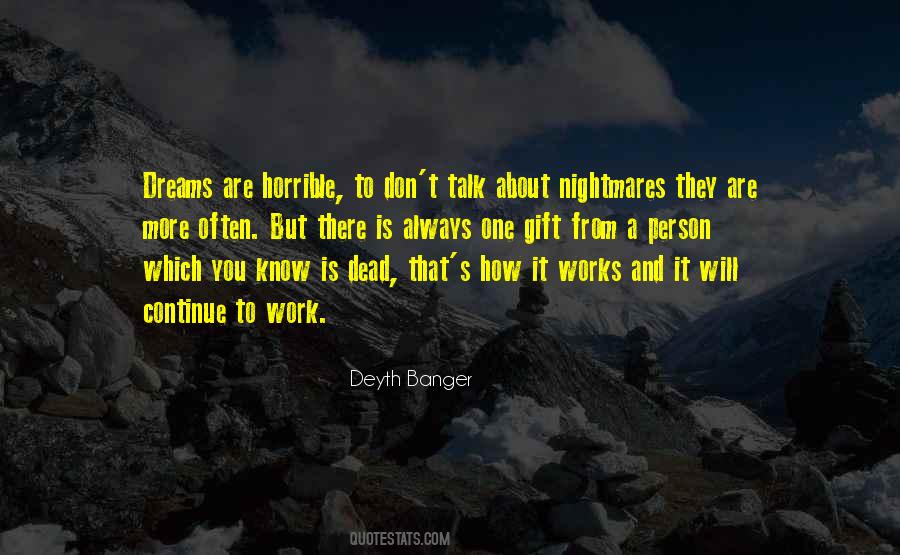 #42. But there were certain moments in life that forever defined one as a person - in one's own estimation, anyway. And one's own self esteem, when all was said and done, was of far more importance than the fickle esteem of one's peers. - Author: Mary Balogh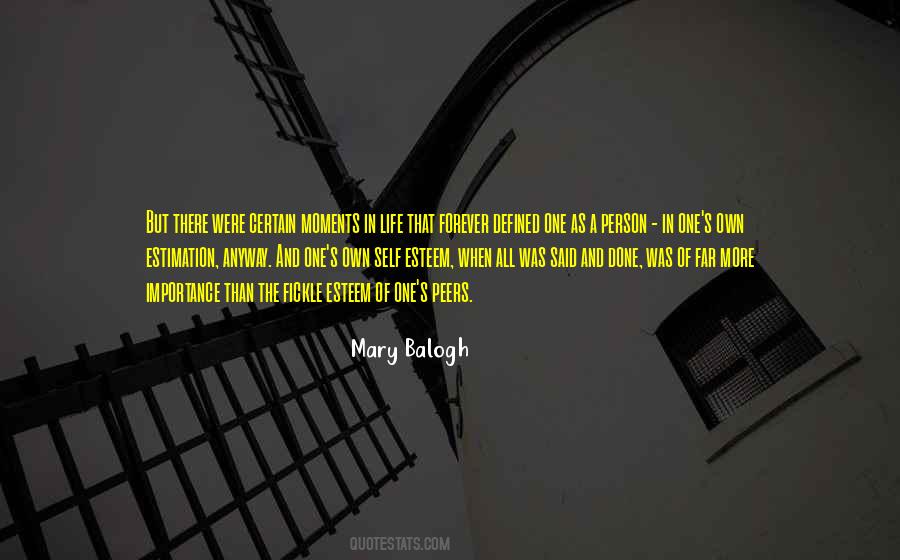 #43. There must be a limit to the mistakes one person can make, and when I get to the end of them, then I'll be through with them. That's a comforting thought - Author: L.M. Montgomery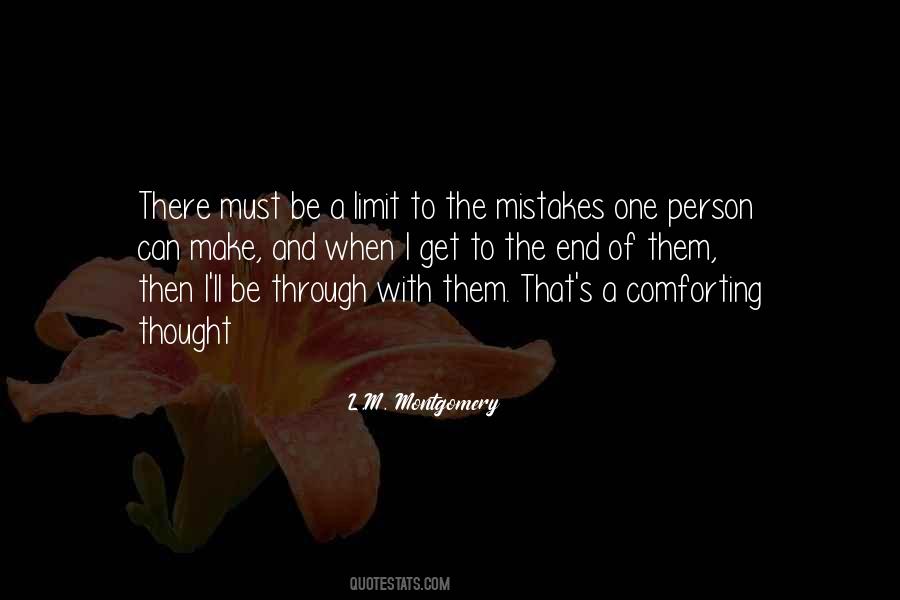 #44. In fairy tales there's always one person who is made for one other, and they find each other and live happily ever after. Cal was my person. I couldn't imagine anyone more perfect. Yet what kind of sick fairy tale would it be if he was the one made exactly right for me and I wasn't right for him? - Author: Cate Tiernan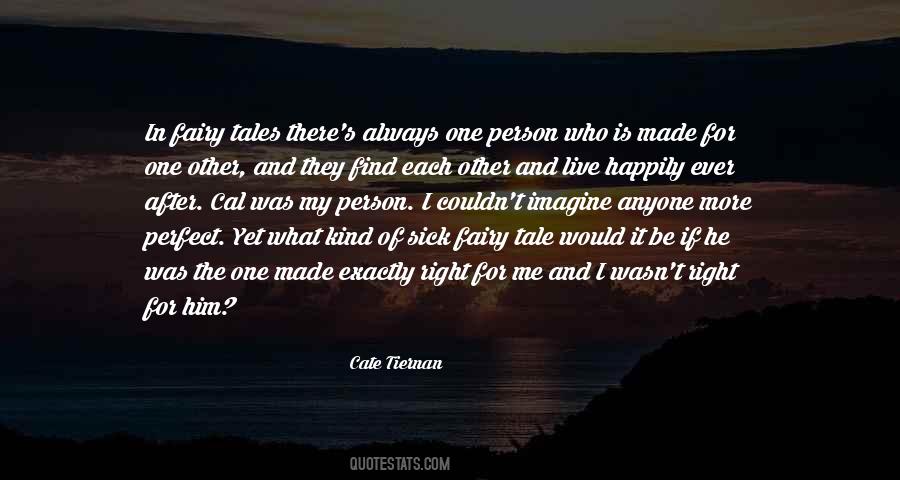 #45. I have a pretty diverse audience, and that makes me happy - laughter is universal, and I don't differentiate between people at all. Why should I? People are people. There's no reason why one person can't relate to any other person on this planet in some way or another. - Author: Tracy Morgan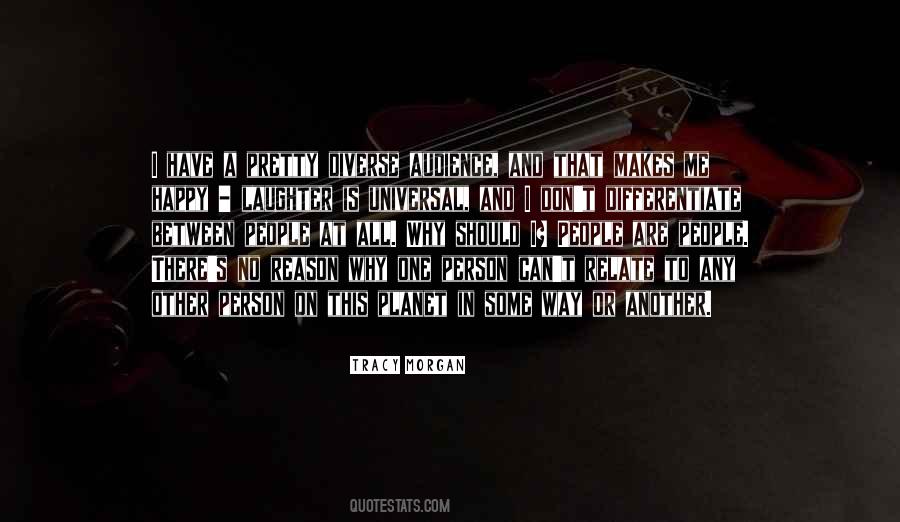 #46. I think it's necessary to identify with anything - with any character you play, there's got to be something in common, so you can link up to that person, even if it's like one tiny thing. But it's equally fun to play somebody completely different, and trying to find what that thing is to make it. - Author: Lizzy Caplan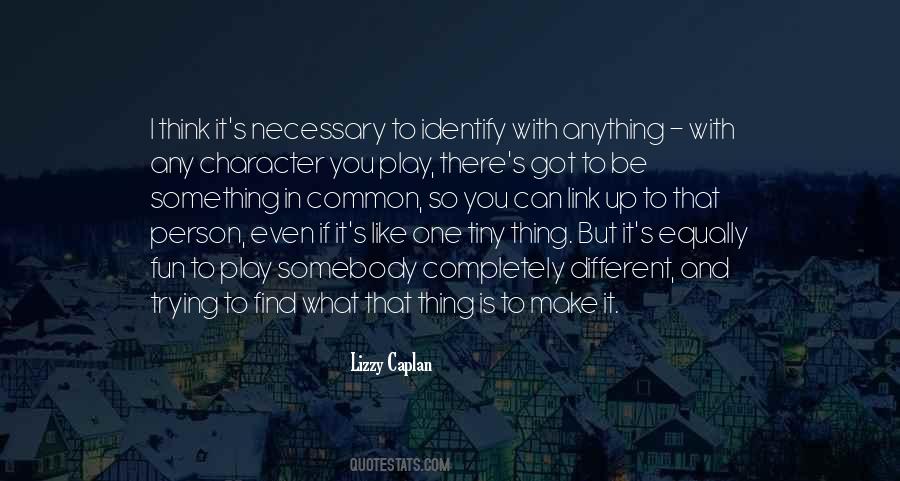 #47. There's two ways to become a famous Poet, find that one person that knows somebody, that knows somebody, that knows somebody.
Or die trying - Author: Stanley Victor Paskavich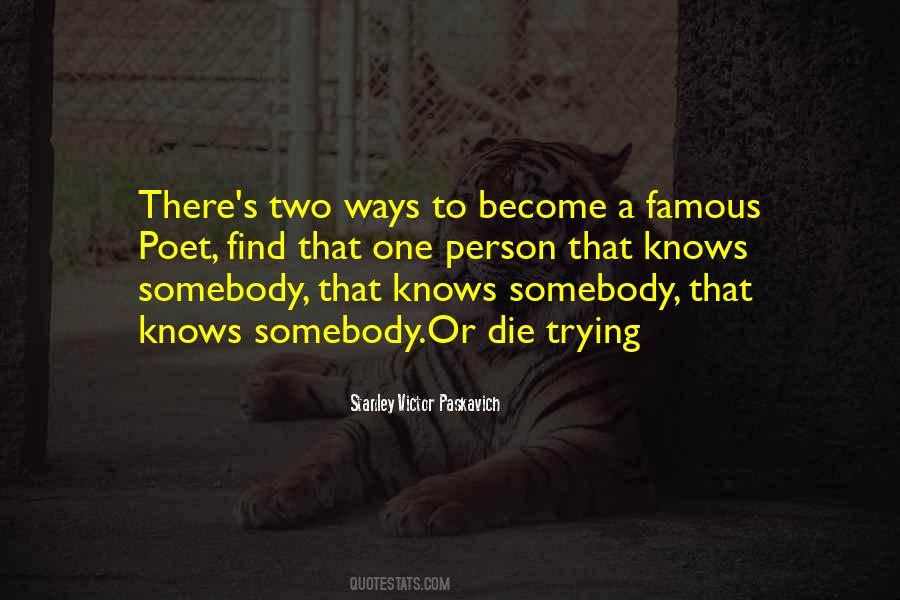 #48. There's fear that keeps you safe, and fear that warns you, and then there's fear of another sort. The kind that makes you turn on your friends, that irises the world down to one frightened person. - Author: Margaret Ronald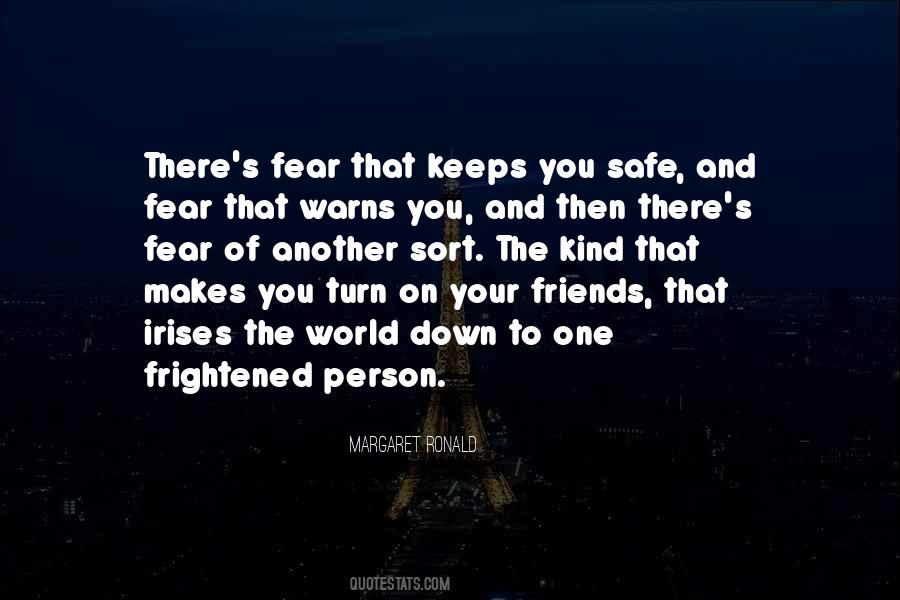 #49. There is only one person in the world, aside from your dog, who has any hope of liking you regardless of your success or failure. That's you. I think it's worth a little of your time to get to know that person better. - Author: H.L. Stephens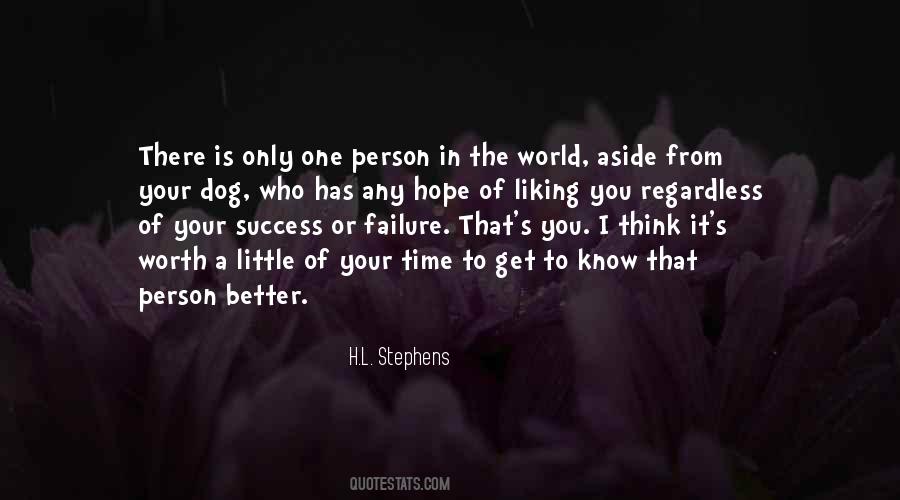 #50. Don't be sad and don't give up on your dreams. Dreams will come true one day. There's no person as beautiful as a person who dreams - Author: Kim Him-chan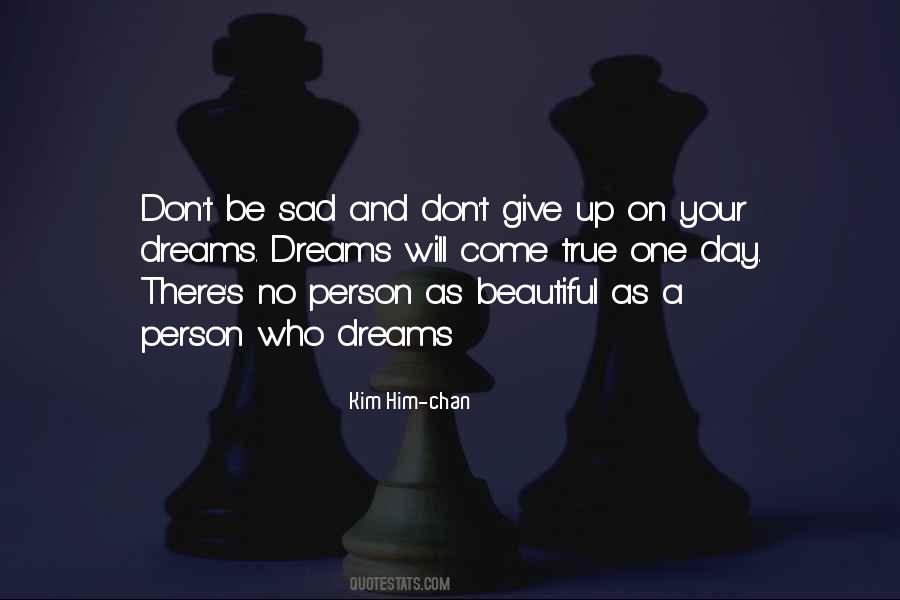 #51. There's absolutely no one in the world that can tell you can't do something. You're the only person that can set that limitation. - Author: Andy Biersack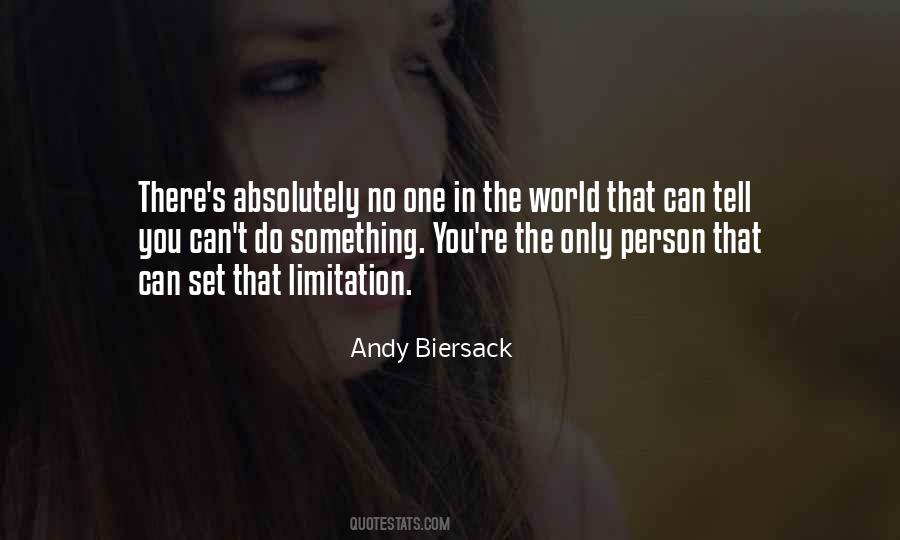 #52. I'm not a person who believes that Broadway is the only place. I think there's lots of work that goes on outside of Broadway and outside of New York that's better than anything Broadway has ever seen. But, it's historically the place. It's one of the centers of the universe, in many ways. - Author: Billy Porter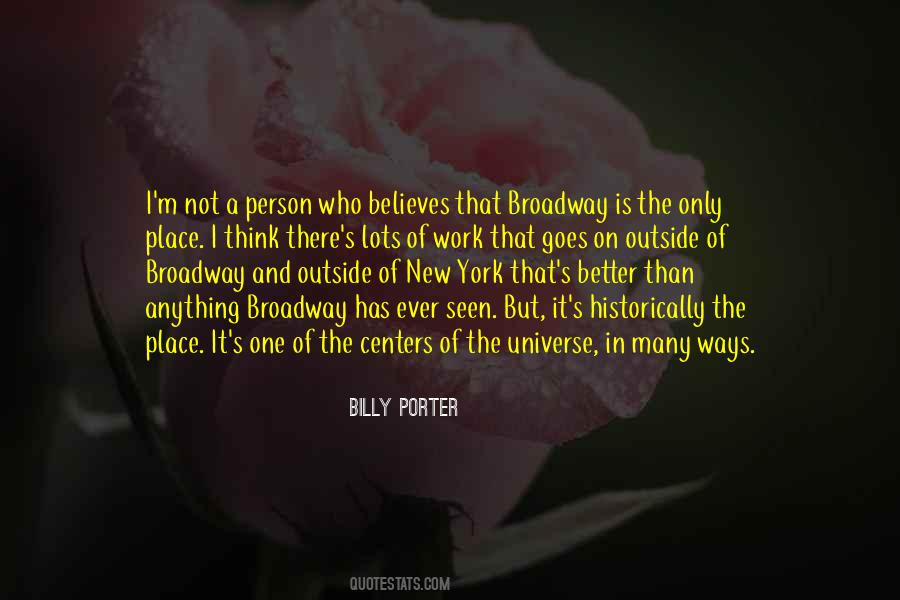 #53. Everyone who went to college and especially people working in media seem to know at least one person from Shaker Heights. There's just something about that place that made people go to the coast. - Author: David Wain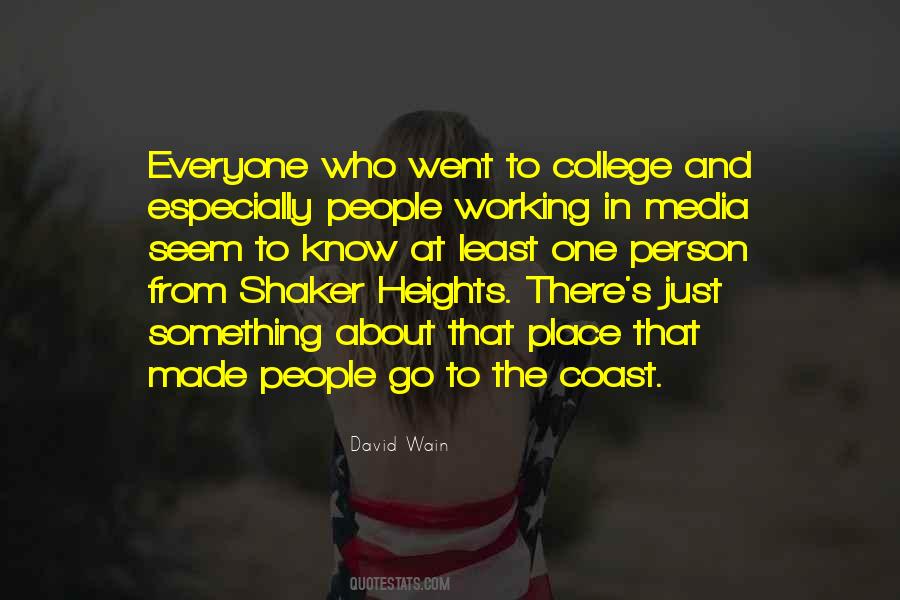 #54. There's more than one way to be a person. Actually, there are more than two or three ways. You'd think that was obvious, but I find that often it is not. The world is essentially a collection of teams. Life is a process of deciding which ones we're going to join. - Author: Meghan Daum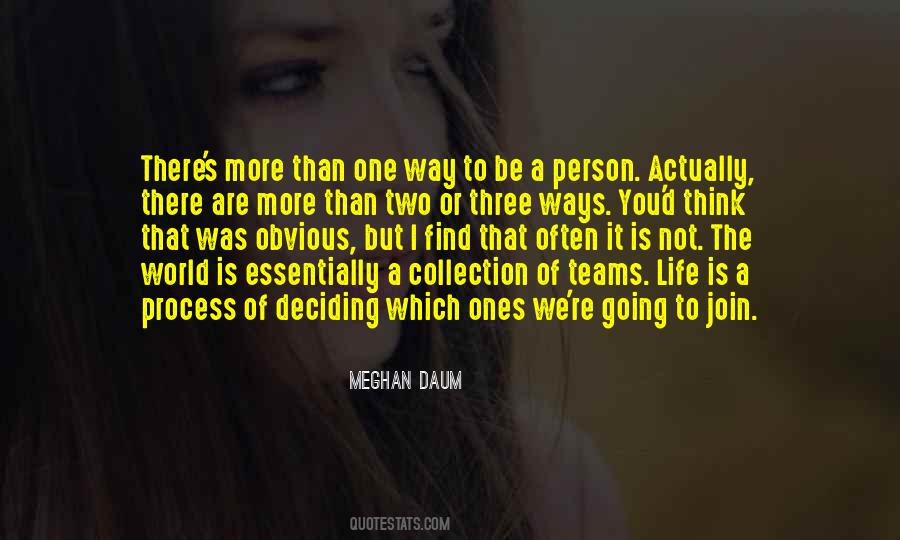 #55. About strip clubs and athletes. The best way I can explain why a lot of players end up there is because it's one of the safest places a high-profile person can spend time in a boring city. - Author: Shaquille O'Neal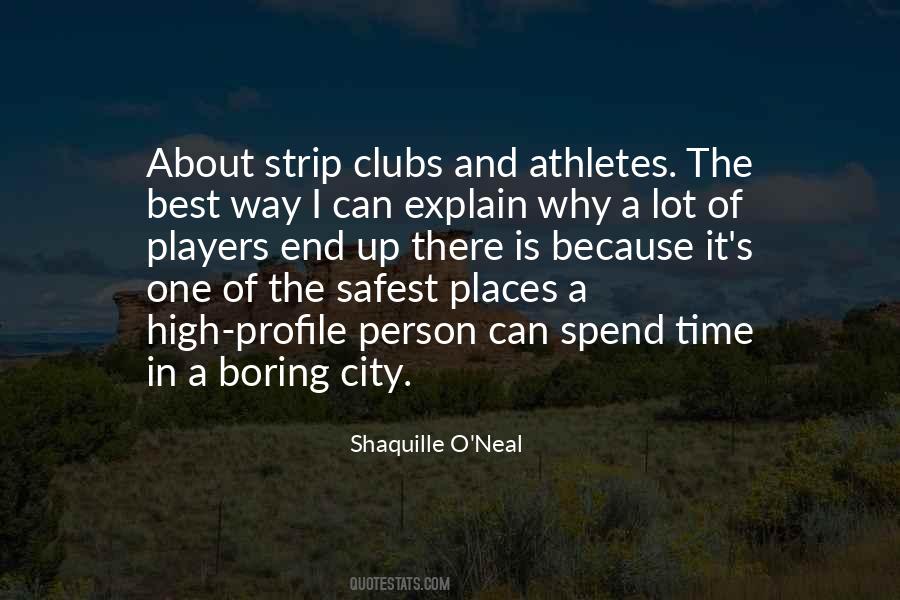 #56. In every person's face, there is one place that seems to express them most accurately. With my grandmother, you always looked at her mouth. - Author: Mona Simpson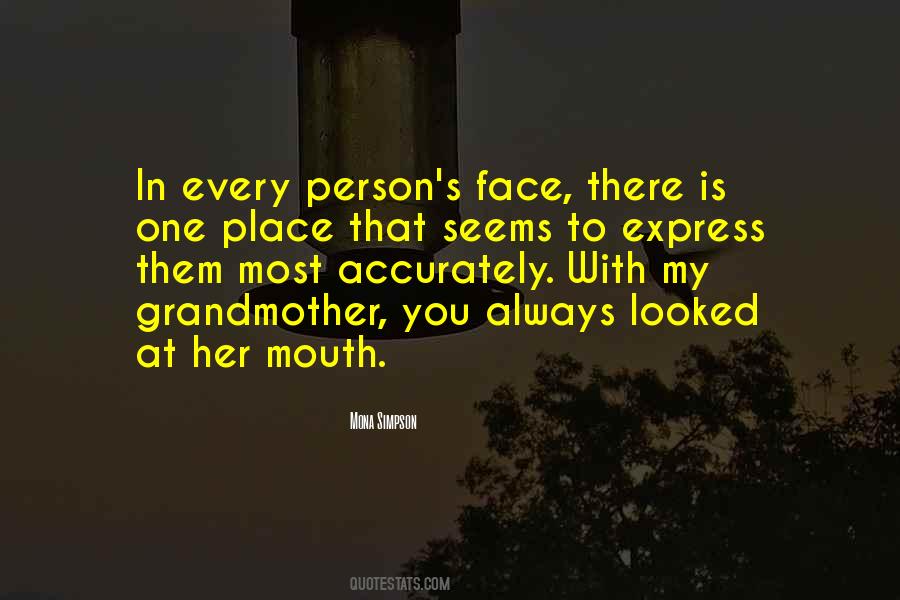 #57. Oh, don't you see? There must be a limit to the mistakes one person can make, and when I get to the end of them, then I'll be through with them. That's a very comforting thought. - Author: L.M. Montgomery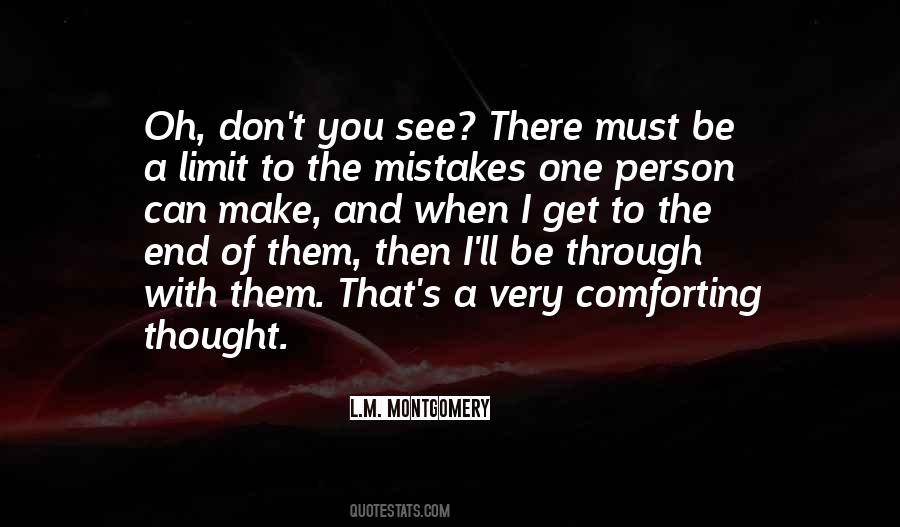 #58. To me there is no difference between one person and another; I behold all as soul-reflection s of the one God. I can't think of anyone as a stranger, for I know that we are all part of the One Spirit. - Author: Paramahansa Yogananda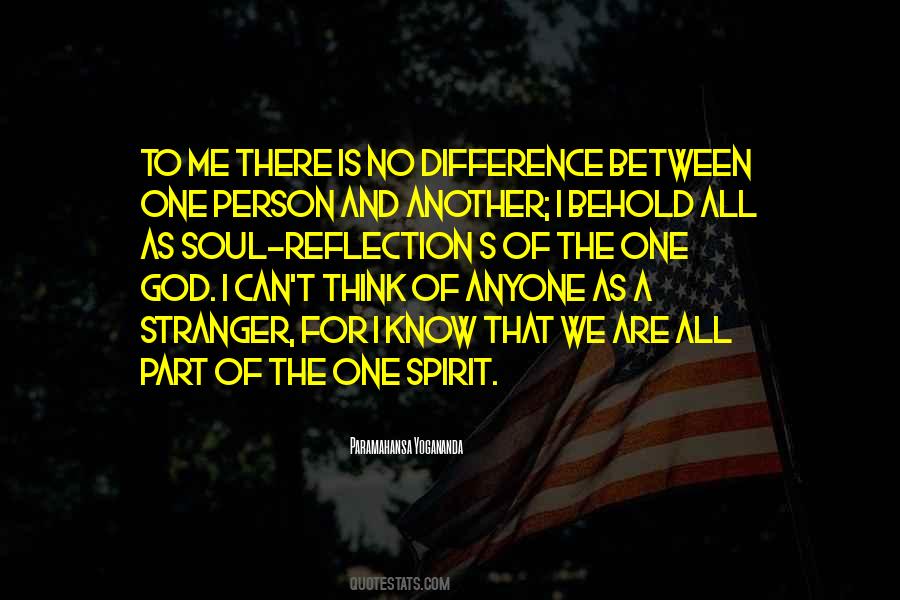 #59. If there's even one person who might be hurt by a decision, you should never make it. - Author: Penelope Fitzgerald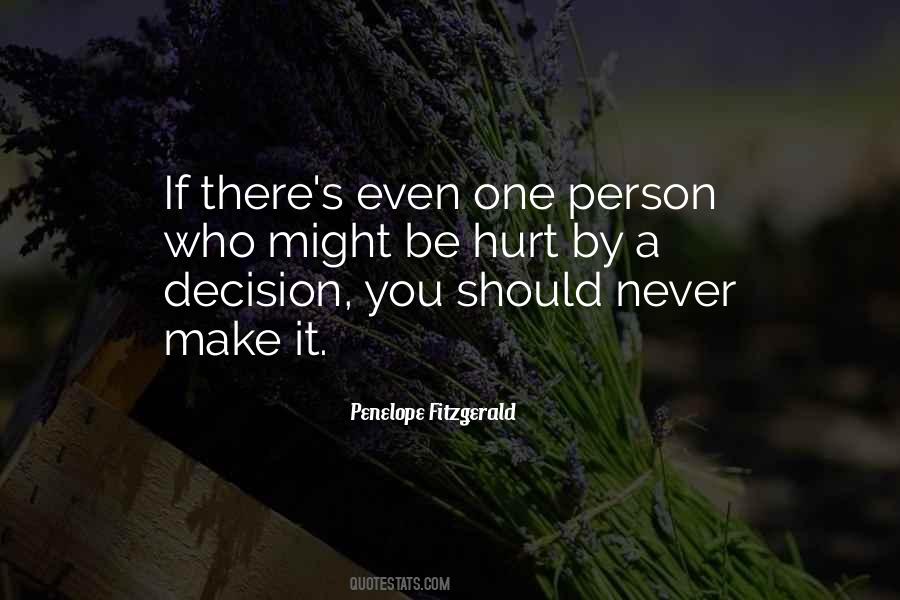 #60. There's no magic numbers in birthdays in my life, there are no milestones, there's no event. Every birthday has to be celebrated to its fullest, even if it's with one person or with 20. - Author: Sandra Bullock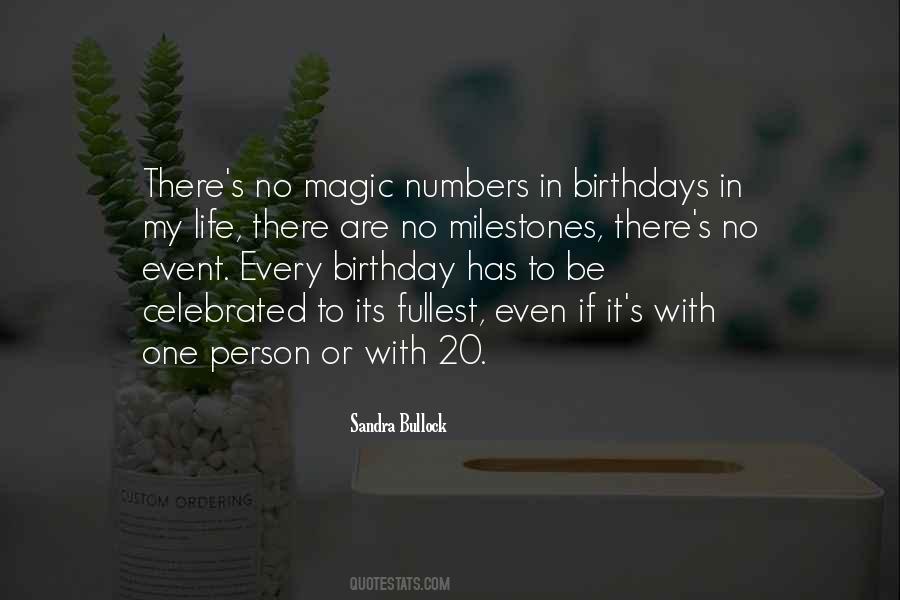 #61. Don't take no shit off fools. An' you judge a person by what's in 'em, not how they look. An' you do the right thing. You gotta be one of the good guys, son: 'cause there's way too many of the bad. - Author: Garth Ennis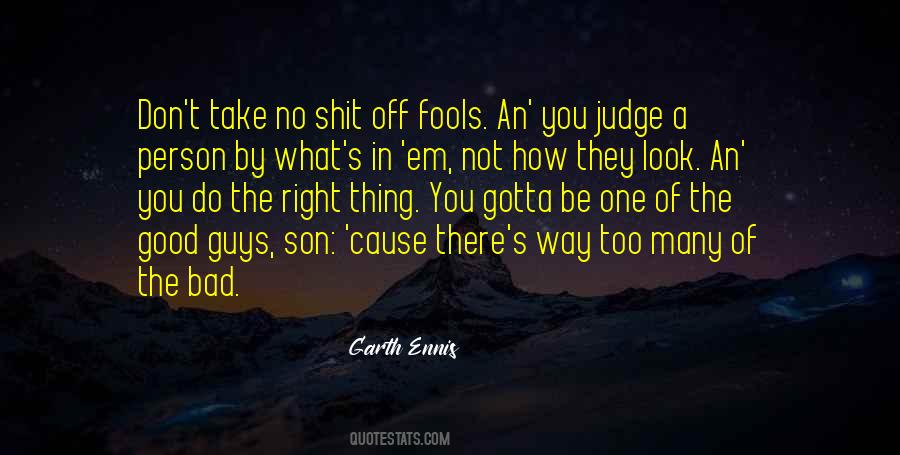 #62. Plenty of crazy people in New York. There are so many crazy people here, I think it's like one out of every one person is completely out of their mind. - Author: Louis C.K.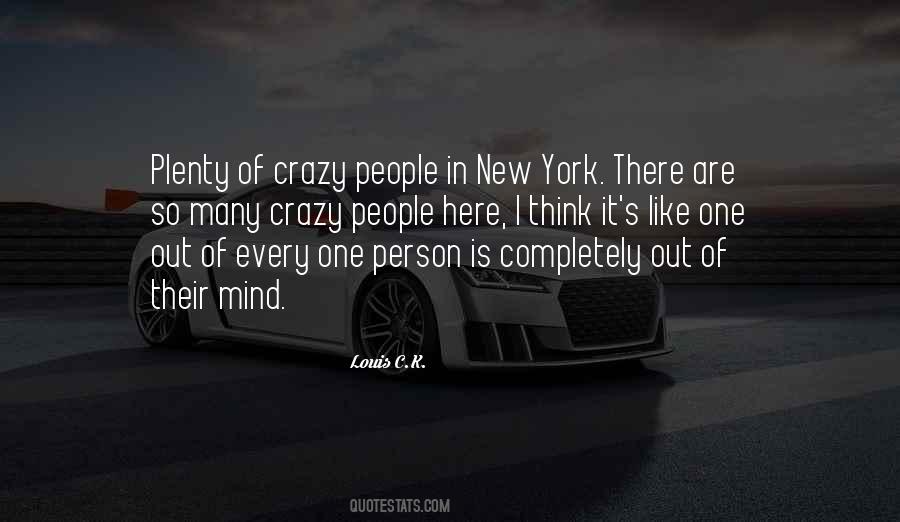 #63. sex takes the consent of two
if one person is lying there not doing anything
cause they are not ready
or not in the mood
or simply don't want to
yet the other is having sex
with their body it's not love
it is rape - Author: Rupi Kaur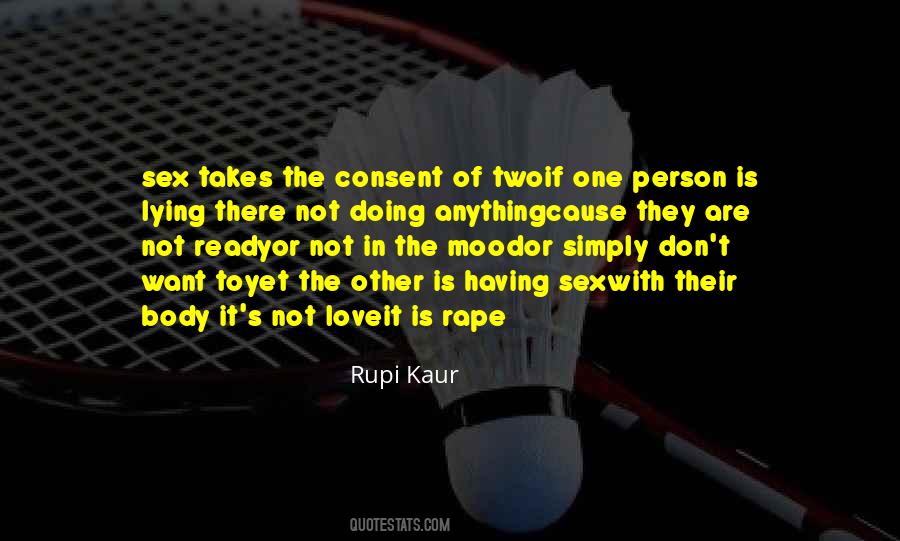 #64. In extreme cases of perfectionism, there is no distinction between judgment of one's work and one's sense of value as a person. - Author: Neil A. Fiore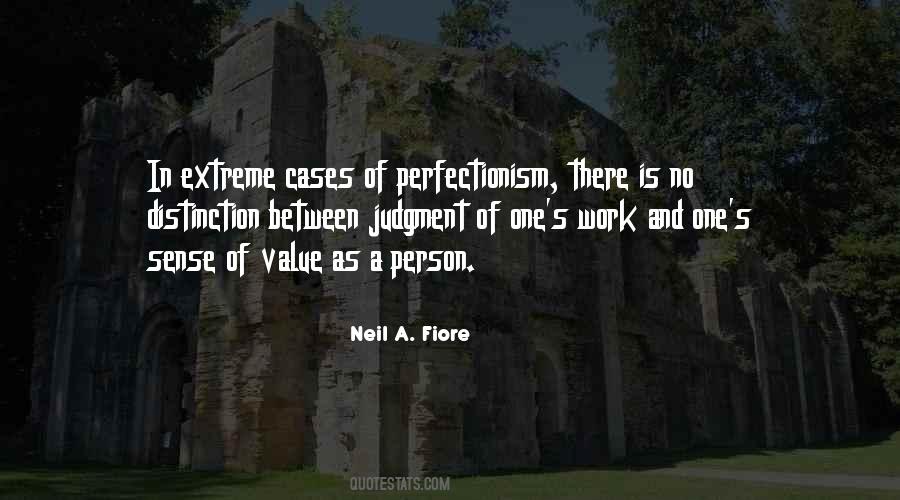 #65. There is one person who can help solve 'writer's block'. His name is Mr. Johnnie Walker. - Author: Ashwin Sanghi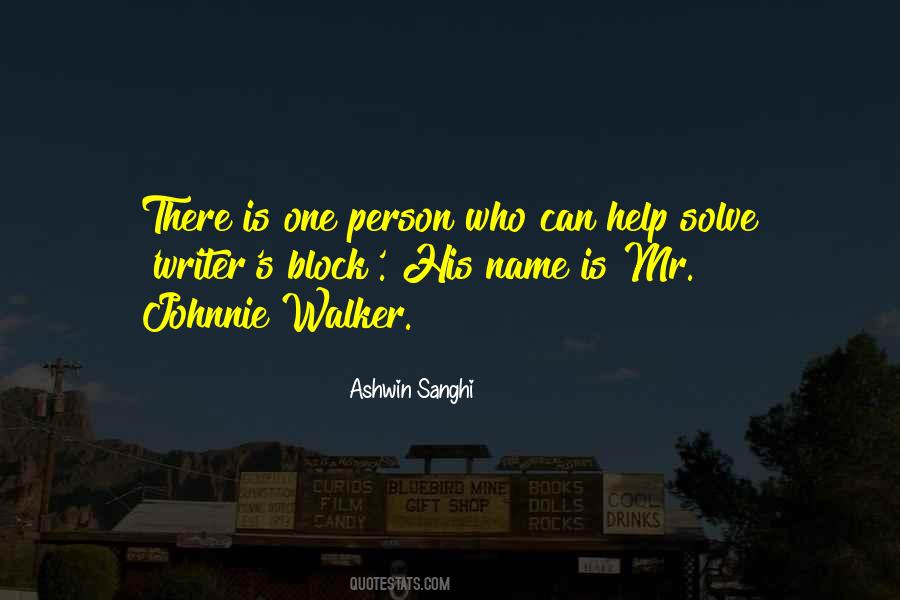 #66. Song-writing is therapy for me. I'm a very moody person, very difficult to live with. There's a lot going on and a lot of contradictions. My life is always one step away from disaster. - Author: Gary Numan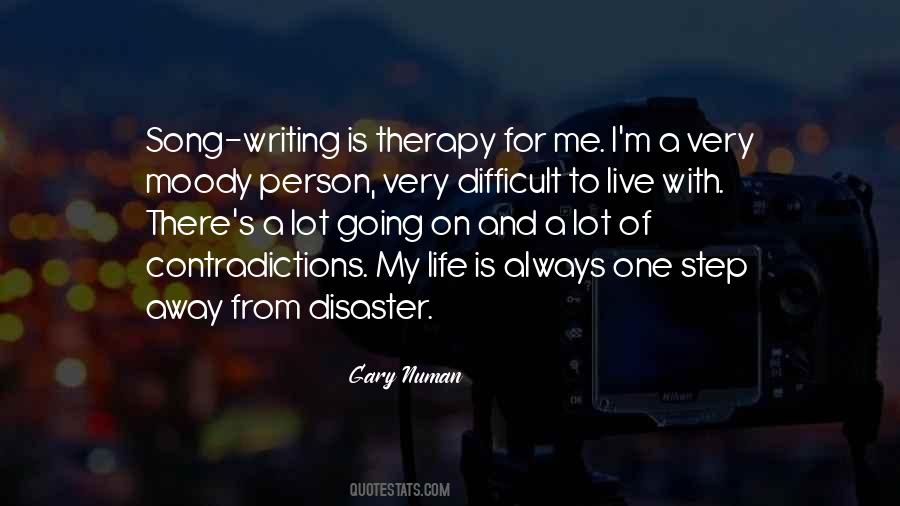 #67. And then I met Jerry and he's such a creative fiction writer, and I don't know if there's ever been a team put together the way we are - where one person does the theological way out and suggestions, and the other person goes into the cave and does the fiction writing. - Author: Tim LaHaye
#68. I'd always leaned toward the shy side but was never unsocial until I started seeing visions of people from the past. It's a really strange existence, not knowing if the person you're talking to is physically there or not. Not knowing if you're one hallucination away from a psychotic break. - Author: Myra McEntire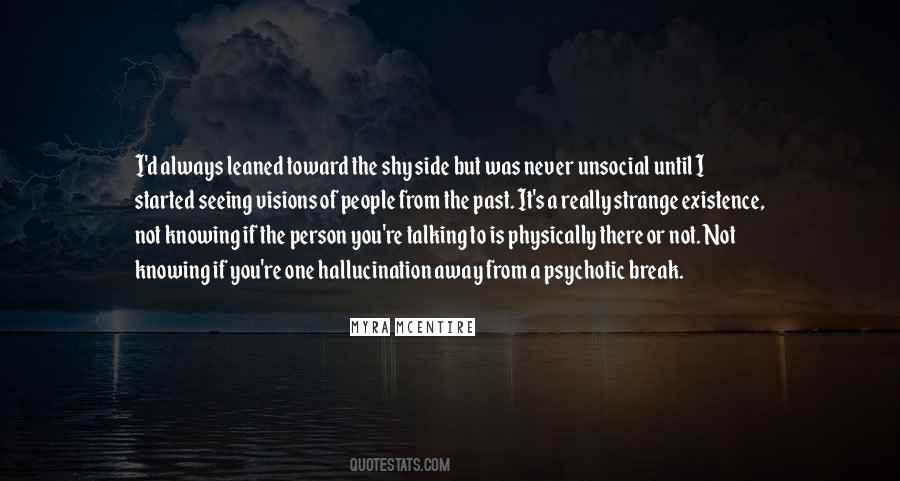 #69. There's only one person who hugs the mothers and the widows, the wives and the kids upon the death of their loved one. Others hug but having committed the troops, I've got an additional responsibility to hug and that's me and I know what it's like. - Author: George W. Bush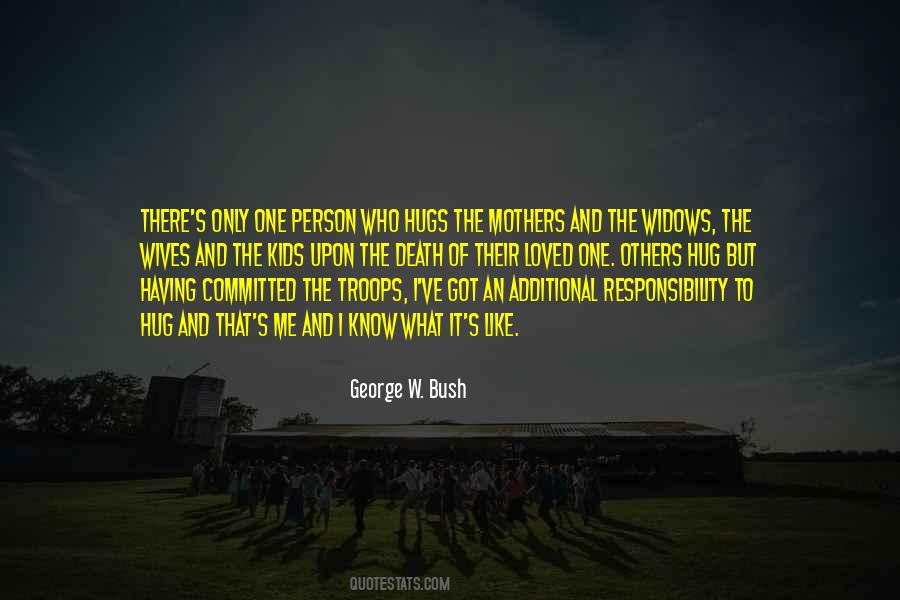 #70. I don't think even when you find a person, you can be completely honest, ever. There's still pieces of you that you don't give away. I do believe you always need that place where it's just you, your thoughts, no one else's judgment or anything. - Author: Alicia Keys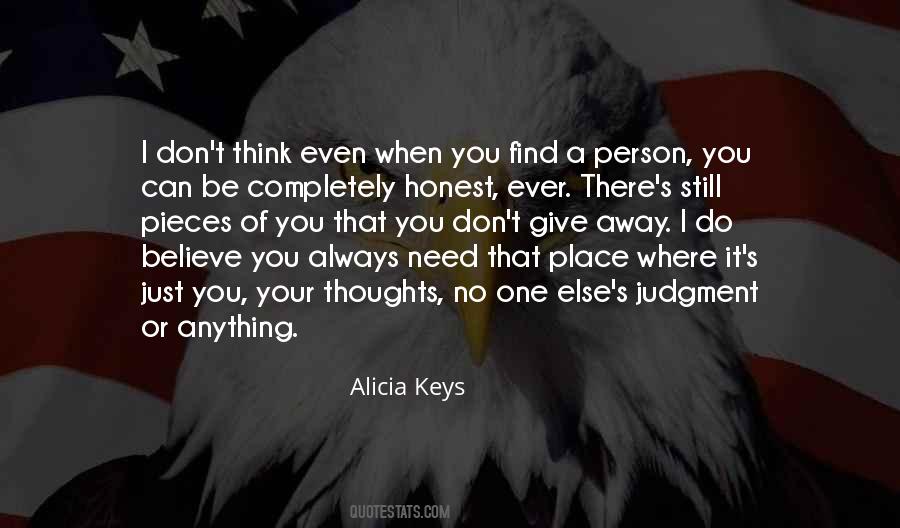 #71. The grand jury's job is not to weigh the evidence from both sides; it is only to decide whether there is enough evidence on one side to bring a person to trial. - Author: Donella Meadows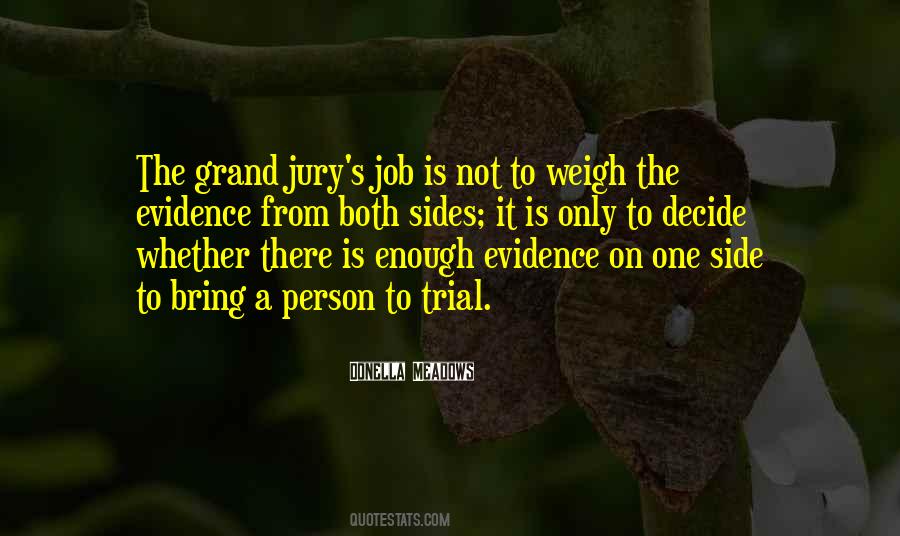 #72. Instead of seeking to serve one another, we wrongly believe that there's one person out there who exists solely to make us happy. - Author: Craig Groeschel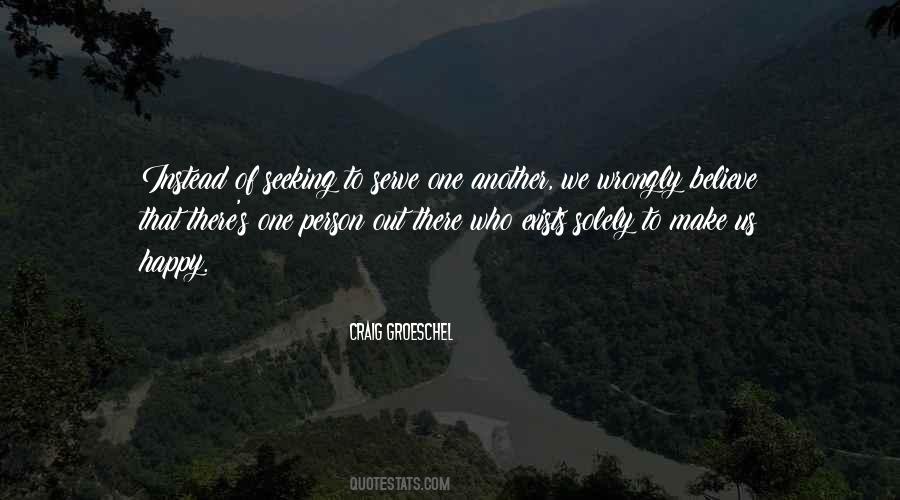 #73. There's a few in our history, where the person who creates it becomes almost the product itself. Jobs is one of those. - Author: Joshua Michael Stern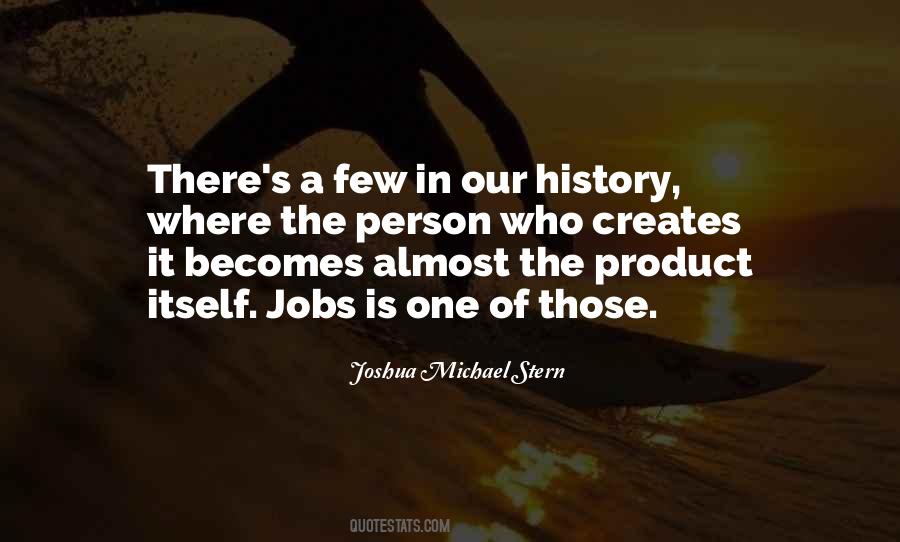 #74. In fact, there is perhaps only one human being in a thousand who is passionately interested in his job for the job's sake. The difference is that if that one person in a thousand is a man, we say, simply, that he is passionately keen on his job; if she is a woman, we say she is a freak. - Author: Dorothy L. Sayers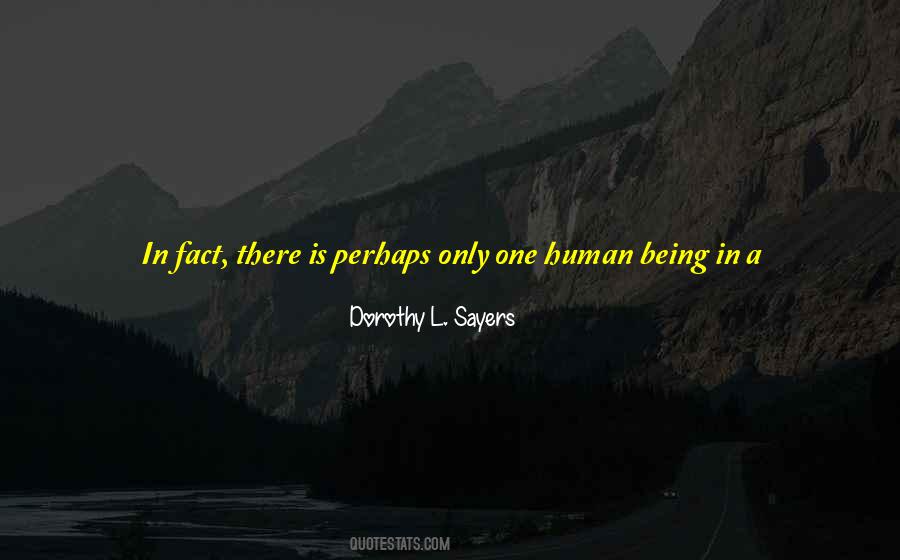 #75. Then she realizes there's nothing meaningful or particularly interesting about seeing a celebrity in person, or even meeting one briefly. - Author: Matt Wallace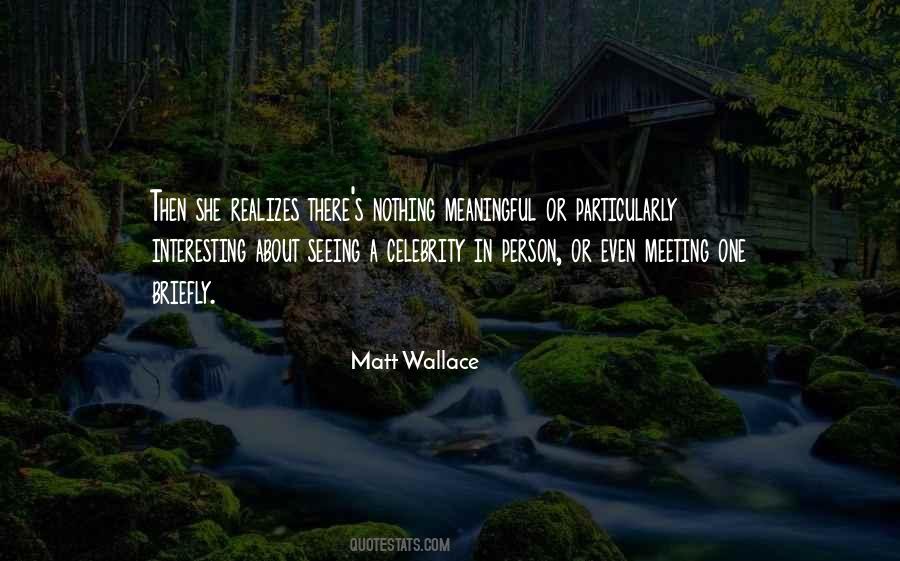 #76. I think there's only one sensible place for a person to be at 5:30 in the morning. That's in bed. And what am I doing? I'm out running. And I completely hate this. - Author: Derek Clayton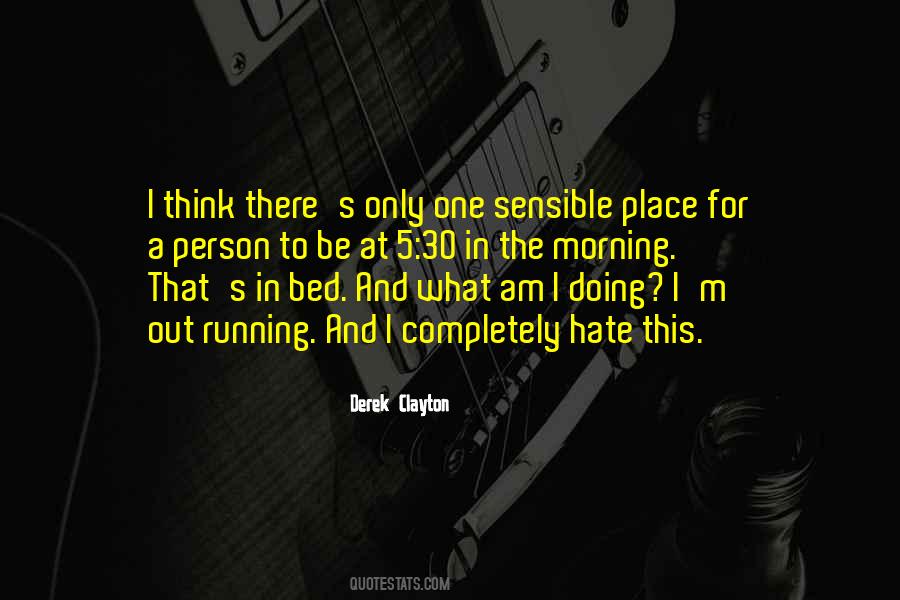 #77. It's very hard in our adversarial society to find a third view. Take journalism, where everything is always presented as one person against another: "Now we're going to hear the opposing view." There is never a third view. - Author: James Hillman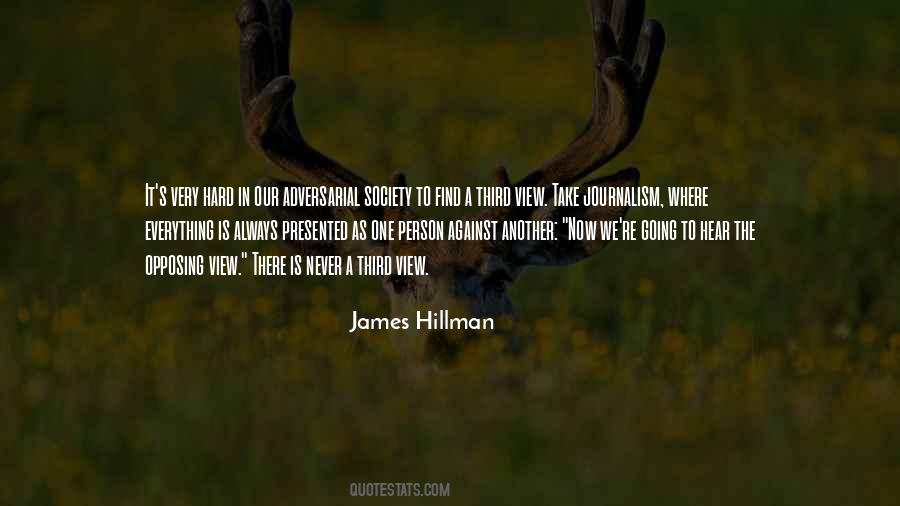 #78. There are two worlds out there - two Americas out there. If you're a white person, there's one way of being a citizen in our country, and if you're a brown or a black body, there's another way of being a citizen, and that way is very close to death. It's very close to the loss of your life. - Author: Claudia Rankine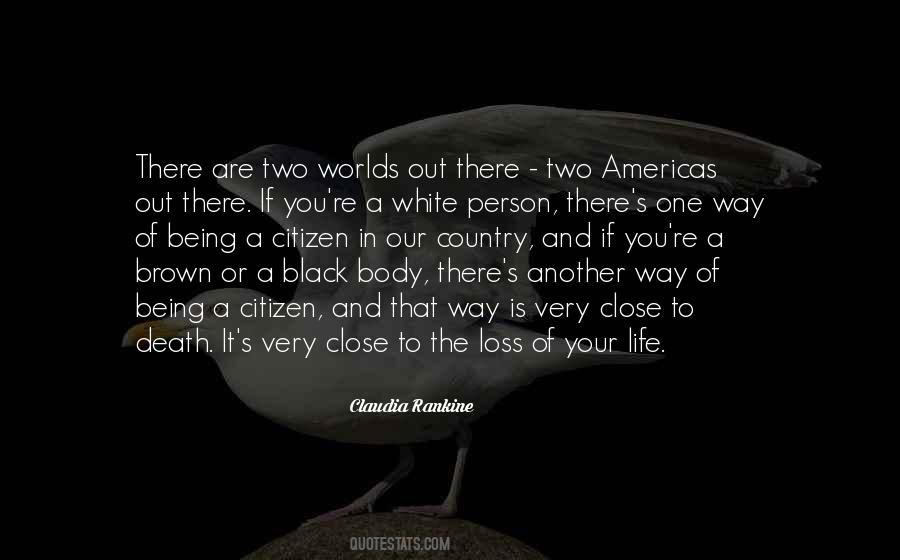 #79. This was taken when my brother was last on leave. My mom's new boyfriend took it. Now there's an insane person. Well, he's from the next town over. Everyone in that freaking town is butt-fuck crazy. I'm totally moving there one day. - Author: Sophie Oak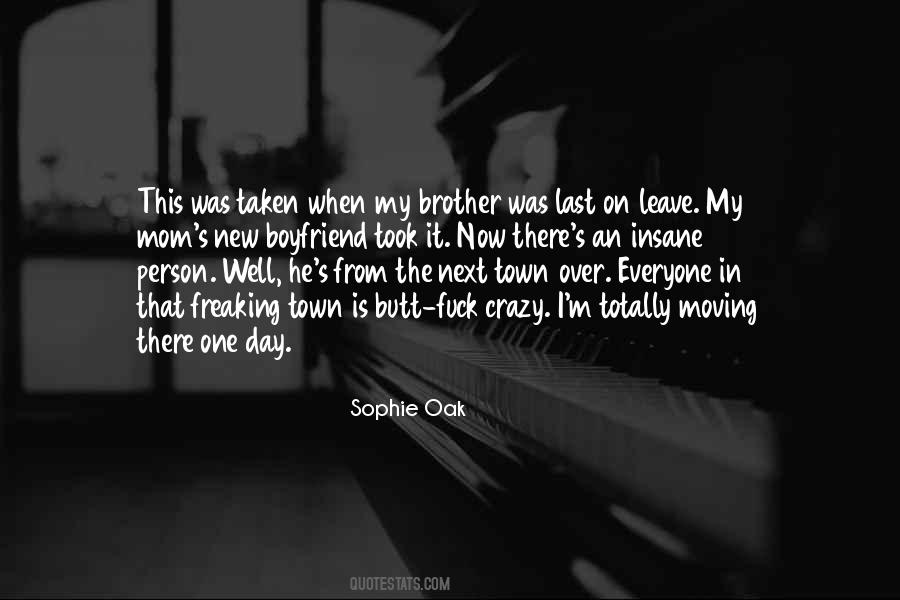 #80. If there's - one person on the face of this earth who makes me sick it's the ninny who calls a thing 'improbable' because it happens to be outside his own special, puny experience of life. - Author: Eleanor Hallowell Abbott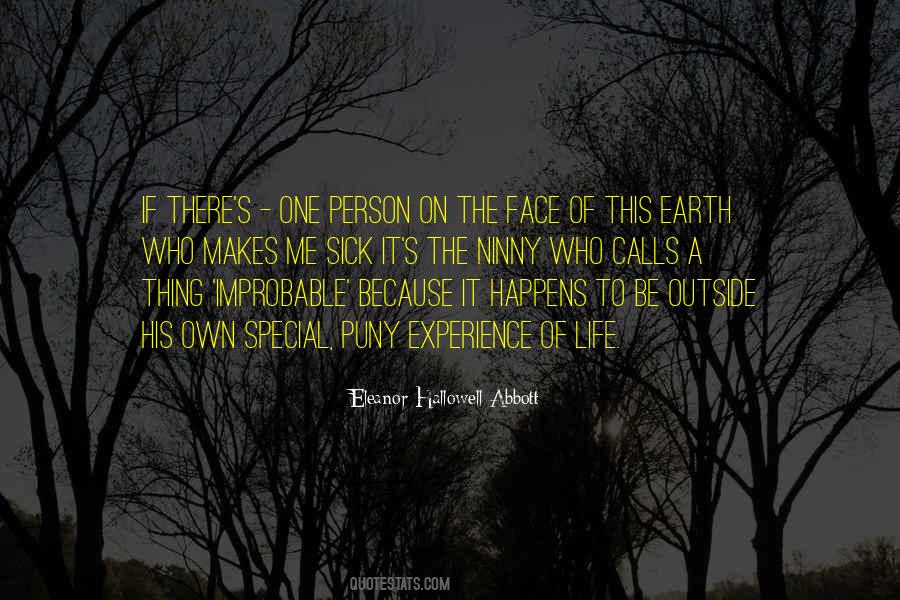 #81. In my eyes, this one is the most amazing person I've ever met. And maybe some people would say that I loved him too much and forgot myself in the process, but from what I've seen of relationships, there's always that one person who does. Last - Author: Amber L. Johnson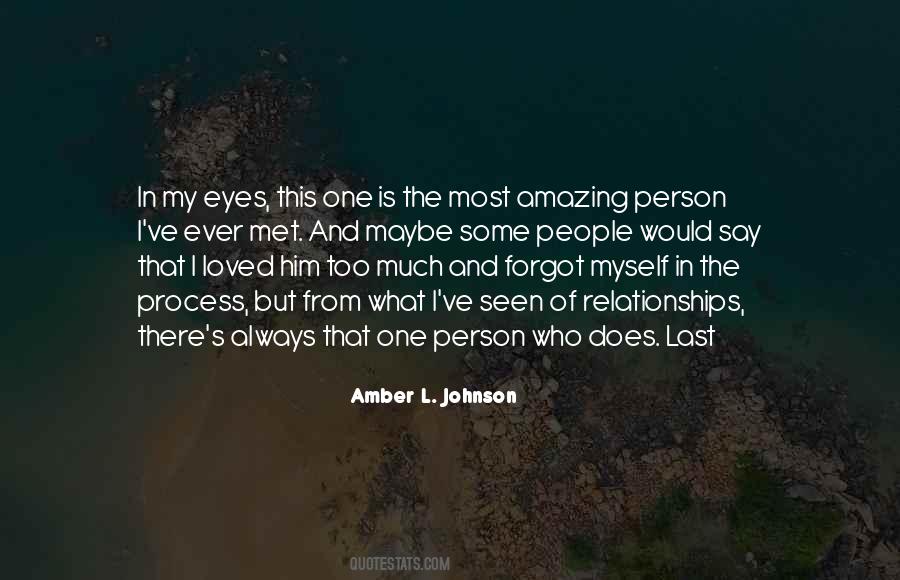 #82. I performed it all the way through for people. People would say, "We love you, we want to sign you," and then there'd always be one person who'd say, "He's just a producer." - Author: Kanye West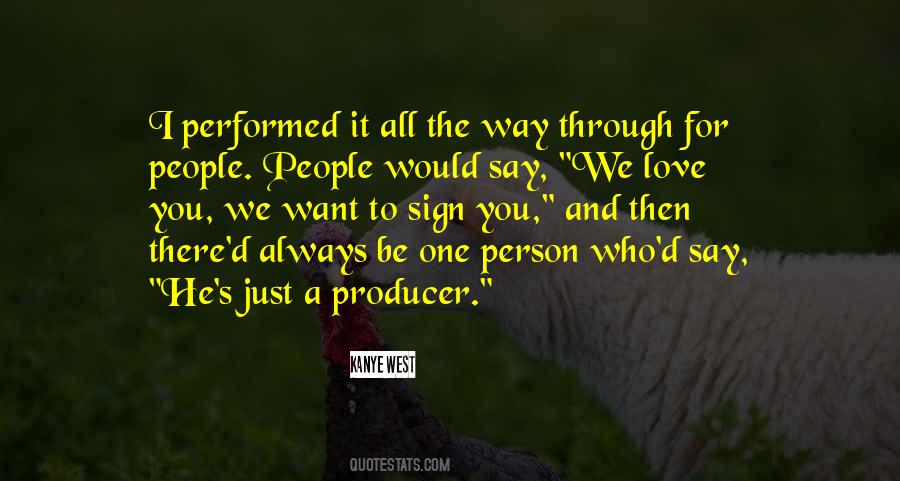 #83. every person's biggest trauma is still that person's biggest trauma. There is no relativity within the realm of one's own subconscious. - Author: Nick Alexander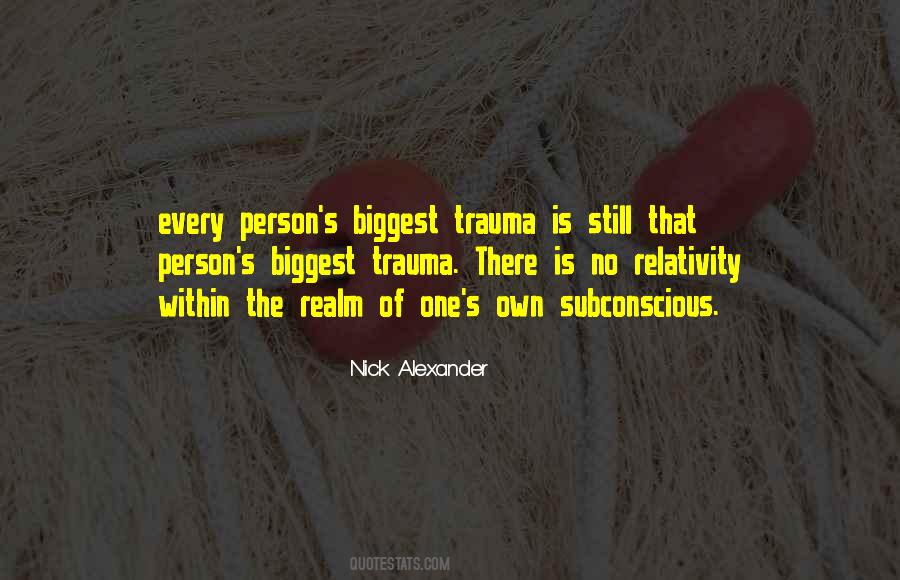 #84. I believe that we're not alone. How can we be alone in an infinite universe? I'm using the word 'alien' with a little trepidation because I know that sparks so many different versions of that word, and there are so many different images that come into one person's head when someone says it. - Author: Rose Leslie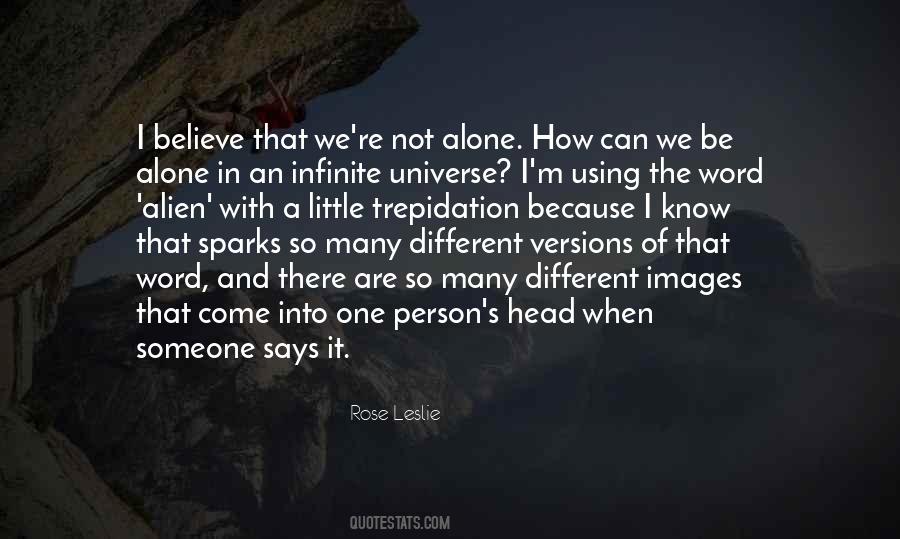 #85. As long as there's one person to believe it, there's no story that can't be true. - Author: Paul Auster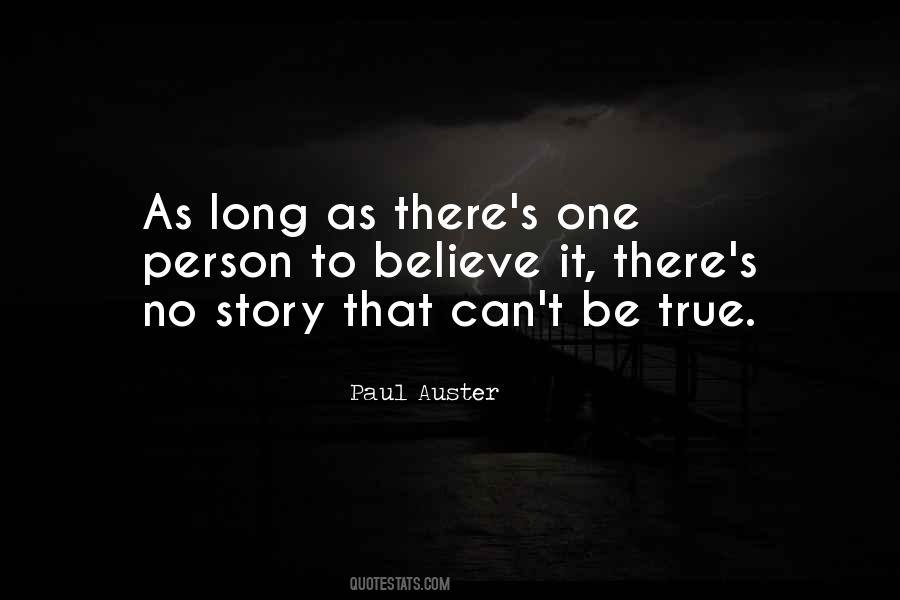 #86. Sometimes there's one person in the audience laughing hysterically, and it's so much fun. You end up playing the entire play to them. - Author: Lorraine Bracco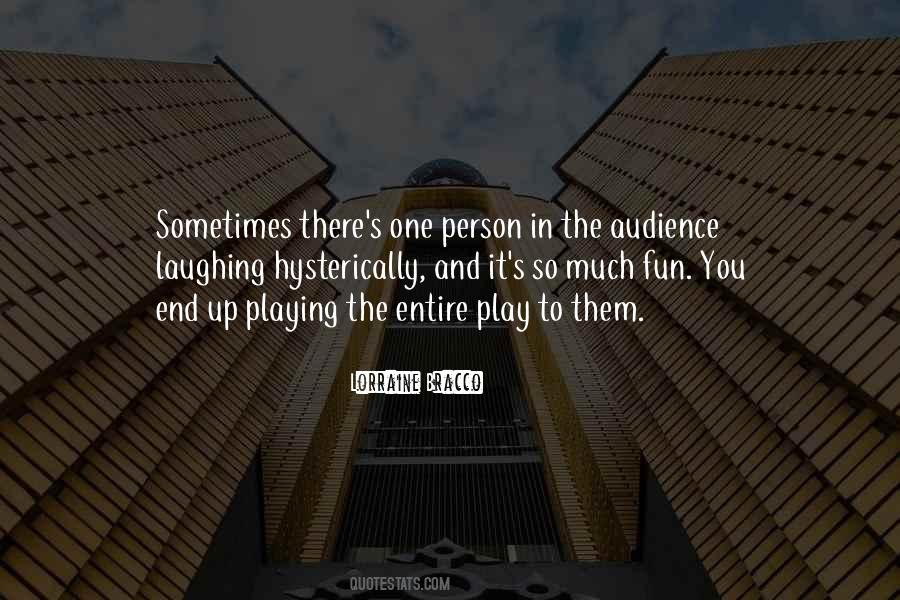 #87. According to statistics, one person out of five is disturbed. If there are four people around you who seem normal, that's not good. - Author: Jean-Claude Van Damme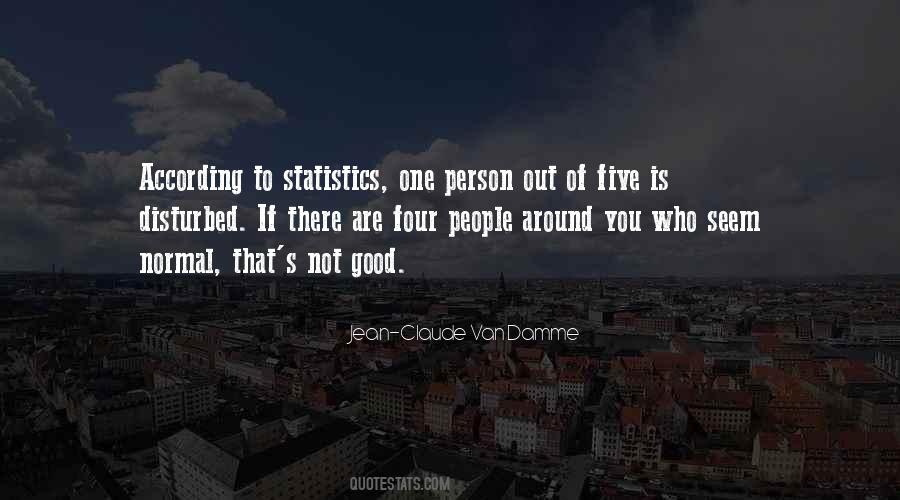 #88. You can imagine a soul as being a detailed, elaborate pattern that exists very clearly in one brain. When a person dies, the original is no longer around. But there are other versions of it in other people's brains. It's a less detailed copy, it's coarse-grained. - Author: Douglas Hofstadter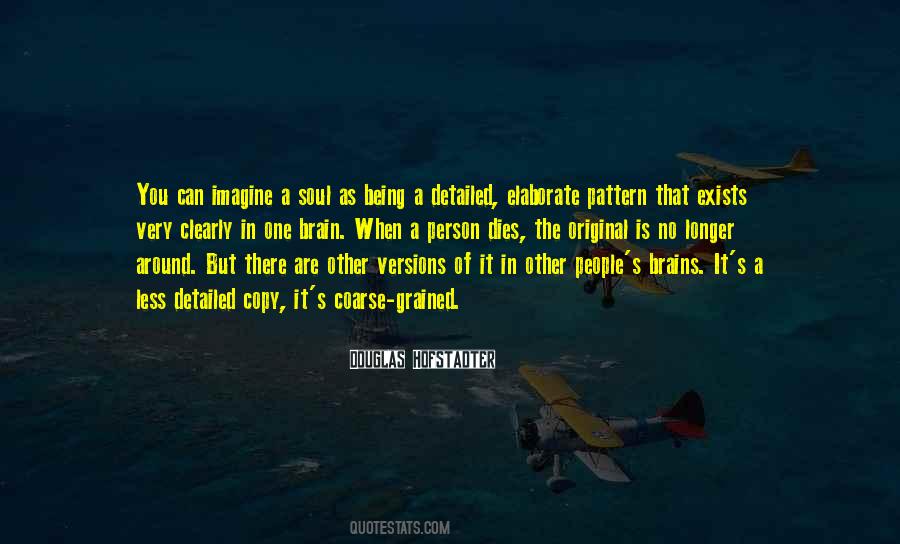 #89. To have a film where there's an evil figure and a good person fights against the evil figure and everything becomes a happy ending, that's one way to make a film. But then that means you have to draw, as an animator, the evil figure. And it's not very pleasant to draw evil figures - Author: Hayao Miyazaki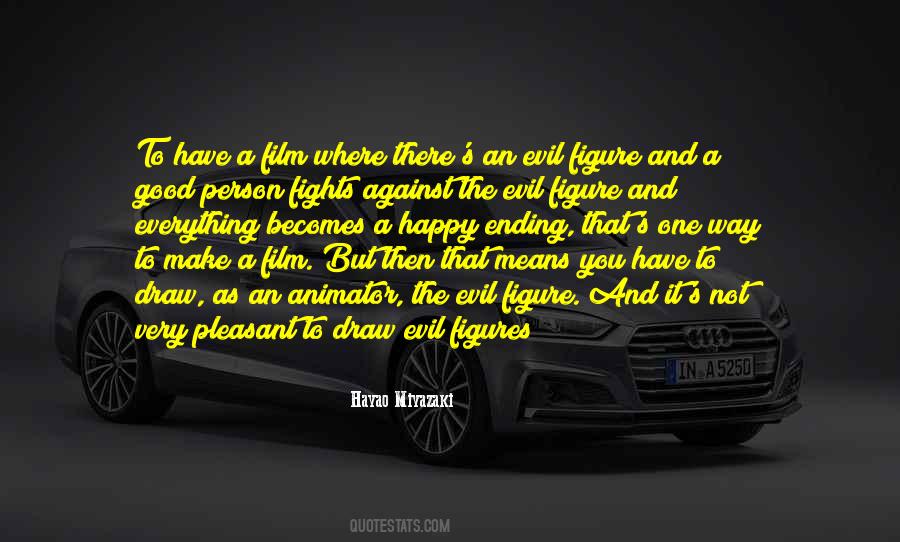 #90. Well, there's the type of person who says there are certain types of people and then tries to be one type or the other. And then there are others who say bananas to the whole concept of types and won't allow themselves to be filed neatly away under some sort of ridiculously limiting category. - Author: Matthew Quick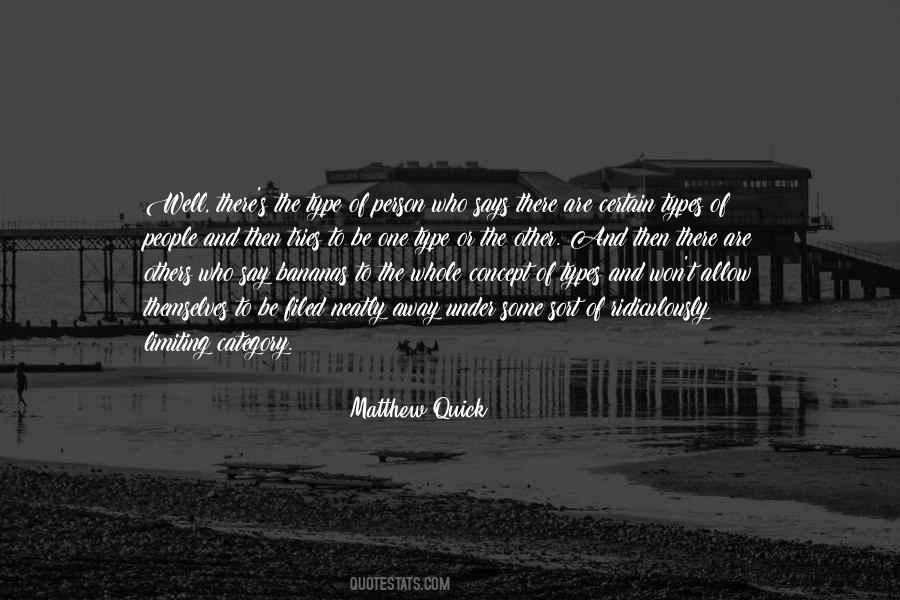 #91. I don't believe there is one most romantic act that a guy can do; I think it is all about the couple in question, which totally differs. It's about you thinking about the person you are with and doing something tailored and thoughtful for them. - Author: Roxanne McKee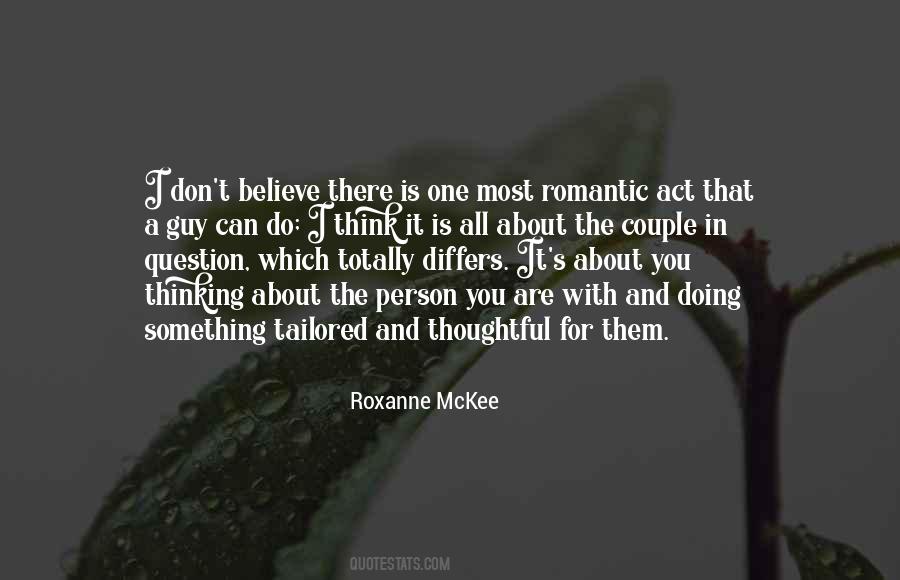 #92. So, I say to you, young writers: You only need one person to believe in you, even if that person is yourself. And I say to you, old writers, and there's a hell of a lot of you in here, - Author: Claire Contreras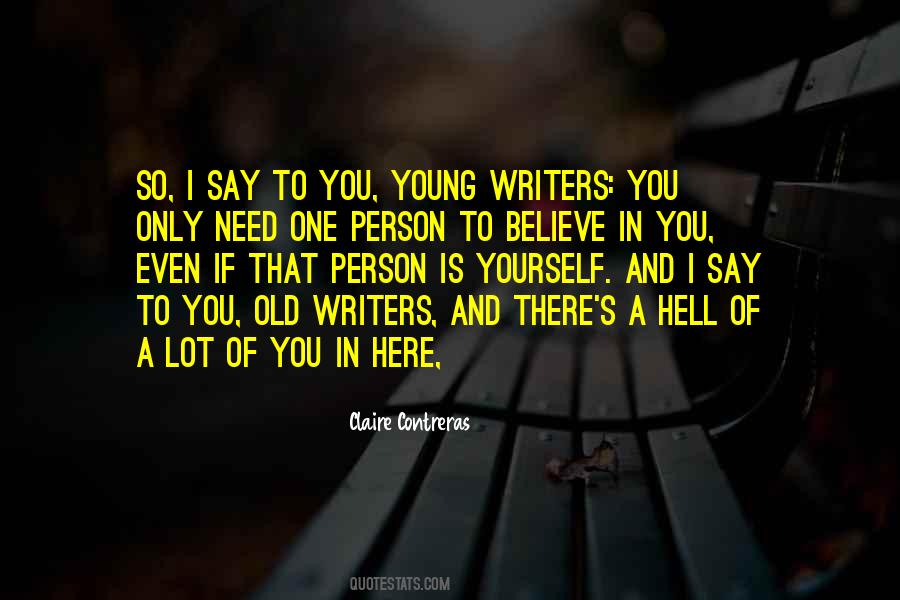 #93. I'm a yarnaholic. That means I have more yarn stashed away than any one person could possibly use in three or four lifetimes. There's something inspiring about yarn that makes me feel I could never have enough. - Author: Debbie Macomber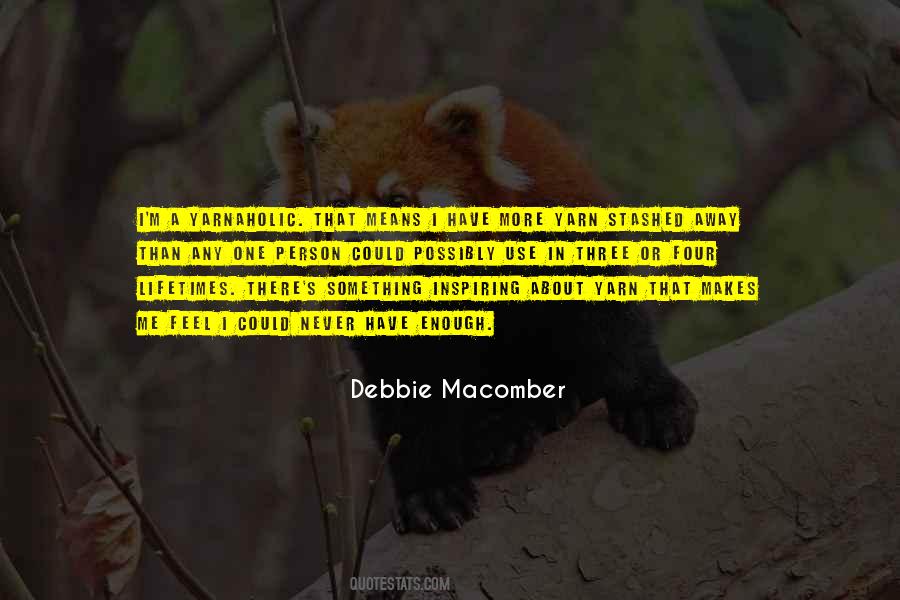 #94. There's something known as "memory conformity," also known as "social contagion of memory," which refers to a situation where one person's telling of a memory influences another person's account of that same experience. - Author: Rob Roberge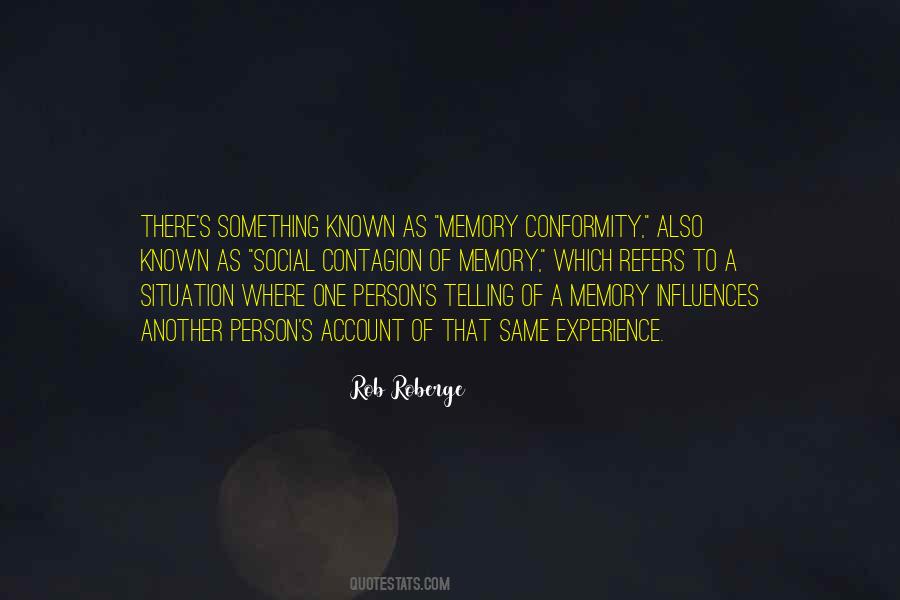 #95. There's only one person in Cape Town who deals with finding the weird,' he says. 'You need to see Jackie Ronin. - Author: Charlie Human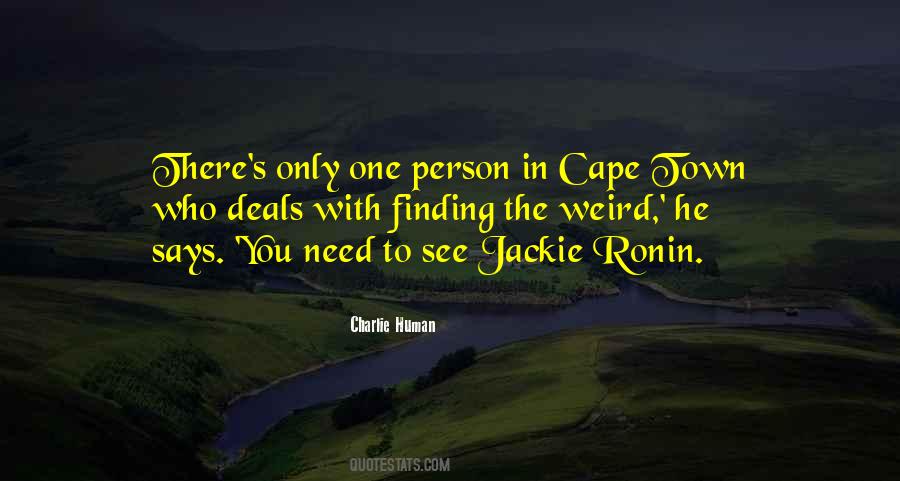 #96. There are a few rules in investigations, and one is to never cringe at the person's appearance that you're about to pump for info. - Author: Ruth Bainbridge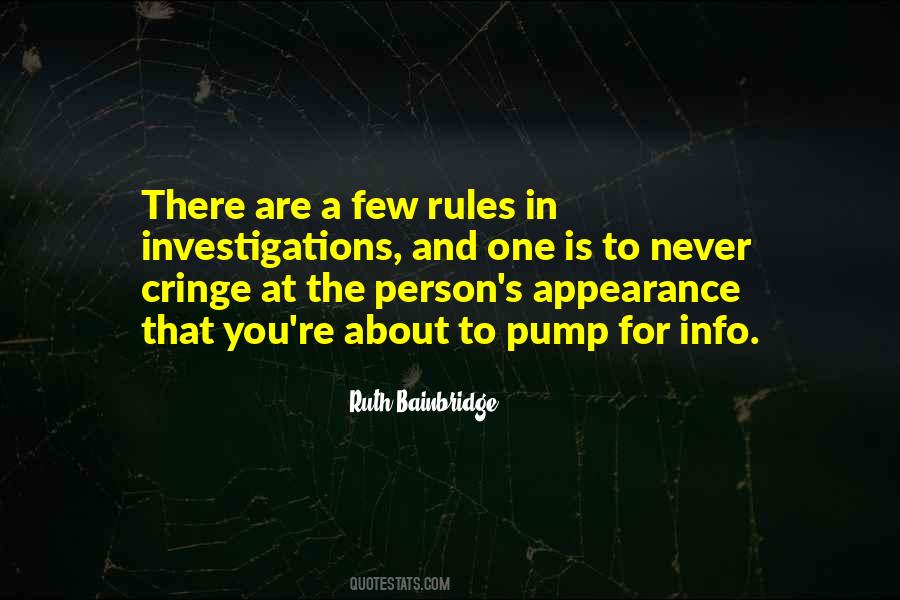 #97. There is something so powerful about a person who in one moment can be confident enough to confront a client about a sensitive personal issue, and then in the next moment humble themselves and take a position of servitude. It's the paradoxical nature of it all that makes it work. - Author: Patrick Lencioni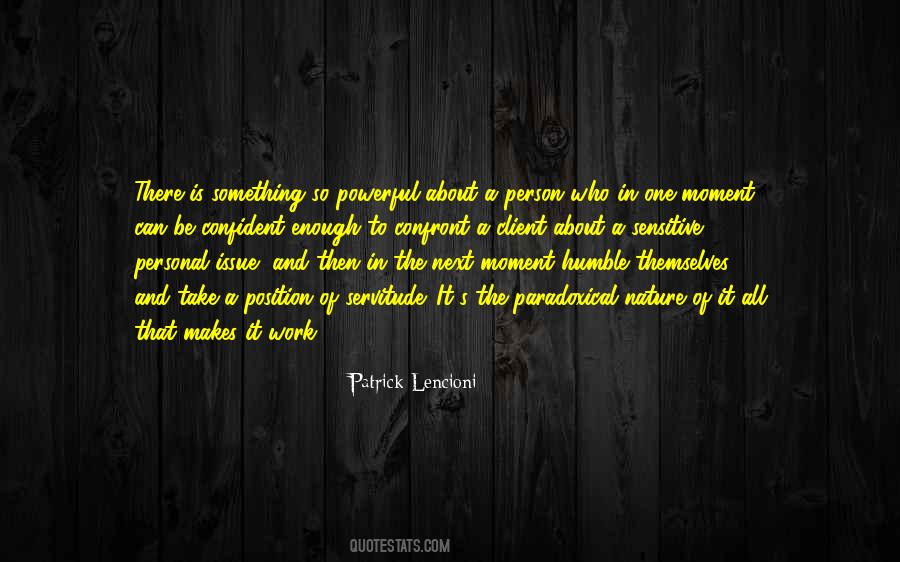 #98. This feeling is not unlike the sinking in one's stomach when one is in an elevator that suddenly goes down, or when you are snug in your bed and your closet door suddenly creaks open to reveal the person who has been hiding there. - Author: Lemony Snicket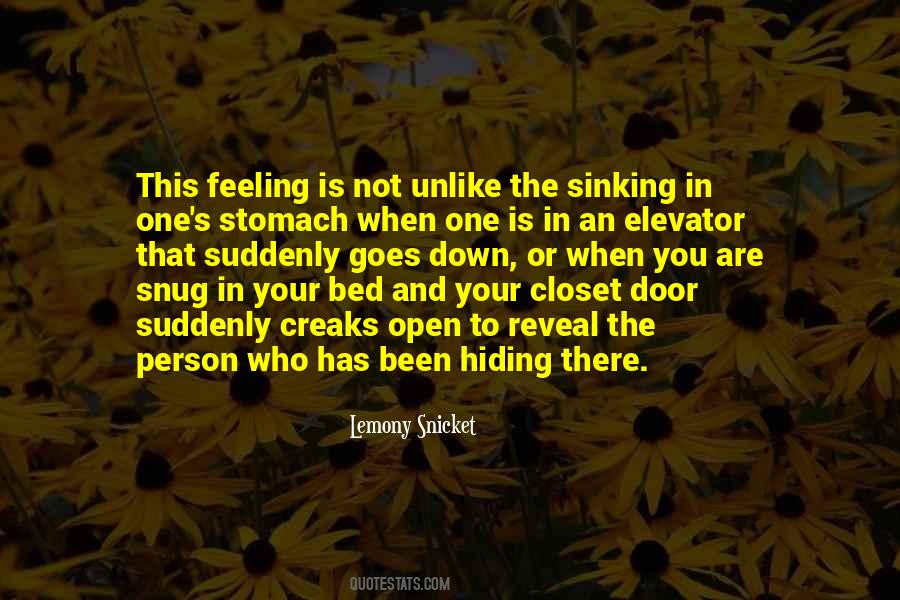 #99. There were moments in a person's life that they would carry with them until their dying day, and Finely knew the moment Jasper's heart broke would be one of those for her. - Author: Kady Cross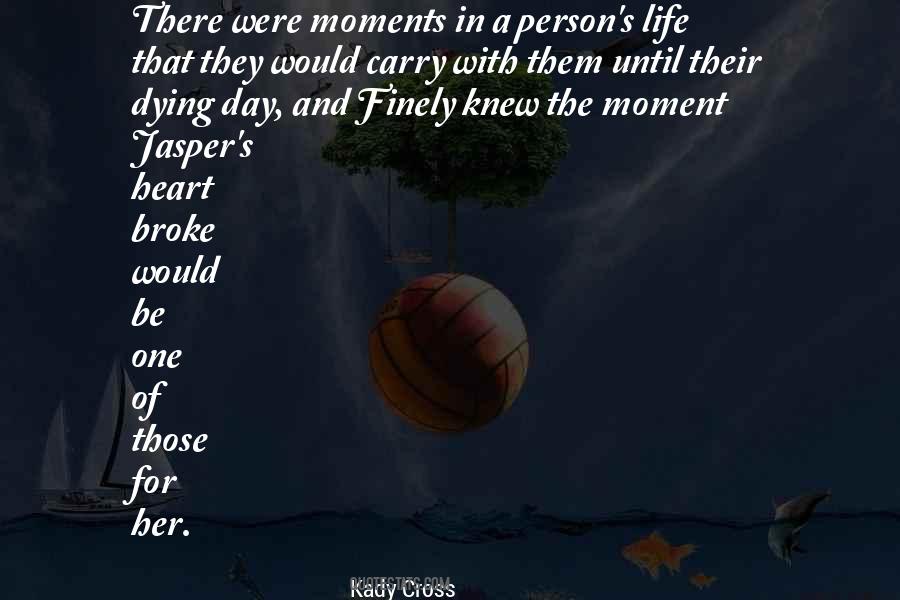 #100. I like directing myself; I feel like it's one less person to give notes to. There's an efficiency in it. I'm also kind of a control freak. So I like the fact that it gives me more control in the overall picture. - Author: Alex Karpovsky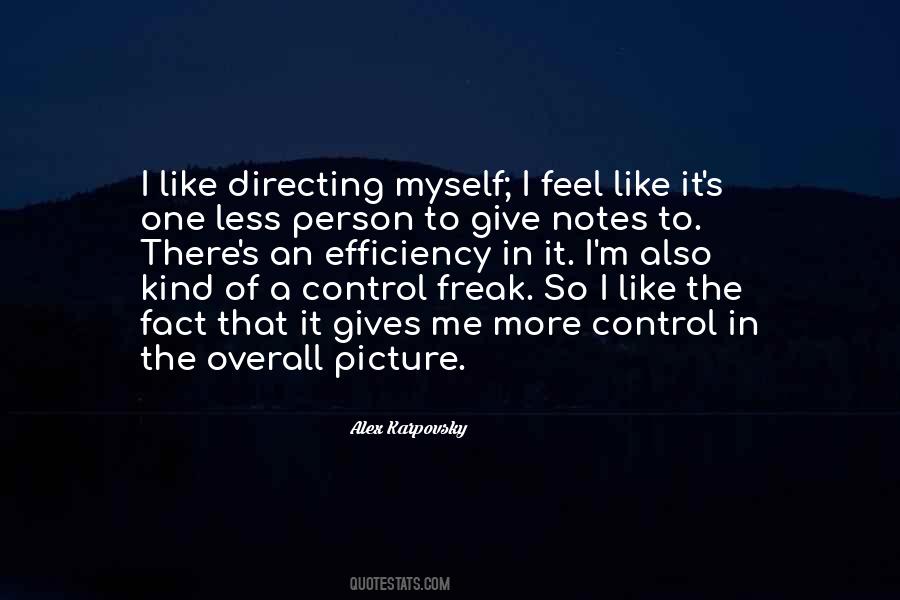 Famous Authors
Popular Topics