Girl Scout Famous Quotes & Sayings
List of top 41 famous quotes and sayings about girl scout to read and share with friends on your Facebook, Twitter, blogs.
Top 41 Sayings About Girl Scout
#1. The work of today is the history of tomorrow, and we are its makers. - Author: Juliette Gordon Low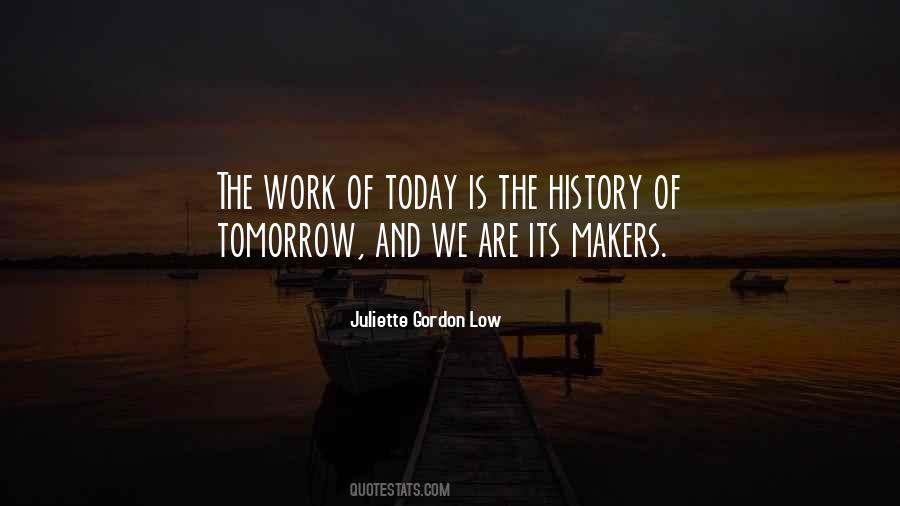 #2. I JUST TOOK SOME GIRL SCOUT COOKIES OUT OF THE FREEZER."

"Oh, that's okay," Blue said. "As you smelled, we just ate."

"I'll take one," the Gray Man interjected. "If they're Thin Mints. - Author: Maggie Stiefvater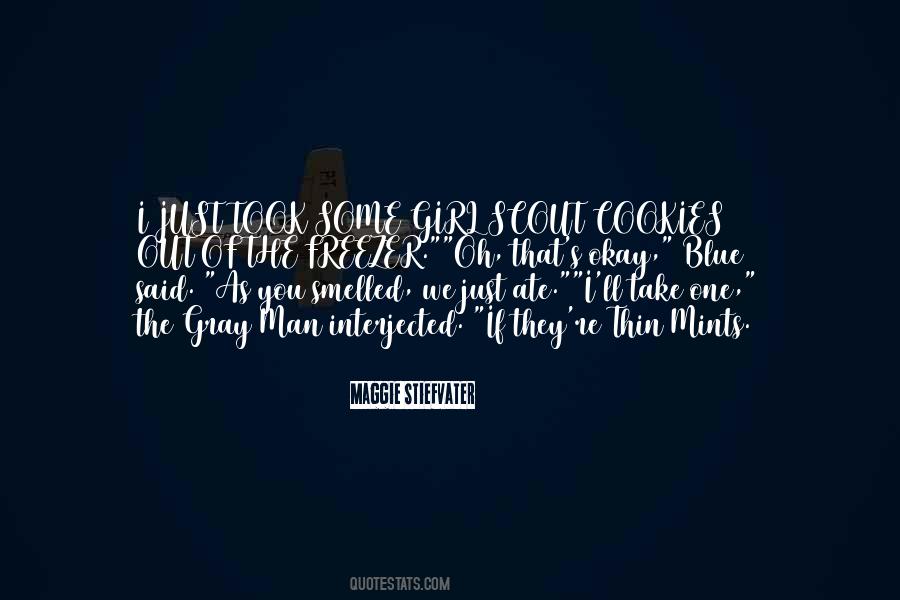 #3. My cell phone, back in my training days, was the size of a box of girl scout cookies - Author: J.D. Holmes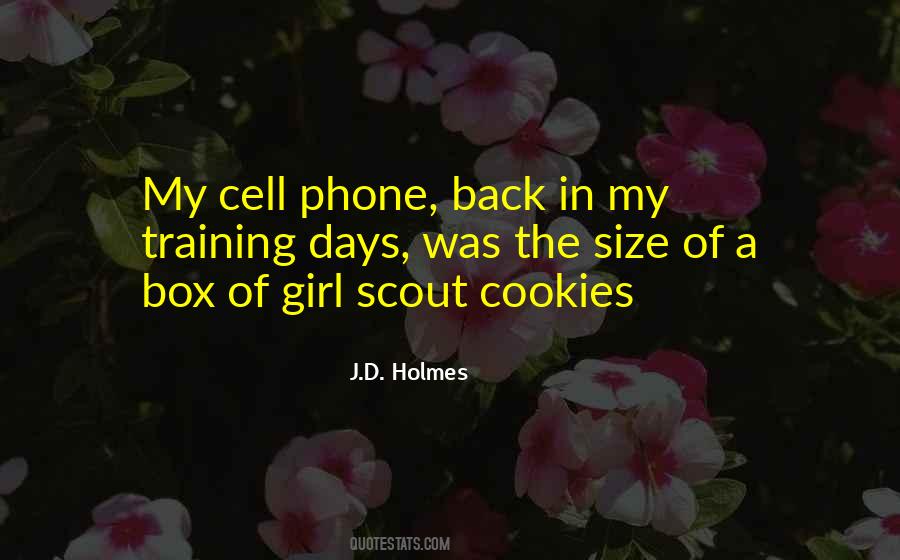 #4. I don't want to come off like a girl scout and 'Isn't she sweet?' but the honest-to-God truth is I had seven years of a great show. It put me on the map. Yes, I'm associated with Joyce, but this is not chopped liver. - Author: Veronica Hamel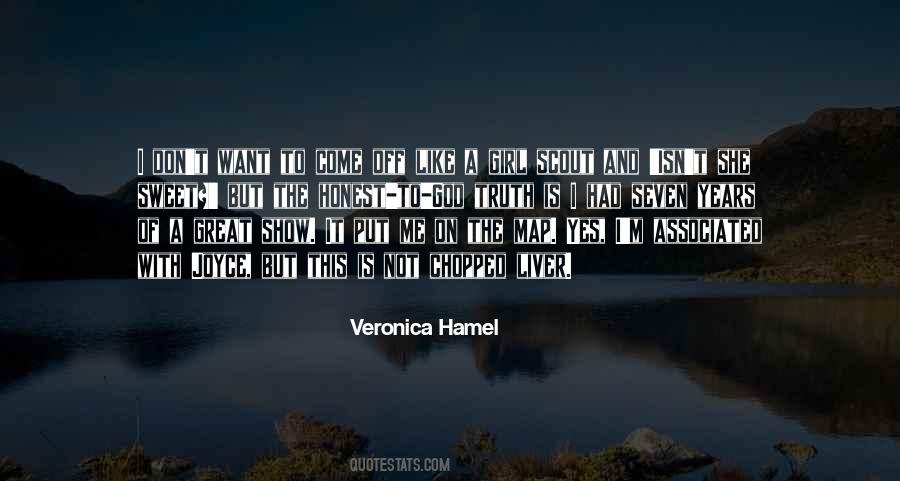 #5. Sheets of flowing raven-black hair ... all wrapped up in that saccharin sweetness you only find in church-ladies and Girl Scout moms. It was enough to make a girl sprint to the nearest shopping mall for a free makeover. - Author: Cecily White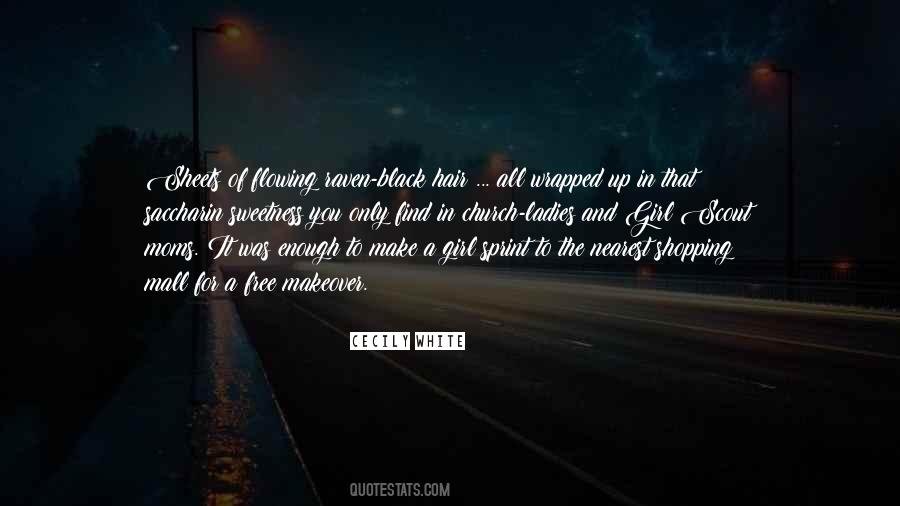 #6. What are you doing here?" [ndr prison]
Selling Girl Scout cookies," I said. "Want some? The Samoas are terrific."
(Max II to Max) - Author: James Patterson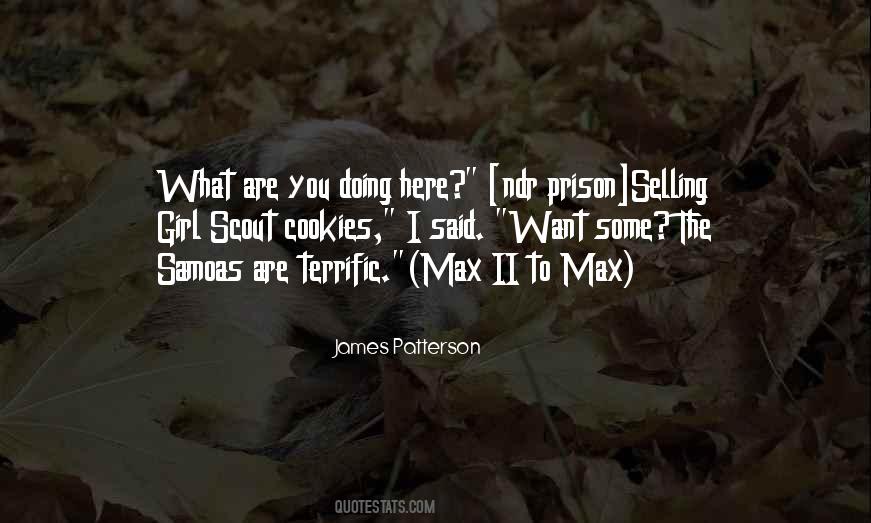 #7. That he didn't demand to know why she was so upset and stupid won the guy so many brownie points, he could have led every Girl Scout troop in the contiguous forty-eight states. - Author: Olivia Cunning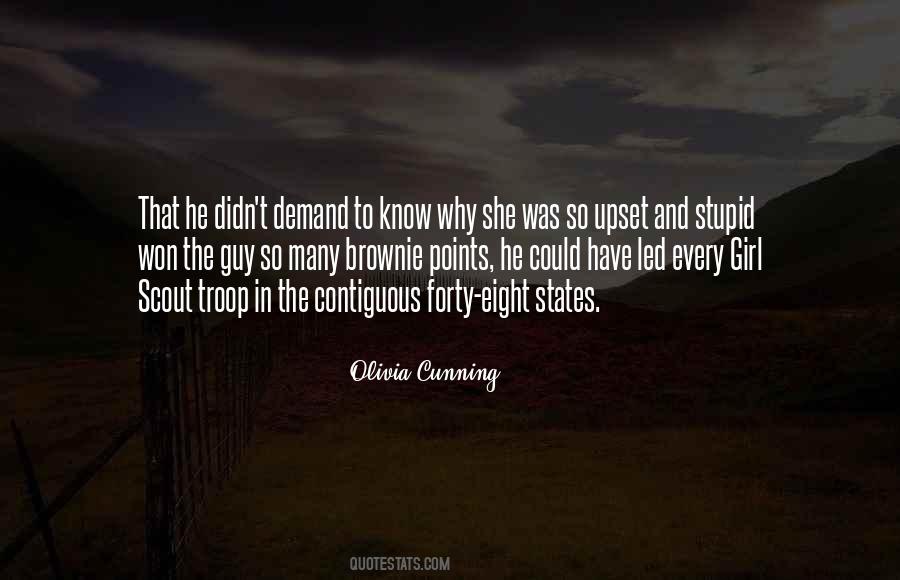 #8. I hate dogma in any form. I hated it in the Catholic Church and Girl Scout troops of the 1950s, and I hate in in gay activism and established feminism today. - Author: Camille Paglia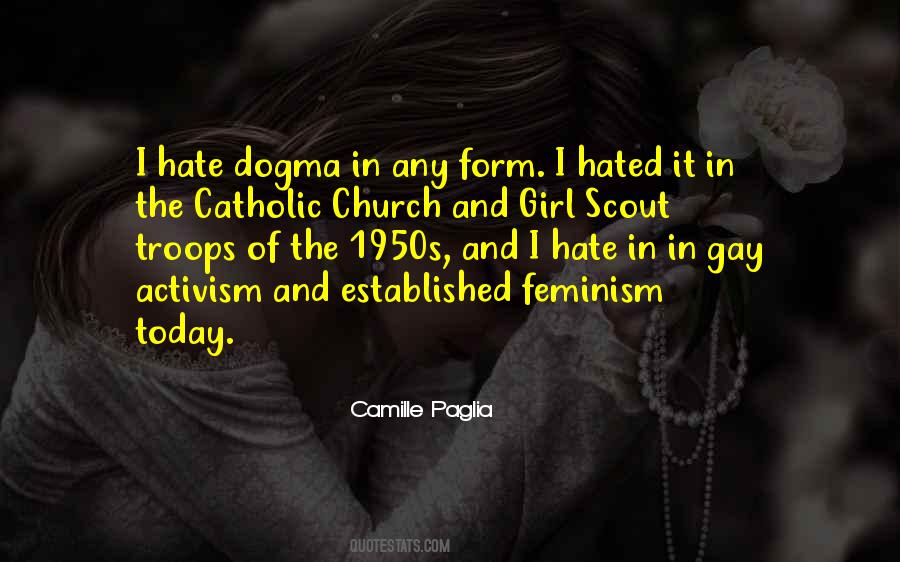 #9. See there?" Jem was scowling triumphantly. "Nothin' to it. I swear, Scout, sometimes you act so much like a girl its mortifyin - Author: Harper Lee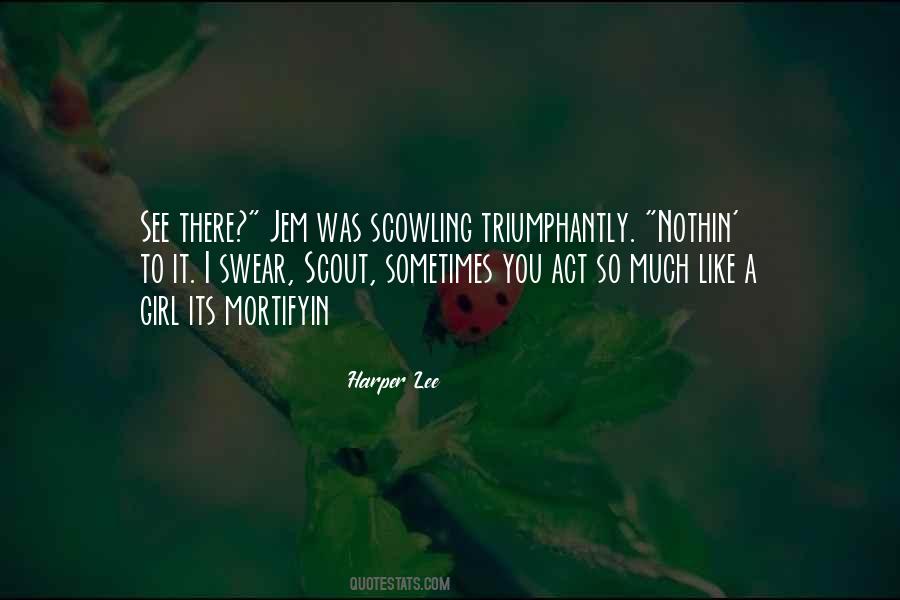 #10. Badges mean nothing in themselves, but they mark a certain achievement and they are a link between the rich and the poor. For when one girl sees a badge on a sister Scout's arm, if that girl has won the same badge, it at once awakens an interest and sympathy between them. - Author: Juliette Gordon Low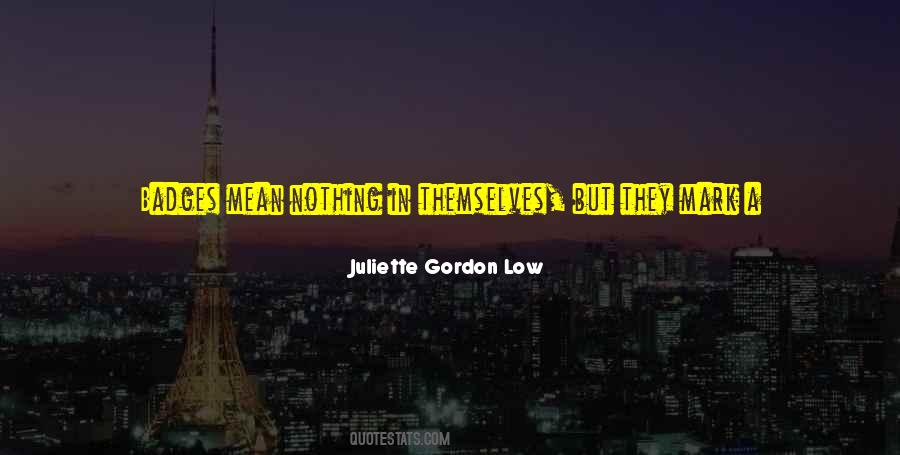 #11. The Girl Scout's motto is also mine. I fill my life with worthwhile deeds such as - well, never mind what. My duty is - to be useful. I am a friend to male animals. I am cheerful. I am thrifty and I am absolutely filthy in thought, word, and deed. - Author: Vladimir Nabokov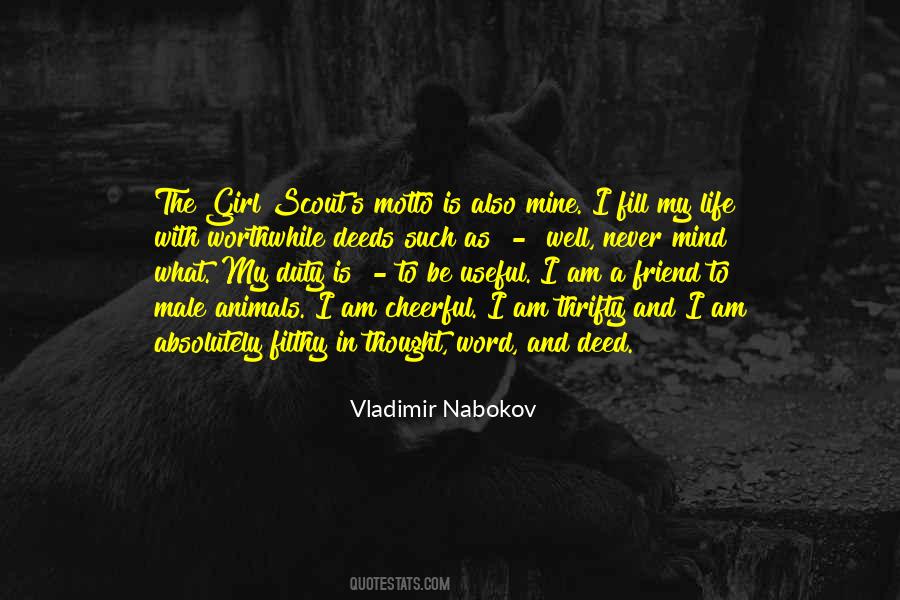 #12. I live to inspire girls, volunteers, Girl Scout staff and alumni - Author: Anna Maria Chavez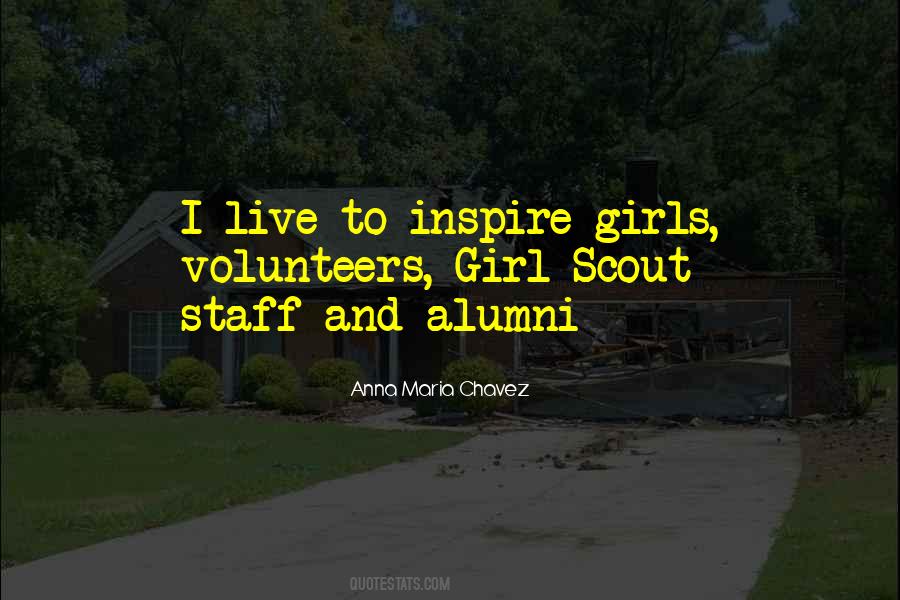 #13. The troop whose captain is (apparently) not managing it, but whose girls manage themselves under the Scout laws, is the ideal troop. - Author: Girl Scouts Of The U.S.A.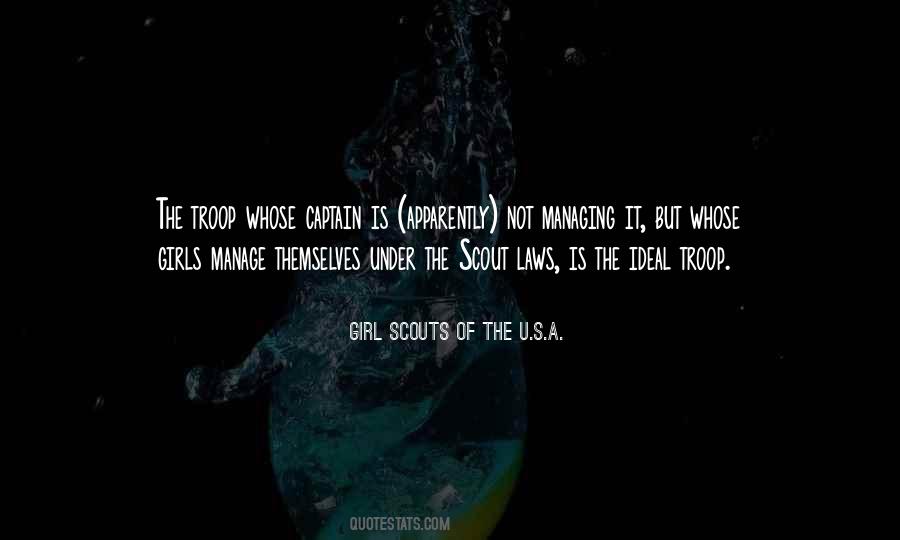 #14. When I was 13, I was in my tent at Girl Scout camp, trying to change out of my bathing suit and talking at the same time. I fell out of the tent in front of everyone with my bathing suit around my ankles. I was humiliated - but no amount of humiliation has ever seemed to stop me. - Author: Casey Wilson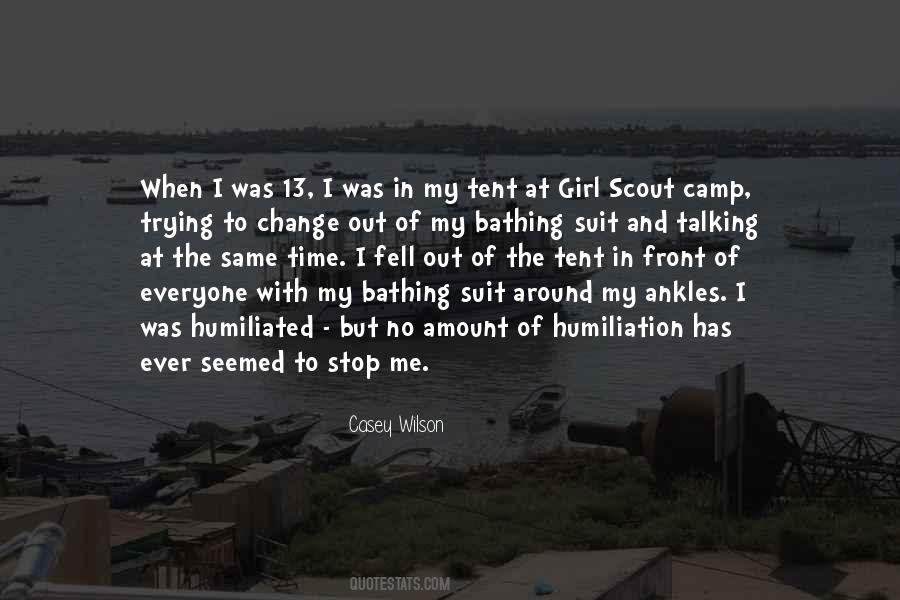 #15. He interrupted. "No, Lisa, other families do not have sons who are Girl Scouts. I'm teaching that boy to fight," Jason muttered to himself, "A gay, black Girl Scout. What the hell happened to this family? We were normal back in San Francisco. - Author: Jennifer Coburn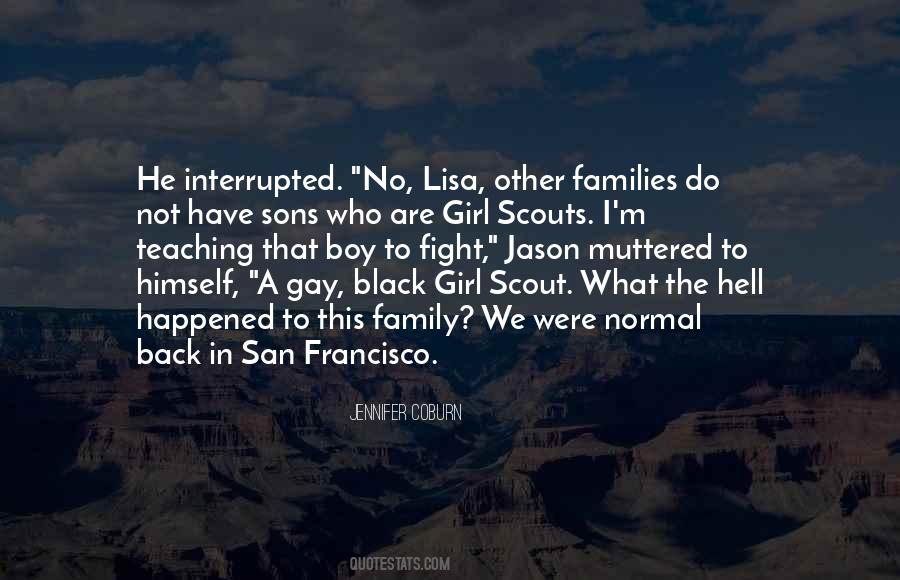 #16. Nothing sells tombstones like a Girl Scout in uniform. - Author: Jacob M. Appel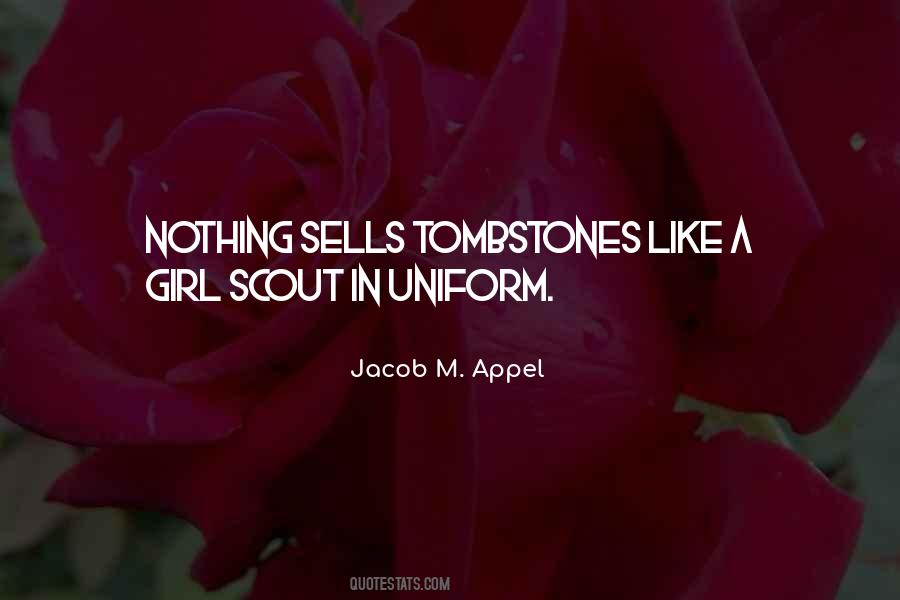 #17. Having big audiences when you're on a book tour is like Valhalla if you're a person who used to sell Girl Scout cookies on the side. Because you want to give the reading that will sell the most books. - Author: Eileen Myles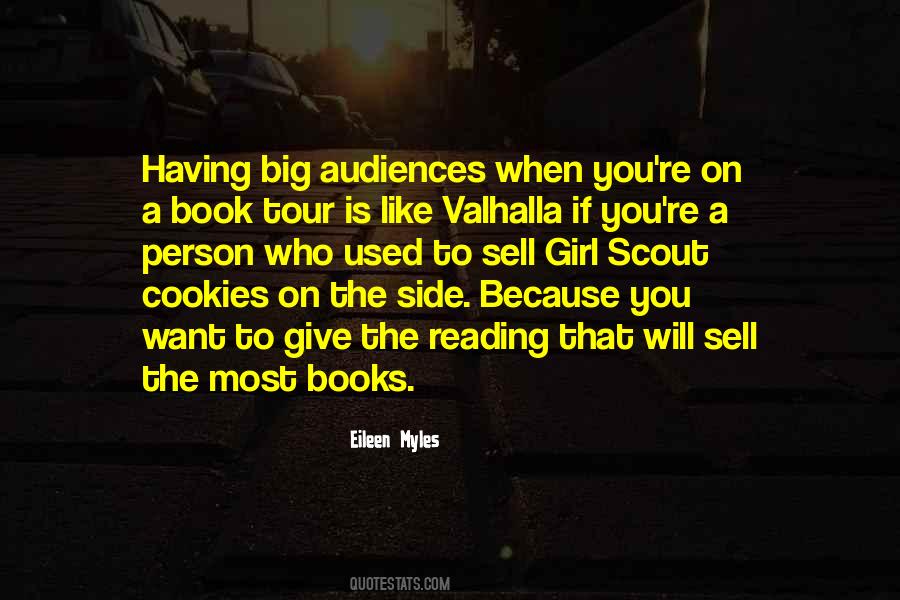 #18. Wincing, I turned, gave her a salute, because that's what mafia hit men do when they're in a bathroom with a naked girl, they salute her like a freaking boy scout, and then leave. - Author: Rachel Van Dyken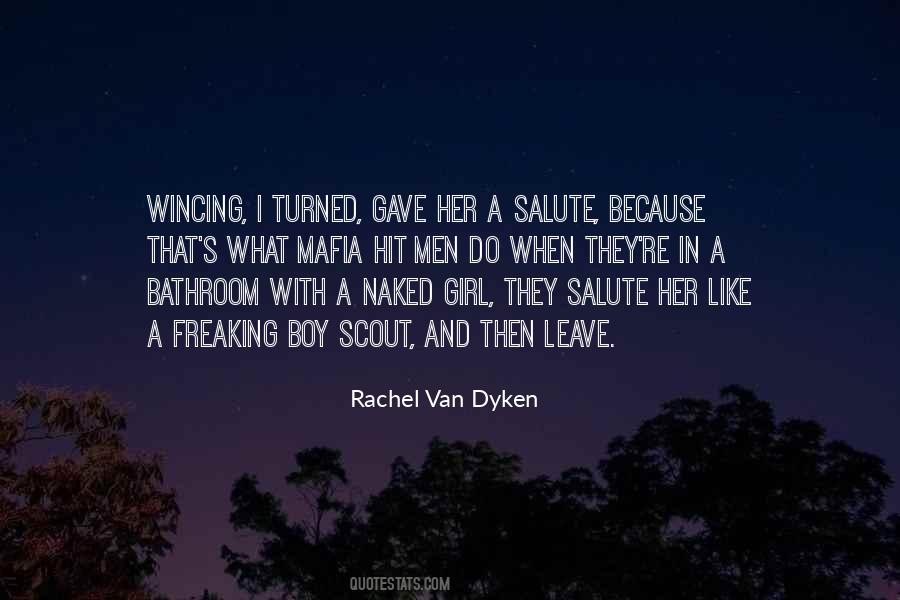 #19. I DON'T WANT YOUR GIRL SCOUT COOKIES!" I yelled to the figure behind the door. - Author: Mike Schmidt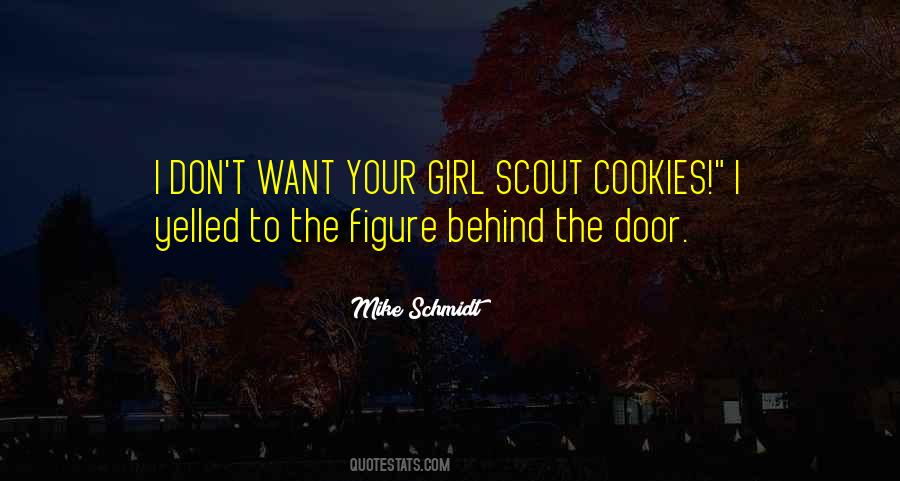 #20. For example, the early Girl Scout handbooks preached an ethic of self-sacrifice and self-effacement. The chief obstacle to happiness, the handbook exhorted, comes from the overeager desire to have people think about you. - Author: David Brooks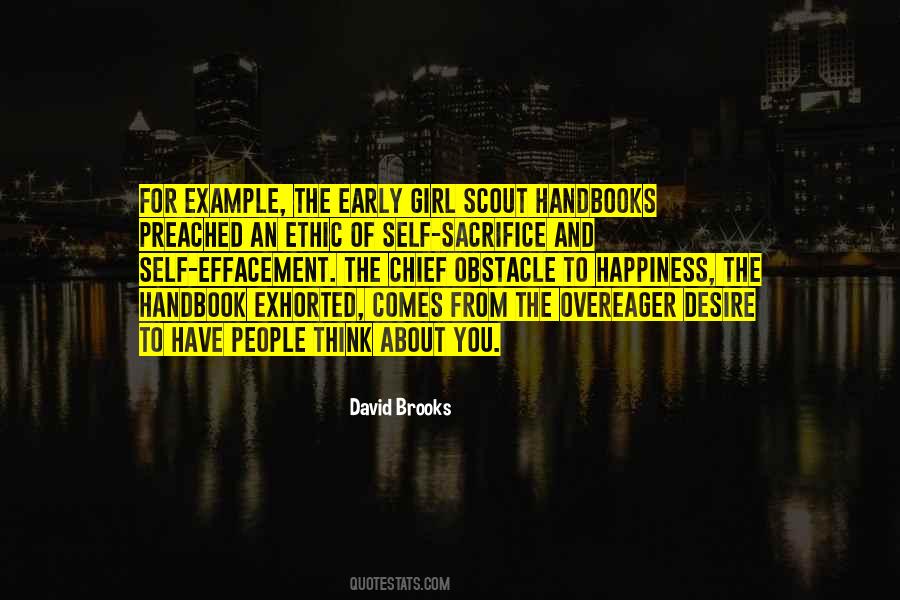 #21. We spent the rest of the afternoon searching for the lost Girl Scout troop. We found them asleep, drugged with music. They were curled around a sign that said, "No All-Female Groups Beyond This Point. Satyr Breeding Area." Satyrs have a peculiar sense of humor. I - Author: Laurell K. Hamilton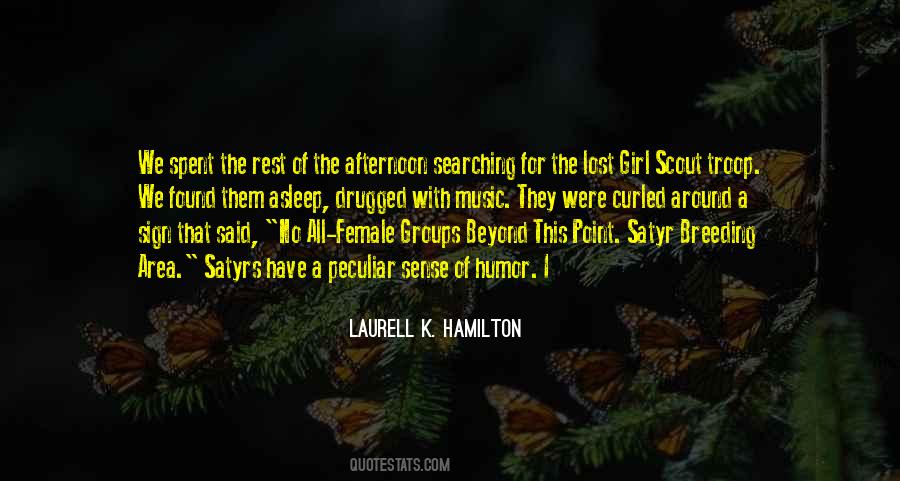 #22. Few ground rules: If you've killed someone, I'm calling the cops. If you are dealing drugs, I'm calling the cops. If you are wanting me to buy Girl Scout cookies, I'm calling the cops. Anything else, I'll help you with. - Author: J.C. Nelson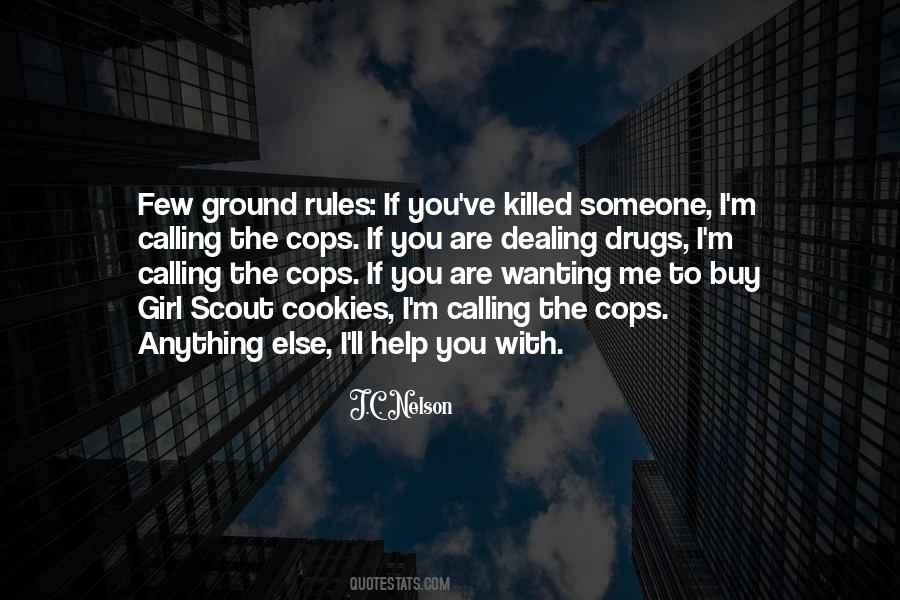 #23. Zane clapped his hand over Ty's mouth. "Just ... don't jinx it this time."
Ty raised his hand in a silent promise.
"That's the Girl Scout pledge, Ty. - Author: Abigail Roux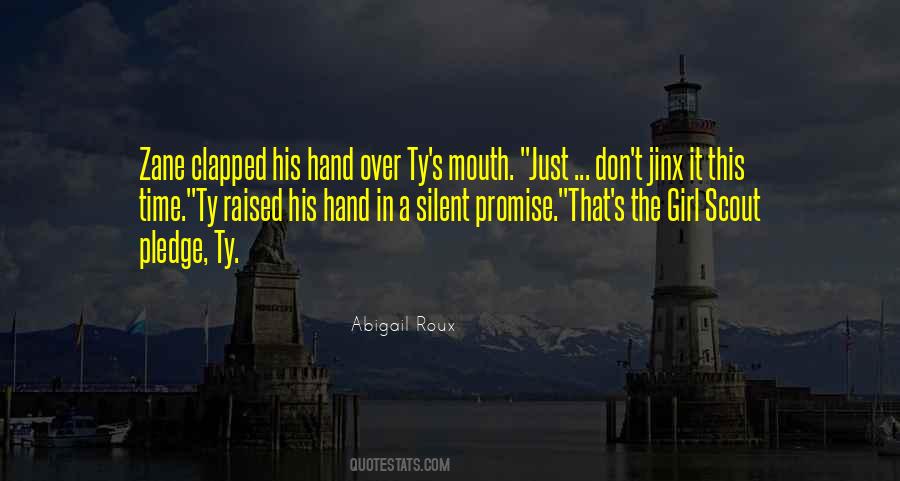 #24. Can you just tell them we don't need Jesus, Girl Scout cookies, or whatever the Mormons worship, and let me lie here in peace? - Author: Lish McBride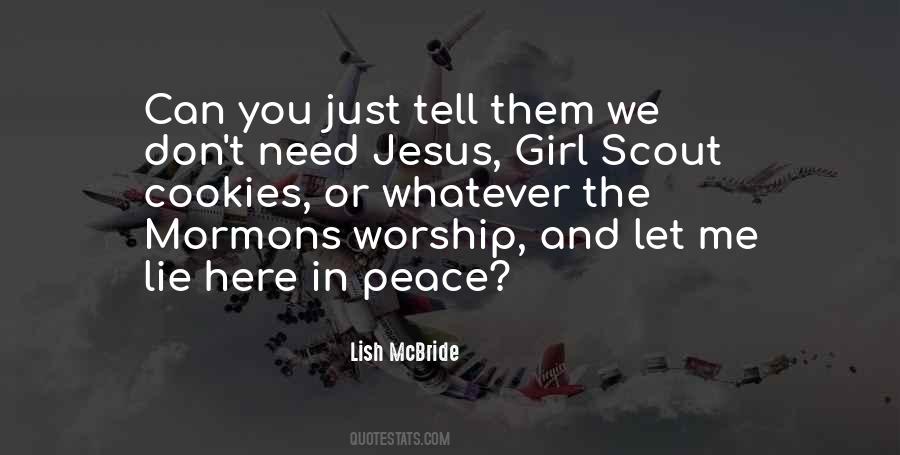 #25. I was not a Girl Scout, but I try to be very prepared. I triple-Spanx! - Author: Octavia Spencer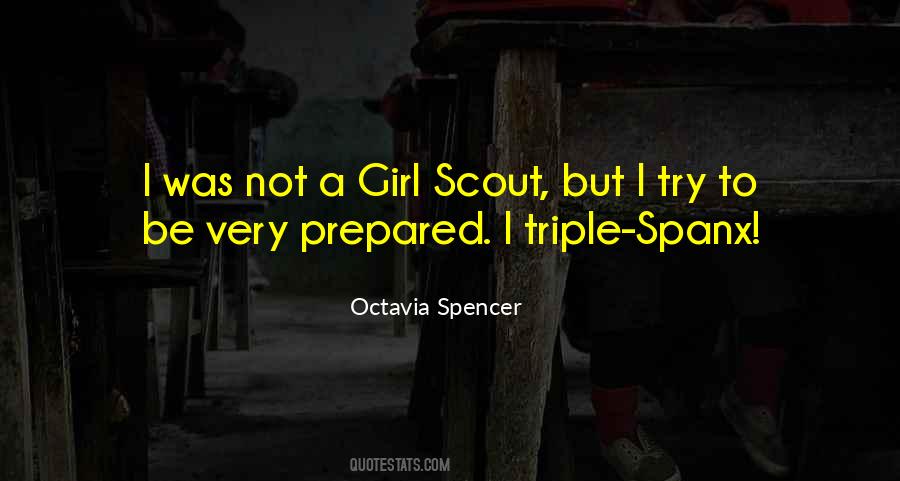 #26. It took me a sleeve of Girl Scout Thin Mints and forty minutes to get over that boy. - Author: John Green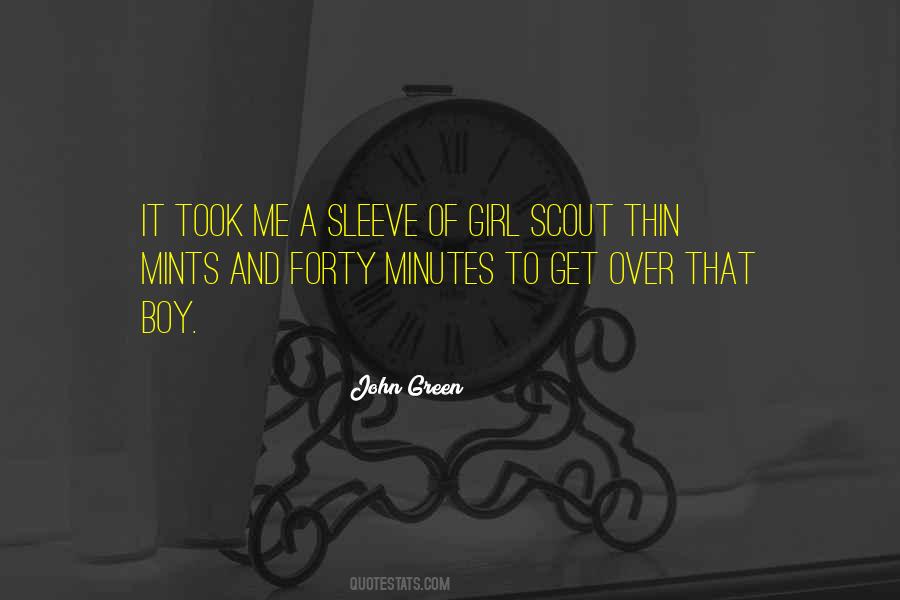 #27. I am an aging Girl Scout. - Author: Amy Sedaris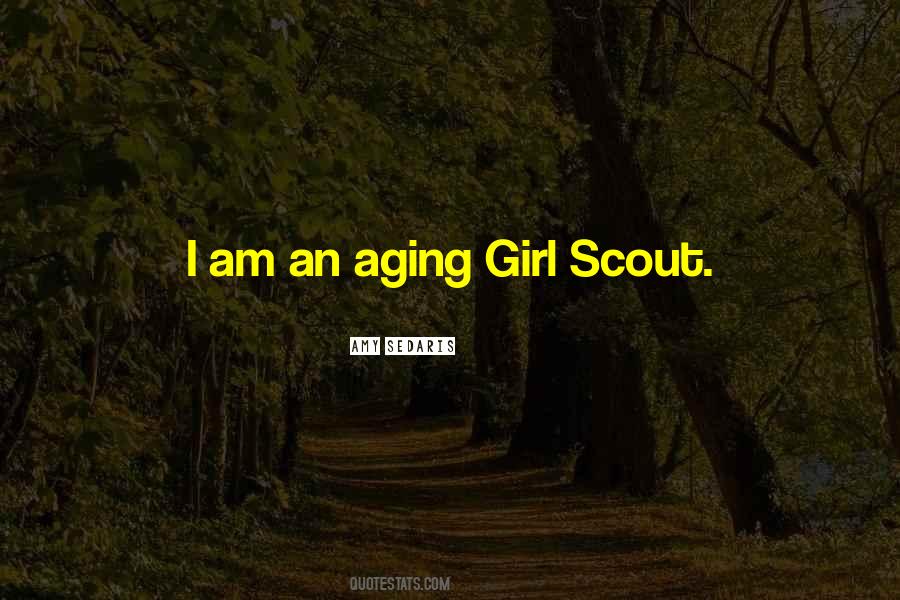 #28. He slid her a look, and she held up her hand in a solemn vow, making him smile. "Were you a Girl Scout?" he asked.
"Not even a little bit," she said.
-Matt and Amy - Author: Jill Shalvis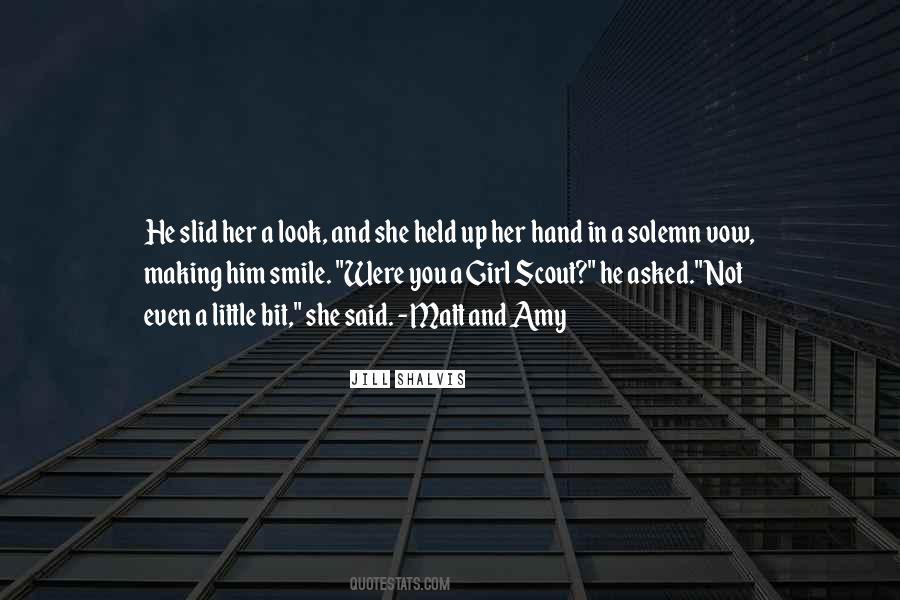 #29. Something tells me you were never a Girl Scout. - Author: Gwenda Bond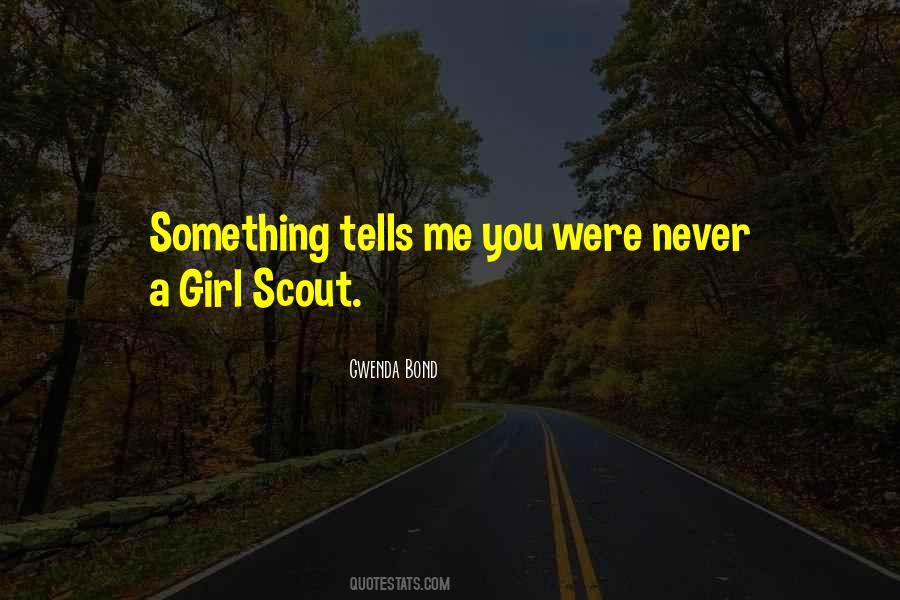 #30. whyareyougivingawaythecookies?! - Author: Stephanie Perkins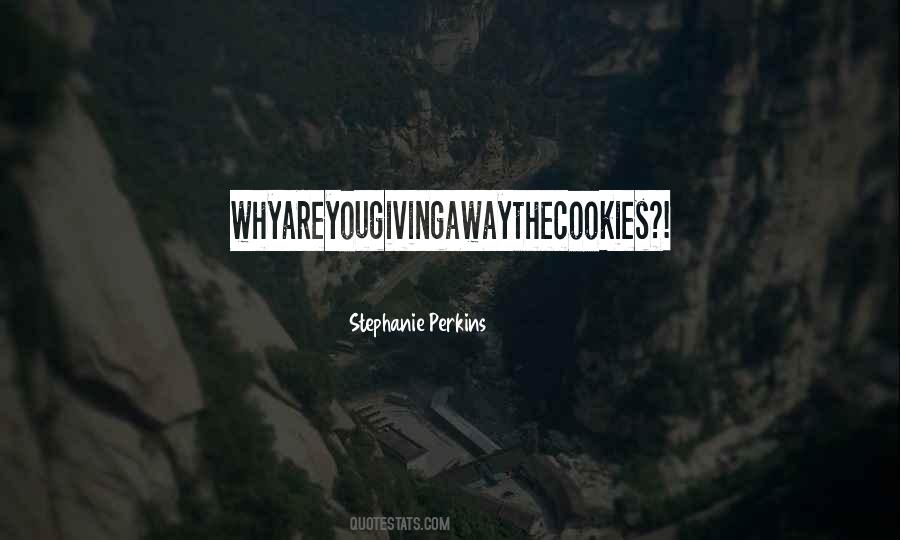 #31. So you can go down there and see the gods, sell Girl Scout cookies door-to-door or whatever? - Author: Rick Riordan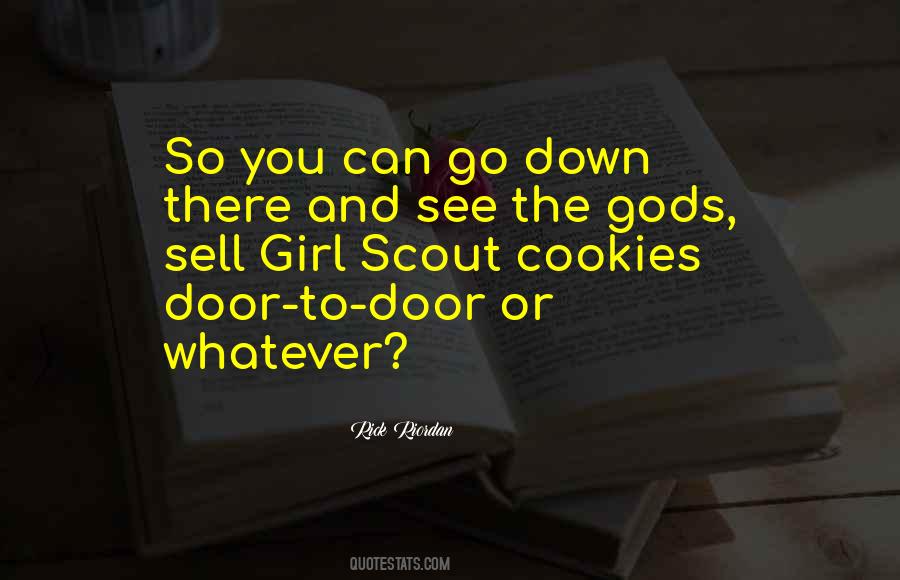 #32. The Ten Commandments, for example, were no more challenging than the Girl Scout oath, and why should anyone be tempted to put one false god ahead of another? - Author: Barbara Ehrenreich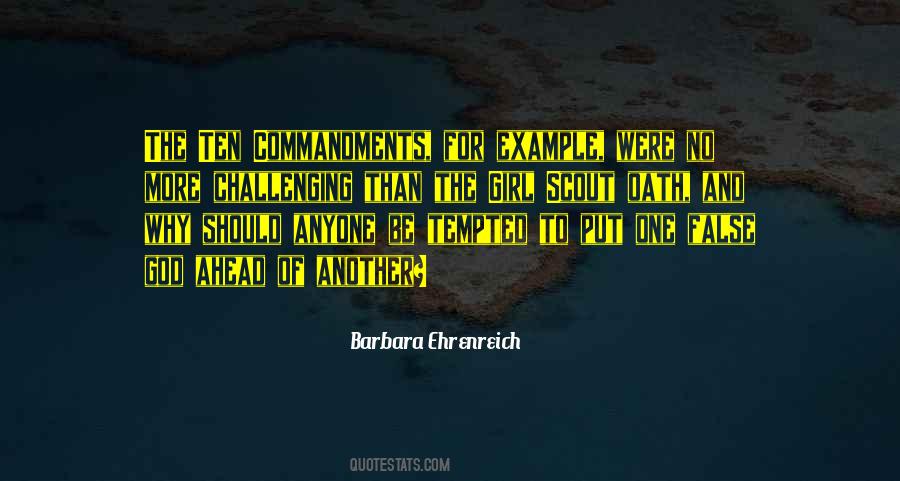 #33. God never slams a door in your face without opening a box of Girl Scout cookies. - Author: Elizabeth Gilbert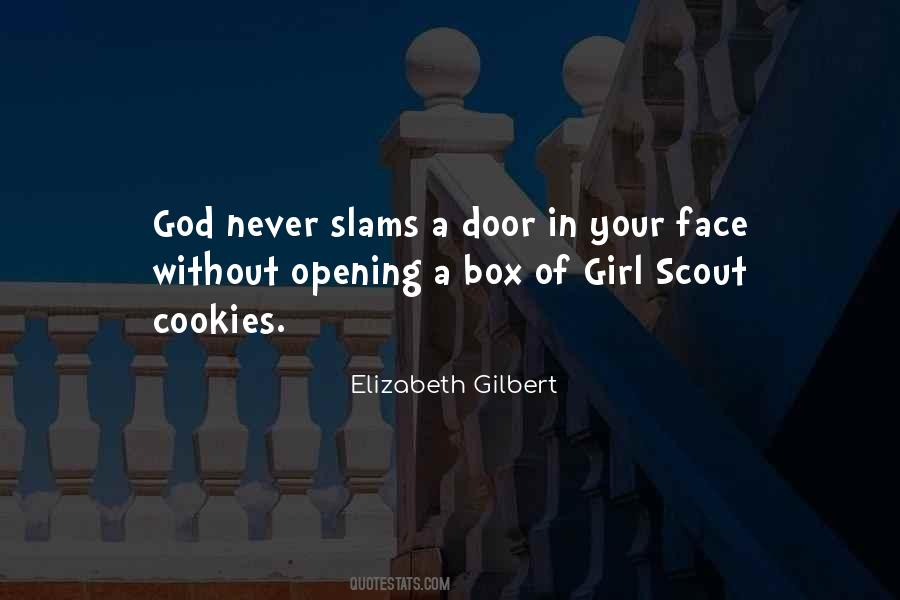 #34. I've been away from my two daughters at a very important time in their life.'I have missed most of Girl Scout cookie season.Last night Zahra, my youngest called me up and said :"Daddy how come we never sell the most cookies? How come Mrs. Dunn wins every year?"' - Author: Chris Rock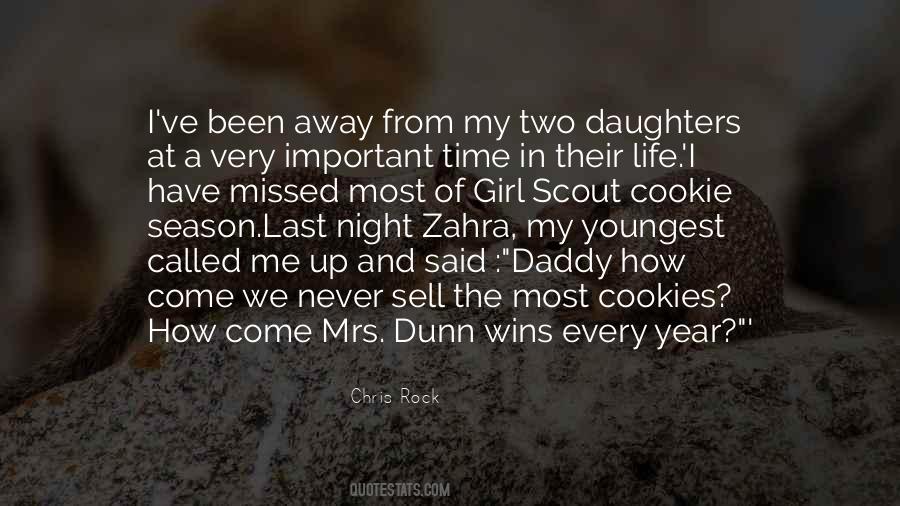 #35. To put yourself in another's place requires real imagination, but by doing so each Girl Scout will be able to love among others happily. - Author: Juliette Gordon Low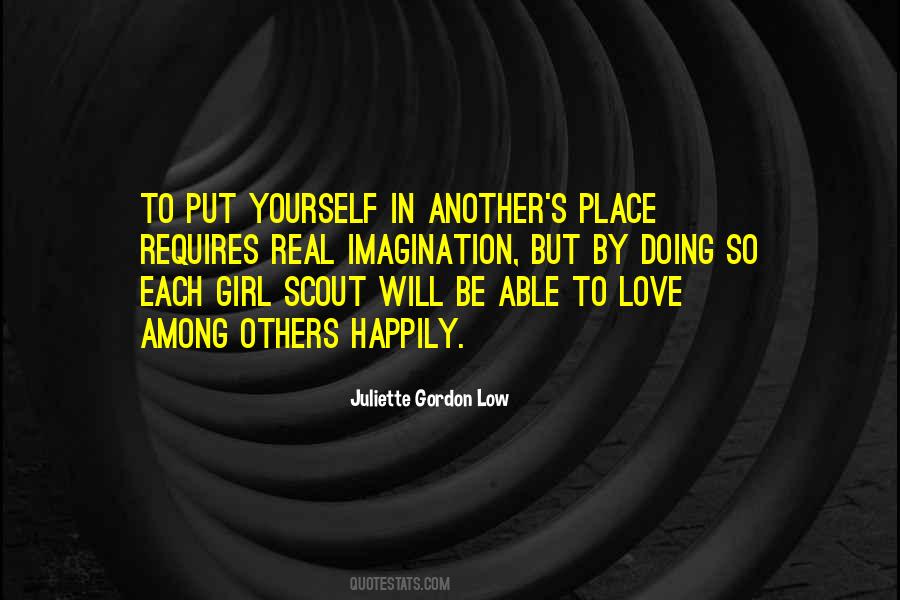 #36. Kuh-laire, Is cam a fattening Girl Scout Cookie layered with peanut butter and a chocolate coating?
No.
Then dont make him a tagalong! - Author: Lisi Harrison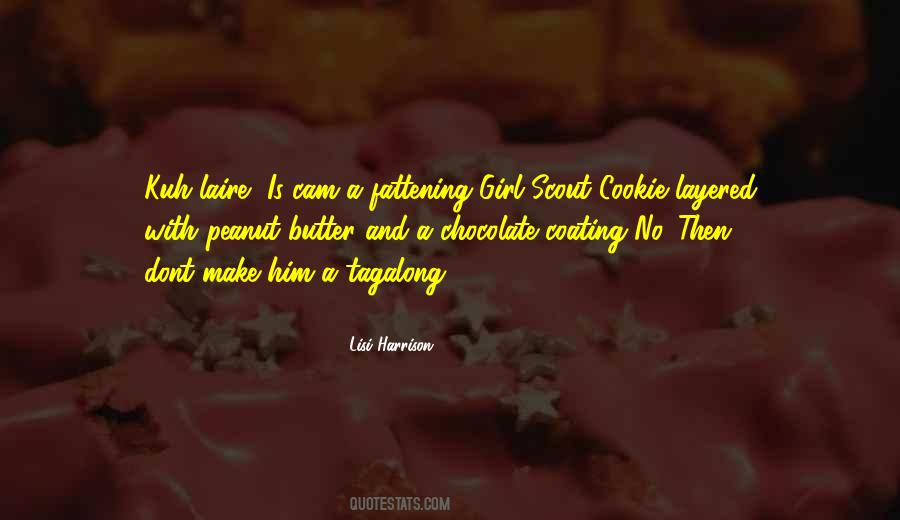 #37. I was a Girl Scout! - Author: Kat Dennings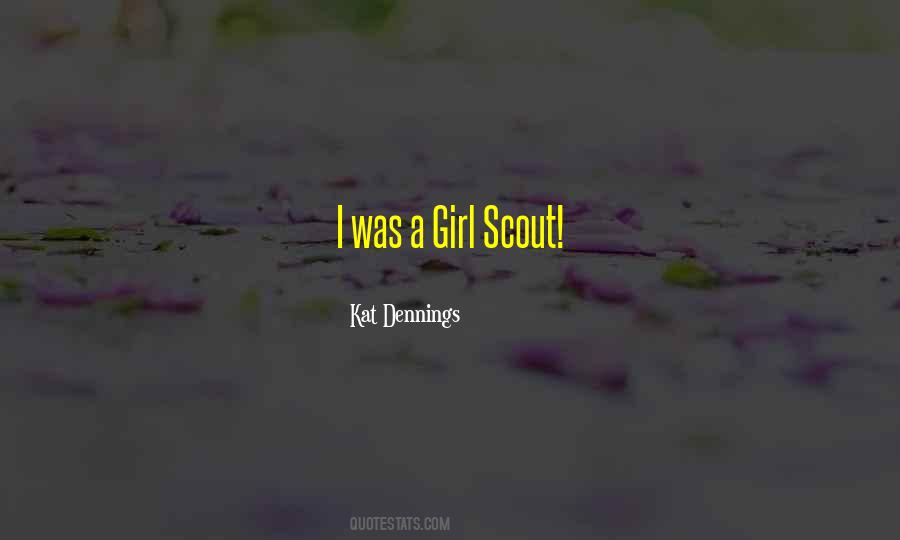 #38. My mother was my Girl Scout leader, and George's mother was his Cub Scout leader. In fact, that's when some say her hair turned white. - Author: Laura Bush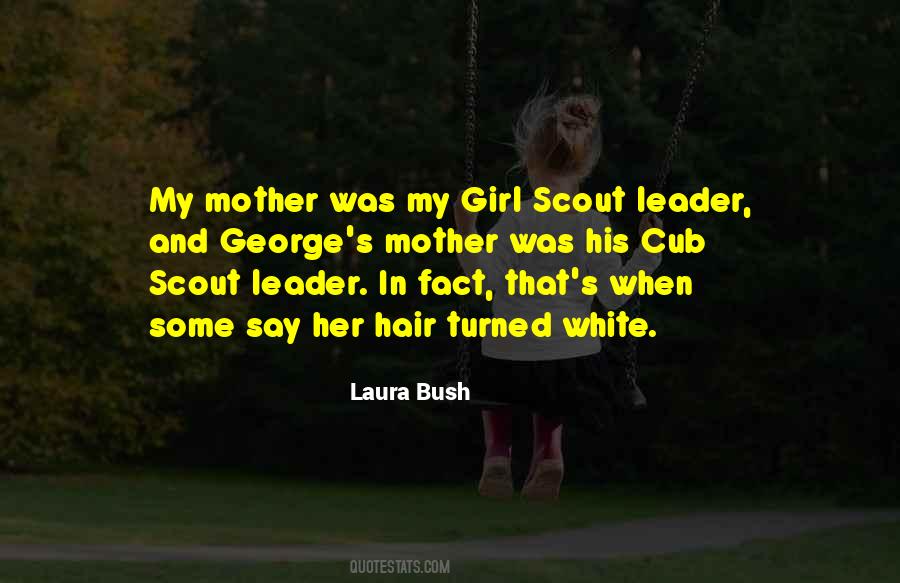 #39. Hey, McFly!" Has Biff returned?? No! It turns out that Howard, George's neighbour, is there! And he wants to sell him Girl Scout cookies! - Author: Ryan North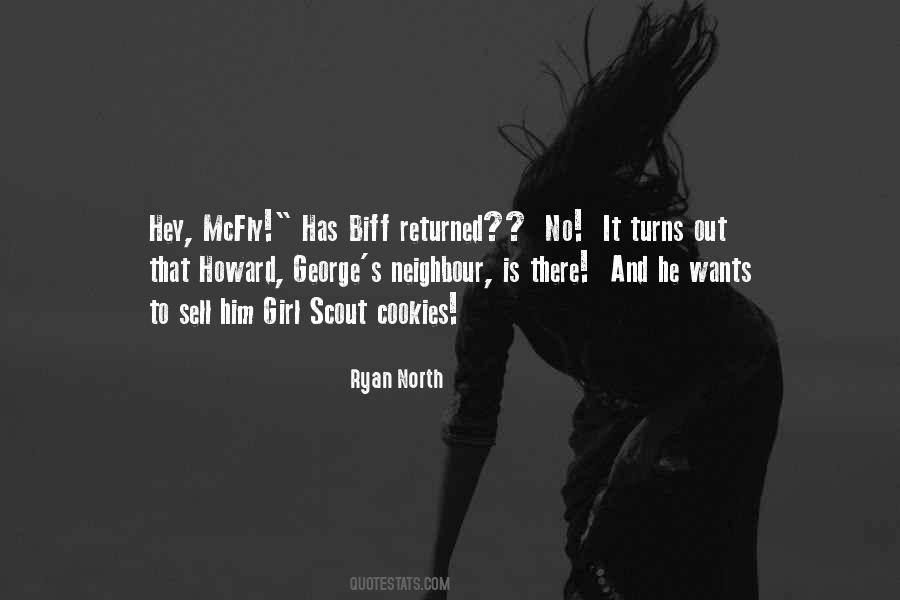 #40. Honestly, my sales pitch when I was a kid was, 'You don't want these Girl Scout cookies, do you?' If I had to push my own books, I'd stop writing. I hate the conflation of marketing and writing. - Author: Jincy Willett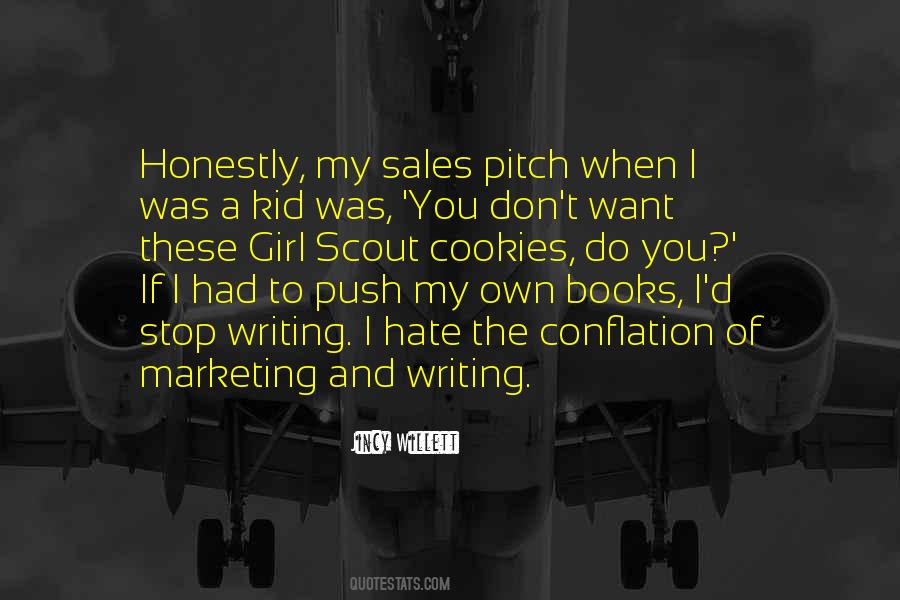 #41. Hey, you wanna drop back a few paces? Did you forget how spying works? You're supposed to at least aim for unobtrusive. The others pretty much have it down, but you're about as inconspicuous as a drag queen at a Girl Scout meeting. - Author: Rachel Vincent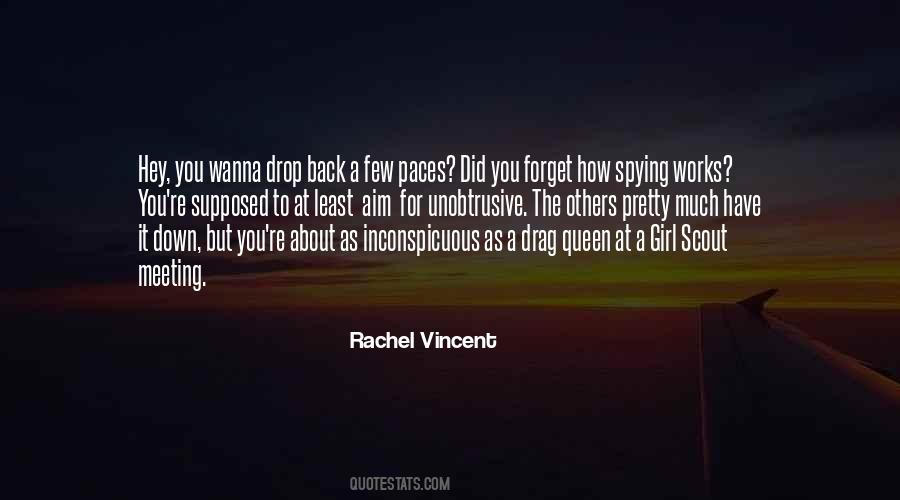 Famous Authors
Popular Topics