Care For Someone Famous Quotes & Sayings
List of top 100 famous quotes and sayings about care for someone to read and share with friends on your Facebook, Twitter, blogs.
Top 100 Sayings About Care For Someone
#1. Look what they've done to me;
I am disheveled, bewildered, confused.
Now please take my hand.
I am wandering about,
in awe and amazement of you.
Take my hand.
Everyone
has someone to take care for them.
But look at me: I have no one.
Take my hand - Author: Rumi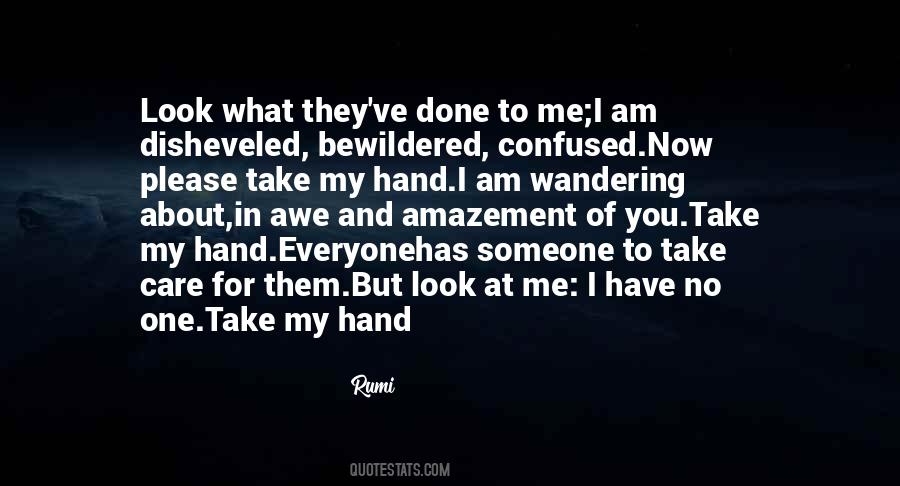 #2. If you let someone talk for an hour, you're gonna have a pretty good idea of who they are, and I think that's more rewarding than me sitting there going, "That's complete bullshit about health care." - Author: Marc Maron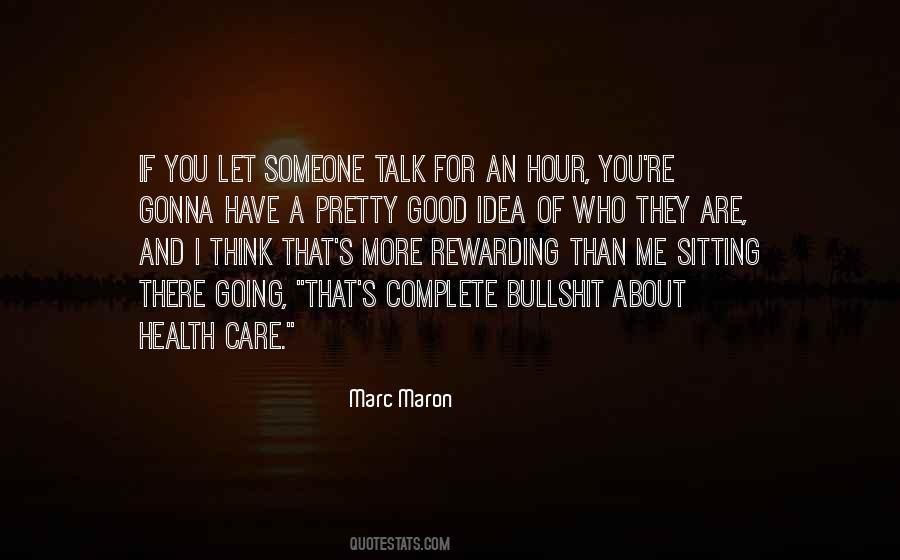 #3. What you are is a complicated girl with simple needs. You need your books and time to read, and you need a few friends and you need someone-not to take care of you, but to care for you. If you have all those things, you'll always be alright. - Author: Brian Morton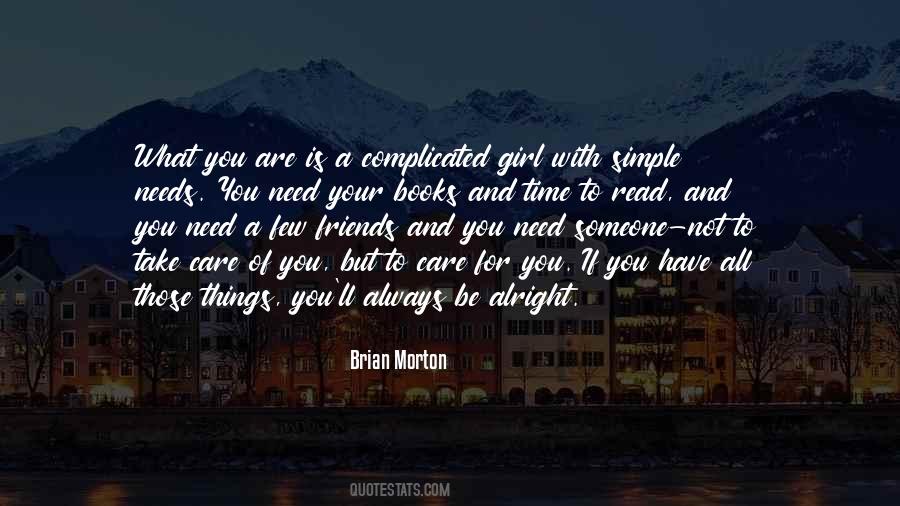 #4. I can only fulfill myself by serving someone or something apart from myself, and if I am unable to care for anyone or anything separate from me, I am unable to care for myself. - Author: Milton Mayeroff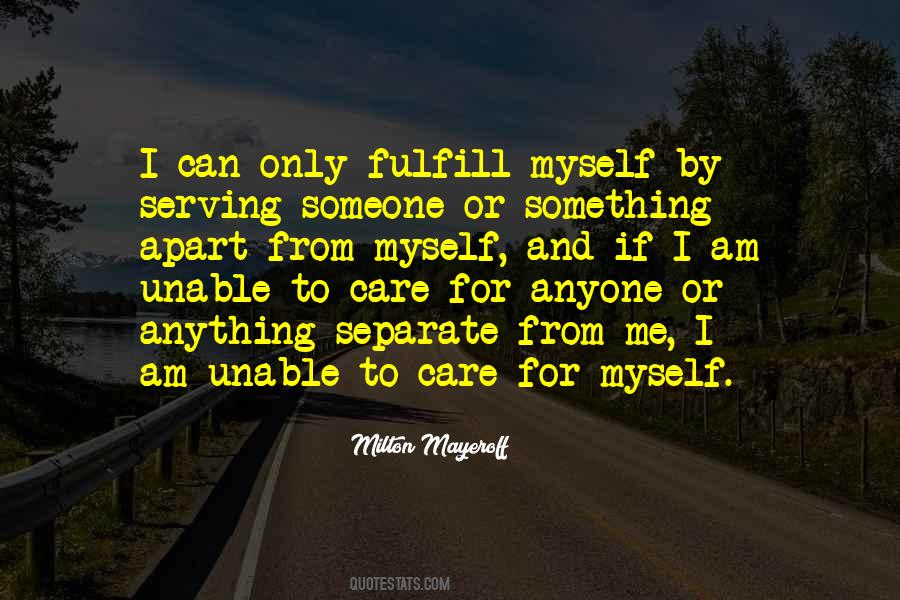 #5. To care for someone can mean to adore them, feed them, tend their wounds. But care can also signify sorrow, as in 'bowed down by cares.' Or anxiety, as in 'Careful!' Or investment in an outcome, as in 'Who cares?' The word love has no such range of meaning: It's pure acceptance. - Author: Martha Beck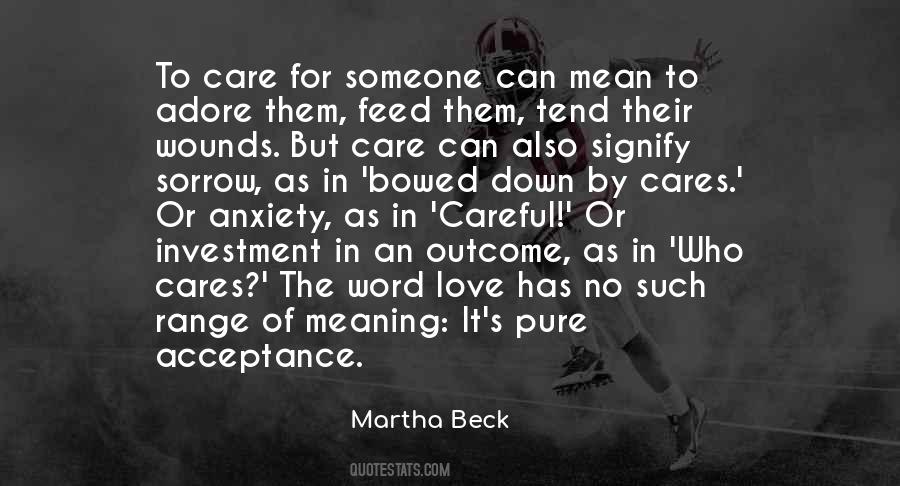 #6. Because the truth is, I wouldn't care if she lied to me, except for the fact that I love her. And once you love someone, you can't really put up with them lying to you. It just doesn't work. It makes things into a big mess. - Author: Lauren Barnholdt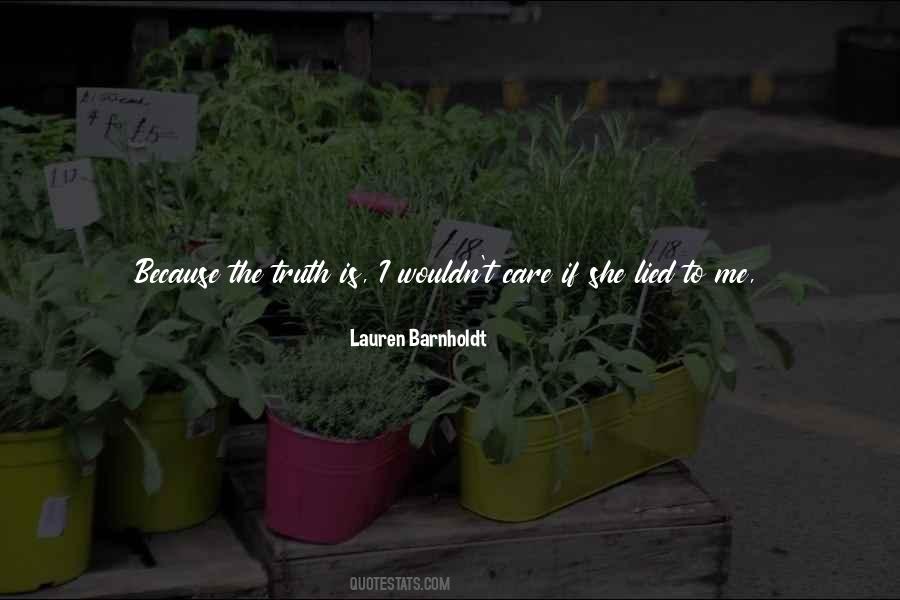 #7. It's hard for me to answer a question from someone who really doesn't care about the answer. - Author: Charles Grodin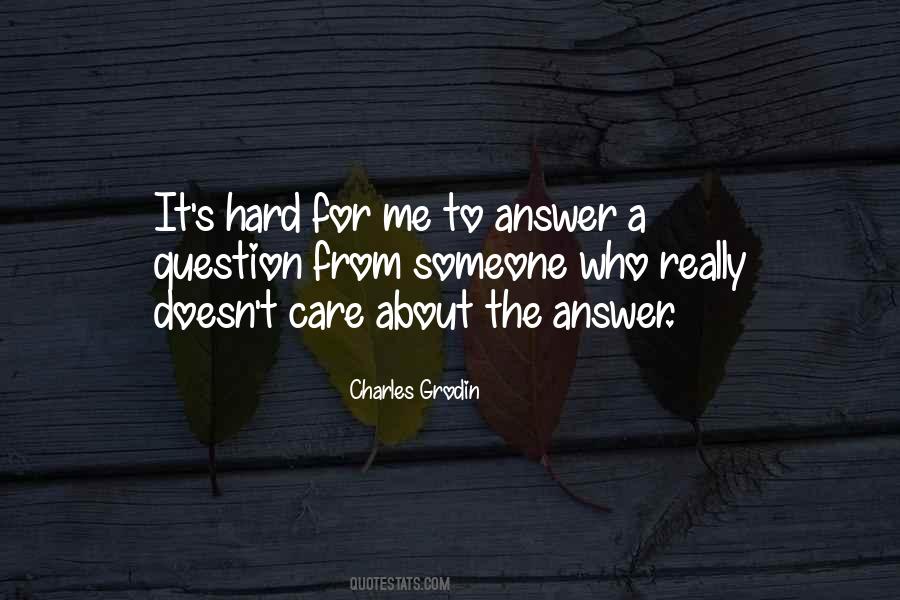 #8. Love, he decided, is not about how much someone else cares for you, it's about how much you care for someone else. - Author: Marcus Sedgwick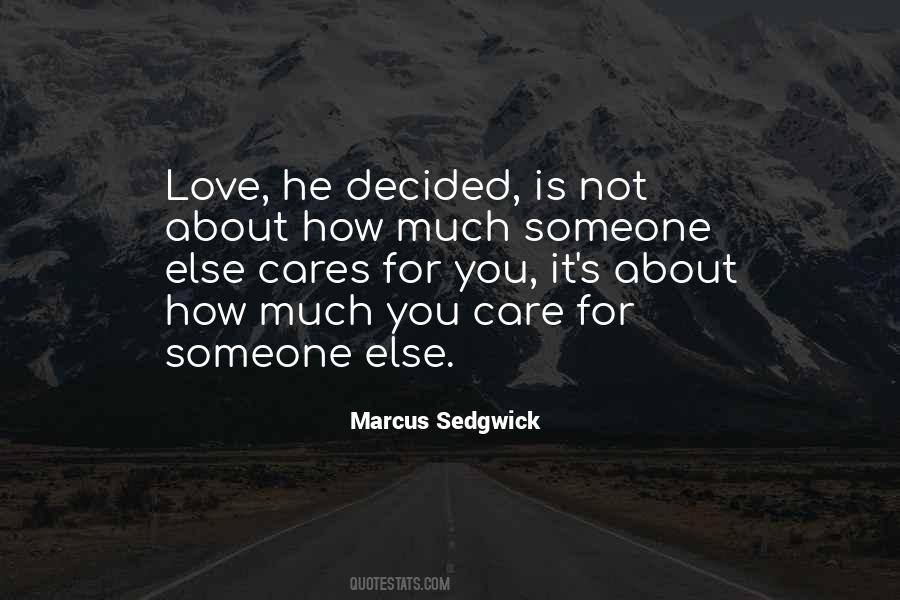 #9. From CATS ARE KIND
A man said to the universe,
'Sir, I exist!'
'Excellent,' replied the universe,
'I've been looking for someone to take care of my cats. - Author: Henry N. Beard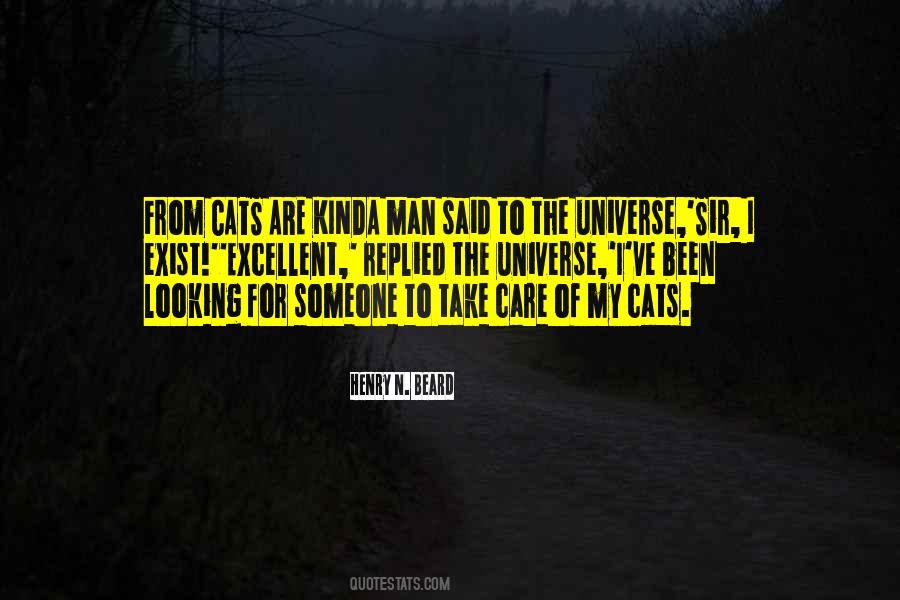 #10. Caring for someone that doesn't care for you doesn't get you any where, take all the love and care you have for them and give it to someone that actually cares about you, but until you find that person ... invest it in yourself. - Author: Jaz Mehat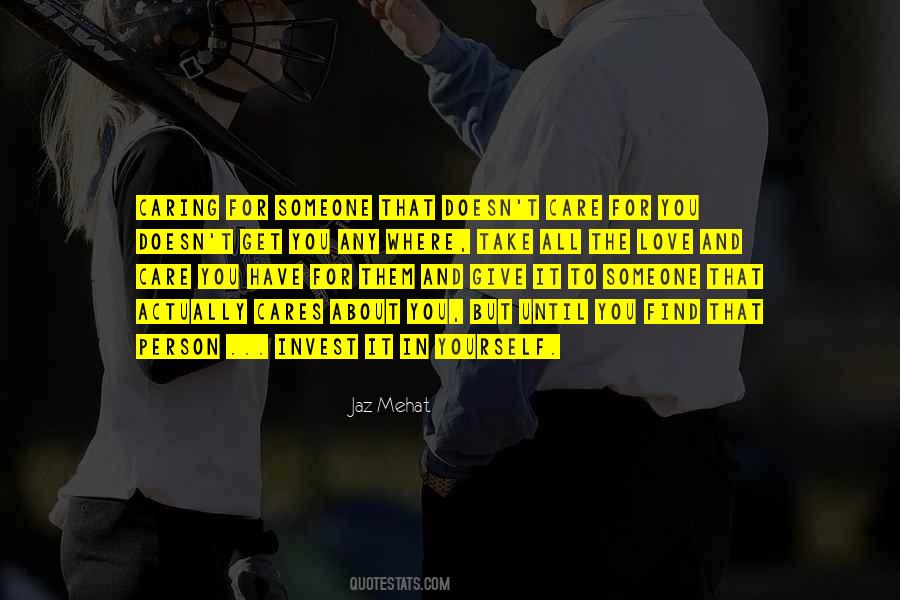 #11. You know what I hate? I hate people who give me plants. The whole giving someone plants - it's like giving someone a pet. I'm giving you responsibility, I'm giving you a thing that you now have to take care of for, like, a year until it dies, and then I'm giving you sadness and guilt. - Author: Chelsea Cain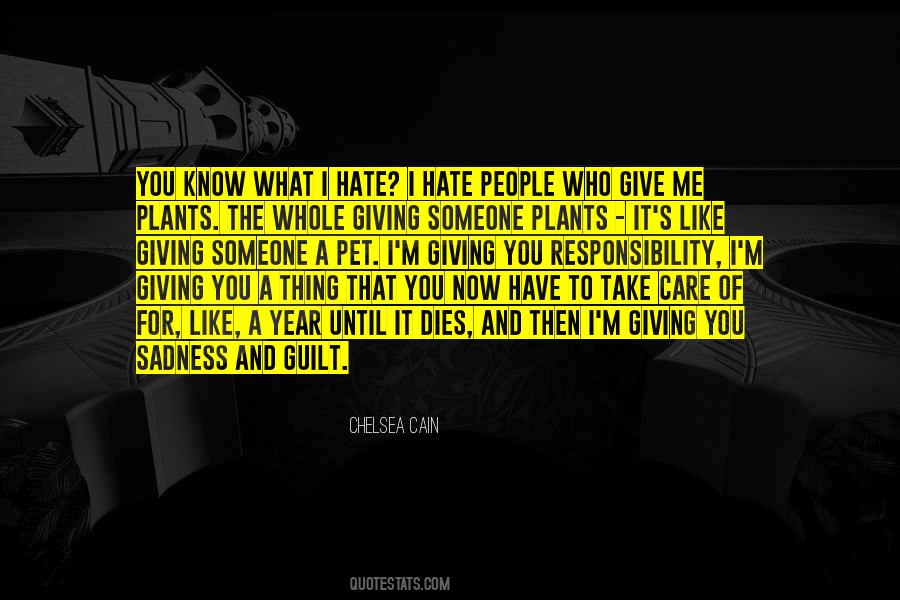 #12. He didn't care for light classical music. If you were going to have classical shit, you ought to go whole hog and have your Beethoven or your Wagner or someone like that. Why fuck around? - Author: Stephen King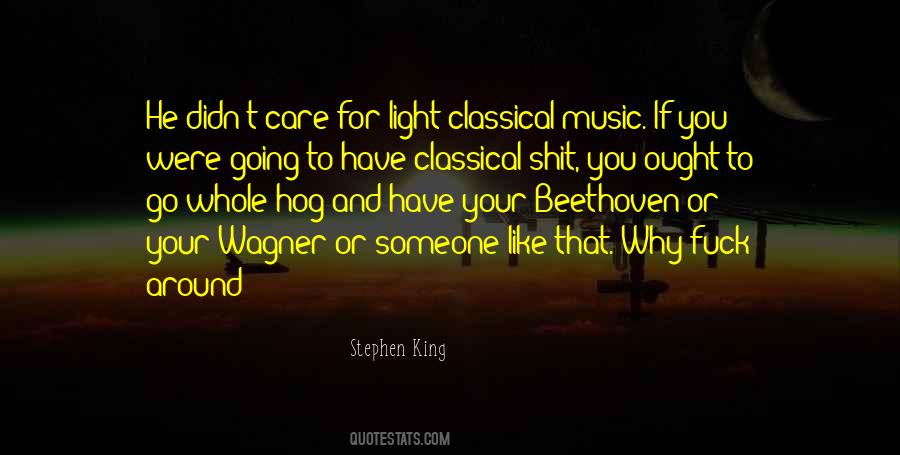 #13. following morning with her age-addled body so stiff she was barely able to stand upright without assistance? No, Edie needed taking care of, someone to watch over her. 'Oooh, good for you!' Nancy said, sounding - Author: Alexandra Brown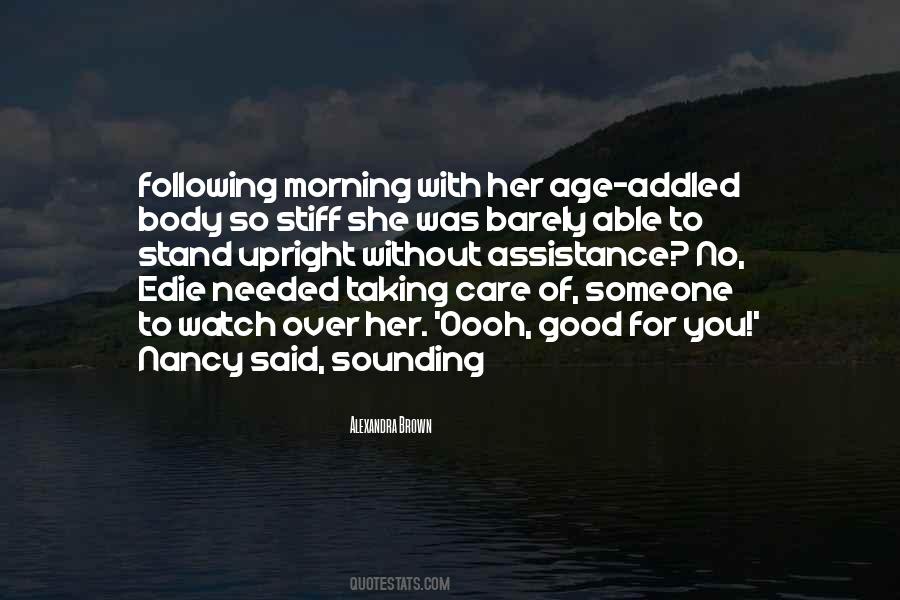 #14. You live as if you will live forever, no care for your mortality ever enters your head, you pay no mind to how much time has already gone by. You waste time as if it was a limitless resource, when any moment you spend on someone else or some matter is potentially your last. - Author: Seneca.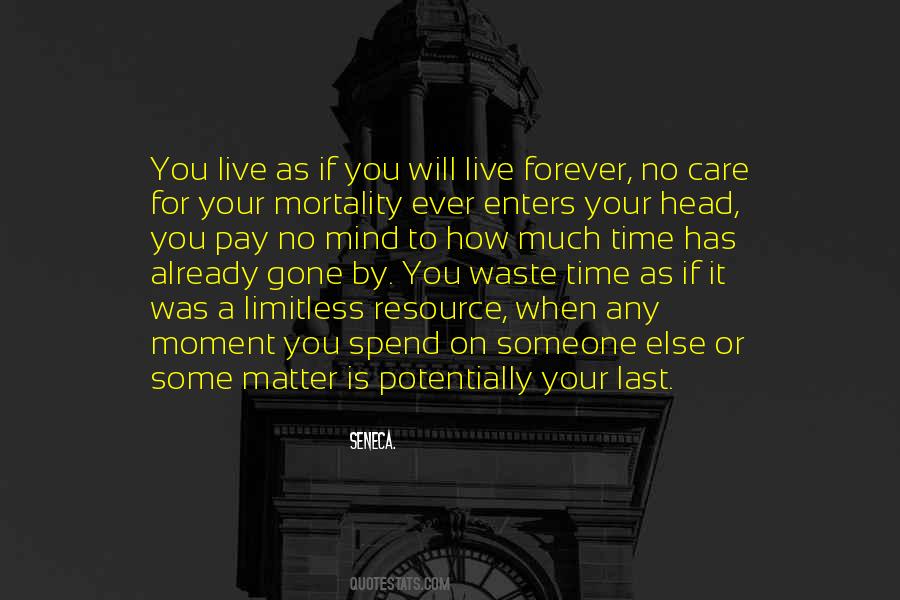 #15. Old people die not because no one cared for them but because someone they expected care from did not bother. - Author: Vipin Behari Goyal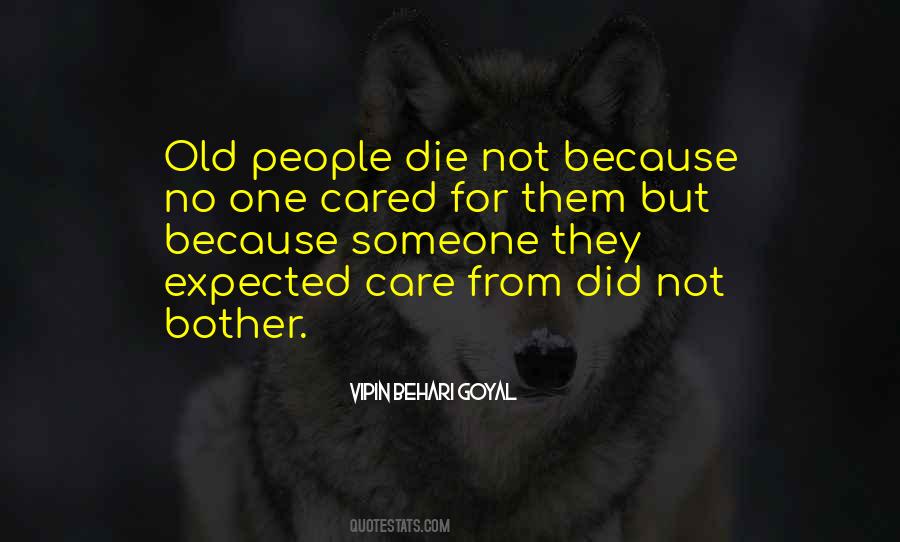 #16. Men are like that sometimes - if they meet someone and fall in love, it's real, no matter how fast it happened. But if someone falls for a woman they happen to care about, all they do is question the man's intentions. - Author: Nicholas Sparks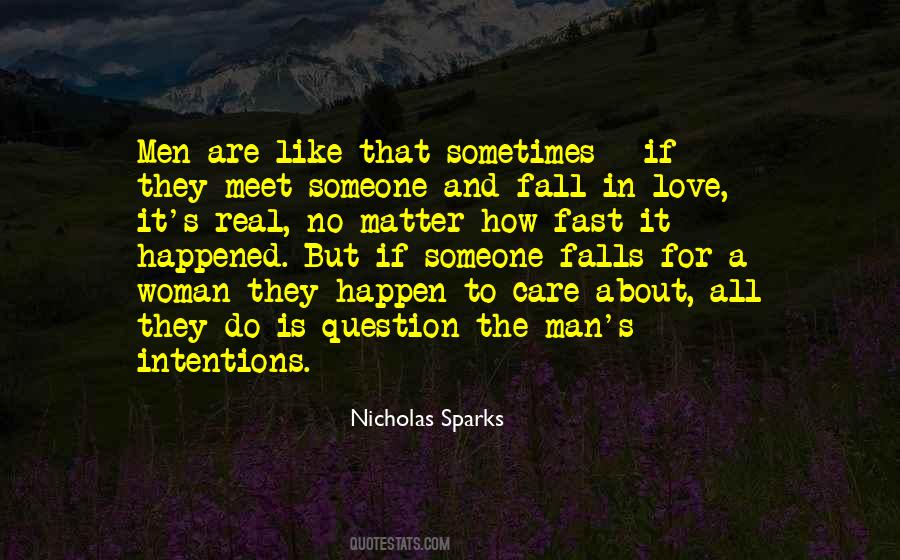 #17. The amount of trust and bandwidth that you build up working with someone for five, seven, 10 years? It's just awesome. I care about openness and connectedness in a global sense. - Author: Mark Zuckerberg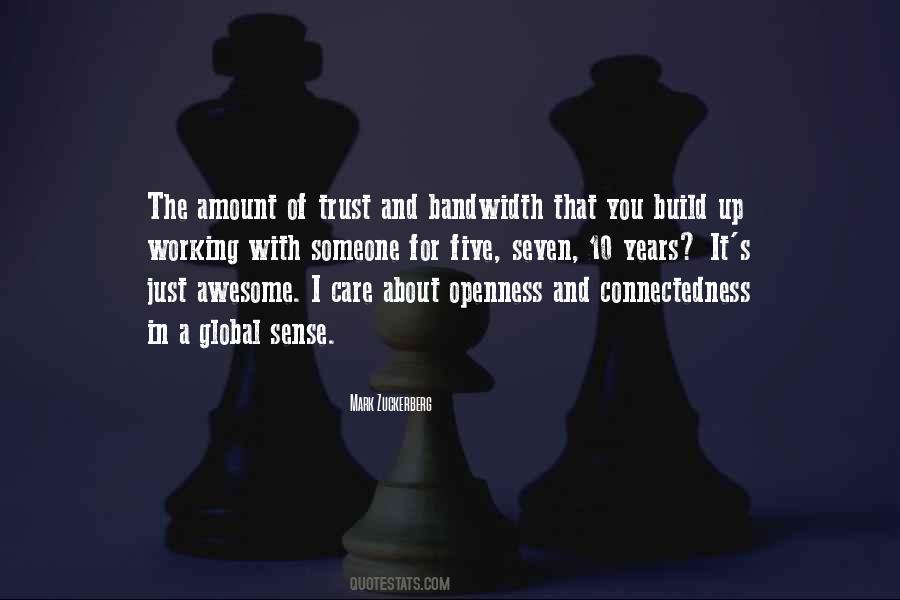 #18. Good food, fresh water, an occasional sweet and someone to care for. That's what everyone should have. - Author: Maria V. Snyder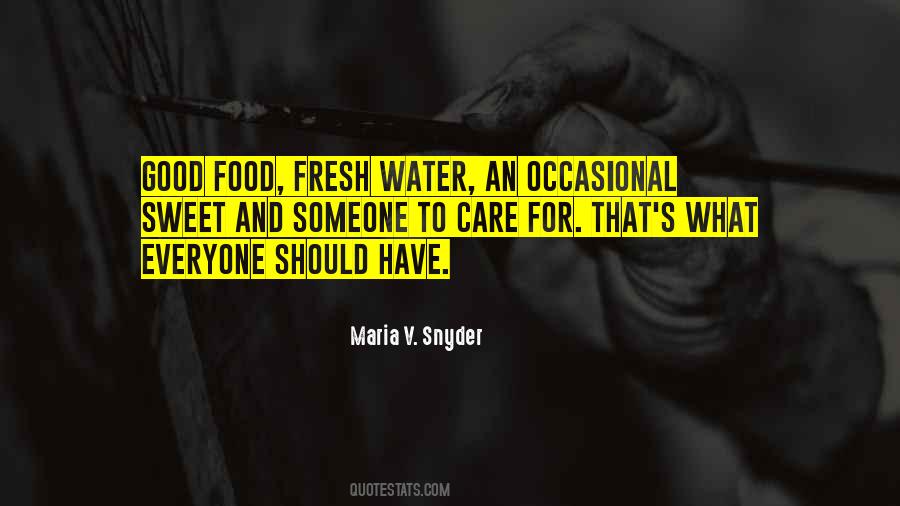 #19. Have you ever loved someone that just dont feel the same. tryin and make somebody care for you the way i do is like tryin to catch the rain, and if love is really forever, i'm a winner at a losing game! - Author: Rascal Flatts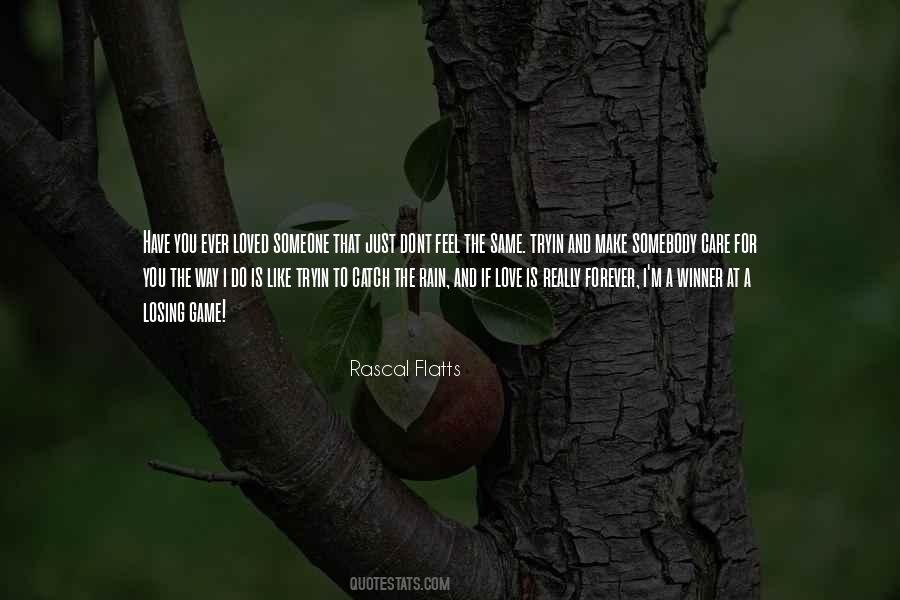 #20. A song and a smile from someone I cared about could be enough to distract me from all that darkness, if only for a little while. - Author: Ransom Riggs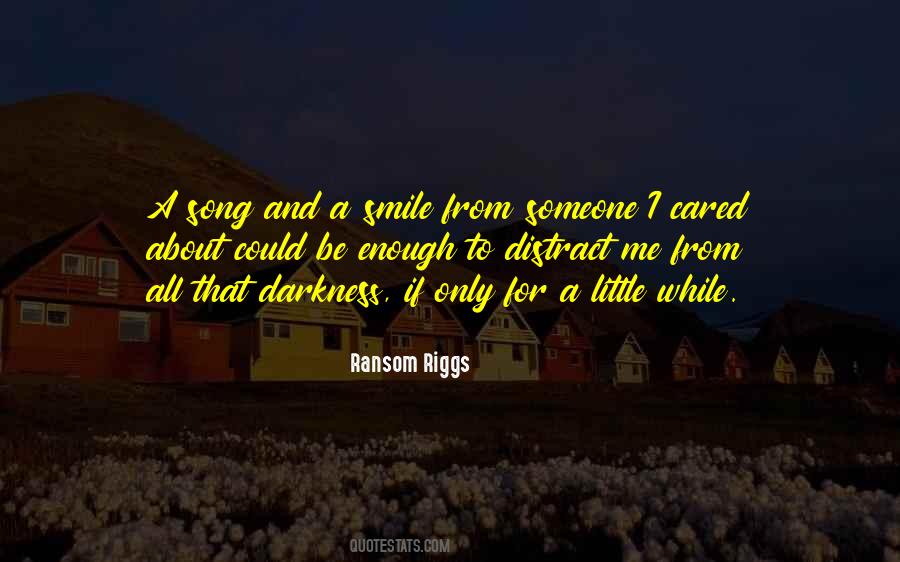 #21. Helping someone because you feel sorry for them is one thing, but doing it because you like them and care about what happens to them is better. That means you aren't doing it for yourself. - Author: Katherine Allred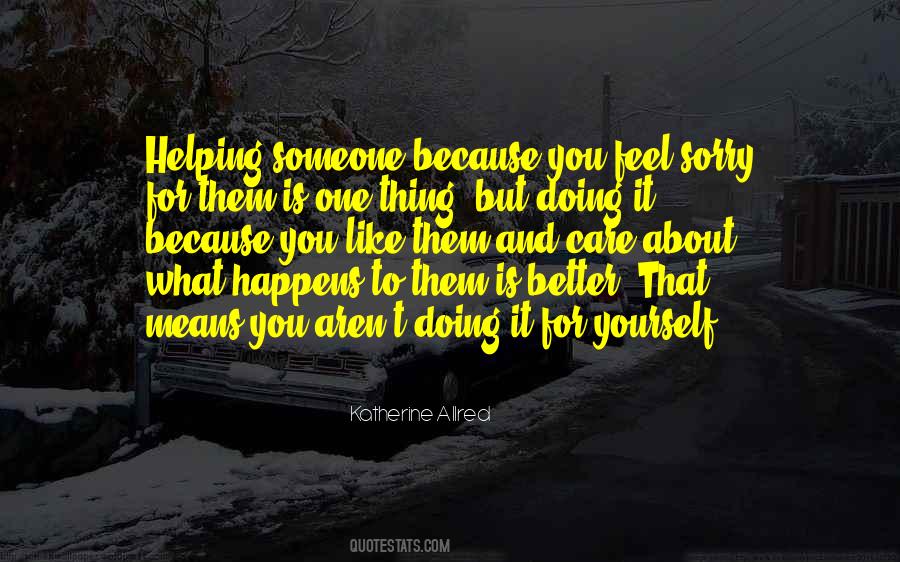 #22. I was feeding my need to be submissive to a great man since it has been so long since I had the privilege. That's what I missed most about Bradley; the joy I felt catering to someone who took good care of me emotionally, physically, and sexually. He deserved for me to cook, clean, and serve him. I - Author: Jessica N. Watkins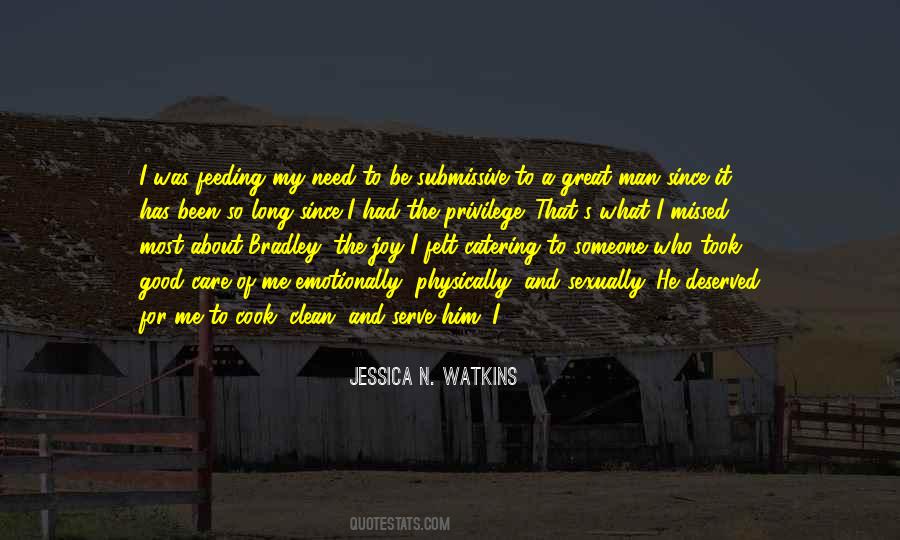 #23. What is there about you to adore? Who in this world do you care about, besides yourself? You're a pretty face, but you're empty inside. You don't even know what you want. You're just waiting for someone to give it to you. - Author: Sarah Cross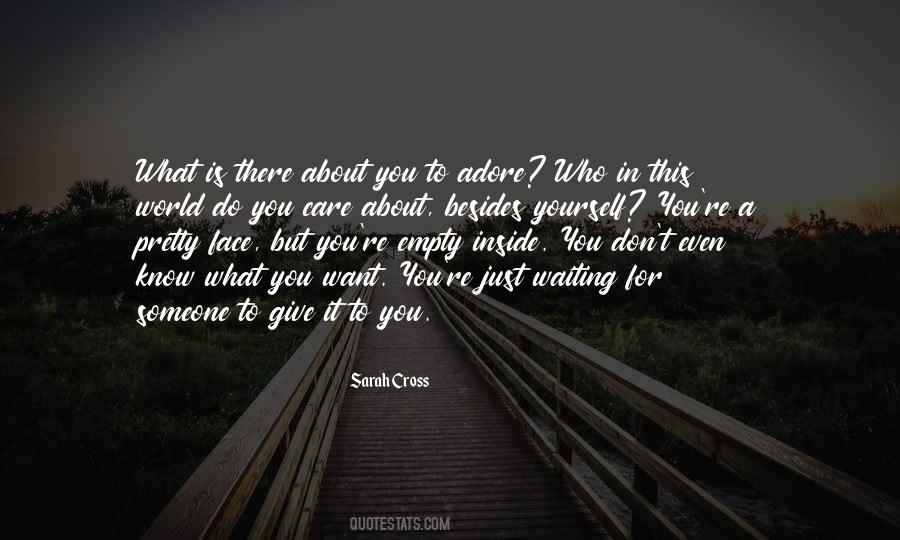 #24. It seems so impossible that someone could look at [Andy and Noah], see how plainly they care for each other, and find anything ugly or shameful or worthy of hatred in it, when all I see is something beautiful. - Author: Hannah Harrington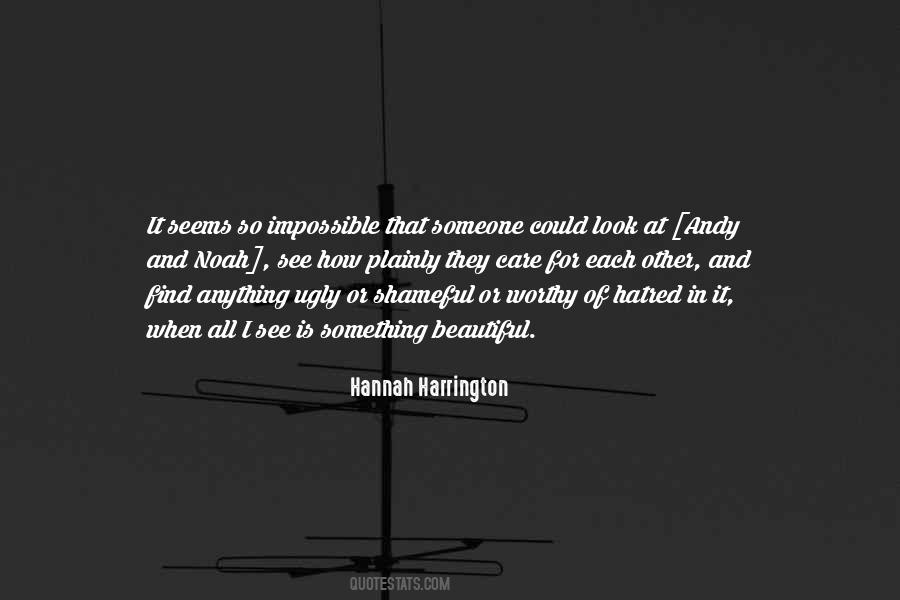 #25. I say you're in hell when you don't give to someone who needs, because you can't bear to have less. What you are giving away then is your own soul. You have to care for each other or you walk on cinders, a matchstick ready to be struck. - Author: Joe Hill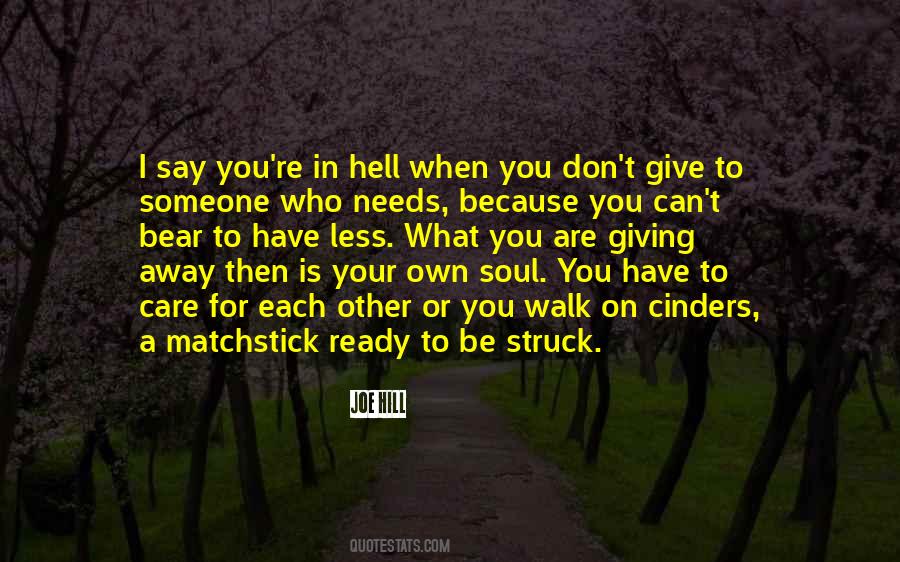 #26. There is a new philosophy for weapons: it's more expensive to hurt people than to kill people. It's terrible. When you have a band of guys on the battlefield, if someone is dead, he's dead. If someone is injured then they have to take care of him, so six people are busy. - Author: Jean-Pierre Jeunet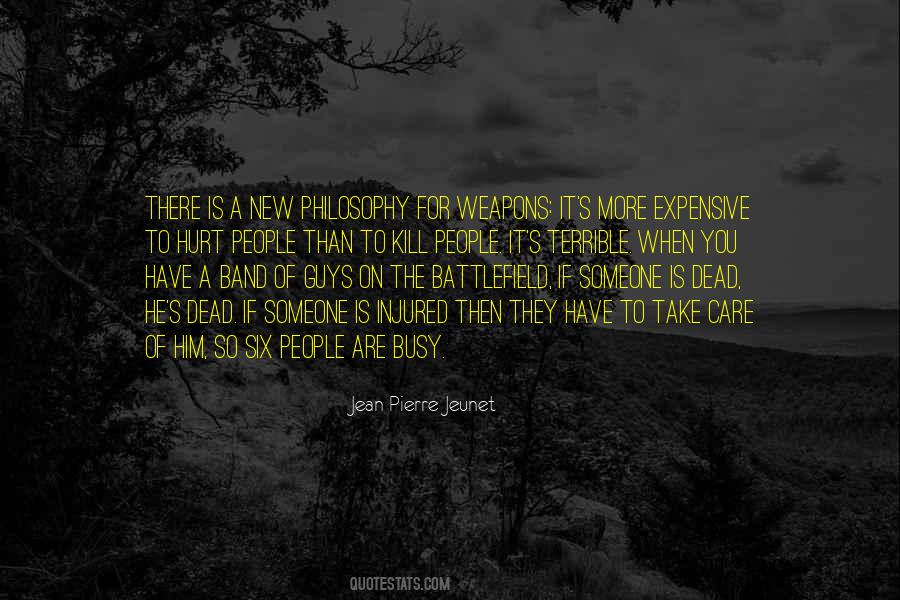 #27. I really care about people, and I would need someone to also genuinely value other human beings and want to be connected with people in the world and to know about other cultures. That might not be a high standard for someone else, but for me, it's really important to try and stick to that. - Author: Aja Naomi King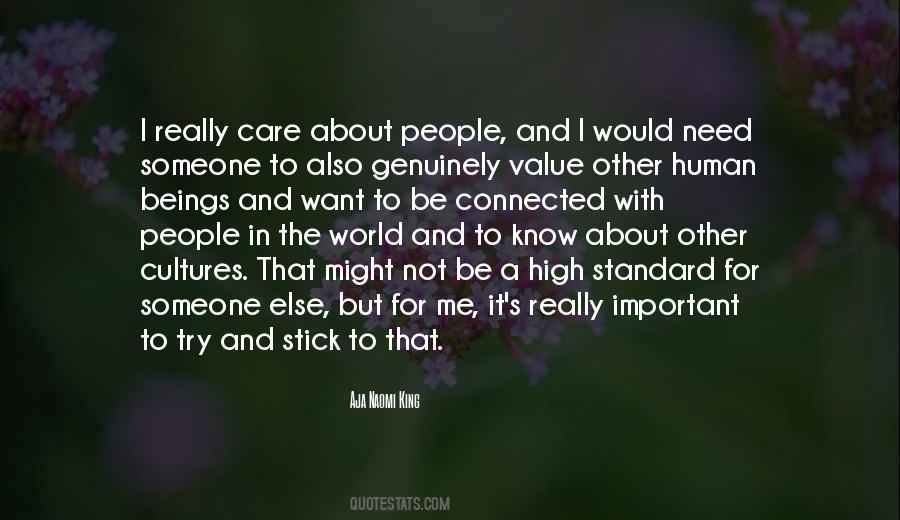 #28. It was then that I came to an important realization:as long as someone is beautiful,thin,wealthy,fun-loving or talented,we are happy to accept him or her at face value.We are not ever taught to look for-or care about-what lies beneath the surface. - Author: Na'ima B. Robert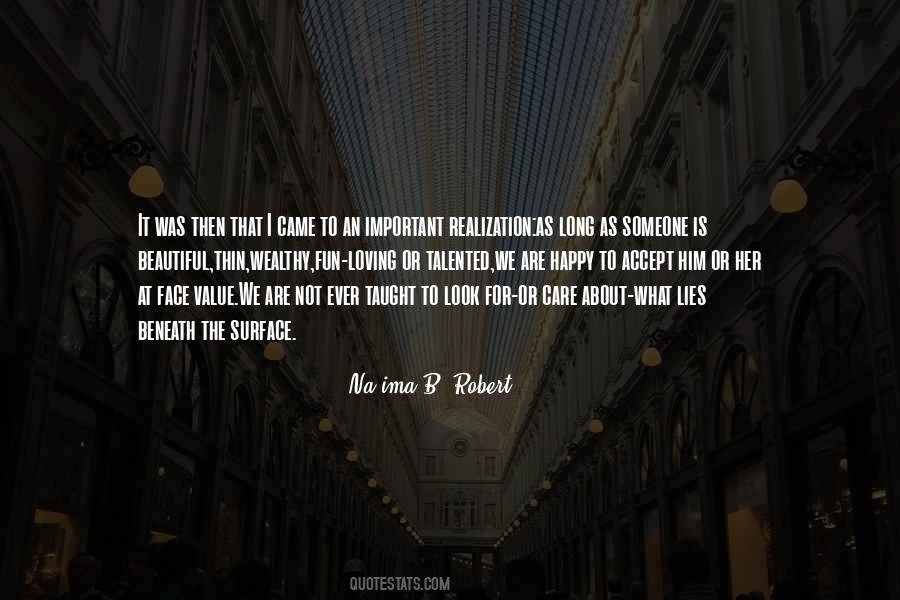 #29. If you want to find Buddha nature, love someone and care for them. - Author: Dainin Katagiri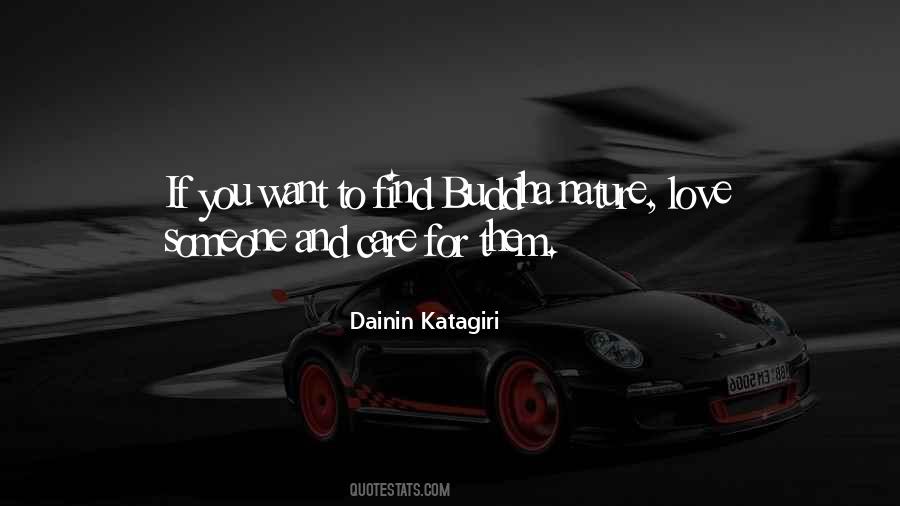 #30. Bella you are my life now
hate me for who I am I don't care at least im not pretending to be someone im not- Kristen Stewart - Author: Stephenie Meyer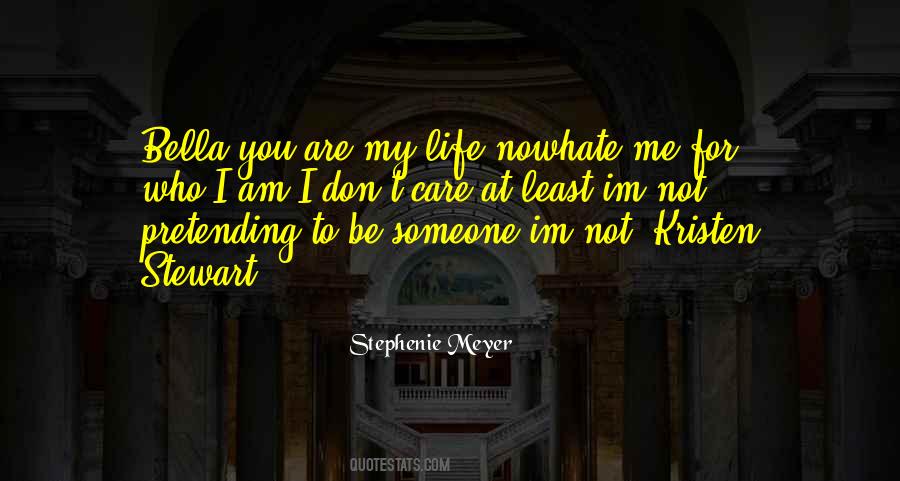 #31. These days I have a ton of things to smile about. I feel like an adult again. I hope by reading this book, you or someone you care about will see that there will be things for you to smile about, even small things, as you work to recover from a TBI or another disability. - Author: Amy Rankin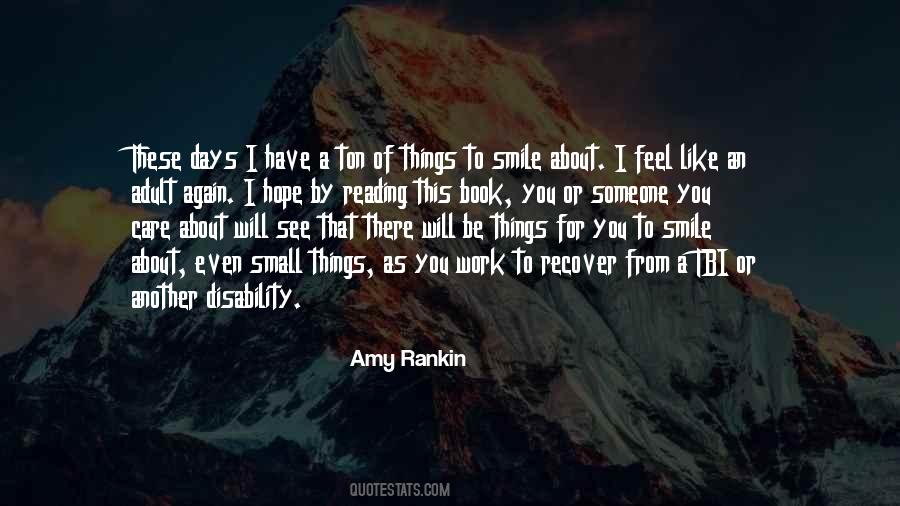 #32. I always think to myself, being human, having crushes now, what is it about that person that I really want? What do they represent? More freedom? Someone to care for me more? It's never really about the person. - Author: Darcey Steinke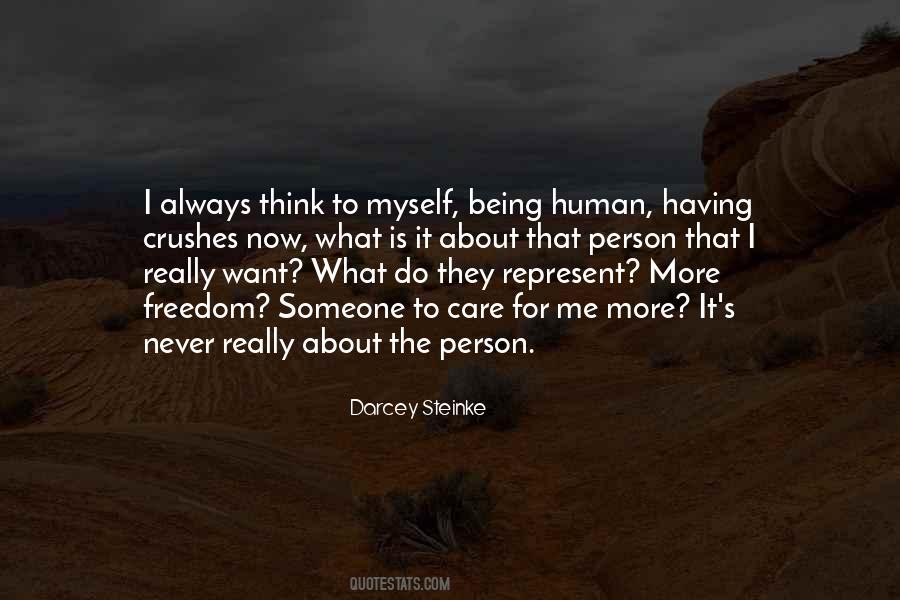 #33. 'I Know You Care' is really personal and fragile for me. For me, it's about losing a family member and also about a breakup. It's about this idea of losing someone for good. - Author: Ellie Goulding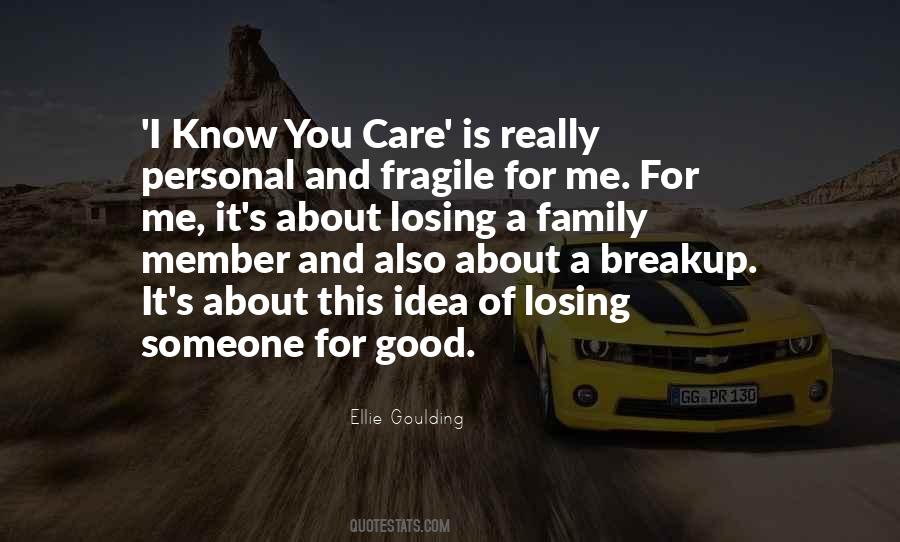 #34. Just because you talk about it or advocate for one position doesn't mean you care more. Just because someone doesn't talk about it and advocates a different position doesn't mean they care less. - Author: Donna Lynn Hope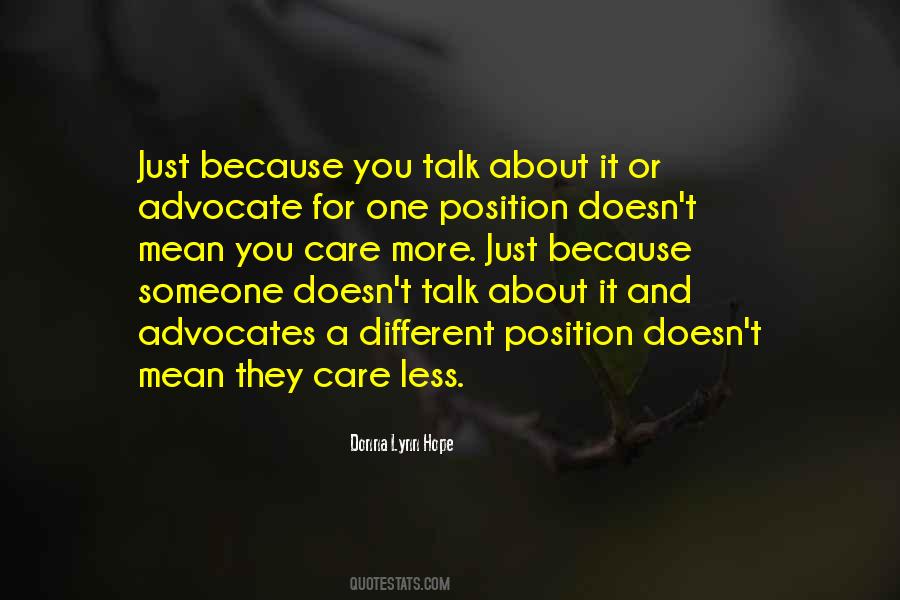 #35. Good food, fresh water, and an occasional sweet and someone to care for. That's what everyone should have. A simplistic and unrealistic view I knew, but it soothed me. - Author: Maria V. Snyder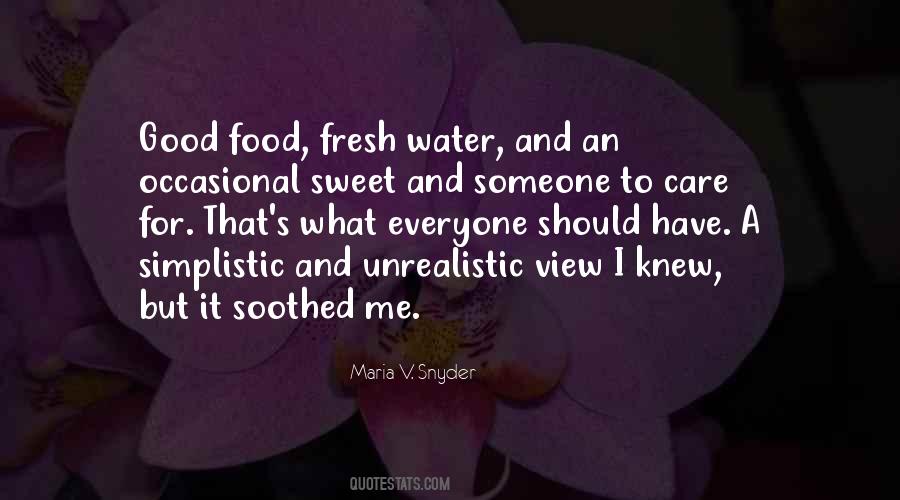 #36. Thank you so much for the rude know-it-all attitude while also having to look at your ridiculously colored hair and obnoxious facial and chest piercings. I am very fortunate to have just been schooled by someone who looks like they graduated from Care Bear Carnage University. - Author: Heather Chapple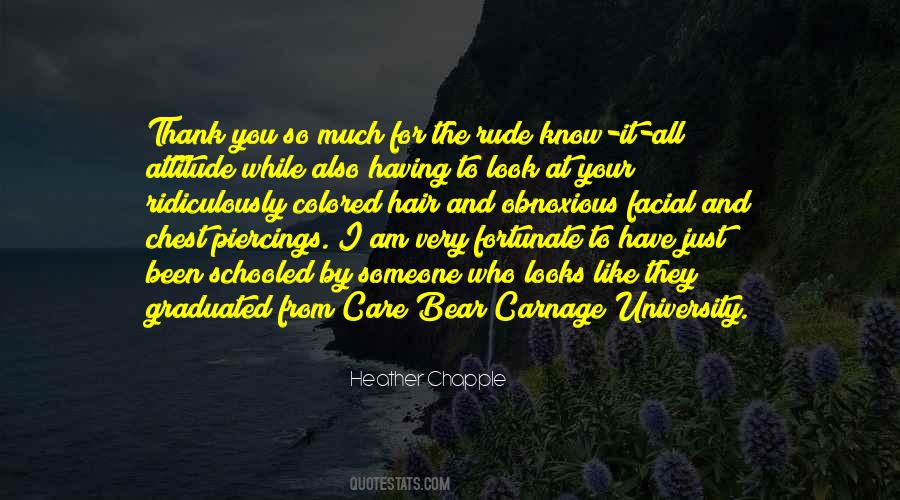 #37. How can a falling dove turn again into a flying dove once again? It really takes the eyes of someone who sees you for the beauty that you really are. And if there are no other eyes there to see you in that way, then you had better be those pair of eyes, for yourself, to see yourself with! - Author: C. JoyBell C.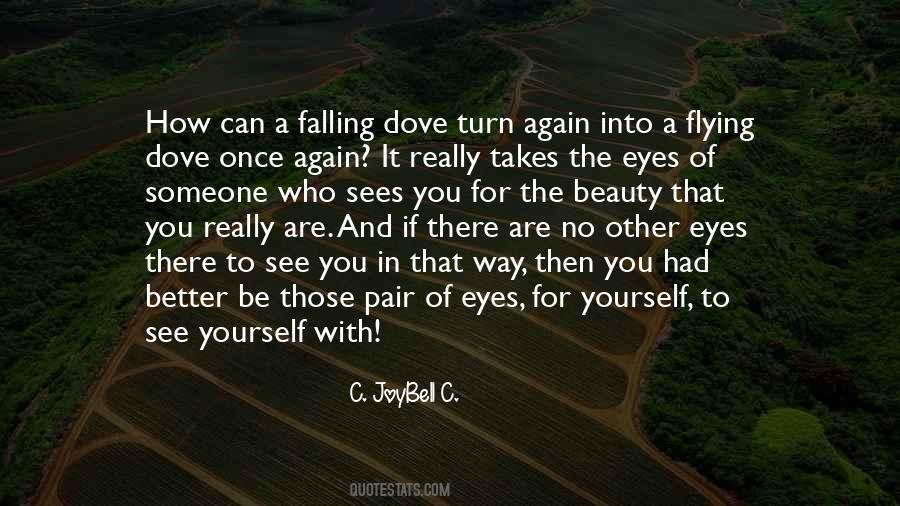 #38. I don't know if I should care for a man who made life easy; I should want someone who made it interesting. - Author: Edith Wharton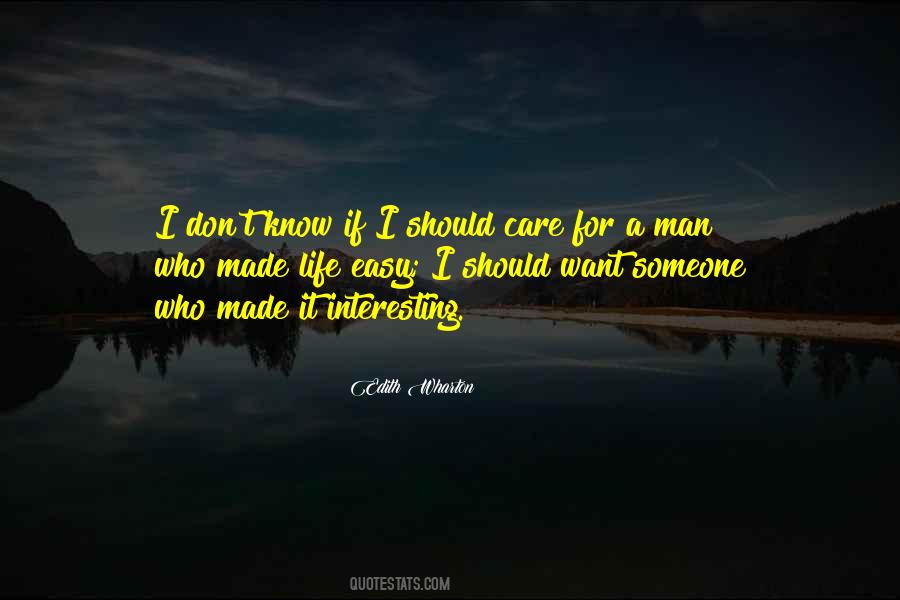 #39. Being rude to someone loving all the time can make your loving behavior same as your rude one for that person. So you should not always be rude in small mistakes - Author: Pawan Mehra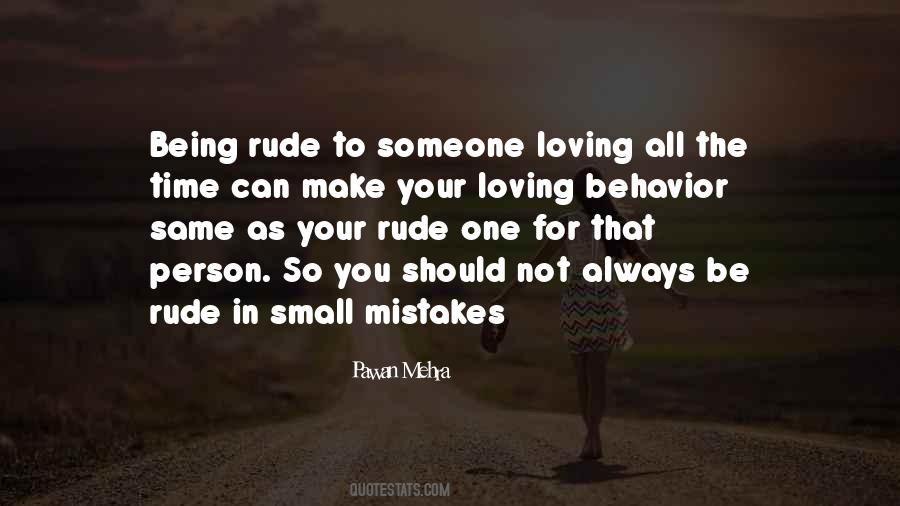 #40. You meet someone, you care for them, and you fall in love; it's what it is. - Author: Rebecca Ferguson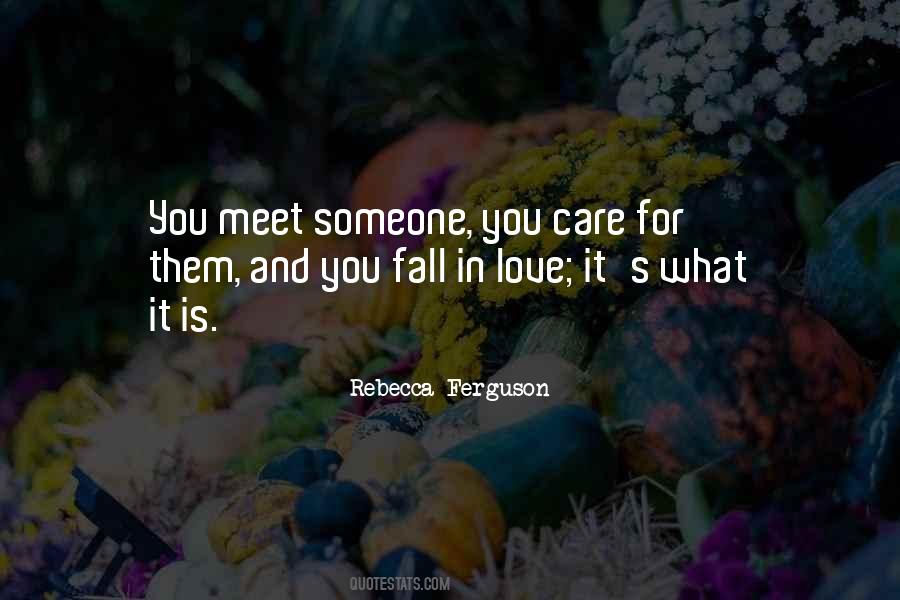 #41. If someone you love and care for is determined to traverse the path of despair, natural law obliges that they 'will' regardless of any and all efforts to redirect their lowly path. - Author: T.F. Hodge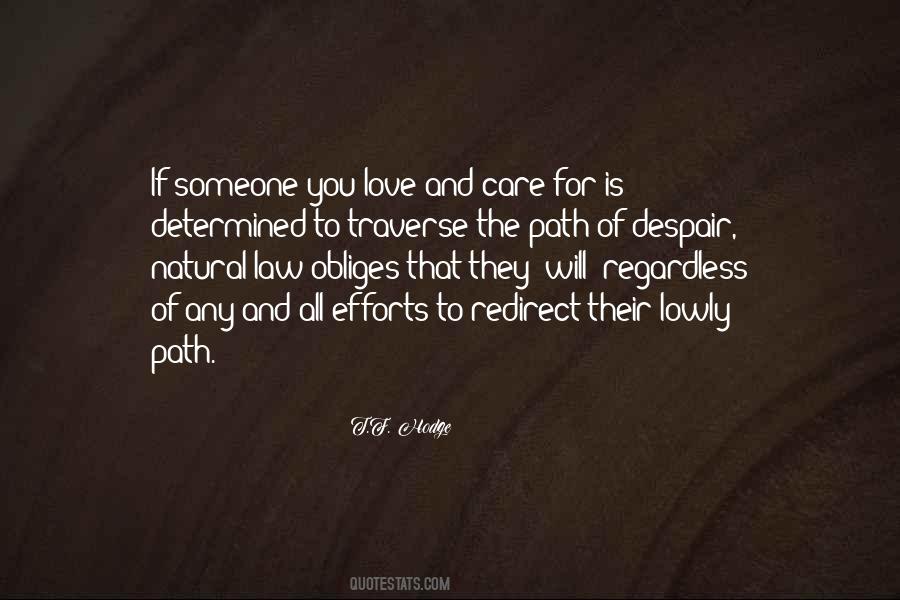 #42. For me, there's something liberating in knowing you can drop all your worries, cares, and inhibitions and just feel for a while. Trust someone else to take care of everything. To take care of you. - Author: Tara Sue Me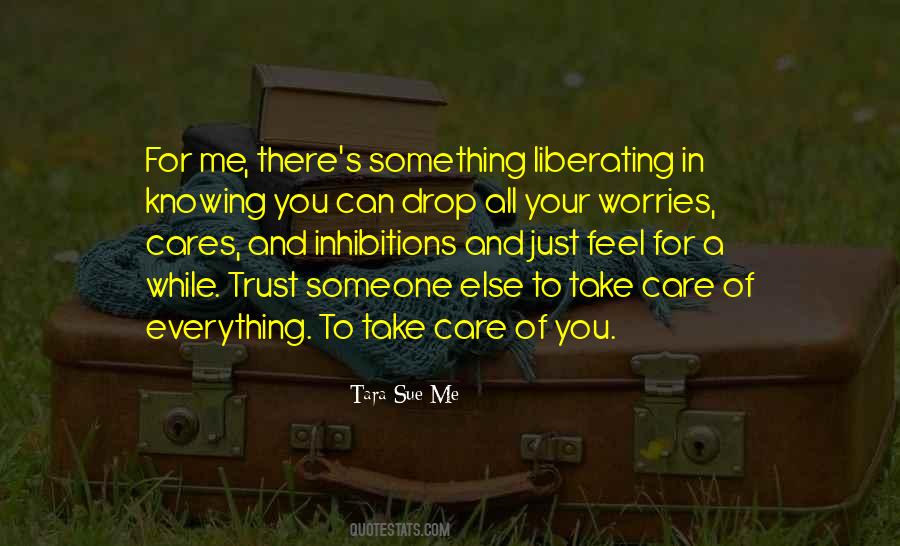 #43. You won't be my client forever, Dom, but you will be a cop for the foreseeable future. I already lost someone I cared about and I barely came back from the pain of that. I'm not a strong enough man to care about someone that purposely puts themselves at risk . . . even if you are more than tempting. - Author: Jay Crownover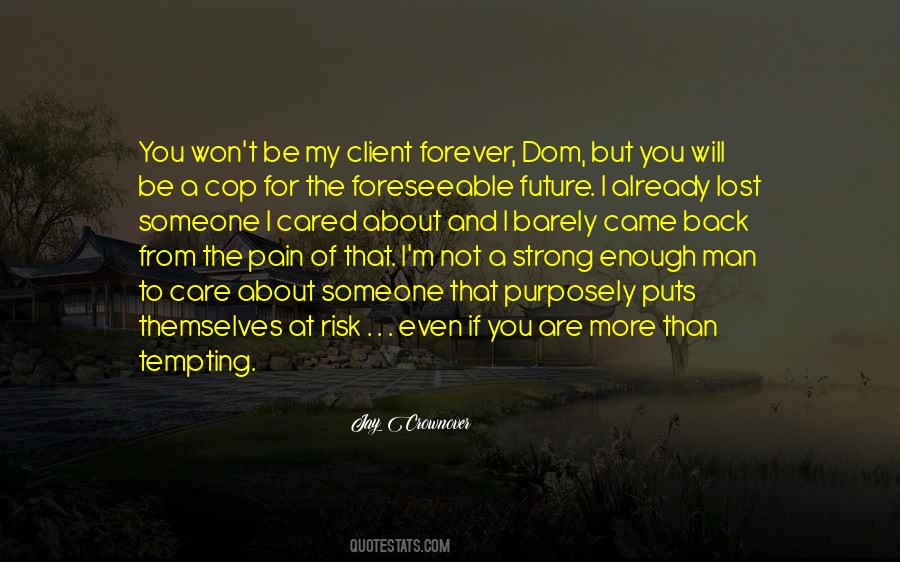 #44. You do care a little for me, I know ... but nothing to speak of, and you don't love me. I was yours once till death if you'd cared to keep me, but I'm someone else's now ... and he's mine in a way that shocks you, but why don't you stop being shocked, and attend to your own happiness. - Author: E. M. Forster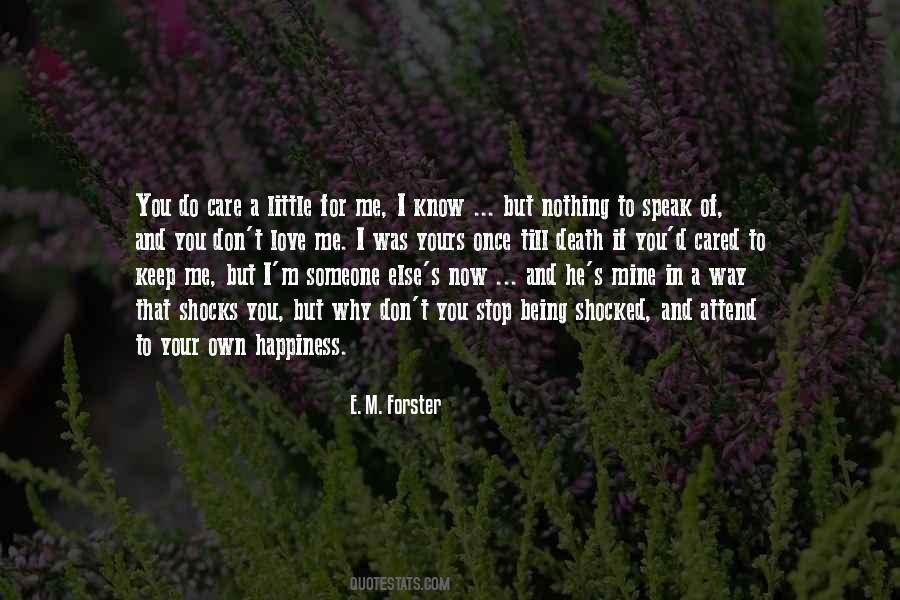 #45. Apathy is, too often, a result of overexposure to stressful, highly emotional situations. To rekindle empathy, sometimes we need some space. It's okay to walk away so that you can feel love for someone again. Sometimes for a moment. Sometimes forever. - Author: Vironika Tugaleva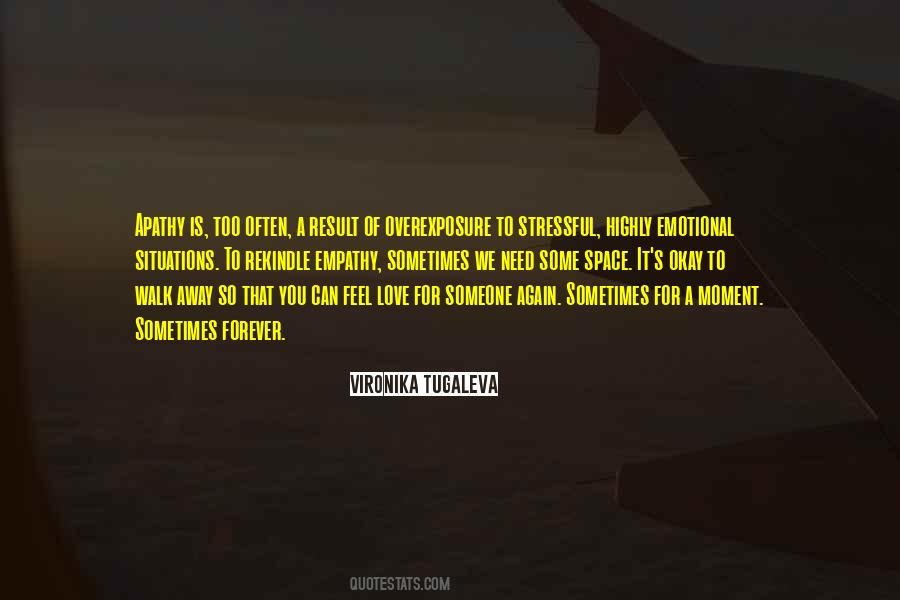 #46. With so many people in the world that long for someone to love and care for, why is it those who couldn't care less are those who are blessed? - Author: Danielle Ackley-McPhail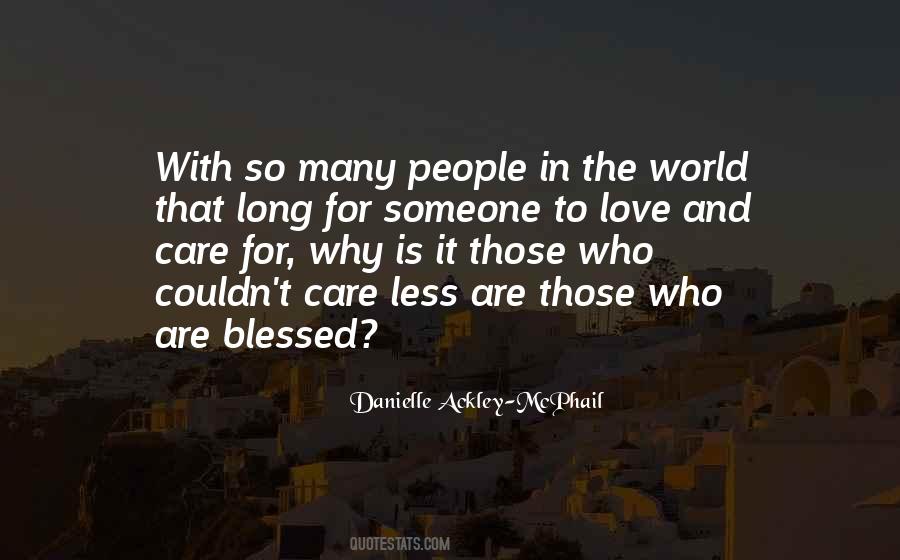 #47. No matter how tired you are, no matter how physically exhausting this work may be, it's beautiful to bring a smile into someone's life, to care for someone in need. What greater joy can there be? - Author: Mother Teresa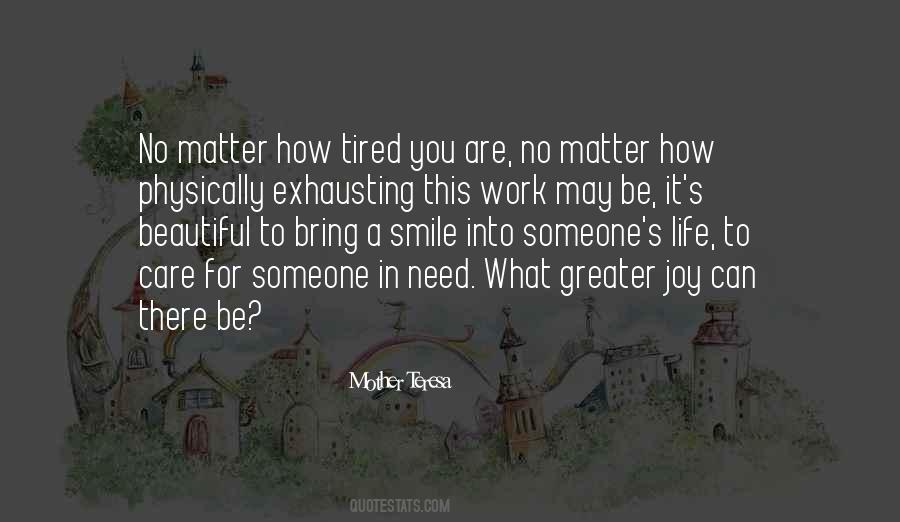 #48. And pity
people who inspire it in you are actually very powerful people. To get someone else to take care of you, to feel sorry for you
that takes a lot of strength, smarts, manipulation. Very powerful people. - Author: Deb Caletti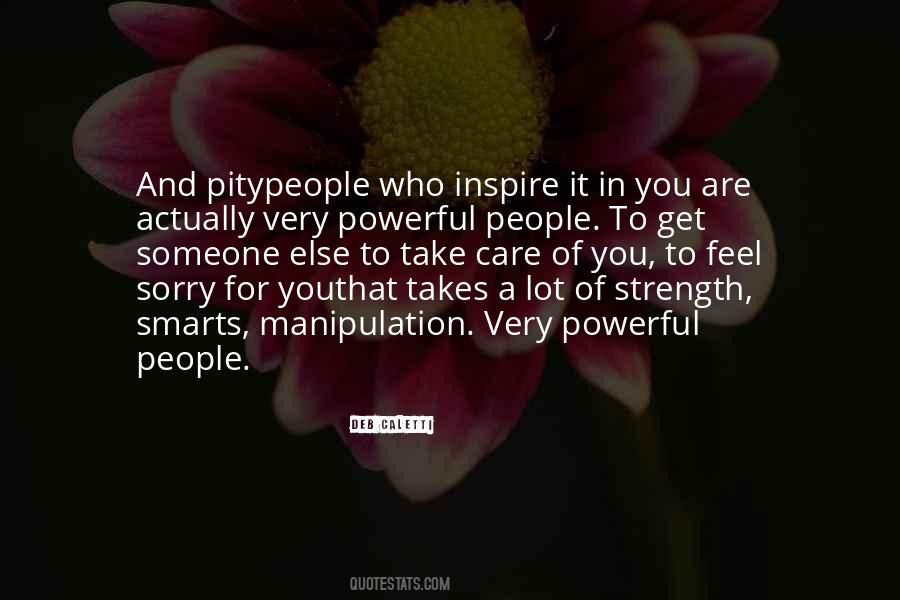 #49. Sometimes It is really important to explain how much love and care you have for someone. It doesn't mean that If you have lot and do not need to explain but it means that explanations make a relationship more strong. - Author: Pawan Mehra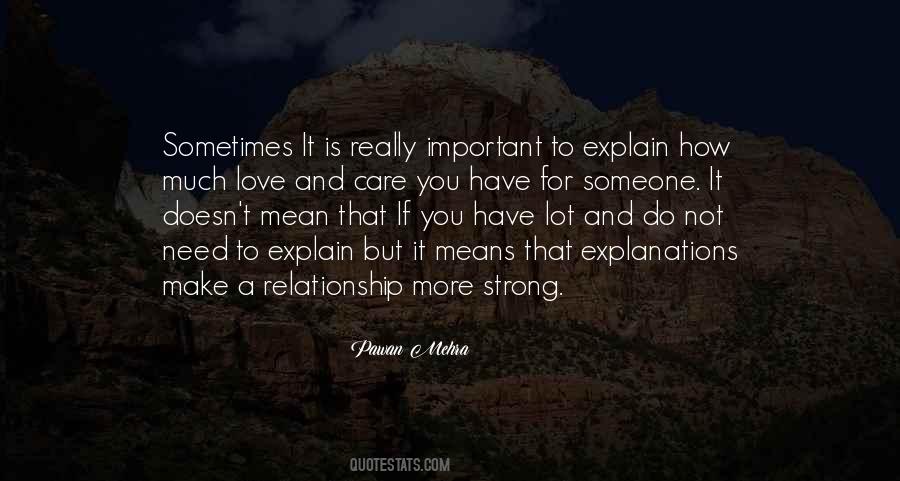 #50. Do not do what someone else could do as well as you. Do not say, do not write what someone else could say, could write as well as you. Care for nothing in yourself but what you feel exists nowhere else. And, out of yourself create, impatiently or patiently, the most irreplaceable of beings. - Author: Andre Gide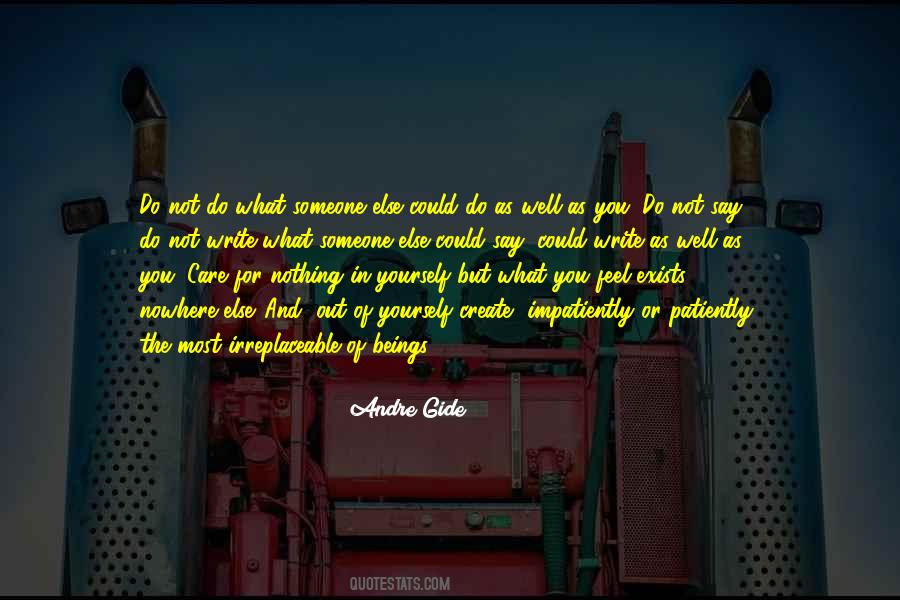 #51. Basically, I feel different from most other women. I feel I don't have to put on an act. If I'm not feminine enough for someone, I don't care, because femininity is different in everyone's mind. - Author: Gloria Steinem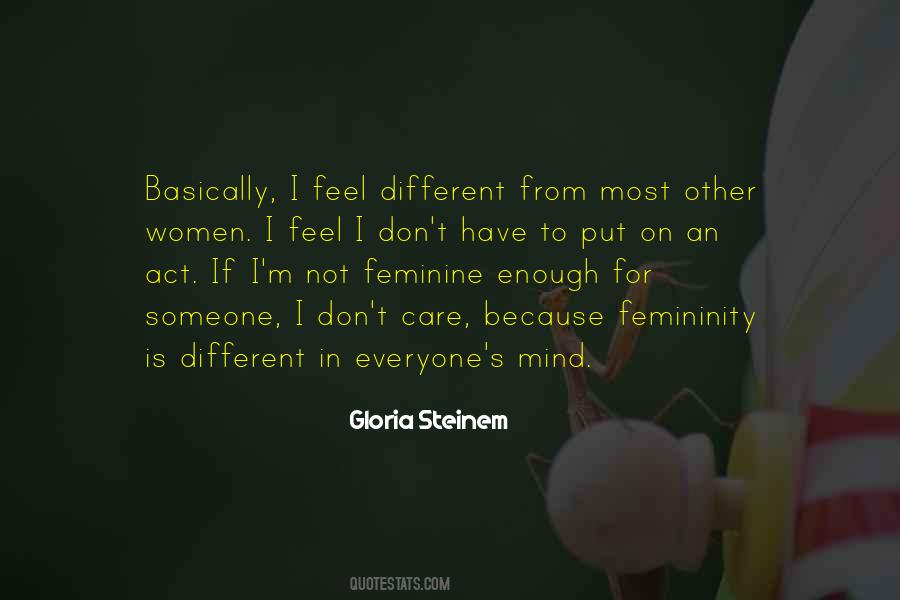 #52. The saddest thing about death, whether it's our own or someone we care for, is when the world doesn't stop when we do. - Author: Darnell Lamont Walker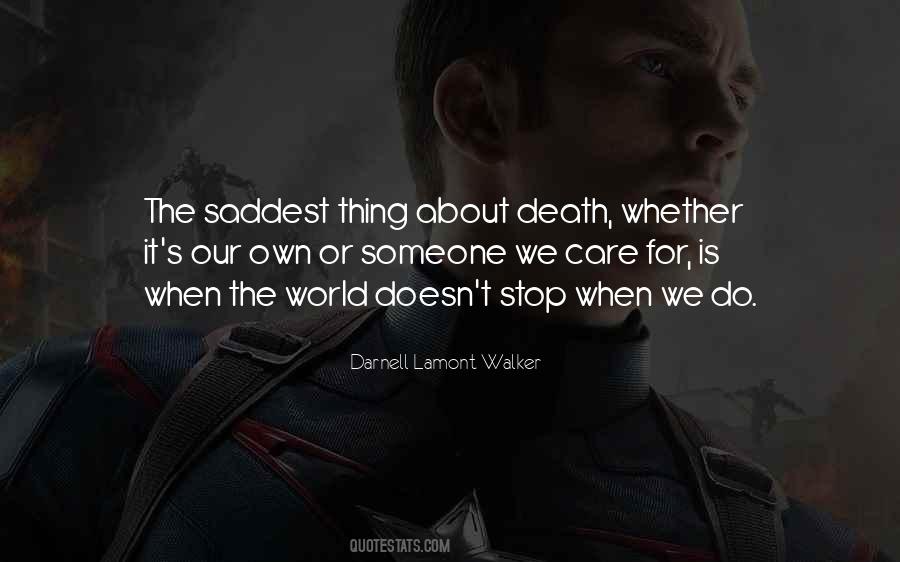 #53. When you really care for someone those feelings don't just belong to you.
If she accepts your feelings your hearts will be connected. - Author: Yukiru Sugisaki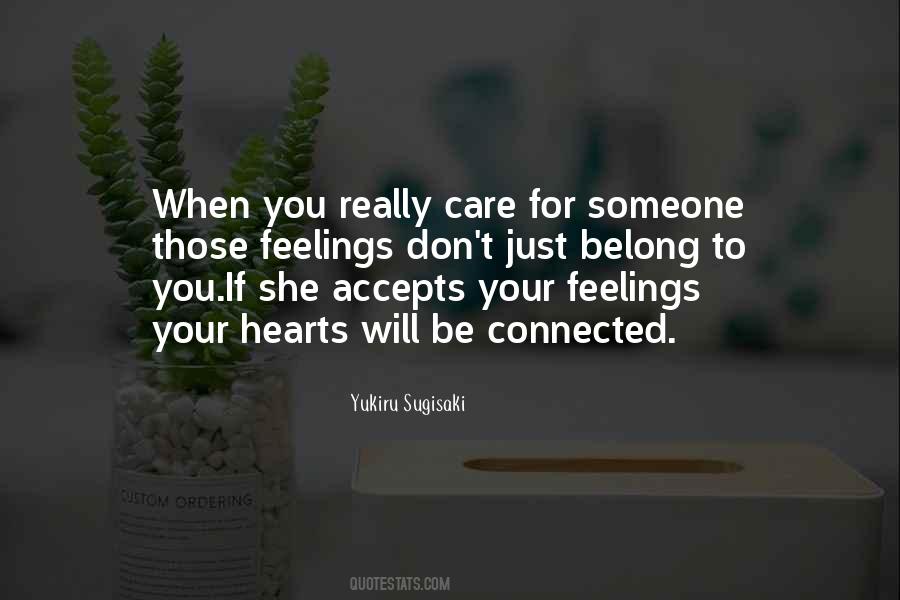 #54. Finding a good nurse is not just about checking off a list of skills the nurse can perform; it's also about finding someone who is a good fit for your home. - Author: Charisse Montgomery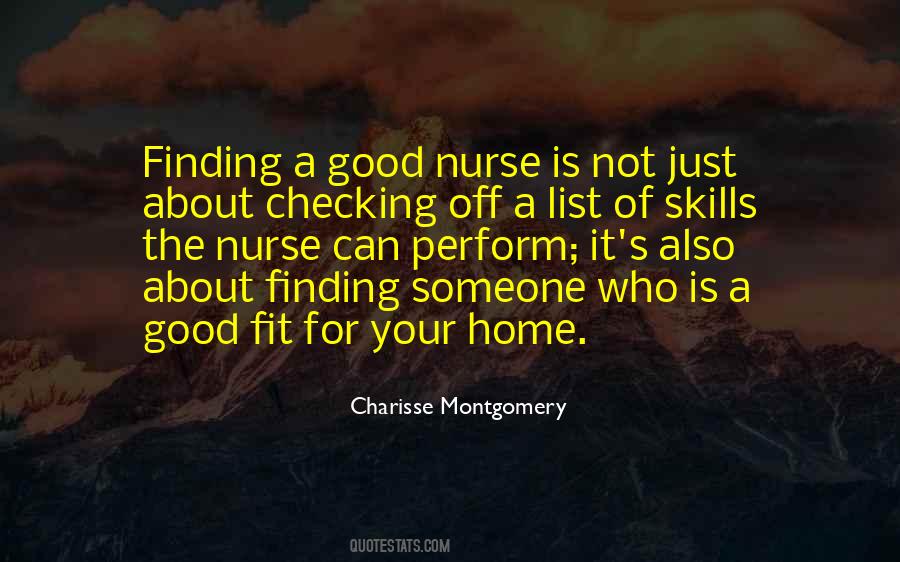 #55. When I give my jewelry as a present, I feel like I'm giving protection to someone I care about ... I've given pieces to my mom, my aunts, my friends. I've even made bracelets for my dad and my uncle. - Author: Sofia Boutella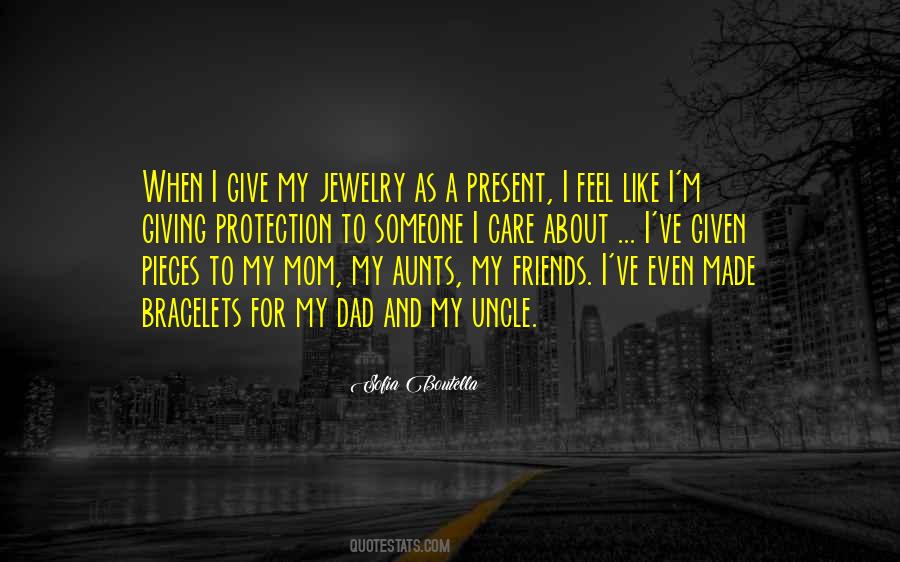 #56. It just means that if someone hates you, they still have feelings for you. If they really didn't care about you, they'd just forget about you. They wouldn't even waste the time hating you. - Author: Barry Lyga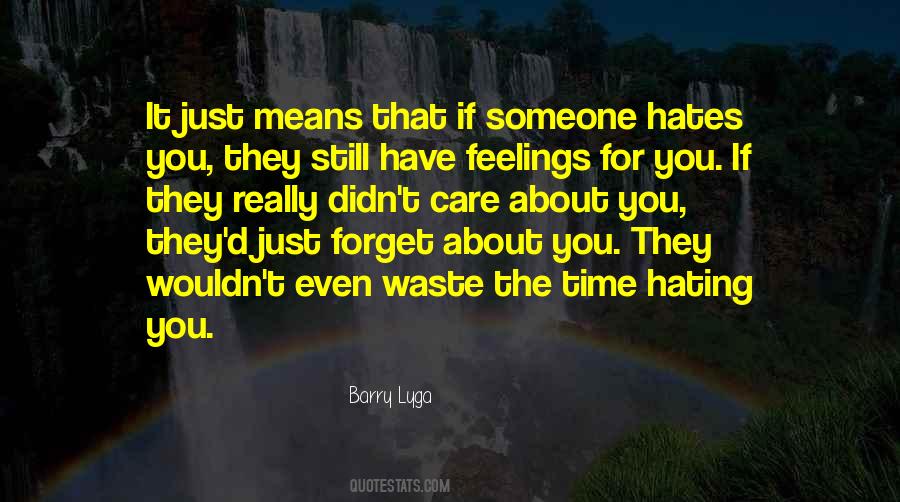 #57. I reckon if you care for someone and you can't have their love, you can either be a spiteful bastard about it or you can try your damnedest to make sure they're going to find some happiness in the world. - Author: Lindsay Buroker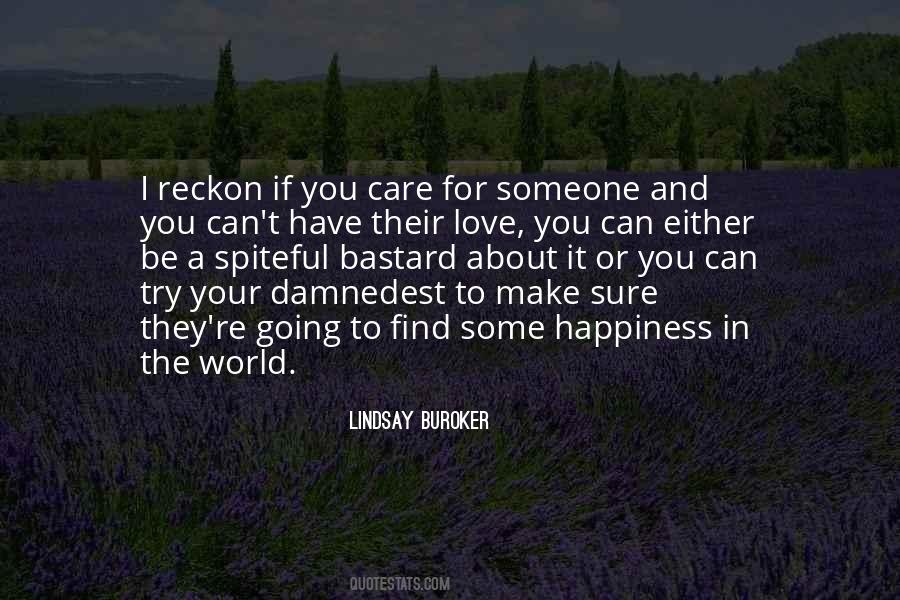 #58. I don't care to be someone's first love,
I care to be their second or third; after every heartbreak they had experienced, I was worthy enough for them to move forward and this to me is greater than any first's of someone's heart. - Author: Nikki Rowe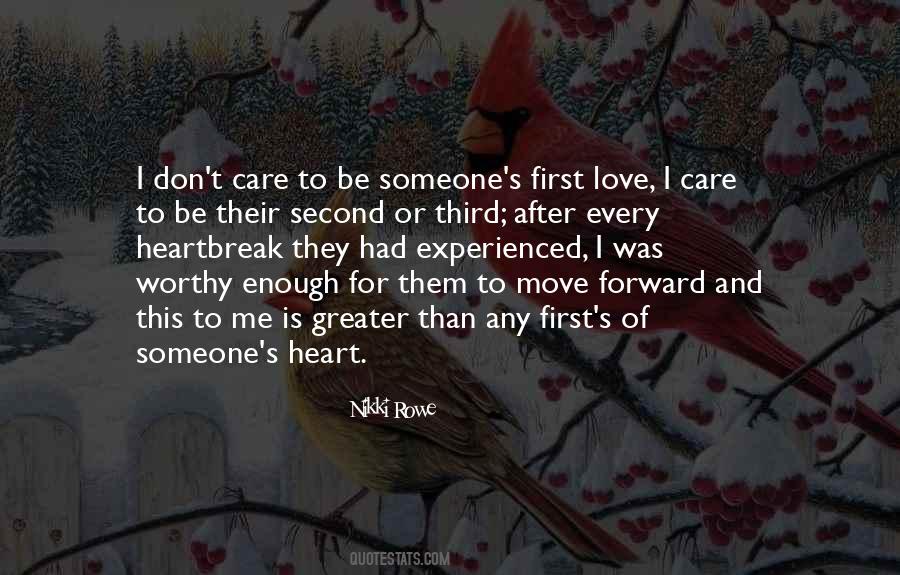 #59. Sometimes you don't need to explain how you care and love someone so much, but I really love him as a person and as a director. I wanted to be perfect for him [Michael Mann]. I wanted to give the best of my best of my best. I don't know if I did, but I was touched by him. He's totally inspirational. - Author: Marion Cotillard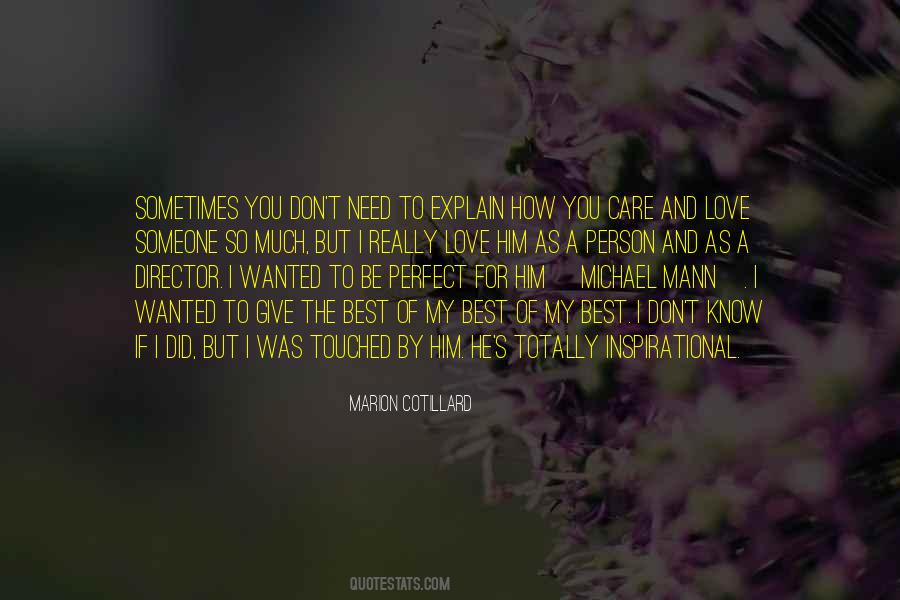 #60. Distance never seperates two hearts that really care, for our memories span the miles and in seconds we are there. But whenever I start feeling sad cuz I miss you I remind myself how lucky I am to have someone so special to miss. - Author: Henri J.M. Nouwen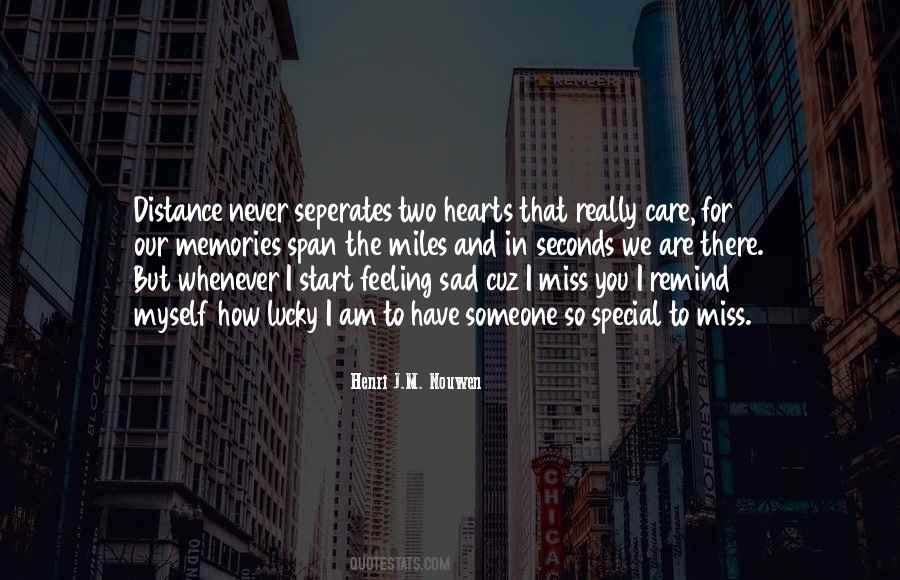 #61. The complete disregard for the camera's presence indicates its complete saturation in their lives. The subject neither notices nor seems to care that someone has been invited into their private moment. - Author: Nan Goldin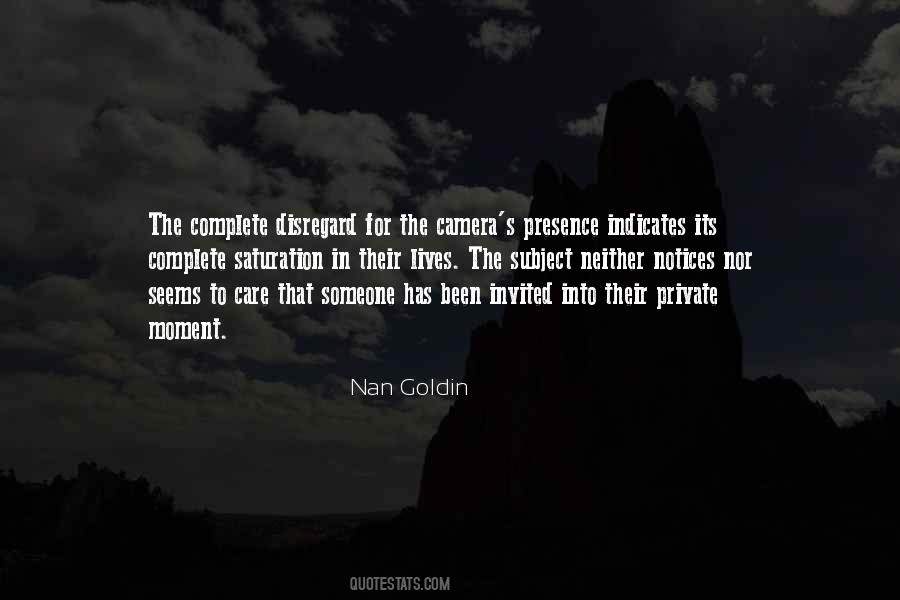 #62. What's really hard is that you could care a lot for someone and not want to live with him anymore. - Author: Alice Walker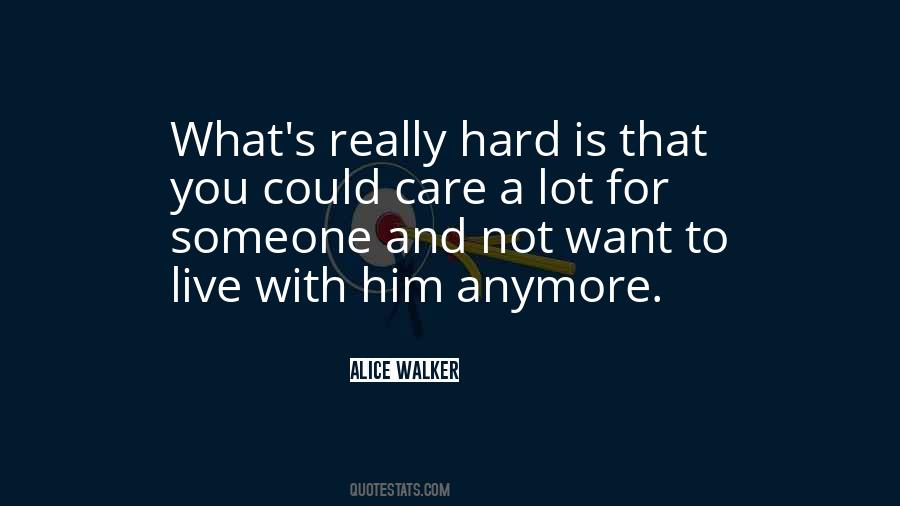 #63. In my old age, I was at last being permitted to make the discovery that lovemaking gets better and better with time, if it's with someone you care for. - Author: Patricia Nell Warren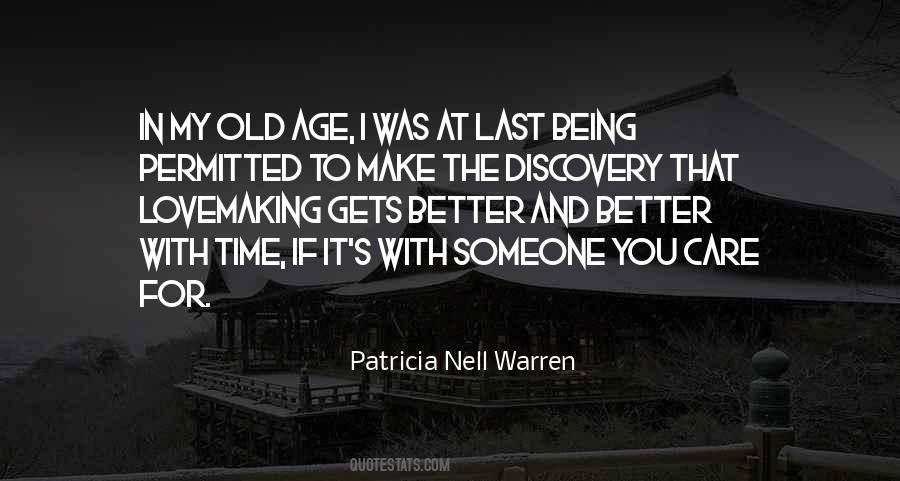 #64. By nature, I'm very care-taking. There's something really beautiful about cooking for someone and feeding them. - Author: Eric Balfour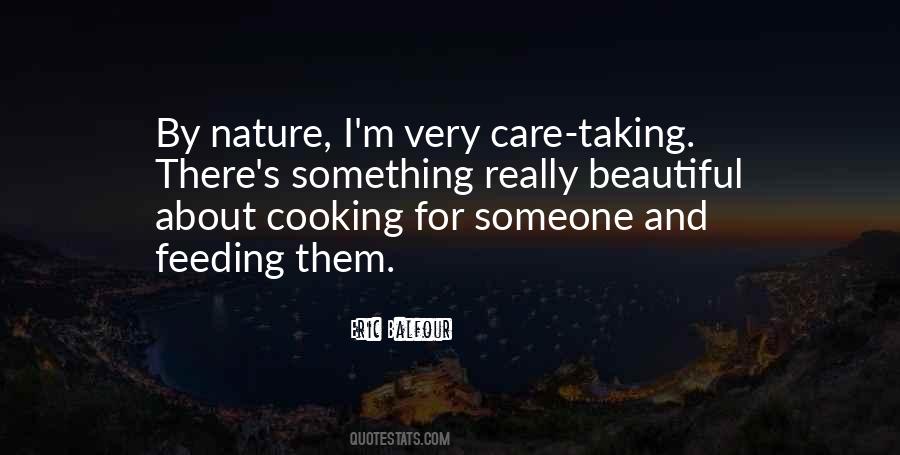 #65. When you love someone, when you care for someone, you have to do it through the good and the bad. Not just when you're happy and it's easy. - Author: Lauren Oliver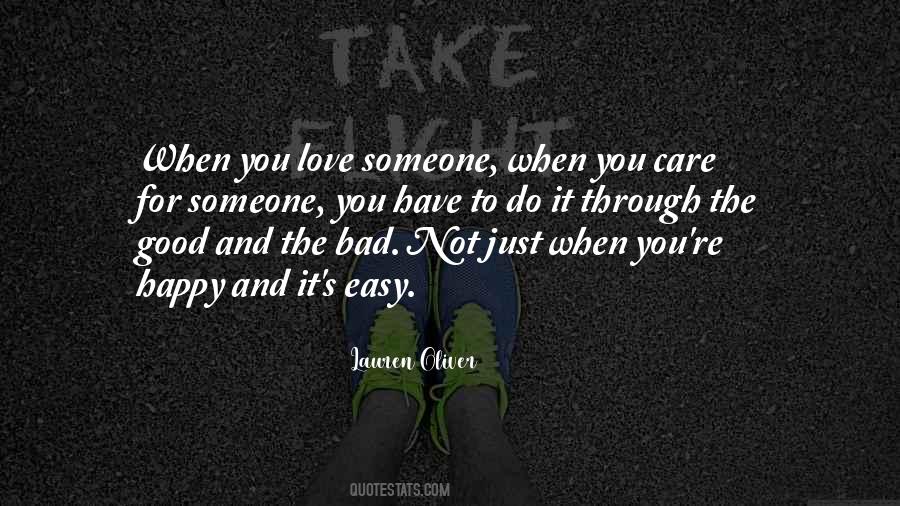 #66. It's an incredible thing, how you can feel so taken care of by someone and yet feel, also, like you would die or do anything just for the chance to protect him back. - Author: Lauren Oliver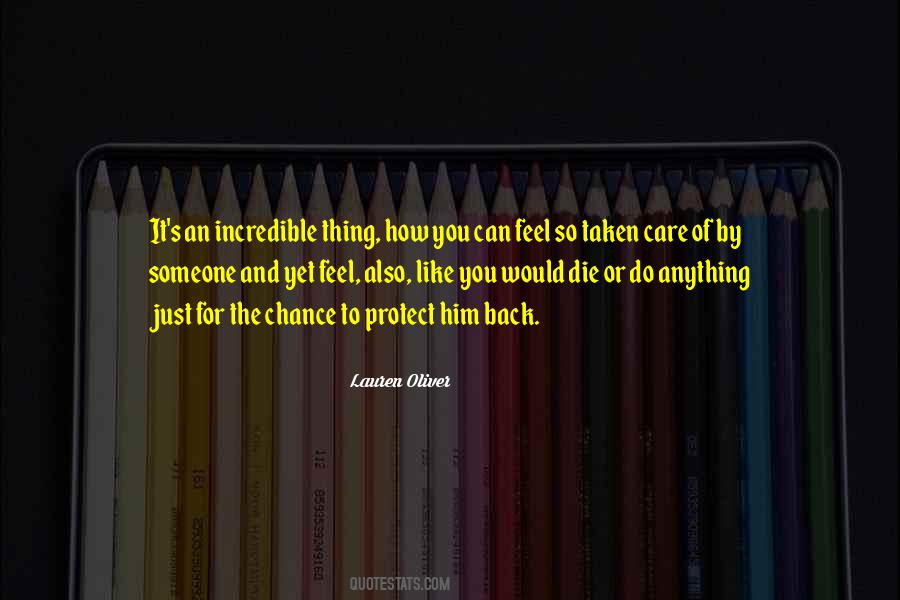 #67. John Quincy Adams' depression was treated by his aunt with some reliable remedies, first sleep and then compassion. She said, " He was half cared for by having someone to care for him. - Author: Paul C. Nagel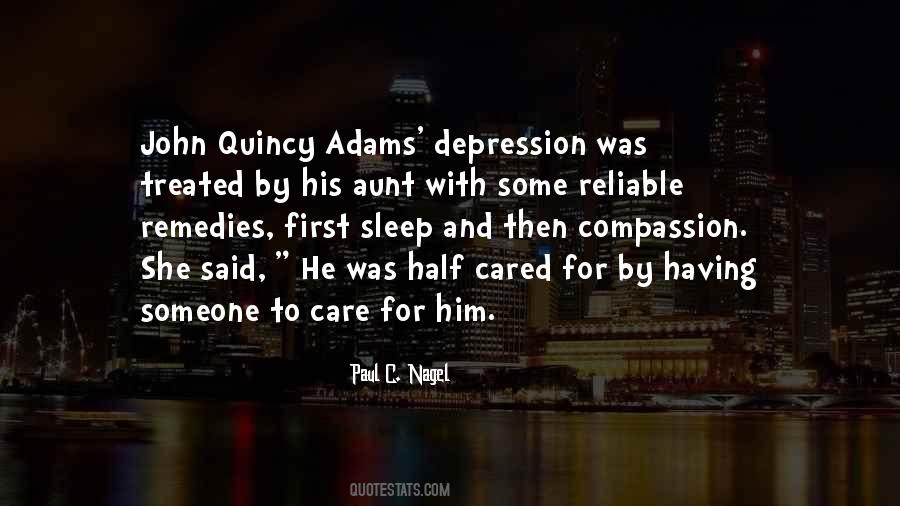 #68. I always desired to marry someone who loves me for who I am. Someone, who does not love me just because I'm rich ... one who will love me and care for me till the end of time. And that man is you, Aryan - Author: Rohit Sharma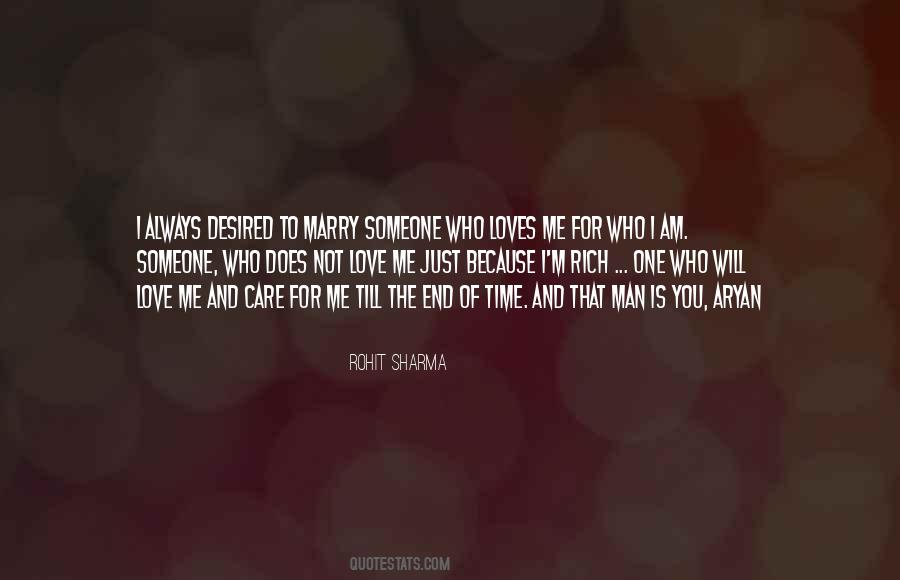 #69. It puts the provider in a situation of looking for ways to have someone else pick up a piece of the cost. As a result, every customer who has insurance ends up paying a 'hidden premium.' It simply adds to the health care cost burden. - Author: Dave Obey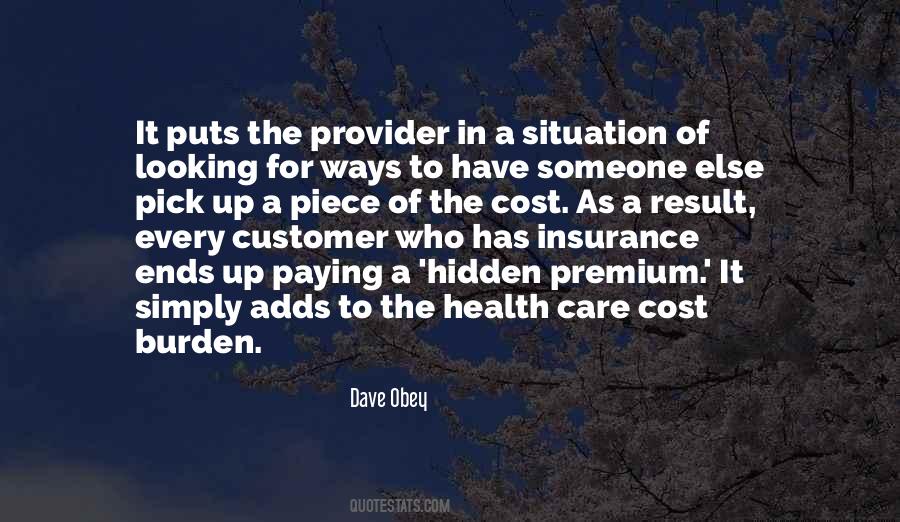 #70. Everyone in the world has lost someone they care for. That doesn't mean you stop caring. - Author: Hilary Thompson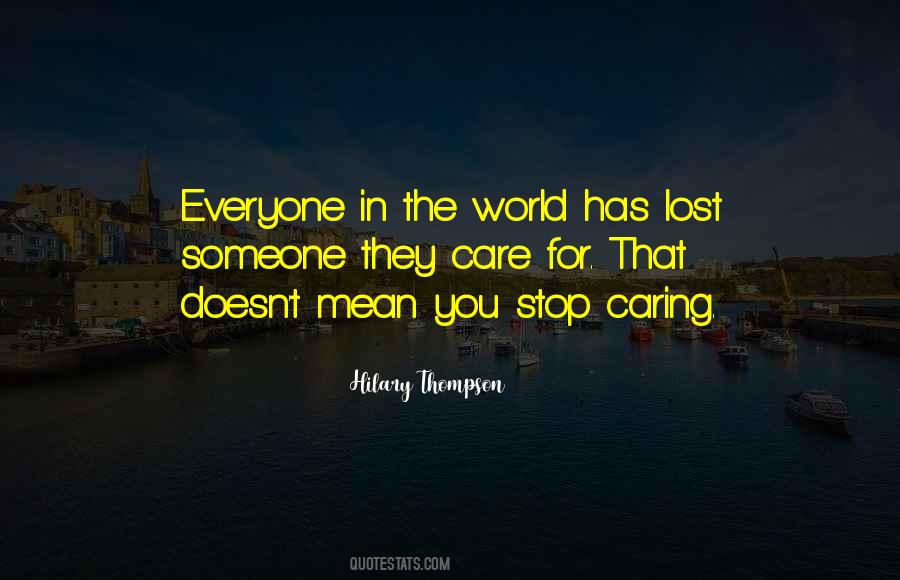 #71. We've figured out our roles: I wanted someone to take care of the male roles - the big stuff - and Laird [Hamilton] does that very well. I'm here to be the mom and make it better for him, and that's my choice. - Author: Gabrielle Reece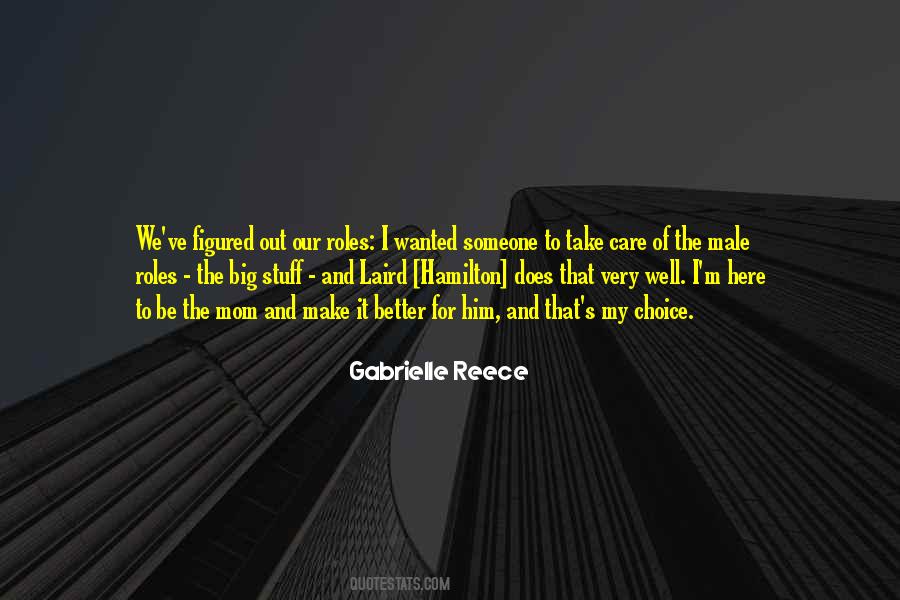 #72. Love won't come through unless the heart is open. To work with an open heart is to love or care for something or someone more than you do for yourself. This is the first step to the divine love that we all are looking for. - Author: Harold Klemp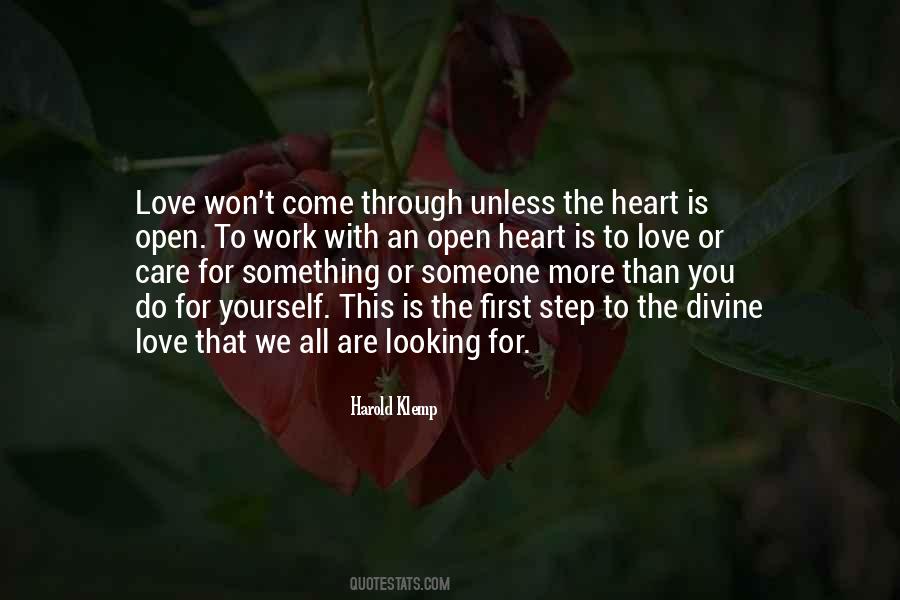 #73. And you shouldn't choose to care about someone. There shouldn't be a time and a place for it. Either you do or you don't. Don't try." He looks off. "There can be falseness in trying to do something that should come naturally to people. - Author: Celia Mcmahon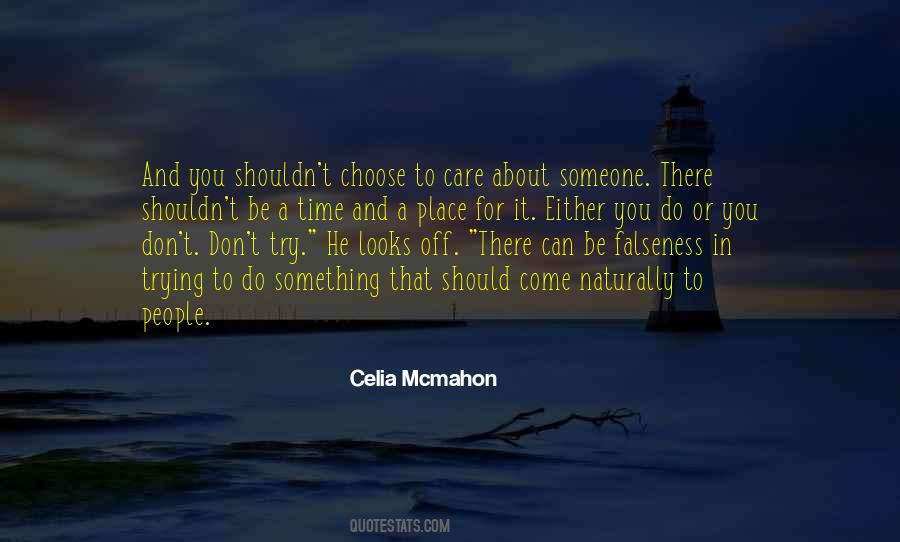 #74. We can't predict what type of sustaining graces God will provide for us. And we can't expect that the kind of sustaining grace someone else receives will be the same kind of care we will receive. We can only trust that the provision will come. - Author: Louie Giglio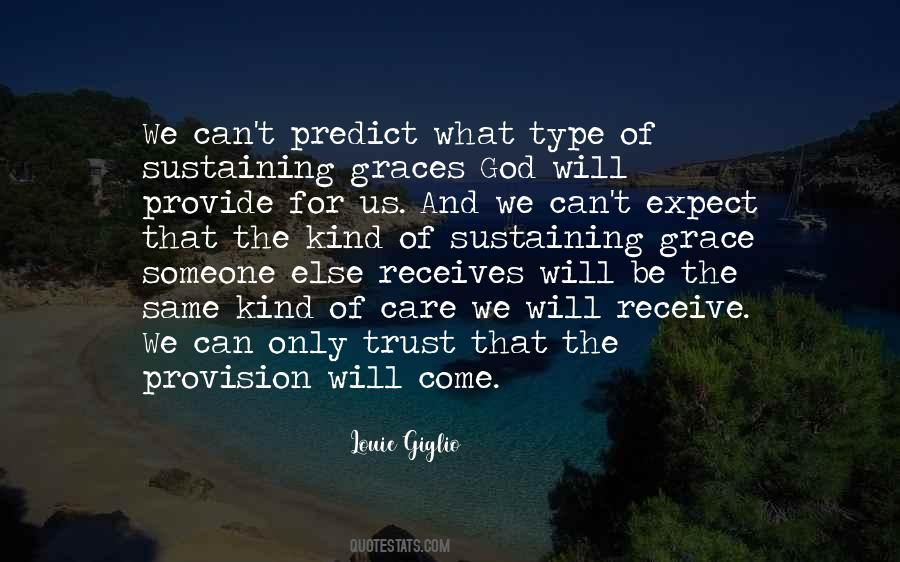 #75. Being a parent is not for the faint of heart. I may joke about knowing fear, but the fact is, the first time I ever knew real fear was the day Charlotte, my first child, was born. Suddenly there is someone in the world you care about more than anything. - Author: Harlan Coben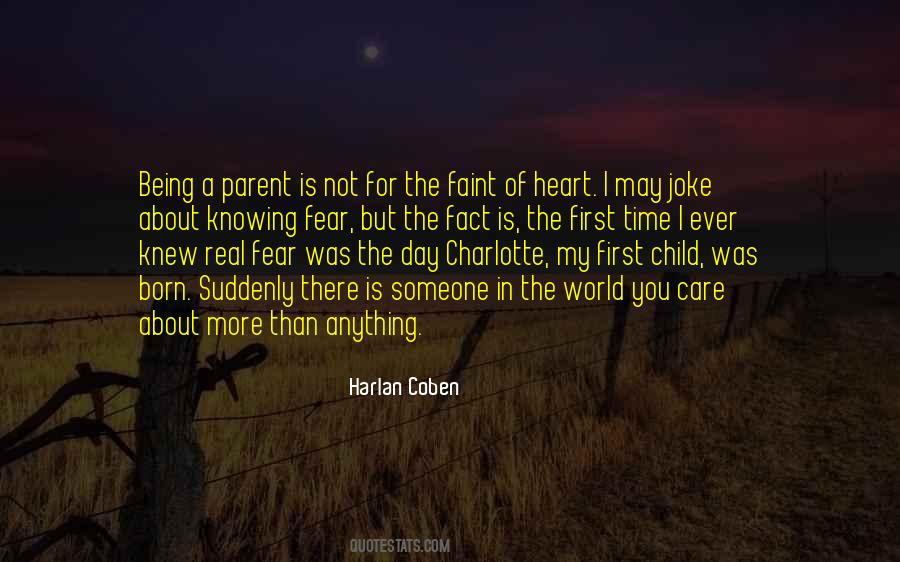 #76. When someone is important to you, you take care of them. You try to take their pain away, pull it into yourself if you can, because it's easier to fight her demons for her than to risk someone scarring her. - Author: Nyrae Dawn
#77. I was looking for someone to formulate a skin care line I could use. - Author: Connie Sellecca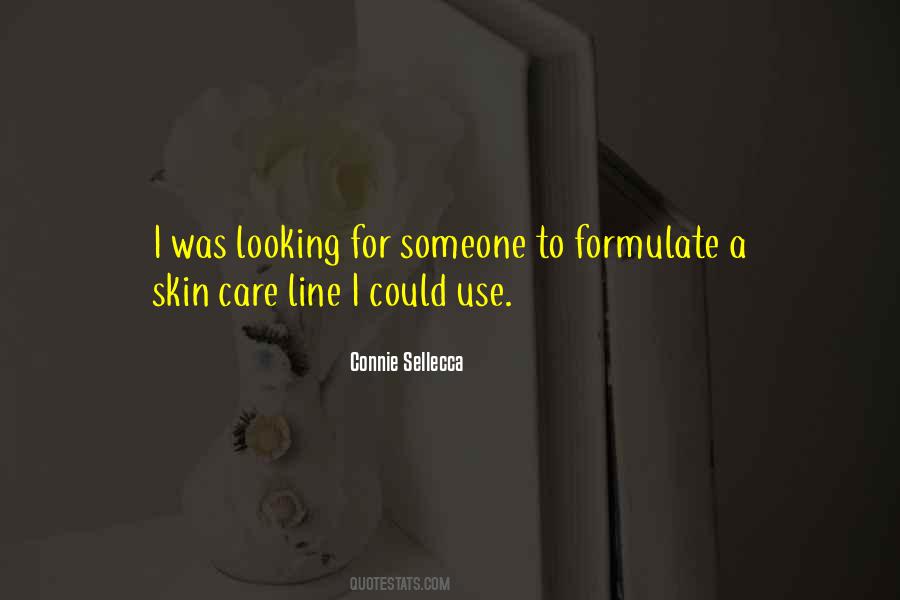 #78. I didn't want readers to think I was asking to be praised for taking care of my wife while she was ill. Lots of people are heroic, more heroic than I was, when faced with the suffering of someone they love. - Author: Rafael Yglesias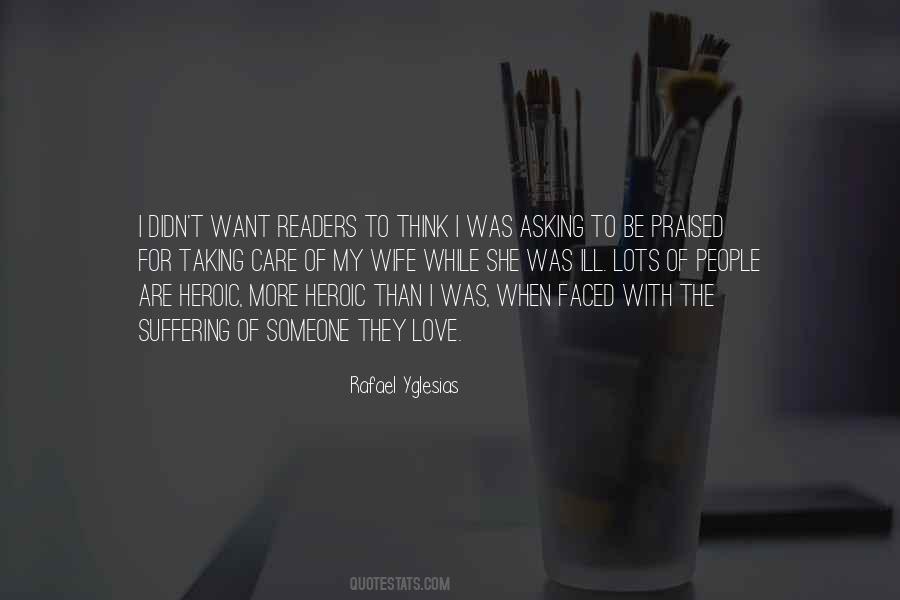 #79. The thought of you leaving and staying away made me want to drop to my knees," he said. "How's that for someone who doesn't care? It's been three days, twelve hours, and six minutes without you. - Author: Jill Shalvis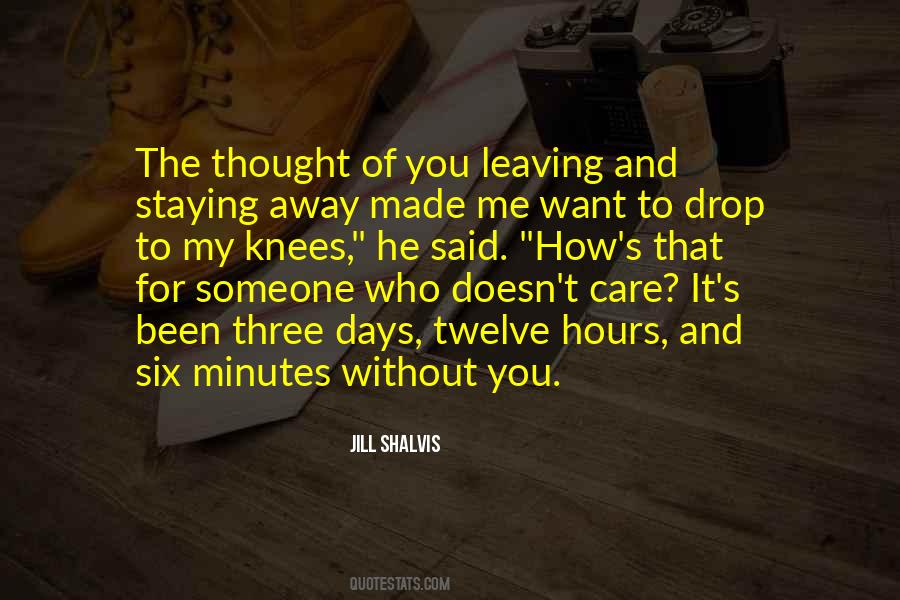 #80. There's someone out there who's suited for you. Someone who has enough strength or knowledge to keep themselves safe. I bet there's a foxy young man looking right now for a woman who can take care of herself and thinking he can't have anyone either. - Author: Kim Harrison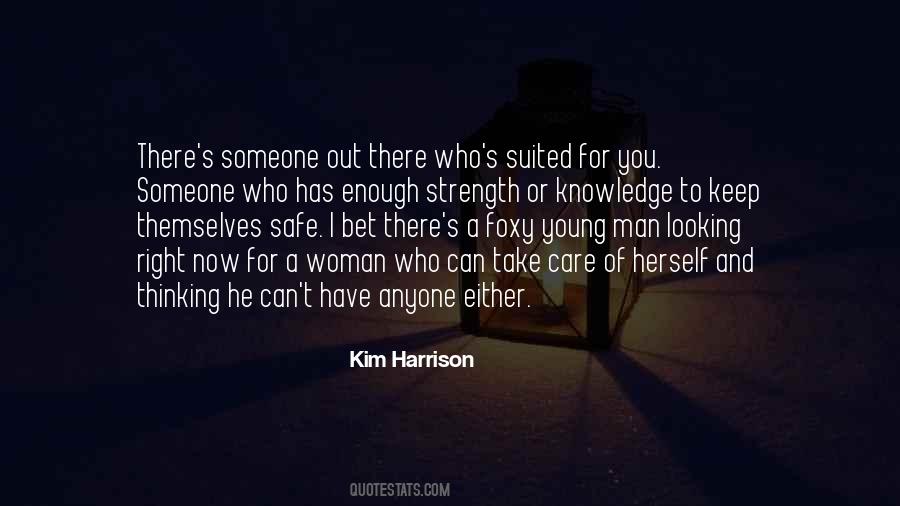 #81. When I'm brave and strong, and care for children and the sick and the poor, I become a better person. And when I'm cruel, cowardly, or tell lies, or get drunk, I turn into someone less worthy, and I can't respect myself. That's the divine retribution I believe in - Author: Ken Follett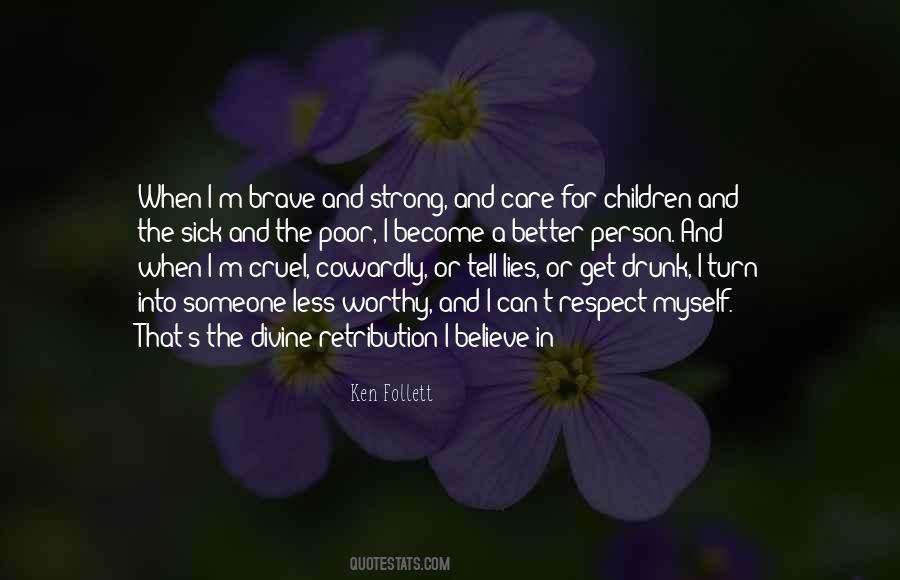 #82. He doesn't care that I cuss like a trucker. He doesn't care that I hate dressing up. Or that I don't look like someone who stepped off the cover of some fashion magazine. Adam would never want me to be something I'm not for his sake. Now I know without a doubt that I love him because of that. - Author: Lauren Hammond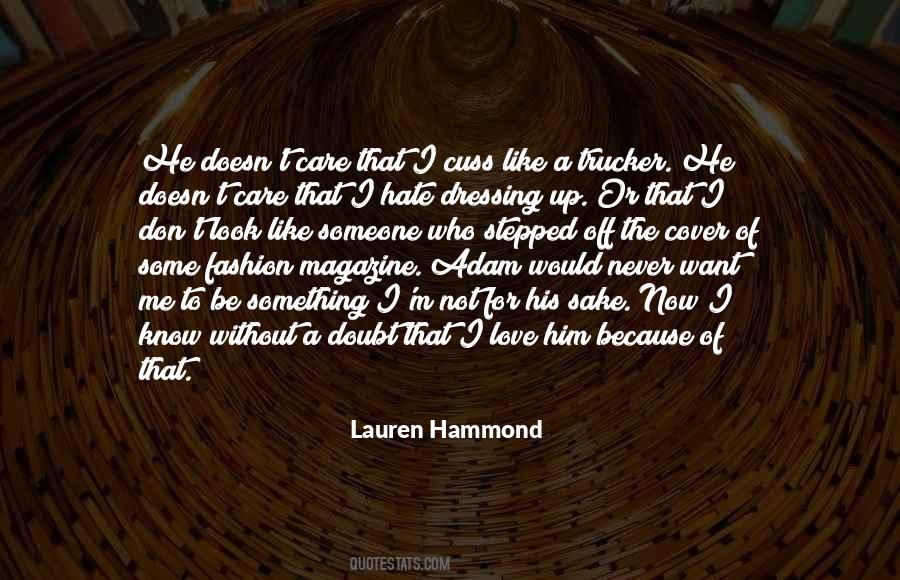 #83. I have never counted on someone to take care of my emotions for me. - Author: Mary Mihalic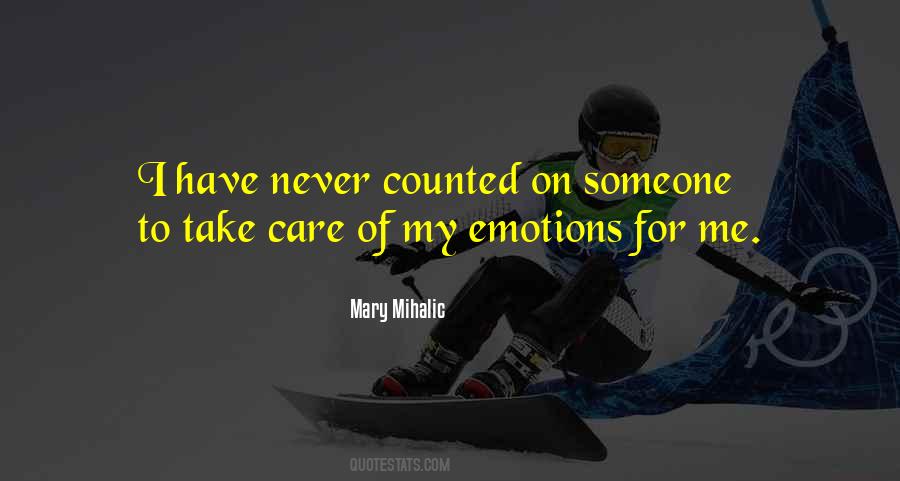 #84. When wholeheartedly we help someone, when in a natural and spontaneous way we care for the tree and water the flowers in the garden even though no one required us, there is authentic generosity, genuine sympathy, true love. - Author: Samael Aun Weor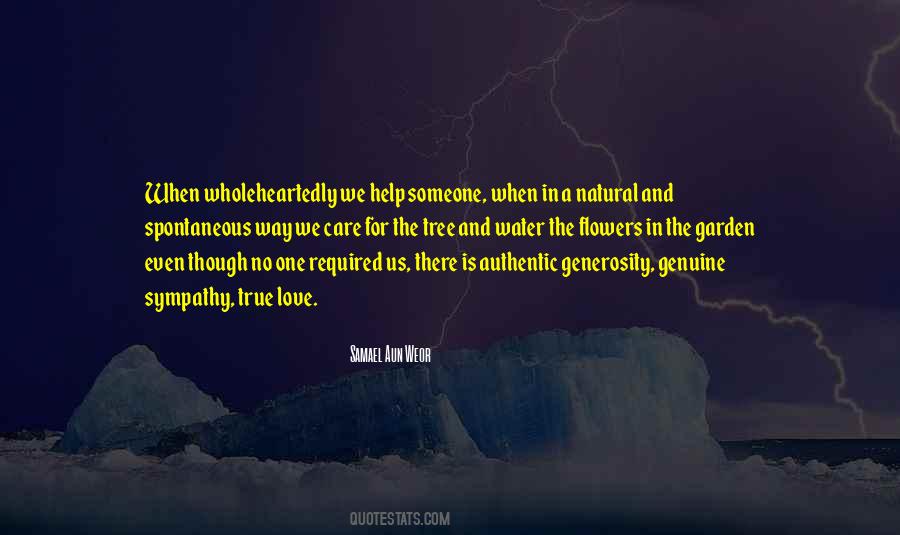 #85. I like being married. I like taking care of people, having someone to make dinner for. - Author: Ellen Barkin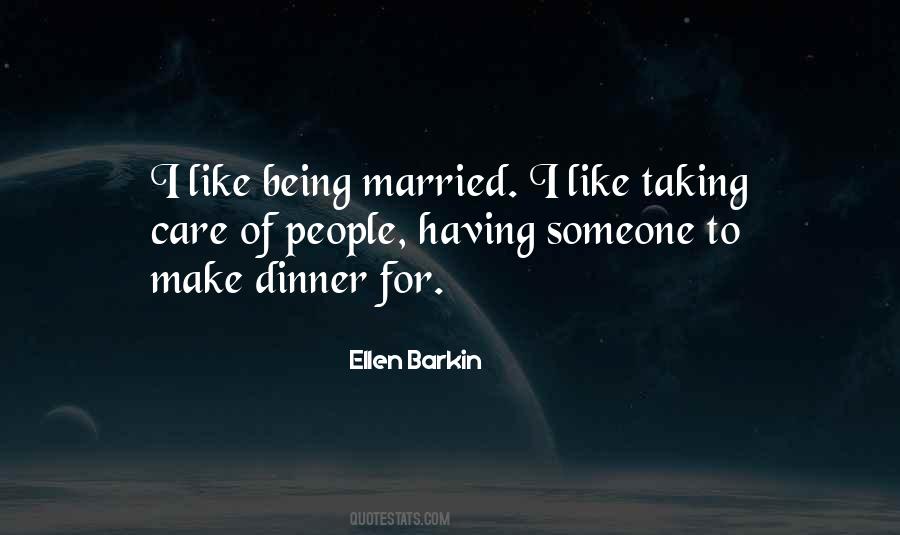 #86. Where excess lies, usually someone had to give something up for the other to get it. - Author: A.J. Darkholme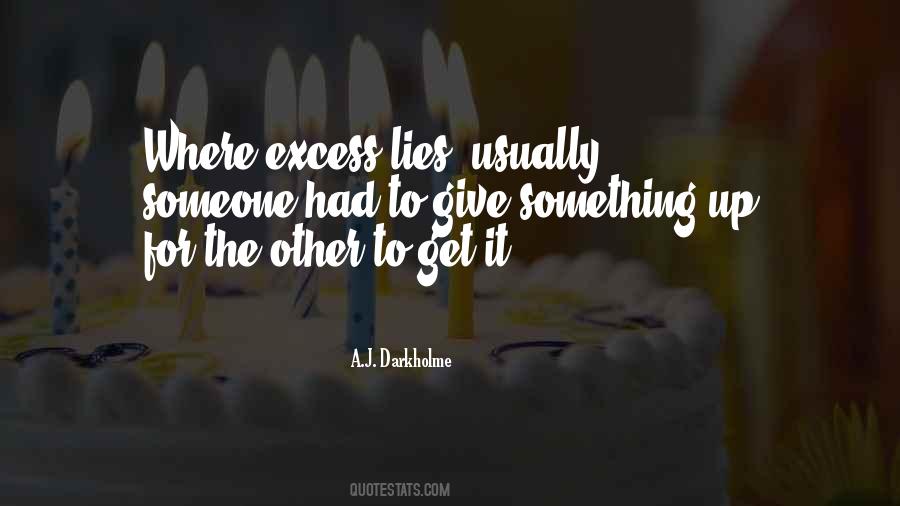 #87. This may sound surprising for someone who works in Hollywood, but I do not count calories, and I don't even care about weight gain, which I know sounds really bizarre. I listen to my body. I don't just wake up in the morning and cook whatever I eat. - Author: Nikki Reed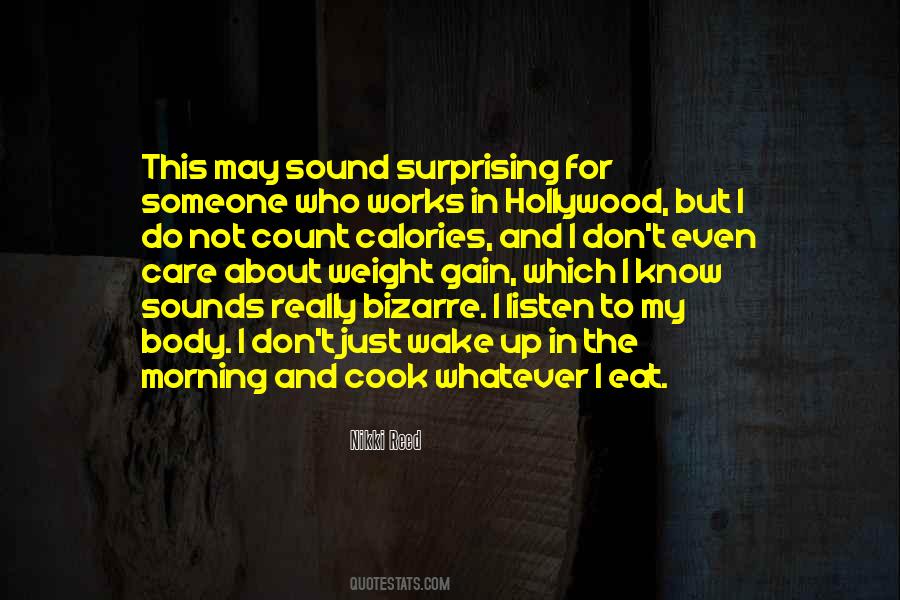 #88. The one sure means of dealing with boredom is to care for someone else, to do something kind and good. - Author: Theodor Haecker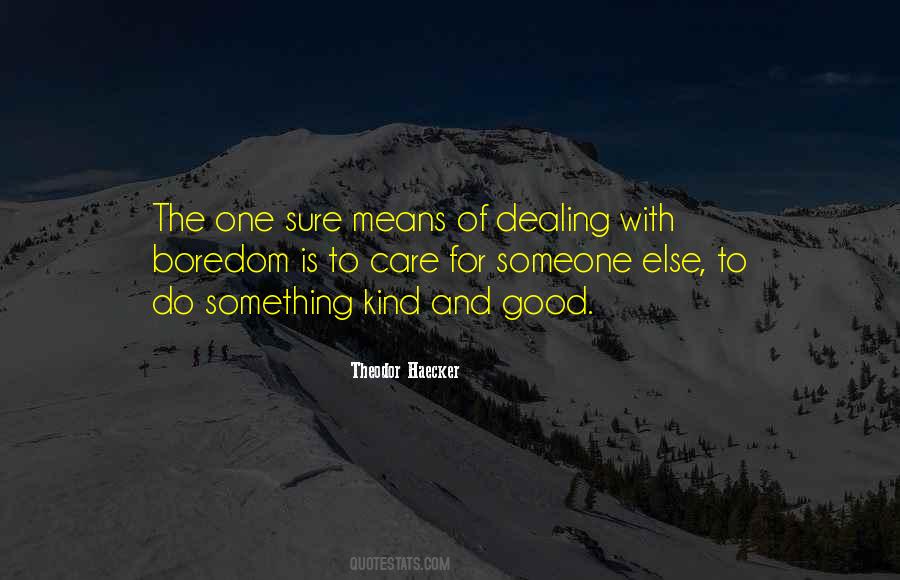 #89. No. Sorry. You have spent months being the biggest jerk to me. You don't get to decide to like me one day and think I will forget that. I want someone to care for me like my dad cared for my mom. And you aren't him. - Author: Jennifer L. Armentrout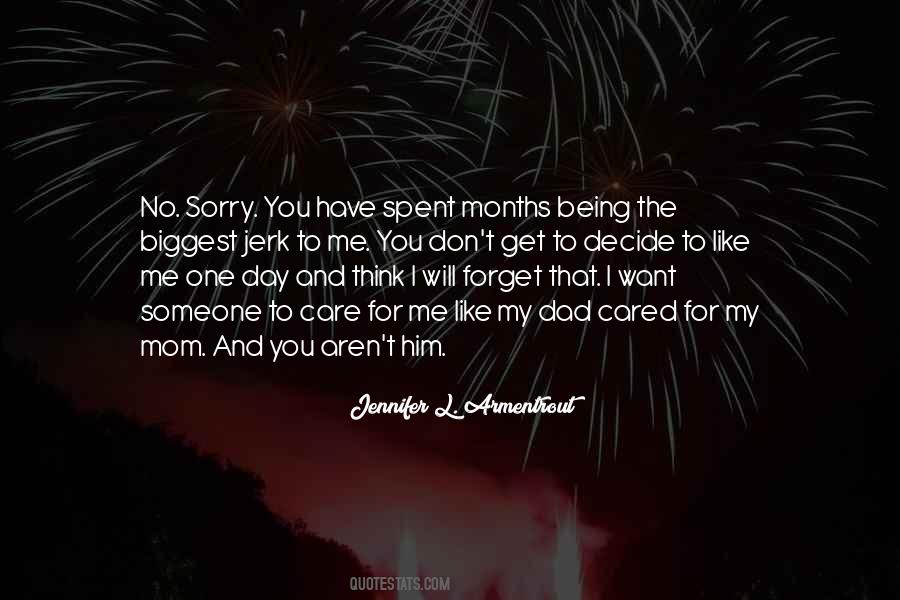 #90. If you have any care for Sin at all,
don't leave him in darkness. It's not fair to show someone the sun and then to banish him from it. Even the
devil may cry when he looks around hell and realizes that he's there alone - Acheron (Devil May Cry) - Author: Sherrilyn Kenyon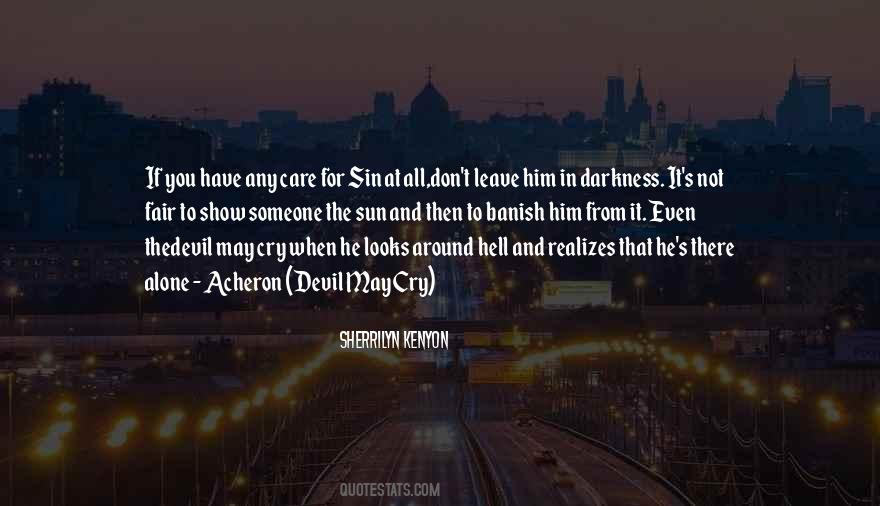 #91. Someone tried to kill me, and I'm going swimming. I'm going swimming, because it doesn't matter. I'm going swimming, because I don't matter. I'm going swimming, because that's what Claires do. We swim and we daydream and we read and we wait for someone to care, and they never, ever, ever do. - Author: Jennifer Lynn Barnes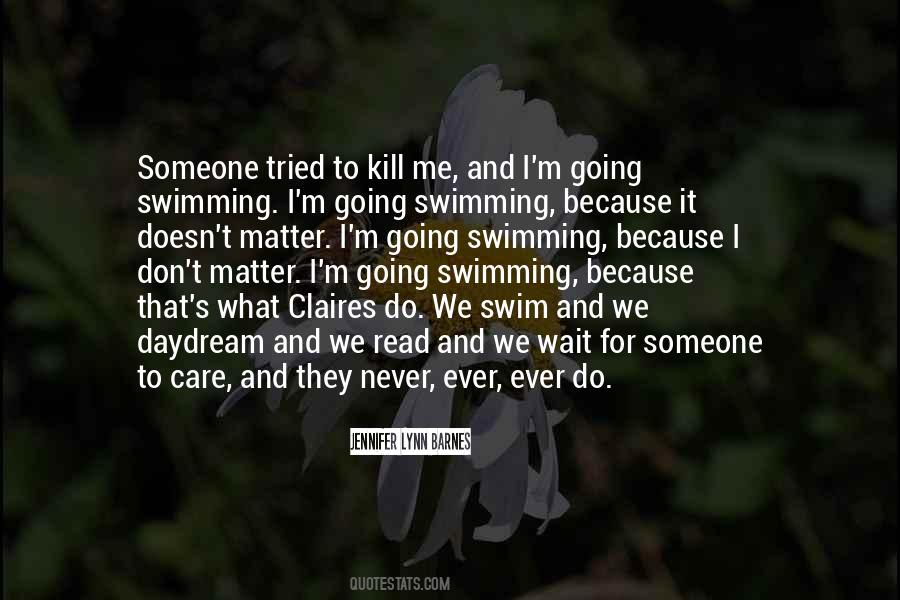 #92. Do you realize how important it is to be independent? To be able to take care of yourself? To not rely on someone else for your most basic needs? And to not get so damn attached to stuff that you'd rather demean yourself than live without it? - Author: Alyson Noel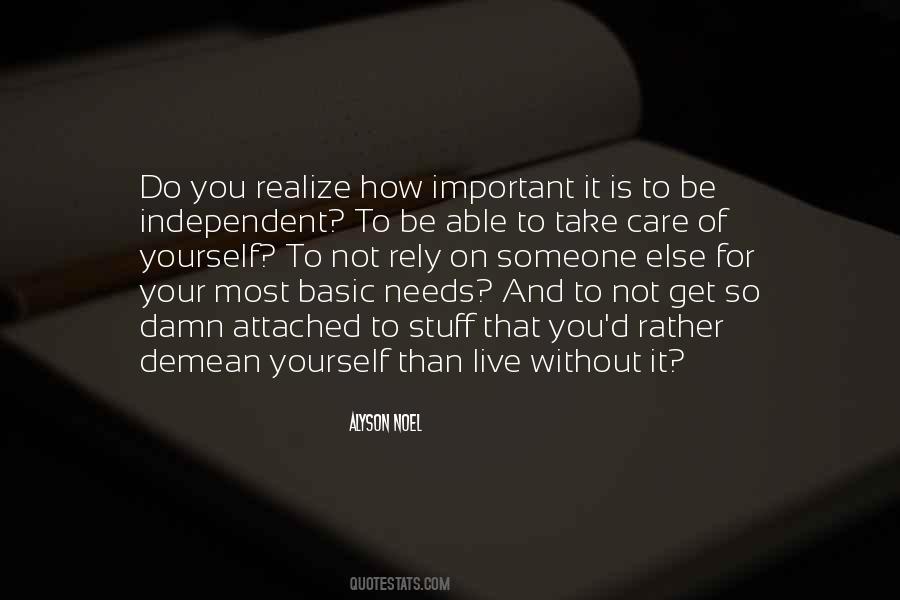 #93. People who are considered scary or odd or even monsters are so often the people that just need love and someone to care for them. - Author: Catherine O'Hara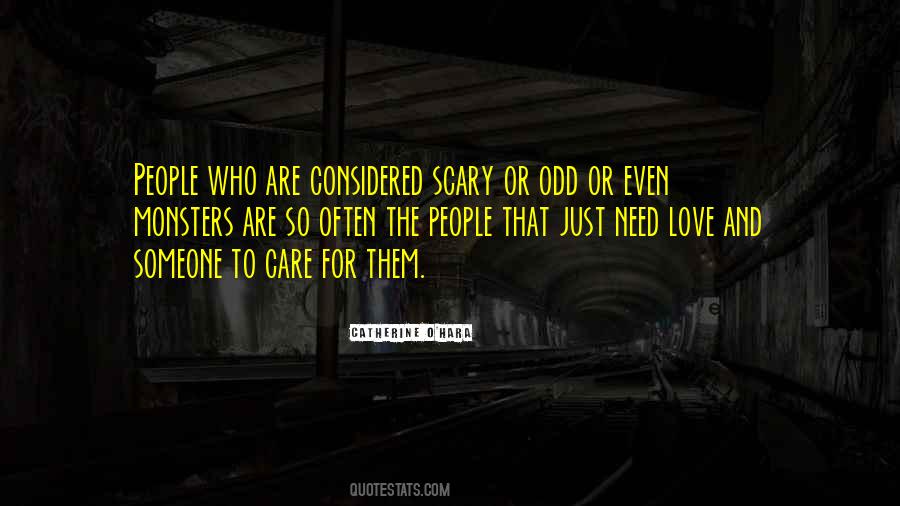 #94. Personally, I wouldn't wait around for someone to tell you you're good enough before you make your own comics. Just make them, always try to improve and care about what you're doing. Be relentless and never give up. - Author: Troy Little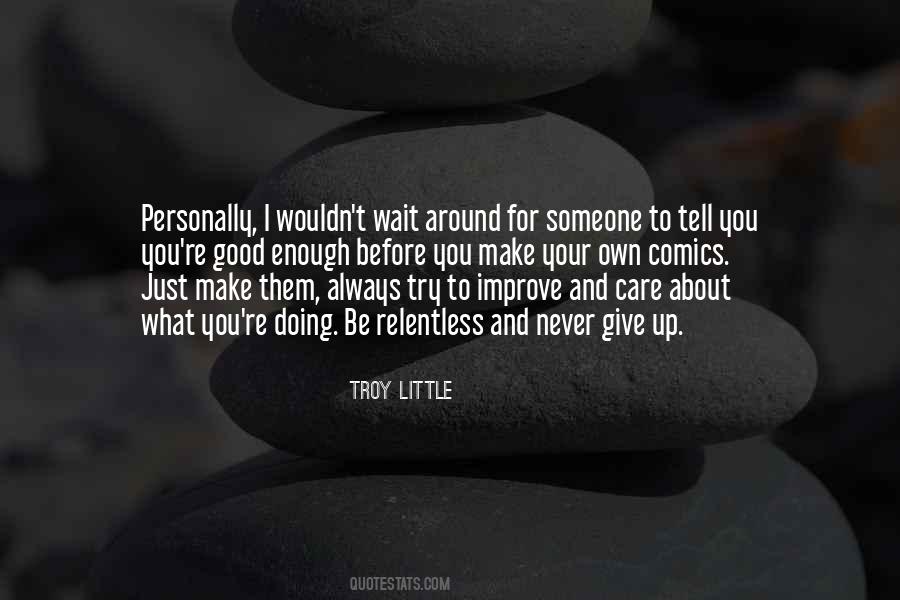 #95. I want someone who is my partner in life. Who supports me, and I support her. I can share all my experiences in life with her, and she can share hers back with me. Not only do we love each other, but we accept, embrace, nurture, and care for each other. - Author: Tucker Max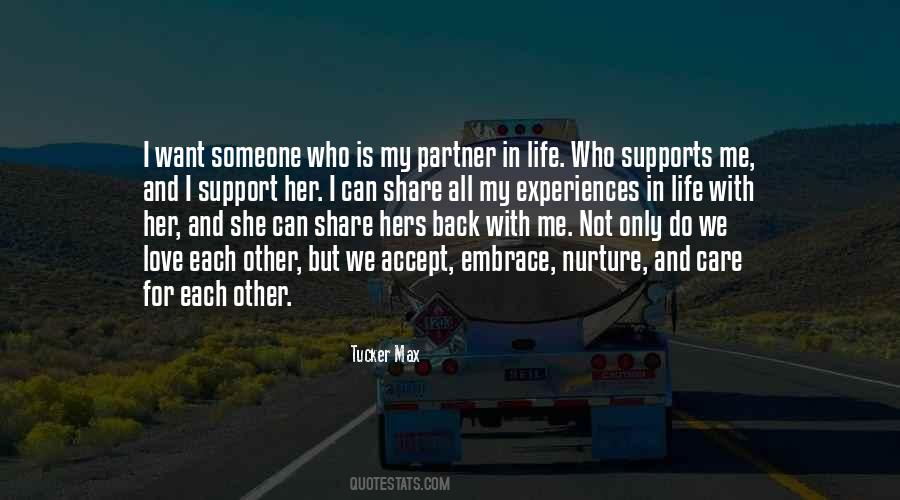 #96. You may love, honor, and care for her, but someone else is doing what she needs. - Author: M.F. Moonzajer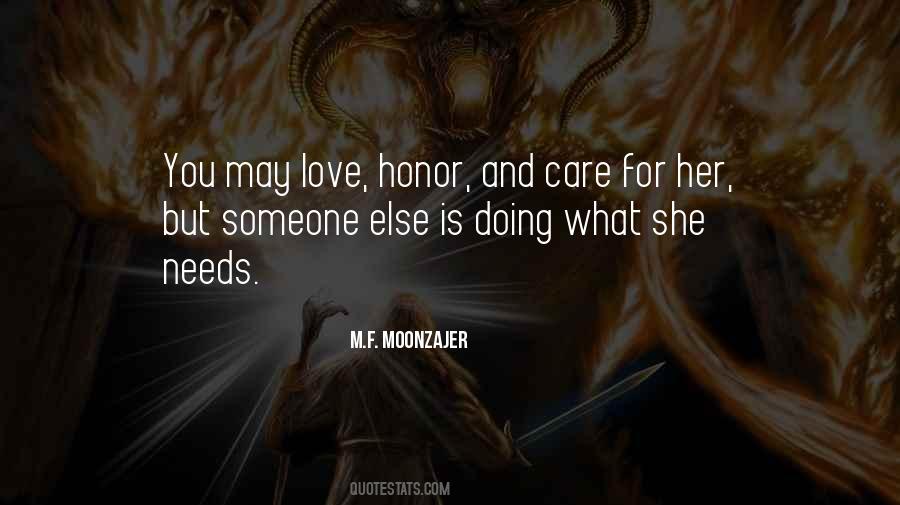 #97. When you care for someone, you don't ruin their life! - Author: Gaelen Foley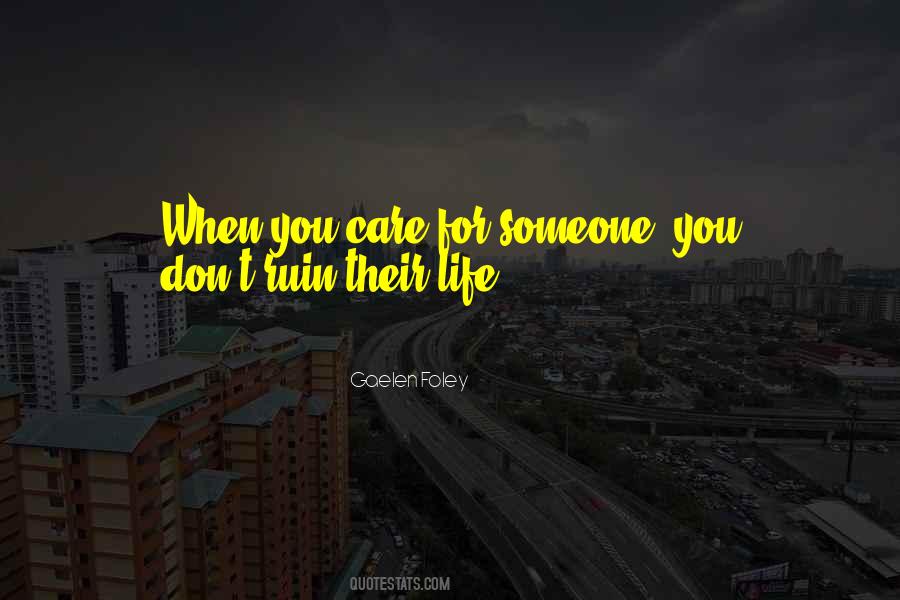 #98. I do not care to be admired causelessly, emotionally, intuitively, instinctively - or blindly. I do not care for blindness in any form, I have too much to show - or for deafness, I have too much to say. I do not care to be admired by anyone's heart - only by someone's head. - Author: Ayn Rand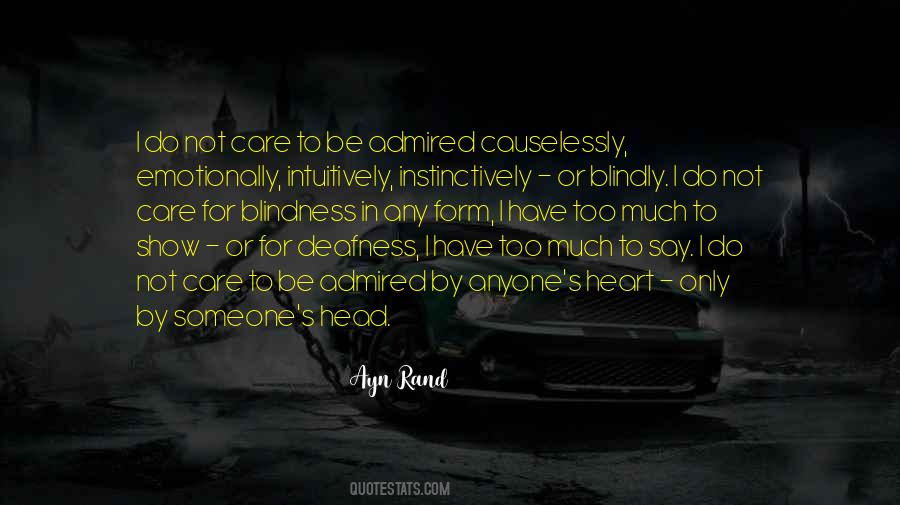 #99. I just don't want to die alone, that's all. That's not too much to ask for, is it It would be nice to have someone care about me, for who I am, not about my wallet. - Author: Richard Pryor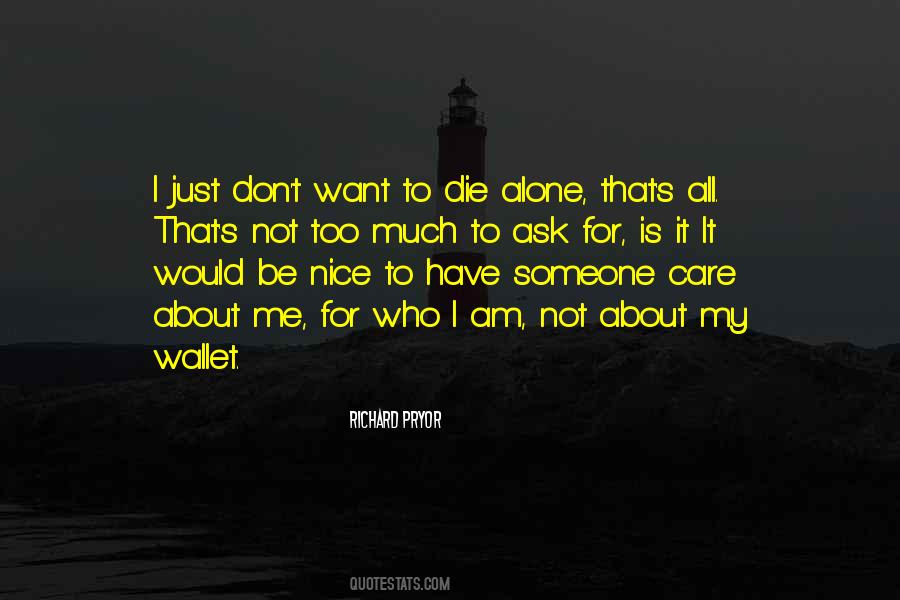 #100. Oh for someone with a heart, head and hand. Whatever they call them, what do I care, aristocrat, democrat, autocrat, just be it one that can rule and dare not lie. - Author: Alfred Lord Tennyson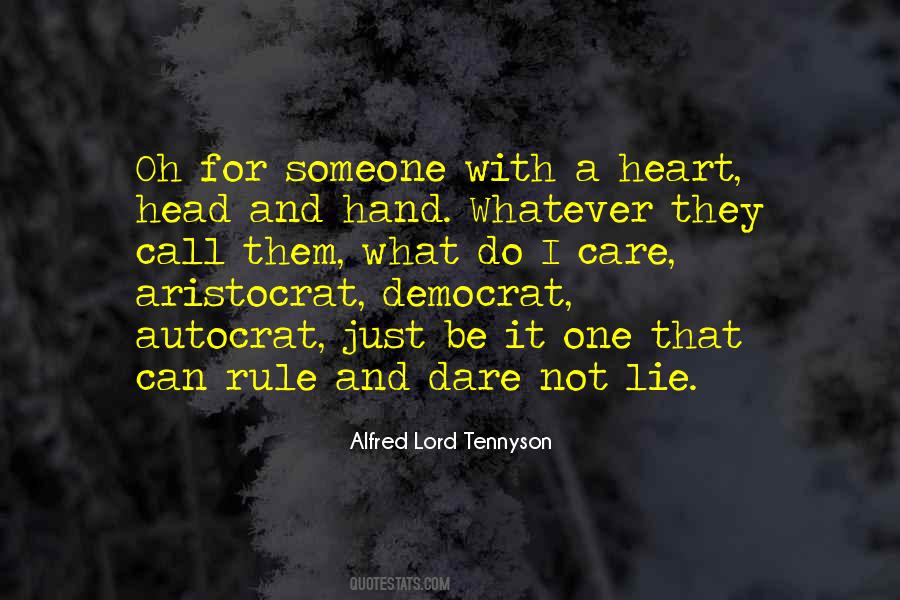 Famous Authors
Popular Topics