When You Look At Me Famous Quotes & Sayings
List of top 100 famous quotes and sayings about when you look at me to read and share with friends on your Facebook, Twitter, blogs.
Top 100 Quotes About When You Look At Me
#1. She groaned and closed those eyes. "Do not look at me like that. You will make me smile, and I refuse to smile when I am attempting to stay mad at you. - Author: Jenni James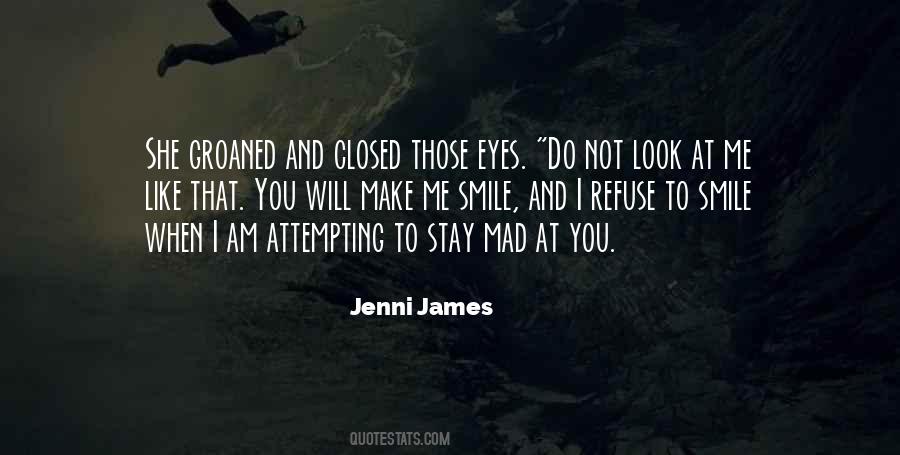 #2. People ask me to predict the future, when all I want to do is prevent it. Better yet, build it. Predicting the future is much too easy, anyway. You look at the people around you, the street you stand on, the visible air you breathe, and predict more of the same. To hell with more. I want better. - Author: Ray Bradbury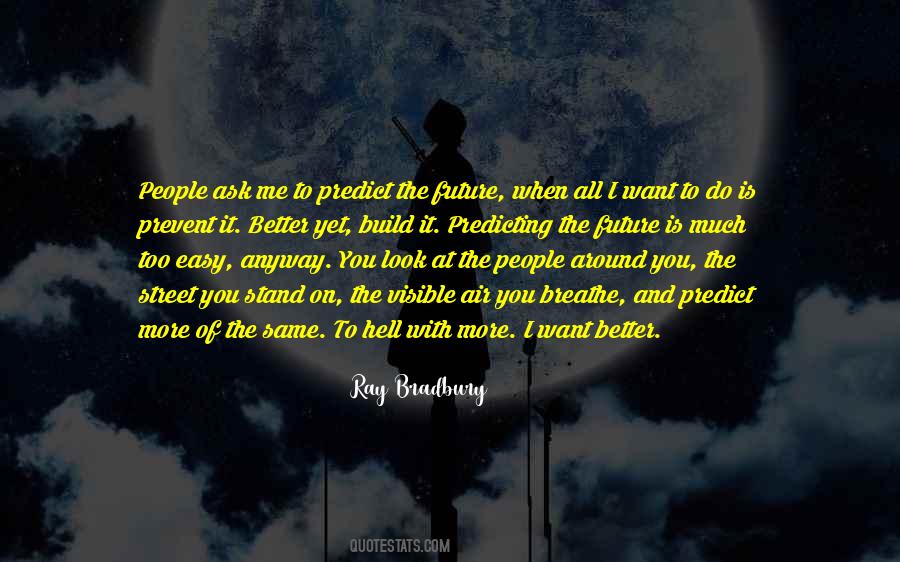 #3. ... once you start demonizing groups of people, when you make them the other, you can justify doing just about anything you want to the, can't you? Look at history if you don't believe me. - Author: Brunonia Barry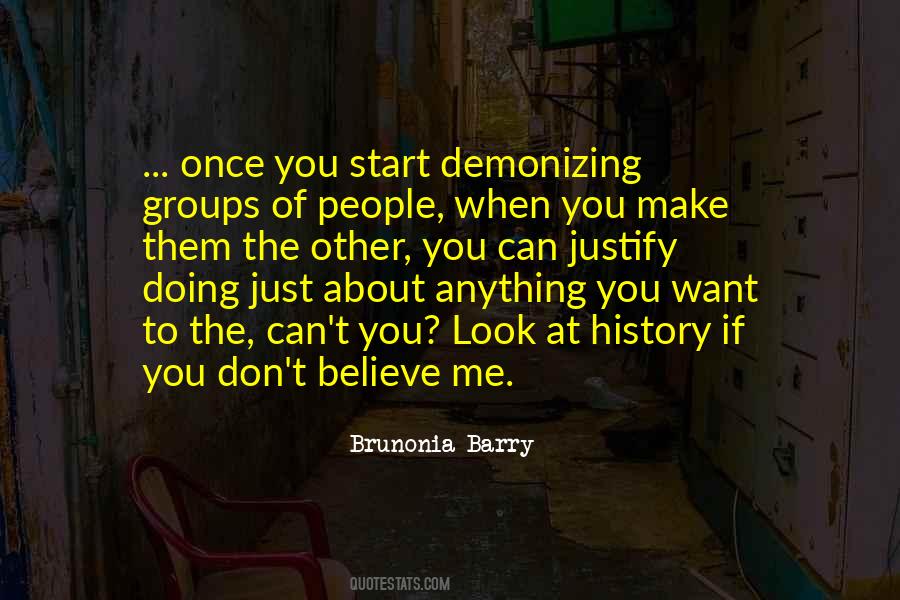 #4. Travis tapped my apple with his fork. "You gonna eat that, Pidge?"
"No, you can have it, Baby."
Heat consumed my ears when America's head jerked to look at me.
"It just came out," I said, shaking my head. I peeked up at Travis, whose expression was a mixture of amusement and adoration. - Author: Jamie McGuire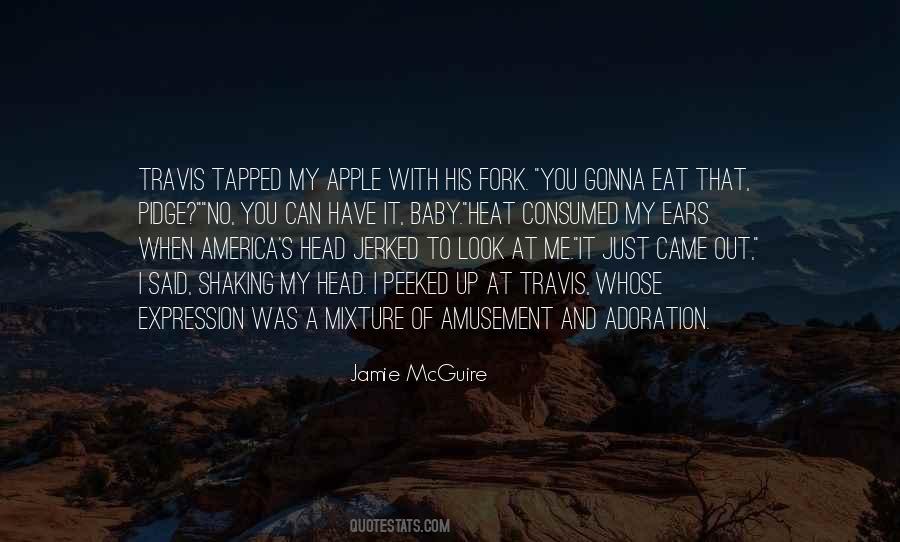 #5. Horror jolts me when I look at one of you and see a pair of beautiful eyes that make me think your mind might contain a world that could hold me as the bolts shake loose and fly from my frame. - Author: Henry Rollins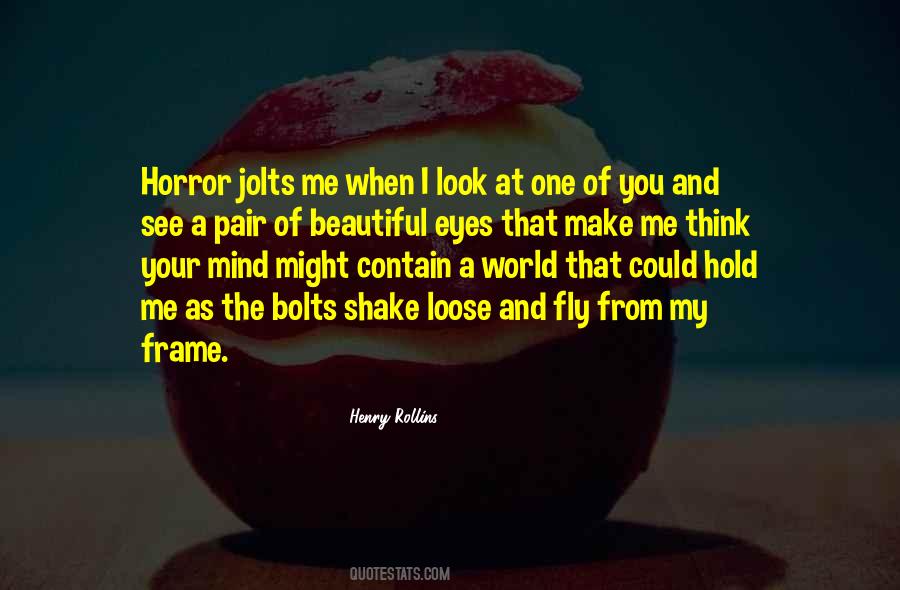 #6. Your heart beat is my favorite thing to listen to. When you look at me and your heart rate jumps. - Author: Shelly Crane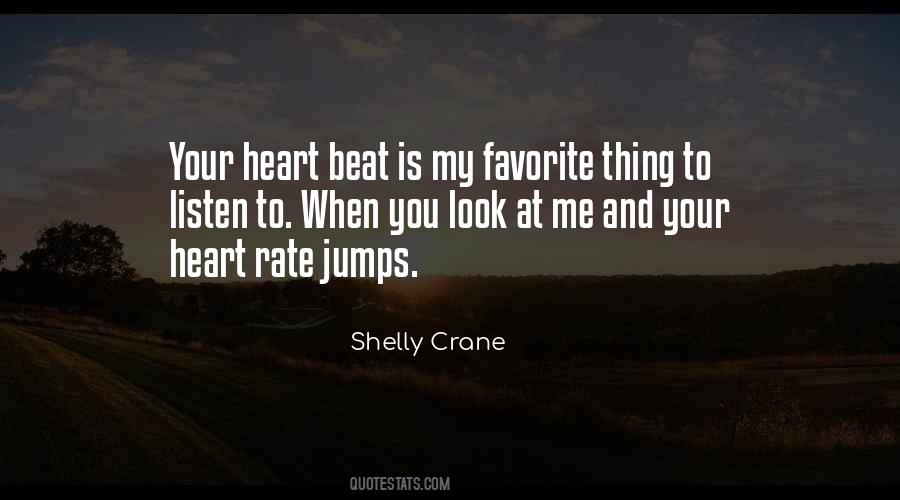 #7. When I went to see Mrs. Clinton and we talk about the inaugural dress I ask her what would you like to achieve with this particular dress? And she said to me what I would like is - that when I walk into the room and people will look at me and say wow you look great. - Author: Oscar De La Renta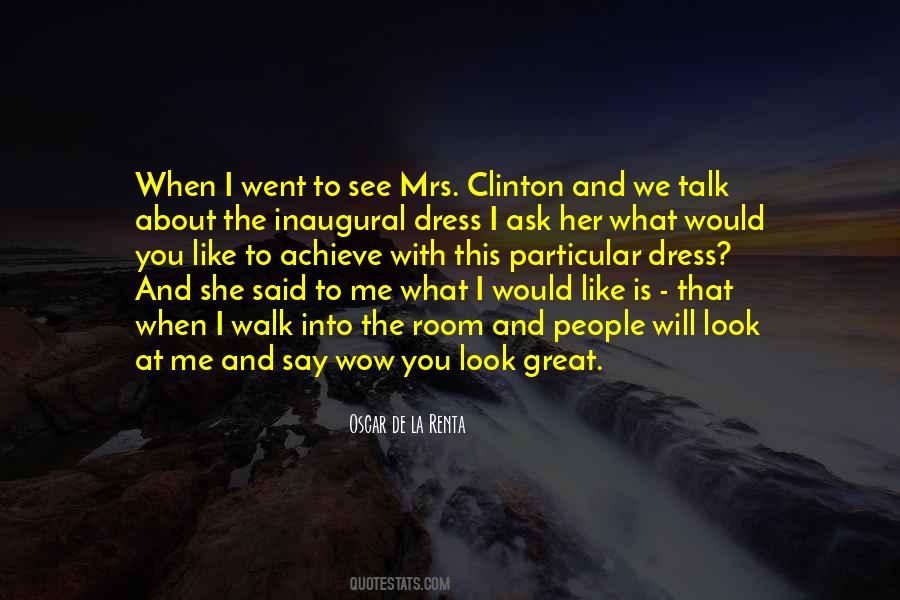 #8. This is a difference between being a governor and being in a legislature. Because when something doesn't work in New Jersey, they look at me, say: "Why didn't it get done? Why didn't you do it?" You have to be responsible and accountable. - Author: Chris Christie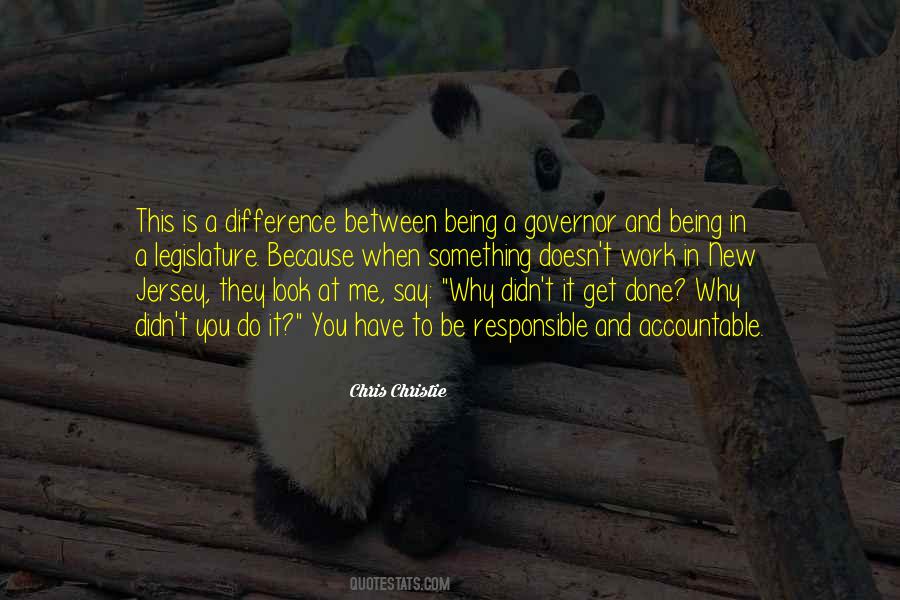 #9. My name is Herbert Badgery. I am a hundred and thirty-nine years old and something of a celebrity. They come and look at me and wonder how I do it. There are weeks when I wonder the same, whole stretches of terrible time. It is hard to believe you can feel so bad and still not die. - Author: Peter Carey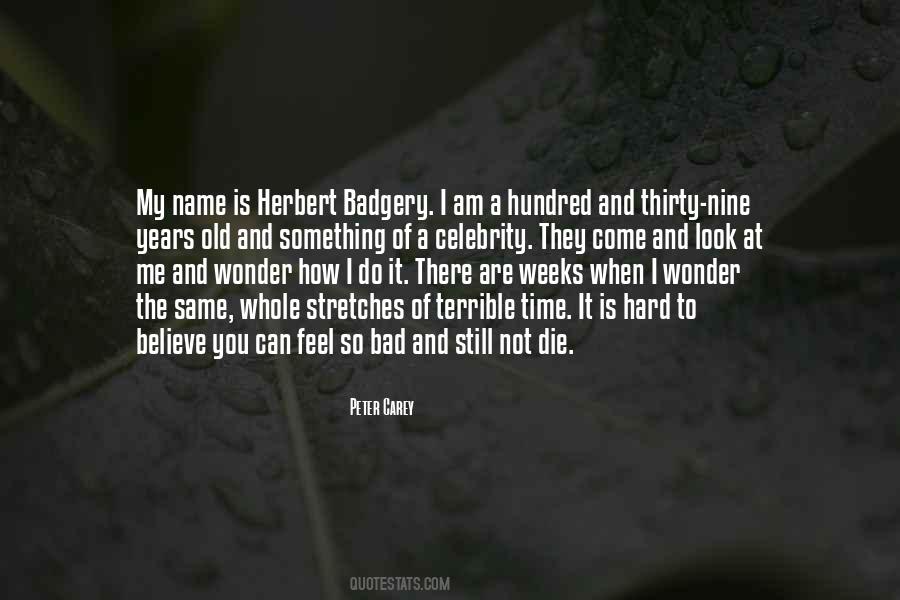 #10. Look at me, Sylvia. Because I'm not going to say this again. I told you once that I'm a man who goes after what he wants, and I want you in my bed. I want to feel you naked and hot beneath me. I want to hear you cry out when you come, and I want to know that I am the man who took you there. - Author: Anonymous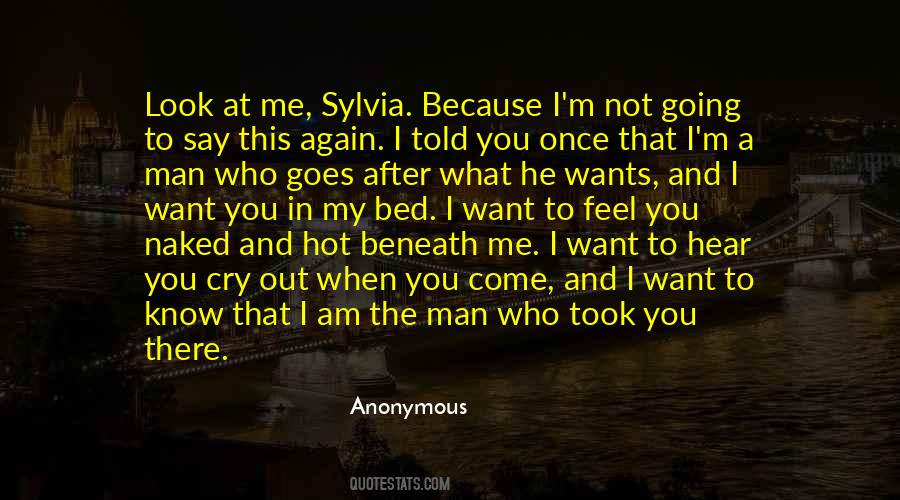 #11. I am my own reflection
But when I look at me
I can see your affliction - Author: Munia Khan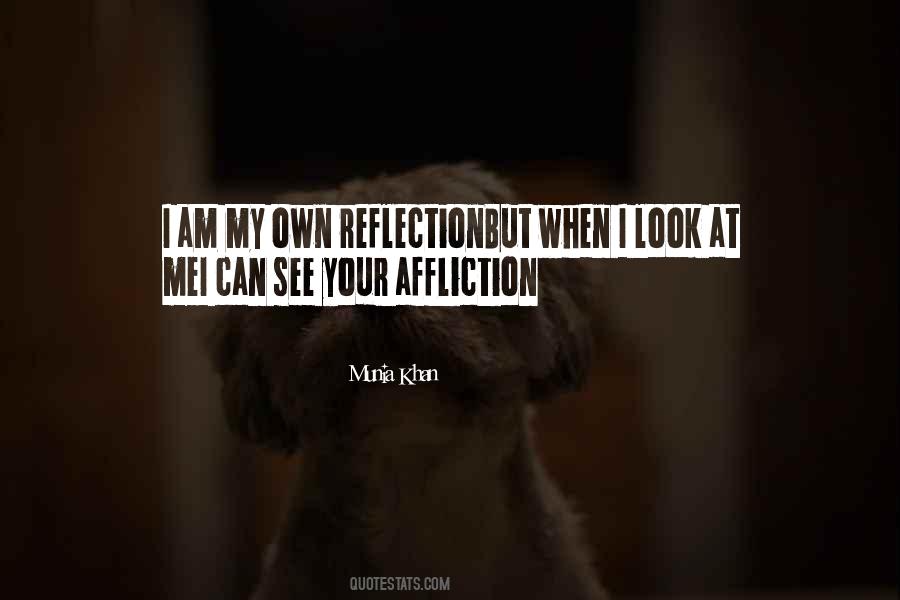 #12. When life tries to define you with its hardship, you gotta push back, look it straight in the eye and say, 'No matter what life throws at me, I'm going to keep telling myself that I will overcome.' And every time you own that truth, you write your own life script. - Author: Nikki Rosen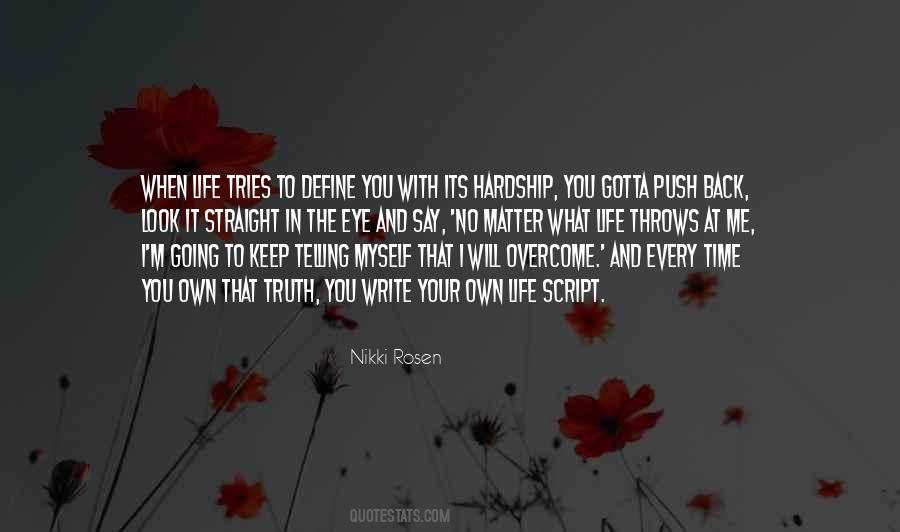 #13. When you can take something that is a reject at the thrift store sitting on the bottom of a pile of junk and make it work, make it look interesting, that's real style to me. - Author: Erin Wasson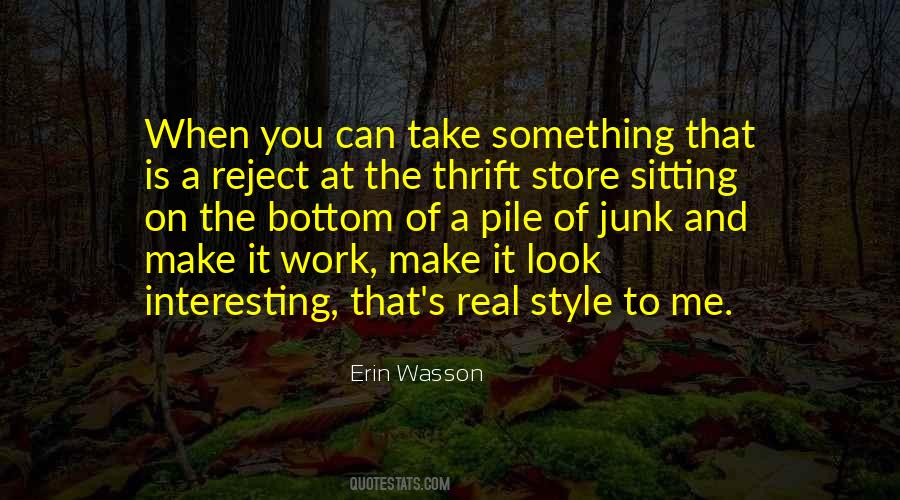 #14. I cannot look at you with anything other than abhorrence, much less affection! I couldn't bare your presence when we were children and, I'm afraid to say, the repulsive way at which you have grown to be has made it even worse! You have taken everything from me... - Author: Madeline Courtney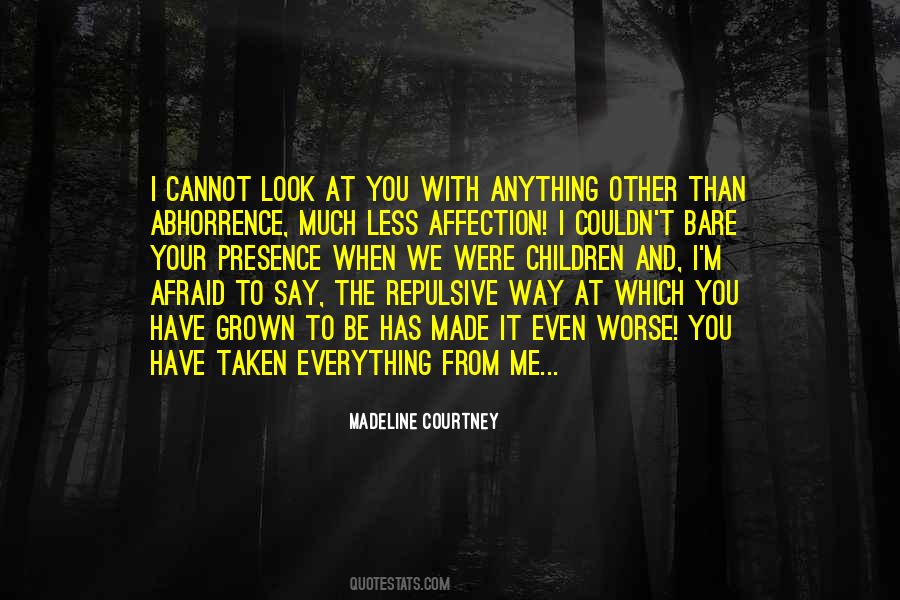 #15. When we are stricken and cannot bear our lives any longer, then a tree has something to say to us: Be still! Be still! Look at me! Life is not easy, life is not difficult. Those are childish thoughts ... Home is neither here nor there. Home is within you, or home is nowhere at all. - Author: Hermann Hesse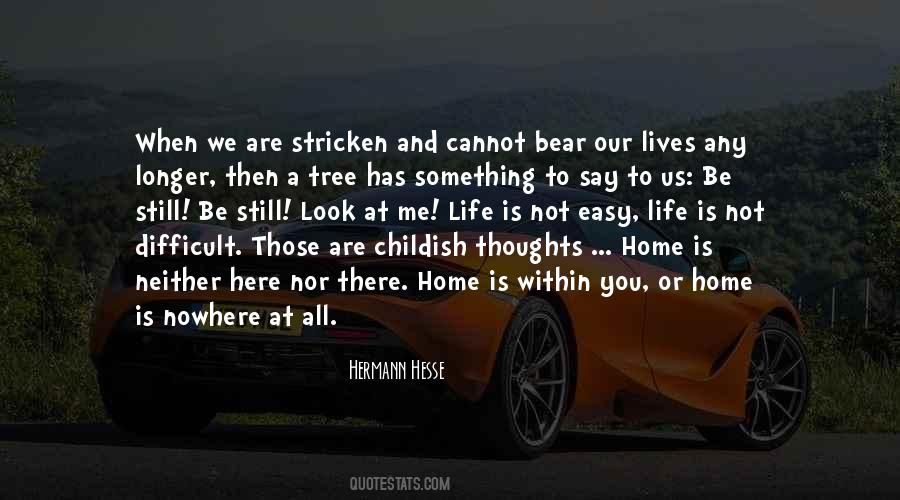 #16. So when you look at Jesus and it appears that he's flying he really is...flying. But what you are actually seeing is me my life in him. That's how he lives and acts as a true human how every human is designed to live-out of my life. - Author: William Paul Young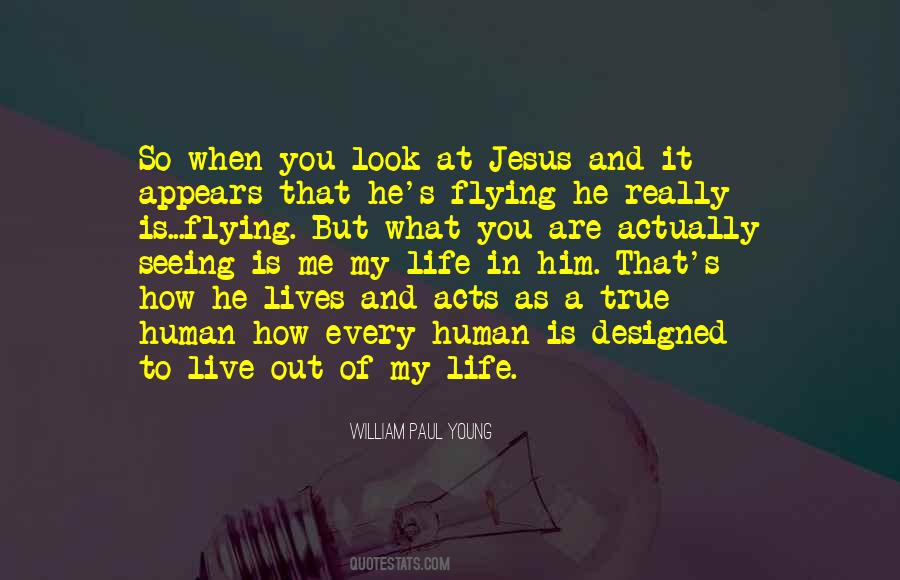 #17. Graydon: "Where are those files you wanted me to look at? I can never figure out the new system on the shared drive, and you promised you'd show me. Call me back when you can."
No, son. You can figure it out on your own. I have faith in you. - Author: Thea Harrison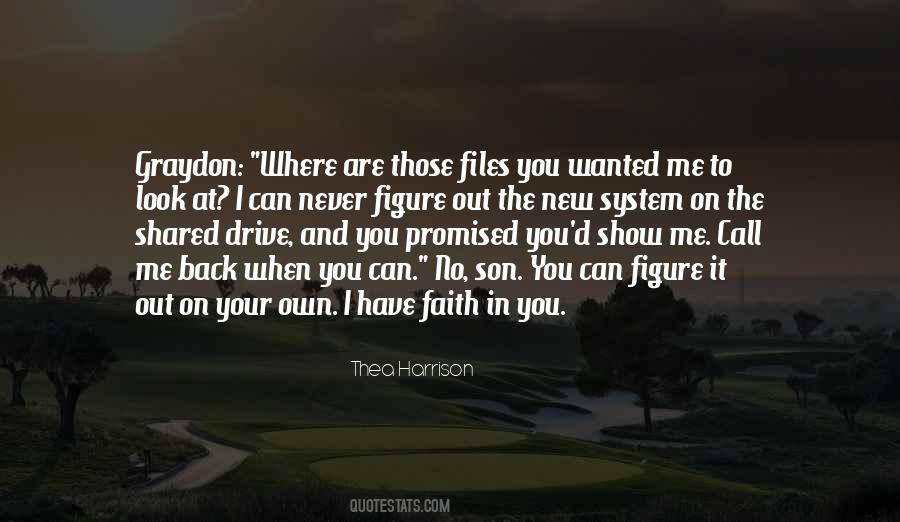 #18. We drive in silence until I need an answer, "What did he say to you at the elevator?" I look straight ahead when I ask.
"He thanked me for being there for you, even as a boy, when he could not protect you himself. He told me that I had his permission to love you. - Author: Tara Brown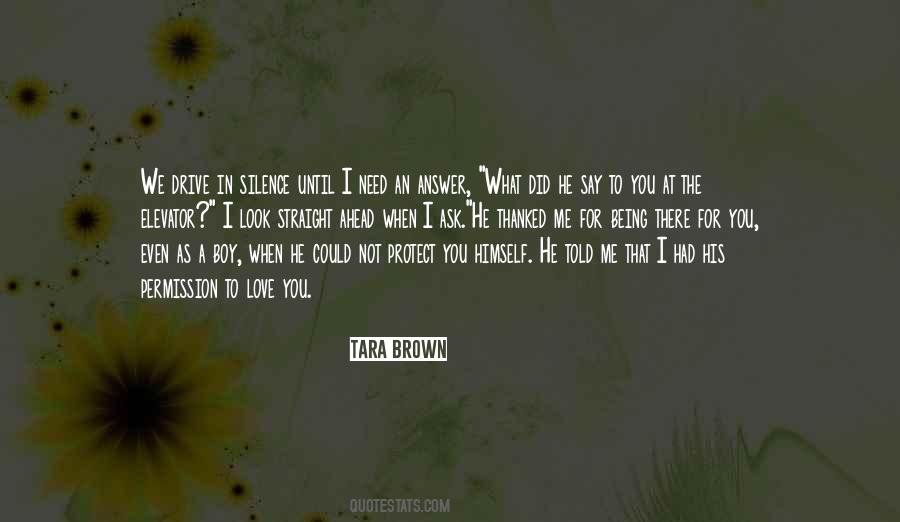 #19. The thing is, I mean, there's times when you look at the universe and you think, "What about me?" and you can just hear the universe replying, "Well, what about you?" - Author: Terry Pratchett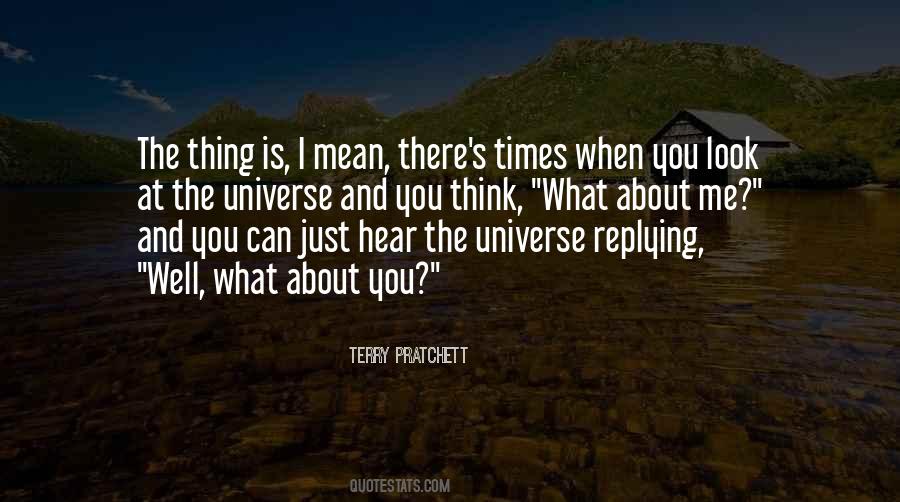 #20. Now, people when I say that look at me and say, 'What are you talking about, Joe? You're telling me we have to go spend money to keep from going bankrupt?'. The answer is yes, that's what I'm telling you. - Author: Joe Biden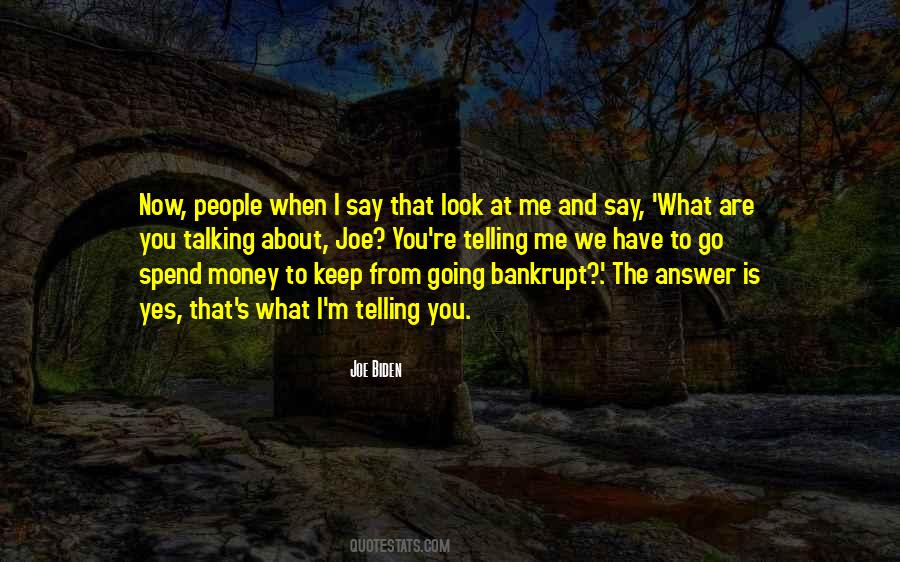 #21. I would look at a dog and when our eyes met, I realized that the dog and all creatures are my family. They're like you and me. - Author: Ziggy Marley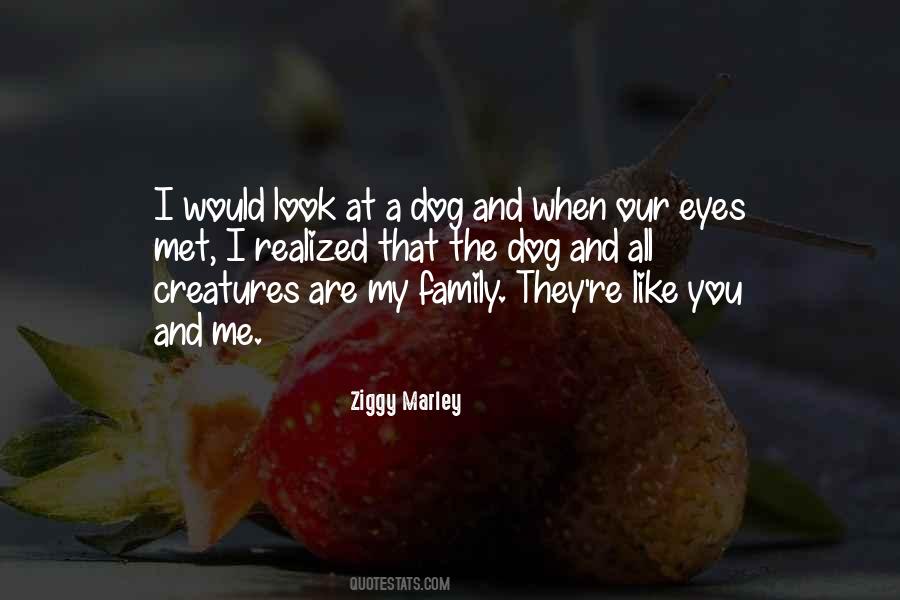 #22. Small said, "But what about when we are dead and gone, will you love me then, does love go on?"
... Large (replied) "Look at the stars, how they shine and glow, some of the stars died a long time ago. Still they shine in the evening skies, for you see ... love like starlight never dies ... - Author: Debi Gliori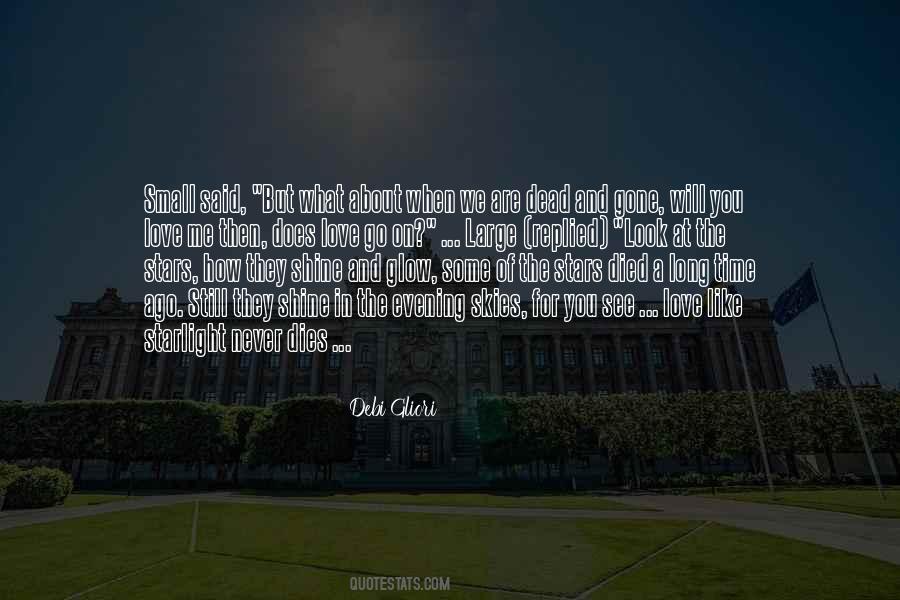 #23. Tell me," he said when he was at her back, "what do you see when you look out at the water?"
"Endless possibilites."
His lips were ghosting over the shell of her ear, and she could feel the smile pulling at them, making goosebumps break out all over her arms. "That's how I see us. - Author: London Miller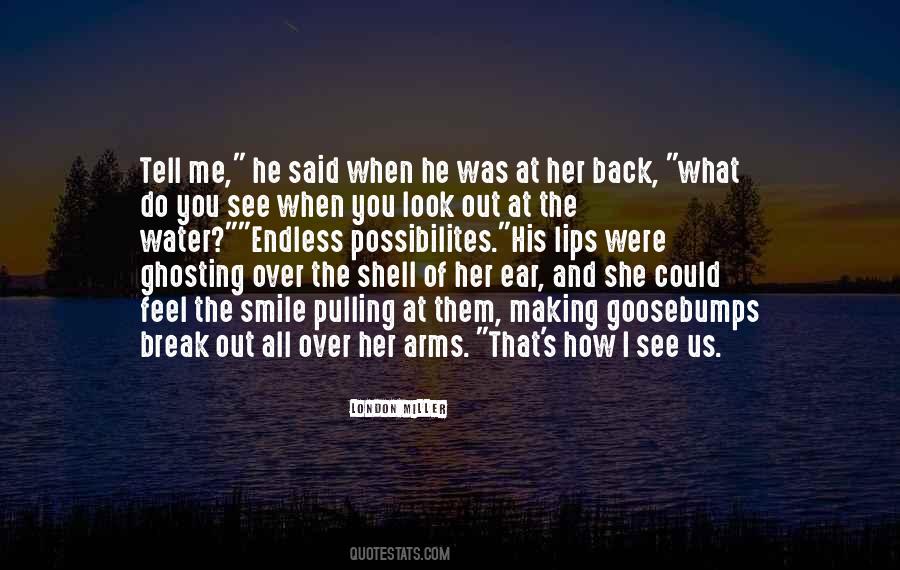 #24. Forget the names because names lie but remember me because when you look at me I remember myself.

Remember me because I will never forget you. - Author: Jordan Weisman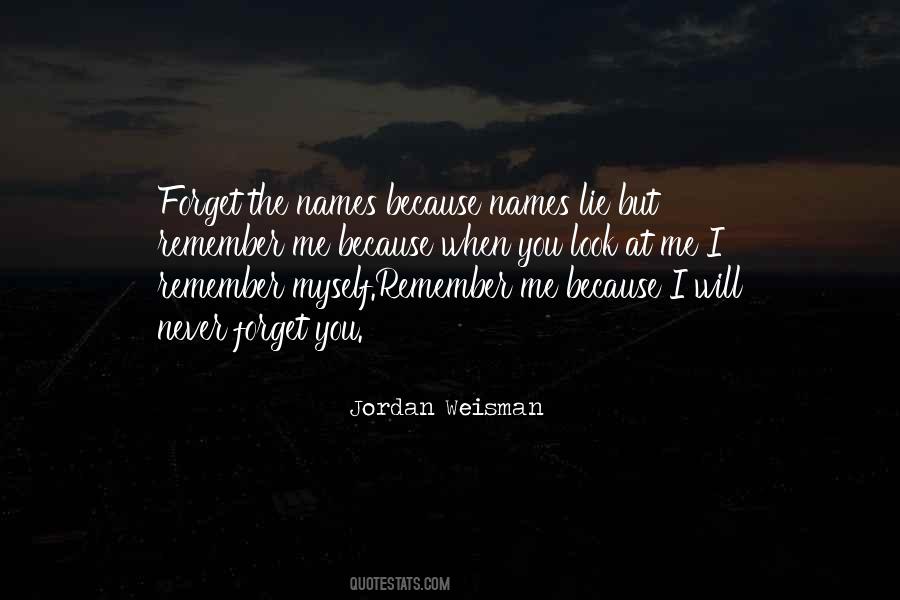 #25. I feel like I'm losing my damn mind, like your face has been carved into my heart, and I don't remember when, and I don't understand why, but the scar is there, and I can't get it to heal. It won't go. I can't make it fade. And you won't even look at me. - Author: Alexandra Bracken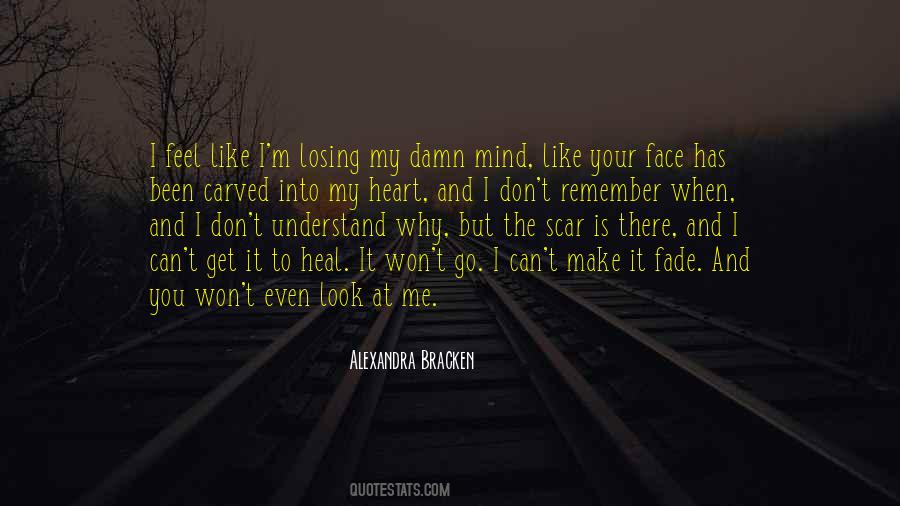 #26. When everything around me is crumbling to pieces, all I have to do is look at you and I can keep going, keep living. You're warm, Quinn. The warmest person I've ever known. I never realized just how devoid of warmth my life was until you came into it. - Author: Katie Jennings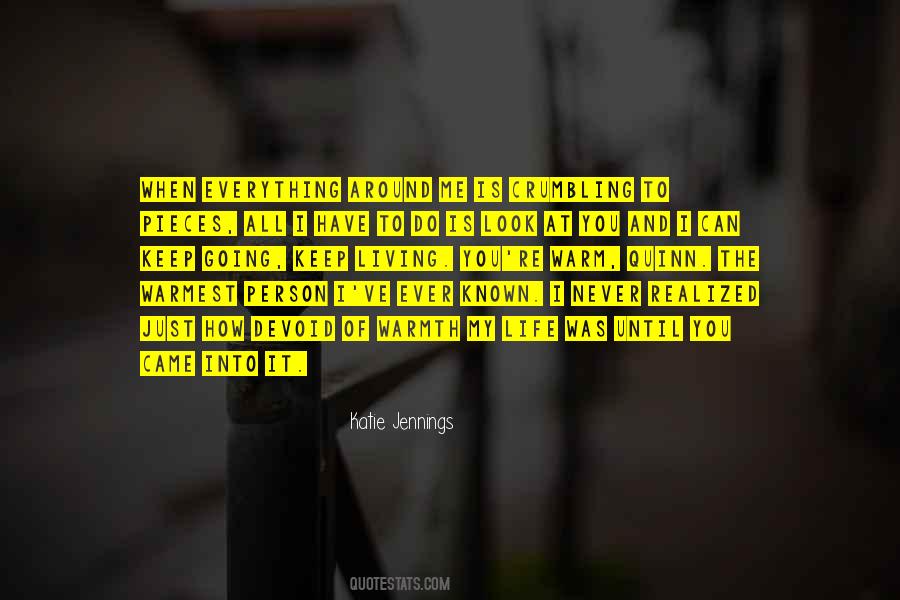 #27. I can't stand a man who fawns, you know what I mean? I can't stand a man sucking up to me, but he was the kind who took you right on the floor and he didn't even look at you afterwards when he zipped up his pants. - Author: Sue Grafton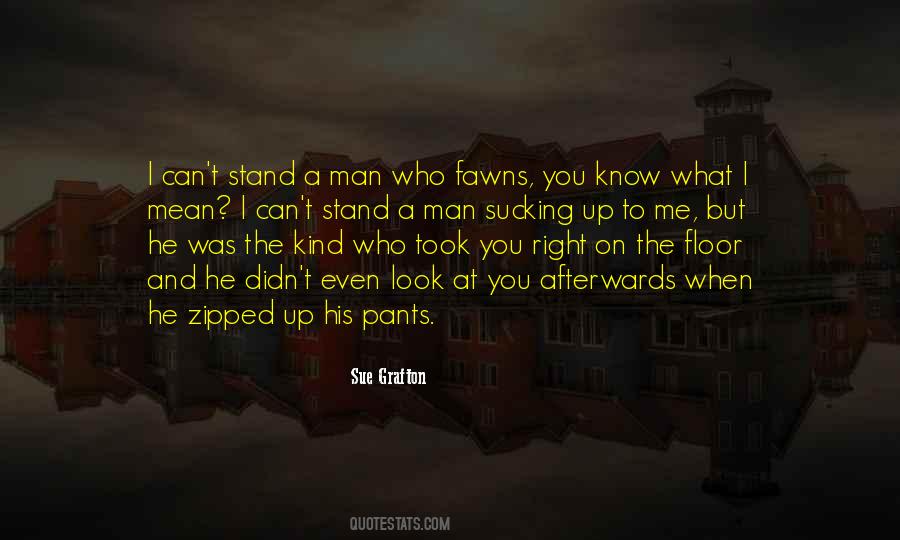 #28. I constantly think as an artist, as a rapper of what are the stories you want to tell? They can't all be, "I'm ill, I'm fresh, look at me, I have money." At some point, when you have an audience for it, there are stories that need to be told. - Author: Himanshu Suri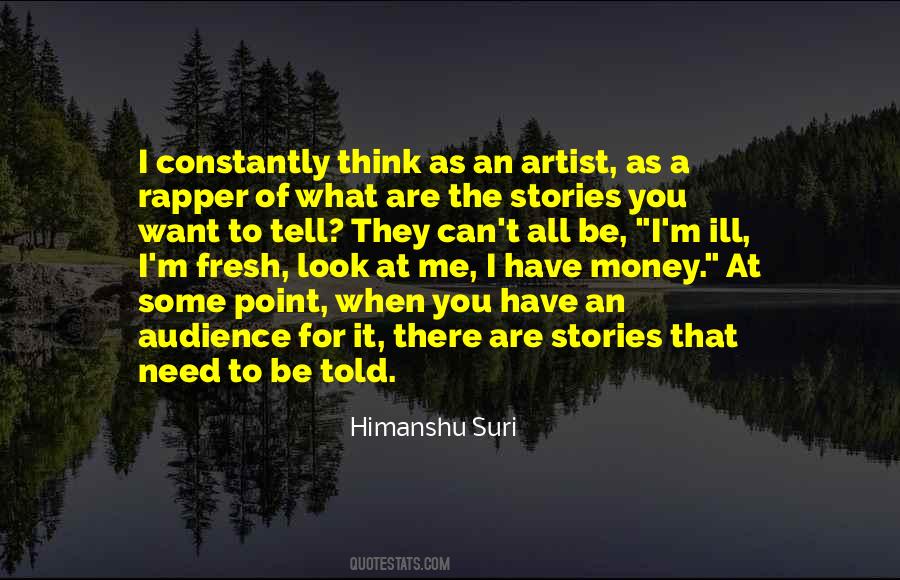 #29. Look at that skirt," my mother said when she opened the door to me. "It's no wonder we have so much crime today what with these short skirts. How can you sit in a skirt like that? Everyone can see everything."
"It's two inches above my knee. It's not that short. - Author: Janet Evanovich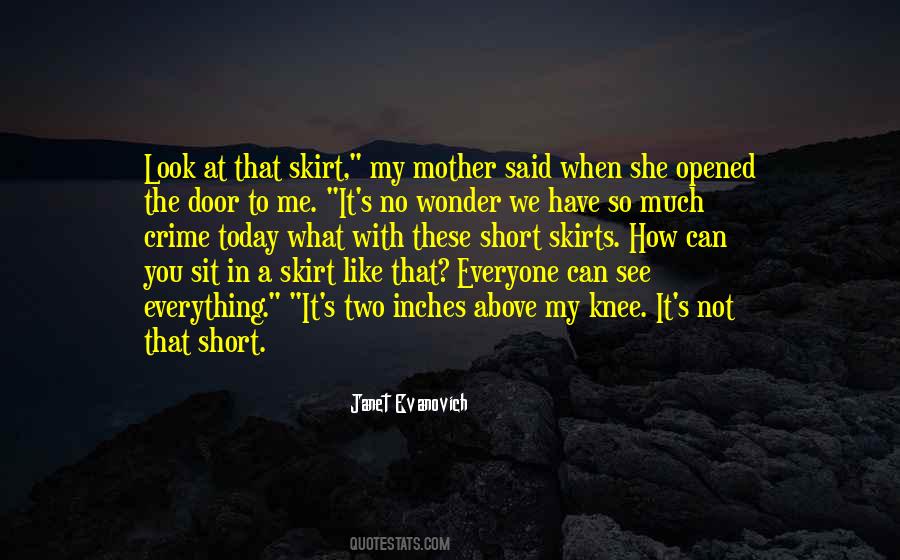 #30. Somehow you've been voted something for a magazine, and it's a complete mystery to me. I mean, I wake up and I have to look at that head when I brush my teeth every morning. And it's weird and it's unpleasant at times. - Author: Johnny Depp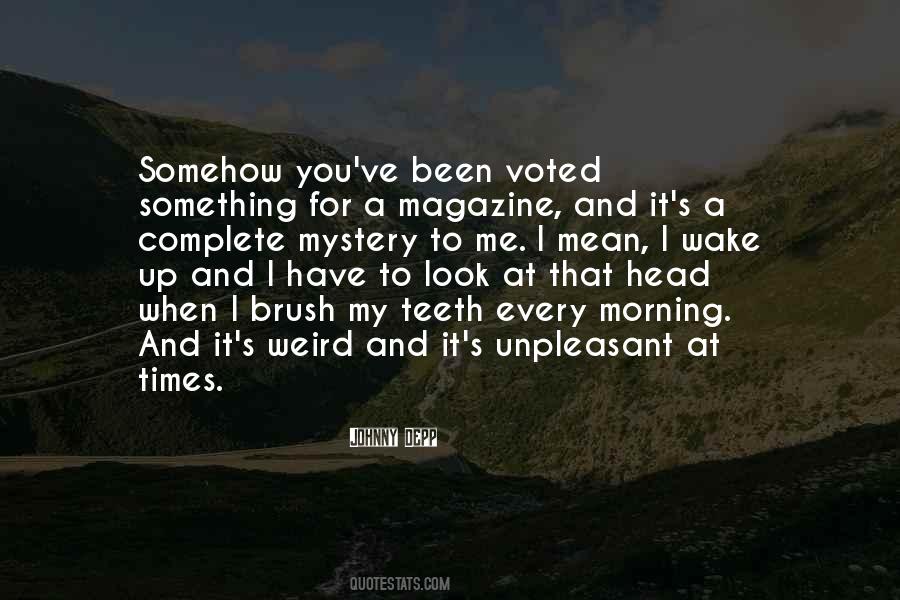 #31. He left her a note in her right slipper that said when I was alone yesterday I was happy, and I wanted you to know. Because look at how much you've done in me. - Author: Mikl Paul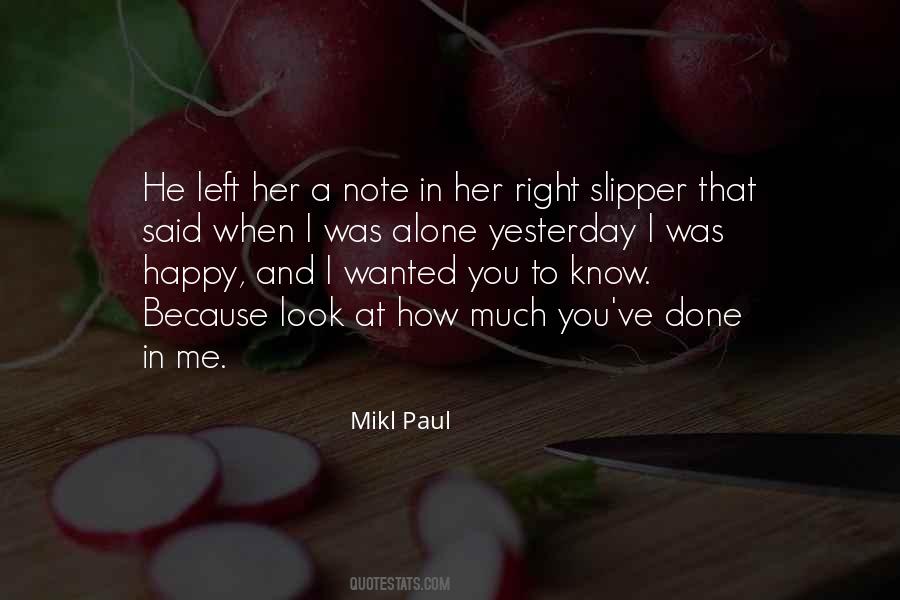 #32. Objectifying is kind of a funny thing. Art is objectification, all art, because you're taking someone and making them into an object. But people can also talk back more to you when you're sketching them. They can look at you and say, 'Oh man, you got me wrong.' - Author: Molly Crabapple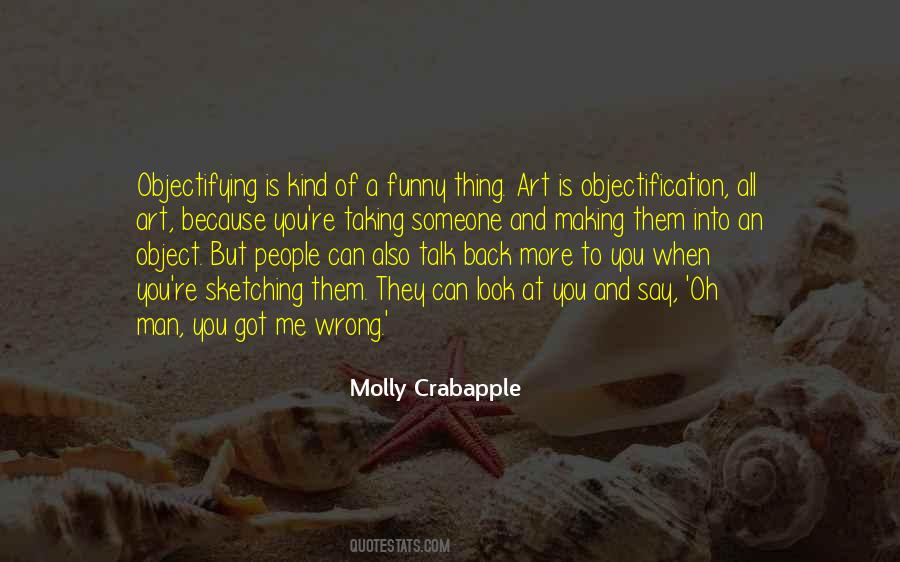 #33. Look at me when I tell you I love you," he ordered.
I focused on the man I loved who loved me in a return for an instant before he said the words.
"I love you, baby. - Author: Kristen Ashley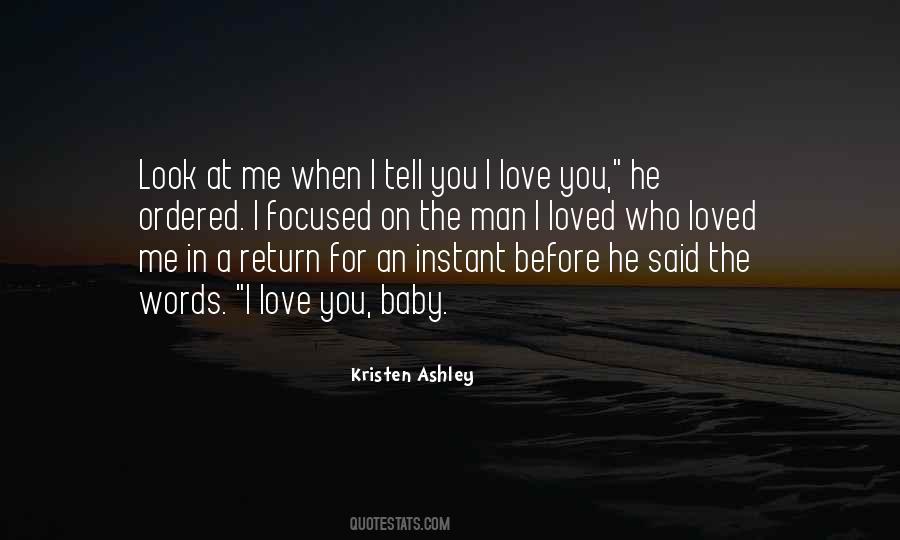 #34. Slash sat me down at his house and said, You've got to clean up your act. You know you've gone too far when Slash is saying, Look, you've got to get into rehab. - Author: Charlie Sheen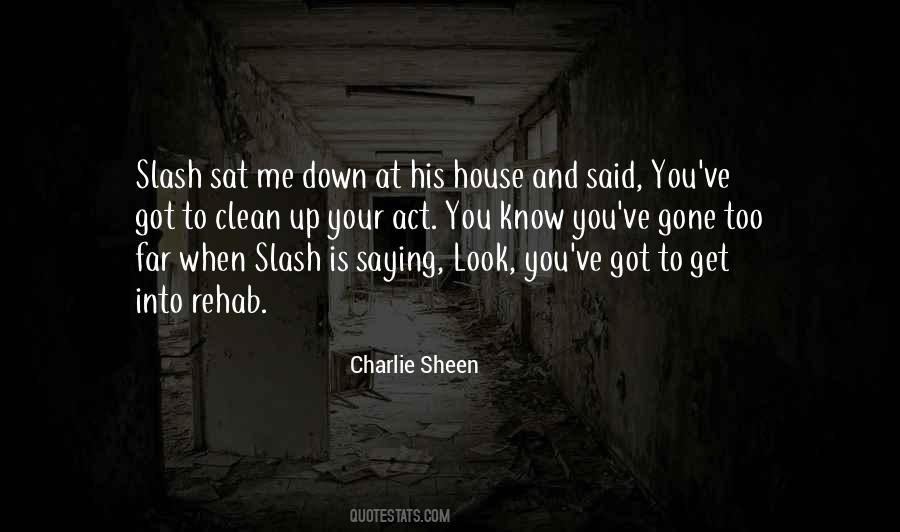 #35. Don't expect me to tell you apart," Reagan said when this became a routine.
"I have short hair," Wren said. "and she wears glasses."
"Stop," Reagan groaned, "don't make me look at you. It's like The Shining in here. - Author: Rainbow Rowell
#36. Photography for me is not looking, it's feeling. If you can't feel what you're looking at, then you're never going to get others to feel anything when they look at your pictures. - Author: Don McCullin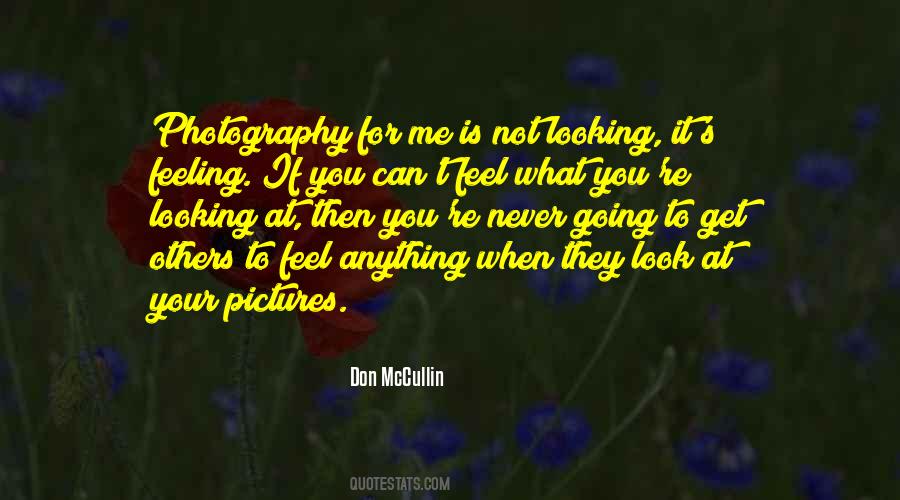 #37. The day you know when you're not a true human being: Is when you look at what you haven't got instead of what you have. - Author: Me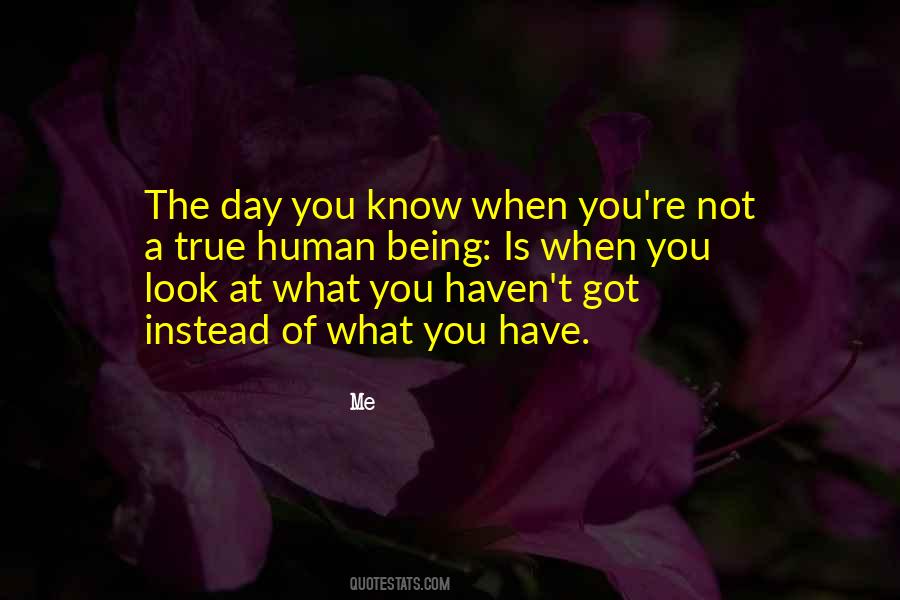 #38. Every miracle's got a mundane explanation. [ ... ] and you can choose - you can look at the wonderous surface or you can look at the crud beneath. I want to see the wondrous, believe me. I just know it isn't going to be there when I've finished looking. - Author: Karen Traviss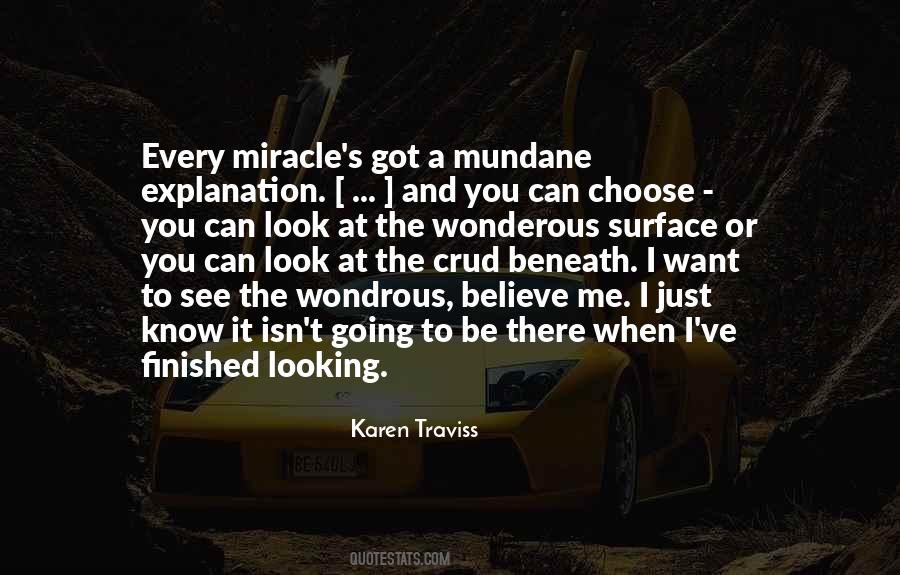 #39. Mildred waves Carlos over. 'Let me look at you.' She eyes him up and down. 'I saw you when you walked in. What's with all those tattoos? Makes you look like a hooligan.'
'I suspect I am a hooligan,' he says to her. 'Whatever that means. - Author: Simone Elkeles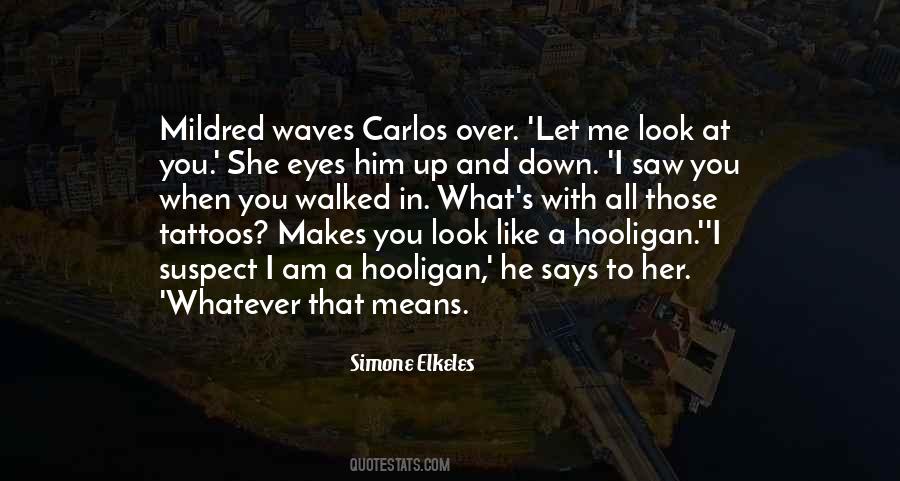 #40. What do you see when you look at me? - Author: Robert McCall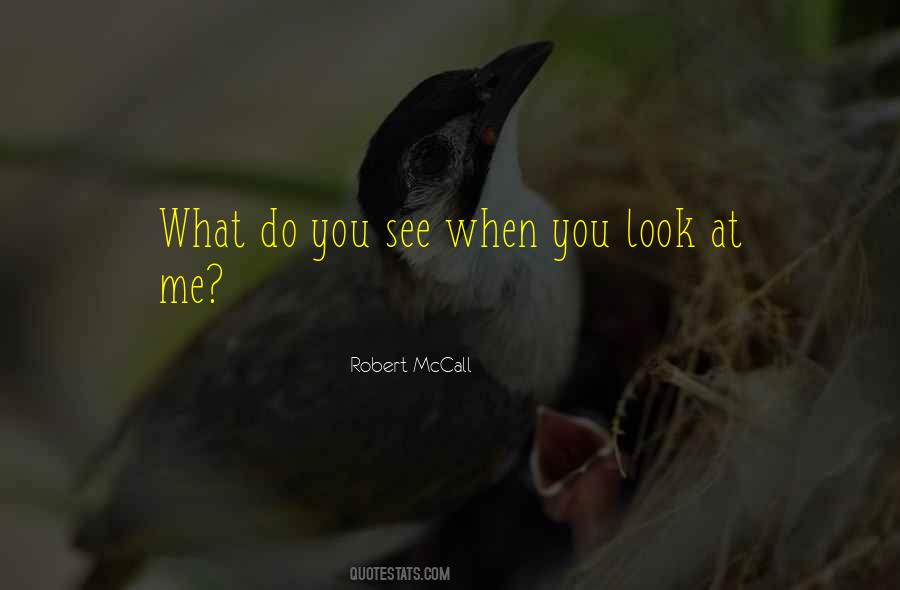 #41. Someday, I said, when we're old and gray, I'm going to look at you lying in bed beside me, just like this, and I'm going to look into your eyes and know that it's only ever been you. And that is going to be the great joy of my life, Bree Prescott. - Author: Mia Sheridan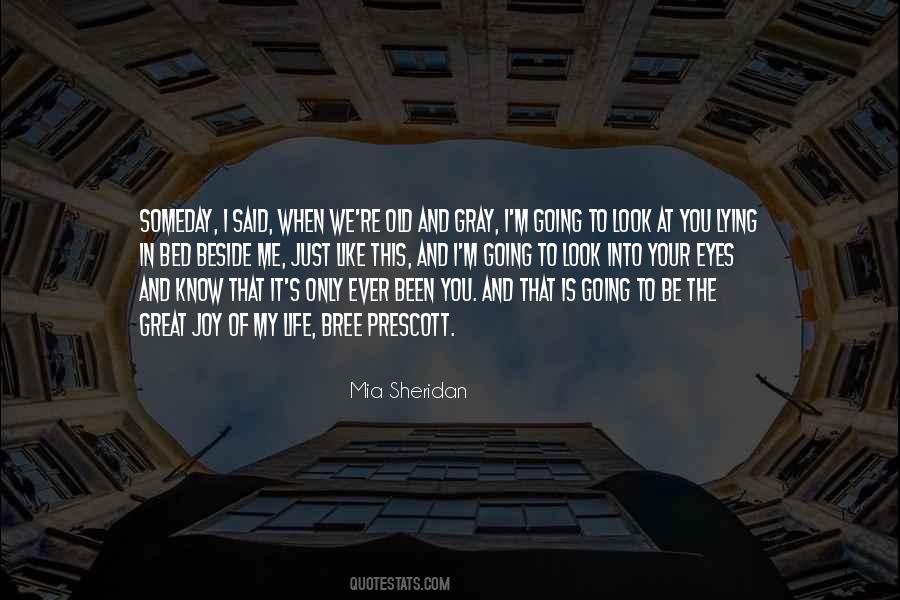 #42. And at the time, it is funny how you can look at something and say, for example with my shoulder injury, when it first happened I said this is the worst thing that could happen to me. Why me, why now? Now I look back and say it was probably the best thing that happened to me. - Author: Drew Brees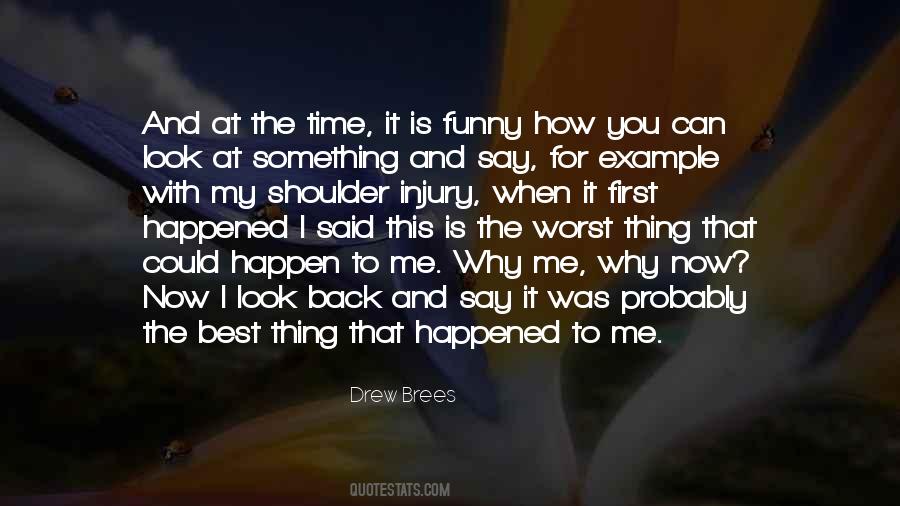 #43. You ask me why I'm nice to you," he said. "Why, why, why. But you don't ask me stuff that matters. Who I am or where I been. What I see when I look at you. What I want. - Author: Sarah Ockler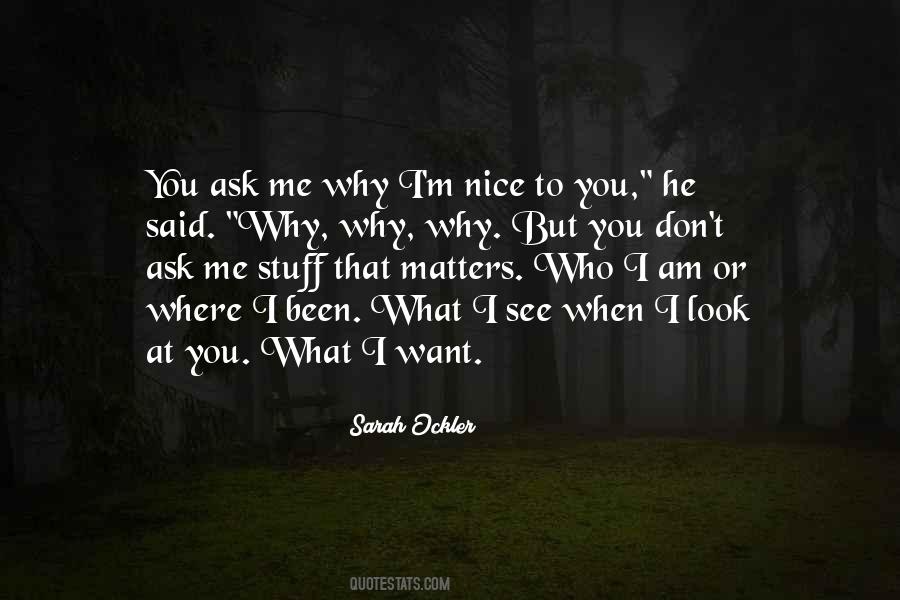 #44. You shouldn't be around me anymore. You shouldn't want to, Lex. Because all I see when I look at you is the woman I love, the woman I want to take home with me, the woman who I've spent damn near ten years messing things up with. And you should stay away because I know I'd do it all over again. - Author: K.A. Linde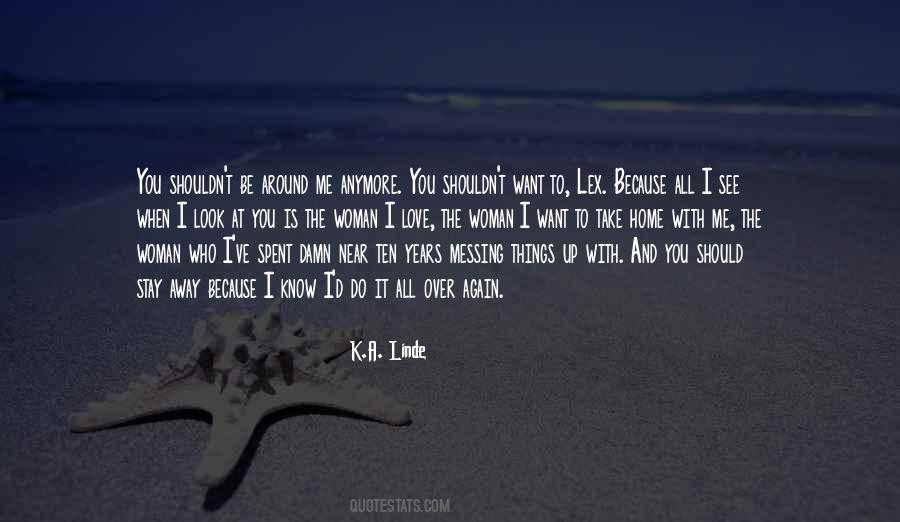 #45. When I miss you, sometimes I listen to music or look at pictures of you, not to remind me of you but to make me feel as if I'm with you. It makes me forget the distance and capture you. - Author: LeBron James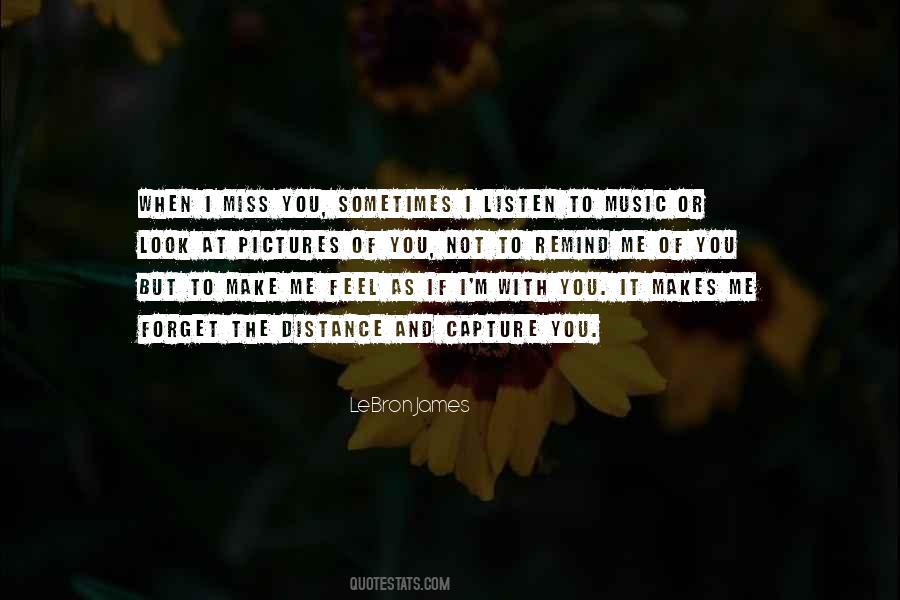 #46. When the day shall come that we do part," he said softly, and turned to look at me, "if my last words are not 'I love you'-ye'll ken it was because I didna have time. - Author: Diana Gabaldon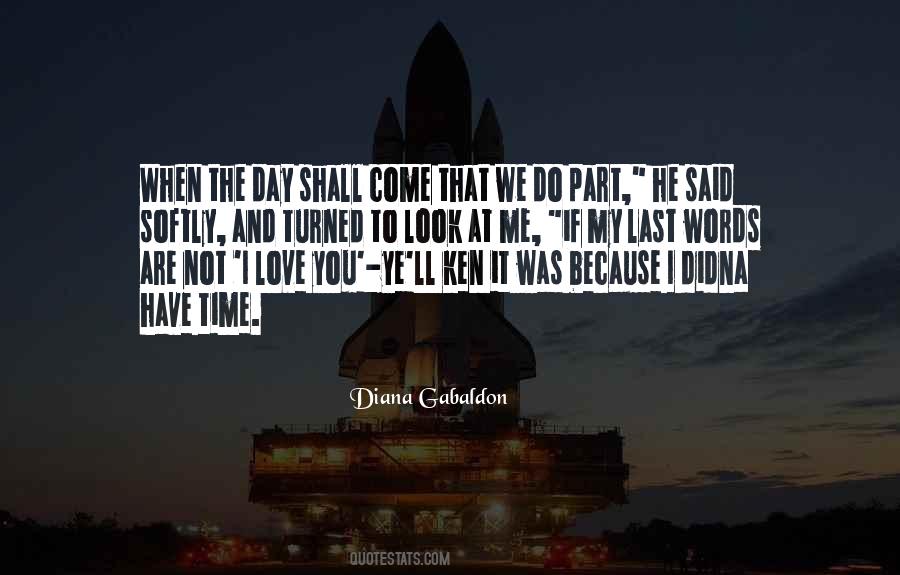 #47. He's looking at the wall and at the floor and at the bedsheets and at the way his knuckles look when he clenches his fist but no not at me he won't look at me and his next words are so, so soft.
Because they're dead, love. They're all dead. - Author: Tahereh Mafi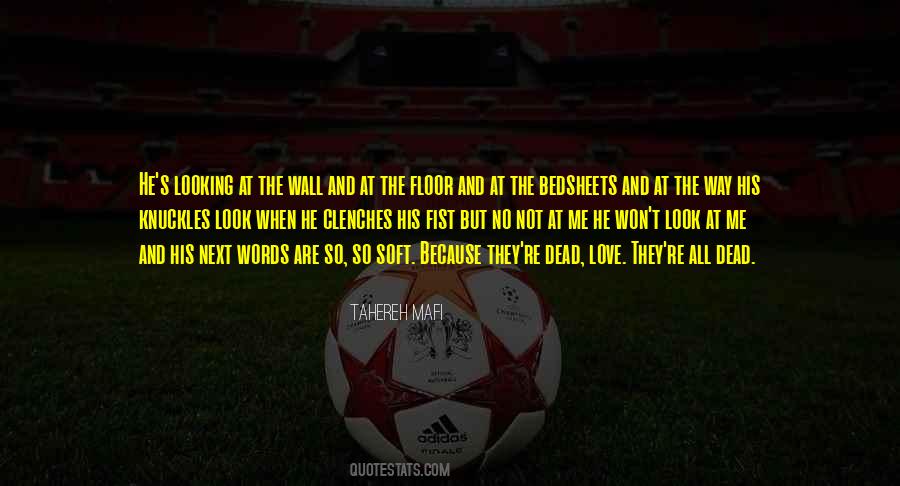 #48. I love to look at The Graduate, or Lawrence of Arabia, or things I had nothing to do with. But you could not get me to go back and watch movies that it was a privilege just to be around them when they were being made. - Author: Jeffrey Katzenberg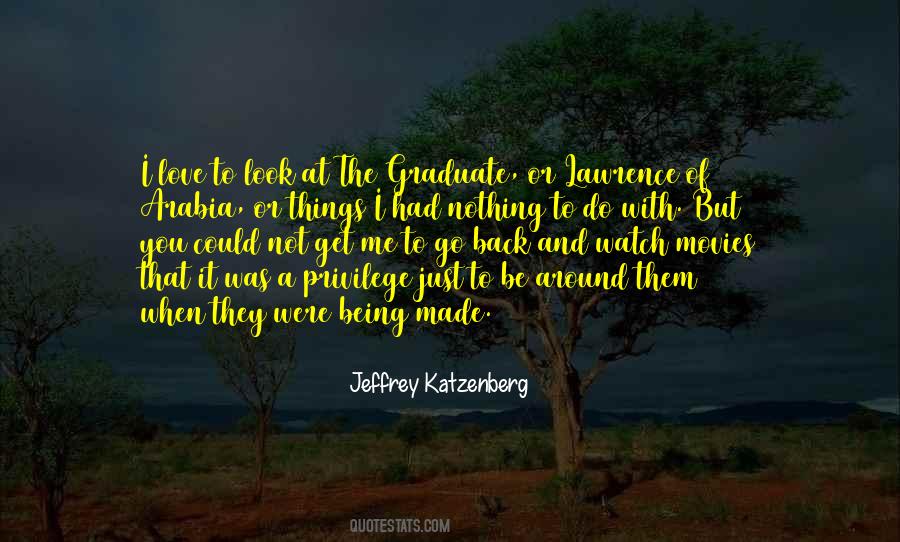 #49. They burn books now, mama.The monsters burn fucking books now, mama. They have eyes full of disappointing madness. Their tongues taste like fulvous indoctrination. They teach us. Teach us sadism, hatred, lust to kill, conformity. What do you see when you look at me? Daddy? - Author: Laura Gentile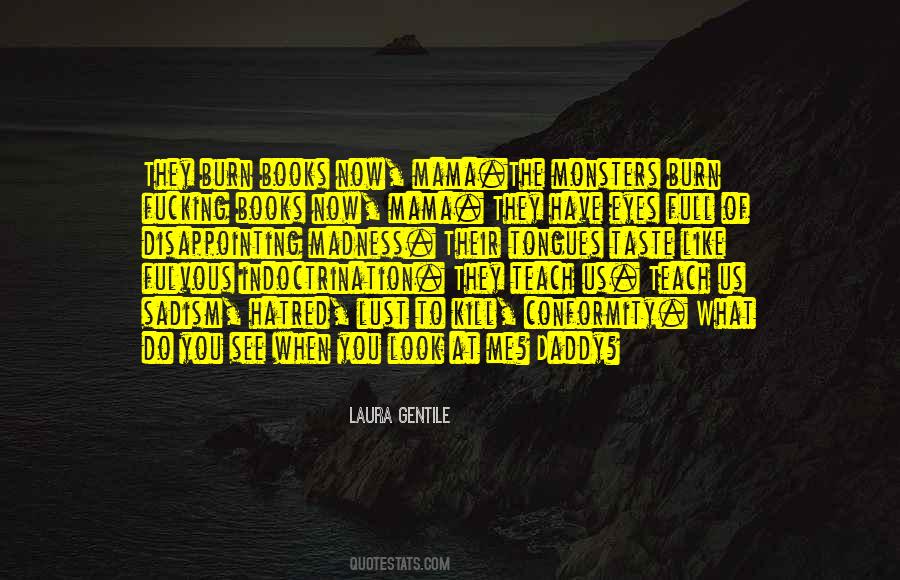 #50. Get off me, Bran!" she howled, her sweet breath brushing his lips when she turned her head to look at him. "If you get yourself killed bein' all heroic and brave, I swear on my granddaddy's grave, I'll murder you! - Author: Julie Ann Walker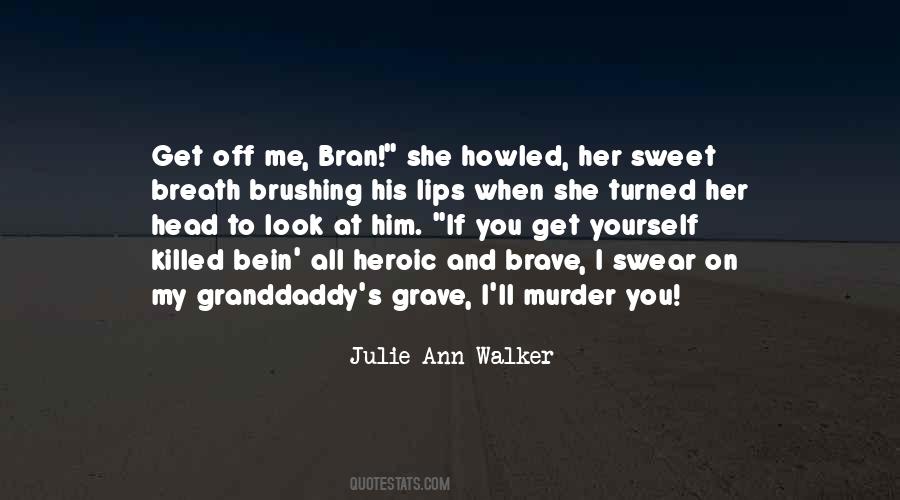 #51. It's an odd thing about love. When someone you love cries, your heart melts. But when someone you don't love cries, you look at them and think, Why are you telling 'me' this? - Author: Jude Deveraux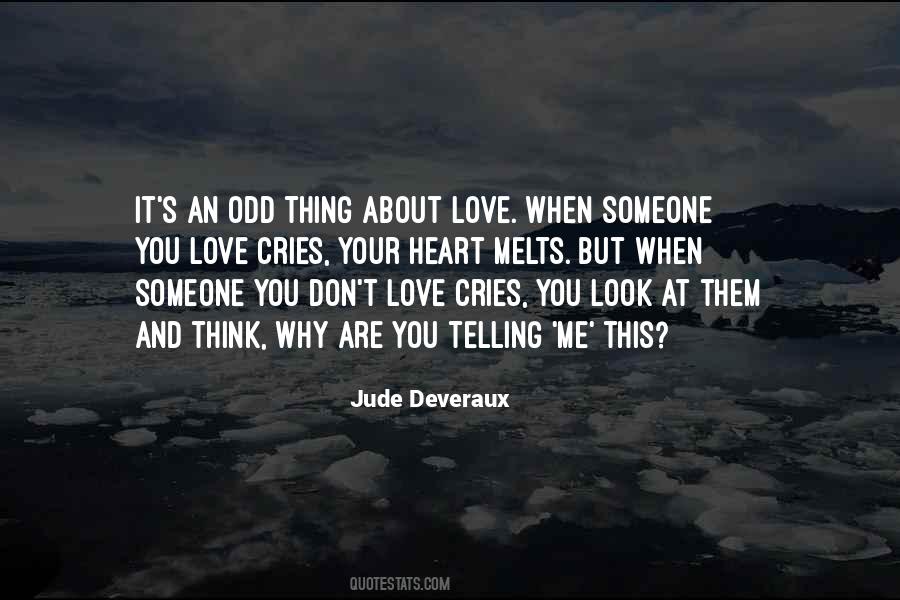 #52. He pulls back to look down at me and when he sees my tears, he brings his hands up to my cheeks. In the future . . . if by some miracle you ever find yourself in the position to fall in love again . . . fall in love with me. - Author: Colleen Hoover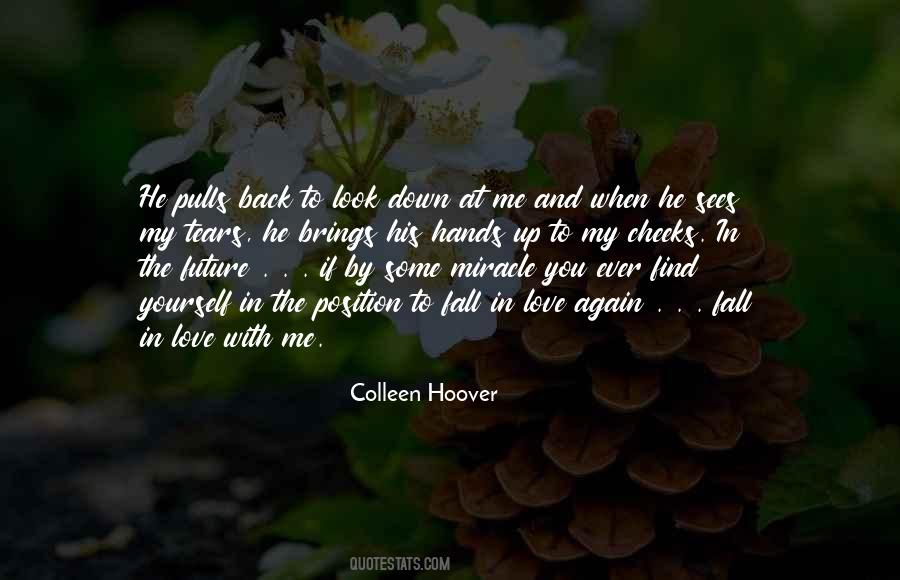 #53. I don't stand a chance When you look at me that way I'll do anything you want me to Anything for you And I'll shout it for the whole world to know Oh, honey, that's what you do to me And I don't mind at all - Author: Emma Chase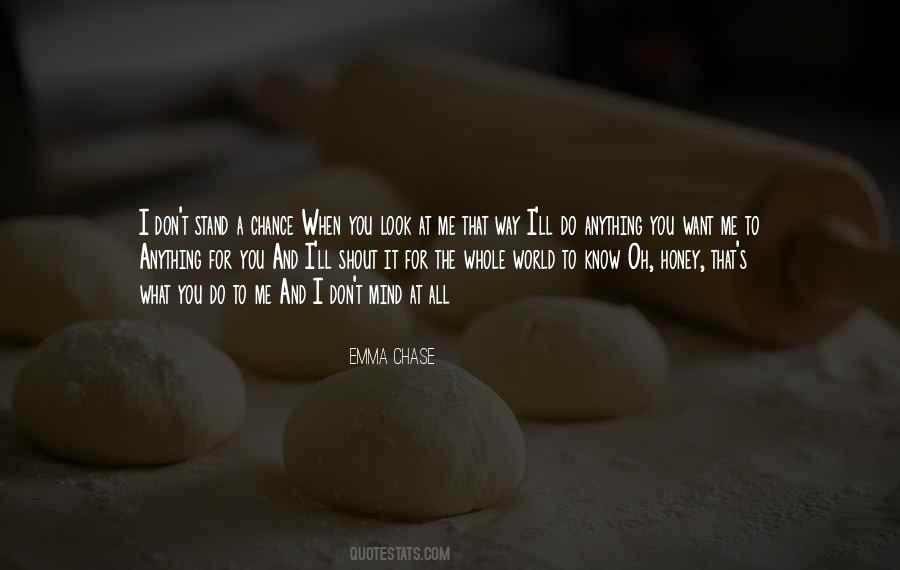 #54. You'll be a good parent when you're ready to no longer be selfish. Until I was about 35, it was all about me. I look back and I'm astonished at how I lived my life - it was totally self-involved. - Author: Lauren Holly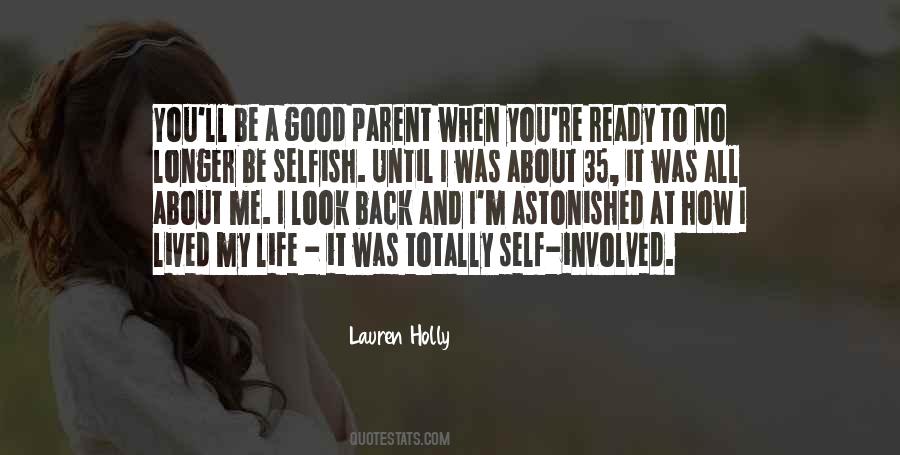 #55. Rose: Look at you, beaming away like you're Father Christmas!
The Doctor: Who says I'm not, red-bicycle-when-you-were-twelve?
Rose: [shocked] What?
The Doctor: And everybody lives, Rose! Everybody lives! I need more days like this! Go on, ask me anything; I'm on fire! - Author: Steven Moffat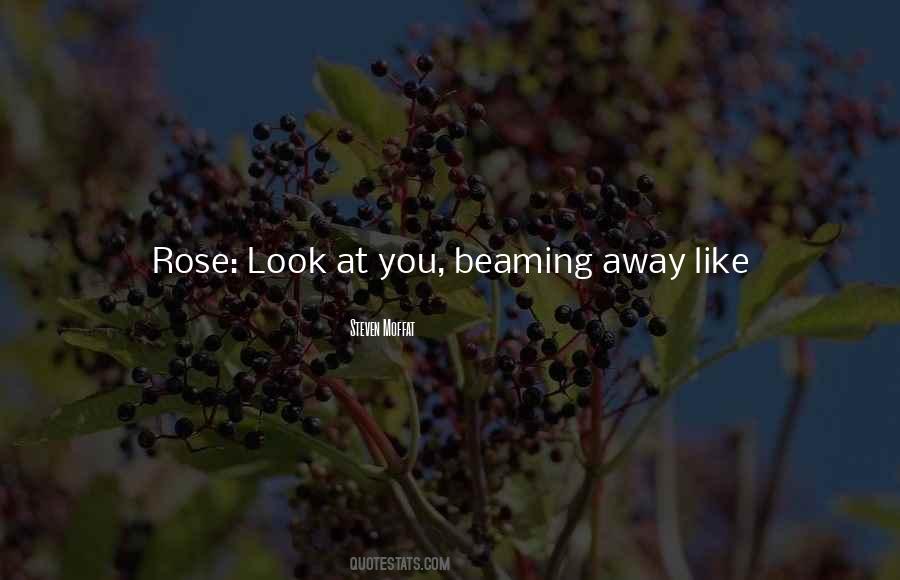 #56. I see how you look at me," spits the hateful man. He thinks we look upon him with the evil eye when we are not looking at him that way at all. We are just looking at him. It's because he can't accept the hate inside of himself that he projects it onto us. - Author: Kate McGahan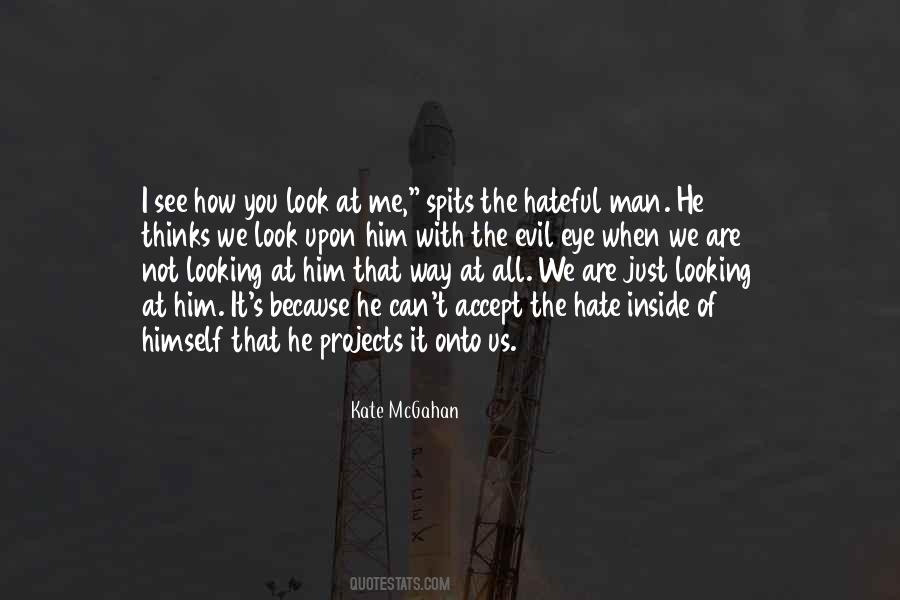 #57. It was my friend Frank, a writer in San Francisco, who finally set me straight. When asked about my new look he put down his fork and stared at me for a few moments. A bow tie announces to the world you can no longer get an erection. - Author: David Sedaris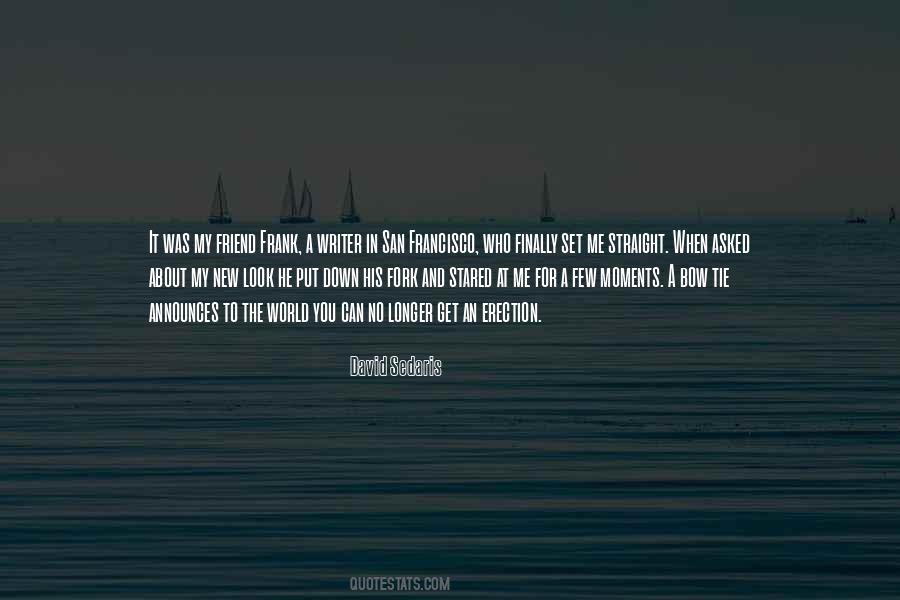 #58. Indeed. That pony collection isn't nearly complete," Carter mused. When I dared a look back at him, I saw that the angel was smiling at me. "You see? You aren't lost. No matter what happens to you, you have a plan. There's still hope. - Author: Richelle Mead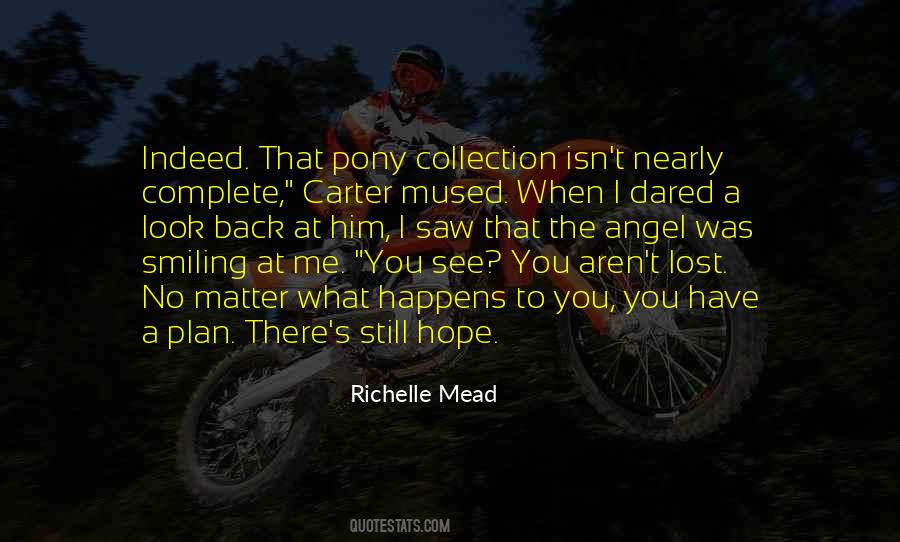 #59. When you're out there with thousands of people it's probably better to have a bigger show to look at, and it turned out really well and they videoed it for me. - Author: Cliff Richard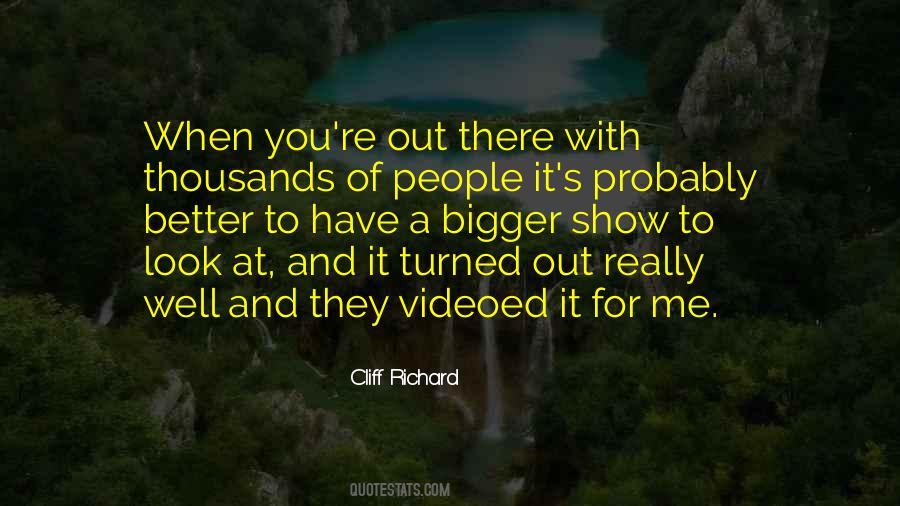 #60. When I ask to photograph someone, it is because I love the way they look and I think I make that clear. I'm paying them a tremendous compliment. What I'm saying is, I want to take you home with me and look at you for the rest of my life. - Author: Amy Arbus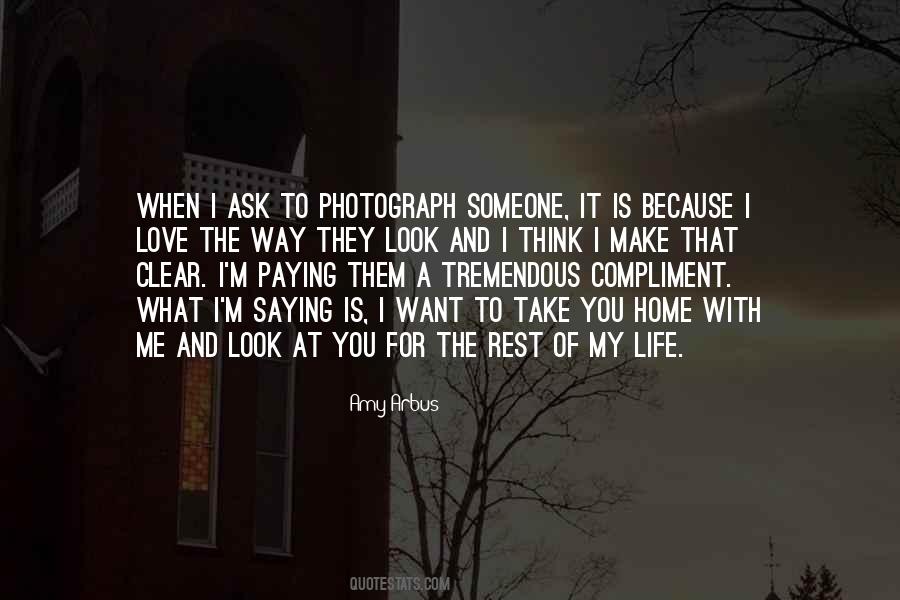 #61. There are points in time when you grow older than your parents. Or come up on them at least. I look at my father, who's shrinking before my eyes, and realize no one will save me. No one can save me. - Author: Amy McNamara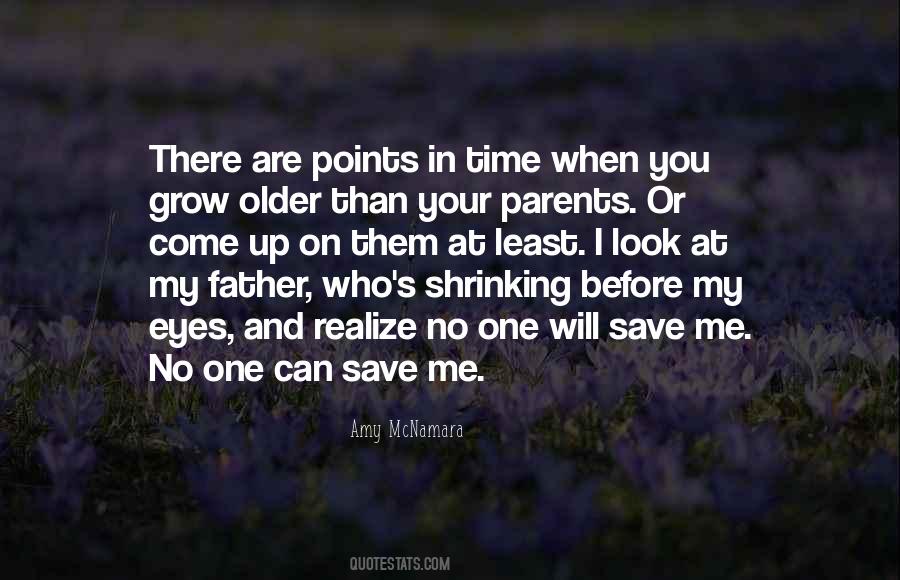 #62. Fatherhood means a great deal to me. I love it. To me, there aint nothing better, because your kids keep it real with you. When you think things are bad, you look at them and they show you how things could be all right, and it's all worth it. - Author: Martin Lawrence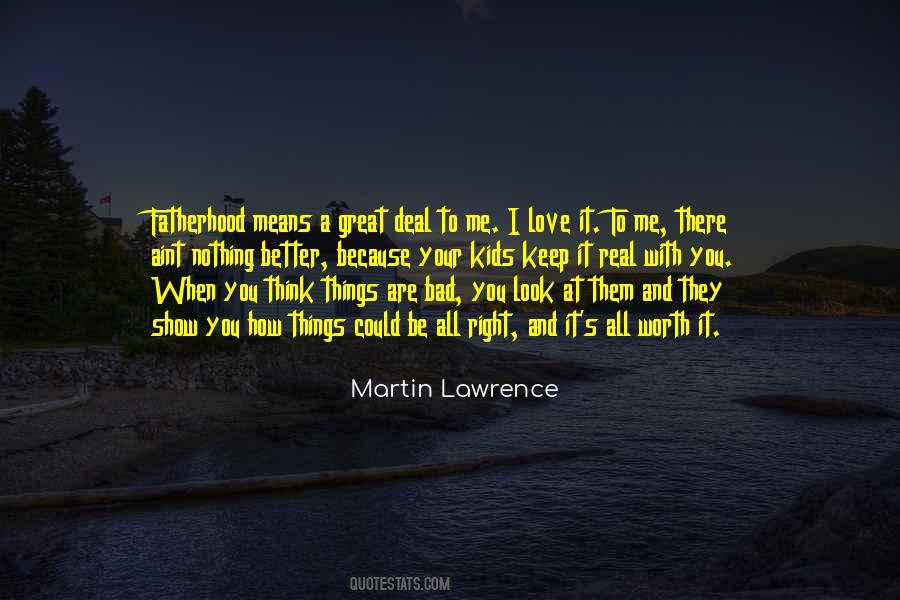 #63. People got so many questions. Why you got so many questions when my whole life is on the Internet? If you wanna know about me, you can go on the Internet and look at my YouTube videos. I used to drop one every day. You can go on my YouTube channel, go on my Vine, my Twitter. - Author: Riff Raff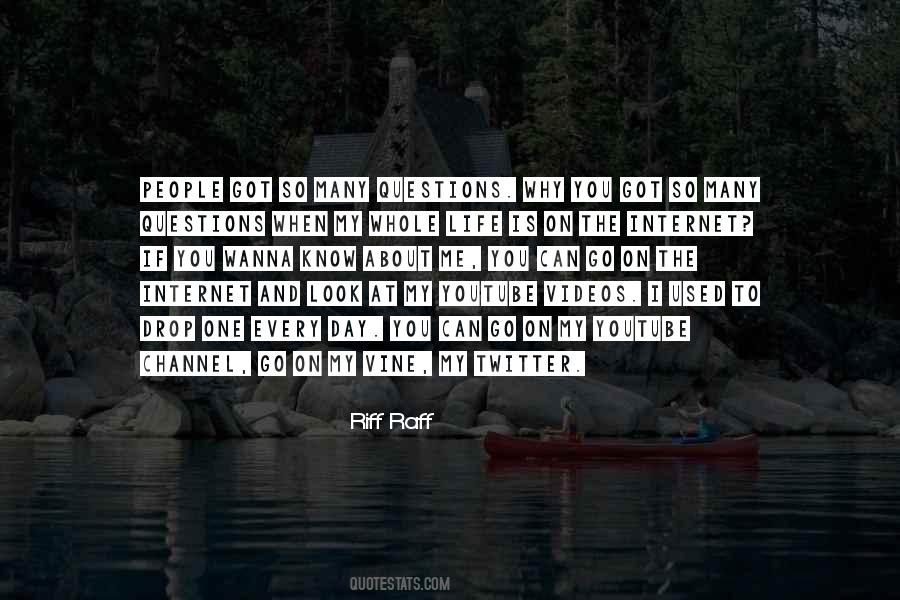 #64. I remember when I was a kid in school and teachers would explain things to me about what I read, and I'd think, Where did they get that? I didn't read that in there. Later you look at it and think, That's kind of an interesting idea. - Author: Norton Juster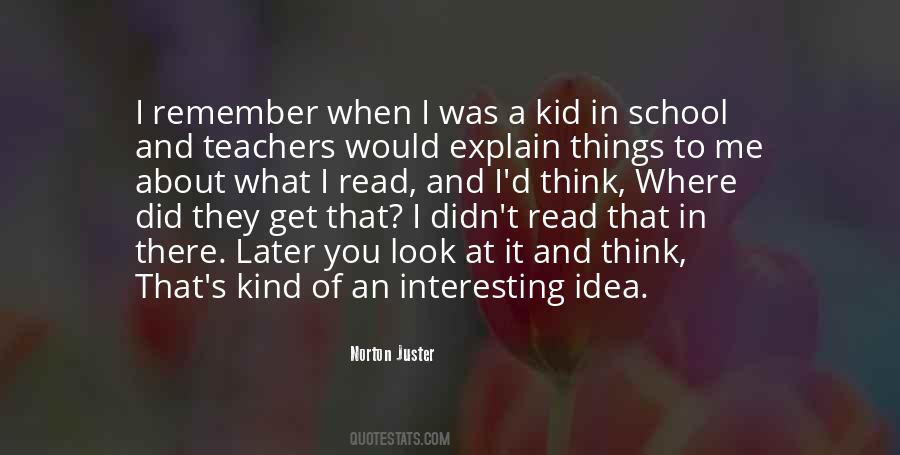 #65. I, personally, would be shocked if we went to the end of the tape now and I didn't have at least one ... Look, even if I don't get one directly, eventually they're just going to have to give me one when I get old. So no matter how you slice it, I'm getting one. - Author: Robert Downey Jr.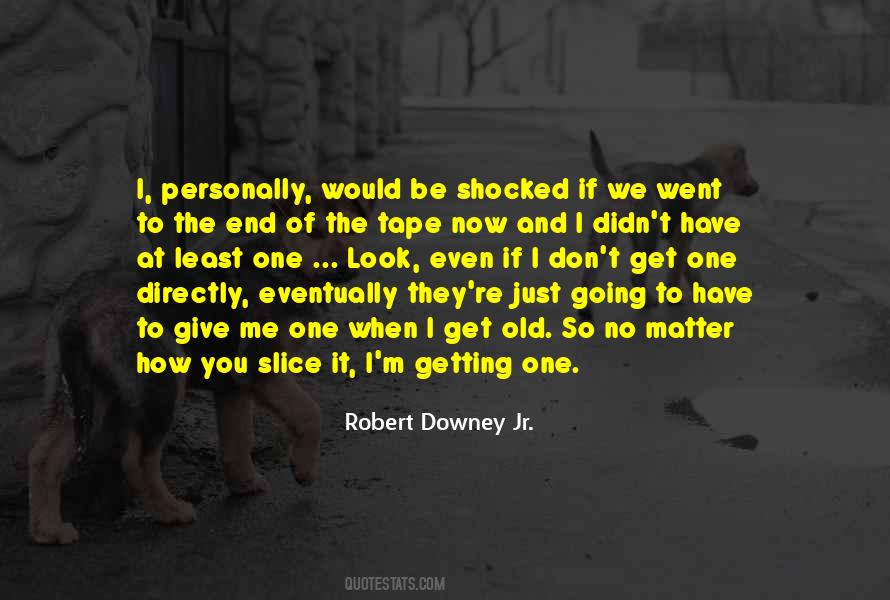 #66. I'm on fire when I look at you," he says, his voice reverent and his gaze electric on me. "You decimated me just now. - Author: Katy Evans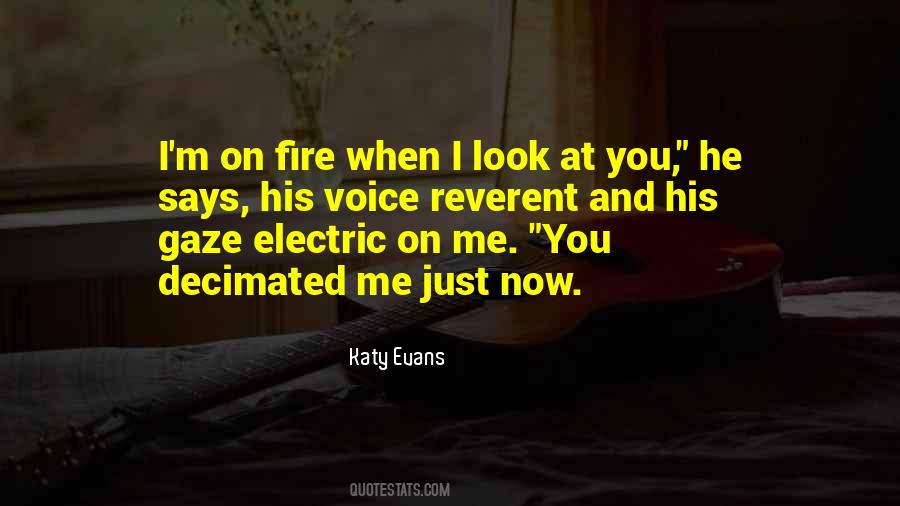 #67. You look at me and tell me you think you're some goddamn obligation to me. You look at me and tell me that we're pretending when the connection between us is the most tangible, overpowering thing I've ever felt in my life. If this is pretending, then I damn sure don't want to know what reality is. - Author: Maya Banks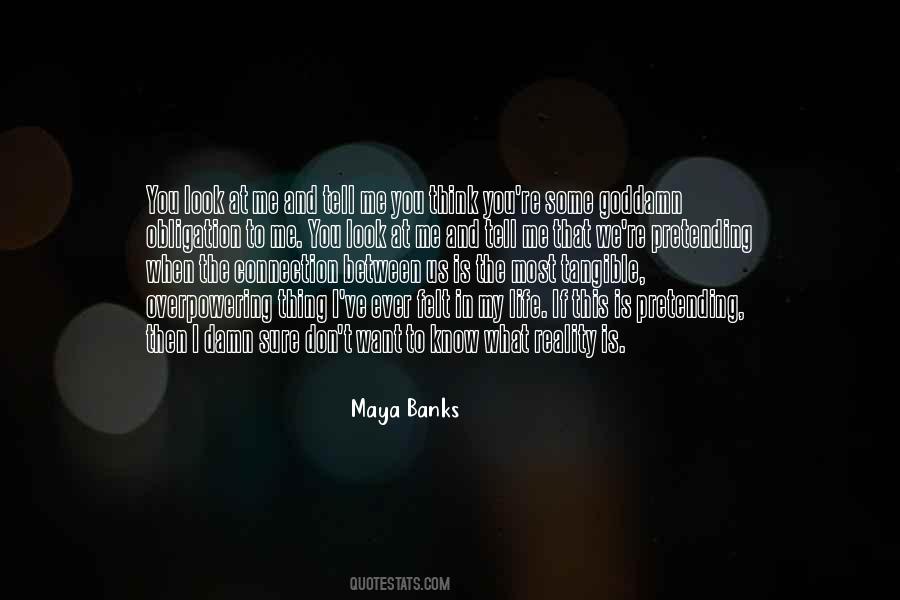 #68. I am not a good professional of fashion. I am not an expert about how clothes are constructed or the history of fashion. I never start with fashion. I always think of the girl and her personality - because all that matters to me when you look at a page is, "Do you want to be that girl?" - Author: Carine Roitfeld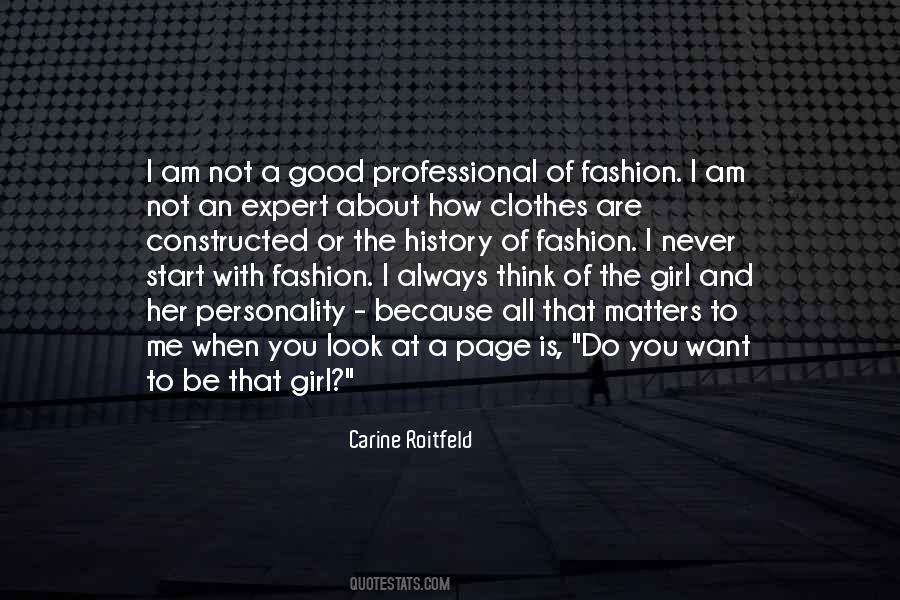 #69. For me, it's about optimizing health. It's about lifestyle and longevity. Then you think about what vegetarian diets can do for the mass population, in terms of lower consumption of resources. When you look at the numbers, it's pretty staggering. - Author: Scott Jurek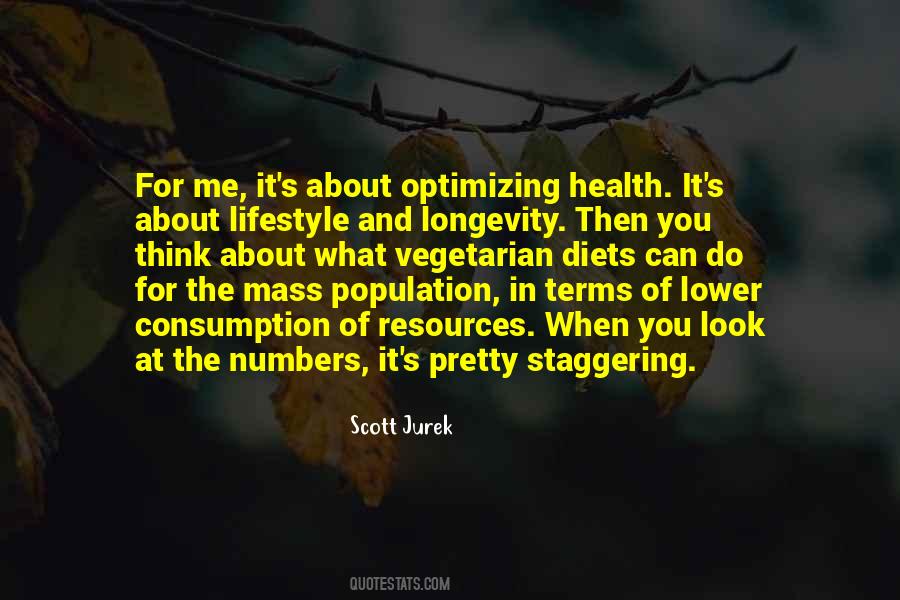 #70. When I look at you, you know what I see?"
I met her gaze, finding it suddenly hard to breathe.
"I see the guy who saw me when no one else did," she said. "That's what matters to me. That's who you are. - Author: Cindi Madsen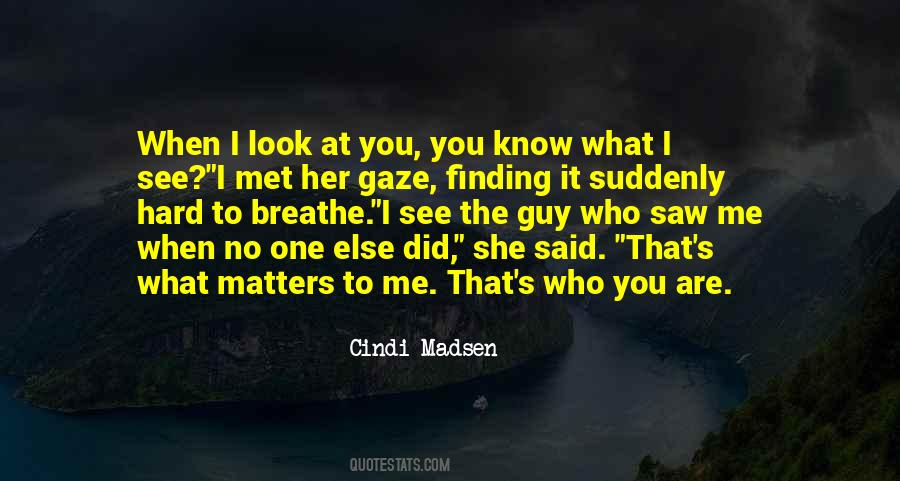 #71. I think for me when you look at the idea of being able to create a limitless world and use it almost as a playground for action and adventure and so forth, I naturally gravitate towards cinematic worlds, whether it's the Bond films and things like that. - Author: Christopher Nolan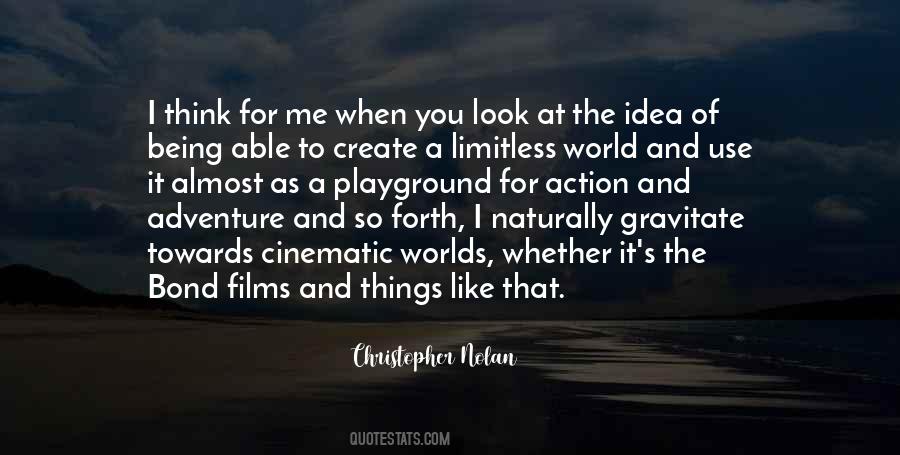 #72. I'm an artist. And usually when I tell people I'm an artist, they just look at me and say, 'Do you paint?' or 'What kind of medium do you work in?' - Author: Hasan M. Elahi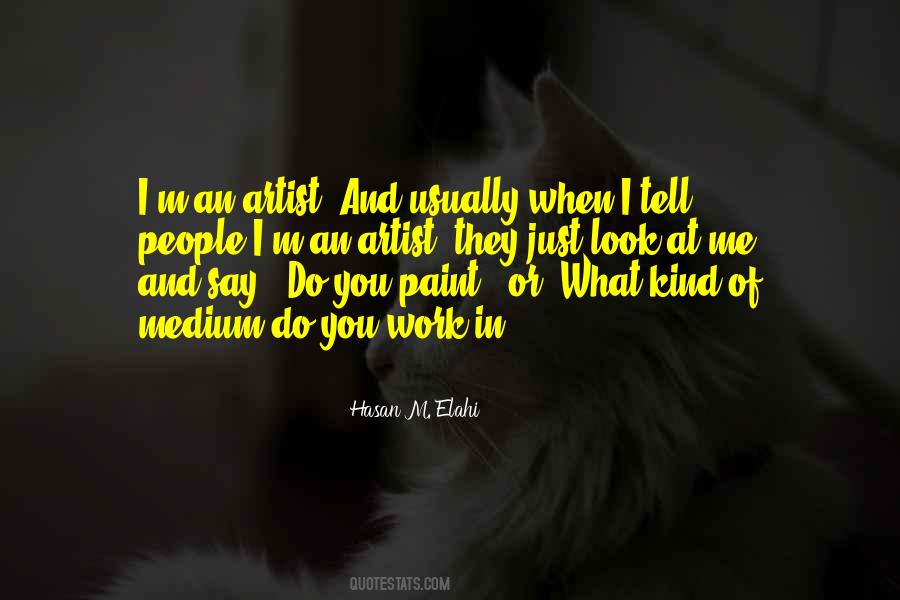 #73. You ask me a question I'll give you an answer ... but don't look at me when I say something you don't want to hear. - Author: Turcois Ominek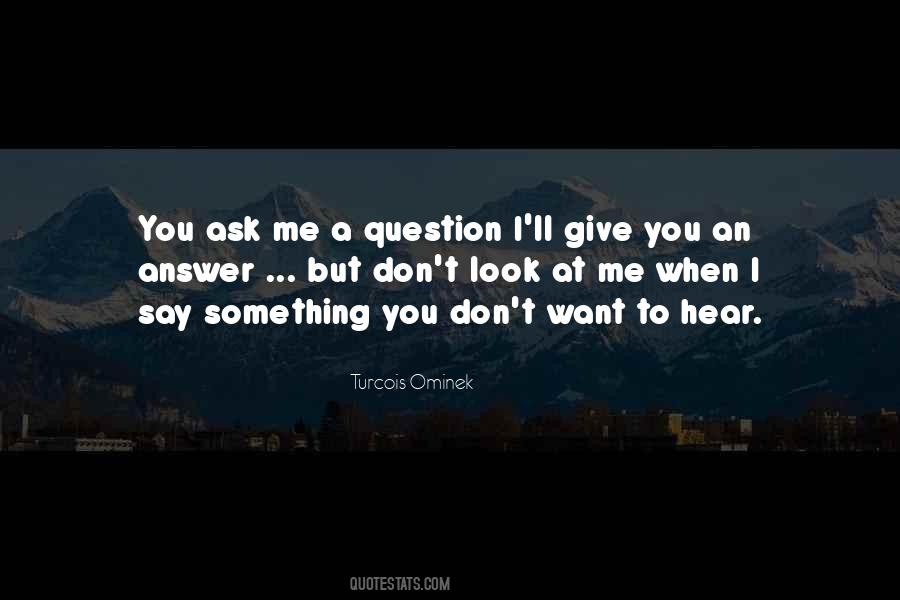 #74. Ella. Look at me." Her head tossed. Her fingernails dug into his forearms. But he didn't care. Sliding the fingers of his other hand into her hair, he forced her to face him. "Only you," he whispered when their eyes met. "You're it for me."
~ Tate - Author: Elisabeth Naughton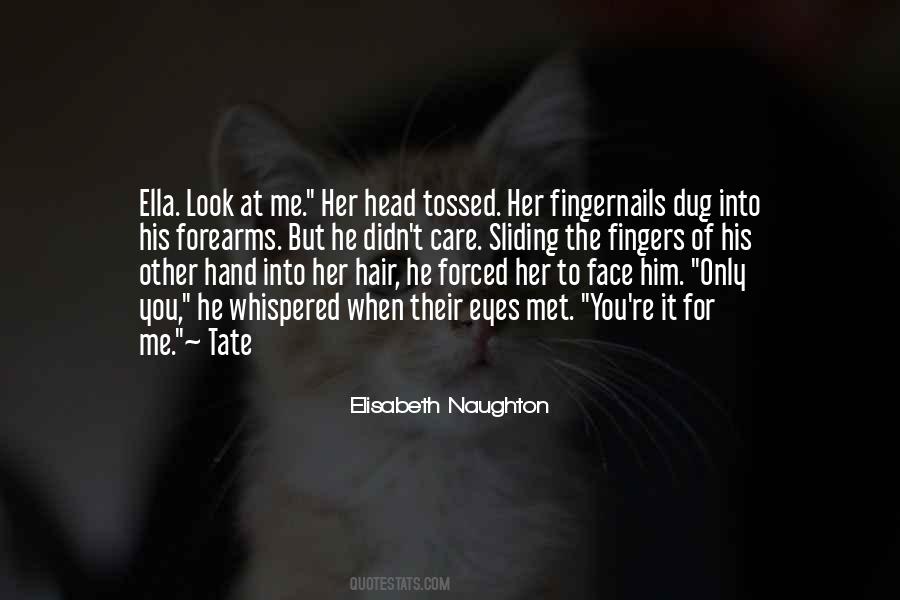 #75. My first manager, he had left Germany when he was five, but he would joke about the Nazis. And I'd laugh, but I'd look at him, and he was the first one who told me, 'You know, funny is a powerful thing; it's a wonderful weapon.' - Author: Michael Keaton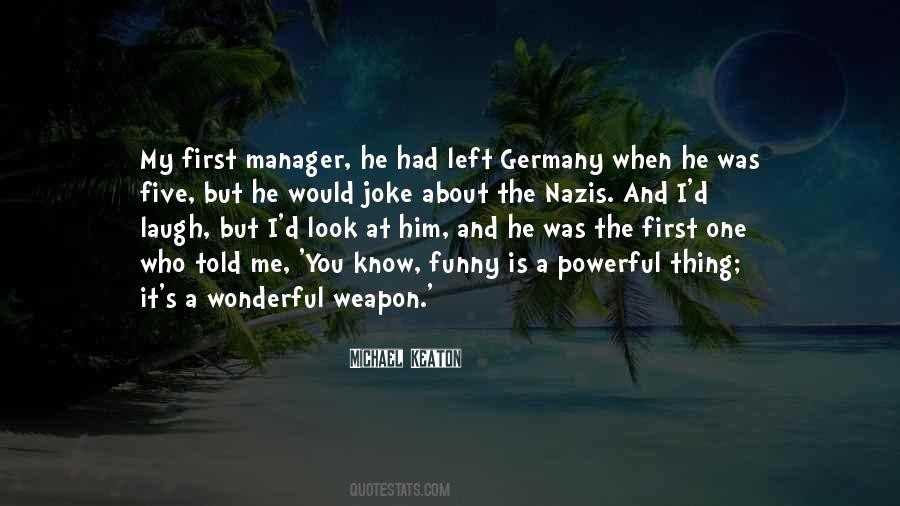 #76. It's only when you look back sometimes and you look at some people in your life and you're like, Oh my god, there was something so pure about that. The thing that kind of bugged me, maybe, is the thing that's so unique. - Author: Todd Haynes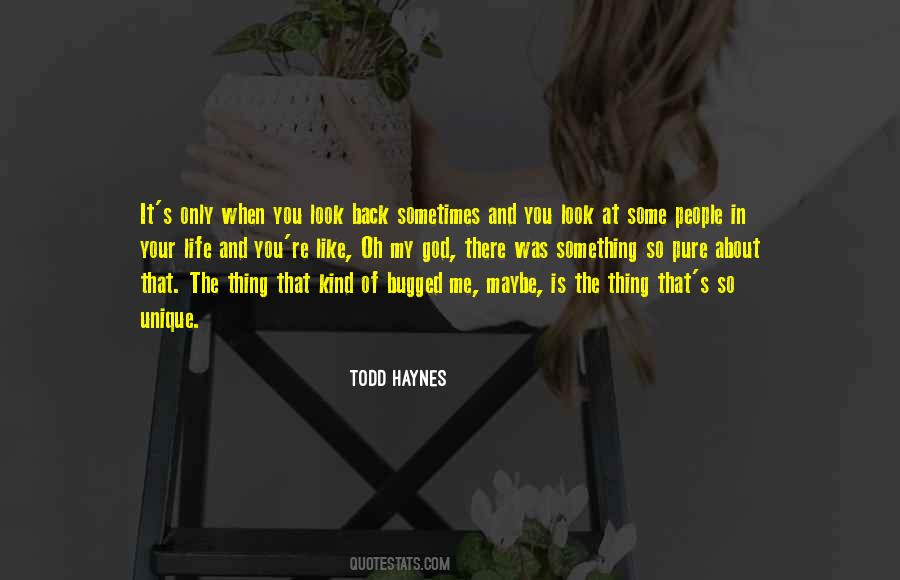 #77. All you do is to look / At a page in this book / Because that's where we always will be. / No book ever ends / When it's full of your friends / The Giraffe and the Pelly and me. - Author: Roald Dahl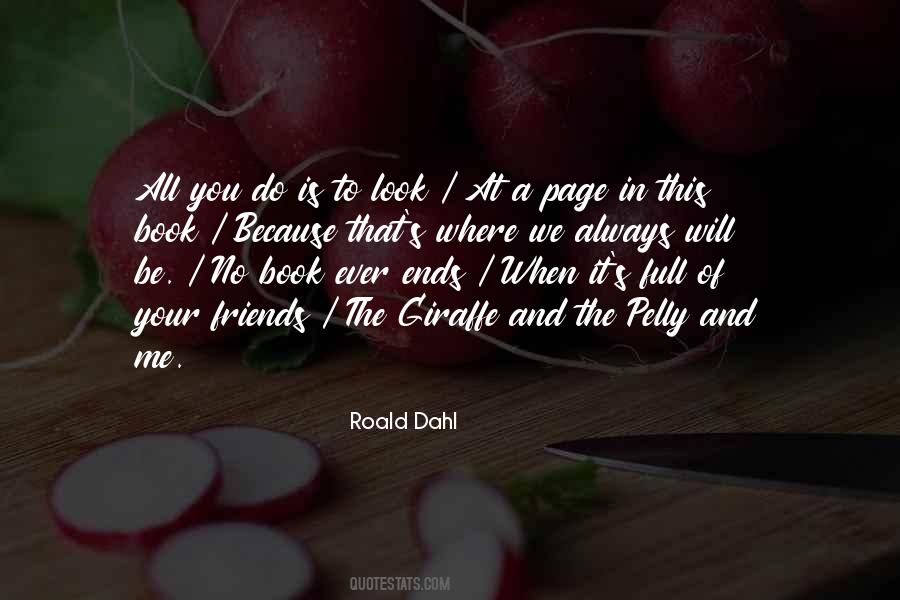 #78. No, Elenore's something else. You're beautiful. Especially when you look at me with that 'boy he's a condescending asshole' expression ... Yea. Beautiful. - Author: Maggie Stiefvater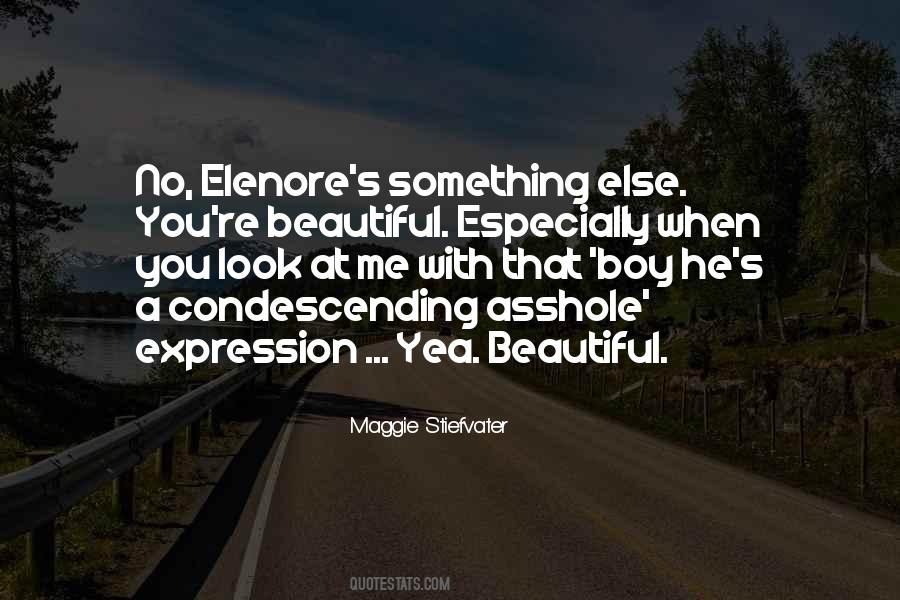 #79. No, you don't look at the cigarette, you look at me. When you light a cigarette you have to look the person in the eyes. - Author: Ann Patchett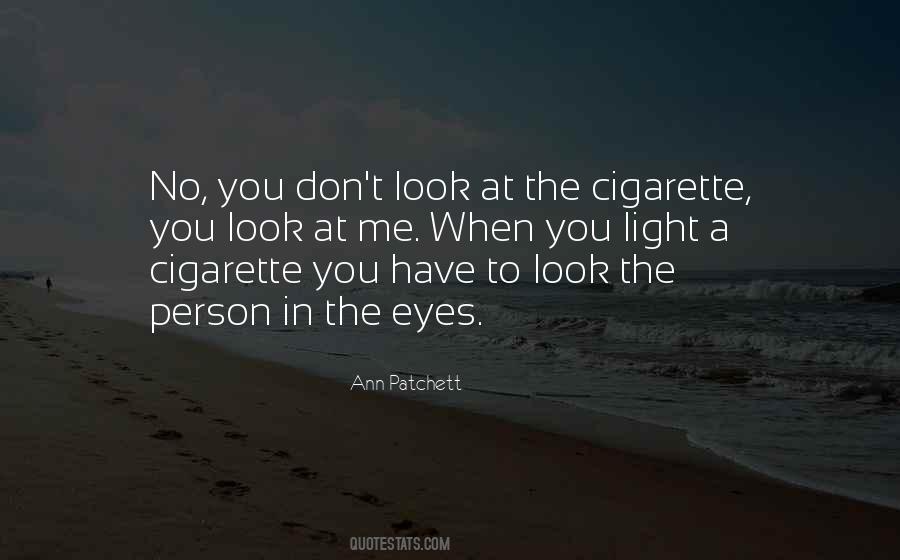 #80. When you look at me like that," I said softly, "it's like I'm looking at your soul, and you're looking into mine. You make me feel like I'm worth something when you look at me like that. - Author: Shay Savage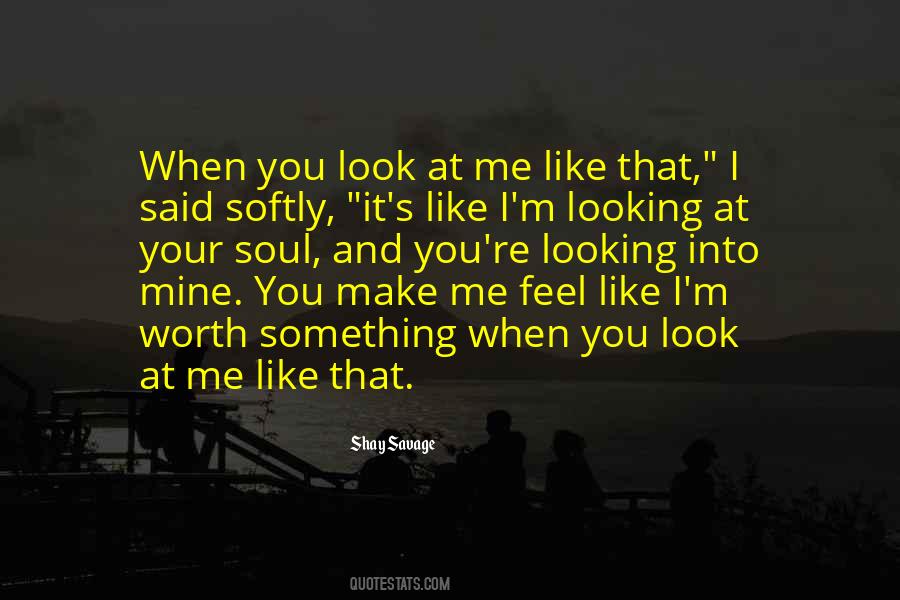 #81. Look at me. I want to see your eyes when you come. - Author: Sylvain Reynard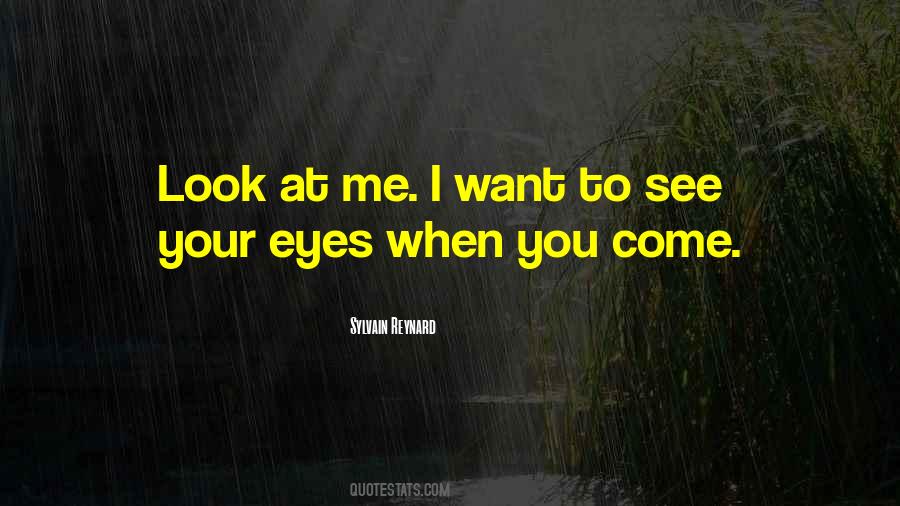 #82. This is what I know. I look like my father. My father disappeared when he was seventeen years old. Hannah once told me that there is something unnatural about being older than your father ever got to be. When you can say that at the age of seventeen, it's a different kind of devastating. - Author: Melina Marchetta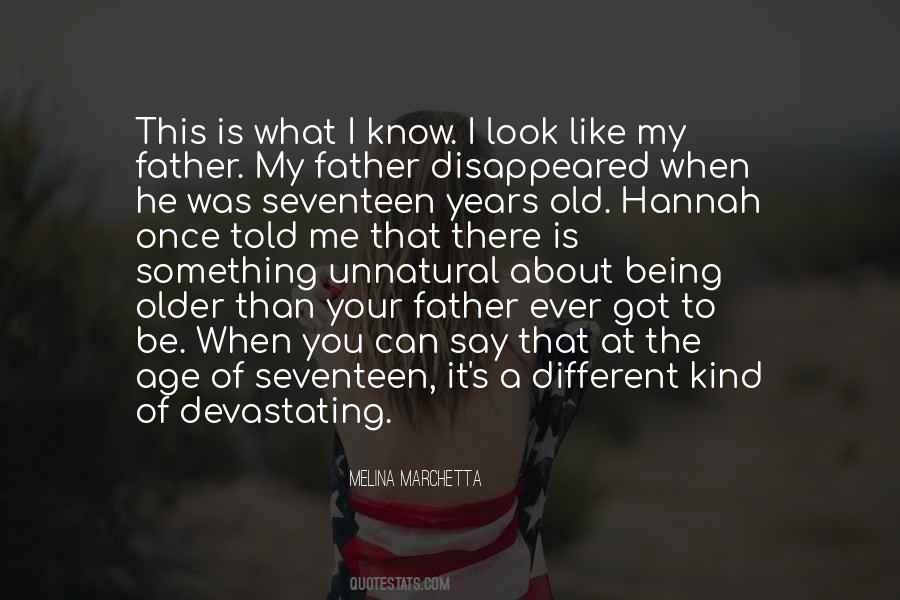 #83. When you look at dividend returns on equities versus bond yields, to me it's a pretty easy decision to be heavily in equities. - Author: Laurence D. Fink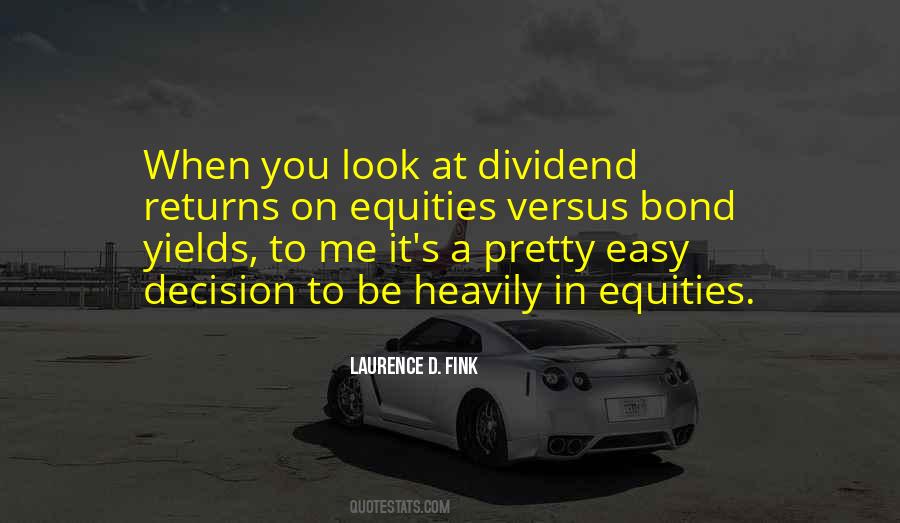 #84. My mom made me think I was gorgeous. When I was younger she was like, 'Look at you! You're an angel. You sparkle!' And I was like, 'I do!' You believe your parents. - Author: Amy Schumer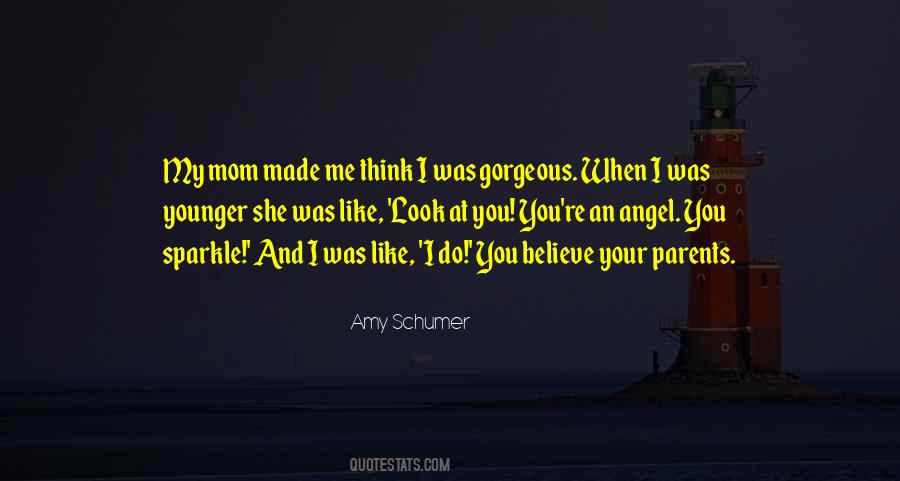 #85. You can let go of me, Kayden."
"That's not going to happen," he promises, his voice low, as seductive as everything else about this man is, and when I look at him, that wolf is back in his eyes as he adds, "In case I didn't make that point already." ~Surrender - Author: Lisa Renee Jones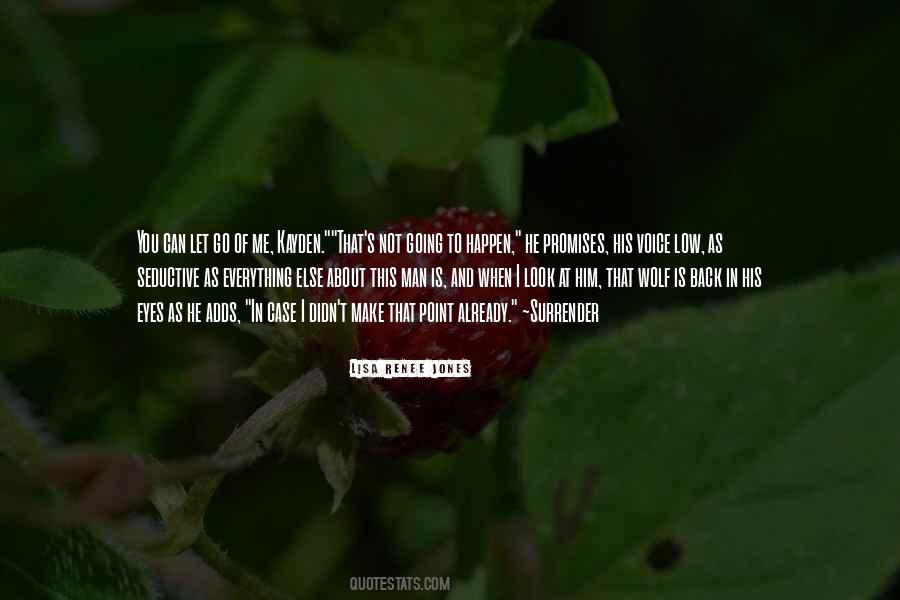 #86. Jo? Look at me. I'm about to do something really f**king stupid. When I do this, I need you to remember three words for me. Omni rosae spina." Thorn
"Every rose has its thorn?" Jo
"Good, you understand Latin. Yes. Commit those words to memory in the event I lose control. Okay?" Thorn - Author: Sherrilyn Kenyon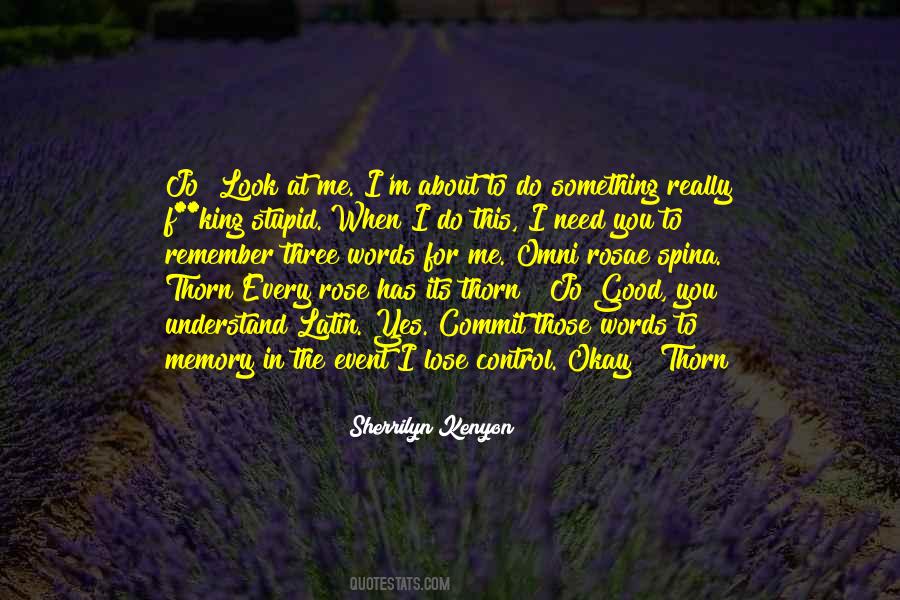 #87. Please, always look at me this way. Stare into my eyes and see me for who I am and know that there is nothing more than this. When the world calls things into question, you need not question me because I will always be here for you. - Author: Renea Mason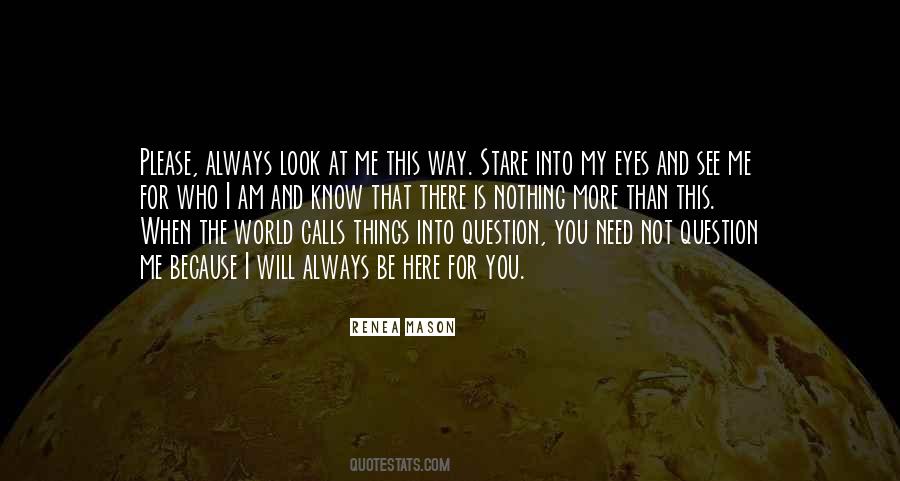 #88. Every other piece of industrial design is a pot or a dish or something insignificant. But when you have a chair, it's like a sculpture of a person: it's alive. It's big. You can't miss it. It's a 'look at me!' item. - Author: Charles Pollock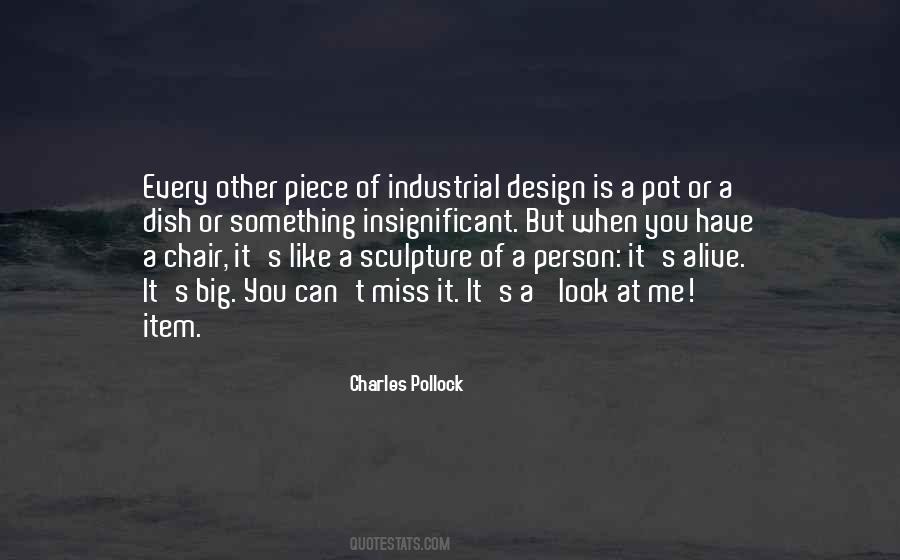 #89. When I was a child, I loved 'The Marble Faun' by Nathaniel Hawthorne. The reason I liked it was because it had a beautiful binding. When you're a kid, you like books because they're pretty to look at, and this one had a white calfskin cover and gold edges. That was enough to make me love it. - Author: Edmund White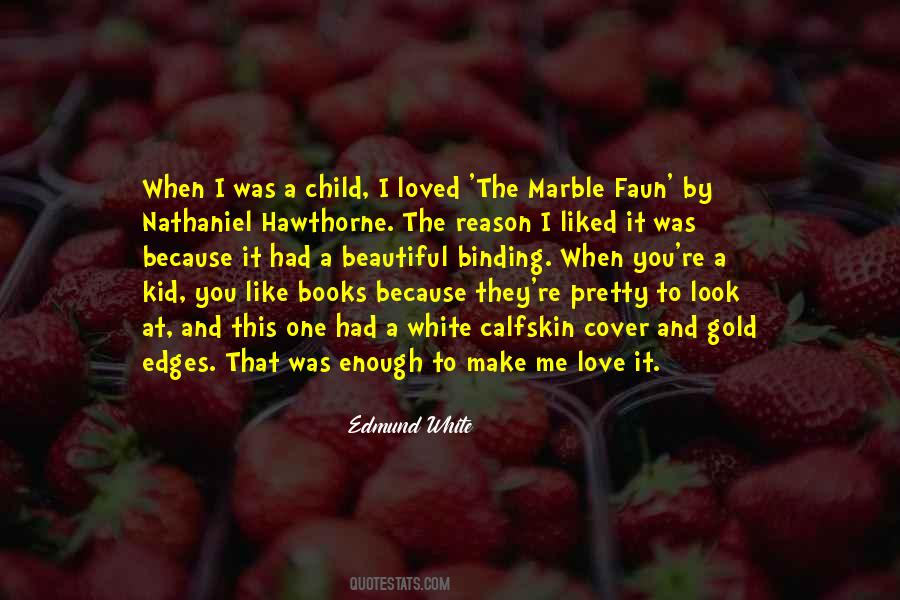 #90. When I lecture kids, I say, 'You've got to be ambitious by the advertising - ambitious. You've got to say, 'See, this product? Maybe I can change the world with this product.' They look at me like I'm nuts, but that's what you can do. - Author: George Lois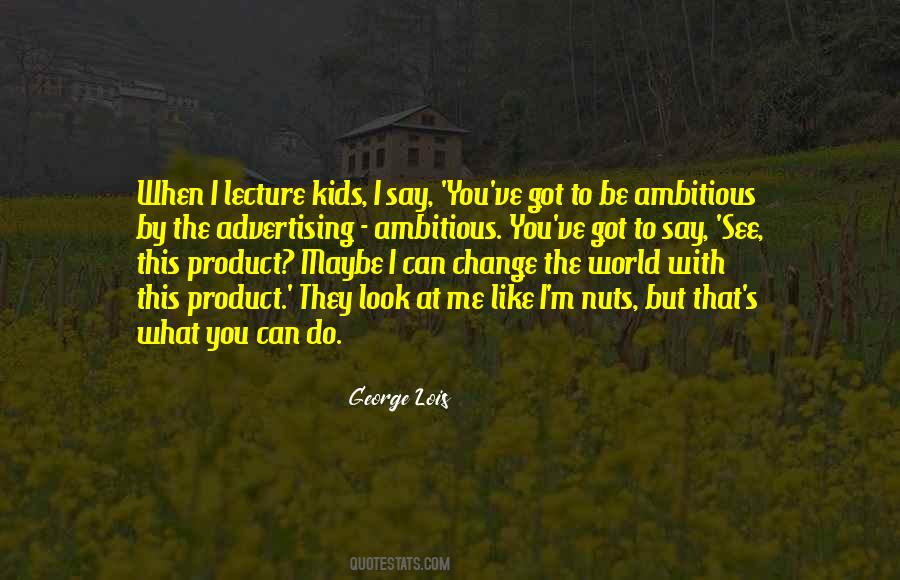 #91. You've got to find ways to breathe while you're dancing so that when it comes time for you to stop and sing again, you have it. To prepare, I do a lot of aerobic activity. Many times at the gym, people will look at me because I'll be on the treadmill humming. - Author: Kristin Chenoweth
#92. I am not sorry at all and only hope there comes a day when you wake and are able to look at me without feeling full of regret and sadness, when you are as thankful as I am that you brought me here. - Wyatt Clayworth, Book II - Author: Madhuri Pavamani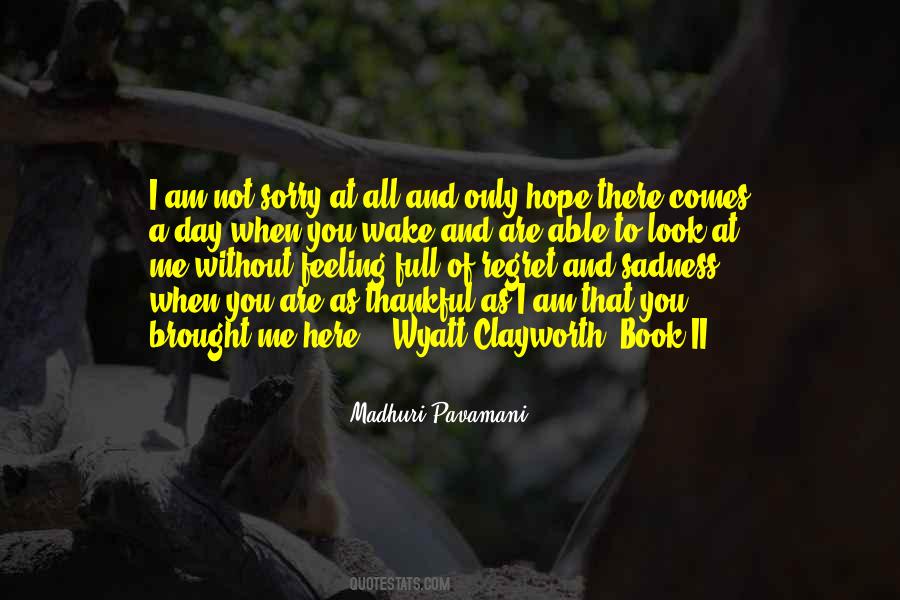 #93. That some long time away. You look at today, chil'. You say, 'Thank you, Lawd, for everythin' you gives me today.' Then you worries about the next day when the next day come." I - Author: Kathleen Grissom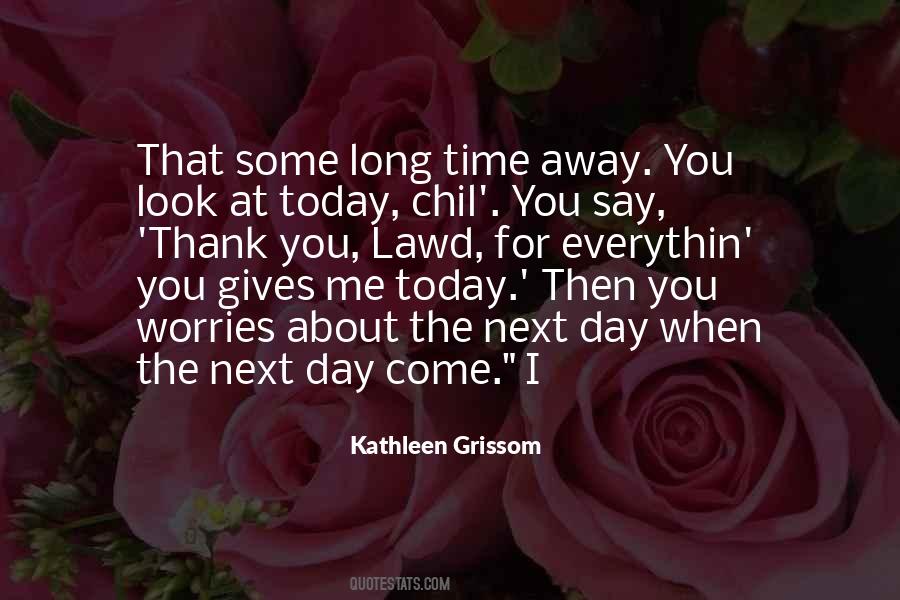 #94. When you put yourself out into the world and say, 'Hey, look at me,' you're going to get criticized. - Author: Pauly Shore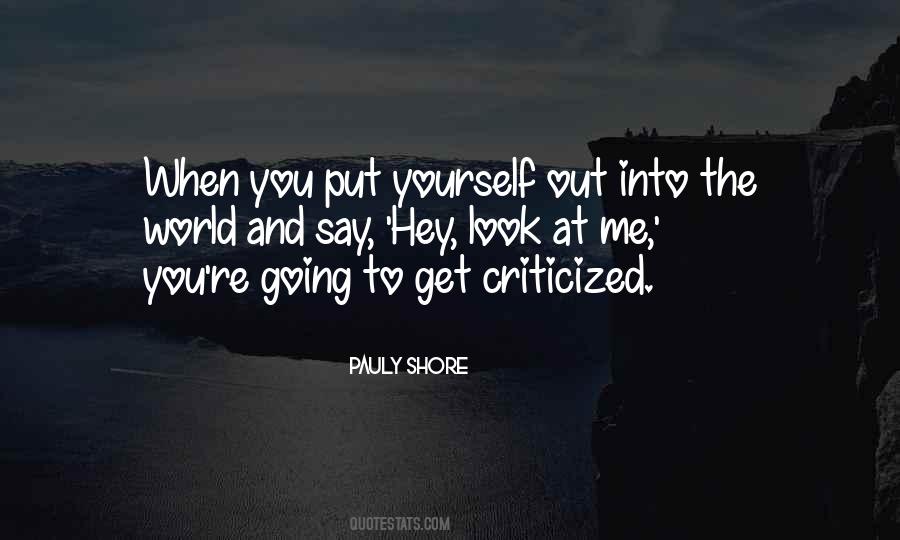 #95. I've always seen white picket fences in your eyes when you look at me. I was positive I wasn't that guy. I was wrong. One of these days, when you're ready, I'll give that dream to you. And you're going to give me a gorgeous little girl or two with your dark curly hair and smiles that slay me. - Author: Sylvia Day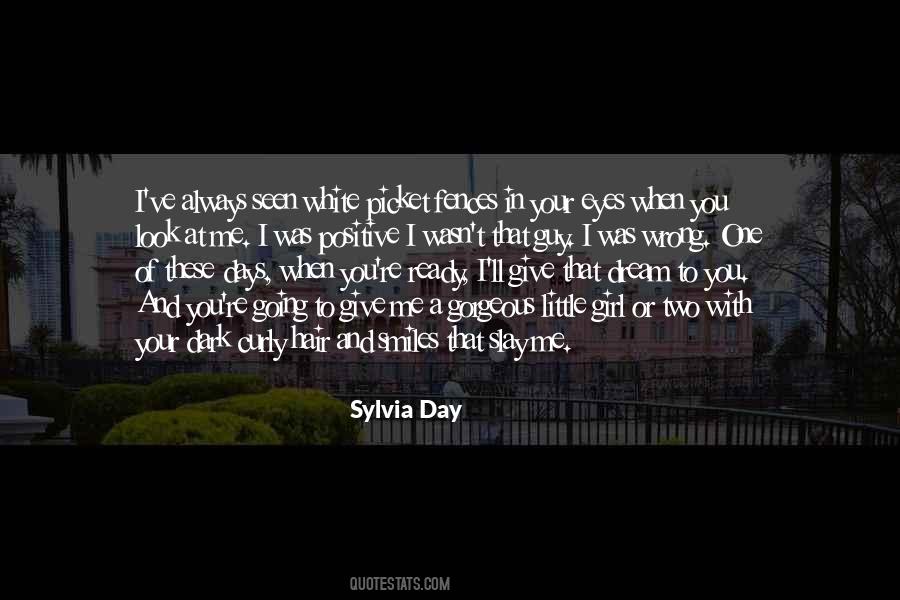 #96. When it came to love you had to know when to fight, and you had to know when to let go. I was letting go. I never wanted to look at him and hate him; but if I kept myself in this situation I would. I would hate him for never giving me what I wanted. And that wasn't fair. - Author: Rachel Hayes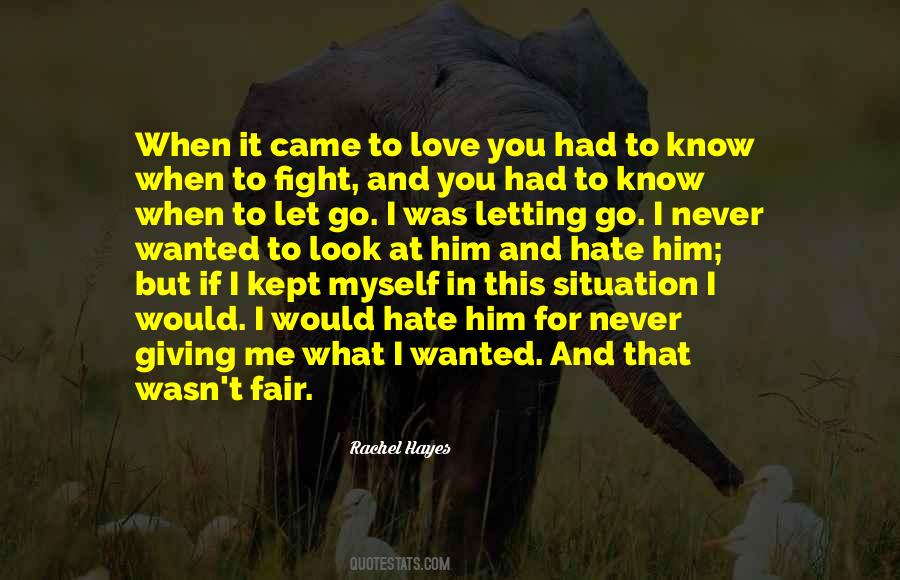 #97. Question all information when you receive it. You might not even trust me Look at me, I've got a blanket over me head. - Author: Russell Brand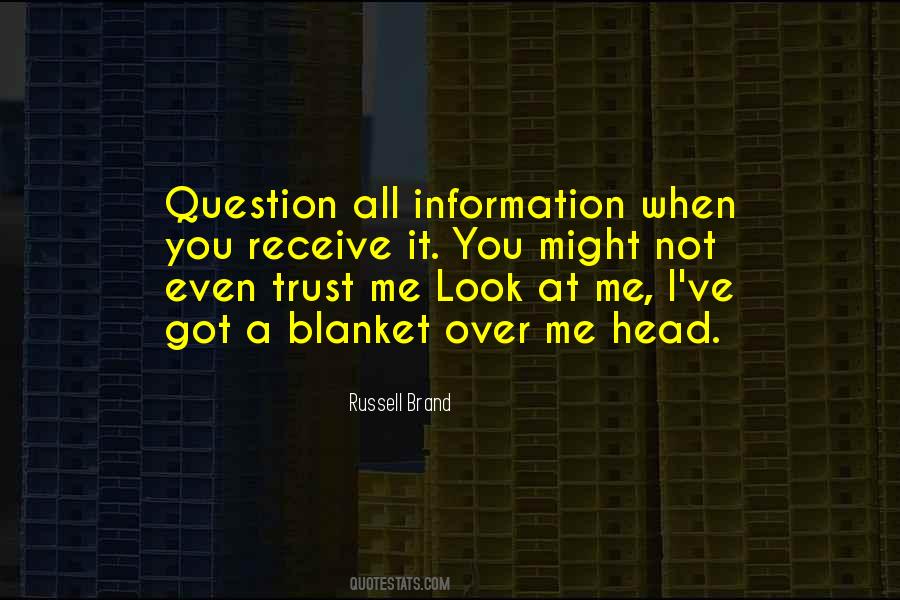 #98. When I was 20, my husband at the time looked at me said, 'You're fat; go run.' There weren't a lot of tools at the end of the '70s to lose weight. It took me a while to realize what kind of exercise would make me happy and I would look forward to doing. And running became it. - Author: Kim Alexis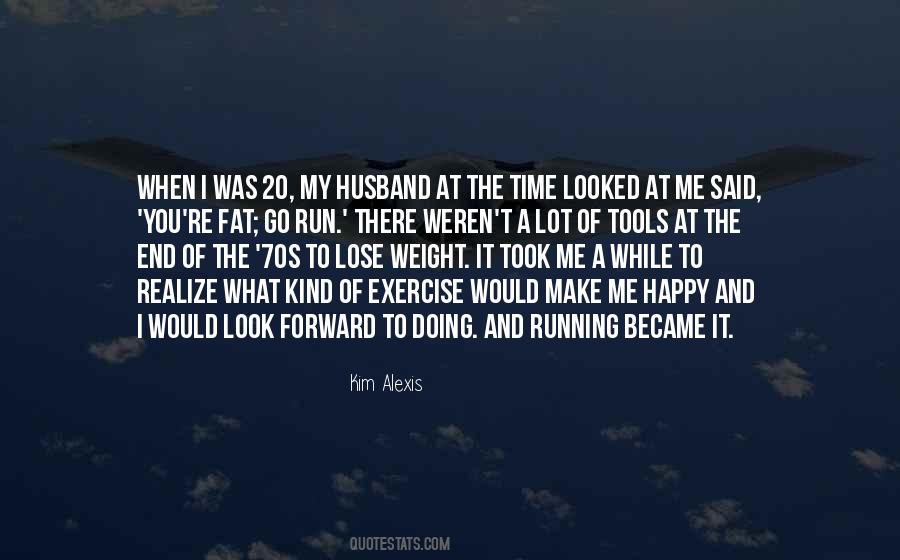 #99. My father established our relationship when I was seven years old. He looked at me and said, You know, I brought you in this world, and I can take you out. And it don't make no difference to me, I'll make another one look just like you. - Author: Bill Cosby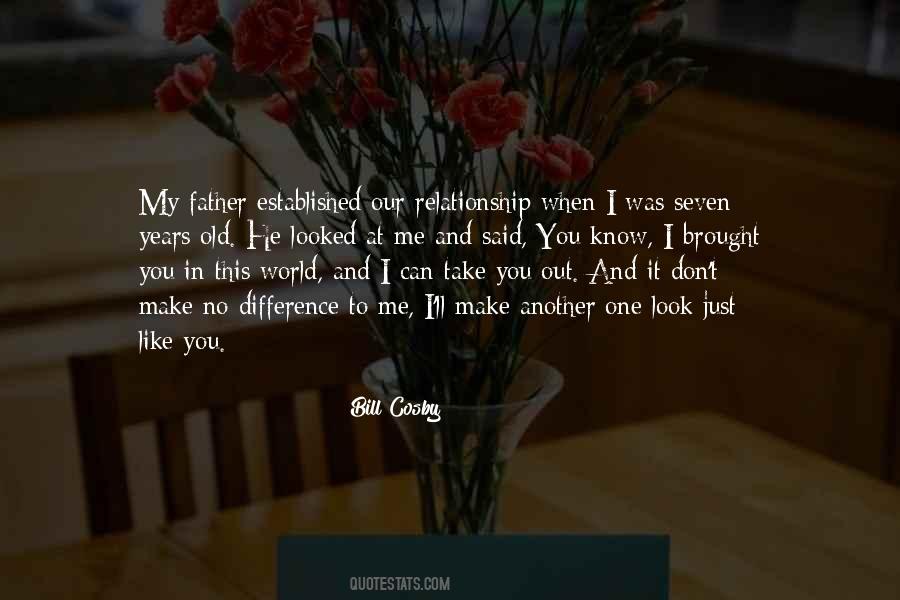 #100. I like the way you look at me," I said seriously. "Sometimes when you do, your eyes light up, and I think maybe I could be Lucky enough for you to care about a fucked up asshole like me."
"That's love, you know," Raine said with a smile. "I see it in your eyes when you look at me, too. - Author: Shay Savage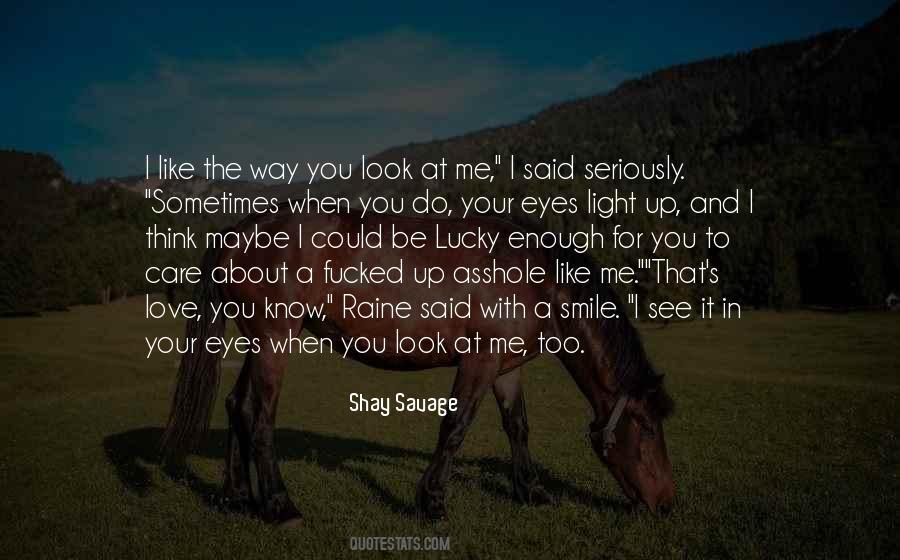 Famous Authors
Popular Topics