To See Famous Quotes & Sayings
List of top 100 famous quotes and sayings about to see to read and share with friends on your Facebook, Twitter, blogs.
Top 100 Quotes About To See
#1. Heathen, n. A benighted creature who has the folly to worship something he can see and feel. - Author: Ambrose Bierce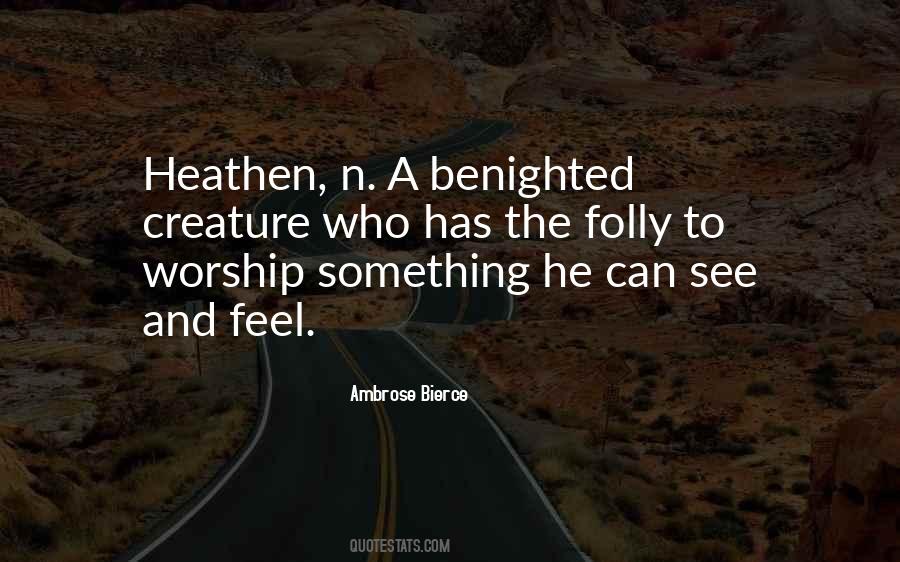 #2. In order to see a fish you must watch the water - Author: Bodhidharma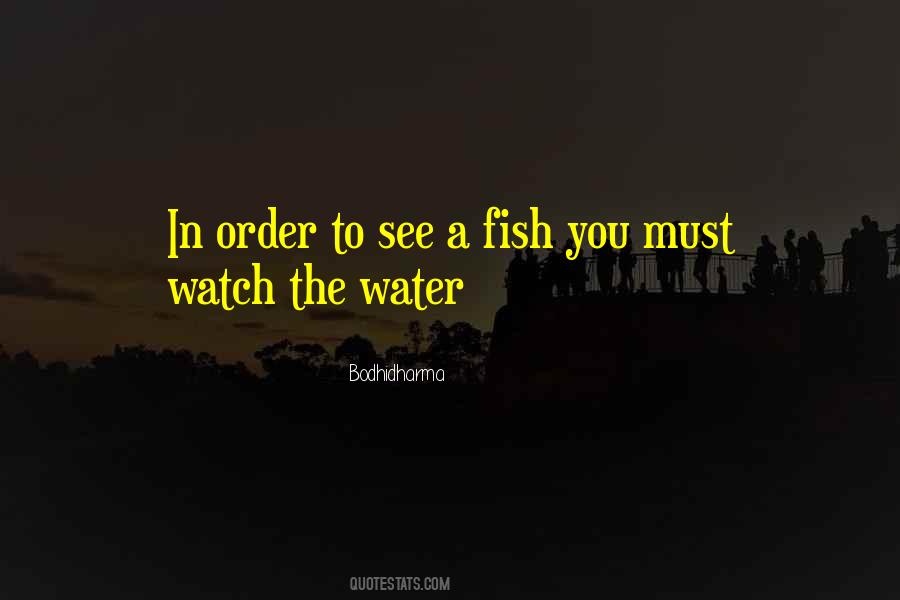 #3. The fear of fat works ... because it's being manipulated in us to enforce class divisions, racisms, womyn-hatred. And we give it the room to work because it's so close to us, it's our own bodies, that we don't see it as coming from outside ourselves, we don't name it for the weapon it is. - Author: Elana Dykewomon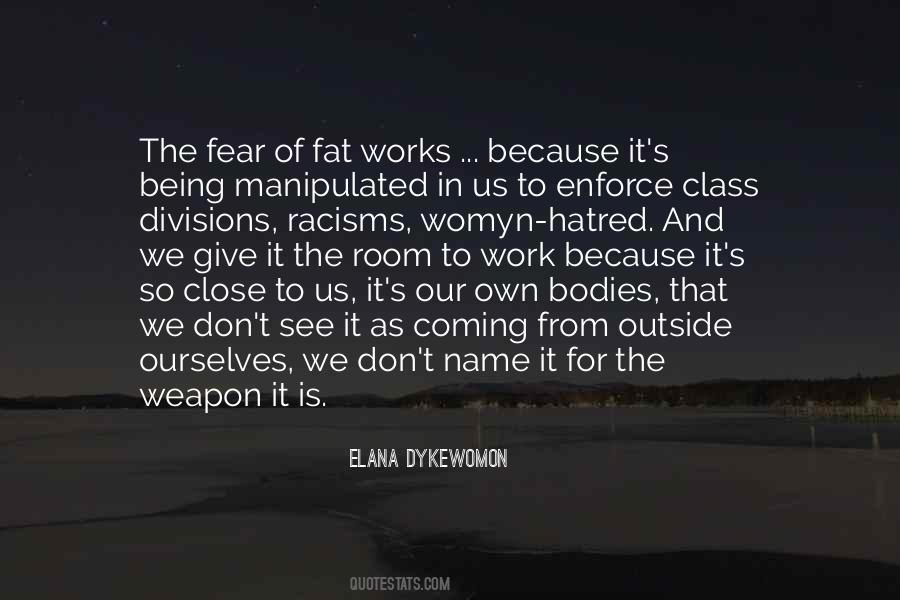 #4. The best evaluation I can make of a player is to look in his eyes and see how scared they are. - Author: Michael Jordan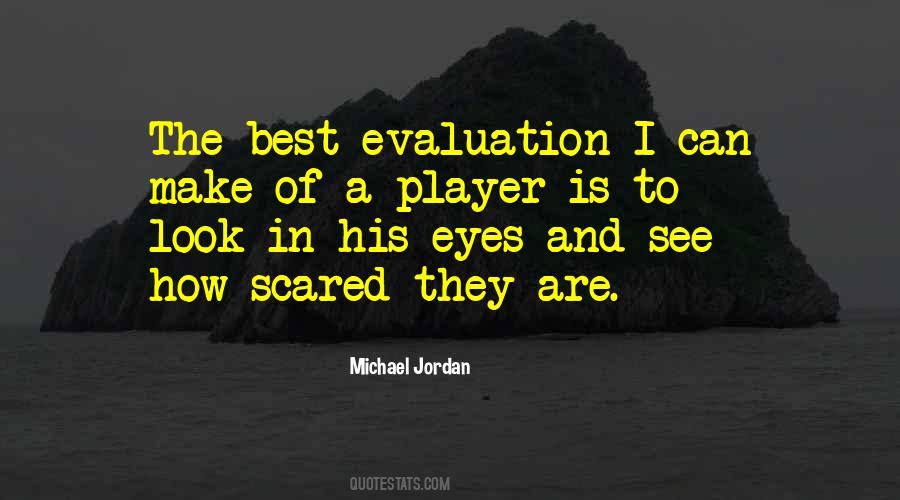 #5. Liberation of mind is realising that we don't need to buy any story at all. It's realising that before our confused thought, there actually is Reality. We can see it. All we have to do it to fully engage in this moment as it has come to be. - Author: Steve Hagen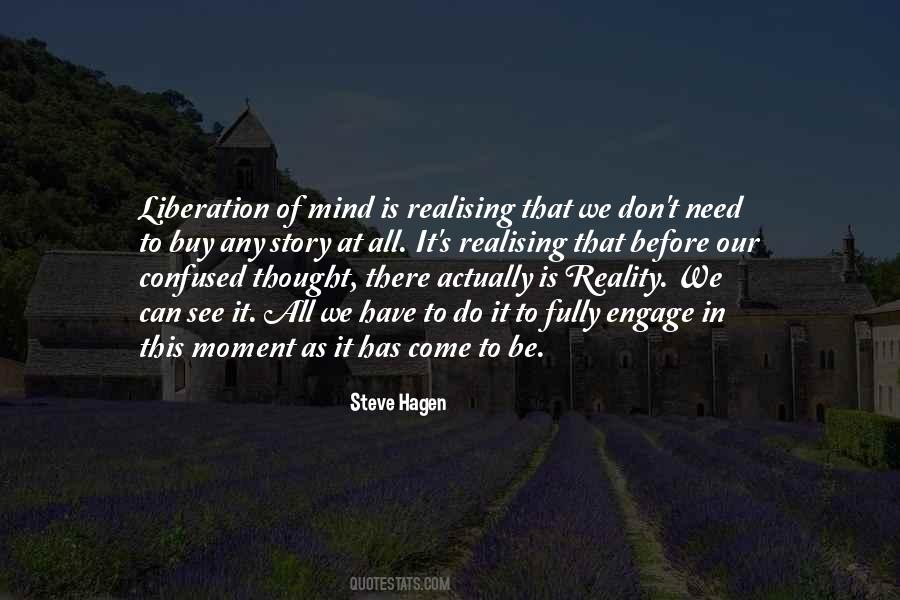 #6. I seldom meet actors, they are to me bright strange fishes swimming in an element alien to me; I feel that to meet them is to See Life. - Author: Rose Macaulay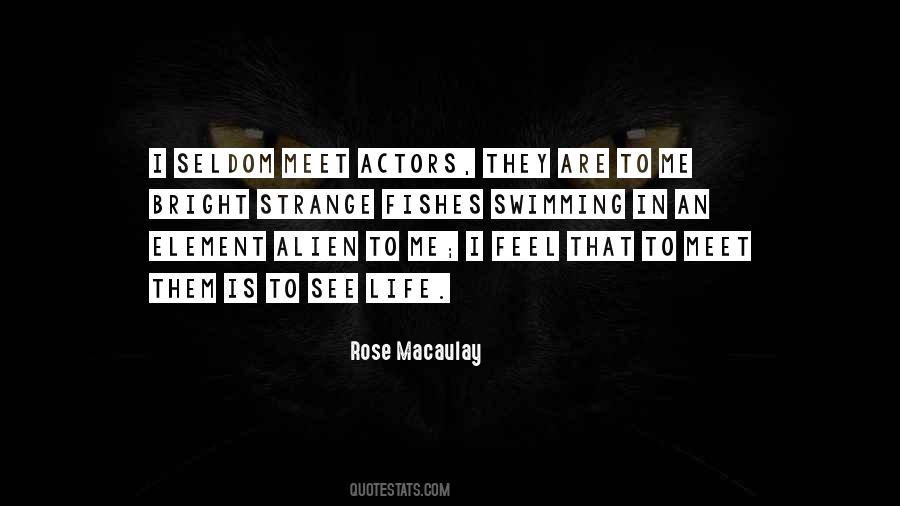 #7. If only I were articulate to paint in the frail medium of words what I see and know and possess incorporated in my consciousness of the mighty driftage of the races in the times before our present written history began! - Author: Jack London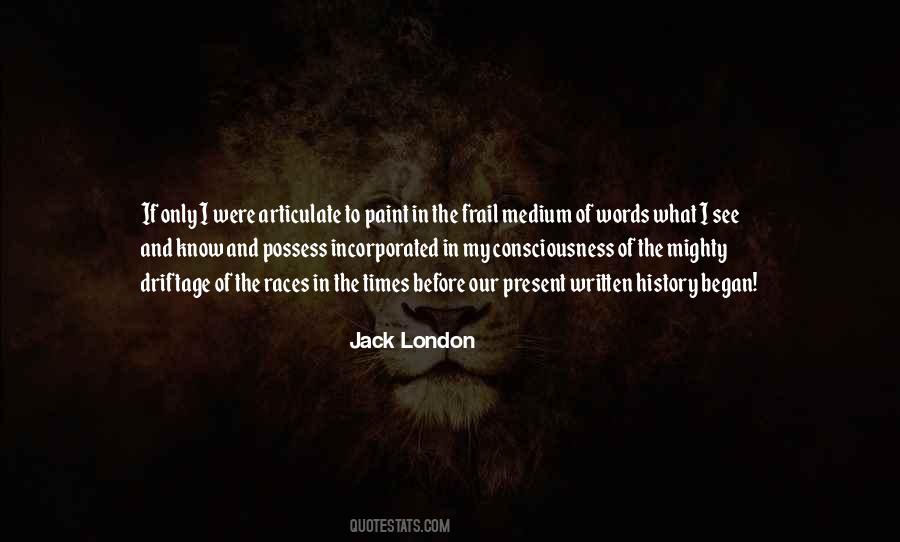 #8. If we don't see to it that our children turn out better than we did, what will become of the world? - Author: Esther M. Friesner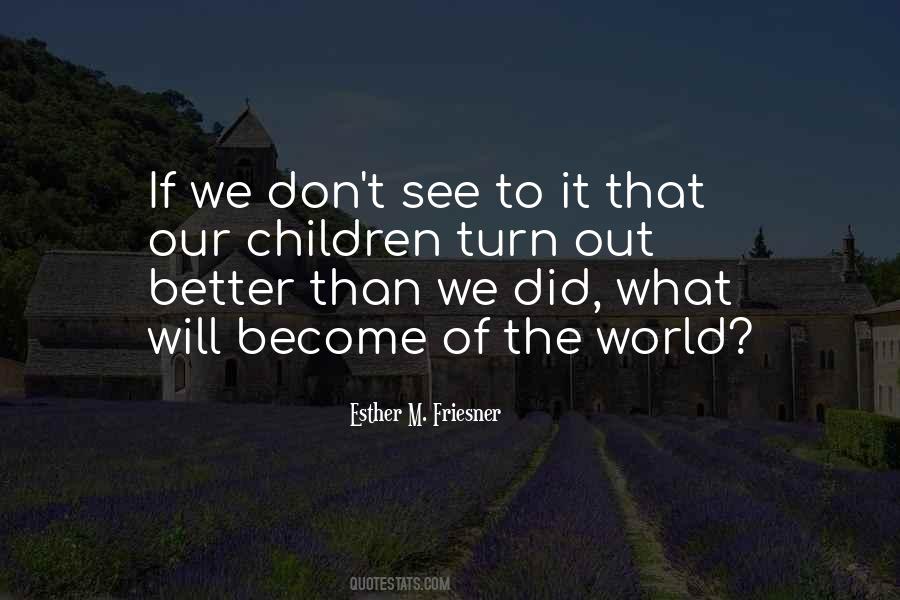 #9. But I came to see that Las Vegas is not a freak but is, instead, deeply integrated with the rest of the country, and the world beyond. It is symptom, mirror, metaphor. - Author: Timothy O'Grady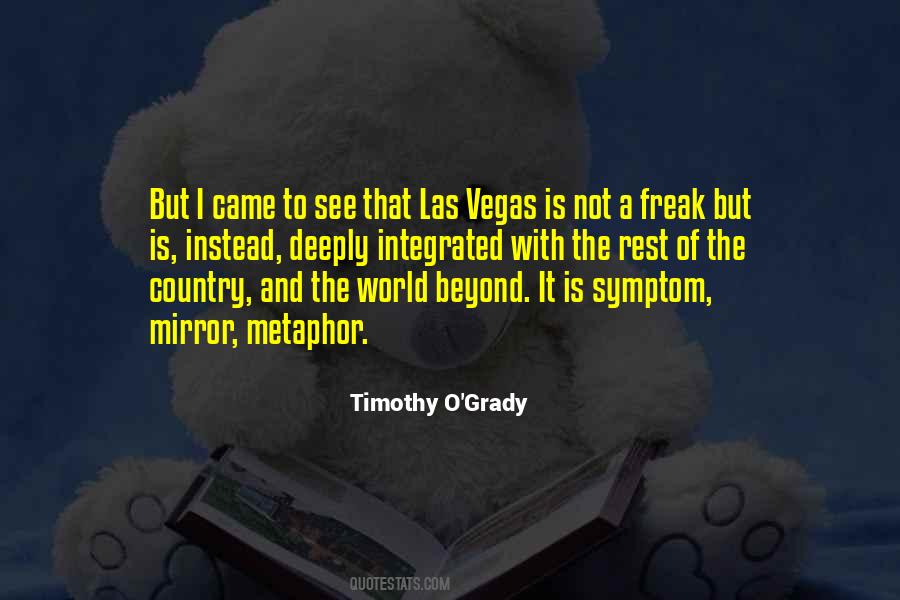 #10. It was long before I got at the maxim, that in reading an old mathematician you will not read his riddle unless you plough with his heifer; you must see with his light, if you want to know how much he saw. - Author: Augustus De Morgan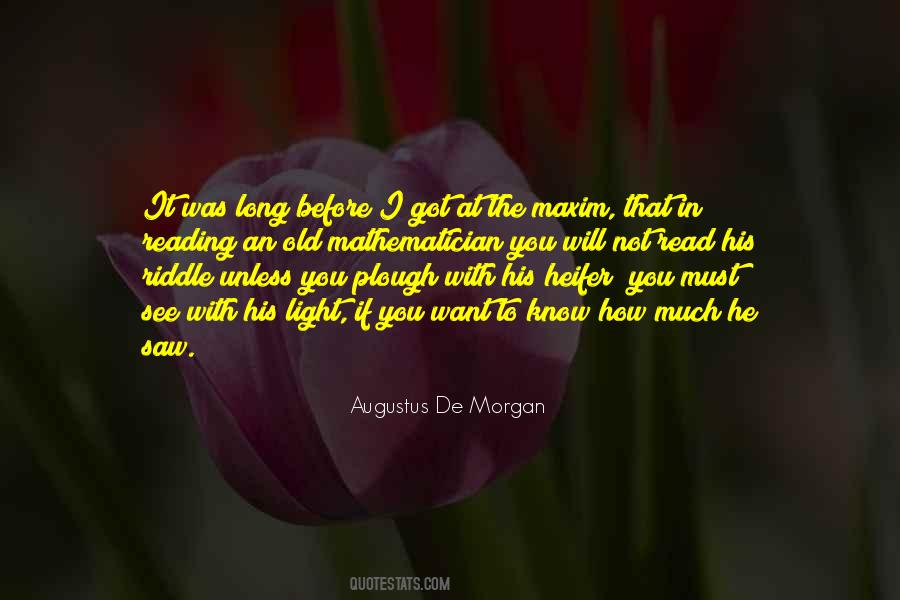 #11. The web is not going to change the world, certainly not in the next 10 years. It's going to augment the world. And once you're in this web-augmented space, you're going to see that democratization takes place. - Author: Steve Jobs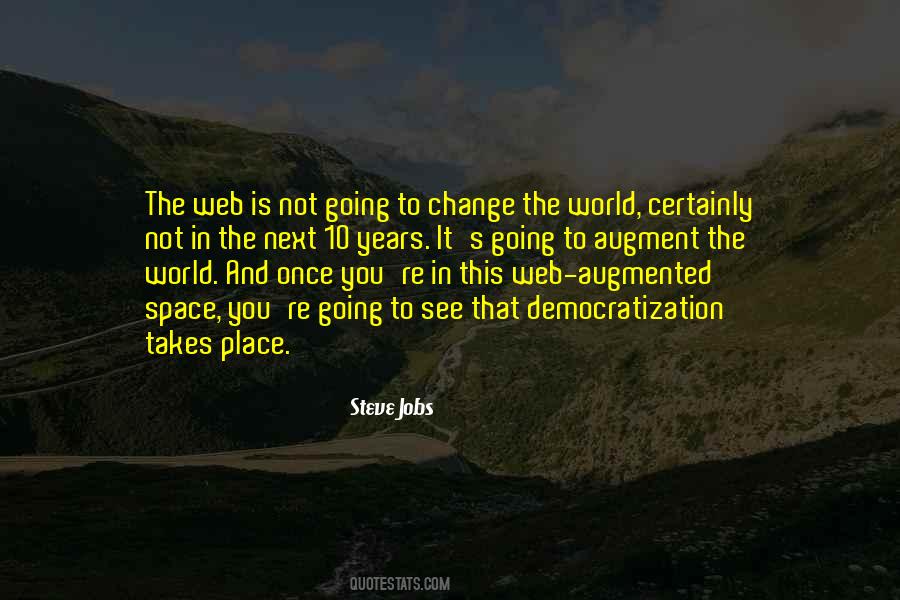 #12. - I used to love you.
- What's changed?
- You.
- No. Now you see me. That's all. - Author: Sarah Kane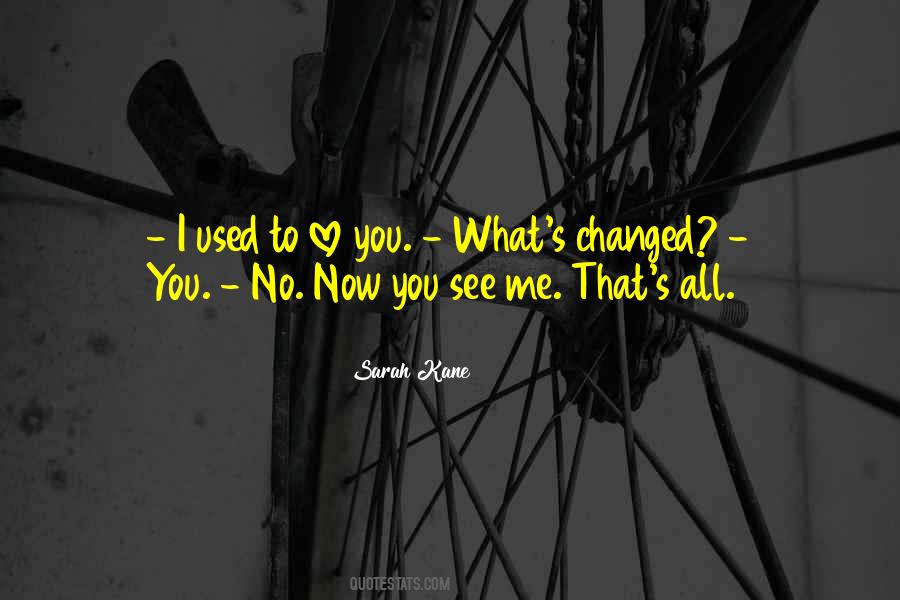 #13. The sign outside the juice store had said CHANGE YOUR FUTURE WITH SUNSHINE IN A GLASS. My future was looking pretty great already, and I couldn't wait to see what would happen if I added orange juice to it. - Author: Maggie Stiefvater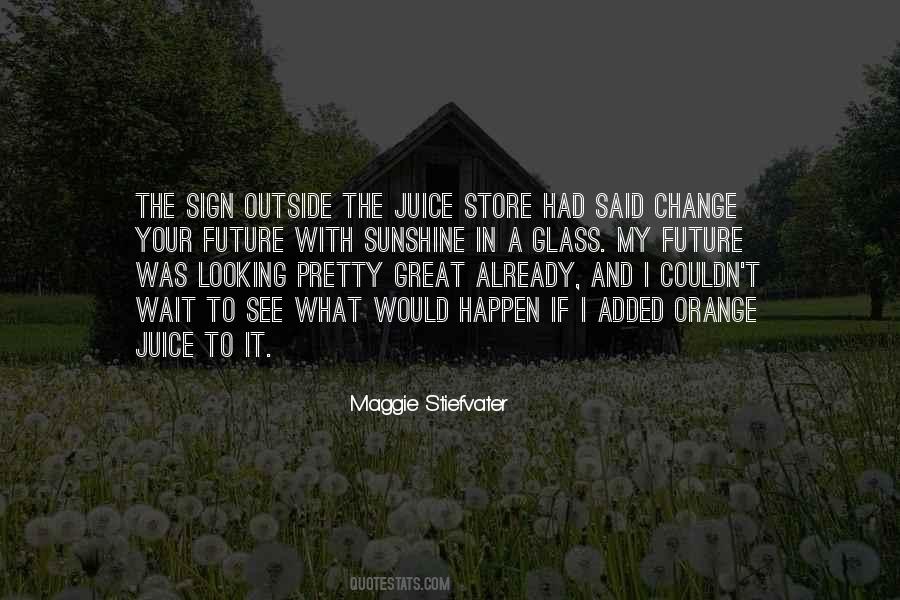 #14. I'll watch movies I like to see, Steve Jobs interviews, something that's going to make me smart and then go to sleep. - Author: Jaden Smith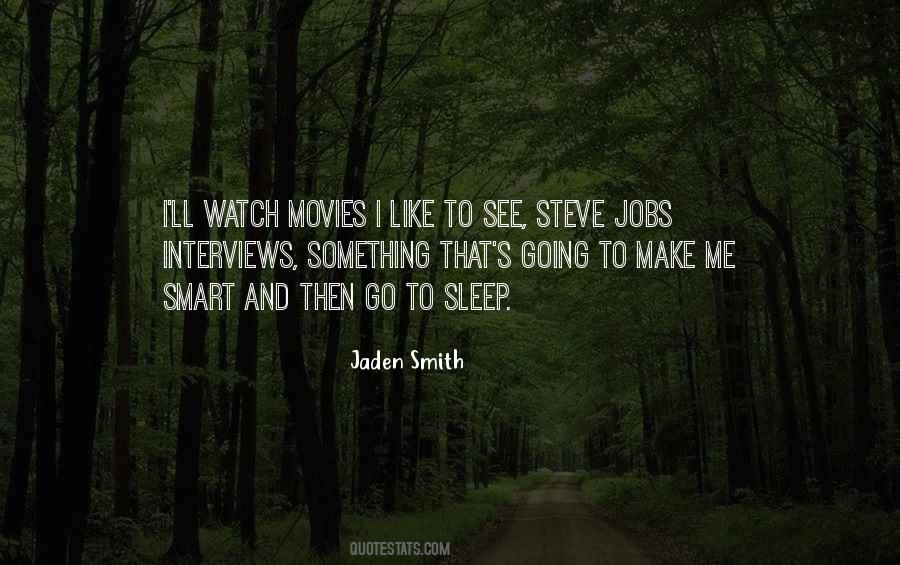 #15. Some of these rich folks seem to think that everything belongs to them and they'll even get to take it with them when they die. But you know what? You don't ever see a hearse pulling a U Haul. - Author: Jim Hightower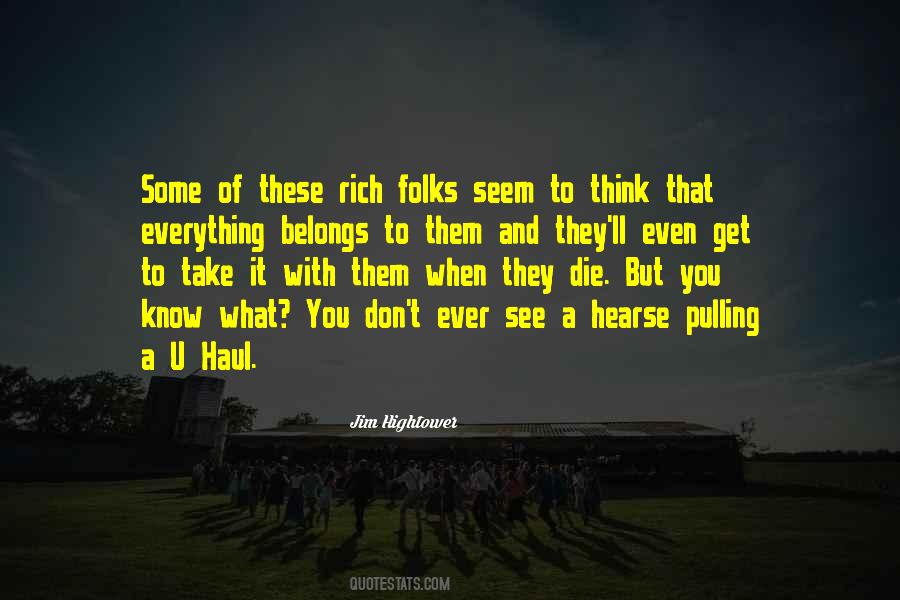 #16. It is not the nature of man, as I see it, ever to be quite satisfied with what he has in life ... Contentment tends to breed laxity, but a healthy discontent keeps us alert to the changing needs of our time. - Author: Frances Perkins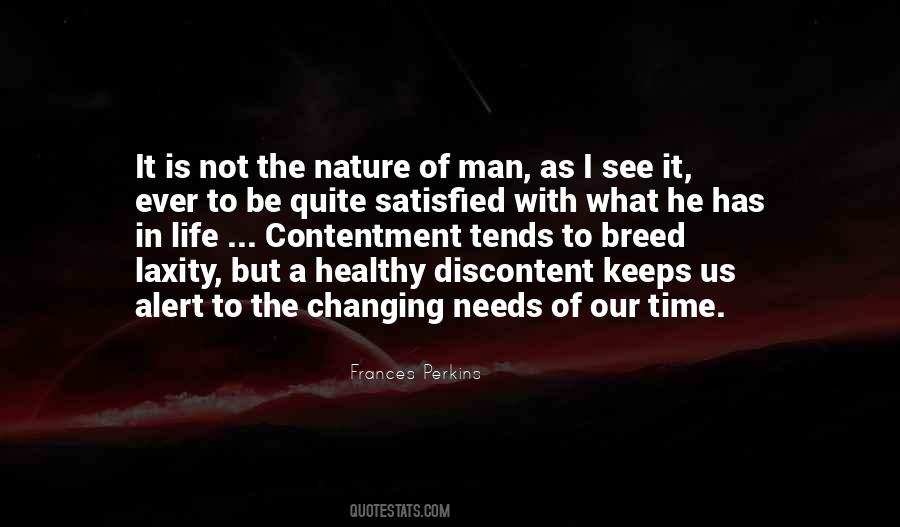 #17. The dominant male is history. Could you see a male Lady Gaga? The closest we've got is Justin Bieber, who'd be locked up if he tried the stuff Gaga gets away with. Women are the only rock stars now. Adele is brutally honest. I want to be like her. - Author: Tom Odell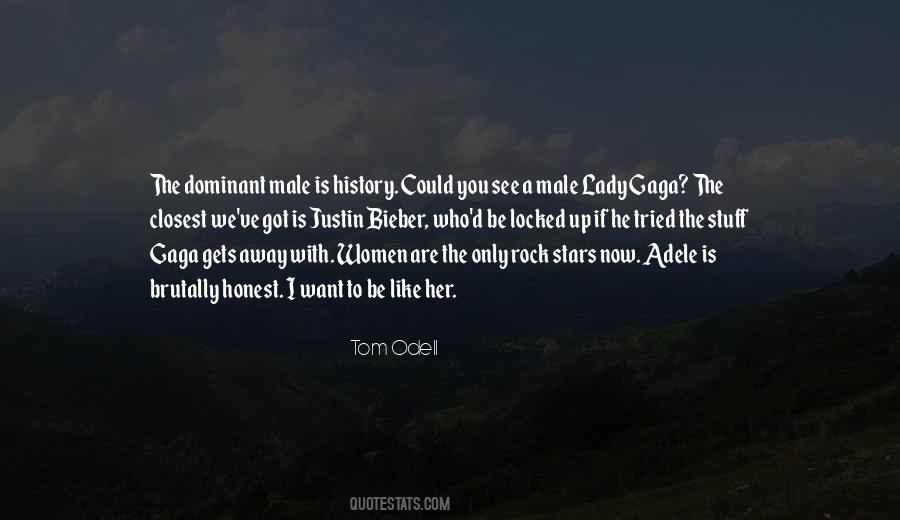 #18. You don't see people in prison treating each other the way people do on the outside, and the reason is that if you're rude to somebody in prison, you get killed. - Author: Sonny Barger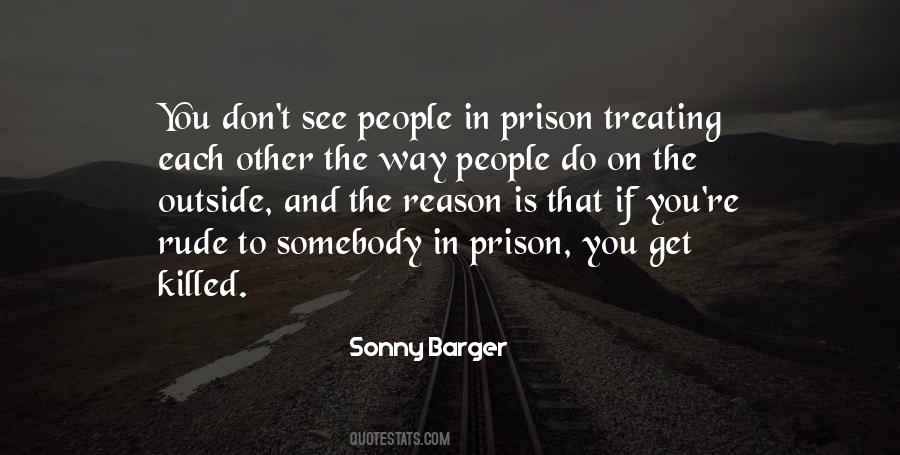 #19. I see all these people talking about acting as a great spiritual thing. It's not. There's no great mystery to acting. It's a very simple thing to do, but you have to work hard at it. It's about asking questions and using your imagination. - Author: Eddie Marsan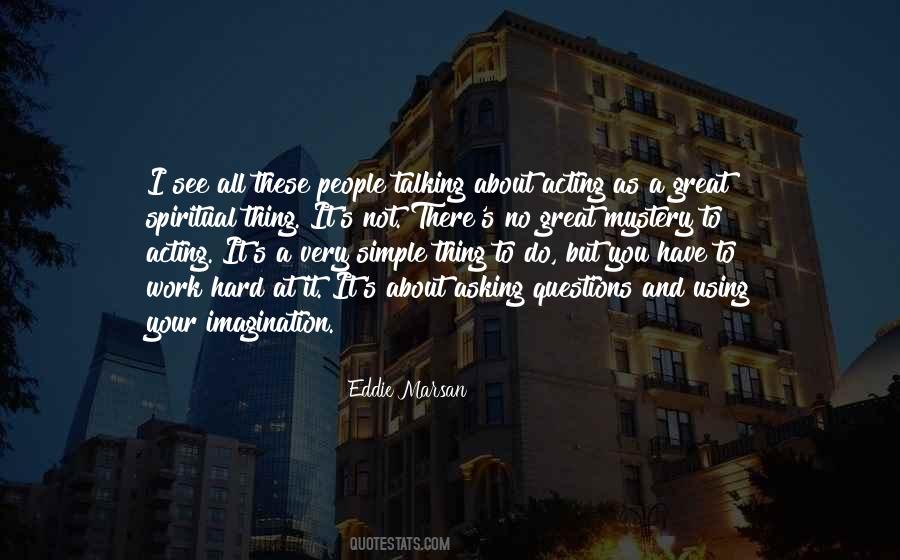 #20. I ... can't go to dinner with you on Wednesday."
"It's almost four in the morning, Abby. What's going on?"
"I can't see you at all, actually."
"Abs ... "
"I'm ... pretty sure I'm in love with Travis," I said, bracing for his reaction. - Author: Jamie McGuire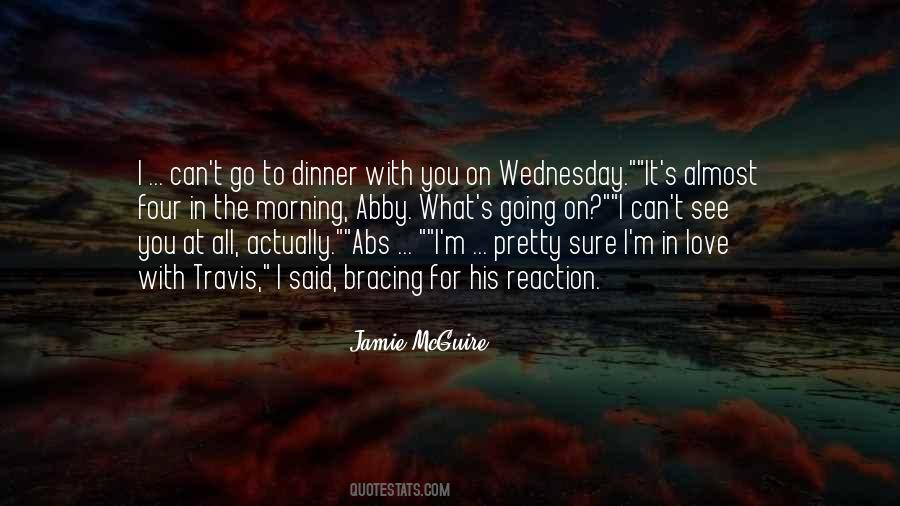 #21. I don't see myself as a 'black actor,' I'm just Shemar Moore the actor. I'm very proud to be black, but I'm just as much black as I am white. - Author: Shemar Moore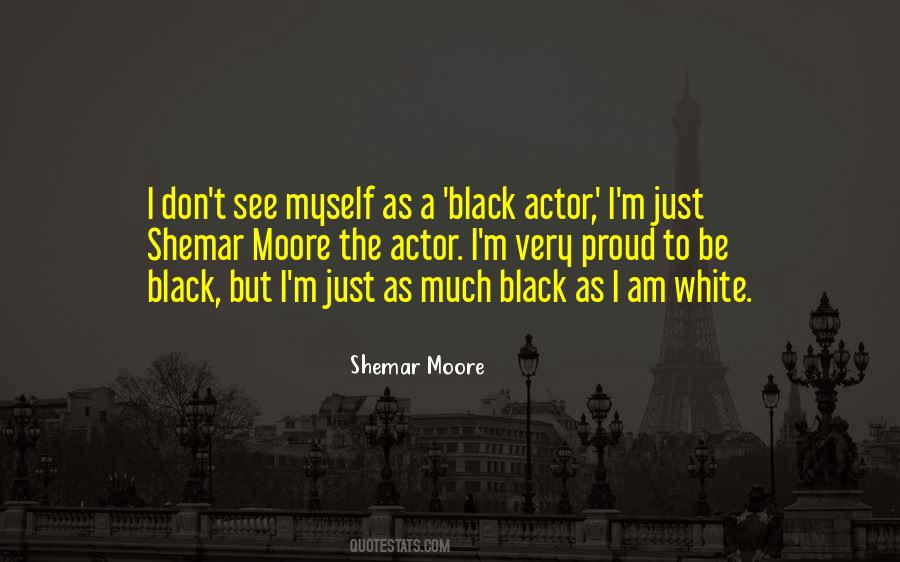 #22. The trouble with kingdoms of heaven on earth is that they're liable to come to pass, and then their fraudulence is apparent for all to see. We need a kingdom of heaven in Heaven, if only because it can't be realized. - Author: Malcolm Muggeridge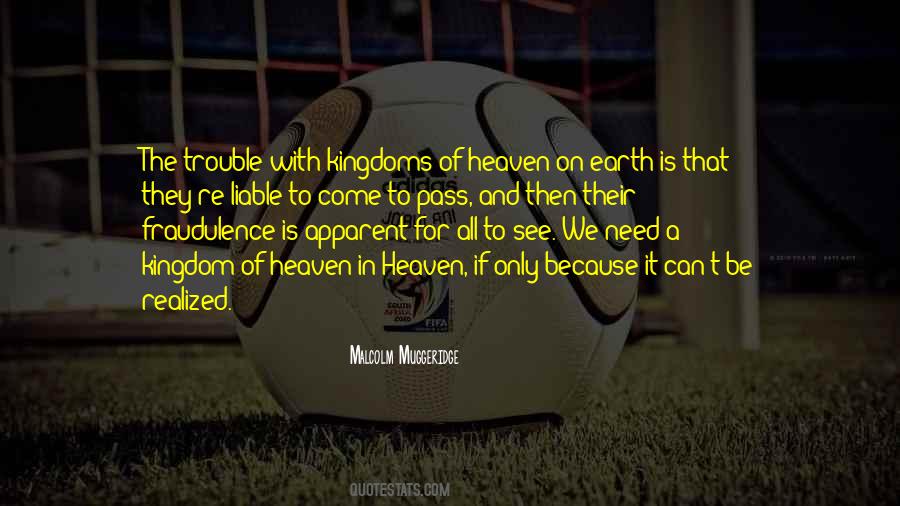 #23. When a woman starts talking about her duty, her regard for appearances, and her respect for religion, she raises so many bulwarks which she delights to see captured by storm. - Author: Honore De Balzac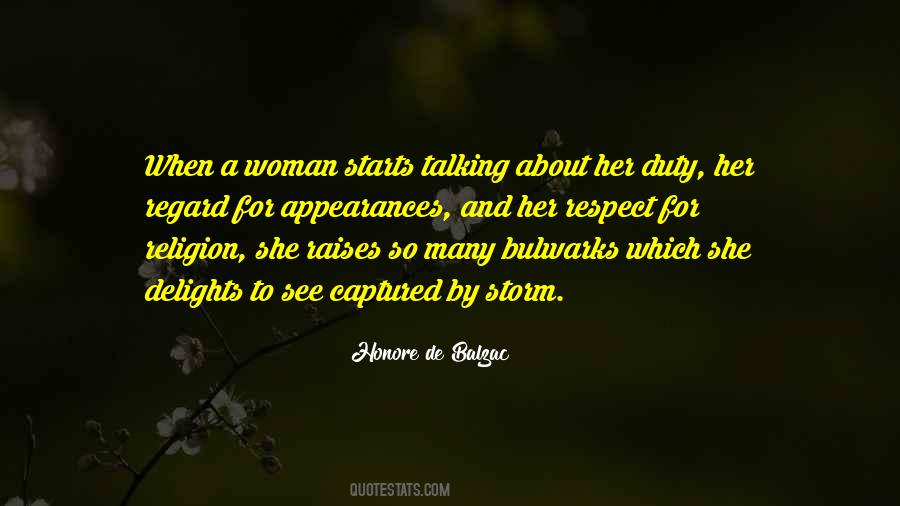 #24. You know, I've learned that sometimes you can only see what you want to see by changing where you stand. And standing somewhere unexpected can lead to unexpected discoveries. - Author: Lisa Mangum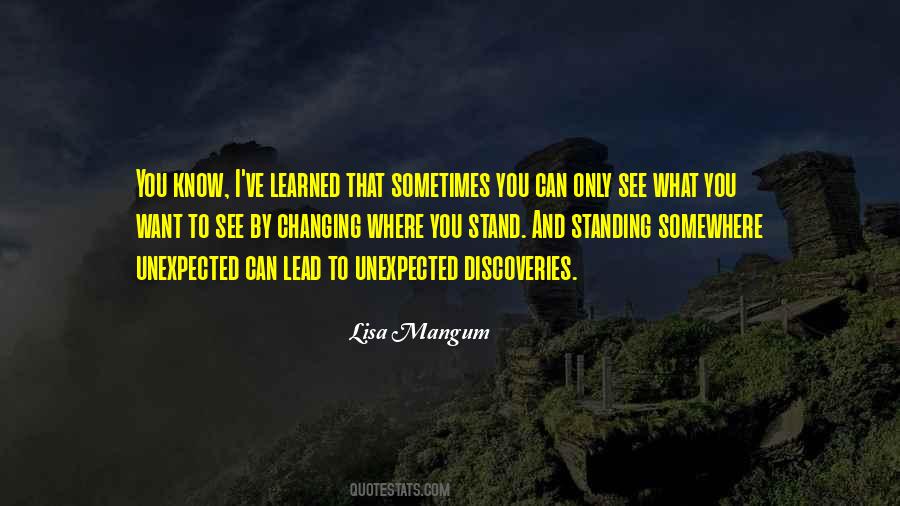 #25. The trouble with that movie is that you had to see Chinatown the day before you saw The Two Jakes. - Author: Eli Wallach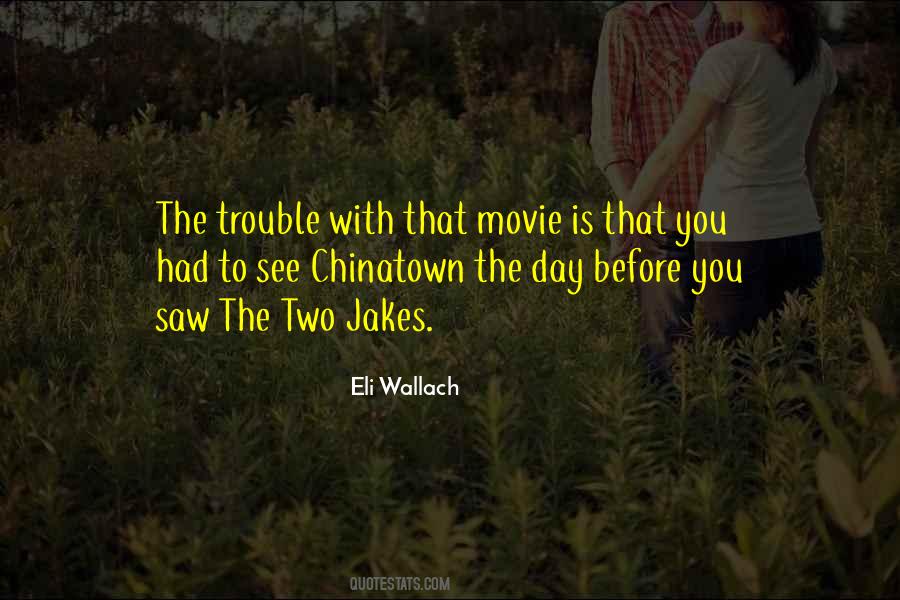 #26. It's too bad war gets all the attention; it's too bad the plant is easier to see than the root. - Author: Cameron Conaway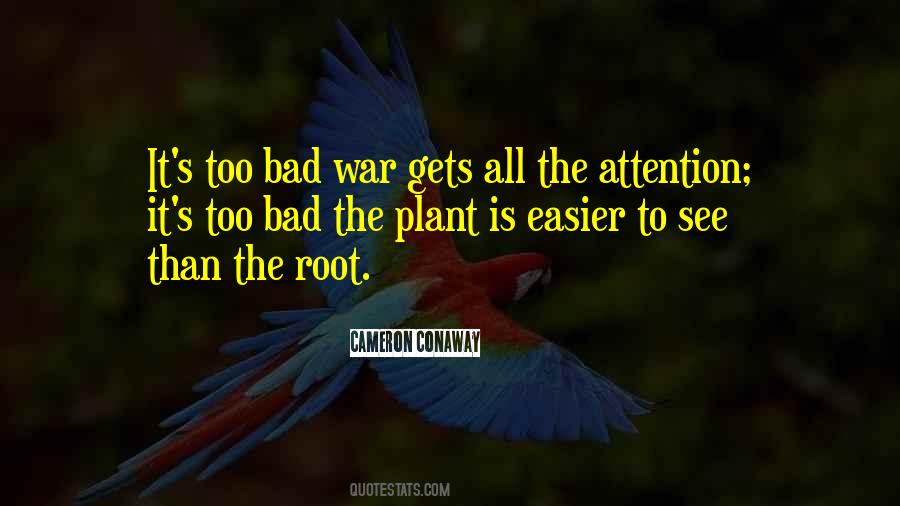 #27. And I really wanted to see you, too," she said. "When I couldn't see you any more, I realized that. It was as clear as if the planets all of a sudden lined up in a row for me. I really need you. You're a part of me; I'm a part of you. - Author: Haruki Murakami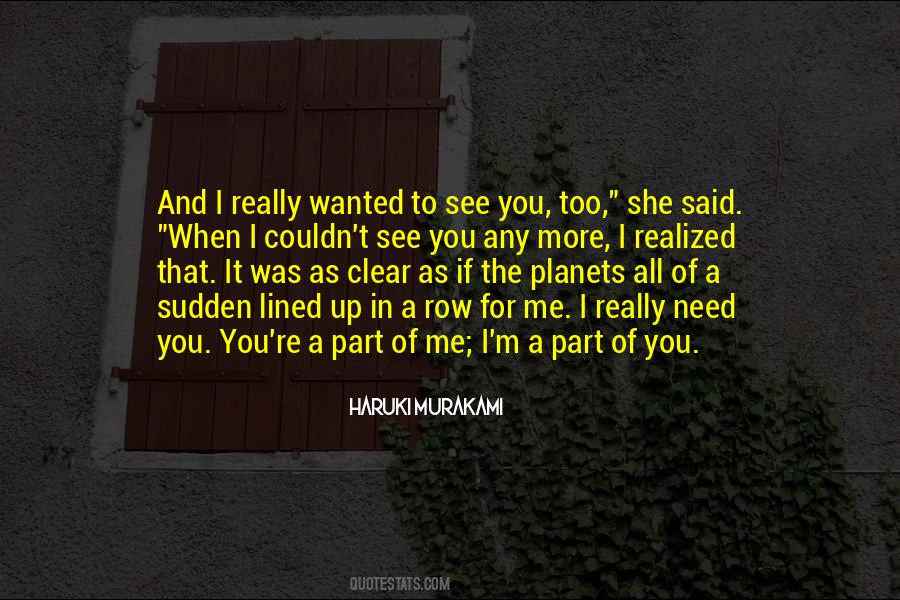 #28. I came to see that what constitutes strength is not just a muscle or will. It can also include the most desperate vulnerability, the saddest heartache, the lightest, sweetest laughter. - Author: Brenda Shaughnessy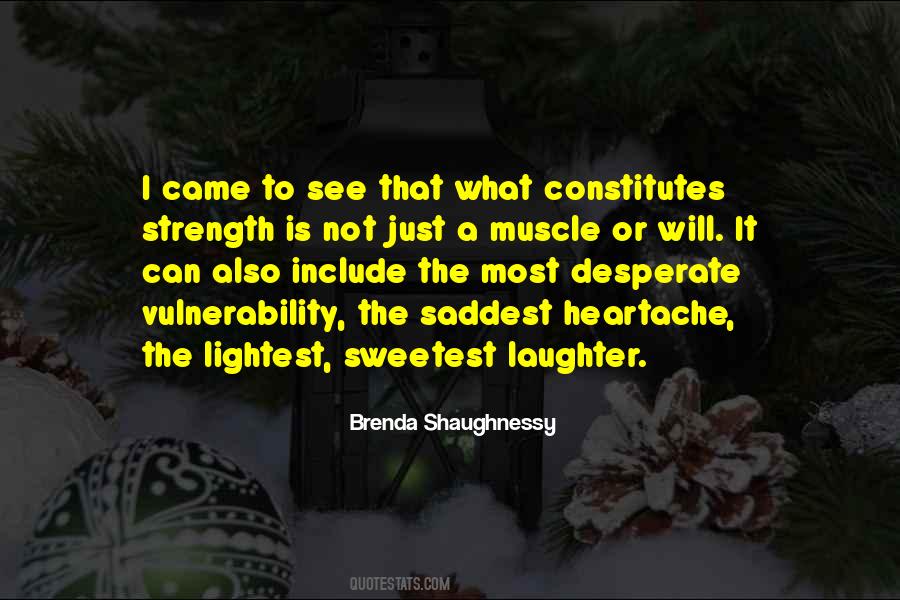 #29. Microsoft has gotten so big that it can put out a Preview that will install itself without checking first to see if it has expired. The message here is that Microsoft's time is worth more than yours ... no start-up company could get away with being that arrogant. - Author: Jerry Pournelle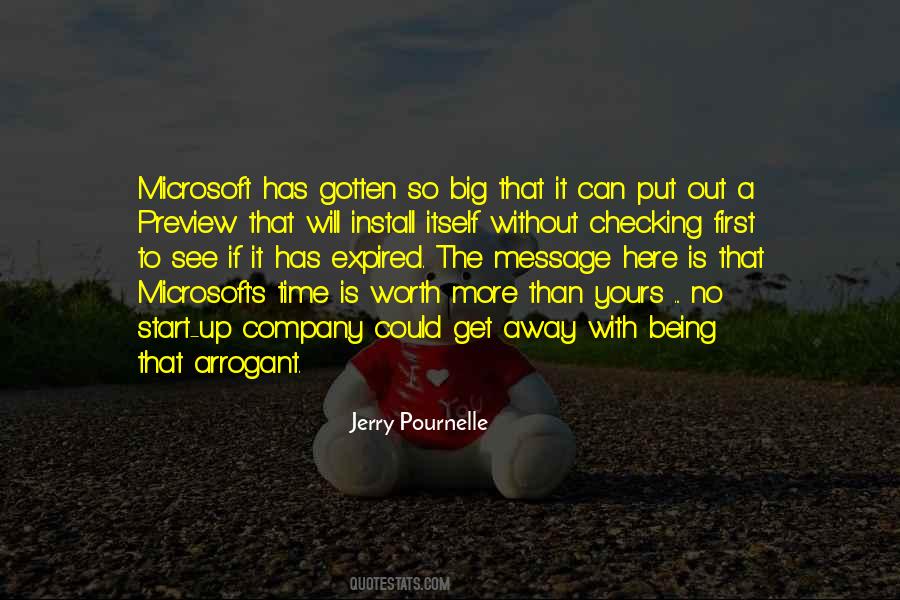 #30. All the earth is seamed with roads, and all the sea is furrowed with the tracks of ships, and over all the roads and all the waters a continuous stream of people passes up and down - traveling, as they say, for their pleasure. What is it, I wonder, that they go out to see? - Author: Gertrude Bell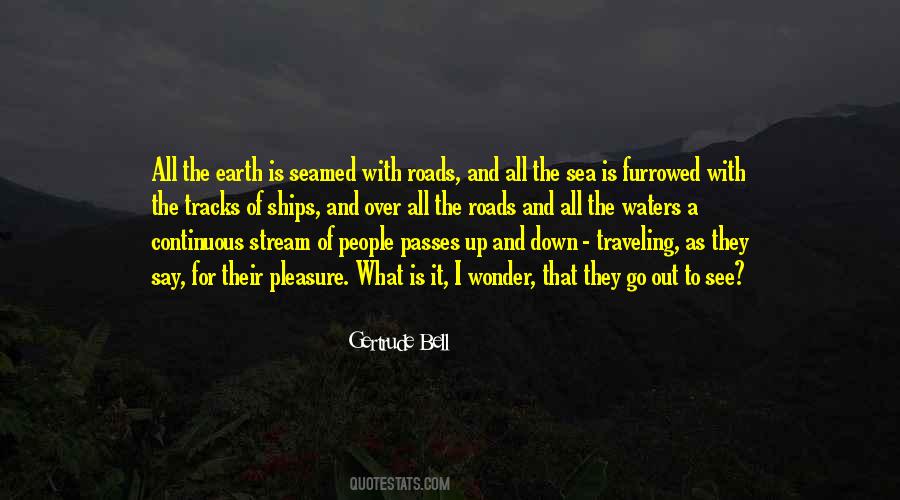 #31. If you are going to describe the history of animation, you'd look at the early Disney work, then 'Bugs Bunny,' 'Road Runner' and other Warner Brothers theatrical productions. But when you got to 'Rocky and Bullwinkle,' you'd see they were unique: They assumed you had a brain in your head. - Author: Ray Bradbury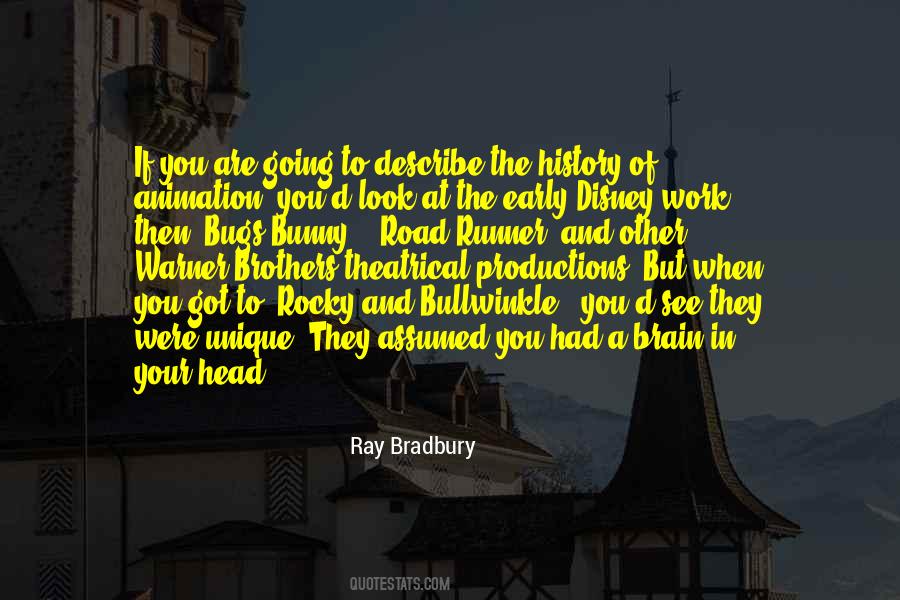 #32. Ahhhh ... I see. I think. Perhaps I don't. It may be easier to grasp if you presented it in a musical format. A lyrical song or two, accompanied by a whimsical dance to interpret the words. - Author: Nicole Sager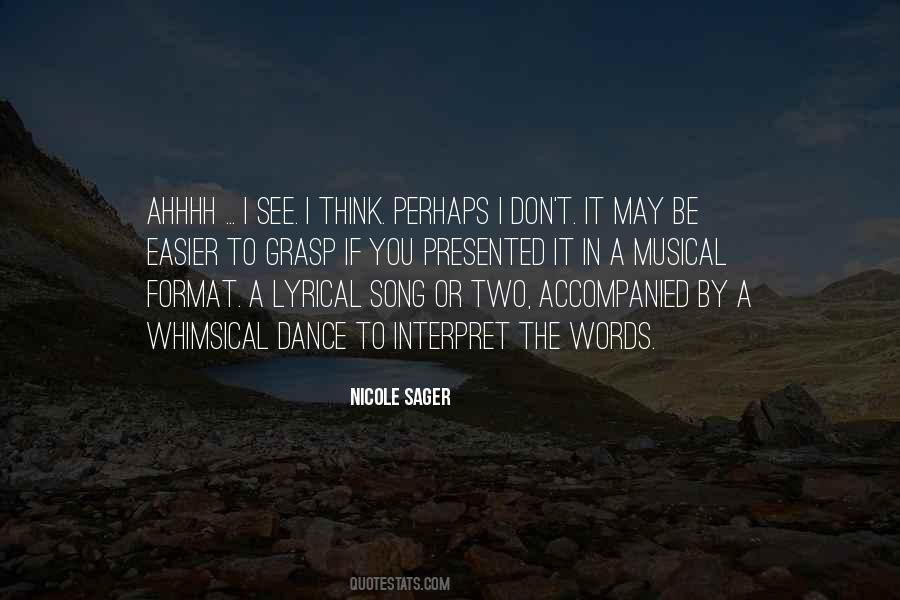 #33. Create the world you want to see. - Author: Mark Deklin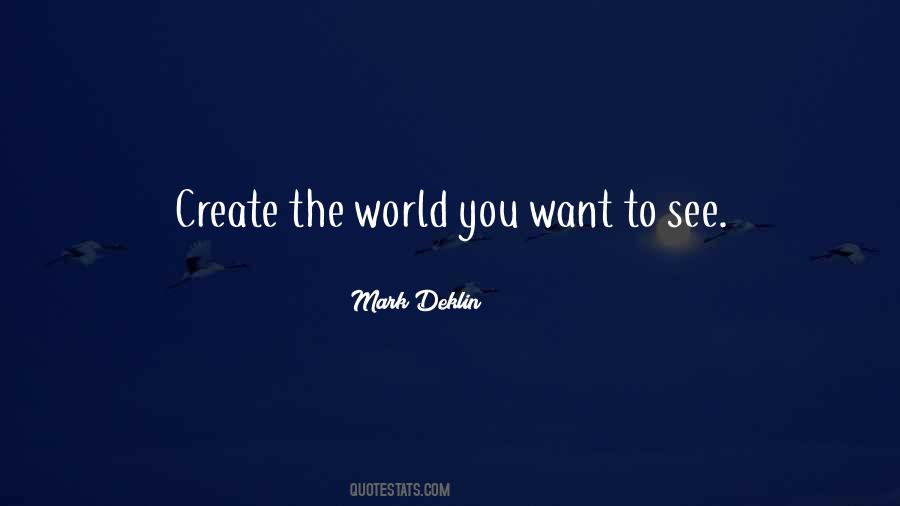 #34. It's always difficult to see yourself as other people do, but I'm realistic about my appearance. I wasn't born with one of those pretty, pretty faces, so I've never been absorbed with the way I look. I just try to make the most of what I've got. - Author: Alison Jackson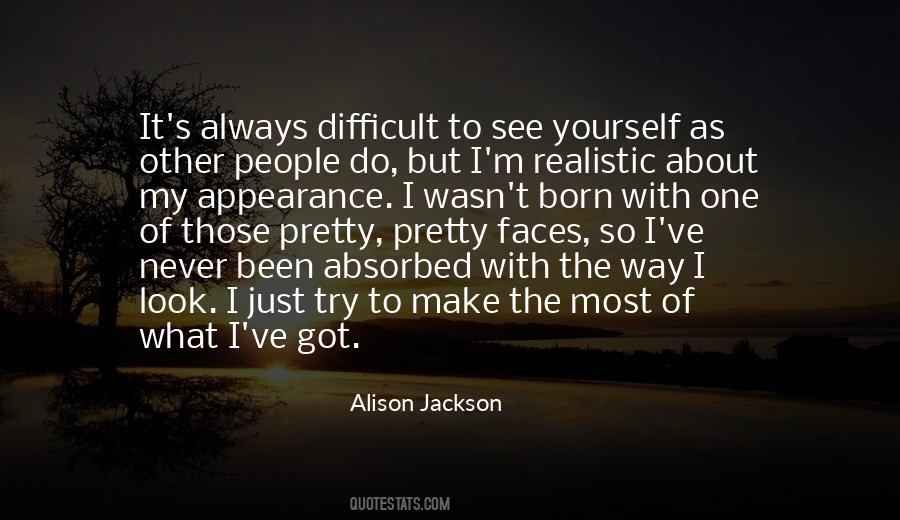 #35. Quite an impressive file you've amassed, Sophia." Clasping his hands, he added, "If Hecate offered classes in complete mayhem, I have no doubt you'd be valedictorian."
Nice to see where I got my snarkiness. - Author: Rachel Hawkins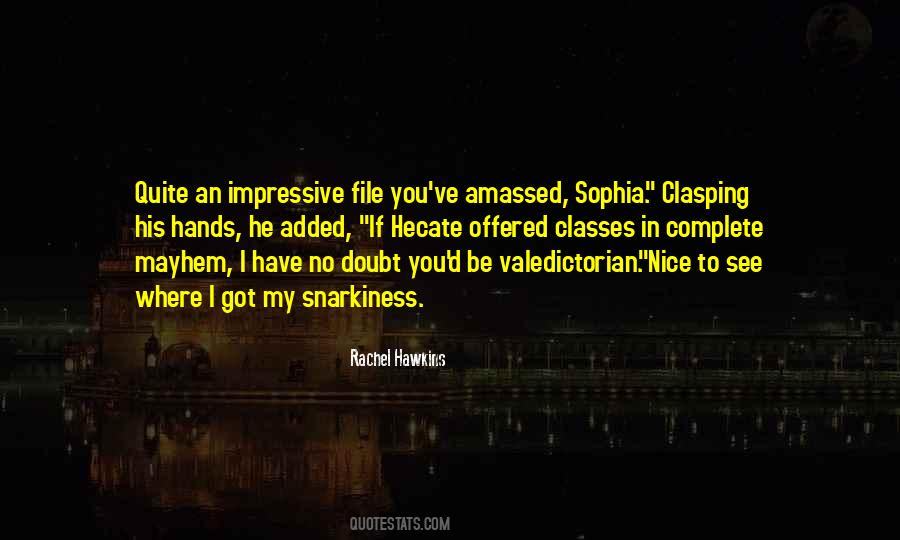 #36. Could we see when and where we are to meet again, we would be more tender when we bid our friends goodbye. - Author: Ouida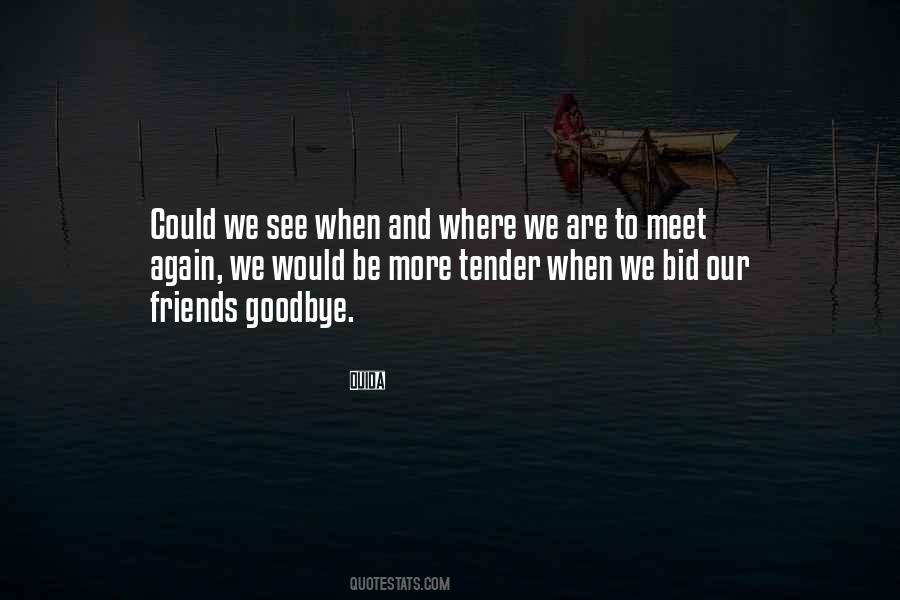 #37. Did you ever see a mob rush across town to do a good deed? Dave Robicheaux - Author: James Lee Burke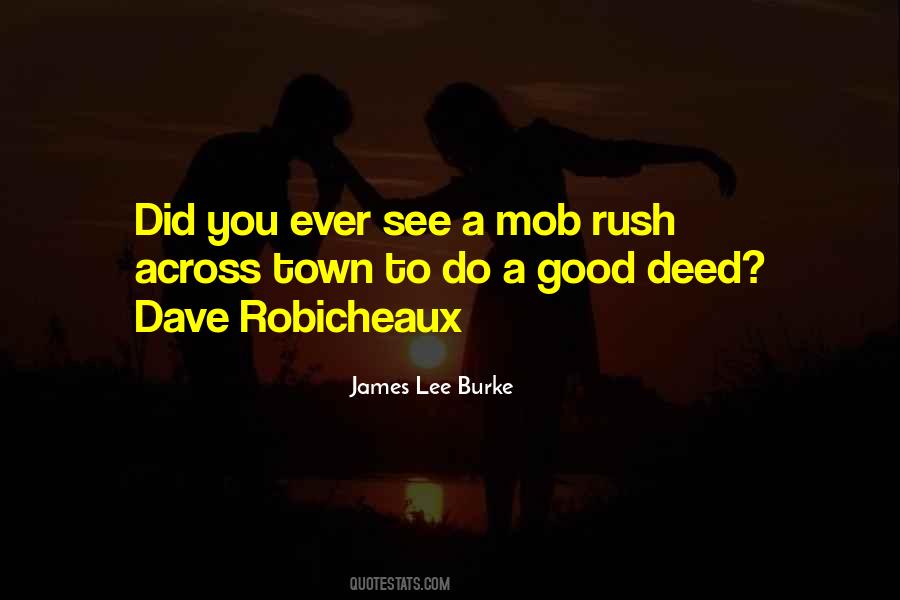 #38. Try taking a stand on just one leg. You need to see both sides. - Author: Joss Whedon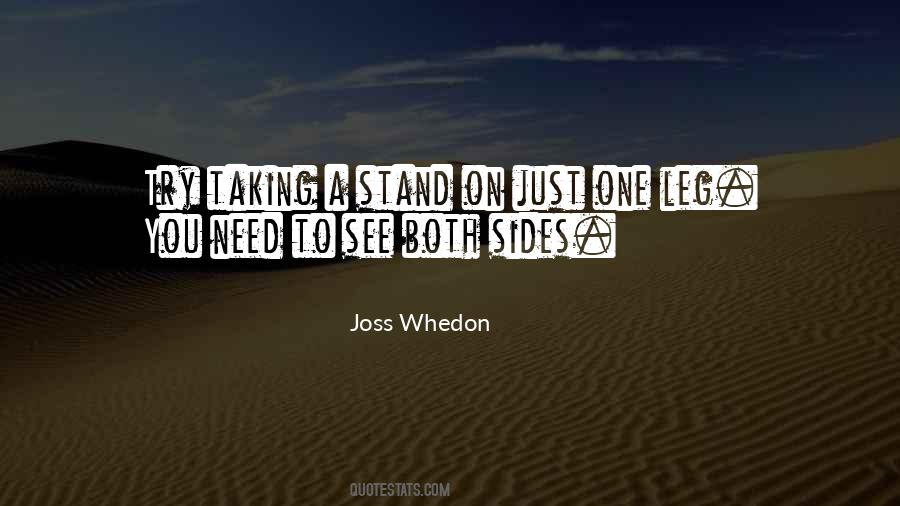 #39. And suddenly I felt completely strange, like the distance between us was much much greater than what I could see from where I was standing. Like that line, always so clear to me, had somehow shifted, or never even been where I'd thought it was at all. - Author: Sarah Dessen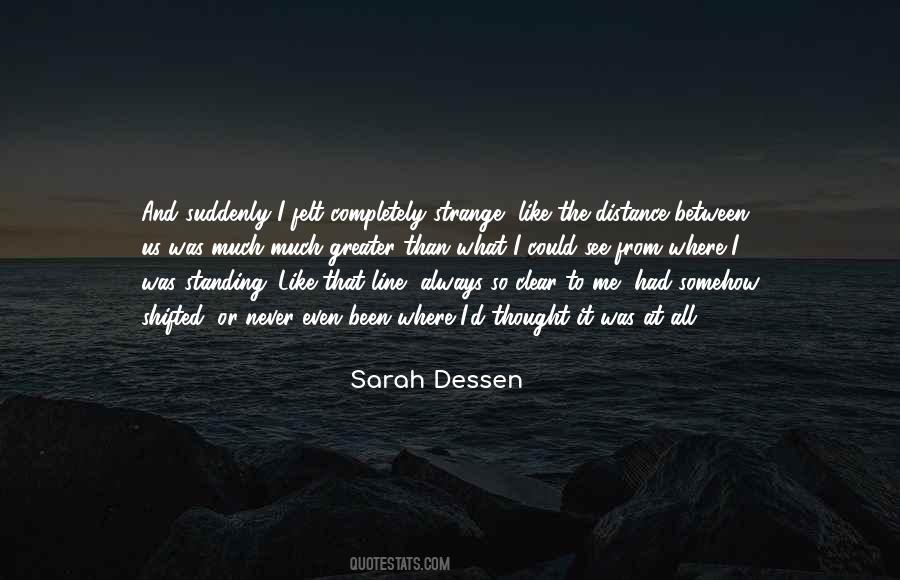 #40. I hate to think of you stuck here all day every day, doing nothing with that brilliant brain of yours."
"It never was brilliant. Anyway, who keeps these books to see who's used themselves wisely and who's wasted? - Author: Tessa Hadley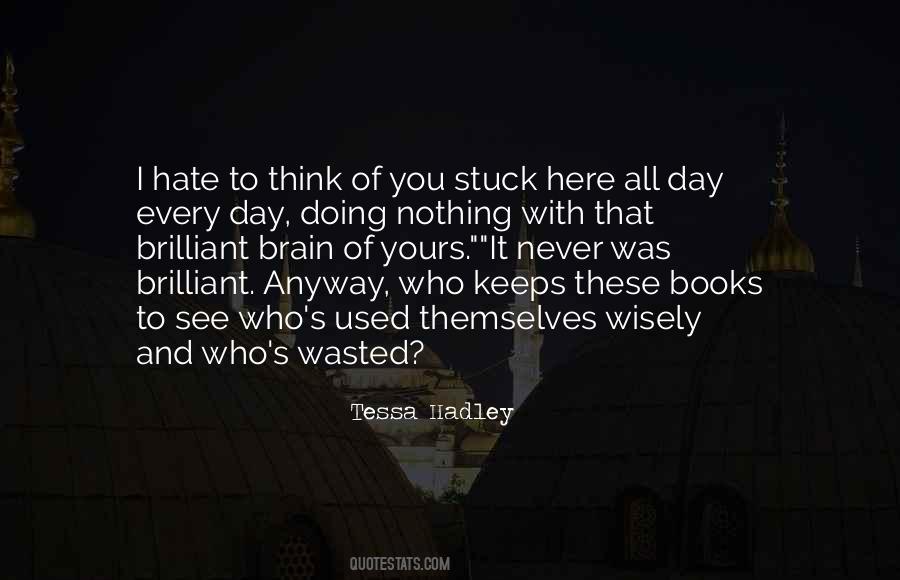 #41. I don't want to help, I want to hinder. I adore your hair, I like to see it loose. - Author: Philippa Gregory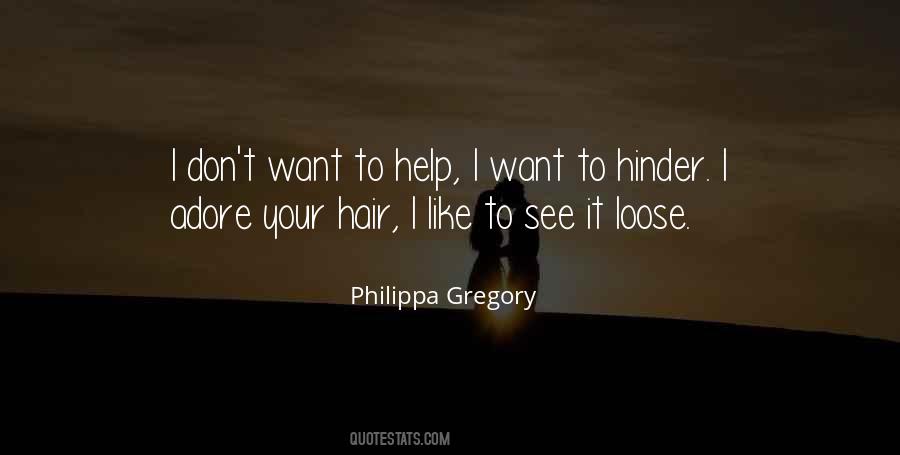 #42. I hold up a mirror to life and what I see in it, I freely report; the good, the bad, and the ugly. - Author: Michael Parlee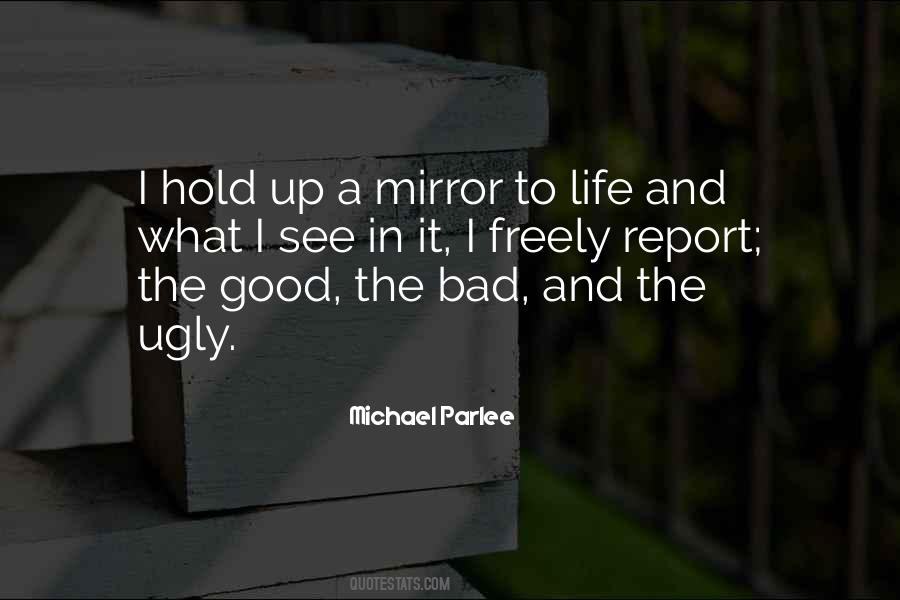 #43. I hope that they enjoy the movie. Don't be critical. Don't expect to get the same feelings you got when you watched the series when you were 10 years old. Let your kids see it and experience it on their own. - Author: Mark Goddard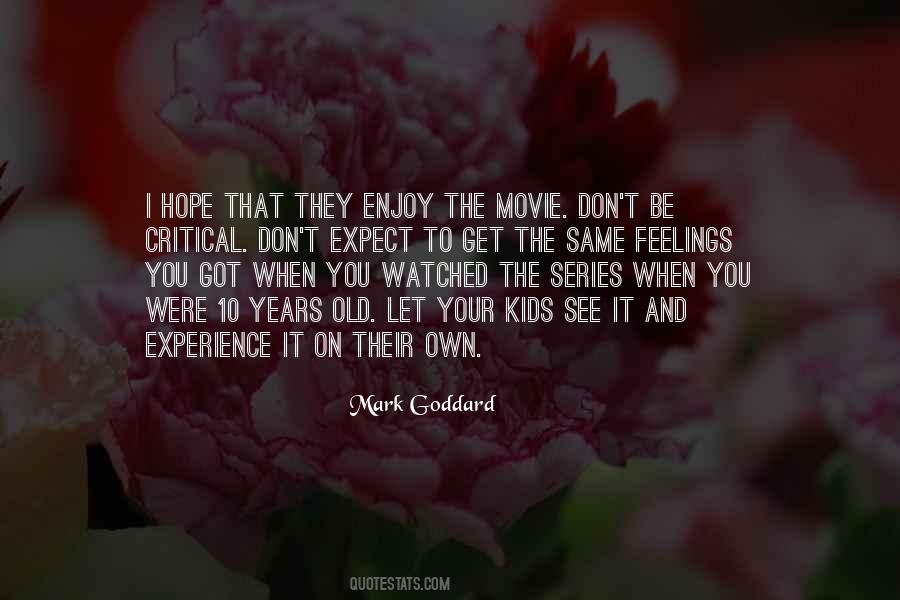 #44. Is to attempt seeing Truth without knowing Falsehood. It is the attempt to see the Light without knowing Darkness. It cannot be. - Author: Frank Herbert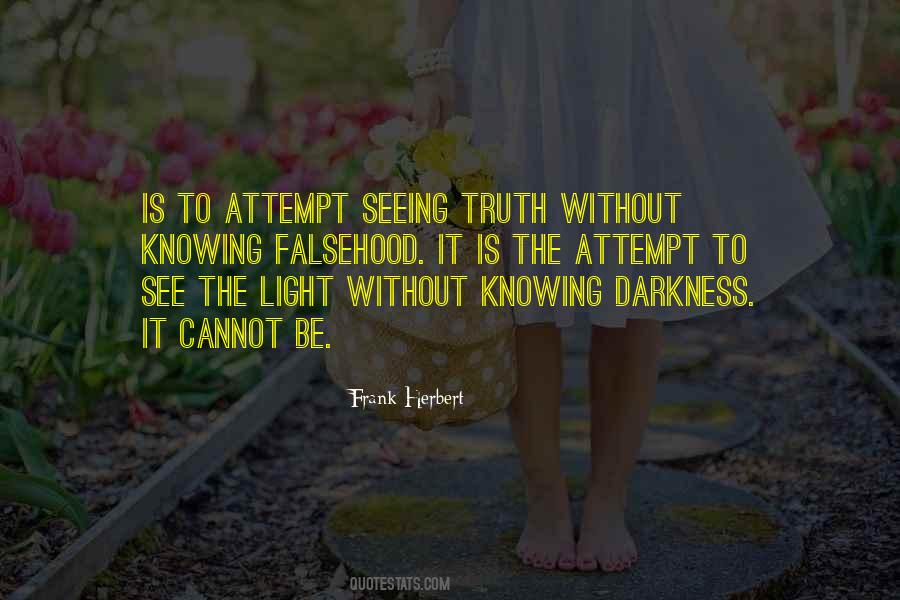 #45. The vision is not to see things just as we have imagined them to be. The vision is the freedom to live deliberately every day and that is a simply a choice. - Author: Colleen Mariotti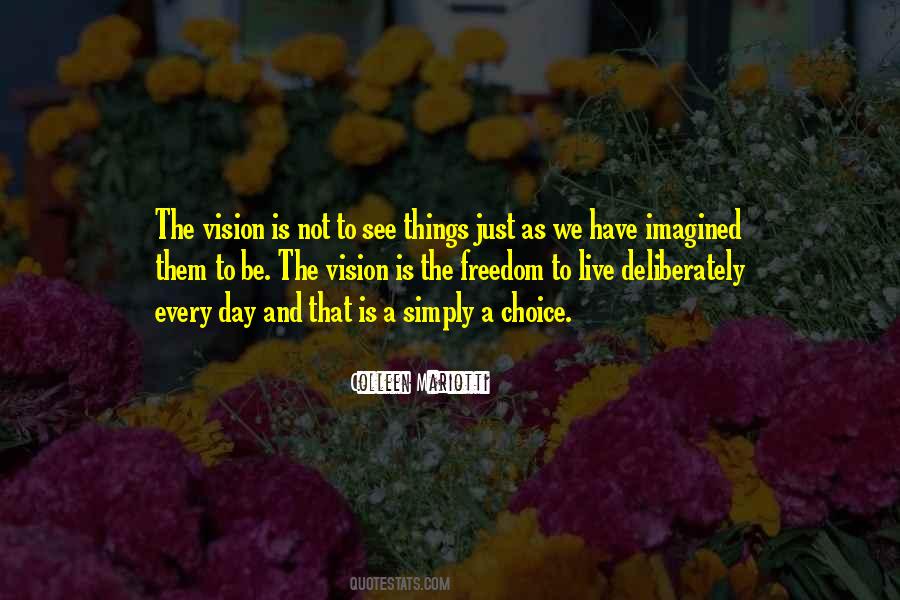 #46. I want to be a good example for my son. That's the best way to parent - to be the example of what you want to see in them. That's definitely how my parents parented and how my grandparents parented. And it works. - Author: Bryce Dallas Howard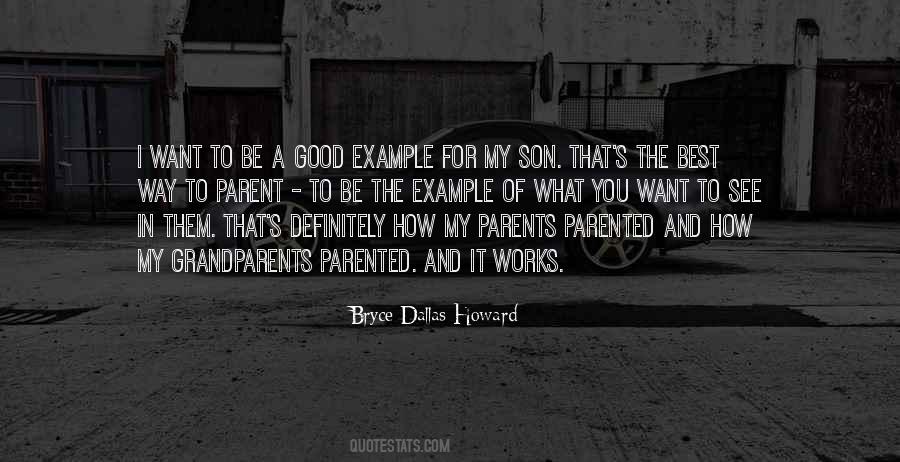 #47. The thing is that Warcraft has so much story available to it. For the fans, there are some key stories they really want to see on screen. I won't be doing those. - Author: Duncan Jones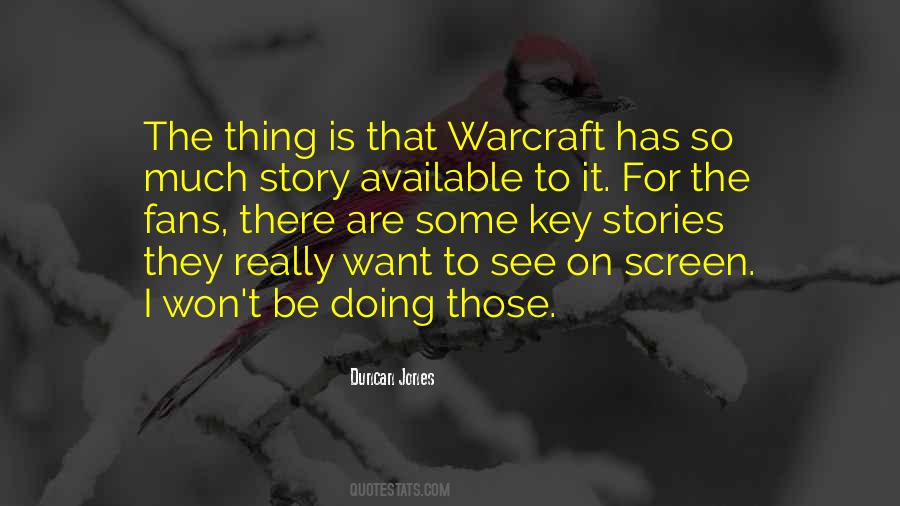 #48. You can find bacteria everywhere. They're invisible to us. I've never seen a bacterium, except under a microscope. They're so small, we don't see them, but they are everywhere. - Author: Bonnie Bassler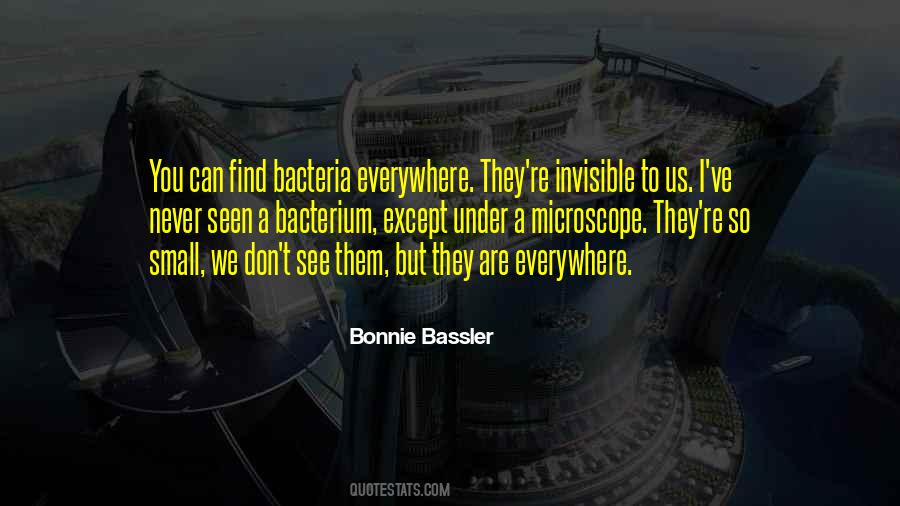 #49. I devote most of my day to writing, and try to turn out at least four pages a day. As for what triggers the creative process, it's a mystery to me! Characters often just walk on the page, and I wait to see what they do and say while I'm writing them. - Author: Tess Gerritsen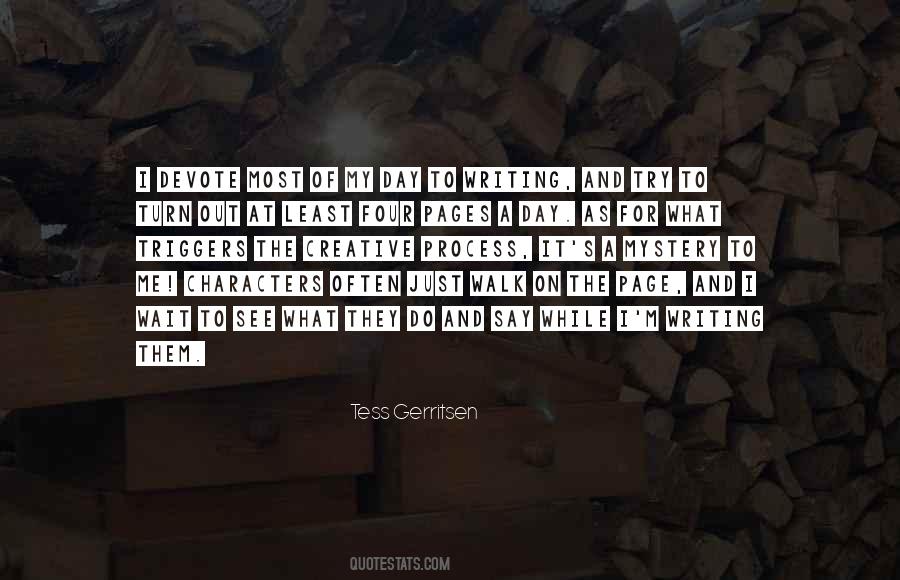 #50. Failures are not your own self. See to it that you are free from them. Only when you can relinquish them can you really be free and no longer assailed by them. - Author: Thich Nhat Hanh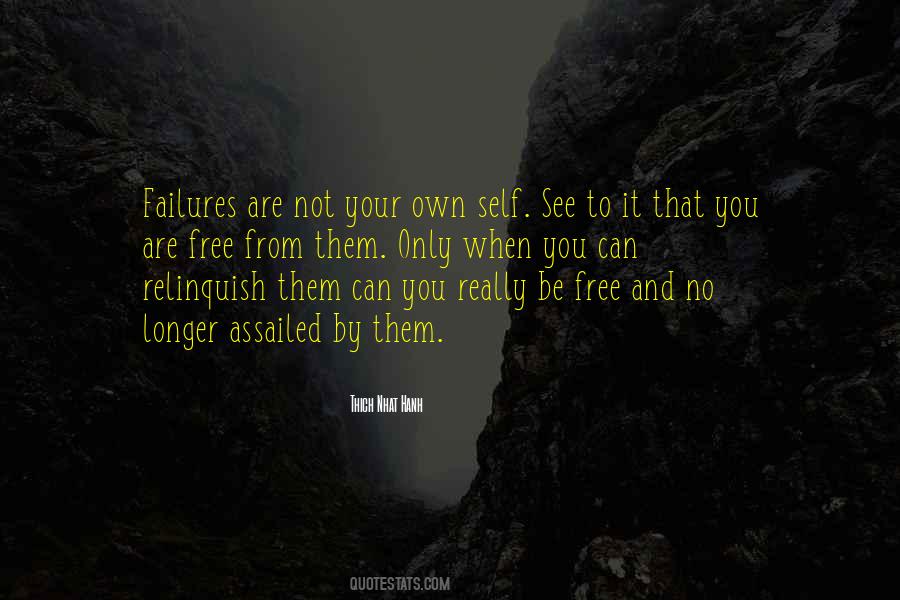 #51. After one look at this planet any visitor from outer space would say 'I want to see the manager. - Author: William S. Burroughs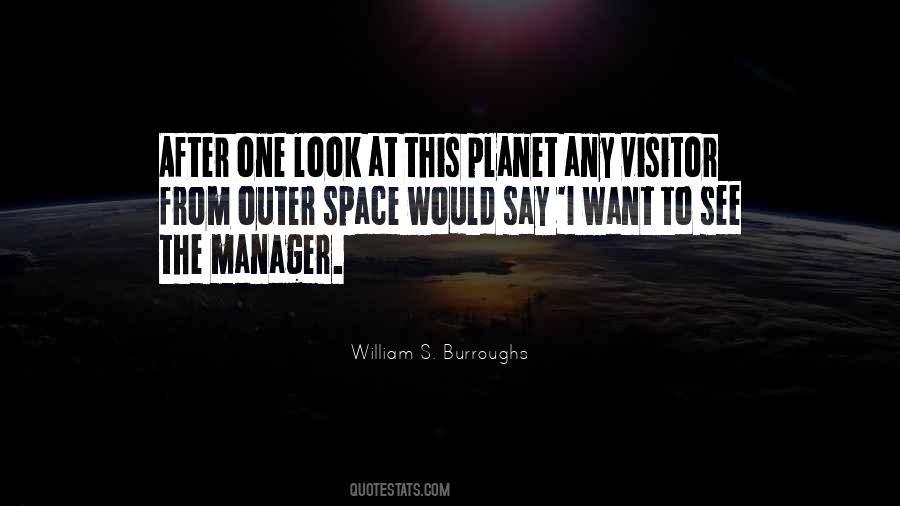 #52. We've always loved going to the movies. Our mom and dad are big movie fans. They'd take us on these movie orgys where we'd see sometimes three movies in a day. - Author: Lilly Wachowski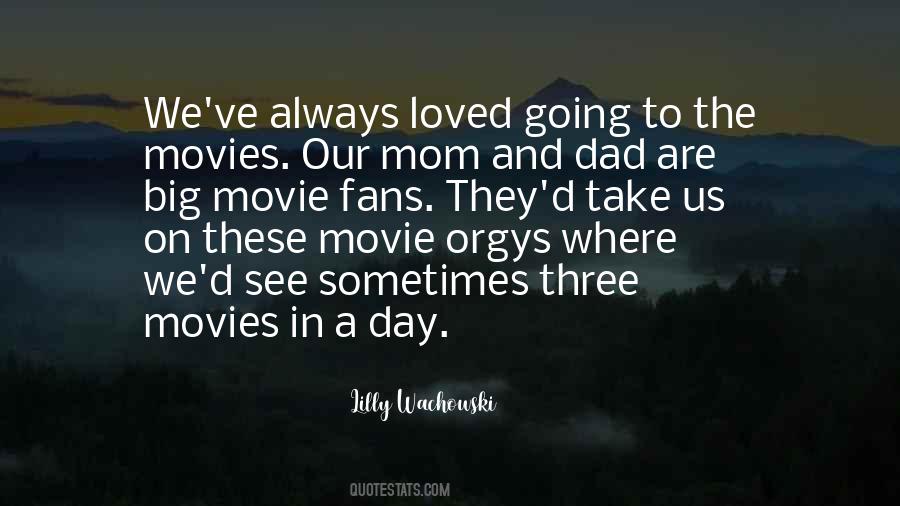 #53. There are moments when I feel like giving up or giving in, but I soon rally again and do my duty as I see it: to keep the spark of life inside me ablaze. - Author: Etty Hillesum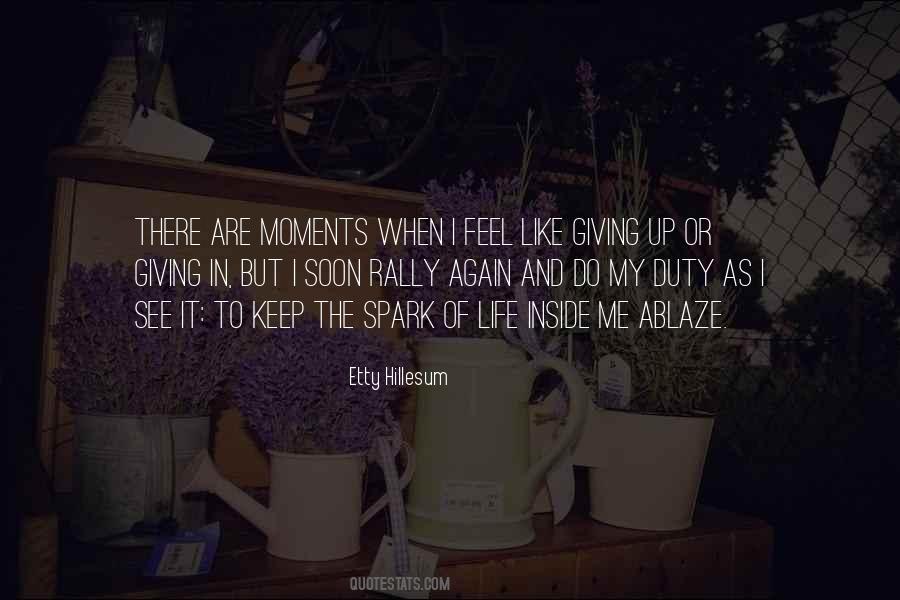 #54. Children are a wonderful gift. They have an extraordinary capacity to see into the heart of things and to expose sham and humbug for what they are. - Author: Desmond Tutu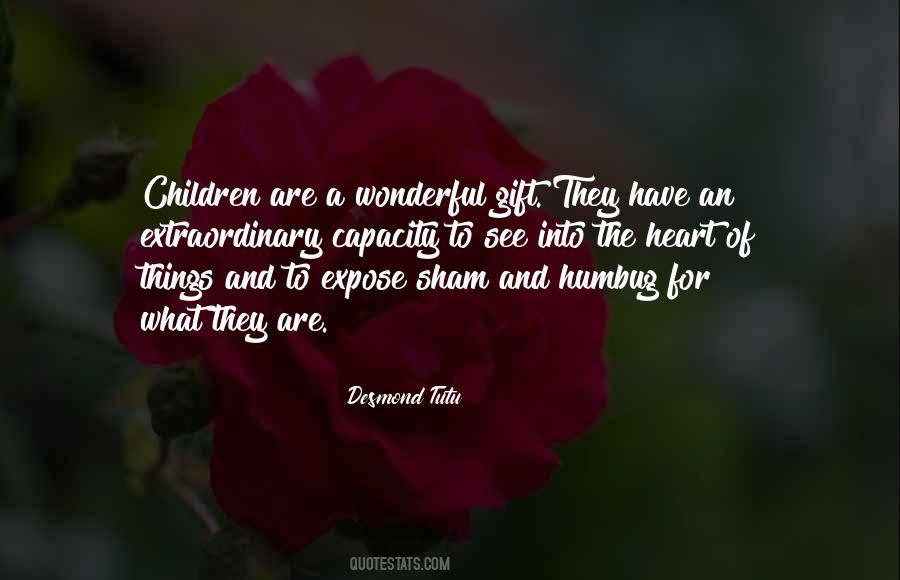 #55. Genius does not seem to derive any great support from syllogisms. Its carriage is free; its manner has a touch of inspiration. We see it come, but we never see it walk. - Author: Joseph De Maistre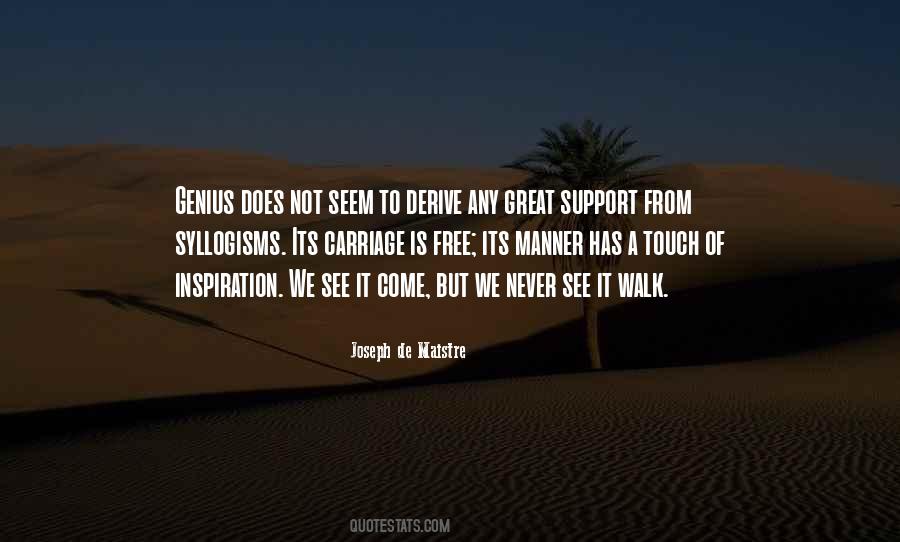 #56. ... so that any time anyone looked up, expecting out of habit to see Shola, they caught his eye, and shared a moment with him, and the hole in the world was known and acknowledged. - Author: Nick Harkaway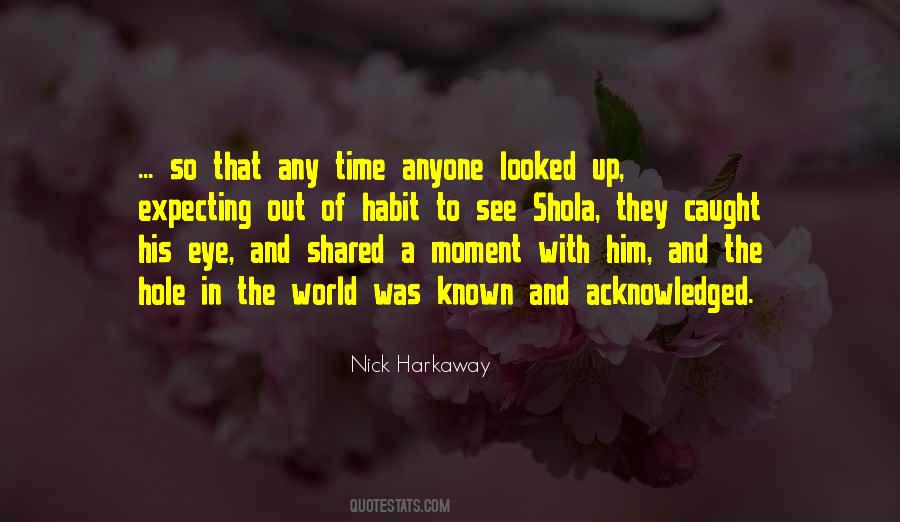 #57. Can you see the future, Kerbouchard?"
"Who would wish to? Our lives hold a veil between anticipation and horror. Anticipation is the carrot suspended before the jackass to keep him moving forward. Horror is what he would see if he took his eyes off the carrot. - Author: Louis L'Amour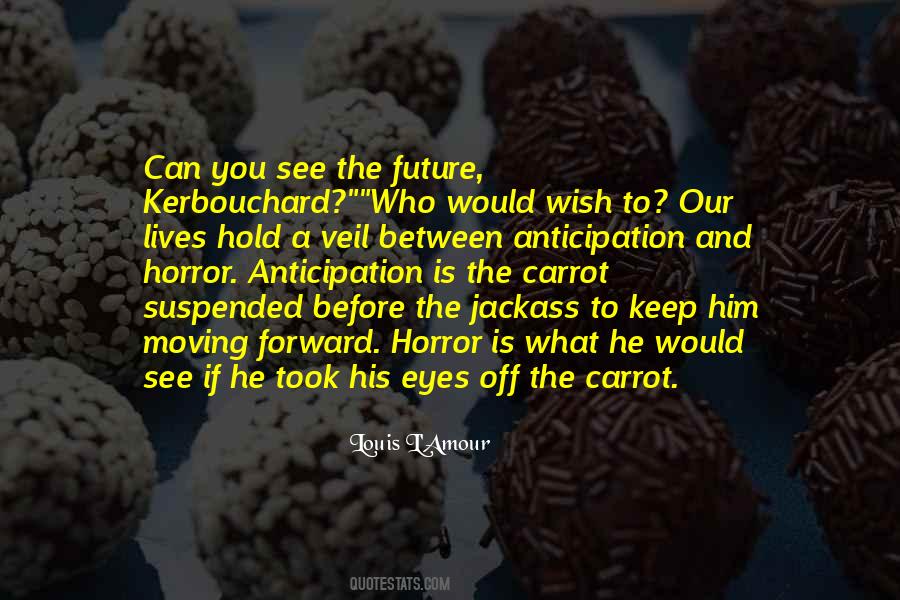 #58. People are hypocrites. If you ask them what they want to see on TV, they'll tell you they want better quality programming. And then what do they watch? 'Gilligan's Island.' - Author: Johnny Carson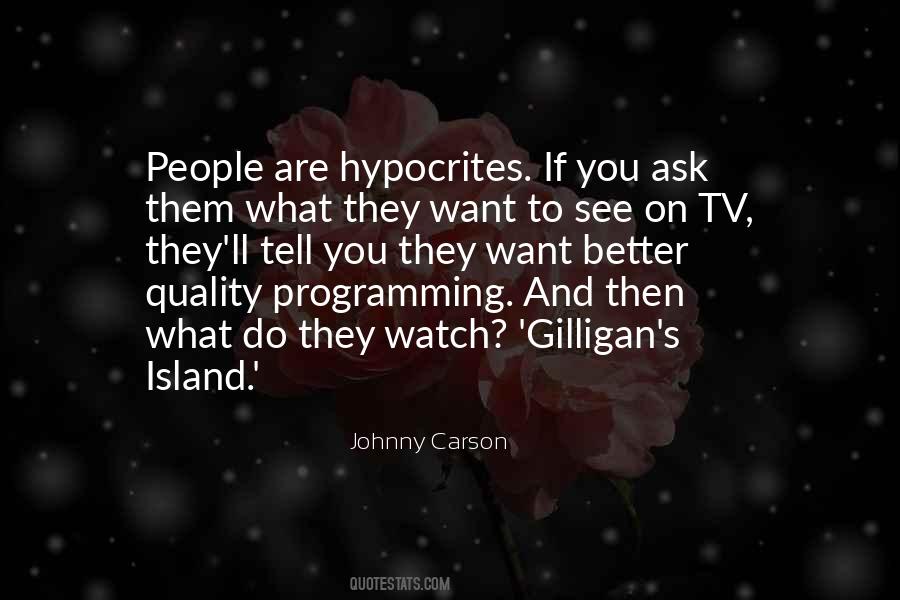 #59. Most executives, many scientists, and almost all business school graduates believe that if you analyze data, this will give you new ideas. Unfortunately, this belief is totally wrong. The mind can only see what it is prepared to see. - Author: Edward De Bono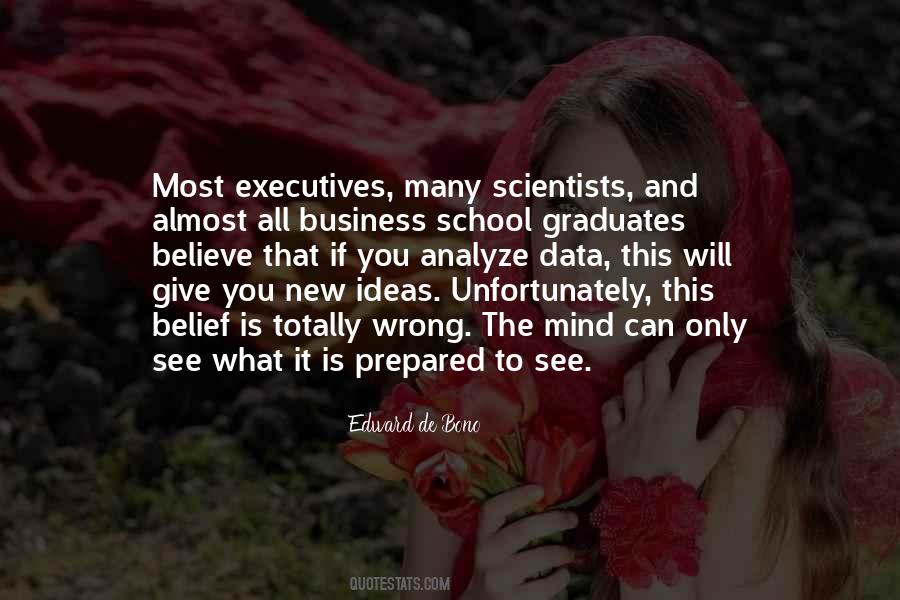 #60. I'm a Dreamer that's no Secret it's make me Happy, Positive, Satisfied and to see the good side of Life. - Author: Jan Jansen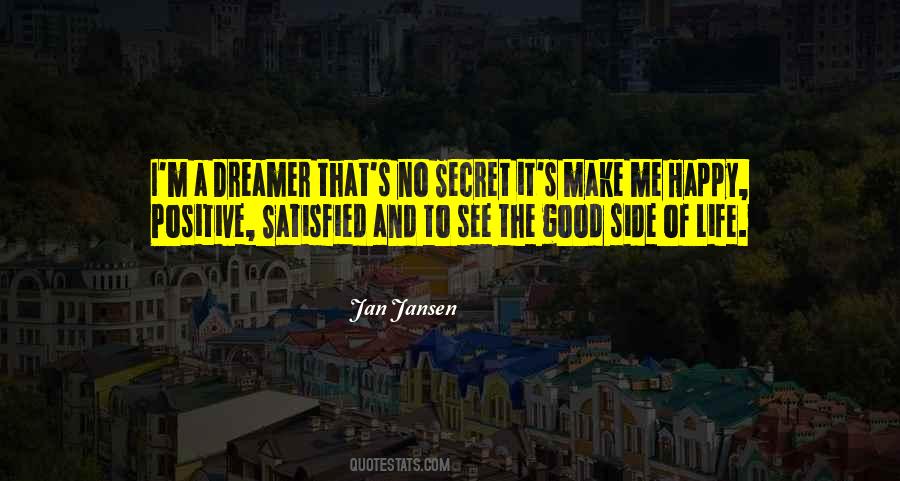 #61. Many voted in 2008 with the desire to see racism and racists humiliated by having a qualified black man elected president. - Author: Douglas Wilder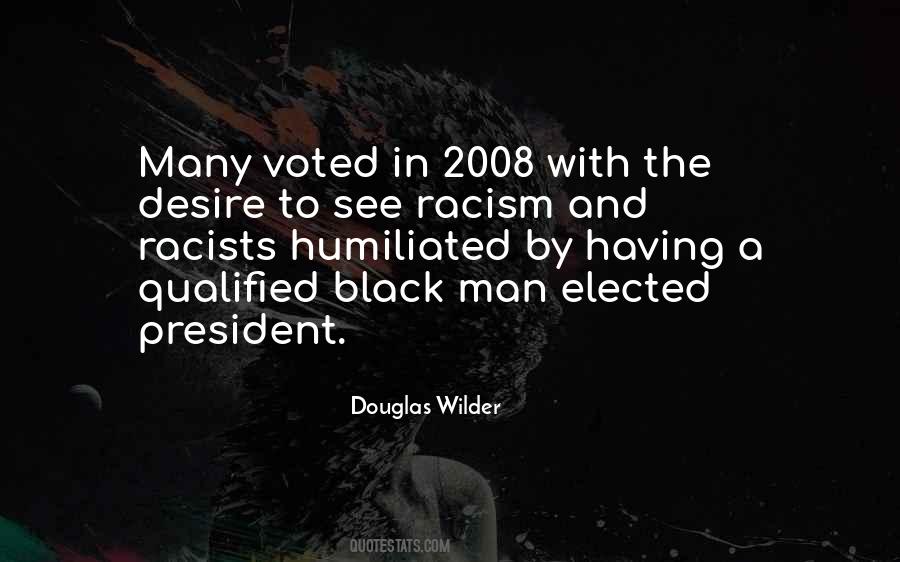 #62. Photography allows you to learn to look and see. You begin to see things you'd never paid attention to. - Author: Saul Leiter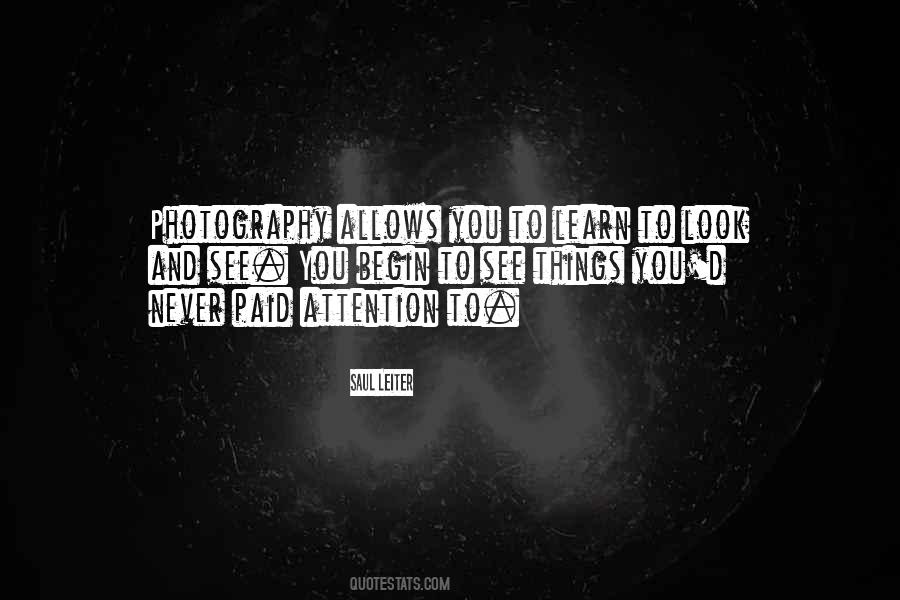 #63. I love Shakira - she is such a beautiful person. She does so many good things for the world on top of making good music. And she is an awesome mom. When you are Latina, it is all about family, and to see that she prioritizes family and her career at the same time is really nice. - Author: Becky G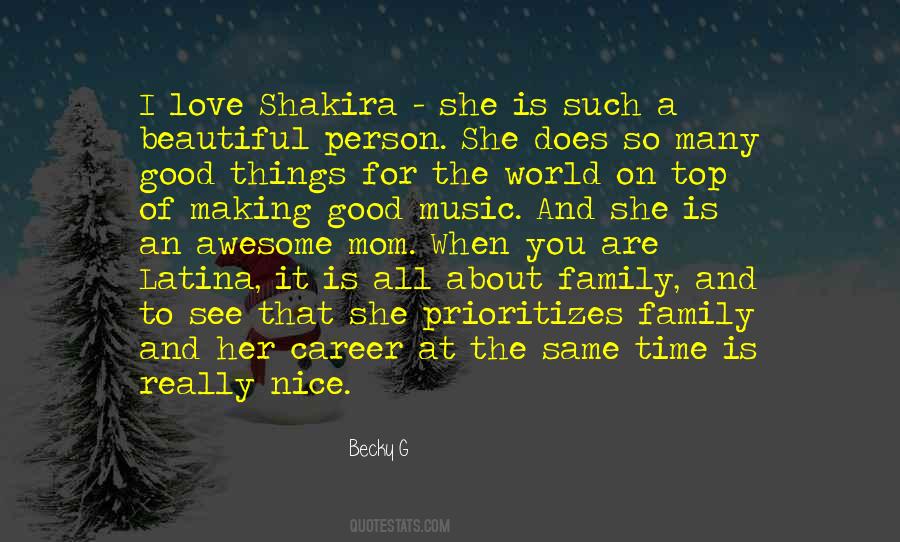 #64. We're the party that wants to see an America in which people can still get rich. - Author: Ronald Reagan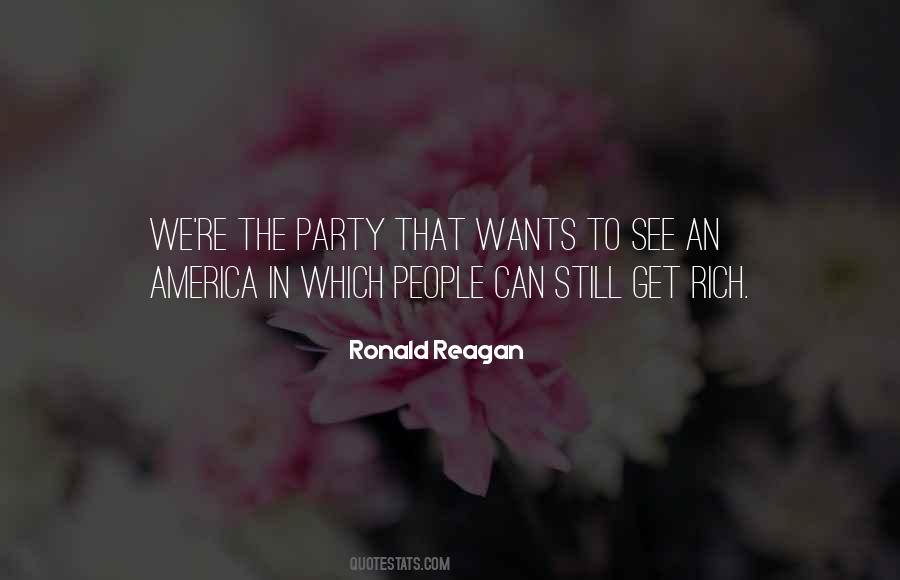 #65. To see one's name in print! Some people commit a crime for no other reason. - Author: Gustave Flaubert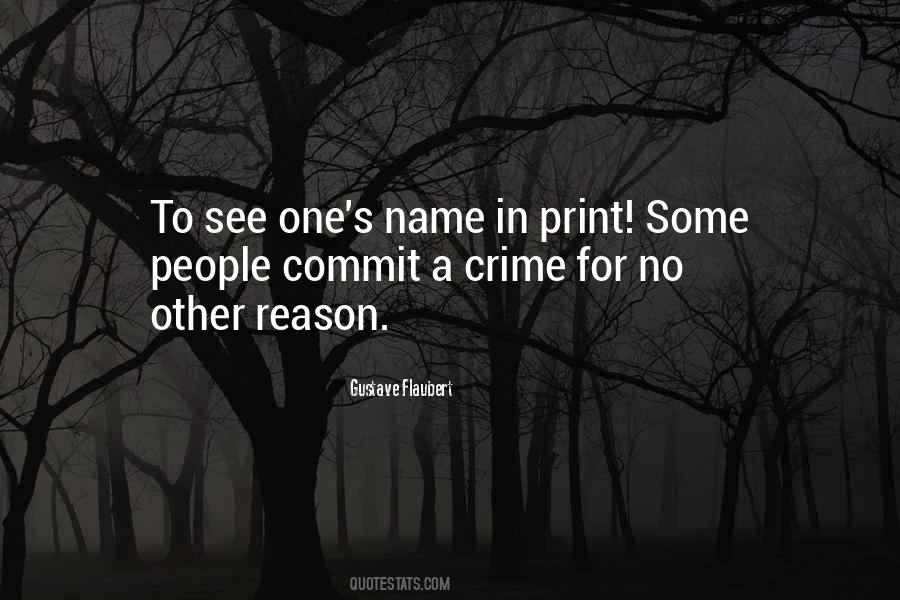 #66. You'll see, you'll come to understand. These big things, these terrible things, are not the important ones. If they were, how could one go on living? No, it is the small, little things that make up a day, that bring fullness and happiness to a life. - Author: Benedict Freedman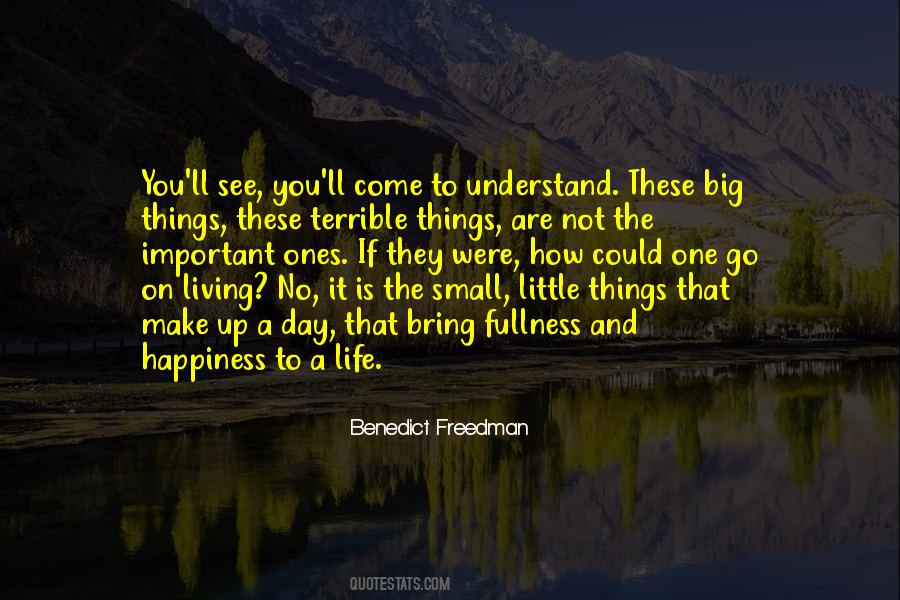 #67. The designer must be able to see - make a concentrated effort to absorb the essence of the project. Seeing is a very difficult thing to do. Most people "look" at a lot of thing but never "see" anything. Looking is emotional; seeing is an intellectual process. - Author: Albert Hadley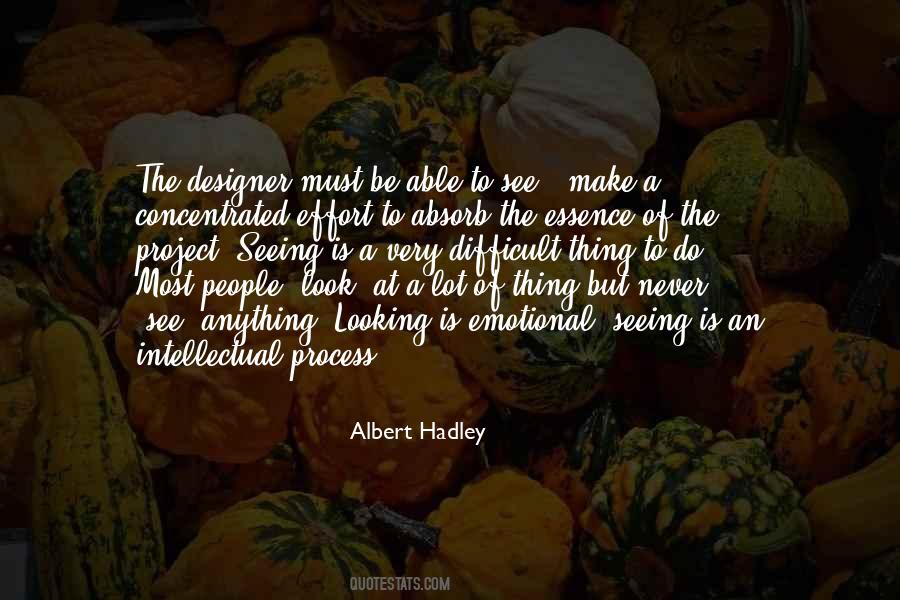 #68. The desire to share is not a vague, windy sentiment, not when you see the massive rise in live concerts in response to the phenomenon of downloading music ... People want to get rid of the headphones and be part of a shared experience. - Author: Richard Eyre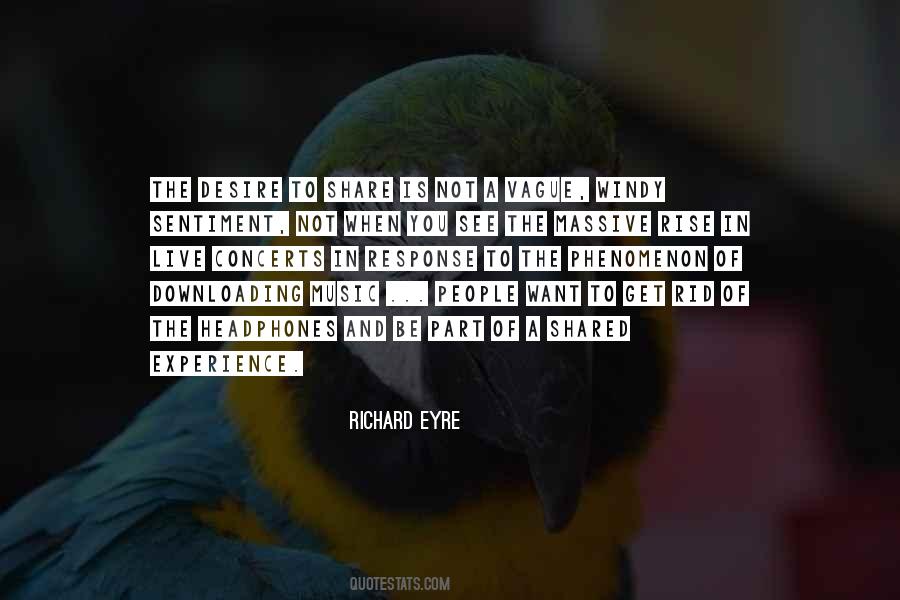 #69. Oh definitely. It'll be in a hot tub, with my entire head squeezed into a jet. The photos are going to be hilarious. Man, I really hope the internet sticks around so people can reference this article in my obituaries and see that what sounds like a joke was actually amazingly prescient. - Author: Jason Sudeikis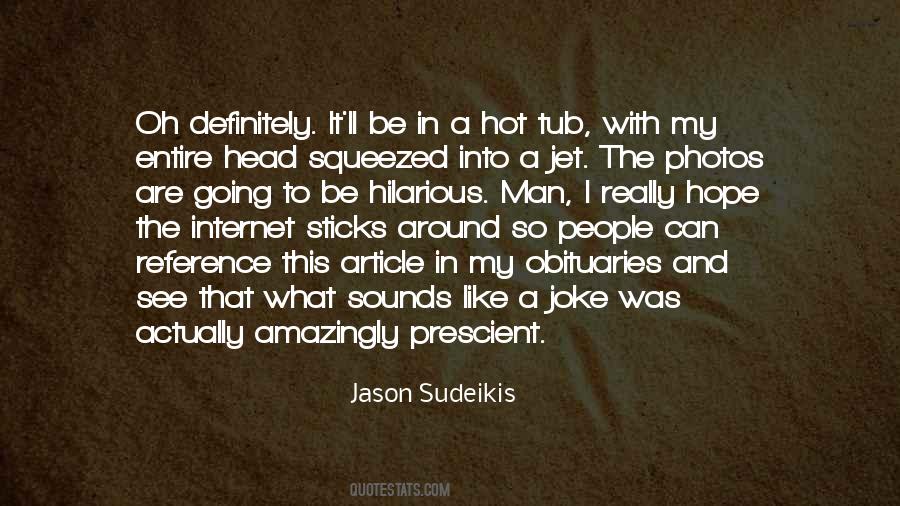 #70. we do not need sight to see what you have become. - Author: Adam Johnson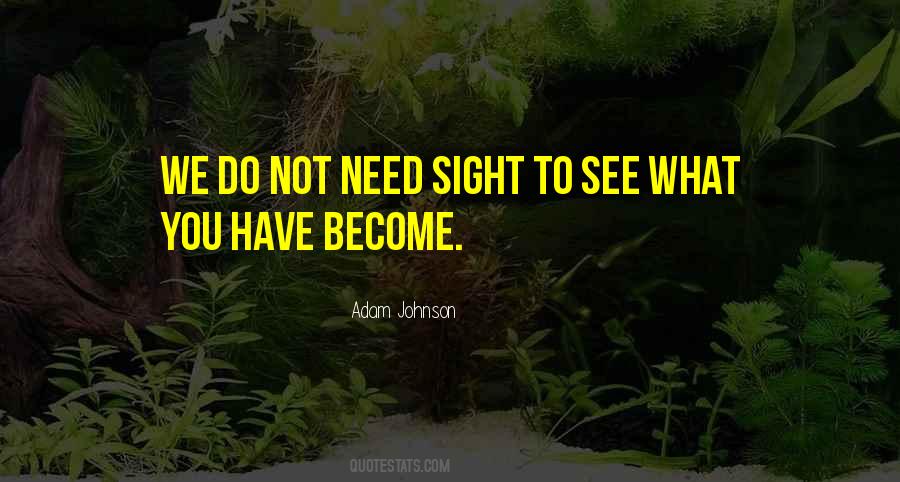 #71. When people see the conventions, they think they're going to get the straightforward genre - I don't give them that and they get mad. People see that and they think I don't understand the conventions because I'm not a good filmmaker. - Author: Mary Harron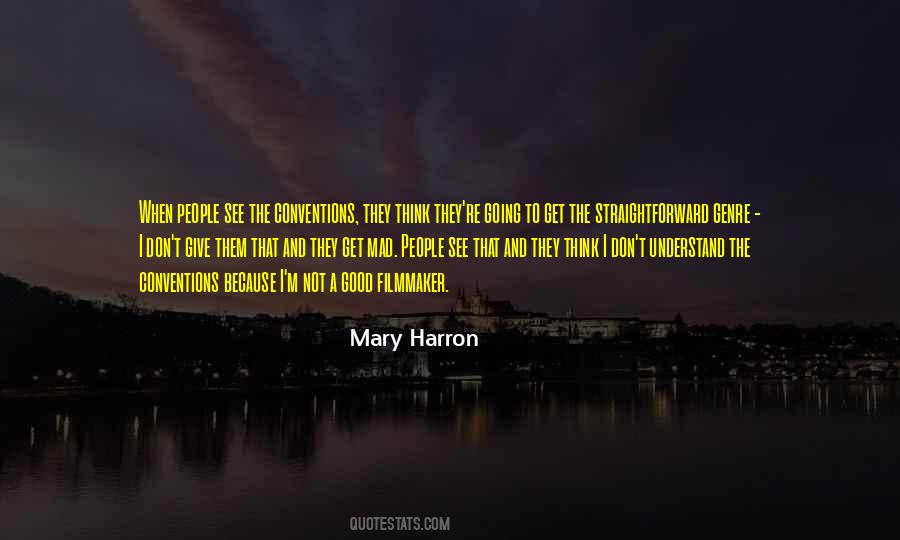 #72. What I don't like is when I see stuff that I know has had a lot of improv done or is playing around where there's no purpose to the scene other than to just be funny. What you don't want is funny scene, funny scene, funny scene, and now here's the epiphany scene and then the movie's over. - Author: Paul Feig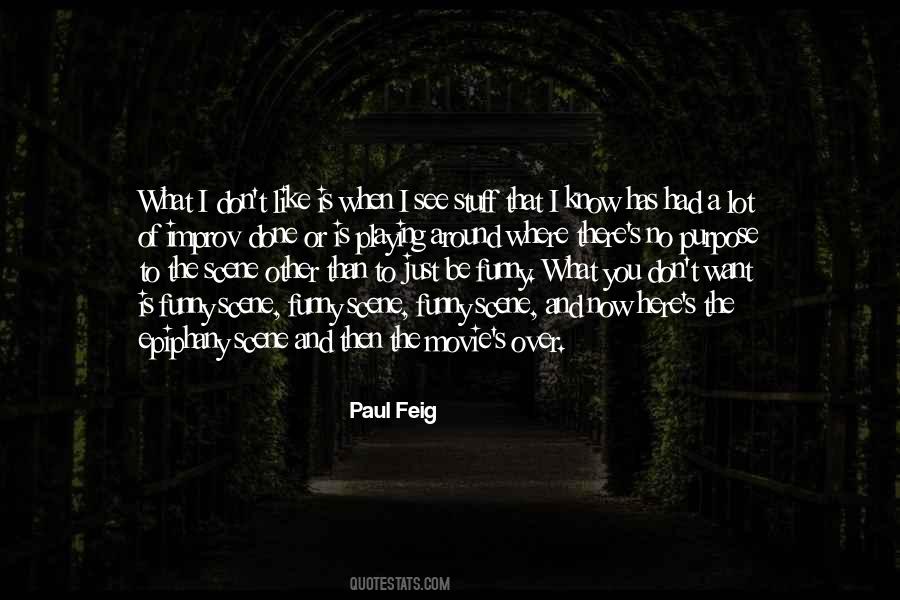 #73. The difference between memoir and autobiography, as far as I see it, is that a memoir is there primarily to tell one particular story, whereas an autobiography tries to be a full account of a life. - Author: Salman Rushdie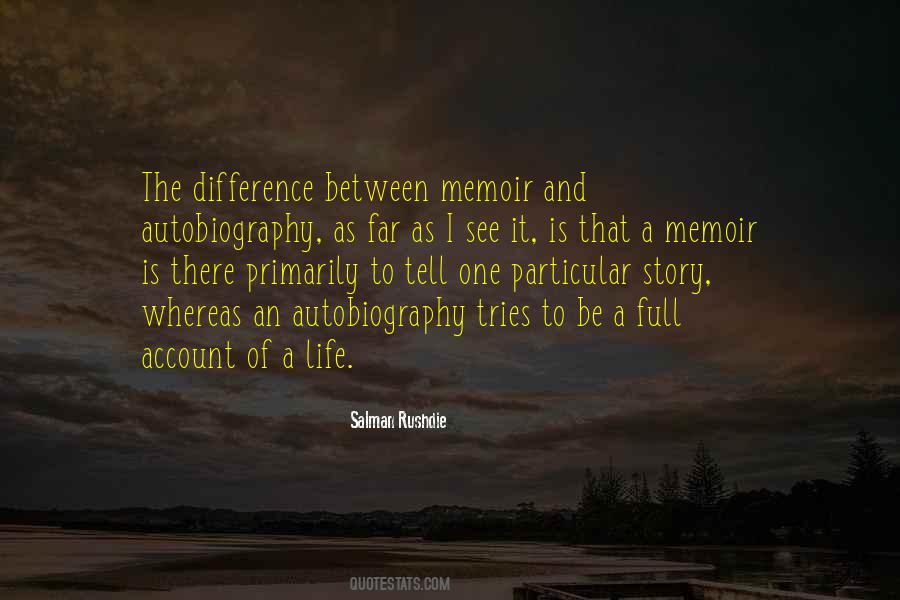 #74. The whole business of your life overwhelms you when you live alone. One's stupefied by it. To get rid of it you try to daub some of it off on to people who come to see you, and they hate that. To be alone trains one for death. - Author: Louis-Ferdinand Celine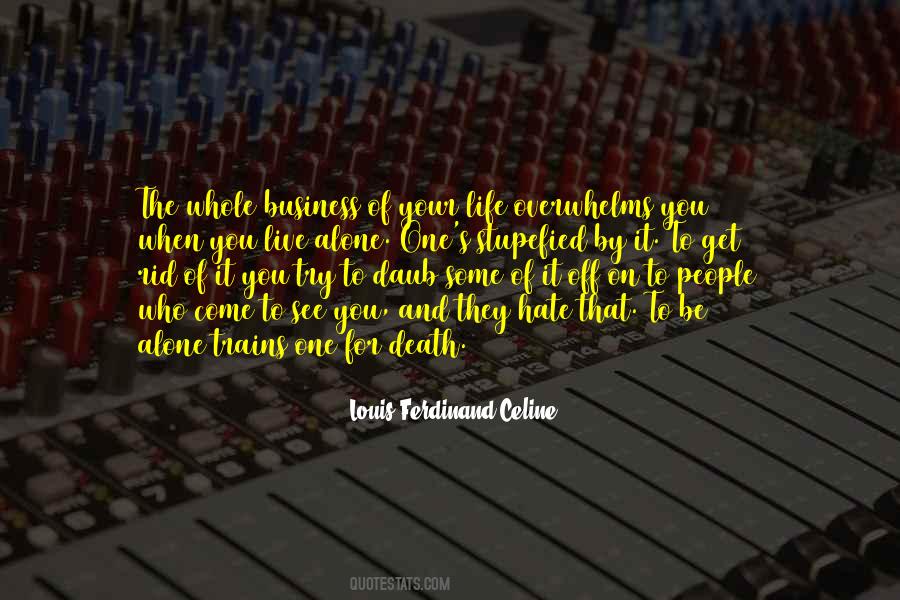 #75. Why had he wanted to be rich, or to feel rich? Was he an unhappy mouse before? Didn't he see the King himself often looking sad? Was anyone completely happy? - Author: William Steig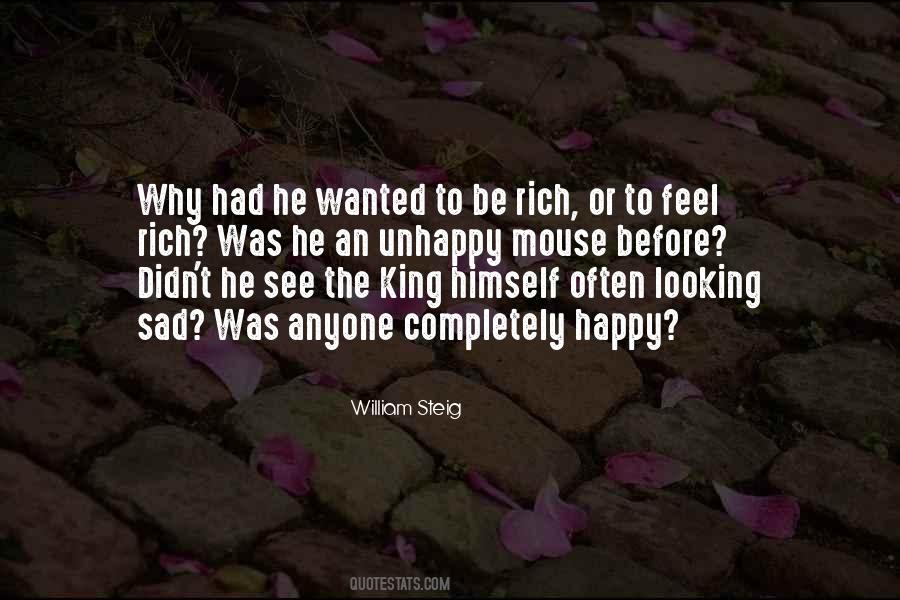 #76. I don't see it, but I'm flattered nonetheless. To look like Michelle Pfeiffer is quite nice. - Author: Calista Flockhart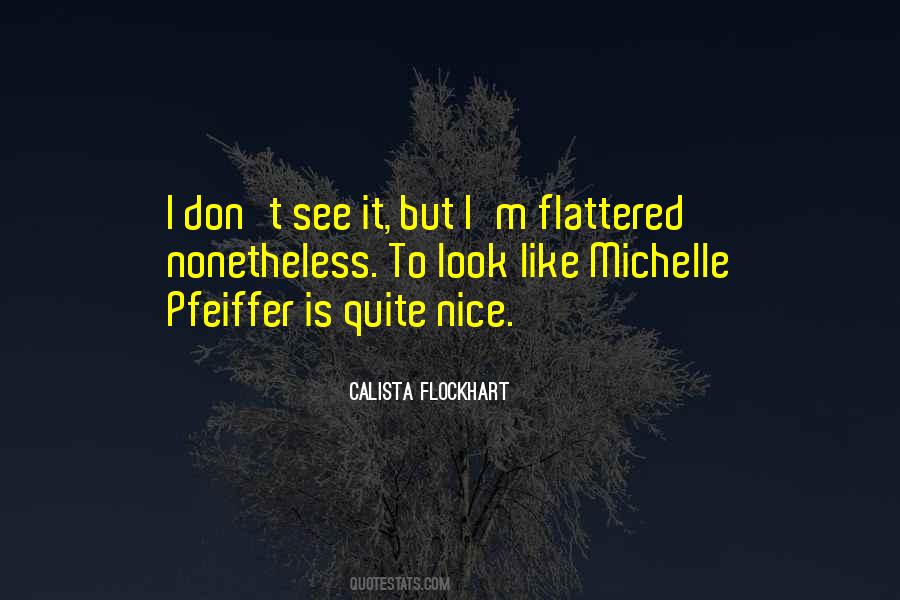 #77. I want to see a doctor," I said.
He beamed. "But you've already seen one. Lucky Chang has M.I).s and Ph.D.s from every school between Seoul and Pusan. You were treated by the most capable surgeon to ever come out of Korea."
"I want to see a less capable doctor. - Author: Yongsoo Park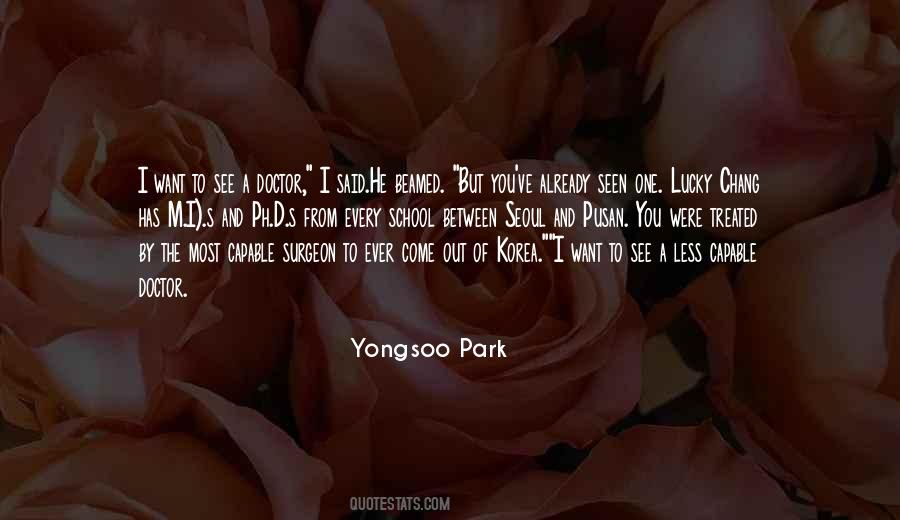 #78. The change starts when you start watching a video. You don't see it, you don't feel it but it starts at this moment, just by reading a complicated book or watching a film you again change... It's a fact! - Author: Deyth Banger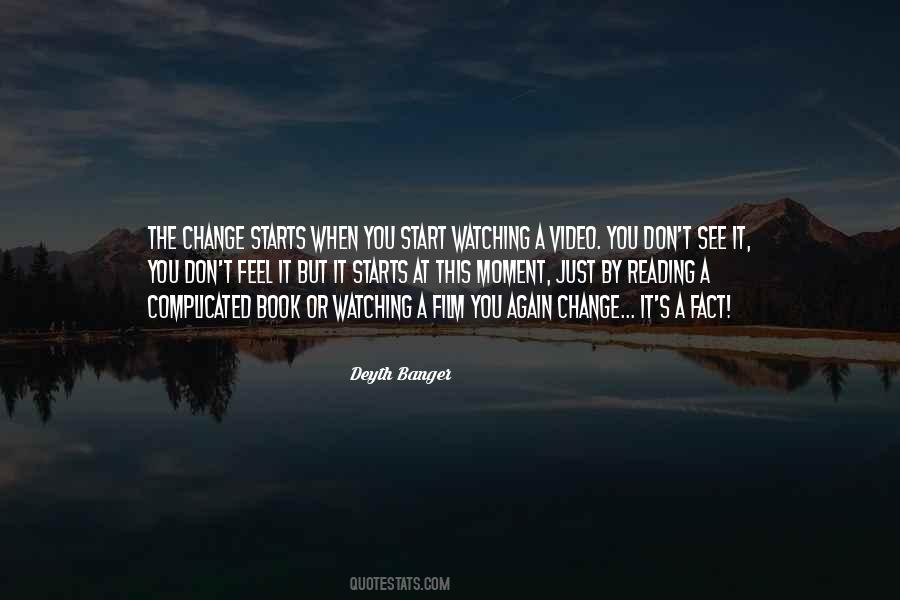 #79. We call those poets who are first to mark, Through earth's dull mist the coming of the dawn, Who see in twilight's gloom the first pale spark, While others only note that day is gone. - Author: Oliver Wendell Holmes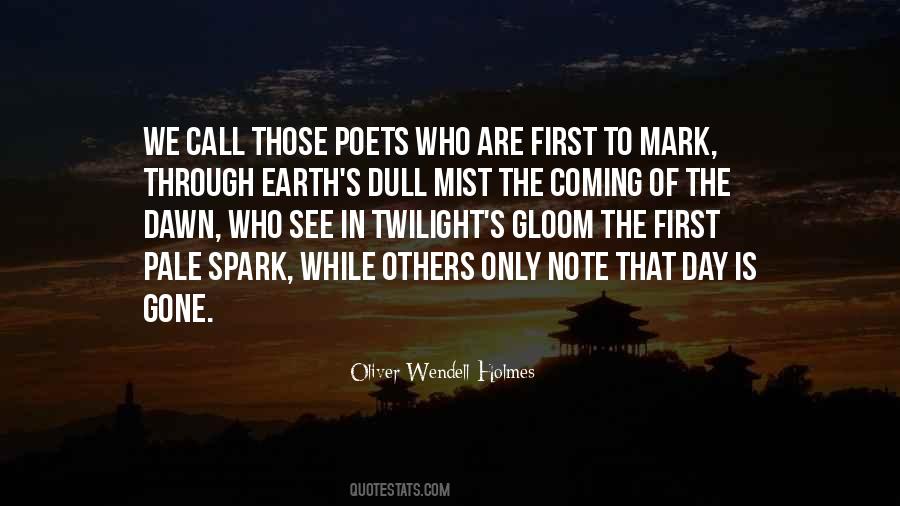 #80. You used to do that. If you hid your face, you thought we couldn't see you just because you couldn't see us. - Author: V.C. Andrews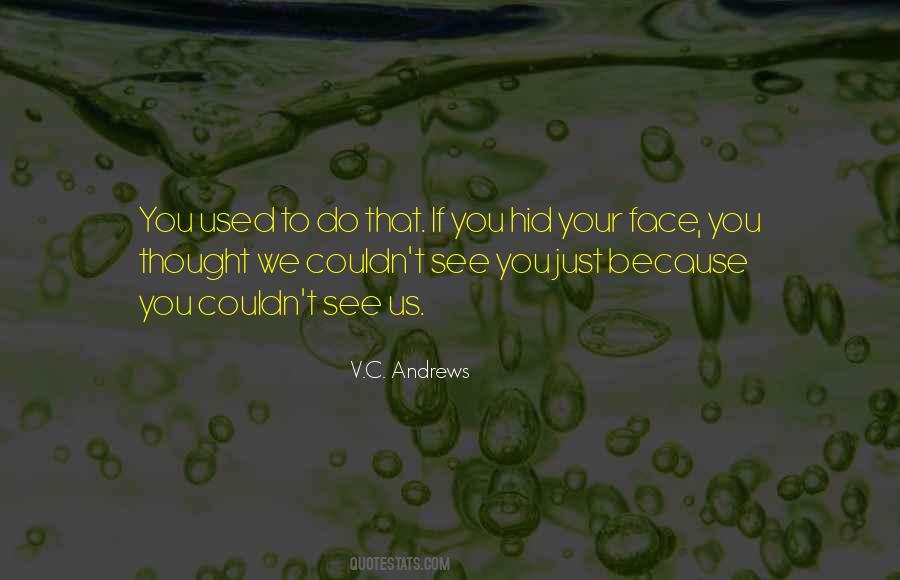 #81. One need not be a prophet to be aware of impending dangers. An accidental combination of experience and interest will often reveal events to one man under aspects which few yet see. - Author: Friedrich Hayek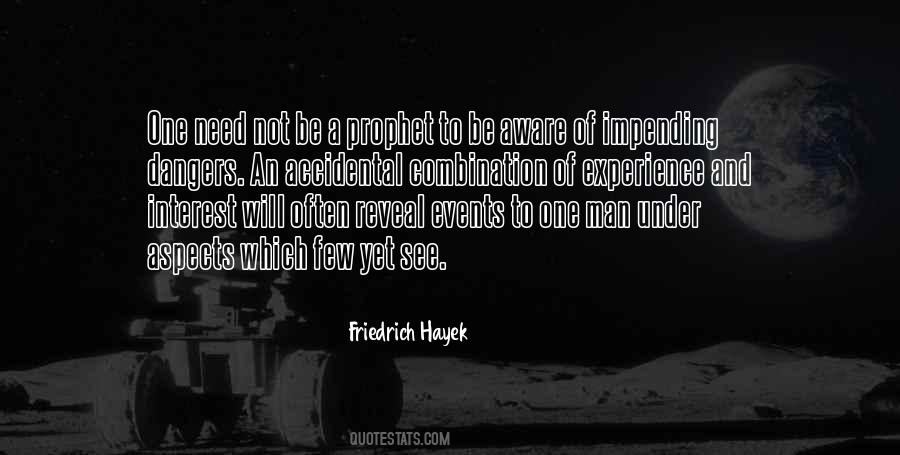 #82. To me, a feminist belongs in the same category as a humanist or an advocate for human rights. I don't see why someone who's a feminist should be thought of differently. - Author: Suzanne Vega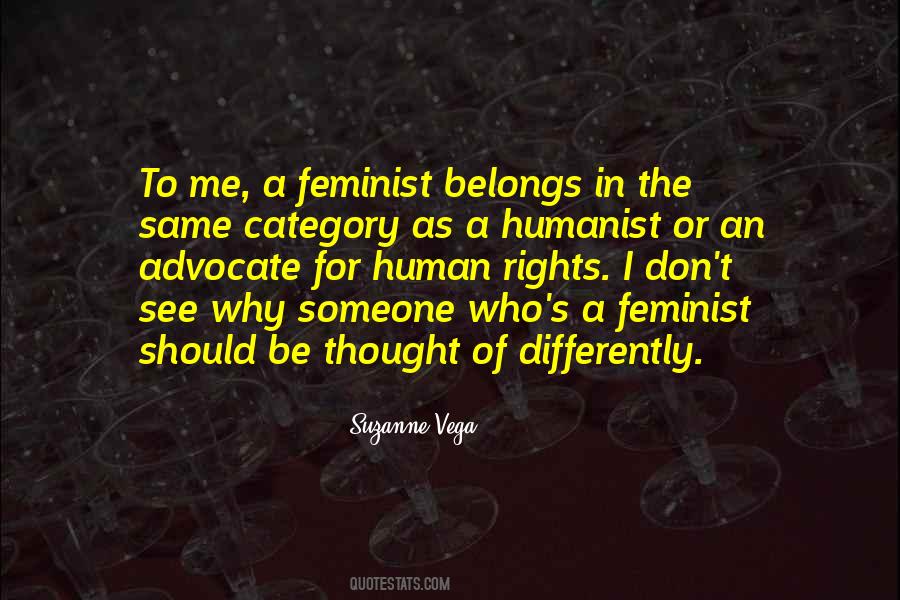 #83. There's not a word I can say to you that you have not already though of, Mamah... There are ways to hold the thing up in the light and see a hundred facets, and knowing you, you've found a hundred and one. - Author: Nancy Horan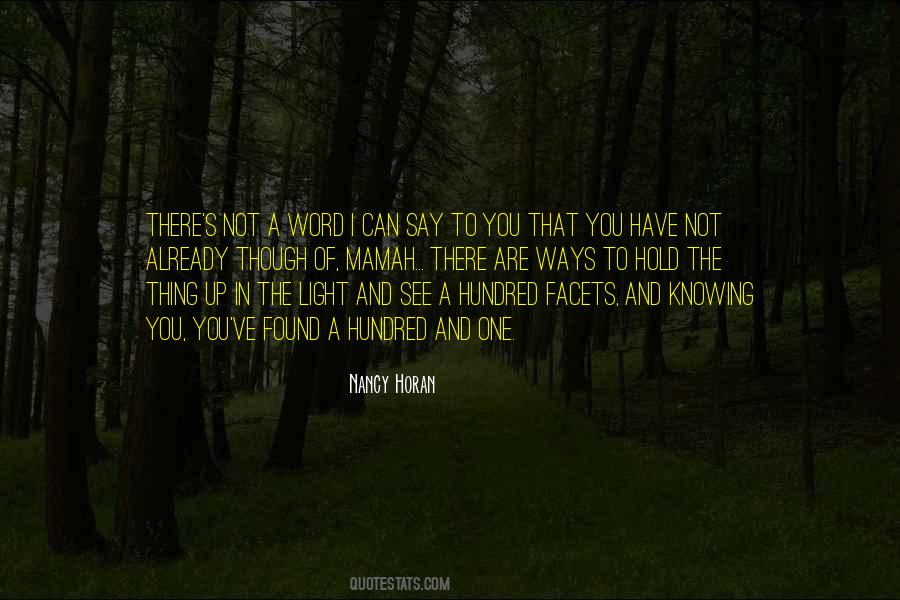 #84. Not truly living in the present moment and later regretting is like closing your eyes when a peacock is dancing, only to want to see it dance once it is gone.-RVM - Author: R.v.m.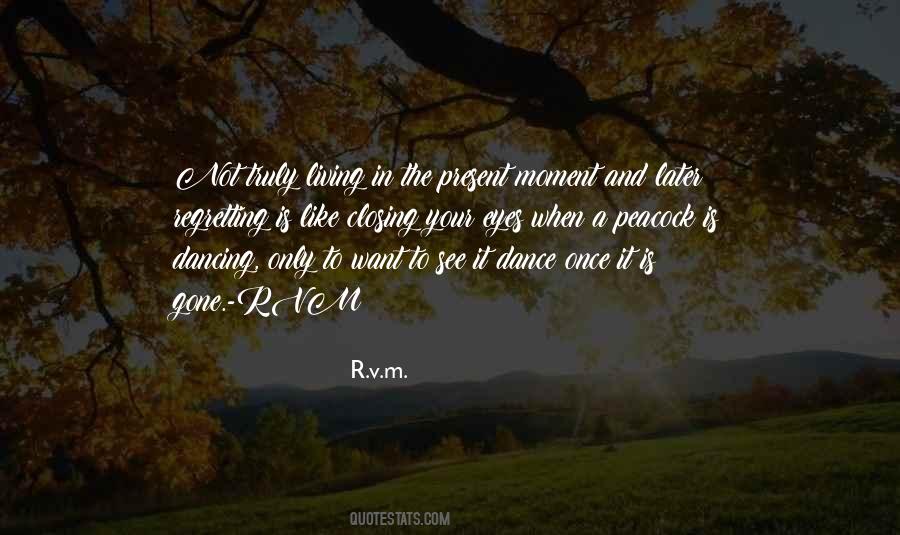 #85. I was missing the opportunity to see my friends' children grow up, to have my son go to his friends' homes and be involved with their parents. - Author: Karen Hughes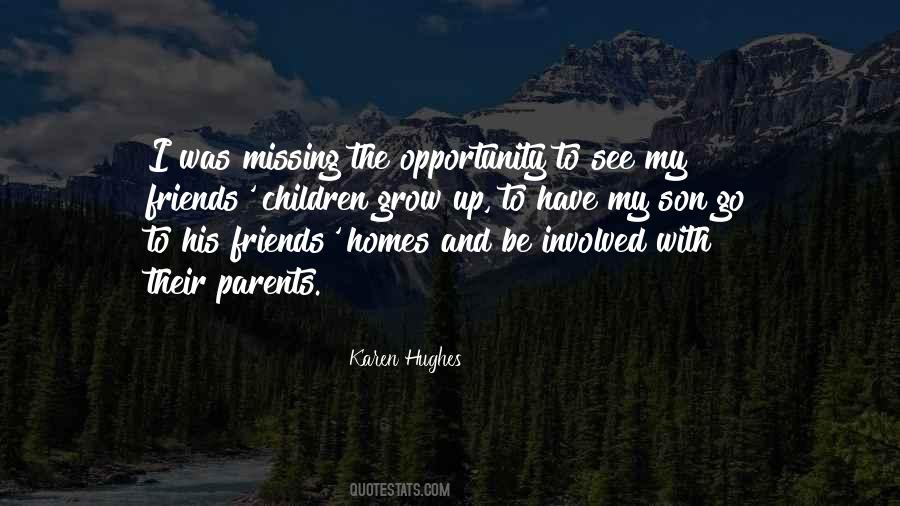 #86. A lot of people are promoting records that are just throw-it-agains t-the-wall-see- if-it-sticks meaningless bullshit. Everybody has the responsibility to do the right thing and promote artists that mean something. - Author: Dave Grohl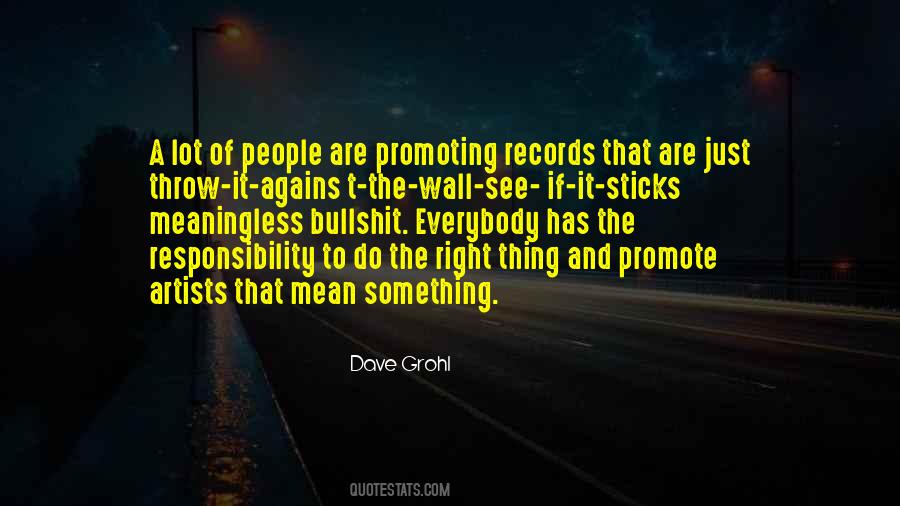 #87. Let me encourage you, if someone has wronged you, and you still get that cringing feeling on the inside when you see or think about that person, take it to God and allow Him to keep your heart soft and sensitive. - Author: Victoria Osteen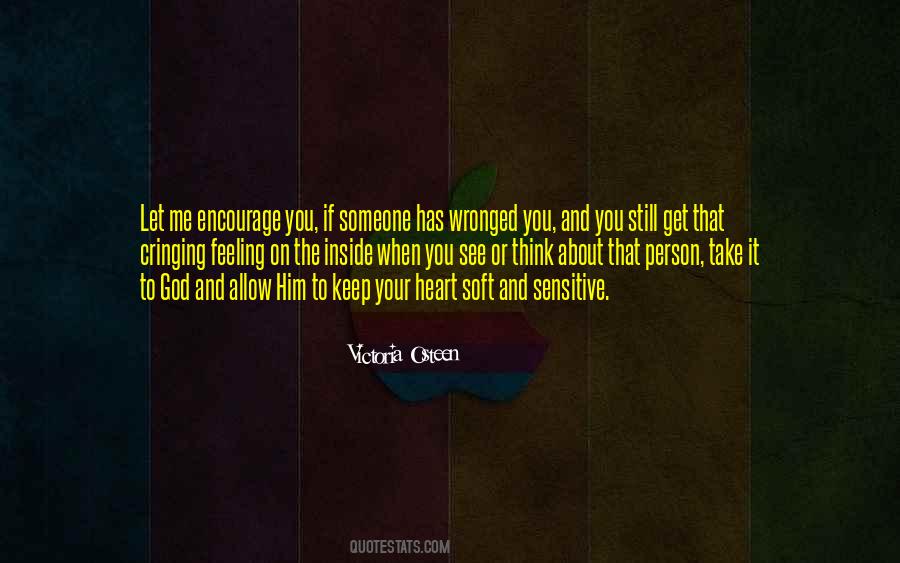 #88. People have obsessions and fears and passions which they don't admit to. I think every character is interesting and has extremes. It's the novelist privilege to see how odd everyone is. - Author: Iris Murdoch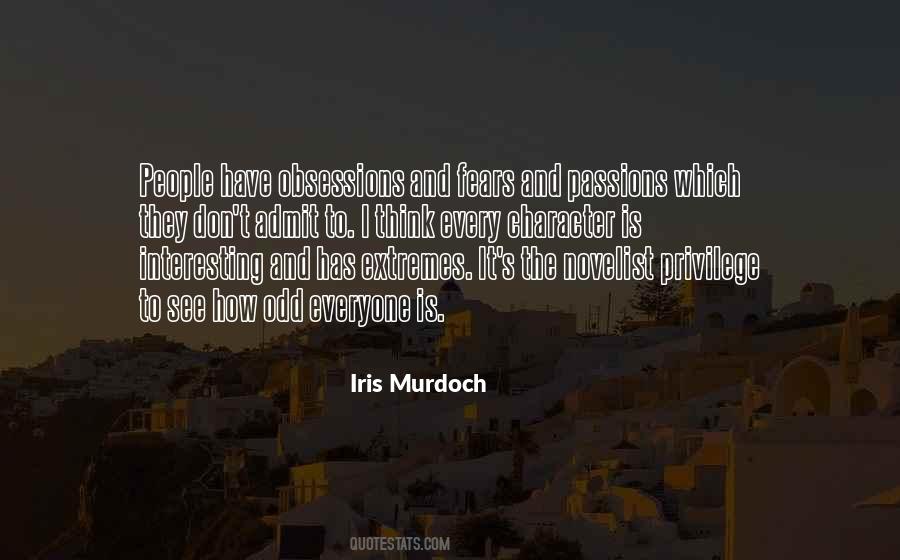 #89. If you see a blatant error or misconception about yourself, you really want to set it straight. - Author: Jimmy Wales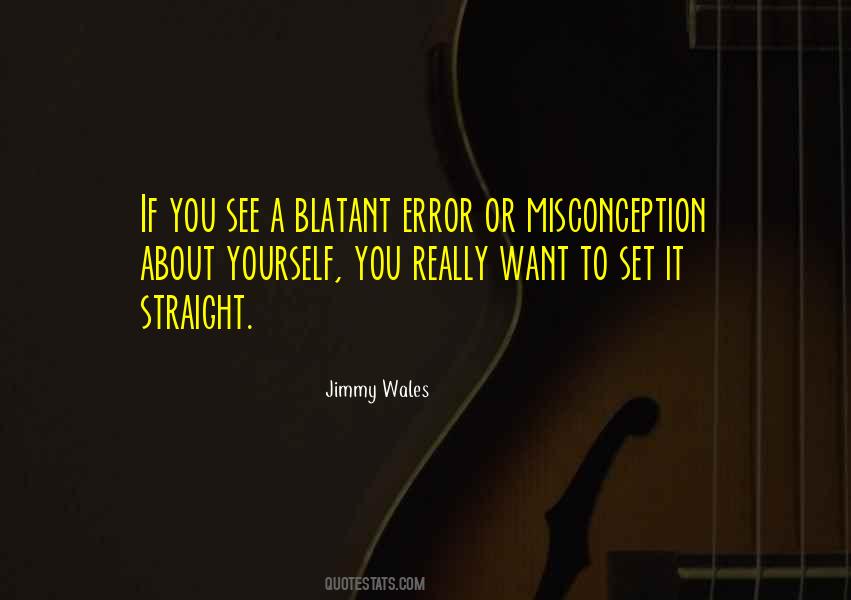 #90. I'm excited about how books work in a digital age. When you read a book, unlike a film, you are decoding symbols in order to 'see' the story, so it is collaborative in a way that a film can never be. - Author: Steven Hall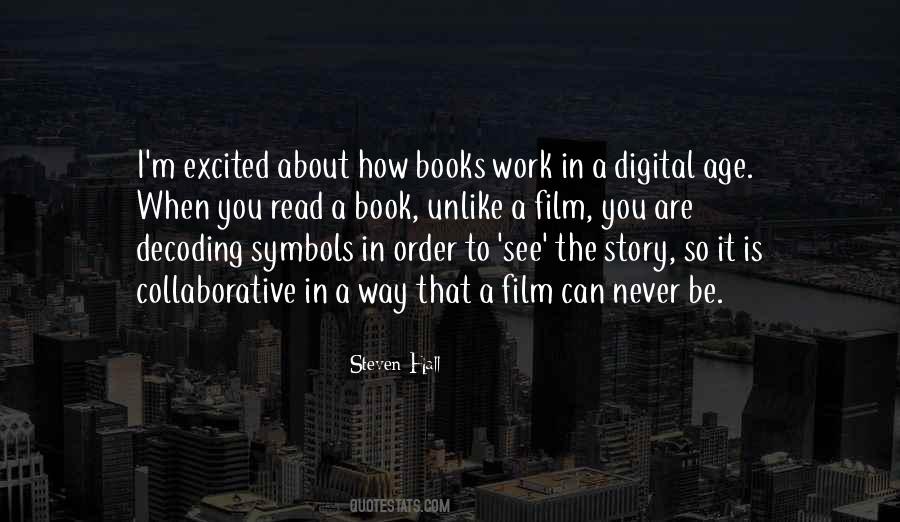 #91. Be where you are. Look around. Just look, don't interpret. See the light, shapes, colors, textures. Be aware of the silent presence of each thing. Be aware of the space that allows everything to be. - Author: Eckhart Tolle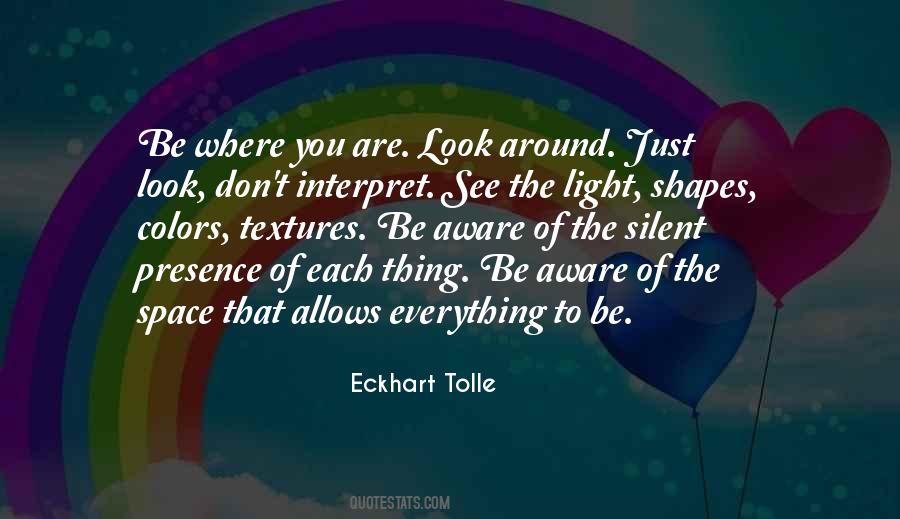 #92. Humor is the ability to see three sides to one coin. - Author: Ned Rorem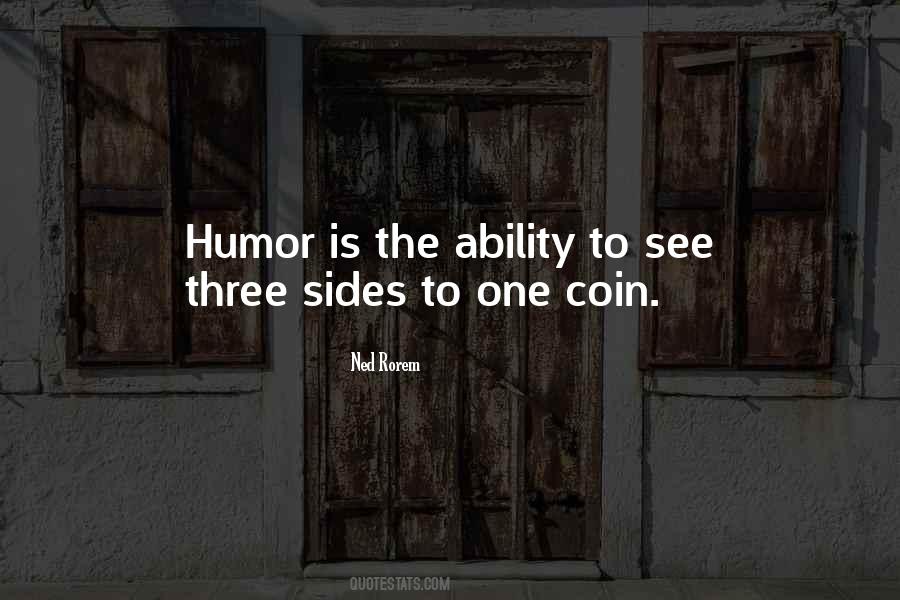 #93. I never understood who all those people are behind the actors! When you see them on the red carpet on TV, you go, 'Why does that person need such a large entourage?' And then you realize that every single person there has a role to play. - Author: Lupita Nyong'o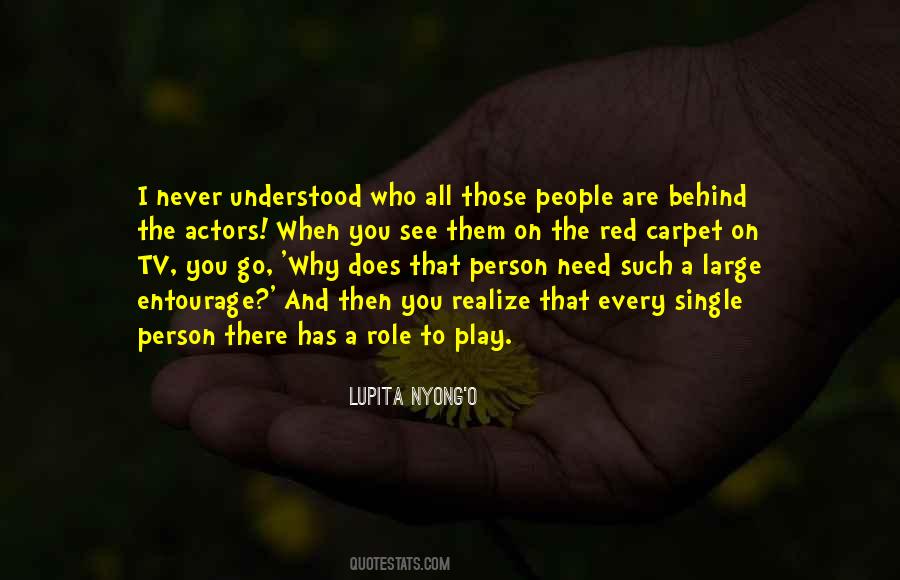 #94. I would love to see the French spending money to restore Iraq. - Author: Bob Schaffer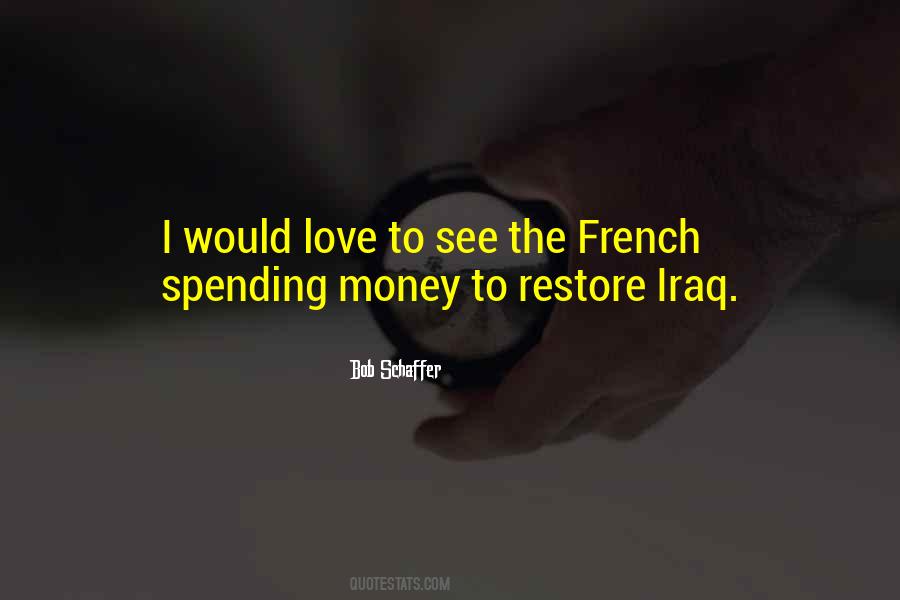 #95. By those who look close to the ground dirt will be seen. I hope I see things from a greater distance. - Author: Samuel Johnson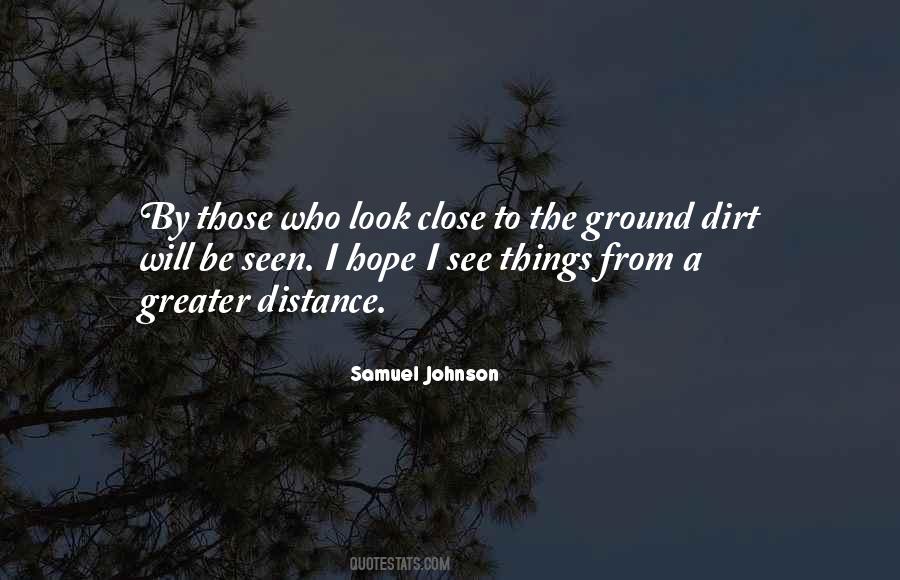 #96. Oh Lord, I've been so selfish, so consumed with myself I haven't been able to see anyone else's pain but my own. I've let anger blind me. I've let self-righteousness stop me in my tracks and keep me from having the kind of relationship with you that I want. I need to let it go. - Author: Lynette Eason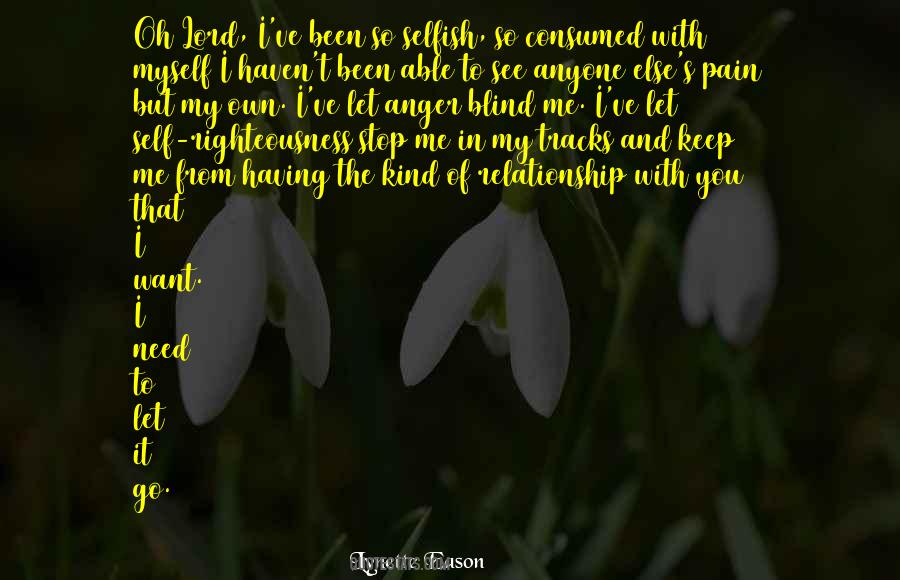 #97. I don't buy into that pressure to be glamorous all the time. It's impossible, I mean, you get a pimple in the morning, you wake up with bags under your eyes, you see if you can use it in your work, maybe incorporate it into your character. - Author: Halle Berry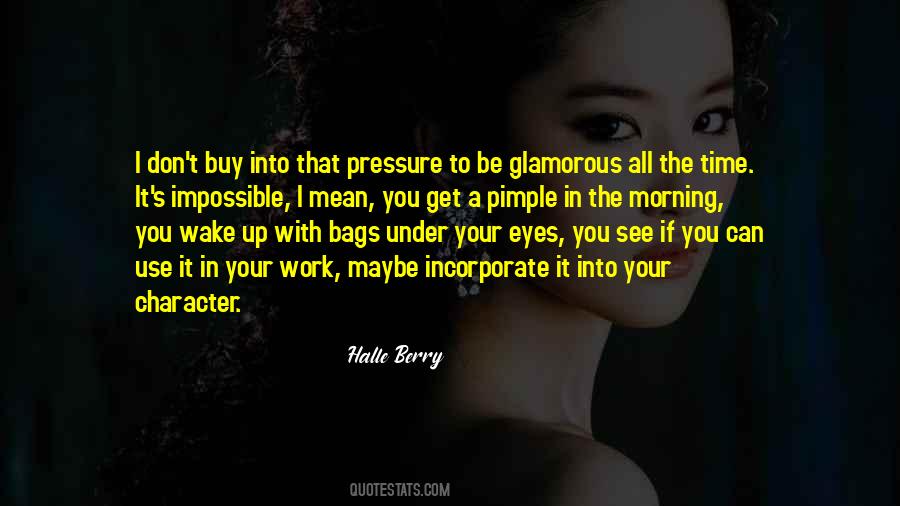 #98. I convinced my parents to let me see an agent, but because I had been taught never to speak to strangers, I was so quiet during the interview, they said to bring me back when I was older. - Author: Jason Fuchs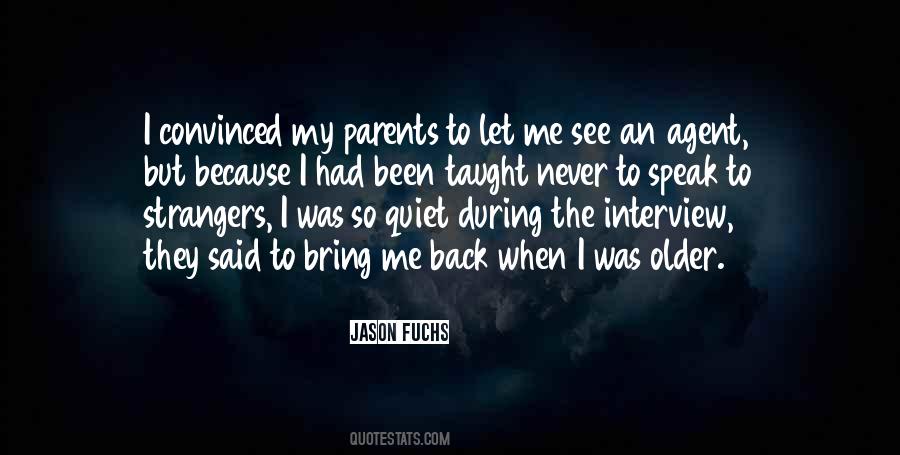 #99. True independence is an illusion; no one matures in a vacuum. We have heroes, we see villains, and ultimately we try to walk the path that's our own, through an ideological valley whose landmarks have already been described and claimed by others. - Author: Nicolas Wilson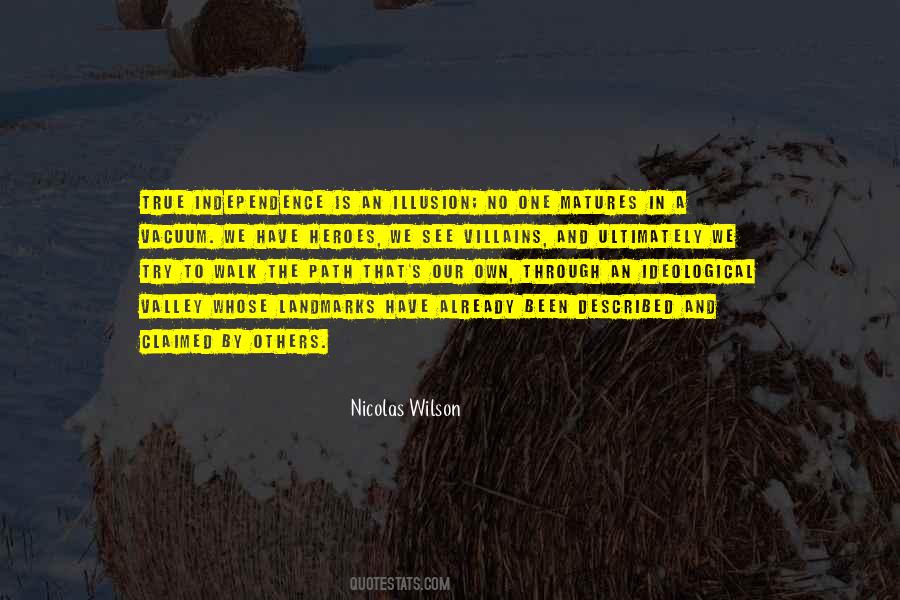 #100. You see, nature will do exactly what it must, and if we are a hindrance to its development, to even its destructive powers to reform itself and we are in a way, we will go. - Author: Ralph Steadman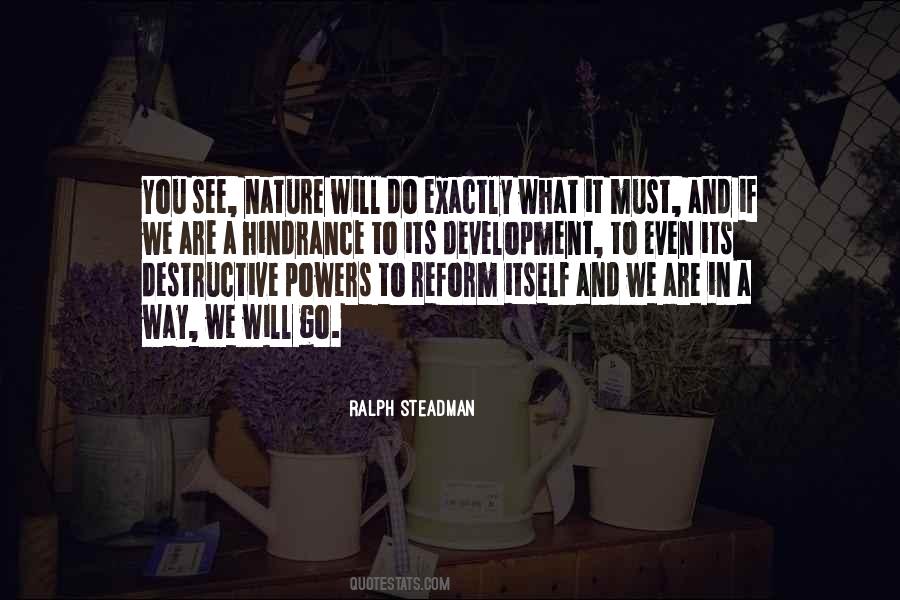 Famous Authors
Popular Topics