The Wedding Day Famous Quotes & Sayings
List of top 93 famous quotes and sayings about the wedding day to read and share with friends on your Facebook, Twitter, blogs.
Top 93 Quotes About The Wedding Day
#1. But she's the kind that won't be downed easily. She'll work all day and go to a Bohemian wedding and dance all night, and drive the hay wagon for a cross man next morning. - Author: Willa Cather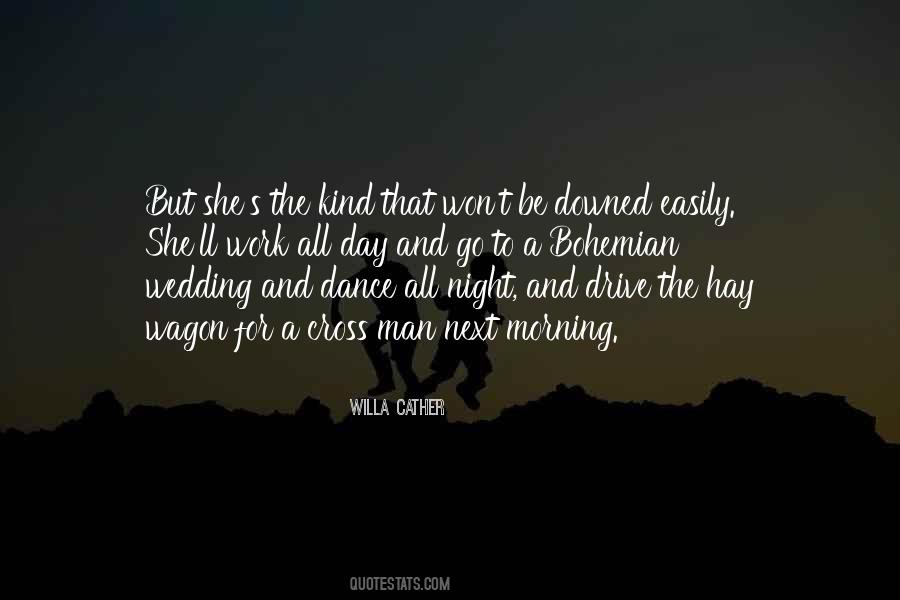 #2. I think that should be the anti - speeding advert it should be footage of Richard Hammond trying to remember his own wedding day. - Author: Frankie Boyle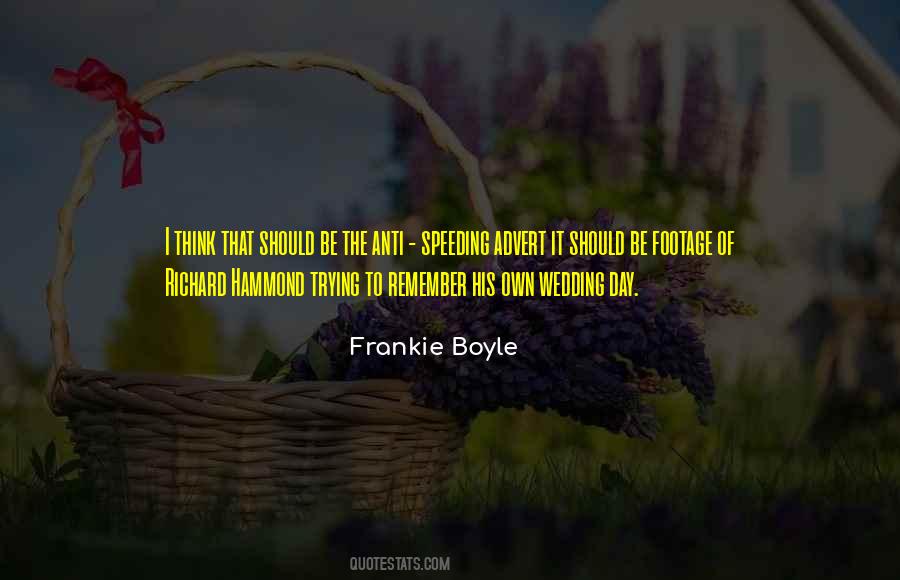 #3. I did get to keep the wedding dresses from 'Runaway Bride'. They're all boxed up in my garage. I've never opened them. It'll be fun one day when Hazel is taller. She can play dress-up with her friends. - Author: Julia Roberts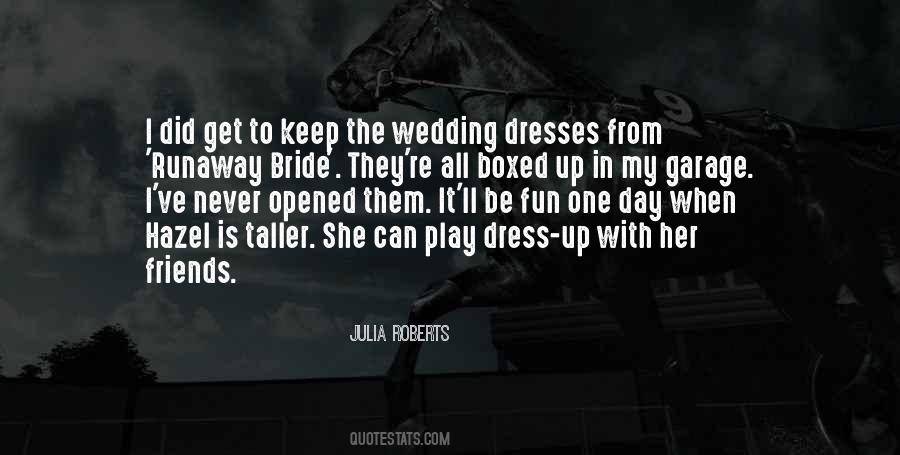 #4. Night and day you are the one,
Only you beneath the moon and under the sun. - Author: Cole Porter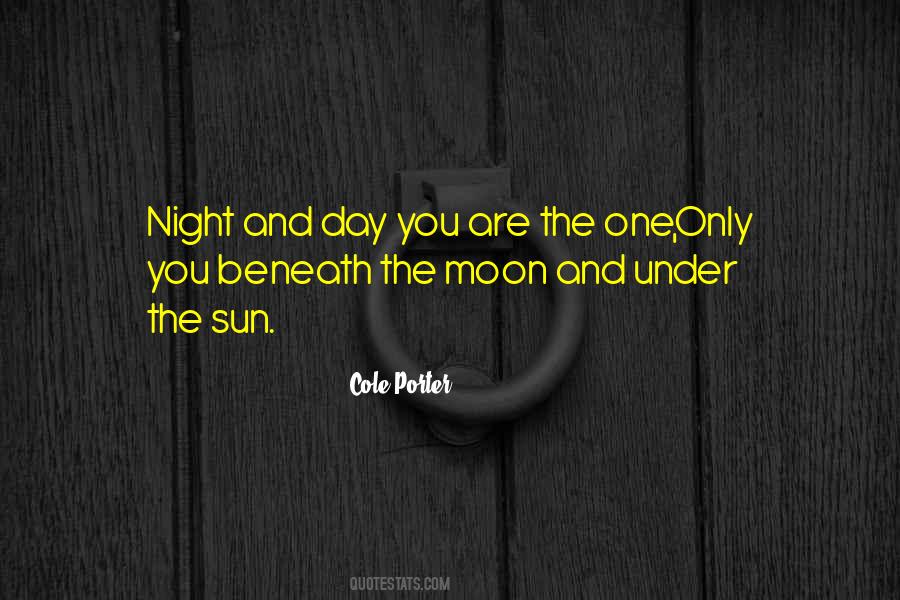 #5. The wedding day is perfect for the bride only if she is marrying the best man! - Author: Toni Sorenson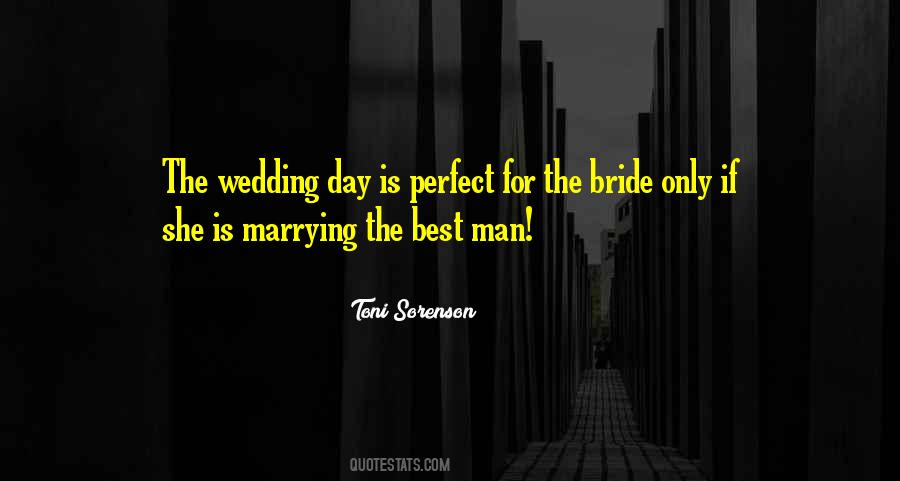 #6. I see an insidious problem in the marketing of weddings as 'the happiest day of your life.' The pressure that is placed upon this event to be the alpha and omega of your entire existence makes it, I think, into a kind of nuptial New Year's Eve, and we all know how that usually turns out. - Author: Jessi Klein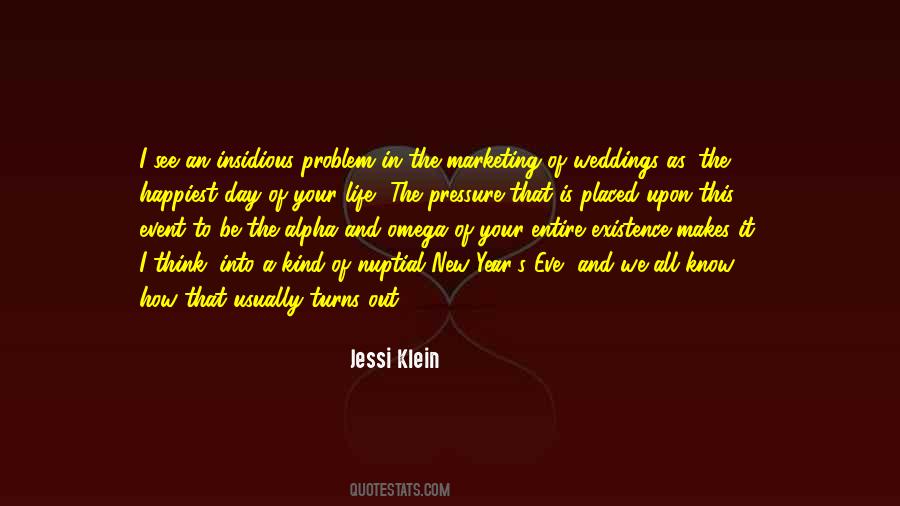 #7. I just wasn't one of those girls who dreamt of her wedding day and the birth of her first child. - Author: Sarah Jessica Parker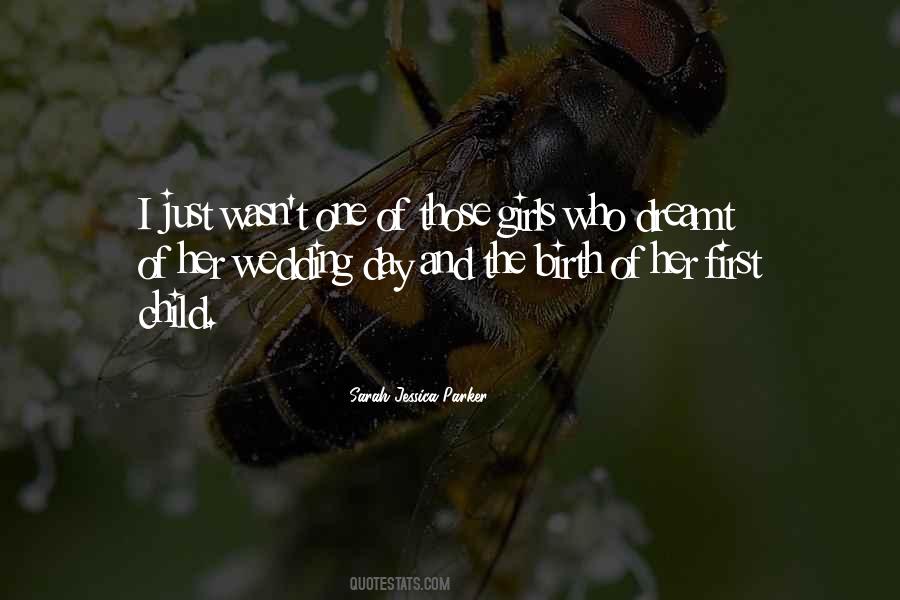 #8. Women joked amongst themselves: 'Why do you think a bride cries on her wedding day? It's for the love that this marriage is putting an end to for all eternity. Men may think a woman has no past- "you were born and then I married you"- but men are fools. - Author: Nadeem Aslam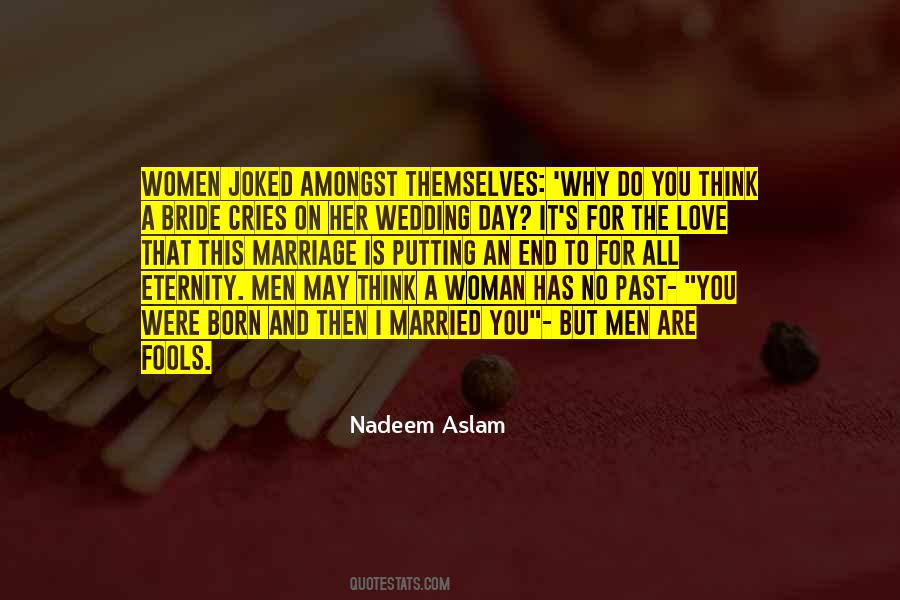 #9. The voice that breathed o'er Eden, That earliest wedding day. - Author: John Keble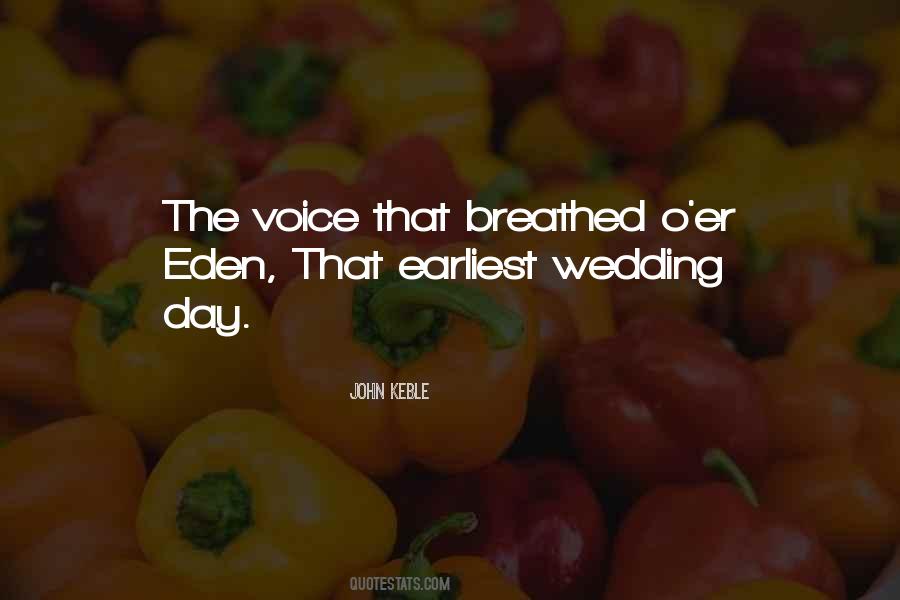 #10. When my father would come home from the track after a good day, the whole room would light up; it was fairyland. But when he lost, it was black. In our house, it was always either a wake ... or a wedding. - Author: Peter O'Toole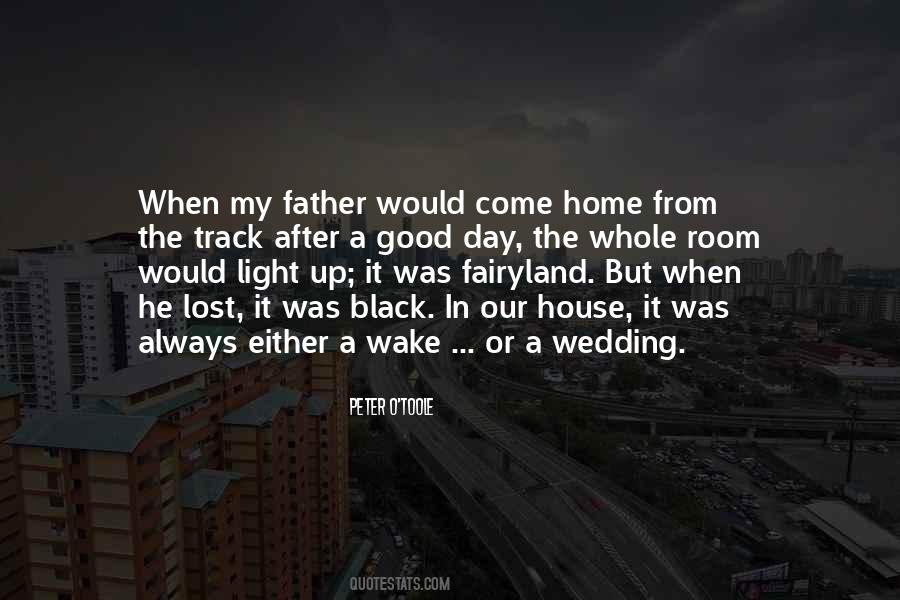 #11. Ought a woman to disclose her frailties earlier than the wedding day? Few husbands, I assure you, make the discovery in such good season, and still fewer complain that these trifles are concealed too long. Well, what a strange man you are! Poh! you are joking. - Author: Nathaniel Hawthorne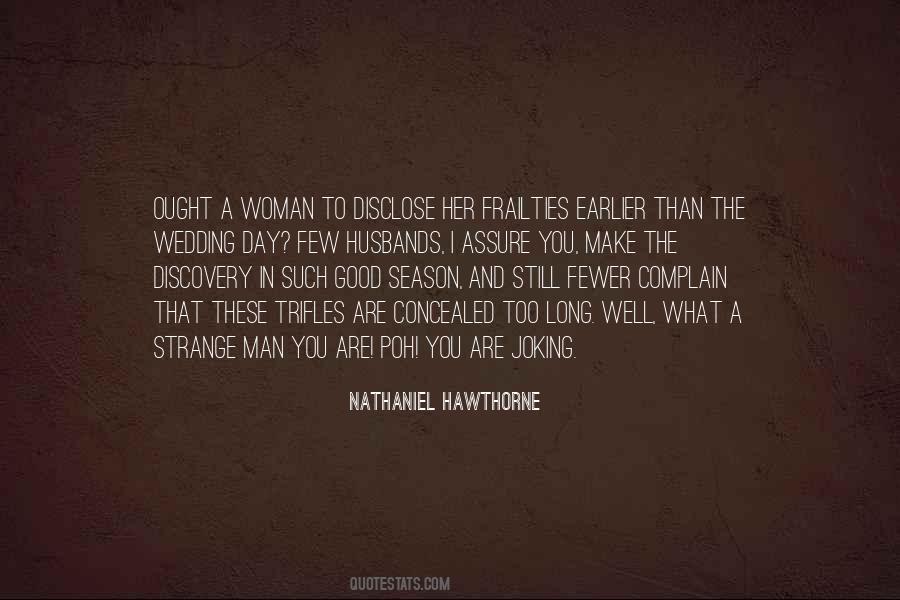 #12. The only connection I had left with my parents is an old photograph of the two of them on their wedding day. - Author: M.C.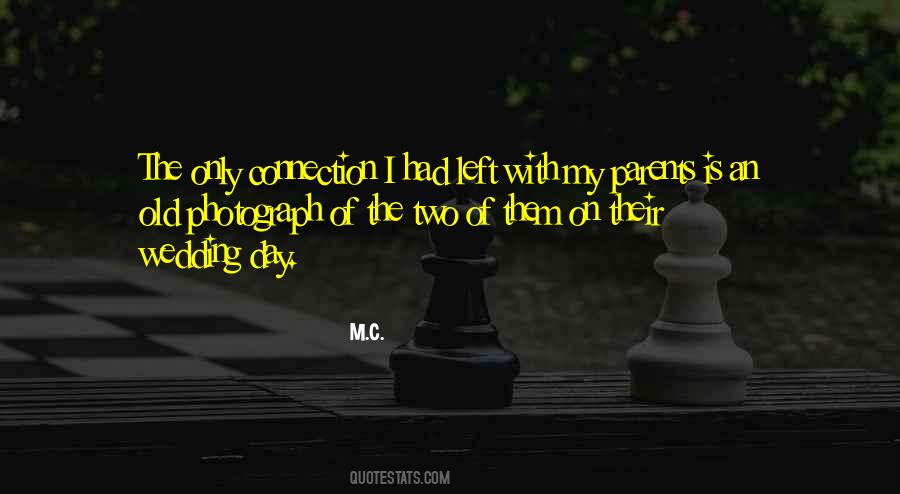 #13. A year on, Eleanor remained haunted by what happened to her. She still had no idea where the bacteria came from. Perhaps the foot soak and pedicure she had gotten at a small hair-and-nail shop the day before that wedding. - Author: Atul Gawande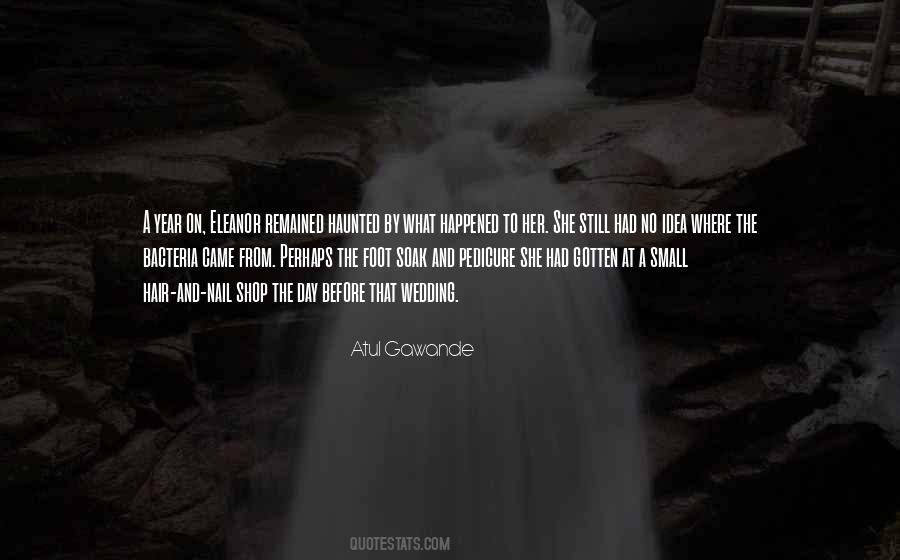 #14. I've been in a couple of weddings where the coolest people that were the most day before so mellow and then the day of the wedding freaking out. - Author: Matthew McConaughey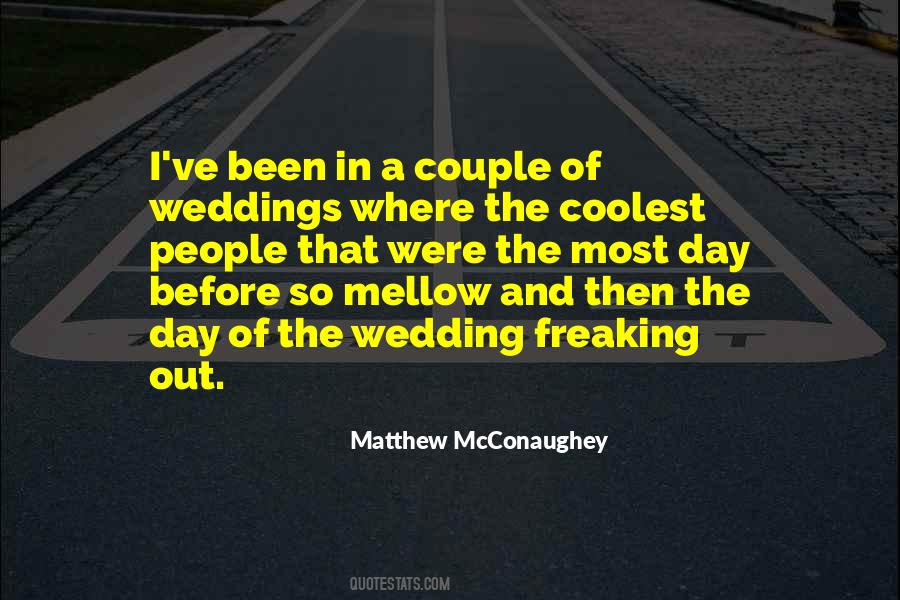 #15. It's one thing to call off an engagement or even a wedding once the invitations are out - it's hard, but it happens. But on the actual day? You're walking, sister. Get yourself down that aisle and do whatever you have to do afterward, you know? - Author: Lauren Weisberger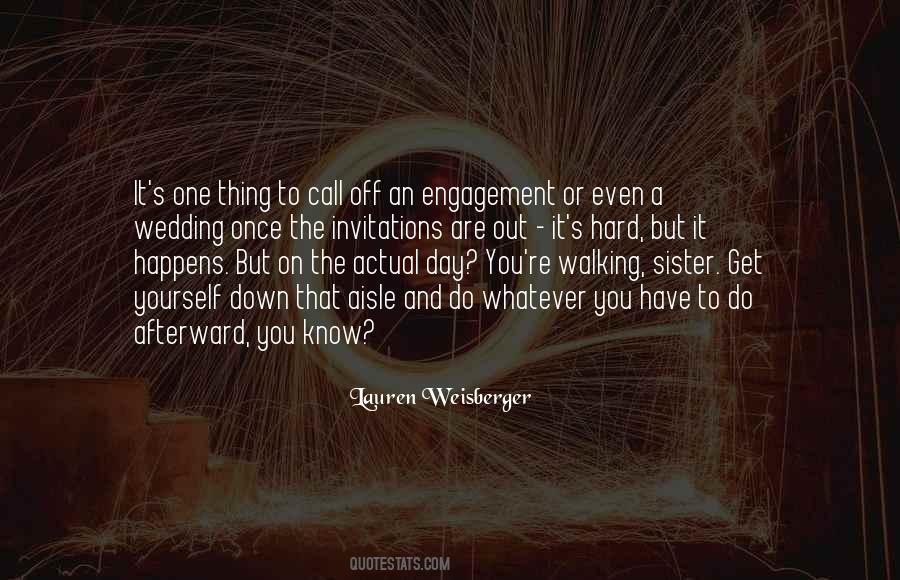 #16. Was it the happiest day of our lives? Probably not, if only because the truly happy days tend not to involve so much organisation, are rarely so public or so expensive. The happy ones sneak up, unexpected. - Author: David Nicholls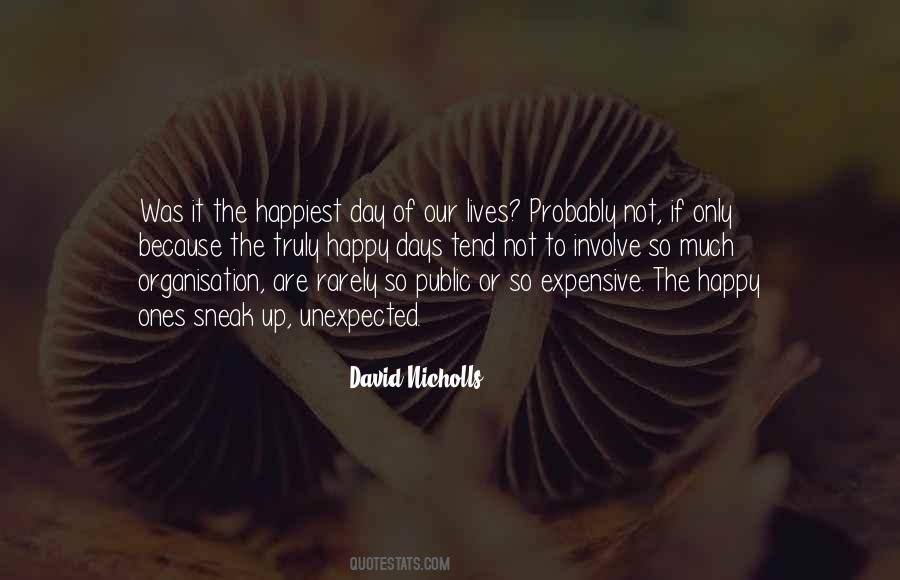 #17. Better planning guarantees success; ask anyone who has planned a one day event like a wedding. How much planning should you therefore put in the kind of life you want to succeed at? - Author: Archibald Marwizi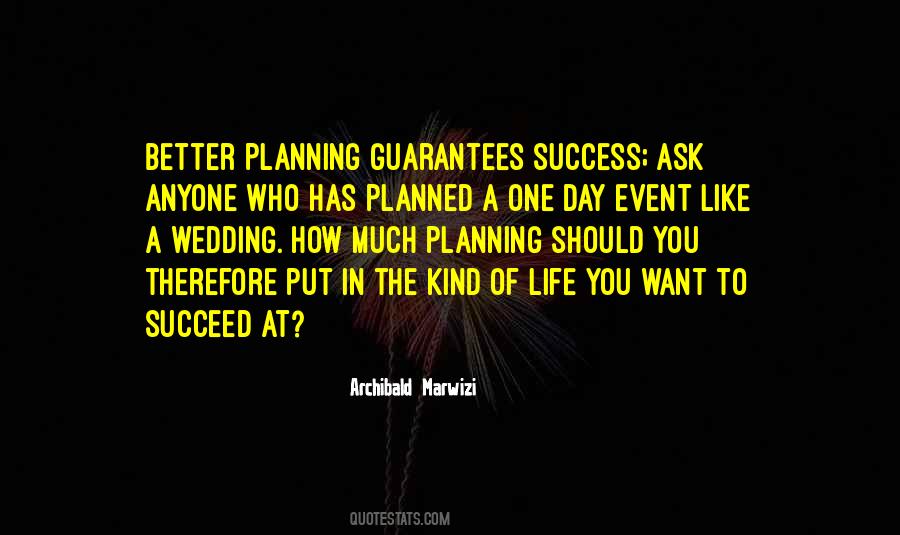 #18. It's the wedding day!' I whispered. He murmured my name in a pleased sort of way but he didn't wake up properly. I tried a few wriggles and nudges to see if that would help but he started gently snoring. I felt too fidgety and nervous and excited to stay cuddled up for long. I - Author: Jacqueline Wilson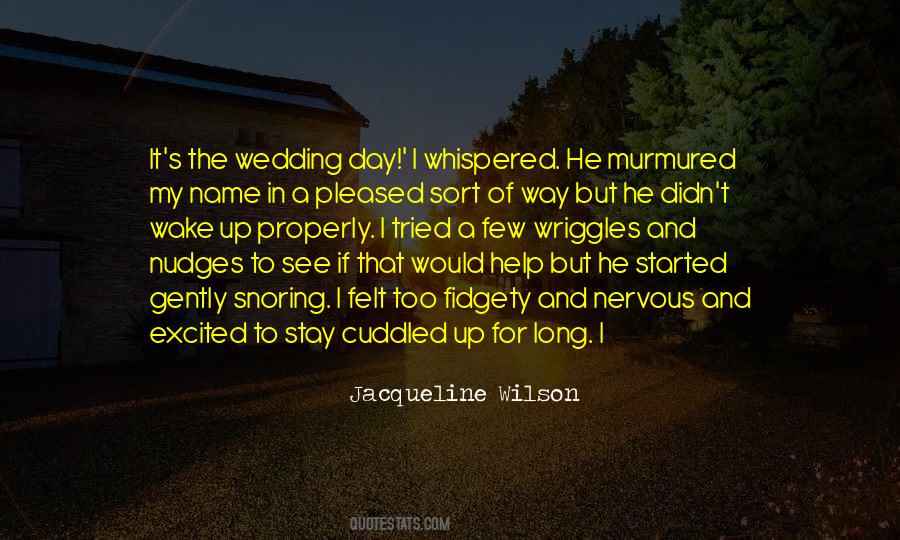 #19. Simonides of Amorgos says, "Women are the greatest evil God ever created: if they sometimes seem useful, they soon change into trouble for their masters." For Hipponax: "There are but two days in life when your wife brings you joy: her wedding day and her funeral. - Author: Simone De Beauvoir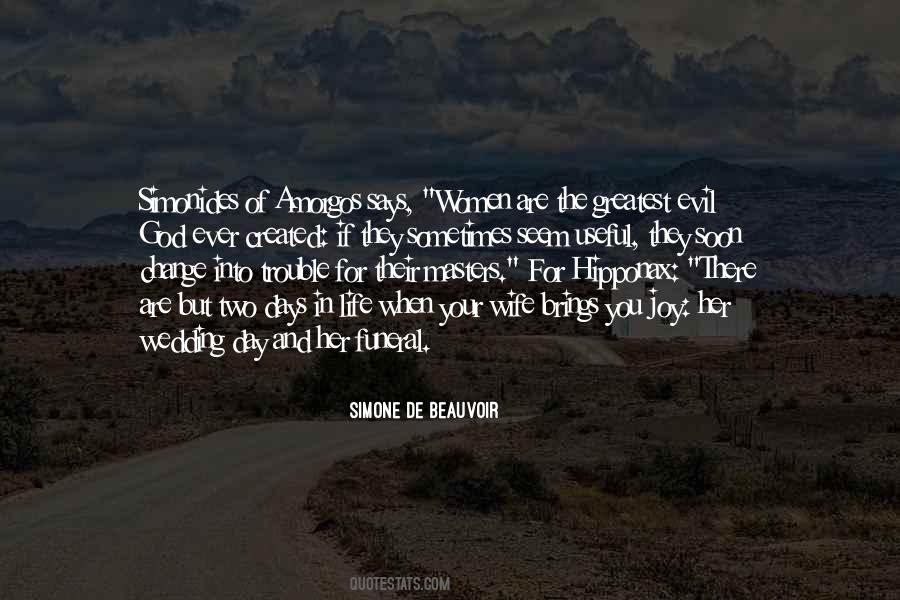 #20. The thrill of falling in love is often the thrill of being loved; the thrill of marriage is the thrill of loving someone for the rest of your life. Each day - and year - that passes is a triumph of this act of loving. - Author: Susan Waggoner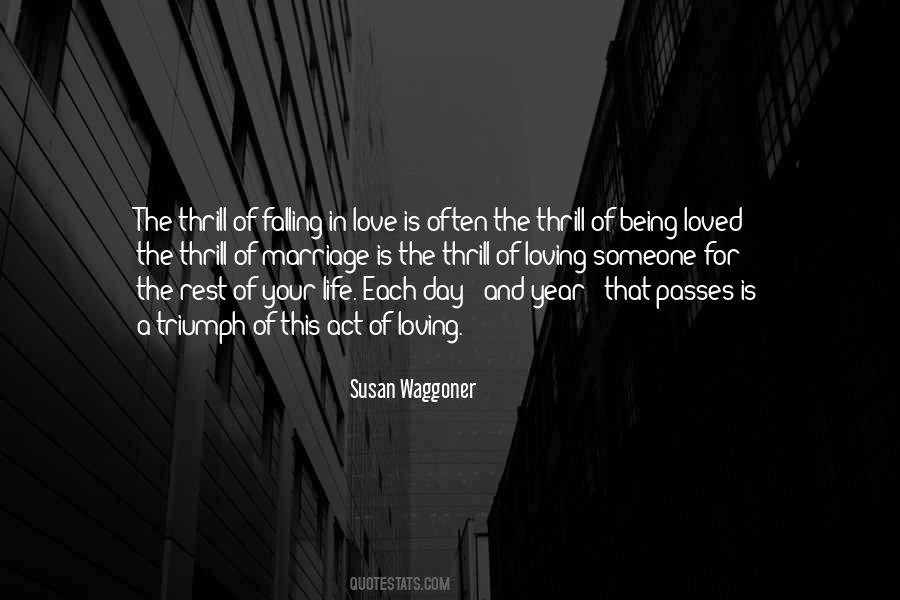 #21. James Alexander Malcolm MacKenzie Fraser, I said, spacing the words, formally, the way Jamie had spoken them to me when he first told me his full name on the day of our wedding. - Author: Diana Gabaldon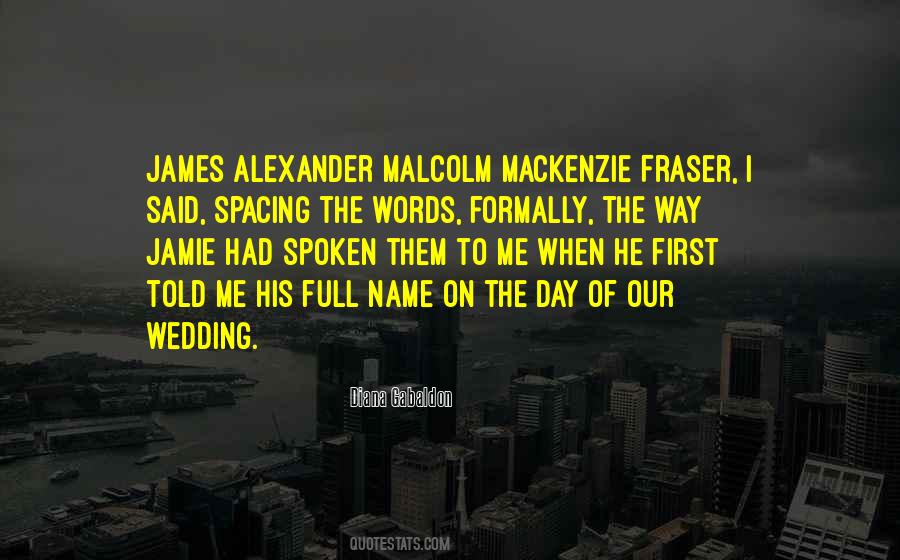 #22. We all have special numbers in our lives, and 4 is that for me. It's the day I was born. My mother's birthday, and a lot of my friends' birthdays, are on the fourth; April 4 is my wedding date. - Author: Beyonce Knowles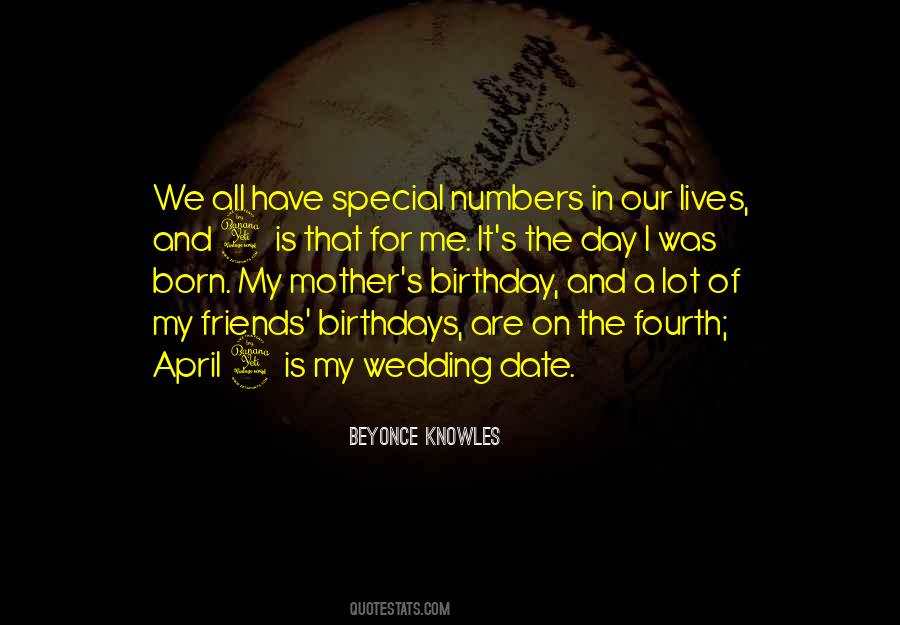 #23. The fantasy of the wedding day is that it represents undeniable public and private truth that you have been chosen. For that one day, you are the most valuable creature in the world - a treasure, a princess, a prize. - Author: Elizabeth Gilbert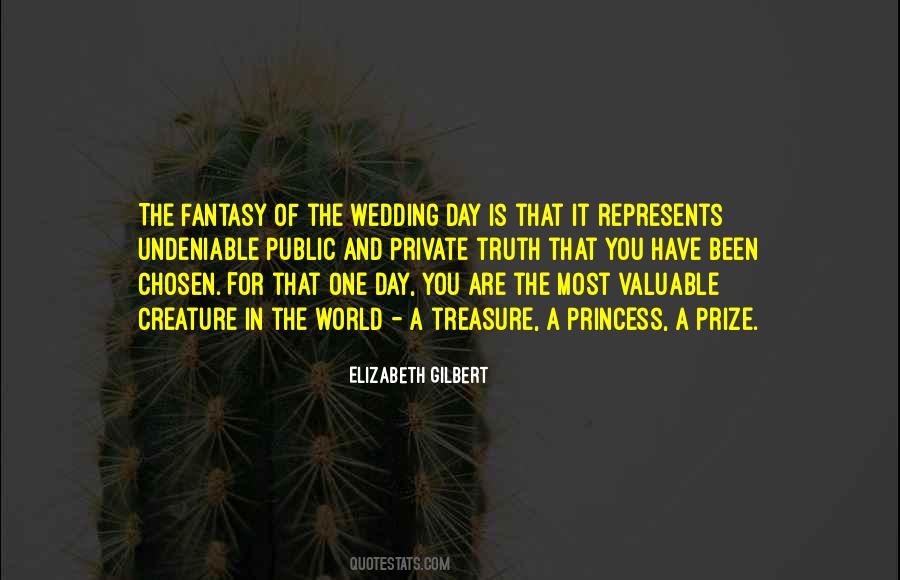 #24. Blessed is death, since it, through the divine power, disrobes us of this work day garment, to clothe us with the wedding garment of incorruption. Blessed are those who sleep in Jesus. - Author: Charles Haddon Spurgeon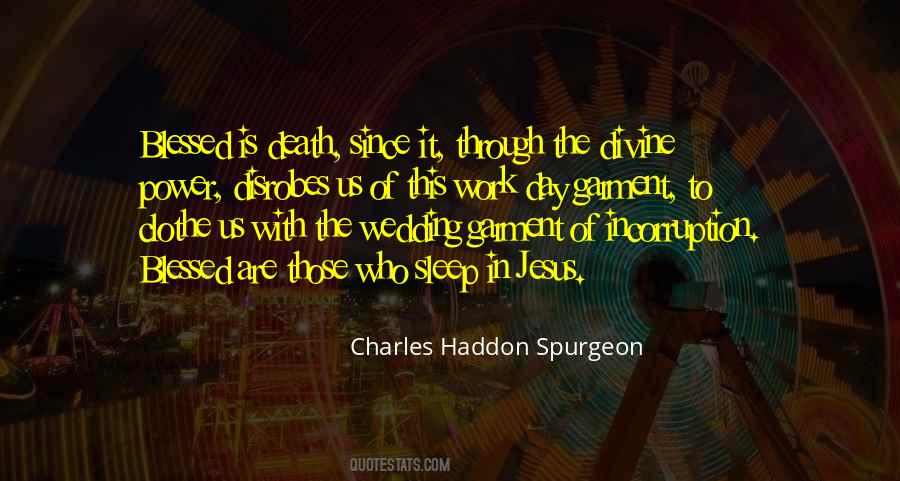 #25. On my wedding day. I didn't want a natural, blushing-bride look - I had a full-on hairdo and red lips. I thought it would be disingenuous to do the whole virginal look, so even though I had the white dress, I had pink net underneath. - Author: Sophie Ellis-Bextor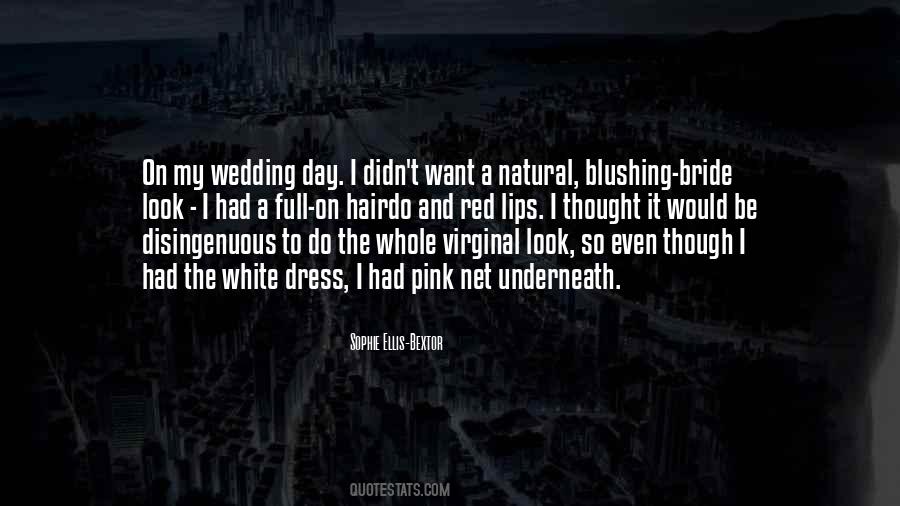 #26. His own parents, the estimable Gilchrists, a couple who had taken the 'till death' part of their own wedding vows so seriously he wouldn't be surprised if they one day throttled one another, had naturally wangled the next best seat in the house: row two, on the aisle. - Author: Ally Blake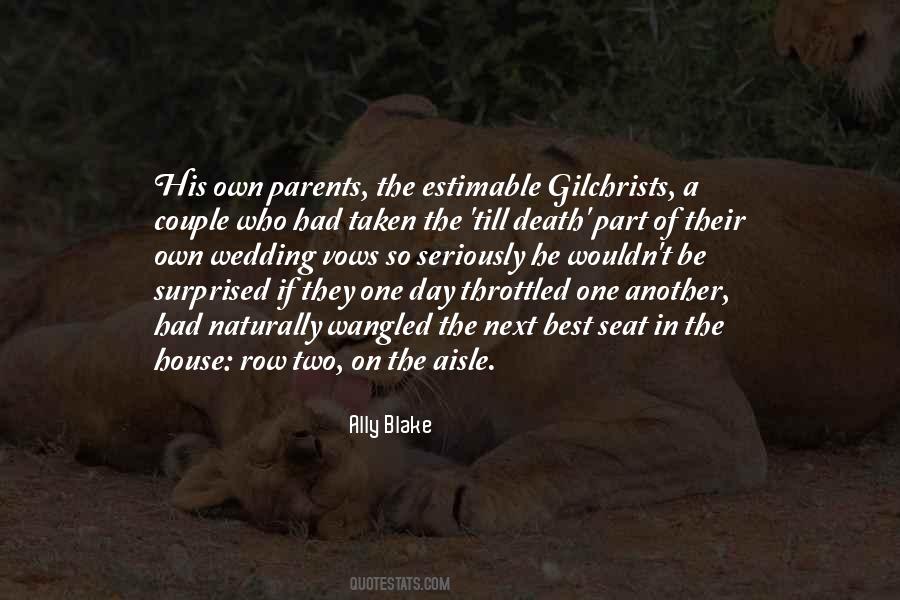 #27. I remember seeing it on him the next day thinking that I never knew how sexy a wedding ring was on a man until it was my ring, until I put it there. - Author: Taylor Jenkins Reid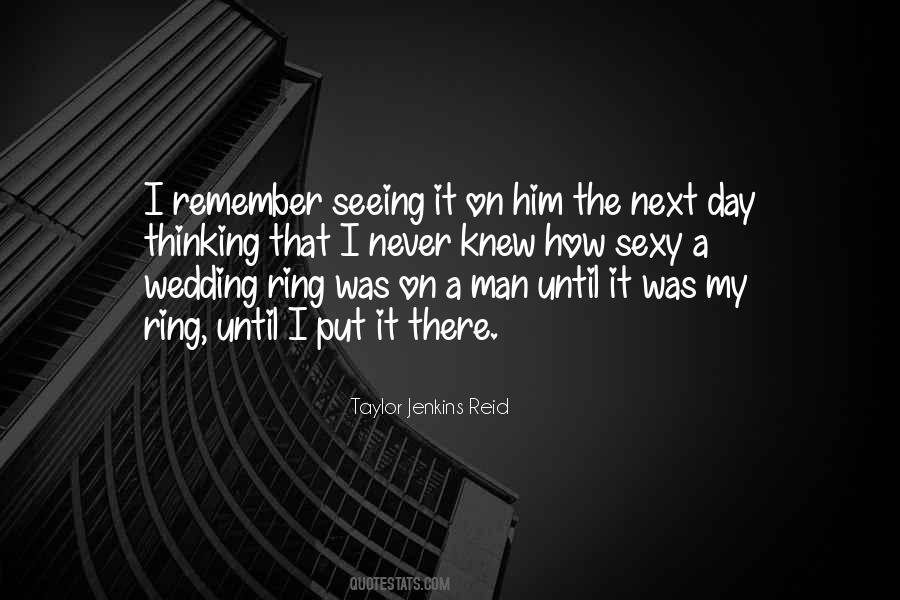 #28. He was a loving father, but he did his loving in private. Quietly, he would tell his daughter to drive safely. On her wedding day, when he walked her down the aisle, he'd whisper the words to her. But today, above the noise, he would have to shout it. - Author: Debra Anastasia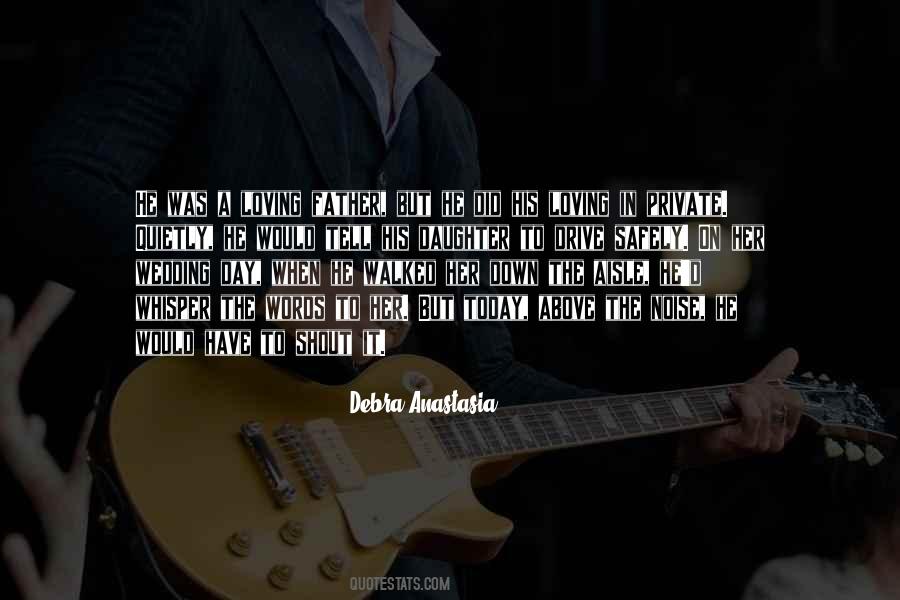 #29. I kind of love going to weddings - it's a guilty pleasure. I've never been the wedding-y type girl dreaming about the big day, the dress, but I always cry. Always. Even if I don't know the bride that well, I'm verklempt! - Author: Alison Brie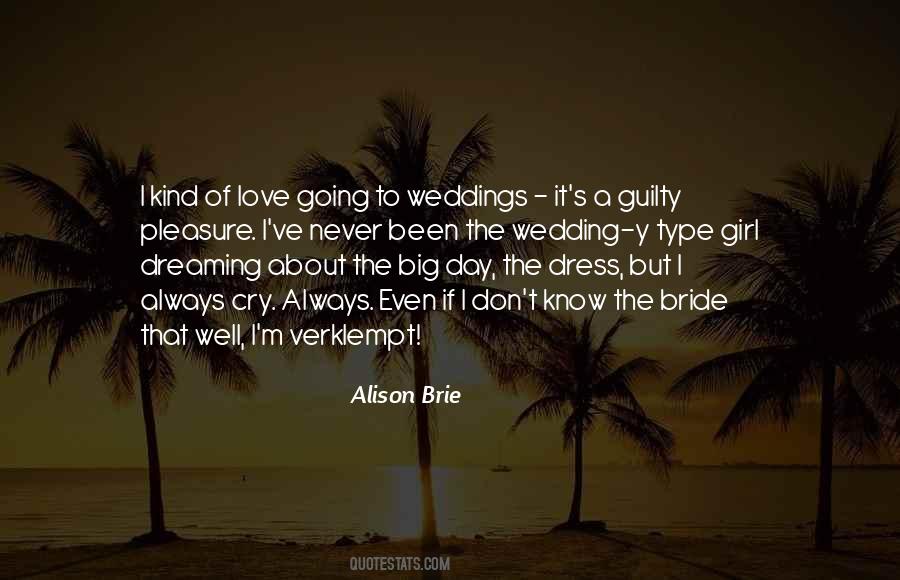 #30. I have had it up to here with my wedding," I said. "The other day Andrea tried to explain to me that apparently I am supposed to have a new thing, an old thing, a blue thing, and something stolen."
"Borrowed, Kate," Barabas murmured.
"Who the hell even makes up those rules? - Author: Ilona Andrews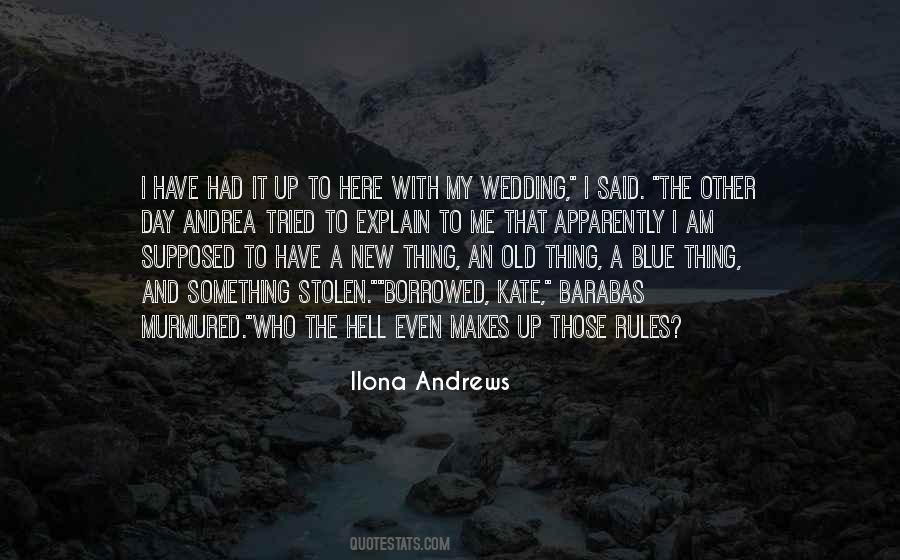 #31. All I remember about my wedding day in 1967 is that the Cubs lost a double-header. - Author: George Will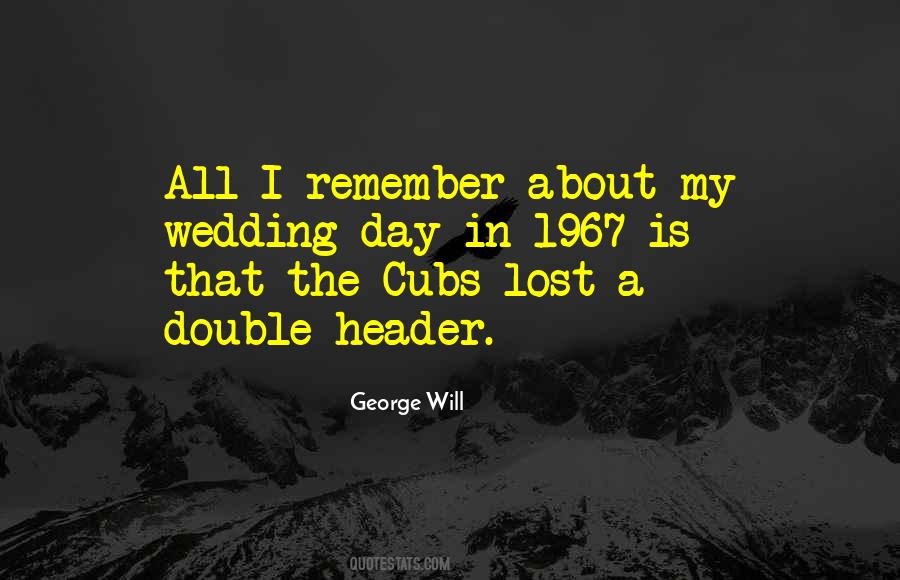 #32. When I'd headed out here on my wedding day, I hadn't realized I'd bought a ticket to my own history, a different one from studying Akh-en-aten and Horizon-of-the-Aten, maybe, but a living, ongoing one. - Author: Ann Howard Creel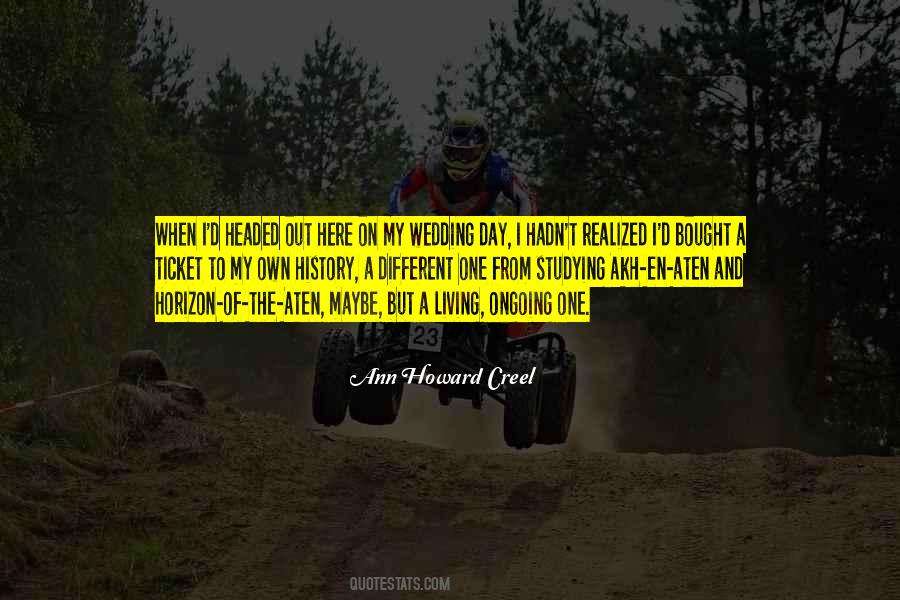 #33. May every memory that you share
Of dreams you've seen come true,
Help make this special anniversary day
A happy one, for the two of you - Author: John Walter Bratton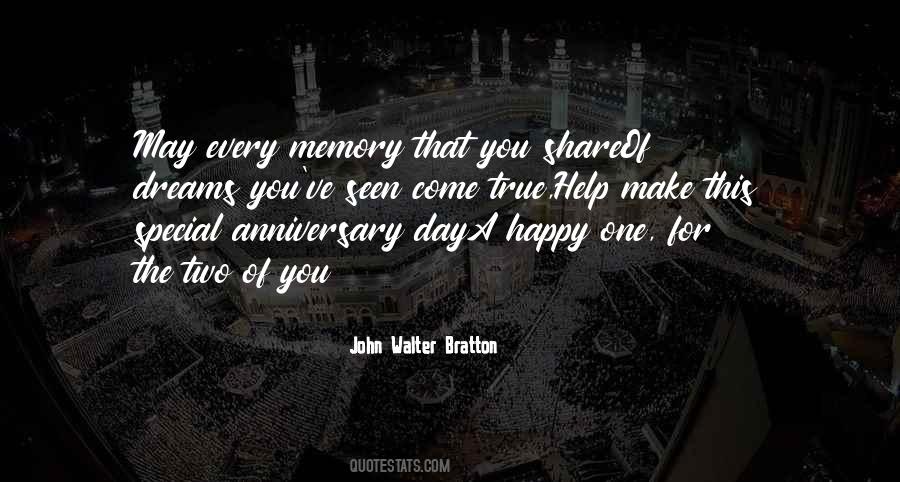 #34. I believe I have thought of nothing but the mystery of your skin and the scent of your hair since the day we met. I believe I meant every word in that chapel about making you my wife, and I believe I am going to have the time of my life on our wedding night, my dear. Do you believe? - Author: Leslea Tash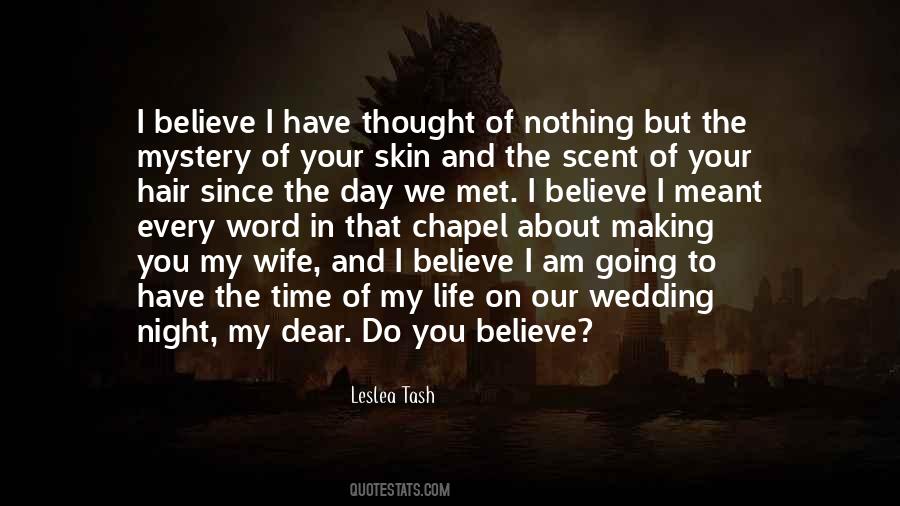 #35. It's the lifetime after the wedding that really counts, not the fanfare and ceremony of the day. - Author: Linda R. Graf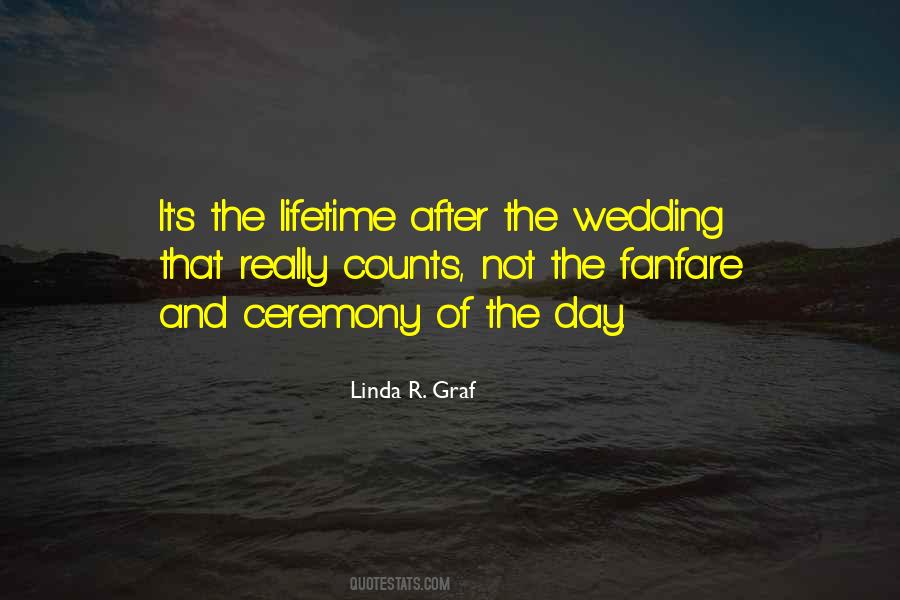 #36. When you kissed me ... I felt special.
I never really felt like I deserved it.
That isn't your fault. That was me.
When I looked down the aisle on our wedding day and you weren't there, my first thought, as awful as this sounds, wasn't, "Where is he?" it was, "Oh, it figures. - Author: Virginia Nelson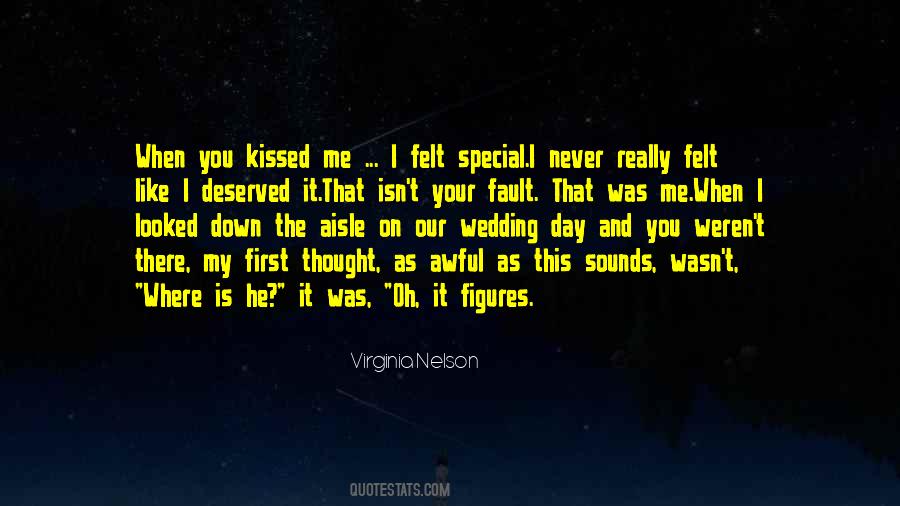 #37. What's happened to marriage? The wedding-industrial complex. Brides get swept up in this world of obsession - it has to be your perfect day. - Author: Dave Barry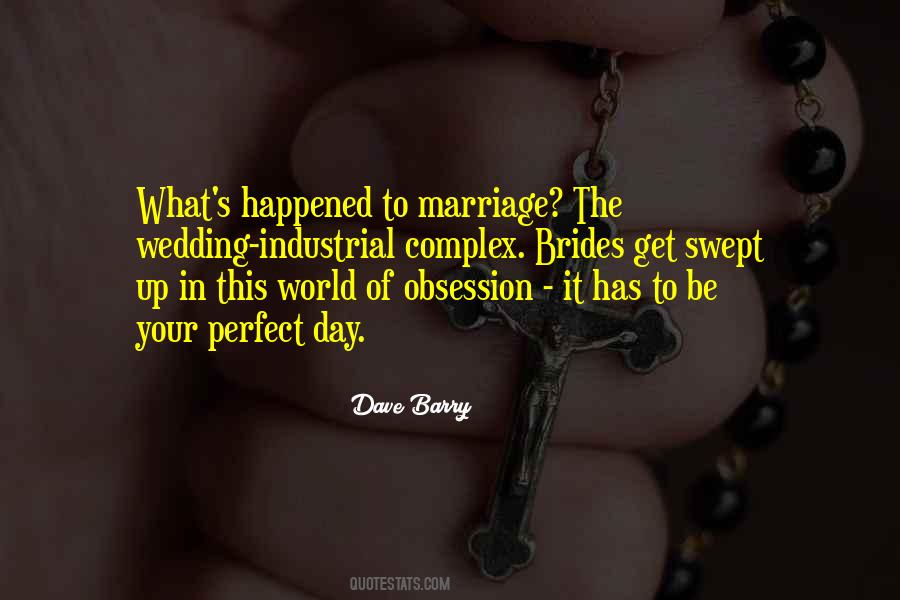 #38. Becky, if I had to wait five years, then I would. Or eight
or even ten." He pauses, and there's complete silence except for a tiny gust of wind, blowing confetti about the churchyard. "But I hope that one day
preferably rather sooner than that
you'll do me the honor of marrying me? - Author: Sophie Kinsella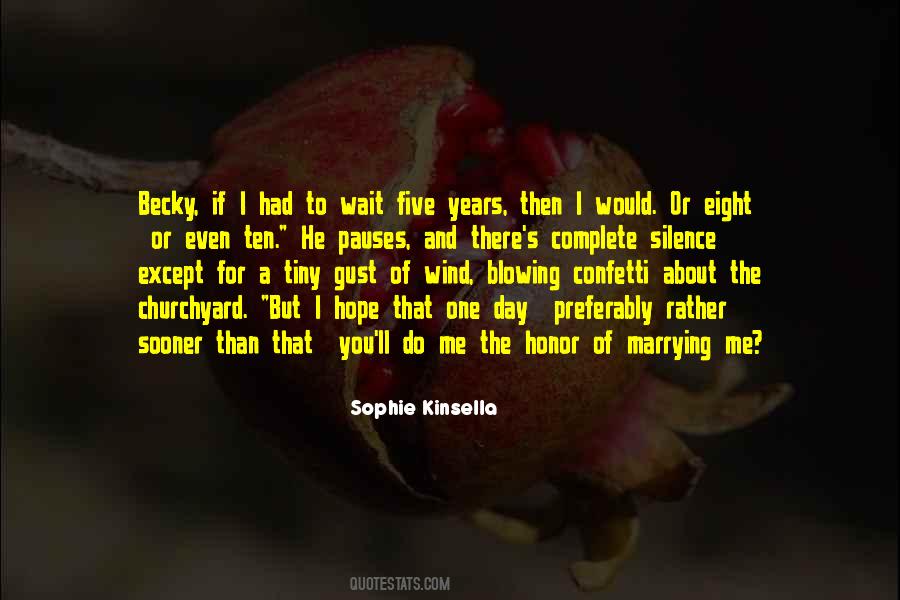 #39. She was reminded of her mother's prophecy one day before her wedding that - he will go completely mad one day. But he seems so happy she told her mother. Its not only the sad who go mad, my child, its also the happy, her mother said.
- Serious Men - Author: Manu Joseph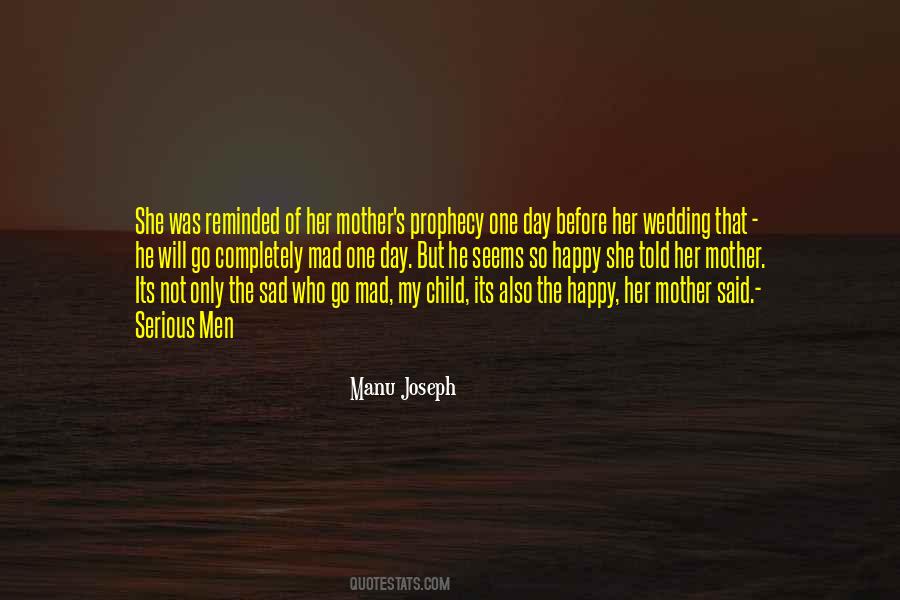 #40. When widows exclaim loudly against second marriages, I would always lay a wager than the man, If not the wedding day, is absolutely fixed on. - Author: Henry Fielding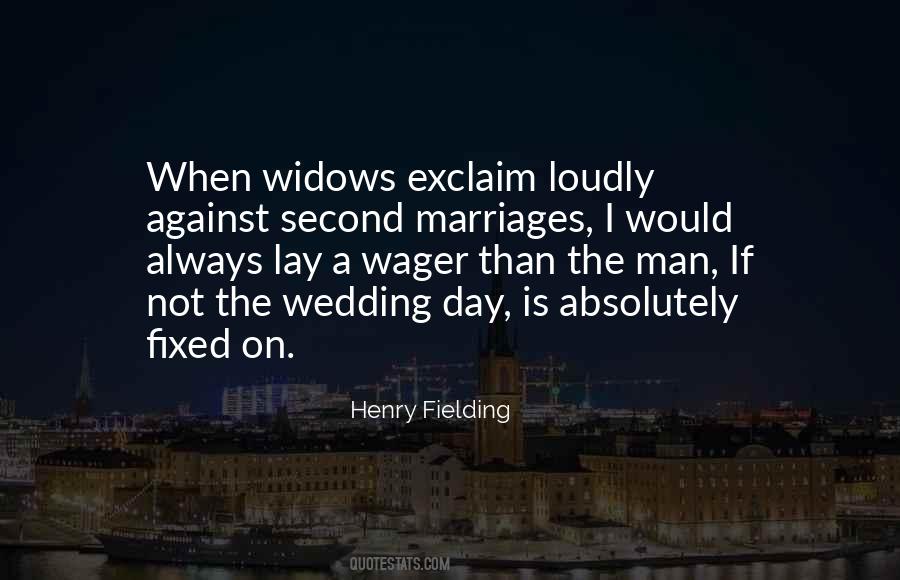 #41. In the '50s, a lot of girls never saw beyond the wedding day. - Author: Helen Reddy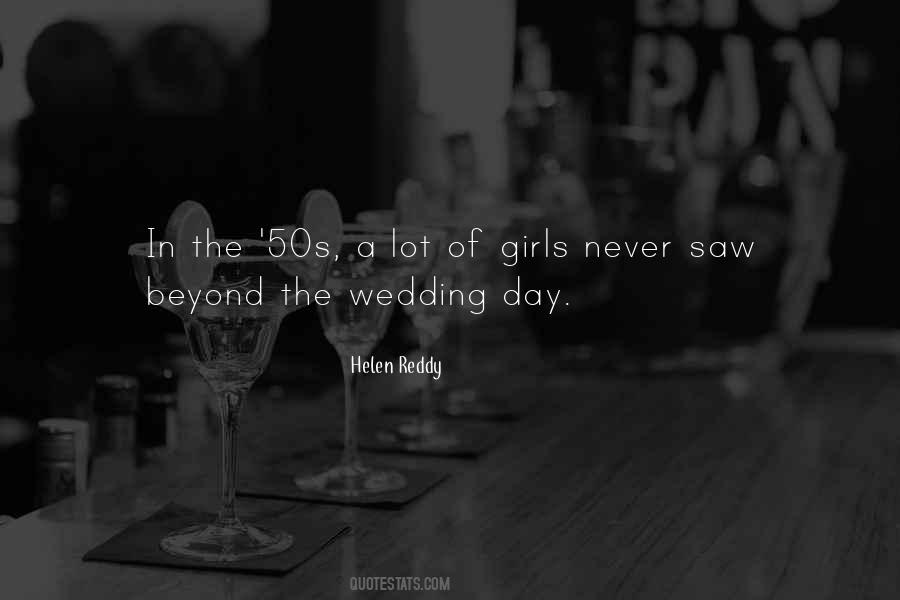 #42. Here's hoping that your special day
Will be more 'happy ever after'
With all the joys of friendship,
Love, fun and laughter - Author: John Walter Bratton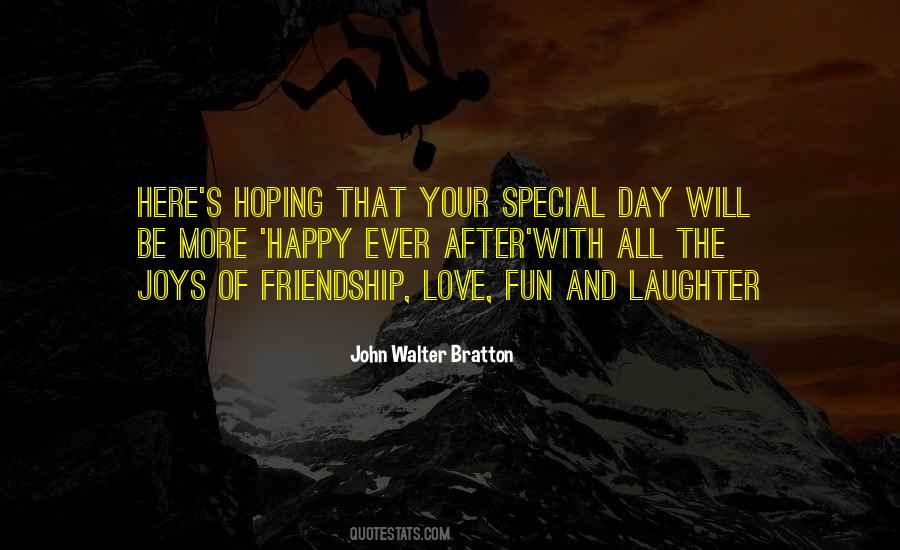 #43. Warren Beatty once quipped that the best time for a wedding was noon, because if the marriage didn't work, you hadn't screwed up the entire day. - Author: Peter Biskind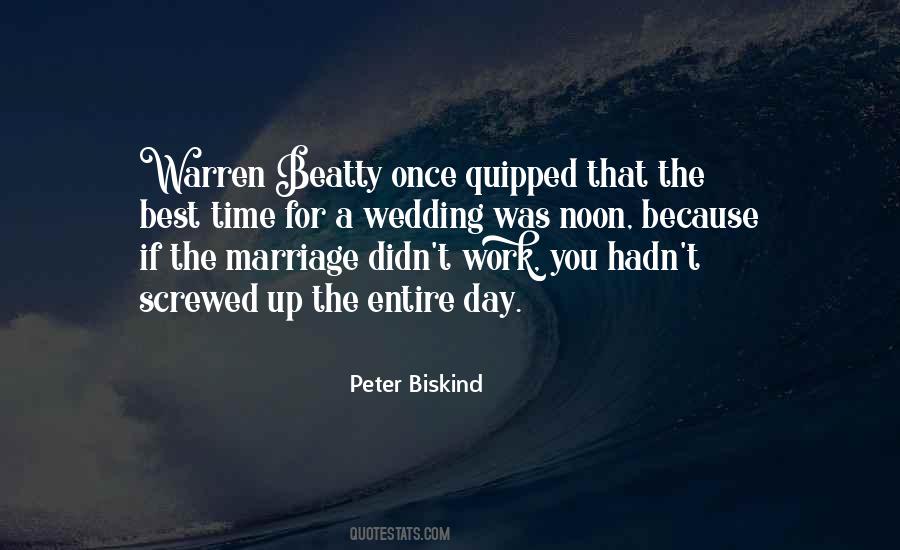 #44. Some people put more effort and money into the wedding day than they do into the marriage itself, then it's all downhill from there. I was happy for a simple start; things could only get better. - Author: Sam Torode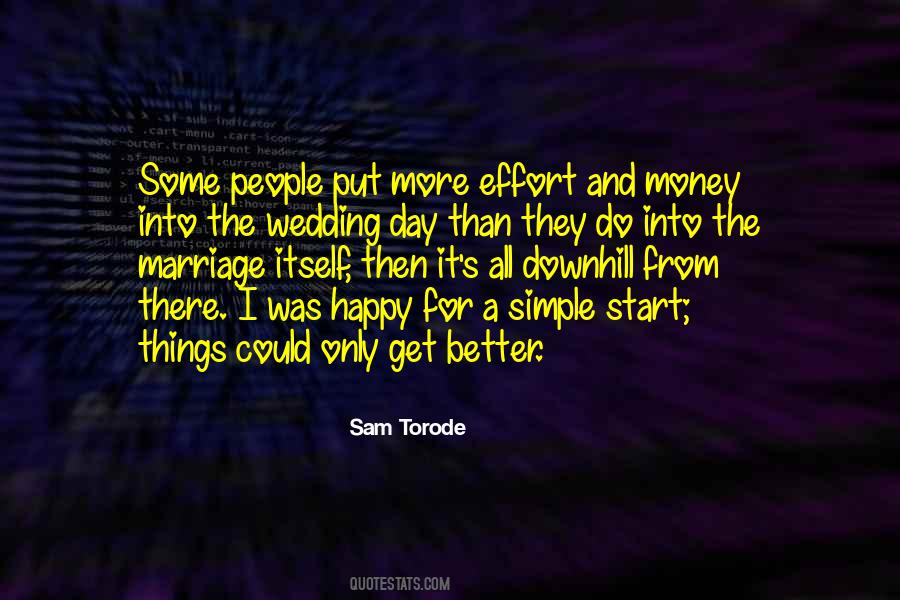 #45. The only thing that will make it possible for you to marry is if you meet your bridegroom on your wedding day, so he doesn't have the chance to get to know you ahead of time. - Author: Cameron Dokey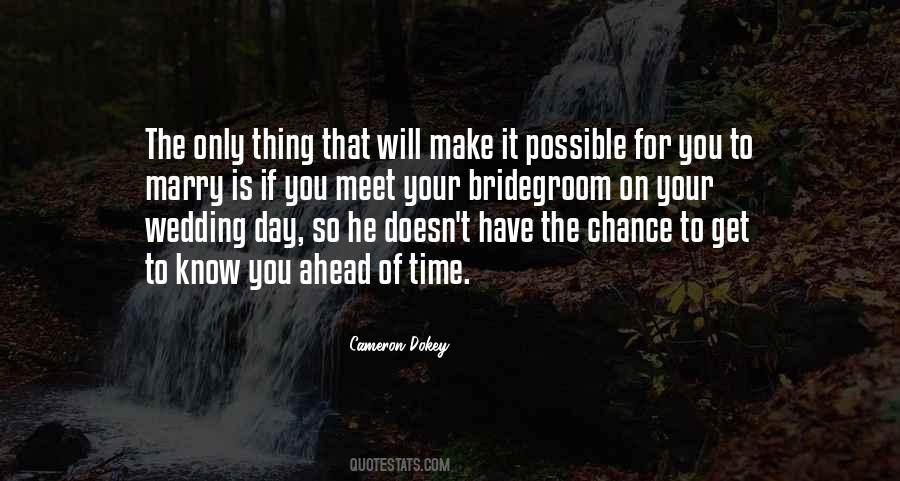 #46. So many little girls dream about their wedding day. But with actresses, sometimes it's the inverse, because we get to be the centre of attention, looked up and down, dressed up for premieres all the time. The pull isn't quite as great. - Author: Natalie Dormer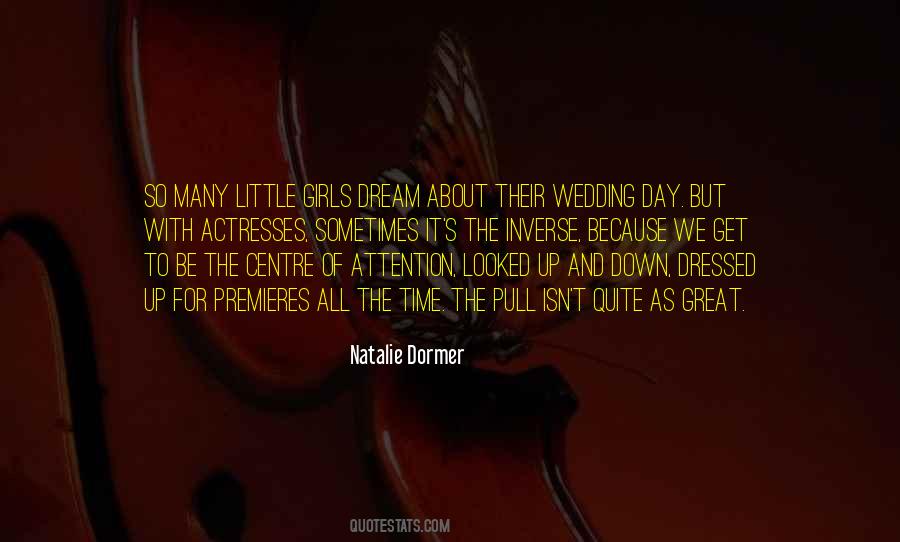 #47. She's always bragging about the dumbest stuff. The other day she was telling me, she's like, 'You know I can still fit in my wedding dress.' I was like, 'Oh my god, who cares, right?' I mean it is weird that she's the same size now as she was when she was 8 months pregnant. - Author: Amy Schumer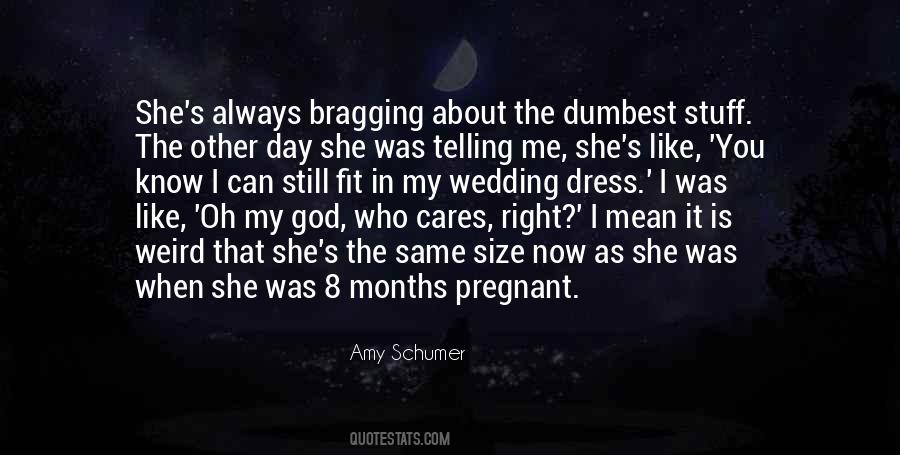 #48. A wedding is for daughters and fathers. The mothers all dress up, trying to look like young women. But a wedding is for a father and daughter. They stop being married to each other on that day. - Author: Sarah Ruhl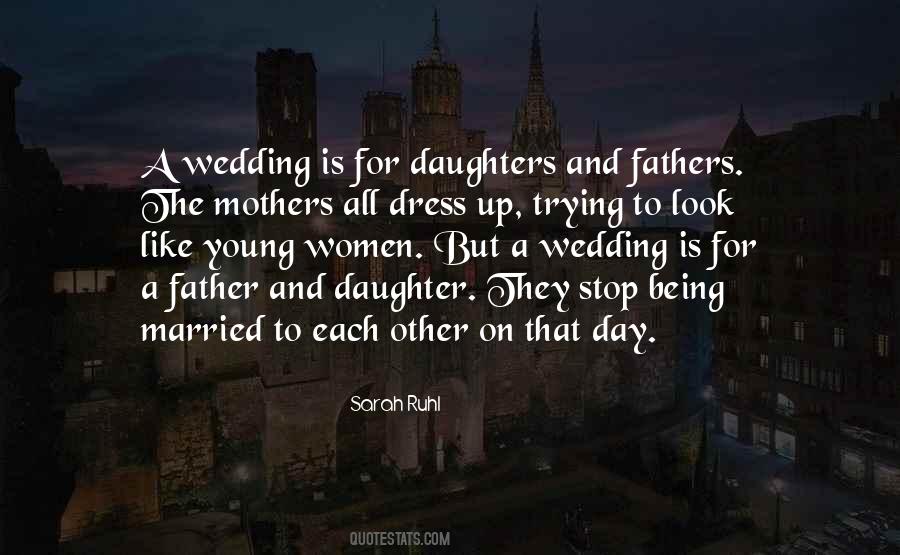 #49. The day of the wedding went like these things generally do, full of anxious moments interspersed with black comedy. - Author: Janet Street-Porter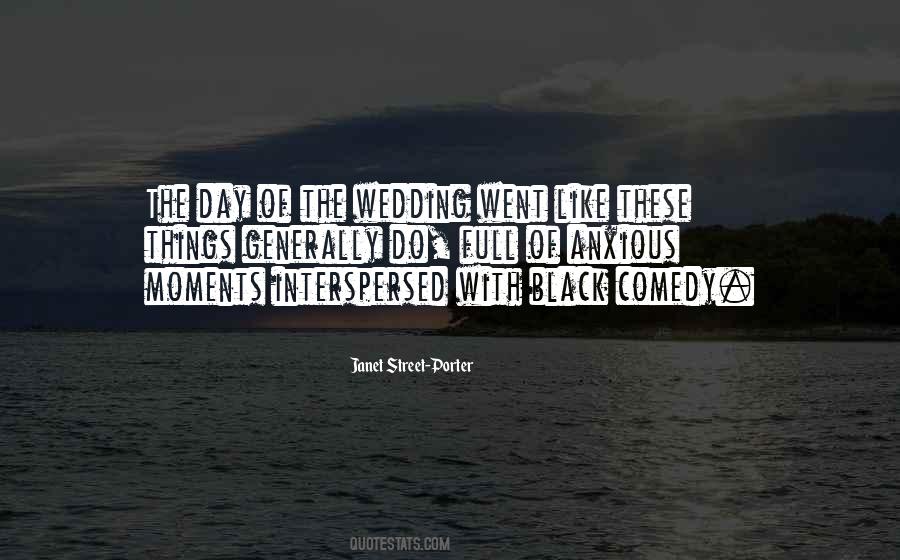 #50. Do not economize on the hymeneal rites; do not prune them of their splendor, nor split farthings on the day when you are radiant. A wedding is not house-keeping. - Author: Victor Hugo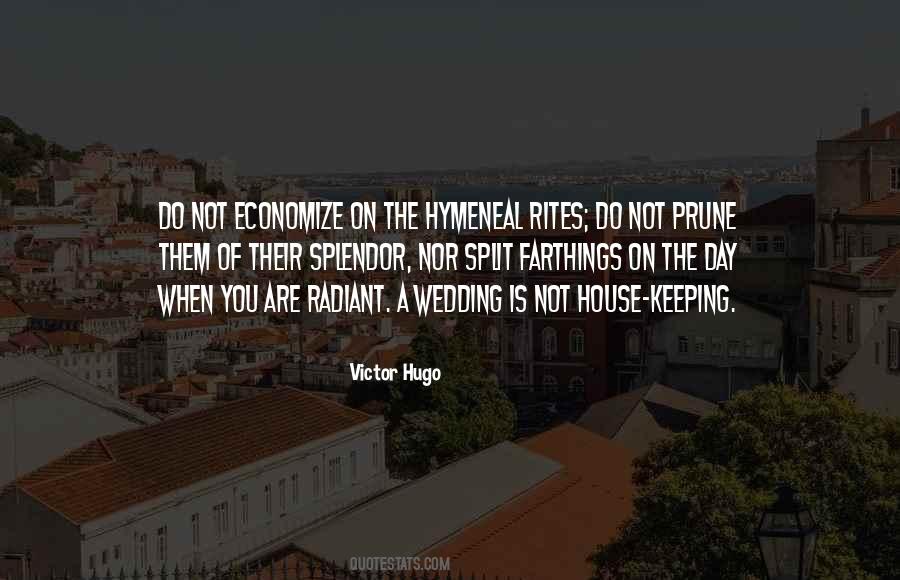 #51. There is no greater happiness for a man than approaching a door at the end of a day knowing someone on the other side of that door is waiting for the sound of his footsteps. - Author: Ronald Reagan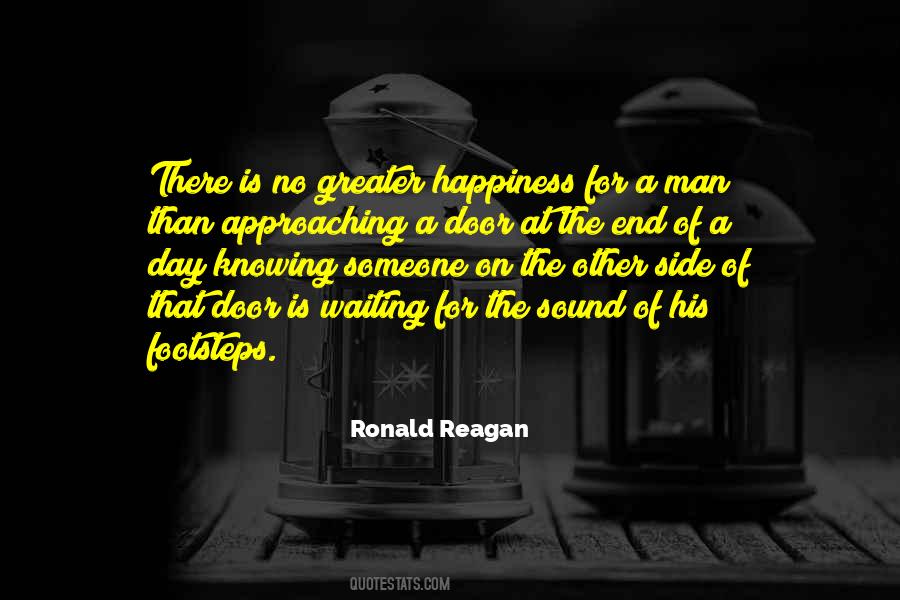 #52. How was she to endure knowing he was in town these next two weeks, without throwing herself into his arms again? She would hide in her home and not come out until the day of the wedding. Yes, that was the only solution. - Author: Maureen McKade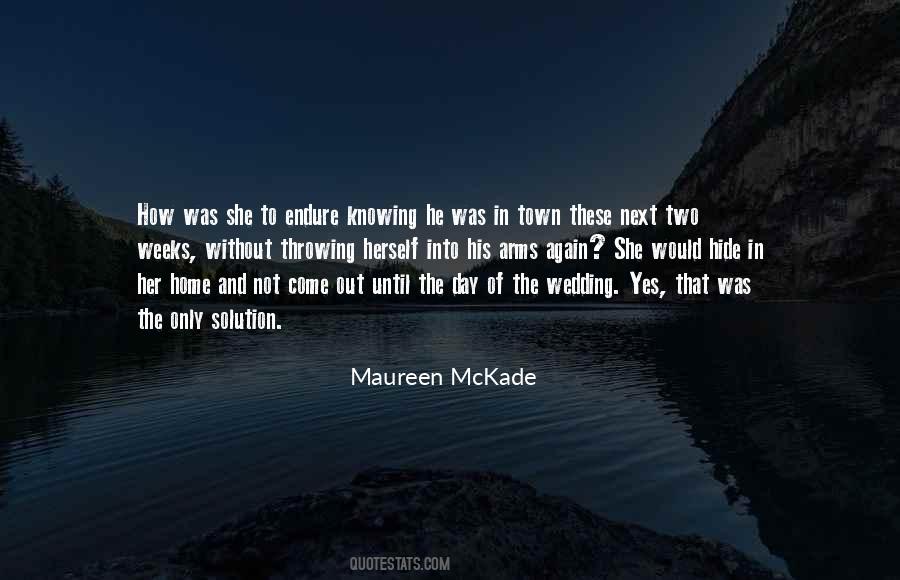 #53. It rained cats and dogs non-stop at this wedding. Later during the reception, the rain stopped as the sun was setting, and the sky turned pink. The bride later said that this picture made the rainy day totally worth it! - Author: Julie Roberts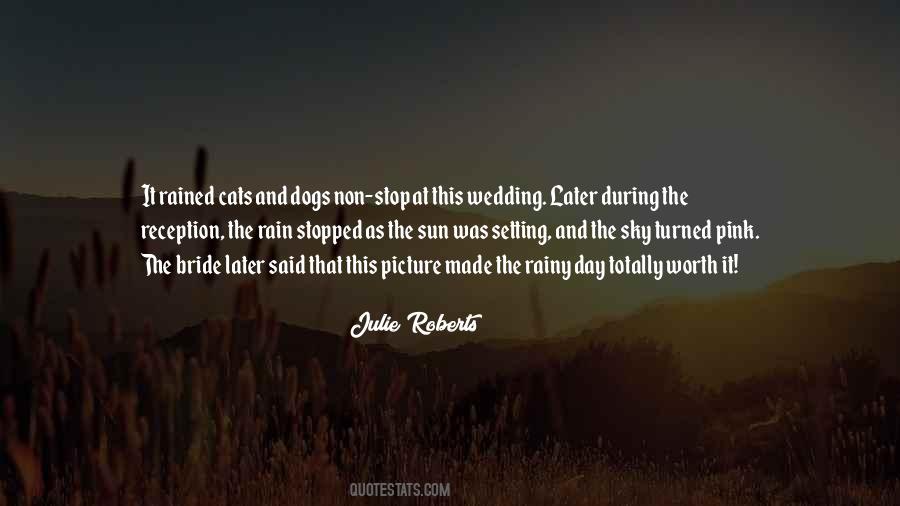 #54. Every bride and groom in the history of civilization has gained weight after their wedding day. It is only a matter of time until archaeologists unearth a married caveman who's wearing a pair of old tux pants that were so tight he couldn't get the zipper closed. - Author: Peter Scott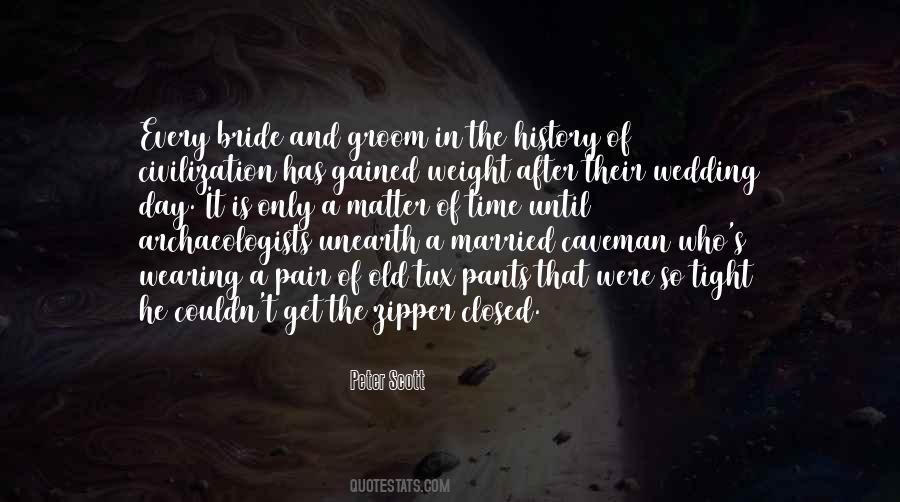 #55. What we do every St. Patty's day, which is wear green and drink a lot of Guinness. And maybe cry a little bit and laugh, and everyone will have to sing a song. That's how every funeral, christening, and wedding ends up in Ireland. Everyone ends up having to sing a song by the end of it. - Author: Saoirse Ronan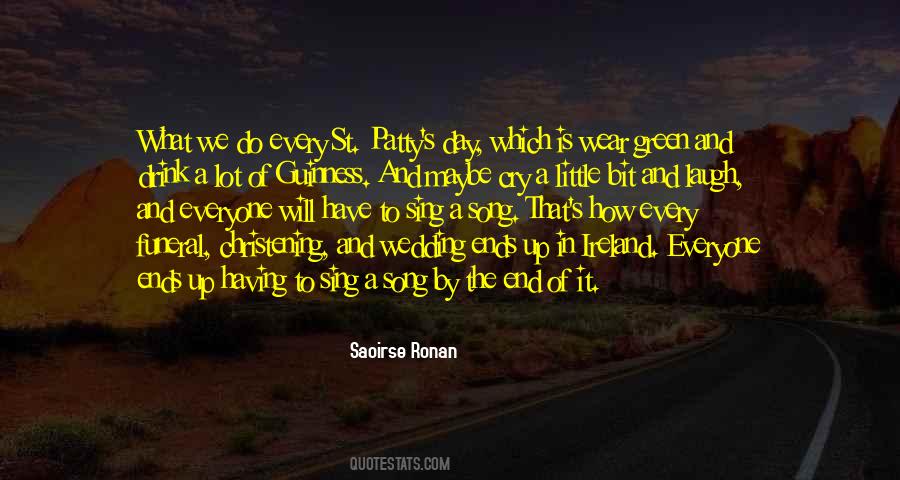 #56. I felt very unstressed on my wedding day. I'm very grateful for that ... spending the day on my own, being super quiet and happy and just puttering around doing my own thing. - Author: Sonya Walger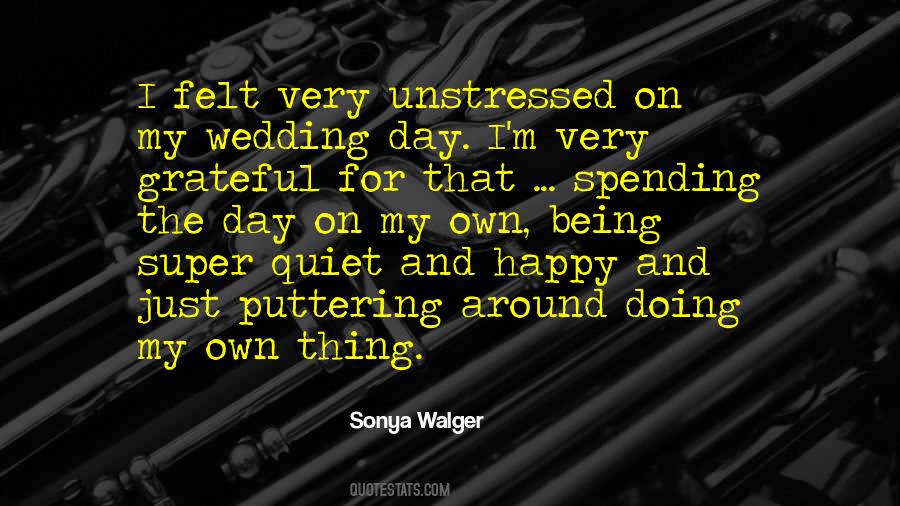 #57. I place us where we are a happy couple who are madly in love, and we are kissing the way people kiss on their wedding day. With joy and relief and love. Without guilt. Without Shame. - Author: A.S. King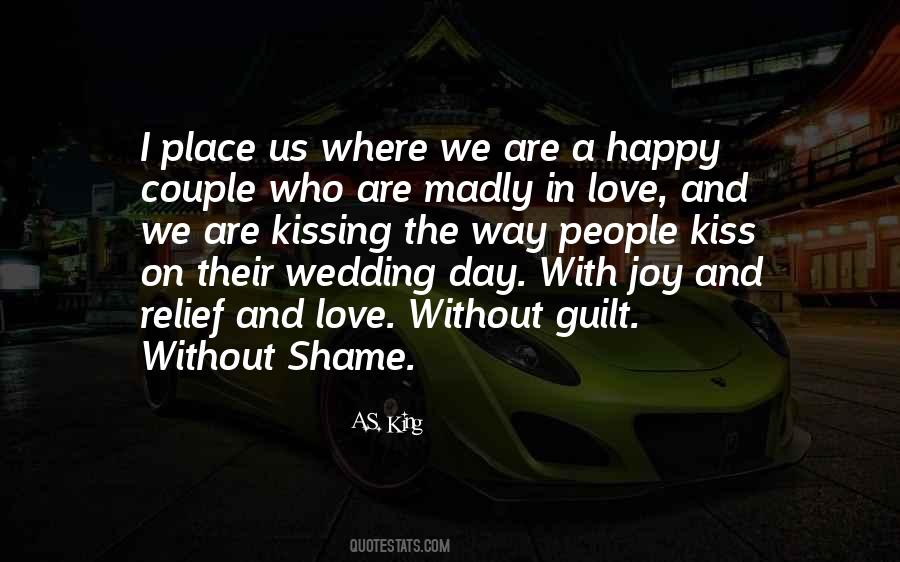 #58. The roses, the lovely notes, the dining and dancing are all welcome and splendid. But when the Godiva is gone, the gift of real love is having someone who'll go the distance with you. Someone who, when the wedding day limo breaks down, is willing to share a seat on the bus. - Author: Oprah Winfrey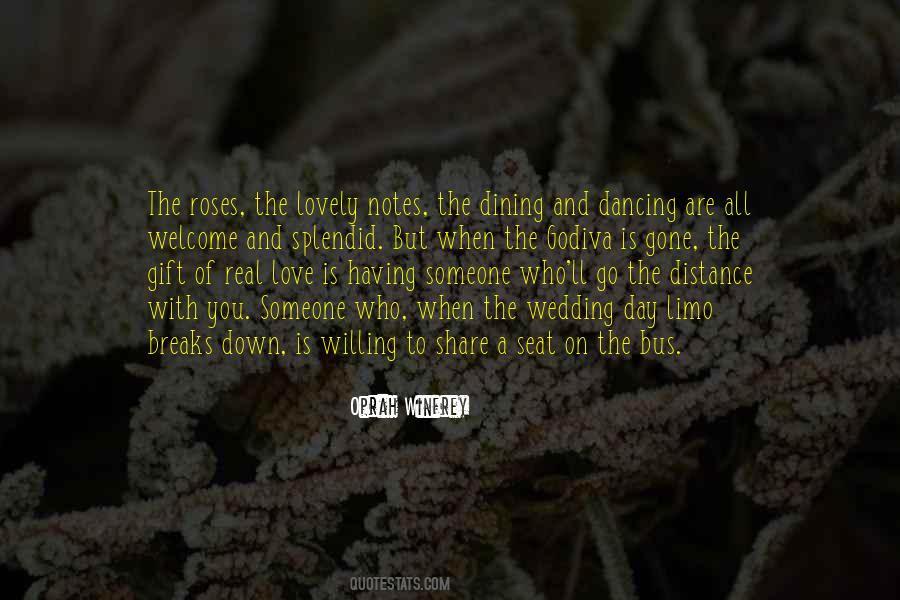 #59. I can see why people love the idea of a big white wedding - it is a day when they are the centre of attention and get to wear a beautiful dress. But that sounds awful to me because that is like getting ready to walk down the red carpet. - Author: Lucy Punch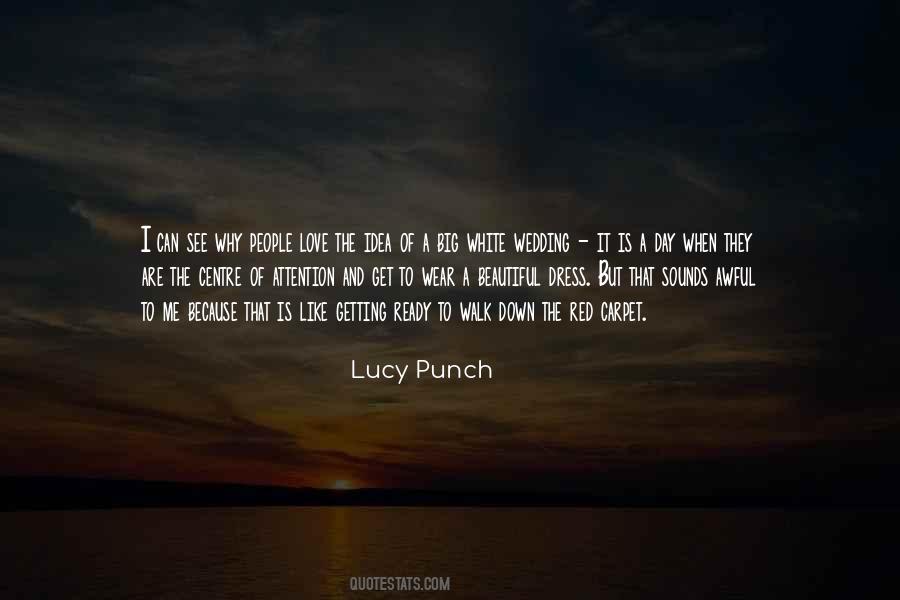 #60. Whoever eats anything at a wedding luncheon? They make the food out of papier mache. My salad had been used four or five times this week. - Author: Peter Ruric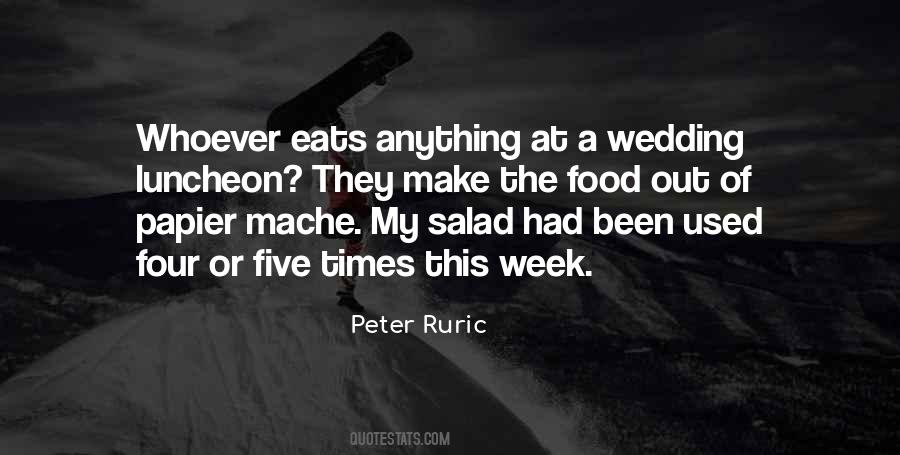 #61. as I watched their approach I wondered whether the slow pace of a wedding march was for the benefit of a bride on her most beautiful day, or for the aging father preparing to give her away. - Author: Nickolas Butler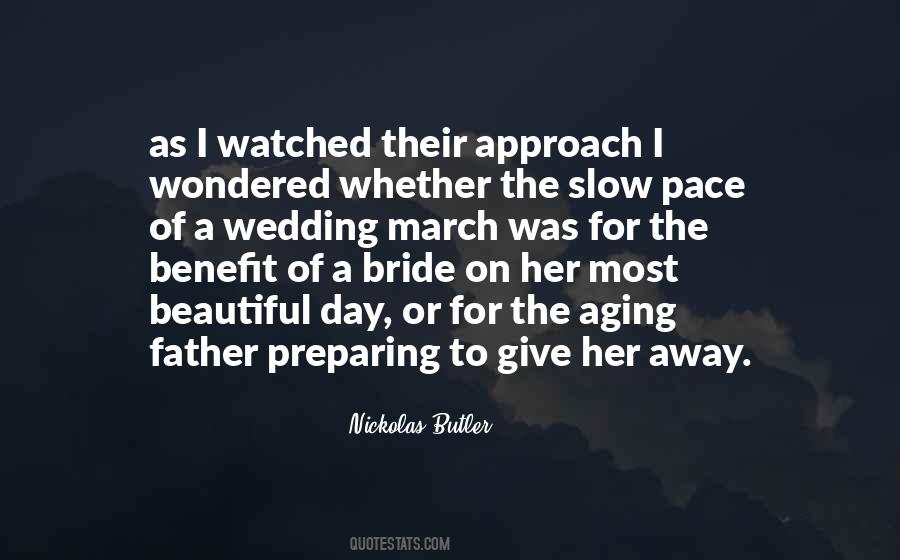 #62. If I can't wait for you at the end of an aisle on your wedding day, I'll wait for you in heaven. - Author: Lurlene McDaniel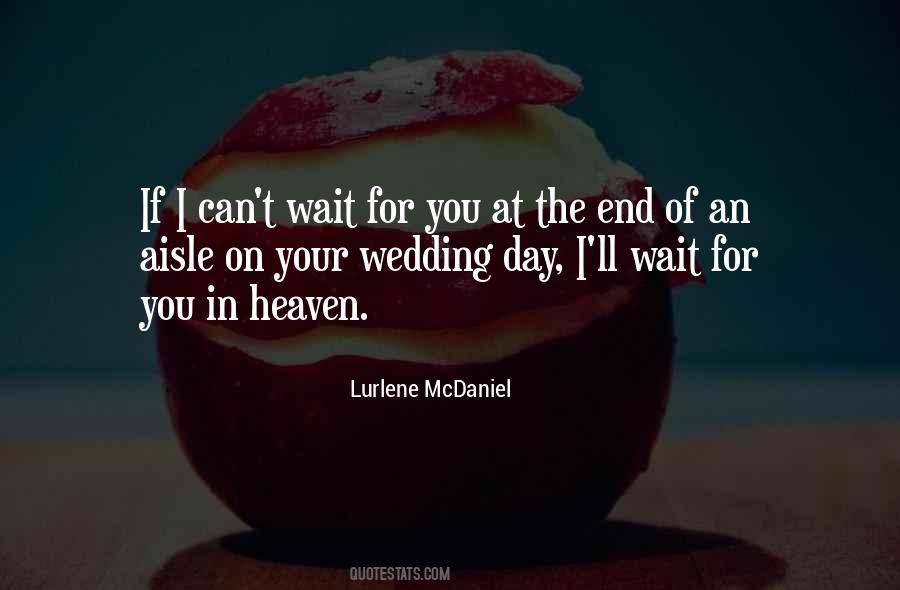 #63. But this world is changing. Perhaps by the time you are old enough to marry the world will hear a woman's voice. Perhaps she will not have to swear to obey in her wedding vows. Perhaps one day a woman will be allowed to both love and think. - Author: Philippa Gregory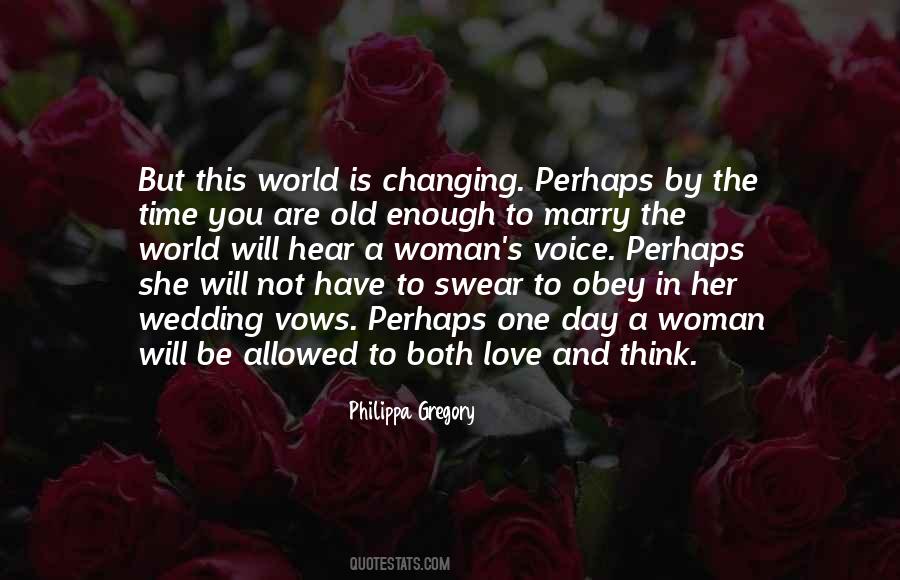 #64. Do not chase boys. Chasing boys is bad. Chasing boys can lead to horrible things like mansions going up into flames, hand amputations, and blindness. So have some self respect and don't let things get too far before the wedding day. - Author: Meg Cabot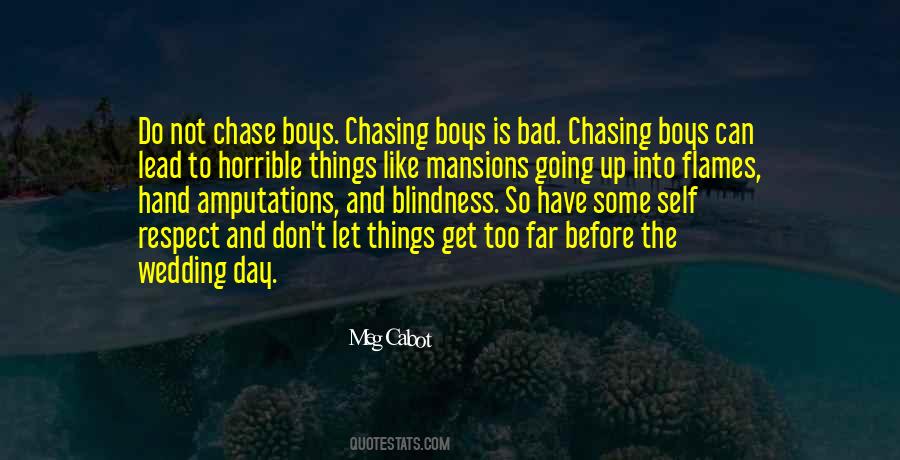 #65. In Kafka's story "Wedding Preparations in the Country," Edward Raban fantasizes about splitting into two forms: one, to remain in bed all day, dreaming; the other, to go forth and conduct the business of the world. - Author: Franz Kafka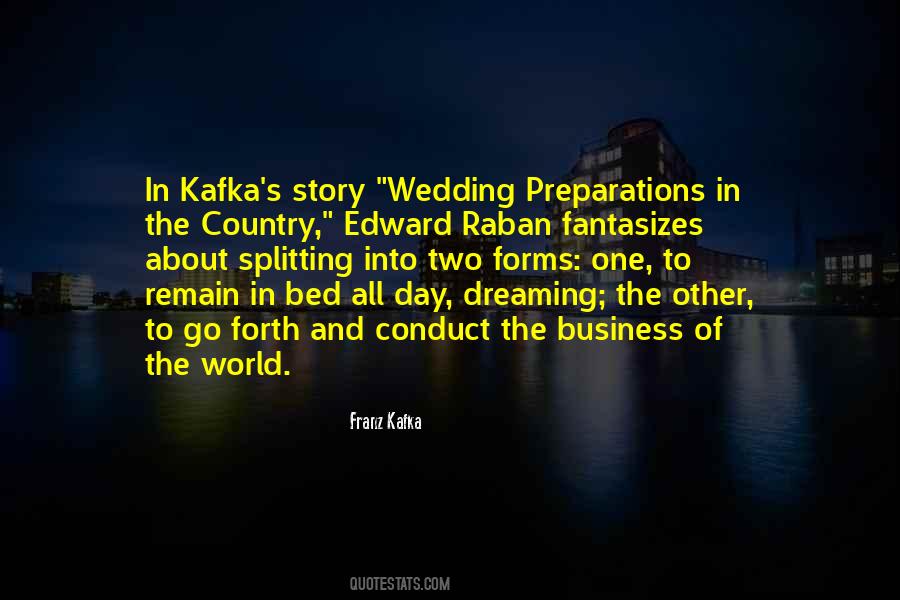 #66. For just a moment in time, we were just a boy and a girl, running and laughing in the rain on our wedding day. - Author: Mia Sheridan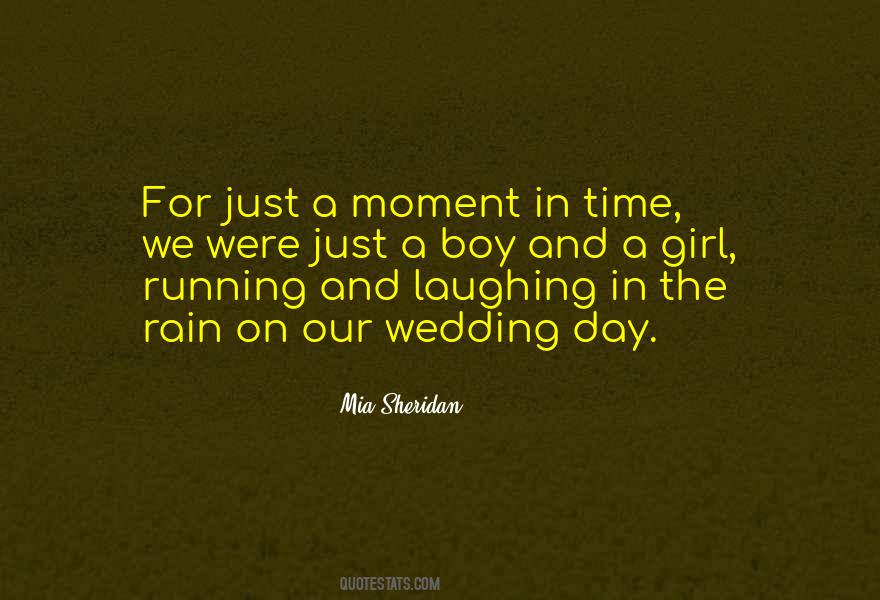 #67. The end of a wedding reception is always so depressing. And only the bride and groom are spared, jetting off into the sunset while the rest of us wake up the next morning to just another day. - Author: Sarah Dessen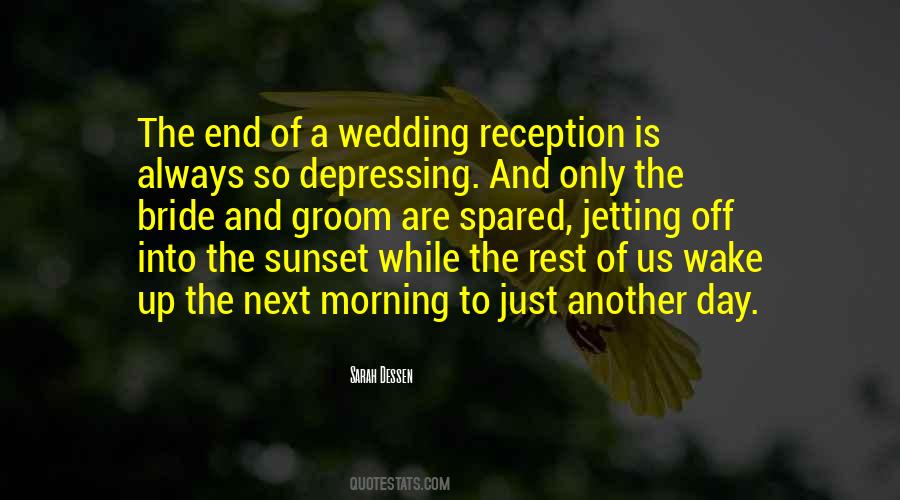 #68. I get offered: 'Here's a girl who's mad at another girl for having a wedding on the same day.' That'll be a big hit, but I don't want to do that. - Author: Amy Heckerling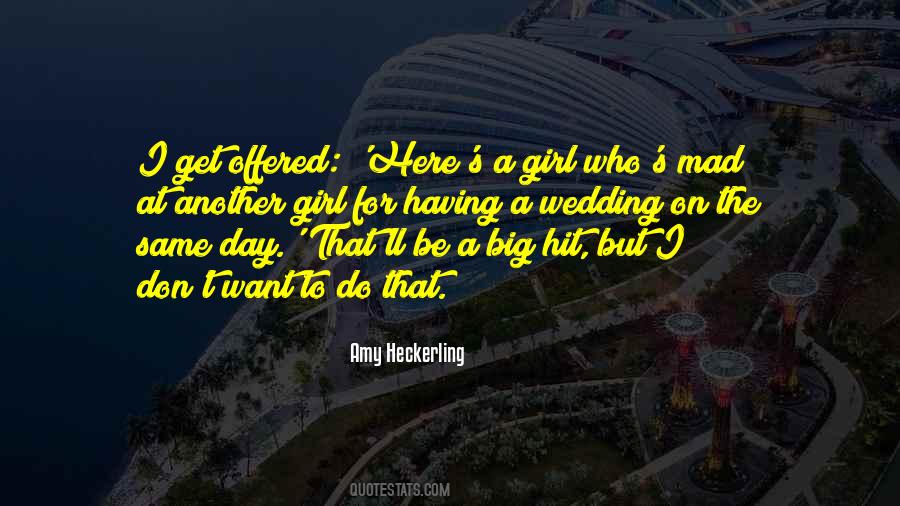 #69. Give me a funeral over a wedding any day,.' said Uncle Montague with a sigh. 'The conversation is almost always superior. - Author: Chris Priestley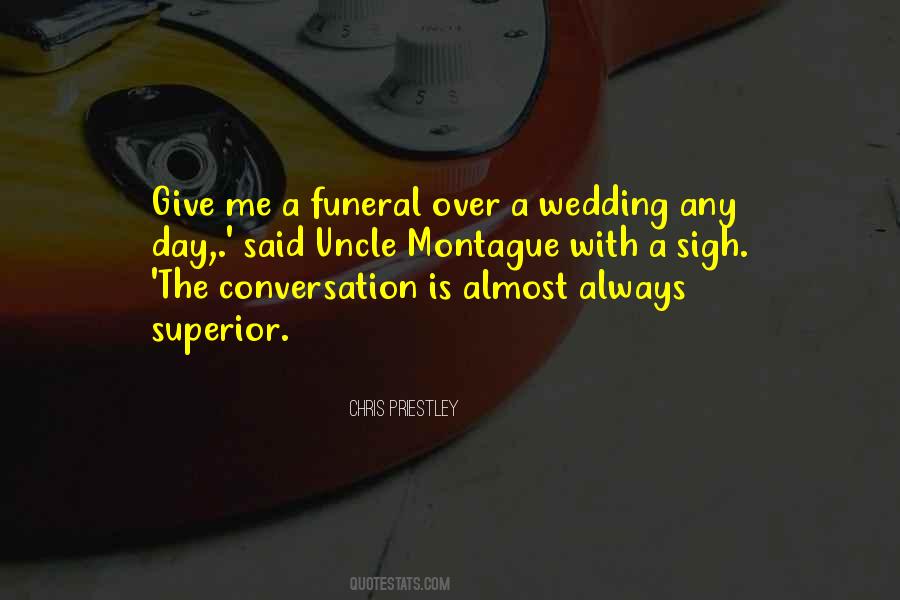 #70. Today's my wedding day, Mom," he said softly aloud. "I'm marrying the woman I always told you I would someday. - Author: Christine Feehan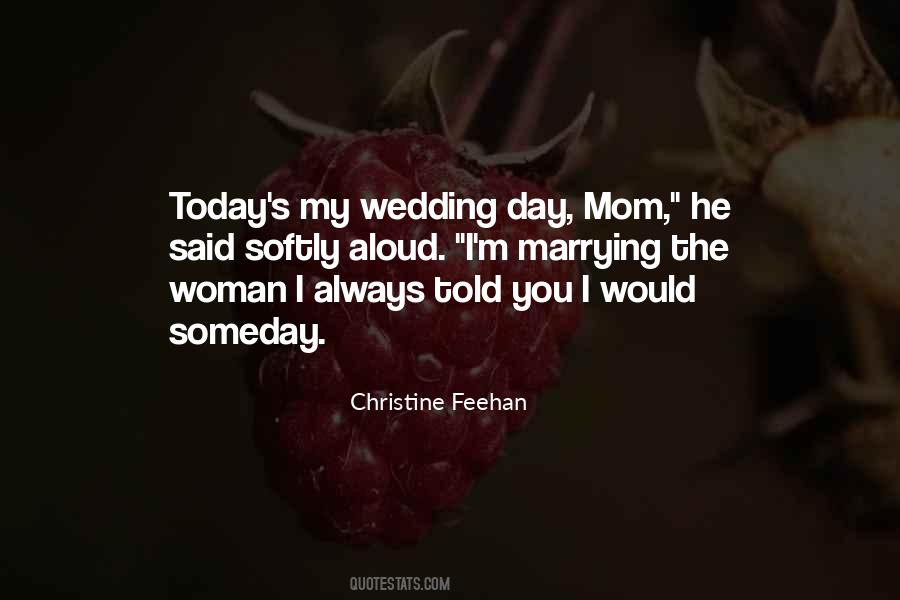 #71. I am the center of attention in my job every single day; the thought of a wedding to me is exhausting. Why would I put myself through that? - Author: Lady Gaga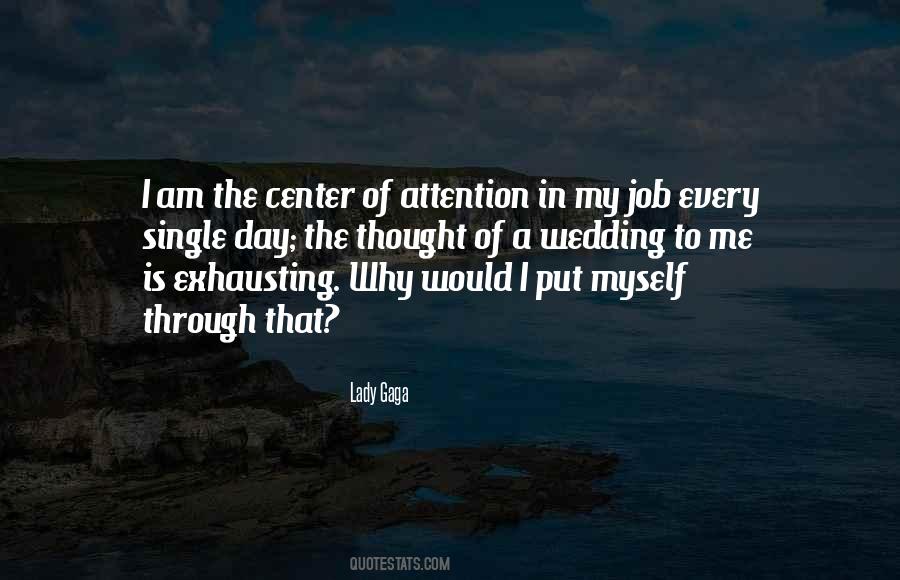 #72. I suppose the nearest equivalent to a bar mitzvah in terms of emotional build-up would probably not even be one's wedding day, but one's coronation. - Author: Maureen Lipman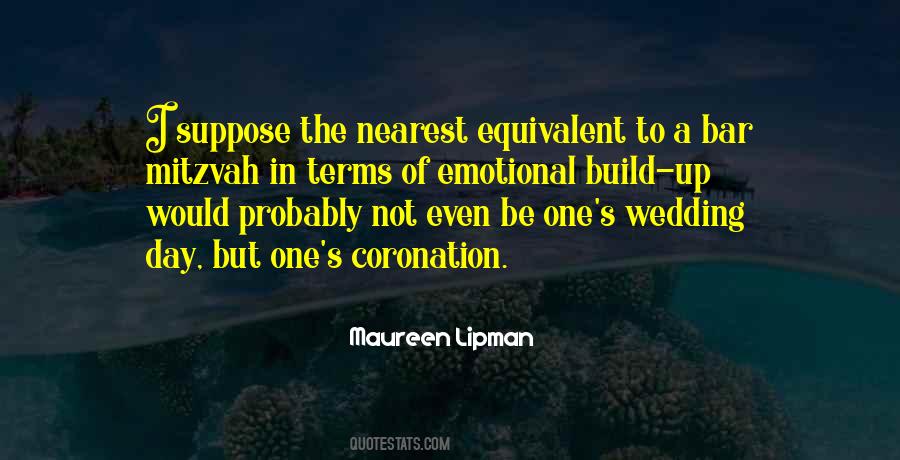 #73. The real act of marriage takes place in the heart, not in the ballroom or church or synagogue. It's a choice you make - not just on your wedding day, but over and over again - and that choice is reflected in the way you treat your husband or wife. - Author: Barbara De Angelis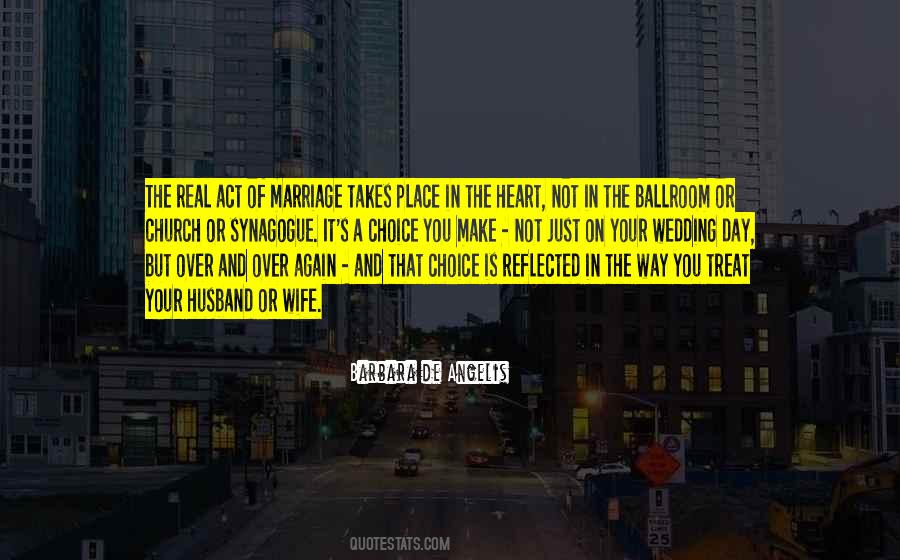 #74. What do I do now?" "You wait," declared Mary. "For the appointed time. And while you wait, your work each day is to trust Him in whatever lies before you. When time is full, my Son will come for you and take you to the grandest wedding celebration, - Author: Wm. Paul Young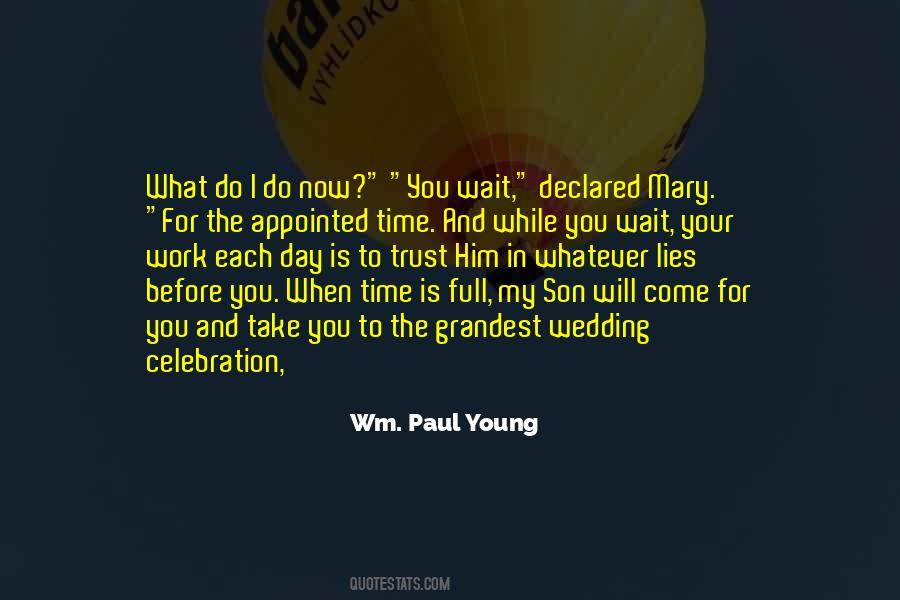 #75. I had a 2-week courtship with a fellow student in the fiction workshop in Iowa and a 5-minute wedding in a lawyer's office above the coffee shop where we'd been having lunch that day. And so I sent a cable to my father saying, 'By the time you get this, Daddy, I'll already be Mrs. Blaise!' - Author: Bharati Mukherjee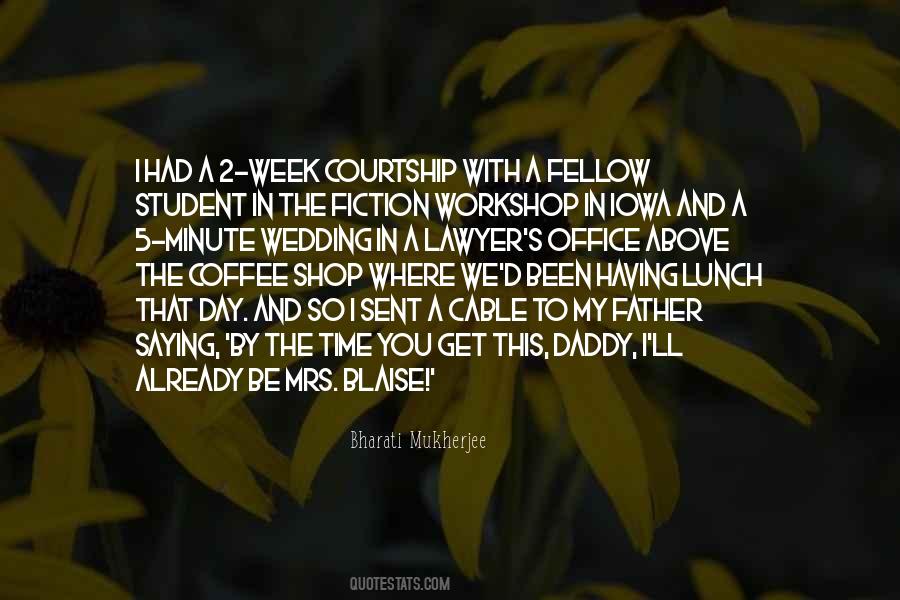 #76. In 1770, a British law was proposed to Parliament granting grounds for annulment if a bride used cosmetics prior to her wedding day.
- Marjorie Dorfman, The History of Make-up - Author: Julie Klassen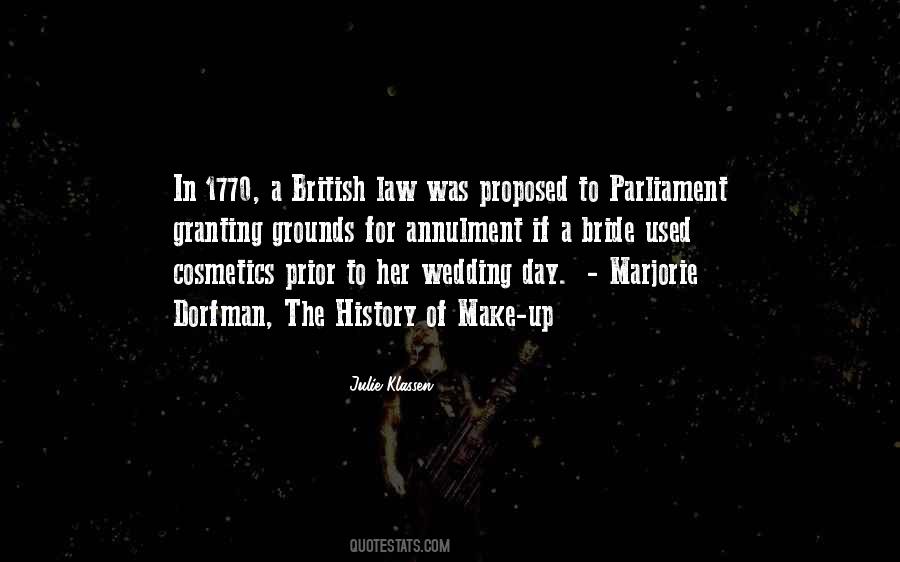 #77. When I hear women talking about how their wedding is going to be/was the best day of their life, I can't help but think, You just haven't taken enough MDMA in a field at 3 a.m., love. - Author: Caitlin Moran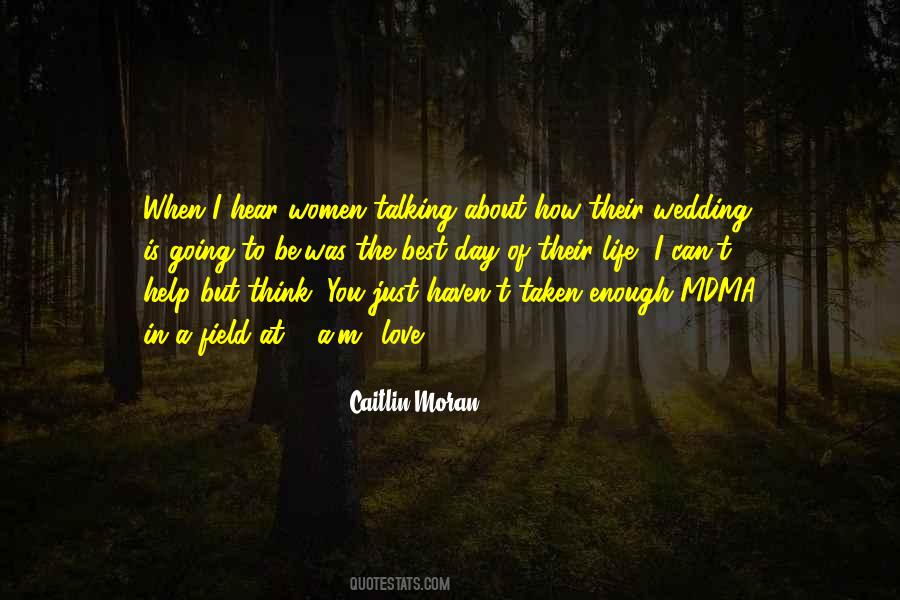 #78. Let's say you go to a friend's wedding, or Thanksgiving, or Halloween. It'd be great the next day to see what went on with your friends' Thanksgiving weekend, or all the costumes they wore on Halloween, and be able to look back and see what they wore the year before, and the year before that. - Author: Mike McCue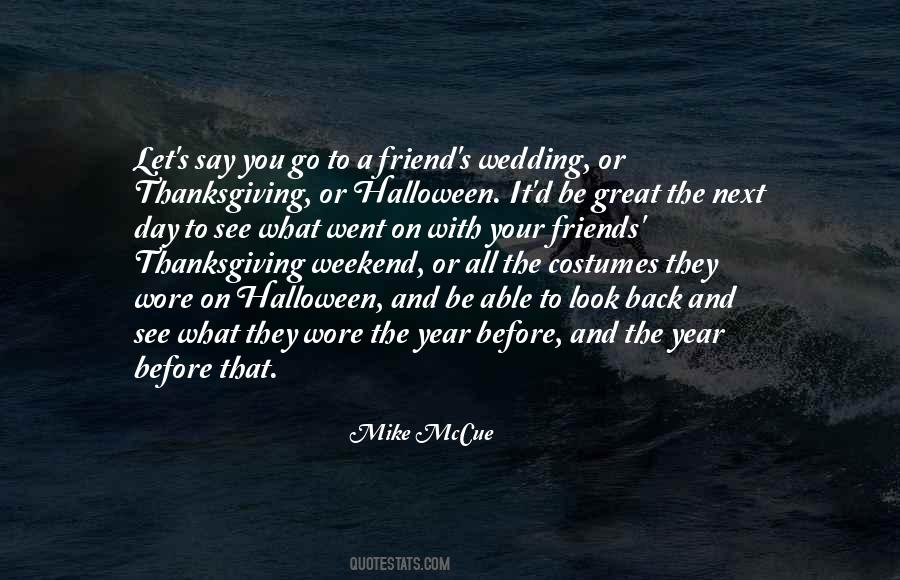 #79. Enza studied the photograph of her parents on their wedding day as if it were a map. In a sense it was, as they were creating a destination, a life together. - Author: Adriana Trigiani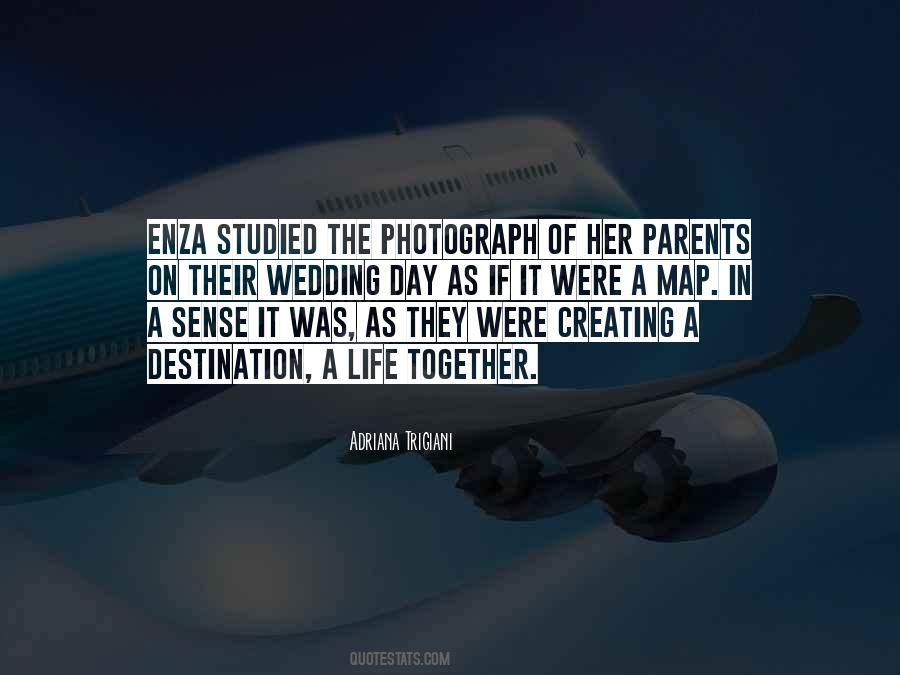 #80. Valentino made my day suit for the wedding of Paloma Picasso in Paris. - Author: Andre Leon Talley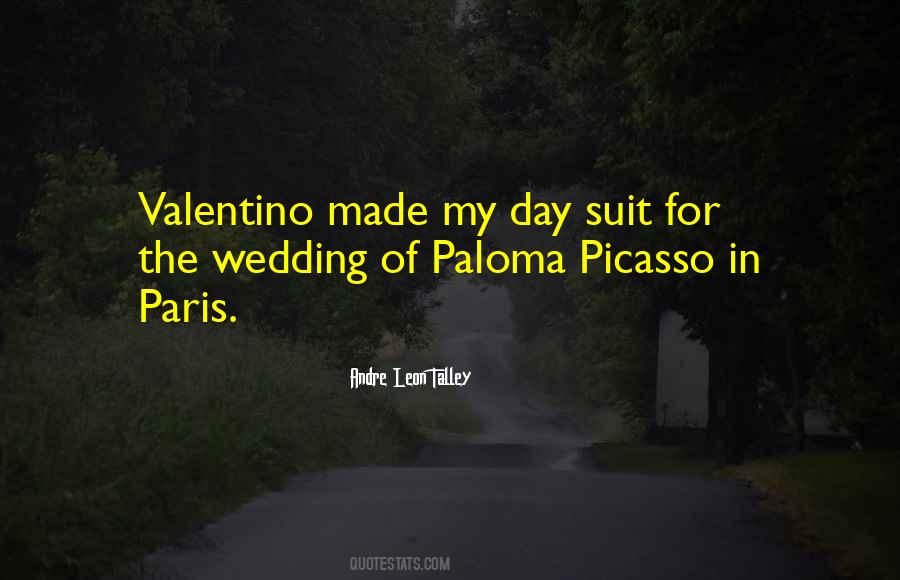 #81. Okay, well, on Borelletrox V, the males are kept completely isolated from all images of the female until Binding Day and the females are, erm, let's just say they've' got a lot of-- - Author: Jackson Lanzing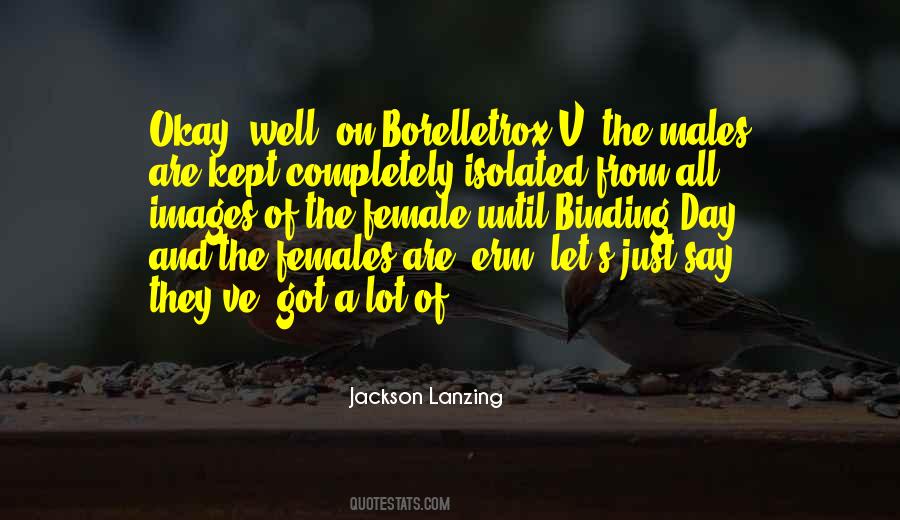 #82. The day after that wedding night I found that a distance of a thousand miles, abyss and discovery and irremediable metamorphosis, separated me from the day before. - Author: Sidonie Gabrielle Colette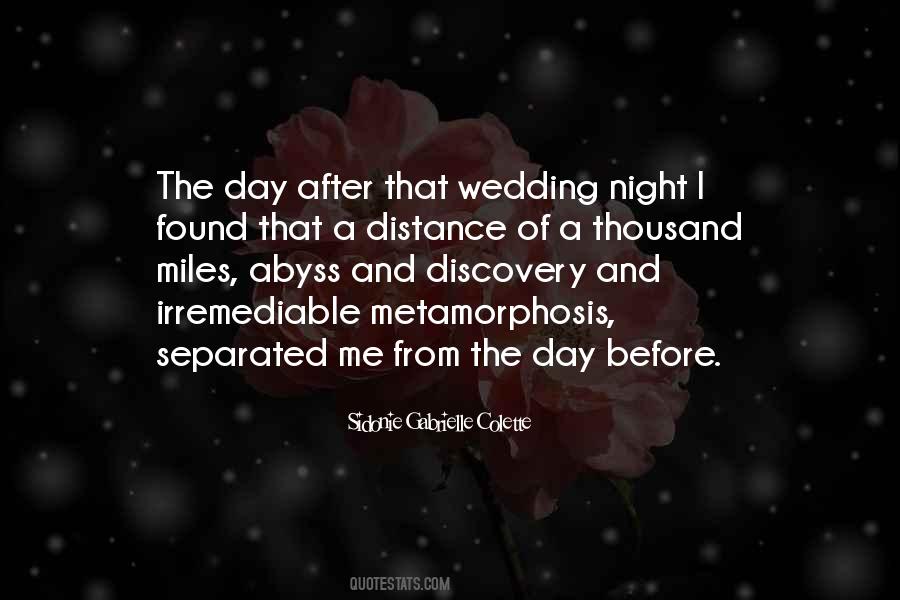 #83. I used the Deep Cleansing Masque on my wedding day because I wanted everything - including my complexion - to be perfect! - Author: Cindy Crawford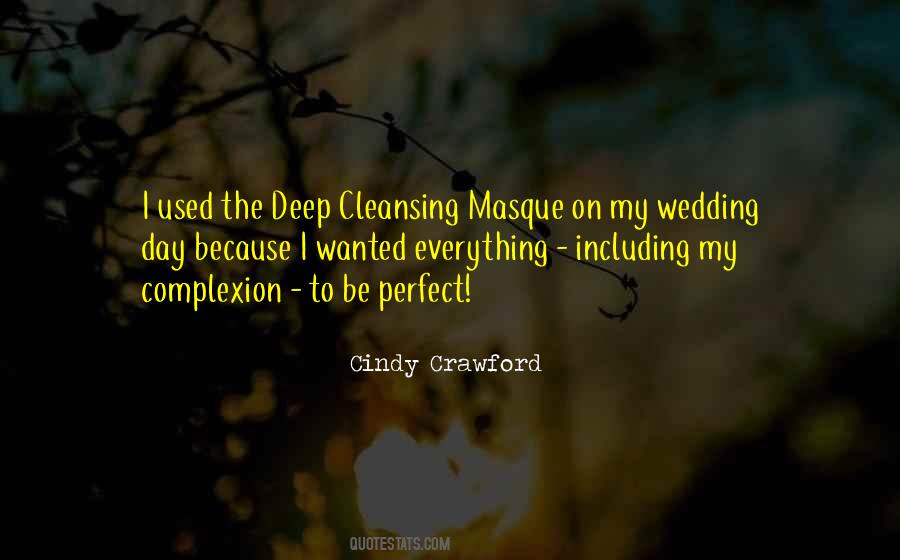 #84. I love both real and fake jewelry. My kids make me necklaces, and I wear those, too. Every day, I wear my gold wedding band and the Cartier watch my husband gave me. - Author: Aerin Lauder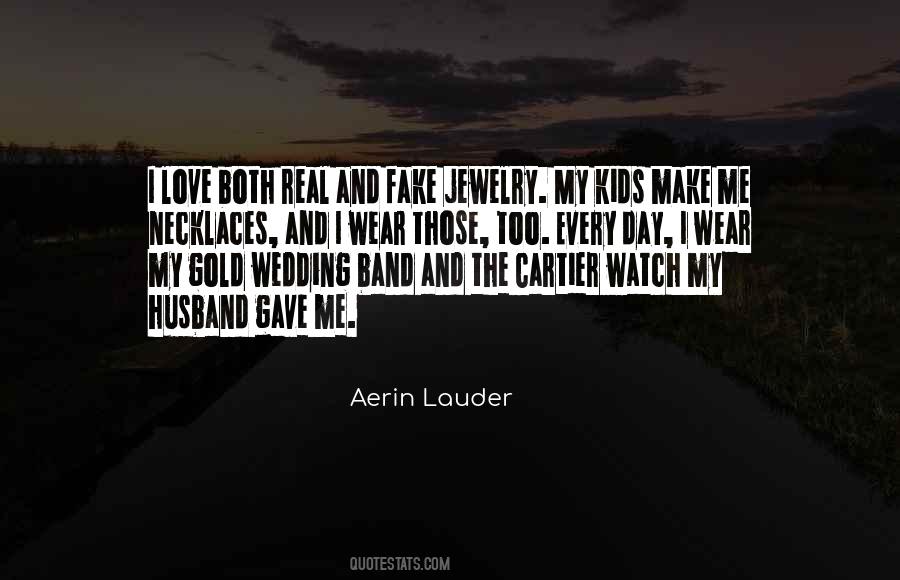 #85. Twice we stood beside each other at the altar, Rosie. Twice. And twice
we got it wrong. I needed you to be there for my wedding day but I was too
stupid to see that I needed you to be the reason for my wedding day. But we
got it all wrong. - Author: Cecelia Ahern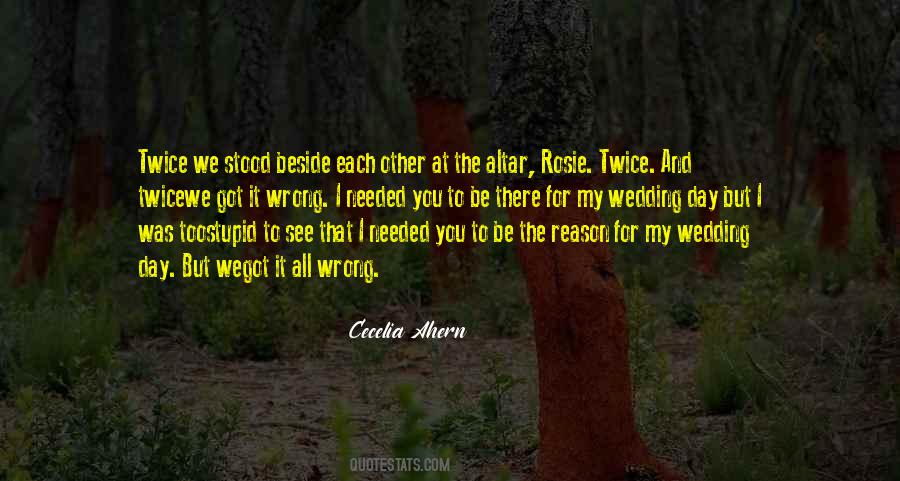 #86. One tradition I have with my friends is that when one of us gets married, we have a ton of fragrance oils and pretty bottles at the bachelorette party. Everyone puts a drop or two in a bottle for the bride and makes a wish, and the bride wears our creation on her wedding day. - Author: Jennifer Aniston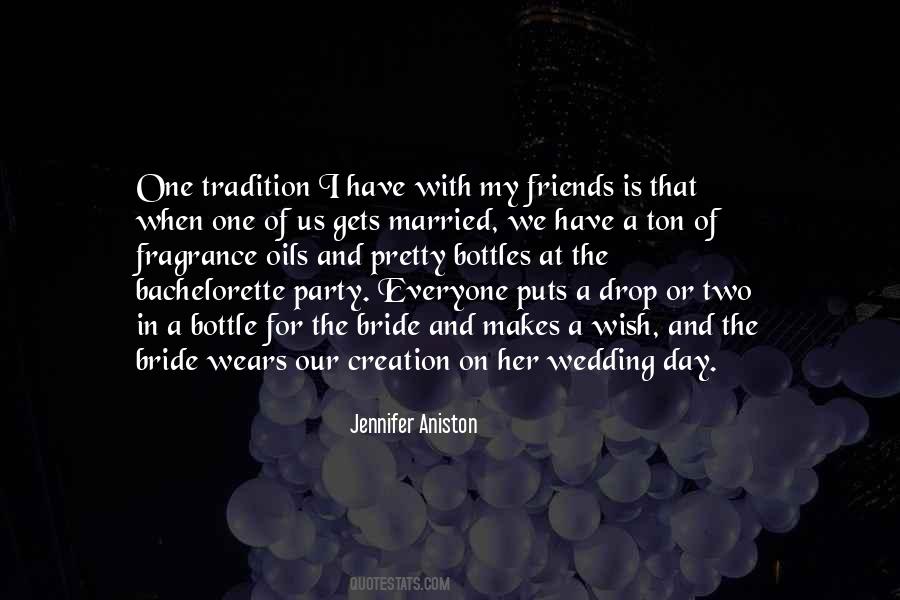 #87. Personally, I think knees should be kept for the eighth or ninth date, or the wedding day. As a nice surprise you know? 'oh, my darling, you have knees! I never would have thought - Author: Derek Landy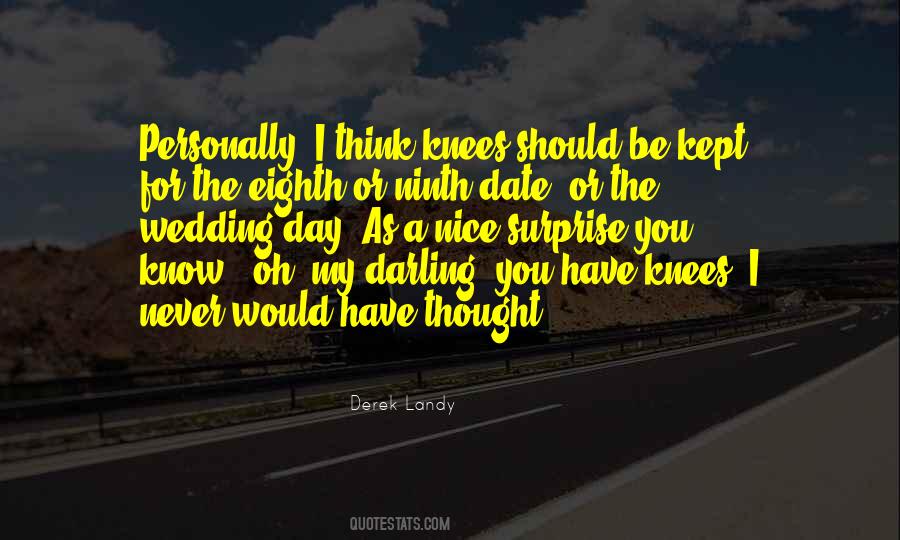 #88. Today is the day after my wedding. And nothing is the way I expected it to be. - Author: Rachel Abbott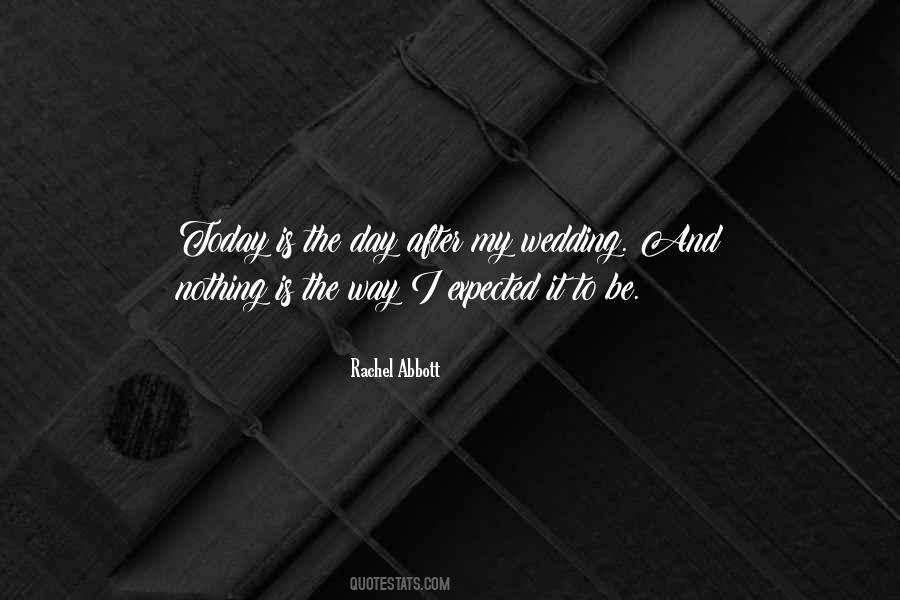 #89. The calla lilies are in bloom again. Such a strange flower - suitable to any occasion. I carried them on my wedding day, and now I place them here in memory of something that has died. - Author: Katharine Hepburn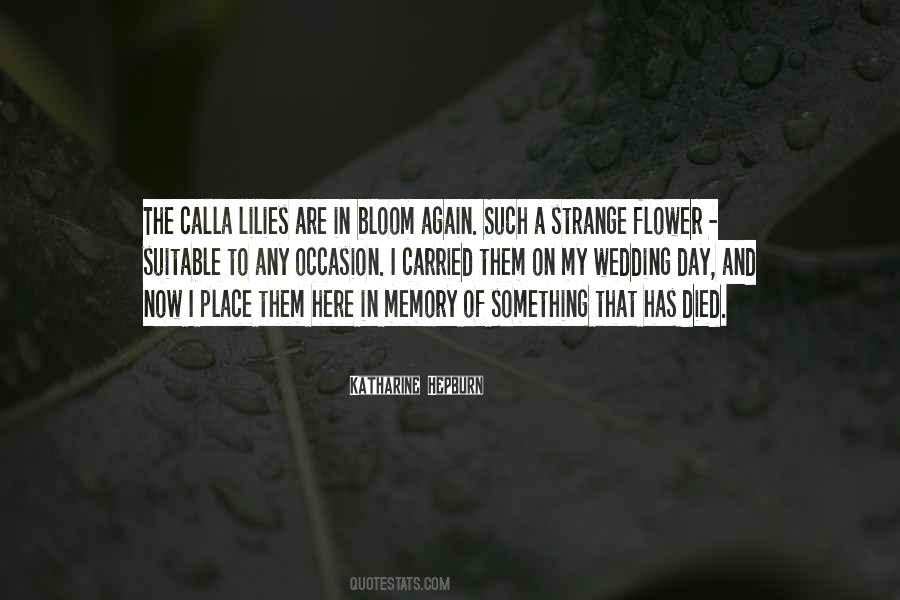 #90. I think the best day will be when we no longer talk about being gay or straight ... It's not a gay wedding, it's just a wedding ... It's not a gay marriage, it's just a marriage. - Author: Pink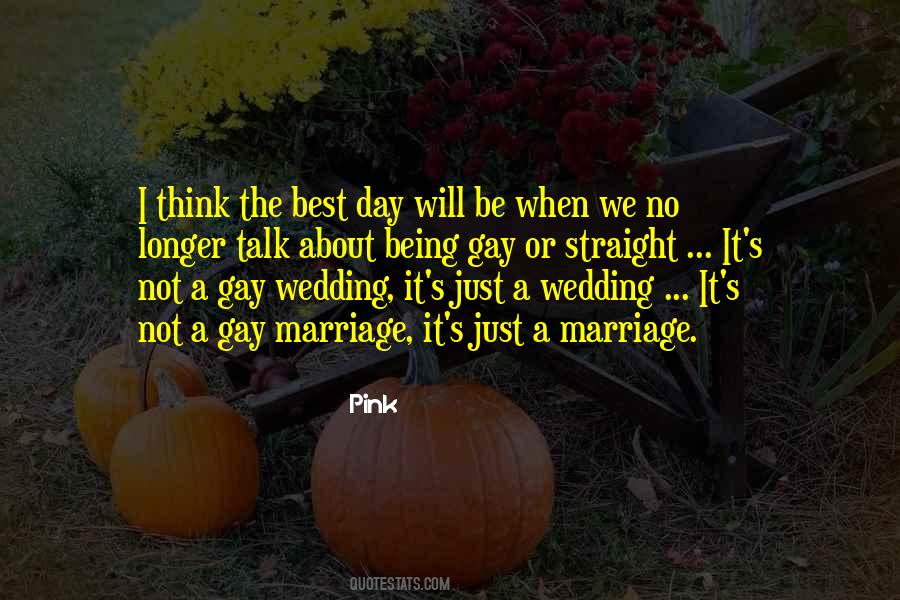 #91. Dahling, they've always hated me, but this has to be the final nail in the coffee. They're jealous because their mother gave me her diamond pendulum on my wedding day. Now they're demanding it back. They hound me day and night. My God, it's like they have channel vision. - Author: Delora Dennis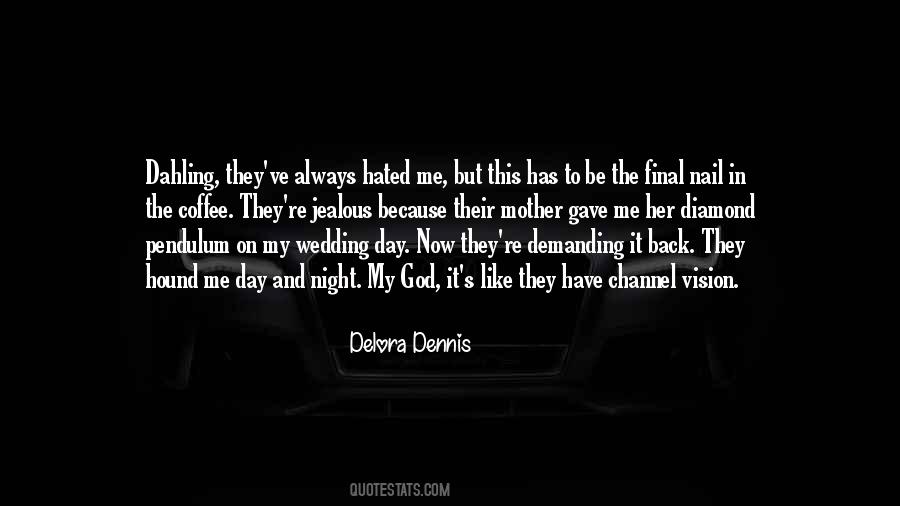 #92. I would that I could have stopped time and preserved that day forever. It was a perfect day. There was the shadow of sorrow, yes. It would always be there. But that was the nature of life. The bright mirror and the dark, reflecting one another. And today there was so much brightness. - Author: Jacqueline Carey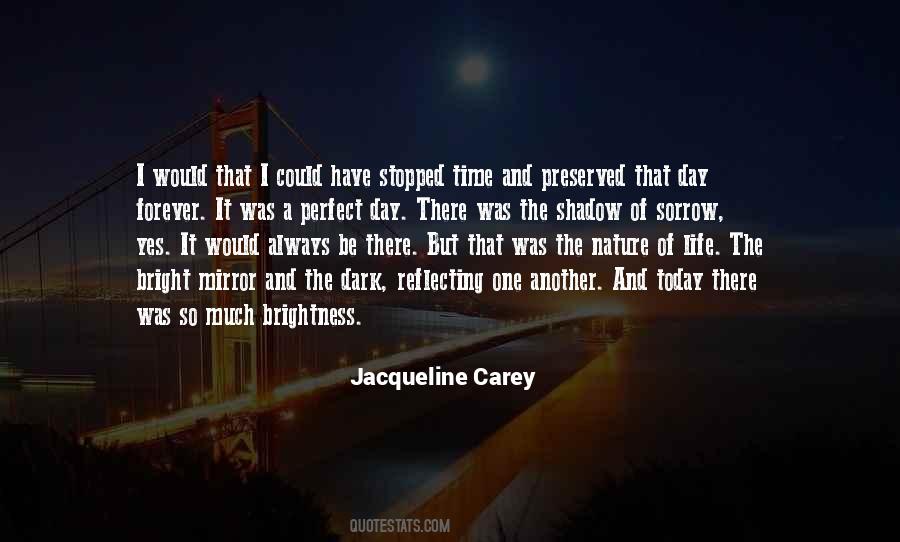 #93. When Andrew went with the girls, we were talking all morning and he was saying, 'It's okay. Just remember we had such a good day. Our wedding was so perfect.' Because we're such a unit together. He made me feel very part of the day on April the 29th. - Author: Sarah Ferguson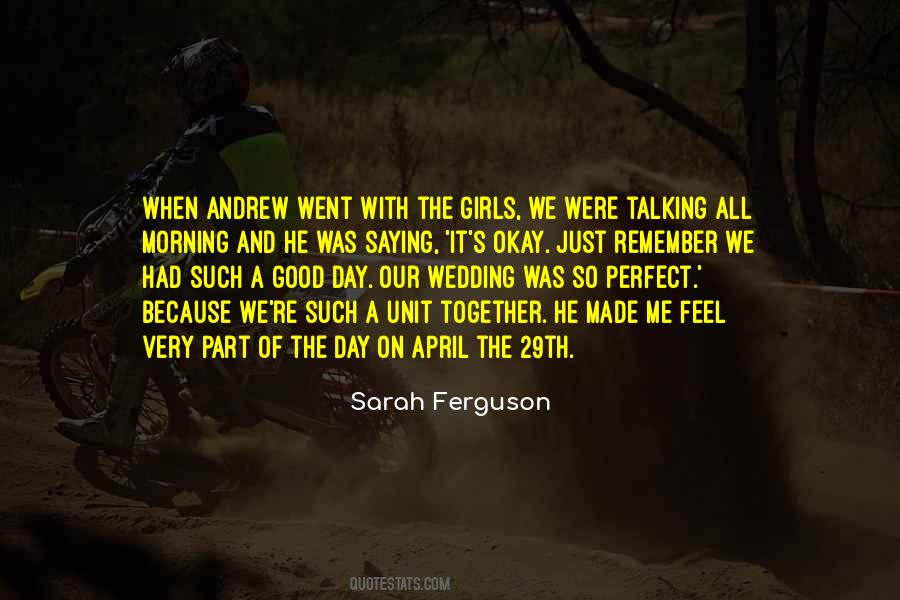 Famous Authors
Popular Topics