The Idea Of Love Famous Quotes & Sayings
List of top 100 famous quotes and sayings about the idea of love to read and share with friends on your Facebook, Twitter, blogs.
Top 100 Quotes About The Idea Of Love
#1. In my own life, I've written scripts that I want to direct, so I would love to take my own creativity in a way where I could tell my own story. That does inspire me, the idea of becoming a director. - Author: Heather Graham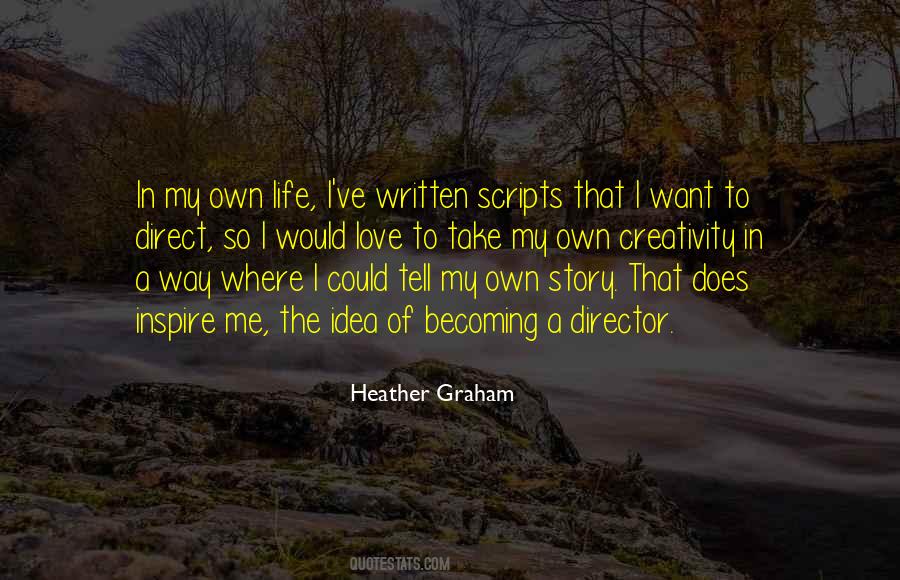 #2. I was in love with the idea of being in love with a woman way before I was actually in love with one. - Author: Jimmy Carr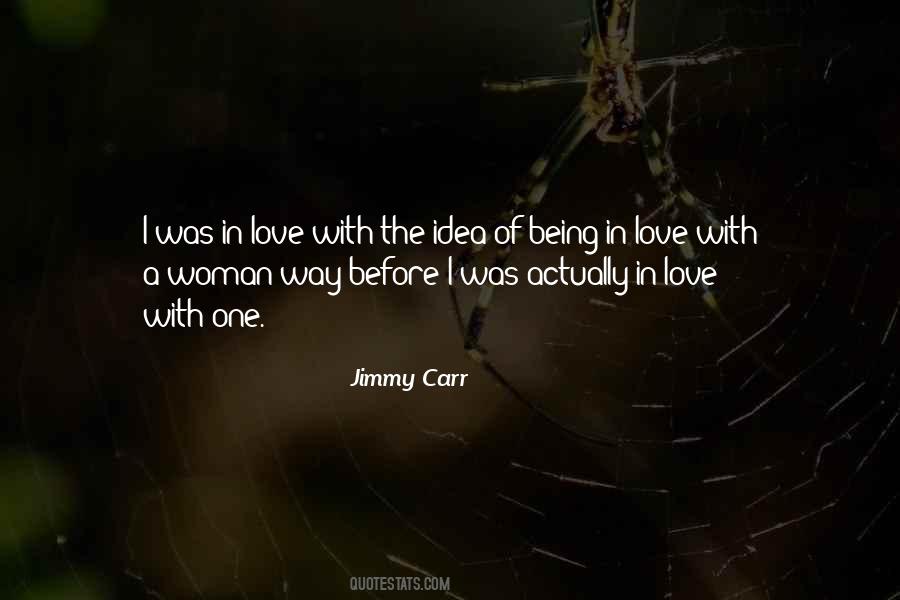 #3. I was in love with the idea of him. An ideal of him. Of who I thought he was. Of who he used to be. - Author: Alexandra Potter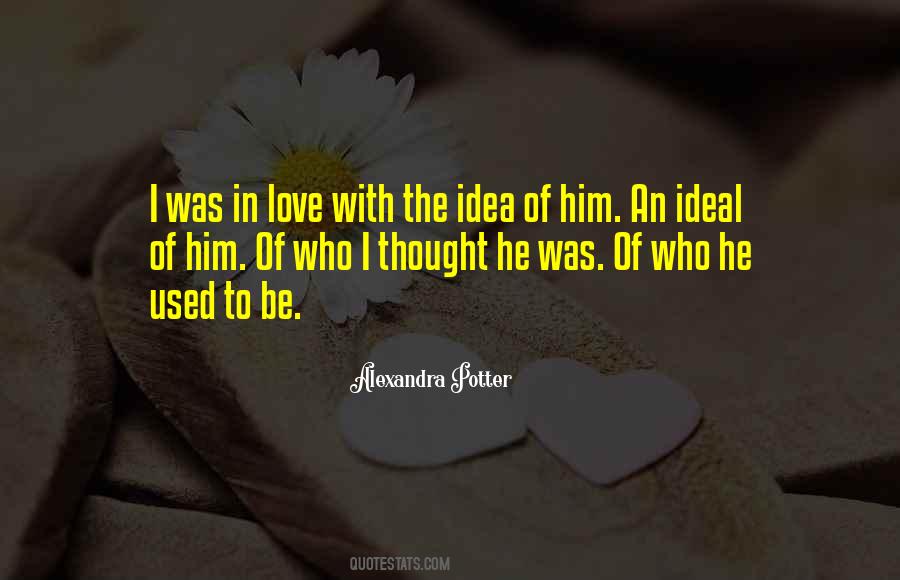 #4. I minored in creative writing in college, and I've played with the idea of doing something more hybrid, but comics are my first love. - Author: Gene Luen Yang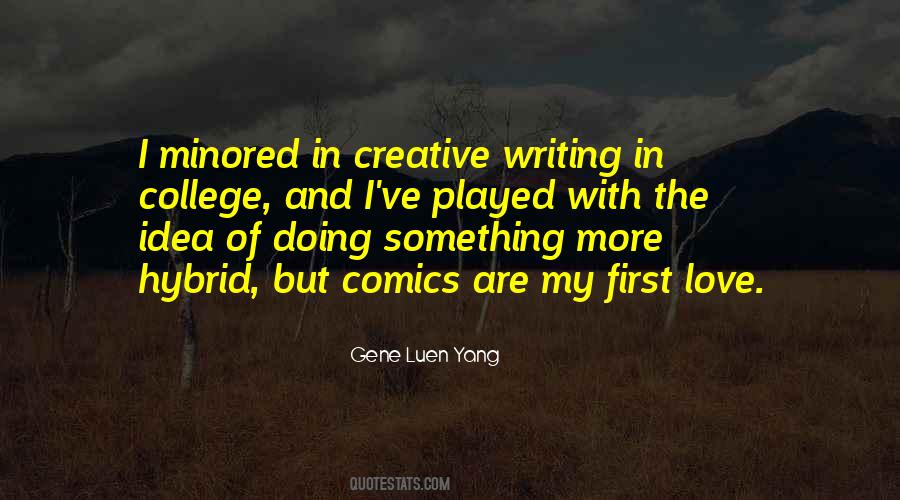 #5. I want to build a life with someone that's based on their dreams as well as my dreams. I think that the idea of finding another person to share with is the most fascinating, beautiful quest you could ever be on in life. - Author: Taylor Swift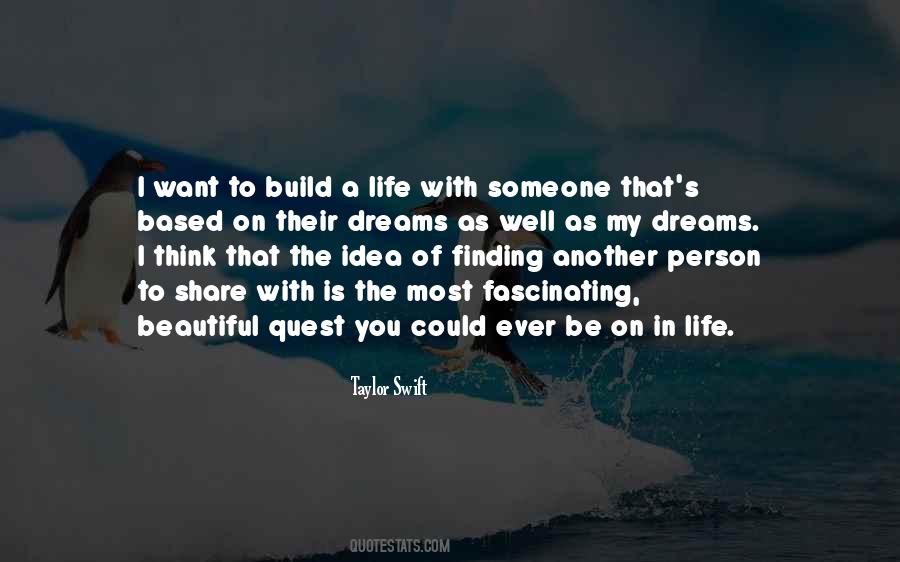 #6. To wrap up the idea of 'Parade's End' in a sentence or two, I would say it's a love story in which we see a man with two women, and we know what's attractive about them. And we know why and what they feel about him. - Author: Tom Stoppard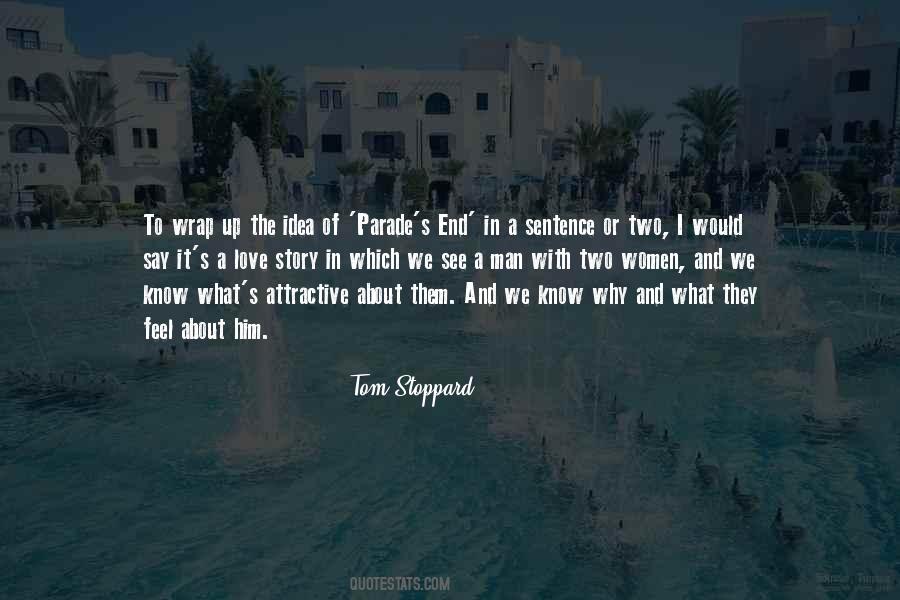 #7. I love the idea of documentaries. I love seeing documentaries, and I love making them. Documentaries are incredibly easy to shoot. The ease with which you can hear something's going on, somebody's going to be somewhere: That sounds so interesting. Pick up your camera and go. - Author: Jonathan Demme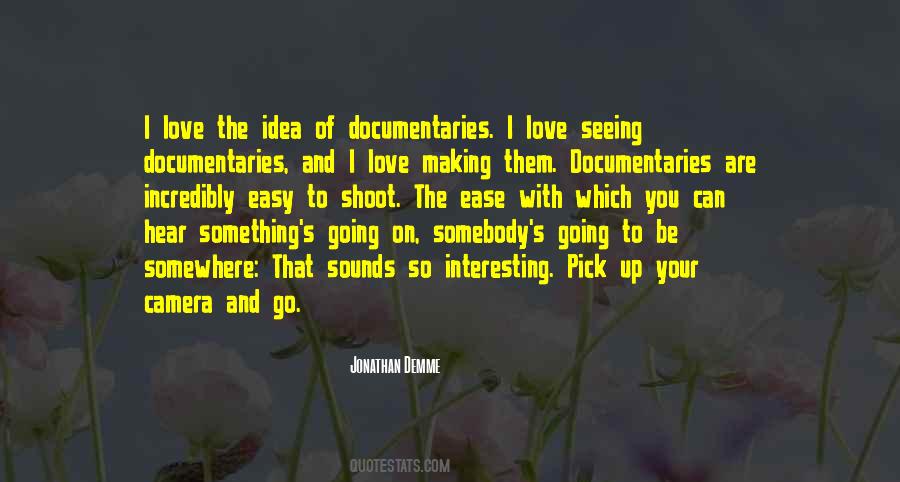 #8. I'm still in love with what I do, with the idea of making things up, so hours when I write always feel like very blessed hours to me. - Author: Stephen King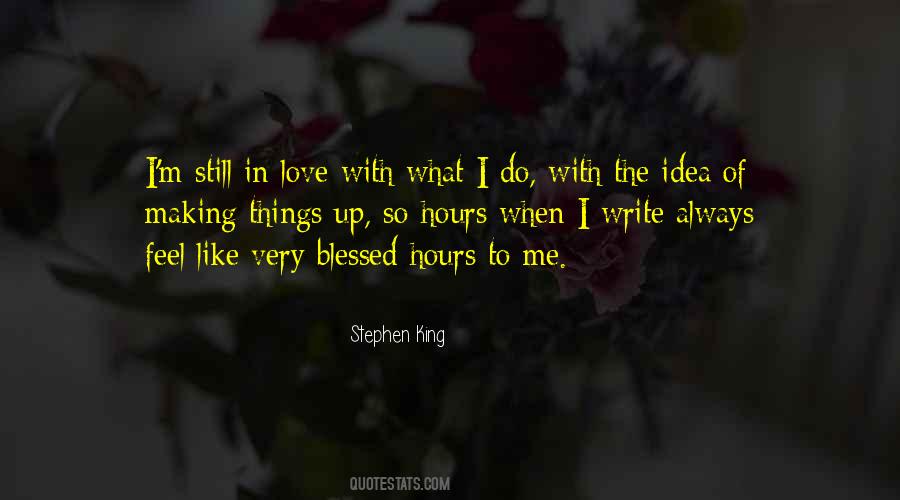 #9. Love is nothing but Joy with the accompanying idea of an external cause (Ethics, part III, proposition 13, scholium). - Author: Baruch Spinoza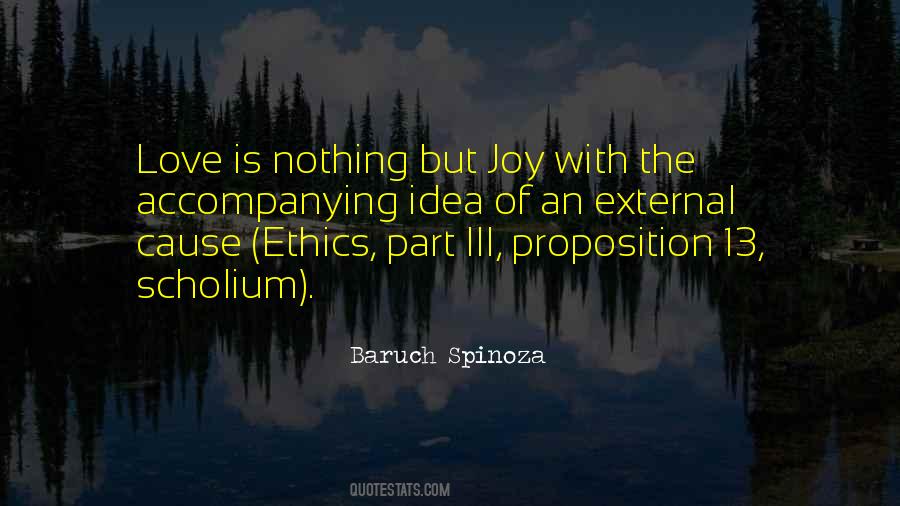 #10. The idea of discussing psychological and philosophical ideas in a visual medium was really exciting to me. I thought I was going to go into philosophy ... and suddenly I found this way to combine that with my love for visual mediums. - Author: Andrew Neel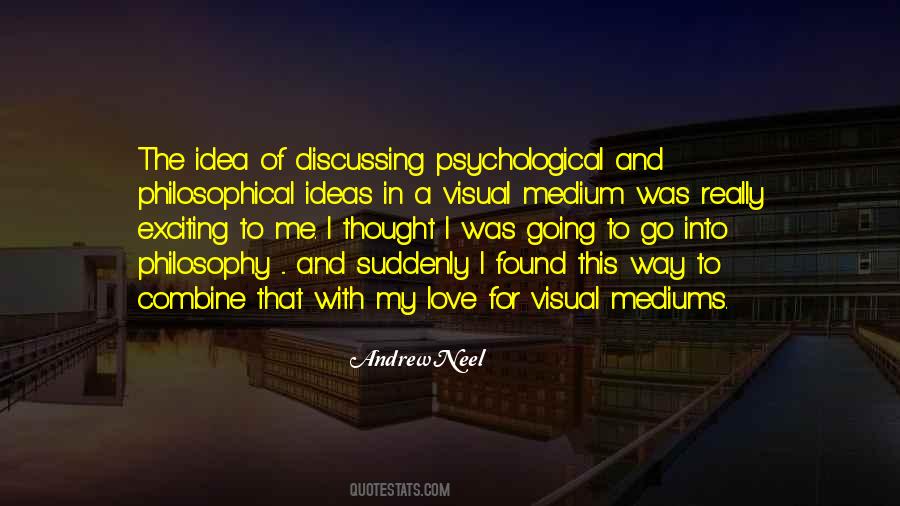 #11. We need to move beyond the idea of 'environment' and fall back in love with Mother Earth. - Author: Nhat Hanh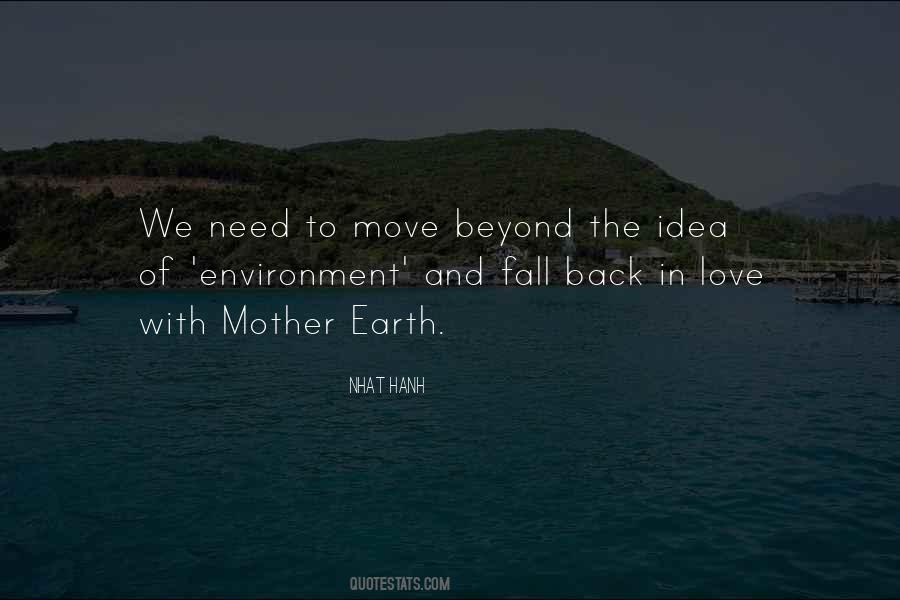 #12. I want to write a film. I need to think of the right idea and focus on that; I love writing. - Author: Jack Whitehall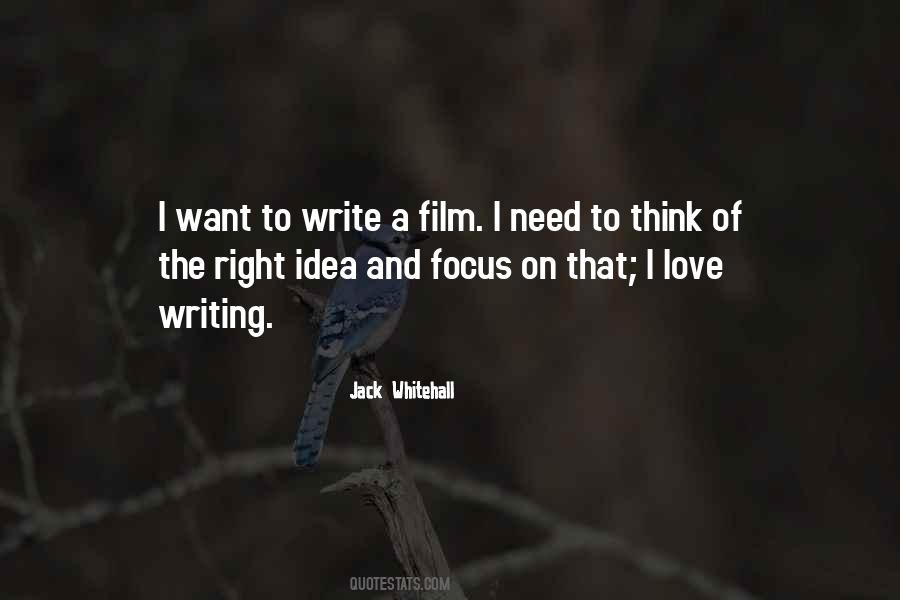 #13. I think people love having a person behind a brand who lives it. The idea of storytelling is really important. - Author: Aerin Lauder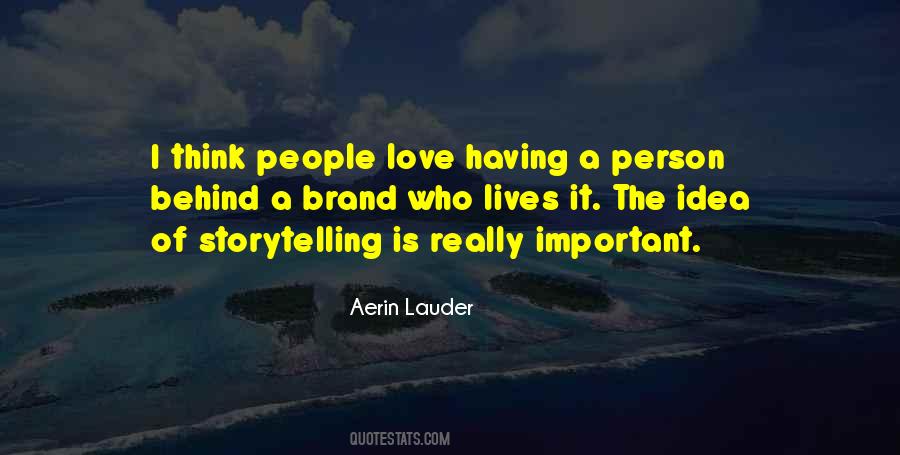 #14. Life and love are life and love, a bunch of violets is a bunch of violets, and to drag in the idea of a point is to ruin everything. Live and let live, love and let love, flower and fade, and follow the natural curve, which flows on, pointless. - Author: D.H. Lawrence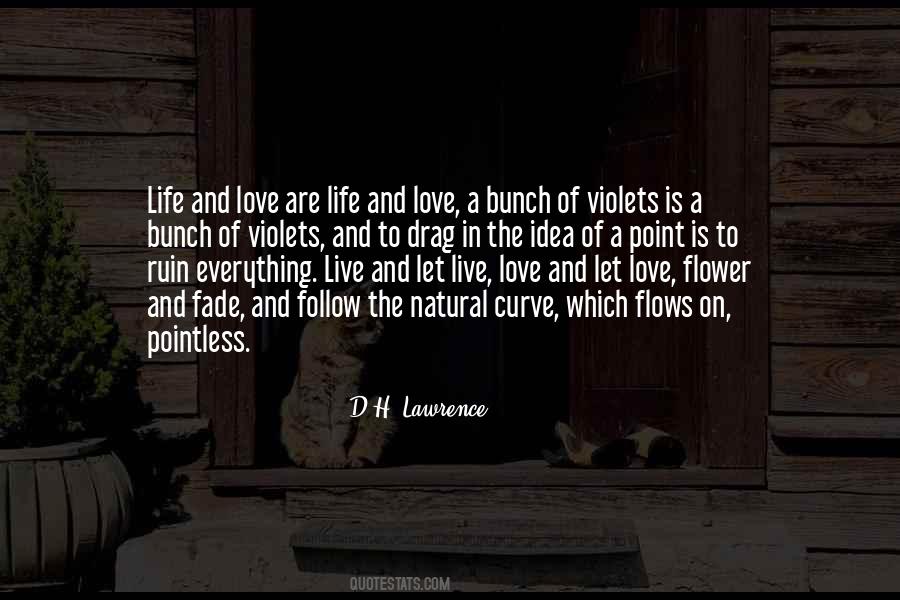 #15. Goodnight, child. This is a damn shame. Let's drop it out of the picture." He gave her two lines of hospital patter to go to sleep on. "So many people are going to love you and it might be nice to meet your first love all intact, emotionally too. That's an old-fashioned idea, isn't it? - Author: F Scott Fitzgerald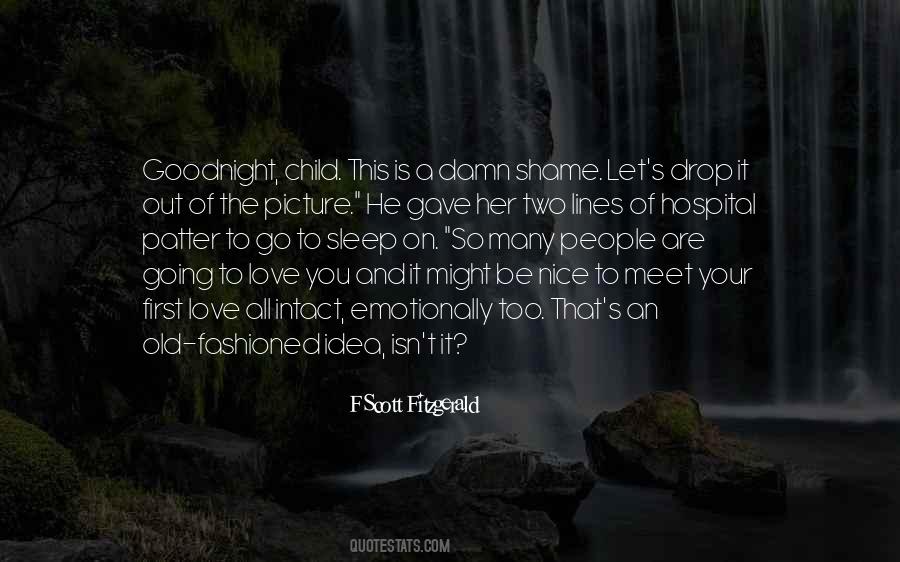 #16. Along with the idea of romantic love, she was introduced to another
physical beauty. Probably the most destructive ideas in the history of human thought. Both originated in envy, thrived in insecurity, and ended in disillusion. - Author: Toni Morrison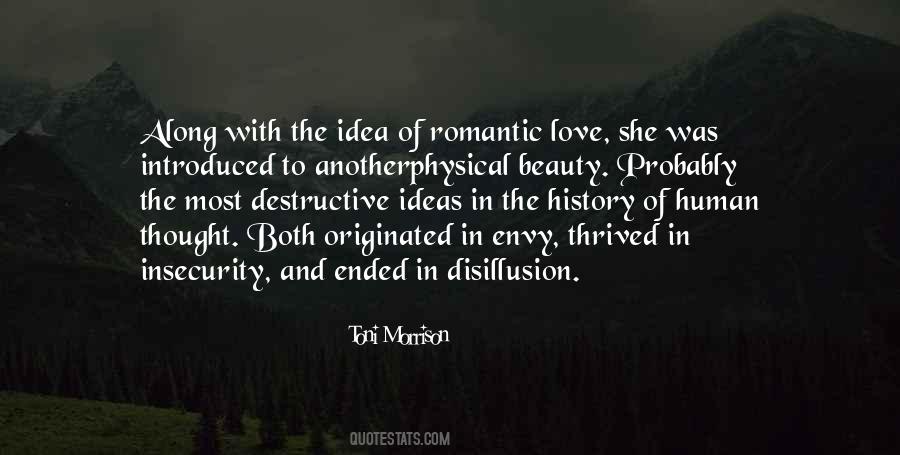 #17. Karl Marx recognized that workers without a choice are workers in chains. But his idea of breaking chains was for us to depose the pharaohs and then build the pyramids for ourselves, as if building pyramids is something we just can't stop doing, we love it so much. - Author: Daniel Quinn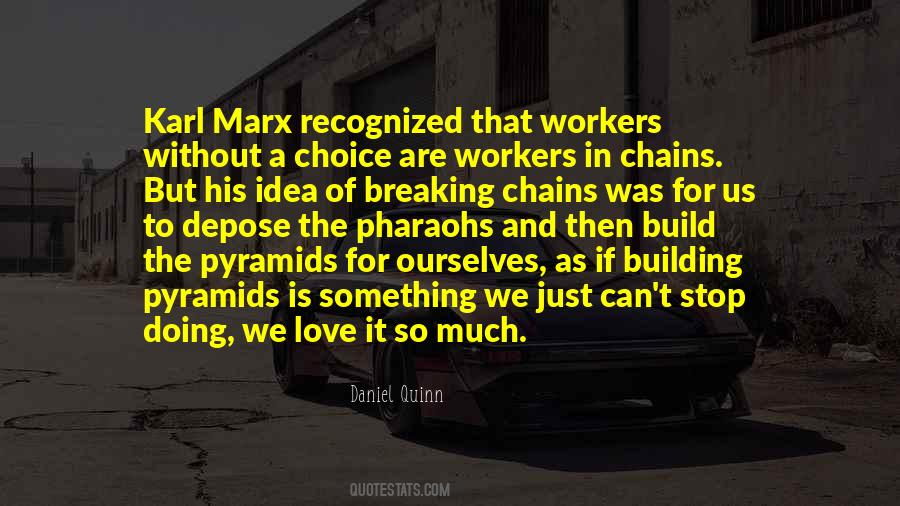 #18. I really love the idea of the poetically mad - the character that is imbued with the romantic madness. Like River from 'Firefly' or Drusilla from 'Buffy.' Someone dangerously unhinged, where you're really not sure they're going to be reliable minute-to-minute. - Author: Holly Black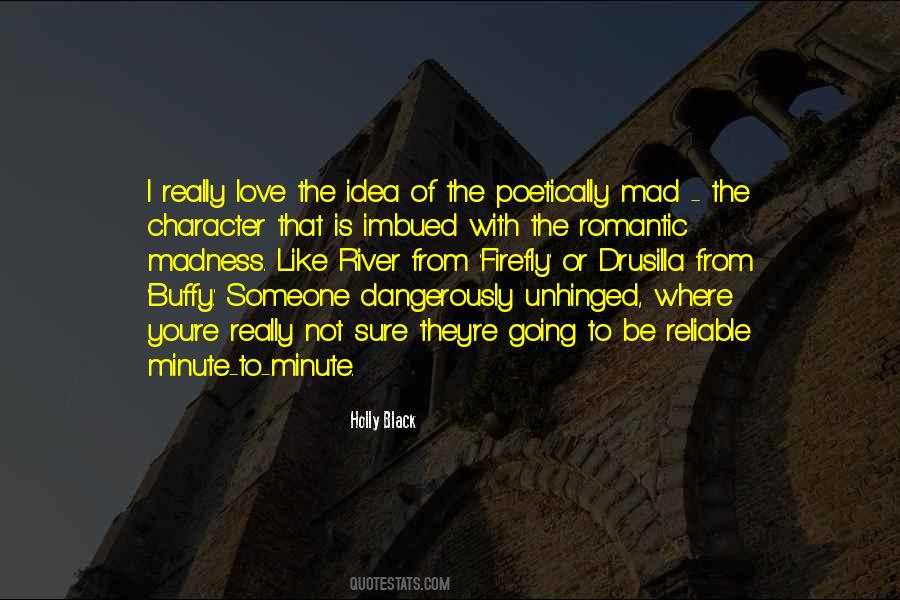 #19. I love the idea of getting up early on Sundays and walking to the market to pick up fresh fruits and vegetables. It's a good way to start my day, and it makes me feel like I've accomplished something before other people are even awake. - Author: Mandy Moore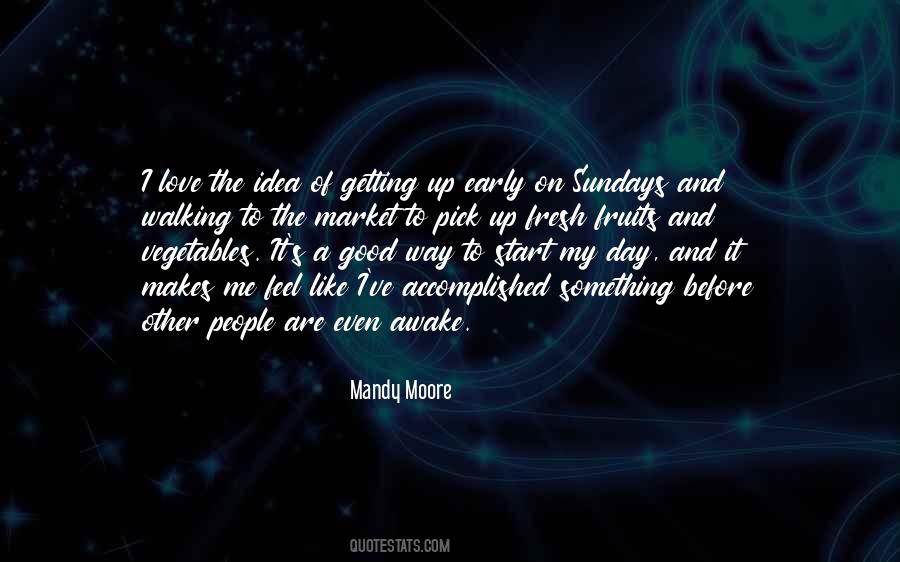 #20. We think of stories a lot of the time as being horizontal texts, beginning to end. But I love the idea of having little vertical spikes in the story, too. - Author: Lauren Groff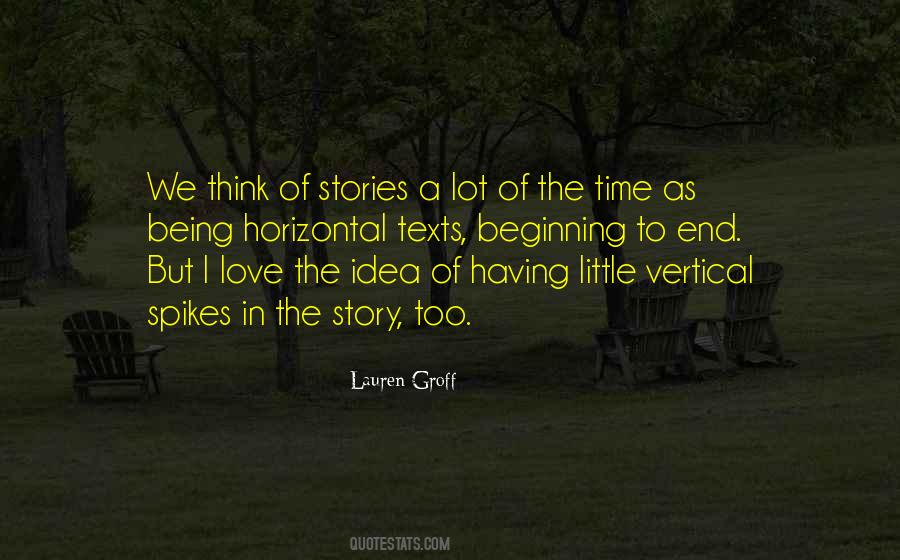 #21. I'm a photographer, period. I love photography, the immediacy of it. I like the craft, the idea of saying 'I'm a photographer.' - Author: David LaChapelle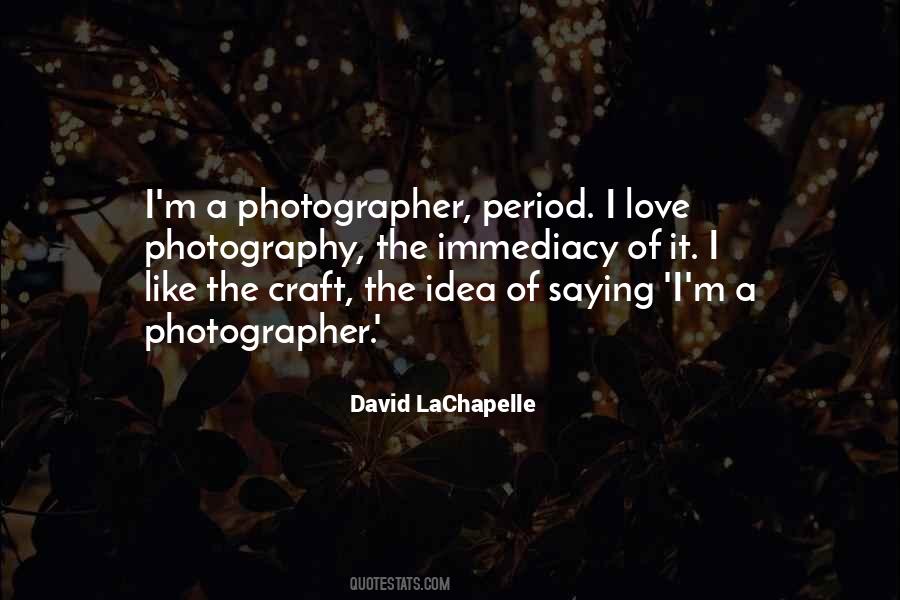 #22. I love the idea of 3D, but it's completely superfluous to most stories. - Author: Cary Fukunaga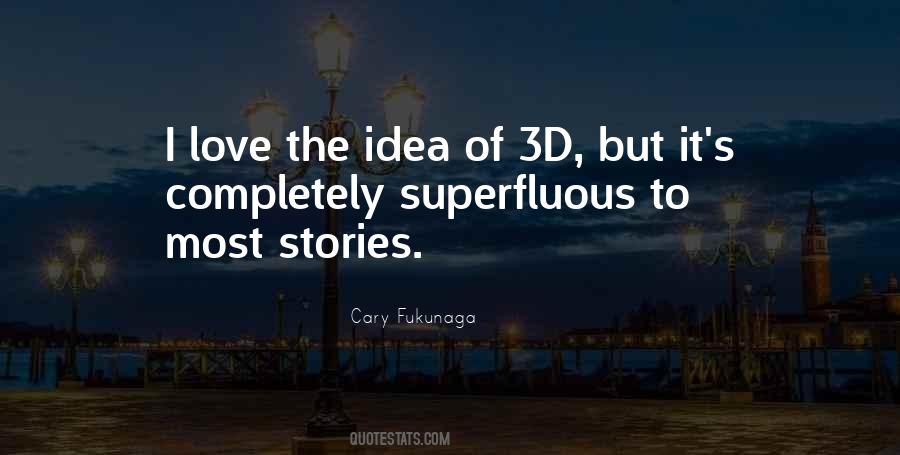 #23. I love this idea of the body as a trauma archive! - Author: Heidi Julavits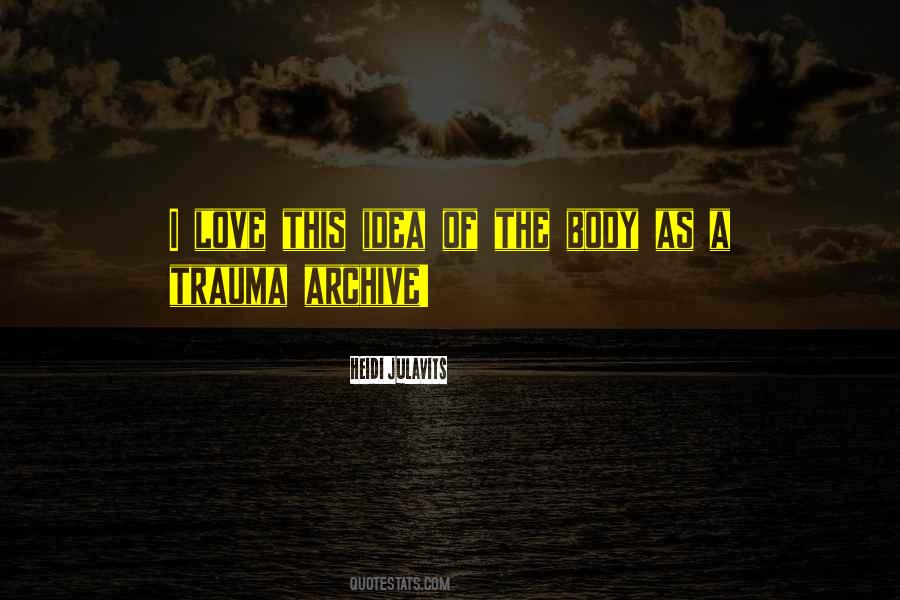 #24. Fall in love with me, not the idea of rescuing me. - Author: Lisa Mantchev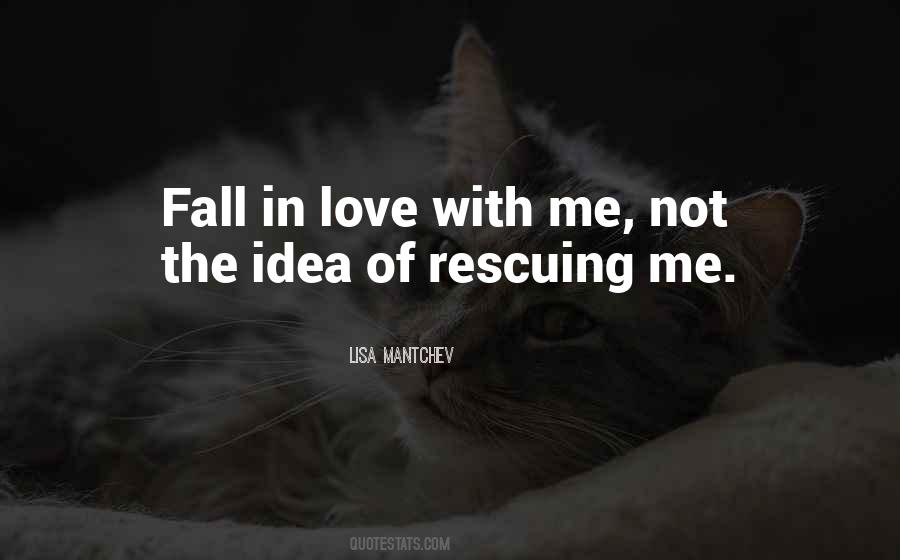 #25. I love the idea of a woman's suit, but I wanted something that was a little easier to wear. - Author: Mia Moretti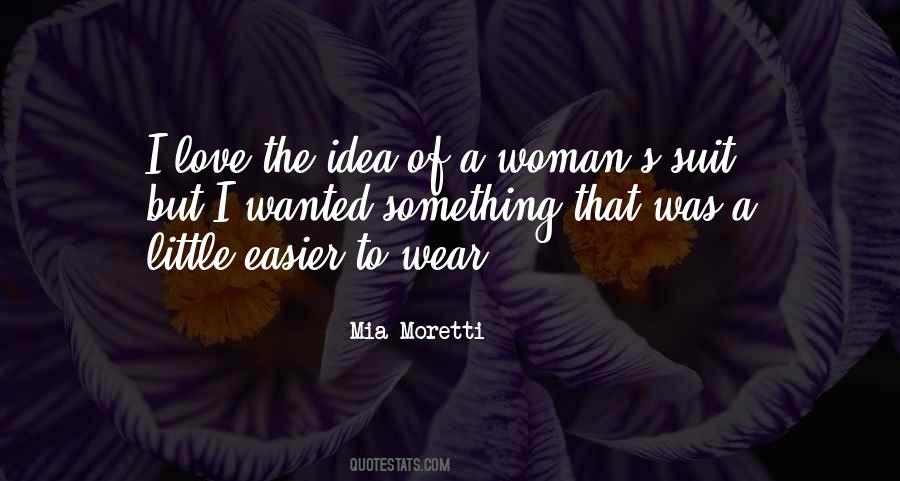 #26. What you loved was the idea of rescuing me. You didn't really love me then, and you don't really love me now. - Author: Robert Fisher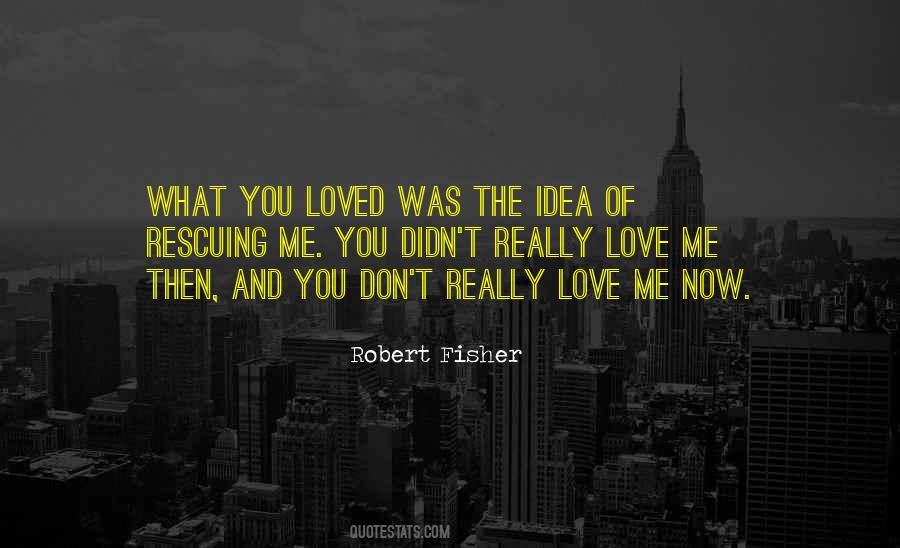 #27. One foundation of loving relationships is curiosity, keeping open to the idea that we have much to learn even about those we have been close to for decades. - Author: Sharon Salzberg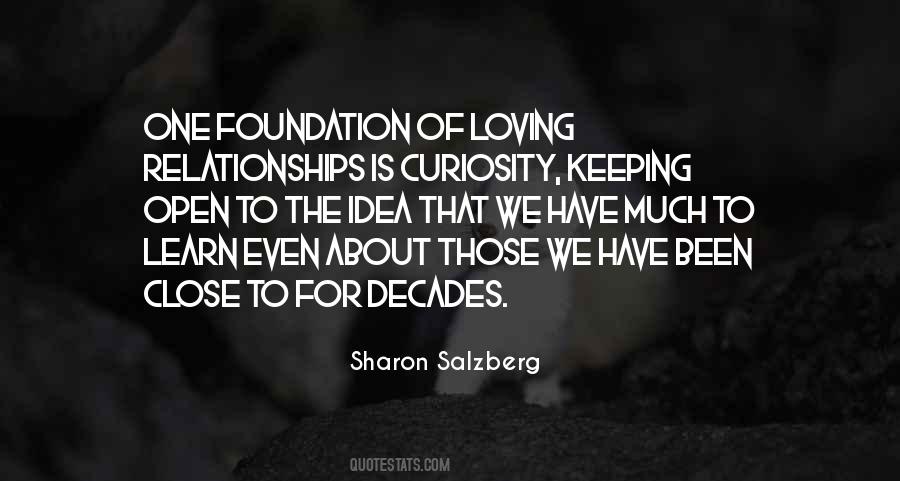 #28. I can see why people love the idea of a big white wedding - it is a day when they are the centre of attention and get to wear a beautiful dress. But that sounds awful to me because that is like getting ready to walk down the red carpet. - Author: Lucy Punch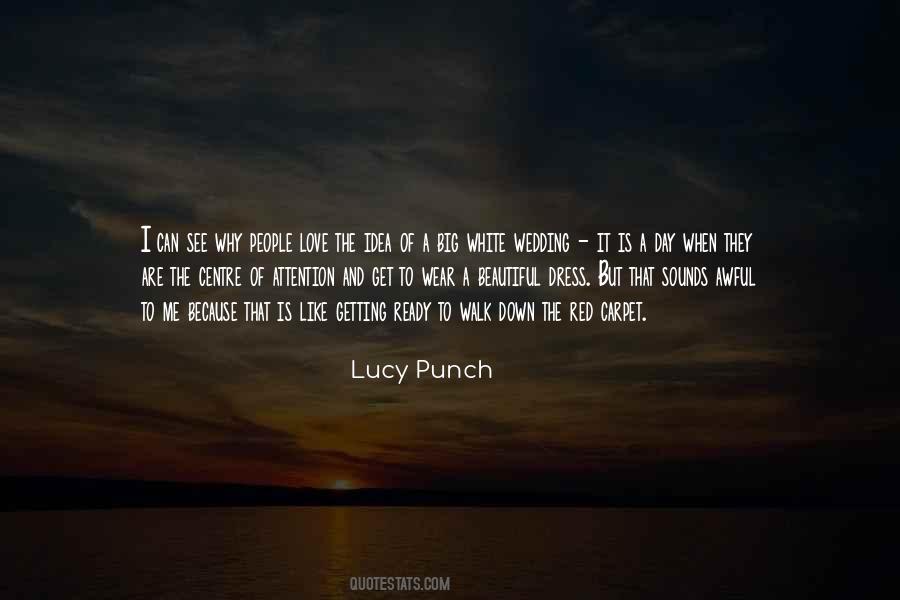 #29. I love the idea of marriage. I definitely want marriage and little Kellans running around. - Author: Kellan Lutz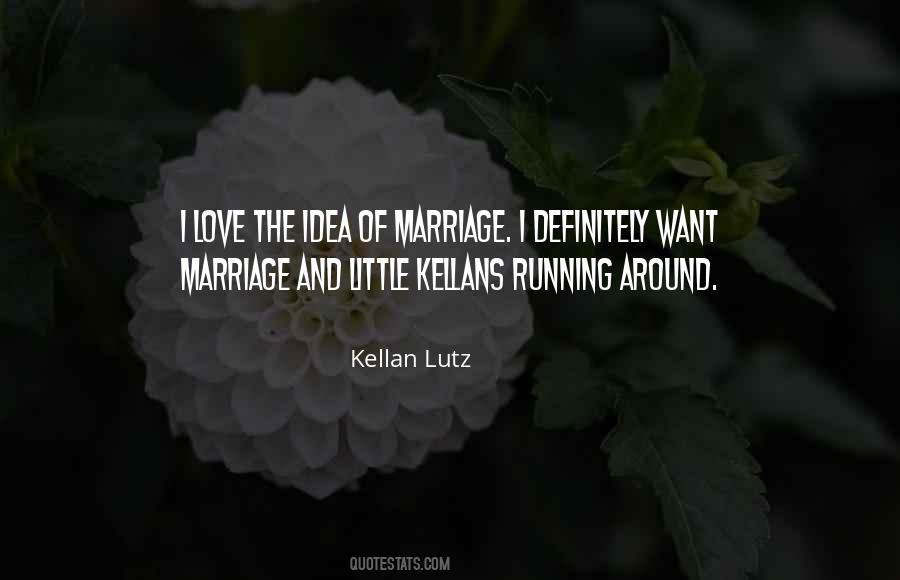 #30. I love the idea of a beautiful neighborhood that represents the very best of American values, but also as a fun backdrop to some darker, deliciously sneaky things going on in people's lives. - Author: Marc Cherry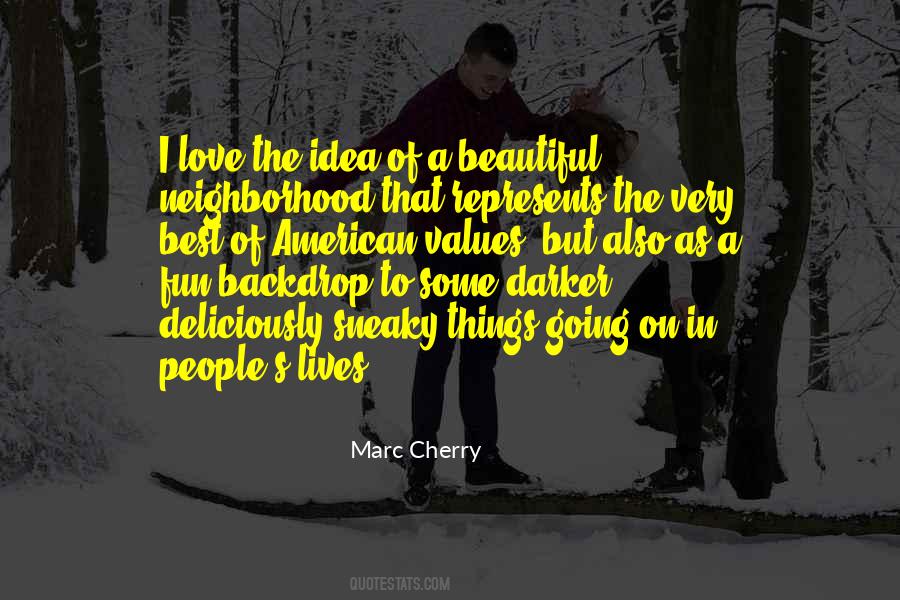 #31. Maybe it's a good idea," said Kathy.

"Why is that?"

"Well - you have a British sensibility."

"What does that mean?"

"I just mean people over there might like it." She gestured in the direction of England. - Author: Charlie Close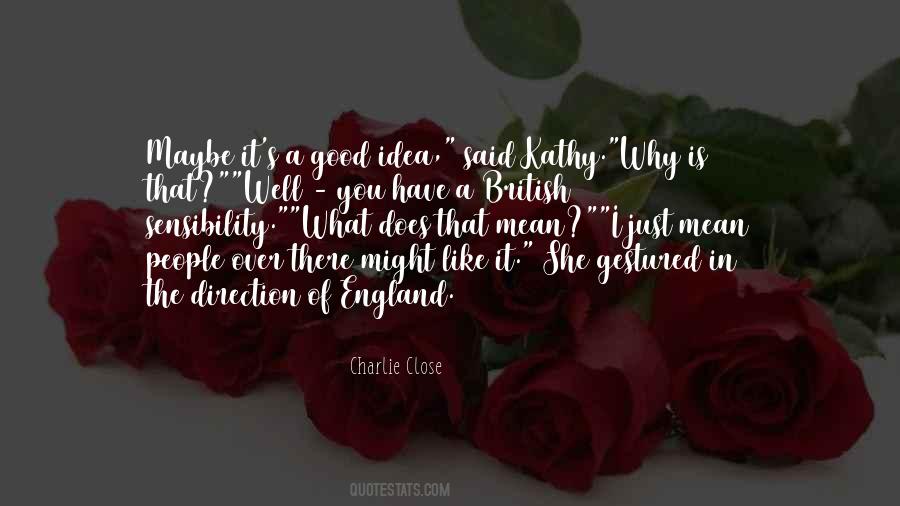 #32. I didn't even have a clear idea of why I wanted to go to Oxford - apart from the fact I had fallen in love with the architecture. It certainly wasn't out of some great sense of academic or intellectual achievement. In many ways, my education only began after I'd left university. - Author: Alan Bennett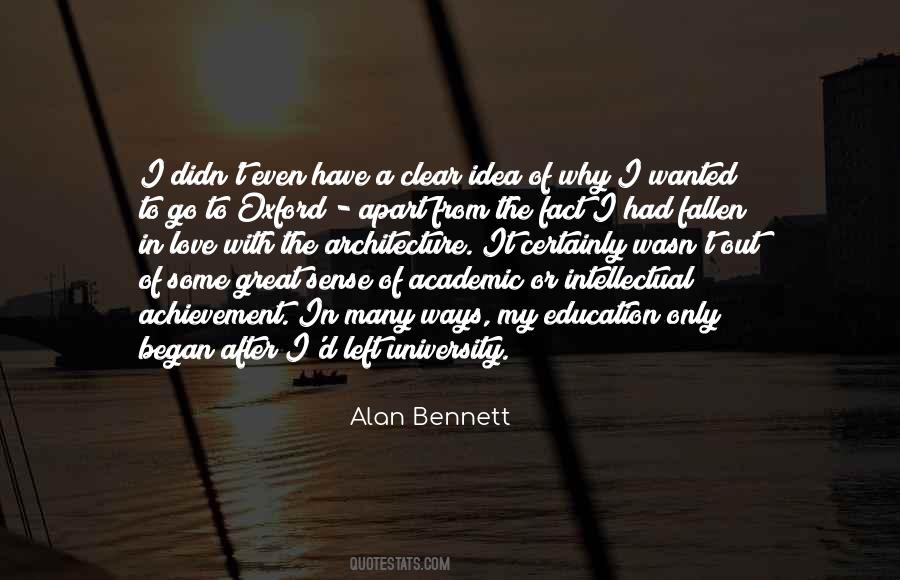 #33. I am in love with the idea of doing a movie in 3D. I think 3D would be great in a kind of realistic normal story without throwing objects to the camera, but using the 3D on the emotions in an intimate story. - Author: Bernardo Bertolucci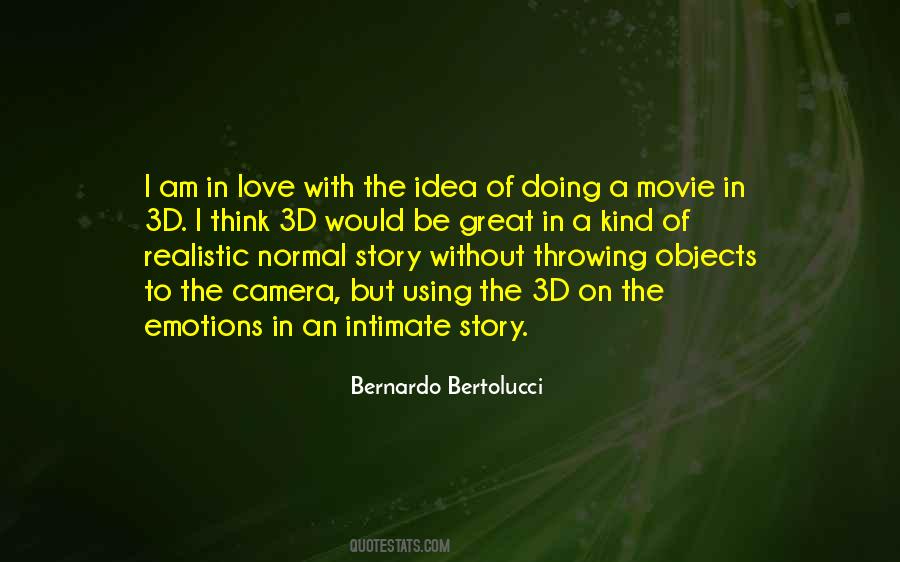 #34. It may not happen in the first instant, but within ten minutes of meeting a man, a woman has a clear idea of who he is, or at least who he might be for her, and her heart of hearts has already told her whether or not she's going to fall in love with him. - Author: Orhan Pamuk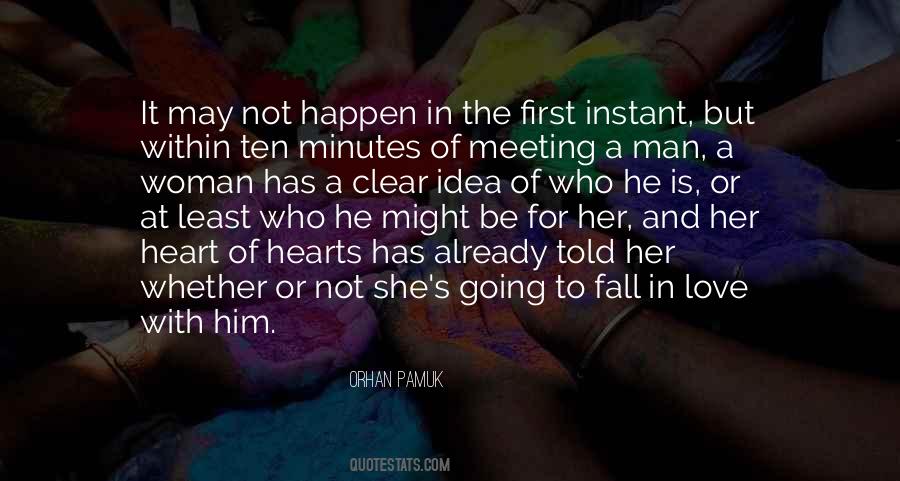 #35. And 'Sex & Drugs & Rock & Roll' was a very transitional film for me in that I was one of the producers and you know, came up with the idea with the writer and the producer, as well. But, it was a very collaborative event. You know, I really love working in that way. - Author: Andy Serkis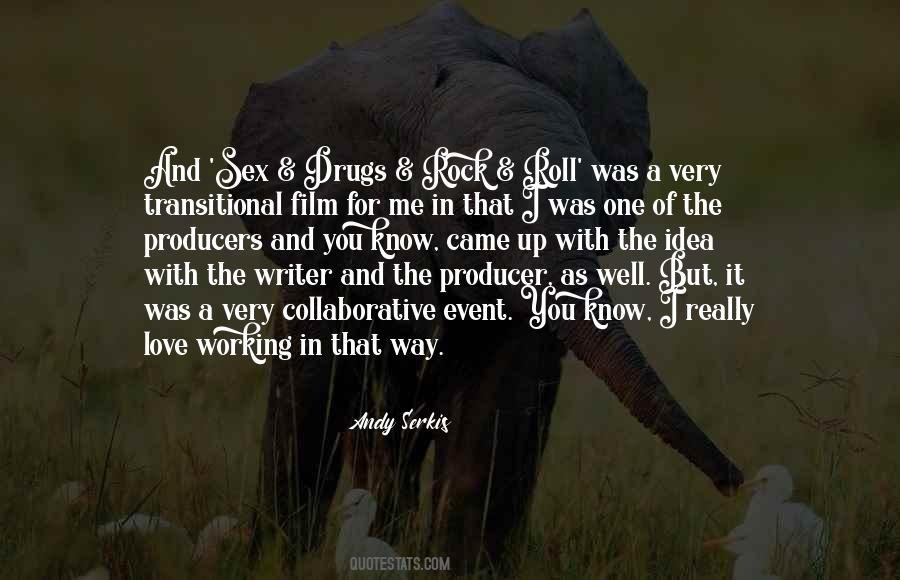 #36. I love playing instruments that I don't know how to play or am not familiar with. I like the idea of danger and innocence that comes from it. As an artist, I feel I should be able to do something with anything I get my hands on. The music becomes minimalist because of my limited knowledge. - Author: Gustavo Santaolalla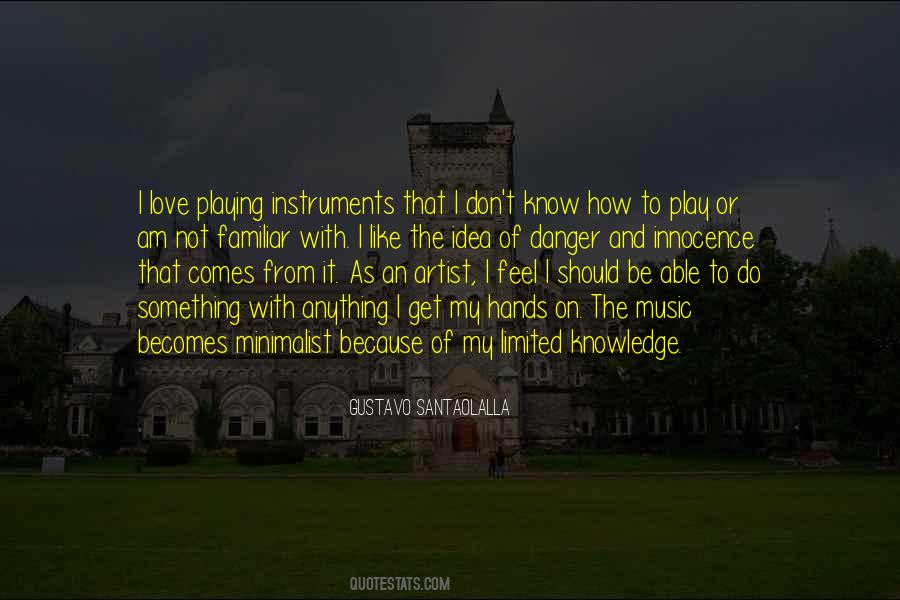 #37. He had no idea that he never went out of the house without her blessing going with him too, hovering, like a little echo of finished love, round that once dear head - Author: Elizabeth Von Arnim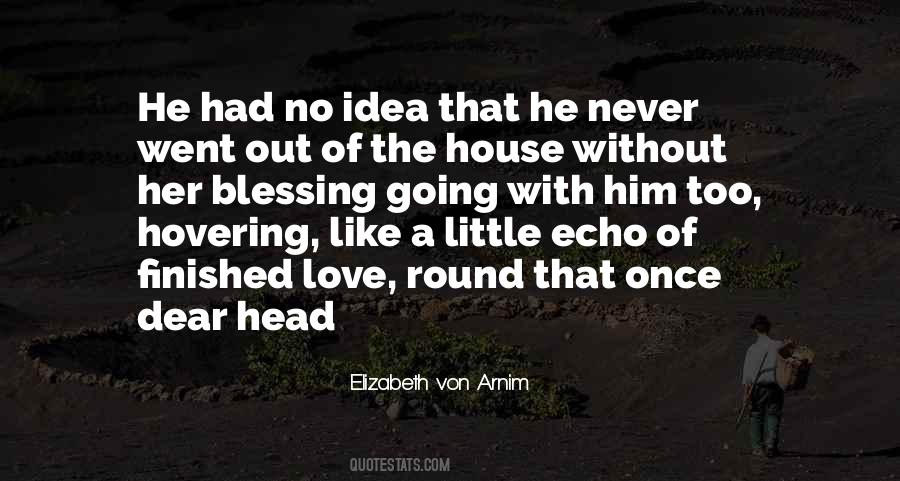 #38. I was in love with the idea of love, so I created elaborate fictions for my relationships - fictions that allowed me to believe that what any given paramour and I shared looked a lot like love. - Author: Roxane Gay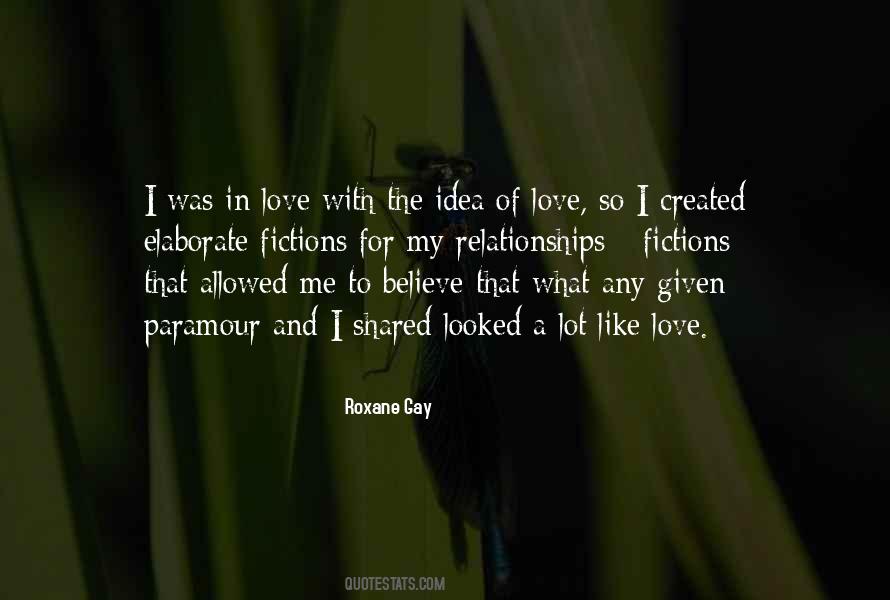 #39. There was all this enthusiasm about amateurism and the idea that people could now just make videos in their bedroom, or blog news stories and share it online, and isn't this great? Now we can do it just for the love of it and not try to be professionals, corrupted by careerism. - Author: Astra Taylor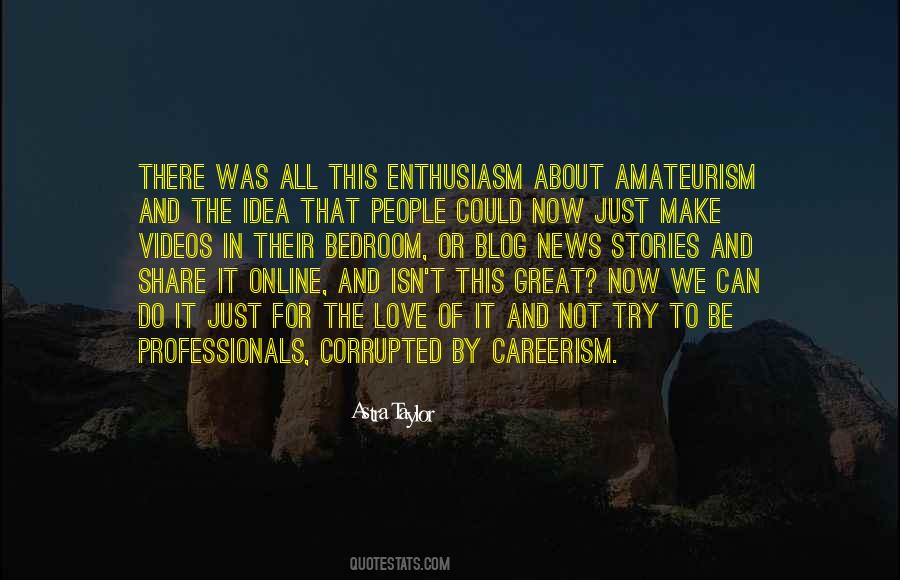 #40. Marriages had different meanings back then than they do now, they were used to cement agreements between families, business deals and things like that. The idea of marriages being arranged for love is some sort of modern idea, really. - Author: Jared Harris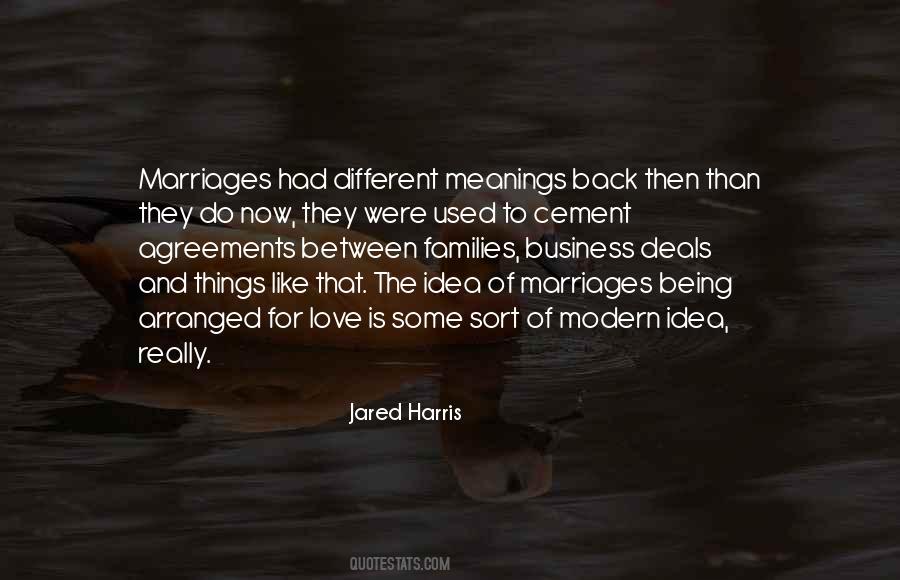 #41. Anytime there is a Bigfoot show, where they supposedly have recordings of him, I am watching. I love the idea of Bigfoot. I want him to be out there somewhere. - Author: Allen Covert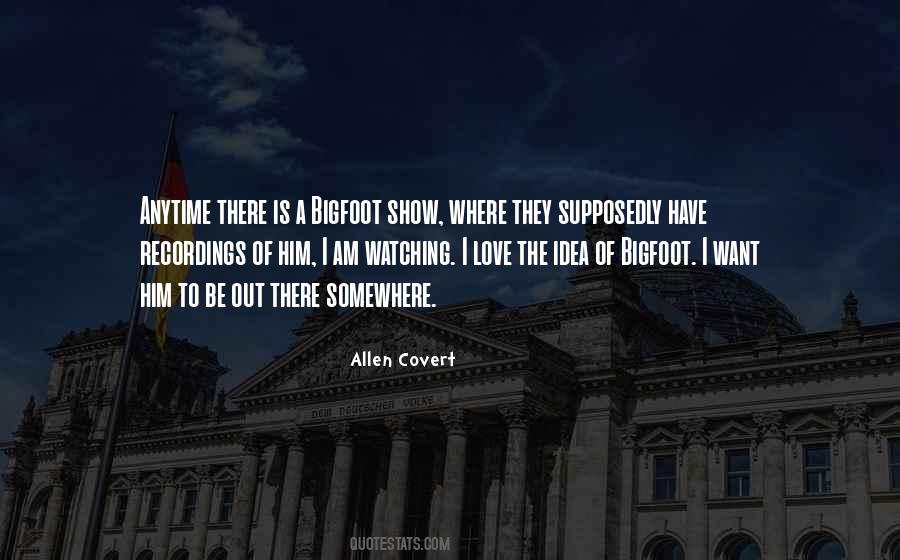 #42. It seems that for some people the idea of compassion entails a complete disregard for or even a sacrifice of their own interests. This is not the case. In fact, you first of all have to have a wish to be happy yourself - if you don't love yourself like that, how can you love others? - Author: Dalai Lama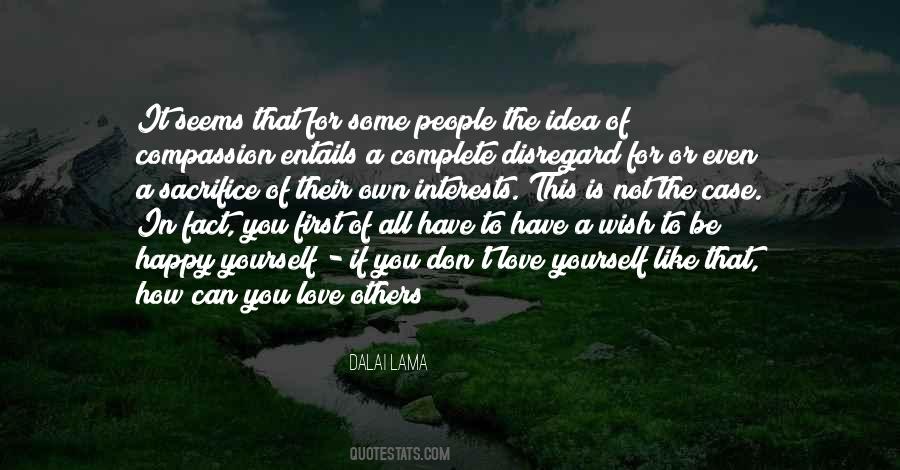 #43. When you die, you just die. No ghost, no reincarnation, no heaven. People want to believe that their souls live on or whatever, but that's only because they can't handle the idea of the world going on without them. - Author: Leila Sales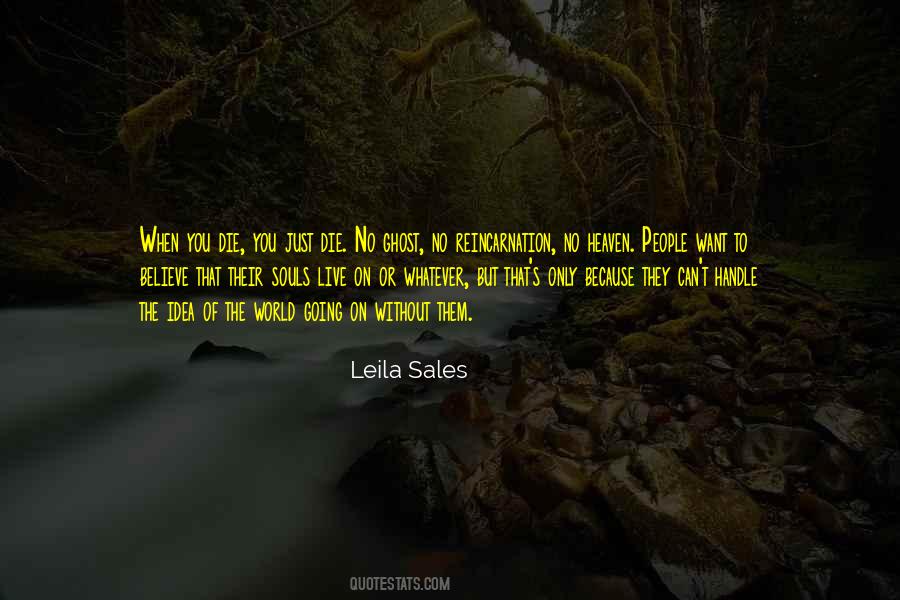 #44. I'll live to be one year younger, because I can't stand the idea of a world without you in it, and die buried beneath an avalanche of my own books. - Author: Lance Olsen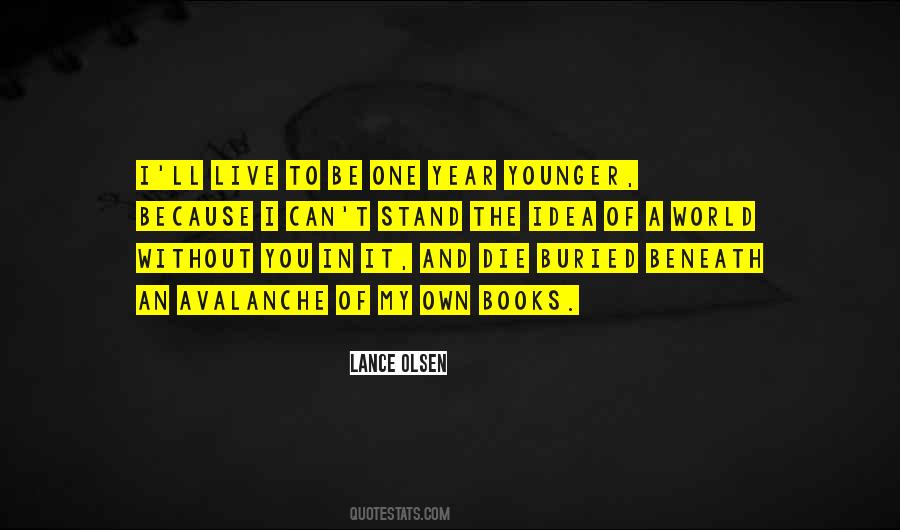 #45. God is so big. It's a gigantic concept in God. The idea that God might love us and be interested in us is kind of huge and gigantic, but we turn it, because we're small-minded, into this tiny, petty, often greedy version of God, that is religion. - Author: Bono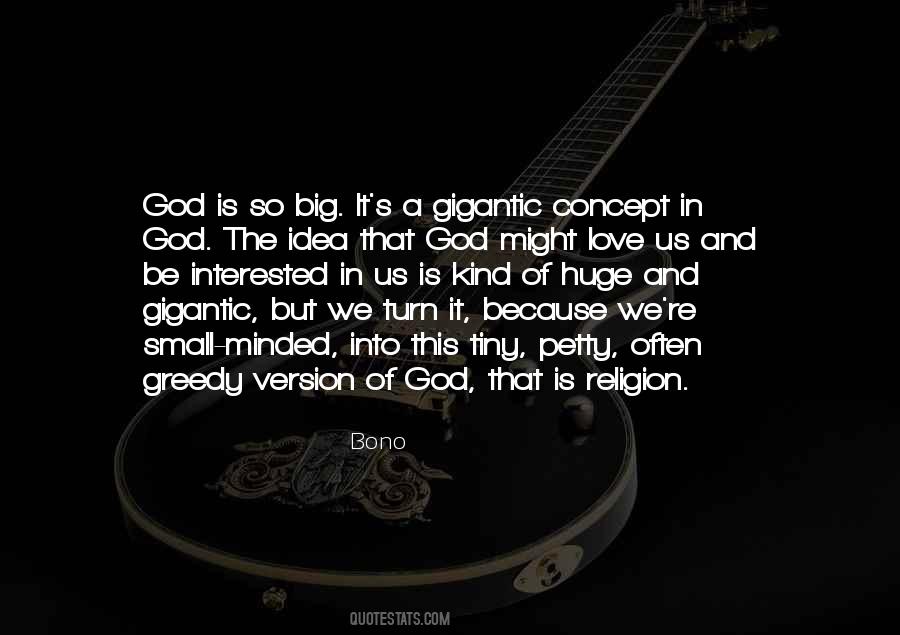 #46. Jack, please," she whispered, even though she had no idea what it is she was begging for.

"You want sex, I'll give you sex." His low, deep voice embodied control, and did the strangest things to her body. "But before I put my cock inside you, I want to touch and taste every inch of you. - Author: Cathryn Fox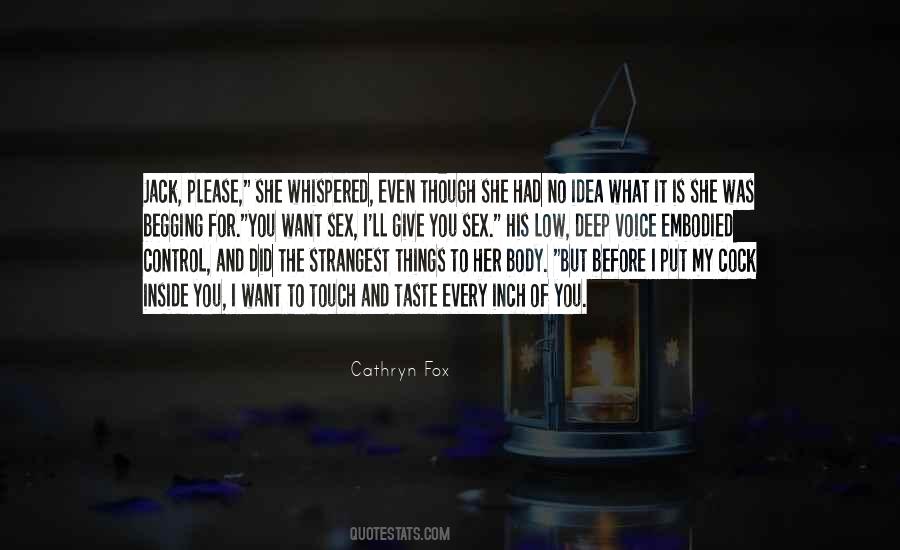 #47. I love the idea of living a life that is completely humble and quiet. - Author: Andie MacDowell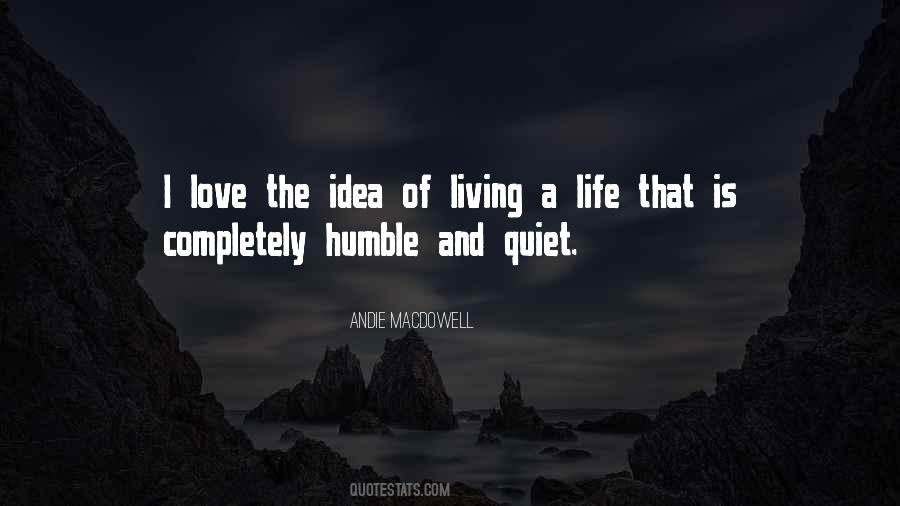 #48. I think that idea of being far away from the people that you love is something that everyone can relate to. - Author: Duncan Jones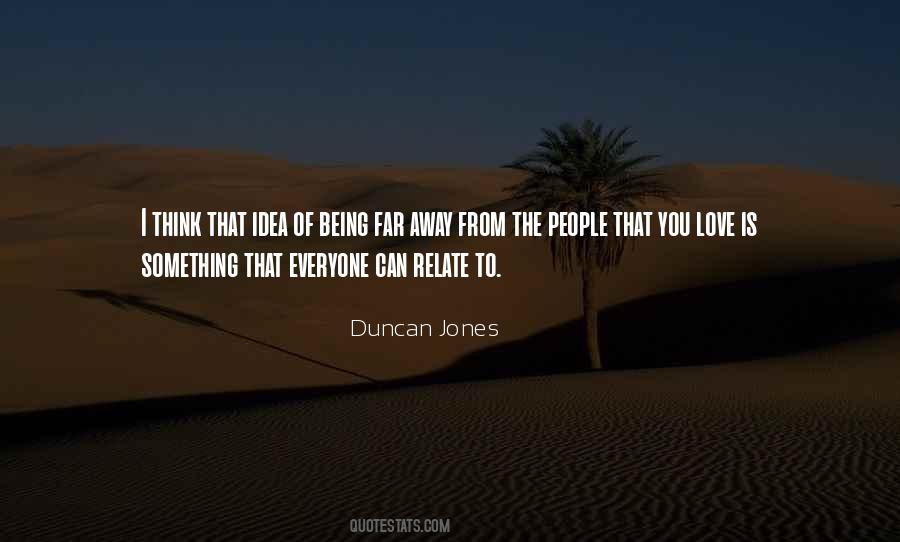 #49. You know, if you love something, you should love it regardless of whether it costs five dollars or 500 or 5,000 dollars. Unfortunately, that's not the way our culture works, and we do collectively buy into this idea that things that are more expensive probably have more value. - Author: Moby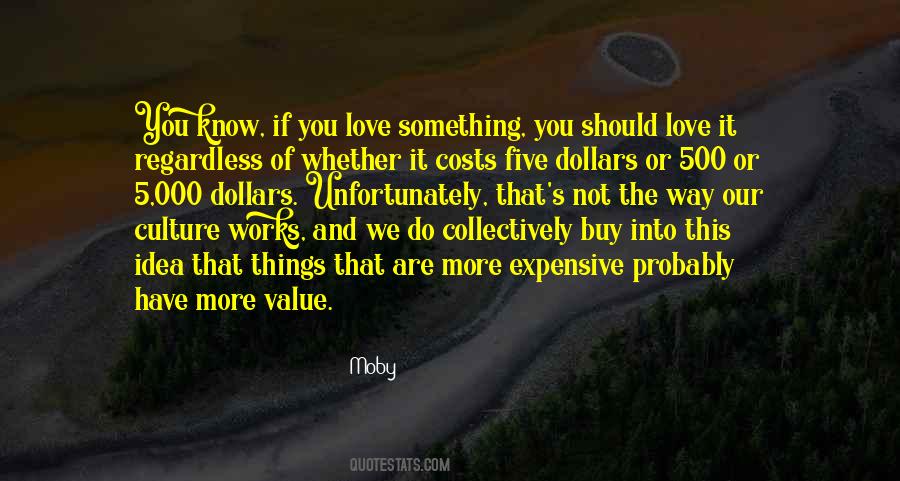 #50. It is far easier for us to accept the death of someone we love than to cope with the idea of losing him and discovering that he is able to carry on with his life, in all its intricacies, despite our absence. - Author: Ahlam Mosteghanemi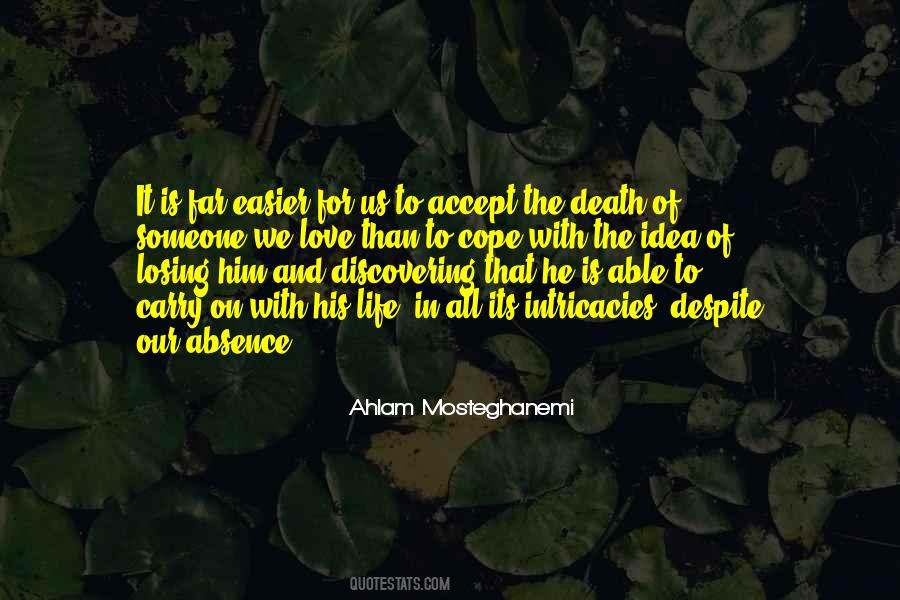 #51. Because as any writer will tell you, an IDEA for a book is like falling in love, it's all wild emotion and headlong rush, but the ACTUAL ACT of writing a book is like building a relationship: it is joyous, slow, fragile, frustrating, exhilarating, painstaking, exhausting, worth it. - Author: Ben H. Winters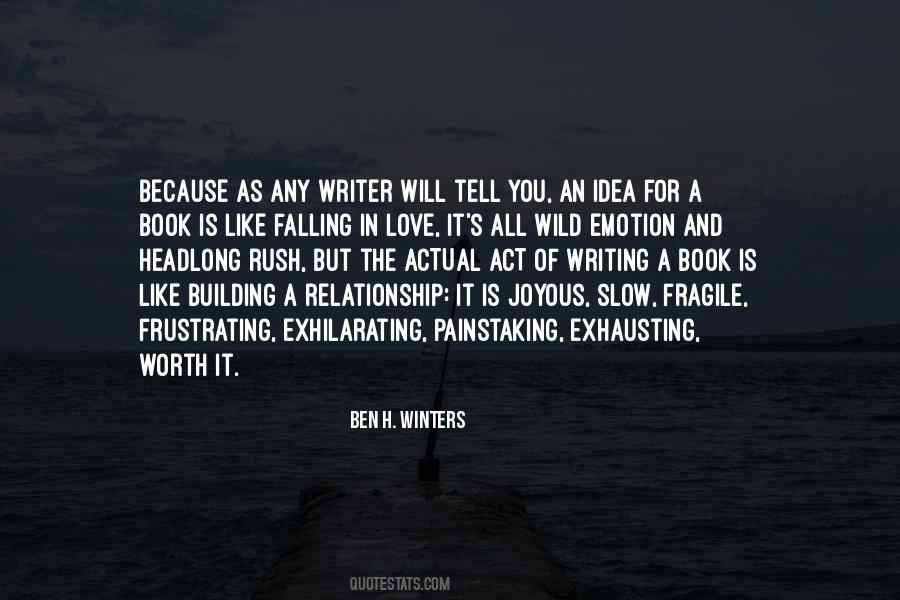 #52. I thought I was in love (that's the pathetic part - my idea of being in love). - Author: Mary Ann Shaffer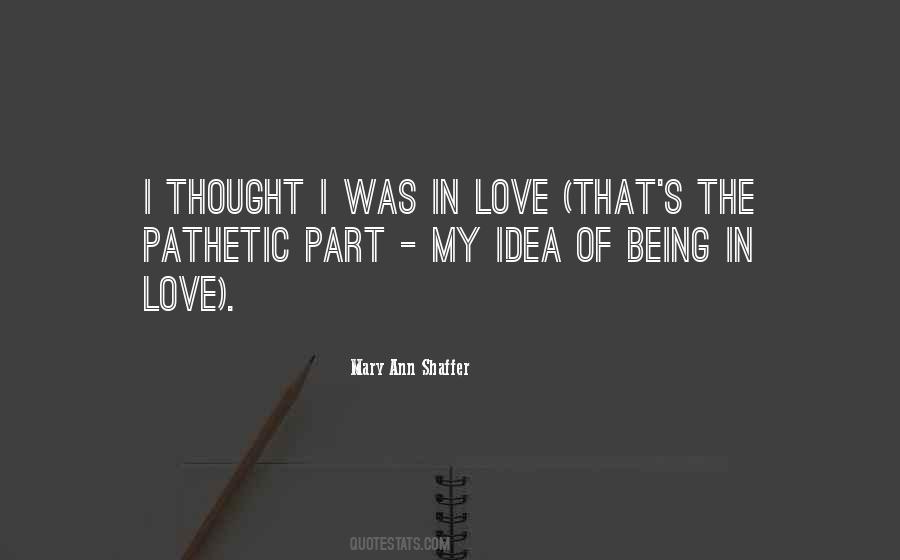 #53. They met at one of the Bouchercon mystery conferences. Love among the midlist. "It's raining cats and dogs!" Ted announced, which gives you an idea of the sort of thing they write. - Author: Josh Lanyon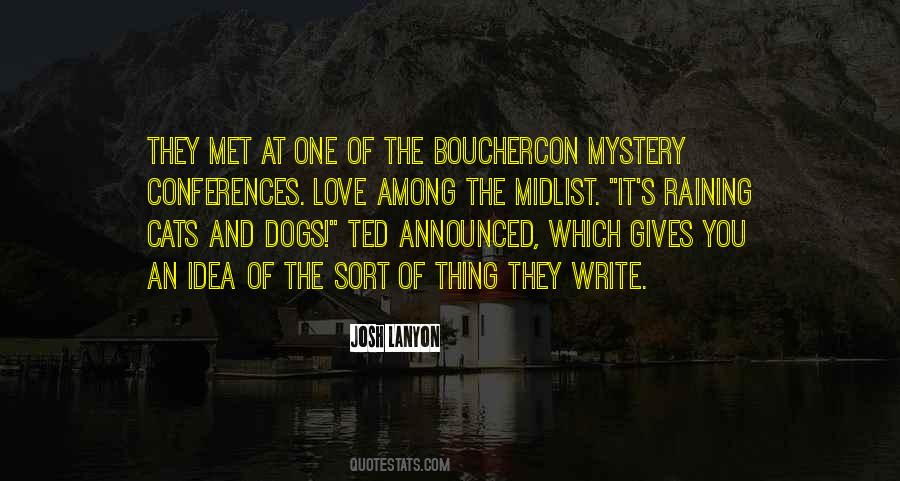 #54. I'm not married," he said softly, "because I can't stomach the idea of marrying a woman inferior to me in mind and spirit. It would mean the death of my soul. - Author: Sarah J. Maas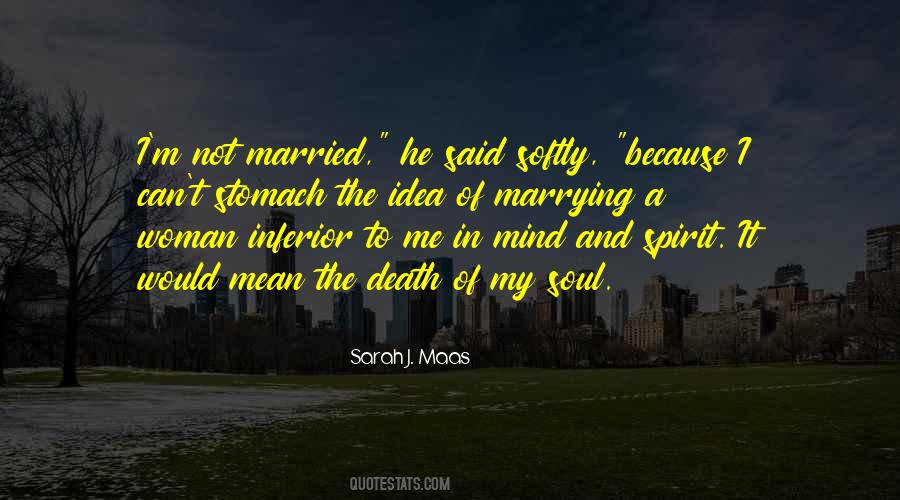 #55. I did toy with the idea of doing a cook-book ... I think a lot of people who hate literature but love fried eggs would buy it if the price was right. - Author: Groucho Marx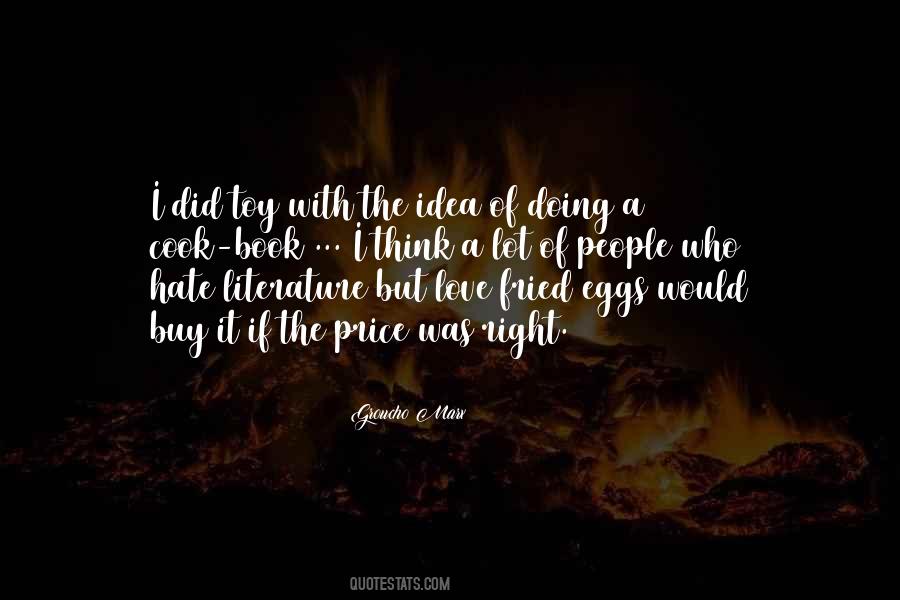 #56. Sympathetic joy is a practice. It takes time and effort to free ourselves of the scarcity story that most of us have learned along the way, the idea that happiness is a competition, and that someone else is grabbing all the joy. - Author: Sharon Salzberg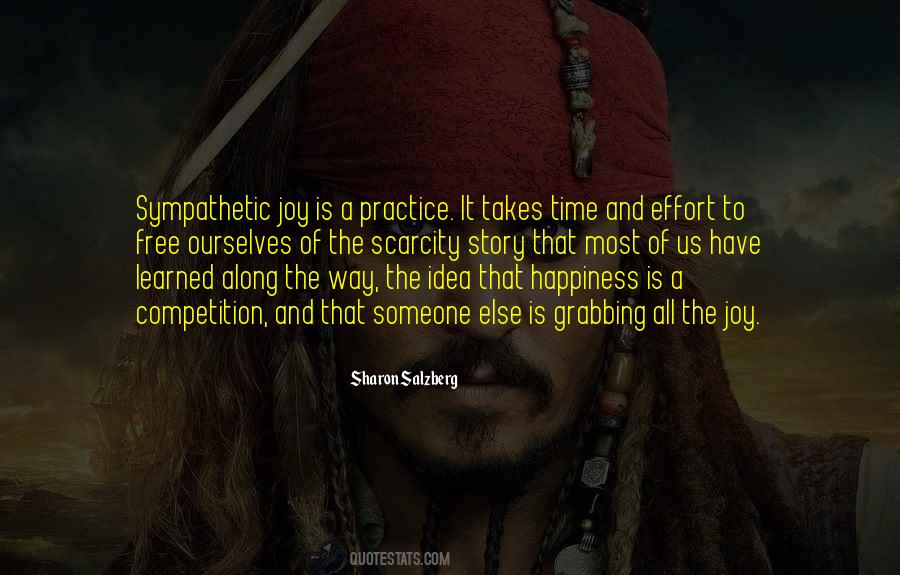 #57. I love the idea of doing comedy, whether it's action comedy or just straight comedy. It's such a big, new world for me that I'm starting to realize that any character that I relate to, in any way, shape or form, or that I have any appreciation for, given enough preparation, I can find that person. - Author: Zoe Bell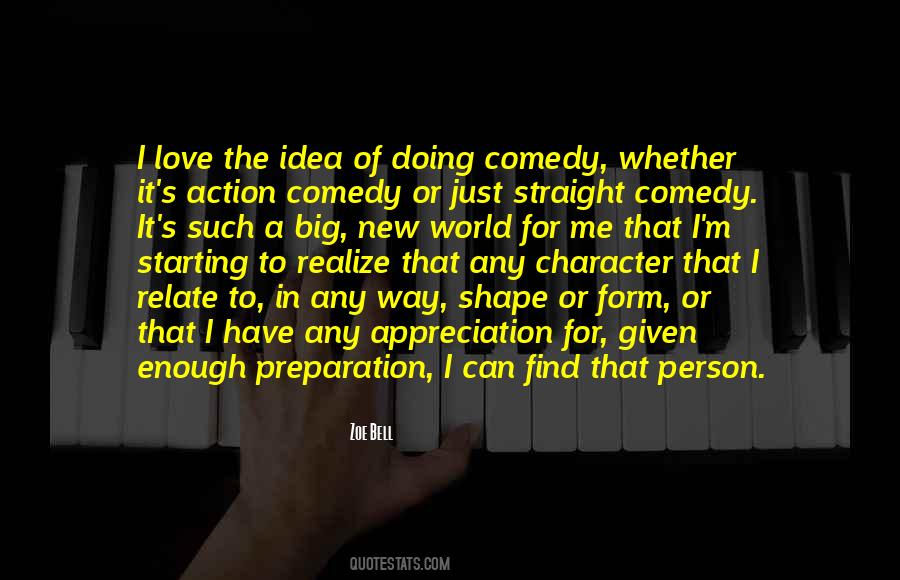 #58. I love this world, even as I hear the great wind of leaving it rising, for there is a grainy taste I prefer to every idea of heaven: human friendship. - Author: Rumi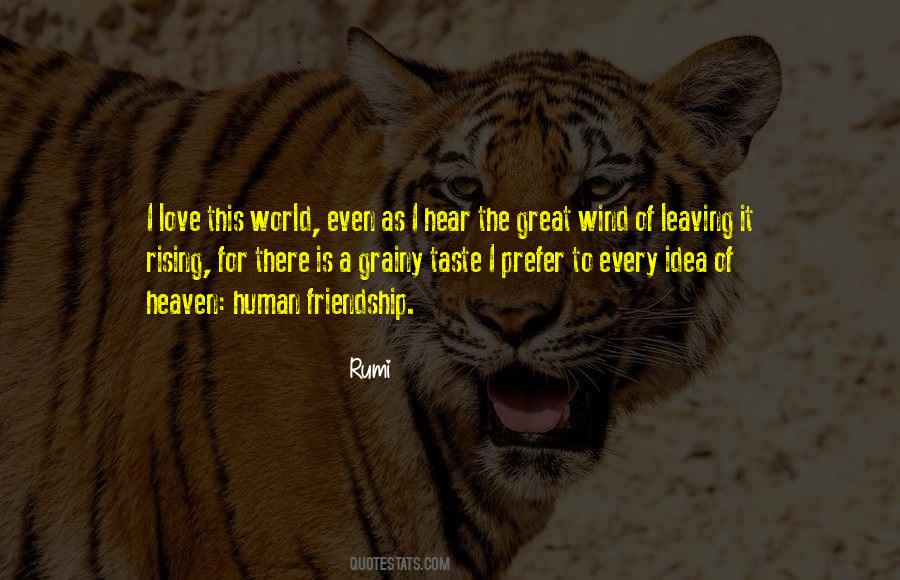 #59. We never love anyone. What we love is the idea we have of someone. It's our own concept - our own selves - that we love. - Author: Fernando Pessoa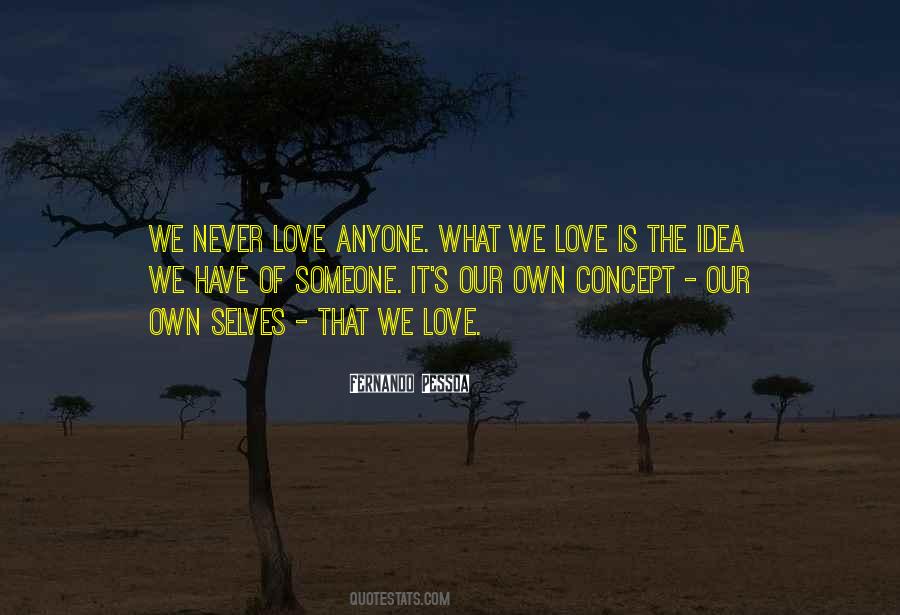 #60. The idea that you can make love and not war really is pretty neat. That thing in Korea, the thing in Israel - that's all over the world. There must be a new way of thinking. - Author: F. Murray Abraham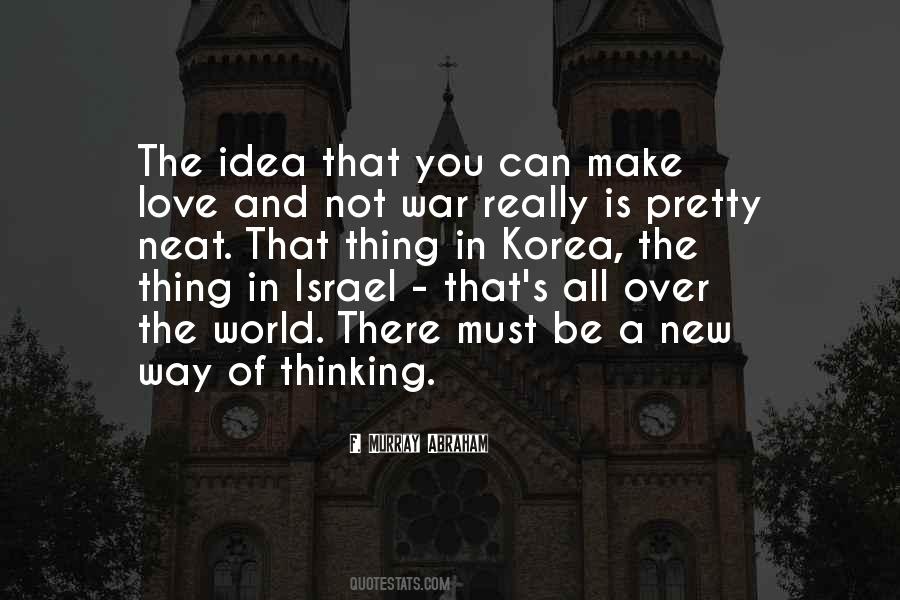 #61. There are too many things we do not wish to know about ourselves. People are not, for example, terribly anxious to be equal (equal, after all, to what and to whom?) but they love the idea of being superior. - Author: James Baldwin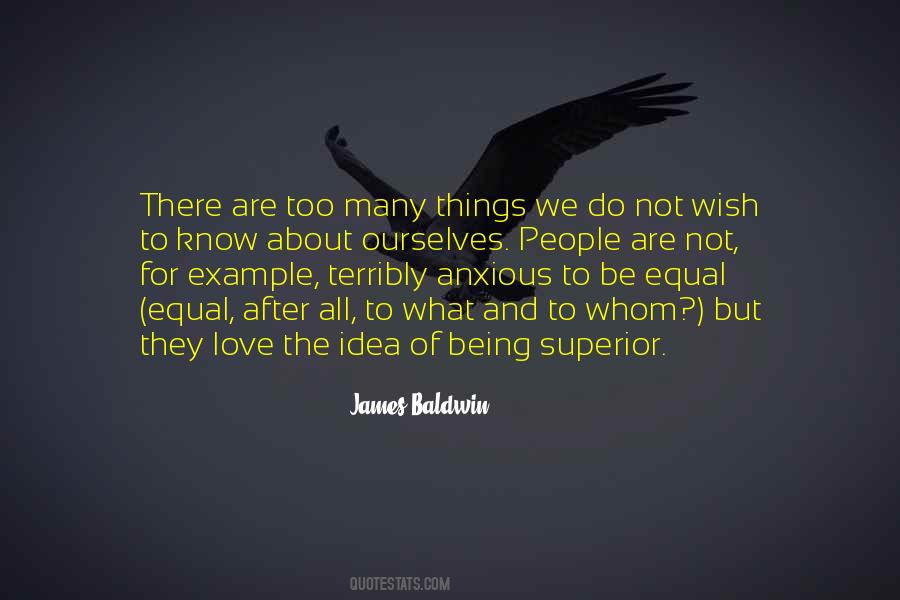 #62. Jace is in love with the idea of dying, said Isabelle. - Author: Cassandra Clare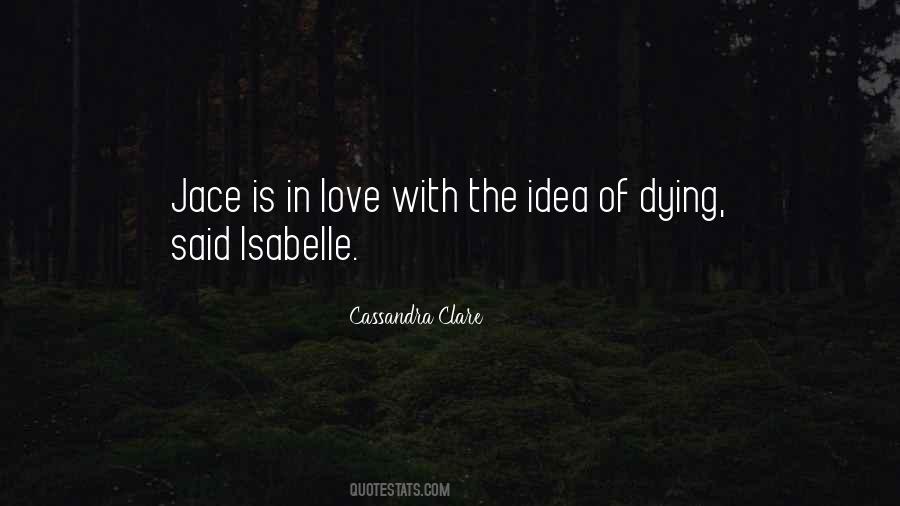 #63. We support each other in the Coppola family. We love the idea of everyone getting his place in the sun. - Author: Francis Ford Coppola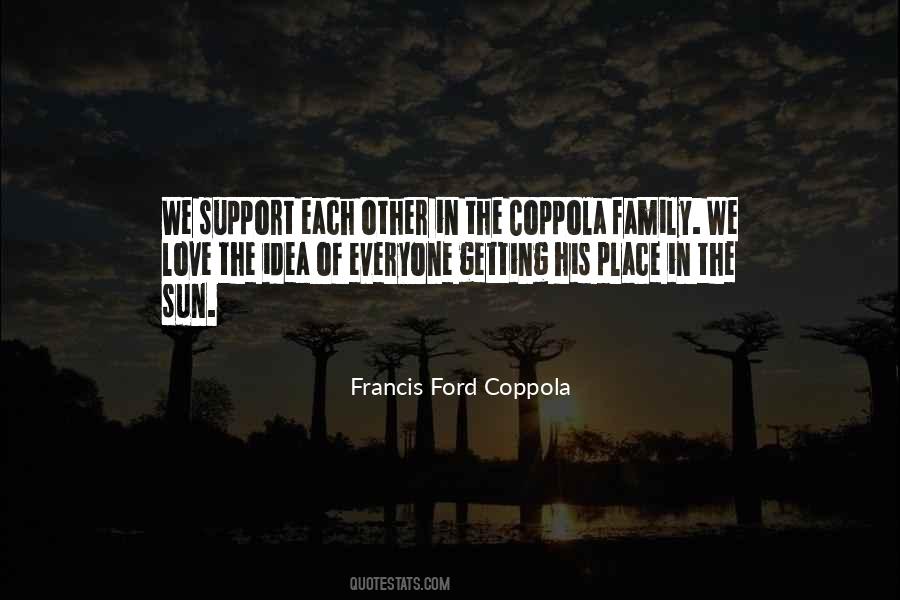 #64. I love the idea of couture and its emphasis on creation. There's where I made my name - in design - and there's where I'd like to stay. - Author: Jimmy Choo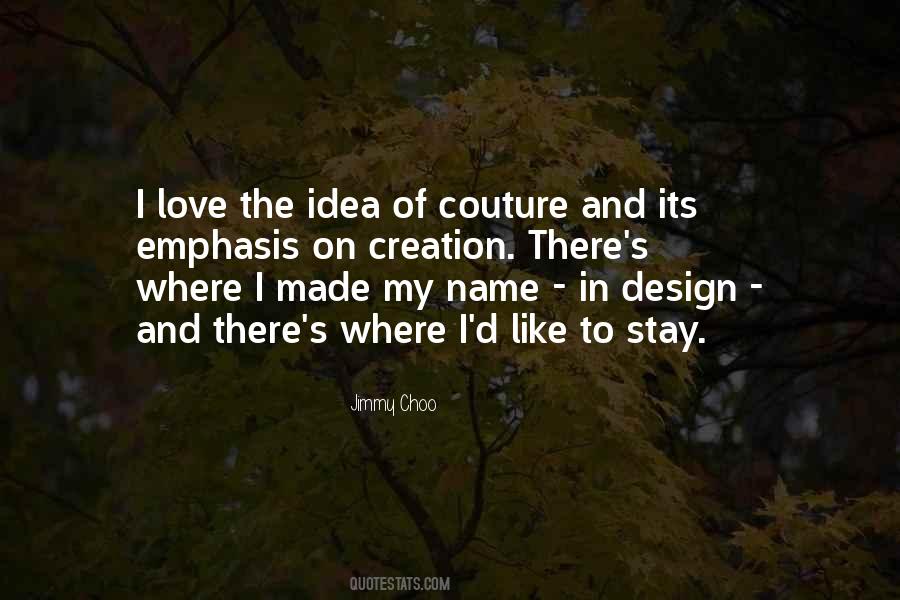 #65. I love the idea of a woman being able to discover the idea of power this way, on such a scale. And I don't know about that, what it means - well, I guess I'd better, or my part's in trouble. - Author: Mary McDonnell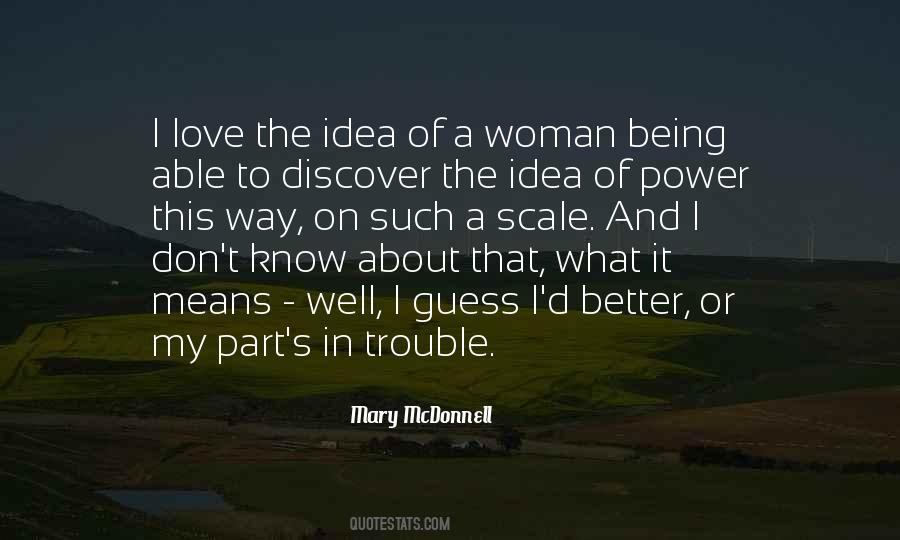 #66. I thought people wouldn't take me seriously if too much acting was involved in the singing. But now I love the idea of mixing everything together. - Author: Charlotte Gainsbourg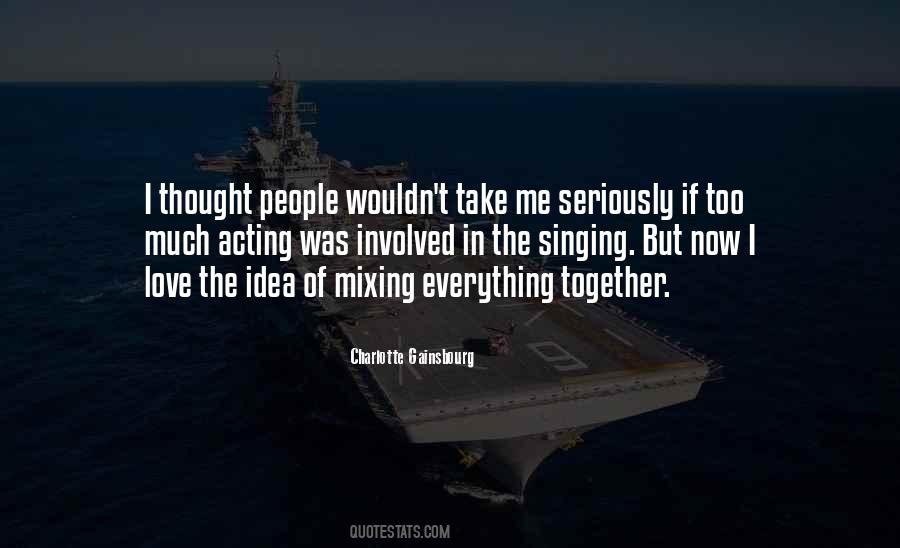 #67. I loved him with a passion of which I had no idea I was capable. I loved him partly to defend him against the world and partly because I genuinely believed we were soul mates. - Author: Clare Balding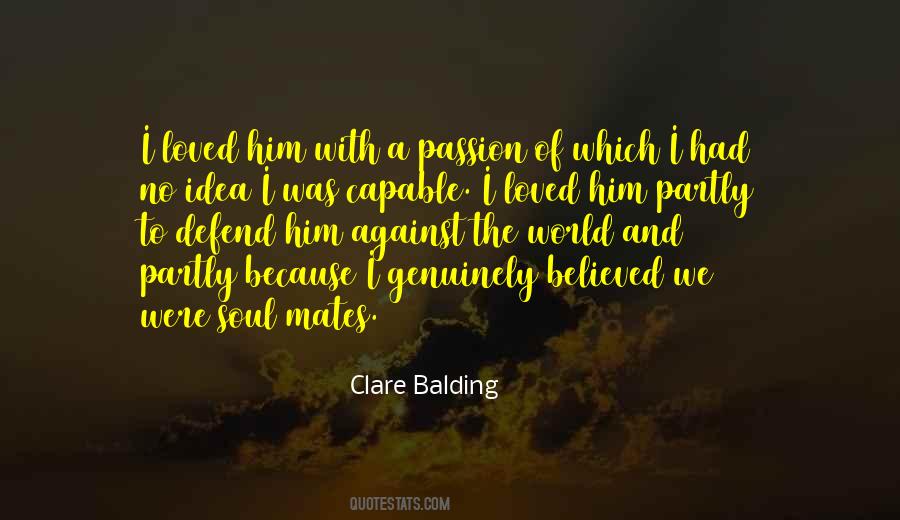 #68. Yeah, take it from me. He may try to sell himself to you along with the company. And then there is Roberto, the CEO of our acquisition target. He also seems to be a bit of a flirt. Those two are like moths around a light bulb with you. Any idea how you would react if they both came after you? - Author: Karynne Summars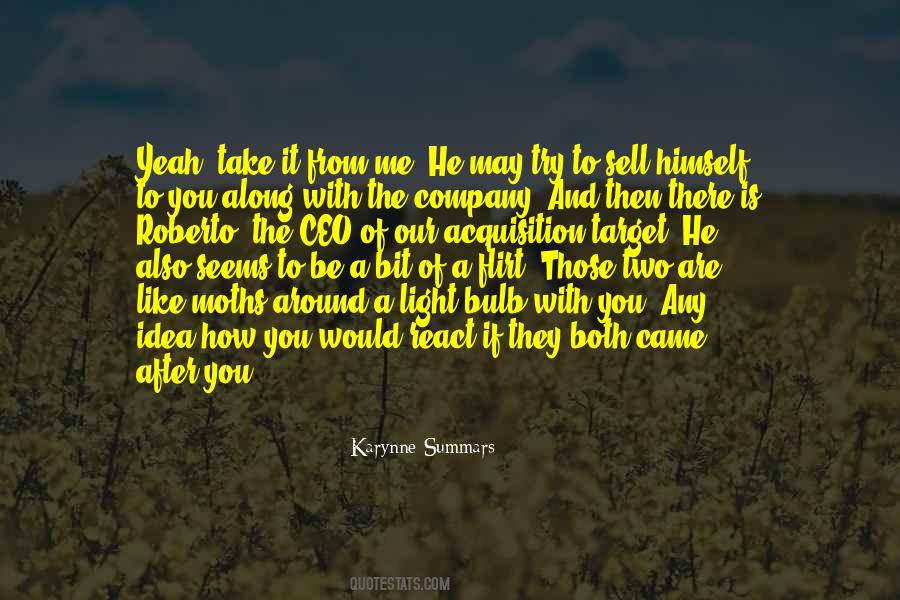 #69. The central idea of love is not even a relationship commitment, the first thing is a personal commitment to be the best version of yourself with or without that person that you're with. You have to every single day-mind, body, and spirit-wake up with a commitment to be better. - Author: Will Smith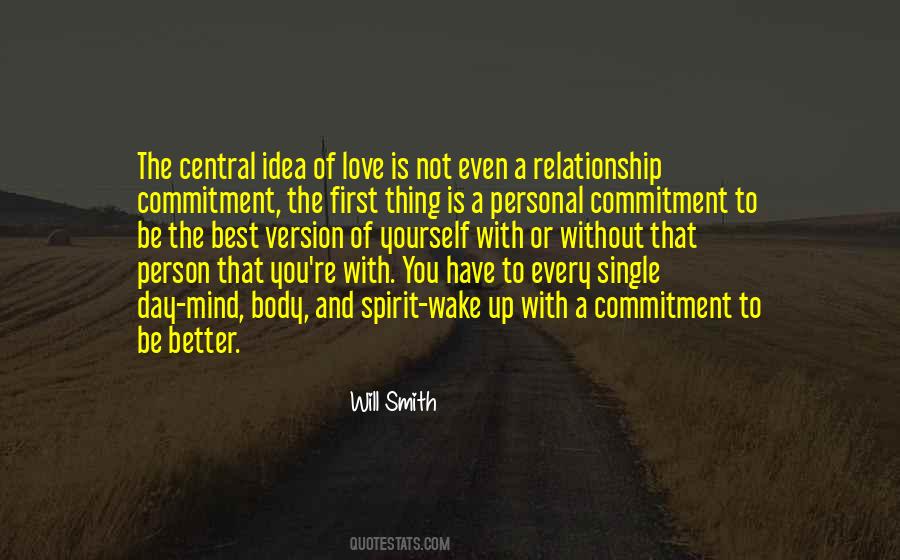 #70. I like the idea of someone else's love safely sealed in a song or a book. - Author: Henry Rollins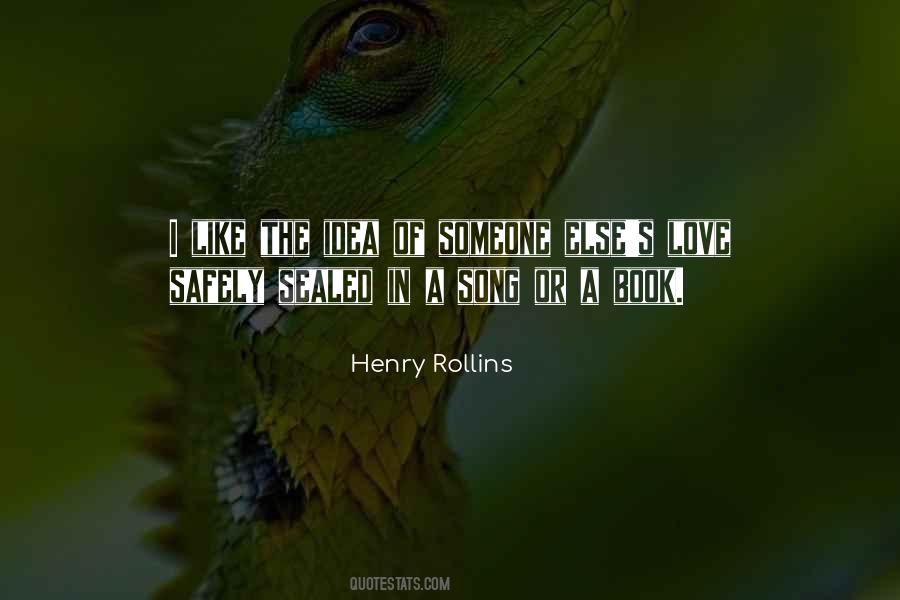 #71. I know some people find the idea of soul mates romantic, or comforting, but to me believing in soul mates means absolving yourself of any responsibility for your own happiness. If a relationship doesn't work out
whoops! It wasn't meant to be. Fuck meant to be. - Author: Anna Jarzab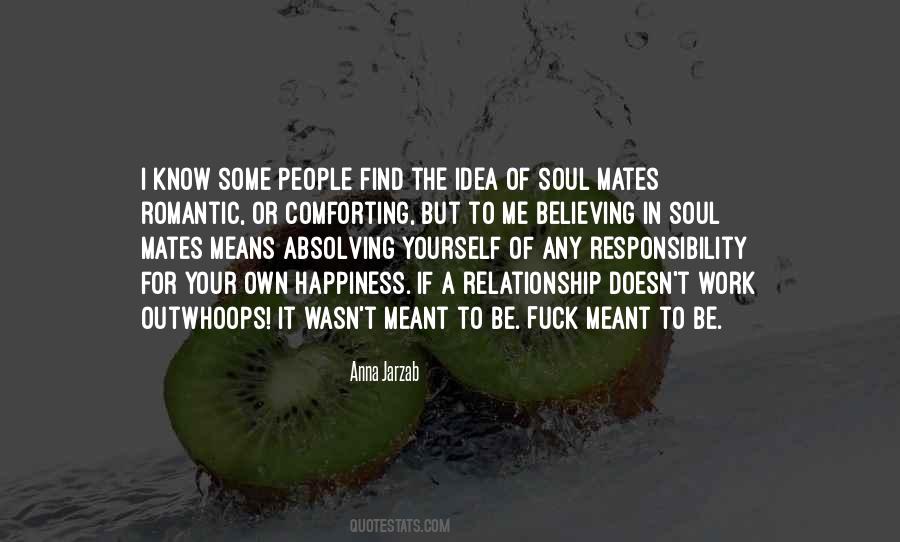 #72. The idea of love seemed an invasion," she wrote. "I had thoughts to think, a craft to learn, a self to discover. Solitude was a gift. A world was waiting to welcome me if I was willing to enter it alone. - Author: Kate Bolick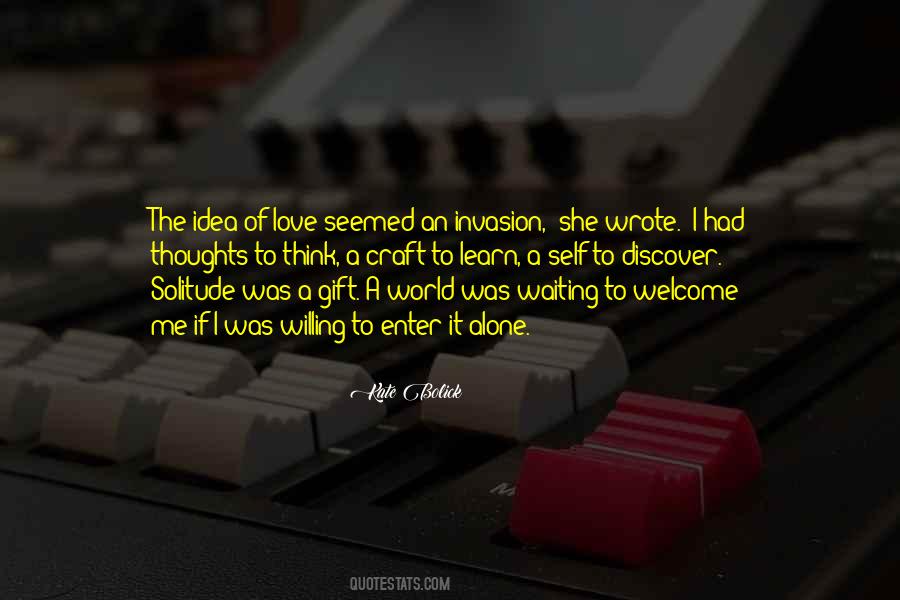 #73. I like the idea of a love story between men. There is a great affection between men, which exists much more in ethnic groups: Latin, Italian, Jewish. - Author: Arne Glimcher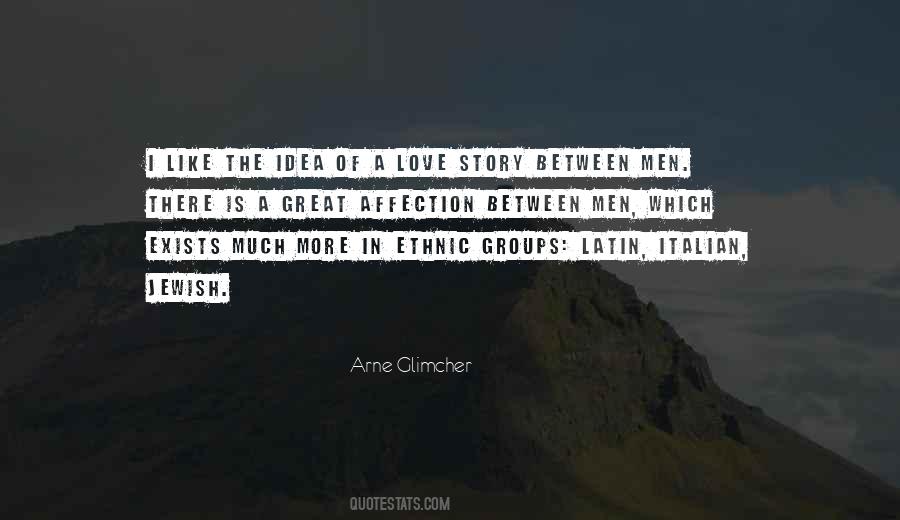 #74. A scientist said, "The very best way to send an idea is to wrap it up in a person." That was what happened at Christmas. The idea of divine love was wrapped up in a Person. - Author: Halford Luccock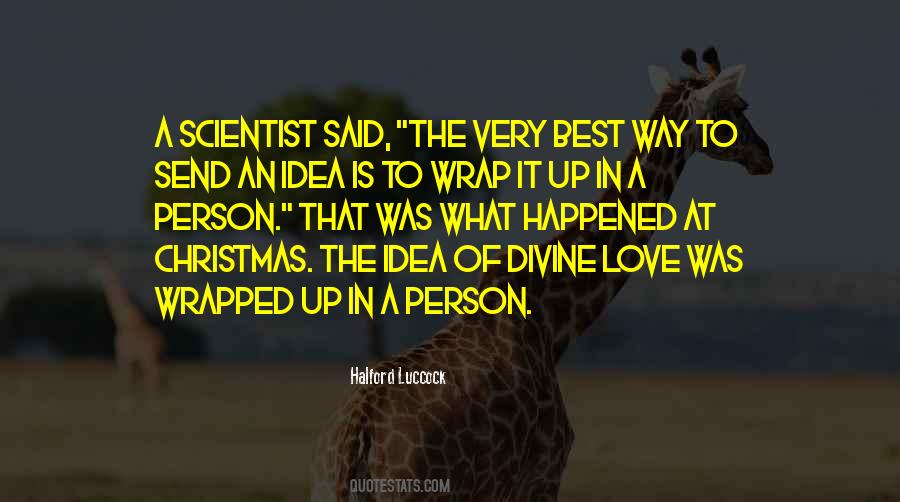 #75. I love the idea of the 'vignette,' which is associated with the decorative, illustrative, small, and thus with the feminine, and thus easily maligned. I mean, Emily Dickinson wrote vignettes, right? - Author: Kate Bernheimer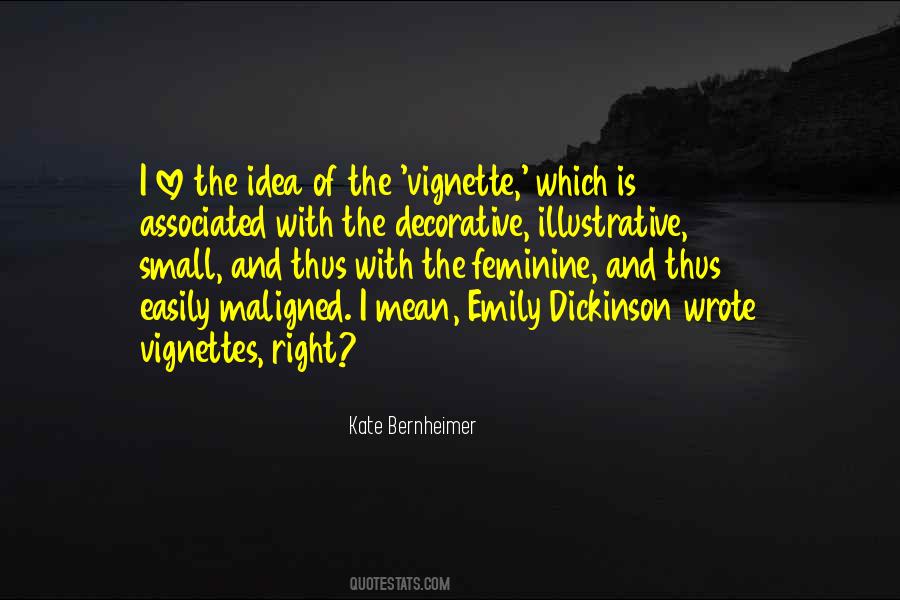 #76. Love is a big and wonderful idea, but life is made up of small things. As a kid, you have nothing to do with the way the world is run; you just have to hurry to catch up with it. - Author: Heather O'Neill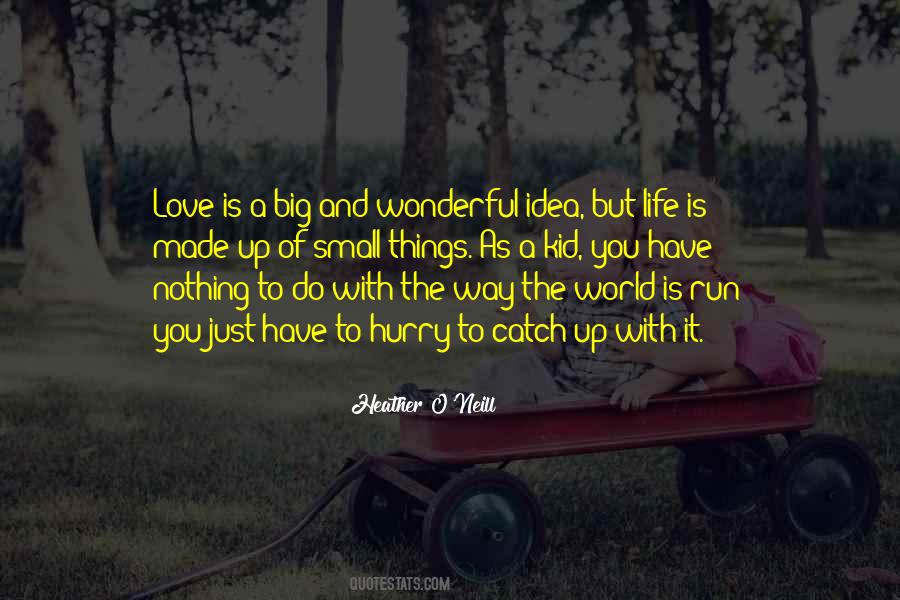 #77. Many people do not fall in love; they fall in love with the idea of themselves being in love. They never see the other person. I don't ask for much; I only ask to be seen. - Author: C. JoyBell C.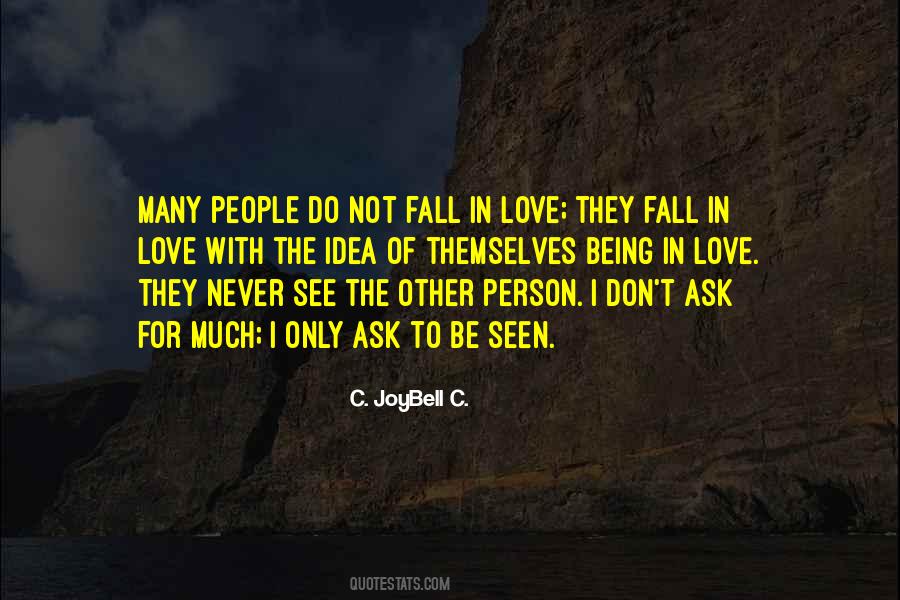 #78. You know you're in love with someone when the idea of them being in love with someone else doesn't just wreck you, it invades every part of your being. Yet, how could I be upset that Gabe loved her? When his love for her was one of the very reasons I loved him? - Saylor - Author: Rachel Van Dyken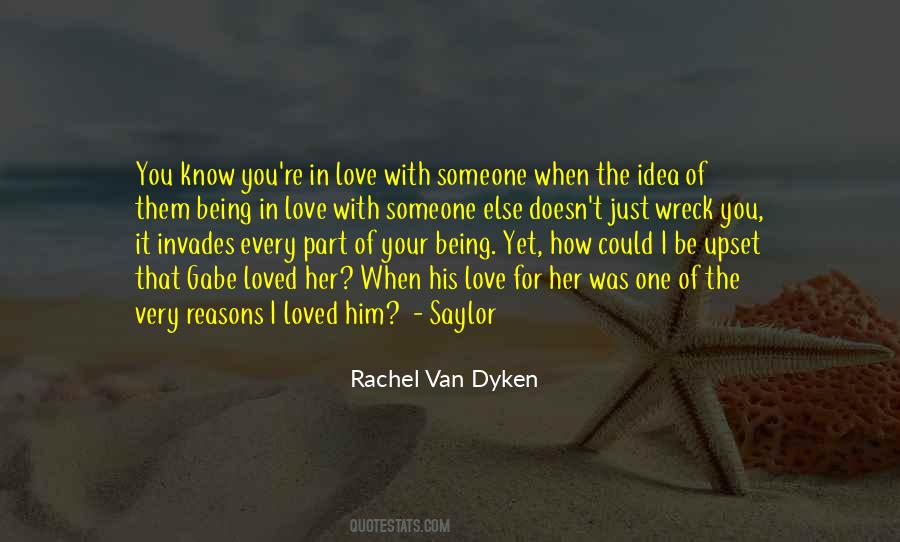 #79. Maybe I was in love with the idea of love. - Author: Shay Savage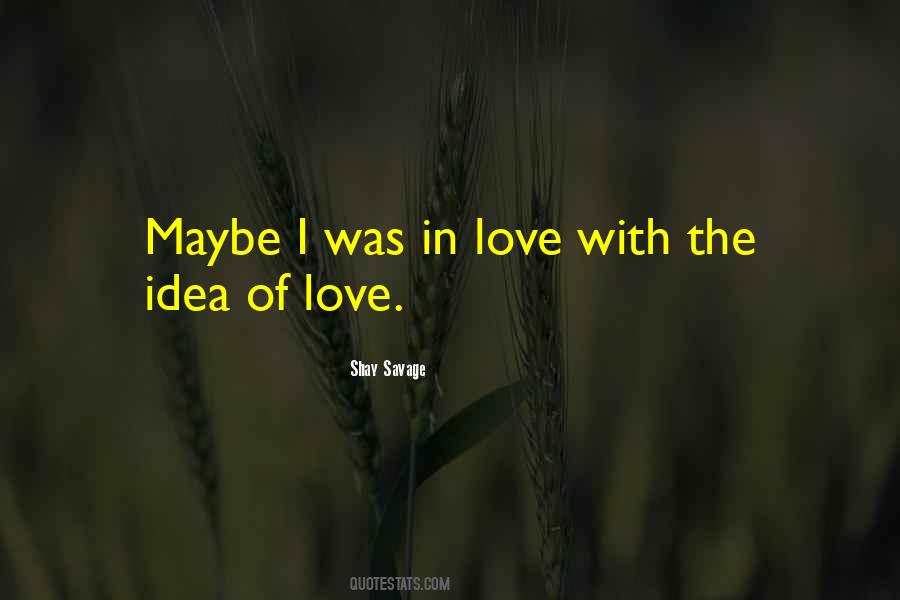 #80. I sort of love the idea of, you know, watching something and then having to wait for the next episode. - Author: J.J. Abrams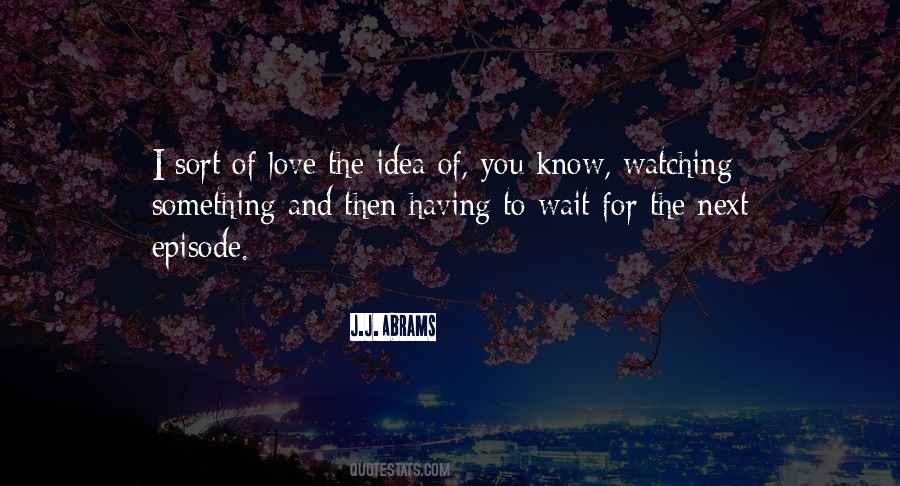 #81. She was now drowning in that pool of desires without having any idea about the depth of it. - Author: Viraj J. Mahajan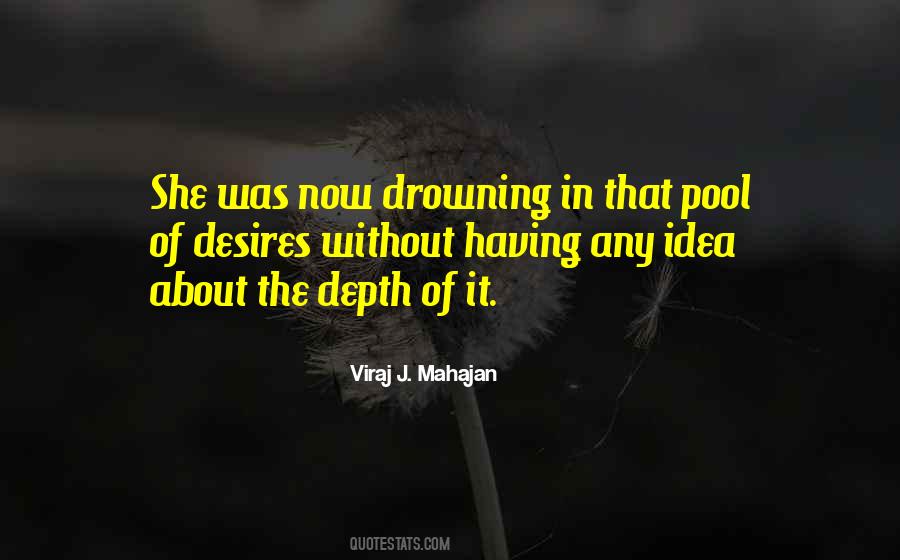 #82. To work for the sheer joy of it, to wake up and be really excited on a Monday, to love what you do so much that the idea of a long vacation looks boring - that's living. - Author: Manoj Arora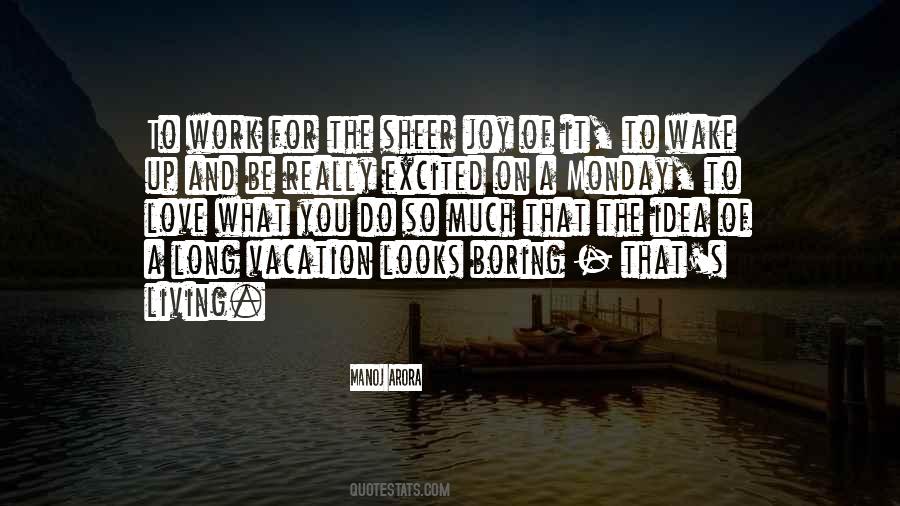 #83. Sometimes even if he has to do it alone, and his conduct seems to be crazy, a man must set an example, and so draw men's souls out of their solitude and spur them to some act of brotherly love, that the great idea may not die. - Author: Fyodor Dostoyevsky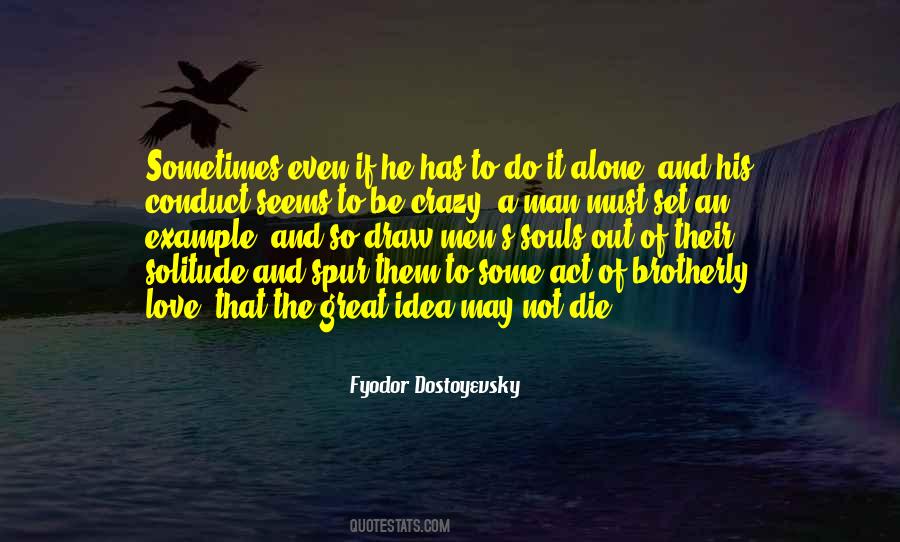 #84. I love theater. I love the idea that you can transform, become somebody else, and look at life with a completely new perspective. I love the idea that people will sit in one room for a couple of hours and listen. - Author: Natasha Tsakos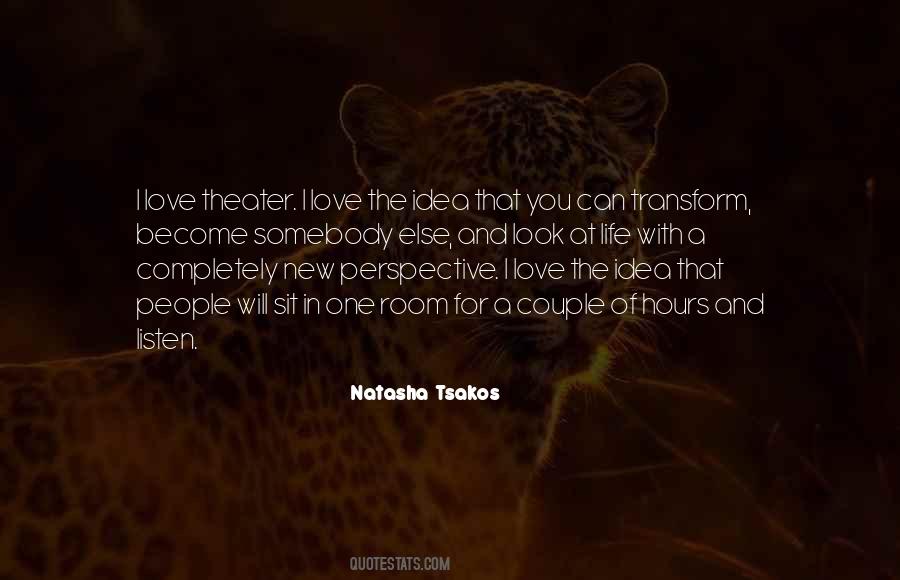 #85. I love 'Titanic' and the idea that you're kind of rooting for Leonardo DiCaprio and Kate Winslet to survive despite the fact that you know that they're not going to. - Author: Carlton Cuse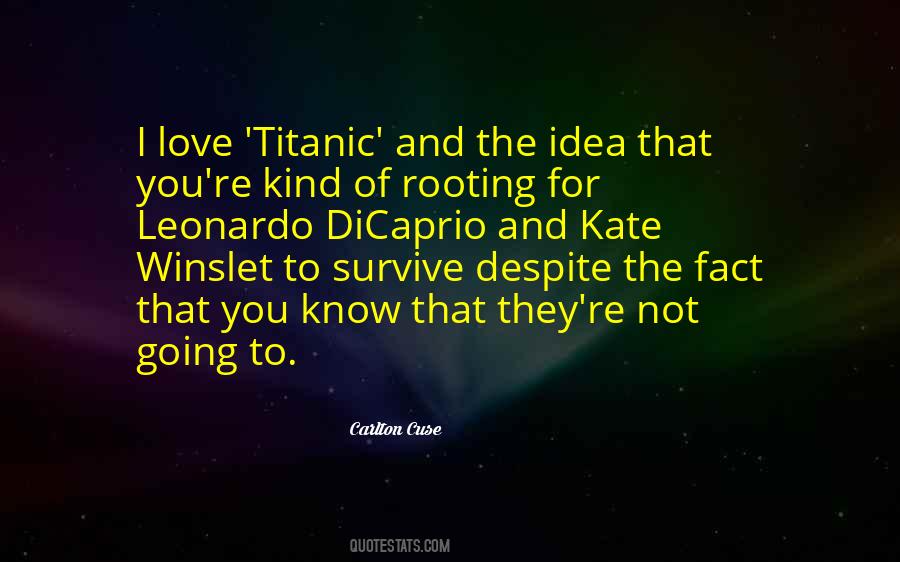 #86. I love the idea of bringing my work to the general public, not just people who go to gallery openings. - Author: Marco Brambilla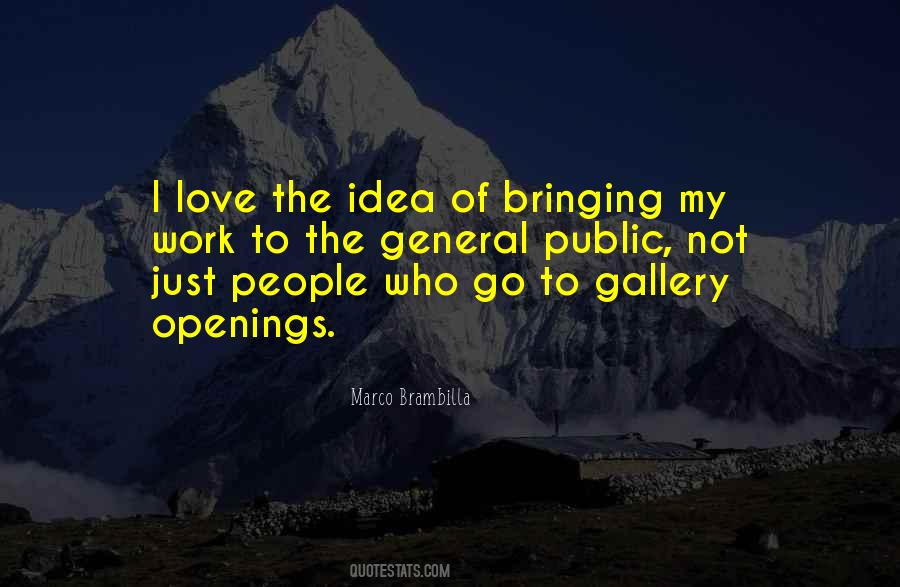 #87. do this to me, Art. Don't let me keep falling for you. Don't let me love you. Because everything I'd ever loved has a way of falling apart, and the idea of losing you is too much right now. Don't let me keep dreaming. Make me wake up. - Author: Brittainy C. Cherry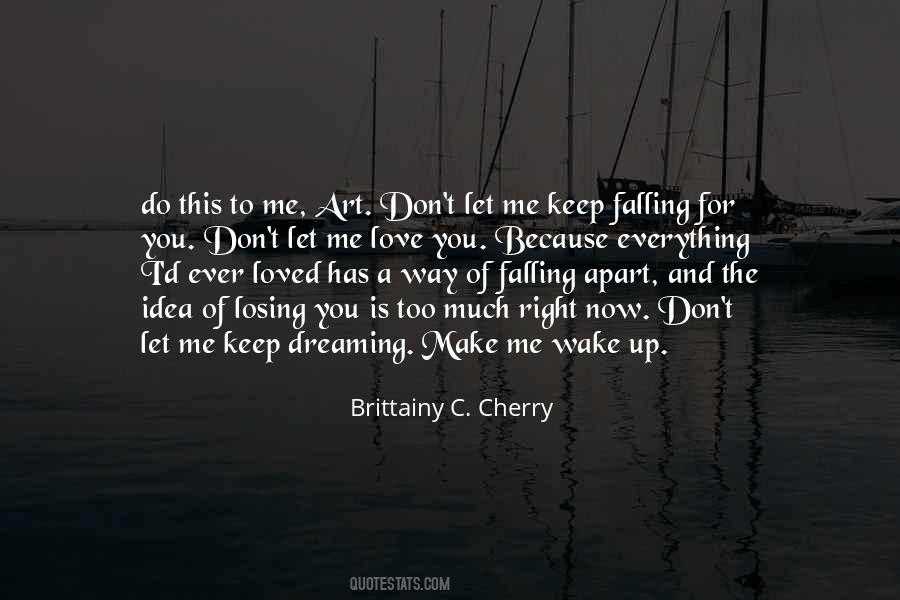 #88. I love the idea of stepping out of the band situation into a solo world with no boundaries, no expectations, where nothing is out of bounds. - Author: Tommy Shaw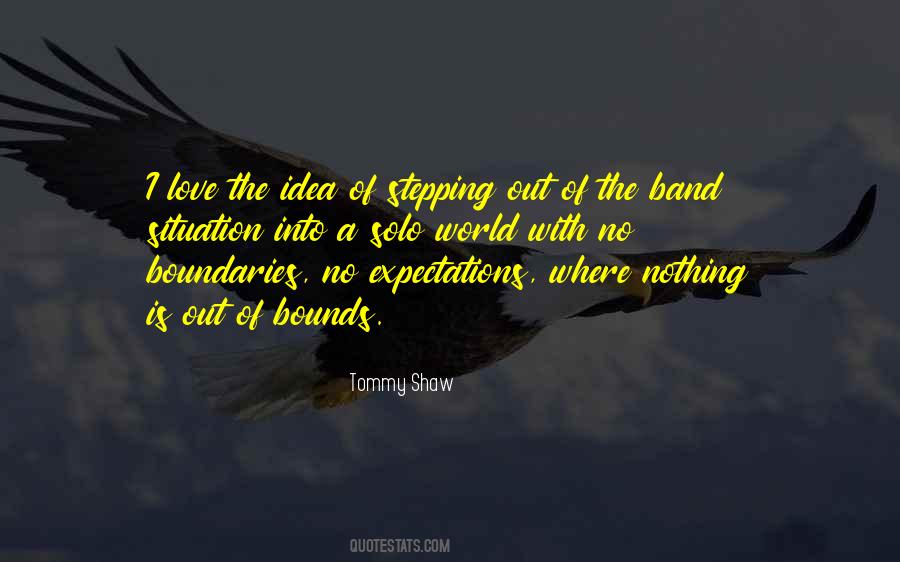 #89. I love the idea of species fluidity, I guess, the sense of the maiden inherent in the swan or seal, the youth inherent in the bear or deer. After all, human beings are animals. - Author: Delia Sherman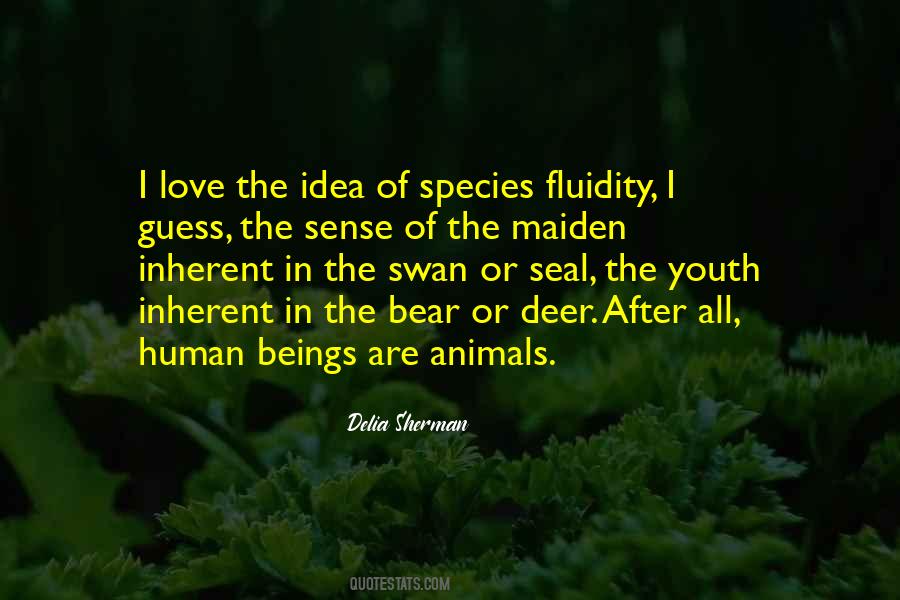 #90. I think Donald Trump is now kind of in love with the idea of becoming president of the United States. I think he truly does believe that he can be the Republican nominee. - Author: Rachel Maddow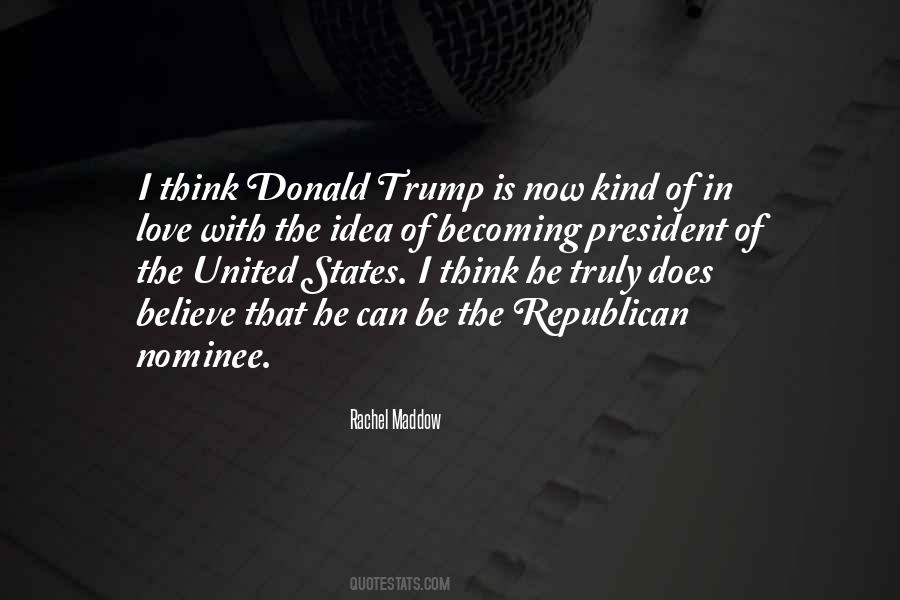 #91. I usually work seven days a week and rarely take vacations, which is both lame and unsustainable. I don't mind the idea of writing seven days a week, I suppose. Getting some work done early in the morning. But ideally I would love to take one day a week off. - Author: Brad Listi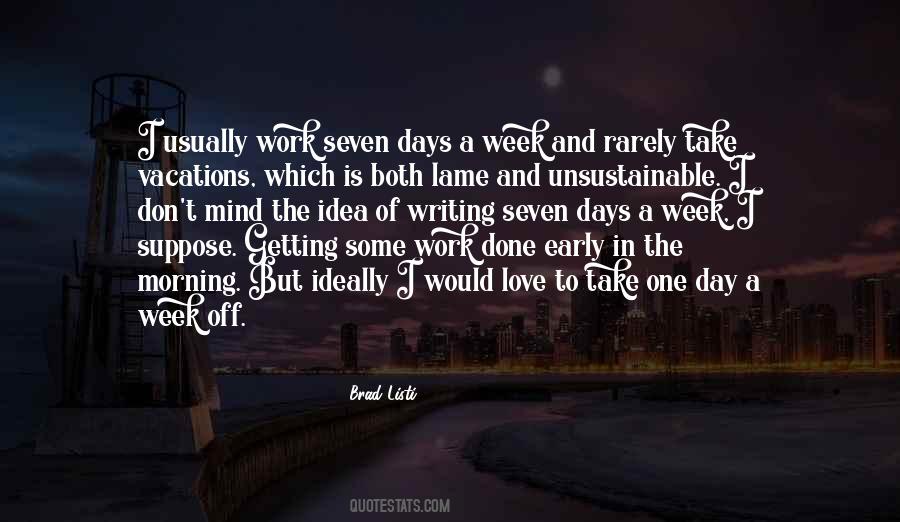 #92. I love the idea of making movies that kids and adults can go to together and both get something out of it, and not just, 'Oh, I've got to take my kid to the movie because they want to see the next, you know, 'Hannah Montana' movie or whatever.' - Author: Rob Reiner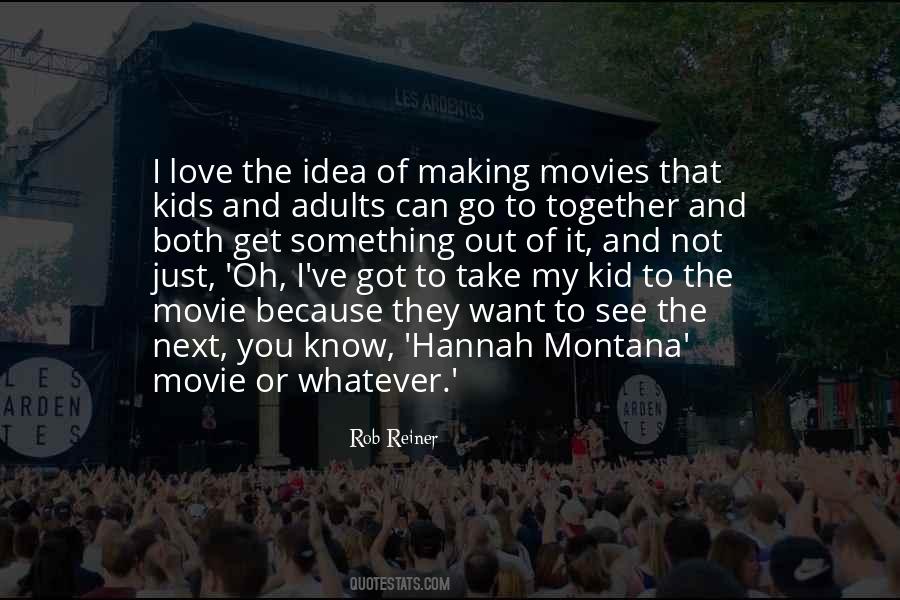 #93. Embrace your weirdness. Some will adore you. Others won't. But who cares? Worry about loving yourself, not loving the idea of other people loving you. - Author: Karen Salmansohn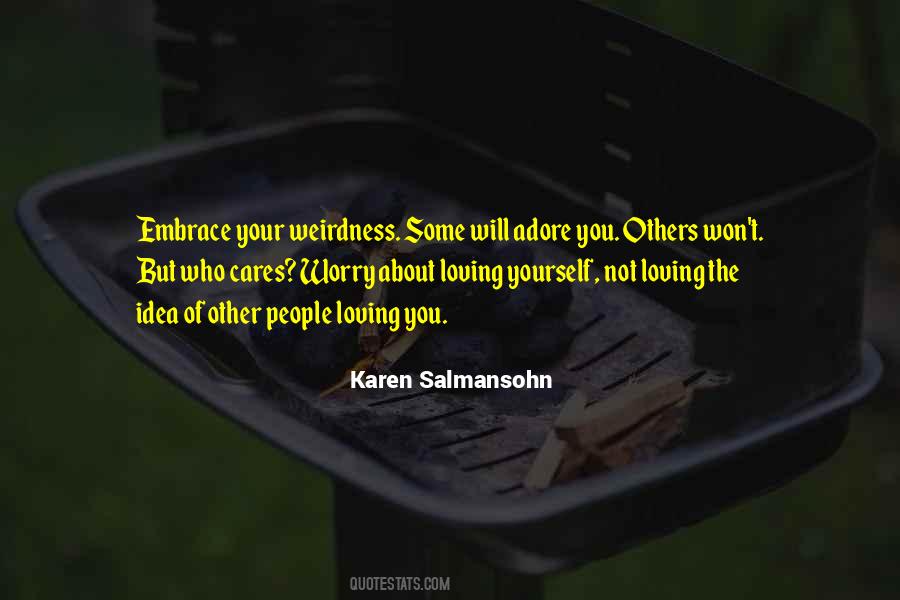 #94. I love the idea of a record containing an entire universe; where the sounds span decades of recording from all over the world and all sorts of different sources. - Author: Jeff Mangum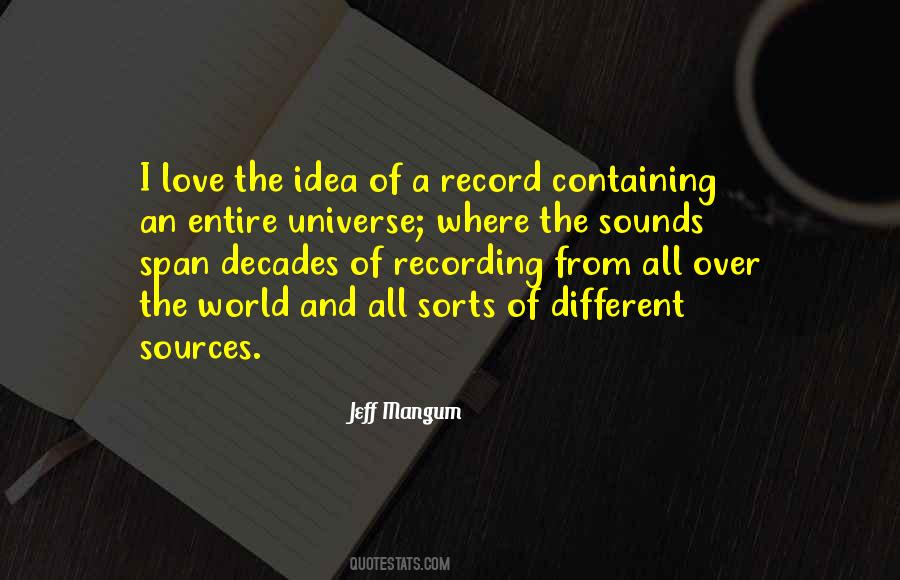 #95. I think people fall in love with the idea of it, but lust is what you fall into, and love can only grow from that, - Author: River Savage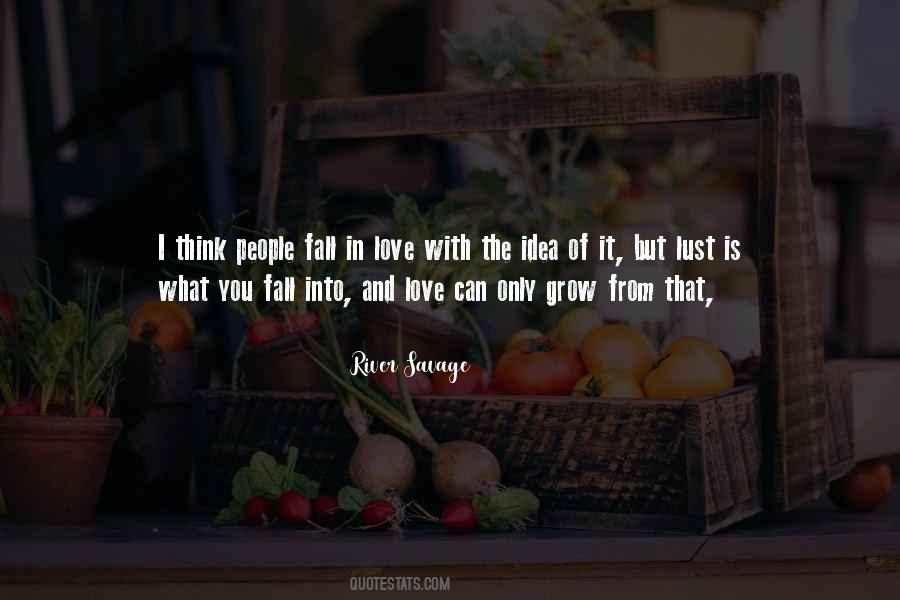 #96. I don't love the idea of three superstars coming together to form a dream team, I'd rather teams are built more organically, just as a fan it's more interesting to see. - Author: John Legend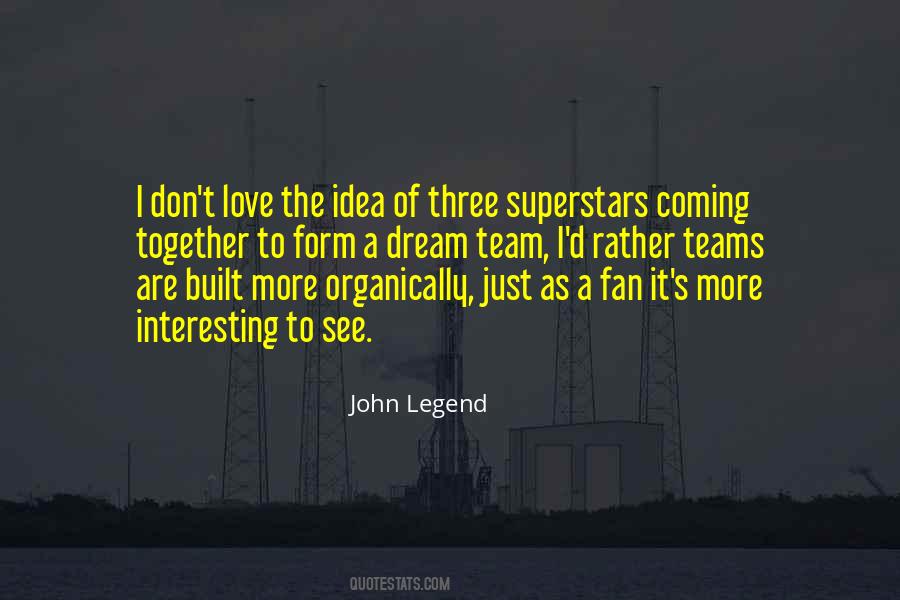 #97. Then there's those wizards on it, who must all be gifted hydrophobes - " "You mean they hate water?" said Twoflower. "No, that wouldn't work," said Rincewind. "Hate is an attracting force, just like love. They really loathe it, the very idea of it revolts them. - Author: Terry Pratchett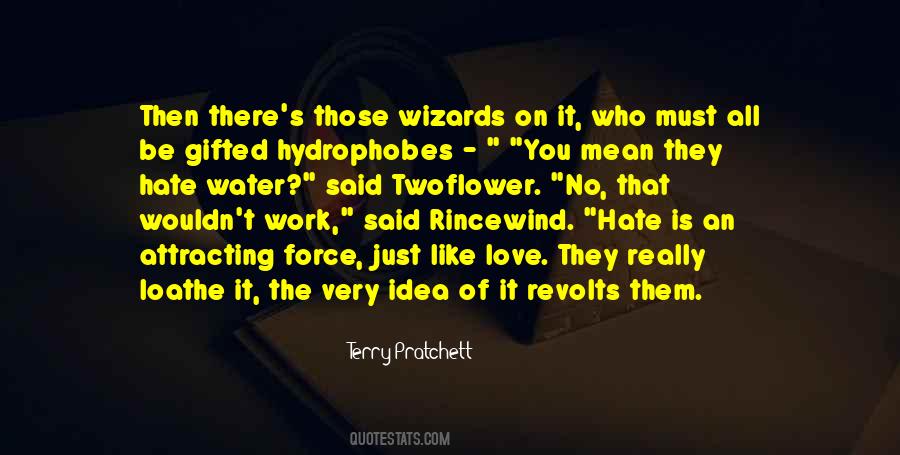 #98. A lot of people like the idea of eternal love and eternal romance. The notion of love that is more profound and deeper because it is eternal is very powerful. - Author: James Patterson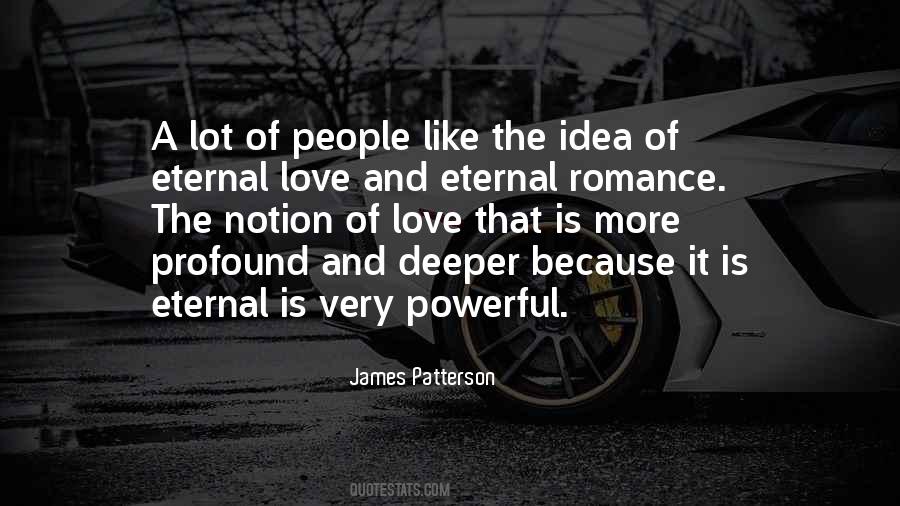 #99. The idea of beauty, like a slab of magnificent marble, has crushed all possible refinement and vitality from the psychology of love. - Author: Jose Ortega Y Gasset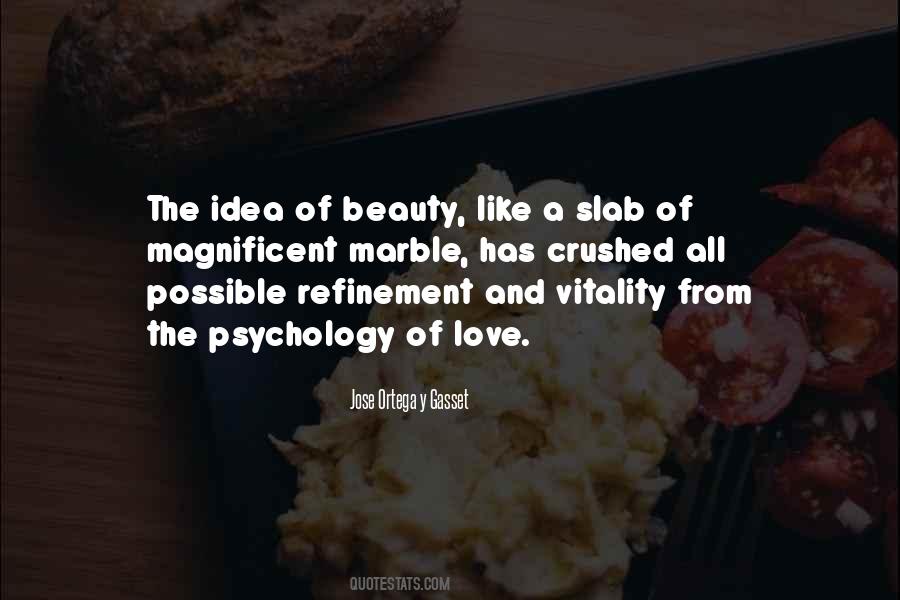 #100. I think marriage is dangerous. The idea of two people trying to possess each other is wrong. I don't think the flare of love lasts. Your mind rather than your emotions must answer for the success of matrimony. It must be friendship - a calm companionship which can last through the years. - Author: Carole Lombard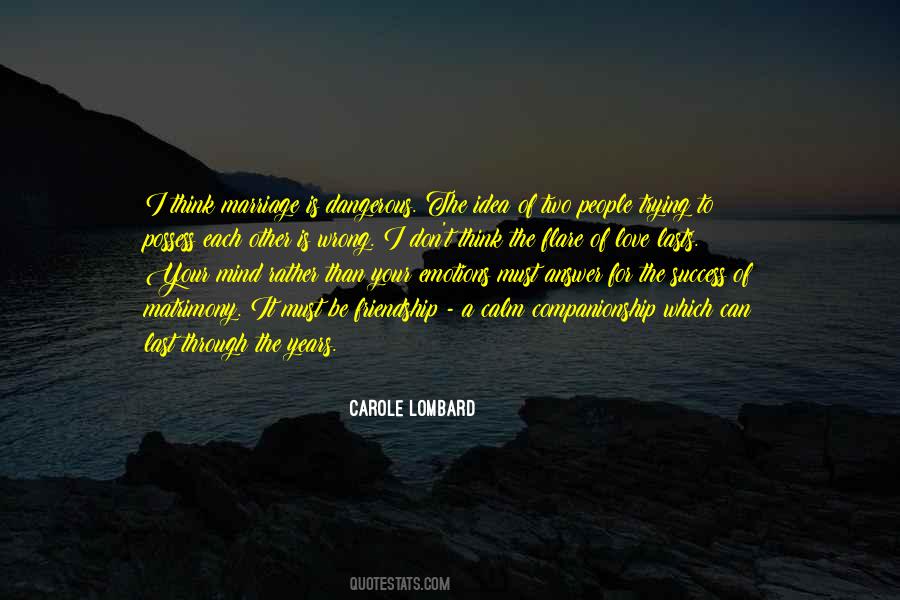 Famous Authors
Popular Topics