The Fates Famous Quotes & Sayings
List of top 100 famous quotes and sayings about the fates to read and share with friends on your Facebook, Twitter, blogs.
Top 100 Quotes About The Fates
#1. The Fates seldom forget the bargains made with them, or fail to ask for compound interest. - Author: Edith Wharton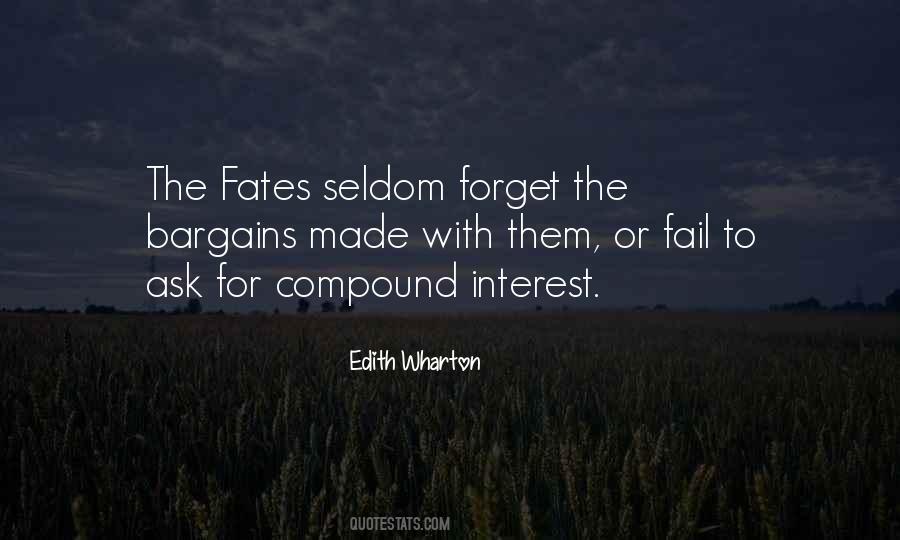 #2. So you're telling me that right now I'm responsible for Acheron's beloved pet and the favorite sister of the Fates? (Zarek)
Tell Fang-boy I'm not a pet. If he doesn't take a nicer tone to me, he's going to be really sorry. (Simi) - Author: Sherrilyn Kenyon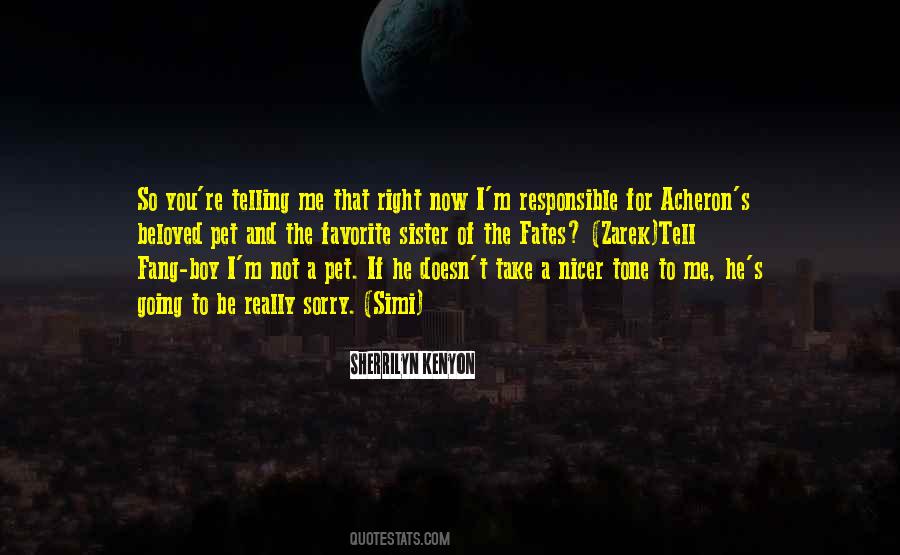 #3. There's a danger and a beauty to the moment which seems out of time. It pierces something deep inside of him, bypassing his rationale, and it touches his very core. In a sudden shock of illumination, and of knowing, he recognizes this woman is his destiny, and their fates are intertwined. - Author: Scarlett Amaris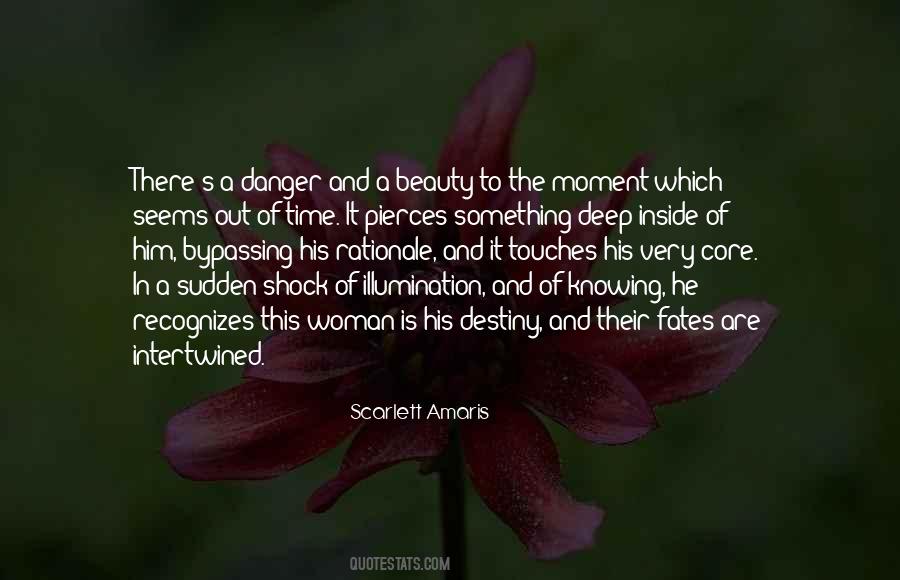 #4. We were like the three Fates, weaving the story together, threads of gold, red, and midnight blue. - Author: April Genevieve Tucholke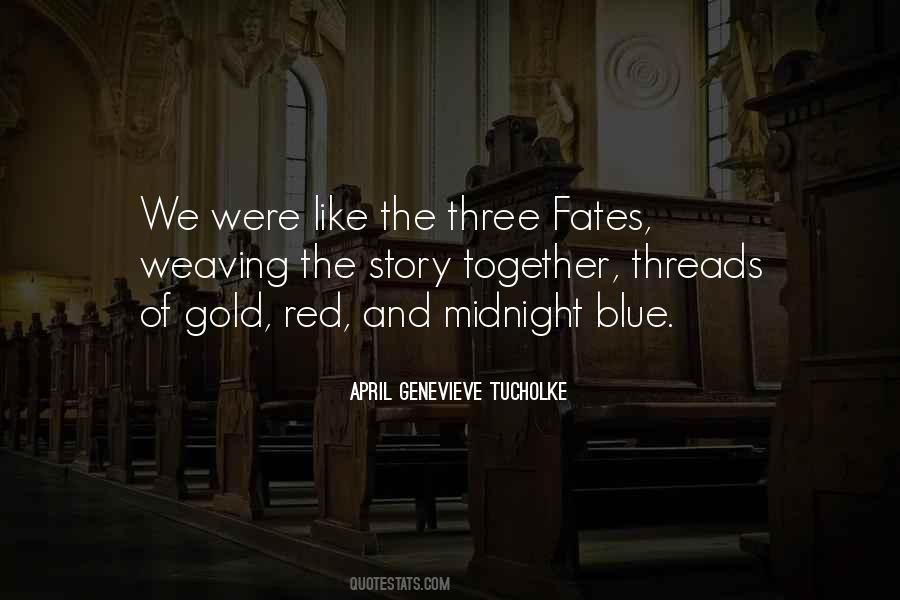 #5. God, conquered, will become Satan; Satan, conquering, will become God. May the fates spare me this terrible lot; I love the Hell which formed my genius. I love the Earth where I have done some good, if it be possible to do any good in this fearful world where beings live but by rapine. - Author: Anatole France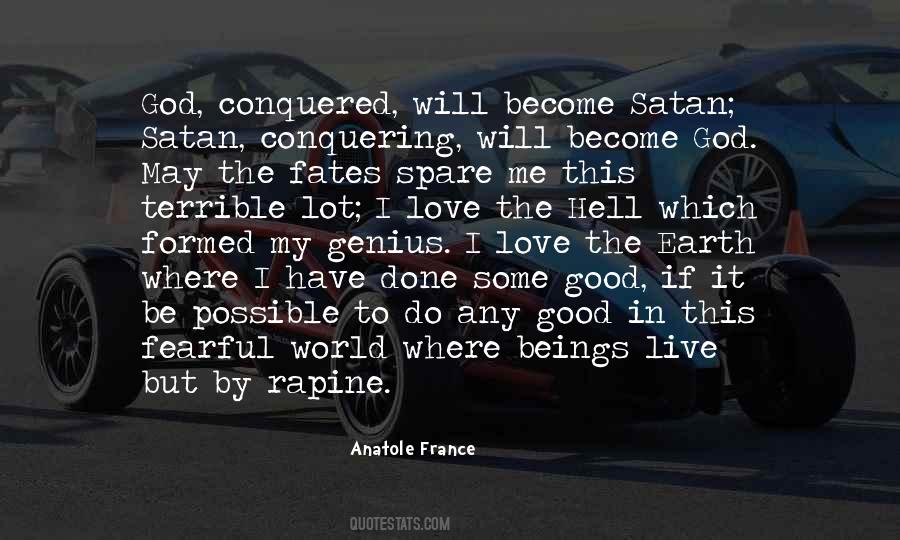 #6. No outcome is certain, even when it seems so. Fates can change with the swing of a bat, or the flip of a switch, or the closing of a circuit.
It all came down to how far you dared to go to accomplish what the world thinks can't be done. - Author: Neal Shusterman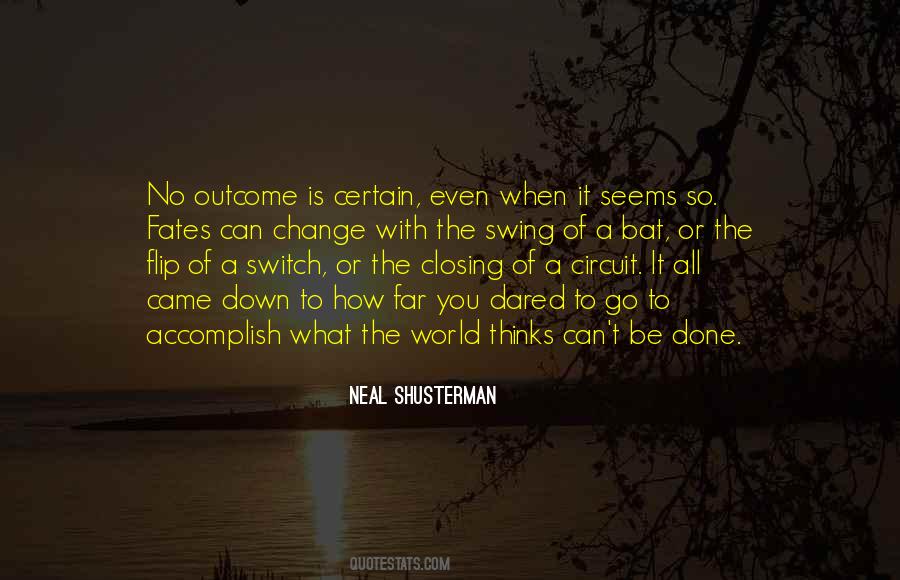 #7. The Fates guide those who will and drag those who won't! - Author: Joseph Campbell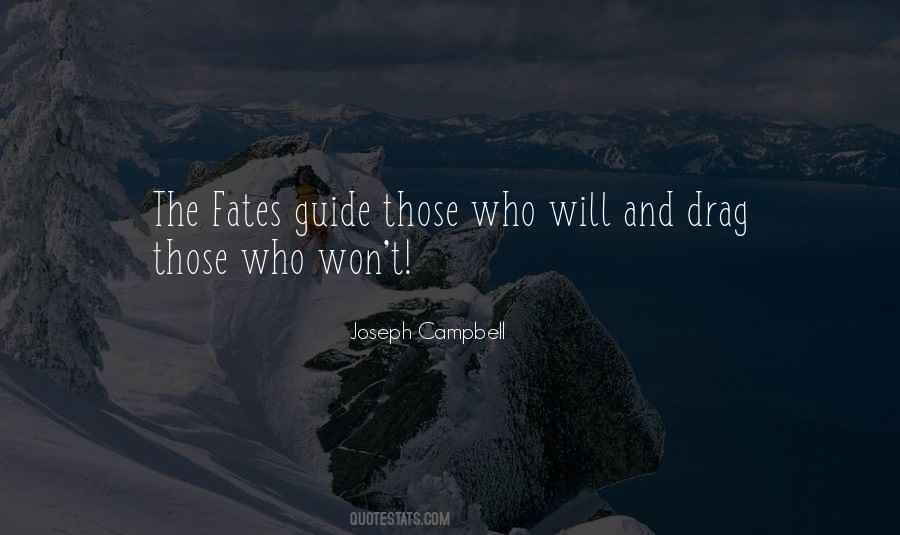 #8. Now the Fates are here on the beach, three shadows blacker than black, walking through the dunes and looking for their own. Just shadows, lamb-white hands beneath black robes spun of tears, glide among the celebrants on this night wherein the spirits of Thebes have found a home, if serendipitously. - Author: Janet Morris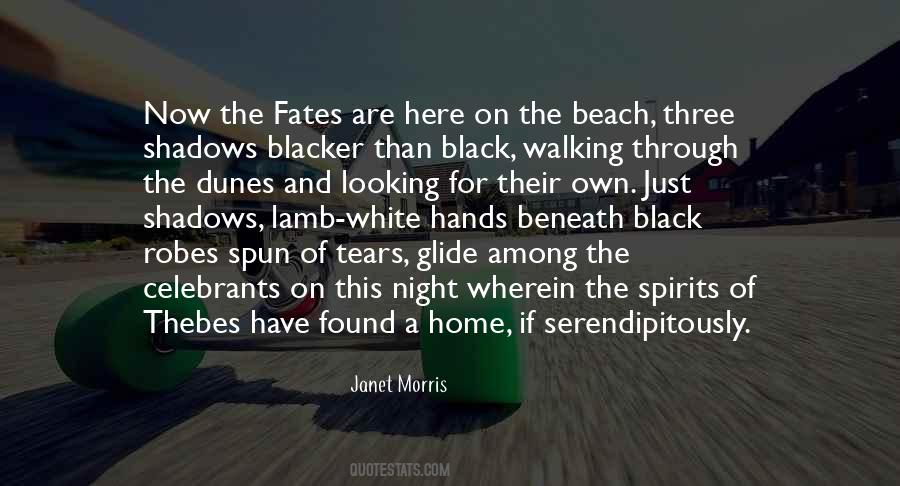 #9. Lacking a coherent view of how people might live successfully all the way to their very end, we have allowed our fates to be controlled by the imperatives of medicine, technology, and strangers. I wrote this book in - Author: Atul Gawande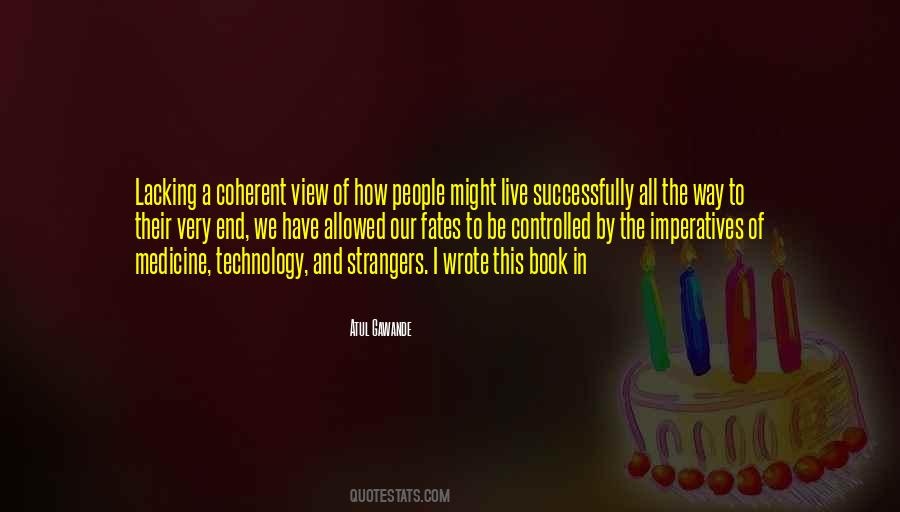 #10. The universe is indifferent to our fates. This was the crushing burden that the character took with him as he struggled through the surf toward survival or extinction. The universe just does not give a shit. - Author: Dan Simmons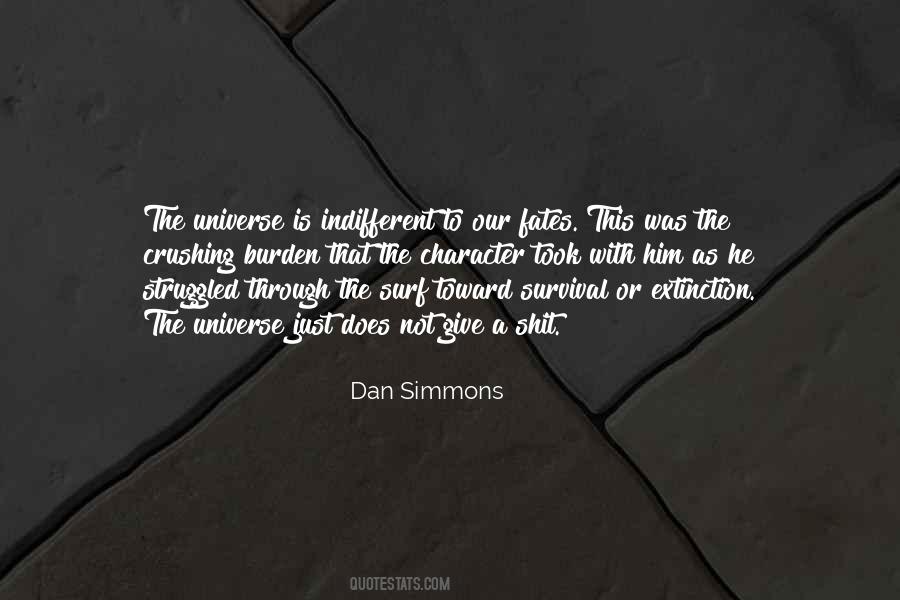 #11. This Day, whate'er the Fates decree;
Shall still be kept with Joy by me:
This Day then, let us not be told,
That you are sick, and I grown old - Author: Jonathan Swift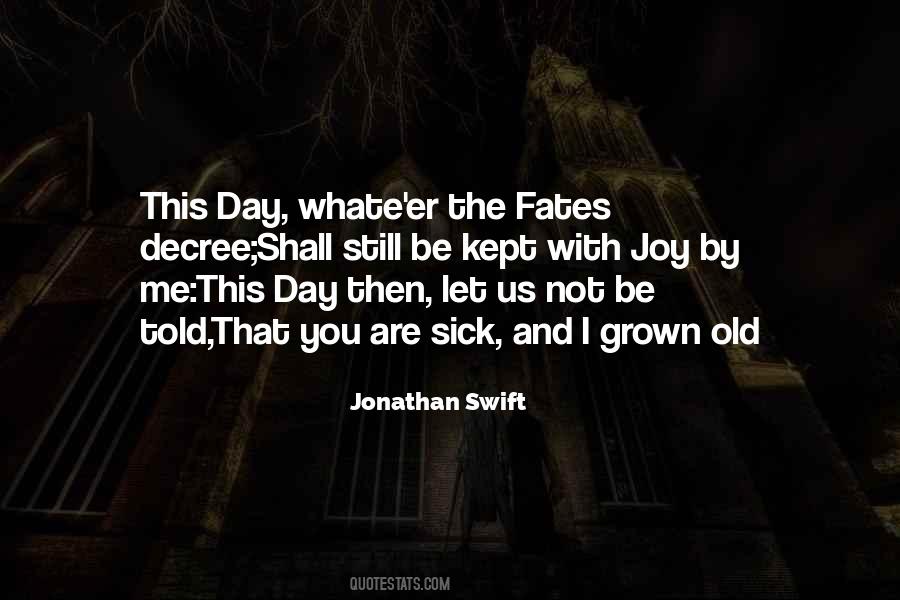 #12. Adversity had not only ruined him, it had frightened him, and he was evidently going through his remnant of life on tiptoe, for fear of waking up the hostile fates. - Author: Henry James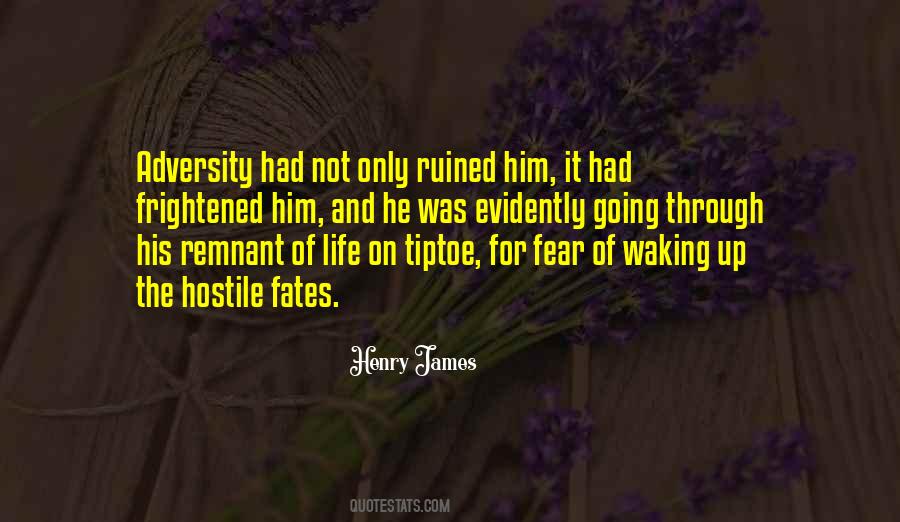 #13. If the gods actually know our fates and still try to meddle and wage their wars in us, then there must be some purpose in our choosing one of the many paths to that end. Man must have free will, or else why would the gods themselves bother? - Author: Kristopher Jansma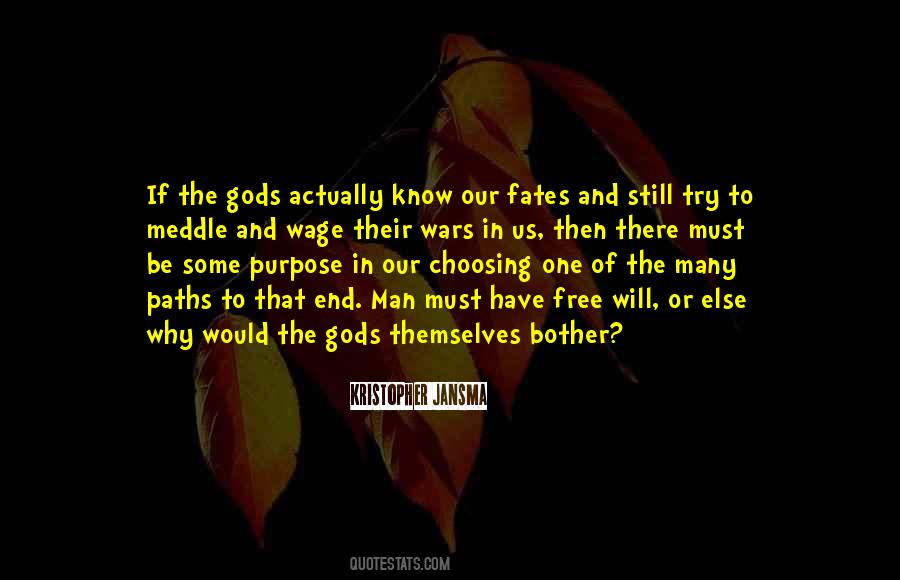 #14. Folks around here call us el destinos.
They like to say we came from the stars. And when I stare up at the infinite heavens stretched out above us like a shroud, it's hard to imagine we came from anywhere else. - Author: Leslye Walton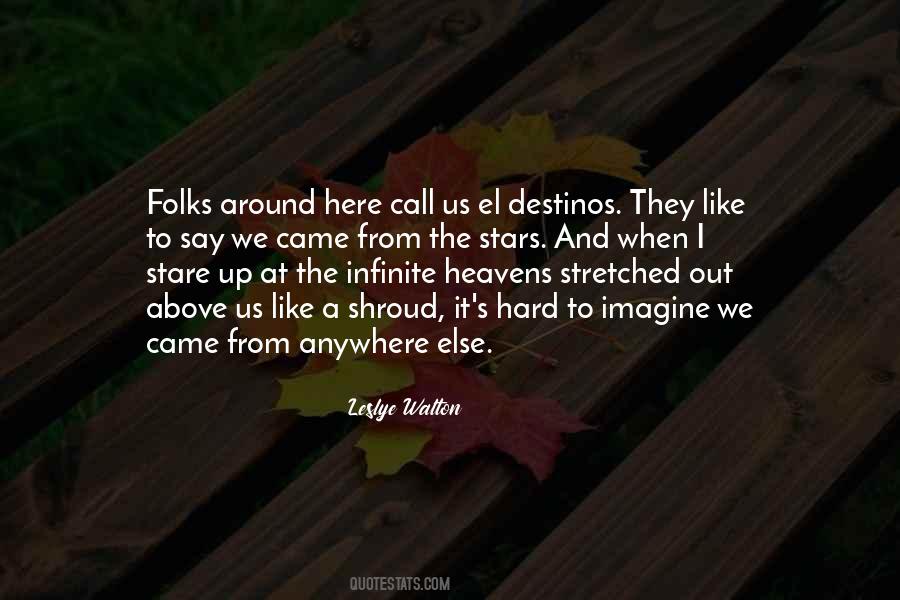 #15. There was the other thing, the far worse thing. During the same time she began to write, she left him. He was wrapped up in his work. She came back and he never knew she was gone. - Author: Lauren Groff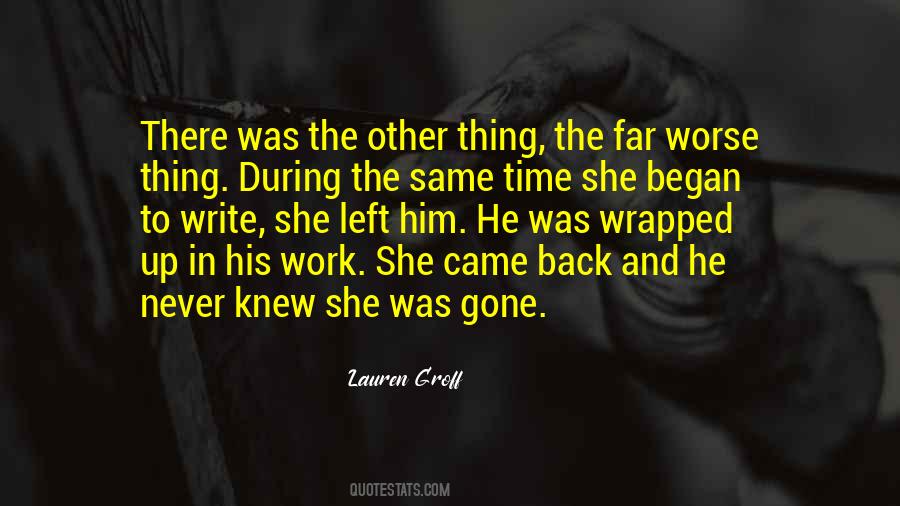 #16. See how the Fates their gifts allot, For A is happy-B is not. Yet B is worthy, I dare say, Of more prosperity than A. - Author: W.S. Gilbert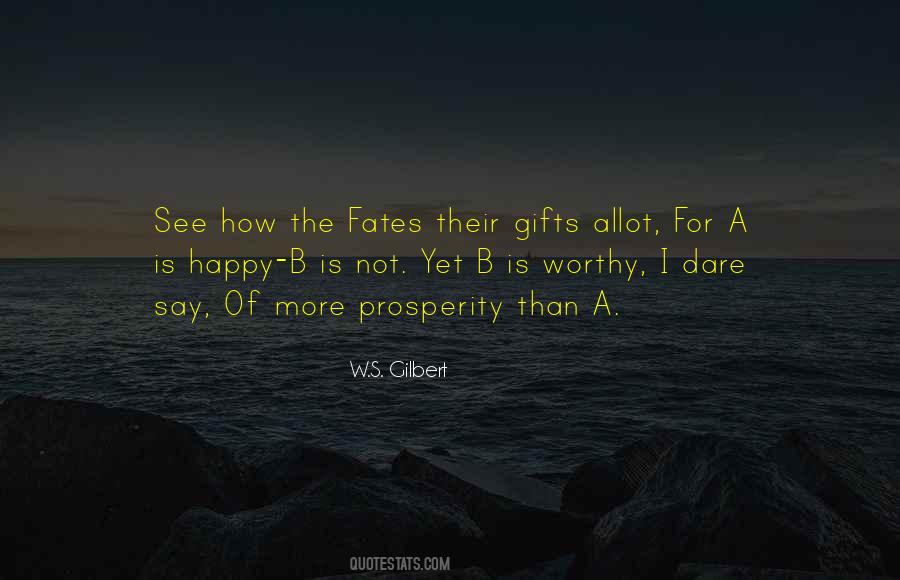 #17. The fates lead the willing, and drag the unwilling. - Author: Seneca The Younger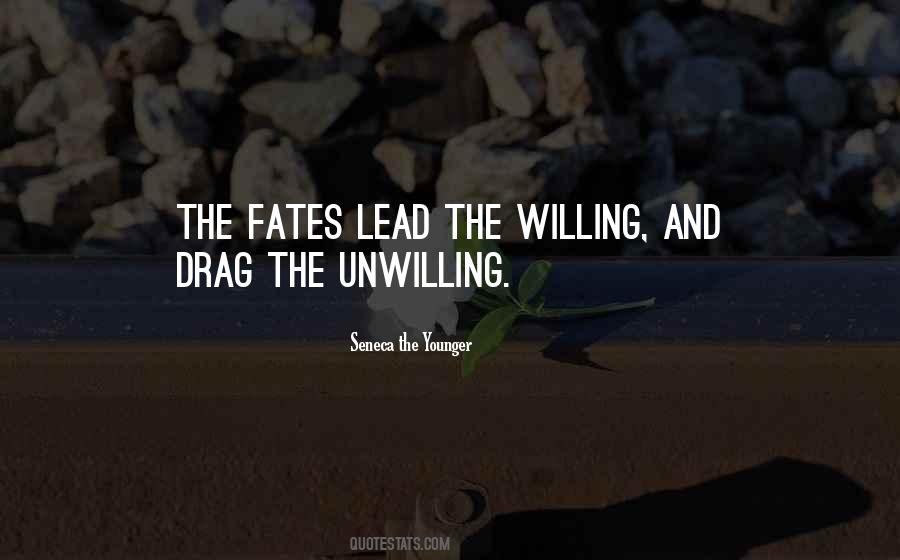 #18. Screw it. Let the fates decide - Author: Stephanie Perkins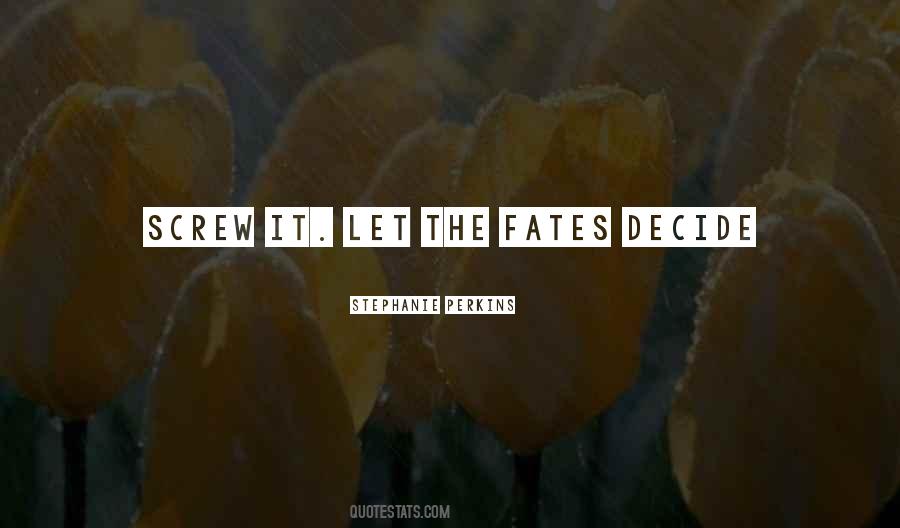 #19. Come in, Bean. Come in Julian Delphiki, longed-for child of good and loving parents. Come in, kidnapped child, hostage of fate. Come and talk to the Fates, who are playing such clever little games with your life. - Author: Orson Scott Card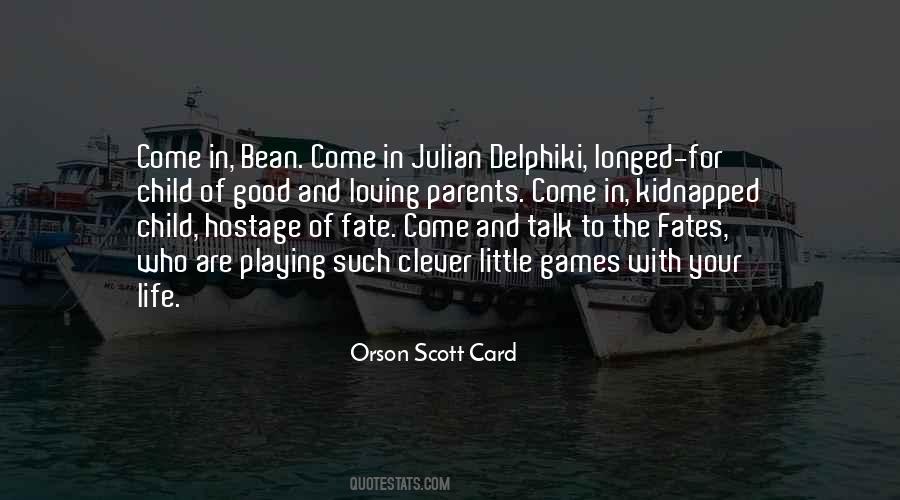 #20. The Browning love story? It is an ideal, all too rare, and yet I hardly think it strange. It would have been far stranger had the fates allowed those two brilliant passionate souls to beat themselves out in silence. - Author: Marie Corelli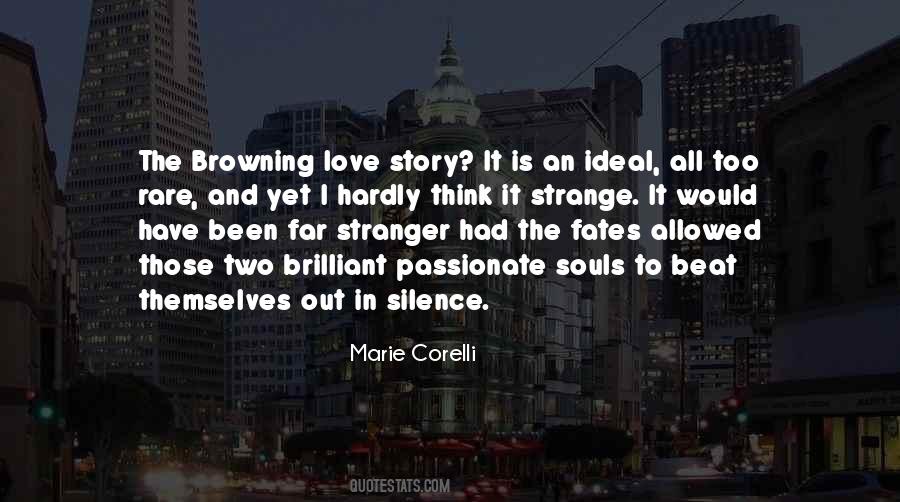 #21. I have come to know well that fates are fickle in the business of English football. And I feel that I have pushed mine well past the limit. - Author: Randy Lerner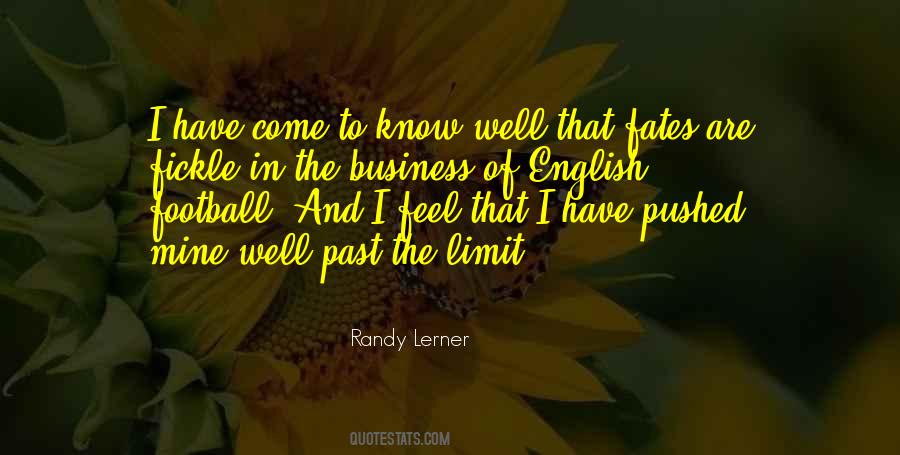 #22. If only the Fates had granted him a longer stay in this - Author: Alison Weir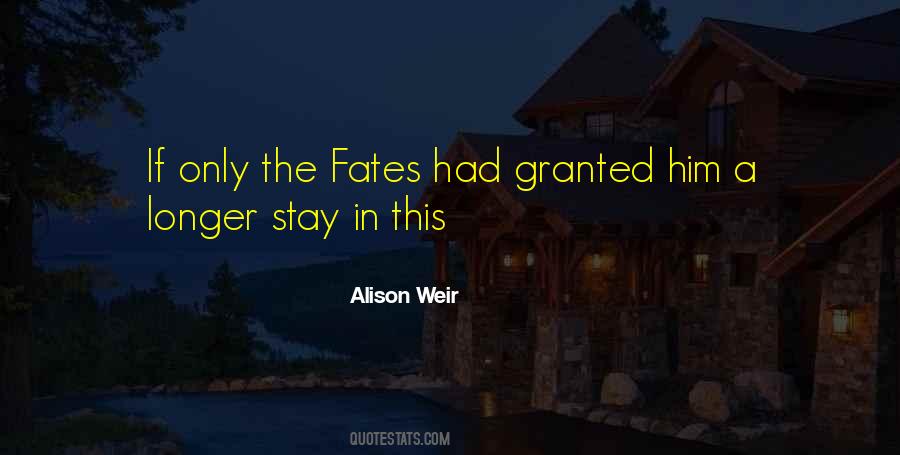 #23. The futures and ultimate fates of the characters in The Snow Queen are profoundly changed by choices made in their own minds or hearts, as well as choices unexpectedly forced on them by things beyond their control. - Author: Joan D. Vinge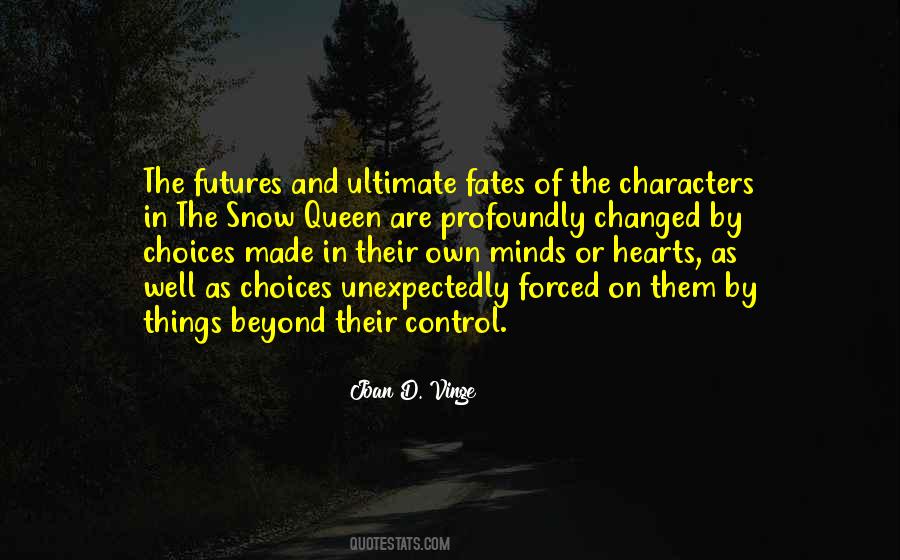 #24. The leader is always alone before bad fates. - Author: Charles De Gaulle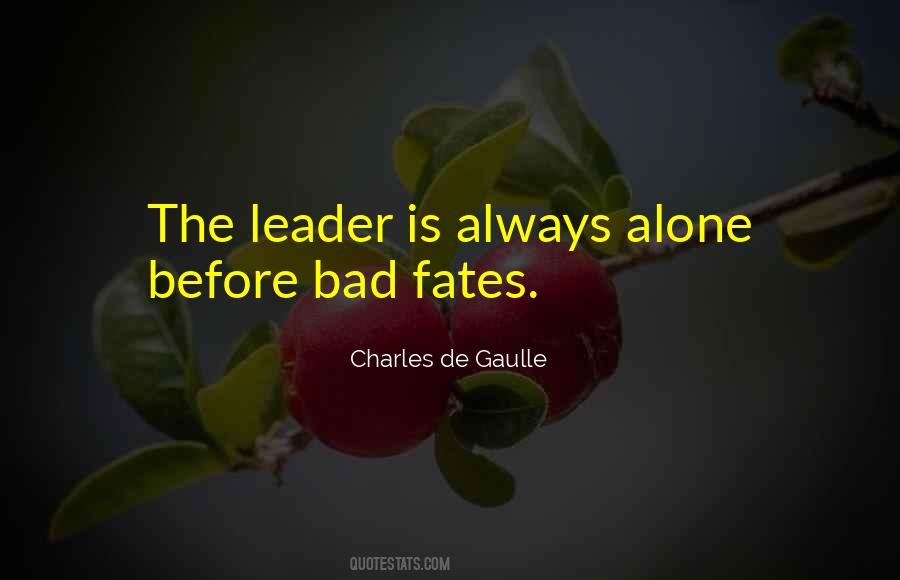 #25. I can imagine few worse fates than walking around for the rest of one's life wearing a typo. - Author: Anne Fadiman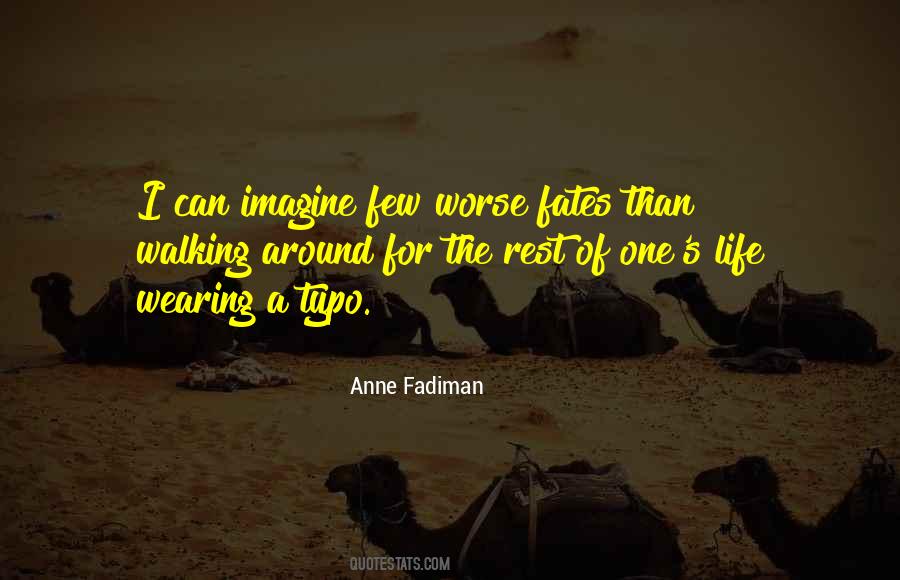 #26. Tell her this
And more,
That the king of the seas
Weeps too, old, helpless man.
The bustling fates
Heap his hands with corpses
Until he stands like a child
With surplus of toys. - Author: Stephen Crane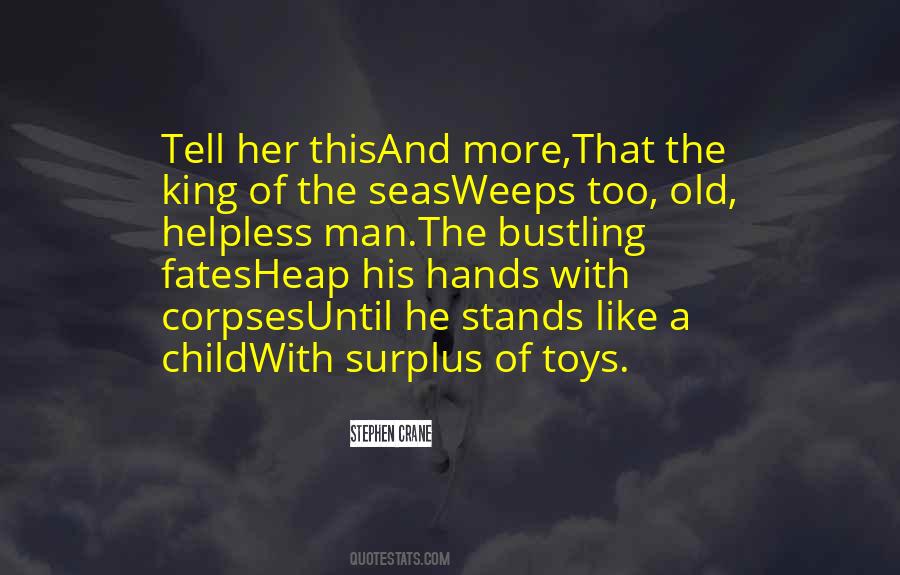 #27. The fates lead her who will; who won't they drag. - Author: Tom Spanbauer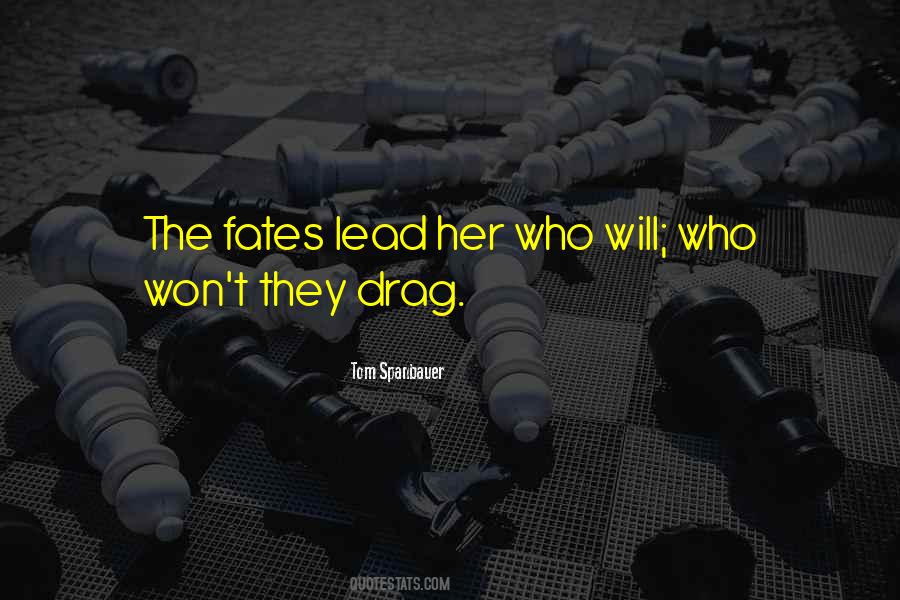 #28. Most men probably wouldn't want to live the lives of bonobos. They're constantly clinging to their mothers' apron strings. They lack the ability to make decisions about their own fates, something that we and male chimpanzees practically consider our birthright. - Author: Frans De Waal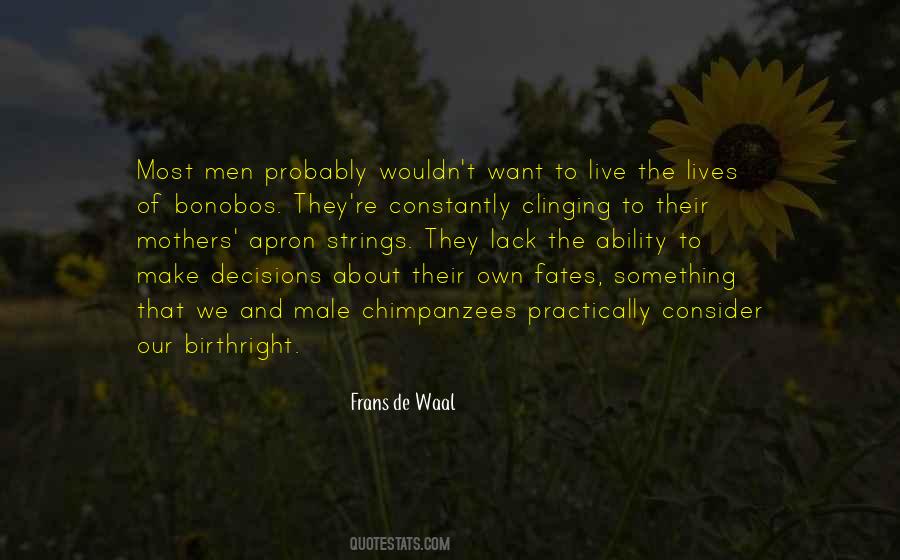 #29. The decision of their fates lay elsewhere, and the thought of that alone was utterly terrifying. - Author: Ross Turner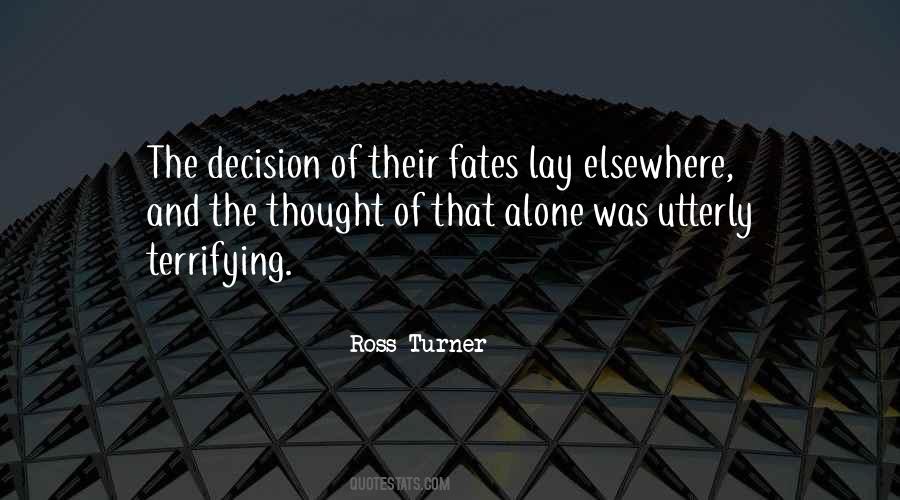 #30. I simply believe that sometimes the fates have a future for us that we cannot imagine. And to enable them we just have to keep believing that good things will happen. - Author: Jojo Moyes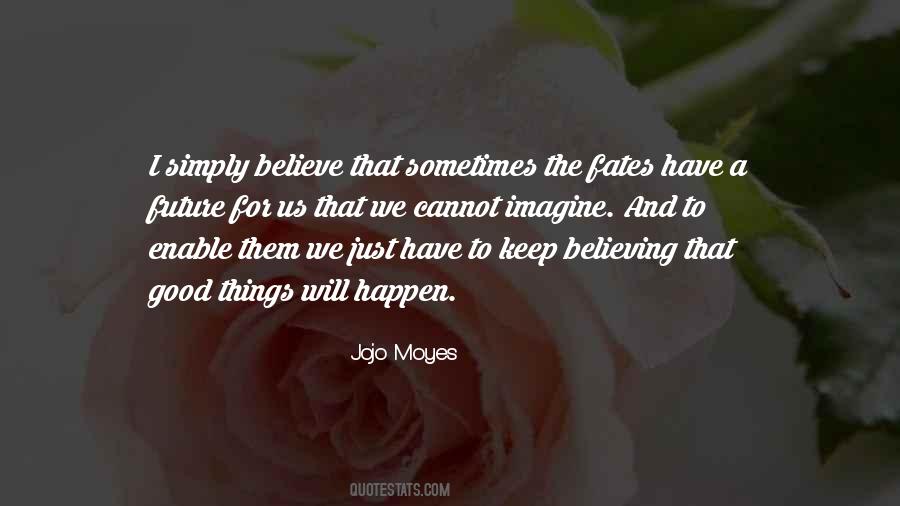 #31. On the other hand, all your thoughts, all the seeds you have sown, which perhaps you have already forgotten, will take root and grow; the one who has received from you will give to another. And how can you know what part you will play in the future resolution of the fates of mankind? If - Author: Fyodor Dostoyevsky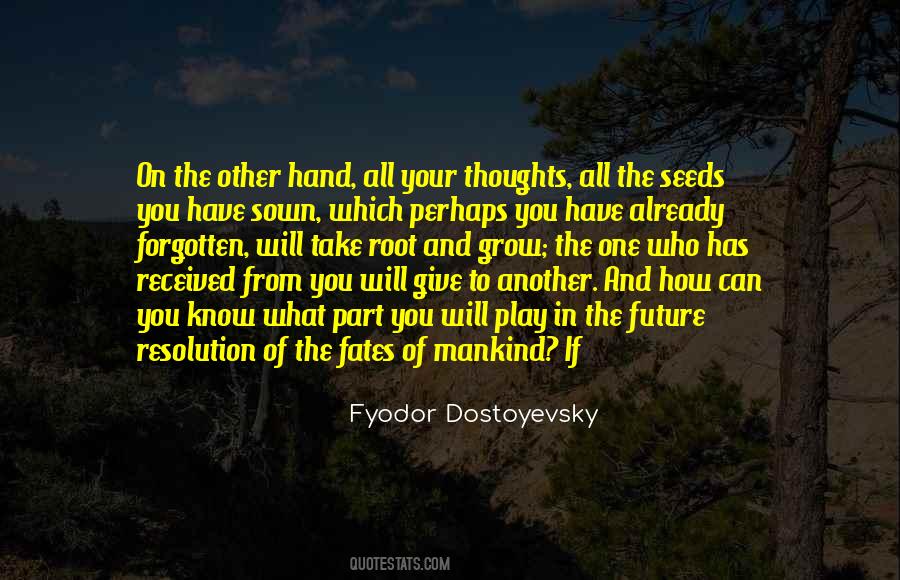 #32. Here was the puppeteer who was pulling strings all over the Empire. Didn't he know that the Fates were the only ones who could tweak the threads of destiny? - Author: Rosie Pugh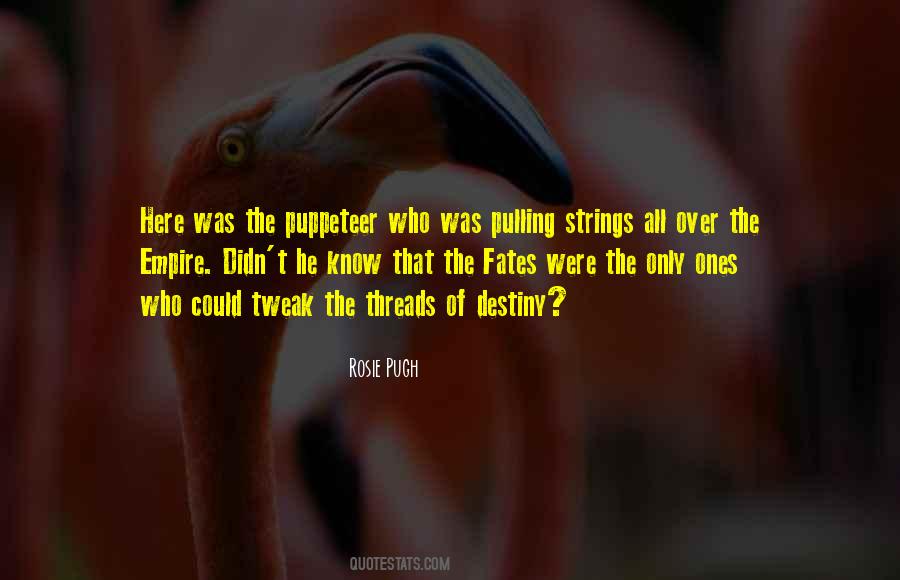 #33. Each of us must rededicate ourselves to serving the common good. We are a community. Our individual Fates are linked; our futures intertwined; and if we act in that knowledge and in that spirit together, as the Bible says: "We can move mountains." - Author: Jimmy Carter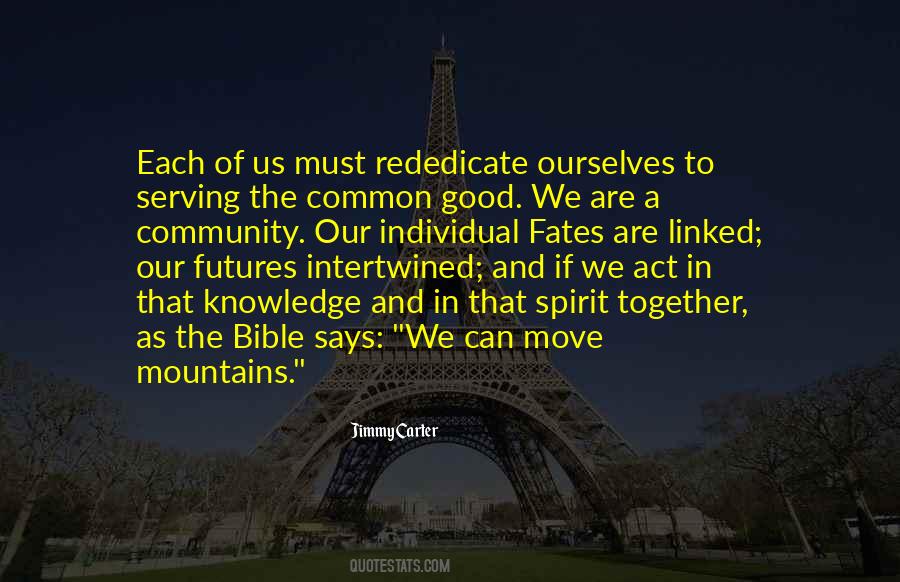 #34. Never assume you're safe, and never, ever tempt the Fates by announcing that you think you're safe. - Author: Rick Riordan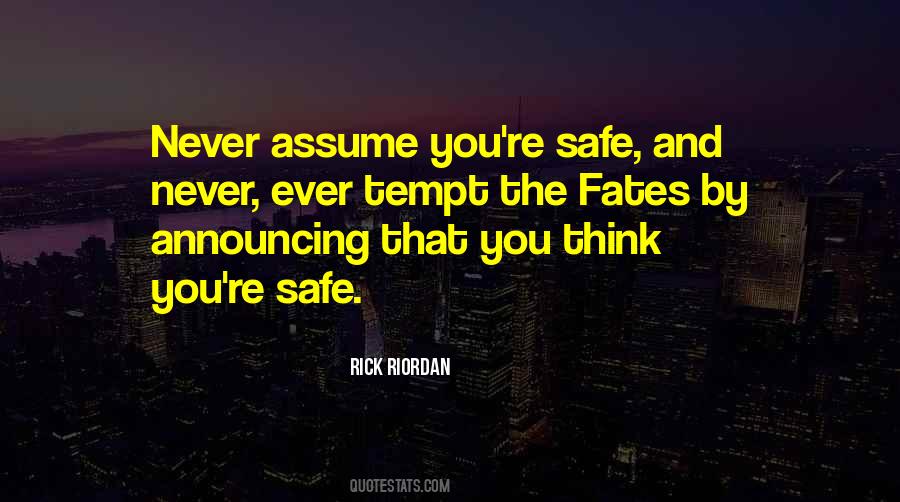 #35. I really believe that we have the power to manifest our own fates. - Author: Michael Trucco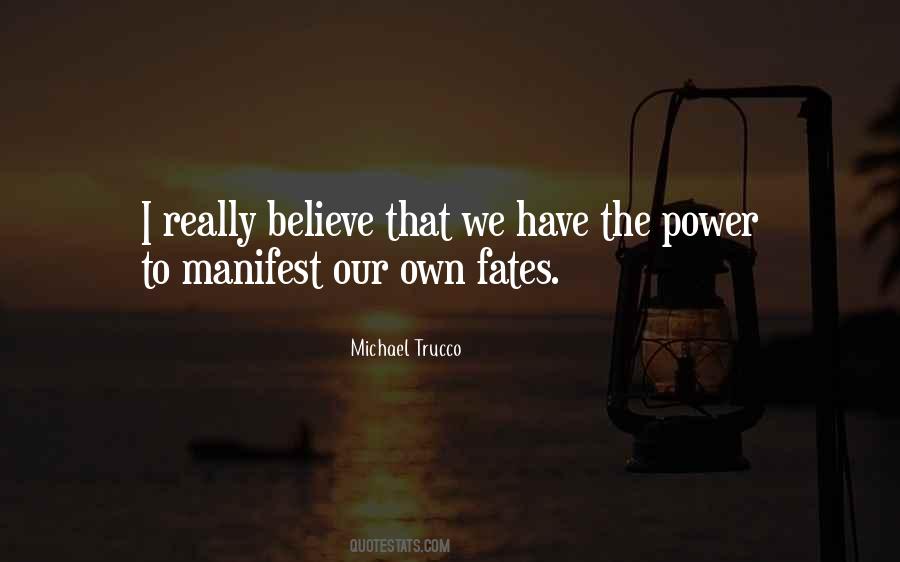 #36. God who is eternally complete, who directs the stars, who is the master of fates, who elevates man from his lowliness to Himself, who speaks from the cosmos to every single human soul, is the most brilliant manifestation of the goal of perfection. - Author: Alfred Adler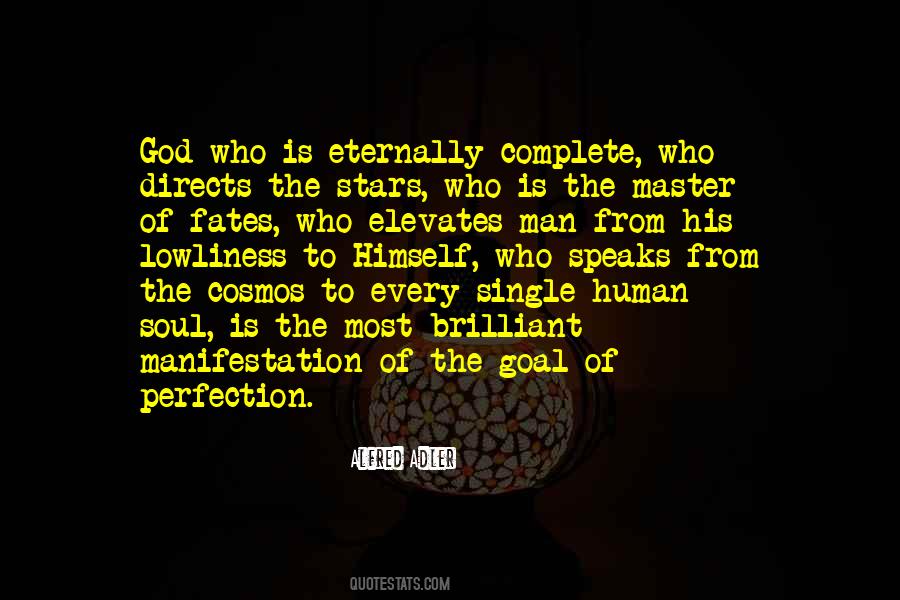 #37. Her timing sucked. She was pretty sure the Fates were smoking joints and sitting around laughing at their crystal ball. - Author: T.S. Joyce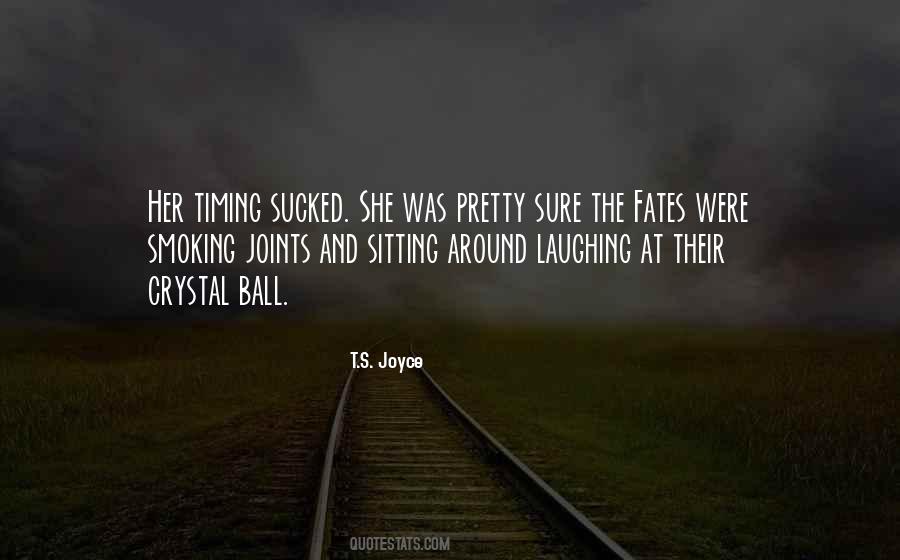 #38. Folks around here like to say we came from the stars. Perhaps it's simpler to think of us not as human but as creatures made of stardust
that if you cut us, not blood but constellations will pour from out wounds. - Author: Leslye Walton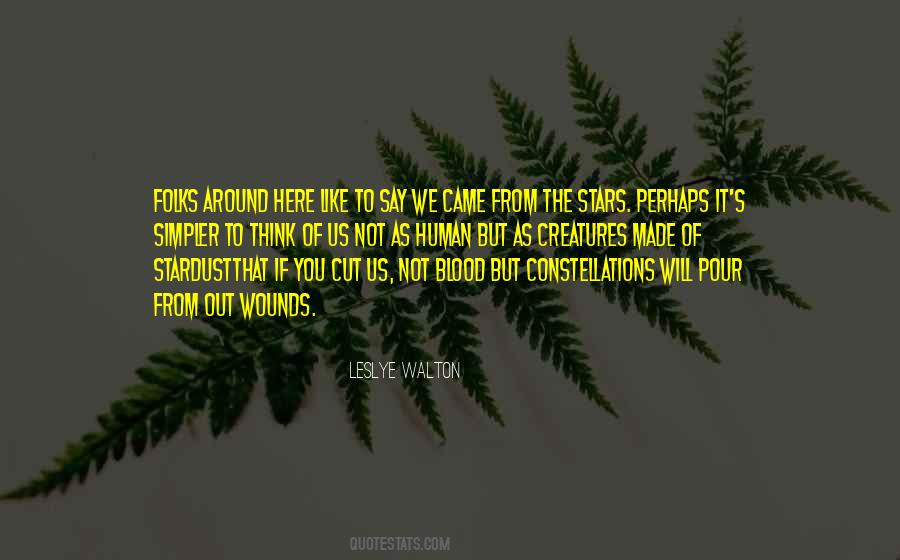 #39. We are the masters of our own fates - we decide how we go forward. - Author: Sarah J. Maas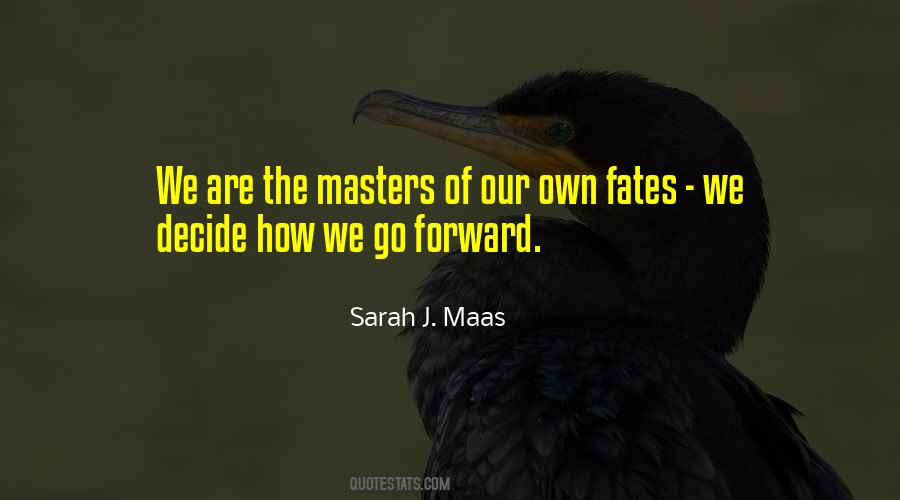 #40. Narrative secrets are not the same as human mysteries, a lesson that novelists seem fates to forget, again and again; the former quickly confess themselves, and fall silent, while the true mysteries go on speaking. - Author: James Wood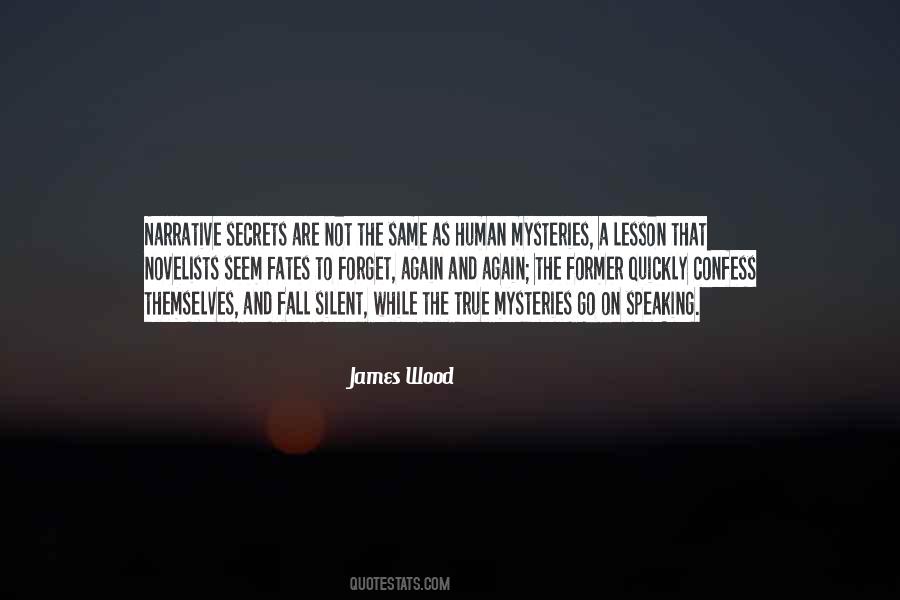 #41. Officially there are no fates worse than death. Unofficially, there is a profusion of such fates. For some people, just living with the thought that they will die is a fate worse than death itself. - Author: Thomas Ligotti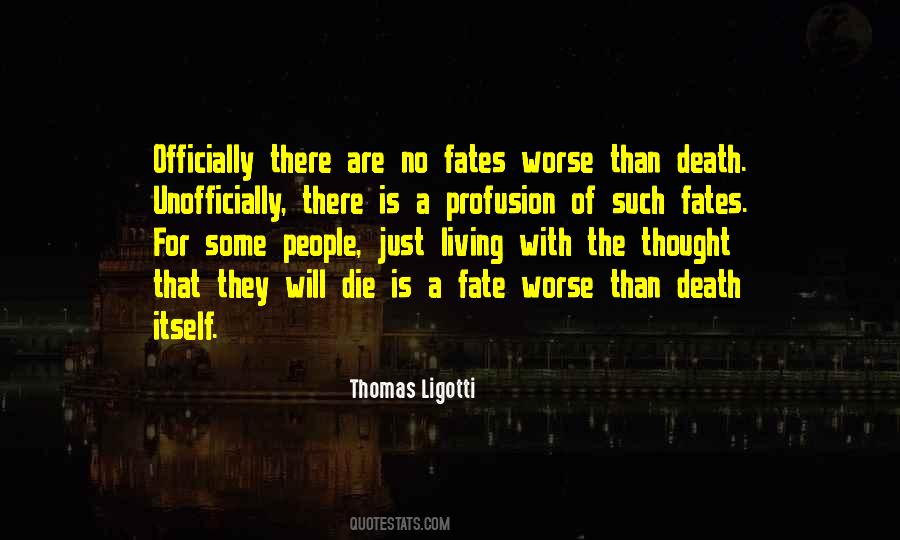 #42. Time and chance. The twin offspring of destiny. That wondrous branching of our fates. - Author: Carol Shields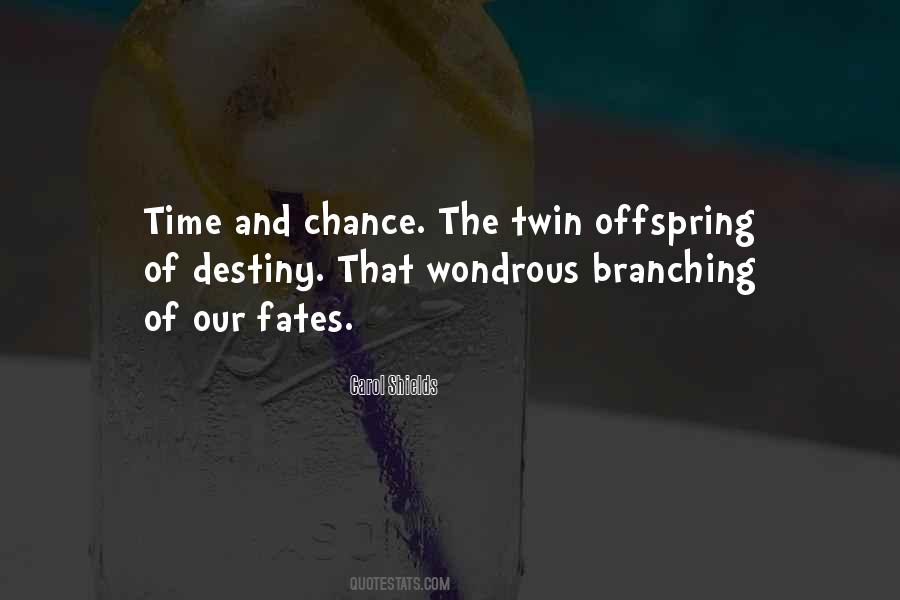 #43. Surely the fates are forever kind, though Nature's laws are more immutable than any despot's, yet to man's daily life they rarelyseem rigid, but permit him to relax with license in summer weather. He is not harshly reminded of the things he may not do. - Author: Henry David Thoreau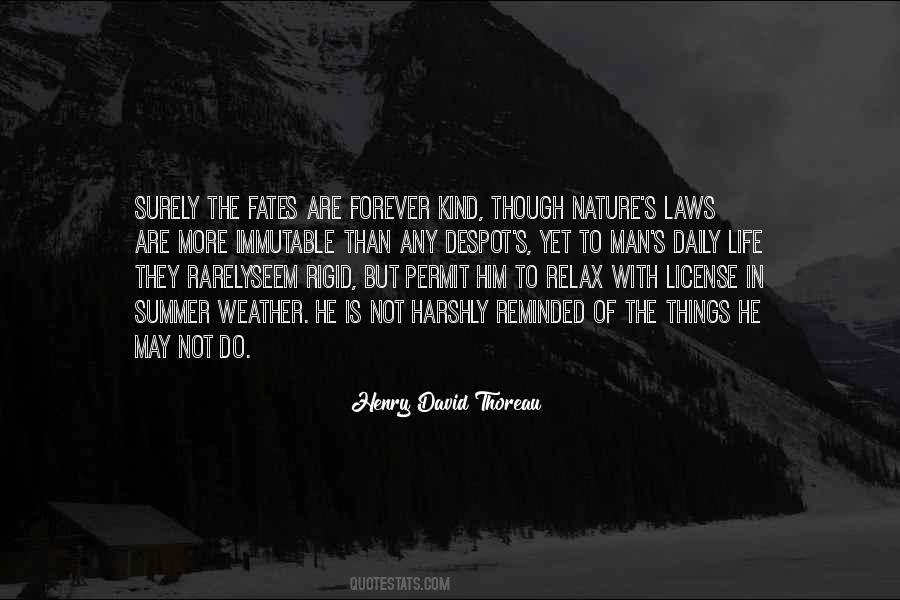 #44. It is He who makes the lightning flash upon you, inspiring you with fear and hope, and gathers up the heavy clouds. The thunder sounds His praises, and the angels, too, in awe of him. He hurls his thunderbolts at whom He pleases. Yet the unbelievers wrangle about God. - Author: Anonymous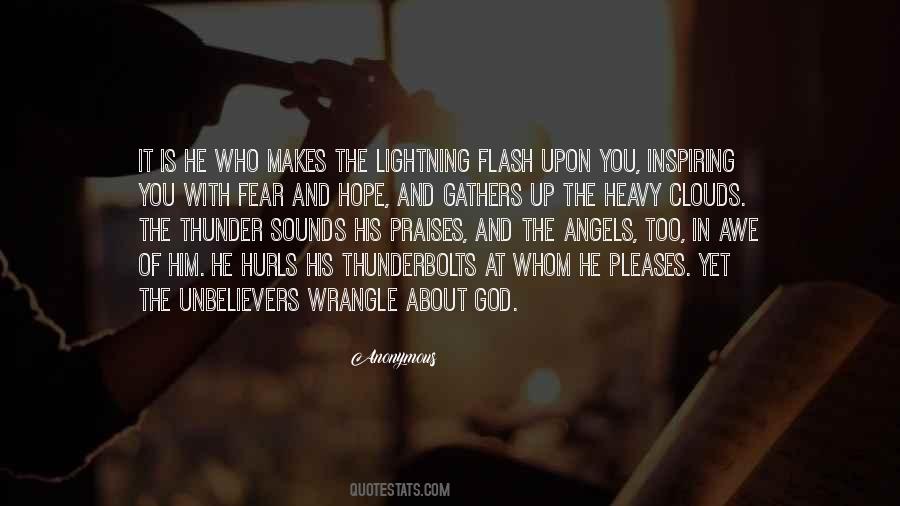 #45. The earth has Fates all her own. The earth has purpose. And we can only partially know what that purpose is. - Author: Jane Caputi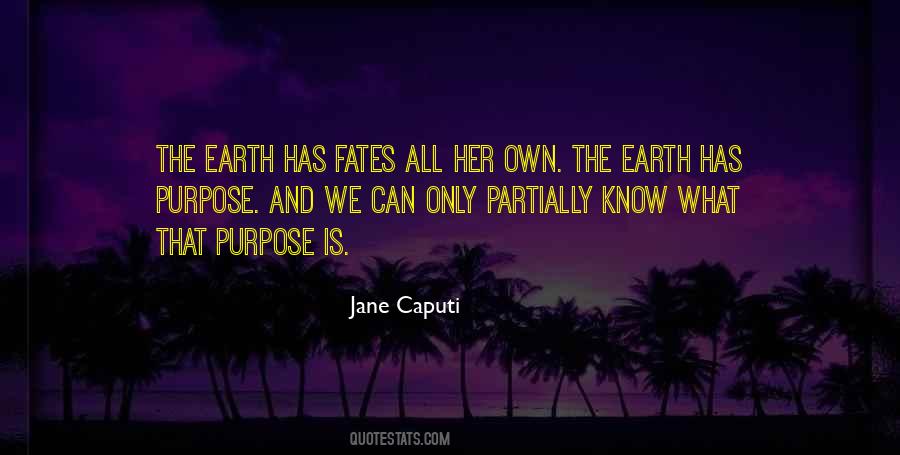 #46. We fight in honourable fashion for the good of mankind; fearless of the future, unheeding of our individual fates, with unflinching hearts and undimmed eyes; we stand at Armageddon, and we battle for the Lord - Author: Theodore Roosevelt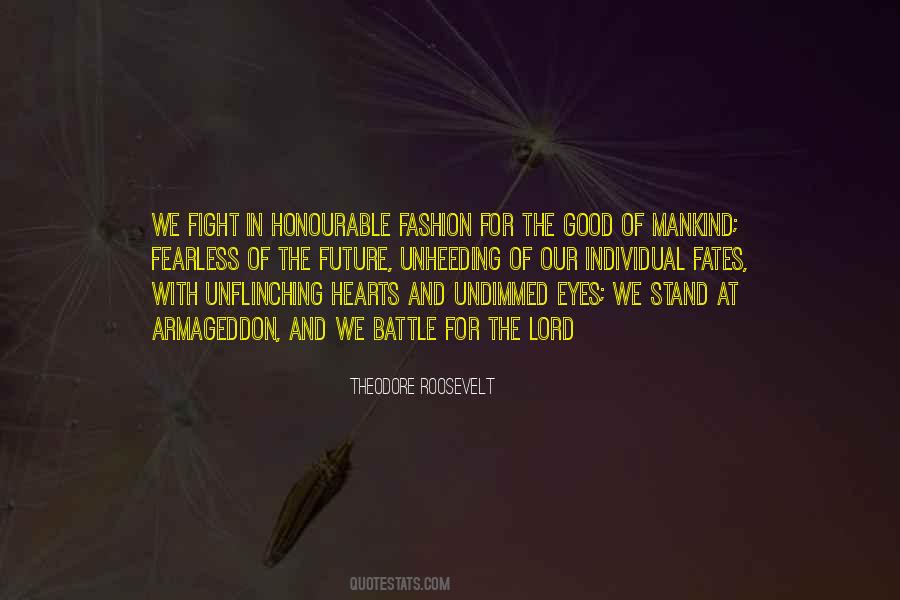 #47. You are not alone. You are not being singled out by the fates to suffer. - Author: Karen Salmansohn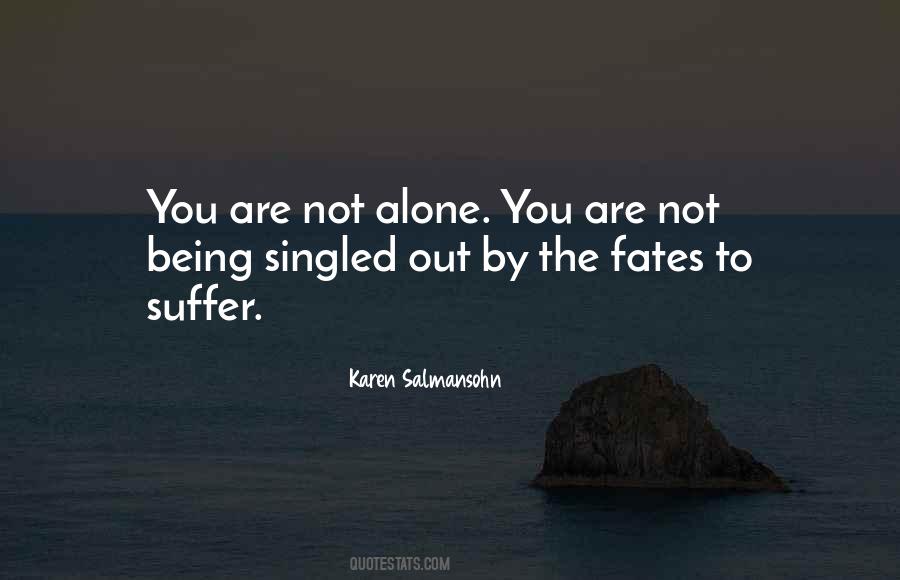 #48. However, our fates at least are social. Our courses do not diverge; but as the web of destiny is woven it is fulled, and we are cast more and more into the centre. Men naturally, though feebly, seek this alliance, and their actions faintly foretell it. - Author: Henry David Thoreau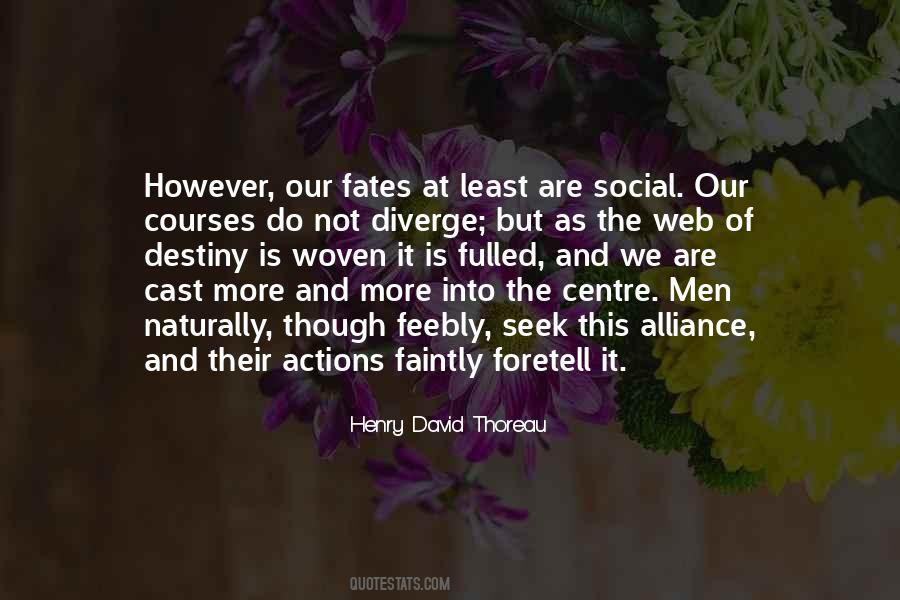 #49. In 1921, a New York rabbi asked Einstein if he believed in God. "I believe in Spinoza's God," he answered, "who reveals himself in the orderly harmony of what exists, not in a God who concerns himself with the fates and actions of human beings. - Author: Jim Holt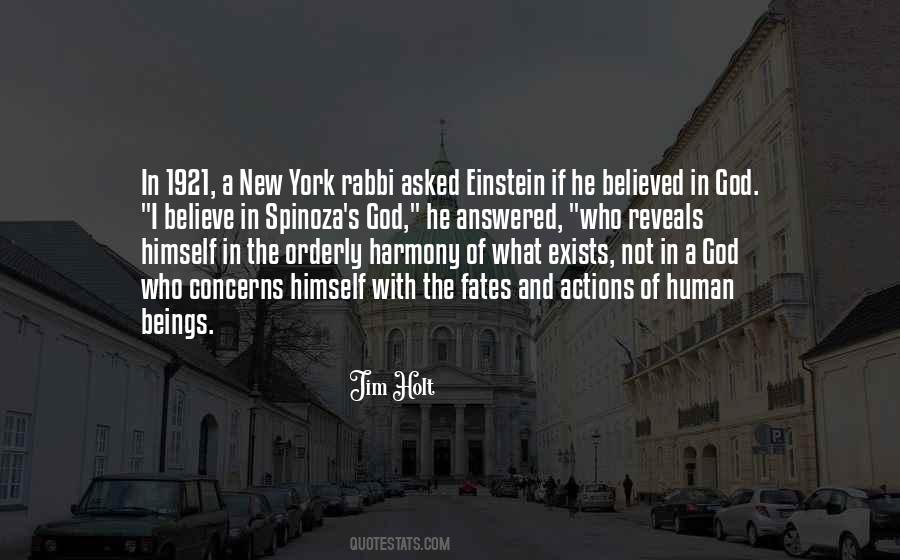 #50. Where shall the lover rest,
Whom the fates sever
From his true maiden's breast,
Parted for ever?
Where, through groves deep and high,
Sounds the far billow,
Where early violets die,
Under the willow. - Author: Walter Scott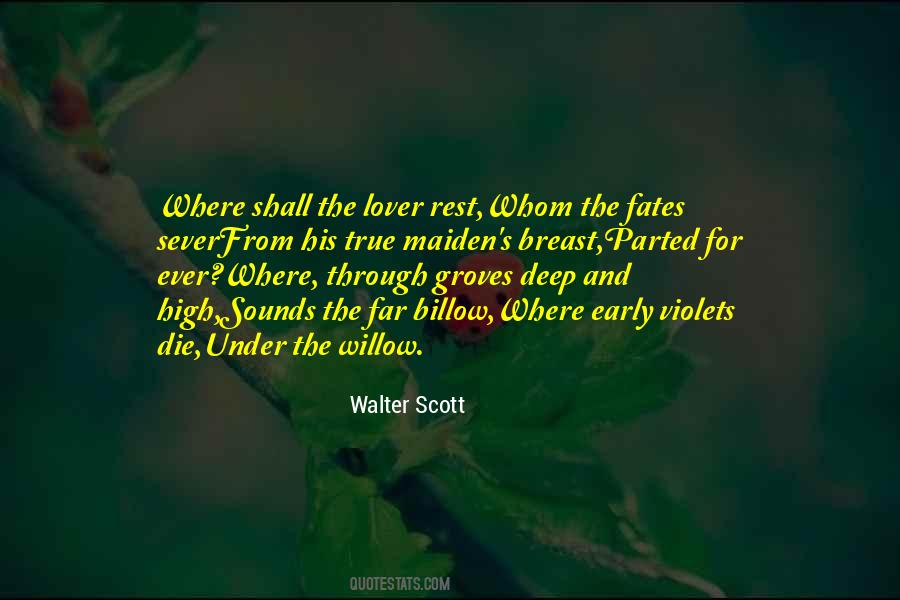 #51. In the last analysis, we must all, Indian and no-Indian, come together. This earth is our mother, this land is our shared heritage.
Our histories and fates are intertwined, no matter where our ancestors were born and how they interacted with each other. - Author: Kent Nerburn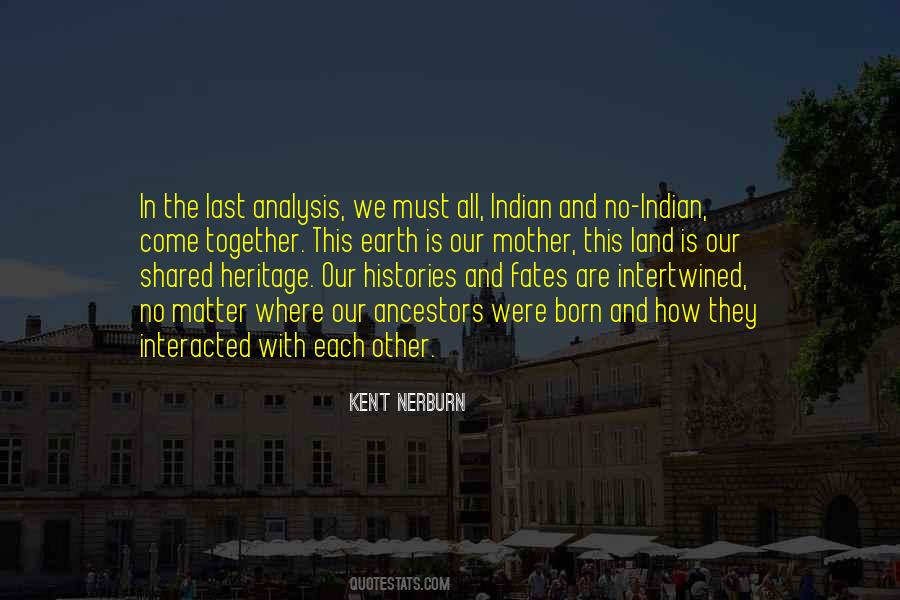 #52. Three were the fates. Poverty that chains; gray drudgery that grinds the hope away, and gaping ignorance that starves the soul. - Author: Edwin Markham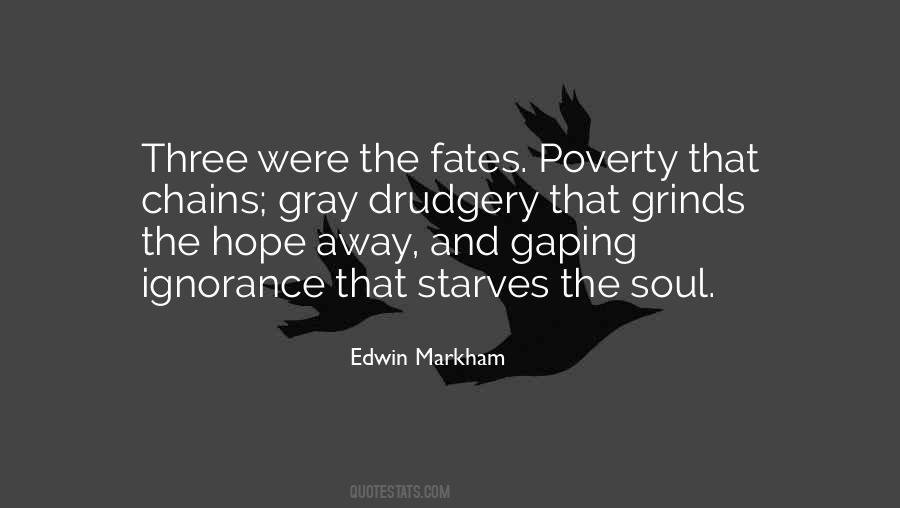 #53. Those whimpering Stateside young people will wake up on the Day of Judgment condemned to worse fates than these demon-fearing Indians, because, having a Bible, they were bored with it - while these never heard of such a thing as writing. - Author: Jim Elliot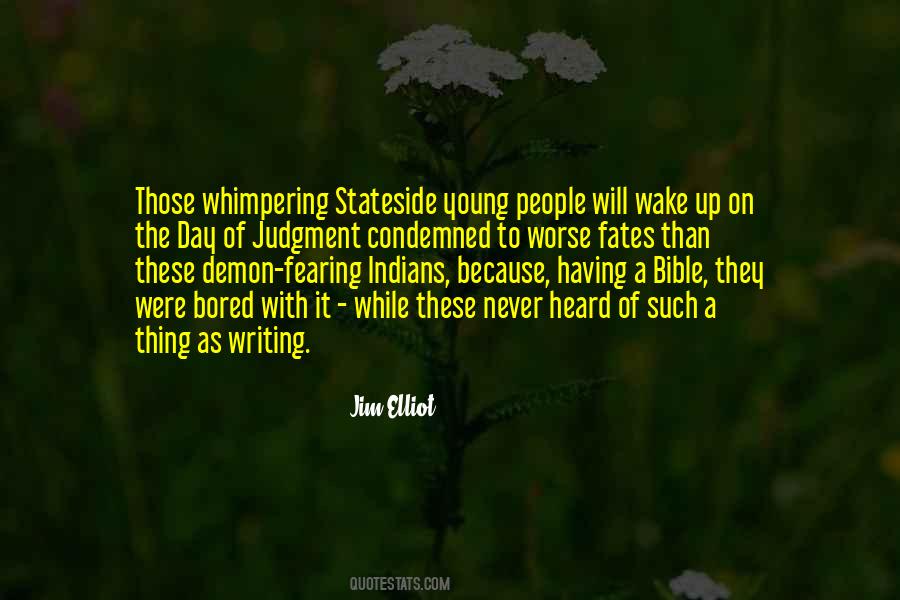 #54. She was screwed by the fates. Cursed with a mate she wanted but couldn't have. - Author: Susannah Scott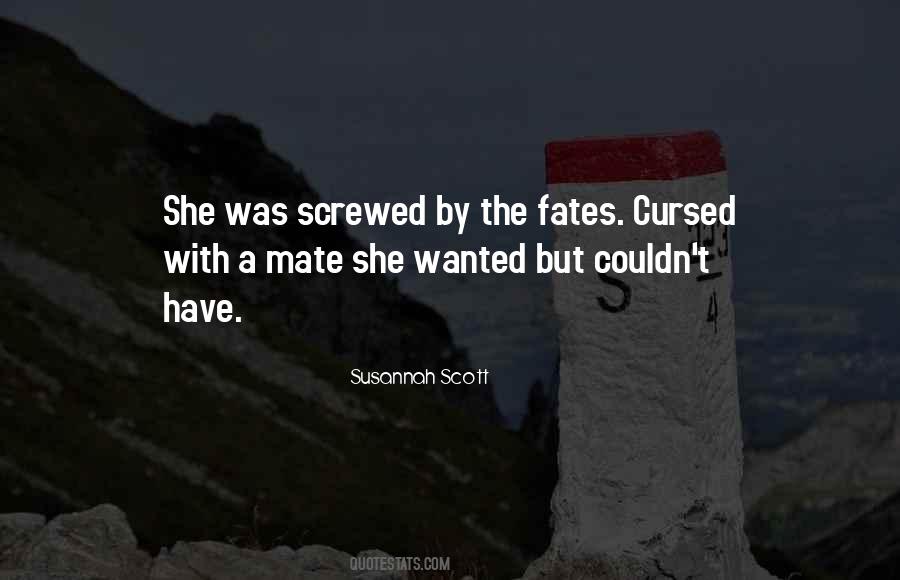 #55. I curse you! I curse you both. May you crave all that is sugary until the fates have aligned your true heart! - Author: A.R. Von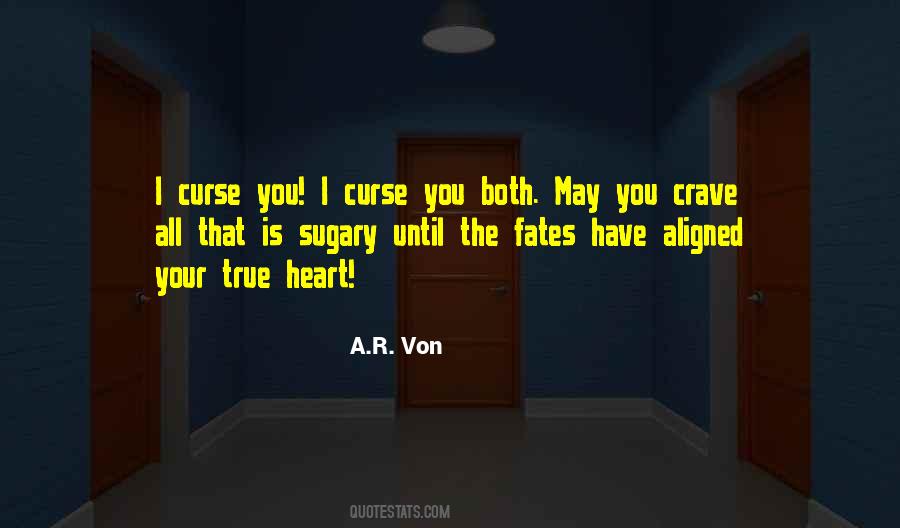 #56. I take it you don't question the gods," I muttered. "No, Cora, even you wouldn't question the gods. Our fates were written in the sky the moment we were born." Oh. Wow. "Written in the sky?" I breathed. "Me to you, you to me for all the kingdom to see." Holy crap. Something - Author: Kristen Ashley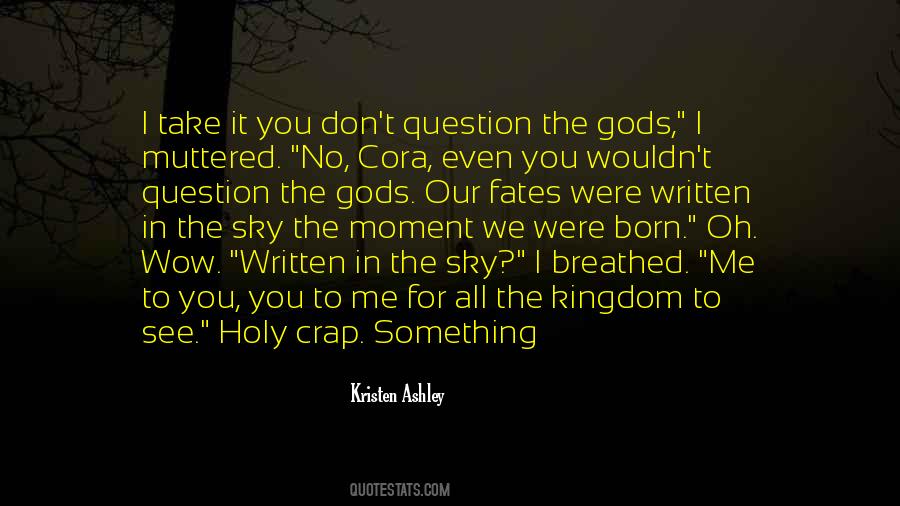 #57. Only from chaos does order come. The angry Fates bring death where they will, when war is king, says Enlil, storm god of the armies, and the tip of his crown rends the clouds above their heads. "Wheresoever I rule, death comes shambling after. So it has always been, is, and will be." - Author: Janet Morris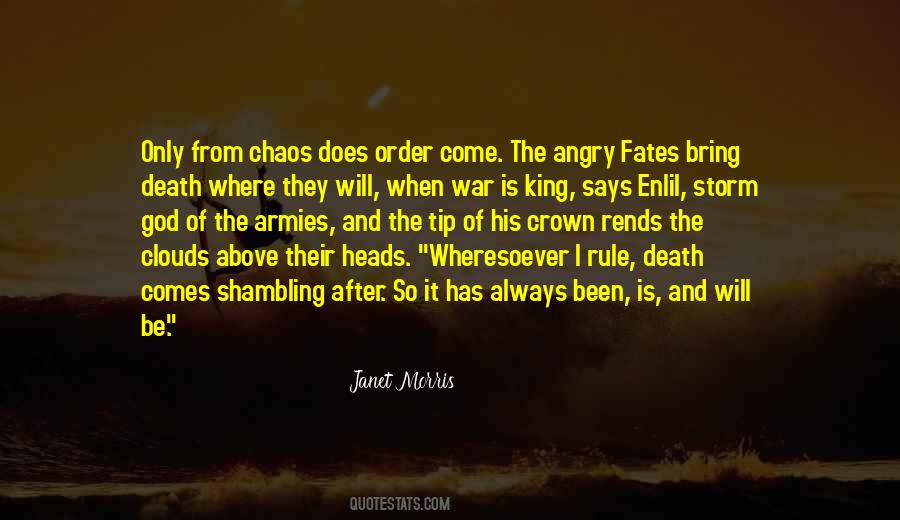 #58. Our fates are in the hands of An Almighty God, to whom I can with pleasure confide my own; he can save us, or destroy us; his Councils are fixed and cannot be disappointed, and all his designs will be Accomplished. - Author: Abraham Clark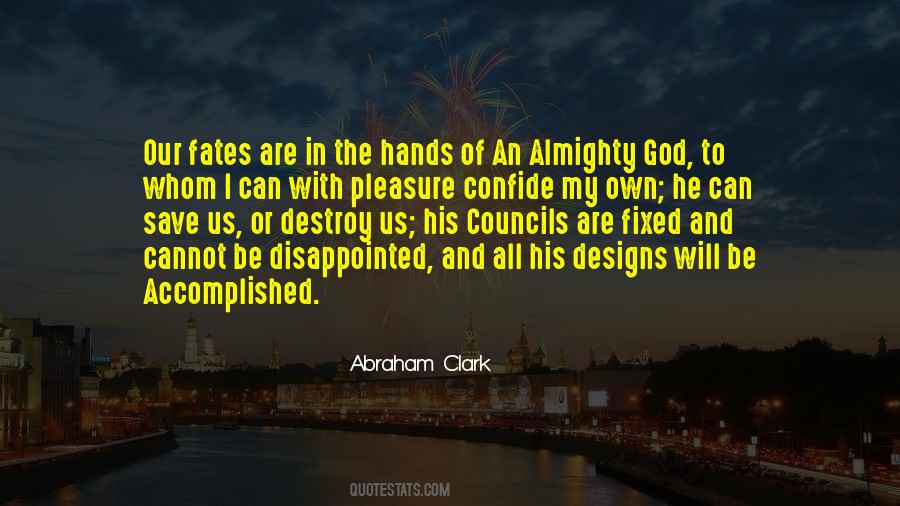 #59. If he heard her, he gave no indication, just went on about "men who take advantage" and "helpless women" and "fates worse than death." Sophie wasn't positive, but she thought she even heard the phrase "roast beef and pudding". - Author: Julia Quinn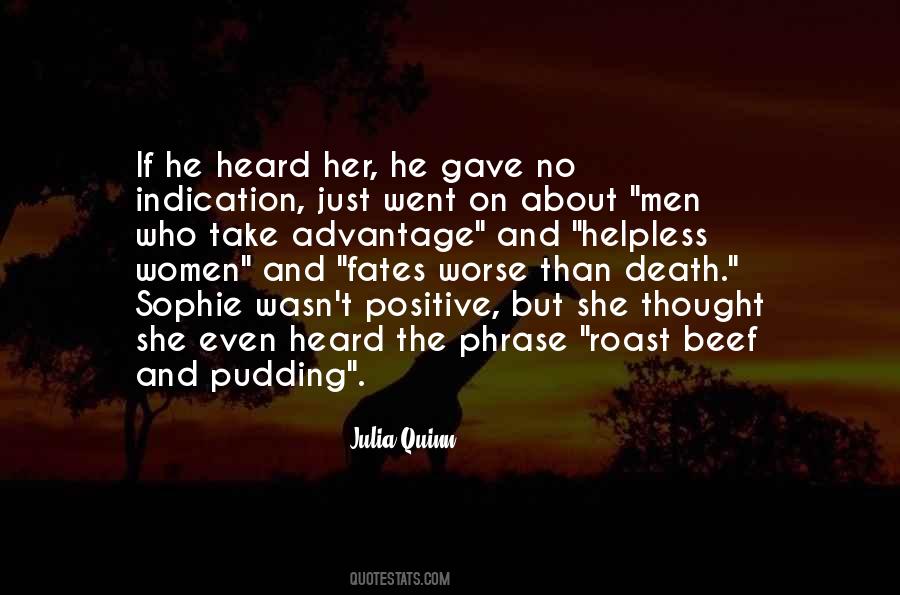 #60. If the right man does not come along, there are many fates far worse. One is to have the wrong man come along. - Author: Letitia Baldrige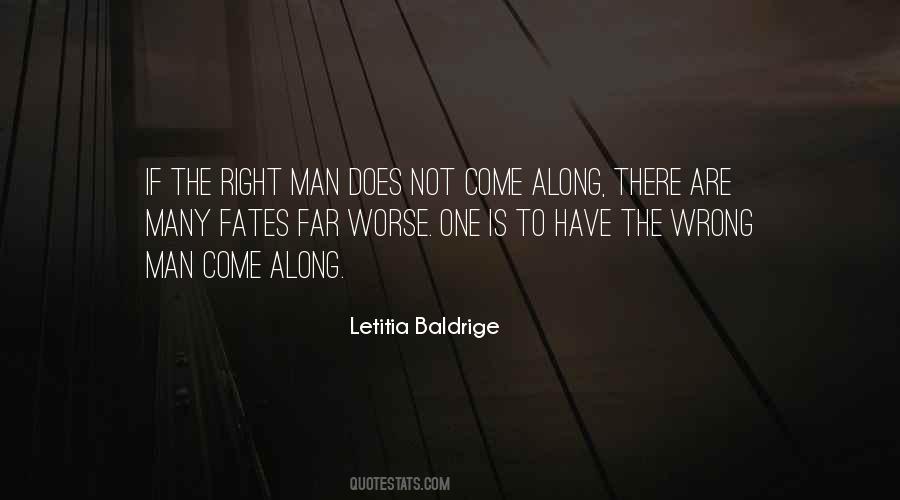 #61. Even the gods couldn't devise a fates so twisted. - Author: Rick Riordan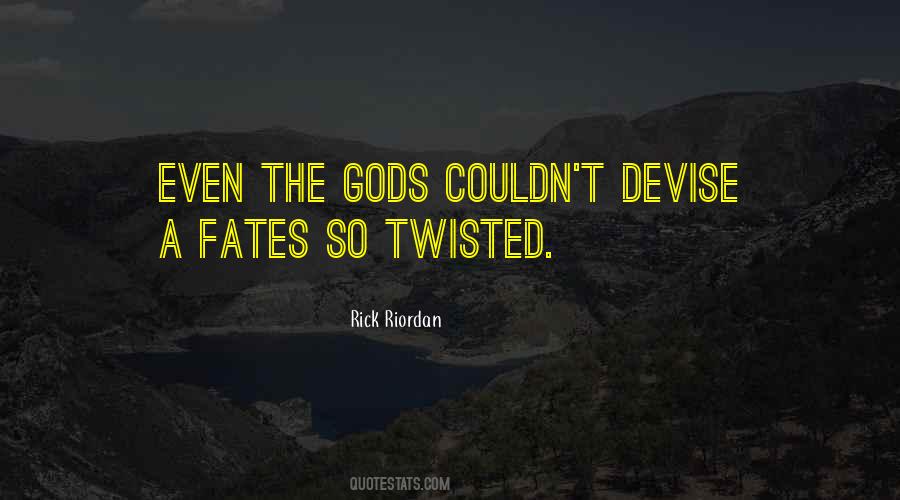 #62. For the heart was both key and lock, and he who could master the hearts of men and learn their secrets was well on the way to mastering the Fates and controlling the thread of his own destiny. - Author: Margaret Atwood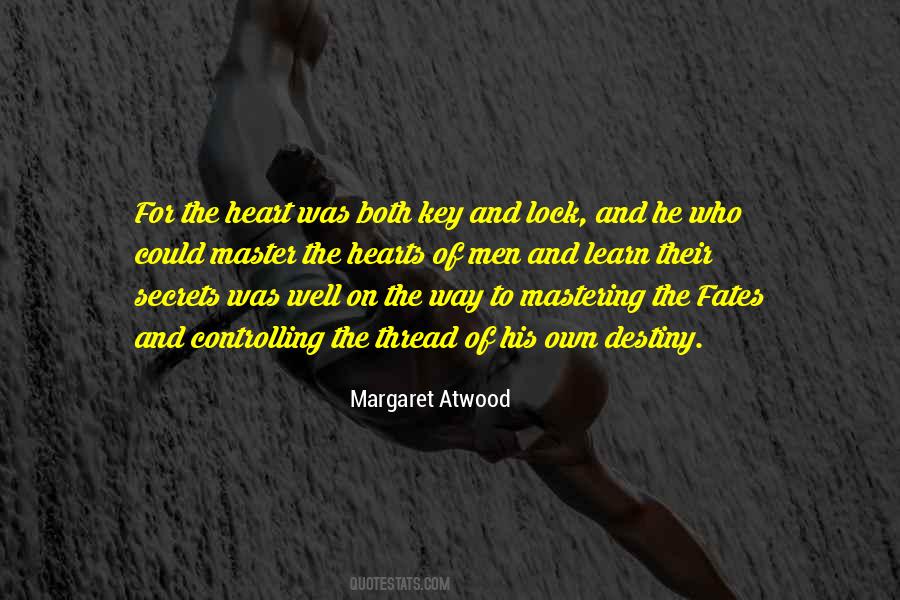 #63. We need to return to learning about the land by being on the land, or better, by being in the thick of it. That is the best way we can stay in touch with the fates of its creatures, its indigenous cultures, its earthbound wisdom. That is the best way we can be in touch with ourselves. - Author: Gary Paul Nabhan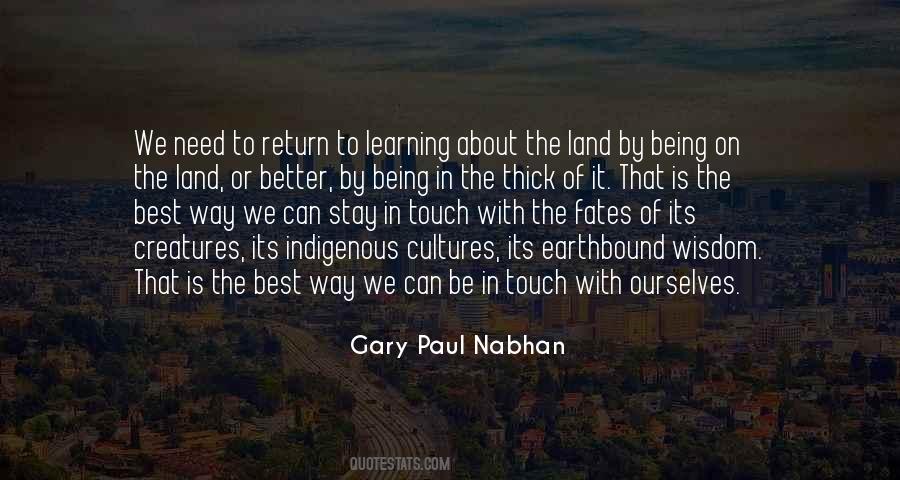 #64. I can feel the grip of lost lives beneath me, starved hearts hoping to escape their shadowy fates. - Author: Ky Grabowski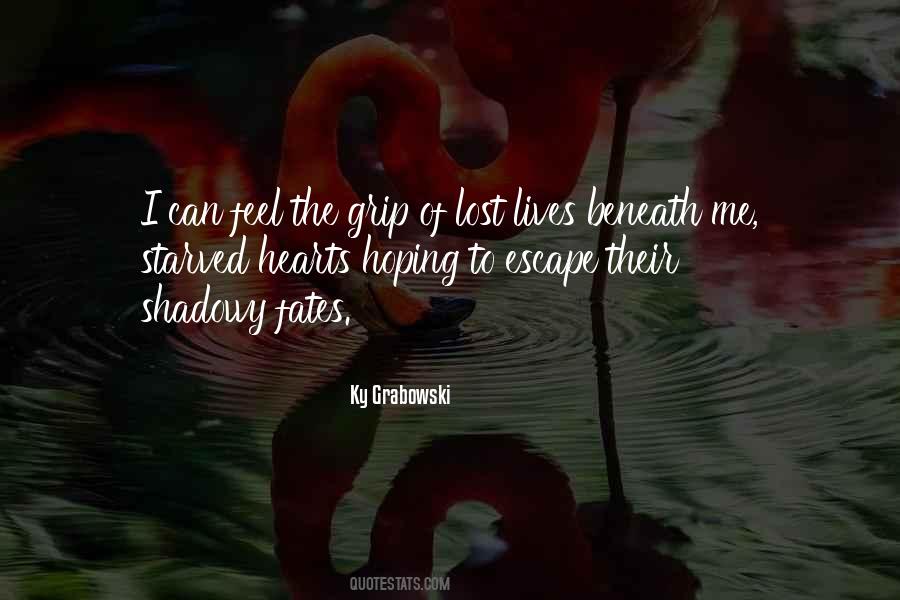 #65. A singer learned her roles for life - your repertoire was a library of fates held close, like the gowns in this closet, yours until your voice failed. - Author: Alexander Chee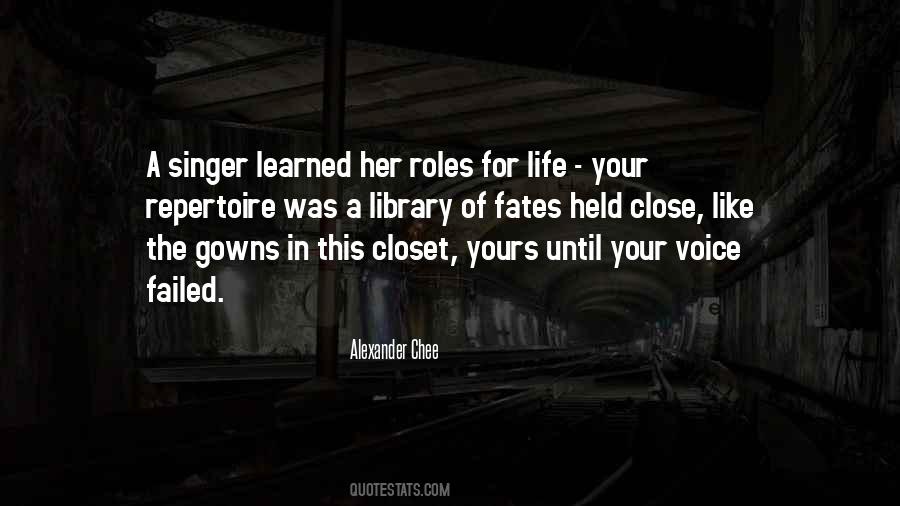 #66. There were worse fates. He was doing what he was born to do. Fighting on the side of good against radicals who sought to destroy the world. This was the good fight. The best fight. - Author: Isaac Hooke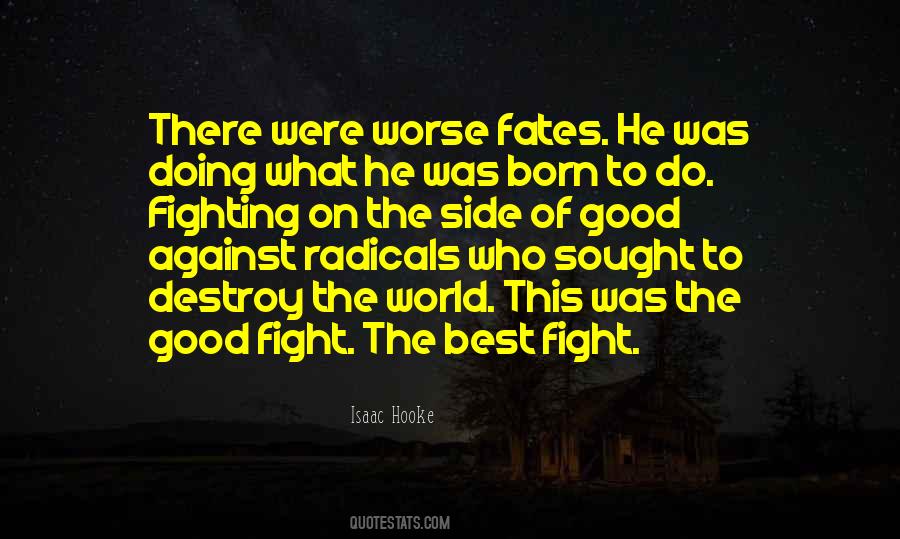 #67. I could not separate our fates now any more than I could sort the blood from the ash. We are tied together by our love of the same girl. - Author: Laura Bradley Rede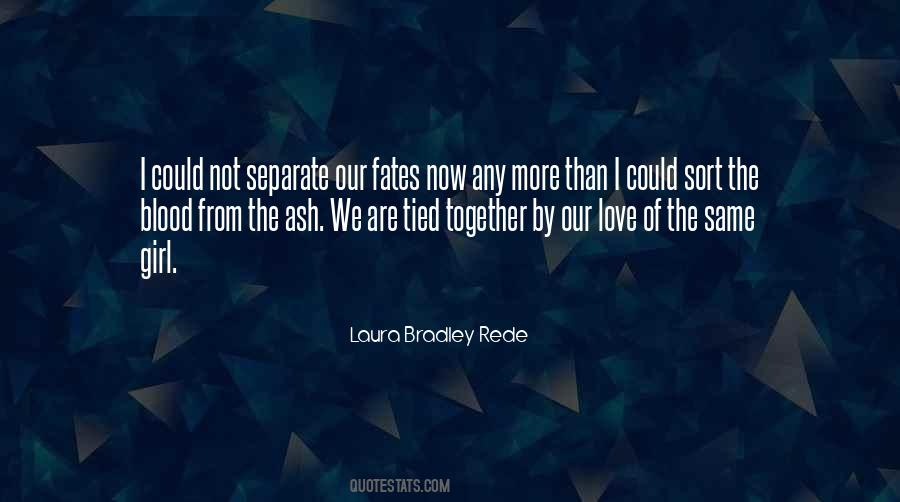 #68. Be careful, little killer. The Fates can fuck with you in ways you can't even imagine. - Author: Larissa Ione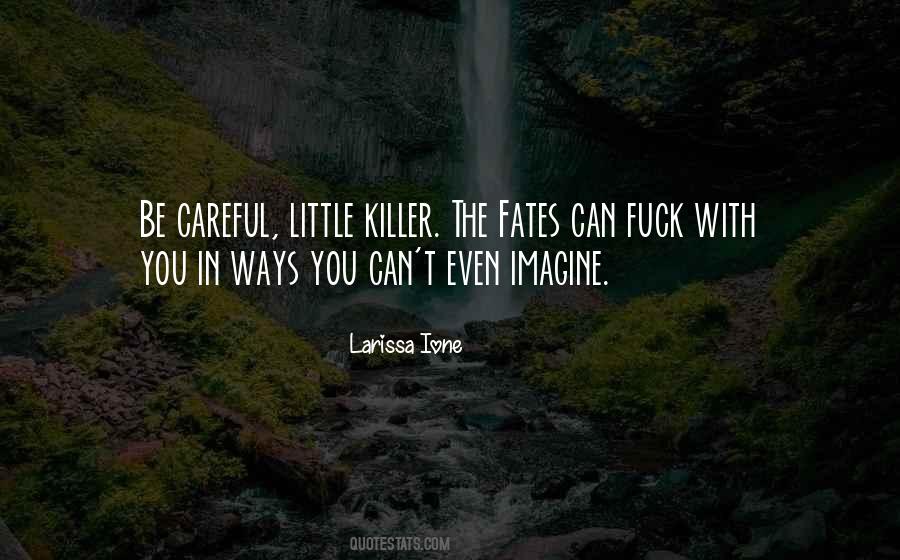 #69. We never conceive the greatness of our fates. - Author: Henry David Thoreau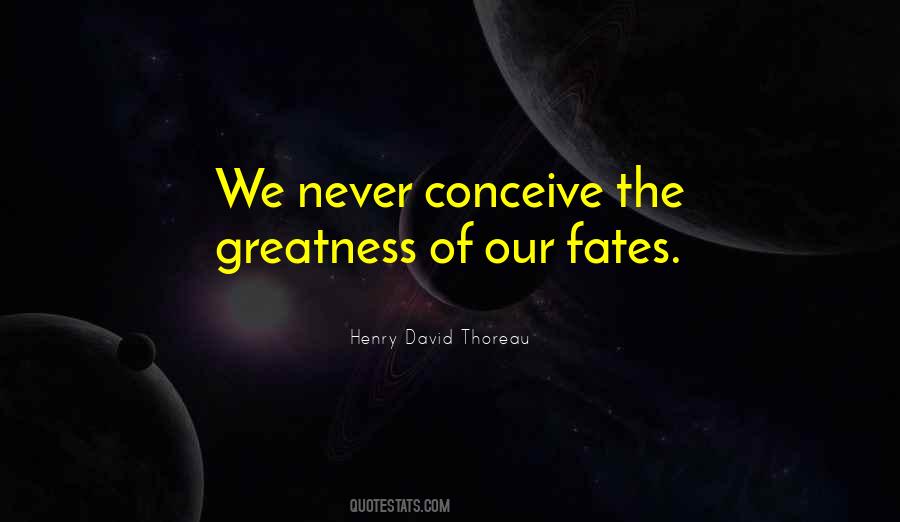 #70. Each man has many fates. Each choice produces a different path. Each path another choice. So be it. When a man has found his way through the maze of many lifetimes he will find harmony. Or he will remain in chaos lost in the maze. His choice alone determines." Orient - Author: Frank Lauria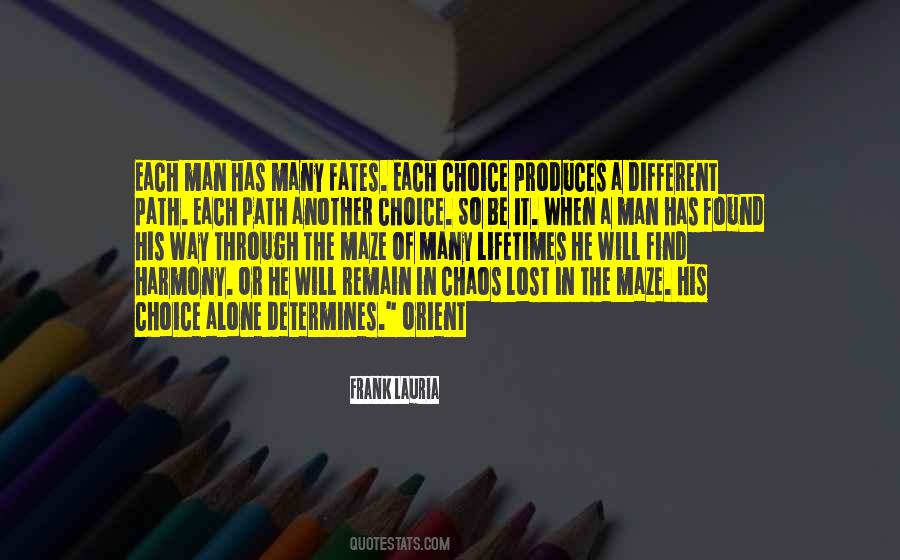 #71. A hot lust for glory, gems, gold or mates,
Leads reckless young drakes to the blackest of fates. - Author: E.E. Knight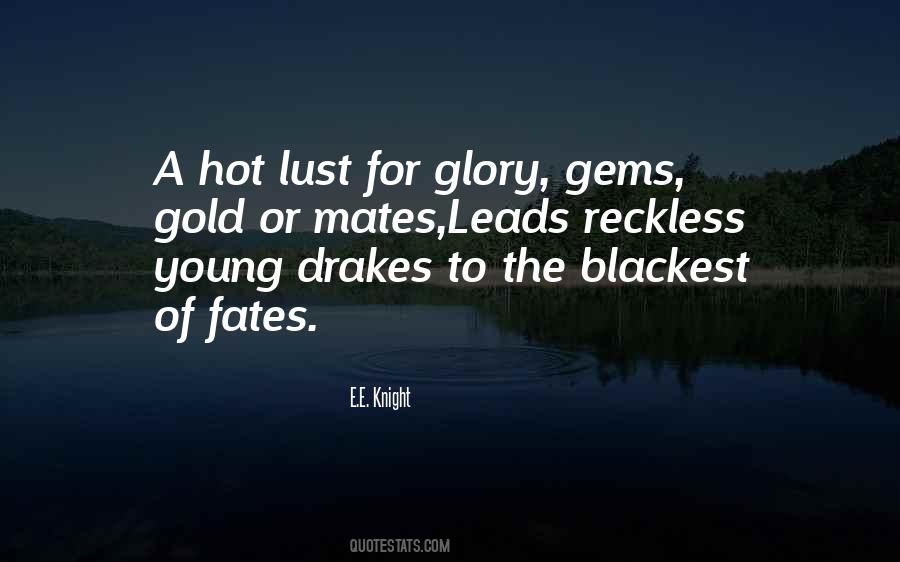 #72. The Fates and Furies, as well as the Graces and Sirens, glide with linked hands over life. - Author: Jean Paul Friedrich Richter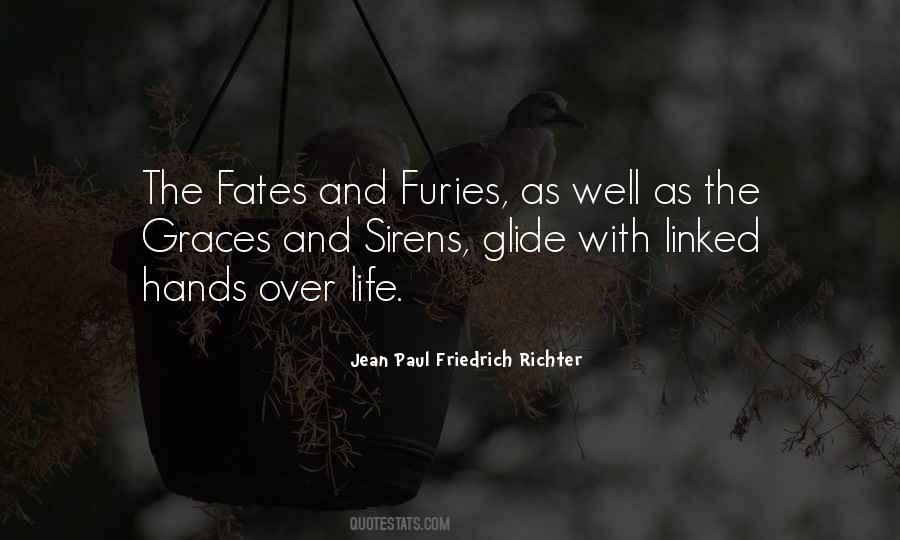 #73. My aspiration to become a jurist had been laid to rest in the Graveyard of Failed Hopes, an all-female establishment. The sorrow of it had faded, but regret remained, and I'd taken to wondering if the Fates might be kinder to a different girl. - Author: Sue Monk Kidd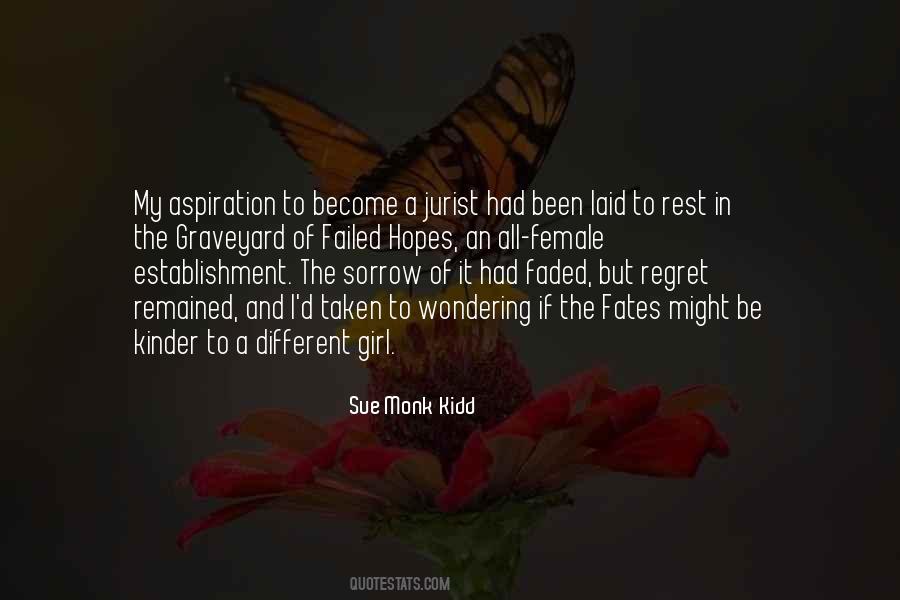 #74. Wherever the fates lead us let us follow. - Author: Virgil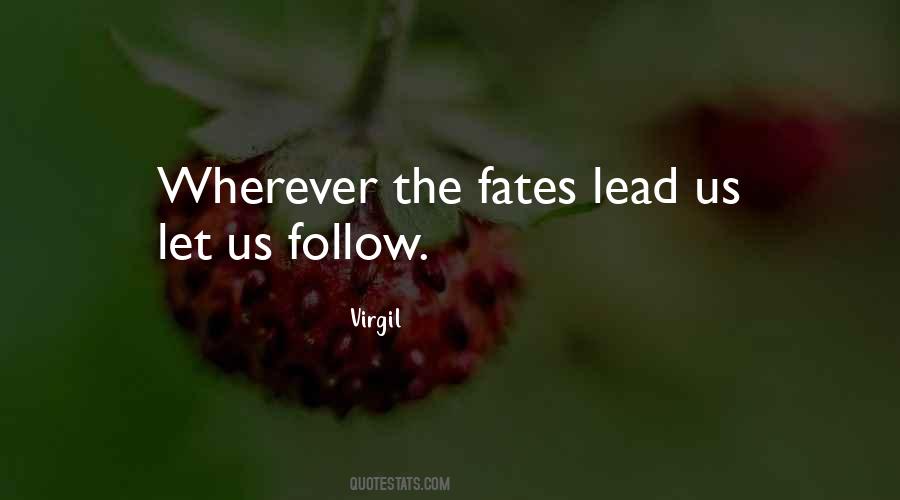 #75. Though we hear various reports of his existence we can never find the young wizard who is able so they say to graft the soul of a girl to the soul of her lover so that not even the sharp scissors of the Fates can ever sever them apart. - Author: Harry Crosby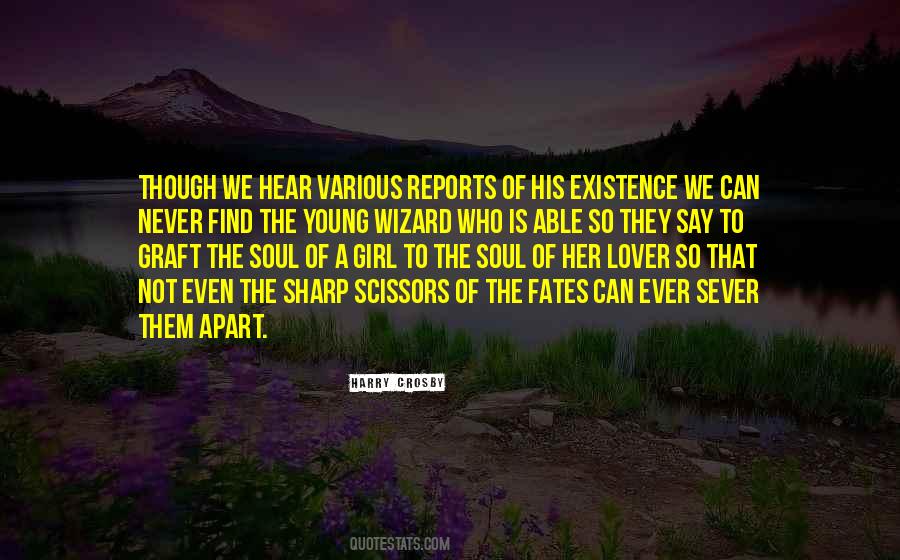 #76. We can't run away from what defines our fates. Who we are and what we believe in grow from the roots of our past, no matter how much we might try to deny it. - Author: Gail Tsukiyama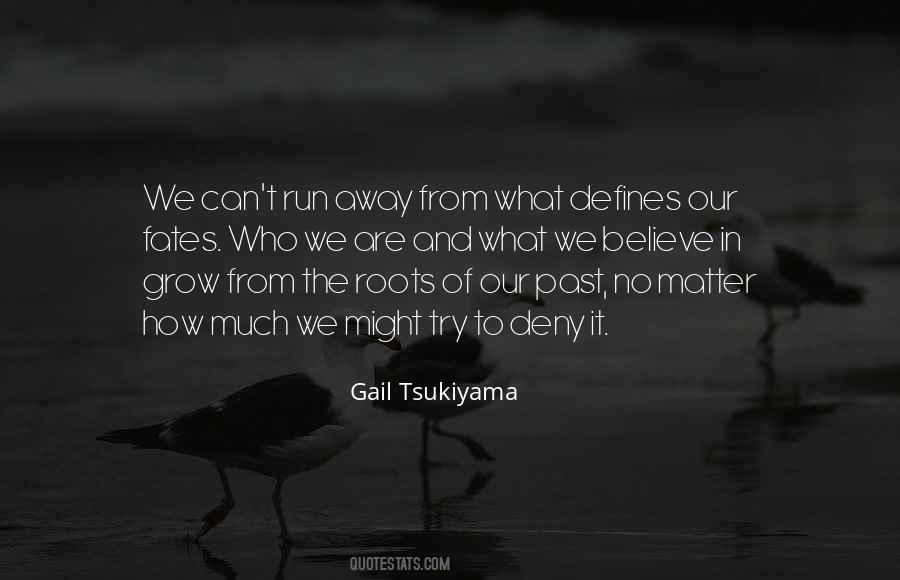 #77. You can be as mad as a mad dog at the way things went, you can curse the fates, but when it comes to the end, you have to let go. - Author: Eric Roth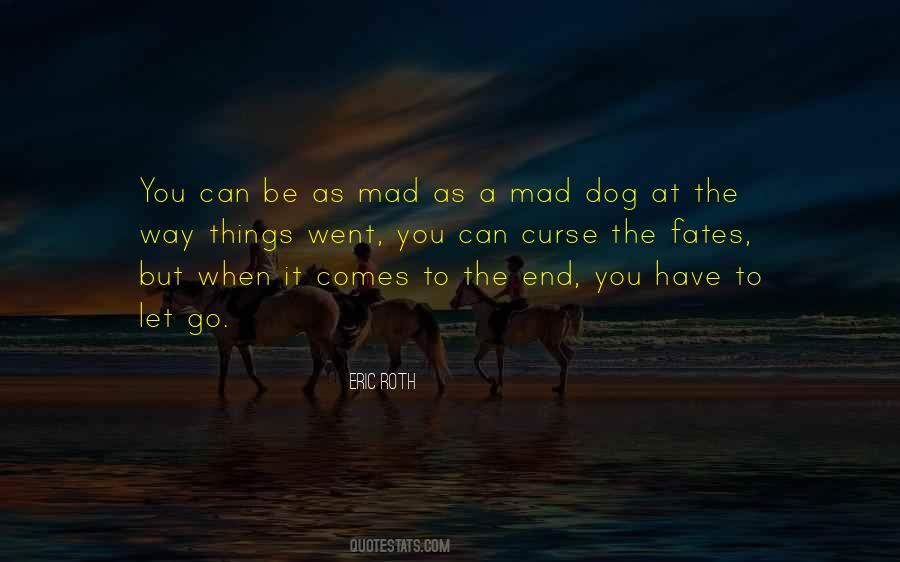 #78. AKHLYS LUNGED AT PERCY, and for a split second he thought: Well, hey, I'm just smoke. She can't touch me, right? He imagined the Fates up in Olympus, laughing at his wishful thinking: LOL, NOOB! The - Author: Rick Riordan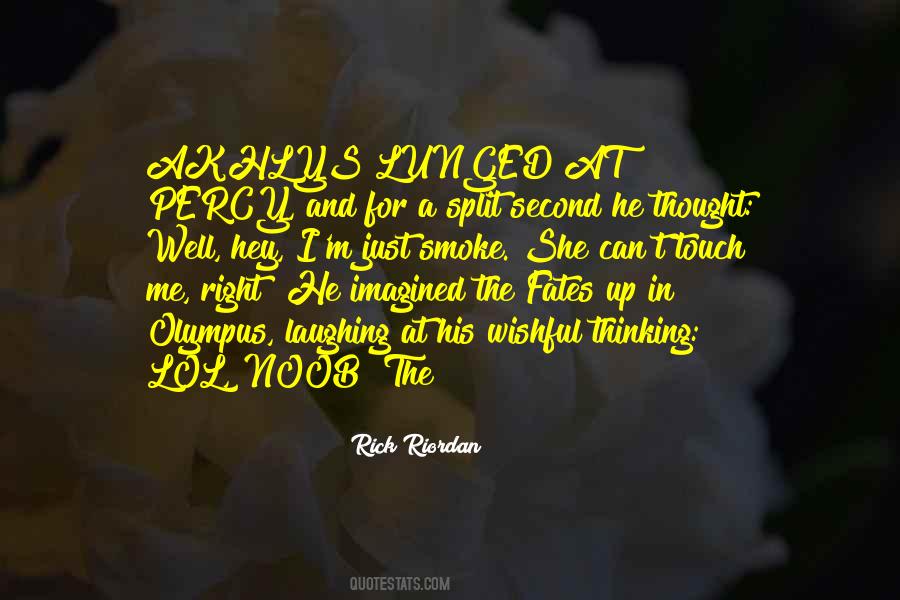 #79. We owe our fellow citizens something better than an institutional
structure that allows their fates to depend so deeply on the brute
luck of class origin. - Author: Debra Satz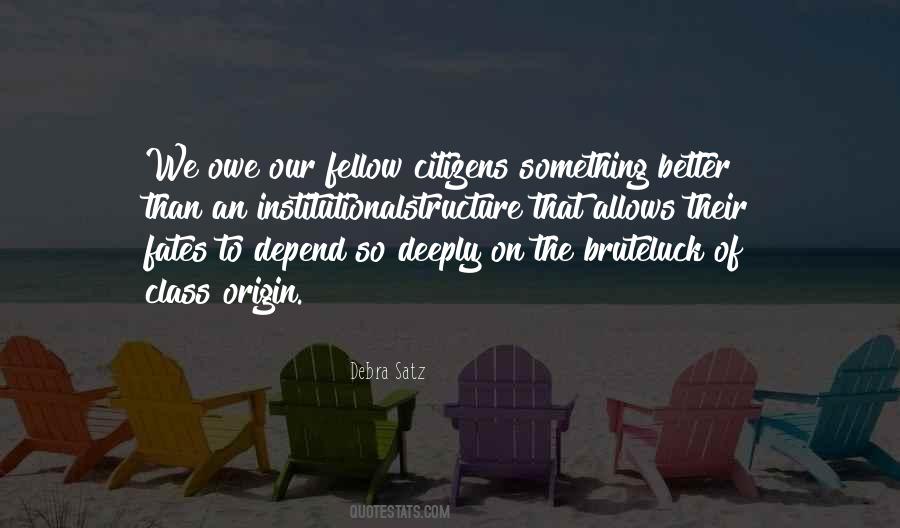 #80. The Fates are just: they give us but our own; Nemesis ripens what our hands have sown. - Author: John Greenleaf Whittier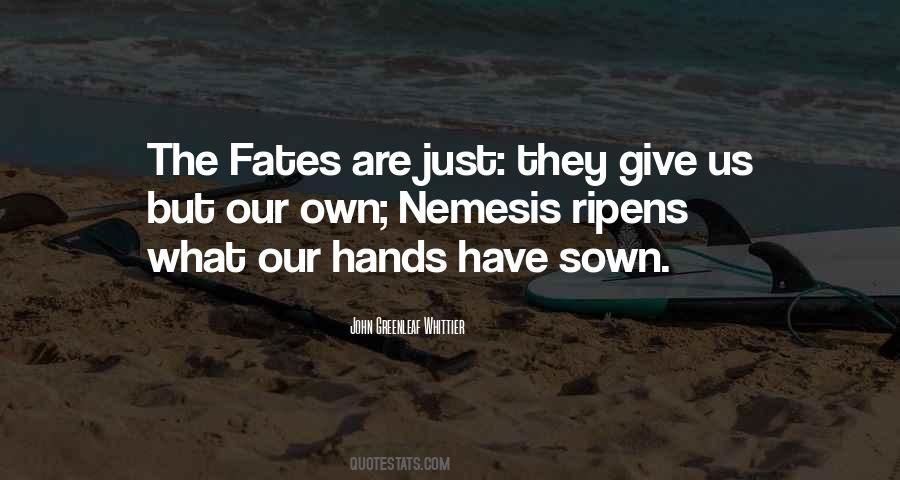 #81. I guess the sacrifice of my dignity is the only thing that will save us now. The things I endure for love. The Fates laugh at my torment. - Author: Julie Kagawa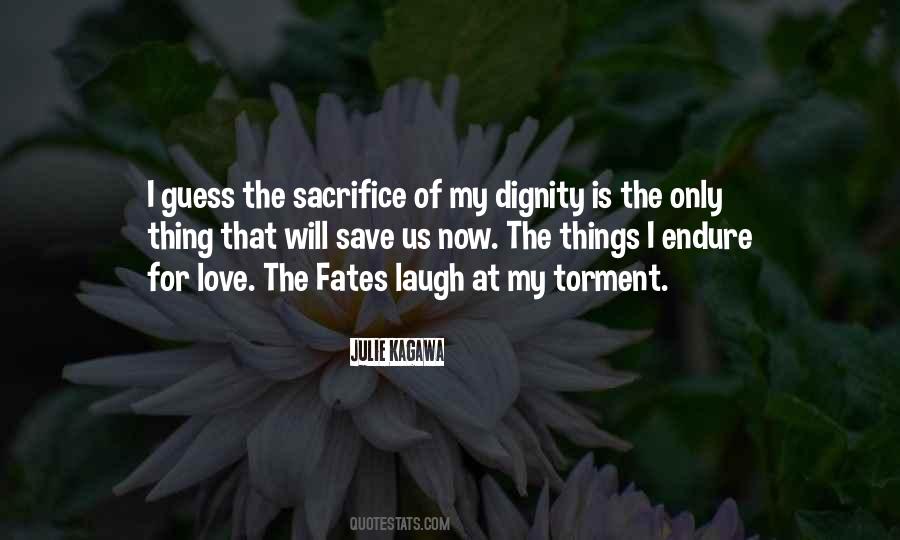 #82. Use him wisely. Few have been given such a weapon by the gods or Fates before. - Author: Janet Morris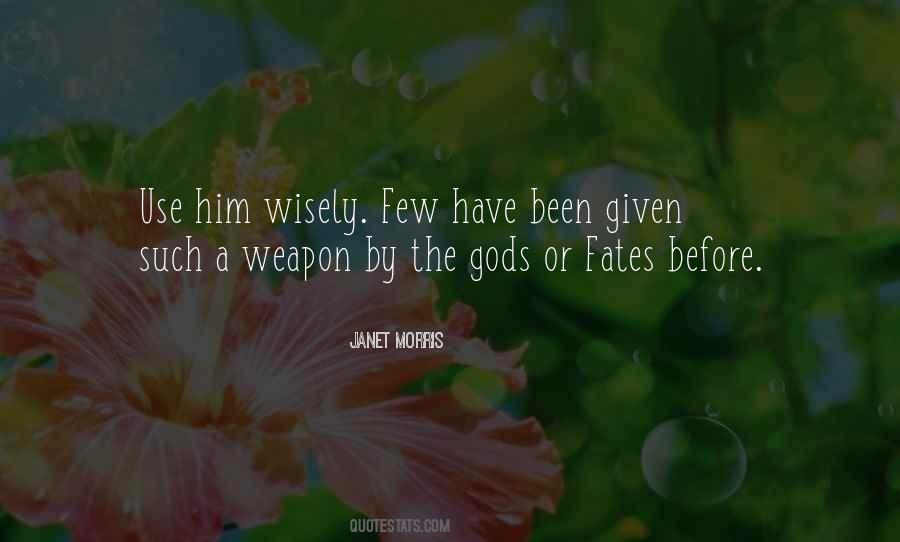 #83. Why is it we are always the targets of the angry Fates? Twice as many men of ours met harm as did theirs, since we've come here. - Author: Janet Morris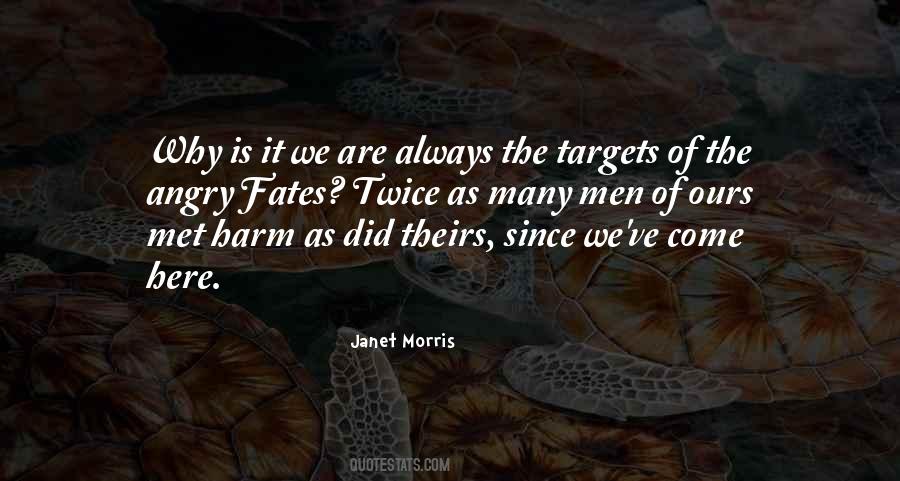 #84. While the fates permit, live happily; life speeds on with hurried step, and with winged days the wheel of the headlong year is turned. - Author: Seneca.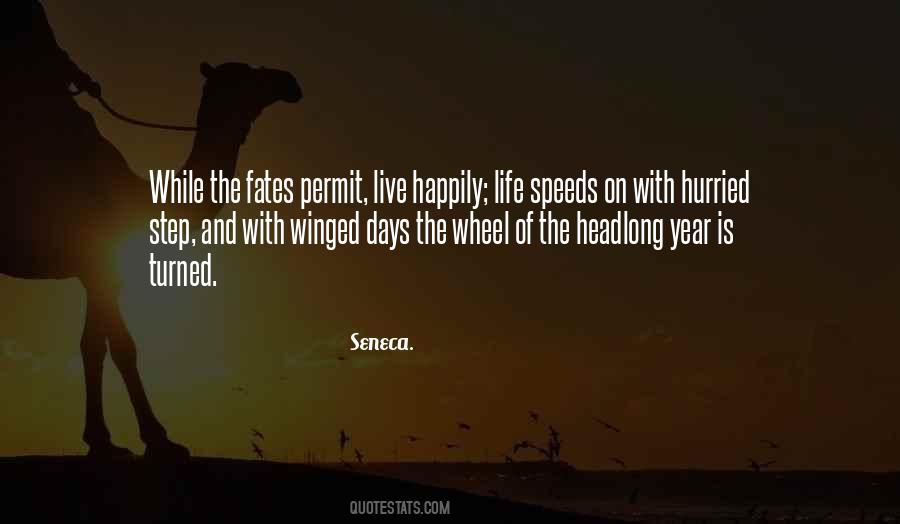 #85. The Fates are here because of supernal anger, celestial imbalance, and arrogance of men and gods that must be curbed. - Author: Janet Morris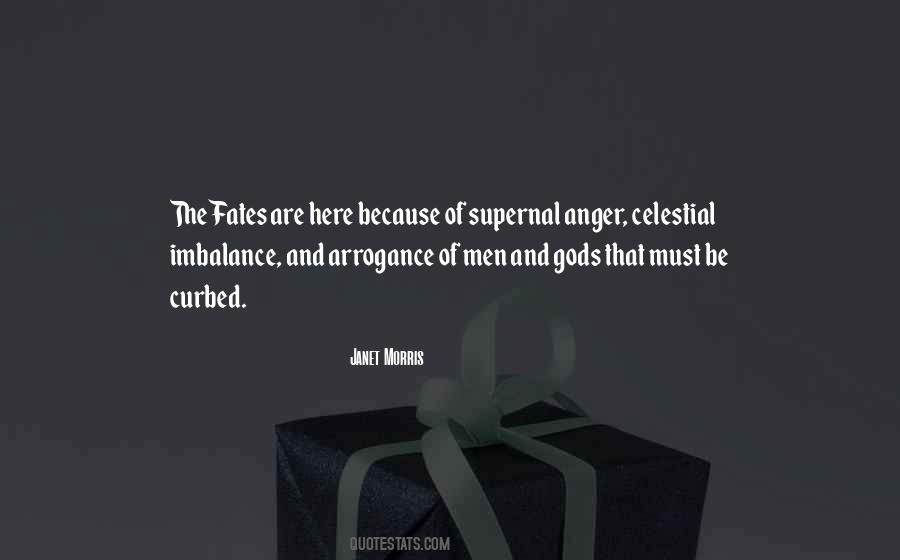 #86. We cannot rest while Brazilians are going hungry, while families are living in the streets, while poor children are abandoned to their own fates and while crack and crack dens rule. - Author: Dilma Rousseff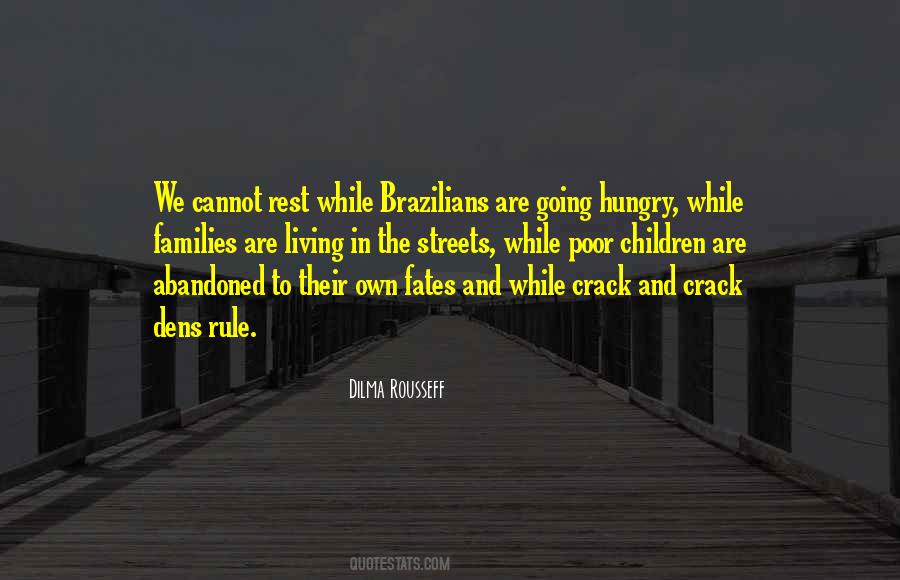 #87. Who has passed by the fates of disillusion has died twice. - Author: Ouida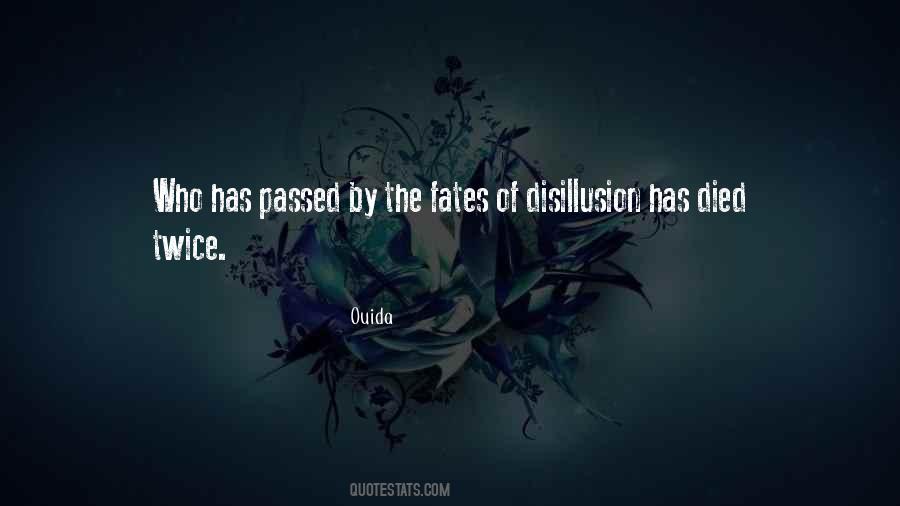 #88. Smile at the Fates and you will feel less their Slave. - Author: Denise Sevier Fries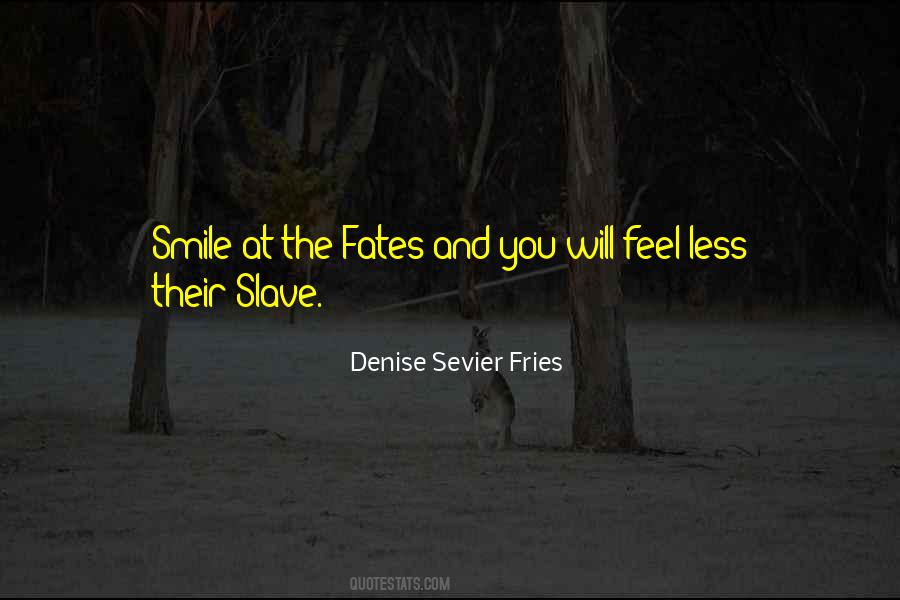 #89. What was wonderful was that even within the drunkenness of two a.m., each of you somehow recognized the more permanent worth and pleasure of the other. You may have arrived with others, will perhaps cohabit this night with others, but both of you have found your fates. - Author: Michael Ondaatje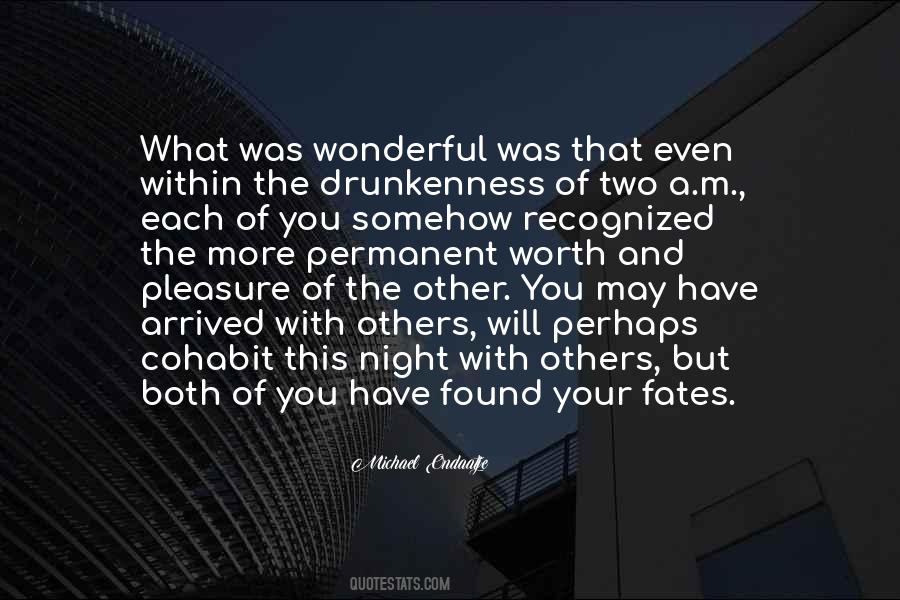 #90. Our names contain our fates; living as we do in a place where names have not acquired the meaninglessness of the West, and are still more than mere sounds, we are also the victims of our titles. - Author: Salman Rushdie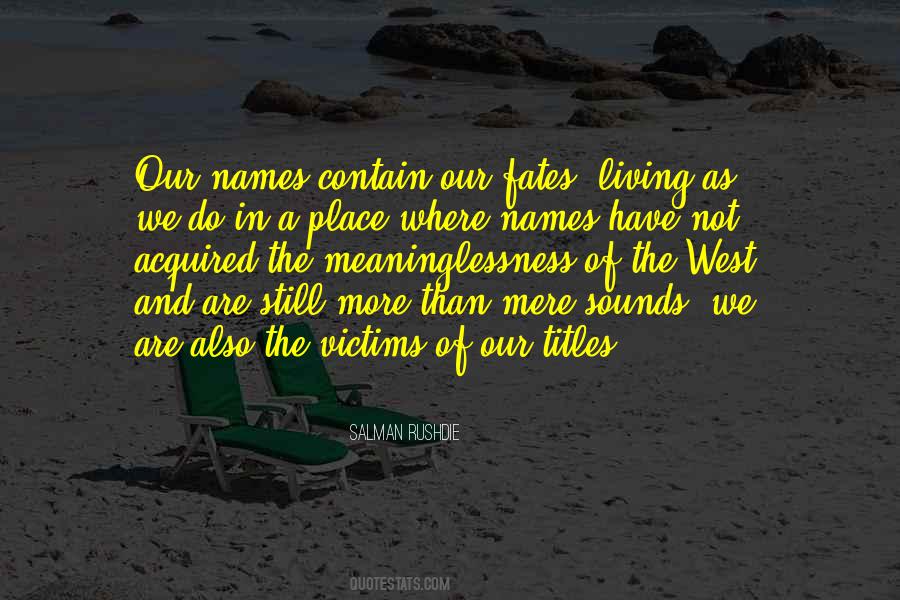 #91. He had a presentiment that their fates would be intertwined, but immediately rejected it; he always tried to avoid falling into the traps of intuition. - Author: Isabel Allende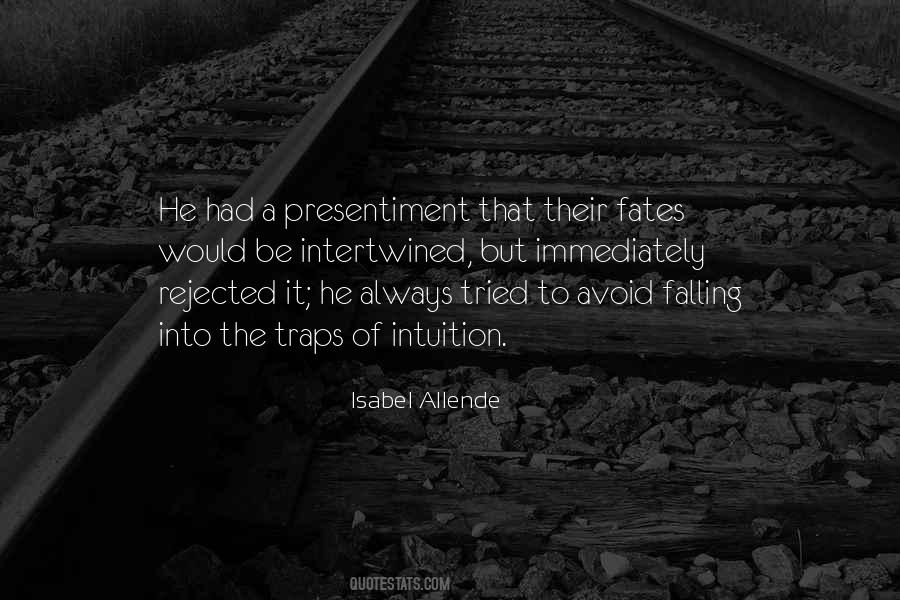 #92. From no place can you exclude the fates.
[Lat., Nullo fata loco possis excludere.] - Author: Martial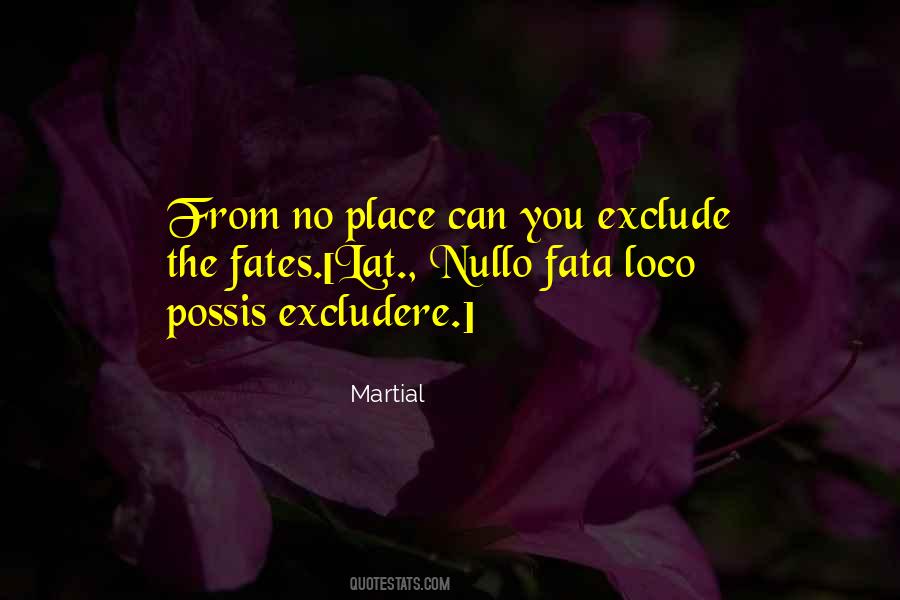 #93. Hooded, and veiled with their night-like tresses, The Fates shall bring what no prophet guesses." And - Author: Lord Dunsany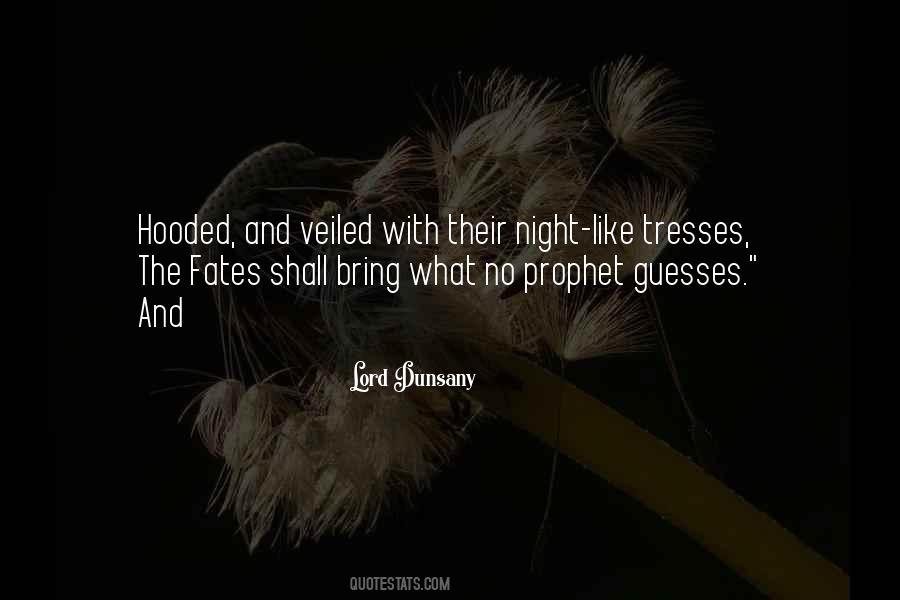 #94. Upon such slender threads as these do the fates of mortals hang - Author: Voltaire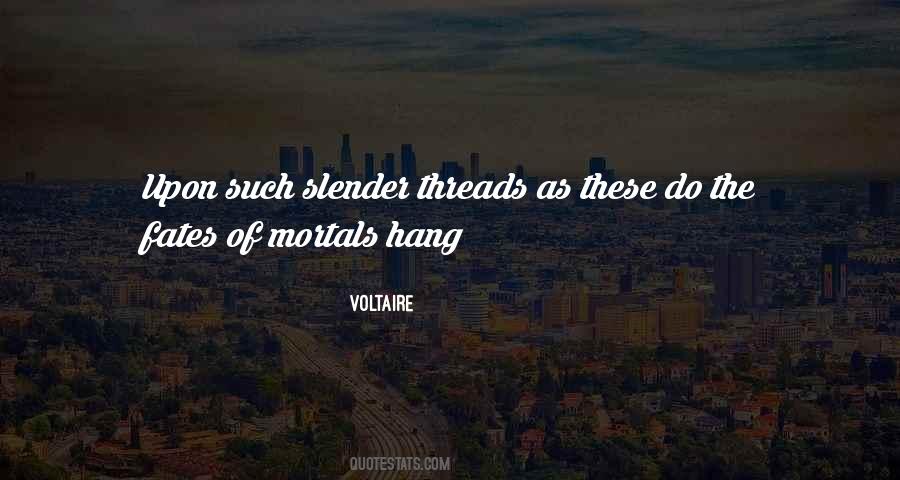 #95. It's really not a good idea to forecast or double guess the fates; you will always be fooled. - Author: Iman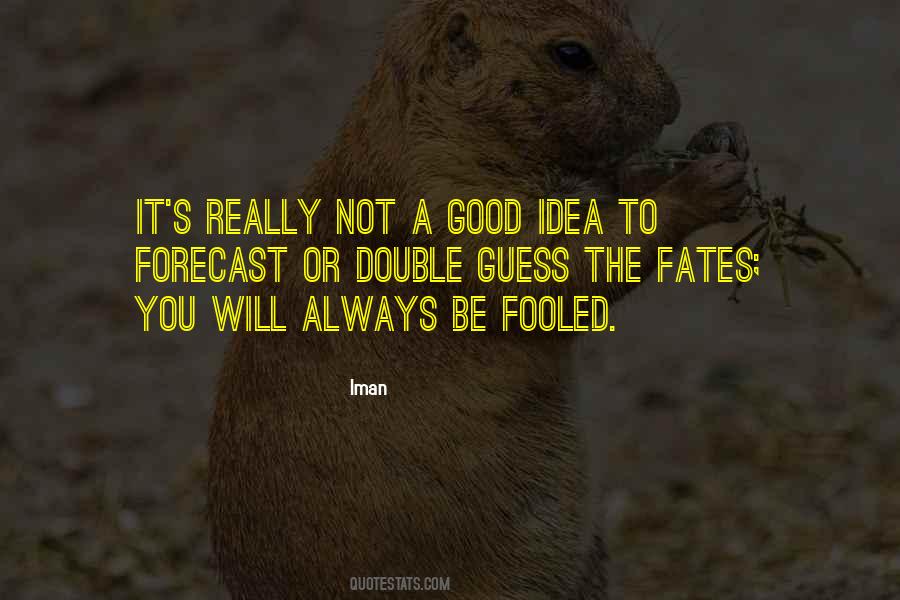 #96. Thin lips trace bold lines across my skin with a single, lingering kiss. - Author: Cassandra Giovanni, Let The Fates Decide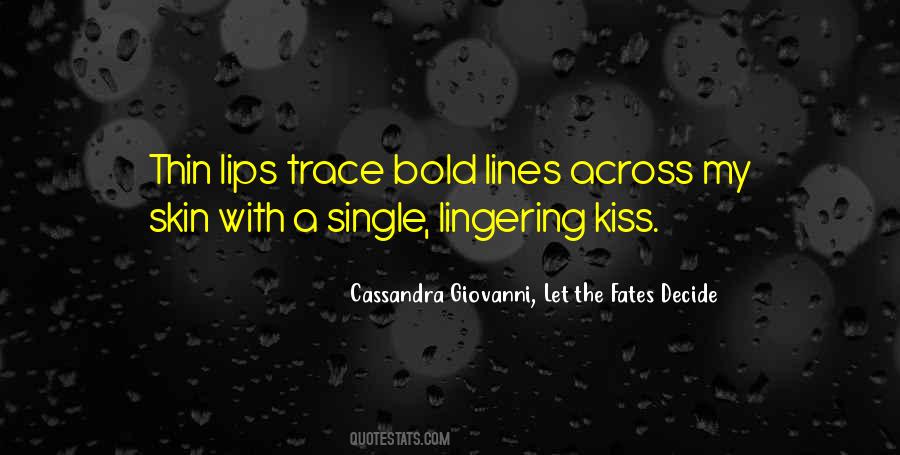 #97. On nights such as these the gods, as has already been pointed out, play games other than chess with the fates of mortals and the thrones of kings. It is important to remember that they always cheat, right up to the end ... - Author: Terry Pratchett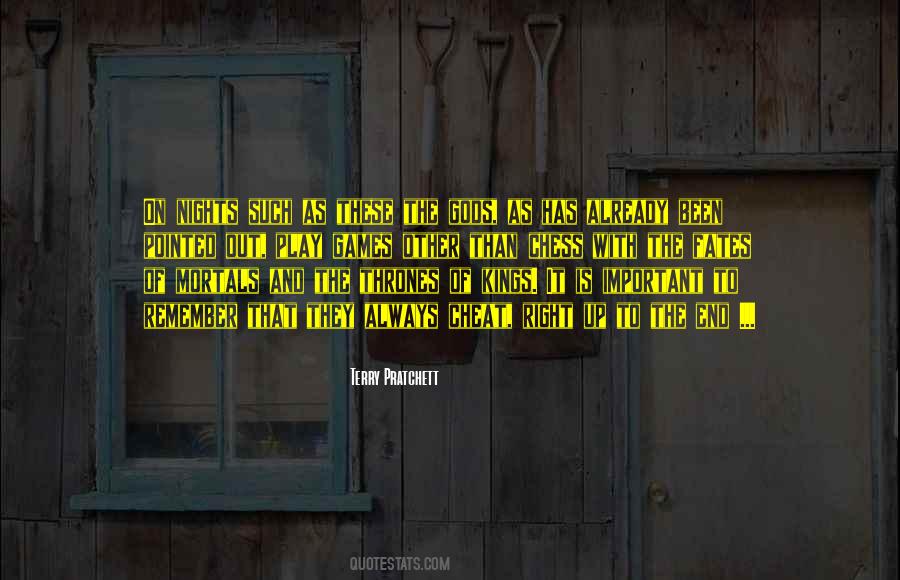 #98. It's kind of strange ... All these so-called myths and fables. Everyone seems to have the same ones. They cross cultures and continents. Everyone has their own versions of unicorns, witches, even the Fates. Now we know why. Because they're real. - Author: Maurissa Guibord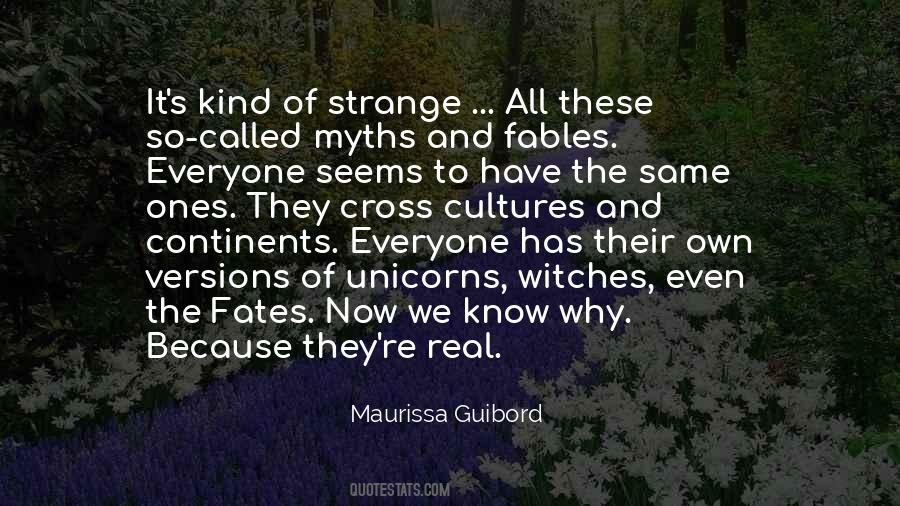 #99. Old Roman: The fates lead him who will; him who won't they drag. - Author: Joseph Campbell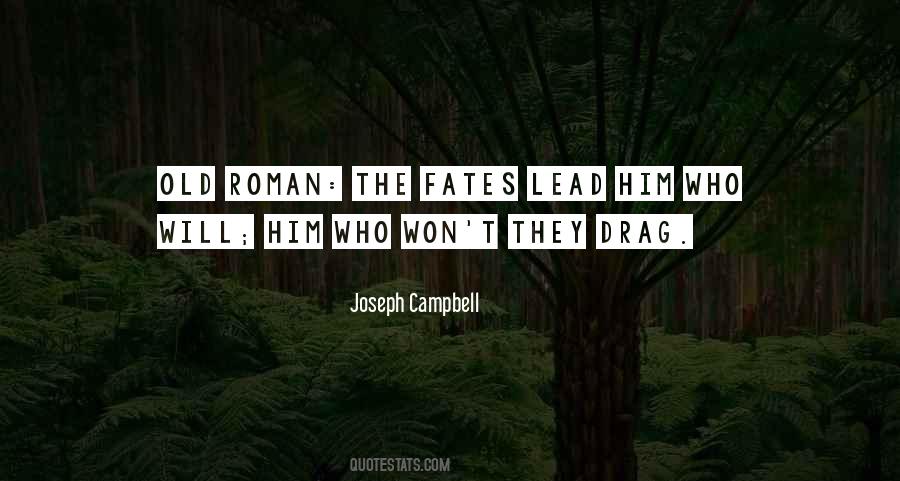 #100. Certain things have to happen before other things. Gods play games with the fates of men. But first they have to get all the pieces on the board, and look all over the place for the dice. - Author: Terry Pratchett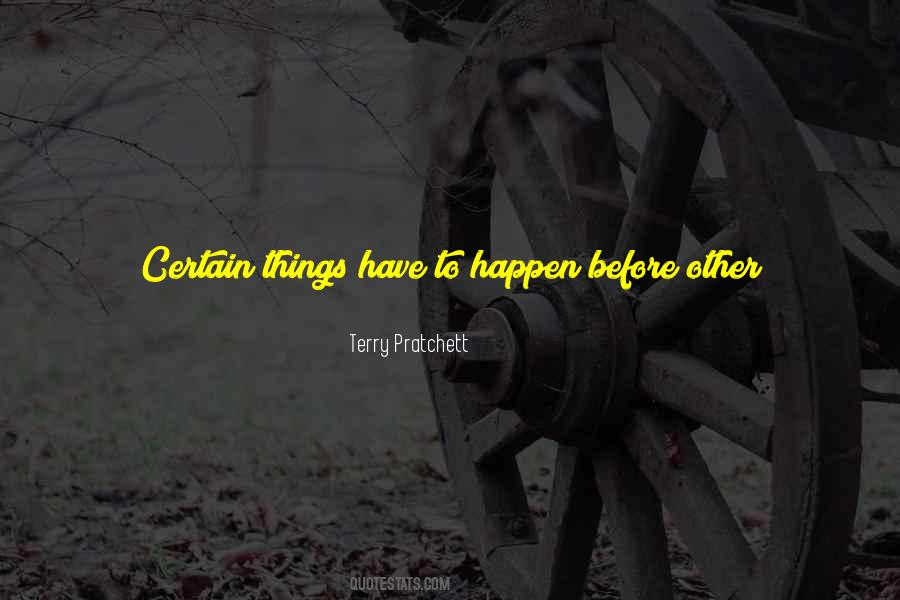 Famous Authors
Popular Topics