Say Hi Famous Quotes & Sayings
List of top 89 famous quotes and sayings about say hi to read and share with friends on your Facebook, Twitter, blogs.
Top 89 Quotes About Say Hi
#1. Joke:
What did the seahorse say when the sand dollar landed on his back in the rip current?
"Hi-yo Silver! Swim-away!" - Author: Heather Wolf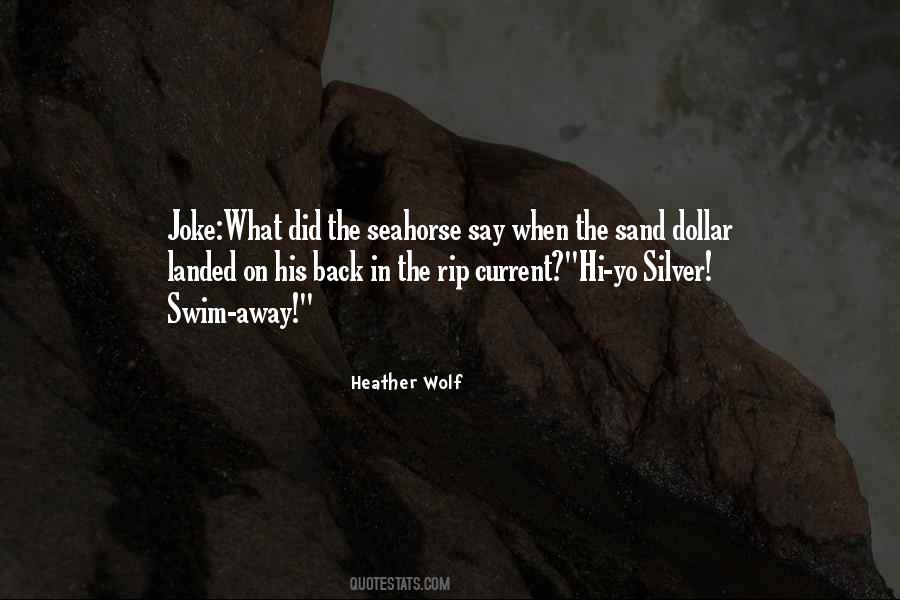 #2. One thing I cannot stand is when people say, 'Hi, how are you?' and they don't wait to hear how I am. They're just going through the motions. I say to people: 'Keep it human. Keep it alive. Don't turn into a robot.' You have to hear what the other person is saying clearly. - Author: Judith Jamison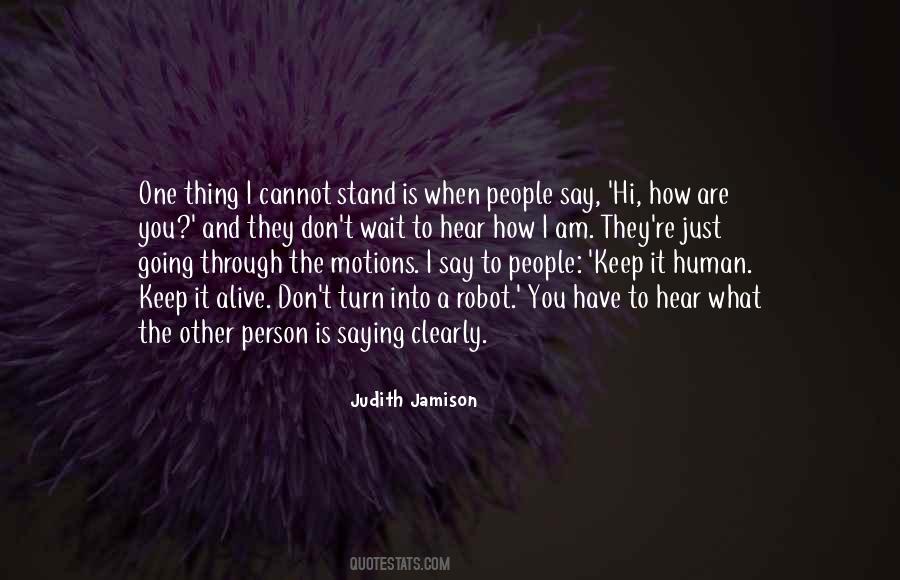 #3. You can't be invisible being Asian. You can't say "Hi, I'm white!" - Author: Arthur Dong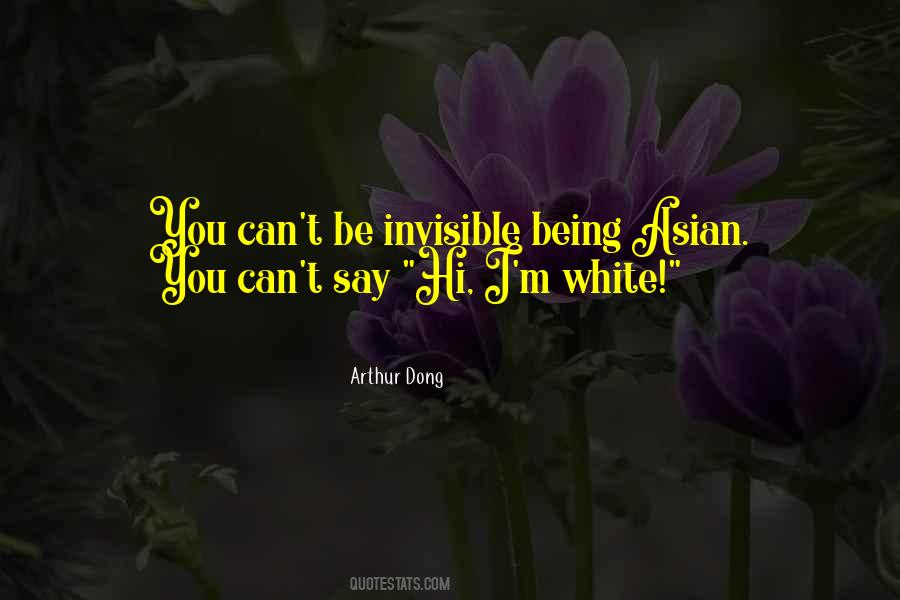 #4. I do remember vividly sometime after puberty when I'd answer the phone at home and the callers began to say, 'Hi, Bill!' That's when I knew Dad and I had the same voice. - Author: Willie Geist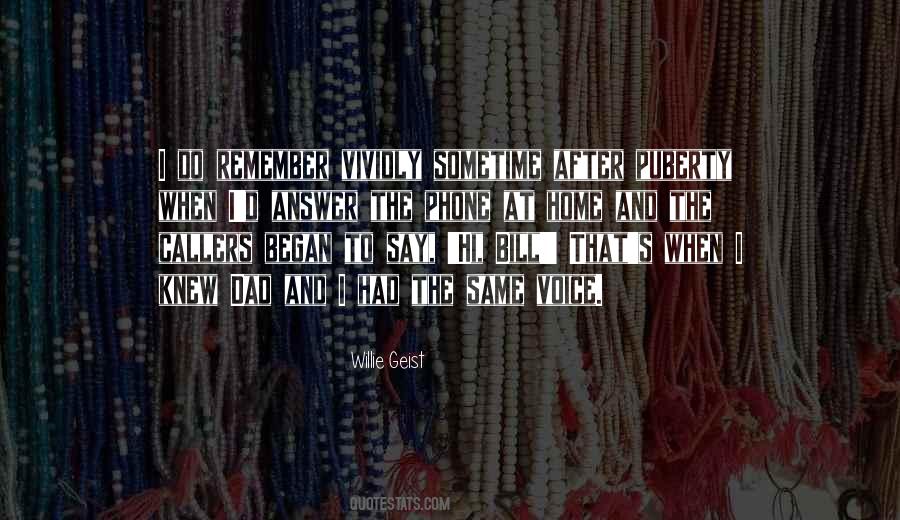 #5. In high school, I got picked on. It's funny that I got tormented for what I'm doing now - the acting thing. People would see me in a Nickelodeon commercial, and I would hear about it the next day at school. Kids would say, 'Hi, TV Boy.' They heckled. I never got beat up. - Author: Jason Biggs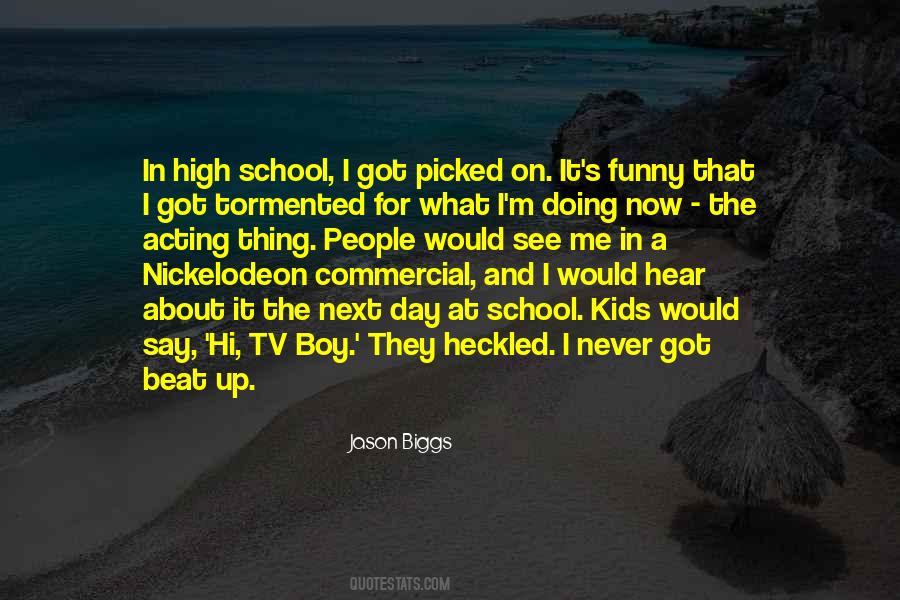 #6. Bob Hope was totally regimented. I go in and say a line like, 'Hi Bob' and I'd have to do it five times, and then Bob would take me to the writers to say the line different ways. He wouldn't let me ad-lib. - Author: Don Rickles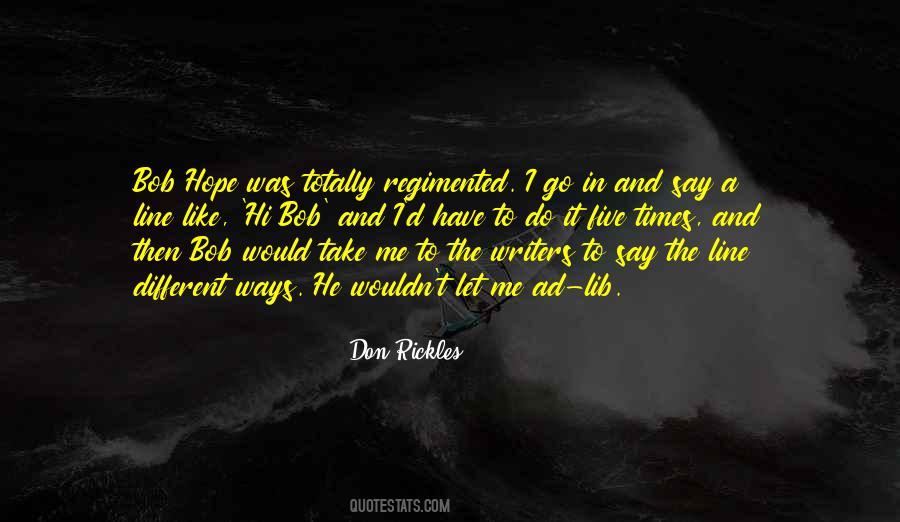 #7. We continue to say hi to those we've lost, and for a little while at least, the world down here feels a little less dark. - Author: Joshua McCune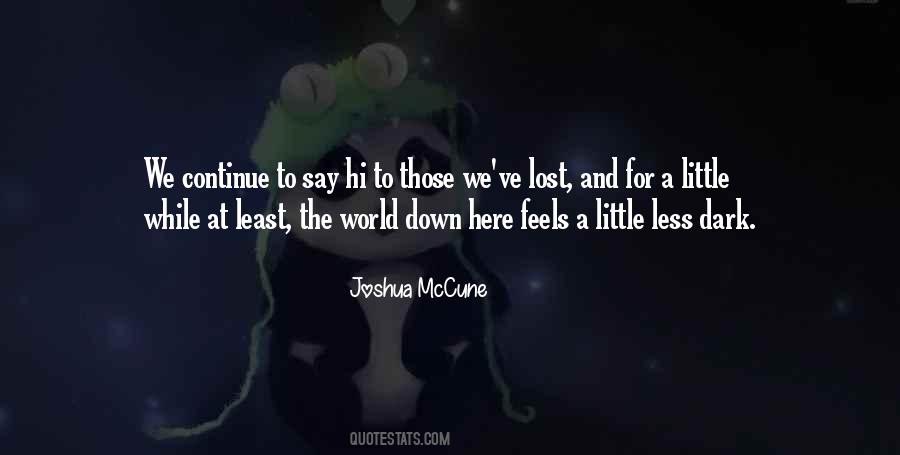 #8. Hi, I'm Mike Huckabee of Arkansas, wanting to say "Congratulations, Canada, on preserving your national igloo". - Author: Mike Huckabee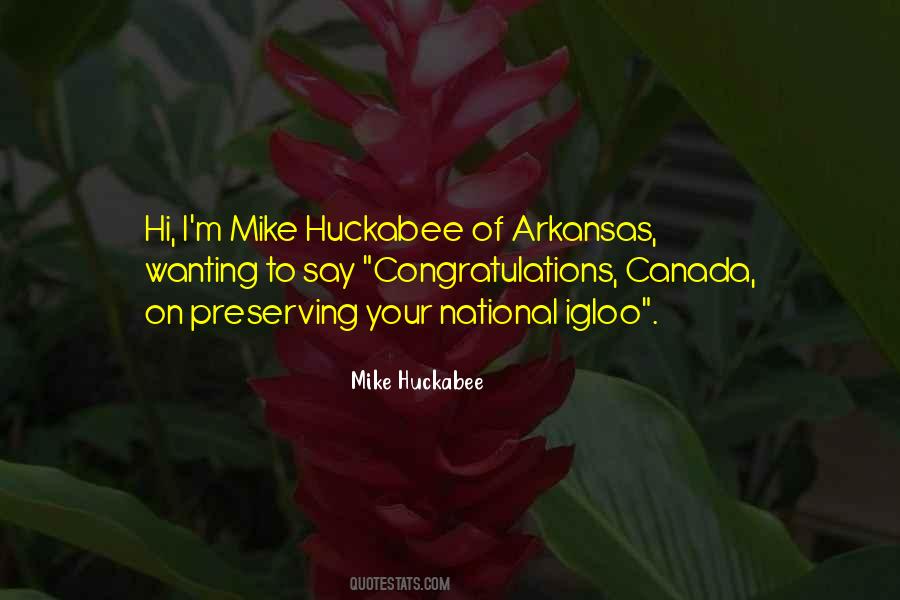 #9. I mean People come up and ask for autographs or say hi but they wont bug you. - Author: John Lennon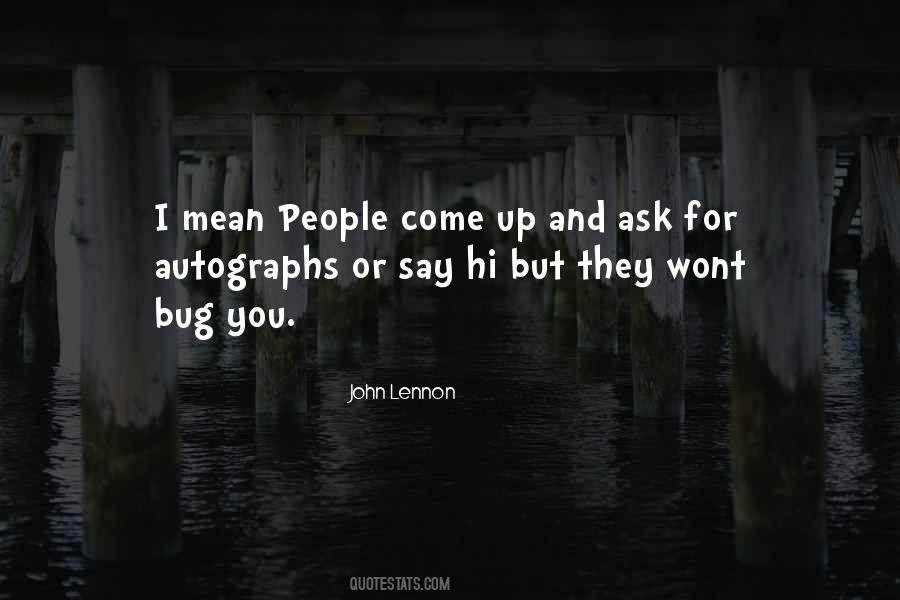 #10. I am always late because people stop me for autographs and say hi. - Author: Natalie Du Toit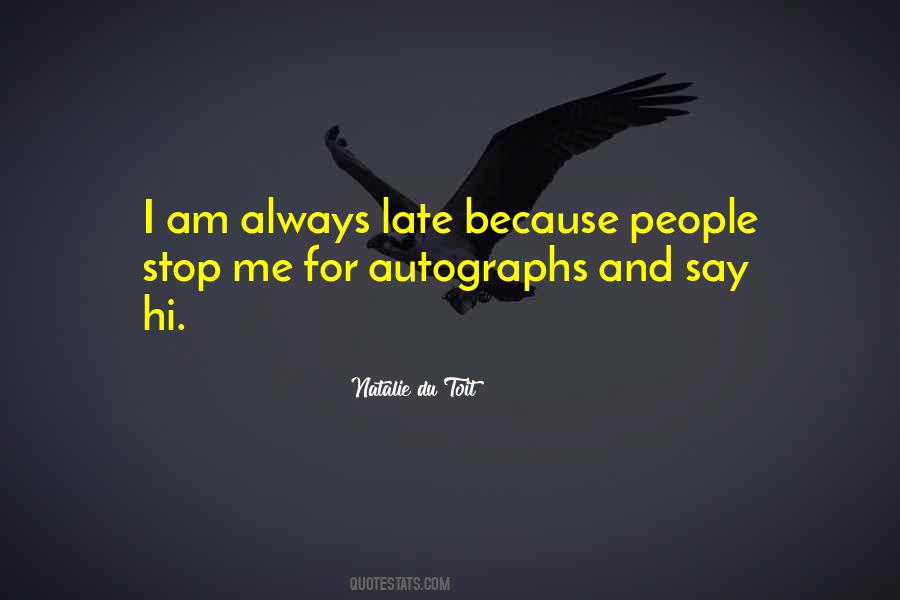 #11. The amount of excitement when you say hi will be paid back when you say bye! - Author: S.E. Sever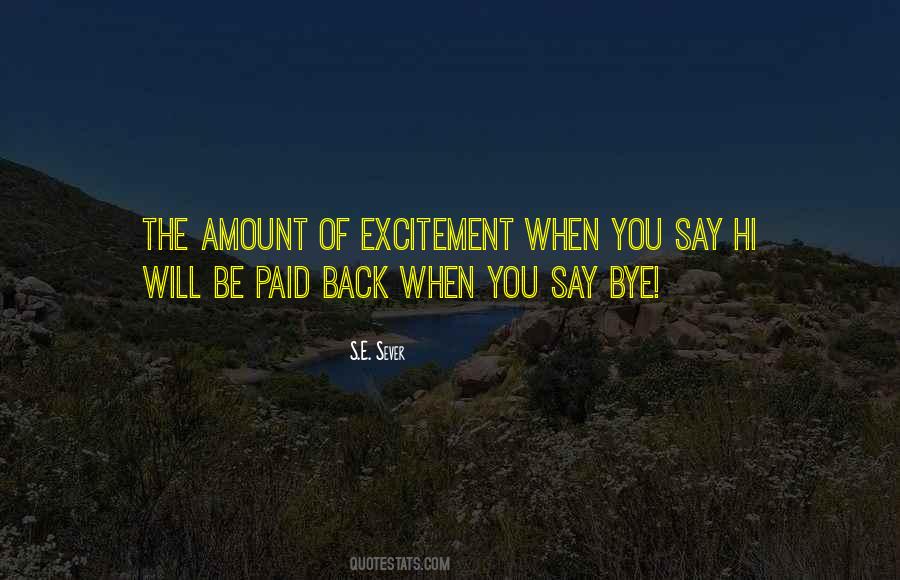 #12. I just wanted to say hi to Pittsburgh as well because I miss it. - Author: Jackie Evancho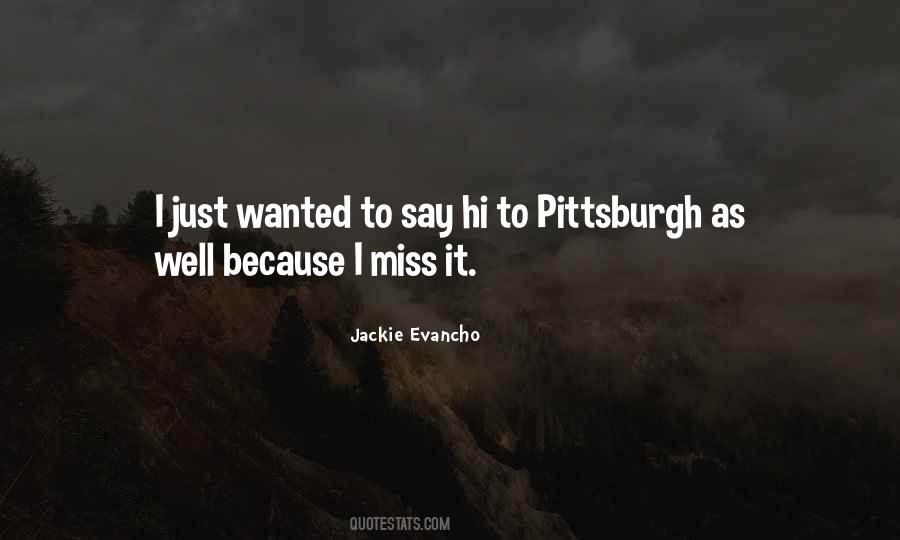 #13. I guess the worst day I have had was when I had to stand up in rehab in front of my wife and daughter and say 'Hi, my name is Sam and I am an addict.' - Author: Samuel L. Jackson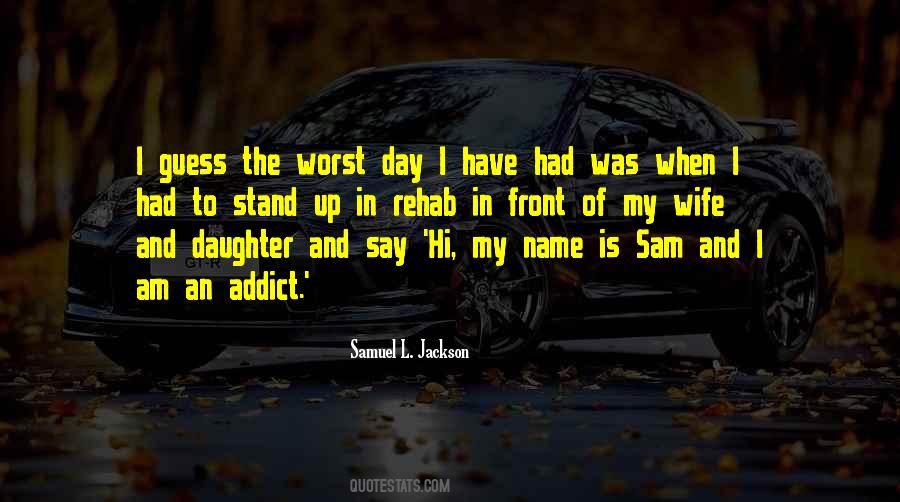 #14. Hi, Hanna." Her mouth dropped open and her beautiful eyes went wide. "You didn't call me Ziggy." Smiling, I whispered, "I know." "Say it again?" Her voice came out husky, as if she was asking me to touch her again, to kiss her again. - Author: Christina Lauren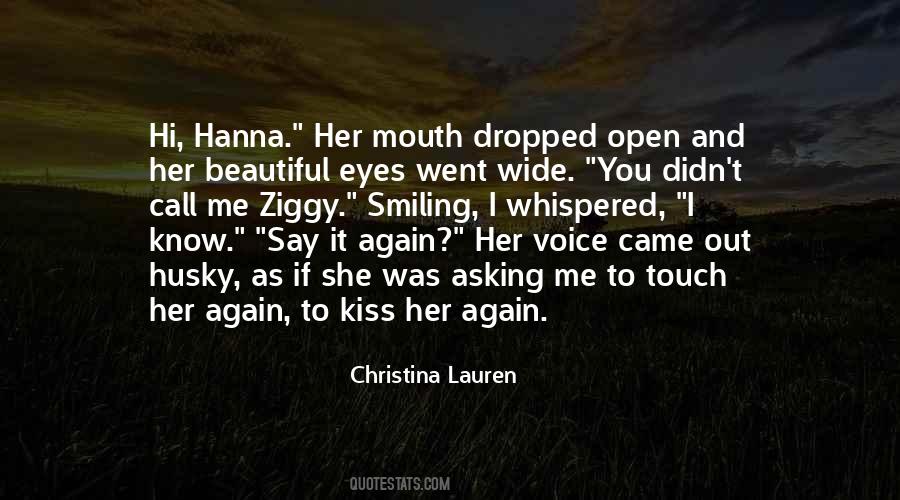 #15. There are a lot of good looking men on this planet. It seems like once a week someone will tell me, "I know someone who looks like you" and I don't know what say to them except, "Tell them hi." - Author: Jim Gaffigan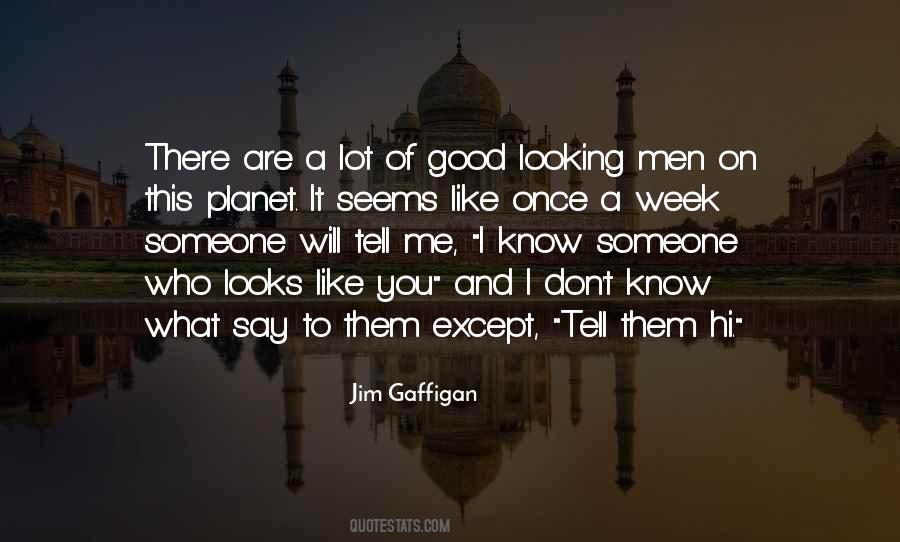 #16. In greeting, we Southerners say "hey" not "hi." To alert, draw the attention of, or show objection to another, we also say "hey," but air is expelled and the ending is truncated. This - Author: Kathy Reichs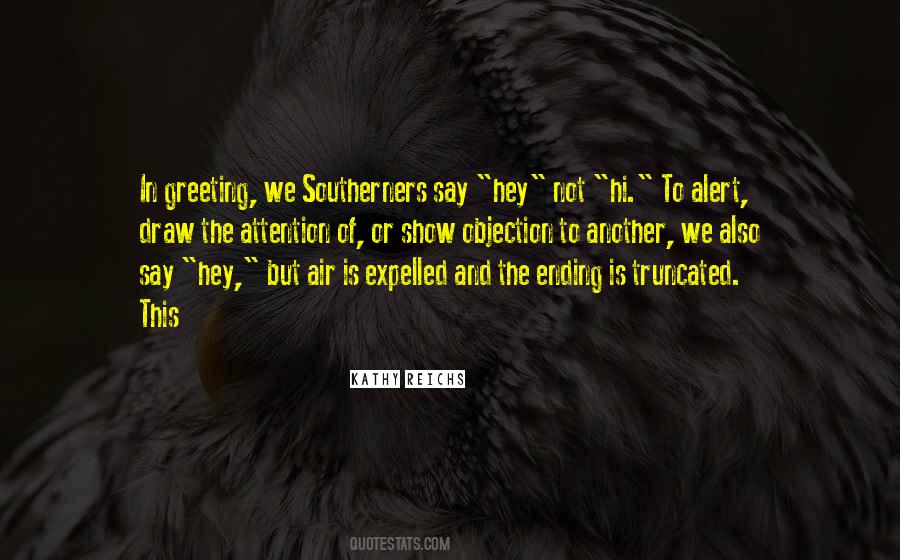 #17. When I'm out with my girlfriends at the bar, and I see some young 18-year old boy, just for fun I say, 'Hi honey. Do you like girls? Do you like girls exclusively? Oh, good.' - Author: Yasmine Bleeth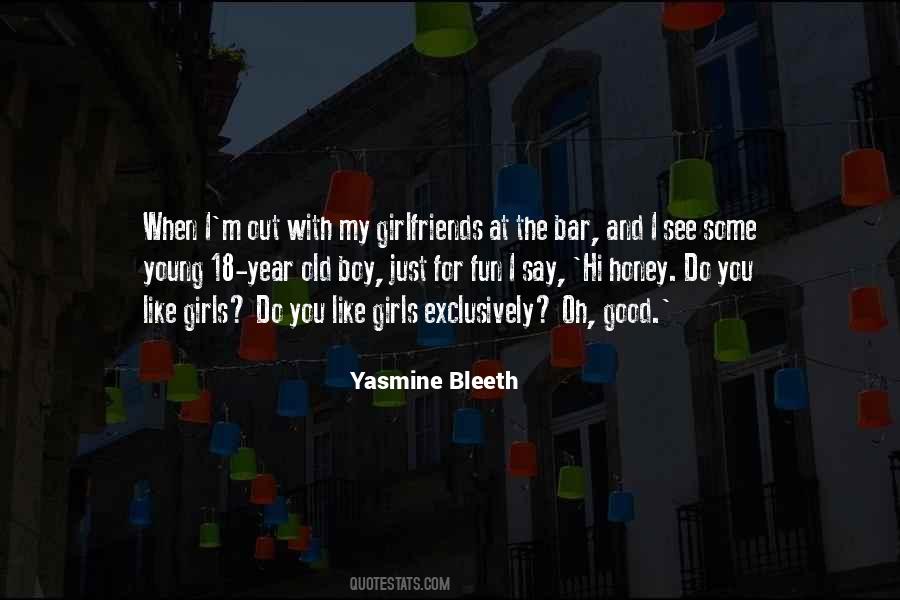 #18. It's nice to be able to let the fans know that you're around and say 'Hi.' - Author: Courteney Cox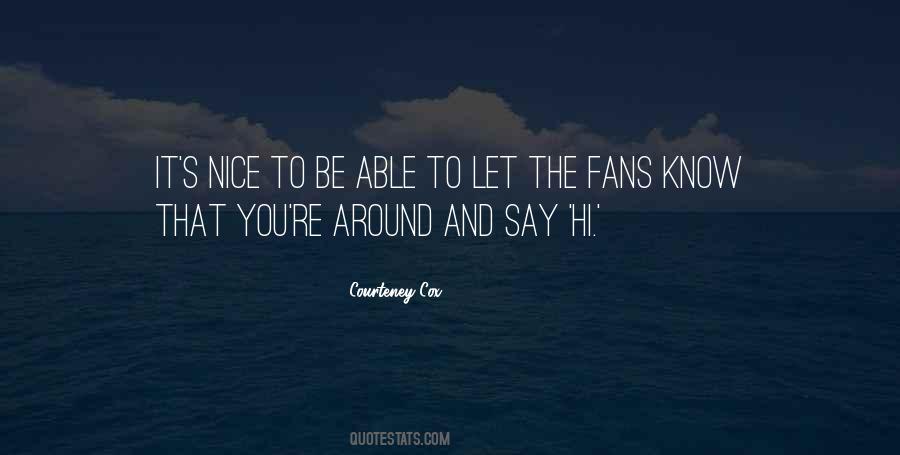 #19. What's wrong?" Blayne finally asked.
"Nothing," Gwen answered. "I'm just sitting here. Staring." Maybe hoping a bear would wander out of the woods to say "hi and I'm sorry I broke my promise. - Author: Shelly Laurenston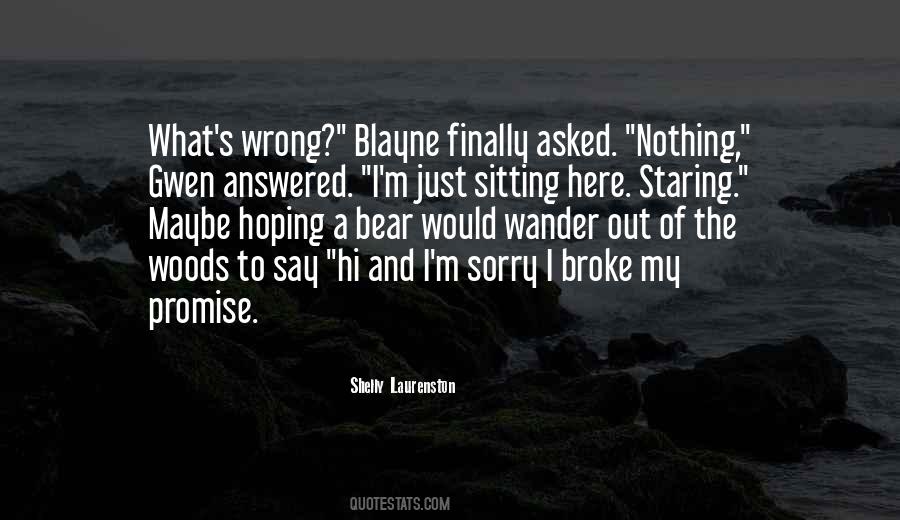 #20. Hi."
"Hi." I shrug, as though to say "Whatever."
In my peripheral vision I can see Magnus exhale. He looks a teeny bit nervous.
"So."
"So." I can play this game too.
"Poppy."
"Poppy. I mean, Magnus." I scowl. He caught me out. - Author: Sophie Kinsella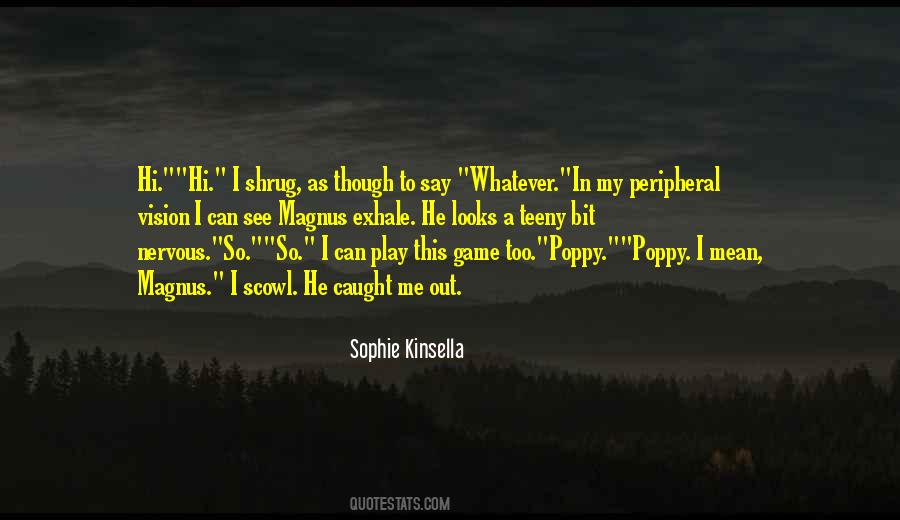 #21. Anyway, I heard you and your Mother-in-Law kicked ass! Shame his daddy'o wasn't around for the family reunion, although I doubted a battle is the right way to say 'hi,my name's Kiera and I am sexing up your son's man stick. - Author: Stephanie Hudson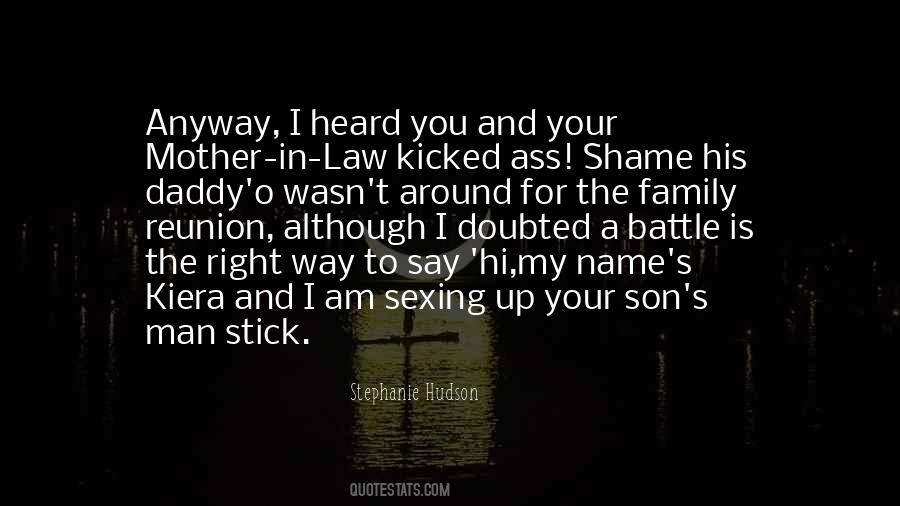 #22. I've been stopped a few times by people who want to say, 'Hi.' But I'm an introverted person, and the idea that I'd have to talk to people all the time seems a little overwhelming. - Author: Maria Bamford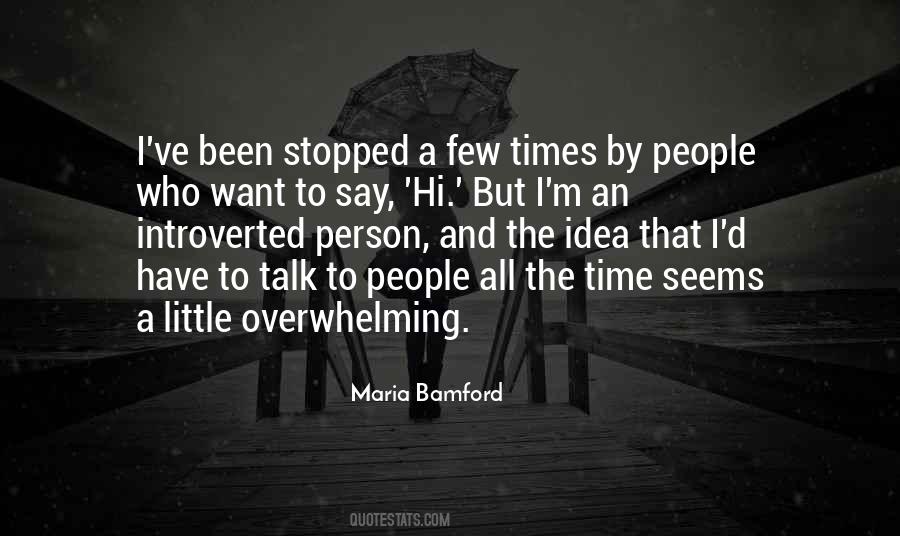 #23. So you came over here to say hi? Are you that friendly to all the girls around here? Or just the ones in bikinis? - Author: Evelyn Smith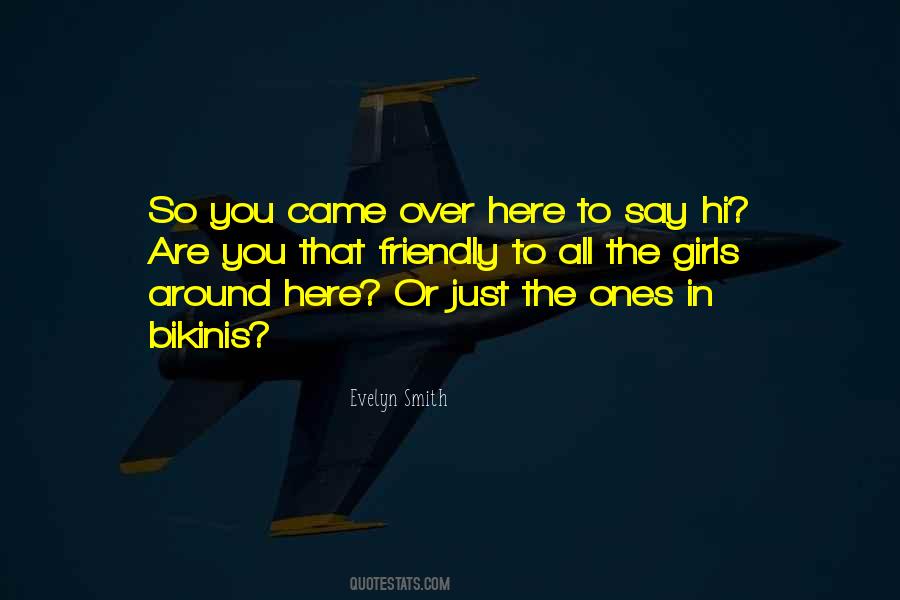 #24. Veterans report that service dogs help break their isolation. People will often avert their eyes when they see a wounded veteran. But when the veteran has a dog, the same people will come up and say, 'Hi' to pet the dog and then strike up a conversation. - Author: Al Franken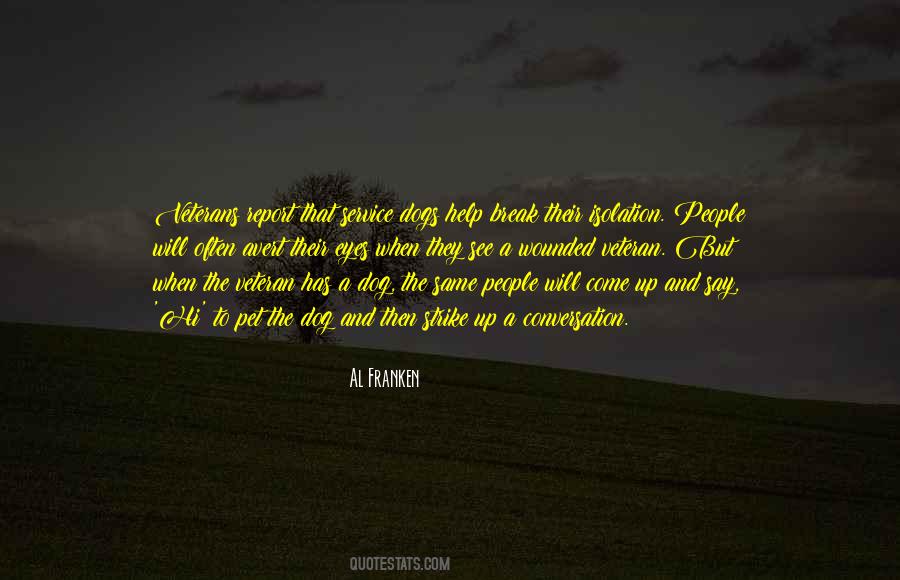 #25. I would kind of, you know, go stand next to some unlucky guy and say eventually, Hi, I'm George. You know, I'm with The New Yorker. I'm a liberal. I'm somewhat left of Gandhi. Do you want to talk? And, you know, they always did. - Author: George Saunders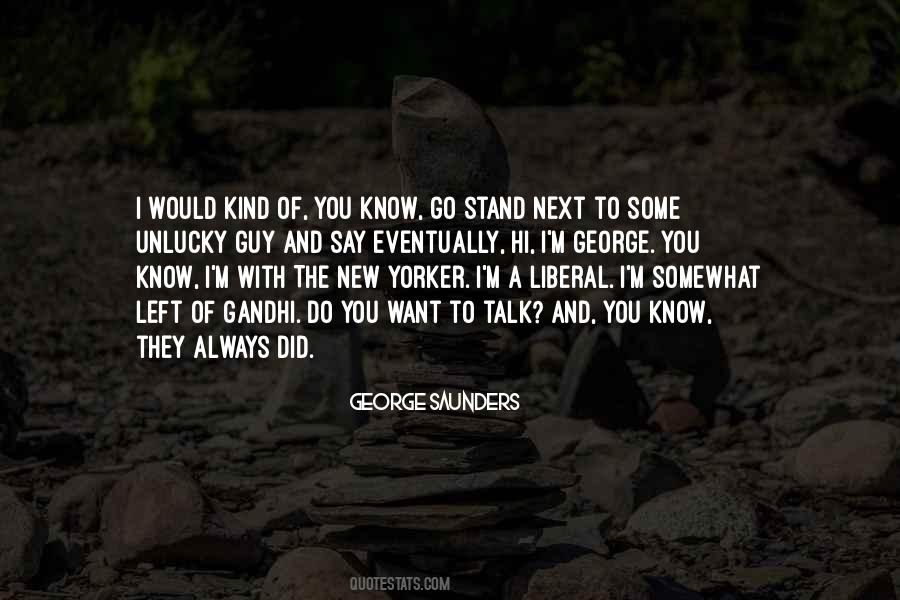 #26. Kitten," he murmured. "You know how much I like it when you say hi this way - Author: Jennifer L. Armentrout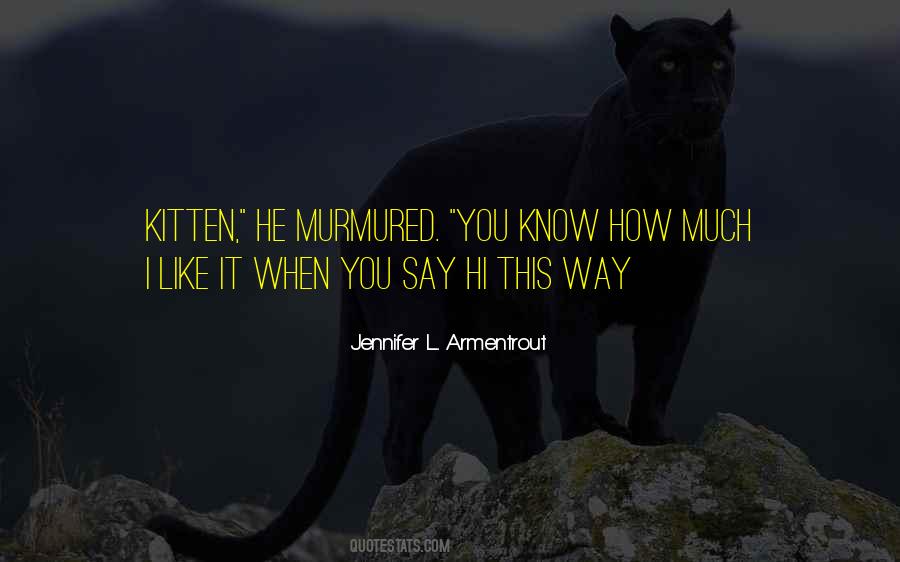 #27. Thank you ... adjustable baseball caps with no logo on the front and mesh netting in the back, for being a great way to say, 'Hi, I'm over 80 years old.' - Author: Jimmy Fallon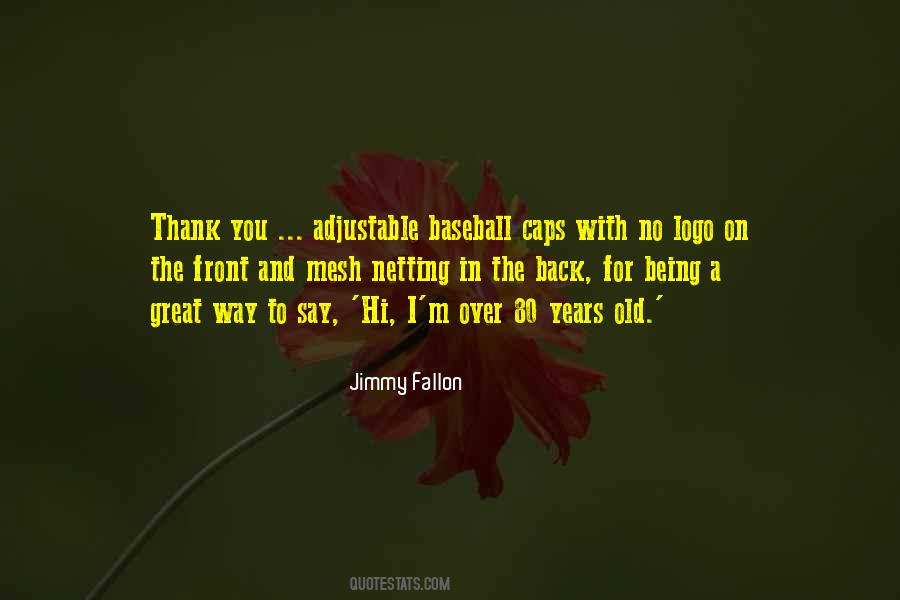 #28. Trees have feelings too, and no one ever says 'hi' to them. Next time you're outside and see a tree, say 'hello'. - Author: Daniel Johns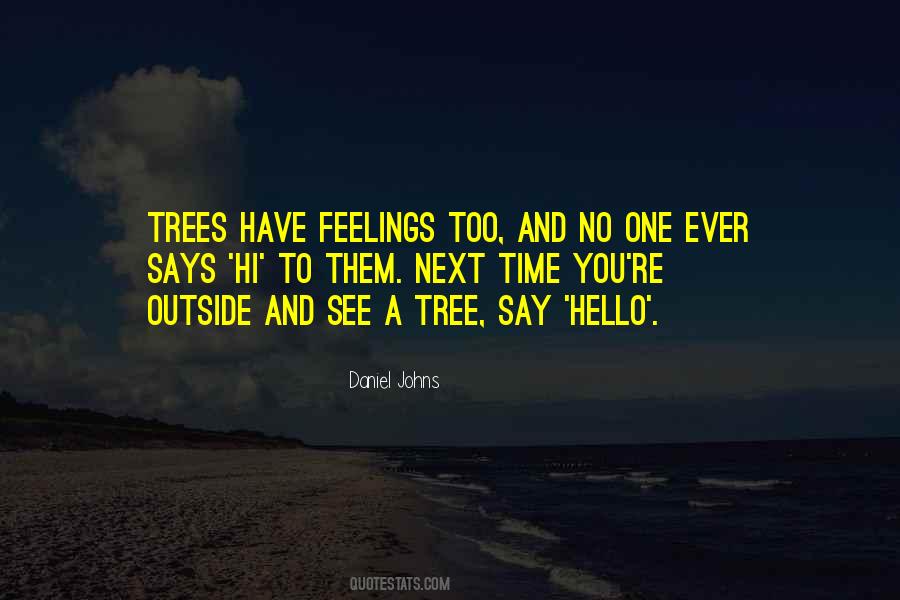 #29. I'm at that great level where fans will stop and say 'hi,' which I love, but the paparazzi don't care, which is incredible. - Author: Katie Featherston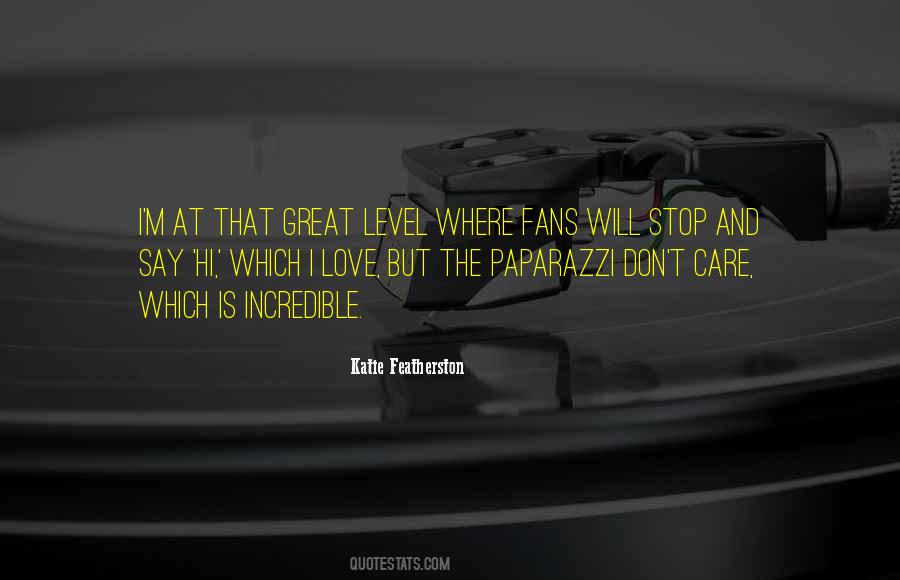 #30. I've always had this American-pie face that would get work in commercials ... I'd say things like, 'Hi, Marge, how's your laundry?' and 'Hi, I'm a real nice Georgia peach.' Sometimes this work is one step above being a cocktail waitress. - Author: Teri Garr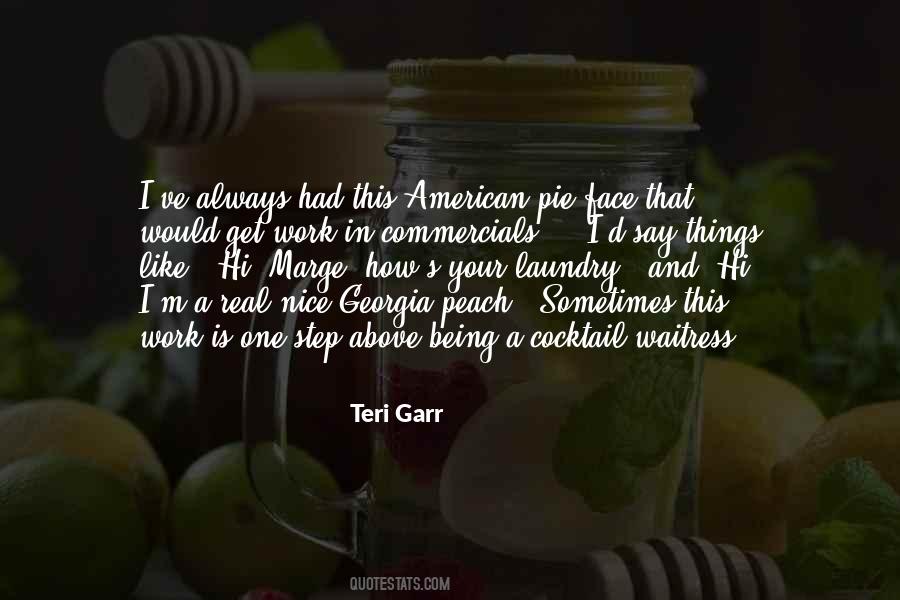 #31. There's a lot of letters, and a lot of people come say "hi" at book signings, but I'm amazed at how normal everybody is. - Author: Donald Miller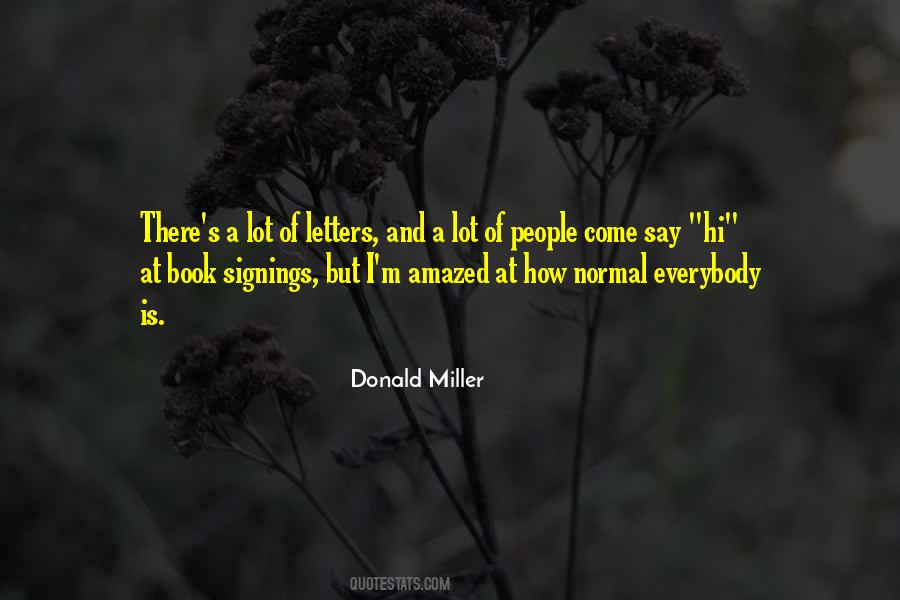 #32. I'm going to say hi to my girl now - Author: E.L. James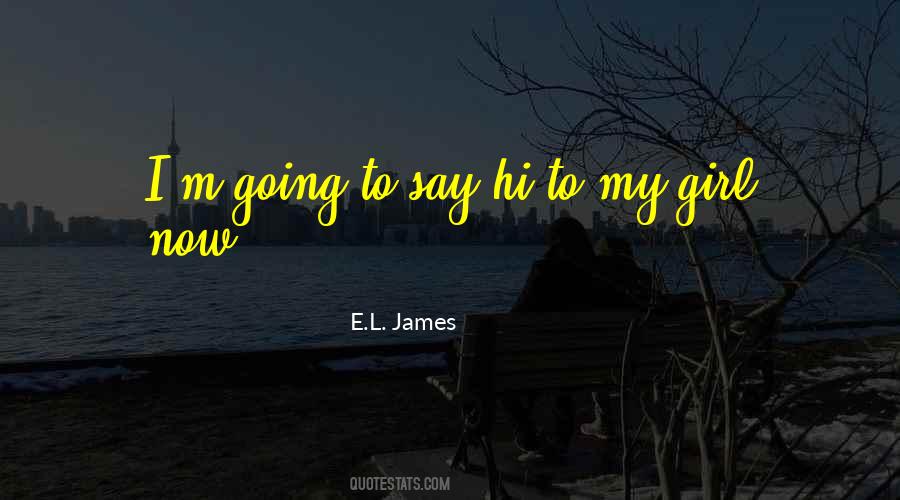 #33. You said "Hi", I to be polite will say "Bye"! - Author: Deyth Banger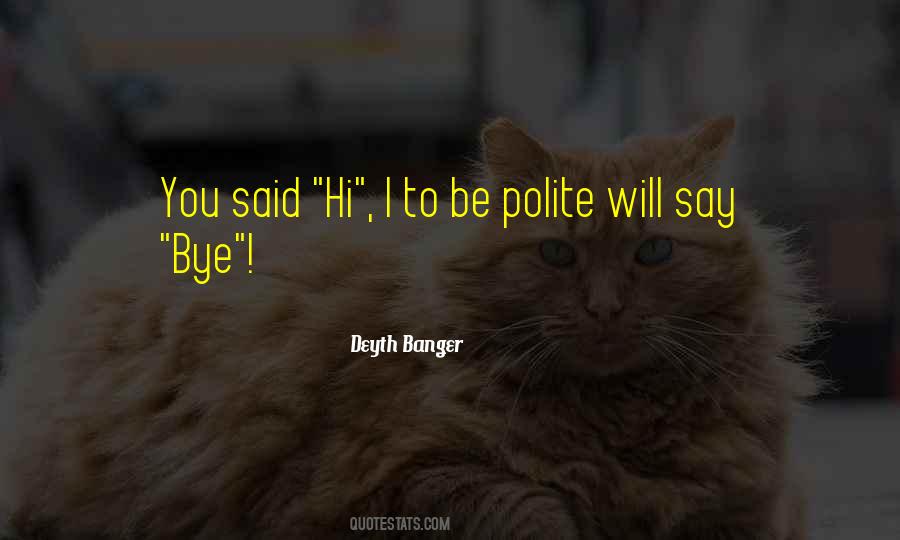 #34. I've always felt toward the slightest scene, even if all I had to do in a scene was just to come in and say, 'Hi,' that the people ought to get their money's worth and that this is an obligation of mine, to give them the best you can get from me. - Author: Marilyn Monroe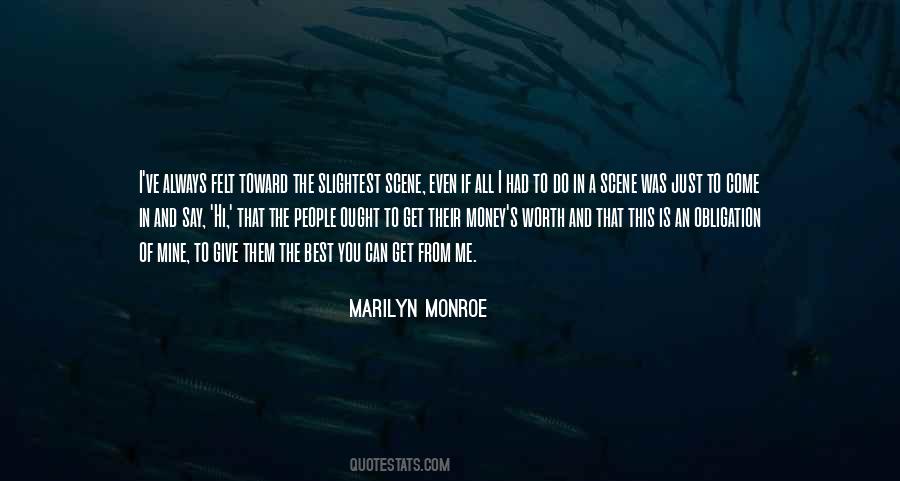 #35. I was a very shy child. I remember being in a kindergarten open house with my mother and children saying 'Hi' to me, and I still remember feeling this way - but I don't know why - but I wouldn't even say 'Hi' back. I was that shy. - Author: Jim Parsons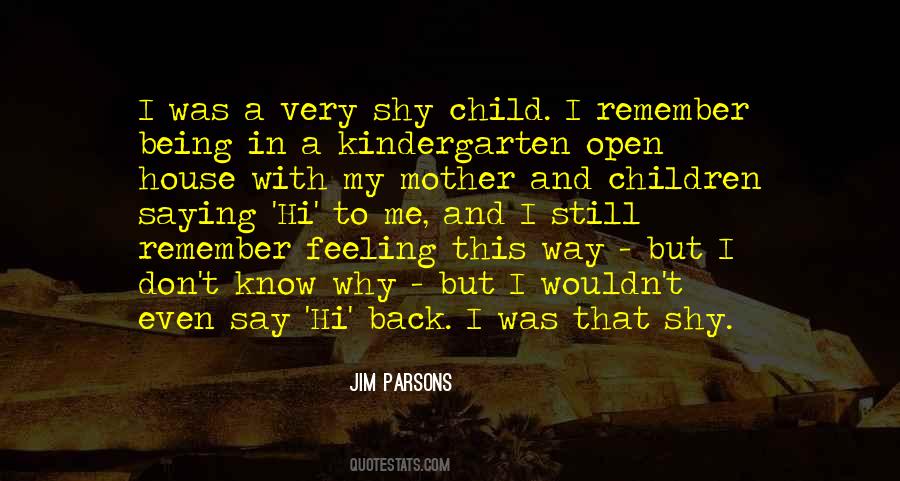 #36. When I meet people, I no longer say "Hi, I'm Derek Landy, pleased to meet you." Now I say "Hi, I'm number one bestselling author Derek Landy. Worship me. - Author: Derek Landy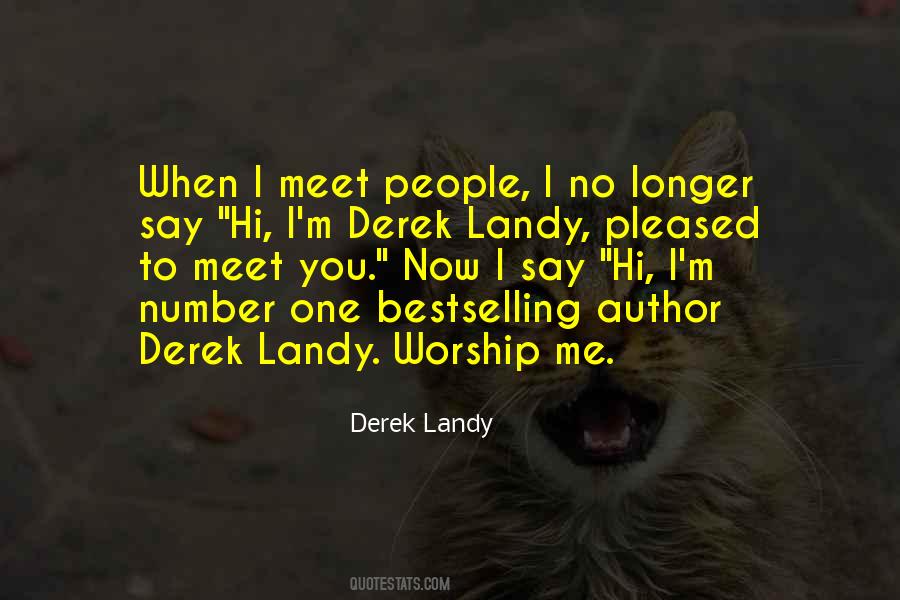 #37. The people on the streets just say 'hi' and let me walk on. They take relatively few photos, and those that do are tourists. Munich natives are relatively relaxed. They pretty much leave me in peace and I think that's very good. The Bavarian mentality fits very well to me. - Author: Manuel Neuer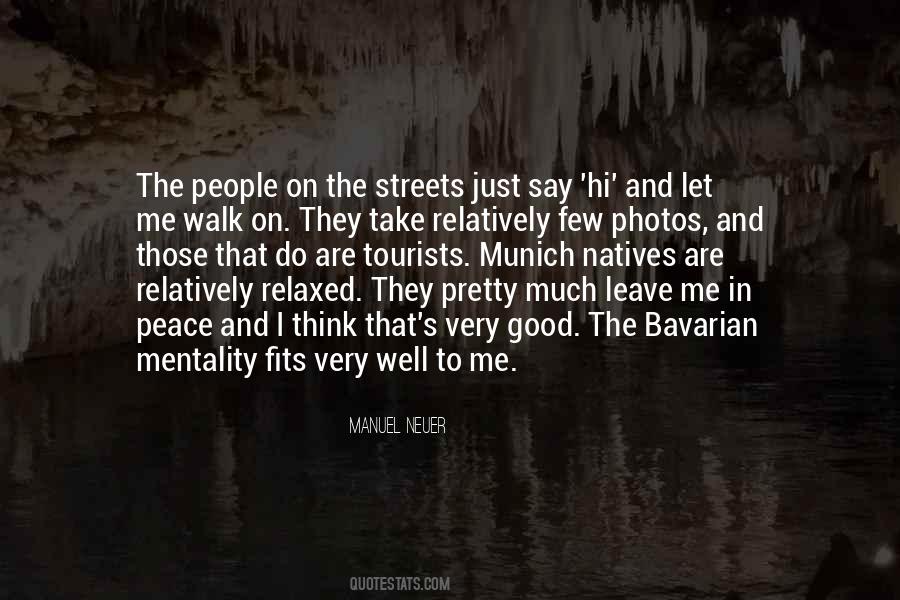 #38. It's important to slow down, every now and then, for no other reason than to call someone to say 'Hi.' It doesn't have to be a long conversation. Just calling out of the blue does more to let someone know you still care about them than nearly anything else. - Author: Simon Sinek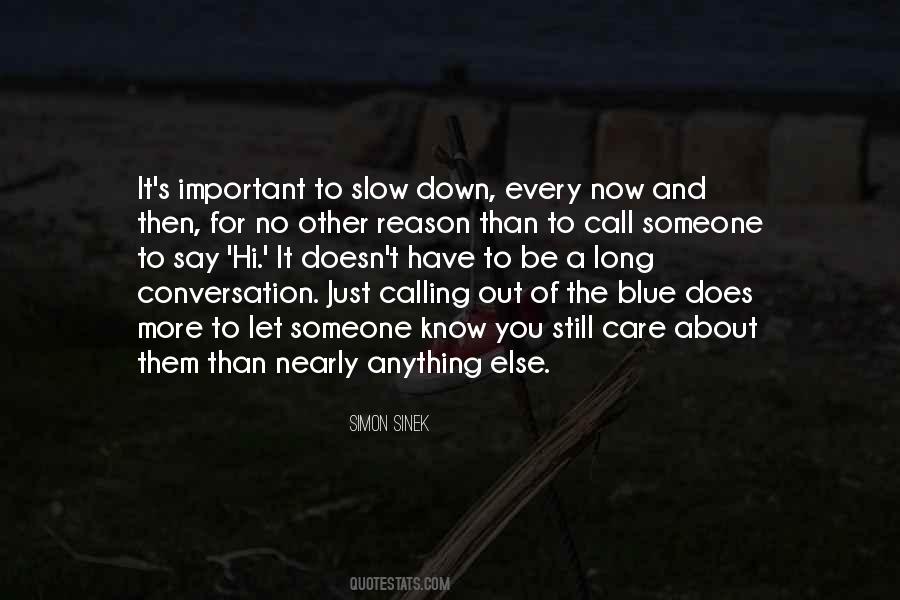 #39. I love when fans recognize me. Most of the time they don't have the guts to come up, so I'm like, 'Come here, say hi! I don't bite!' - Author: Ryan Newman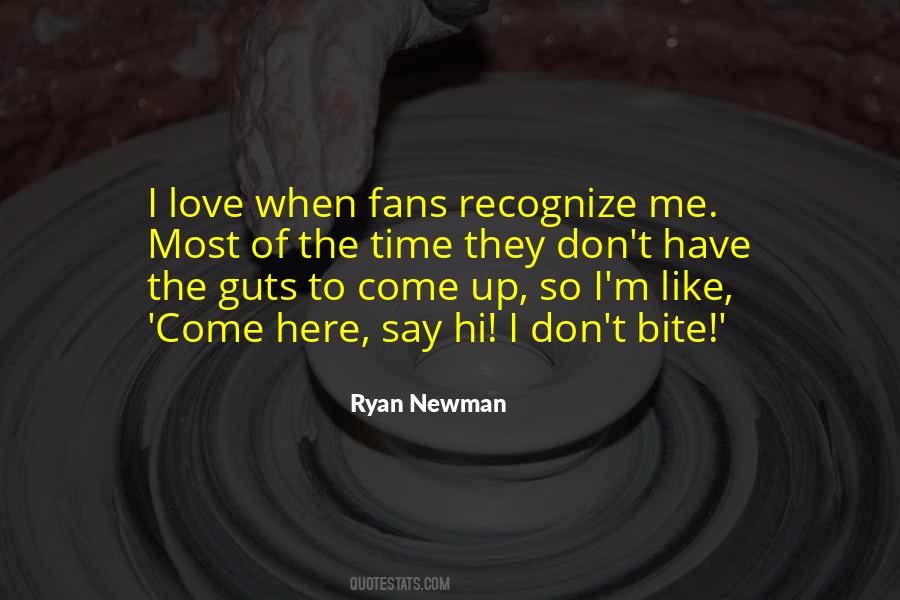 #40. I don't think I've ever had a strange fan interaction. Just any time anyone is willing to come up and say hi or something like that, it's very flattering. - Author: Steven R. McQueen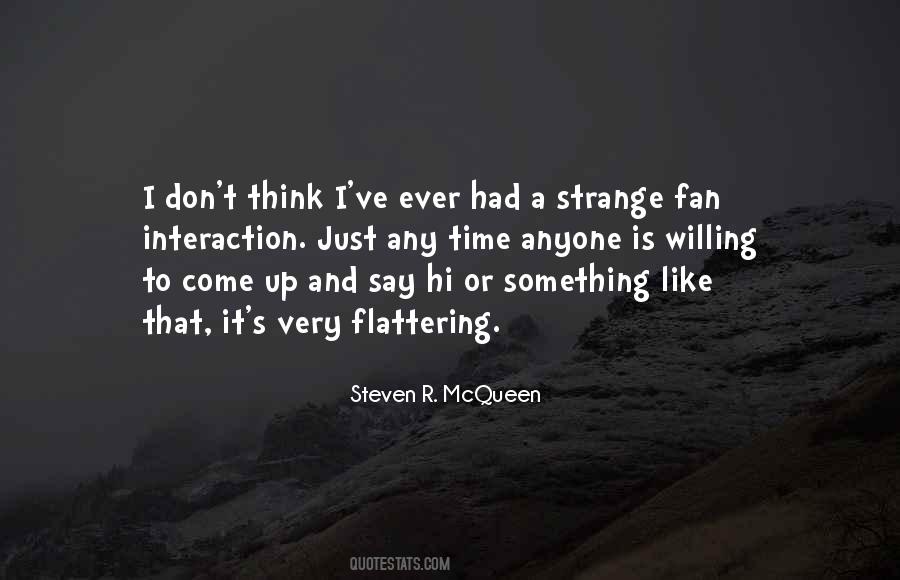 #41. If you want to meet a woman, it's best just to smile and say hi. - Author: Karen McDougal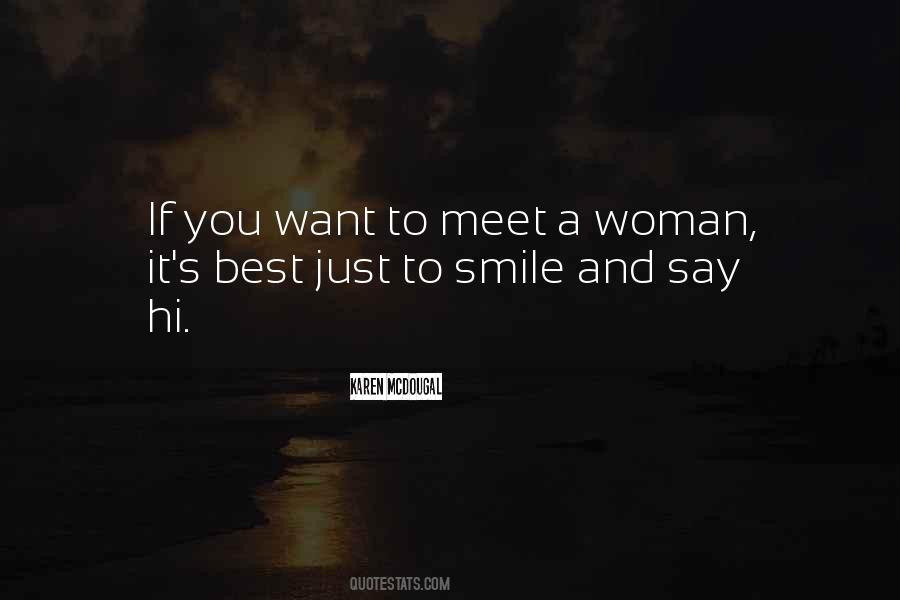 #42. Kurt Cobain and Courtney Love talked trash about the fact that I hooped. I once stopped to say 'Hi' before a show, and as I walked away, Courtney yelled, 'Go play basketball with Dave Grohl!' - Author: Jeff Ament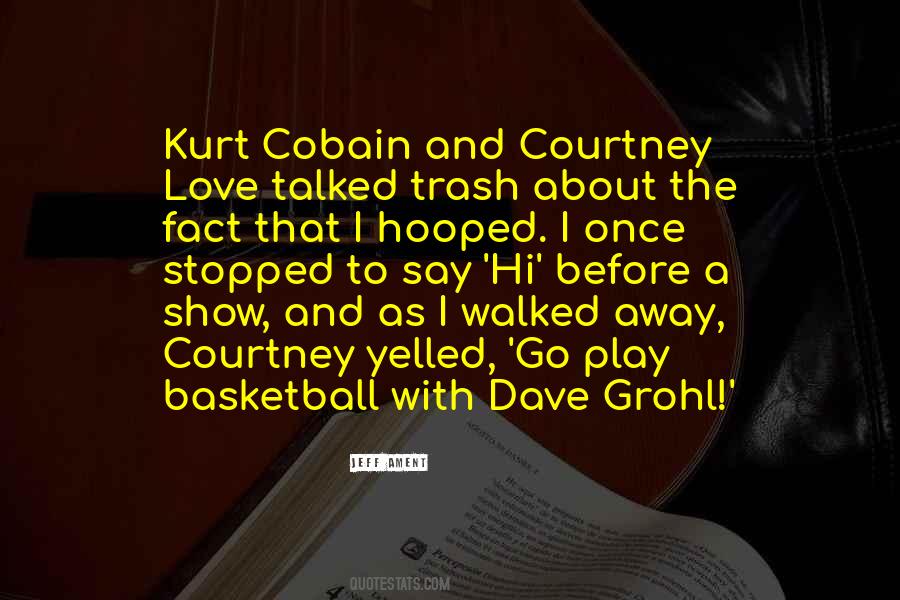 #43. You're not going to say hi to Thomas?" I whispered.
He didn't look at me when he spoke, watching his family hug and laugh. "I got one night with you. I'm not going to waste a second of it. - Author: Jamie McGuire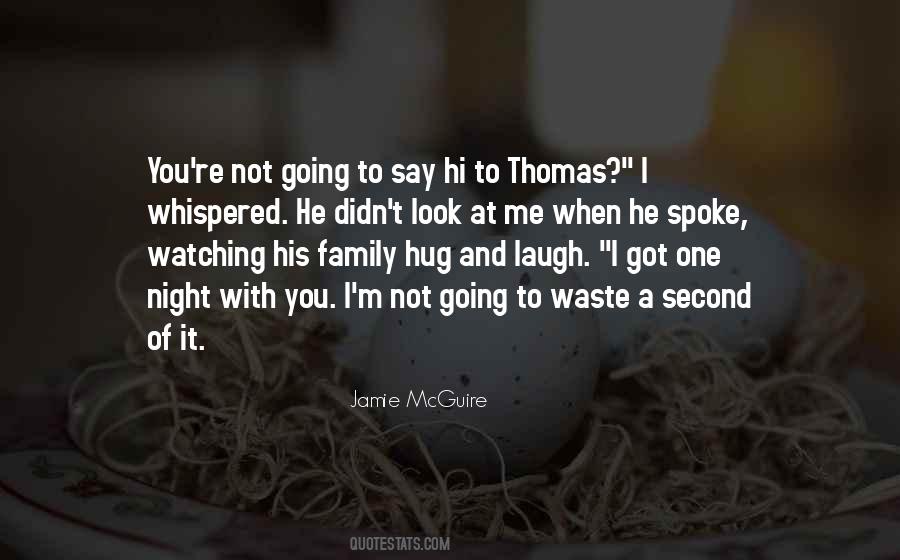 #44. I believe in God ... just in case. It's like there's some list somewhere and you don't want to be on it. I don't want to say THERE'S NO GOD! and then die and say, Oh, Hi ... Is there some kind of community service I can do? - Author: Marc Maron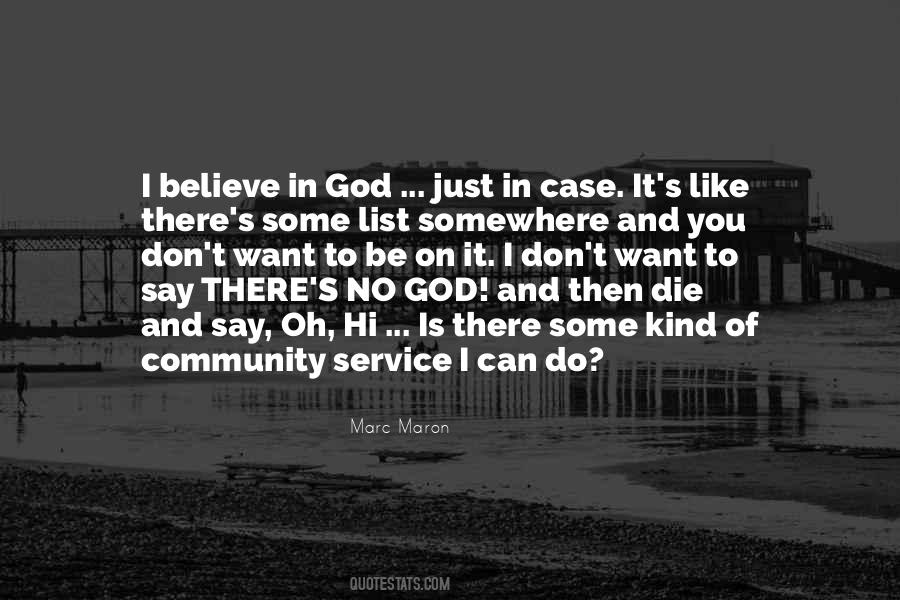 #45. It doesn't cost anything to say hi when you pass someone else in the hallway, whereas, most corporations if you pass you avoid eye contact. - Author: Tony Hsieh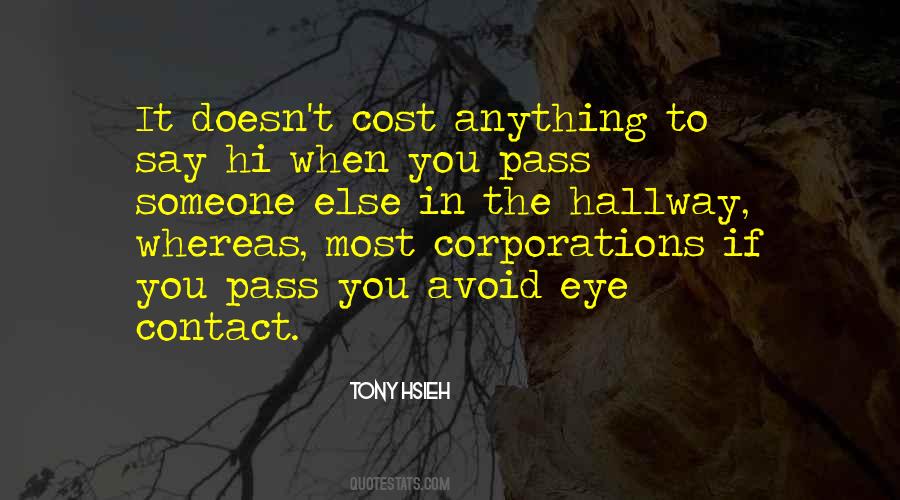 #46. What did you say, Arthur?"
"I said, how the hell did you get here?"
"I was a row of dots flowing randomly through the Universe. Have you met Thor? He makes thunder."
"Hello," said Arthur. "I expect that must be very interesting."
"Hi," said Thor, "it is. - Author: Douglas Adams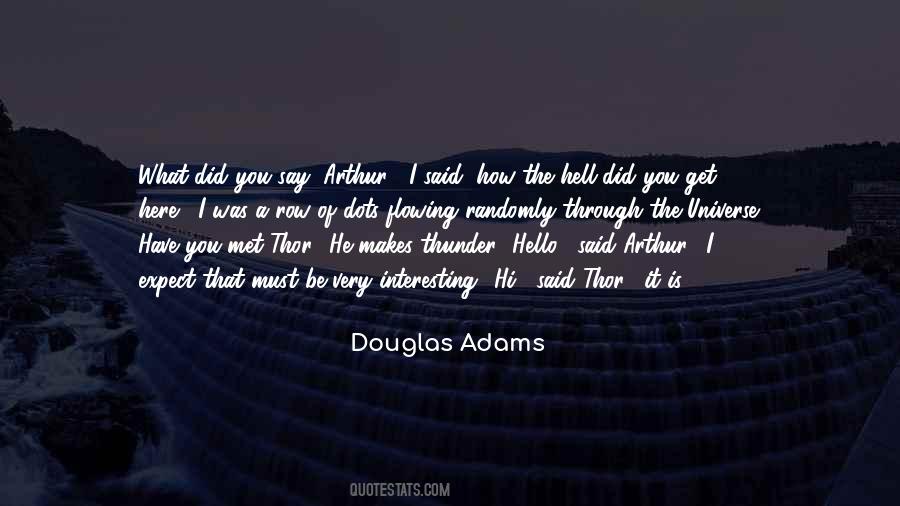 #47. I got to say 'Hi' to Dolly Parton, which my mom thought was kind of cool. - Author: Landon Donovan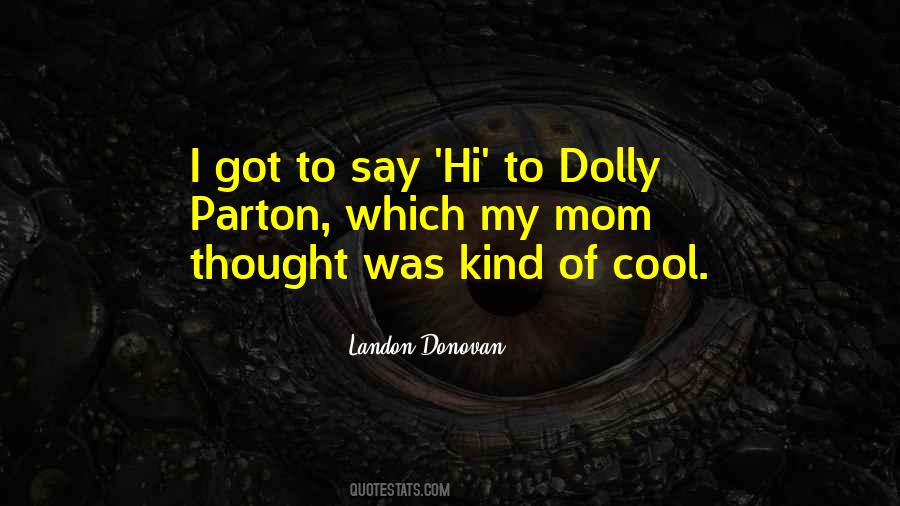 #48. Remember to connect with people now and then. In fact, pick up the phone, right now, and call a friend for no other reason than to say hi. - Author: Simon Sinek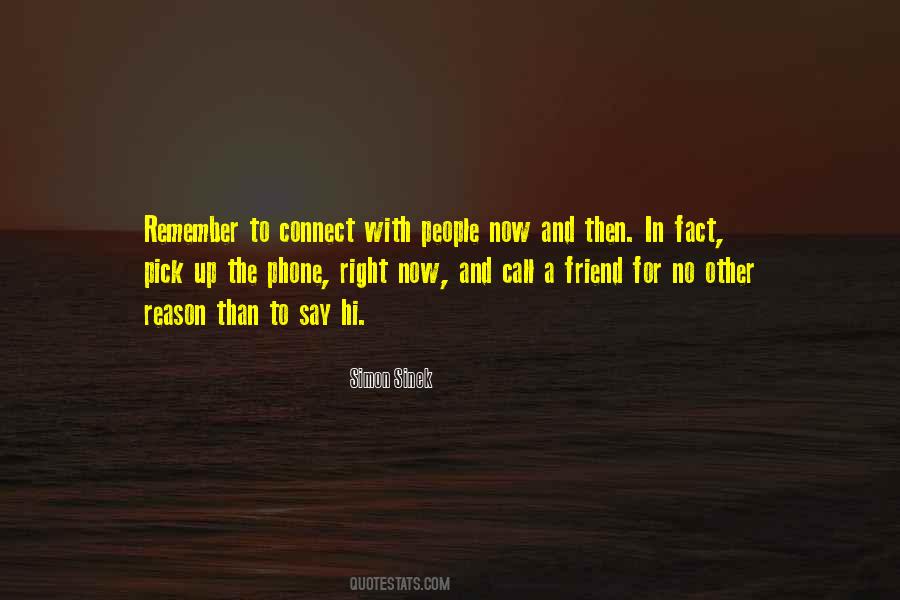 #49. I don't really know a lot of famous people. I've met a lot of famous people. If I ran into Tom Hanks today, I would have to remind him who I was and he would then remember me. But he wouldn't come up to me and say, 'Hi Dave!' - Author: David Zucker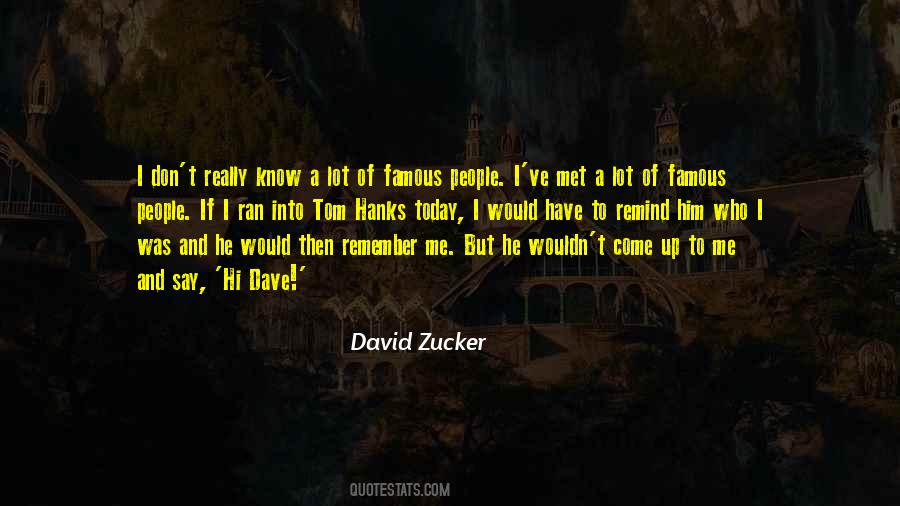 #50. People are mostly very nice, and I always say hello. I'm laid back, so I don't mind. I think if people watch the show and want to say hi, you've got to be nice. - Author: Nikki Sanderson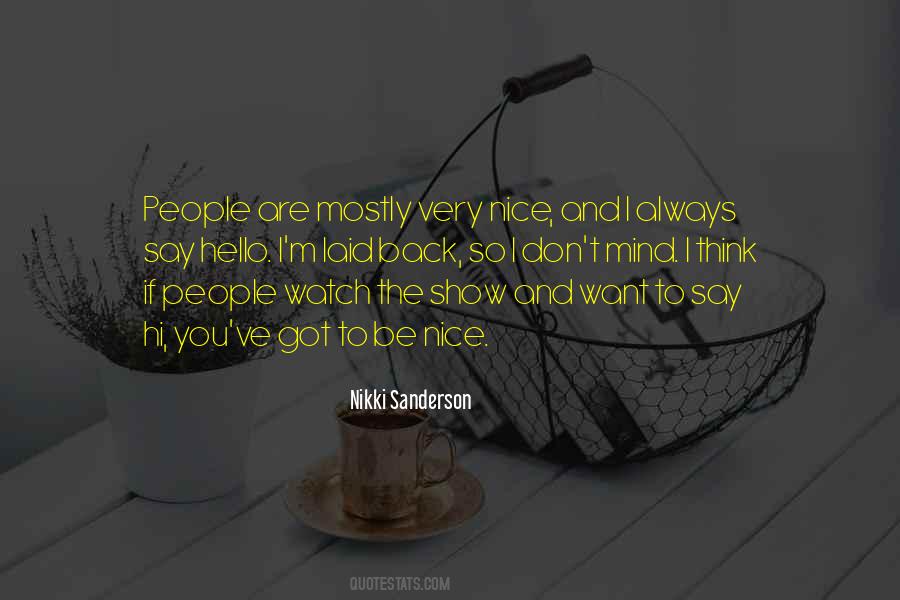 #51. If you're going to stare at it, it's going to wake up and say hi. - Author: Tracey Garvis-Graves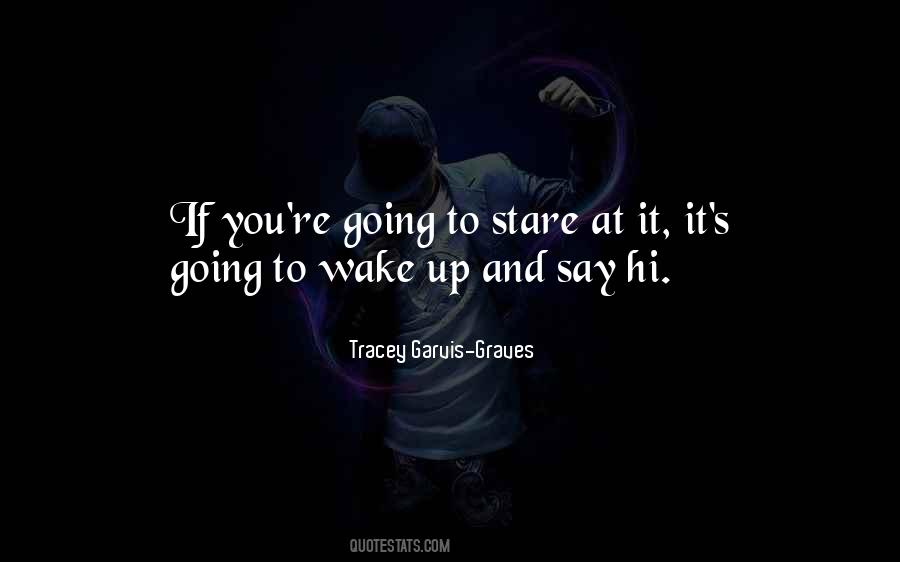 #52. It's been a long time. How have you been doing?"
I'm fine. How are you? You're looking very handsome today, Addolgar the Handsome, lord of my loins.
At least that was what she'd like to say to him, but instead she came out with, "Yeah, hi. - Author: G.A. Aiken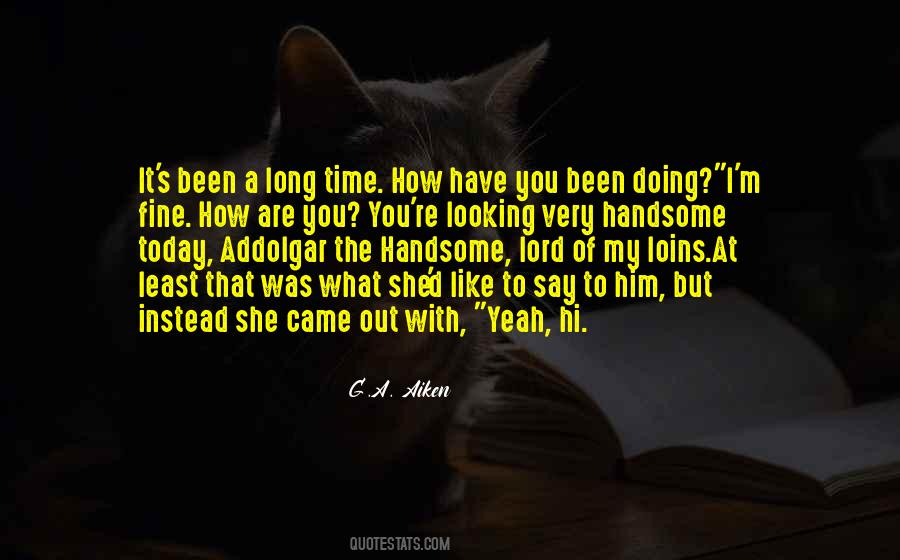 #53. Justin: "Say hi to Paul Thompson for me," he added.
Madeline: "Garrlgh," I gagged. The corner of his lips curled up.
Justin: "What was that?"
Madeline: "That was vomit creeping up the back of my mouth when you mentioned Paul's name. - Author: Katie Kacvinsky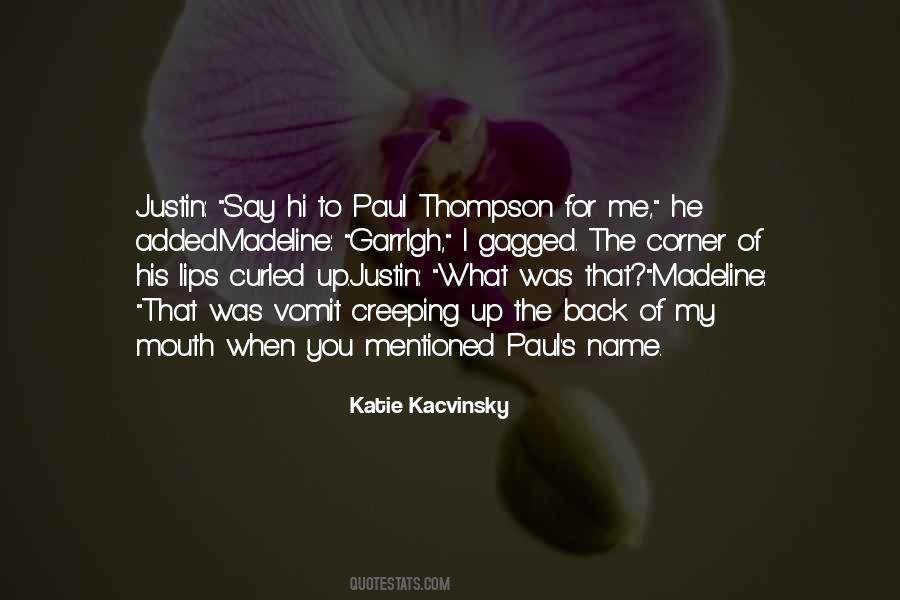 #54. My face, my self, what would they mean to anybody? Just another stiff. So this self of mine passes some other's self on the street - what do we have to say to each other? Hey there! Hi ya!
That's about it. Nobody raises a hand. No one turns around to take another look. - Author: Haruki Murakami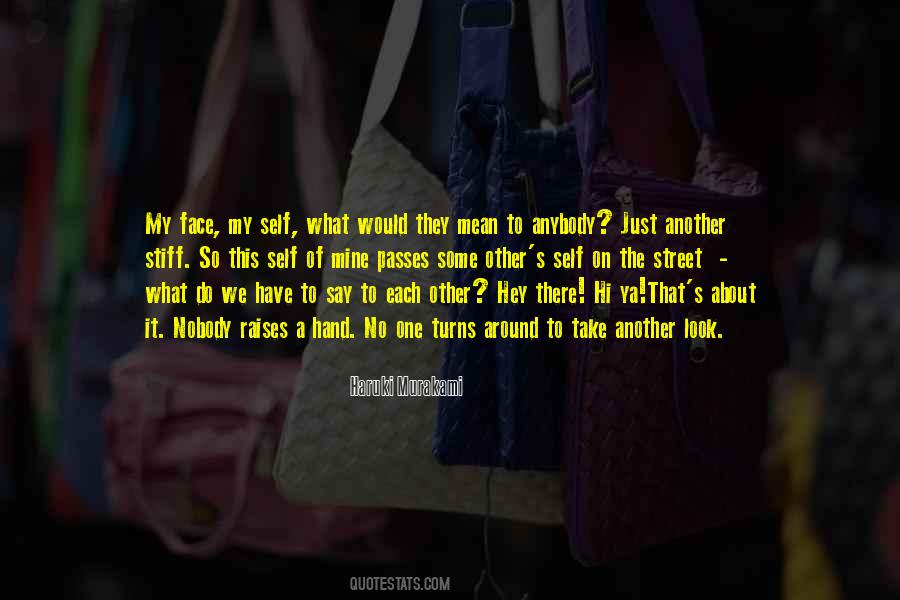 #55. Yes, people do come across the street to say hi, but as they approach and get near, my perception of space begins to dissolve, and a new interest takes over that is primarily emotional, and with it comes a desire to touch, which may be a human interest, but not the interest of my work. - Author: Diego Giacometti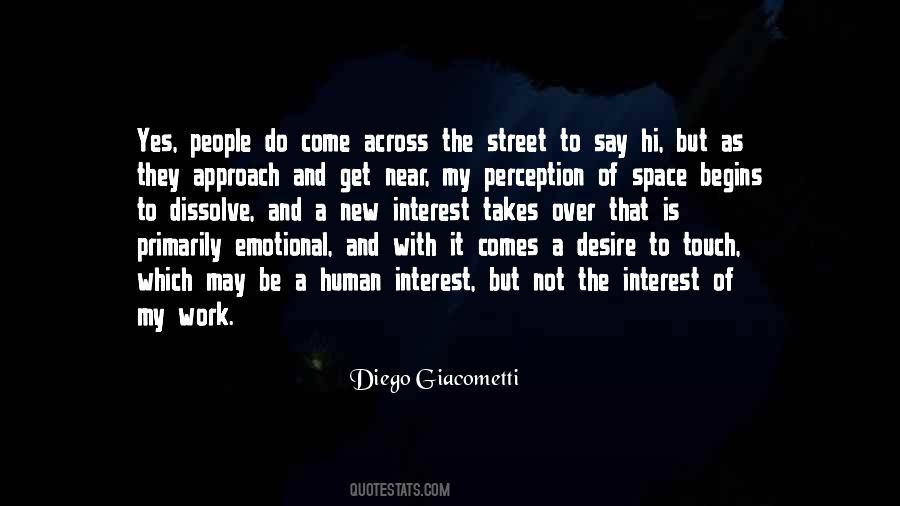 #56. I went over to say hi to Rob and he introduced me to Wayne and Fred. I had made a radical purchase of some brown Beatle boots. Wayne was like 'Where did you get those boots! Who is this guy? - Author: Michael Davis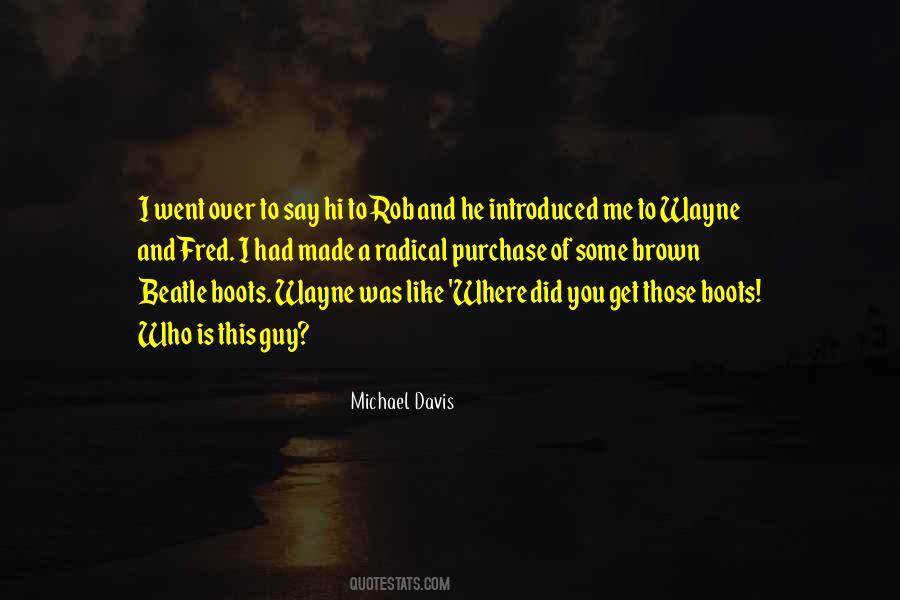 #57. I hate normal studios, because you have to say "hi" to the person at the front desk. And then you go into the studio, and there's a second engineer in there that you don't know, and then you're stuck in a glass box with someone talking to you through a walkie-talkie. - Author: Marilyn Manson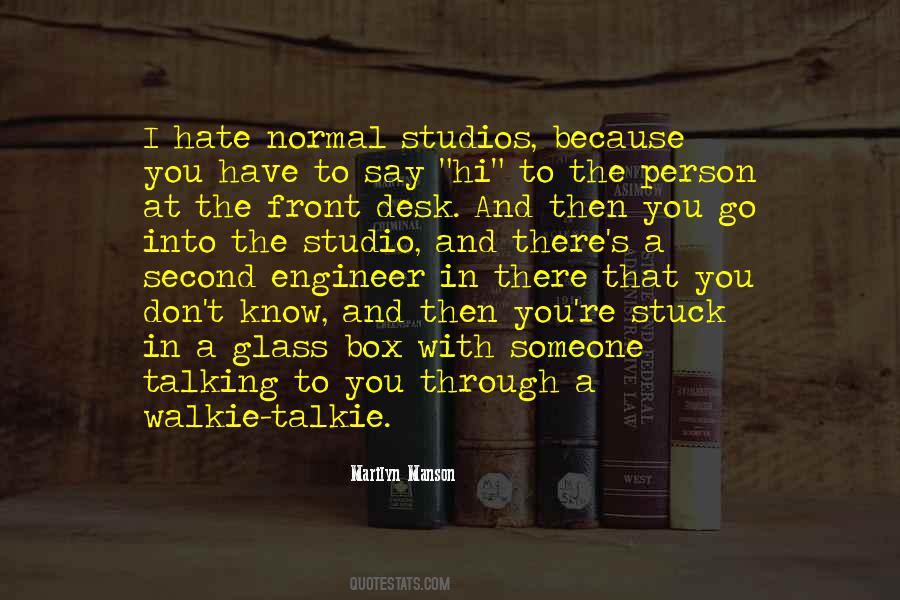 #58. I said, 'Hey', she said, 'Hi.'
I said, 'Us', she said, 'Try,'
'And if you're thinkin strictly boots, then I'll say baby, bye bye.' - Author: Dres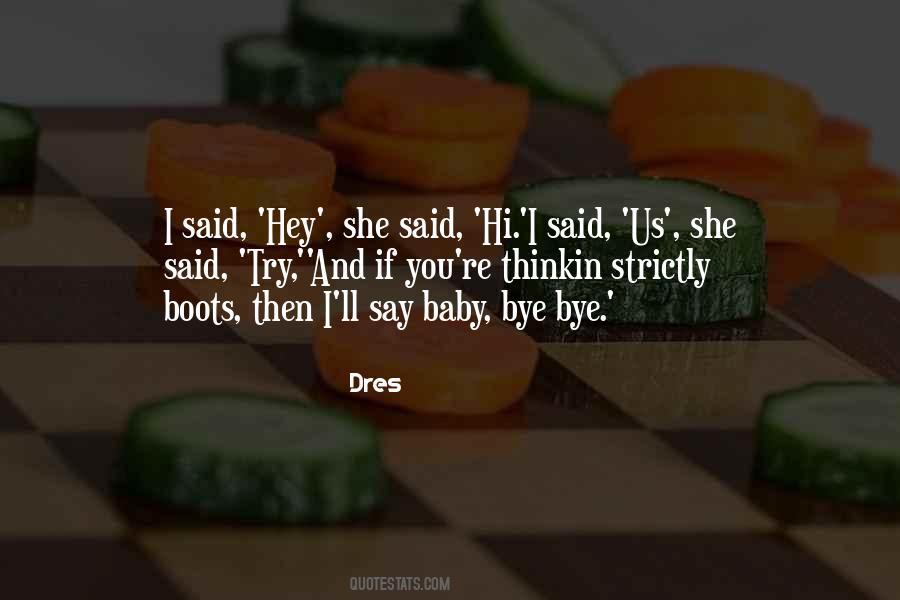 #59. It says adult prison on the gates, not Hogwarts. Now, get in and say hi to your new housmate. - Author: Dean Cole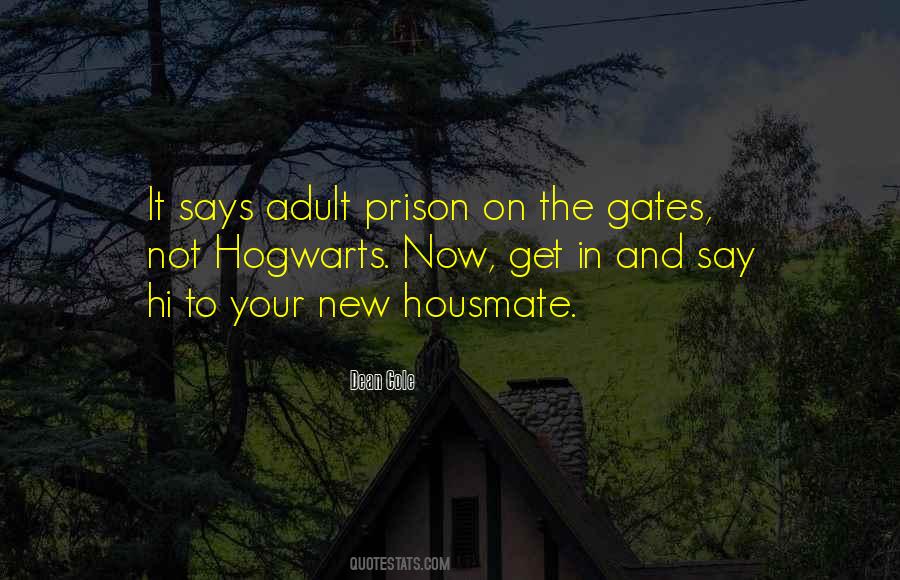 #60. I never worry about looking cool in front of a guy. I have never been a self-conscious girl. Goofing around is part of being comfortable with yourself. I've always been good at meeting new people. I just say, 'Hi, how you doing?' and soon we'll end up laughing about something. - Author: Ashlee Simpson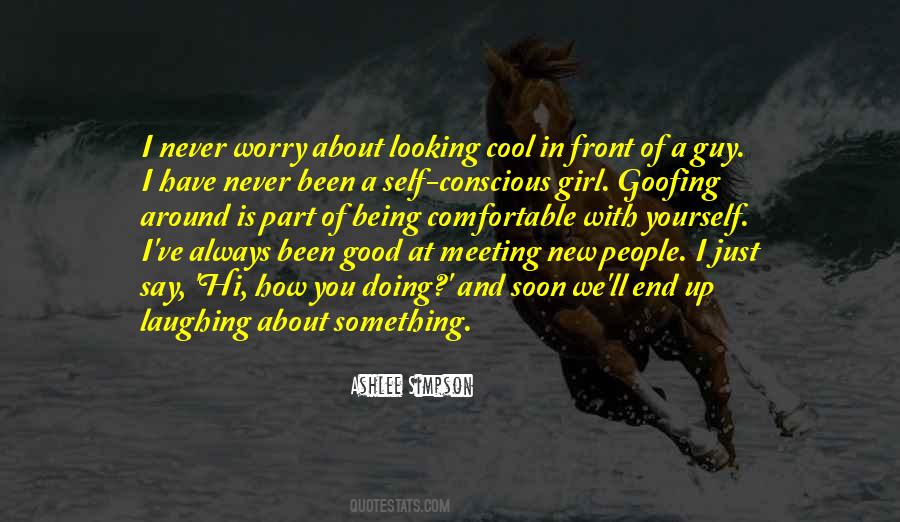 #61. Crap. What do I say?
"Hi, I followed you here."
Yeah, that's not super creepy and stalkerish at all.
Nope, time for plan B. - Author: Joanne McClean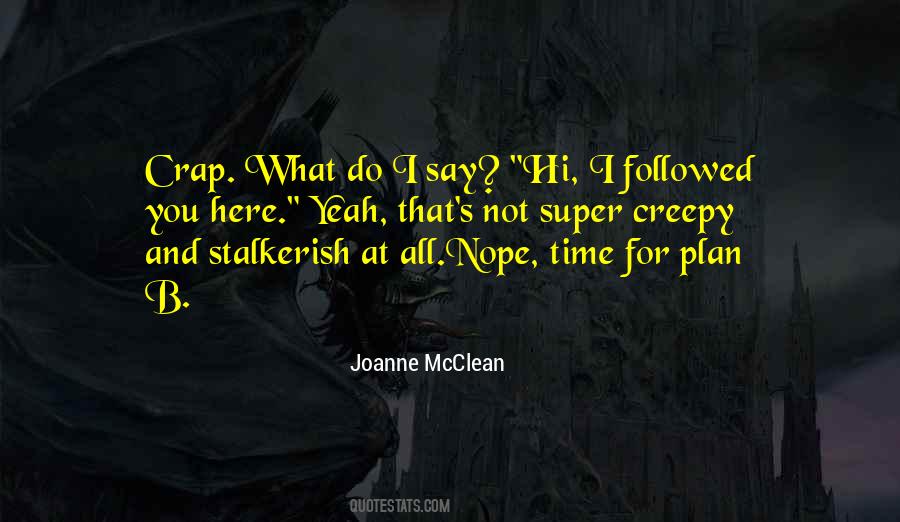 #62. I'd like to find someone to procreate with - as sexy as that sounds. If you're out and about and fit the description, come up and say hi. I won't bite. Well, maybe a little, if you're lucky. - Author: Chloe Sevigny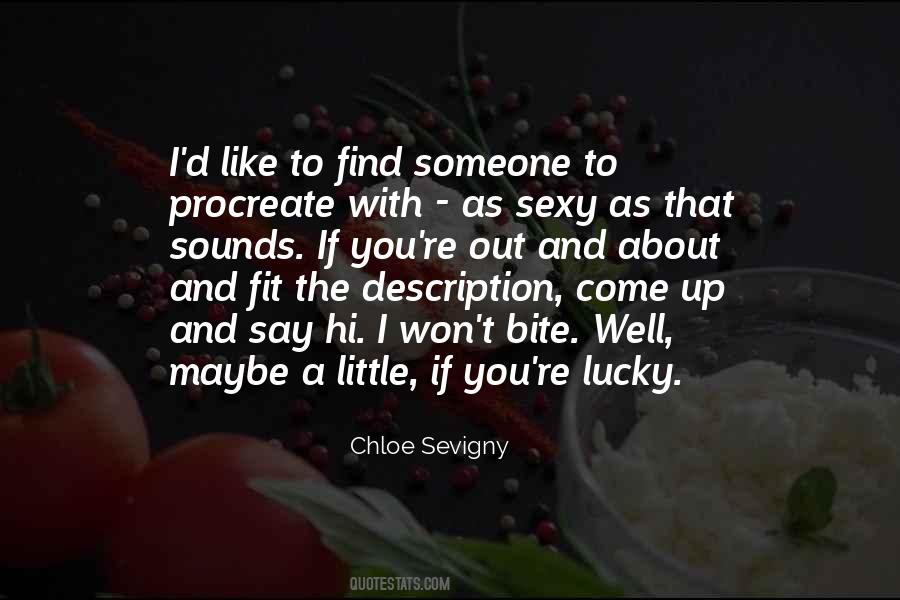 #63. And the moment she says hello, I wouldn't hang up. I'd say, 'Hi. What's happening? Tell me every little thing. - Author: Chuck Palahniuk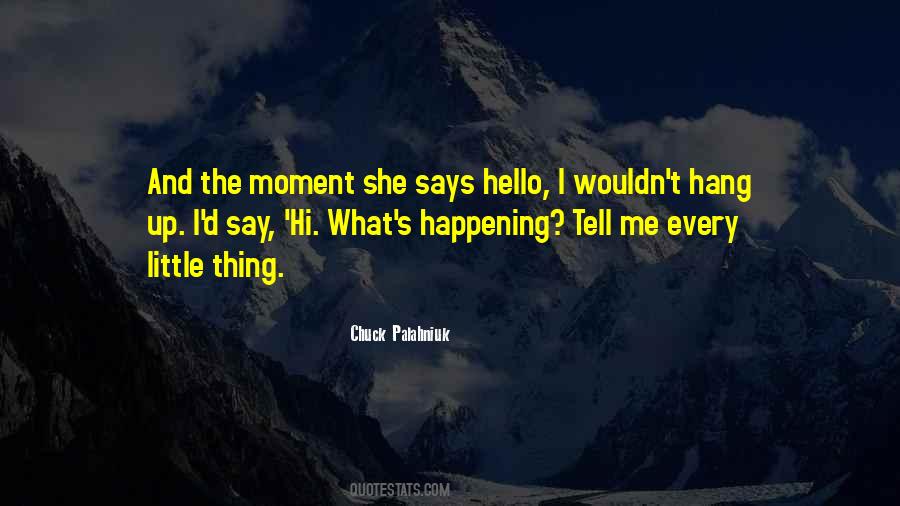 #64. I try to go throughout my daily life just as if nothing has changed, but you don't have much anonymity anymore, which feels really good. People come up, and say hi and they enjoy your work. - Author: Adam Lambert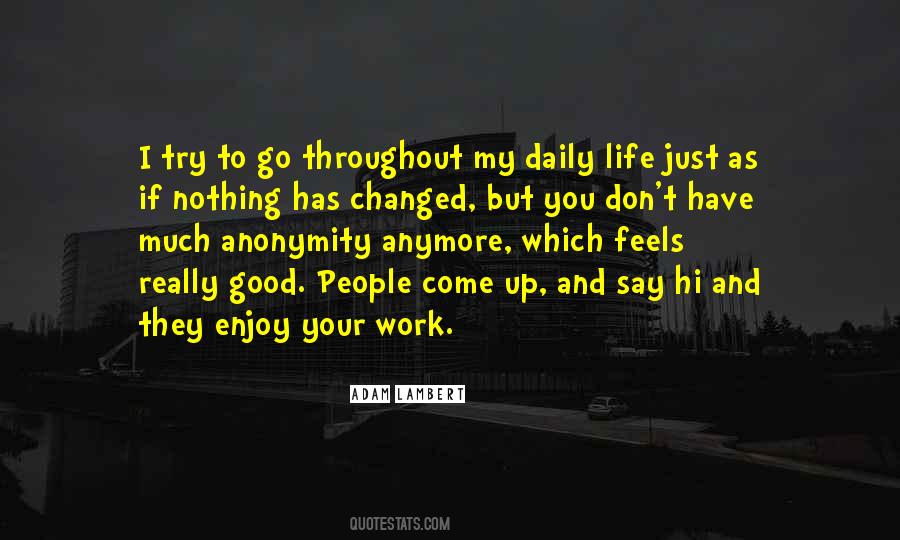 #65. Cult Mother- Now what does your spirit animal say to you?
Thugs- Uhm...Uh...
-King Shark smashes through the roof-
King Shark- Hi. My name is Trixie. I like to party. - Author: Adam Glass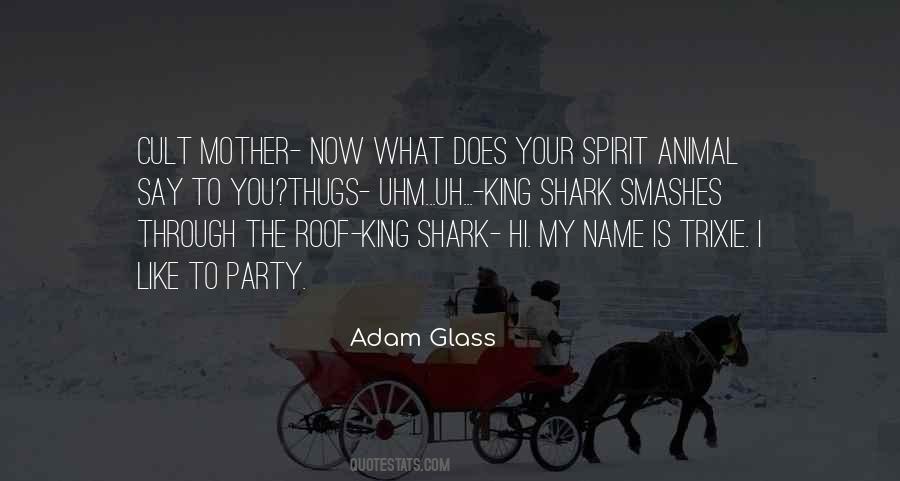 #66. I was just wondering, what would you say to a pair of kittens?"
""Hi, snack food? - Author: Kaje Harper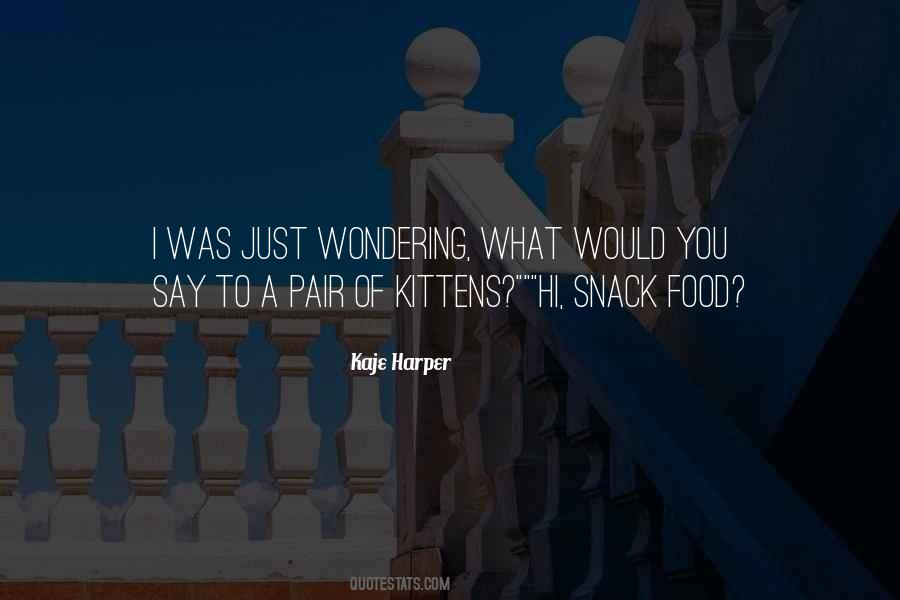 #67. All over the world I'm known. Whenever I go out on the street people come up to me and say ... 'Hi, Beave,' and that doesn't bother me at all. It's something that I embrace. - Author: Jerry Mathers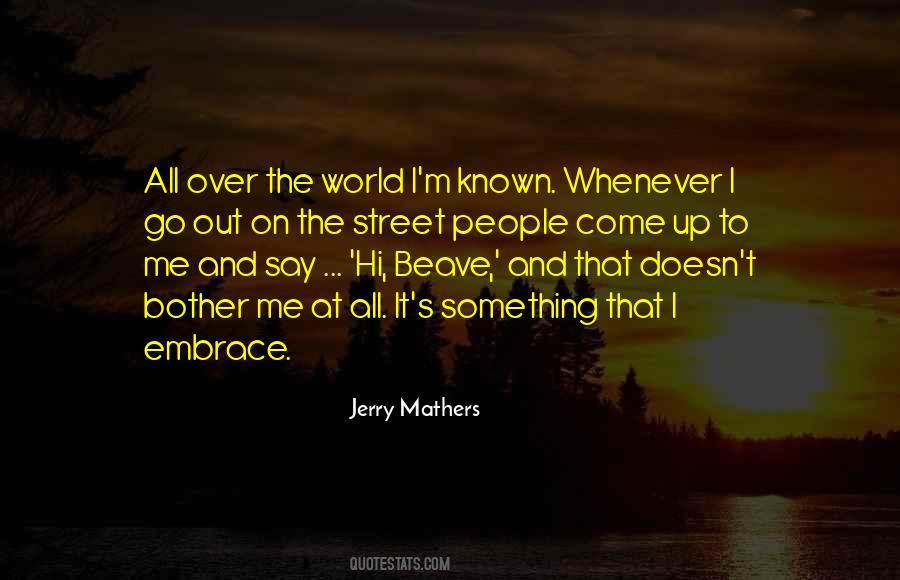 #68. I can't lie - I love talking to the people at my shows. I'm so grateful to all my fans. I couldn't do it for this long without them. So if they want to come past to say hi and whatnot, then it's part of my job to talk to them - and you know, it might be the best part of my job, too. - Author: Chuck Brown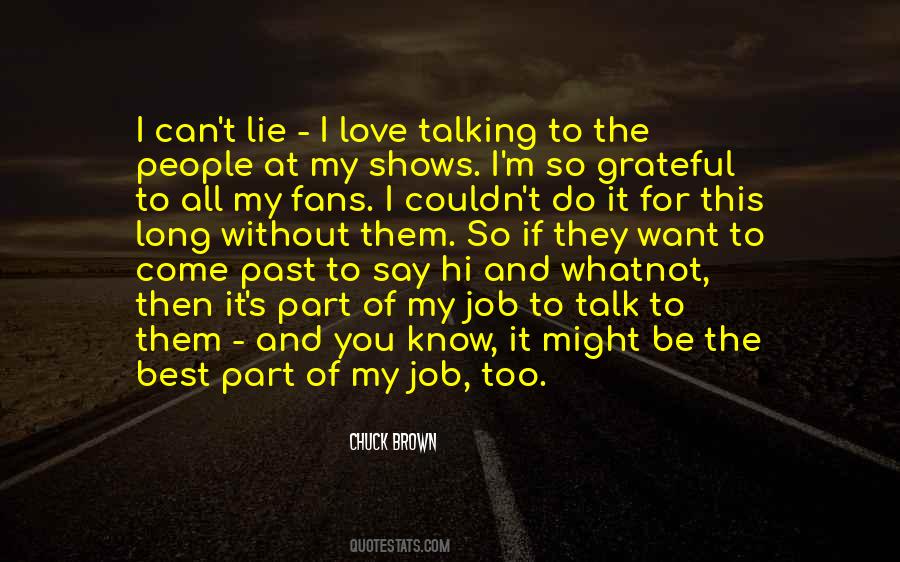 #69. We're technology obsessed. I think it's easier to text than to actually say hi to someone. - Author: Katy Perry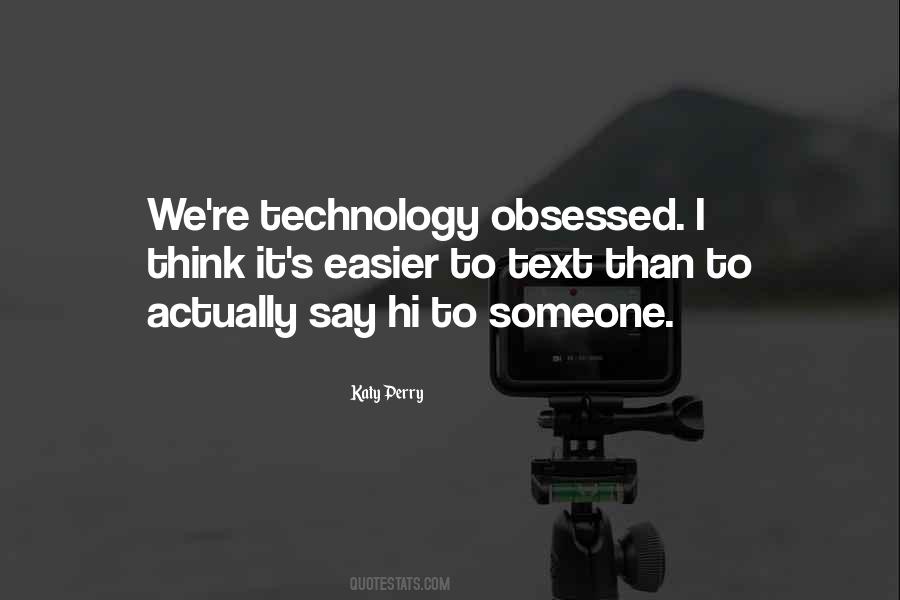 #70. If you've earned a position, be proud of it. Don't hide it. I want to be recognized. When I hear people say, 'There's Joan Crawford!' I turn around and say, 'Hi! How are you!' - Author: Joan Crawford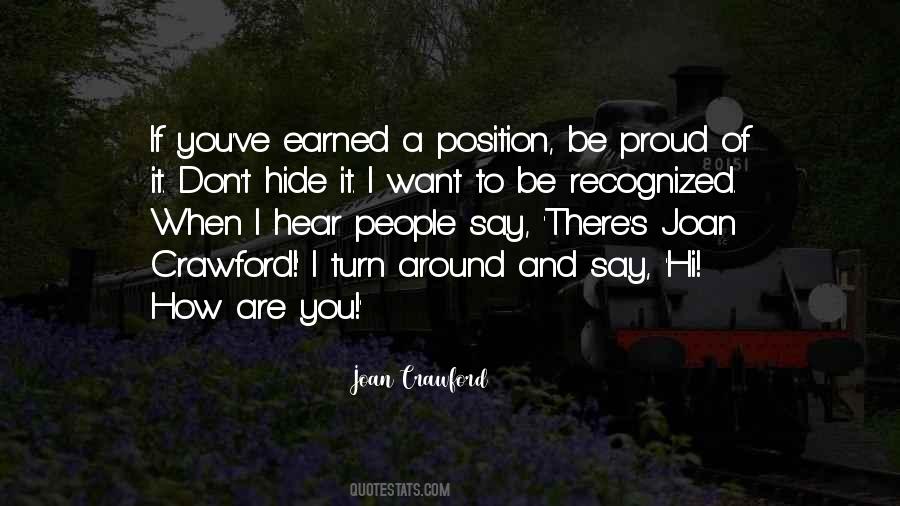 #71. Get ready to die, tell God I say hi. - Author: The Notorious B.I.G.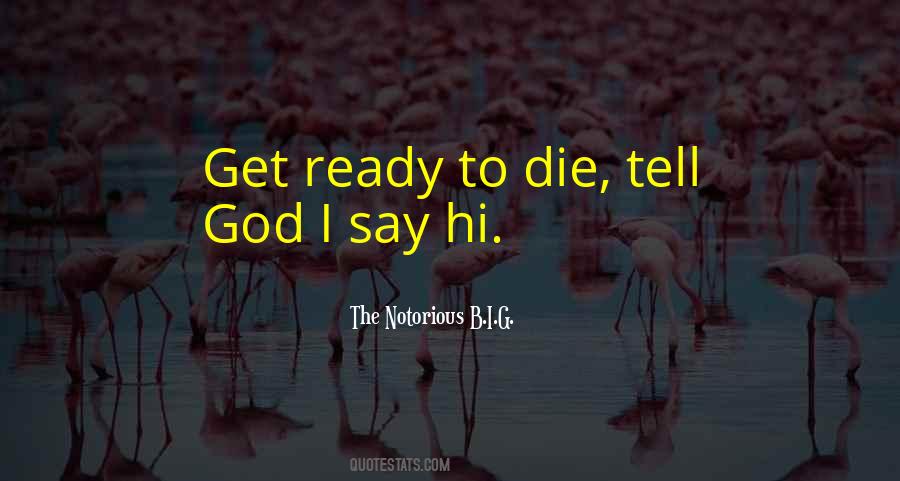 #72. Fame can be just so annoying because people are so critical of you. You can't just say, 'hi'. You say hi and people whisper' man did you see the way she said hi? What an attitude. - Author: Juliette Lewis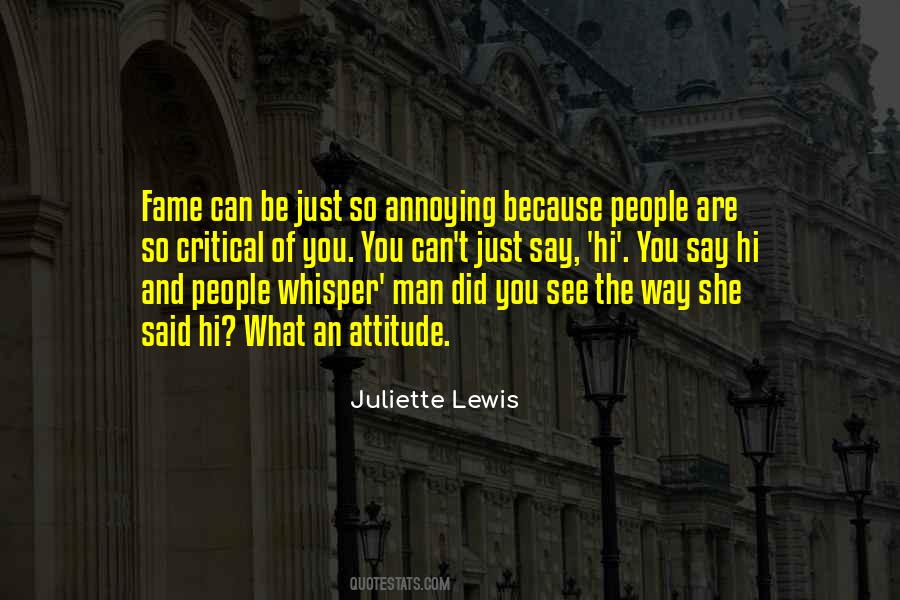 #73. I grew up in an era when strange adults would grab me on the street and say: 'Don't do that.' You never see that these days. 'Hi, we took the liberty of spanking your son.' Oh thanks, my hand was getting worn. - Author: Emo Philips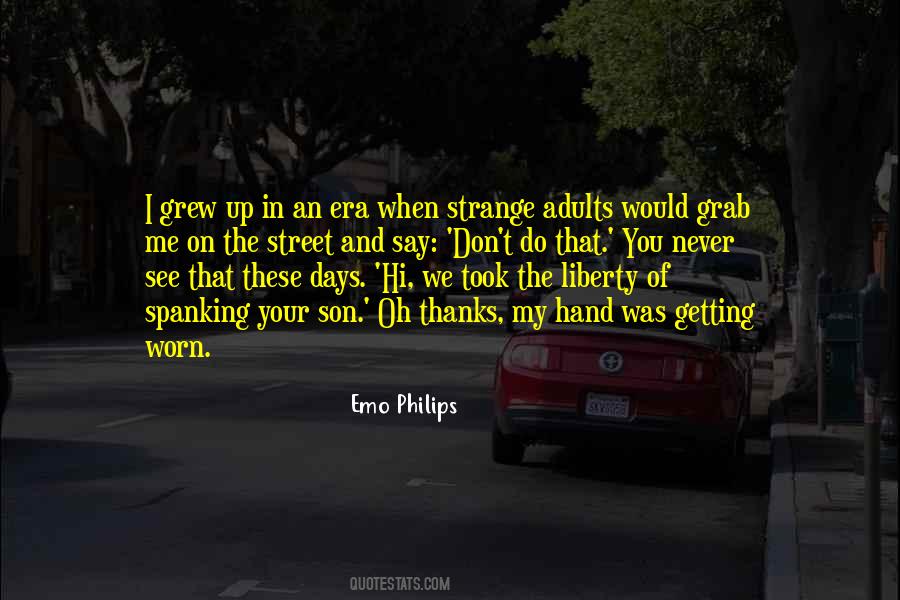 #74. I think foreign countries really do like it when American artists sing in their language. And when you go over there and say, 'Hi, how are you?' in their language, they love it. It makes them feel like you're doing it just for them. We in America take so much for granted. - Author: Natalie Cole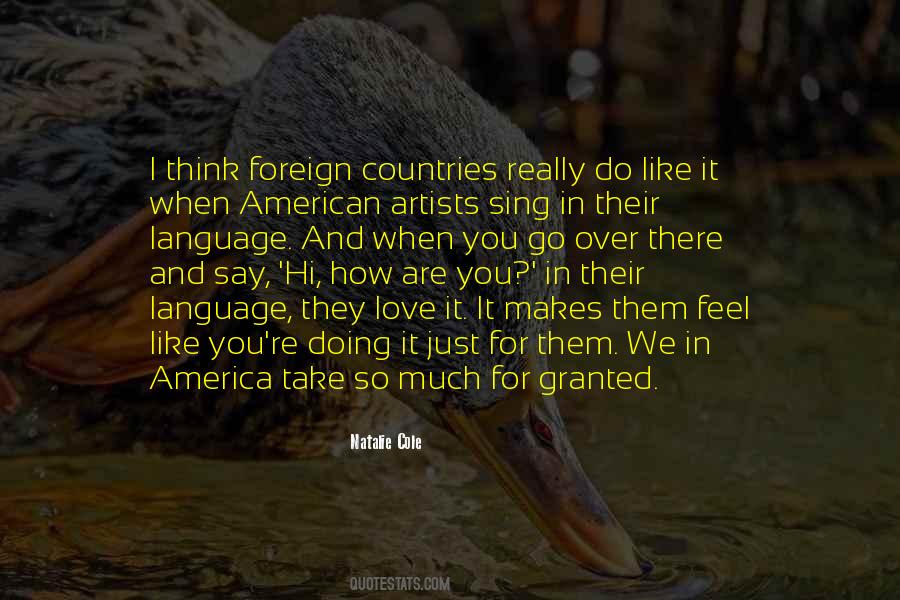 #75. The absolute base-level thing that you do as a new screenwriter is send out query letters. Literally, you just say, 'Hi, Mr. So-and-So,' and you give them a one-sentence description of one of your scripts. You send it out to a list of people you found on the Internet. - Author: Evan Daugherty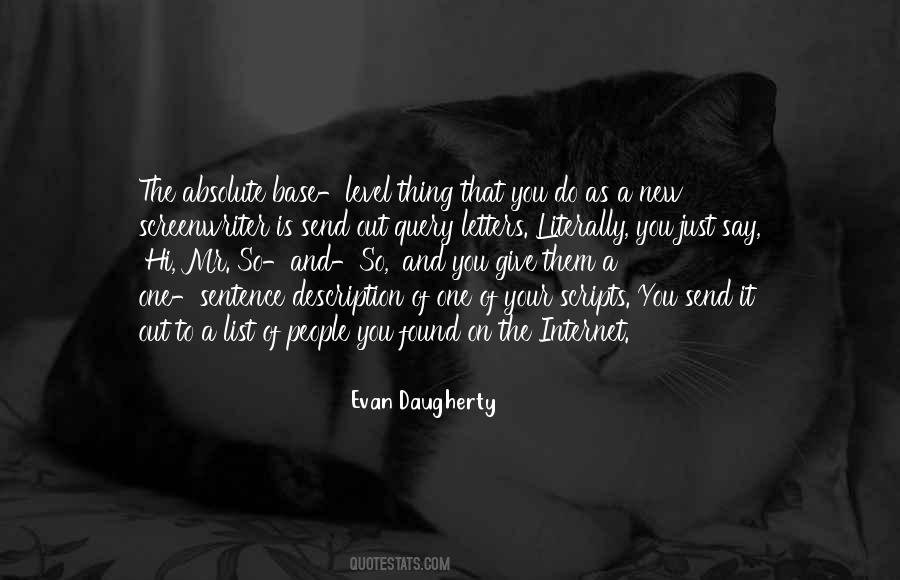 #76. In Philadelphia, there's no delineation, they address me as Rocky, for real. They'll say things like: "Rocky, do you like this coat?" Or: "Rock, say hi to my sister." Or: "Yo Rock, I know a great restaurant." There's no Sylvester. Even the Mayor goes: "It's good to have Rocky here today." - Author: Sylvester Stallone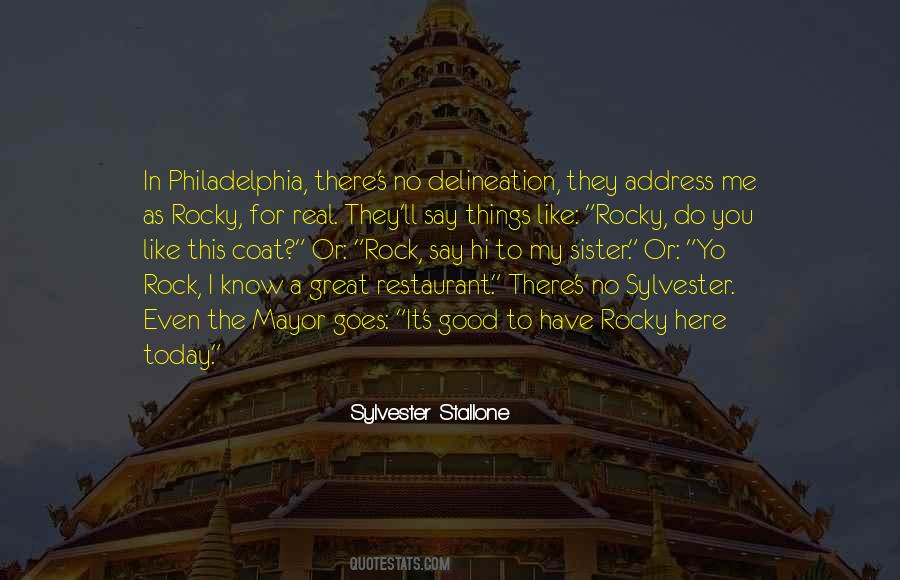 #77. Hi there! You're cute. Do you have any girlfriends? 'Cause Gran says Momma needs a man in her life. Then Pops says, 'Pfft, Martine, the last thing Elise needs is a man!' But I think my Gran is right."
"Rennie, for tonight, let's play the think-about-what-we-say-before-we-say-it-game. - Author: Lauren Dane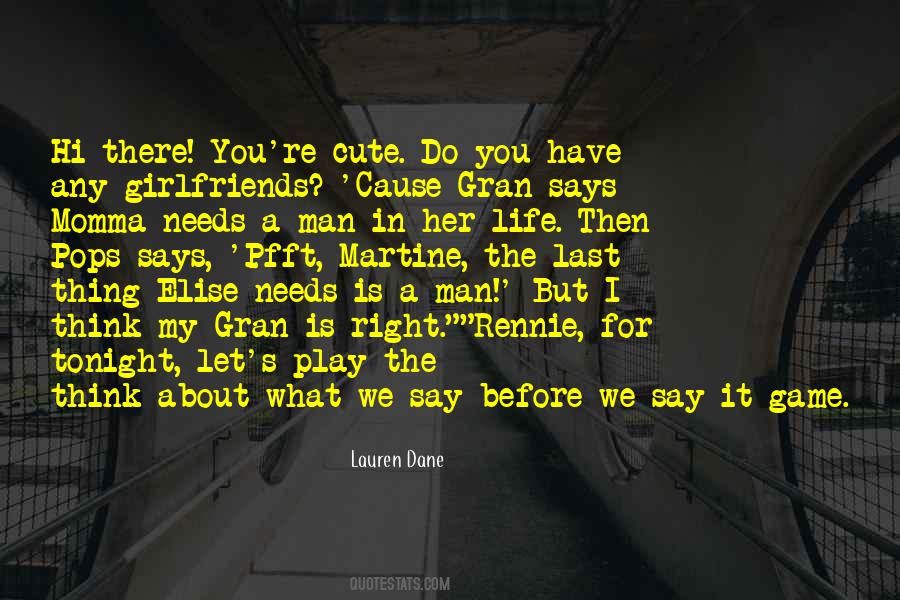 #78. I'd met Roscoe in Europe quite a few times over the years, and we'd say hi and so on, but this was the first time we'd actually played together. - Author: Evan Parker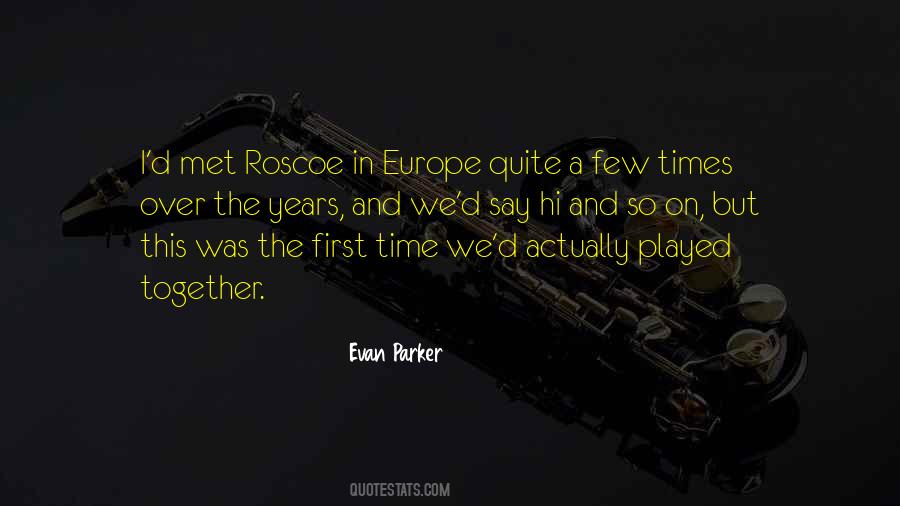 #79. I didn't know what I was going to say, a feeling that was compounded when the line clicked open and Trent's very muzzy voice murmured, Rachel? Mmm, hi. - Author: Kim Harrison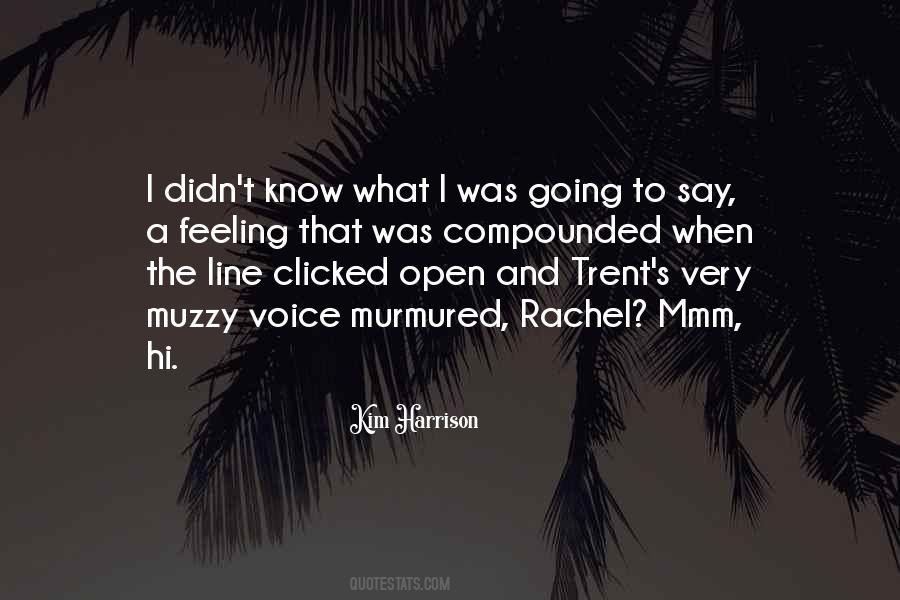 #80. You might think you made a new world or a new self, but your old self is always gonna be there, just below the surface, and if something happens, it'll stick its head out and say 'Hi.' You don't seem to realize that. You were made somewhere else. - Author: Haruki Murakami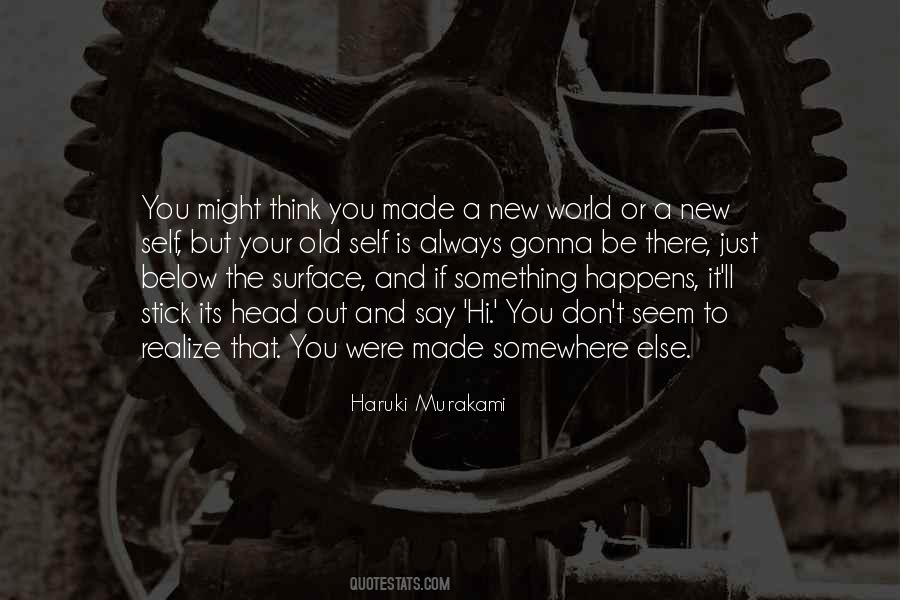 #81. You probably don't call home and say, 'Hi, mom. I am facing Pete Schourek tonight.' Names and stats don't do it. You have to do it out on the field. - Author: Carlos Delgado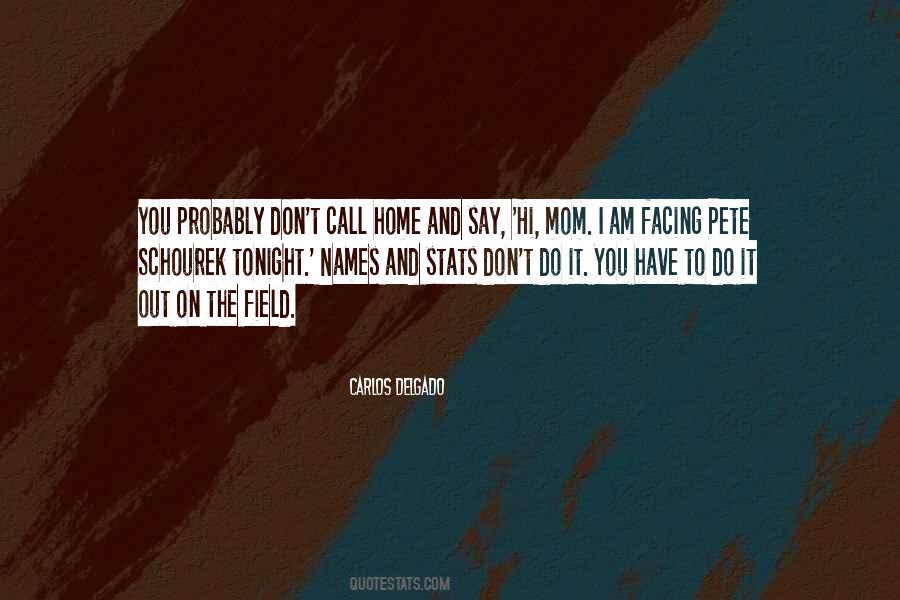 #82. Retirement: That's when you return from work one day and say, "Hi, Honey, I'm home - forever." - Author: Gene Perret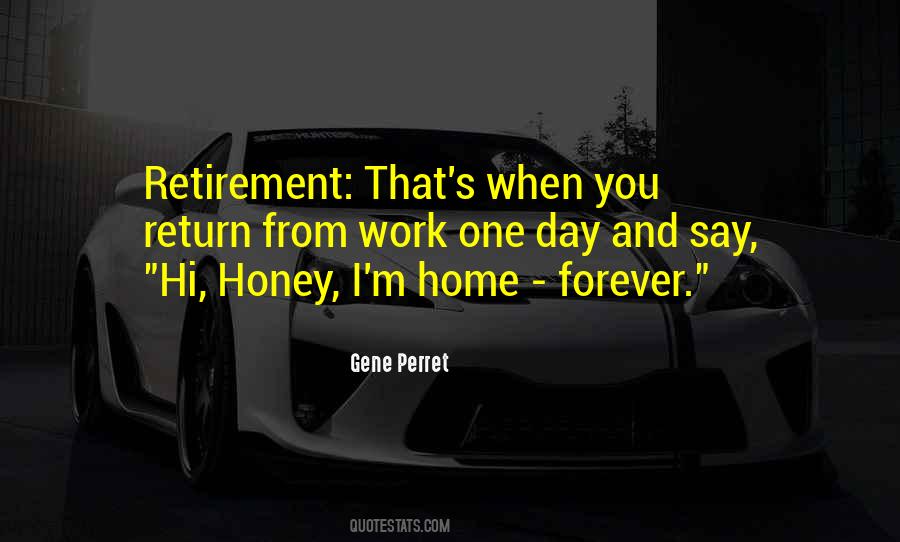 #83. You loan your friend money. You see them again, they don't say nothin' 'bout the money. 'Hi, how ya doin'? How's ya mama doing?' Man, how's my money doin'? - Author: Chris Tucker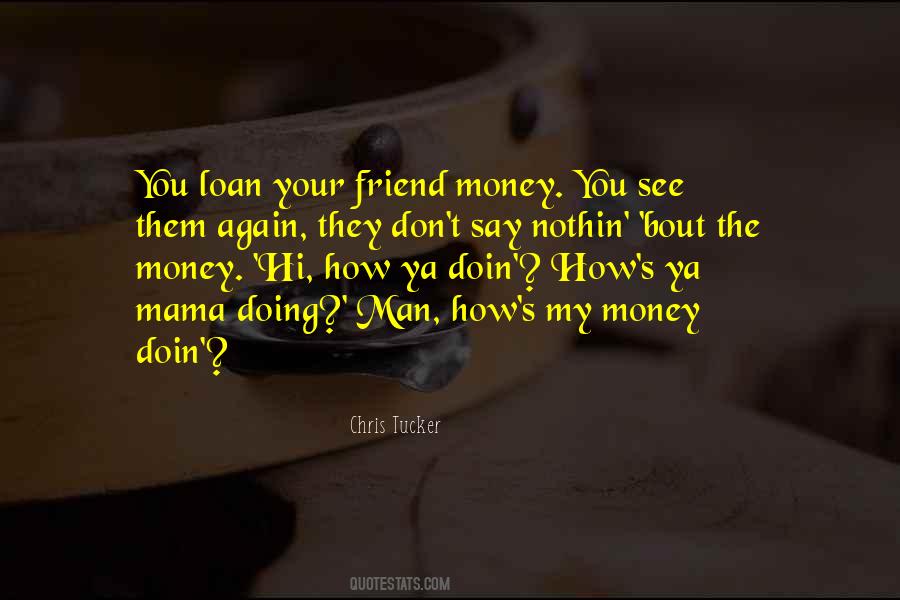 #84. I can't walk down the streets. It's very difficult. I can't go to the mall. I have to go to hotels just to have a meal. Everybody wants to say hi and say thank you and congratulate me, so it's very difficult. - Author: Manny Pacquiao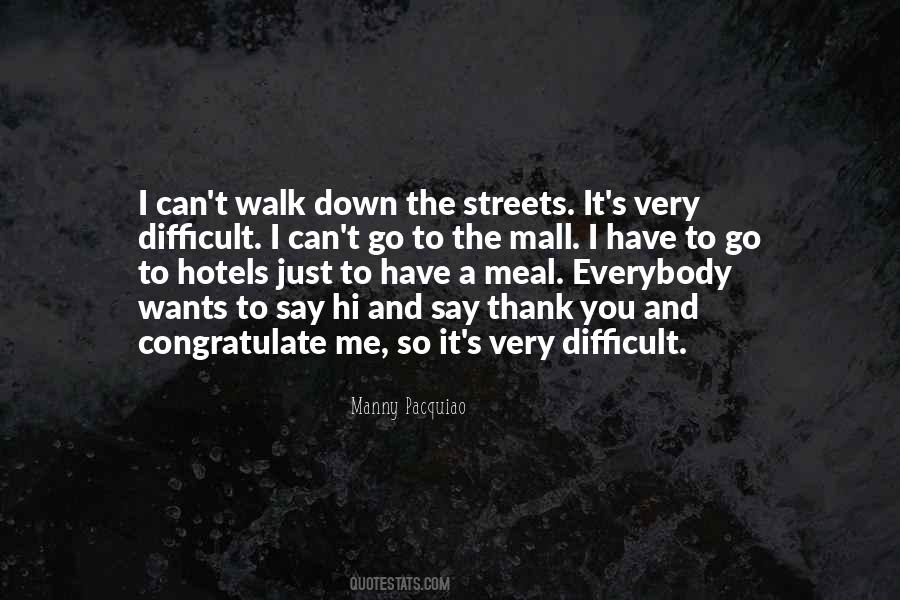 #85. When I came into office, people said, 'Billionaire? How do they live? What do they eat? How do they sleep?' Today, they see me on the subway coming uptown. A couple of people say hi, some people smile and nod. Some people just sleep. It's not an issue. - Author: Michael Bloomberg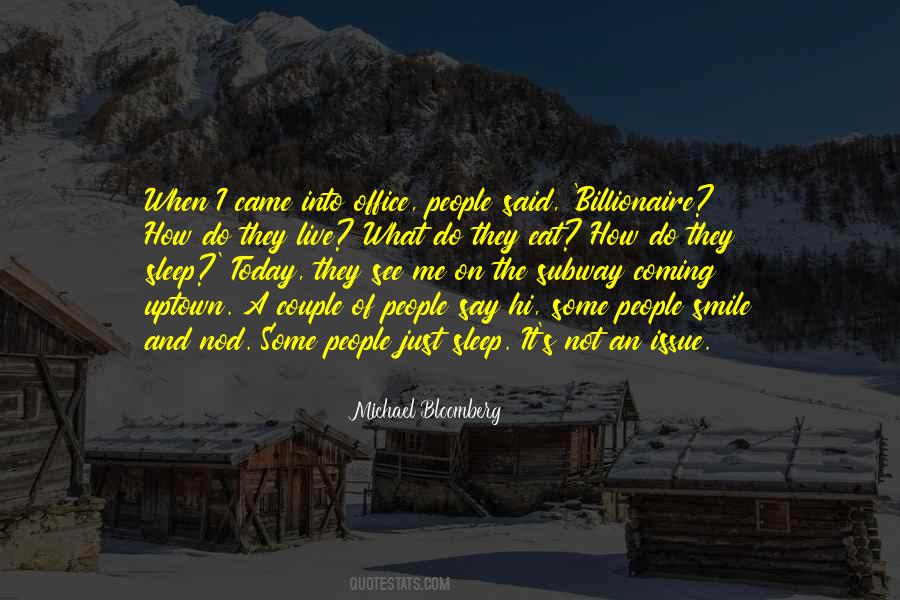 #86. We literally are all made out of stardust. We started from those stars; we are made of stardust. So, next time you are really depressed, look in the mirror and you can look and say, 'Hi, I'm looking at a star here.' - Author: Charles Elachi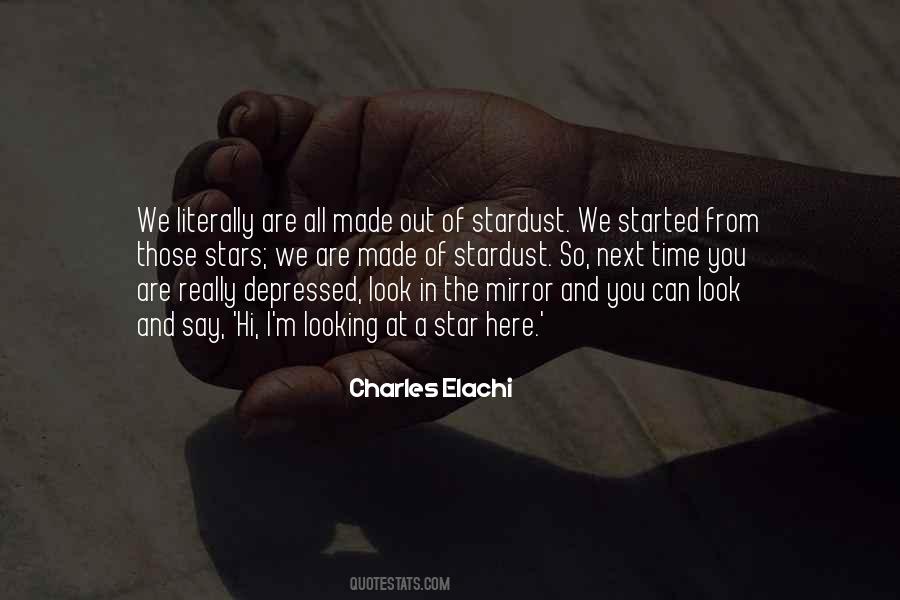 #87. In talking to girls I could never remember the right sequence of things to say. I'd meet a girl and say, Hi, was it good for you too? If a girl spent the night, I'd wake up in the morning and then try to get her drunk. - Author: Steve Martin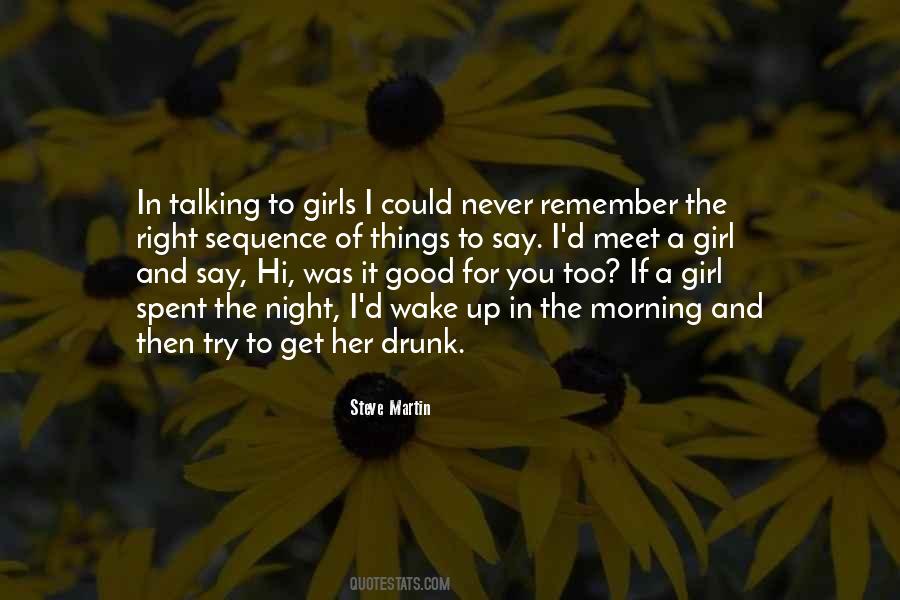 #88. Oops, I said on my d-ck. I aint really mean to say on my d-ck. But since we talking about my d-ck, all of you haters say hi to it. - Author: Lil' Wayne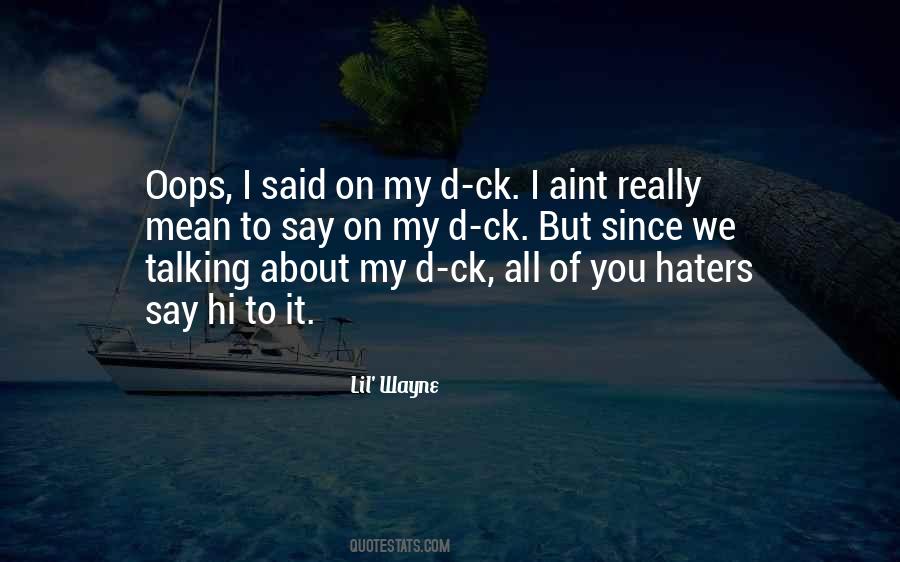 #89. People recognize me. Most people are really nice. Sometimes people say, 'Hi, Chelsea.' - Author: Chelsea Clinton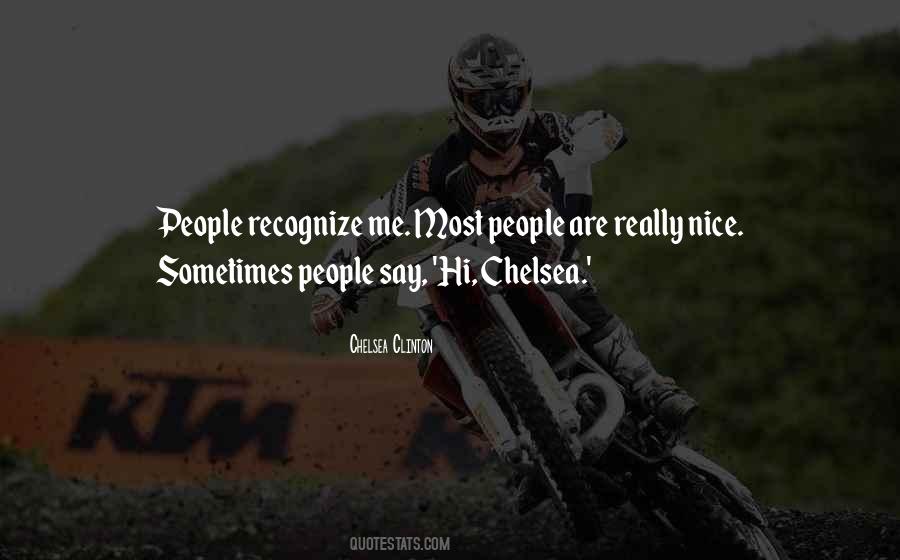 Famous Authors
Popular Topics