People Watching You Famous Quotes & Sayings
List of top 100 famous quotes and sayings about people watching you to read and share with friends on your Facebook, Twitter, blogs.
Top 100 Quotes About People Watching You
#1. You're toying with one of my people,"
she said coldly, watching impassively as he lifted her hand to his mouth.
"You never used to be cruel"
"I used to have a heart," he drawled "and then someone broke it. - Author: Sylvia Day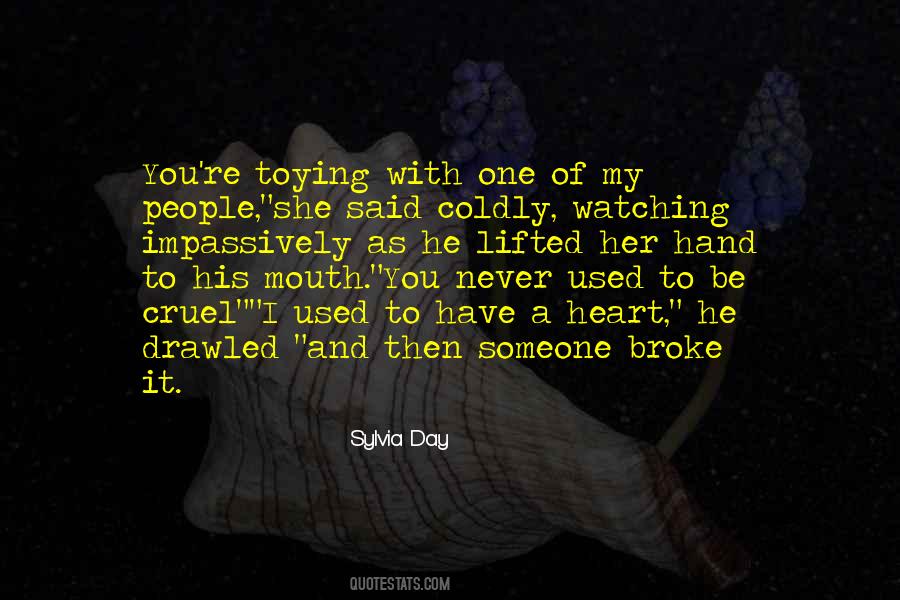 #2. I'm never interested in movies where you don't care about the people you're watching, and that's my biggest quibble about horror, that kids have gotten stupider and stupider. - Author: Joss Whedon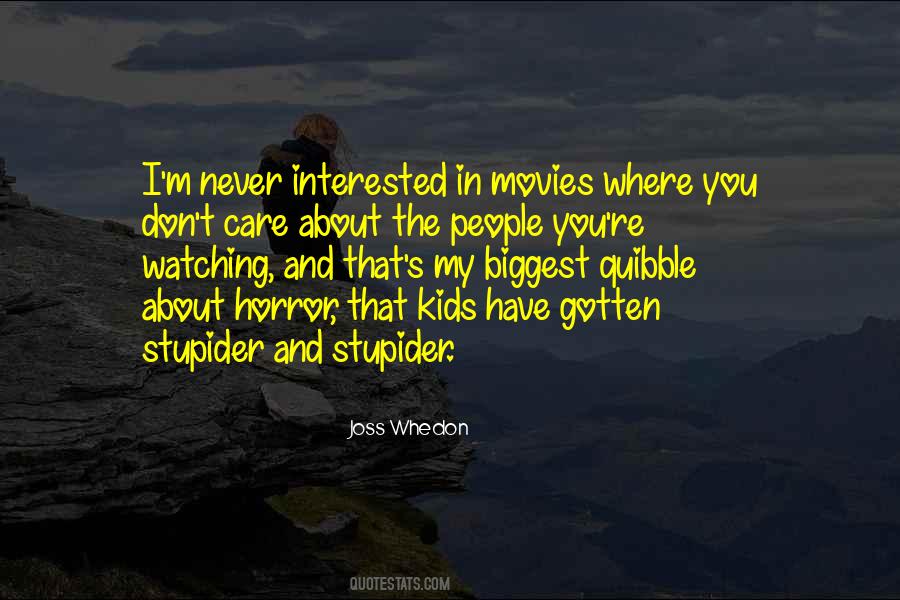 #3. I'm just attracted to playing people who are ostensible unlikable. That's not to say that there's something in there that makes you care. It might be that you just find them so awful that you just can't stop watching, like a car crash. - Author: Steve Coogan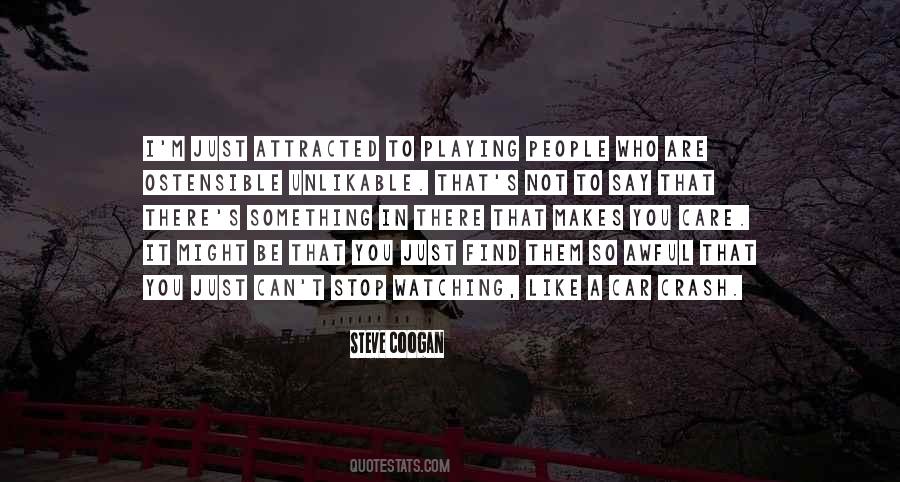 #4. I play a position where you make mistakes. The only people that don't make them at a hockey game are the people watching. - Author: Patrick Roy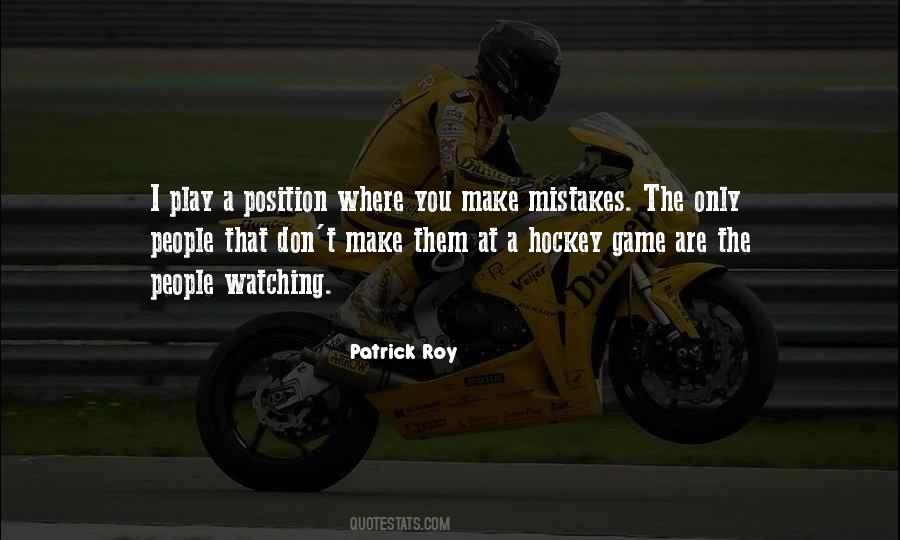 #5. In some ways any film that you do has an artificiality about it. Even when you're doing the most kitchen-sinky, gritty, realistic scene you've still got 50 people standing around watching you with cameras and lights and things. - Author: Michael Sheen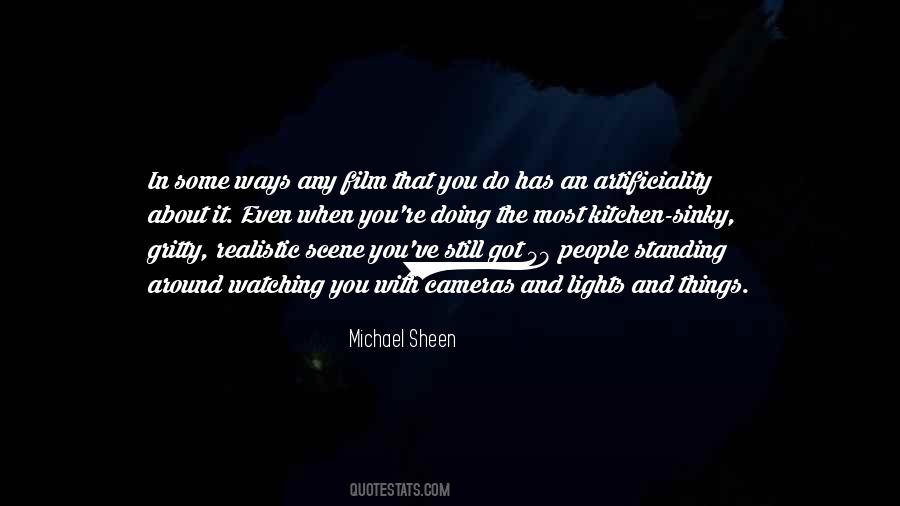 #6. My first serious girlfriend, when I was 16, was Mormon. I went to her house for 'family home evening,' and I was like, 'Why aren't you people ignoring each other and watching television?' - Author: Trey Parker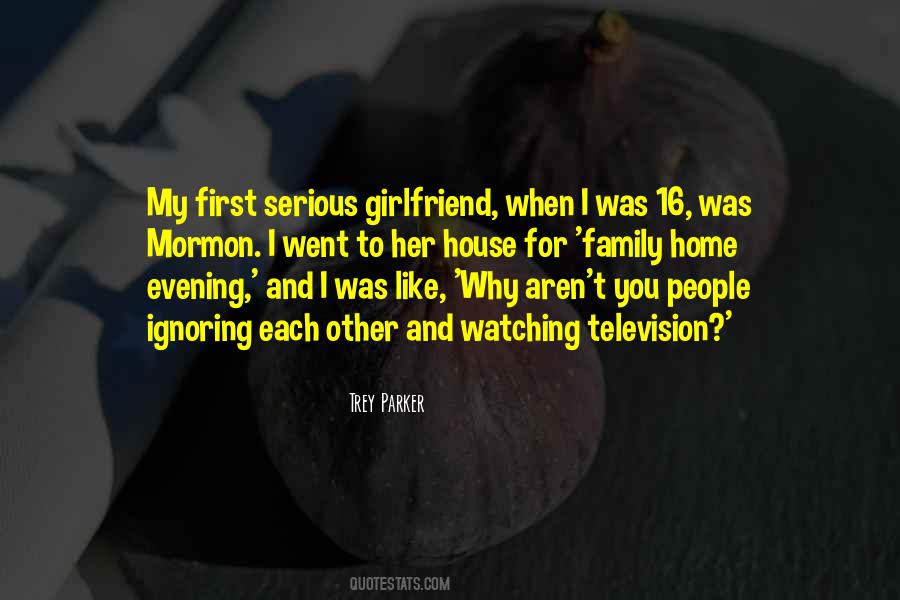 #7. Jason is one of those people who is like a Slinky; you always smile when you think of watching him fall down the stairs. - Author: Linda Howard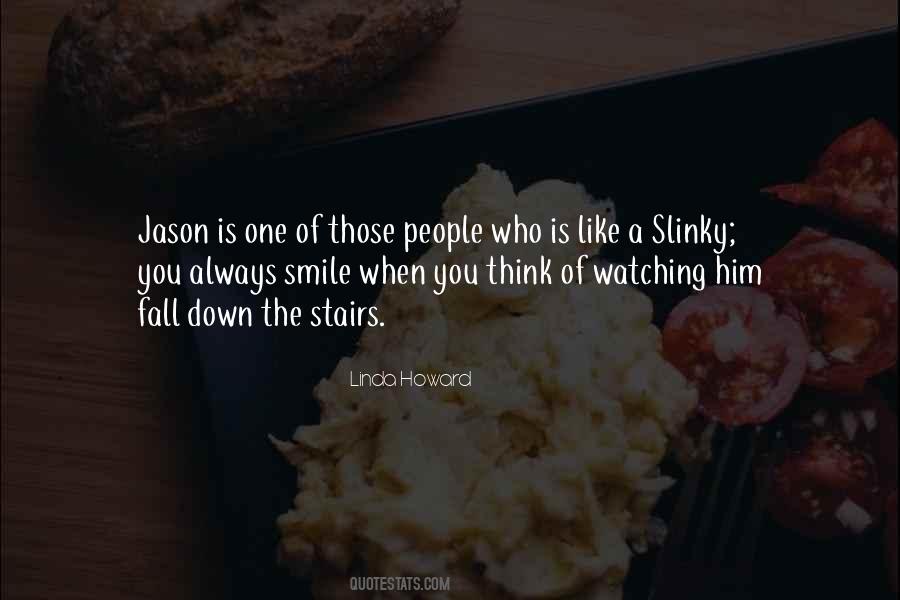 #8. People are on their computers more than watching TV, because you can only watch voyeur TV, which is basically what reality shows are, for so long. - Author: Stephen Root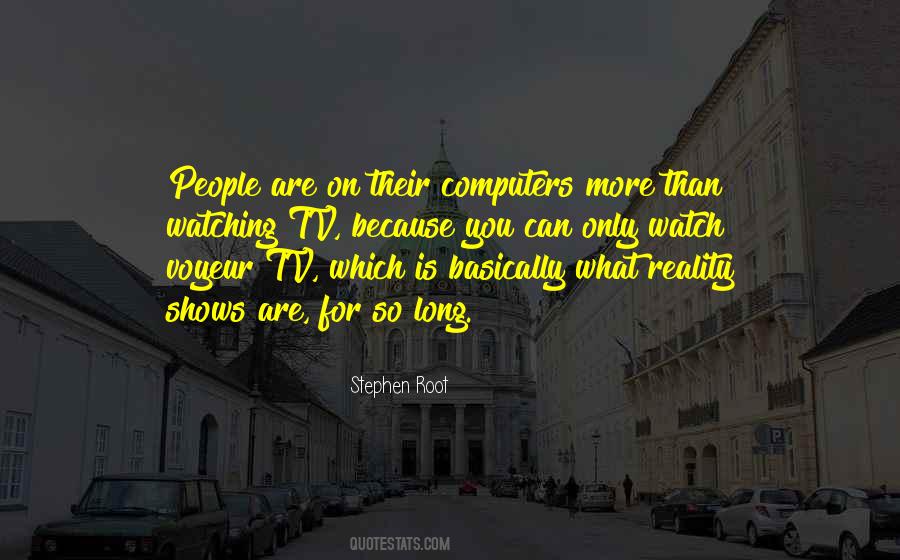 #9. You know that feeling when everyone around you is happy and you feel like you're standing back to watch them from afar? Like you're in this crappy little theatre all by yourself, watching the lives of other people who are totally fabulous? Yeah, that's me. - Author: Jen Naumann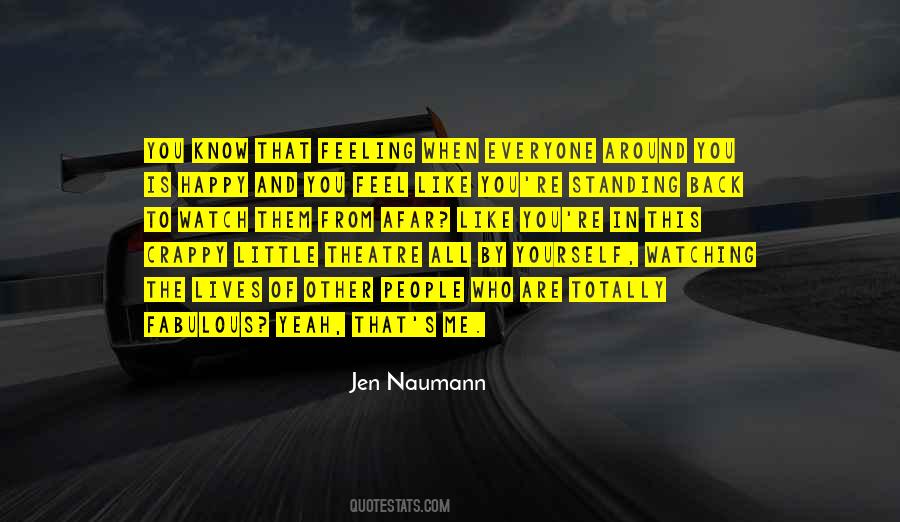 #10. What's great about making movies is the sort of additive process of bringing people together and having an idea and watching the idea be added to and at the end you have this thing. - Author: Laura Ziskin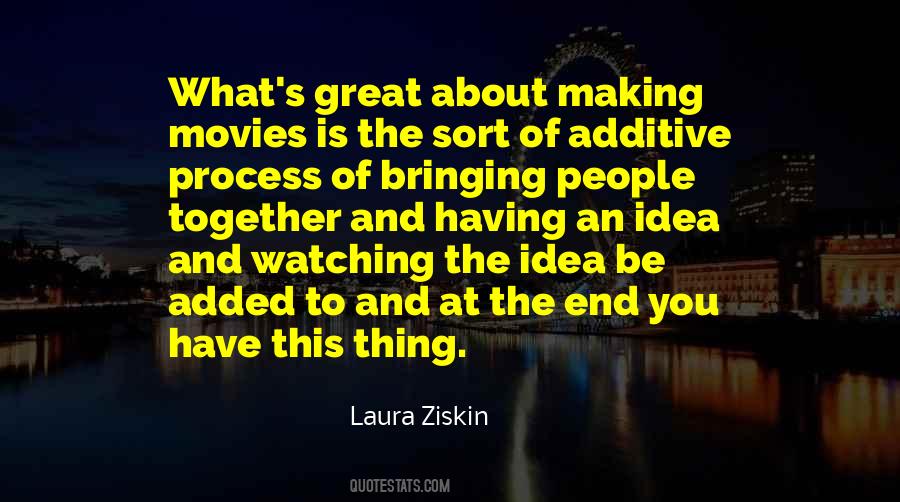 #11. When people were telling me 'God is watching you' ... - Author: Pete Holmes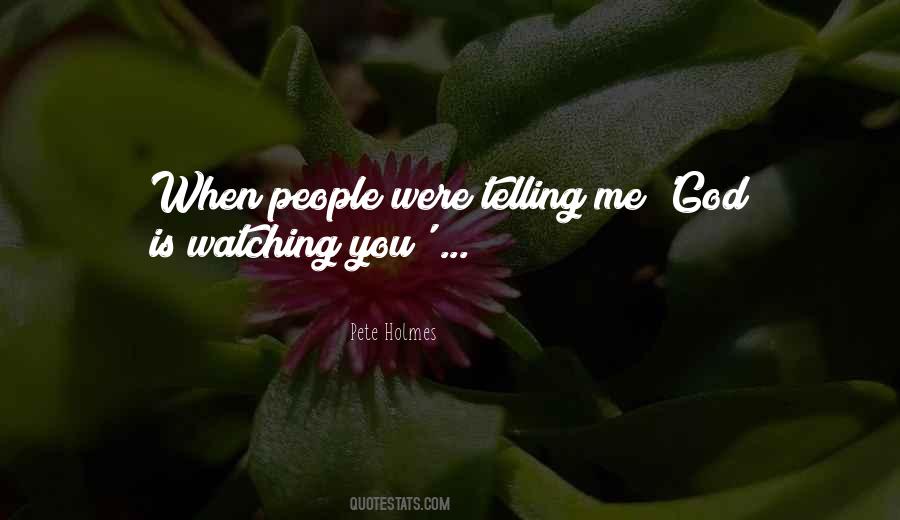 #12. I'm always watching people over a short time frame, putting them in an extreme position. Sometimes you don't see the humanity in a person because the time frame is so short and the circumstance so extreme. - Author: Irvine Welsh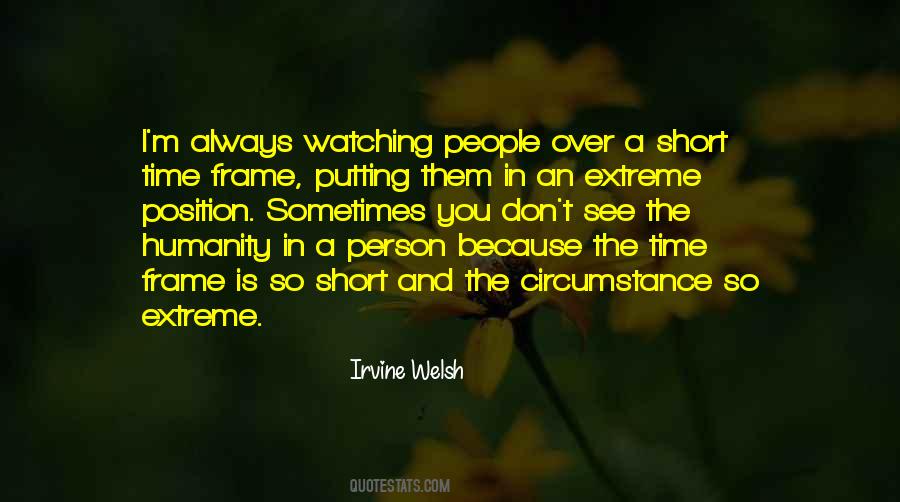 #13. I suppose because I have a good ear, I could pick out harmonies and learn by ear. I still think that you have to have an ear for music to really be able to feel and understand what you're playing. You can learn by watching and listening to other people. - Author: Mick Taylor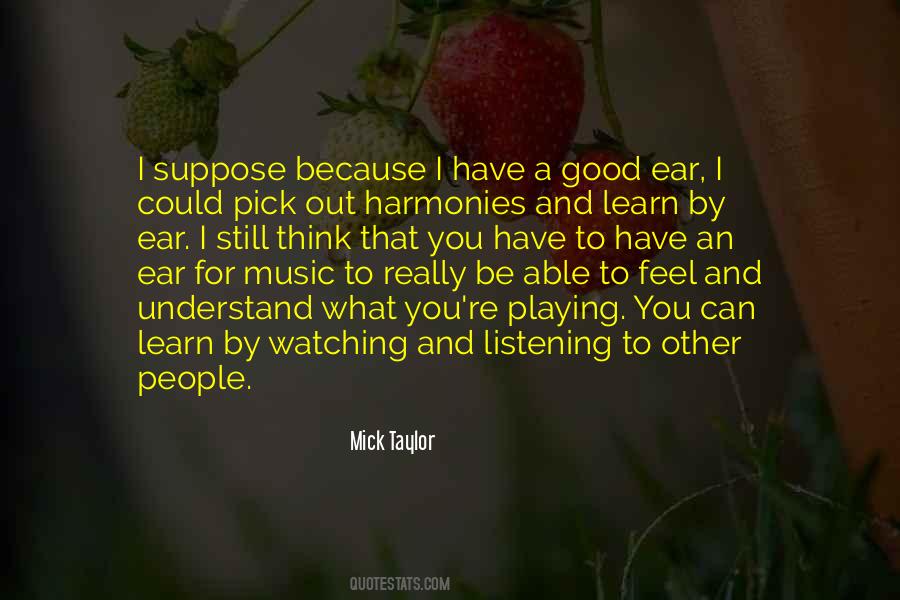 #14. New York City is one of the greatest places on the planet. You have the best in food, art, theatre, and definitely people-watching. - Author: Matt Bomer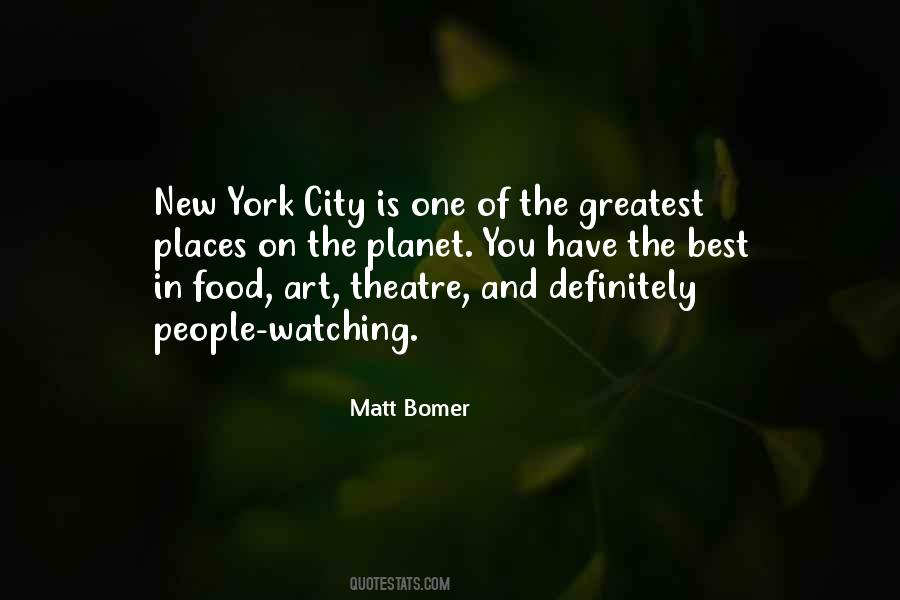 #15. Wherever you go at SXSW, there you are standing in line. Or watching other people stand in line. - Author: Kara Swisher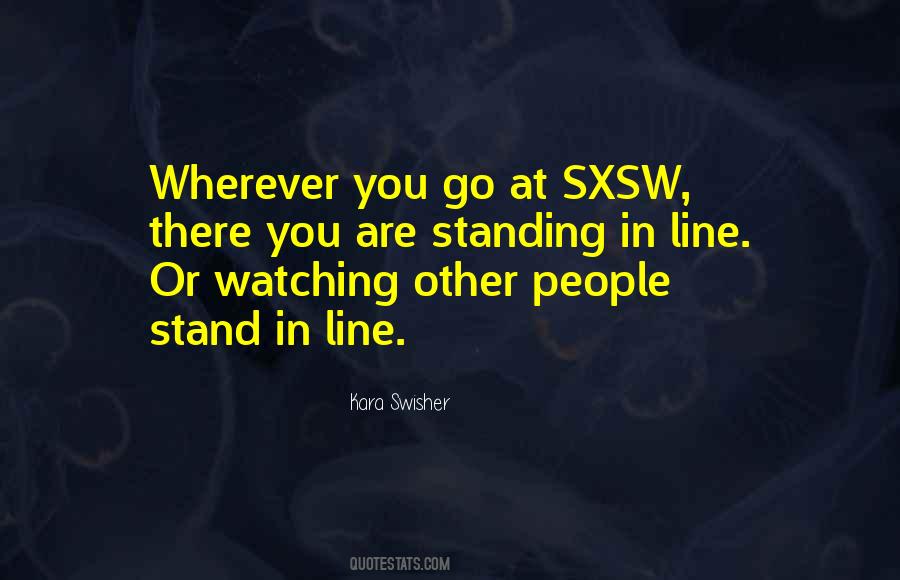 #16. Oh, God. Not again."

Not again?

"Do you make a habit of driving into people's houses? - Author: Christina Dodd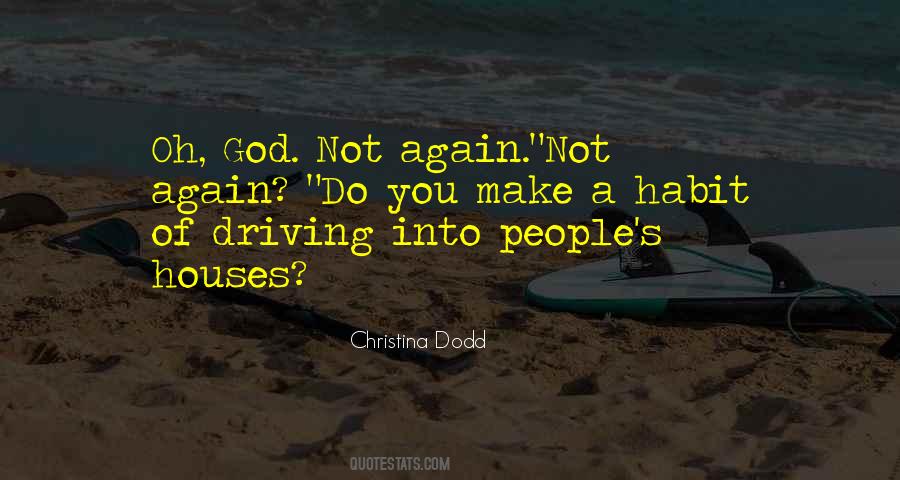 #17. Are you watching the boats?" Cornelia guessed. She craned her neck to see if there was any excitement on the river.
Heavens no, I'm spying on people," Virginia responded unrepentantly.
-Cornelia E and Virginia Somerset - Author: Lesley M.M. Blume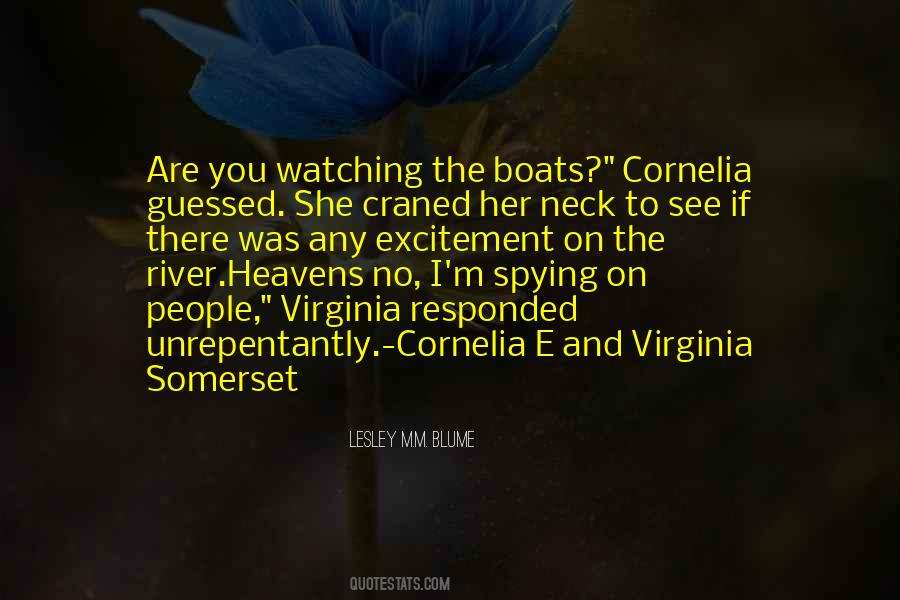 #18. I know plenty people, and I've done it myself, where you lock yourself inside for four days and you a watch a whole series. It's like watching a never-ending movie. It's great not to have to wait for the next season or the next week. - Author: Jane Levy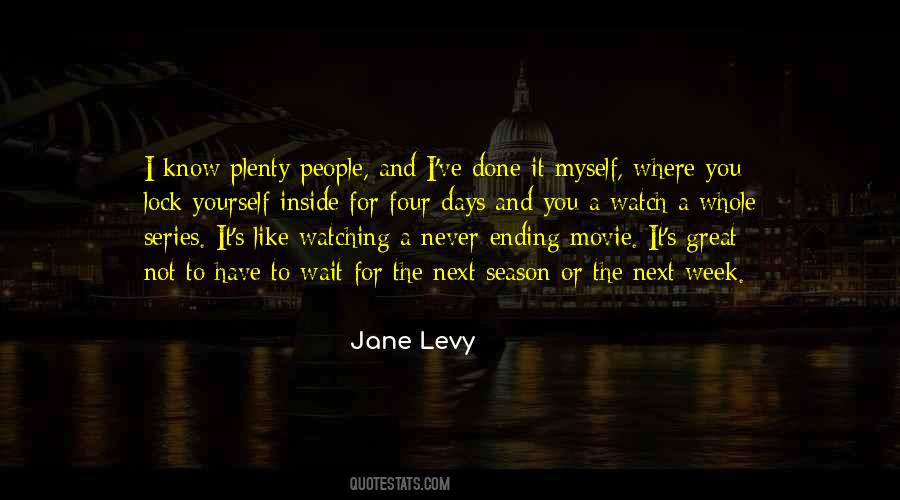 #19. When you were little and you were afraid of the boogey man, getting under the covers meant he couldn't see you or grab your foot while you were sleeping. True story. I figured the same rules applied with dead people watching you masturbate. - Author: Tara Sivec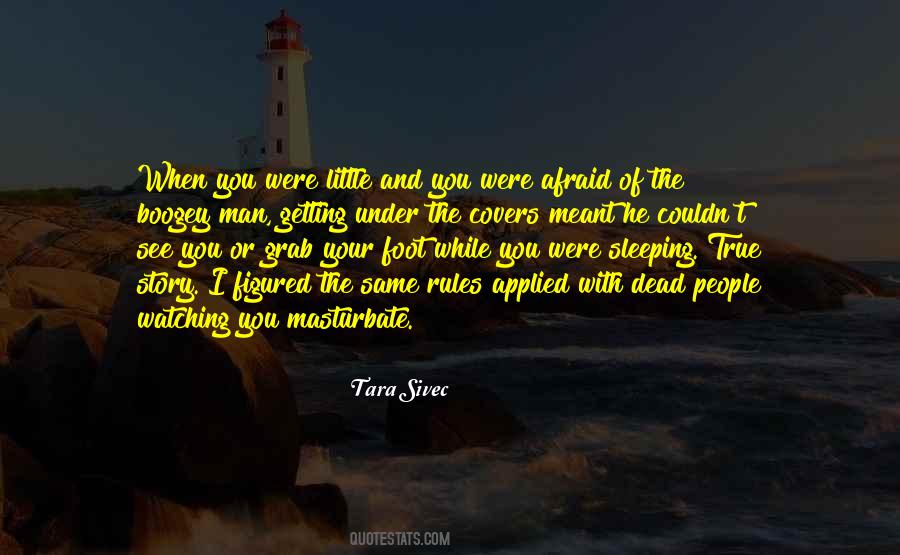 #20. You know all those young people watching Comedy Central love 'Frasier.' - Author: Abbi Jacobson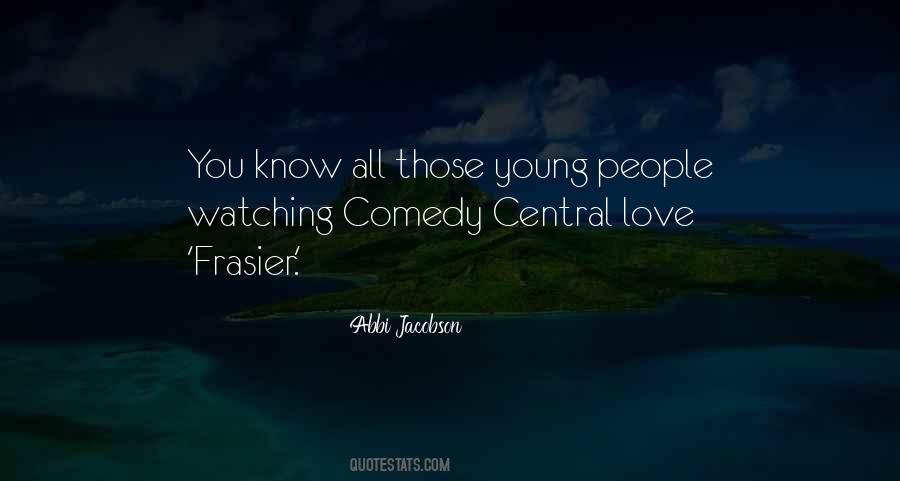 #21. One mentor I had taught me that people do what you inspect, not necessarily what you expect. In other words, if nobody is watching, there will be some slack off. - Author: John Catsimatidis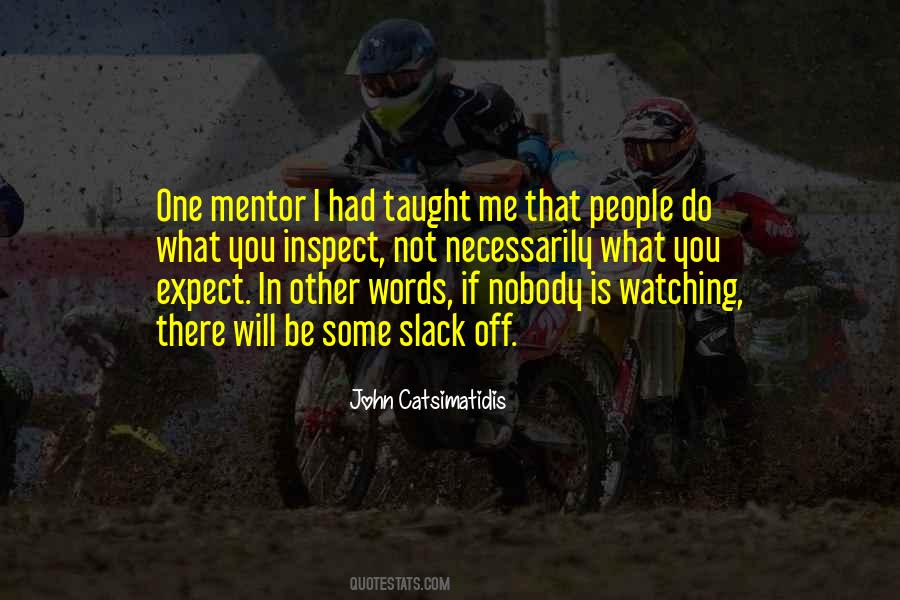 #22. I get a lot of influence from pro wrestling. People are like, 'Oh, it's fake.' But it's not about whether the guy wins or loses, it's about how he entertains you the whole time you're watching. - Author: Gabriel Iglesias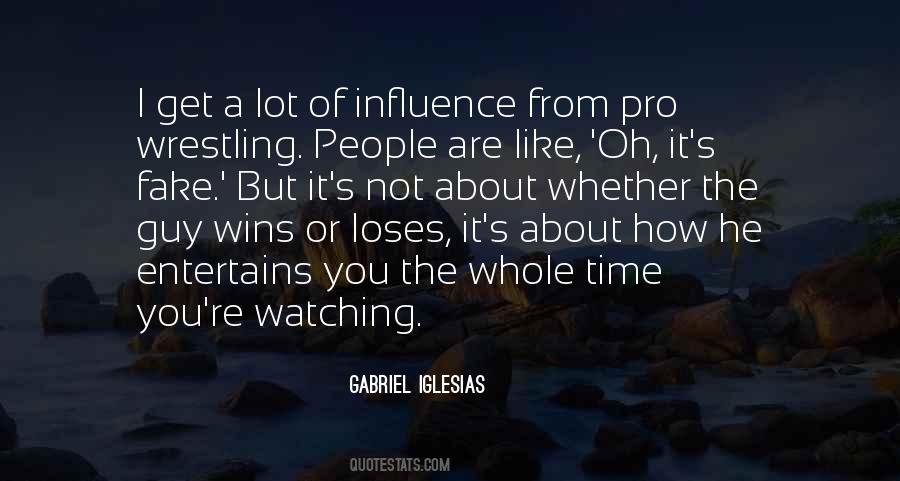 #23. The good thing about being shy though as a child is that you become very observant because you're not really actively participating. You're sitting back watching everyone. I think that's really helped me as an actress because I'm good at observing people and then copying them for comic effect. - Author: Rebel Wilson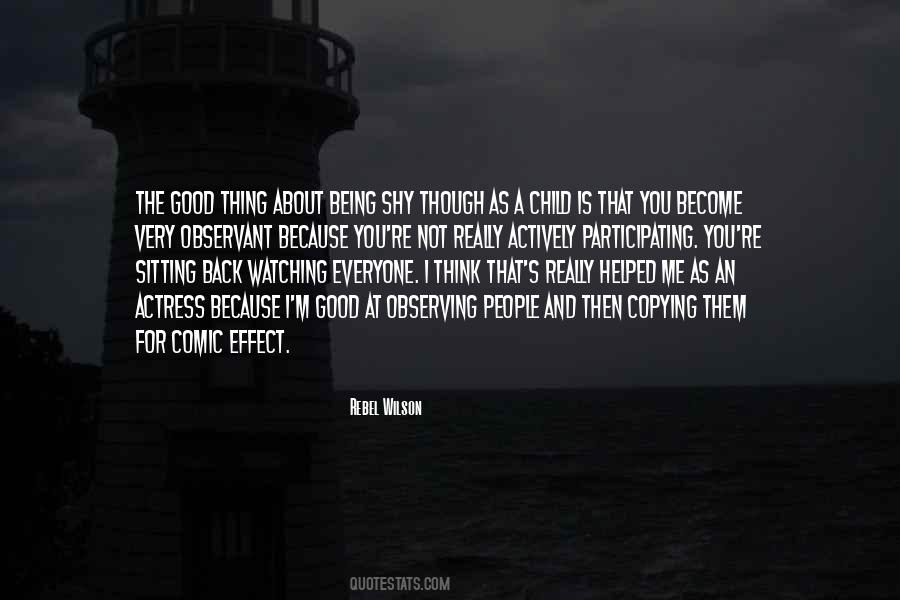 #24. The only thing better than succeeding is watching people you know fail. - Author: Nikki Cox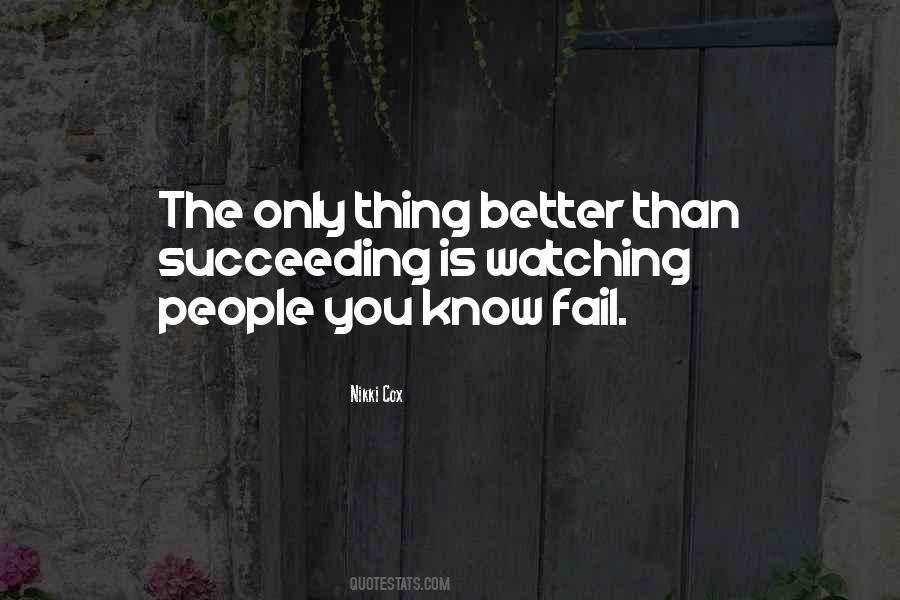 #25. I think often I learn the most from other people's mistakes. If I'm in the audience watching an actor and thinking, 'I don't believe you,' I spend the rest of the play working out why I don't believe them. - Author: Richard Madden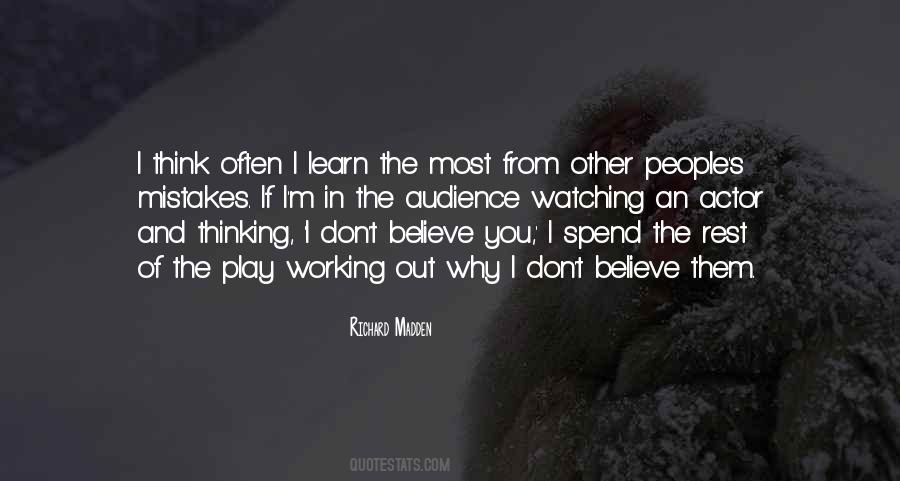 #26. I don't do a television show for awards. You make it so people will enjoy watching it. - Author: Sarah Michelle Gellar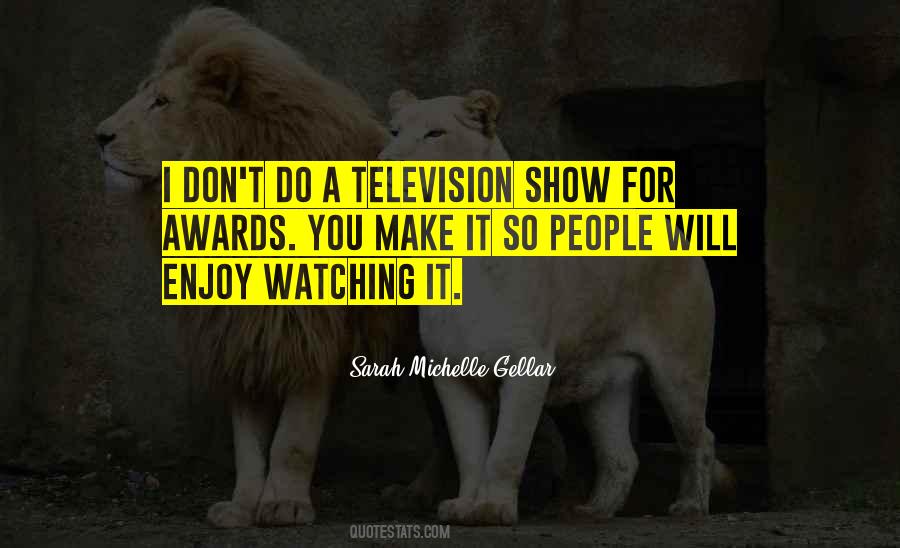 #27. You know, people aren't watching a network: they're watching cable channels. - Author: James Purefoy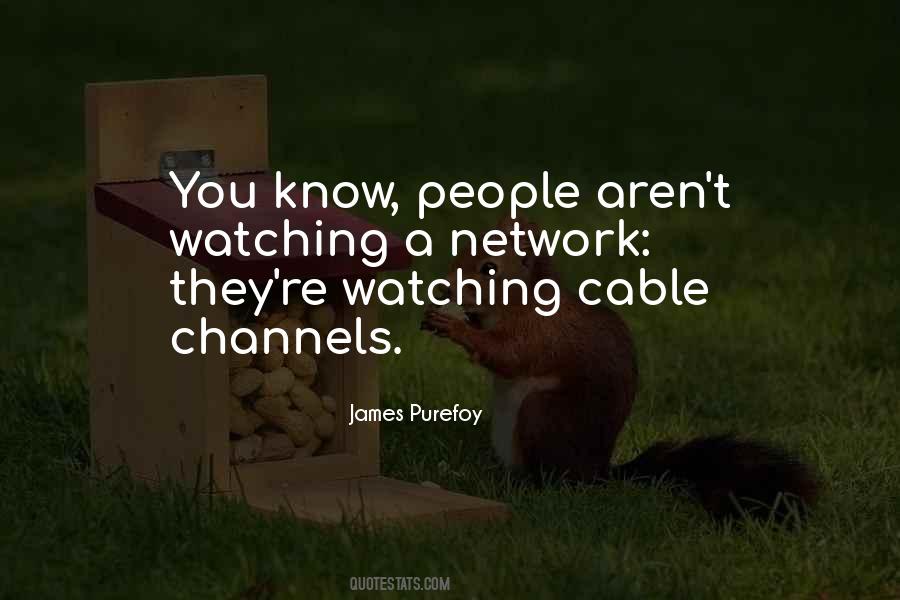 #28. I find that you learn from others. It's very much about watching TV and watching movies for me and grasping that way and watching other people act. - Author: Callan McAuliffe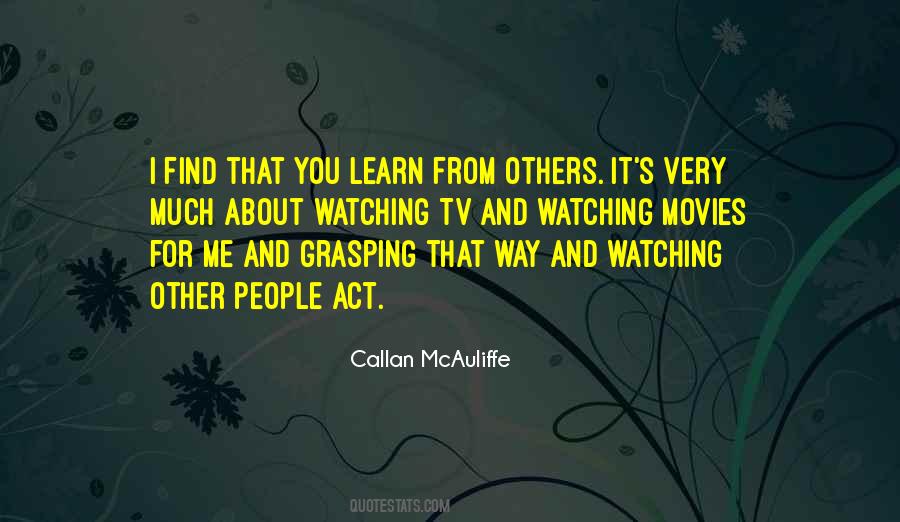 #29. For a really long time [before writing the novel], I was watching a lot of serial killer movies and I started to wonder if this was a trend and if other people were doing the same thing. That's what happens when you suddenly have a critical perspective on your own behavior. - Author: Lucy Corin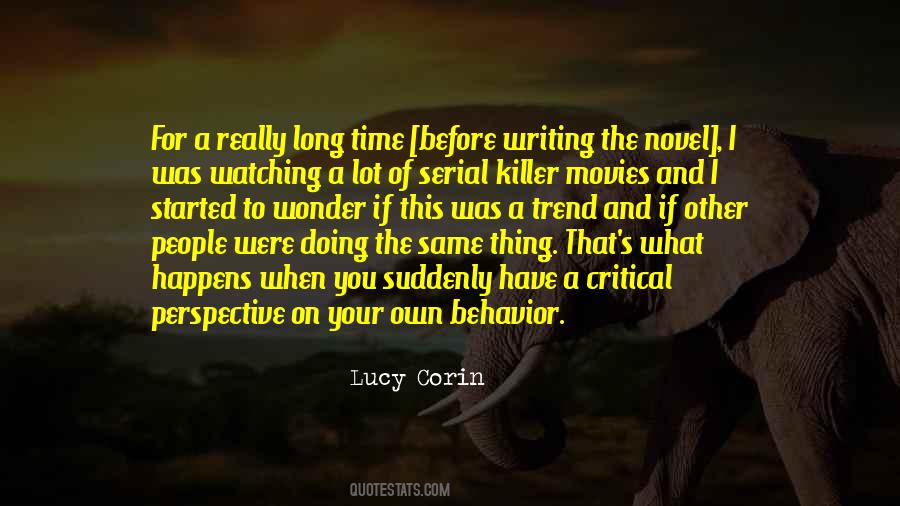 #30. As a storyteller, you also don't want to make people feel like they're left out, like other people who have read the book have an interior knowledge of this show, and the degree of difficulty in watching it is much higher. - Author: Damon Lindelof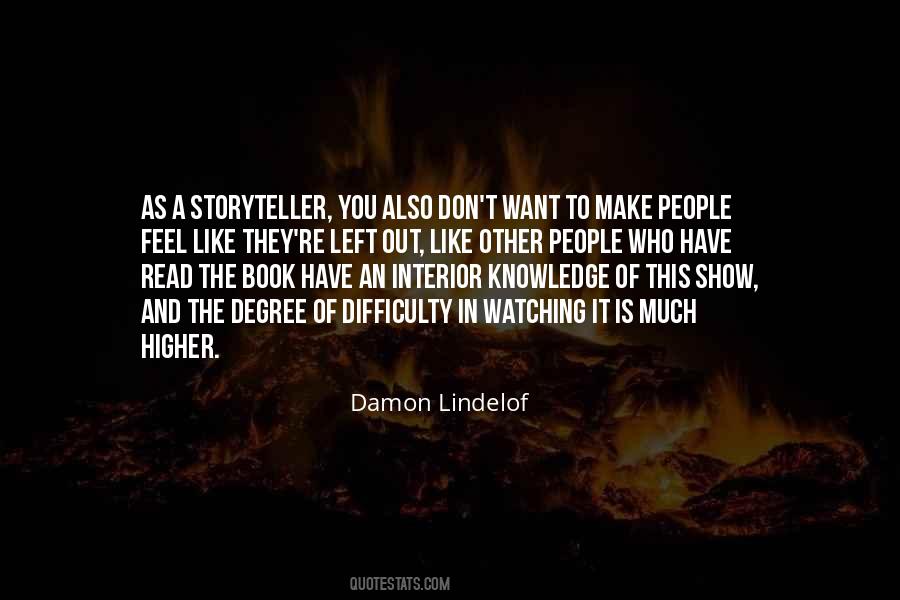 #31. The thing that I love about television there are no more than two or three people watching you at a time. If there are more than two or three people in a room they're talking to each other, they're not listening to you. - Author: Betty White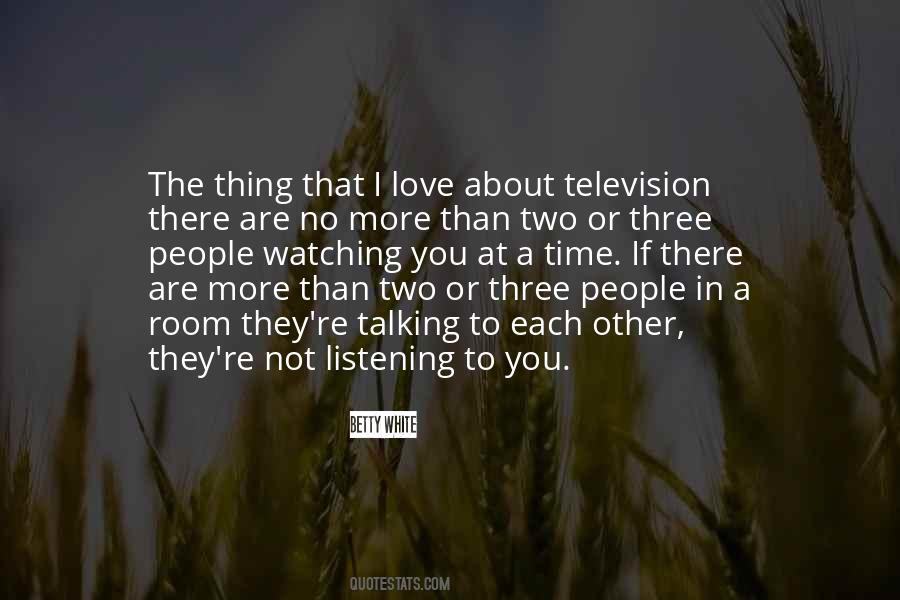 #32. People should train their brain by watching films, by listening music, by playing games, by reading quotes. If people do this, I can said from this a big percent from here you can become clever. - Author: Deyth Banger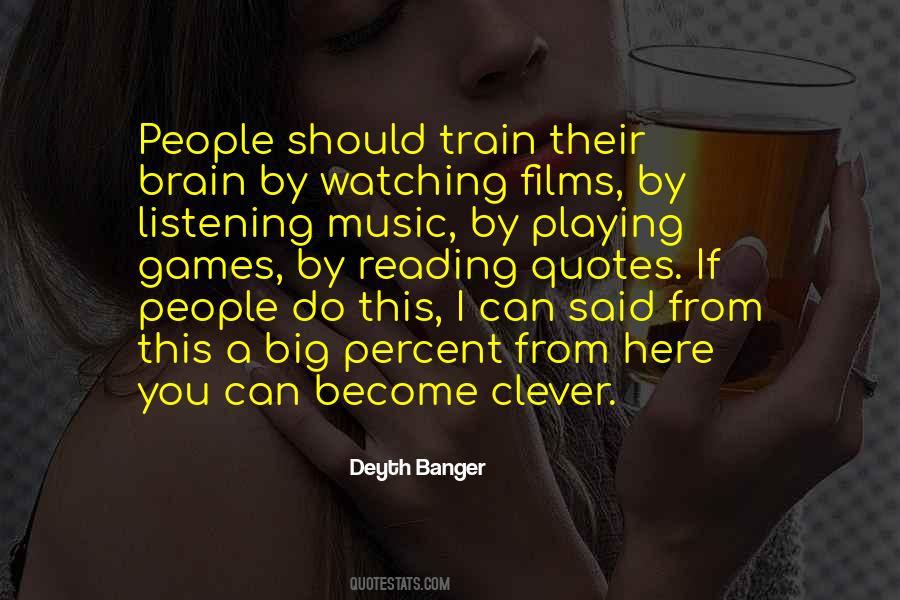 #33. When you watch television, you never see people watching television. We love television because it brings us a world in which television does not exist. - Author: Barbara Ehrenreich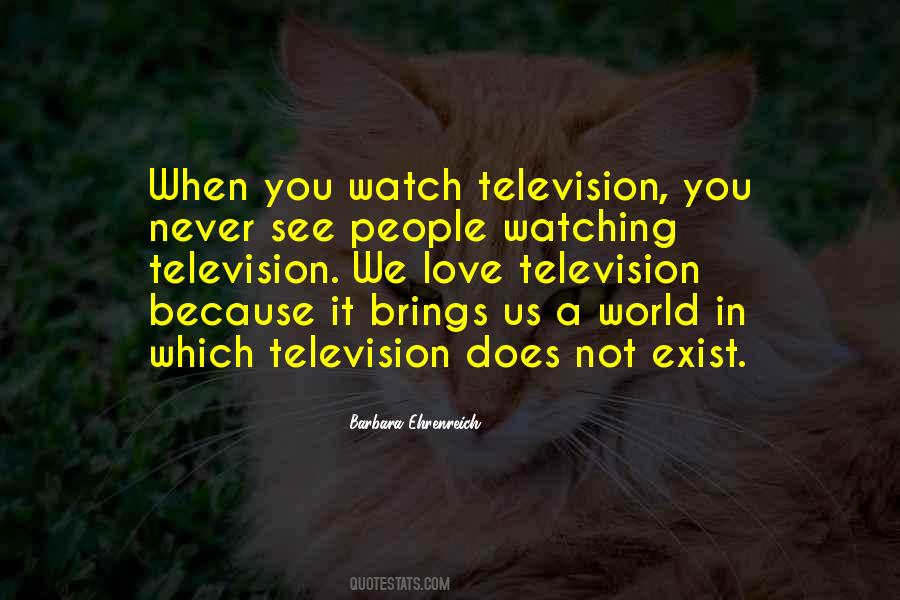 #34. You are who you are when nobody's watching. - Author: Stephen Fry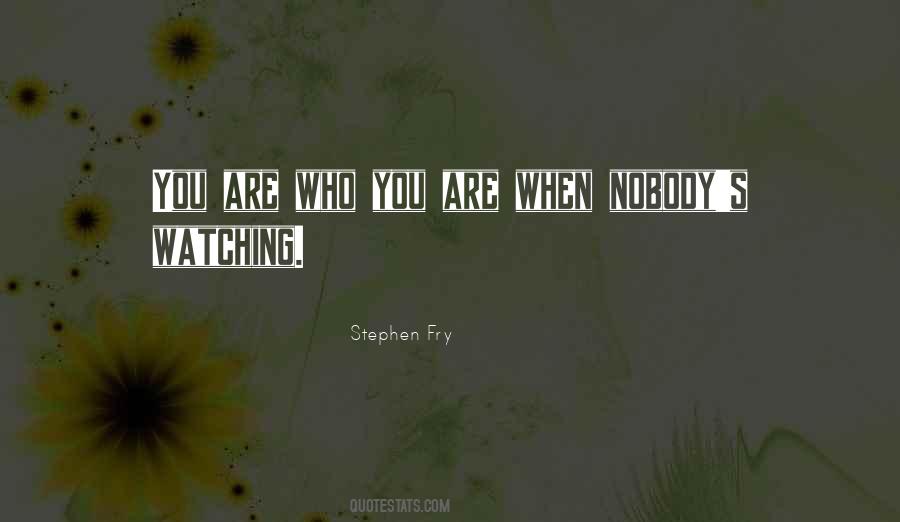 #35. Acting has helped me understand people, not only because you are acting as a character, but also because you are watching other actors work. That really helps you identify in life when someone is acting, not being true. - Author: Steve Martin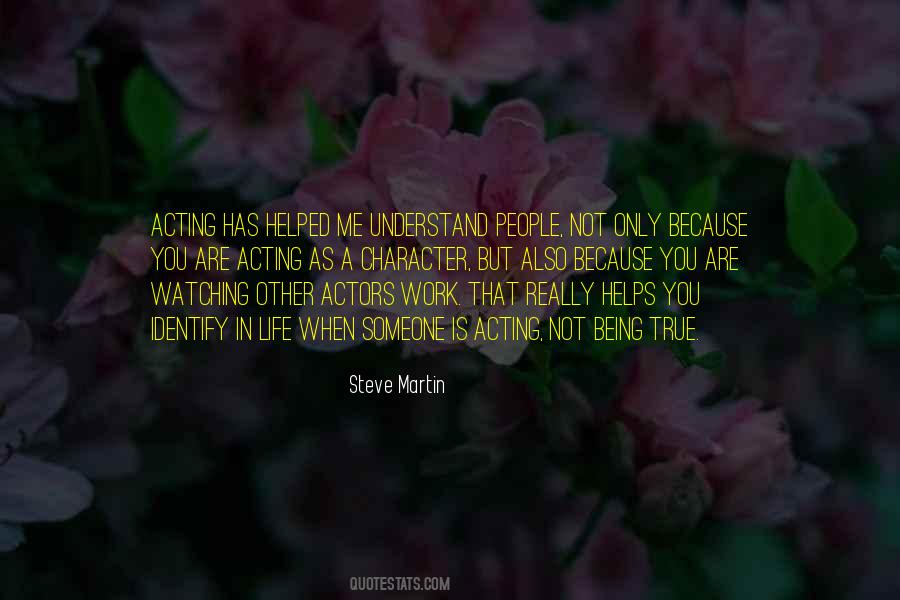 #36. Nothing good happens after two a.m. Unless you happen to be a fan of watching people play flip cup for hours on end. Not me. No, I'd much prefer to be in my flannel pajamas with a cup of Night-Night tea and a book, thank you very much. - Author: Jenny Han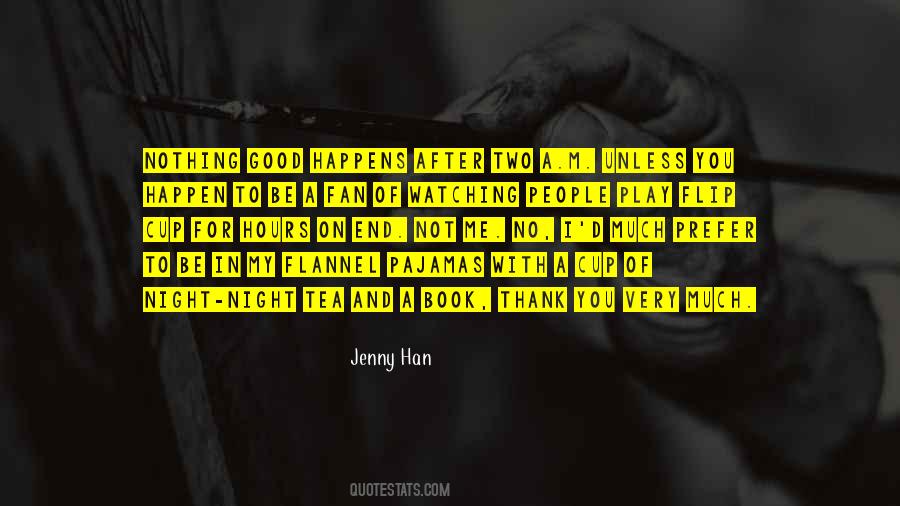 #37. Not everybody relates to pain, but if you can watch other people playacting it, you can absorb some of that vibe. It's like watching horror movies - you want to have the experience, but in a safe environment. - Author: John Darnielle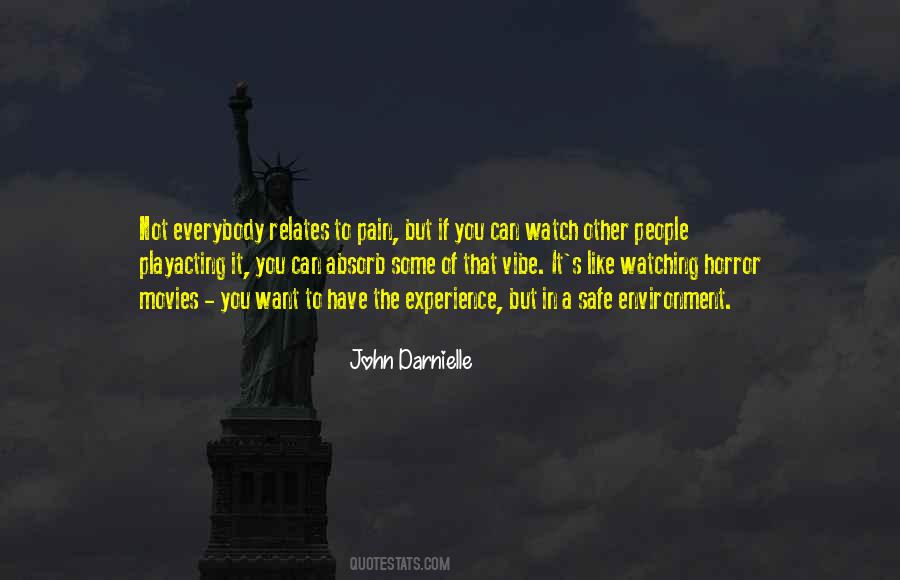 #38. None of the people watching 'Big Brother' will bring you chicken soup if you get sick. - Author: Robert D. Putnam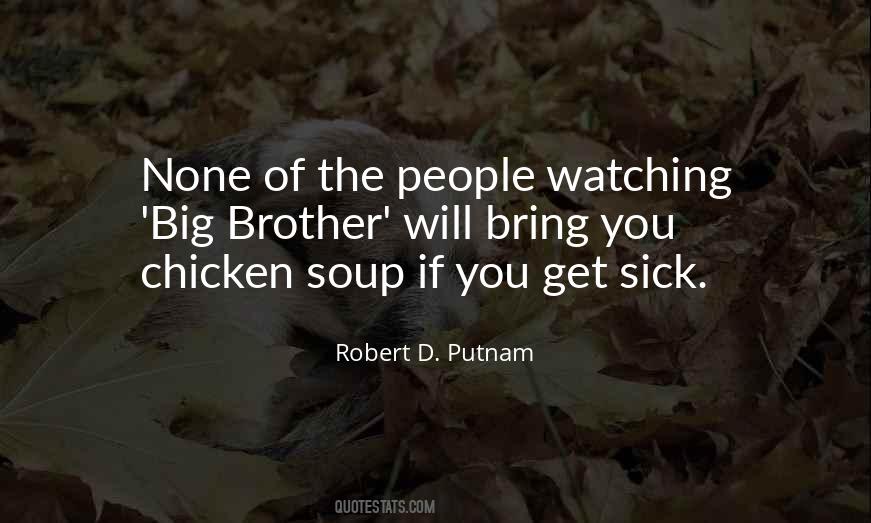 #39. I think it's obvious when you're watching a movie, and there's people fighting or someone's slipping on the side of the building, that it's fake and it really removes you from it. - Author: Ellen Page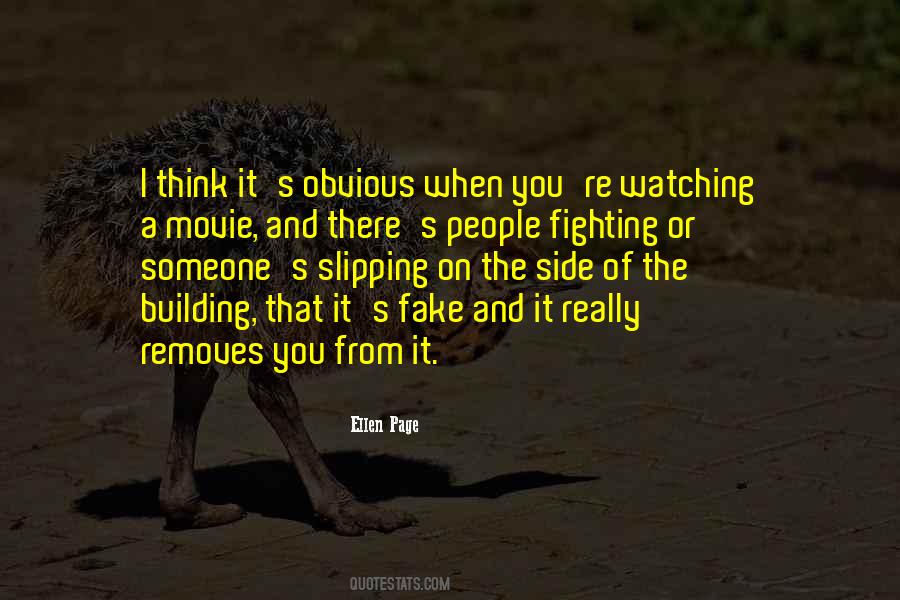 #40. My favorite thing about coaching? Teaching. Being around young people, just watching a player grow and develop. You know, a young man comes in with dreams and goals and ambitions and just helping him reach (them). It's like your dad watching you grow up and like me watching my boys grow. - Author: Tubby Smith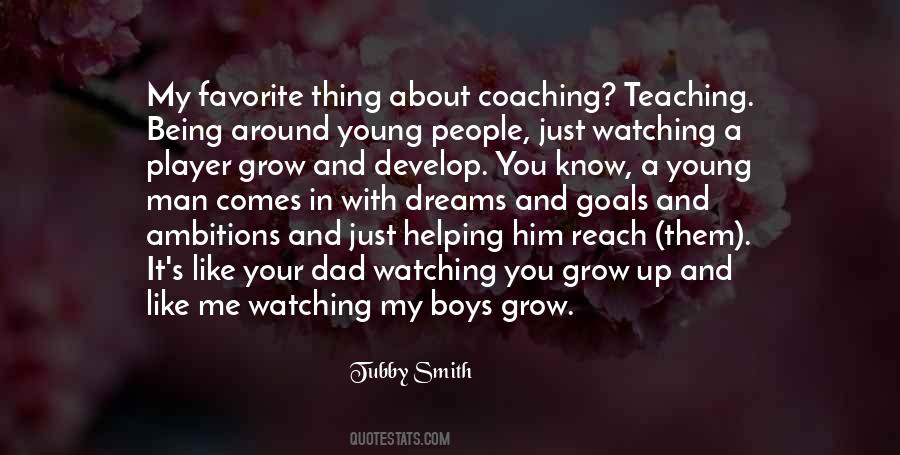 #41. When people are watching you, it makes you think twice about what you do, and the things you say, and the people you hang around with. - Author: Peyton Manning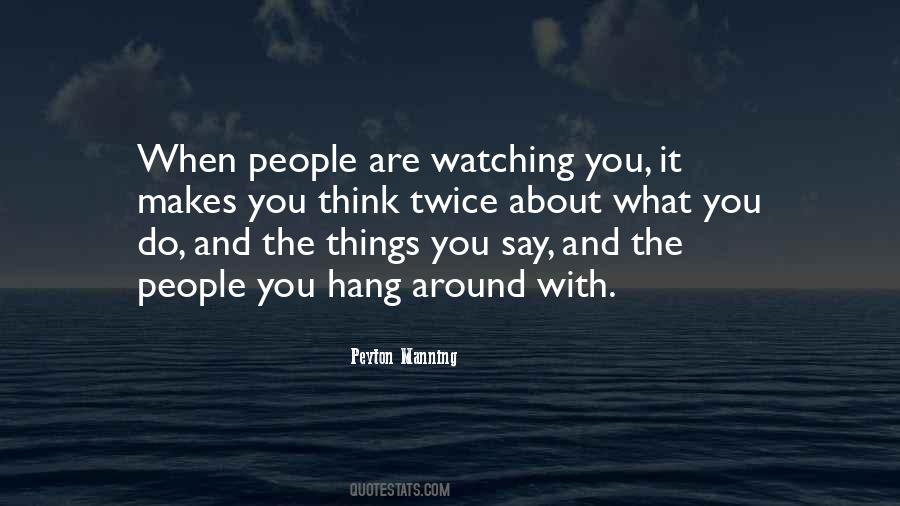 #42. It doesn't really matter what you do when people are watching, but what you do when no one is watching. - Author: Chris Forbes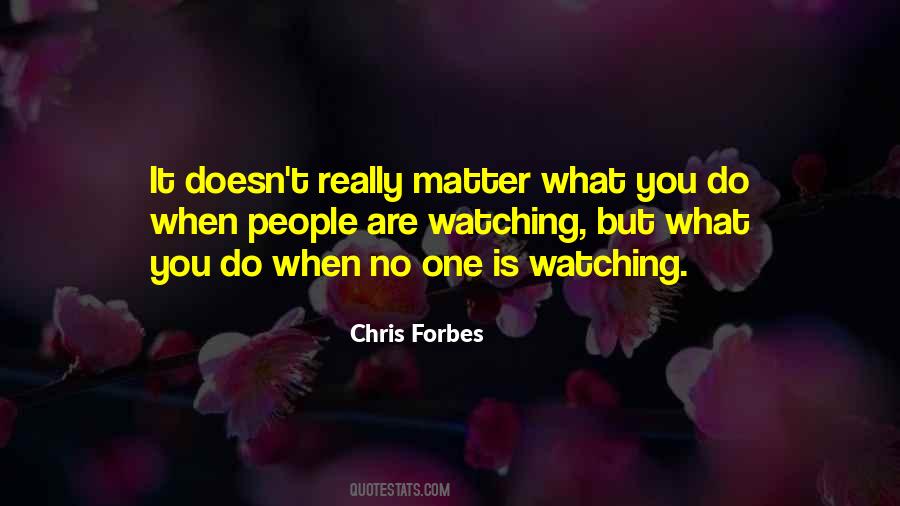 #43. There is something demoralising about watching two people get more and more crazy about each other, especially when you are the only extra person in that room - Author: Sylvia Plath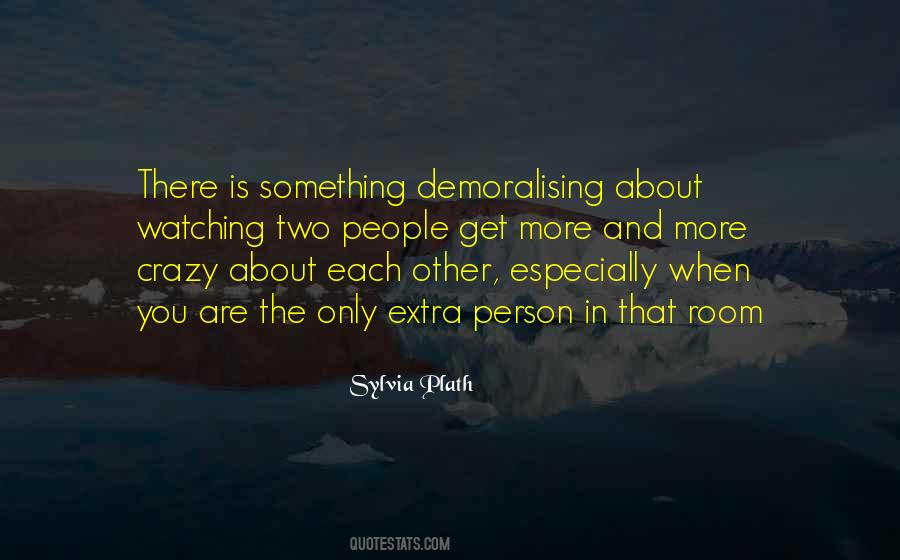 #44. If you're very open to watching the world go by, with people's different tics, you absorb it all without realizing it and find ways to put something into your character. I'm not sure I'm always aware I'm mimicking someone. - Author: Emily Blunt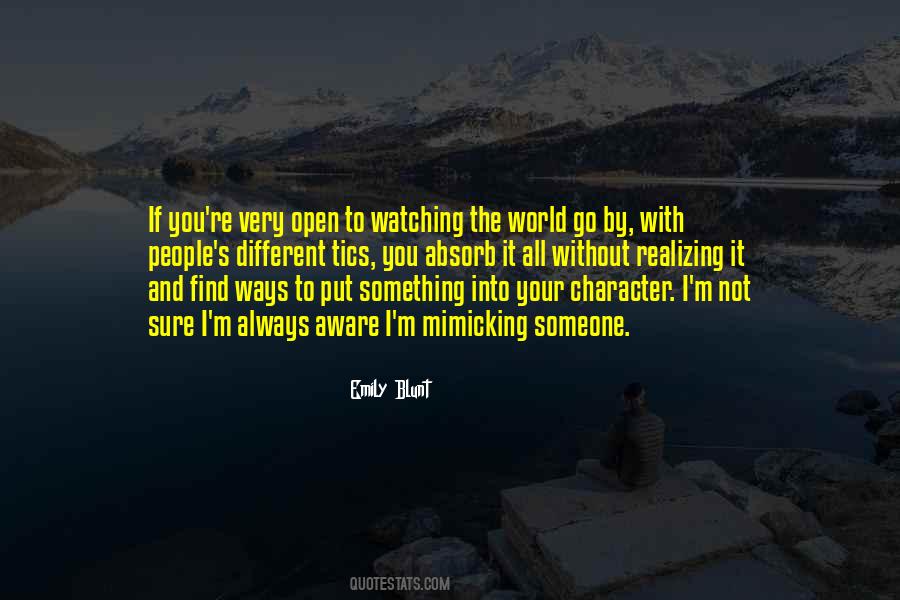 #45. Basically, as a leader, I try not to make any mistakes, because there's a lot of people watching even though you don't think so. - Author: Rau'Shee Warren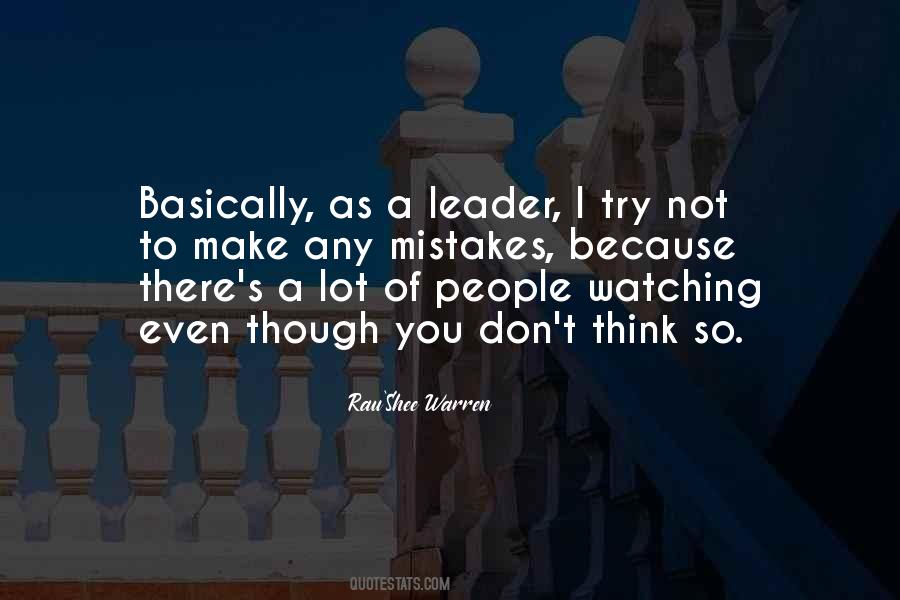 #46. The fun little proofs that you can do with algebra - they are sort of like crowd pleasers in a way. Like, the .9 repeating equaling one. It doesn't take a lot of algebra to prove that, and it's really fun. It kind of wows people. It's like they're watching magic happen right before their eyes. - Author: Danica McKellar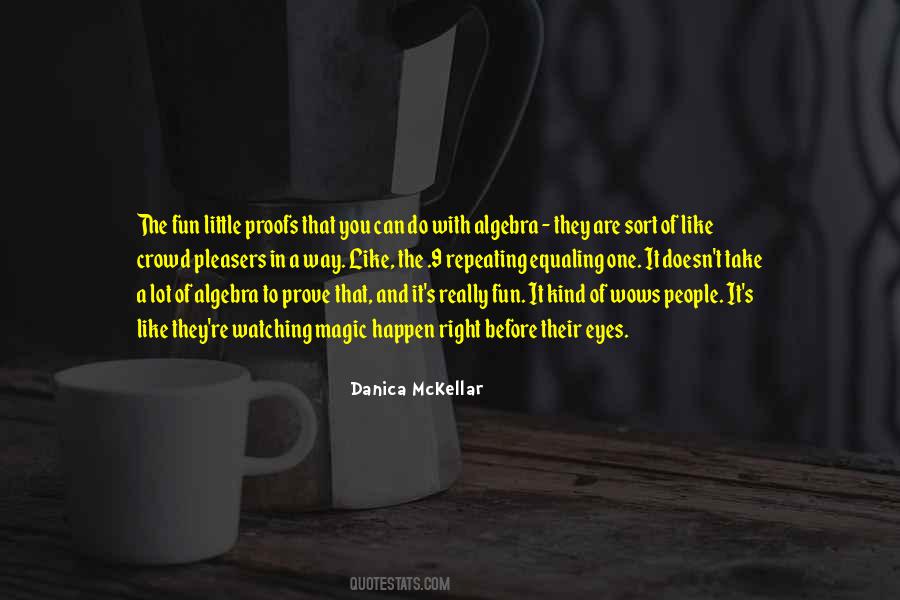 #47. I love making people uncomfortable, and when people say, 'I cringed watching [that] scene,' that's the biggest compliment you can give me. - Author: Allison Williams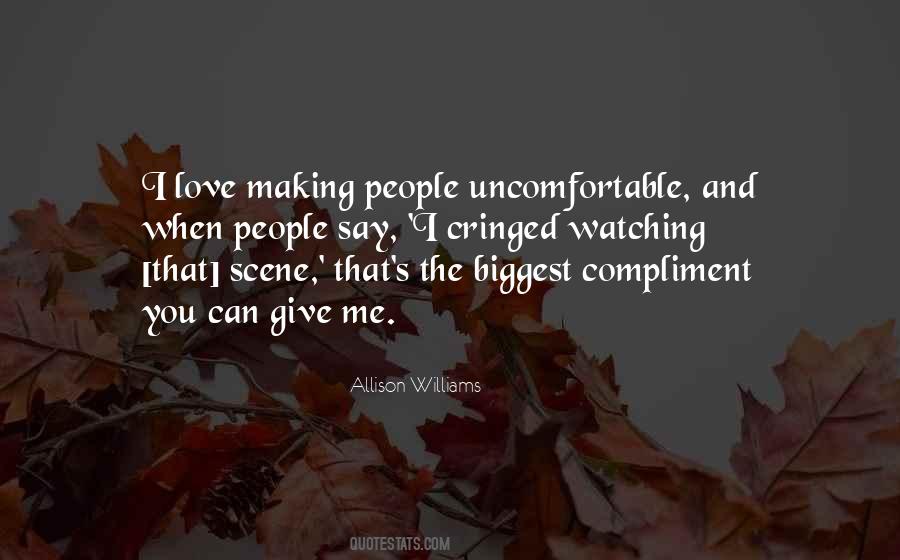 #48. I tell people 'America's Got Talent' is the best summer job you could have - you get to watch people strive for their dreams all summer long. So when you see me rooting for these people or dancing on the side of the stage, that's what I'd be doing if I was watching this show at home! - Author: Nick Cannon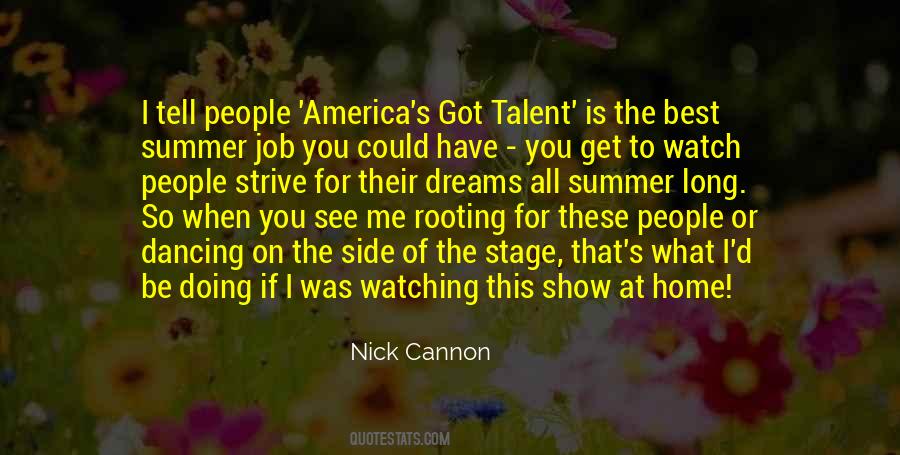 #49. In a film, if you can capture what's going on underneath, you can begin to make a connection between the character and the people watching it. - Author: Annette Bening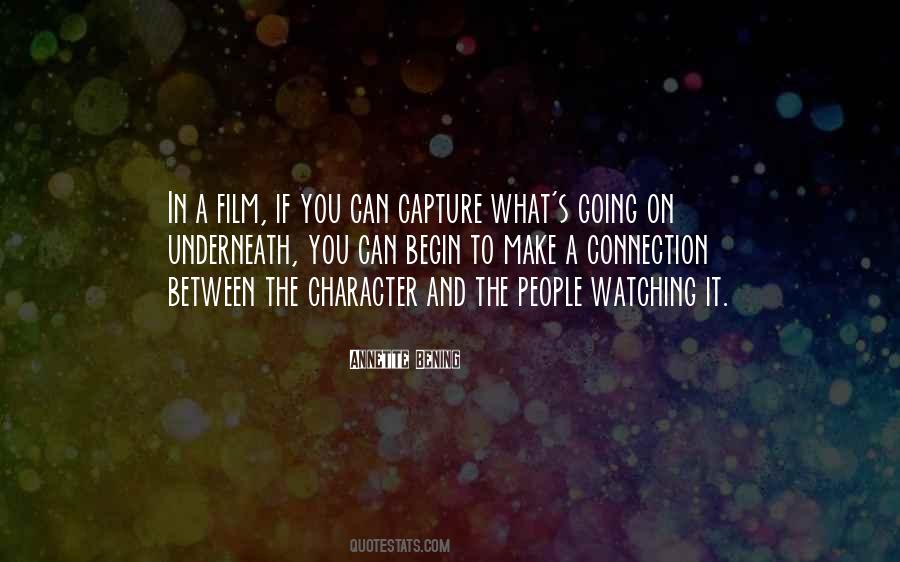 #50. We set ourselves up for it with the reality show. You've seen me and Nick go at each other's throats on TV. They've got all these people giving their opinions on our marriage and how we handle it when they are watching an edited TV show. - Author: Jessica Simpson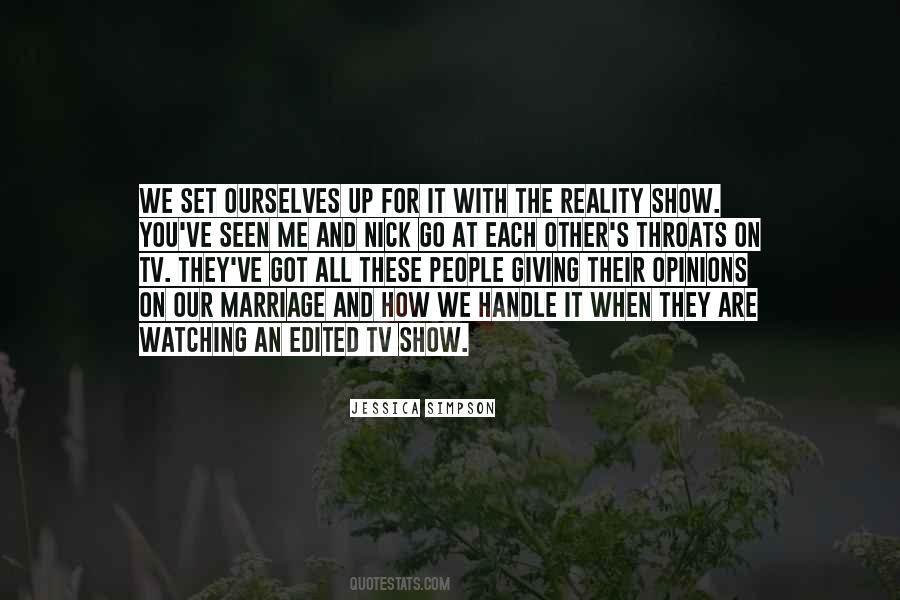 #51. Everybody wants a big crowd. You get amazed sometimes with certain things that millions of people are watching and you go, "Serious?! Really?!" And then, there are things that you really, really enjoy and not a lot of people are watching. It's very, very hard to predict how it works. - Author: Mads Mikkelsen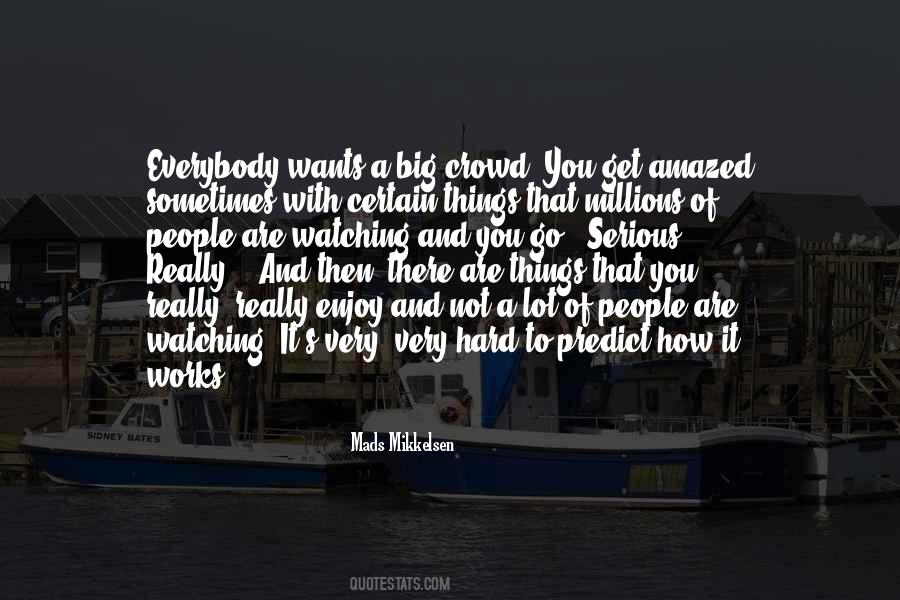 #52. Watching great people do what you love is a good way to start learning how to do it yourself. - Author: Amy Poehler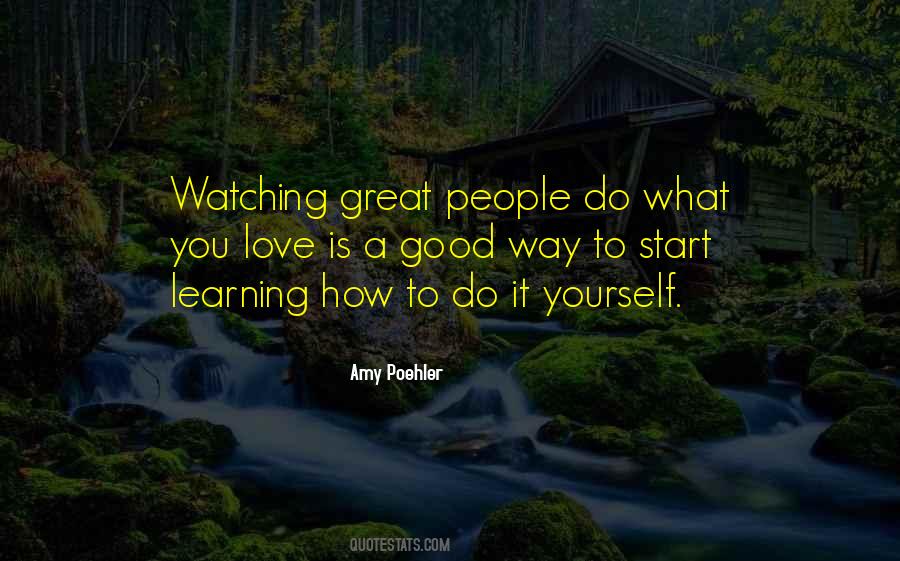 #53. One of the great things about stargazing is that it's immediately at hand for so many people. You know, you could get into scuba diving or bird watching, but the stars are always up there. - Author: Timothy Ferriss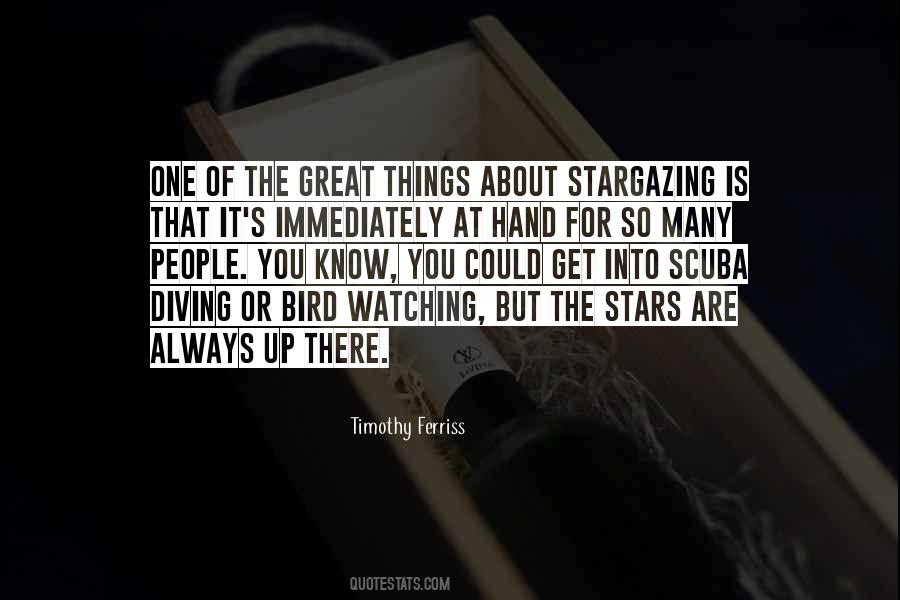 #54. As it turned out, hell wasn't watching the people you love get hurt; it was coming in during the second act, when it was already too late to stop it from happening. - Author: Jodi Picoult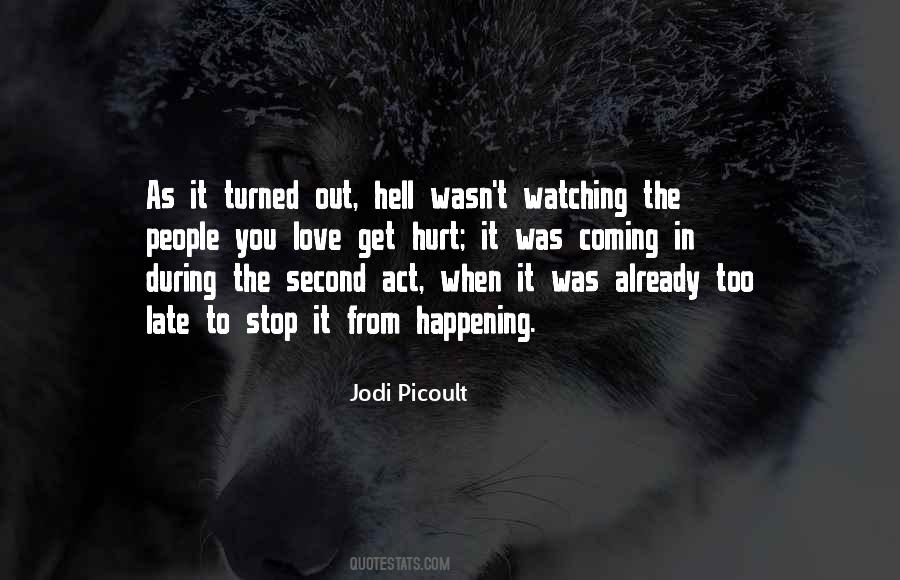 #55. I enjoy watching competitive people. You watch 'em come and you watch 'em go, and how they try to be the best. How they handle when they're not. How they handle when they are. How they get along together on the court. - Author: Tom Heinsohn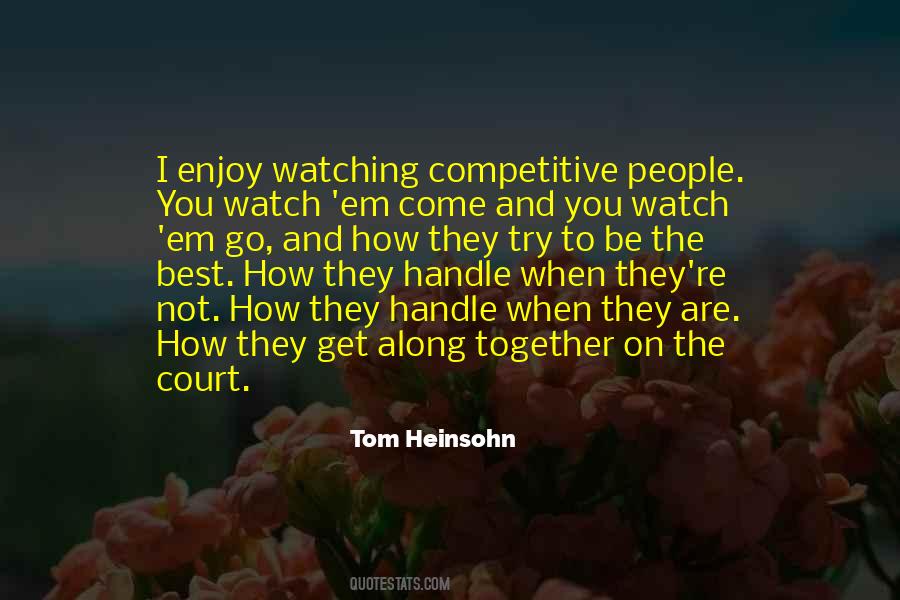 #56. Growing up in the public eye was really tough. When you're 14 and your body is changing, your life is changing, and people are watching every step you make, it's really hard to deal with. But I was pretty lucky, people didn't watch me that closely. - Author: Mandy Moore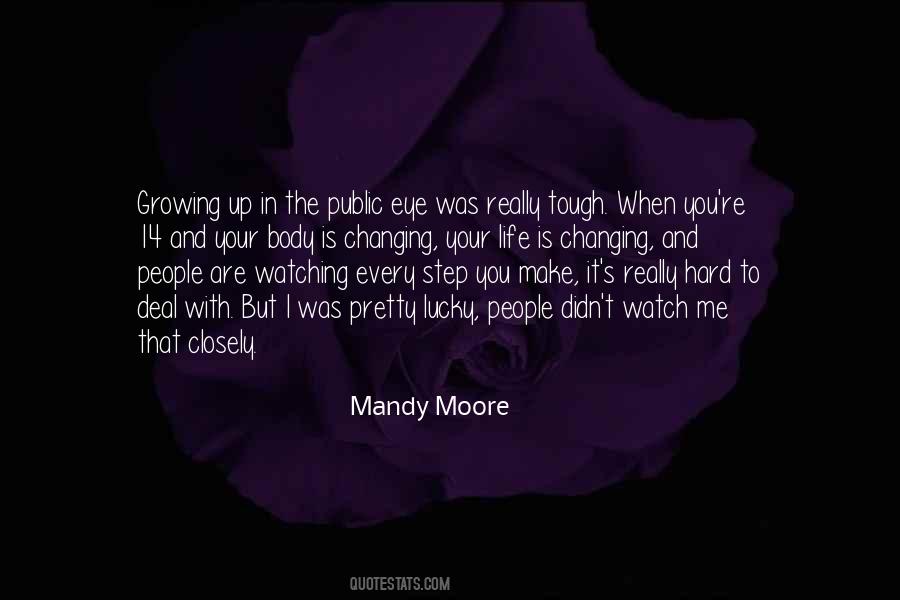 #57. Ocean's 13 is all about cool people having a good time, and who doesn't want to see that? Well you, apparantly, 'cause you're watching me. - Author: Craig Ferguson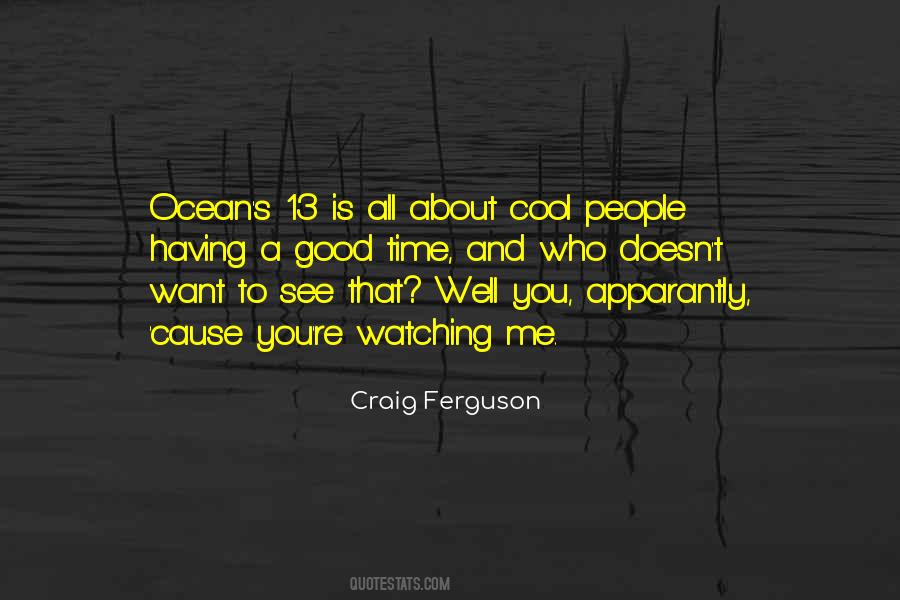 #58. You can't imagine how much it hurts to be ignored by people ... you respect. You don't know how loud the silence is or how deeply it cuts. It's bad enough watching the hatred touch my brothers. I'd rather die than see it touch you. - Author: Lorraine Heath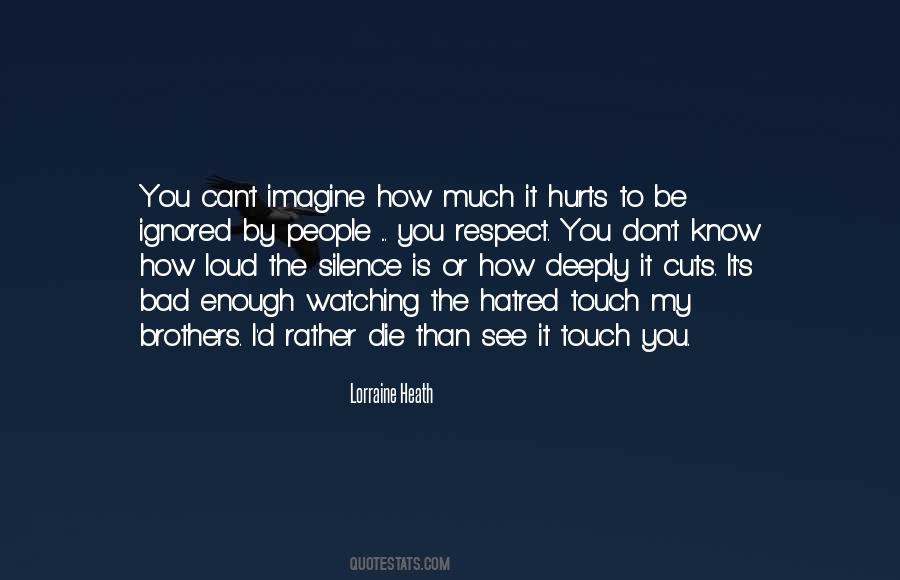 #59. I grew up watching Lindsay and it made me want to do what she does. Just the whole vibe. Being there, being on camera, or on stage, with everybody listening to you it's so cool when people look up to you. I've already been asked for my autograph and it's just a really good feeling to have. - Author: Ali Lohan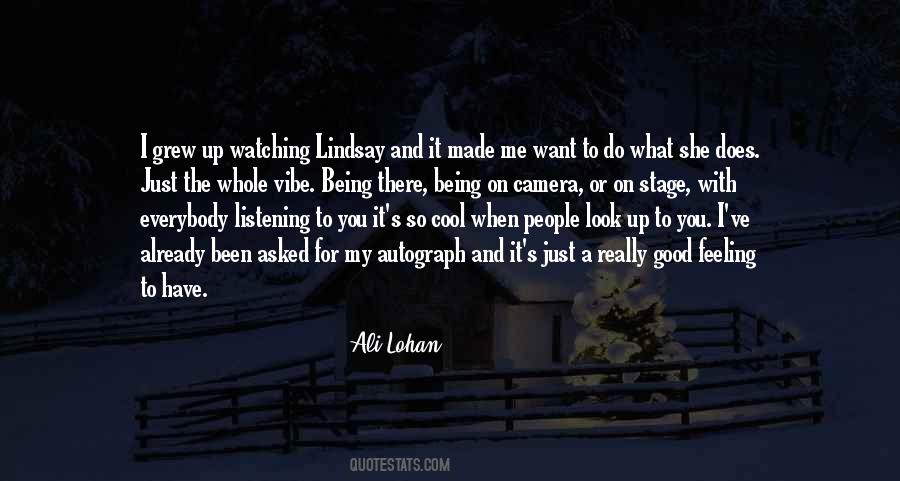 #60. I turned on Fox News and jumped when I saw that they had one of those things in their studio. "Are you people crazy?" I screamed at the television. "Get out of there. Somebody shoot it!" Then I realized I was watching Special Report and had mistaken Charles Krauthammer for a zombie. - Author: Ian McClellan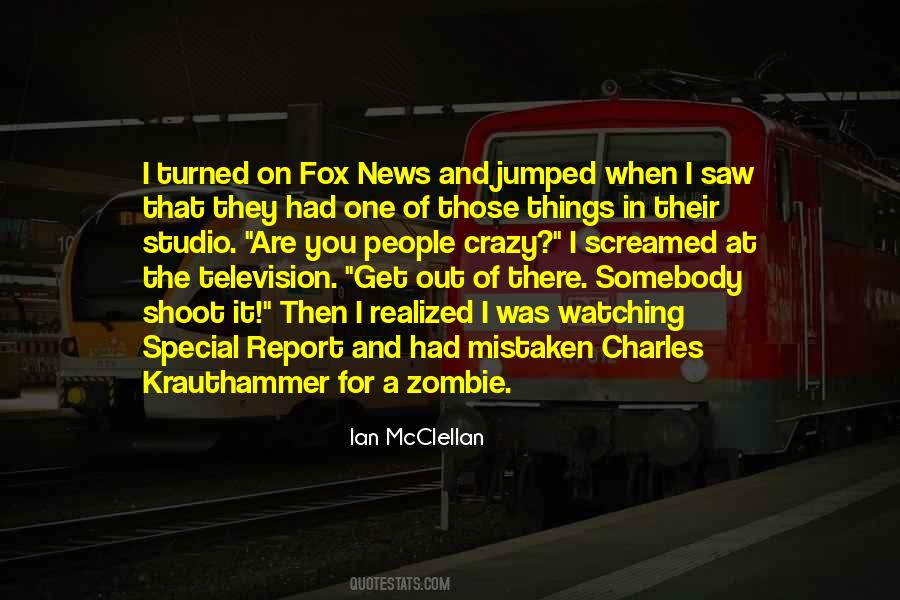 #61. You'd look out and there'd be little babies watching the show, and boys and girls. They loved the cowboys, and they loved Annie. There were young people seeing the show for the first time. I stayed for two years because I enjoyed it so much. - Author: Bernadette Peters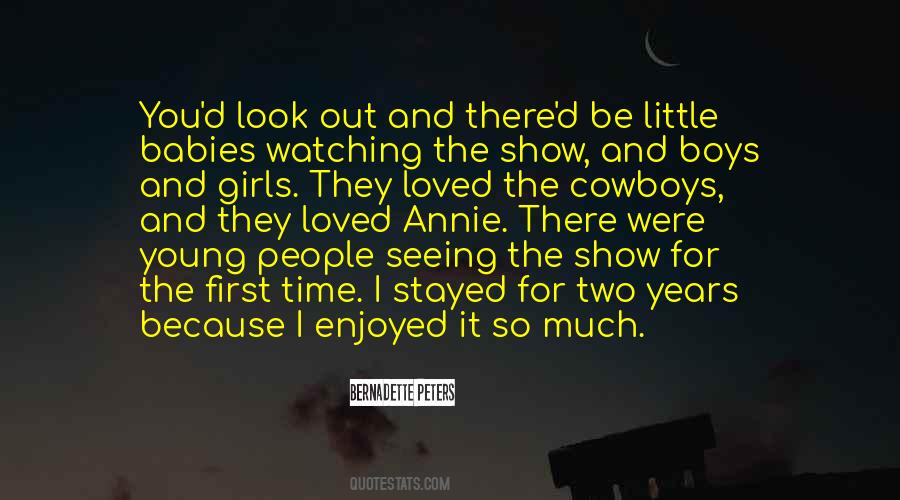 #62. Then James took Parker's hands, and without waiting, gave her a long, hot kiss that made her nearly forget there were a hundred people watching. Then he pulled back and smiled that full, wonderful grin, his dark eyes so happy.
"Parker," he said, "always lovely to see you. - Author: Kristan Higgins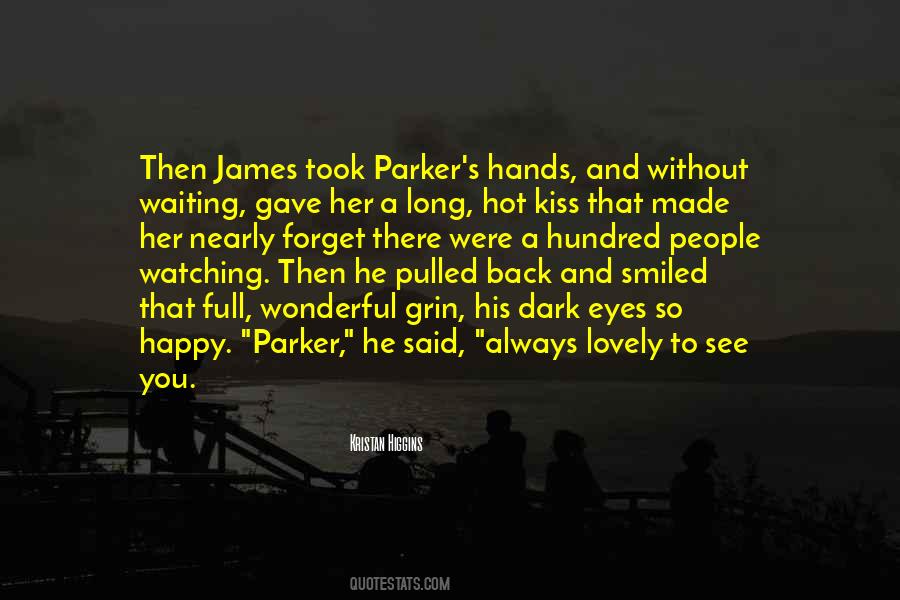 #63. The people I grew up around, almost all of them had been born and raised in the South. And, you know, they didn't always go to church, but they lived their lives as if God were watching everything they did. - Author: Edward P. Jones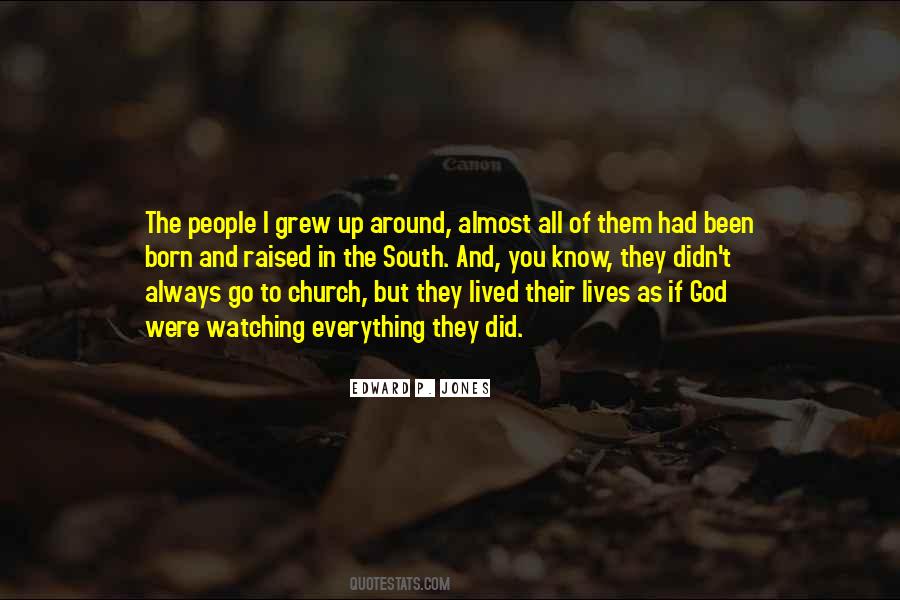 #64. Have clean hands in whatever you do. Integrity is doing the right thing when people are watching you and still making it right when they keep their eyes off. - Author: Israelmore Ayivor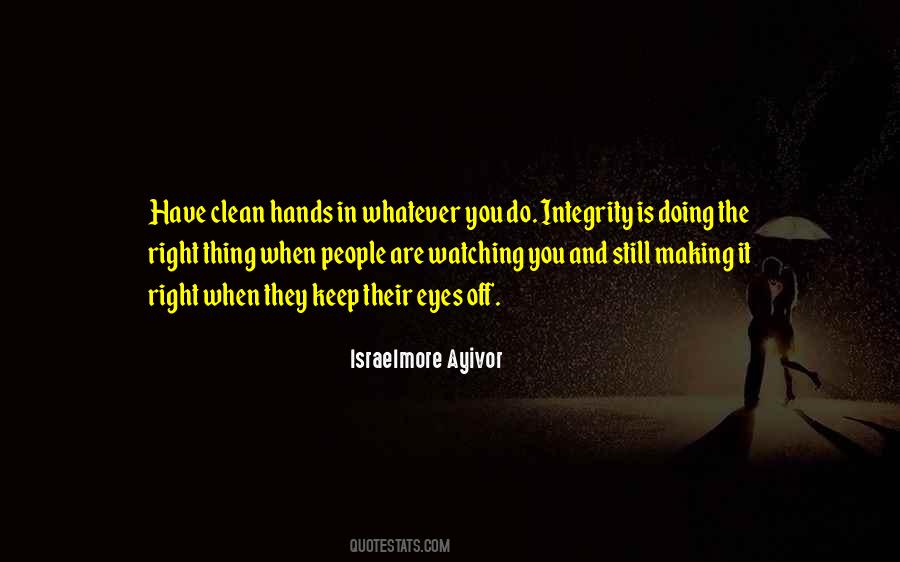 #65. I think people are excited because, even watching 'Boy Meets World,' you can tell that those characters are going to do something when they get older. I think people are excited to see characters they grew up with continue. - Author: Rowan Blanchard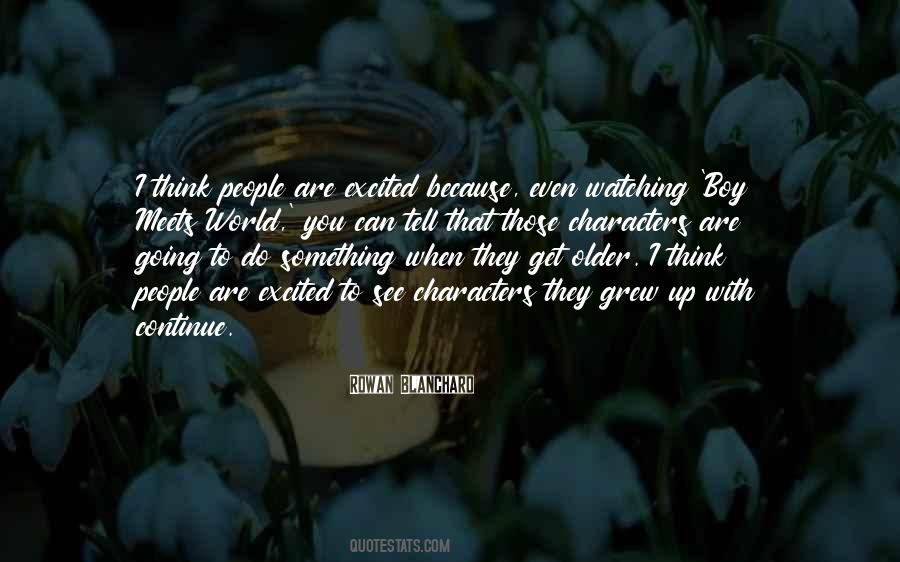 #66. Being outside the candy store looking in is the state of people today. Whether you're in a Pakistani village watching somebody in a car drive by, or you're in the city of Lahore going to a restaurant and seeing somebody with a security entourage coming in ... you're exposed to people with more. - Author: Mohsin Hamid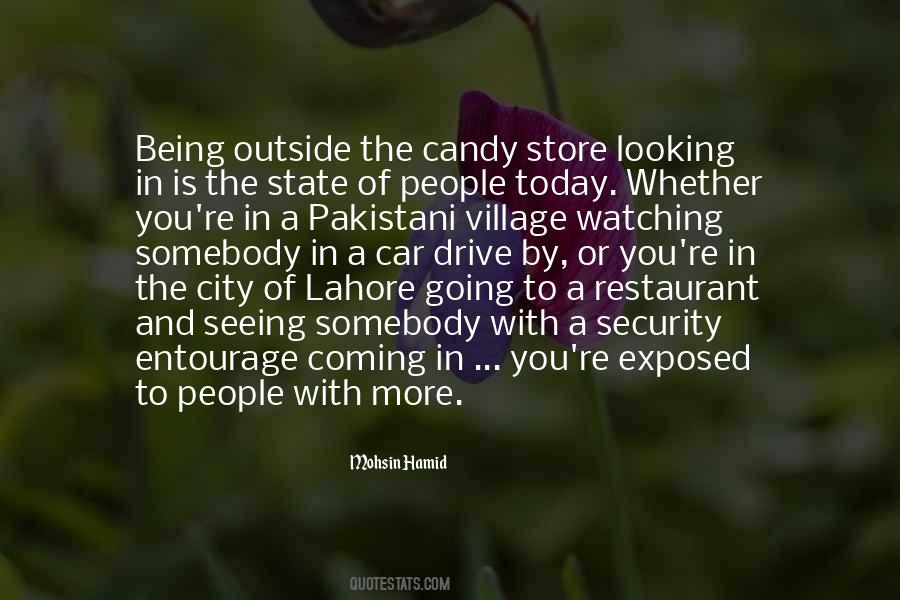 #67. 'Son of Saul' film is extremely emotional; you're watching people walk in, you're watching people die. It centers around a child that goes into the ovens but survives the gassing. - Author: Bun B.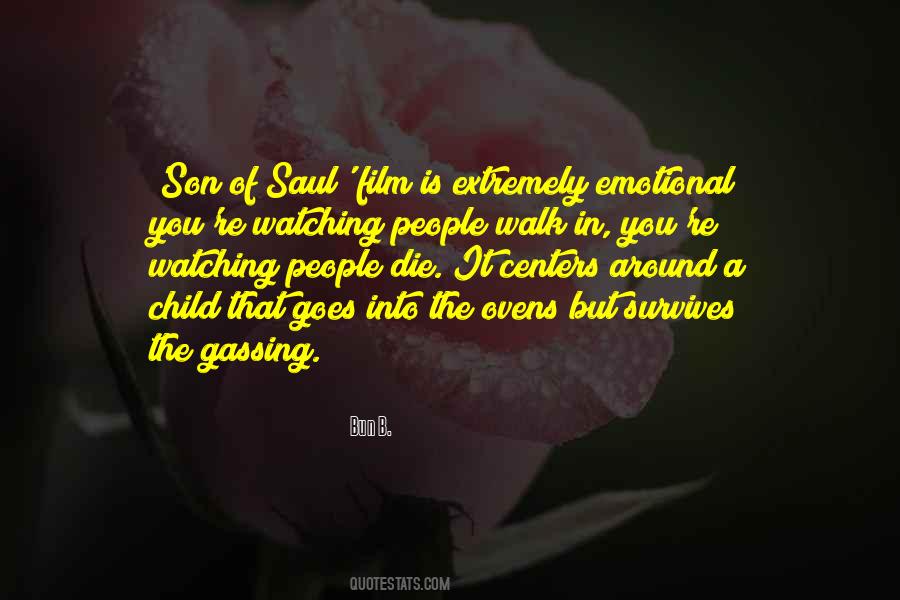 #68. On 'Heroes' I got to work with Greg Grunberg all the time and Masi Oka, and they both are just wonderful actors. I don't know - you learn so much by watching people like that, I guess. - Author: Brea Grant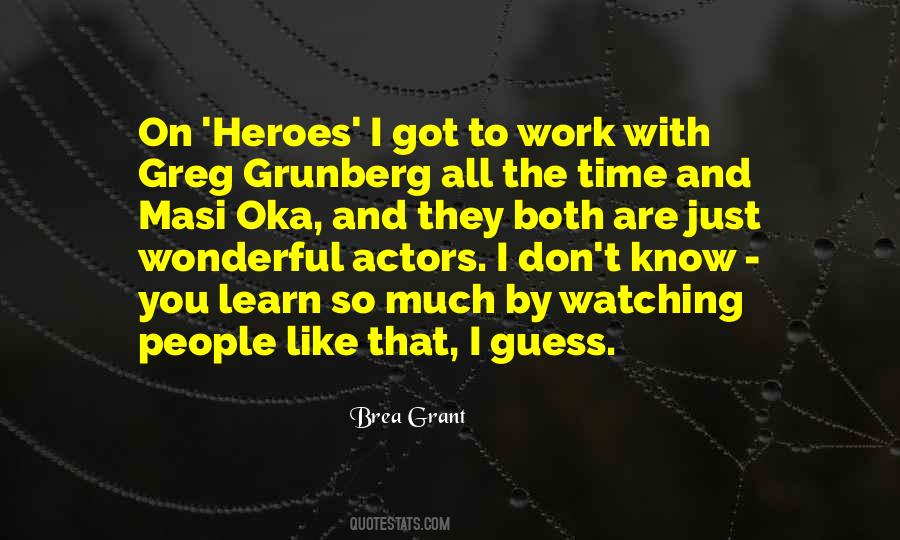 #69. More people are watching your life and ... are gaining strength in their own lives and in their own challenges because of what you're going through. I promise you: your life matters, your life is significant, and things are happening that you don't even fully understand yourself. - Author: Jeff Goins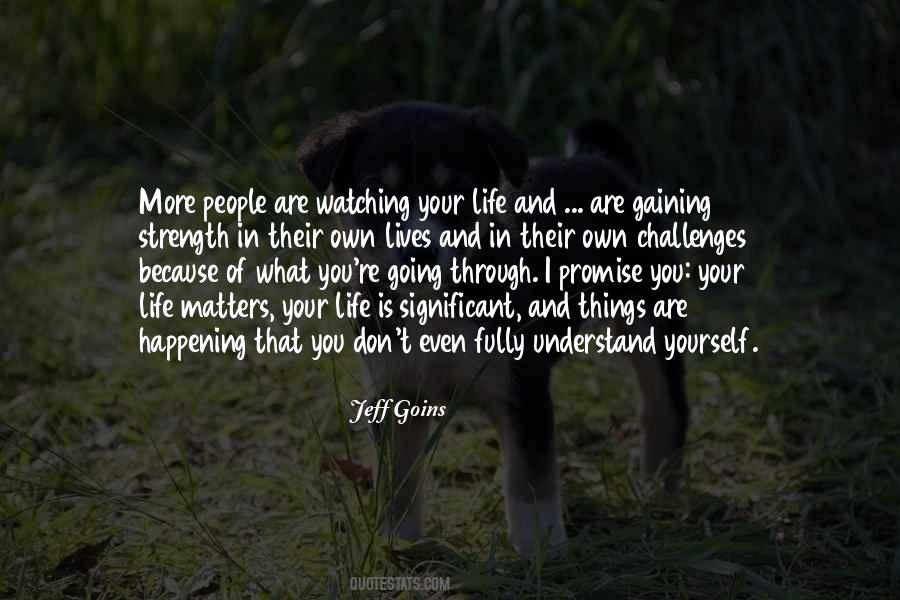 #70. I feel like people want to be surprised when they get out of the movies. They want something thrown at them they didn't expect. They want stuff that reminds them of the feelings that you get when you're watching art house movies but with the fun of like a big summer movie. That's the goal, I guess. - Author: Rian Johnson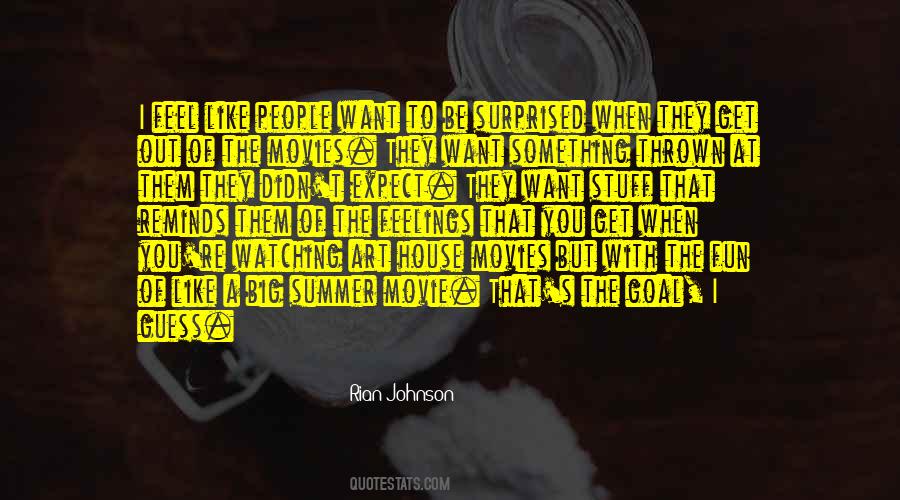 #71. I'm fascinated by mankind. I grew up watching 'Candid Camera' and thought it was funnier than any standup, any joke, anything that could possibly be written because you're dealing with humanity. And people can relate to that. It touches everybody who sees it. It hits a nerve. - Author: Howie Mandel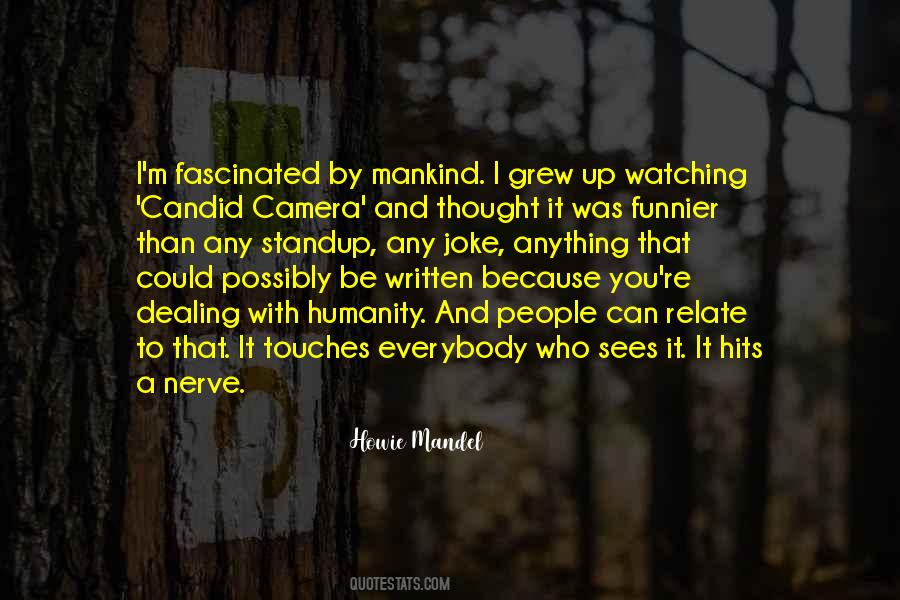 #72. Human beings evolved opposable thumbs for a reason. The sense of reward you get from making something with your hands can't be earned any other way. It's obvious that people learn faster from 'hands-on' experience than they do watching someone else do something. - Author: Mark Frauenfelder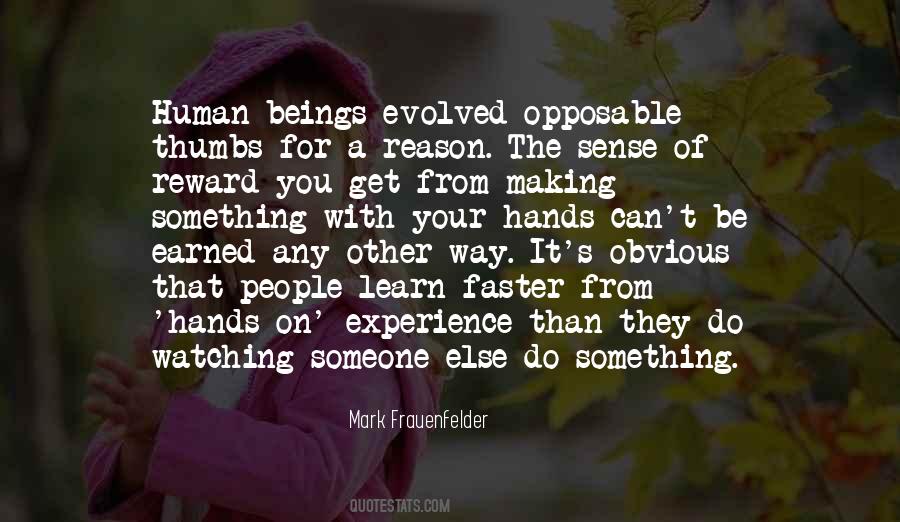 #73. We have to keep our fans watching not just at home on TV but here at the racetrack too. This is where you sell people on the speed and excitement of racing. - Author: Jeff Gordon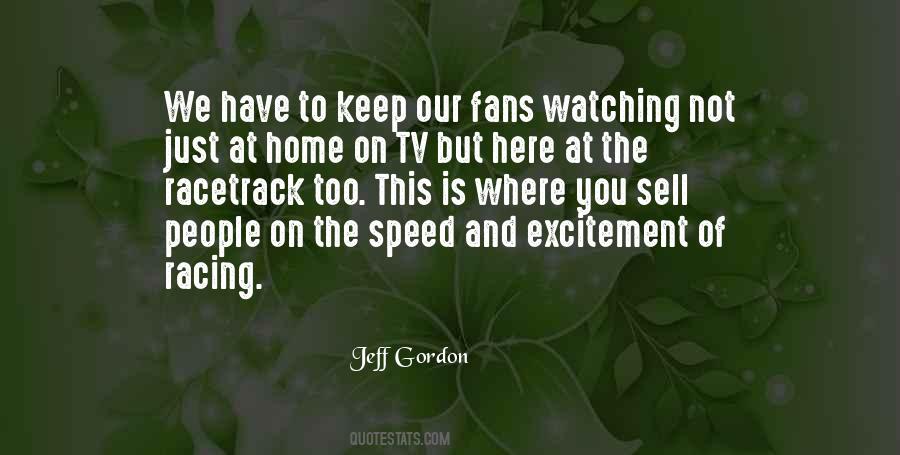 #74. Voting is a very scary arena to be in, but I do vote. I go in there and pull the lever. It's kind of like pulling the lever and watching the trap door fall out from beneath you. Why should we trust any of these people? None of them ever deliver on anything. It's always disappointing. - Author: Mel Gibson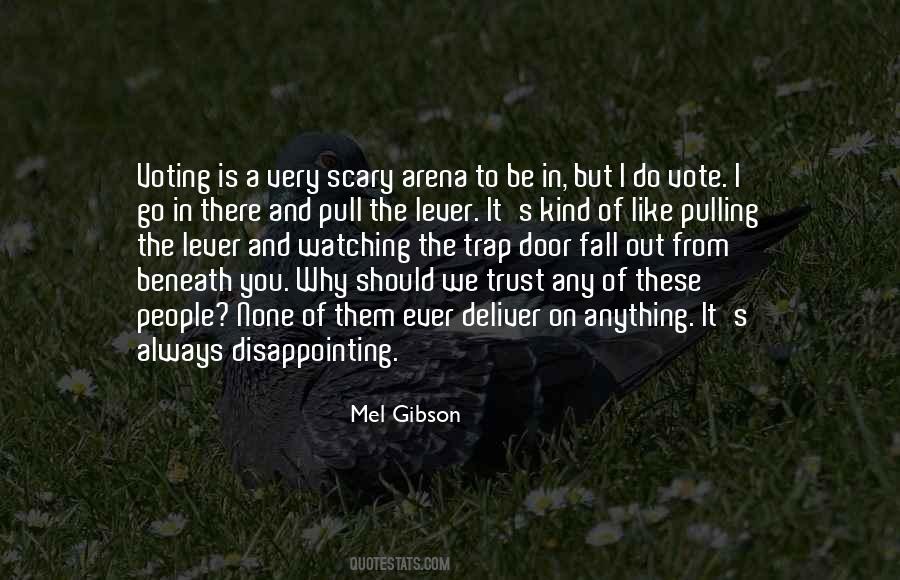 #75. I'd love to do well on a big weekend with people watching and cheering, of course. But it's not fair to create an expectation level before I know what is realistic. I want to finish as well as possible. Is that top 20? Top 15? Top 25? You just have to play it by ear. - Author: Danica Patrick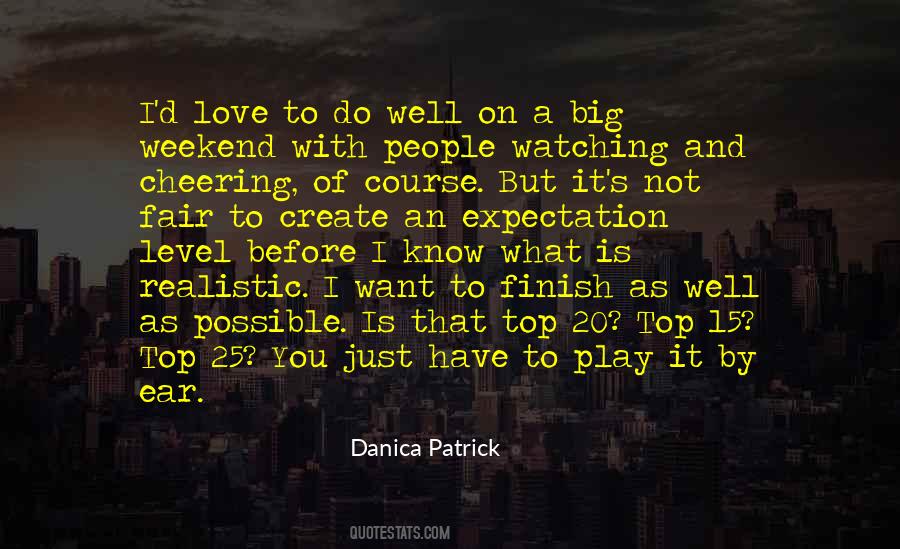 #76. When providing people with the direction and expected behaviors, you need to be alert to the fact that they will hold you accountable. People want to know if you are walking the talk. They will be watching your every move and you need to be one in the same ... every minute of every day. - Author: Douglas Conant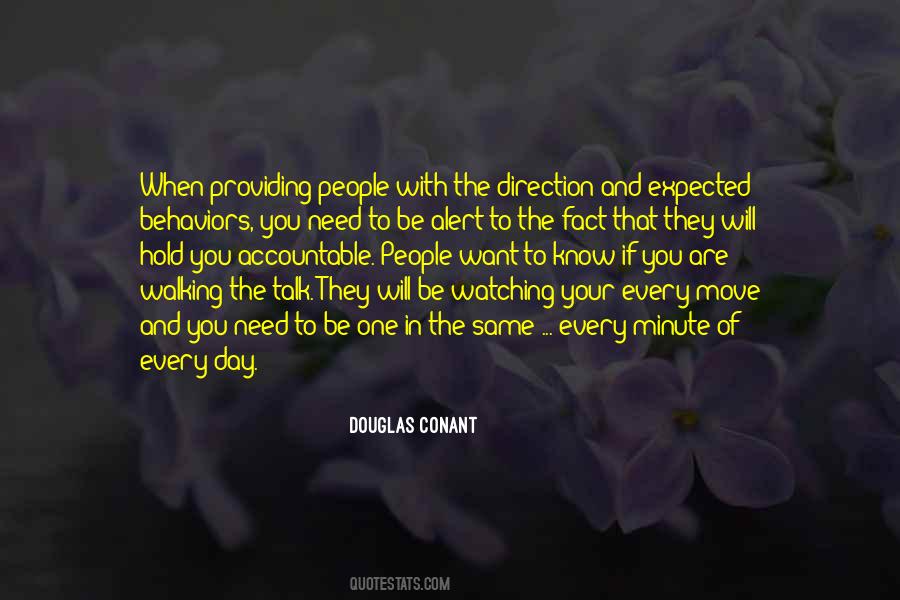 #77. If you like soccer, then welcome to America. See, our country already has entertainment so watching people chase a ball for four hours to end 0 - 0 is not enjoyable - unless, of course, the bleachers collapse and half of Europe dies. - Author: Daniel Tosh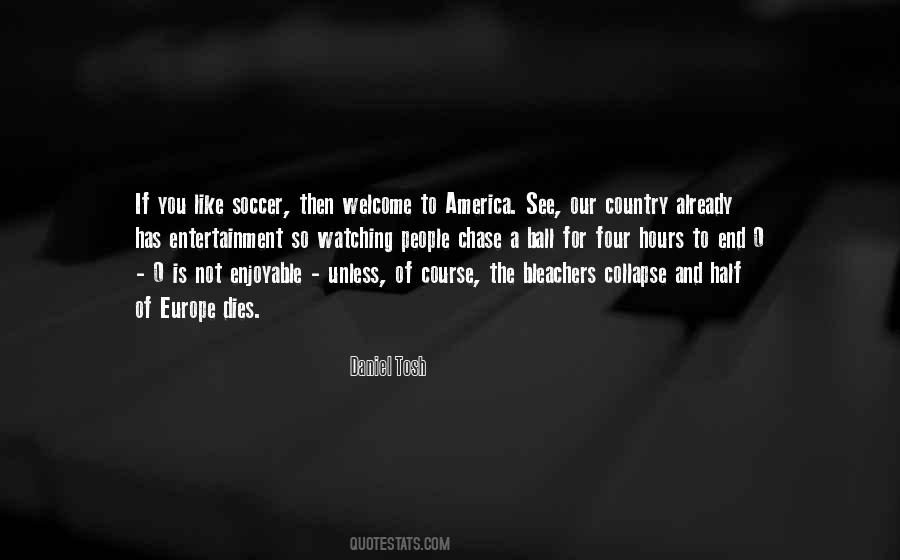 #78. Old people, don't watch it because you might die just watching it. - Author: Jaromir Jagr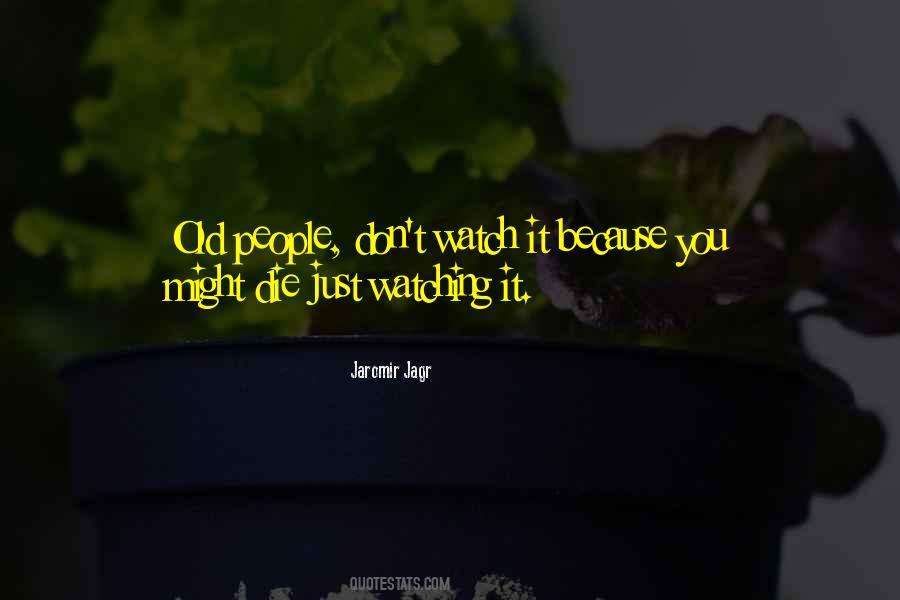 #79. Despite my ability to read people, I felt like an outsider, like someone watching a party from the other side of the glass. I could see these things unfold, but I couldn't quite understand the dynamics, the deep knowing that comes from growing up with people you care about. - Author: Sarah Ockler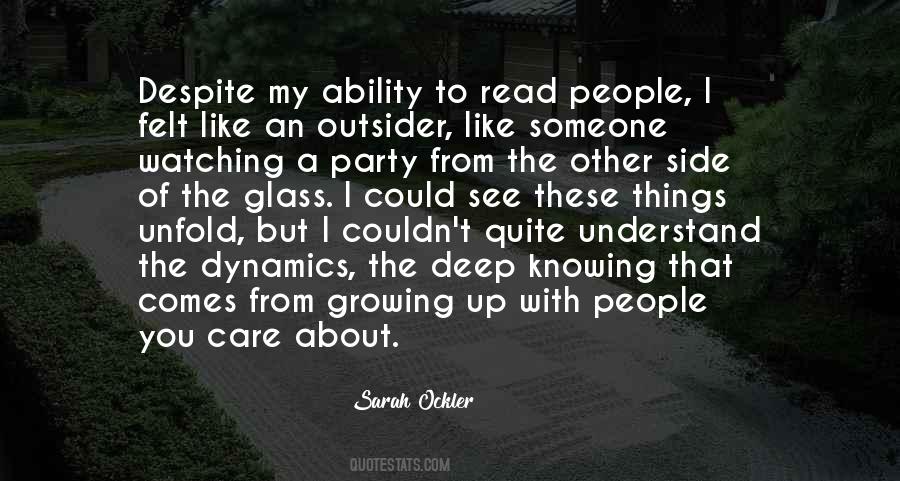 #80. Watching a documentary with people hacking their way through some polar wasteland is merely a visual. Actually trying to deal with cold that can literally kill you is quite a different thing. - Author: Henry Rollins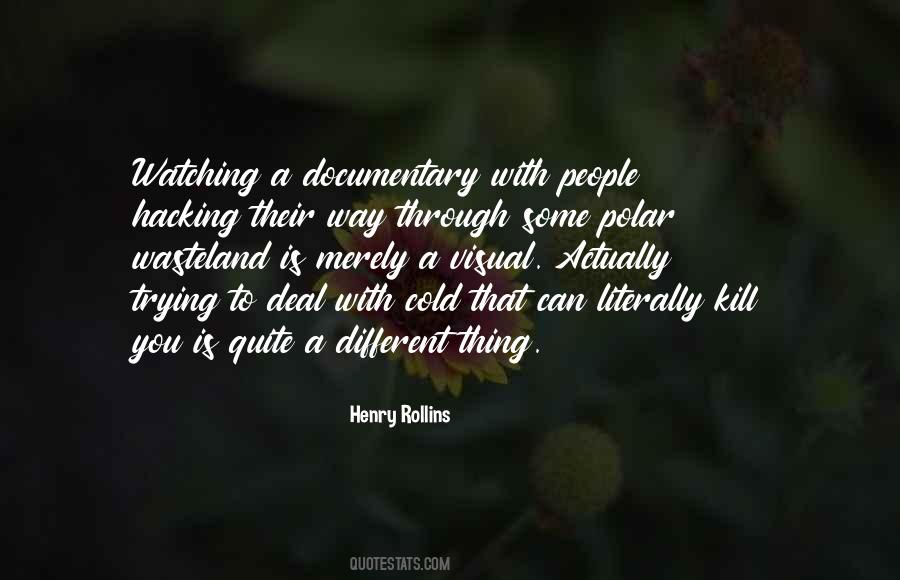 #81. I don't mind being a professional. As an athlete you are a role model, people are watching what you wear, listening to everything you say, - Author: Jalen Rose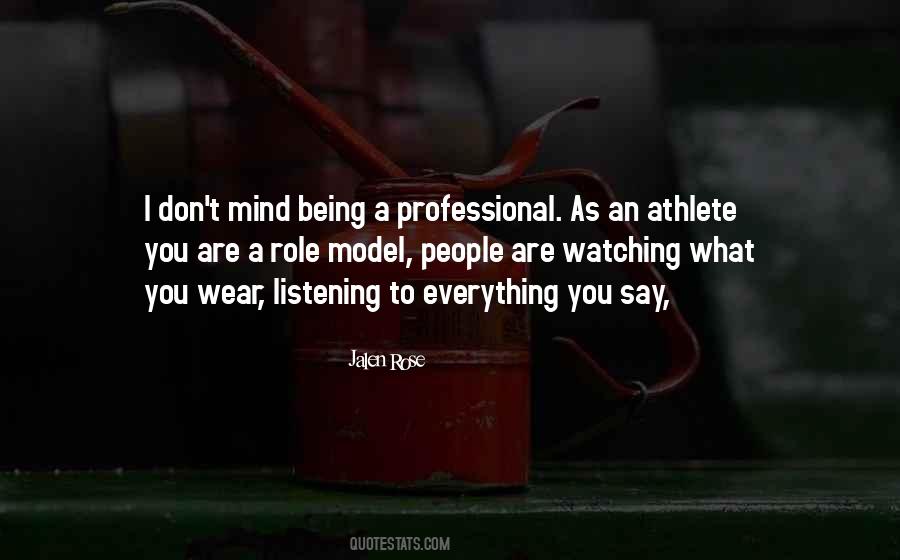 #82. I explain to athletes, you're supposed to be a well-oiled machine. You're supposed to be in better shape than the people watching you. You're supposed to be an unbelievable specimen of a human being. You have to treat your body different while you're performing. - Author: John Salley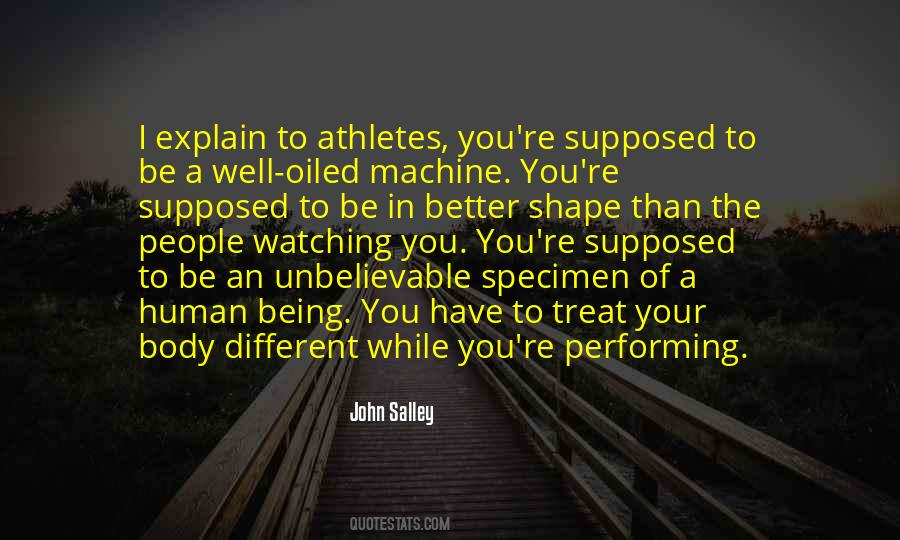 #83. Good music comes out of people playing together, knowing what they want to do and going for it. You have to sweat over it and bug it to death. You can't do it by pushing buttons and watching a TV screen. - Author: Keith Richards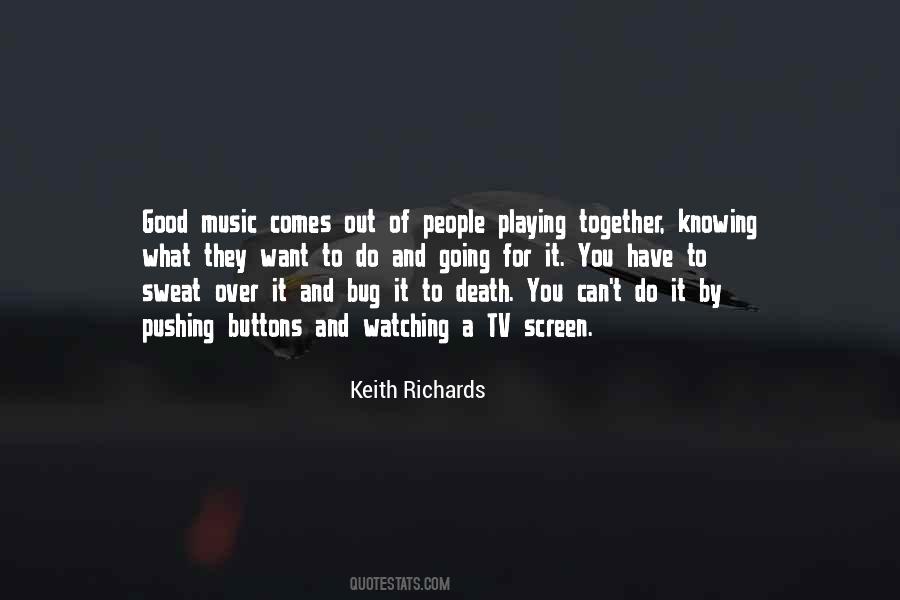 #84. And the people of Ankh-Morpork are so thirsty for novelty that the whole city is, you might say, hurrying the future along for the sheer joy of watching its progress. - Author: Terry Pratchett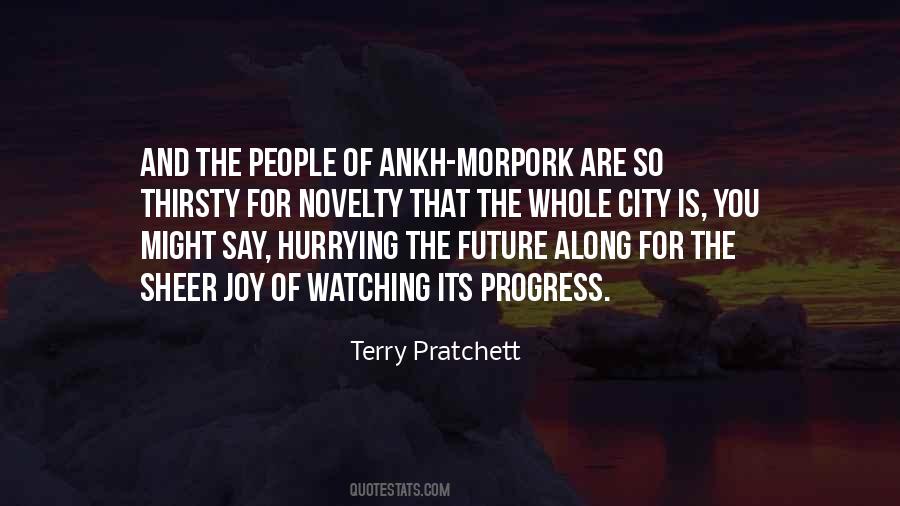 #85. For me, my preference for comedy is grounding it in the psychology of the character, and not just kind of making faces. Even when it's a crazy character, grounded comedy resonates more with people because it doesn't look like you're watching someone do vaudeville. No offense to vaudeville. - Author: Matt McGorry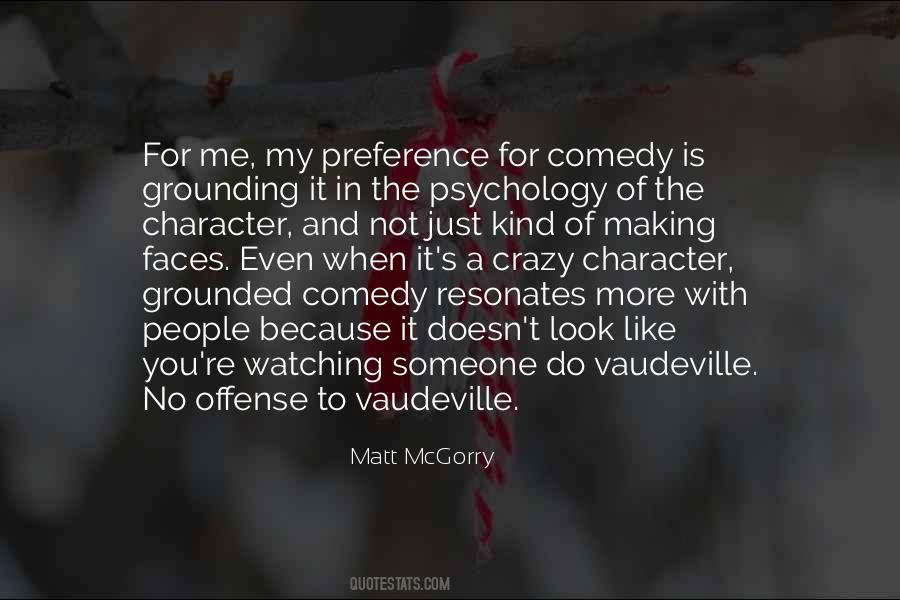 #86. There's always some pressure to achieve something. You make a pilot, but you don't know if you're going to get a show. And then, you make a show, but you don't know if people are going to watch. And then, people watch, but you don't know if enough people are watching. - Author: Charles Halford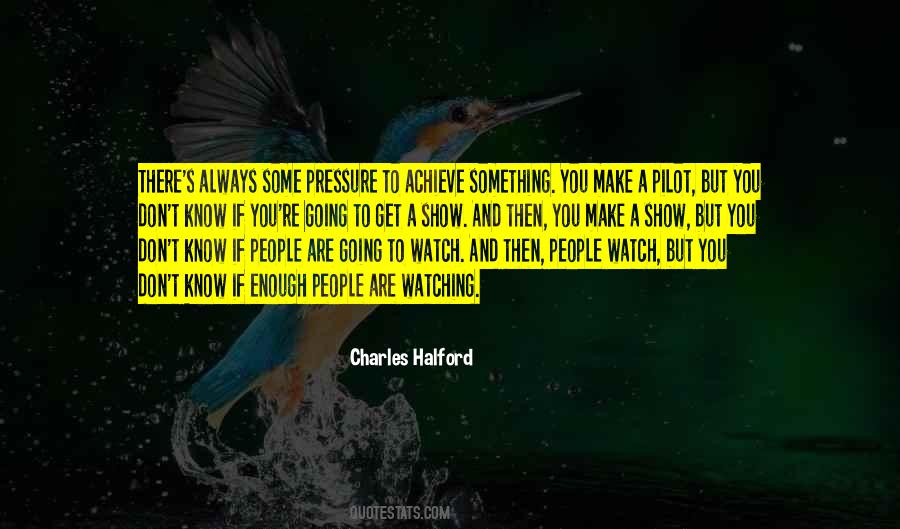 #87. I don't have to say to you or anyone in our WRESTLING community that we are a small world unto ourselves and there is often a big difference in how much we love and understand each other and how little we're understood or appreciated by people who spend their weekends watching basketball. - Author: John Irving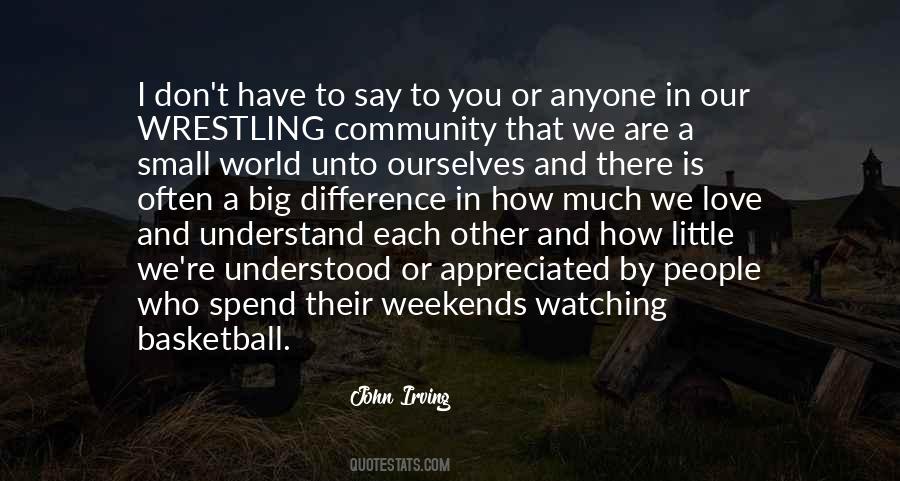 #88. I began acting at age eight, but if you don't stay on your game then people pass on you. Being on a show, it's a little easy to get comfortable, so I'm trying to get back on it. I'm taking some acting classes and watching movies, and I'm just trying to stay up with other actors. - Author: Jason Dohring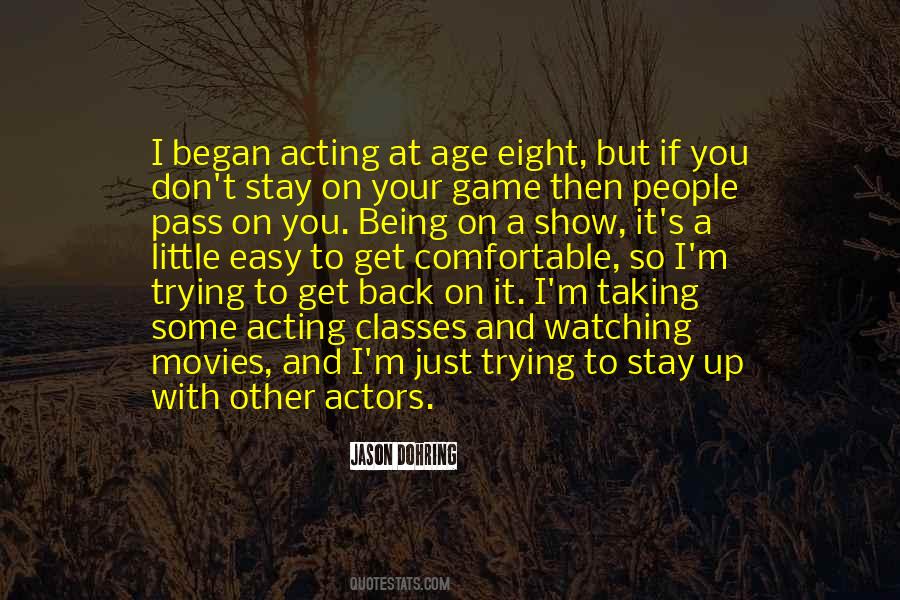 #89. I can't stress to you enough how much I can relate to teens being cyberbullied. Something that helps me is looking at old videos of me and my friends from middle school, or videos of my family. I love watching funny videos of my favorite people - it really cheers me up. - Author: Ariana Grande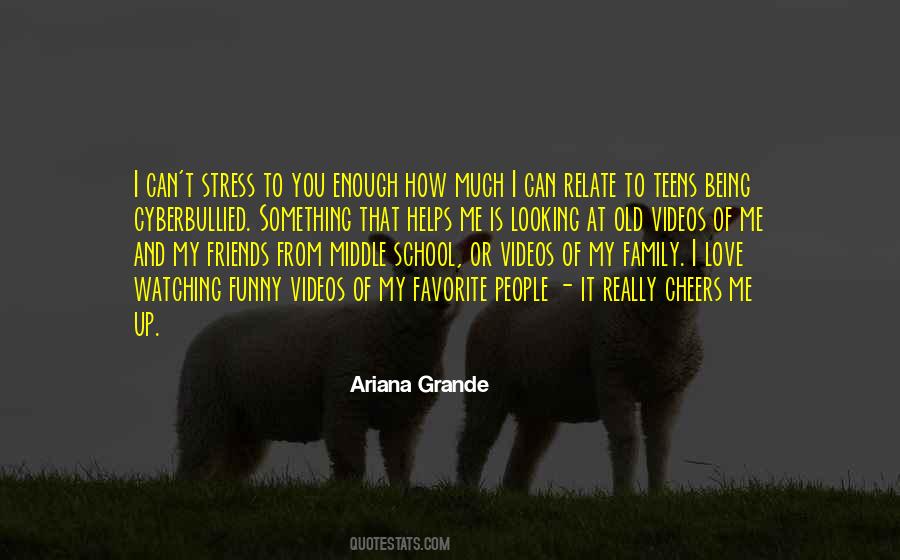 #90. I don't know who you people are, but I hope you're happy. I hope you get a real buggin' kick out of watching us suffer. And then you can die and go to hell. This is on you. - Author: James Dashner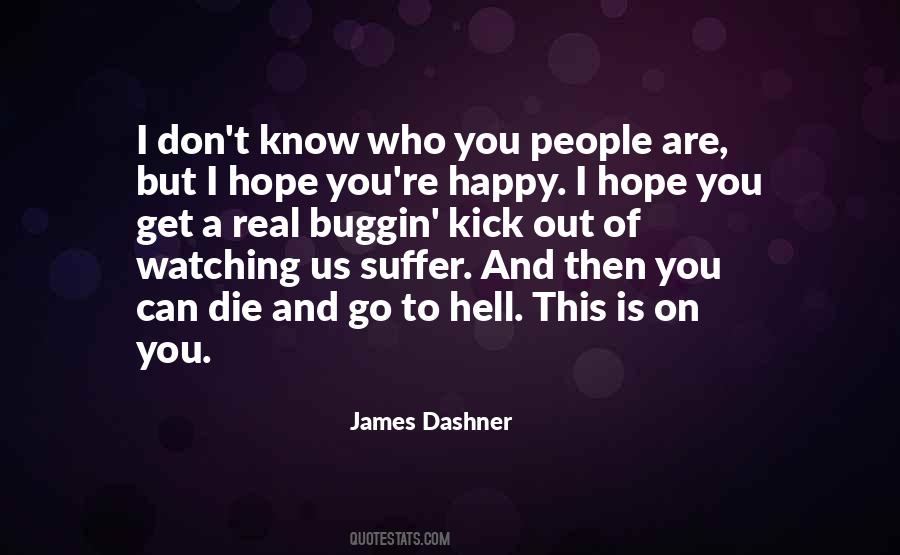 #91. I live my life and I do what I do, and sometimes you forget that people are watching you. - Author: Nicole Richie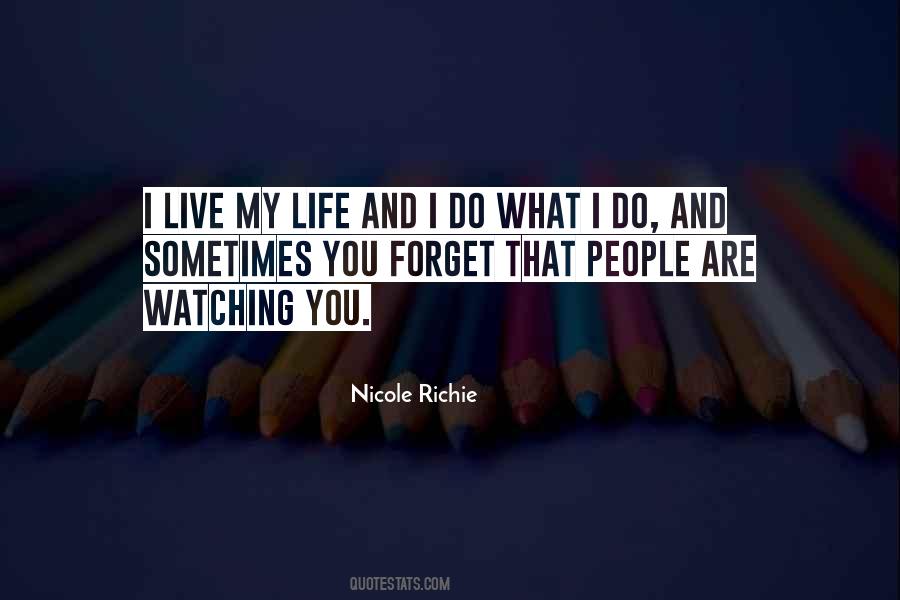 #92. The world's a small place and people are watching; and, you know, somebody disappears, the family knows and their colleagues know, and so eventually, these things do get out. - Author: Jane Mayer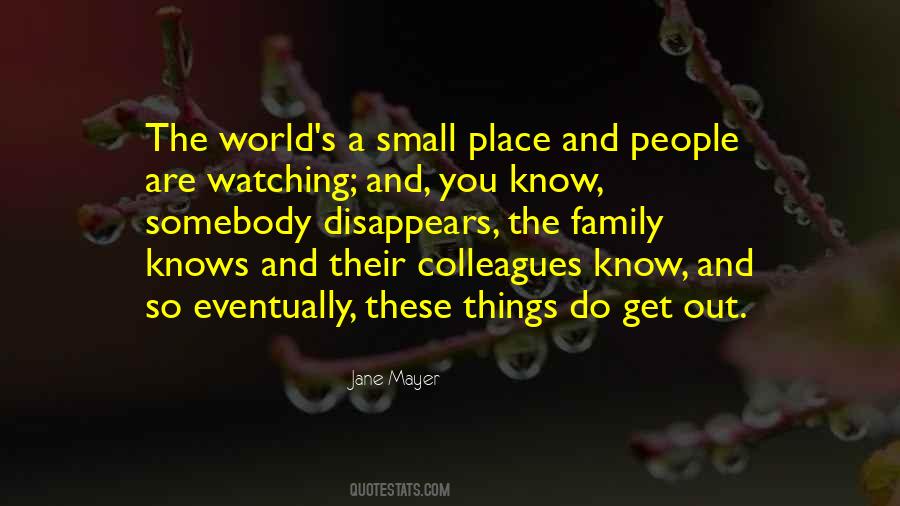 #93. If a Martian were watching our television shows, he'd conclude that guns were more common than hammers. They're not evil themselves--they're tools--but everywhere you go, bad people have them. It behooves the righteous to at least know how they work. - Author: John Sandford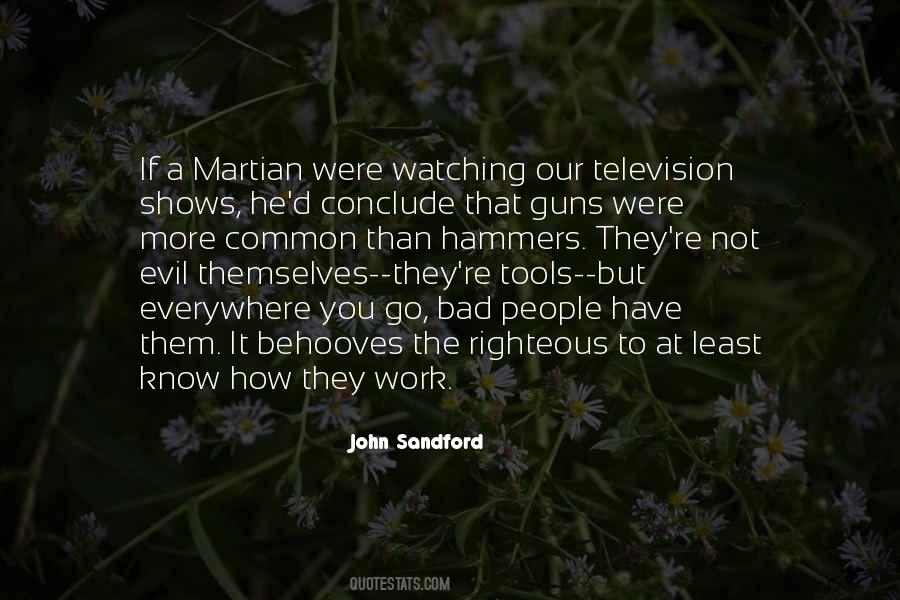 #94. You are who you are what you say you are to people, but who are you when no one is watching? - Author: Anonymous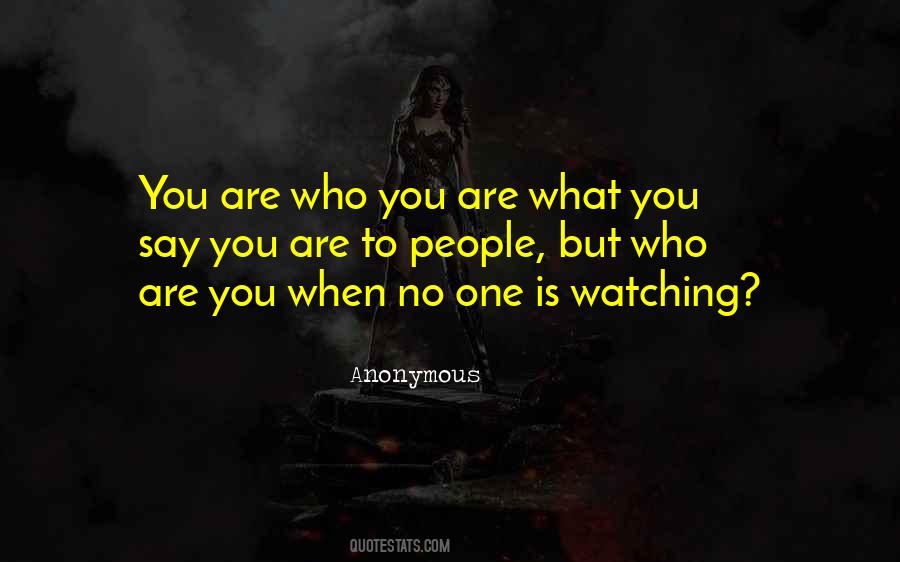 #95. When you feel a connection, a gut connection, a heart connection, it's a very special thing. What's familiar to everyone is watching people falling in love; it doesn't happen on screen that often. People fall in lust, then they're suddenly together. - Author: Alfre Woodard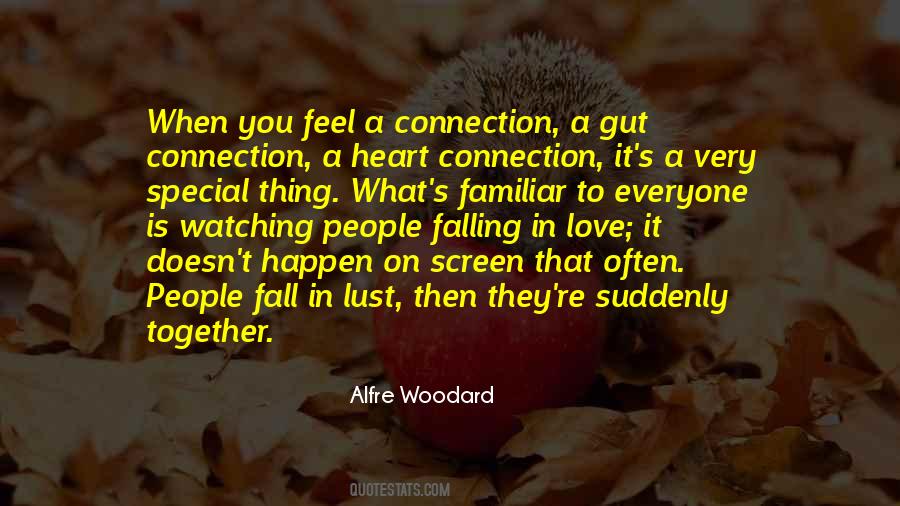 #96. I'm in the middle of a 25-city book tour, and I like watching what people buy in bookstores. I see people buy books that I strongly suspect they will never read, and as an author, I must tell you, I don't mind this one bit. We buy books aspirationally. - Author: Gabrielle Zevin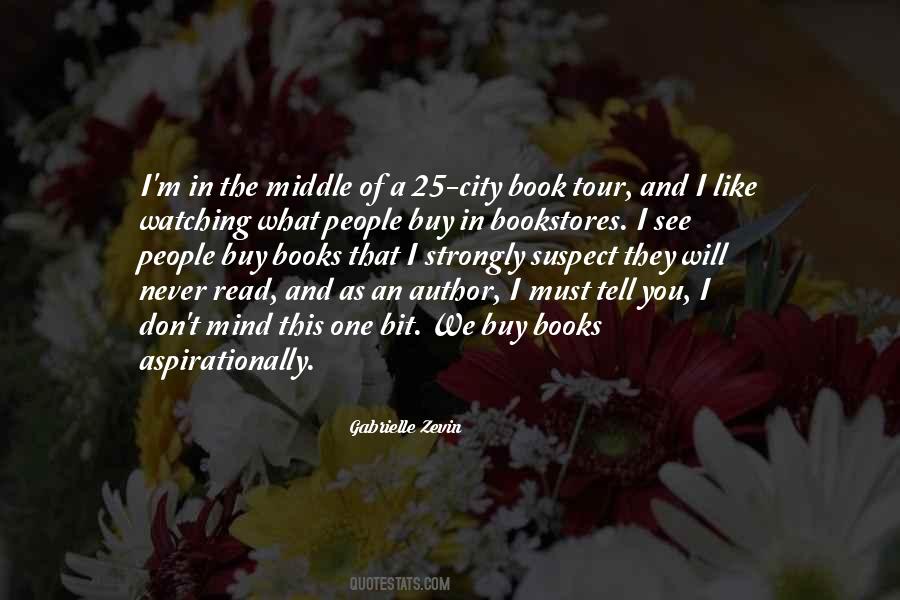 #97. Sometime you go out and you wonder why these people are standing in the rain, and then you realize that years ago you were a fan, too. I, too, was chased by cops for watching my favourite celebrities. - Author: Boman Irani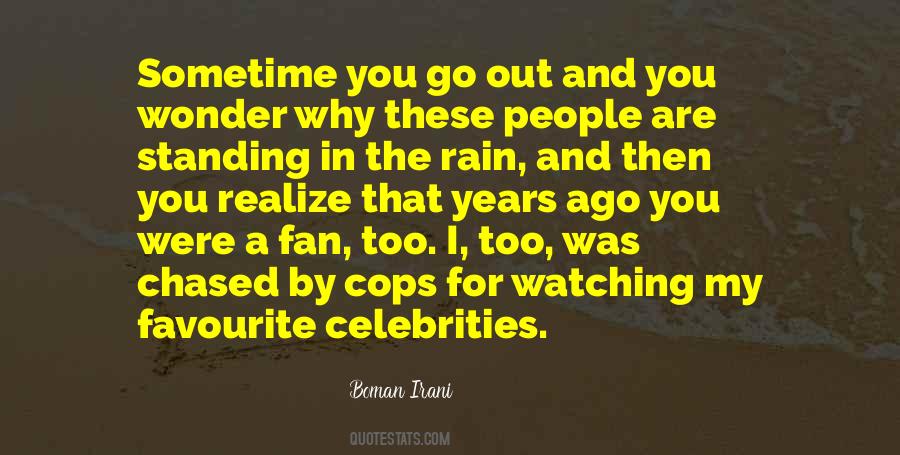 #98. I don't like movies that are shot on green screen much, you know. I mean, I know that's the thing to do, and I know that it's getting. I'll put it this way; David Lean would probably kill himself, you know, again if he knew that people were watching Lawrence of Arabia on a telephone. - Author: Billy Bob Thornton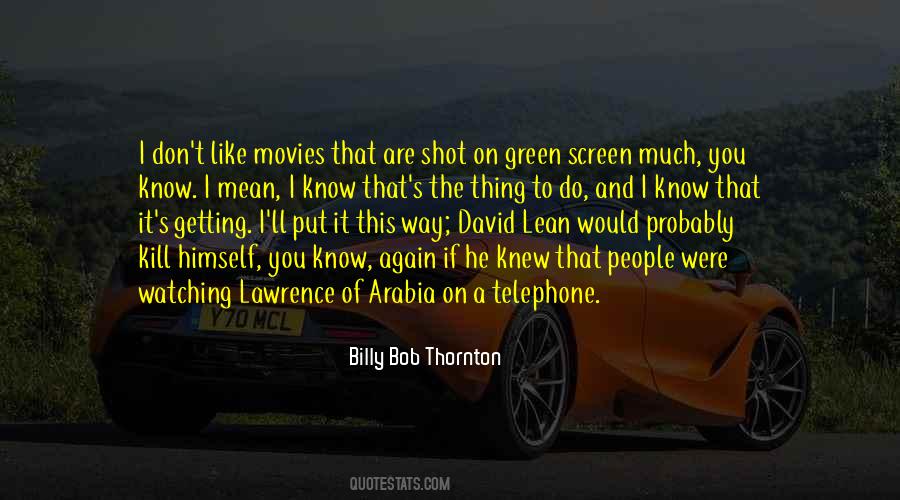 #99. Even when it's midnight, people are watching you. It's difficult to be in the spotlight all the time. - Author: Chauncey Billups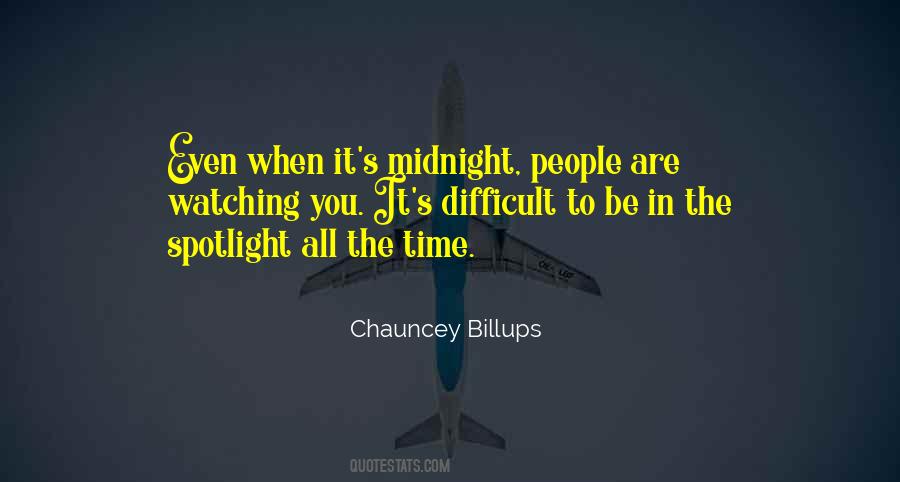 #100. There's something to be learned by listening and absorbing and watching before you start telling the people who have been there how to rearrange chairs. - Author: Anne Northup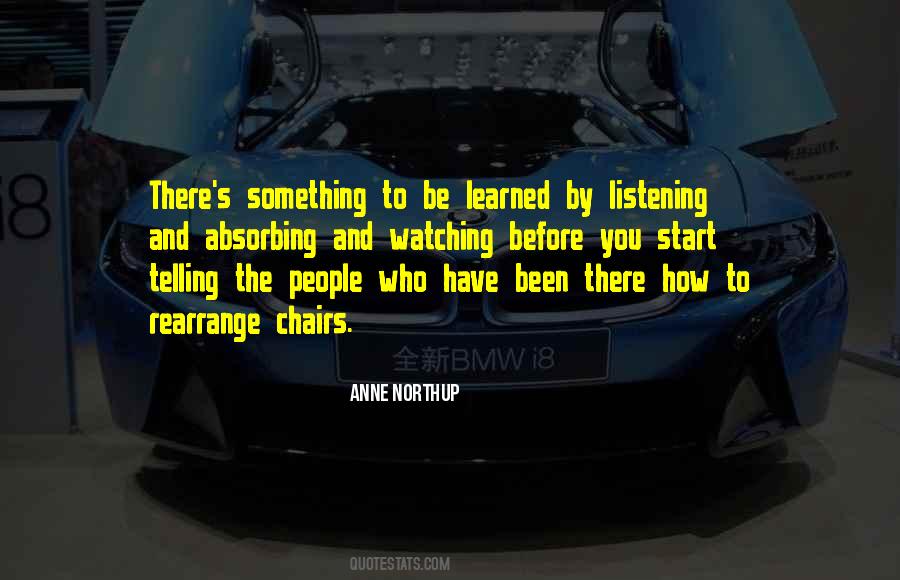 Famous Authors
Popular Topics