Judging People Famous Quotes & Sayings
List of top 100 famous quotes and sayings about judging people to read and share with friends on your Facebook, Twitter, blogs.
Top 100 Quotes About Judging People
#1. Because I've been that drunk person in the club so many thousands of times, when I'm in an environment where people are drunk or on drugs, I certainly don't judge them. Because it's almost a given that for much of my life I've been way more messed up than them. - Author: Moby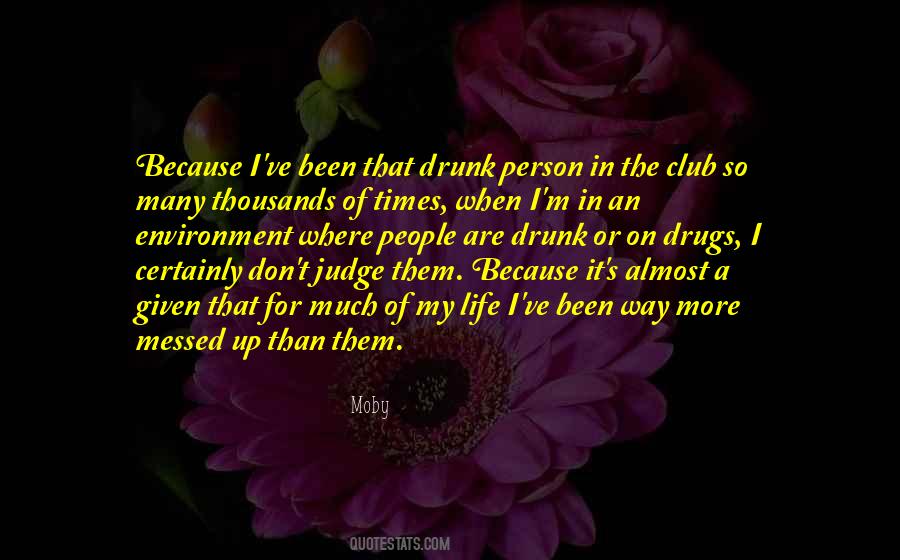 #2. Many people excuse their own faults but judge other persons harshly. We should reverse this attitude by excusing others' shortcomings and by harshly examining our own. - Author: Paramahansa Yogananda
#3. People judge too much by results. I'm just the opposite. I care about more than results. I'd rather make a good pitch and give up a bloop single than make a bad pitch and get an out. - Author: Greg Maddux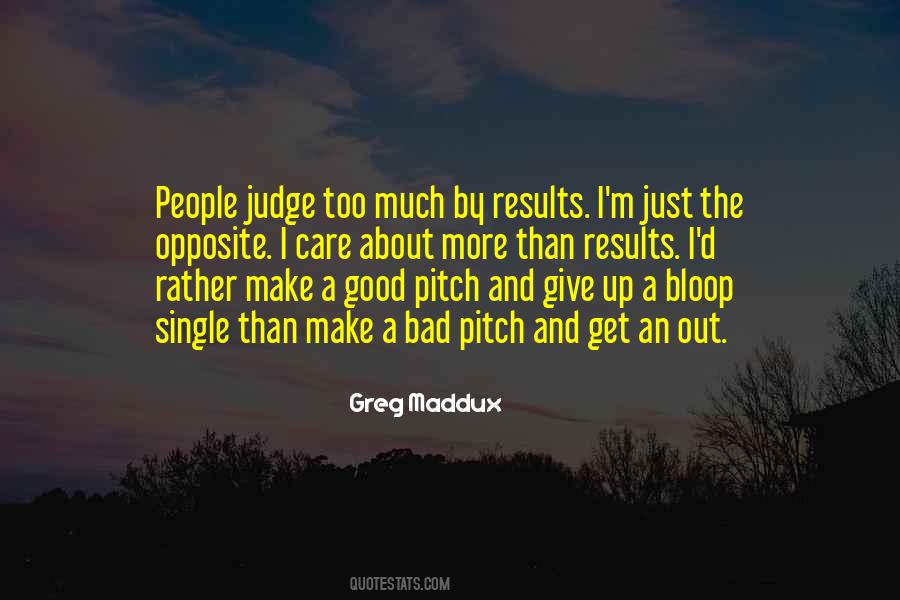 #4. If we knew what people had been through, their sorrow and suffering, we would not be so quick to judge. - Author: Nicky Gumbel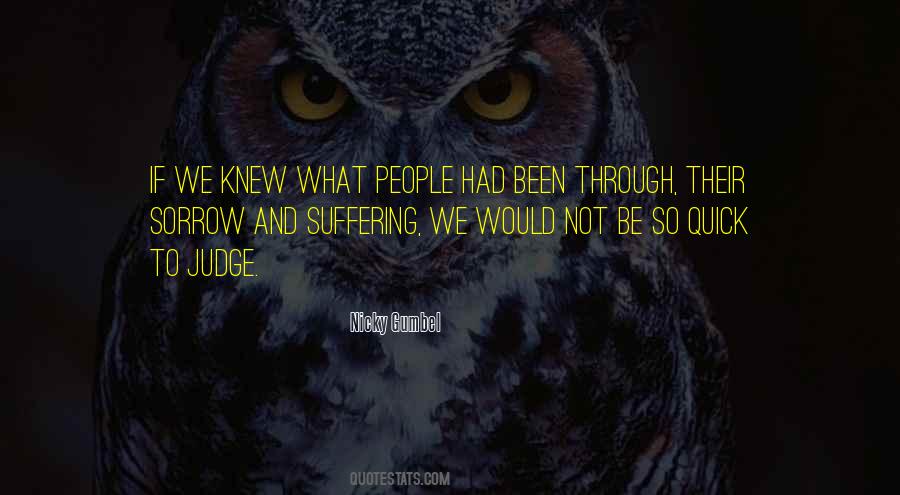 #5. people with weight issues often feel judged and attacked, partly because they spend so much time judging and attacking themselves. - Author: Martha N. Beck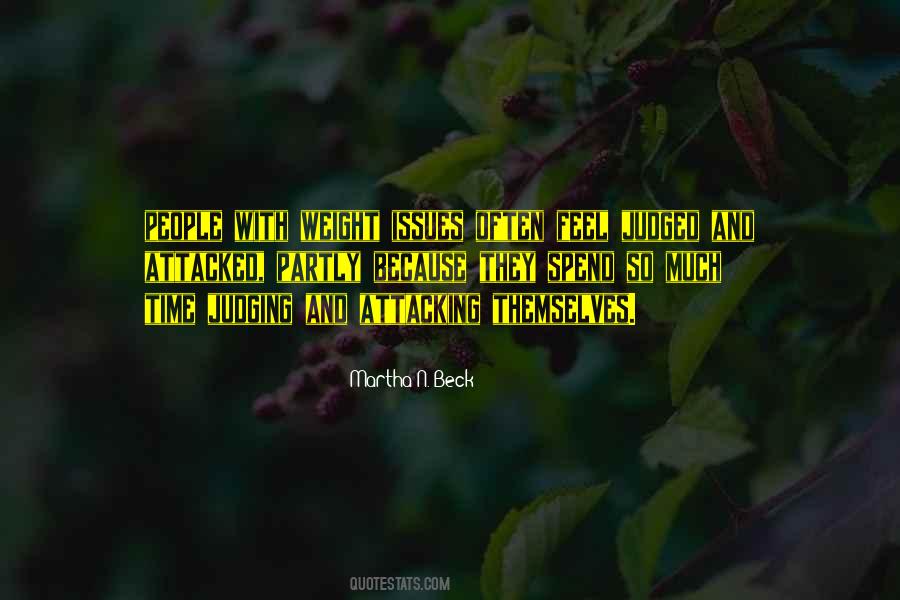 #6. We tend to give up so easy in trying to understand people so we end up judging them !! - Author: Hisham Fawzi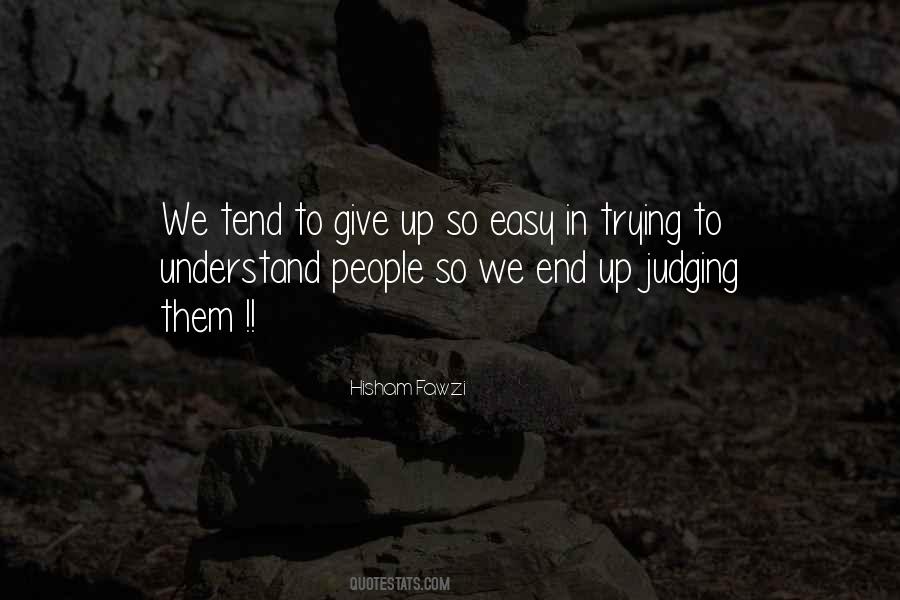 #7. Not that I've always agreed with what she said - far from it - but Justice Sandra Day O'Connor has been properly lauded, in my view, as a judge who approached her duties with open-mindedness and with a sensitivity that affects her decisions would have on everyday, ordinary people. - Author: Joe Biden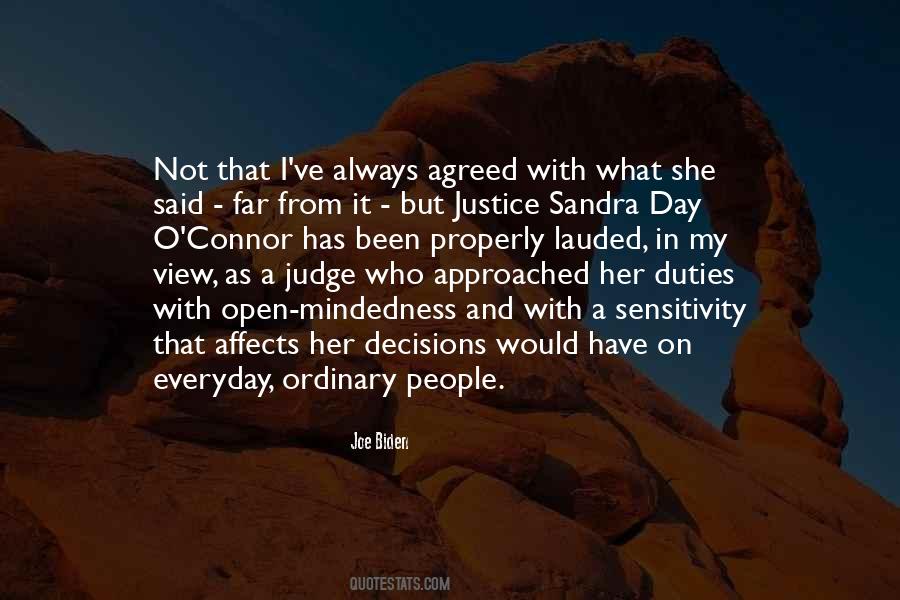 #8. All these fine Christian-type people that seem to think they know what God wants for all of us, that's certainly more of a sin then anything they would claim about us. To judge people is one of the greatest sins. - Author: Dolly Parton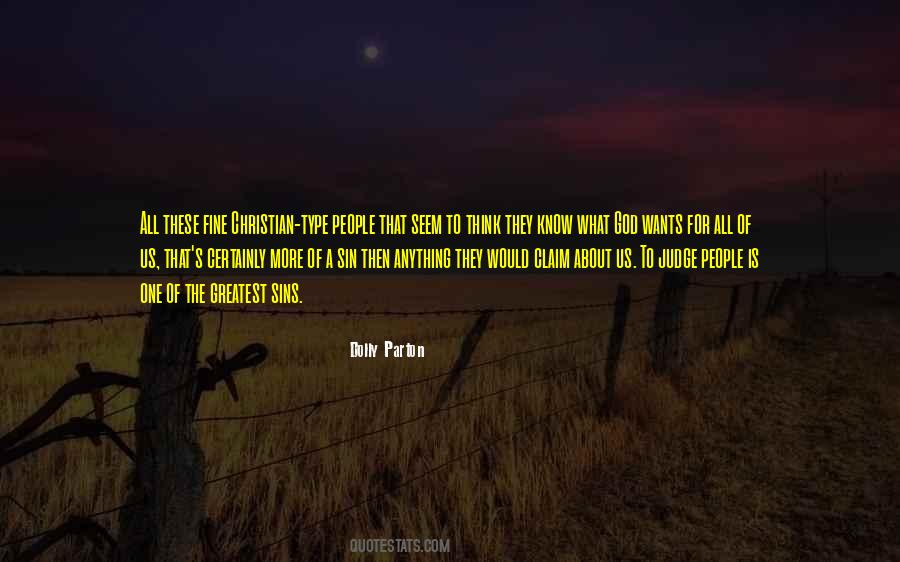 #9. The proposition that the people are the best keepers of their own liberties is not true. They are the worst conceivable, they are no keepers at all; they can neither judge, act, think, or will, as a political body. - Author: John Adams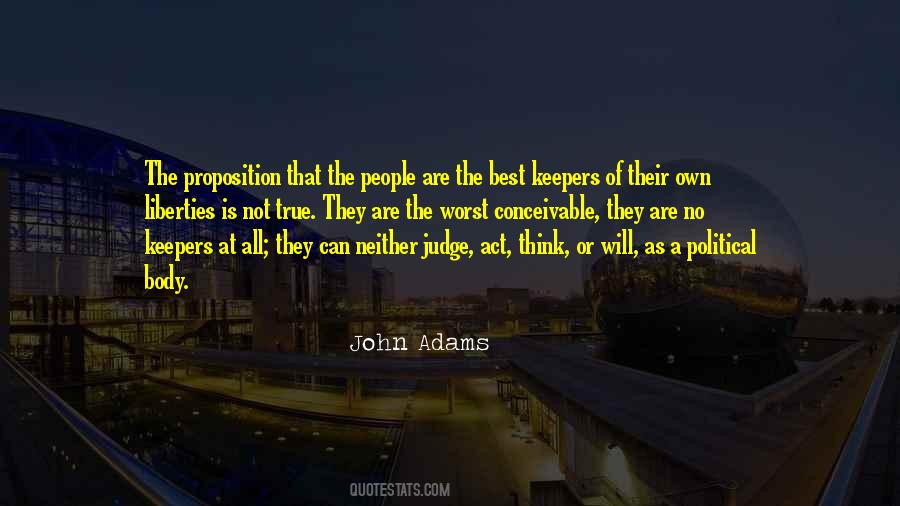 #10. Judging a person's maturity by the number of years they've lived is misleading. This is because people mature at different rates. - Author: Innocent Mwatsikesimbe
#11. Not judging people is the fastest way to peace. - Author: Jonathan Jackson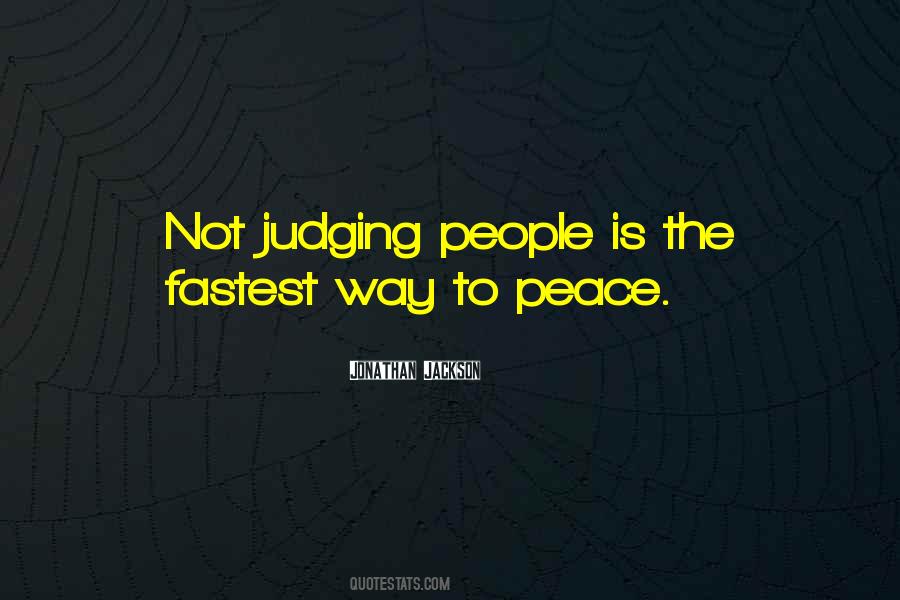 #12. Judge [Samuel] Alito enjoys the support and respect of the people who work with him, practice with him and, therefore, know him best. - Author: Chuck Grassley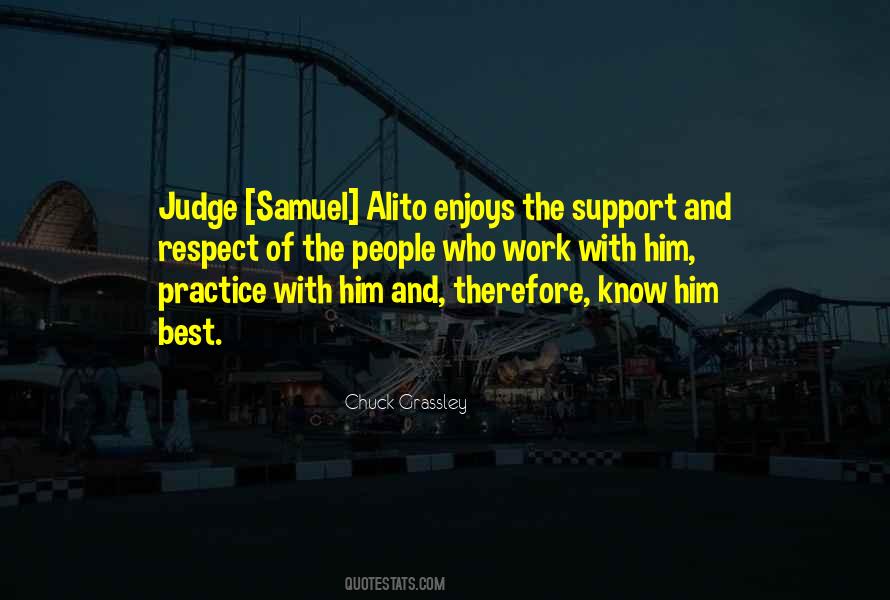 #13. I'm not really that interested in pandering to an audience of people that are going to judge me before they hear me. If they hear it and don't like it, that's totally fine. - Author: Zooey Deschanel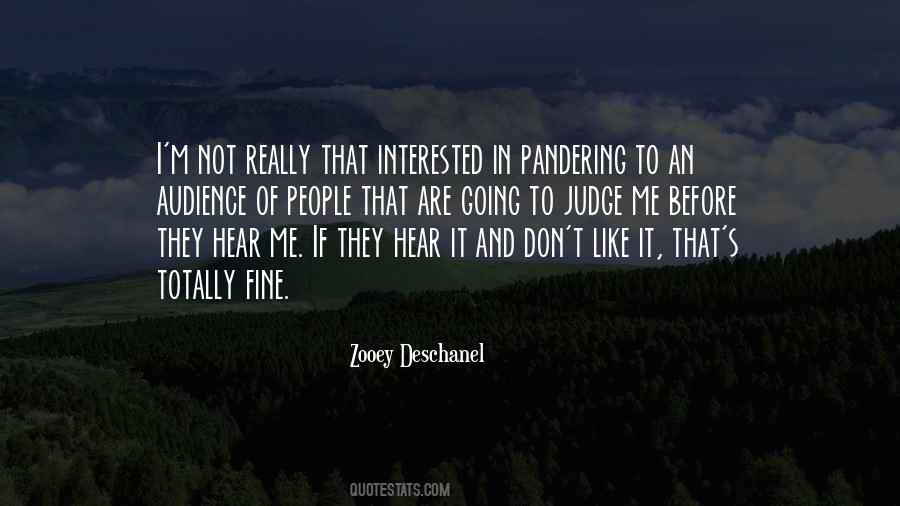 #14. People who judge others tell more about Who They Are, than Who They Judge. - Author: Donald L. Hicks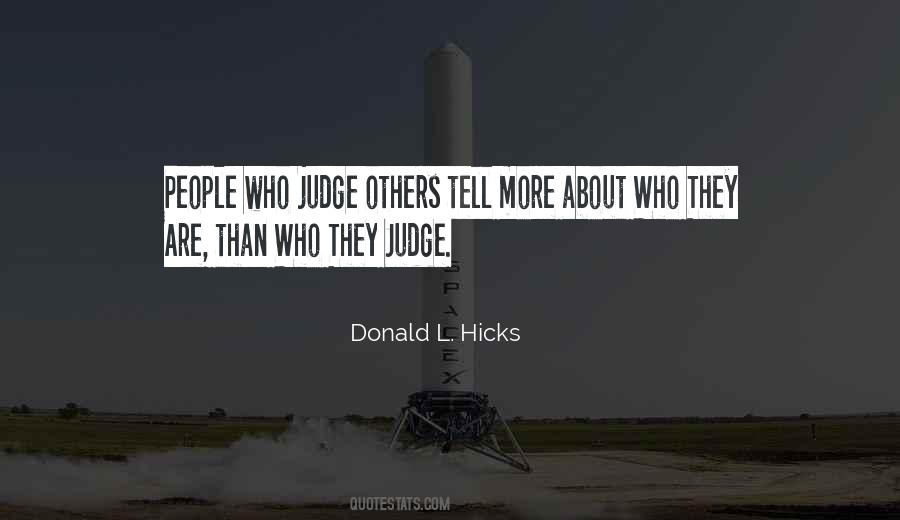 #15. The ambulance crews brought the victims to us before the tires on the wreck stopped spinning. They salvaged people we'd never see in Missing, because no one would have tried to bring them to a hospital. Judging someone to be beyond help never crossed the minds of police, firemen, or doctors here. A - Author: Abraham Verghese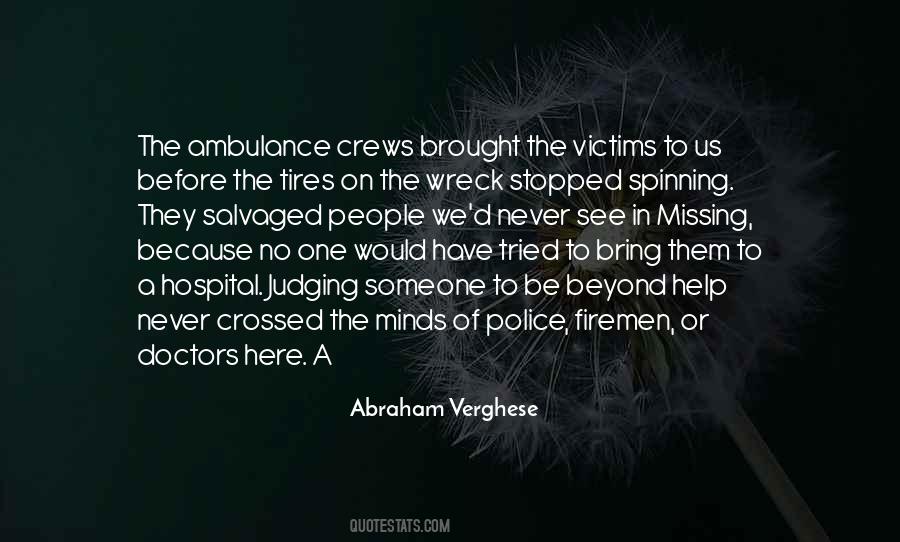 #16. The policeman on the beat or in the patrol car makes more decisions and exercises broader discretion affecting the daily likes of people every day and to a greater extent, in many respects, than a judge will ordinarily exercise in a week. - Author: Warren E. Burger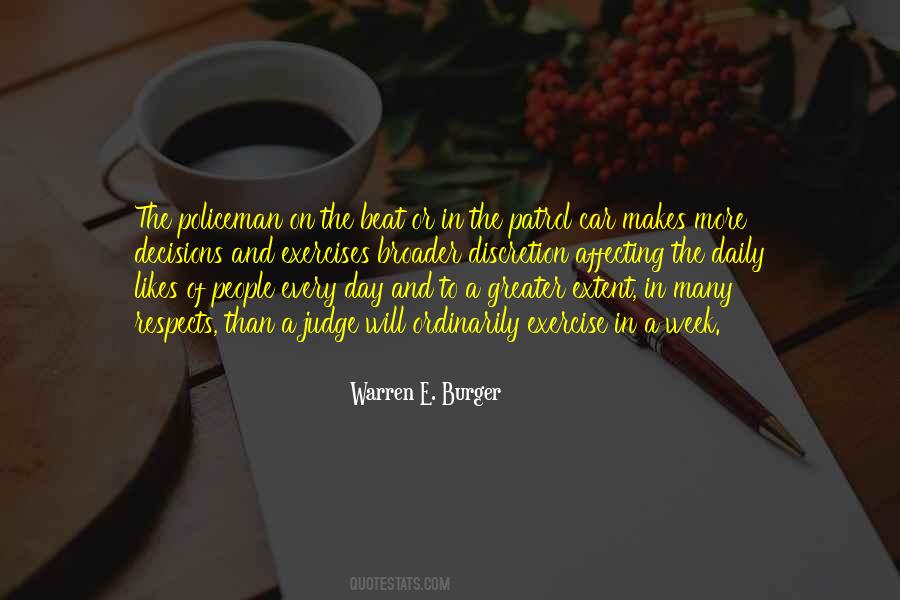 #17. This is my only and permanent complaint, that vulgar people, empty of the Spirit of God, want to judge solely by their human thinking what they listen to or read in the Bible, which has been pronounced and written by the Holy Spirit and in the Holy Spirit. - Author: Meister Eckhart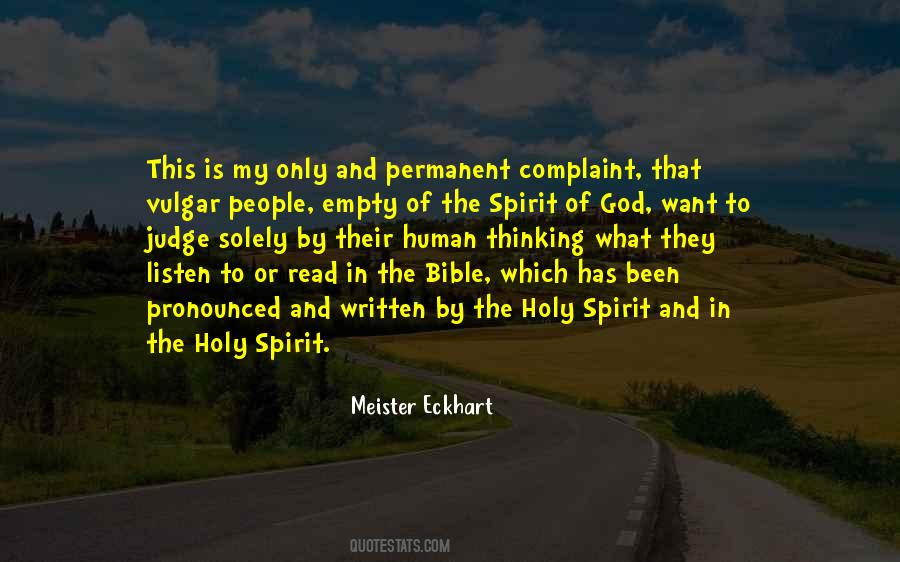 #18. People tend to say Christians are always judging, but the word of God convicts Christians and urges them to obey God's commands. - Author: Monica Johnson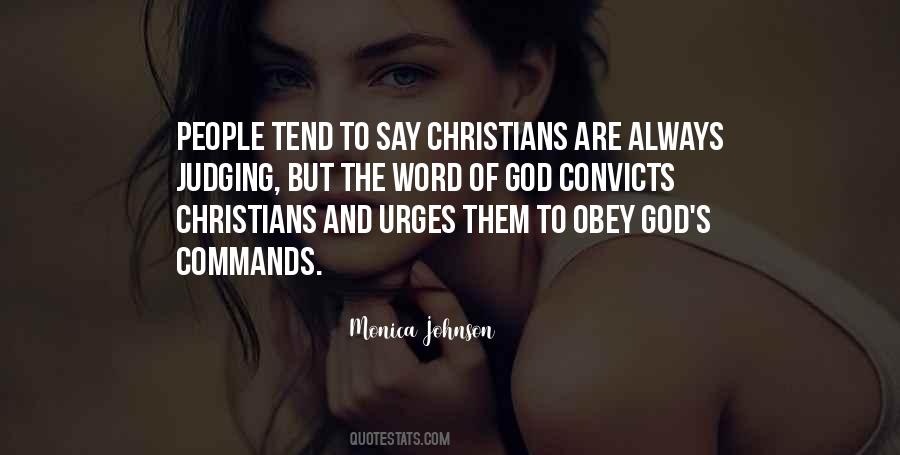 #19. I'm trying to get a thicker skin. I like to be aware of people's perceptions of me, but when you put it as a priority, as a means to judging your worth, that's when it can be dangerous. - Author: Fergie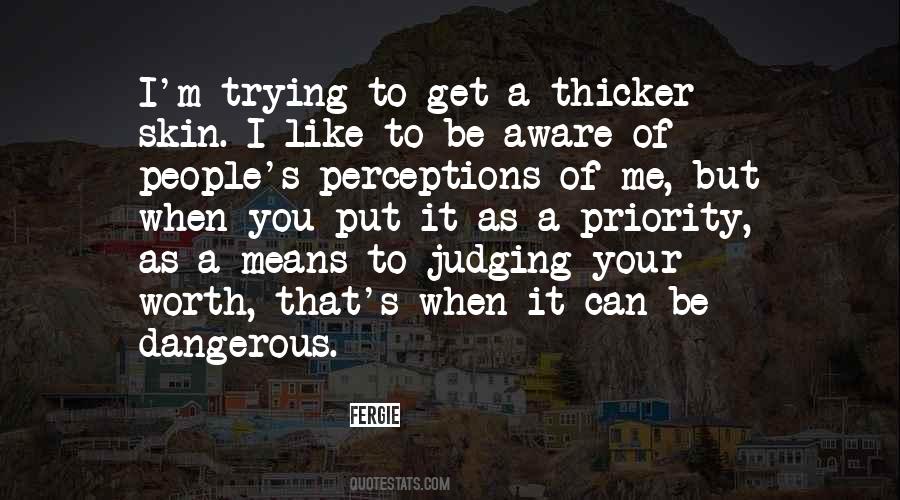 #20. I hope you will judge yourselves not on your professional accomplishments alone, but also on how well you have addressed the world's deepest inequities ... on how well you treated people a world away who have nothing in common with you but your humanity. - Author: Bill Gates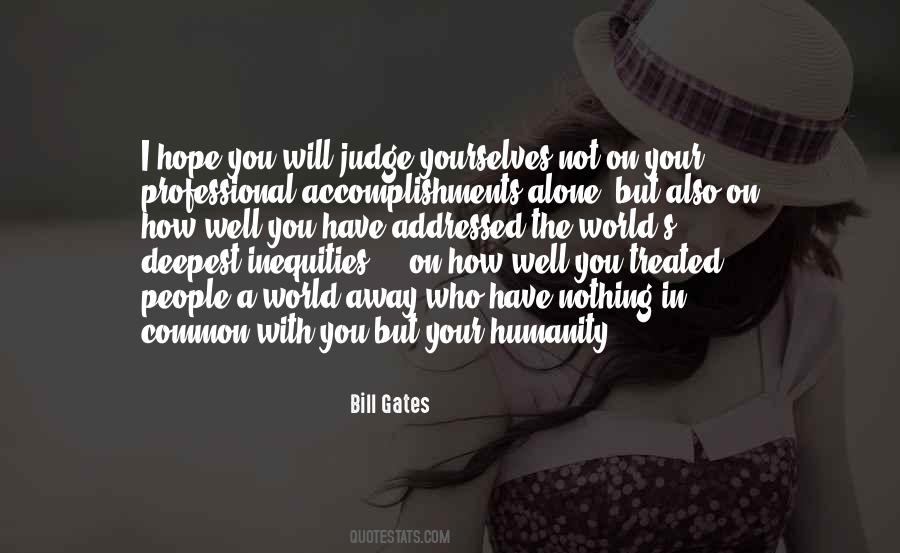 #21. After all, our Constitution was intended as a popular document. It was drafted and ratified by the people. It established democratic institutions. It entrusts the people with the power to make the tough decisions. And, in most cases, it prefers the will of the people to the unchecked rule of judges. - Author: Mike DeWine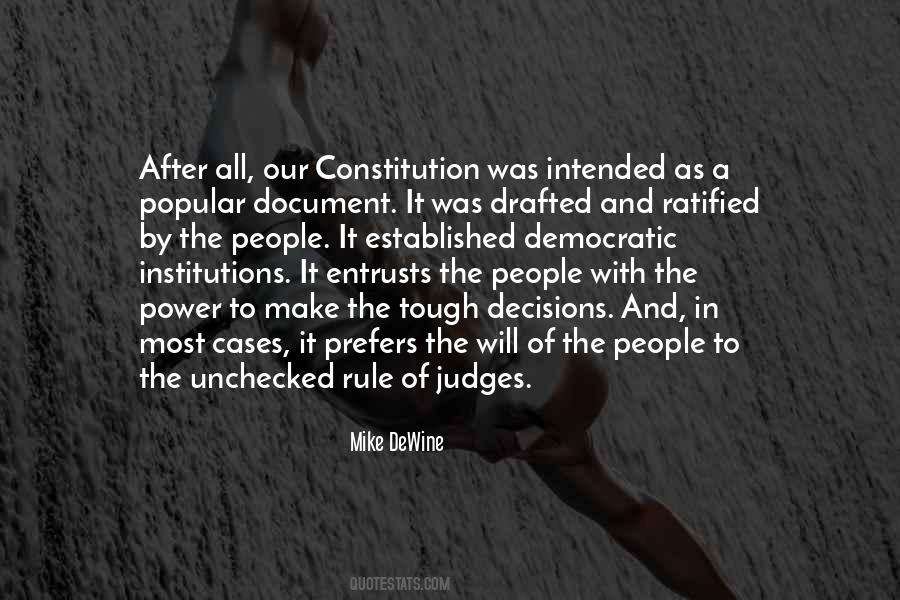 #22. When it comes to our Constitution, judges perform, certainly, an important role. But the people, acting through their elected representatives, should play an even more important role. - Author: Mike DeWine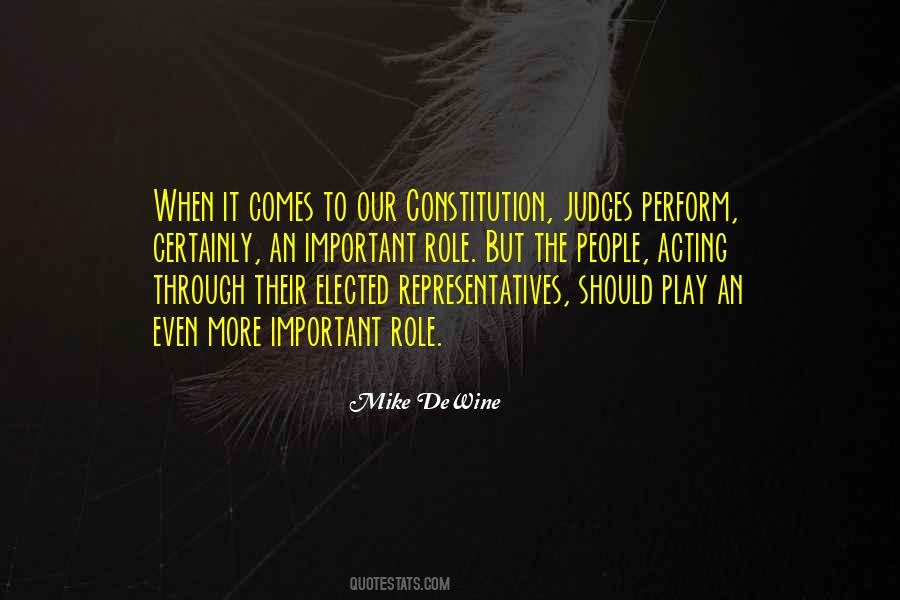 #23. Things always appear clear and simple from behind glass. It is in the thick of tribulations that blurring details arise, complicating my life. You can't rightly judge me, nor can you assist, from a shielded viewpoint. - Author: Richelle E. Goodrich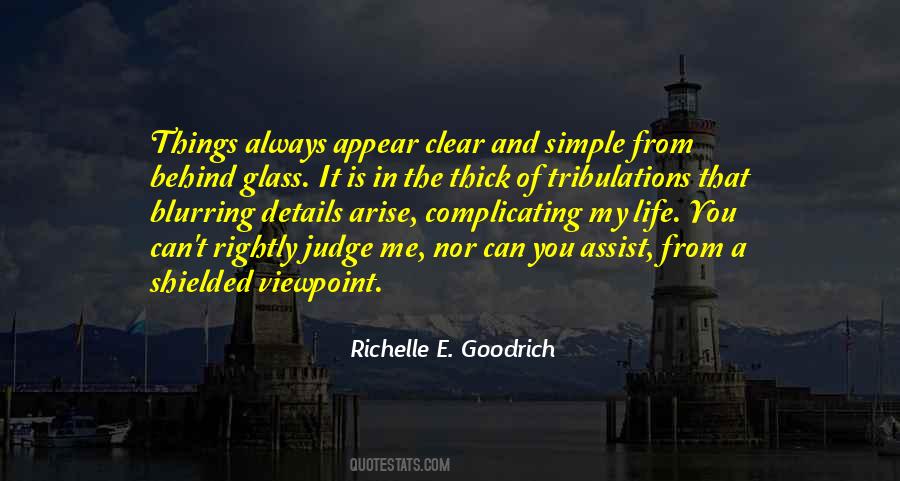 #24. When we teach people that suspending moral judgments is a virtue, the necessary outcome is moral horror. - Author: Peter Boghossian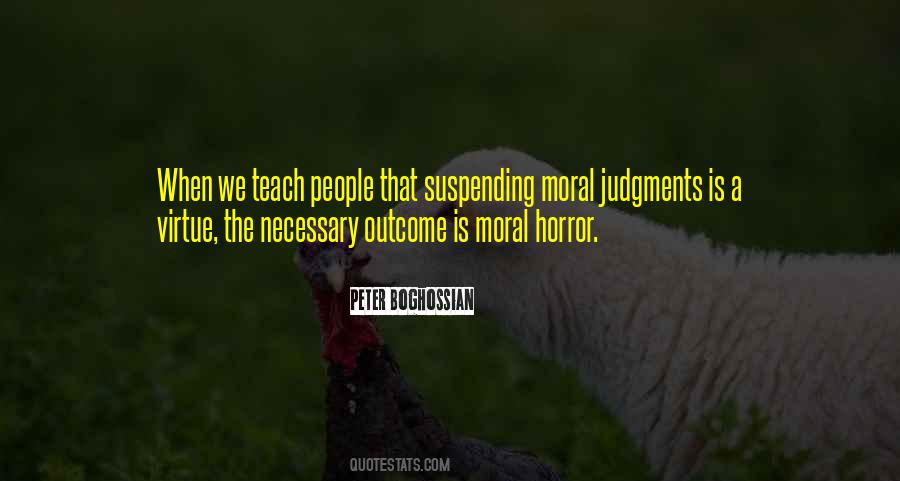 #25. I am not here to judge whether people are locked in poverty because of themselves or because of the society in which they live. All I know is that they are there and we are trying to do something about it. - Author: Hubert H. Humphrey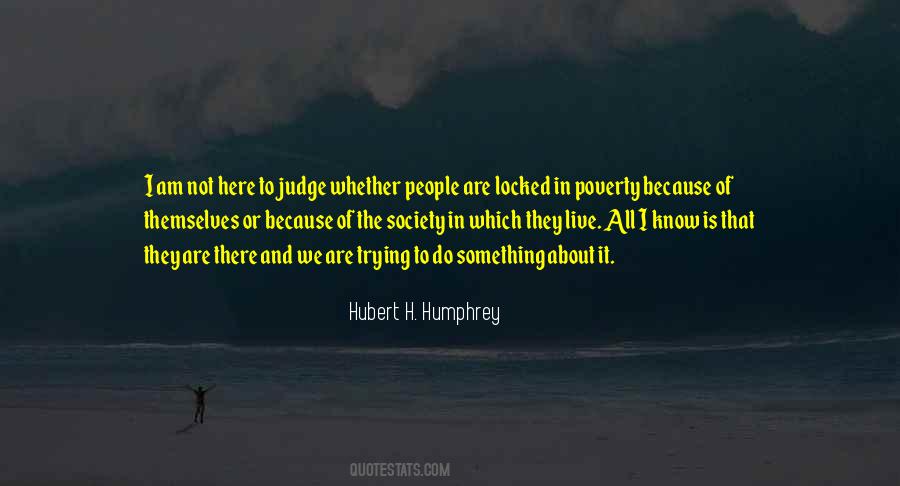 #26. Judging from what looks like the popularity of this classic wrestling show is that the people like what they have grown to know and love here in Memphis. - Author: Jerry Lawler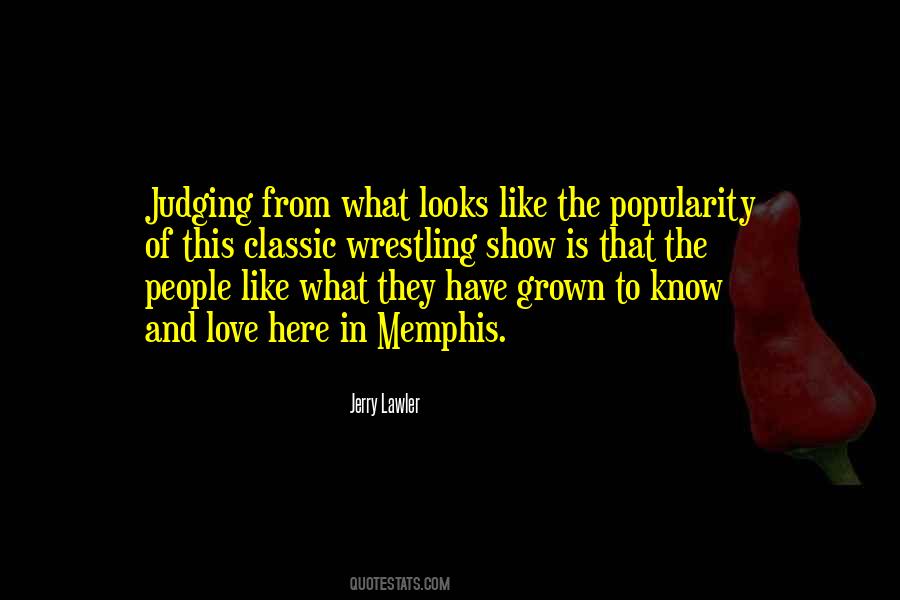 #27. Everybody likes to hold up a really big righteous sword when people make mistakes. Well guess what, now it's recorded and everyone has access to it ... so let's stop judging people. - Author: Ashton Kutcher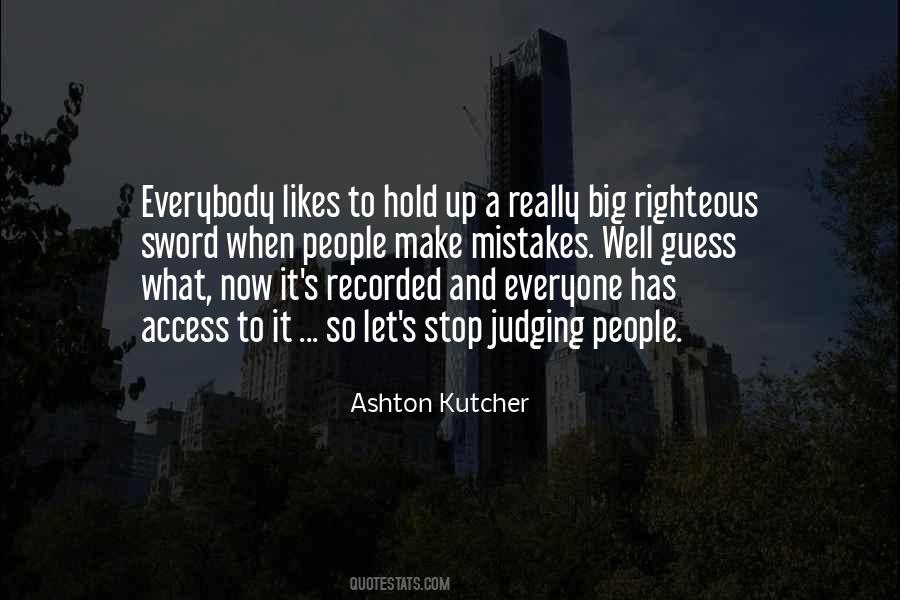 #28. People that pick up hitchhikers I believe are basically good people that believe in other people and understand problems and don't judge people. That's always the kind of person I'm looking for. - Author: John Waters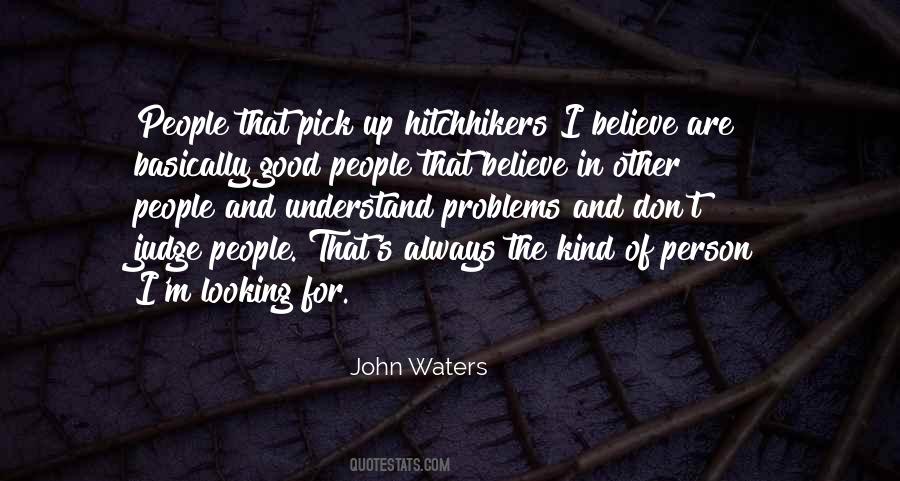 #29. Be careful how you judge people, most of all friends. You don't sum up a man's life in one moment. - Author: Al Pacino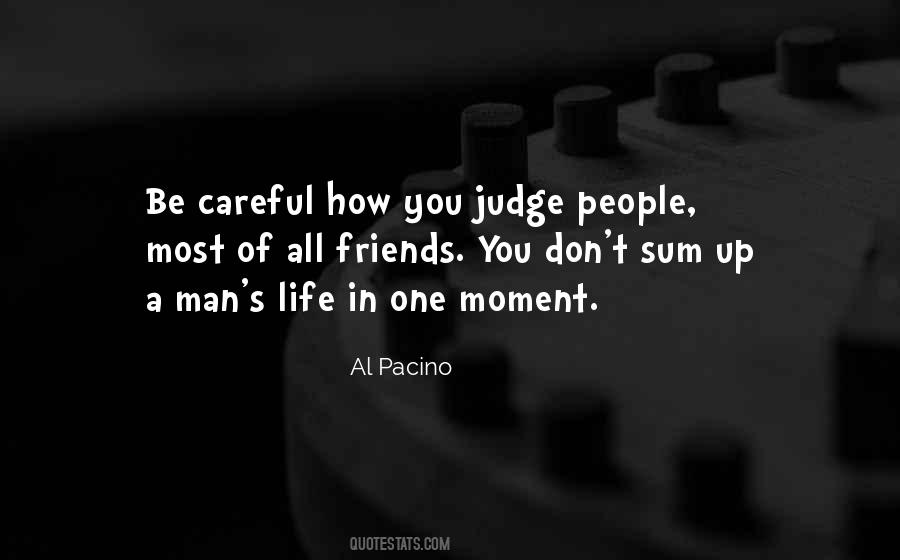 #30. When you walk around, your vision system is processing a whole bunch of signals in milliseconds and judging that a visual object is a wall, or an imminent cliff, or a car heading towards you. This might be disturbing to a lot of people, but some of those guesses are errors. - Author: Usama Fayyad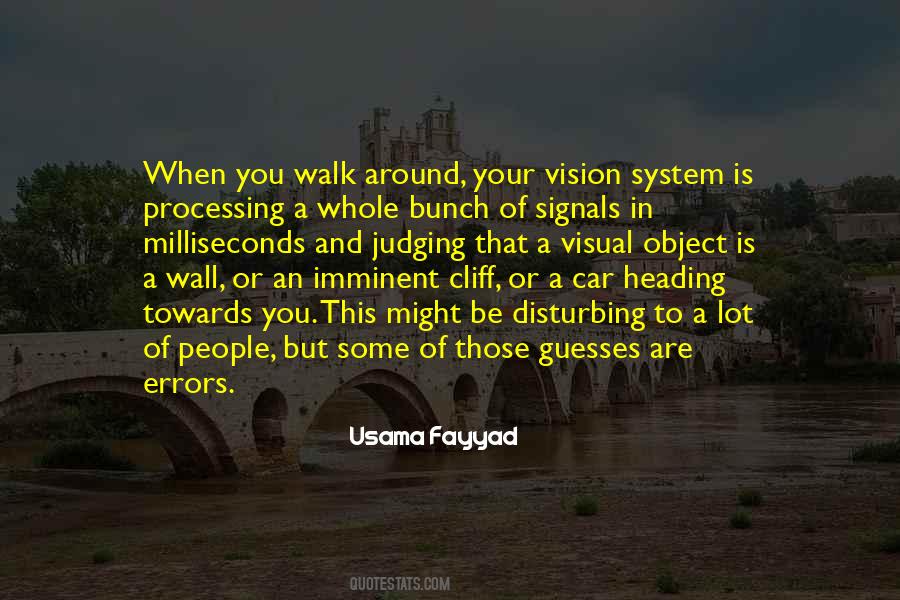 #31. As I've been telling your, son, you get nowhere looking at clothes and the color of the skin to judge a man. It won't tell you nothing about what's inside. That's where a fellow's mettle is, and that's what counts. - Author: Richard Puz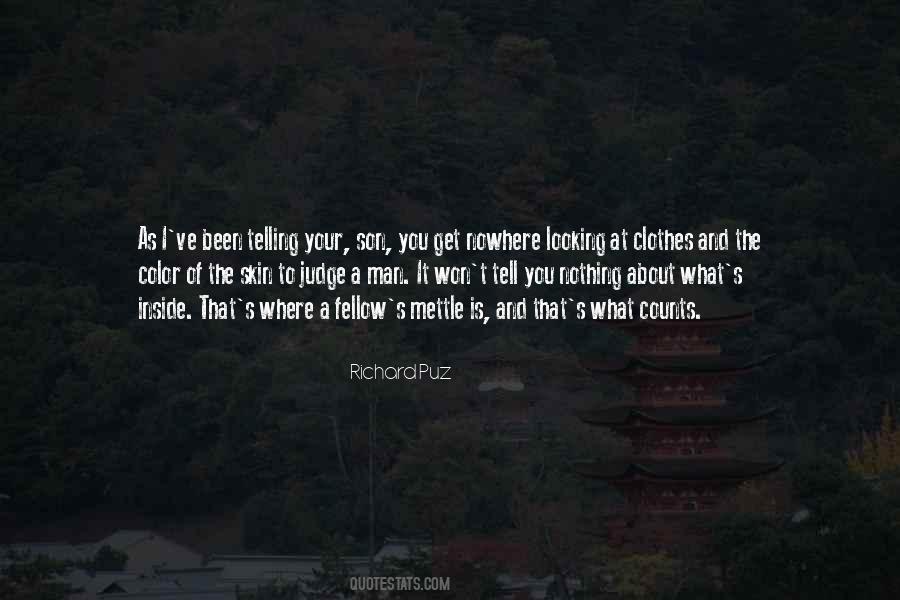 #32. No matter what I say, honestly, people would only judge me the way they want to. - Author: Kim Jong-hyun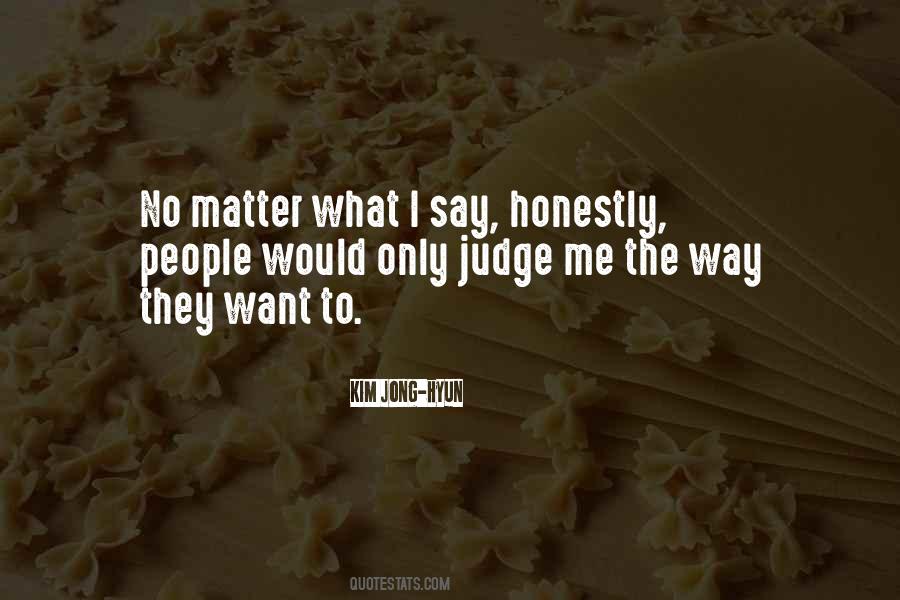 #33. You've got to quit judging people just because they have an 'R' or a 'D' in front of their name. We don't do that in Oklahoma. - Author: Markwayne Mullin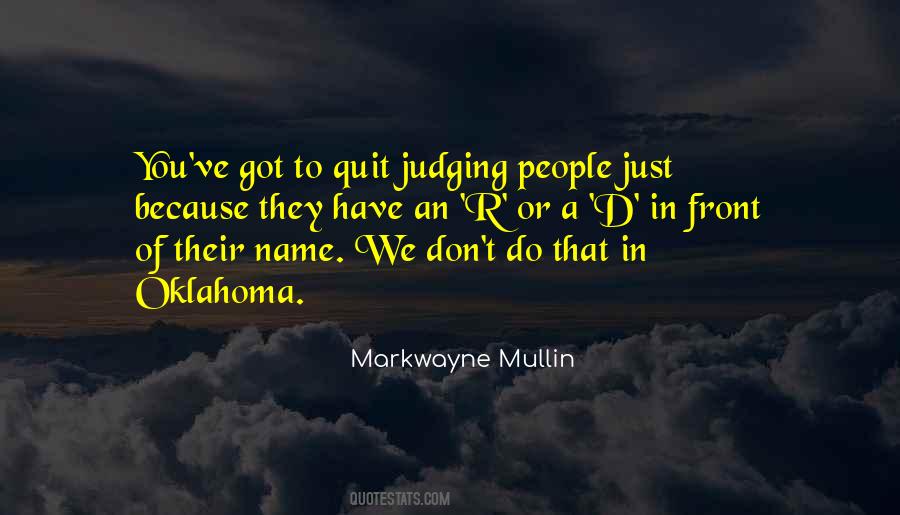 #34. By definition, half the people leaving the courtroom are unhappy. Any good judge can make more than half the people unhappy. The job is not to make people like you or make people think you're their friend. - Author: Steven Pacey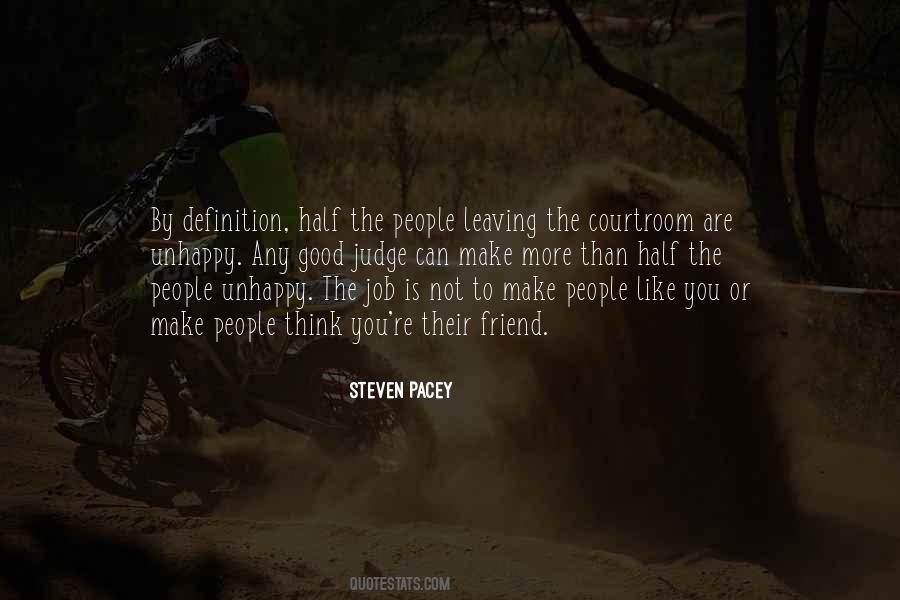 #35. Don't judge people you don't know. You have no idea what they've been through, and you may waste an opportunity to make a new friend. - Author: John Avery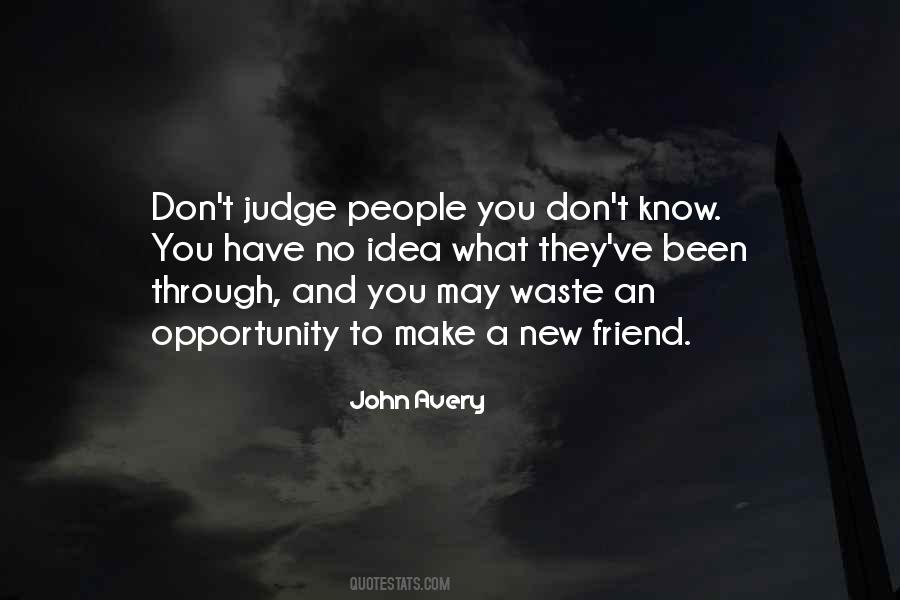 #36. She had to stop judging people. But was that possible? Wasn't interaction based, in part, on judgments? A person's background and attitudes influenced how she responded to them. - Author: Brandon Sanderson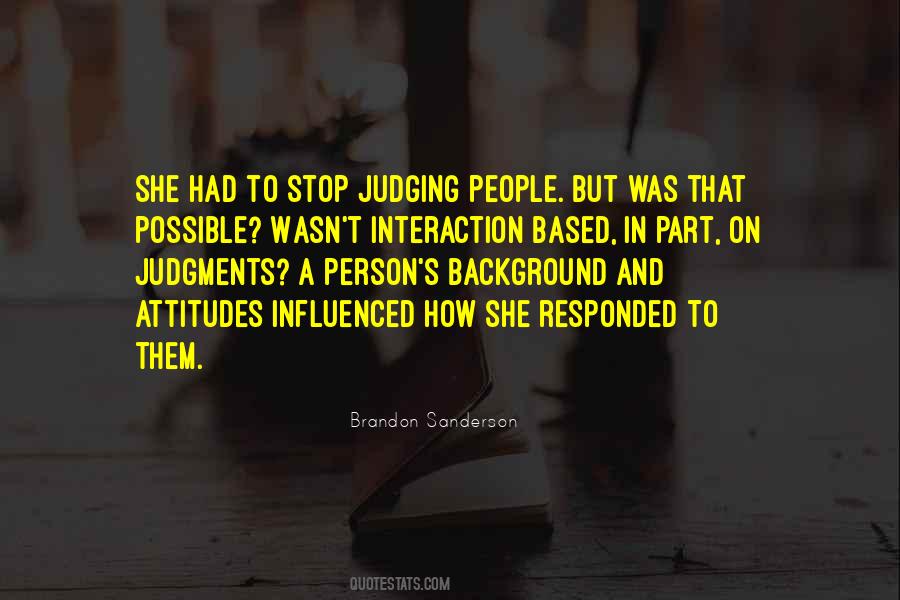 #37. Our constitutional system is founded on democracy: the will of the people, not the unchecked rule of judges. - Author: Mike DeWine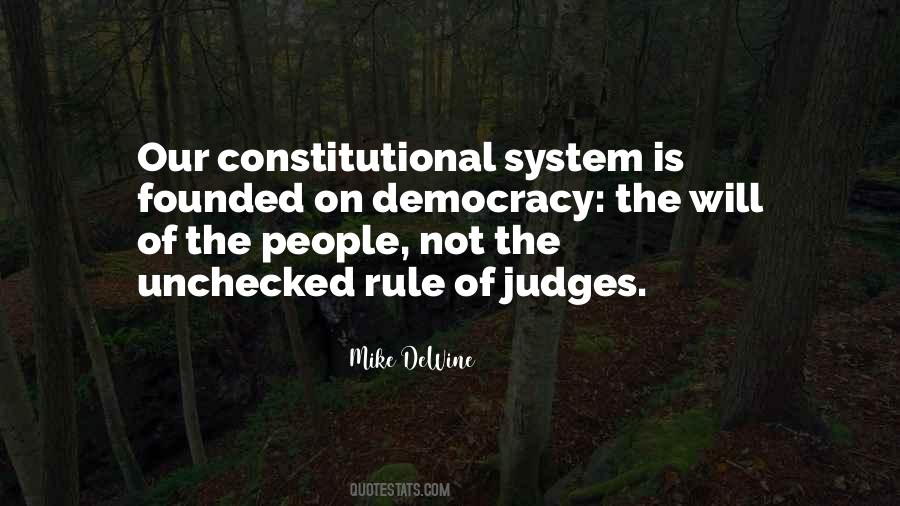 #38. We need one another. There's no reason to judge. People are more fragile than you could possibly imagine. - Author: Jamie Tworkowski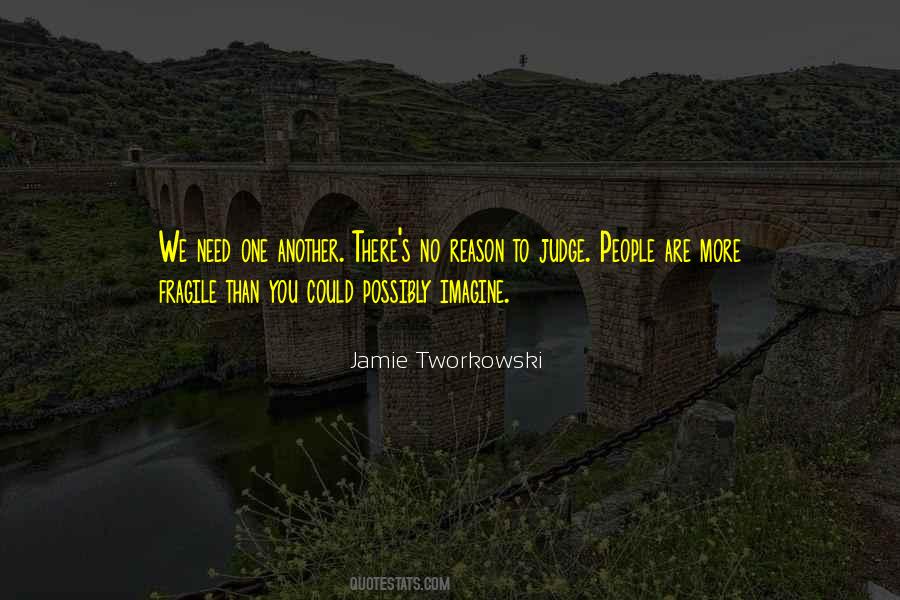 #39. Worth is not something you can buy for $39.99, nor something you can lose with 10 extra pounds. Self-judging people make good consumers. Start a revolution. Love yourself. - Author: Vironika Tugaleva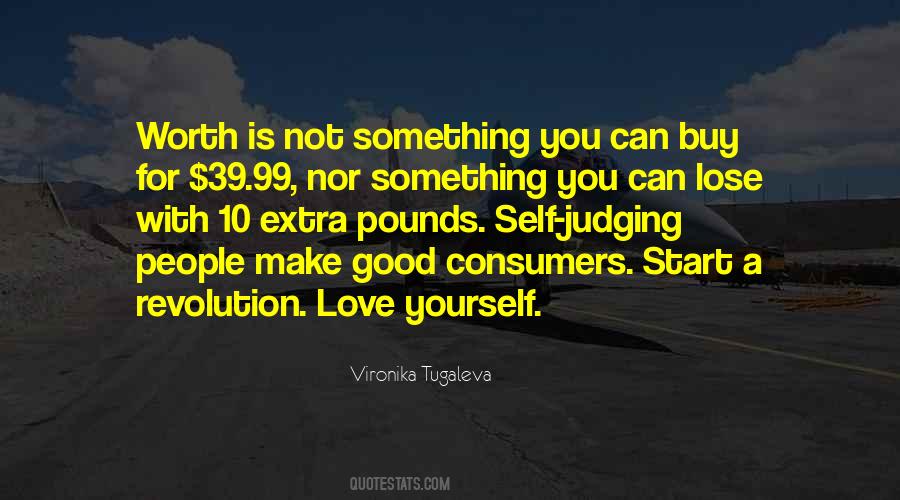 #40. The Constitution empowers the people to resolve our day's most contentious issues. When judges forget this basic truth, they do a disservice to our democracy and to our constitution. - Author: Mike DeWine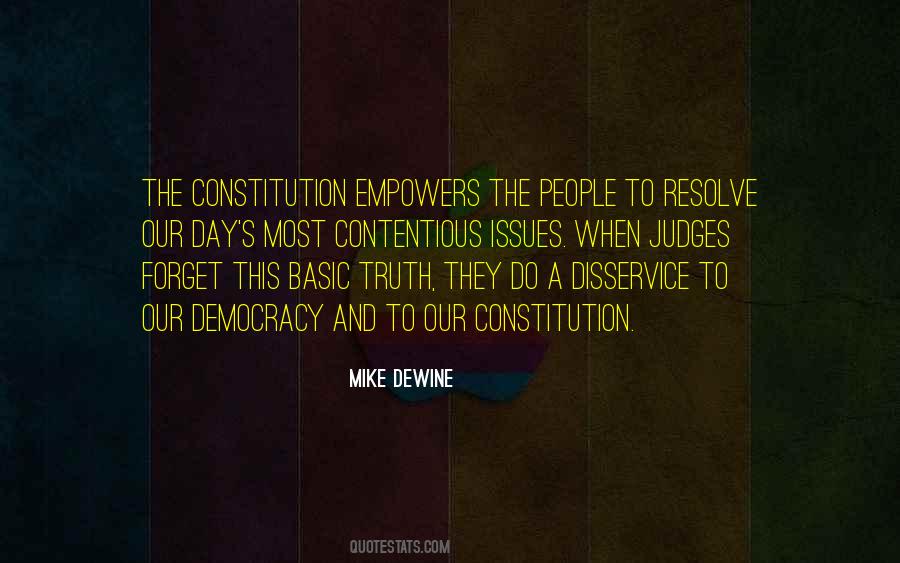 #41. Clean your home first before complaining about others. - Author: Debasish Mridha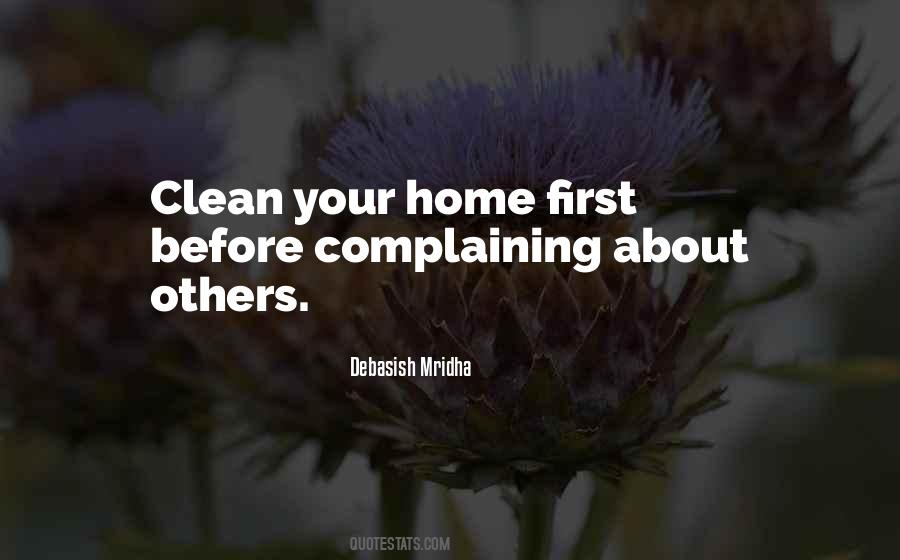 #42. When you continually worry about what other people think of you, they own you. - Author: Donald L. Hicks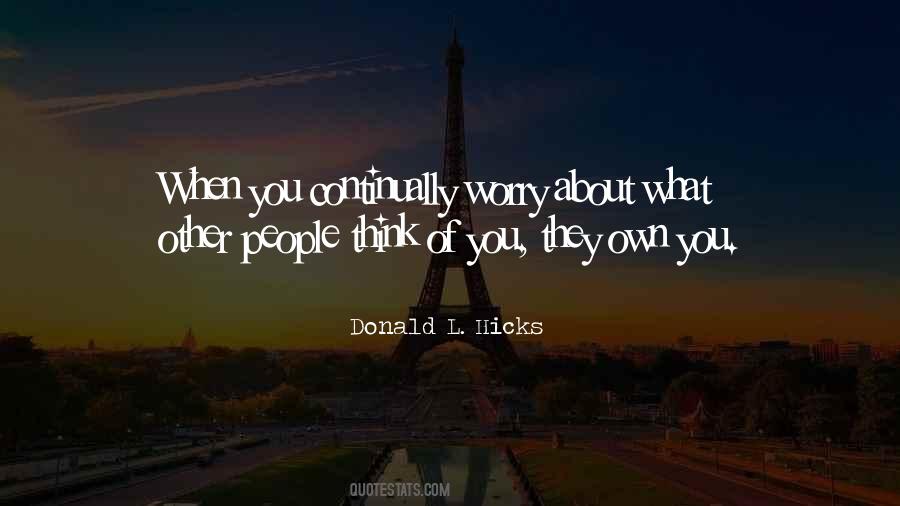 #43. You like the comfort, don't ya?

You wanna be there... wanna and gonna aren't nigga words so far... you are very bad at judging so far all people will be in prison because of you.... No matter...!~ - Author: Deyth Banger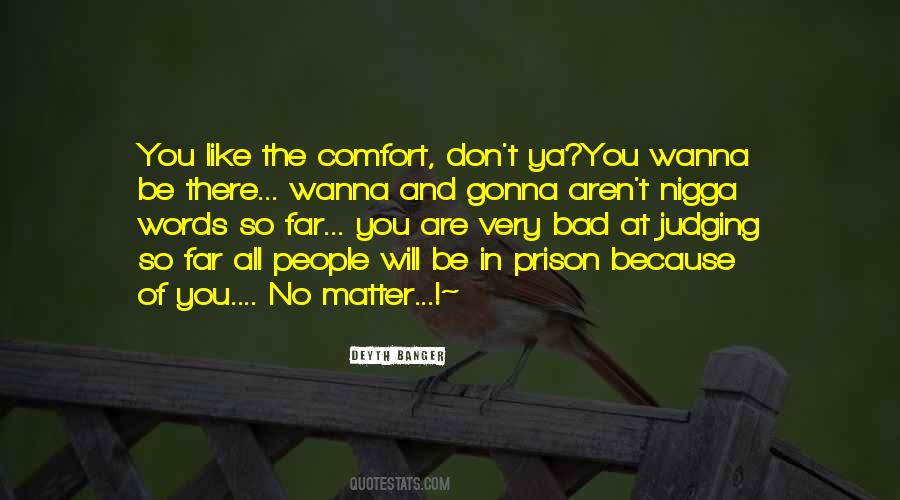 #44. Your neighbors will make judgments about you based on how your lawn and house look, and people who see you passing will judge you based on how clean you keep your car. It's not always fair, but it has always been true. Appearances matter, so make yours a good one. - Author: Lou Holtz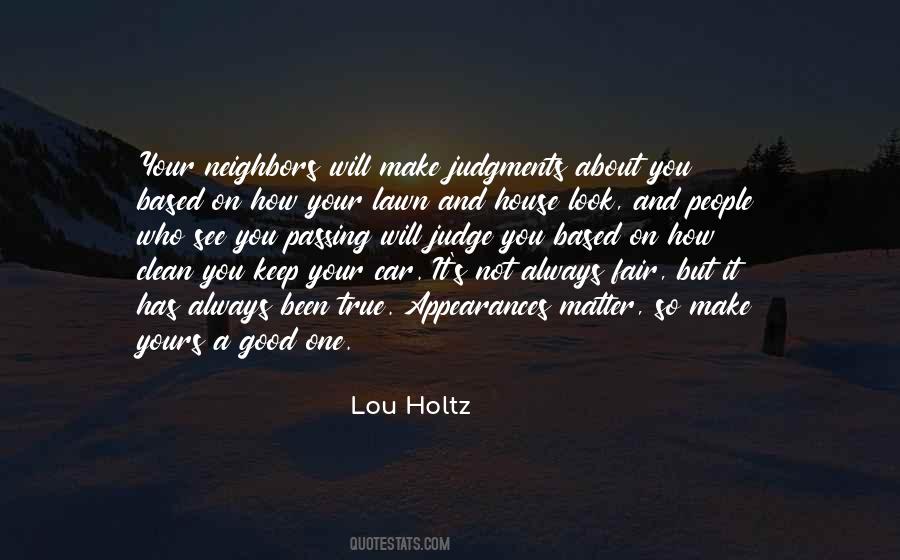 #45. I am never going to be less sensitive so that you feel better about being judgmental toward me. - Author: Dan Pearce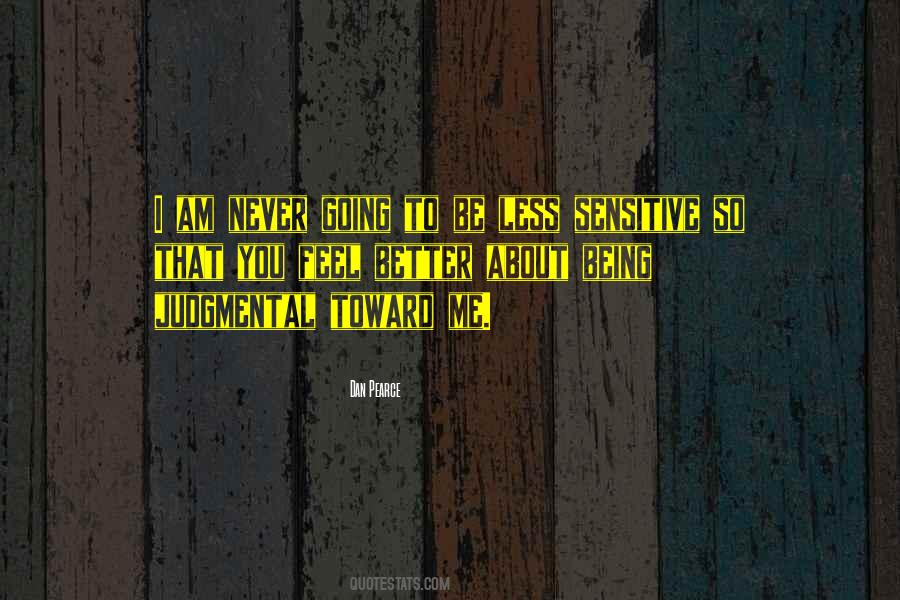 #46. For years, I didn't give interviews because I was scared of people judging me or thinking I was arrogant. - Author: Alice Lowe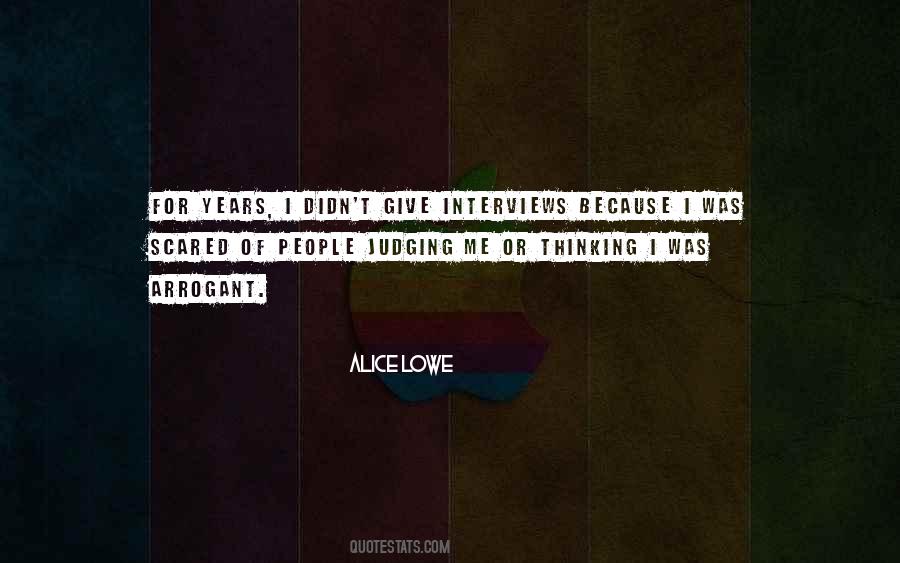 #47. As long as we continue to live as if we are what we do, what we have, and what other people think about us, we will remain filled with judgments, opinions, evaluations, and condemnations. We will remain addicted to putting people and things in their "right" place. - Author: Henri J.M. Nouwen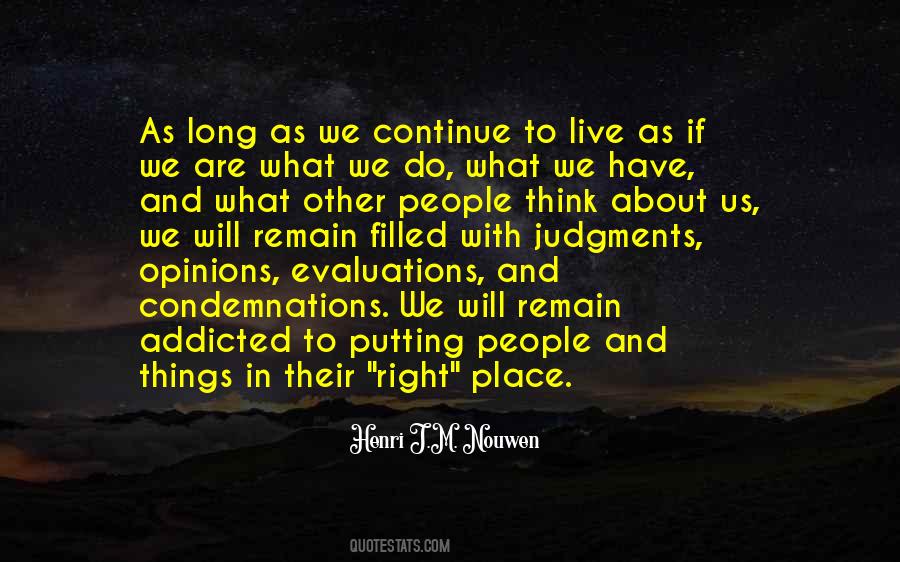 #48. We shouldn't judge people. But there's a difference between judging and observing. And sometimes as we observe, our eyebrows become raised. Observation with an attitude, that's what I like to call it. - Author: C. JoyBell C.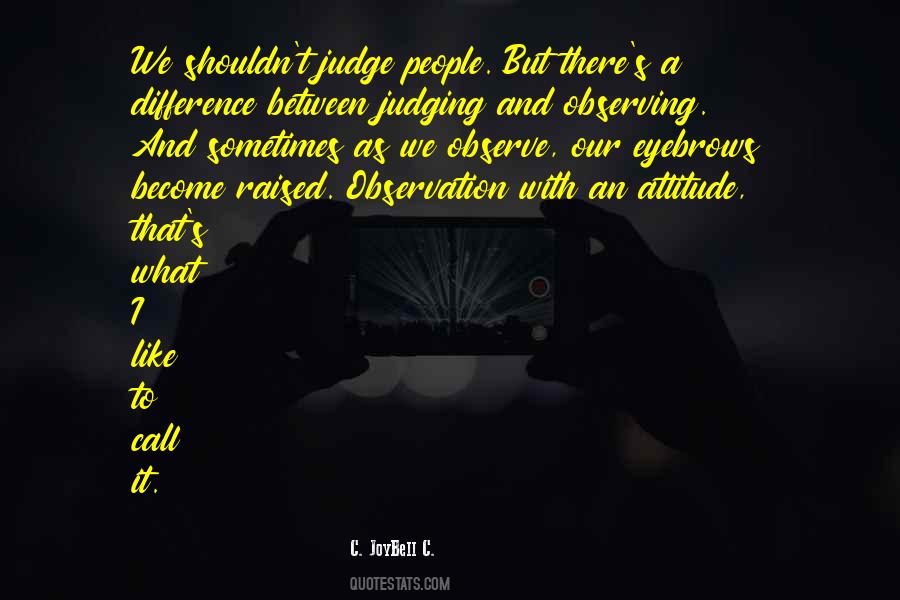 #49. Don't get angry or frustrated if those around you choose a different lifestyle than your own. Again, people make different choices, and everyone is on a different journey. Stop judging others, and you will see that others will stop judging you. I had to learn this the hard way. - Author: Marta Tuchowska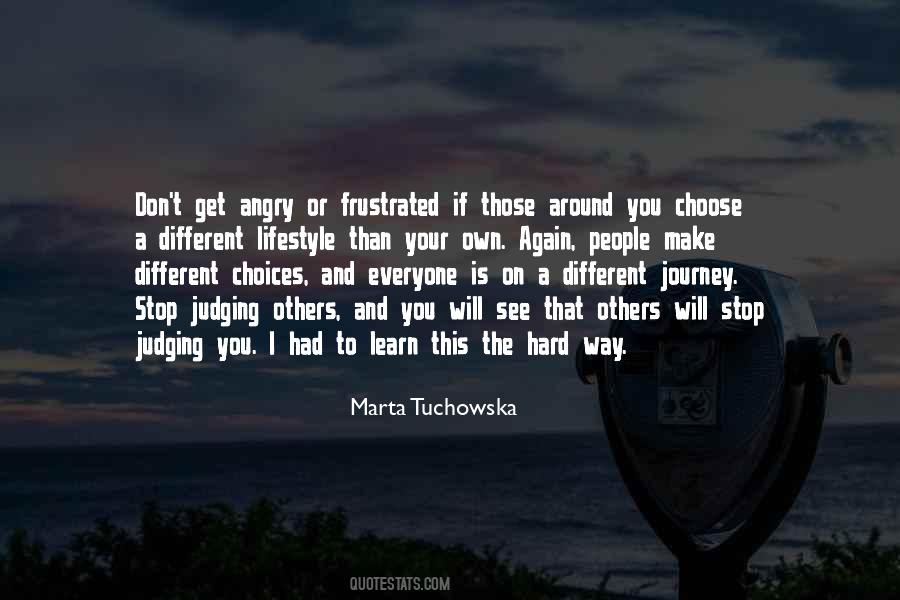 #50. While people judge others from their own moral standpoint, the wise person looks also at the point of view of another. - Author: Hazrat Inayat Khan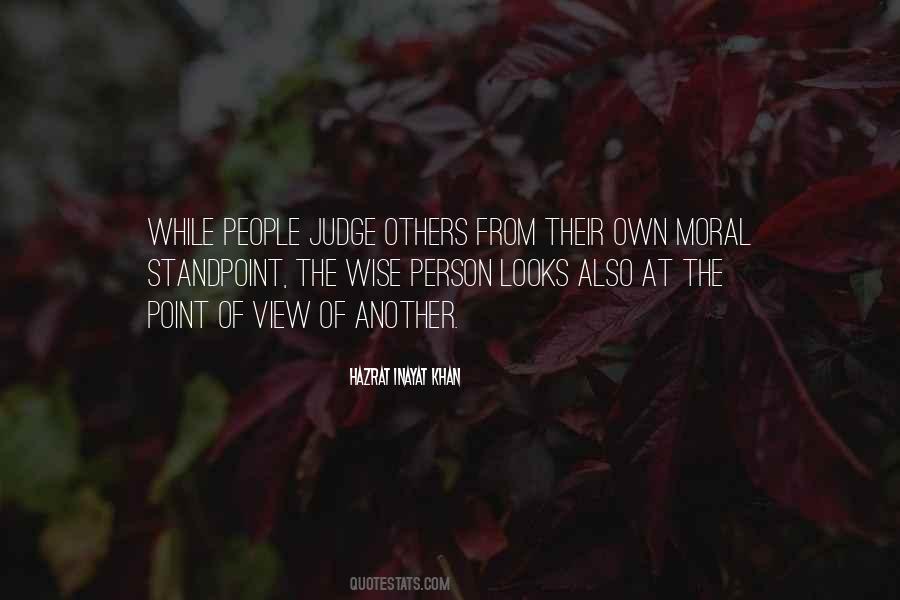 #51. It was easier to fall to pieces when there weren't a million people judging you. - Author: Micah McDaniel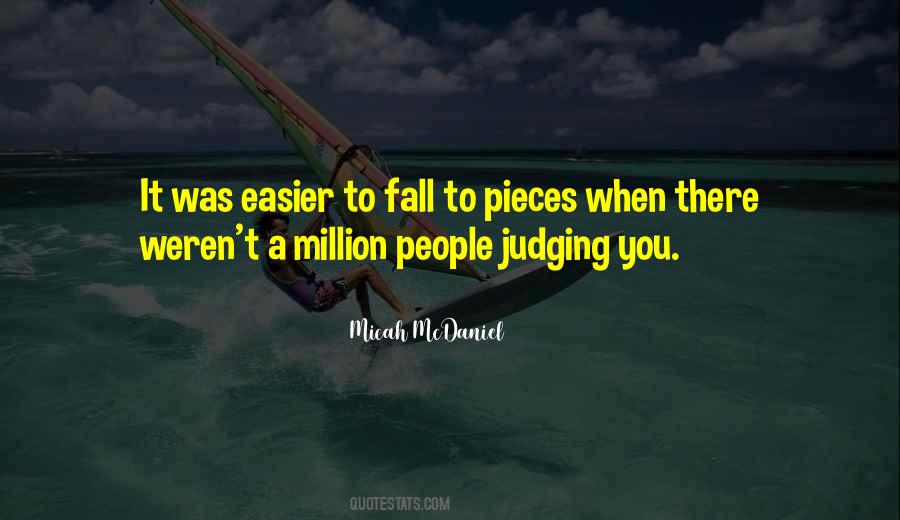 #52. We live in a world where it's so accessible to date now, which is great. I don't judge that. We have so many ways of meeting people. I like to meet someone and have that chivalry, to take them out on a date and actually be a gentleman. I think that's becoming rarer and rarer. - Author: Alex Pettyfer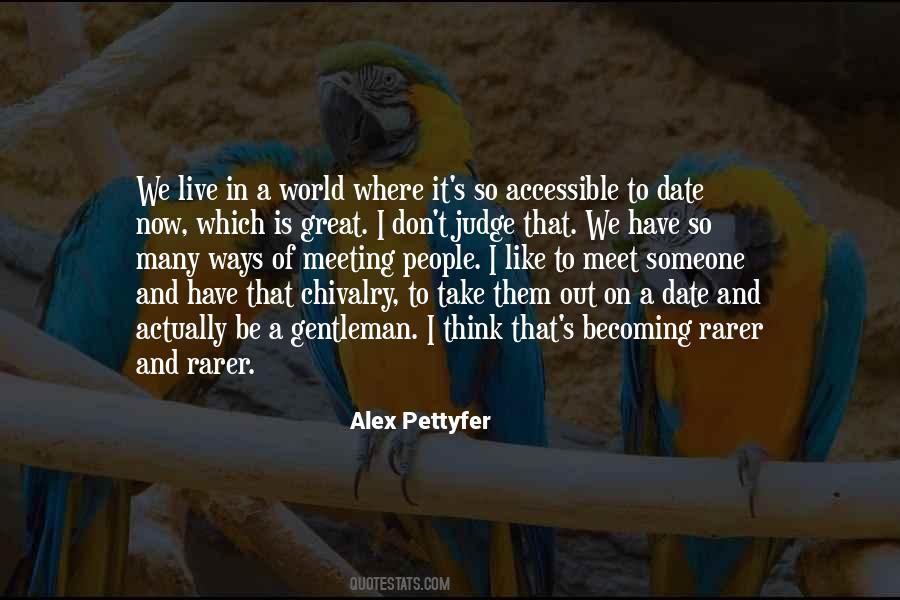 #53. We would like to see new leaders come forward who would be accountable and responsible, who would succeed in ending the terror and the violence. And it is up to the Palestinian people to judge who those new leaders should be. - Author: Colin Powell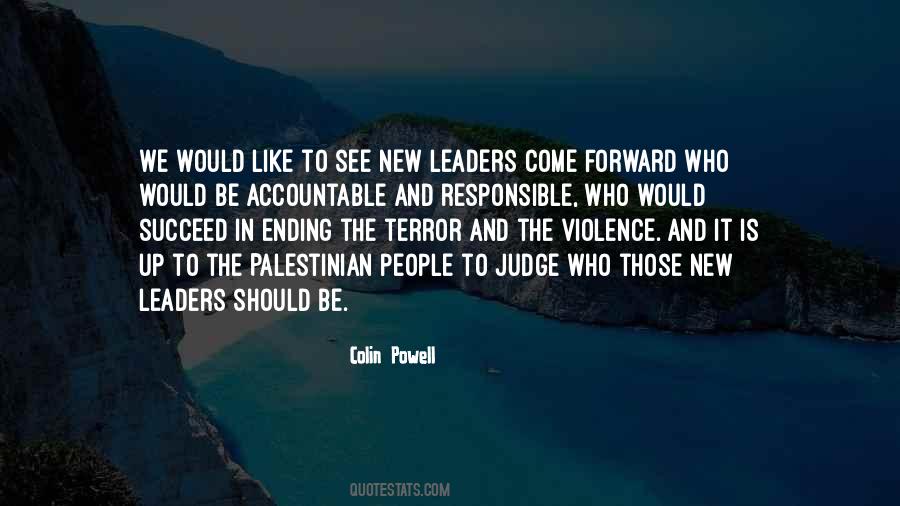 #54. People judge you because of your weight and your food issues. It's very visual. - Author: Jami Attenberg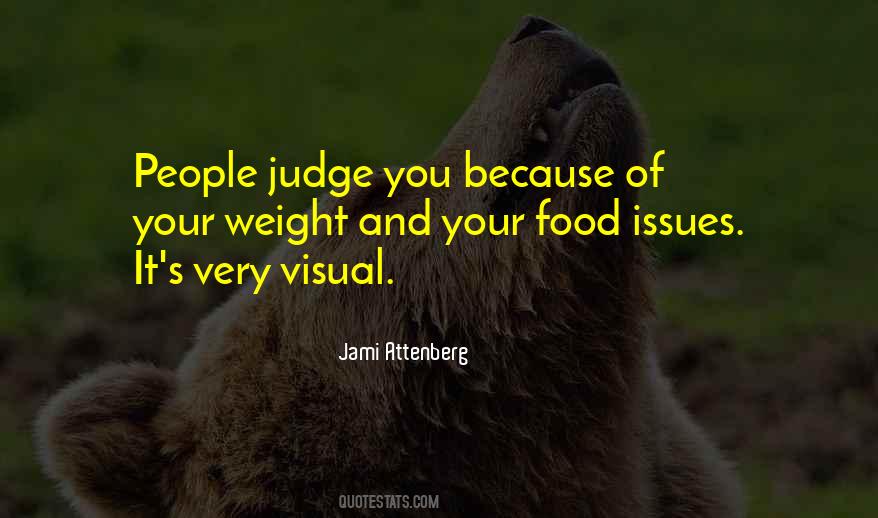 #55. You can judge a country by the way it treats its prisoners, and you can always judge a show by the way it treats people coming on to do these guest shots. - Author: Donal Logue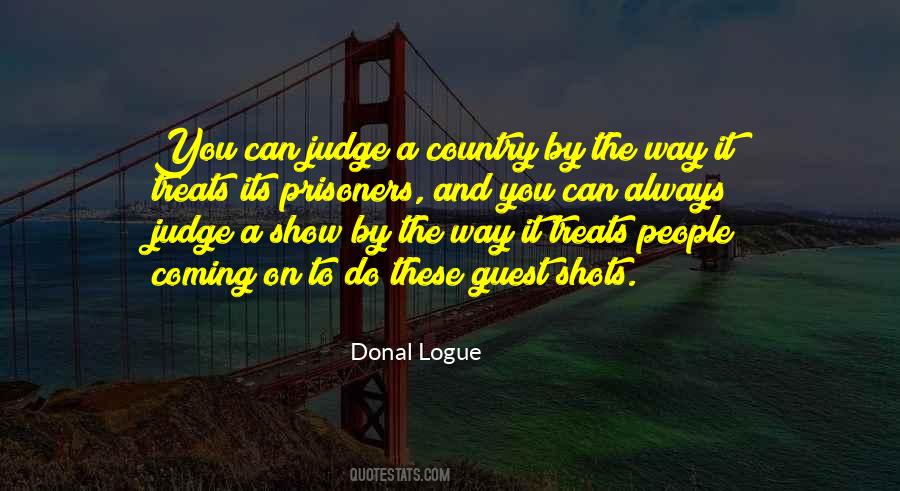 #56. Actually, judging by Pinterest alone, I'm pretty sure a lot of people would look forward to hanging out in such a beautiful library. - Author: Jenny Han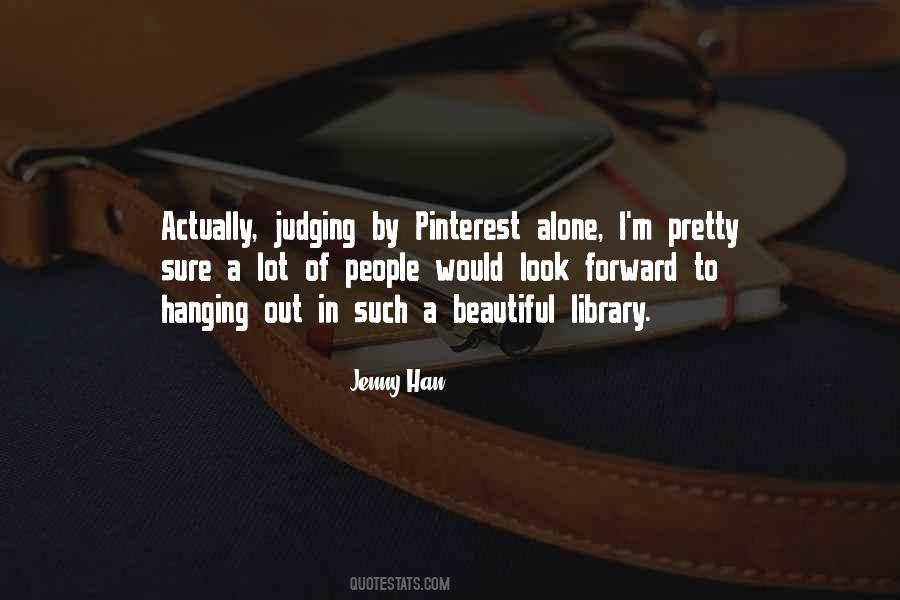 #57. The more mistakes I make, the least I judge other people's mistakes - Author: Bayan Bahi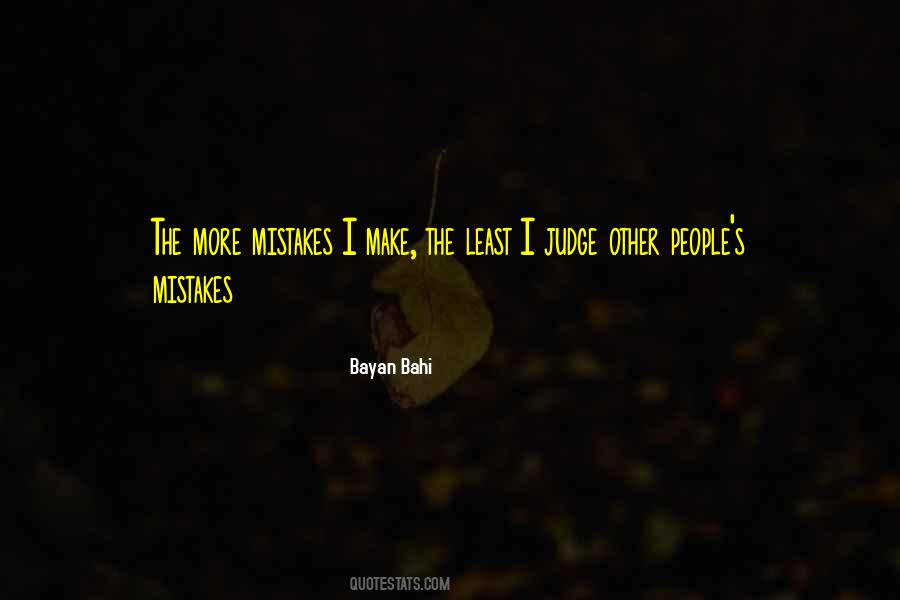 #58. People are more inclined to ask what's wrong than what's right. They note errors and faults, seeing weaknesses before strengths. So expect criticism; it's the nature of the beast. - Author: Richelle E. Goodrich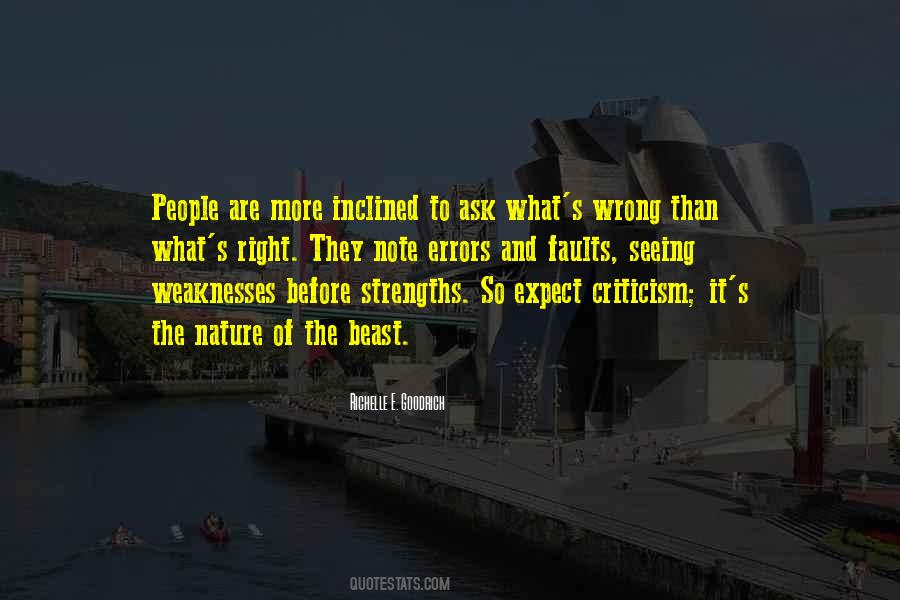 #59. You lose power to the people and circumstances you judge. They capture your attention in the same way that a movie does. - Author: Gary Zukav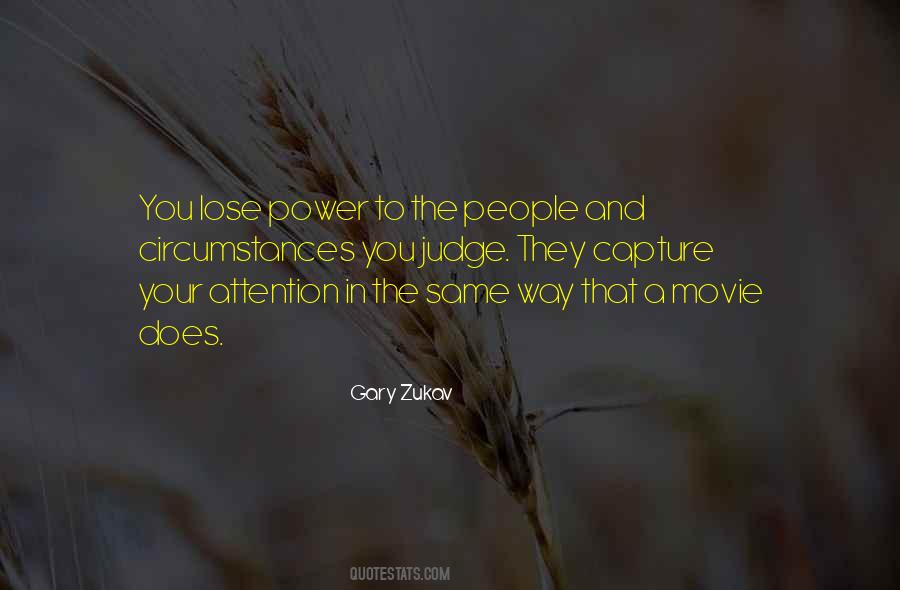 #60. It's been said that people see what they want to see. For that exact reason, look for the good in people, rather than the bad. - Author: Donald L. Hicks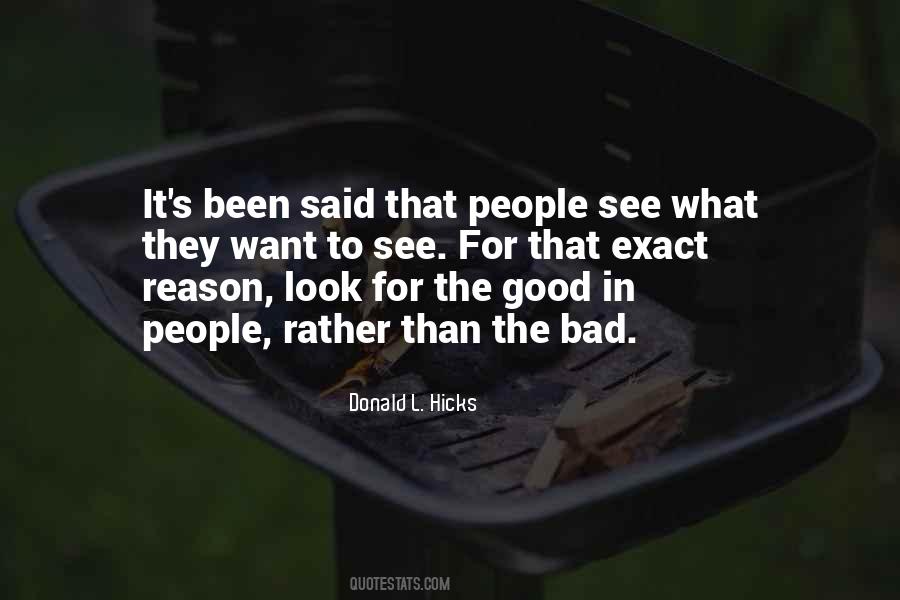 #61. People love to judge, get used to it and stop taking it personally. - Author: Kathryn Budig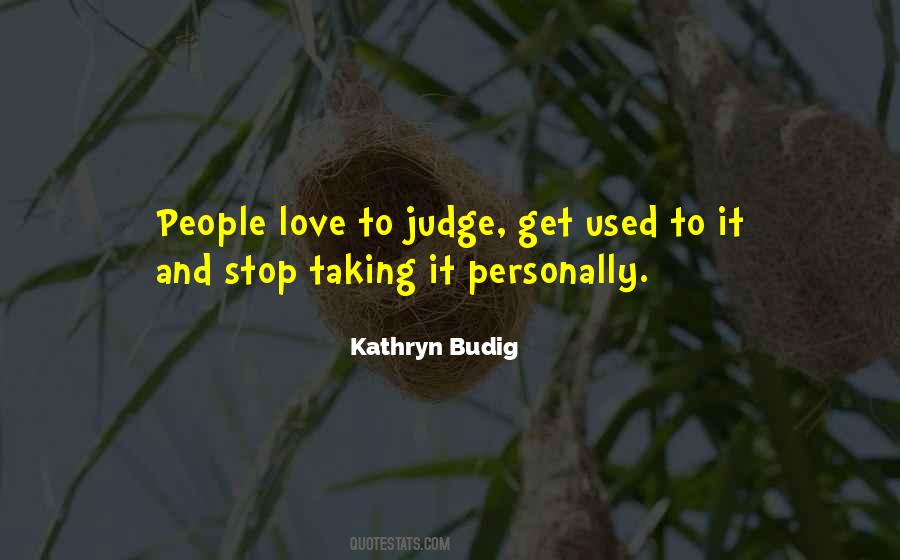 #62. I think certain people are the way they are for certain reasons that we can't necessarily judge without knowing. - Author: Blake Lively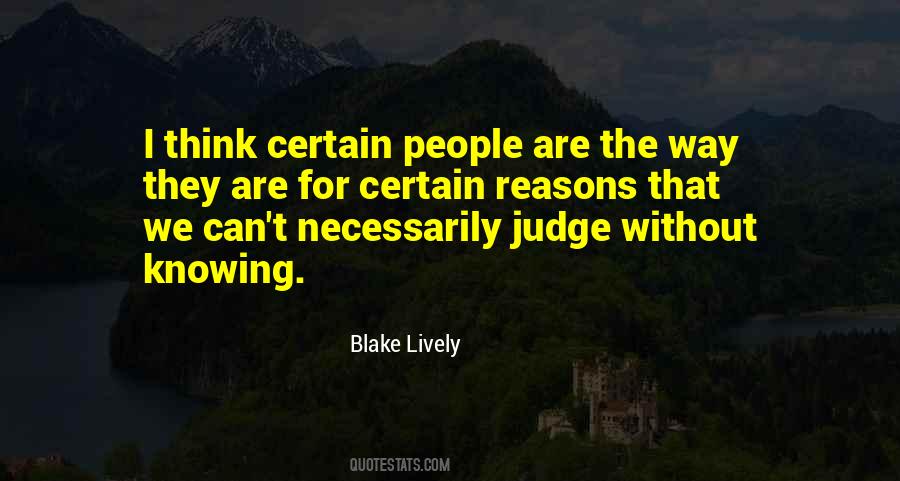 #63. Judging oneself to be inferior to other people was one of the worst acts of pride because it was the most destructive way of being different. - Author: Paulo Coelho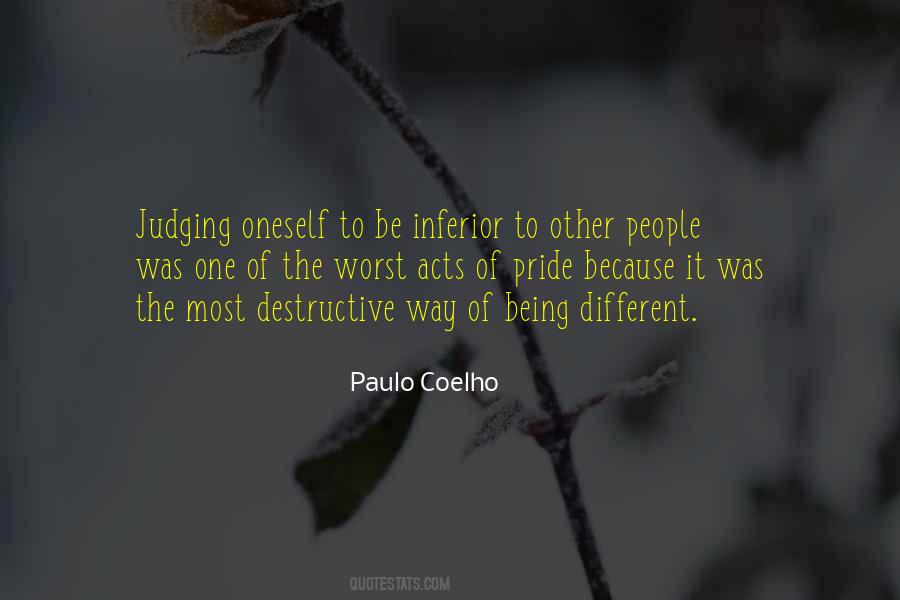 #64. Do not be the judge of people; do not make assumptions about others. A person is destroyed by holding judgments about others. - Author: Gautama Buddha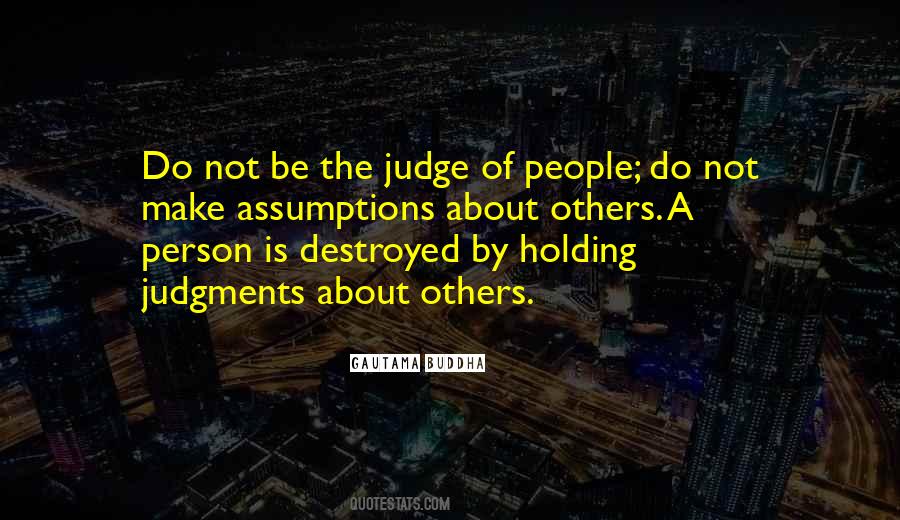 #65. I always thought I could coach. I just thought people were poor judges of good coaches. - Author: Bum Phillips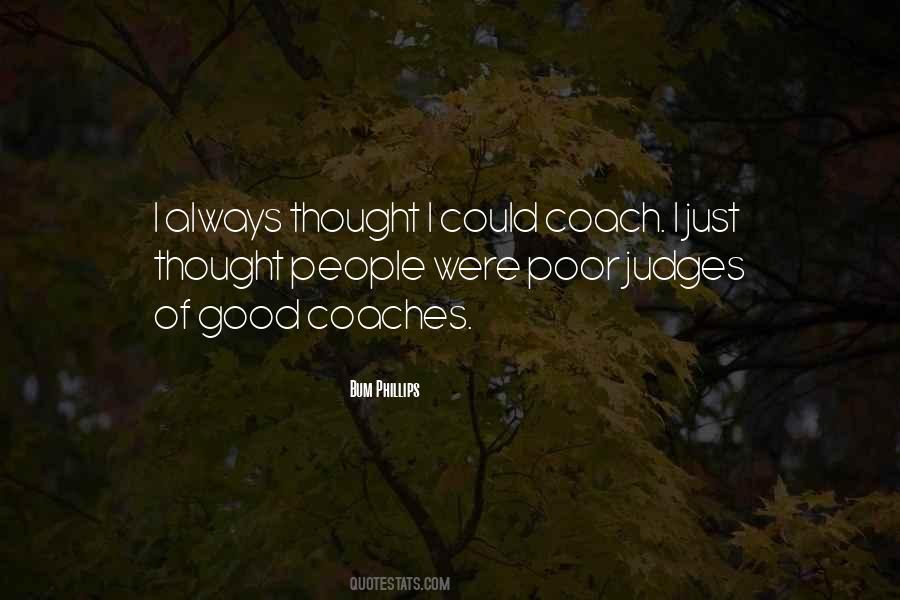 #66. Pigmentation was a quick and convenient way of judging a person. One of us, Dr. Martin Luther King, Jr., once proposed we instead judge people by the content of their character. He was shot. - Author: Jon Stewart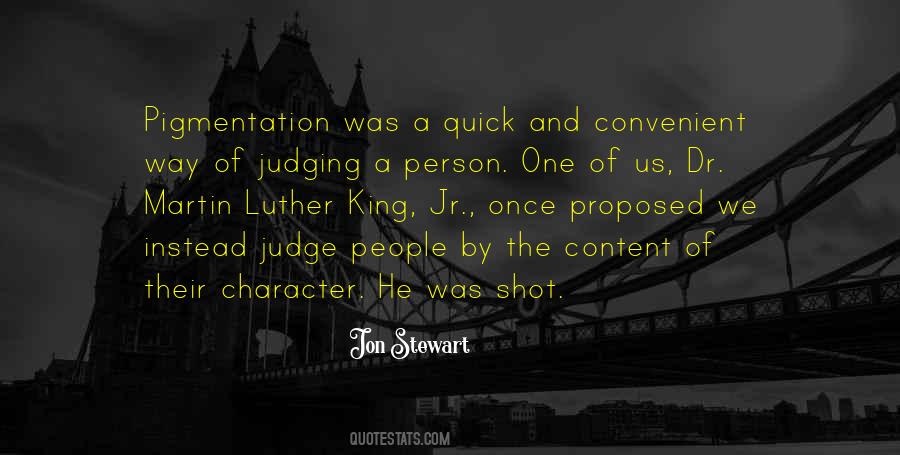 #67. People should be concerned about installing a more sensible, responsible government. What we [the burmese] need is a government that is accountable and transparent, so that the people know what it is doing and can judge for themselves whether or not they like what is being done. - Author: Aung San Suu Kyi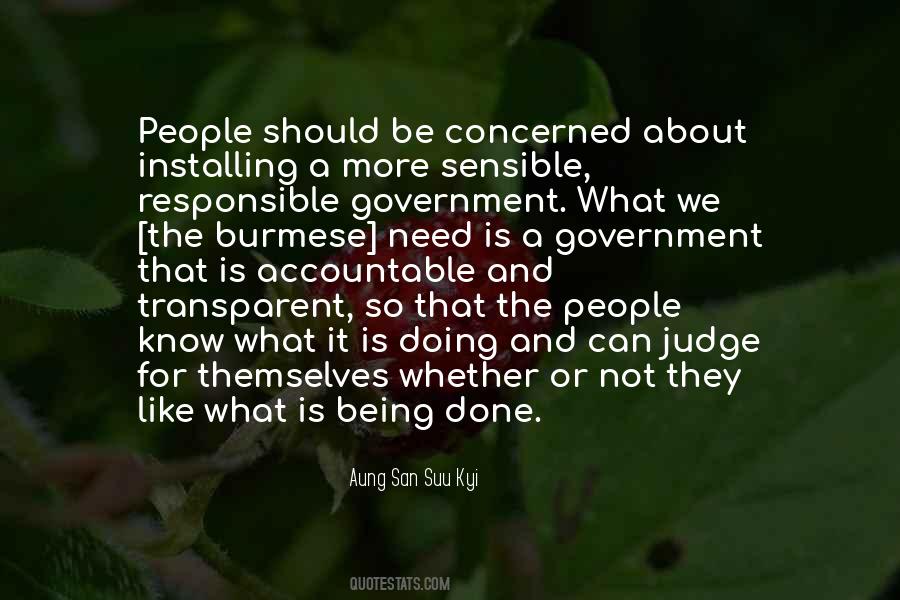 #68. People hook up. People don't hook up. I don't judge. - Author: Lamorne Morris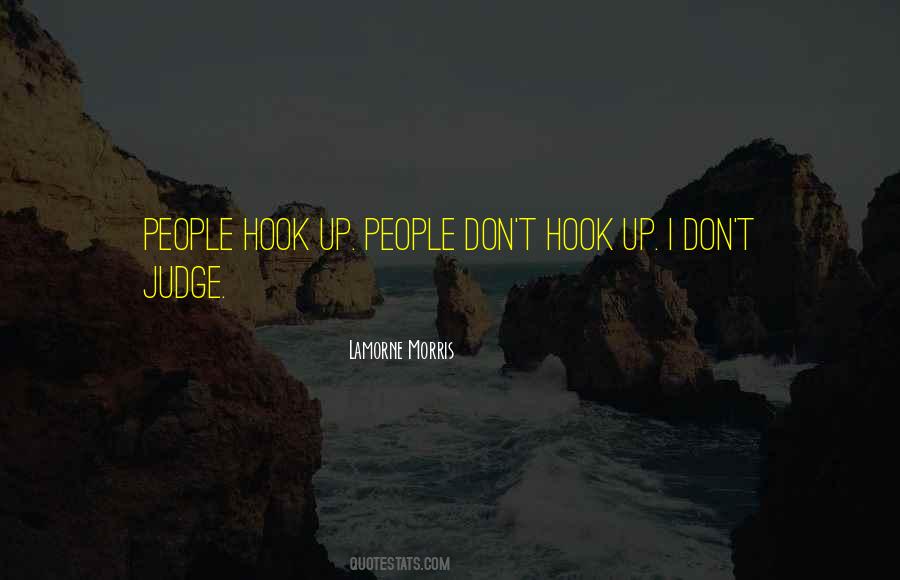 #69. I put myself in a position of authority where if I get judged, I get scrutinized. So if I get caught slipping, than I have to reap the repercussions of it. That is the game I'm in and people will judge you, you just have to get over it. - Author: Damon Dash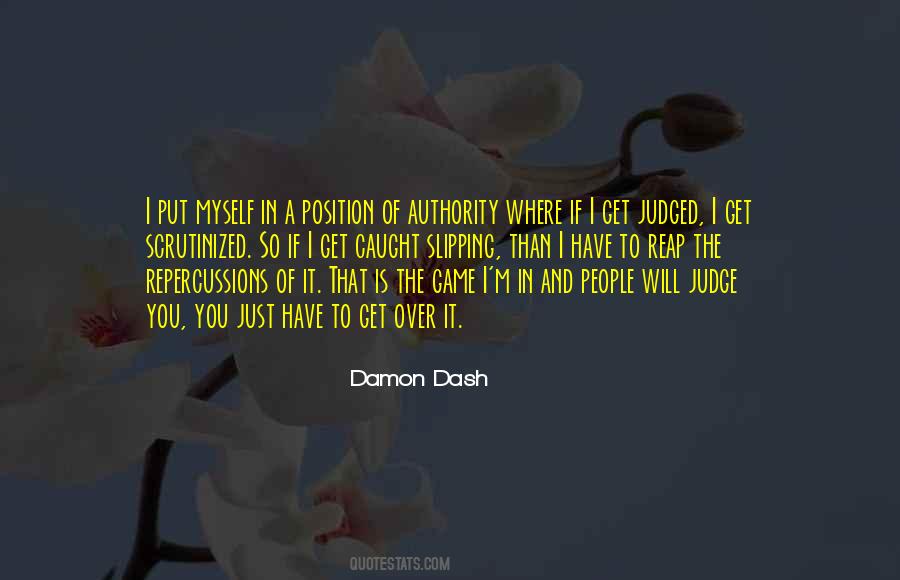 #70. It does no service to the cause of racial equality for white people to content themselves with judging themselves to be nonracist. Few people outside the clan or skinhead movements own up to all-out racism these days. White people must take the extra step. They must become anti-racist. - Author: Clarence Page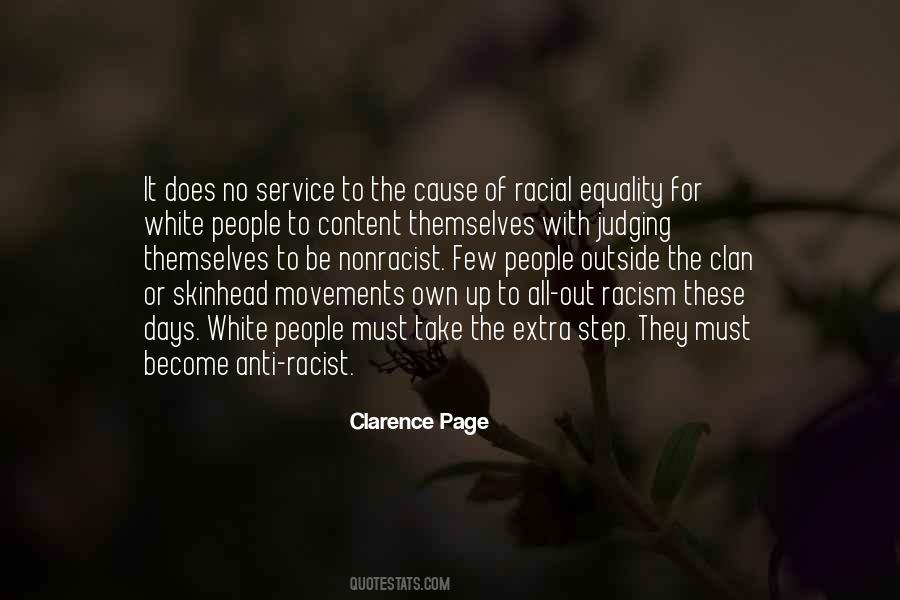 #71. The common people do not judge of vice or virtue by morality or immorality, so much as by the stamp that is set upon it by men of figure. - Author: Roger L'Estrange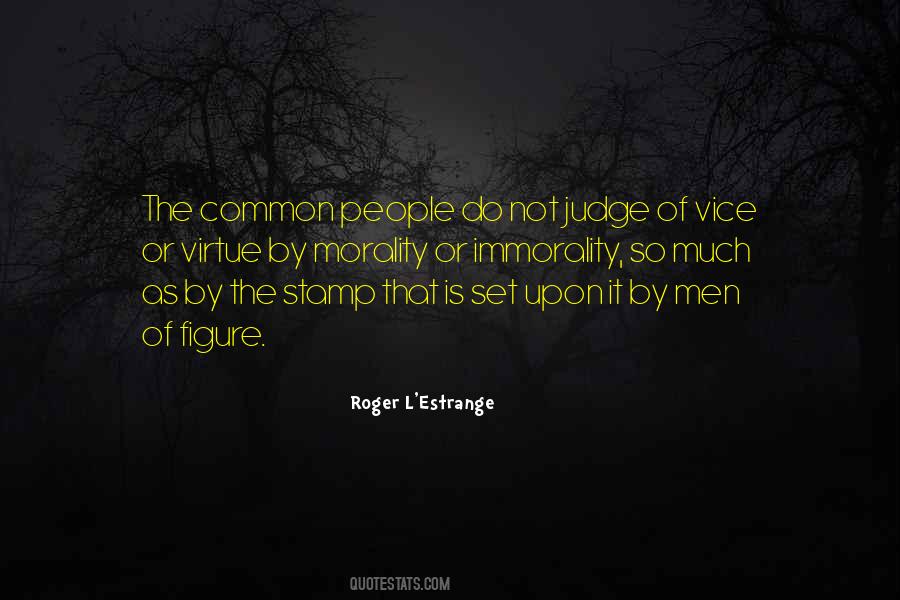 #72. If I had forty wives in the United States, they did not know it, and could not substantiate it, neither did I ask any lawyer, judge, or magistrate for them. I live above the law, and so do this people. - Author: Brigham Young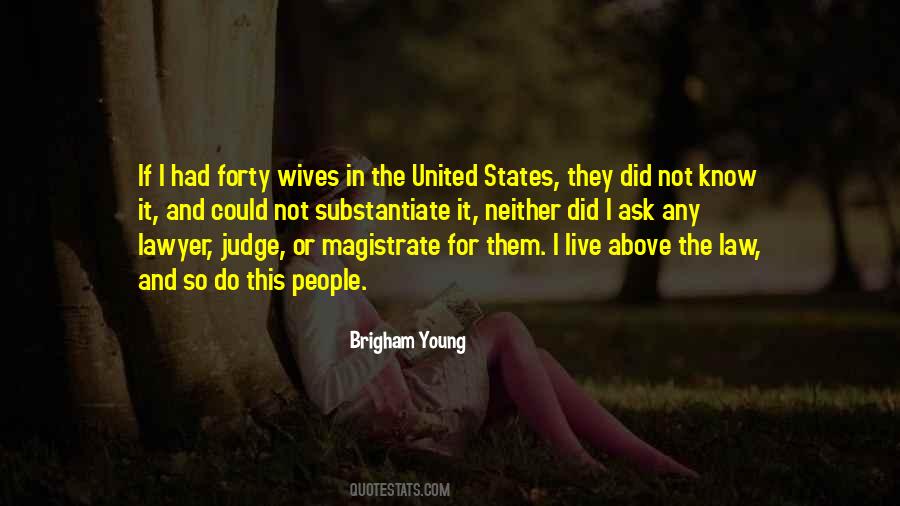 #73. You Should take people as they are. Stop labeling them. You should get to know people before you start judging them. Get to know me before you
decide whether you like me or not. - Author: Sarah Alderson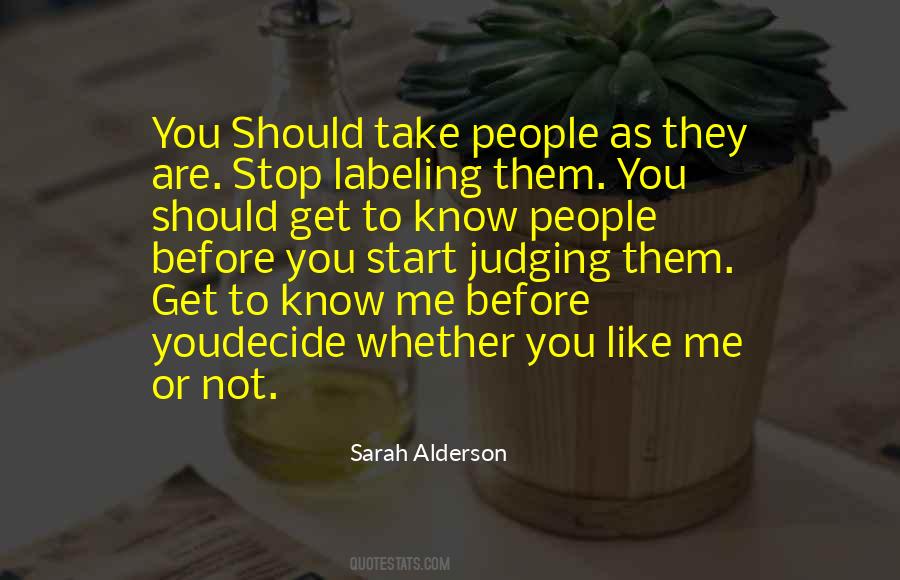 #74. It is said that most people judge themselves too harshly. I disagree. If they judged themselves harshly enough, they would come to the conclusion that they're the last person on Earth to be judging anyone. - Author: Silvia Hartmann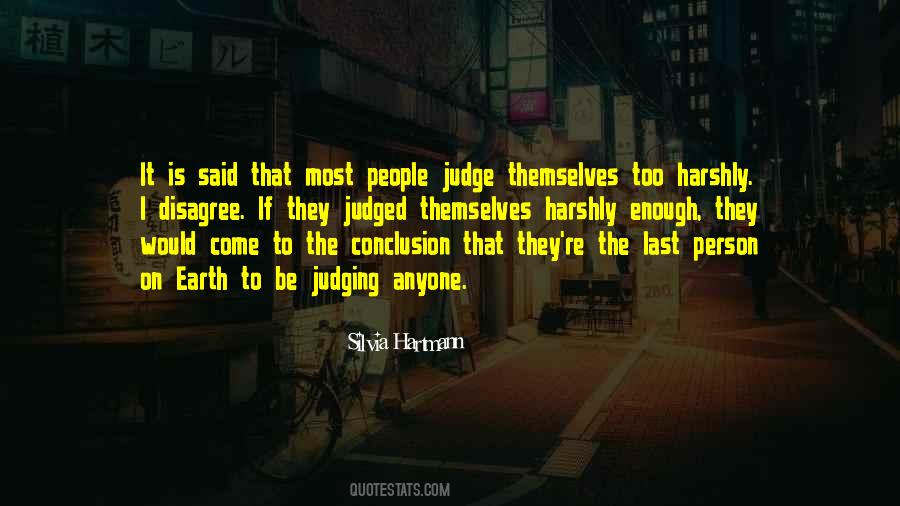 #75. I would never dream of telling people how to dress. but I do say to them, however you are dressing, accept responsibility for it. And also, unless asked, I don't judge. And if asked to judge - I would approach it socratically, I would approach it with questions. - Author: Tim Gunn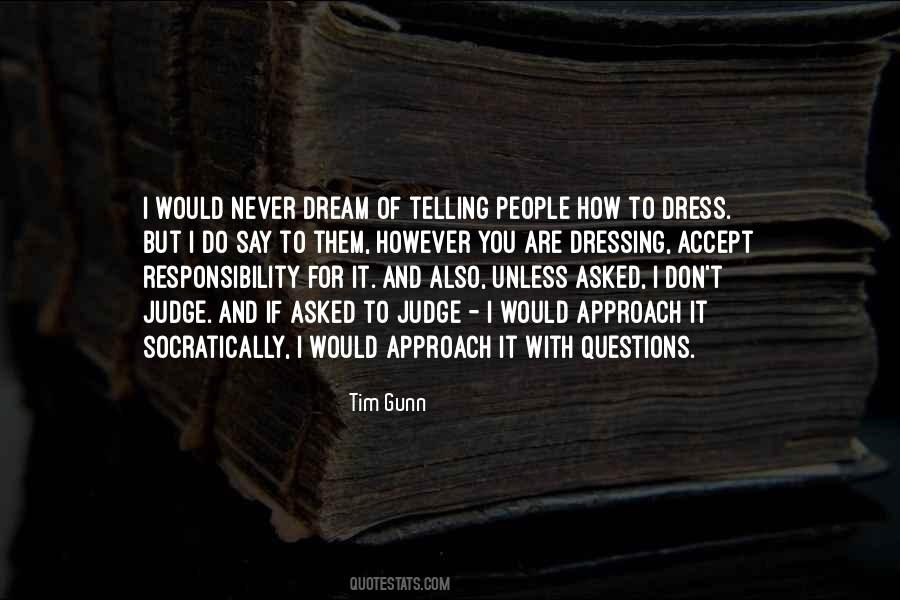 #76. Prejudice of the learned. - The learned judge correctly that people of all ages have believed they know what is good and evil, praise- and blameworthy. But it is a prejudice of the learned that we now know better than any other age. - Author: Friedrich Nietzsche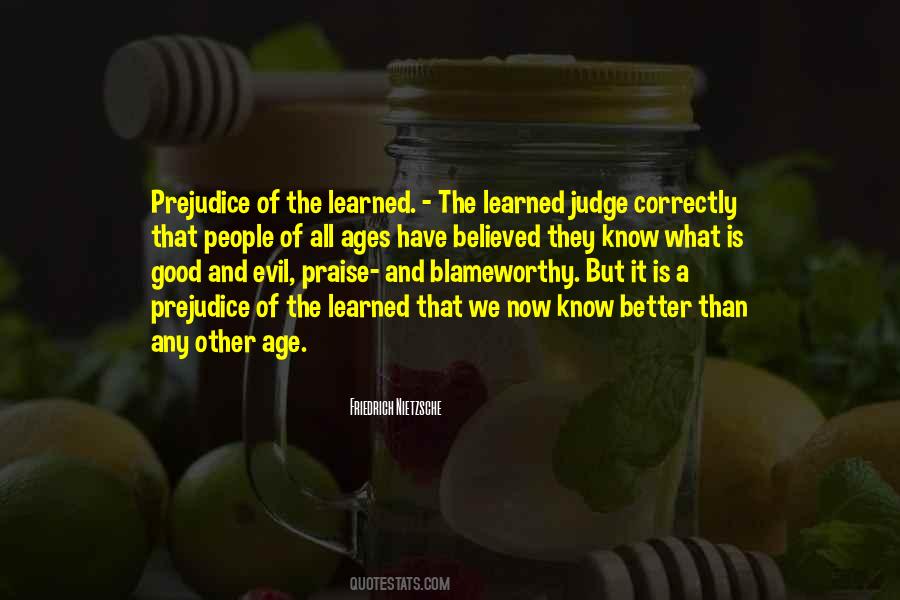 #77. The debate over judicial nominations is a debate over the judiciary itself. It is a debate over how much power unelected judges should have in our system of government, how much control judges should have over a written constitution that belongs to the people. - Author: Orrin Hatch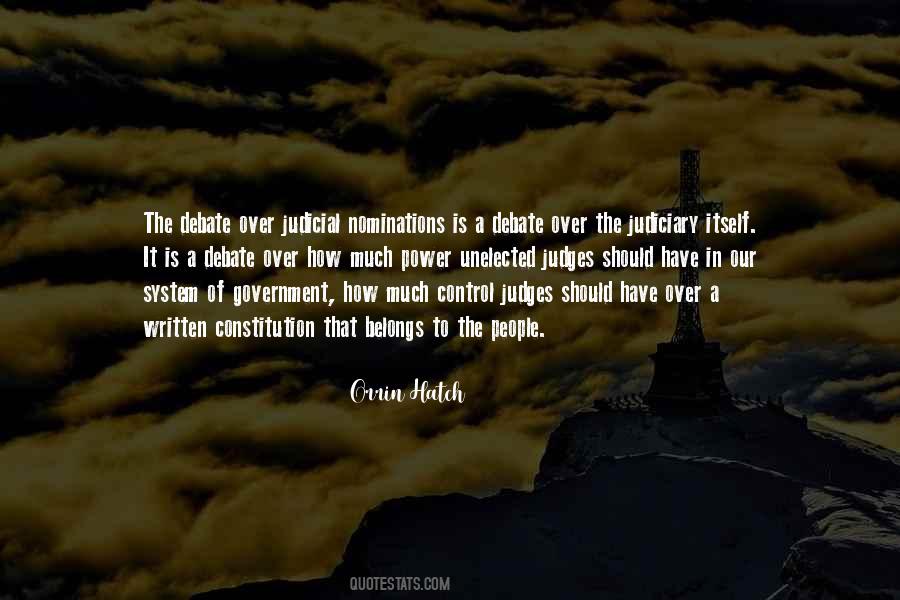 #78. People can judge me on whatever level they think but I've always tried to make my own songs. - Author: Girl Talk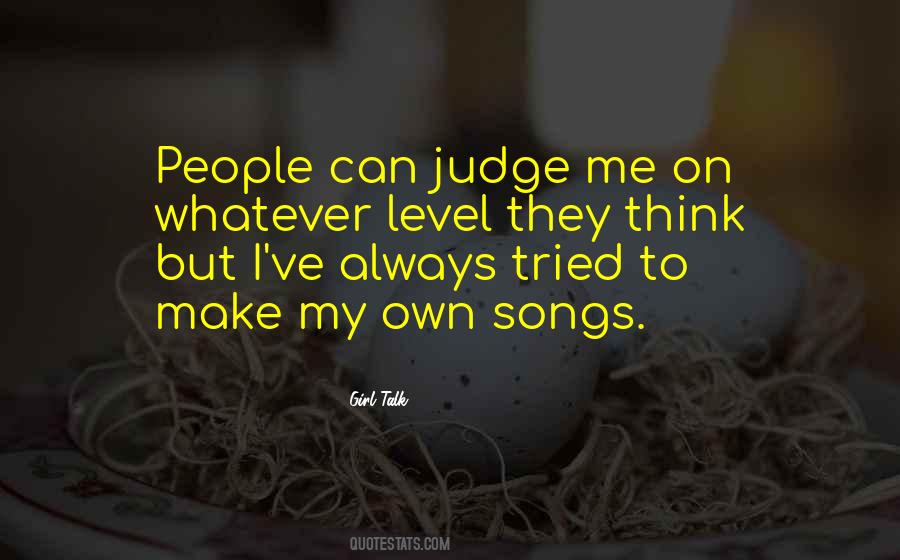 #79. As an actor and as a performer, I'm very much aware of the fact that my job is to change both physically and emotionally and that was what hurt the most - the fact that people were judging me based on nothing. - Author: Jamie Campbell Bower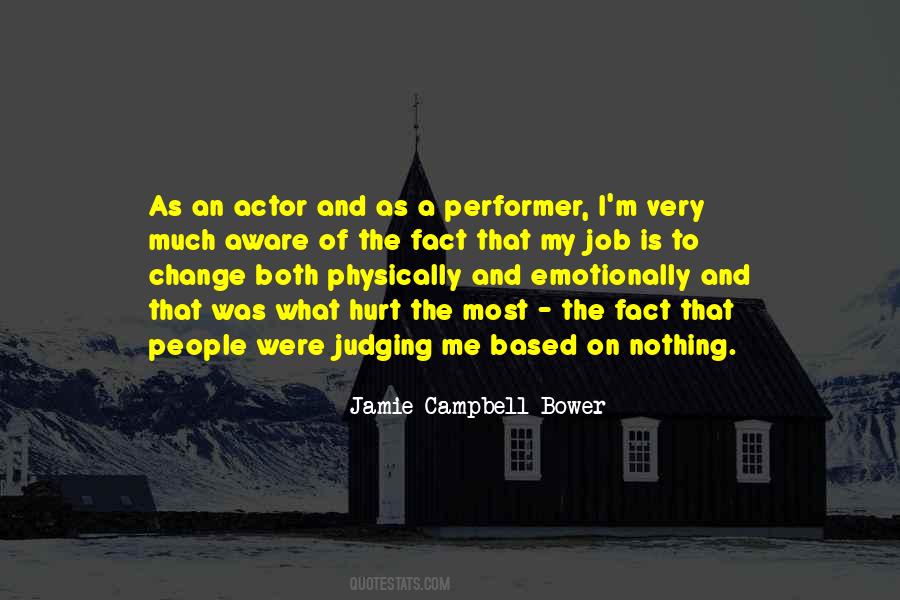 #80. Other people feel love when we listen without judging and accept them without demanding change. We all desperately require these basic needs. When we can do this for another, we are indeed that person's angel. - Author: David W. Earle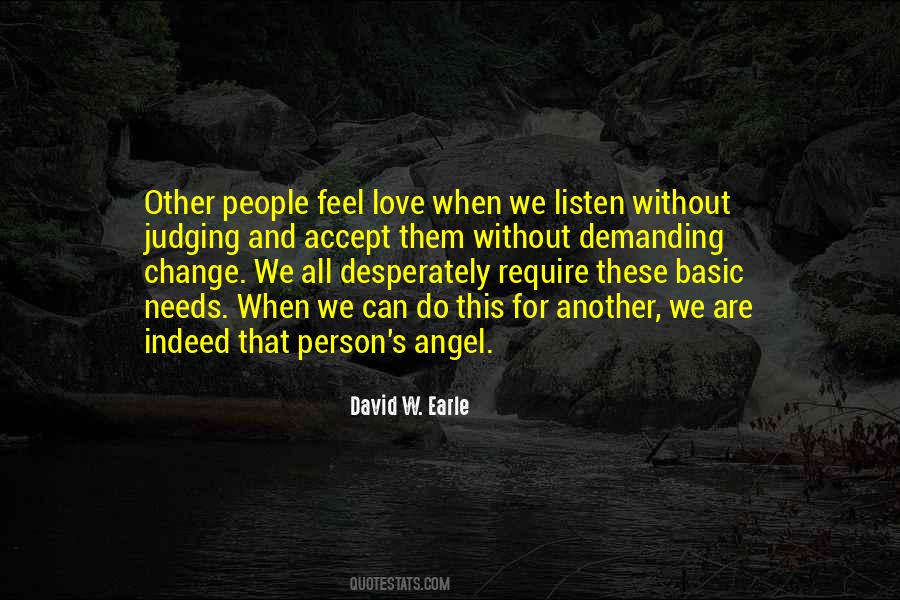 #81. We're a new generation of people. We need to be happy. We need to love each other. We need to accept each other for who we are and stop judging each other. Live life and love. Stop judging just to keep yourself secure. Look deeper. There's always something deeper than what it is. - Author: Lil B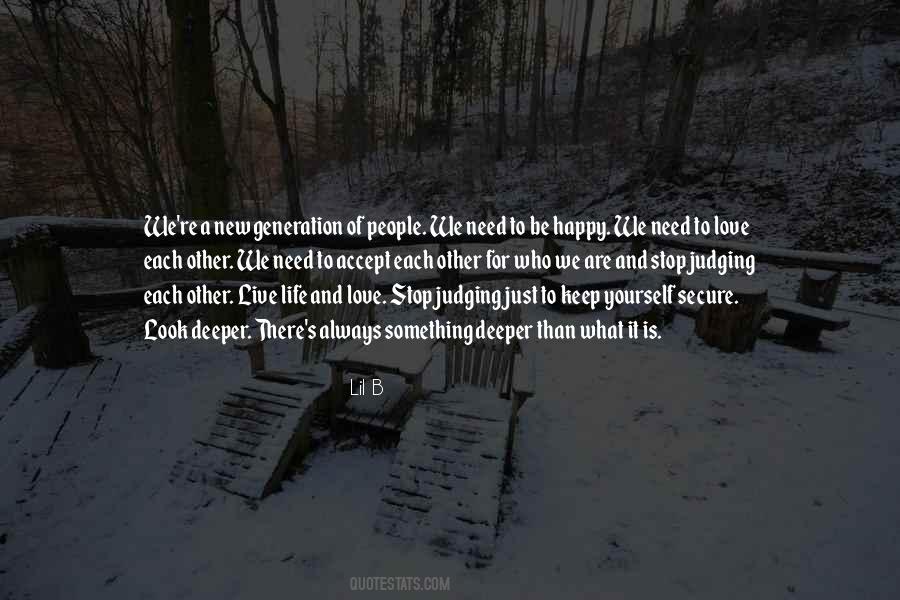 #82. I've seen trans people in movies and TV shows, but judging by how unrealistic and shitty bi characters tend to be, I'm gonna assume I know nothing. So what's okay for me to ask? - Author: Meredith Russo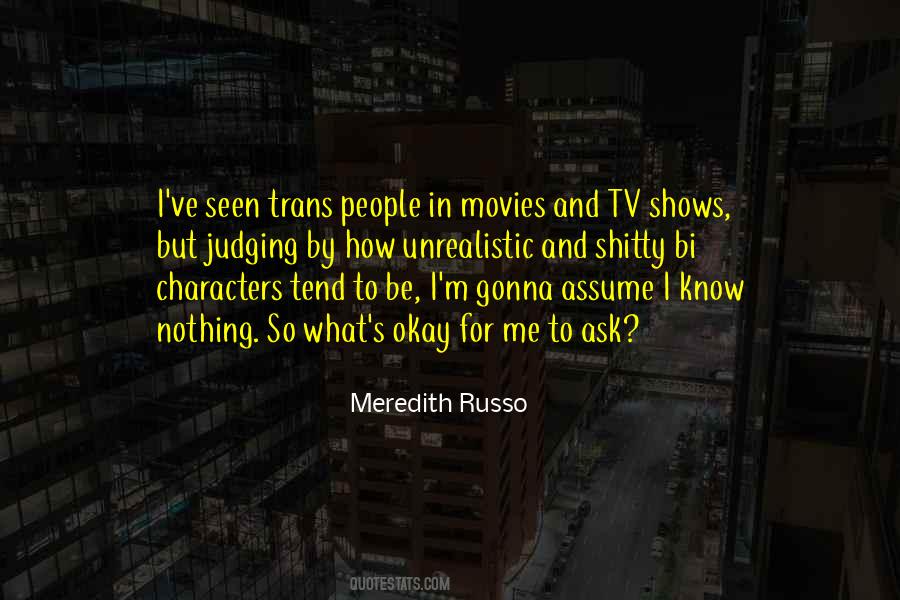 #83. Judges ought above all to remember the conclusion of the Roman Twelve Tables :The supreme law of all is the weal [weatlh/ well-being] of the people. - Author: Francis Bacon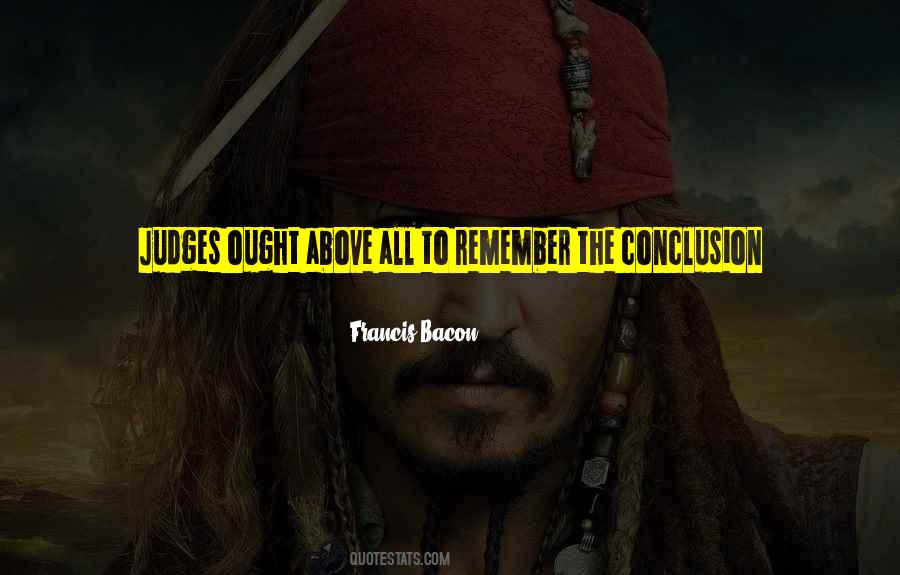 #84. I feel like when people judge me they're not judging me, because they don't know who I am. - Author: Gisele Bundchen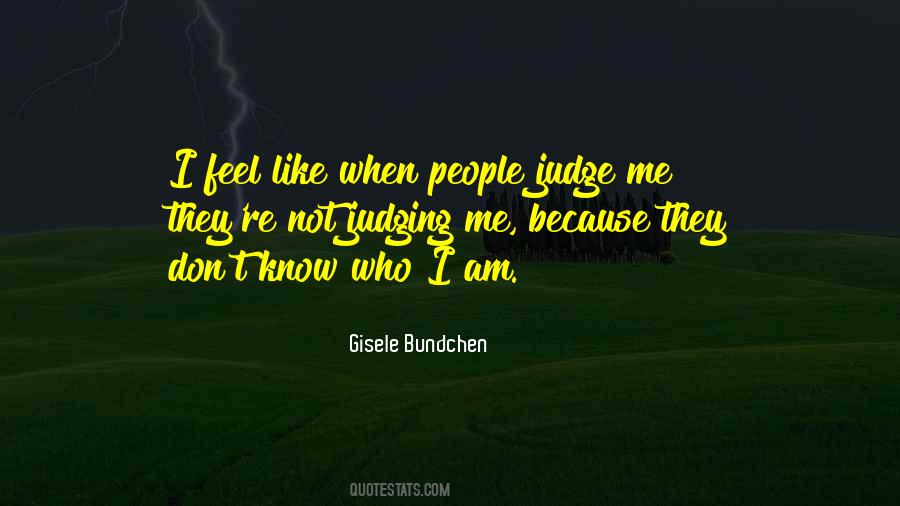 #85. My sister has an incredible body. I feel sorry for anyone who would judge her, because she's one sexy lady ... It's disgusting that people would say those things. - Author: Ashlee Simpson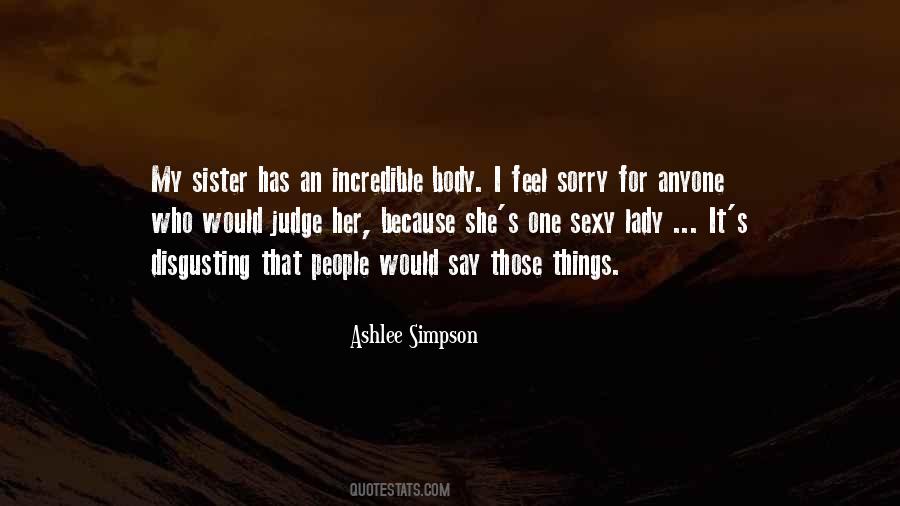 #86. He wished he could somehow go back and find the iPhone people whom he'd jostled on the sidewalk earlier, apologize to them - I'm sorry, I've just realized that I'm as minimally present in this world as you are, I had no right to judge - - Author: Emily St. John Mandel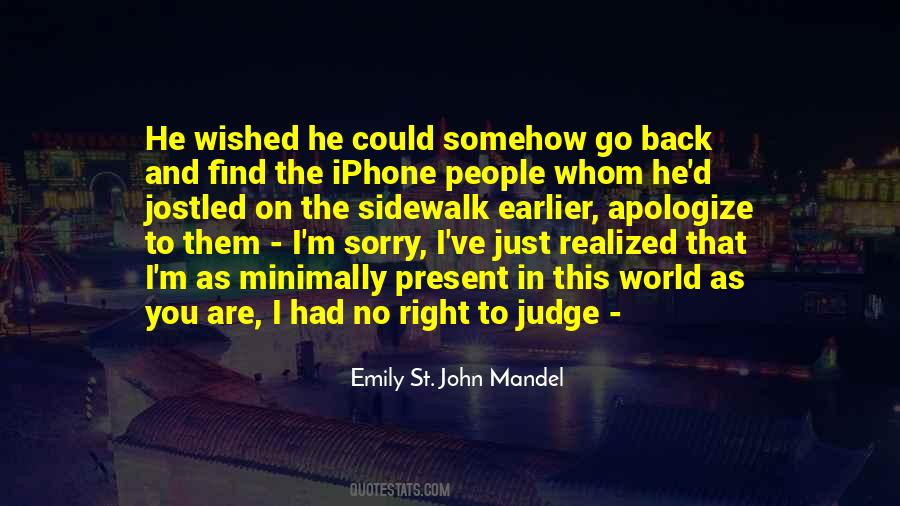 #87. People in grief need someone to walk with them without judging them. - Author: Gail Sheehy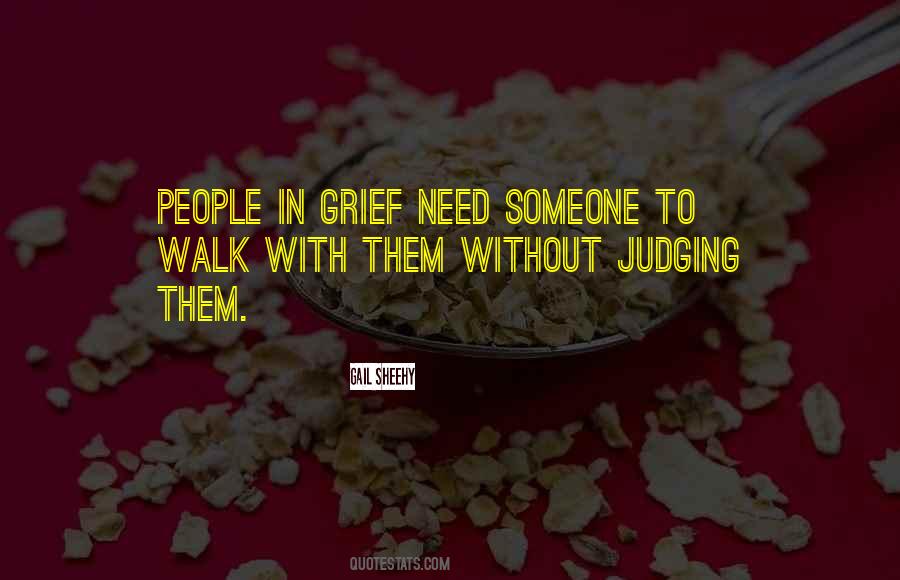 #88. Judging other people says more about you than about the person you're judging. Except of course when you're judging people with too many cats. And by that, I mean more than one cat. Those people are completely bonkers and should be locked up. - Author: Jim Gaffigan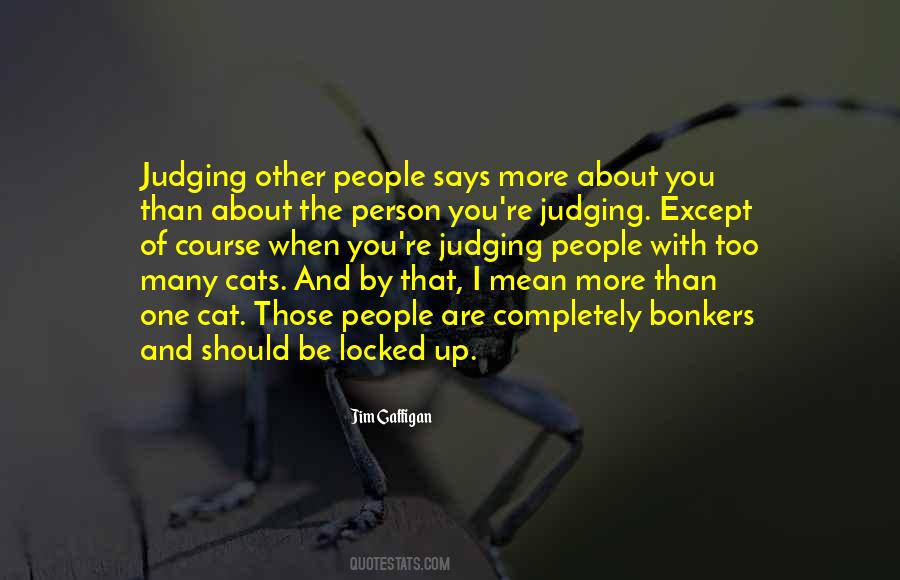 #89. The manner of your speaking is full as important as the matter, as more people have ears to be tickled than understandings to judge. - Author: Lord Chesterfield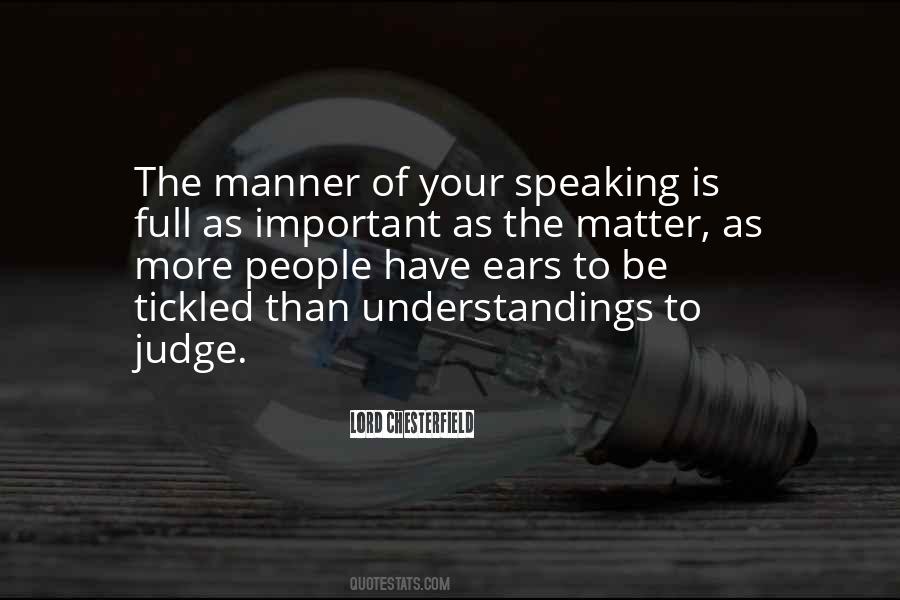 #90. Relying on the face might be human nature - even babies prefer to look at attractive people. But, of course, judging someone based on the geometry of his features is, from a moral and legal standpoint, no better than judging him based on the color of his skin. - Author: Paul Bloom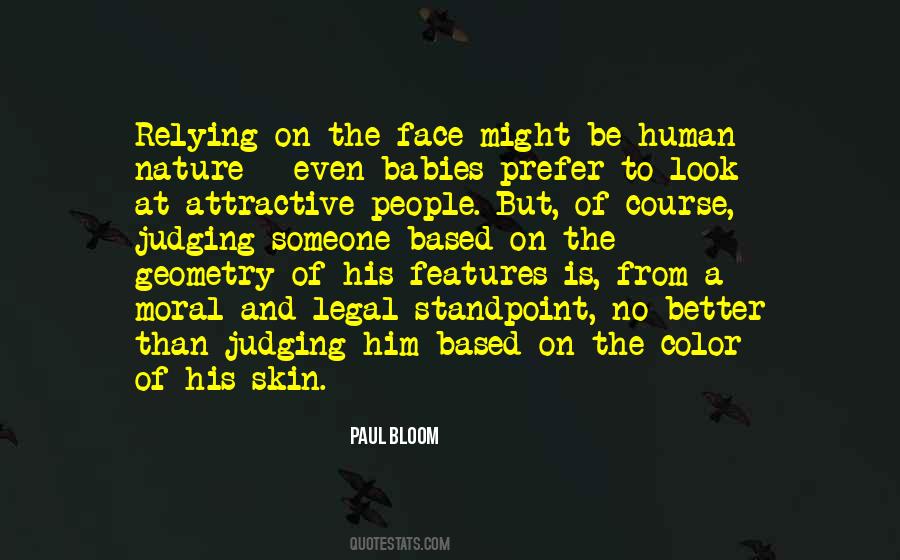 #91. I hope you will be yourself, human, even a little sentimental, possessed of a sense of humor and a sense of humility ... There are arrogant people in this world and, what is worse, arrogant judges. - Author: Harry A. Blackmun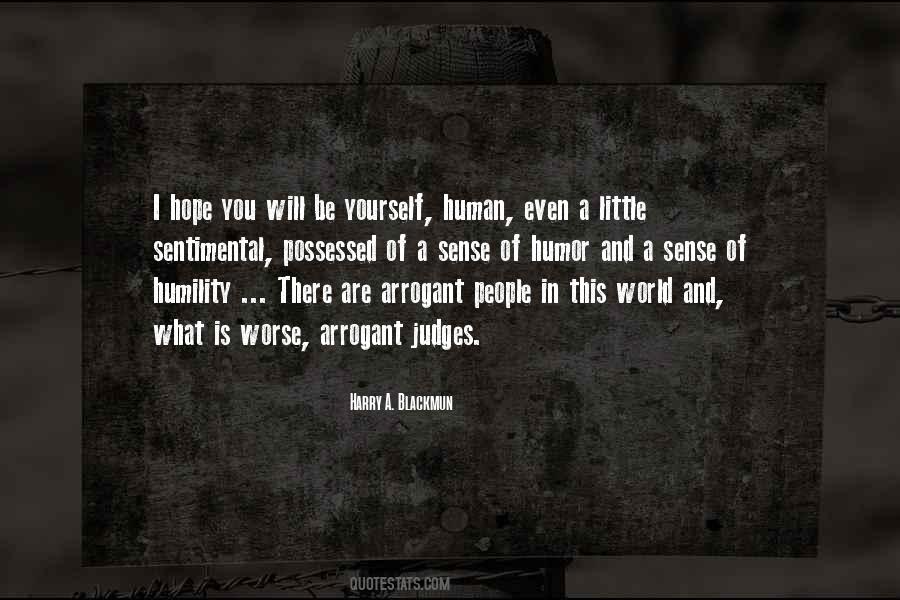 #92. The best way to judge the worth of a person's wealth is to count the number of genuine people he has got in his network. - Author: Anuj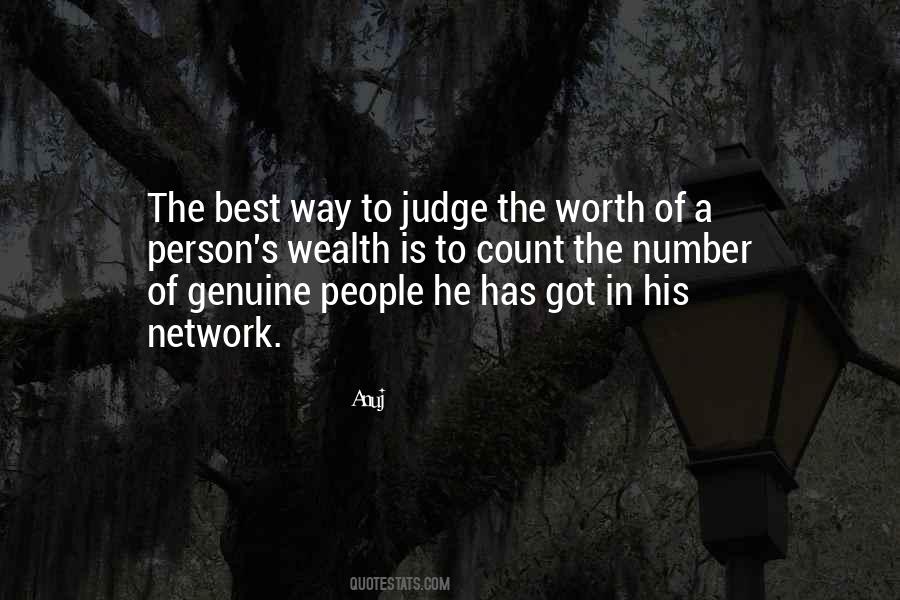 #93. Whoever wants to be a judge of human nature should study people's excuses. - Author: Christian Friedrich Hebbel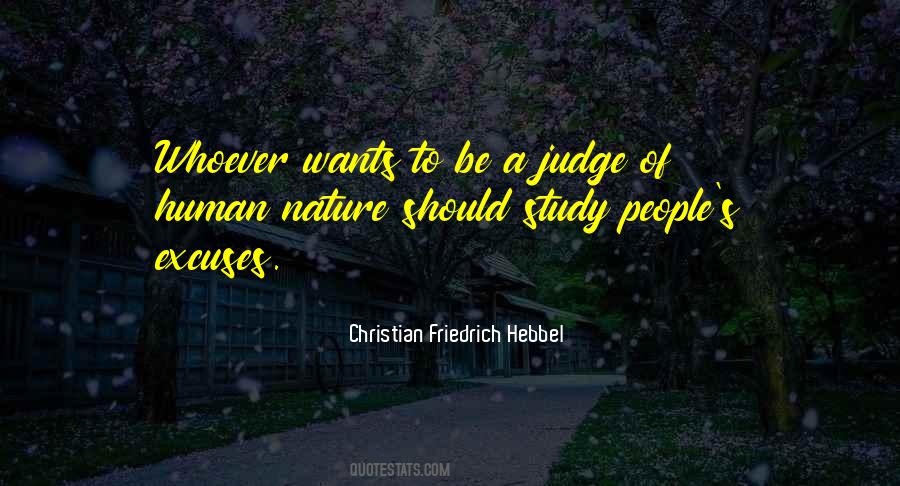 #94. You can't judge people by their cover. - Author: Benjamin Clementine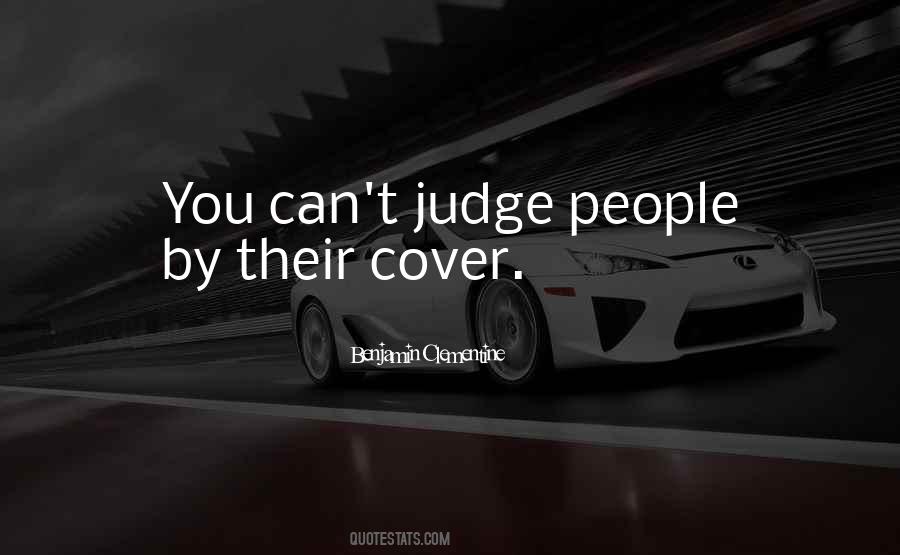 #95. If it be an evil to judge rashly or untruly any single man, how much a greater sin it is to condemn a whole people. - Author: William Penn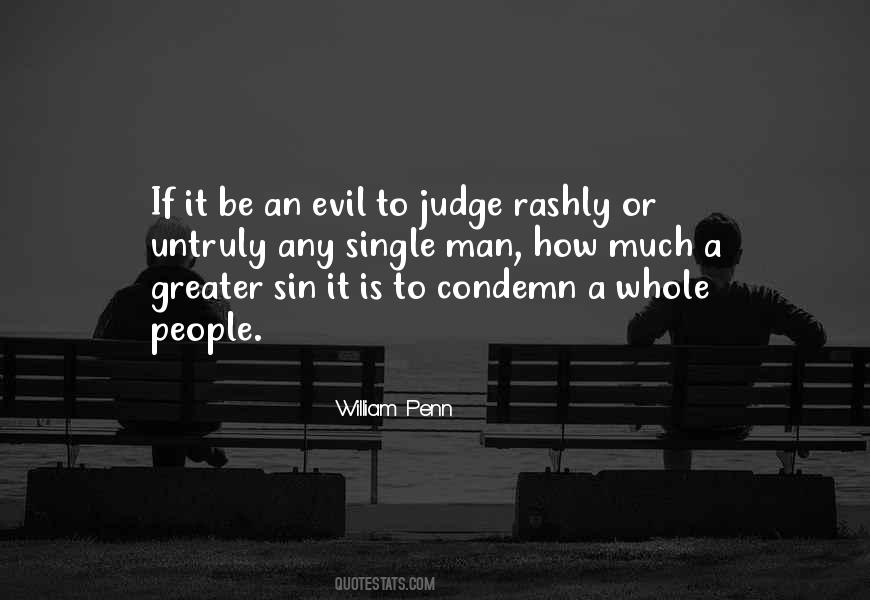 #96. Spaghetti is good with ranch, and spaghetti is good with sugar. You put all of that together and make a sandwich out of it and you get greatness. People shouldn't judge unless they try it. - Author: Terry Rozier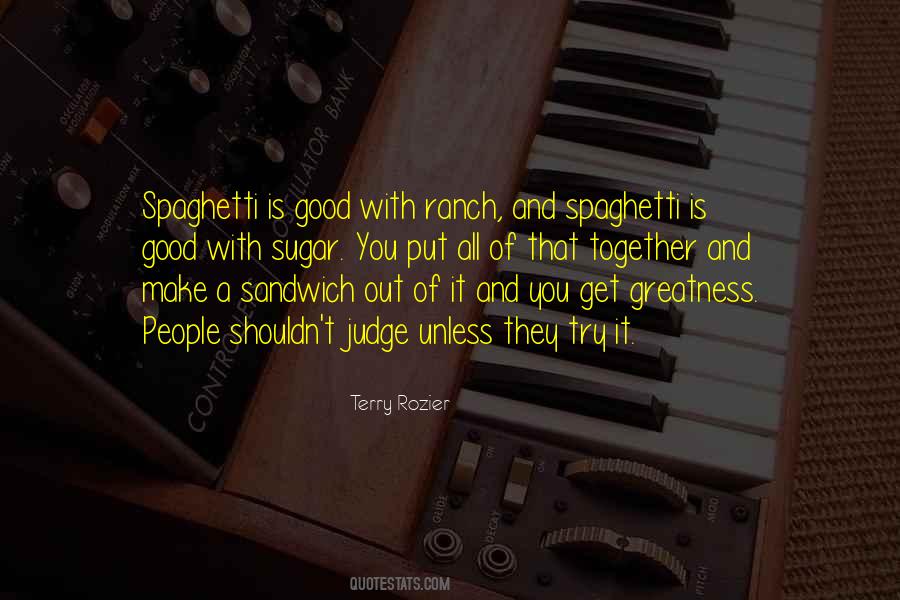 #97. For people to judge a man's worth and his very manhood according to the way he feels about sport, and not to recognize it for the piddly, inconsequential goings on that it really is ... - Author: Robin Green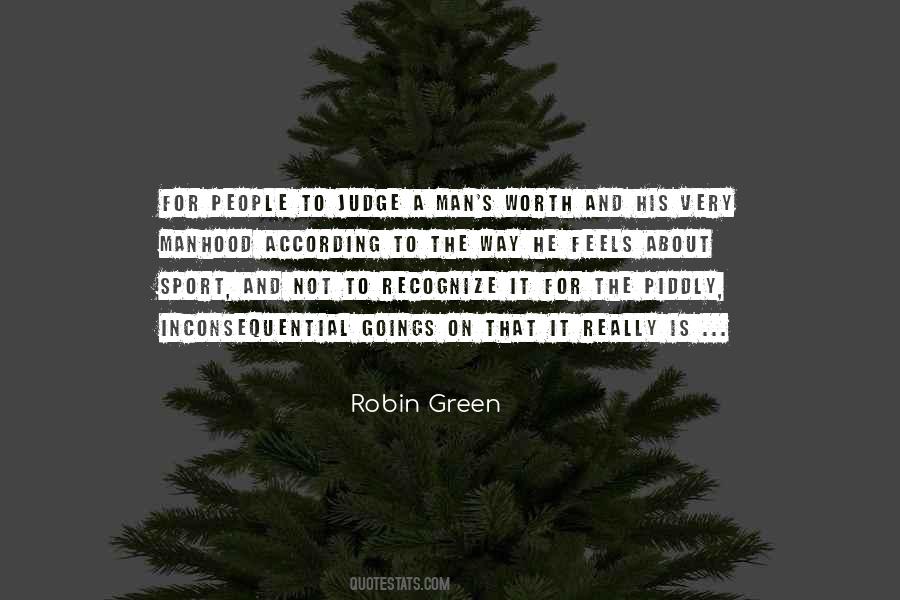 #98. I think it has been a weird mistake to have people with their own music careers going on and judging people because when they're too critical, it affects them. They don't want to be that honest, because they need to keep their appearance up. - Author: Neil Patrick Harris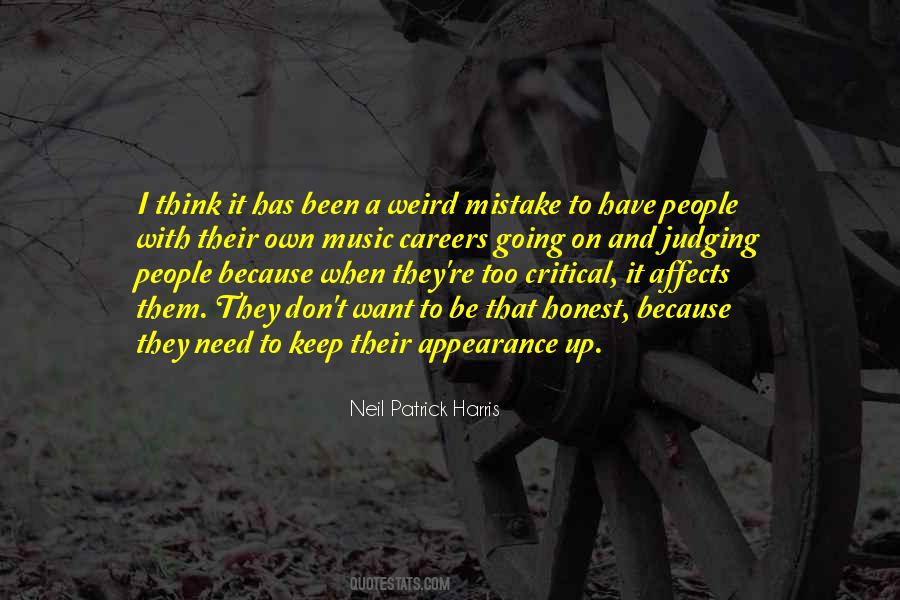 #99. You can't live your life for someone else, and you can't let someone else tell you how to live your life. People spend so much time judging the shit out of each other - it's a waste of energy. - Author: Dannika Dark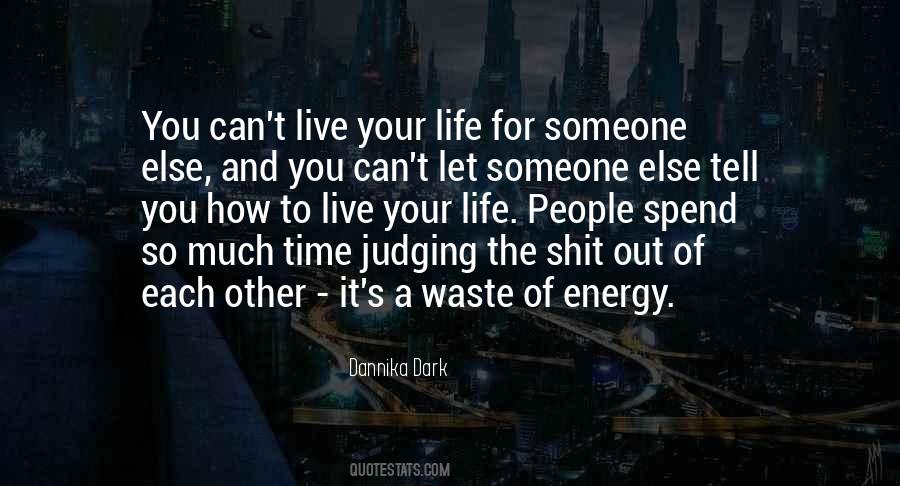 #100. Today we live in a world that judges its achievements by speed and busyness. ... We are so busy making things happen that we have little time left to think about the value of what is happening. We urgently need people who concentrate on the meaning of life rather than simply the speed. - Author: Joan D. Chittister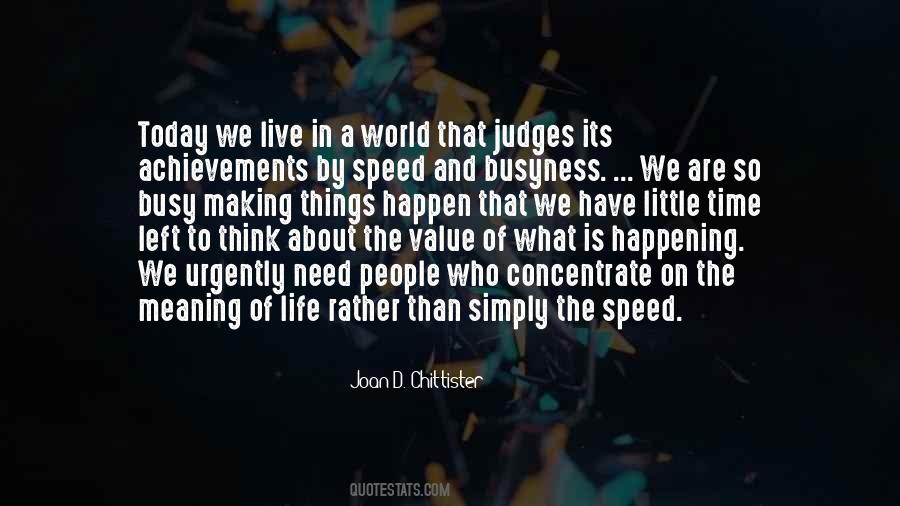 Famous Authors
Popular Topics