Fight Back Famous Quotes & Sayings
List of top 100 famous quotes and sayings about fight back to read and share with friends on your Facebook, Twitter, blogs.
Top 100 Quotes About Fight Back
#1. I like songs that make me feel tough. Like 'Back in Black.' You want to hear it again and get in a fight. - Author: Chris Stapleton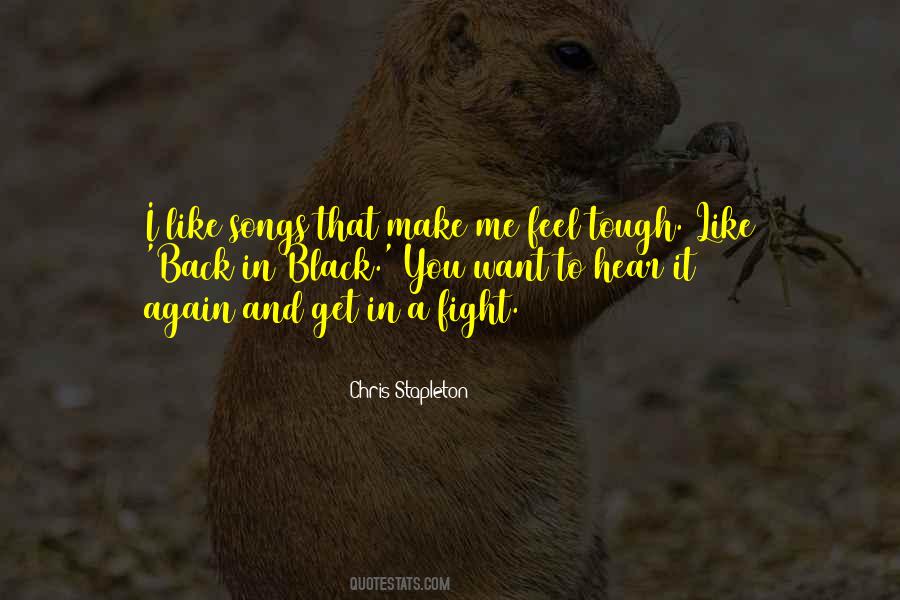 #2. I hope that one day I will gain power somehow, and somehow convince myself that there is still hope and go back and fight, people who's trying to make that place worth living for both Jews and Palestinians. - Author: Sayed Kashua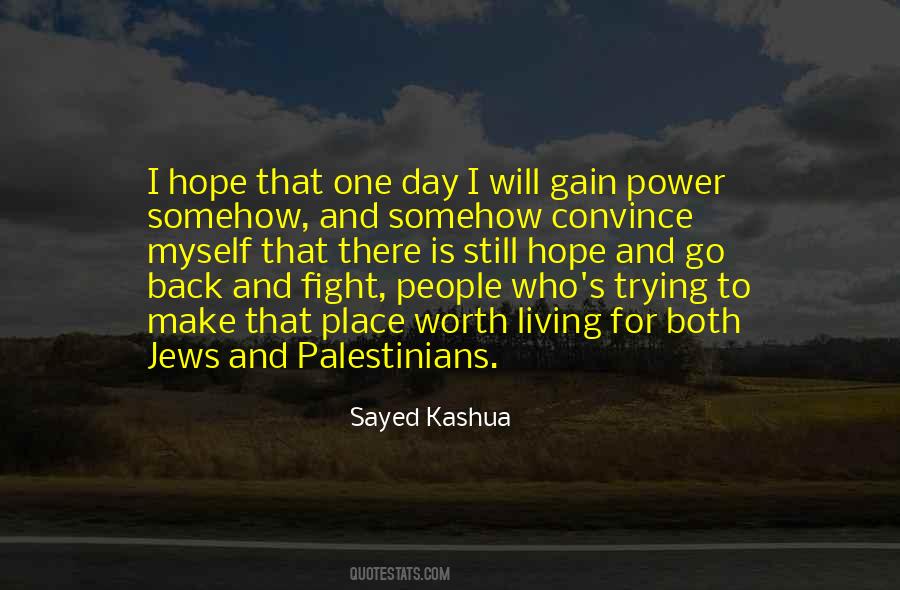 #3. We continue to fight for good jobs that pay well and jobs that last. Helping to get folks back to work is about helping them to regain their dignity and pride. That's what families care about. - Author: Jodi Rell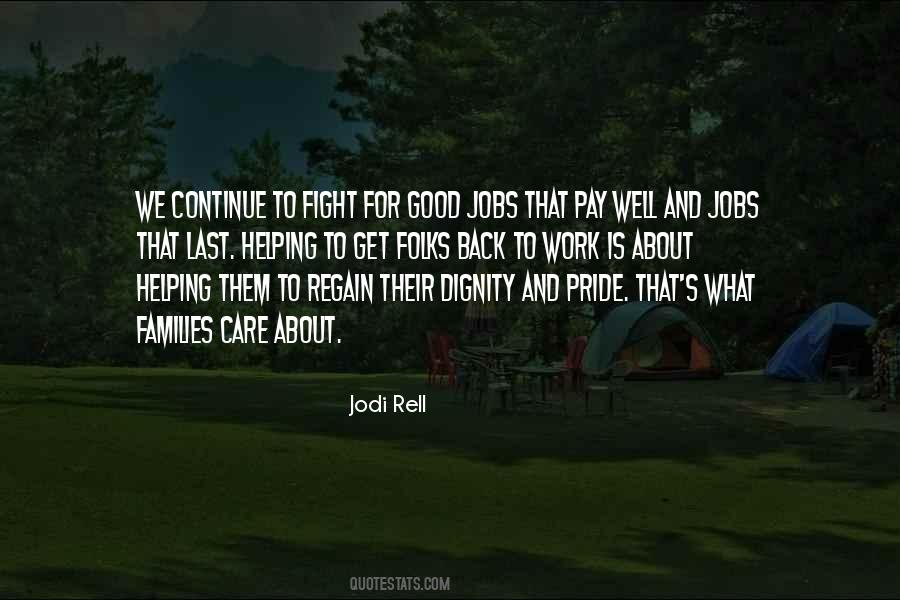 #4. If you think back to the fight over drones, when I was proud to be standing shoulder to shoulder with Rand Paul filibustering for 13 hours, that was viewed as a fringe issue, as a quixotic issue, and yet millions of Americans engaged, spoke up, got online. - Author: Ted Cruz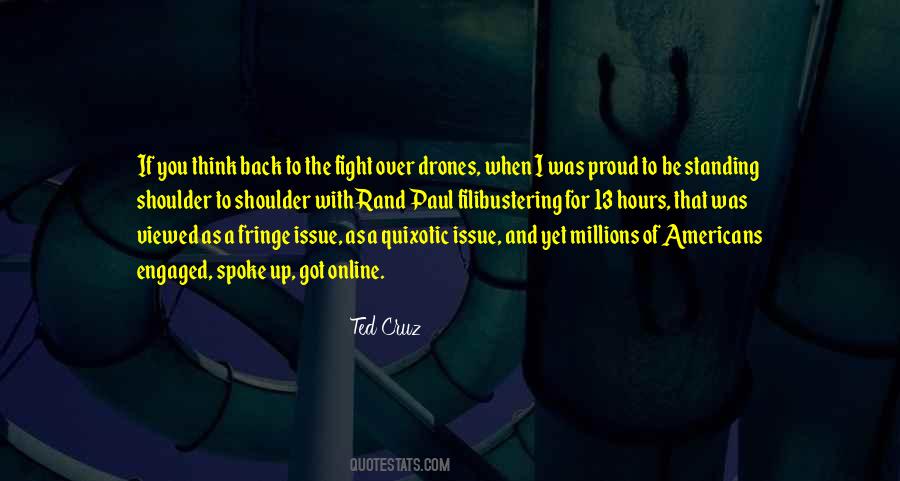 #5. When you attack a tyranny you must expect it to fight back. - Author: Philip K. Dick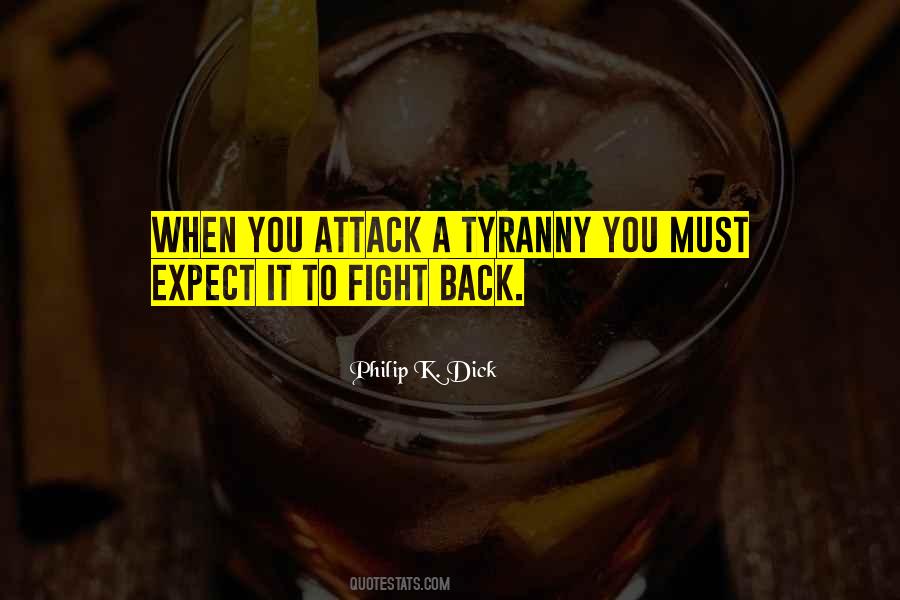 #6. I've been chastised for going into mixed martial arts and backing out. But the reason I backed out was the terms - they wanted me ready to fight in four weeks, but you've got to be out of your mind. So I decided to go back to my roots, back to wrestling. - Author: Kurt Angle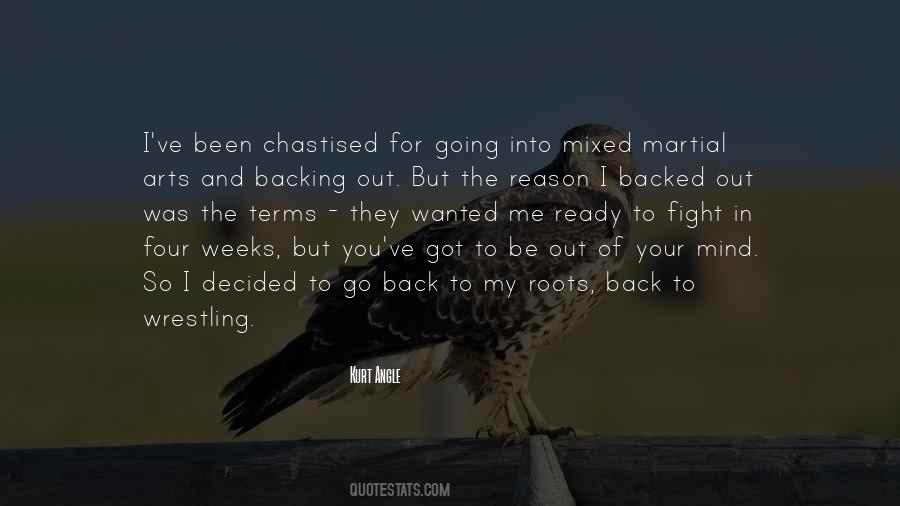 #7. Gabriel sighed and leaned back in the throne. Are we going to be dramatic now? Maybe I should call for some wine of my own and we can wallow and aimlessly fight through our miserable drunkenness. - Author: Chelsea Fine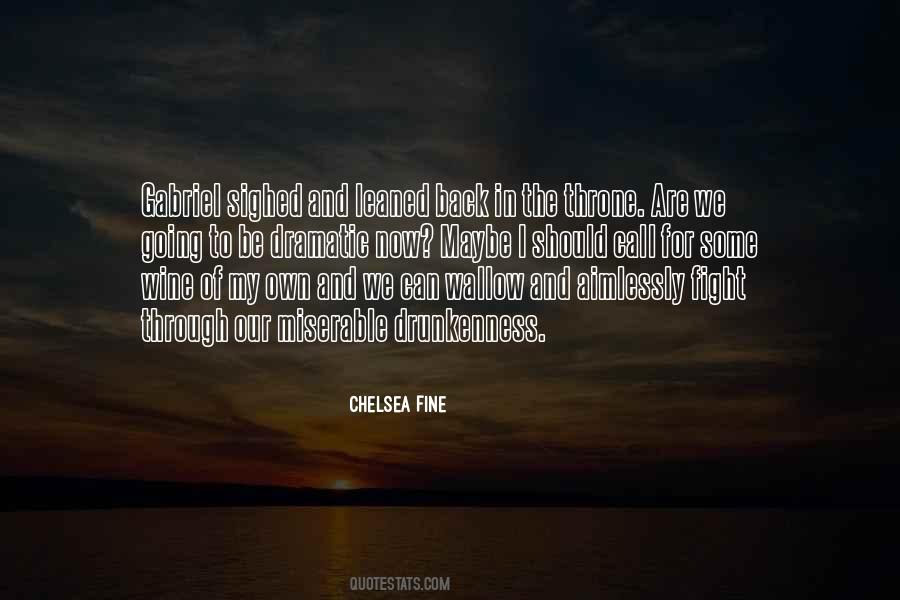 #8. The person who fights monsters should make sure that in the process, he does not become a monster himself. Because when you stare down at an abyss, the abyss stares back at you. - Author: Friedrich Nietzsche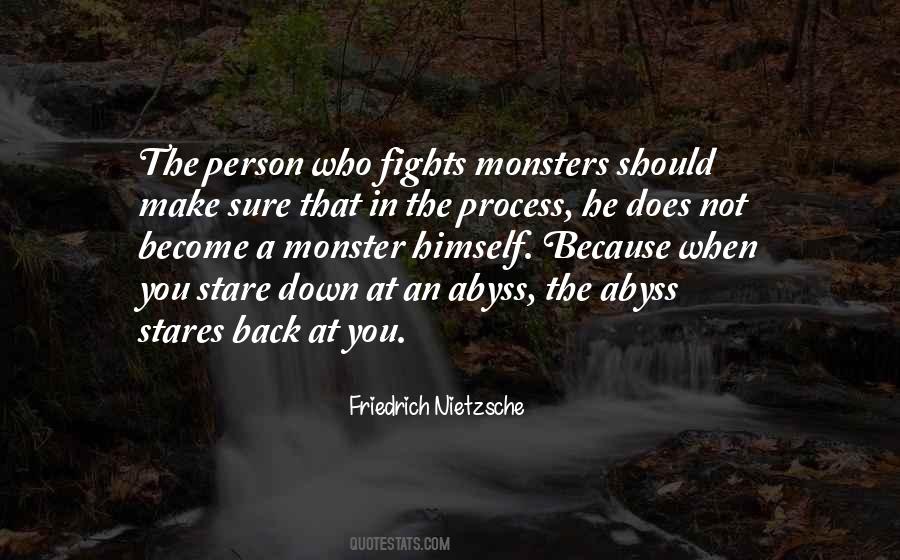 #9. In my personal life I'm not very tough at all, but in my professional life, having to deal with being a woman in a man's world, I'm really tough. I never back down from a fight or an argument. I'm willing to stand there toe to toe with anyone. - Author: Cher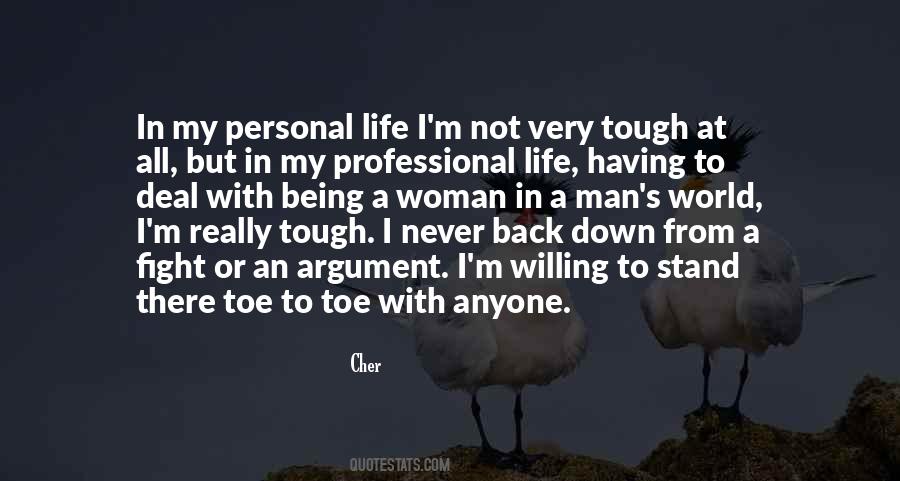 #10. Our role is to stand behind the open gates and turn them back one by one. And so we fight. - Author: Cassandra Clare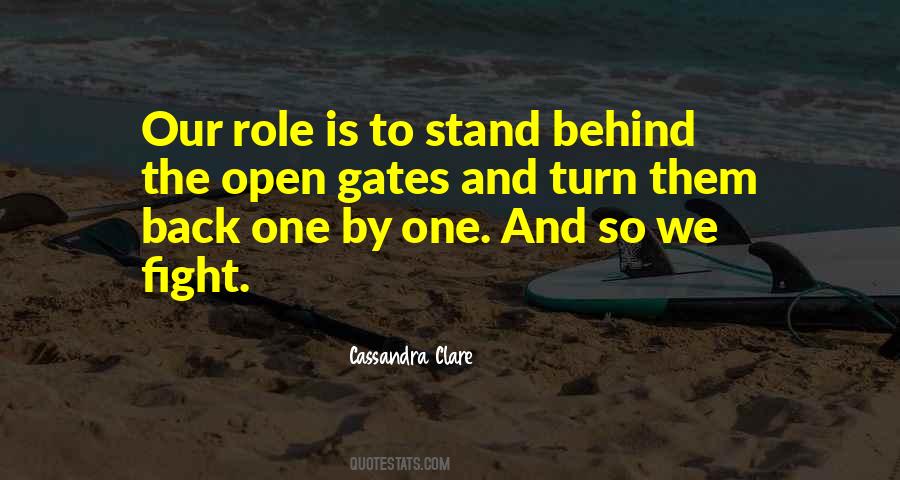 #11. I hate mankind. I hate what we do to each other, how we wage war, how we 'fight' for peace, how we say we love each other then stab each other in the back. - Author: L.V. Birdsong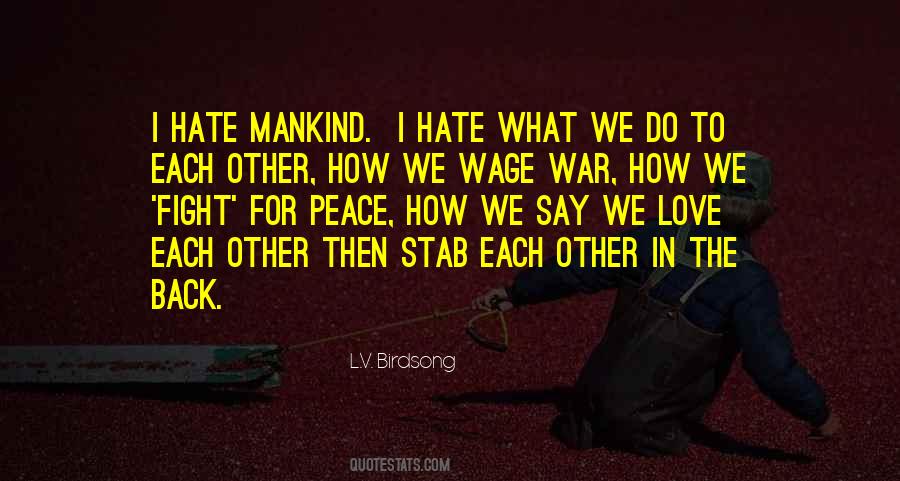 #12. There is nothing in this life that can destroy you but yourself. Bad things happen to everyone, but when they do, you can't just fall apart and die. You have to fight back. If you don't, you're the one who loses in the end. But if you do keep going and fight back, you win. - Author: Alexandra Monir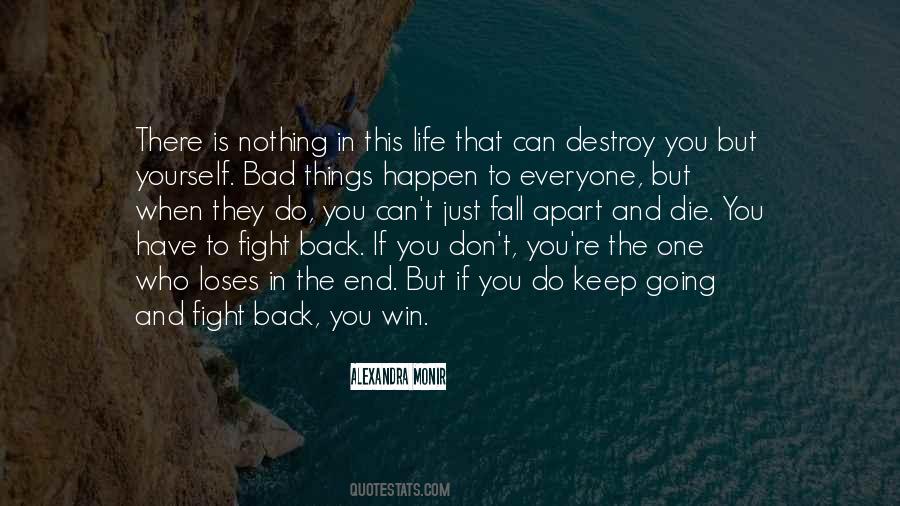 #13. You are a fine and talented woman, whose potential is yet to be realized given the love and support and luck we all need. Where you lost the will to fight for what is yours, where you gave away control of your life, is the mystery you are now unraveling. When you get it all back, hold on to it. - Author: Isabel Vincent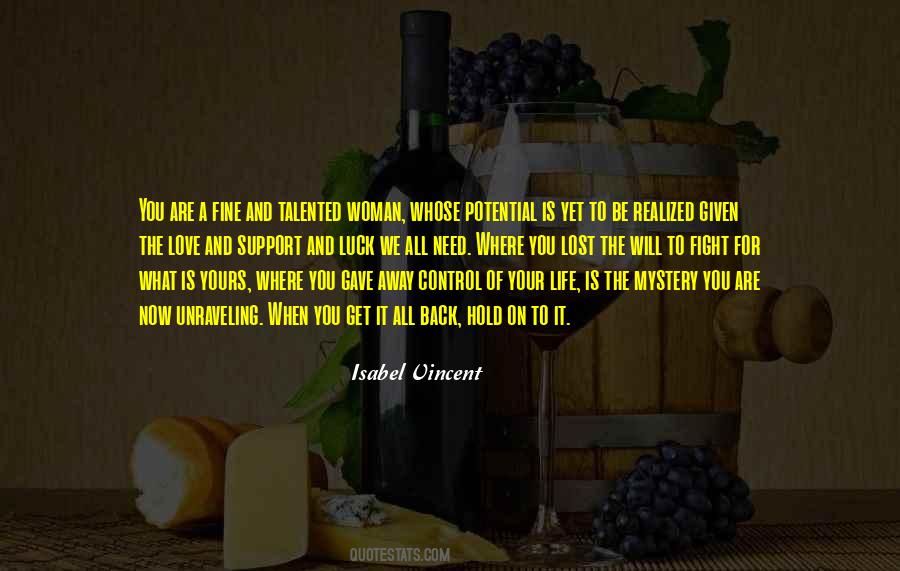 #14. Only the weak of heart threaten those who cannot fight back, Angor of Doeth Palas, he said. - Author: Allan Frewin Jones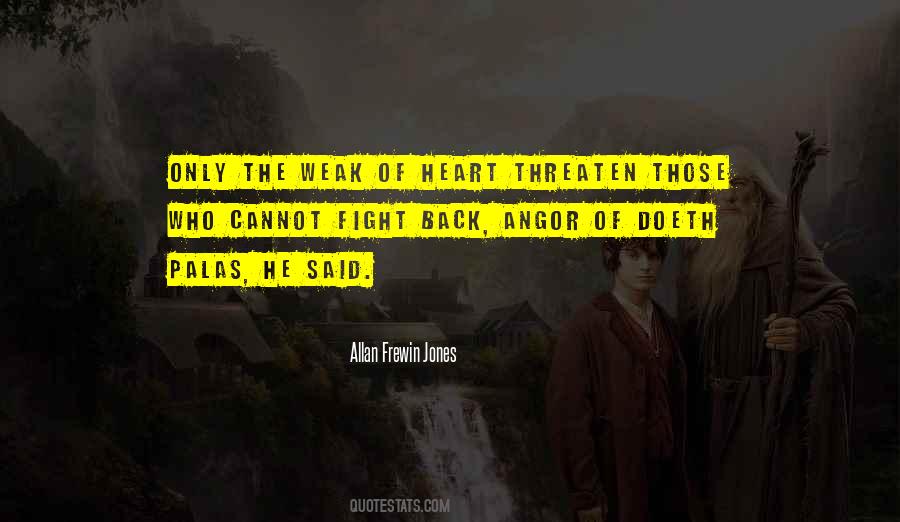 #15. Life is like a war. There will always be people trying to shoot you down. But it's your choice whether you're going to surrender, fight back, or dodge the bullet. - Author: Peyton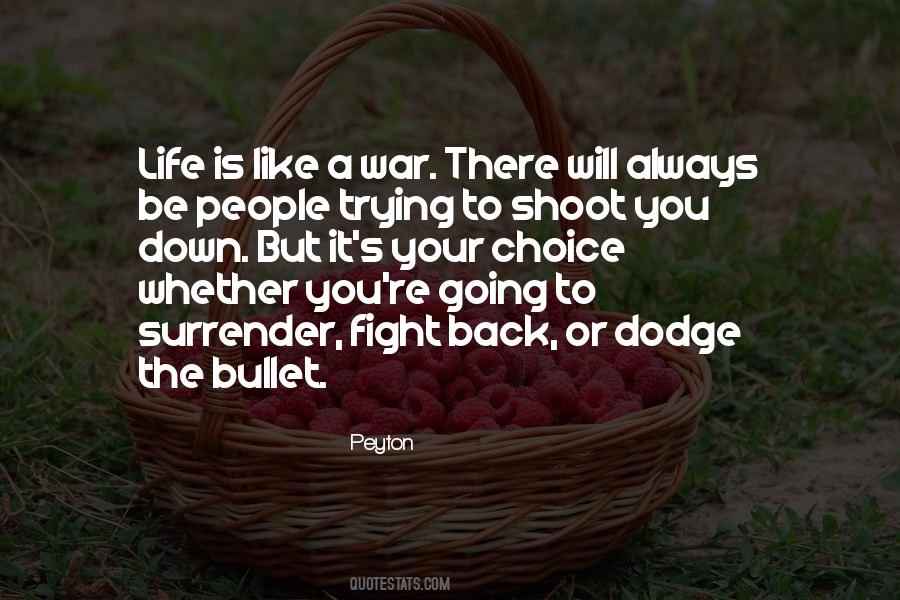 #16. I was so much more powerful than anyone knew. I was an animal learning to fight back, instinctively, fiercely. I was a brave girl. I was a fit fox.

I realized that the most empowering important thing was actually simply taking care of myself. - Author: Aspen Matis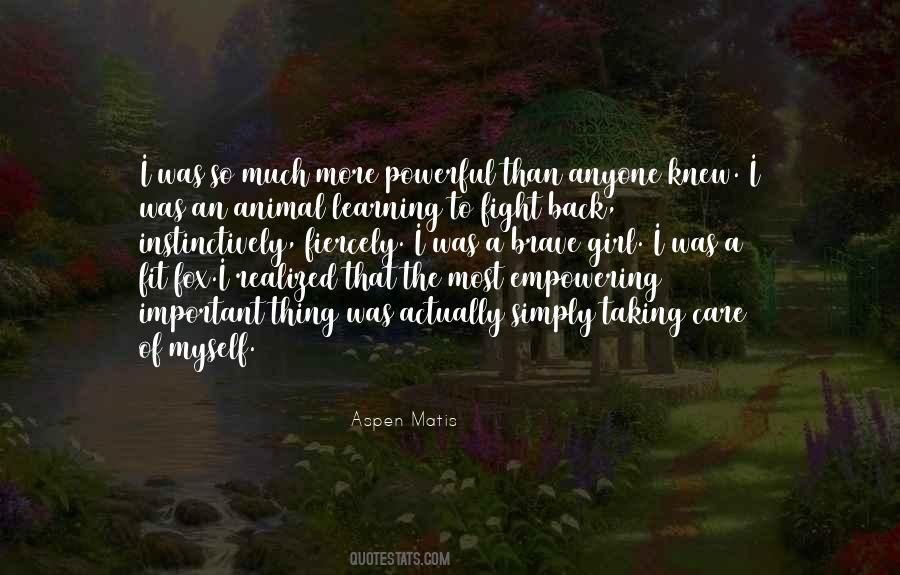 #17. We have struck back. We have declared war on any being that dares to think they can wipe us out without a fight. No matter how celestial, no matter how powerful they are, this is our home and we will fight to keep it. - Author: Susan Ee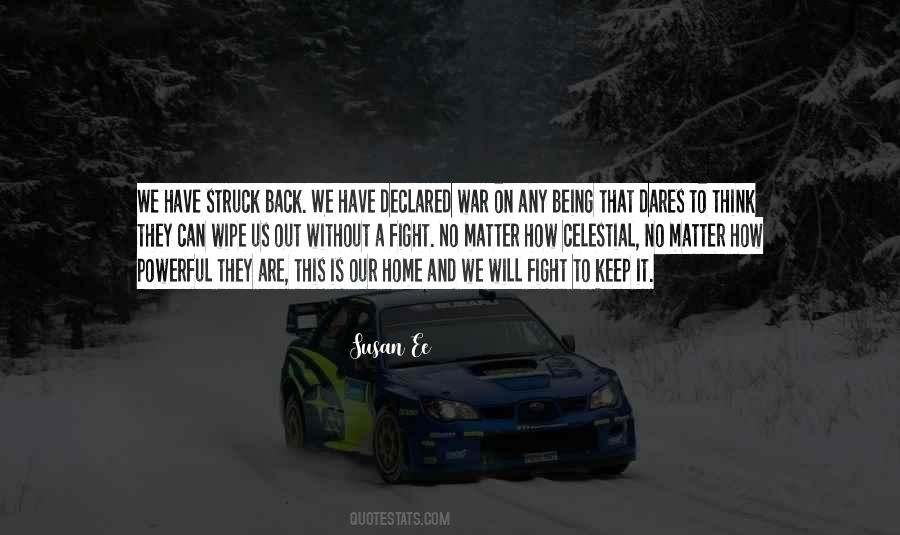 #18. It is Republicans that have led the fight for women's equality. Go back through history and look at who was the first woman to ever vote, elected to office, go to Congress. - Author: Marsha Blackburn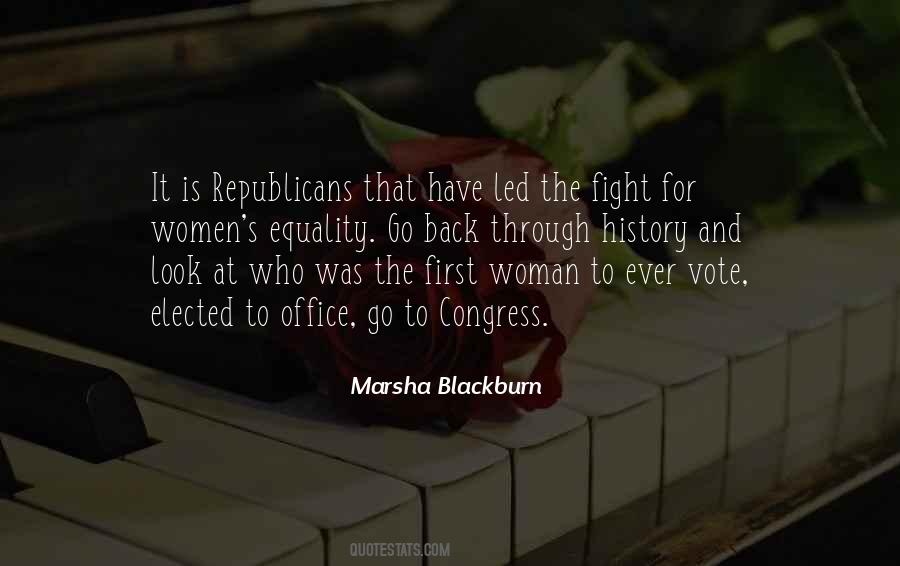 #19. I want to live in my truth. Tell me you don't like me, and I know it. But when you don't tell me, and you work behind my back, it's a lie, and I don't know how to fight that. - Author: Lee Daniels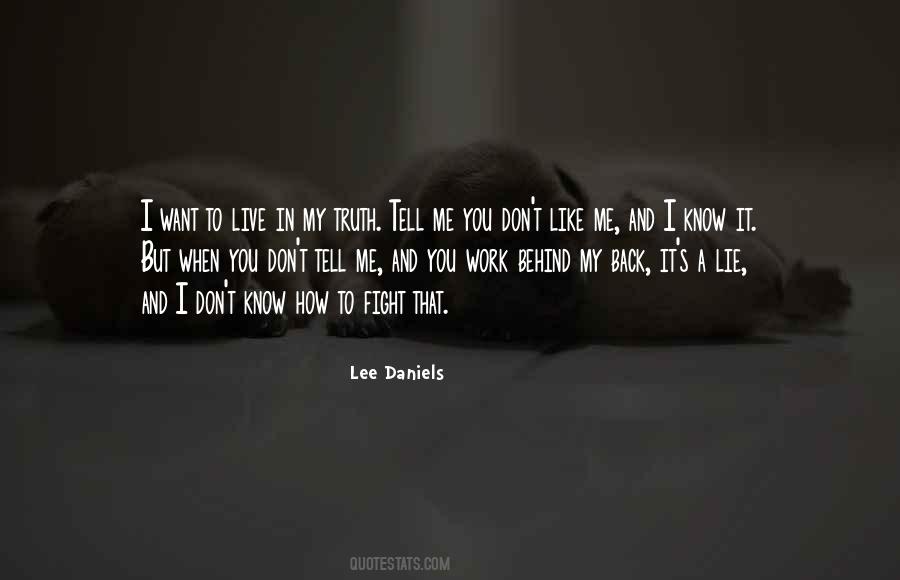 #20. If I've learned anything from my past and my present, it's the power of fear. You can give your subjects all the generosity in the world, and still they will demand more. But those who are afraid don't fight back. I know this well enough. - Author: Marie Lu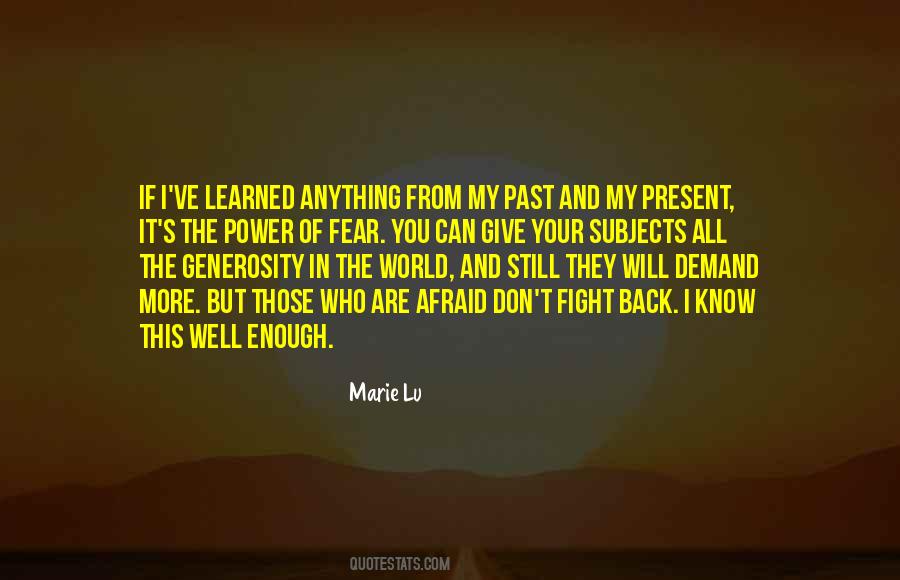 #21. When we fight back with joy, we awaken to the deepest reality of our identity as beloved, delightful children of God. - Author: Margaret Feinberg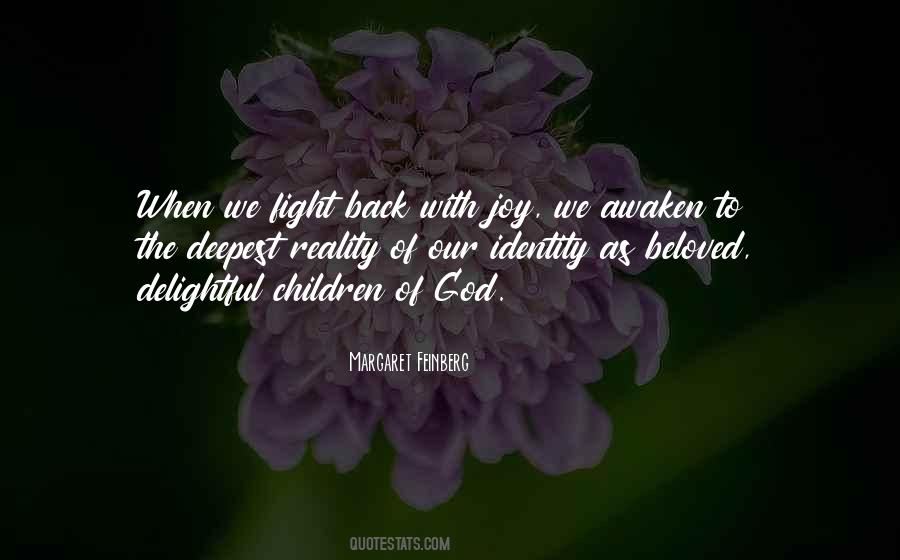 #22. There are those who believe justice and dignity are reserved only for some people. Young men have died in police custody, and the growing heel of poverty has worn down harder on children of color ... We must fight back. - Author: Elizabeth Warren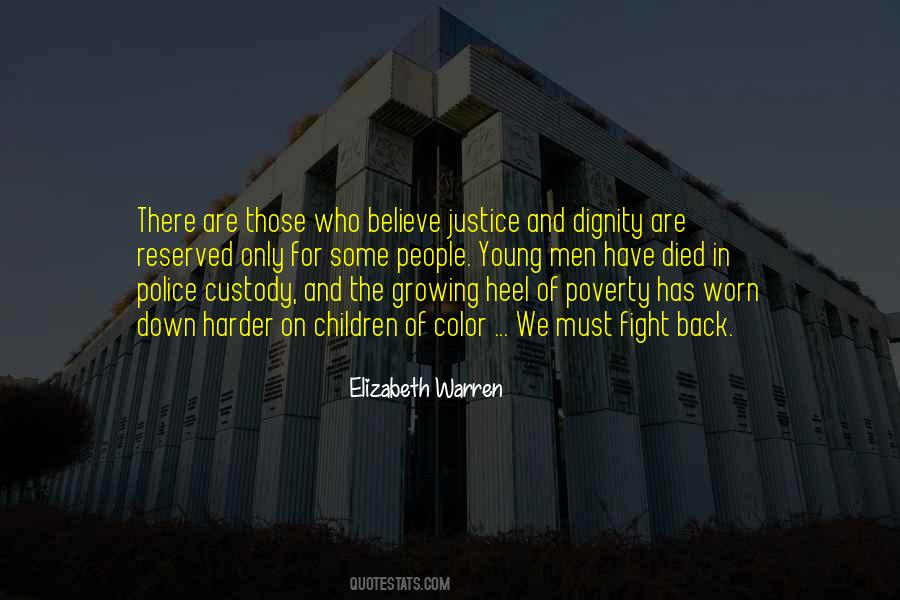 #23. He reaches for the sword. I step back, not wanting to hand it over.
'What are you going to do, fight me for her?' he asks. He sounds like he's close to laughing.
'What are you going to do with it?'
He sighs, seeming tired. 'Use it as a crutch, what do you think? - Author: Susan Ee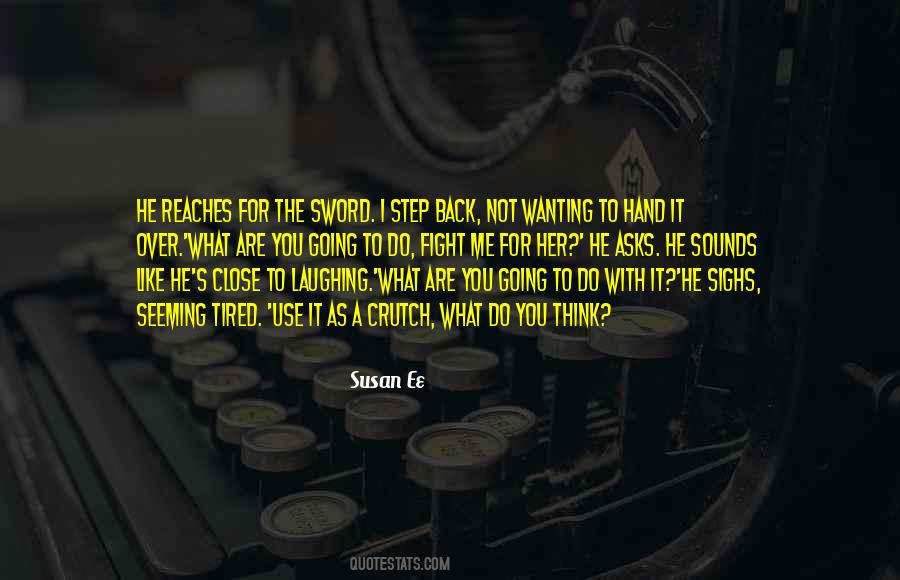 #24. When the sun died, I went up to heaven and saw God and all the people who had died a long time ago. God told me to come back and tell my people they must be good and love one another, and not fight, or steal, or lie. He gave me this dance to give to my people. - Author: Wovoka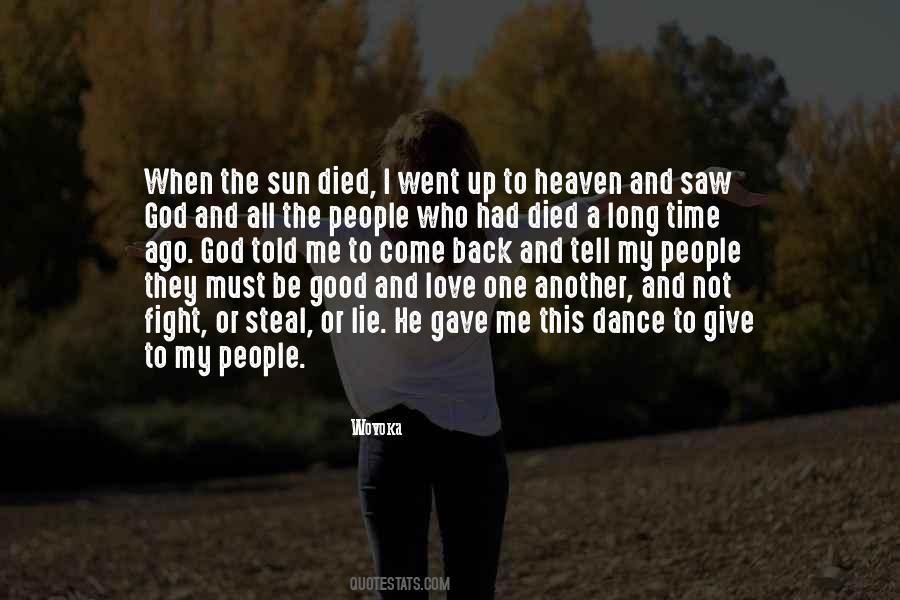 #25. The one thing with the established and traditional media industries is that whenever something new comes along, they don't know what to make of it, and the natural reaction is to fight it or push back. - Author: Chad Hurley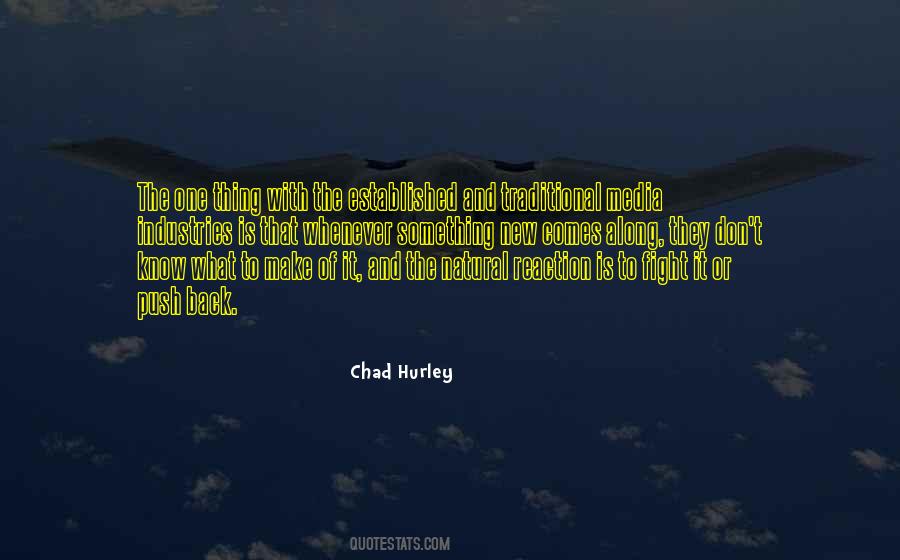 #26. Why are we up here?" Mark asked. Alec pointed a finger at him. "Because it's what you do when someone comes to your house and attacks your people. You fight back. I'm not going to let these bloodsuckers get away with that crap. - Author: James Dashner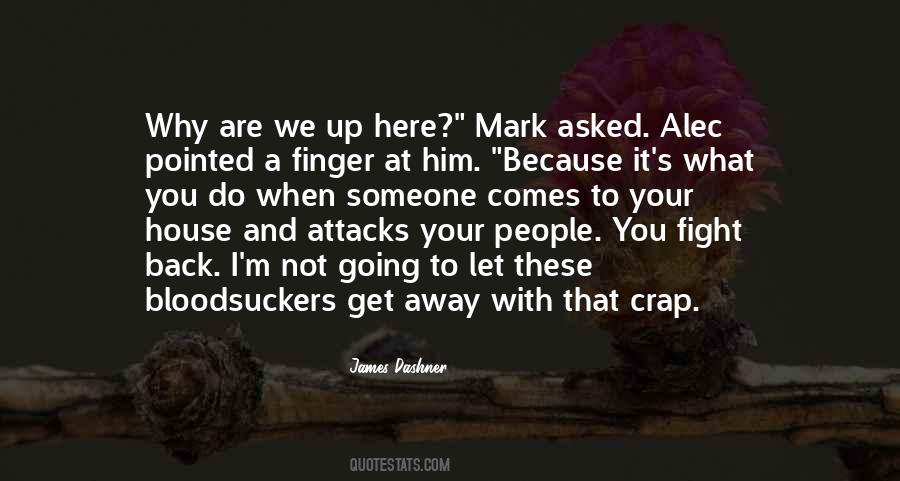 #27. Mandatory minimum sentencing has disproportionately affected blacks, Hispanics and others who often don't have the financial means to fight back. - Author: Rand Paul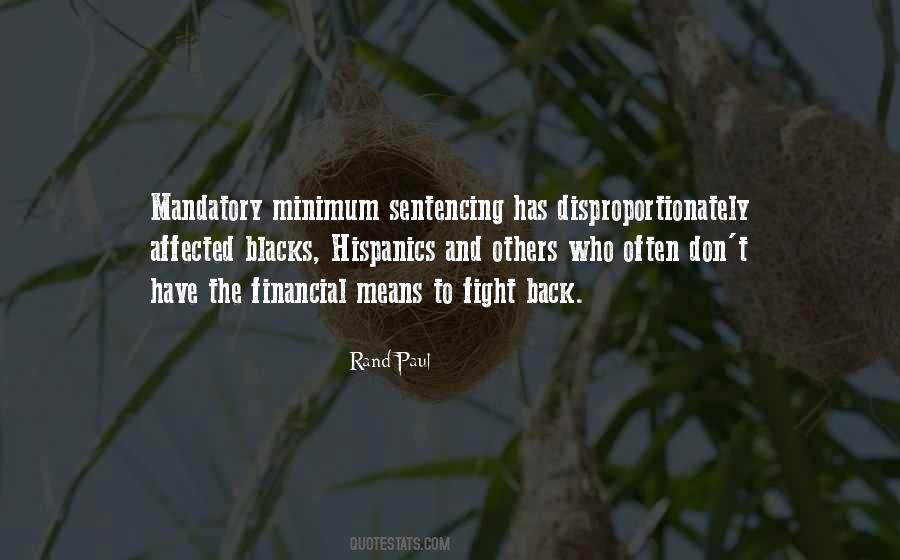 #28. I know I will never wear sandals now anywhere. I got in a fight in the back of a grocery store when I was really young, like 14 or something. And I remember my feet were so torn up afterwards because I lost my sandals in the middle of the fight. My toenail was missing. It just sucked. - Author: Channing Tatum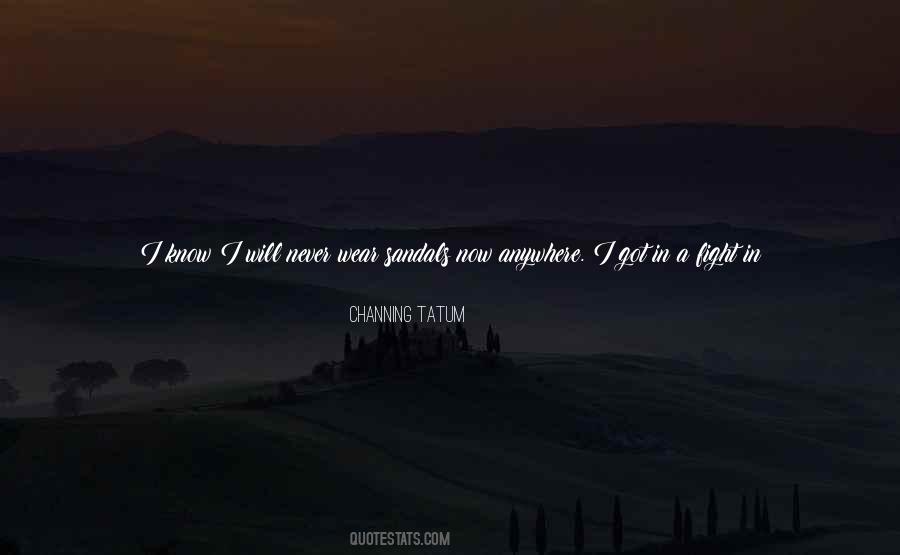 #29. It is useless to fight fire with fire. When you're offended, it is instinctive to want to fight back in anger. - Author: Auliq Ice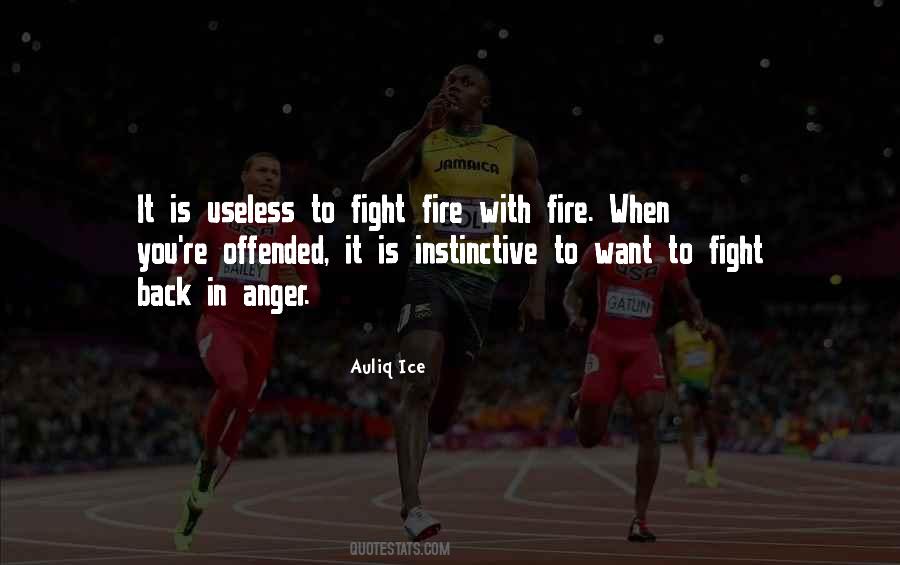 #30. Despite what you think you know, most people don't want to fight, especially when evenly matched. ... That's why you see those pissed young men doing the dance of "don't hold me back" while desperately hoping someone likes them enough to hold them back. - Author: Ben Aaronovitch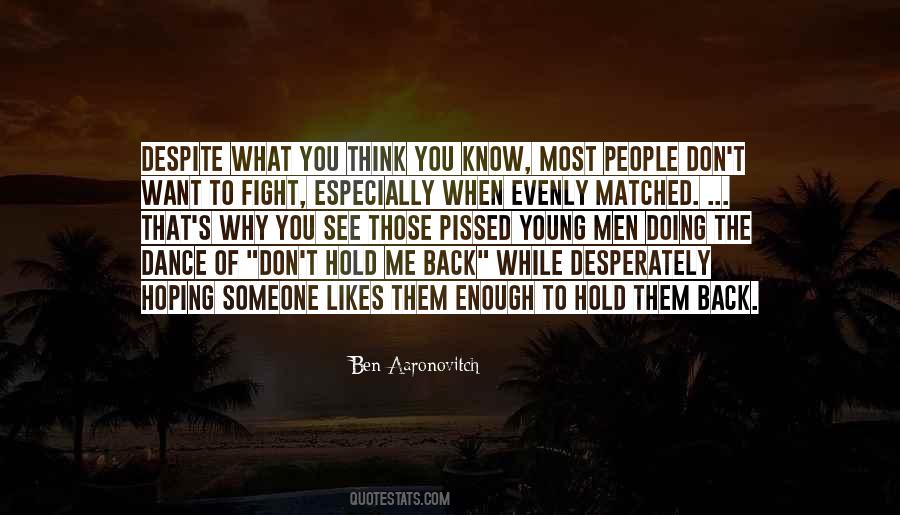 #31. There's more to being a warrior than killing. A true warrior - the best warrior - isn't cruel or mean. He doesn't claw an enemy who can't fight back. Where's the honor in that? - Author: Erin Hunter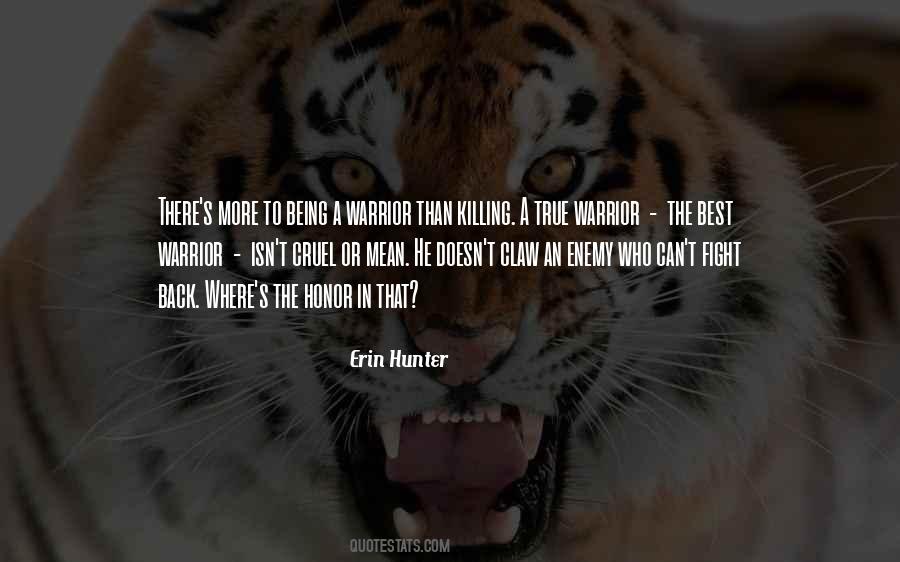 #32. He wouldn't give up on her. He was prepared to do anything, fight any battle. No matter if the act was forbidden or not, if he could get her back, he would humble himself, put himself in any kind of jeopardy or fight any battle to save her.
- Dimitri's thoughts - Author: Christine Feehan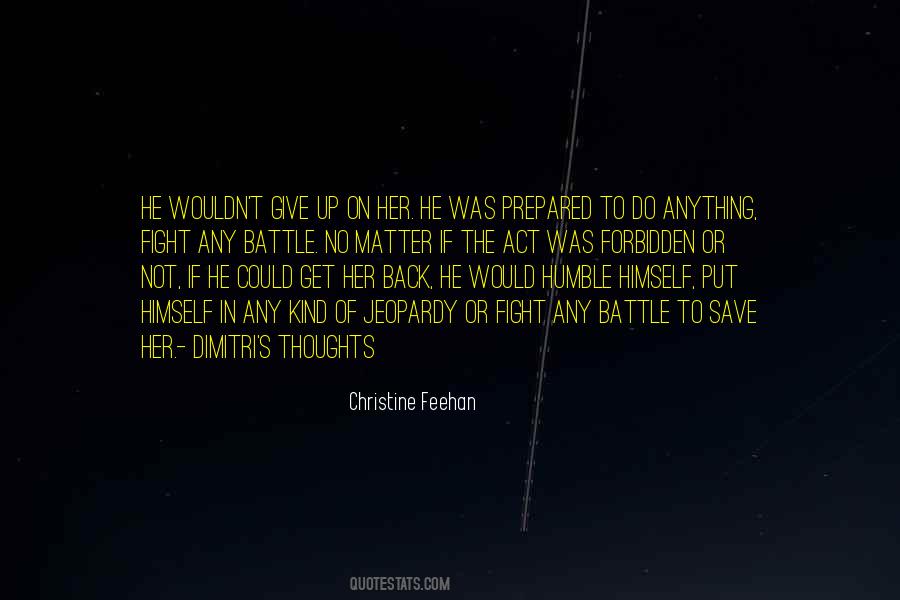 #33. And suddenly I am blindingly angry at Raven
for her lectures, and her stubbornness, and for thinking that the way that you help people is by driving them against a wall, by beating them down until they fight back. - Author: Lauren Oliver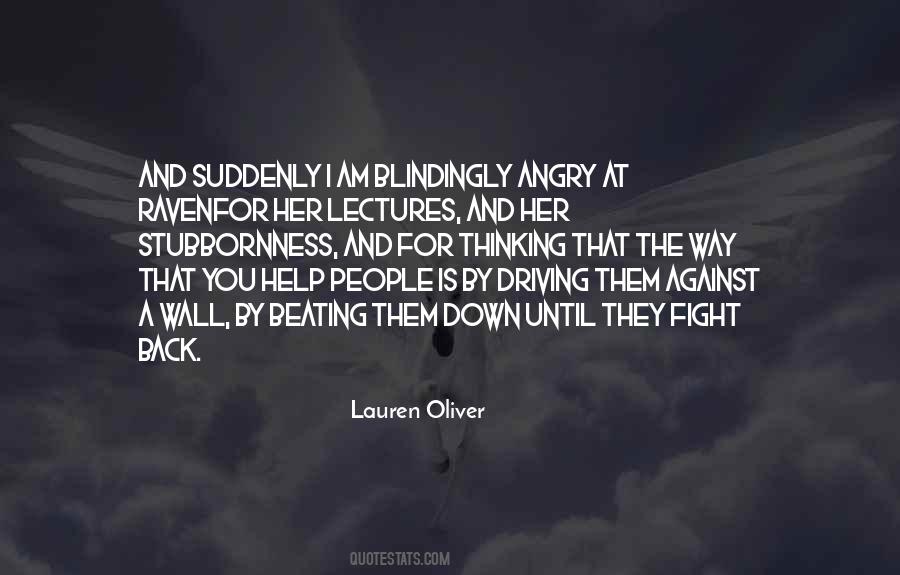 #34. The way I see it, when you put the uniform on, in effect you sign a contract. And you don't back out of a contract merely because you've changed your mind. You can still speak up for your principles, you can still argue against the ones you're being made to fight for, but in the end you do the job. - Author: Pat Barker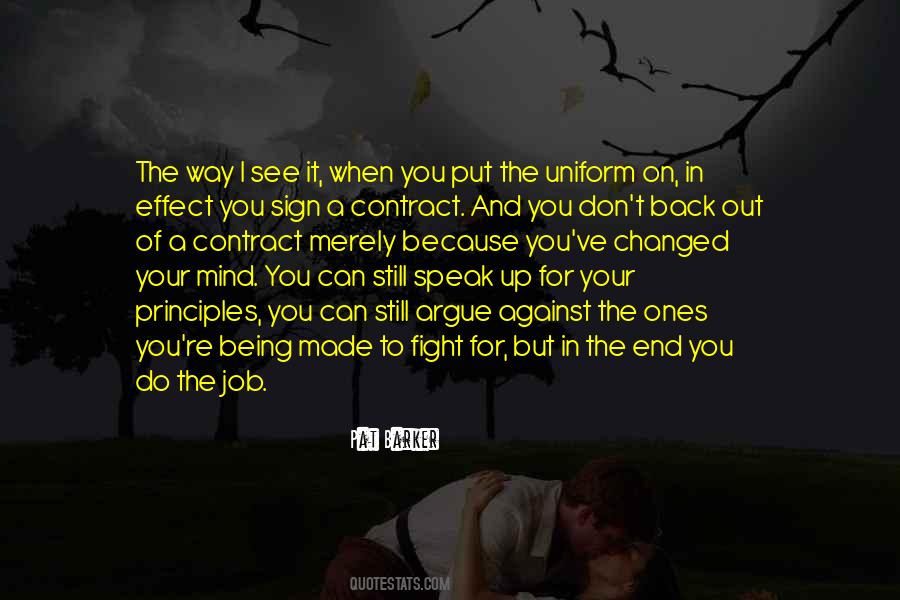 #35. When you fight corruption, it fights back. - Author: Nuhu Ribadu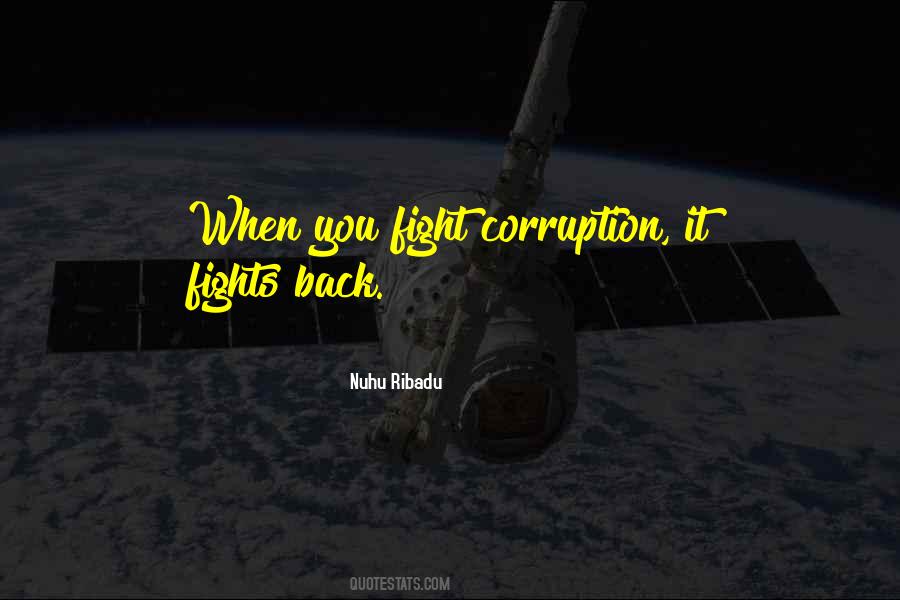 #36. I worry when athletes are simply used by their universities to produce revenue, to make money for them, nothing to show at the back end. I grew up with a lot of players who had very, very tough lives after the ball started bouncing for them. And that's why I'm going to continue to fight. - Author: Arne Duncan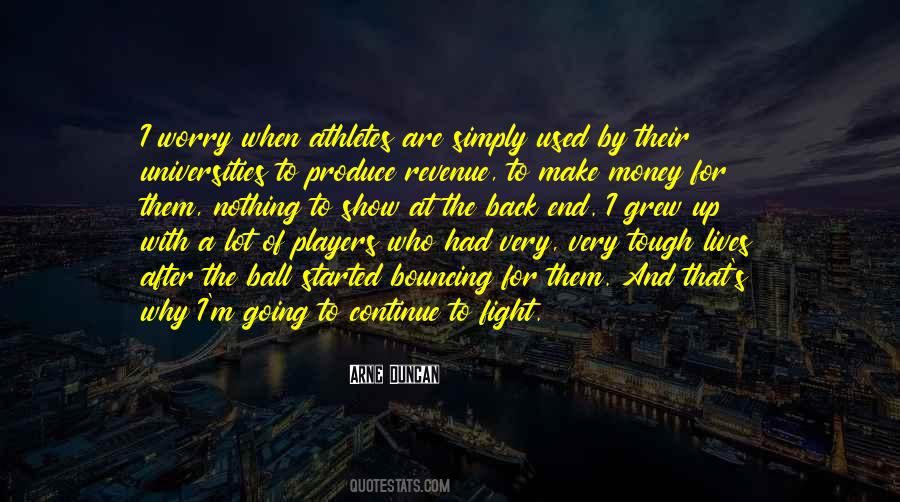 #37. I brought you back because I could not find the strength to fight her without you but for that same reason I will do everything in my power to see you safely to the Citadel - Author: Samantha Shannon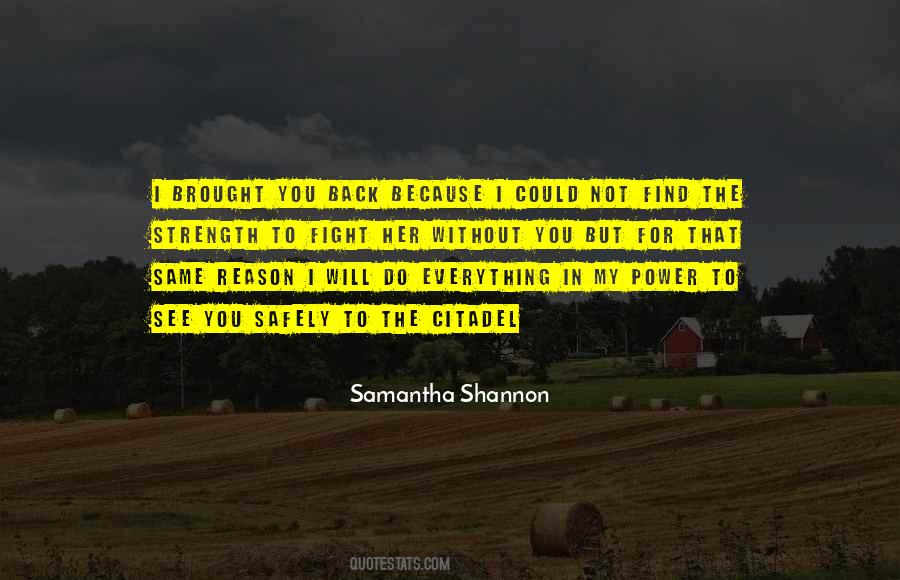 #38. There are a lot of car bombs and roadside bombs, house bombs, even, in this city planted by ISIS. So - but it's going to be a tough fight ahead, and the Iraqi generals expect to take the city back, the city of Ramadi, by mid-January. - Author: Tom Bowman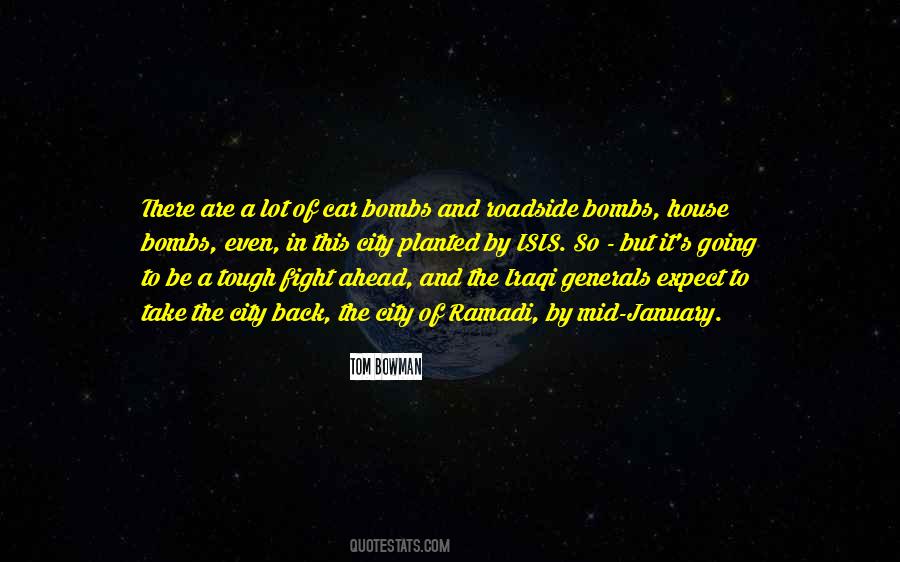 #39. Because of GLHR's crusades ... we're beginning to learn the awful truth about workers around the world who are slaving away their lives in sweatshops, who are denied the right to join or form a union in order to fight back and provide a better life for their families. - Author: John Sweeney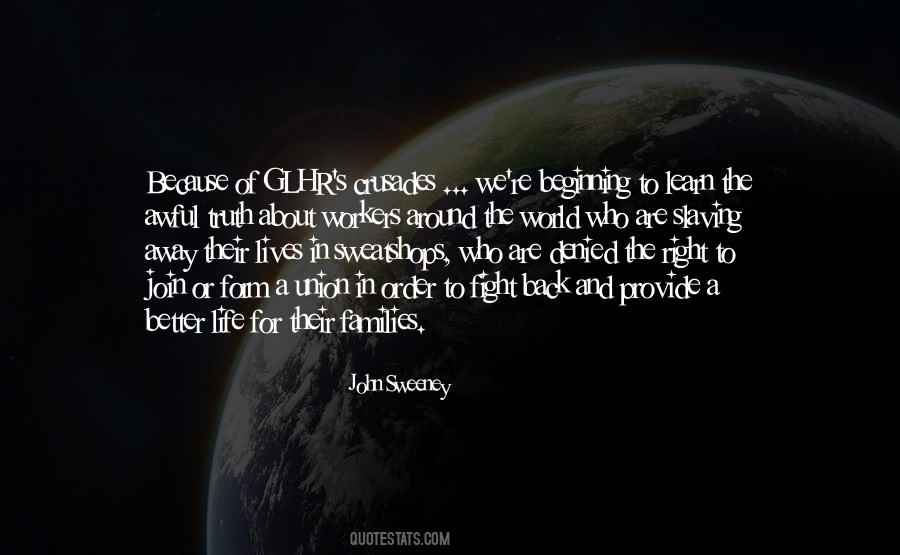 #40. Where will you drive your own picket stake? Where will you choose to make your stand? Give me a threshold, a specific point at which you will finally stop running, at which you will finally fight back. - Author: Derrick Jensen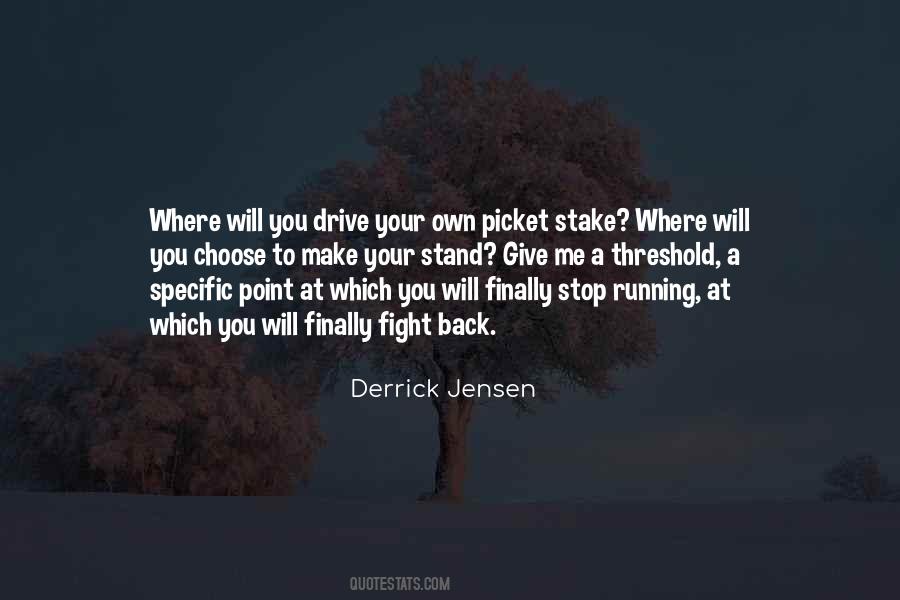 #41. I don't mean you should despise people for being weak, if it's a kind of weakness they can't help. But when they're weak on purpose, it's another thing. When they don't even try. When they let people hurt them and don't fight back. It's gross. It's letting down the whole human race. - Author: Mary Gaitskill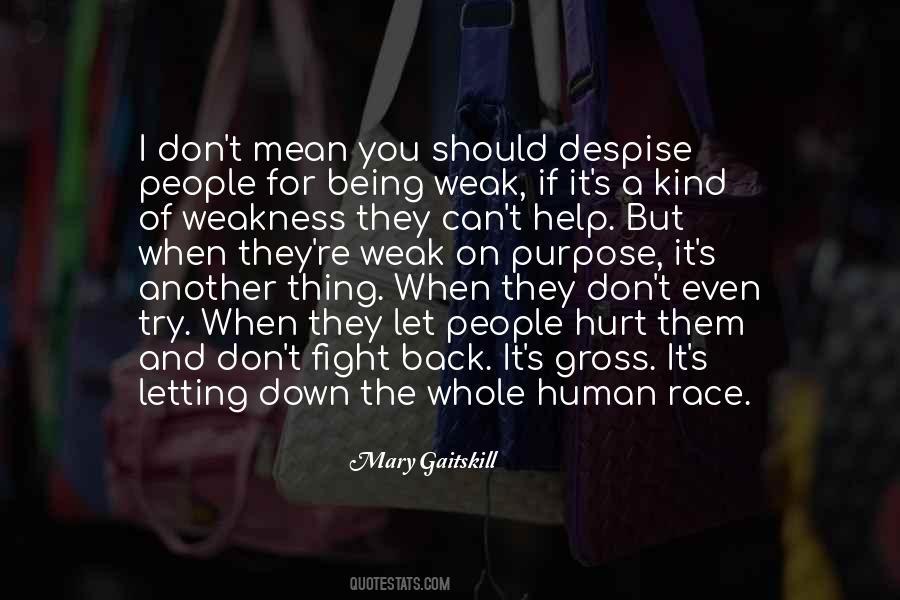 #42. I just keep praying for Joan to get her power back. To resolve her problems and rise to the top. To fight back! - Author: Christina Hendricks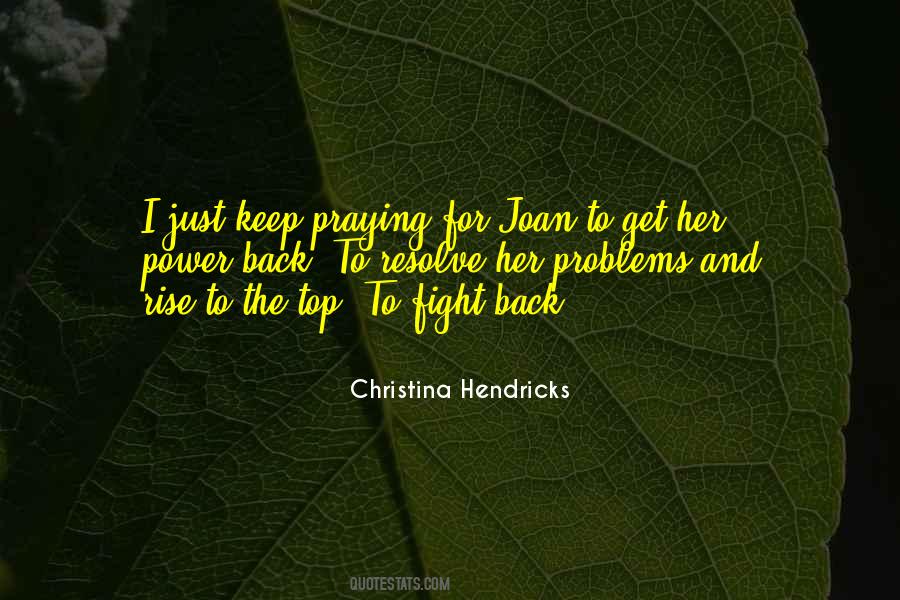 #43. Government is a living organism. Like every living thing its prime characteristic is a blind, unreasoned instinct to survive. You hit it, it will fight back. - Author: Robert A. Heinlein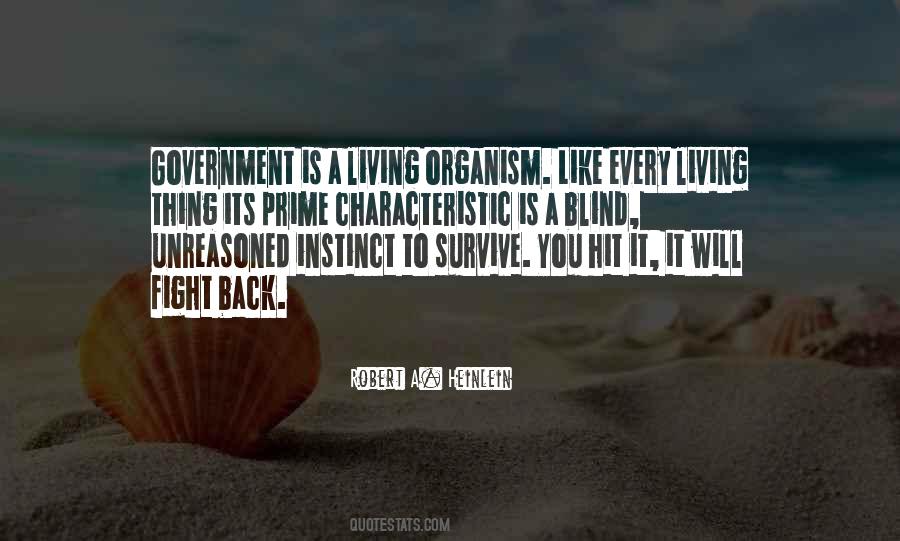 #44. It's funny how people who we fight with the most at the end of day are the ones that really got your back. - Author: Jasmine V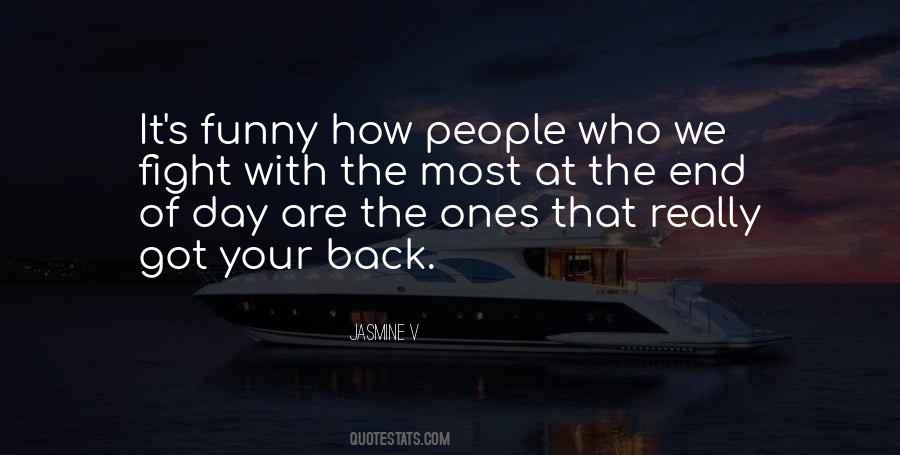 #45. You can beat anybody, Wayne always said, so long as you don't let them fight back properly. - Author: Brandon Sanderson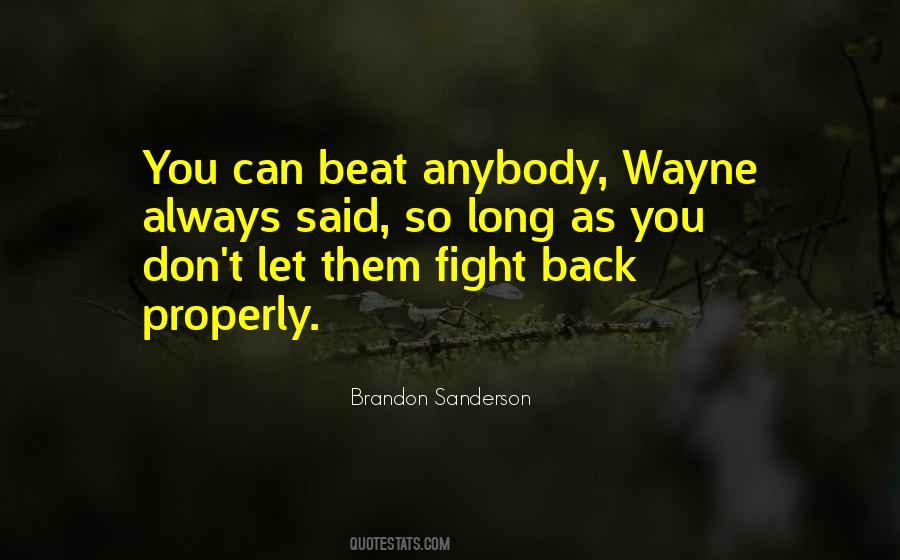 #46. I wanted to be the best street fighter in Houston, Texas. And I thought if I got a trophy or two, I'd go back home, and everyone would be afraid of me. I had one fight in '67, the first one. In '68 of October, I was an Olympic gold-medalist, a dream come true, with a total of 25 boxing matches. - Author: George Foreman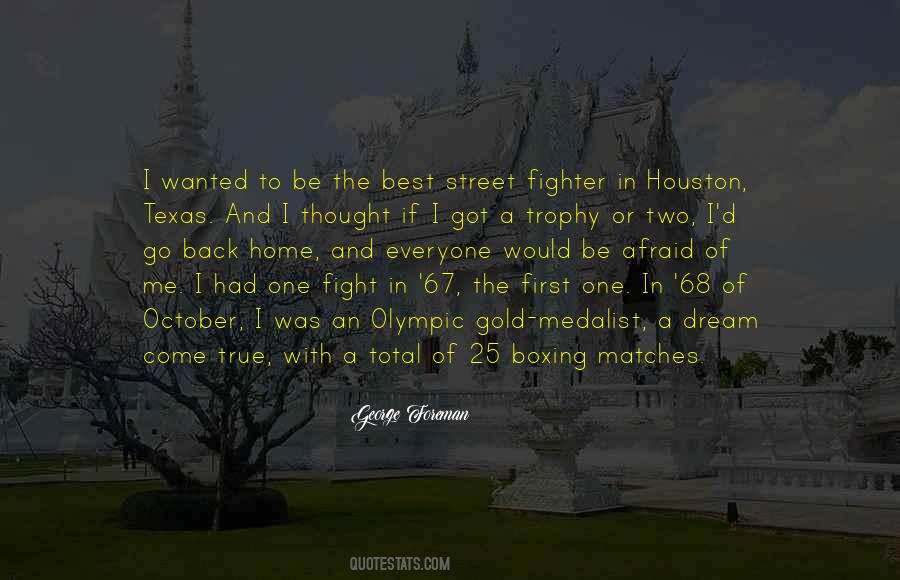 #47. It seems to me that the less I fight my fear, the less it fights back. If I can relax, fear relaxes, too. - Author: Elizabeth Gilbert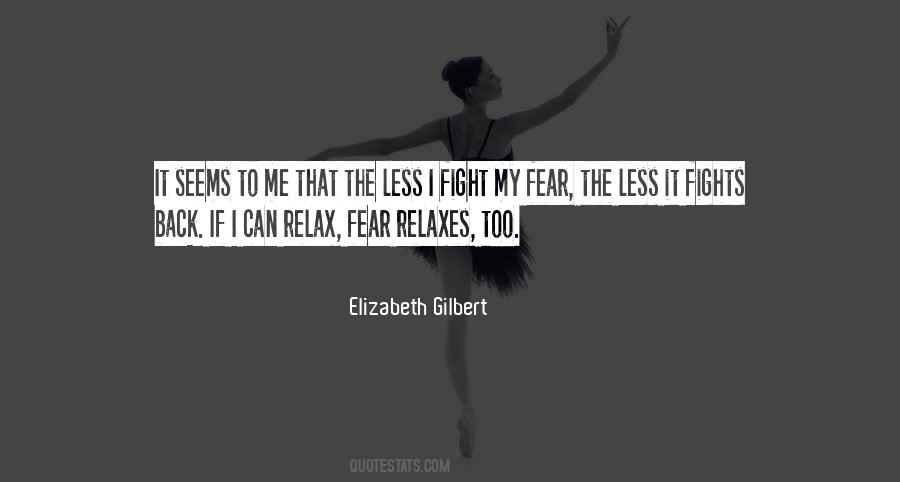 #48. Violence is about the attacker, not the victim. If you weren't there, your attacker would have chosen some other victim. You are all real, good, and valuable people and you are entitled to be safe. And you are allowed to fight back, run, scream, get help or do whatever it takes to be safe. - Author: Kaje Harper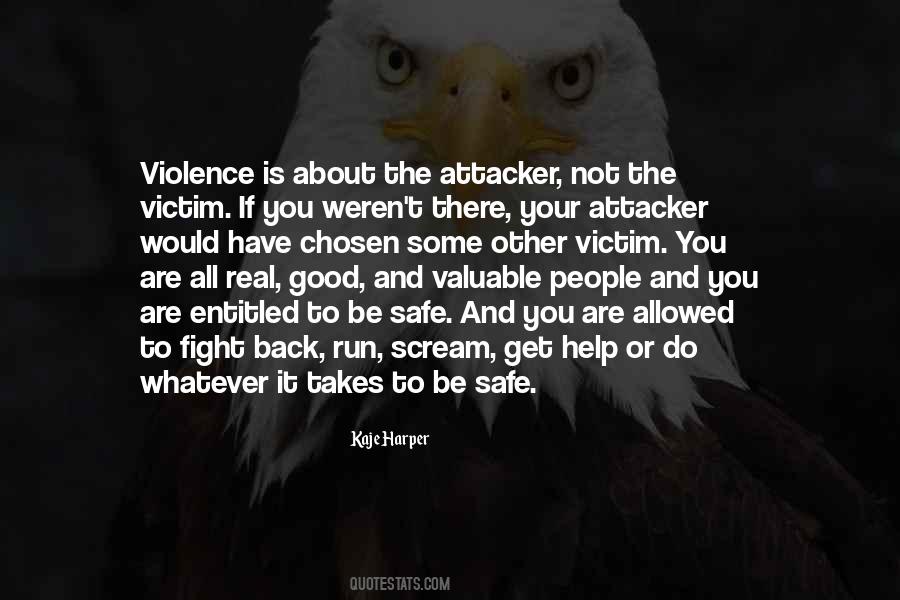 #49. Somehow I felt better toward him, knowing that he had possessed some instinct to fight back. It was something I needed to believe - that all men possess, somewhere, the dignity to value their own lives. If only enough to scratch the arm of the one who throws you to the wolves. - Author: Randall Wallace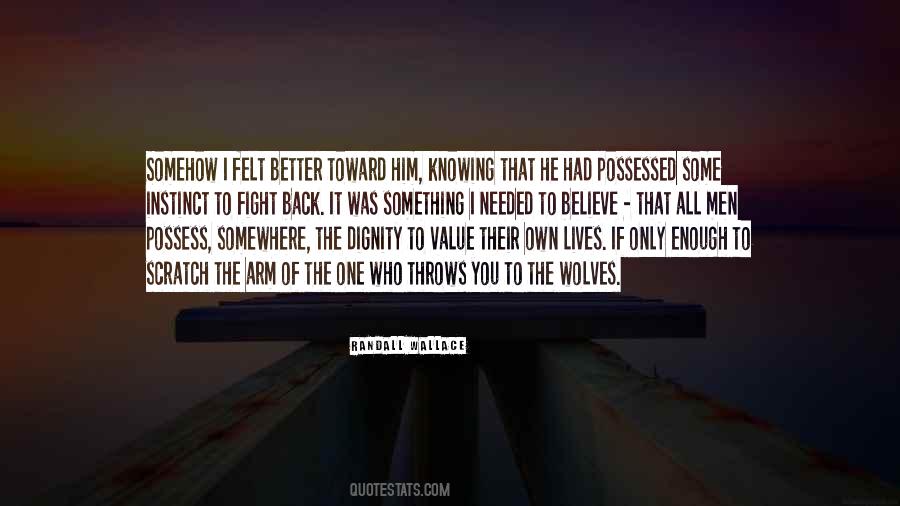 #50. The victims of social injustice, since time eternal, have always been without the resources and the ability to fight back. They are defenseless and voiceless. Thee sad aspect of social injustice is that the defenseless and voiceless are the ones who most need a defense and a strong, vibrant voice. - Author: Tommy Makem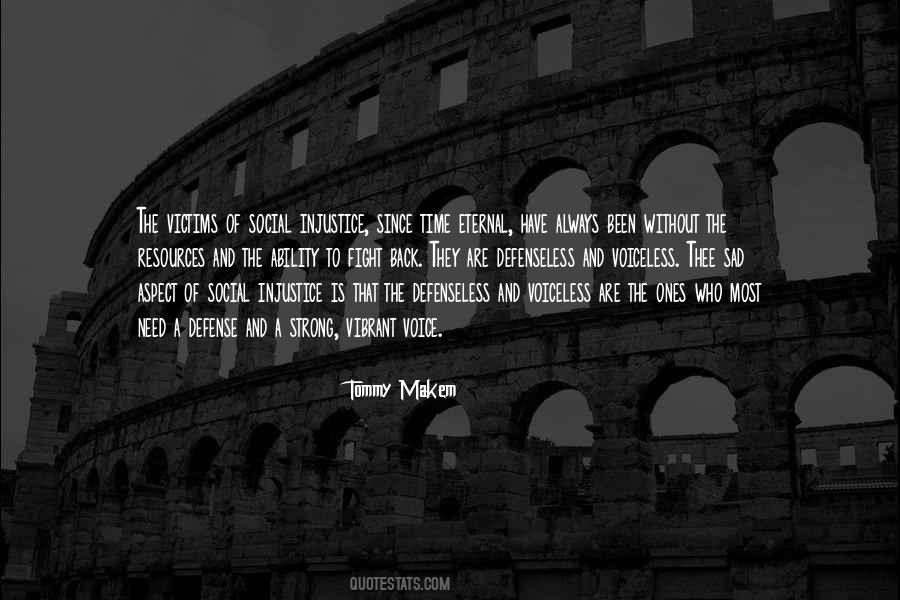 #51. I feel like I just have such the blood and bones of a New Yorker that I can almost imagine better, like, giving up the fight and not being able to afford the city and going out West, keeping a small place here, and then when I'm like 80, coming back here, living on the park and going to the theater. - Author: Natasha Lyonne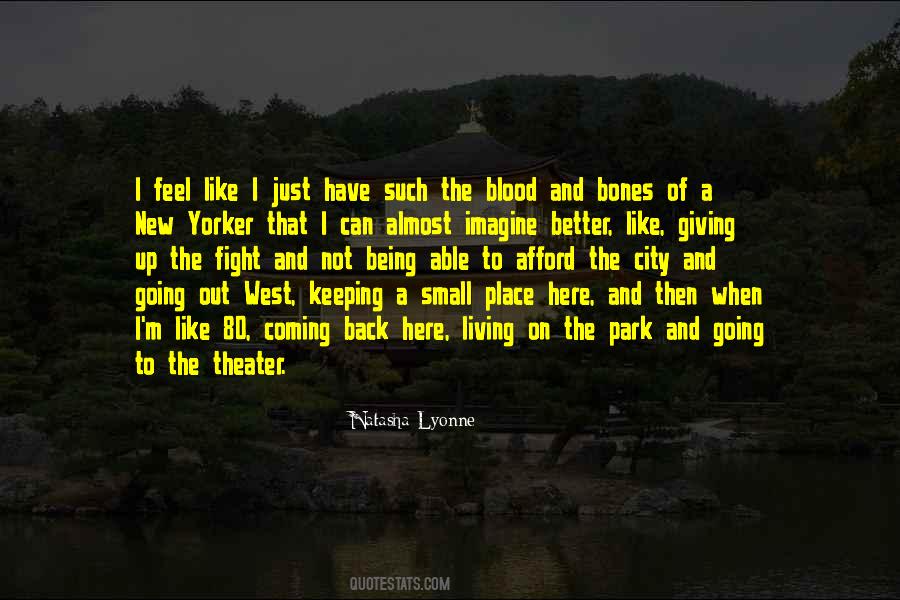 #52. One fine day, in the middle of the night, two dead boys got up to fight. Back to back they faced each other. They pulled out their swords and shot one another. One deaf cop, on the beat heard the noise, and came and shot the two dead boys. - Author: Holly Black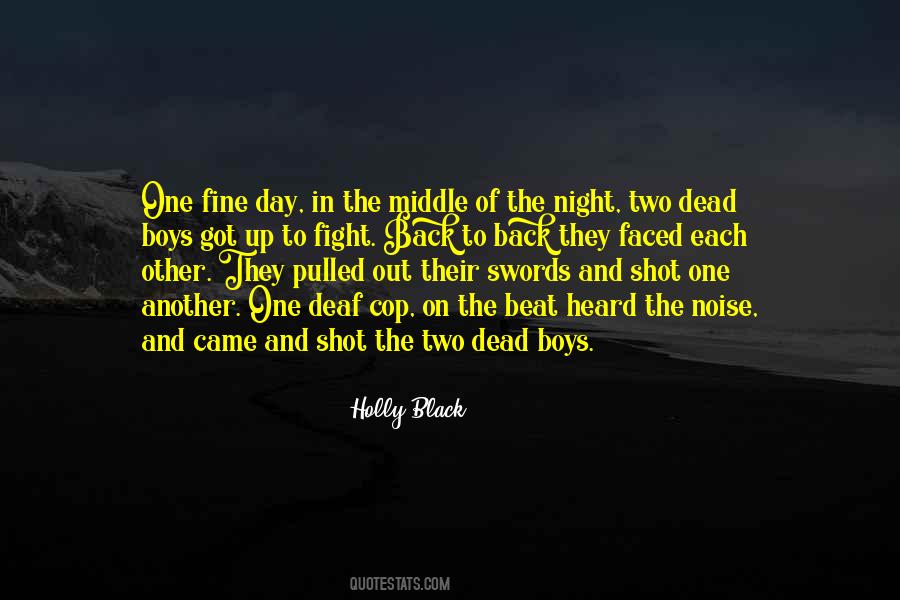 #53. Don't panic, if you are alive you still have chance to fight back. - Author: M.F. Moonzajer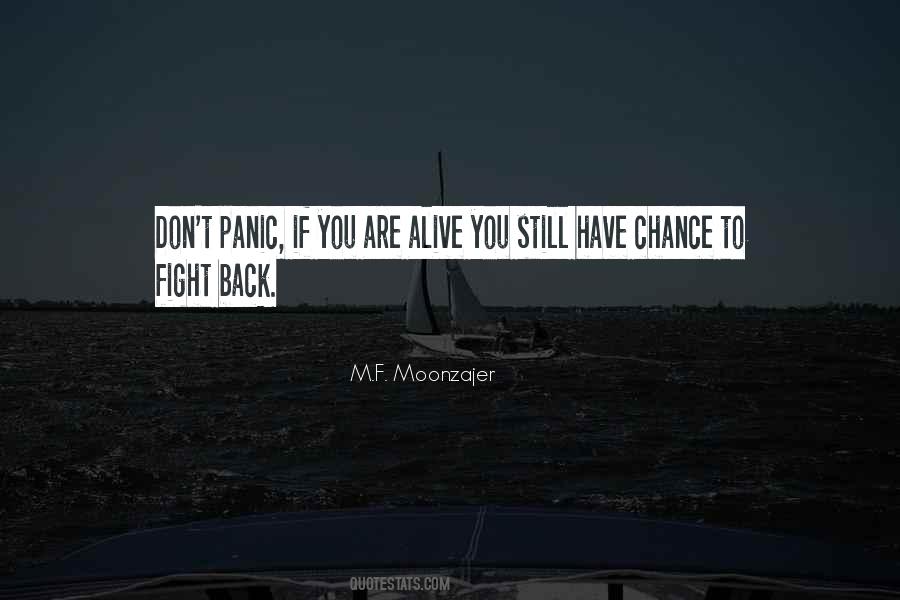 #54. You have treasured people, places, and things. They are precious and powerful. Fight for them. Don't just let them lounge in the back of your mind. A love ignored will wither and die. - Author: Jessica Hagy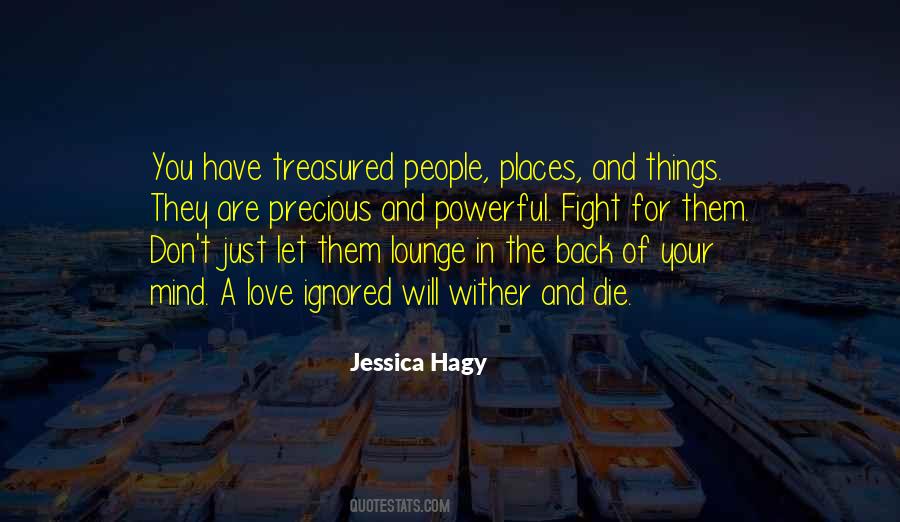 #55. Never took an easy path if he thought it was the wrong one. Never stepped back from a fight if he thought it had to be done. - Author: Joe Abercrombie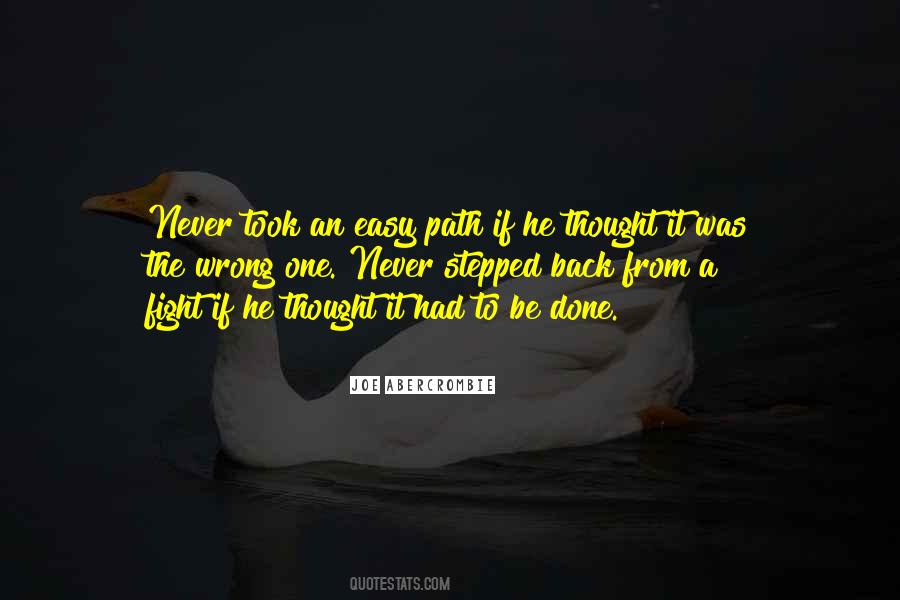 #56. Emma showered carefully - the downside of having your hair long when you were a Shadowhunter was never knowing after a fight if there was ichor in it. Once the back of her neck had been green for a week. - Author: Cassandra Clare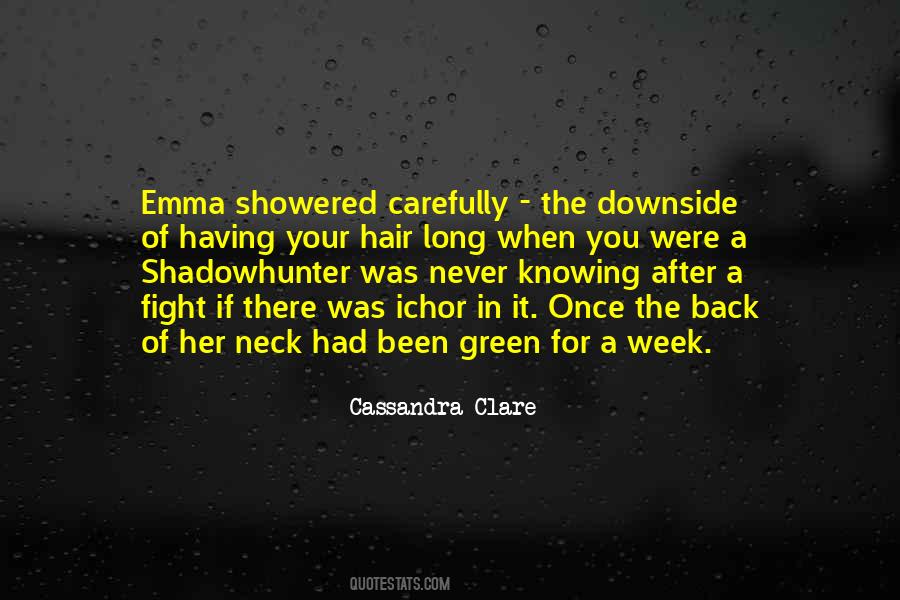 #57. It takes more courage to dig deep in the dark corners of your own soul and the back alleys of your society than it does for a soldier to fight on the battlefield. - Author: William Butler Yeats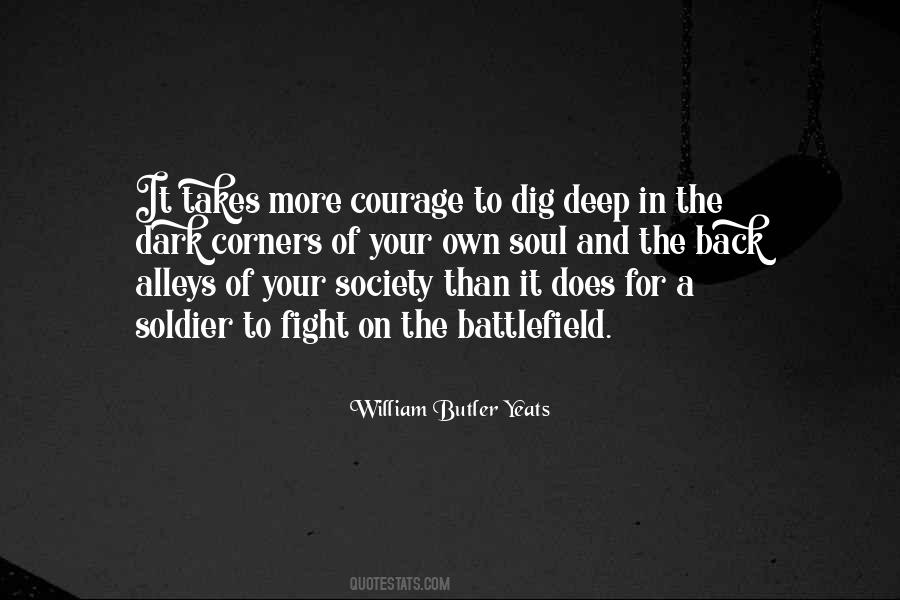 #58. All of my life, when things got too difficult, I folded up the tent and went to bed. I couldn't stand a challenge ... I was terrified of confrontation. I was very laid-back, and just wouldn't get involved or fight back. - Author: Phoebe Snow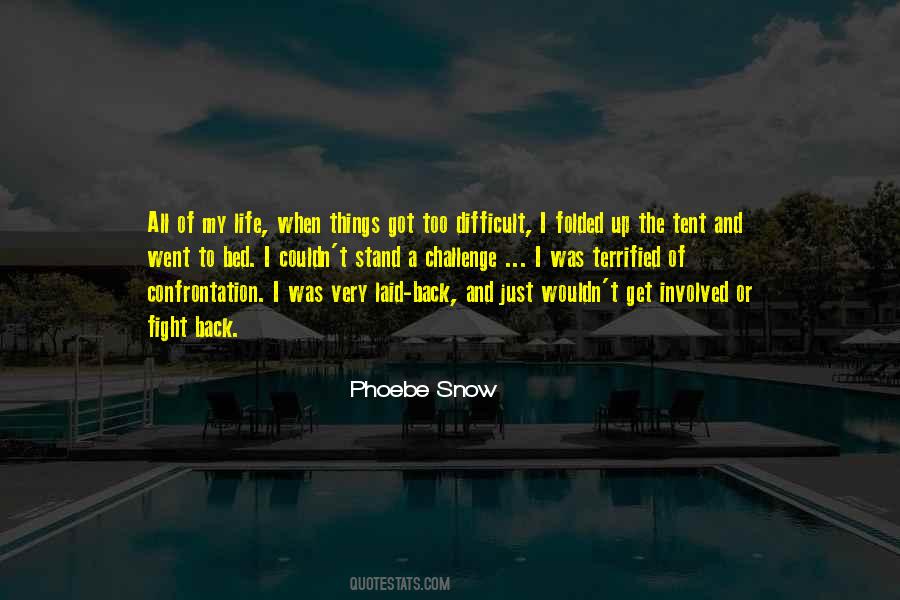 #59. I've always felt that people put me down, and I'd fight back. I played football 15 years, and nobody gave me any credit, and they never will do. - Author: Vinnie Jones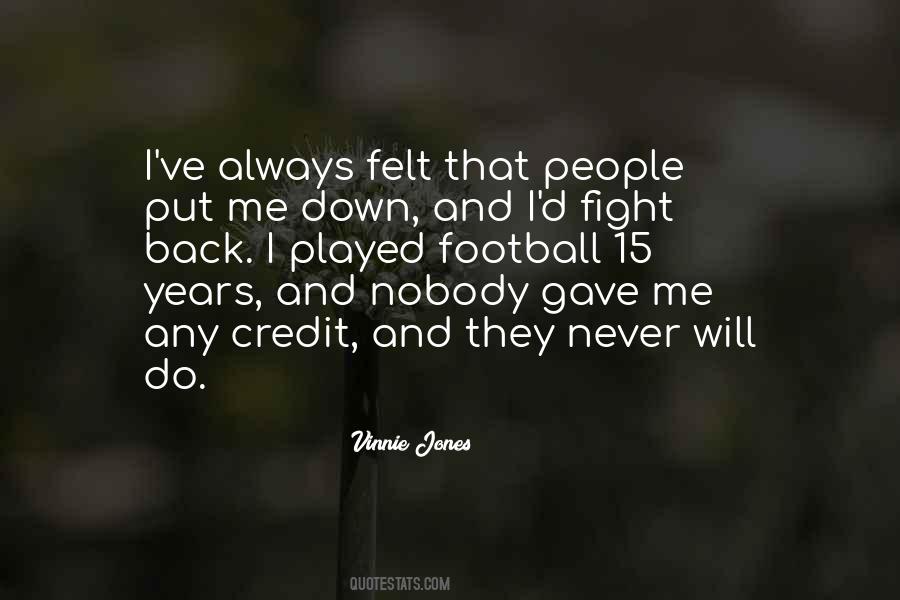 #60. The day is crisp and clear, almost like every other morning he's taken the same walk in the snow, hiking to the forest and back. - Author: M.C. Frank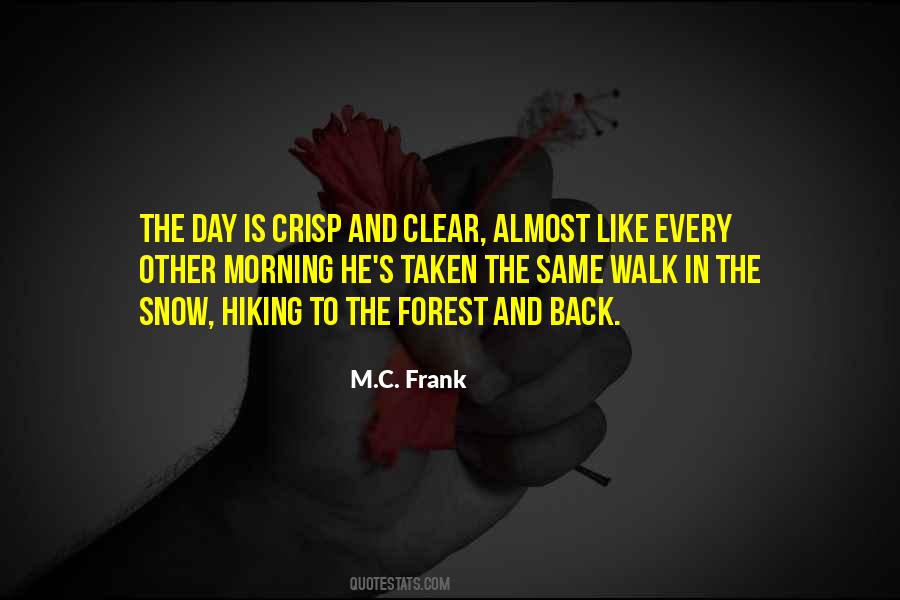 #61. To lose--get angry and fight back. To win--forgive with love. - Author: Debasish Mridha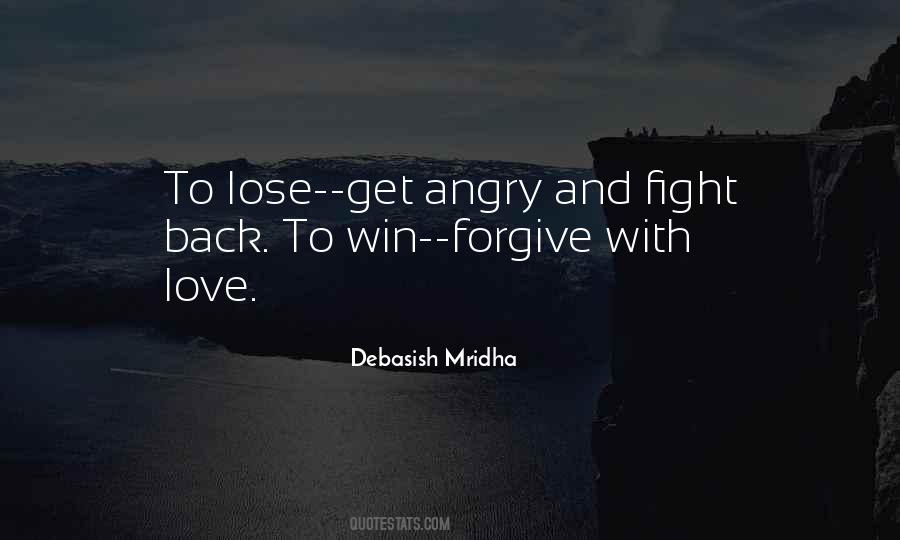 #62. The missionary lifted his hands in a gesture of harmlessness that went back to the African plains of the Pleistocene. I have no weapon; I seek no fight. I'm - Author: James S.A. Corey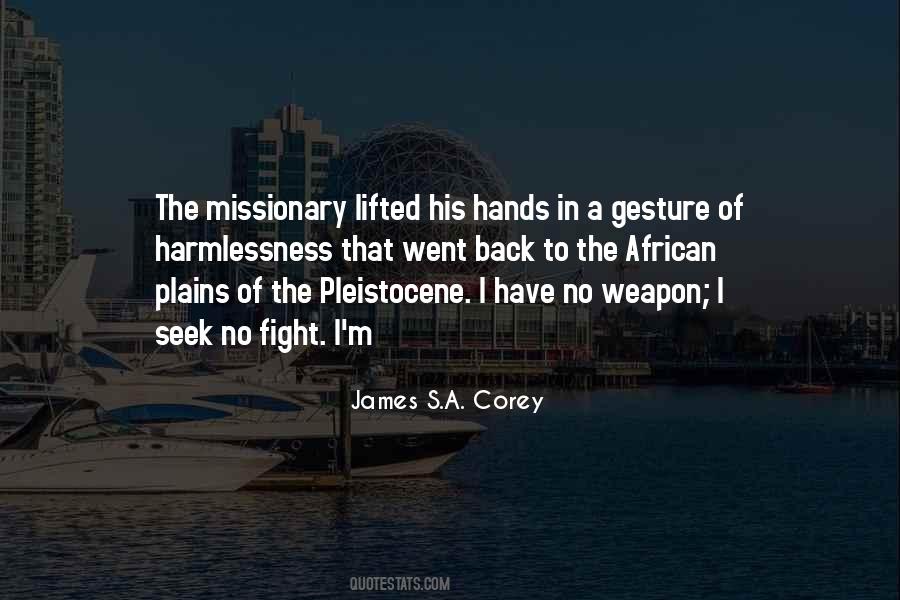 #63. Earlier today Martha Stewart issued a statement saying 'I am innocent and will fight to clear my name.' Yeah, Martha then said 'I look forward to the day when people stop thinking I am guilty and get back to thinking I am cold and arrogant.' - Author: Conan O'Brien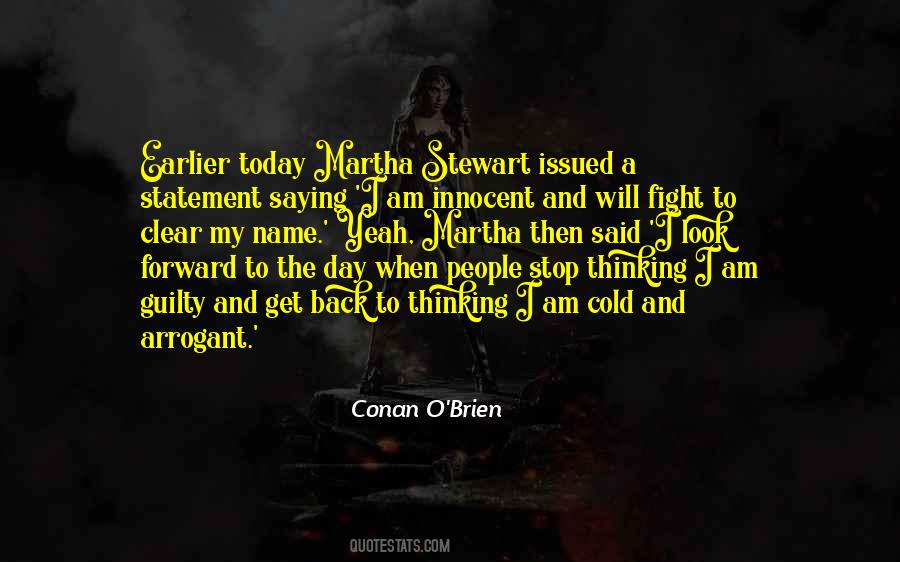 #64. When my back's to the wall, I want to fight. - Author: John Caudwell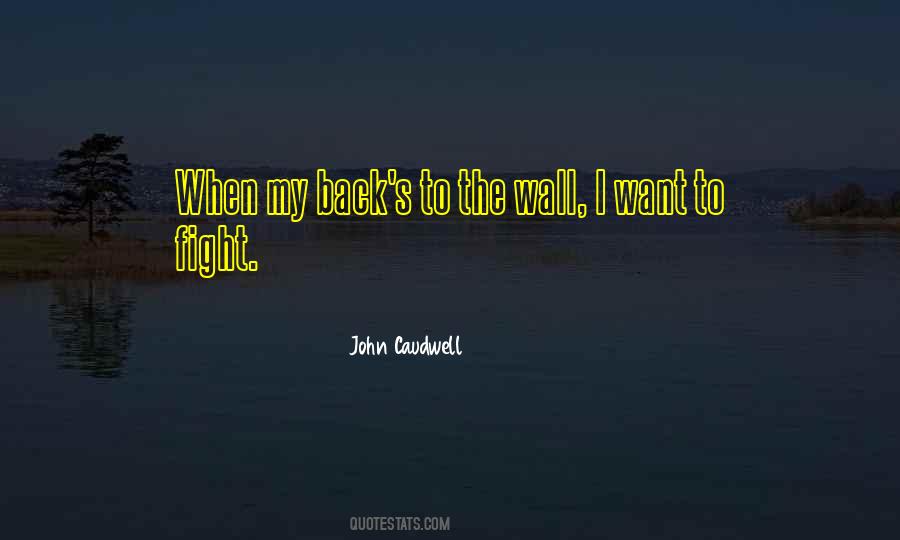 #65. Beat me, hurt me, fight me and I'll bounce back, but be nice to me? I folded quicker than a banker in a high-stakes poker game. - Author: Pippa DaCosta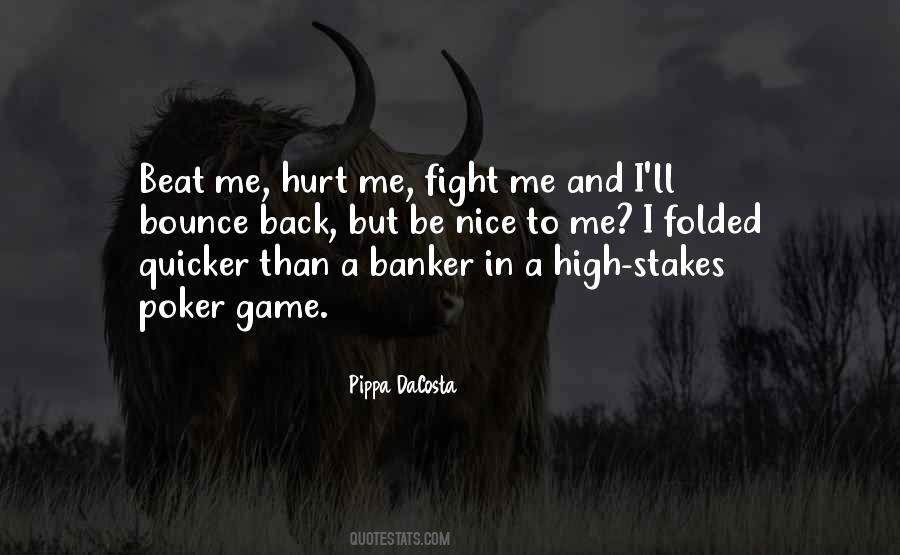 #66. How do we fight back? By creating art. - Author: Terence McKenna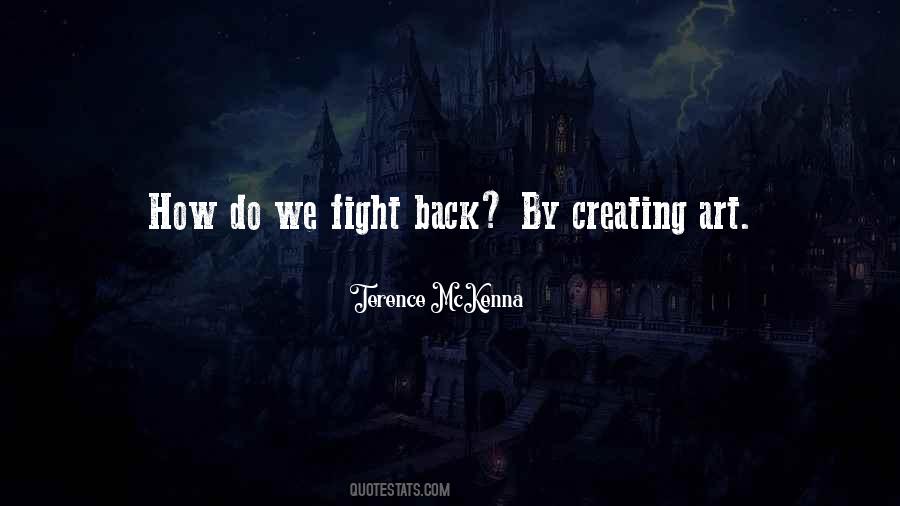 #67. Are you looking for a Negro who won't fight back? - Author: Jackie Robinson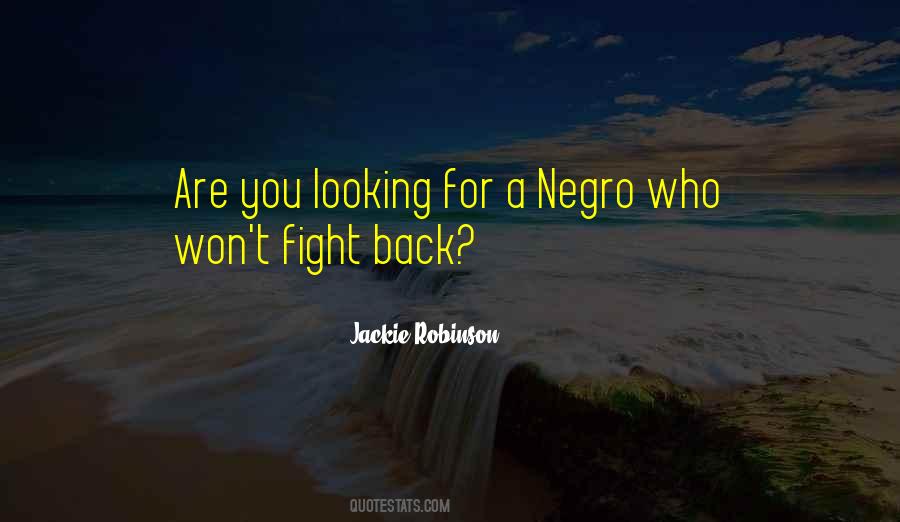 #68. We hadn't lost morale. But when you fight for four quarters, it's tough to always bounce back. The offense kept us in the game the last two weeks and to get out with a win feels really good. - Author: Barry Alvarez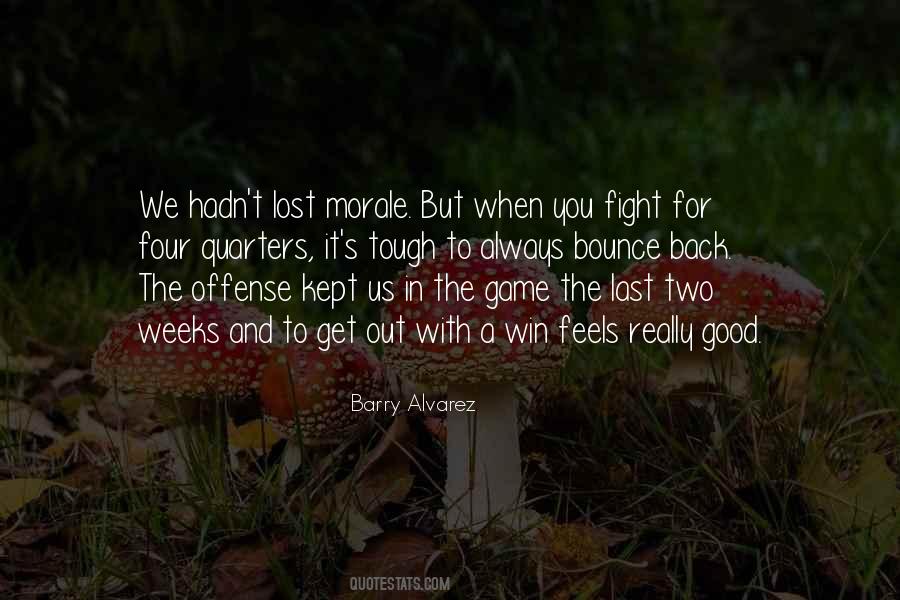 #69. In my view, we need a massive federal jobs program which puts millions of our people back to work. We must end our disastrous trade policies. We need to raise the minimum wage to a living wage. And we have to fight for pay equity for women. - Author: Bernie Sanders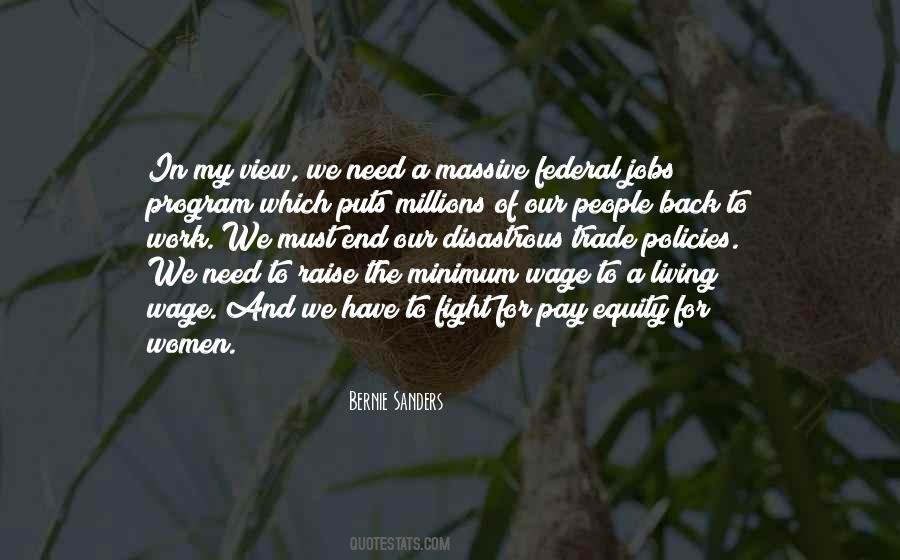 #70. The students whipped their heads back to look at her; a blaspheming teacher was as exciting as a fight. - Author: Emma Hooper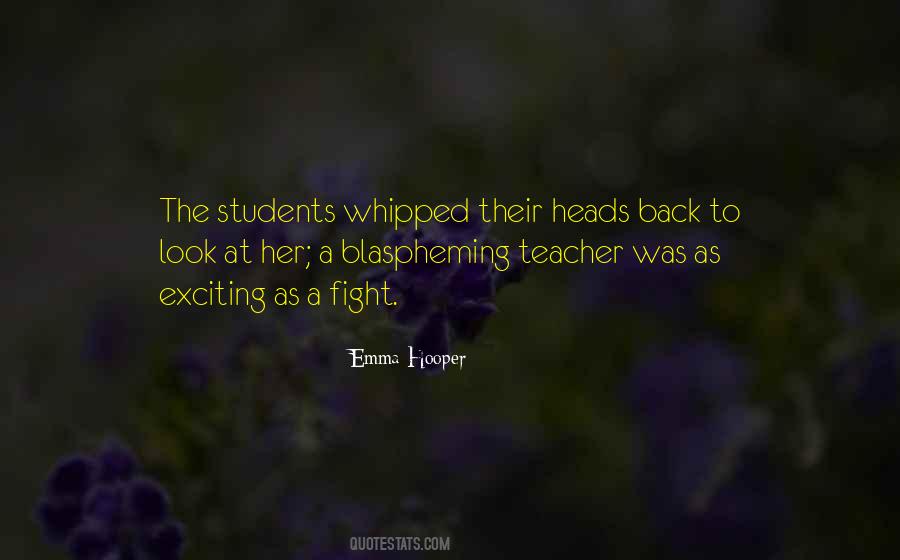 #71. We as fighters always want to fight the best possible opponents and the best fights. We want the fans and media to be excited about the fights that we have. I now believe that this is a big fight and people want to see it, I'm not sure that was the case a few years back. - Author: Miguel Cotto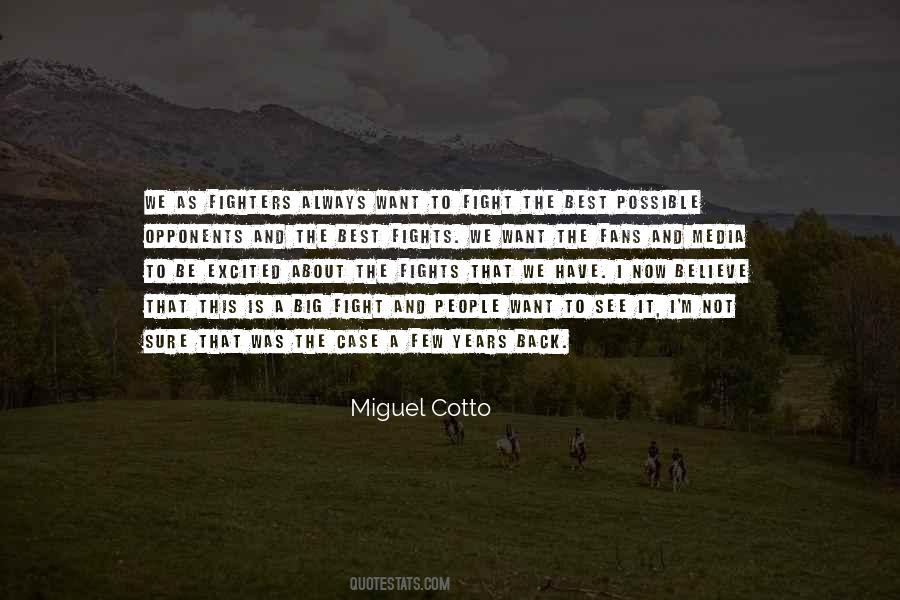 #72. Leaders must be tough enough to fight, tender enough to cry, human enough to make mistakes, humble enough to admit them, strong enough to absorb the pain, and resilient enough to bounce back and keep on moving. - Author: Jesse Jackson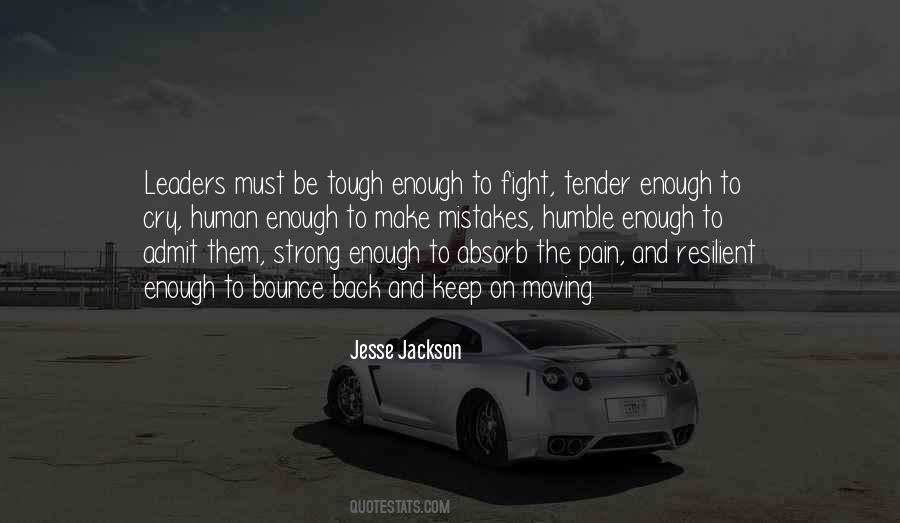 #73. I always thought that it's important to have other things, not just work, and I often even suggested my managers take some time off and come back fresh and ready to fight again. - Author: Ernesto Bertarelli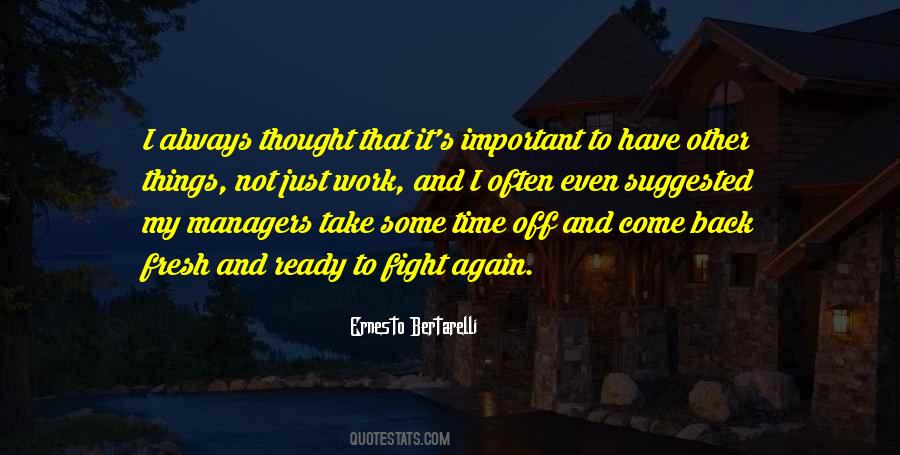 #74. When you denigrate people, they have two ways to fight back - with their fists and guns, or their mouths. And mouths are seemingly the easiest way to not get hit back. If people are laughing, they're not going to hit you. - Author: Carl Reiner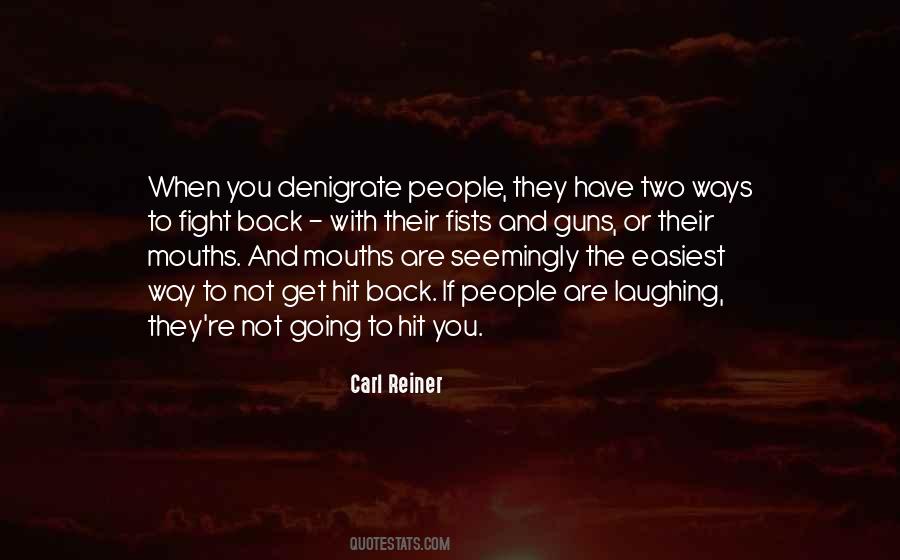 #75. I was knocking guys out in the streets before I knew how to throw a jab and keep your chin down, In most neighbourhoods, the guy that could fight gets respect. You got in the parties free. I never had to pay the dollar because people were scared of me. But back then I was ignorant. - Author: Bernard Hopkins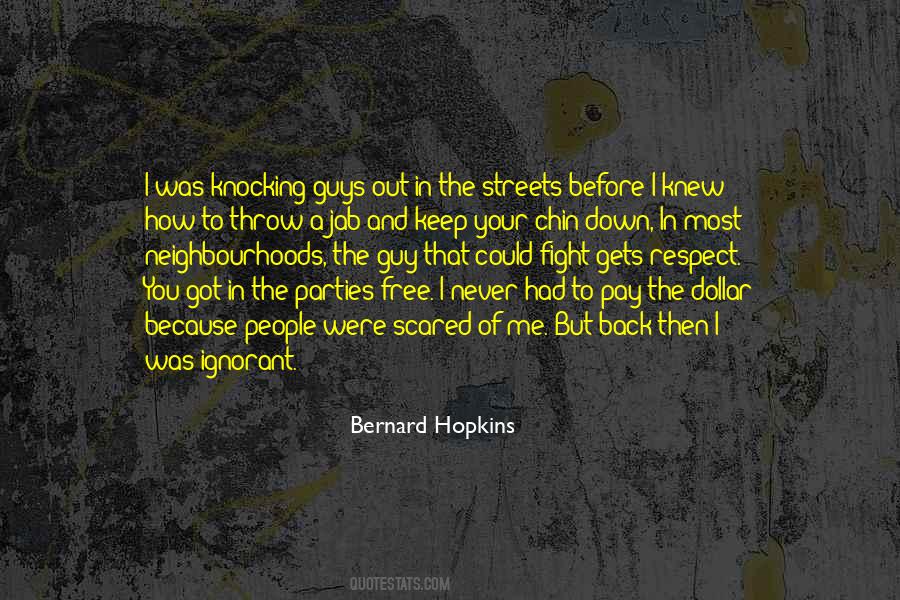 #76. because the belief system has no doubt led to success in the past, so it will fight back with many varieties of self-fulfilling prophecies. - Author: Mary Poppendieck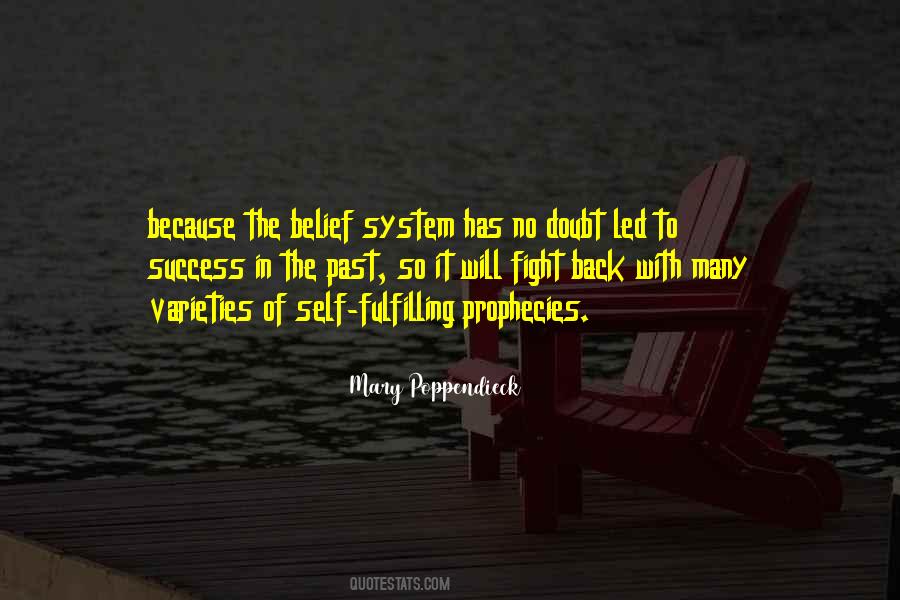 #77. General, unless he offers us honorable terms, come back and let us fight it out! - Author: James Longstreet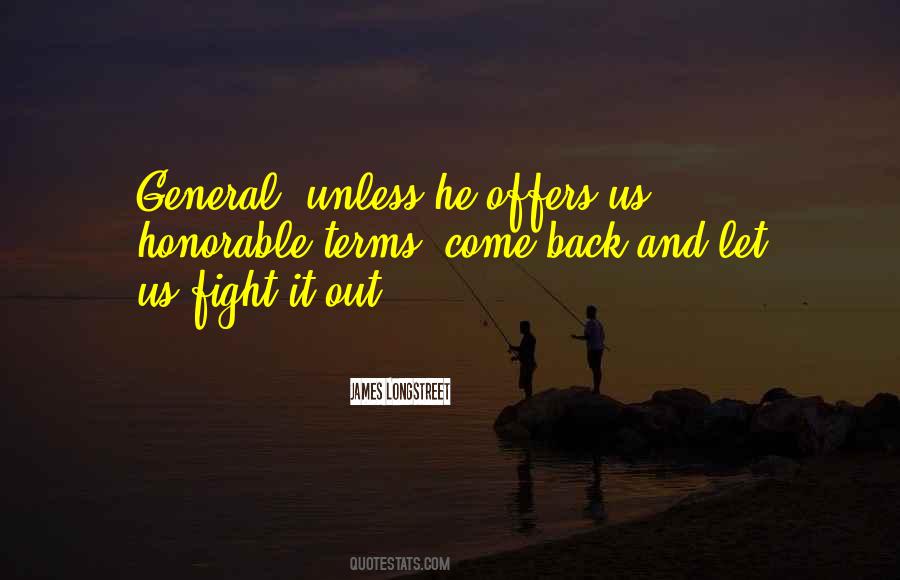 #78. Fight back. Bite back. - Author: Benjamin Percy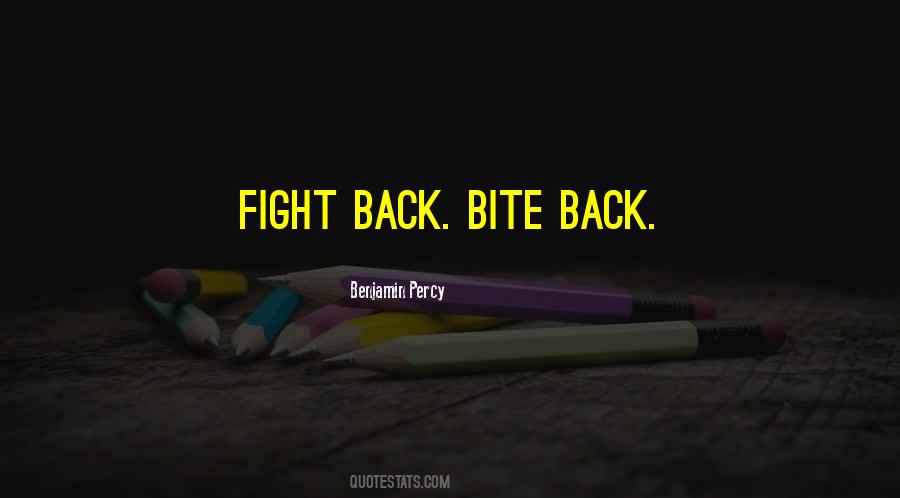 #79. He's gonna try and stand back, mess me about a bit, be cagey and hold on the inside and make it one of them fights that are boring. I don't wanna make a boring fight. I don't like to be involved in boring fights! - Author: Joe Calzaghe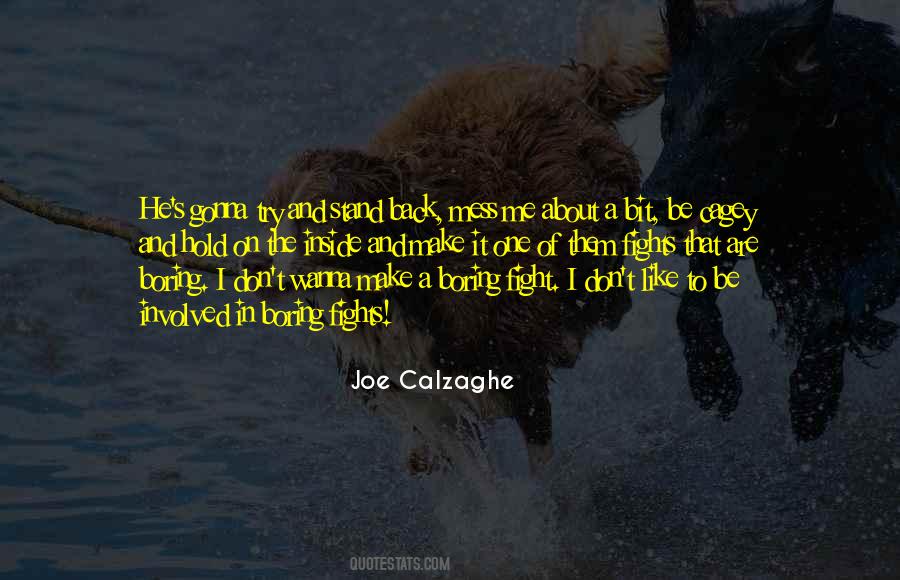 #80. That was a good fight back in the gym," he said.
"But I think you could benefit from a few more boxing
lessons. - Author: Becca Fitzpatrick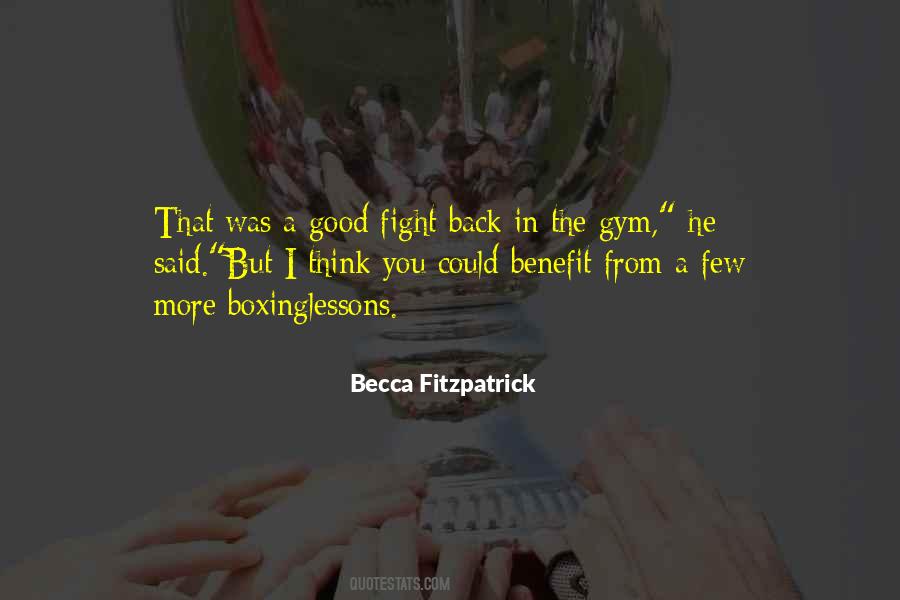 #81. Wait for me. Be strong, and I'll be strong too. I'll fight my way out of whatever they've got in store.
I won't forget you. I won't ever turn my back on you, no matter what lies I have to tell them. Our center will hold. - Author: Richelle Mead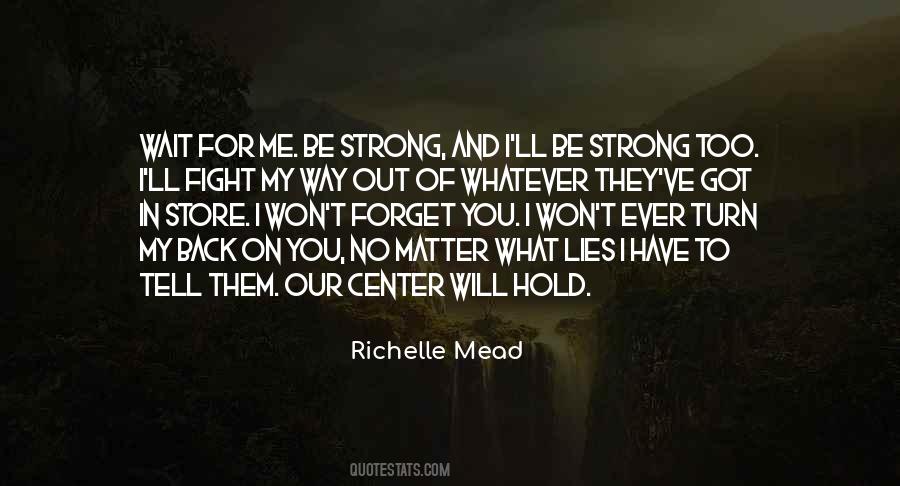 #82. I needed to wake up, stand up, and fight. - Author: Chrissy Moon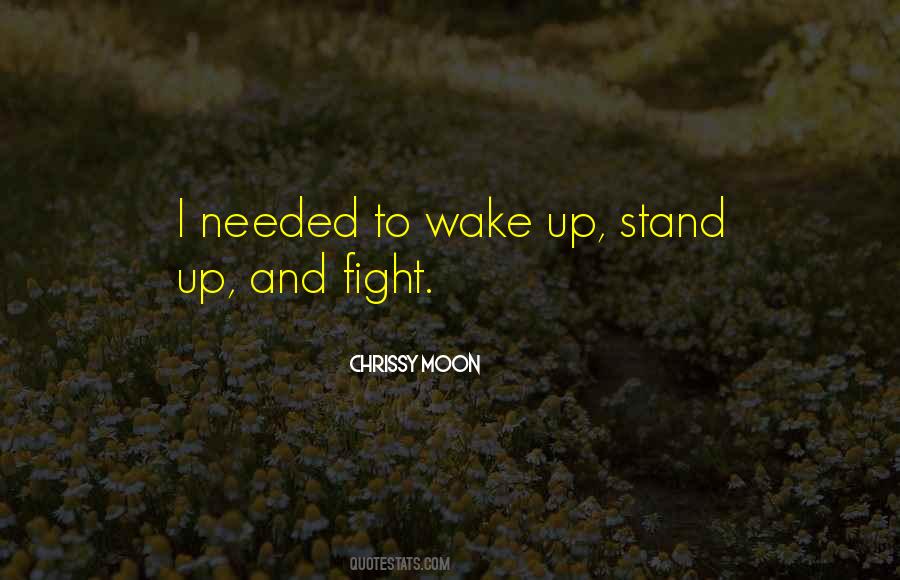 #83. Love isn't a mistake. But I know true love is rare enough that when you find it you fight for it. Marry me, Kate. Come back to Charleston with me and be with me for the rest of our lives. - Author: Beatriz Williams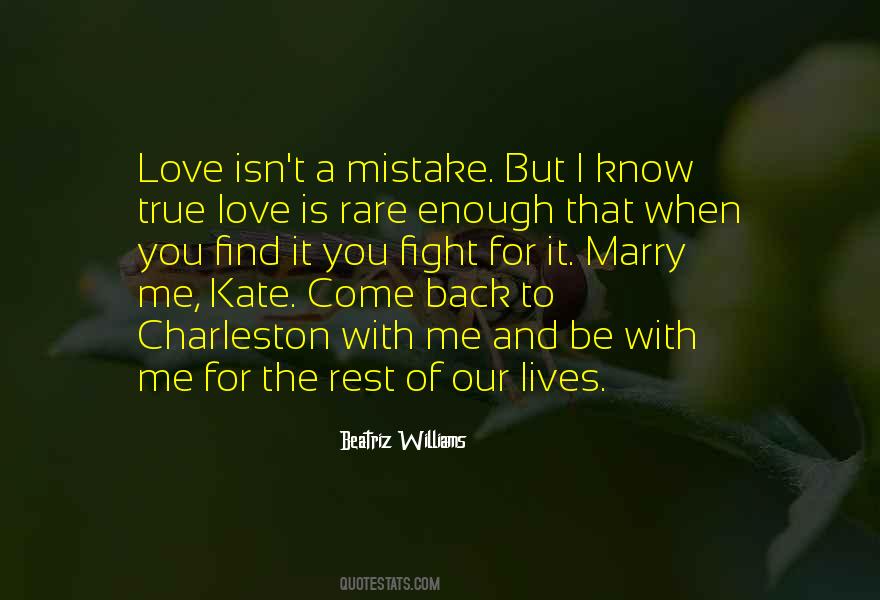 #84. When you expect a man to create your world of dreams, you fall into the doctrine against women and strengthen what we are supposed to fight back and demolish. - Author: Namrata Kumari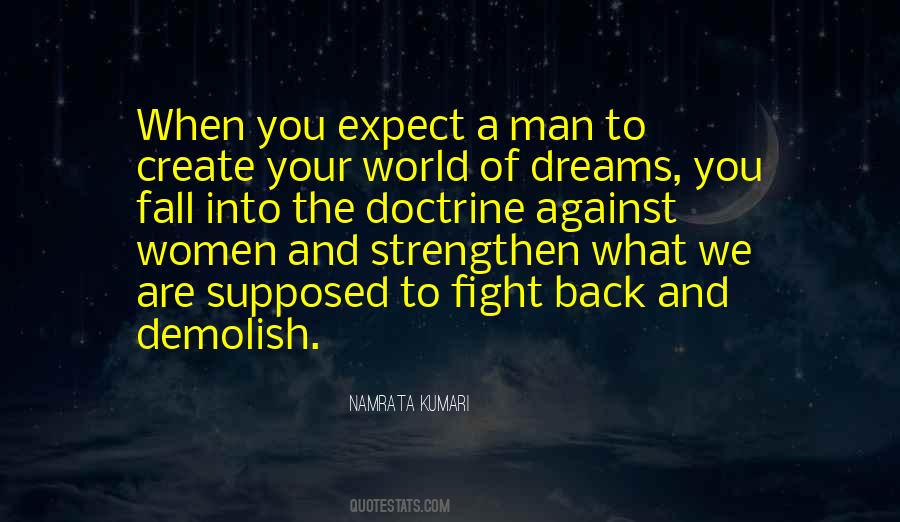 #85. This is so like the way the Americans deliberately erroneously refer to Afghans and Iraqis as terrorists when they fight back killing American soldiers to protect their young from the illegal American invasion. - Author: Bob Barker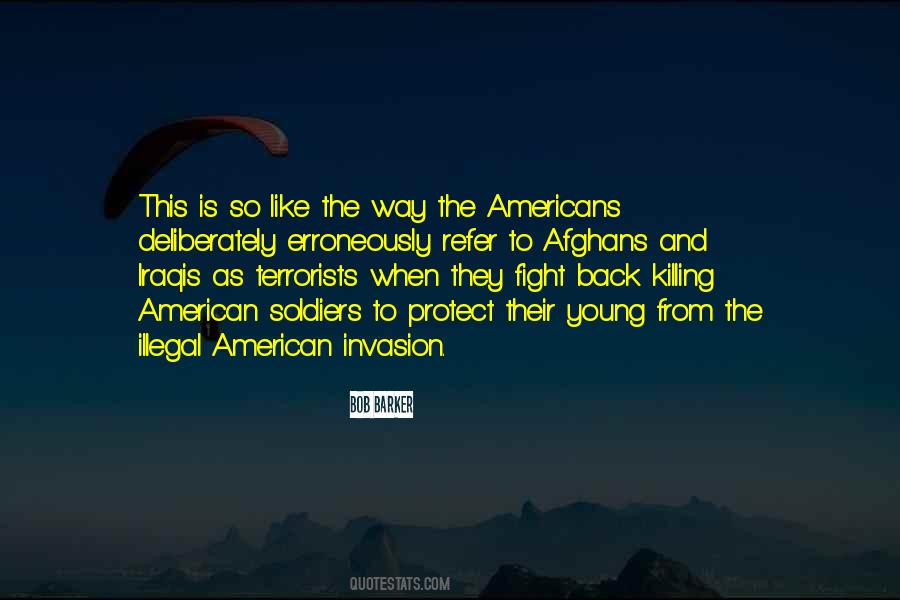 #86. I should move away from his touch. But he's a constant storm in my life, clouding my head, ensuring I make bad decisions. He doesn't do it on purpose, he knows we're not good for each other, but there's something about us that makes us fight back harder, thinking we can overcome it. - Author: Brittany Butler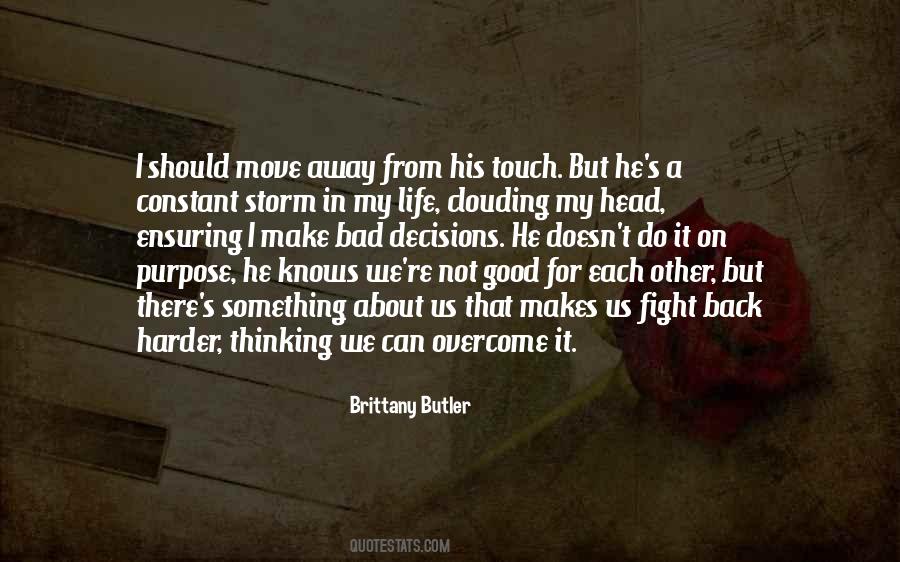 #87. Now that I could not go back I was not sure, after all, that I wished to go forward. It was a miserable sensation. - Author: Anna Freeman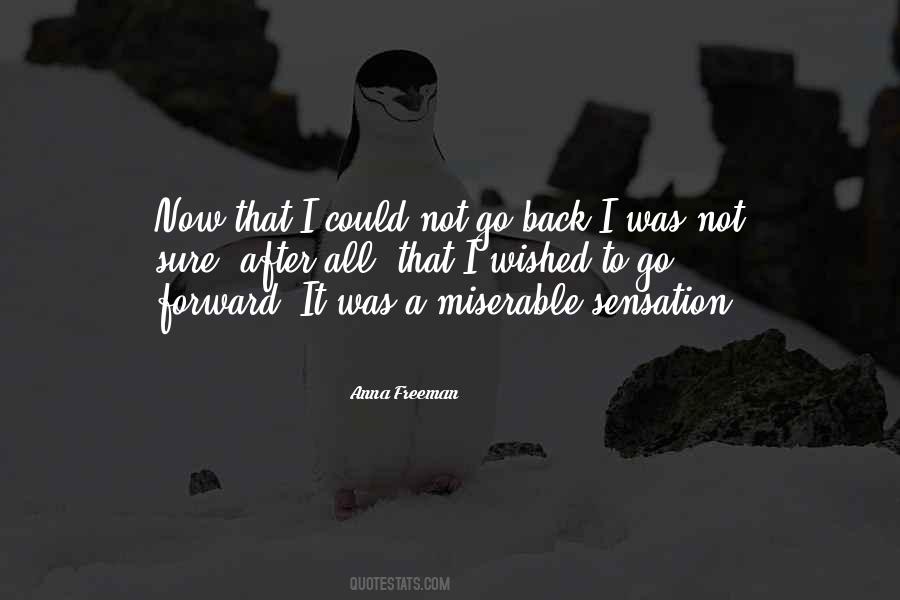 #88. I got singled out. I don't know why. Why do people always target me? Is it because I'm short and they figure I can't fight back? They're right, I can't, but it's not because I'm vertically challenged. - Author: Julie Anne Peters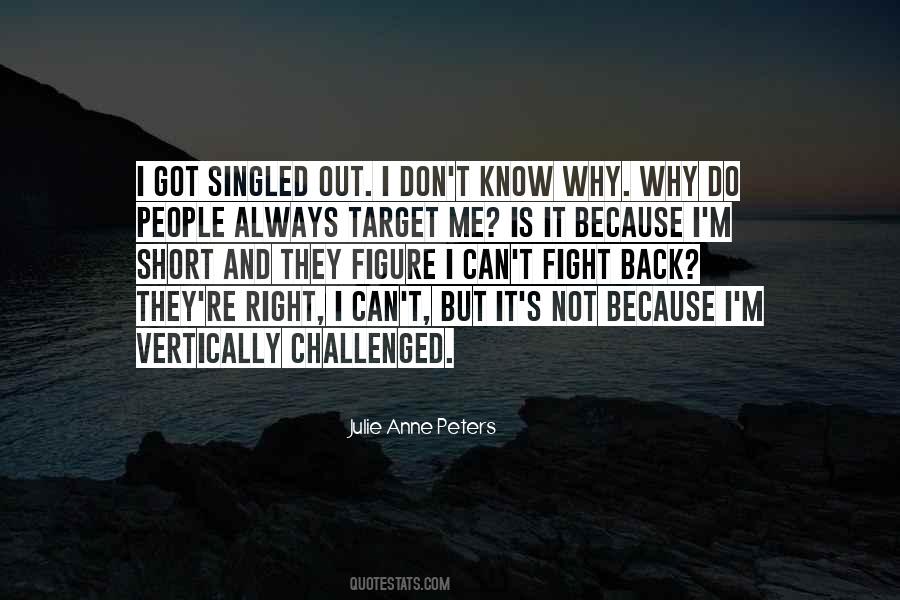 #89. Keep to the 'I-statements' and discuss your feelings, she lectured herself. I think, I feel. Don't be accusatory. Don't tell him that he is an insecure prick who should back off before you deck him. Instead, say, 'I feel you are acting like an insecure prick who should back off before I deck you. - Author: Thomm Quackenbush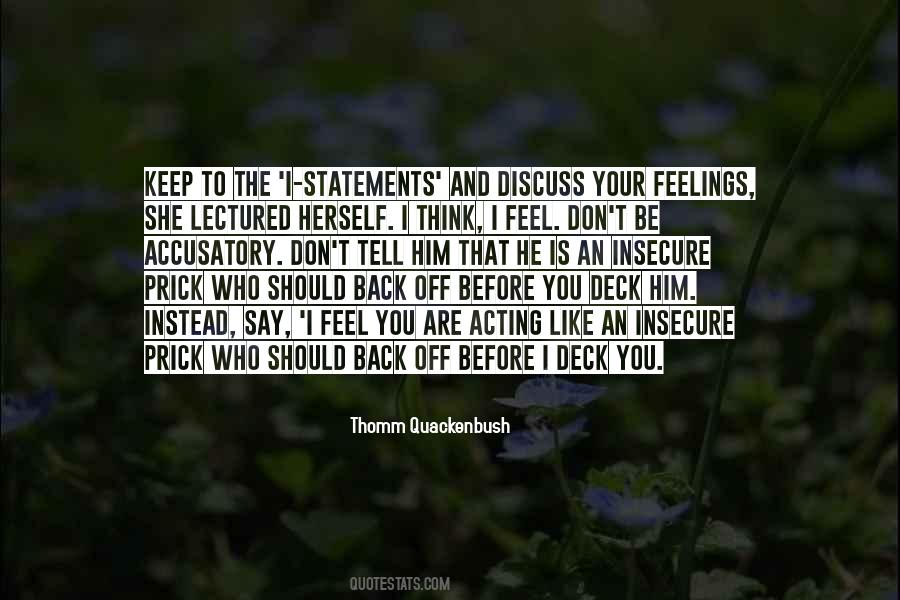 #90. The things of the world knew so much more than we did and lived them more truly. The thorn trees had no grief or fear. The constellations didn't fight or hold themselves back, nor did the translucent hook of the moon. Everything was momentary and endless. - Author: Paula McLain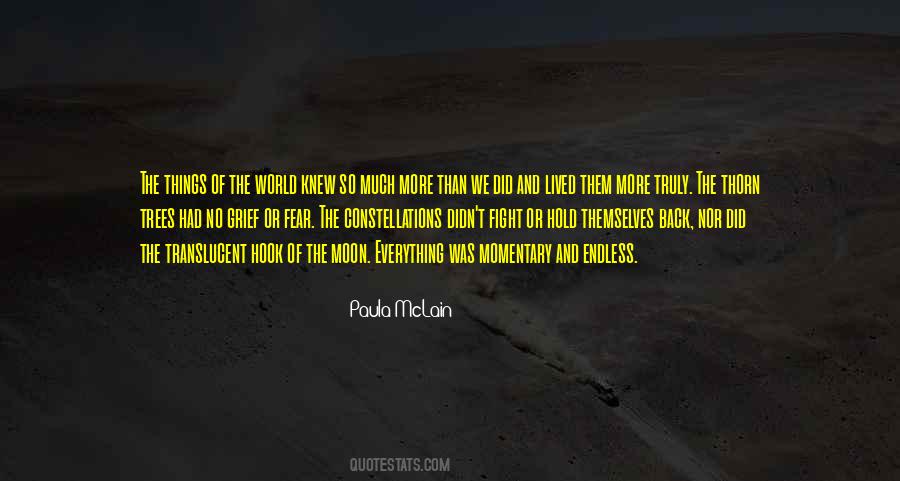 #91. For Jesus' sake go forward yourself, and encourage others to do the like. Hell and the bands of superstition and infidelity are forward to the fight. O soldiers of the cross, keep not back! - Author: Charles Haddon Spurgeon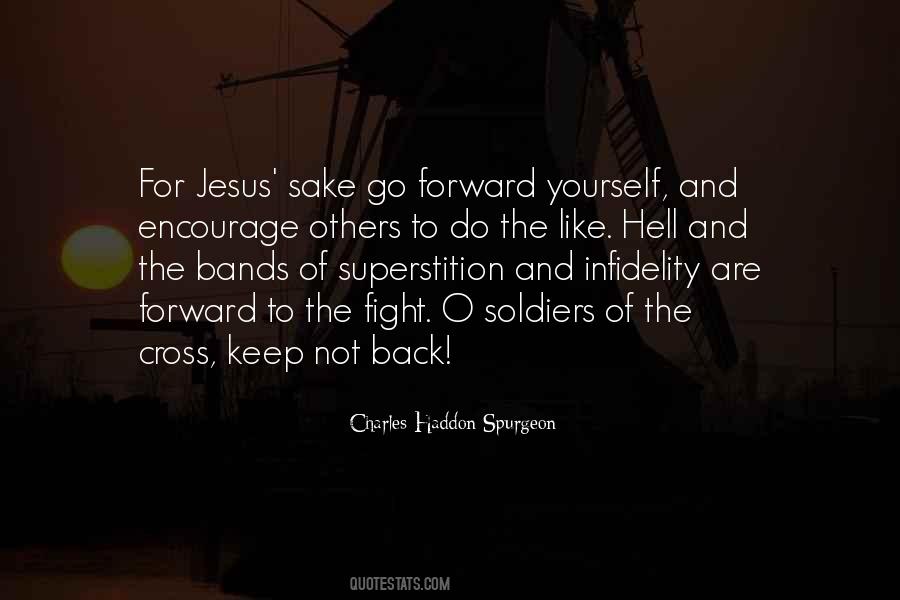 #92. I was a Methodist when I was anything. What flavor are you selling? The missionary lifted his hands in a gesture of harmlessness that went back to the African plains of the Pleistocene. I have no weapon; I seek no fight. - Author: James S.A. Corey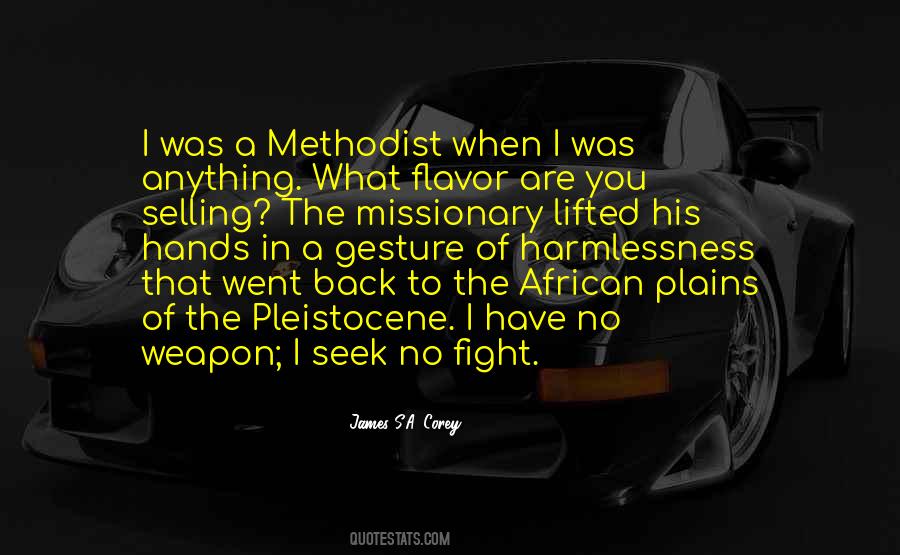 #93. When I finally get out of bed, the only thing I want to do is go straight to Amy and demand her forgiveness. Maybe we can at least go back to what we had before our fight, even if all we had was an awkward friendship punctuated by significant silences. - Author: Beth Revis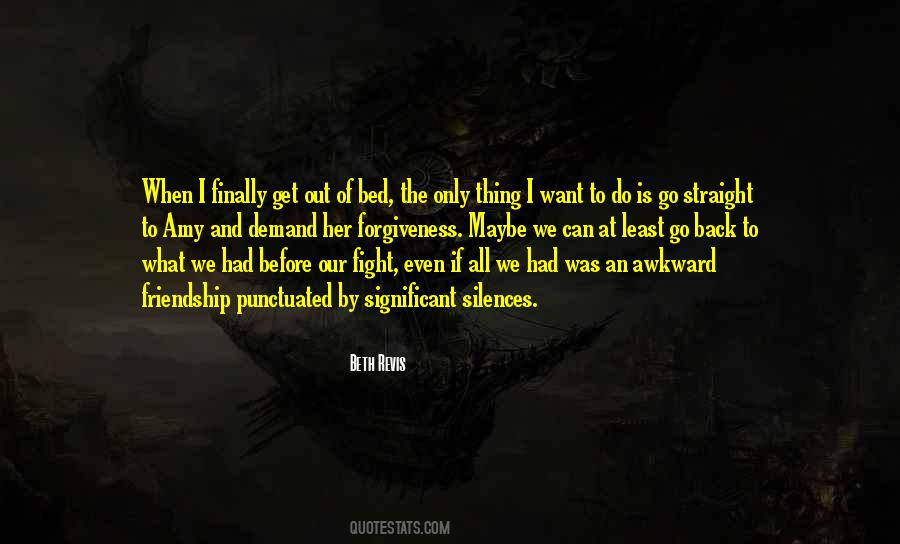 #94. The only way for a fighter to get back in shape is to fight his way back. - Author: Sugar Ray Leonard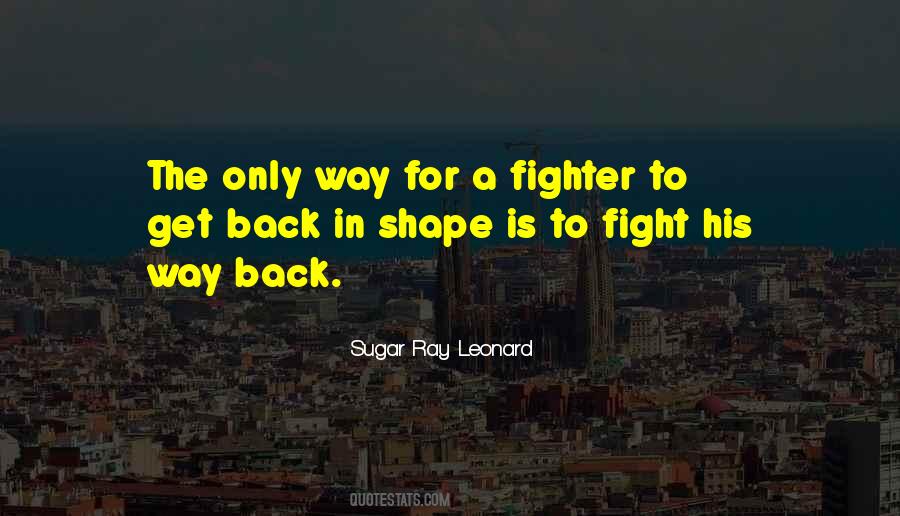 #95. As soon as I get time, I want to start to do some fight training. I tried a little boxing once with my personal trainer back in L.A. - it's such a good workout, and it's a good skill to have, especially in my industry, since sometimes you have to do stunts and fight scenes. - Author: Katia Winter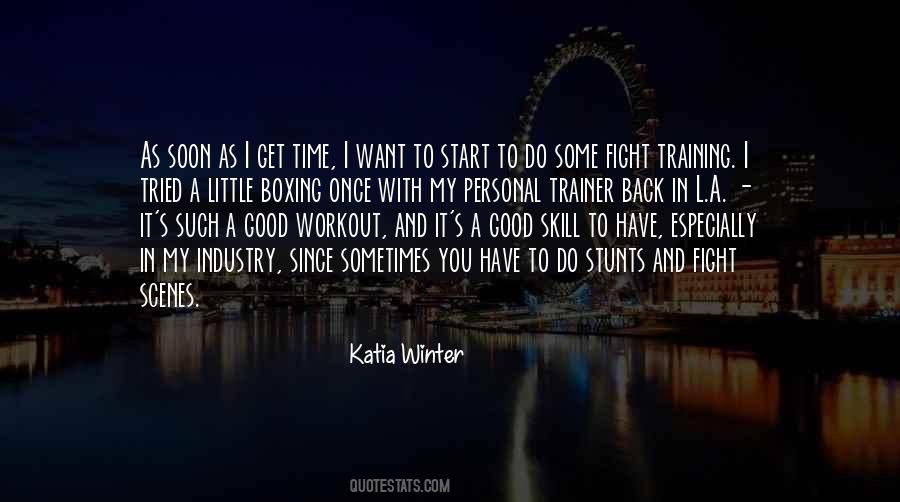 #96. Manny Pacquiao I'm calling you out let's fight May 5th and give the world what they want to see. My Jail Sentence was pushed back because the date was locked in. Step up Punk. - Author: Floyd Mayweather Jr.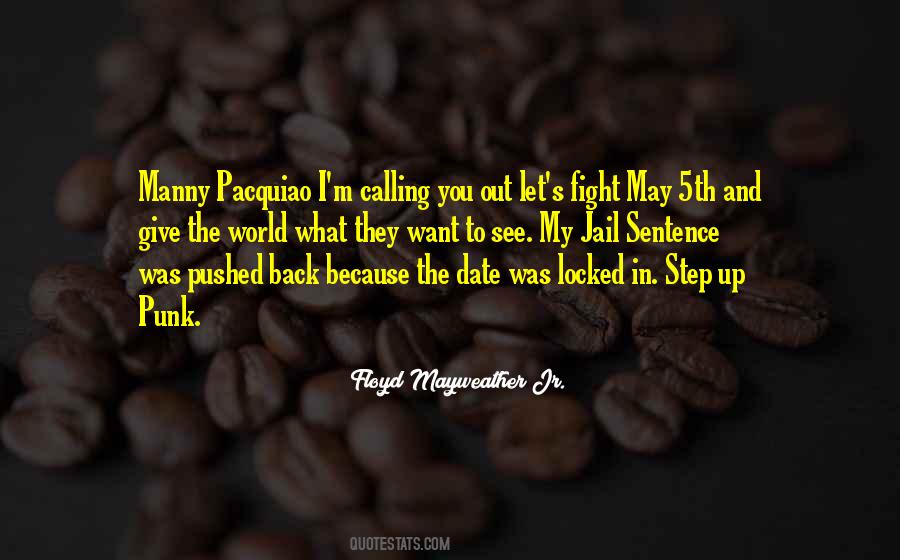 #97. You may need two hands to fight someone, but only one to stab them in the back. (Yarvi) - Author: Joe Abercrombie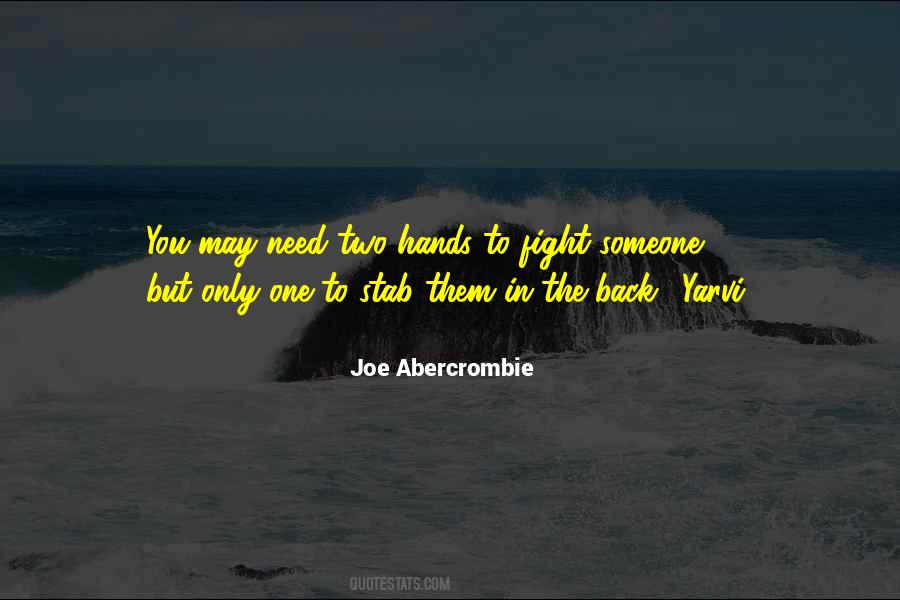 #98. I have a curse.
I HAVE A GIFT.
I'm a monster.
I'M MORE THAN HUMAN.
My touch Is lethal.
MY TOUCH IS POWER.
I am their weapon.
I WILL FIGHT BACK. - Author: Tahereh Mafi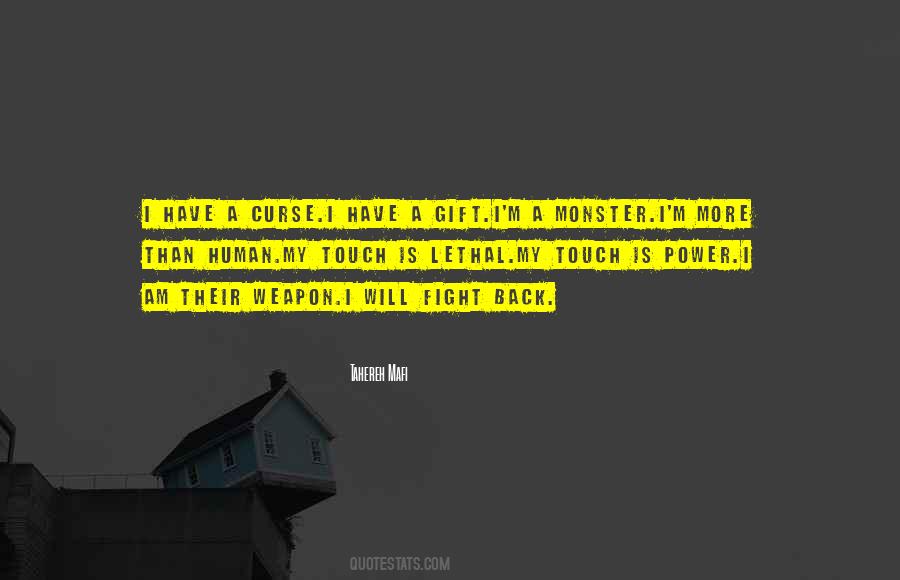 #99. We sit here we fix the sea
with our eyes and it does not
fight back, it is wide and clear enough
to embrace our talk our illusions. - Author: Zeina Hashem Beck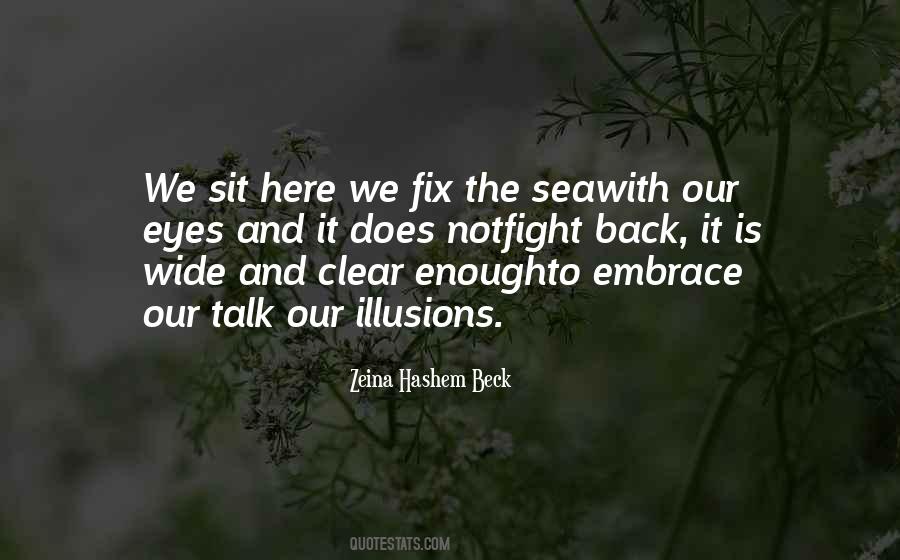 #100. He forces my head back as his tongue connects with mine, his mouth sweet and fresh. He's strong, that much I can sense. If I wanted to, I don't think I could fight him off. But I don't want to. Not one bit. - Author: K.A. Tucker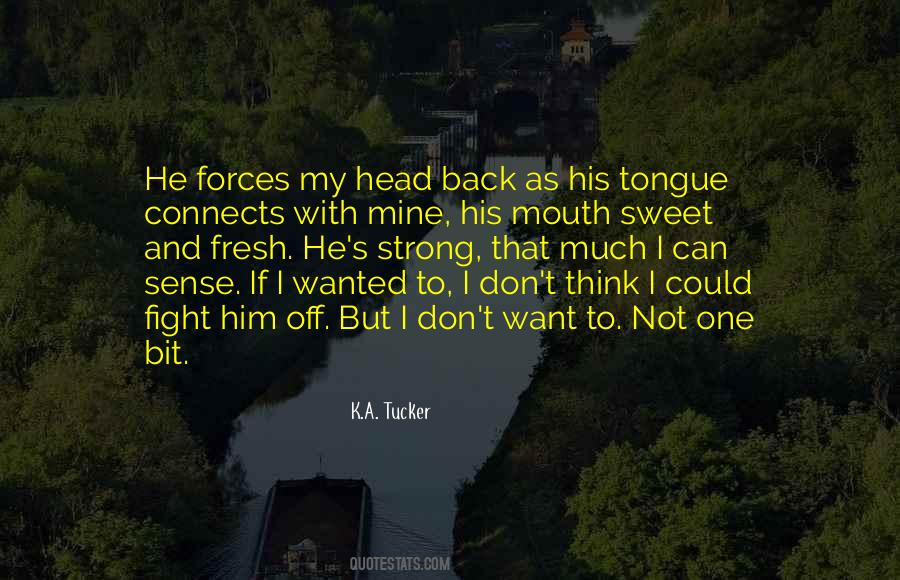 Famous Authors
Popular Topics