Business To Business Marketing Famous Quotes & Sayings
List of top 100 famous quotes and sayings about business to business marketing to read and share with friends on your Facebook, Twitter, blogs.
Top 100 Quotes About Business To Business Marketing
#1. In this day and age, it is the business that knows how to woo and win the hearts of its customers that will eventually win their pockets. - Author: J. N. HALM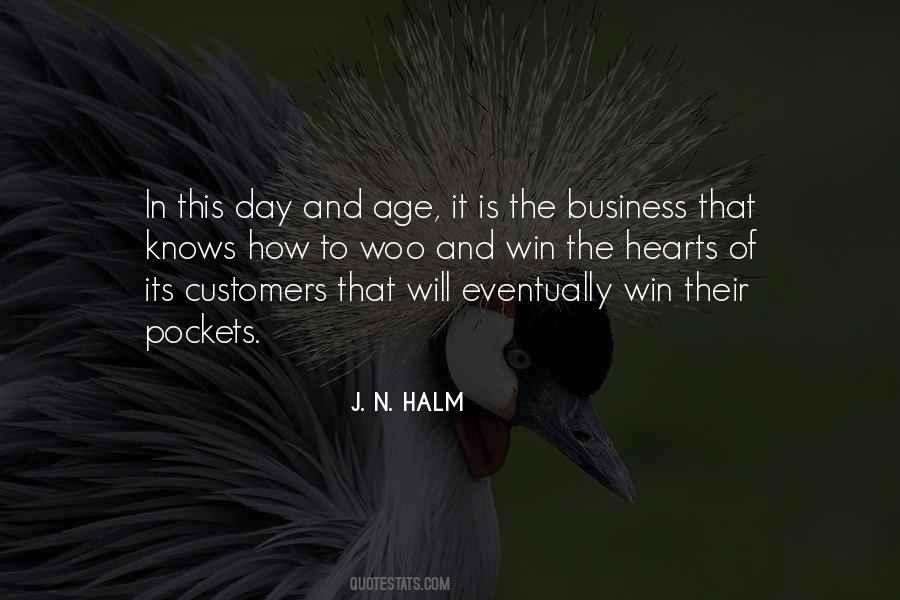 #2. Eat, sleep & Breathe your business to ensure it's success - Author: Paul Cookson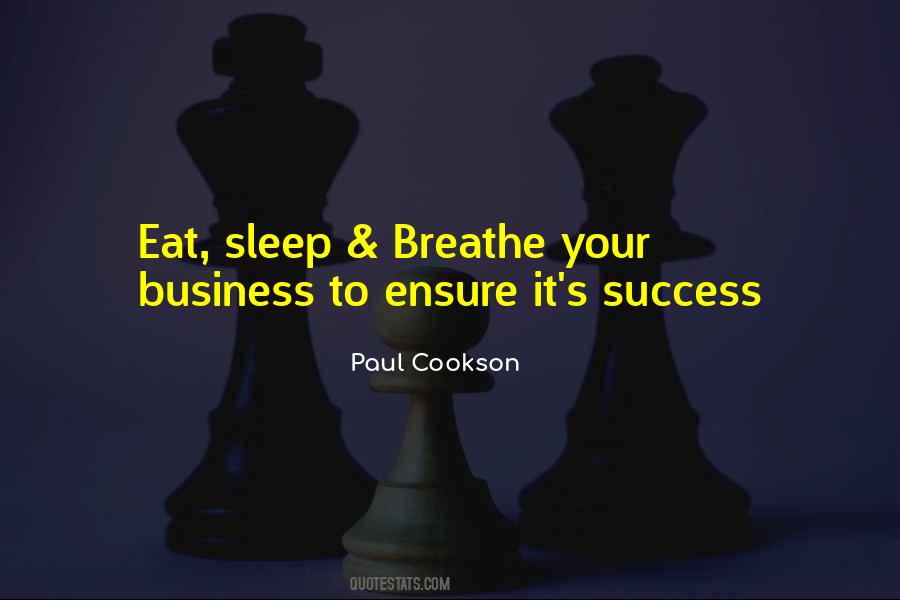 #3. Smart recessionary marketing means not waiting for business to return to normal. Instead, you should cash in on this invaluable opportunity your more cautious competitors may be creating for you. If they pull back, your media investment works much harder. - Author: Sarah Carter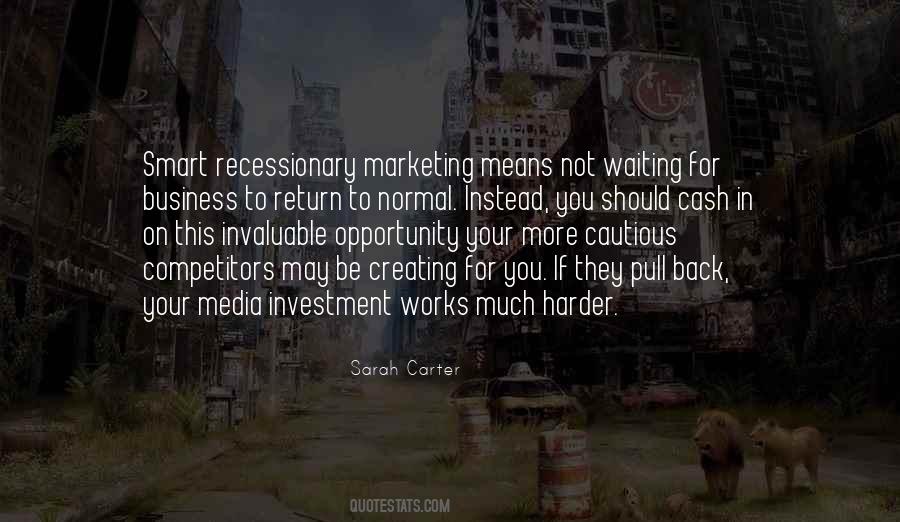 #4. Some salesmen think that selling is like eating - to satisfy an existing appetite; but a good salesman is like a good cook - he can create an appetite when the buyer isn't hungry. - Author: George Horace Lorimer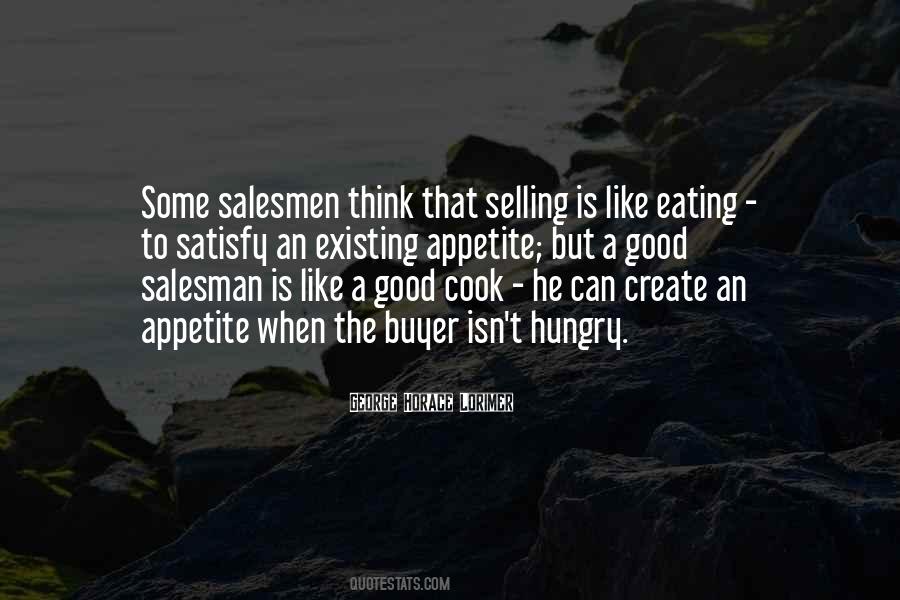 #5. The result of all this turmoil is that product excellence is now paramount to business success - not control of information, not a stranglehold on distribution, not overwhelming marketing power (although these are still important). - Author: Eric Schmidt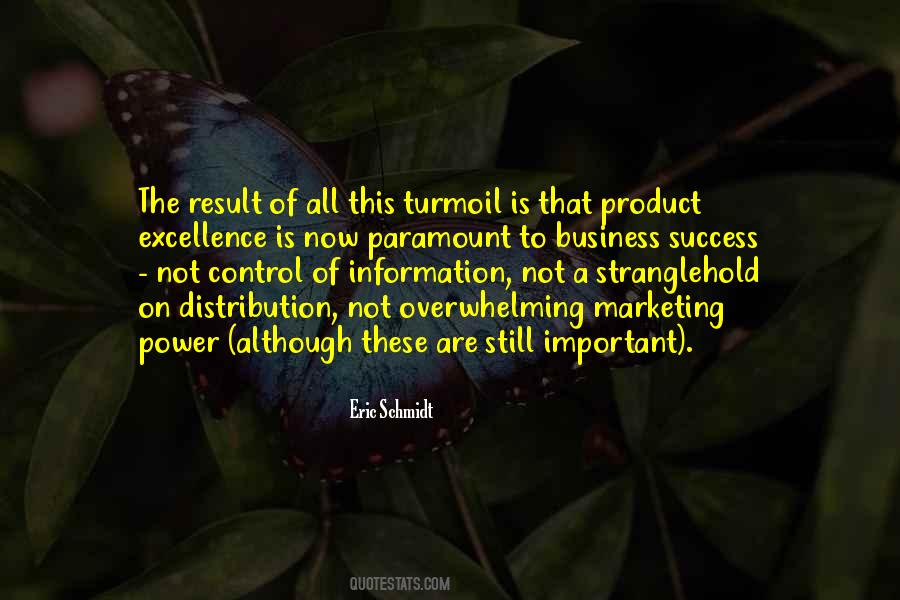 #6. One married couple goes out to a restaurant twice a week for dinner. They spend $160 a month on eating out. They get fat. Another married couple invests $160 a month in their own network marketing business. They stay slim and healthy. In a few years they retire. - Author: Tom "Big Al" Schreiter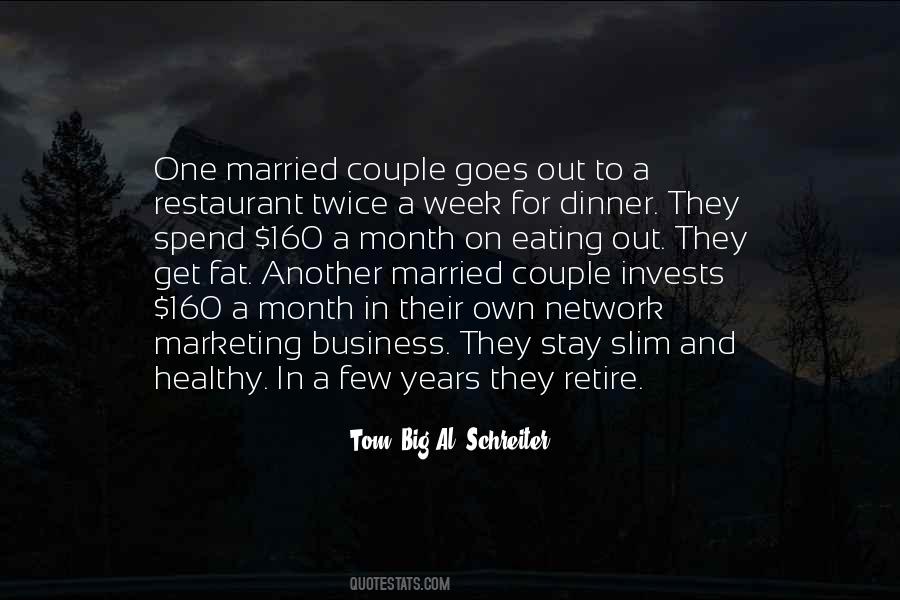 #7. Who are we, and how do we relate this idea in a way that's meaningful to our customers and the values they hold dear?

In other words, one must define something meaningful. To do that, one must identify to whom this must be meaningful. - Author: David Brier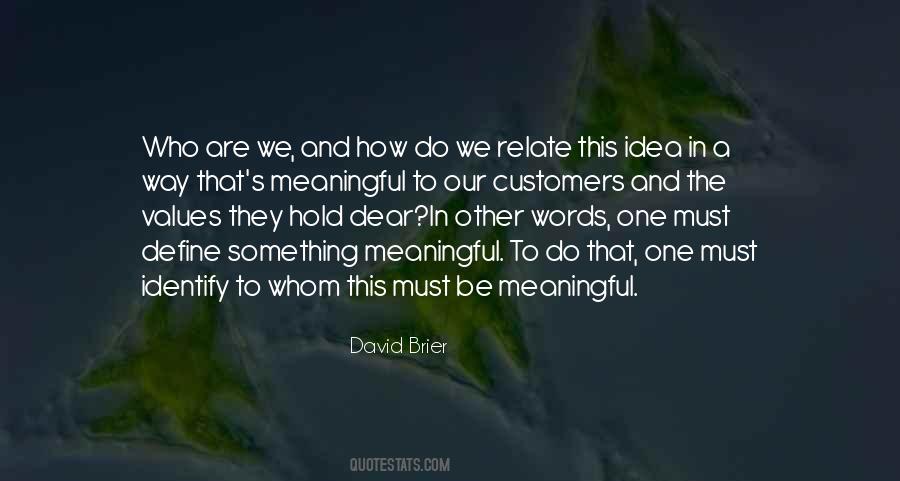 #8. What is the "Once upon a time" of your brand story? Ask yourself this: "How does what I'm building help consumers close the gap between who they are today and who they want to be tomorrow? - Author: Laura Busche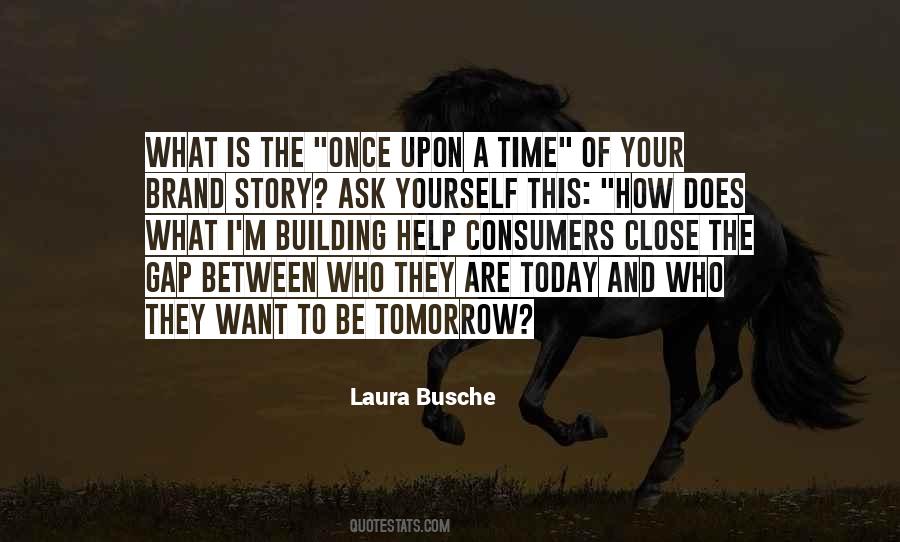 #9. Brand and product don't compete. Brand is product, and everything else conforming to the unique story that consumers create when they think of you. - Author: Laura Busche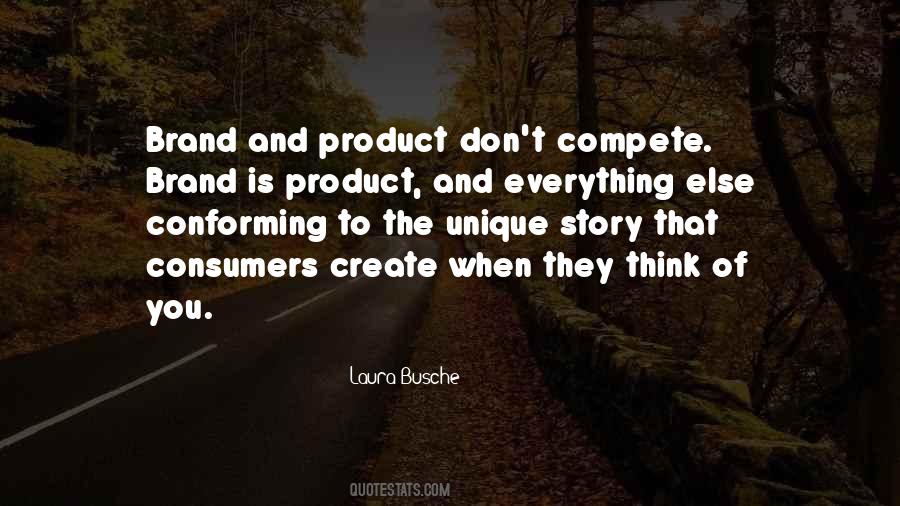 #10. Marketing takes a day to learn. Unfortunately, it takes a lifetime to master. - Author: Philip Kotler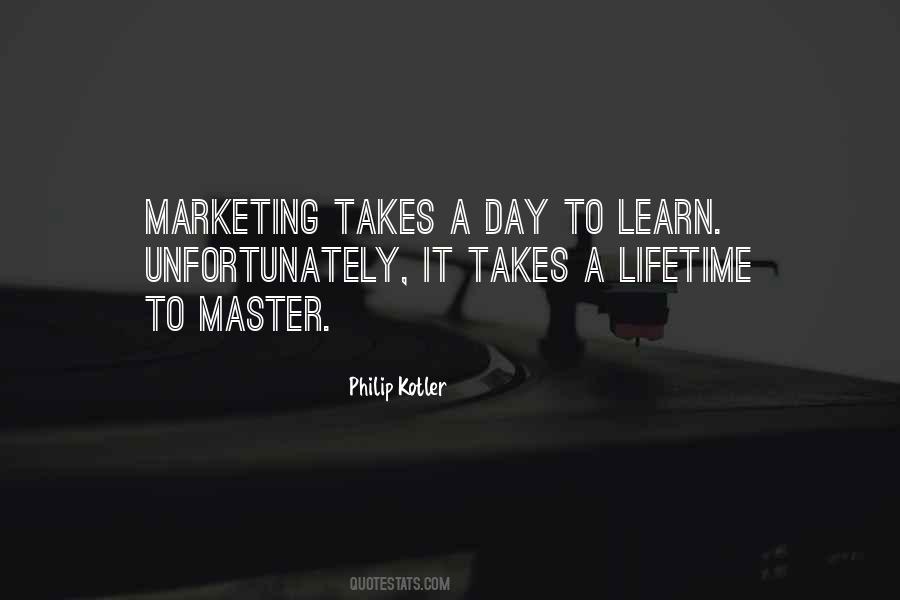 #11. So, you don't have money to invest in your brand? You do have money for damage control, right?

Here's the thing: anyone can make your brand inferior in your absence. - Author: Laura Busche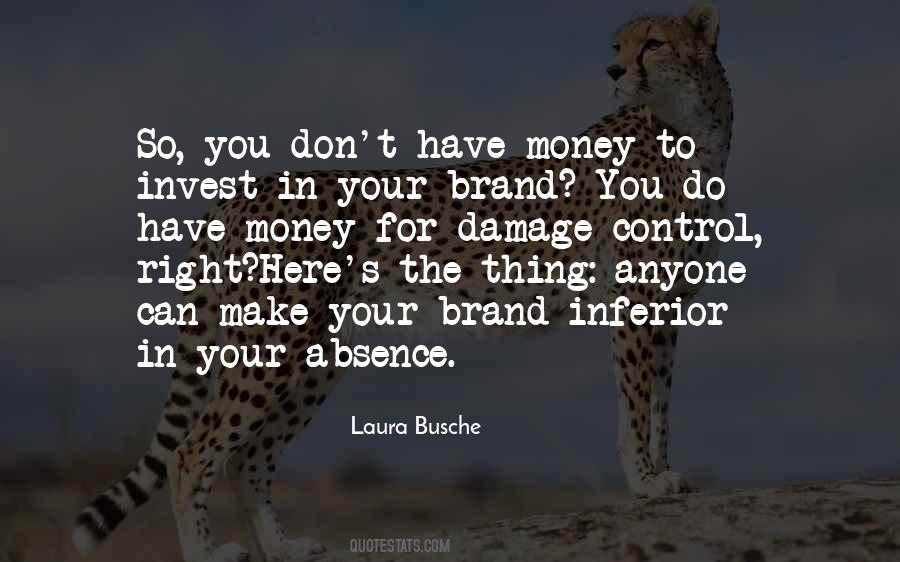 #12. Are you setting business goals? Try this:

Step 1: Add a "0" to your revenue goal.
Step 2: Take away a "0" from your expense goal.
Step 3: Let your mind go to work.

Thank me later. - Author: Richie Norton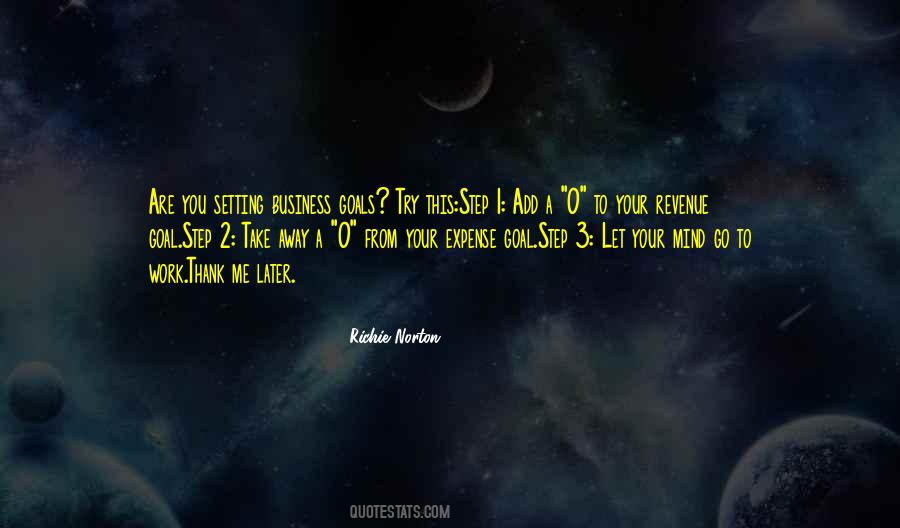 #13. Every artist is a walking business. Your marketing tools are your headshots and your reel. That's what people see that's what your out there pushing trying to get a rep and that isn't easy. - Author: Jay Ellis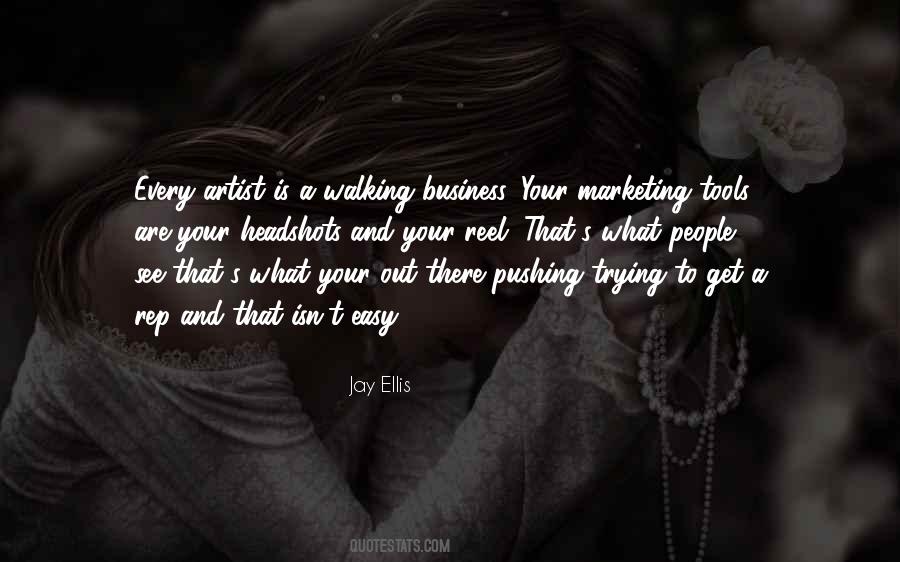 #14. You have to actively listen to your clients and provide the service they're looking for! - Author: John Di Lemme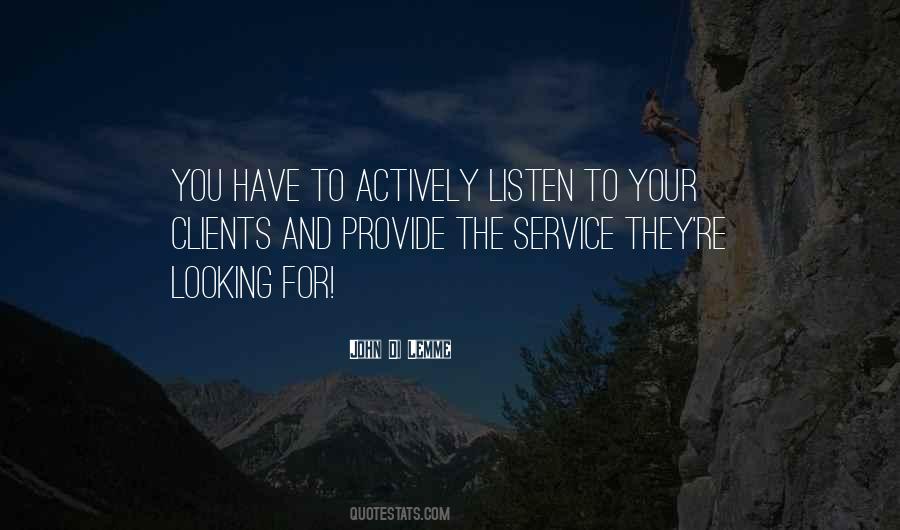 #15. I have come to believe that politicians are in the business of 'marketing' their product to the public, by exaggerating threats and over-selling government solutions. - Author: Arnold Kling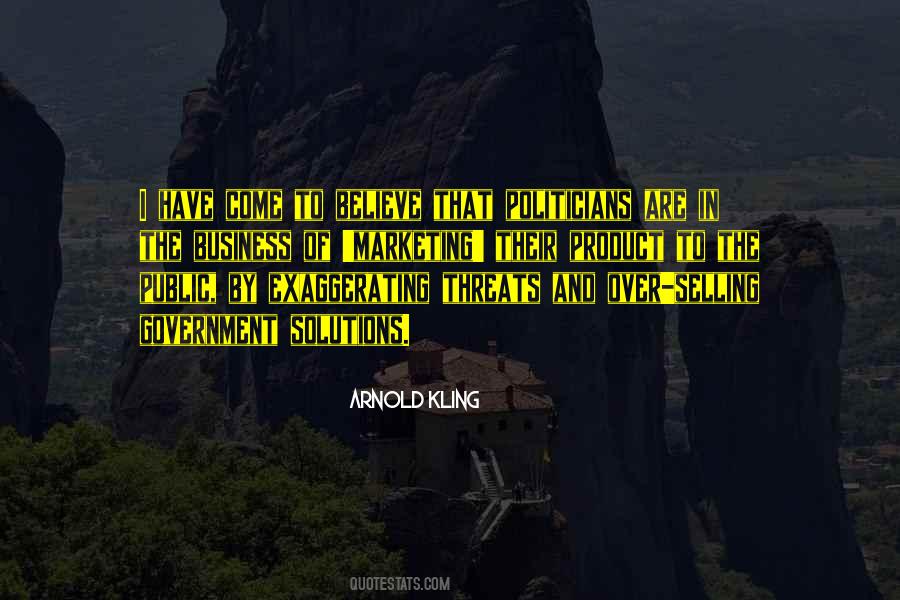 #16. When you are a great scholar of stupidity, logics and marketing, you can do practically everthing, from business to trading, from spiritual research to artistic criticism. - Author: William C. Brown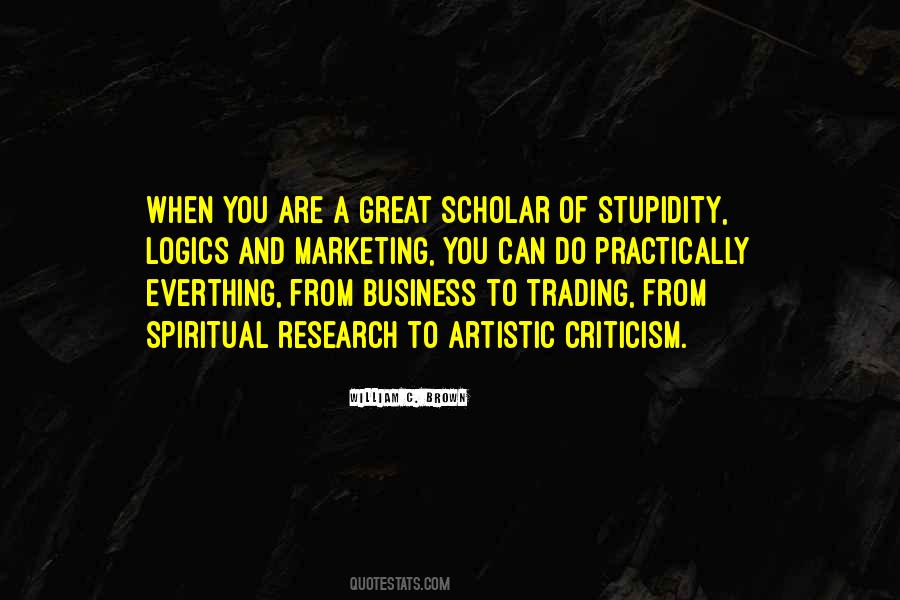 #17. Social media allows us to behave in ways that we are hardwired for in the first place - as humans. We can get frank recommendations from other humans instead of from faceless companies. - Author: Francois Gossieaux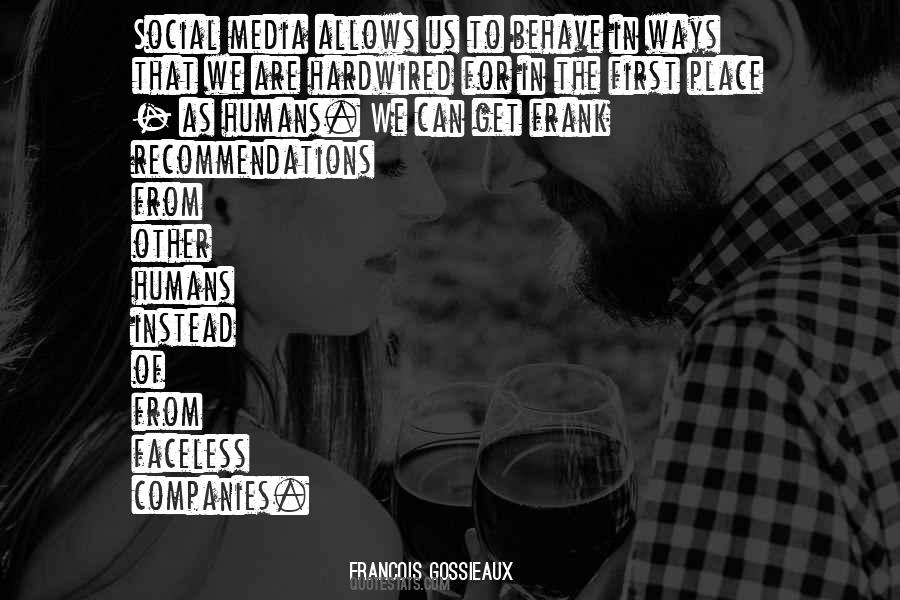 #18. As soon as we open our eyes in the morning, what we want most is to matter, to live a life and to do a work that has meaning. We have evolved to feel this way. Man's first thought was 'I AM'. - Author: Bernadette Jiwa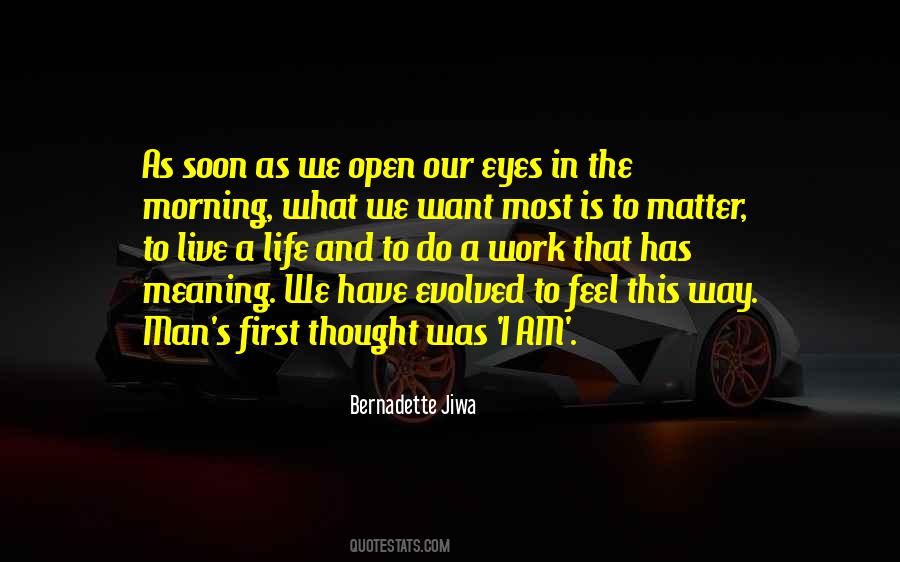 #19. Plant today what you want to harvest tomorrow. - Author: Lisa A. Mininni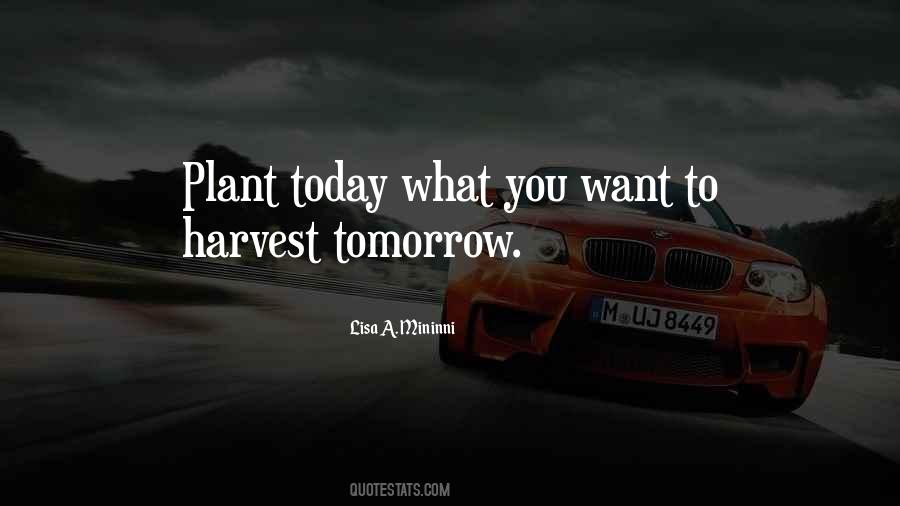 #20. You need to ask yourself " How much do you want" before you start your online business. - Author: Satyendra Pandey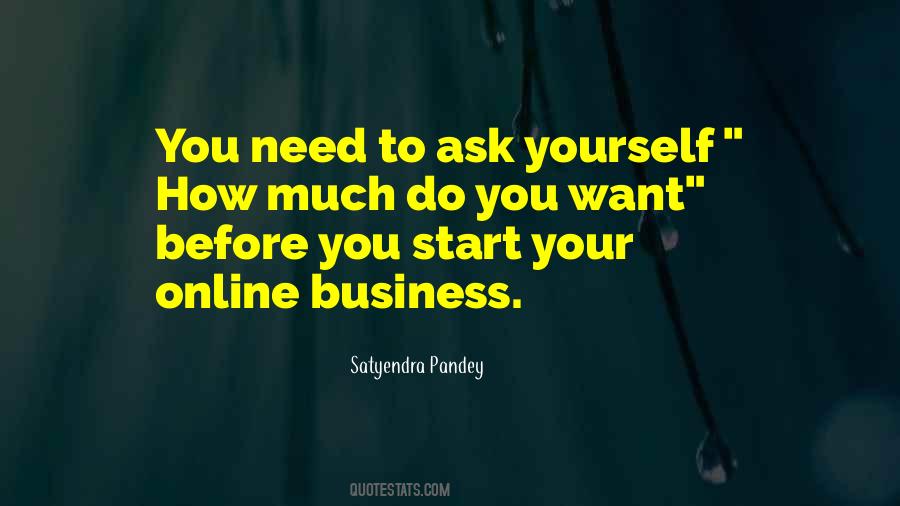 #21. A business needs a character and an identity, just like a person and just like a person it needs to have a Voice. - Author: David Amerland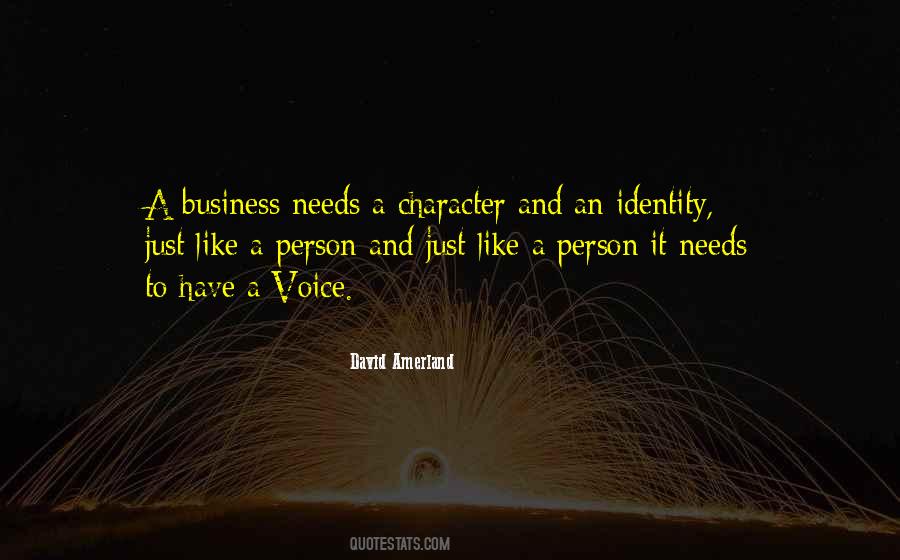 #22. There's a huge gap in the market for modern online marketing and business education for women that's effective, fun, and gorgeous to engage with. I knew I could fill that gap. - Author: Marie Forleo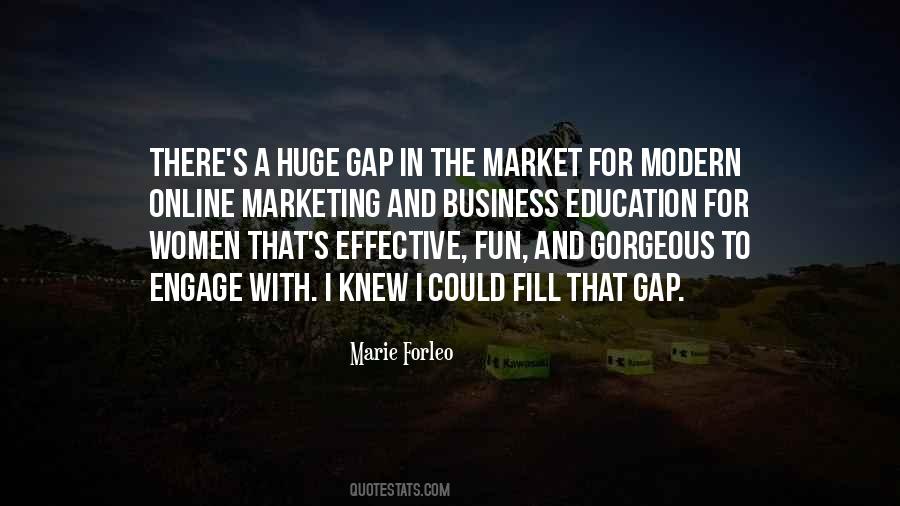 #23. The on-brand execution of best practices tailored to your unique audience is what leads to the best execution. - Author: Chad White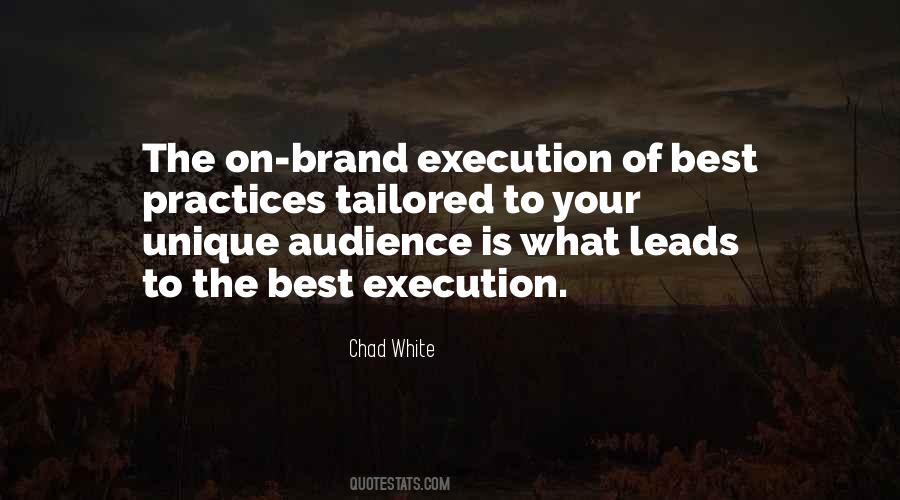 #24. For one thing, there's an essential human factor in every business endeavor. It doesn't matter if you have a perfect product, production plan and marketing pitch; you'll still need the right people to lead and implement those plans. - Author: Bill Gates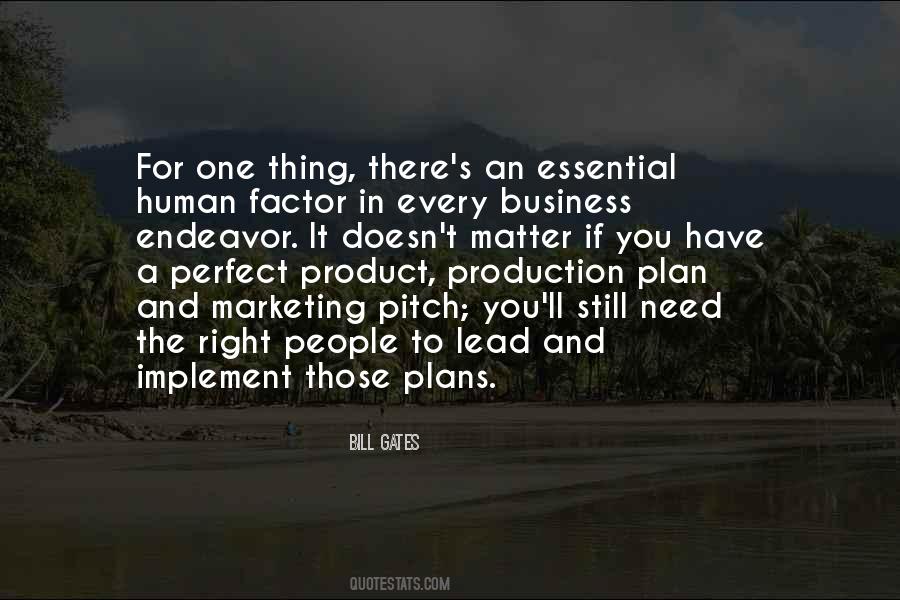 #25. If I had to do it all over again, rather than build an old style type of business, I would have started building a network marketing business. - Author: Robert Kiyosaki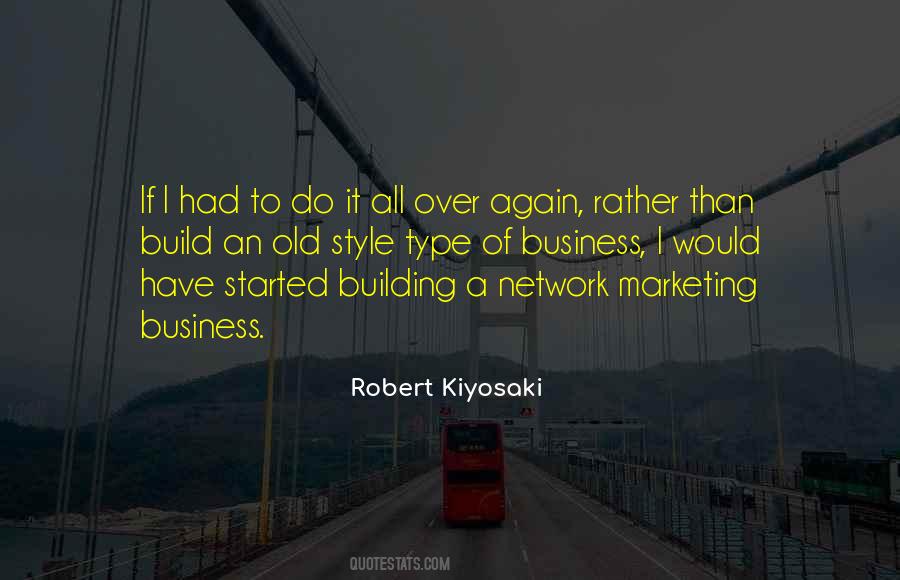 #26. the prudent business mind must not only think of competing with the prevailing giants in the market but must also not be oblivious of the latent deft of the masses who are yet to dare - Author: Ernest Agyemang Yeboah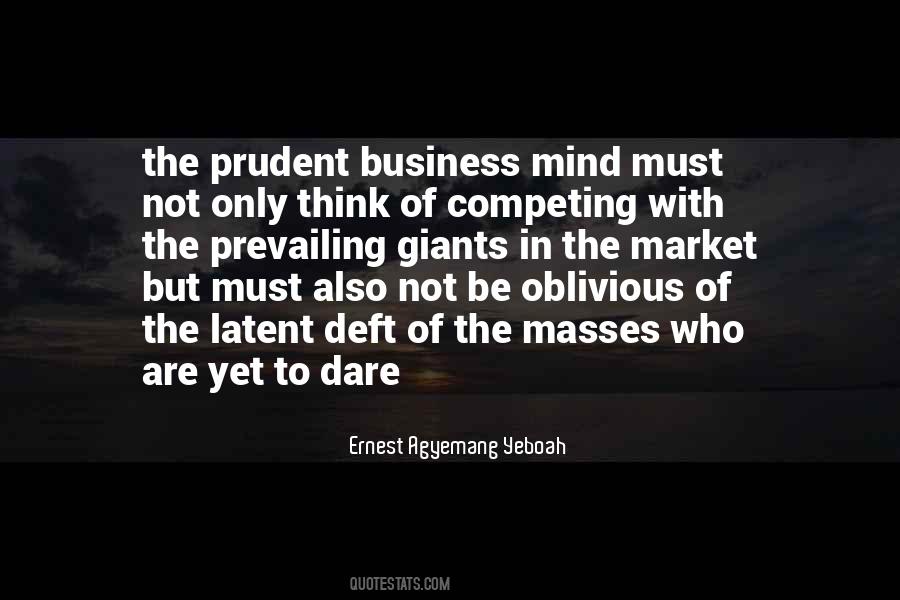 #27. Learn the rules and learn the game, before you start breaking the rules and changing the game.
Your education, experience and understanding of what was and what is, will give you the best foundation to change what will be. - Author: Loren Weisman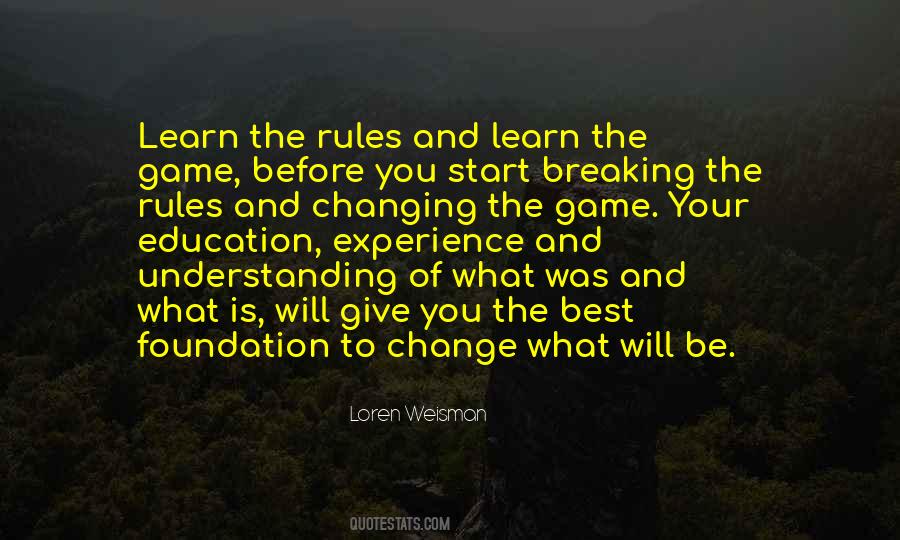 #28. Marketing is what a company is in business to do. Marketing is a company's ultimate objective. - Author: Al Ries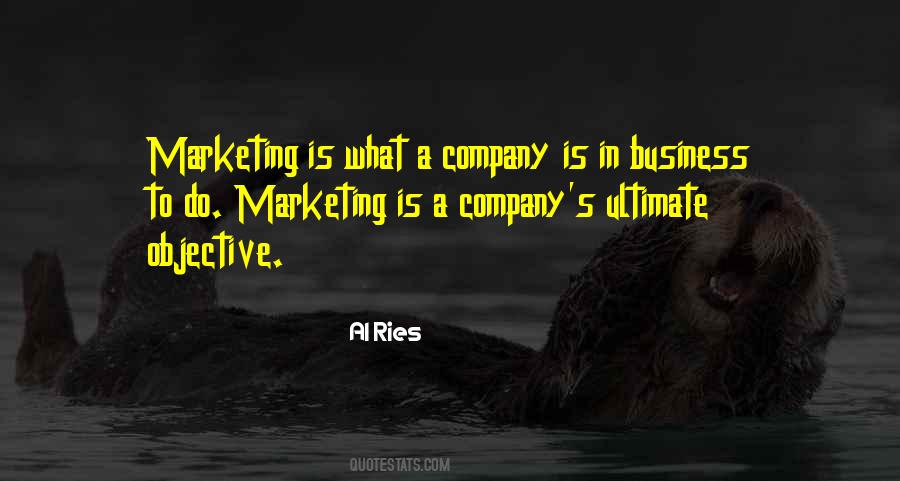 #29. There are three creativities: creativity in technology, in product planning, and in marketing. To have any one of these without the others is self defeating in business. - Author: Akio Morita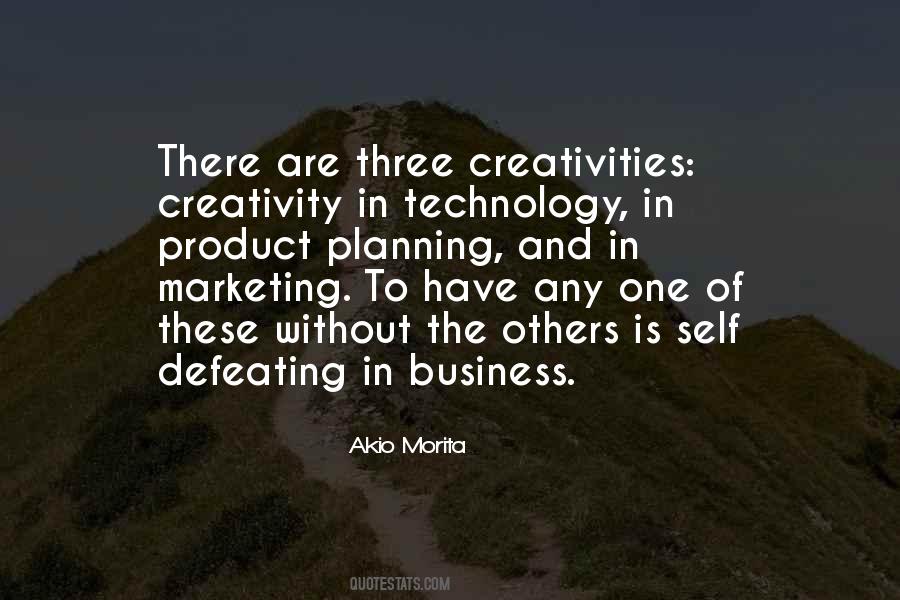 #30. People do not just buy products. They buy better versions of themselves. And the packages in which they want the products to be delivered must come from humble and approachable brands. People have no patience for fluff. - Author: Cendrine Marrouat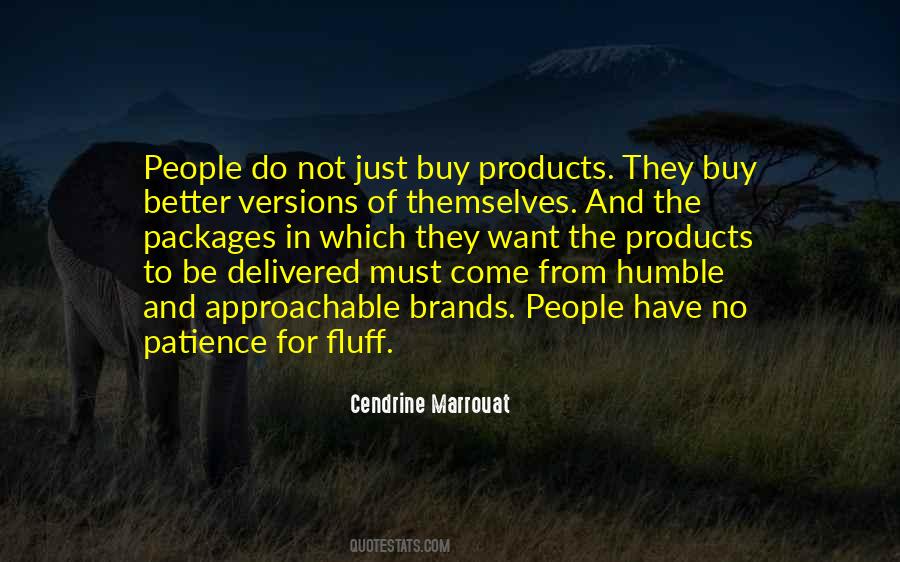 #31. Look at every 'revolutionary' brand or category killer, it had an app, or a feature, or a functionality, or a user experience nobody else at that point could offer. I refer to this as 'the Killer App' principle. - Author: David Brier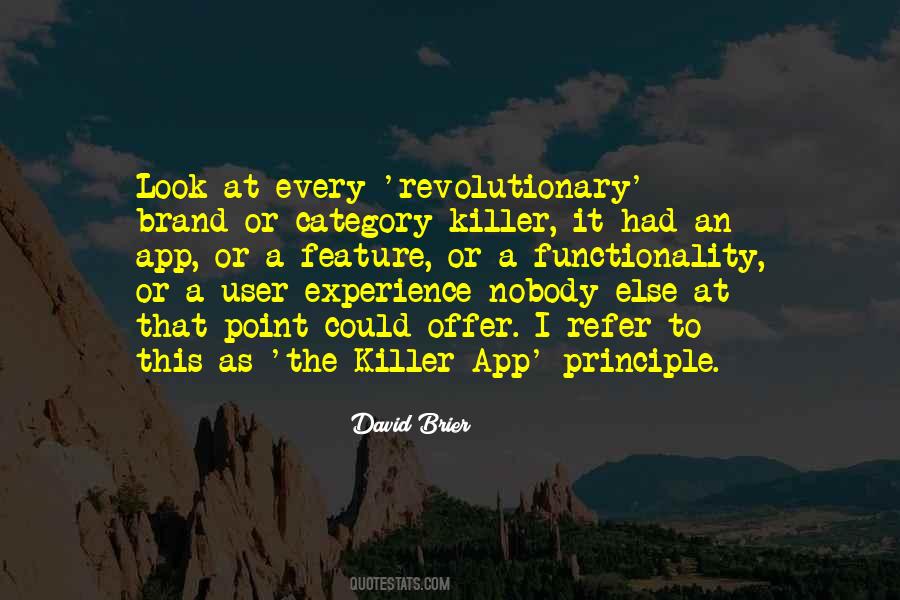 #32. Search is the means through which we navigate the Web. If your business is not visible in search it is difficult for it to be found by your customers. Search, above all else, is marketing, and it is undergoing a massive change. - Author: David Amerland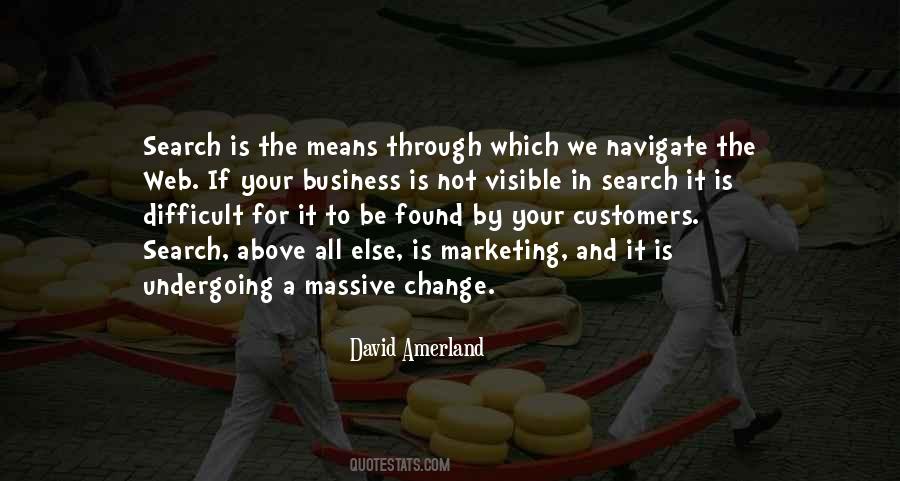 #33. The only one that seems to be able to hold the business is Disney. They do it is because they have a fabulous philosophy about marketing- but even they wavered. - Author: Don Bluth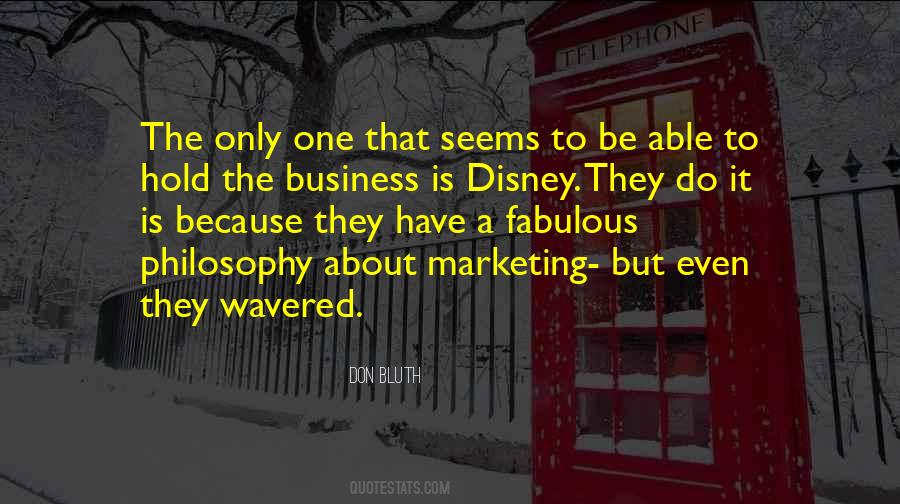 #34. 67% of all shoppers intend to return home with the item they are shopping for, but that only 24% actually do so. - Author: Roy H. Williams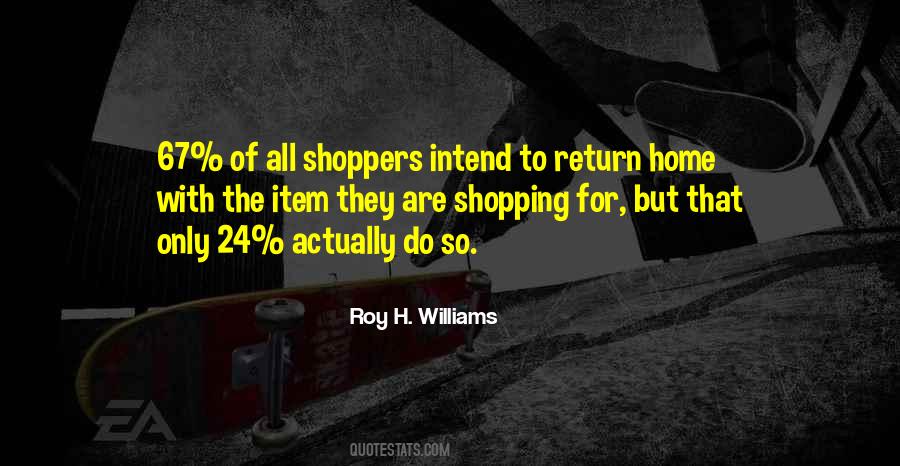 #35. It's fascinating how the fundamentals of business-to-business marketing are the same today as they were 50 years ago. It's still about relationships although today we have new tools and techniques at our disposal. - Author: David Meerman Scott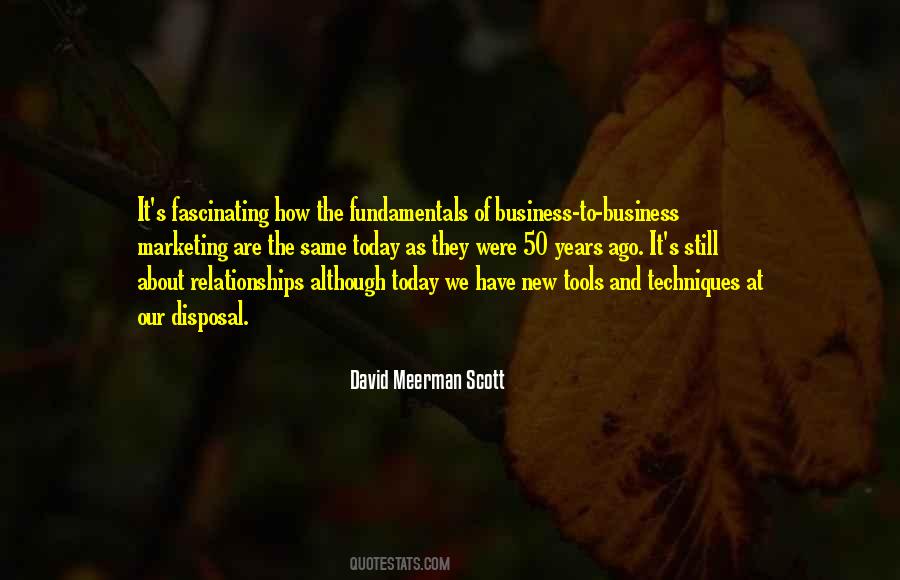 #36. The best system I've ever seen for intellectual distribution is the direct selling business-also known as one-to-one marketing, network marketing, referral marketing or relationship marketing. - Author: Paul Zane Pilzer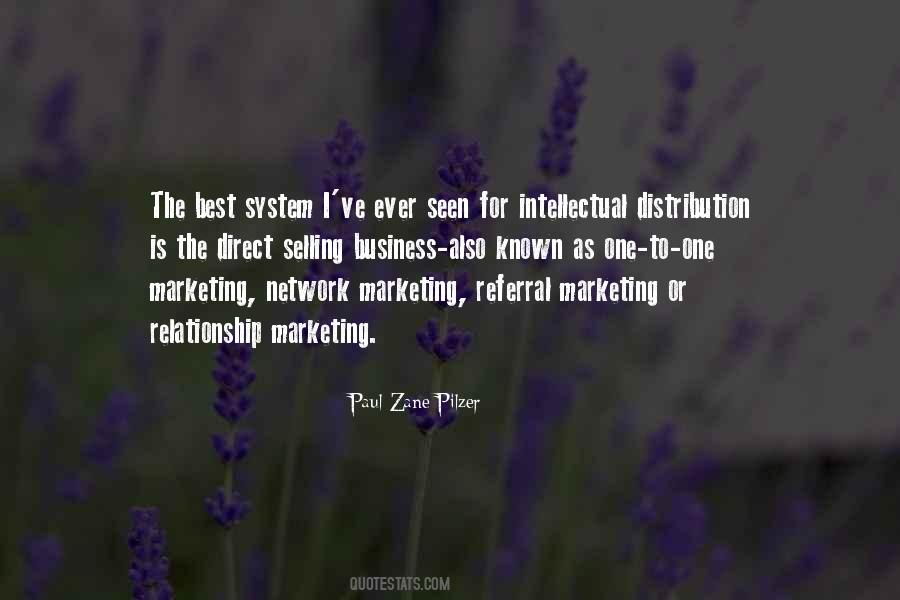 #37. Instagram, as well as all other social media platforms, is meant to complement your main marketing efforts for your business, not take over them. - Author: Kevin J. Donaldson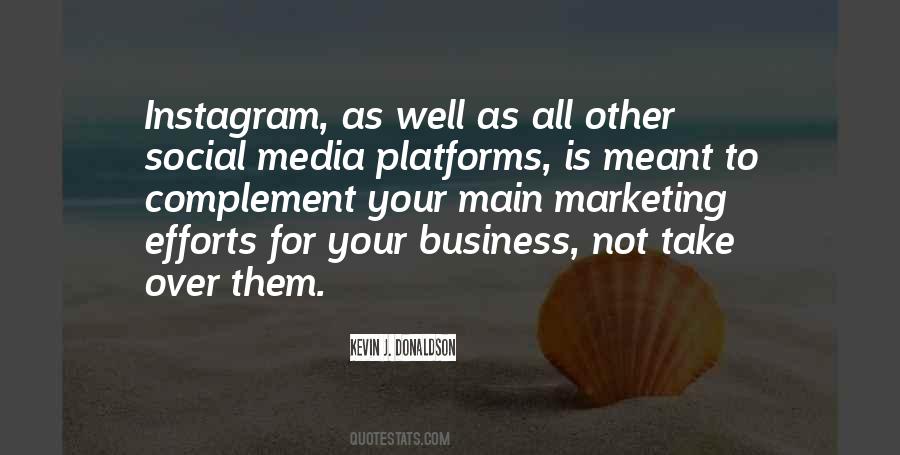 #38. I'm different from any other designer, businesswise, in that I've built this company up and I own it. I never had business hype behind me to promote my image ... My image is real ... I have never had marketing people telling me what to do. - Author: Vivienne Westwood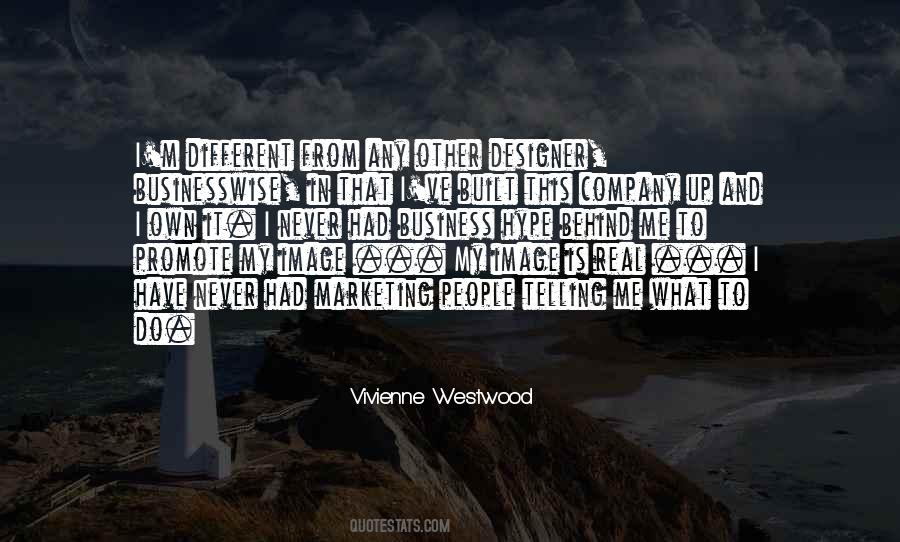 #39. Everyone loves the idea of "disruption" in business, but no one likes it when it happens to them. - Author: Richie Norton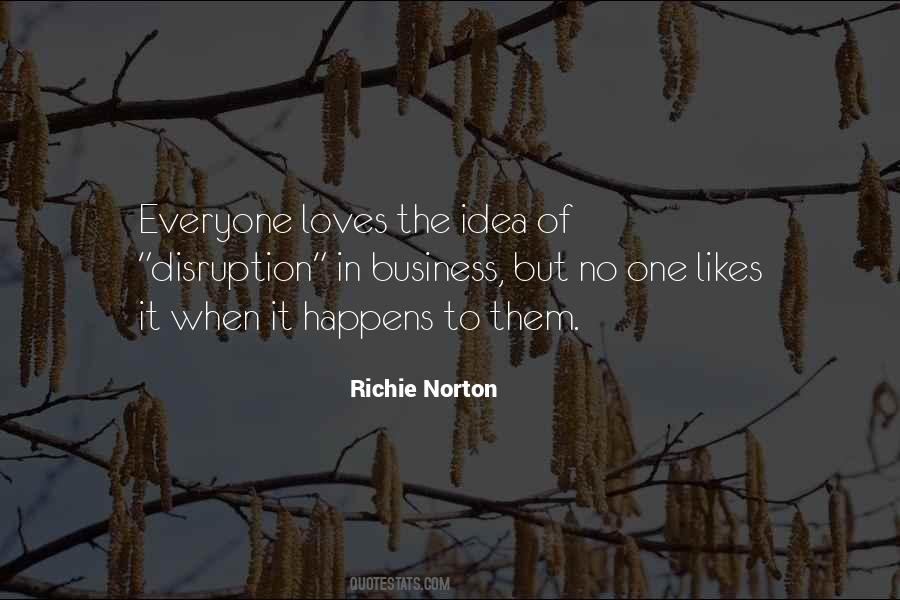 #40. If you have time to write a business plan, you have time to prove the model. Just sayin. - Author: Richie Norton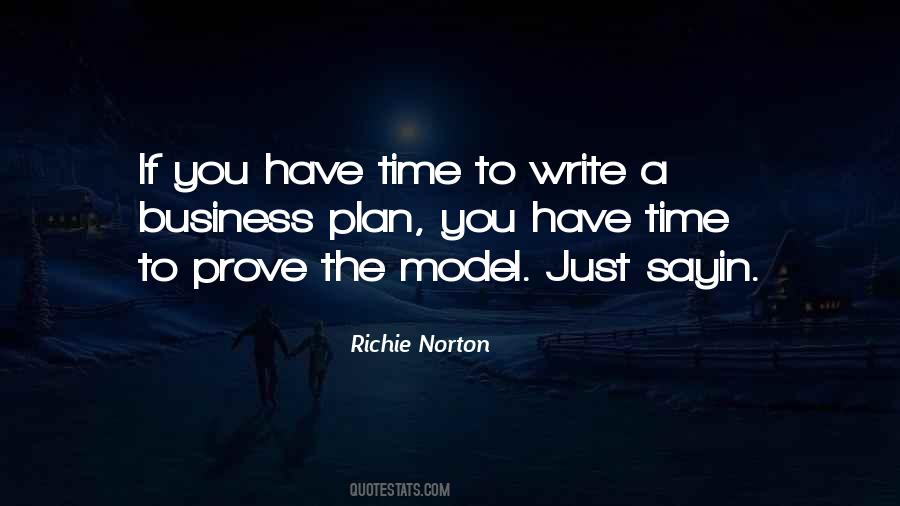 #41. A business exists because the consumer is willing to pay you his money. You run a business to satisfy the consumer. That isn't marketing. That goes way beyond marketing. - Author: Peter Drucker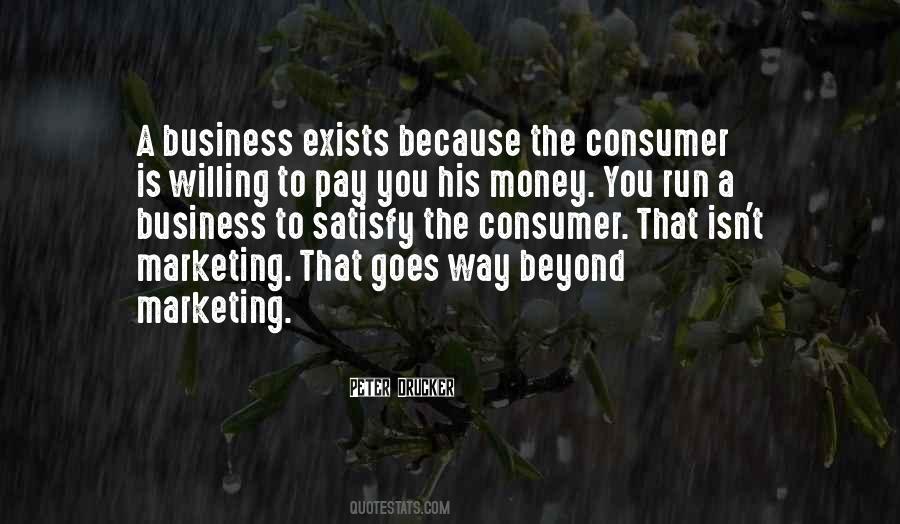 #42. Do not lie to yourself: not every penny you invest in marketing and promotion is an actual investment. What's the difference? It is easy - if you spend your precious money in a marketing campaign and this provokes increased profit, then that is well invested money. - Author: F. Marco-Serrano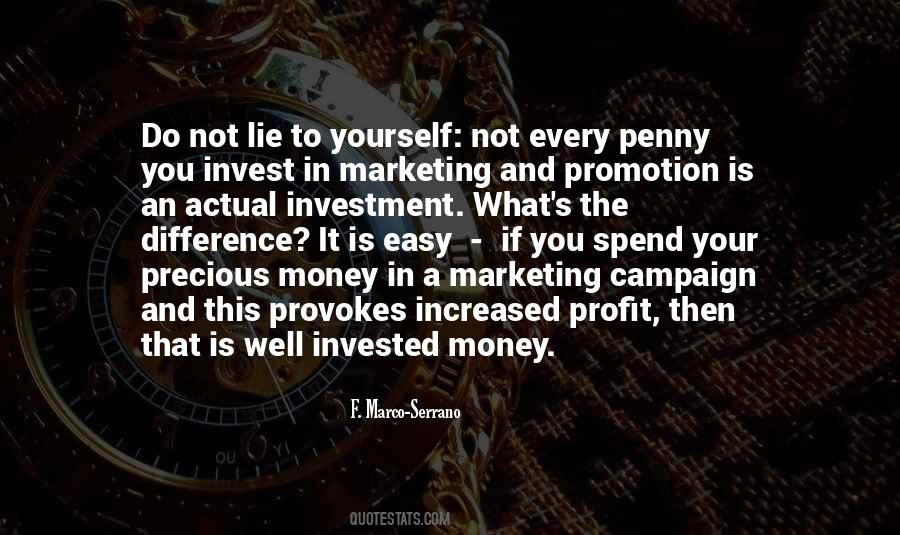 #43. What's the best way to ensure your small business makes a profit? Without a doubt, it's to keep your overhead costs low, and maximize your sales per marketing dollar. - Author: Kevin J. Donaldson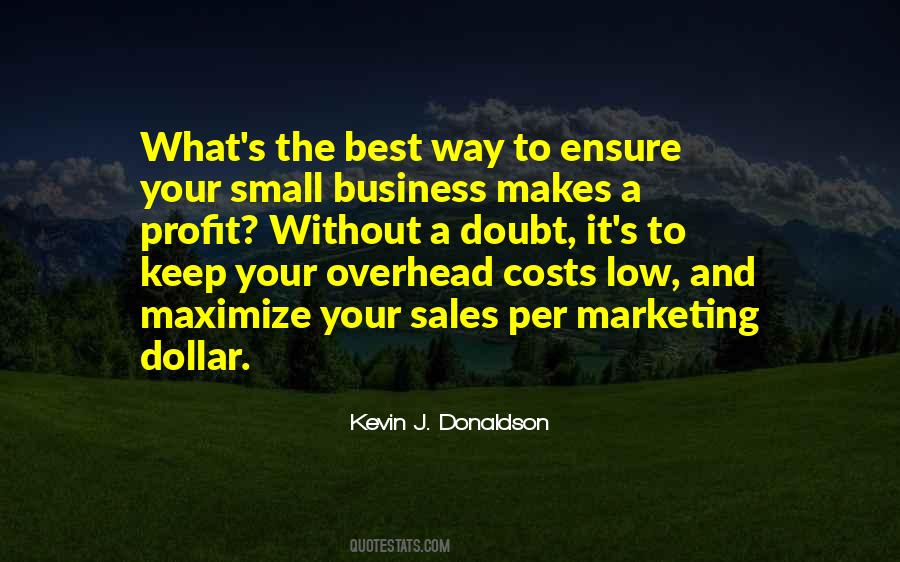 #44. Do everything in your power to make customers go confidently in the direction of their purchase intention. - Author: Laura Busche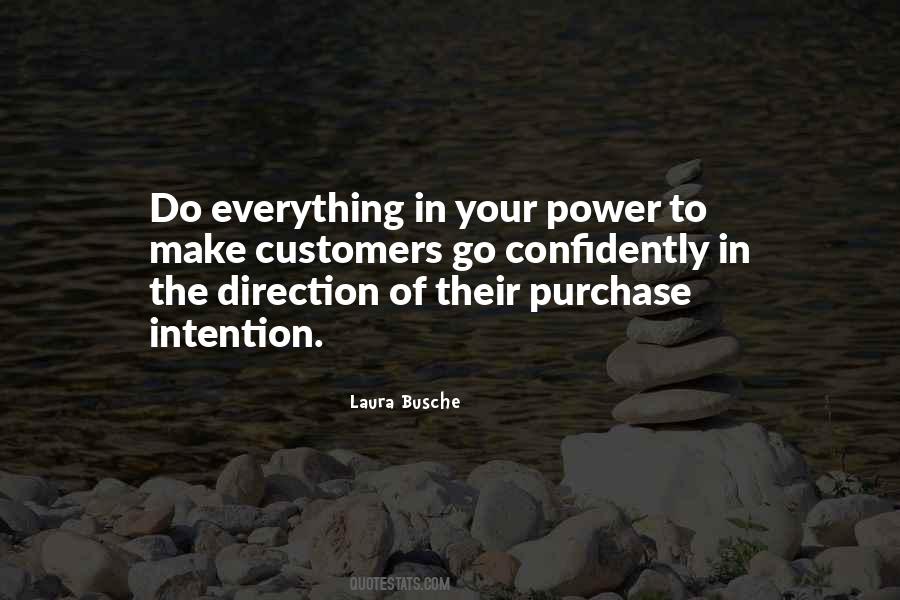 #45. Surround yourself with like-minded people who support you on the road to success. - Author: Shirley George Frazier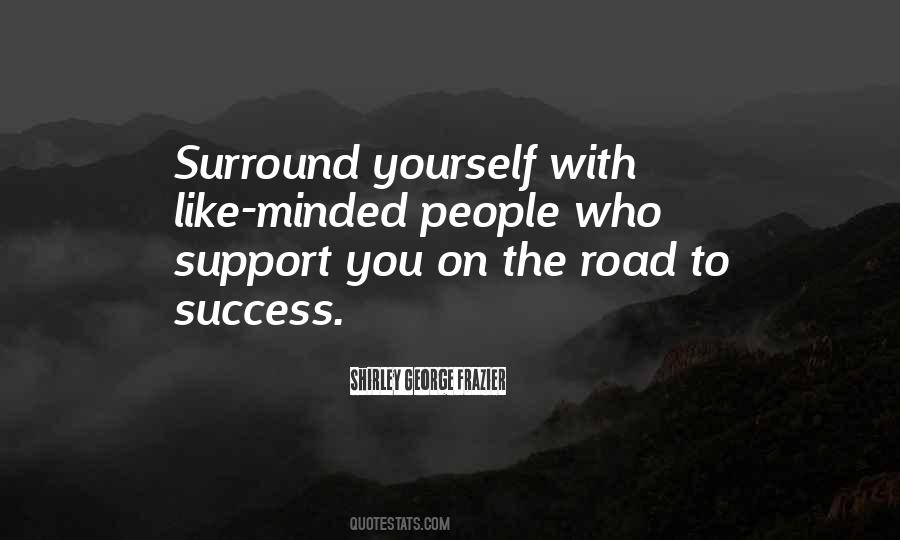 #46. DOOR MONEY" To focus on door money means one is paying so much attention to the amount of money they are making at the door they do not consider there is much more profit to be made inside a venue. - Author: Carlos Wallace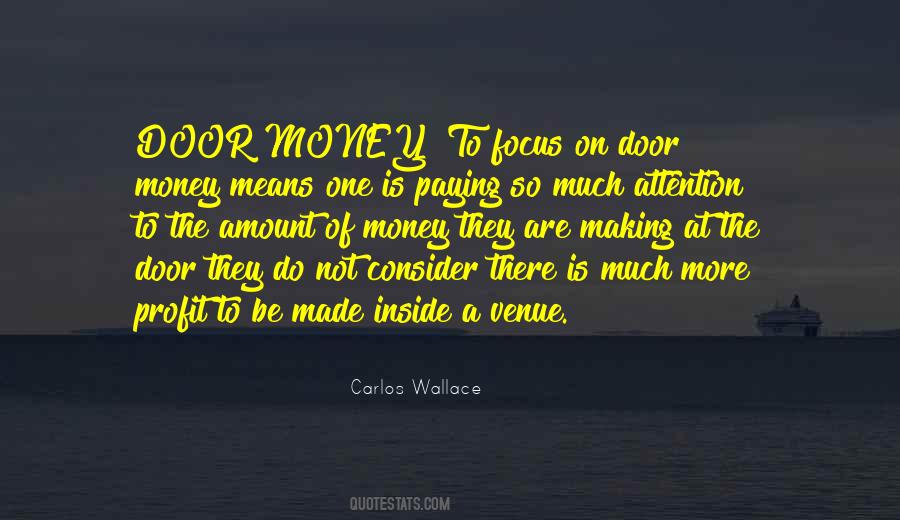 #47. I studied business in school, so I worked for Chanel in marketing. And I also worked part-time in an office. So I had office jobs. And then I realized I needed to get the hell out of there, just realizing there was no fulfillment. - Author: Stephanie Szostak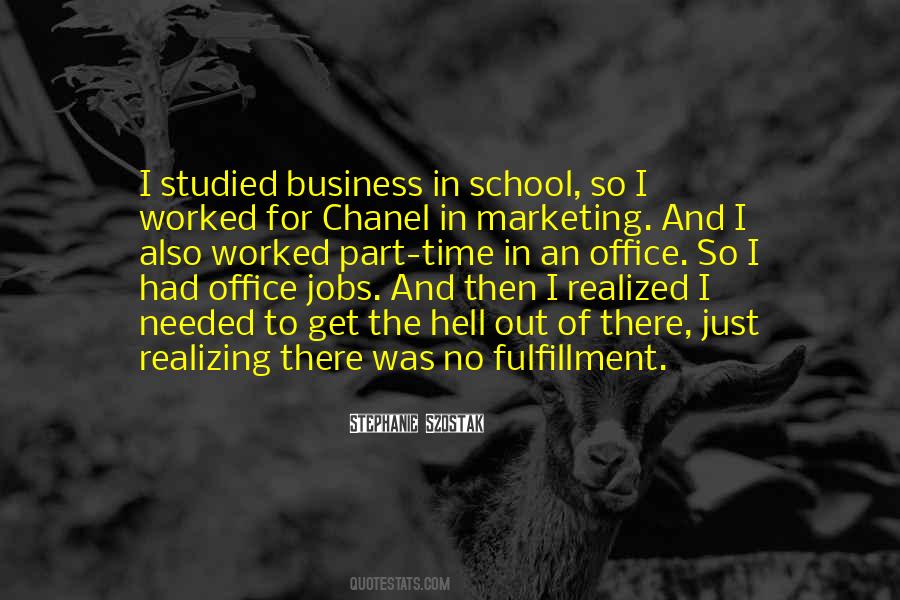 #48. 5 Digital marketing aspects to grow your business - Author: Ankit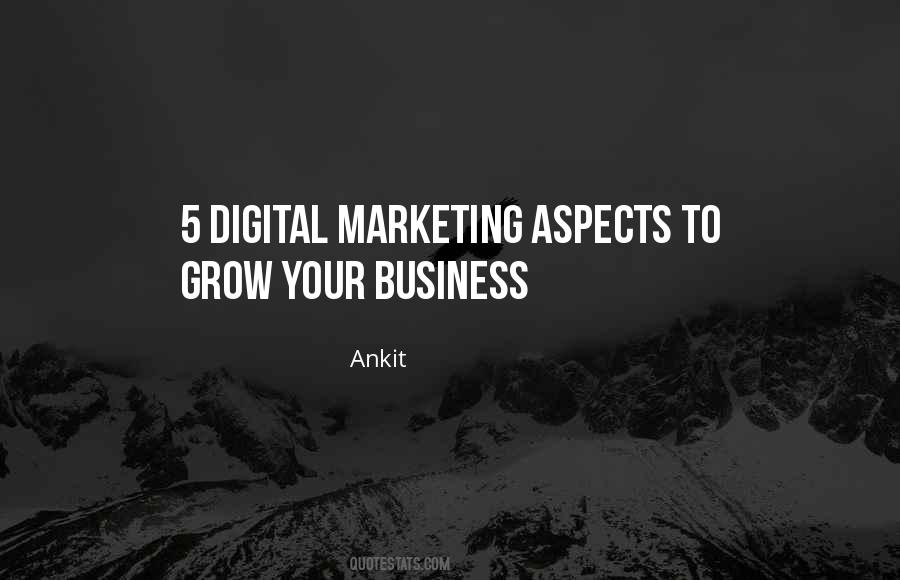 #49. There are three points I used to help a gourmet chocolatier increase sales 300% in a single month as well as a Midwest city to increase tourism guests 500% in 12 months. - Author: David Brier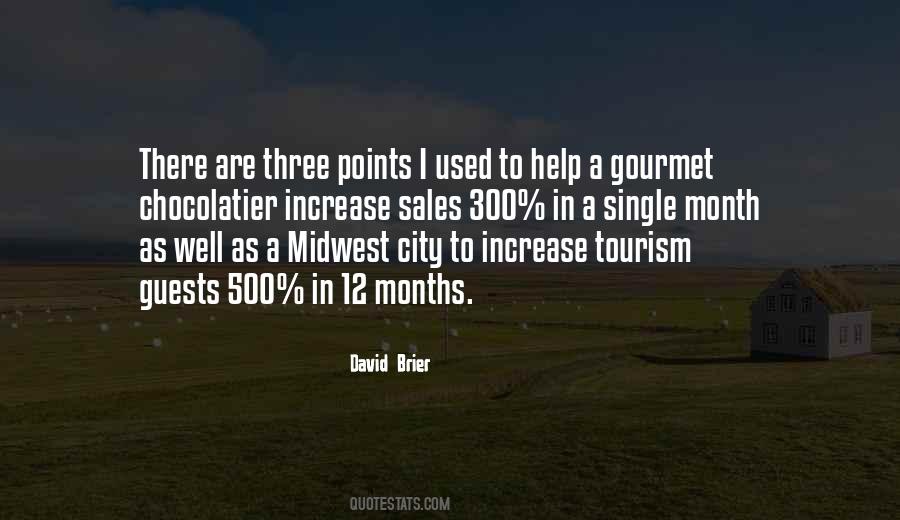 #50. History is filled with inferior brands outselling superior ones thanks to better branding. Only superior branding has the power to overcome and reverse this (and superior products and services deserve superior branding). - Author: David Brier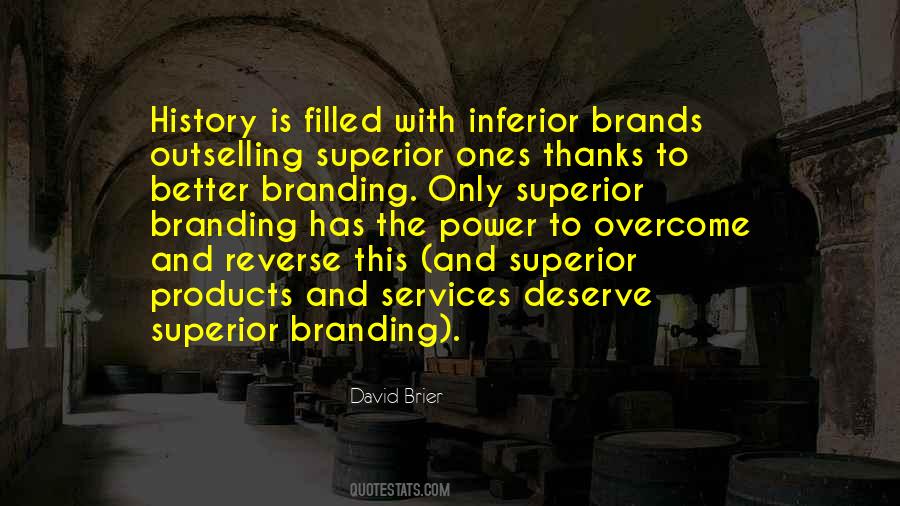 #51. Don't overlook the most important thing you can do to grow your business and that is marketing.

Not focusing on marketing your business is like having a Ferrrari in the driveway, but refusing to put gas in it. What good is that doing? - Author: Max Fortune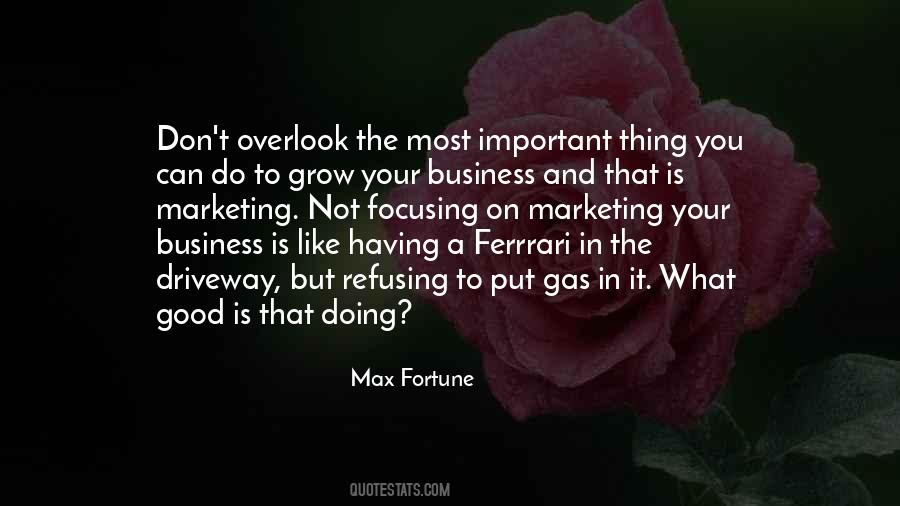 #52. People in business are uniquely unqualified to see their own companies and product objectively. Too much product knowledge causes them to instinctively answer questions no one is asking. - Author: Roy H. Williams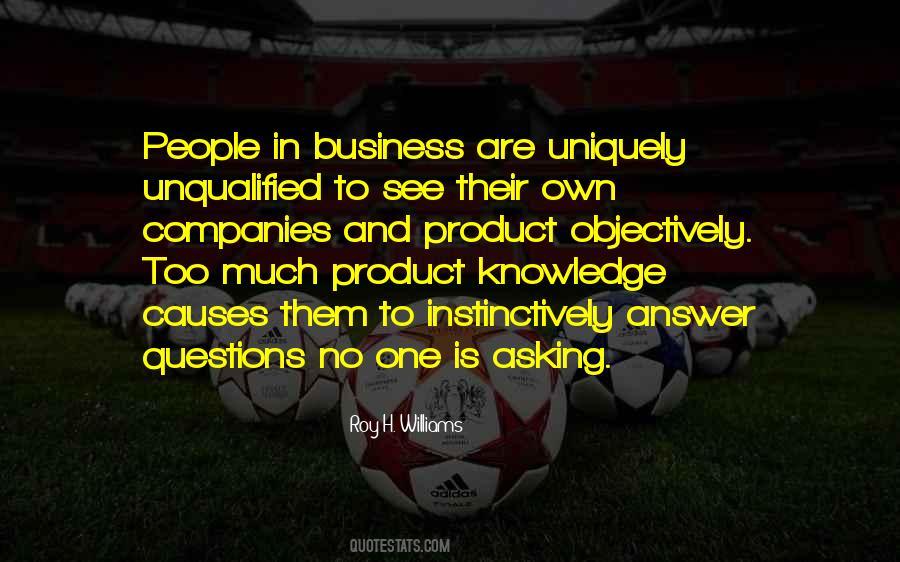 #53. If you're in business, all the content in the world will do you no good unless it leads to a sale. - Author: Richie Norton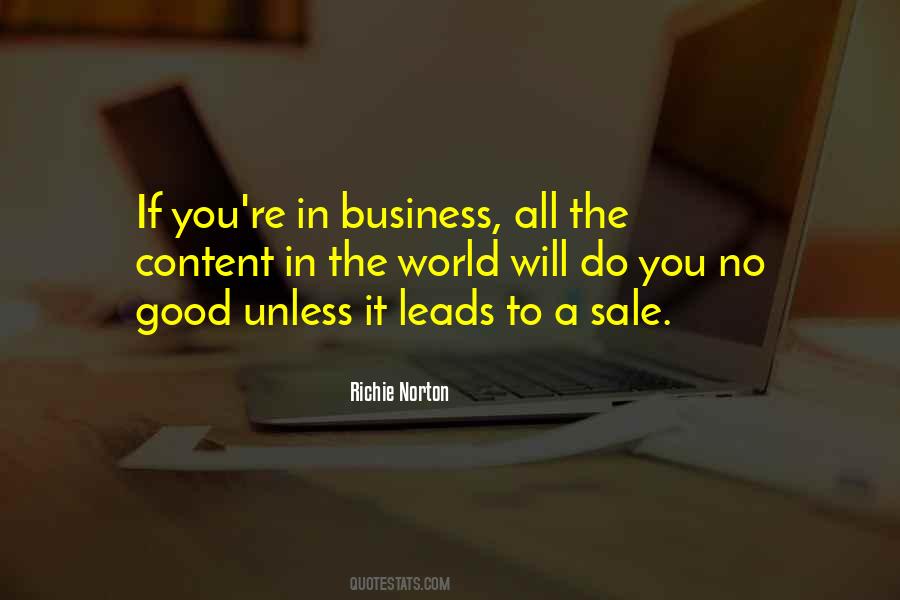 #54. Investments in greater email marketing sophistication often lead to even higher returns, not diminishing returns. - Author: Chad White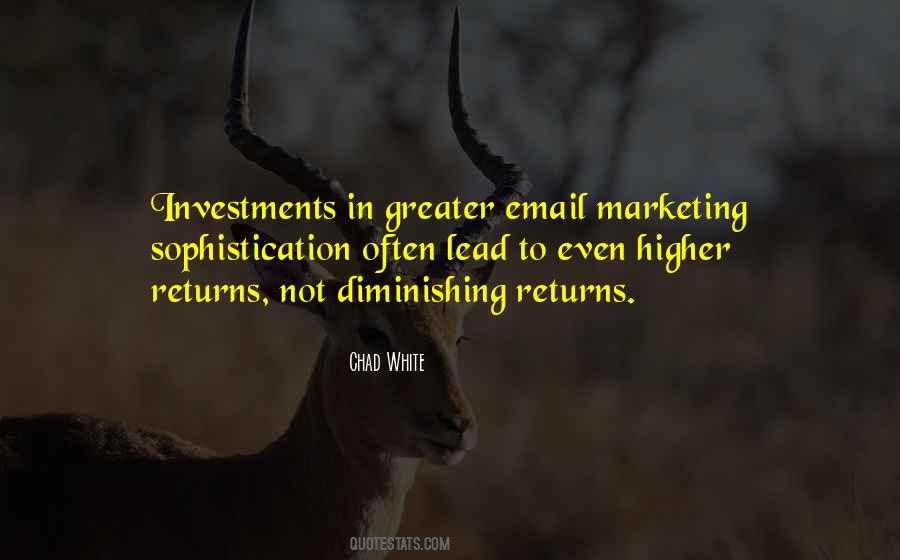 #55. People don't trust conglomerates; they trust individuals. Network marketing brings trust and the quality of the relationship to the center of the business. And it enables you to expand indefinitely, simply by expanding the number of relationships. - Author: Brian Tracy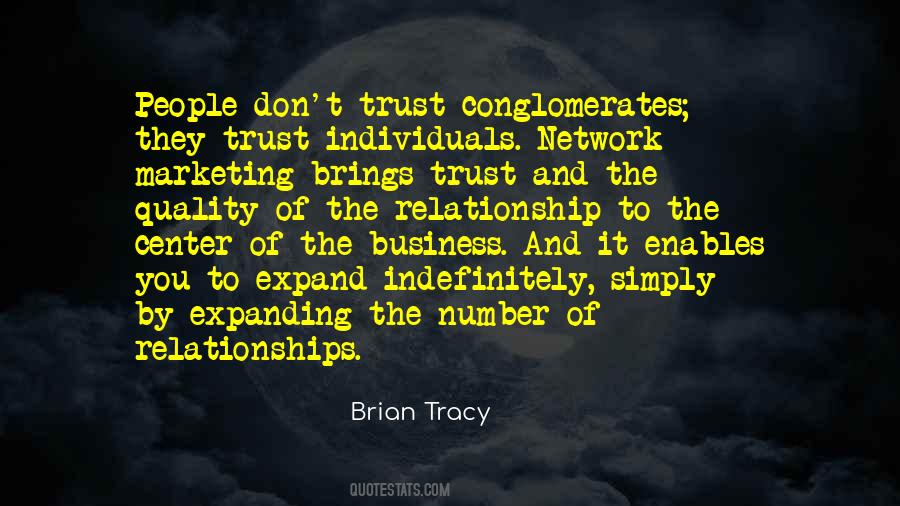 #56. Social media is your opportunity to reach a massive number of people with transparency, honesty, and integrity. - Author: Brian E. Boyd Sr.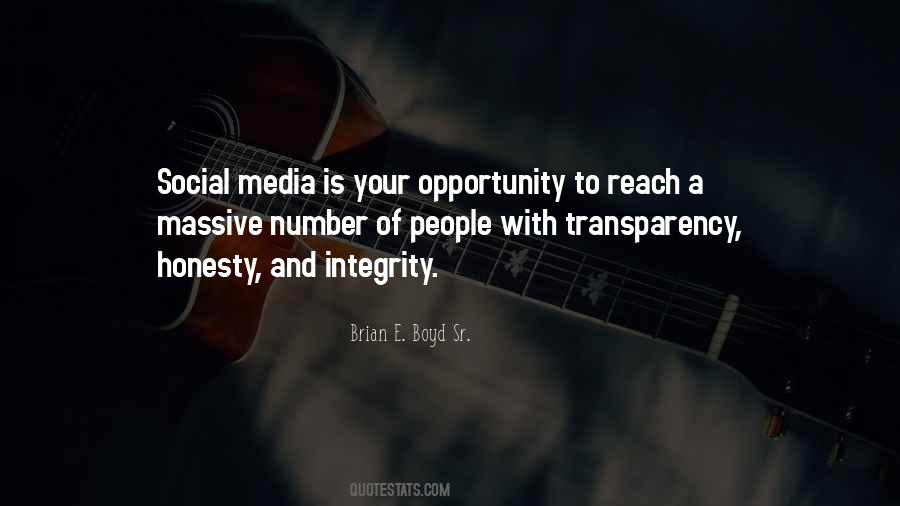 #57. a lot of so-called health breakthroughs are not nearly as impressive as their marketing makes them appear. While it may be good business to spin the numbers to increase sales, it isn't good science. One - Author: T. Colin Campbell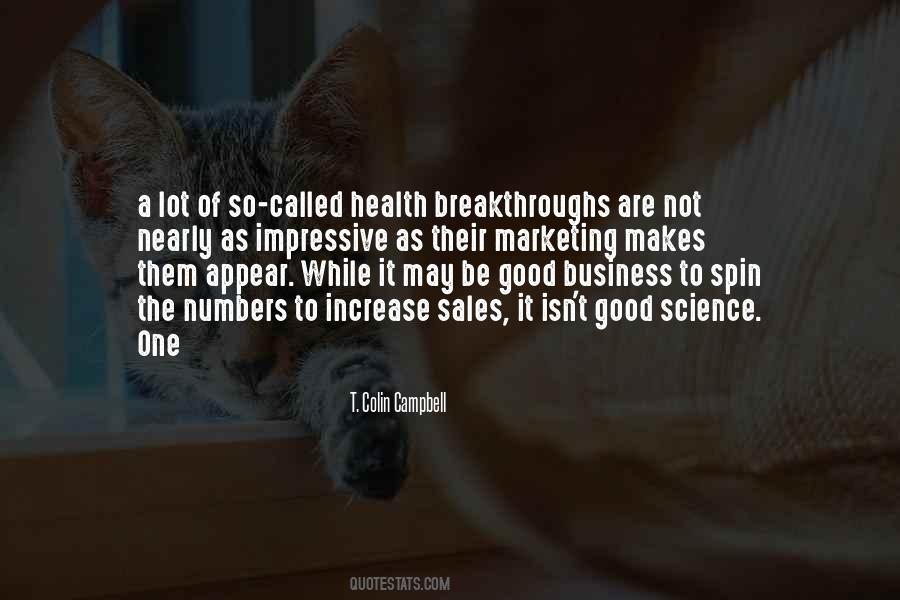 #58. The future of network marketing is unlimited. There's no end in sight. It will continue to grow because better people are getting into it ... soon, it will be one of the most respected business methods in the world. - Author: Brian Tracy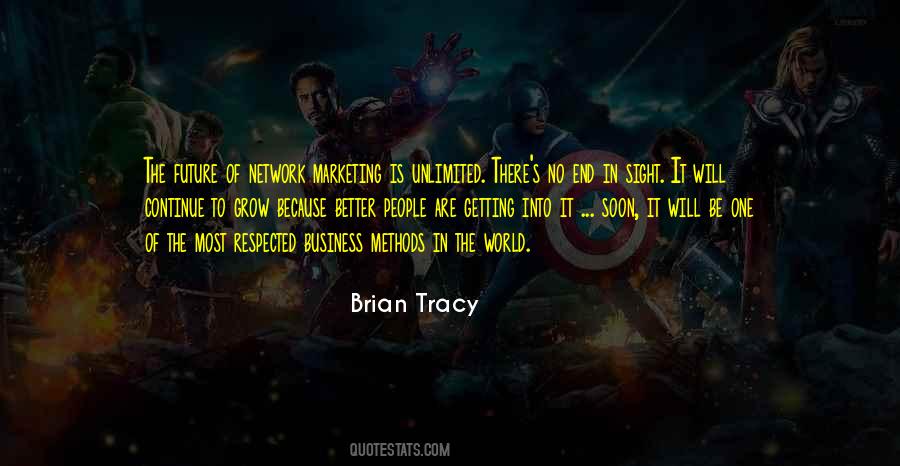 #59. The easiest thing to sell is truth. - Author: Daymond John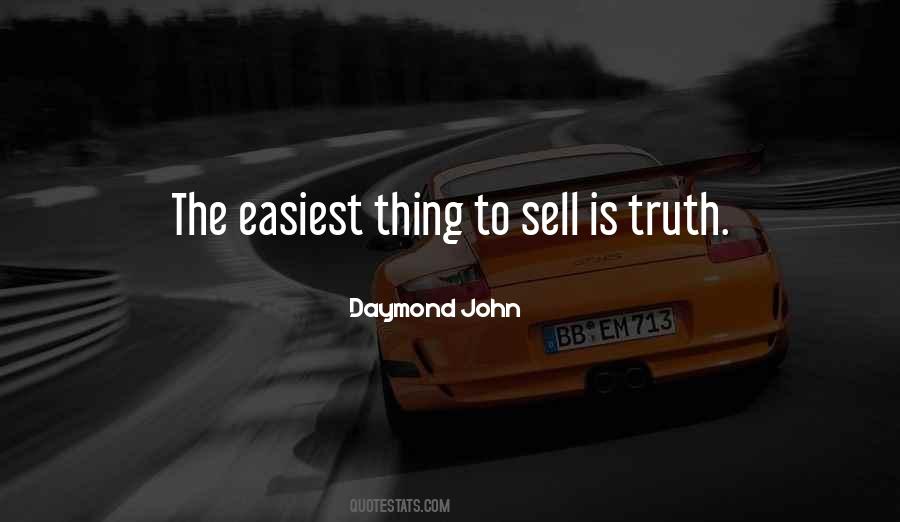 #60. Holding back technology to reserve business models is like allowing blacksmiths to veto the internal combustion engine in order to protect their horseshoes. - Author: Don Tapscott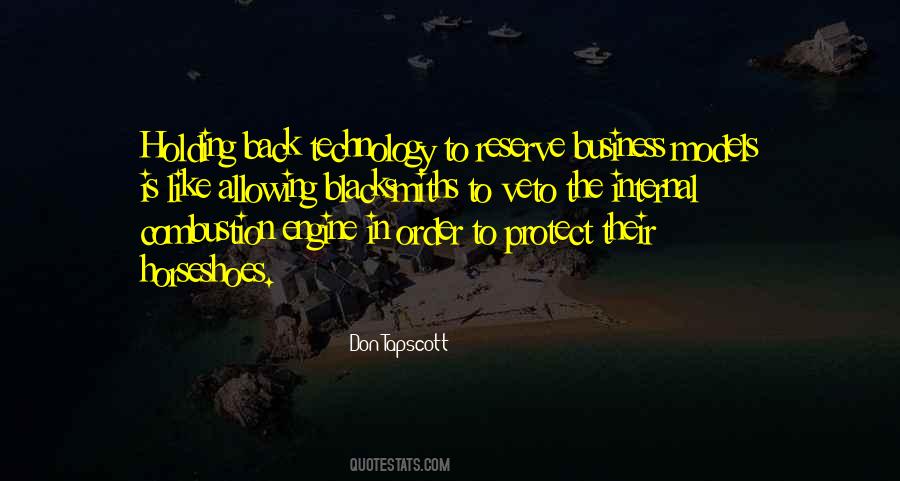 #61. ...relentlessly pursue your best method of getting customers, and not the stuff you naturally gravitate to. - Author: Dan Norris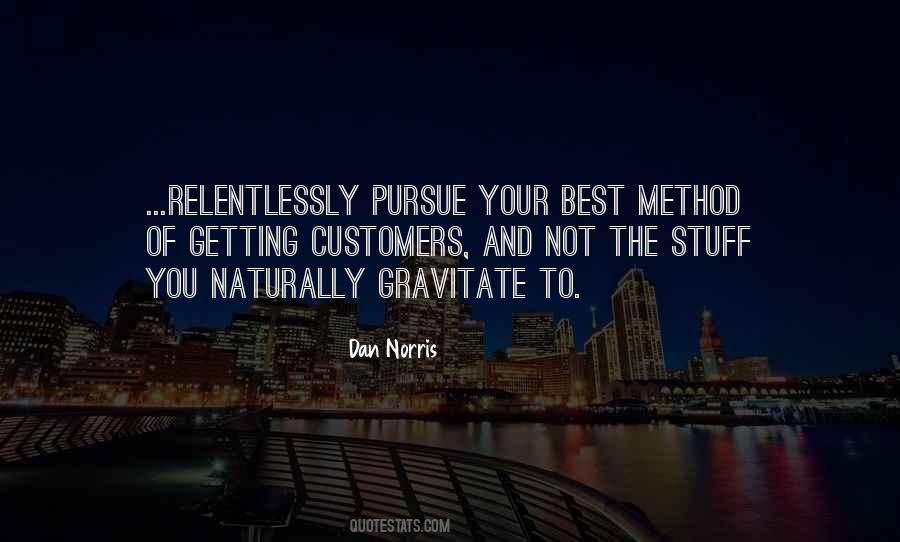 #62. There is a natural partnership between State and Commerce, and the American business community to work together to educate the United States about marketing overseas. - Author: Lawrence Eagleburger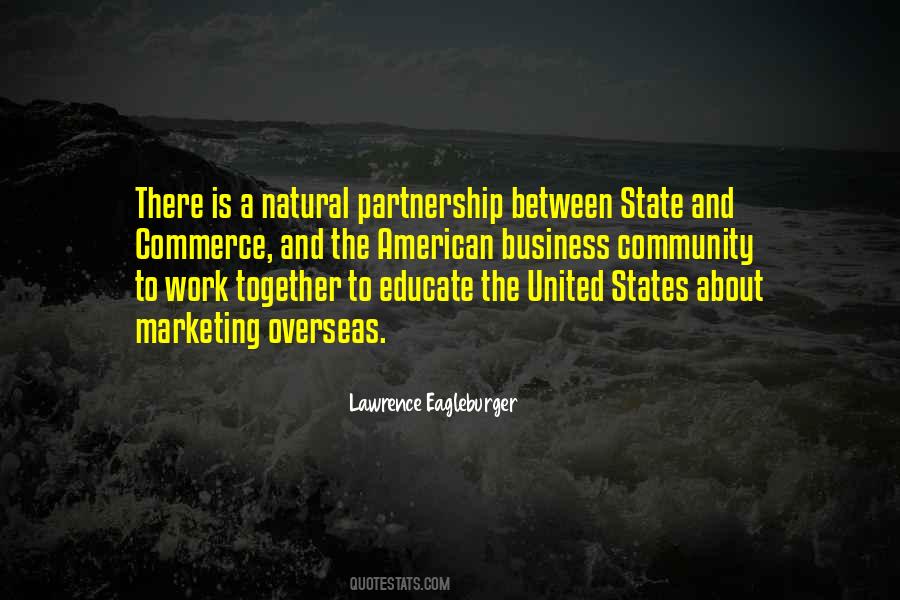 #63. It's a really interesting and diverse business. You're a farmer first, then a winemaker, then you're onto marketing and distribution. So it's multi-faceted and really engaging. I've learned more in the last couple years than in the ten prior to that, so it's been pretty interesting. - Author: Drew Bledsoe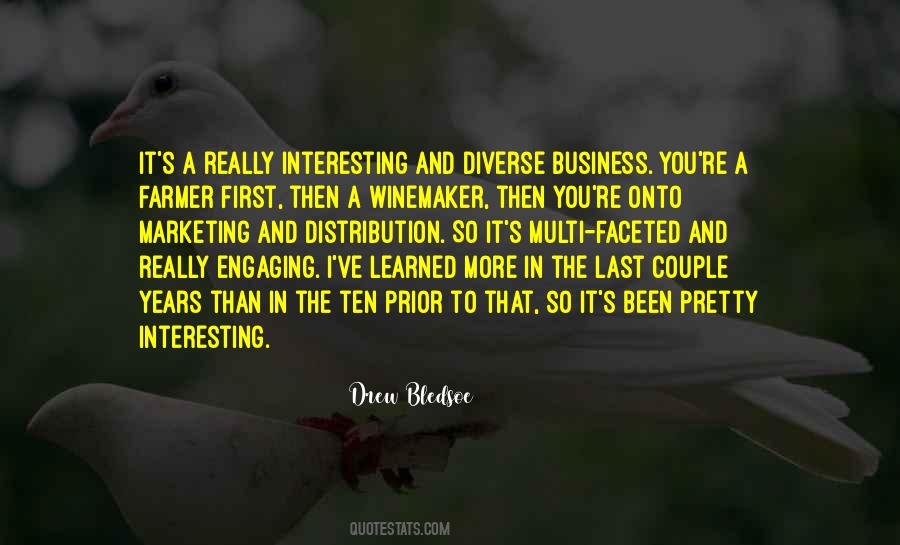 #64. Firms need to ensure that their ability to provide effective customer service keeps pace with their growth. If you're marketing your firm to new customers, you better be able to provide them service when they do business with you. - Author: Arthur Levitt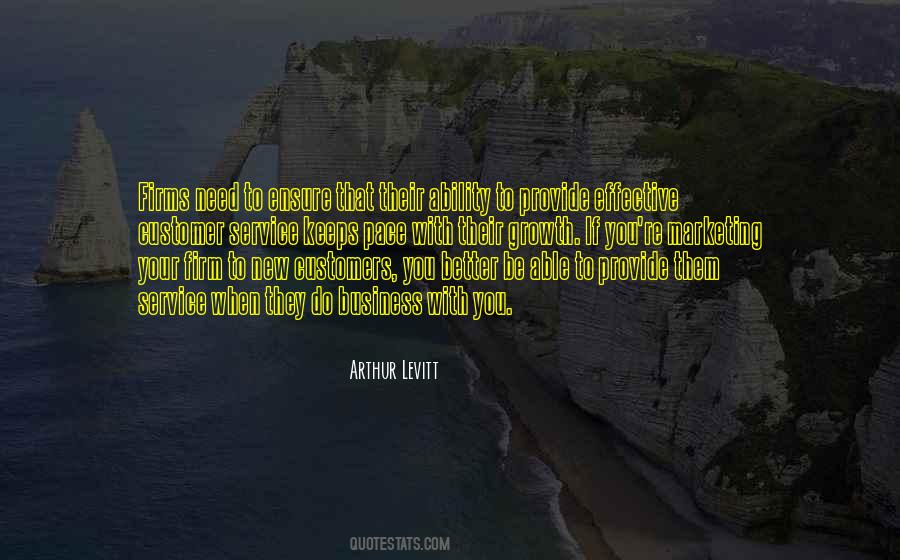 #65. We need to move from comparative advantage to perpetual advantage ... - Author: Max McKeown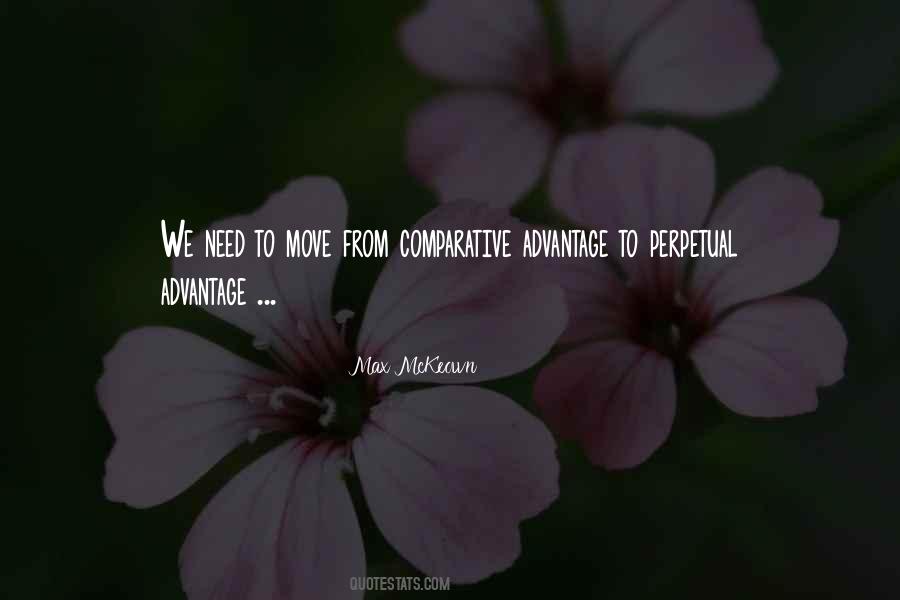 #66. For your business to stand out and succeed, you have to put a primary focus on the social media space, go in big (halfway will not do), and do it better than most, right from the start. - Author: Brian E. Boyd Sr.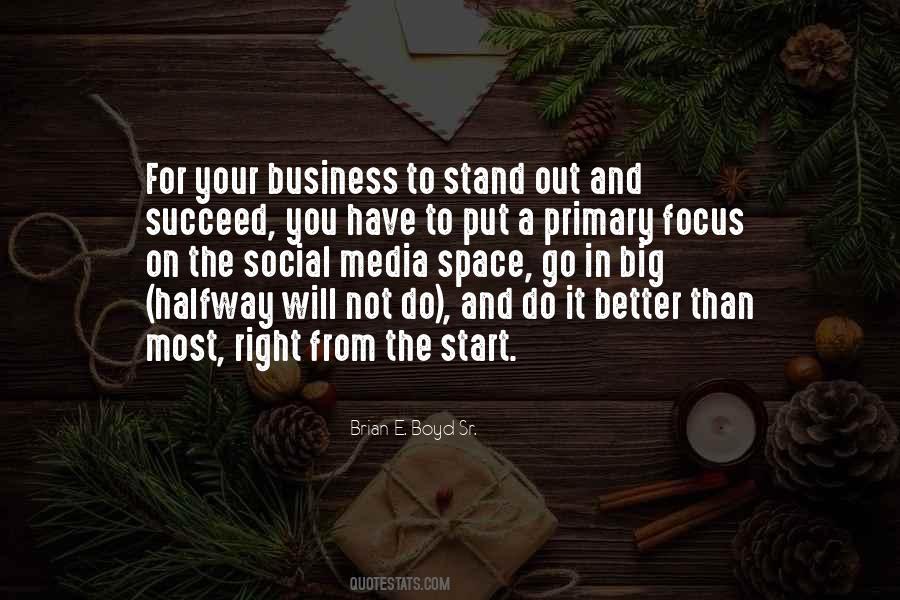 #67. Why do all this? Because there are people out there who need you, and they will be more than willing to give you what you need so you can give them your best, but if you're busy pursuing everyone, or if you're so drained at the end of the day, you won't be able to be your best and give your best. - Author: Osayi Emokpae Lasisi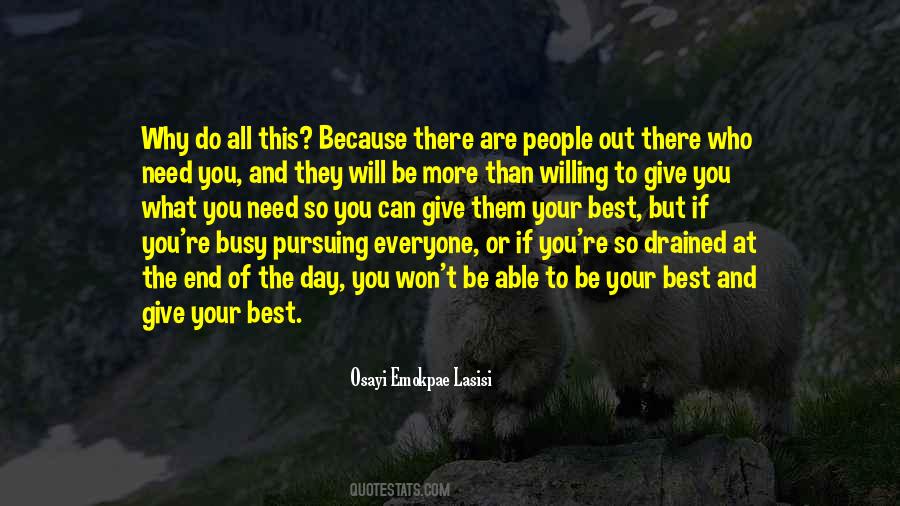 #68. Every time you're exposed to advertising in America you're reminded that this country's most profitable business is still the manufacture, packaging, distribution, and marketing of bullshit. High-quality, grade-A, prime-cut, pure American bullshit. - Author: George Carlin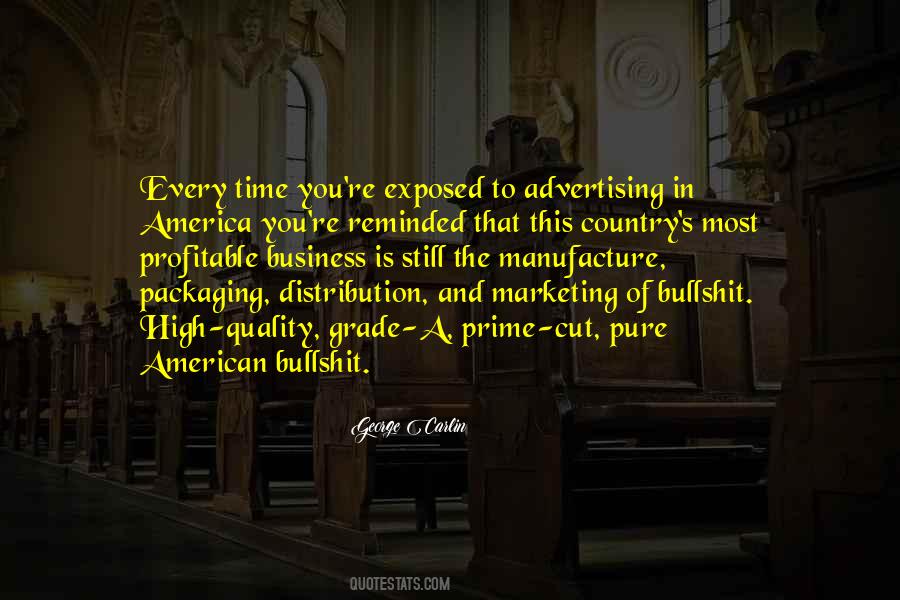 #69. Don't try to follow trends. Create them. - Author: Simon Zingerman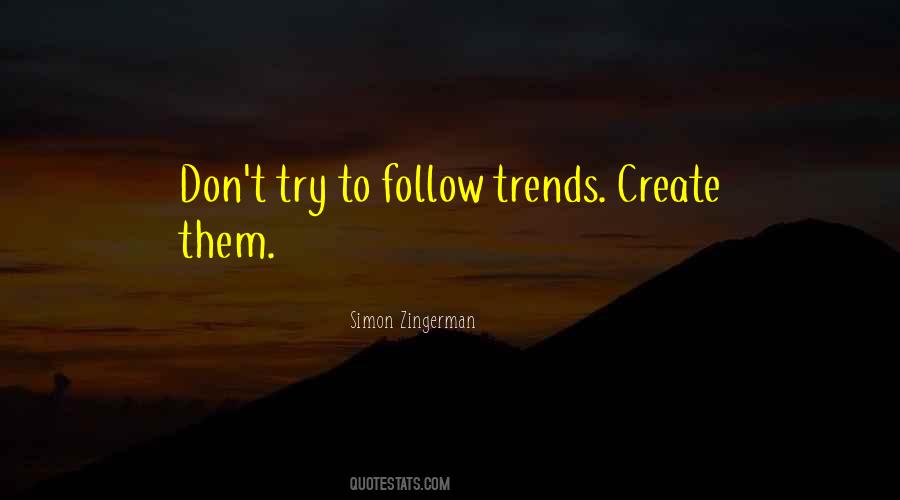 #70. Every small business has to become a publisher - a publisher of marketing messages and customer resources, and a publisher of stories. - Author: Jim Blasingame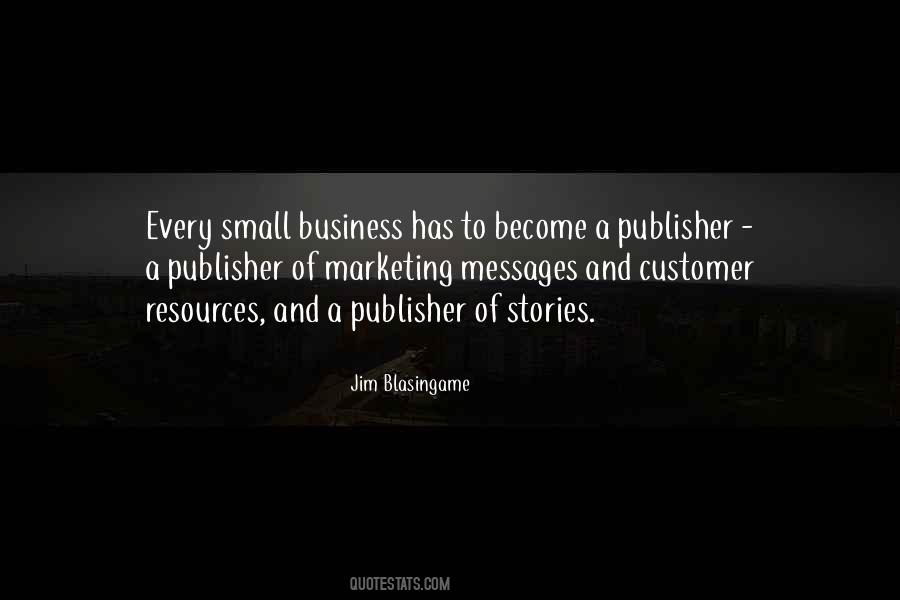 #71. A great sports car that goes from 0-60 in 3.9 seconds is just a fact. To the wrong audience, it's irrelevant. But to the right audience, it's a passion. - Author: David Brier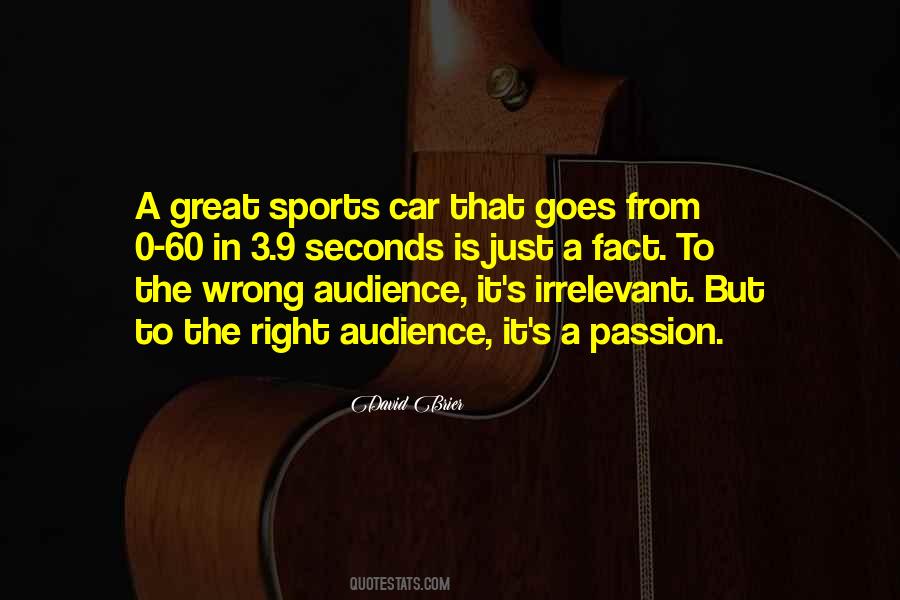 #72. It is not wrong to think that the traditional buying of a product has been replaced with an unwritten contract of shared values between a business and its customers. - Author: David Amerland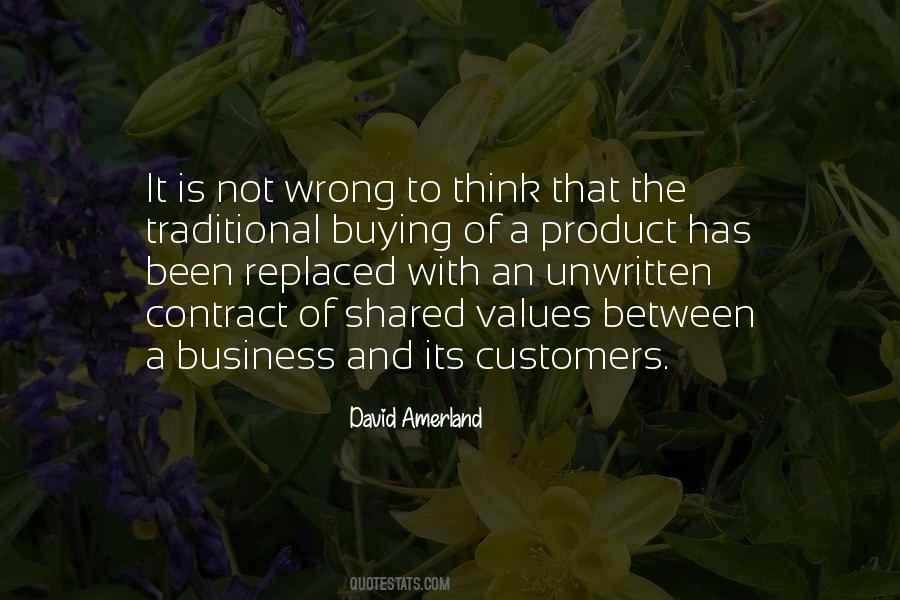 #73. Evidently, one thing seems to have more value in direct proportion to whether or not we feel we have the freedoms, joys or conveniences of that thing. - Author: David Brier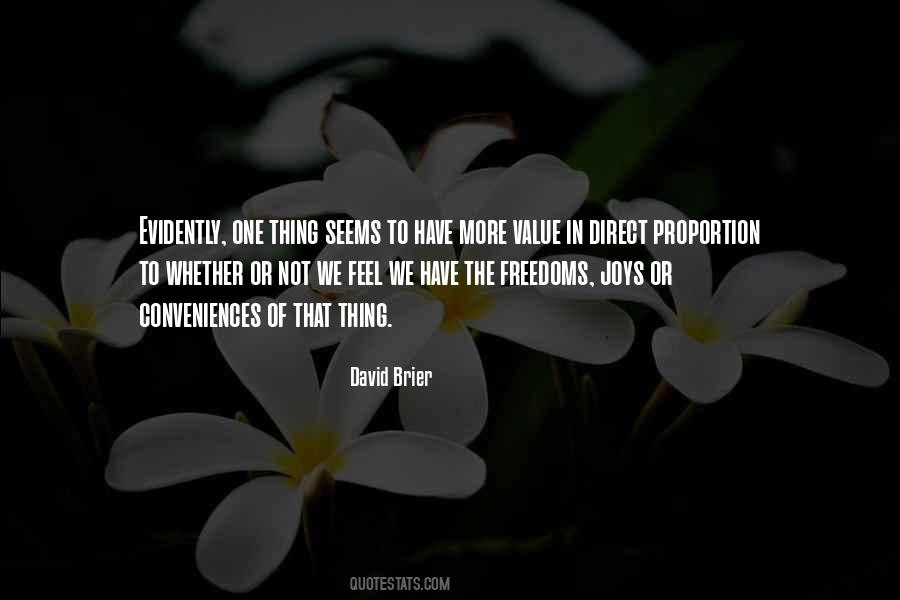 #74. Perhaps the most important marketing step any business can take is to discover a way to be different. - Author: John Jantsch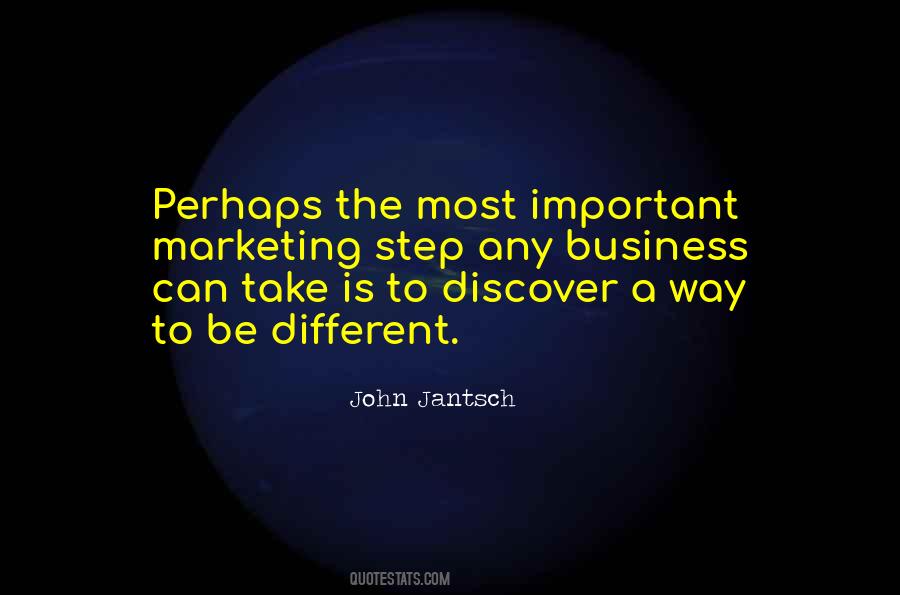 #75. Because its purpose is to create a customer, the business has two and only two functions: Marketing and Innovation. Marketing and Innovation produce results. All the rest are costs. - Author: Peter Drucker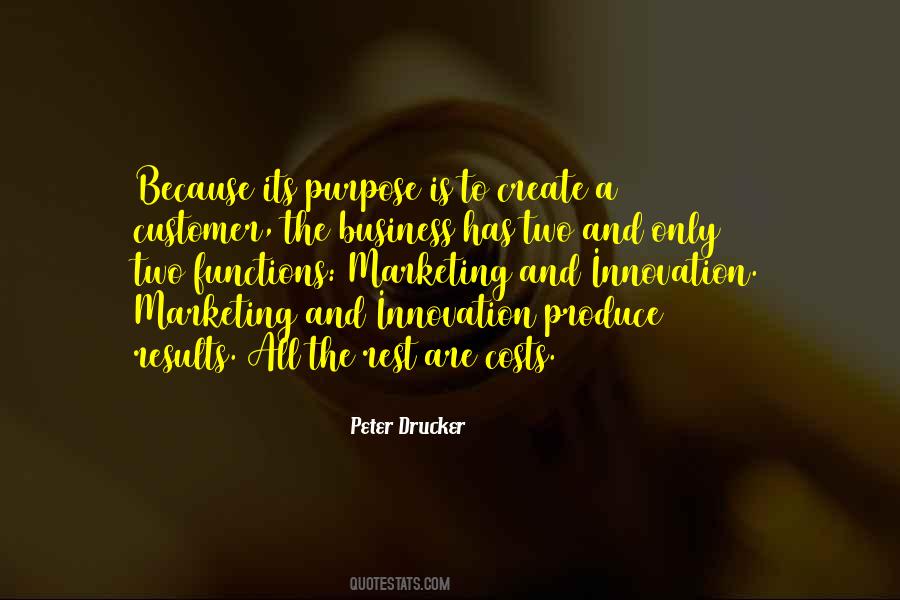 #76. Today, brands are not the preserve of marketing department. Brands are too important to be left to the marketing department - or any other 'department,' come to that. Organizational ghettoes do not create vibrant world-changing brands. - Author: Thomas Gad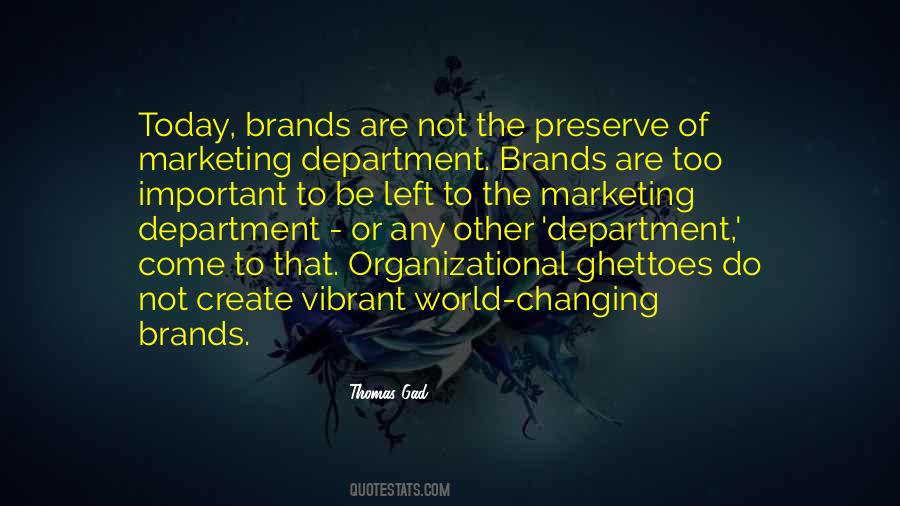 #77. Brands that will survive and thrive from now on are those with C-level executives that understand the incredible opportunity new media offers them and commit to excellence in managing their social media presence. - Author: Brian E. Boyd Sr.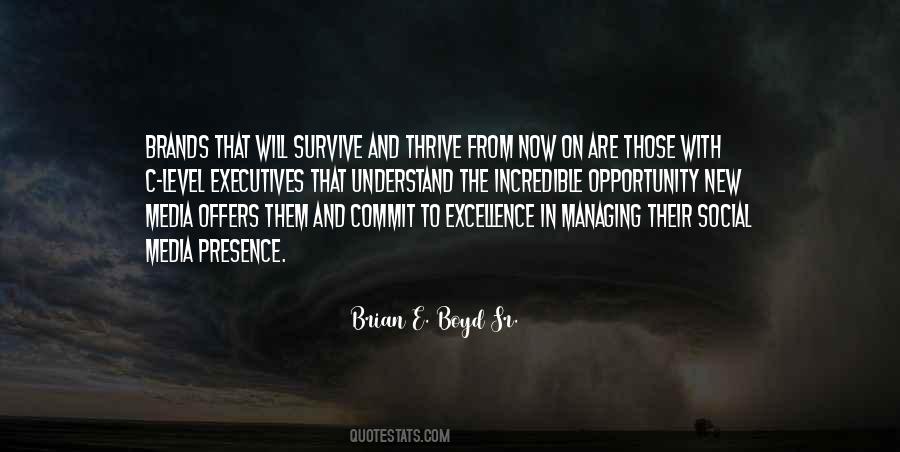 #78. Being in the consumer business helps us groom talent in areas like marketing, finance and logistics. We can benchmark our outsourcing business to our consumer business and its best practices. - Author: Azim Premji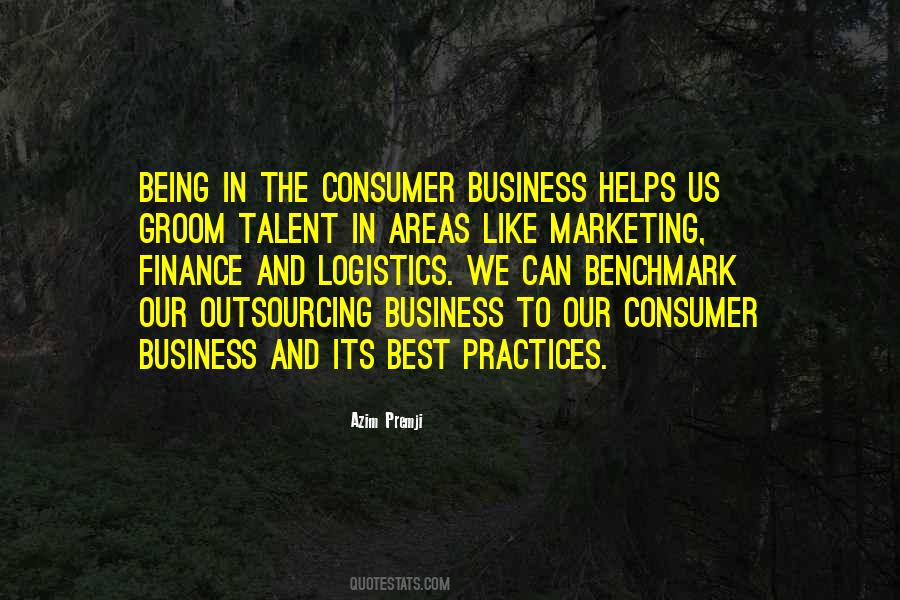 #79. Research conquers doubt. It aligns everyone around the incontestable. Research is the key to clarity - in startups, enterprises, and life itself. - Author: Laura Busche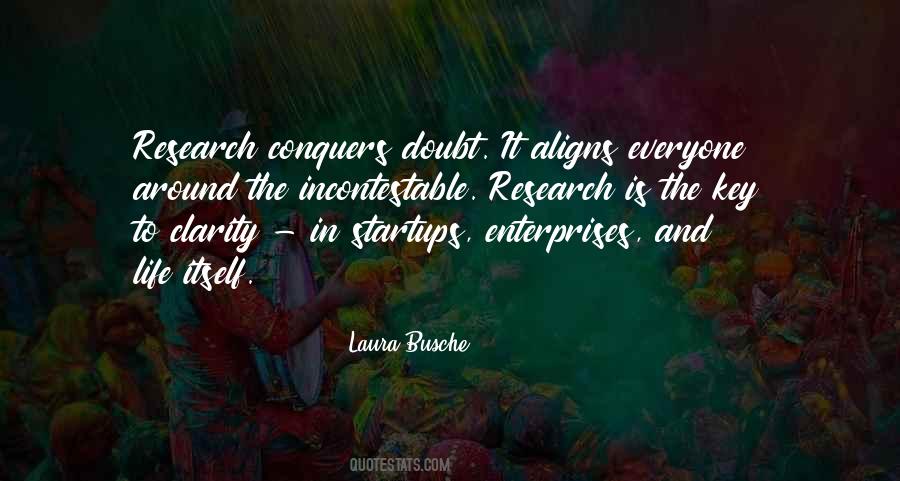 #80. People are in such a hurry to launch their product or business that they seldom look at marketing from a bird's eye view and they don't create a systematic plan. - Author: Dave Ramsey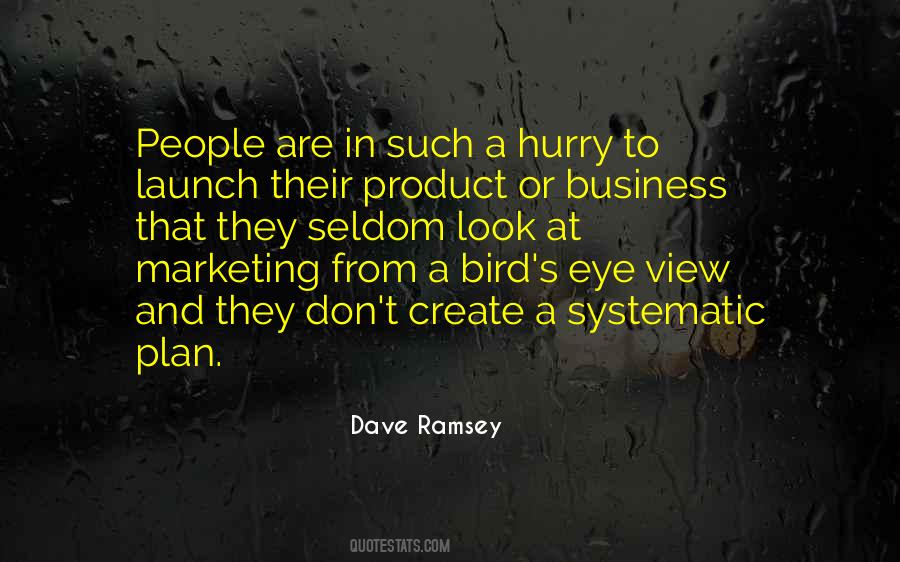 #81. Our co-founder and company president, Jim Levy, came from a record industry background and understood the marketing and promotion of artists as well as products. So the video game business went from absolutely zero designer credit to something approaching rock star promotion. - Author: David Crane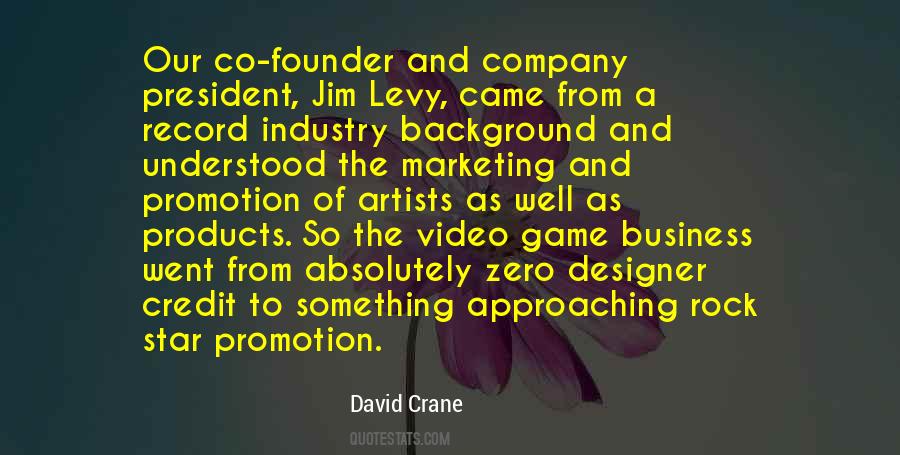 #82. When you have a business, you don't use Instagram as your primary selling storefront. That's what your website is for. Instead, your Instagram profile is meant to drum up interest for your business, gather followers, and direct them to your website to learn more. - Author: Kevin J. Donaldson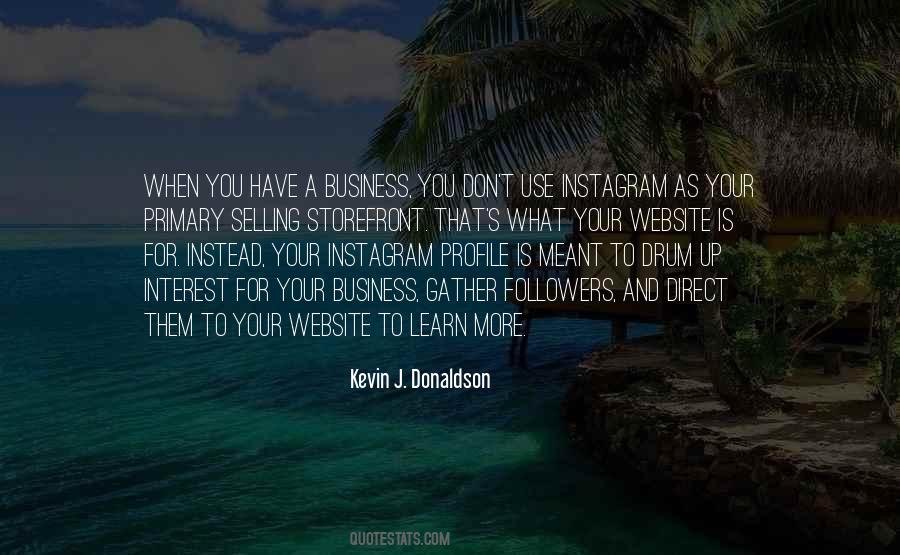 #83. One of the ways to make sure you have a thriving practice is to always market. The best way to do that is to systematize your marketing mix, so it runs on autopilot. - Author: Lisa A. Mininni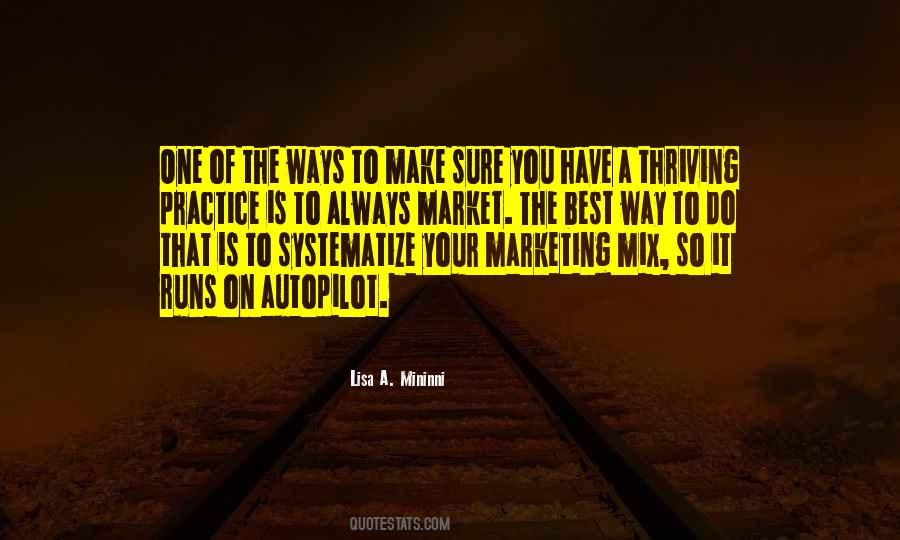 #84. Focus on the core problem your business solves & put out lots of content & enthusiasm, & ideas about how to solve that problem. - Author: Laura Fitton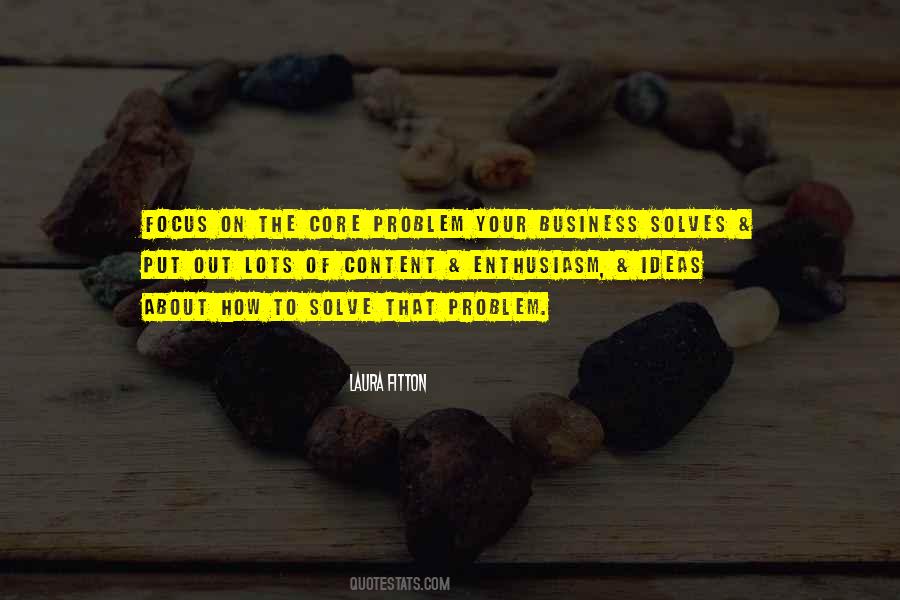 #85. If you are in a competitive industry, great online reviews are not just nice to have, they are a requirement! - Author: Tom Kenemore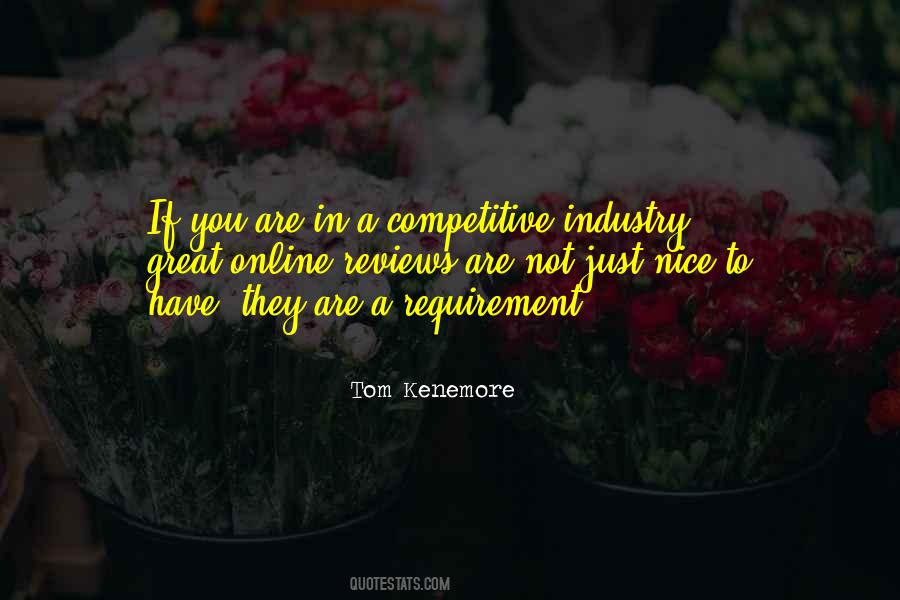 #86. No matter what your product is, you are ultimately in the education business. Your customers need to be constantly educated about the many advantages of doing business with you, trained to use your products more effectively, and taught how to make never-ending improvement in their lives. - Author: Robert G. Allen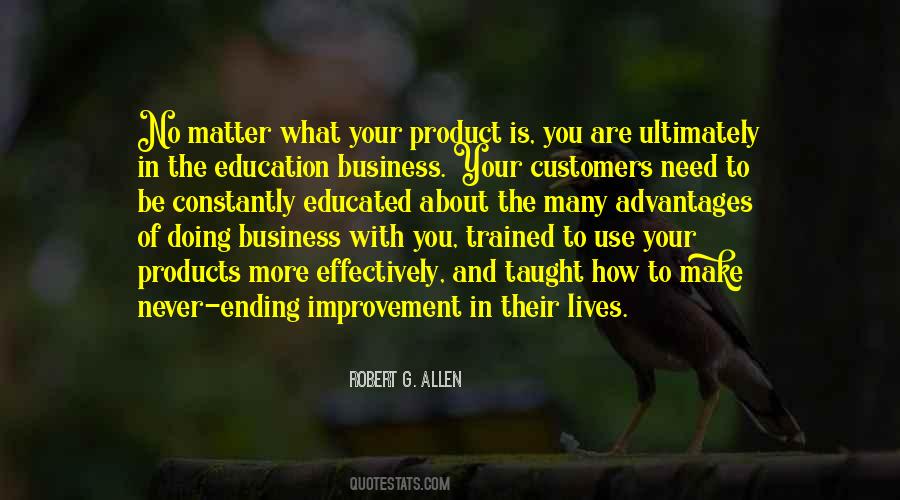 #87. It is part of the business of marketing to muddy the distinction between altruism and cynicism. - Author: Don Watson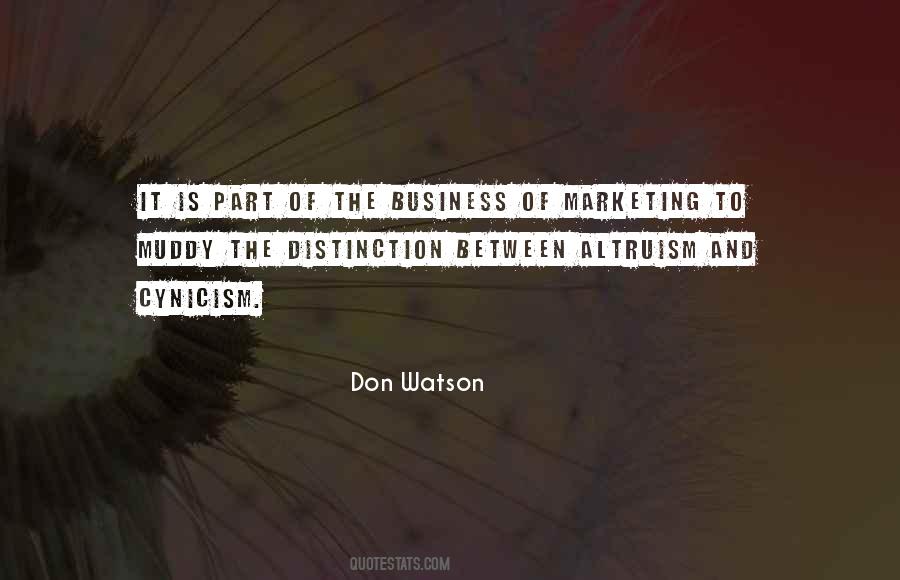 #88. Every great brand goes back to a courageous individual who dared to say 'NO' to the status quo. - Author: David Brier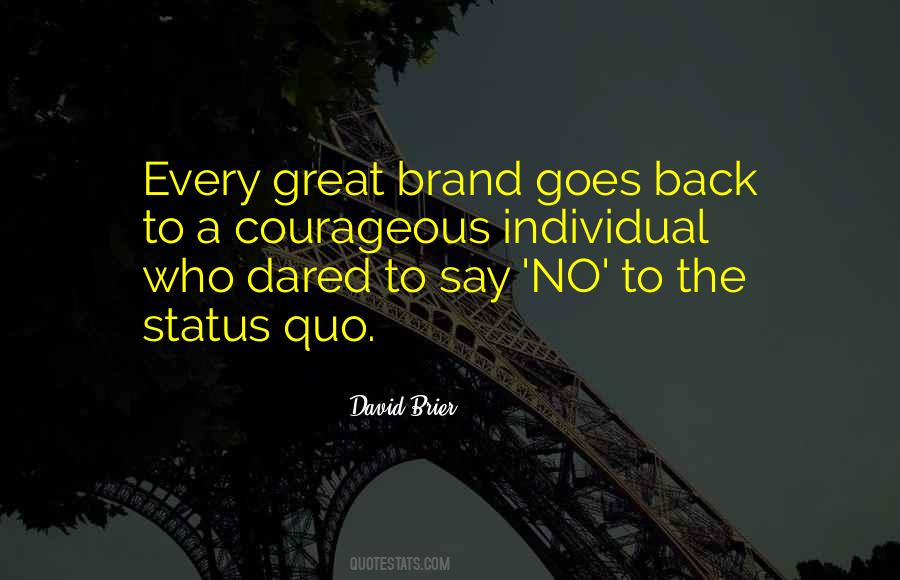 #89. I think editors are excellent marketers. They know their audience and produce copy to appeal to them - they just don't call it marketing. - Author: David Robinson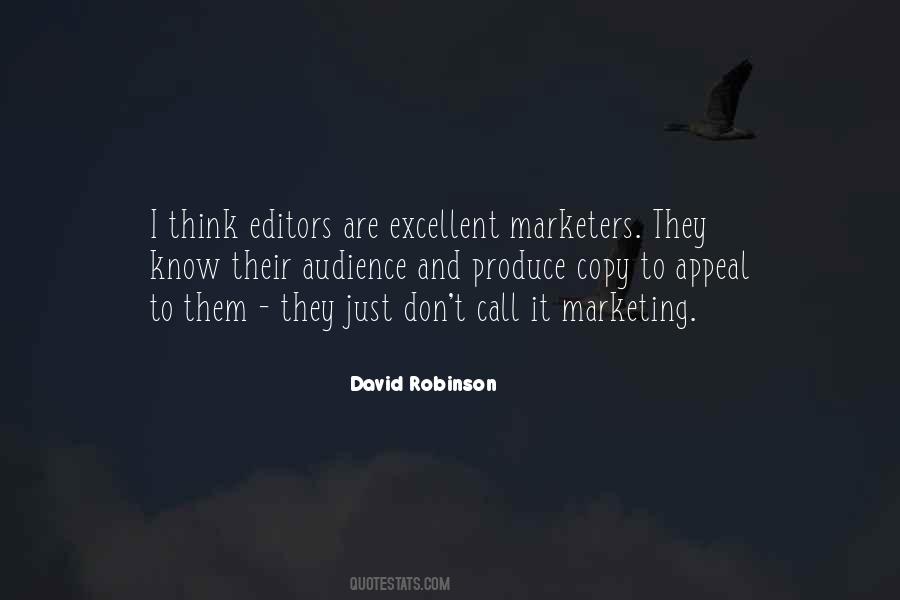 #90. I didn't know at the time, but what I was doing here included two keys to running a successful business: knowing your customer and knowing how to get free marketing. - Author: Sophia Amoruso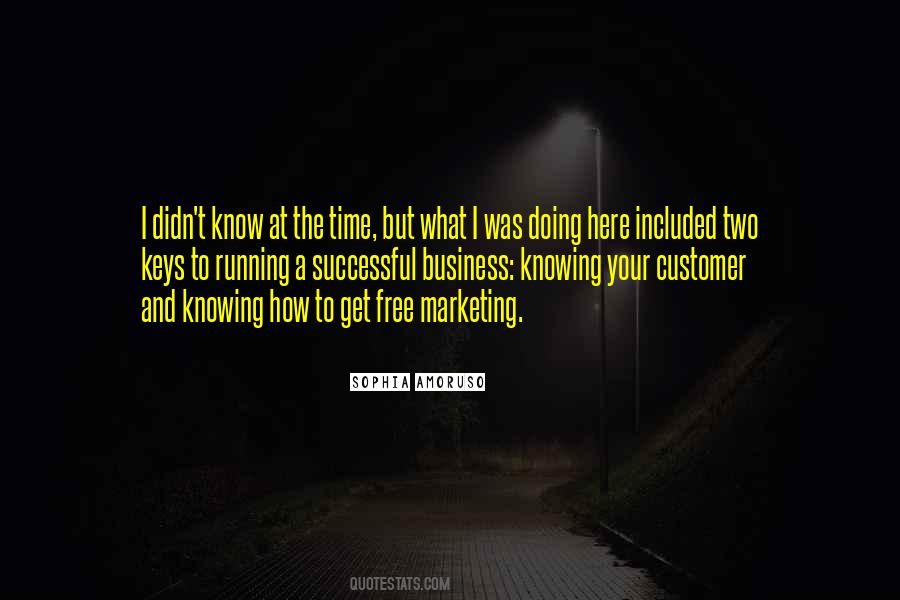 #91. Marketing and advertising are incredibly exciting and creative functions. They are central to the creation of brands and to the creation of sustainable competitive advantage for companies - Author: Jim Speros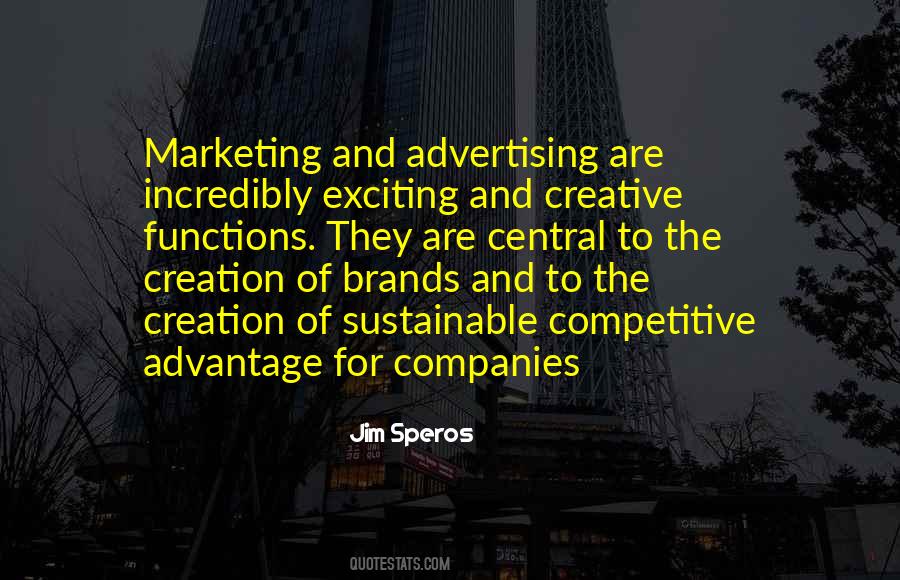 #92. When it comes to branding and the ever-changing social media phenomenon, you're not a mushroom. In other words, you shouldn't be kept in the dark and fed a pile of...well, you get the idea. - Author: David Brier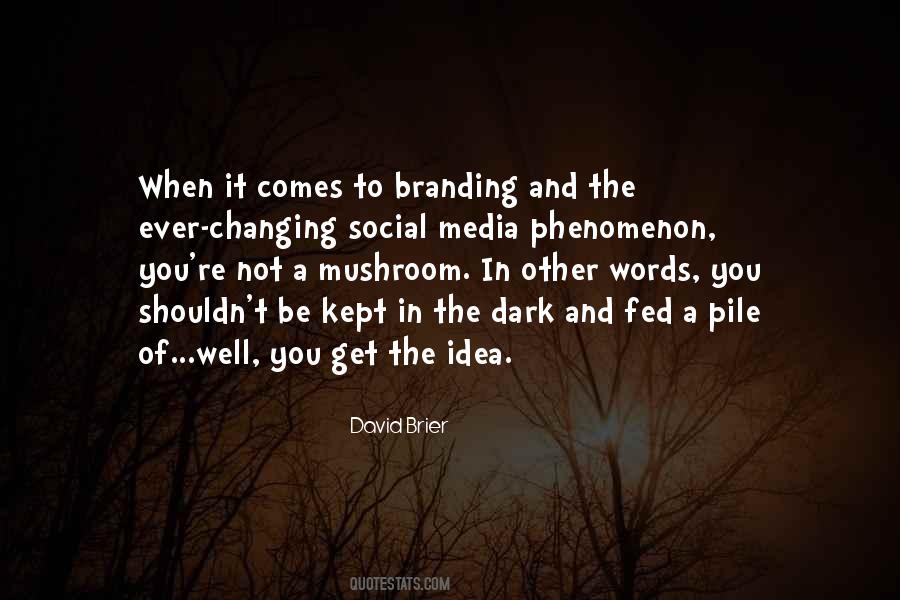 #93. The true mark of a leader is the willingness to stick with a bold course of action - an unconventional business strategy, a unique product-development roadmap, a controversial marketing campaign - even as the rest of the world wonders why you're not marching in step with the status quo. - Author: Bill Taylor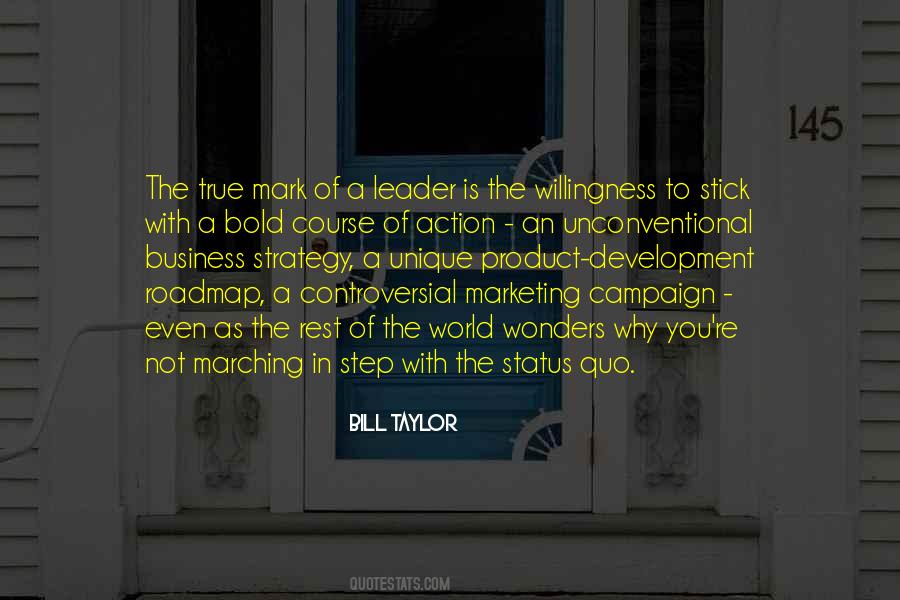 #94. marketing is expanding your sphere of influence to your target audience in order to propel your business forward. - Author: Dwayne Brown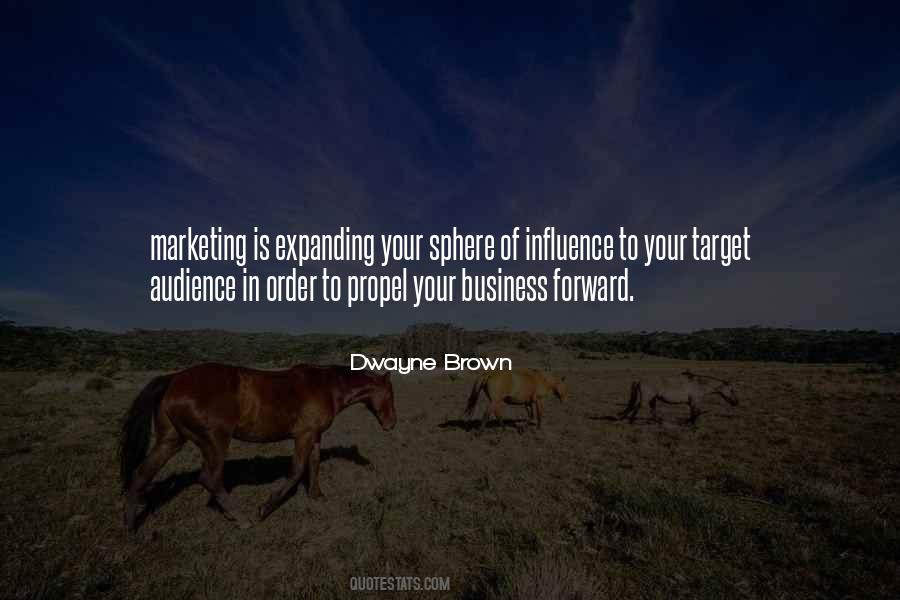 #95. Video can seem like just another challenge to overcome, but I see a major increase in my business and brand awareness, all from the power of video. - Author: Lewis Howes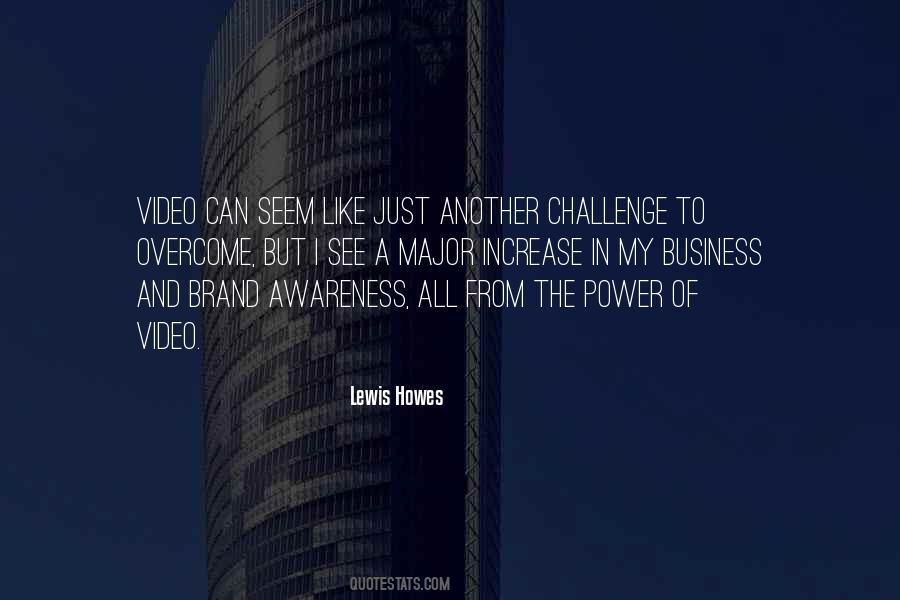 #96. All human aspirations are opportunities for brands to build relationships. - Author: Laura Busche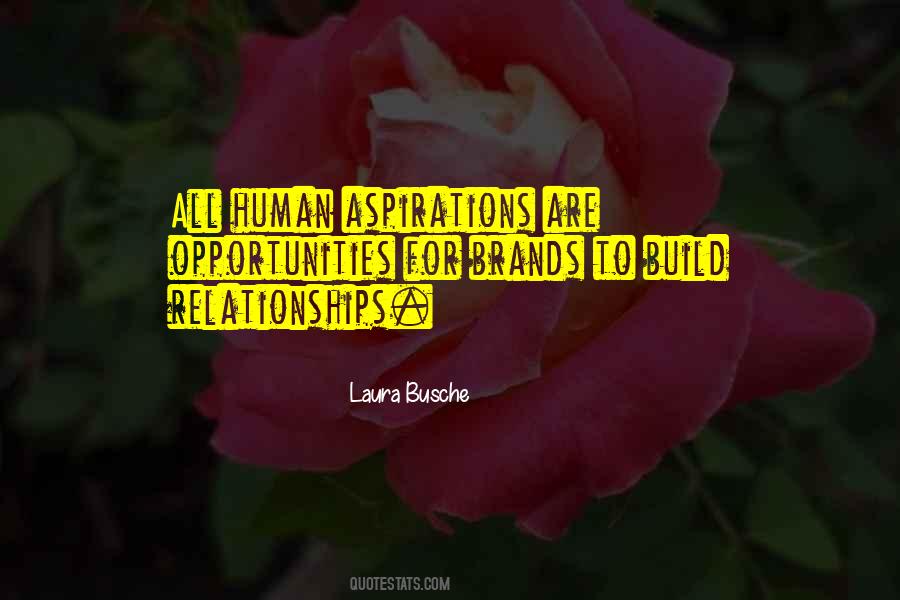 #97. So it comes down to scarcity, one product or service having qualities you won't find everywhere or ideally, anywhere. It's the job of every brand to seek that out as their standard, their stamp. - Author: David Brier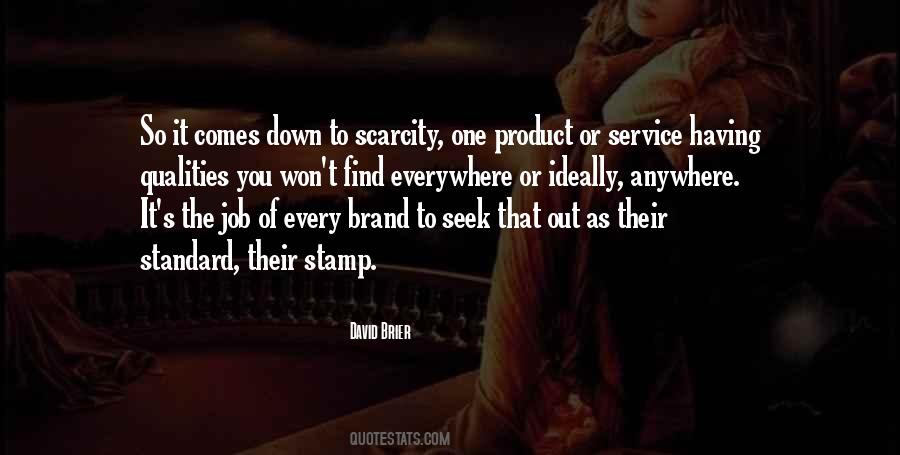 #98. It's ever so important to believe in what you do, trust your ability to create and show yourself worthy. Never sell yourself short. - Author: Simon Zingerman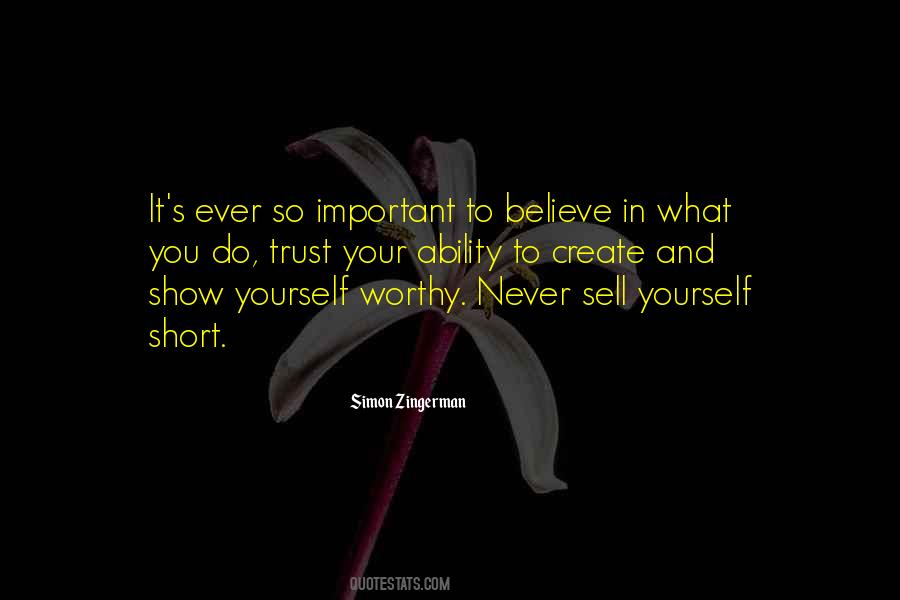 #99. Your brand is a combination of a customer's experiences with your business at every touchpoint. Each memory, thought, impression, website visit, story, sales letter, social media post, event, phone call, and transaction contribute to
your company's brand reputation. - Author: Elaine Fogel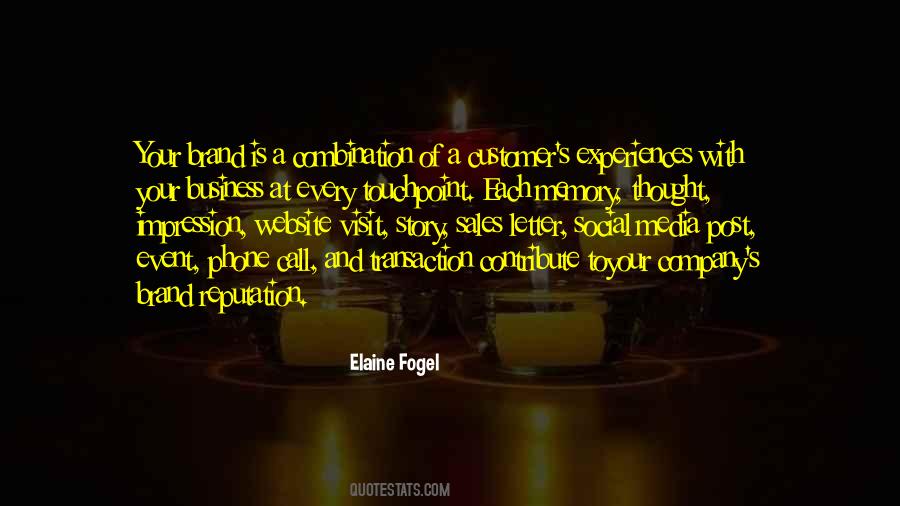 #100. Everything and everyone represents at least one brand. Therefore, to brand or not to brand is not even a question. - Author: Laura Busche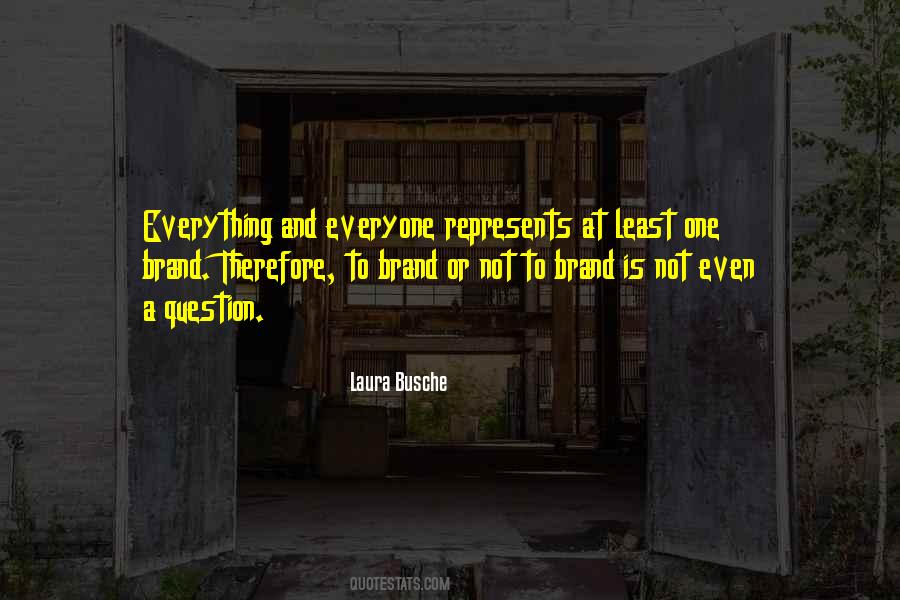 Famous Authors
Popular Topics