Anger Control Famous Quotes & Sayings
List of top 100 famous quotes and sayings about anger control to read and share with friends on your Facebook, Twitter, blogs.
Top 100 Quotes About Anger Control
#1. Some ride the bullet to vent, while some shoot the bullet to revenge. - Author: Anthony Liccione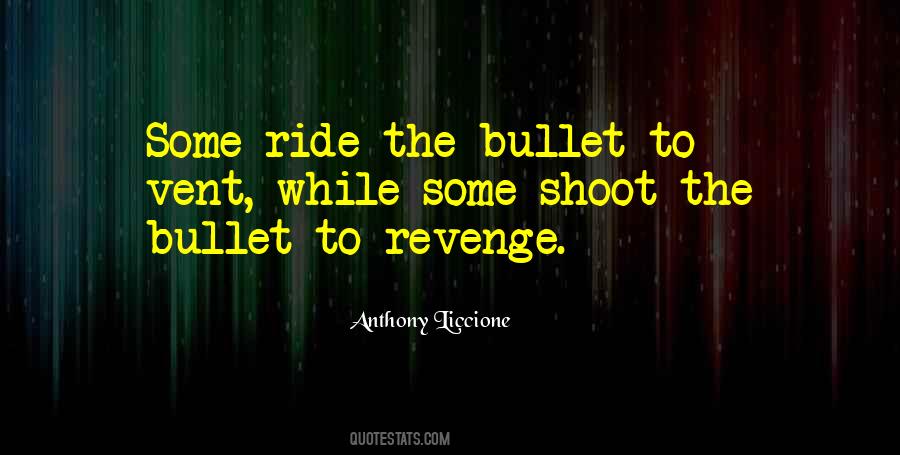 #2. forgiveness helps people control their emotions so they maintain good judgment. They do not waste precious energy trapped in anger and hurt over things they can do nothing about. Forgiveness acknowledges we can't change the past. Forgiveness allows us not to stay stuck in the past. - Author: Fred Luskin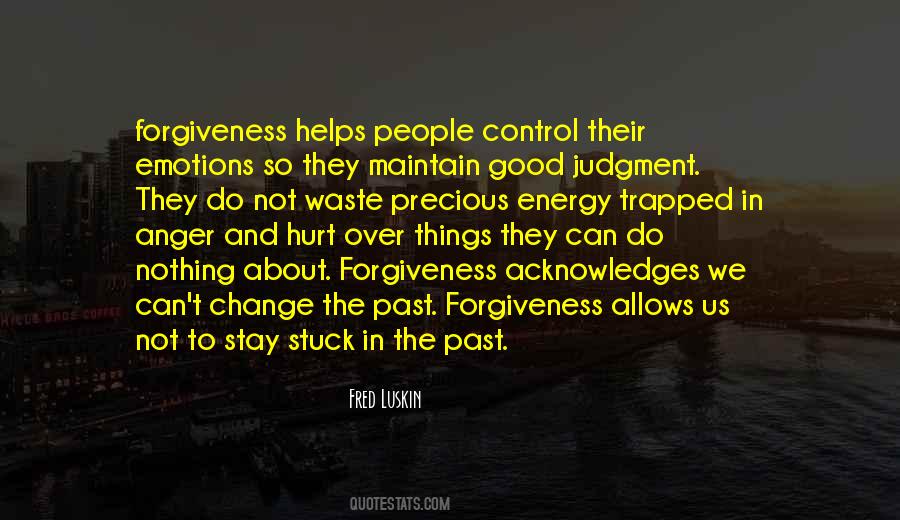 #3. Surrender your expectations. Surrender your doubts.
Surrender your fears. Surrender your strengths.
Surrender your anger. Surrender your control. - Author: Yasmine Galenorn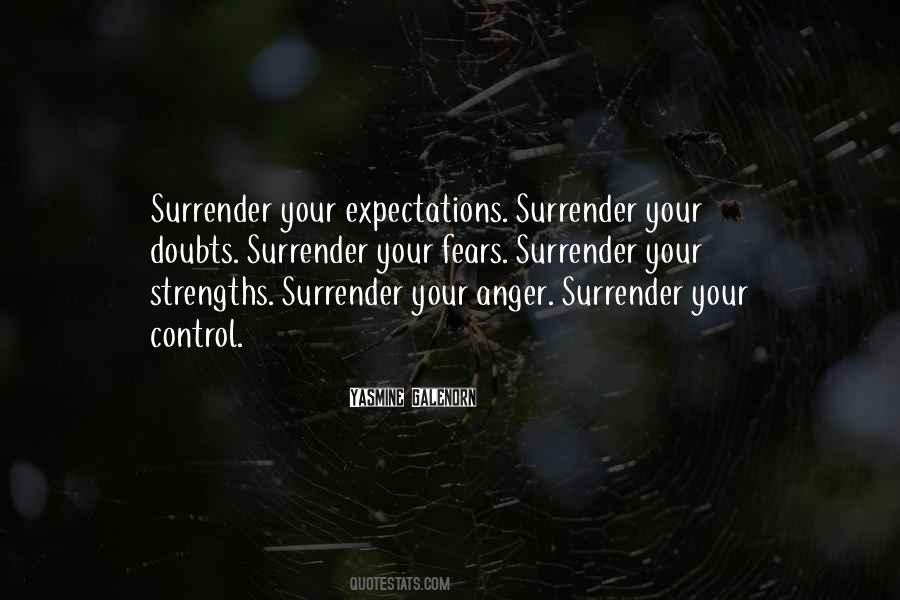 #4. I came to realize that if people could make me angry they could could control me. Why should I give someone else such power over my life? - Author: Ben Carson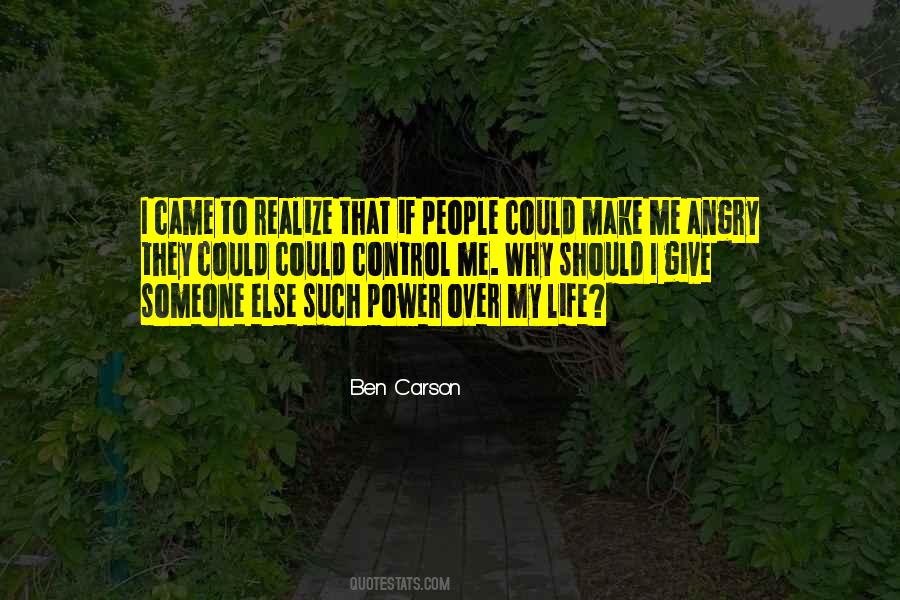 #5. You must control your anger and jealousy and possessive nature or, as you become more powerful and your will increases in strength, you will injure others. - Author: Frederick Lenz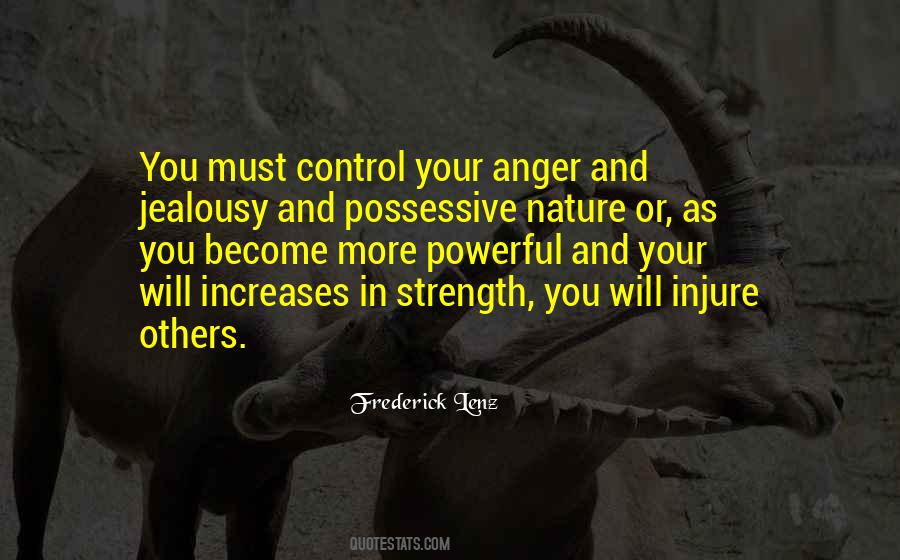 #6. To ease the pain, erase the anger. - Author: Anthony Liccione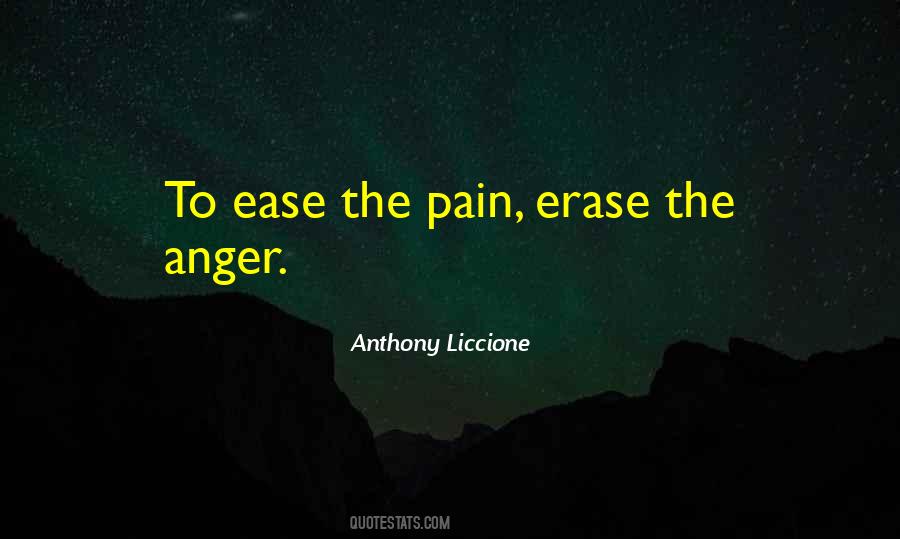 #7. I have to race because racing is a part of me. But I had to learn to race from a place of joy. Not pain. Not sorrow. Not anger. Not to fix things I can't control. But for a connection with other people. With the wilderness. With myself. - Author: Erin Beresini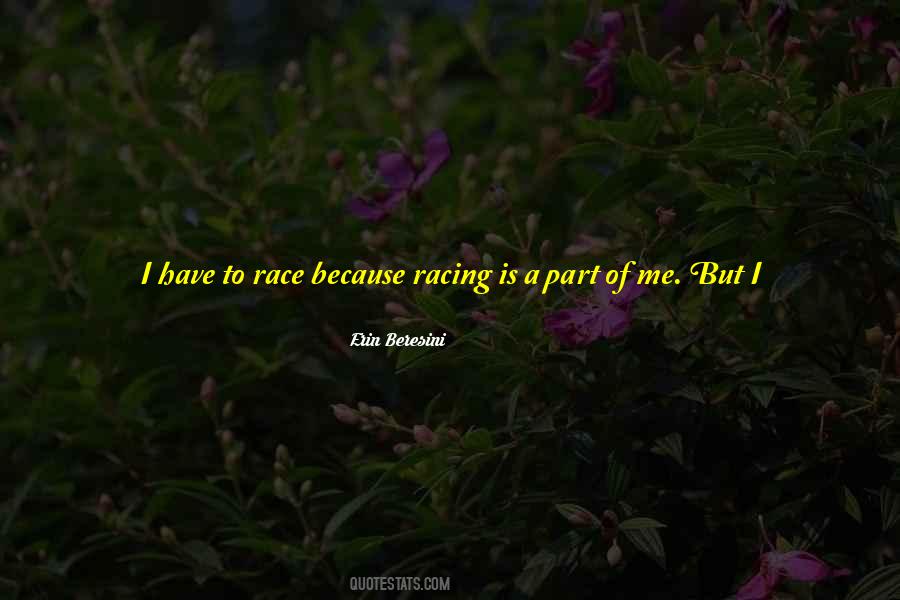 #8. I read somewhere that the man who has your anger has control of you, and I understood that already, having only been in the same room as him for mere minutes. - Author: Sarah Michelle Lynch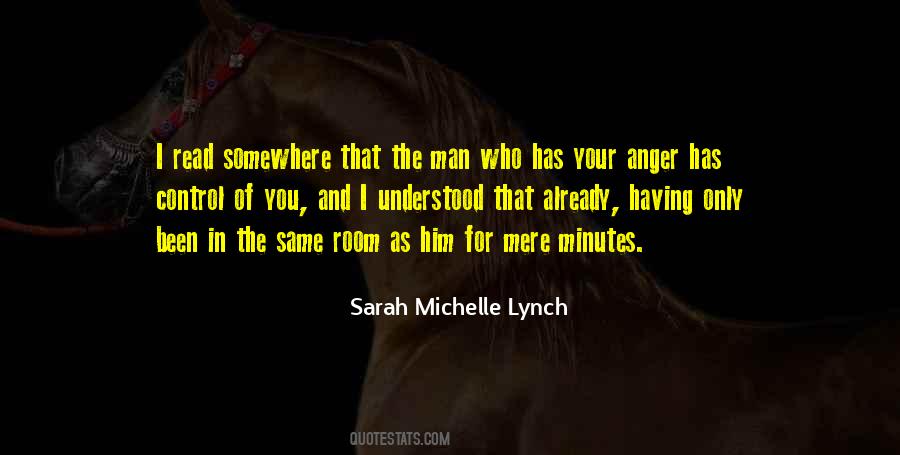 #9. Three things to give up to be happier:
1. Never complain, condemn, or criticize.
2. Give up anger, fear, and resentment.
3. Give up the desire to impress and control others. - Author: Debasish Mridha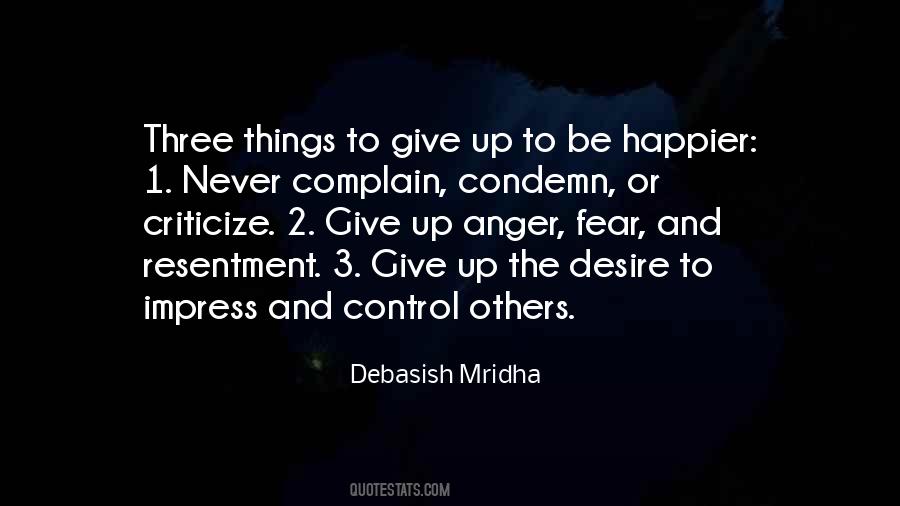 #10. One is called a saiyami [those with inner control] when no intent of transgression remains within him. Even during anger-pride-deceit-greed when there is no violent intent; that is called saiyam. A saiyami will go to moksha. - Author: Dada Bhagwan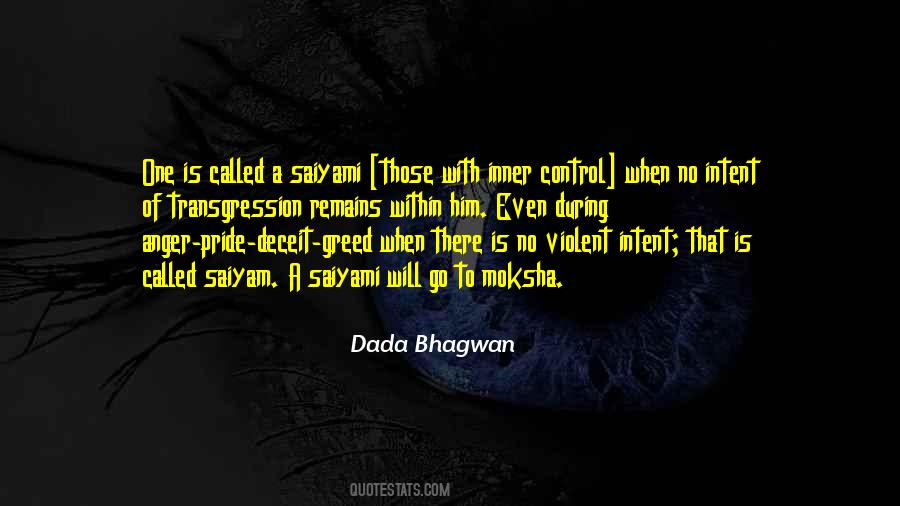 #11. President Obama and members of his administration constantly express rage and anger over events totally within their control. It's an odd and unsettling fact of American life that so many Americans seem to think that such expressions of frustration should substitute for actual competence. - Author: Ben Shapiro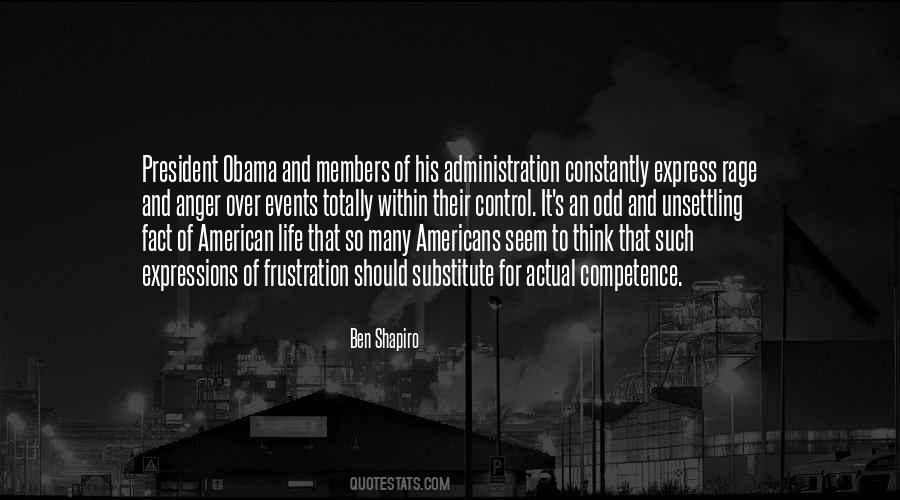 #12. Try to control your anger before it burns your life. - Author: Debasish Mridha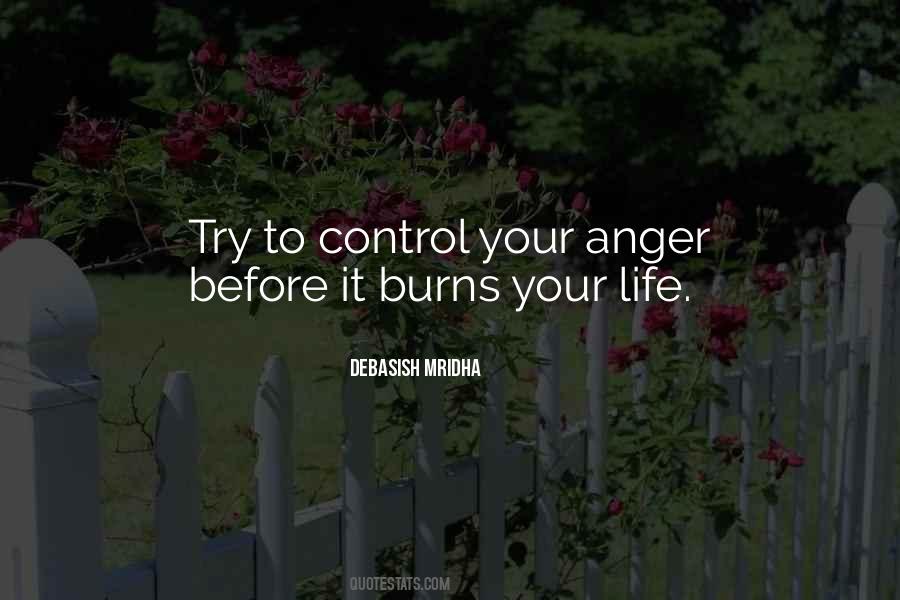 #13. To say I had some pent-up anger would be like saying Britney Spears had minor impulse-control issues. - Author: Molly Harper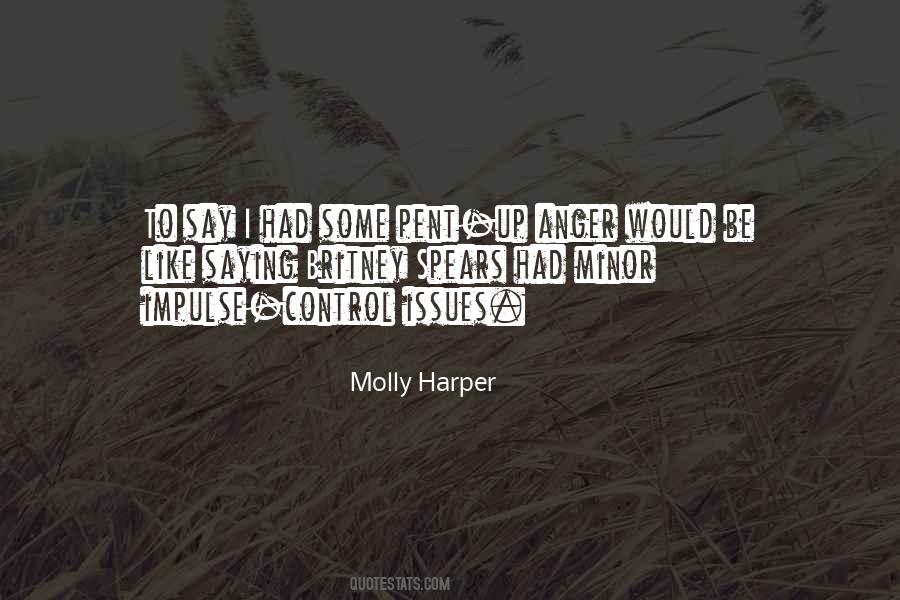 #14. The easiest emotion to lose control of is anger. - Author: K. Huber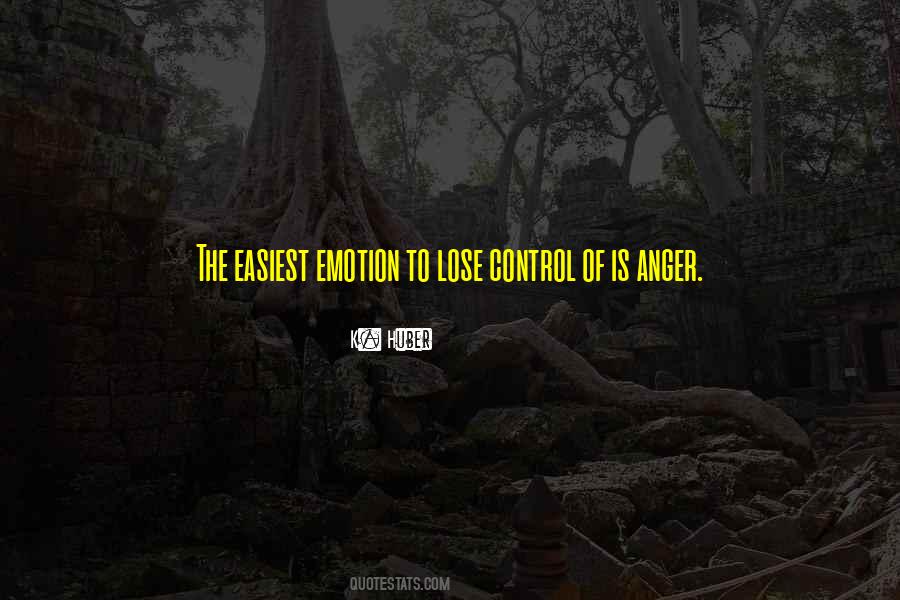 #15. Football is played best full of adrenaline and anger. Moderation seldom finds a place. Almost every act of baseball is a blending of effort and control; too much of either is fatal. - Author: Thomas Boswell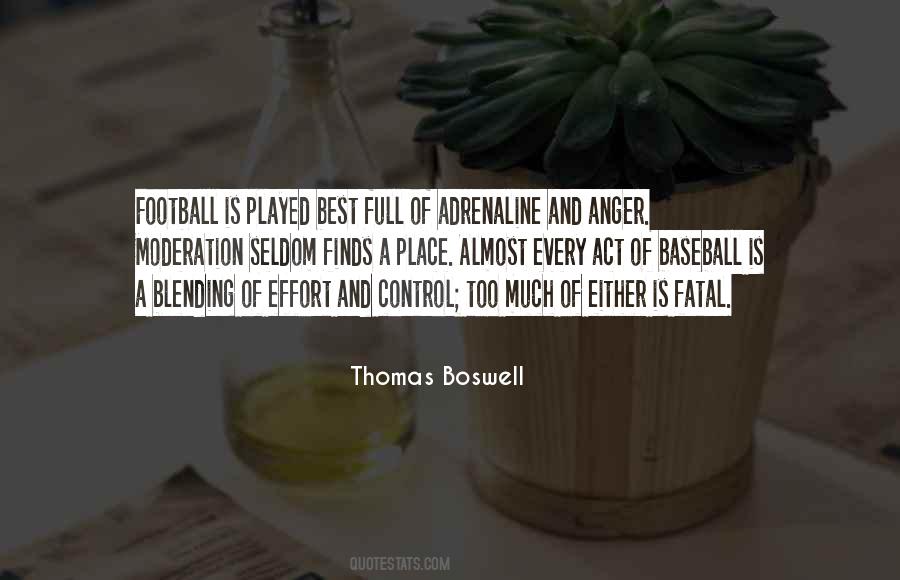 #16. Anger is frustration at the fact that we are not God, and do not have control over reality. - Author: Henry Cloud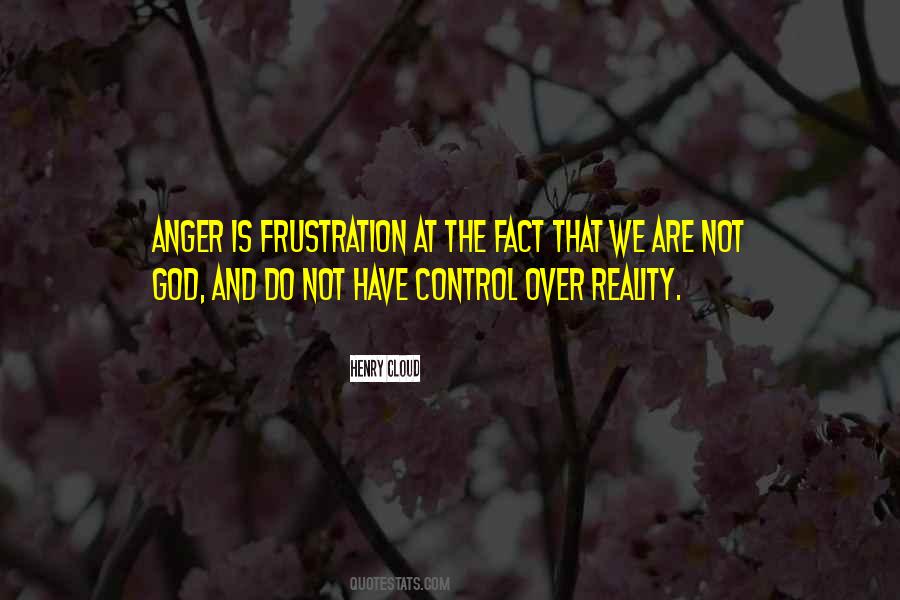 #17. Anger, even when it punishes the faults of delinquents, ought not to precede reason as its mistress, but attend as a handmaid at the back of reason, to come to the front when bidden. For once it begins to take control of the mind, it calls just what it does cruelly. - Author: George William Curtis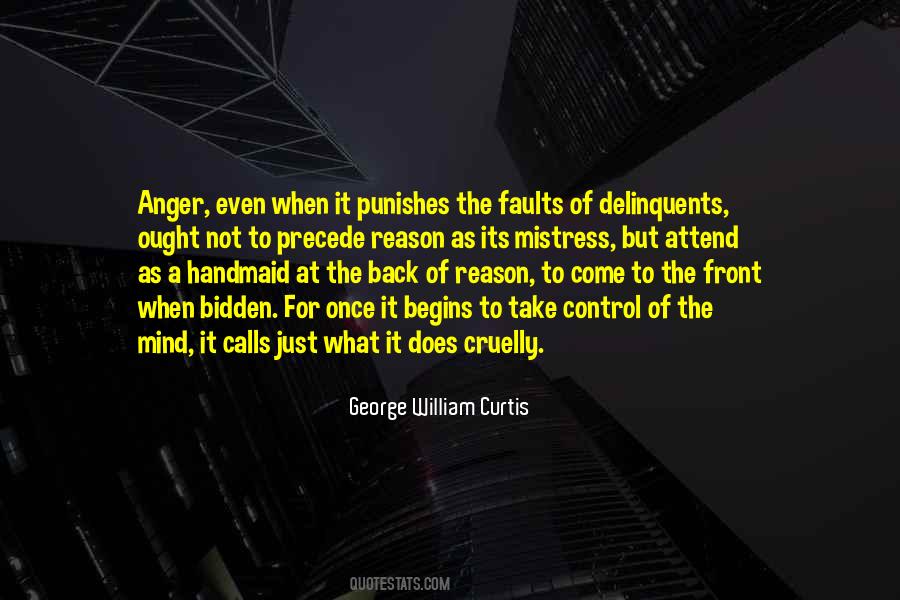 #18. Yesterday, we fought wars which destroyed cities. Today, we are concerned with avoiding a war which will destroy the earth. We can adapt atomic energy to produce electricity and move ships, but can we control its use in anger? - Author: Robert Kennedy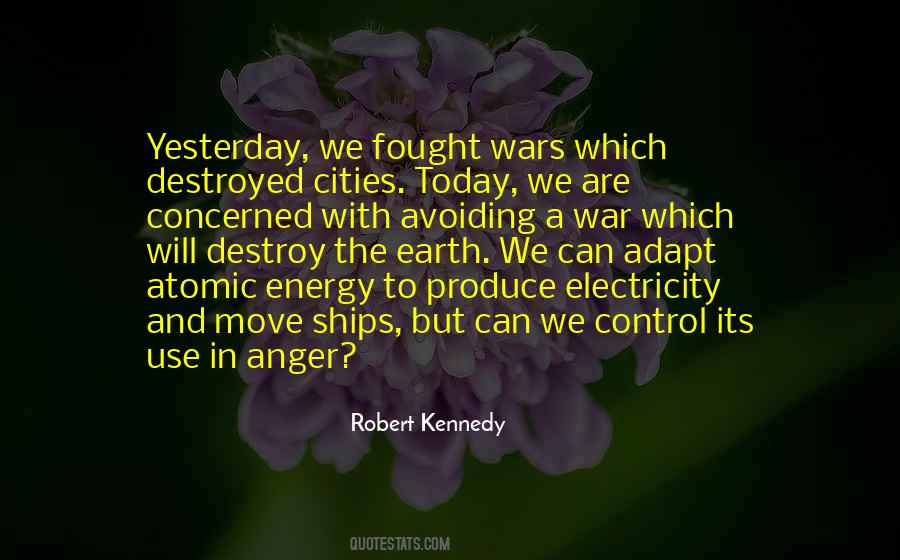 #19. Sabr is not remaining quiet and allowing anger to build up inside you. Sabr is to talk about what's bothering you without losing control of your emotions. - Author: Nouman Ali Khan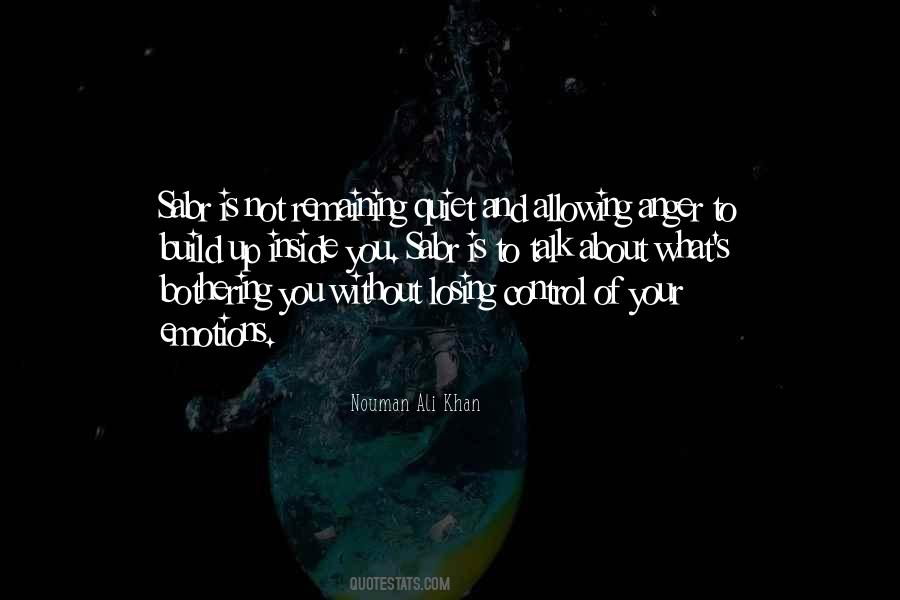 #20. No matter the situation don't let your emotions overpower your intelligence. - Author: Turcois Ominek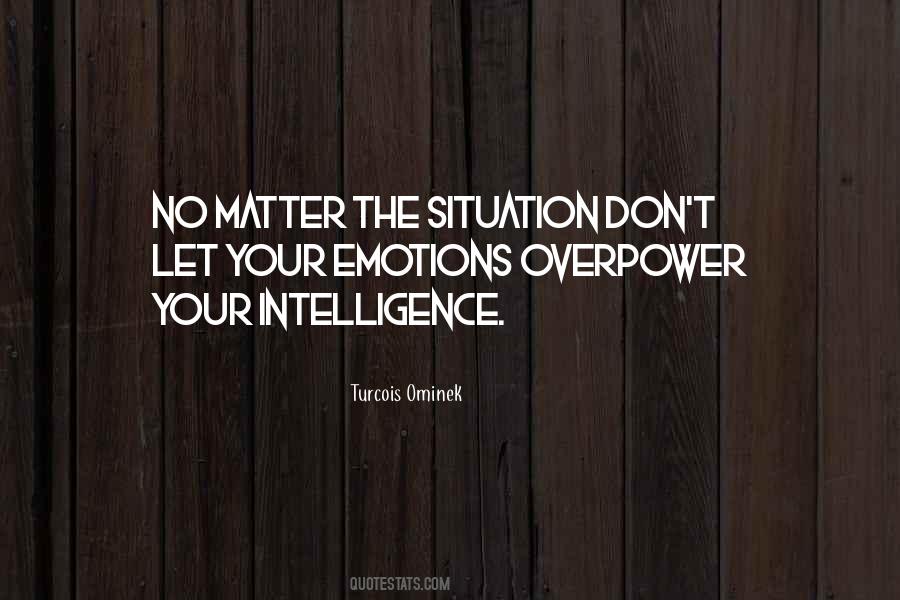 #21. Did someone harm you in 1962.. let go of it! Control and ride the horses of anger. - Author: John Hagee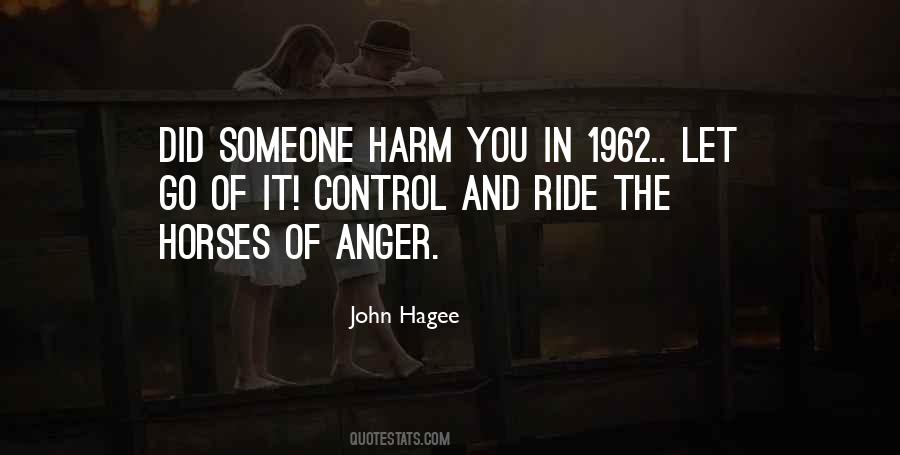 #22. It's futile to talk reason to anger - Author: Bangambiki Habyarimana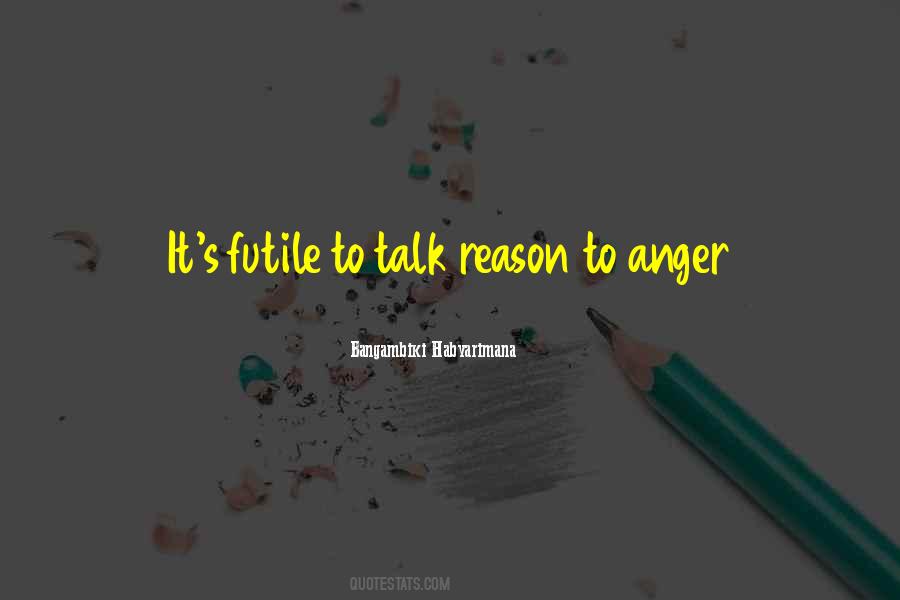 #23. No one else. You control your anger and you control your happiness. Get it under control, - Author: Colleen Hoover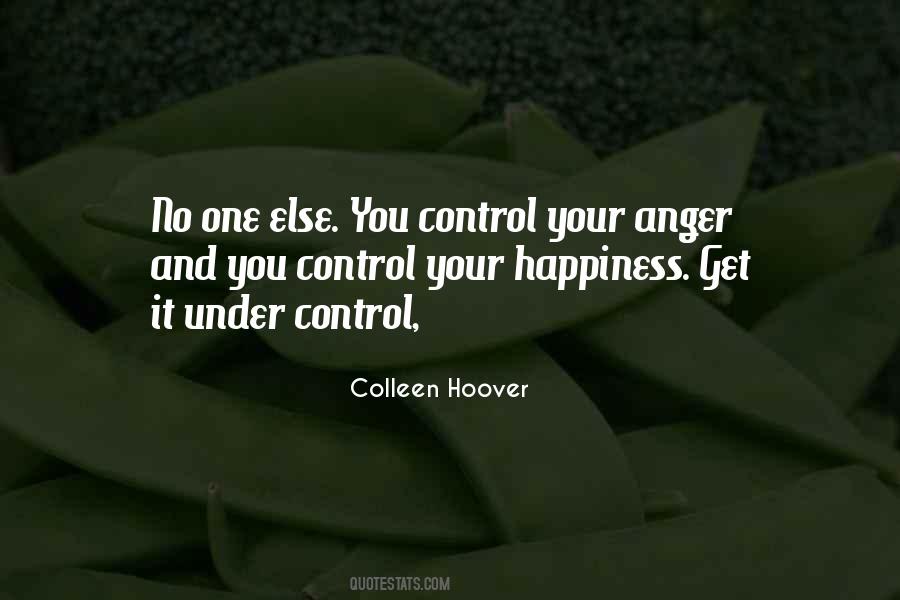 #24. Anger is temporary insanity. - Author: John S.C. Abbott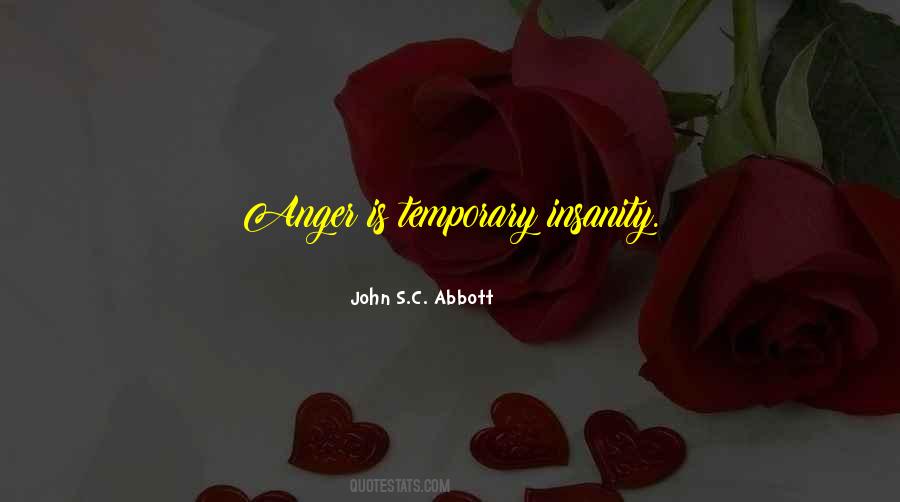 #25. Here's a question every angry man and woman needs to consider: How long are you going to allow people you don't even like - people who are no longer in your life, maybe even people who aren't even alive anymore - to control your life? How long? - Author: Andy Stanley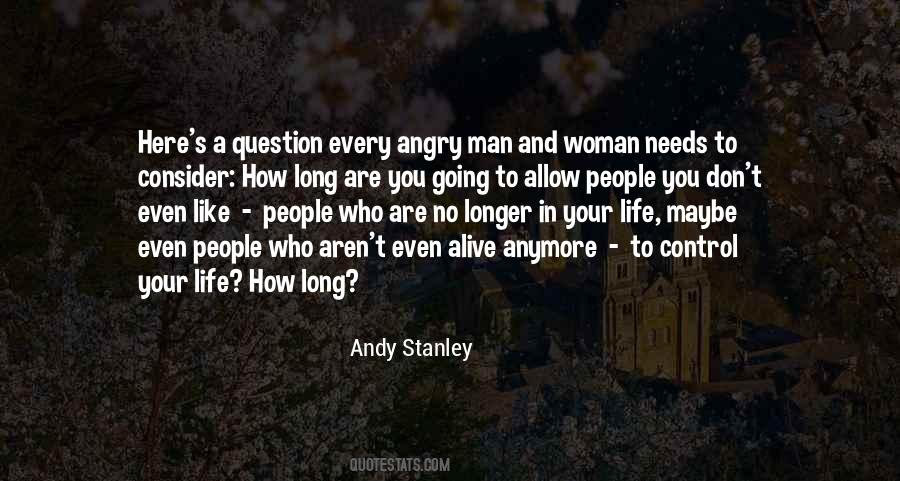 #26. Anger, [Evagrius] wrote, is given to us by God to help us confront true evil. We err when we use it casually, against other people, to gratify our own desires for power or control. - Author: Kathleen Norris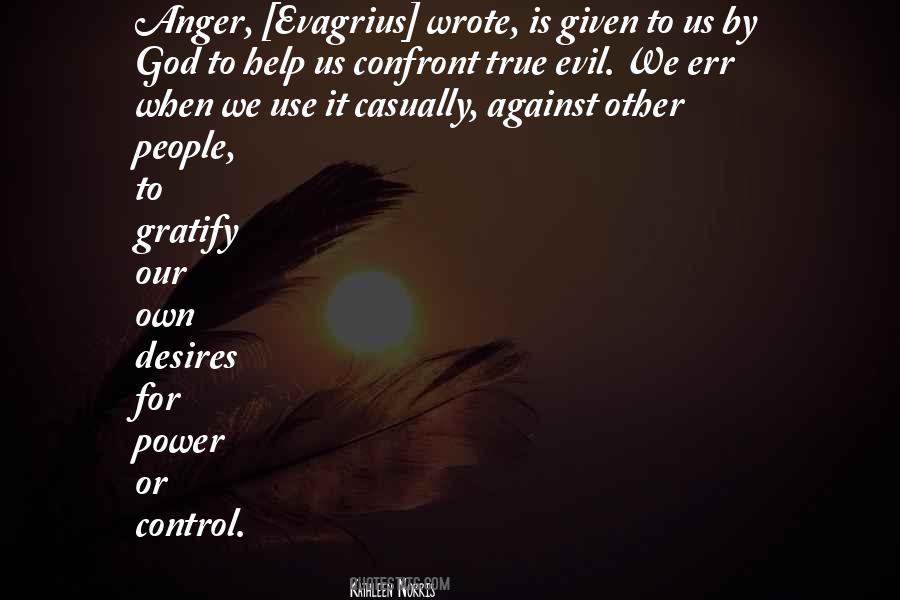 #27. If I still need someone to calm my anger down,
then I surely need a scapegoat who enrages me. - Author: Toba Beta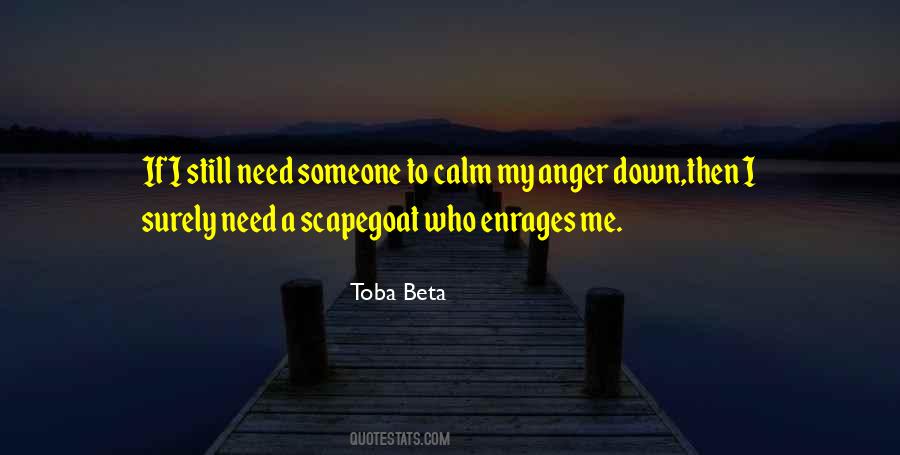 #28. She stalked toward me, hips swaying side to side, eyes hardened with anger. Echo pushed her body agaist mine, parts of her fitting perfectly into parts of me. I swore under my breath, fighting for control over my body. - Author: Katie McGarry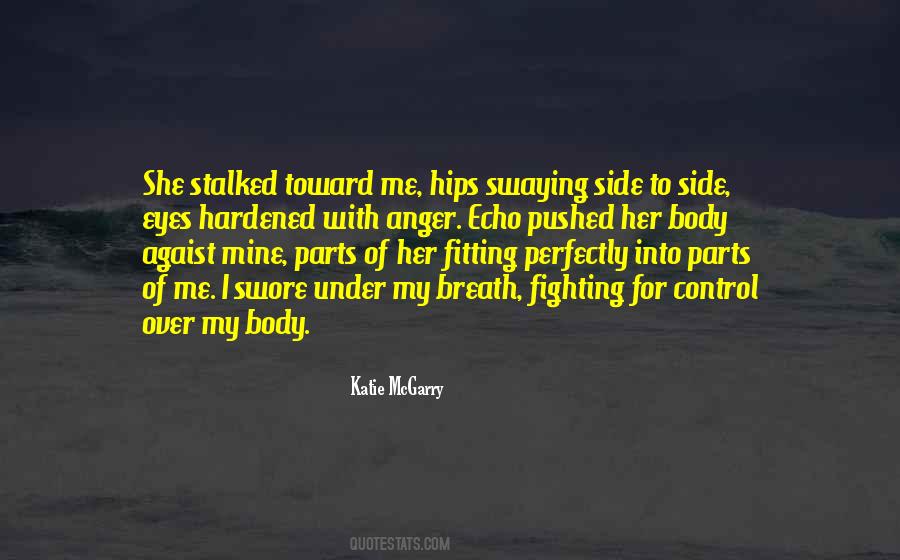 #29. Anger, hate, blind temper, that crazy switch to destroy, all of it purified into discipline and control, the best side of boxing, Billy says. - Author: Adam Berlin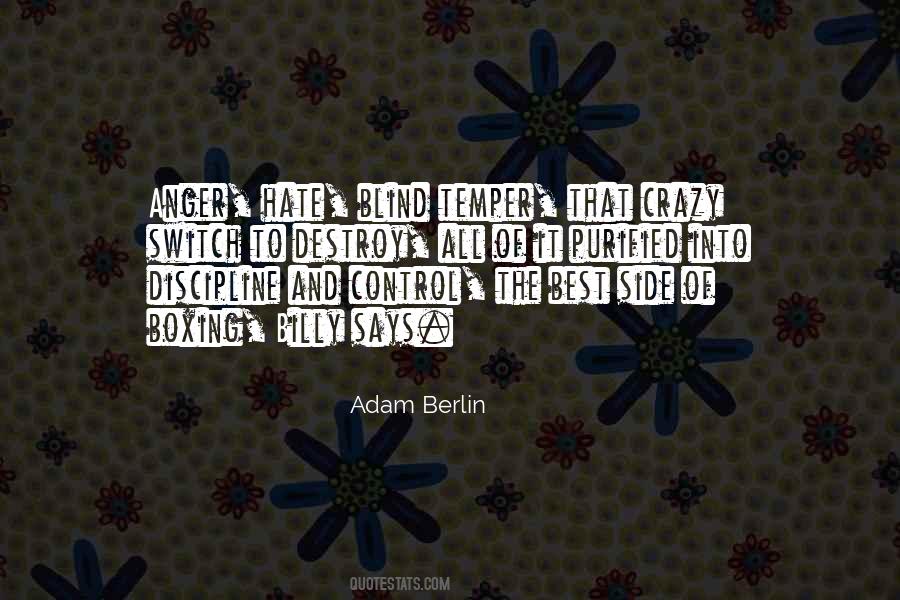 #30. But on second thought, after I decreed the state of emergency, I came to the conclusion that that was impossible to achieve without bloodshed because the street protesters were full of anger and nearly out of control. This is why I thought we needed to find another way out. - Author: Eduard Shevardnadze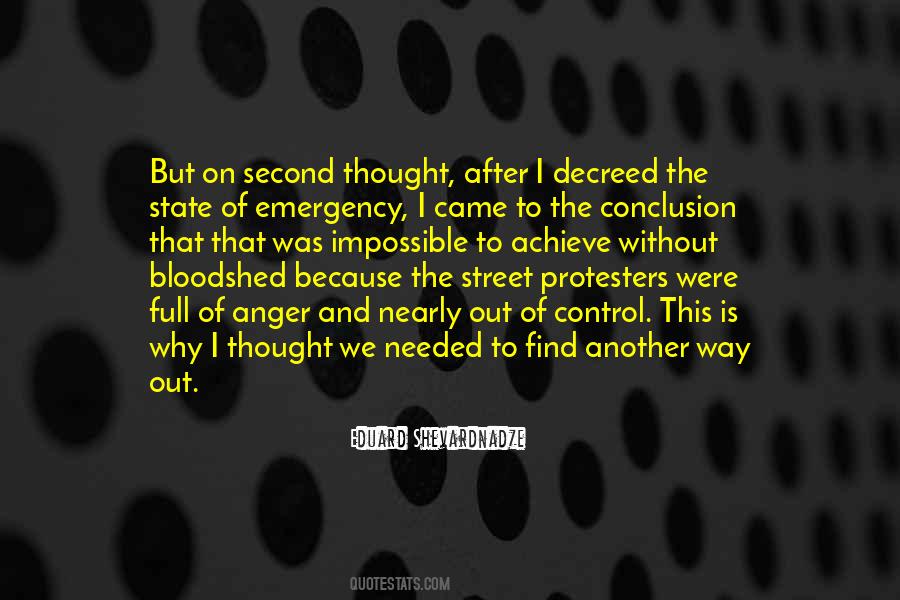 #31. When someone hurts us, our natural instinct is to strike back - but when we do, we not only destroy any possibility of reconciliation, but we also allow anger and hate to control us. - Author: Billy Graham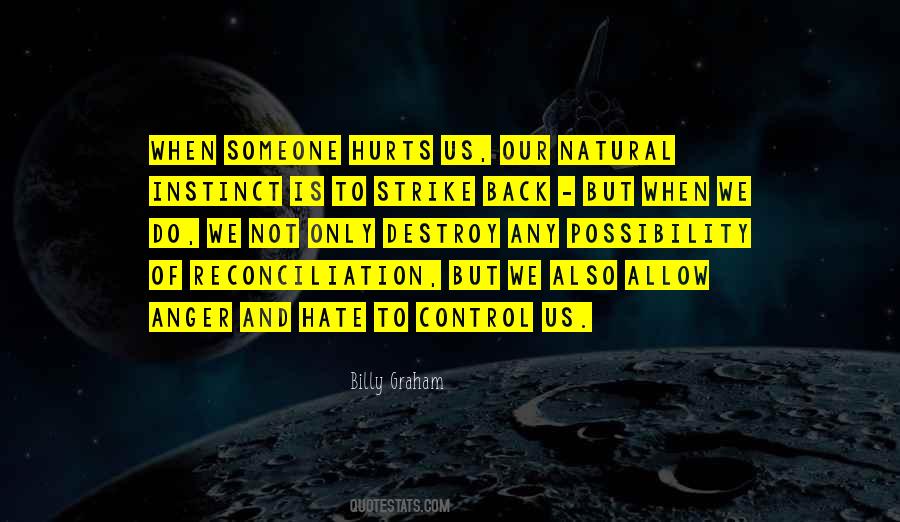 #32. Can you control your anger, lust, frustrations, and jealousies? Those are the only people worthy of the higher teachings. By worthy, I mean that they are the only ones capable of it. - Author: Frederick Lenz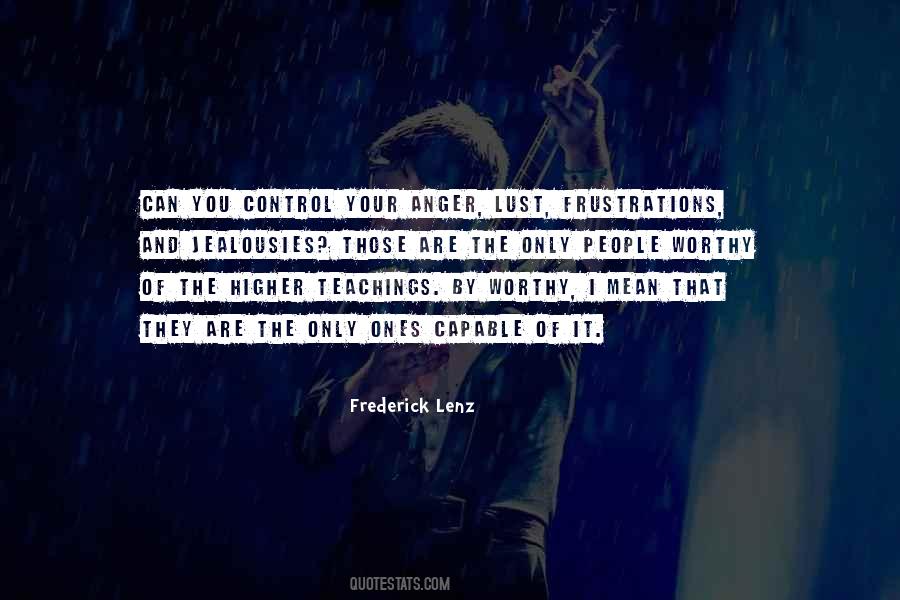 #33. We can't control what other people do and how they decide to treat us, but we can control our response to them. Don't let other people's behavior control you. Don't let them steal your joy; remember that your anger won't change them, but prayer can. - Author: Joyce Meyer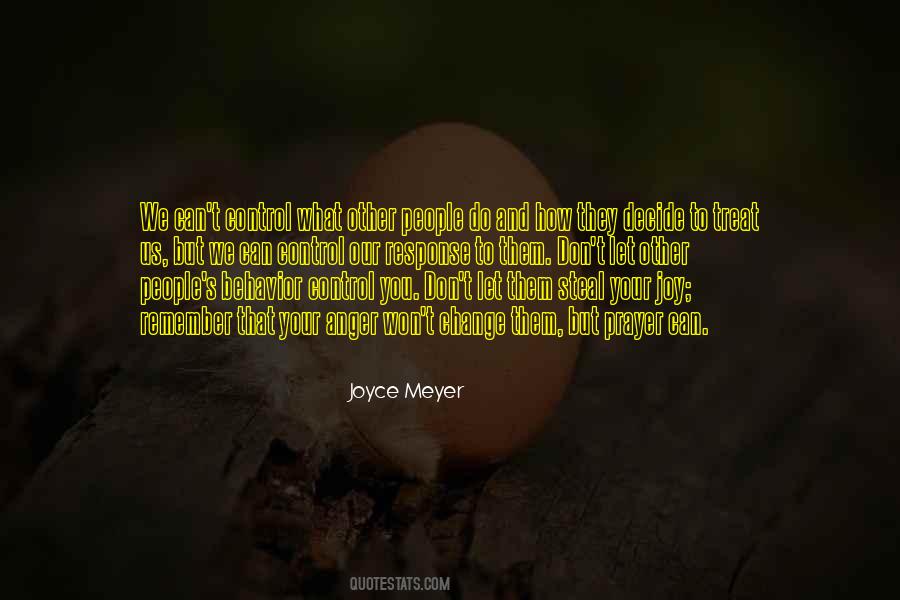 #34. Control your anger, be calm. - Author: Lailah Gifty Akita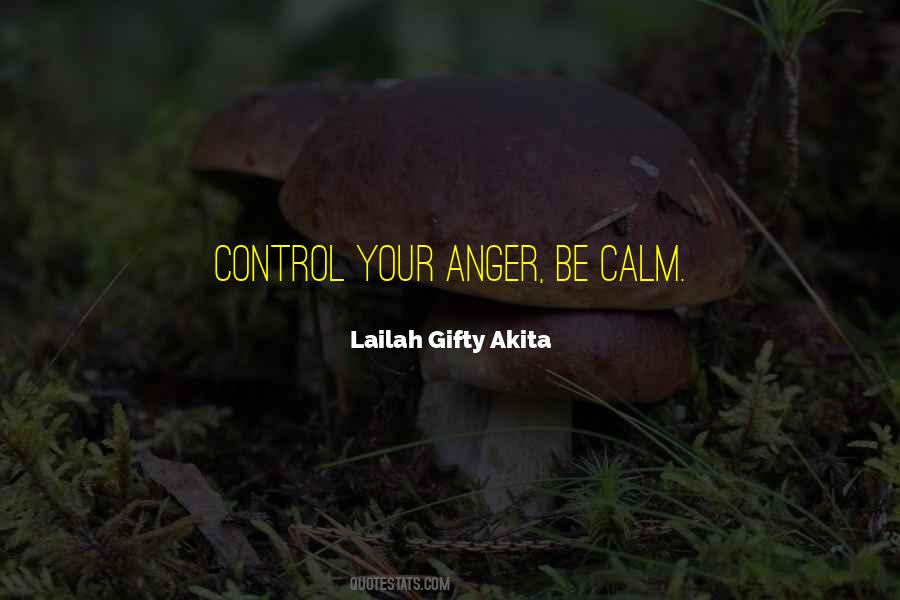 #35. Have you ever realised that if a person can make you angry, that person actually controls you. - Author: Hanif Hassan Barbhuiya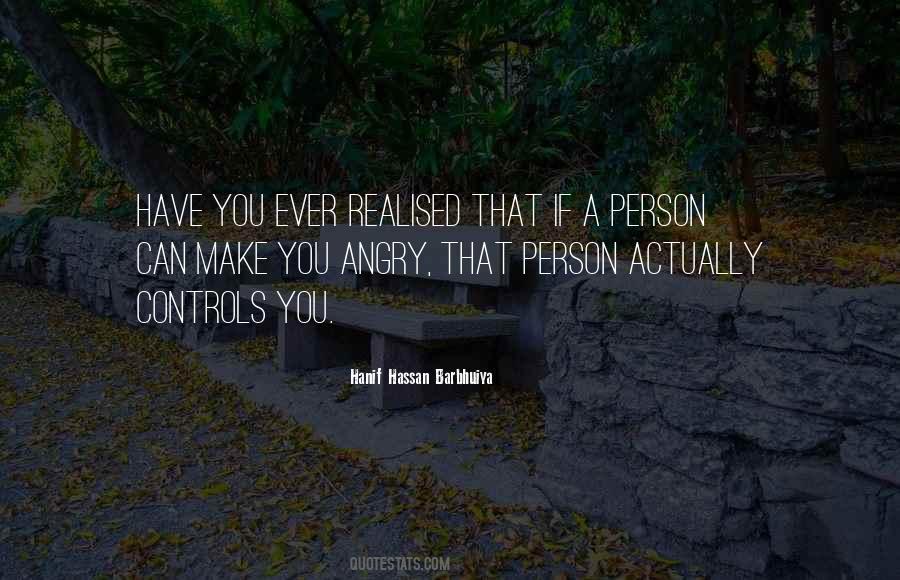 #36. For centuries, we were taught that anger is bad. Our parents, teachers, priests, everyone taught us how to control and suppress our anger. But I ask: why can't we convert our anger for the larger good of society? - Author: Kailash Satyarthi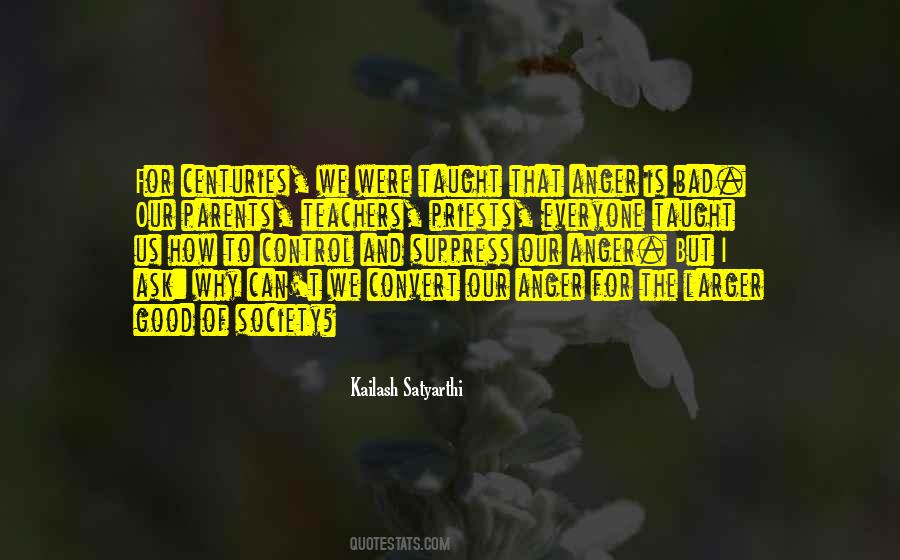 #37. As my muscles marginally relax, the tension flicks from anger to fevered desire. I want to tear each wisp of clothing off her and tie her to this f**king desk. I'll know next time, to bring my satin ribbon. - Author: M.R. Field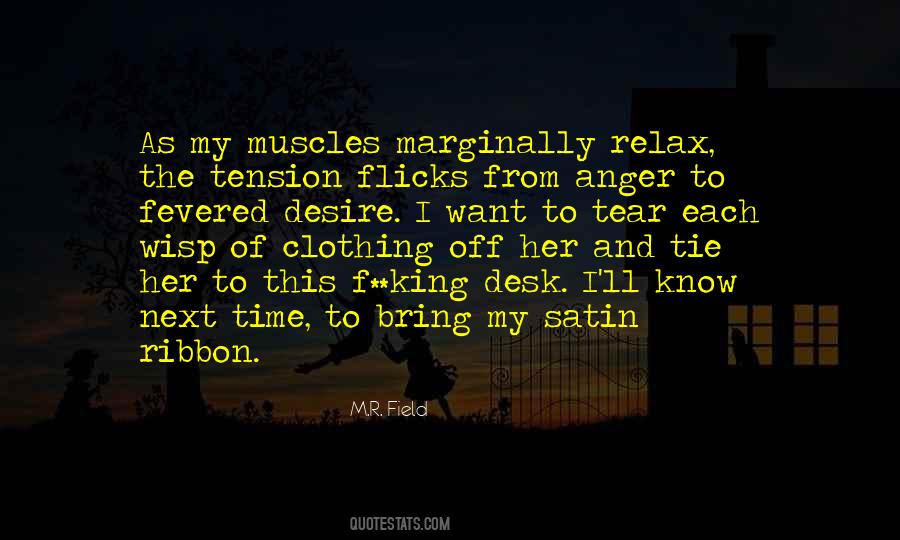 #38. Jealousy, anger, fear - these are ridiculous emotions that drain your power. You need to control them by being content, trusting that life knows what is best, accepting with an even mind whatever is presented to you. - Author: Frederick Lenz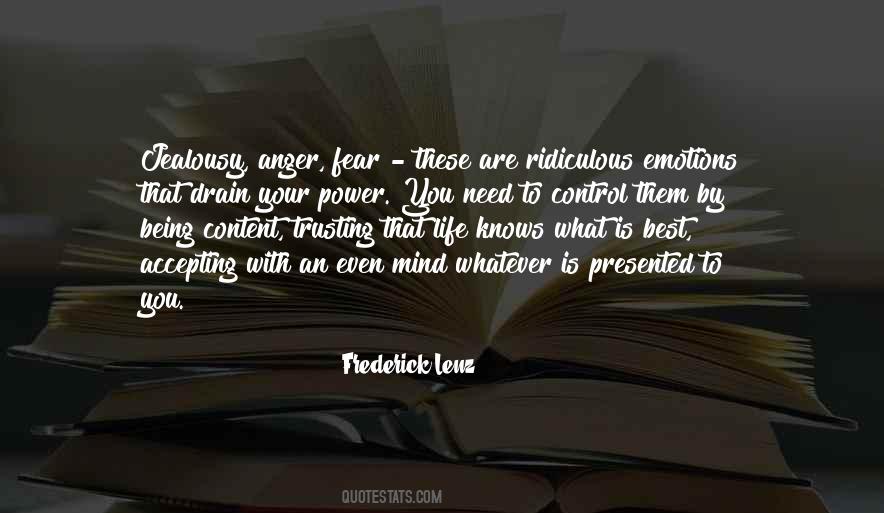 #39. For anger to be effective, it has to be real, the key for it is to be under control because anger also reduces our cognitive ability. And - Author: Chris Voss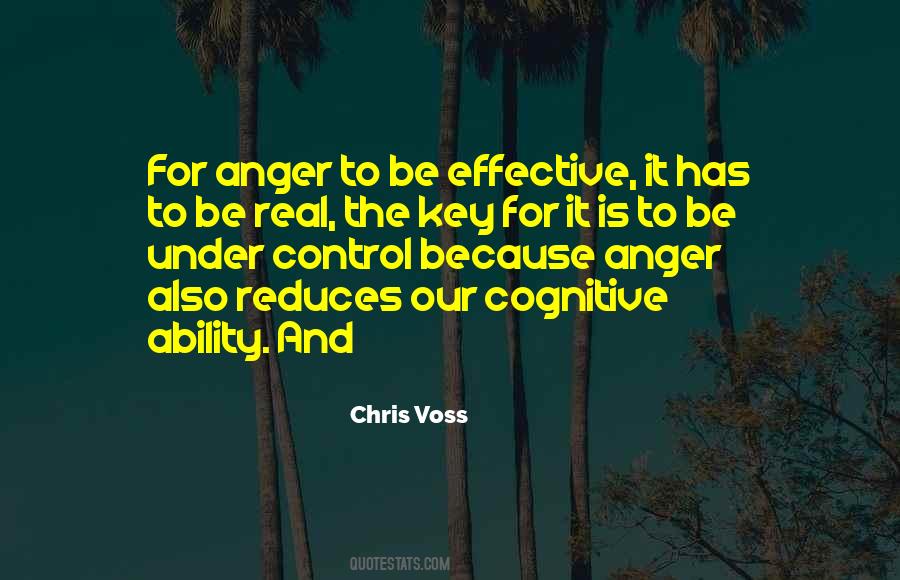 #40. The finest fury is the most controlled. - Author: Christopher Hitchens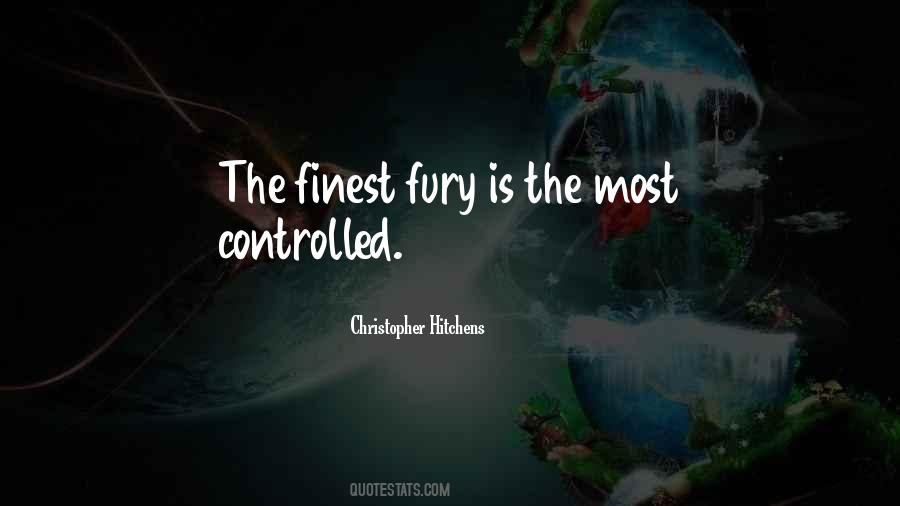 #41. Adhere To - Faith, Unity, Sacrifice. Avoid - Back-biting, Falsehood and Crookedness. Admire - Frankness, Honesty, and Large-heartedness. Control - Tongue, Temper, and Tossing of the mind. Cultivate - Cosmic Love, Forgiveness and Patience. Hate - Lust, Anger, and Pride. - Author: Sivananda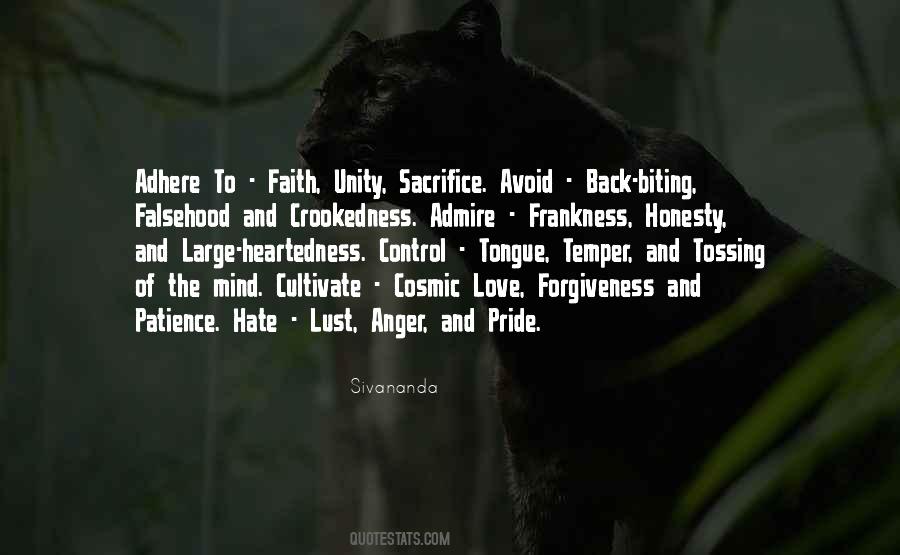 #42. Anger is a brief madness: govern your mind [temper], for unless it obeys it commands. - Author: Horace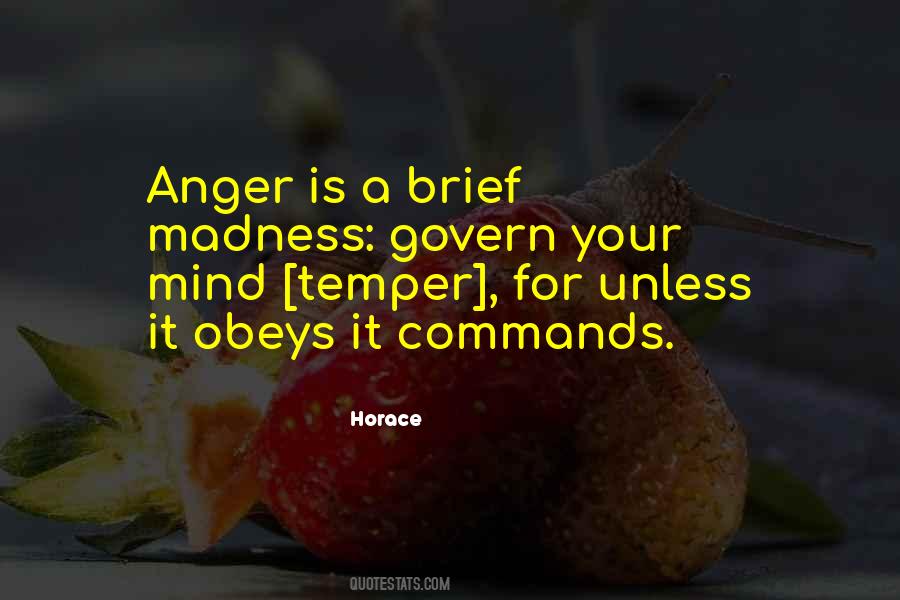 #43. Aromatherapy can be used to calm the mind and bring anger under control. The best essential oils for anger management are bergamot, jasmine, neroli, orange, patchouli, petigrain, chamomile, rose, vetiver and ylang ylang. You may use one or a combination of these oils. - Author: Vincent Miles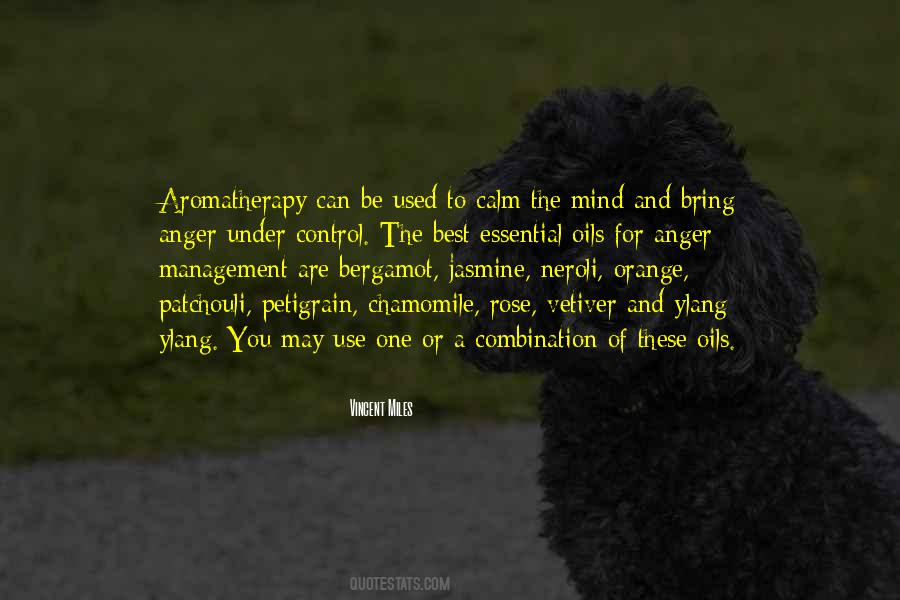 #44. In general I was a good kid. It usually took a lot to make me mad. But once I reached the boiling point, I lost all rational control. Totally without thinking, when my anger was aroused, I grabbed the nearest brick, rock, or stick to bash someone. It was as if I had no conscious will in the matter. - Author: Ben Carson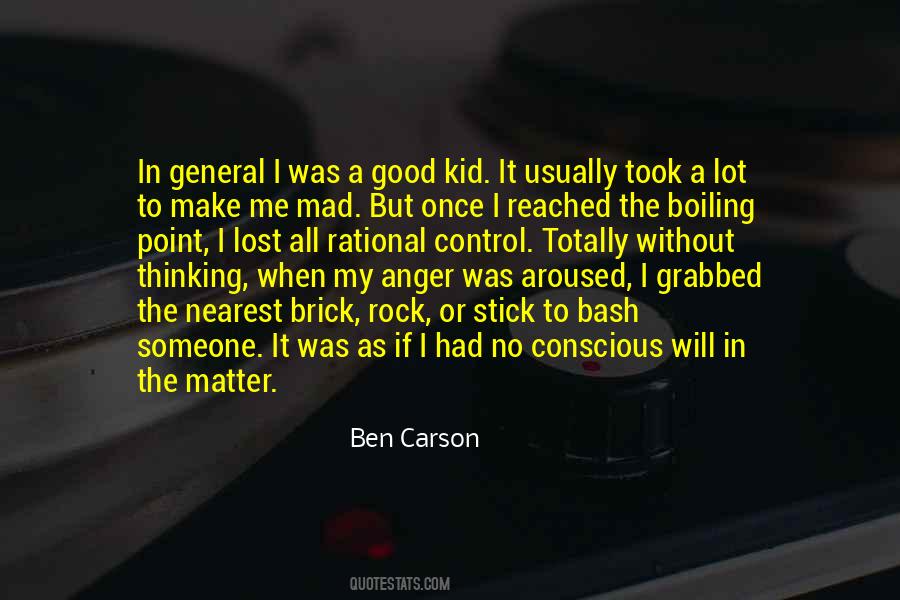 #45. Control your "anger" because it is just ONE Letter away from "d"anger. - Author: Auliq Ice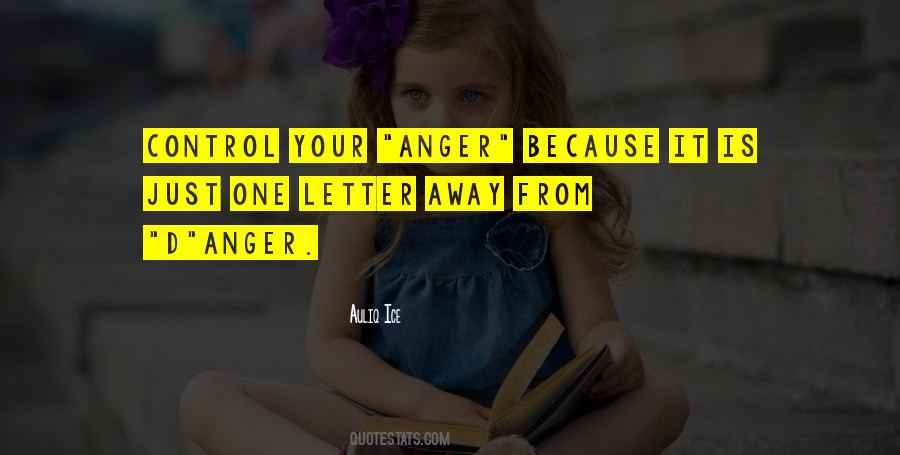 #46. I felt as if I had no control over what I said, as if loathsome, ugly words were waiting inside me like snakes and toads looking for a chance to sneak out before I could stop them. - Author: Gloria Whelan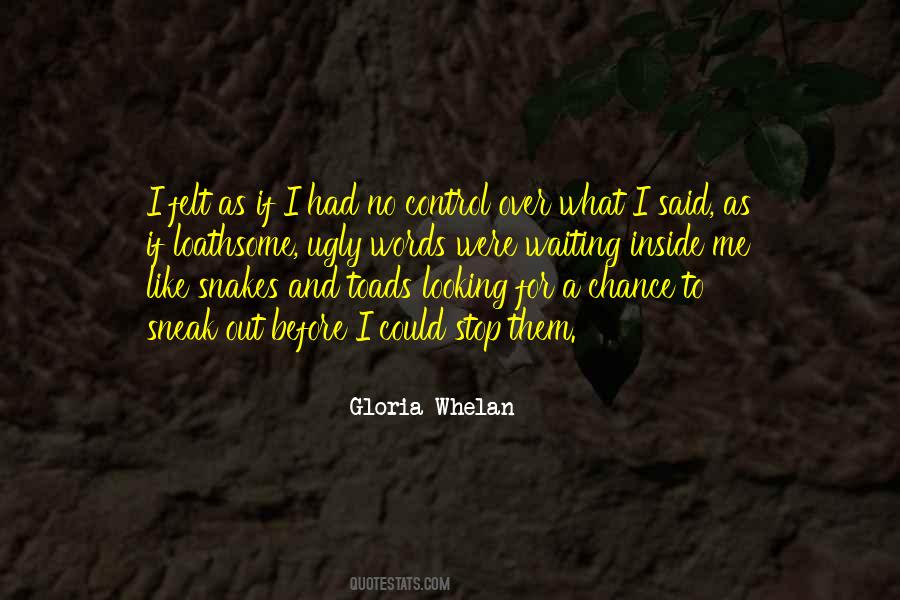 #47. Fighting is easier than loving, just as giving in to anger is easier than self-control. - Author: Donna Lynn Hope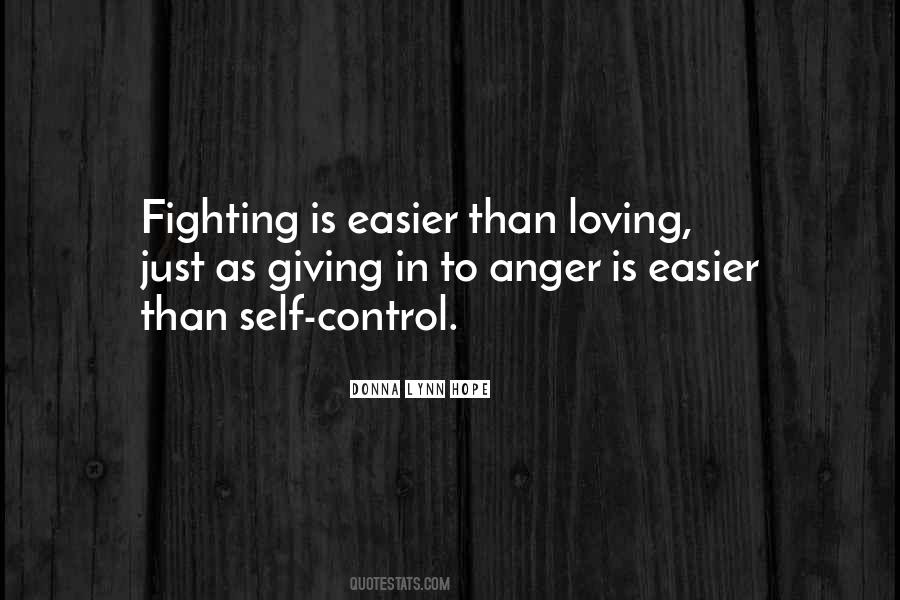 #48. Anger and bitterness are normal feelings, but they're like cancer if you can't control them. - Author: Andrew Peterson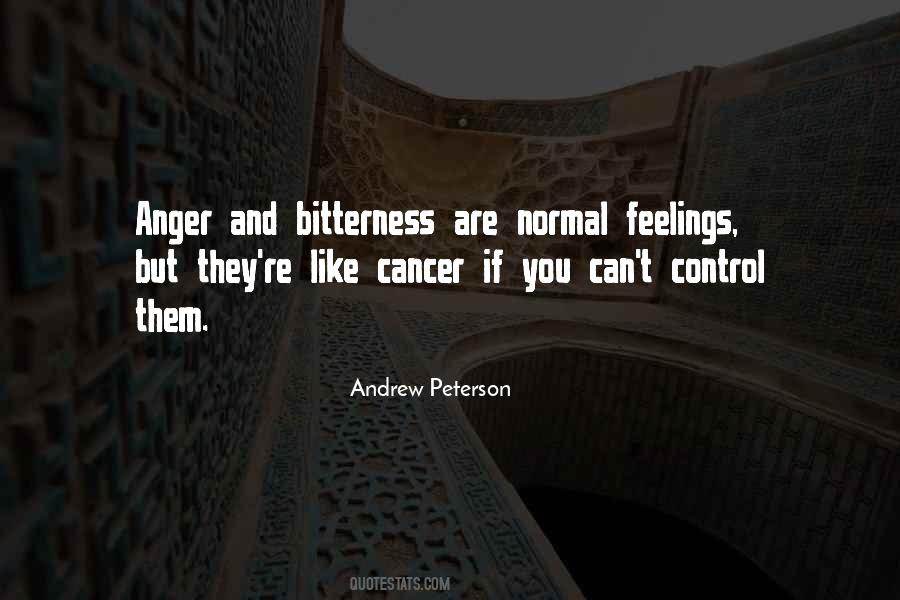 #49. Anger. Control your anger. If you hold anger toward others, they have control over you.Your opponent can dominate and defeat you if you allow him to get you irritated. - Author: Miyamoto Musashi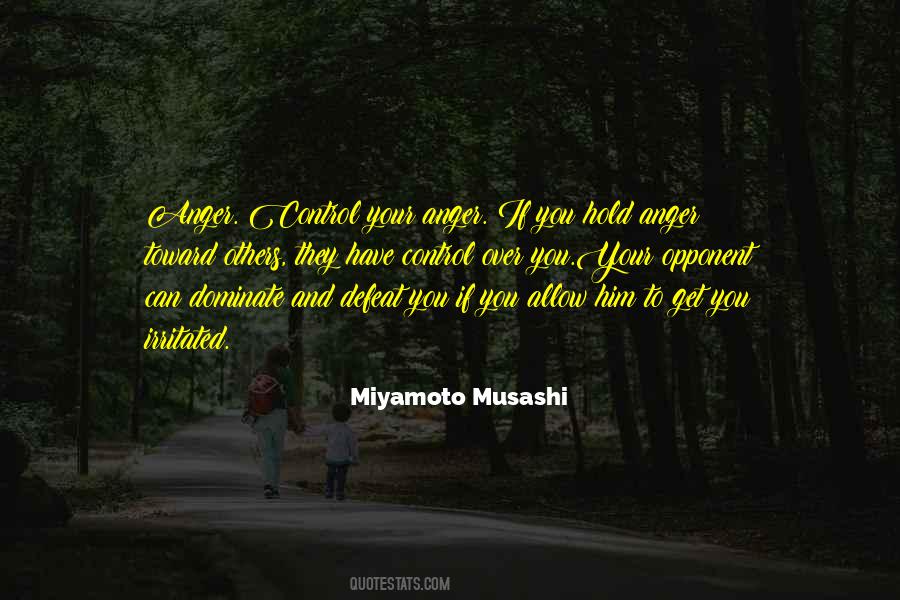 #50. Anger makes you smaller, while forgiveness forces you to grow beyond who you were. - Author: Jonathan Anthony Burkett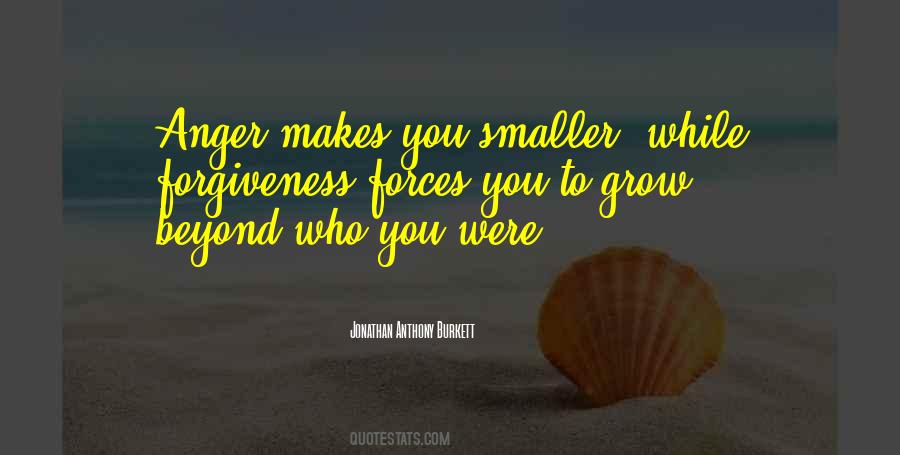 #51. When our minds are clouded by hatred, selfishness, jealousy, and anger, we lose not only control but also our judgment. - Author: Dalai Lama XIV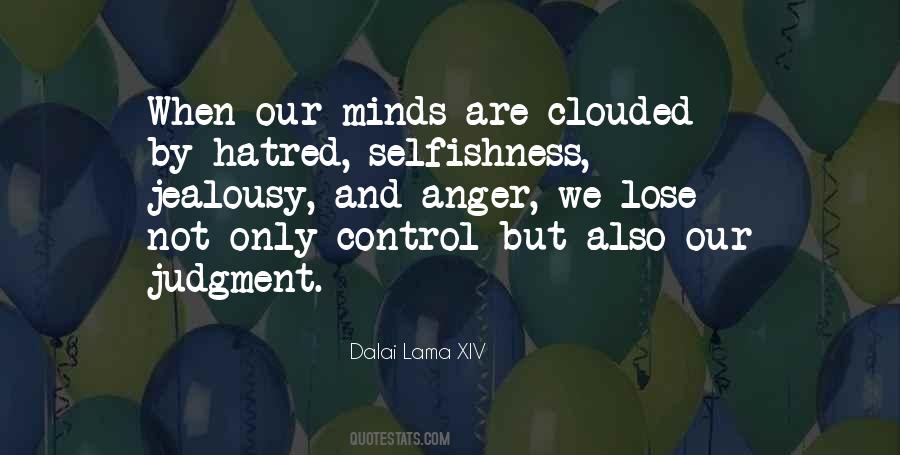 #52. The purpose of religion is to control yourself, not to criticize others. How much am I doing about my anger, attachment, hatred, pride, and jealousy? These are the things we must check in our daily lives." - HIS HOLINESS, THE DALAI LAMA - Author: Haemin Sunim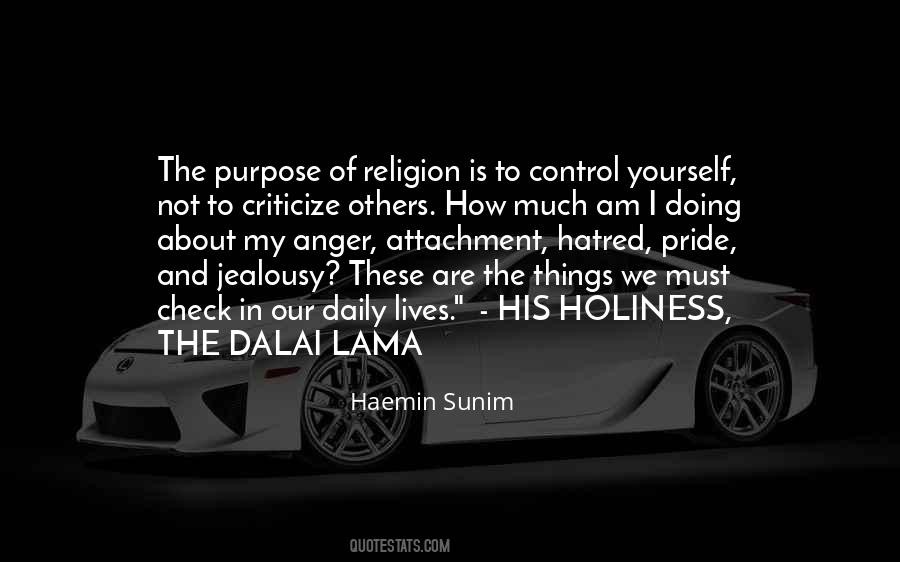 #53. Sending children away to get control of their anger perpetuates the feeling of 'badness inside them ... Chances are they were already feeling not very good about themselves before the outburst and the isolation just serves to confirm in their own minds that they were right. - Author: Otto Weininger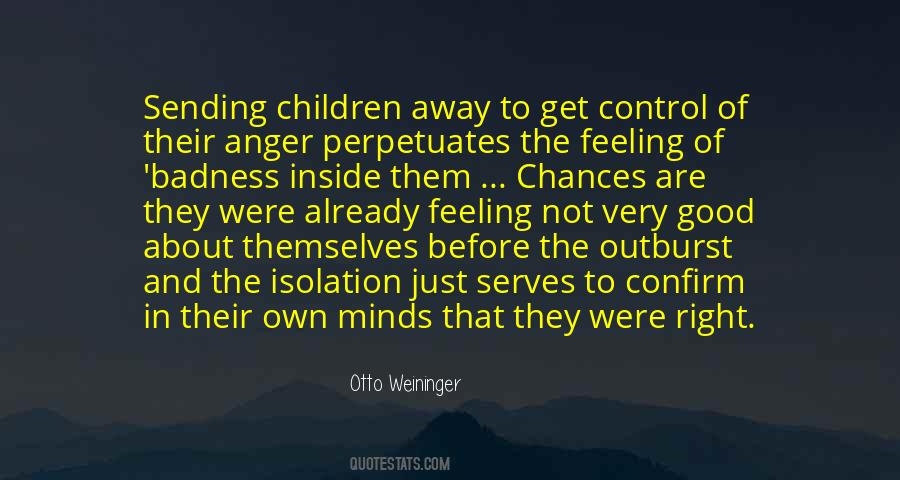 #54. Proverbs 19:10-12 10 It isn't right for a fool to live in luxury or for a slave to rule over princes! 11 Sensible people control their temper; they earn respect by overlooking wrongs. 12 The king's anger is like a lion's roar, but his favor is like dew on the grass. - Author: Anonymous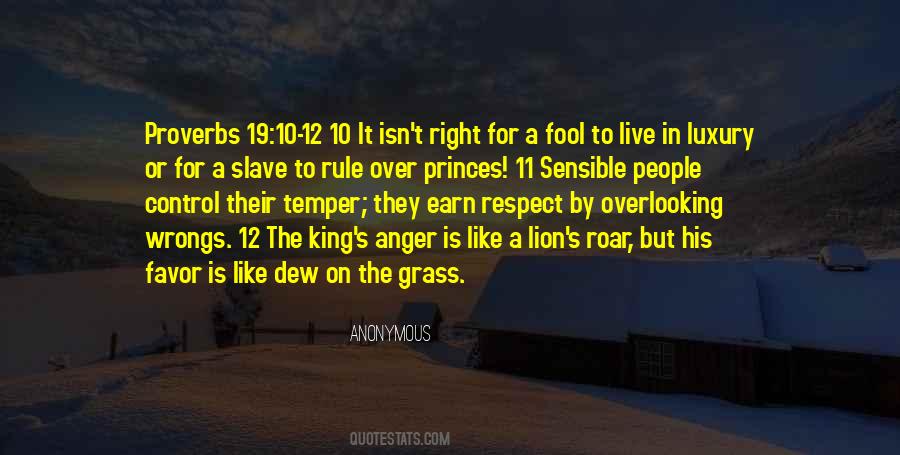 #55. If you cannot at first control your anger, learn to control your tongue, which, like fire, is a good servant, but a hard master. - Author: Orison Swett Marden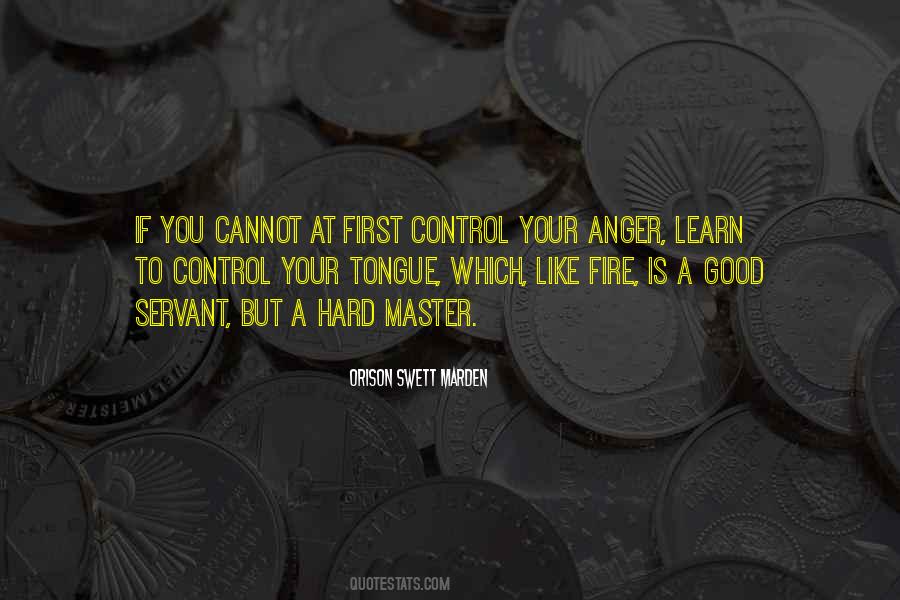 #56. In the debate over guns, both sides are angry. The pro-gunners are angry at the ignorance, lies, and distortions of the anti-gunners, and the anti-gunners are angry with the pro-gunners for presenting facts. - Author: Dave Champion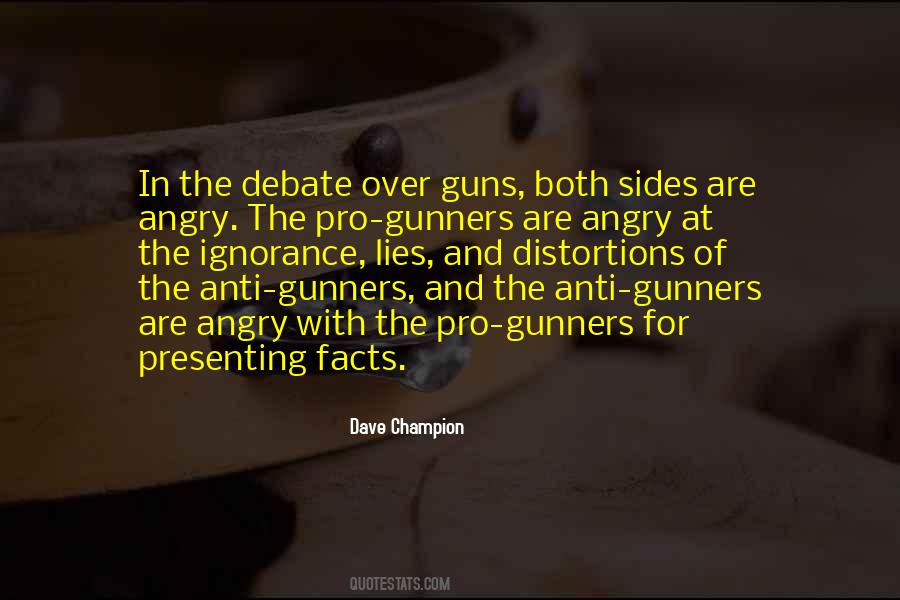 #57. Just remember, anger is always your enemy. You must keep your emotions in check. The moment you lose control of them, you lose the fight every time. (Takeshi) - Author: Sherrilyn Kenyon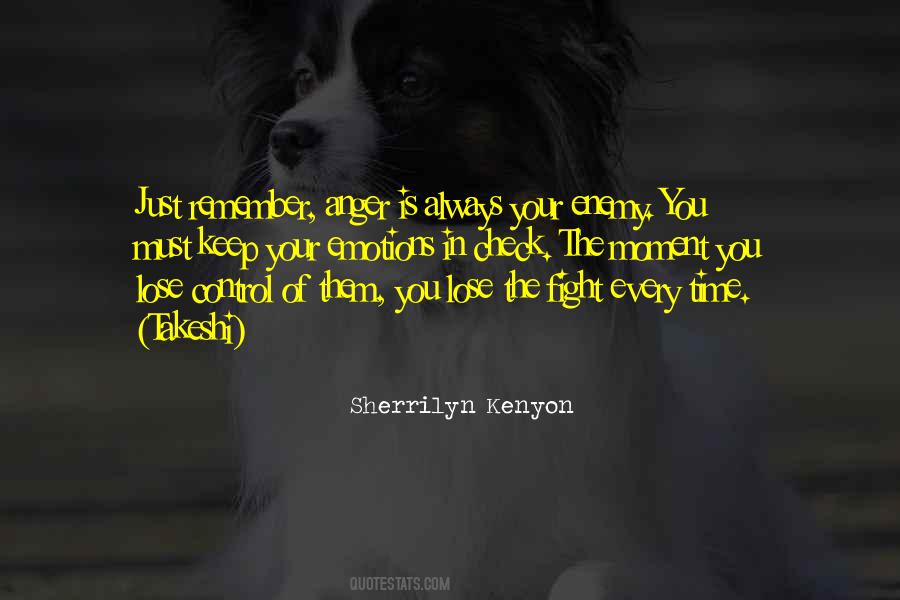 #58. What you choose to do with all that anger is your business. But you can't control the world; someone will always be there to wrong you. It's your choice to let it go. - Author: Laura Thalassa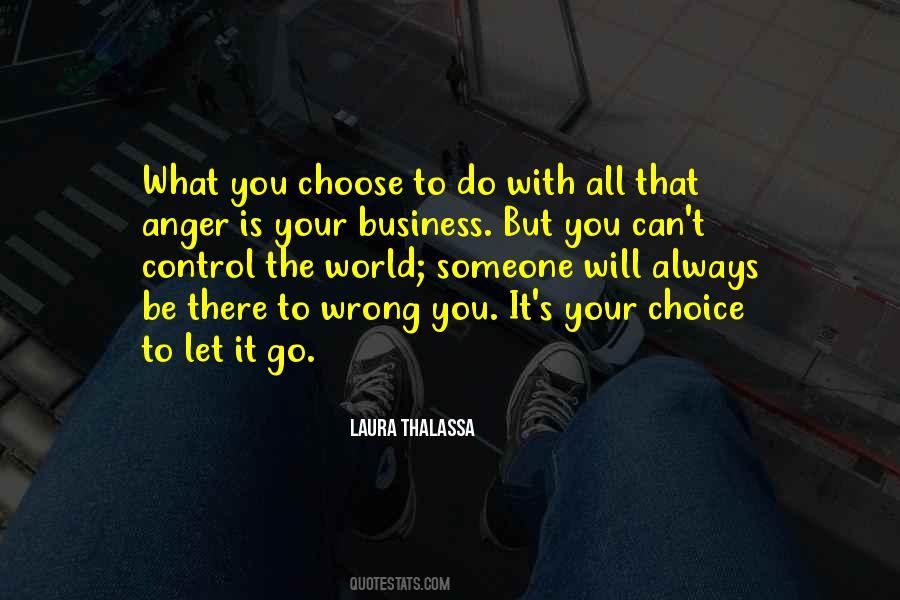 #59. In many situations, the only thing you can control is your own response. Changing self-talk from negative to positive is an excellent way to manage that response. Anger destroys your health and relationships. - Author: Maddy Malhotra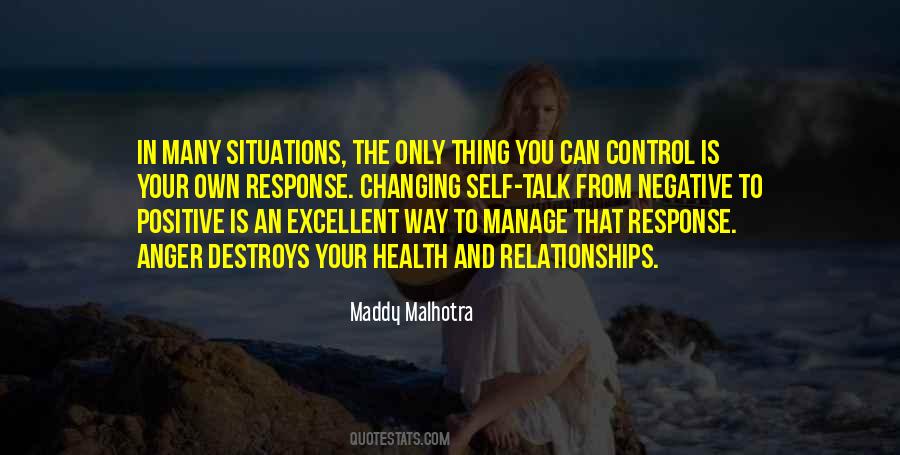 #60. Anyone can get angry, but to do this to the right person, to the right extent, at the right time, with the right motive, and in the right way, that is not for everyone, nor is it easy. - Author: Aristotle.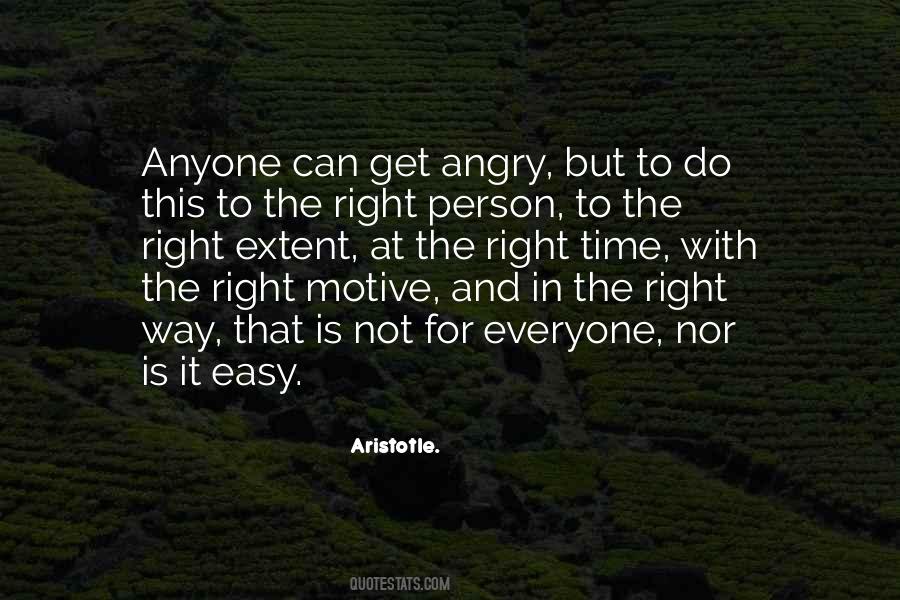 #61. Why can't we control our anger? because we love perfection. make a little room for imperfection in our lives. - Author: Sri Sri Ravi Shankar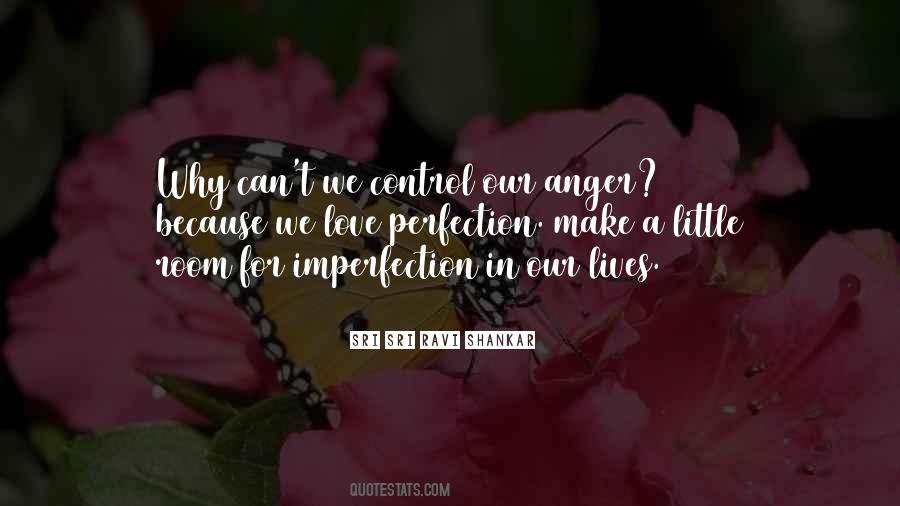 #62. Ever notice how seldom we lose control when frustrated by our boss, but how often we do when annoyed by friends or family? - Author: Lynn G. Robbins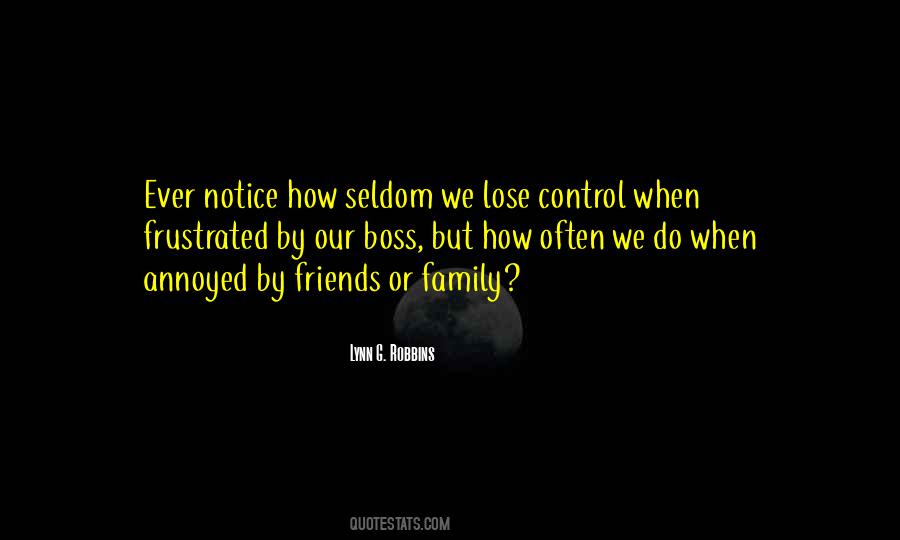 #63. I turn back to them, trying to maintain control of my emotions, trying to keep the two of them from seeing that I'm shaking in sorrow and anger and hurt. - Author: Jackson Pearce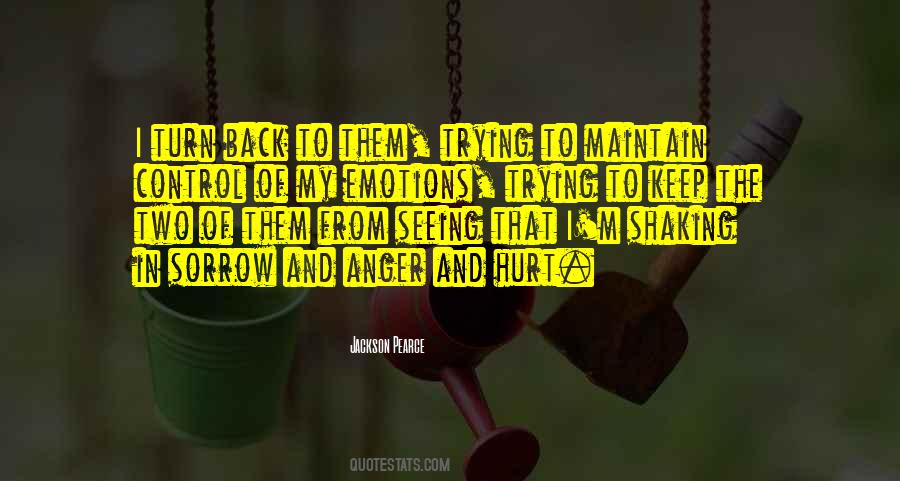 #64. For what good does it do us to guide a horse and control his speed with the curb, and then find that our own passions, utterly uncurbed, bolt with us? Or to beat many opponents in wrestling or boxing, and then to find that we ourselves are beaten by anger? - Author: Seneca.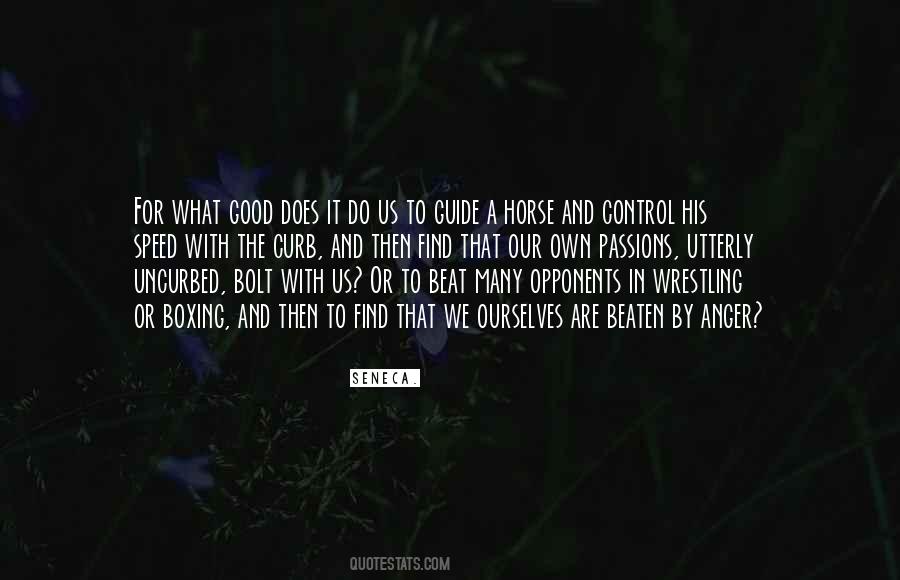 #65. Anger is like a flame blazing up and consuming our self-control, making us think, say, and do things that we will probably regret later. - Author: Nhat Hanh
#66. Some people believe that if they yell and scream, others will get the point of just how serious they are. For me, all I get is the point of just how out of control that someone is. - Author: Cathy Burnham Martin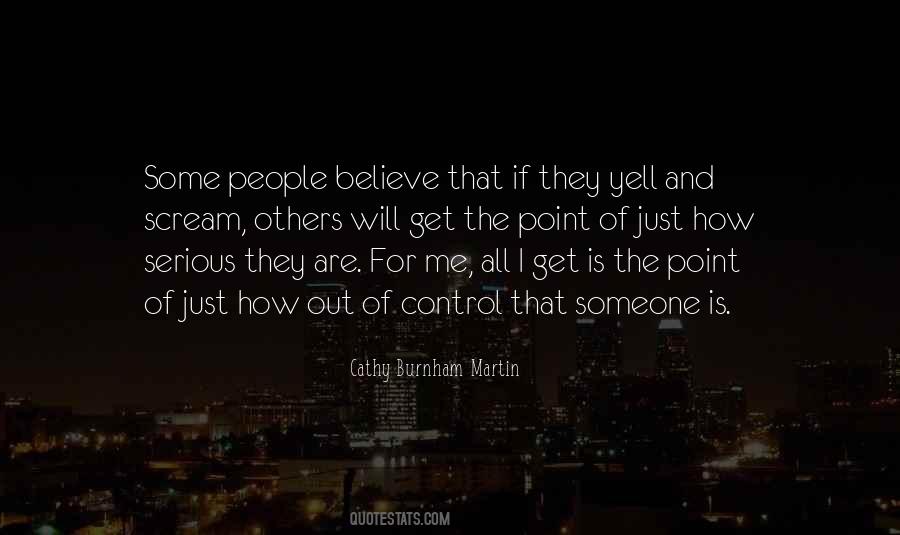 #67. Anger can be defeated by controlling our emotions without upsetting the nerves. - Author: Munia Khan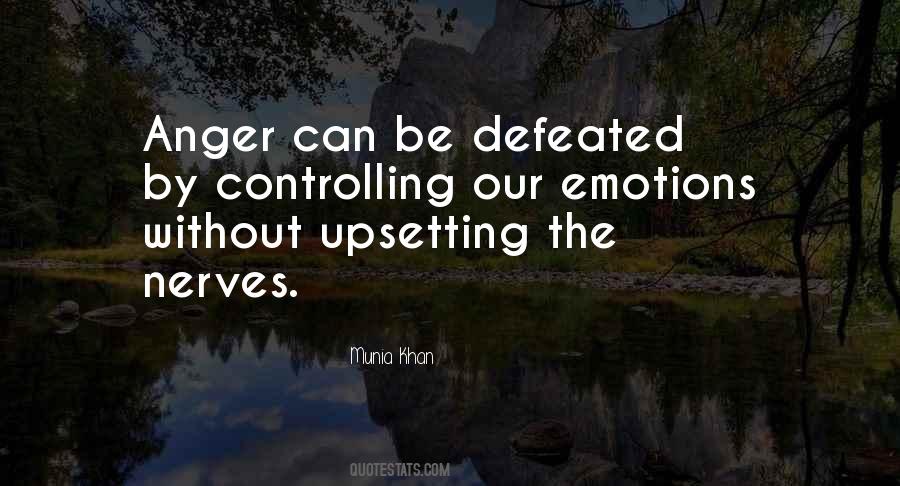 #68. When you forgive those that hurt you, they no longer have control over your future happiness. Their anger keeps them a prisoner to your past, while you enjoy the present. - Author: Shannon L. Alder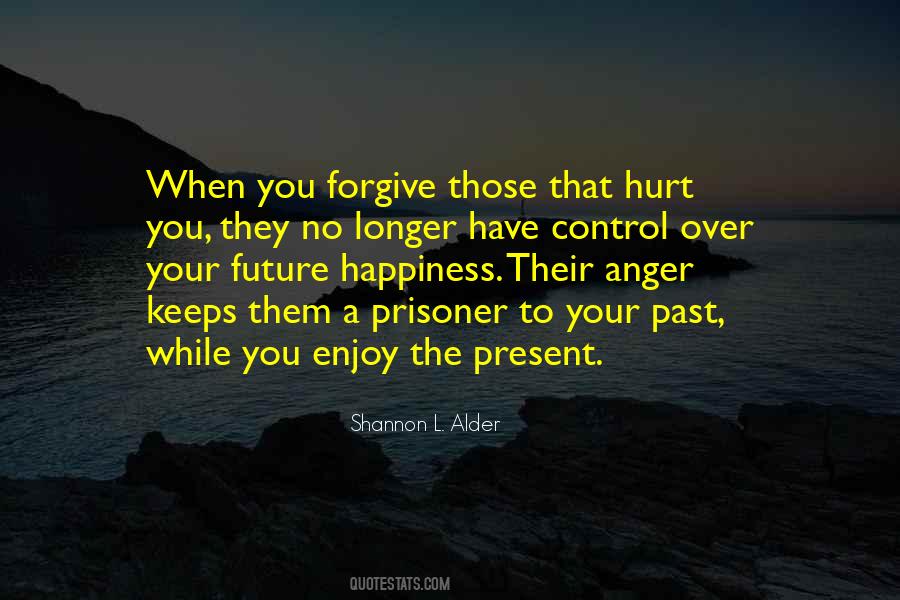 #69. You really didn't have White Noise? Calm Control?" I demanded, surprised by the anger licking
at my heart. What camp had these kids been in? Candy Land? - Author: Alexandra Bracken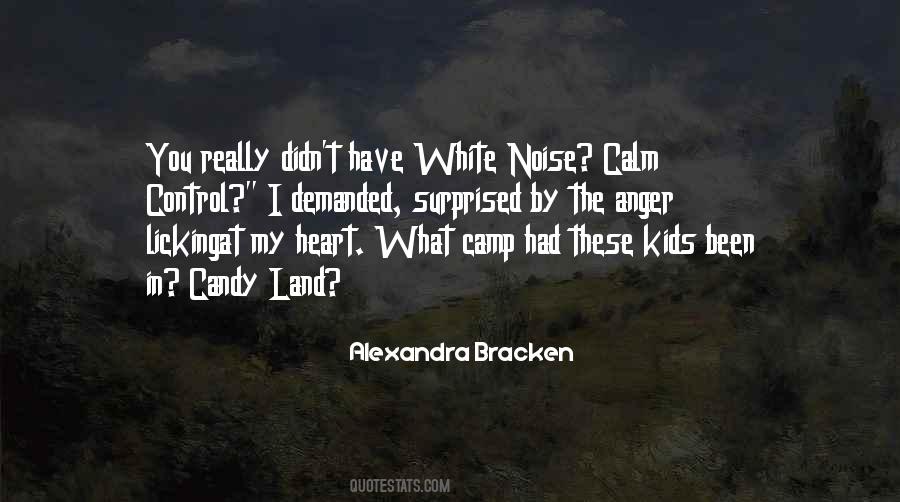 #70. In that moment, I welcomed back the light and let go of the fear, the feelings of unworthiness, the past, the loss, the wallowing, the grief and the anger. I let go of the illusion of control in our losses, of our afflictions. - Author: Ariana Carruth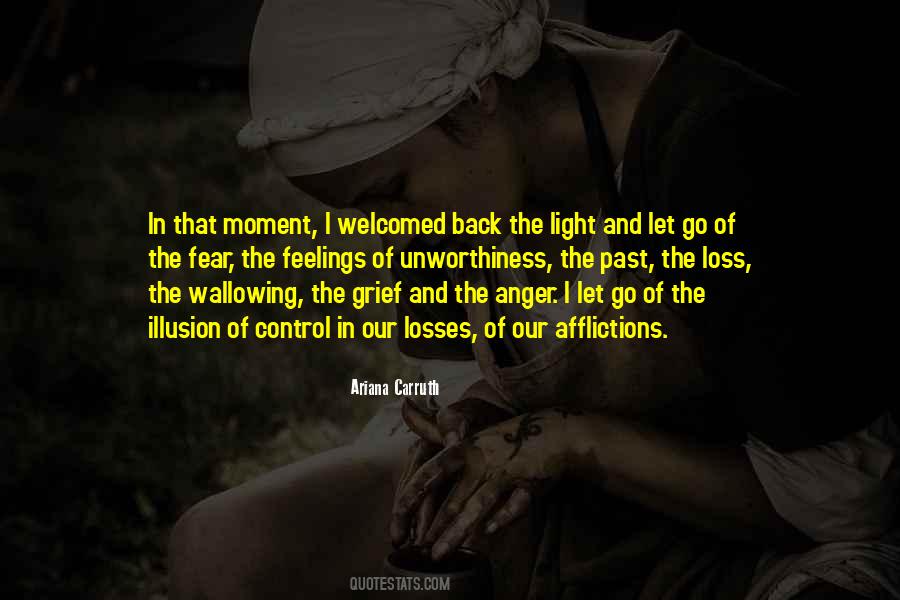 #71. Tis hard to fight with anger but the prudent man keeps it under control. - Author: Democritus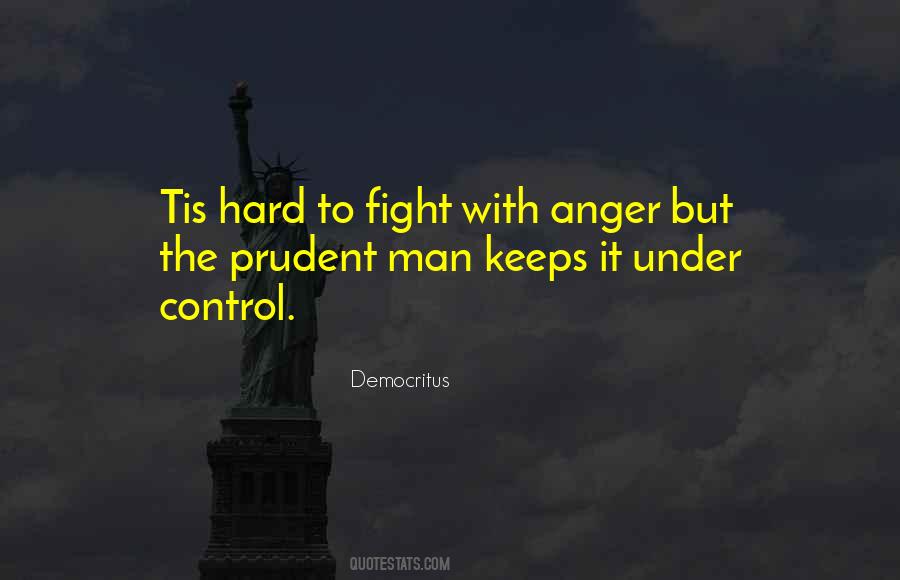 #72. Anger is a momentary madness, so control your passion or it will control you. - Author: G. M. Trevelyan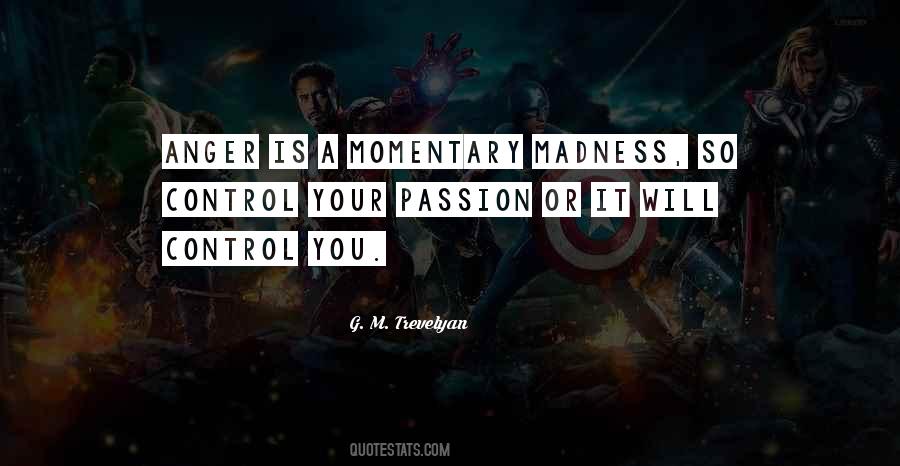 #73. Anger, as long as it is controlled anger, is no obstacle to efficiency. Self-control is one thing the sociopath does not usually possess. Use yours to his undoing. - Author: Jeff Cooper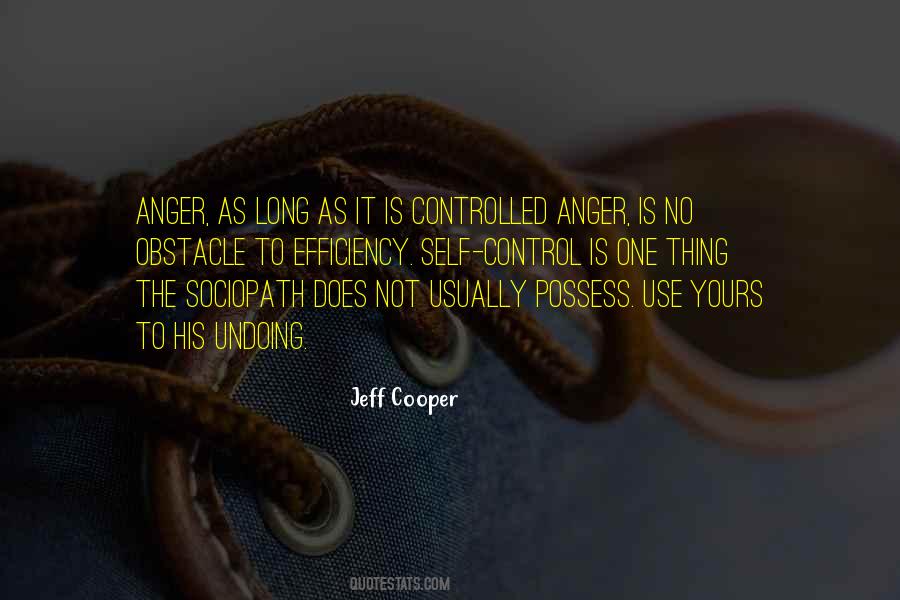 #74. A man who cannot control his temper is not very likely to control his passions, and no matter what his pretensions in religion, he moves in daily life very close to the animal plane. - Author: David O. McKay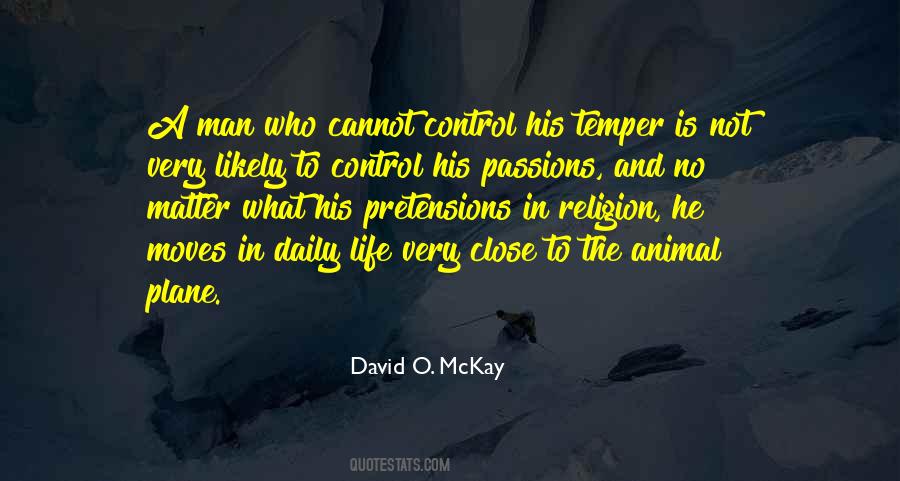 #75. Christianity fucked men and women up. Men feel guilty and women have misguided anger. The result, a weak male. Fucking controls on our behaviour. It's like a sickness. A control sickness. - Author: Robert Black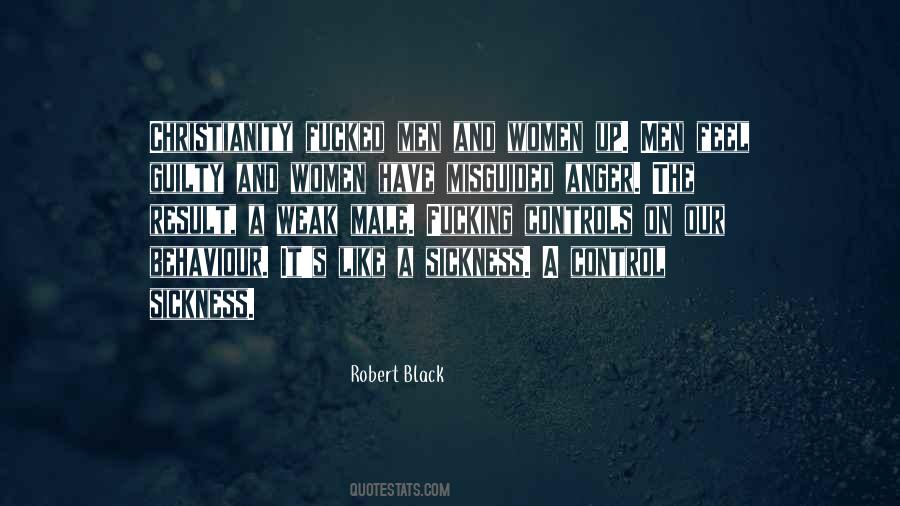 #76. There are people who are excitable by nature and allow themselves to become angry for the most trivial of reasons. Judo can help such people learn to control themselves. Through training, they quickly realize that anger is a waste of energy, that it has only negative effects on the self and others. - Author: Kano Jigoro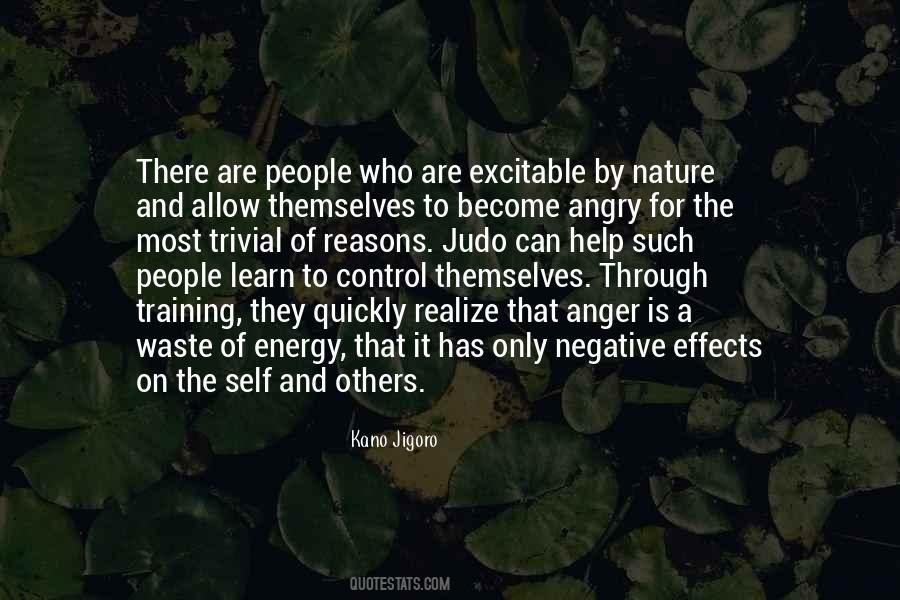 #77. The very purpose of religion is to control yourself, not to criticize others. Rather, we must criticize ourselves. How much am I doing about my anger? About my attachment, about my hatred, about my pride, my jealousy? These are the things which we must check in daily life. - Author: Dalai Lama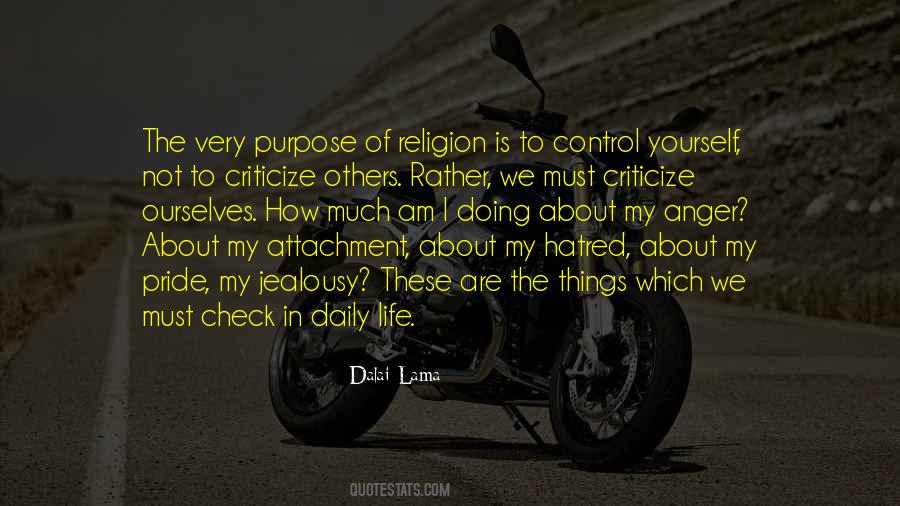 #78. You appear to be a mass of contradictions," Dr Washburn said. "There's a subsurface violence almost always in control, but very much alive. There's also a pensiveness that seems painful for you, yet you rarely give vent to the anger that pain must provoke. - Author: Robert Ludlum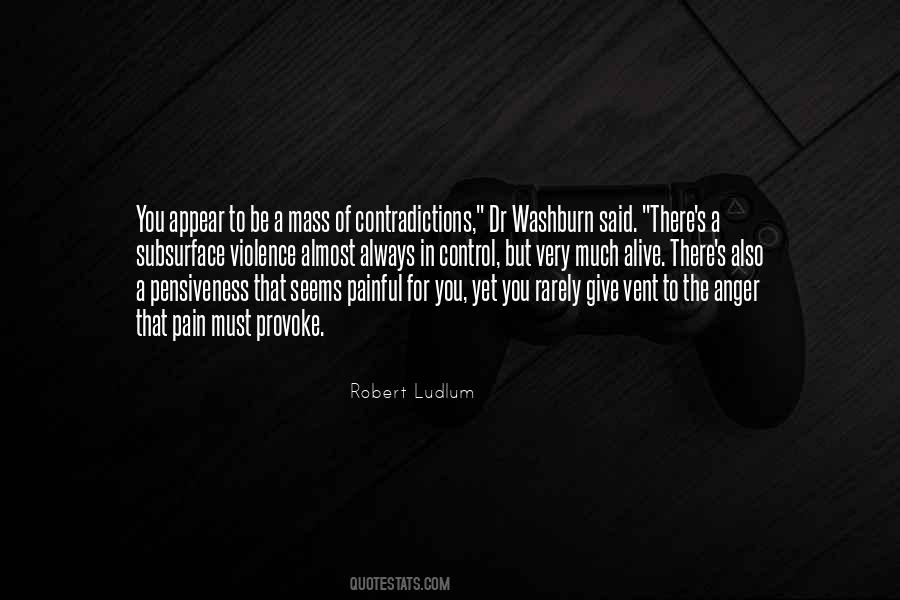 #79. It is a bigger miracle to be patient and refrain from anger than it is to control the demons which fly through the air. - Author: John Cassian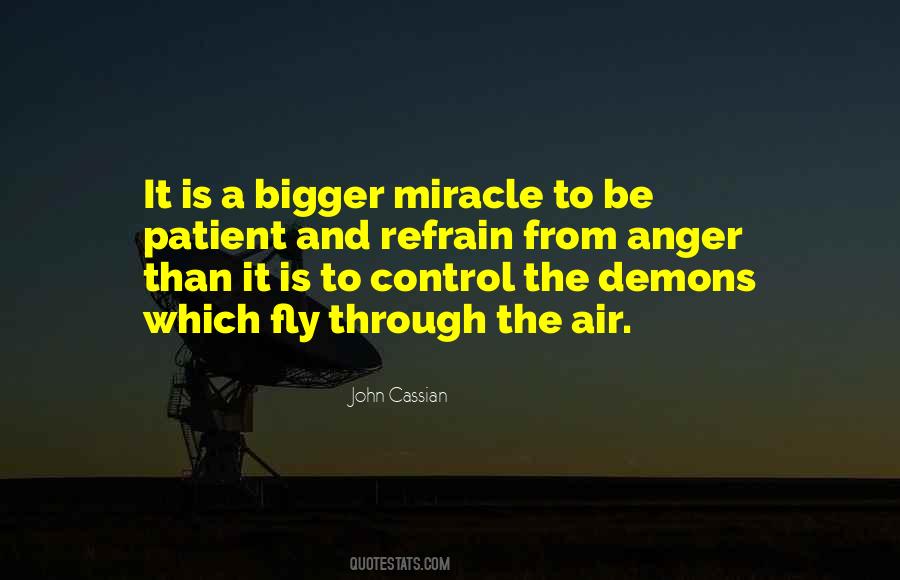 #80. Laughter is much better than anger. - Author: Wayne Gerard Trotman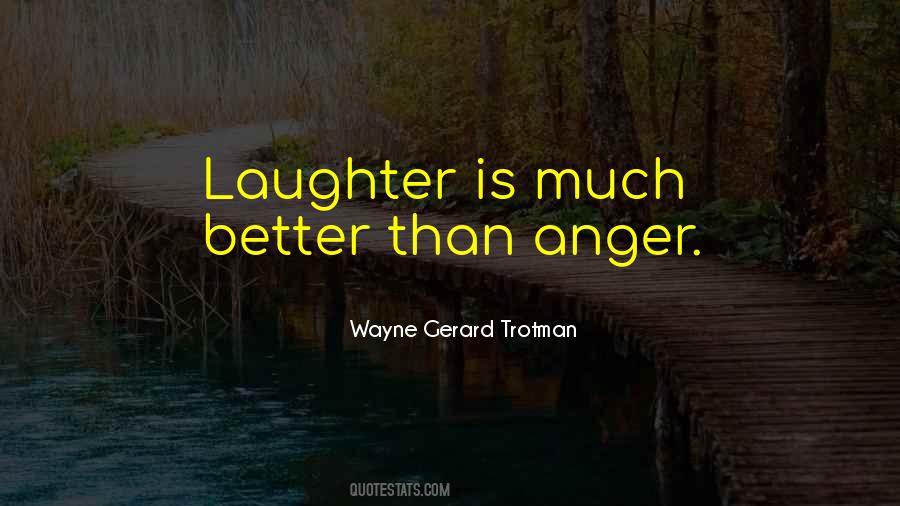 #81. Anger doesn't demand action. When you act in anger, you lose self-control. - Author: Joe Hyams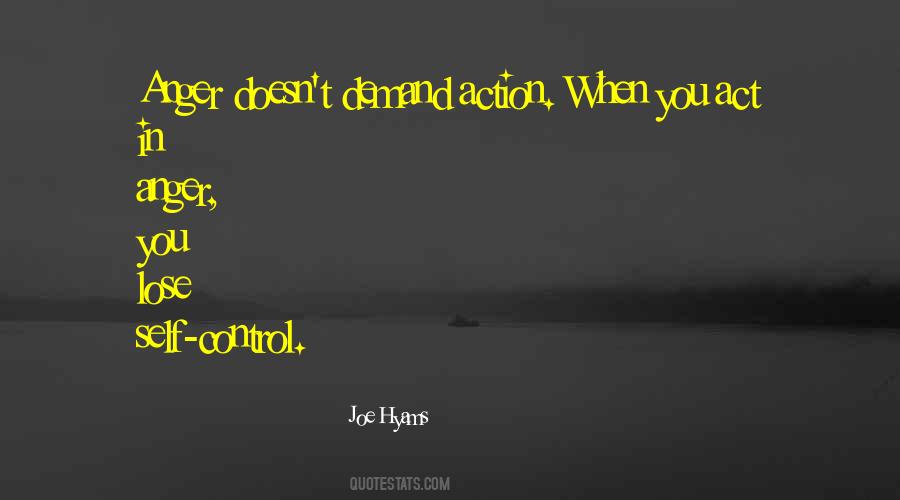 #82. Imagine a thousand more such daily intrusions in your life, every hour and minute of every day, and you can grasp the source of this paranoia, this anger that could consume me at any moment if I lost control. - Author: Jack Henry Abbott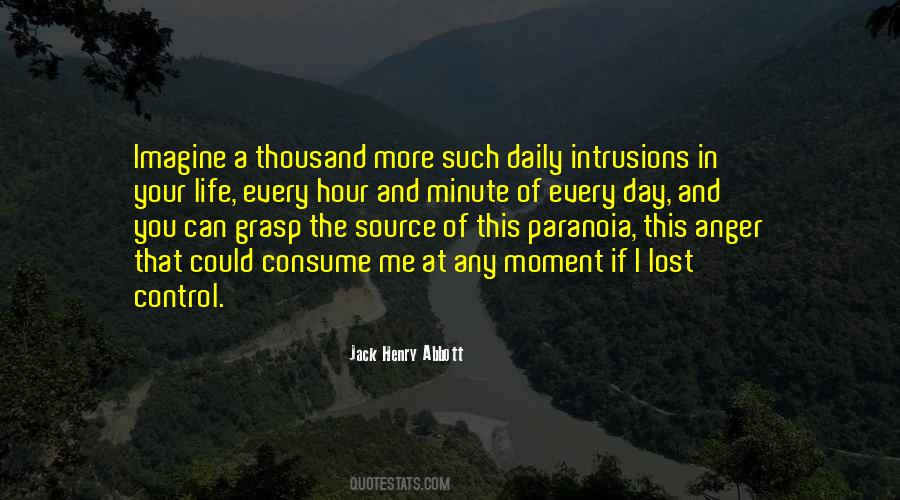 #83. YODA: But mind the dark side.
Anger, fear, aggression
from
The dark side are they.
Easily they flow,
Quick to join you in a fight.
Aye, they do not fail!
Once on the dark path,
Forever shall not control
Thy destiny, Luke. - Author: Ian Doescher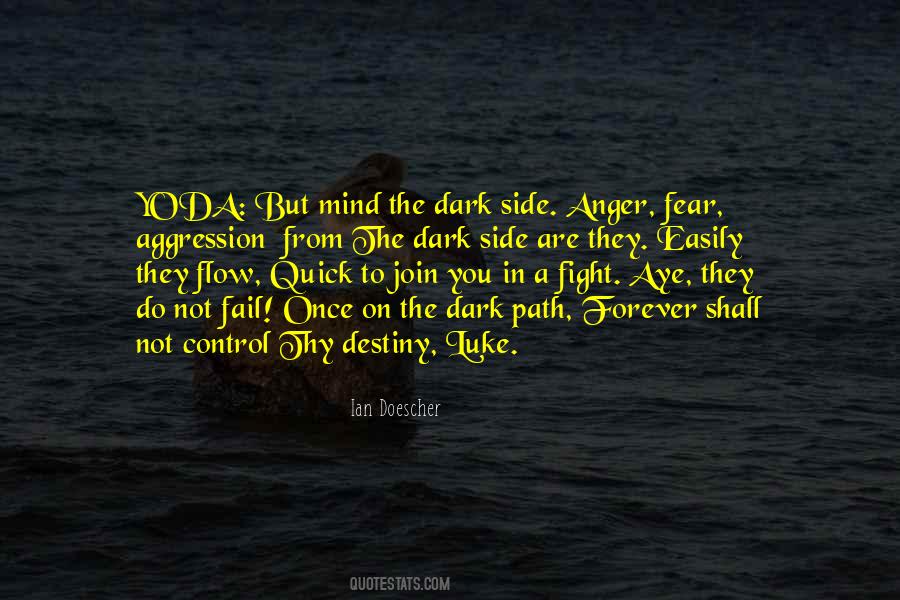 #84. Those who have anger, they try to take control others with the heat of anger and those who do not have anger are able to take control of others with their strength of character known as sheel. Even it can take control of animals (with it's strength)!!! - Author: Dada Bhagwan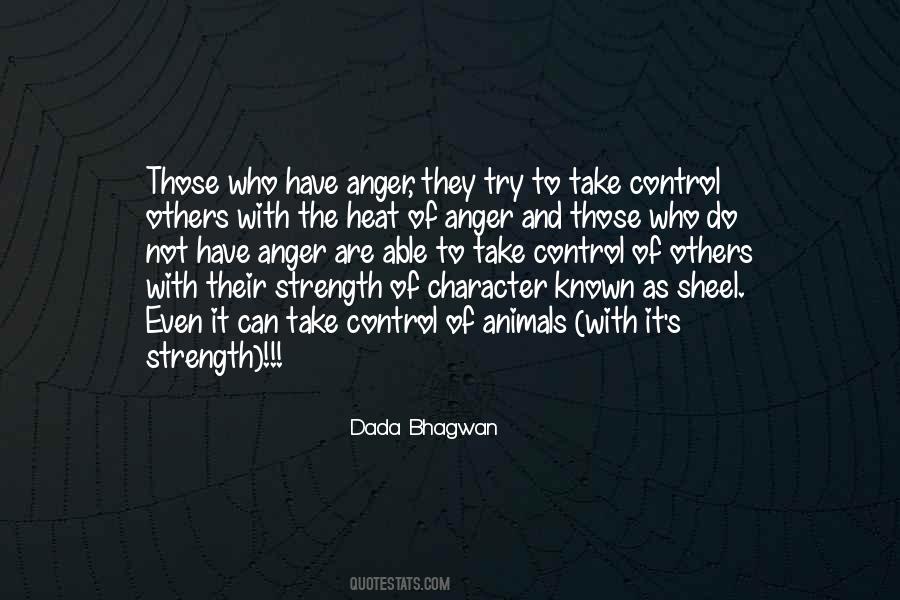 #85. Don't sin by letting anger control you. Think about it overnight and remain silent. - Author: Anonymous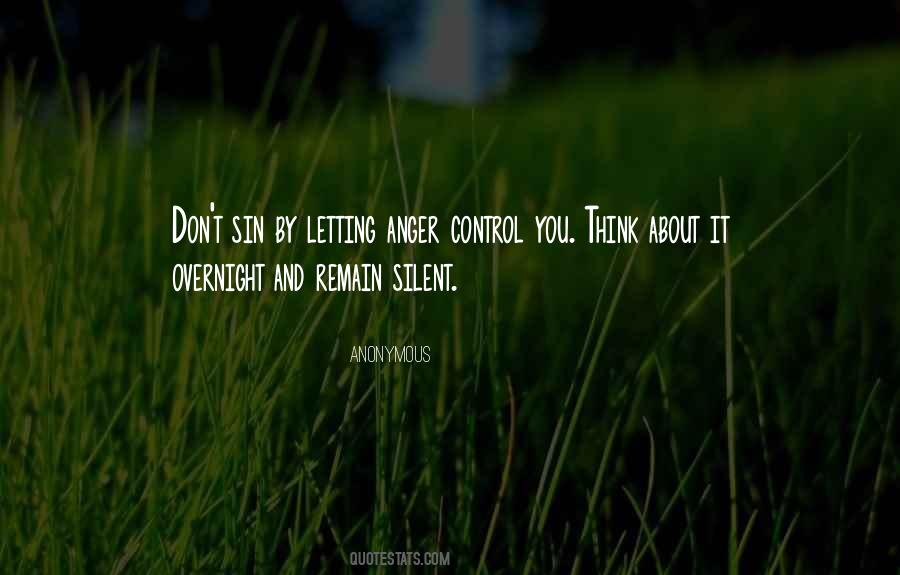 #86. Anger is almost always an emotion for people who wish to control others while simultaneously failing to control themselves. - Author: Daniel Pearce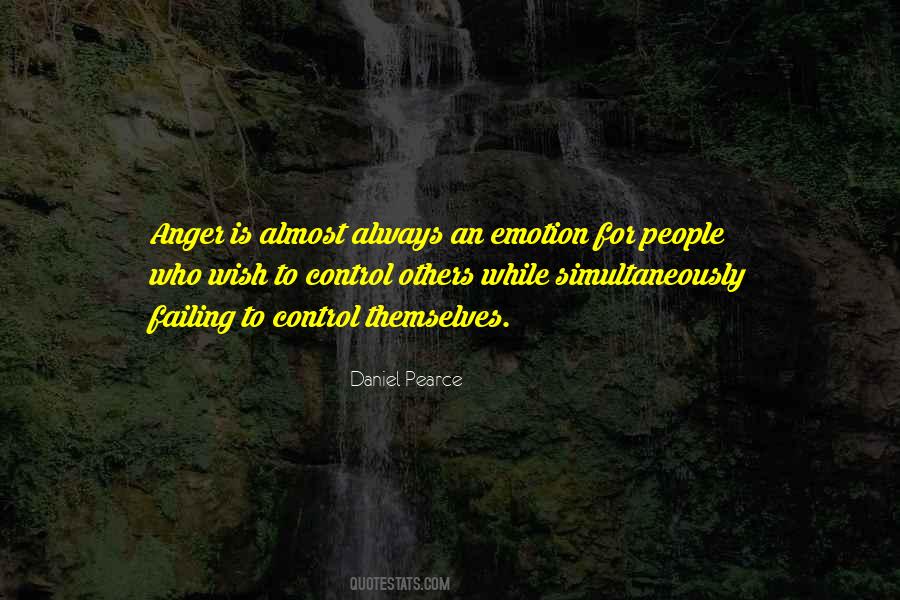 #87. If we are not in control of ourselves but instead let our impatience or anger interfere, then our work is no longer of any value. - Author: Thich Nhat Hanh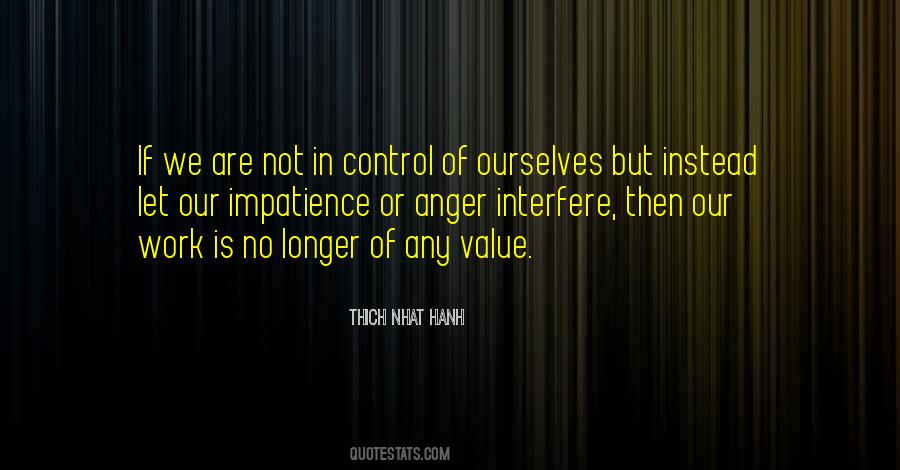 #88. That was progress, right there. Except no one would ever know how hard I was working to keep my temper under control, because the whole point of keeping your temper under control is not doing things like throwing a milk carton in someone's face even though they clearly deserve it. - Author: Cat Clarke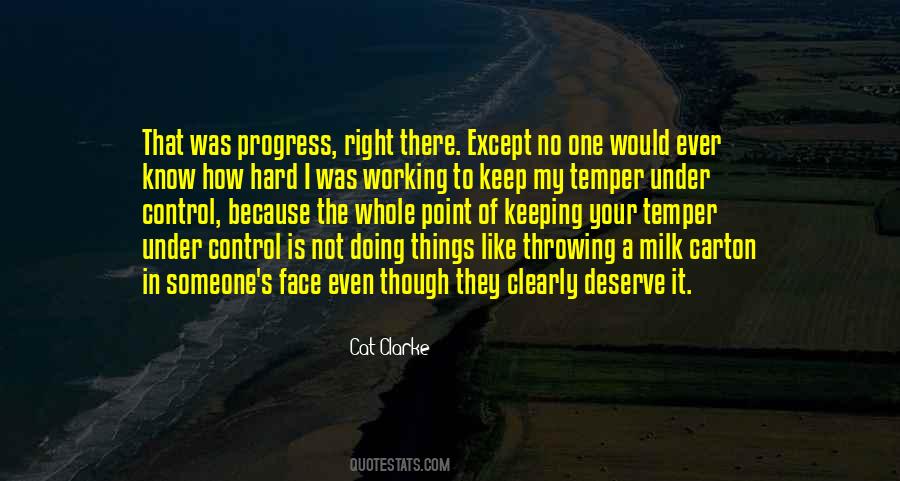 #89. Be modest, humble, simple. Control your anger. - Author: Abraham Cahan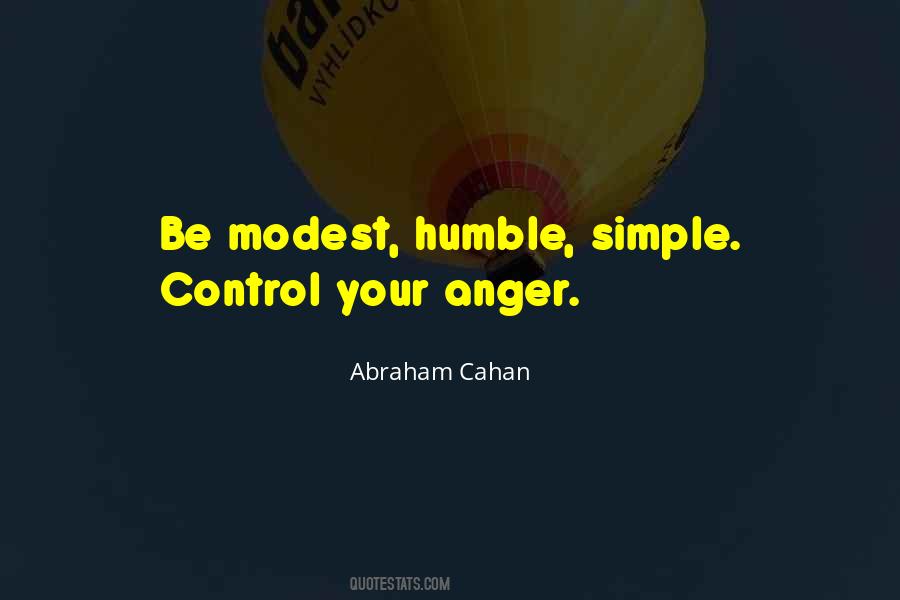 #90. Saying of the Prophet
Anger
You ask for a piece of advice. I tell you: 'Do not get angry.' He is strong who can withhold anger. - Author: Idries Shah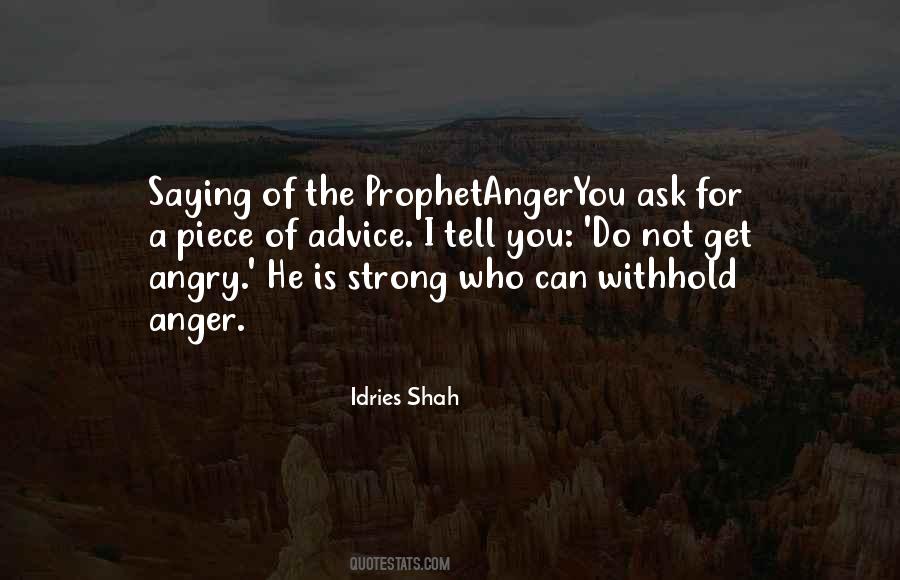 #91. Even though sometimes you can control your anger, you can't control your sadness. - Author: Barbara Park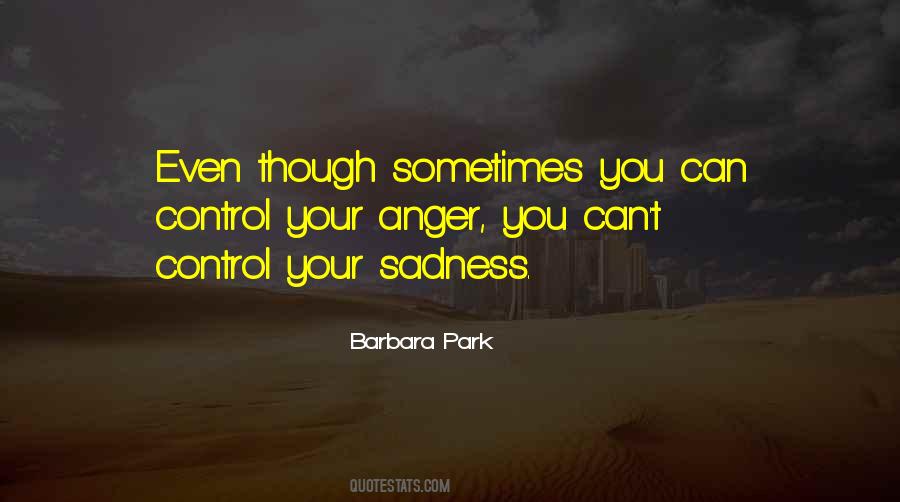 #92. Who can calculate the wounds inflicted, their depth and pain, by harsh and mean words spoken in anger? How pitiful a sight is a man who is strong in many ways but who loses all control of himself when some little thing, usually of no significant consequence, disturbs his equanimity. - Author: Gordon B. Hinckley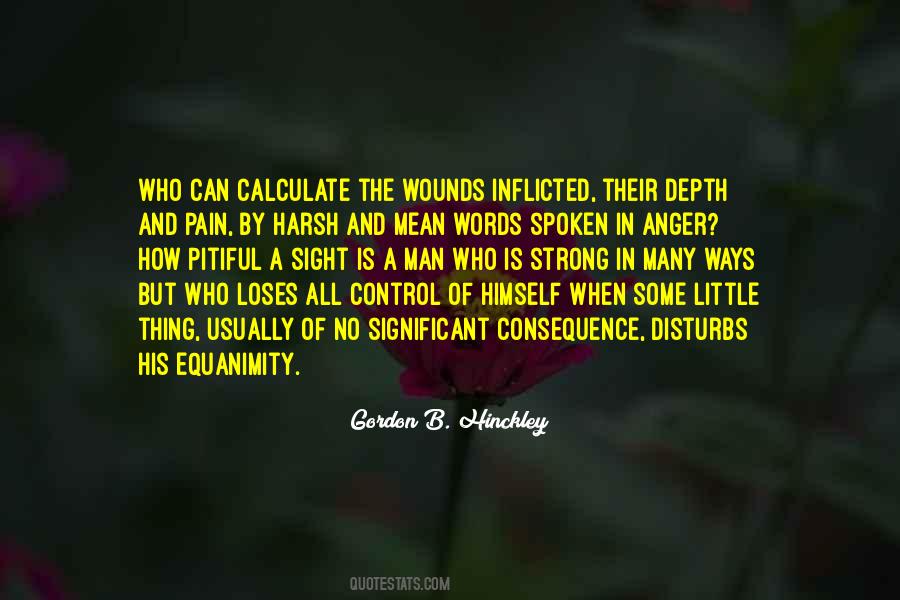 #93. The first key to leadership was self-control, particularly the mastery of pride, which was something more difficult, he explained, to subdue than a wild lion and anger, which was more difficult to defeat than the greatest wrestler. He warned them that if you can't swallow your pride, you can't lead. - Author: Jack Weatherford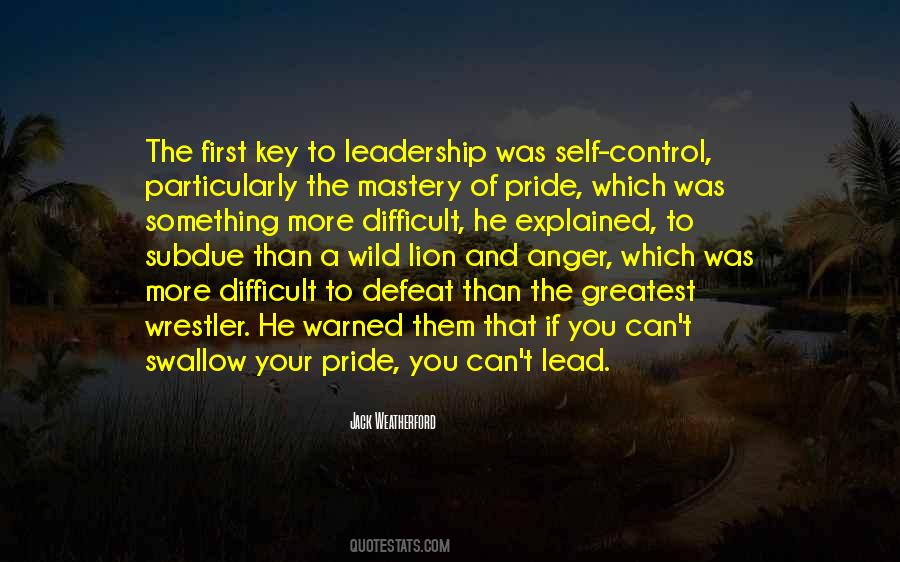 #94. A weak person has no control over their anger ... A stronger person has the strength to contain it. - Author: Timothy Pina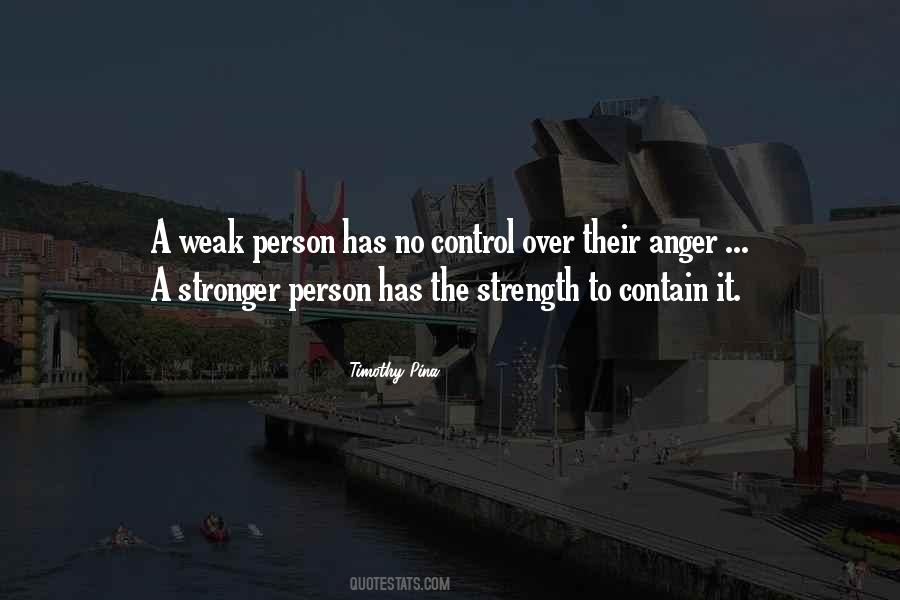 #95. Control yourself, it is not worth it. You will regret your rudeness afterwards, your sensitive nature will be troubled - Author: Leila Aboulela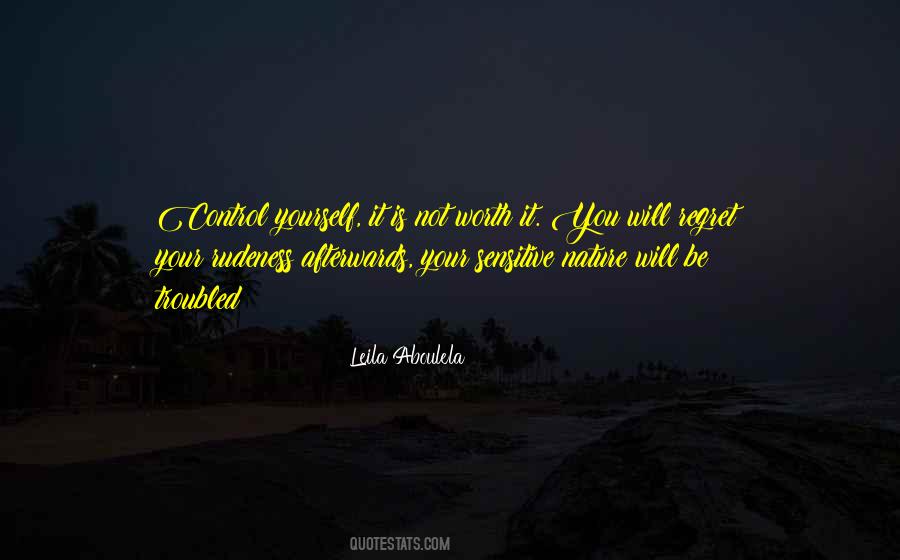 #96. Anger was something I could control. I could settle into an easy rhythm of blame
and hate. Focus my energy on something other than the ache in my heart. - Author: Emily Giffin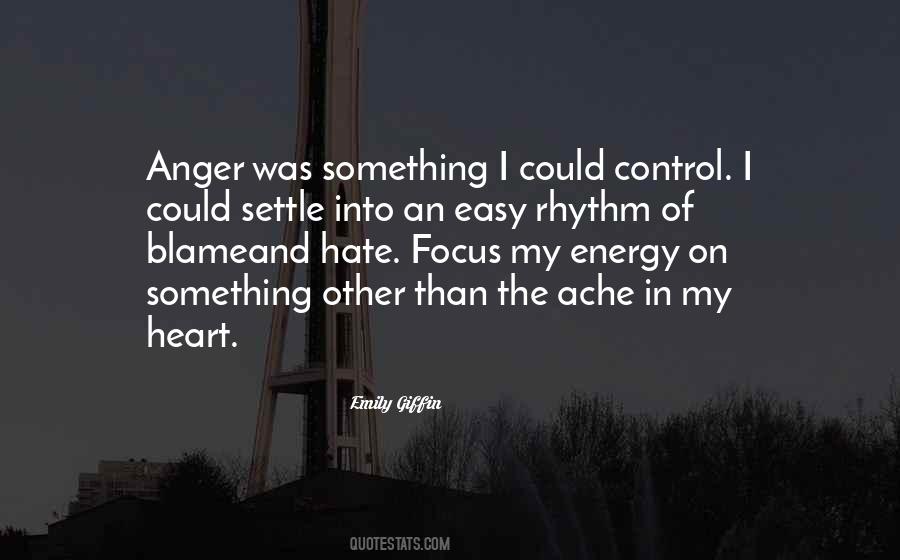 #97. He has tasted anger, and he knows he has to control it. He can feel it, waiting to burst from his mouth in a swarm of stinging black flies. - Author: Hanya Yanagihara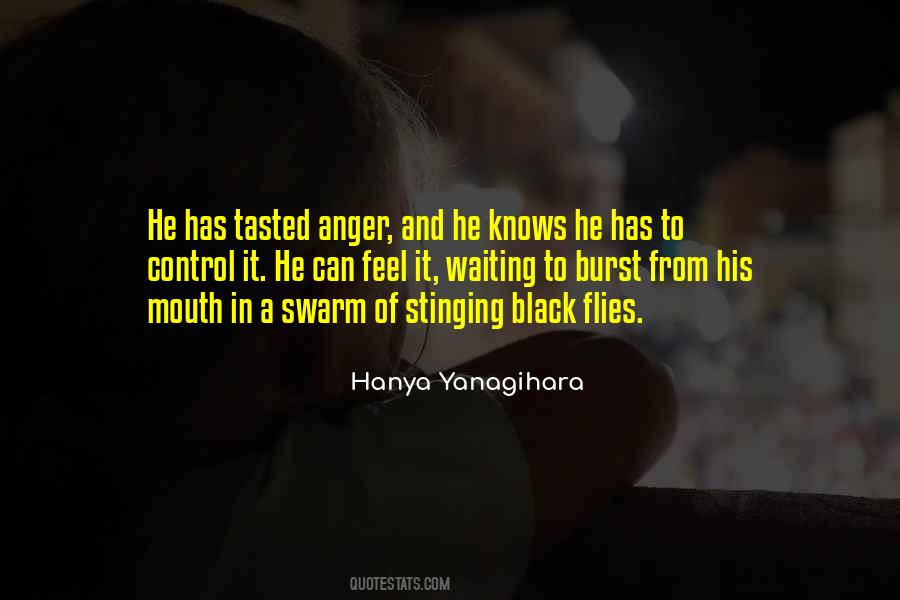 #98. We are losing sight of civility in government and politics. Debate and dialogue is taking a back seat to the politics of destruction and anger and control. Dogma has replaced thoughtful discussion between people of differing views. - Author: James McGreevey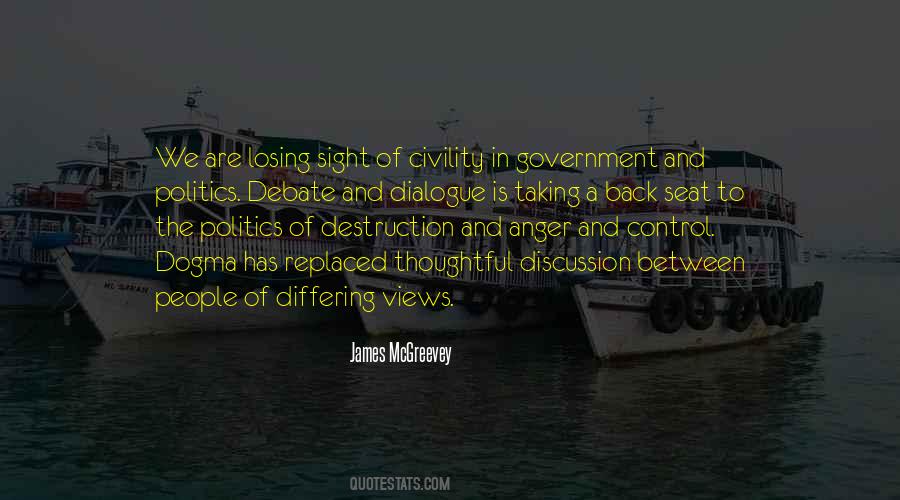 #99. Look for solutions, instead of being difficult; be more thoughtful, instead of allowing anger to burn you out. Look at things from a different perspective, embrace change, look out for opportunities and you will feel much more in control. - Author: Steve Backley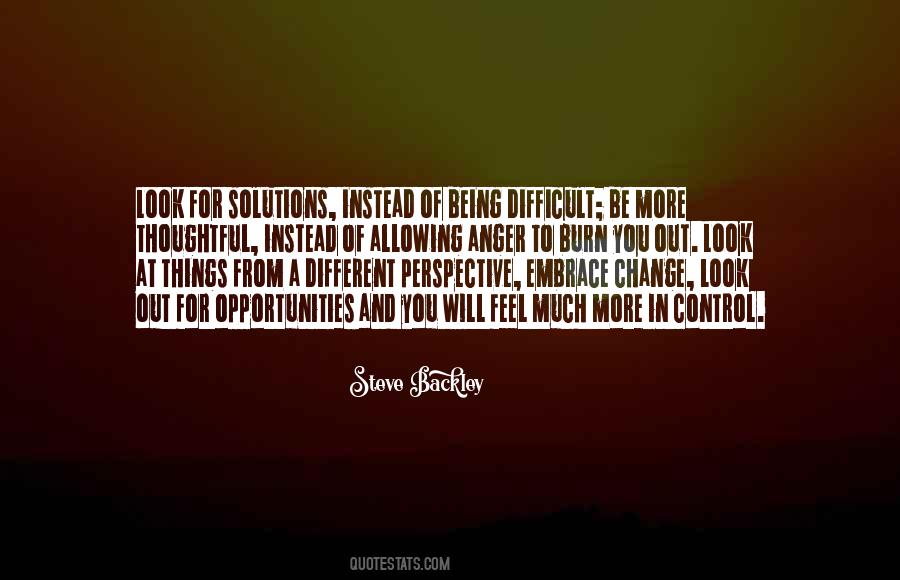 #100. Anger is a valid emotion. It's only bad when it takes control and makes you do things you don't want to do. - Author: Ellen Hopkins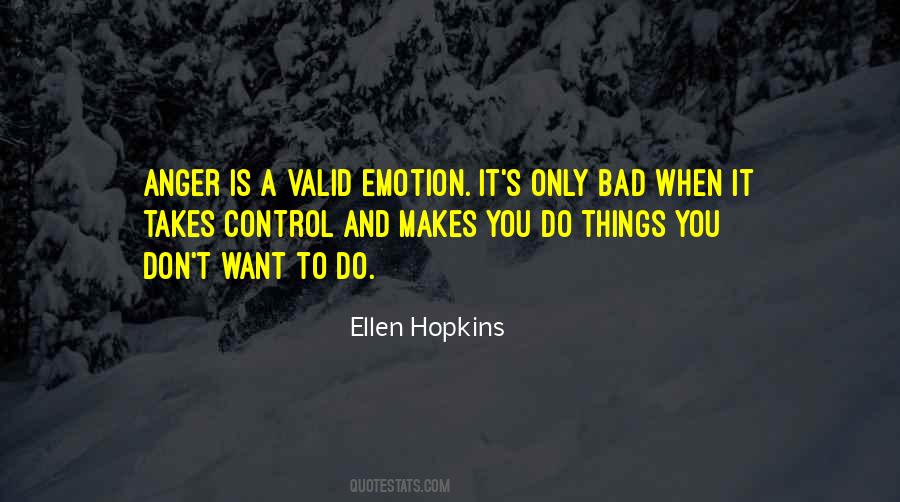 Famous Authors
Popular Topics