Love Situations Famous Quotes & Sayings
List of top 89 famous quotes and sayings about love situations to read and share with friends on your Facebook, Twitter, blogs.
Top 89 Love Situations Quotes
#1. True love finds its own ways
To spread goodness, always. - Author: Ana Claudia Antunes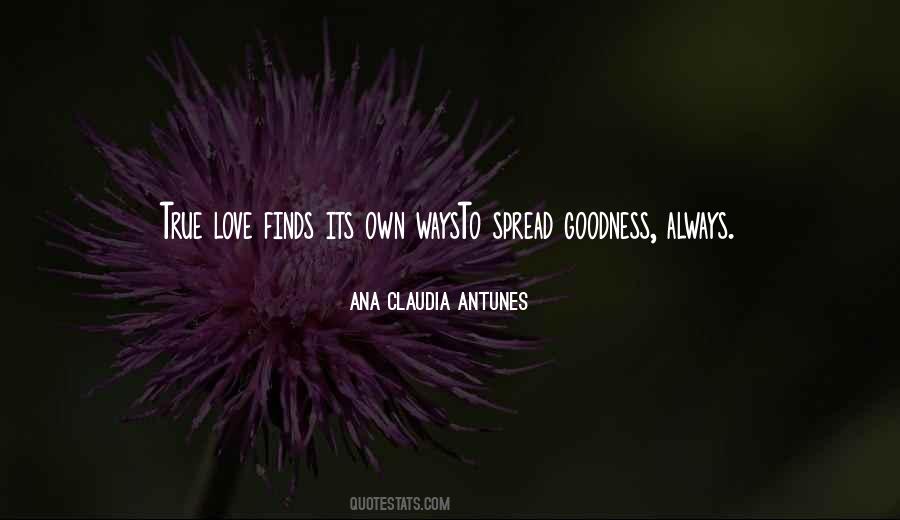 #2. Relationships in life expose one to many new and strange situations which teach you new and strange things - to trust whom you mistrust and mistrust whom you trust, to love whom you hate and to hate whom you love. - Author: Amit Abraham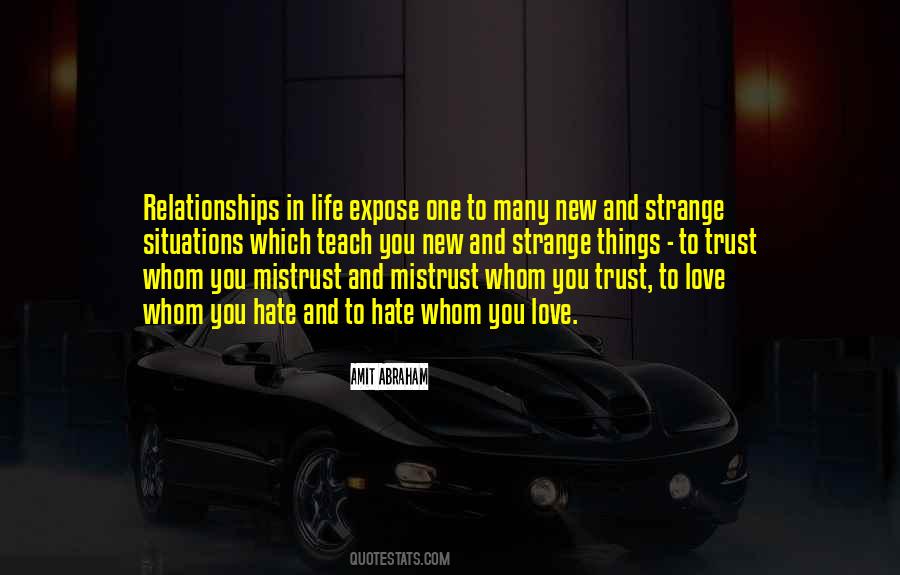 #3. Don't be so focused on the past or future situations that you overlook the beauty of the present moment that is NOW.
Excerpt from "Living in Light, Love & Truth". (Page 29). - Author: Kasi Kaye Iliopoulos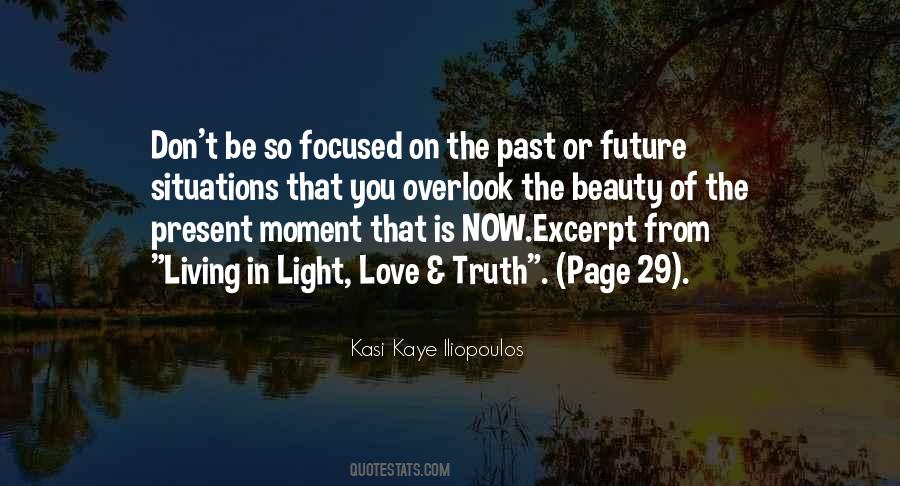 #4. I love to work in all sorts of different situations. - Author: Laura Linney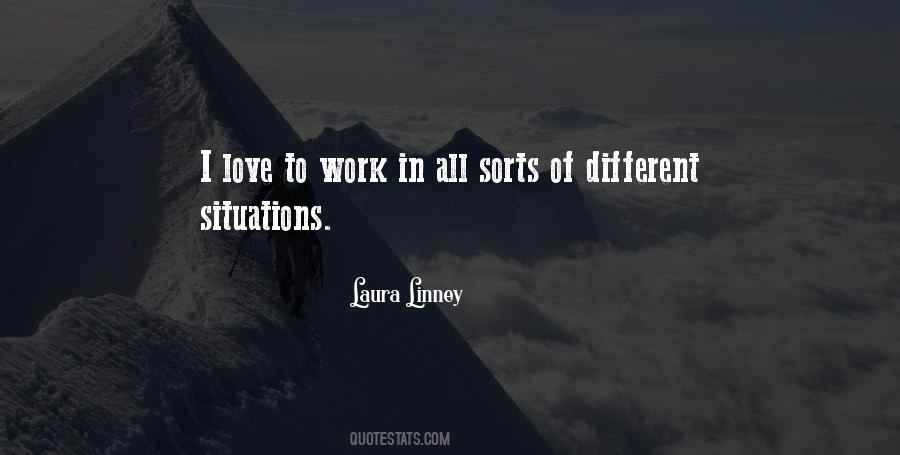 #5. But it is a rare and beautiful thing when we choose to offer love in situations when most people would choose to scorn or ignore. - Author: Lysa TerKeurst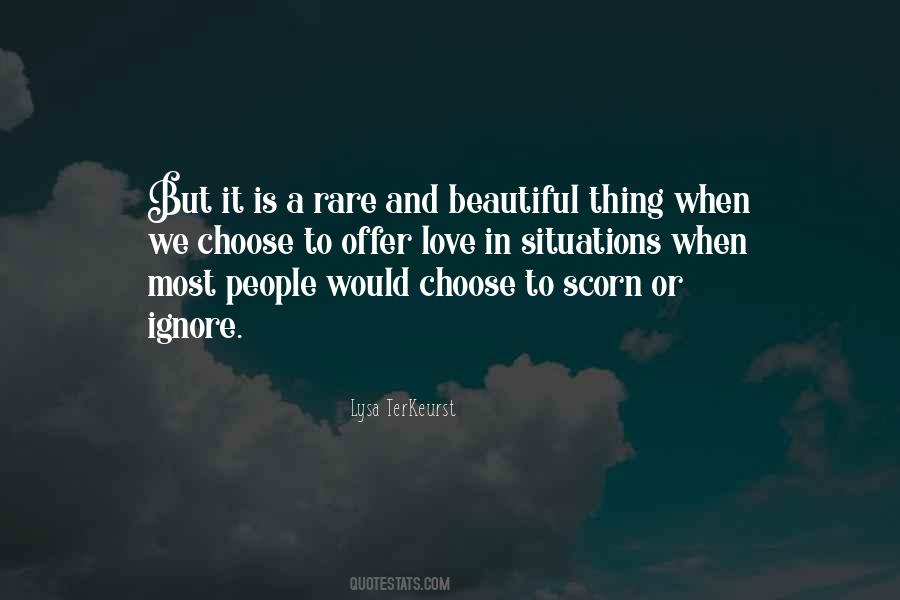 #6. Sometimes God doesn't deny, he delays. - Author: Shannon L. Alder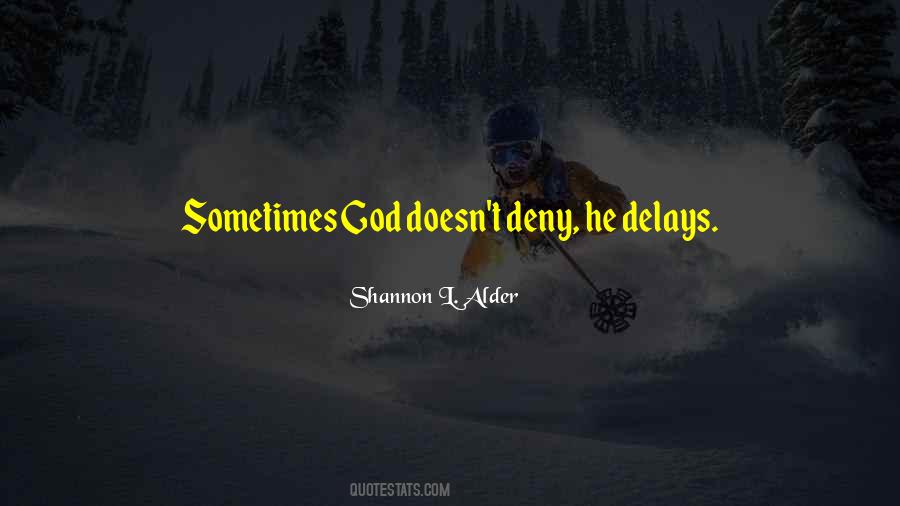 #7. I liked doing comedies, but as I got older I was better suited to do Westerns. Because I think it becomes unattractive for an older fellow trying to look young, falling in love with attractive girls in those kinds of situations. - Author: Joel McCrea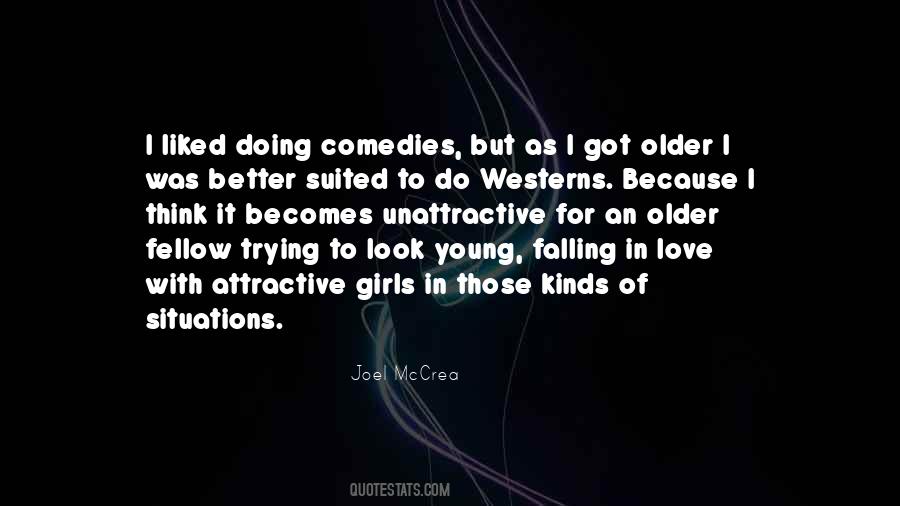 #8. My life got happier when I trusted my gut to tell me when to open the door or close the door. There is joy to be found in keeping away from people & situations which could harm my self-respect my peace my worth. - Author: Karen Salmansohn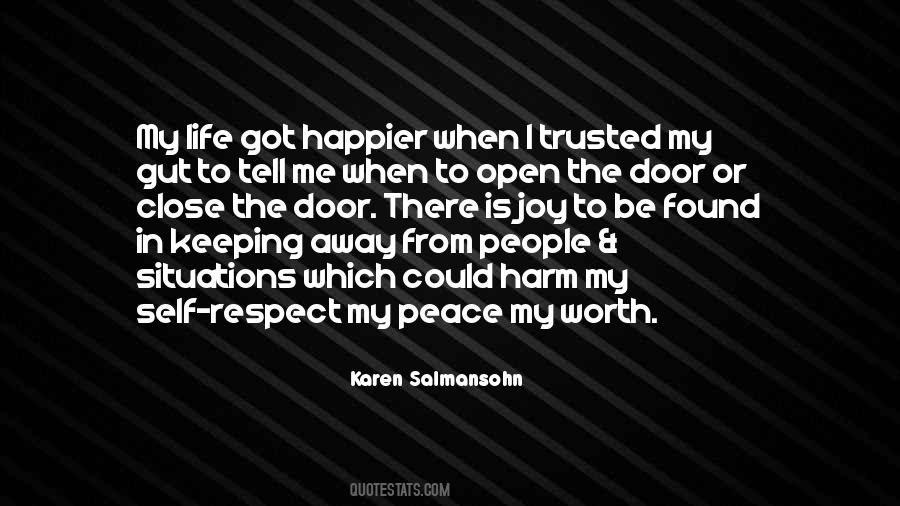 #9. As I began to love myself I freed myself of anything that is no good for my health - food, people, things, situations, and everything that drew me down and away from myself. At first I called this attitude a healthy egoism. Today I know it is Love of Oneself. - Author: Charlie Chaplin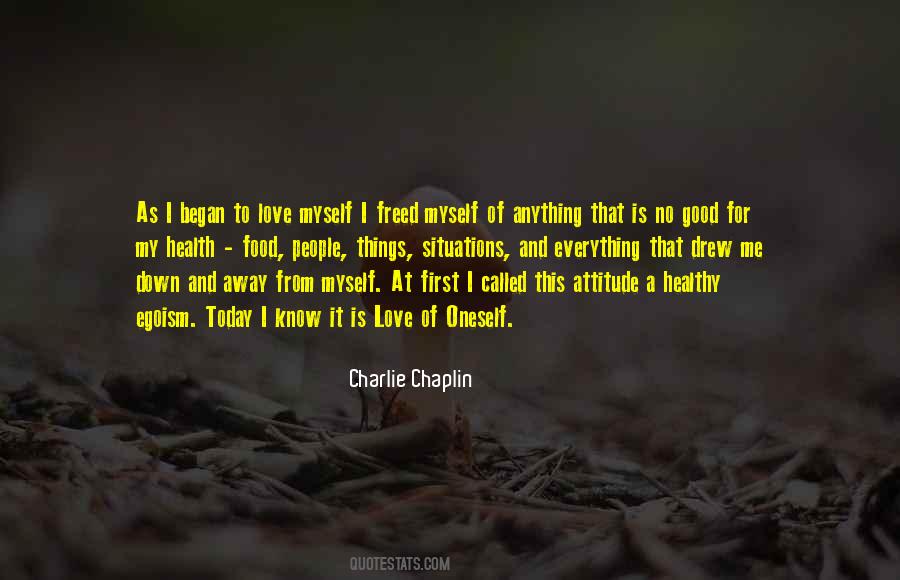 #10. I'm romantic. I fall in love every day. Not with people but with situations. The other day, I saw a tramp polishing his shoes. That just gripped my heart. - Author: Amy Winehouse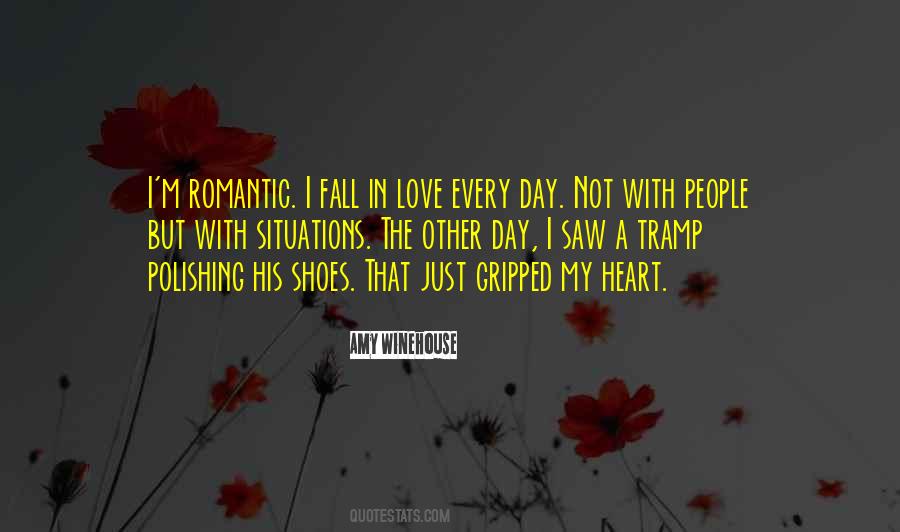 #11. Love does not choose belief, place, time, situations, or race. love happens between two souls. - Author: Haidji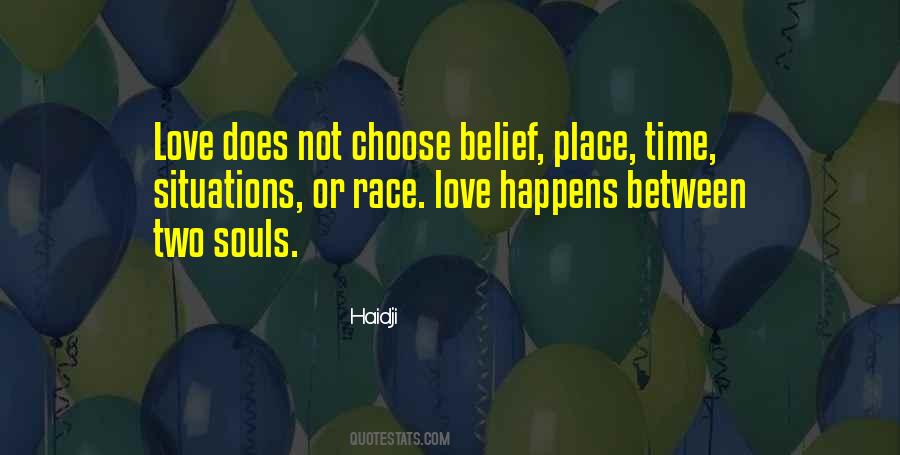 #12. They stood together in a false intimacy, a nervous contact. And he was in love with her. - Author: D.H. Lawrence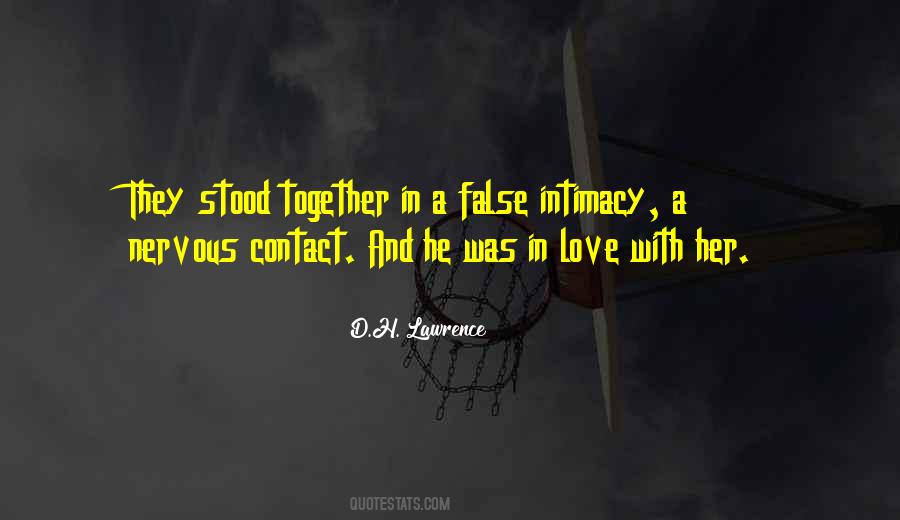 #13. I don't like when things don't match. I love some Eighties fashion, like Grace Jones but primary colours only work in certain situations. - Author: Kemp Muhl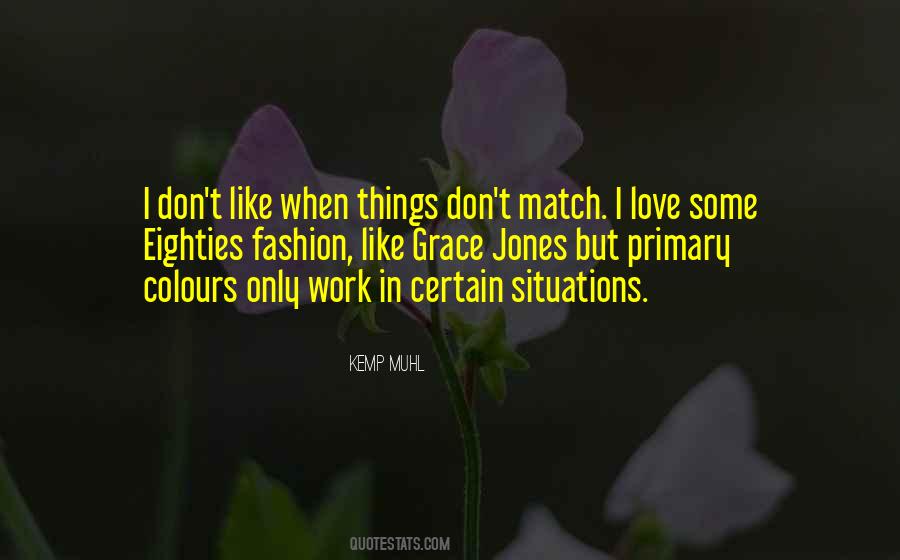 #14. I love watching people be totally committed in a very real way to stupid situations. I find it's not so much trying to be funny, it's trying to be real in a messed up context. That's comedy to me. - Author: Will Ferrell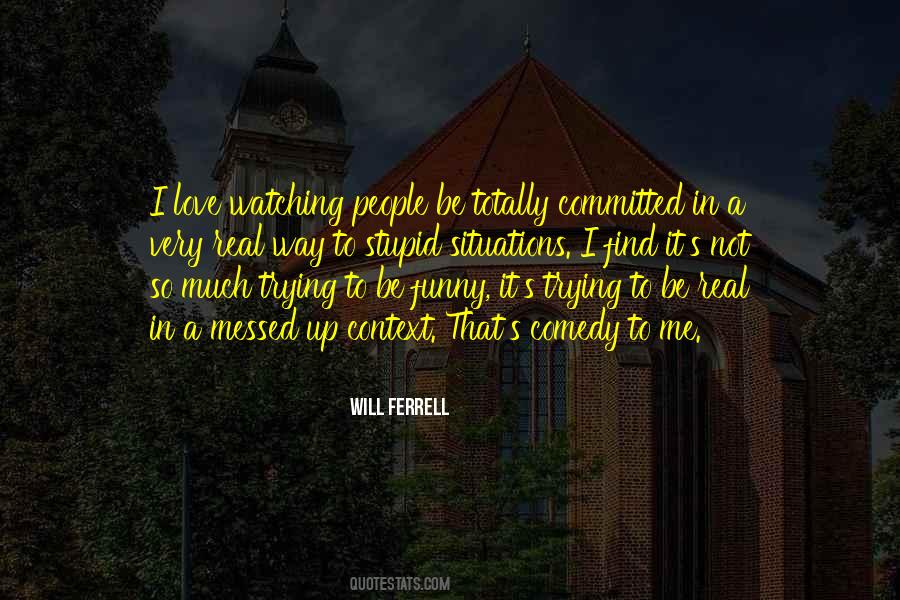 #15. It's easy to want peace and love in hypothetical situations - then reality sets in, and sometimes we have to do what's ugly. - Author: Richelle Mead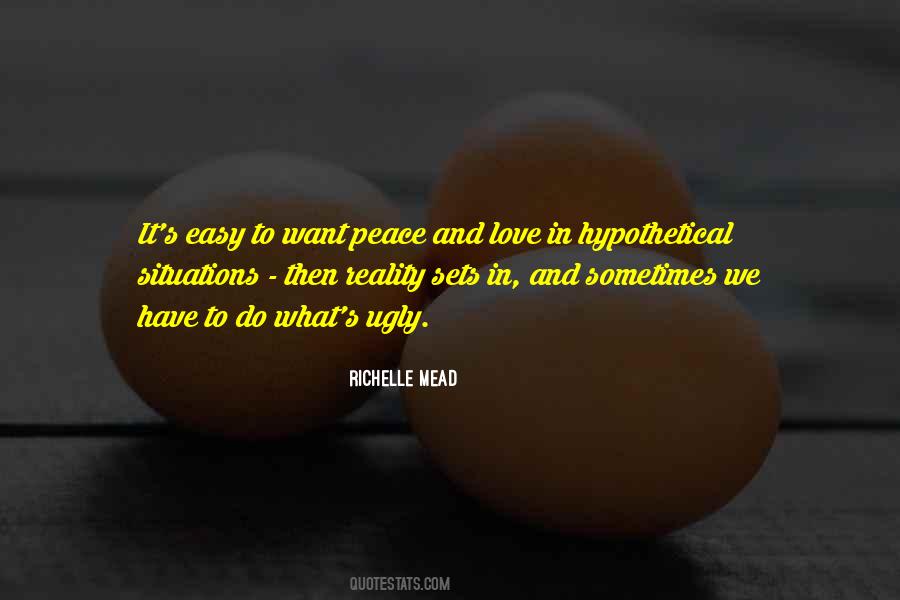 #16. It's not life situations but our thoughts are the pilots of grief. - Author: Durgesh Satpathy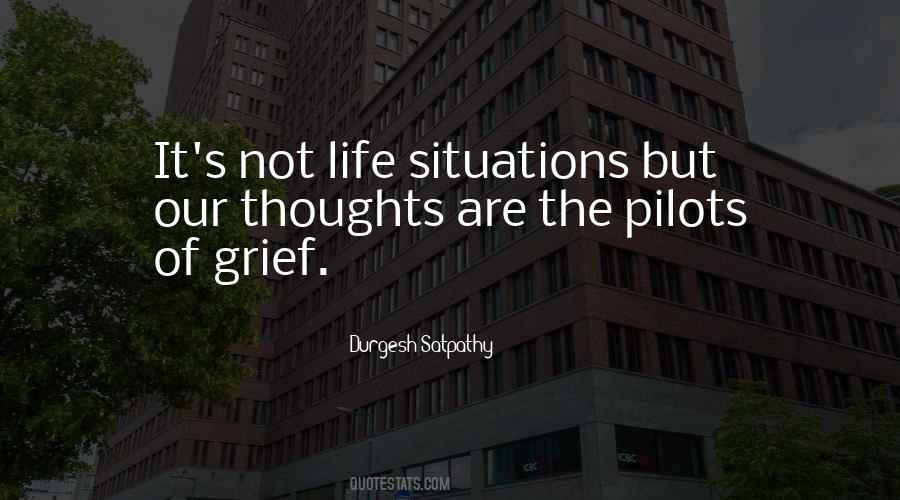 #17. Apathy is, too often, a result of overexposure to stressful, highly emotional situations. To rekindle empathy, sometimes we need some space. It's okay to walk away so that you can feel love for someone again. Sometimes for a moment. Sometimes forever. - Author: Vironika Tugaleva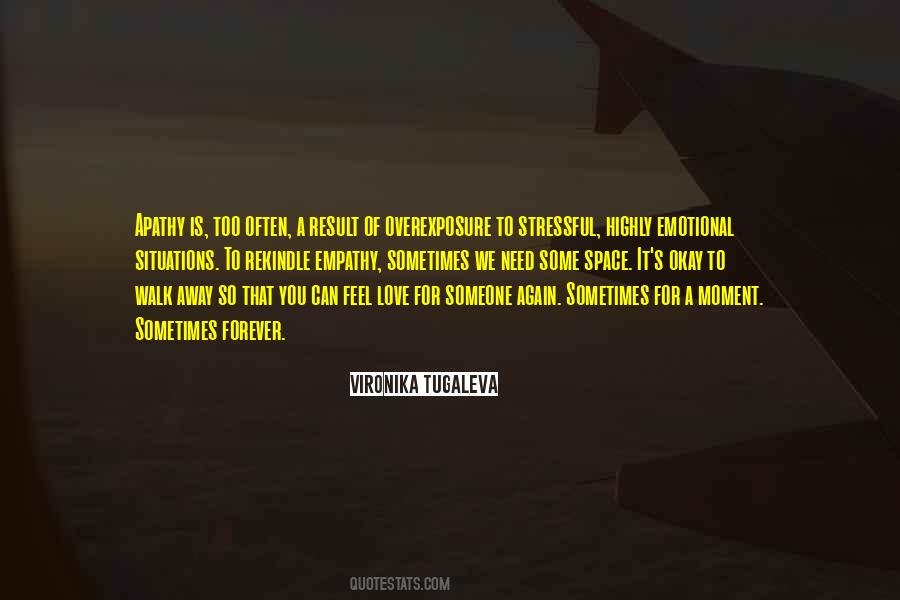 #18. The thing I love most about my job is watching people age backward, becoming more lively and energetic as they free themselves from situations that are toxic to their essential selves. - Author: Martha Beck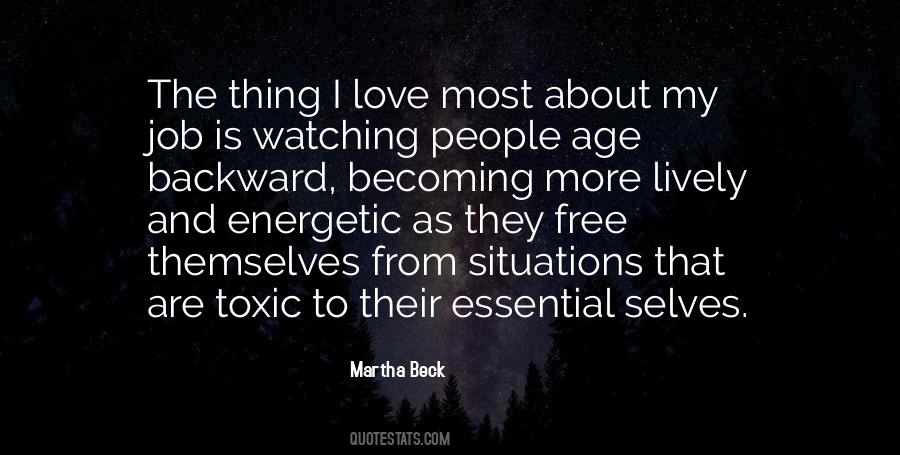 #19. I love watching Anthony Kim play, but I'm not a fan of the way he grips down a good two inches on his full-swing shots. Choking down lightens the club's swing weight and effectively makes the shaft stiffer. It also makes it difficult to hit the ball high enough for all situations. - Author: Lee Trevino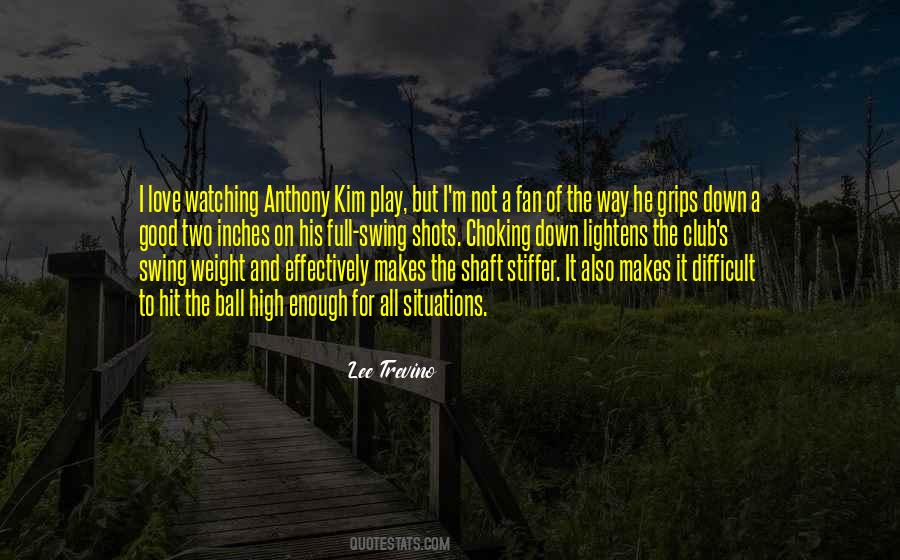 #20. I usually get myself into situations that cause sparks. I mean I'm a girl that likes the storms. I love feeling alive, I love walking out in the cold in my bare feet and feeling the ice on my toes. - Author: Tori Amos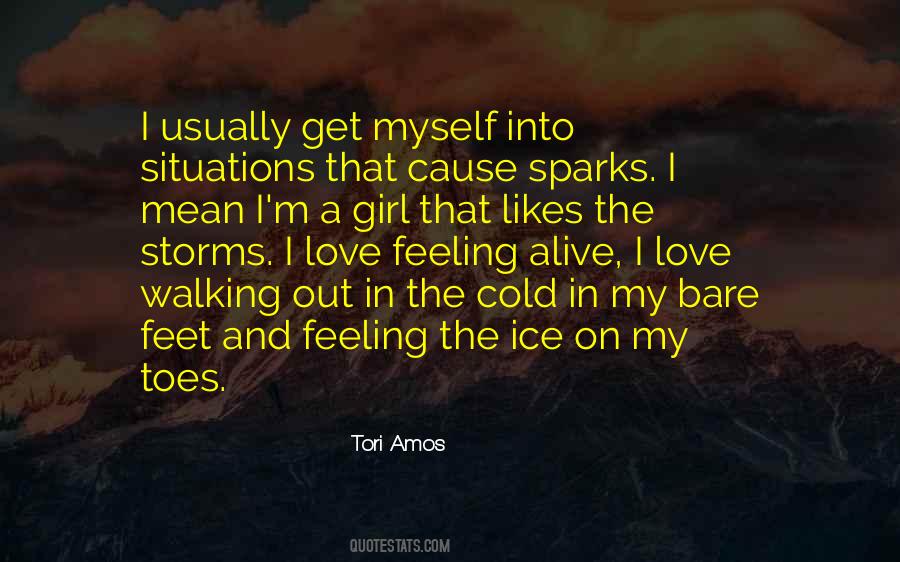 #21. I ride really well and I shoot a gun really well. I love the genre. Once I did Westerns, I was hooked. I love them, but there's been very few of them made. I never wanted to play a guy who was acting like a cowboy. I wanted to play someone who had a real life, but was also trapped into situations. - Author: Lance Henriksen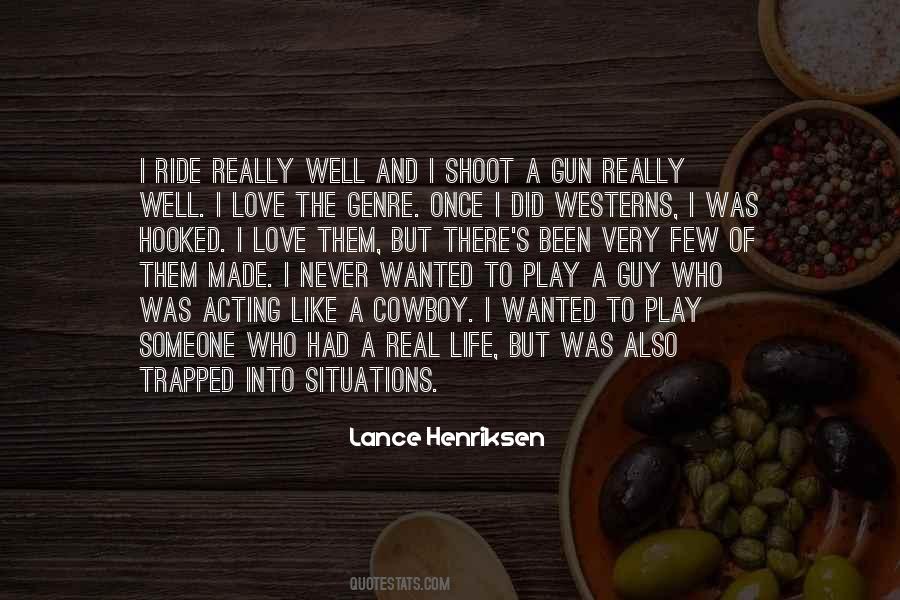 #22. The stories I love the most are where the author has a lot of empathy for everyone. The author loves their characters and takes their situations really seriously, and you feel like you're just dropped into a different world. - Author: Molly Antopol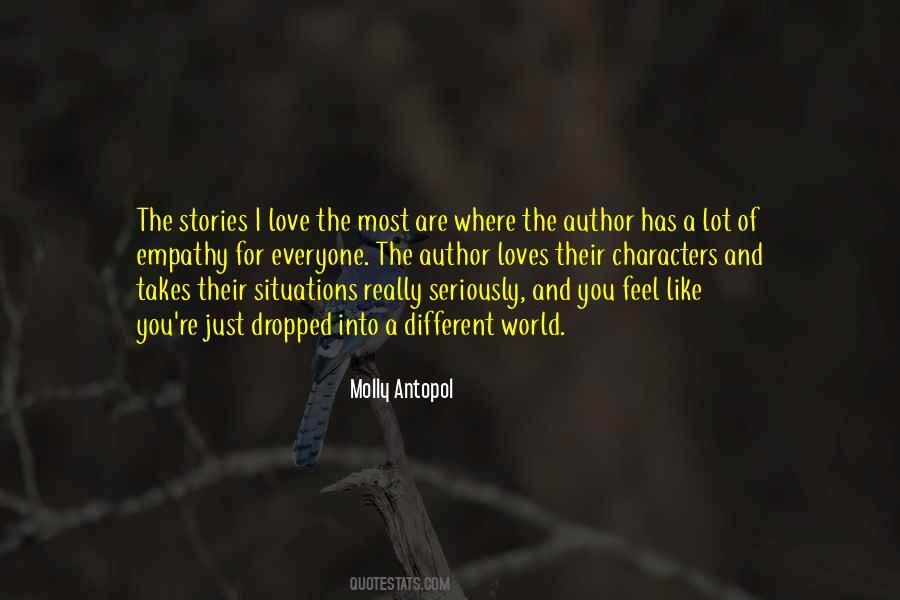 #23. Mindfulness and compassion can give you the power, illumination, love, and wisdom to draw higher forms, thoughts, feelings, and situations into your life. - Author: Amit Ray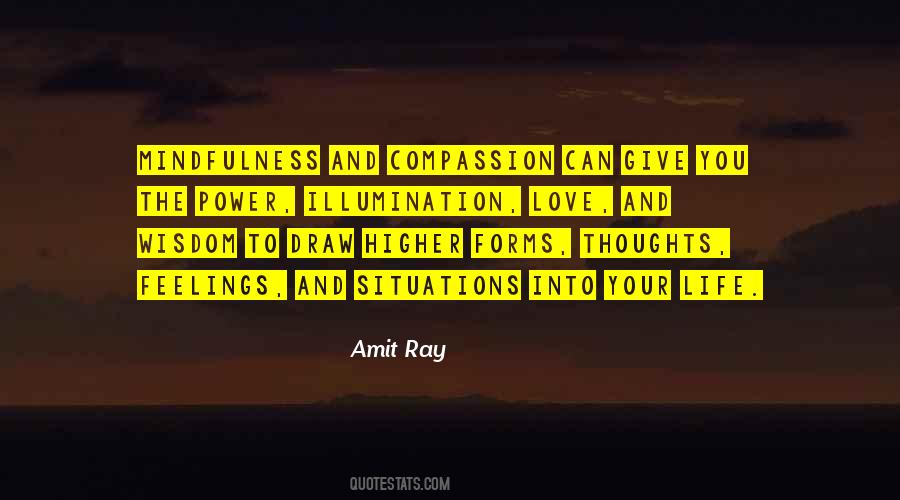 #24. When I said yes,
it implies till death,
and forever thence.

When I said love,
it connotes trust,
allied in situations tough.

And today,
when I hold your hand,
I am prepared to stand,
any trouble,
any avalanche. - Author: Jasleen Kaur Gumber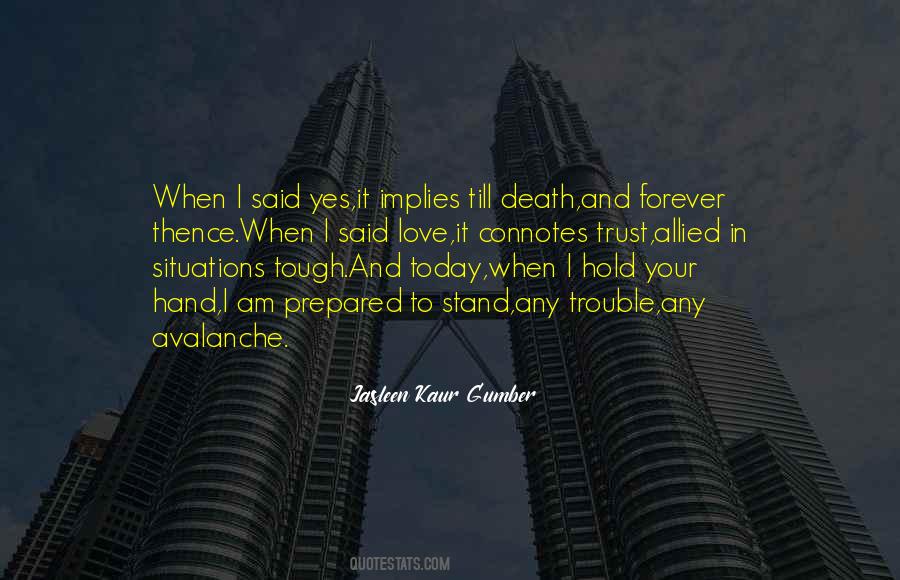 #25. You're in good spirits when you create and produce great music. All situations inspire music in different ways, man, from good situations, bad situations, depression, falling in love, falling out of love. I've been going through all those type of things. - Author: Big Sean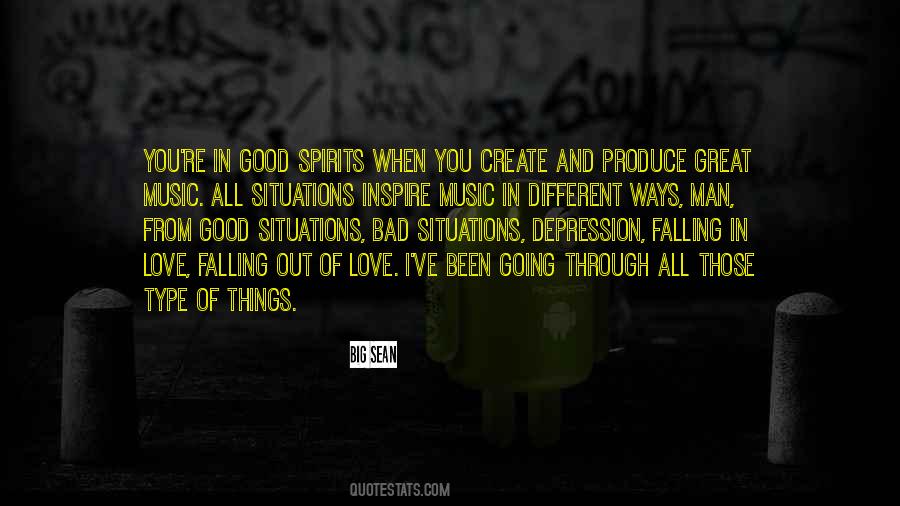 #26. Sometimes, even pretty simple situations can become tough, when the thing you love the most and the thing you have to sacrifice is the same. - Author: M.H. Rakib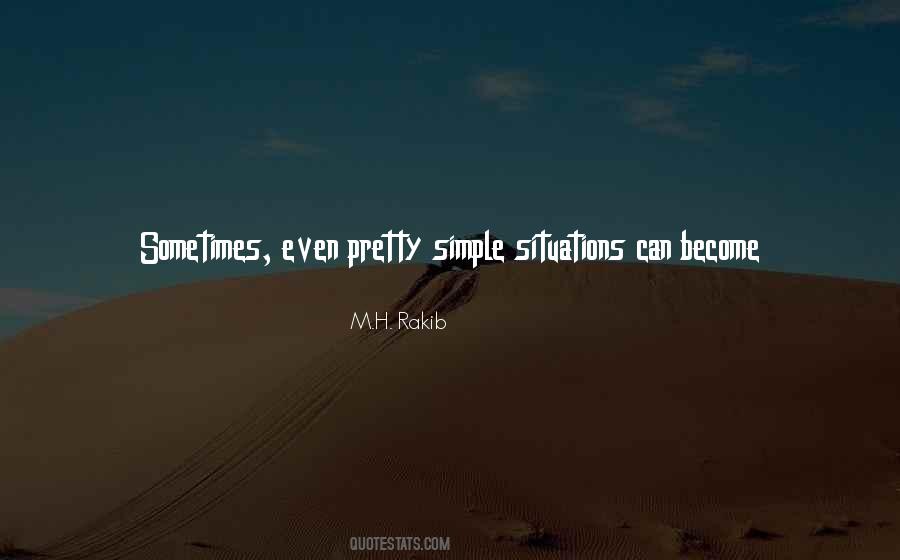 #27. Love may be able to force you into precarious situations, it may lead you into double-edged bonfires and you don't smell the smoke, you only see the temptation of a perfume. - Author: Laura Gentile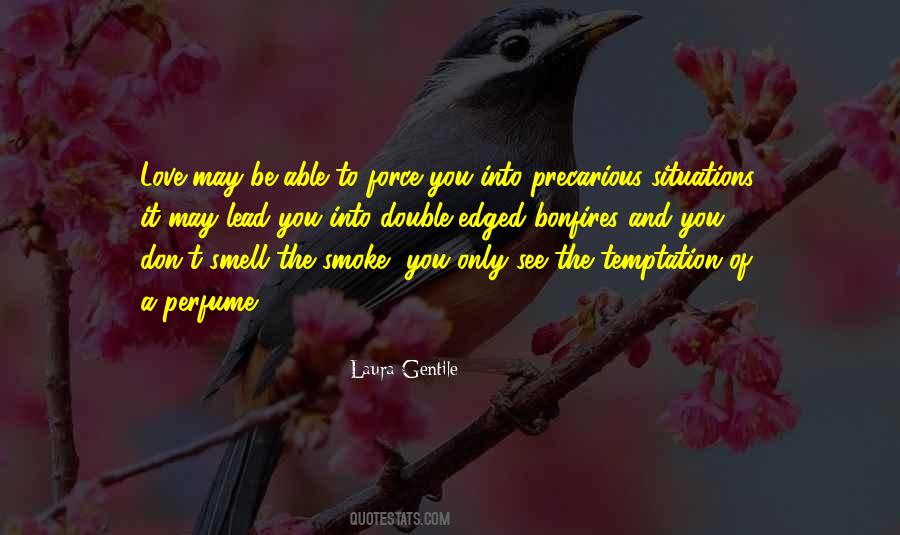 #28. You really just love those opportunities and being a competitior in those situations [when running against the best]. I think that's when the art of hurdling and love of competition are at their purest. - Author: Terrence Trammell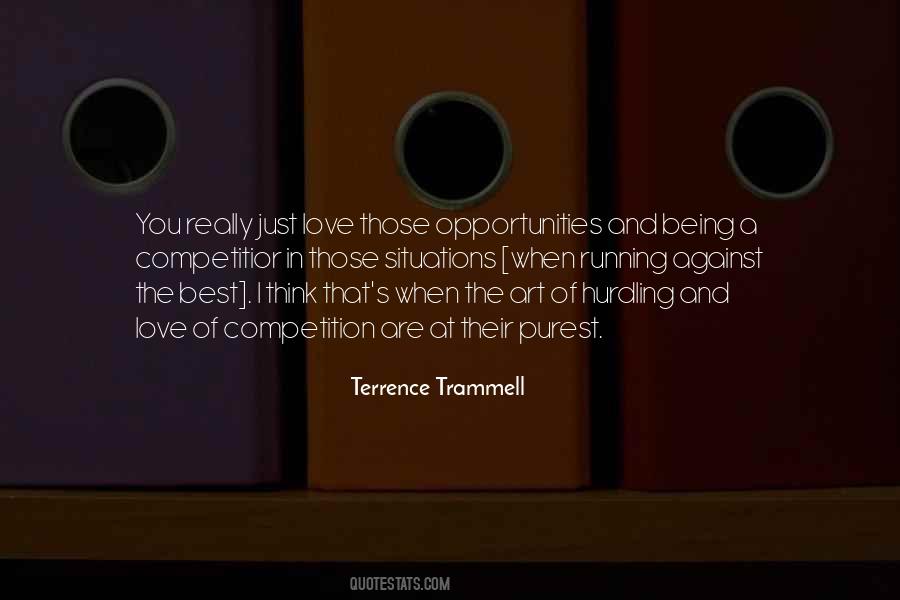 #29. I need little peace now,i cant handle the situations. - Author: Pavankumar Nagaraj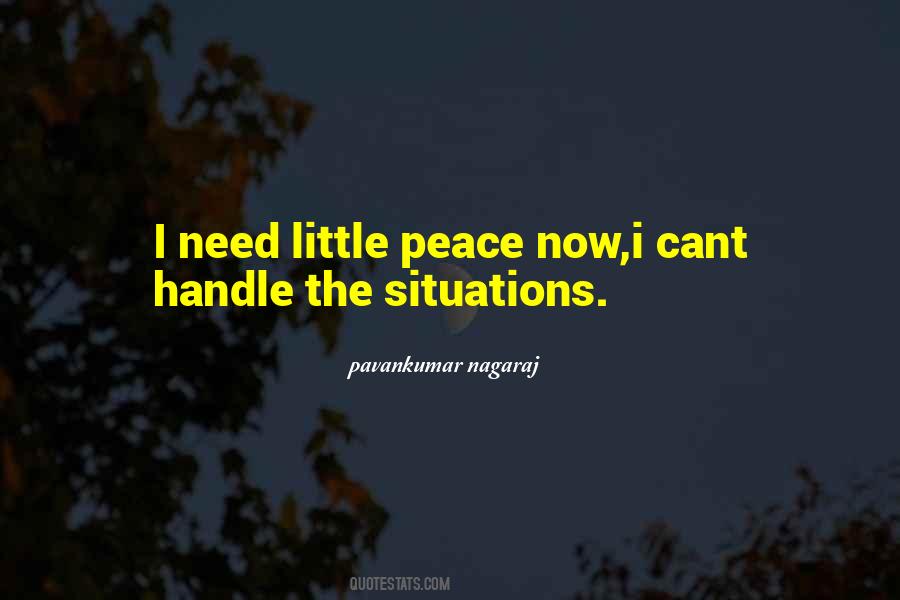 #30. I would be a liar and my fans would hate me if I said to them, 'Oh, we're perfect and everything is great.' We have situations just like everyone else. We're not out in public trying to kill each other, but it's real. We love each other. - Author: Mary J. Blige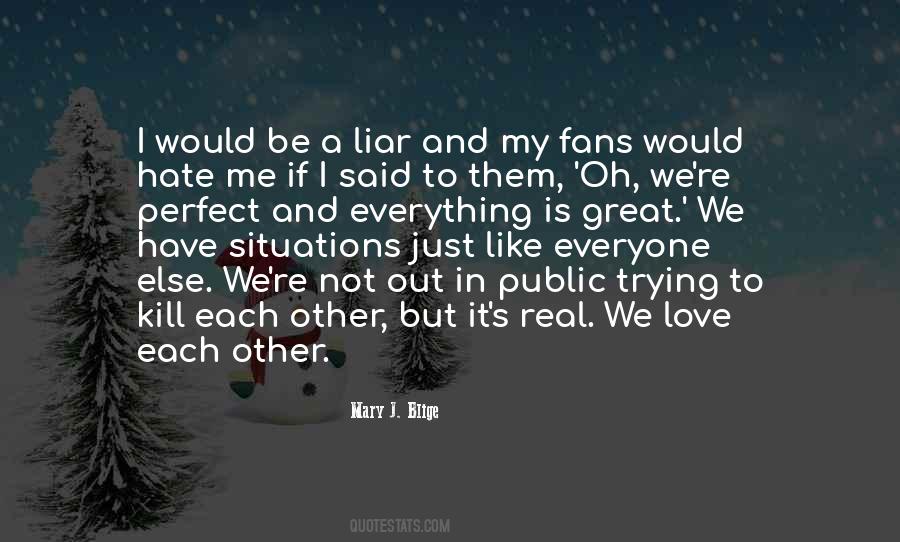 #31. I usually learn more from the situations I hate than the ones I love. - Author: Wally Lamb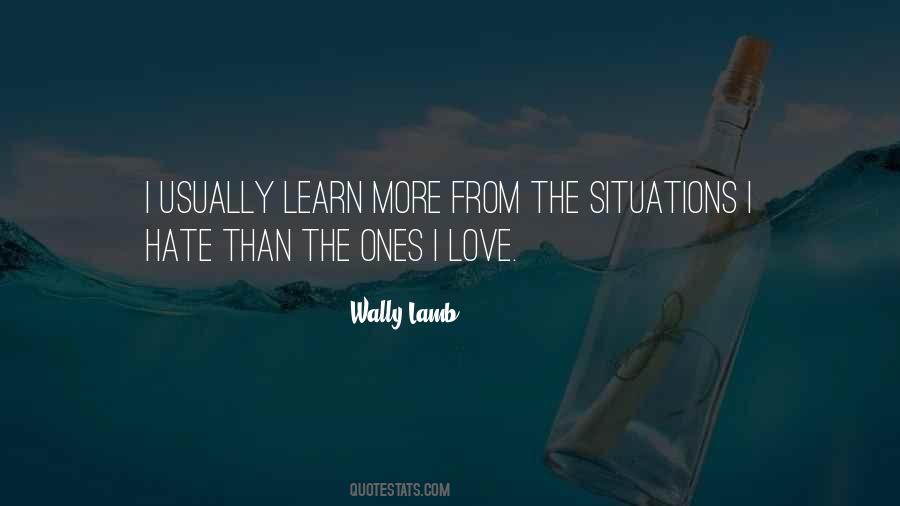 #32. Fairness is a concept that holds only in limited situations. Yet we want the concept to extend to everything, in and out of phase. From snails to hardware stores to married life. Maybe no one finds it, or even misses it, but fairness is like love. What is given has nothing to do with what we seek. - Author: Haruki Murakami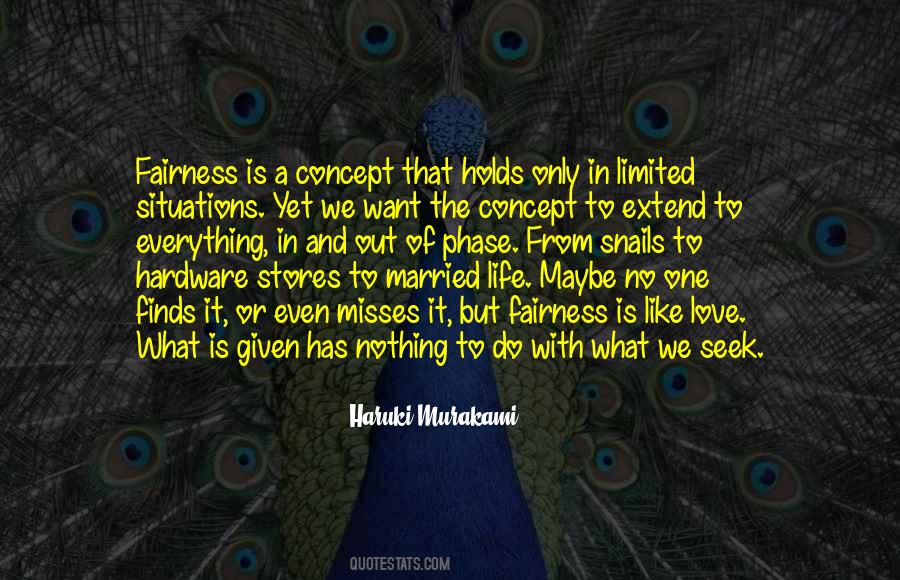 #33. People understand about family; people understand about being in situations where you have to be brave. People get falling in love. - Author: Deborah Mailman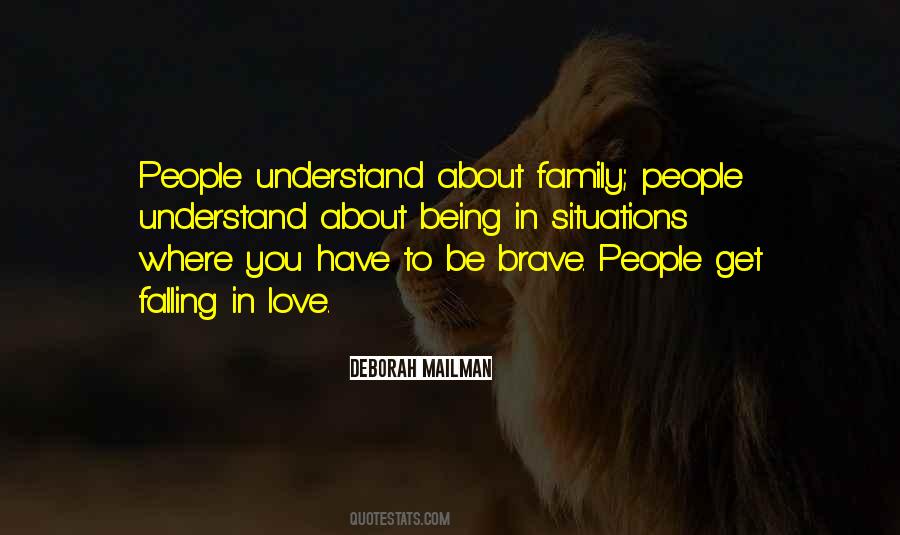 #34. I was very concerned about helping animals improve their situations. But that was out of love. It wasn't political or out of a belief that animals had rights. - Author: Sam Simon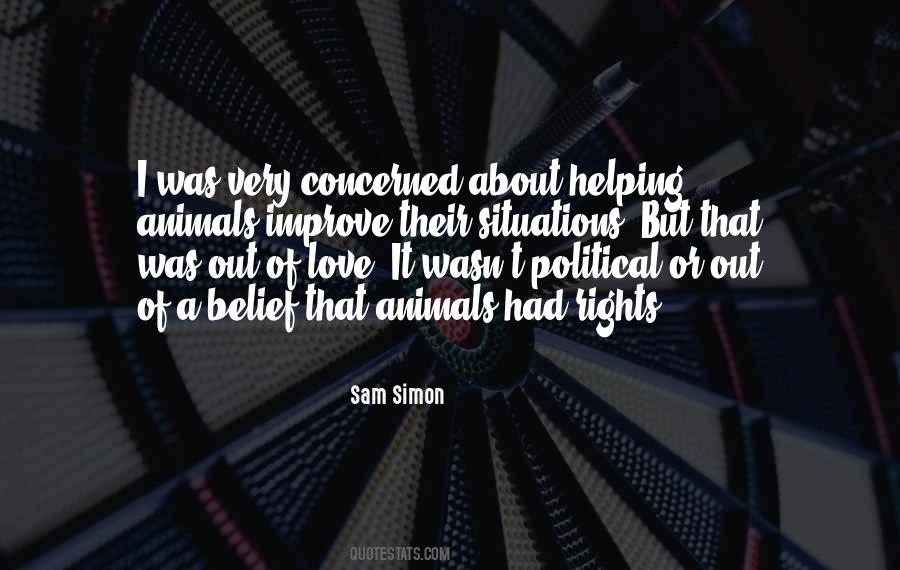 #35. People love that you're human and that we're frail and we face the same situations. Honesty tends to communicate with people better than standing up there like you have an 'S' on your chest. - Author: TobyMac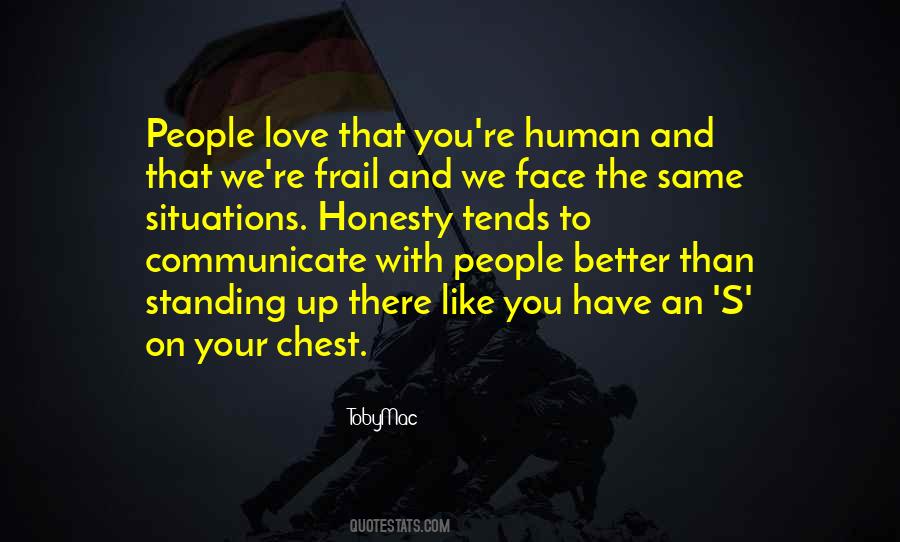 #36. I love performing. I love being a provocateur. I love putting myself in situations that are uncomfortable and that I have to get out of. - Author: Sandra Bernhard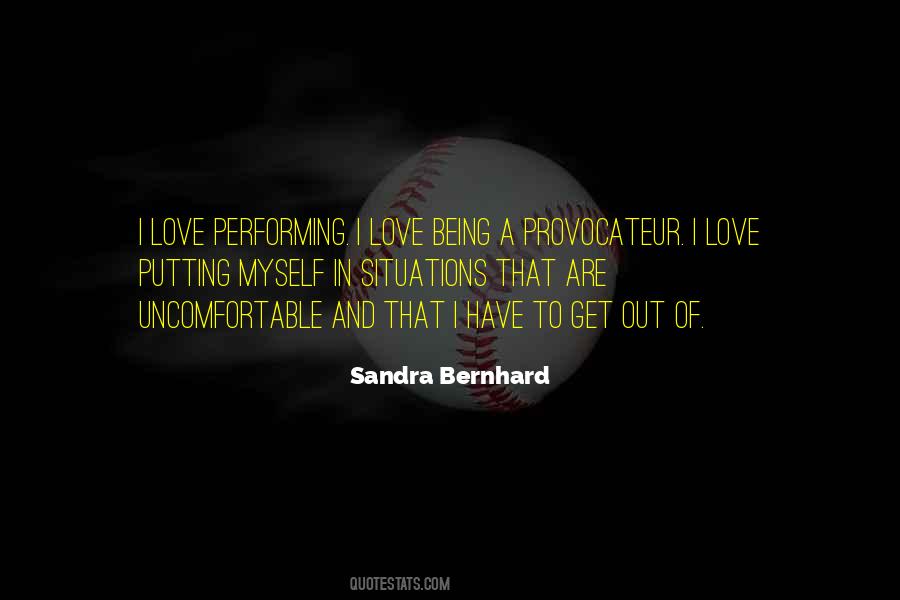 #37. I hate you," I say, the sentiment muffled against his heart, hoping to make it true.
"And I love you," he answers without hesitation, voice resolved and raw as he holds me tighter so I can't break away and react. "A crossroads, my beautiful princess, that was unavoidable - given our situations. - Author: A.G. Howard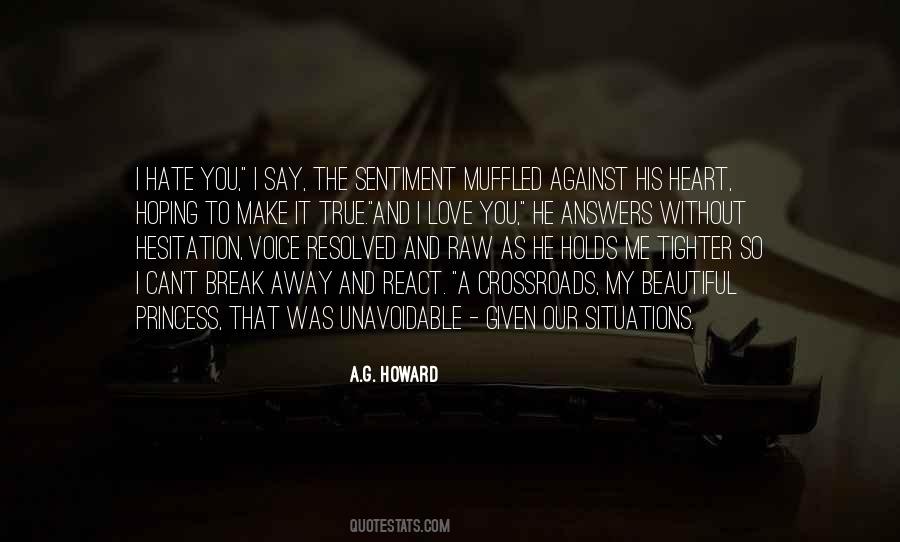 #38. Oh my god, two days ago I fell in love with the girl of my dreams. Tonight I find out she's insane - Author: Jill Mansell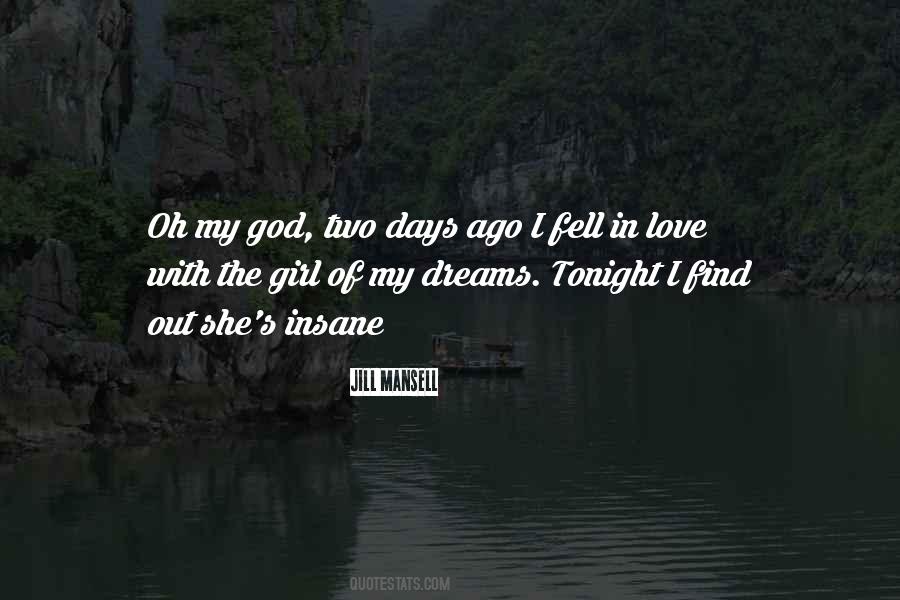 #39. I am not funny. The writers were funny. My directors were funny. The situations were funny ... What I am is brave. I have never been scared. Not when I did movies, certainly not when I was a model and not when I did I Love Lucy. - Author: Lucille Ball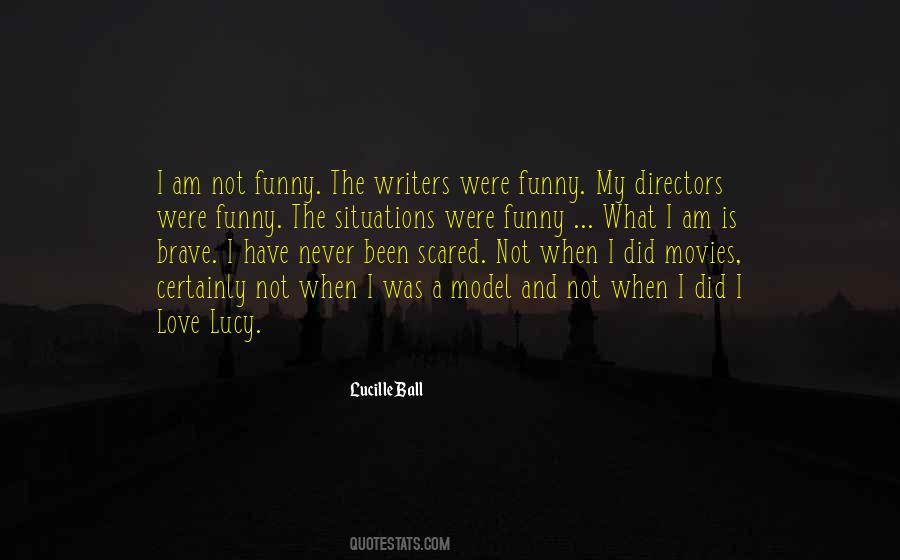 #40. The holidays often bring challenging conversations and situations. Sometimes holiness demands that we speak, other times it invites us to be silent. In all circumstances, though, we are called to love. - Author: Mark Hart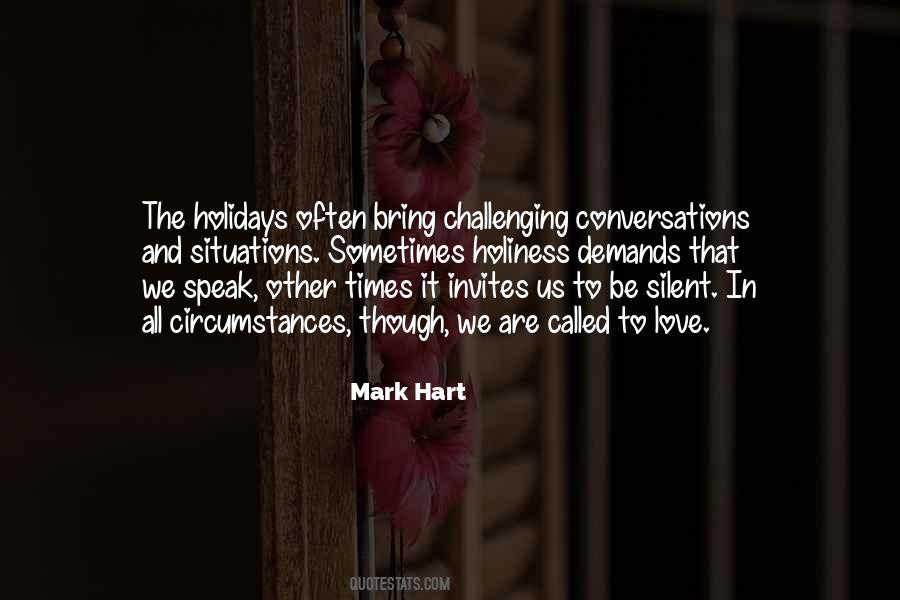 #41. I love to continue to challenge myself and put myself in situations that are slightly uncomfortable. - Author: Ron Perlman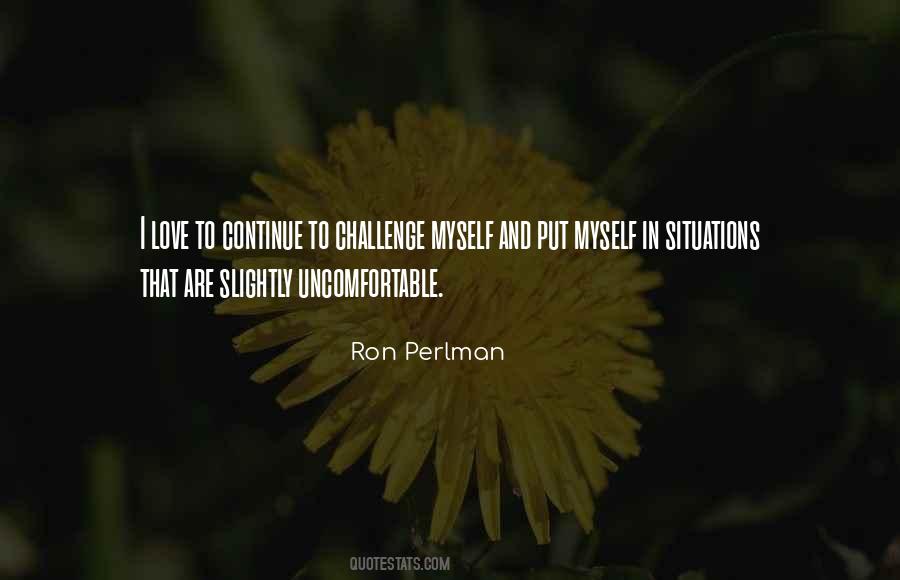 #42. It's such a noble word, unconditional. Brave. Blindly committing to situations it knows nothing about. - Author: Louise Gornall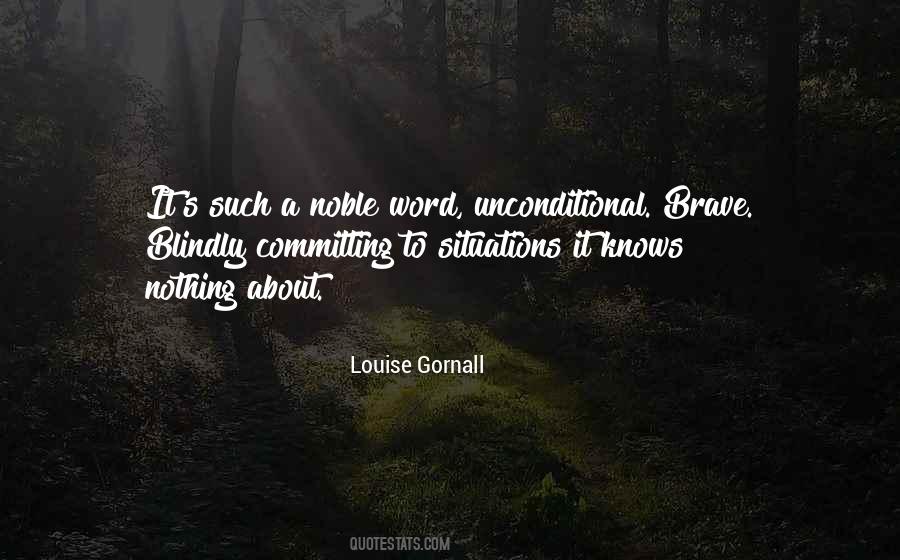 #43. If your everyday practice is open to all your emotions, to all the people you meet, to all the situations you encounter, without closing down, trusting that you can do that - then that will take you are far as you can go. And then you'll understand all the teachings that anyone has ever taught. - Author: Pema Chodron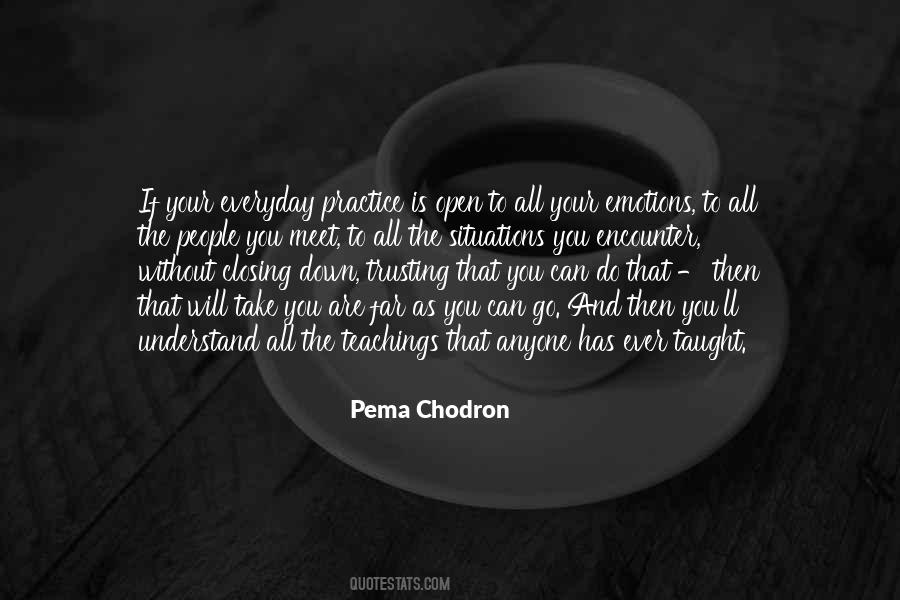 #44. Fill your hearts with love and gratitude. Life gives us what we need and not necessarily what we want. It follows its own wisdom, which is often incomprehensible to our gross minds. We should learn to accept situations in life. This attitude of acceptance is the secret to happiness. - Author: Mata Amritanandamayi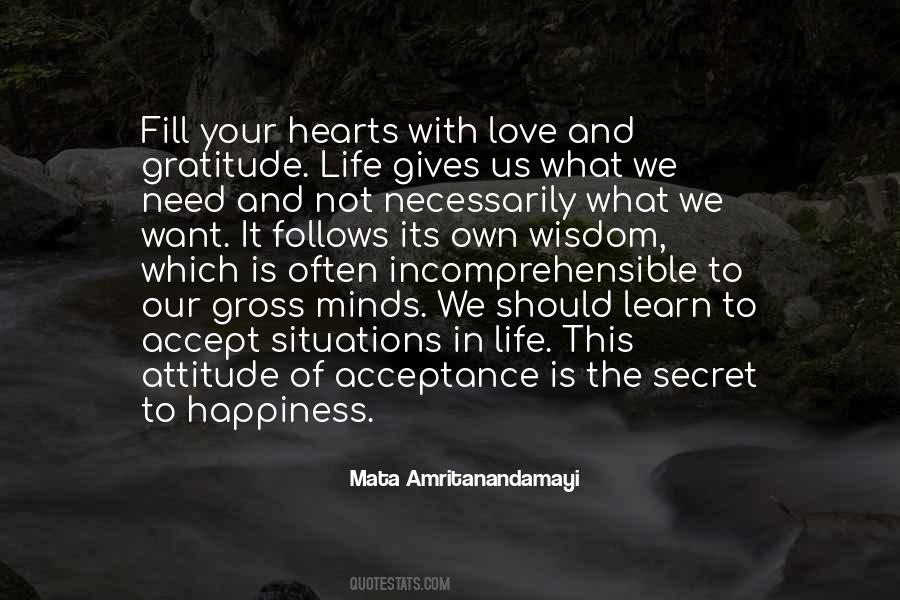 #45. I think Pope Francis is a good shepherd and has great experience in following people in joyful, but also distressing situations and he knows what he is speaking about when he discusses how to accompany families in their lives toward joy and love. - Author: Christoph Schonborn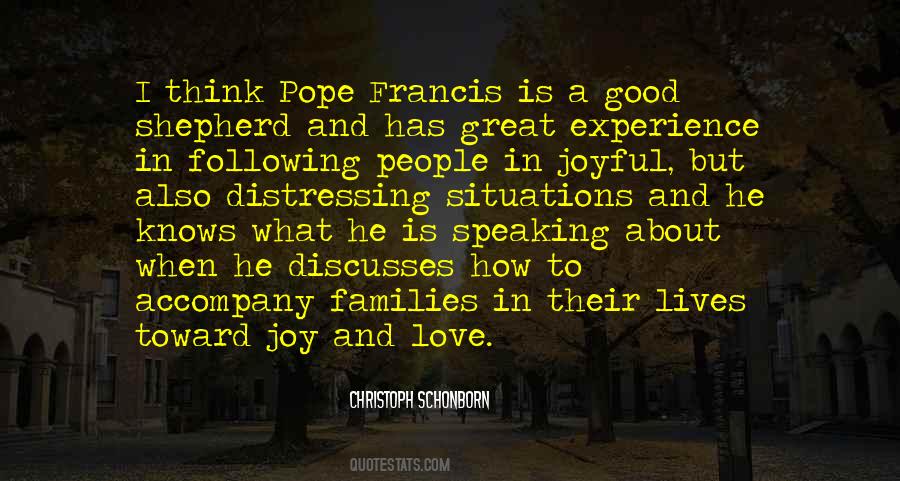 #46. You're put in certain situations and it kind of opens up those doors and it opens up your eyes to realize what your true calling was. - Author: Rico Love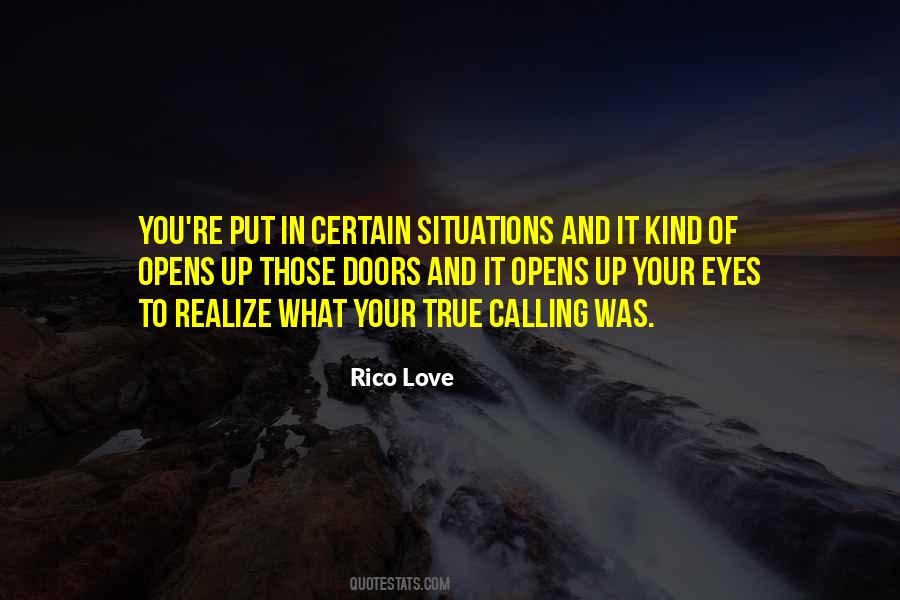 #47. Spend as much time as you can with the people you love, and put yourself in as many situations as possible with those people who enable you to look back and say, "Man, remember that time we . . .; I can't believe that actually happened! - Author: Steve Kamb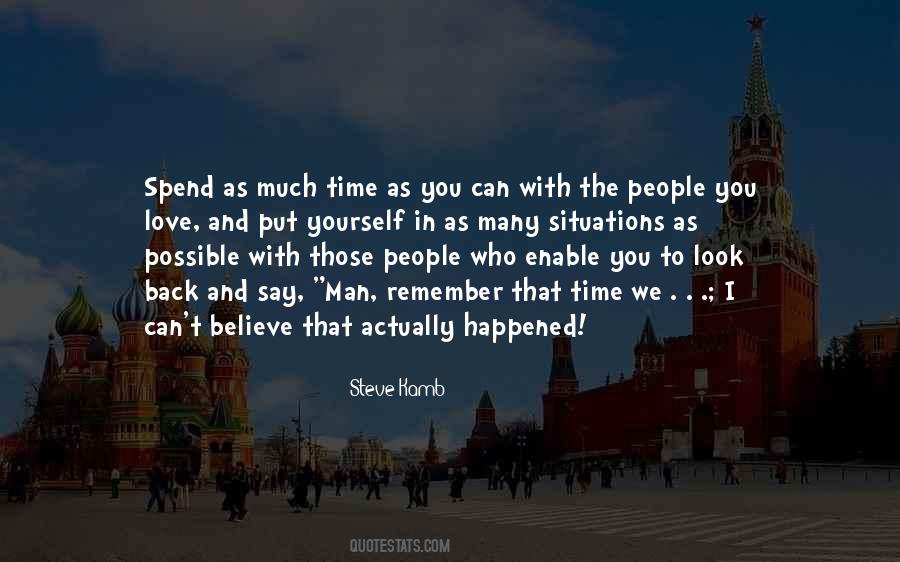 #48. God allows our circumstances to change, so we can learn to love Him in all situations. Our love for God is based on an unchanging Jesus. - Author: Alisa Hope Wagner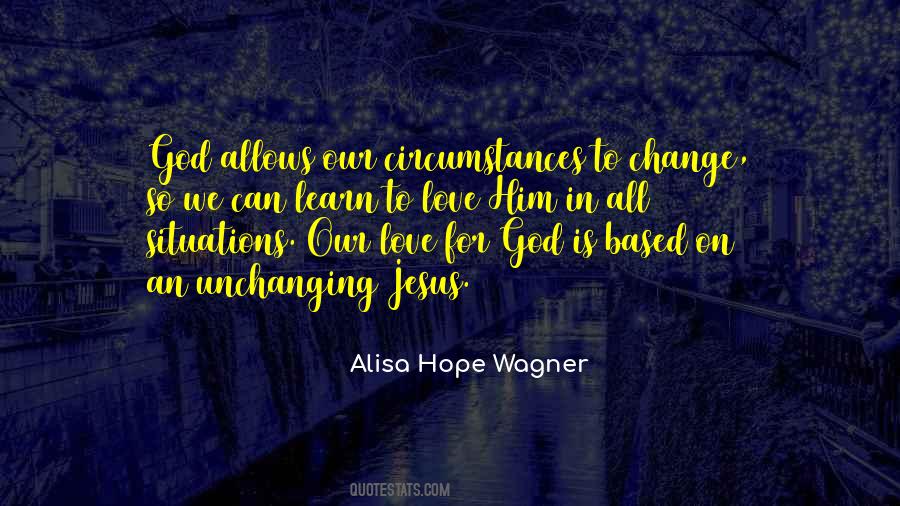 #49. If I want to live in a peaceful world, then it is up to me to make sure that I am a peaceful person. No matter how others behave, I keep peace in my heart. I declare peace in the midst of chaos or madness. I surround all difficult situations with peace and love. - Author: Louise Hay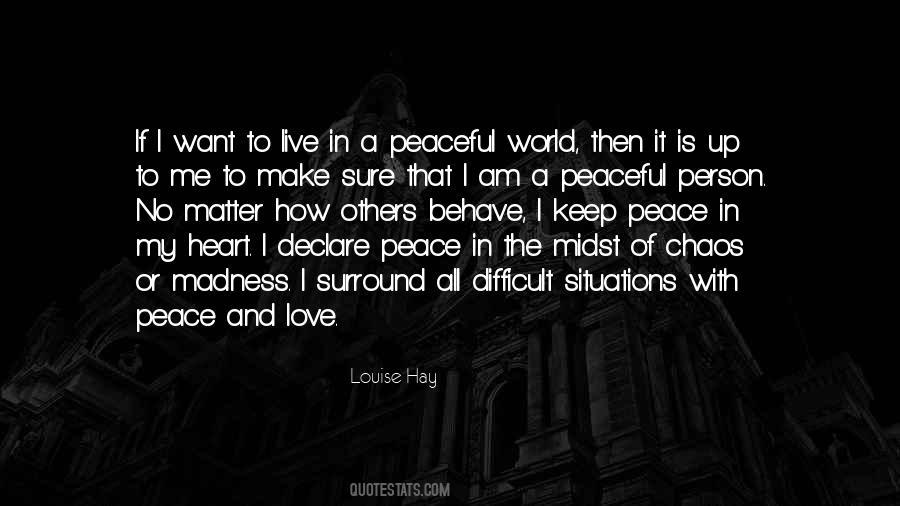 #50. Virtually every kid is exposed to giants and ogres and talking wolves, and so forth. And magic. And I think you never outgrow your love for those imaginative, fanciful, farfetched, fantastic characters and situations. - Author: Stan Lee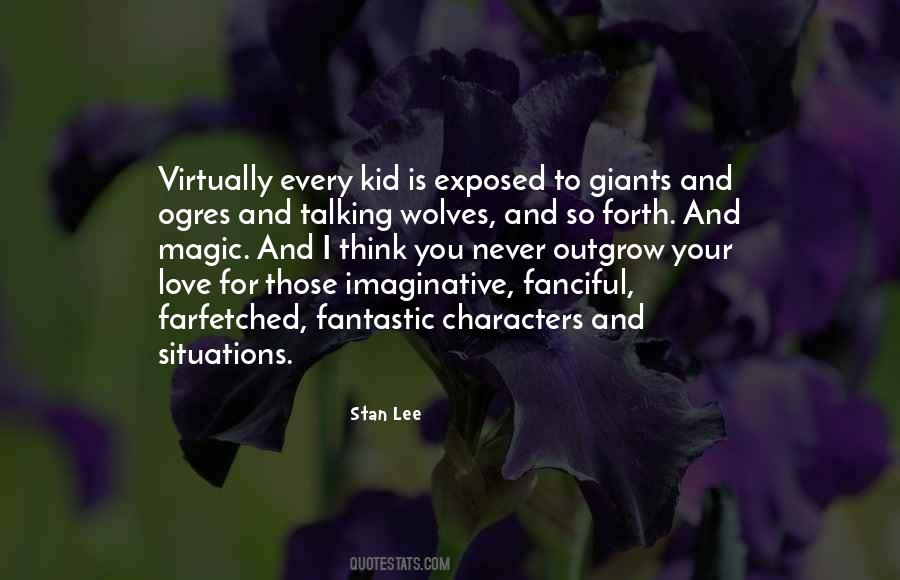 #51. I love any and all situations where you celebrate creativity. - Author: Brad Paisley
#52. Hopeless situations are never hopeless to God. - Author: Chip Ingram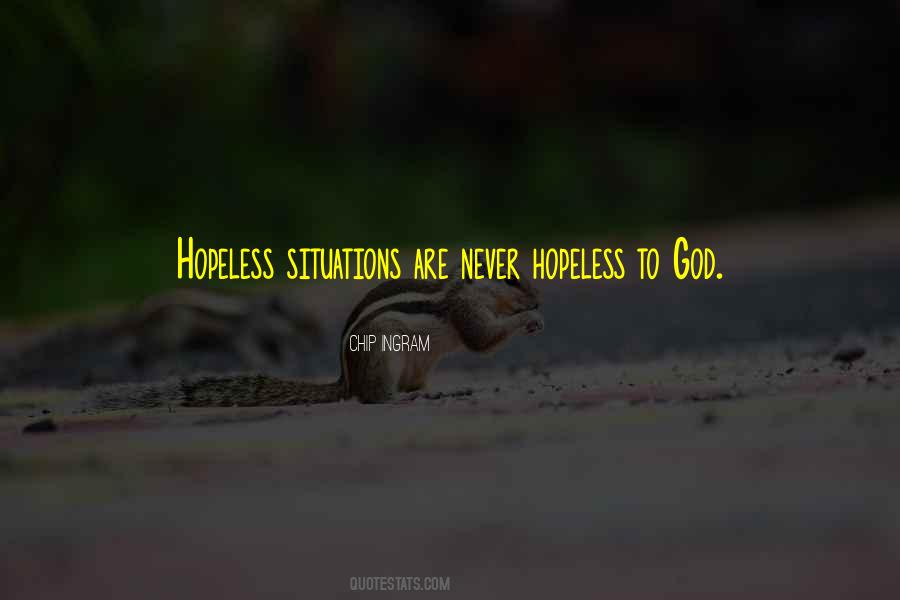 #53. I fall in love every day. Not with people but with situations. - Author: Amy Winehouse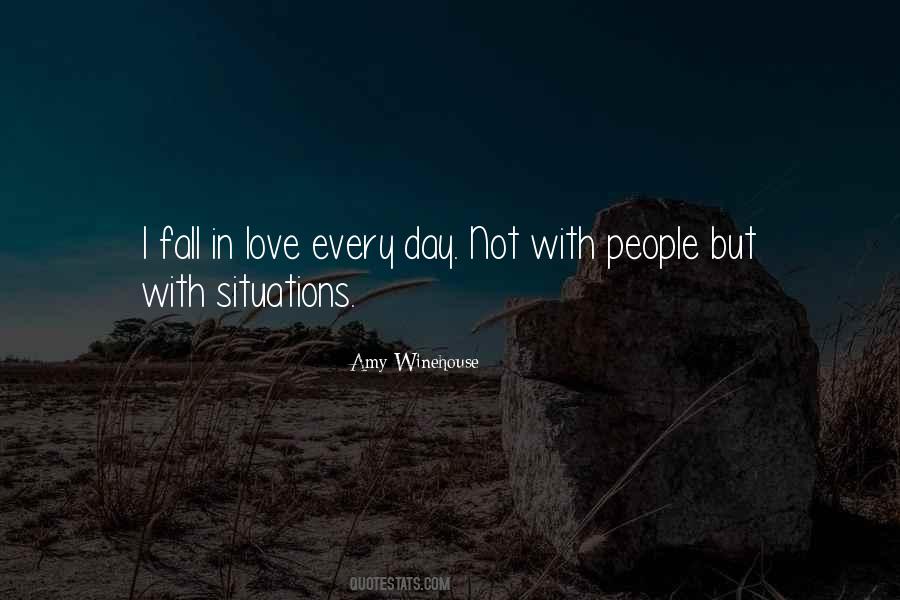 #54. The fastest way to a man's heart is by tearing a hole through his rib cage_T-Shirt - Author: Darynda Jones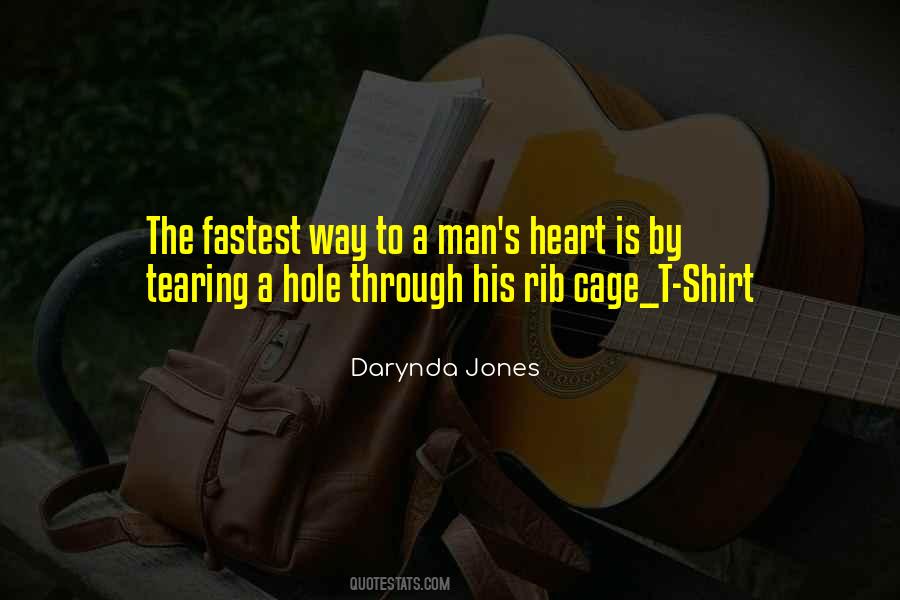 #55. I hope I make people feel better. I hope I take people out of their situations a little bit and make them happier. That's really why I do what I do. - Author: Ellen DeGeneres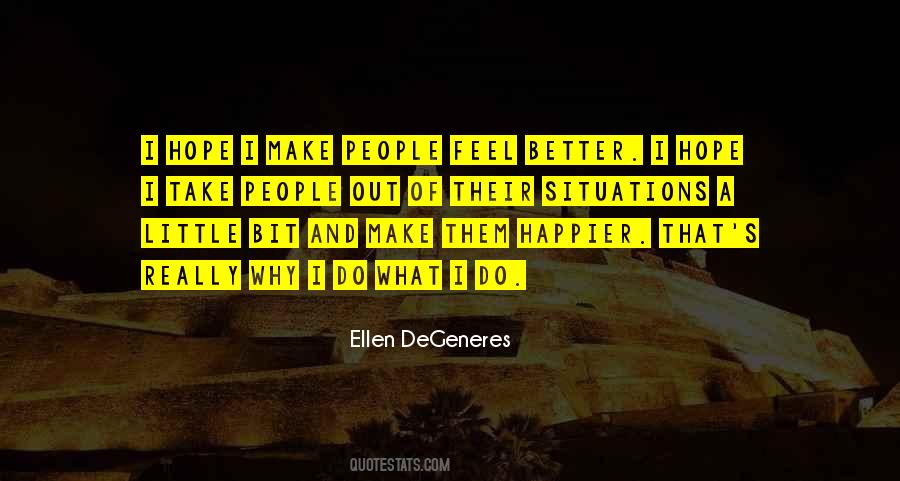 #56. I think we take for granted police officers and detectives that walk into some pretty heinous situations, and they really have to be very brave. So I love playing a character that's very brave - someone that kind of dives in the fire to figure out what's happened. - Author: George Eads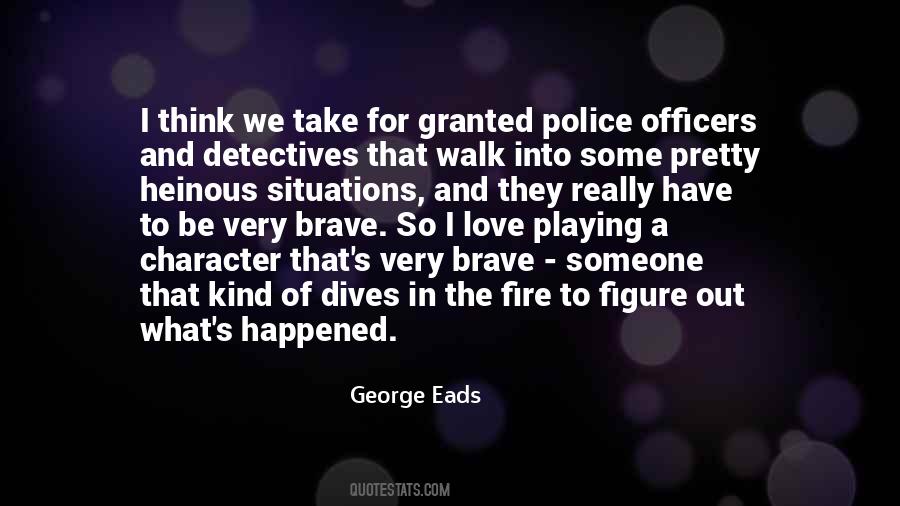 #57. I like doing movies about personal situations; that's what I love about dealing with things. I don't like superhero things, I like real-people things. - Author: Will Gluck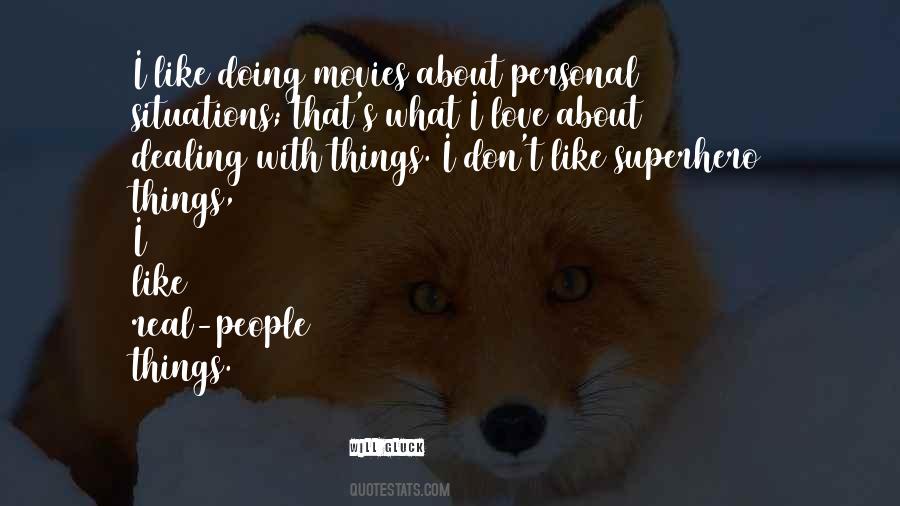 #58. When you have endure the worse situations, you build the courage and confidence to cope with any other situations. - Author: Lailah Gifty Akita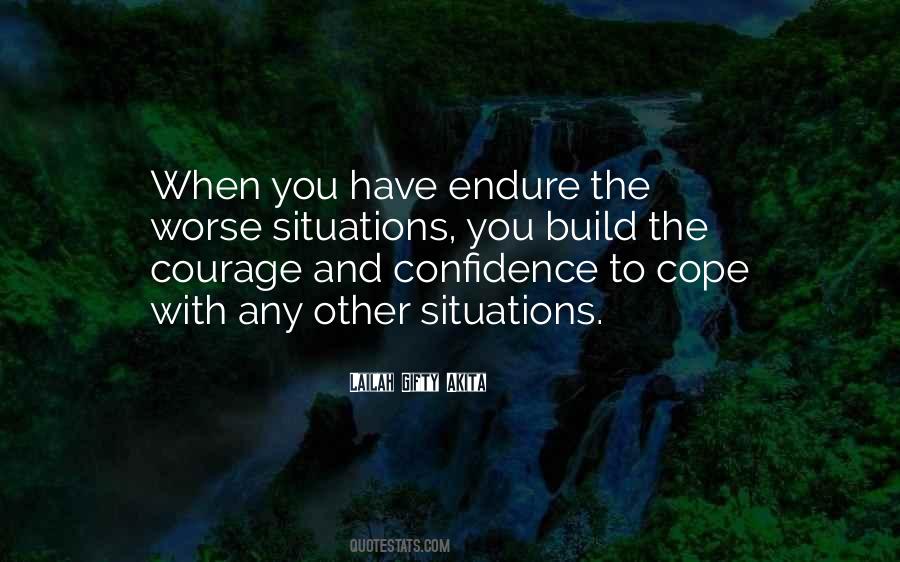 #59. When we choose to love people and the wonderful things around us, it always puts us one step above the people who choose not too. There's a peace we'll carry in our hearts. A feeling of being worthy of all situations. - Author: Ron Baratono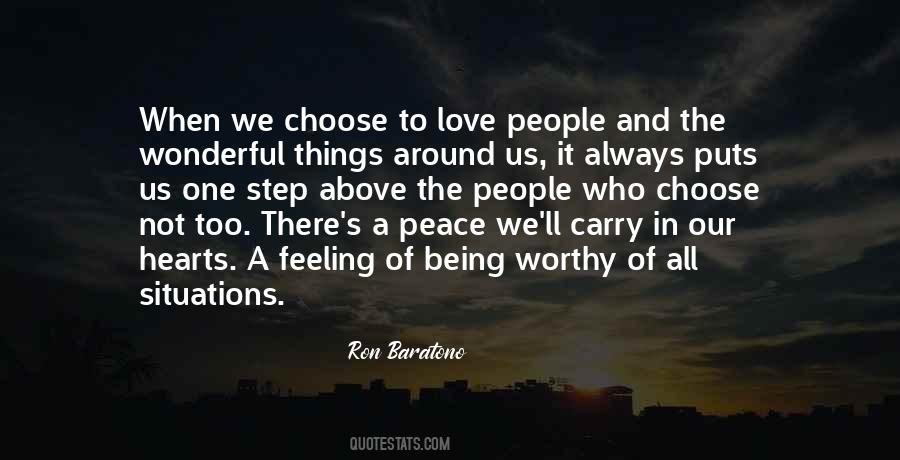 #60. When something flipping out to the worse, don't feel bad. But be strong and make yourself hard so that the situations stop taking chance to hurt you. - Author: Giridhar Alwar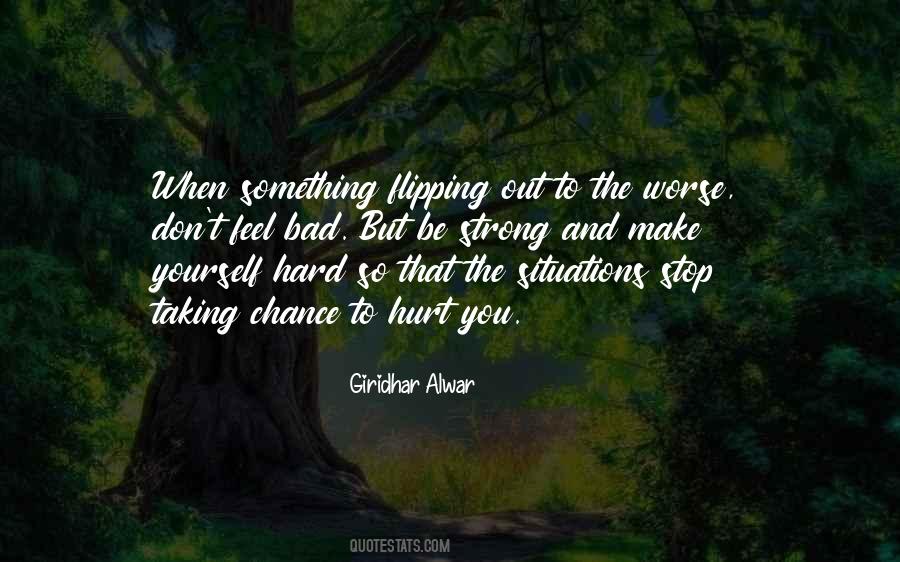 #61. It was no wonder my love life was so messed up when the most profound and intimate moments were always being interrupted by dire situations - Author: Richelle Mead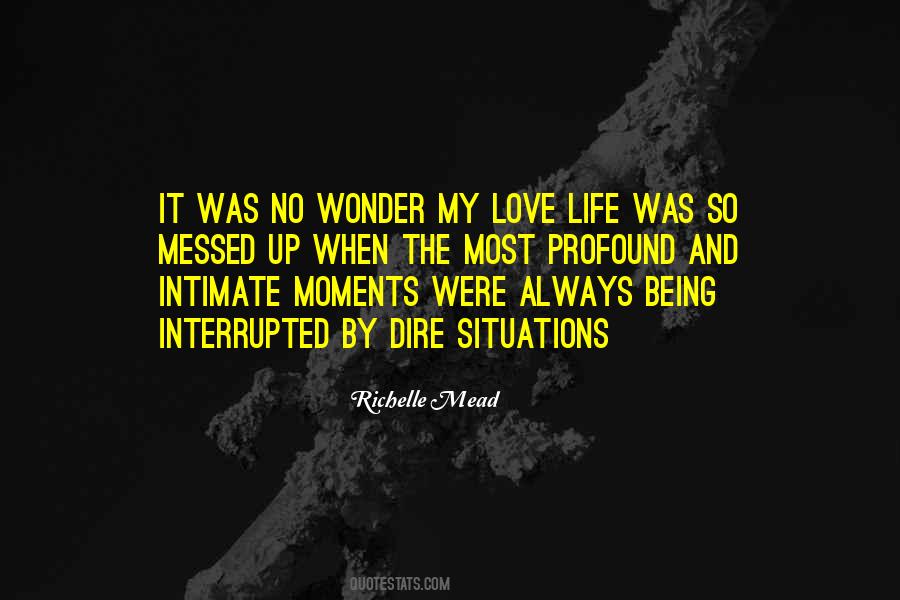 #62. Self-love is almost always the ruling principle of our friendships. It makes us avoid all our obligations in unprofitable situations, and even causes us to forget our hostility towards our enemies when they become powerful enough to help us achieve fame or fortune. - Author: Madeleine De Souvre, Marquise De ...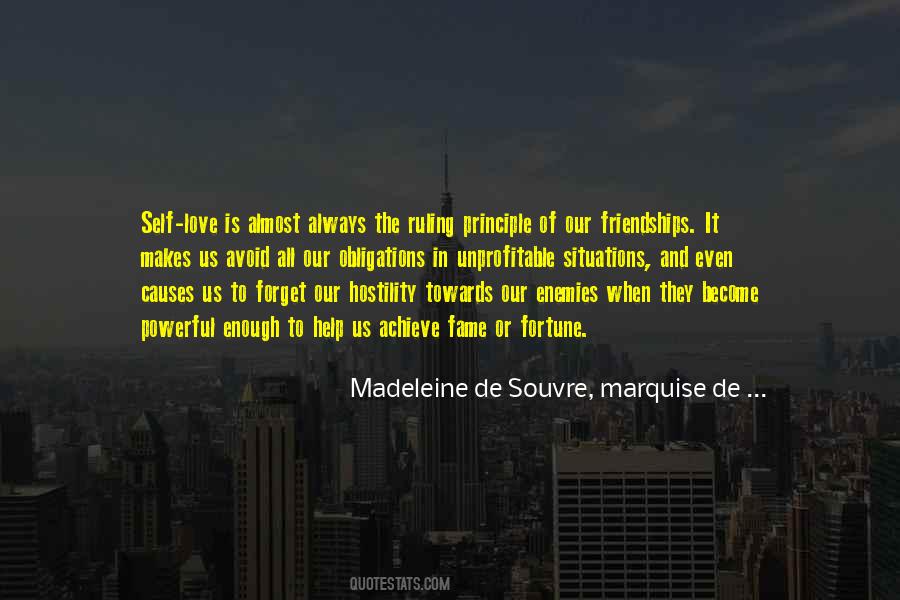 #63. The things I see every day inspire my sound and lyrics, like certain people and situations that stick out in my mind. There are also certain musicians I love whose music and styles inspire me. - Author: Birdy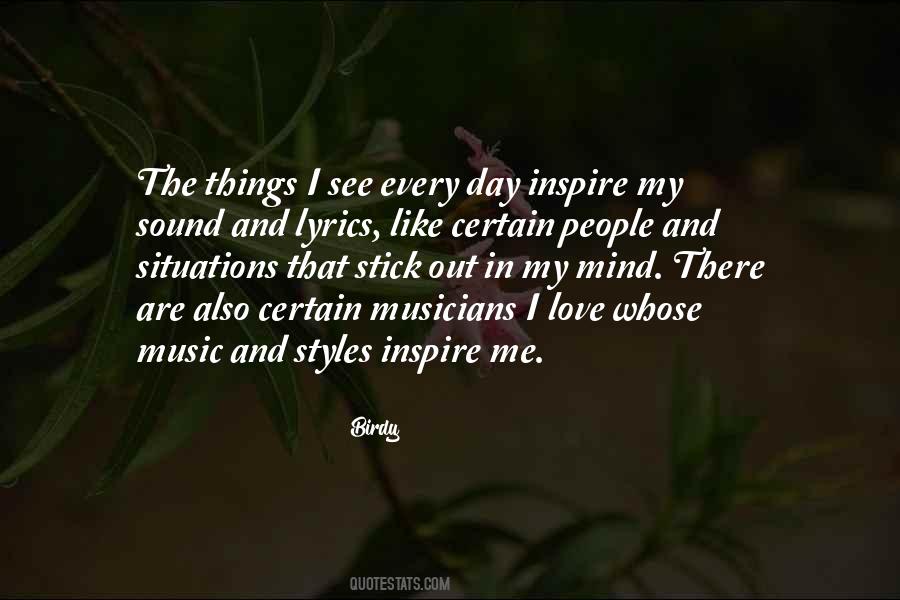 #64. Anything can happen in love, war and South Inidan movies. - Author: Jennifer Bernard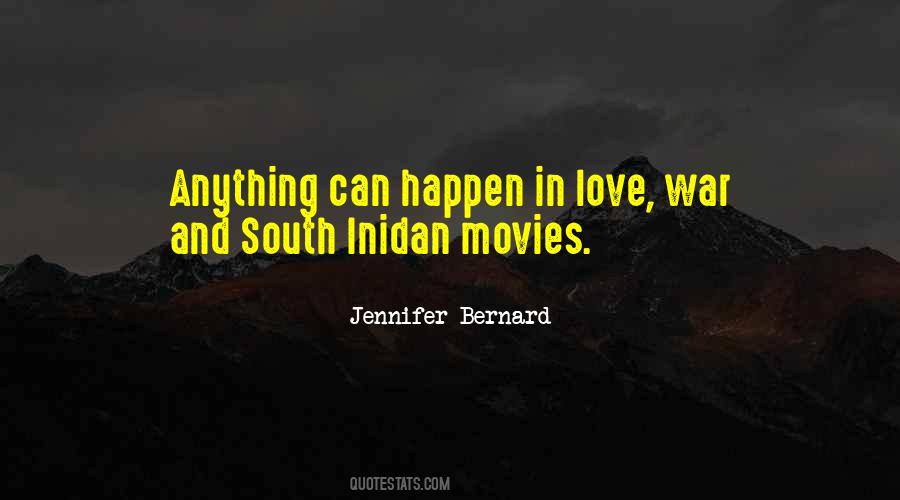 #65. Can I ask you something?" Jo
"Maybe" Thorn
"What's between you and Karma?" Jo
"Right about now ... three miles." Thorn - Author: Sherrilyn Kenyon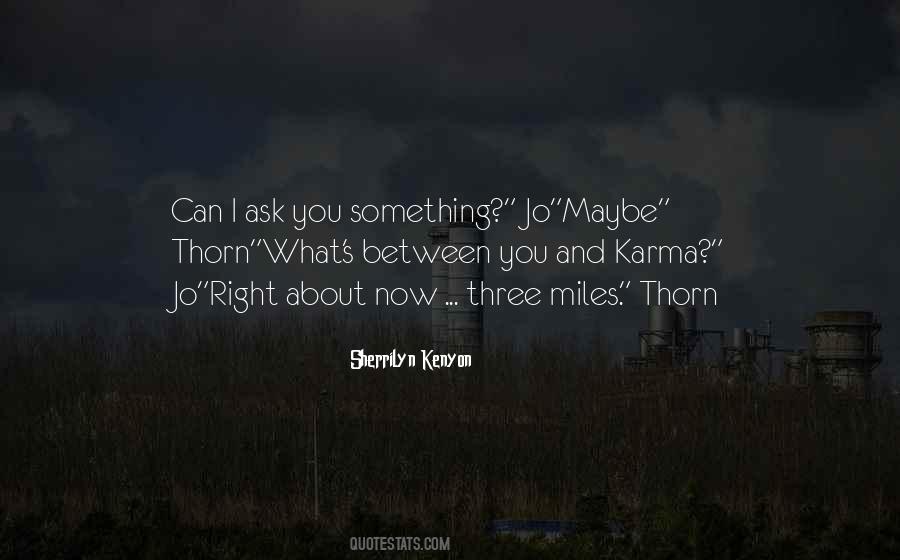 #66. Sometimes people in abusive situations think they're responsible for the other person's happiness or that they're going to fix them and make them feel better. The practice of equanimity teaches that it's not all up to you to make someone else happy. - Author: Sharon Salzberg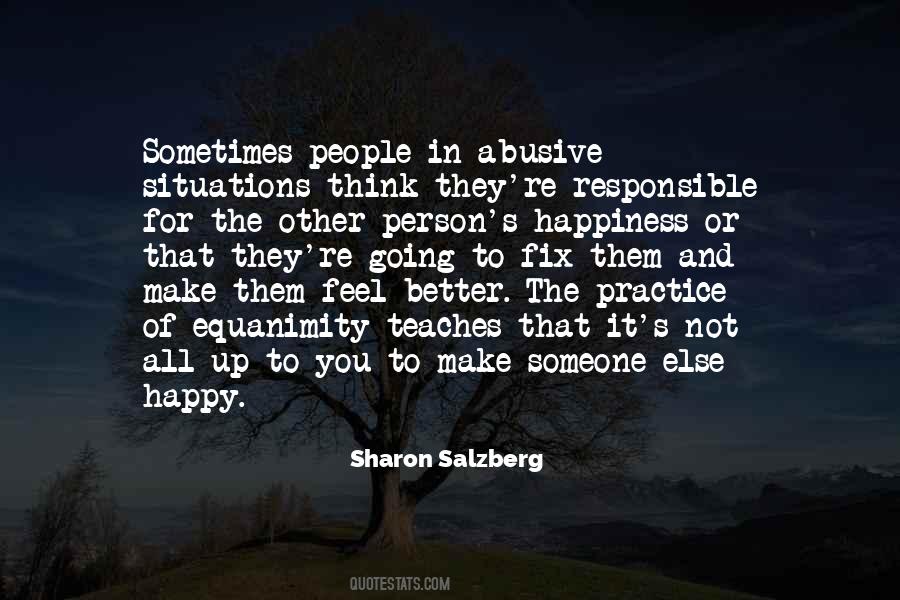 #67. To praise God is to express our acceptance of something that God is permitting to happen. So to praise God for difficult situations, as sickness or disaster, means literally that we accept its happening, as part of God's plan to reveal His perfect love for us. We - Author: Merlin R. Carothers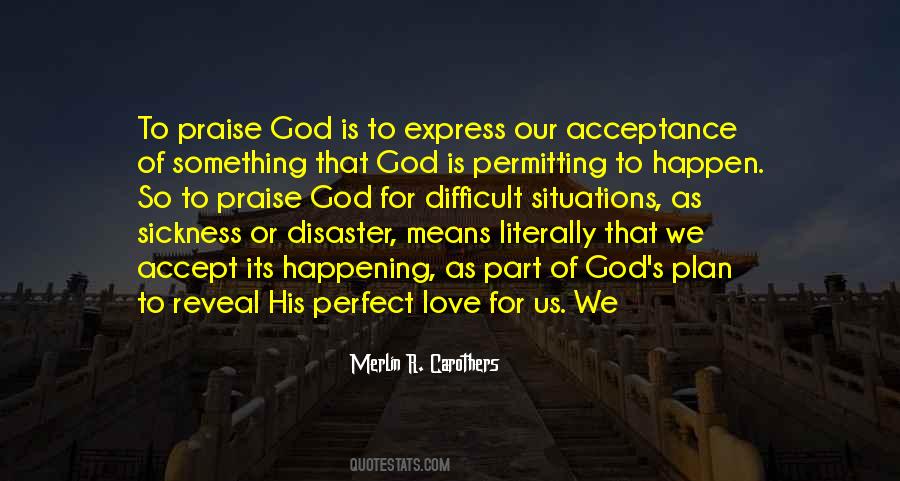 #68. Love can be found anyone. Love's timing sucks nor does it care about situations. It's in us all. It makes fools out of us all. - Author: Kristal McKerrington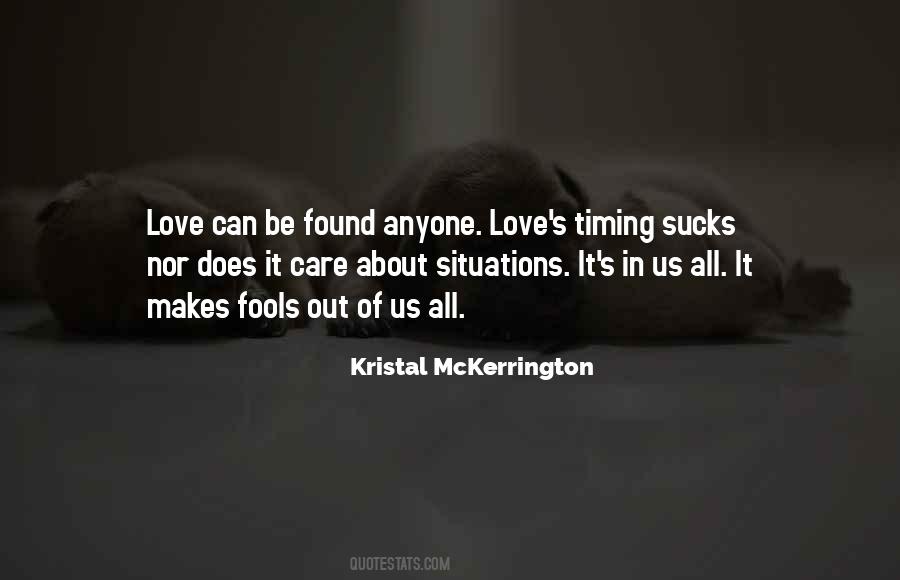 #69. You try your best to love the world despite obvious flaws in design and execution and you take care of whatever needy things present themselves to you during your passage through it. Otherwise you're worthless. - Author: Charles Frazier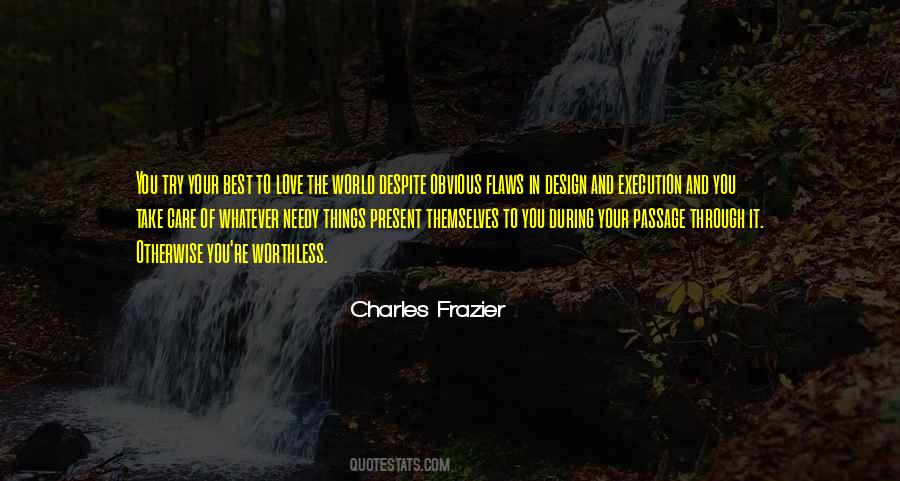 #70. In various ways all of us should be constantly finding people and situations that are dead, buried, and covered up in order to help bring them to the light because THE GOD THAT WE SERVE is a God of LIGHT, a God of LOVE, and a God of CARING. - Author: Millard Fuller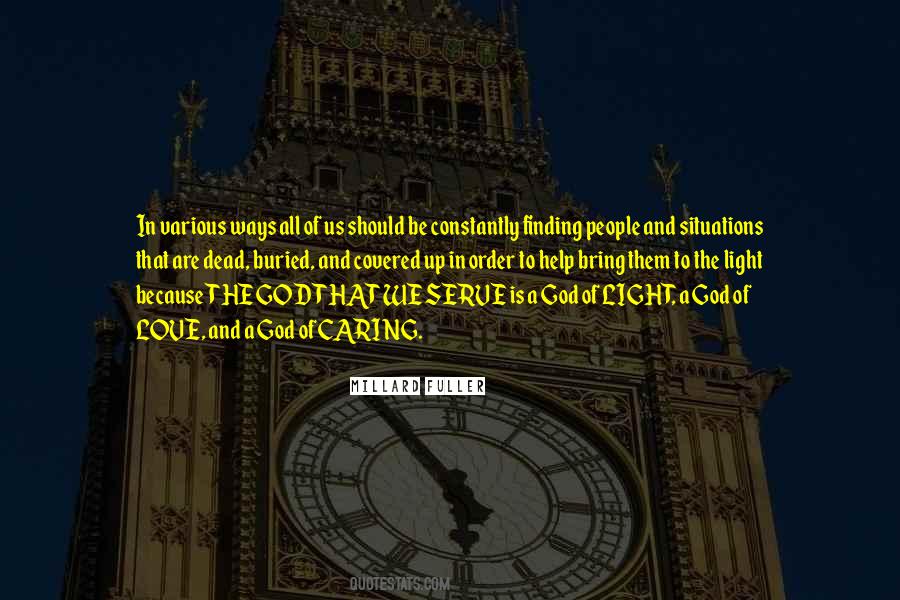 #71. I'm in my father's car at age 9 or 10 crying to Leonard Cohen's 'Famous Blue Raincoat,' thinking that you could write nearly a love letter to a man who betrayed you by having an affair with your wife. I was thinking how wonderful and pure music can be for explaining situations. - Author: Lou Doillon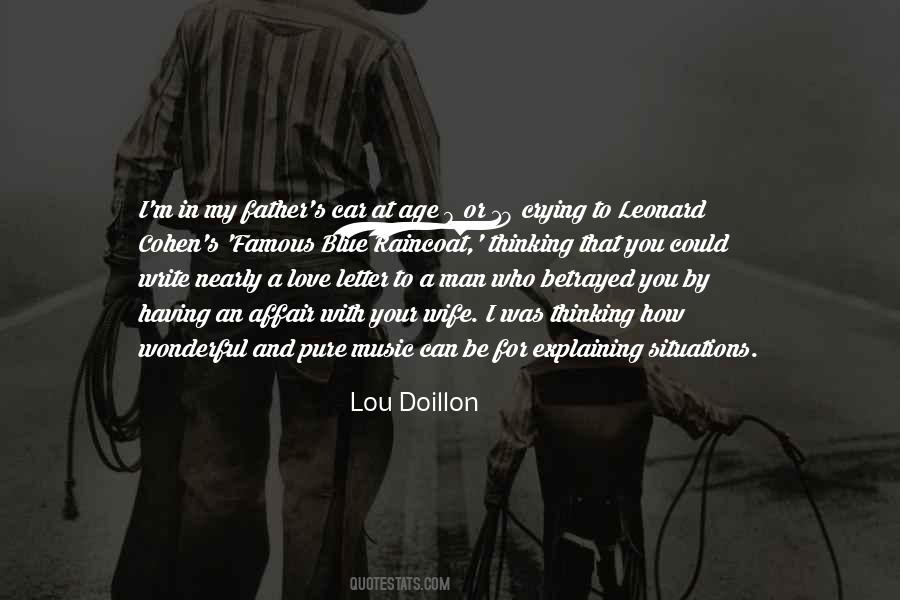 #72. I'm really a believer in being in situations that feel new and awkward and different. And I love that feeling of being in motion - that sense you find when you're traveling. - Author: Doug Aitken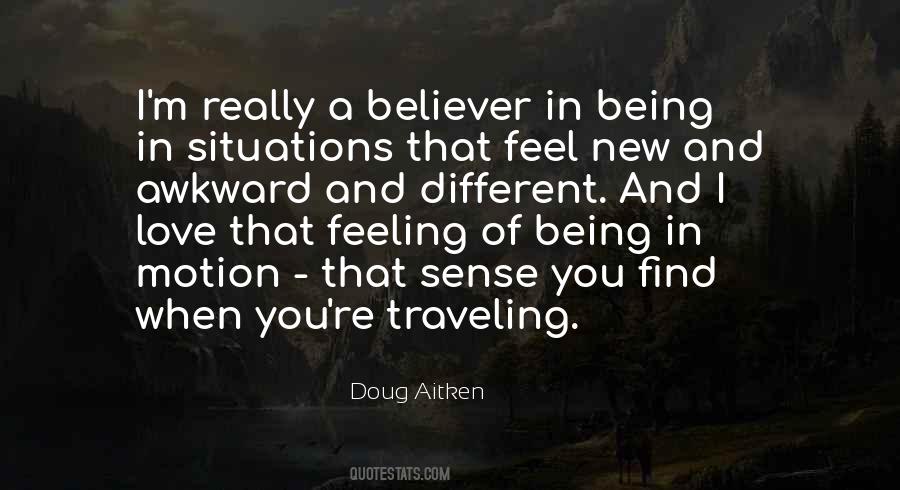 #73. I just want to continue developing as a musician. I love playing. I also want to be more involved in composing, doing my own thing, I hope to continue to be in different situations that I can nurture and that will nurture me. - Author: Vinnie Colaiuta
#74. In life there are good and bad situations. But when you are down in the valley looking up at the mountain, sometimes you realize that you can see the stars a little clearer. You realize what's truly important and you know exactly what must be done to keep it just like it is. - Author: Jennifer Megan Varnadore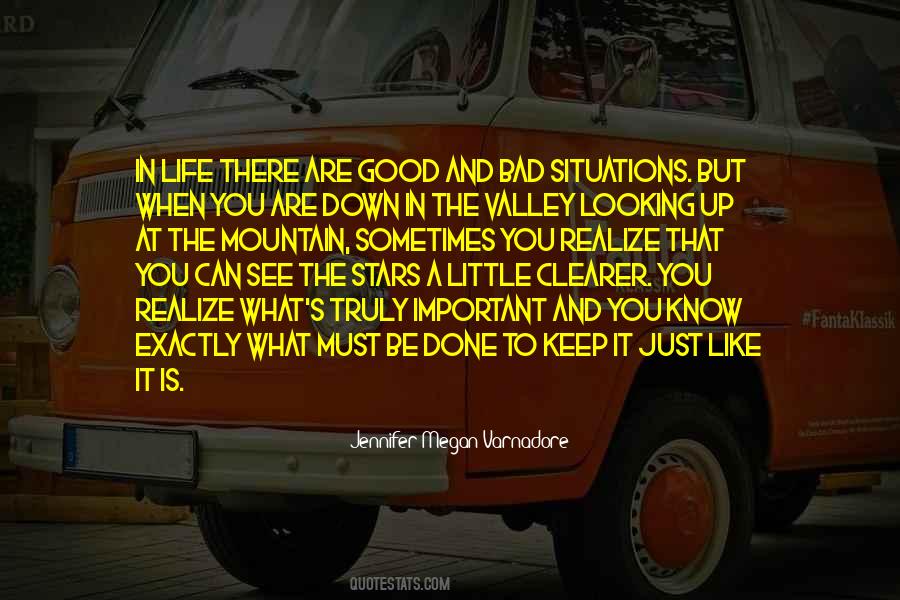 #75. Find people in worse situations than you and help them anyway you can - Author: Sunday Adelaja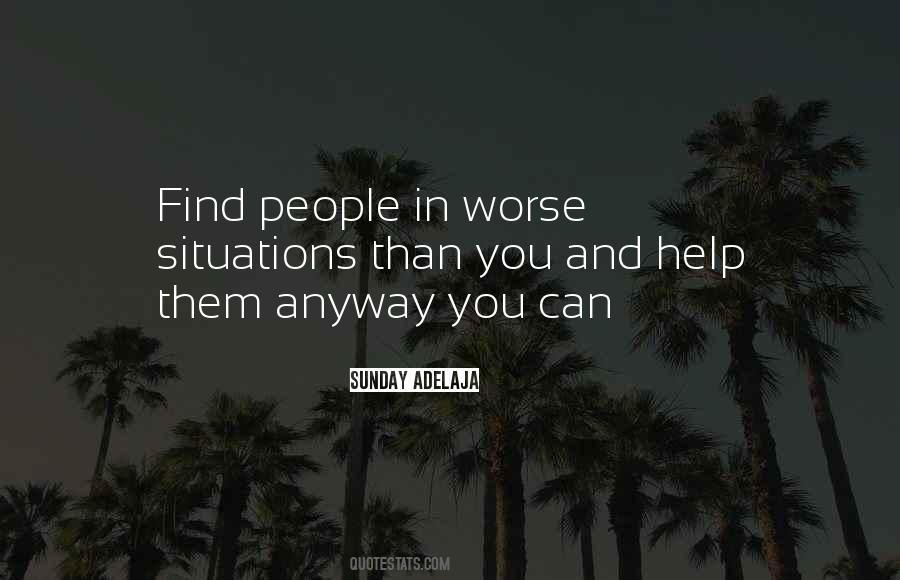 #76. I have been blessed by those I cannot see, but whose presence I feel. I know that I am not alone and hope that you, too, will find that, even in the most difficult situations, you are fully supported by the universe. All that is required is that you ask for help. It is there waiting for you. - Author: Susan Barbara Apollon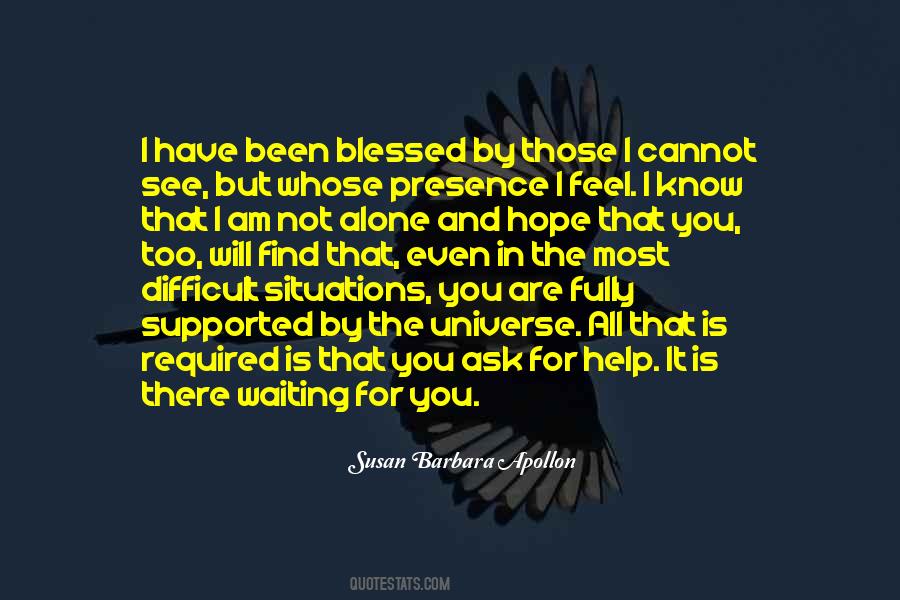 #77. There are a lot of things that I love, but if you're just completely invested in those things, their opposite can kick you over ... So the trick is finding out how to maintain your balance when you're in situations with the people who make you happy and when you're not. - Author: Rebecca De Mornay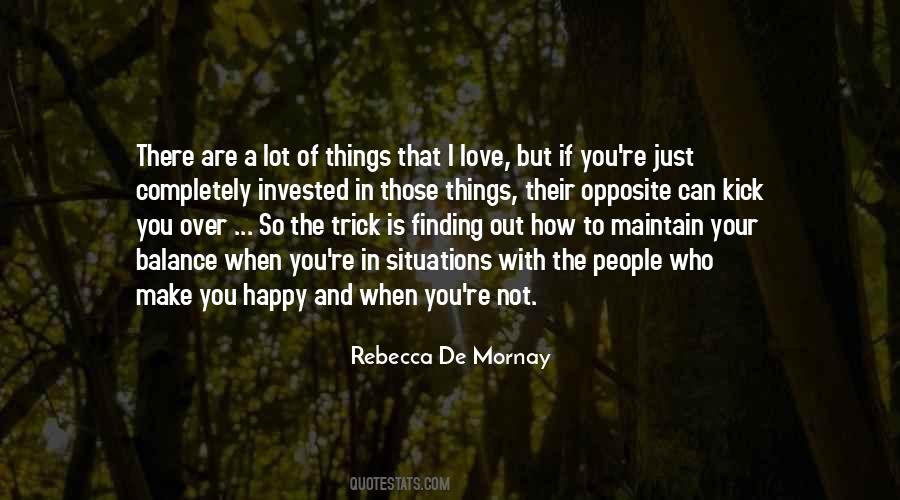 #78. I love finding myself in the most bizarre situations, drinking cobra's blood - really diverse stories. And yet, I will still turn up on location sometimes and be surprised by what I'm encountering or by how to do something. - Author: Phil Keoghan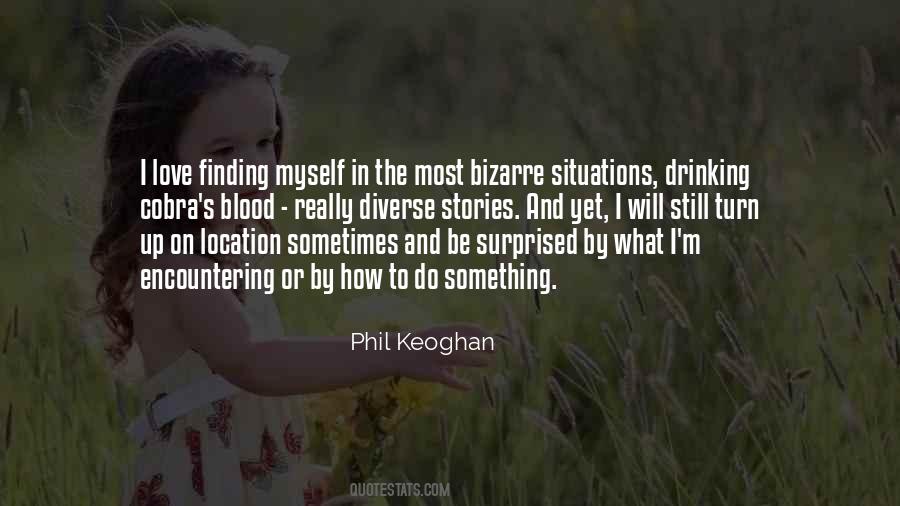 #79. The absolute value of love makes life worth while, and so makes Man's strange and difficult situation acceptable. Love cannot save life from death; but it can fulfill life's purpose. - Author: Arnold J. Toynbee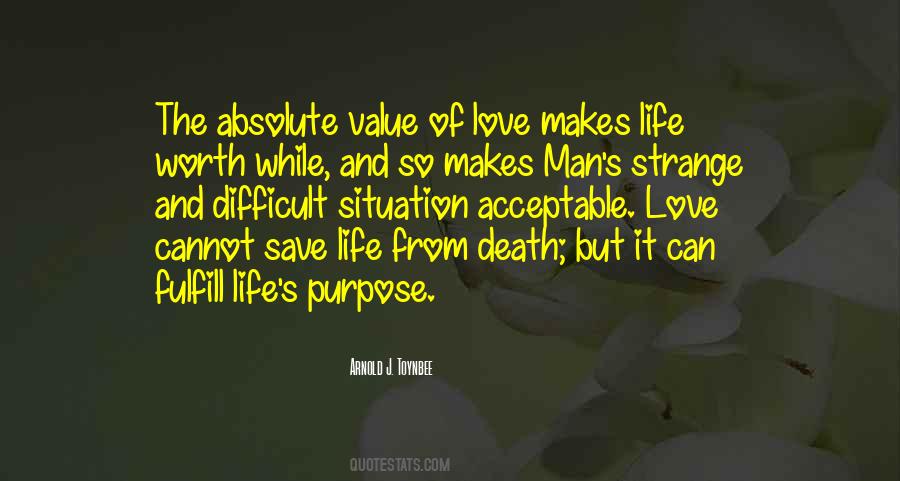 #80. As far as songwriting, my inspirations came from love, life and death, and viewing other people's situations. - Author: Ed Sheeran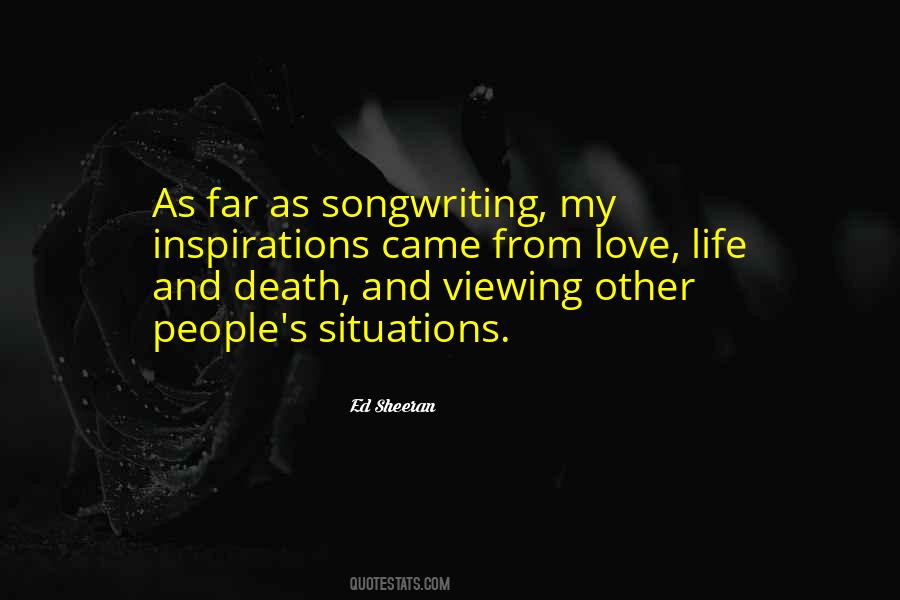 #81. I like doing character movies. I like doing movies about personal situations; that's what I love about dealing with things. - Author: Will Gluck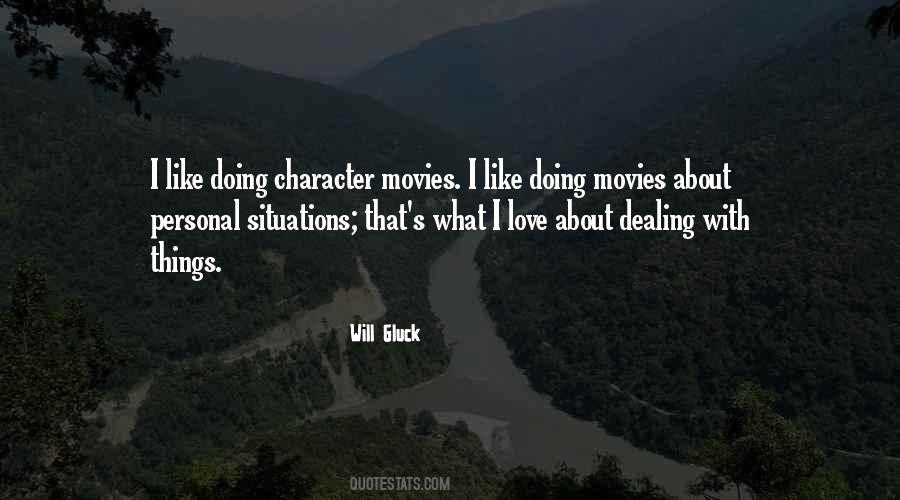 #82. Yes, karma propels us into all kinds of unexpected situations," His Holiness said. "This is another reason we should behave with love and compassion toward all living beings. We never know in what circumstances we will meet up with them again. Sometimes even in this same lifetime. - Author: David Michie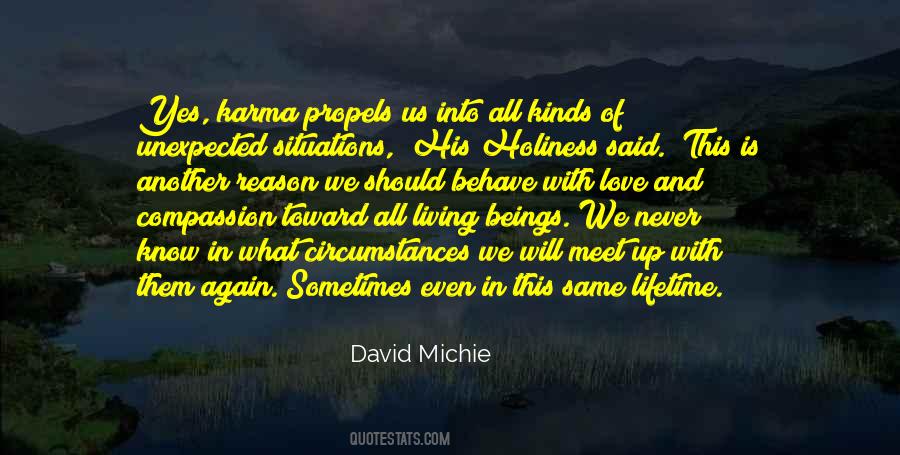 #83. If you go against growth, you go against yourself. How ready are we to face, accept and deal with the situations that comes to us unexpectedly in our partners. It takes a big heart to face situations but above all it takes simplicity, humility and self denial to show true love and care. - Author: William Pious Akakpo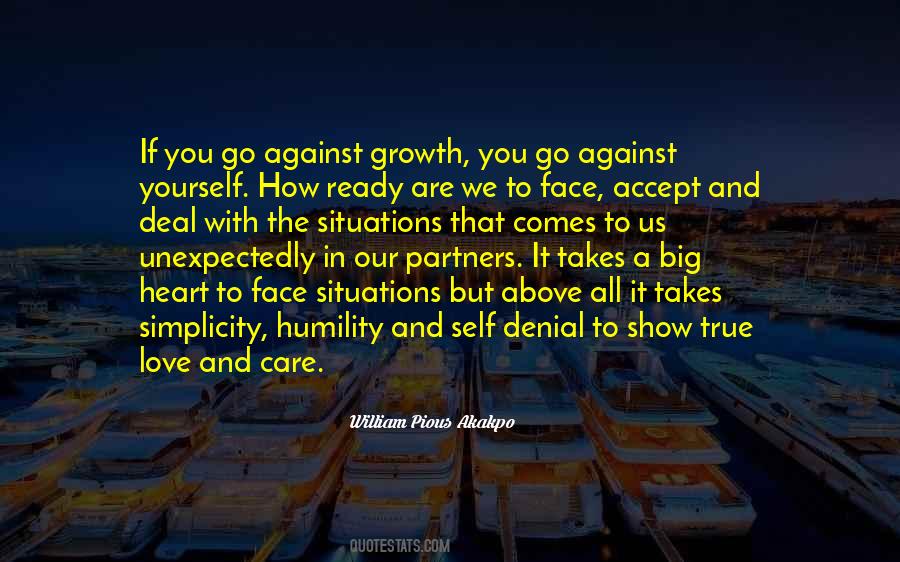 #84. Even if you be Mendacious.. I know deep in your heart.. you don't wish to be one.. its just, you r acting so 'cos u not letting your heart flow.. and you think your Mendacious actions will make situations convenient to me..!! - Author: Abhijeet Sawant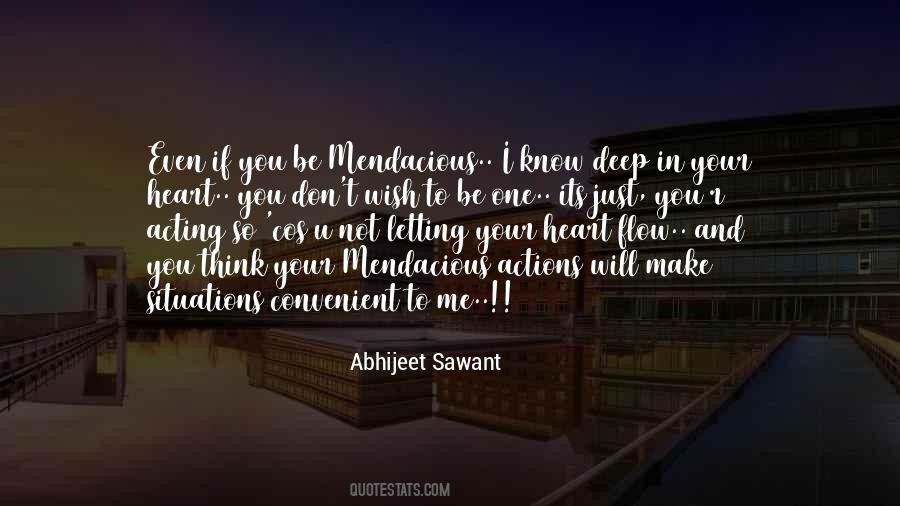 #85. Always treat others and situations with love. Think with your heart. #BestEverYou - Author: Elizabeth Hamilton-Guarino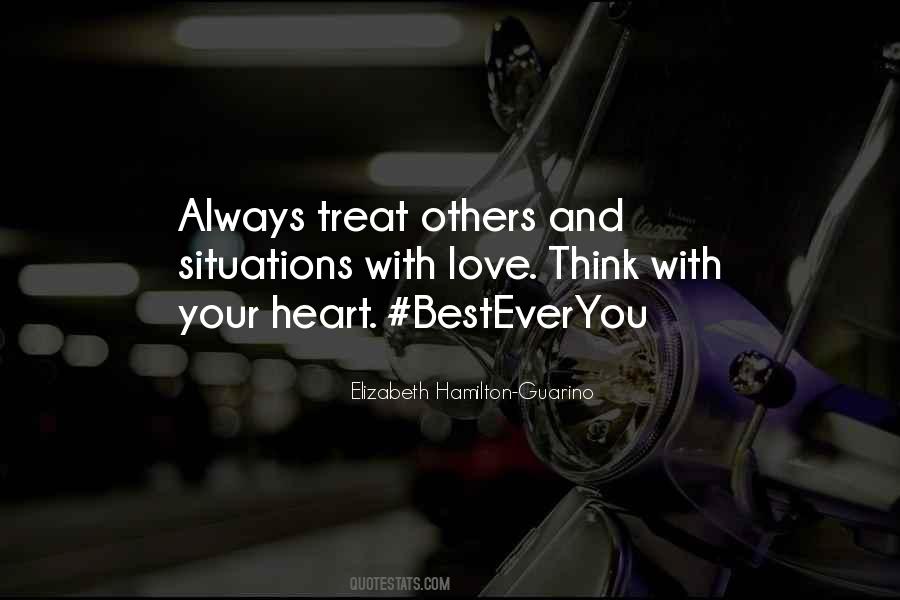 #86. While you're singing something romantic, I can't get the lyrics to 'Love and Marriage' out of my head, and that tune always reminds me of the jingle from Jeopardy. - Author: E.A. Bucchianeri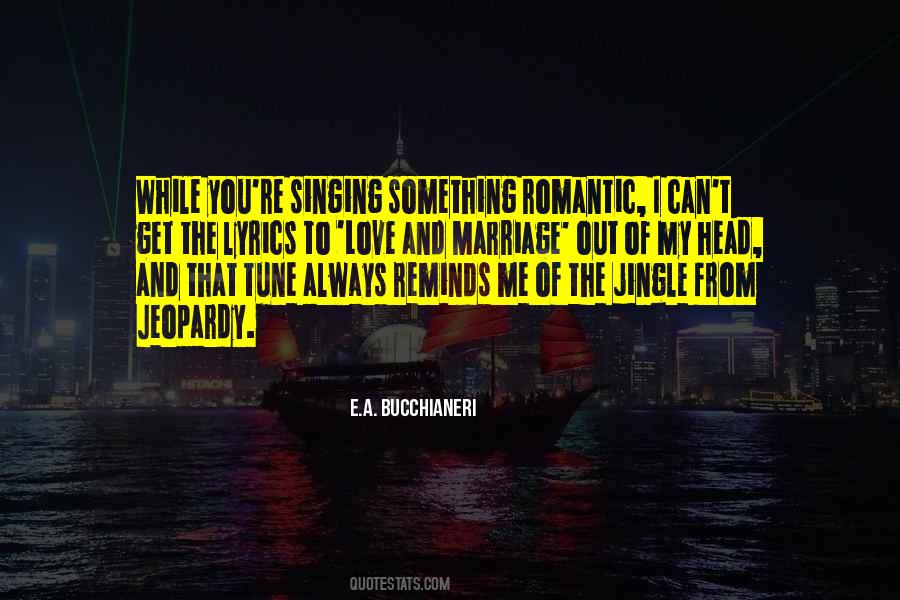 #87. I love plays. Even bad ones. I like the fact that actual live, breathing people are standing before you in tense situations that you are not personally responsible for. - Author: Lorrie Moore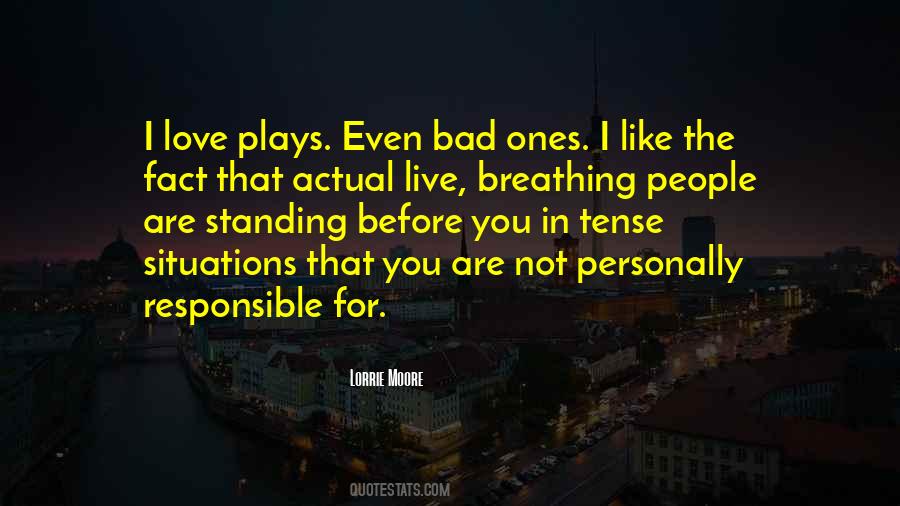 #88. I would love to do more acting; I really would love to do it, particularly character acting. I'm a character type of actor; I love situations where I've got a bit of room to improvise on the character. - Author: Sharlto Copley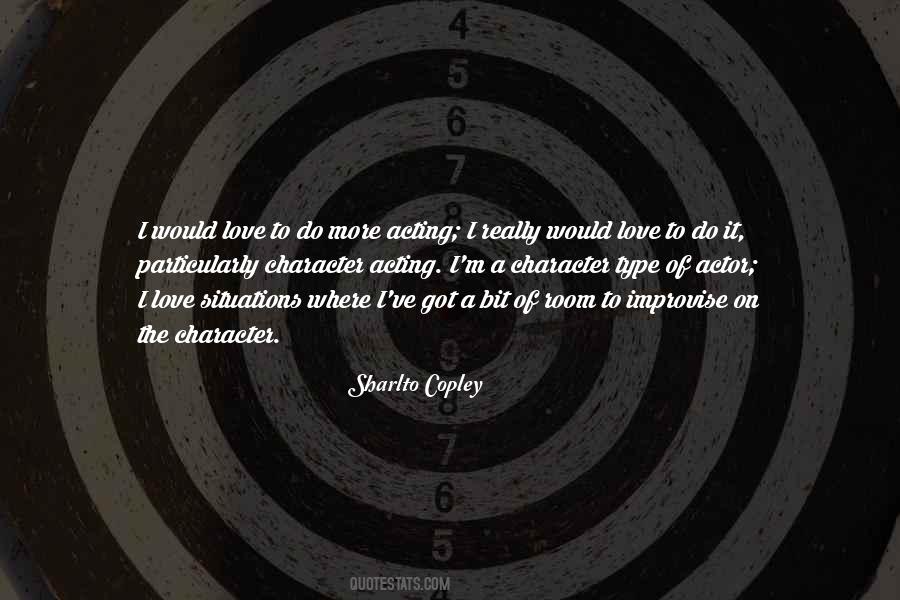 #89. Once you look at your problems as "workout situations," they take on a whole new aspect. - Author: Chris Prentiss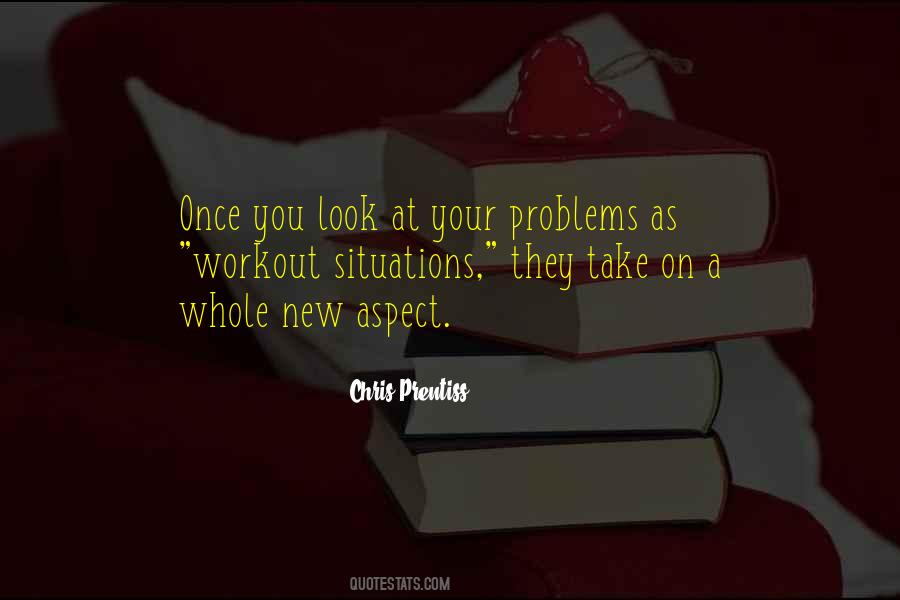 Famous Authors
Popular Topics