Love Sitting Famous Quotes & Sayings
List of top 100 famous quotes and sayings about love sitting to read and share with friends on your Facebook, Twitter, blogs.
Top 100 Love Sitting Quotes
#1. I love books where you can't get out of bed. You want to consume them in one sitting, devour them. Those are my favorites, where you've almost abandoned your life for them. That doesn't happen every time, but those are the best. - Author: Rachel McAdams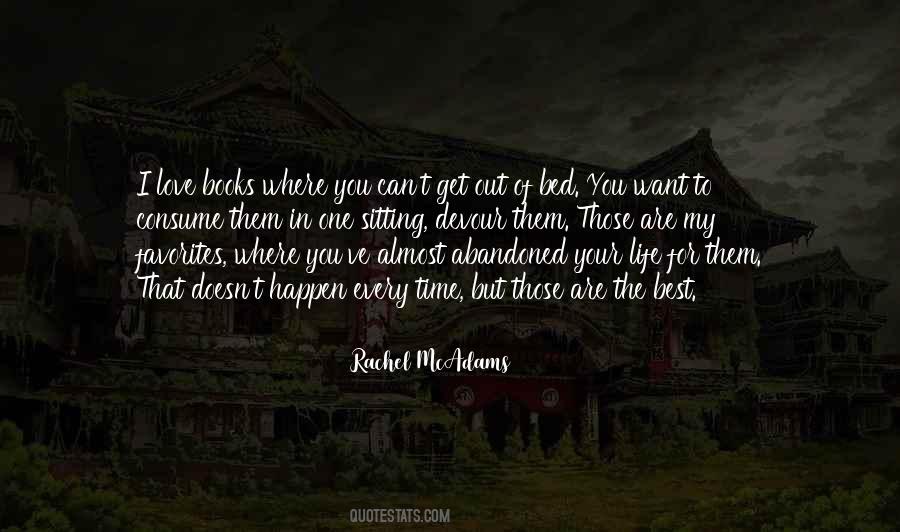 #2. I'm here, Tess. I'm right here, holding your hand. Adam's here, too, he's sitting on the other side of the bed. And Cal. Mum's on her way, she'll be just a minute. We all love you, Tessa. We're all right here with you. - Author: Jenny Downham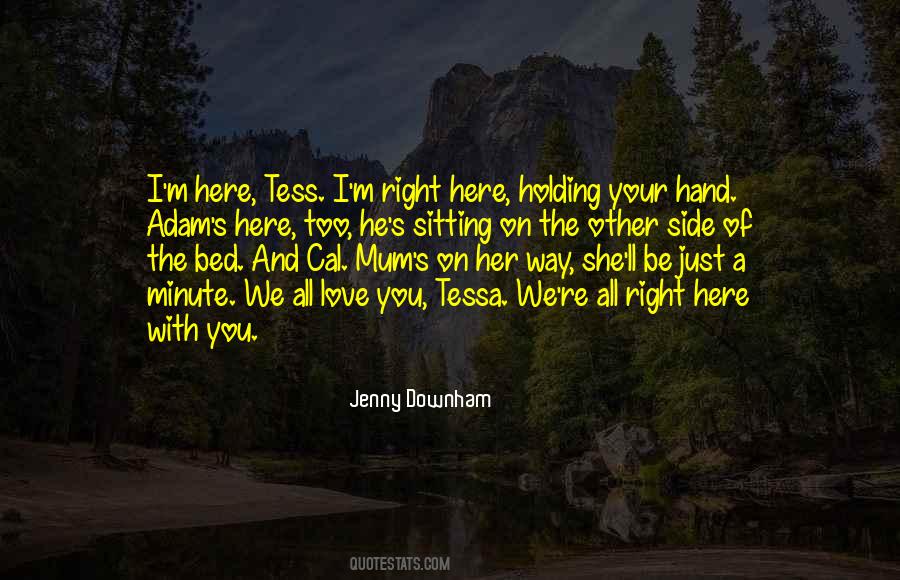 #3. I'm not sitting around saying, 'Man, I'd really love to direct a western.' That's just not something I'm probably going to do, mostly because I'm allergic to horses. - Author: Josh Radnor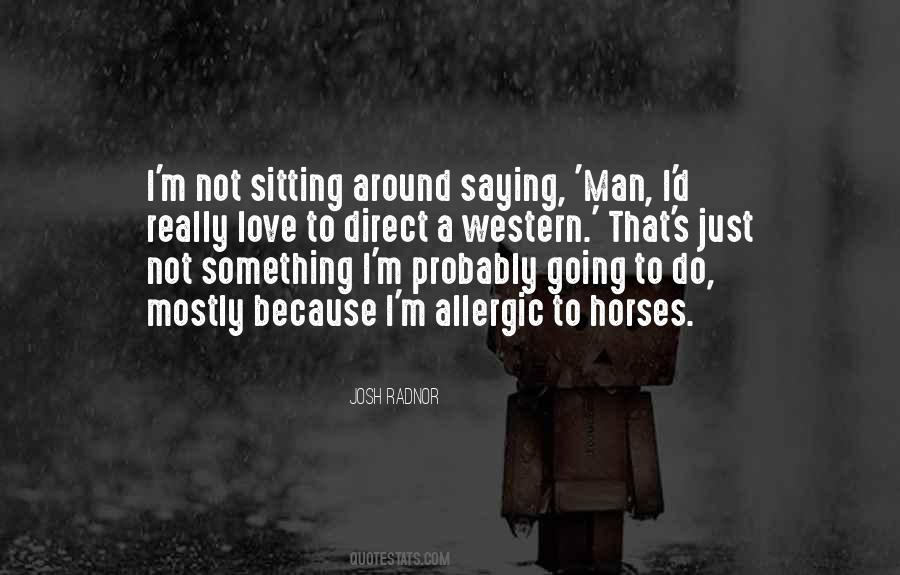 #4. I love sitting down and talking to people. CNBC gave me a chance to do it in a way that I liked. They gave me a chance to also develop the skills to learn from my mistakes. - Author: Daisy Fuentes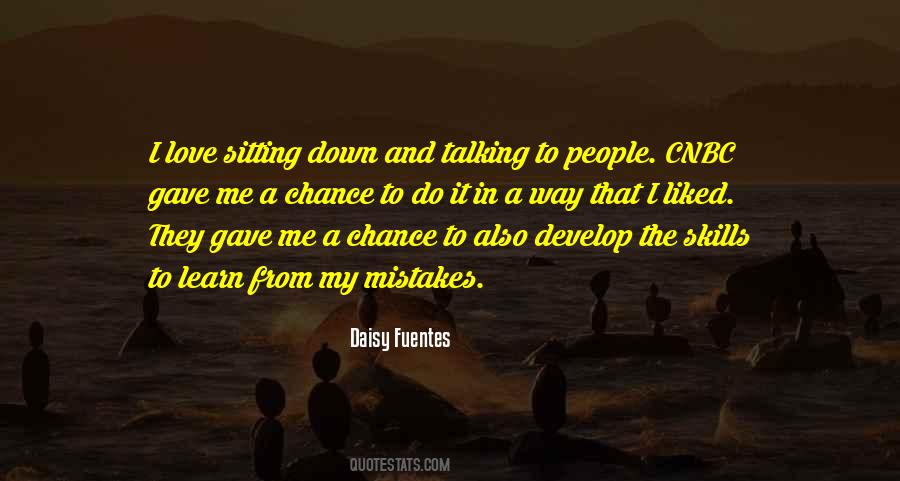 #5. A lot of people are sitting around waiting for God to tell them what to do. I think God is saying 'Do what you want!' If he wants me to express His love, I need to find a way to do it. - Author: Rich Mullins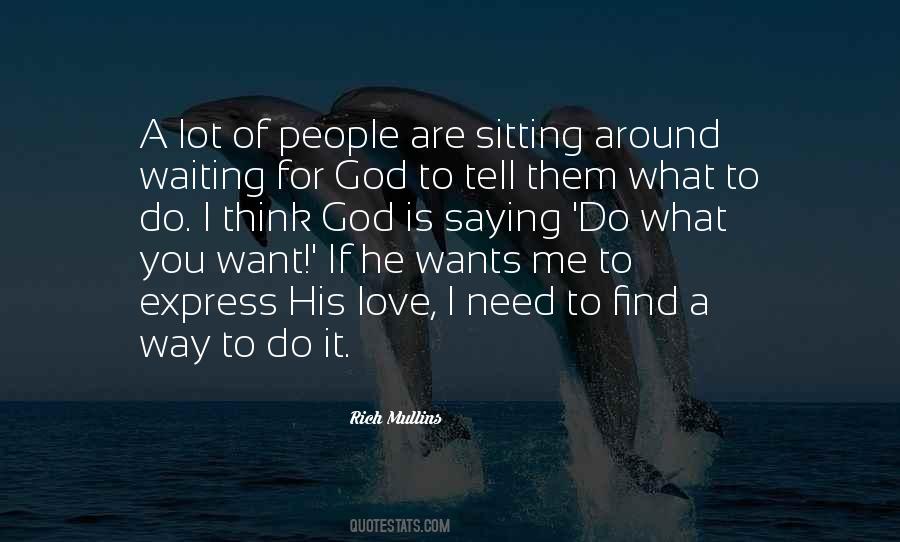 #6. I love walking around and grabbing coffee and sitting in a park and people watching ... I love Greenwich Village. - Author: Joe Manganiello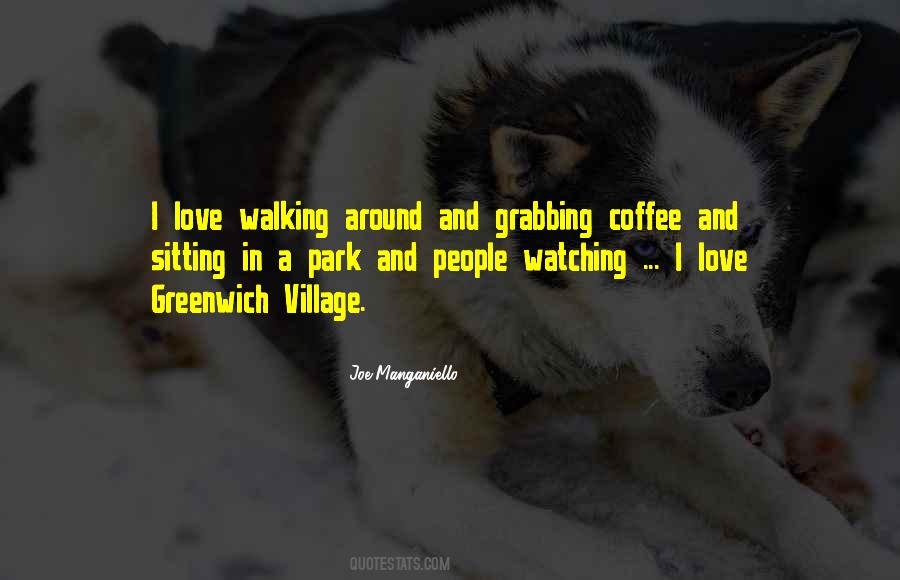 #7. I have a wonderful piano that I really love: a handmade Yamaha grand. Sometimes I'm sitting there, and it sounds so good that I find some little melody or a phrase that leads me into a song, but probably more often than not, I actually grab a notebook. - Author: J. D. Souther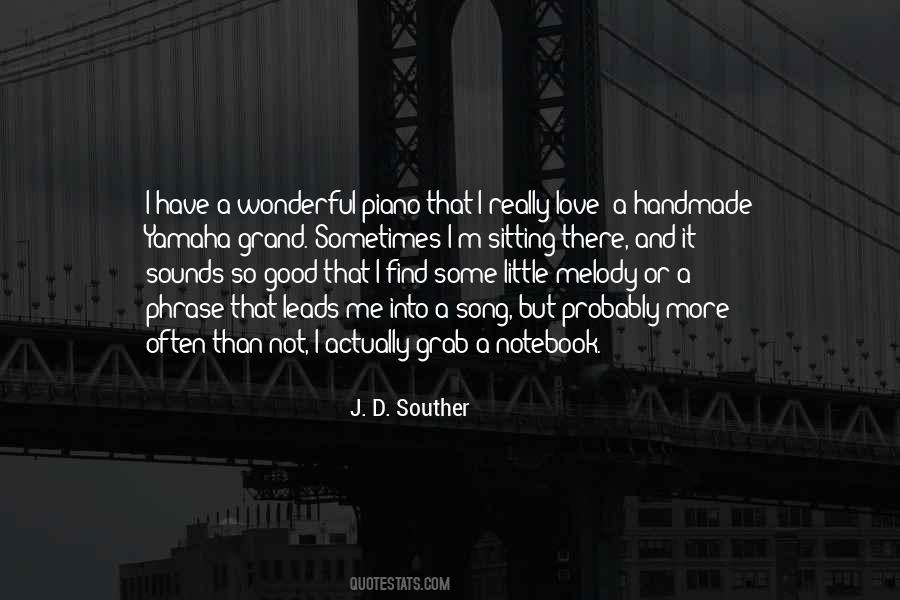 #8. I love the unknown. I love the discovery of what will be happening and just kind of sitting back and not knowing. - Author: Jennifer Aniston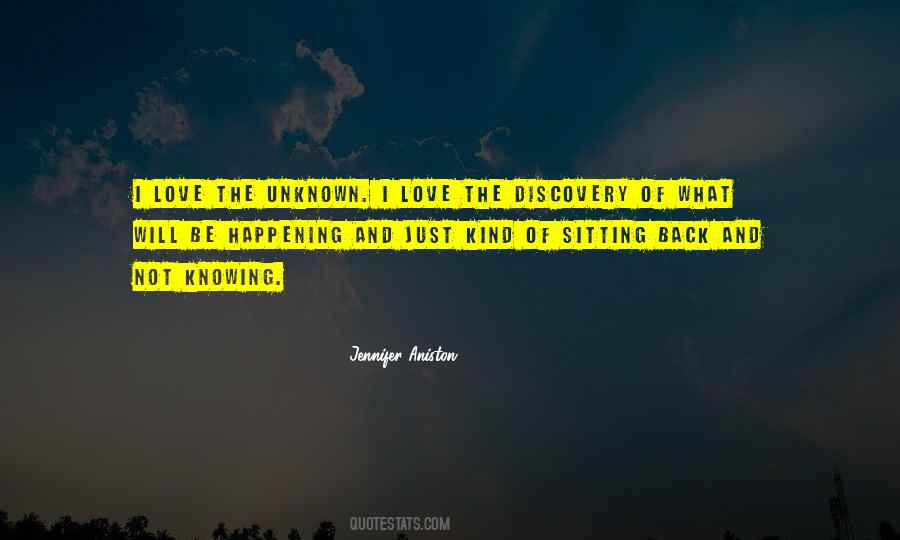 #9. I was sitting in a white room hating myself, until you breathed life back into me. You loved me so much that I started to love myself. - Author: Tarryn Fisher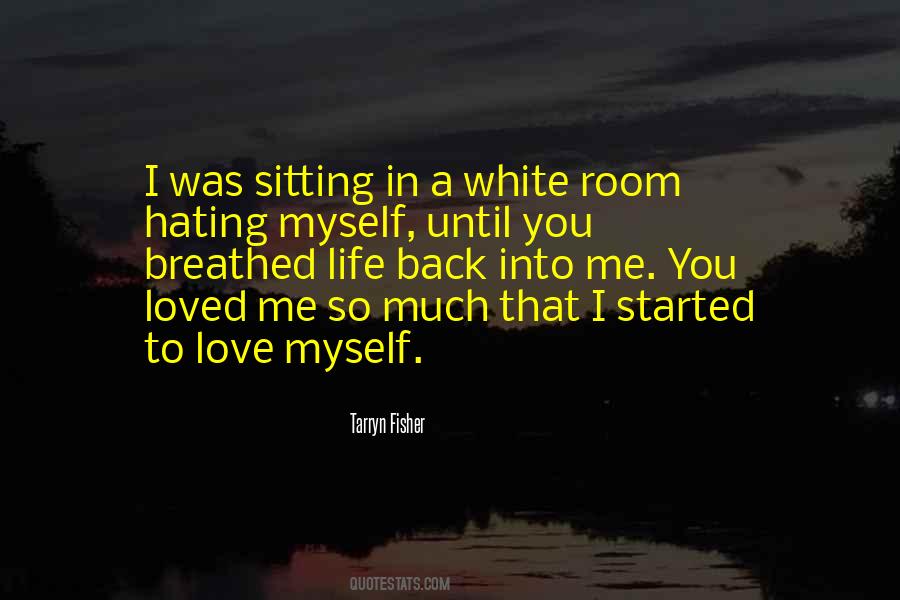 #10. ... sitting on the sidewalk outside of his workplace like some creepy stalker ex-girlfriend, waiting for him to come out so I can ambush him with love. - Author: Cynthia Hand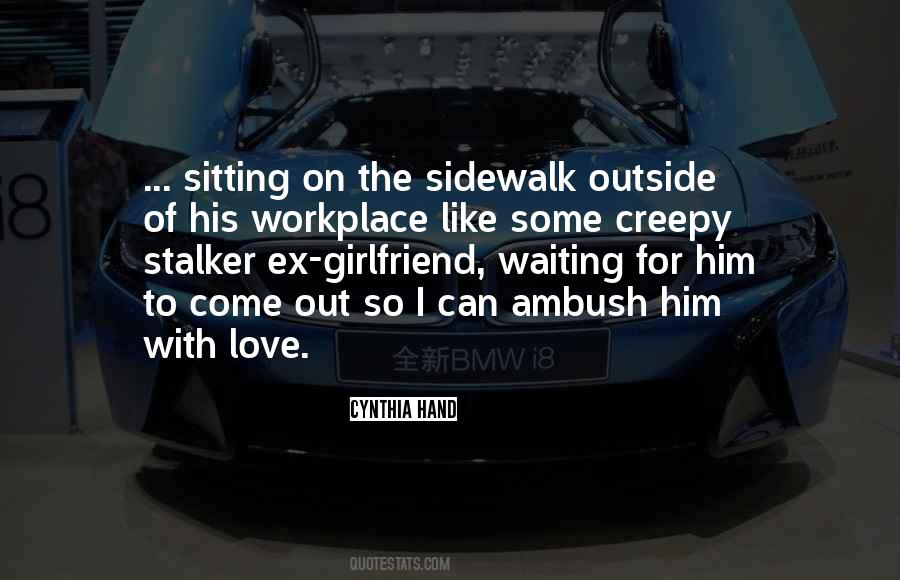 #11. Here's what I love: I love sitting at my desk, staring at the blank screen, and beginning that conversation with my imaginary friends. - Author: Brad Meltzer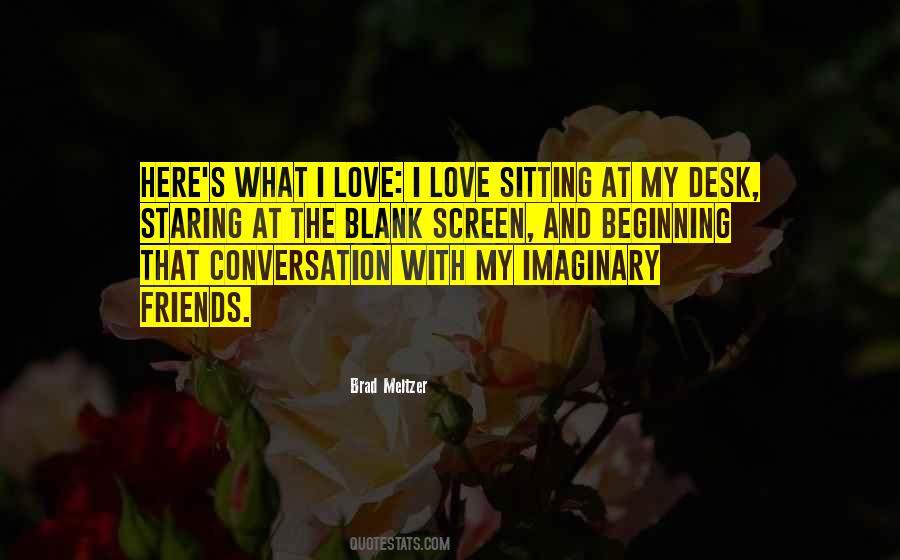 #12. Behind every fortunate woman is someone who believes in her - someone sitting in the bleachers, quietly applauding every success, shouldering every disappointment, waiting in the twilight or the drizzle after everyone else is gone, loving her. If she is really lucky, that person is her husband. - Author: Annie Griffiths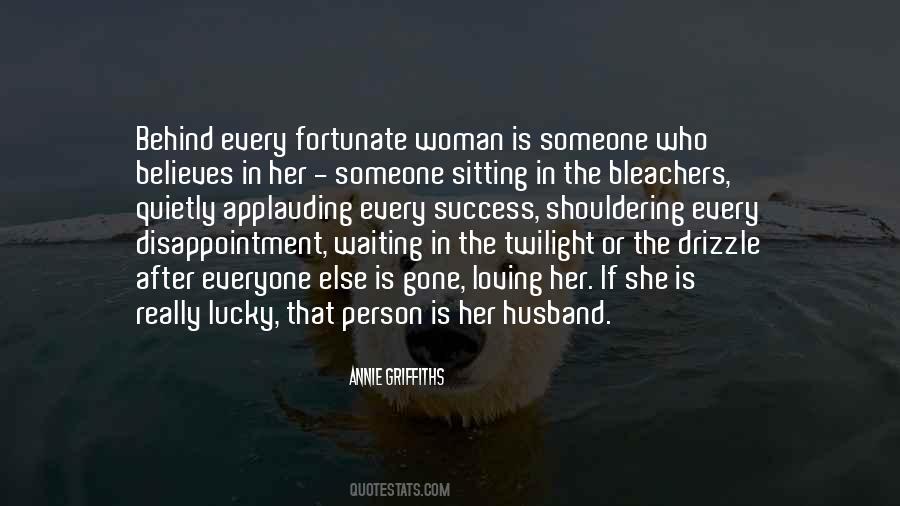 #13. I love sitting down and having actual conversations. But I don't do that sound-bite, be-candidly-funny thing. - Author: Kristen Stewart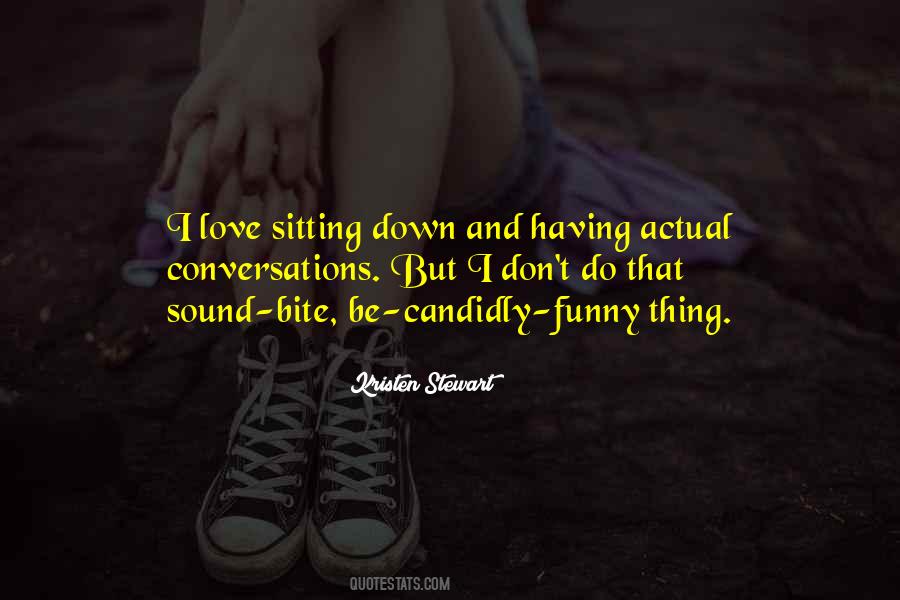 #14. I love the protests. And if you think about it, what better way to send a message to Wall Street than by sitting in a pup tent banging on a drum. - Author: David Letterman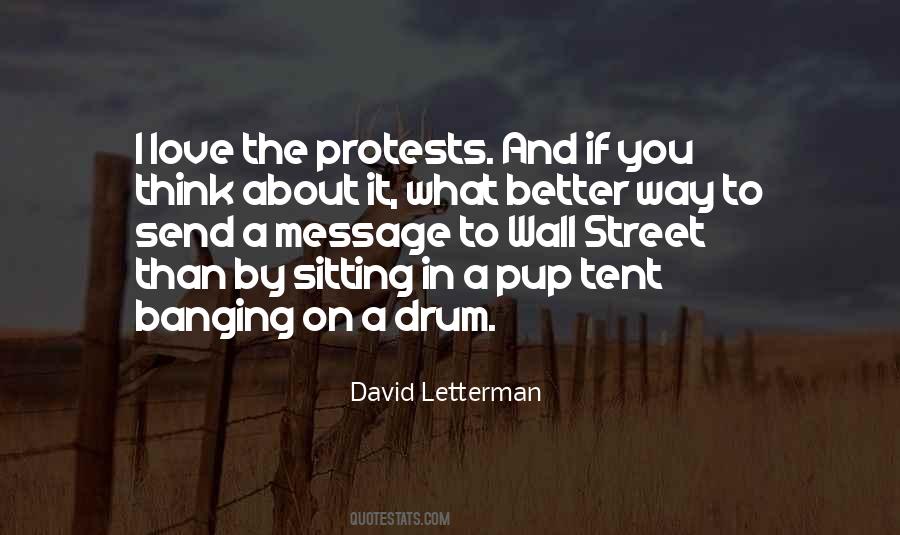 #15. I get called to do a lot of labors of love ... independent films on very small budgets. If I have the time and if the project speaks to me, it's better than sitting around, right? - Author: George Wendt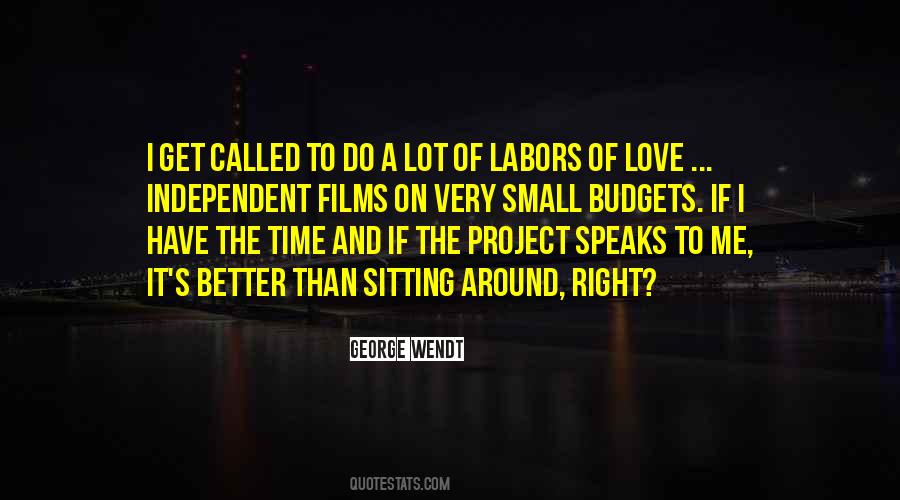 #16. I don't know whether it's a fear of standing up, but I really love sitting at the table and blabbing. I learn so much that way, and I think I get free that way, free from inhibition and fears. - Author: Mare Winningham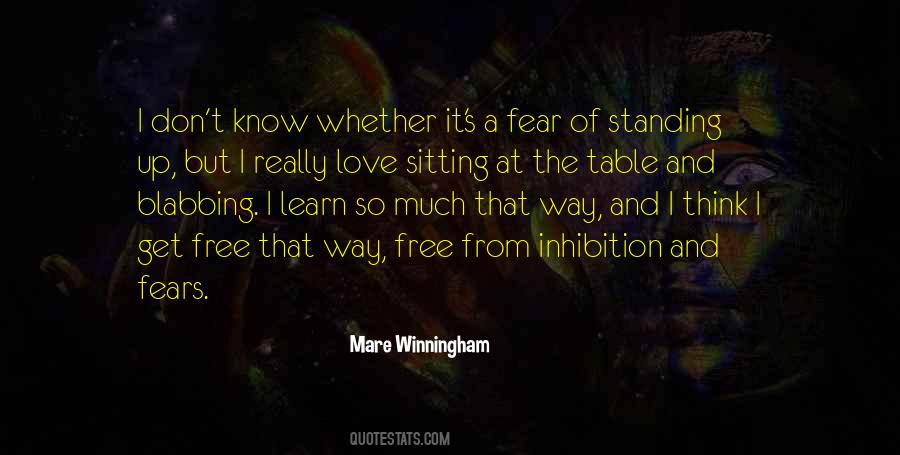 #17. A mandarin fell in love with a courtesan. 'I shall be yours,' she told him, 'when you have spent a hundred nights waiting for me, sitting on a stool, in my garden, beneath my window.' But on the ninety-ninth night, the mandarin stood up, put his stool under his arm, and went away. - Author: Roland Barthes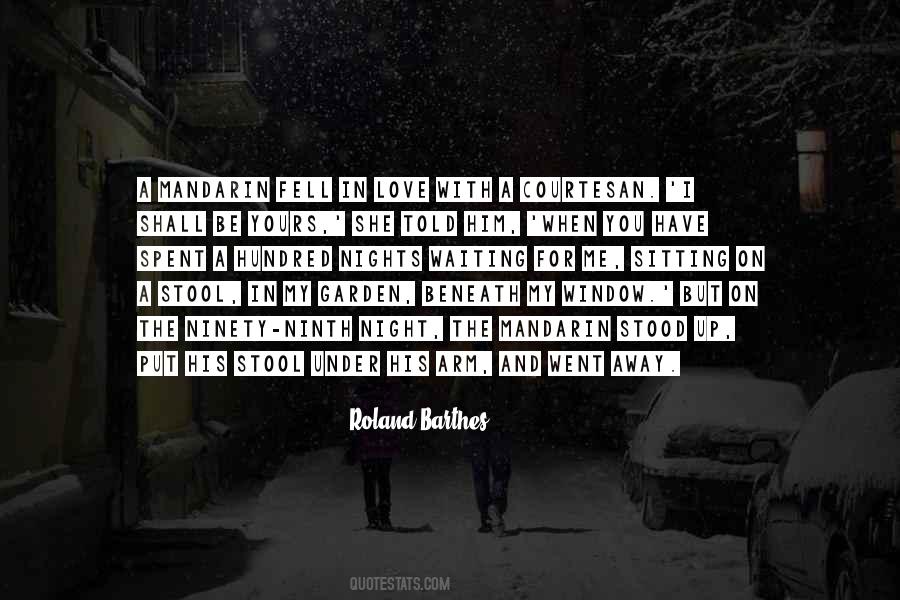 #18. Film is very much about sitting around and talking about ideas, and that's the stuff that I love, but I haven't experienced that yet in the television that I've done so far. It makes me long for movies again because, creatively, I always have a much more fulfilling experience there. - Author: Mike Vogel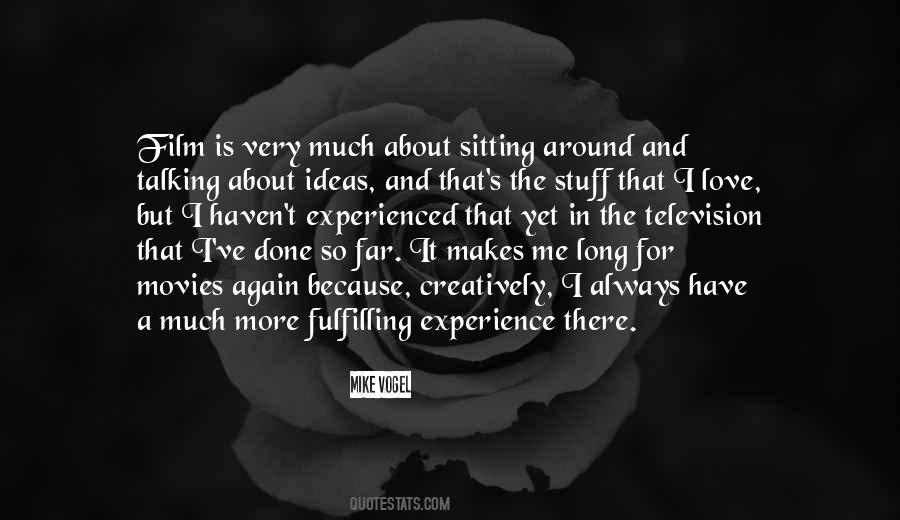 #19. Sitting still as a way of falling in love with the world and everything in it; - Author: Pico Iyer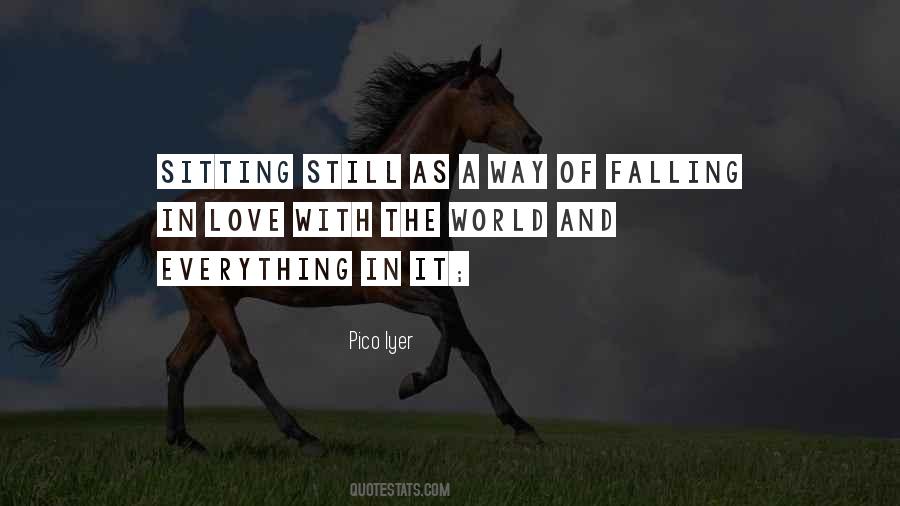 #20. That man sitting on the steps made me understand that I was important to the world and to the history of my country. I felt necessary, and that's the best feeling a human being can have. - Author: Paulo Coelho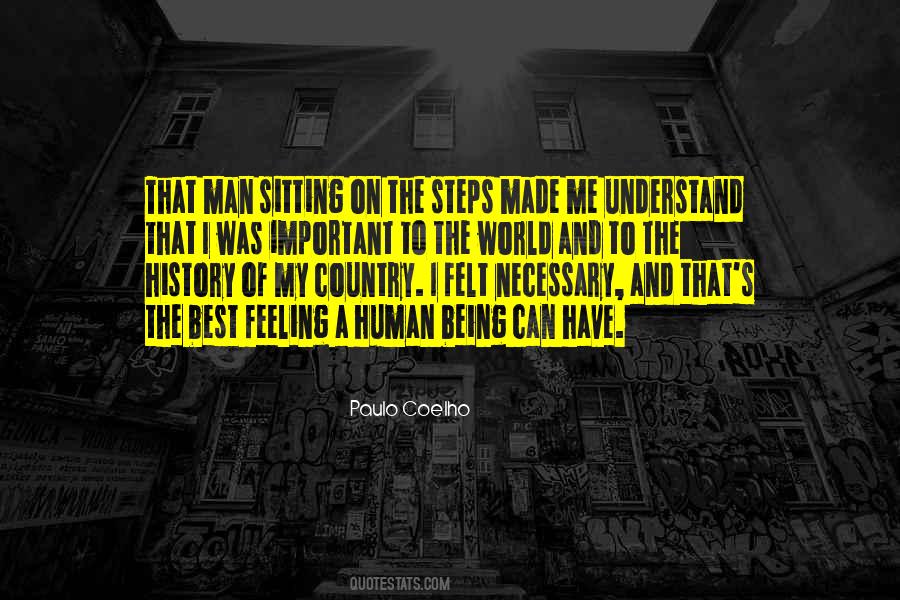 #21. I love watching reality shows - I'm up to date with 'America's Next Top Model' and I love 'Project Runway.' But the shows where they're just sitting in a house aren't as fun to me! - Author: Emma Bunton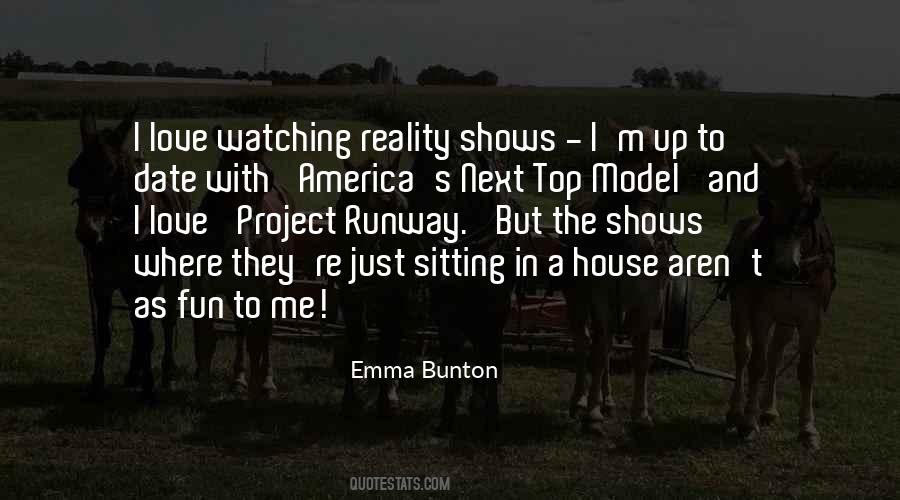 #22. You may make love in dancing as well as sitting. - Author: Aphra Behn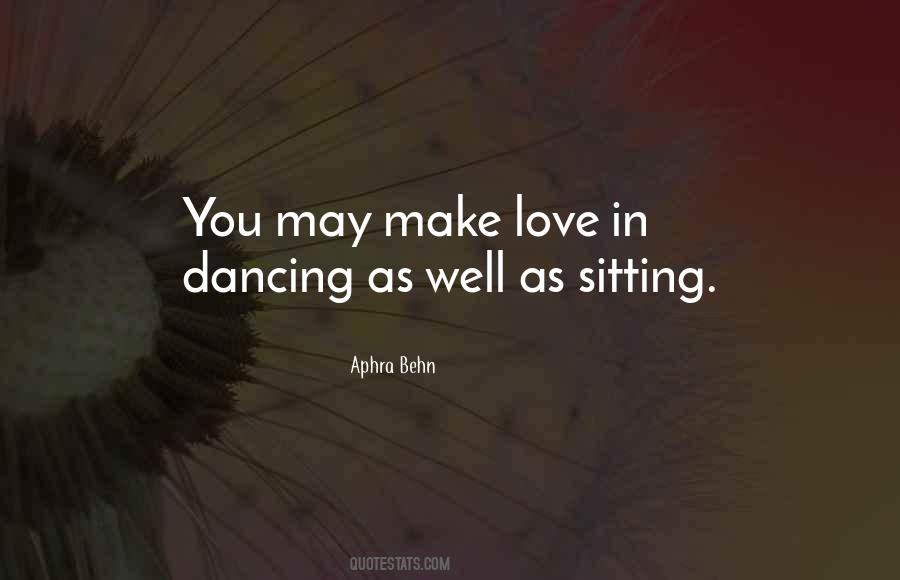 #23. Johnny and Marissa, sitting in a tree, K-I-S-S-I-N-G. First comes love, then comes marriage. Then comes an abrupt, tragic miscarriage. Then comes blame, then comes despair. Two hearts damaged beyond repair... Johnny leaves Marissa, and takes the tree. D-I-V-O-R-C-E. - Author: Kris Wilson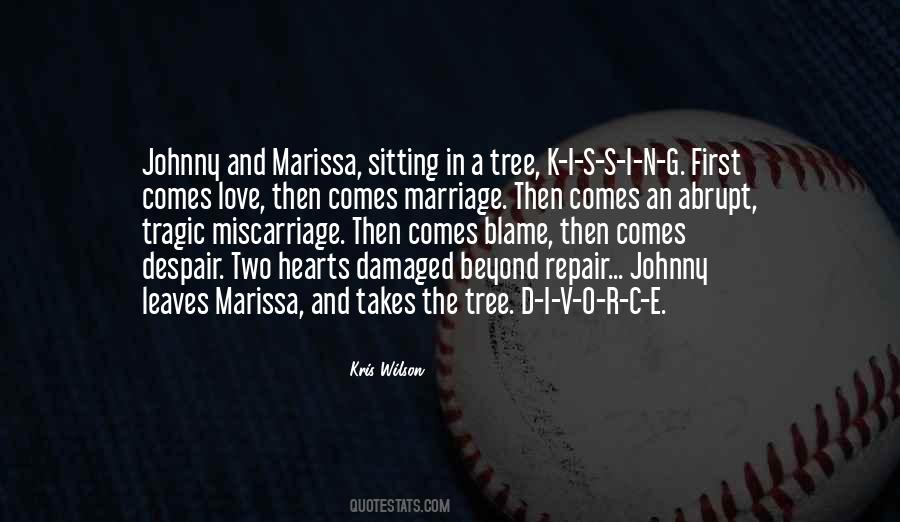 #24. Fate is the malevolent little jester sitting up in the heavens and pondering over how ridiculous we humans are and he does his best to make fools out of all of us. And sooner or later he succeeds. - Author: Lisa Kleypas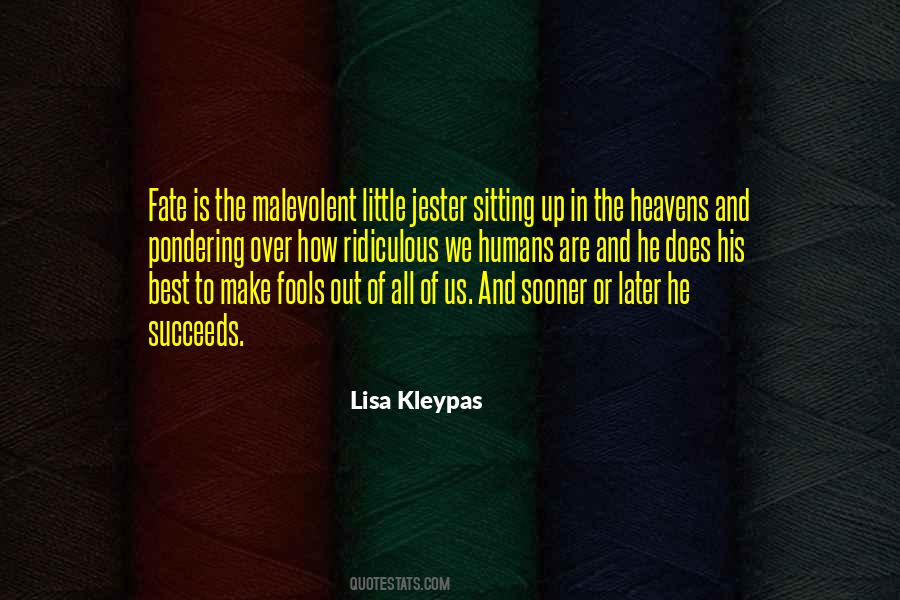 #25. Practise love. Sitting alone in your room, be loving. Radiate love. Fill the whole room with your love energy. - Author: Rajneesh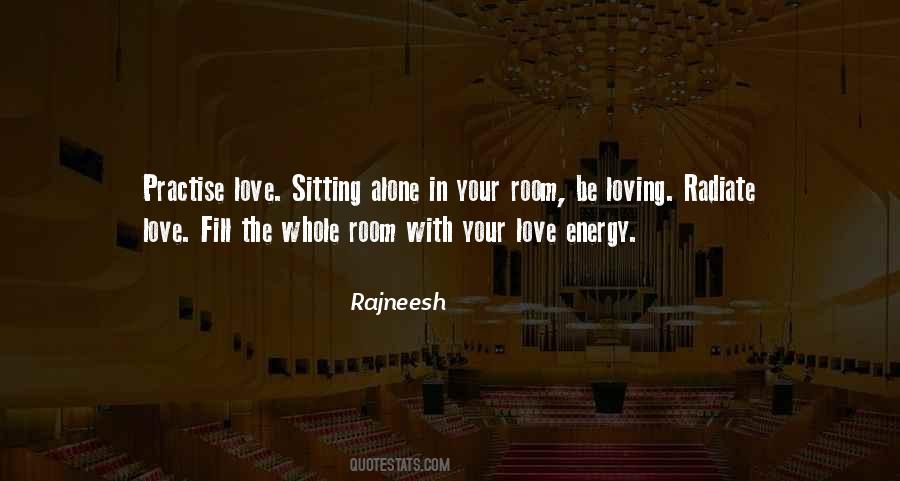 #26. One of the coolest things to me about going to a show is you look over, and the guy next to you is sitting there drinking a beer and he's wearing a Donkeys t-shirt. And you're like, "Dude, I love The Donkeys." - Author: Craig Finn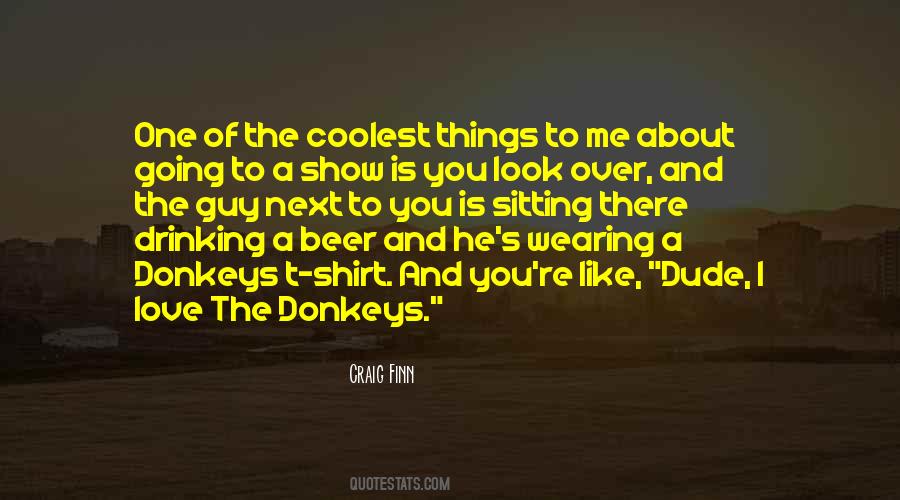 #27. Love it like over splits. You can't expect to give into it all in one sitting. But if you work at it, warm the muscles gradually, your body will eventually accept it as normal.' The bulk of his shoulder nudged my much smaller one lightly. 'It might even feel good. - Author: Laurel Ulen Curtis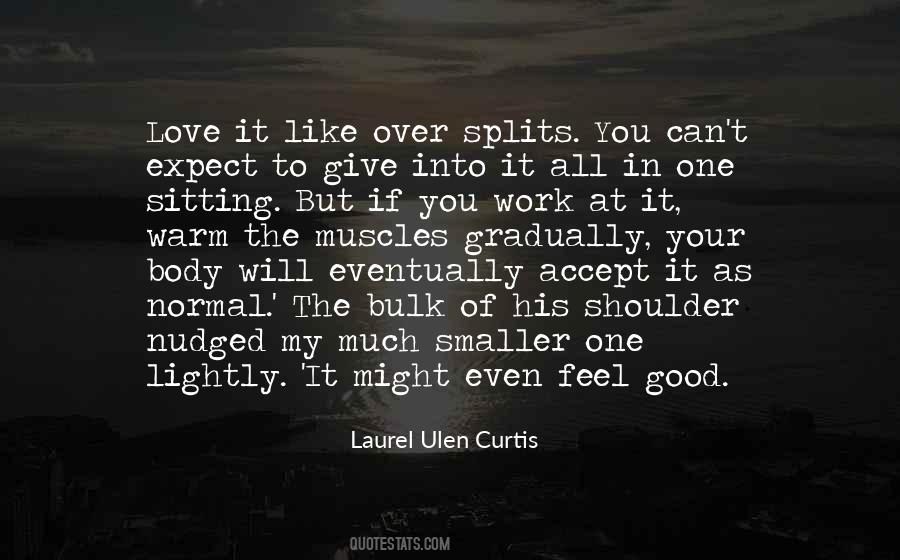 #28. I love making people laugh. It's an addiction and it's probably dysfunctional, but I am addicted to it and there's no greater pleasure for me than sitting in a theater and feeling a lot of people losing control of themselves. - Author: Jay Roach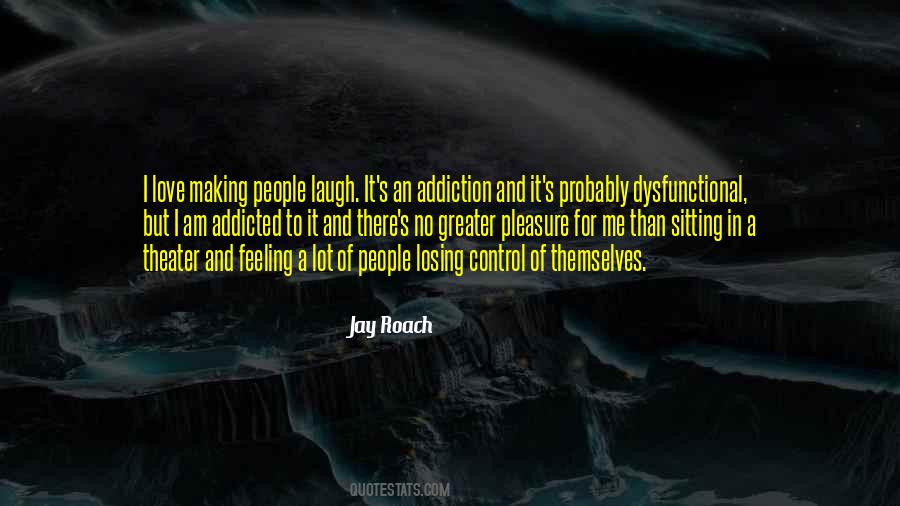 #29. What can I say? Love is blind," said Rory, sitting down next to Yamane. "Yamane here is the acknowledged world master of queer fu."
"Oh, no, you did not just say that." Yamane shot him a sour look and drank the last of Rory's beer. - Author: Z.A. Maxfield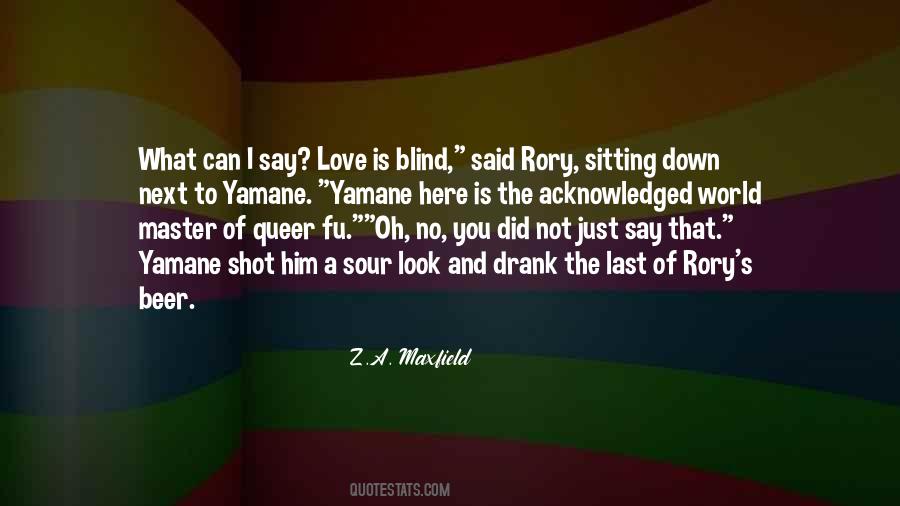 #30. To my surprise, Joscelin rose. 'Phedre-' He began, then halted. Sitting below him, I watched him smile to himself, quiet and private. 'Phedre yields with a willow's grace,' he said softly. 'And endures with the strength of mountains. Without her, life would be calm; and yet lack all meaning. - Author: Jacqueline Carey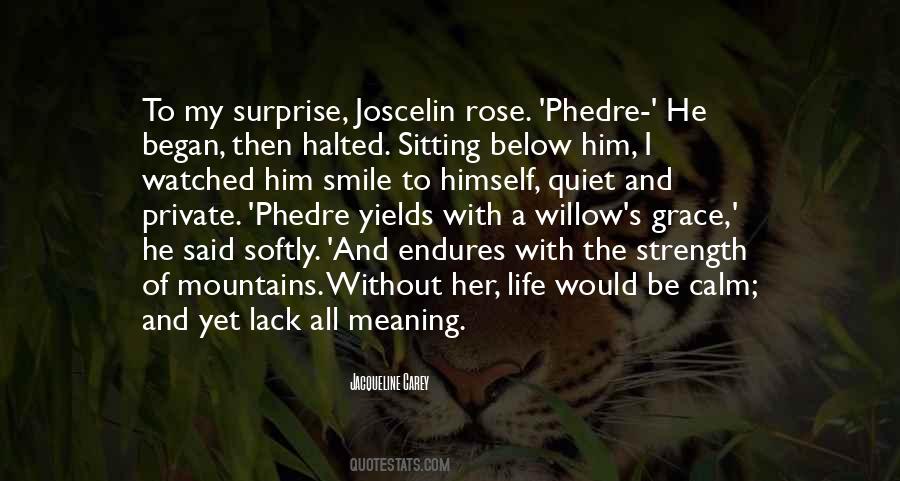 #31. I think the thing that I most deplore about American writing ... is a lack of craftsmanship. It comes right down to this - the lack of absolute love for language, the lack of sitting down and working a good idea into a gem of an idea. - Author: Harper Lee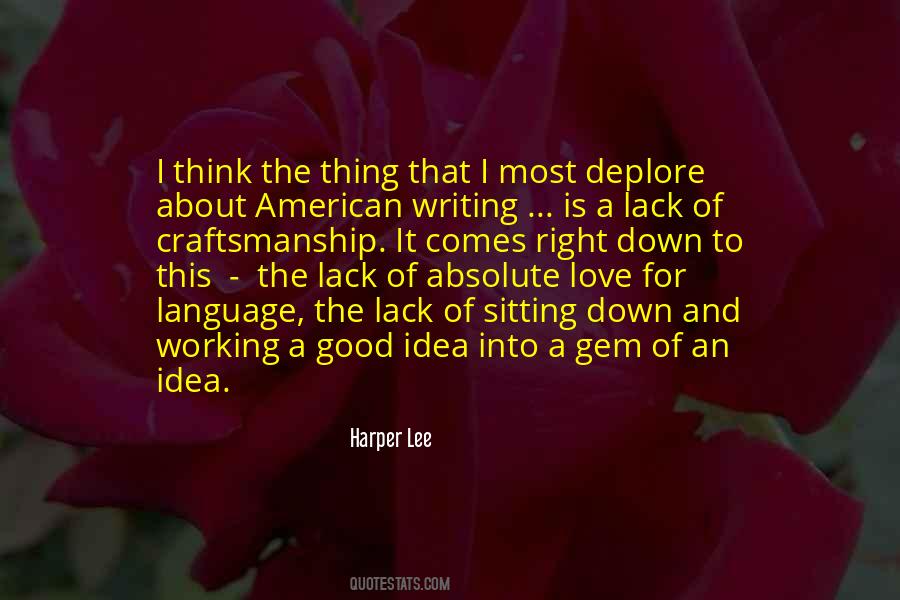 #32. I don't watch television, but I saw 'The Office' by accident. I thought it was so sophisticated, the Victorian love story, and so bold. We'd do anything, all of us, to not work in that environment, and then I'm sitting there watching hours of it. - Author: Val Kilmer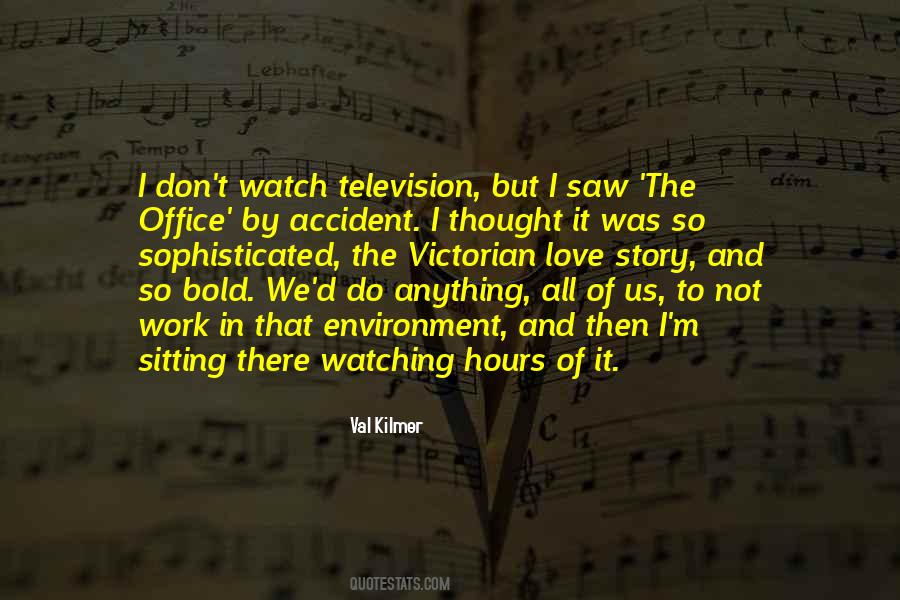 #33. There's an old man sitting next to me, making love to his tonic and gin. - Author: Billy Joel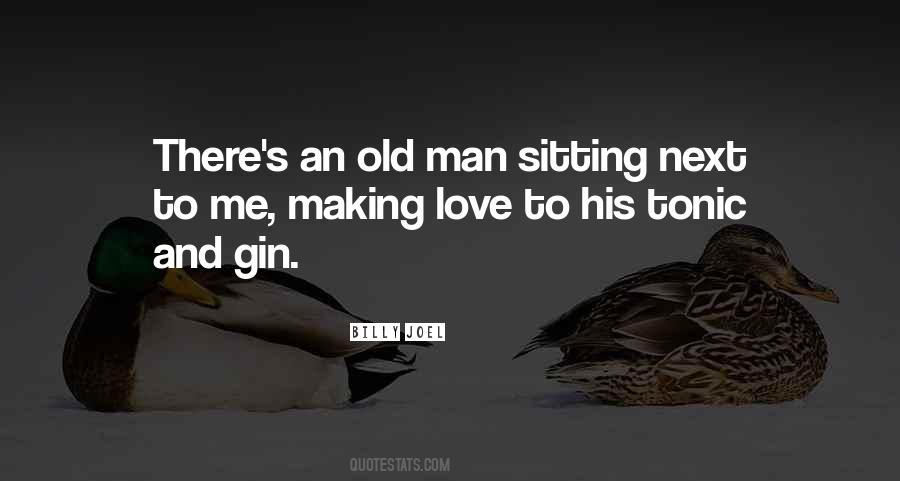 #34. You only get so much time to do something that you enjoy or love to do. If you can continue doing it, you might as well, because I don't want to live in regret. I don't want to be the person sitting behind a desk, wondering, 'Did I do it right, did I finish it off, did I really give it my all?' - Author: Troy Dumais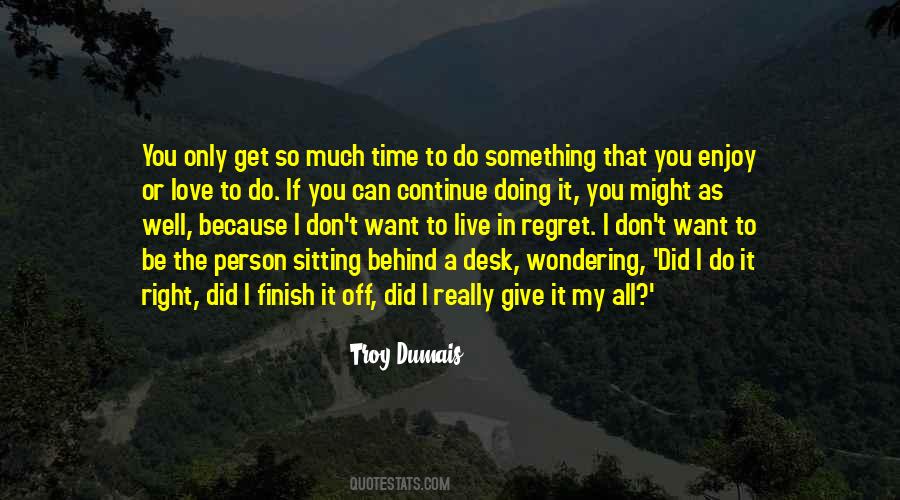 #35. When my eyes meet his gaze as we're sitting here staring at each other, time stops. Those eyes are piercing mine, and I can swear at this moment he senses the real me. The one without the attitude, without the facade[ ... ] - Author: Simone Elkeles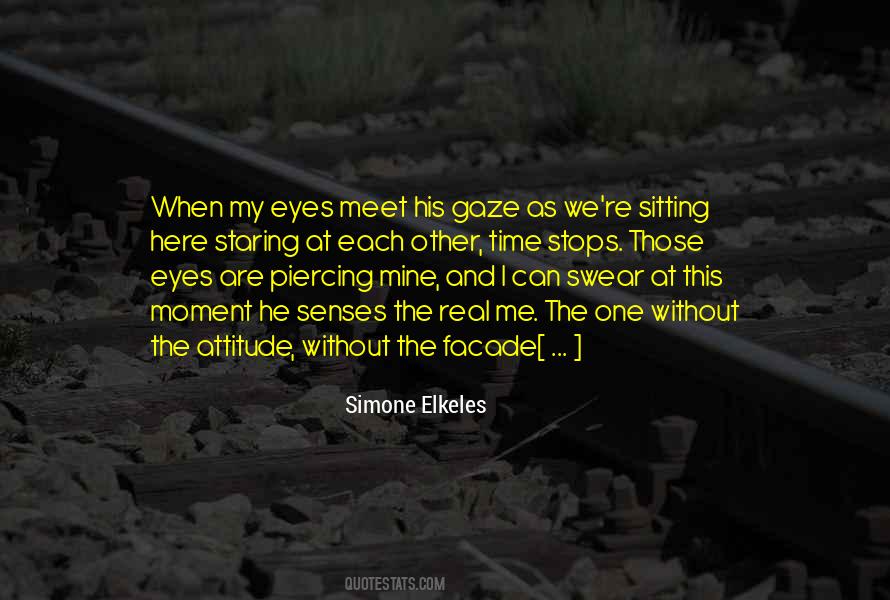 #36. He looks at her and smiles. "You're sort of dangerous, you know?"
She stares at him. "Me?"
"Yeah," he says sitting back. "I'm way too honest with you. - Author: Jennifer E. Smith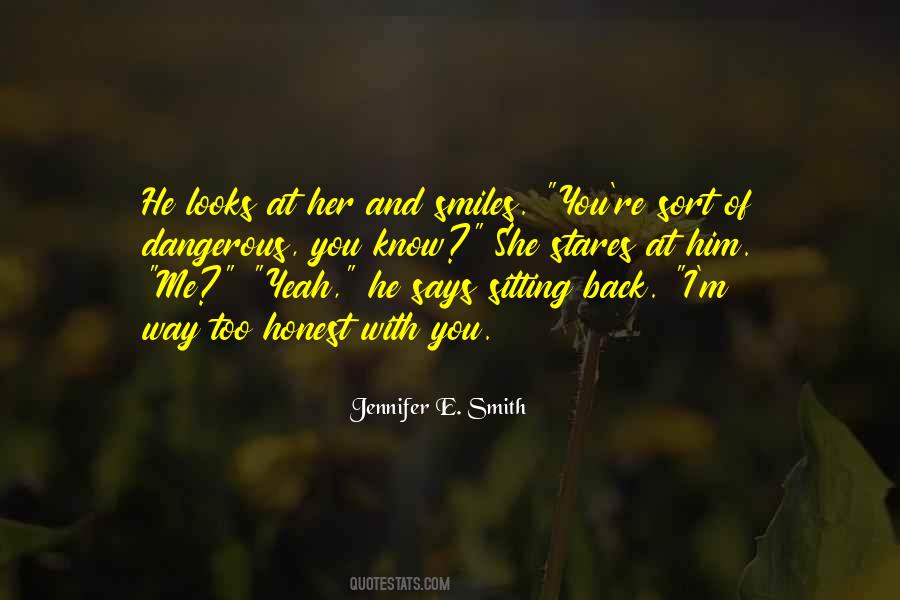 #37. People think that they will sit down and produce the great American novel in one sitting. It doesn't work that way. This is a very patient and meticulous work, and you have to do it with joy and love for the process, not for the outcome. - Author: Isabel Allende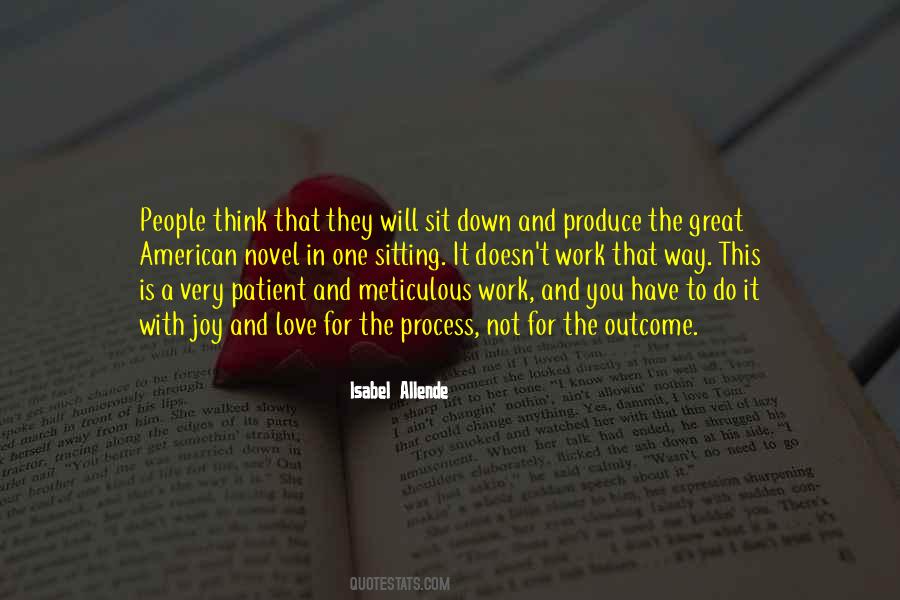 #38. Great Drew, you're sitting here about to beg Daisy's forgiveness & you wont even give your own father the time of day. Mother Teresa once said, "You only love Christ as much as the person you love the least." Sometimes I can't stand that woman. - Author: Lisa Samson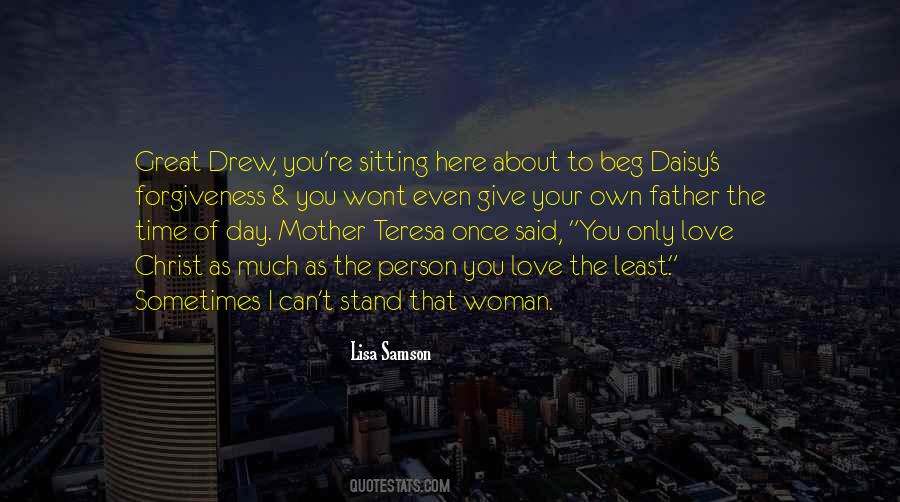 #39. Maybe love was a woman feeding him pancakes. Maybe it was someone sitting across from him sipping orange juice just to please him. - Author: Christine Feehan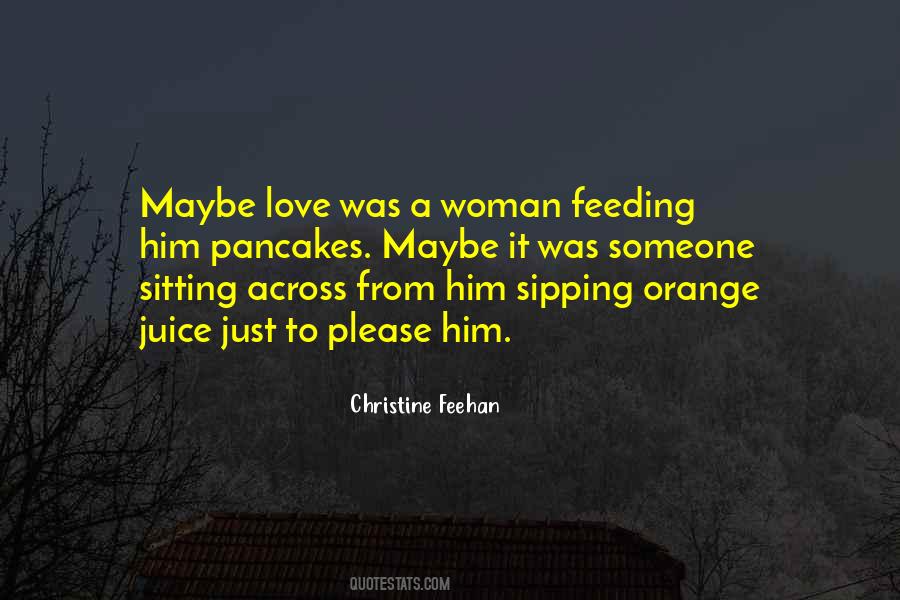 #40. This city has so many beautiful women. I fall in love like every ten minutes, I'm sitting on the subway, I'm like, "There's my wife ... there she is - oh, she's getting off. All right, there's the woman - all right, that's a man." - Author: Jim Gaffigan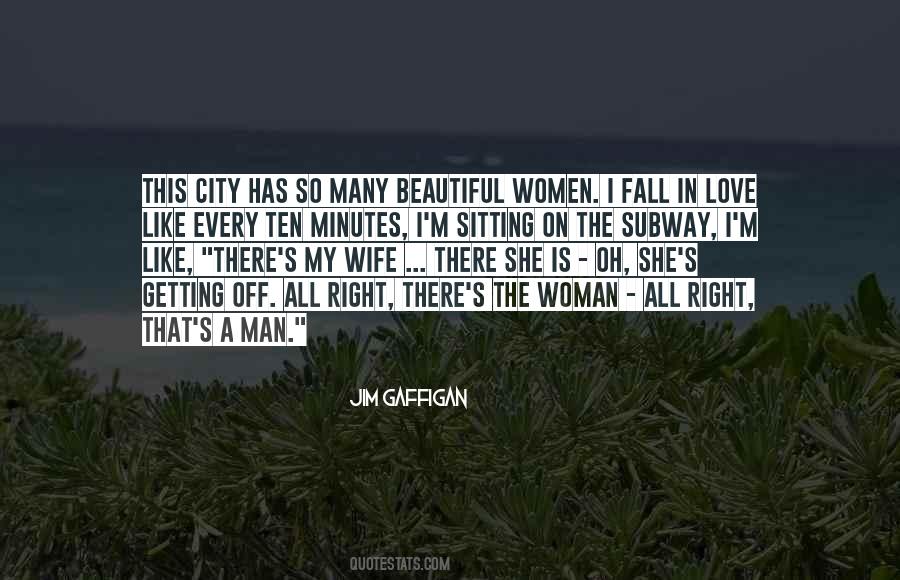 #41. I think you're beautiful, the only beautiful person I've ever seen. I love your voice and everything to do with you, down to your clothes or the room you are sitting in. I adore you. - Author: E. M. Forster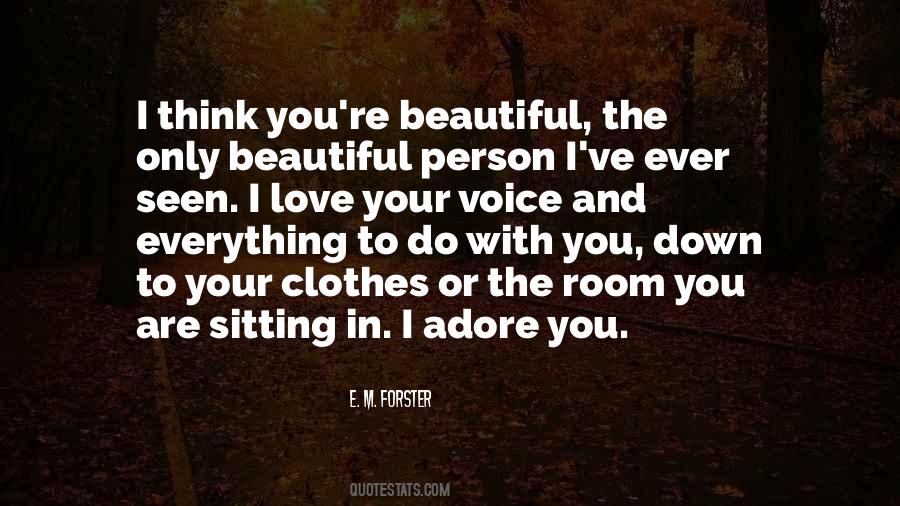 #42. Here I am, sitting at a little oak table where in old times possibly some fair lady sat to pen, with much thought and many blushes, her ill-spelt love-letter, and writing in my diary in shorthand all that has happened since I closed it last. - Author: Bram Stoker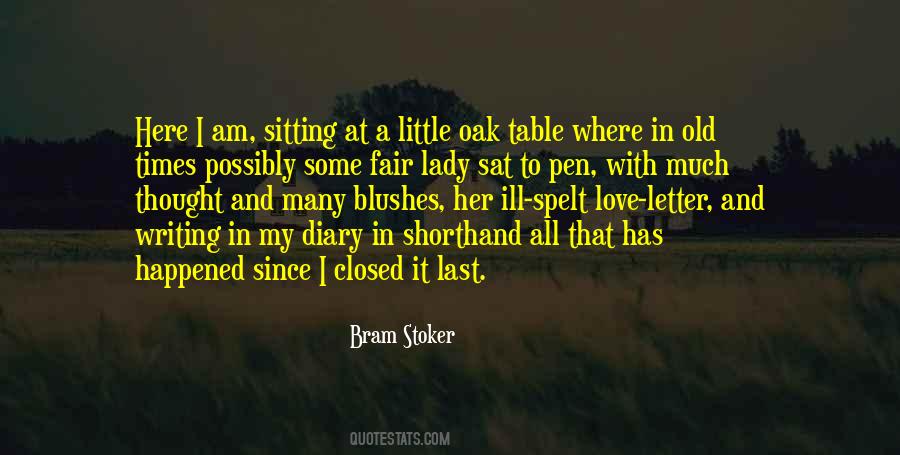 #43. He'll burn you down like wax if you let him. You'll think it's love, while he dines on your heart. And maybe it will be. But he's so hungry, he'll eat you all in one sitting, and you'll be in his belly, and what will you do then? - Author: Catherynne M Valente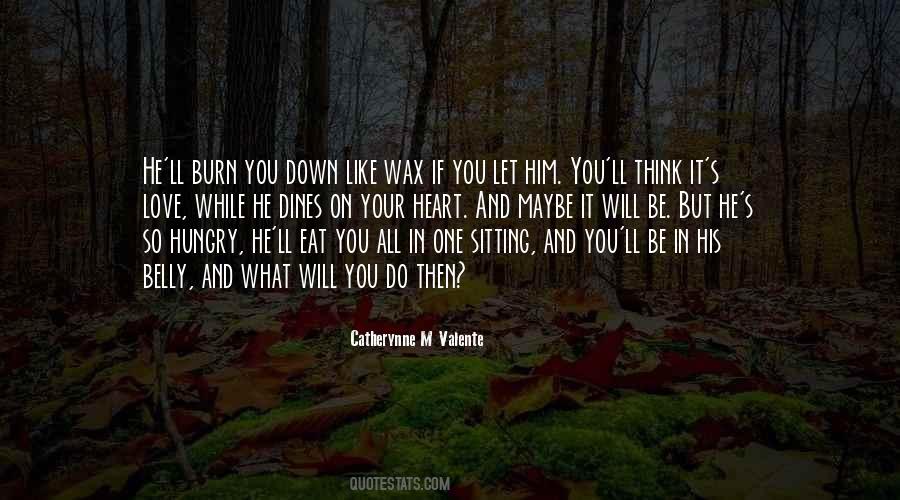 #44. I felt so liberated when I first saw this play, because for me this is the gateway to contemplation, or this is the gateway to love, or this is the gateway to faith, not sitting and reading a book by an isolated monk, god bless him. This is. - Author: Will Oldham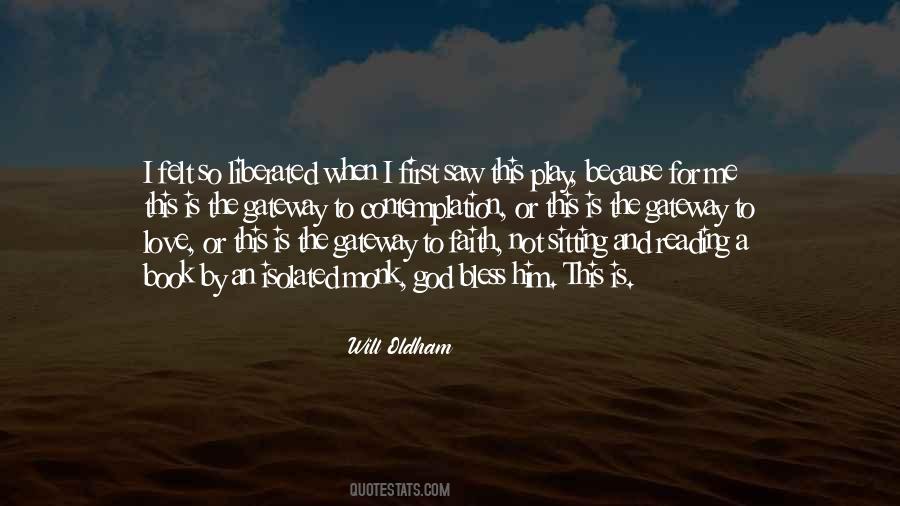 #45. She's not the kind of girl you can easily forget," Alex said, before sitting upright again and taking a deep breath. "She's unforgettable. - Author: Charlie Maclean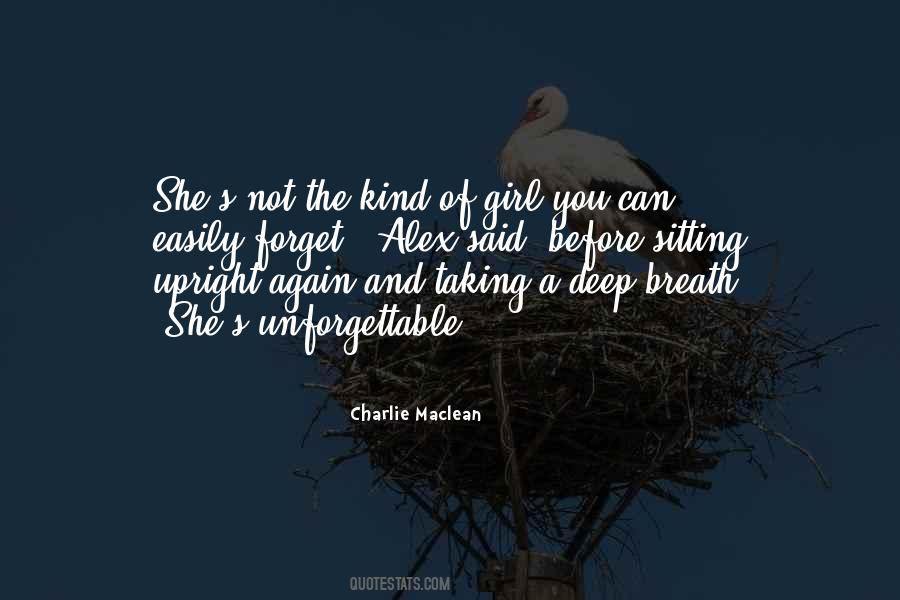 #46. I would love it if, even for one day, you could walk through a neighborhood and see an Asian guy sitting on his stoop, then you look across the street and see a black guy and a white guy sitting on their porches, and a Mexican dude walking by. - Author: Eminem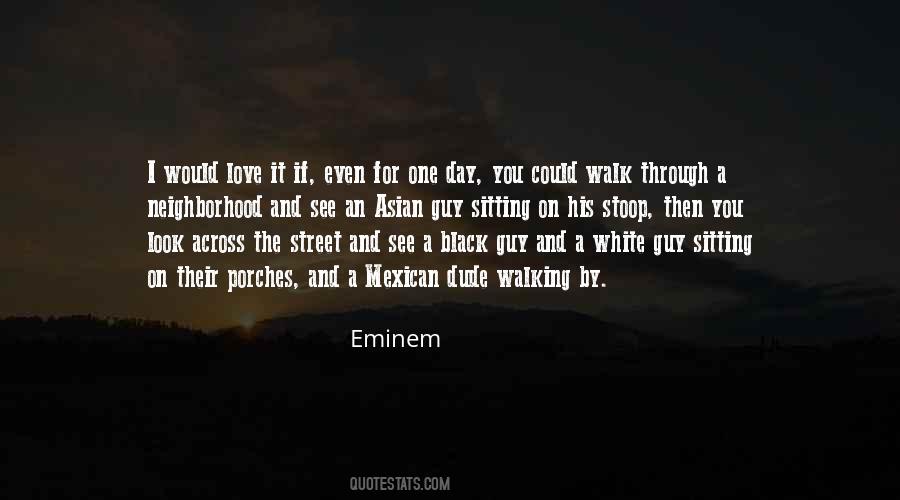 #47. All this, and discontent too! Otherwise, why am I sitting here dreaming of England? Why am I gazing at this campfire like a lost should seeking a hope when all that I love is at my wingtips? Because I am curious. Because I am incorrigibly, now, a wanderer. - Author: Beryl Markham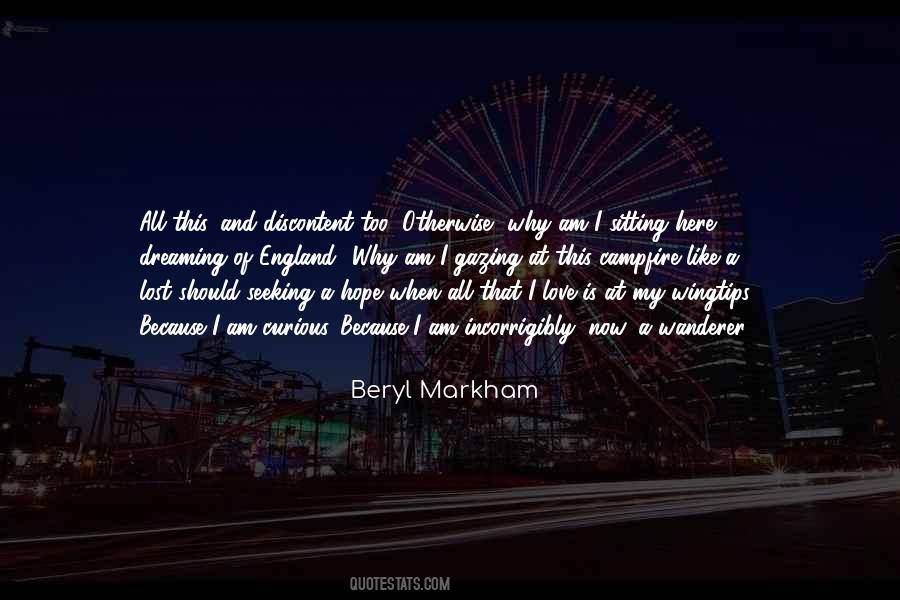 #48. That's what race fans love to see. That's what they bought this ticket for. That's what they're sitting in the grandstands rooting on their favorite driver for is to see him get out there, mix it up clean and bring it home just like we were, third and fourth. - Author: Kurt Busch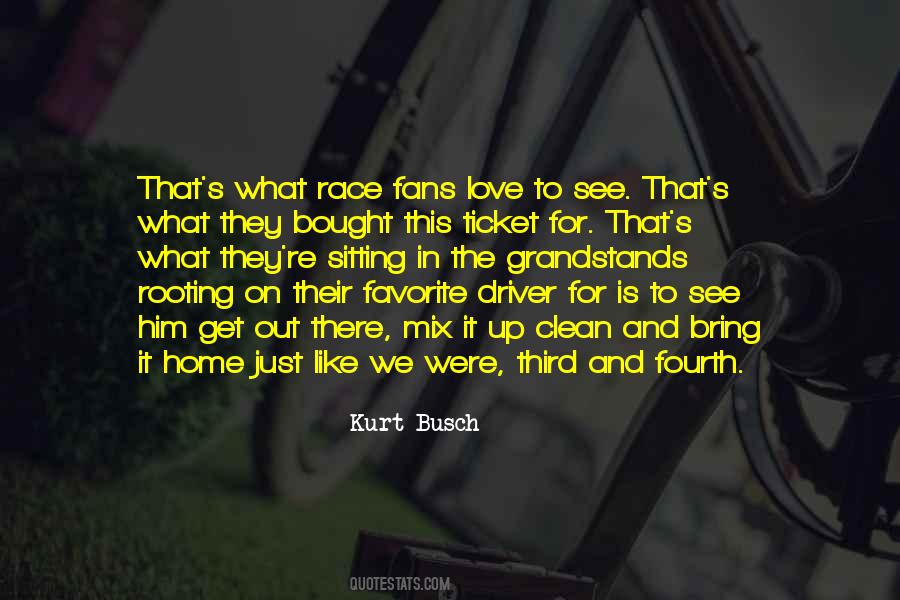 #49. So you don't really believe in love? I whispered. How could this be? I was crushed. It was like finding out the truth about Santa Claus and the tooth fairy and the Easter bunny in one sitting. - Author: Robin Palmer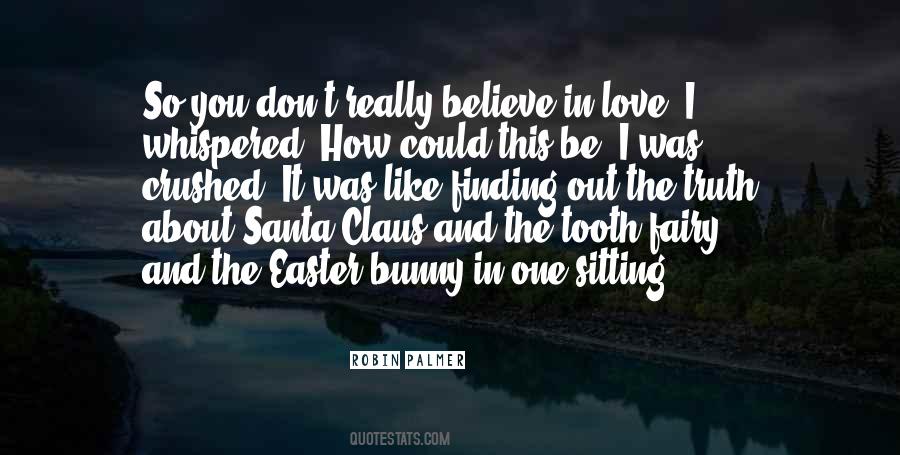 #50. I love the 6 Nations rugby. I feel very Scottish then. I feel very Scottish now, sitting in the middle of Chelsea. But that's part of our heritage - being part of Britain, part of Europe. I love being European. - Author: Rory Bremner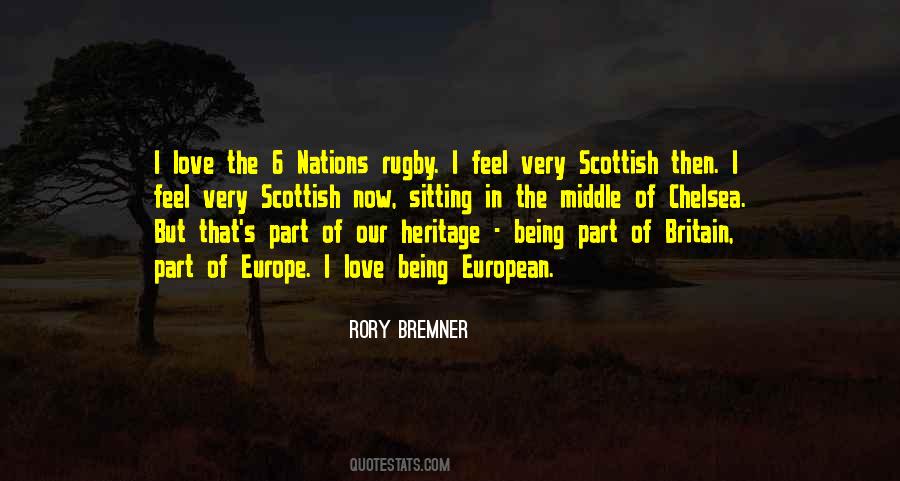 #51. To picture him, sitting at his desk at home, scribbling away with a pen and paper, endears him to me so completely. It gives me shivers. Currents of electricity from my scalp down to my toes. - Author: Jenny Han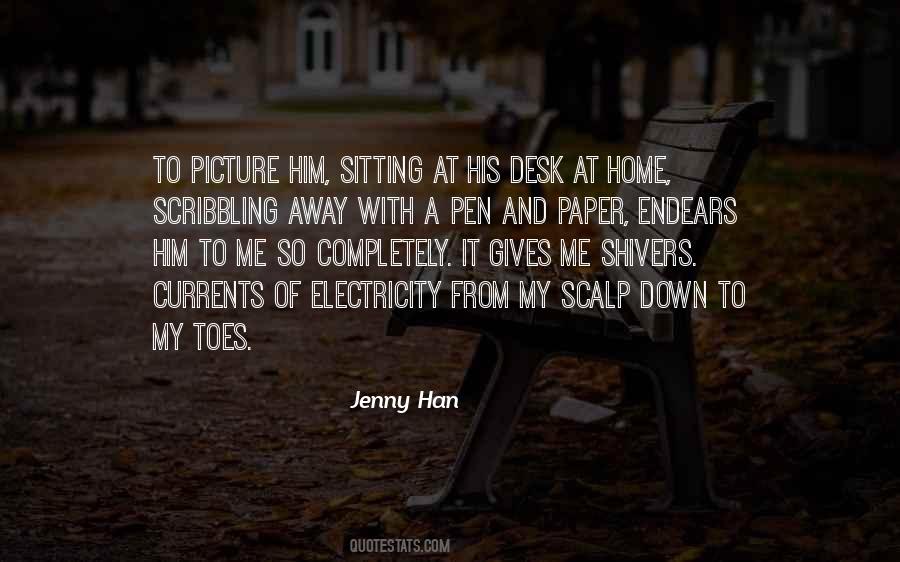 #52. Behold, my friends, the spring is come; the earth has gladly received the embraces of the sun, and we shall soon see the results of their love! - Author: Sitting Bull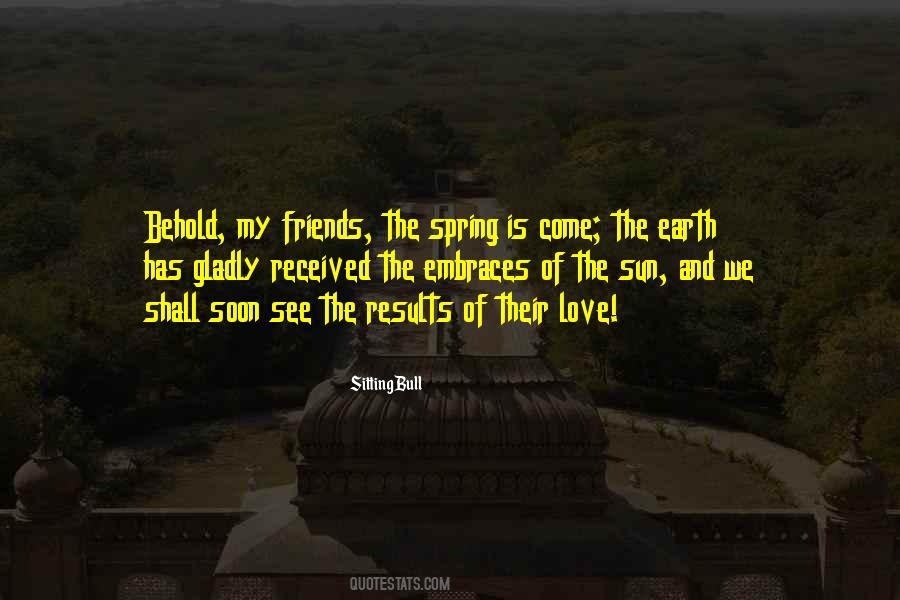 #53. When you meet your guru or a being who knows, who is no longer loving, but has become love, a being who is sitting in truth, and in compassion and kindness for all beings - you know. When I met my guru, I knew. And it was before I met him physically, actually. - Author: Krishna Das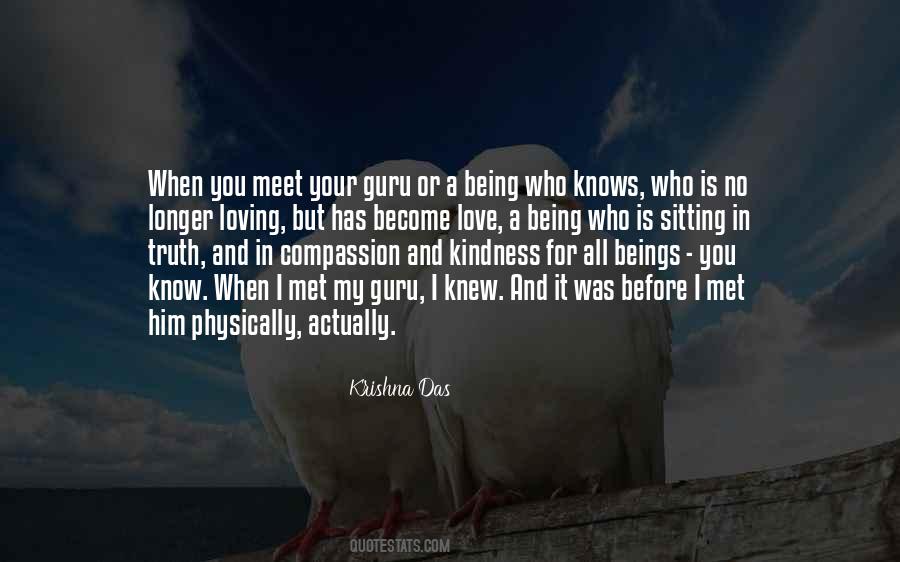 #54. I love just sitting quietly meditating. With an hour free, it depends. I love getting down on the floor and playing with my kids. - Author: Nicole Kidman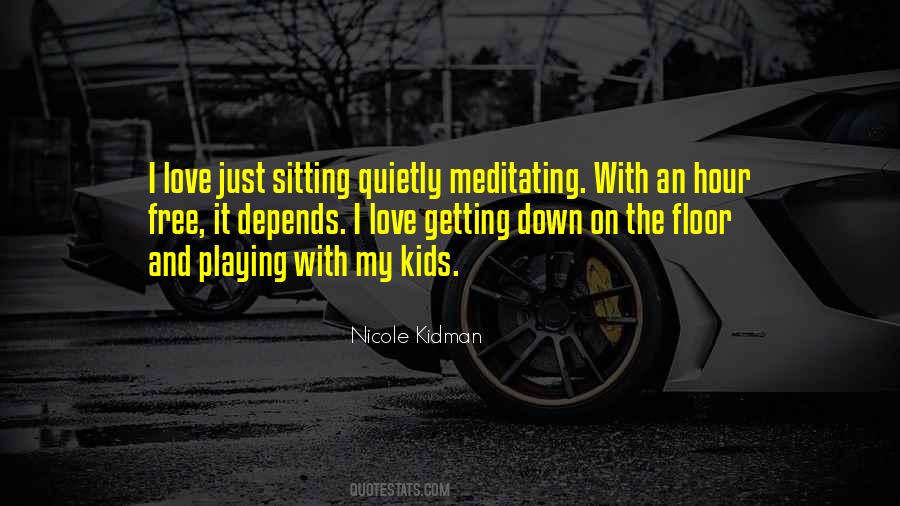 #55. You know, I'm not sitting here like some little woman standing by my man, like Tammy Wynette. I'm sitting here because I love him, and I respect him, and I honor what he's been through and what we've been through together. And you know, if that's not enough for people, then heck, don't vote for him. - Author: Hillary Clinton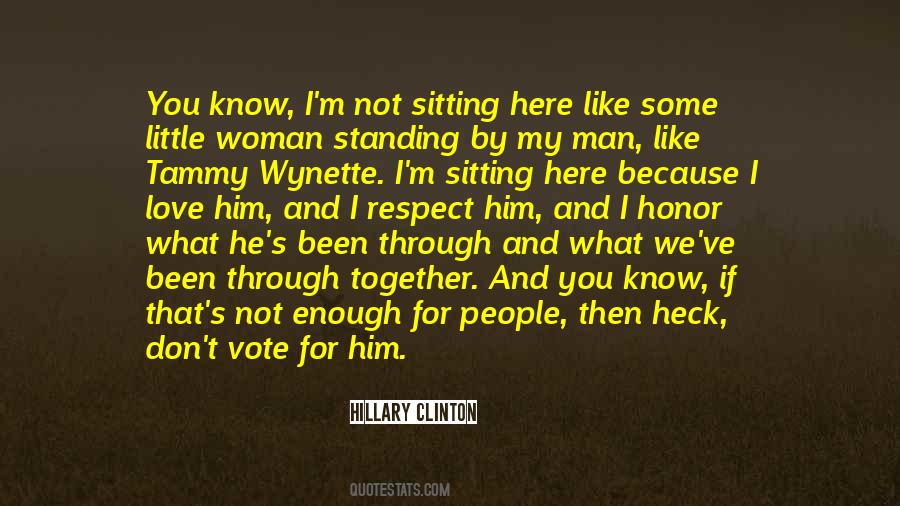 #56. Some of you are sitting at home saying, 'I don't need a church to love God,' and I am here telling you that you are so wrong. - Author: Francis Chan
#57. Confidence is necessary to charisma. No one's going to like the kid quietly sitting in the corner, because there's no reason to. They haven't done anything memorable or exciting. People love a trendsetter or a rebel. These - Author: Virginia Patel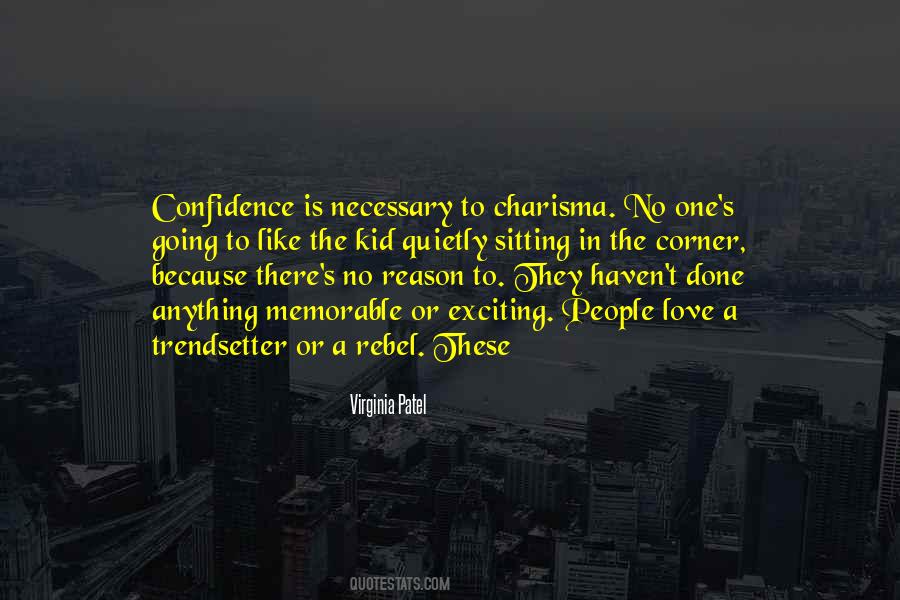 #58. Rosa Hubermann was sitting on the edge of the bed with her husband's accordion tied to her chest. Her fingers hovered above the keys. She did not move. She didn't ever appear to be breathing. - Author: Markus Zusak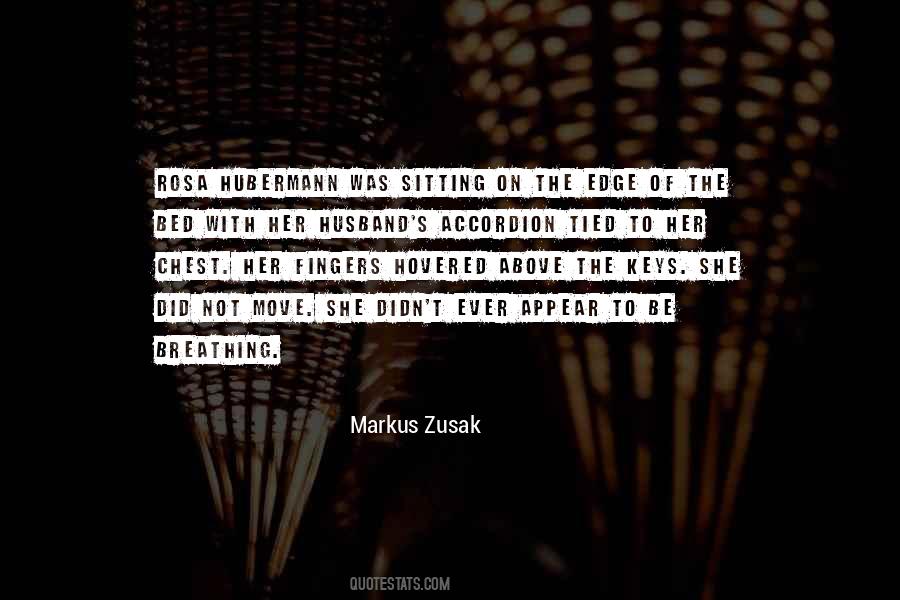 #59. I like to eat. Definitely. I love sitting around a table with my friends. But I don't know how to cook anything. - Author: Donatella Versace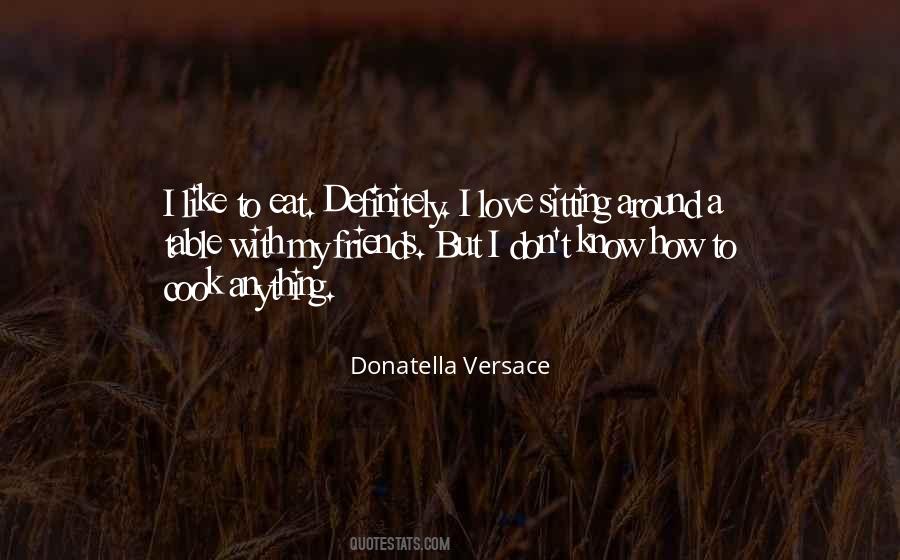 #60. They pray so much I can almost imagine Jesus himself sitting up there on a white puffy cloud saying, "Oh for the love of my dad, shut the fuck up already. I heard you the first eleven times. - Author: Tara Sivec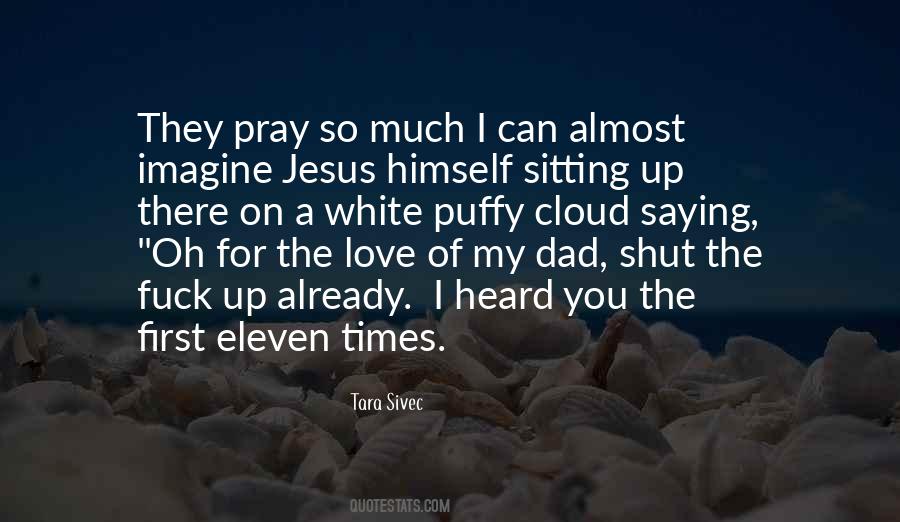 #61. I honestly and truly love and believe in what I'm making, and it's not a joke, whereas some people would take a singer-songwriter sitting behind an acoustic guitar as sincere. - Author: Casey Spooner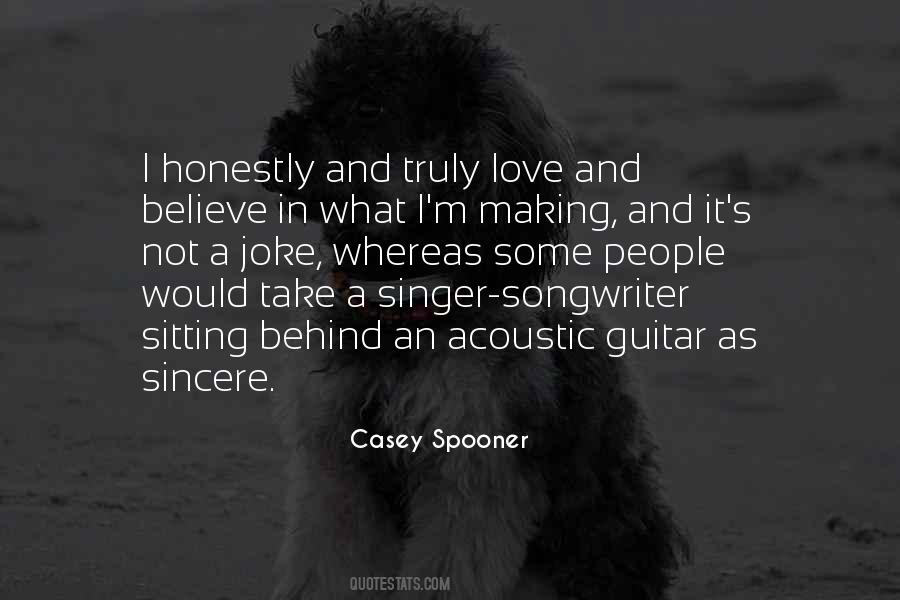 #62. During that time, The Mouth came by to pray with us, and my dad began to spend his evenings sitting in the yellow lawn chair and staring at the highway, or down in the basement with his isotope material, finding comfort in the stability that's created from decay. - Author: Miriam Toews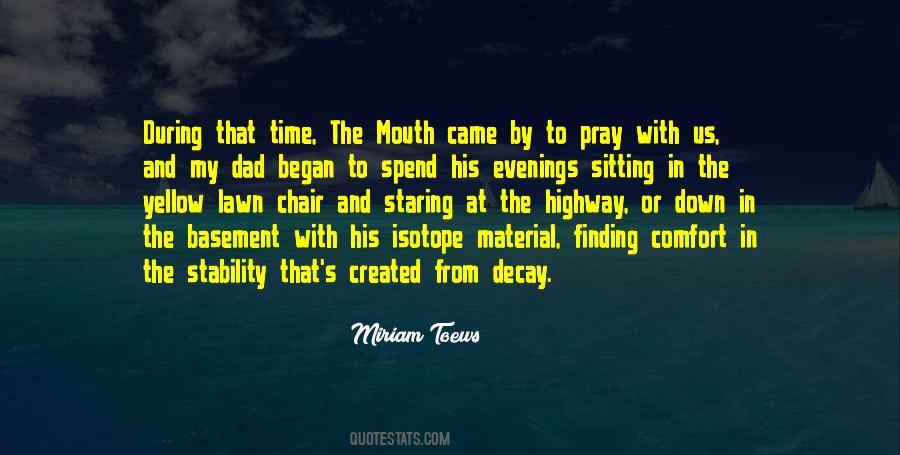 #63. Sitting on my bed with all these things I used to love but not loving them anymore, I just wanted to set them on fire. That's when I knew I was never going to be all right again. - Author: Wendy Walker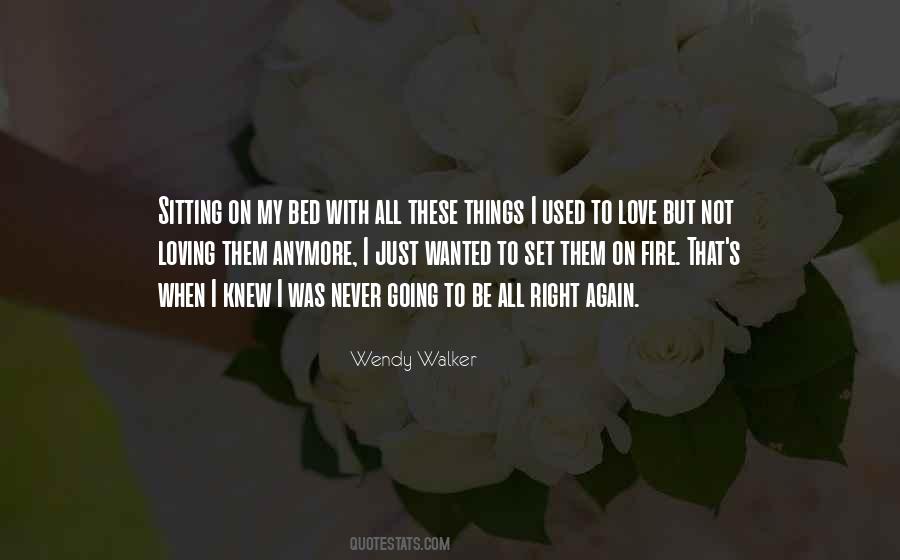 #64. Is it wrong for me to love my own? Is it wicked for me because my skin is red? Because I am Sioux? Because I was born where my father lived? Because I would die for my people and my country? - Author: Sitting Bull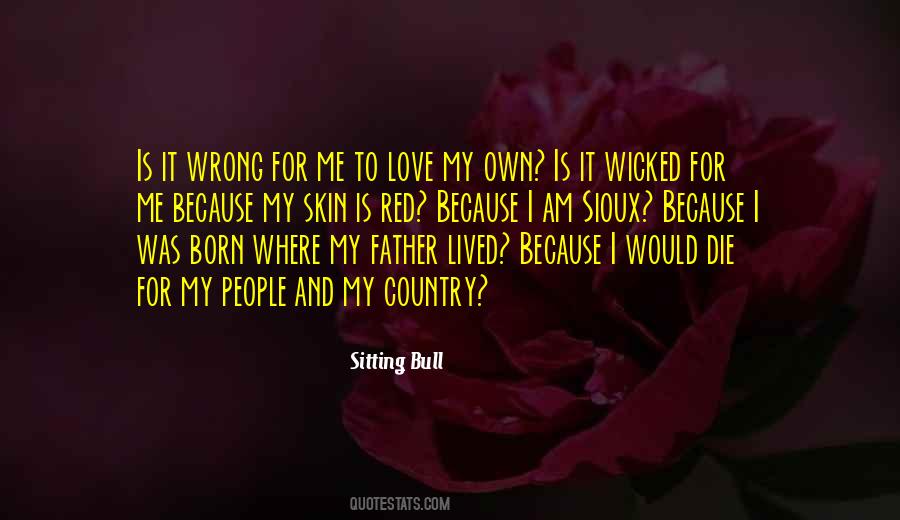 #65. I don't really watch what I eat. I love sitting around with friends and eating loads and drinking loads for hours. Maybe when I'm 40 I'll worry about my diet. - Author: Santiago Cabrera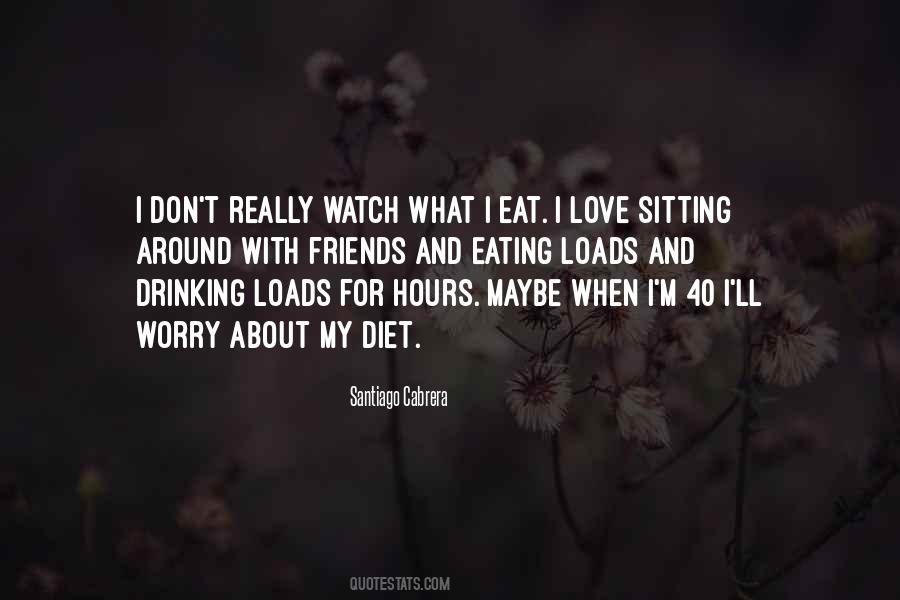 #66. But at night, once I had taken off my makeup and my defenses were down and my mind started to wander, it seemed rather than new love sitting down at the table of my life to join me, old love managed to find its way back in ... - Author: Mandy Hale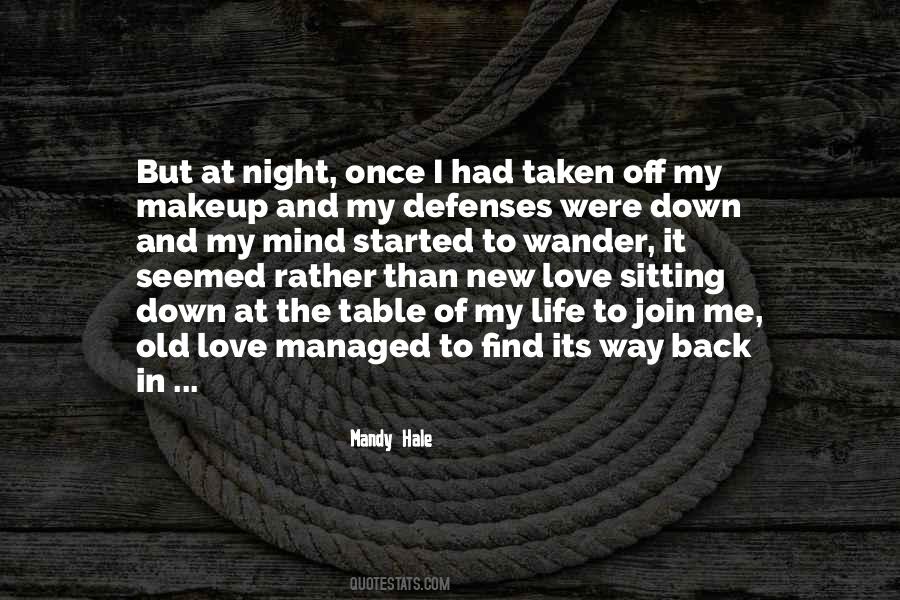 #67. I believed that if I had the whole story, if I had the opportunity to really know the person I was sitting with, there would be nobody I could not love. - Author: Laurie A. Helgoe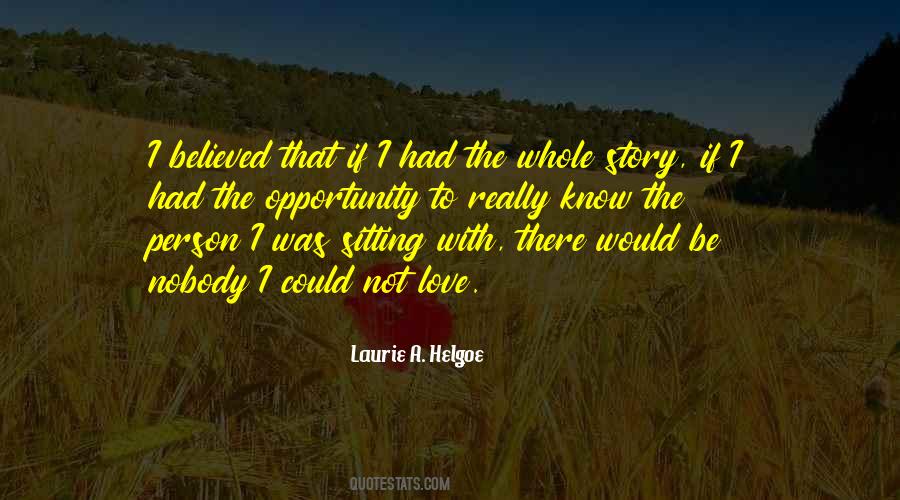 #68. I missed talking to you, and playing with you, and touching you, and seeing you smile. I missed just ... sitting next to you. I've never missed anyone or anything that much - Author: Mila Ferrera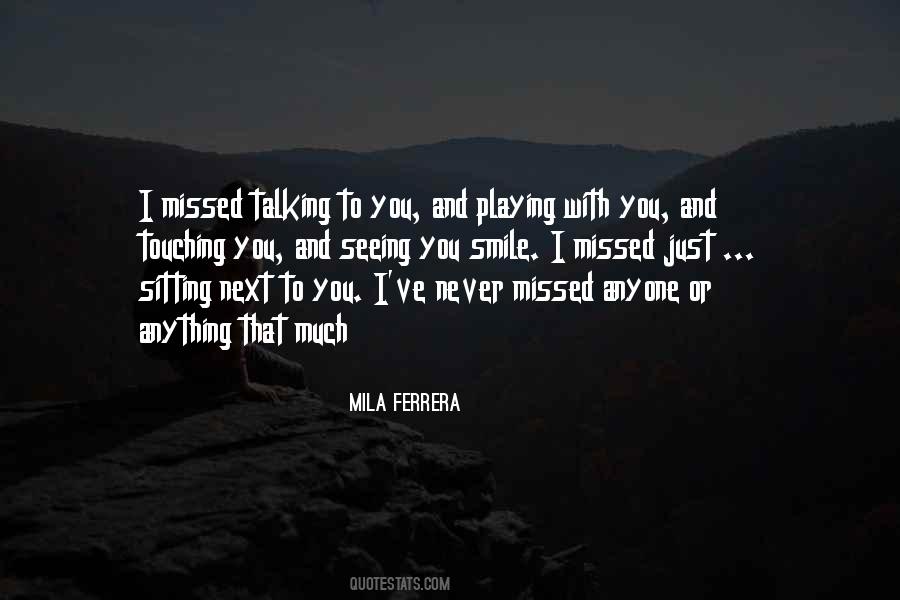 #69. John Green has written a powerful novel - one that plunges headlong into the labyrinth of life, love, and the mysteries of being human. This is a book that will touch your life, so don't read it sitting down. Stand up, and take a step into the Great Perhaps. - Author: KL Going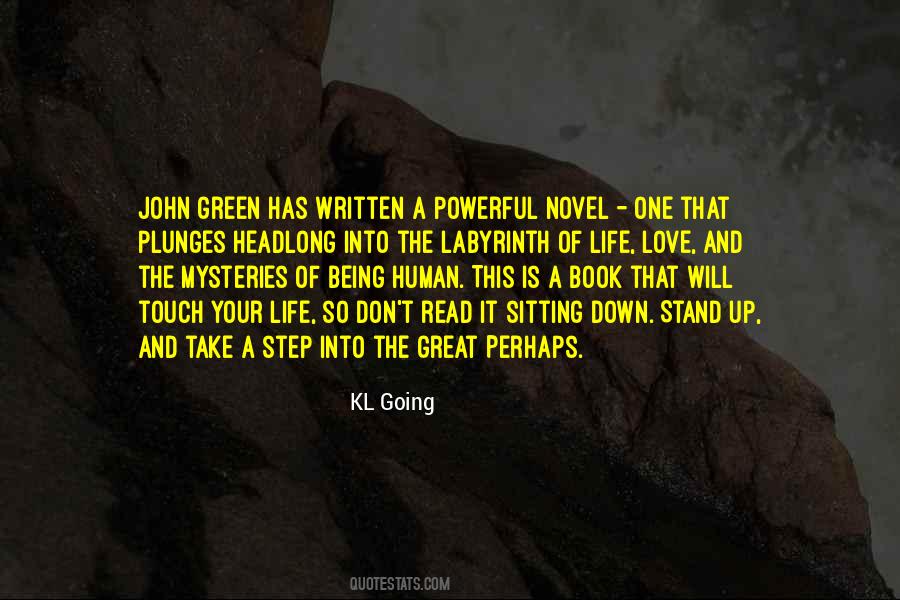 #70. I even got a letter from a young woman in British Columbia that began as follows: 'Today I am eighteen. I am sitting at the window, looking out at the rain, and thinking how much I love you.' - Author: Isaac Asimov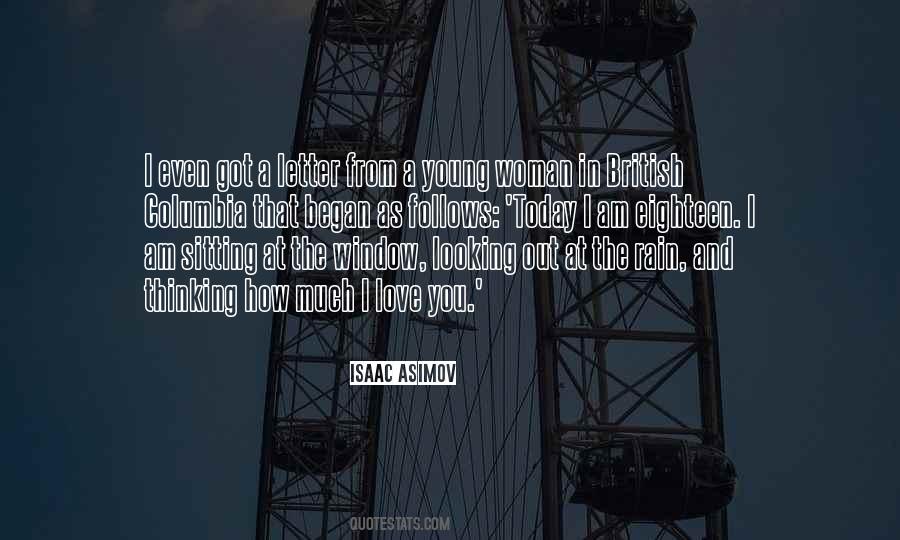 #71. You'll always be my girl. You were from the first moment I saw you. You were sitting in church with your brothers. You were eight years old, and I was twelve, and I thought, I hope she waits for me. Lucia, I'll wait forever if I have to. - Author: Adriana Trigiani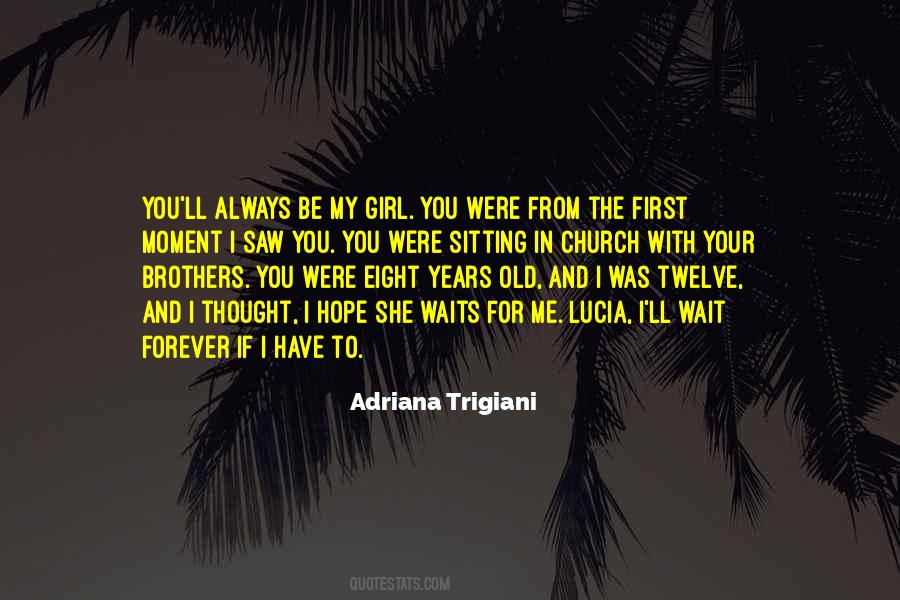 #72. I do like to teach. Sitting in my great chair at school, I used to consider myself as some dictator at the head of a commonwealth ... To fire a newborn soul with ardor for learning! At that time I thought the world could afford no greater pleasure.' - Those Who Love, p. 177 - Author: Irving Stone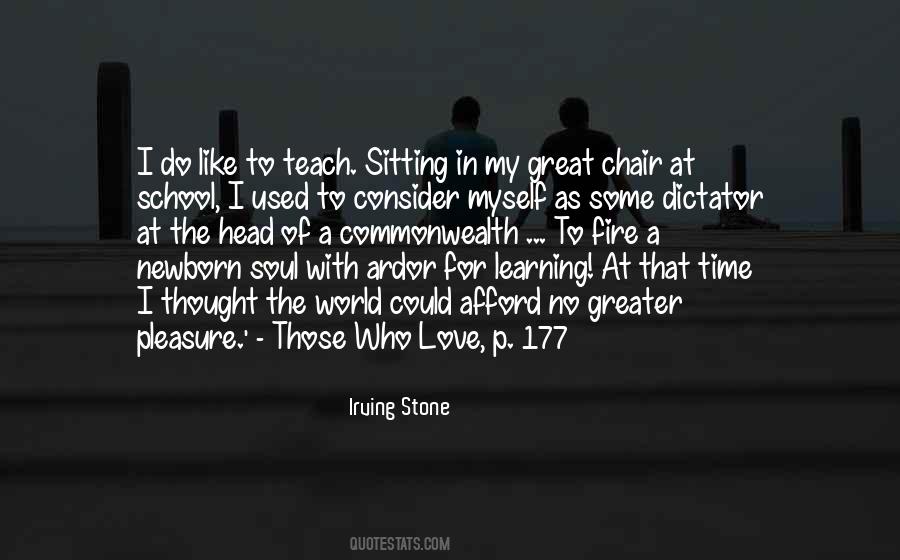 #73. I love comics. All I've been doing is reading every day, sitting in the house. Because I've not been feeling too good, so I've been reading and reading. - Author: Jason Mewes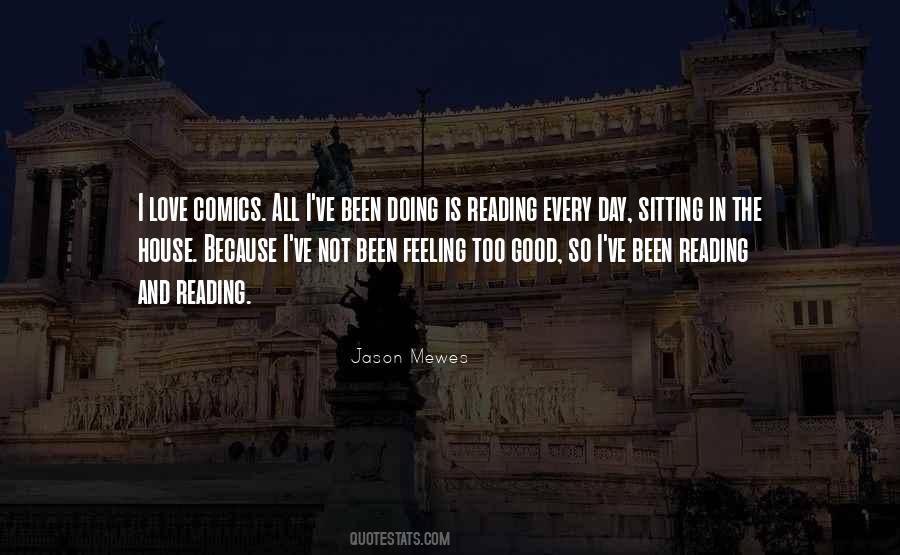 #74. The thing about love is, you don't get to choose," Suze said.

"You just wake up one day and there it is, sitting at the foot of the bed, going 'nyah, nyah, gotcha,' and there's not a damn thing you can do about it. - Author: Jennifer Crusie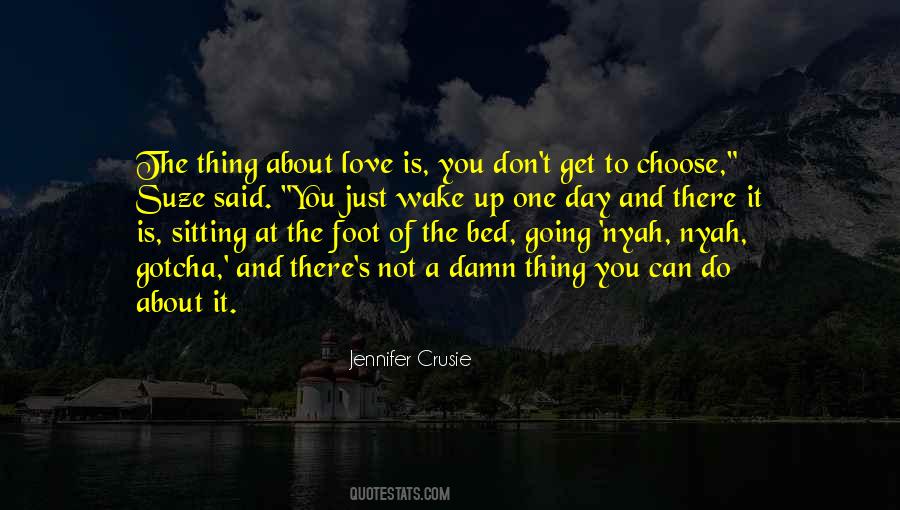 #75. What fools we are, eh? What fools, sitting here in the sun, singing. And of love, too! I am too old for it and you are too young, and yet we waste our time singing about it.
Ah, well, let's have a glass of wine, eh? - Author: Gerald Durrell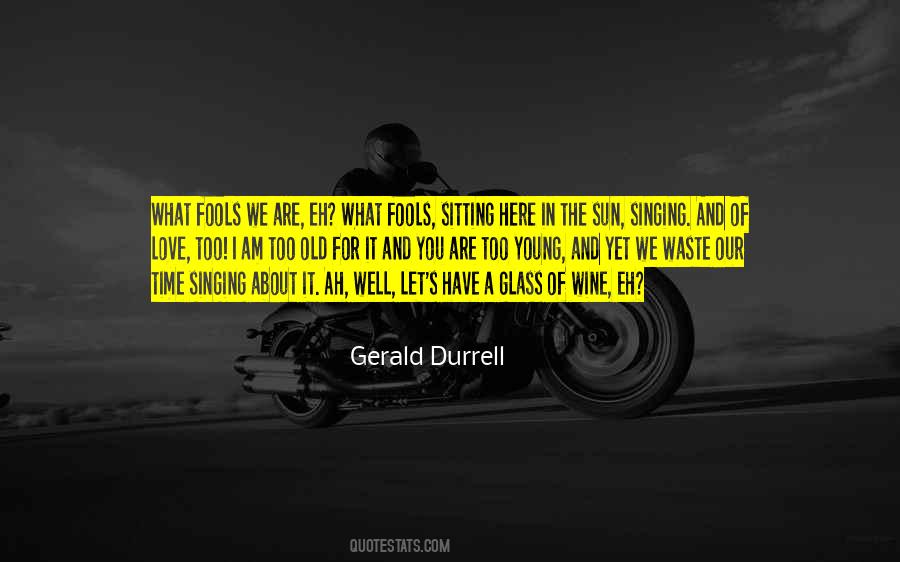 #76. Girls love guys who dance, and I'm definitely going to be the first one on the dance floor. Usually, you just see guys sitting around, but I definitely don't hold back when it comes to dancing. - Author: Jacob Artist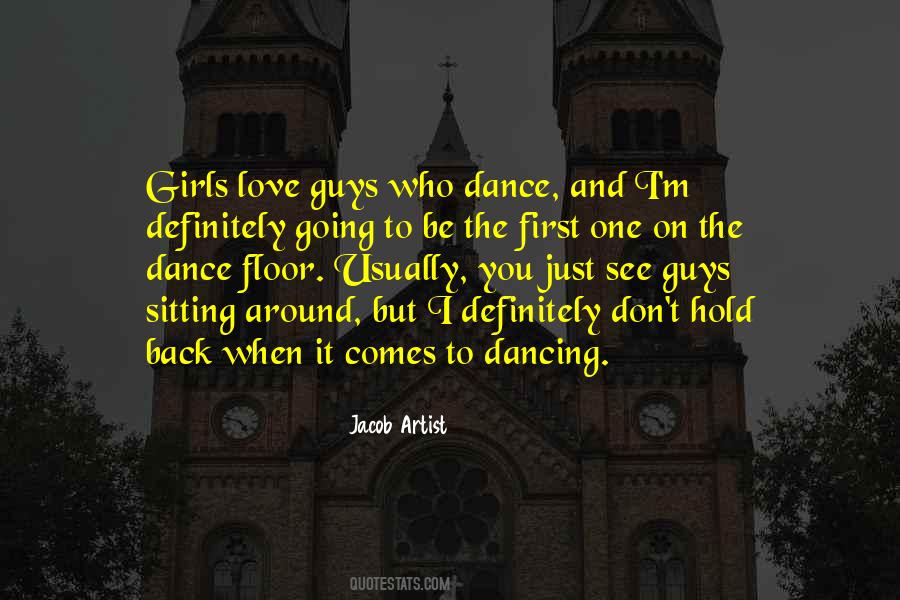 #77. I love writing, and I love the solitude of the writing, in that you're just sitting there creating something from nothing, or a new story for characters you love and care about. - Author: John Wells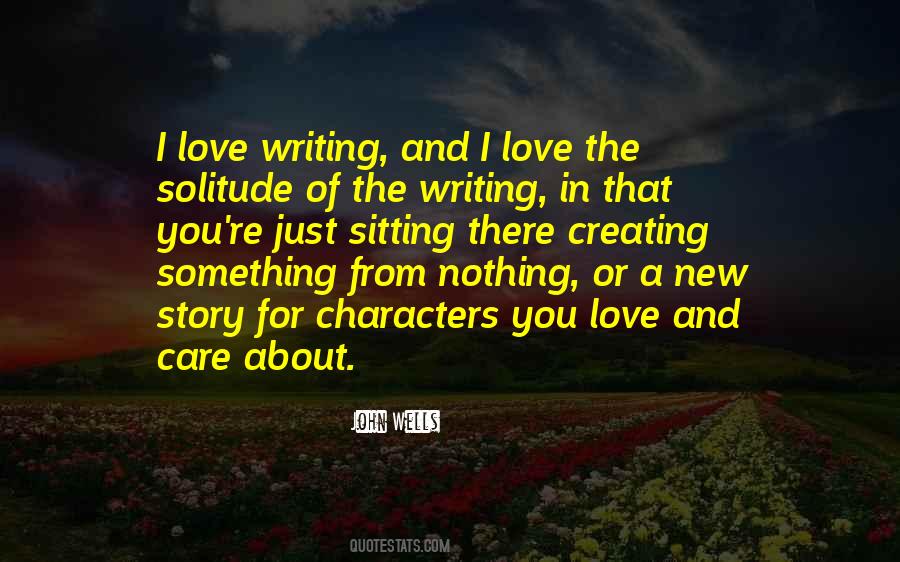 #78. As I've grown older, the simple pleasure of sitting on the couch with someone you love and watching a documentary is about as good as it gets for me. - Author: Paul Wesley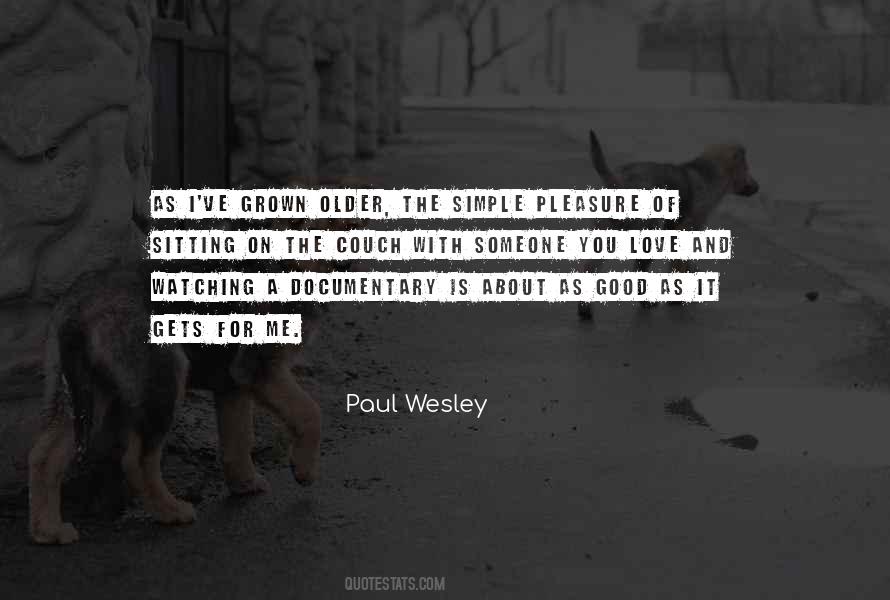 #79. When you look back at that relationship you didn't think you could live without and realize had you stayed in it, you'd be some comfortable loser, sitting on the couch with another comfortable loser, instead of being the dope motherfucker you are today. - Author: Darnell Lamont Walker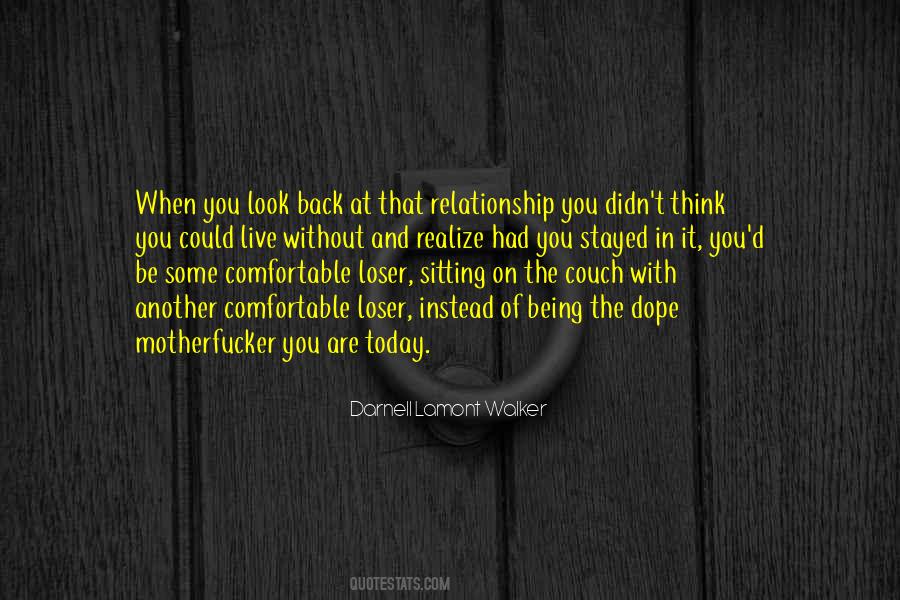 #80. There was the woman I was before my mom died and the one I was now, my old life sitting on the surface of me like a bruise. - Author: Cheryl Strayed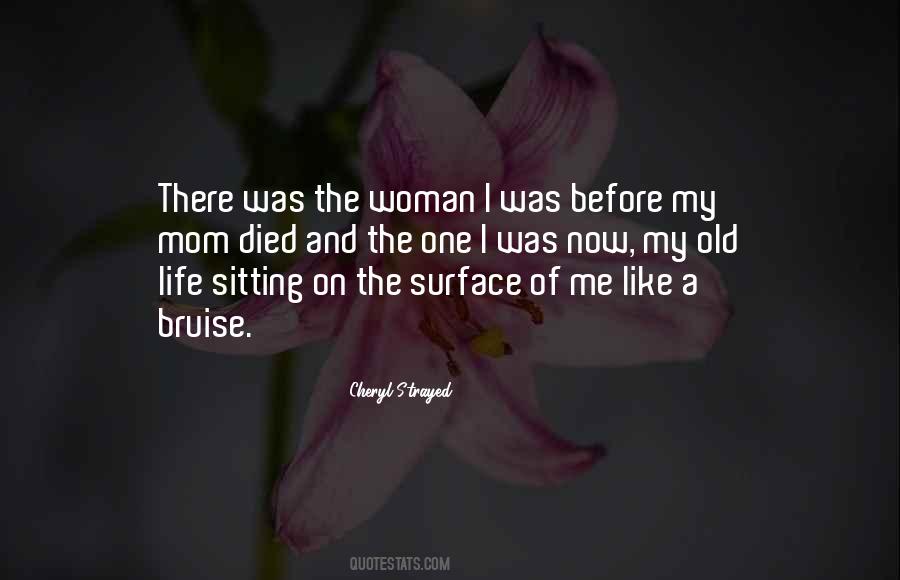 #81. I'm kind of old-school and love nothing more than sitting, opening a book, and reading it. But I also love listening to audio books. - Author: Nick Cave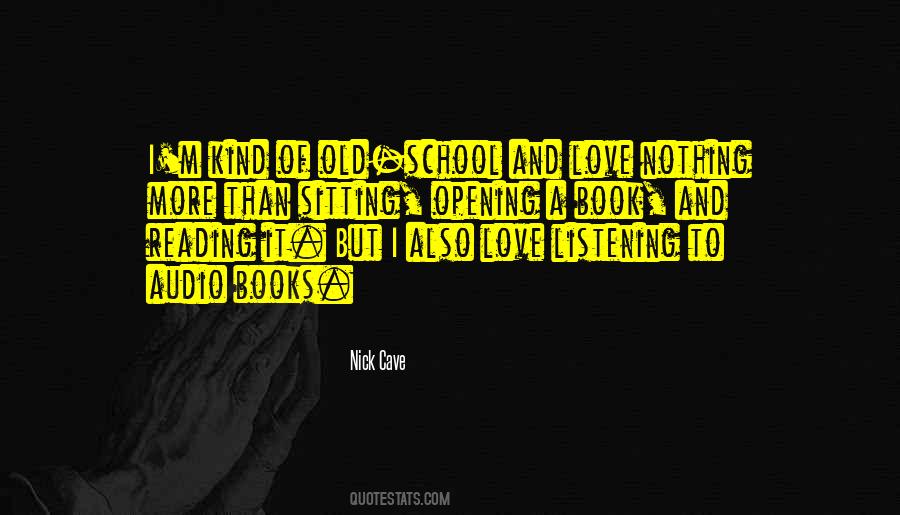 #82. The earth has received the embrace of the sun and we shall see the results of that love. - Author: Sitting Bull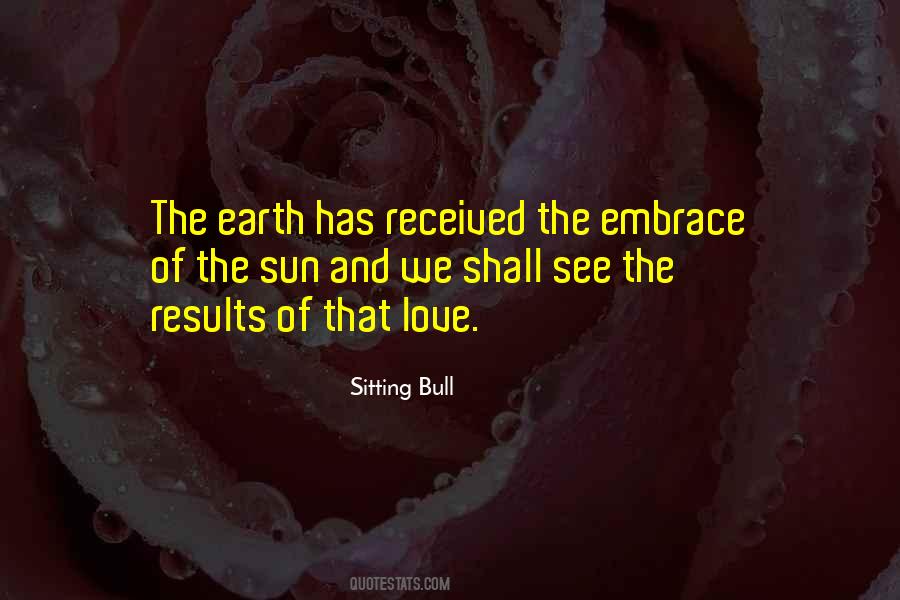 #83. I'm a soccer mom. I'm T-ball, soccer, karate, homework, keeping them on their schedules. I love being the snack mom, when I get to bring the cut oranges. I have one of those coolers with wheels. I'm at every game, every practice, sitting on my blanket. I love it. - Author: Pamela Anderson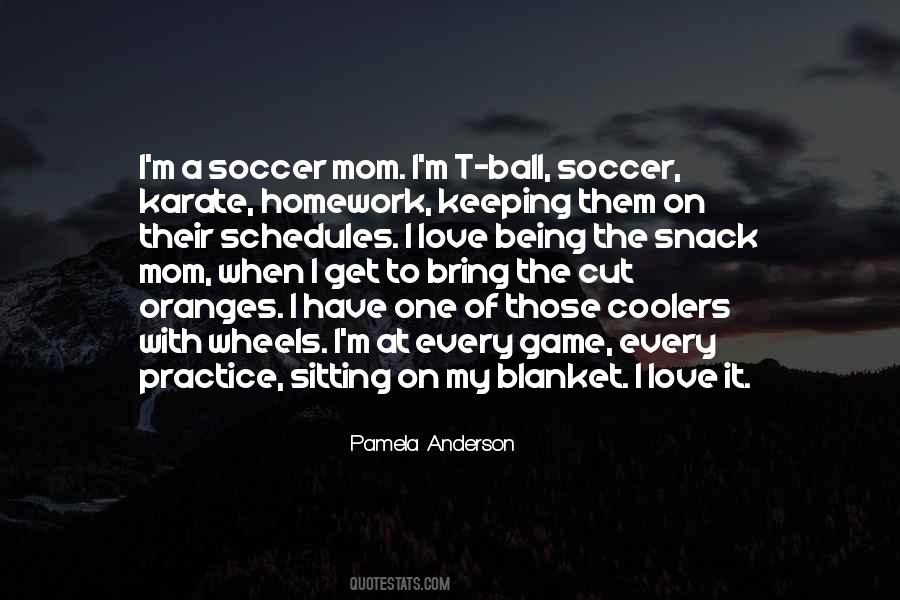 #84. I try my best to create a good quote while sitting alone. But I can never create it. Only on talking to you I get lots of lines - Author: Pawan Mehra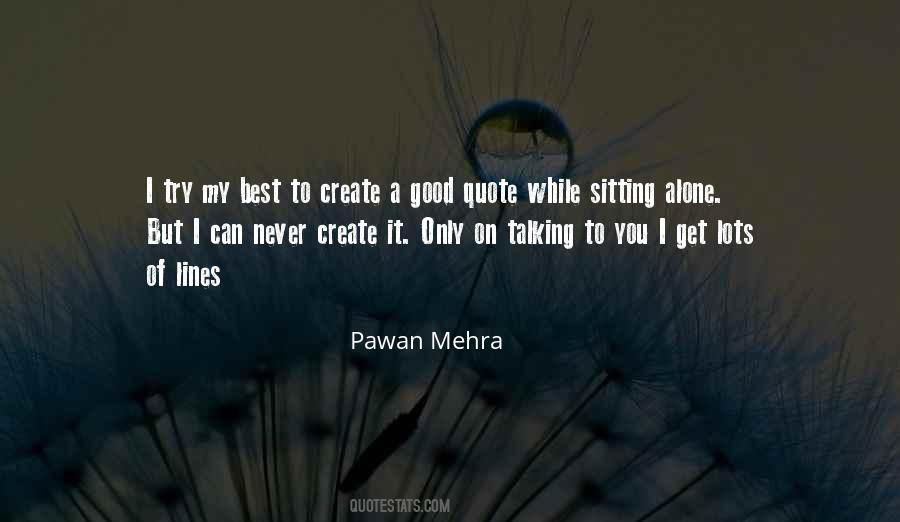 #85. I love snowboarding. It's probably my favorite sport. I love sitting on top of the mountain and the snow falling and that silence, that snow silence. That's, like, a very peaceful, happy place for me. - Author: Philippe Cousteau Jr.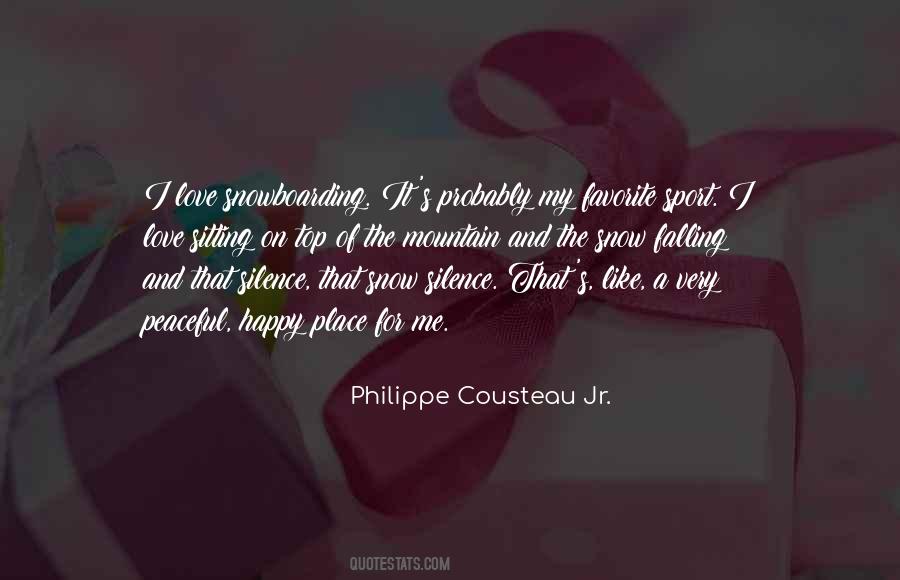 #86. This is what love is. Not the moments on the beach, or under the stars or the trees, or in the moonlight. Love is sitting together in the quiet, waiting for death to come.
Knowing you're not alone. - Author: Carolee Dean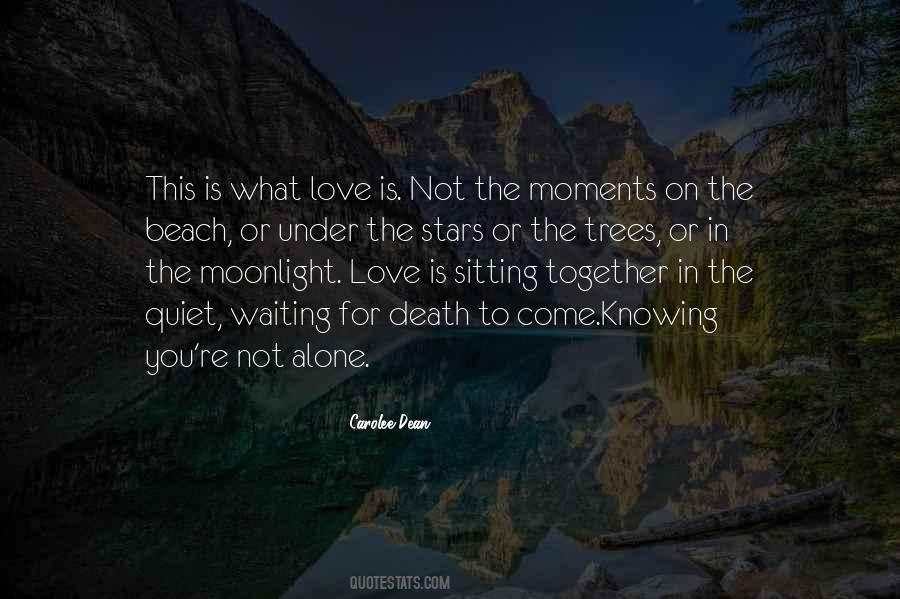 #87. I have a tingly feeling that I get when there are books all around me. The library! I know it's geeky, but I love it. Just sitting between the shelves of books, reading - it's the safest feeling. - Author: Nick Lake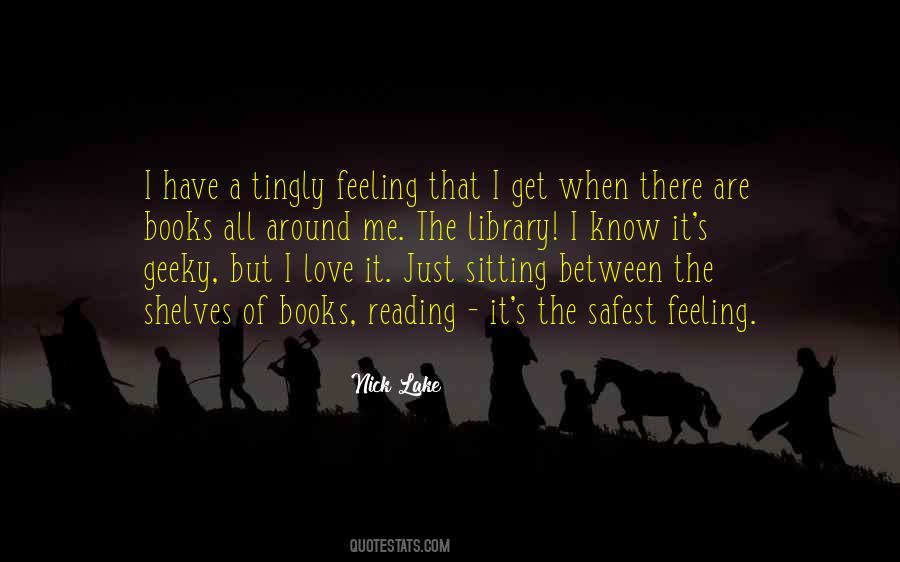 #88. The most important hour is always the present.
The most significant person is precisely the one sitting across from you right now.
The most necessary work is always love. - Author: Meister Eckhart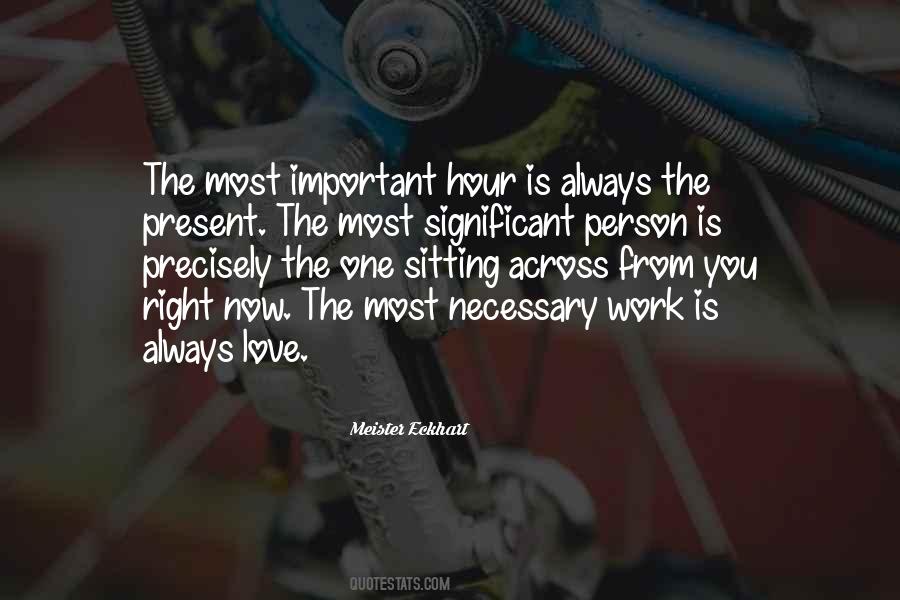 #89. I really hated school and so I just wanted to stay home and watch 'I Love Lucy' and watch the movies that inspired me to the point where we are sitting here. - Author: Justin Long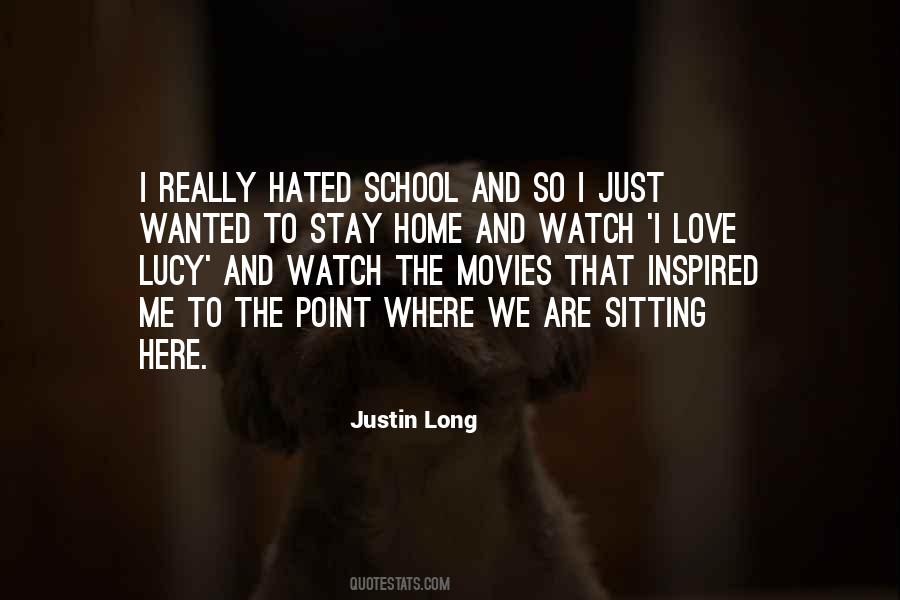 #90. She'd never set a fantasy in a ski lodge, but she was thinking about it now. She couldn't help it. The man was throwing off pheromones like he was a nuclear reactor at Chernobyl. Sitting so close to ground zero, the fallout was lethal. - Author: Rachel Gibson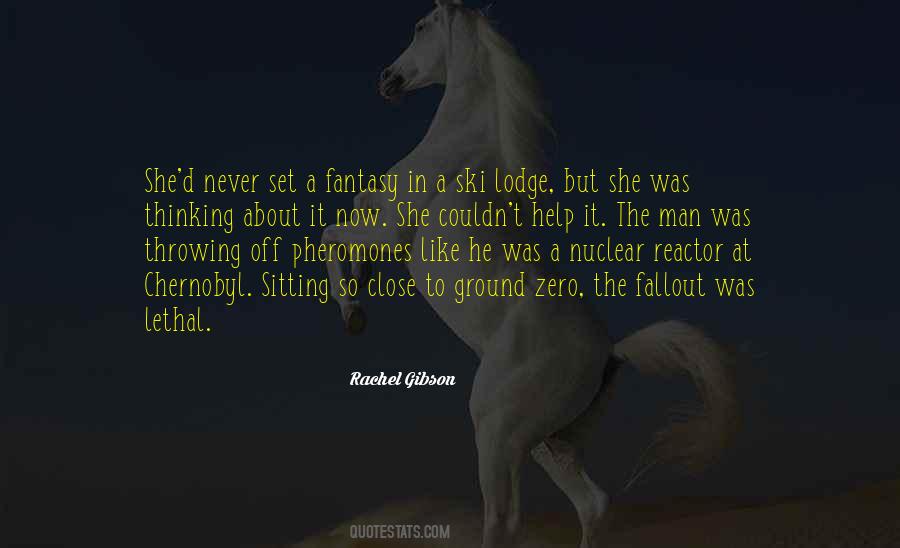 #91. I am sitting in the trenches between love and desire.' - ART like LOVE is rarely understood. - Author: Laurence Gartel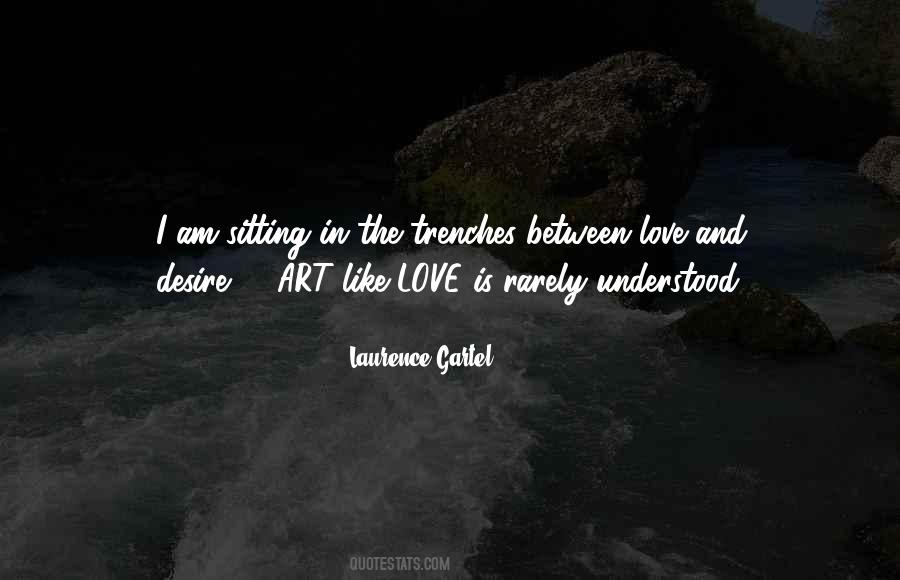 #92. In truth everything and everyone Is a shadow of the Beloved,
And our seeking is His seeking
And our words are His words ...
We search for Him here and there, while looking right at Him.
Sitting by His side, we ask:
'O Beloved, where is the Beloved?' - Author: Rumi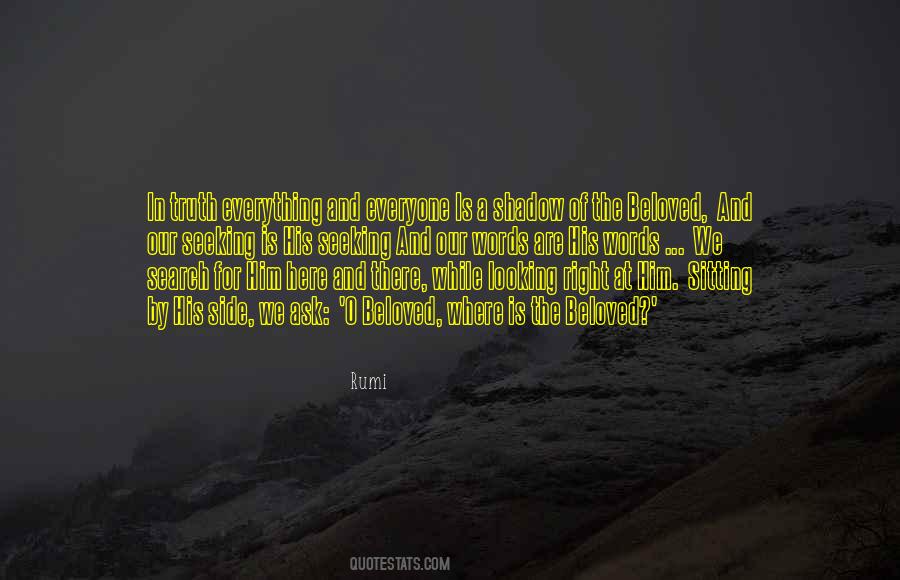 #93. I would like to remind you, though, that the only things in your life that are irreplaceable are sitting in this room with you. - Author: Samantha Young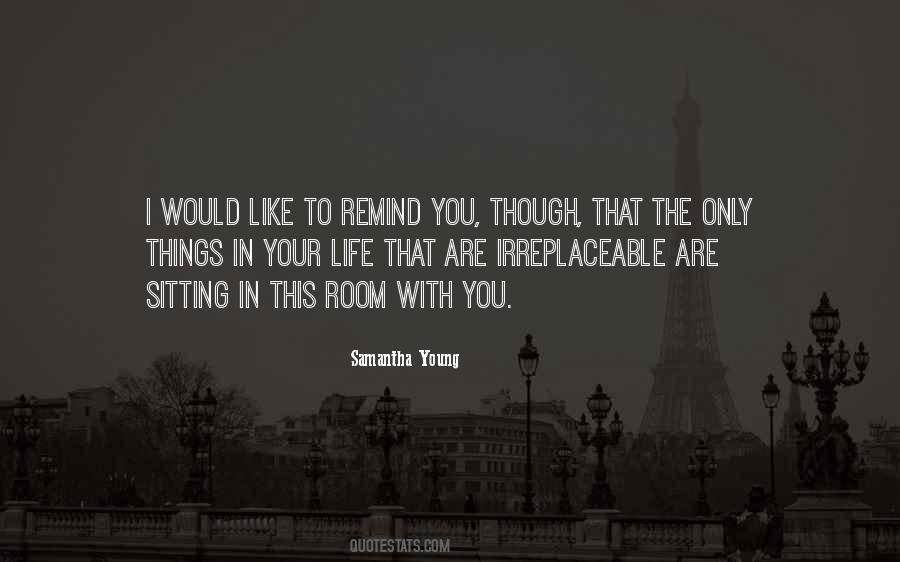 #94. We were all serious readers, sitting on wooden chairs at rows of lecterns, turning the pages, united in mutual love of isolation. - Author: Michael Moorcock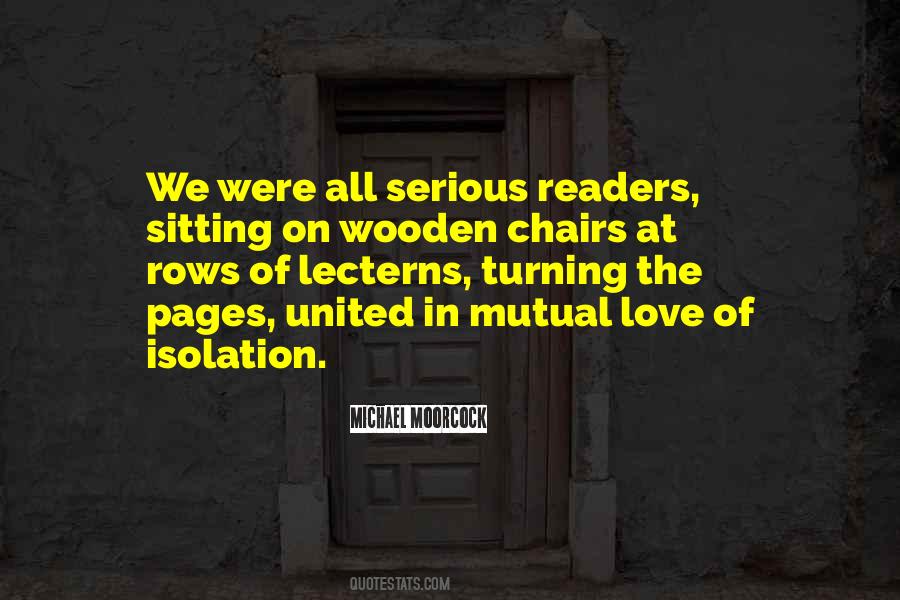 #95. I love to be challenged, and I'm never sitting comfortable in the mediocrity chair. - Author: Jaime Camil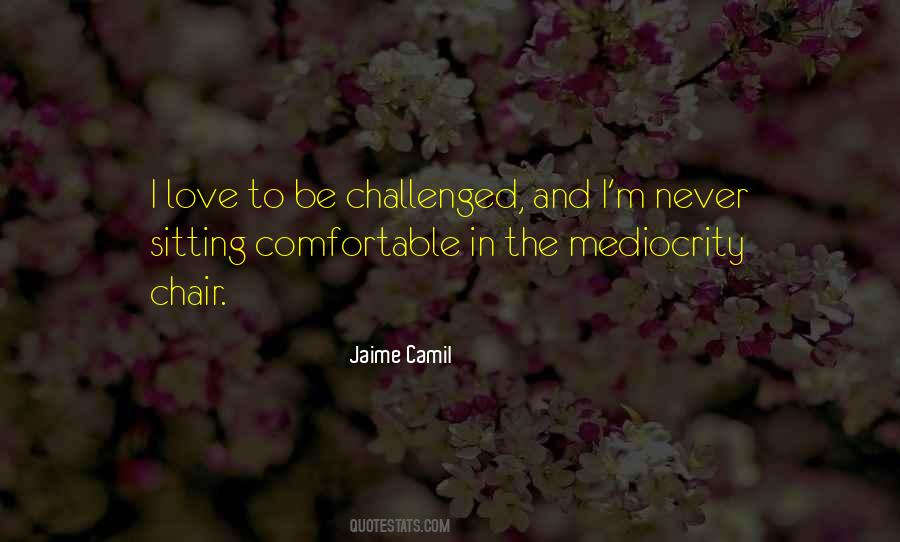 #96. Look through that clump of trees. There's a hawk sitting on the weathervane at the Red Rooster Inn. I've heard that if someone you love very much passes away, they can come back in the form of a hawk, to look after you and give you comfort. - Author: Caroline Fyffe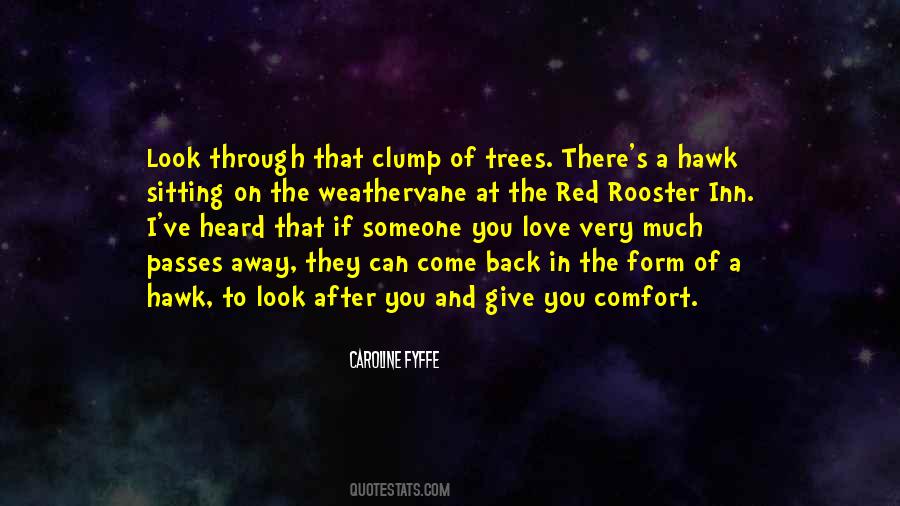 #97. I love theater. I love sitting in an audience and having the actors right there, playing out what it means to be a human being. - Author: Elizabeth Strout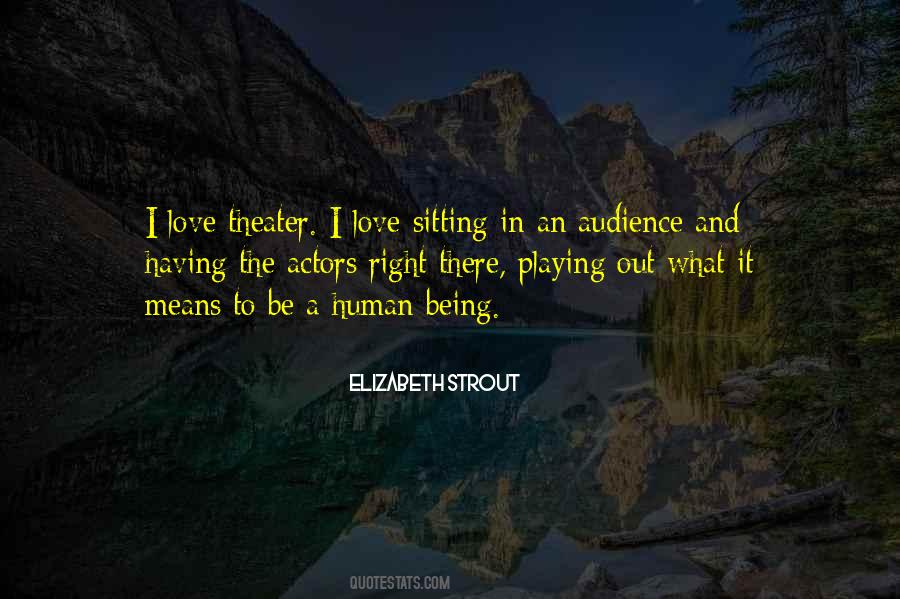 #98. Miles was still mourning the loss of his Romantic Plan. 'There was going to be champagne, and oysters, and you'
he held out both hands as though shifting a piece of furniture
'were going to be sitting there, and I was going to get down on one knee, and ... and ... - Author: Lauren Willig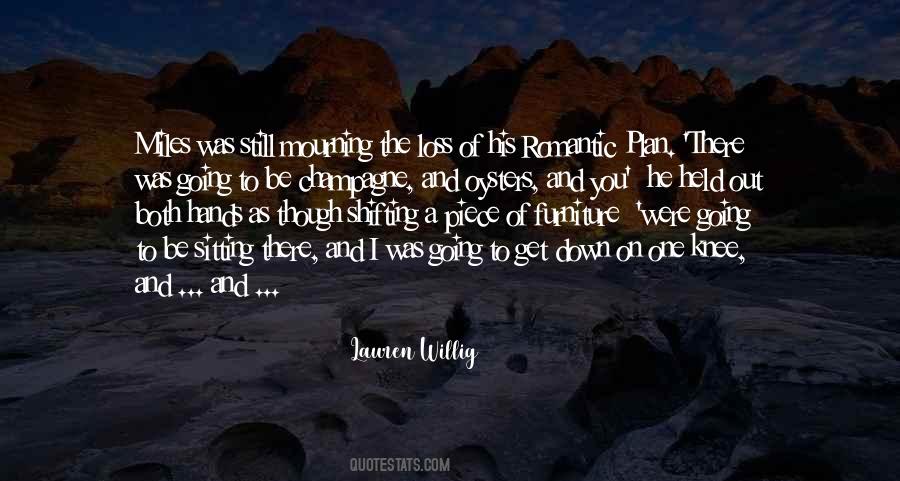 #99. No food is edible, if you don't feel like eating
Standing is incredible, if you hate sitting - Author: Munia Khan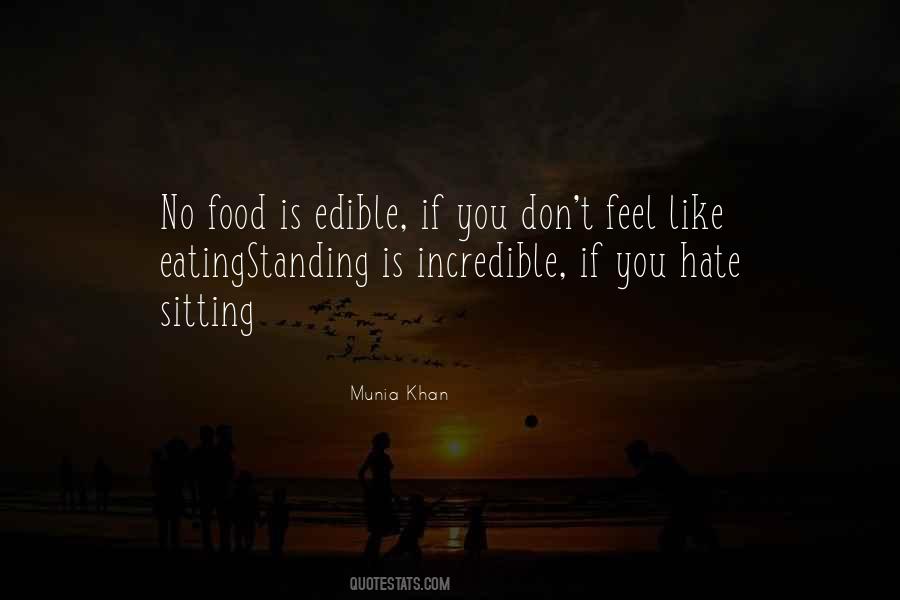 #100. I love sitting at my desk and facing a quiet day with a pen in my hand, and putting myself into a story. It's kind of weird, isn't it? I mean, to absent myself from real life and make up stories is strange, but I started doing this when I was ten years old. It was all I wanted to do. - Author: Philip Kerr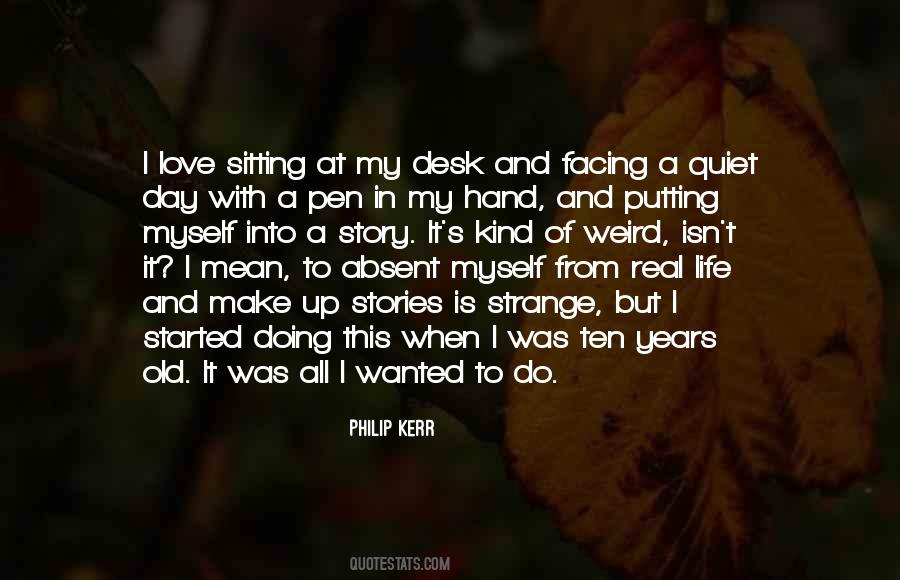 Famous Authors
Popular Topics