Just Don't Famous Quotes & Sayings
List of top 100 famous quotes and sayings about just don't to read and share with friends on your Facebook, Twitter, blogs.
Top 100 Just Don't Quotes
#1. The thing I hate most in acting is asking permission to do things. What you really want to do is say, 'This is my need; this is what's going to get me further; this is what's going to be alive. I don't ever say, 'Do you mind if ... ?' I just come in and do it. - Author: Lance Henriksen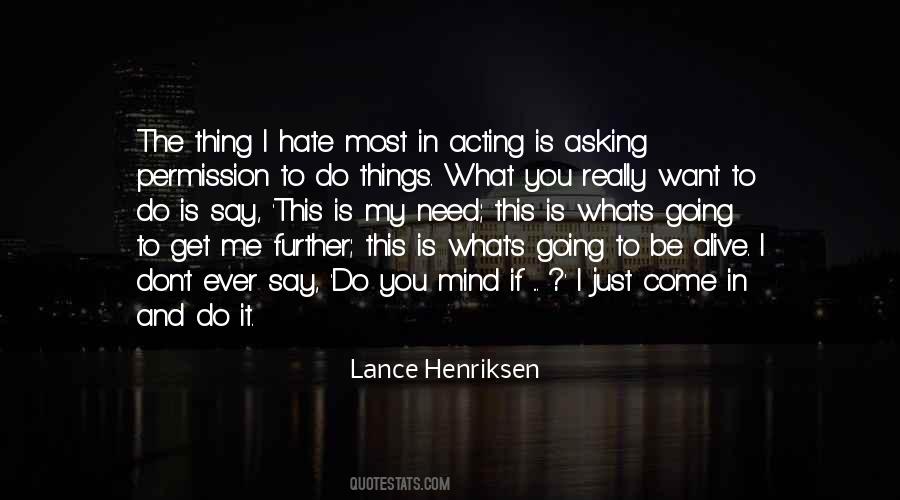 #2. But I don't want to just believe it, I want it to be true. - Author: Audrey Niffenegger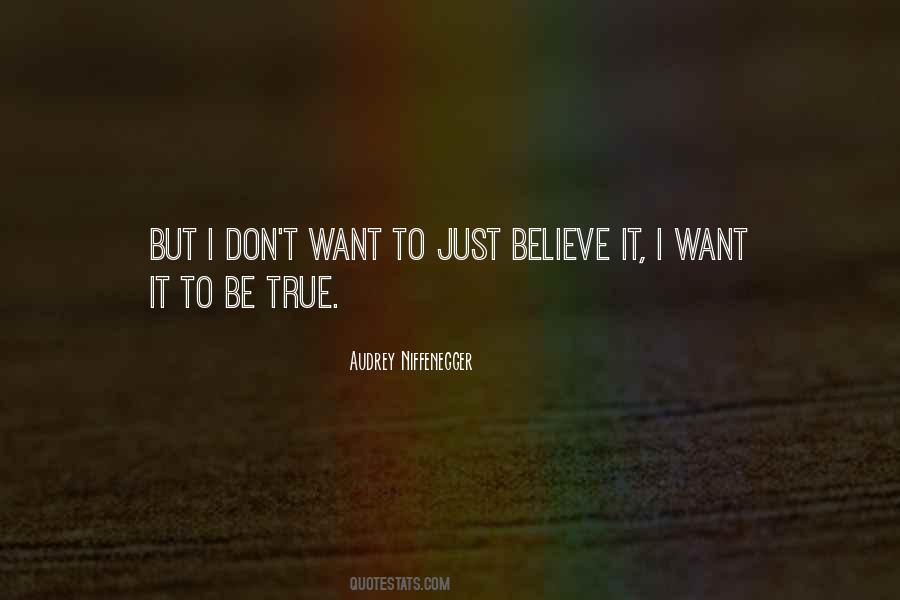 #3. I think I would rather be a man than a god. We don't need anyone to believe in us. We just keep going anyhow. It's what we do. - Author: Neil Gaiman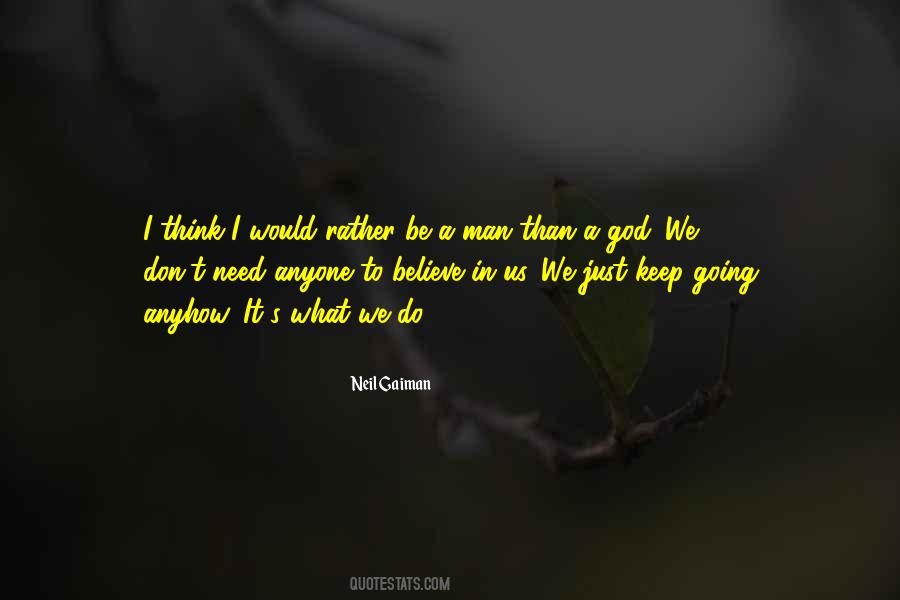 #4. If you grow up in an immigrant culture, there are going to be foods you eat that other people just don't get. - Author: Eddie Huang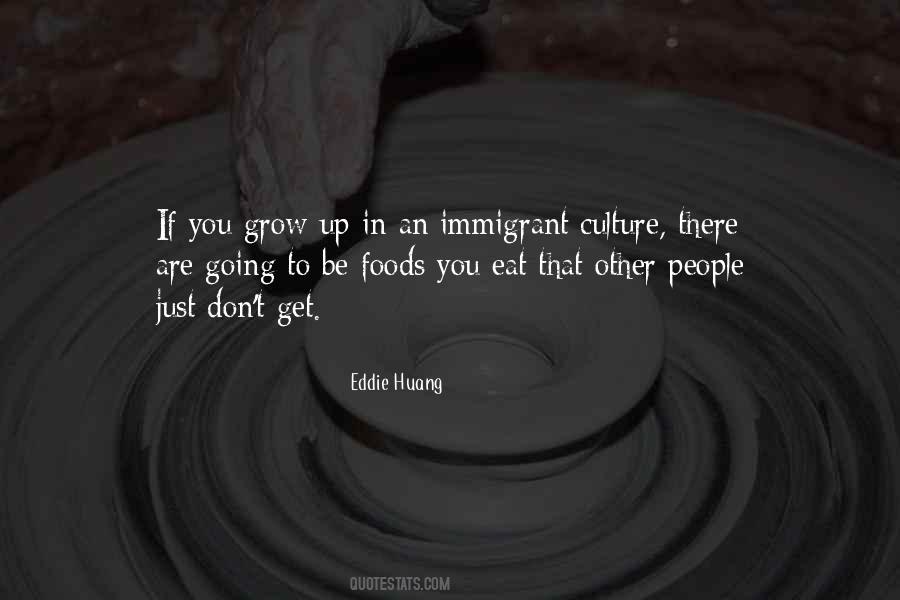 #5. I never put too much pressure on myself when I'm the central thing, just because I don't think I could handle it mentally. I haven't really thought about the implications of carrying a movie. It still has to be just a fun, weird thing. - Author: Will Ferrell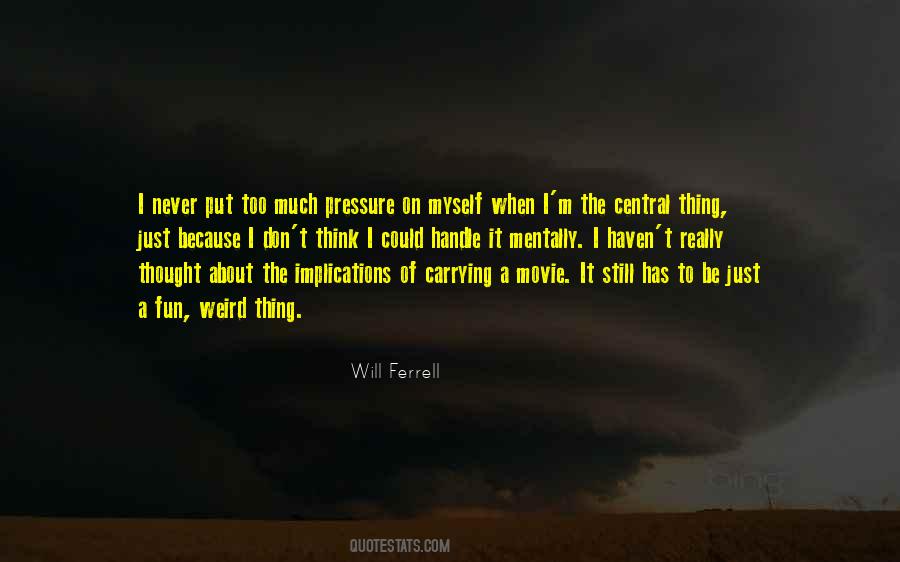 #6. I design like I breathe. You don't ask to breathe. It just happens - Author: Karl Lagerfeld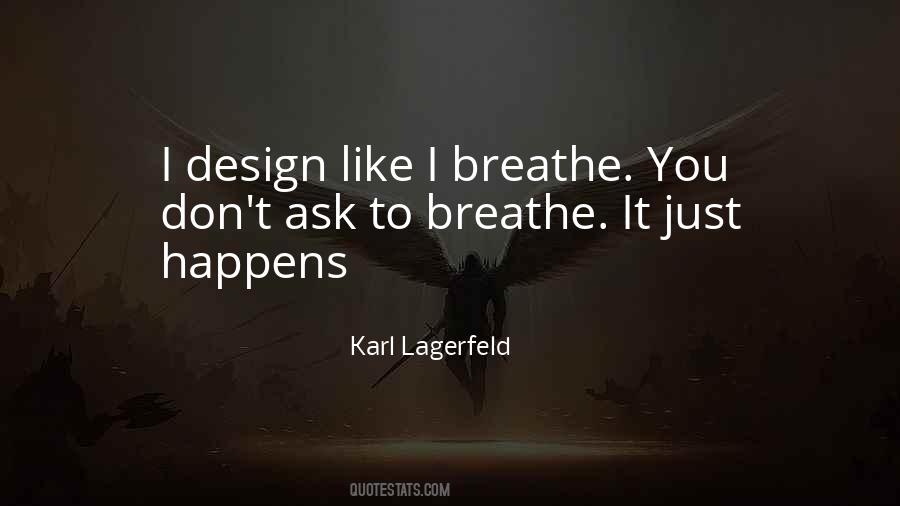 #7. You don't need to be special to be awesome. You just need to do the work. - Author: Jason Ellis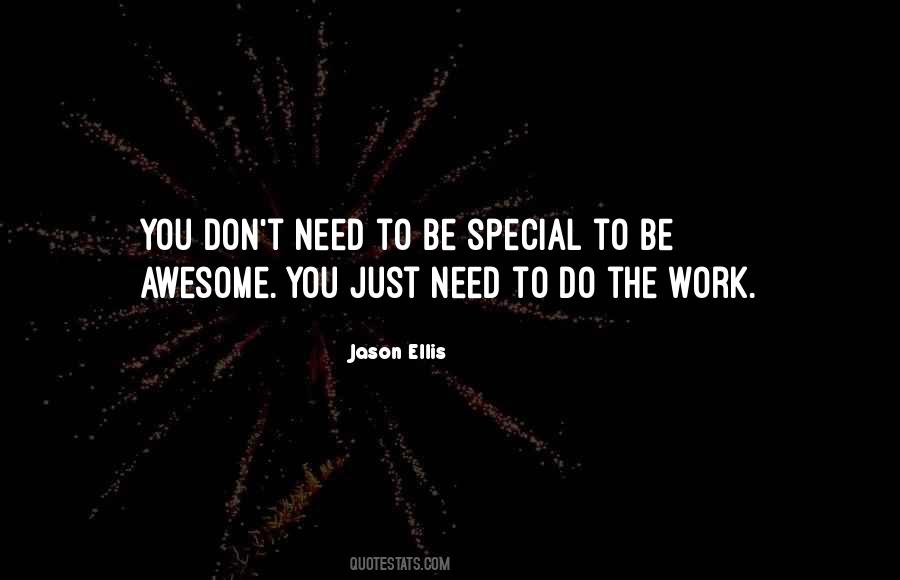 #8. Make an effort with tenacity to make real impact that works and don't just create an impression with deception - Author: Ernest Agyemang Yeboah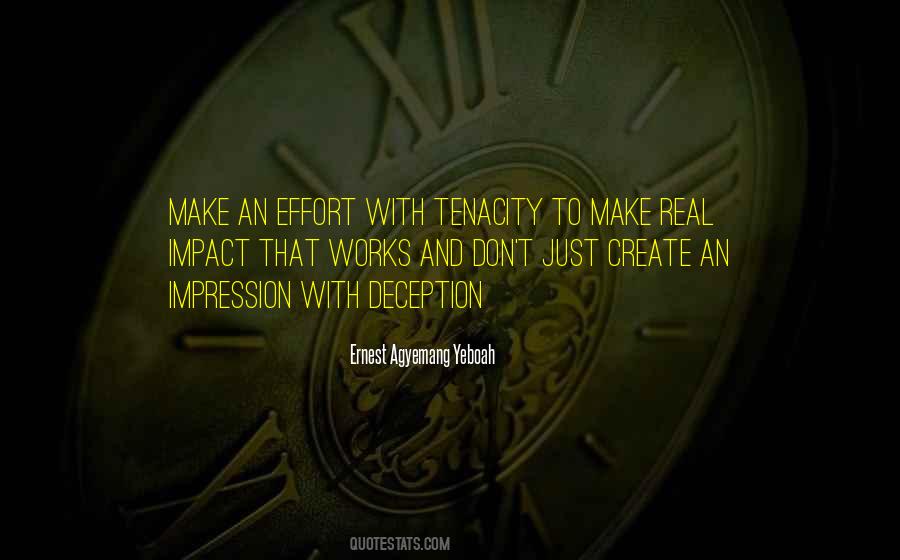 #9. People don't want to talk about death, just like they don't want to talk about computer security. Maybe I should have named my workstation Fear. People are so motivated by fear. - Author: Dan Farmer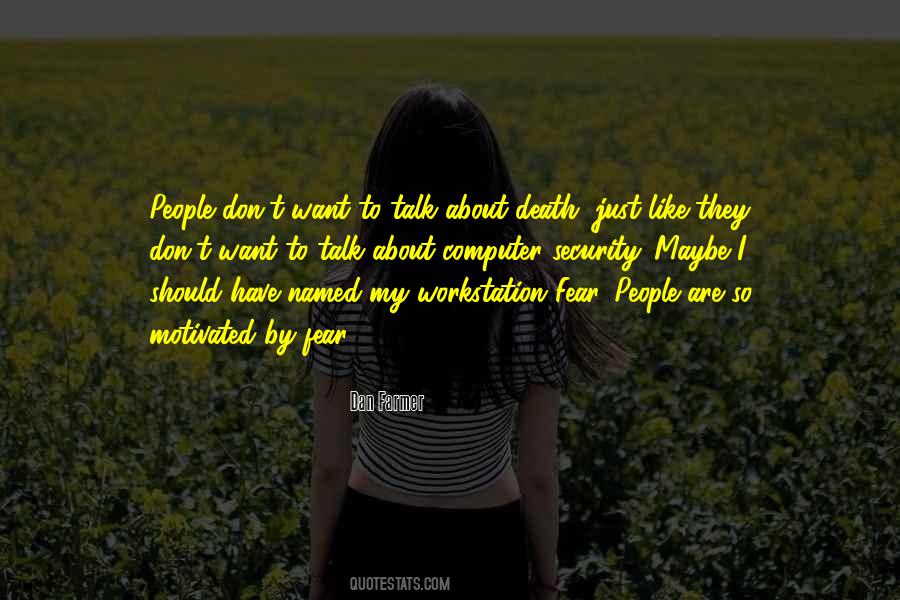 #10. You don't have to say anything. You don't have to teach anything. You just have to be who you are: a bright flame shining in the darkness of despair, a shining example of a person able to cross bridges by opening your heart and mind. - Author: Tsoknyi Rinpoche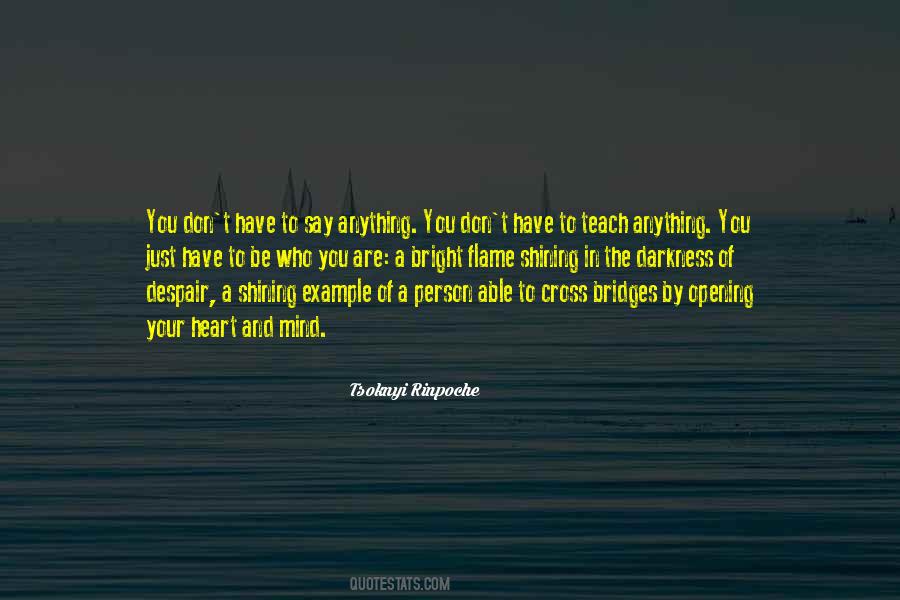 #11. I don't know just what, but there will have to be some drastic changes made besides cutting down on boating to get my mind more on painting. - Author: E. J. Hughes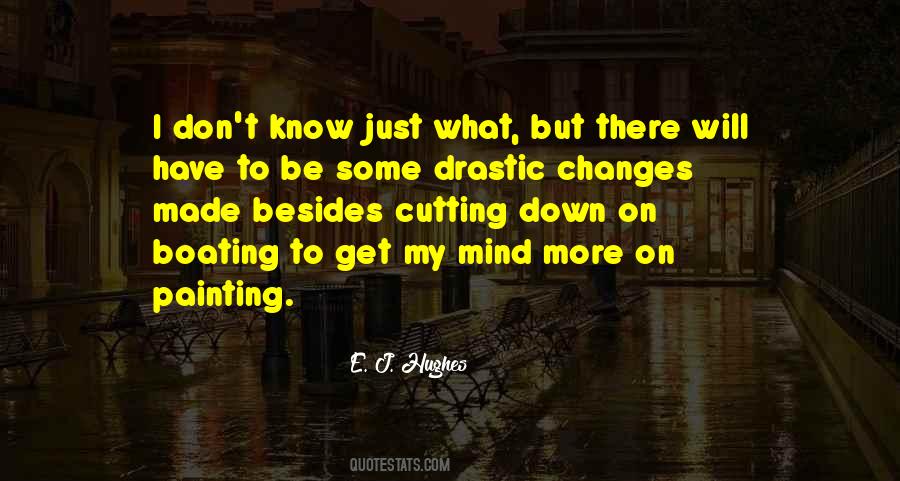 #12. Great leaders don't just know the sweet spots of their people. They tap into and unchain the infinite potential imprisoned within their people... - Author: Assegid Habtewold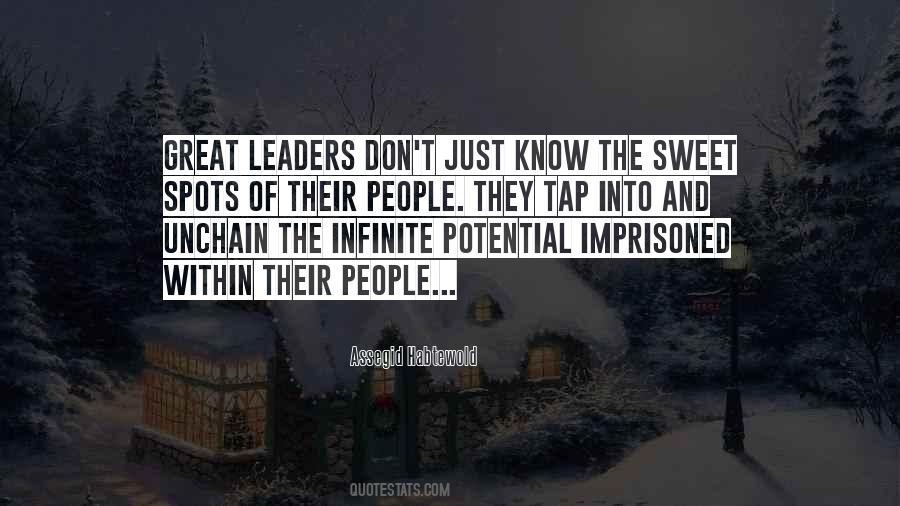 #13. Trust your heart and embrace the journey. You may make a wrong turn but your heart will get you back on the right path. Just keep making choices and don't second guess yourself. - Author: E'yen A. Gardner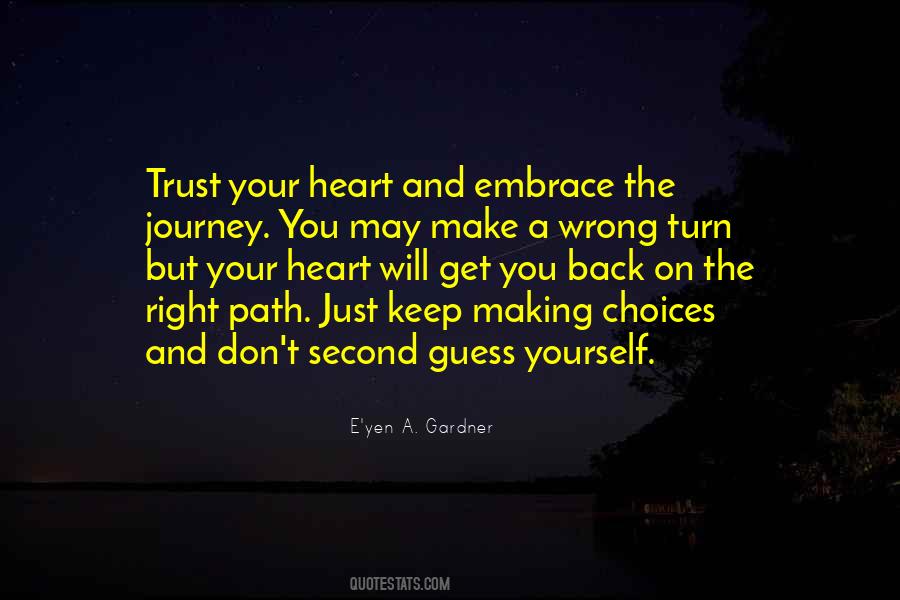 #14. Robots are emotionless, so they don't get upset if their buddy is killed, they don't commit crimes of rage and revenge. But ... they see an 80-year-old grandmother in a wheelchair the same way they see a T80 tank; they're both just a series of zeros and ones. - Author: P. W. Singer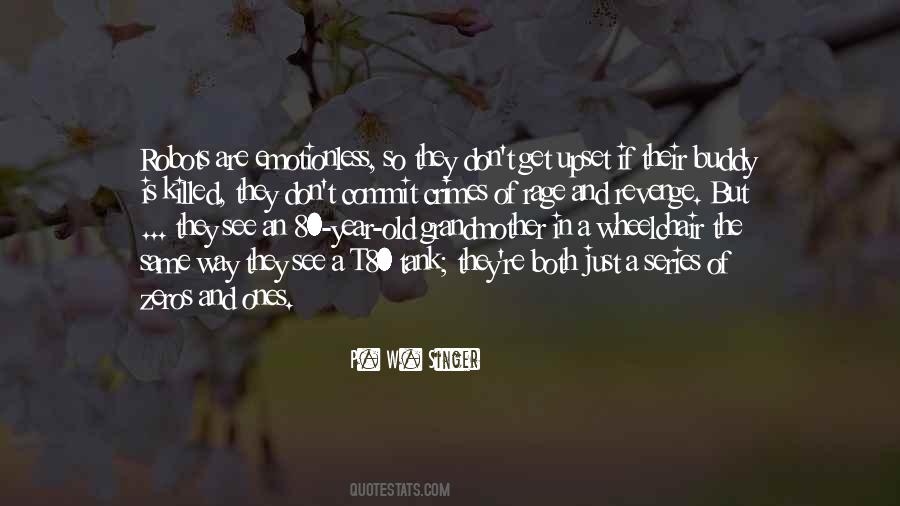 #15. Just as you would when making a new work of art, don't ask for help or seek the judgment of others. You don't want to be subjected to another person's limitations or expectations. - Author: Jackie Battenfield
#16. in your deeds and in your works, don't expect to start reaping just as you start sowing. - Author: Ernest Agyemang Yeboah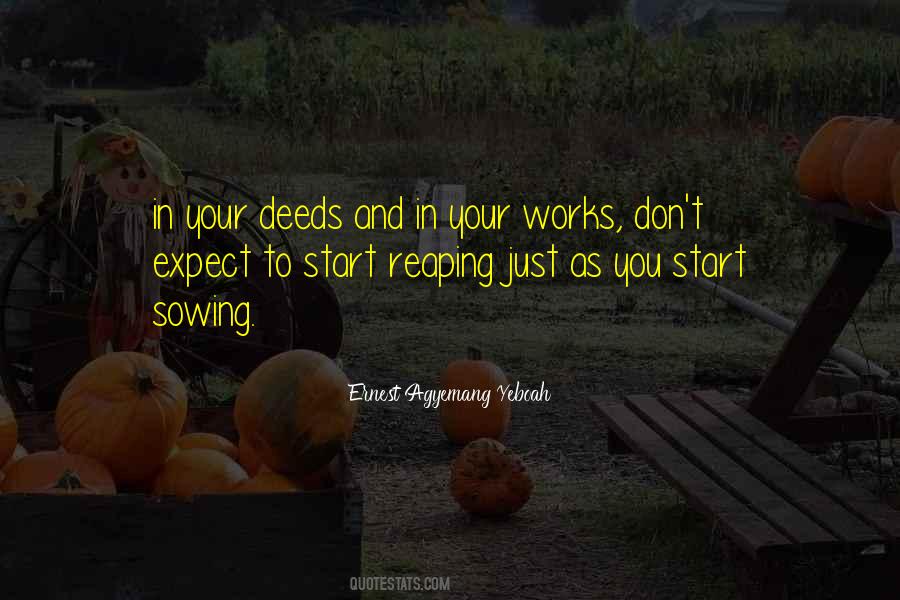 #17. Working on films where the money's more important than the creativity, I just get a bit freaked out by that. I just don't feel comfortable. - Author: Guy Pearce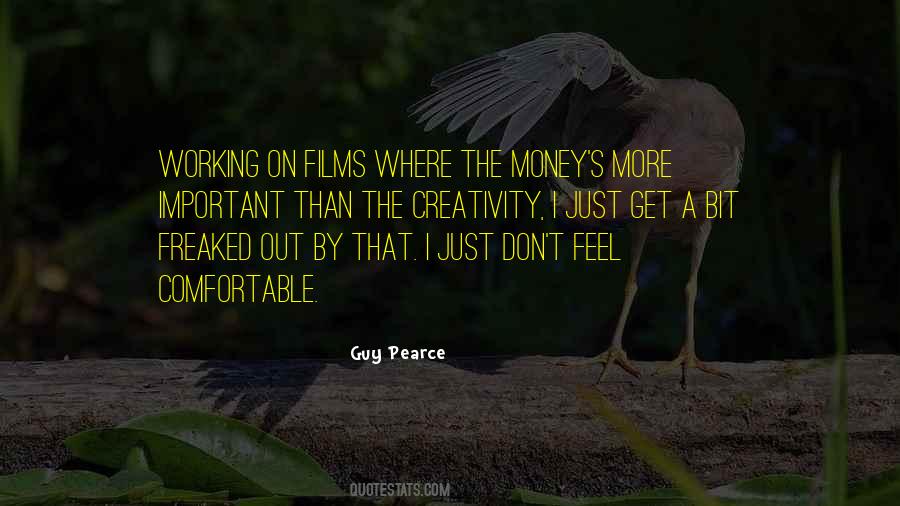 #18. Whatever happens during rainy time, you don't need to wish it to stop just you to be protected because some people needs that. Instead, go for a place where you can consider as your refuge. - Author: Nathaniel E. Quimada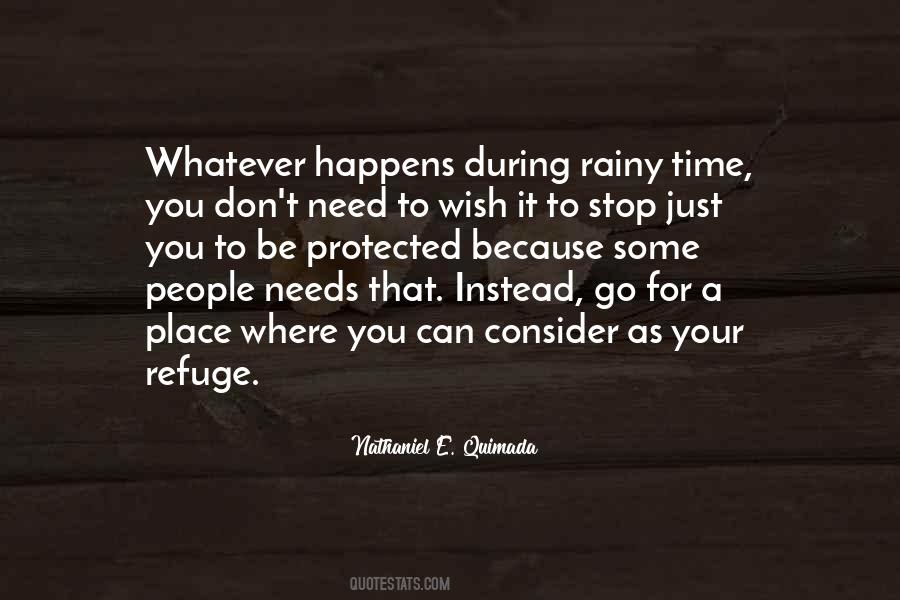 #19. You have just got to face the facts, don't you? I face it head-on. I knew what I was coming in to. I didn't make the impact I hoped for and I believed in. - Author: Ole Gunnar Solskjaer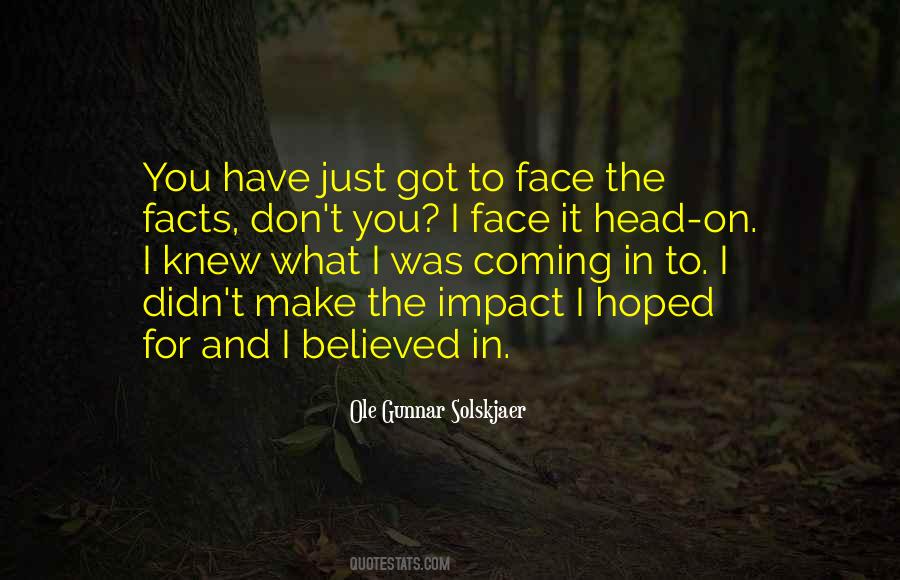 #20. You know, Roland and I were just talking about how we don't have any pyromaniac friends. And everyone knows you need a good pyro to pull off any reform school prank worth the effort. - Author: Lauren Kate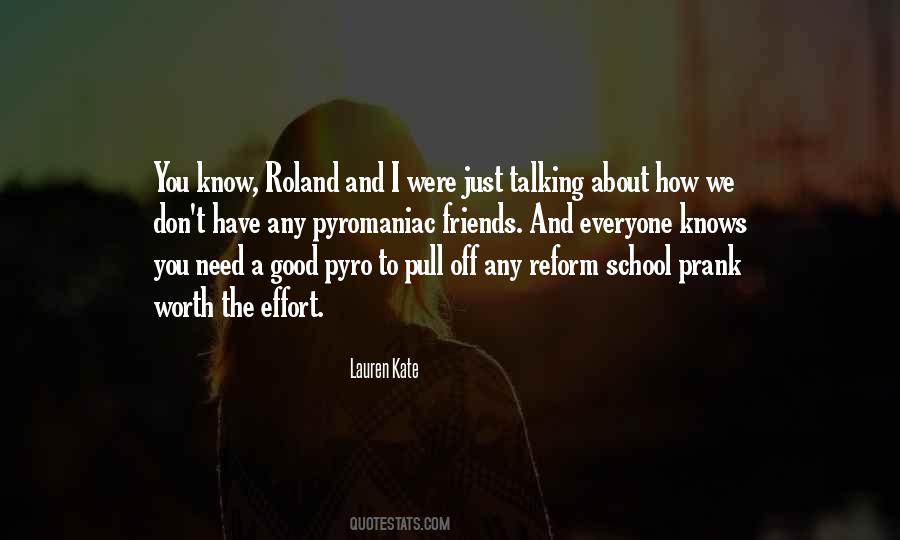 #21. I know I was writing stories when I was five. I don't know what I did before that. Just loafed, I suppose. - Author: P.G. Wodehouse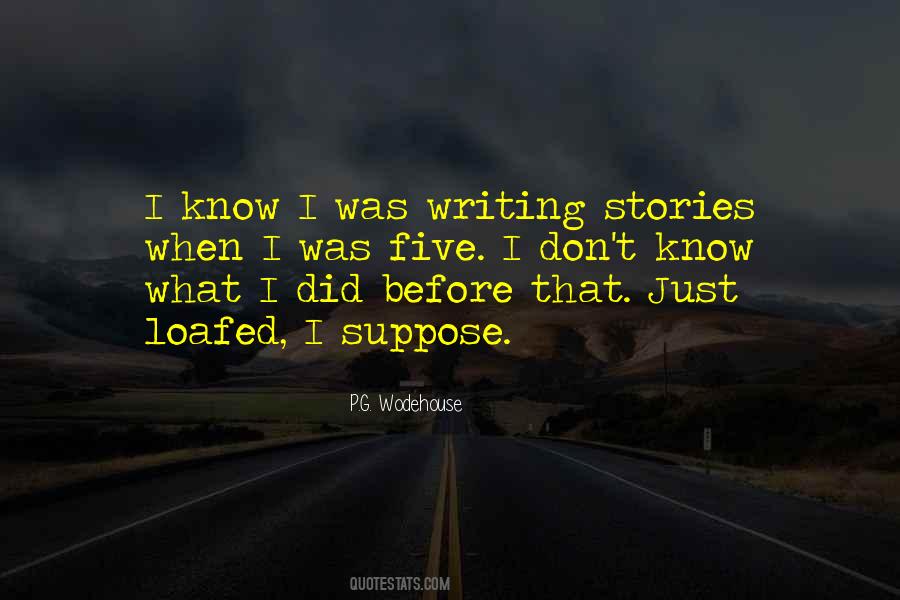 #22. I don't care what you write man, just make sure you make us sound sexy. Say that we looked like we'd just come from the beach and that our bodies were glistening. Say we got no hair on our chests. Anything so the girls will like us. - Author: Nathan Followill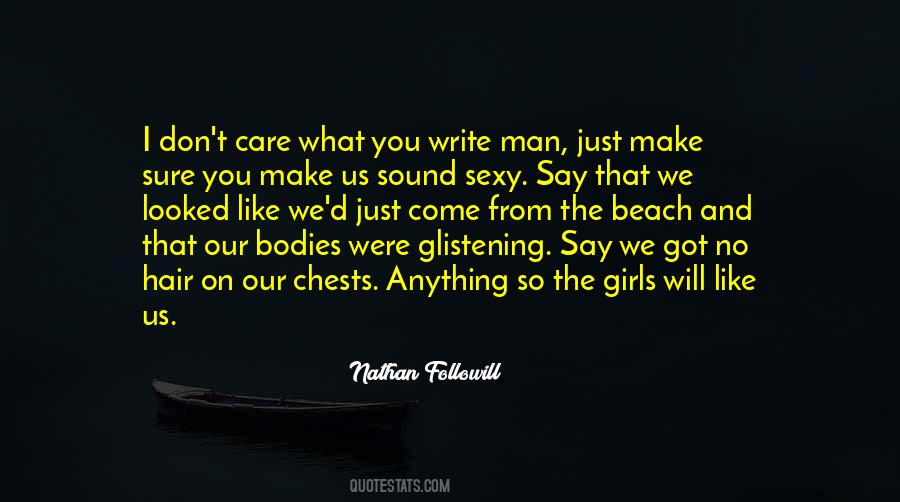 #23. I opened my mouth, mad enough to spit, and said loudly, "I don't eat iceberg lettuce!" Really? I asked myself. That's what you're going to throw down with? "I don't care what you eat, just don't be pickin' in there! - Author: Piper Kerman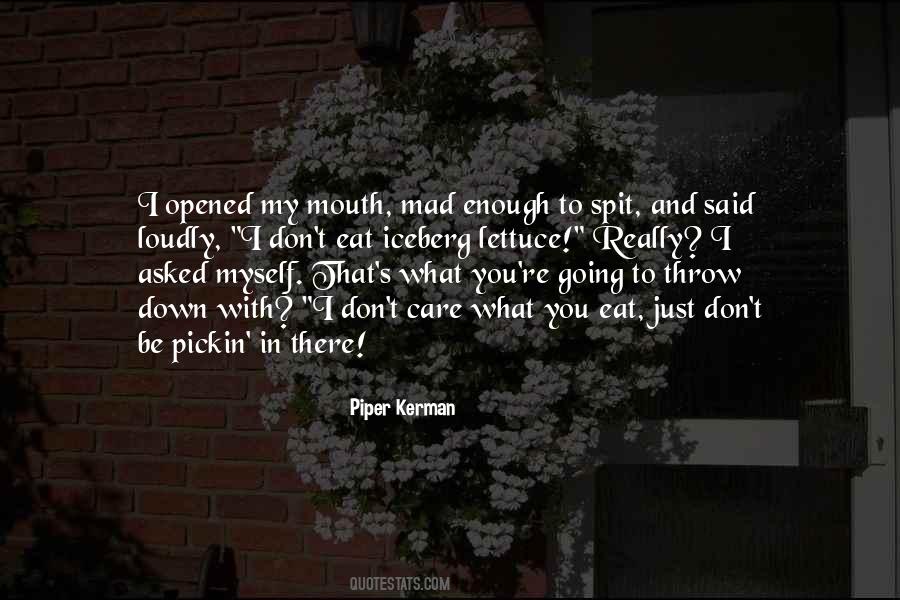 #24. Yeah. Think I'll have to pass on the sex, though."
"We don't have to have sex just because you're staying the night."
"Oh! I thought it was the standard fee for the pillow, but now when I know better..."
"I might take that back..."
"Too late!" she laughed. - Author: Lina Andersson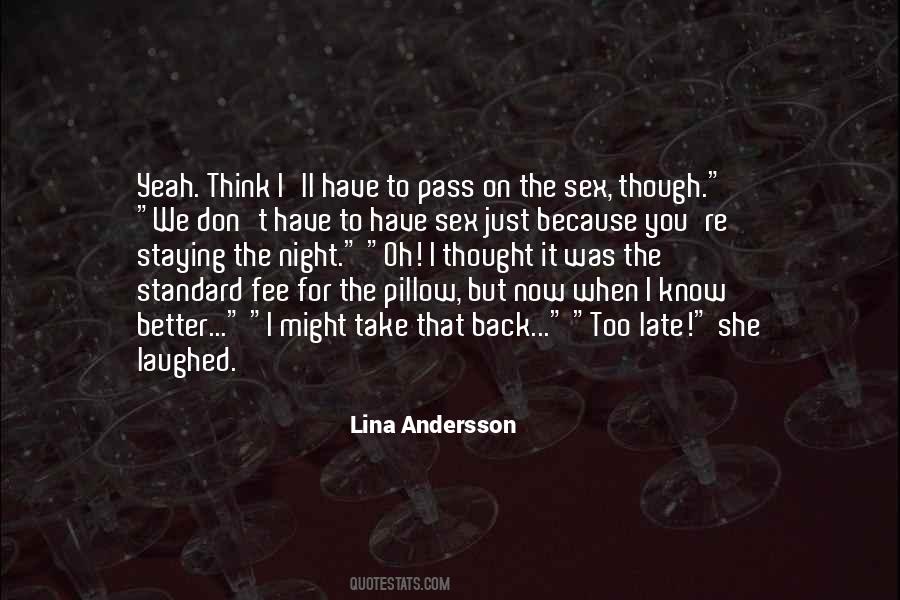 #25. I don't want to say I hear voices; well, actually I do hear voices, but I don't think it's supernatural. I think it's just that when characters are given enough texture and backbone, then lo and behold, they stand on their own. - Author: Anne Tyler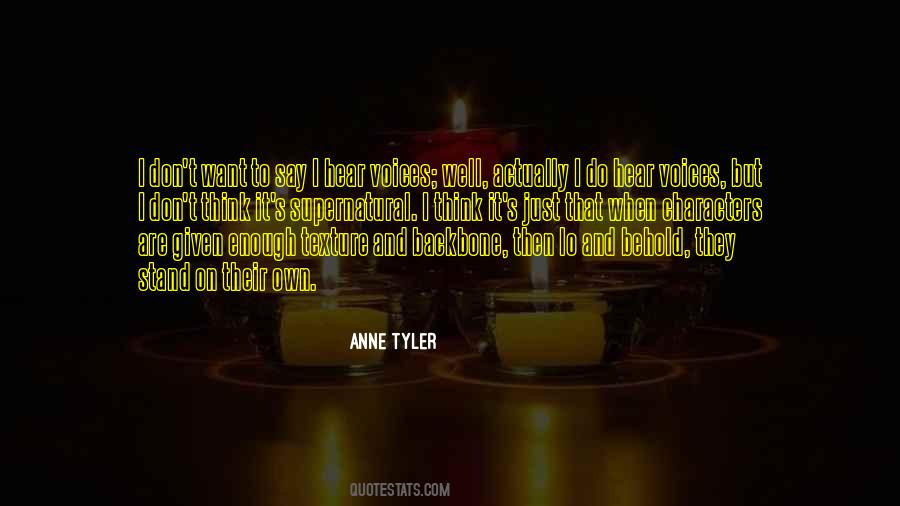 #26. I'm just flowing through, when I see things, I talk about 'em. And it's cool. I don't want any title. I just say what I say, and hopefully somebody gets it. I'm not perfect, and I'm just here and trying to make a dollar, and being real at the same time - Author: Nas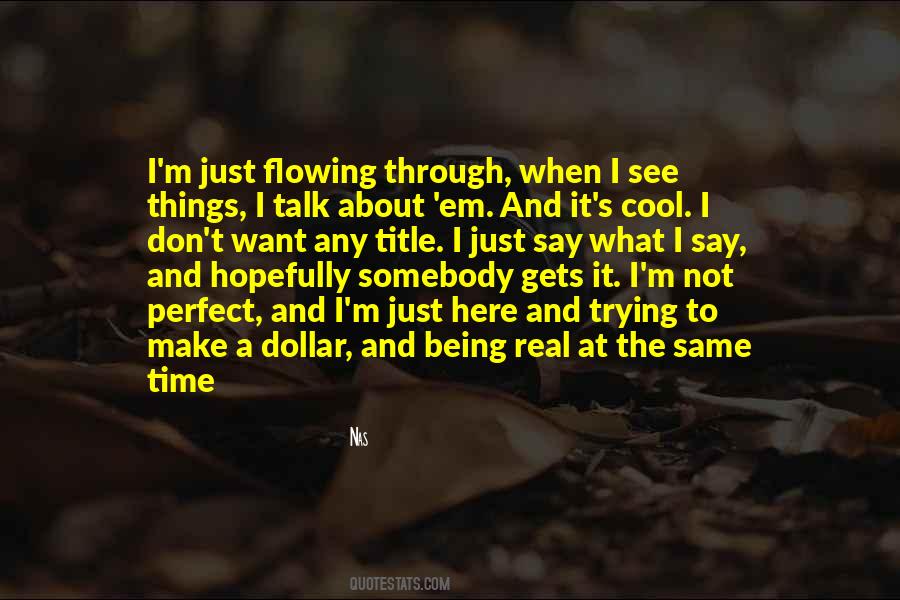 #27. Every person has a signature. Just some people don't know it yet. - Author: Rita Ora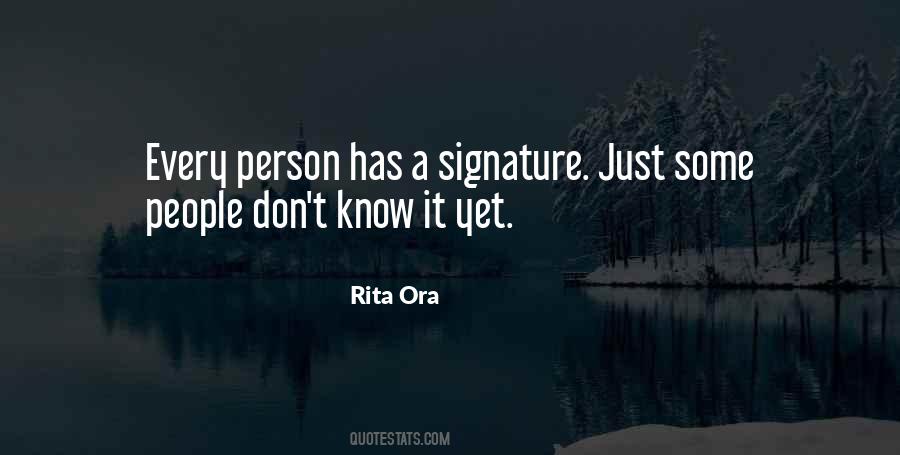 #28. Women don't have a say in my house. But, just between us, don't do what you did during supper last time in front of her again." "You mean when I threw my fork at that rat?" "No. I mean when you hit it, even in the dark. - Author: Andrzej Sapkowski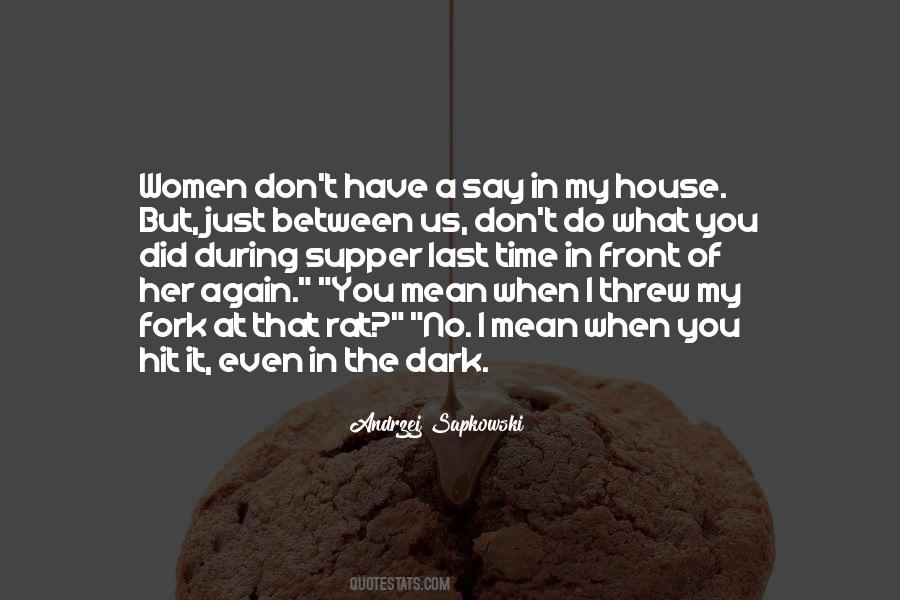 #29. When people say, 'I don't see you enough,' well just because you don't see me don't mean I don't exist, or just 'cause you haven't heard me don't mean I haven't been making noise. But if I keep making noise, you'll pick up. - Author: Mos Def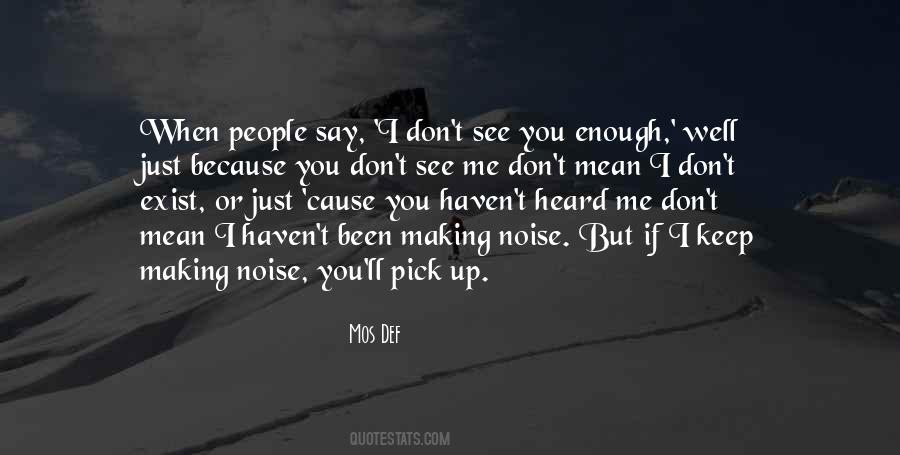 #30. I just don't know how to deal with so many people giving me that much affection. I never had that in my life. - Author: Tupac Shakur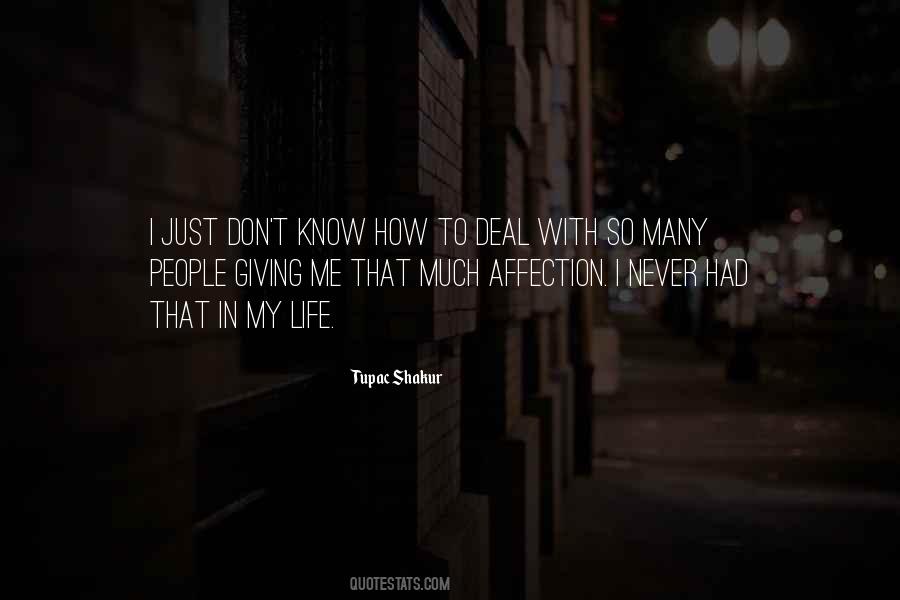 #31. But you can't feel bad every second, I wanted to tell her. Laughing doesn't make bad things worse any more than crying makes them better. It doesn't mean you don't care, or that you've forgotten. It just means you're human. - Author: Ransom Riggs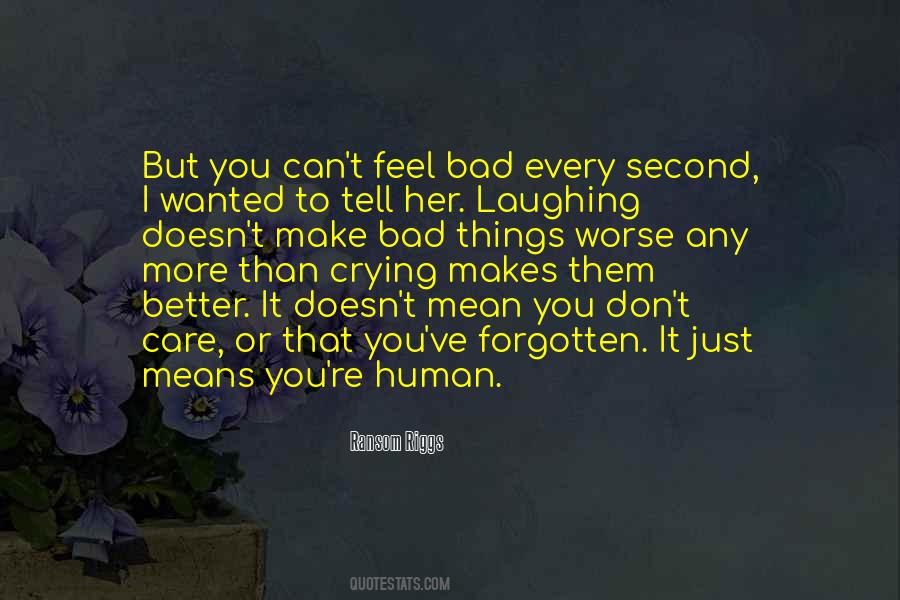 #32. I just don't see why the past has to matter. - Author: Cassandra Clare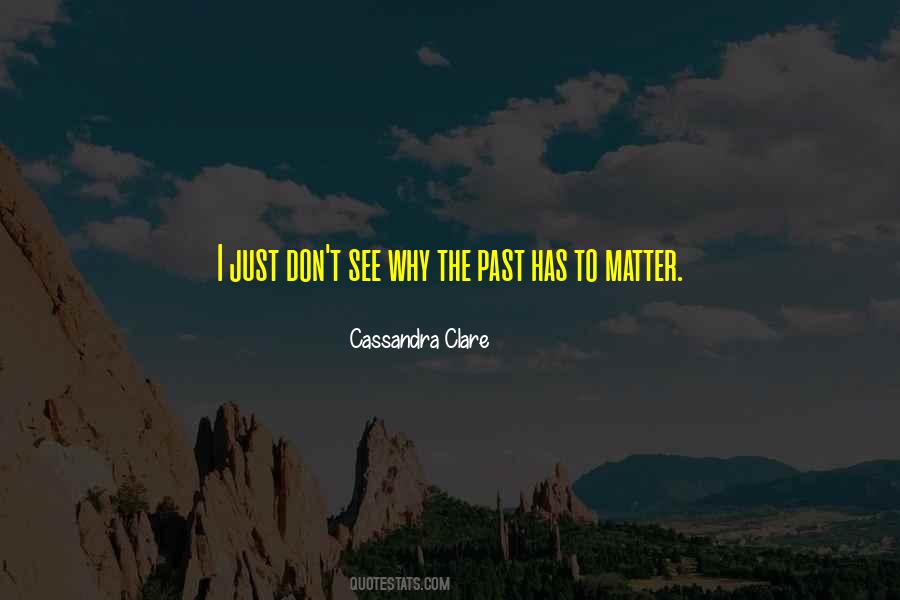 #33. Any human being is really good at certain things. The problem is that the things you're good at come naturally. And since most people are pretty modest instead of an arrogant S.O.B. like me, what comes naturally, you don't see as a special skill. It's just you. It's what you've always done. - Author: Stephen Jay Gould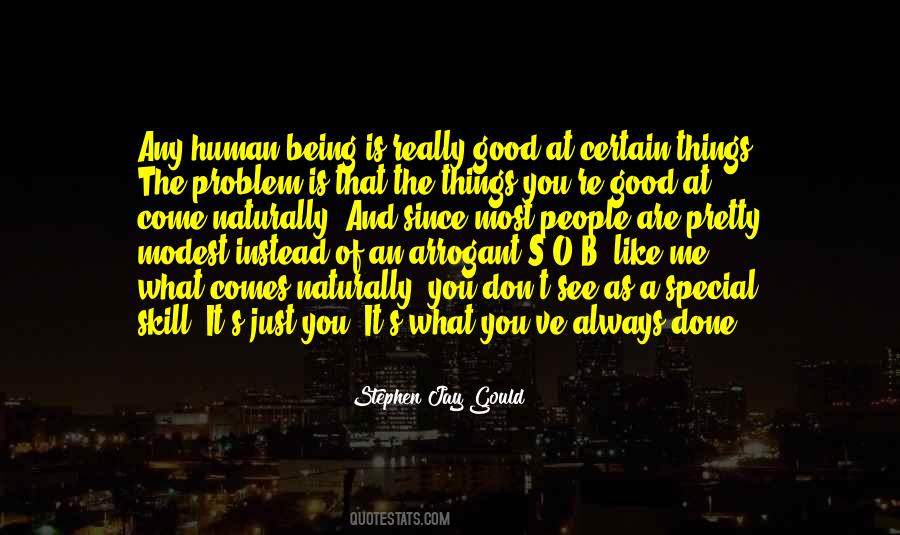 #34. Twitter seems just to be constant updates; it seems to me as promotional tool where people talk themselves up, and I don't want it to take over what I'm doing. - Author: Tristan MacManus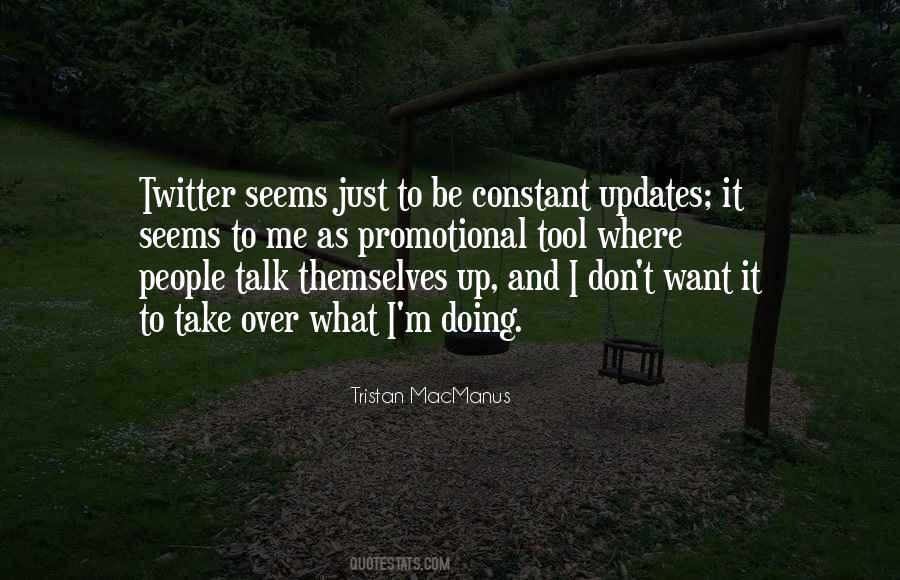 #35. Just as the light changes everything, love changes everything. Your face changes. Your body changes. You don't want to wear any clothes. You just want to be with him, taste him, feel him, be absorbed by him. - Author: Chloe Thurlow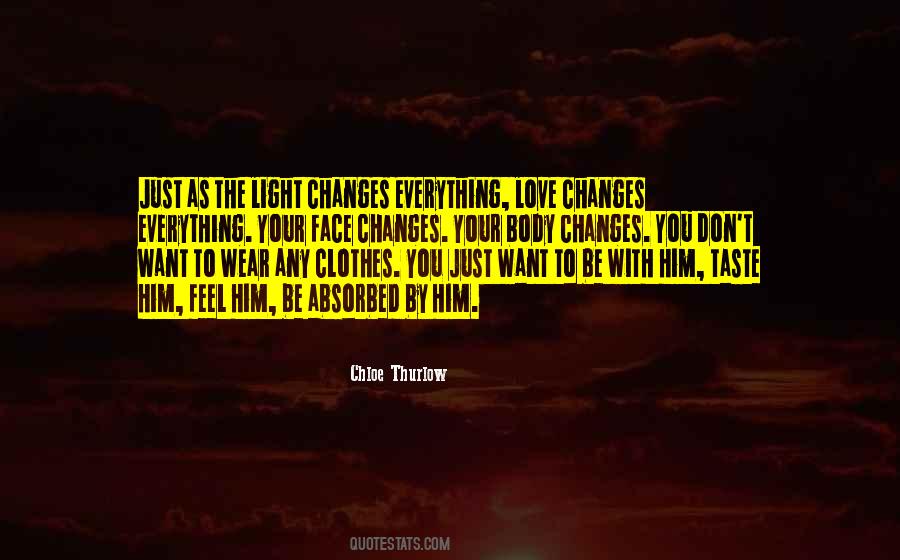 #36. I screwed up. It's all on me. I know that ... All these hiccups I have, they must be for a reason. All this is just a test. I just don't know what the test is yet. - Author: Greg Norman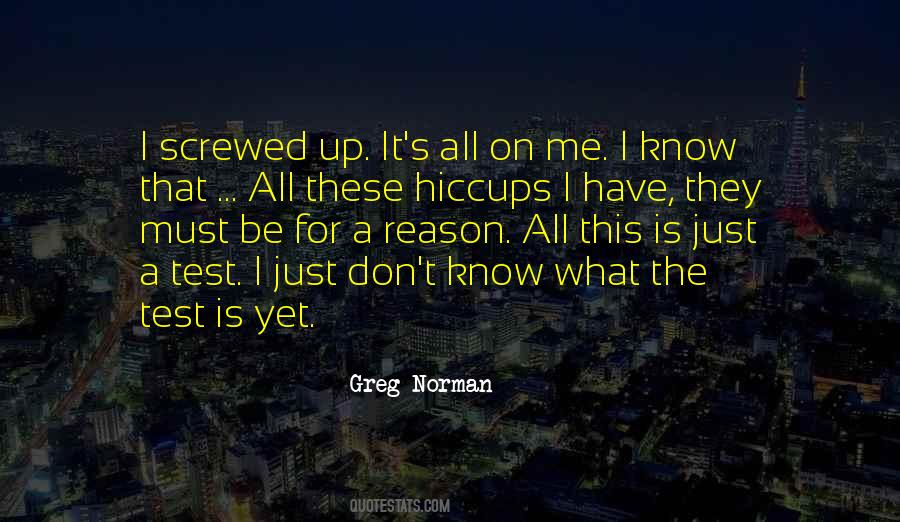 #37. Governments don't protect people, people protect governments."
"Order is organic, it can't just be ordered up."
"The more complexity, the more unpredictability and therefore the more uncontrollability. You cannot control what you cannot predict. - Author: Lawrence Samuels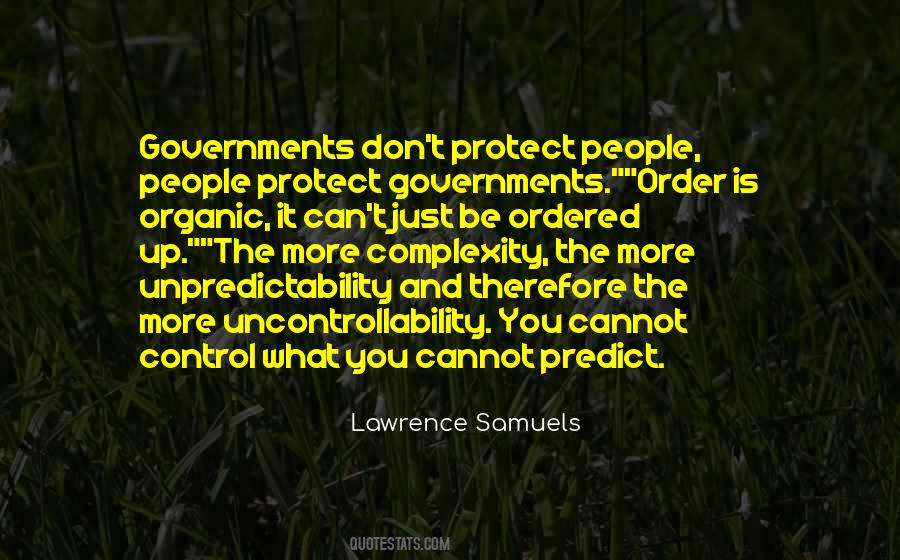 #38. I don't dismiss the music that I was involved with, I don't think it was a joke, I don't think it was funny or a phase, I don't think it was just something I was doing back then, to me it was who I am. It connects all the way through. I don't distance myself from any of it. - Author: Ian MacKaye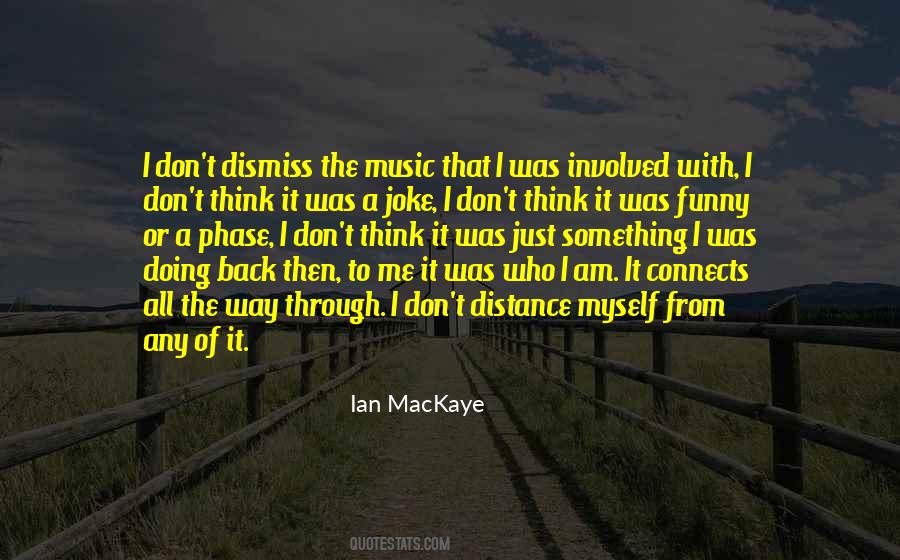 #39. I've written things about that, about how life's really big decisions aren't right or wrong, it's just that one lives different lives. No, I don't think your life went wrong. - Author: Bernhard Schlink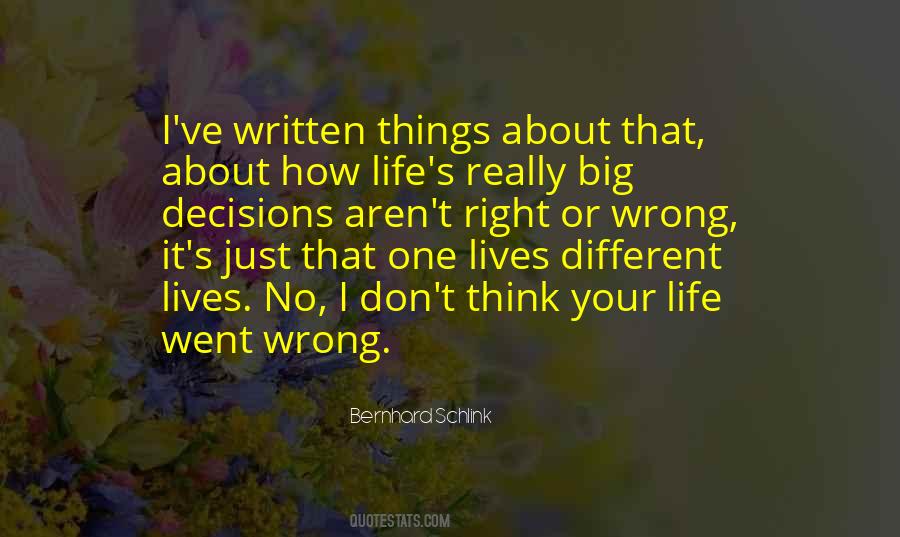 #40. I mean, if no one knows for sure what God's like, then why don't you just believe the people who think he's all rainbows and sunshine and loves you no matter what? - Author: J.C. Lillis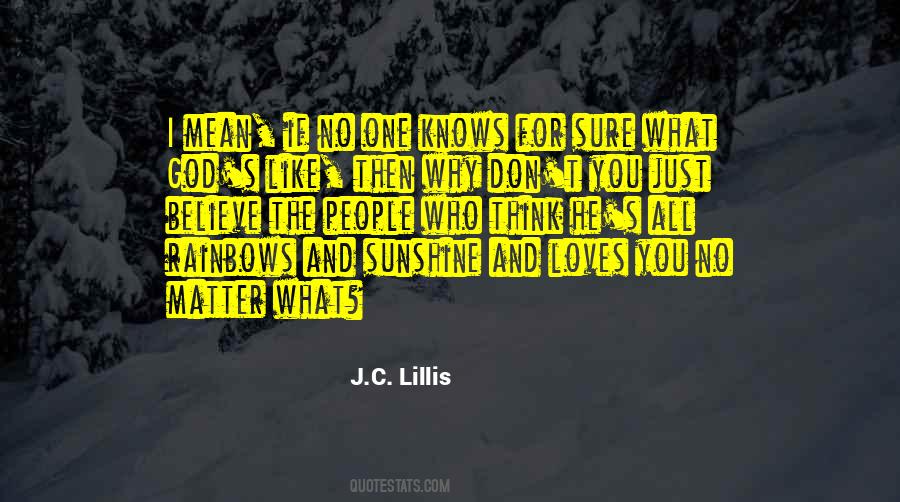 #41. Remember you don't own people, let them decide, choose and live. There is no inferiority and superiority; it is just your crazy imagination. - Author: M.F. Moonzajer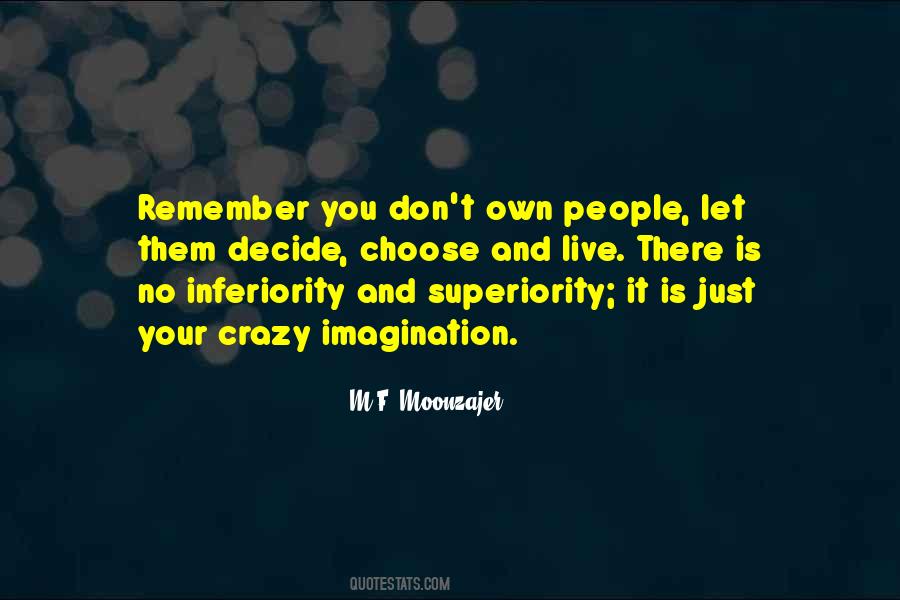 #42. You do not have to be fearless, just don't let fear stop you. - Author: Charlie Day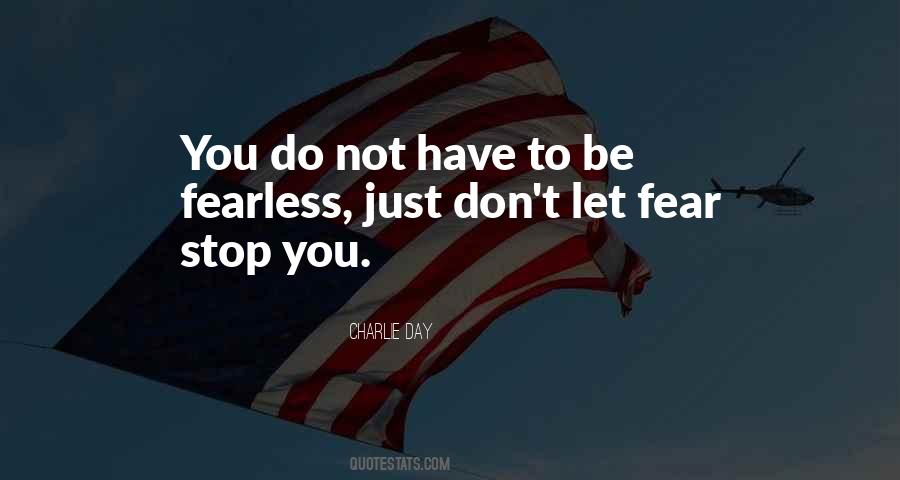 #43. Jesus Christ was the original rock'n'roll star. He gave people reasons to live in the rut they were living in. He was the first man to say, "You don't have to have human sacrifices, 'cause human sacrifices hurt somebody, you know?" Just believe in the spirit that is within you. - Author: Ozzy Osbourne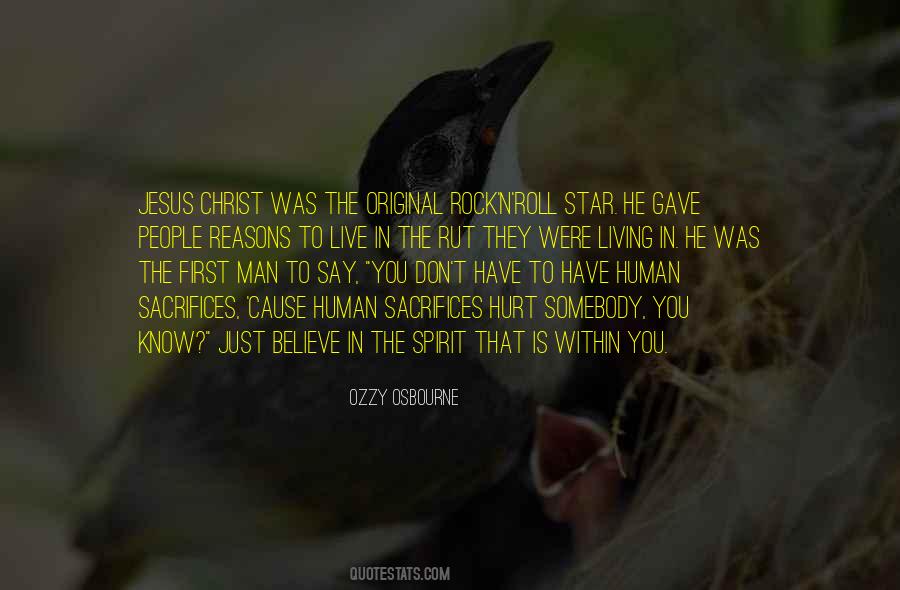 #44. People don't really have much of a choice when the heart falls. I'm lucky enough that mine just so happened to fall for you, Misty." - Dylan to Misty in, When the Heart Falls - Author: Kimberly Lewis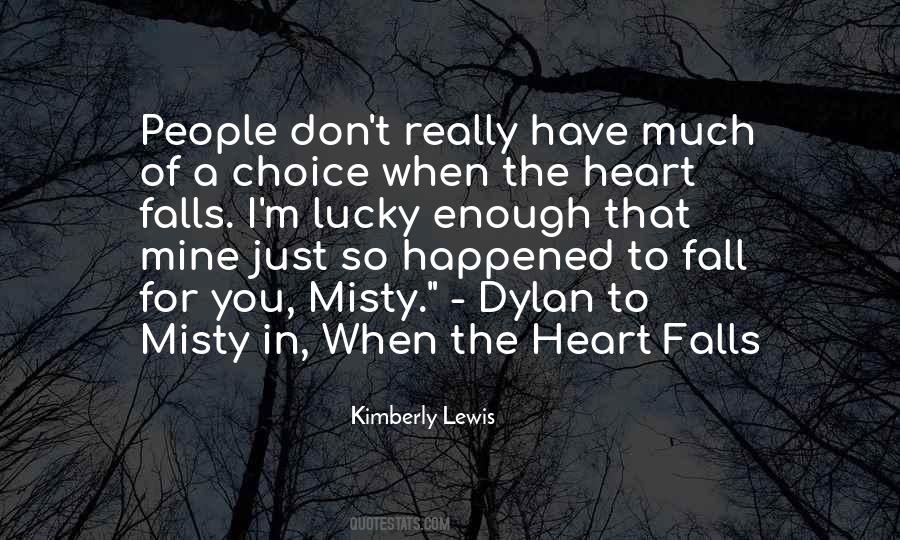 #45. I love dogs. They live in the moment and don't care about anything except affection and food. They're loyal and happy. Humans are just too damn complicated. - Author: David Duchovny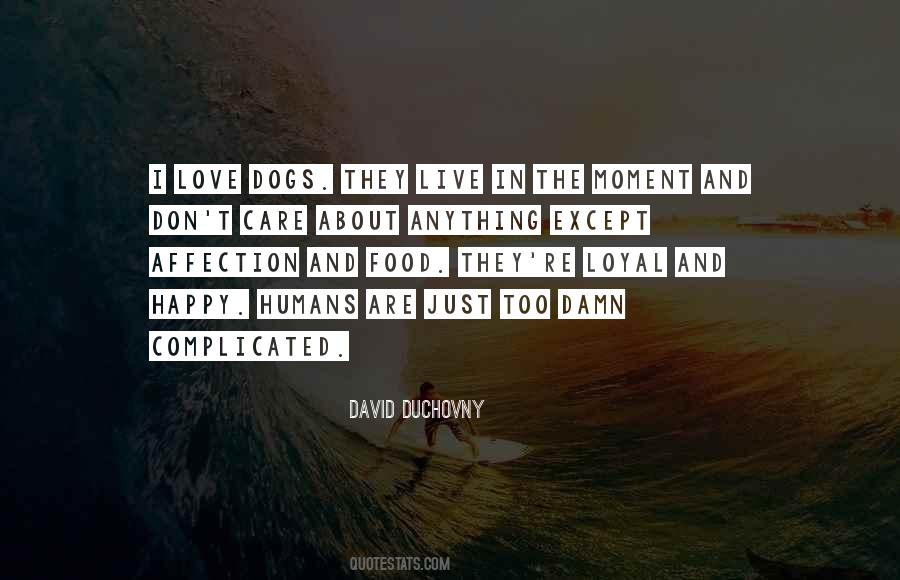 #46. I think editors are excellent marketers. They know their audience and produce copy to appeal to them - they just don't call it marketing. - Author: David Robinson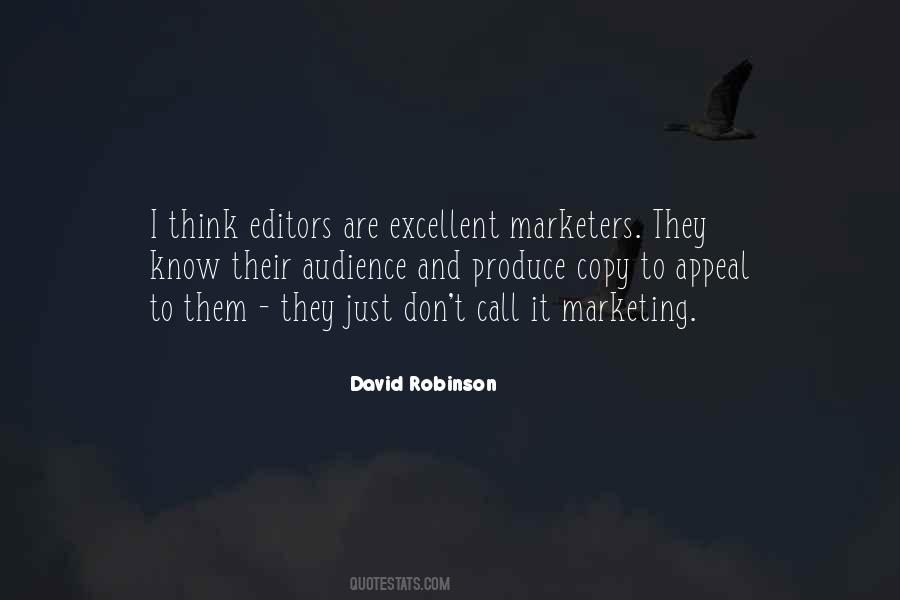 #47. I don't know . . . there's just something about him. You radiate joy and sunshine, and he seems like more of a wet blanket who wants all the attention for himself. Everyone loves you here. I'm just looking out for you," she shares apologetically as she comfortingly cups Julie's hand. - Author: Sheri Fink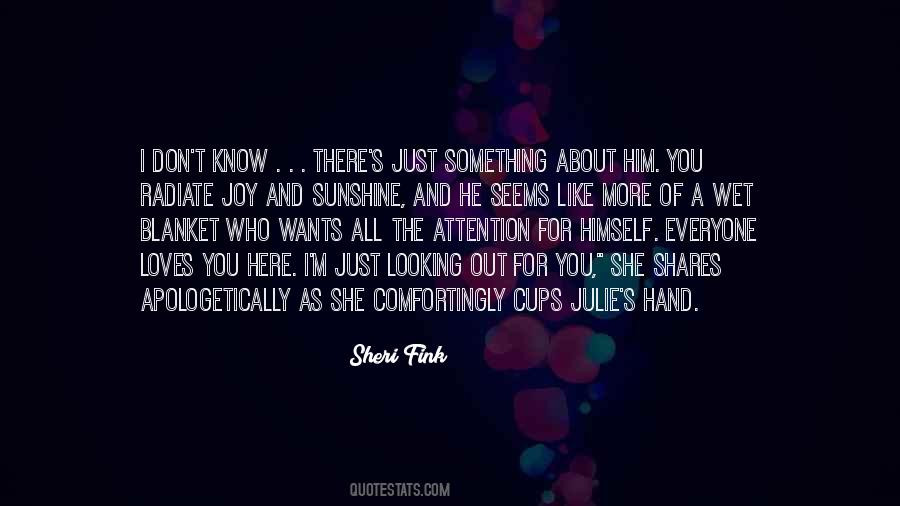 #48. Don't tell Becca I said that. You guys are equally hot, I was just - I couldn't help - Author: Jasinda Wilder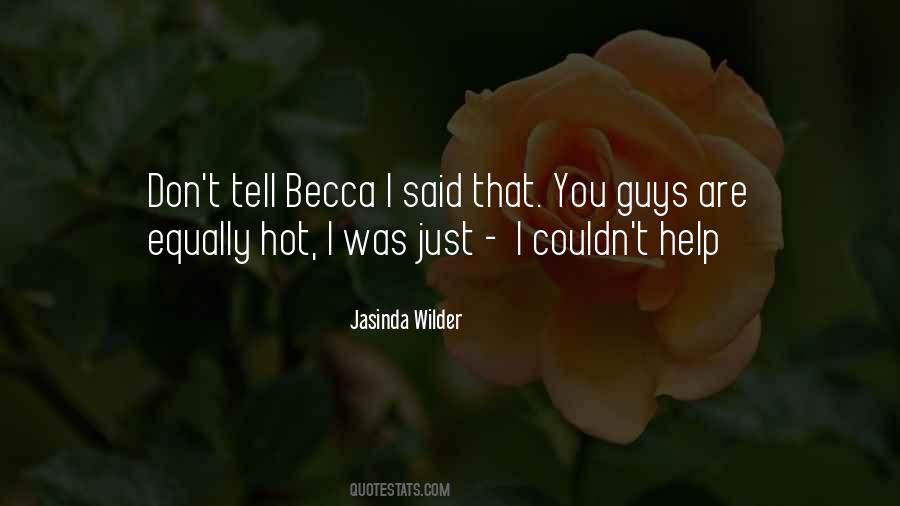 #49. I don't pay much attention to the press. My films always get good reviews and bad reviews. I just try to make the best film I can. - Author: Paul Haggis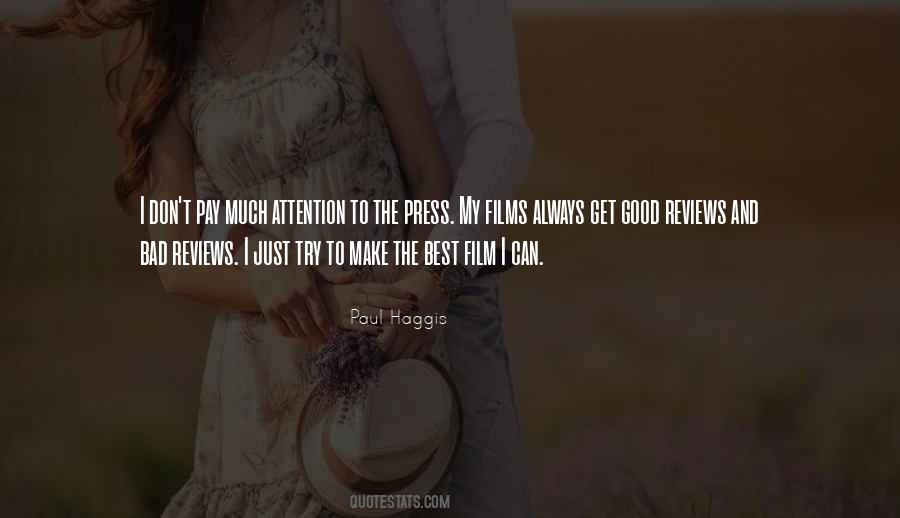 #50. Being a Christian, I'm eager to introduce people to Jesus. I just don't think I should do it in the science classroom. - Author: Kenneth R. Miller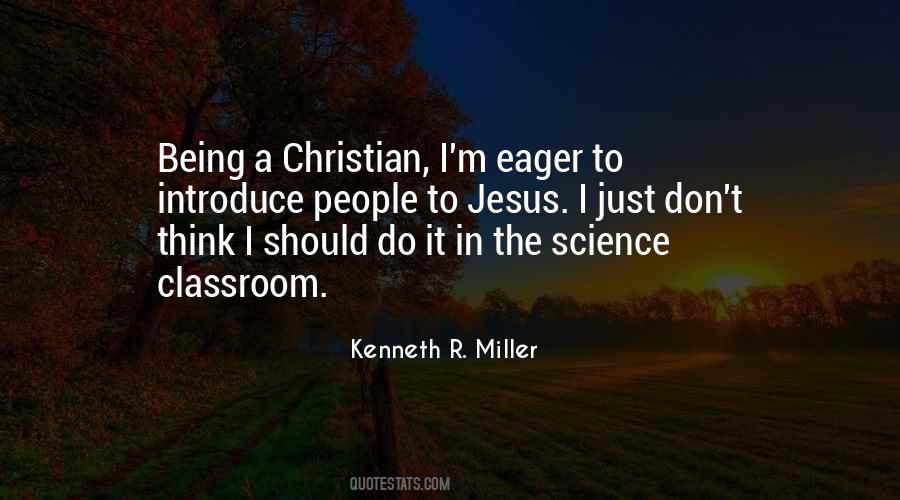 #51. I honestly really don't get aggravated at all. I just go with the flow. Whatever happens, happens. - Author: Ryan Lochte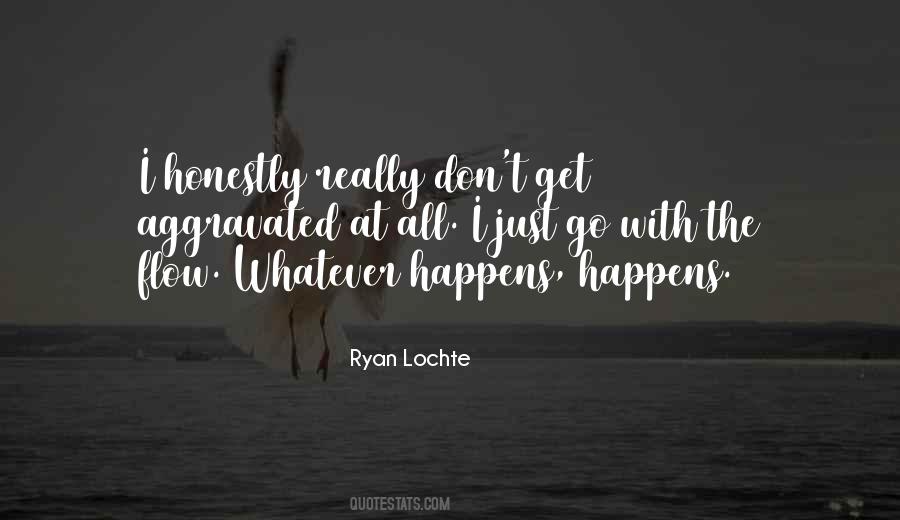 #52. I don't see my movies. When you ask me about one of my movies, it just goes in my memory because maybe sometimes I confuse one for another. I think all movies are like sequences, which is the body of my work. - Author: Bernardo Bertolucci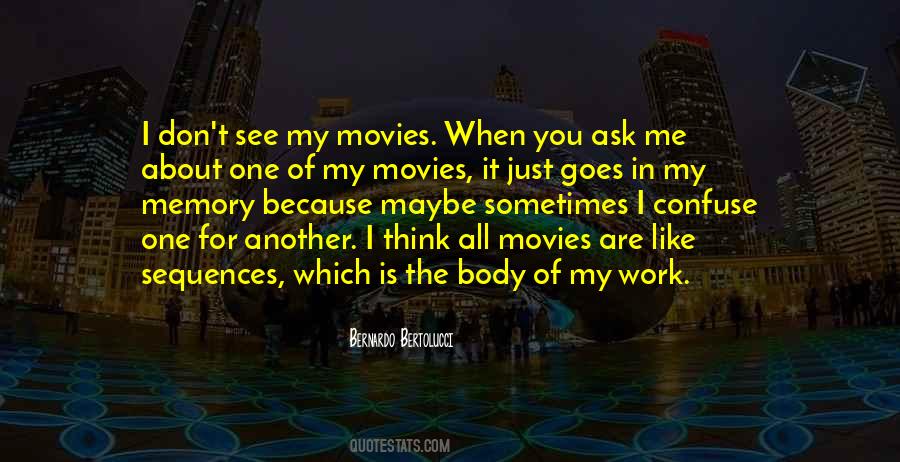 #53. Be where you are. Look around. Just look, don't interpret. See the light, shapes, colors, textures. Be aware of the silent presence of each thing. Be aware of the space that allows everything to be. - Author: Eckhart Tolle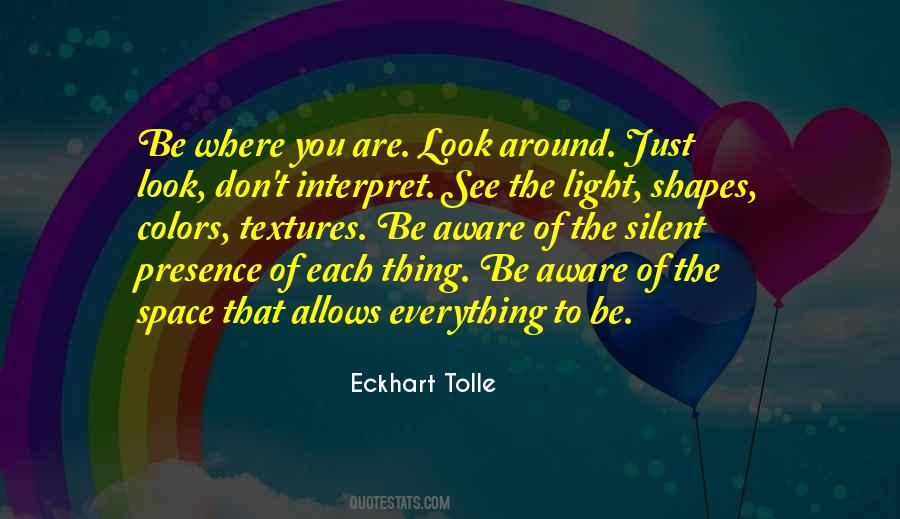 #54. It's midnight Cinderella, but don't worry none. Cause I'm Peter the Pumpkin Eater and the party's just begun. - Author: Garth Brooks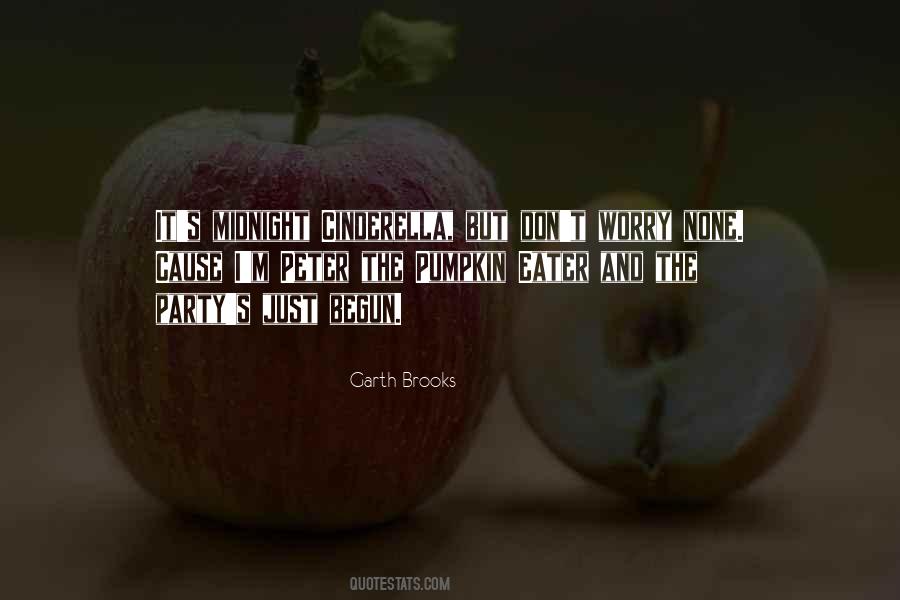 #55. Don't be what you isn't, just be what you is, cause if you is what you isn't you isn't what you is. - Author: Bernice McGeehan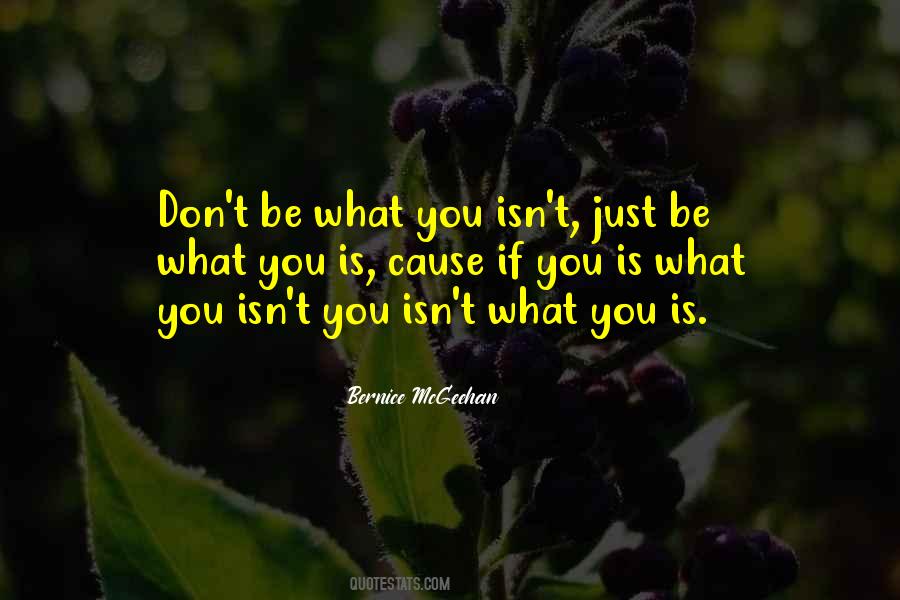 #56. The only way to get what you want is to admit you don't really know what you want. But in the end, or course, you never truly get what you want. So just enjoy the ride. - Author: Gregor Collins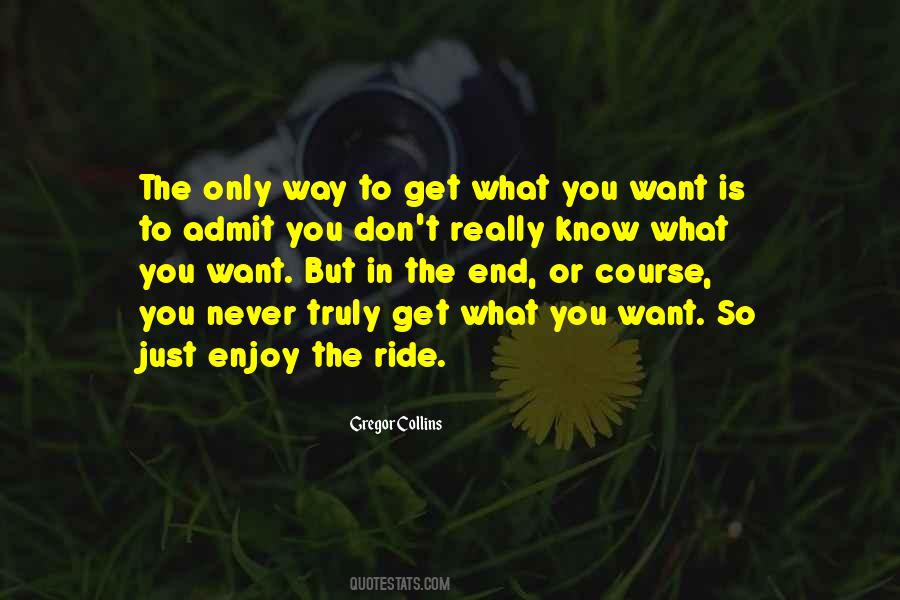 #57. I'm just smart enough to know what it is I don't know and try to learn as I go along and accept that you're going to make mistakes, and there are going to be things that are not going to be perfect. - Author: Ronald D. Moore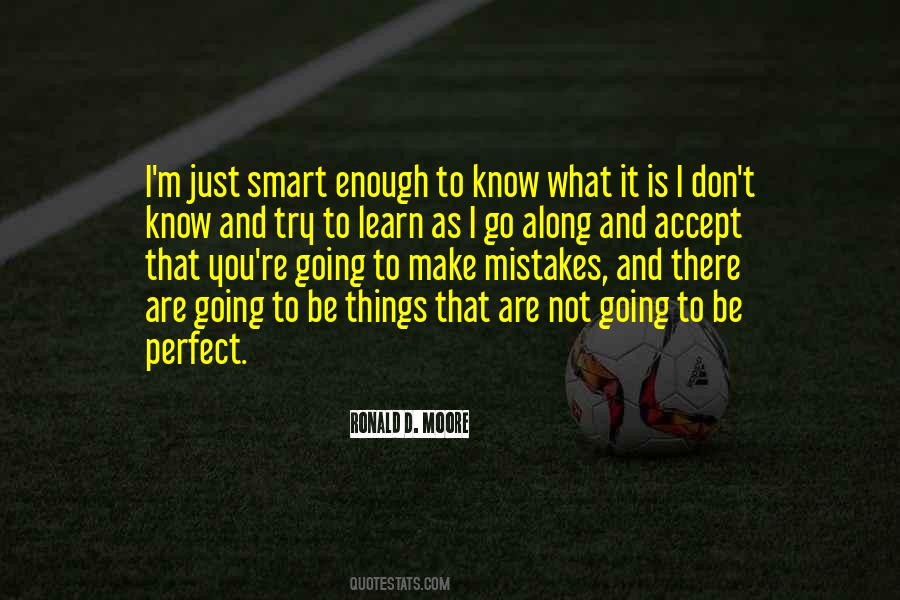 #58. I don't want to be in some relationship that's just about trading apologies when things get hard. Doing that won't make it all OK, you know? So, no, I don't forgive you. But I fucking accept you, including all the shit you do that tests my patience. Because I love you. - Author: Liora Blake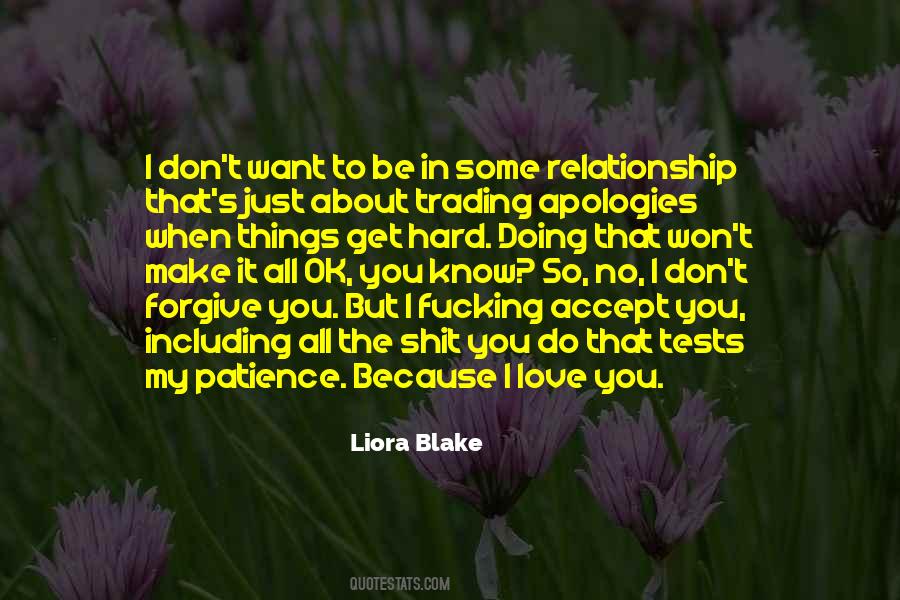 #59. I'm just a little bit tired If you know what I mean Don't want to be in a crowd When I can be in a dream. - Author: Jim Steinman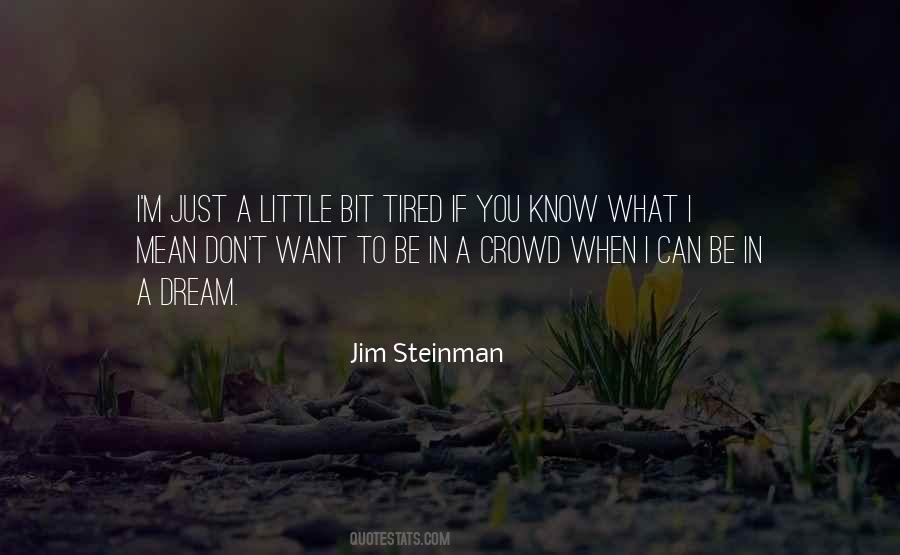 #60. It's funny when I hear people complain - particularly about the most fabulous parts of being a designer, like when you're getting ready to work on a show. I don't even know that I'm tired. I could stay up for six days straight! No drugs, no coffee, no nothing. I'm just so excited. - Author: Michael Kors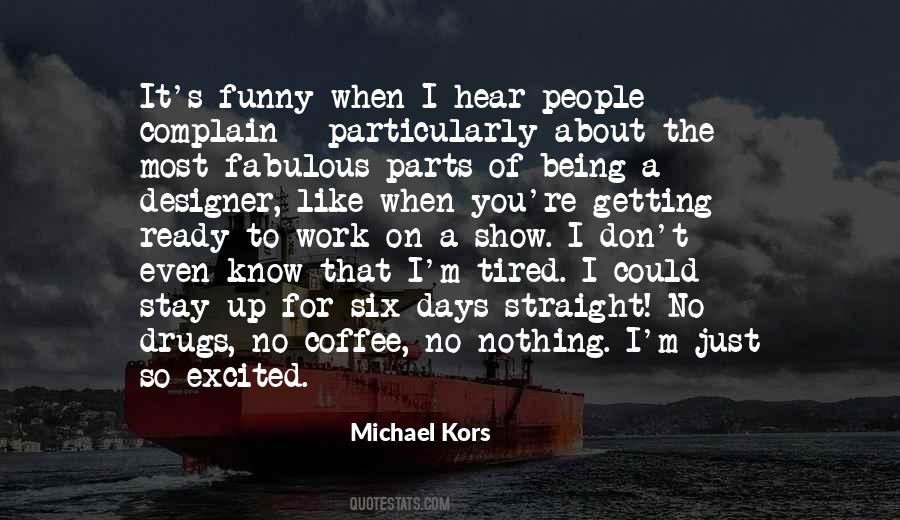 #61. I just don't get it. You've been in love with this bloke since you were a kid, and he's never once got his hair cut short enough that it doesn't poke him in the damn eye. - Author: Kristina Adams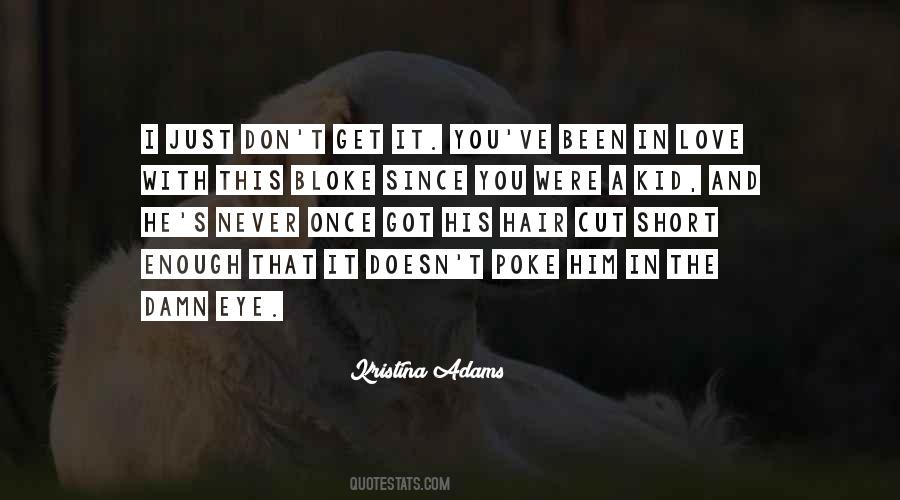 #62. I love you, Dawson. I love who you are, what you are. And I don't think love recognizes differences. It just is. And we really aren't that different. - Author: Jennifer L. Armentrout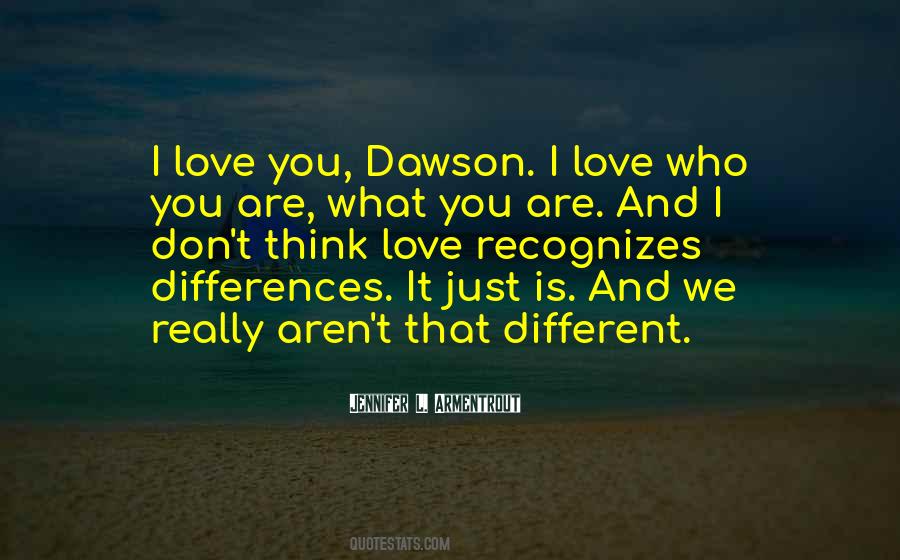 #63. There are some great teachers who have had great students, but they themselves can't play a note. I don't understand it, because the most I learned from my teacher was just hearing him play. - Author: Joshua Bell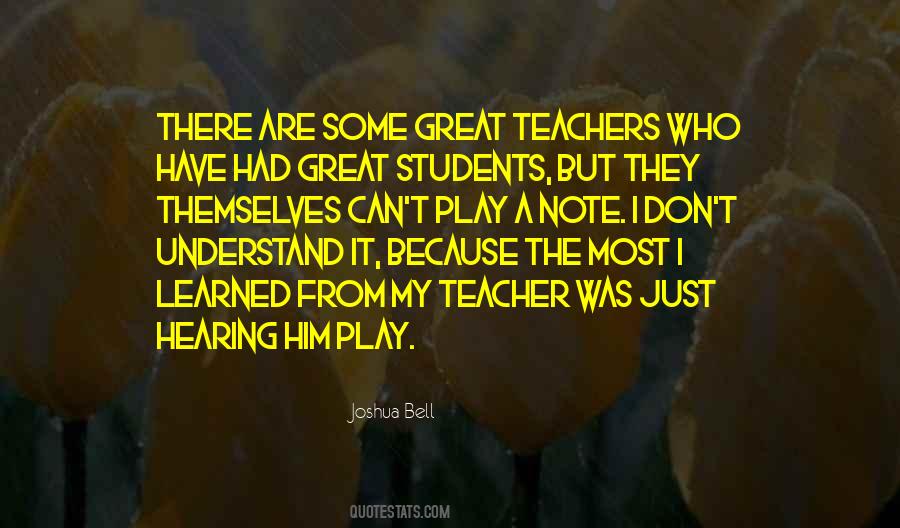 #64. Father or stepfather - those are just titles to me. They don't mean anything. - Author: Oliver Hudson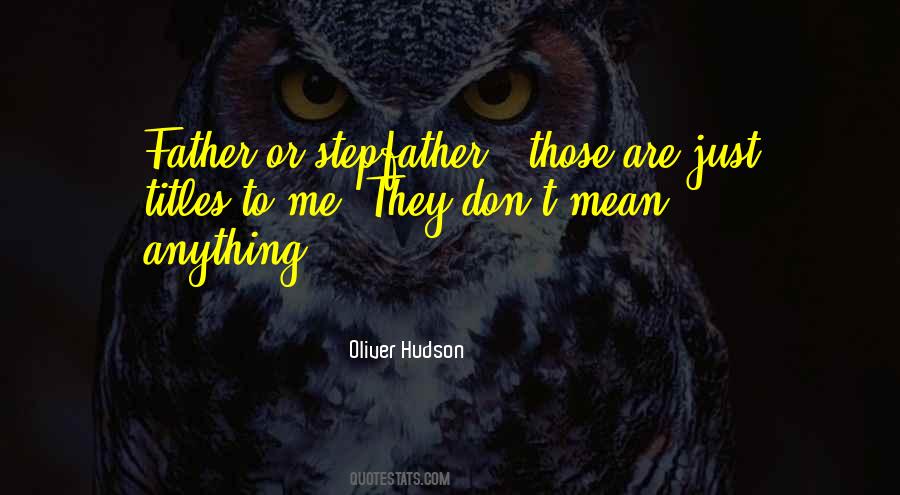 #65. I killed the Google Alert I used to have on myself two years ago. I don't need any more information about myself. I get more than enough of that just by being me. - Author: Lev Grossman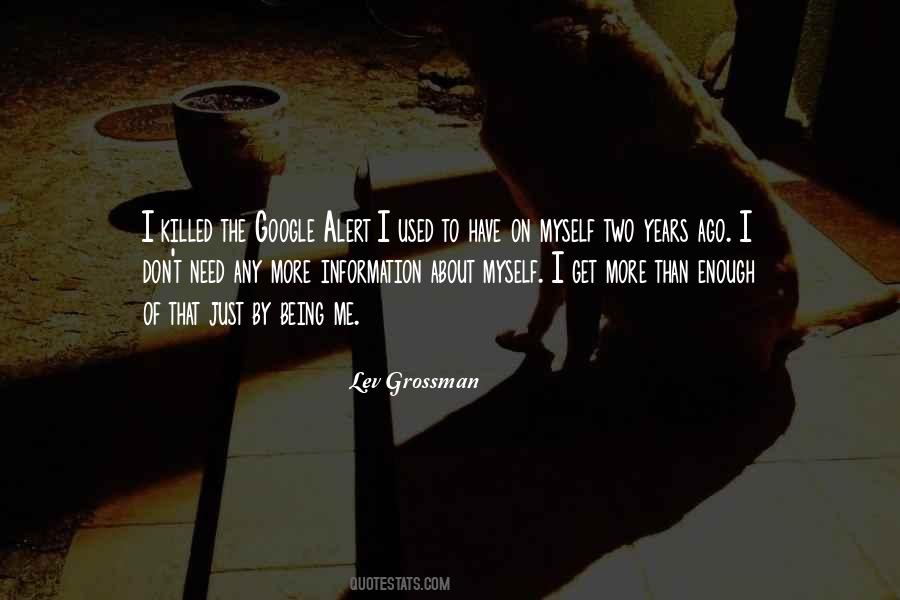 #66. Every kid in America dreams of playing in the big leagues and they don't, just because. It's not because they blew out their knee. It's just because they didn't make it. - Author: Marc Blucas
#67. A lot of people don't just go ahead and try things. - Author: Pierre Omidyar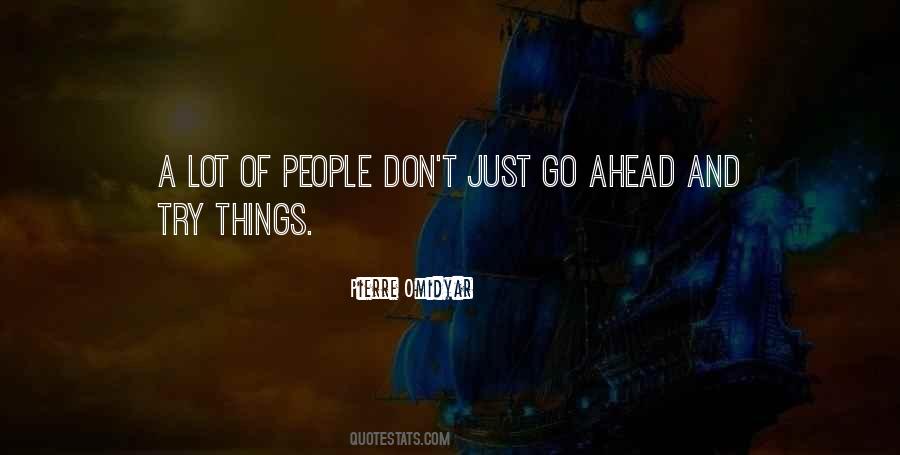 #68. Beyond hoping that someone will like one of my songs, I don't think about how a song will be received. I just hope that, when somebody hears one of my songs, they'll want to hear it again. - Author: Lyle Lovett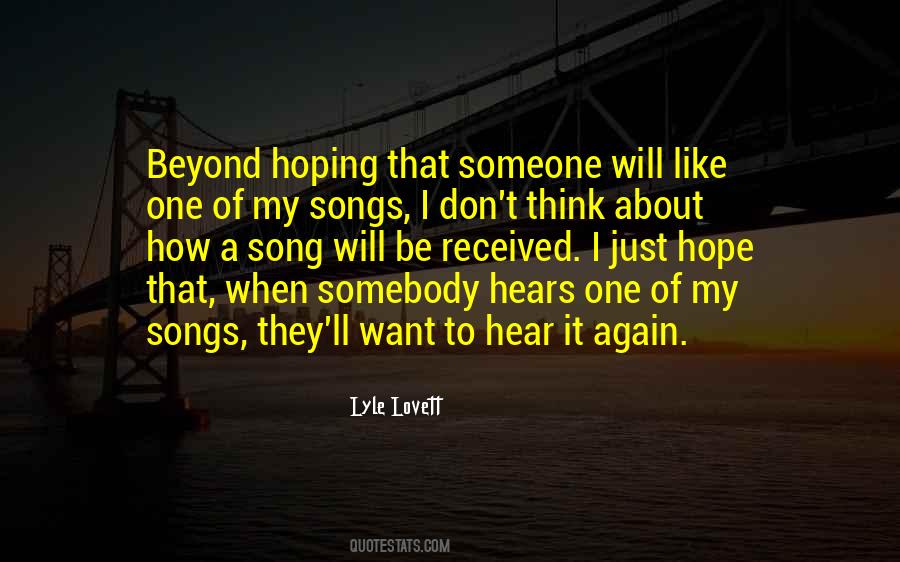 #69. Take a stand; go for the right choice. Don't just sit for anything; stand for something. Be specific because sometimes, when the meaning is not clear, there us absolutely no meaning! - Author: Israelmore Ayivor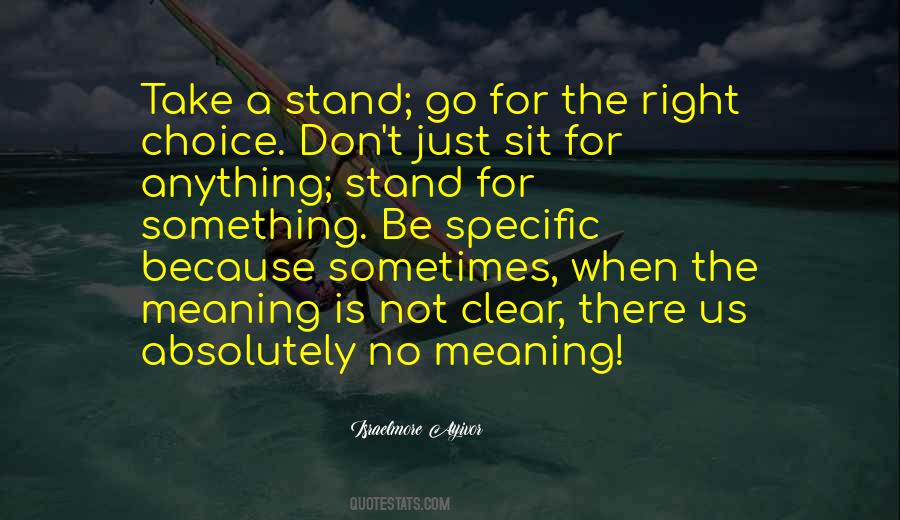 #70. I don't say I'm not magnetic to try and sound self-deprecating. I'm just not. Though I actually love people. I would like to meet more people. I know no one. - Author: Kristen Stewart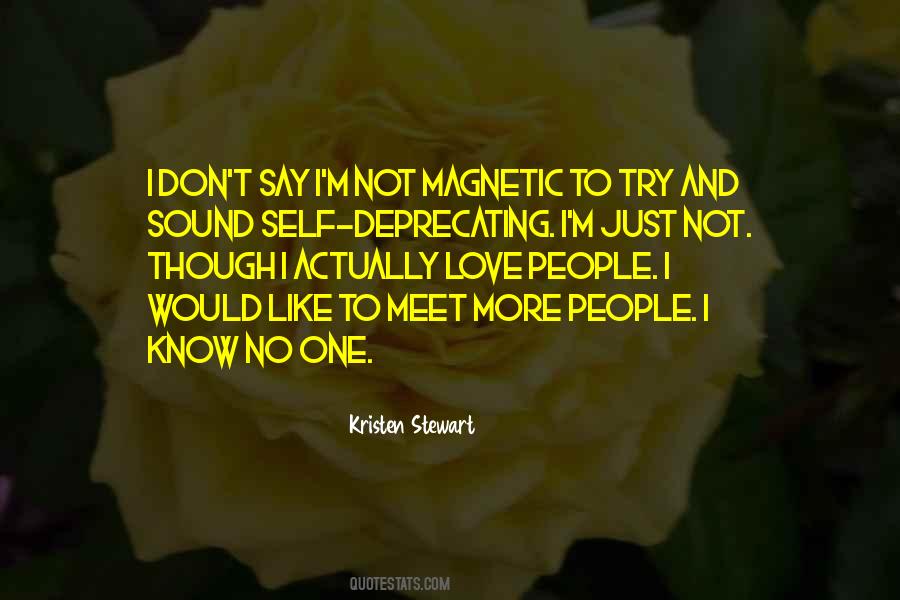 #71. I just want to say that dreams do come true. Don't ever give up on your dreams. Sometimes it just takes a little bit longer for some of us. - Author: Robin Thicke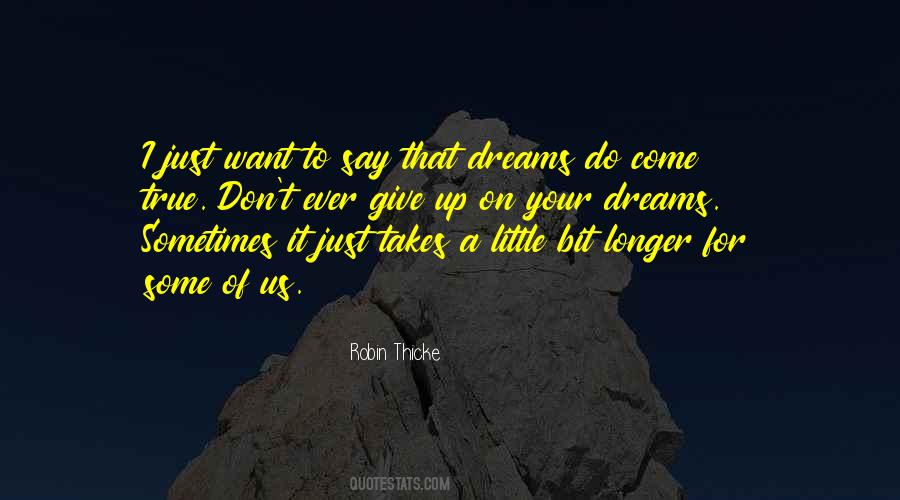 #72. What I don't like is when I see stuff that I know has had a lot of improv done or is playing around where there's no purpose to the scene other than to just be funny. What you don't want is funny scene, funny scene, funny scene, and now here's the epiphany scene and then the movie's over. - Author: Paul Feig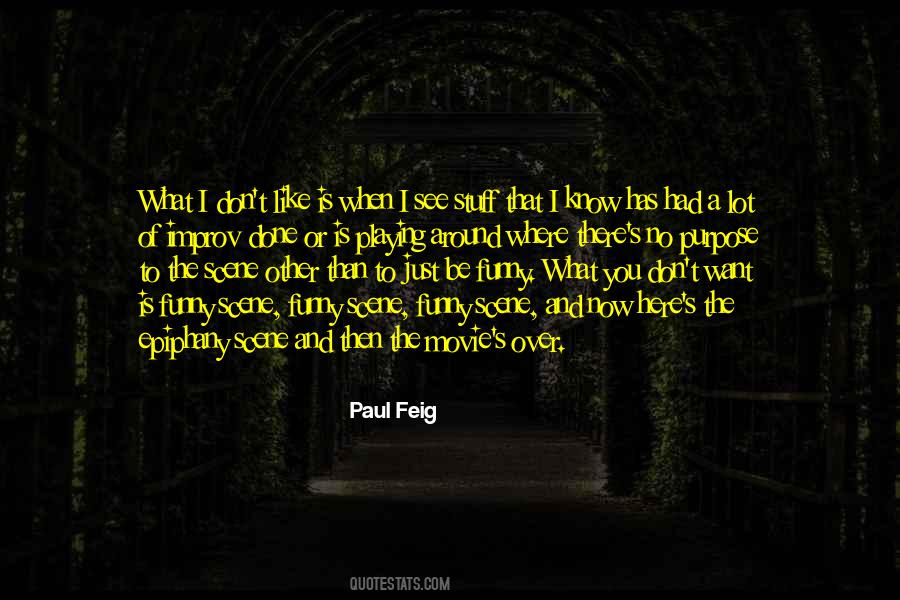 #73. Anyway, you don't have to be terribly intelligent to complete a PhD," Karim grumps. "You just need to be stupidly persistent. If anything, being too smart gets in the way - - Author: Charles Stross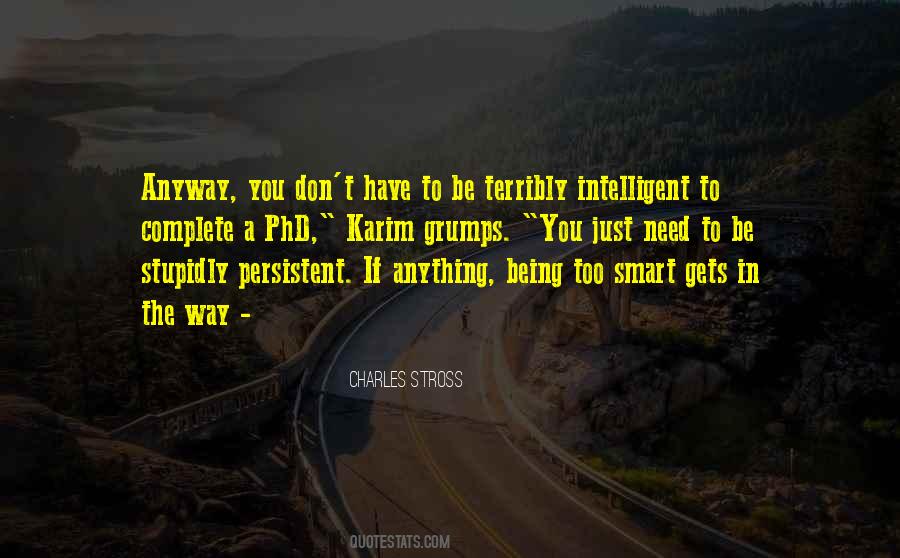 #74. I don't need a boyfriend to be happy. If I meet someone and I want to be with him, then I will be. I'm very confident in being single until I find someone who I'm extremely crazy about and who I want to devote my time and love to. Until then, I will just be on my own and I am totally fine with that, - Author: Nina Dobrev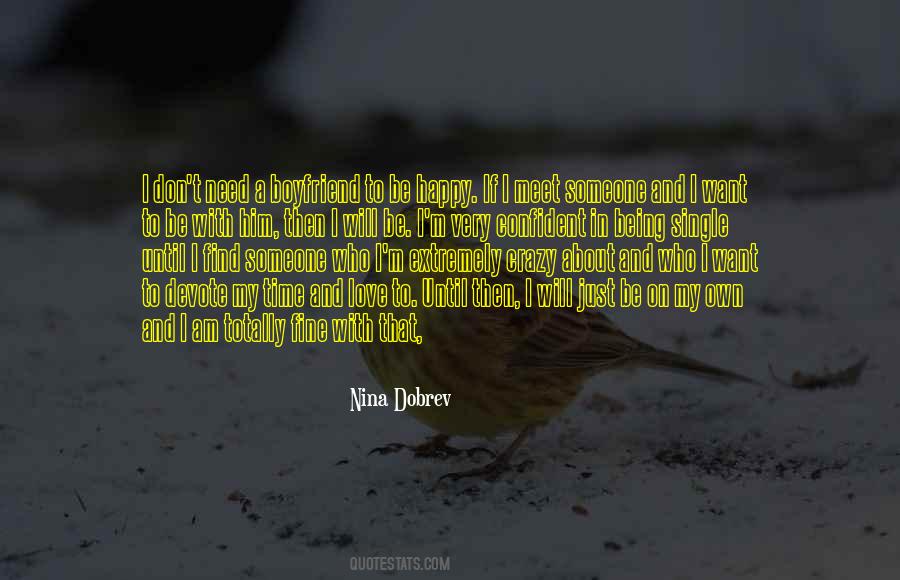 #75. The problem is a lot of people don't think. The general bloke just goes through life, gets a job, gets married and all that, and that's it. - Author: Paul Simonon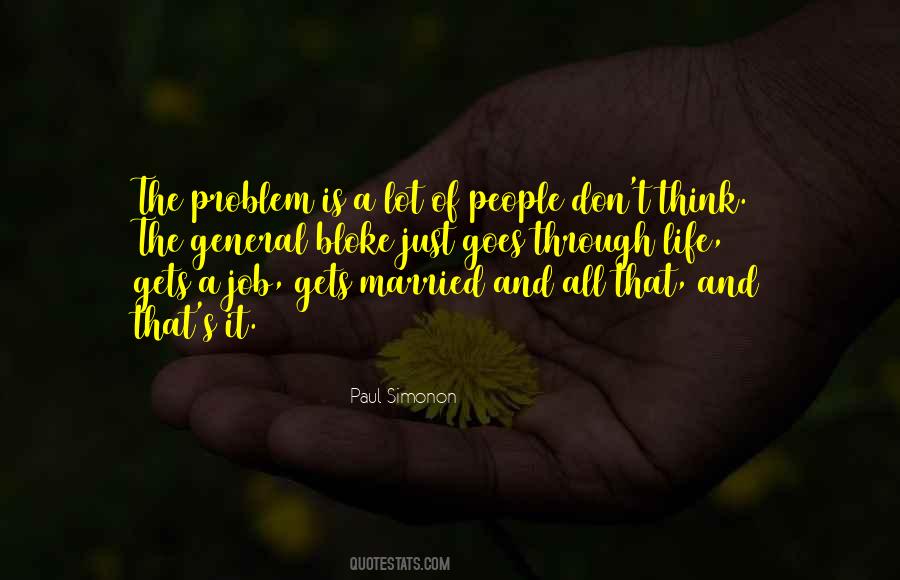 #76. Part of what we seek in Buddhism is the sense of quiet observation. We don't get so involved in a state of mind that we forget that it's just another transient state of mind, no matter how much ecstasy or agony is involved. - Author: Frederick Lenz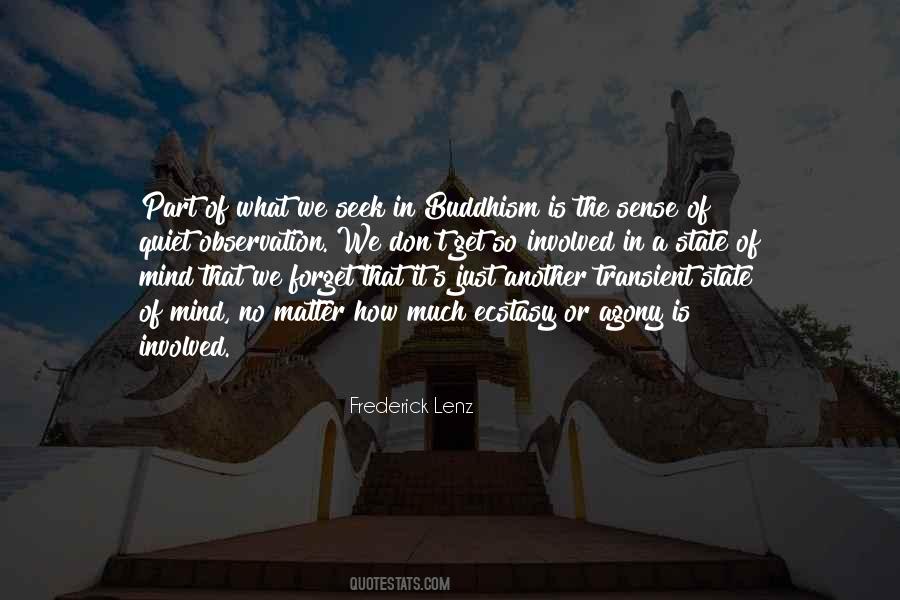 #77. He held her face in his hands and his gaze warmed her sadness. "I don't care how you got here. I'm just happy you were born." He rubbed noses with hers. "Real happy. - Author: Selena Robins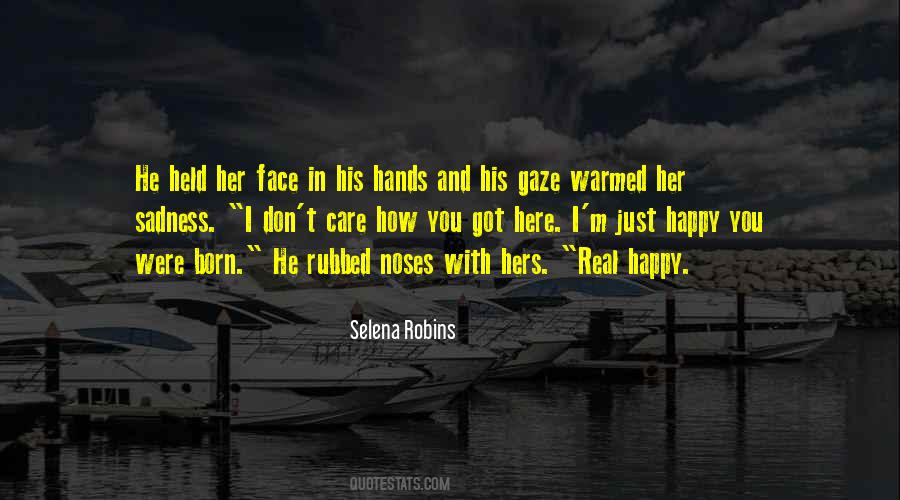 #78. I tell people all the time, you have to be in love with that pot. You have to put all your love in that pot. If you're in a hurry,just eat your sandwich and go. Don't even start cooking, because you can't do anything well in a hurry. I love food. I love serving people. I love satisfying people. - Author: Leah Chase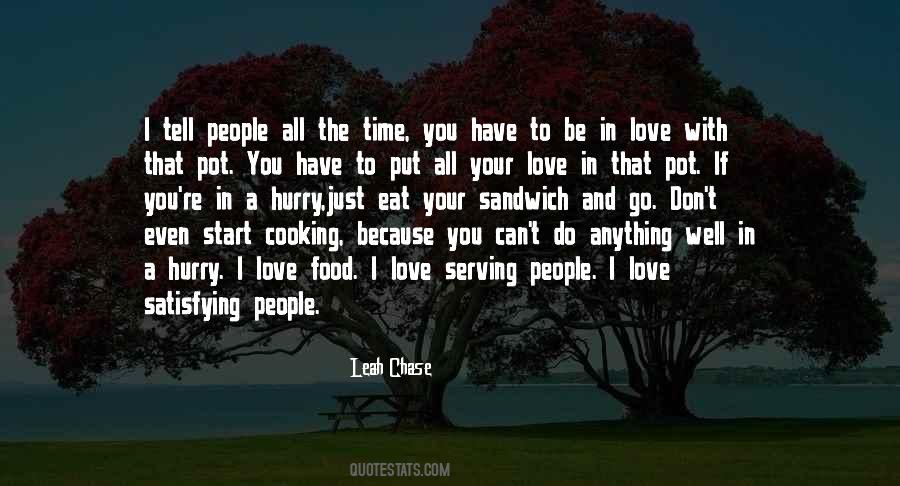 #79. Don't you just hate it when real life gets in the way of your own reality. - Author: Menna Anwar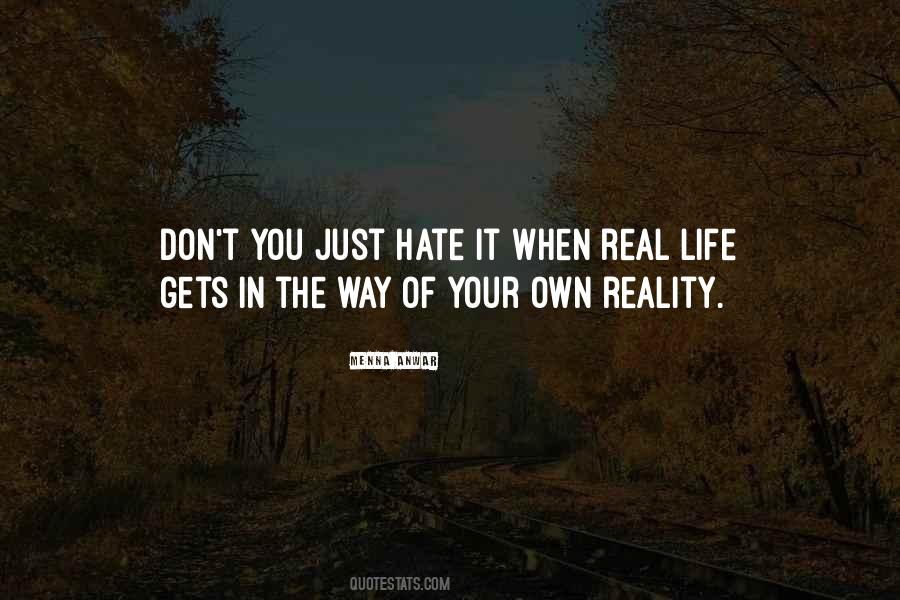 #80. I don't shop because I need something, I just shop for shopping's sake. - Author: Cat Deeley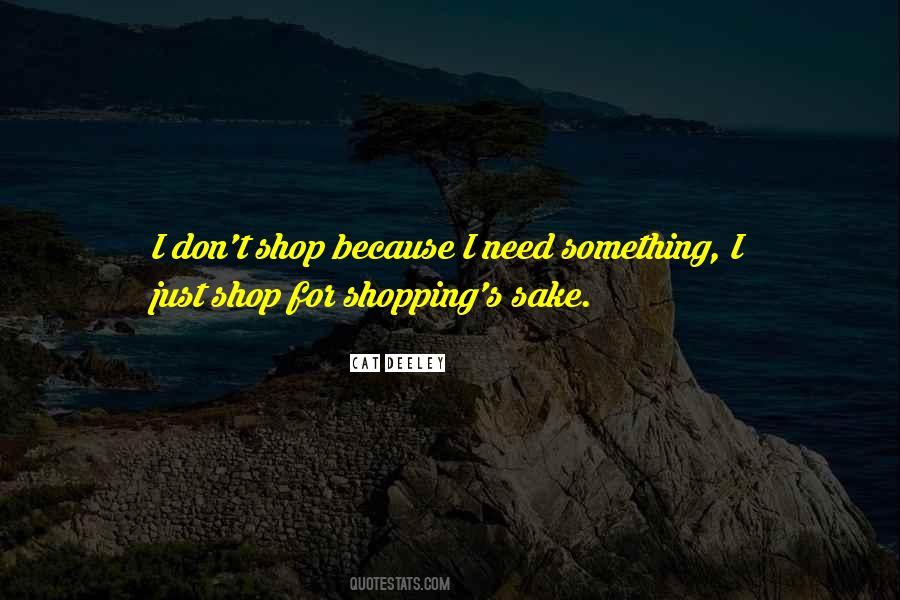 #81. I don't know if I do anything to get into character: I just go with my gut. - Author: Jamie Blackley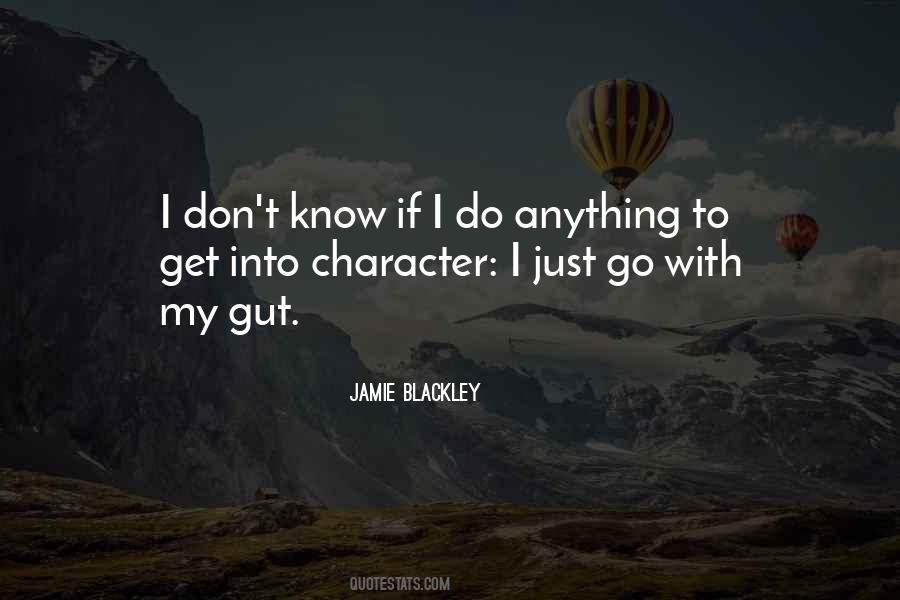 #82. Art is just a series of natural gestures. For God's sake, don't try to be artistic - all wild animals walk the same way. - Author: John Marin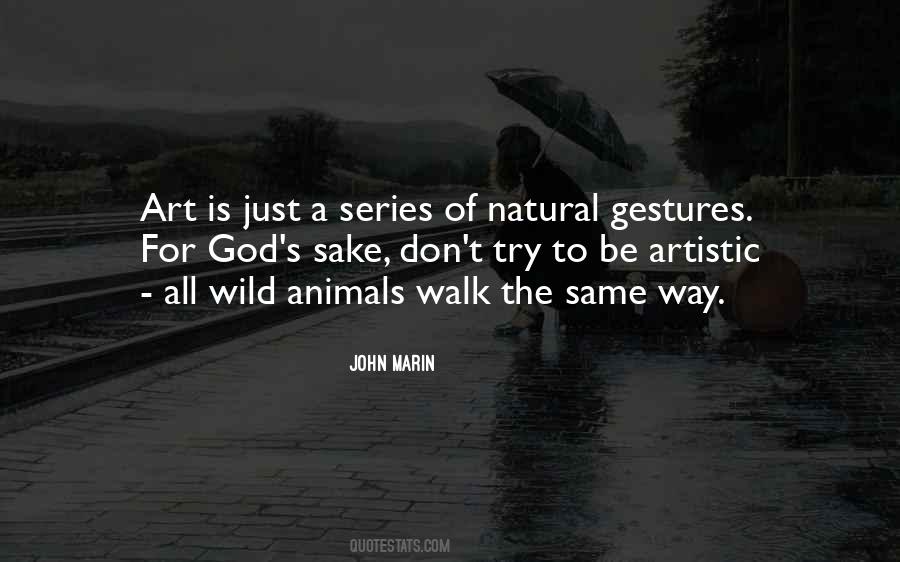 #83. A perception is not a story, and no amount of sensitivity can make a story-writer out of you if you just plain don't have a gift for telling a story. - Author: Flannery O'Connor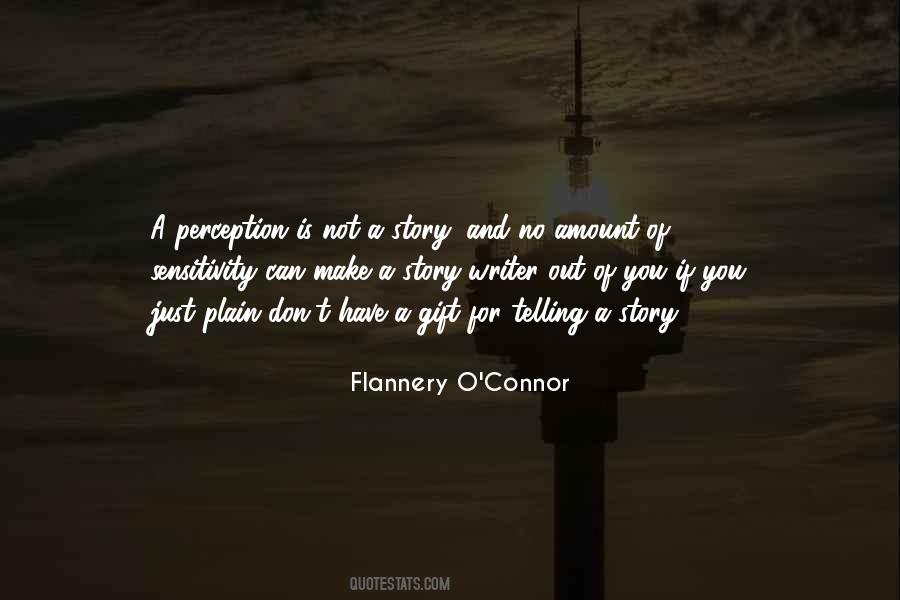 #84. I don't particularly like entertaining. I know I should, but I just don't. - Author: Tim Gunn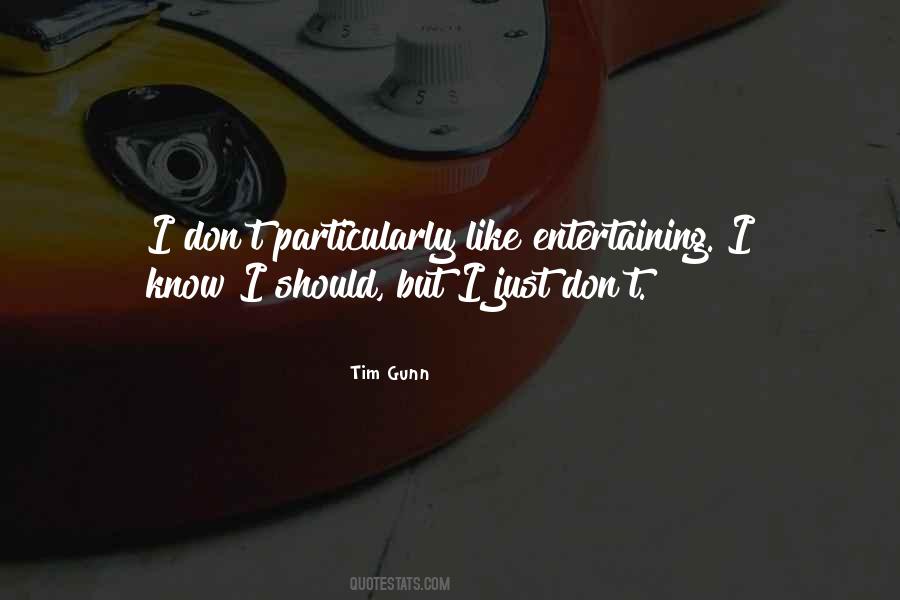 #85. I don't mind UFO's and ghost stories, it's just that I tend to give value to the storyteller rather than to the story itself. - Author: Robert Stack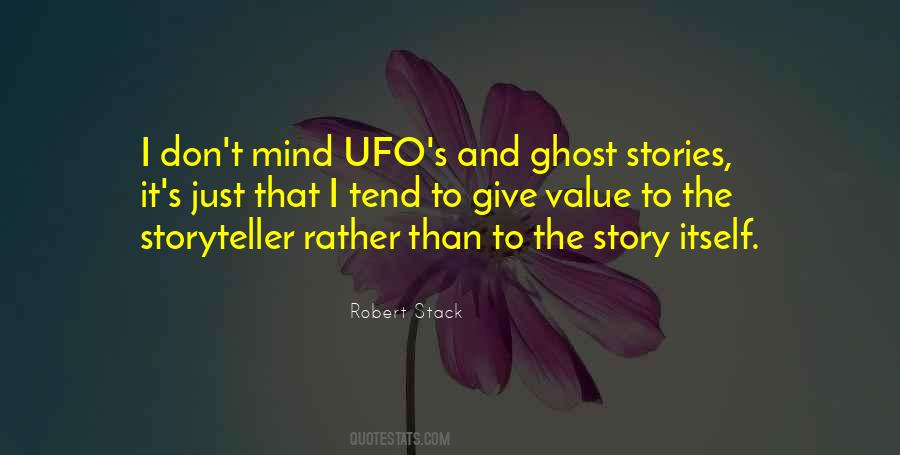 #86. It must be easy to be a liberal. When your policies don't work, you just change the goal posts and say we haven't done enough - and then demand more. - Author: David Limbaugh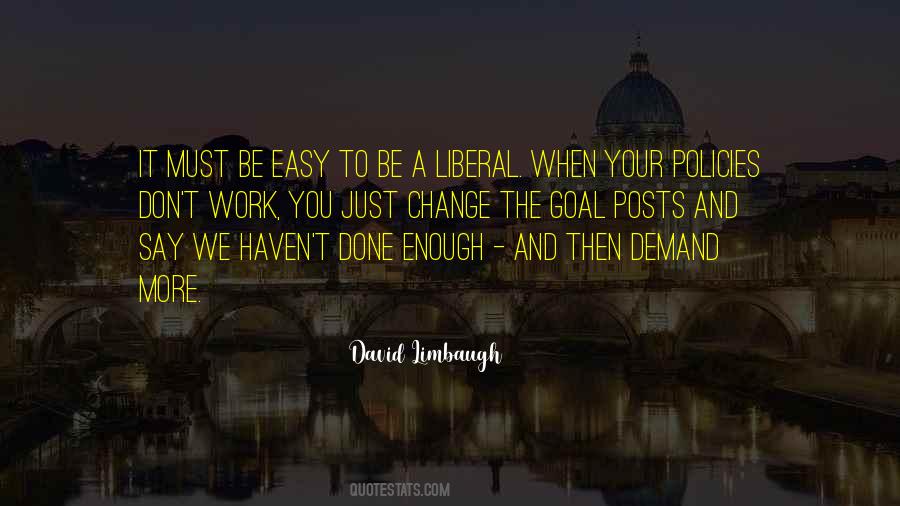 #87. I can say that I don't have a lot of leisure time, just sitting around doing absolutely nothing, but that's okay. - Author: Nicholas Sparks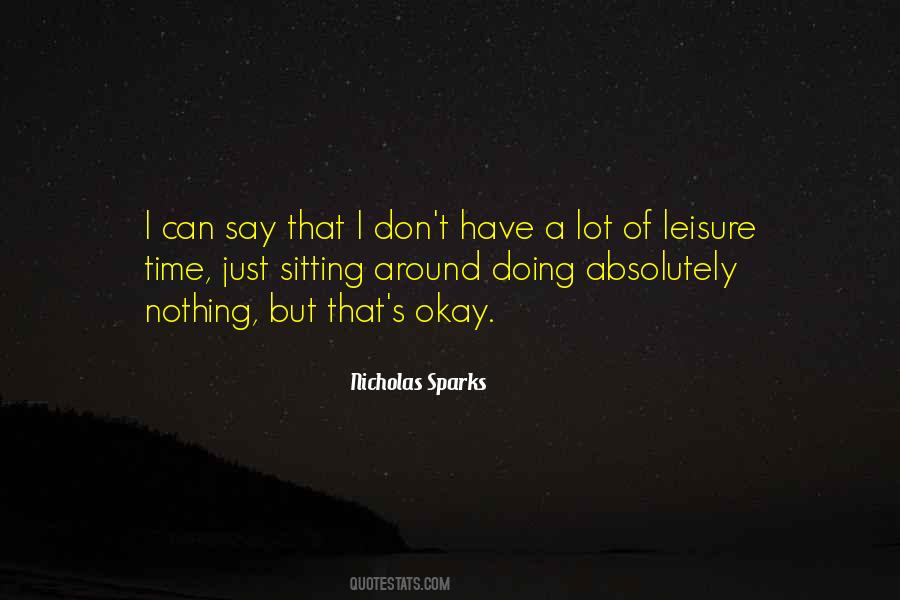 #88. Every time you get a chance to move forward, you just hijack your own future. it's like - you don't actually want to... You're in control of your own life. And yet you act like you're permanently buffeted by events outside your control. - Author: Jojo Moyes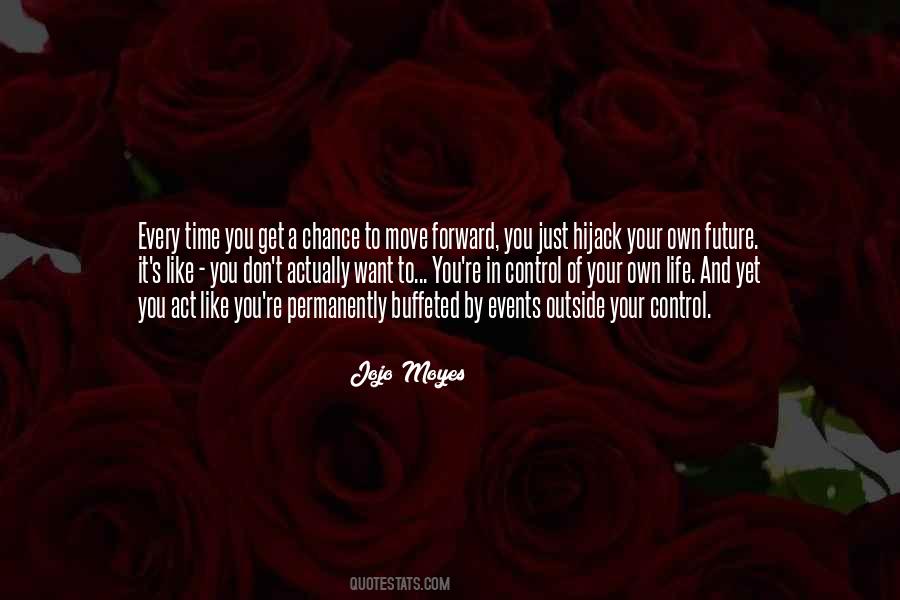 #89. Just 'cause she's farting through silk doesn't mean she can shit on people who don't have any money. - Author: Katherine Pancol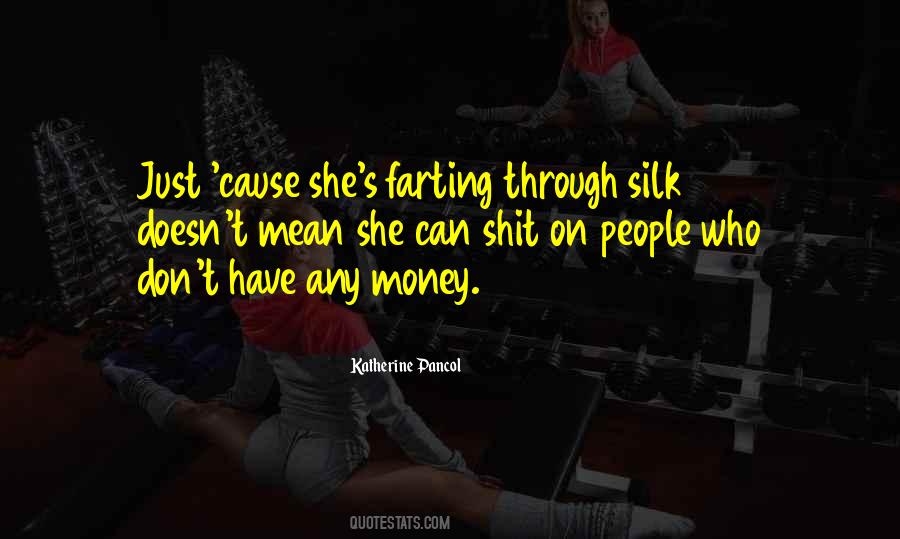 #90. I don't care about the weight. You know, I'm lucky; I'm one of those people - I can eat donuts, whatever, and I just get fat. - Author: Louis C.K.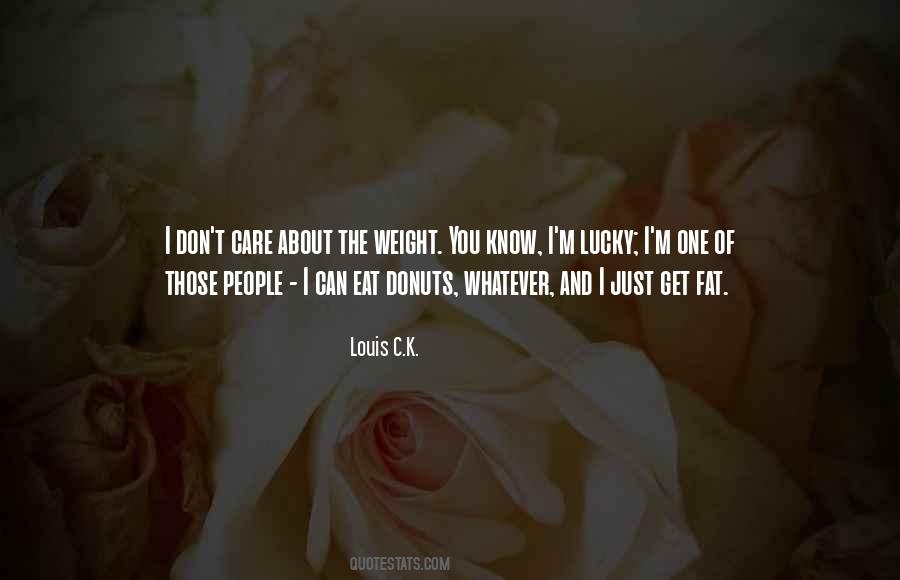 #91. I don't see myself as a 'black actor,' I'm just Shemar Moore the actor. I'm very proud to be black, but I'm just as much black as I am white. - Author: Shemar Moore
#92. [...] it seems you don't understand that words are the labels we stick on things, not the things themselves, you'll never know what the things are really like, nor even what their real names are, because the names you gave them are just that, the names you gave them [...] - Author: Jose Saramago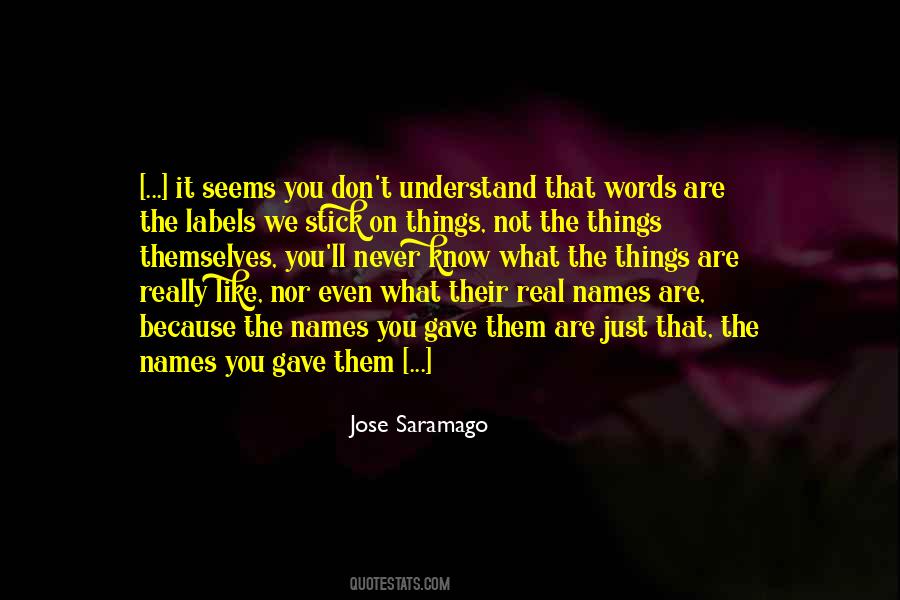 #93. Them haters in your face you just ignore them. Don't know what they talking sh-t for. - Author: Wiz Khalifa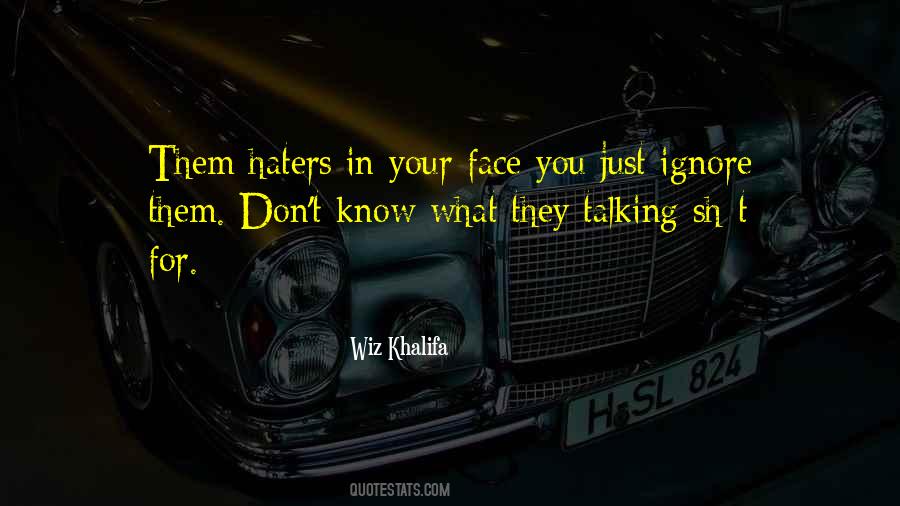 #94. It's the company itself, but most of these mutual fund companies, the guy who runs the company is just a fact totem and the guy who runs the money is the power. But we really don't know who they are. - Author: Jim Cramer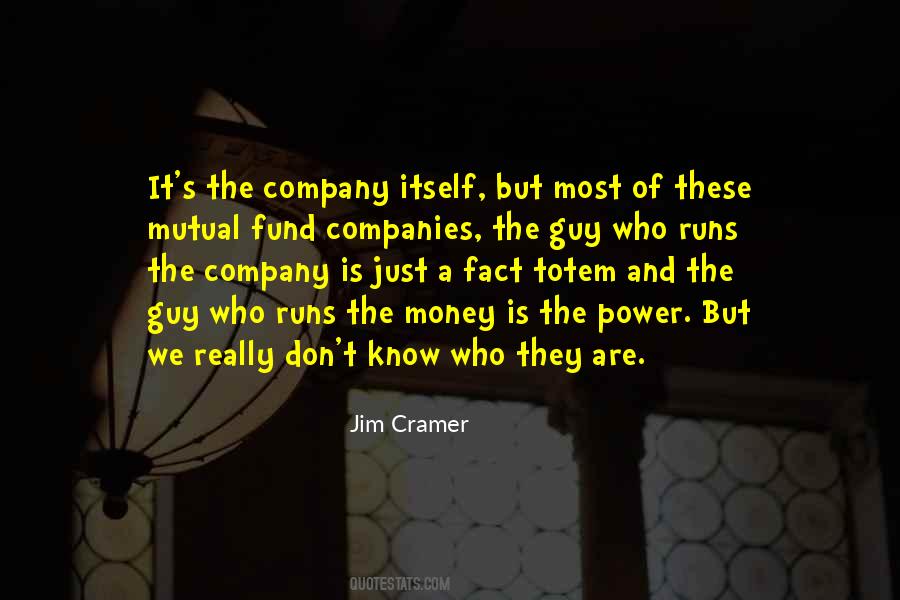 #95. Don't say it do it, Don't act it out prove it, Don't just speak it make me believe it. - Author: The Prolific Penman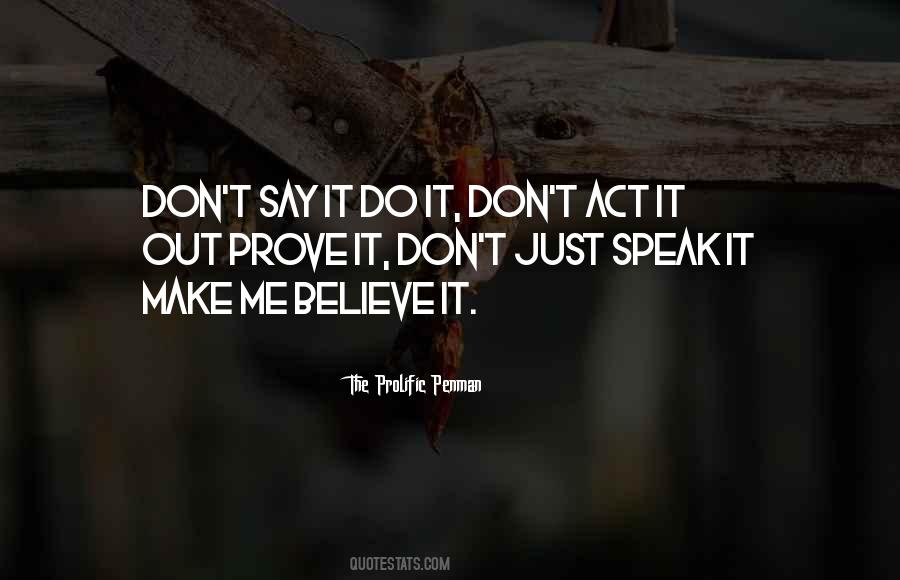 #96. I just love the fact that a man possesses something that a woman can never understand because we don't have the experiences of it and that a woman possesses something that the man doesn't understand because only she possesses it. - Author: Cameron Diaz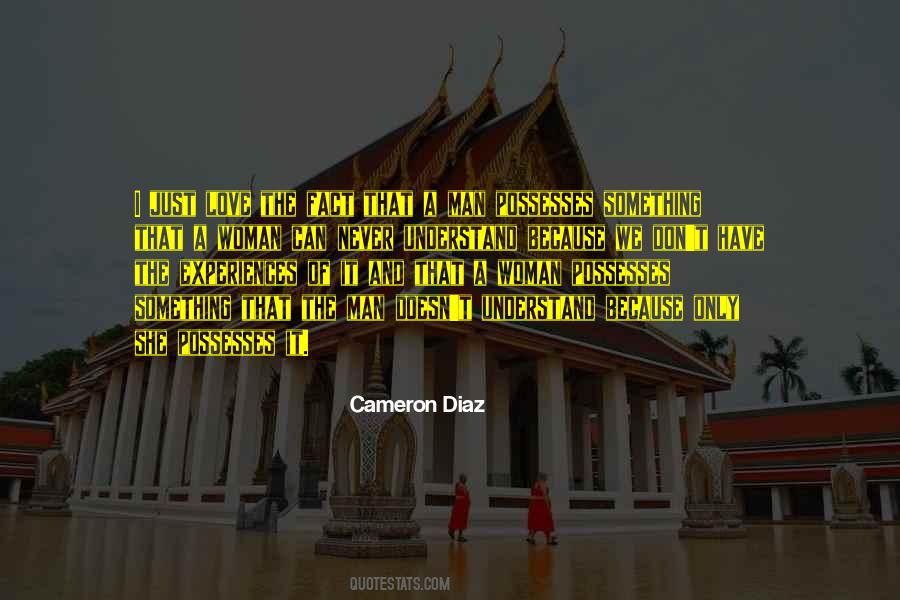 #97. The change starts when you start watching a video. You don't see it, you don't feel it but it starts at this moment, just by reading a complicated book or watching a film you again change... It's a fact! - Author: Deyth Banger
#98. I've just always been very aware and careful of everything, so that I can be ready for the perfect opportunities as they come. I don't take anything for granted or wait for anything to come to me. - Author: Katy Perry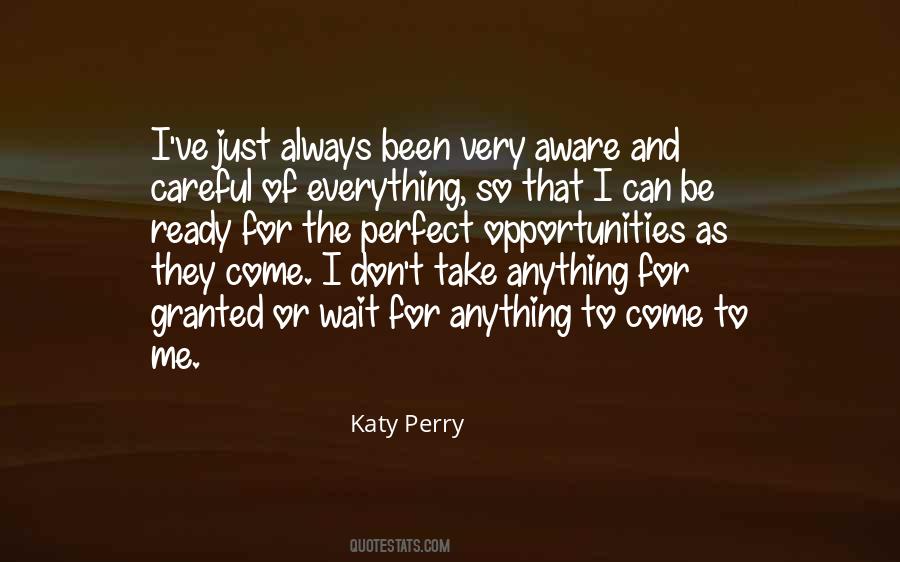 #99. I would say I don't like people who are really into themselves or are very materialistic. Just always talking themselves up. Not being real is the pet peeve. Be true to yourself. - Author: Austin Stowell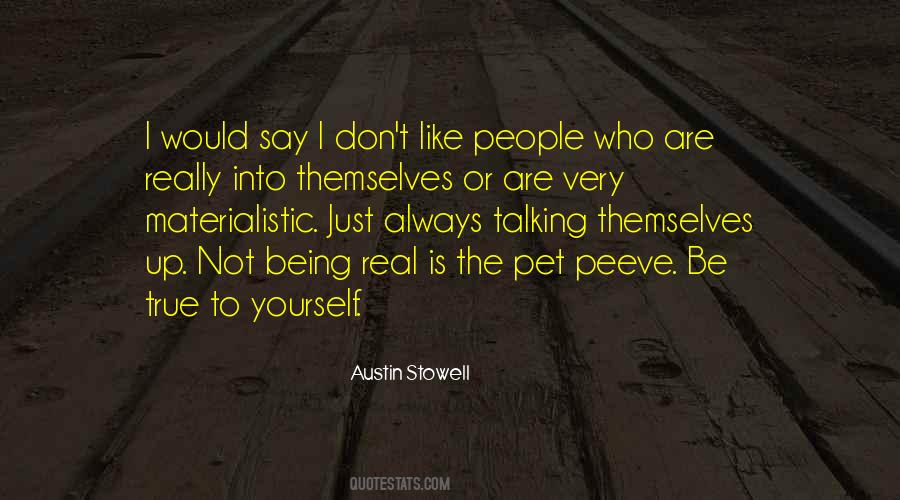 #100. You've got to stop thinking of me that way. When it's just you and me, I'm not a Five and you're not a Six. We're just Aspen and America. And I don't want anything in the world but you. - Author: Kiera Cass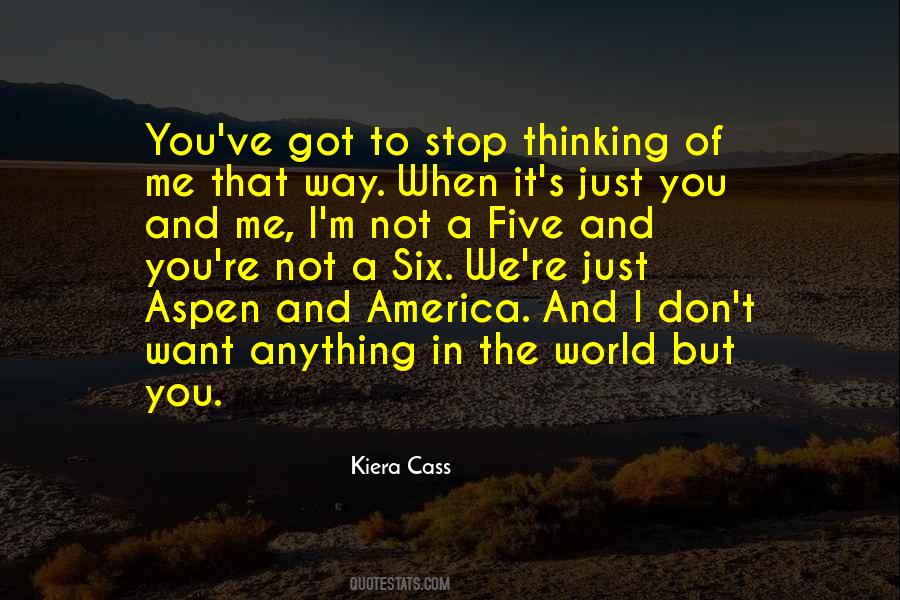 Famous Authors
Popular Topics