I Love You Okay Famous Quotes & Sayings
List of top 100 famous quotes and sayings about i love you okay to read and share with friends on your Facebook, Twitter, blogs.
Top 100 I Love You Okay Quotes
#1. I'm not all you need, and I don't even want to be. I just want to love you, for the rest of my life, and as long as you let me do that, we'll be okay. - Author: Amanda Hocking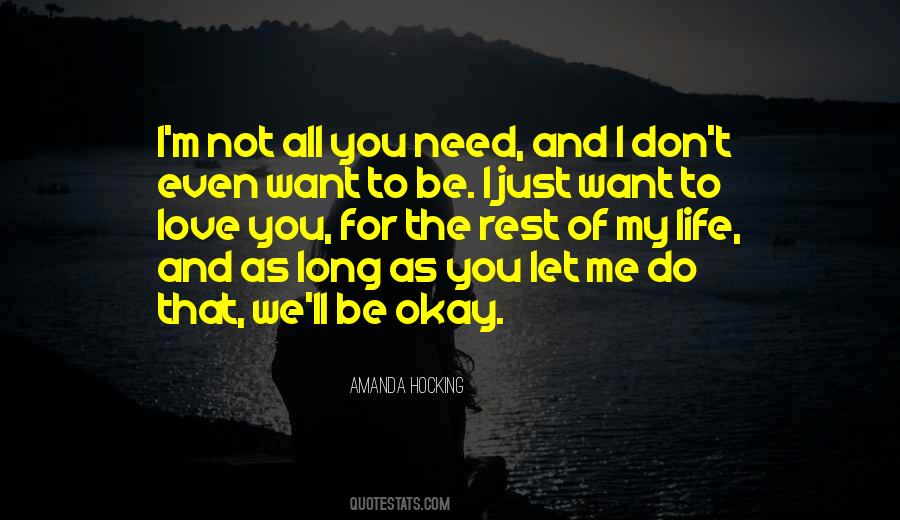 #2. Okay, you're older. Not much, really. And considering you love staying in shape and I refuse to run, we'll probably get all old and crippled at the same time. If not, then I'll learn to use a cane, and I'll get to beat on your ass for a change. - Author: Cherise Sinclair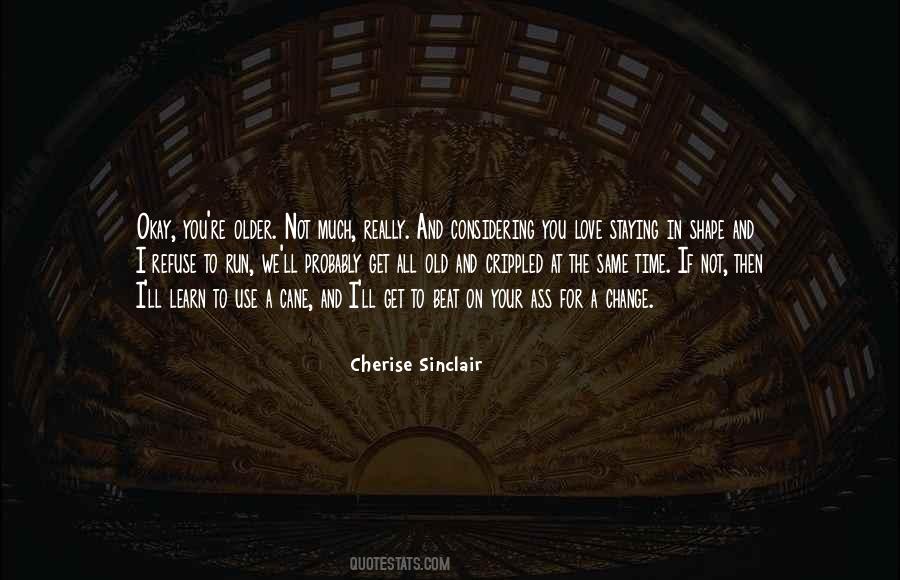 #3. So dawn goes dawn goes down to day, nothing gold can stay."
"without pain how could we know joy?"
"Come quickly I tasting the stars"
"I fell in love the way you fall asleep:slowly, and then all at once"
"What a slut time is she srews everybody. - Author: John Green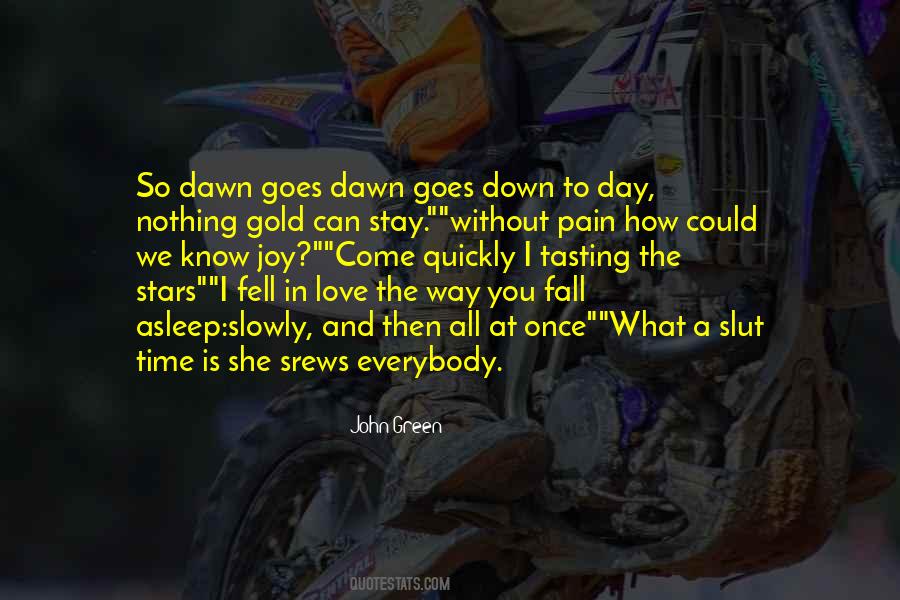 #4. Is it okay if I love you?"
"Only if it is okay that I love you back."
"Deal. - Author: Chelsea Fine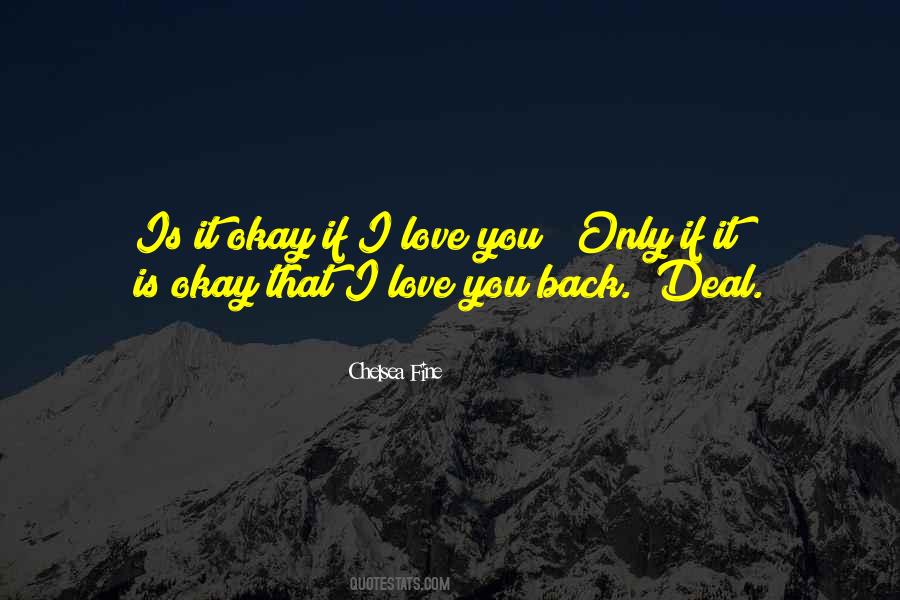 #5. I know this is like the worst possible time, but I really need to tell you that I love you. Okay? Because I do. And you don't have to say it back or anything, but that's how it is. - Author: Tere Michaels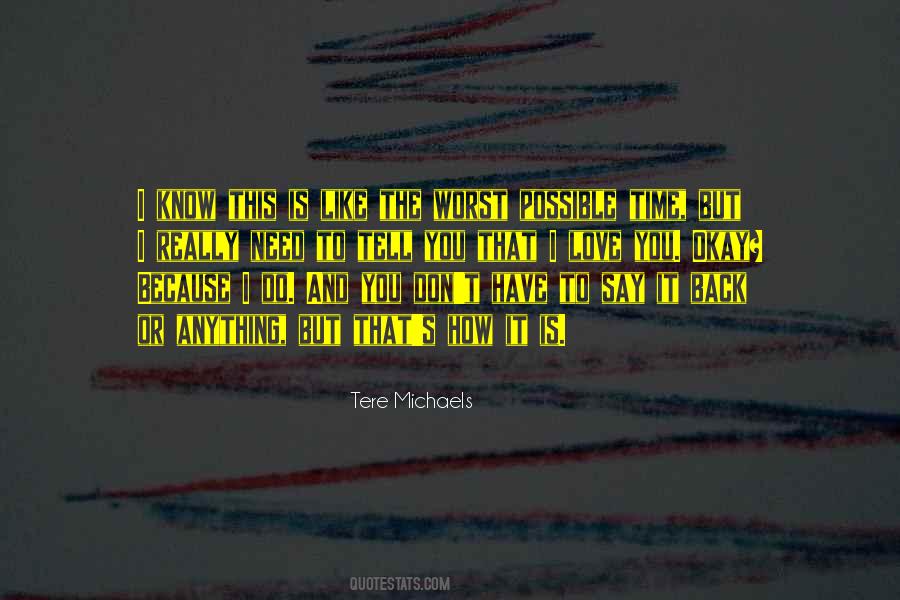 #6. Pie love you, professor," I whisper. "Have faith in me, okay?"
"Ah, Liv." He presses his lips to my forehead. "I don't have faith in anyone but you. - Author: Nina Lane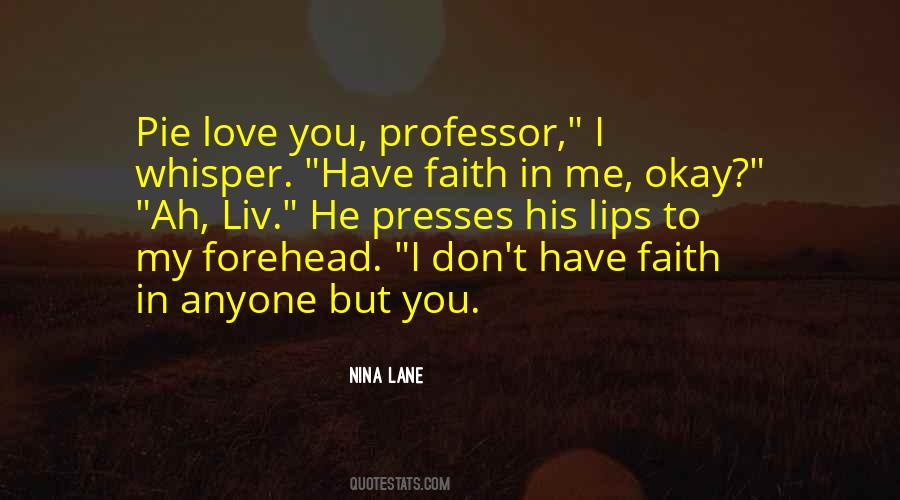 #7. To see the man that I love pursue another woman was heartbreaking. Usually men do this shit behind your back. However, since we were in the lifestyle, I guess he thought it was okay to do it in my face. "I told you that there were - Author: Jessica N. Watkins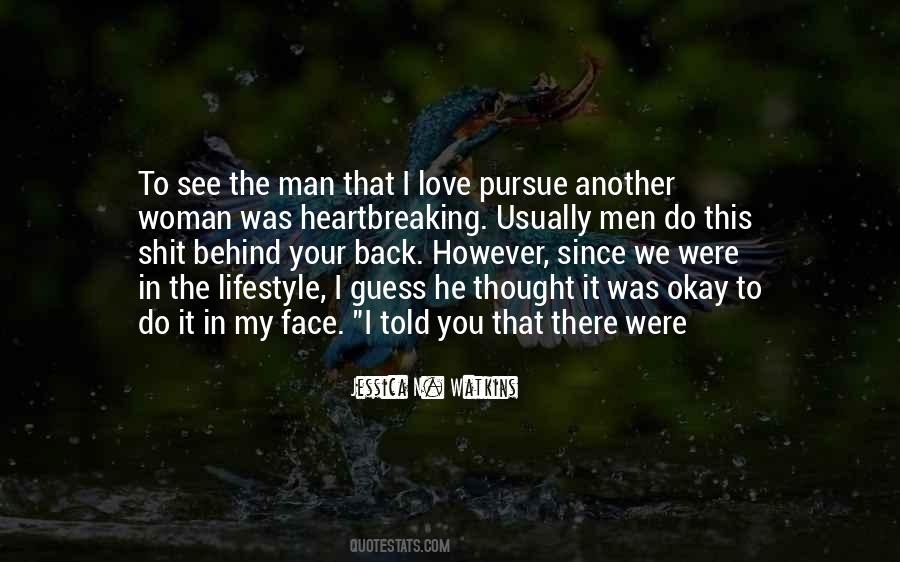 #8. I think we could be friends," he said, falling into step with her. "It's perfect because I wouldn't fall in love with you, like I do with the mermaids. Girls always seem so exotic. But it would be okay with you, because you're more like ... you know. Not like a girl." He shrugged. - Author: Jodi Lynn Anderson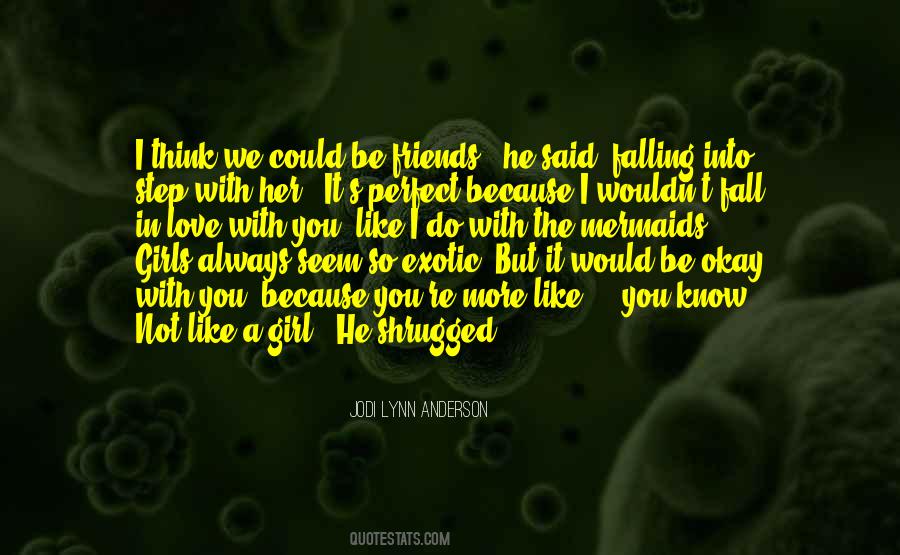 #9. She was beautiful, and I was so, so desperately in love with her.
Her chin jerked up, and she sucked in a breath, eyes widening.
Okay, I may have actually thought that last bit at her.
You did. A small smile split her lips. - Author: Jennifer L. Armentrout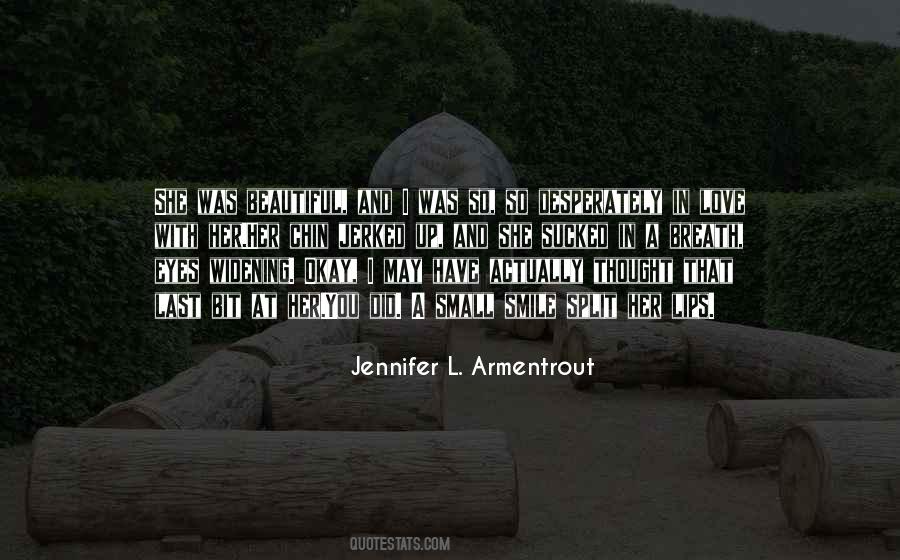 #10. Next time I get sick, you can tell that to me. You can be my girl in the mountains."
"Okay", I say."I'll be your mountain girl and take care of you. - Author: Gayle Forman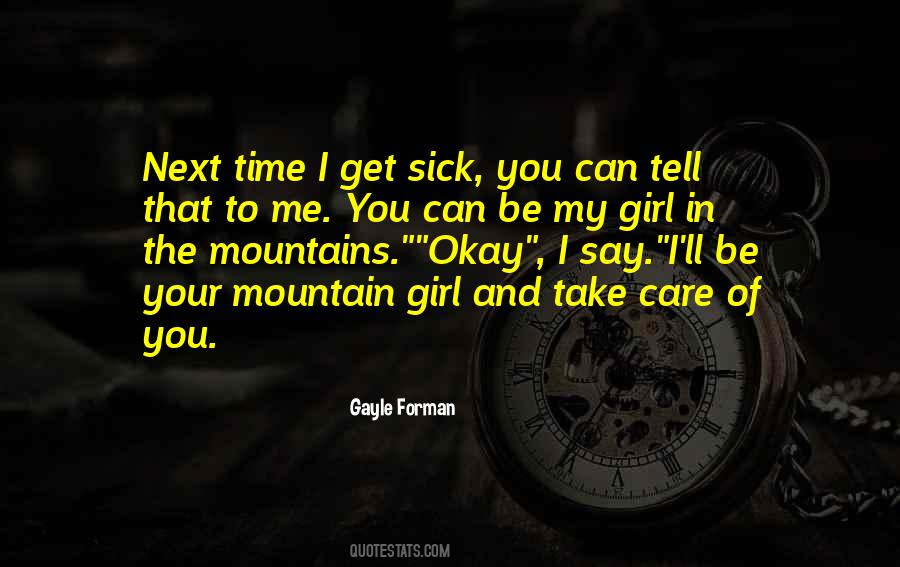 #11. I love you. Okay? Want it louder? I LOVE YOU. Spell it out, should I? I ell-oh-vee-ee why-oh-you. Want it backward? You love I. - Author: William Goldman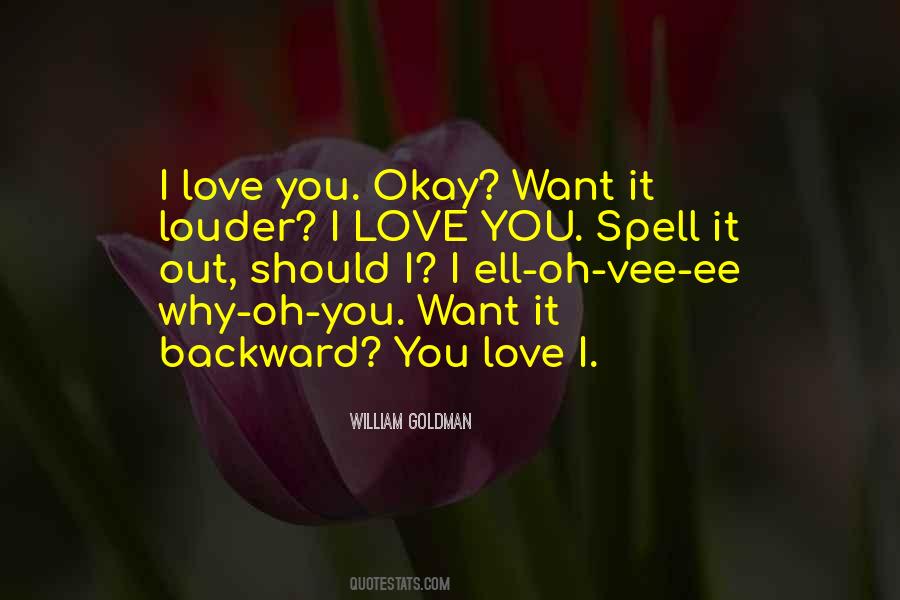 #12. I got back into the position of taking care of my husband, which is what I'd learned that I couldn't really do: you can love and make things okay to a certain extent, but you can't fix. I didn't quite learn that until the kayaking incident. It became so clear then. - Author: Mariel Hemingway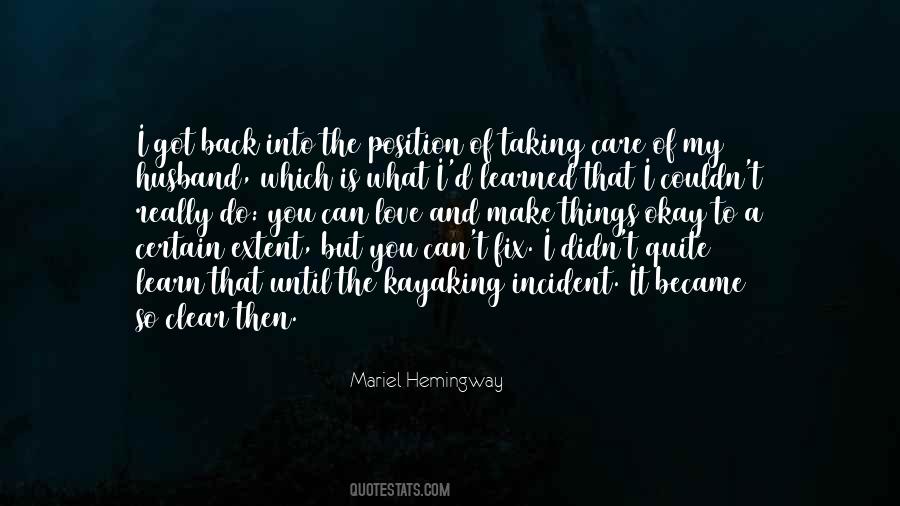 #13. I think we are ready to know that there are going to be people who are ready to save the world, who come out when you're in trouble and make sure that you're okay. - Author: Jennifer Love Hewitt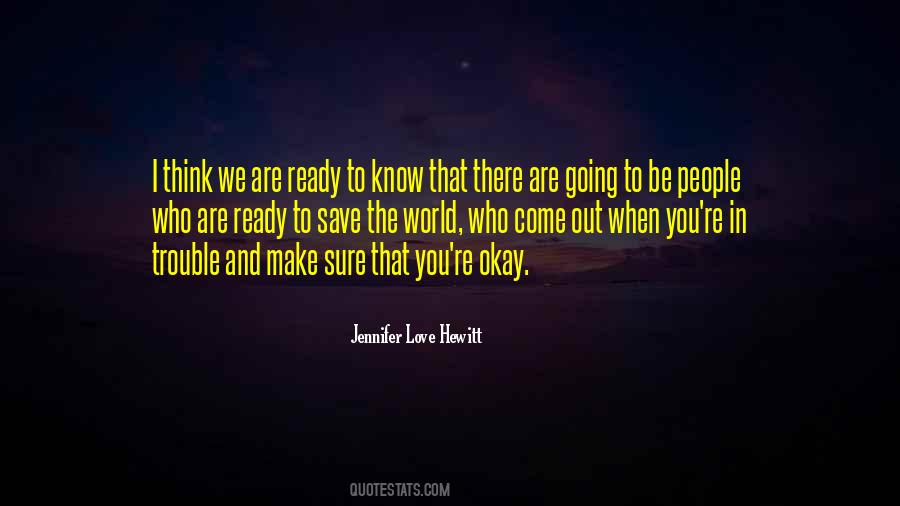 #14. Your mom's not that bad," said Jim. "Are you trying to make me mad?" "Okay she is." "I knew it. You've never liked her." "What's the right answer?" "So you're just telling me what I want to hear?" Jim reached over and put a hand on his wifes. "I love you. - Author: Tim Dorsey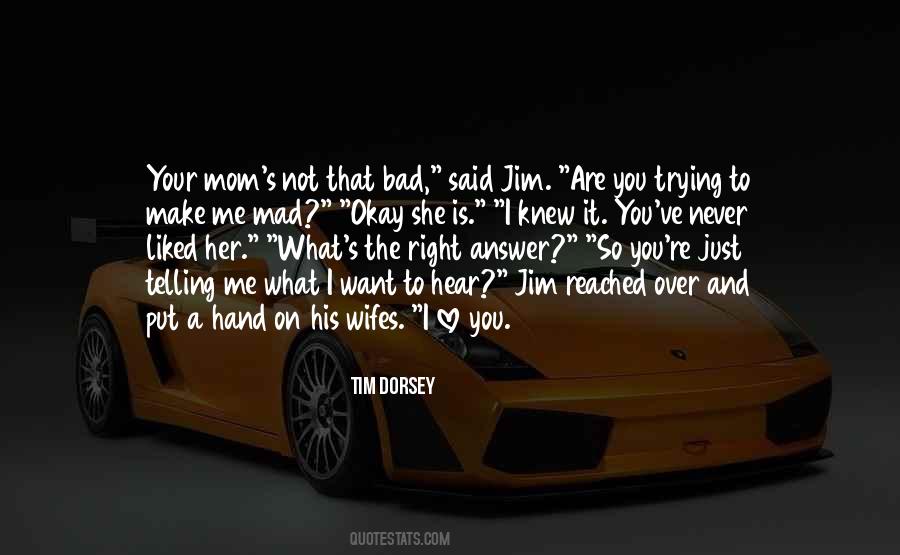 #15. You and me ... its our job to try to bring him back, okay? I don't know if we can but ... well ... I love that guy. And I'm not gonna let him go off the edge if I can help it. - Author: Charles Sheehan-Miles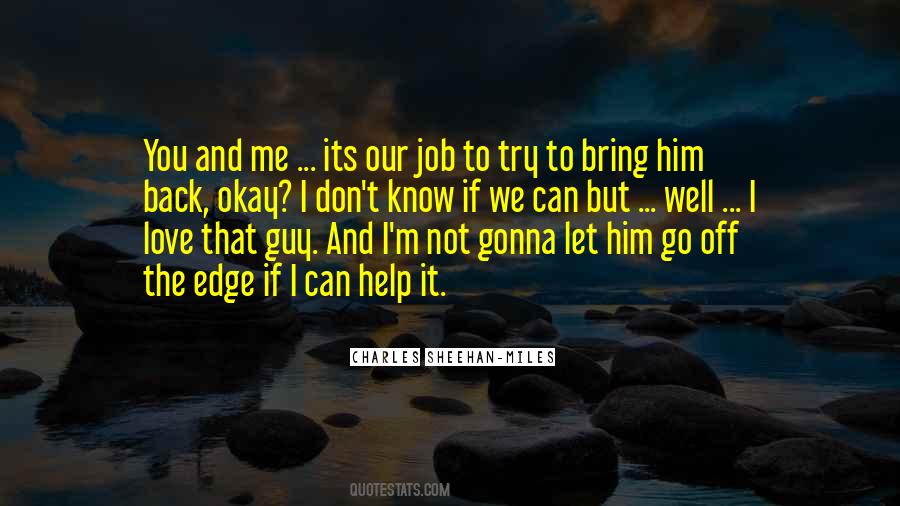 #16. Healing is that place where we step into 20 seconds of insane courage because we need to either close that door or hold it open. Regardless of the outcome, the truth is what sets you free never the fear of not knowing. - Author: Shannon L. Alder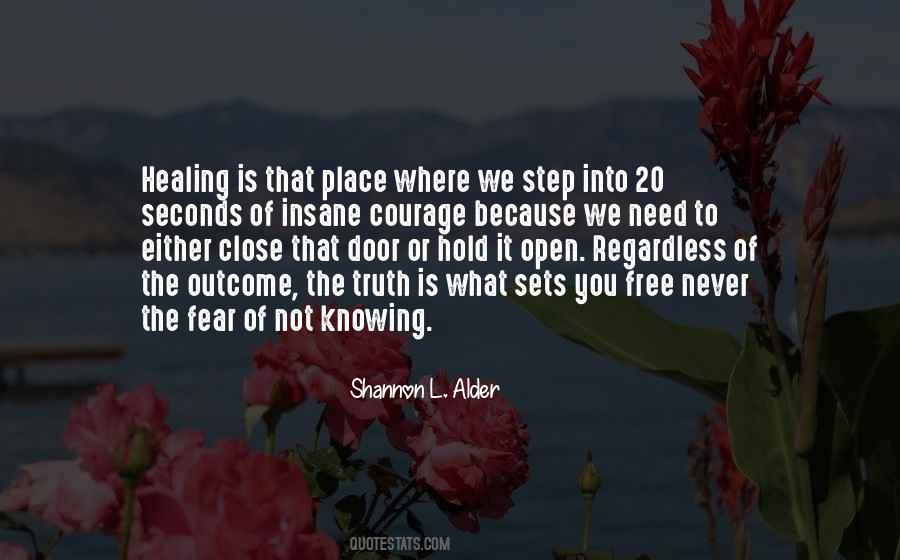 #17. I'm okay.. is that what you really want me to say? - Author: Vanilla Ice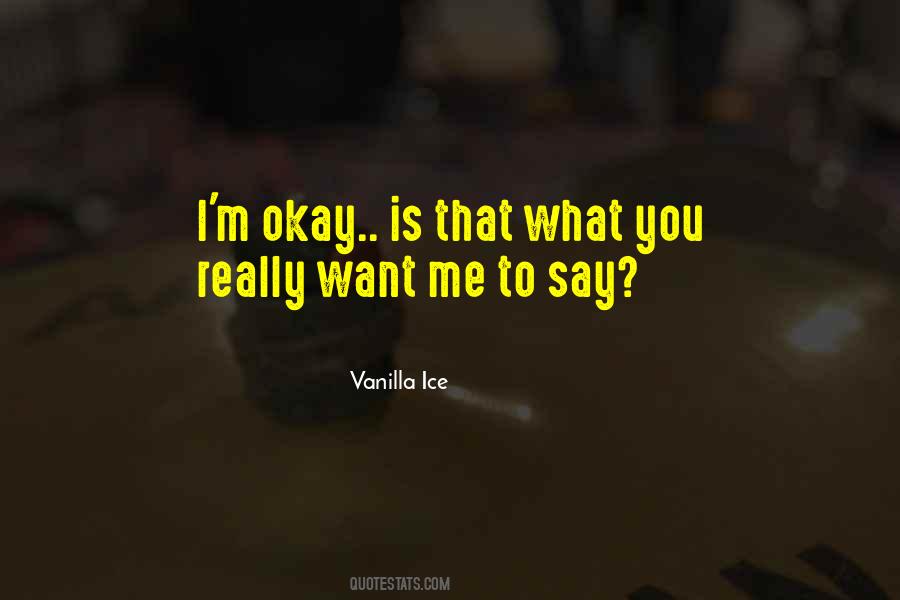 #18. I'm still shy," I admit, pulling the sleeves over my hands, "and I might always be, I don't know, but I think you can be shy and still feel okay about yourself at the same time. - Author: Megan Jacobson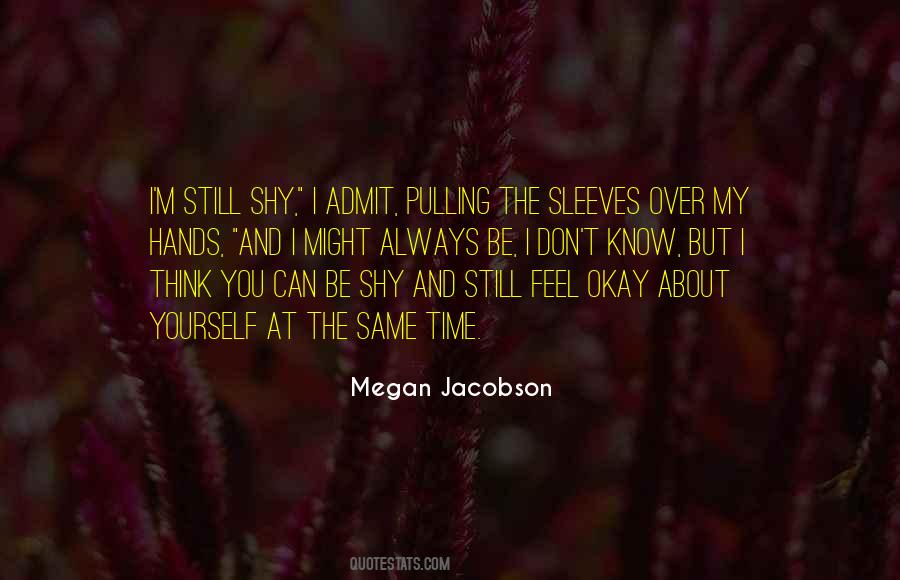 #19. I pull away to speak, but he puts his finger over my lips. Shhh, just let me love you, okay? Don't think. Just feel. - Author: M. Leighton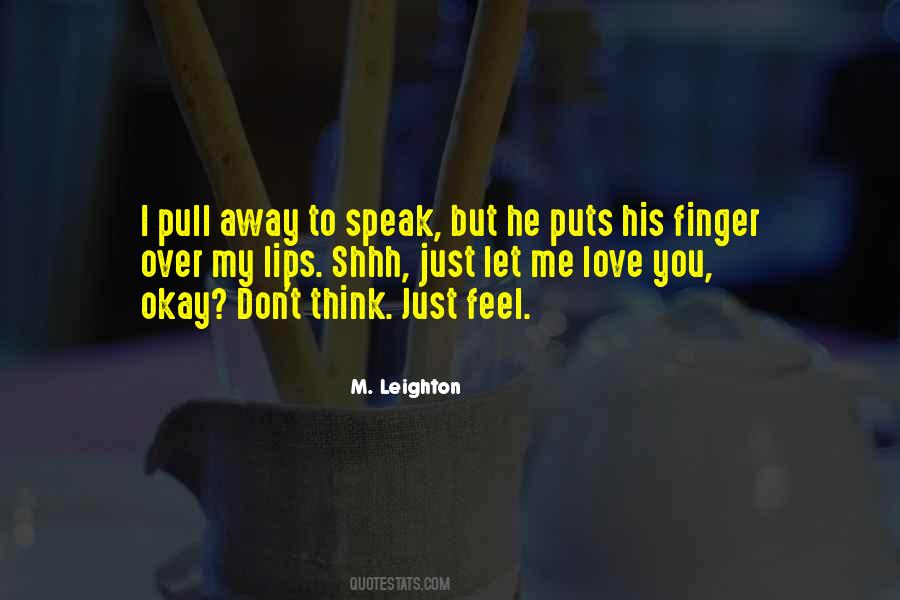 #20. She held herself until the sobs of the child inside subsided entirely. I love you, she told herself. It will all be okay. - Author: H. Raven Rose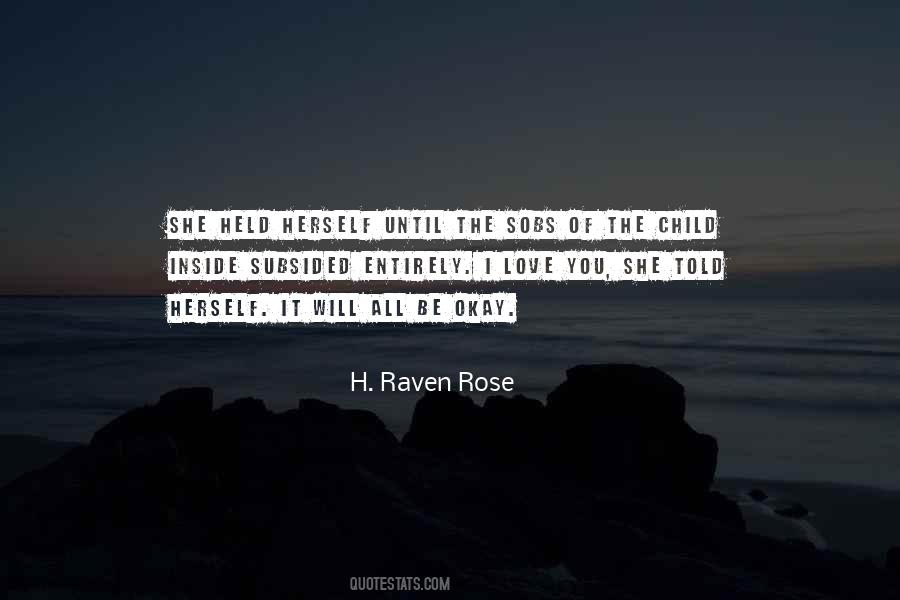 #21. Having grown up so familiar with creating a pleasing facade, I now end up compelled to reveal things inside and say, 'Okay, now you really see me. Do you still love me?' And then it's never enough; it always has to be total self-revelation. - Author: Kathryn Harrison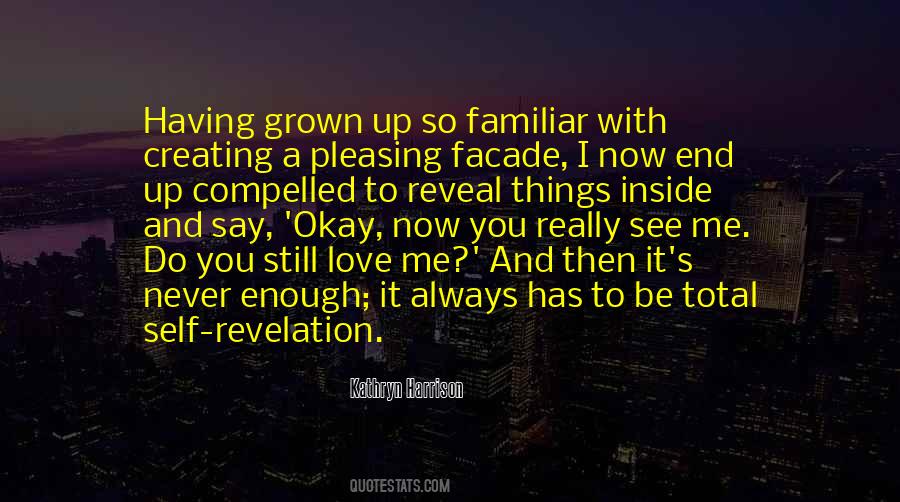 #22. Everybody says, 'When you have kids, you really get away from yourself.' But really, it's the most selfish thing I've ever done. It's like, Okay, I'm going to create unconditional love for myself, and I'm going to need it and want it and ask for it every day, and I'm going to get it. - Author: Brooke Shields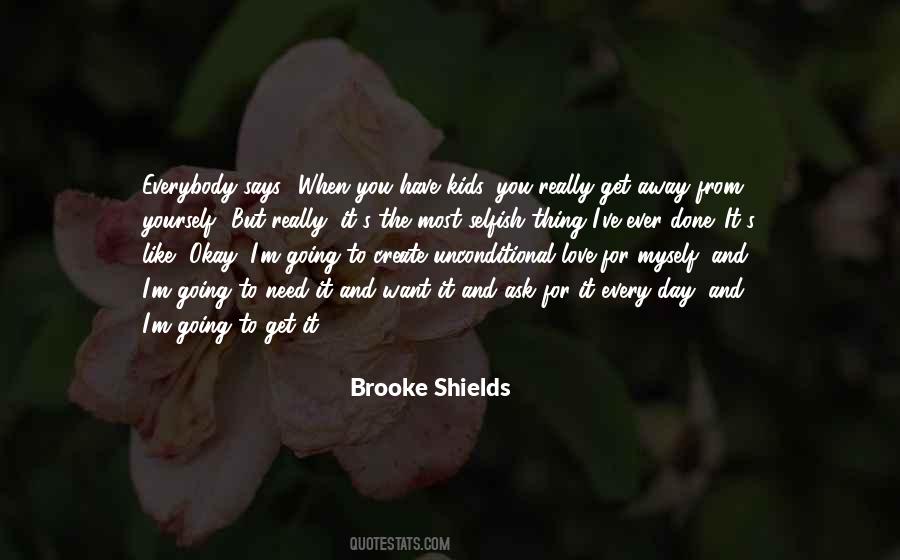 #23. I want it to be better than okay. You deserve better than okay. - Author: Tammara Webber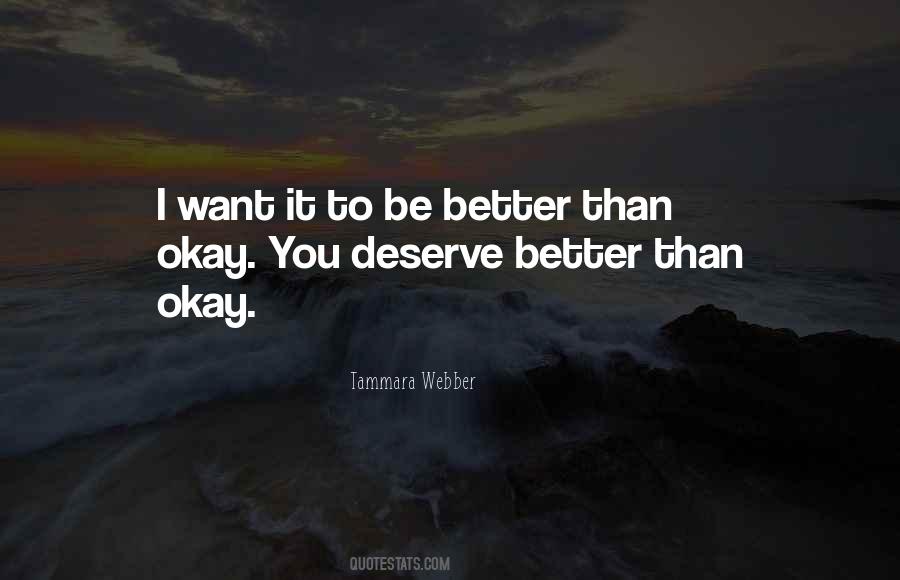 #24. If something happens and I explode or something ... ""You love me, want me to drive your Harley and take care of Summer." Beck rolled his eyes to ease the tension. "Okay.""More or less, - Author: Lizzy Ford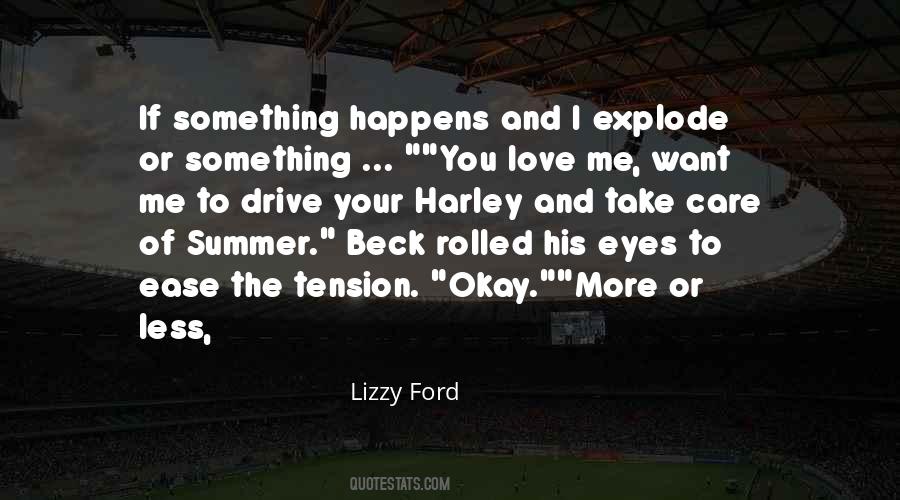 #25. When you walked away from me last night, I felt like a piece of me had left with you. All I wanted in that moment was to get into that cab with you, put my arms around you and tell you that everything was going to be okay, because I love you. - Author: Monica Alexander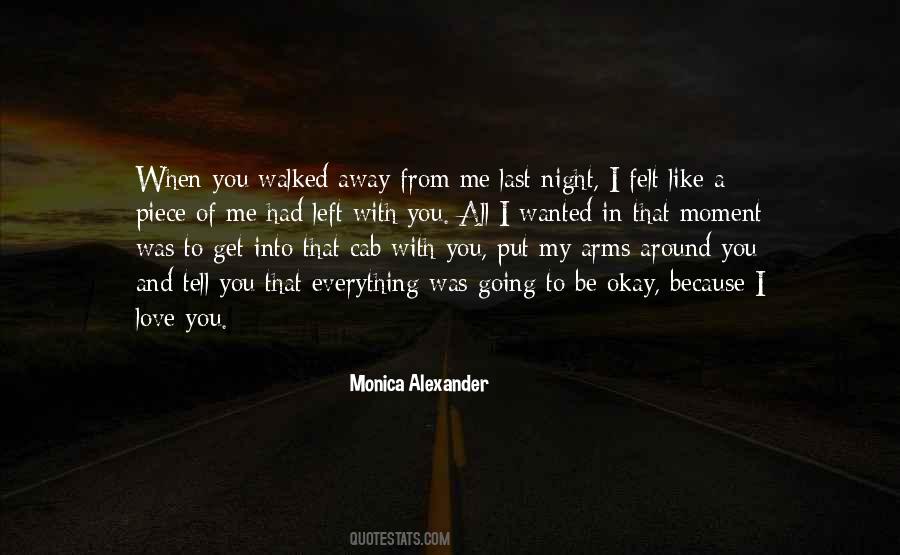 #26. So you'll excuse me if I have to disagree with you. It is not okay-it will not ever be okay-and whereas I'm more than willing to live with the fact that I was a walking, talking lie for decades, the idea that it sacrificed what could have been between us ... is absolutely, positively not okay to me. - Author: J.R. Ward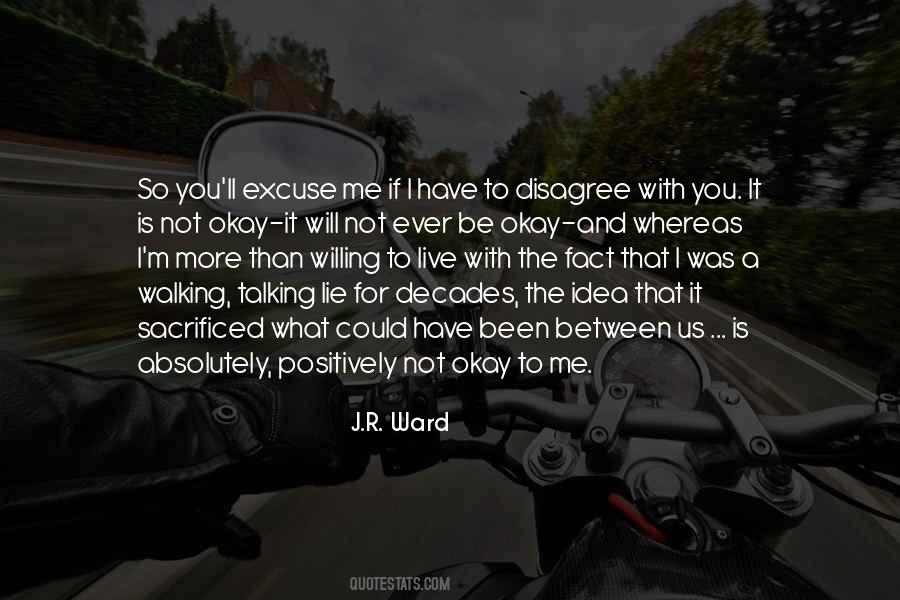 #27. I love you!" he shouted, his eyes glowing laser green.
"I love you, okay? I'm not some hopeless retard you pull along behind you because you feel sorry for him! I love you and I'm going to prove it! - Author: Lili St. Crow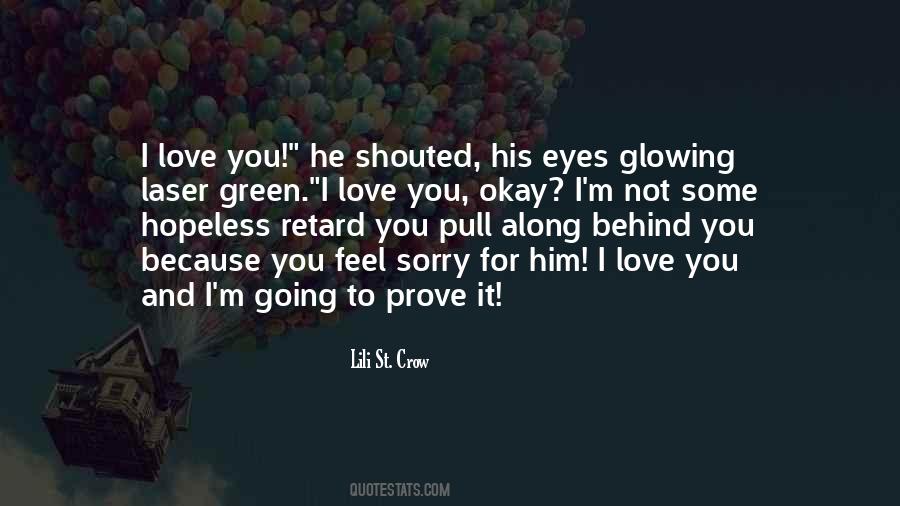 #28. I love you, okay?" I rushed out. "I love you like crazy, and I've never said that to a woman before, but I'm completely in love with you, Easton Bradbury. - Author: Penelope Douglas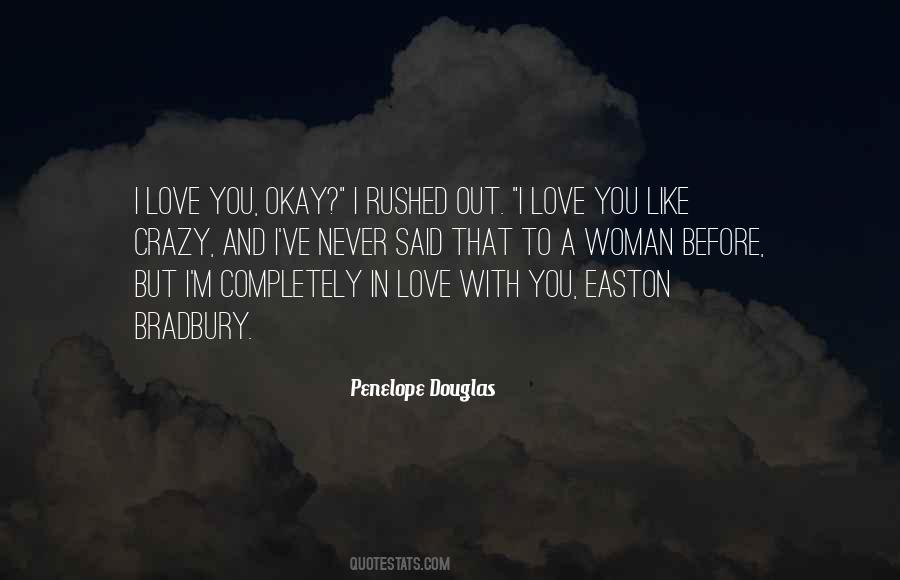 #29. That be common for I, also, but be more strong, you. Much work and someday, you talk pretty. People start love you soon. Maybe tomorrow, okay. - Author: David Sedaris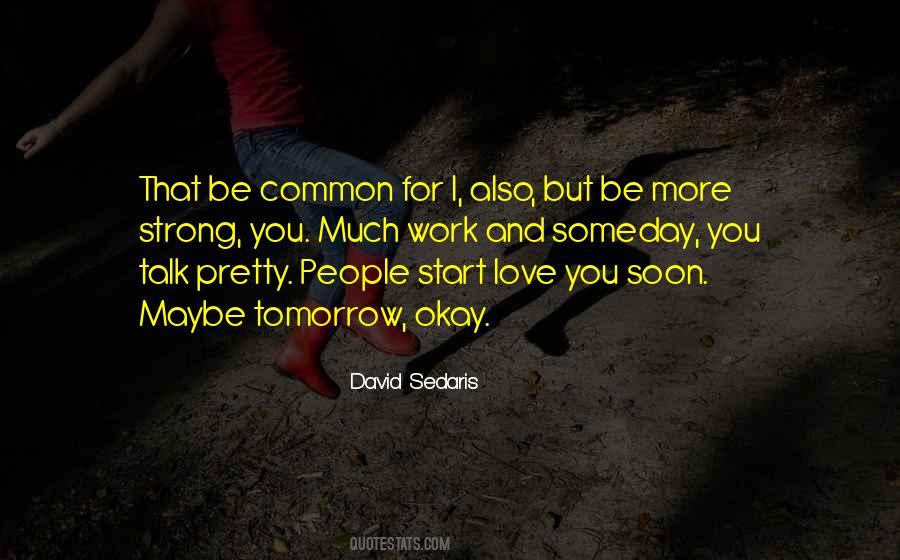 #30. Okay, then I'll just say I love you. There is nothing in this world more important to me than you are. I'm only content when you're near. My whole purpose is to be what you need me to be. It's not poetry, but it's from my heart. Will that do? - Author: Colleen Houck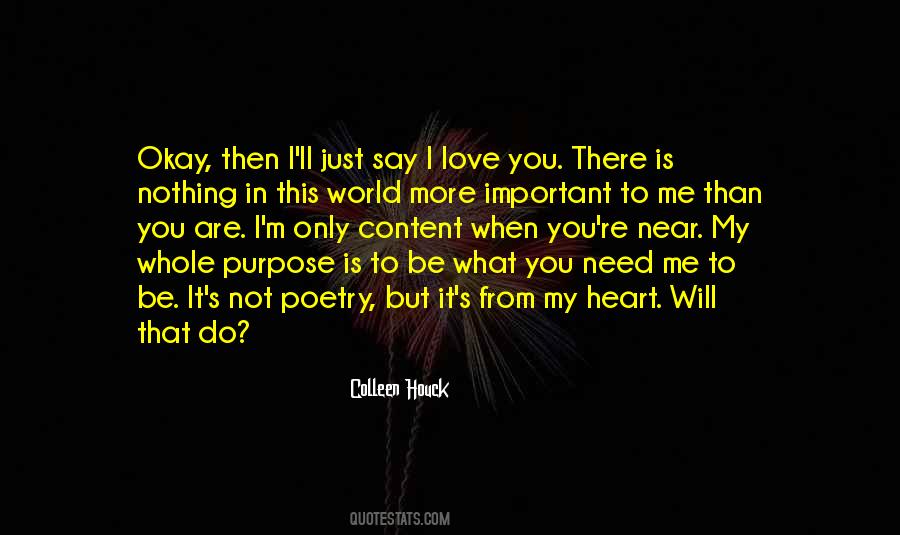 #31. I'm begging you, for the love of all that's filthy and wrong in this world, have a good time with tall, dark, and raspy, okay? - Author: Terri L. Austin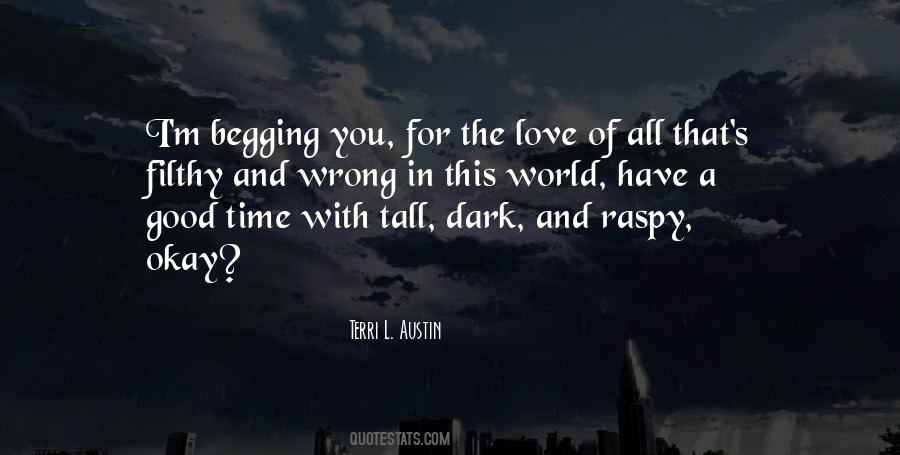 #32. I pull back, gasping for breath. Reeling. His breath is ragged, and I place my hands on his cheeks to steady him. "Is this okay?" I whisper. "Are you okay?"
His reply is anguished. Honest. "I love you. - Author: Stephanie Perkins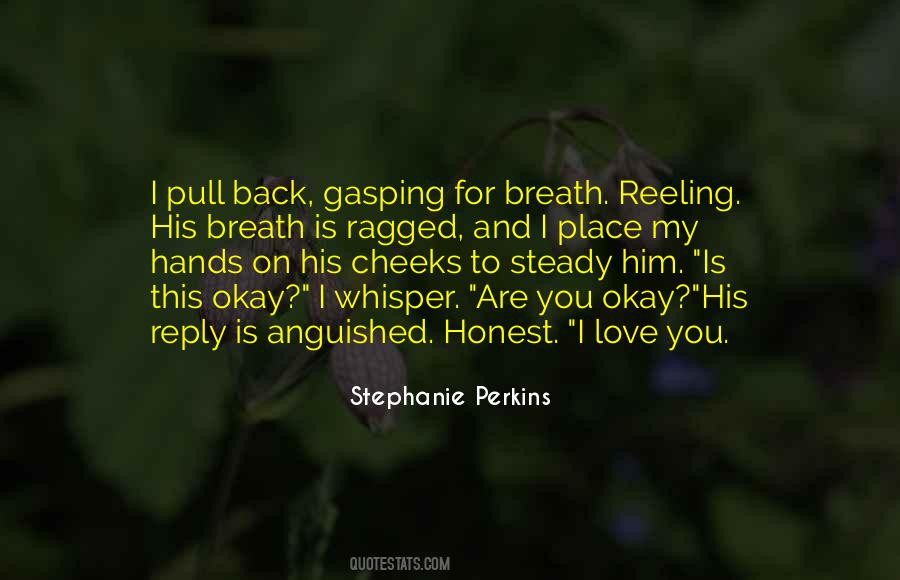 #33. Riley stared at him. "How do you just say that stuff?"
"What do you mean? How do I just say shit without thinking about it? I dunno. I just do. It's not that hard. Just try it sometime."
"Okay," Riley said, and then he said, "I love you. - Author: Avon Gale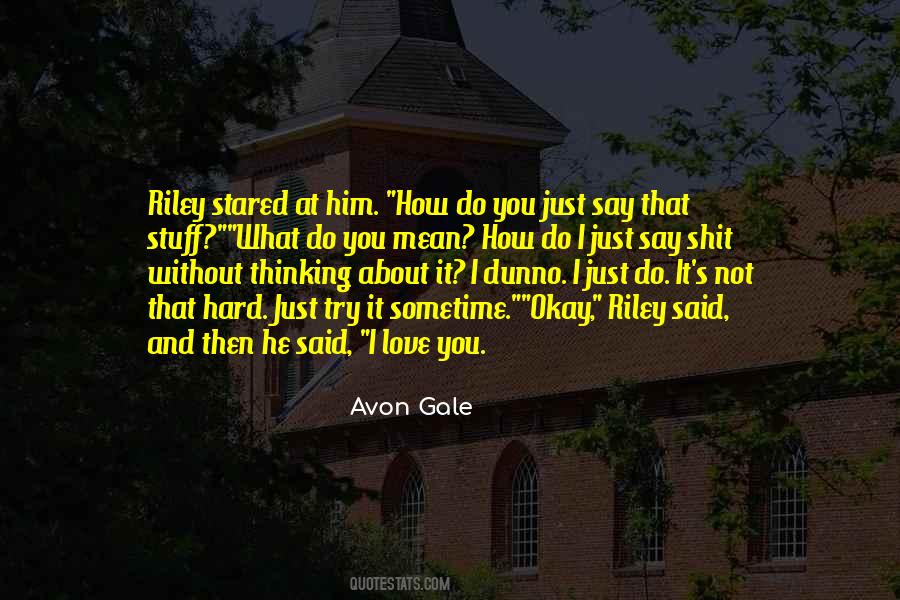 #34. God, Maggie." He whispered, leaning forward, capturing my mouth with his. "I love you more than anything. With everything that I am." He answered me. Okay, I was done for. - Author: A Meredith Walters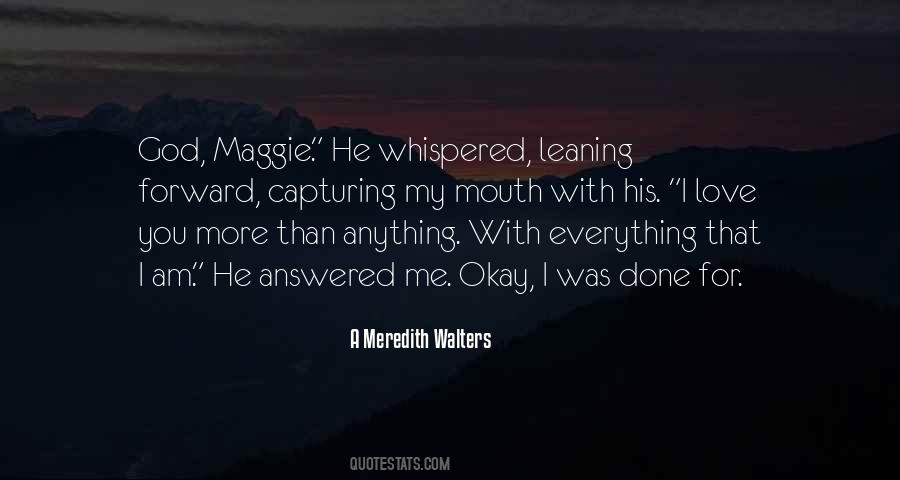 #35. I'll always love you, no matter what happens, okay? - Author: Simone Elkeles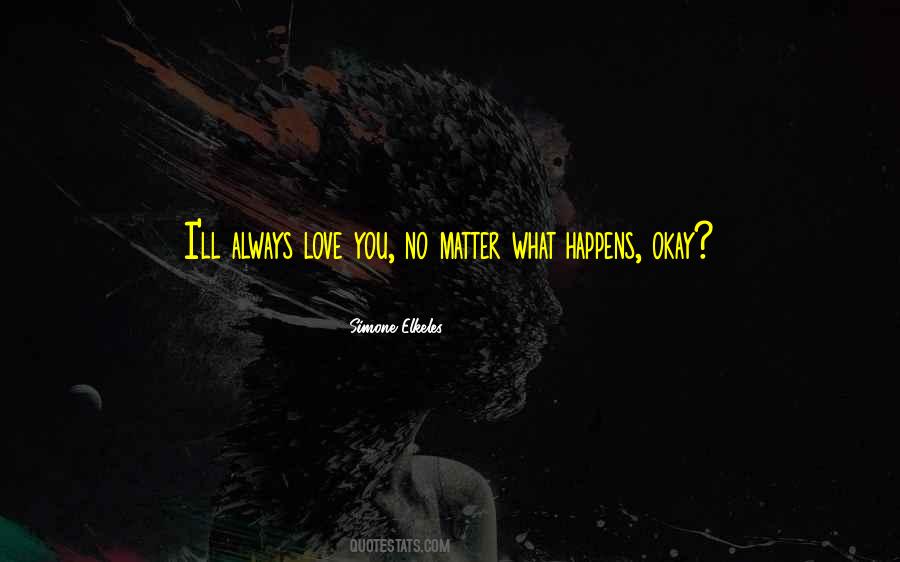 #36. It's going to be okay," Park said. She nodded. "Right." "Because I love you." She laughed. "Is that why?" "It is, actually. - Author: Rainbow Rowell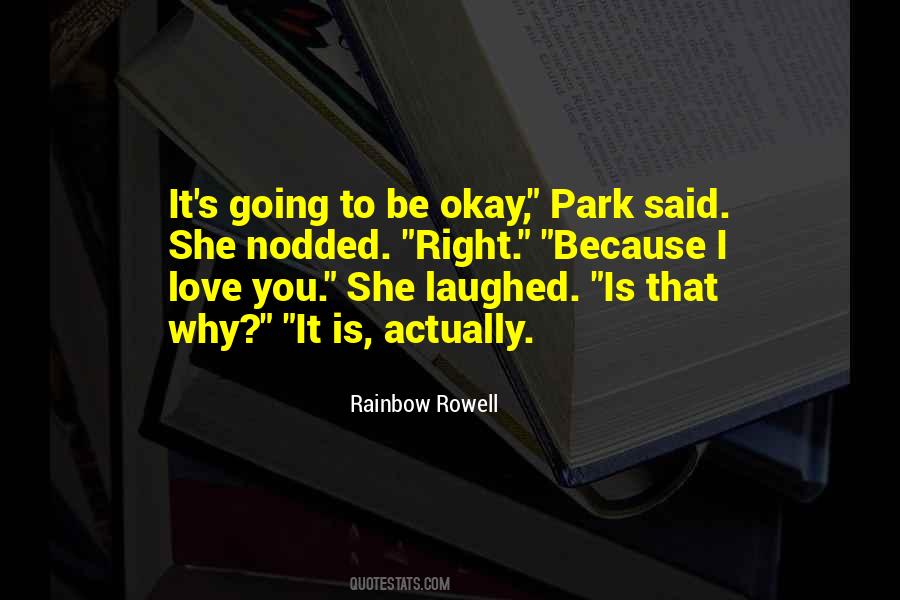 #37. Dear God," said Nudge under her breath, "I want real parents. But I want them to want me too. I want
them to love me. I already love them. Please see what you can do. Thanks very much. Love, Nudge."
Okay, so I'm not saying we were pros at this or anything. (Max thoughts) - Author: James Patterson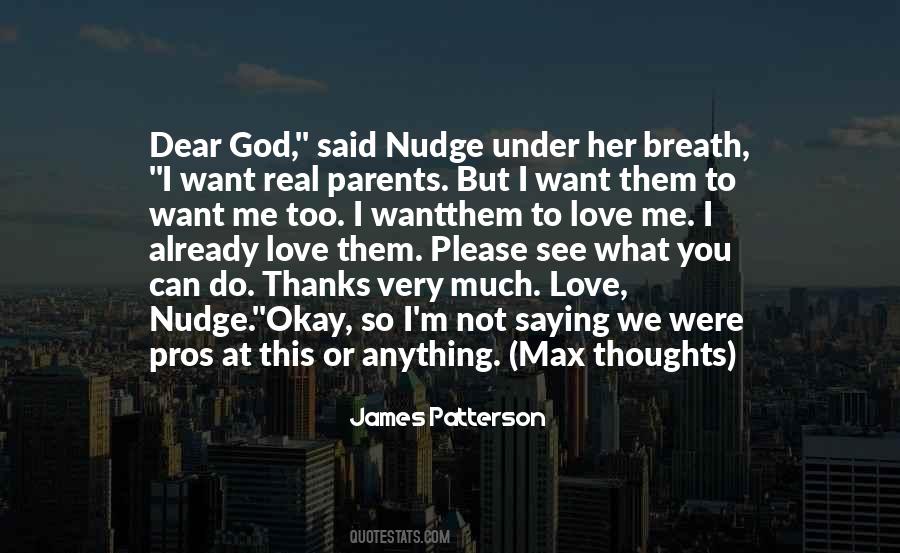 #38. In psychology (okay, Twilight) they teach you about the notion of imprinting, and I think it applies here. I reverse-imprinted with athleticism. Ours is the great non-love story of my life. - Author: Mindy Kaling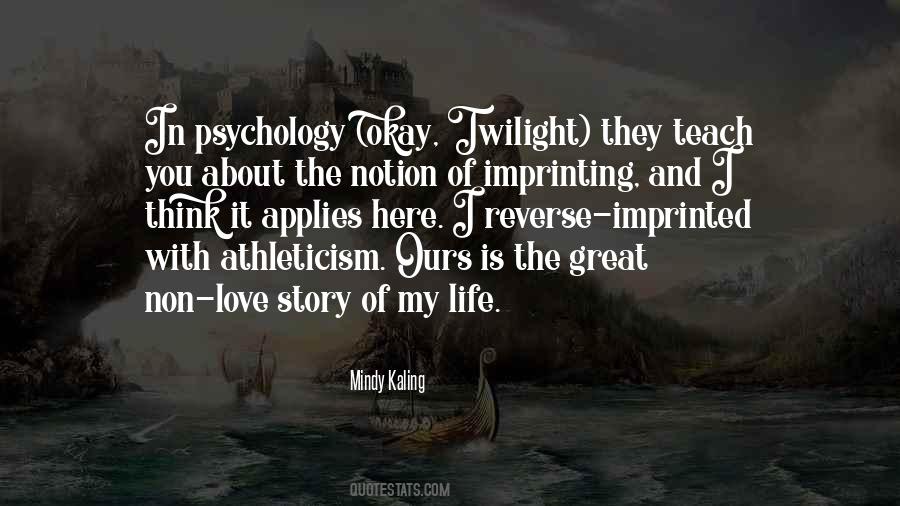 #39. I just want you to know, I love the way you look at me. Make's me feel like everything's gonna be okay. - Author: Luke Taylor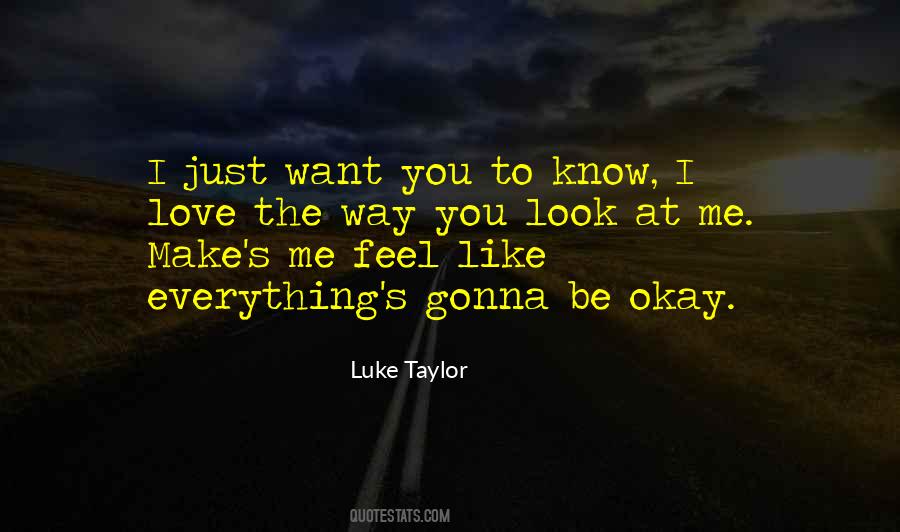 #40. I'll fight it. I'll fight it for you. Don't you worry about me, Hazel Grace. I'm okay. I'll find a way to hang around and annoy you for a long time. - Author: John Green
#41. And my dream for you ... , is that you'll catch a glimpse of what I love so much about fashion: It's boldness and creativity, the confidence that it takes to stand before a camera and let your image be captured, even though you aren't perfect, the peace to be truly okay with how others see you. - Author: Lauren Scruggs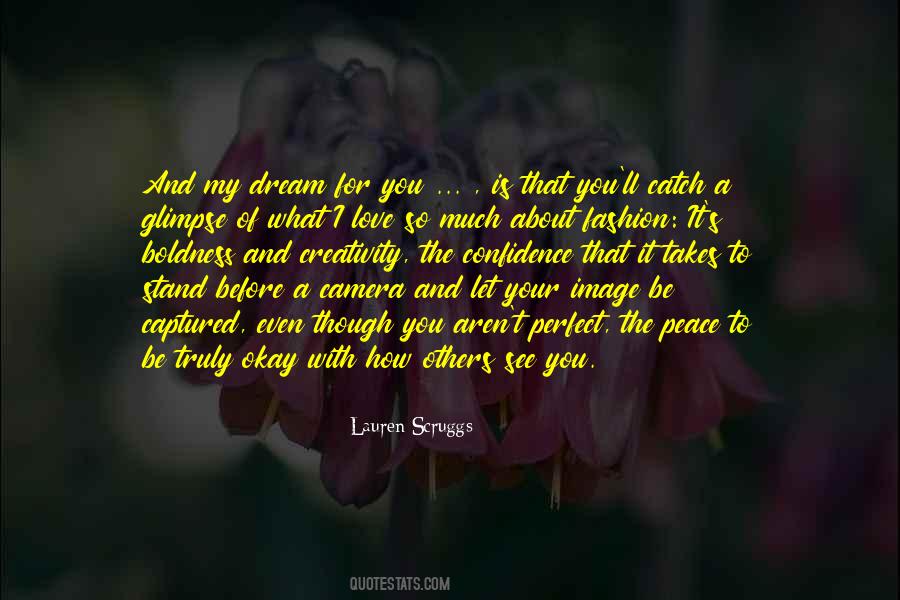 #42. What is it?
Nothing. I had a bad dream.
What did you dream about?
Nothing.
Are you okay?
No.
He put his arms around him and held him. It's okay, he said.
I was crying. But you didnt wake up.
I'm sorry. I was just so tired.
I meant in the dream. - Author: Cormac McCarthy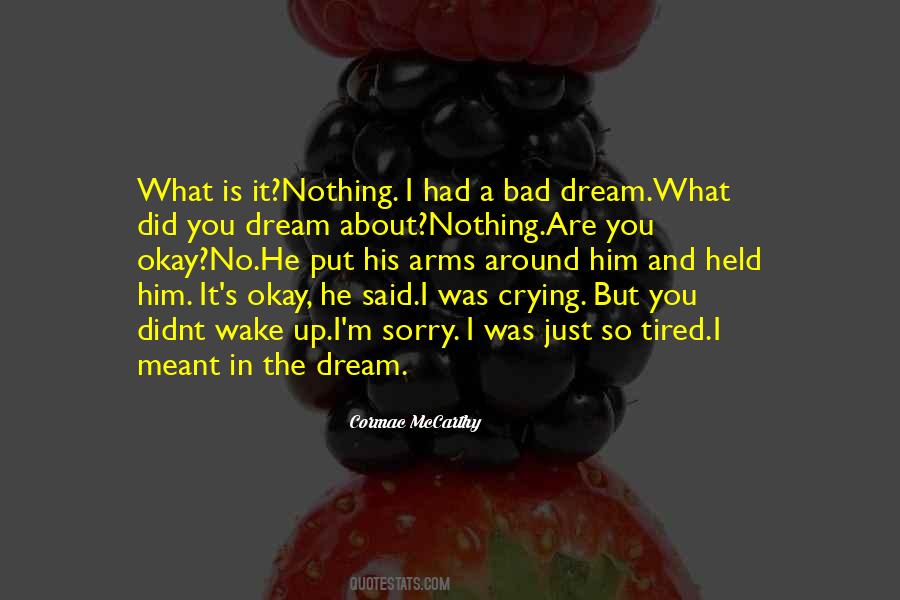 #43. Listen, I know we've been clowning around, but I want you to be okay with this. I don't want you to make a decision based on what I want. I want you to be here, but I need you to want that too. - Author: Angelina Rose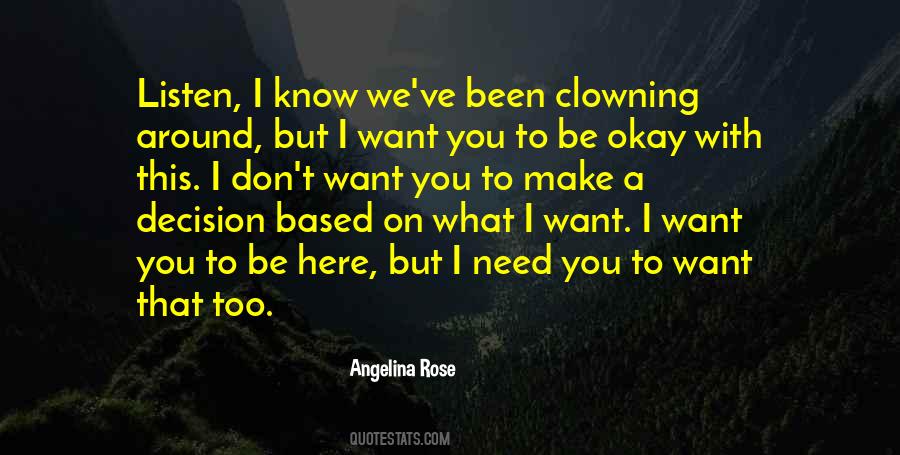 #44. It's okay. It may not seem like it right now, but you are going to be fine. I know it's scary, but don't be afraid. You are who you are, and you should love that person, and I don't want anyone to have to go through 22 years of their life afraid to accept that. - Author: Connor Franta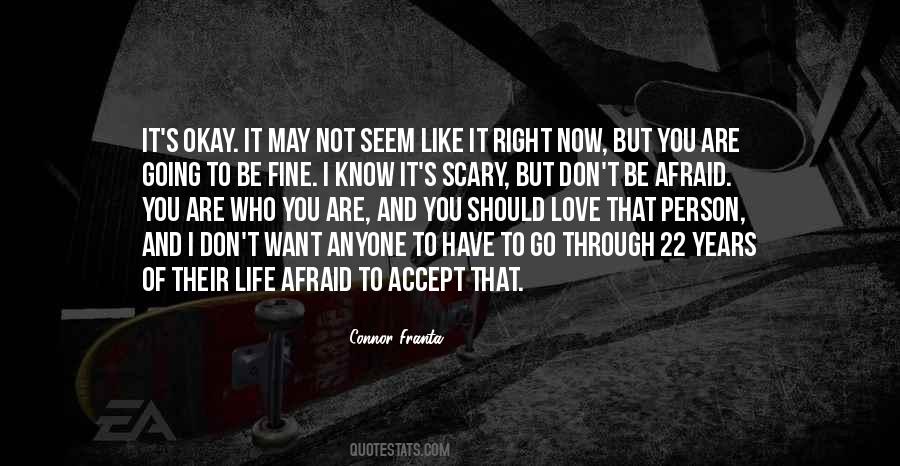 #45. I almost lost you."
"No, never. I would've fought. However long it took. I'd never give up until I was free. You're my life, Jonah. My family, my love, my best friend. Nothing, not even destiny, could keep me from you."
He leans forward and brushes his lips against mine.
"Okay. - Author: J.B. Salsbury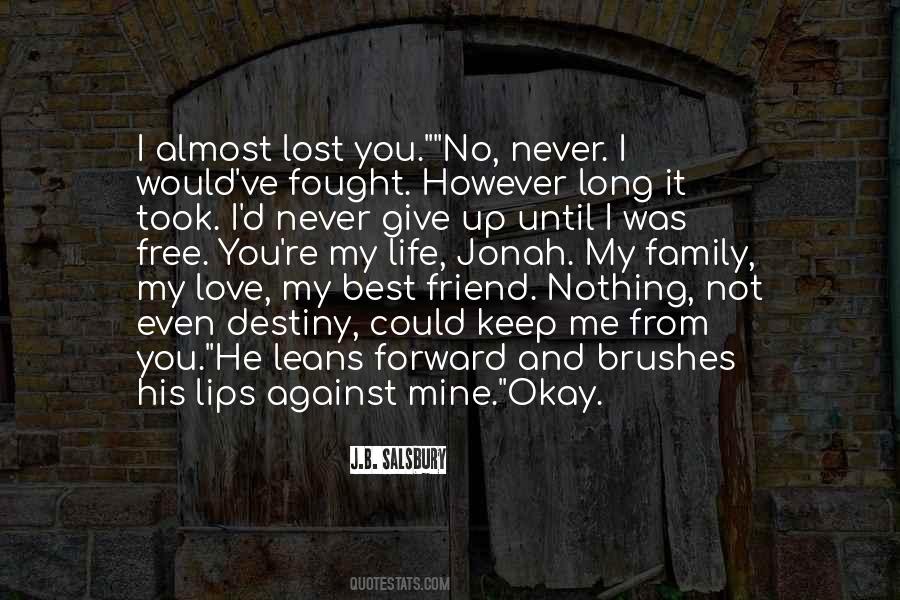 #46. I want to give you a choice depending on what you're in the mood for." "Okay." "We can go find the nearest hotel, and I can make love to you in a bed or..." "Okay. Or?" "Or we can go outside right now and fuck hard in that alley. - Author: Penelope Ward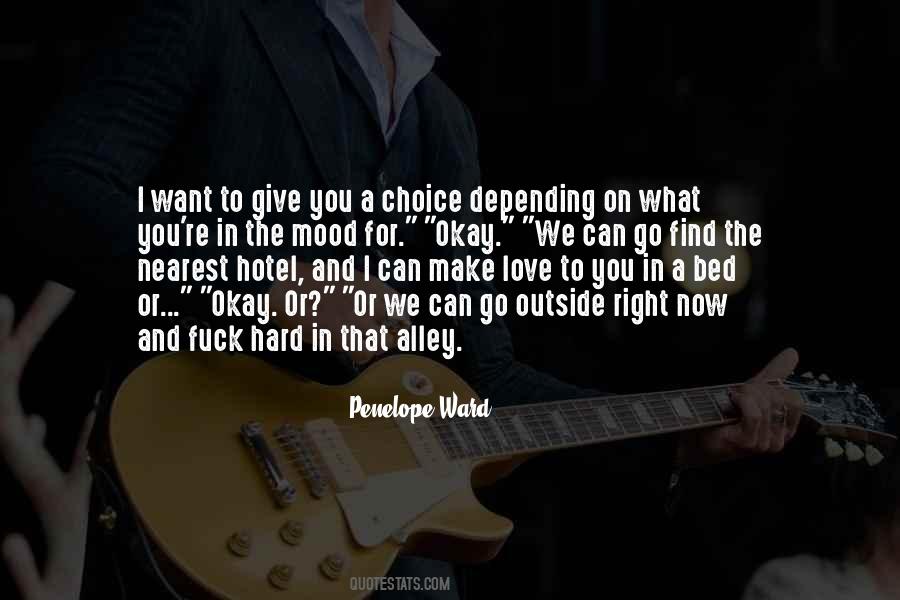 #47. Jess?"
"Yeah?"
"Would you be okay with it if I fell in love with you?"
My hear squeezed and I paused, my mouth a hairbreadth from his as I took in his words, as if I could breathe them into my mouth, my heart, my soul.
"Yeah," I whispered. "I'd be very okay with it. - Author: Erin McCarthy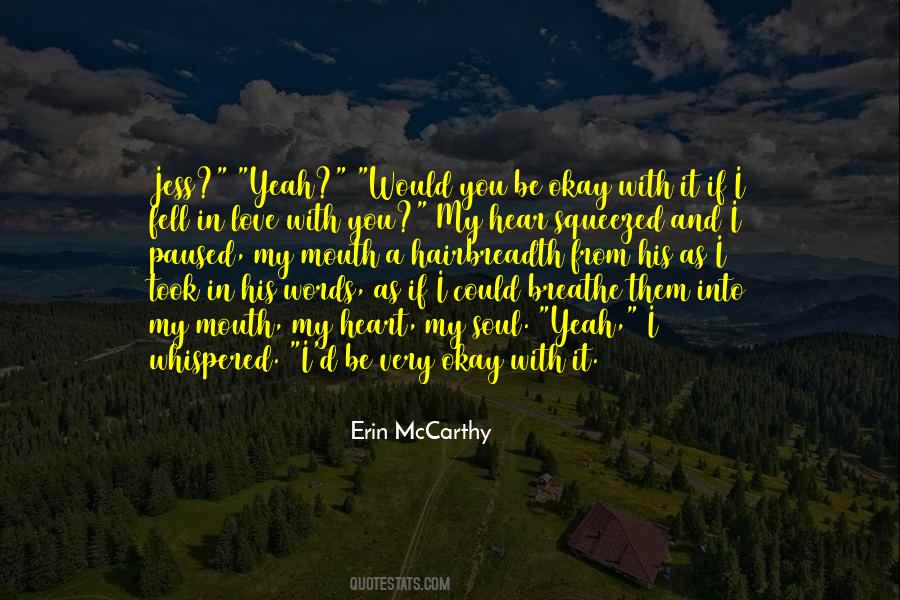 #48. There is no "I'm okay" or "I'm fine", if I don't see you even for a short time. - Author: Yuli Pritania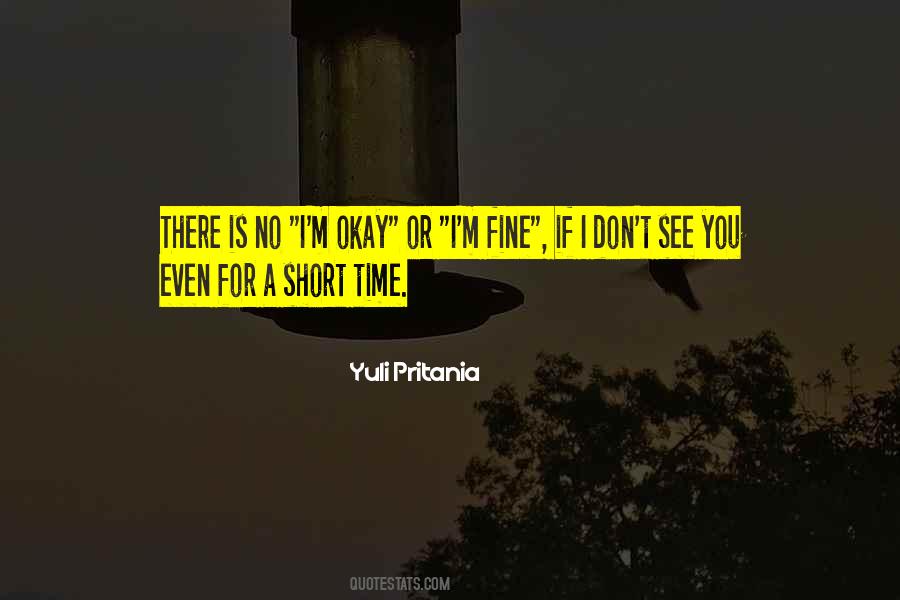 #49. Is it okay if I love you forever? Even if forever is only for a lifetime? - Author: Chelsea Fine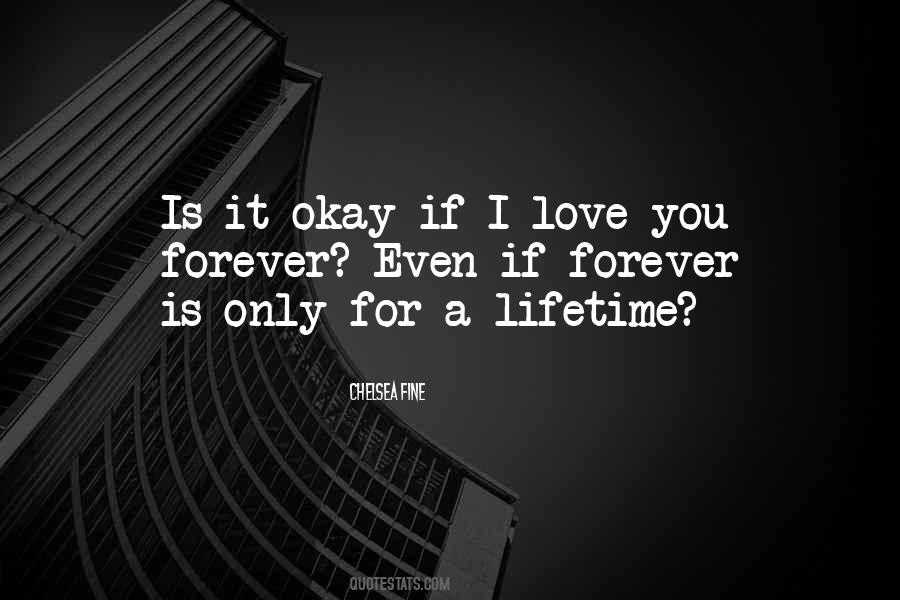 #50. This is love, Jacqs. Being okay getting the shit end of the universe because you have one person who makes you happy anyway... That's love."
"If that's the definition, I could have said I loved you a long time ago - Author: Lyn Gala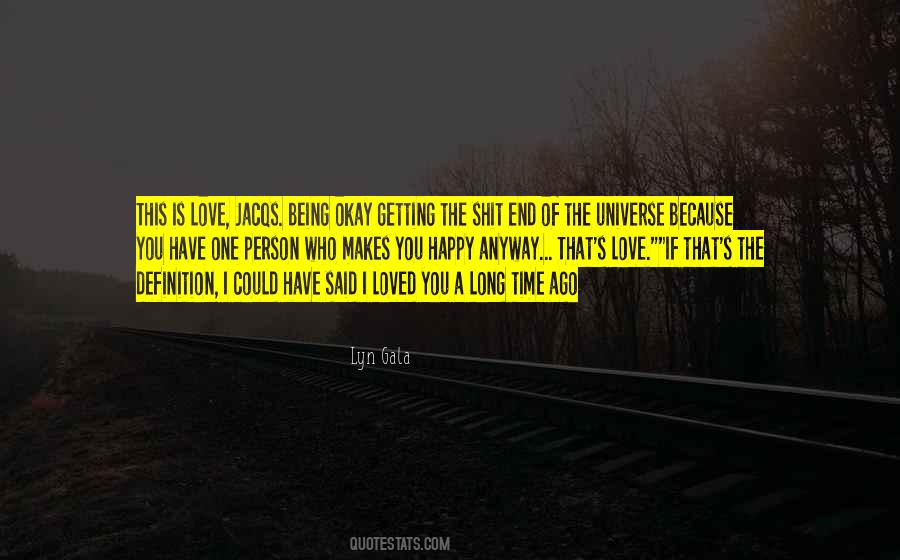 #51. I'm saying that I'm a moody, insecure, narrow-minded, jealous, borderline homicidal bitch, and I want you to promise me that you're okay with that, because it's who I am, and you're what I need. - Author: Jeaniene Frost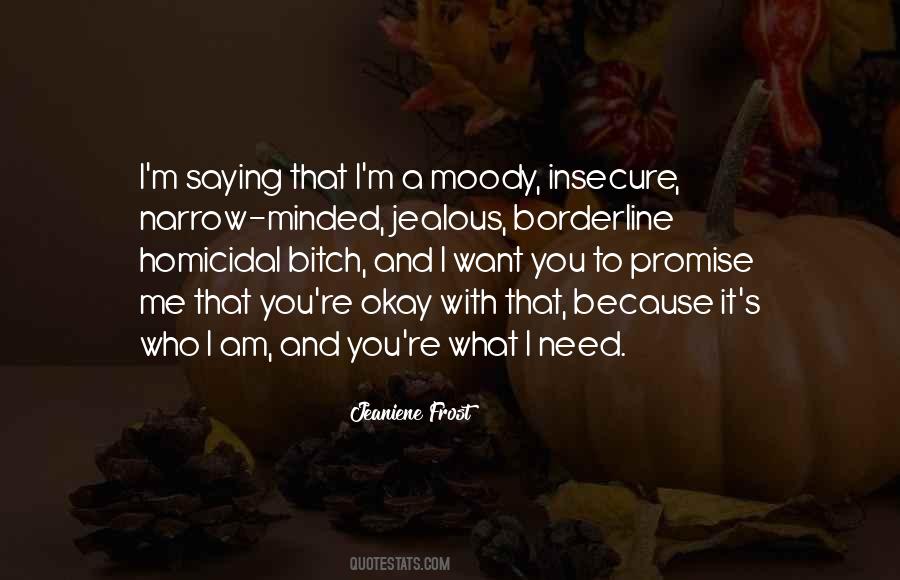 #52. But normally when you talk to yourself [on court] you say; 'I love you, you're a good guy, but don't miss next time, okay.' - Author: Marat Safin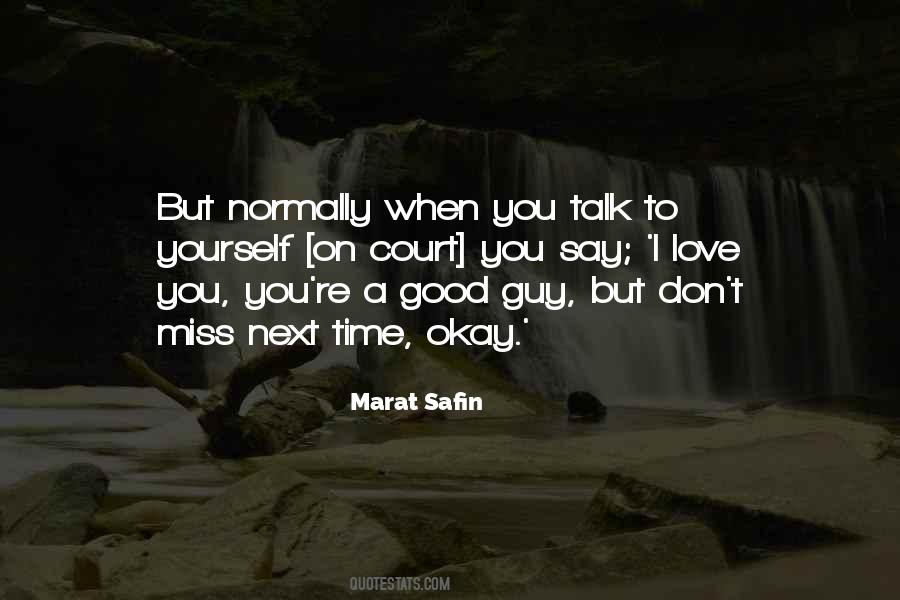 #53. Will you let me know when you get your superpower?" He nods, and his fingers slide across the base o my neck. I love that he touches me so much more. "I have to warn you though, I may not have one." "That's okay," I say. "Sometimes I like the idea of just being mortal with you. - Author: Krista Ritchie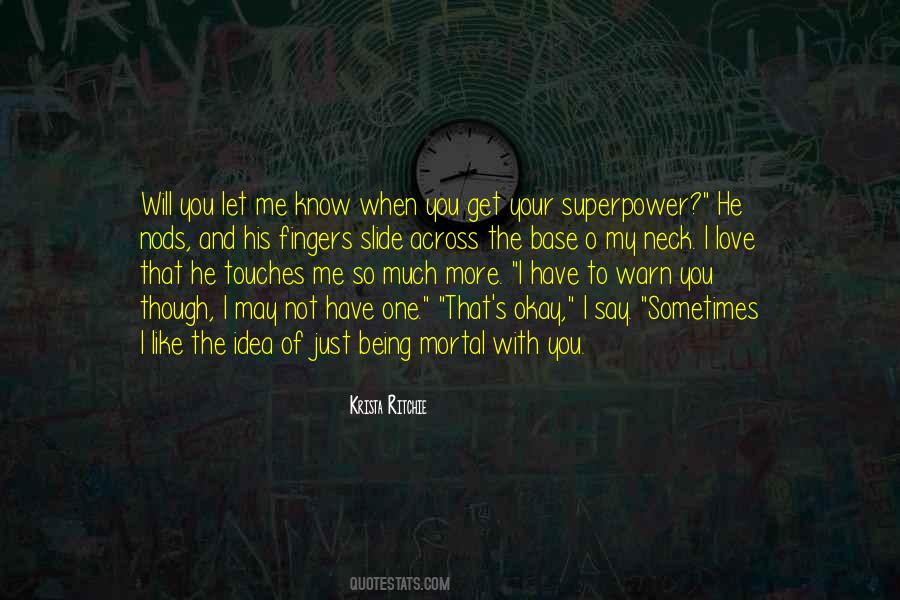 #54. everyone is lied to for his or her own good. A mother telling a child it will be okay. A lover telling a lover I will always love you. Politicians promising a better and brighter future. Generals and admirals insisting war begets peace. - Author: Julia Fierro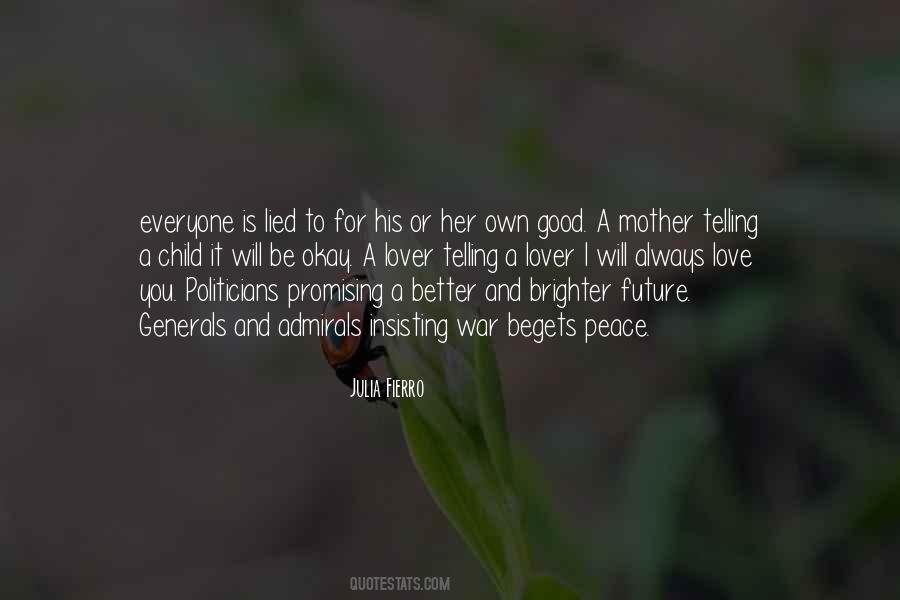 #55. And things are never okay. It does get better I guess, in that you grow to love yourself if you're lucky. But it doesn't get better because life is hard, and people aren't always nice. - Author: Justin Vivian Bond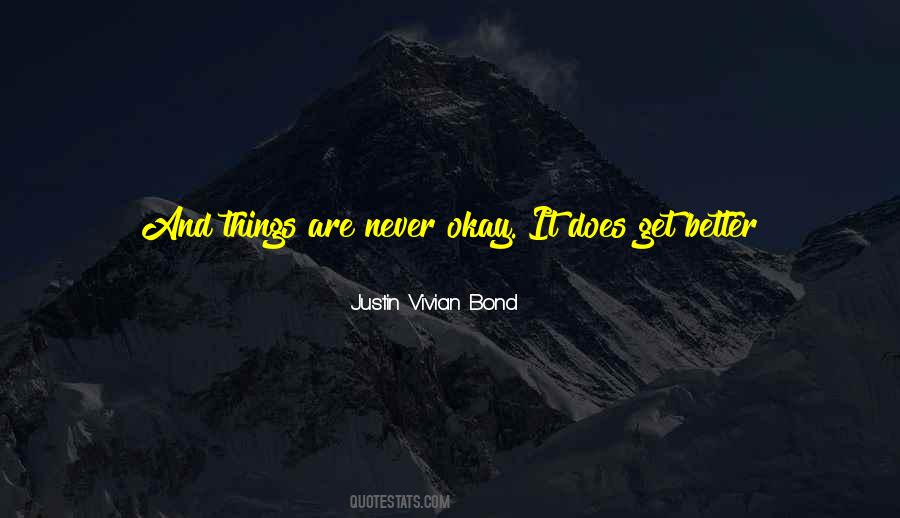 #56. People on the right say to people like me, Oh, you hate America. And I always say, No, I love America. I want it back. I don't want you representing it. I don't want torture representing it. If I hated it, I'd be okay with being represented by the torturers. - Author: Bill Maher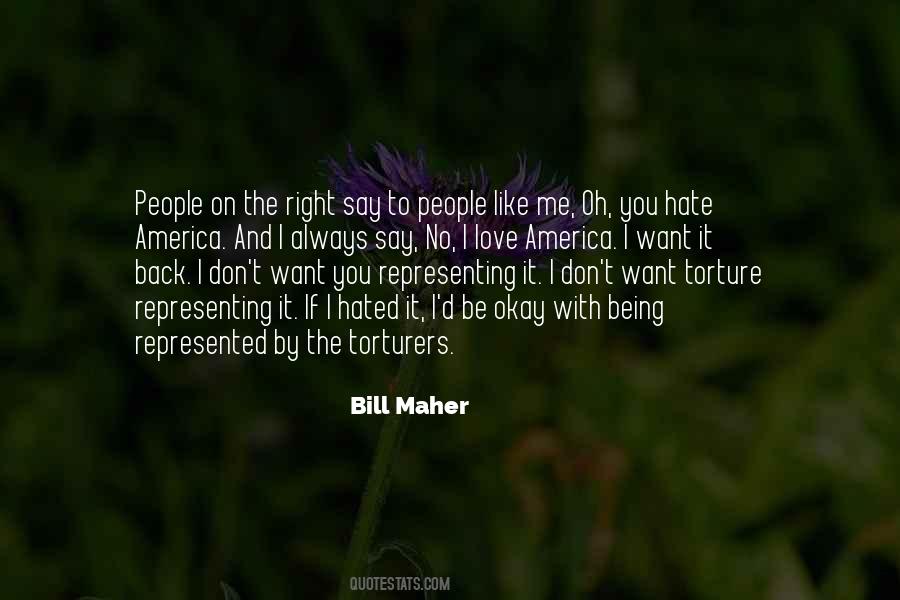 #57. I ... " Her face twists into a painful expression. I open my mouth to tell her that it's okay, that I don't even need to hear it when she blurts it out. "I love you, Lex Lyndon. Gah!" Olivia lifts her hands up and wipes at her tongue like it's been contaminated. "That was so gross. - Author: C.M. Stunich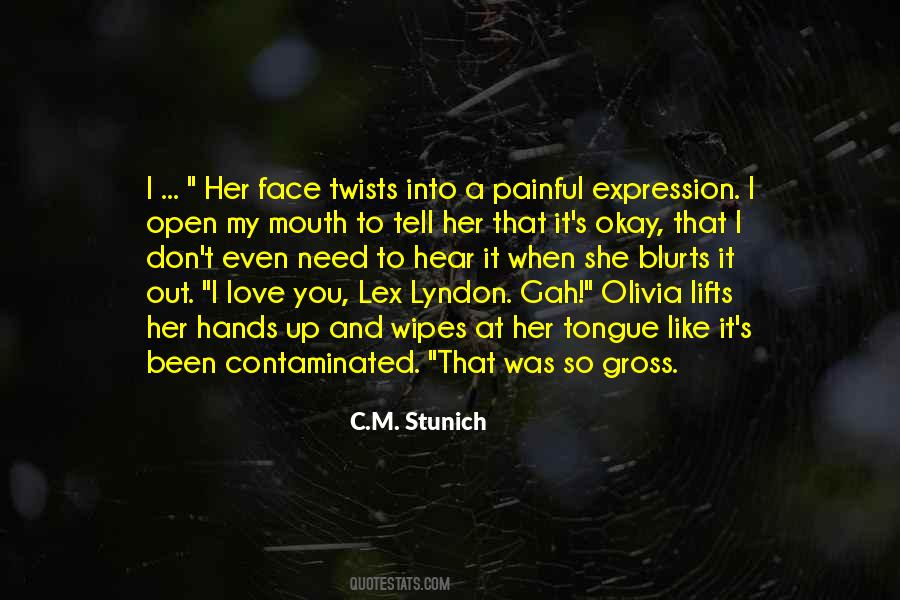 #58. No, Xander. Not this time. You don't lie to someone you're in love with. You don't keep secrets from each other. But you do. You don't trust me. You went inside my head and took something from me and you think it's okay. It's not! I'm not your human pet who you can do whatever you want with. - Author: Ashlan Thomas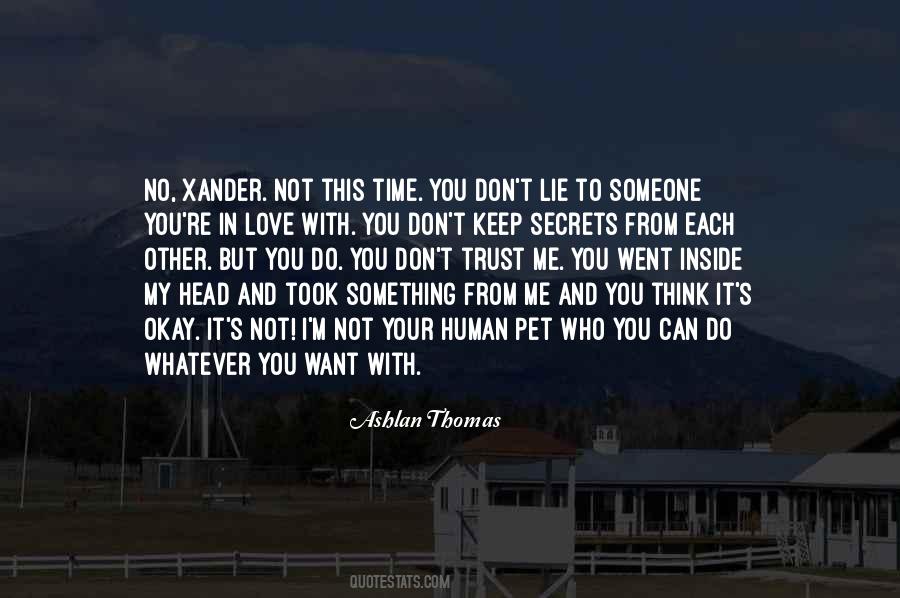 #59. Maybe I just didn't want it to be Benny because he really loves her, and if I was wrong about that, it'd be depressing. Who wants to be depressed?"
"Poets," Eve decided. "You have to think they must."
"Okay, other than poets. - Author: J.D. Robb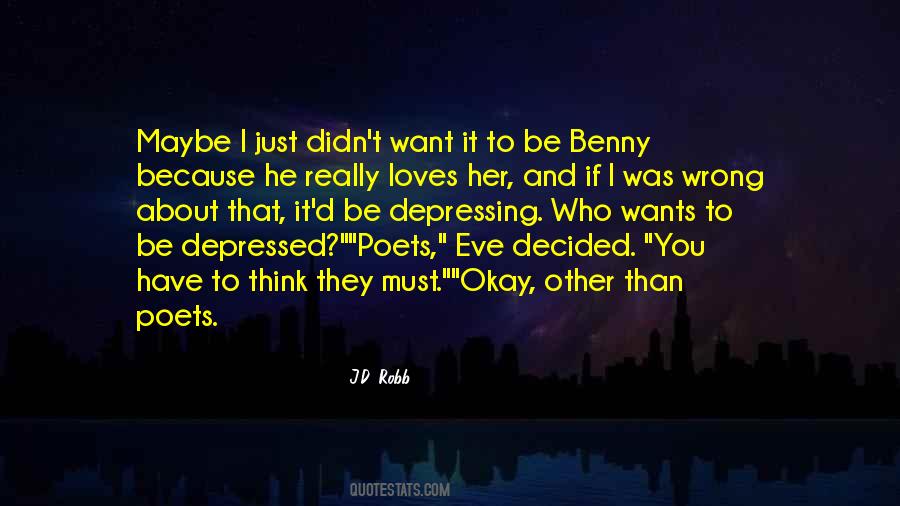 #60. I'm not comfortable in this stadium," I explained, trying to look calm.
"I know. And you hate Fang looking at those girls. But we're still having
fun, and Fang still loves you, and you'll still save the world. Okay? - Author: James Patterson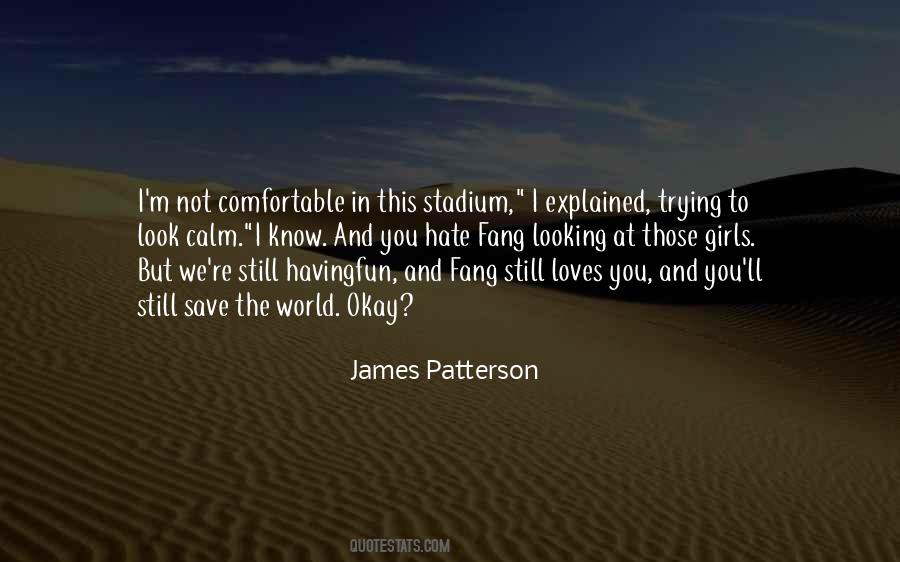 #61. Its okay, Beth.I don't want my life to go back to the way it was before i met you.I thought i had it all,but really i was missing something. feel like a completely different person now.This might sound corny,but i feel like i've been asleep for a long time and you've just woken me up ... - Author: Alexandra Adornetto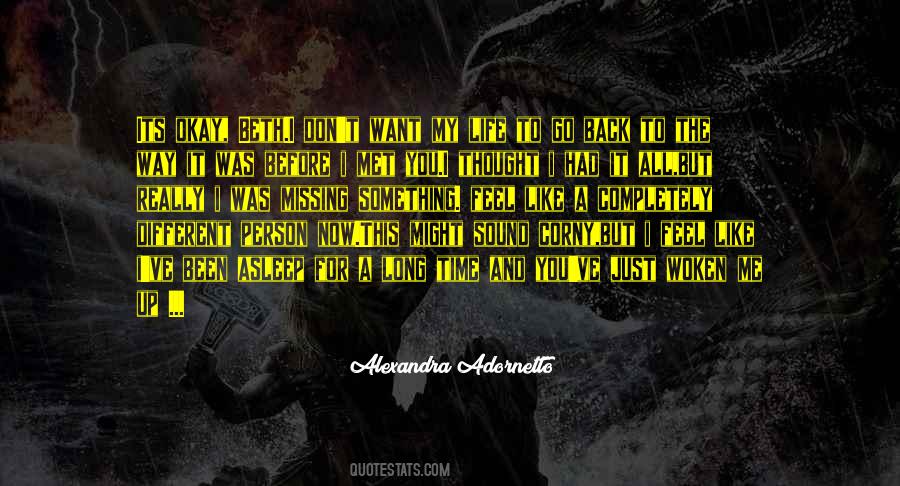 #62. She stared at me with concern a few moments longer and then relaxed a little. "Okay. But if you need anything - "
"I know, I know. Call on the Love Phone. - Author: Richelle Mead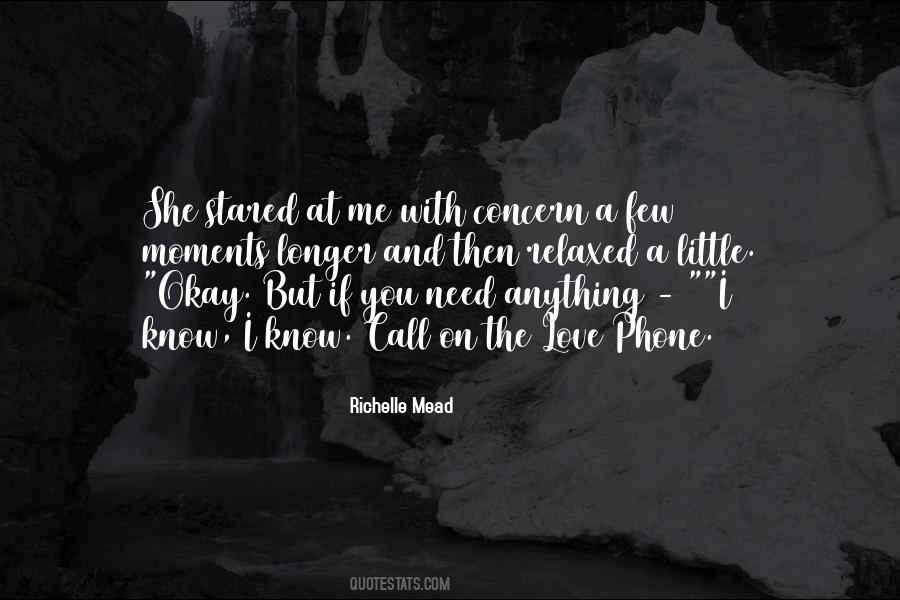 #63. You never knew this, but I was in love. Okay, infatuated, but it felt like love at the time. - Author: Teresa Lo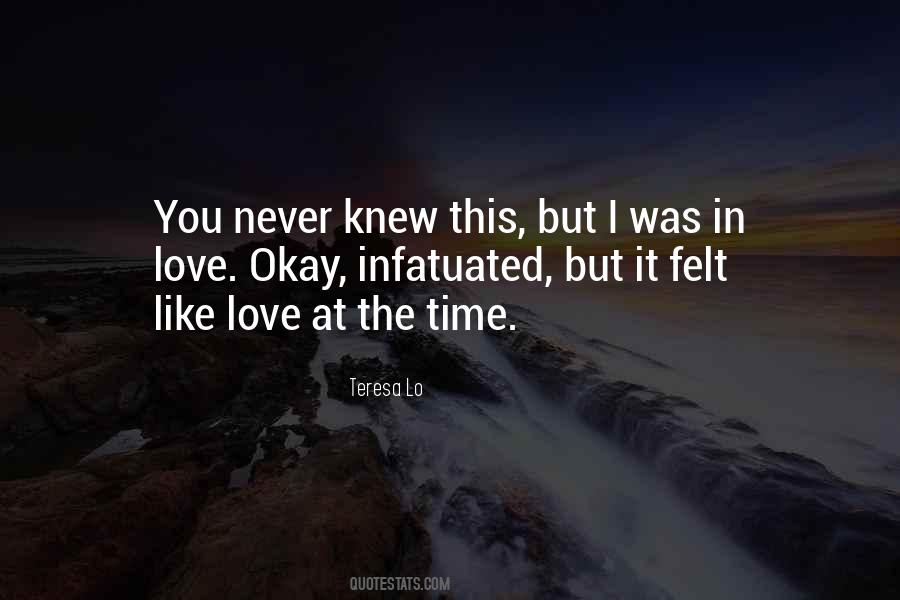 #64. I definitely still have ... angst but I also wrote some songs that say it's okay to love, now. I'm happy in my life, and it's a bit easier to write happy songs when you are actually happy. - Author: Miranda Lambert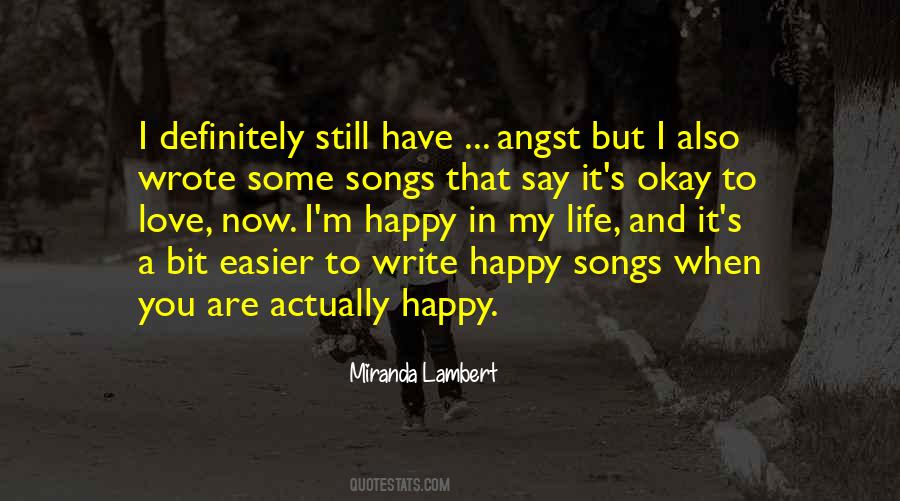 #65. Great film roles, they always take you to another place. I'd love to do more of that, but I keep doing lots of voiceovers, some TV spots, and some film roles have come along, so I'm okay. - Author: Benito Martinez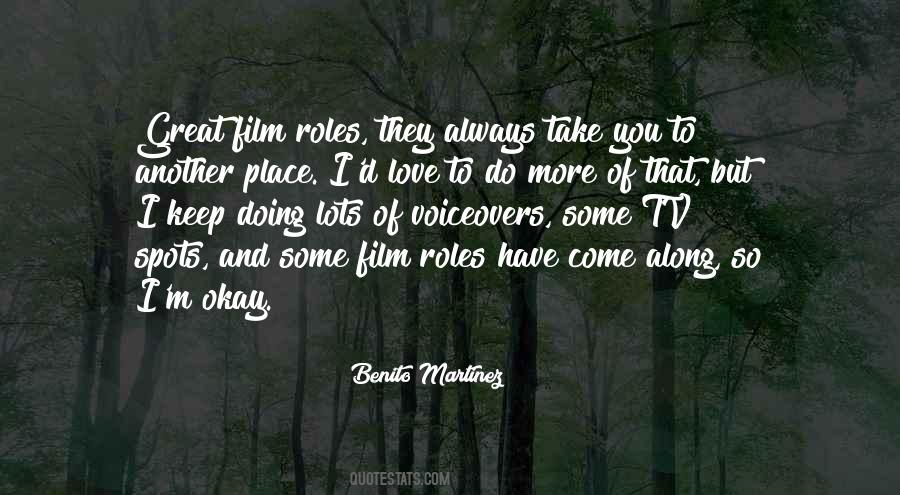 #66. I love and I hate, and I love arguing with you. It's very new. I need to know that we're okay. It's the only way I know how. - Author: E.L. James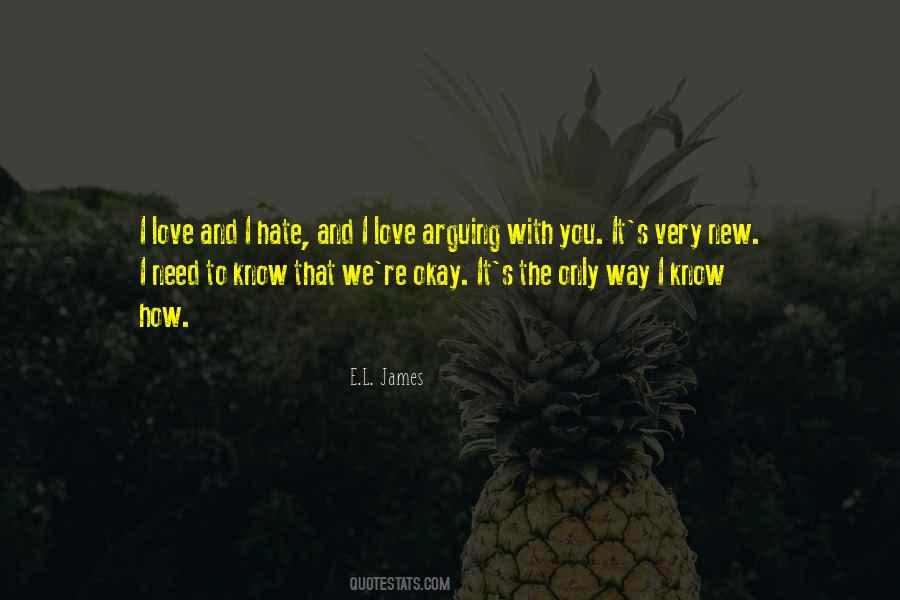 #67. I'll come back to get you, too, okay?"
"Why?" he snapped.
"Because," she said with a gasp, unable to fathom the source of his question, or his tone. "Because I love you, that's why. - Author: Kelly Creagh
#68. I'm telling them that if you love a person, the opinion of the world isn't important. It's how you feel that matters. Because in the end, if it's just you two, it'll be okay. Nobody else is fucking important. - Author: Candice X.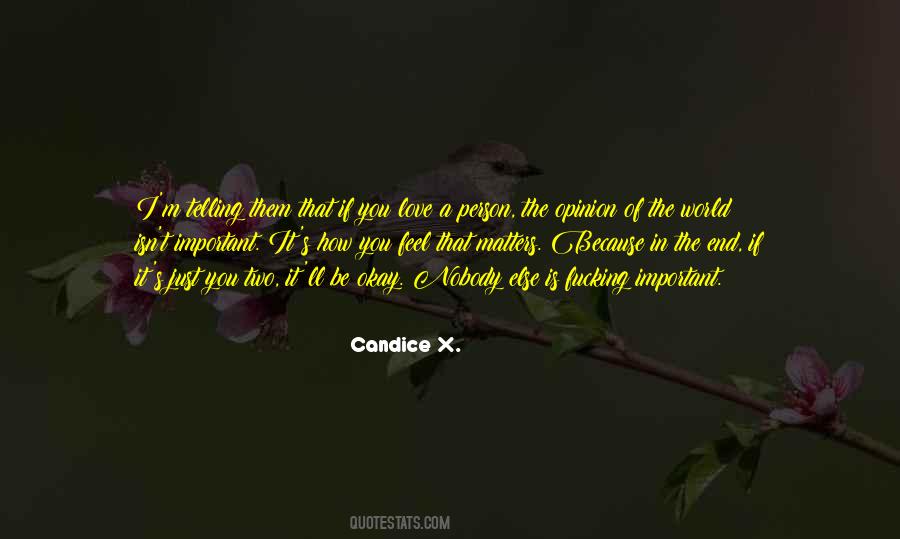 #69. You deserve whatever i decide to give you and i want to give you everything. Just don't forget to remember me, and we'll be okay. Don't forget how much i love you ... - Author: Kahlen Aymes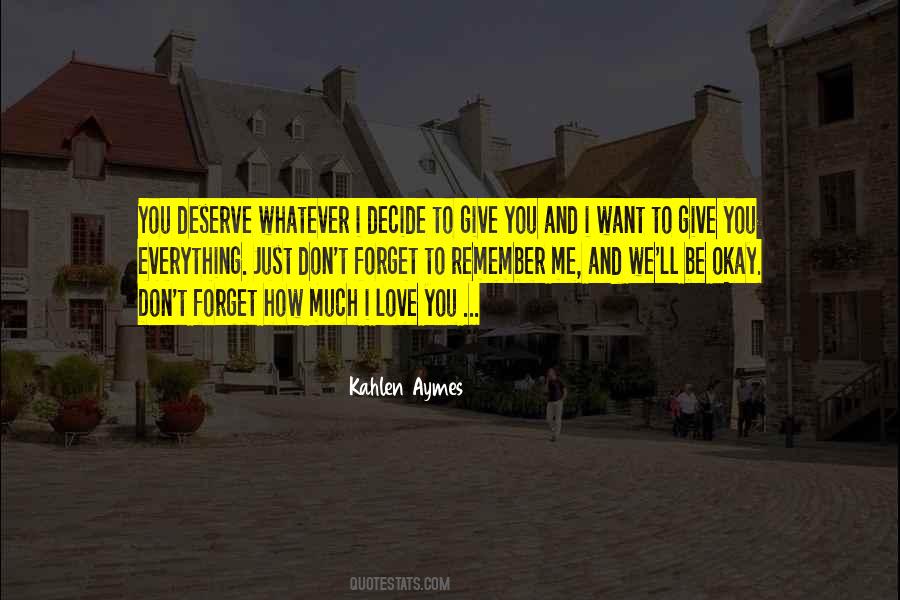 #70. Some mornings,
it's hard to get
out of bed.
Sleep lures you
like a stranger
with a piece of candy.
Follow me.
It will be okay.
I promise.
You know better,
but still you follow,
because you really do
love candy. - Author: Lisa Schroeder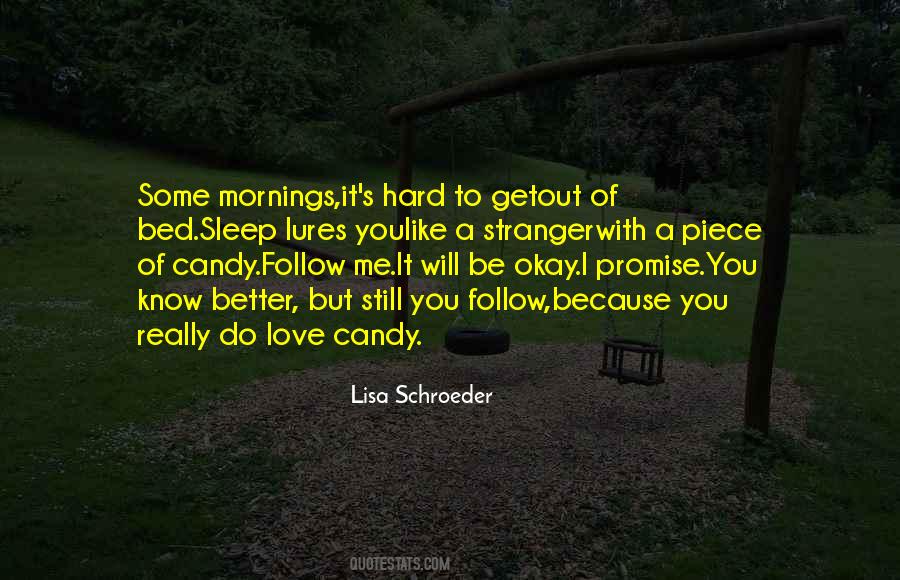 #71. Is it okay?"
I nodded and continued chewing. "Y-you made me my first sub."
He smiled. "You remembered. - Author: Shaye Evans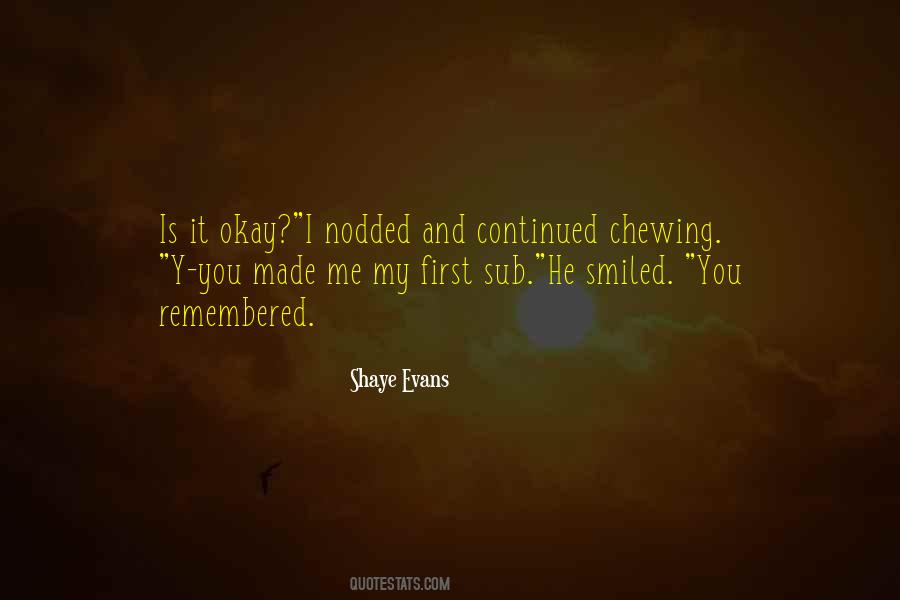 #72. Okay," i said. "If i can not find anybody to have sex, i call you."
He smiled. "When you'll find out you have not anybody to love, you'll call. - Author: Arzum Uzun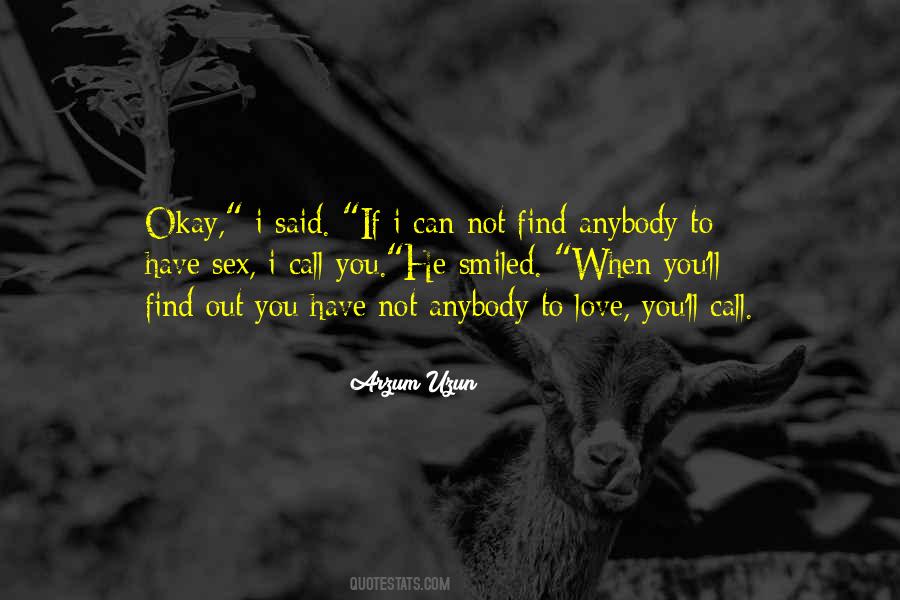 #73. Remember babe, hurting people hurt people. And that doesn't make it right, and it won't ever make it okay. I just don't want to see you with a hurting someone that hurts people every single day. - Author: Hope Alcocer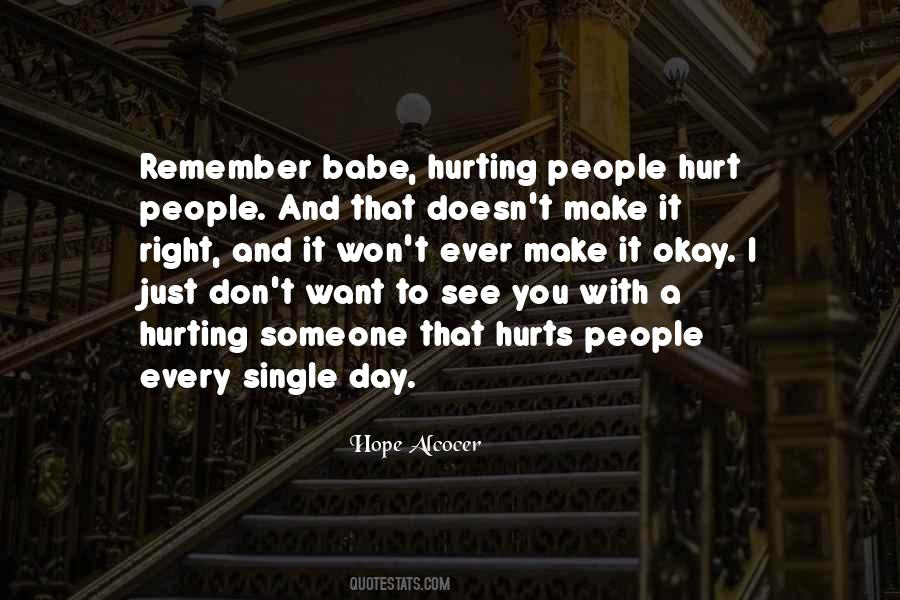 #74. It's going to be okay.
Right.
Because I love you.
Is that why?
It is, actually. - Author: Rainbow Rowell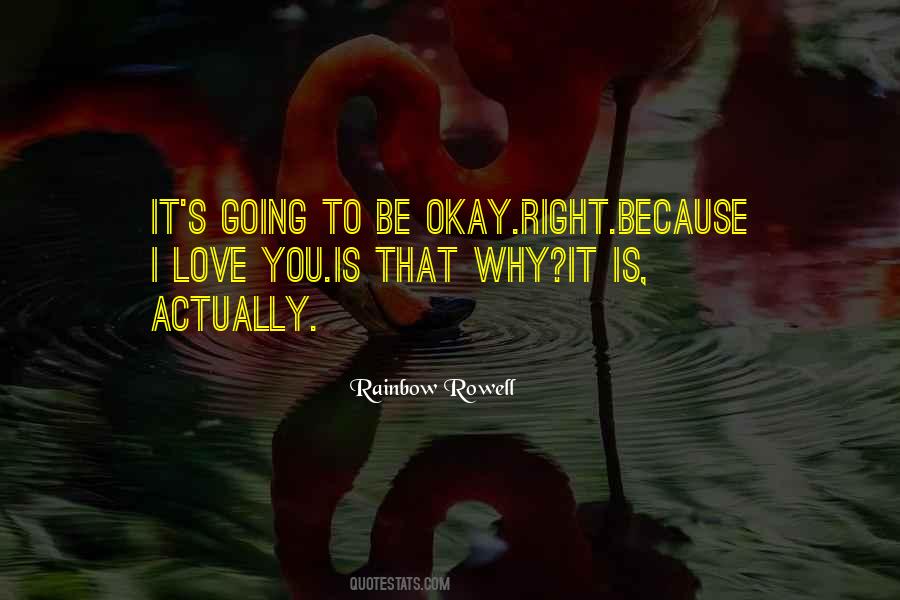 #75. It's okay to love something a little too much,as long as it's real to you. - Author: Gerard Way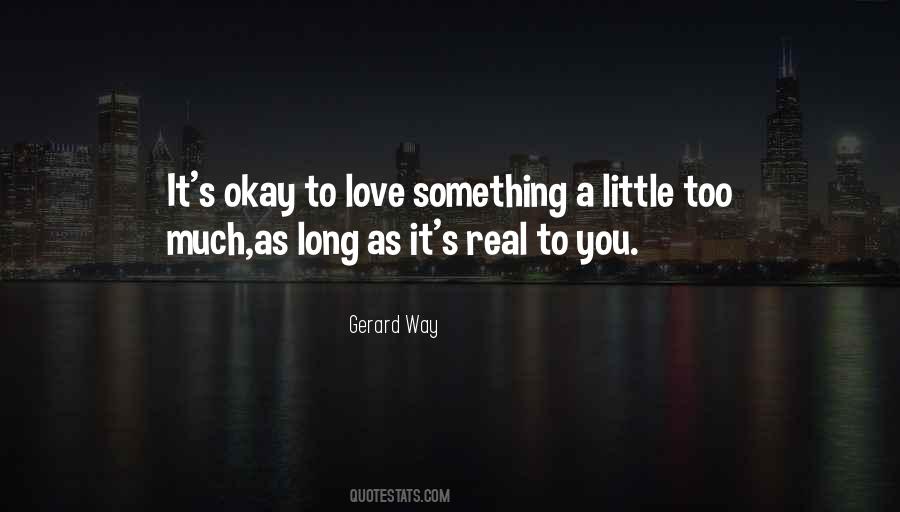 #76. VAN HOUTEN!" I shouted. "Are you okay? Was that a cough?" "Kaitlyn, I love you. You are a genius. I have to go. - Author: John Green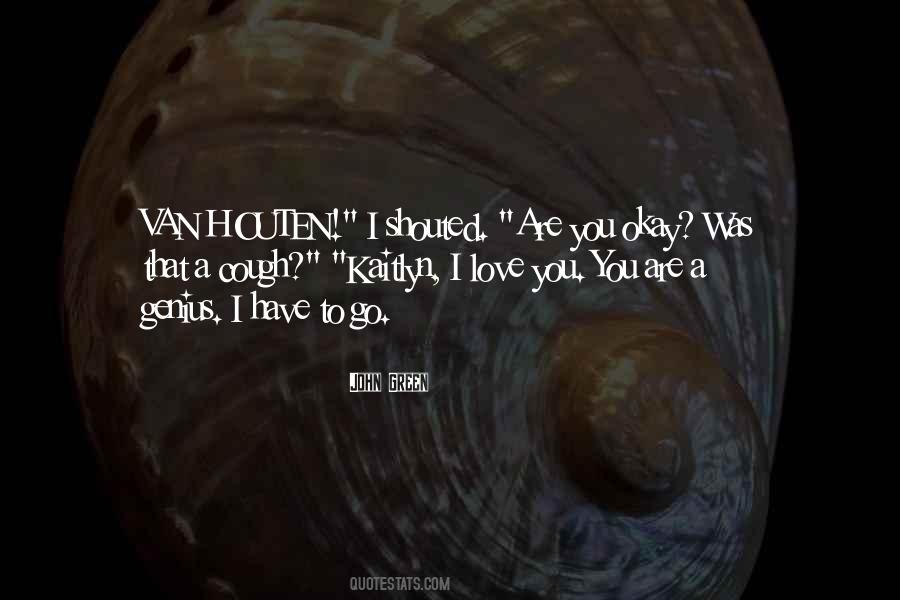 #77. In so many years in the movie business, you have a lot of doors slammed in your face, and a lot of people say mean things. Every time, I'm constantly surprised at how the span of time gets quicker that I get okay with it, and I'm over it. That's been an interesting thing to learn. - Author: Jennifer Love Hewitt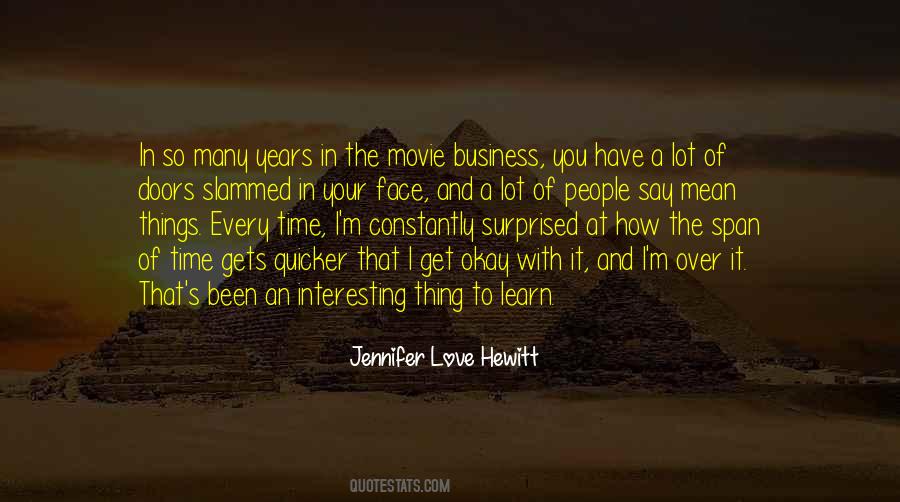 #78. Okay, I said. As long as I've got you here, we're going to use and appreciate this present moment. Because I wish, and I've wished a thousand times since you went, that we'd known it was the present, and that we were living in it. - Author: Ali Smith
#79. I've learned from my pets that it's okay to sit around, and people don't love you any less if you sit around all the time. In fact they might love you more, 'cos they always know where you're always going to be: you're always going to be laying in bed. - Author: Maria Bamford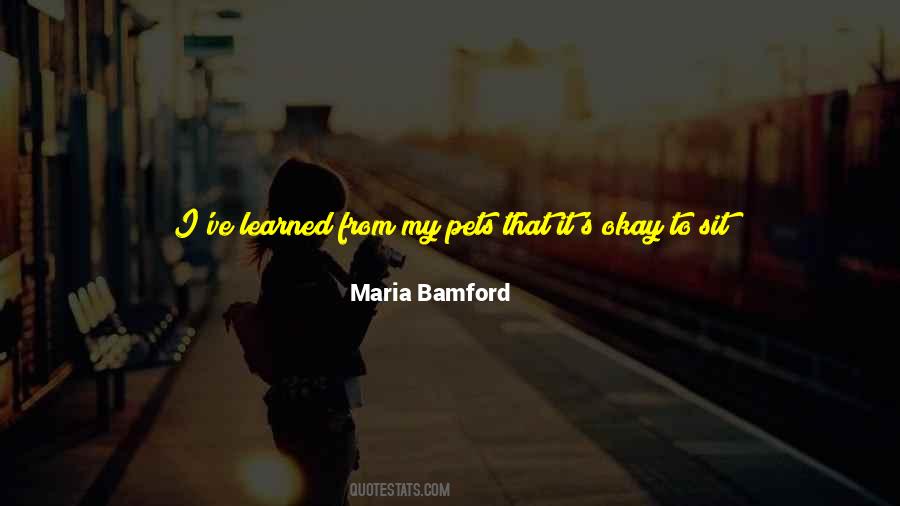 #80. Real love was cancer. All it took was one blink, and it would spread inside you like wildfire and consume you. But that was okay, because I had a feeling that unlike cancer, real love didn't die. Ever. - Author: L.J. Shen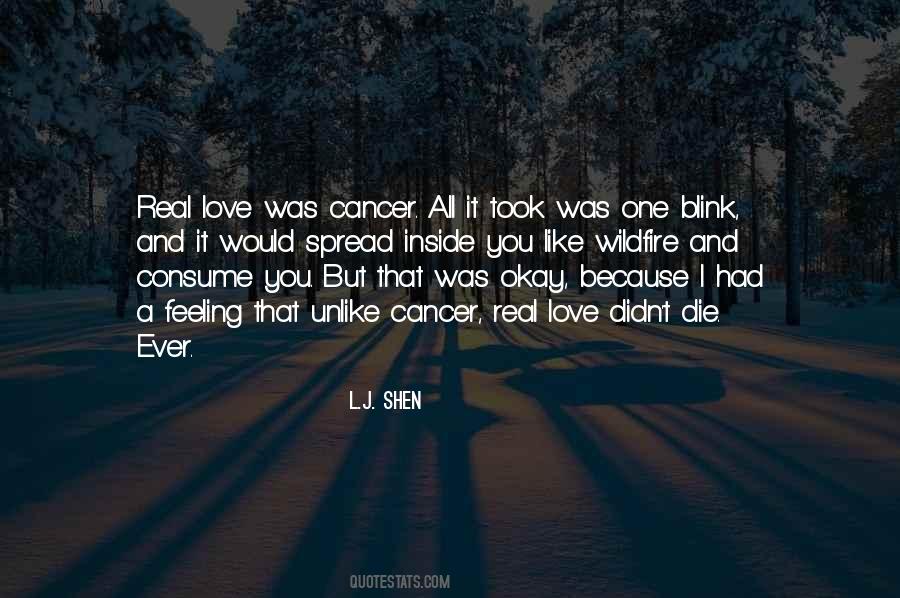 #81. You're okay now ... You're okay because I'll be holding you like this from now on. - Author: Matsuri Hino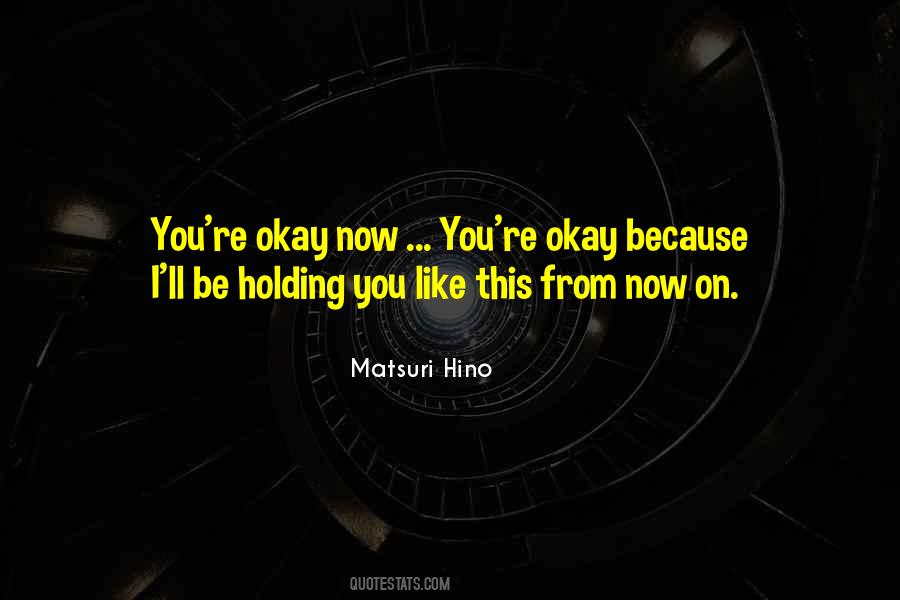 #82. Okay, fine. But just so you know, following me into hell means you're all definitely the sidekicks." "Darn, I was hoping to be the rakishly charming love interest," Archer said, taking my hand. - Author: Rachel Hawkins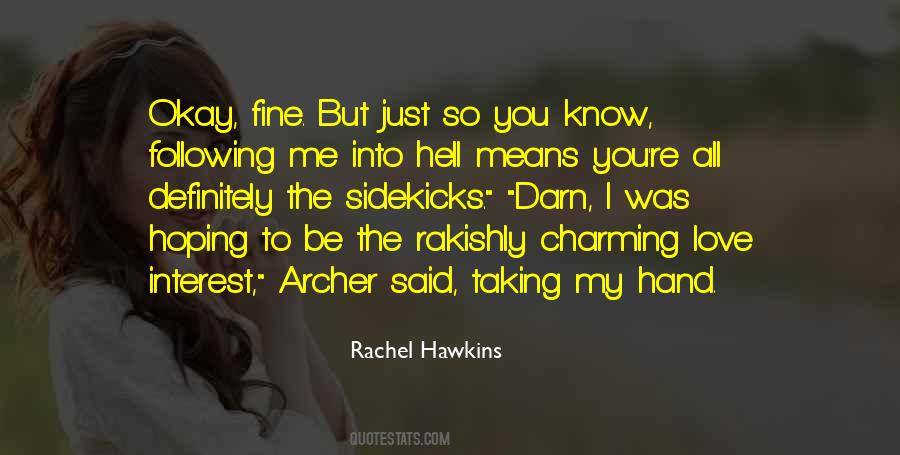 #83. That's what happened when you were possessed by a woman. All of a sudden you stopped running from love and started breaking all of your own rules ... making a fool of yourself. I was okay with that. - Caleb Drake - Author: Tarryn Fisher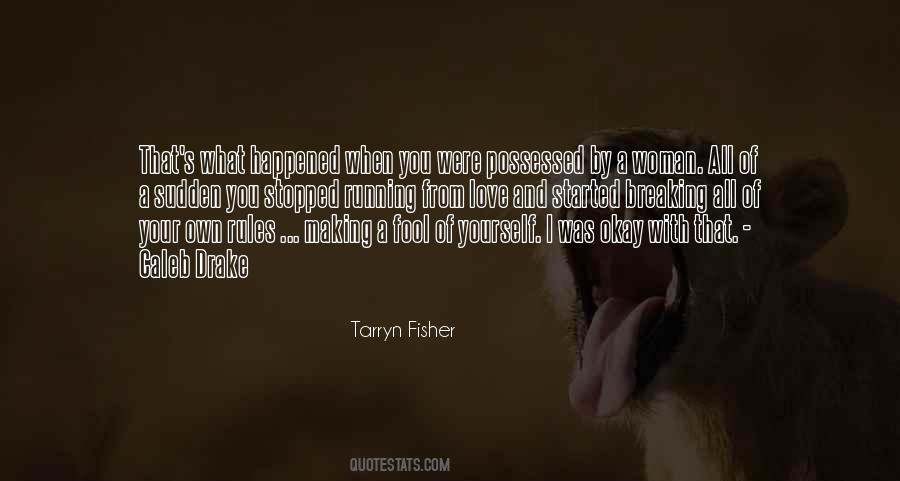 #84. Blaire, even if all we do is kiss or just lay there and talk, I'm okay with that. I just wanted you up here. Close to me. - Author: Abbi Glines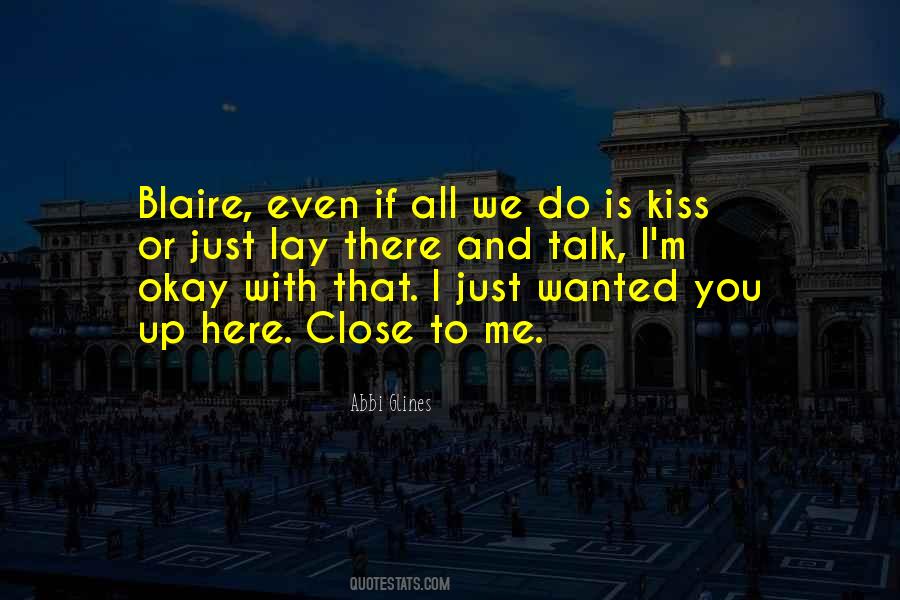 #85. Anyway, what I'm trying to say is, I really like you. A lot. But if you don't feel the same way about me, it's okay. Because you're really important to me, and I hope we can still be friends. - Author: Jenna Evans Welch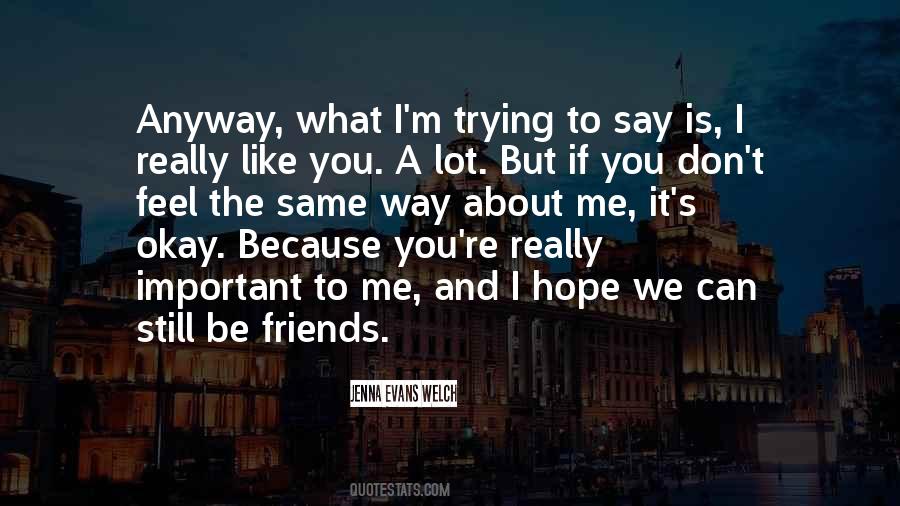 #86. Anyway, how are you and Ramona doing?'
Uh ... you know. Pretty good.'
Have you said the L-Word yet?'
The L-Word? You mean? Lesbian?'
Uh ... No. The other L-Word.'
?'
Okay. Uh, It's "love." I wasn't trying to trick you or anything. - Author: Bryan Lee O'Malley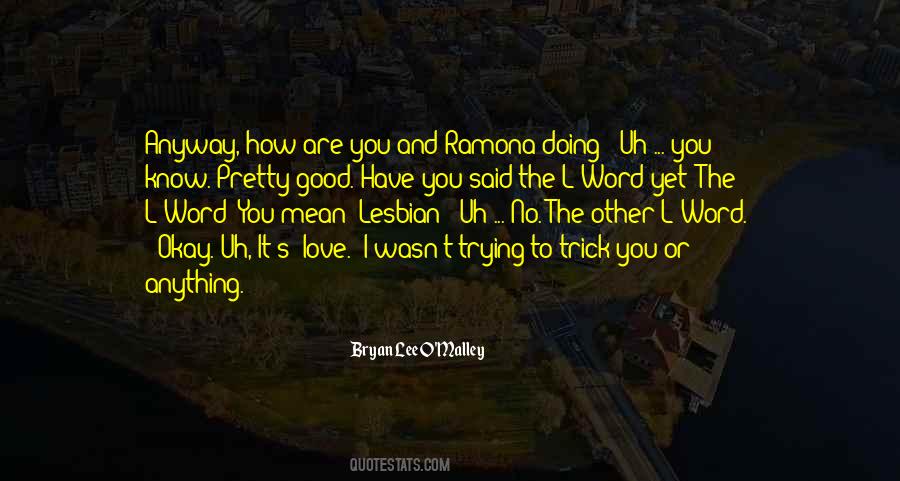 #87. I love you present tense. It's okay, Gus. It's okay. It is. It's okay, you hear me? Okay, okay. - Author: John Green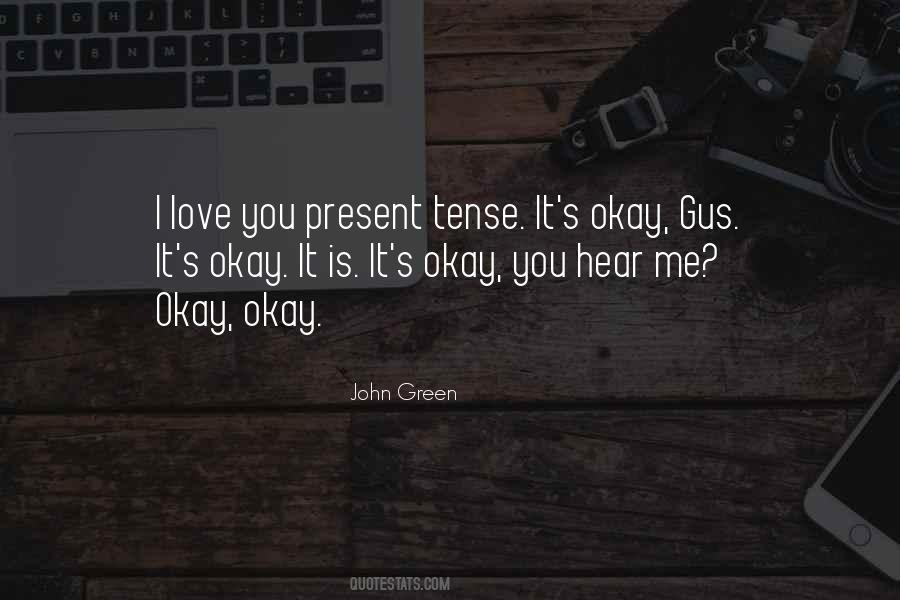 #88. You made me happy. And I still care about you. Okay? You mean something to me - something I can't really even put into words because everything seems too lame in comparison. I've always wanted you, even when I hated you. I want you even though you drive me freaking insane. - Author: Jennifer L. Armentrout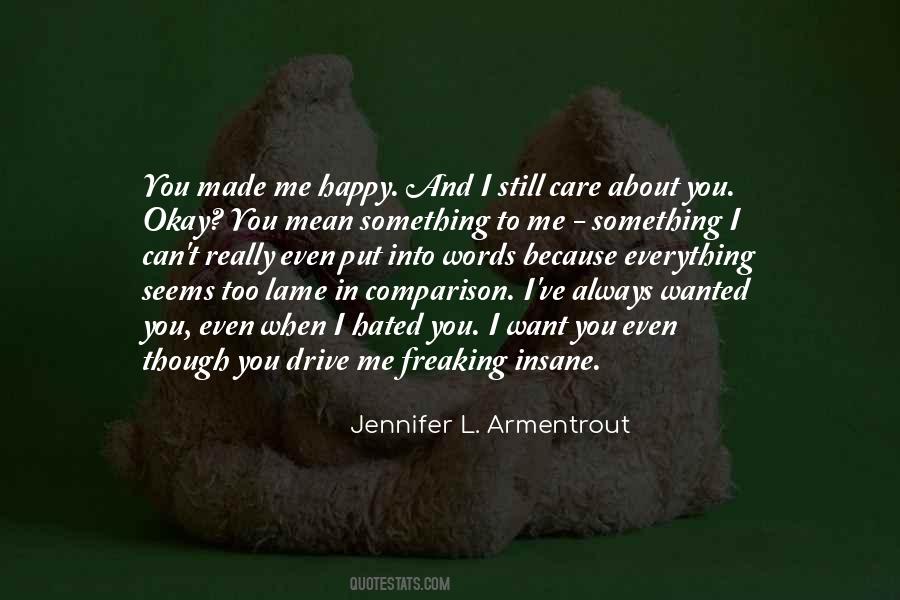 #89. Okay, how's this? I've been to Heaven and Hell. I've seen the whole world, but the only thing that makes me want to live is this: being inside you. I love you so much. You're all I see. - Author: Debra Anastasia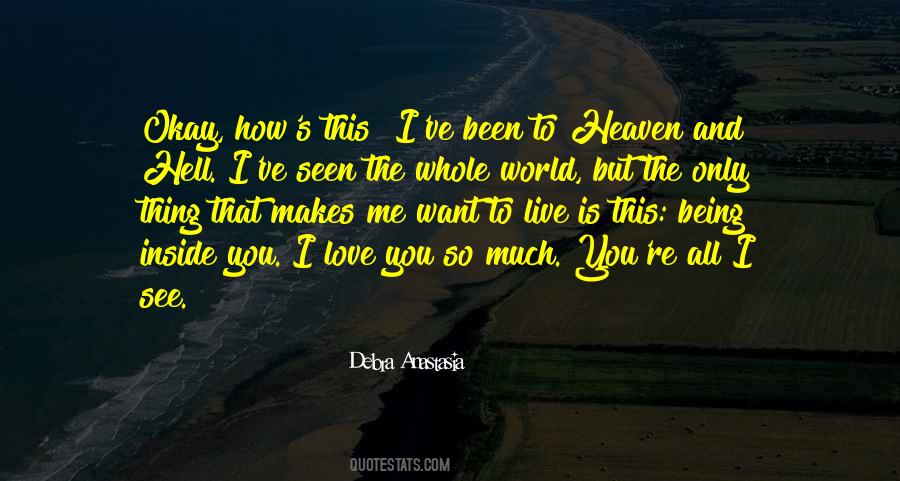 #90. God, I love it when you're cranky like this. Promise to still be pissed when I get home, okay?" (Ty)
"I don't think that's going to be a problem" (Zane) - Author: Abigail Roux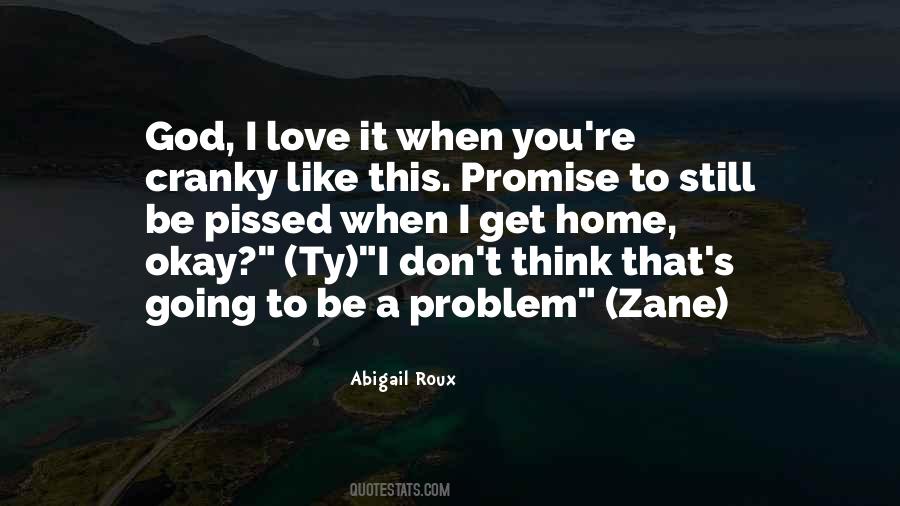 #91. I wish for you the wisdom to realize that it's okay to miss something, but not want it back. - Author: Steve Maraboli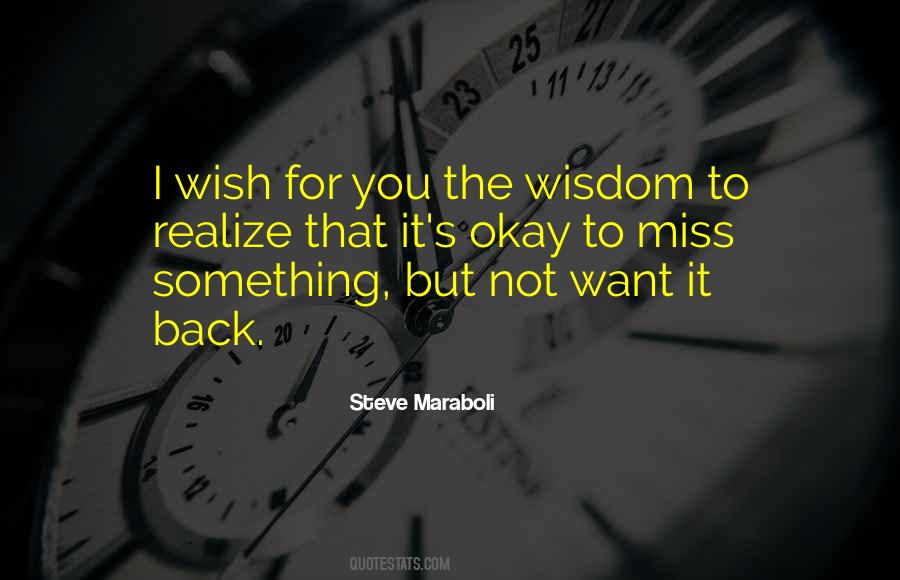 #92. Okay, I can see that you're set on this bat shit crazy adventure. You want to go Eat Love Pray, I can follow that. - Author: Kathryn Perez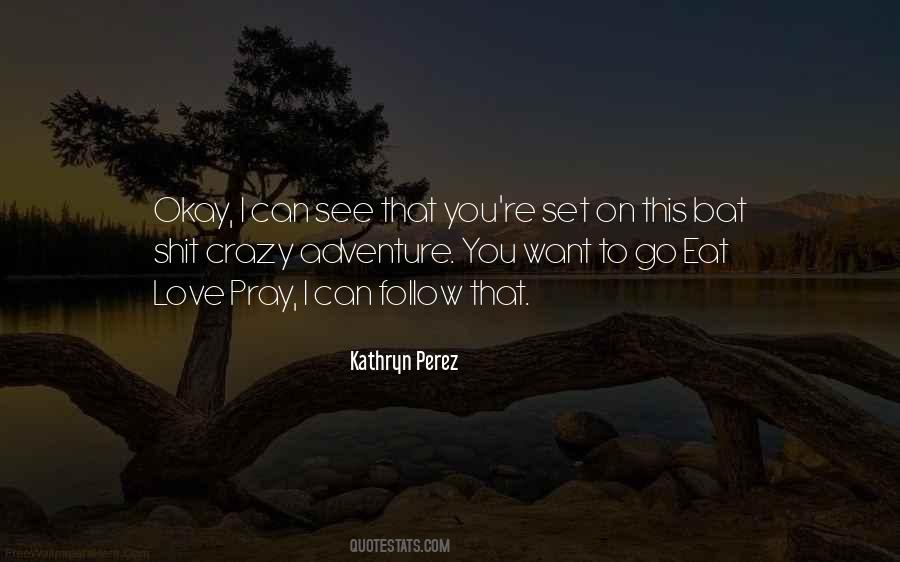 #93. Don't settle, okay? Not for anything. I mean it. You only get this one chance at life, far as I know. Take it. Even if its not with me. - Author: Sarah Ockler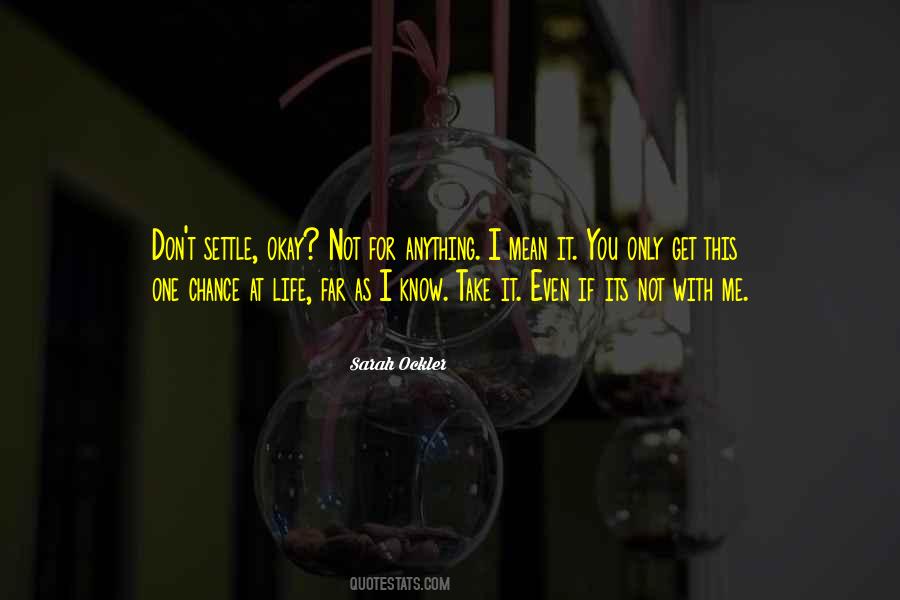 #94. I love you, Trace. I always have. Just remember that, okay? Hold on to it. No matter what I say or what I do ... and trust me, I'll do some terrible things. Just know. I love you. With every fiber of my being. - Author: Rachel Van Dyken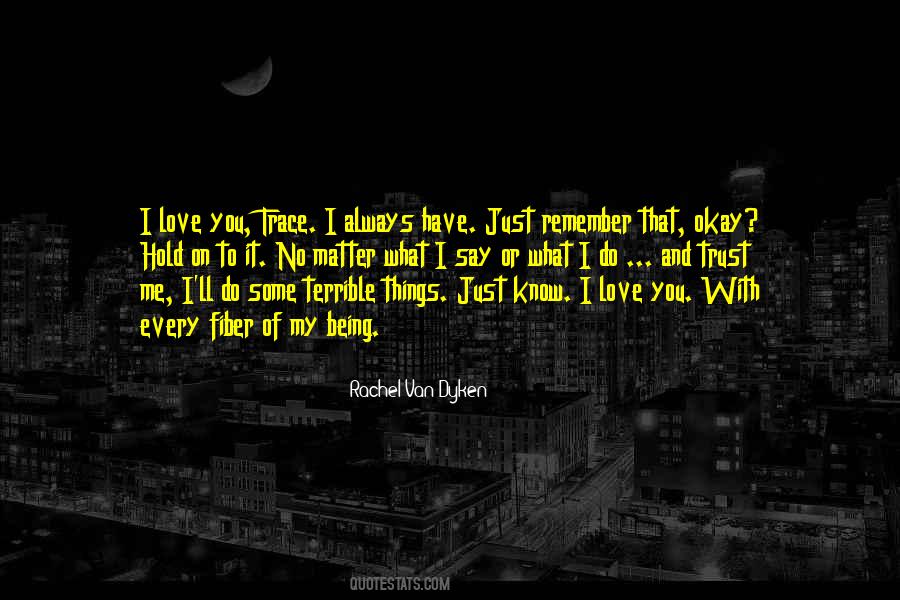 #95. Are you a lesbian?" She looked at me with a serious expression. "If you are, it's okay. I don't want you to munch my rug or anything, but I'll love you anyway. - Author: L.D. Davis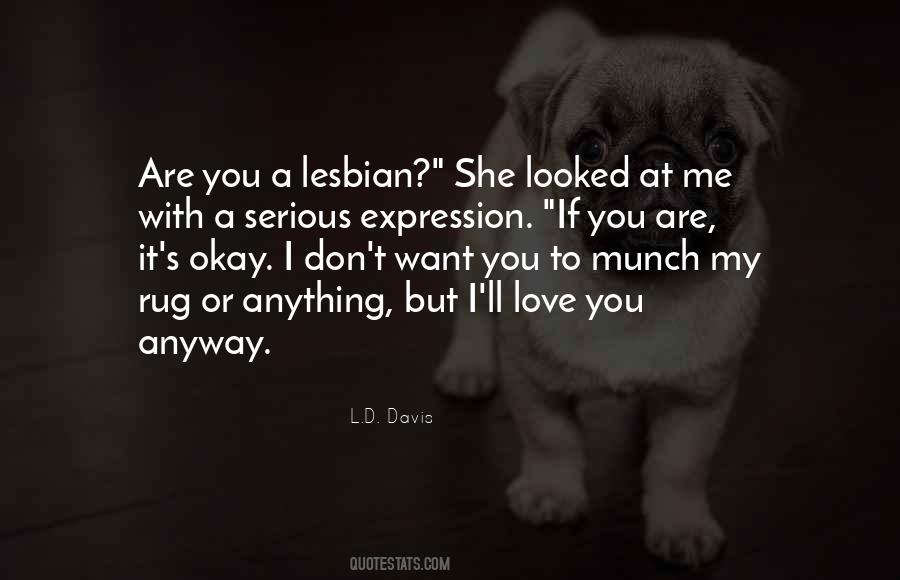 #96. Ti voglio bene ... It means everything. It means I love you. It means I want you. It means I want you to be okay. It means everything. - Author: Diana Peterfreund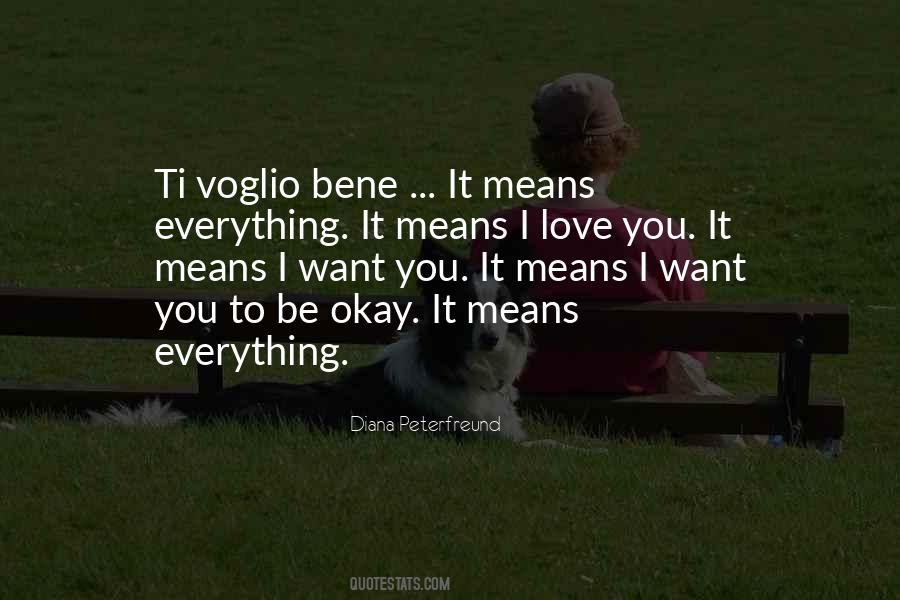 #97. Noah drew me closer to him. "It's okay. I've got you. - Author: Katie McGarry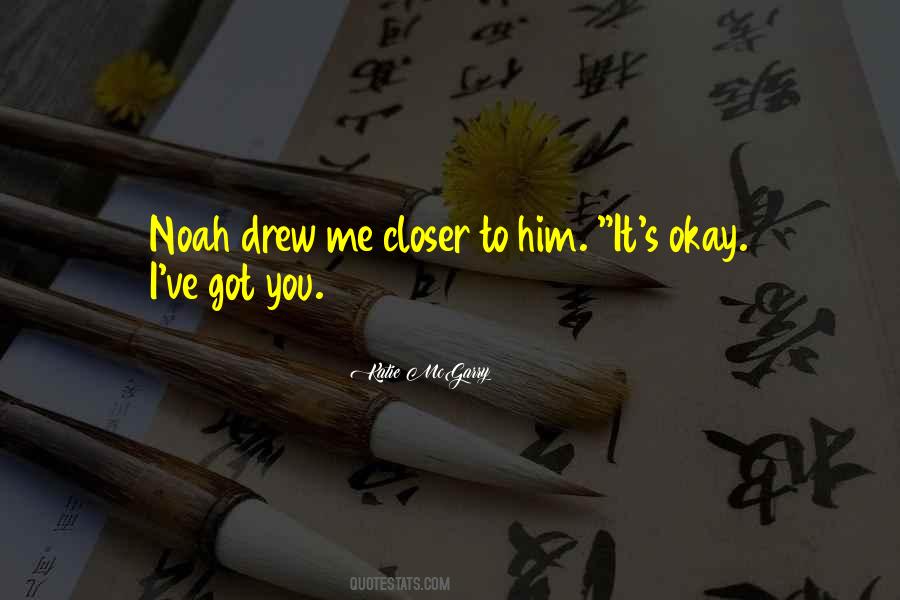 #98. Liar," she spat. "Because the only way anyone will ever be okay with me is if they love me. Really love me enought to not care that I'm damaged. You don't love people. You have sex with them. So how could you want to be with me? - Author: Katie McGarry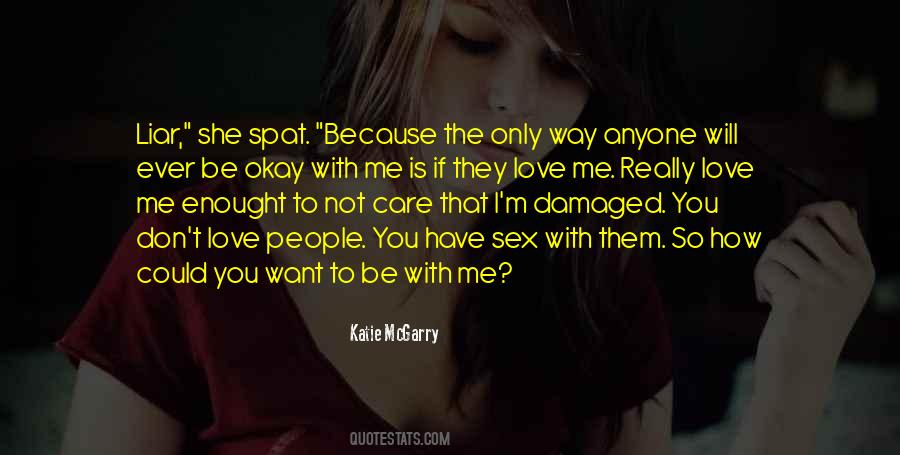 #99. I need you to love me. I need you to tell me it's going to be okay. Lie to me if you have to, and tell me everything will be okay. I'm lost, Cade. And you're the only north I have. - Author: Jasinda Wilder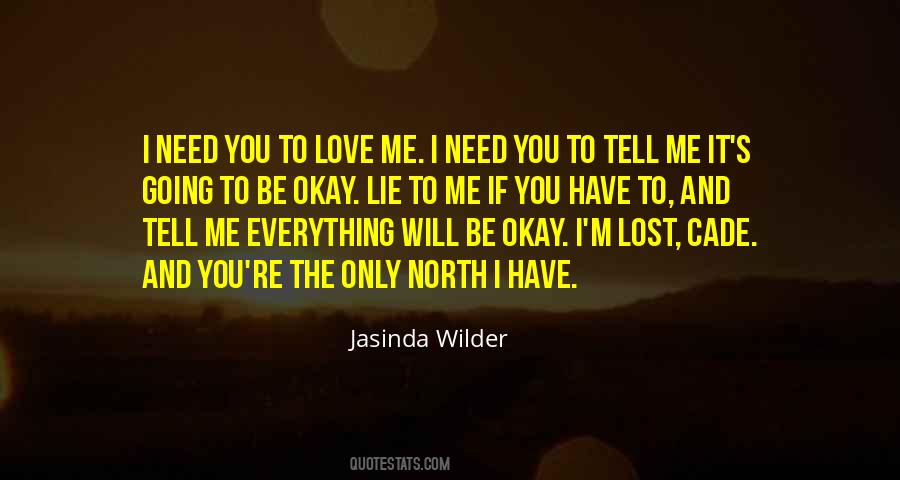 #100. Oh, Gillian..." Her voice was soft. "You are a disappointment. But that's okay. Everyone can't be great and I love you all the same. It's not the end of the world if - " I - Author: Whitney G.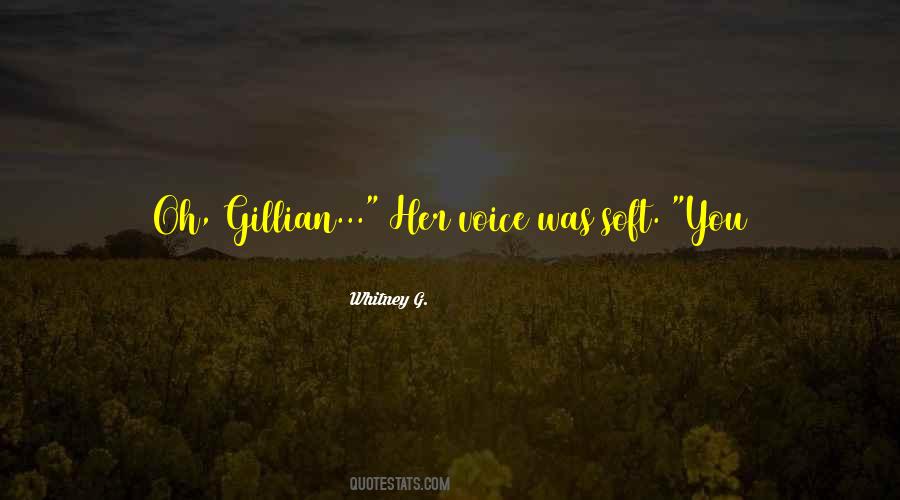 Famous Authors
Popular Topics