List of top 100 famous quotes and sayings about homework's to read and share with friends on your Facebook, Twitter, blogs.
Top 100 Homework's Quotes
#1. Where is your homework?" Mr. McNulty asked.
It's with Ariel.
"There's no such thing as homework," I said.
"What?"
"I mean, I left it at home.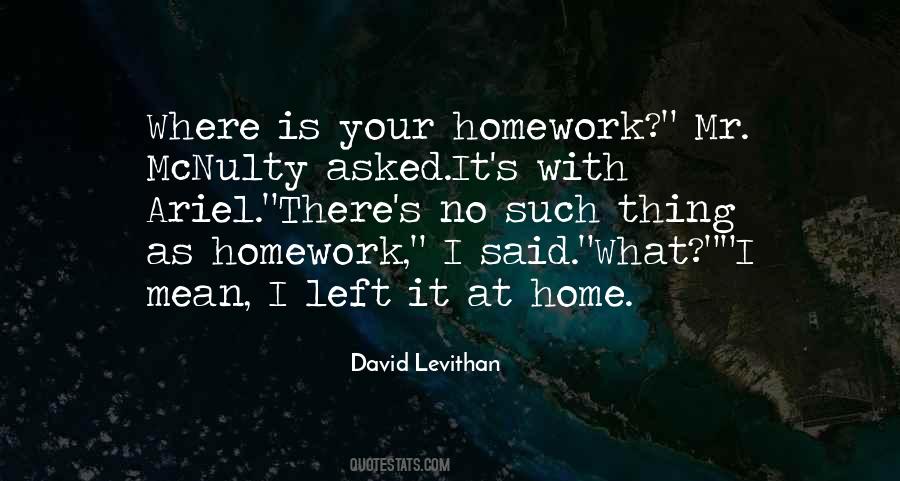 #2. The Chinese mom is not the helicopter mom. I would never do their homework for them. It's all about: Take responsibility, don't blame others. Be self-reliant. Never blame the teacher.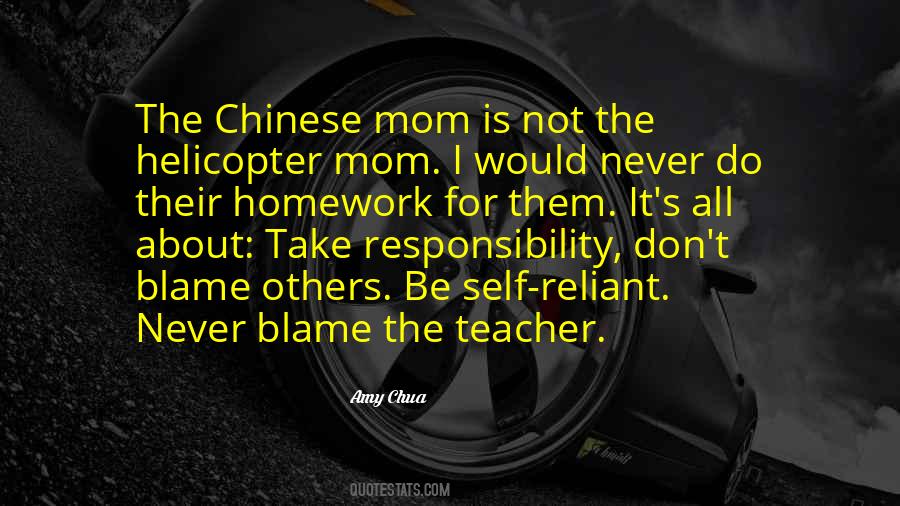 #3. If you're working 12-hour days, then you come home to do three hours' homework, it's quite a lot on your plate.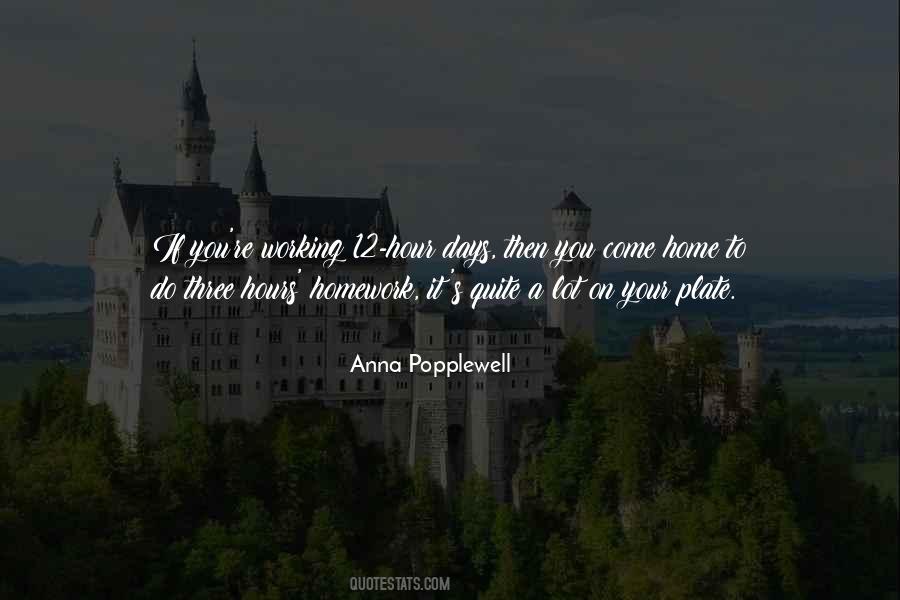 #4. Homework's hard. Especially math. My kids joke with me. They tell me they have homework. I say, 'Okay.' And then I sit down and they say, 'It's math.' 'No! Not math! English, history, anything!'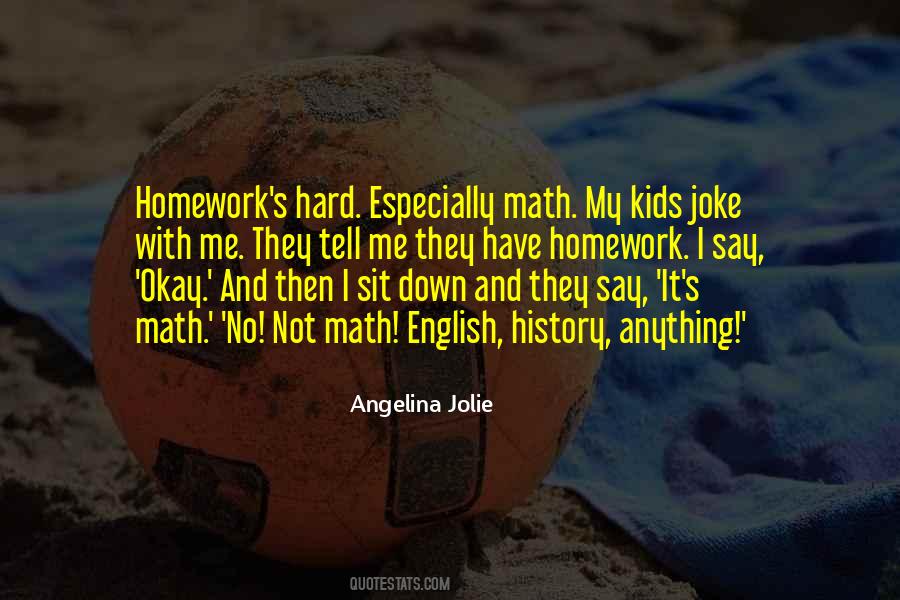 #5. Looking back, I think we were all quite mature, surprisingly responsible. In earlier wars, boys of our age had just gone off to raise hell or enlist or both, but we stayed dutifully at our desks doing tomorrow's homework.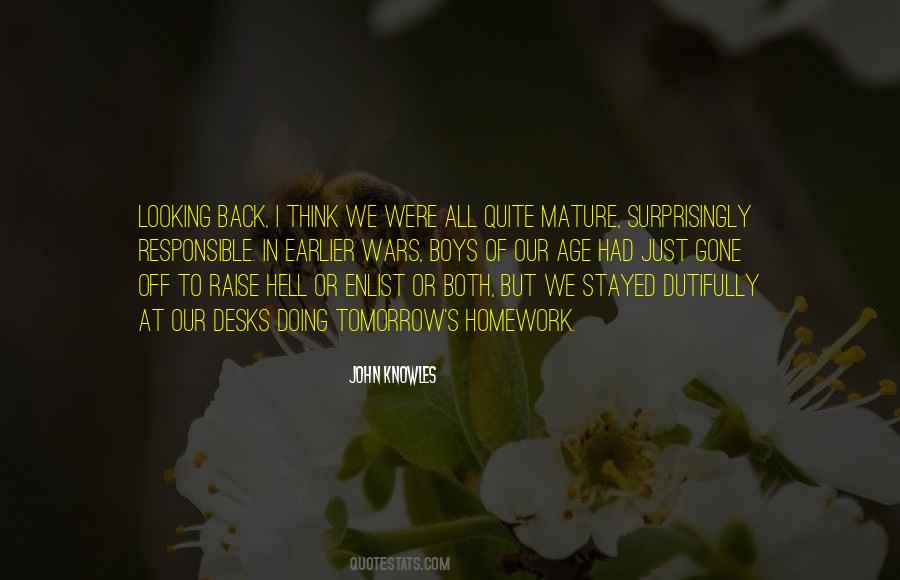 #6. As long as you enjoy investing, you'll be willing to do the homework and stay in the game. That's why I try to make the show so entertaining, because if you aren't interested, you'll either miss the opportunity to make money in the market or not pay enough attention and end up losing your shirt.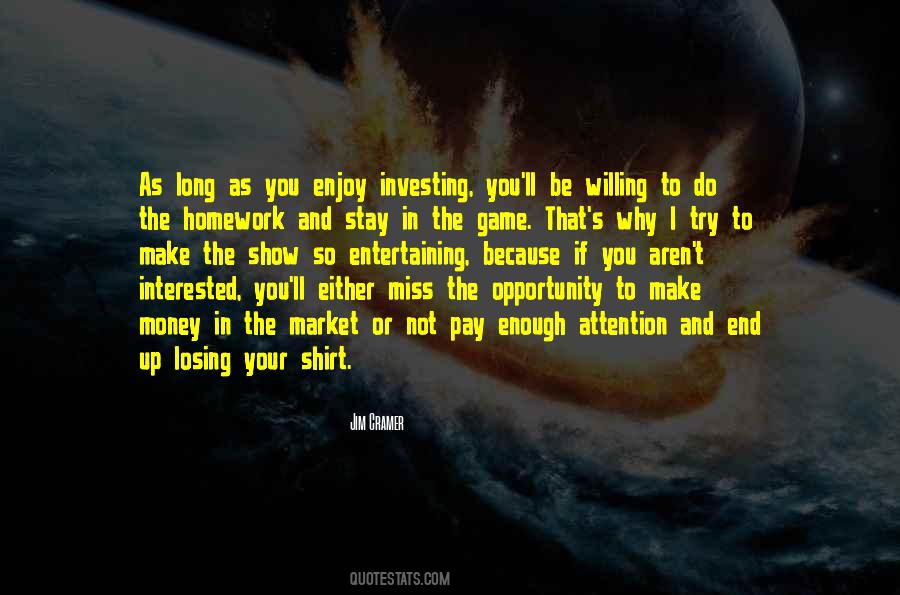 #7. Play is under attack in our nation's schools - and shrinking recess periods are only part of the problem. Homework is increasing. Cities are building new schools without playgrounds. Safety concerns are prompting bans of tag, soccer, and even running on the schoolyard.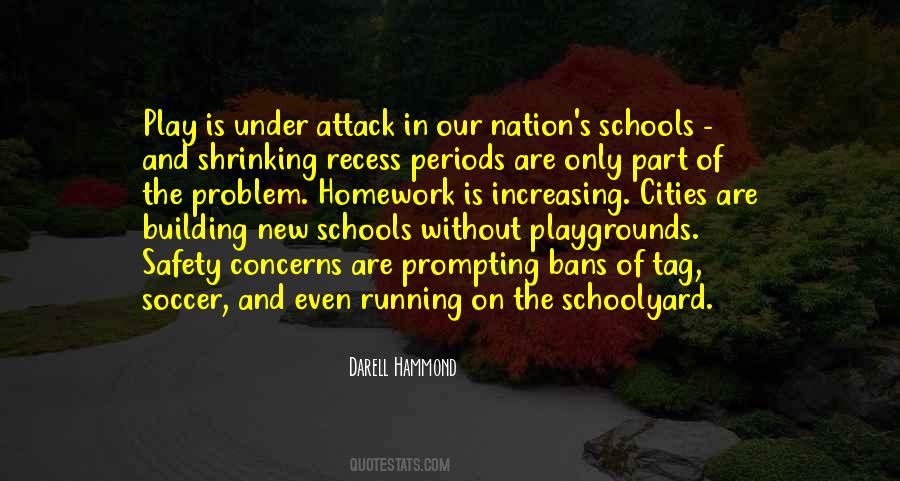 #8. Having gone through editing process, I can see that in actor's faces there's point where they're not managing their performance and that's, I think, the best place to be. You've done the homework, you've learned the lines, at that point you just sort of let it out.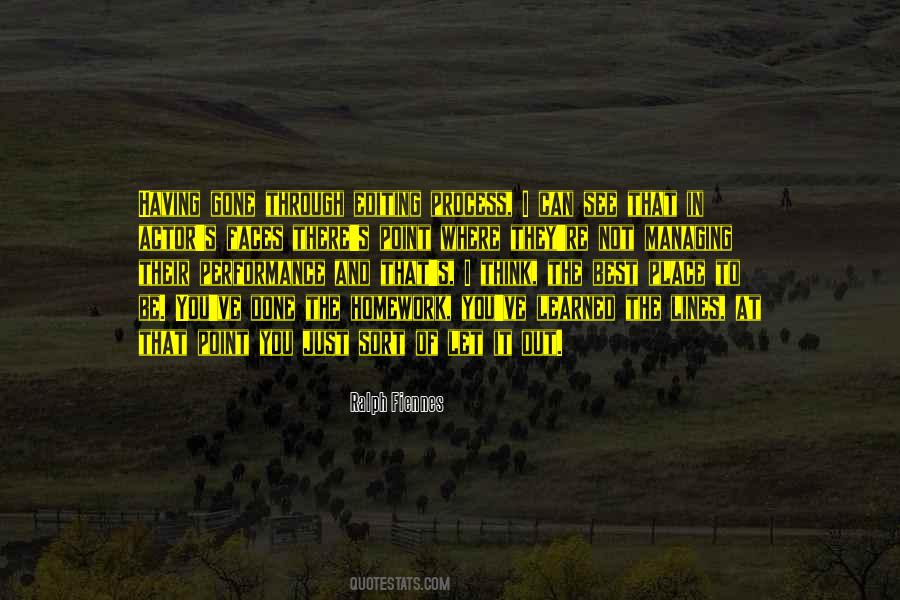 #9. To me, it's so much about doing your homework, going into a situation, getting to know the subject, making them feel comfortable, getting intimate access, getting access to all different aspects of people's lives so that I am essentially telling an entire story and not just a single image.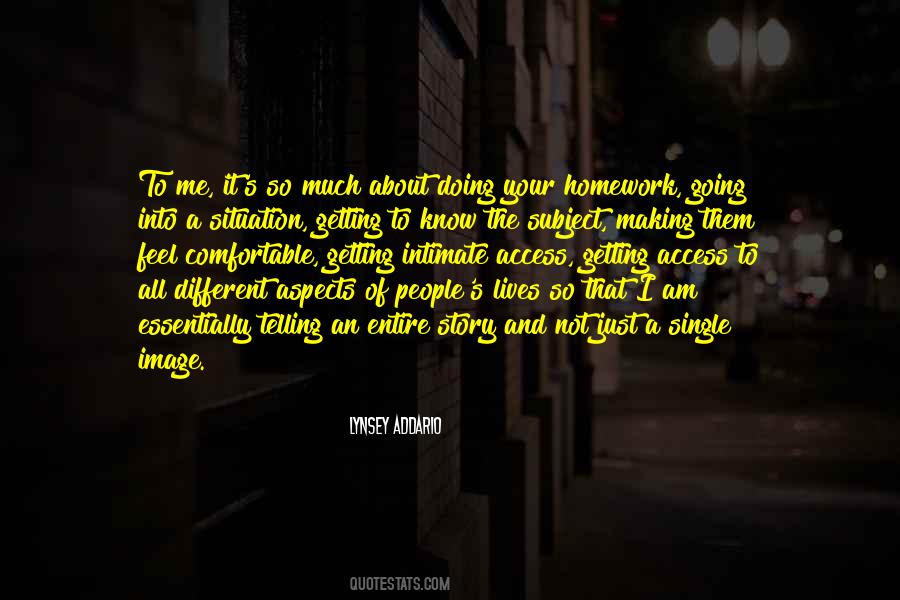 #10. A new thing I've been doing is just making sure I clear off my desk and try to only touch a piece of paper once, so I get the mail, open it up, deal with it then. My son's homework, or what I get from his teachers, the same way. That way, it's not nagging me, things to add to my to-do list.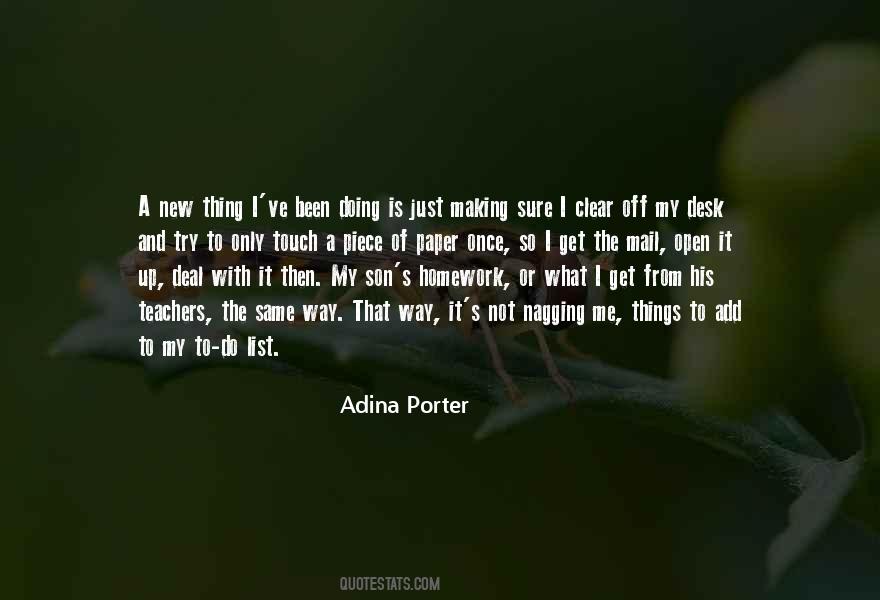 #11. Right ... here's what we'll do: I'll get the kids. You take your shower. After homework and playtime, I'll challenge them to shots until they pass out. Then we'll eat the rest of their Halloween candy while binge-watching Game of Thrones.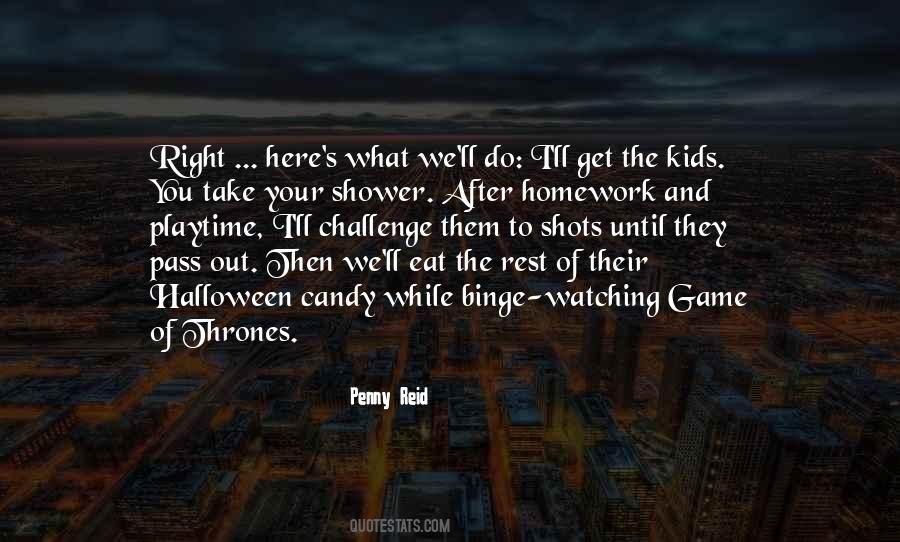 #12. I don't like this idea of Method. I come from that school, but what I was taught was that it's your imagination. You do your homework, and you use your imagination.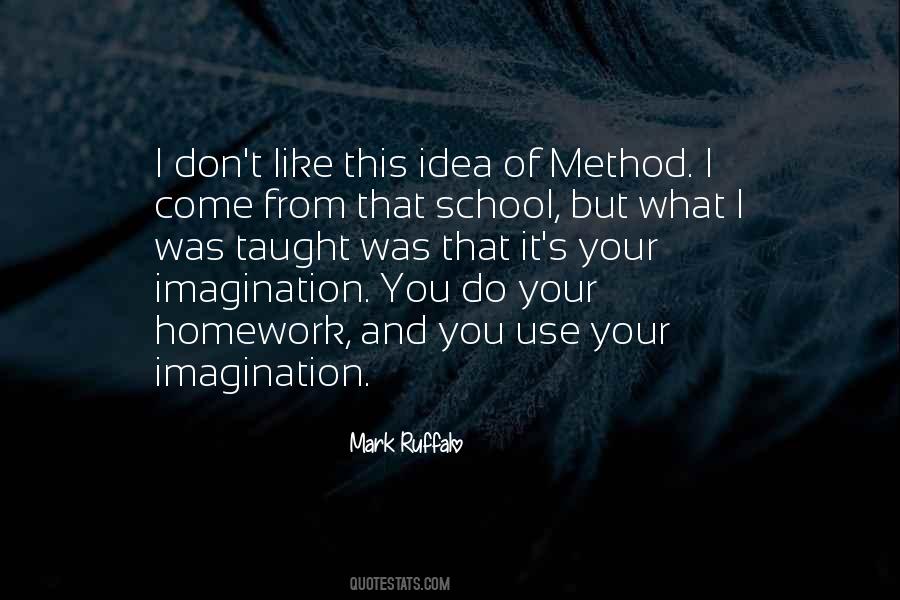 #13. I've been an actor for 10 years now, and if anything I want to talk more about my dad. He taught me that even if you get past the casting director's door you've still got to do your homework: you've still got to work hard.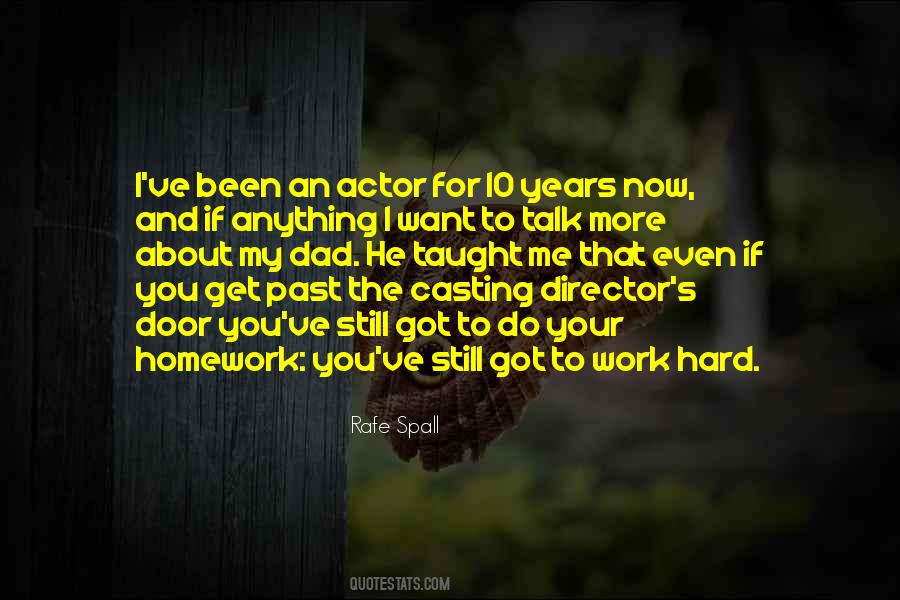 #14. Listening to music for me is like homework. Music will give me enjoyment, but as soon as it's giving me that enjoyment, I want to analyse it, and then it becomes work. Why does it sound like that? How? ... then I dissect it.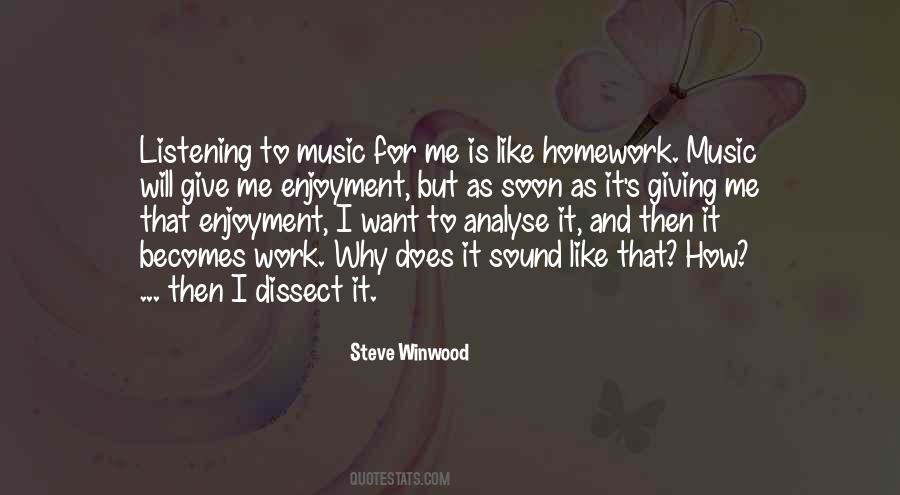 #15. I've spent the last 50 years or so steeping myself in the world's religions, and I've done my homework. I've gone to each of the world's eight great religions and sought out the most profound scholars I could find, and I've apprenticed myself to them and actually practiced each faith.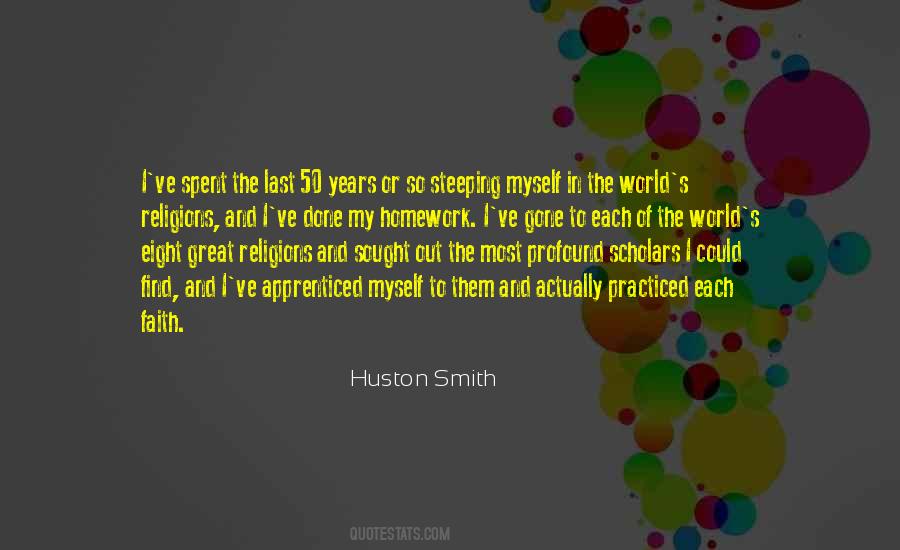 #16. My name is Ella; that's who I am at school, hanging out with friends, while I'm doing homework. But when I'm up on stage, 'Lorde' is a character.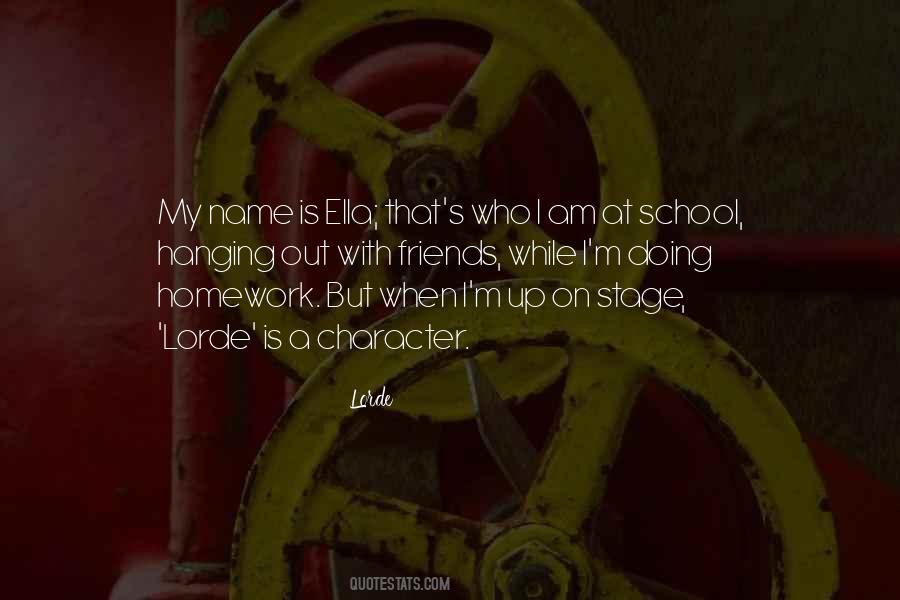 #17. I have too much homework to watch M*A*S*H yet, so I settle down at the kitchen table and I face it.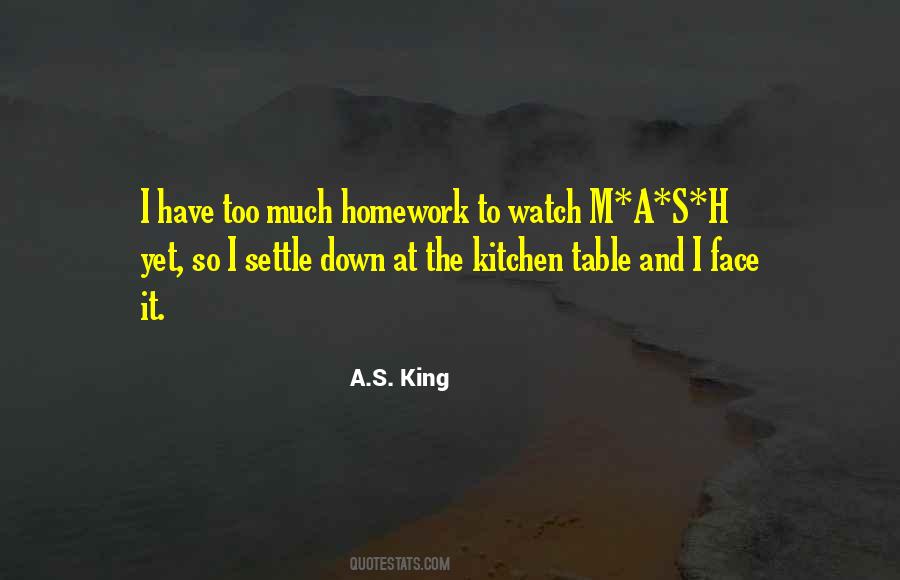 #18. It's my personality to be more quiet and reserved. I'm not going out every night to multiple things. I prefer to stay in and be with my children and do Spanish homework to make sure they get a good grade the next day.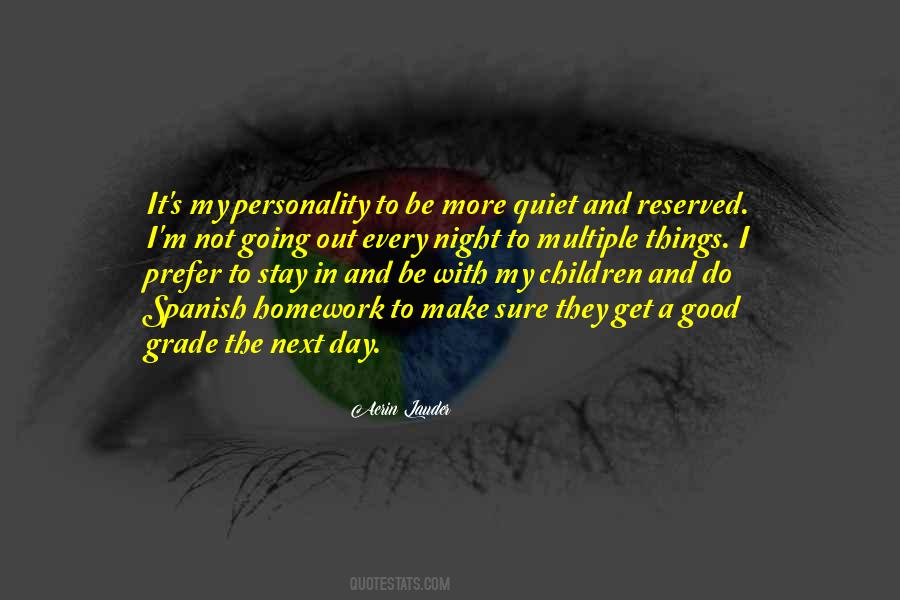 #19. But I really feel strongly that our kids do way too much homework. The research is on my side. It's easy to make a fuss when you're right. That can be the tagline of my life: 'It's Easy To Make A Fuss When You're Right.'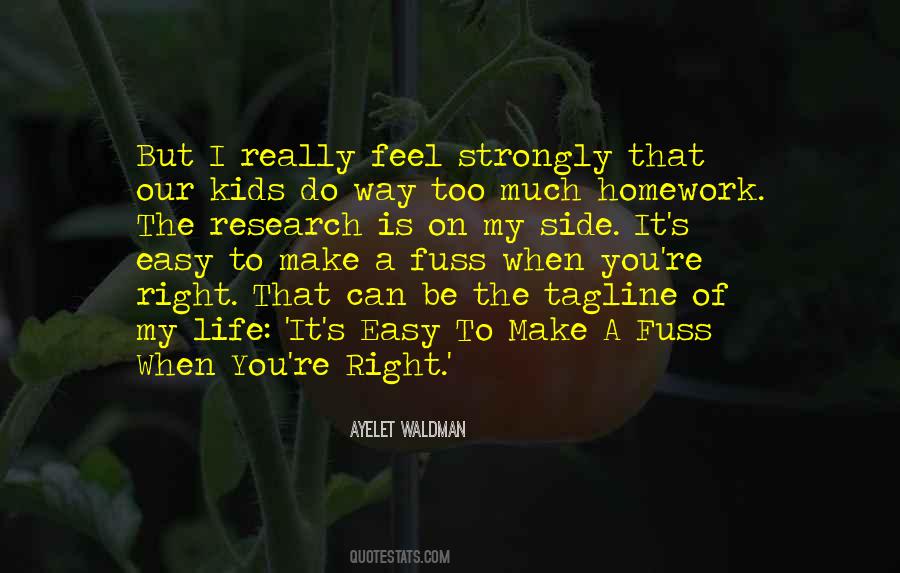 #20. Children are God's homework assignment to parents. We are commissioned to love, teach and train them up for successful adulthood.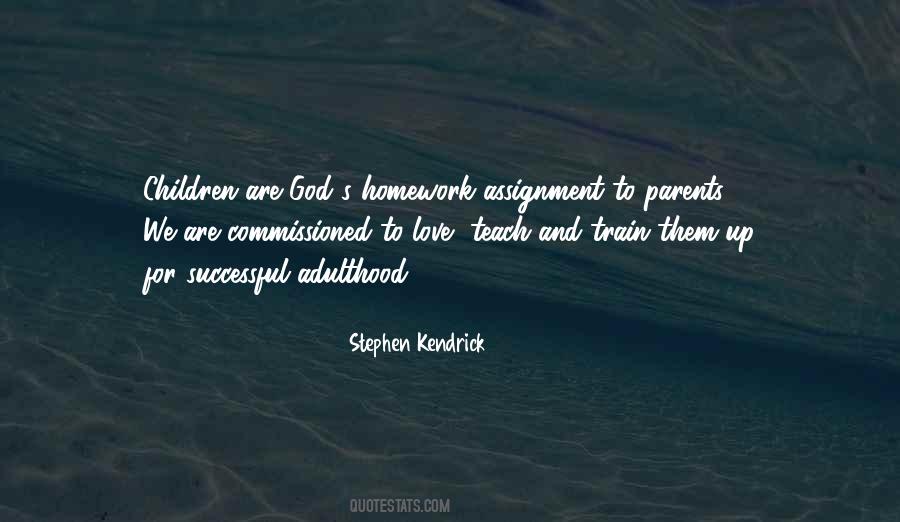 #21. When I come home, it's about my kid, who needs to eat, needs to do homework, and needs to get to basketball. I don't have a lot of time to think about me.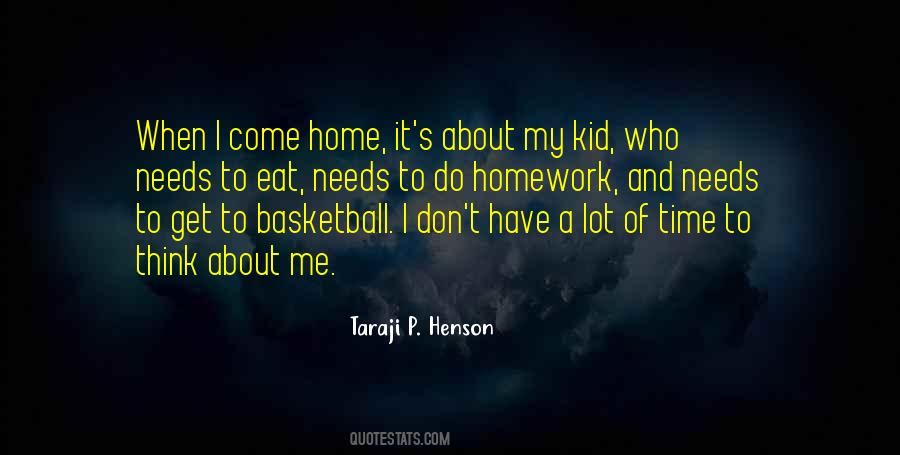 #22. On the outside it doesn't look like very much happened. A burned girl was in my class for a while. Once I brought her some homework. In class she said my name. Then she was gone. That's pretty much all that happened.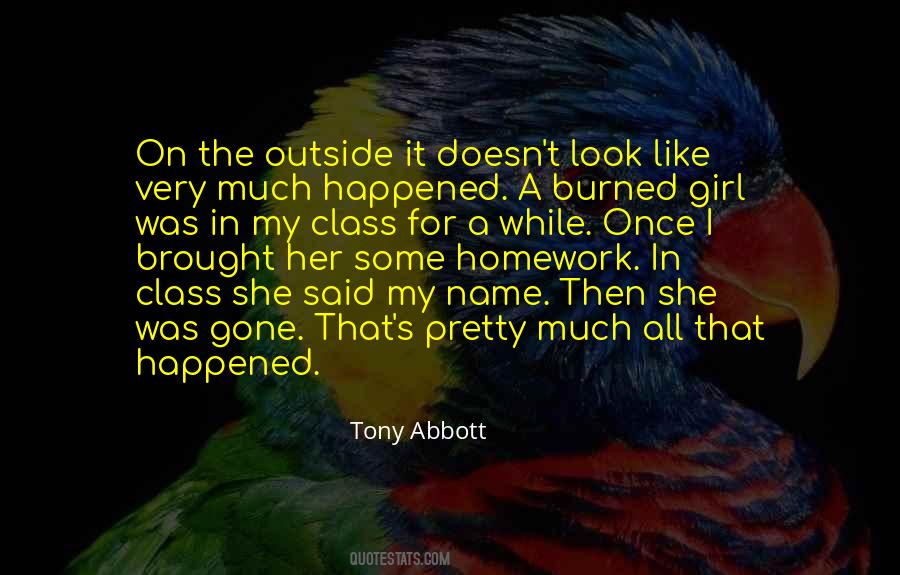 #23. It's funny, or tragic, really, how an ordinary act like helping someone with their homework could be the inadvertent trigger for almost a decade of silent suffering.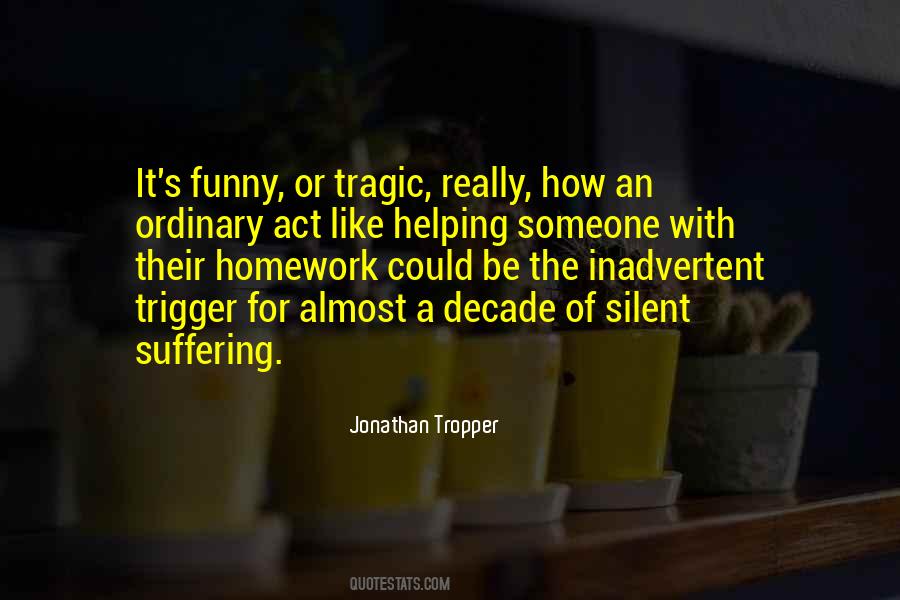 #24. Most people think it's all about the idea. It's not. EVERYONE has ideas. The hard part is doing the homework to know if the idea could work in an industry, then doing the preparation to be able to execute on the idea.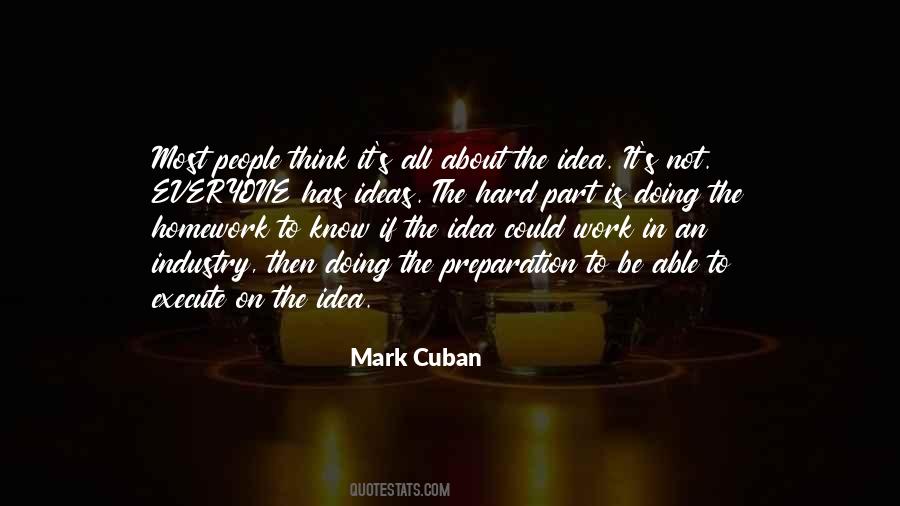 #25. What do schools do that for?" he grumbles. "What's the point of summer if they give you homework?"
"Exactly!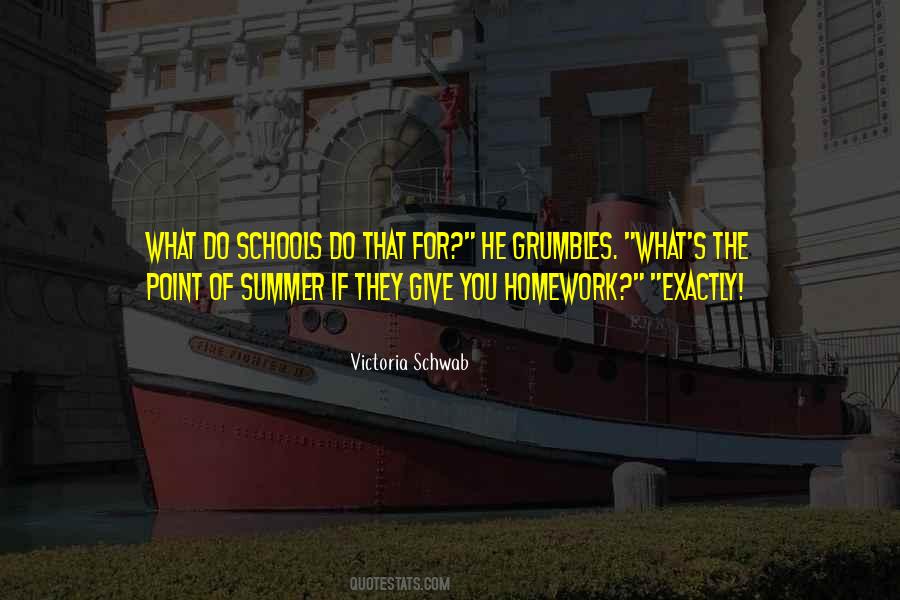 #26. Take care of your husband and do your "homework." For every headache you have there will be a women out there with an aspirin in her purse.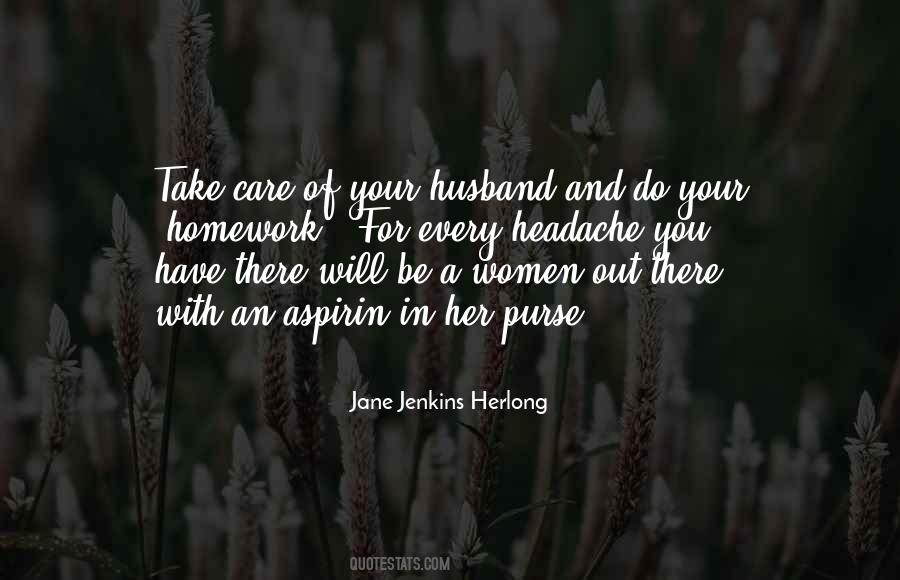 #27. Parents make sure homework is returned without error, drill their kids on upcoming tests to the saturation point, and then complain if teachers do not give the grades they think their kids deserve. By that point, it's hard to tell whose grades they are.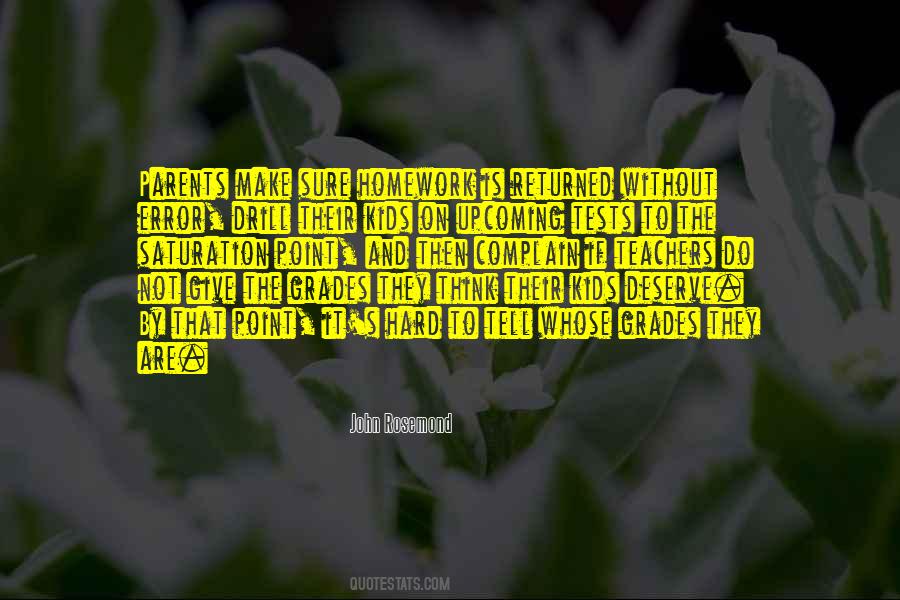 #28. If you want me to fix your homework, you need to leave me alone." Then he spotted her. "You're back."
"Yeah." She glanced between him and Gabriel. "You do his homework?"
"Just the math. It's a miracle he can count to ten."
"I can count to one." Gabriel gave him the finger.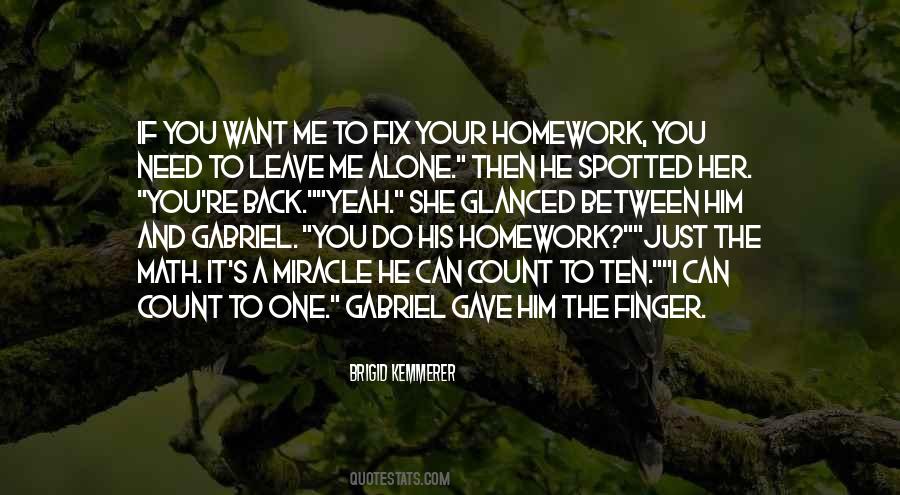 #29. I'm not saying writing comedy's brain surgery, but there is a certain pressure to it. It's the equivalent of doing homework that's going to end up on national television.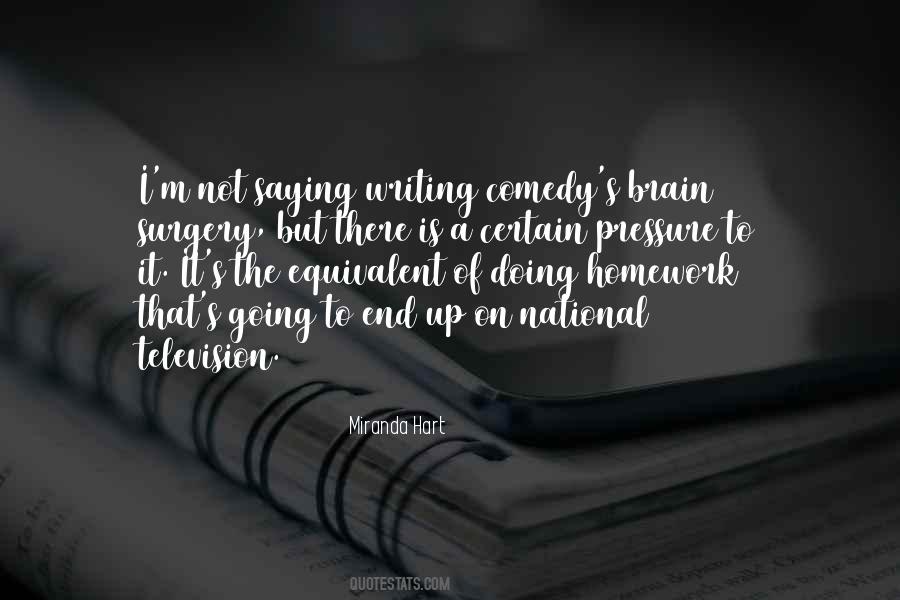 #30. If I have to go to New York or something, I'll bring my books and read and do homework. It's not really a big deal.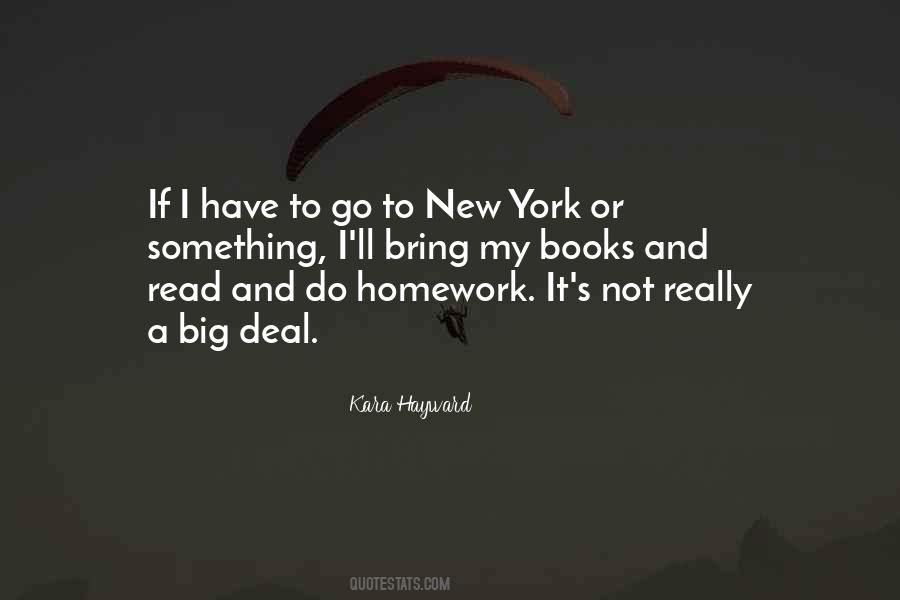 #31. I think if you get asked to do this, then that's called doing your homework, and I try and do it.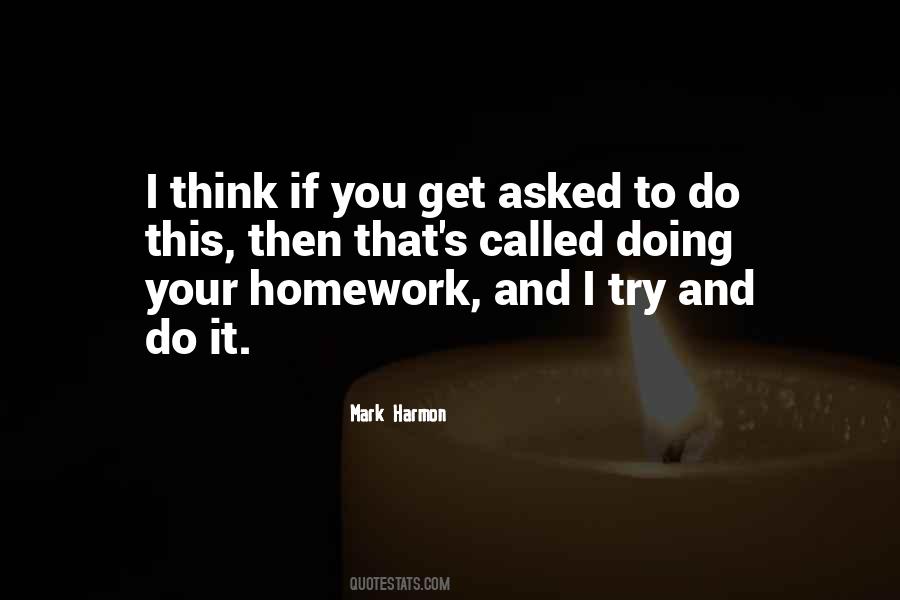 #32. Persistence is important in every endeavor. Whether it's finishing your homework, completing school, working late to finish a project, or "finishing the drill" in sports, winners persist to the point of sacrifice in order to achieve their goals.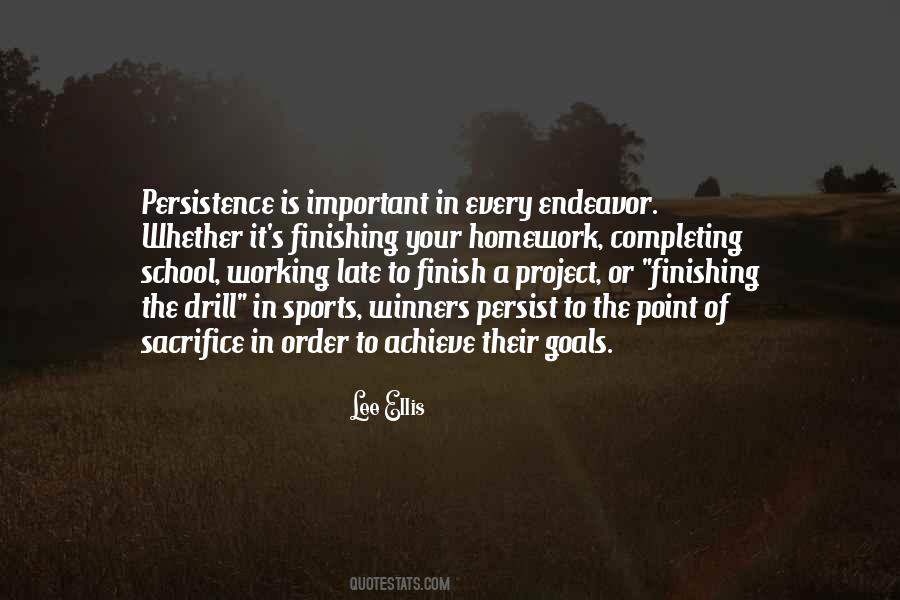 #33. Really, Sage? A date?"
I sighed. "Yes, Adrian. A date."
"A real date. Not, like, doing homework together," he added.
"I mean like where you go out to a movie or something. And a
movie that's not part of a school assignment. Or about something boring."
"A real date.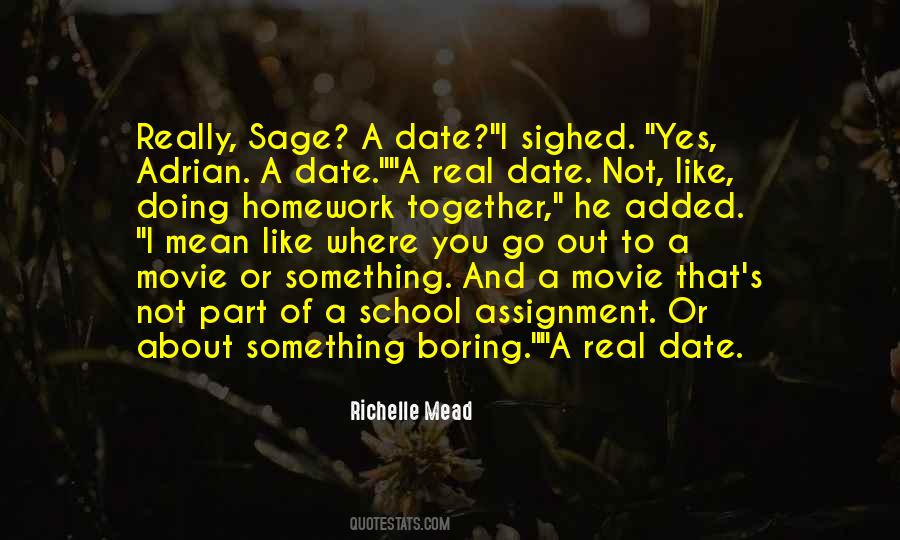 #34. They would send me notes on what's going on, and we would pitch in and talk about what we wanted to talk about on the show. I just really did my homework. It was more like a real job for me. Doing this talk show was like, "Wow, this is what they do?!" I can't even imagine doing it every day.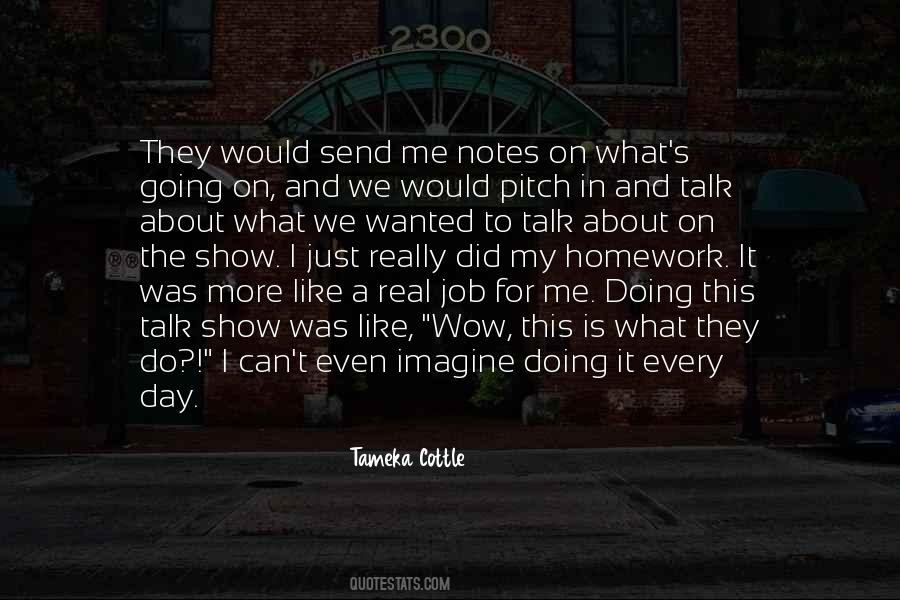 #35. Grovelling is not a substitute for doing your homework.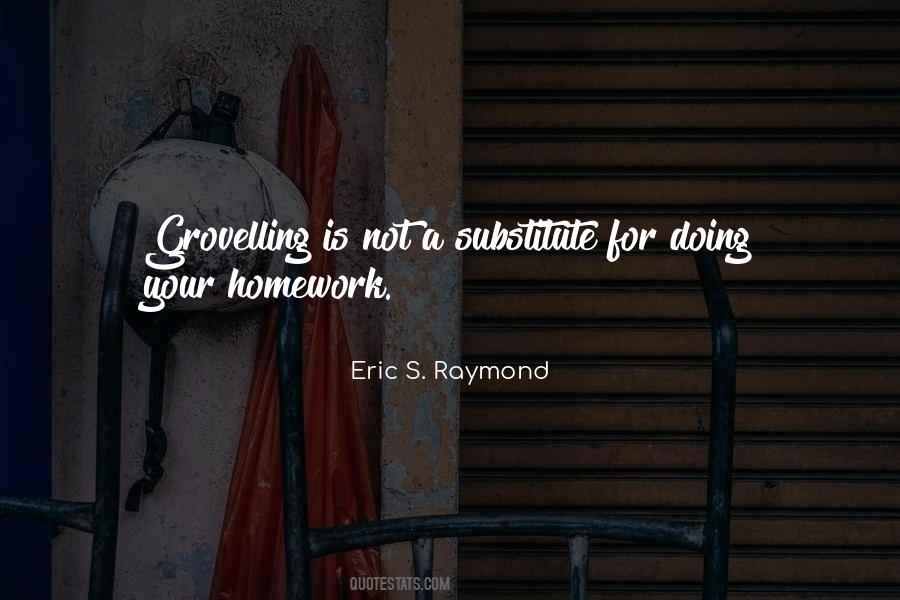 #36. Before I forget, here's your homework. Where do you want me to put it?"
She pointed at the trash can. "Right there would be fine.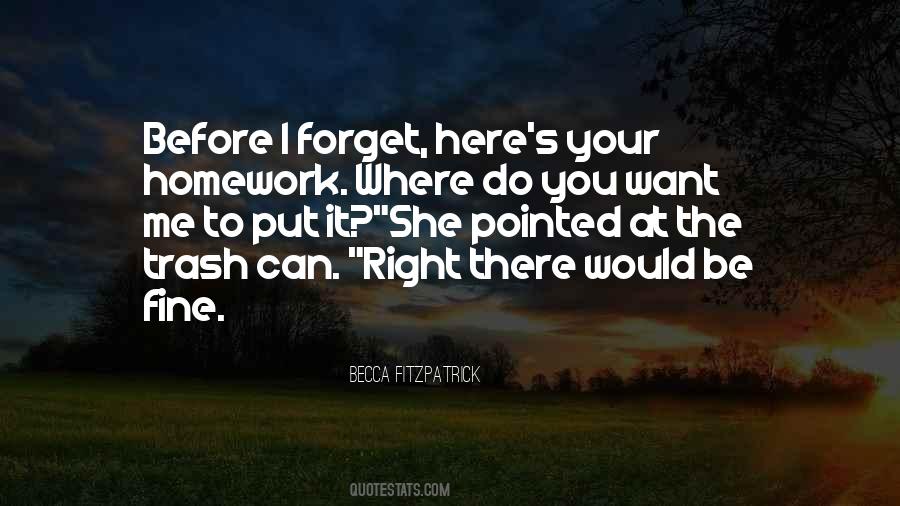 #37. Nothing's wrong. But there's always suffering, Pudge. Homework or malaria or having a boyfriend who lives far away when there's a good-looking boy lying next to you. Suffering is universal.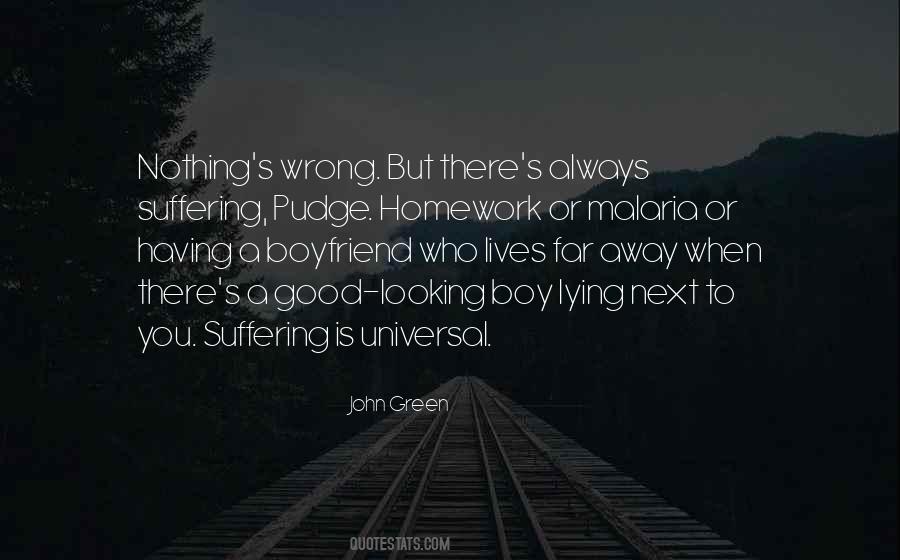 #38. My kids are exhausted every day, and I keep them that way. It's gym, ice, homework. They're too tired to get in trouble.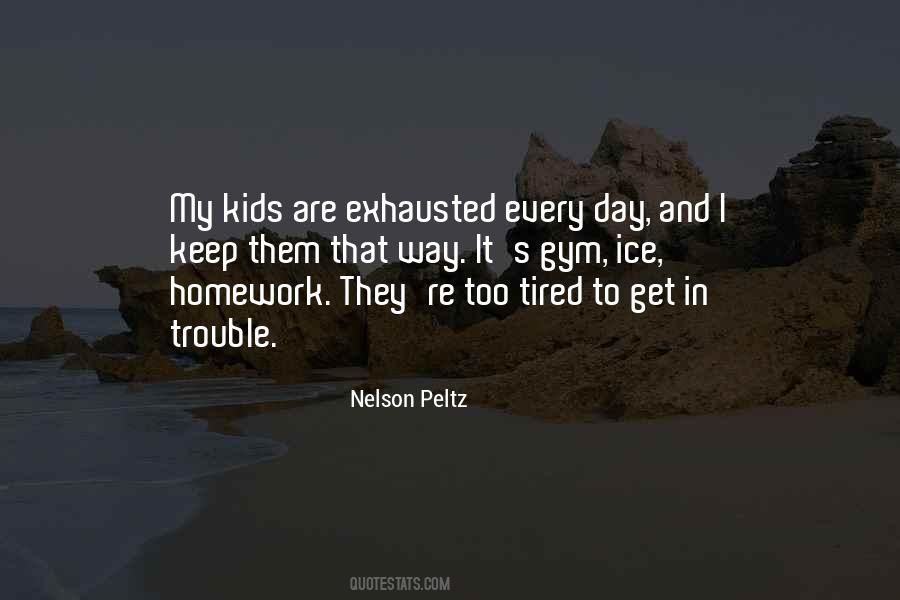 #39. With the notebook resting ominuslously on Janie's bed, Janie procrastinates.
Does her homework first.
And pours herself a bowl of ceral. Breakfast - one of the five most important meals of the day. Not to be skipped.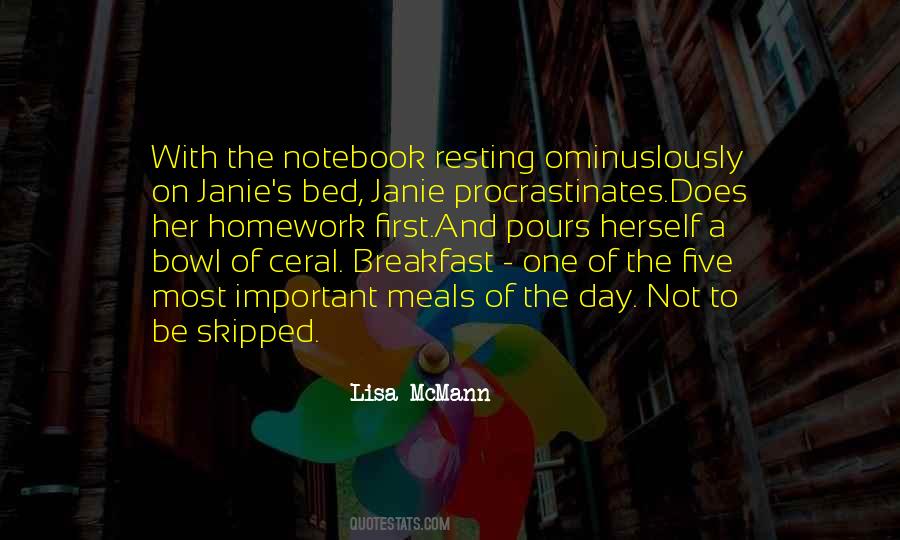 #40. Ricky was "L" but he's home with the flu,
Lizzie, our "O," had some homework to do,
Mitchell, "E" prob'ly got lost on the way,
So I'm all of the love that could make it today.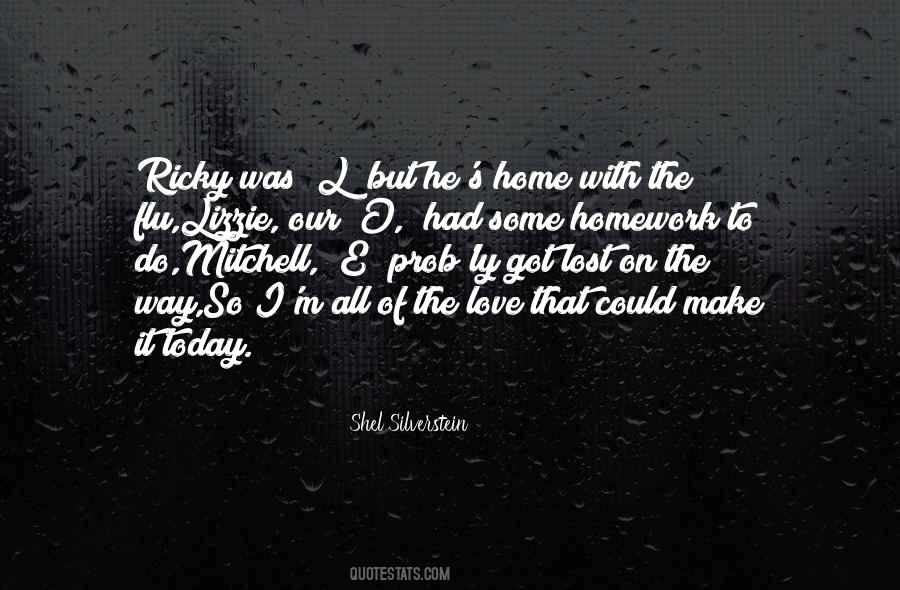 #41. When my children were very young and I was working I had someone cooking for me. I don't have a cook now, I haven't had one for a number of years and I do it myself. But when they were all little it was hard to pay attention to everyone's homework at the end of the day and make dinner.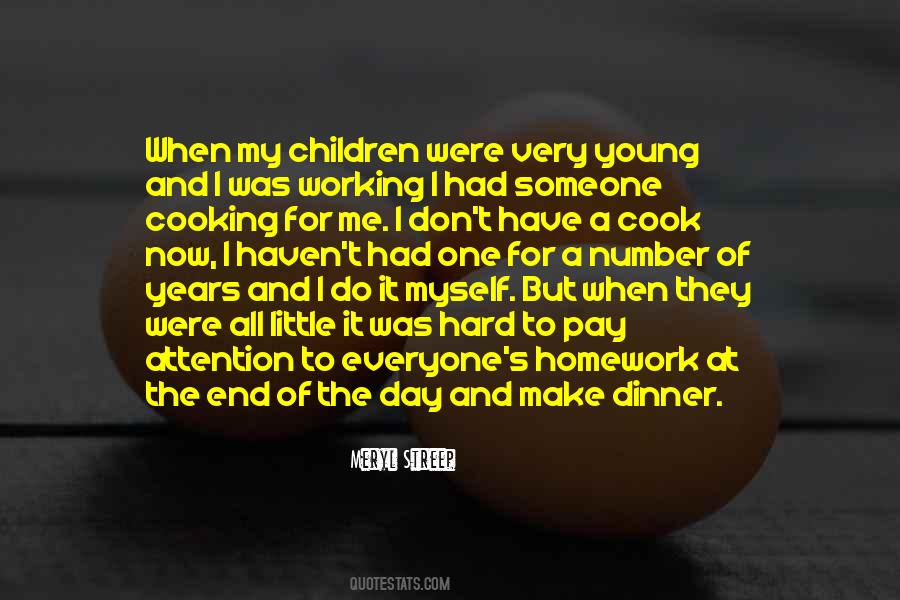 #42. I just couldn't stand school. If I went, I'd skip after the first class. I didn't like to be told I had to study and had to do homework. There's a fact that you have to want to learn.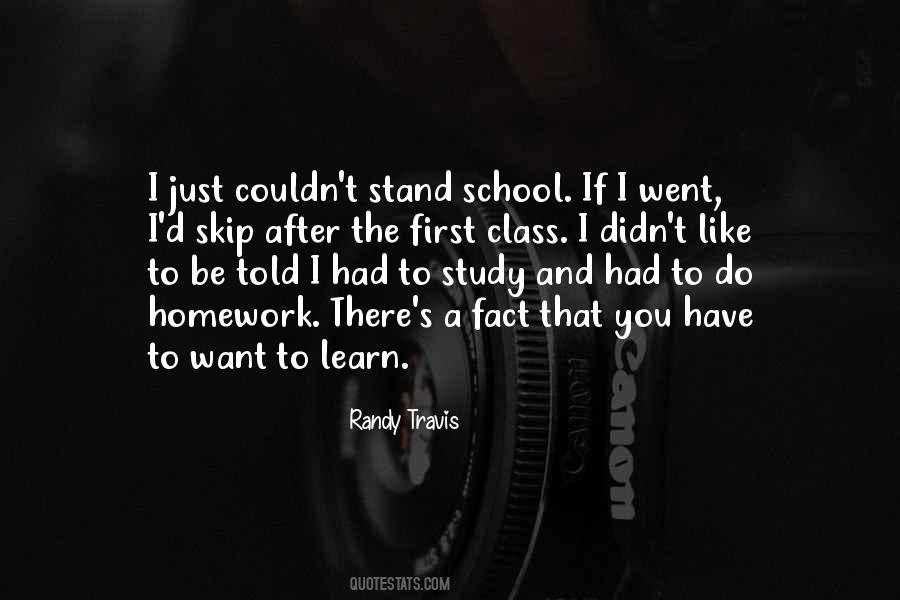 #43. Kink is only sexy when done between consenting adults," Nora said. "So don't do any kink until you're at least eighteen. No, twenty-one. Thirty. Thirty's a good age to start. And do your homework. And stay in school. And don't do drugs. God, I'm a hypocrite. Someone find me my beer. Please.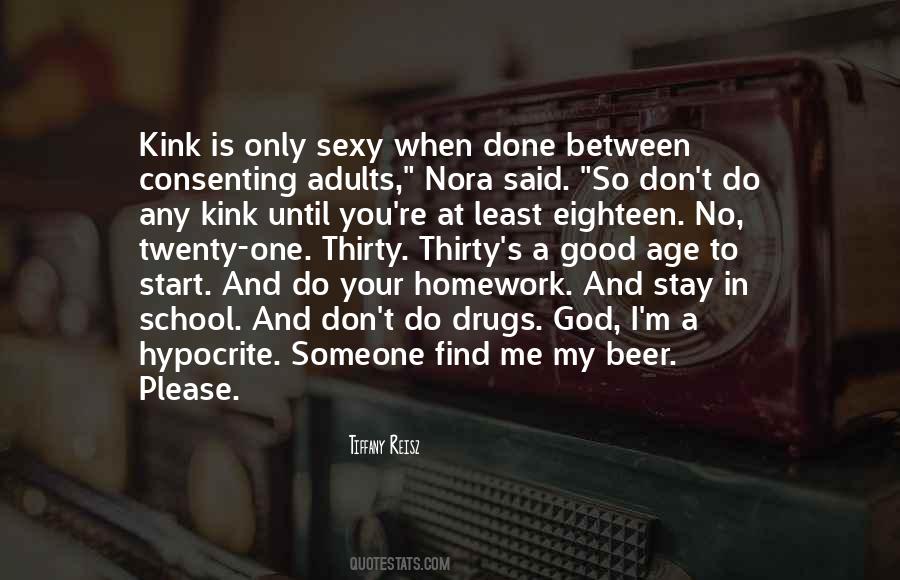 #44. I was in seventh grade at St. Matthew's. The teachers would tell me, 'God loves you,' and then whack a ruler across my hand. 'Well,' I'd say, 'if God loves me, can you call God? Can you ask Him if it's all right that I didn't do my homework? If it's not, then let Him hit me.'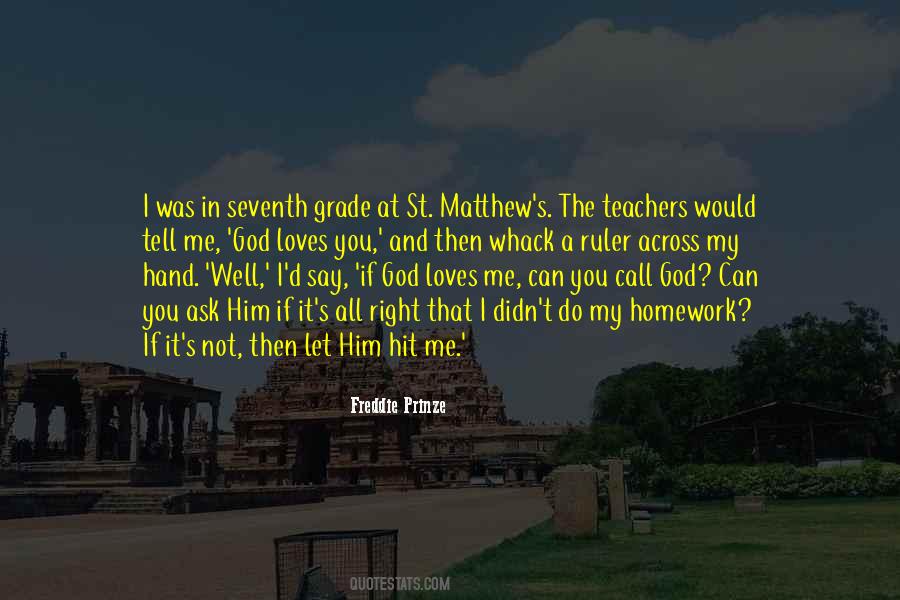 #45. I get her to school, we do homework at night, and at this age, their social calendars are really quite hectic. She's not driving yet, so I end up chauffeuring her around.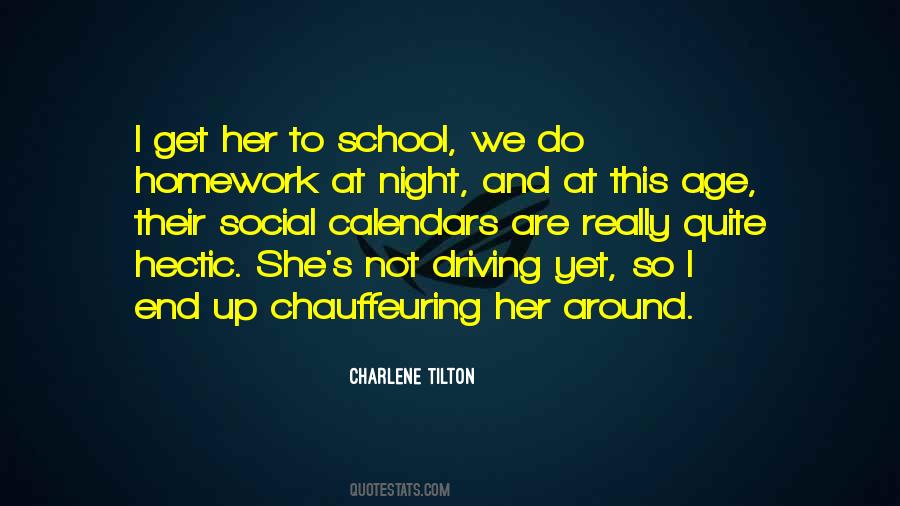 #46. Some grown-ups could be so inherently stupid. Try banning homework sometime. You might see those straight A's so many parents long for.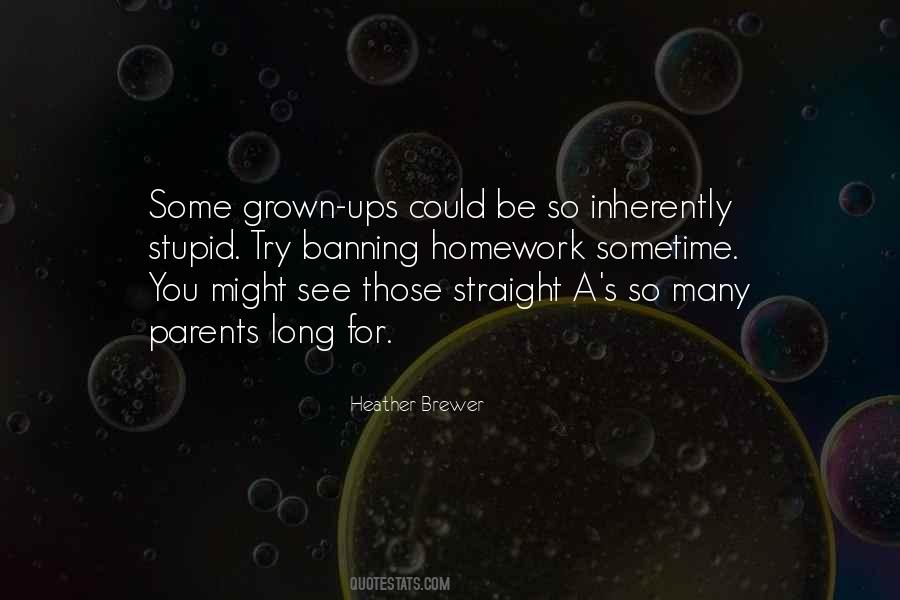 #47. I am going to keep my mind (well, what's left of it) occupied by doing (and I never thought the day would come when I would say this) my homework.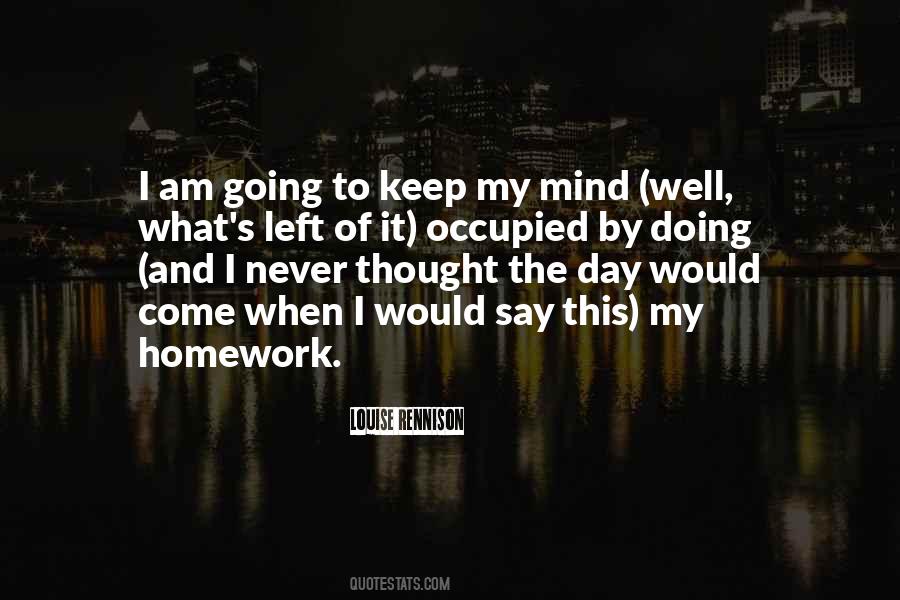 #48. I definitely love 'Camelot.' It's my favorite show. I'm a big 'True Blood' fan. I love 'American Idol,' and I love my girl J-Lo. The rest are my homework shows: 'Forensic Files,' 'Dr. G. Medical Examiner,' 'The First 48.'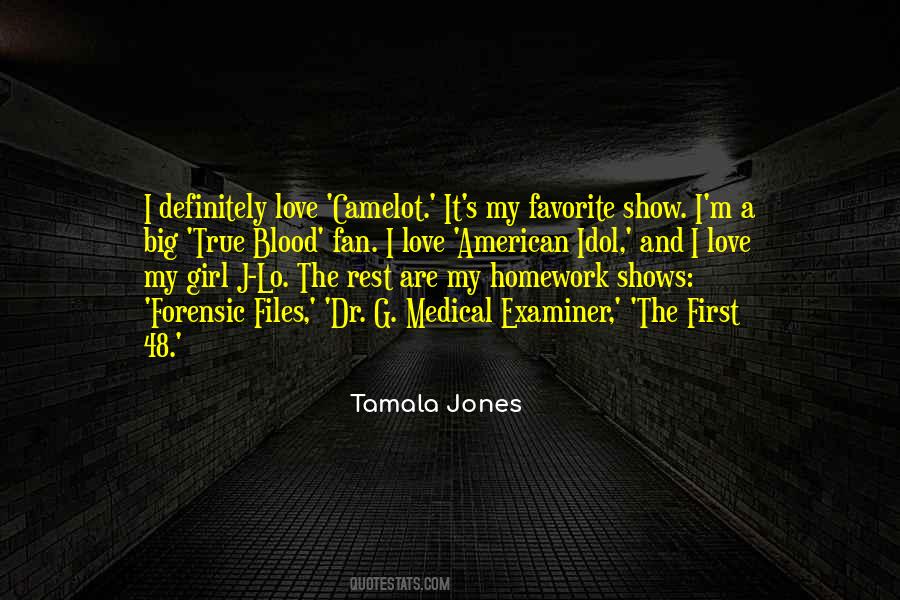 #49. That's my fun time so, to me, doing my homework, studying on what I do, watching the movies, listening to music, all that inspires me so I focus a lot on that and practice.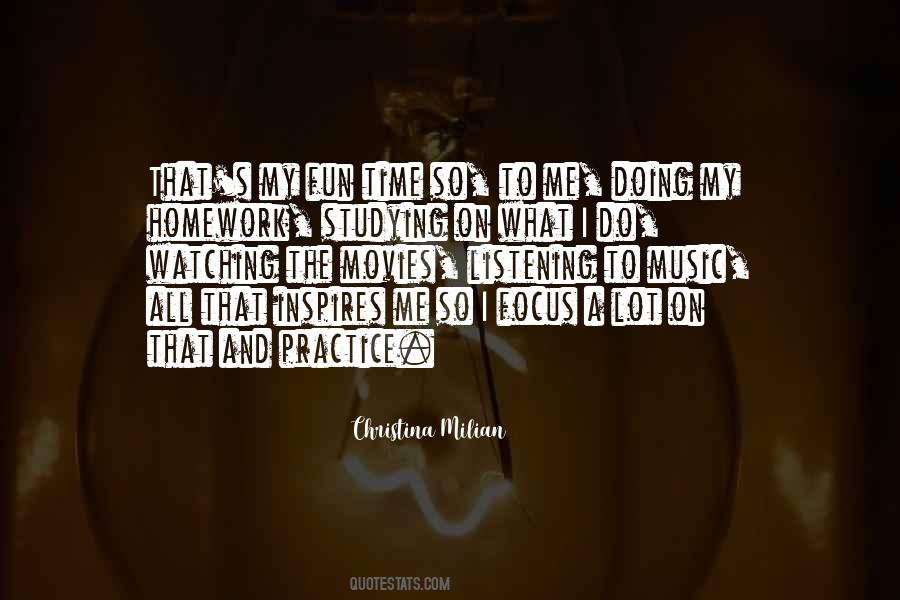 #50. The best thing about baseball is there's no homework.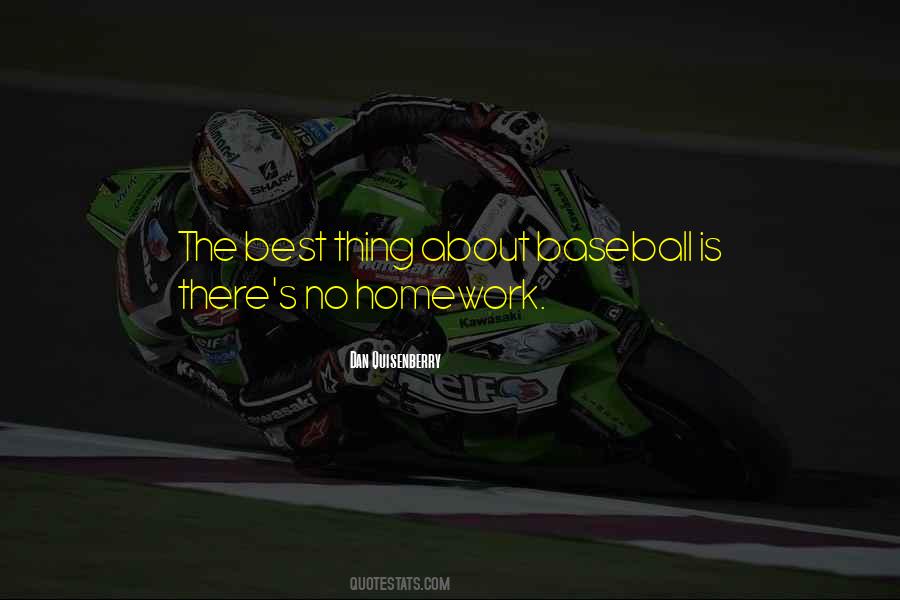 #51. It's just not possible to be a real partner if you aren't materially participating. I believe even the busiest business owners must drive a carpool, pack a lunch, help with homework, make a breakfast or dinner, and consistently attend school events.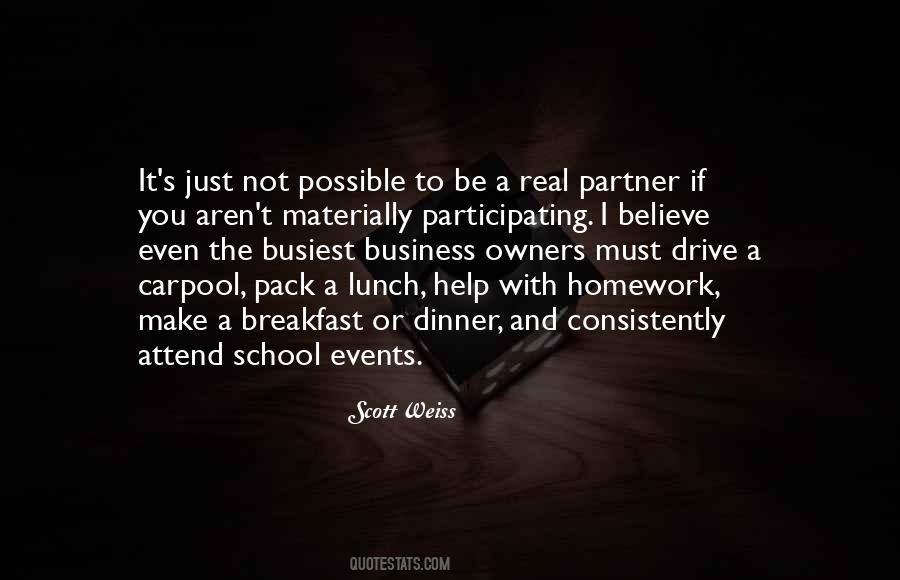 #52. The constant need for special waivers is symptomatic of poorly written public policy. It's a signal that the cost of compliance is unreasonably high; the benefits are hard to measure; and either legislators or regulators have failed to do their homework.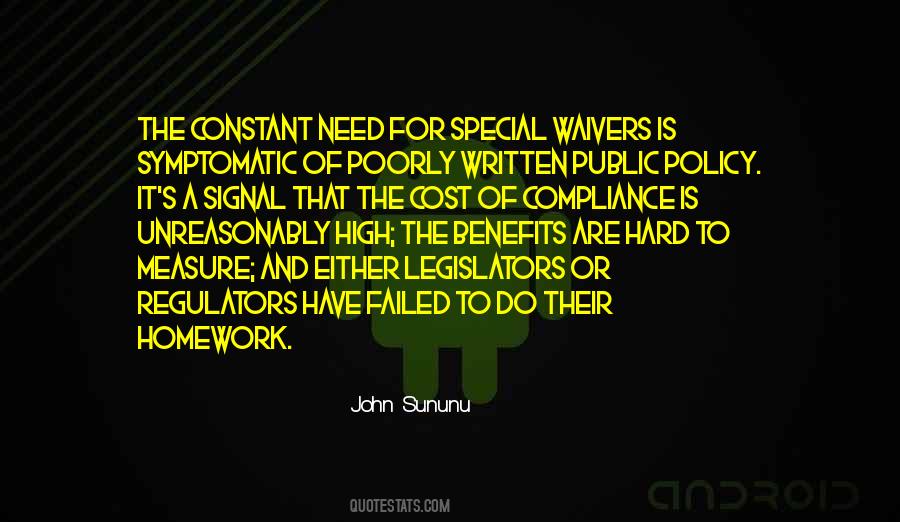 #53. I will not go into a story unprepared. I will do my homework, and that's something I learned at an early age.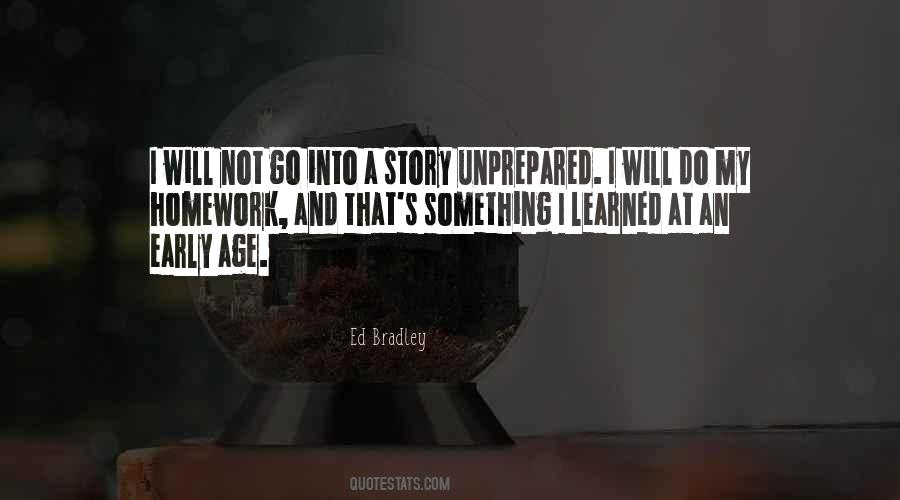 #54. The hardest part of writing is the same as doing your homework...it's staying seated in your chair.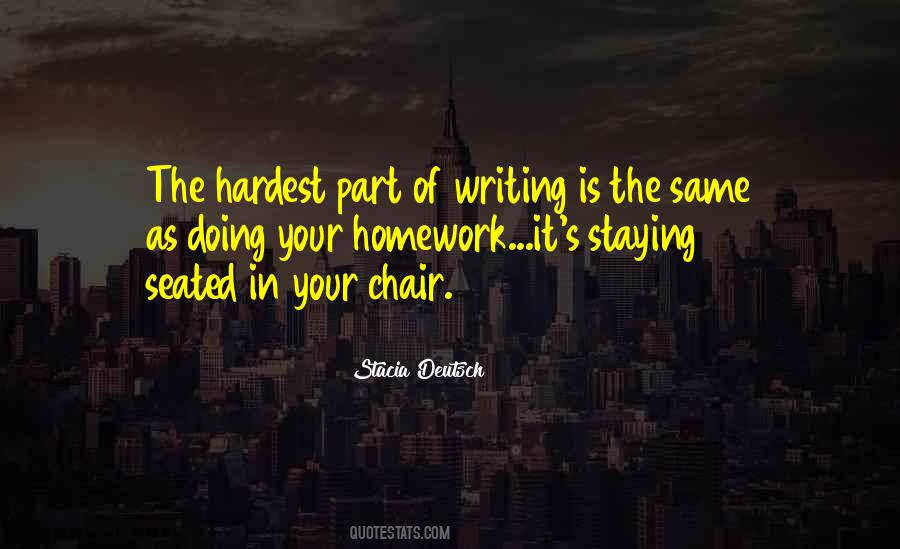 #55. I think as a species we're not designed to be able to think more than one year into the future - if that. Even trying to imagine one year from now makes most people feel like they've been given a huge boring chunk of homework that's too hard to do.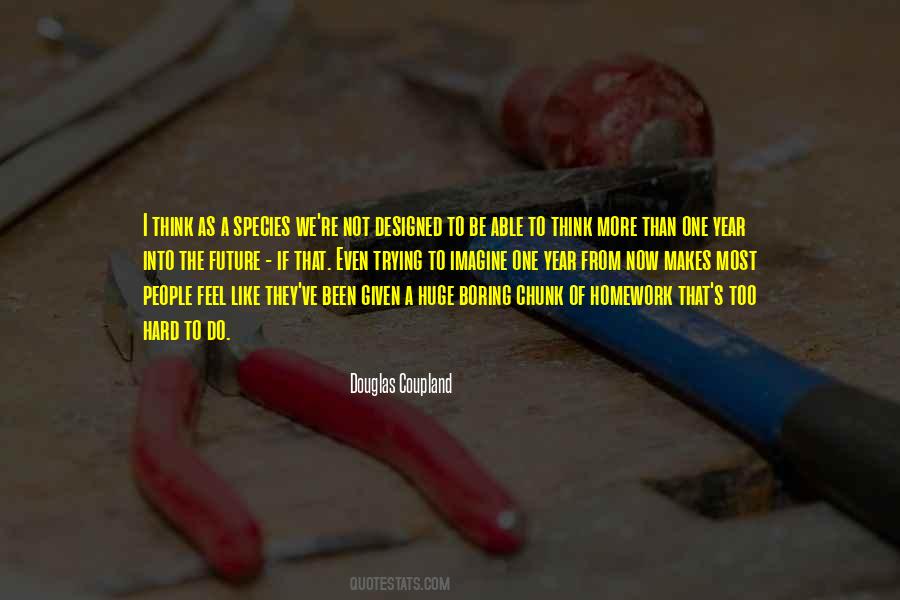 #56. Knowing yourself is life's eternal homework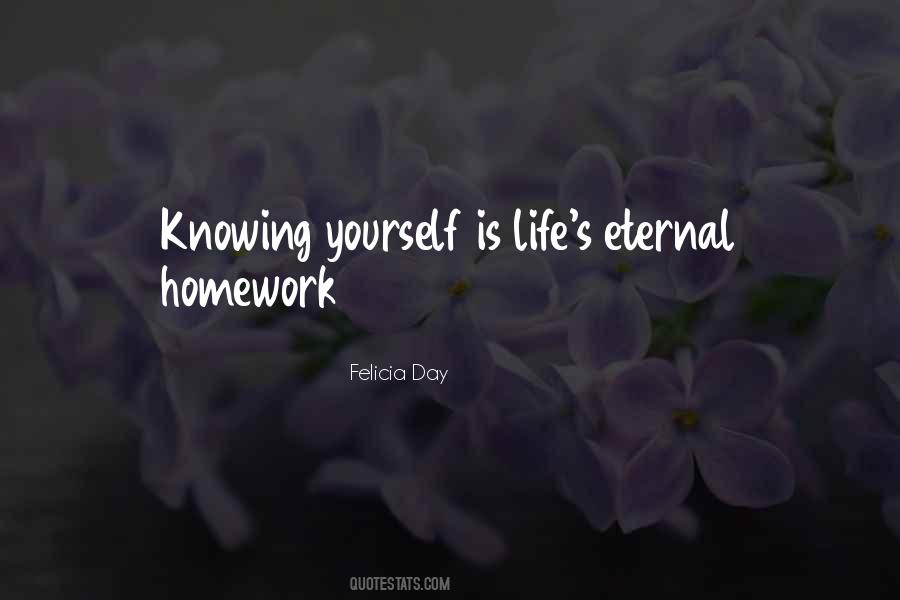 #57. I'm really going to do my homework. I'm going to be down there on the practice tee finding out if a guy's wife beat him up the night before, important stuff like that. Stuff that people want to know.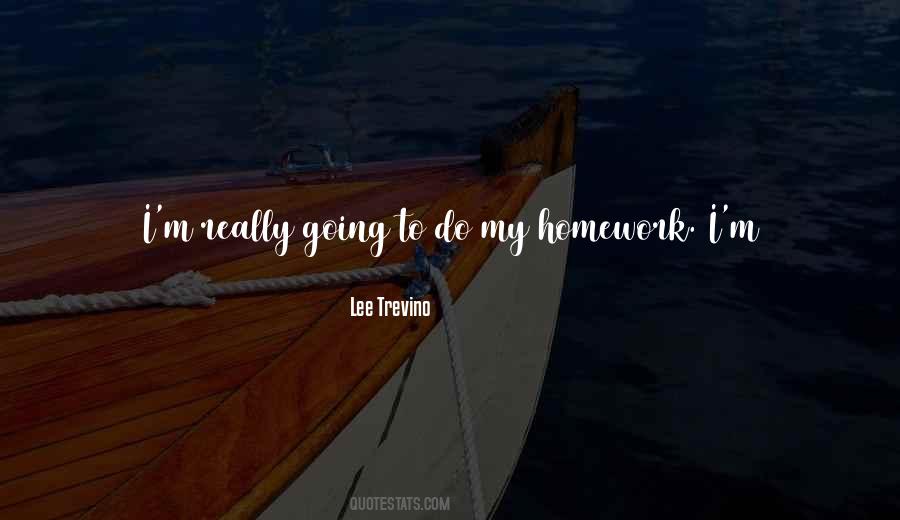 #58. I'm in the middle of my own 'Project Runway' challenge given to me by my daughter's preschool. All the parents have to make an outfit for their kids, for school pictures, made entirely out of recycled objects. I can not believe I have homework.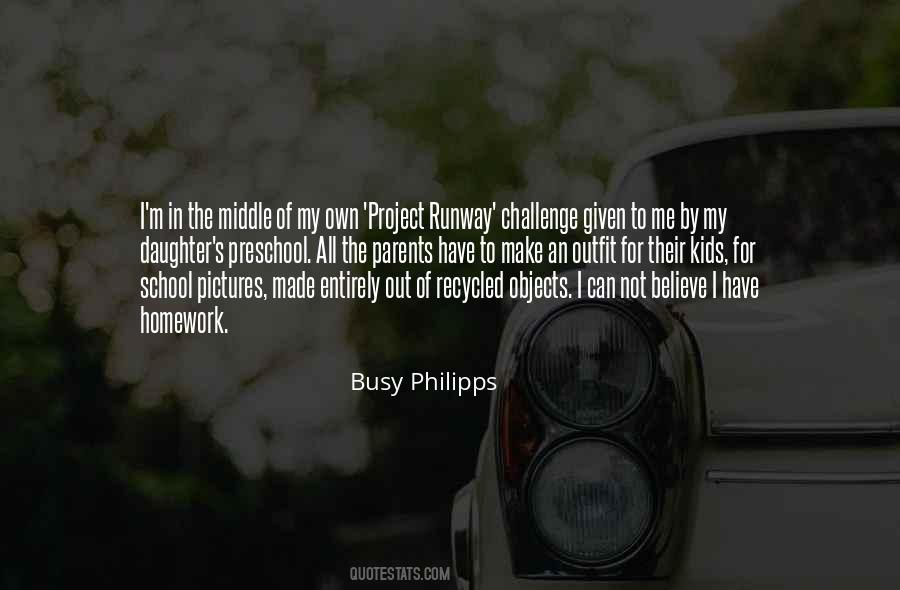 #59. So, what are you doing tonight?"
Me?" Janie laughs. "Homework, of course."
You want company?" Carrie's looking wistful.
Do you have homework to do?"
Of course. WEther I do it or not is the real question.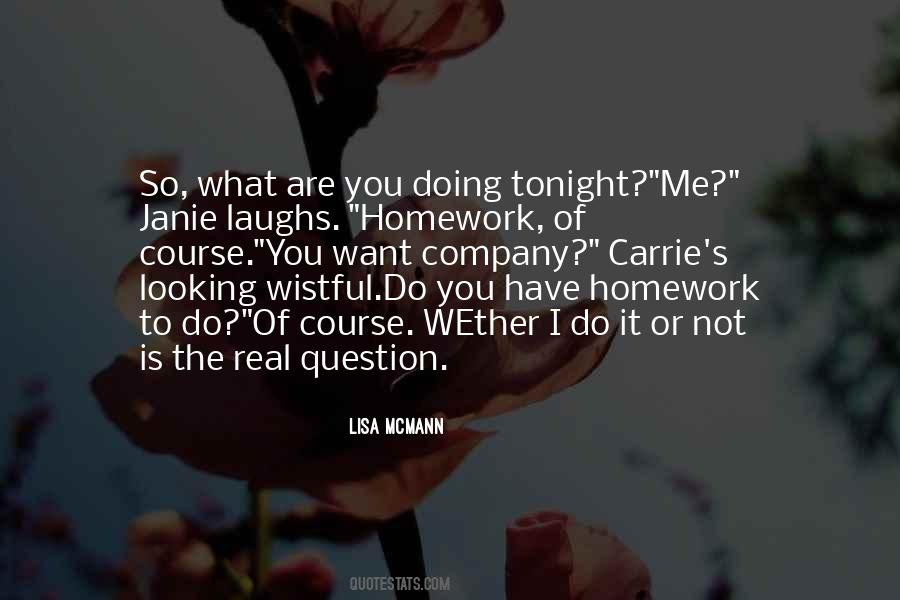 #60. It's alright to keep and open mind, but at a certain point - once you have thoroughly completed your homework - you have to learn how to stop and focus on intensely and passionately executing these goals step by step. You have to repel the distractions.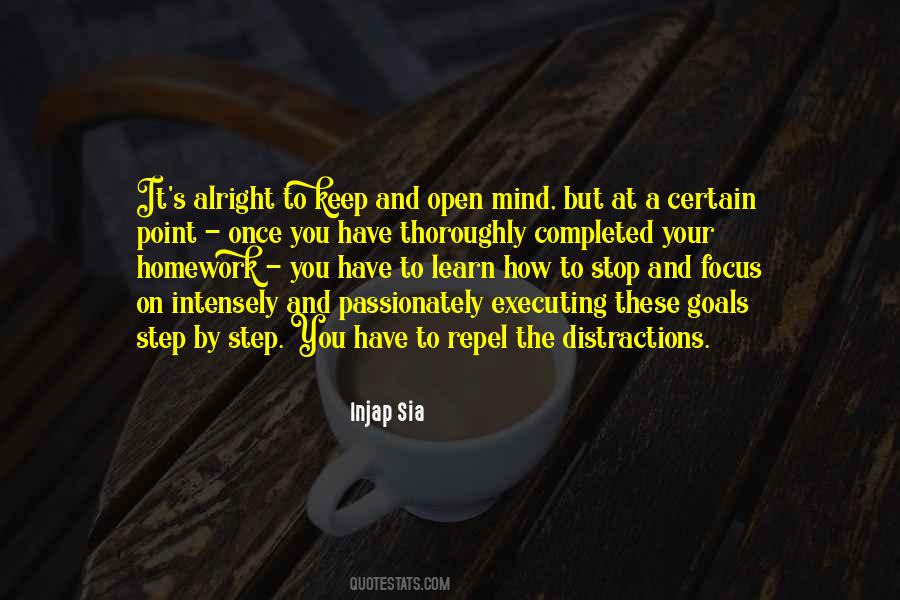 #61. There's some [films] where I do a lot of homework and then there's some, where it's supposed to take you by surprise. So you kind of just want to get in there and have everything take you by surprise rather than just have him tell you how everything went down.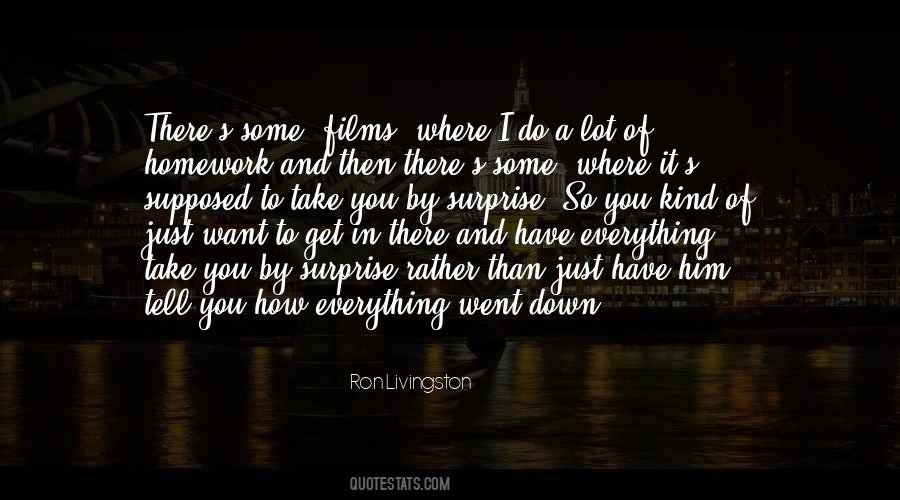 #62. Hello, Mrs. Tran ... I have David's homework. And if you ever want to see it again, you'll pay me the two million dollars I asked for.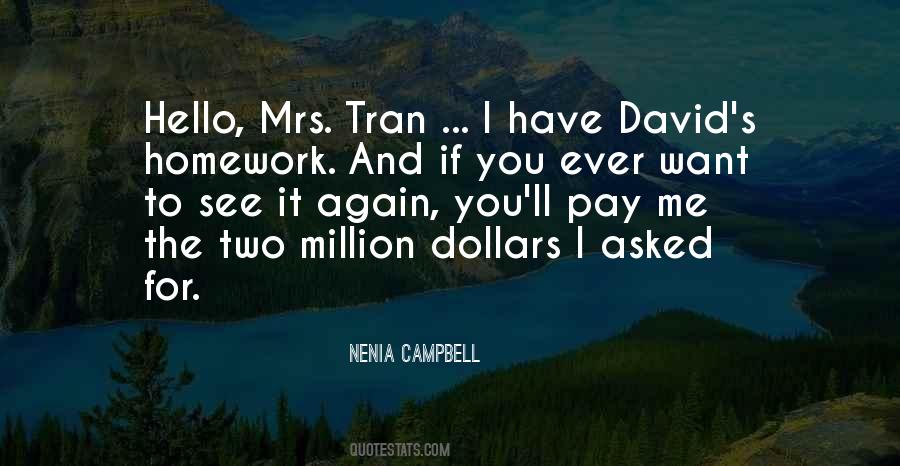 #63. I'm not interested in politics, or being a part of them. I definitely do my homework and make sure that I know what's going on, and I'm responsible enough to be able to vote for people that I respect. But other than that, I've never been a part of the political world.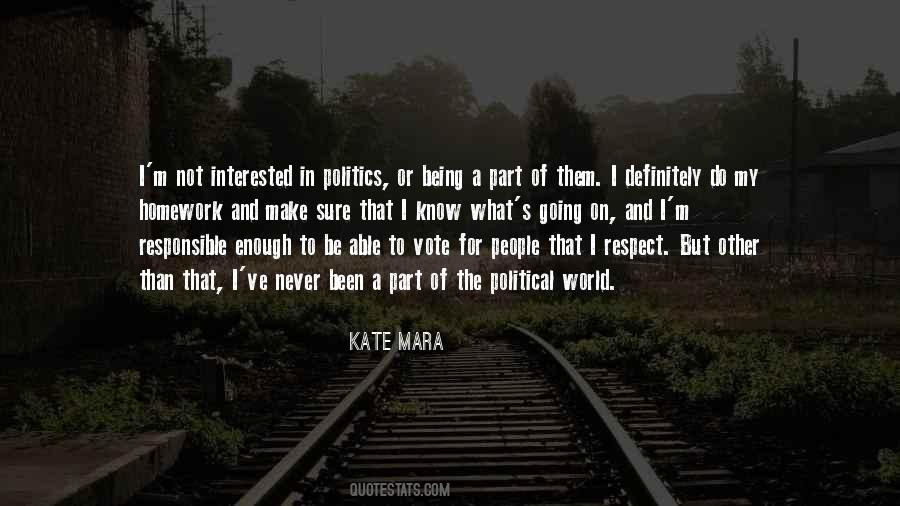 #64. I don't know anybody who said, 'I love that teacher, he or she gave a really good homework set,' or 'Boy, that was the best class I ever took because those exams were awesome.' That's not what people want to talk about. It's not what influences people in one profession or another.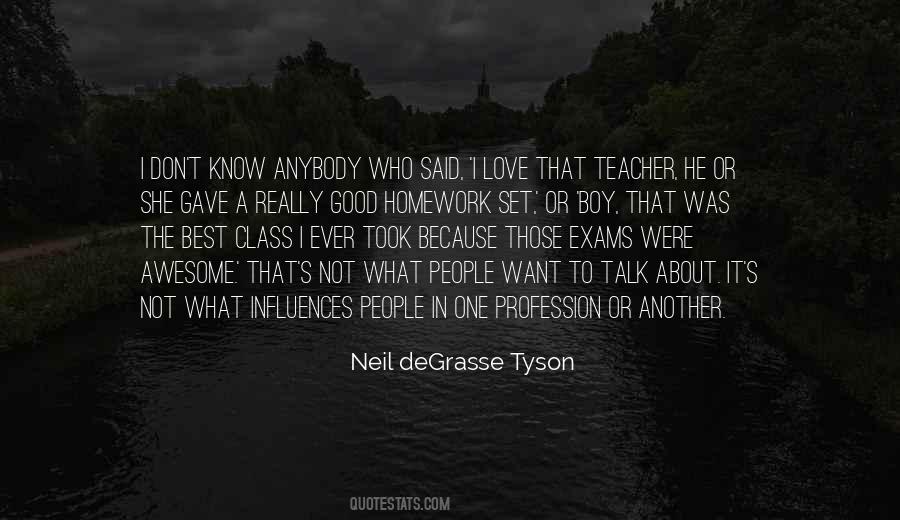 #65. I loved school, I loved putting on my uniform and doing homework every day. I was one of those good students that the teachers liked. I guess that's got to be a pretty nerdy, geeky part of me.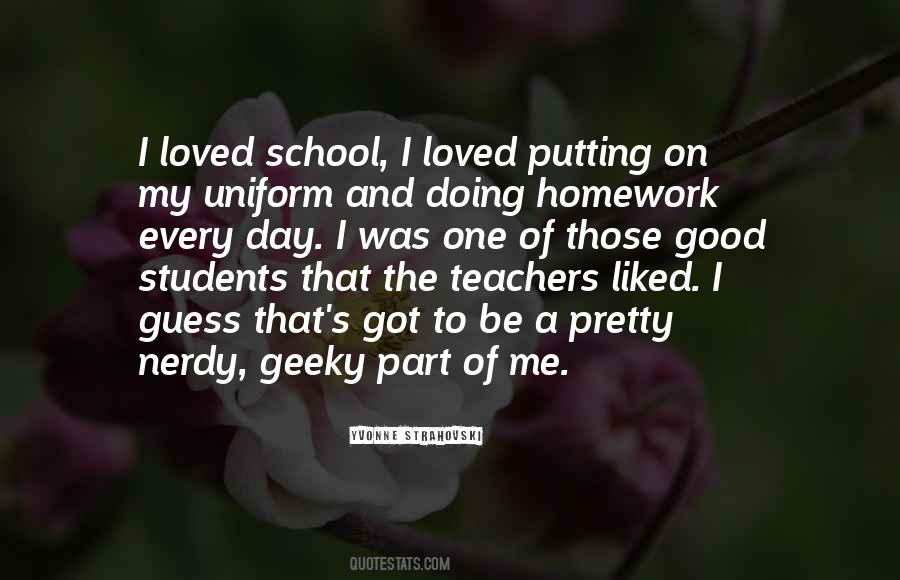 #66. Good sex is an all-day affair. You can't treat your wife like a servant and expect her to be eager to sleep with you at night. Your wife's sexual responsiveness will be determined by how willingly you help out with the dishes, the kids' homework, or that leaky faucet that drips throughout the night.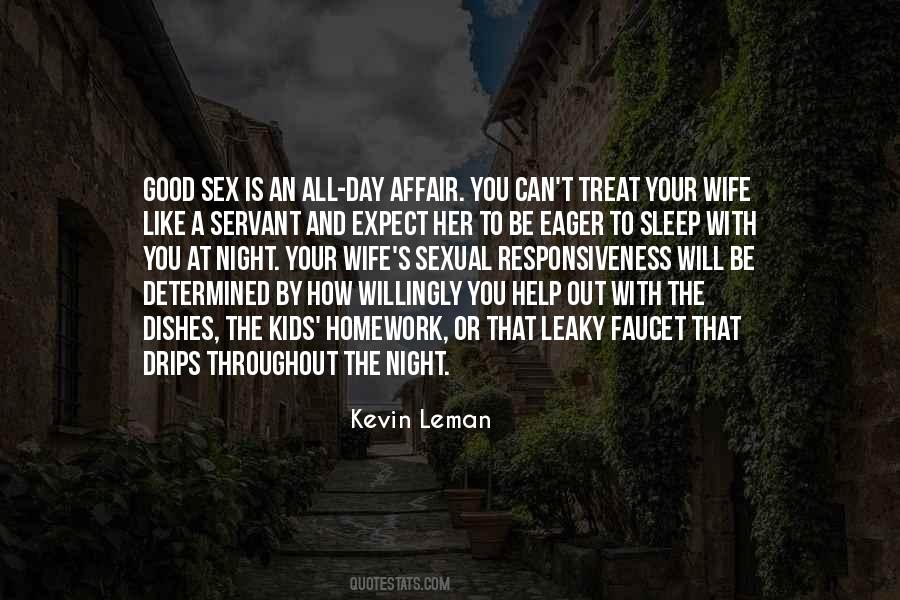 #67. I don't know anything about god except that it's not me. So, somewhere between that acceptance and doing my homework and being competitive and having ambition and loving my job and observing and reflecting my society, that's where I find the purpose. Because man needs purpose.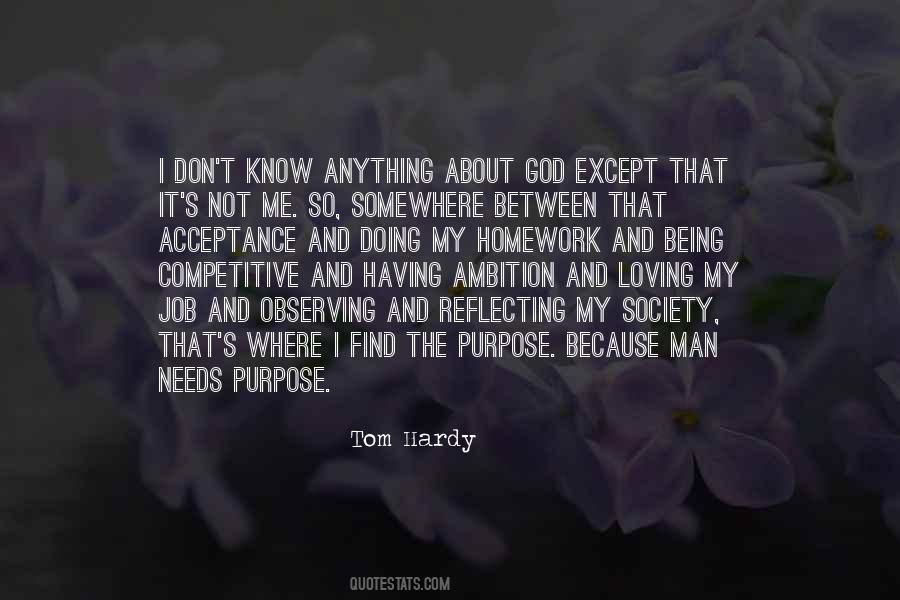 #68. Sadly, I do my homework. I've a soft spot for the boring minutiae. I read the Charter of the United Nations before meeting with Kofi Annan. I read the Meltzer report, and then I'll read C. Fred Bergsten's defense of institutions like the World Bank and the I.M.F. It's embarrassing to admit.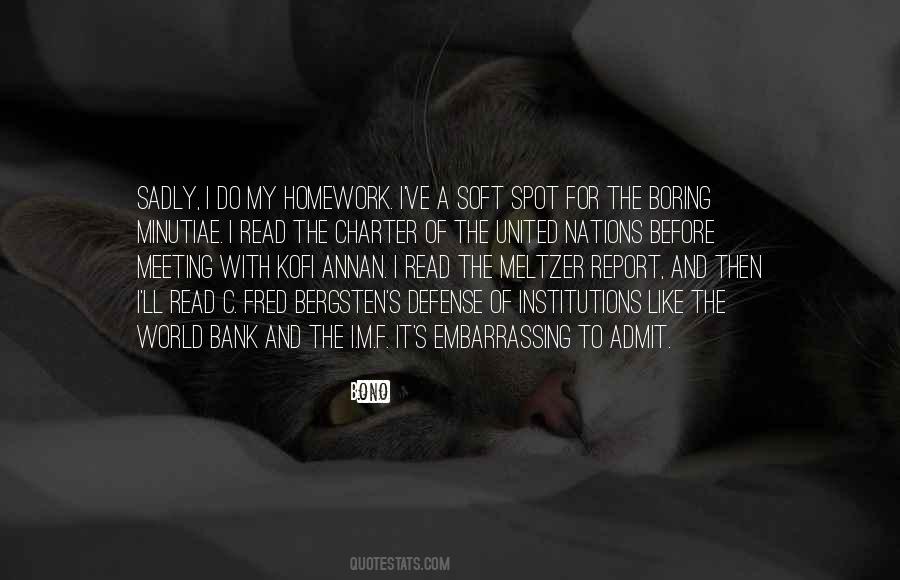 #69. When was the last time you used the words 'teach me'? Maybe not since you started first grade? Here's an irony about school: The daily grind of tests, homework, and pressures sometimes blunts rather than stimulates a thirst for knowledge.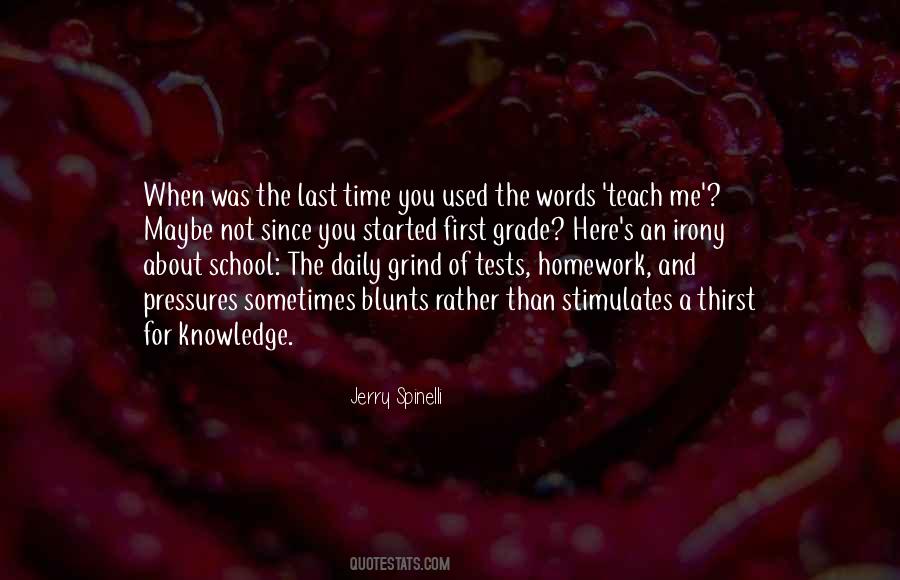 #70. Looking at the original lyrics [of "A Song For You" ] as I was preparing it, I thought, "Wow! I feel like it was written for me." That's what a great song does. You don't have to do a lot of homework. You can just say the words and it springs to life.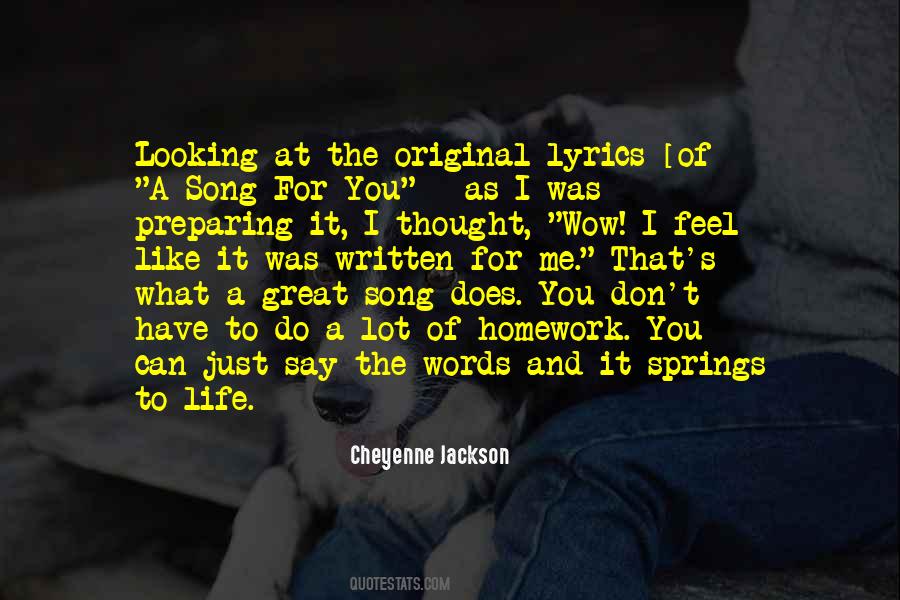 #71. We actors are superstitious creatures. We do all the homework, and we put all of the components together, but there's always one key aspect that we're not in charge of, really, and that's magic. You are always on the lookout for where and how that magic is going to ignite.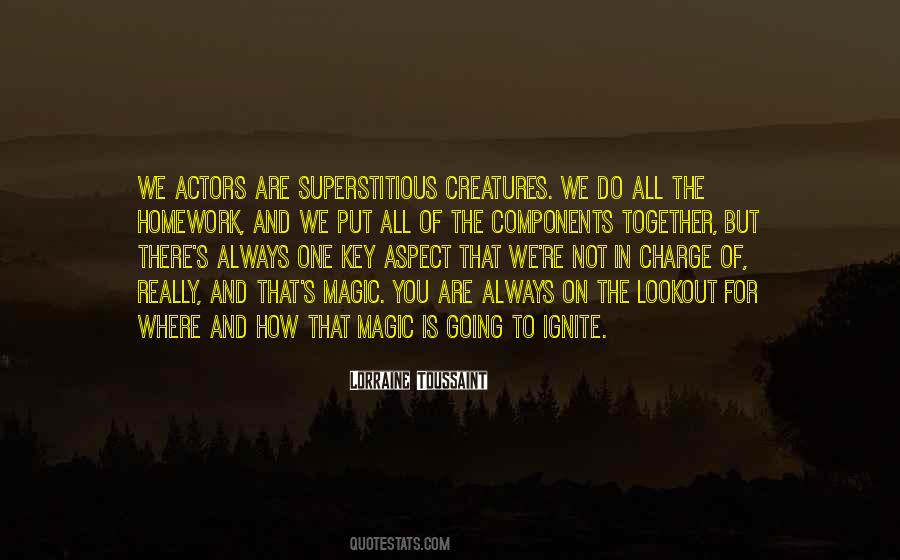 #72. I'm just like any other regular mum; cooking, cleaning, wiping butts, picking up after kids, being a wife and helping the kids with their homework. Mind you, I'm terrible at maths. I can't even do my six-year-old's maths homework with her.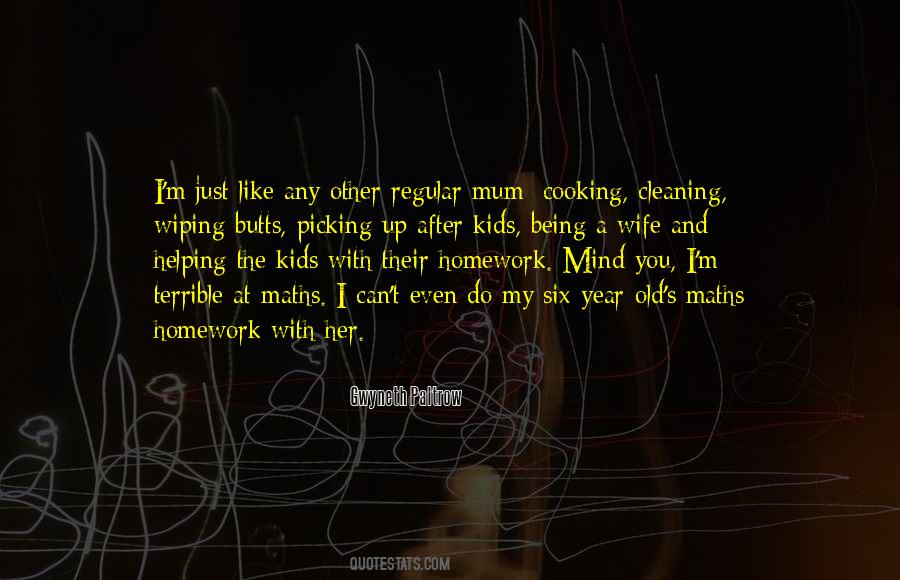 #73. For the first time in his life, he decided to focus on his math homework.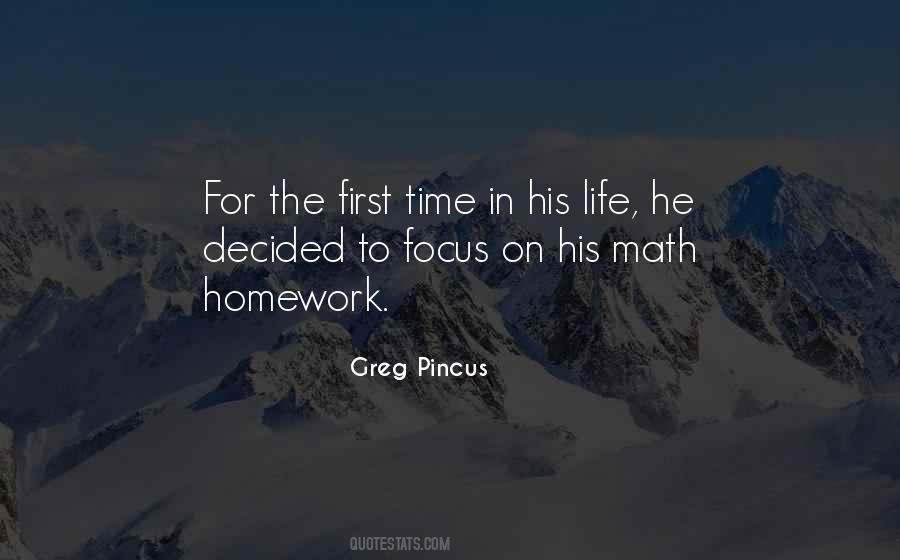 #74. If I do have kids, I can't wait because I'm excited to go back to school to help them with their homework and remember how to do simple math. I think it's about staying curious and not losing the sense of wonder.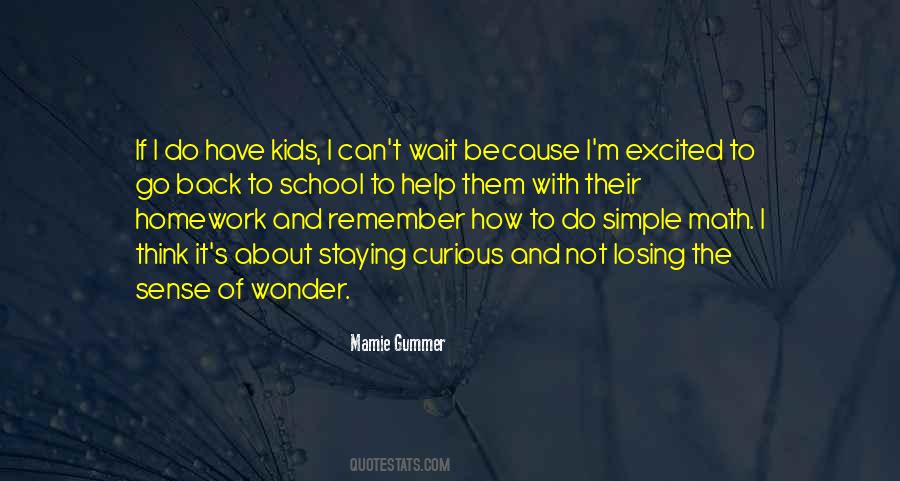 #75. If you ask the typical two- or three-year-old or a teenager what a robot is, they will think about a humanoid that does my homework for me or walks the dog. When I go and talk to kids and pull out the Roomba, it's not this big 'Wow!' moment.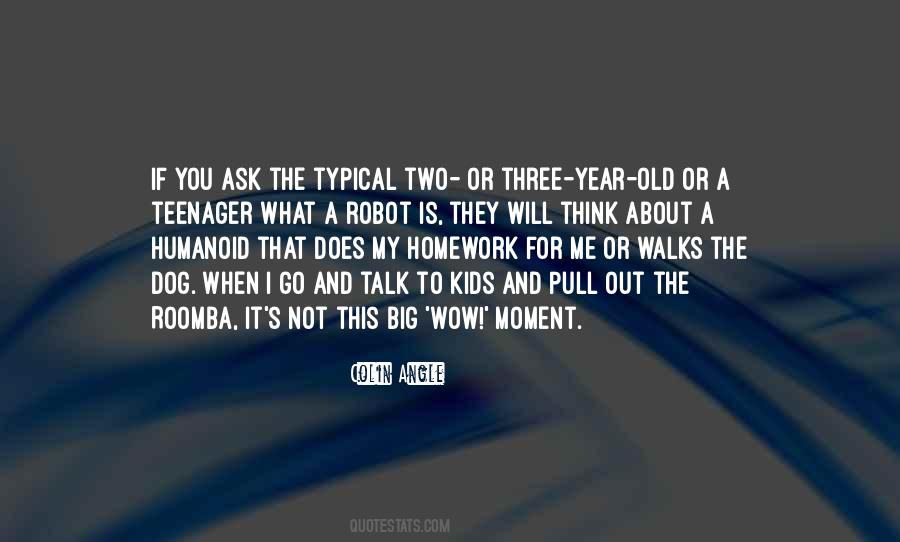 #76. Wonder what it's like to have a peaceful life, Ron sighed, as evening after evening they struggled through all the extra homework they were getting.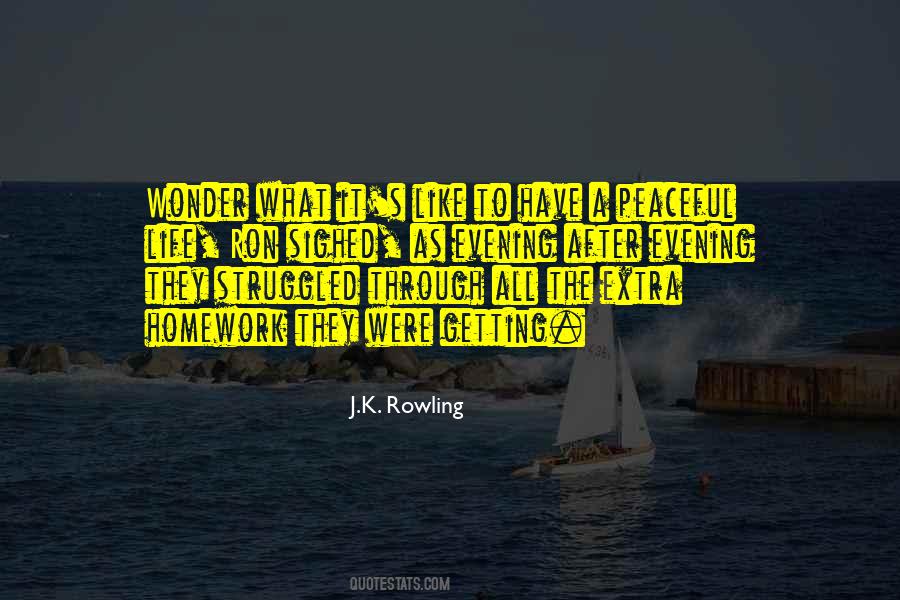 #77. It's hard to feel smart when you're always forgetting things, but Mama Shannon says that's how you can tell a smart person. They're too busy thinking about Big Ideas to worry about little details like tying their shoes or remembering their homework" -Fella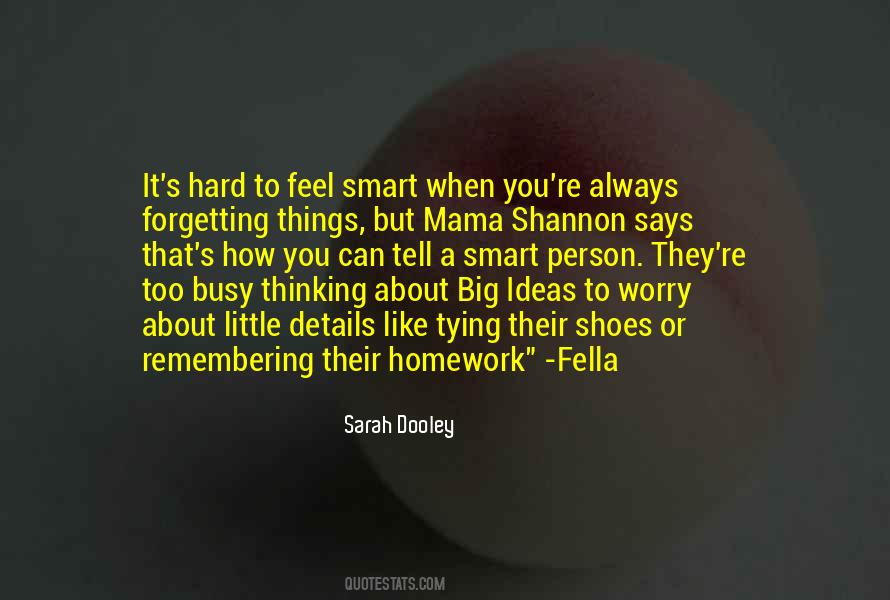 #78. Be very focused. Do your homework so your research and claims are unassailable. Make sure it is bulletproof and then make sure you are really focused. The thing I find is that the issues are usually so large that you try to cover a lot of ground. That's a natural impulse.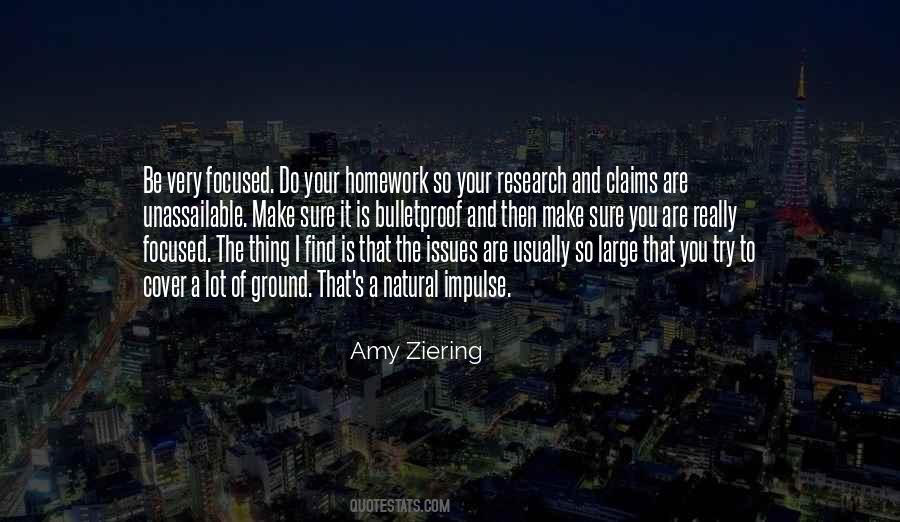 #79. High school is worse than having to swim through multiple prahana filled lakes- and that's before the truckload of homework.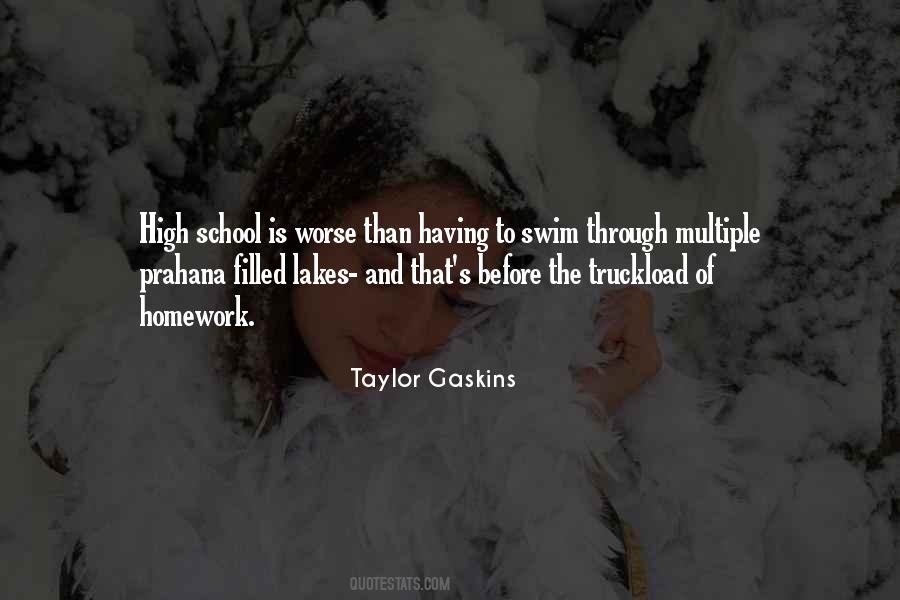 #80. I do my precalc homework, and then when I'm done I actually sit with the textbook for like three hours and try to understand what I just did. That's the kind of weekend it is
the kind where you have so much time you go past the answers and start looking into the ideas.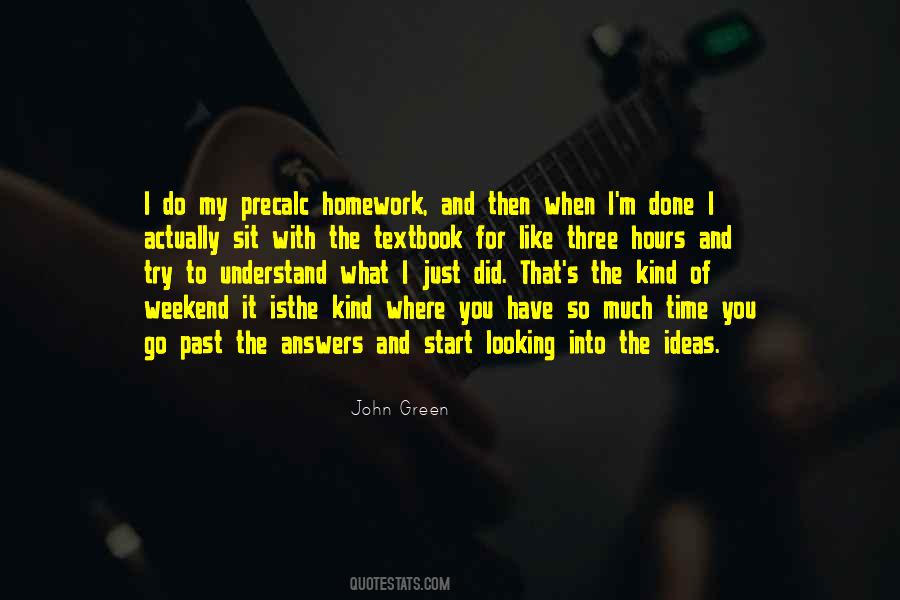 #81. In the police's defense, the Riot aren't wearing their cuts, but I'm disappointed. The Riot watching the store are big names and we know them by face and road name in order to stay safe. I'd think the police would have done their homework, especially with Violet's life on the line.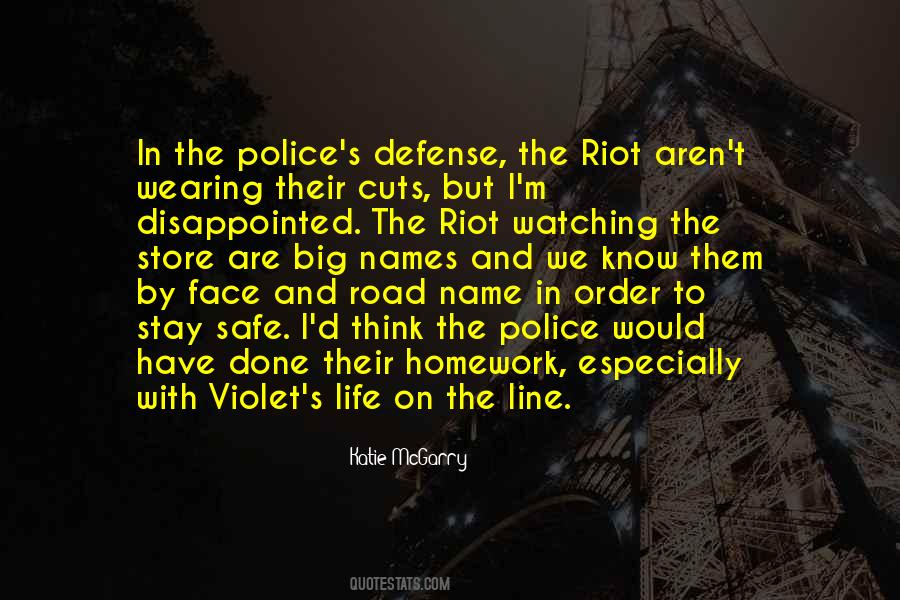 #82. The condom broke. I know how stupid that sounds. It's the reproductive version of the dog ate my homework.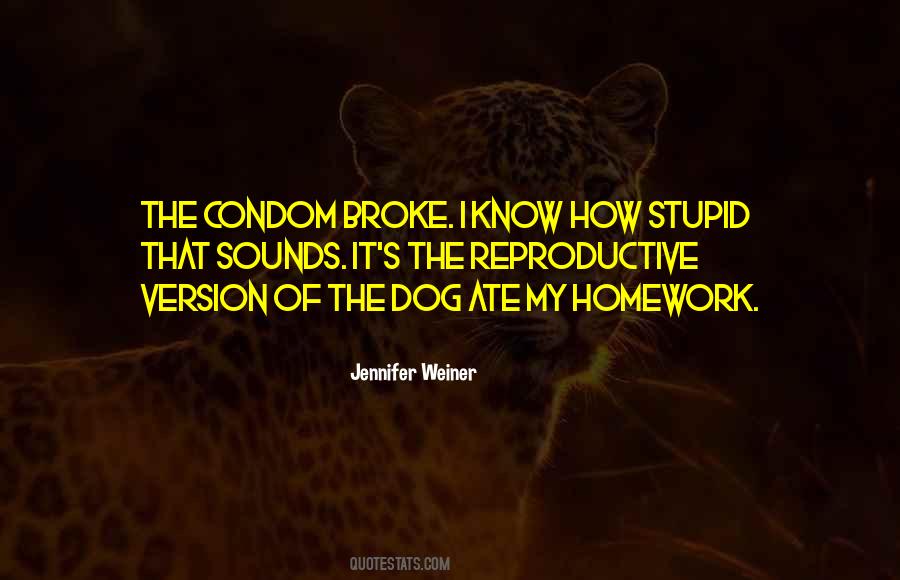 #83. Ishy, you got any homework?"
"If it's fractions, I'll help you," Sam said.
"Hen still doesn't know how to do fractions."
"I have spelling words I have to mesmerize," Ishmael said
"Those words will never know what hit them" Sam said.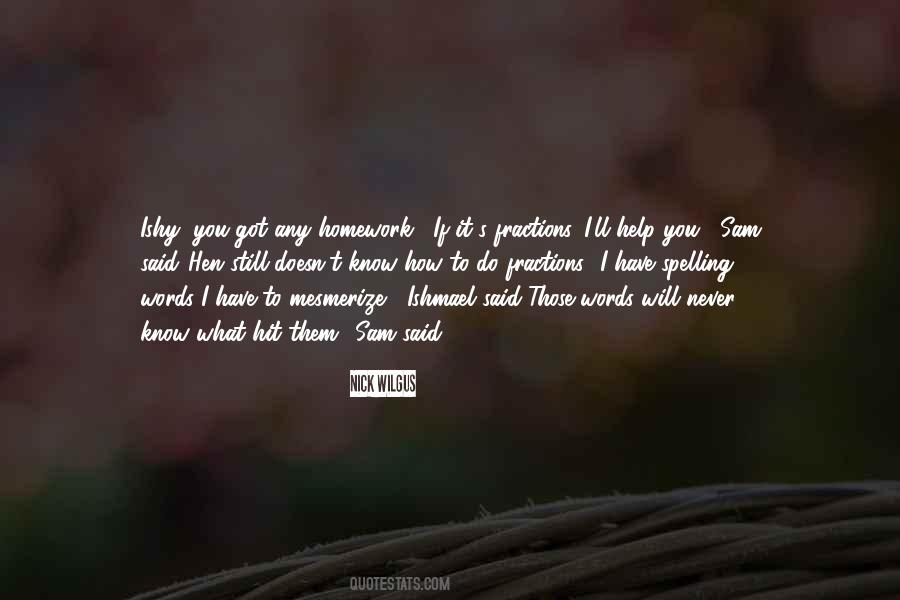 #84. It's very hypocritical to constantly say, 'We want to keep our kids close,' then send them home with so much homework that family time becomes nonexistent.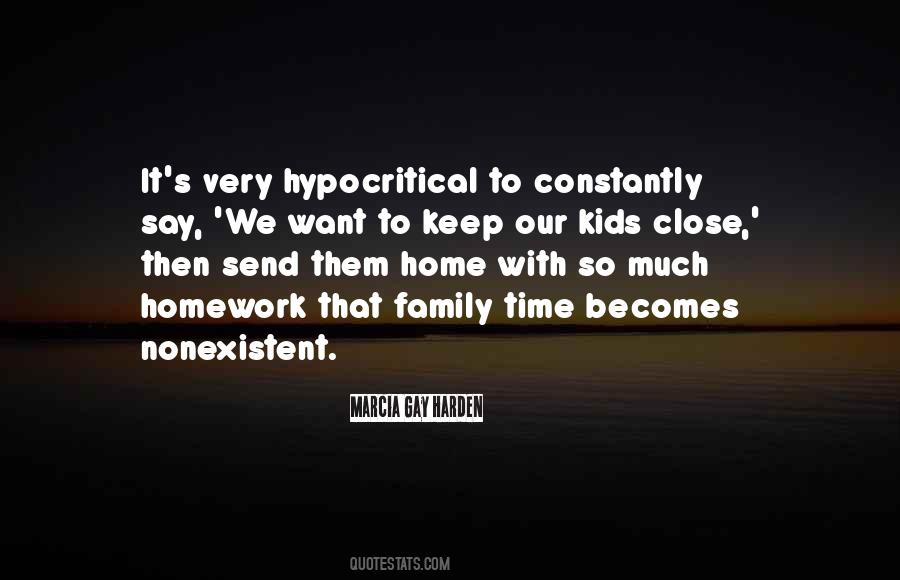 #85. What's that?"
"Jane!" Gansey said joyfully.
Adam said, "It's a wizard in a box."
"It will do your homework," Noah added.
"And it's been dating your girlfriend," Ronan finished.
Blue scowled. "Are you all drunk?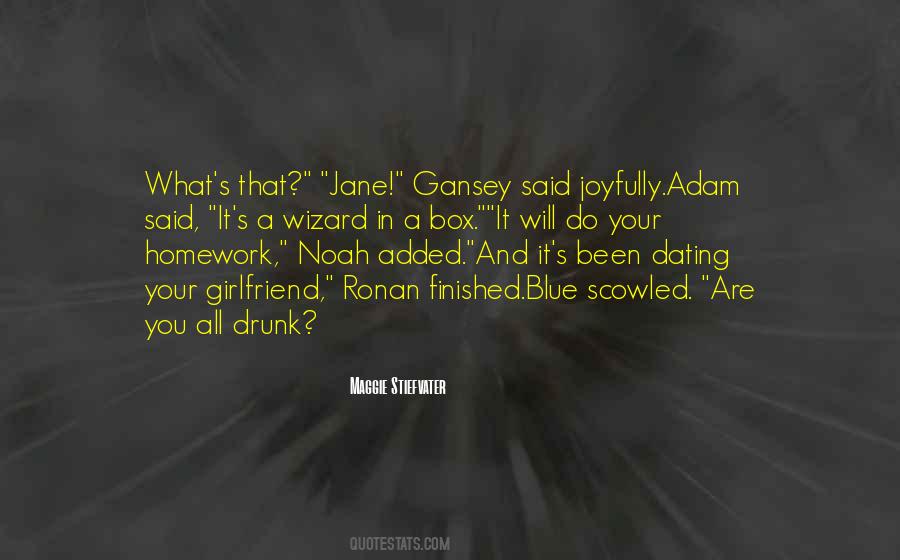 #86. it's like I have two kinds of students now. Kids who write their homework and thought papers on their phones. Kids who just sound like they do.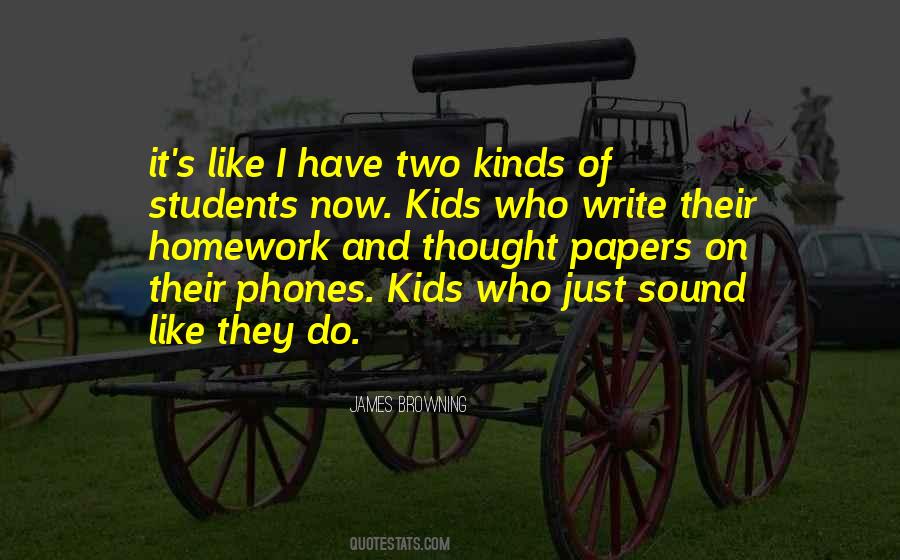 #87. It's just snow," Lesa said, rolling her eyes. "It's not going to hurt you."
Kimmy smoothed her hands over her blond hair. "Sugar melts."
"Yeah, and shit floats." Lesa took her seat, yanking out last night's English homework.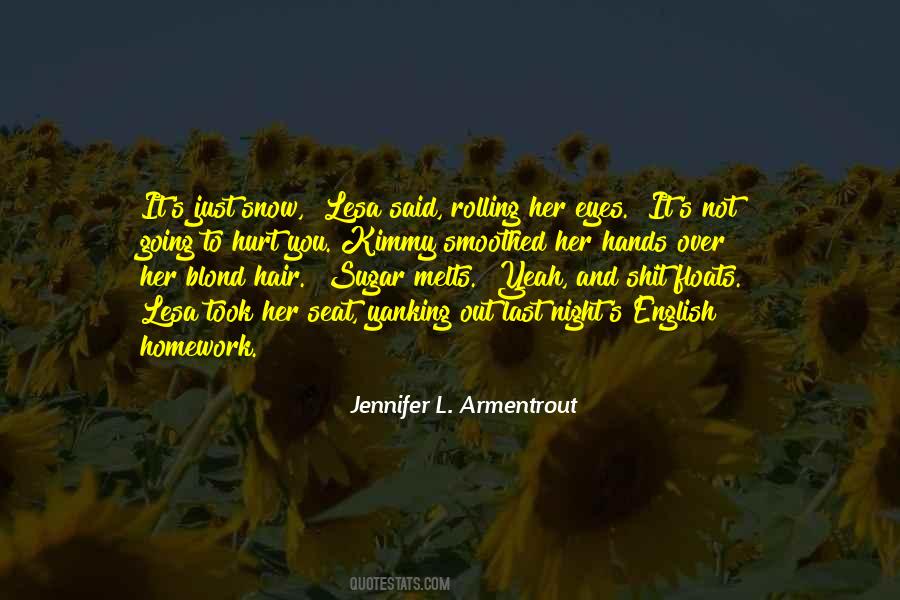 #88. It's coaches. It's people that are involved in kids' lives at every level, and it's supporting their parents. Their parents need better jobs. So that they can help them with their homework and don't have to work two jobs.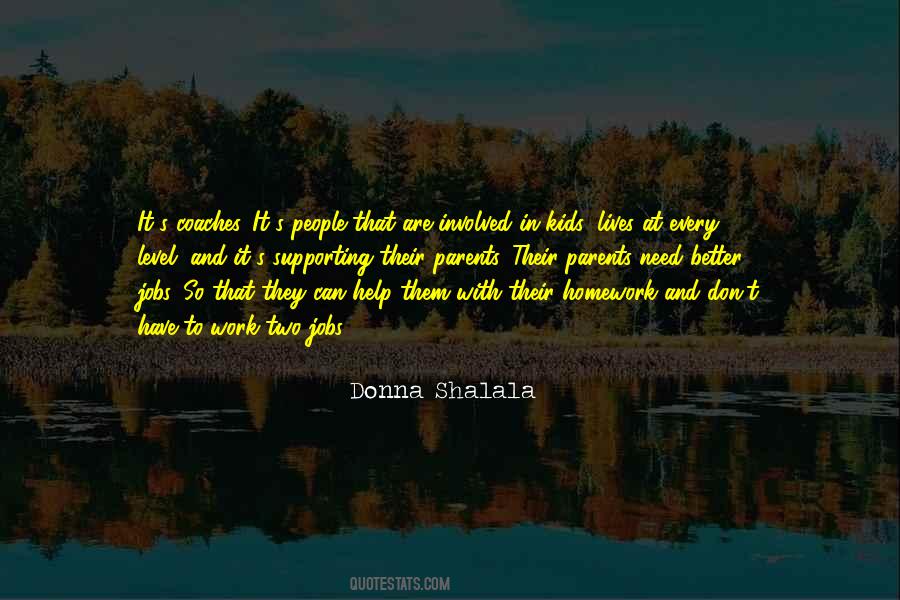 #89. Writing an op-ed feels like I'm taking the SAT. It's so hard. It feels like homework. And if it feels like homework, it just doesn't get done.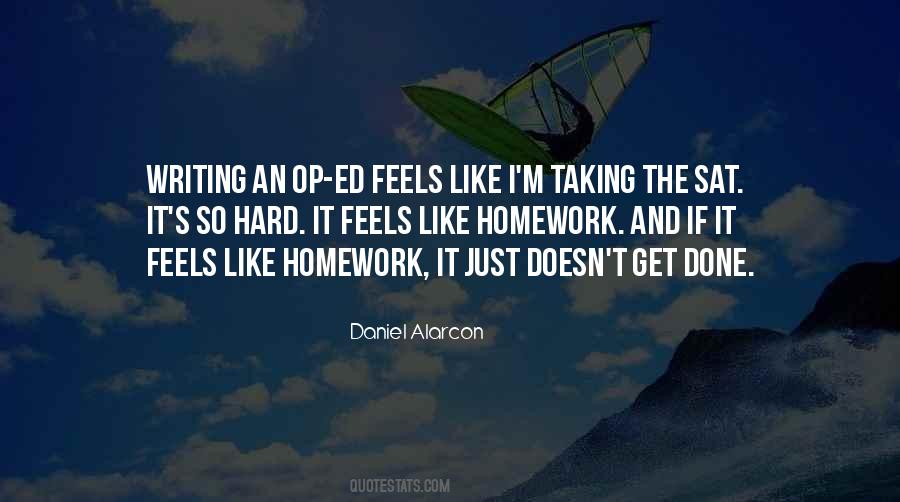 #90. You don't have a lot of time to massage a scene into oblivion. It's like you do it, you get a couple of good takes, and then you move on, so you have to be very spontaneous as an actor and have done your homework, and I like that.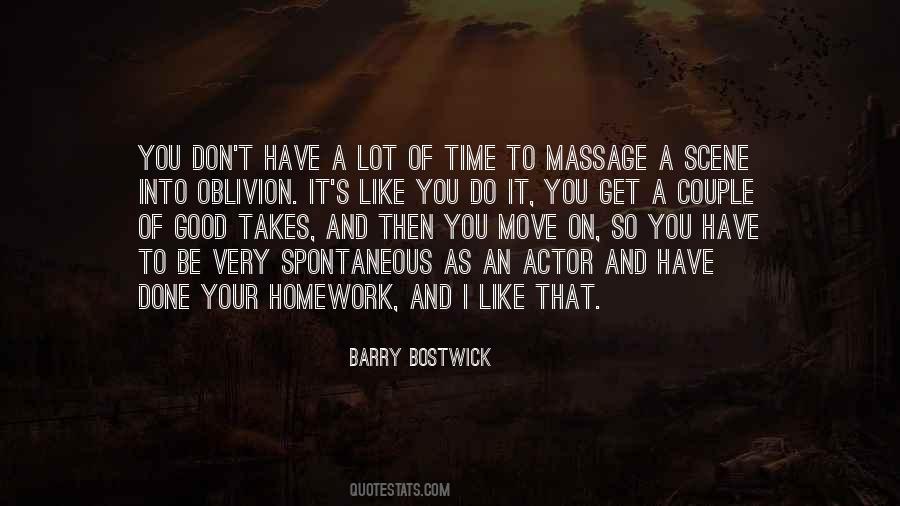 #91. The art of writing is the same as the art of convincing a teacher that you really did do your homework or you studied something that you didn't. It's the art of lying convincingly and it's amazing how much you can learn from a little.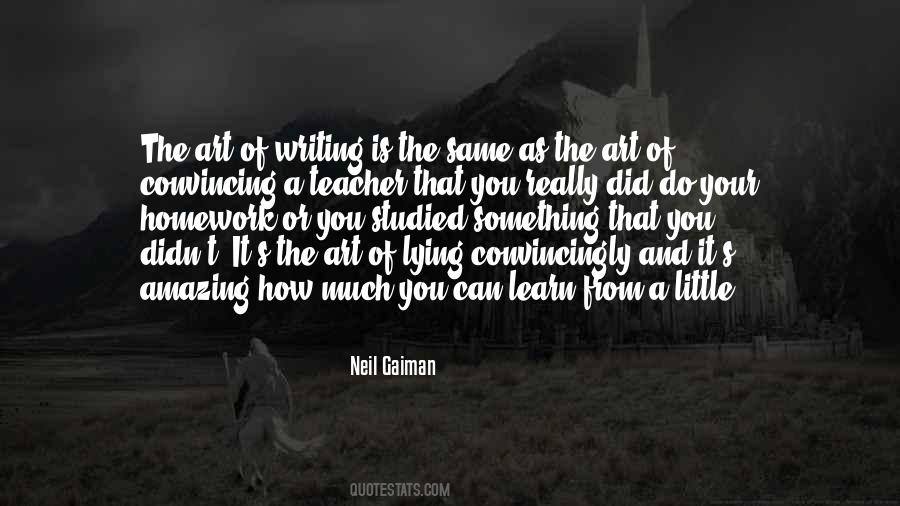 #92. The Nanjing games are homework by Garry Kasparov and me, [ ... ] Today's game was provided by Garry.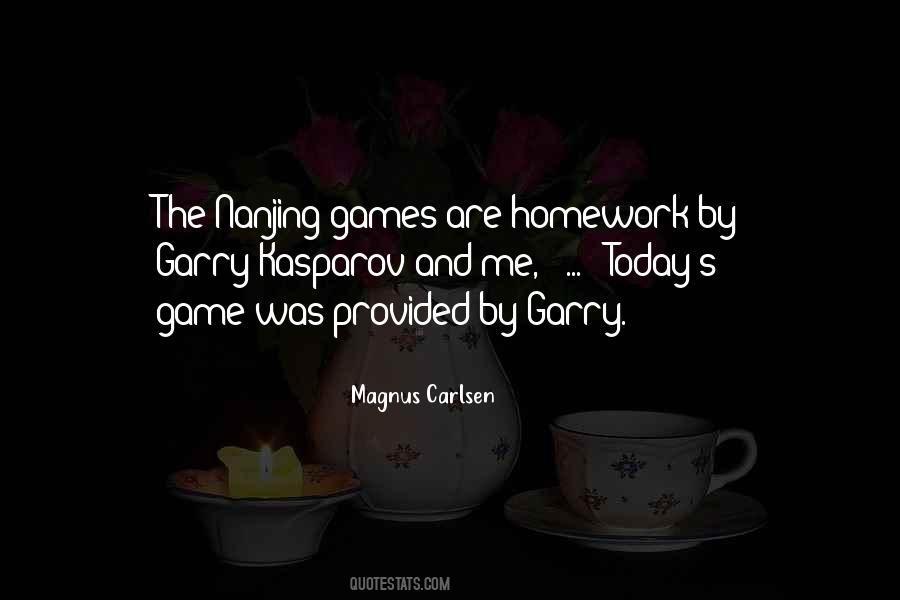 #93. We turn off the TV, video games and computer - except for homework - during the week. The TV's reserved for Friday night, Saturday and Sunday just because that's the time to do homework, and it makes it that much less chaotic in our house.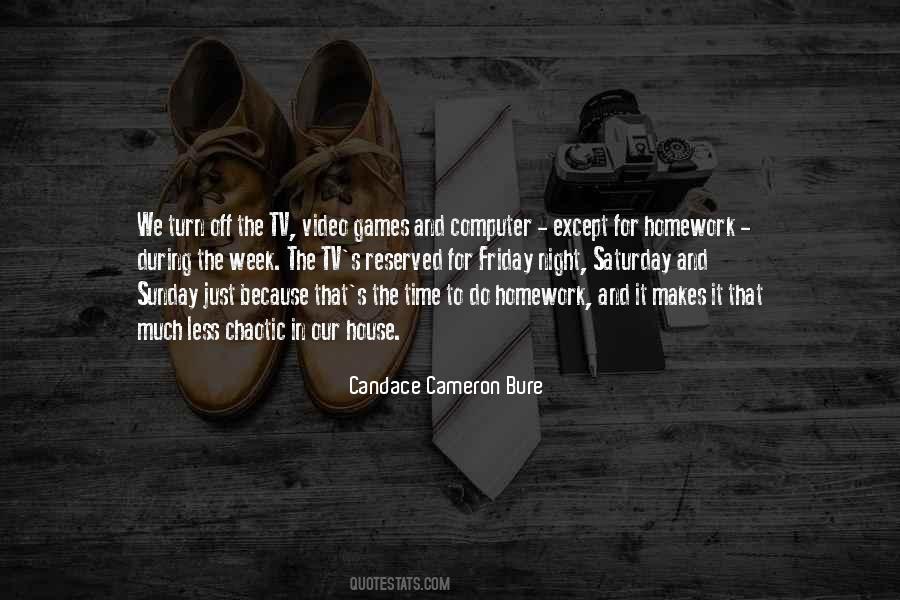 #94. To be creative, first I need to be really organized. If my apartment's messy I need to clean it. It's like before you start doing your homework or studying for a test, you have to have a clean room.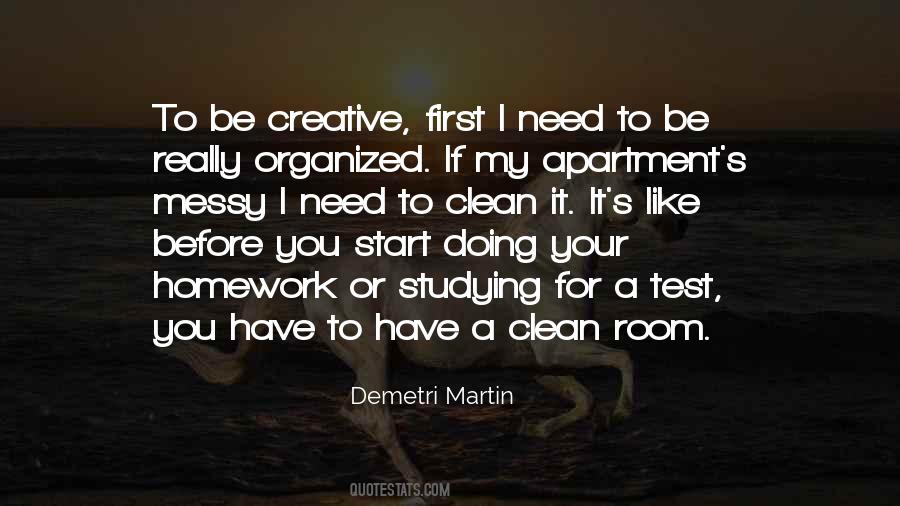 #95. This college would probably have the same problem as the last one did."
I frowned, "What's that?"
"Homework.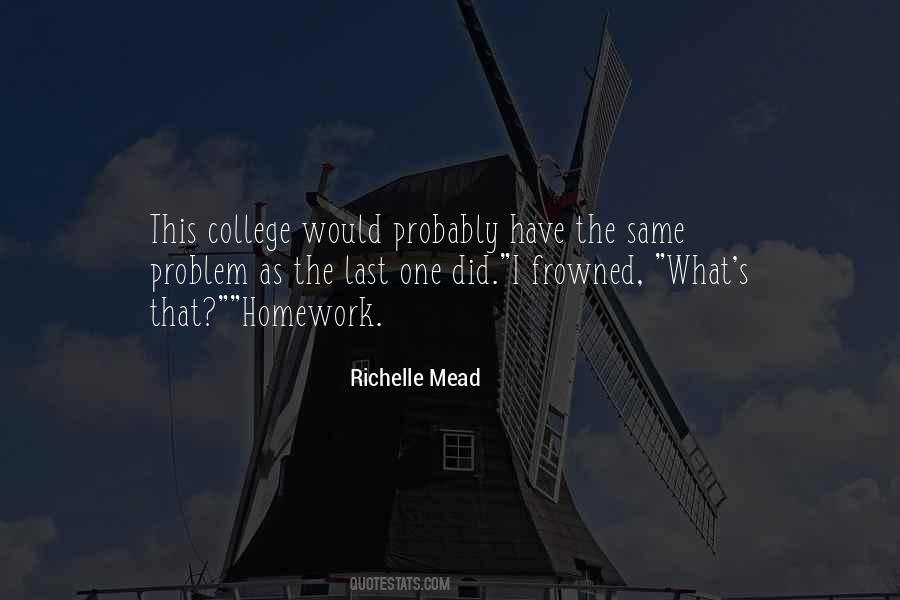 #96. Nothing is more powerful for your future than being a gatherer of good ideas and information. That's called doing your homework.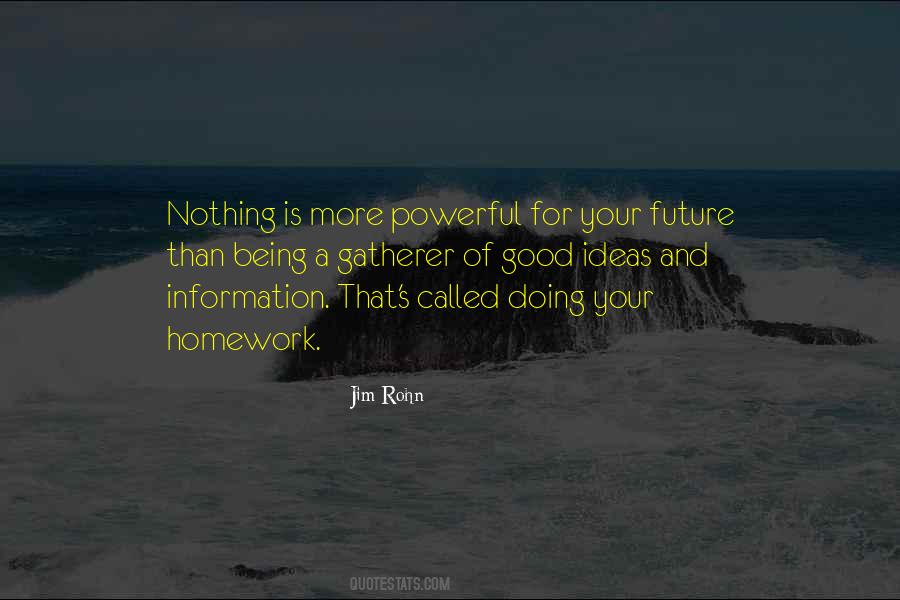 #97. What's that supposed to be anyway?" said Fred squinting at Dobby's painting. "Looks like a Gibbon with two black eyes!" "It's Harry," said George pointing at the back of the picture. "Says so on the back." "Good likeness," said Fred grinning. Harry threw his new homework diary at him.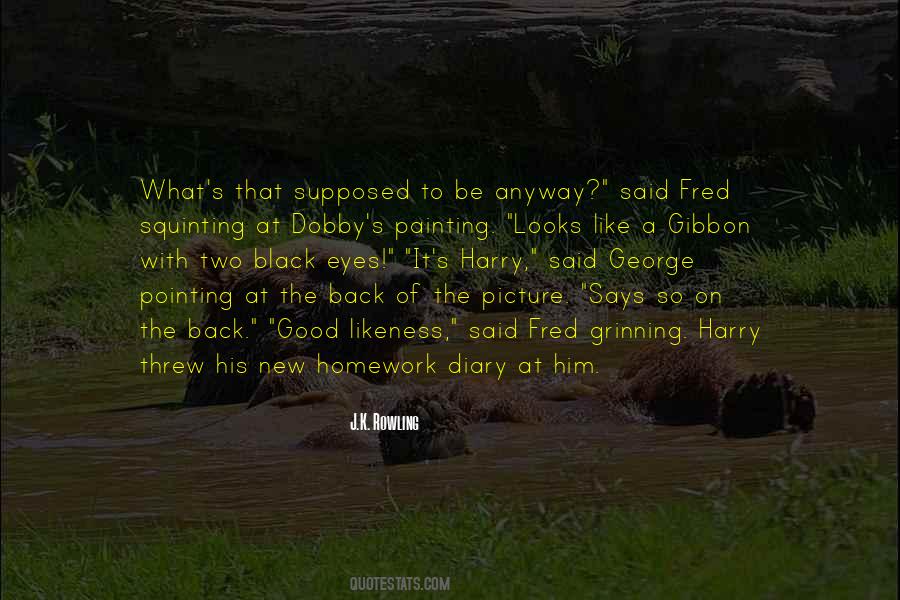 #98. I think you have a case of either 'testitis' or 'I Didn't Do My Homework Syndrome'. It's common in the Spring.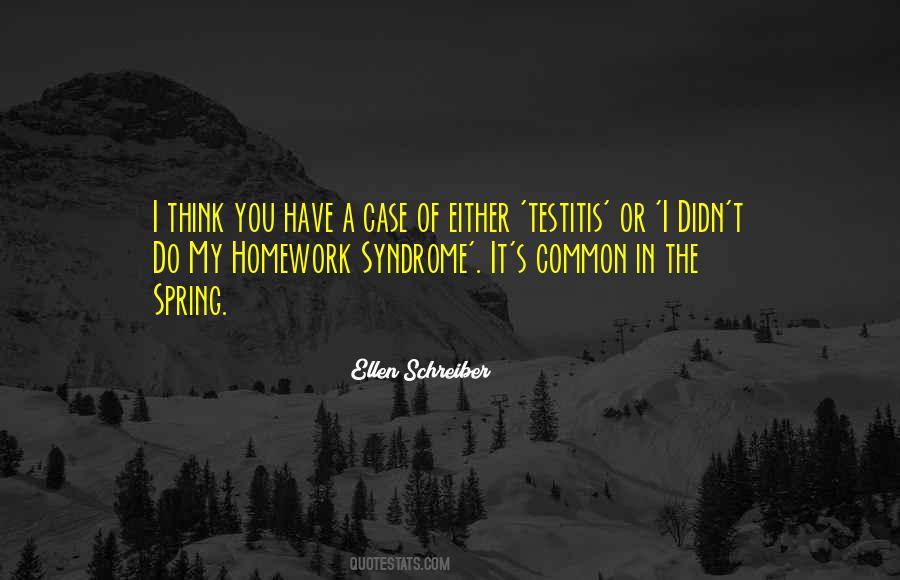 #99. Sophie Mercer, turning down food for homework?"
"Yeah,it's the new,lamer, more Britisher me.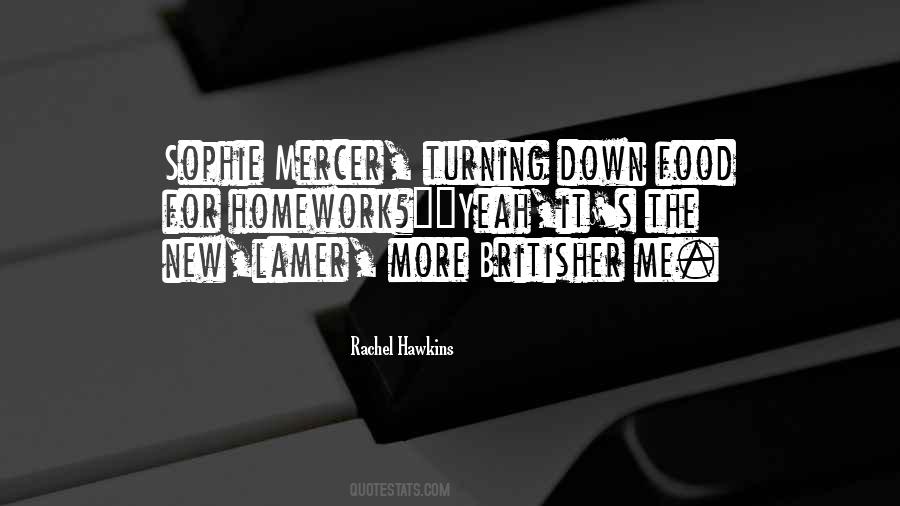 #100. If you're passionate about what you do, then go for it wholeheartedly. Be prepared that if anytime, you may be surprised by a phenomenal opportunity that may come your way, and that's when I say, do your homework. Be ready.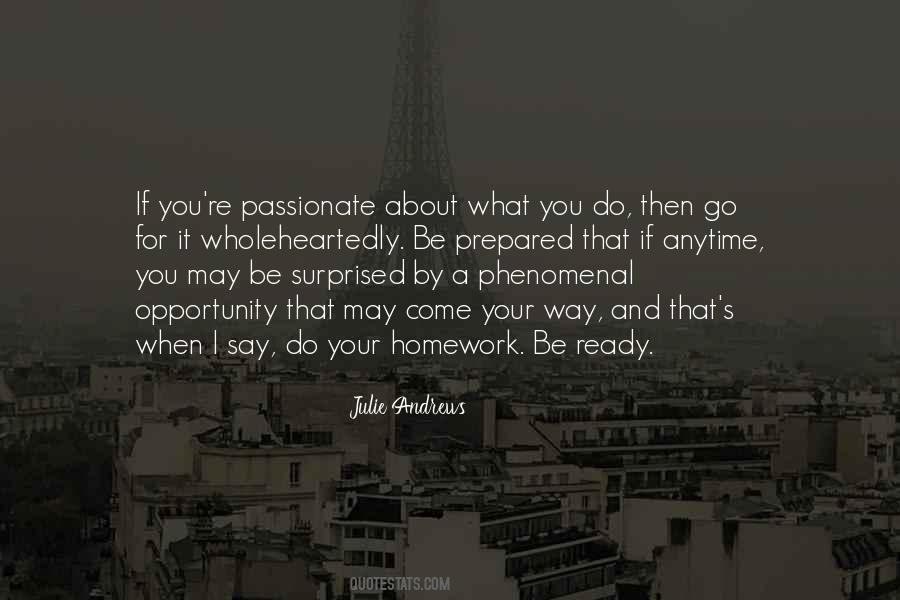 Famous Authors
Popular Topics