Good Well Done Famous Quotes & Sayings
List of top 98 famous quotes and sayings about good well done to read and share with friends on your Facebook, Twitter, blogs.
Top 98 Good Well Done Quotes
#1. I have an immigrant story. Most people come here for economic reasons, or religious reasons, or racial reasons, or gender reasons, or one of those things. I had a good job in Paris, but America was, and still is, the golden fleece. And I've done very well! - Author: Jacques Pepin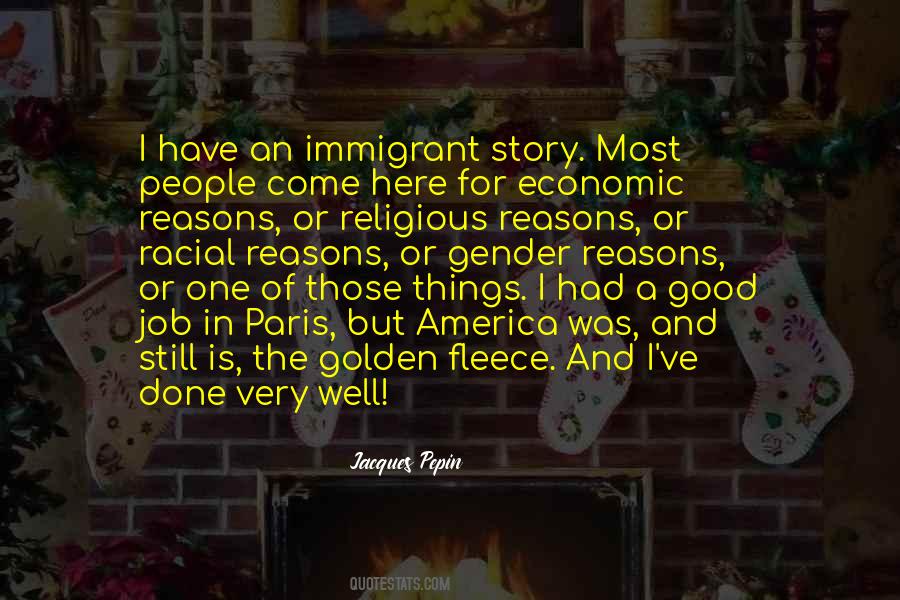 #2. Dance Theatre of Harlem has done a lot of good things well, a lot of good things badly, and a lot of bad things - it doesn't matter how. - Author: Robert Gottlieb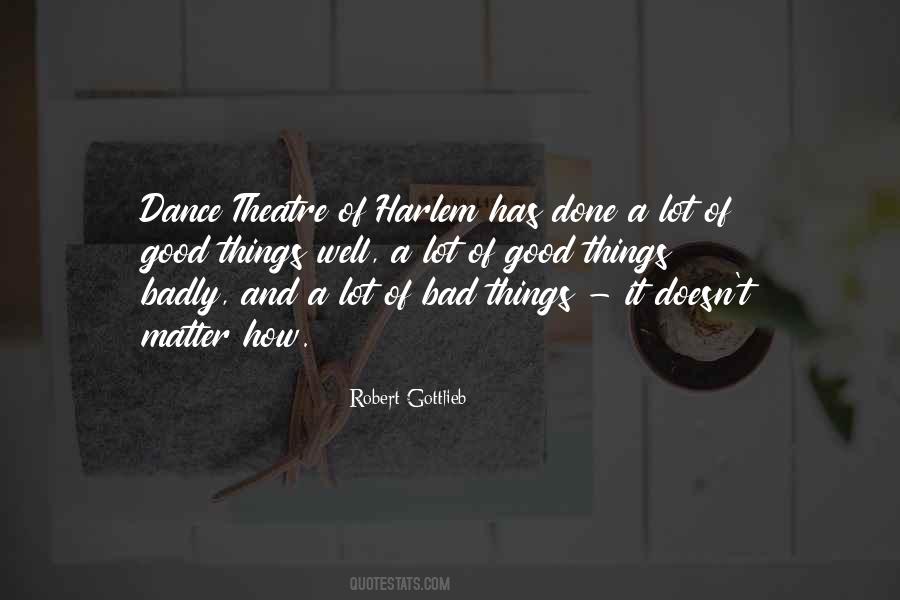 #3. Why bad people live in heaven??
If there is heaven so do and hell exist??
but why bad are heaven and good also??
So you have done here something bad and you greeting saying "Bravo..., Bravo... well made!" - WTF??? - Author: Deyth Banger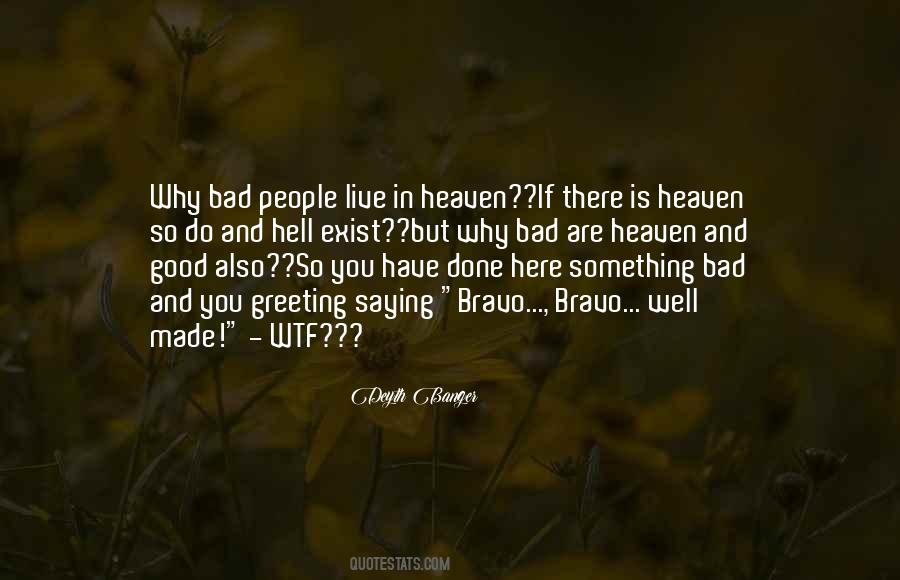 #4. It is good to love many things, for therein lies the true strength, and whosoever loves much performs much, and can accomplish much, and what is done in love is well done. - Author: Vincent Van Gogh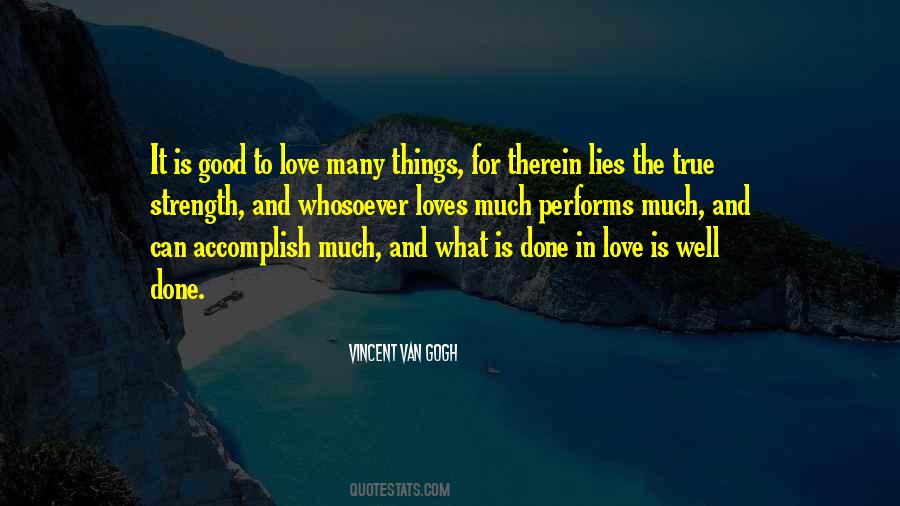 #5. The USA have recently done well in the Olympics and the Youth World Cup. So I think there will be some good young players available in the future, and not too expensive which is important to the club. - Author: Richard Gough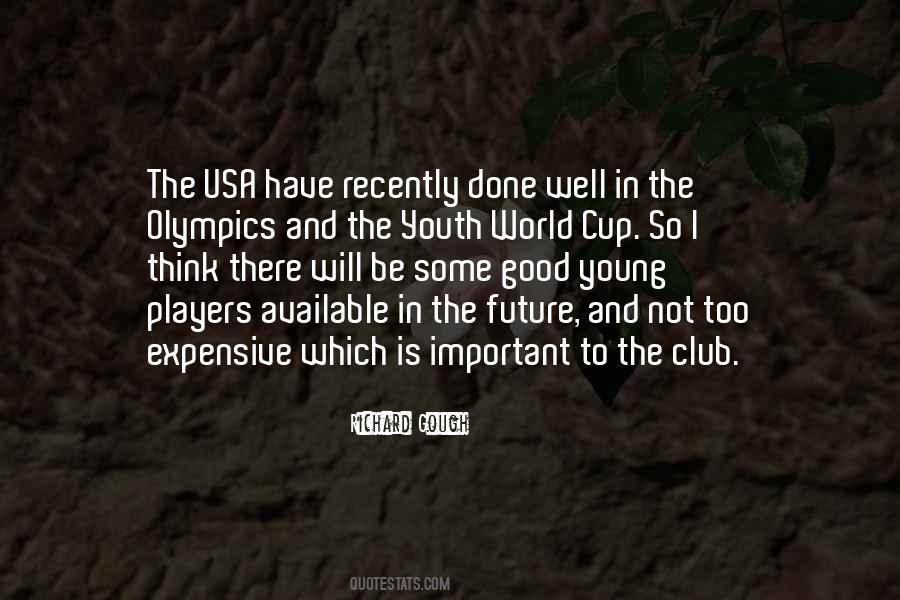 #6. Find the thing you want to do most intensely, make sure that's it, and do it with all your might. If you live, well and good. If you die, well and good. Your purpose is done - Author: H.G.Wells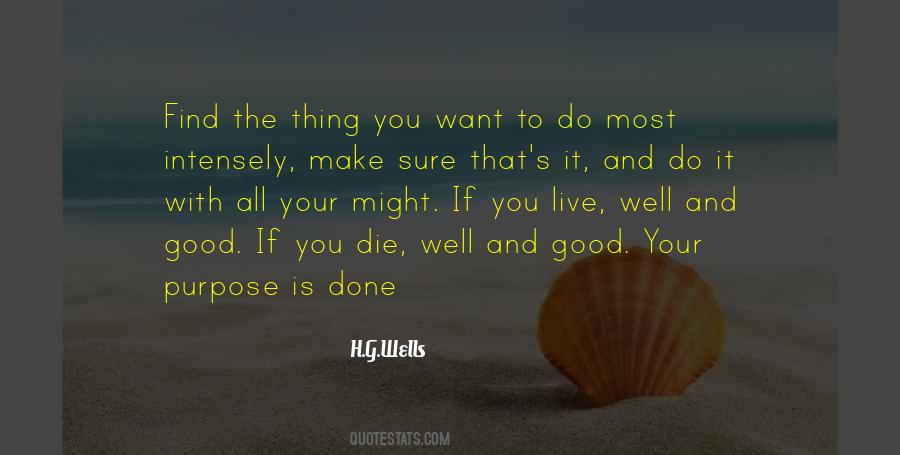 #7. If you be faithful, you will have that honor that comes from God: his Spirit will say in your hearts, Well done, good and faithful servants. - Author: Adam Clarke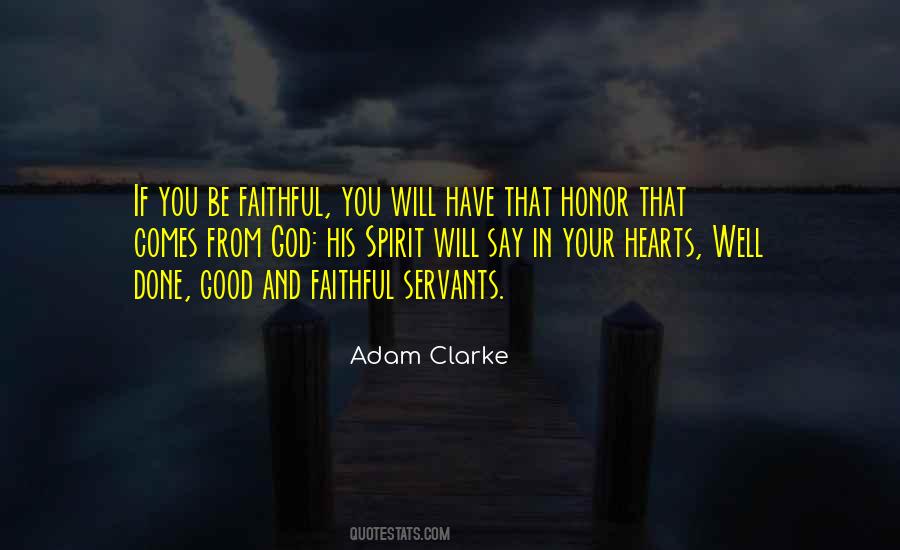 #8. I'm sure I look a wreck. But he's the one who wrecked me so he may as well take a good long look at what he's done. - Author: Monica Murphy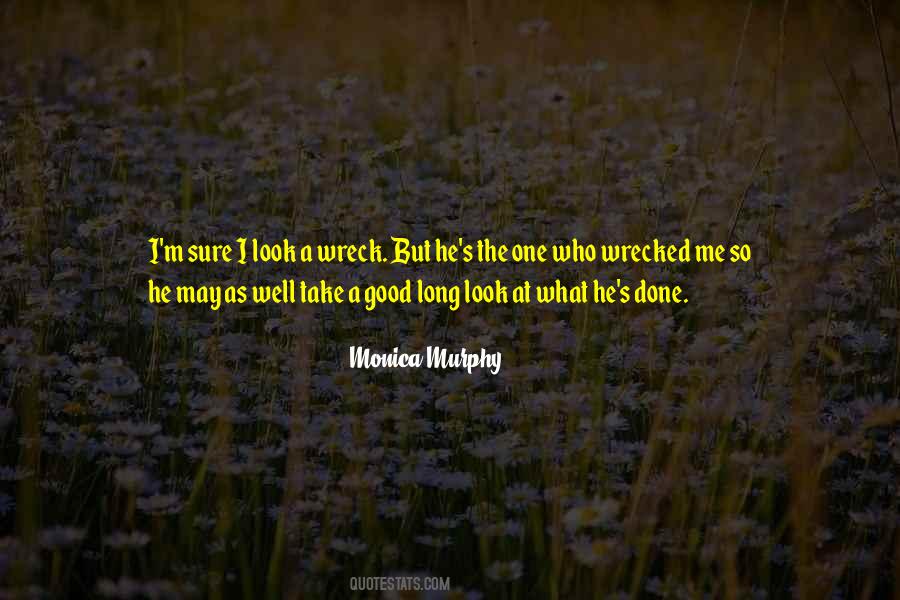 #9. It was a hard struggle, but what I have in life I have earned with my own hands. I have done well, and I have an honest man's honest pride. I want no lands and honors which I have not won by my own good sense and industry. - Author: Carol Ryrie Brink
#10. The Good Lord hasn't done this well: He placed limits on everything, except on stupidity. - Author: Konrad Adenauer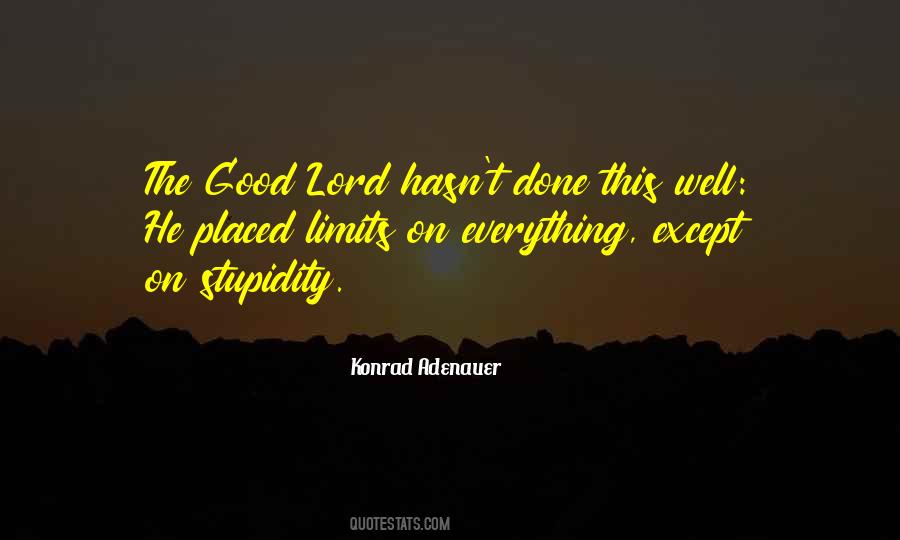 #11. I had grown used to getting a pat on the back and being told after a good result: 'Well done, David - you should be happy, you're the first clean rider. - Author: David Millar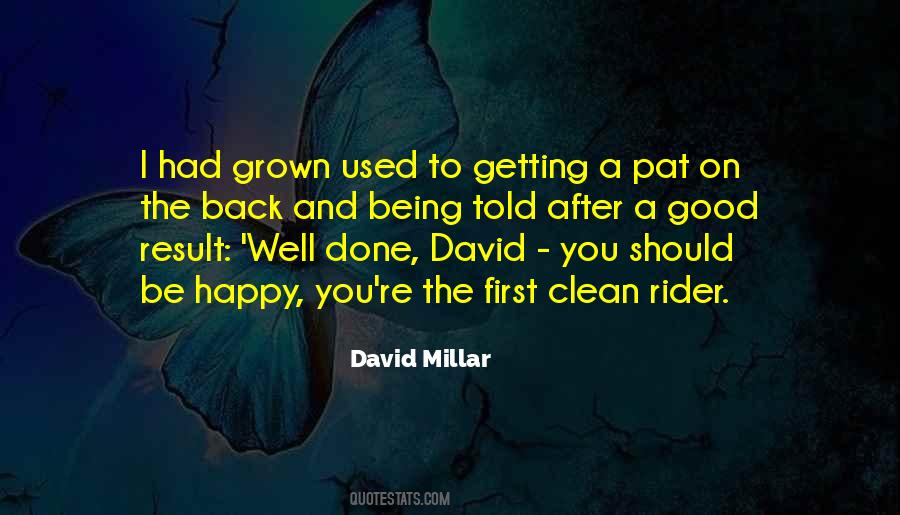 #12. Like anything, I think there are some wonderful found footage movies, and there are some less good. Certainly when it's done well, I really love it. I really love it as a genre. - Author: Drew Goddard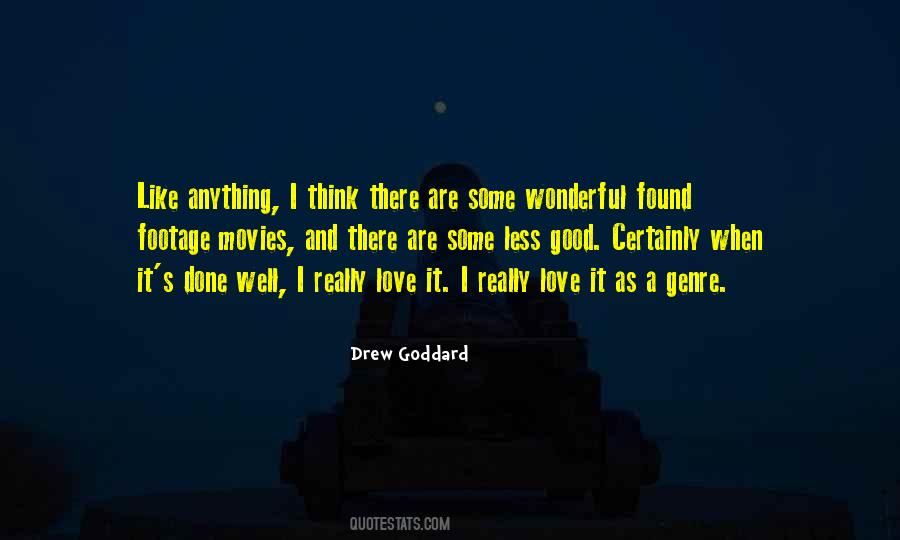 #13. Comedy to the Senate? Well, there certainly hasn't been a satirist or a political satirist who's done that. So, that really was uncharted territory during the campaign. But I think it's a good thing. Some people thought that it was an odd career arc, but to me it made absolute sense. - Author: Al Franken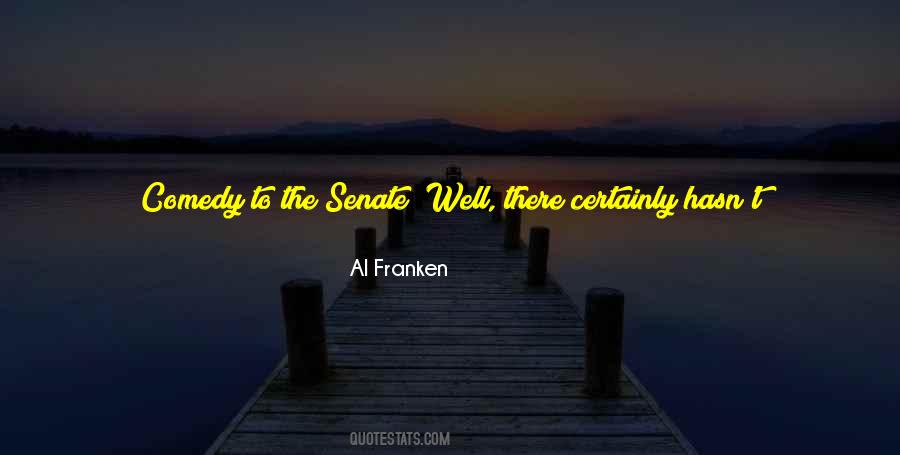 #14. My legacy doesn't matter. It isn't important that I be remembered. It's important that when I stand before the Lord, he says, 'Well done, good and faithful servant.' I want to finish strong. - Author: James Dobson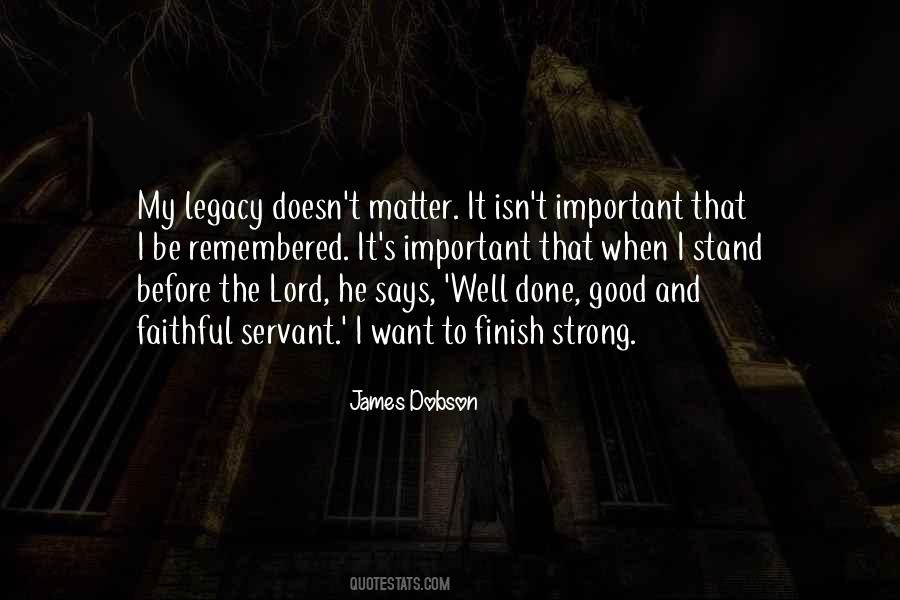 #15. NI love watching science fiction because I feel like when it's done well, it's not just monsters, but philosophy. Really good science fiction like, '2001,' for example, or the first 'Matrix.' But it takes someone who's got a brain and thinks in order to do really good science fiction. - Author: Alan Arkin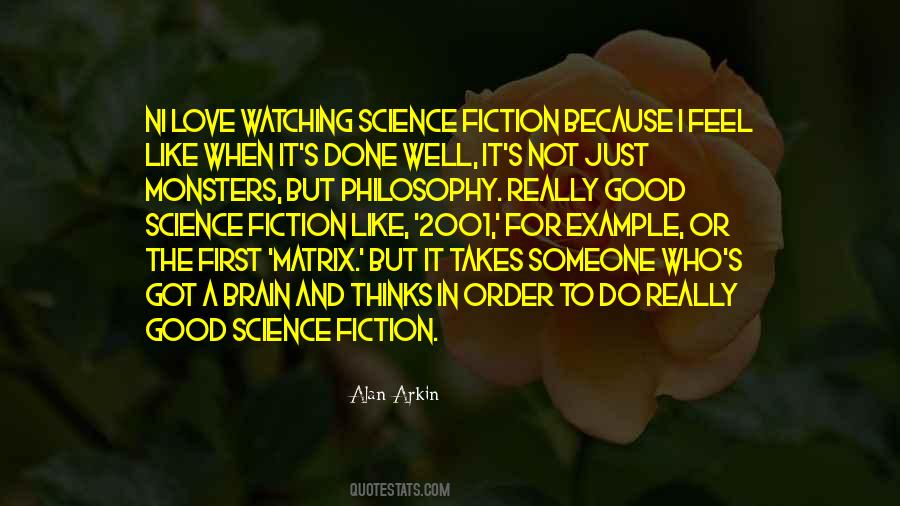 #16. Now that I'm a professional writer it's a little more difficult to enjoy a movie if it's not well done and a lot of the horror movies are not great, but when something's really good, like I really loved The Conjuring. That just scared the bejesus out of me. - Author: David Hayter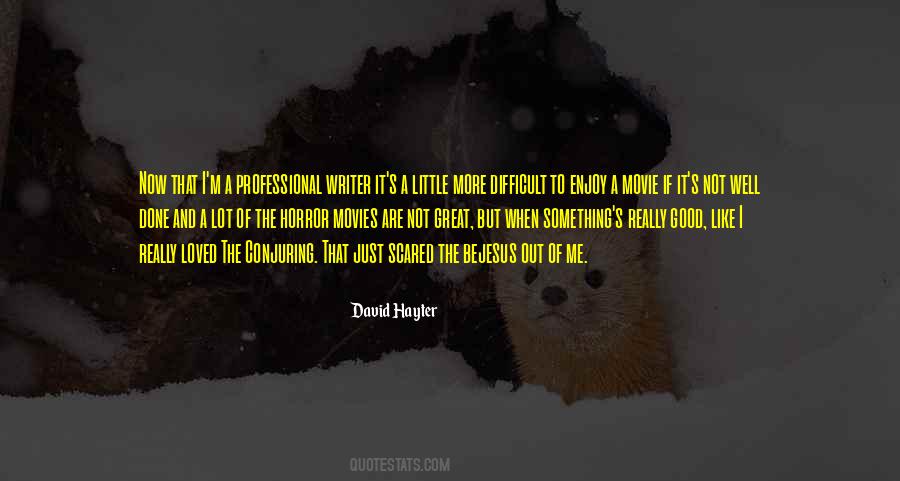 #17. Let us never be afraid of innocent joy; God is good and what he does is well done; resign yourself to everything, even happiness; ask for the spirit of sacrifice, of detachment, of renunciation, and above all, for the spirit of joy and gratitude. - Author: Henri Frederic Amiel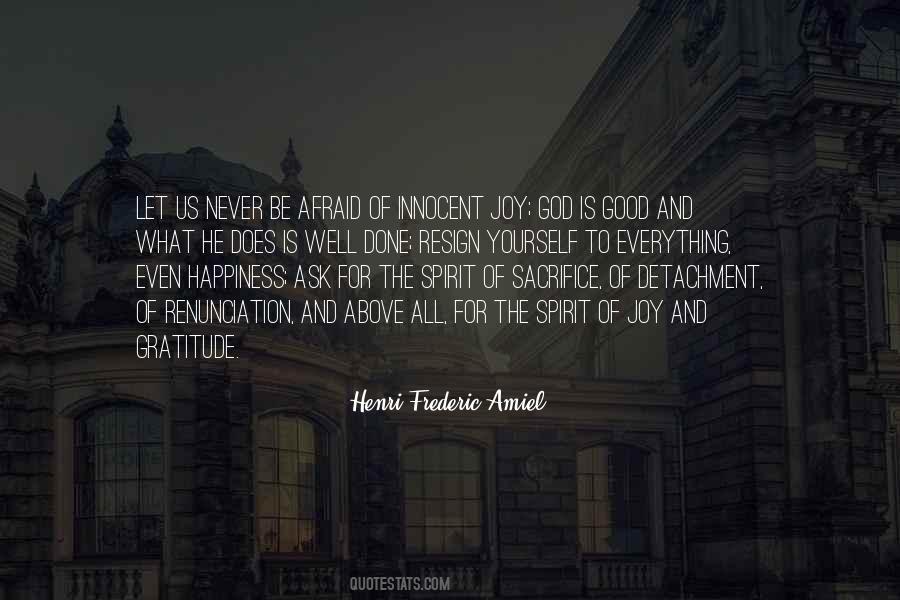 #18. Good design, when done well, should be invisible. - Author: Jared Spool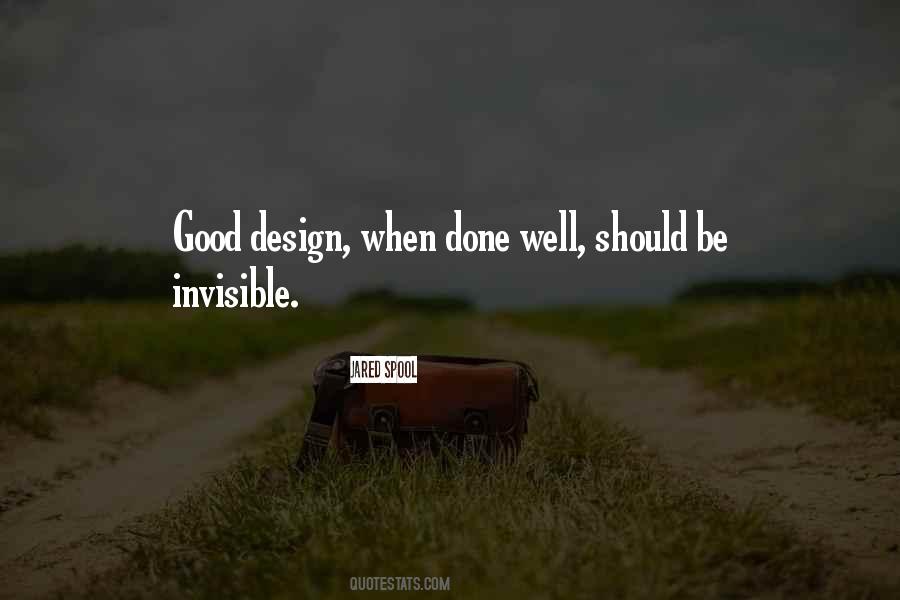 #19. When the ancients said a work well begun was half done, they meant to impress the importance of always endeavoring to make a good beginning. - Author: Polybius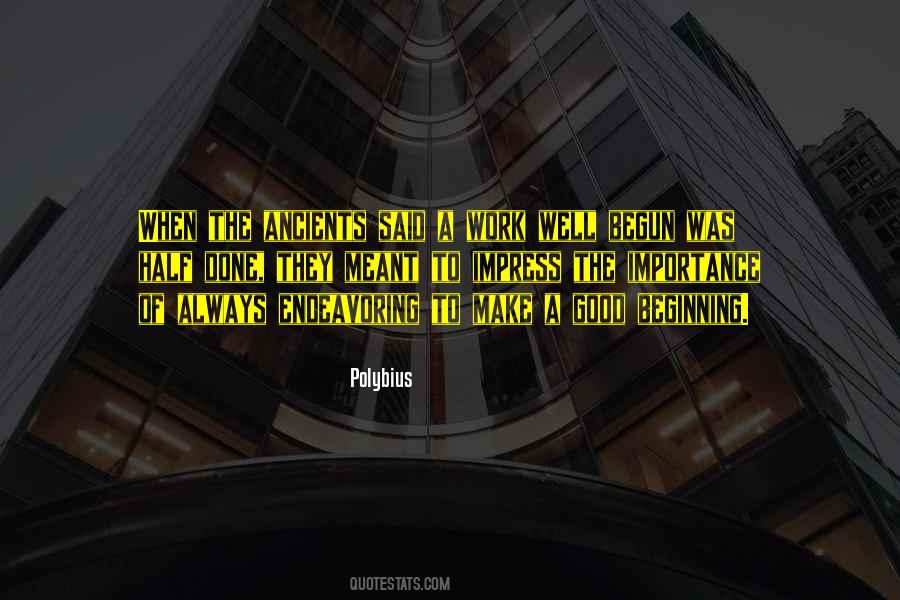 #20. Well done, Hudson thought to himself. Keep on talking about murderers; that's the perfect way to make a good impression. - Author: Adi Alsaid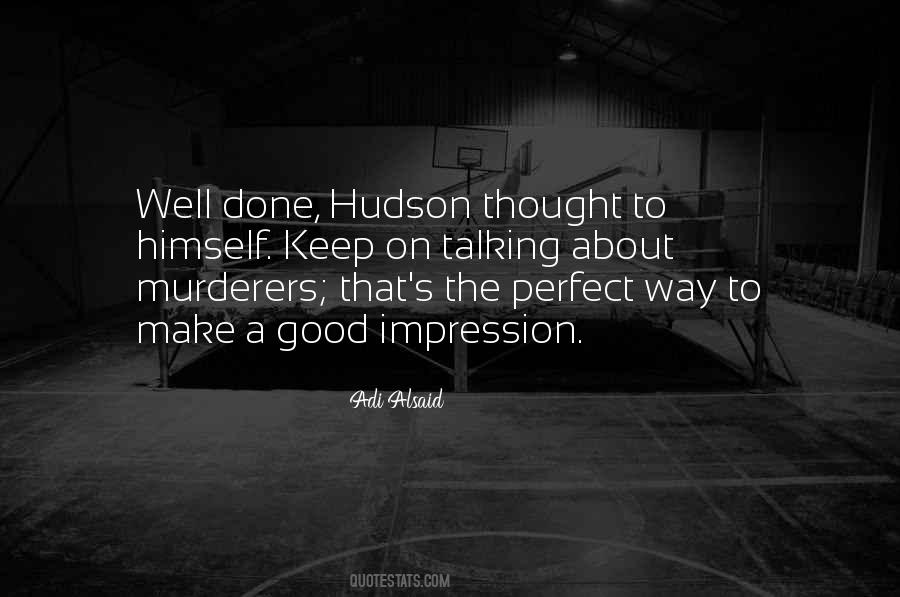 #21. It's the first time I've ever done anything like that. It took longer than I expected. I've gotten a lot of E-mail since I got back, saying they thought I did a good job and presented the case well. - Author: Jim Barksdale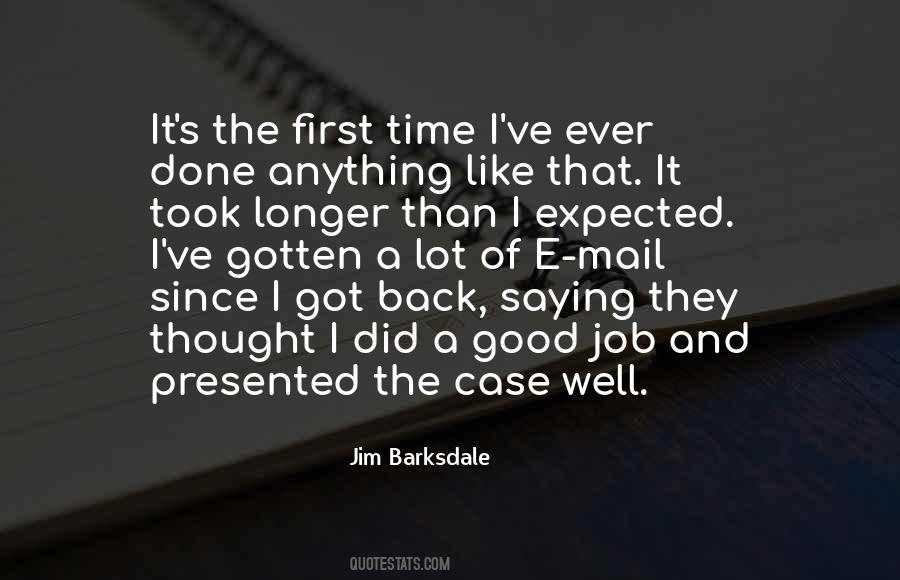 #22. Rhaegar had put his hand on Jaime's shoulder. When this battle's done I mean to call a council. Changes will be made. I meant to do it long ago, but ... well, it does no good to speak of roads not taken. We shall talk when I return. - Author: George R R Martin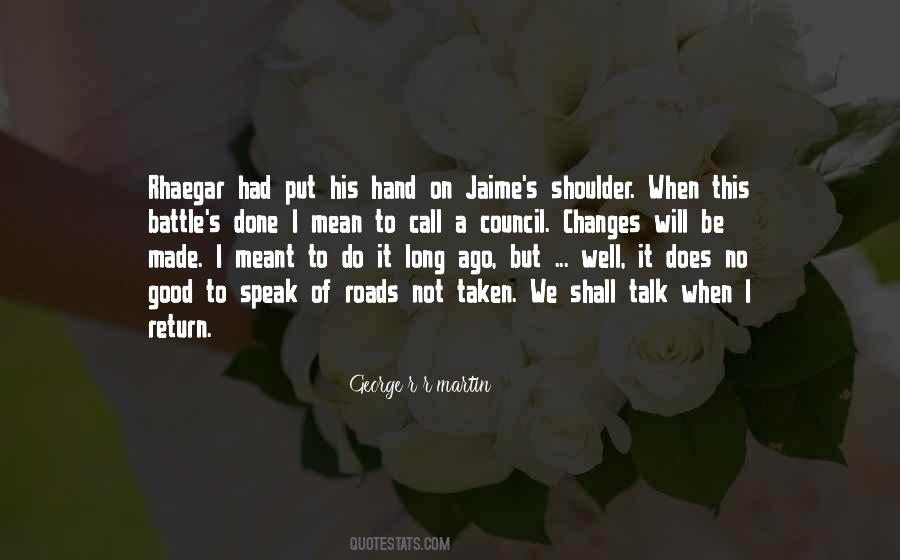 #23. The only music minister to whom the Lord will say, 'Well done, thy good and faithful servant,' is the one whose life proves what their lyrics are saying, and to whom music is the least important part of their life. Glorifying the only worthy One has to be a minister's most important goal! - Author: Keith Green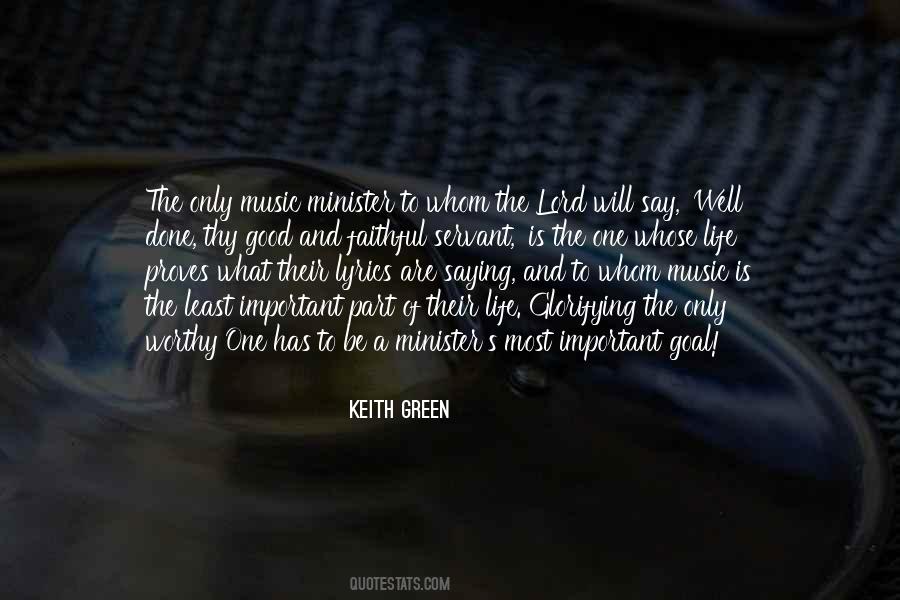 #24. The pinnacle of the fulfillment I can ever experience for my spirit and soul is to hear from the Lord, when I see Him face to face, 'Well done my good and faithful servant.' - Author: Nick Vujicic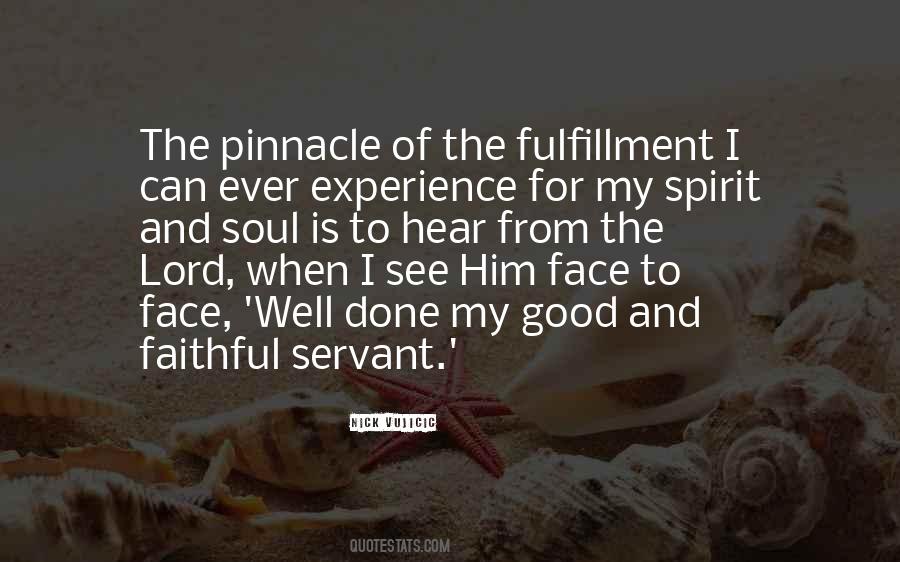 #25. It's all well and good to look back after the fact and see what we should have done, but we rarely know what path is best when we take that first step. - Author: Christine Feehan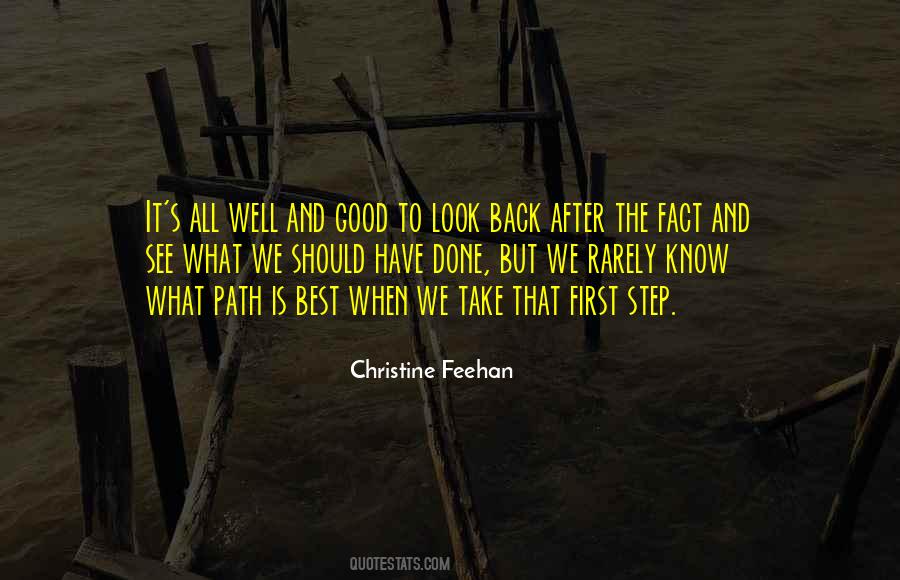 #26. Noooo They can't burn up Books aren't any good when they're well done You can't cook them that long - Author: Mizuki Nomura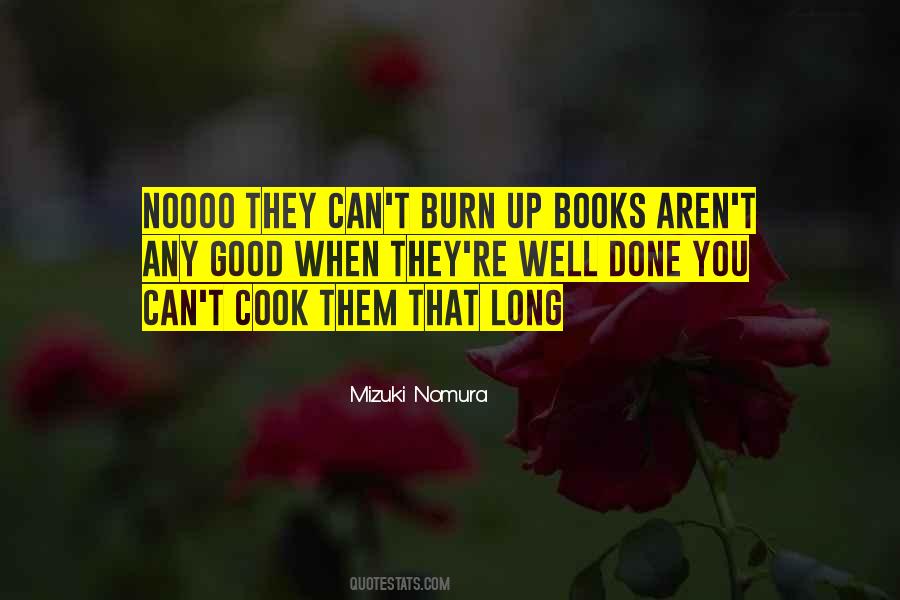 #27. So far as I can see, nothing good in the world has ever been done by well-rounded people. The good work is done by people with jagged, broken edges, because those edges cut things and leave an imprint, a design. - Author: Harry Crews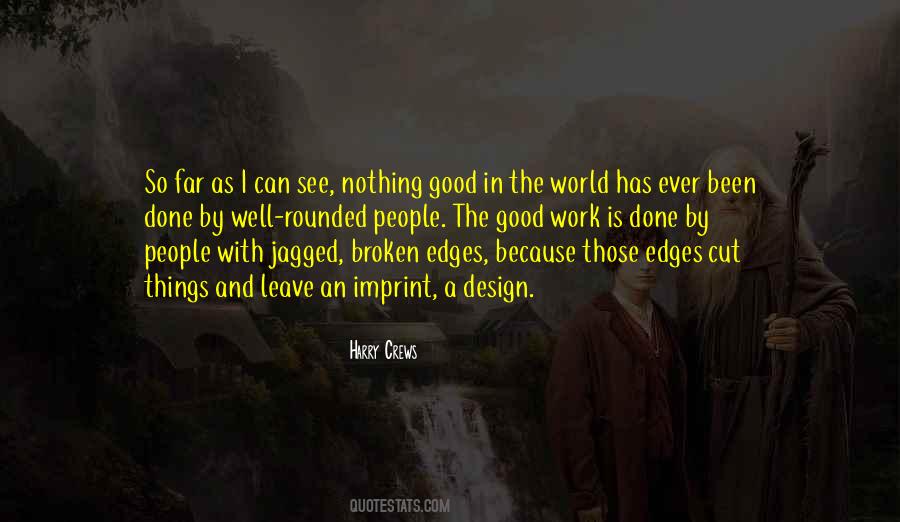 #28. It is a good sign in a nation when things are done badly. It shows that all the people are doing them. And it is bad sign in a nation when such things are done very well, for it shows that only a few experts and eccentrics are doing them, and that the nation is merely looking on. - Author: G.K. Chesterton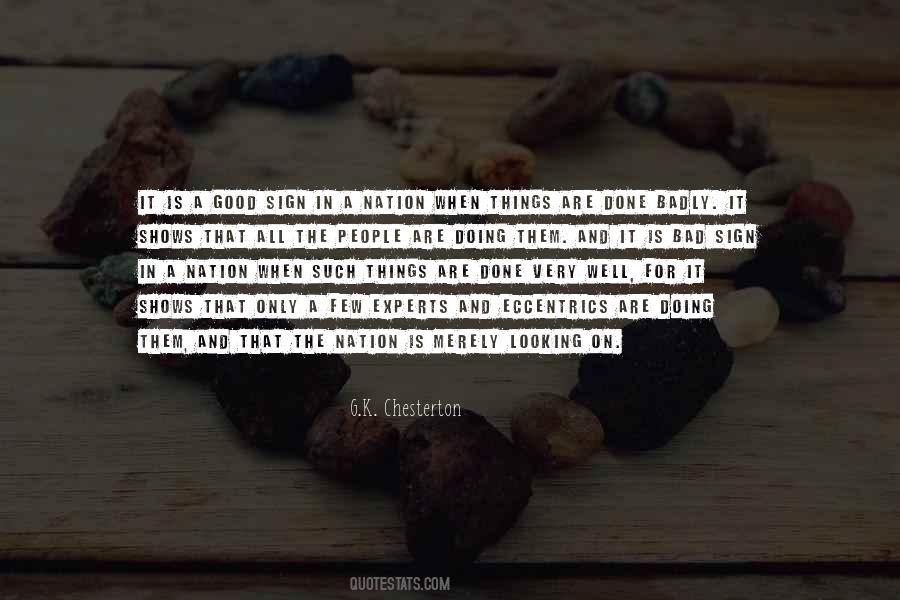 #29. When I go out to play, I still believe I'm as good as anyone out there. I don't have to prove anyone wrong. I know what I've done and how well I can play. - Author: Lleyton Hewitt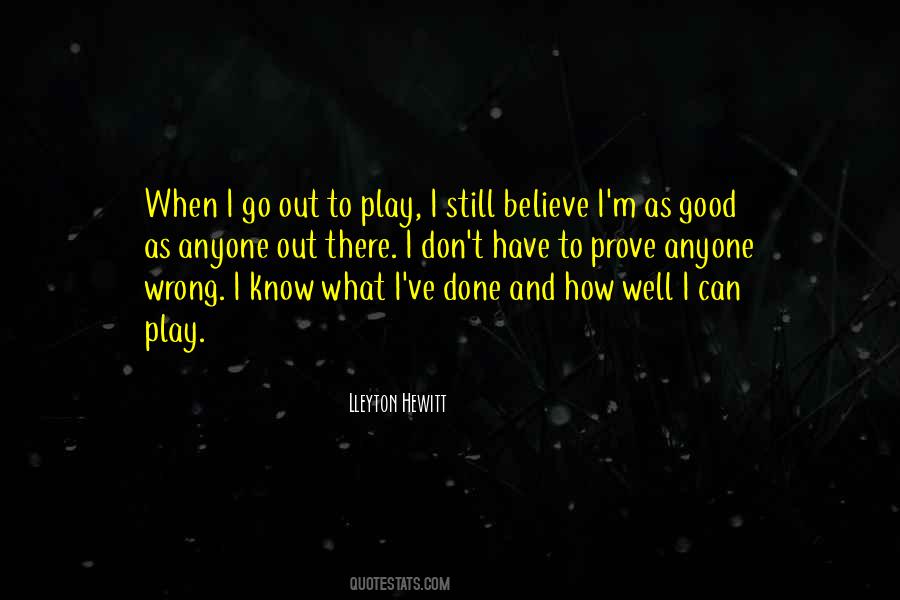 #30. Good, that's a job well done," Grishmak said cheerfully. "Am I the only one who's hungry? - Author: Stuart Hill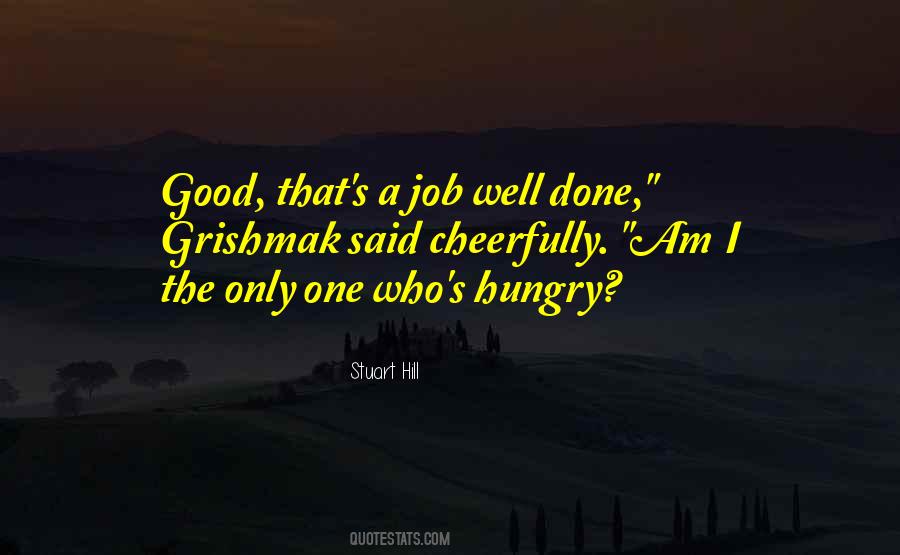 #31. When I have finished a job, done all the promotion, and it's been received well. Then I can allow myself the luxury of a break, and chilling out with my family and friends, and taking a nice break knowing I've done a good job. - Author: Naomie Harris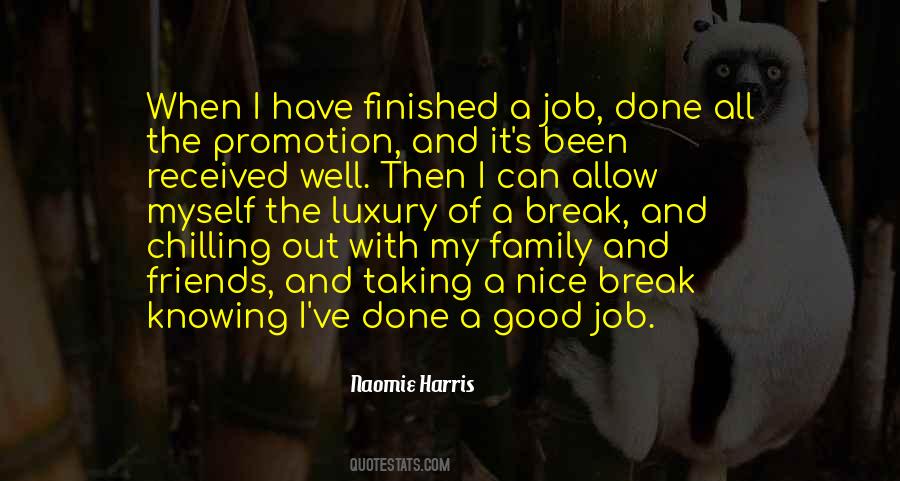 #32. I want to try and do as much as I can as an actor. So far I think I've done pretty well with being a minister's son. And now I know I'm pretty darn good at playing a woman too. - Author: Barry Watson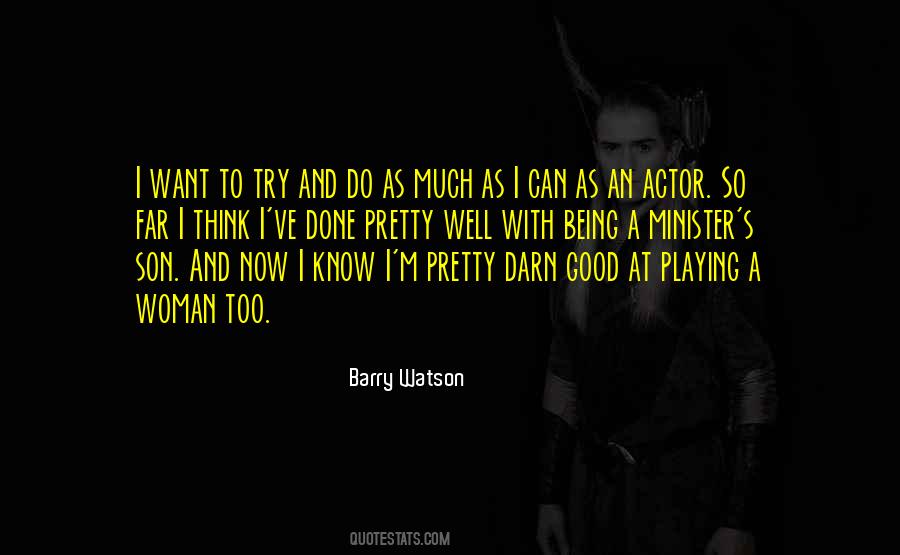 #33. The only Christian work is good work well done. - Author: Dorothy L. Sayers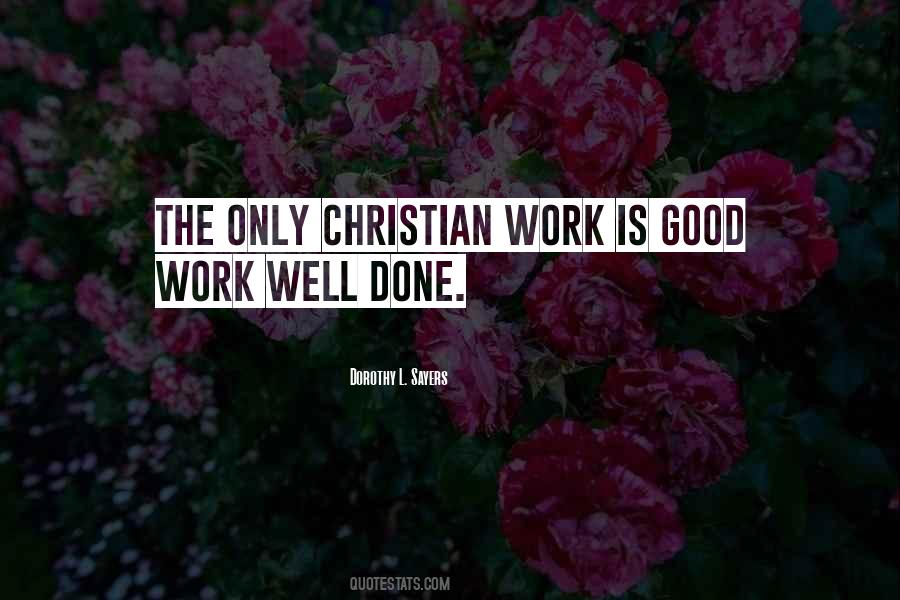 #34. Well,' said Tiffany, 'there's too much to be done and not enough people to do it.' The smile that the kelda gave her was a strange one. The little woman said, 'Do ye let them try? Ye mustn't be afraid to ask for help. Pride is a good thing, my girl, but it will kill you in time. - Author: Terry Pratchett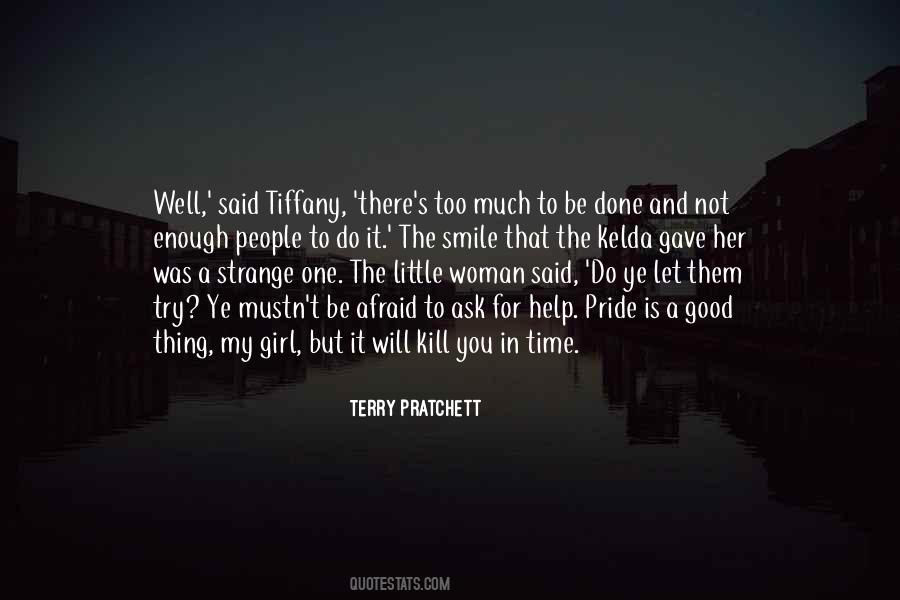 #35. When you know every well what to do and how to do it, your attitude determines how well you will have it done! - Author: Israelmore Ayivor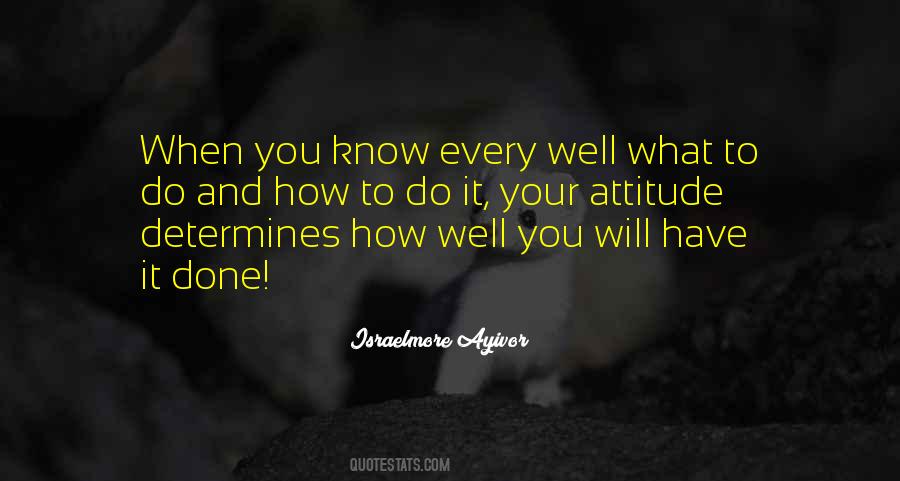 #36. Have I done something for the general interest? Well then I have had my reward. Let this always be present to thy mind, and never stop doing such good. - Author: Marcus Aurelius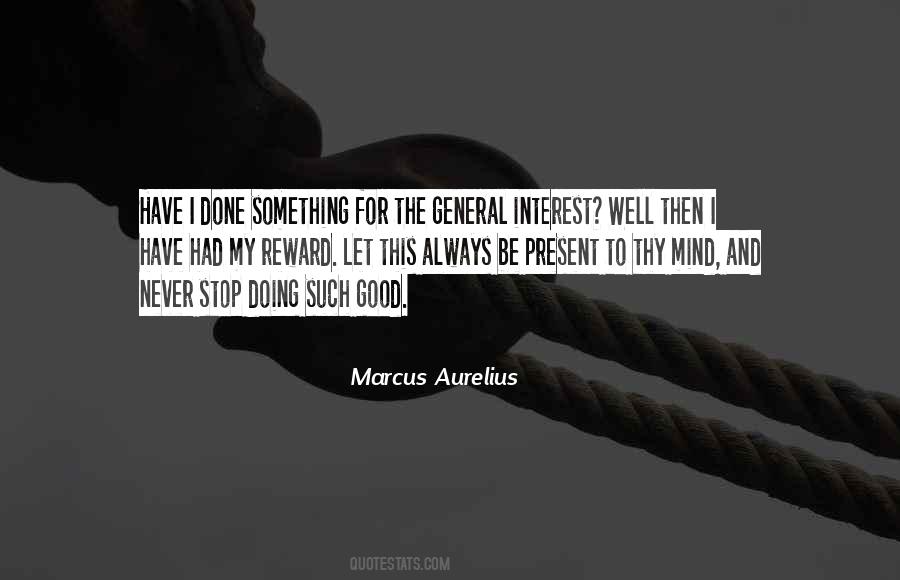 #37. It's not enough to do good. It must be done well. - Author: St. Vincent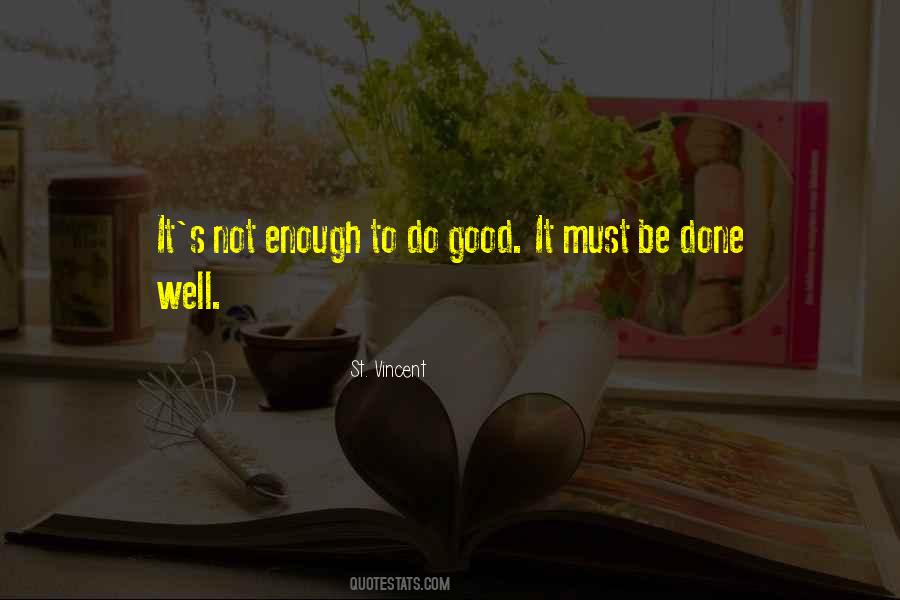 #38. It's good to test yourself and develop your talents and ambitions as fully as you can and achieve greater success; but I think success is the feeling you get from a job well done, and the key thing is to do the work. - Author: Peter Thiel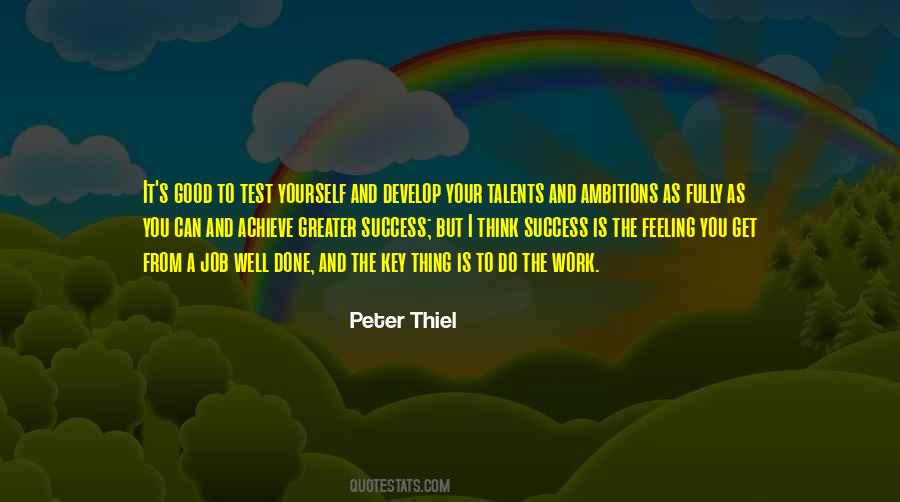 #39. As I'm so often reminded what a priceless gift my life is, I ache with everything in me to make it count, so that when I finally cross the finish line, I'll hear the words, 'Well done, good and faithful servant. - Author: Adam Young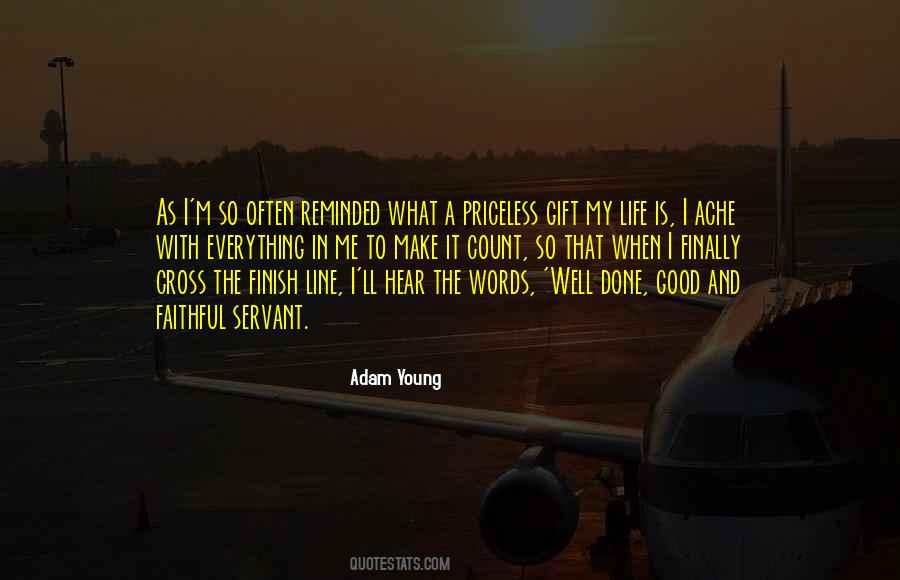 #40. I think you'll make more money in the end with good ethics than bad. Even though there are some people who do very well, like Marc Rich-who plainly has never had any decent ethics, or seldom anyway. But in the end, Warren Buffett has done better than Marc Rich-in money-not just in reputation. - Author: Charlie Munger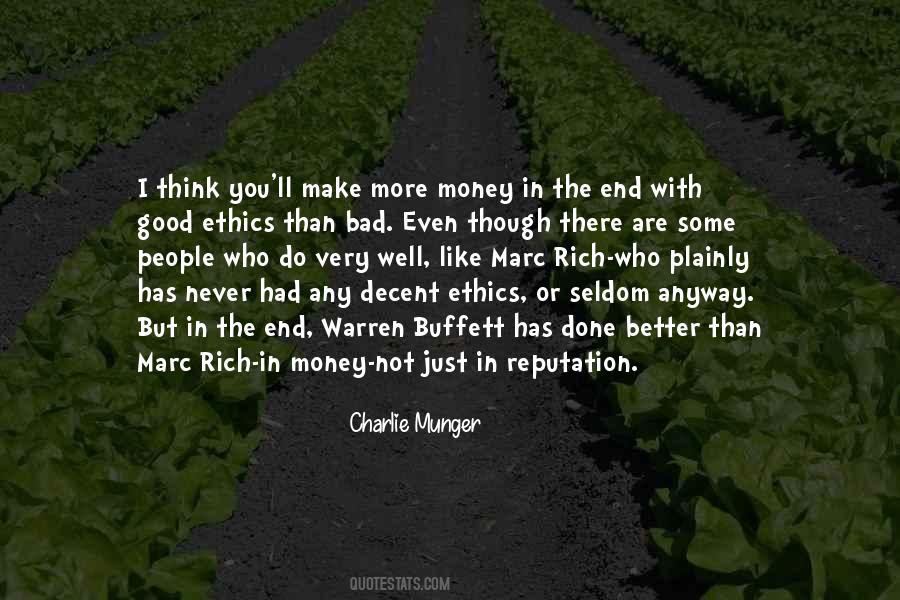 #41. Be thankful and repay Growth with good work and care. Work done in gratitude Kindly, and well, is prayer. - Author: Wendell Berry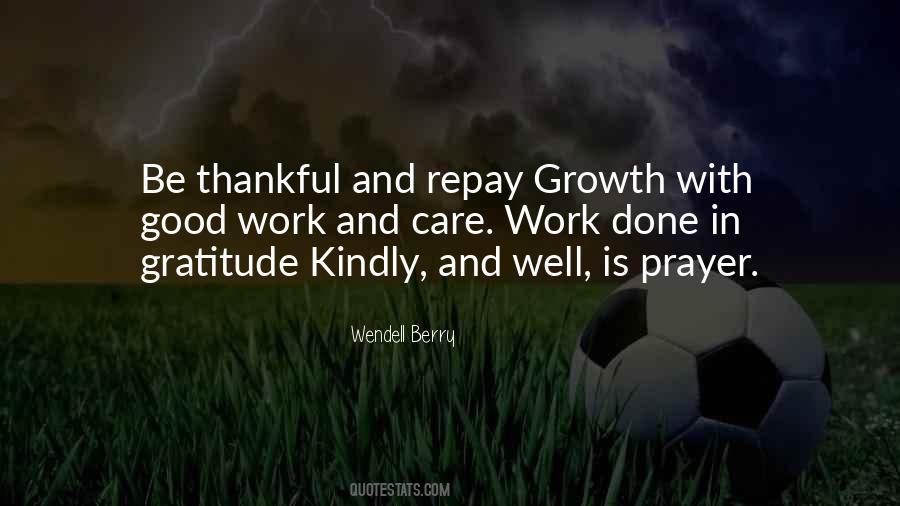 #42. If someone means well, but does ill, the ill is still done - and the consequences still exist. Besides, if intent forgives wrong, then any wrongdoer can claim good intent. - Author: Elizabeth Moon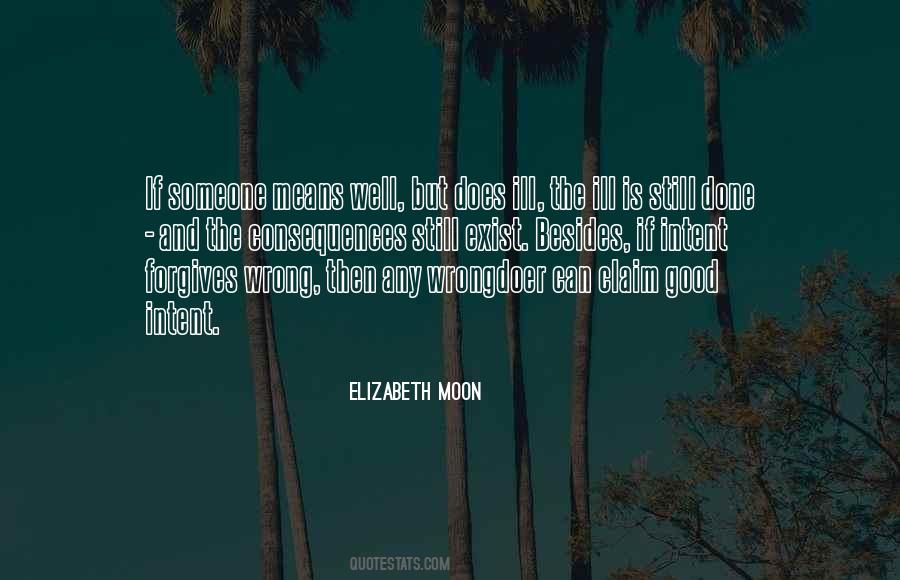 #43. They say an actor is only as good as his parts. Well, my parts have done me pretty well, darling. - Author: Barbara Windsor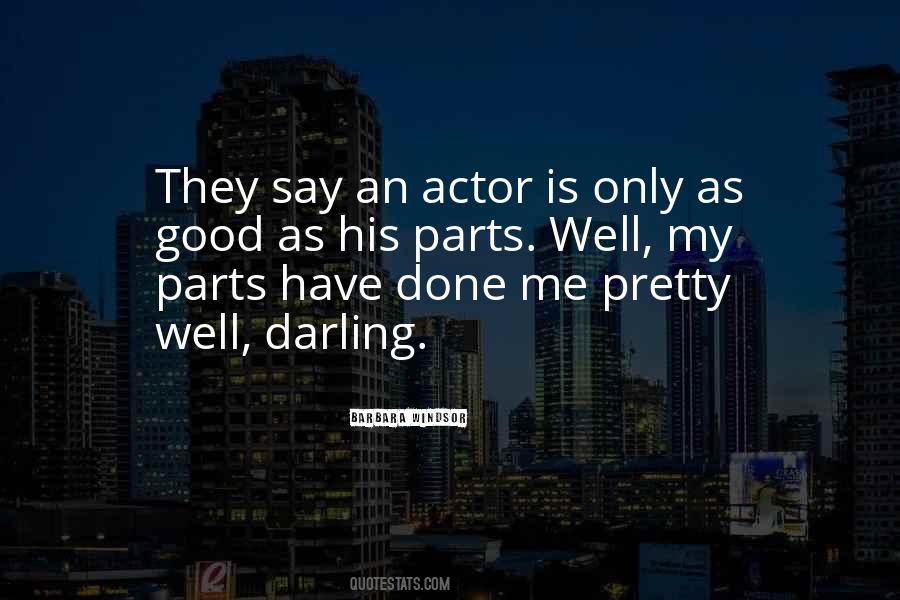 #44. This is what happens when nice people are pushed too far. We give too many chances, and so when we've finally had enough, we are well and truly done. When a nice person shuts a door on you, it's shut for good. - Author: Deb Caletti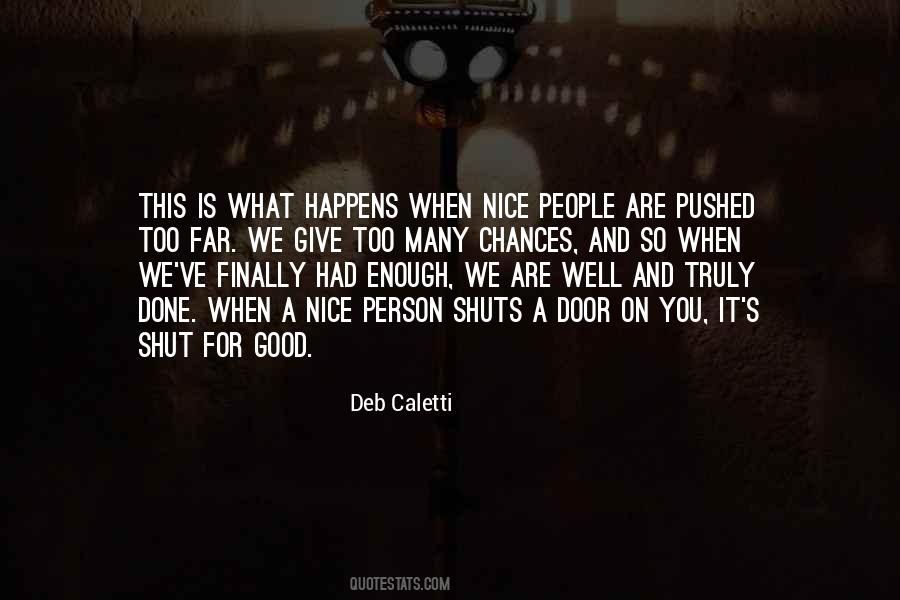 #45. You have done well," Grandfather said. "We thank you."
"We were afraid sometimes," Jetsam replied.
"Good." Grandfather's eyes smiled. "That means you had the courage to keep trying. - Author: Sheila Moon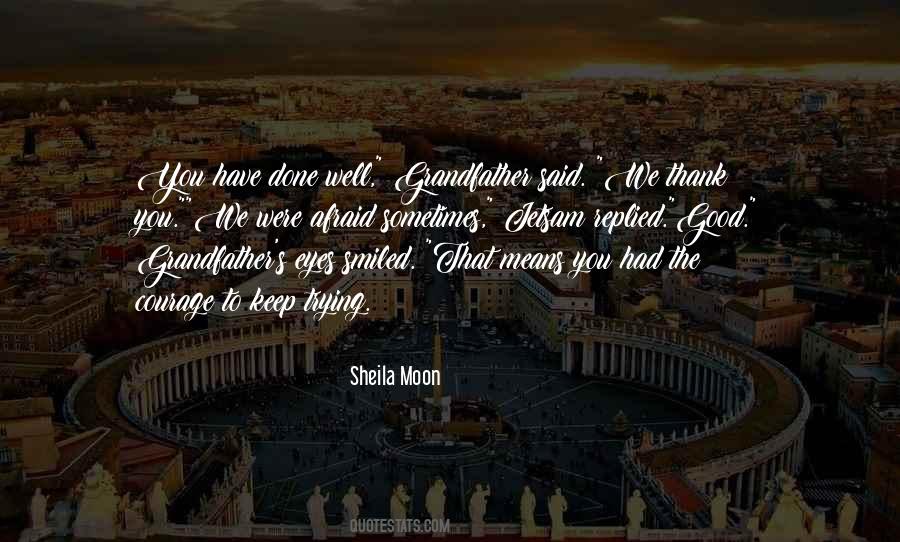 #46. When you have done a good deed that another has had the benefit of, why do you need a third reward-as fools do-praise for having done well or looking for a favor in return. - Author: Marcus Aurelius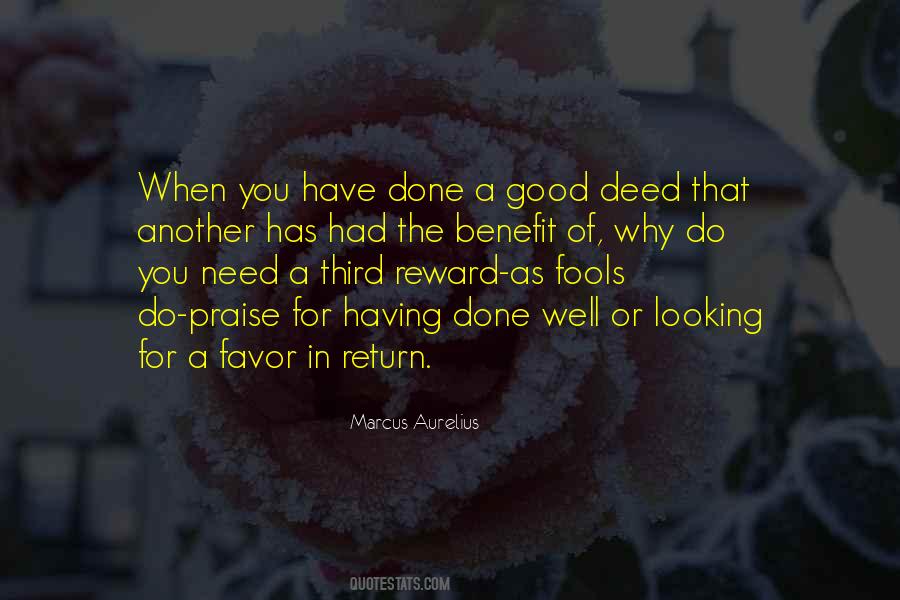 #47. In today's world more harm may be done by well-intentioned people trying to do good, who are unaware of the unintended consequences of their actions, than by people actually trying to cause harm. - Author: Peter Coleman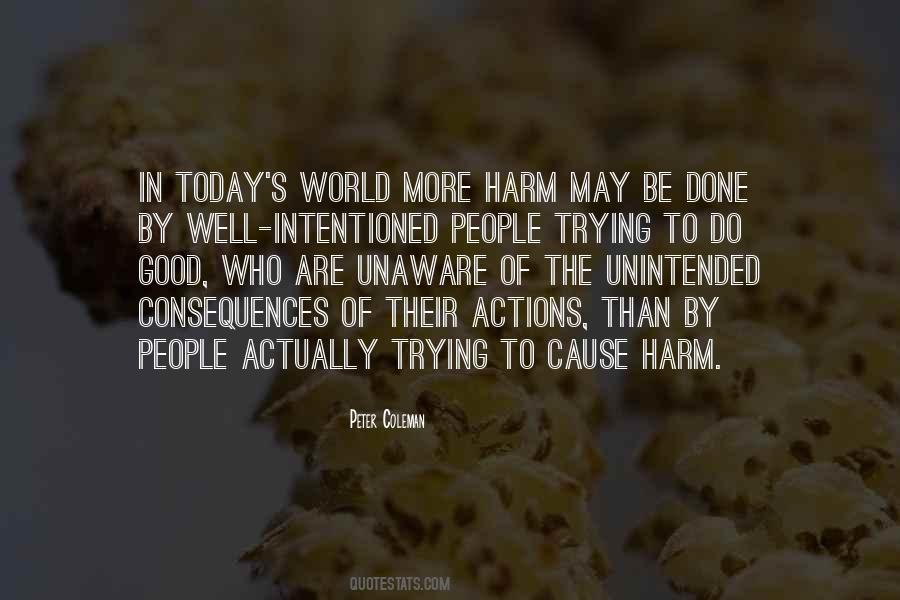 #48. I've been really lucky in the work that I have done so far, to work with good female actors in lead roles. Lisa McCune in 'Blood Brothers' and Claudia Karvan in 'Spirited' and then Susie Porter in 'Sisters of War.' They've been working, and they've got good lives around them as well. - Author: Sarah Snook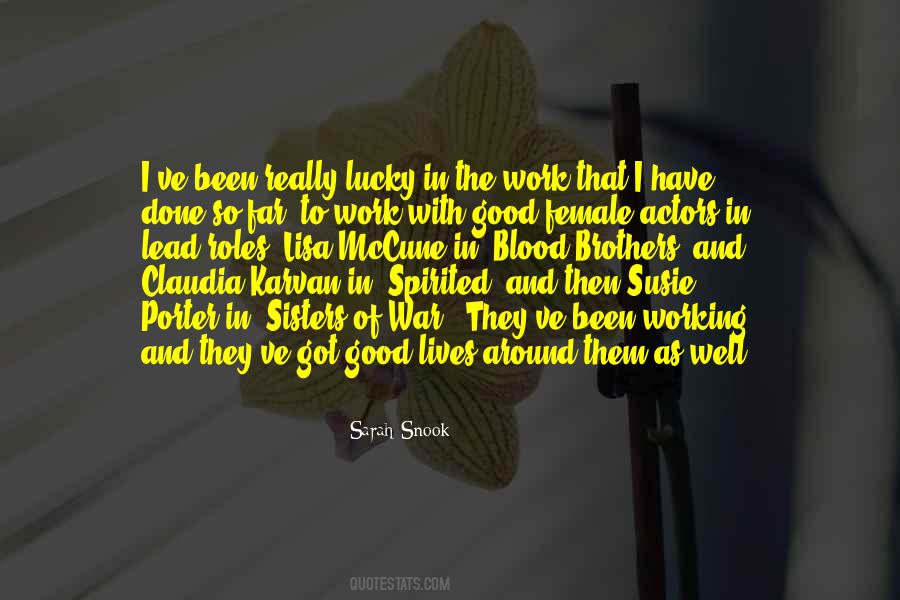 #49. It ain't bragging if you've done it. There's nothing wrong with being proud of doing something well. In fact, if you intend to do something creative for a living, it's absolutely essential.
[check for wording] Proper pride says, "I'm good at this." Improper pride says, "I'm better than you. - Author: James A. Owen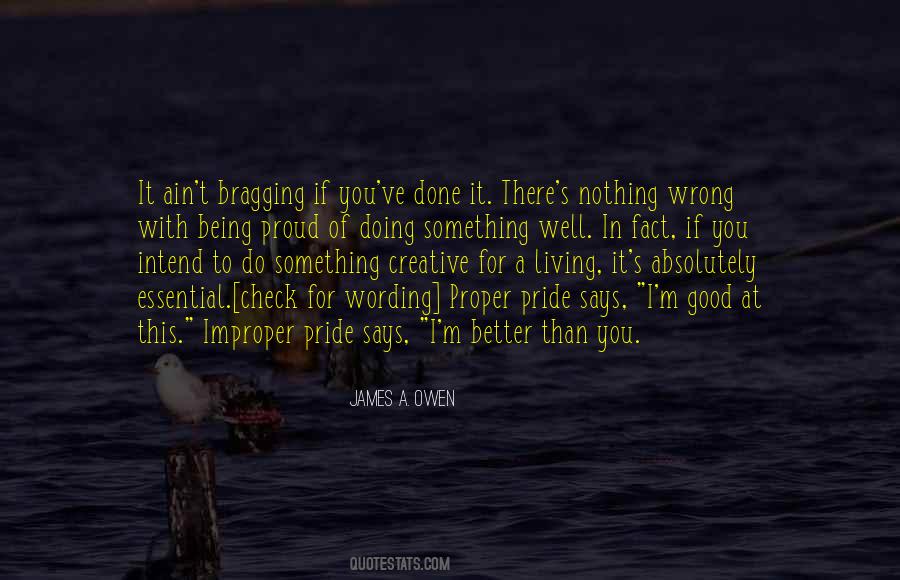 #50. You want to do good things, and once you've done a couple of good things in a row, you think 'Well gee, let's not mess this up.' But I am lucky at this point that I have something I really love to do, and it completely holds my attention. I never feel frustrated by it. - Author: Jerry Seinfeld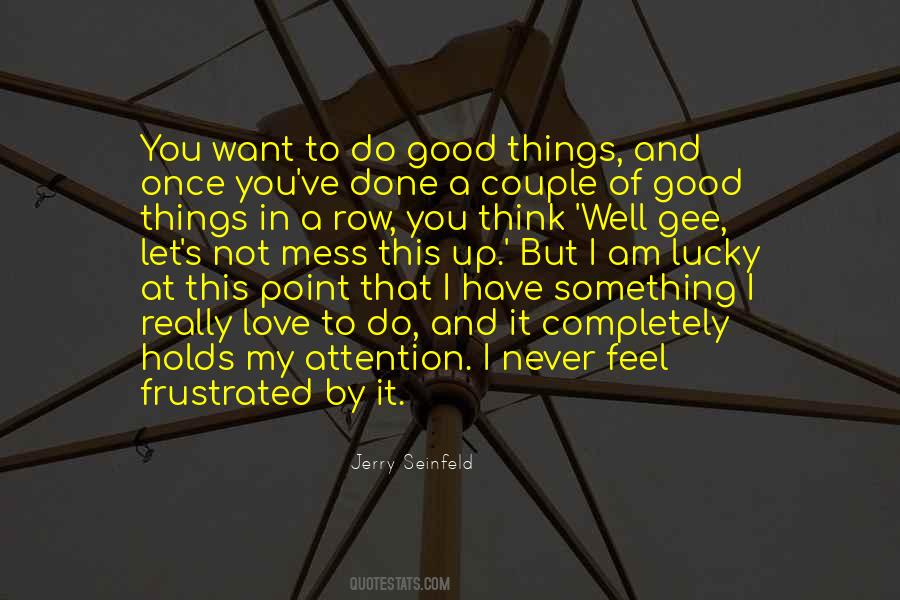 #51. To say, 'well done' to any bit of good work is to take hold of the powers which have made the effort and strengthen them beyond our knowledge. - Author: Phillips Brooks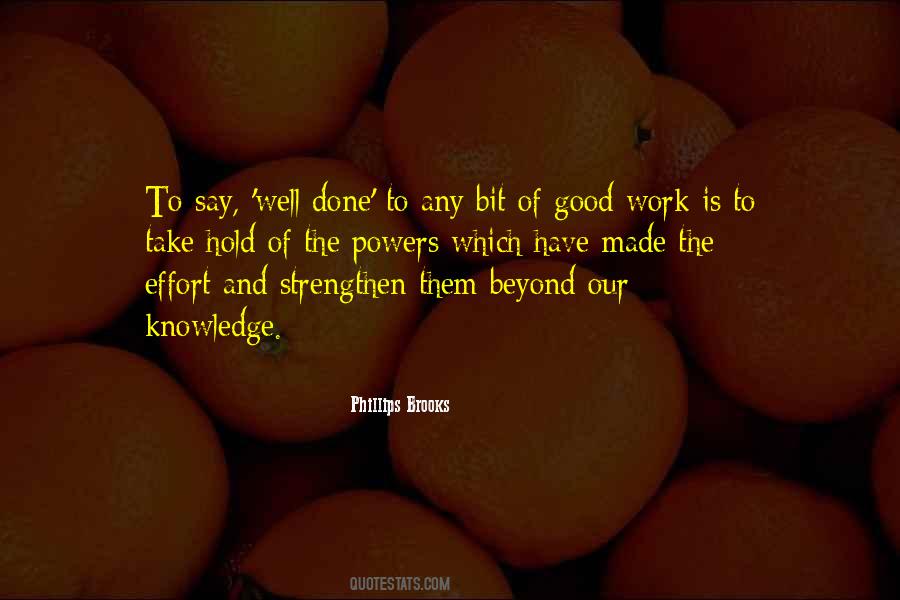 #52. 'Alien' is a C film elevated to an A film, honestly, by it being well done and a great monster. If it hadn't had that great monster, even with a wonderful cast, it wouldn't have been as good, I don't think. - Author: Ridley Scott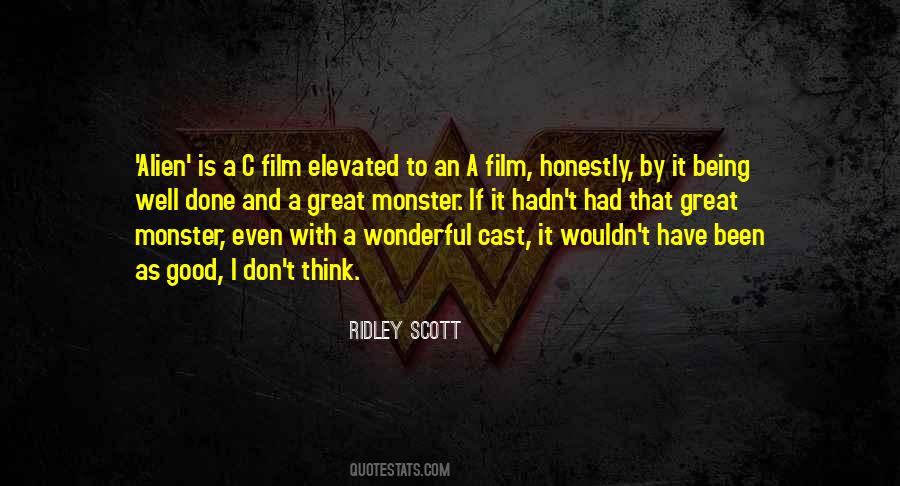 #53. I was a hostess in a restaurant in New York when I was 21, and I was too good of an employee. I was putting most of my energy into that instead of acting. But my father told my sister and me to look at whatever needed to be done and do that job well, no matter what it was. - Author: Emily Deschanel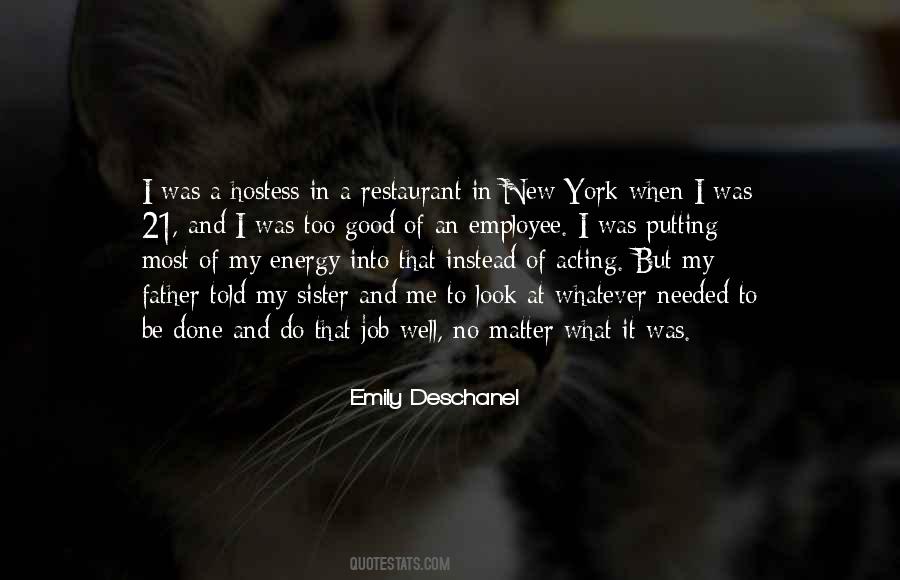 #54. It's possible for someone to act sacrificially and selflessly in the best interests of others while enjoying the fruit: feeling good about having done well and receiving God's approval and reward. - Author: Randy Alcorn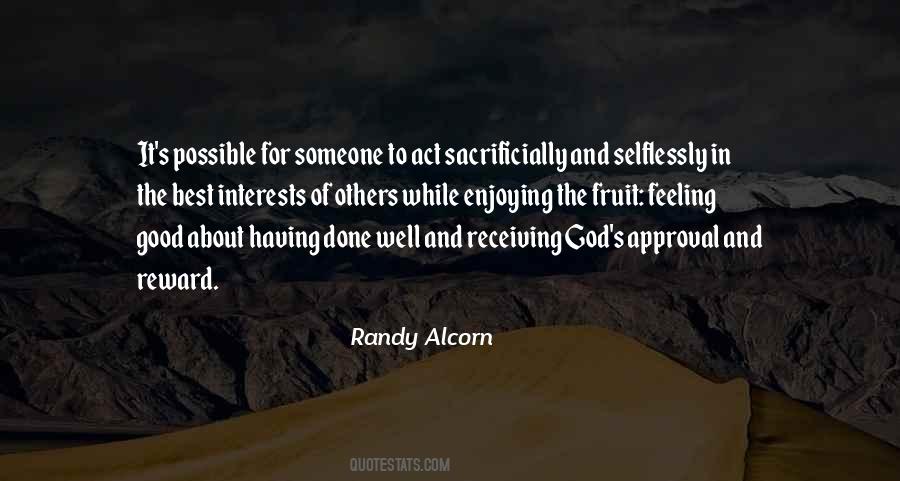 #55. Reading is like cooking. It can take hours to prepare, and then the meal is over in minutes. Good, that means you've done your job well. - Author: Gabe Berman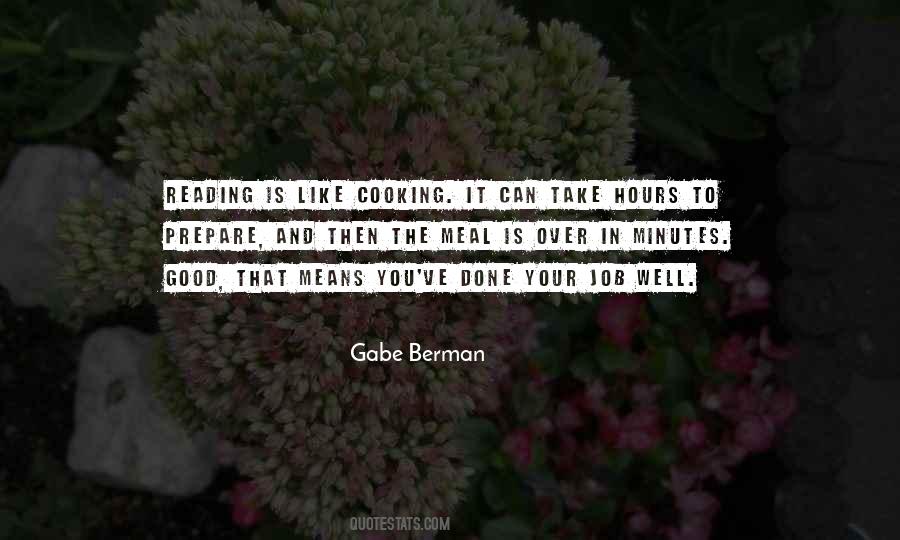 #56. Yes, alas, I've been on some recording sessions where the music wasn't good. Not so many, really, considering how many I've done. It's a very awkward situation because to do a recording well you focus on the positive of what will make the piece better. - Author: Tony Levin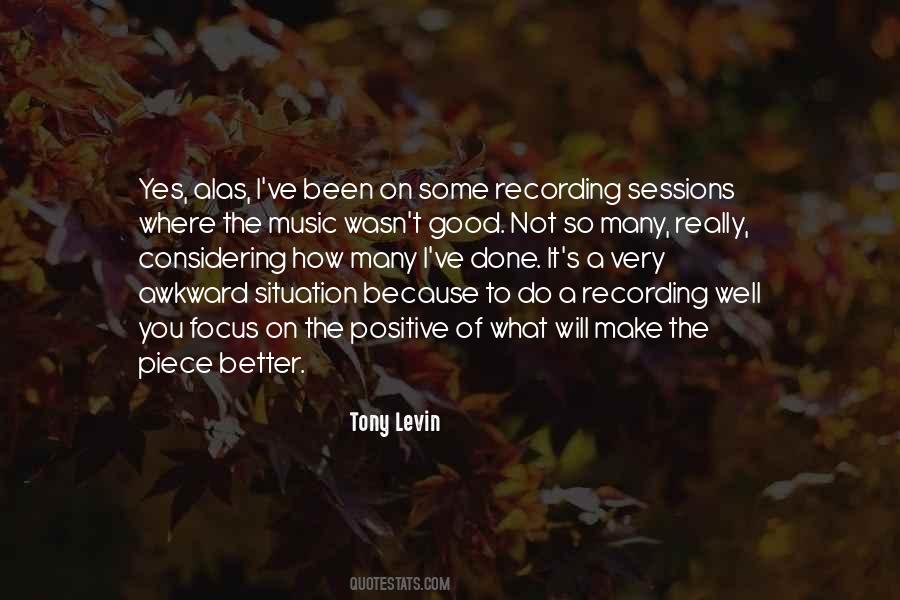 #57. In the past that you should choose a list of female action superhero movies that haven't worked. I don't believe they haven't worked because they had a female in the lead, I believe they didn't work because they weren't good. They weren't technically well done movies. - Author: Kevin Feige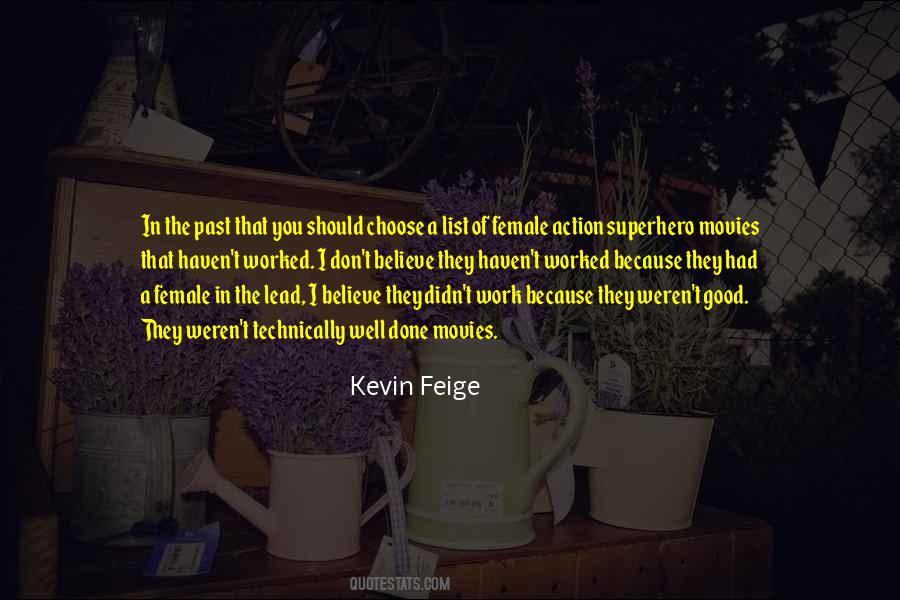 #58. I've done all the dumping, which is not a good thing. It's funny, because I married someone who has always done it as well. I believe I met my match. - Author: Josh Holloway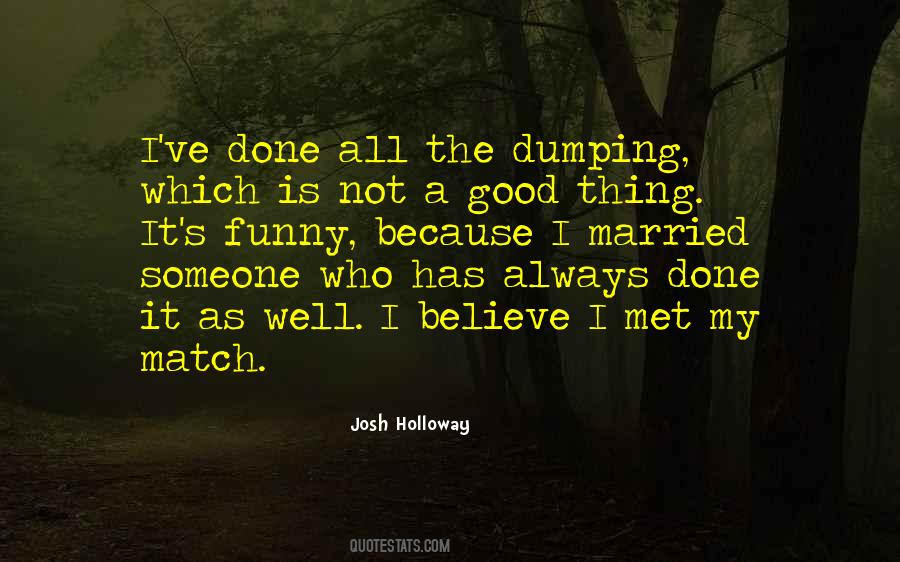 #59. Many Christians would prefer to hear "What a great guy" from the crowd rather than "Well done, good and faithful servant" from the Master [Matthew 25:23]. - Author: Billy Graham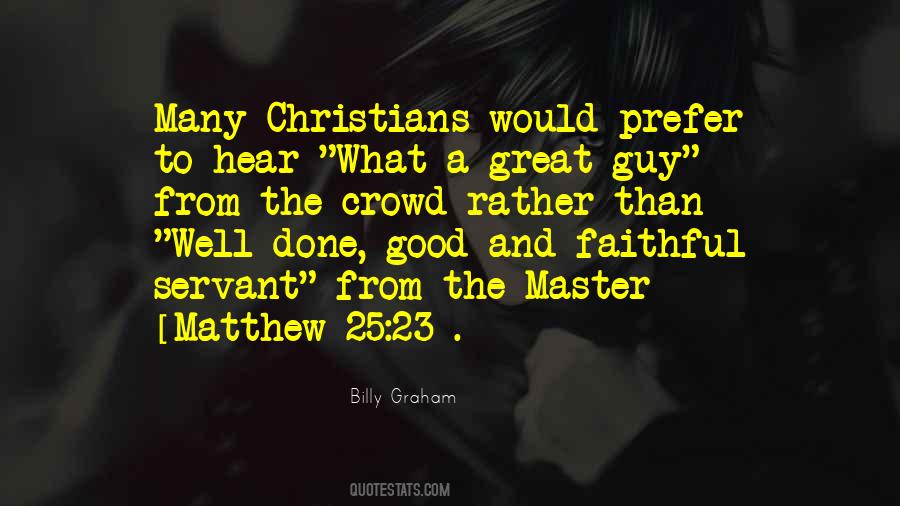 #60. Do you know the amount of evil done by well-meaning humans? Oodles. Do you know the amount done by ill-meaning devils? Infinitesimal. - Author: Thomm Quackenbush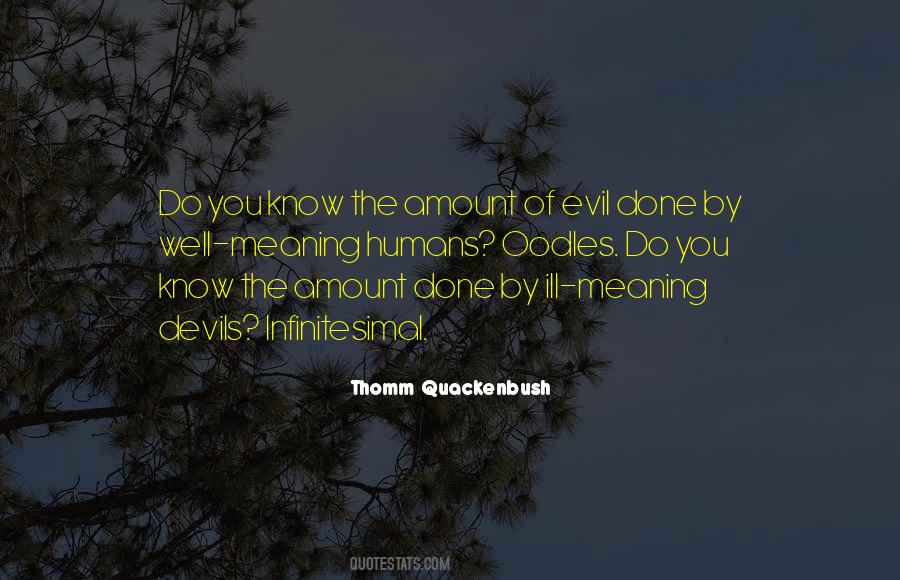 #61. They're not going to arrest you,' Skulduggery said as they walked through the door. 'They might glare at you and say angry words, but they won't arrest you. Well, they might arrest you. There's a good chance they will. But the important thing is that I've done nothing wrong.'
'For once. - Author: Derek Landy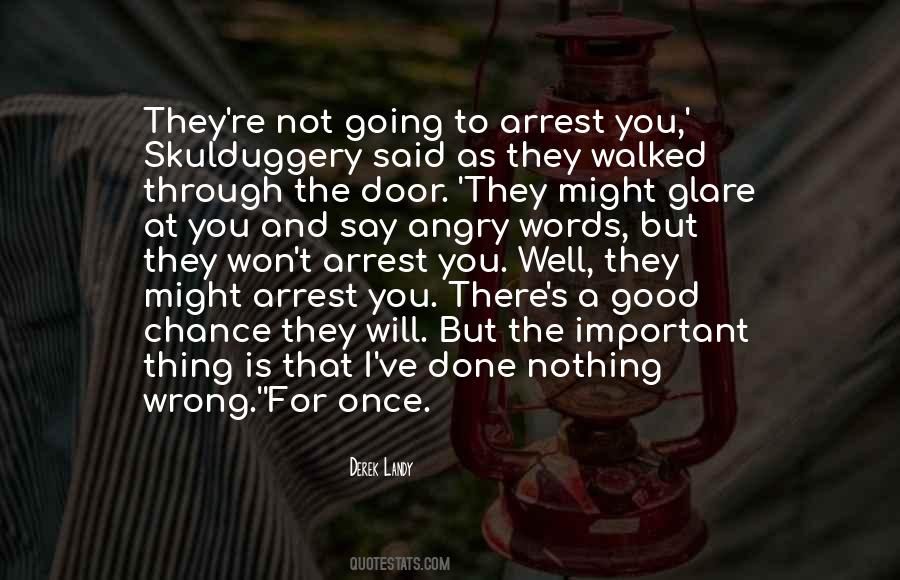 #62. Resume: a written exaggeration of only the good things a person has done in the past, as well as a wish list of the qualities a person would like to have. - Author: Bo Bennett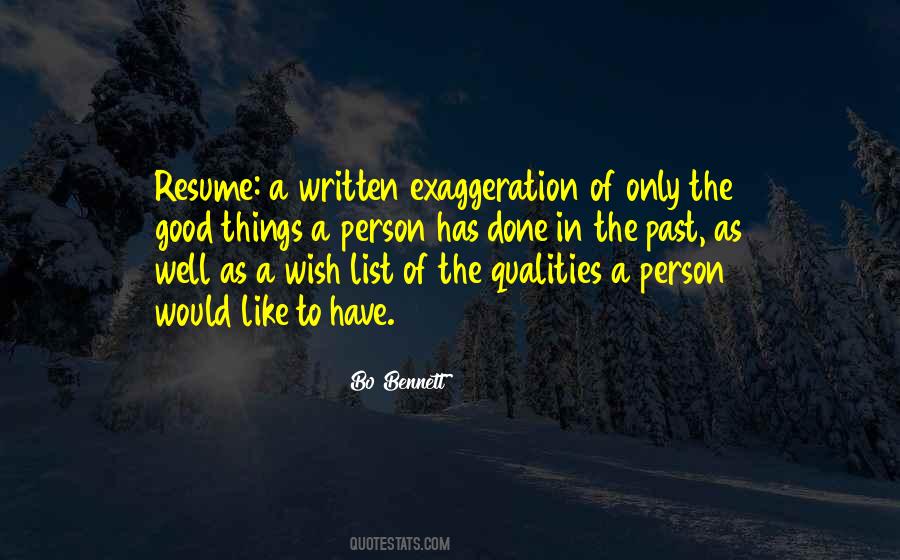 #63. On nights such as this, evil deeds are done. And good deeds, of course. But mostly evil, on the whole. On nights such as this, witches are abroad. Well, not actually abroad. They don't like the food and you can't trust the water and the shamans always hog the deckchairs. - Author: Terry Pratchett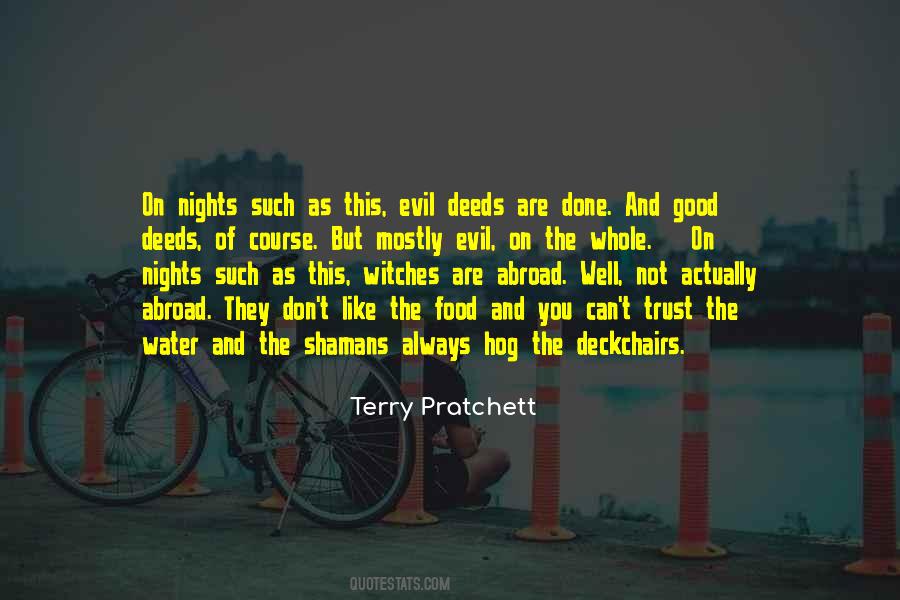 #64. Alan Shearer has done very well for us, considering his age. We have introduced some movement into his game because he has got two good legs now. Last season he played with one leg. - Author: Bobby Robson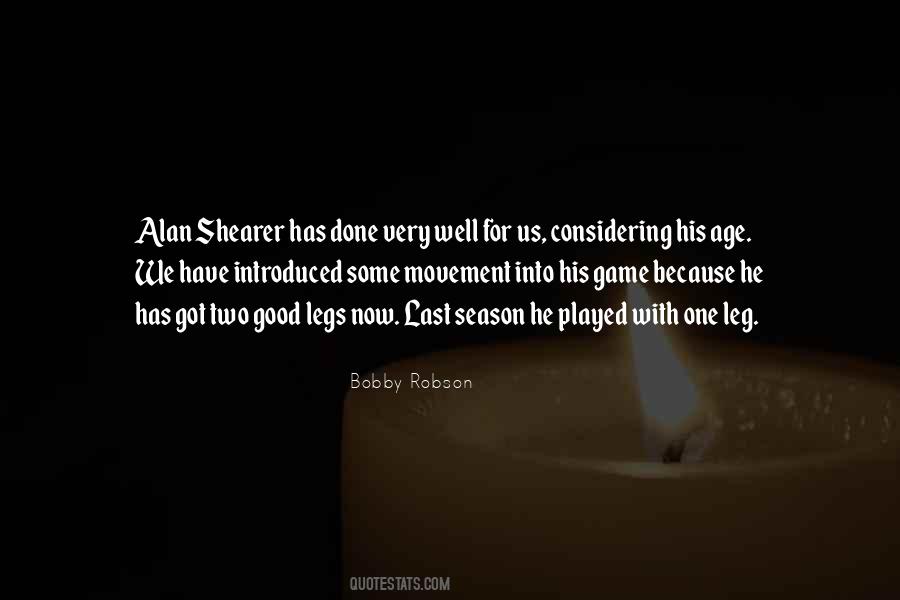 #65. After all these years, I've done well and I'm cool. I feel comfortable in my skin, I've saved some paper, everybody's healthy, my kids are beautiful and smart, doing different things, it's all good. - Author: Eddie Murphy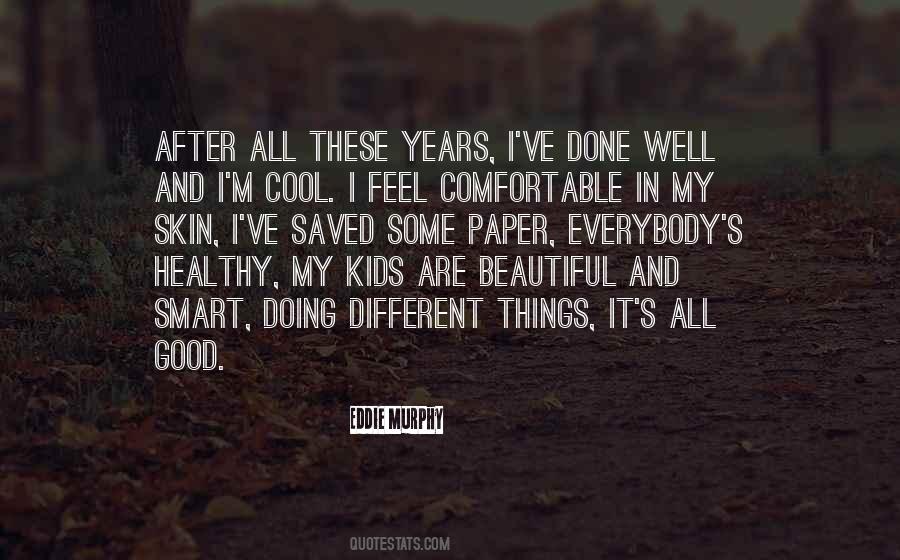 #66. I was an educated girl. I'd done very well in school. I had a good point average and graduated from USC as an English teacher. My dad didn't even finish high school. - Author: Marlo Thomas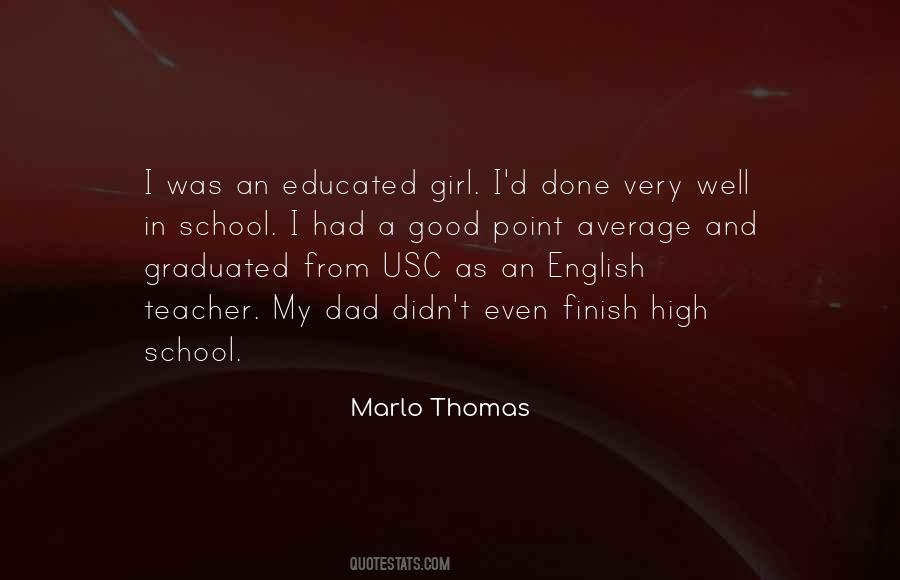 #67. After you've done all the work and prepared as much as you can, what the hell, you might as well go out and have a good time. - Author: Benny Goodman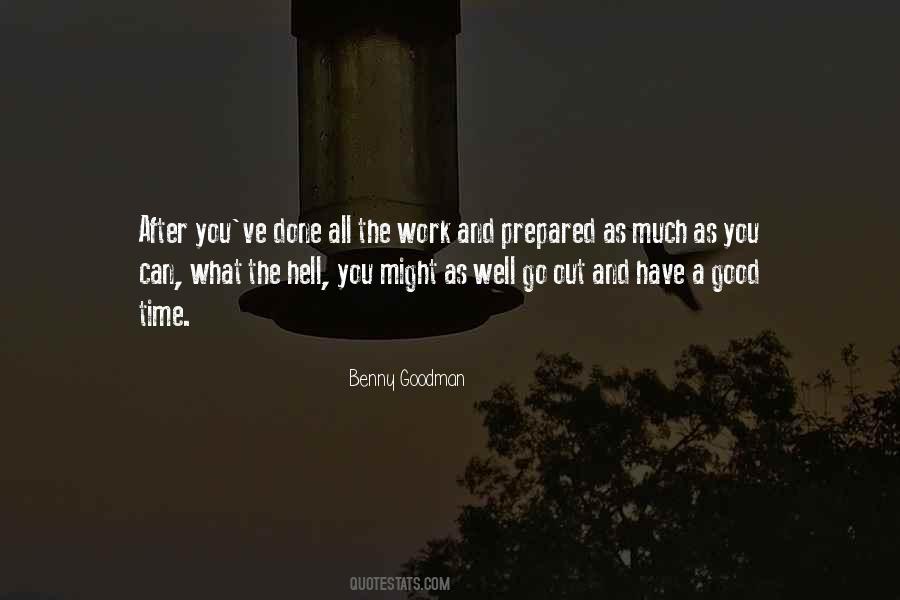 #68. We have sectors of the economy, aerospace is a good example, where Britain's probably the second country in the world, the automobile sector, where we've done extraordinarily well, an enormous amount of investment over the last couple of years, life sciences is another. - Author: Vince Cable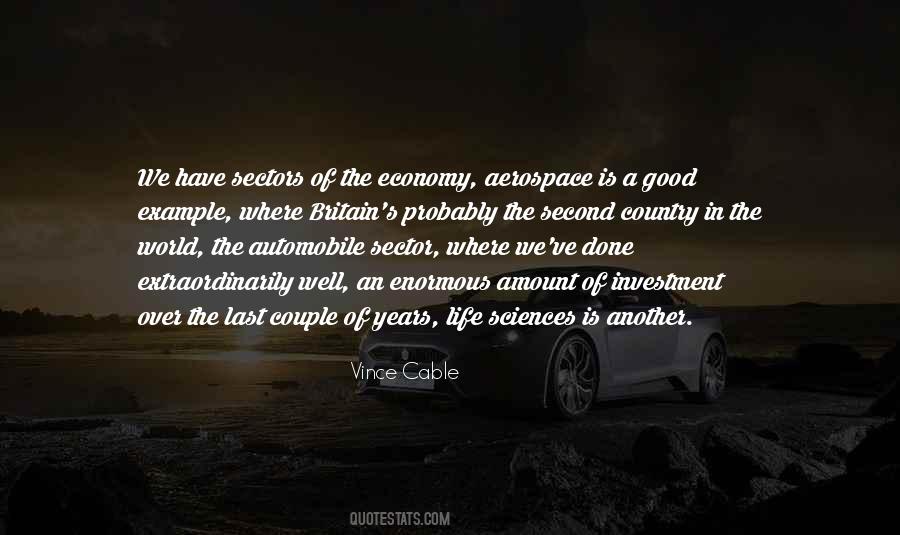 #69. God is a good paymaster; He pays His servants while at work as well as when they have done it; - Author: Charles Haddon Spurgeon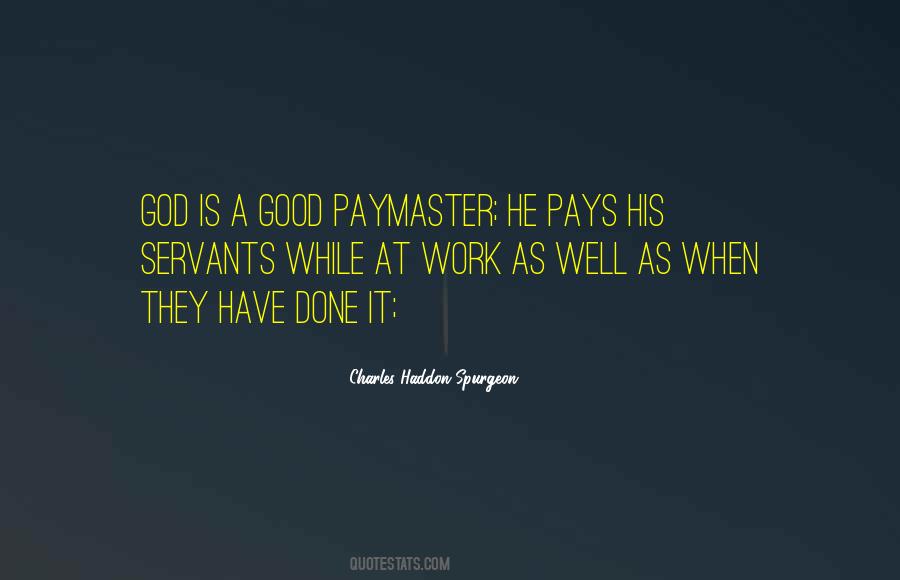 #70. All I can say is I've been lucky with my body. Well done, little body. I praise it and say, 'You're very good.' - Author: Marianne Faithfull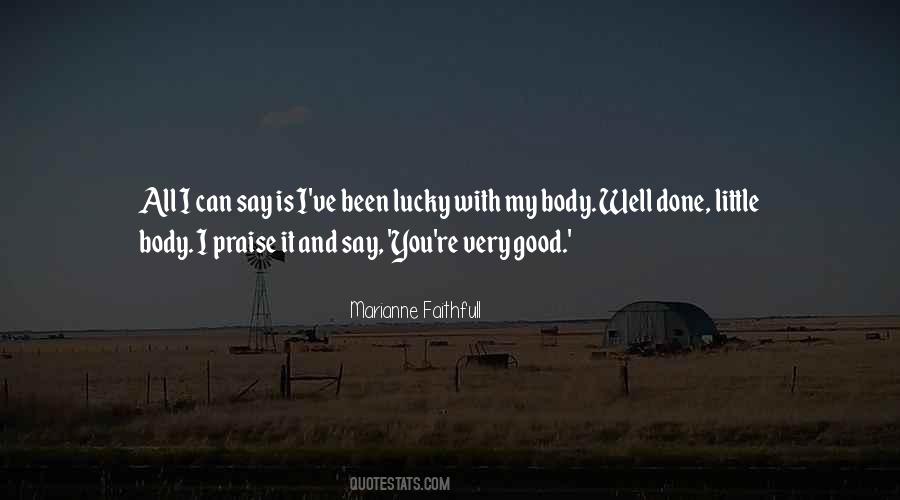 #71. Every good endeavor should be done with purpose. Without a clear sense of purpose, our efforts to do a good thing well can flounder. But with a clear purpose, we are far more likely to persevere. - Author: Jen Wilkin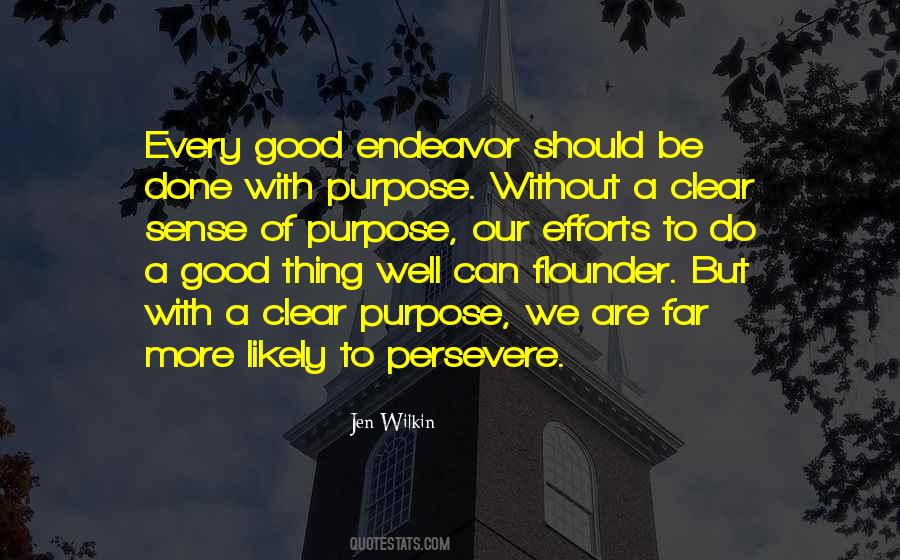 #72. I see good ideas on the Republican side as well as the Democratic side. You have to return civility and statesmanship to governance. If you don't do that, it doesn't matter what portfolio of issue you're pushing, nothing is going to get done. - Author: Richard Carmona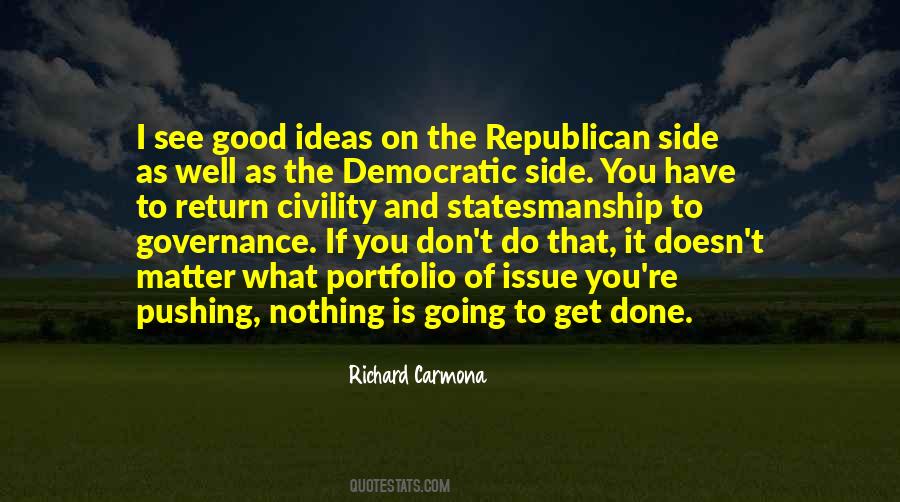 #73. I haven't been around here for long. Well ... actually, I haven't been around anywhere for long. I don't know who I am, or what I'm here for. I know that Lord Umber's important, though. I've seen all the good things he's done. I know for sure the world needs him. I can't say that about me. - Author: P.W. Catanese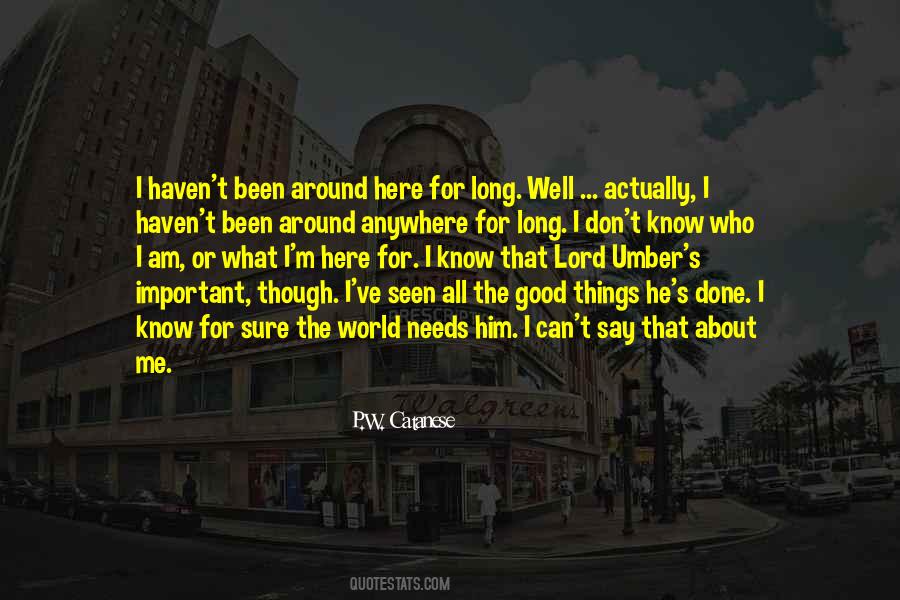 #74. I hope to be judged as good a man as my father. Before I hear those words "well done" from my Heavenly Father, I hope to first hear them from my mortal father. - Author: Boyd K. Packer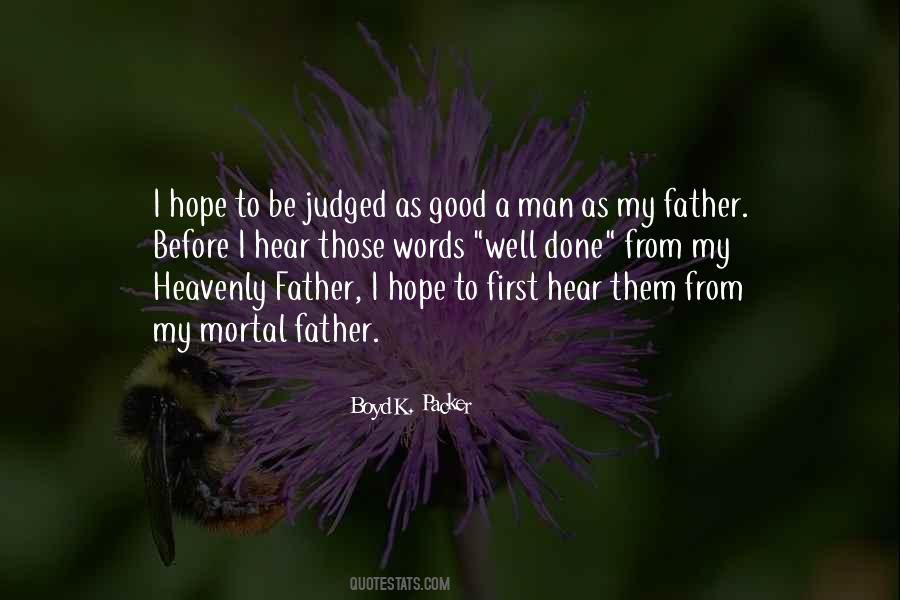 #75. Well, it's a good life and a good world, all said and done, if you don't weaken. - Author: Alan Sillitoe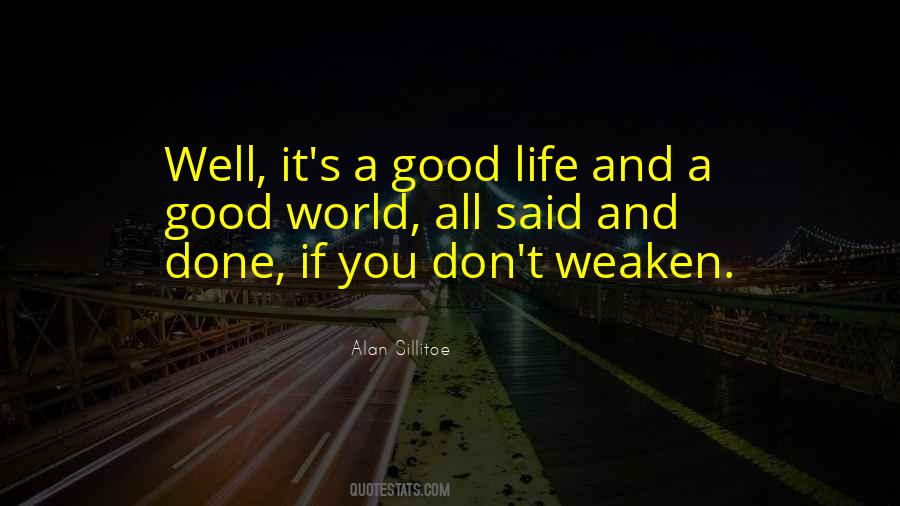 #76. Men there have been who have done the essayist's part so well as to have earned an immortality in the doing; but we have had not many of them, and they make but a poor figure on our shelves. It is a pity that things should be thus with us, for a good essayist is the pleasantest companion imaginable. - Author: William Ernest Henley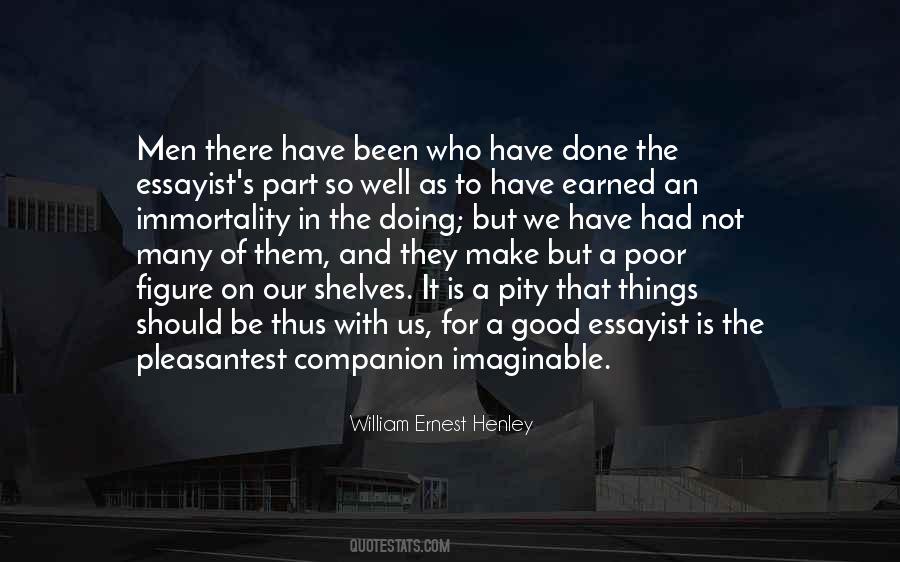 #77. Well, it was most likely too late; there would not be time for me to flagellate myself for every dishonorable deed in that list, nor any chance to make good the harms I'd done. Minor harms, to be sure, in the scheme of things; but large enough to regret. - Author: Clive Barker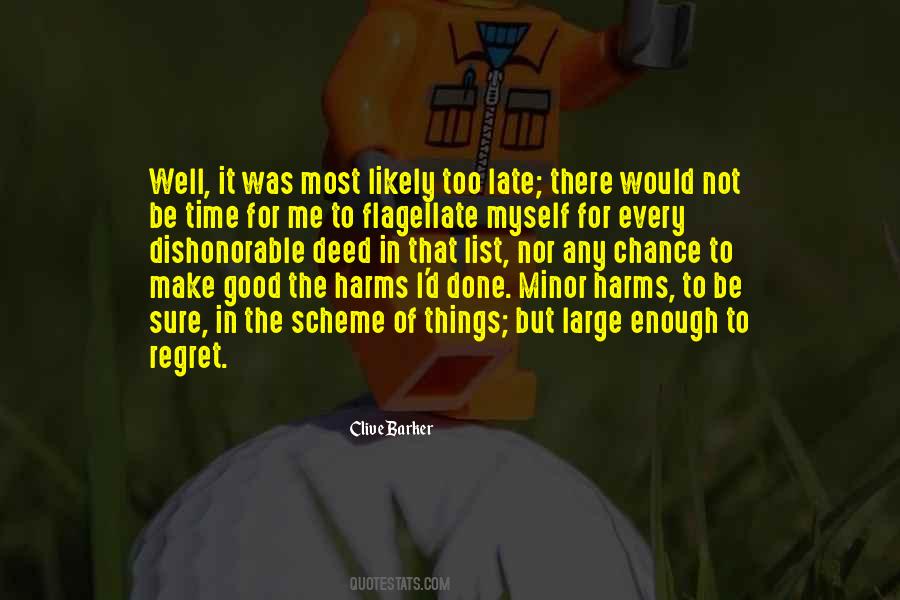 #78. The conversation did not go very well and I began telling him about the people with their trays in the great cafeteria and suggesting that it would have done us more good to go there to be put in mind of our own mortality. - Author: Barbara Pym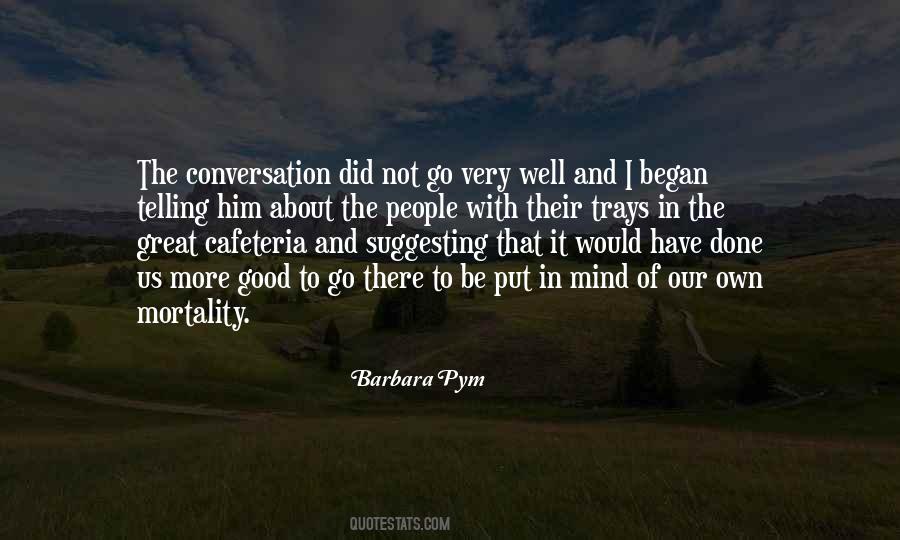 #79. When everything is said and done, God isn't going to say, "Well said," "Well thought," or "Well planned." There is one measuring stick: "Well done, good and faithful servant!"5 - Author: Mark Batterson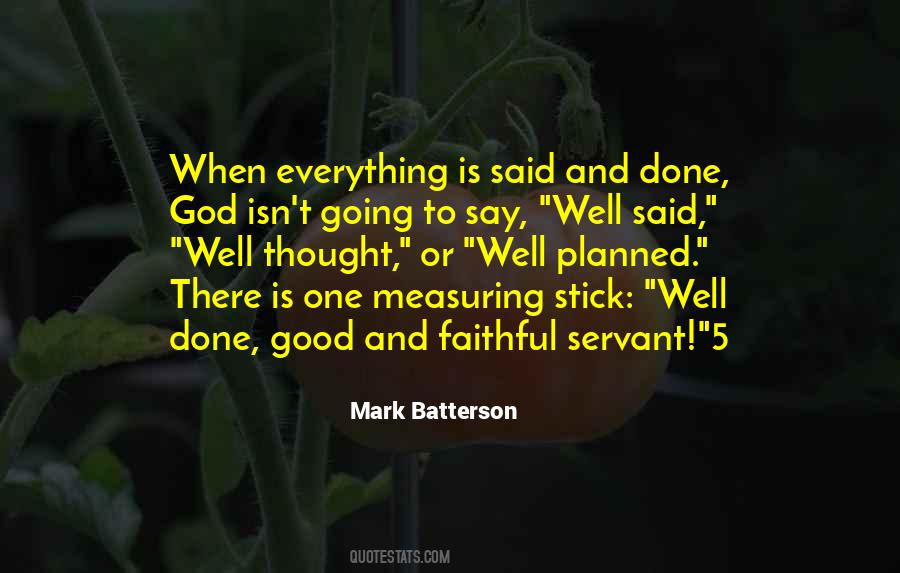 #80. If fantasy is done well, it has both serious content in a literary fashion and is a really good read as well - and children and young adults won't suffer anything else. - Author: Isobelle Carmody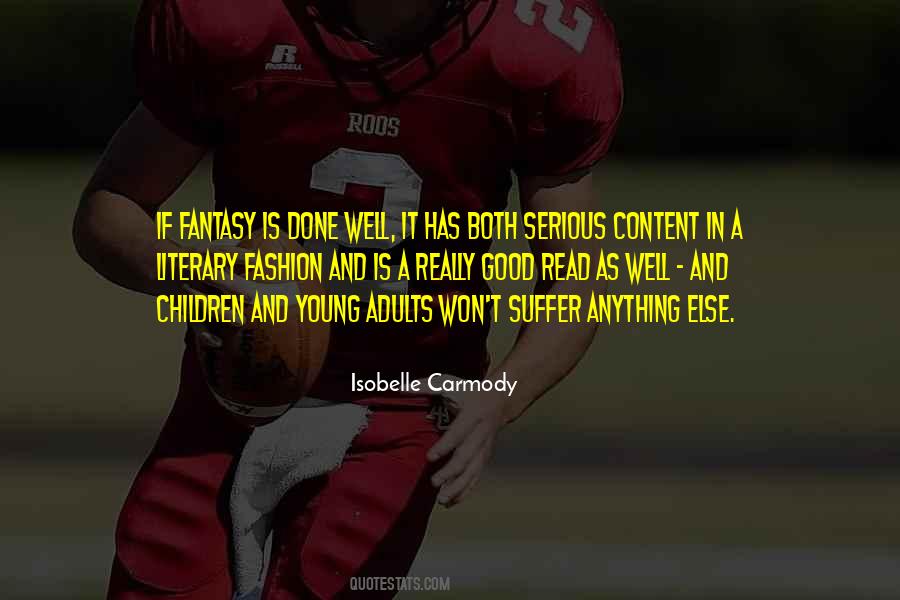 #81. George W. Bush was a very bad president. The Iraq war was a big mistake. The U.S.A. needed a political change. I hoped Barack Obama could be a good president, but I'm disappointed. He hasn't done well. - Author: Marc Rich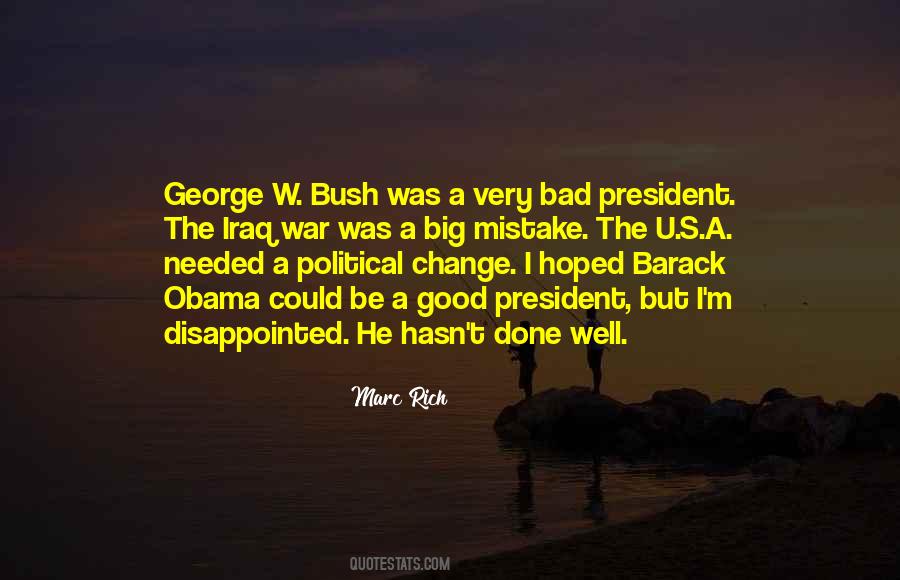 #82. I've done two albums for Concord Records; one was with Al Jarreau and it did very well for us. The second album was called 'Songs And Stories,' and it had good songs and good performances, but I promised them I would do an album that was more jazz-oriented. - Author: George Benson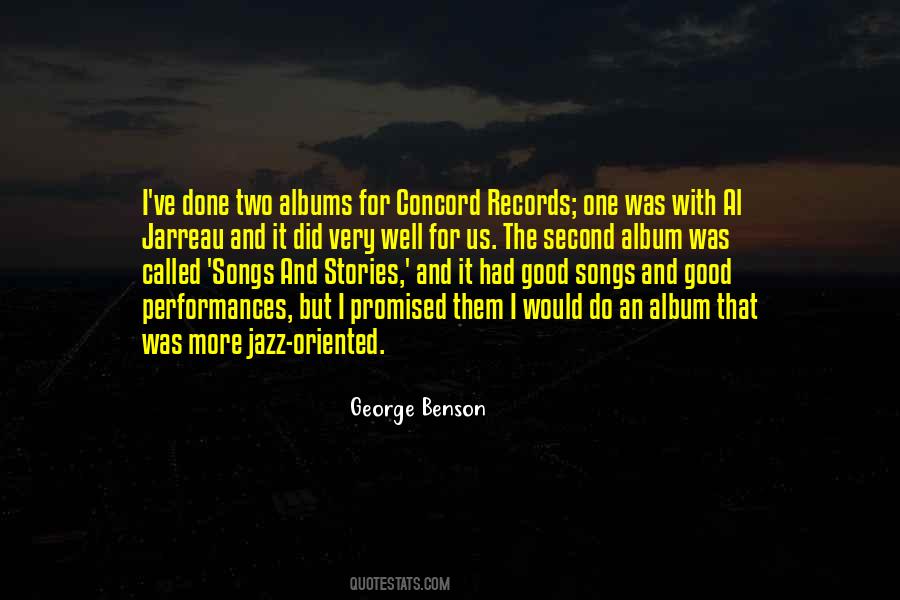 #83. I think I have done well, if I have acquired a new word from a good author; and my business with him is to find my own, though itwere only to melt him down into an epithet or an image for daily use. - Author: Ralph Waldo Emerson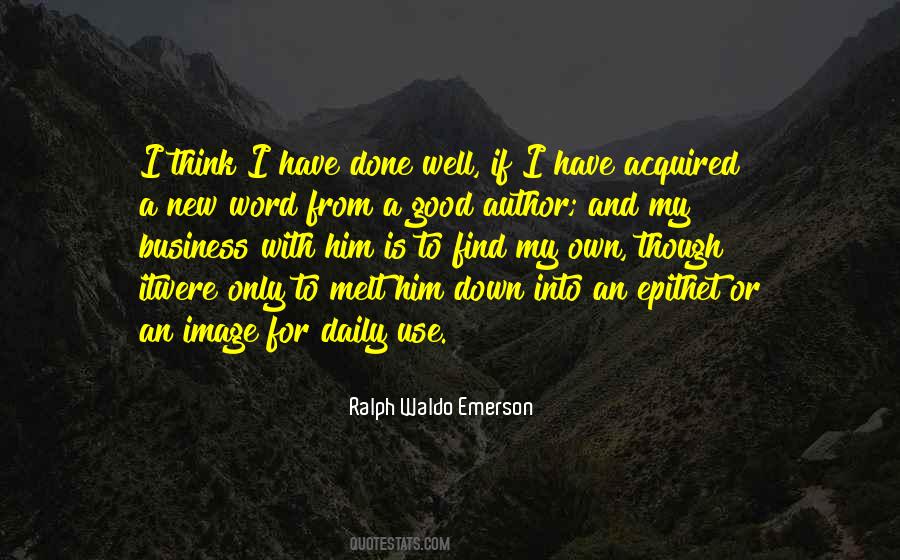 #84. A lot of the songs are written on piano or guitar, so I contribute, and I have done so since the beginning. So it's been good to be involved completely musically as well. - Author: Caroline Corr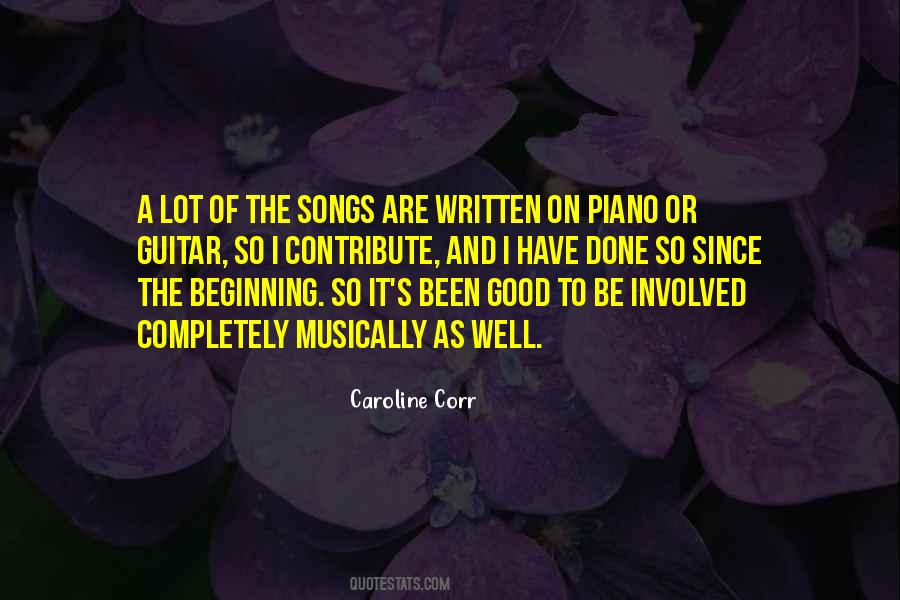 #85. The lives of truest heroism are those in which there are no great deeds to look back upon. It is the little things well done that go to make up a truly successful and good life. - Author: Theodore Roosevelt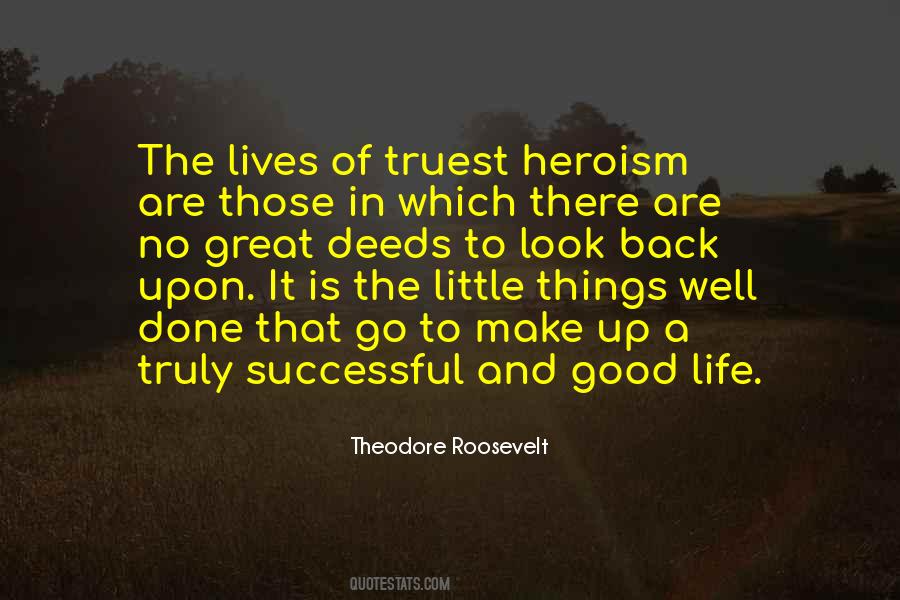 #86. Only, don't mistake a new place for a new you. I've done that more than once. You asked me before why I stay here. Maybe that's why," he said, "now that I think about it. Might as well deal with myself right here. It's as good a place as any. - Author: Sara Zarr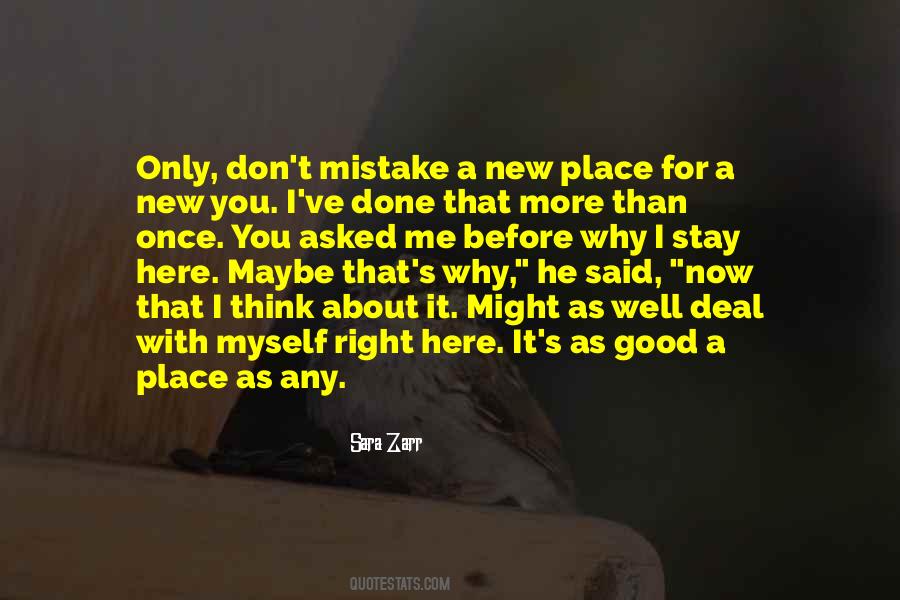 #87. I lost my mother and my brother when I was 15 in two separate car accidents. I was doing well at school. I was a good sportsperson, but at that point, I gave up on all of those things that were there to be done. I couldn't deal with them. - Author: Manu Bennett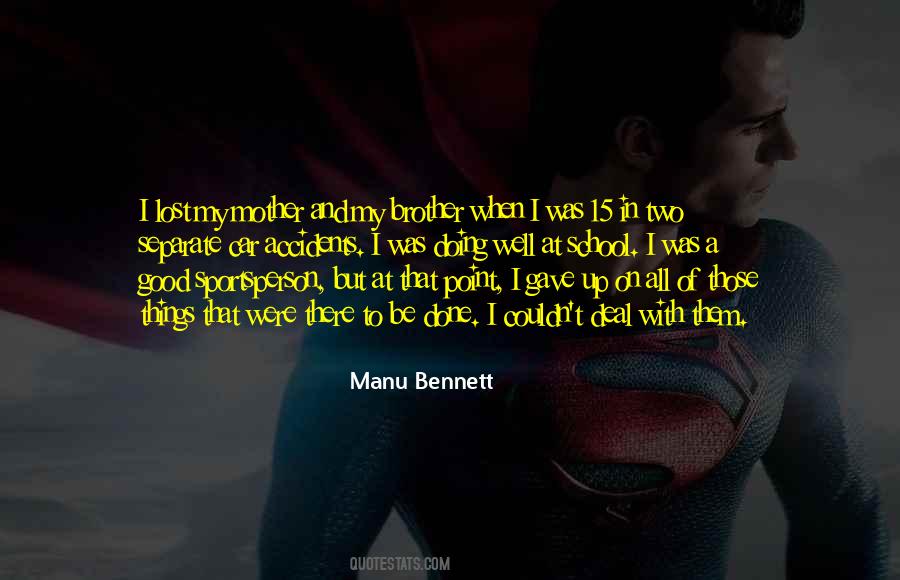 #88. When you put down the good things you ought to have done, and leave out the bad ones you did do well, that's Memoirs. - Author: Will Rogers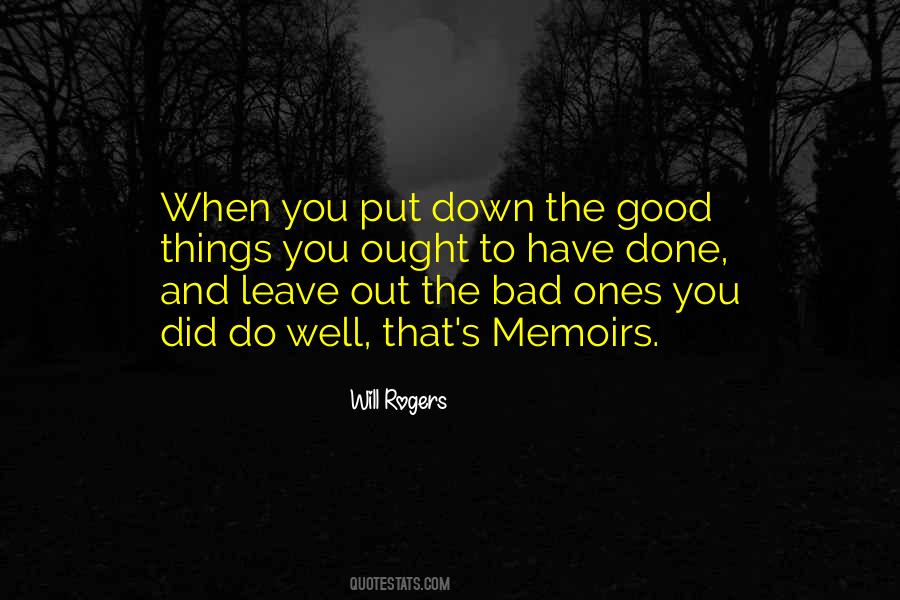 #89. Christmas is a season of such infinite labour, as well as expense in the shopping and present-making line, that almost every woman I know is good for nothing in purse and person for a month afterwards, done up physically, and broken down financially. - Author: Fanny Kemble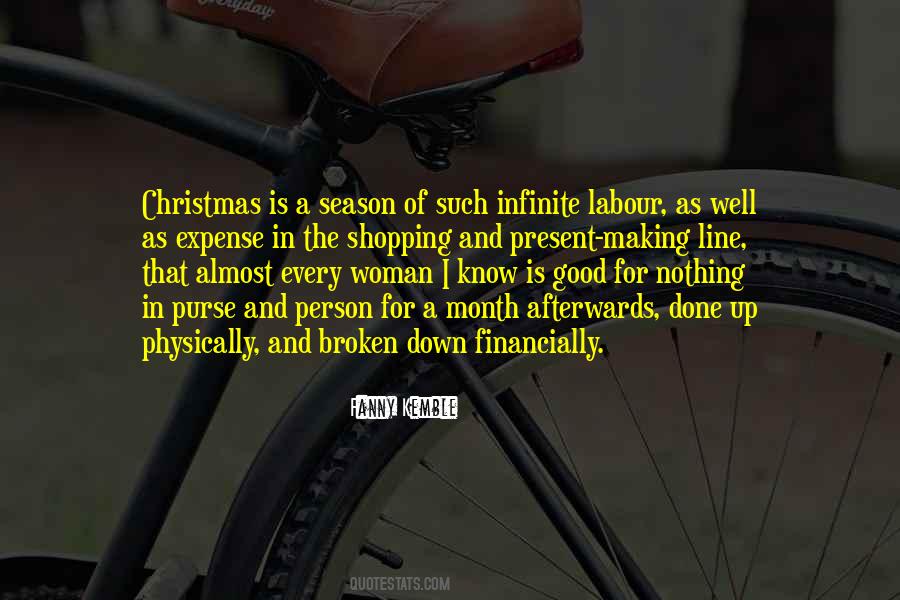 #90. The man held himself still and turned his milk-flooded eyes on her. Fin felt something like vertigo and knew that, though blind, he was seeing. He wasn't looking at her or past her. He was looking into her. And what he saw, he judged.
"Is very good. - Author: A.S. Peterson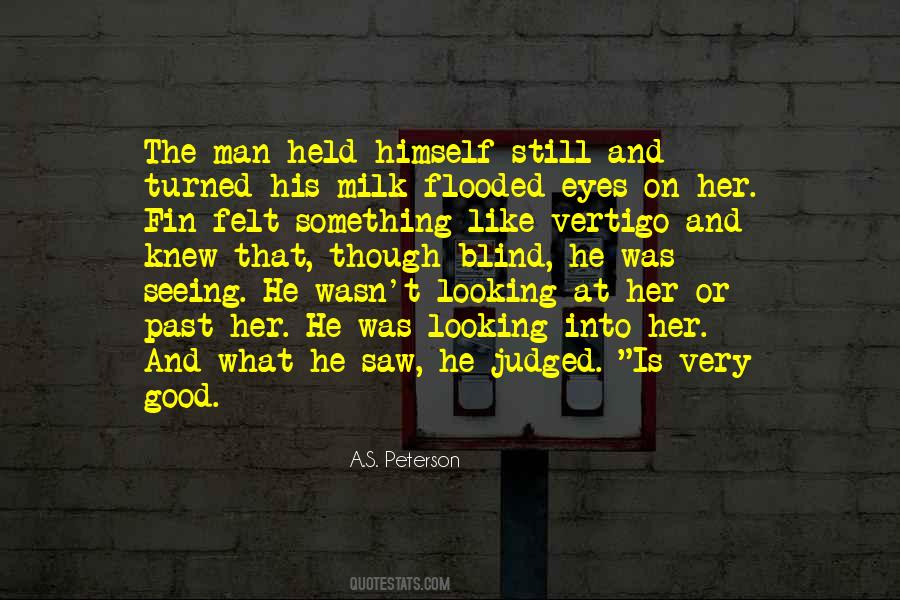 #91. If I said to most of the people who auditioned, 'Good job, awesome, well done,' it would have made me actually look and feel ridiculous. It's quite obvious most of the people who turned up for this audition were hopeless. - Author: Simon Cowell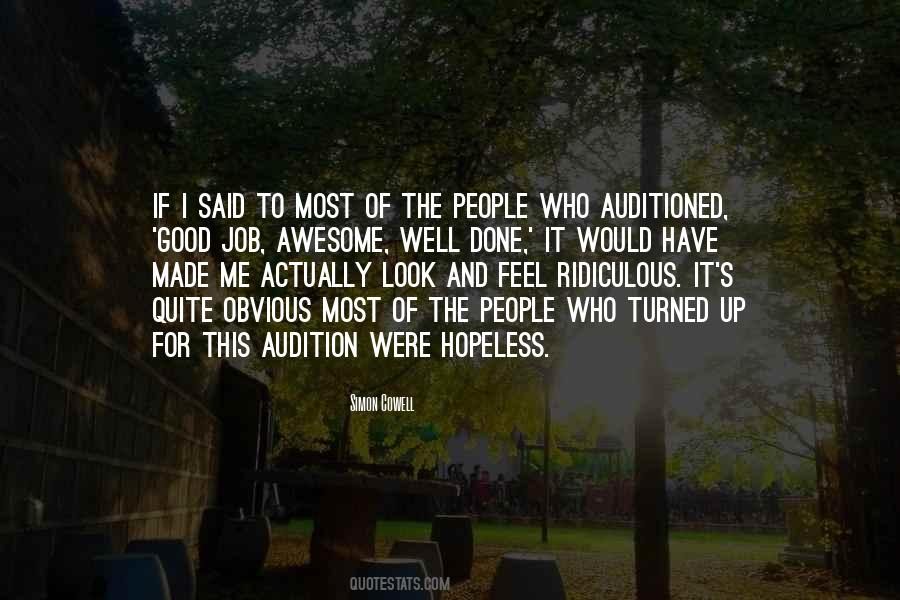 #92. If it is to be done well, child-rearing requires, more than most activities of life, a good deal of decentering from one's own needs and perspectives. Such decentering is relatively easy when a society is stable and when there is an extended, supportive structure that the parent can depend upon. - Author: David Elkind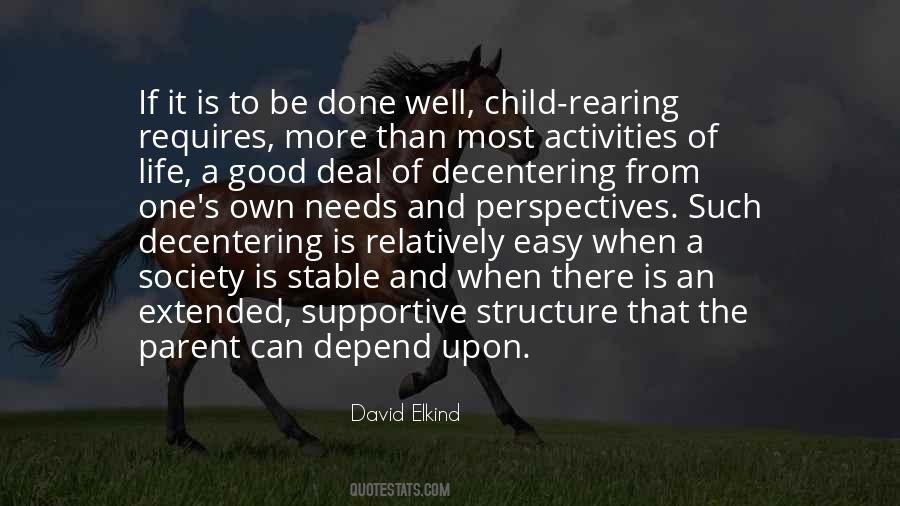 #93. I do wish that I had gone to college, just for the simple fact that knowing more than one approach makes you more well-rounded. But I still can't say knowing what I know now, that I would have done it any differently. - Author: Meagan Good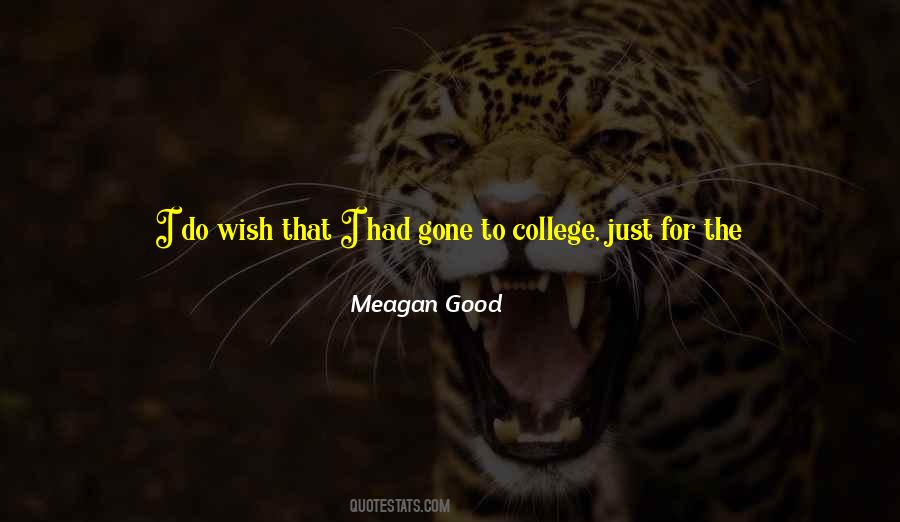 #94. It's okay with us," Dannon said, and now there was something in his eye, a little spark of pleasure, a job well done. Lucas thought, This isn't good. - Author: John Sandford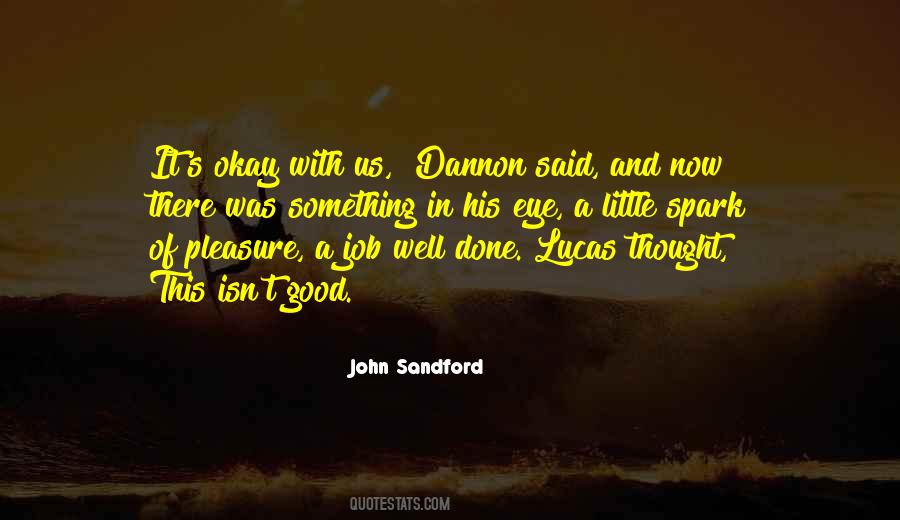 #95. You know, I think the greatest gift in the world is a good employee, you know, or people who can do your work for you and do it well the way you'd like to have it done. And I've always been able to surround myself with really good people. - Author: Kenny Rogers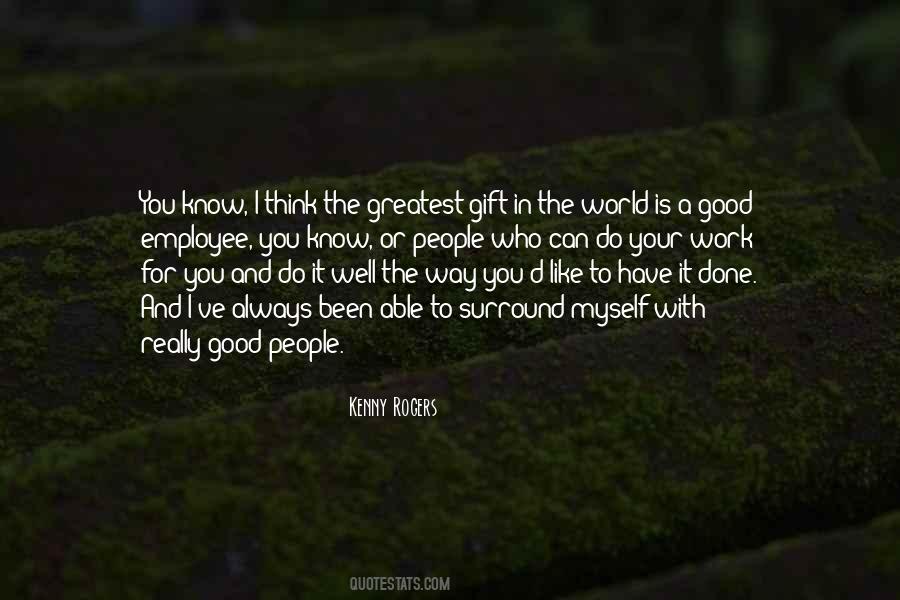 #96. I have great artistry, I can spin well, I have good footwork, and I can jump. I can do the quad jump, and I've done it multiple times in competition. It's definitely a jump that I have in my arsenal. I like to think of myself as the complete skater. - Author: Jeremy Abbott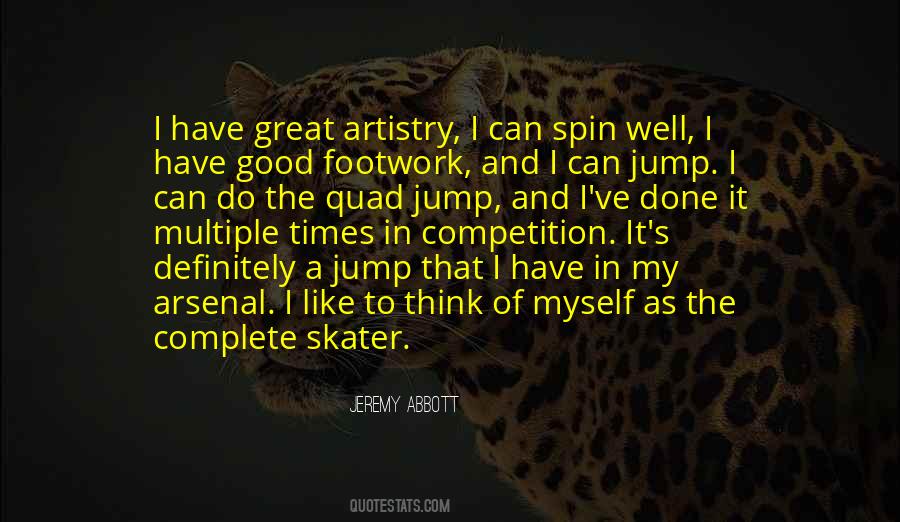 #97. You might as well baptize a bag of sand as a man, if not done in view of the remission of sins and getting of the Holy Ghost. Baptism by water is but half a baptism, and is good for nothing without the other half-that is, baptism of the Holy Ghost. - Author: Joseph Smith Jr.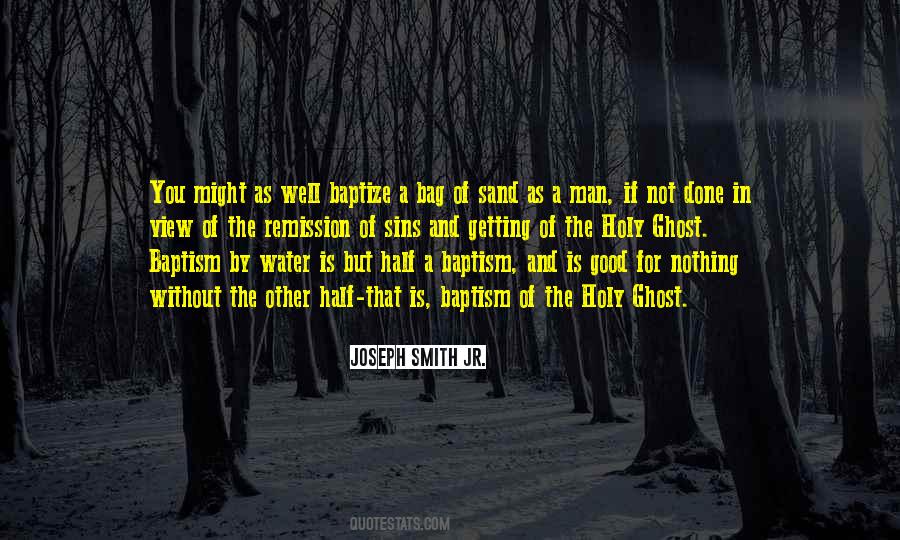 #98. Well, first of all, I think that a lot of the voters who are voting for the tea party candidates have really good impulses. That is, they believe that for years and years and years, the people with wealth and power or government power have done well and ordinary people have not. That's true. - Author: William J. Clinton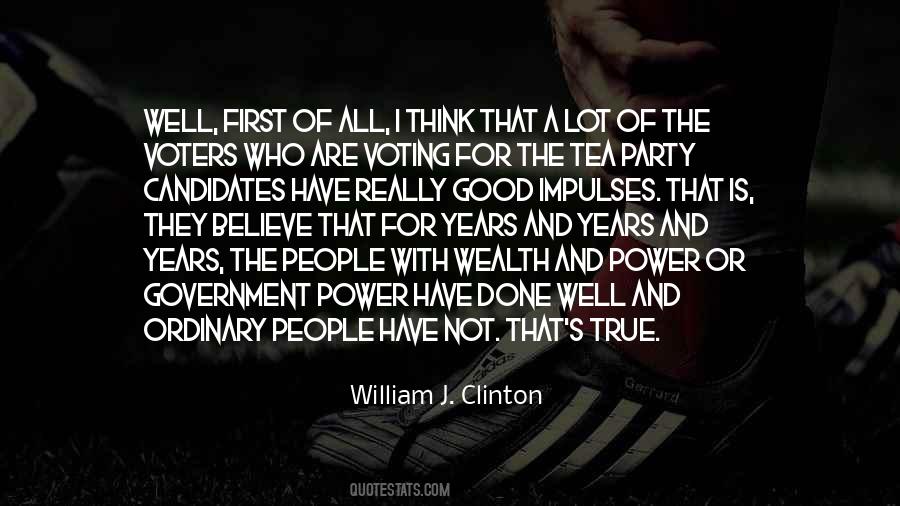 Famous Authors
Popular Topics