Football Game Famous Quotes & Sayings
List of top 100 famous quotes and sayings about football game to read and share with friends on your Facebook, Twitter, blogs.
Top 100 Football Game Sayings
#1. I believe the game is designed to reward the ones who hit the hardest - If you can't take it, you shouldn't play! - Author: Jack Lambert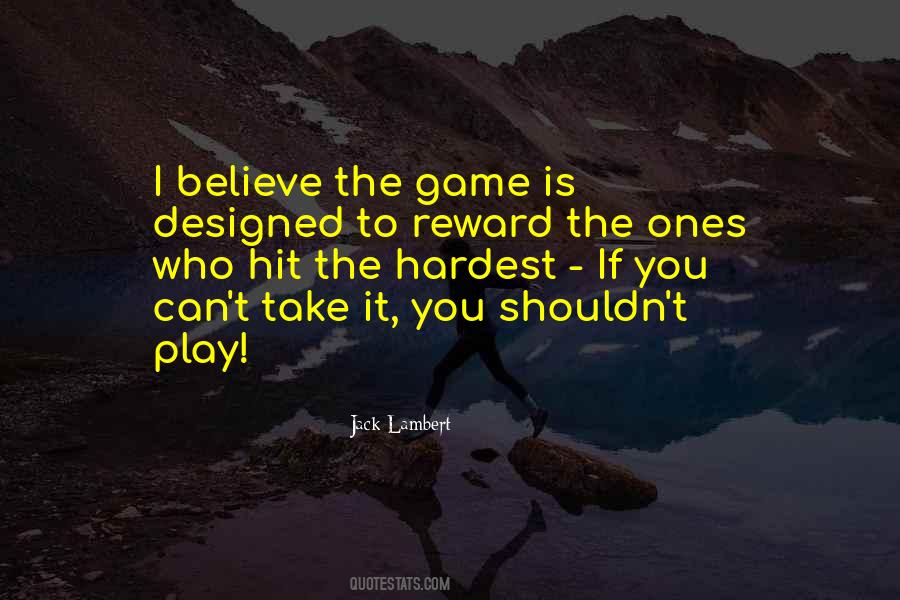 #2. I loathed the game, and since I could see no pleasure or usefulness in it, it was very difficult for me to show courage at it. Football, it seemed to me, is not really played for the pleasure of kicking a ball about, but is a species of fighting. - Author: George Orwell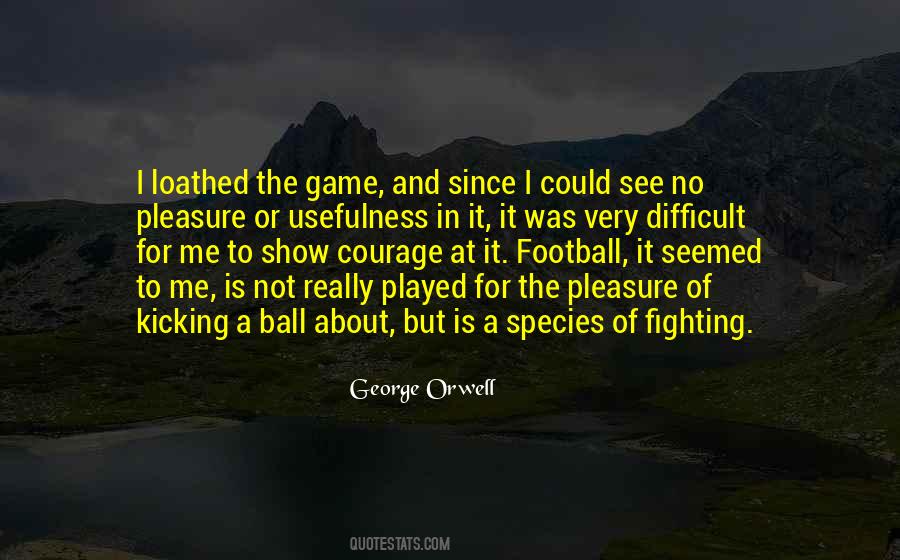 #3. And I coached against Mike when he was an assistant with the Bears and they won that football game. - Author: Don Shula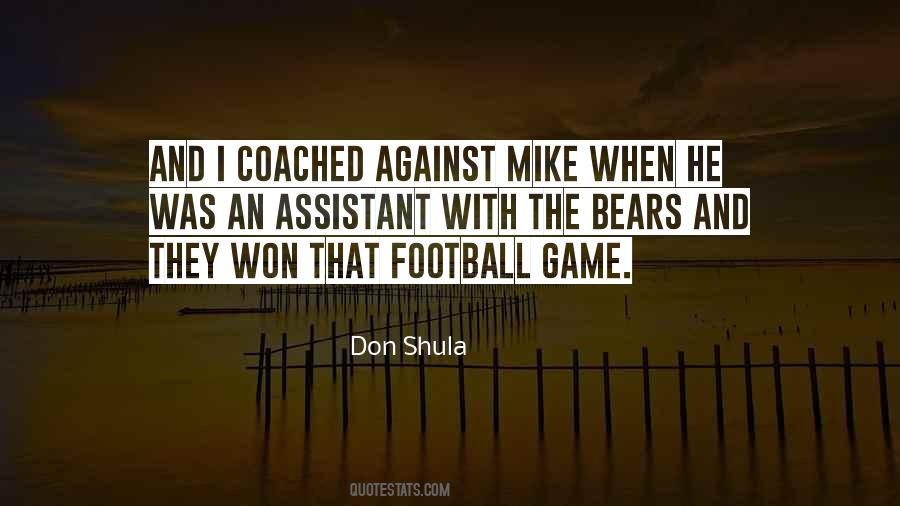 #4. For when the One Great Scorer comes
To mark against your name,
He writes - not that you won or lost -
But HOW you played the Game.
Alumnus Football - Author: Grantland Rice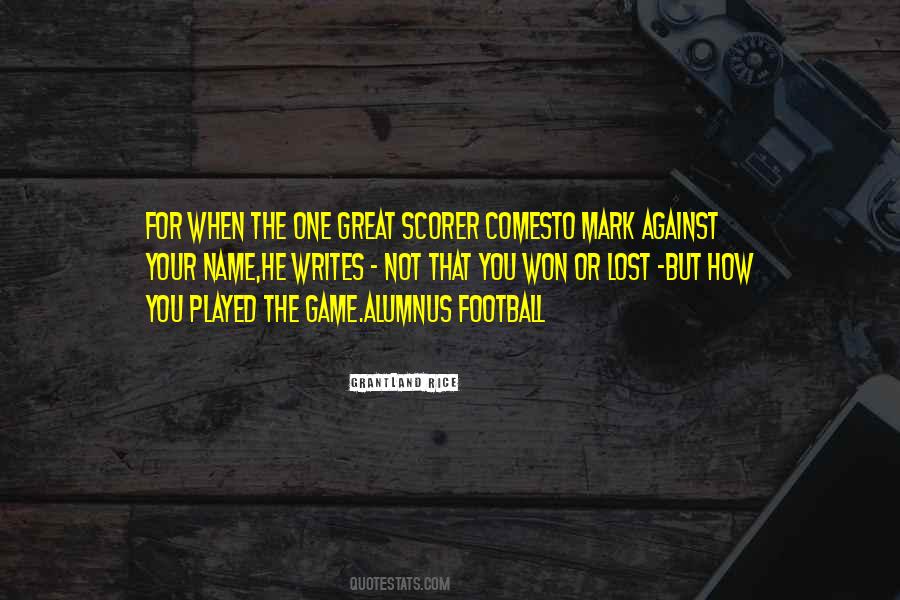 #5. Football is one of those games that definitely relates to life in a lot of ways. Everything can be going good, and just like that, you have a turnover. Things are going south, you're going the opposite direction. How are you going to recover from it? That's the beauty in this game. - Author: Torrey Smith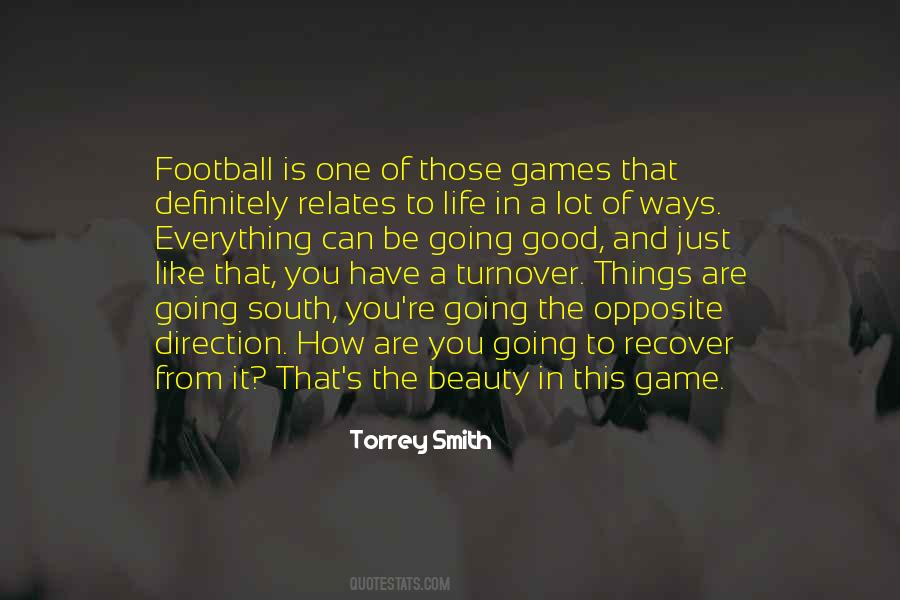 #6. I want to see a player on the football field. I want to see what kind of teammate they are, what kind of leadership qualities they have. I want to see how aggressive they are, how much fun they have playing the game. - Author: Roy Clark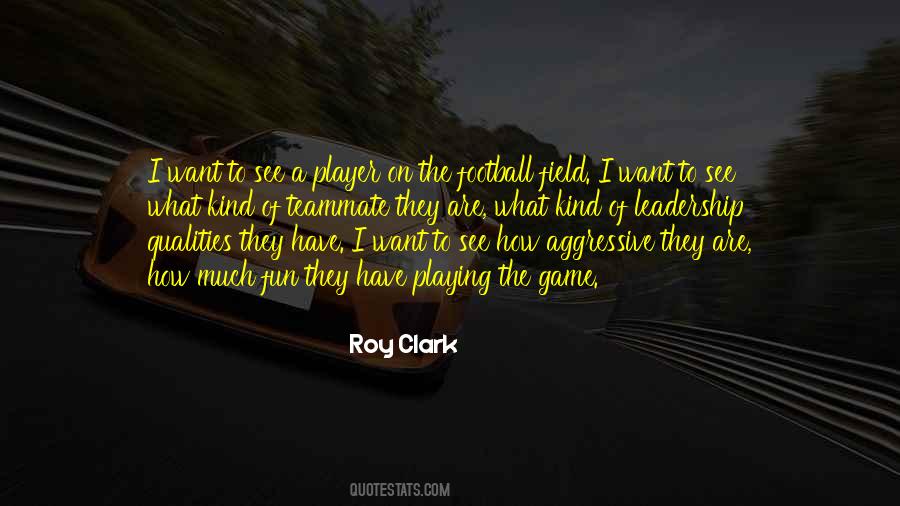 #7. There are things players go through on an everyday basis in the business of football. You don't see it all with the glitz and glamour of game day. - Author: Terrell Owens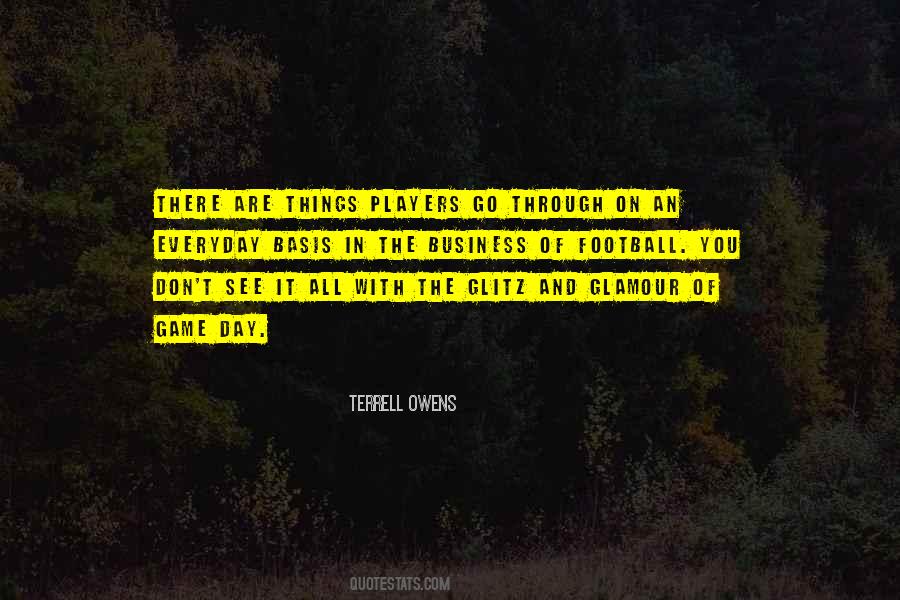 #8. Playing football, I'm getting chills just thinking about it. That first knock of the game, you are going on kickoff, and you are just trying to smack somebody just as hard as you can. That's how I play baseball. I want to hit you. - Author: Bryce Harper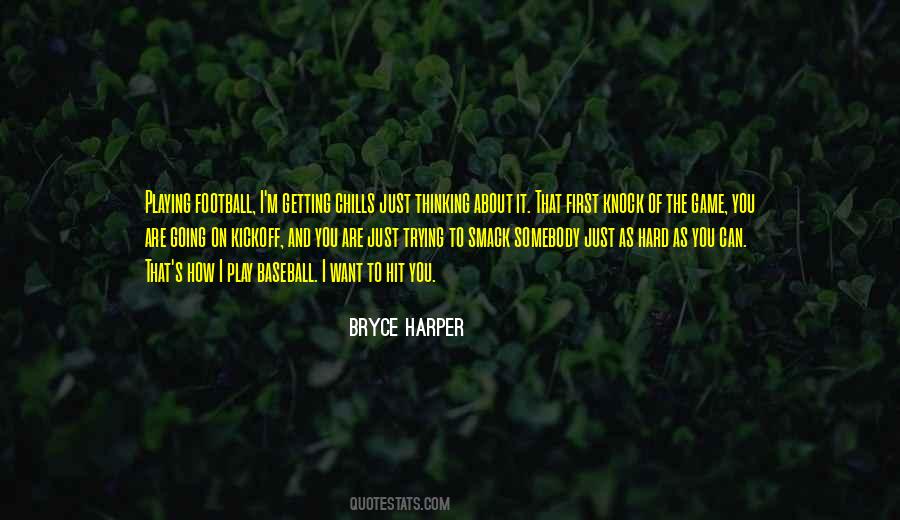 #9. I'm not sure (whether Demetriou did anything wrong). I wouldn't have thought so ... but I'm not the ACC (Australian Crime Commission), I'm not ASADA. I'm a football coach trying to coach a game. - Author: James Hird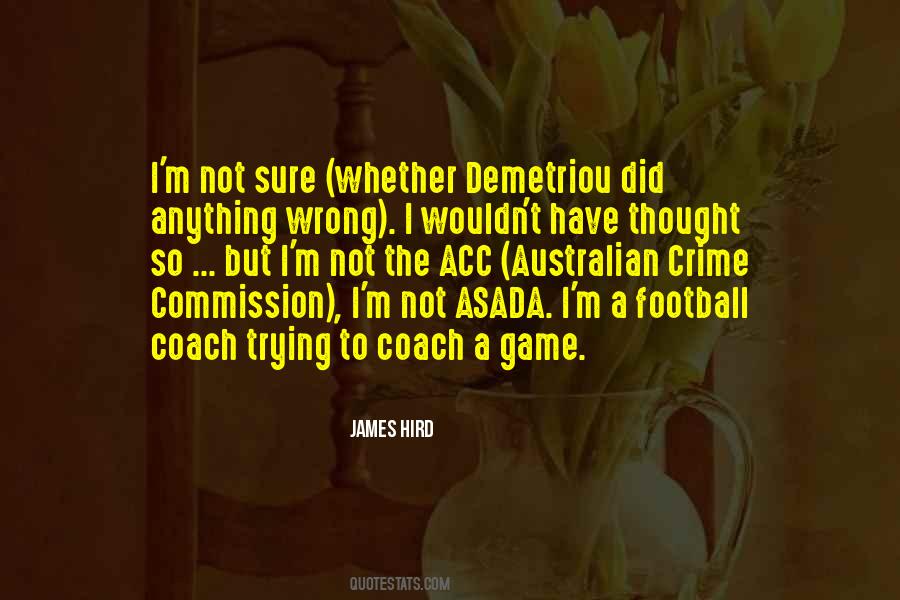 #10. Having been in football all my life as a player and a coach and having been on the sideline, I think the closer we can get to bringing people what it's like standing and watching the game on the sideline, with a better view, would be the perfect situation for television football. - Author: John Madden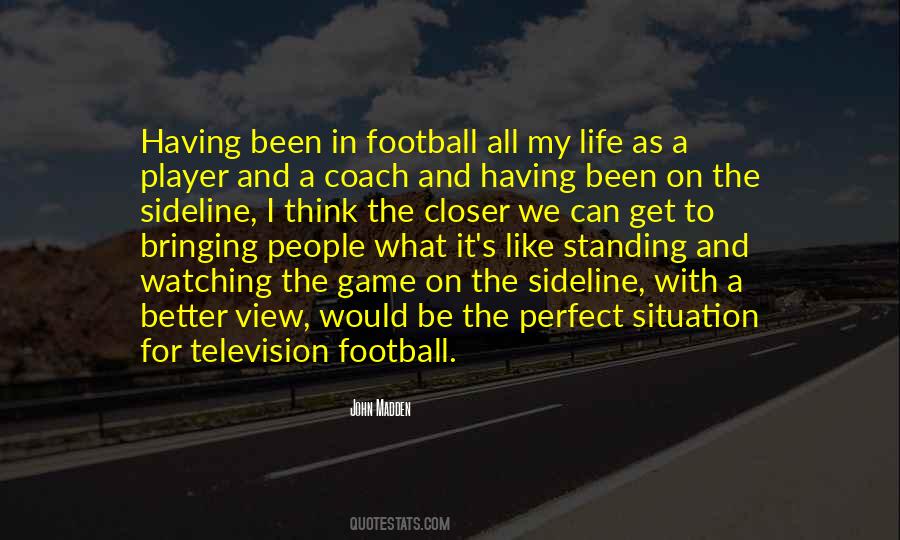 #11. I'm the head coach at LSU. I will be the head coach at LSU. I have no interest in talking to anybody else. I got a championship game to play, and I'm excited for the opportunity of my damn strong football team to play in it. Please ask me after. I'm busy. Thank you very much. Have a great day! - Author: Les Miles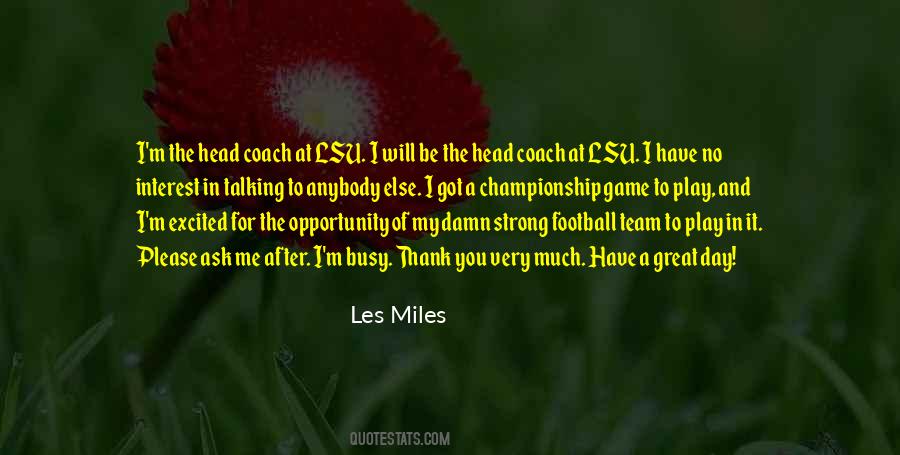 #12. You want to do Olympics just like you do a pro football game or a basketball game? Be my guest. Watch it all fade away. - Author: Dick Ebersol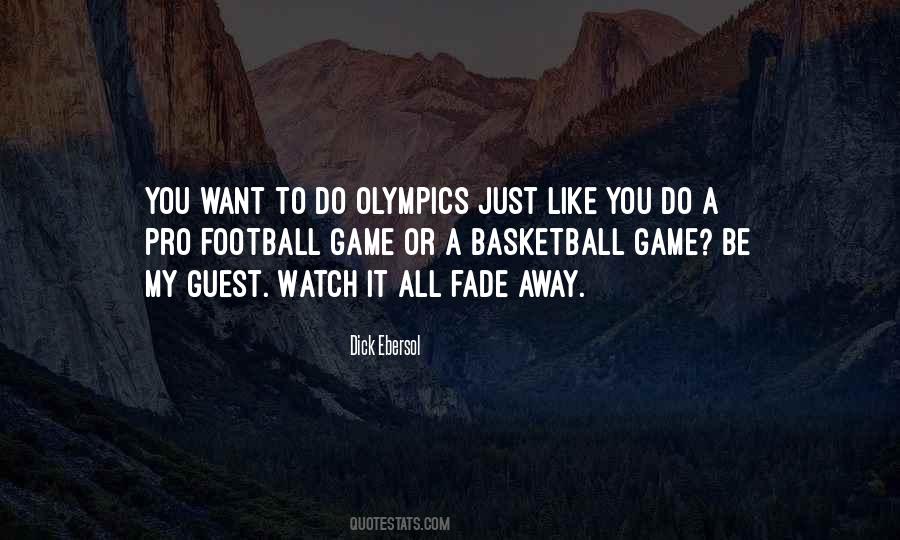 #13. WIth football you can have up to 28 guys you consider starters, and if they can pick up the slack when some aren't playing so well, you don't have to turn those two game losing streaks into six-game losing streaks. - Author: Tom Brady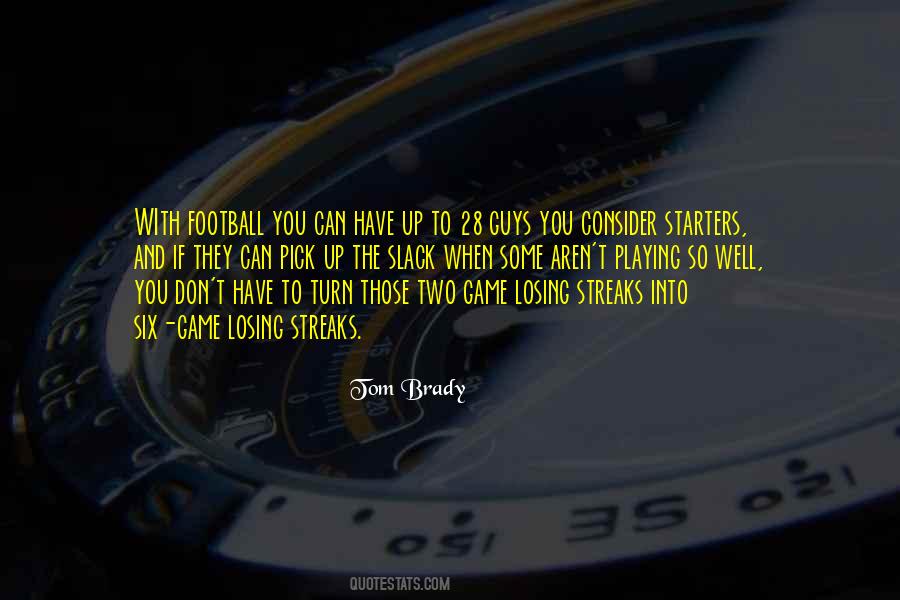 #14. College football is the only game in the country, of any kind, that the college game is longer than the pro game. - Author: Nick Saban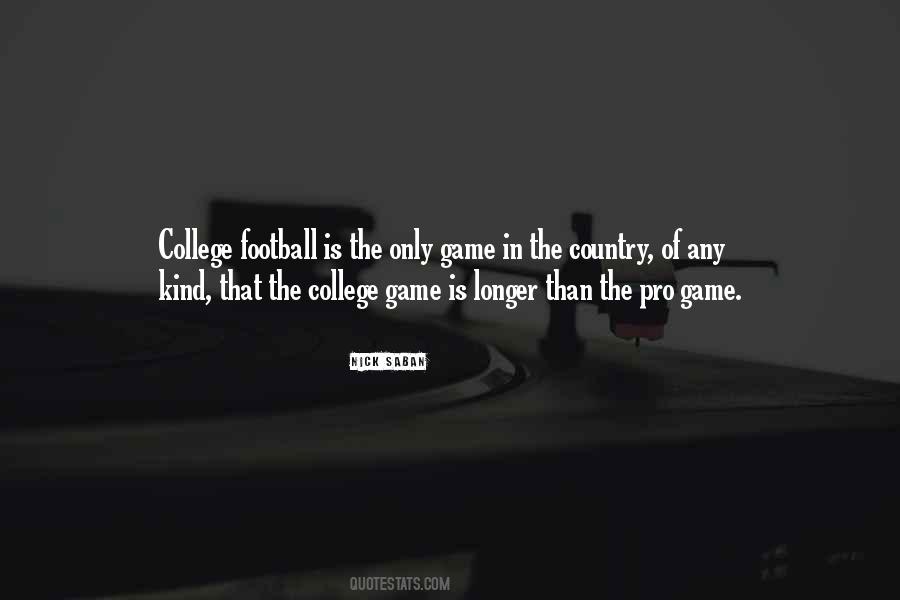 #15. A single Dallas Cowboys football game uses up as much electricity as the entire nation of Liberia in those same three hours - one reason the globe, if looked at from a certain height, is a cluster of lights surrounded by enormous patches of dark. - Author: Pico Iyer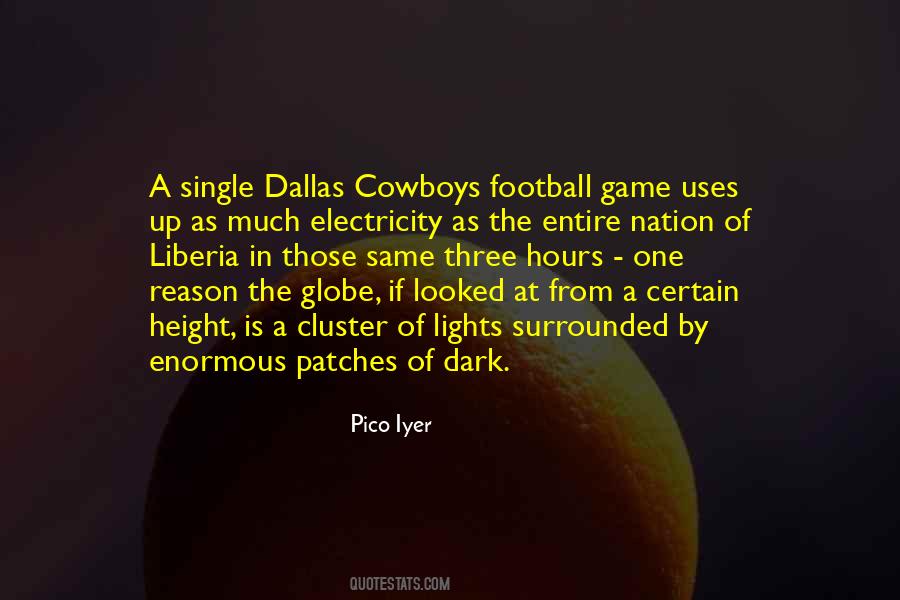 #16. Everybody owned stock in the Capone mob; in a way, he was a public benefactor. I remember one time when he arrived at his box seat in Dyche Stadium for a Northwestern football game on Boy Scout Day, and 8,000 scouts got up in the stands and screamed in cadence, 'Yea, yea, Big Al. Yea, yea, Big Al.' - Author: Saul Alinsky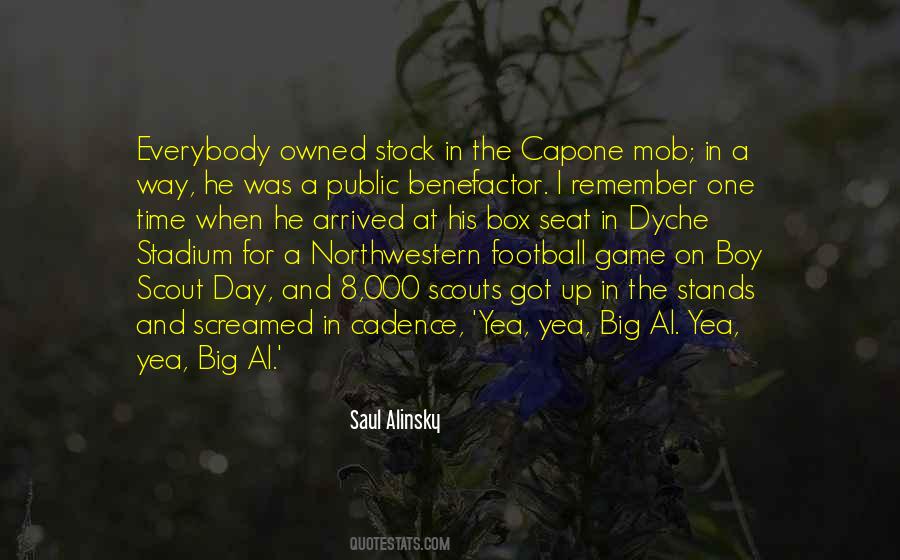 #17. The game of football, especially in the NFL, is all about situations, and coming out on the big end of that stick. - Author: Ndamukong Suh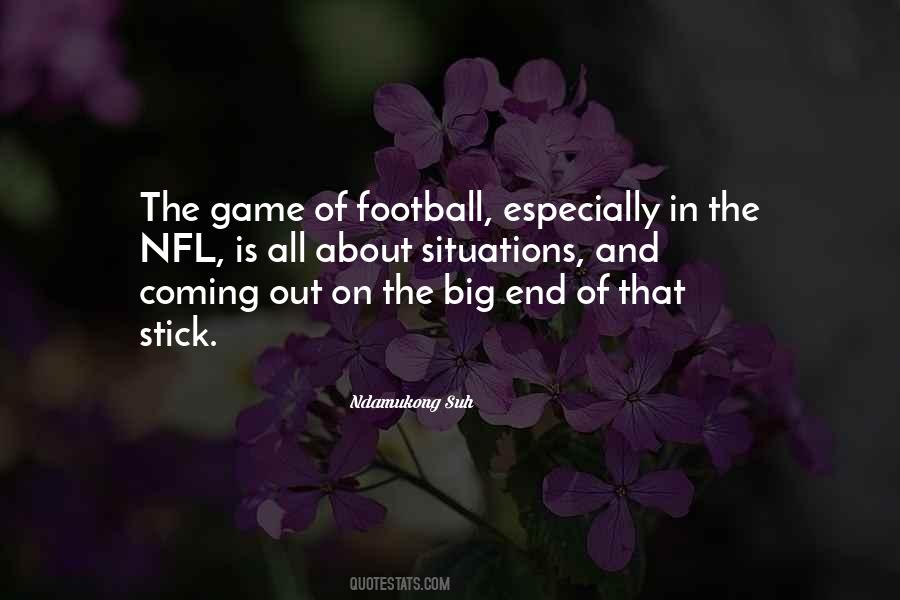 #18. I love sporting events and popcorn and pizza and being outside, like at a baseball or football game. I love amusement parks, going to ride roller coasters. - Author: Carrie Underwood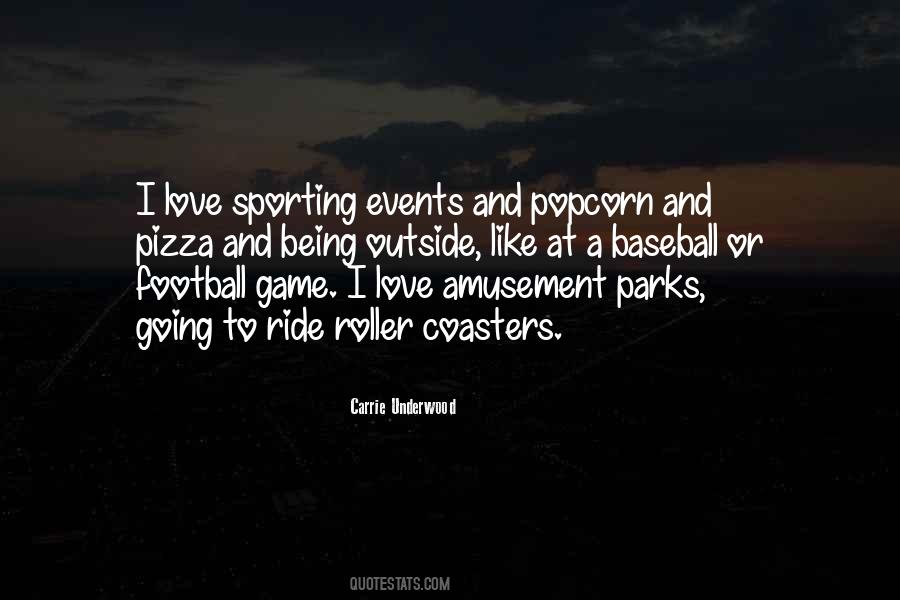 #19. I attribute my entire football career, as far as getting me started, getting me interested, keeping me that way was my father. He went to every game even though he was crippled and wasn't real healthy. - Author: Bob Lilly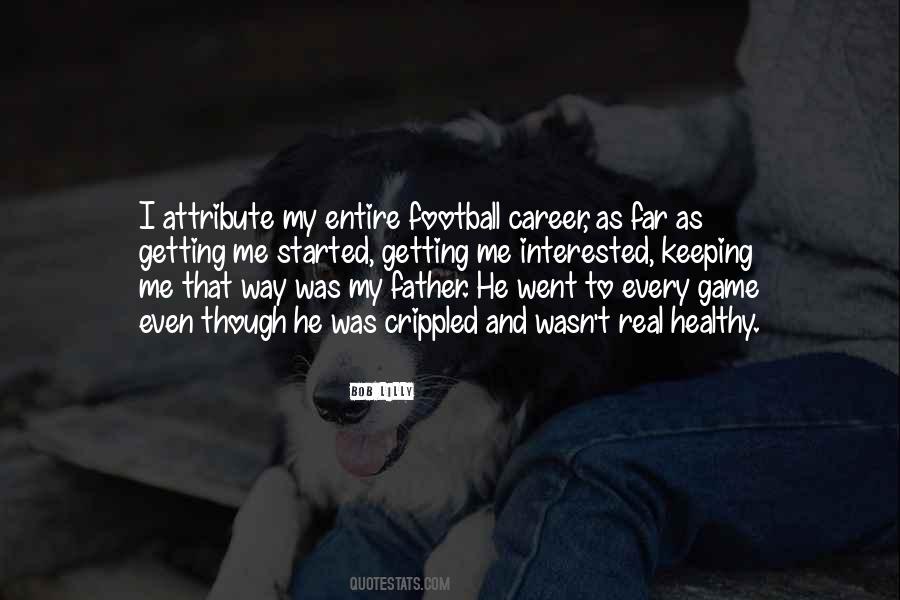 #20. I can't believe anyone can have played the game of football as well as Messi. - Author: Michael Owen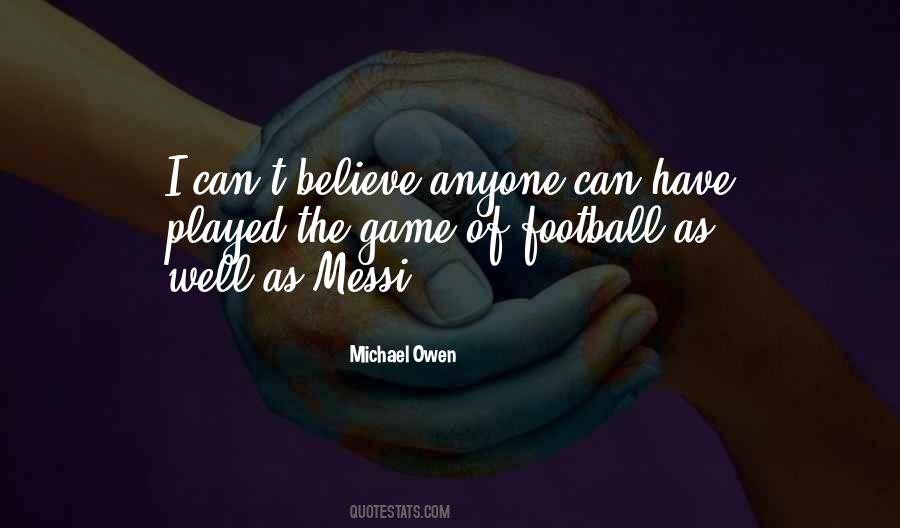 #21. I love the game so much. I've been penalized. I've been fined. I have some regrets in my career. But for those four hours on Sunday, you can be free and just let it all go. Retiring had nothing to do with football; it had to do with my family. - Author: Randy Moss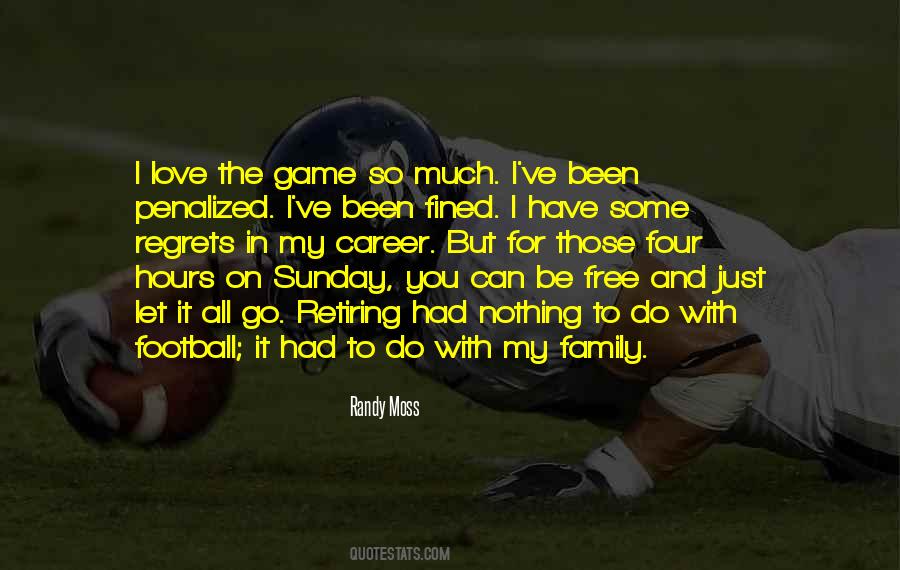 #22. At many a moment on many a day, I am convinced that pro football must be a game for madmen, and I must be one of them. - Author: Vince Lombardi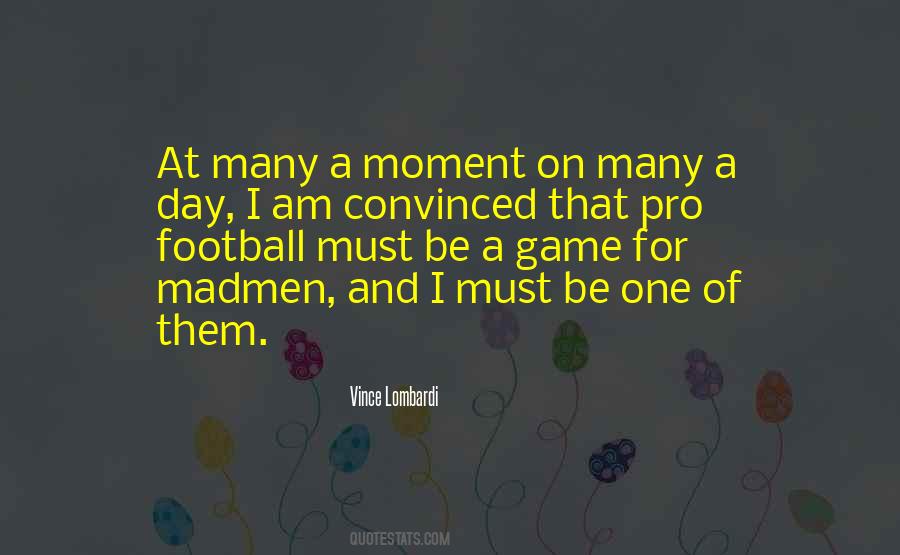 #23. There will be a game where somebody scores more than Brazil and that might be the game that they lose. - Author: Bobby Robson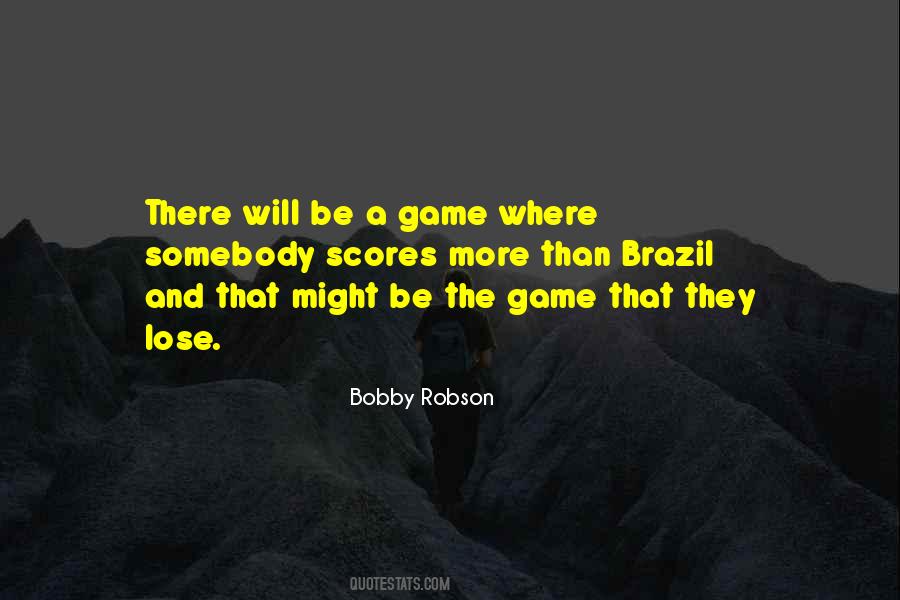 #24. The ball is round, the game lasts ninety minutes, and everything else is just theory. - Author: Sepp Herberger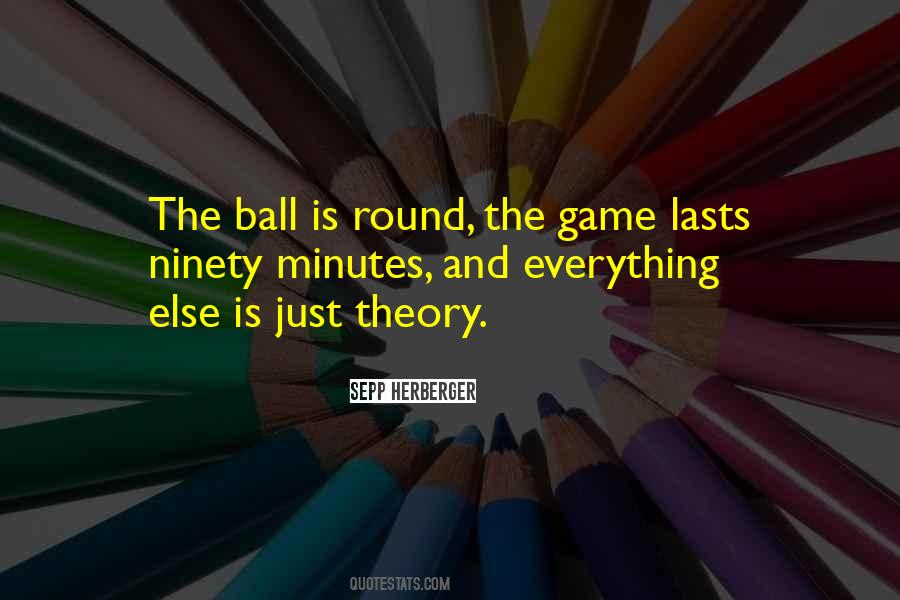 #25. I just wanted to give my players some technical advice. I told them the game had started. - Author: Ron Atkinson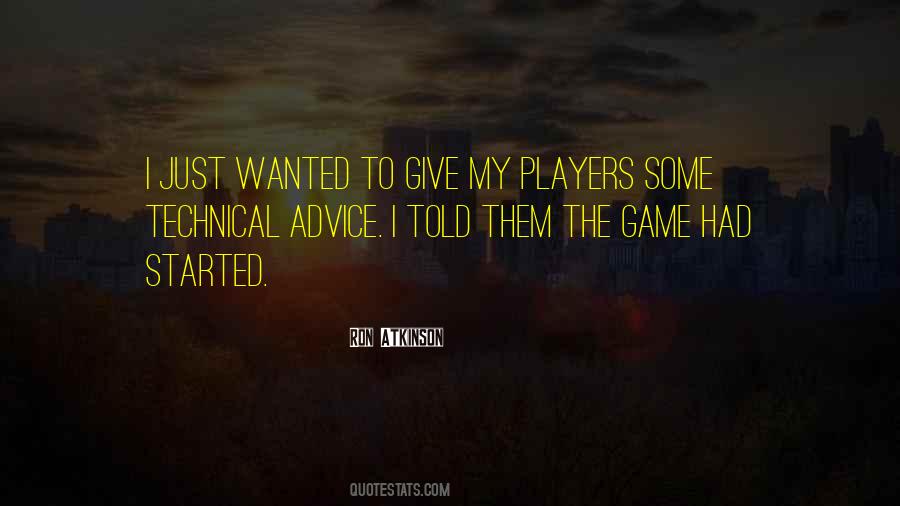 #26. Sure, football is a silly game. But have you seen what else is on television? - Author: Pliny The Elder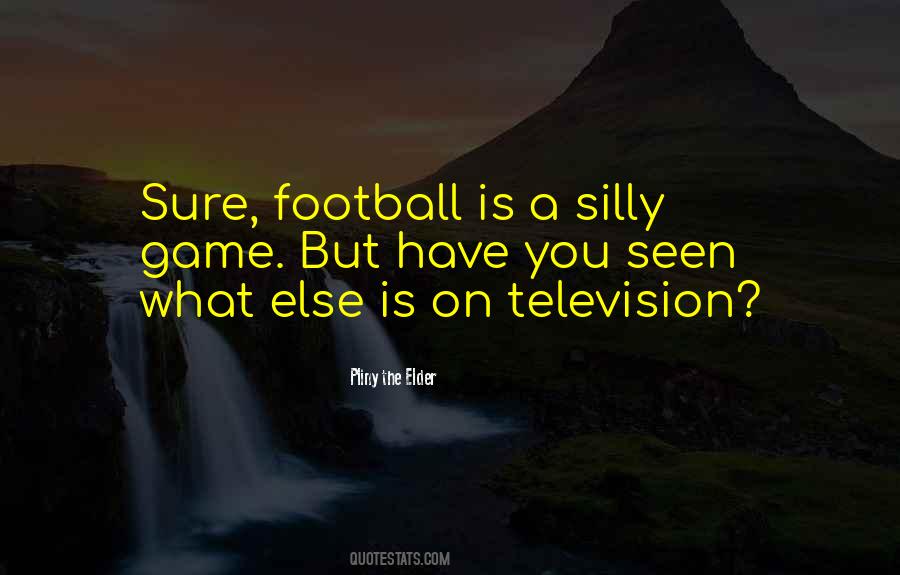 #27. We must look after football and to do what it is necessary to bring to the game the best ethical values and personal behaviour. - Author: Vicente Del Bosque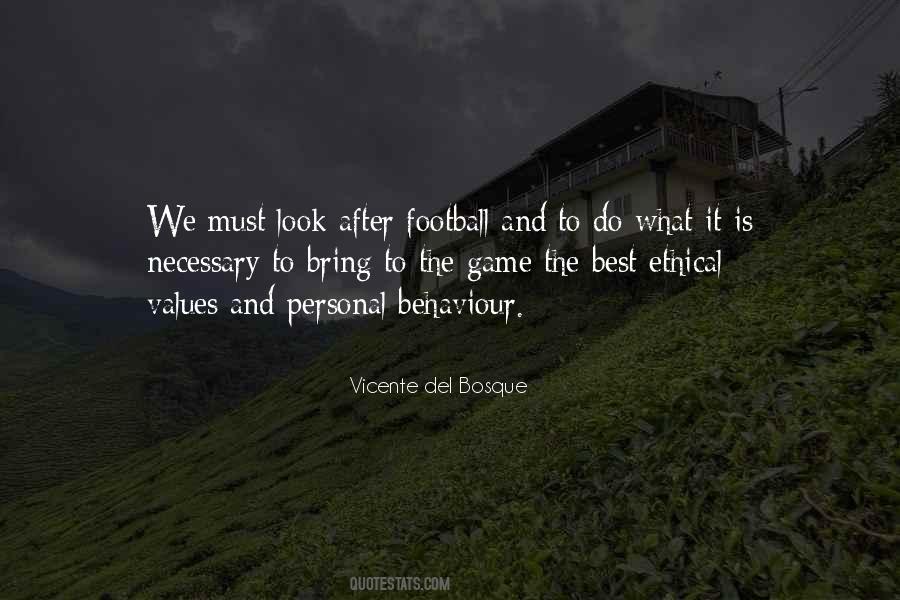 #28. I never even watched football growing up. I just play the game. - Author: Terrell Owens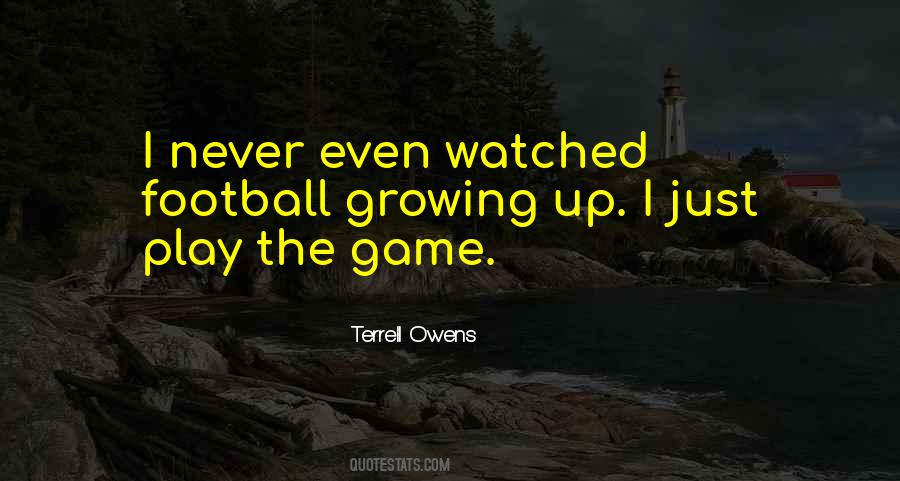 #29. There's so much built-up camaraderie and sacrifice, and football is such a tough man's game. I think that's why it's so popular. That's why so many blue-collar communities and people can really feel attracted to this because it is a blue-collar struggle that football players go through. - Author: Troy Polamalu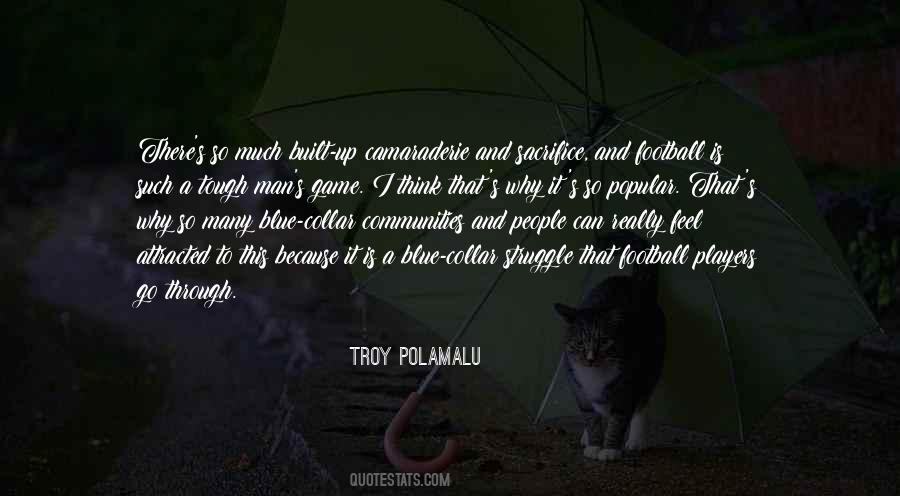 #30. In the game of football, you can never be too sure of anything. - Author: Jason Babin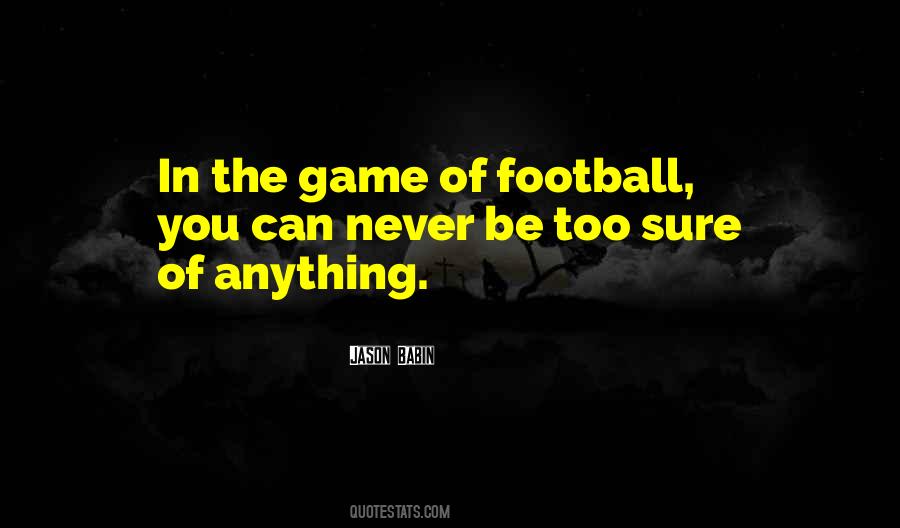 #31. The movie, 'Remember the Titans,' is my favorite movie, staring Denzel Washington. I love the way in this movie the game of football brings those boys together, it unites those boys on that football field. It unites a whole town, black, white, old, young, rich and poor. - Author: Michael Irvin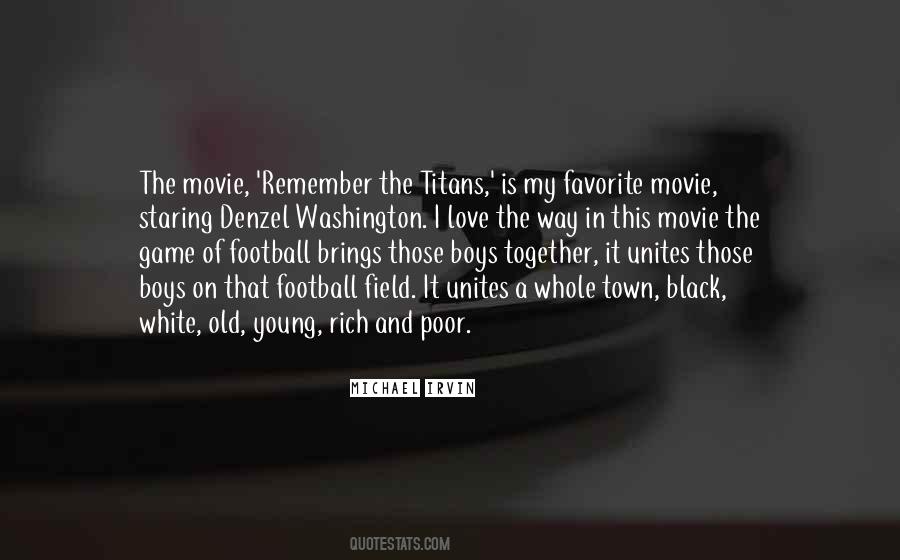 #32. I would pass onto any young player to enjoy your football, play your football as you want to play the game, try and enjoy it and make the most of it. - Author: Lionel Messi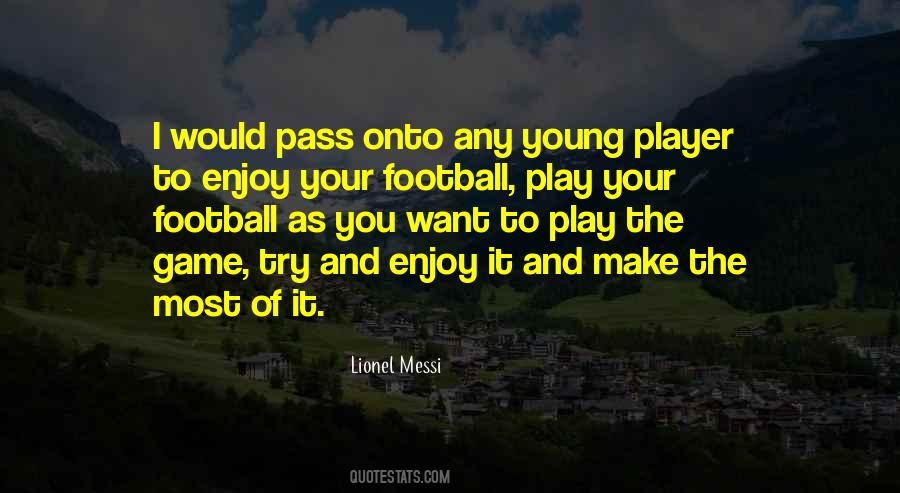 #33. If you'd rather go to the football game than read a comic, that's fine. I'd rather do both. - Author: Rob Walton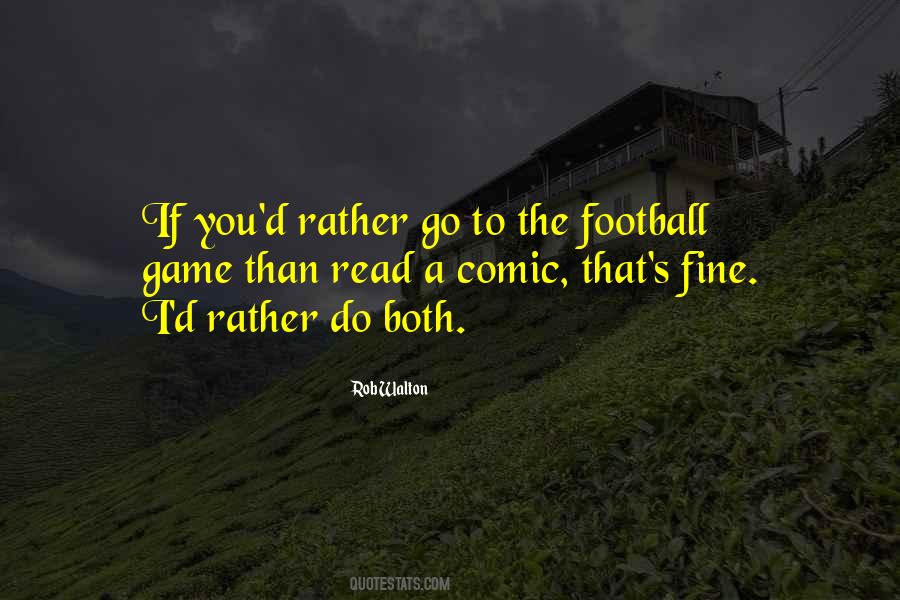 #34. I grew up in Europe, and soccer was the first organized game I played. When we moved back to the U.S. in the middle of 4th grade, I switched to American football and stopped playing competitively until college, when I played intramurals. - Author: Andrew Luck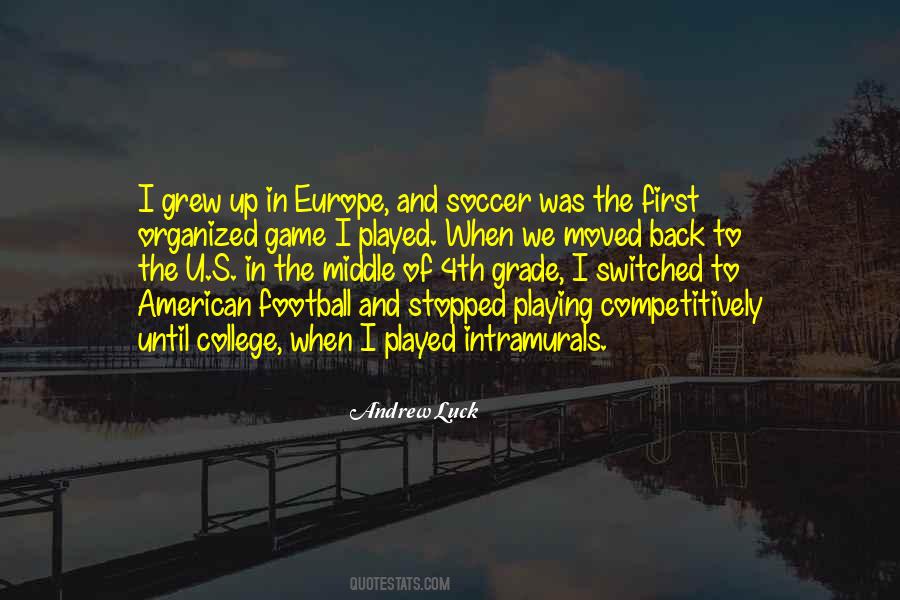 #35. Rather than opera, football is more like ballet or a chess game. You can really see it in a team like Arsenal, especially when Dennis Bergkamp was playing. He seemed to be able to read the game like a chessboard and knew where a player would be several seconds later and put the ball there for him. - Author: Marcus Du Sautoy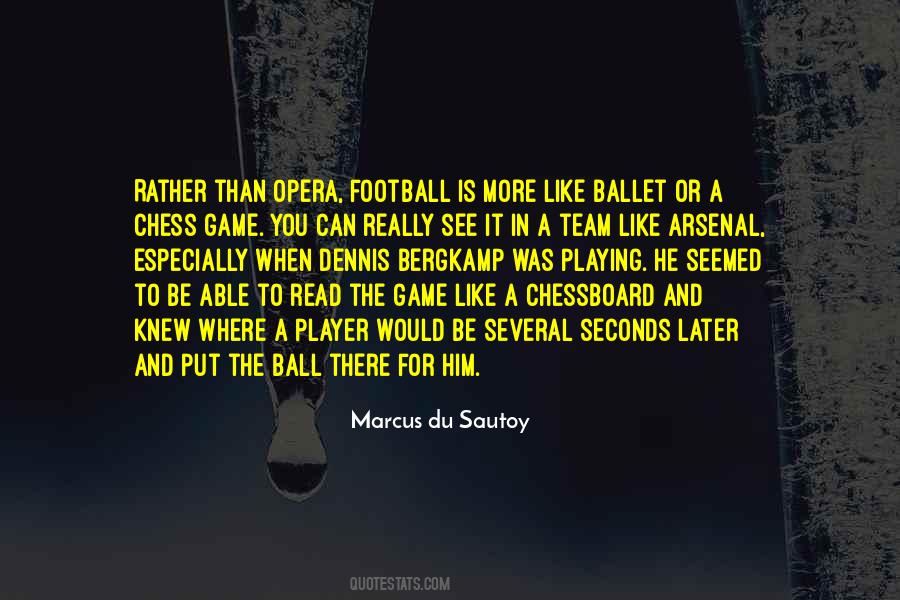 #36. I'm really looking forward to the Hall of Fame ceremonies. It's going to be unbelievable - just crazy. I'm looking forward to thanking all the fans for inspiring me to go out there and play my best football each and every game. - Author: Jerry Rice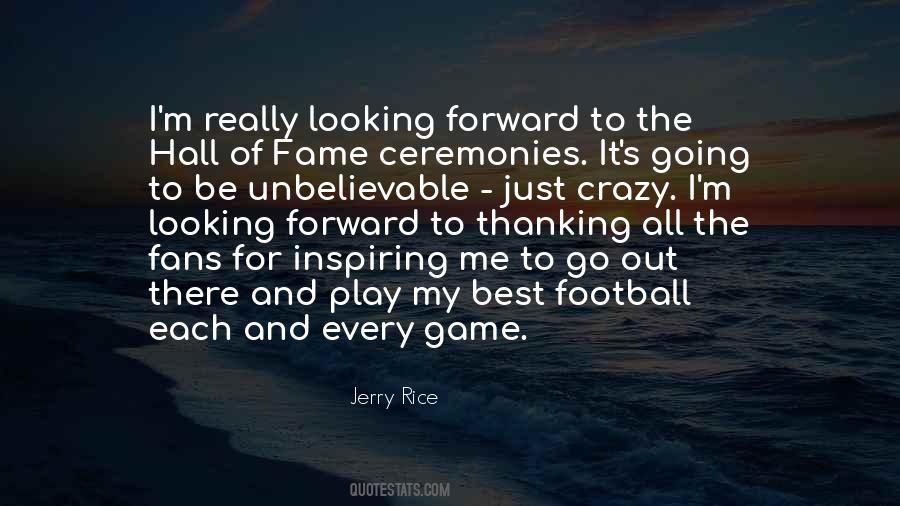 #37. I have a soft side that I like people to see. I'm not mean. That's just football. That's just the way you've got to go. You can't go into a game that is that violent and be soft. You can't be that way. - Author: Brandon Jacobs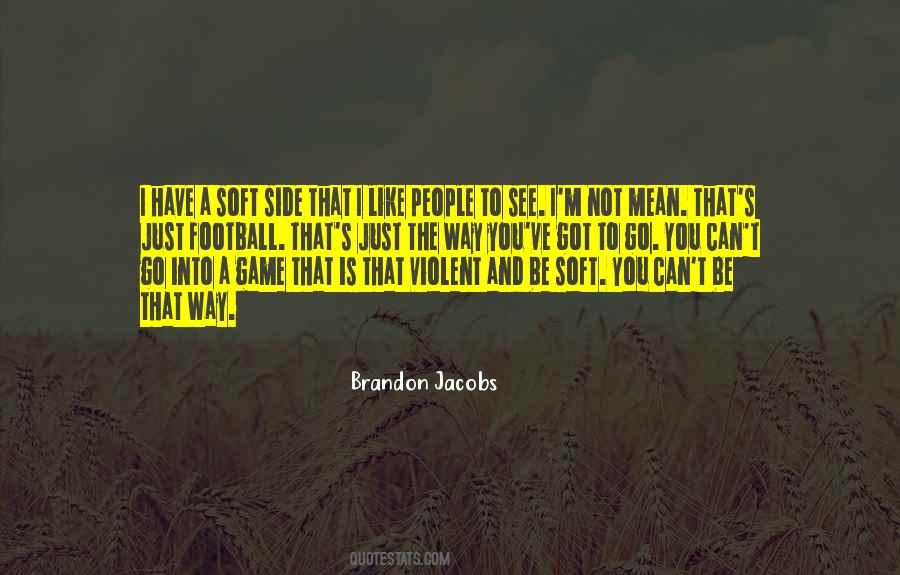 #38. The Cowboy's defense has more holes in it than Ronny Milsapp and Jose Feliciano after a game of lawn darts. - Author: Dennis Miller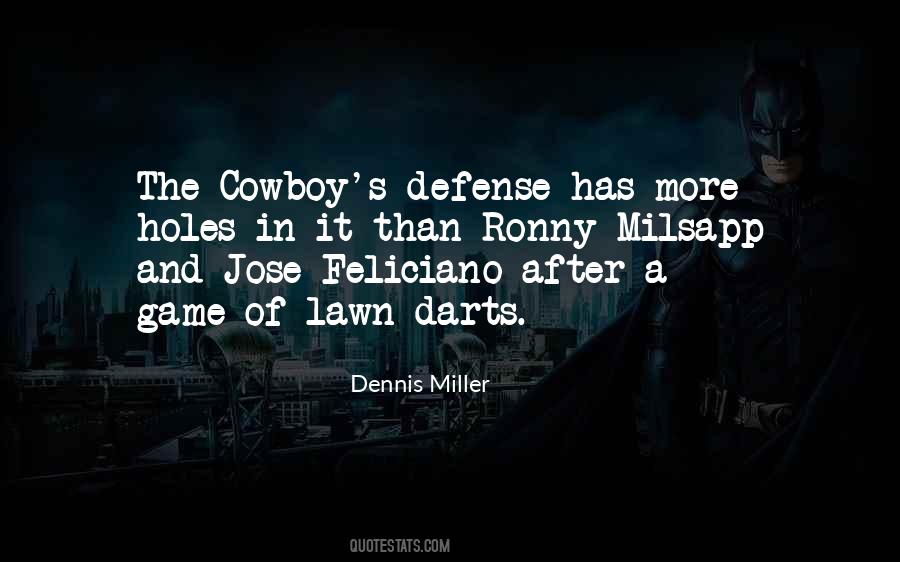 #39. So many times in today's society, we can put football No. 1. And I've done it in my life at certain times. You put football number one, this game is more important than anything else. Well, really, it's not. It's just a game. - Author: Tim Tebow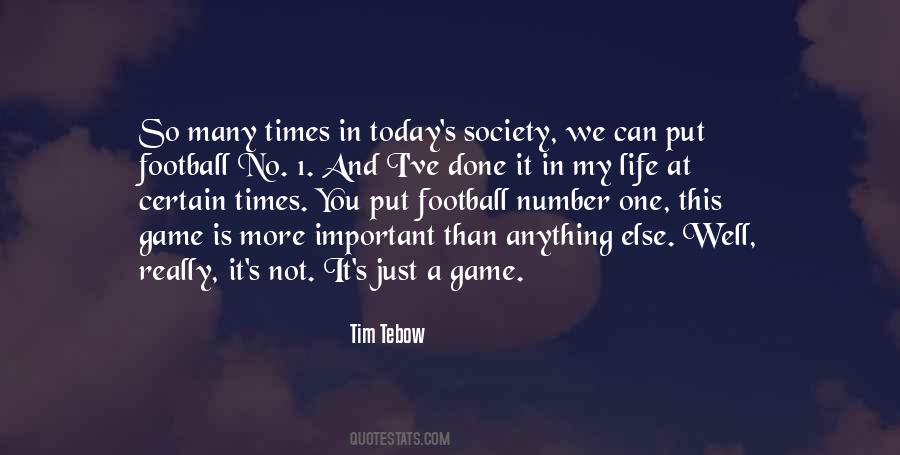 #40. Baseball and American football and hockey are all ahead because they have a history. The MLS is kind of new. So hopefully, in time, and with players coming and trying to develop the game, and the U.S. team also doing well - at the last World Cup, they finished above England and created some buzz. - Author: Thierry Henry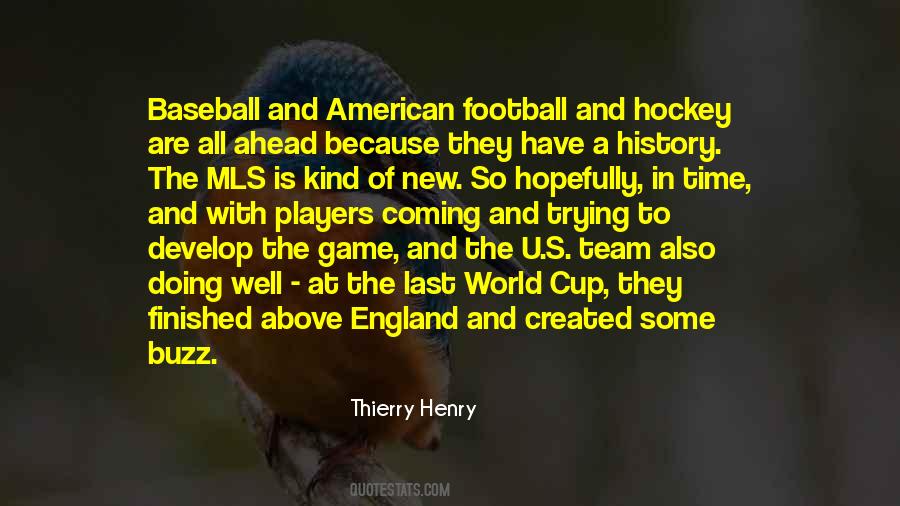 #41. I don't love football the way I once loved the game. I don't look at it as fun anymore, and it definitely used to be fun. A lot of the fun has been taken away from it, I guess, because you go through so much on the field and off the field. - Author: Eric Dickerson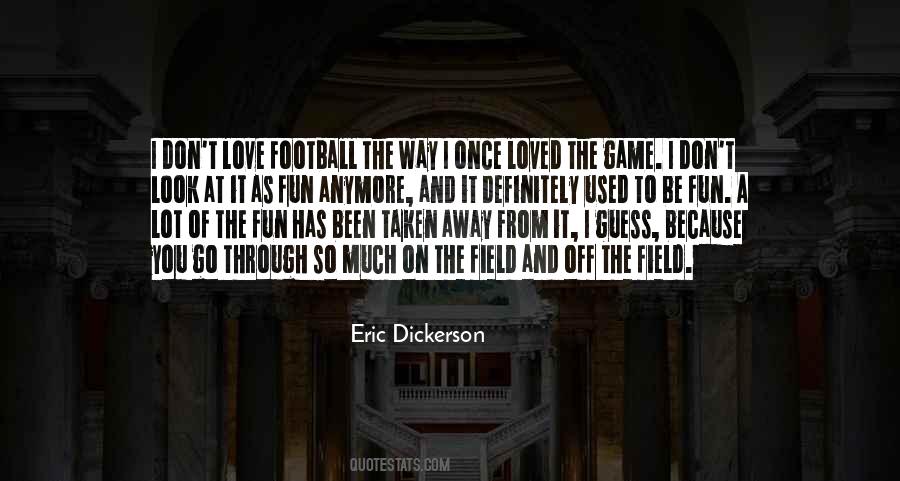 #42. I knew nothing about football, then someone showed me a film of Petit and I realised how interesting the game could be. He is divine. When I met him I could barely speak, he was so gorgeous. Women will love that show. - Author: Ruby Wax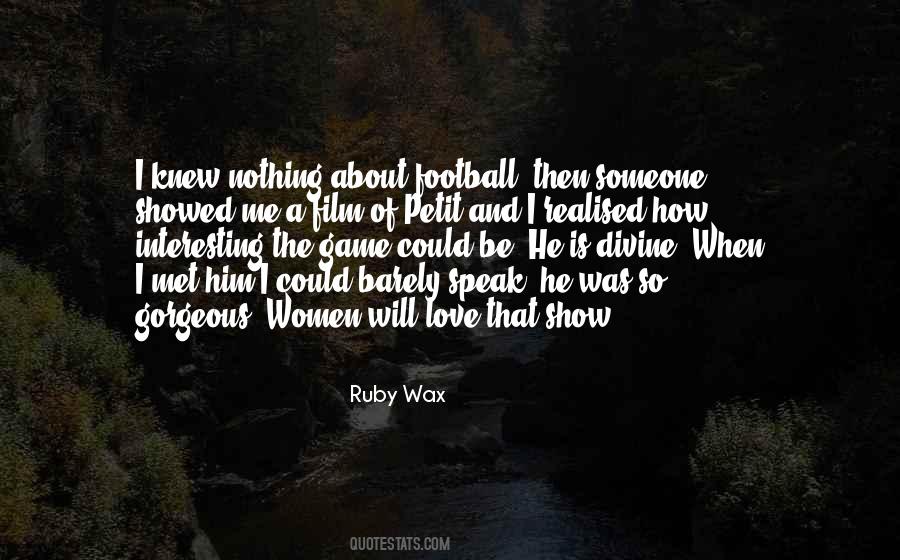 #43. Don't let this[football] be the best thing that ever happens in your life. Maybe it'll be the best sports event, but don't let it be the best thing. Make sure you're a better father than this today. Make sure you're a better husband than this today. Because this goes away ... It's a game. - Author: Mack Brown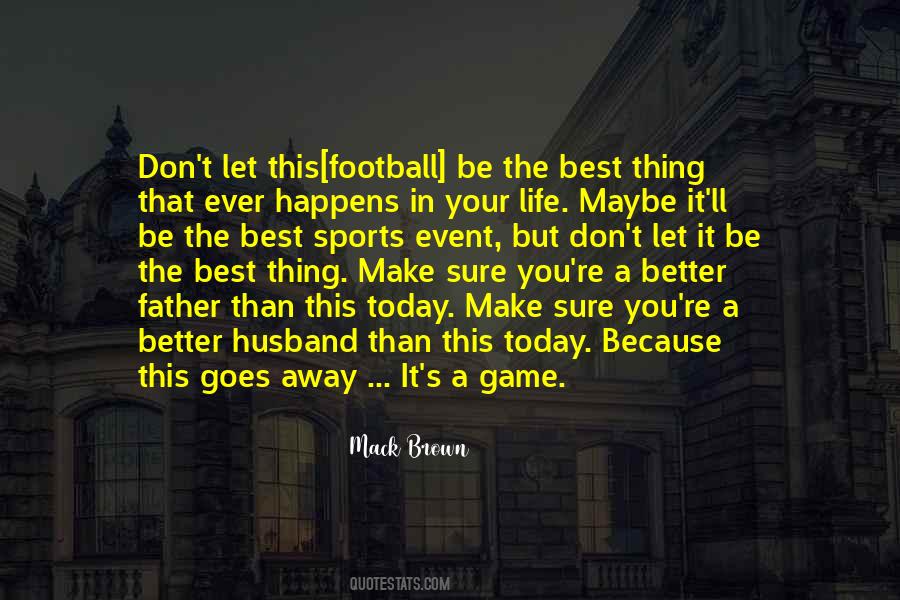 #44. I've been writing since I was sixteen. At first, I wrote mostly short stories and poetry. The first thing I ever had published was a poem about a football game. It was printed in my local newspaper. - Author: Jerry Spinelli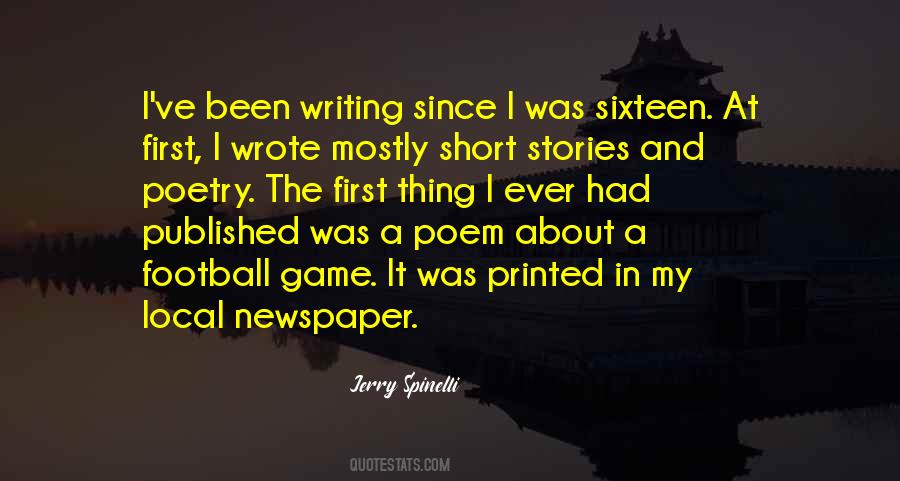 #45. The entire existence of the NFL - and of football at any level, for all of that - rests on whether or not the game can keep fooling itself, and its paying fan base, that it is somehow superior to boxing and to the rest of our modern blood sports. - Author: Charlie Pierce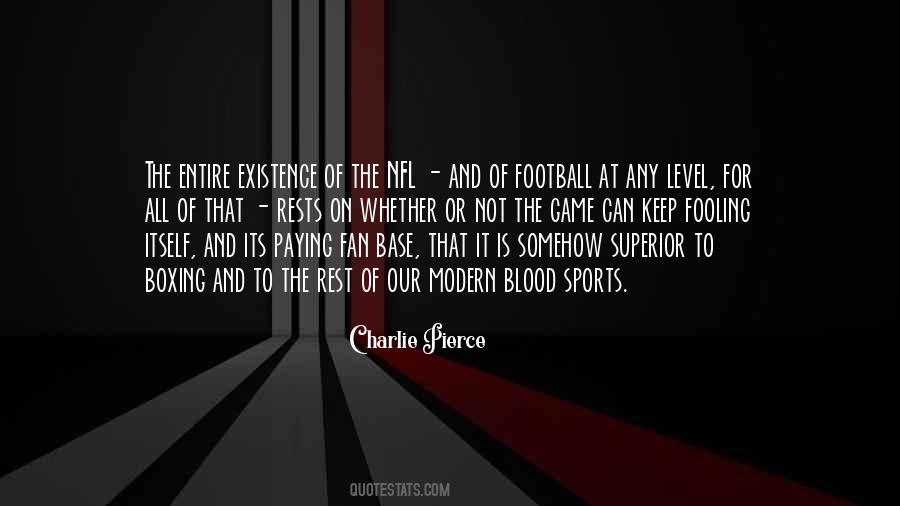 #46. Football is an incredible game. Sometimes it's so incredible, it's unbelievable. - Author: Tom Landry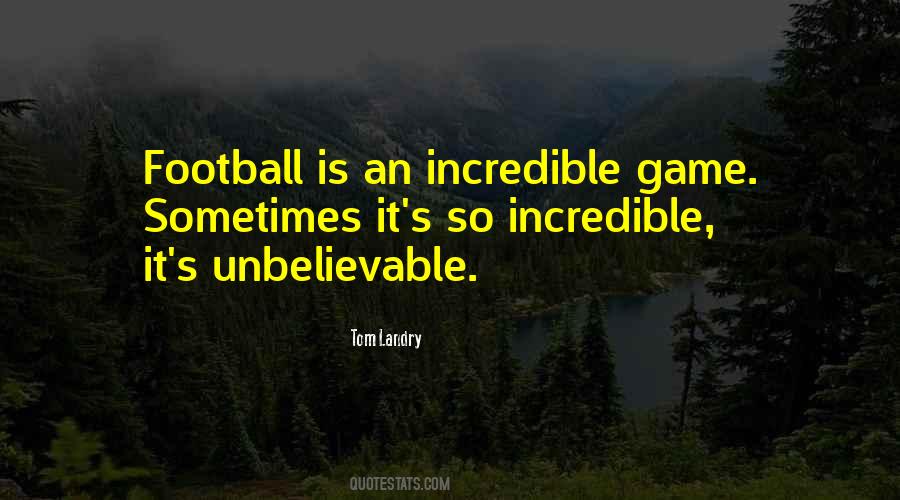 #47. I'm not a video game guy. I would rather throw around a football. - Author: Jeremy Piven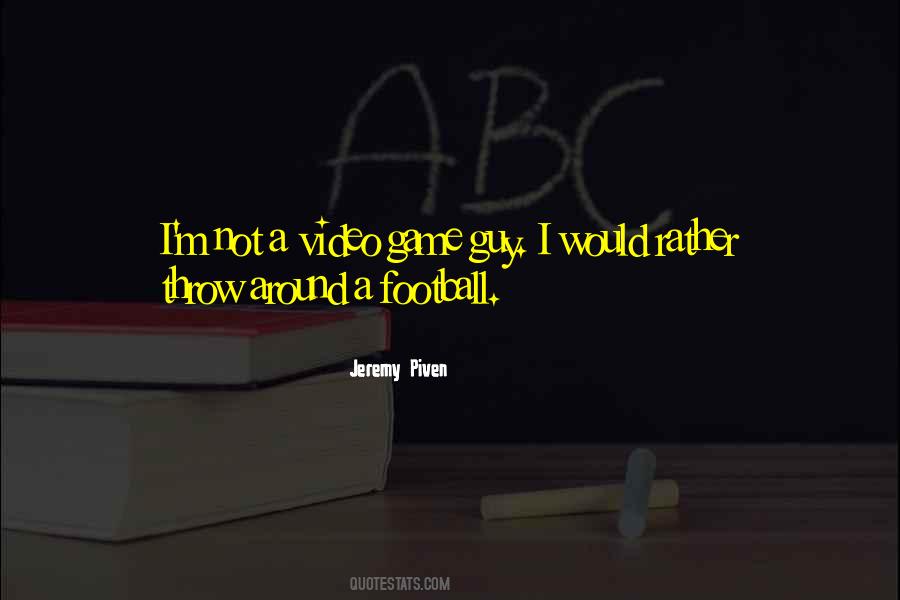 #48. You are responsible to each other because when you win a game of football, you only need eight players to perform well. - Author: Alex Ferguson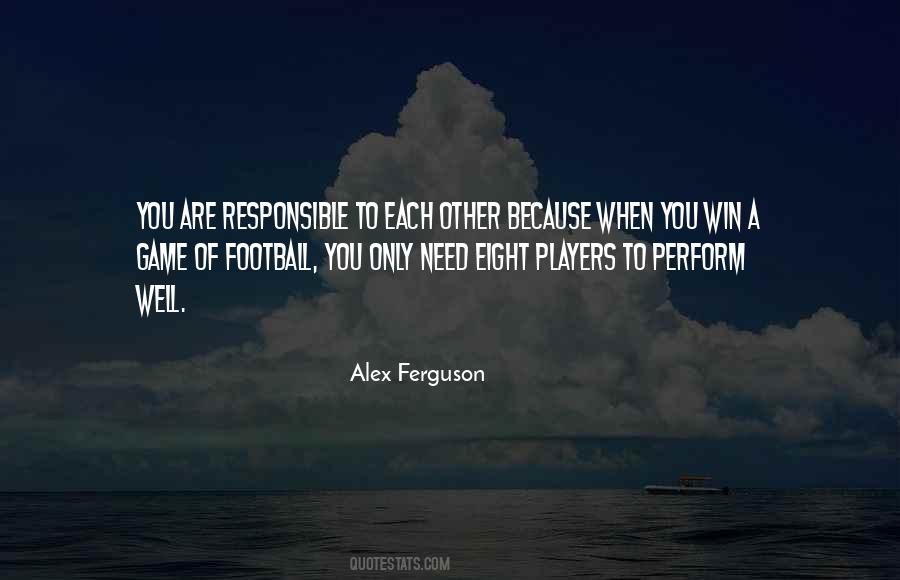 #49. Life was a damned muddle ... a football game with every one off-side and the referee gotten rid of - every one claiming the referee would have been on his side ... - Author: F Scott Fitzgerald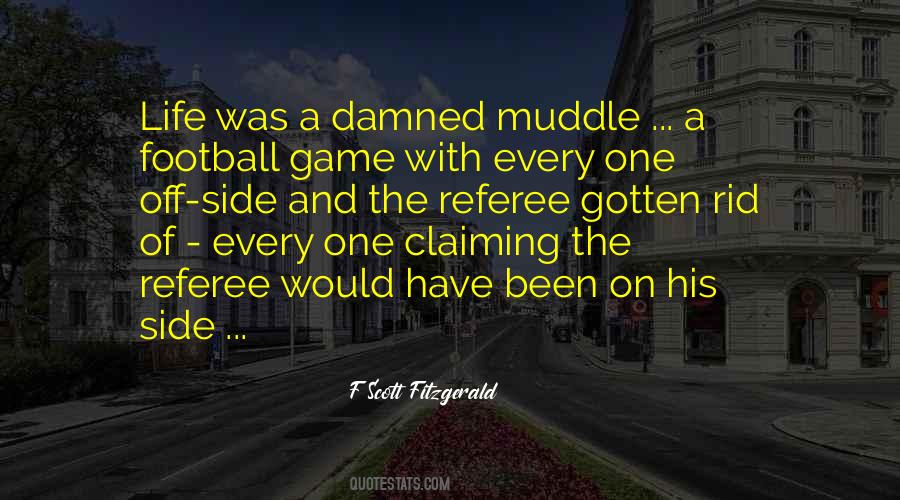 #50. Football is a game of skill, we kicked them a bit and they kicked us a bit. - Author: Graham Roberts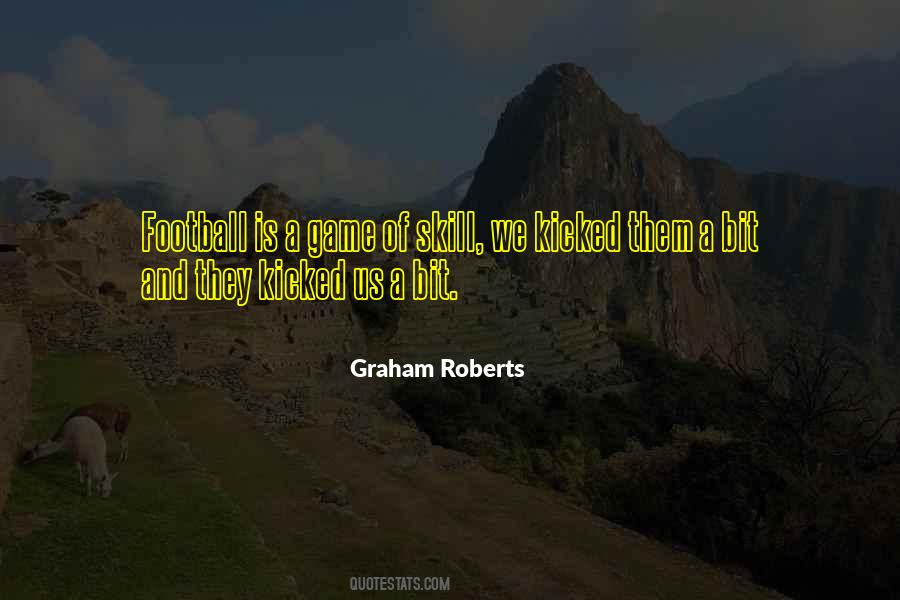 #51. It wasn't like I ever said, 'I want to be an actor.' I was in the right place at the right time. I went to a local drama group because I found football on the weekends too cold - which is highly ironic because I've had some of the coldest experiences of my life filming 'Game of Thrones.' - Author: Isaac Hempstead-Wright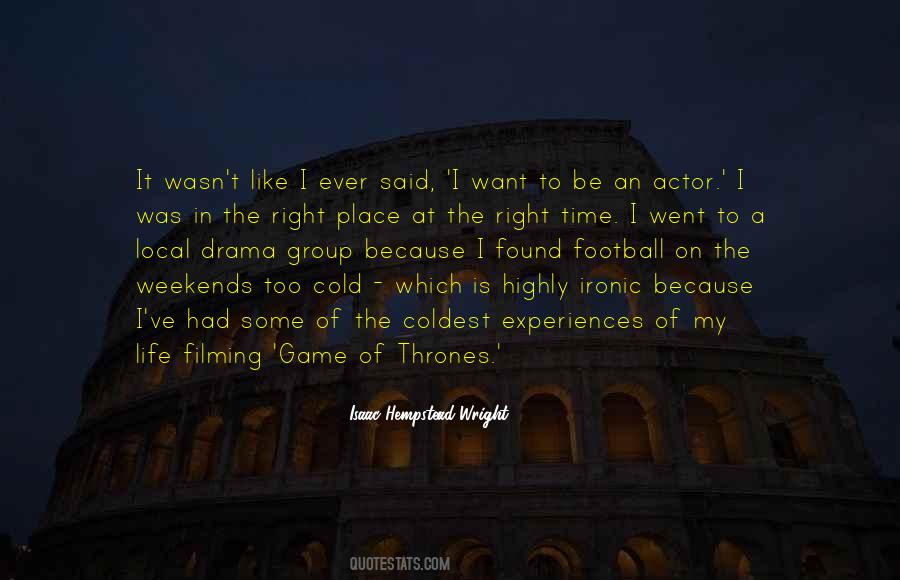 #52. After the game, I'm a completely different person. I drink some beers with friends and try to get my mind completely off football. - Author: Jeremy Shockey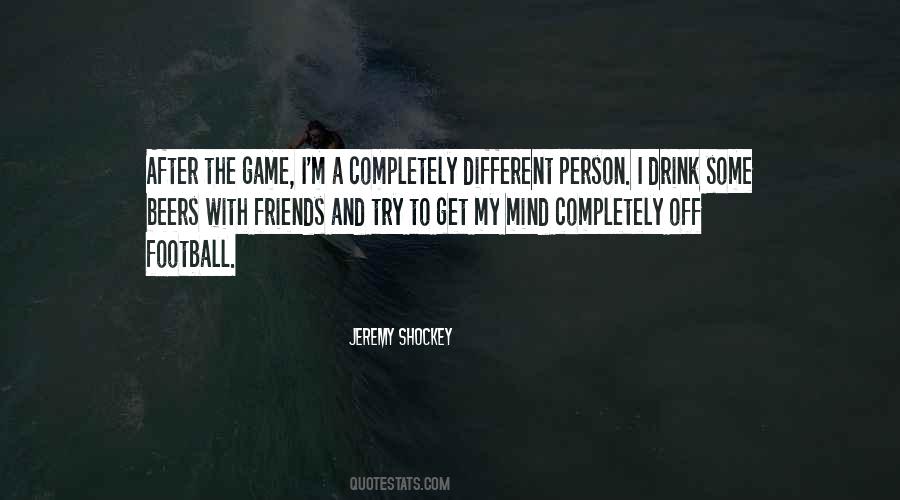 #53. Football is a game for trained apes. That, in fact, is what most of the players are
retarded gorillas wearing helmets and uniforms. The only thing more debased is the surrounding mob of drunken monkeys howling the gorillas on. - Author: Edward Abbey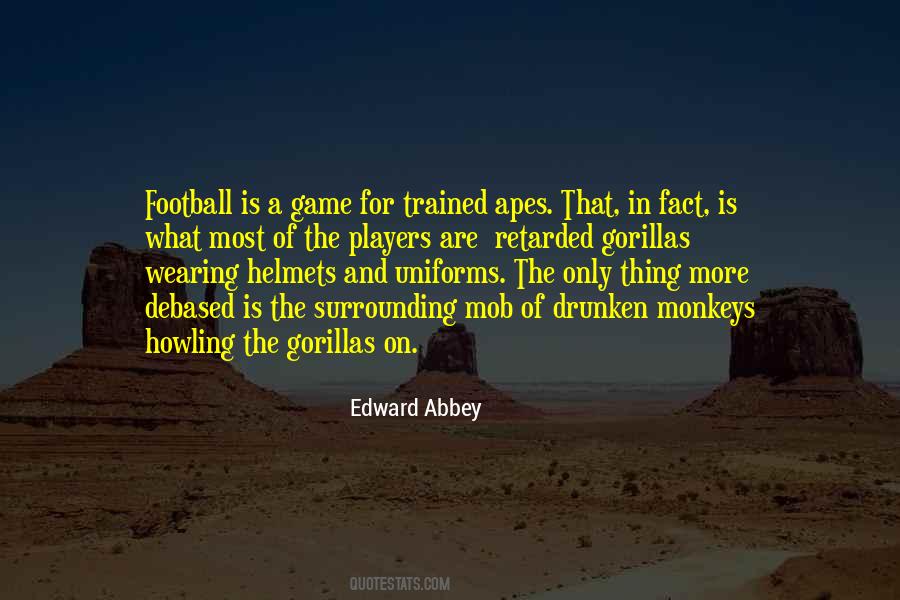 #54. I love sports. I was an athlete in high school, and my school was so small we didn't have a football team, so it's the one sport I didn't bother to learn the rules to because I never went to game. - Author: Katie Aselton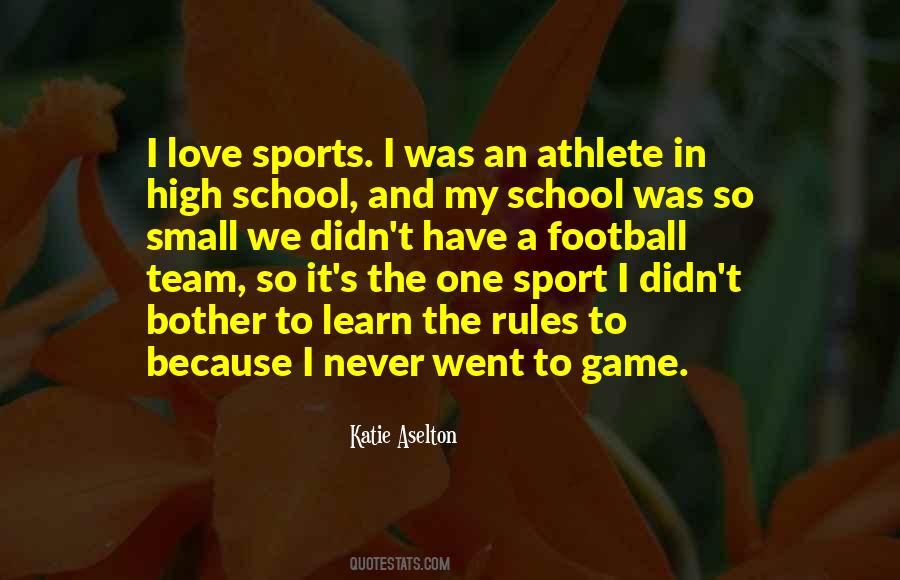 #55. Can you appreciate music without playing it? Yes, you can. You can appreciate baseball without playing it. Many people attend a football game merely for the crowd, the excitement, the color. - Author: Jascha Heifetz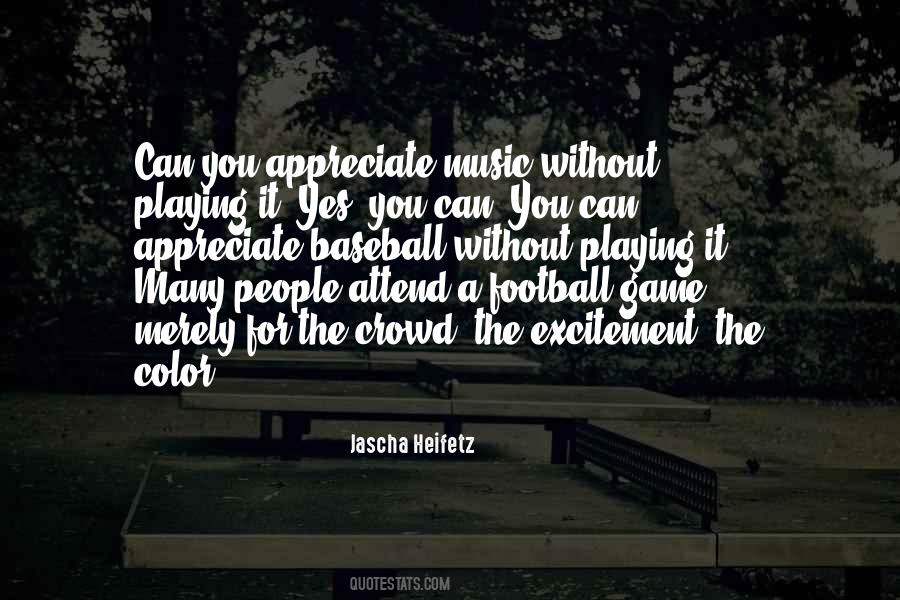 #56. Football coaches meet midfield after a game, but they don't always hug - Author: Hillary Rodham Clinton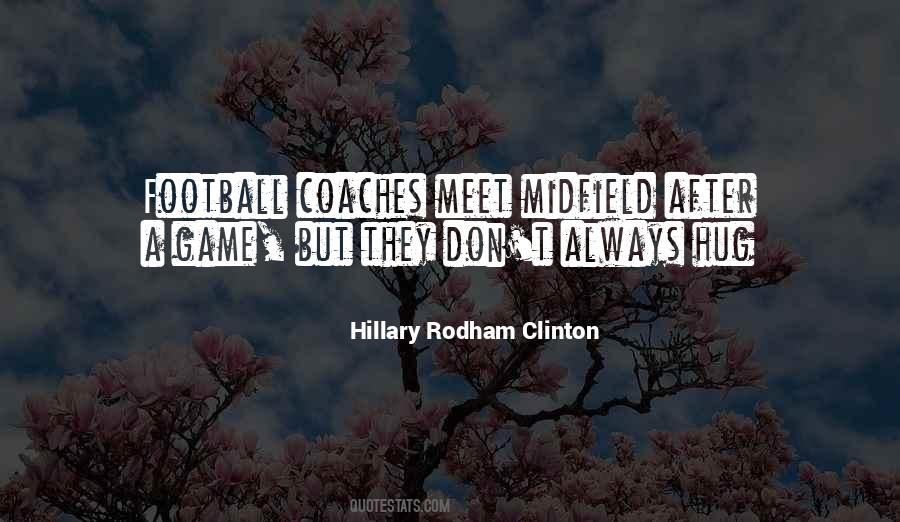 #57. As a quarterback, you have to love it. As much as you like to turn around and hand the ball off - the whole traditional football game - as a quarterback, you gotta love putting it in the air. - Author: Joe Montana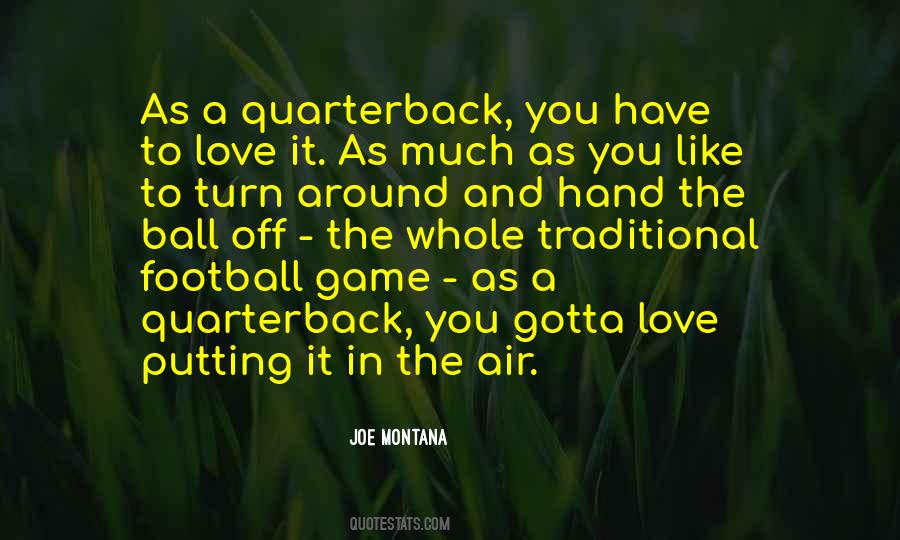 #58. There's nothing easy about winning a game in the National Football League, let alone winning a championship, things that we've done in the past. However, that's in the past. - Author: Rodney Harrison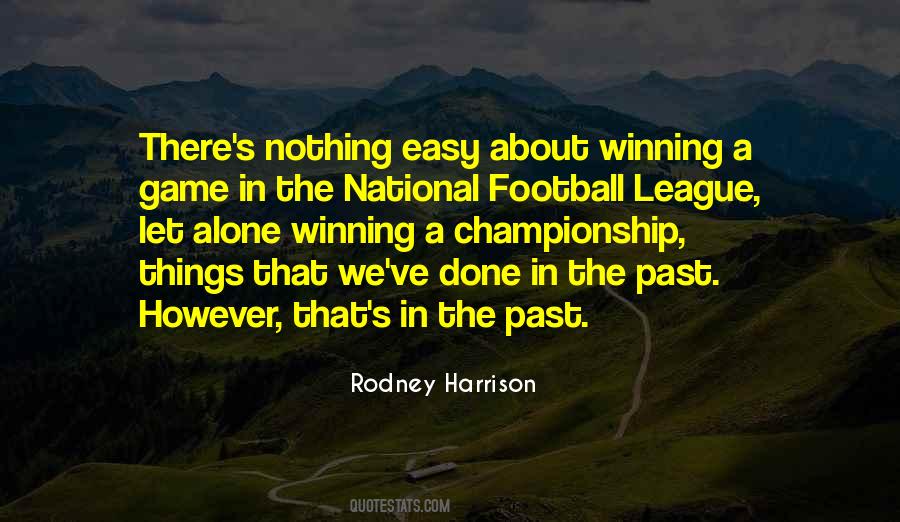 #59. football game. "What? You might as well keep me company," he said, laughing at the look on my face. - Author: Claire Contreras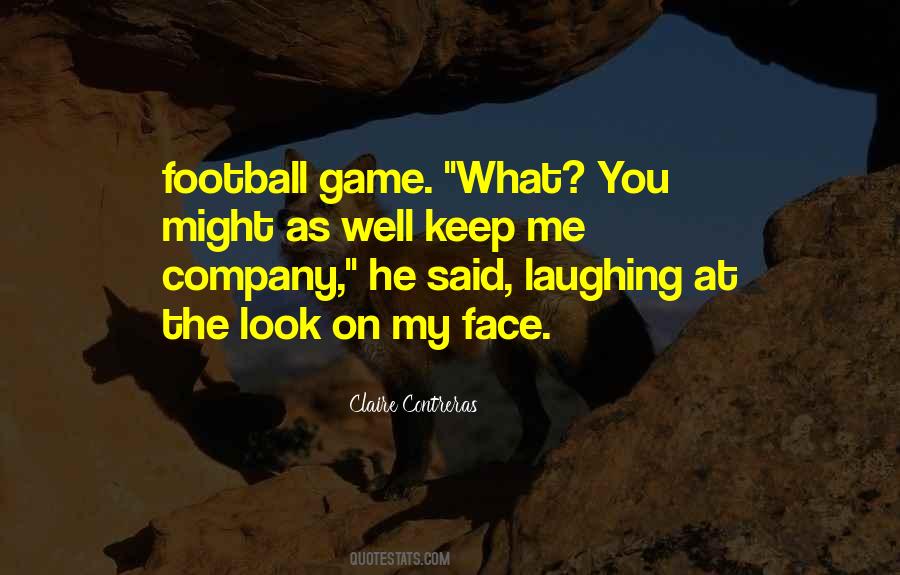 #60. This ain't a football game, we do this every day. - Author: Earl Weaver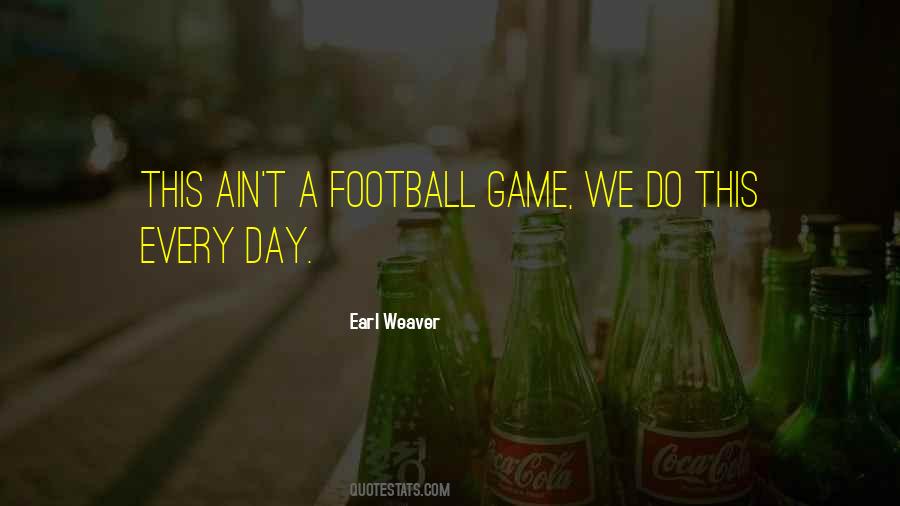 #61. The patience that goes with the game, the little things that go along with the game, you have so much more time to think in golf than you do in football - you have to keep your thoughts positive. I'm not sure I've got that mastered. - Author: John Elway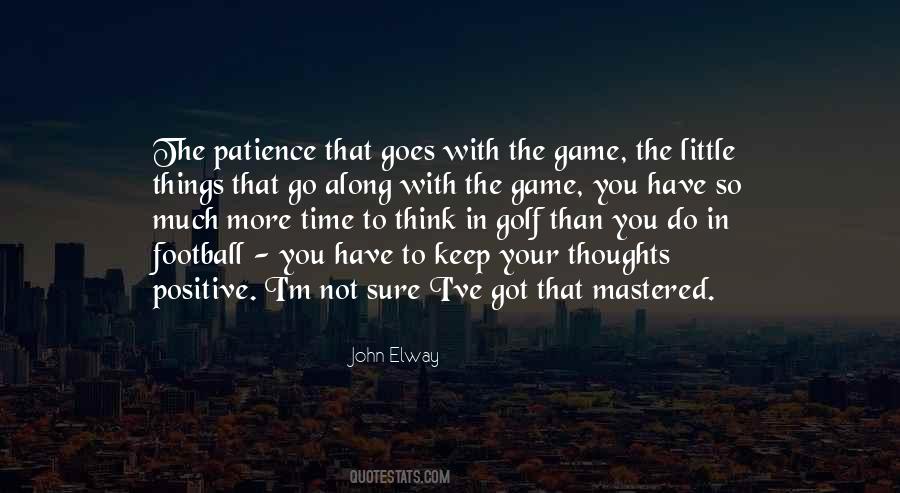 #62. In the sweep of its appeal, its ability to touch every corner of humanity, football is the only game that needed to be invented. - Author: Bobby Charlton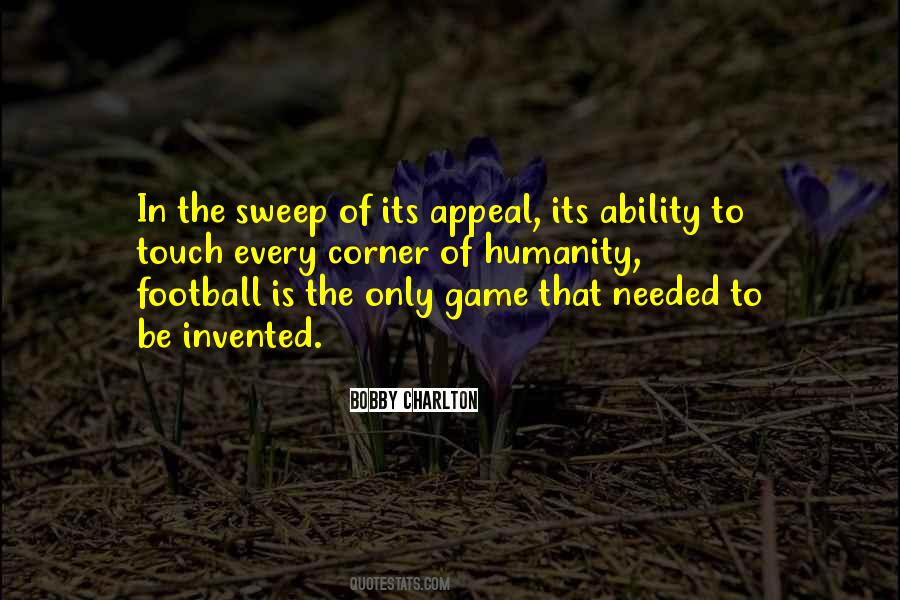 #63. What I've been telling everyone that loves Carolina football is that we are going to put a team out there that, number one, is in good shape. We're going to be fit, we are going to be able to play the whole game and we're not going to poop out. - Author: Steve Spurrier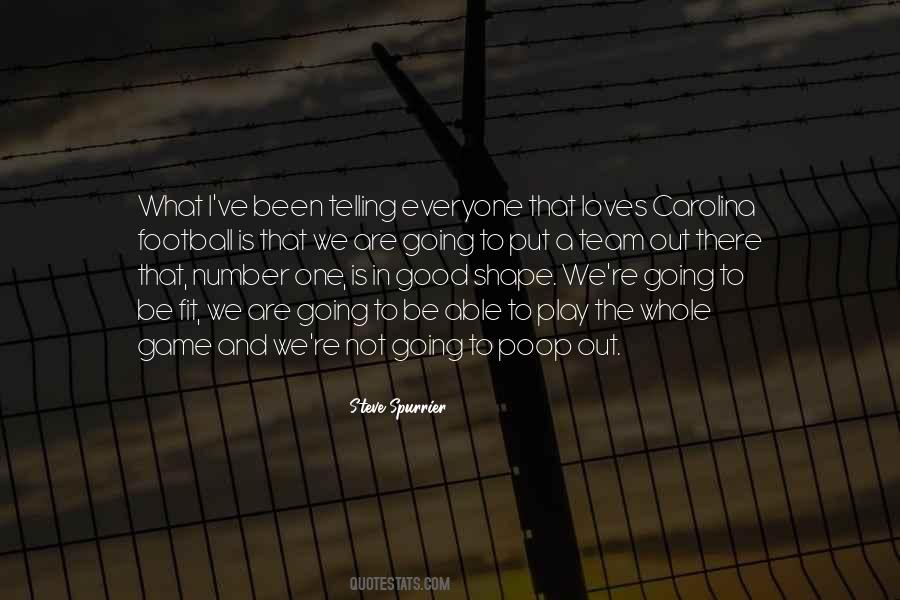 #64. Football is what you do, but it's not who you are. It's a big part of who you are. Part of who you are is you're a football player. It's your profession. It's a game you love to play. It's a game I love to play. - Author: Andrew Luck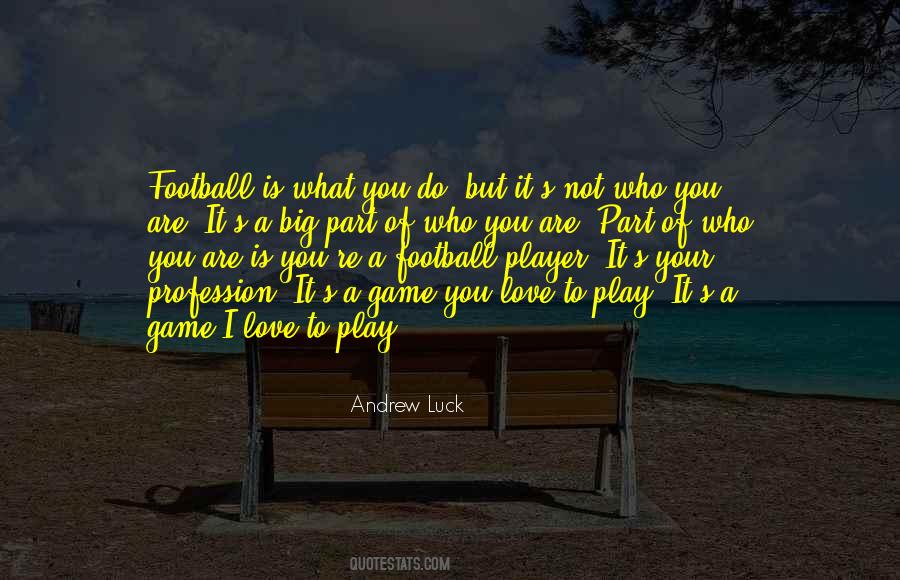 #65. There was nothing wrong with the performance, apart from throwing away the game. - Author: Glenn Hoddle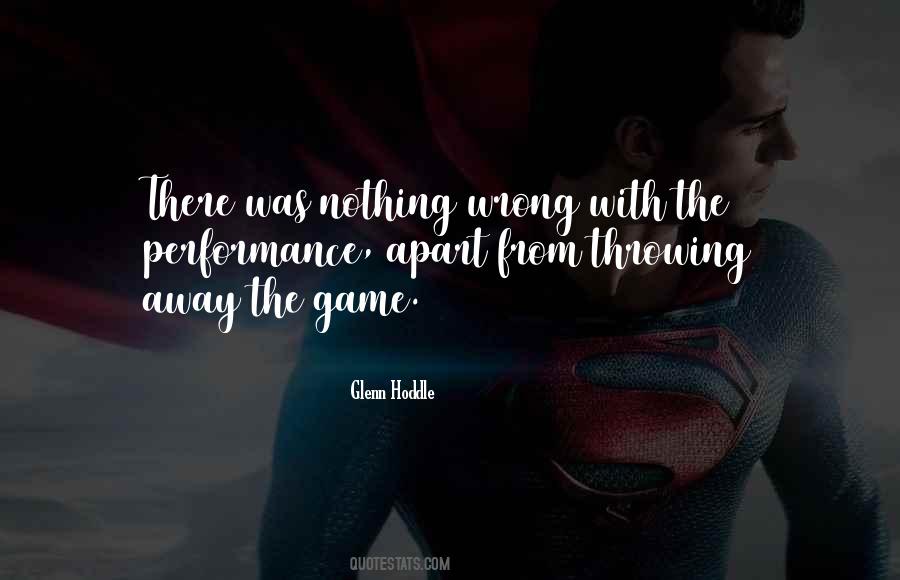 #66. Because a football game is just sixty minutes, but I'm training six, seven hours in every day. So, going for sixty minutes becomes easy. More importantly, I think that your muscles mature and can move in all different directions. - Author: Ray Lewis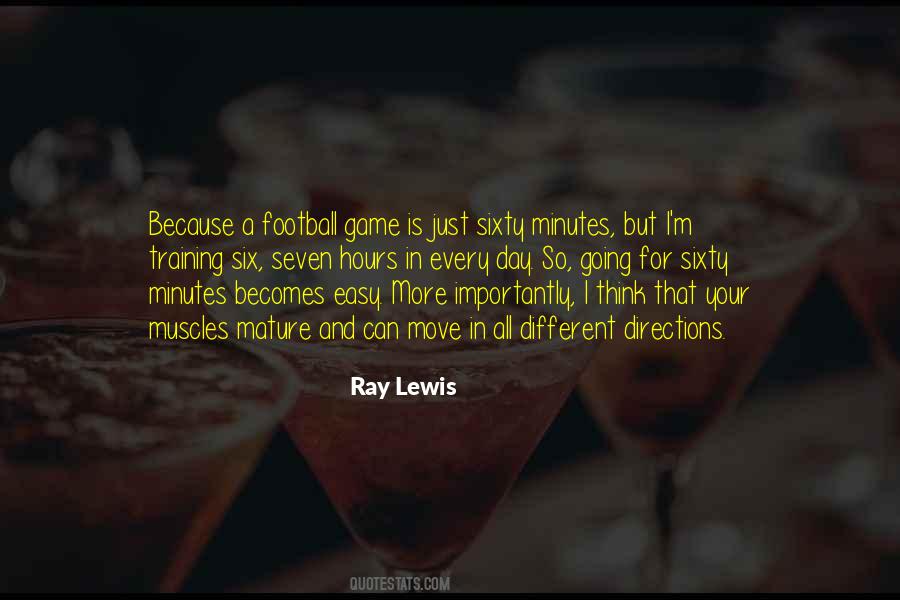 #67. Football is not a game for the weak of heart, because every day you've got a hundred reasons to take all those pads off and say, 'F-k it.' - Author: Lawrence Taylor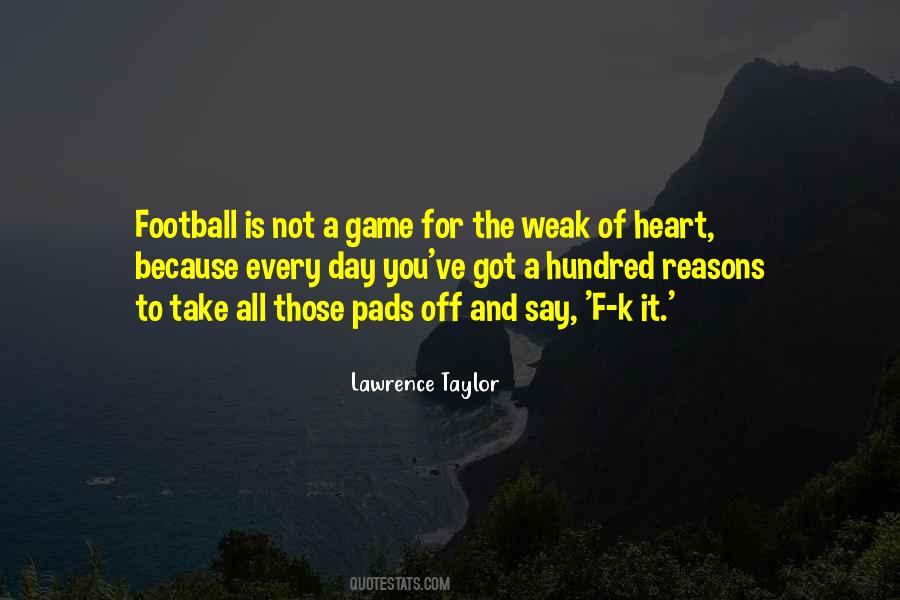 #68. The things that are happening to me are unbelievable. I'm actually busier right now than when I played football. This is almost like I'm coming back out of retirement. It will be fun to see myself in the game. - Author: Jerry Rice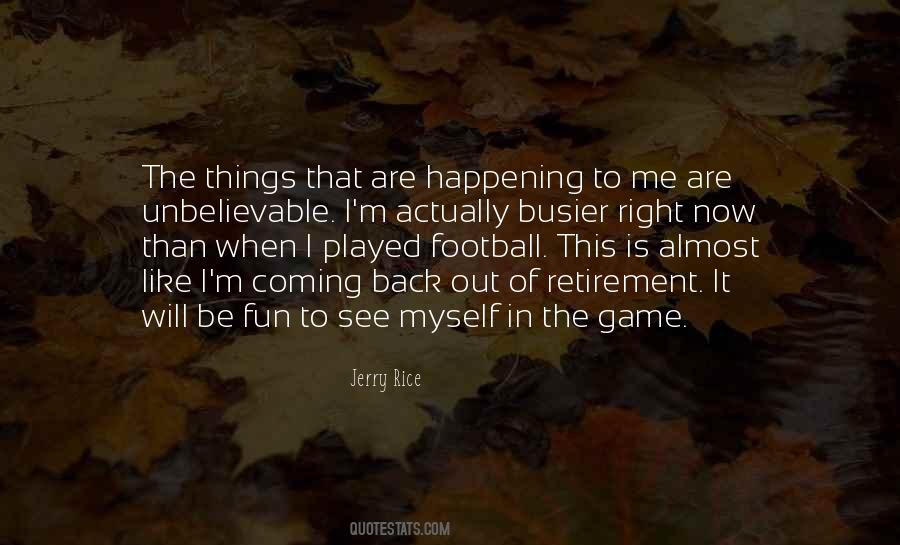 #69. It's easier to date a football player for sure. Football players have one game a week, and they practice every day, but they're all at home. In basketball, they're on the road all the time. - Author: Khloe Kardashian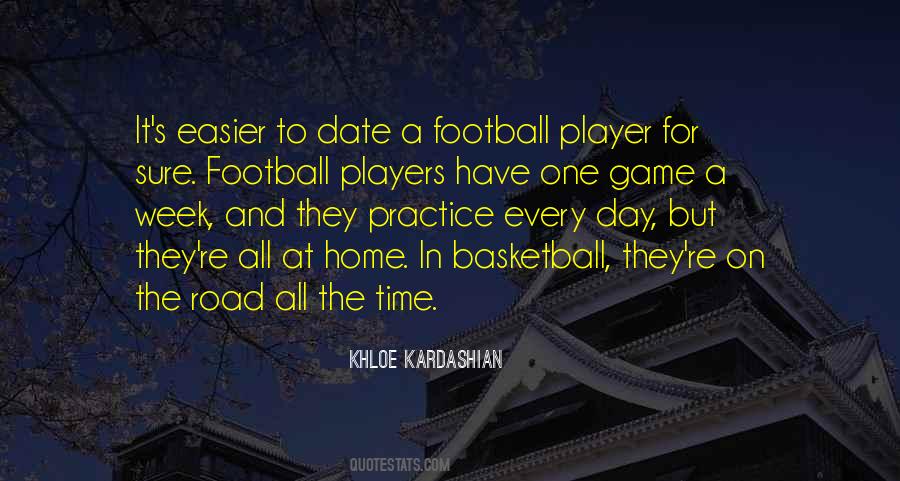 #70. If you were ever to interview me after a football game or at a football game or around me during football season is totally different than when you catch me away from football. - Author: Keyshawn Johnson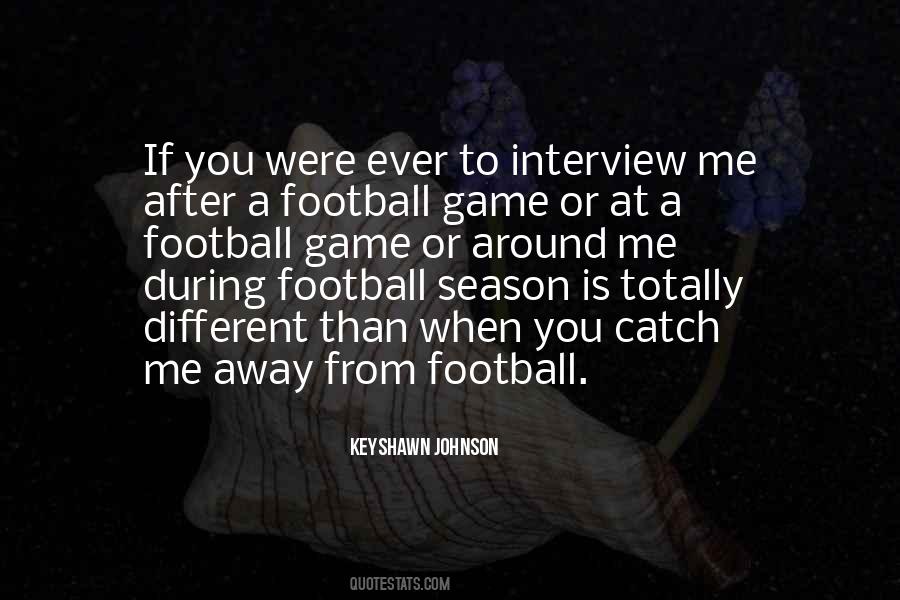 #71. It is the greatest game that I've ever been around. It'll continue to get better and be the greatest. - Author: Joe Montana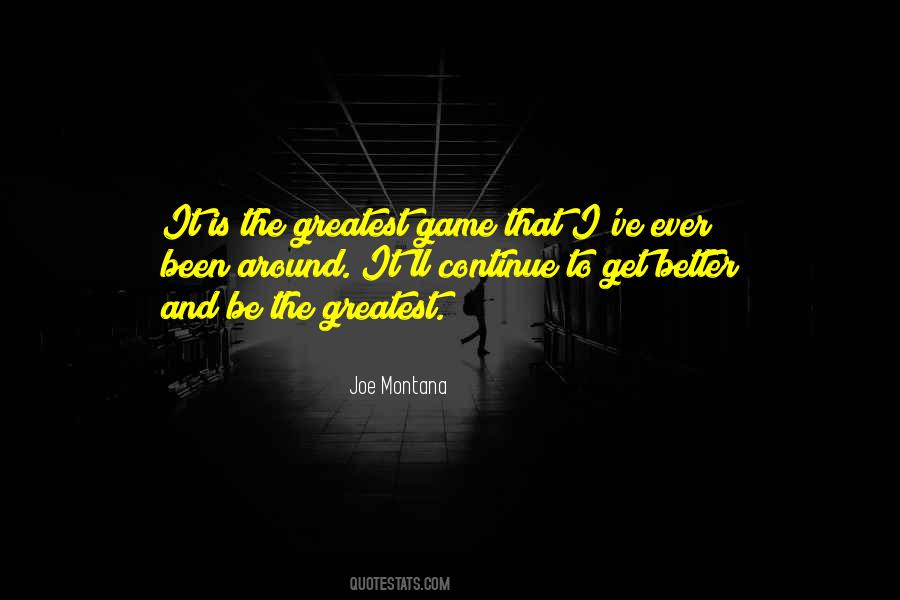 #72. And we have not found any generational gap at all. If he wants to go a football game, he goes. If I want to go to a fashion show, I go. We don't have to do everything together. But we like doing most things together. - Author: Joan Collins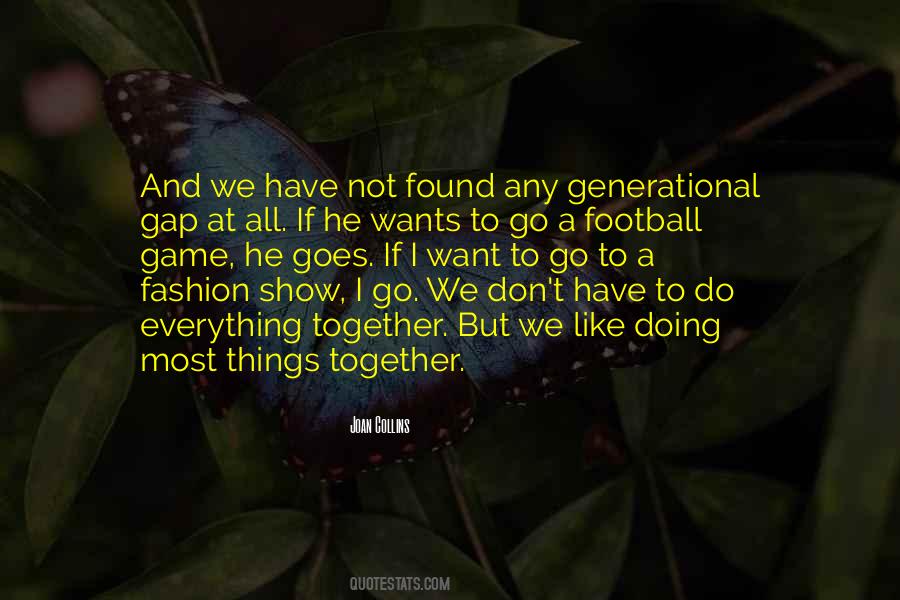 #73. Whether we're stuffing our faces with Kogi tacos or playing a pickup game of football outside the stages, there's never a shortage of fun behind the scenes on 'Murder In The First.' - Author: Ian Anthony Dale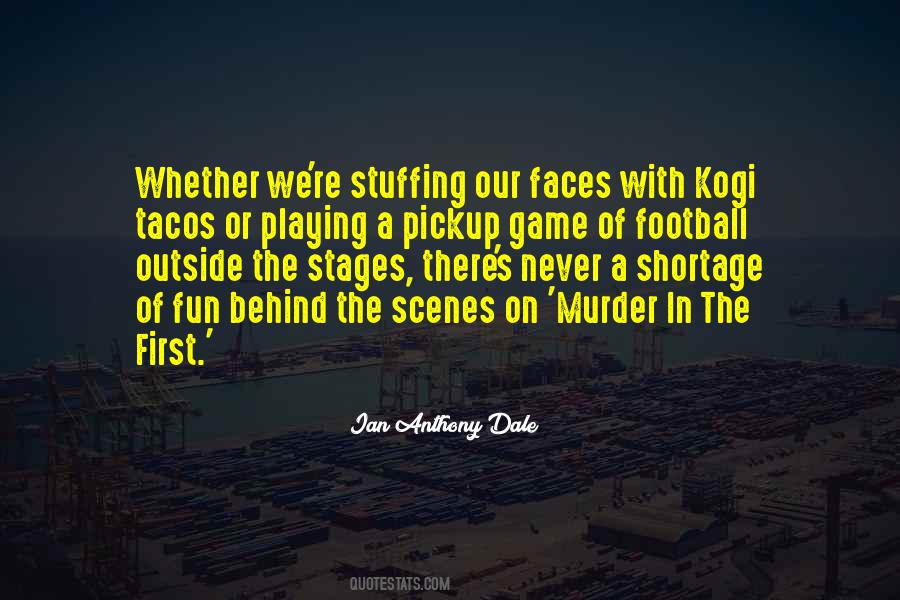 #74. I think I've been waiting for the big gesture, the one where the guy stands in the rain and declares his love or makes some scene at a football game that ends with the crowd doing the slow clap. It's official. Romantic comedies have ruined me. - Author: Lex Martin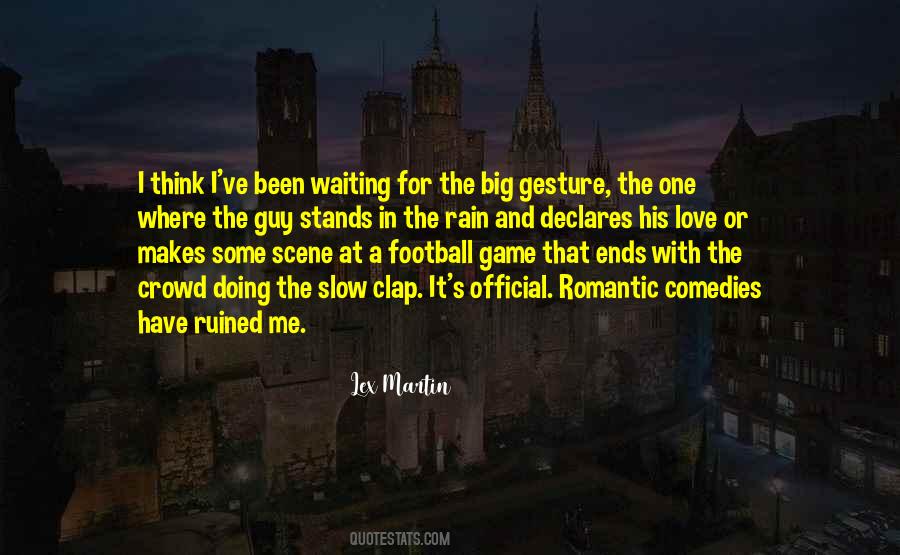 #75. All those football coaches who hold dressing-room prayers before a game should be forced to attend church once a week. - Author: Duffy Daugherty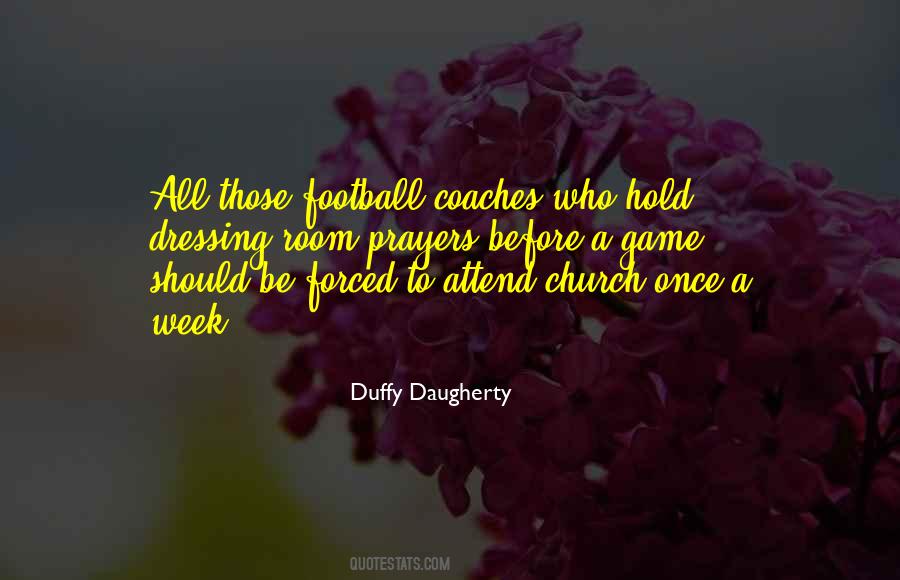 #76. Soccer is a continuous game, rugby is a continuous game, but for the physical elements that are involved in playing a football game and the number of plays that you play, I don't know that it was ever intended to be a continuous game. - Author: Nick Saban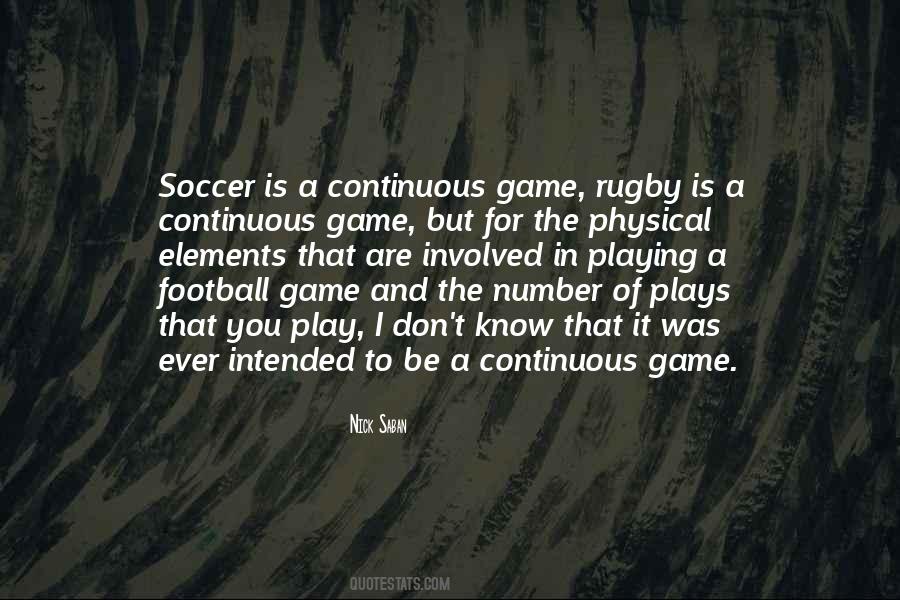 #77. Nearly everything possible had been done to spoil the game: the heavy financial interest; the absurd transfer and player-selling system; the lack of any birth or residential qualifications; the absurd publicity given to every feature of it by the press; the monstrous partisanships of the crowds. - Author: J.B. Priestley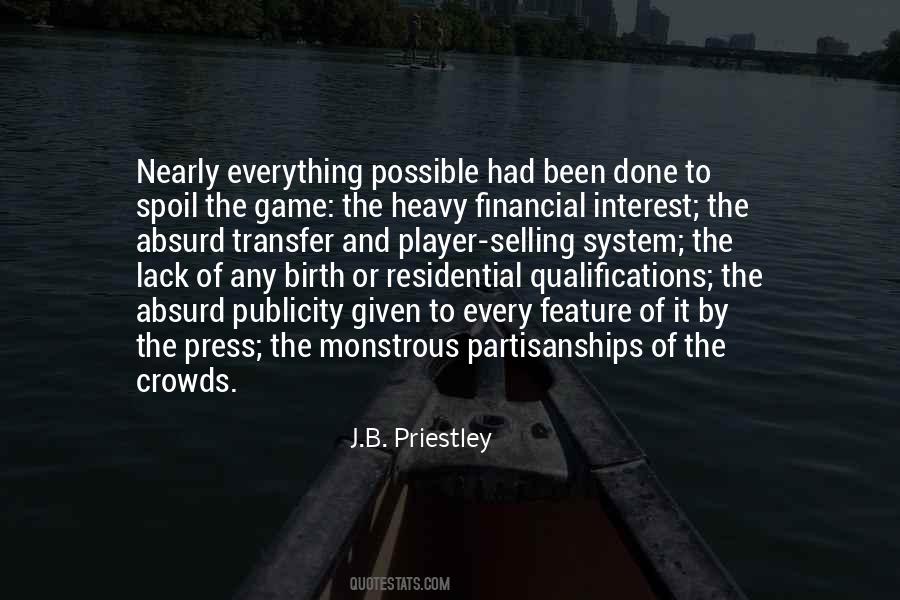 #78. In a game like football, where you have very little time to decide what you are going to do, you have to react almost instinctively, naturally. - Author: Vince Lombardi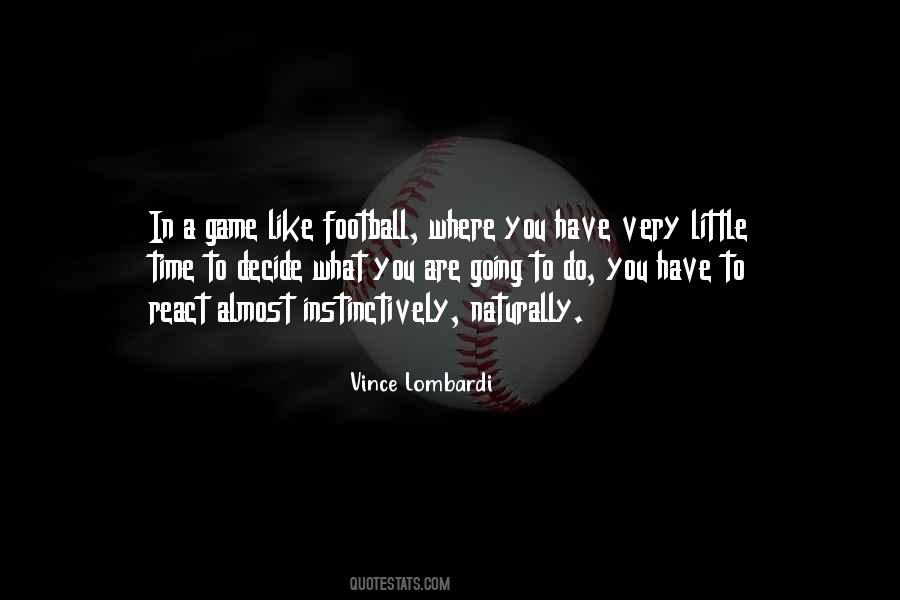 #79. I have loved football as an almost mythic game since I was in the fourth grade. To me, the game wasn't even grounded in reality. The uniform turned you into a warrior. Being on a team, the mythology of physical combat, the struggle against the elements, the narrative of the game. - Author: Steve Sabol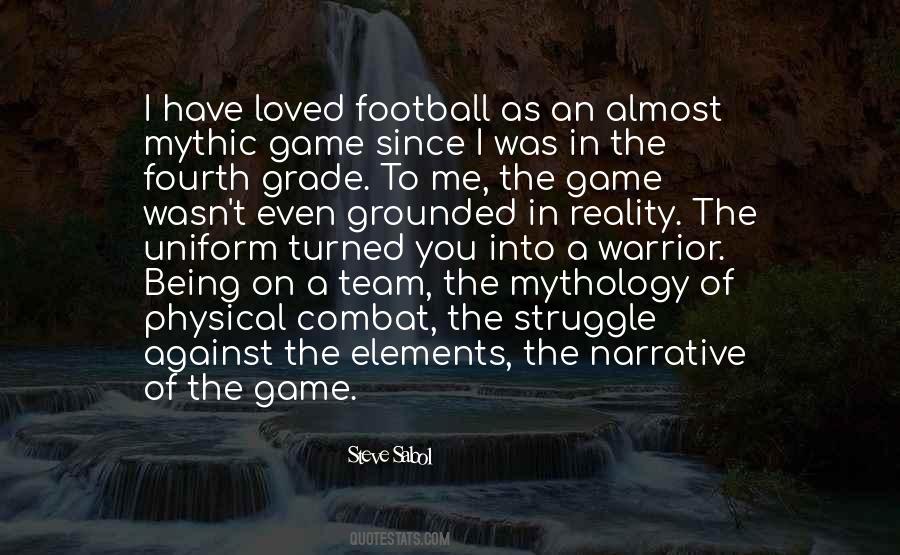 #80. Manchester United have risen to the pinnacle of the English game at a time when the rewards are so high - thanks to the ticket to the Champions League - that they have resources that only a handful of other sides, through merit or the exploitation of the people of Russia, can approach. - Author: Phil Cornwell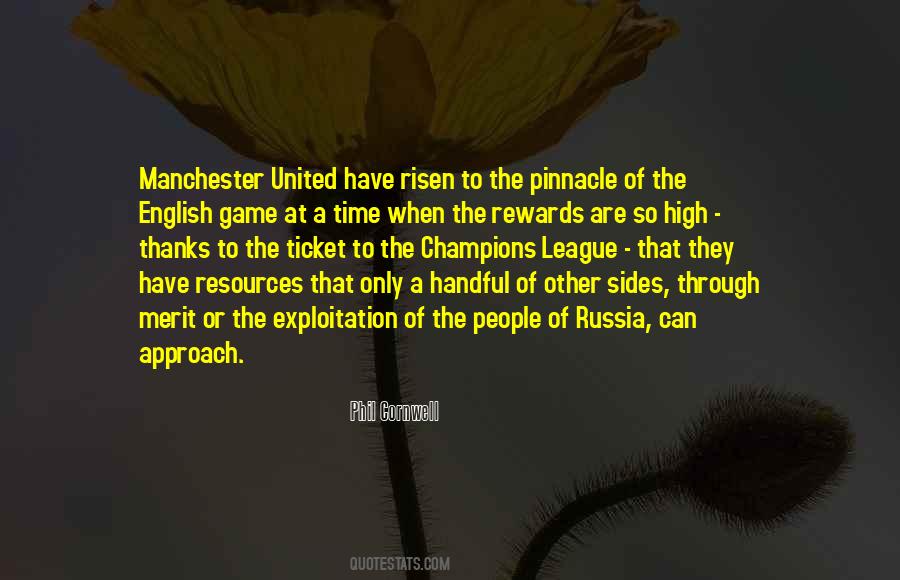 #81. To be efficient with the football in practice and on the game field obviously is the most important thing, but be efficient with the football, make smart decisions, be great on third downs, be great in the red zone, when the game's on the line in the fourth quarter - that's what I love. - Author: Russell Wilson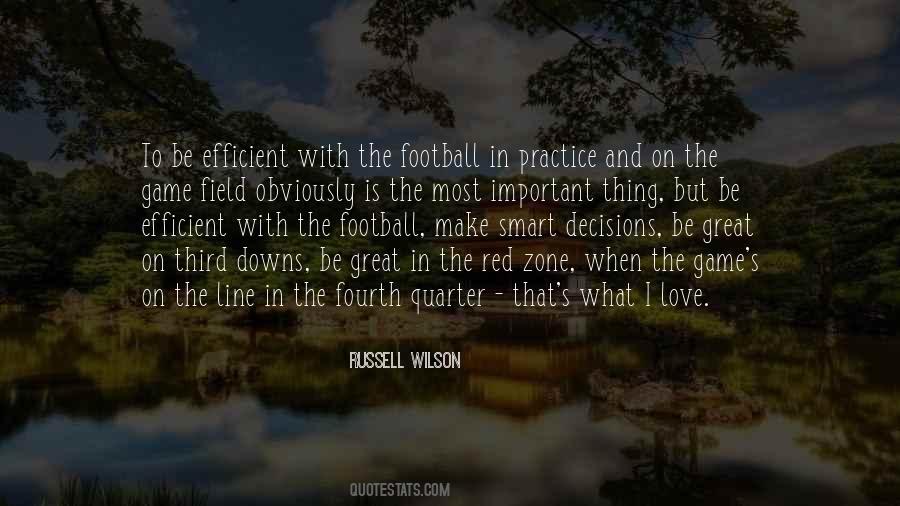 #82. I like football. I find its an exciting strategic game. Its a great way to avoid conversation with your family at Thanksgiving. - Author: Craig Ferguson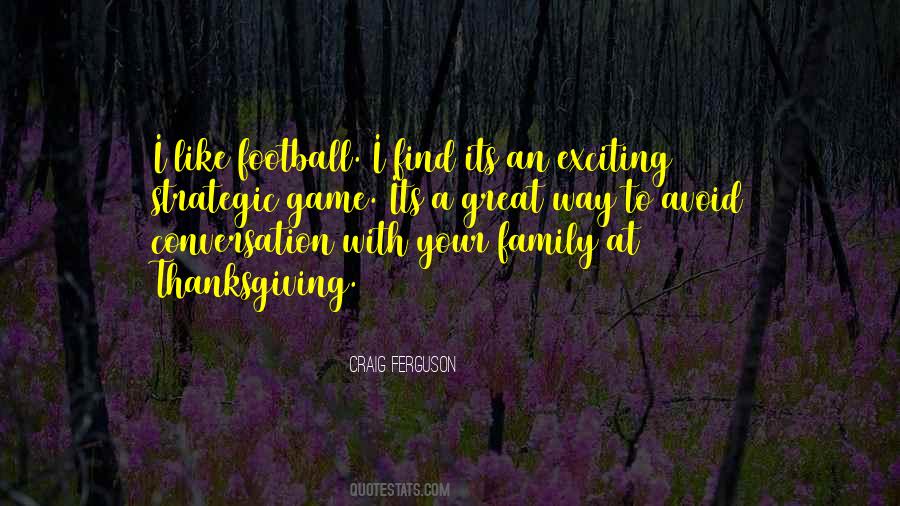 #83. We think wireless is going to grow tremendously. Do I think people are going to watch an episode of 'Survivor' on a 2-inch television set? I doubt it. But I do think somebody's going to go to a grocery store in the middle of a football game and watch that game. - Author: Leslie Moonves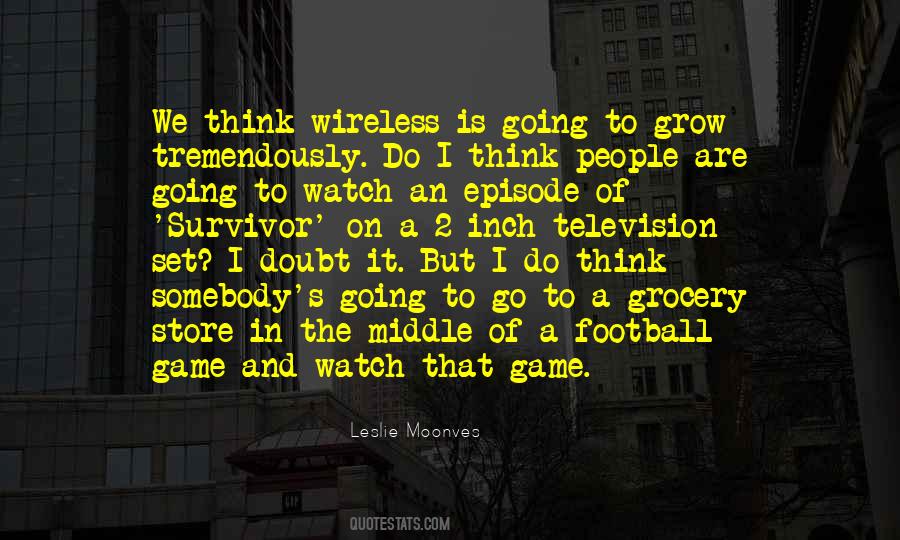 #84. What do we need spectators for? The game should be played behind closed doors. Football is an art! - Author: Ivan Slavkov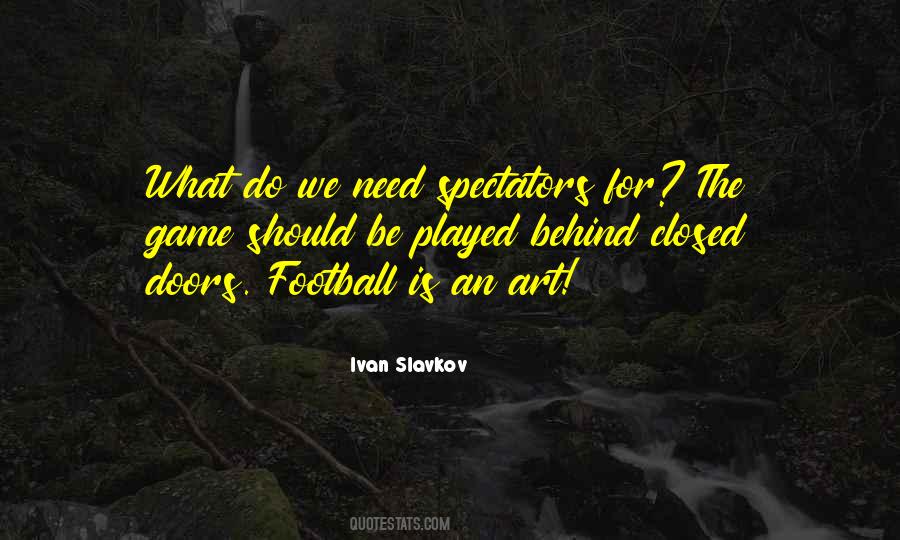 #85. When Paul Brown talked contract, the championship game was part of it. We took the championship game for granted. - Author: Otto Graham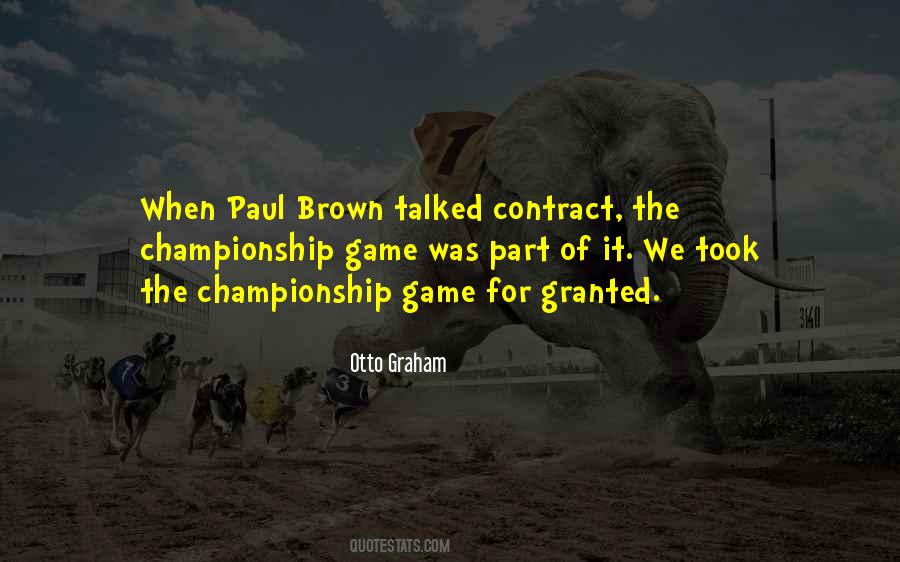 #86. Alan Shearer has done very well for us, considering his age. We have introduced some movement into his game because he has got two good legs now. Last season he played with one leg. - Author: Bobby Robson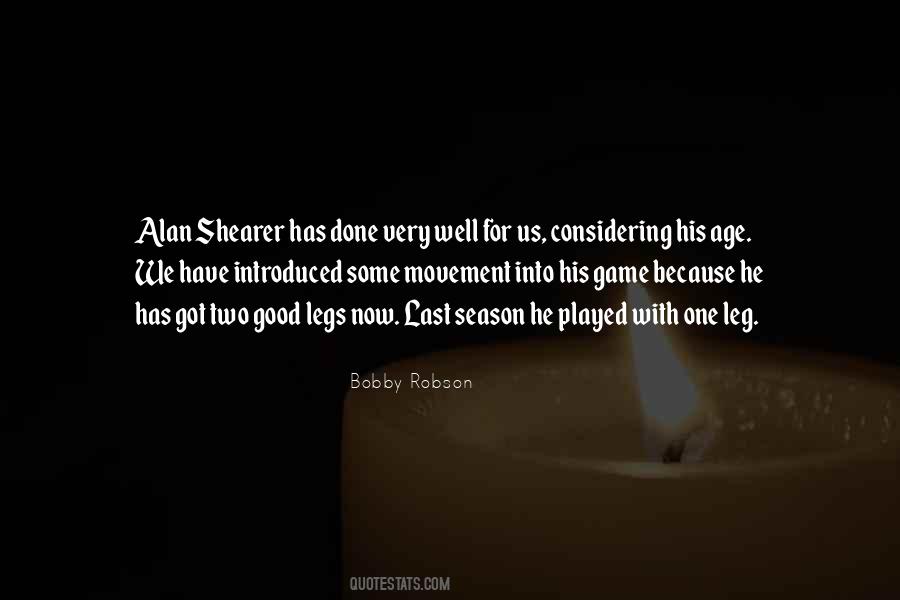 #87. Before replays, football telecasts were filled with dead spots ... It really destroyed the momentum of the telecasts. Replays gave you something to show during the pauses. It seemed to make the game go faster. - Author: Tony Verna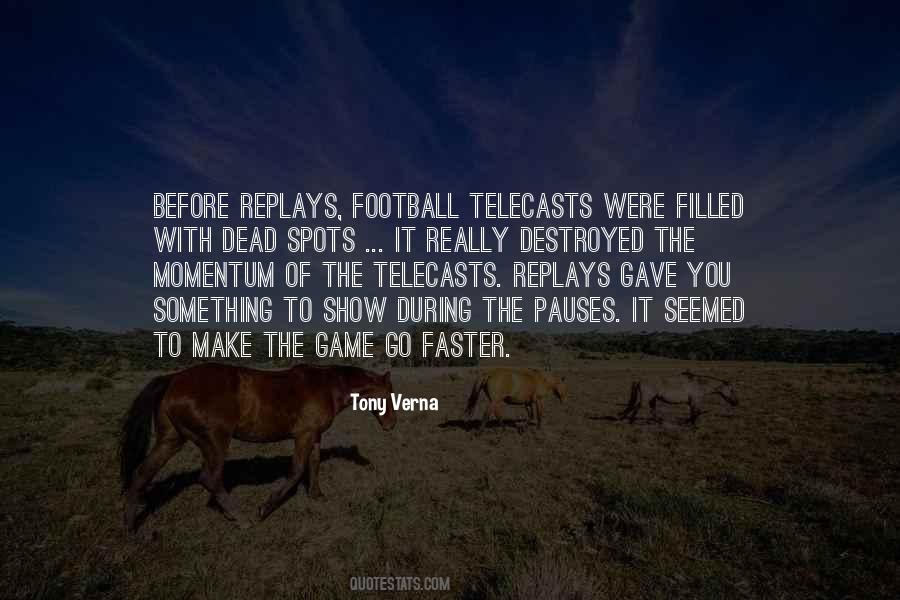 #88. China has great potentials; the people are hard-working and focused. But they have to close the gap as far as the pace of the game is concerned. Football in the future will get faster and faster. - Author: Berti Vogts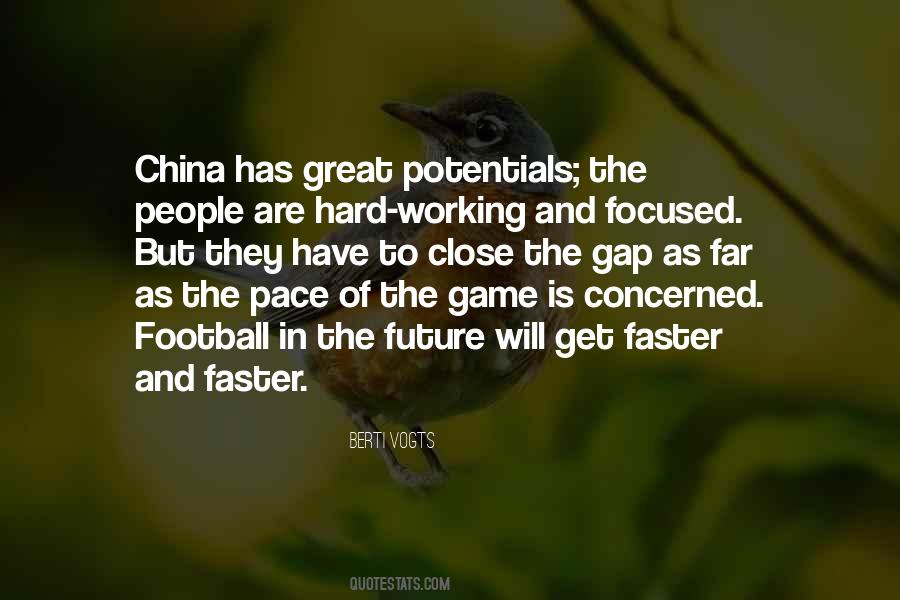 #89. The game of football really is more cerebral than most people think. To be successful, it takes more than just strength and speed; it takes versatility, intelligence, and ability to think quickly and calmly, to adapt to every situation. - Author: Ray Rice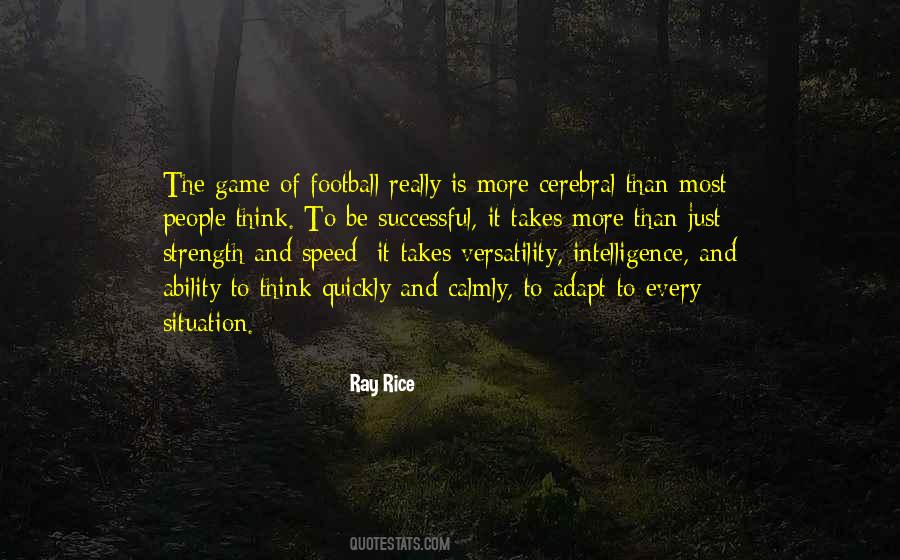 #90. Football is not played on paper, it is played on a pitch. This game is not mathematics and in football, two plus two very rarely equals four - it's usually three or five. - Author: Leo Beenhakker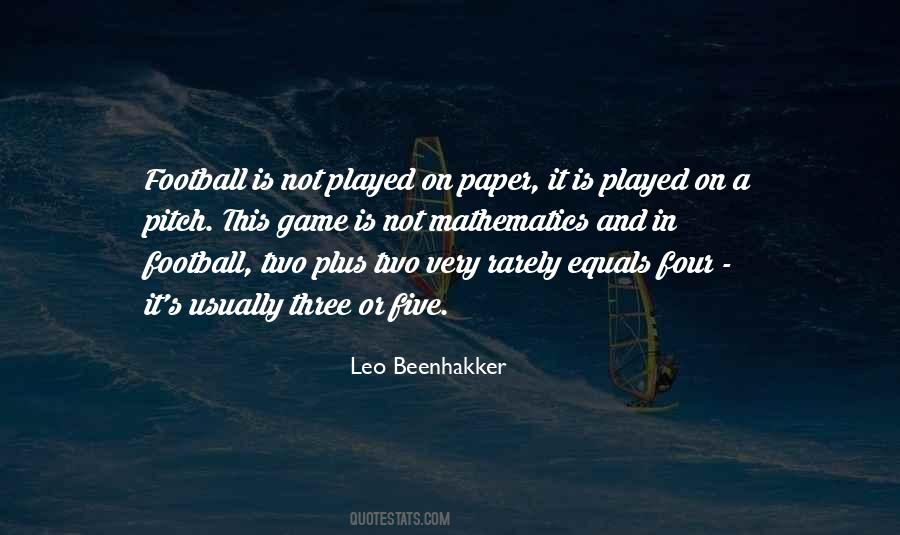 #91. I was born in the Ottawa General Hospital right after the Gray Cup Football Game in 1939. Six months later, I was backpacked into the Quebec bush. I grew up in and out of the bush, in and out of Ottawa, Sault Ste. Marie and Toronto. - Author: Margaret Atwood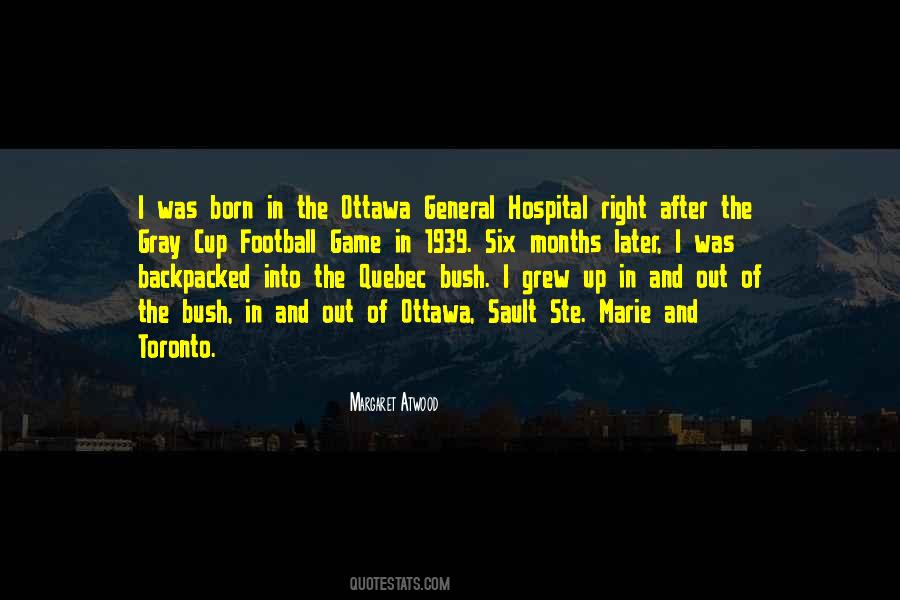 #92. For too long now, European football authorities have not taken the problem of racism in the game seriously and refuse to acknowledge how widespread the problem is. - Author: Rio Ferdinand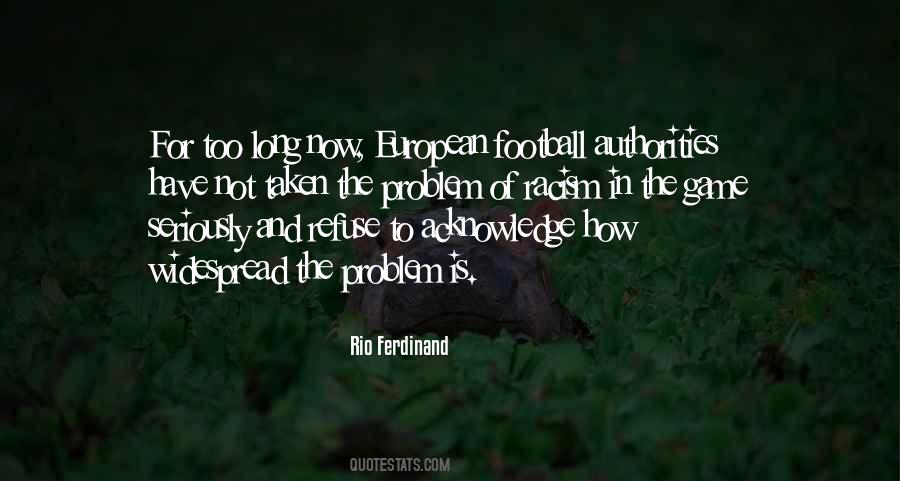 #93. As a football player, you just deal with injuries. It's all part of the football game. I've dealt with injuries as much as everybody else. People have dealt with worse injuries than I've dealt with. It's all part of the game, all part of getting that tackle. - Author: Troy Polamalu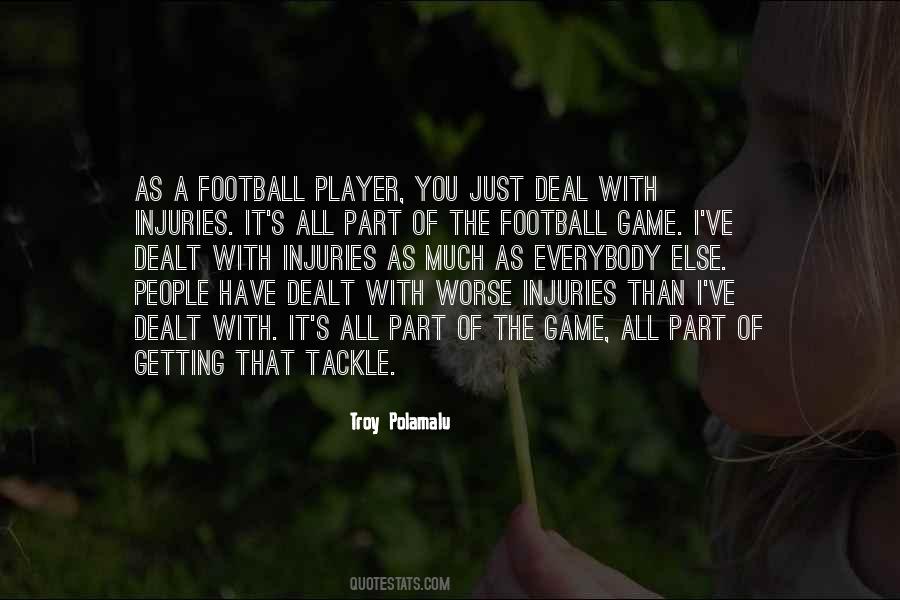 #94. I never really gambled - certainly not playing poker. I'd casually bet on a football game or joined a pool. - Author: Jason Gedrick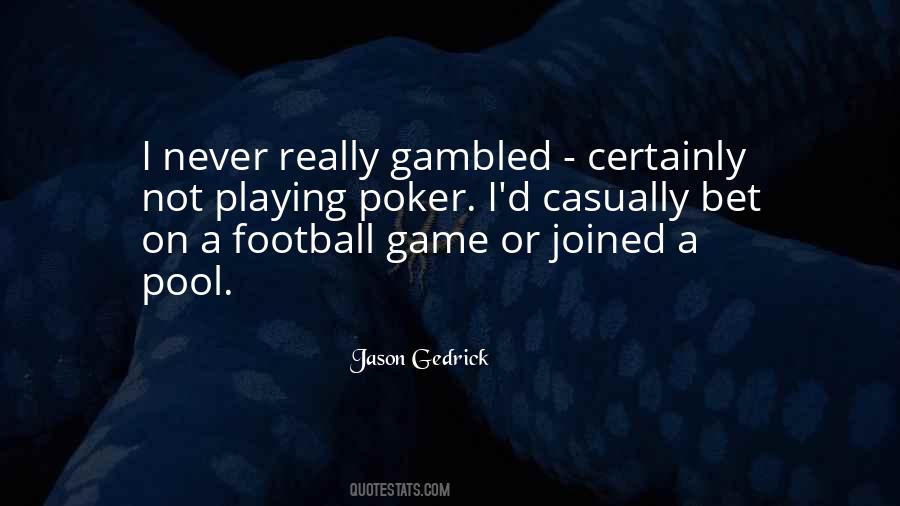 #95. I love the game. I love to watch. I watch it with my kids. I'm able to divorce the beauty of the athletics from the corporate entity that is the National Football League. - Author: Peter Landesman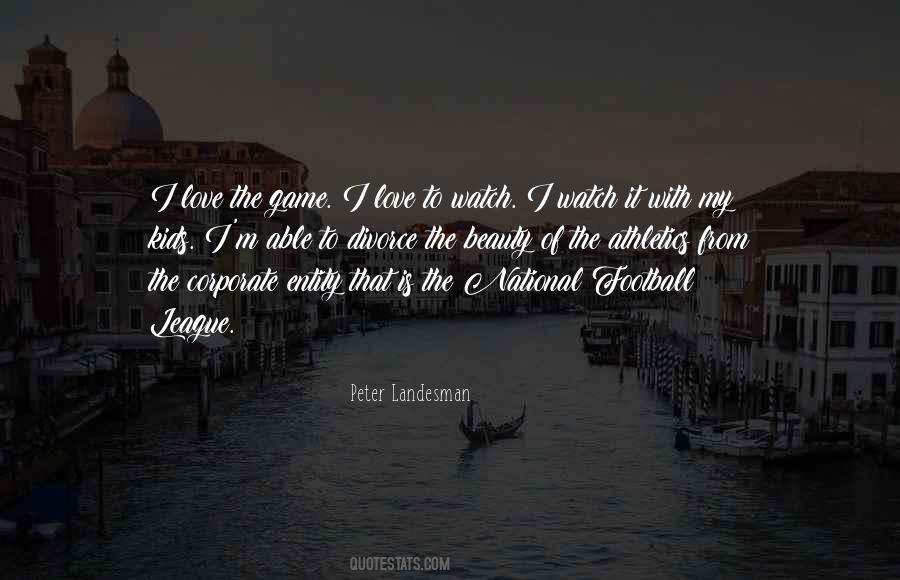 #96. The last jobs I had were fixing cars and covering football games for a local access TV station. As in driving the mobile van to the field, setting up 3 cameras, teaching depressed grownups and interns how to use them and directing the game from the van and then wanting to kill myself. - Author: Louis C.K.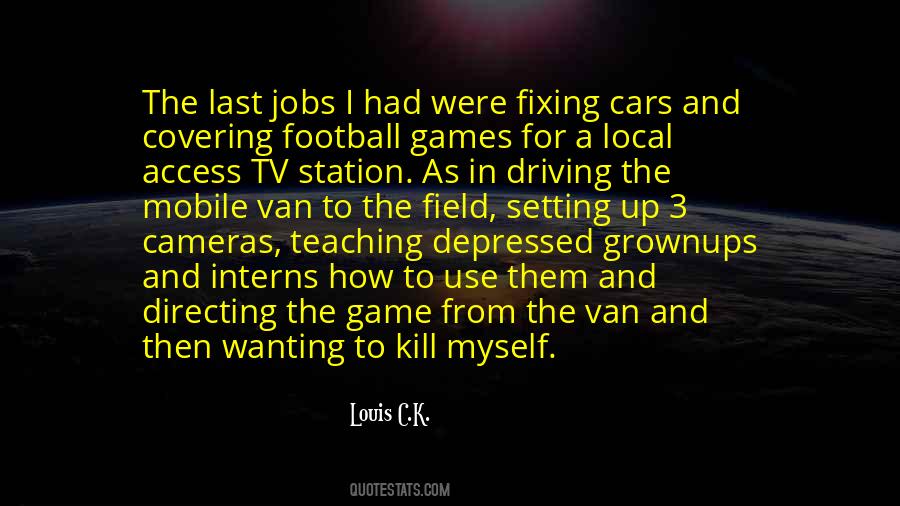 #97. The truth is the Super Bowl long ago became more than just a football game. It's part of our culture like turkey at Thanksgiving and lights at Christmas, and like those holidays beyond their meaning, a factor in our economy. - Author: Bob Schieffer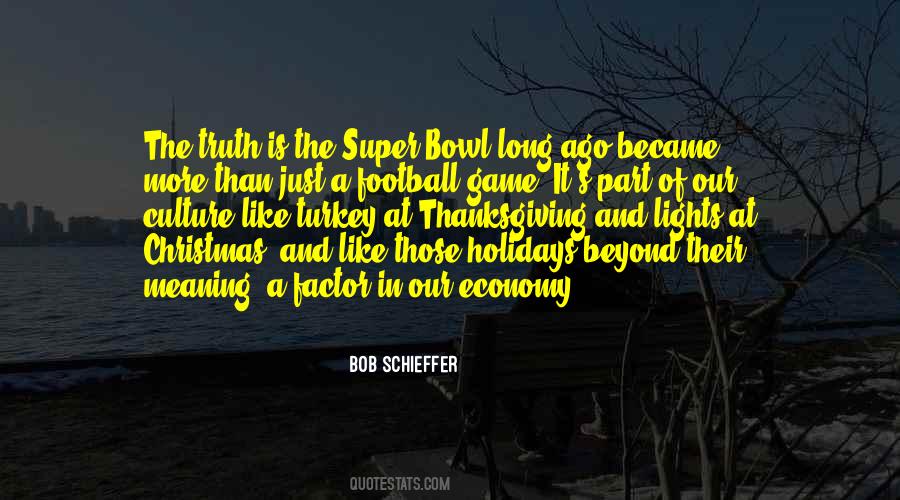 #98. The name of the game is 'kill the quarterback.' Every football team tries to knock the guy out of the game that's handling the ball. - Author: Joe Namath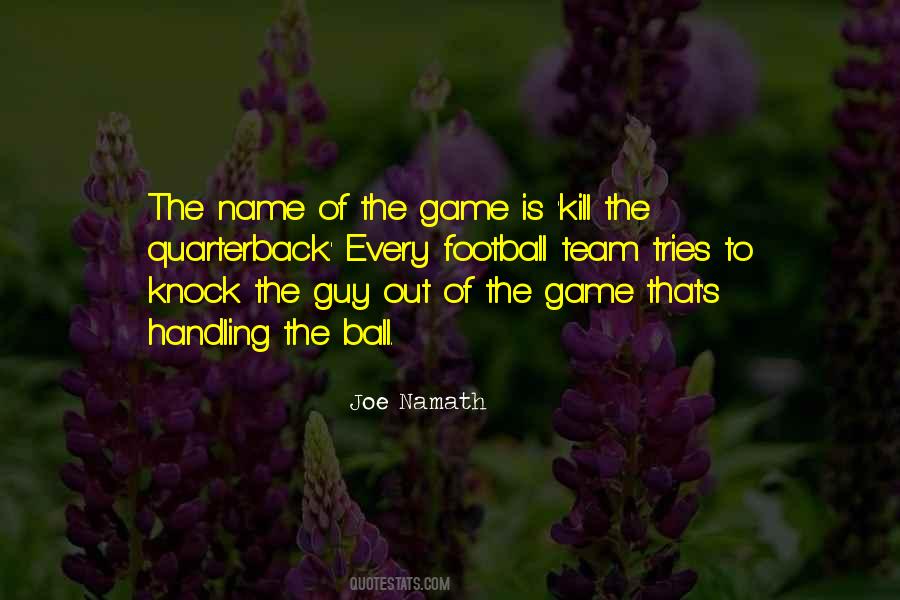 #99. I started beach football in Monte Carlo when I retired from football in 1997. I liked the game very much. - Author: Eric Cantona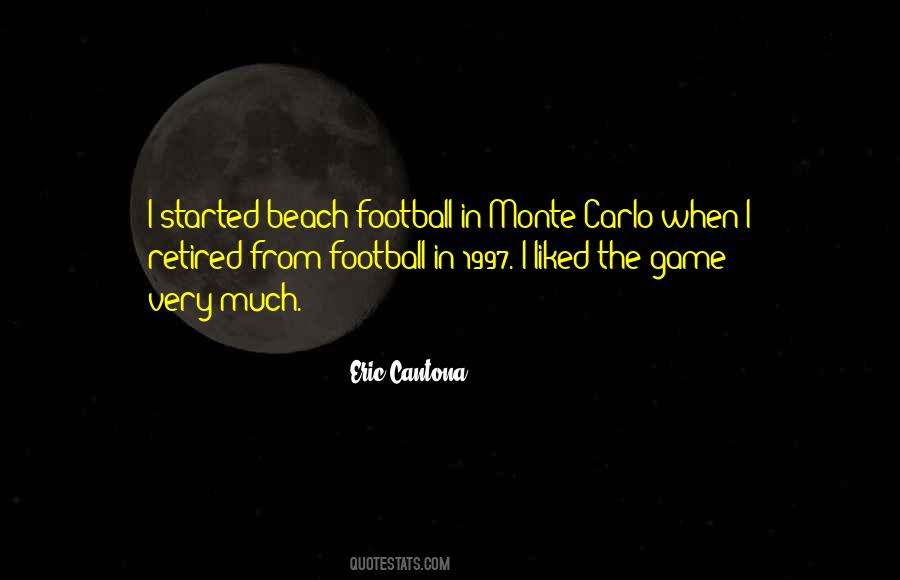 #100. To be second with one game to go - you can't ask for more. - Author: Stuart McCall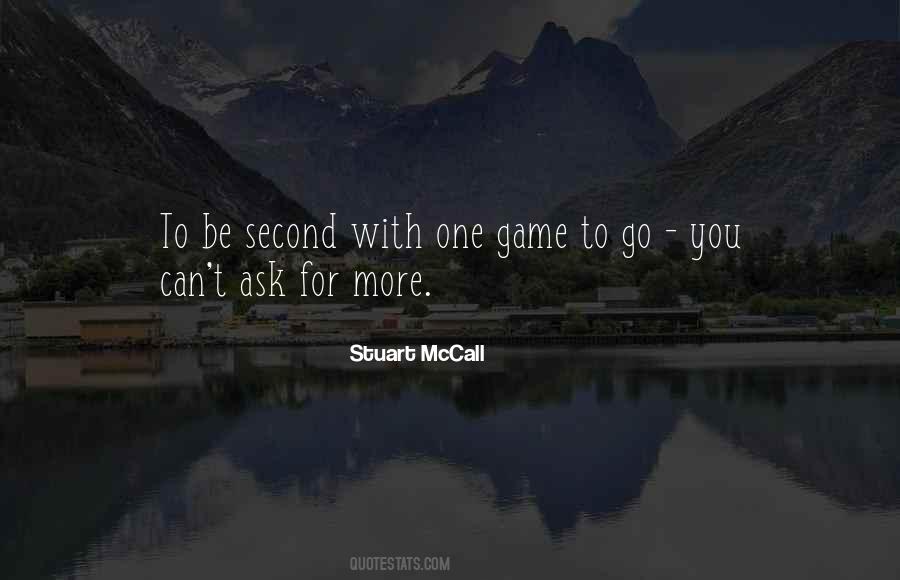 Famous Authors
Popular Topics