Family Is My Famous Quotes & Sayings
List of top 100 famous quotes and sayings about family is my to read and share with friends on your Facebook, Twitter, blogs.
Top 100 Family Is My Quotes
#1. I don't want to leave New York and leave my family. I don't like the distance. I just did a movie in California and it's kind of excruciating to be away from them so I think there is that sense. - Author: Sigourney Weaver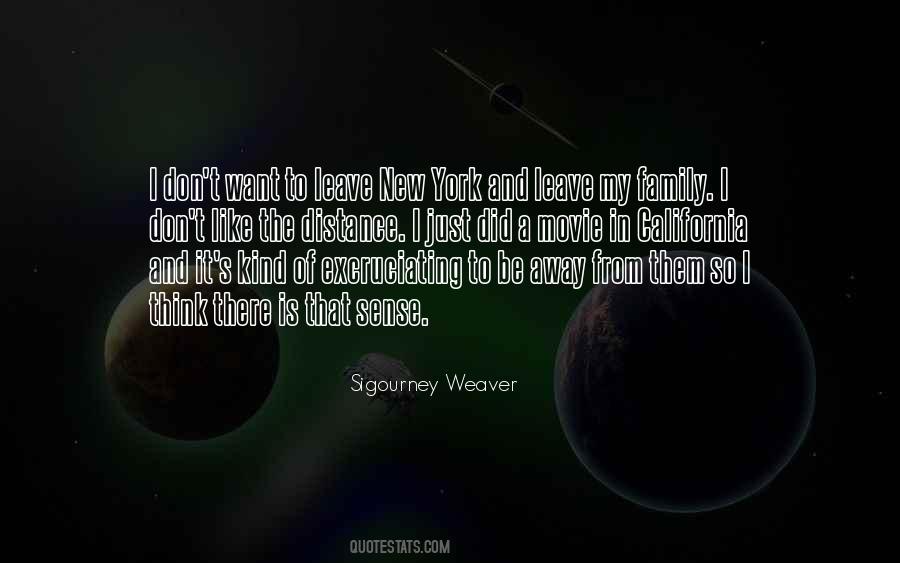 #2. Happiness for me is when my kids are good and when my family is whole. - Author: Michelle Obama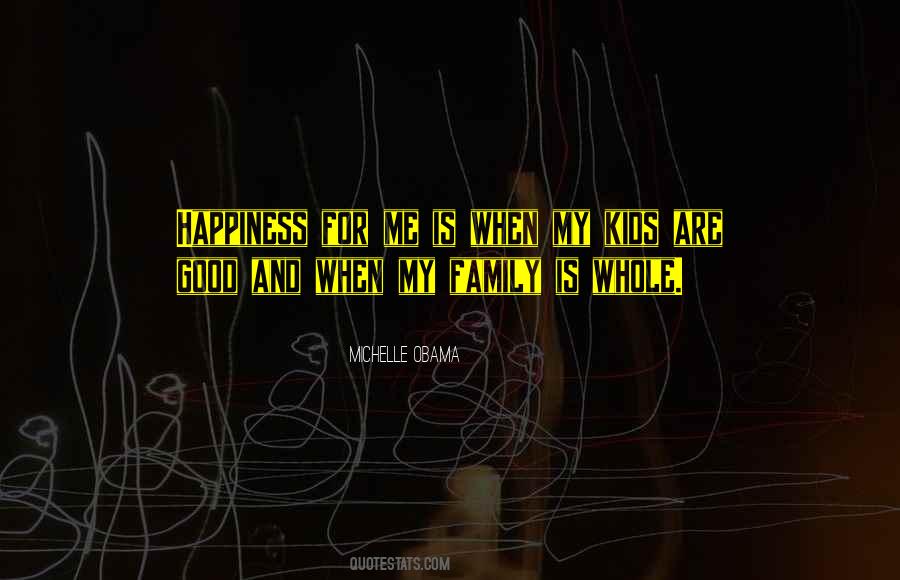 #3. My definition of a green-collar job is this: a family-supporting, career-track job that directly contributes to preserving or enhancing environmental quality. - Author: Van Jones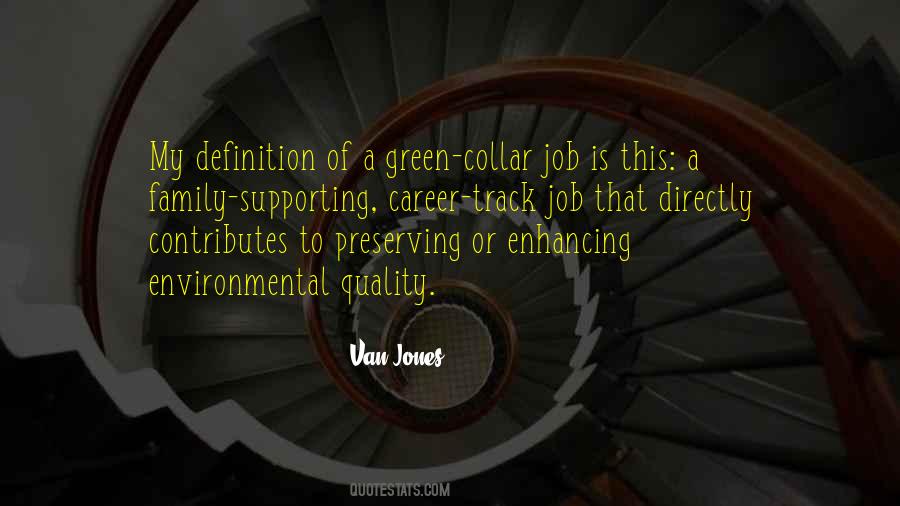 #4. Work is so much fun that it doesn't really seem like downtime when I'm not. But cooking, spending time with my family, friends and dog are what I'm usually doing when I'm not working on something. - Author: Bailee Madison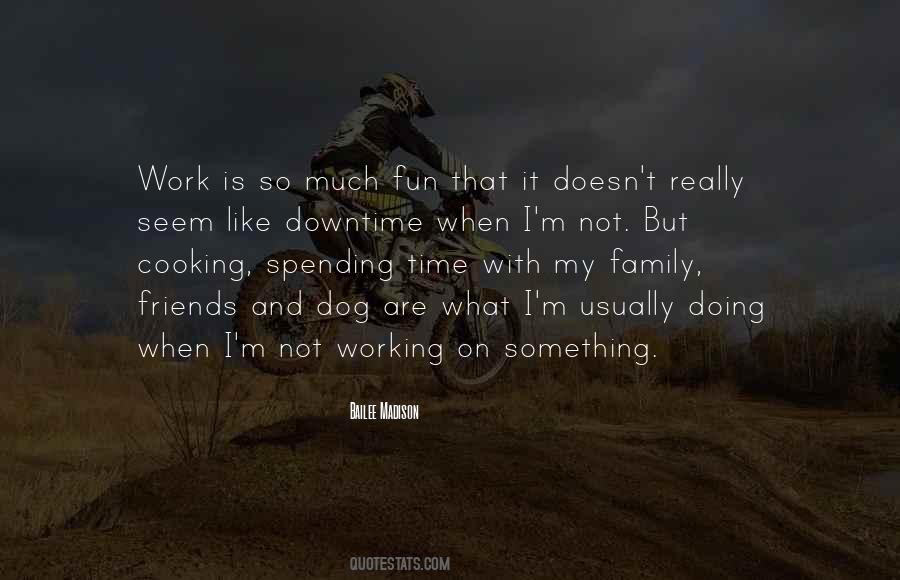 #5. My truest desire is fellowship with good friends, the love of a caring family, and a close relationship with God. - Author: Wanda E. Brunstetter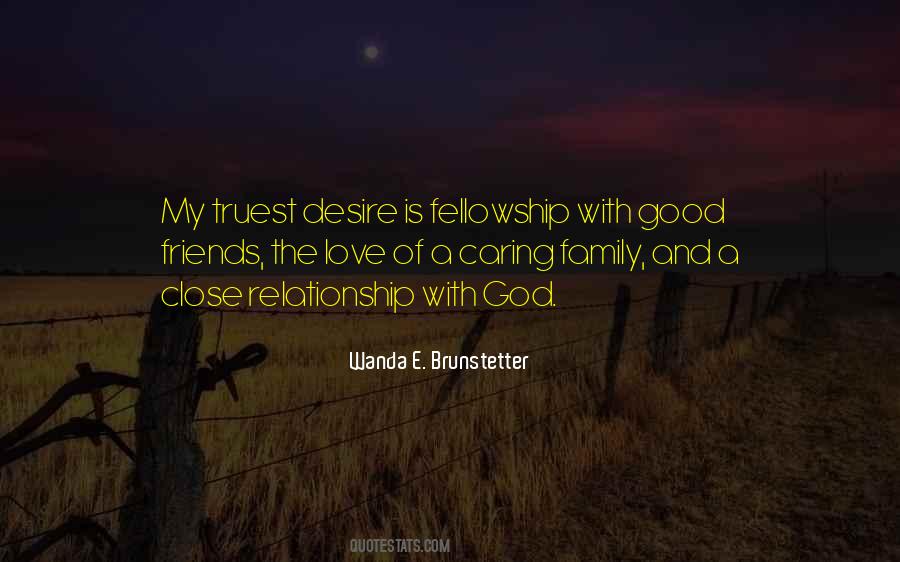 #6. My husband is my biggest supporter on earth. He encourages me to put myself out in the world in ways that feel scary, and he's like, "I'm always gonna catch you. I'm always gonna be there for you." My supportive mother and family. Honey, it's such a village. - Author: Reese Witherspoon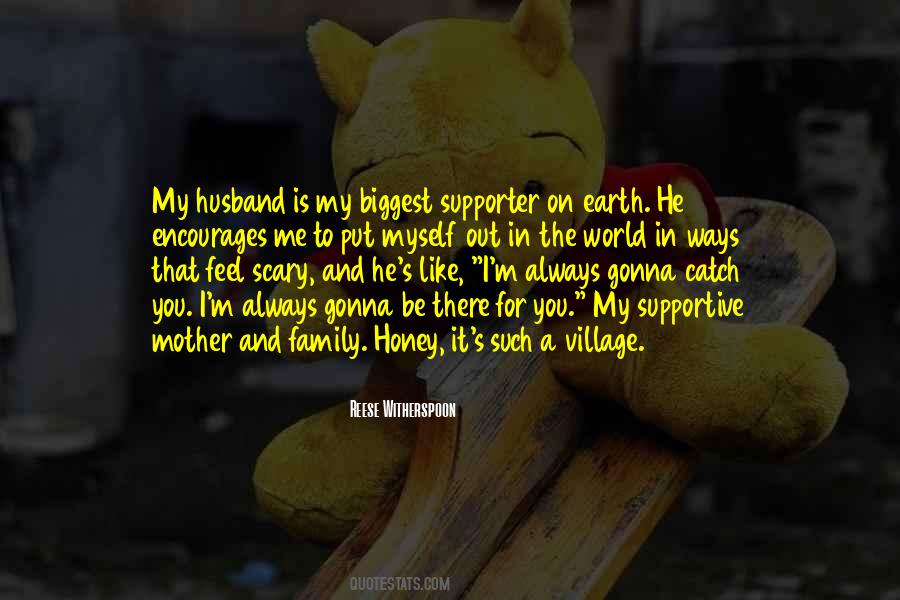 #7. What I love about Popsicle and the moments I can be with Camden is that their whole philosophy is family and these moments that it can create to just sit with my son, read a comic book or go outside on a hot day, take a swim and have a Popsicle treat with him. - Author: Vanessa Lachey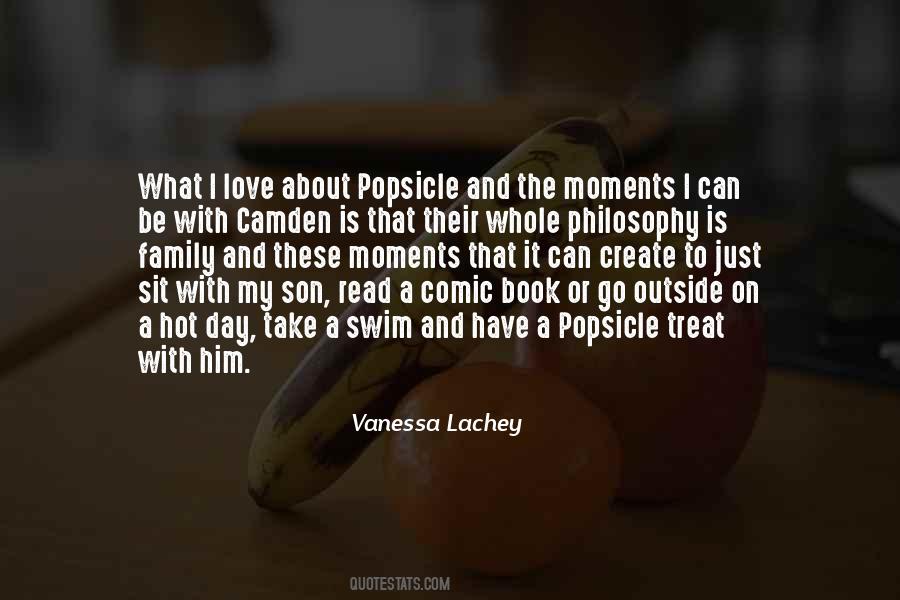 #8. When she woke briefly during her last illness and found all her family around her bedside: "Am I dying or is this my birthday?" - Author: Nancy Astor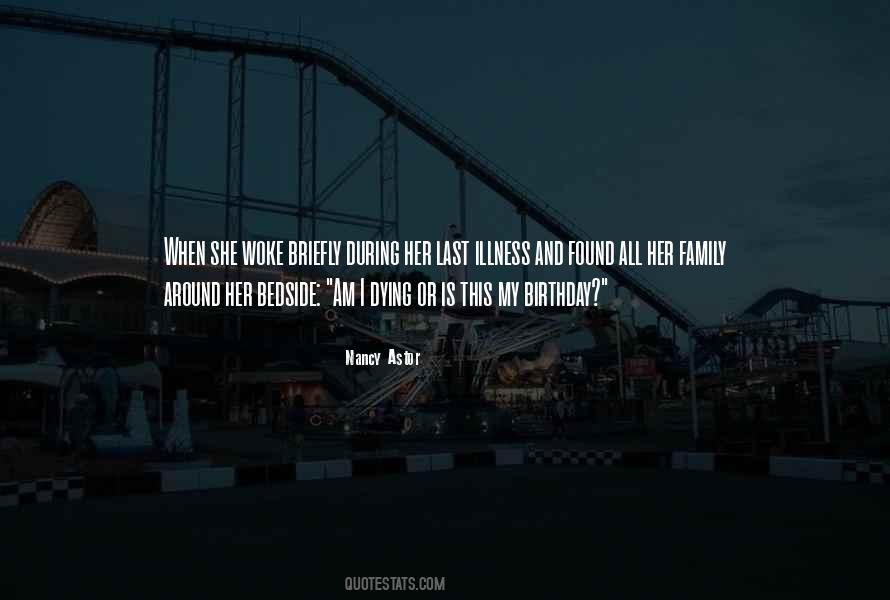 #9. I'm a family man. I just love being around my family. - Author: Carlos Beltran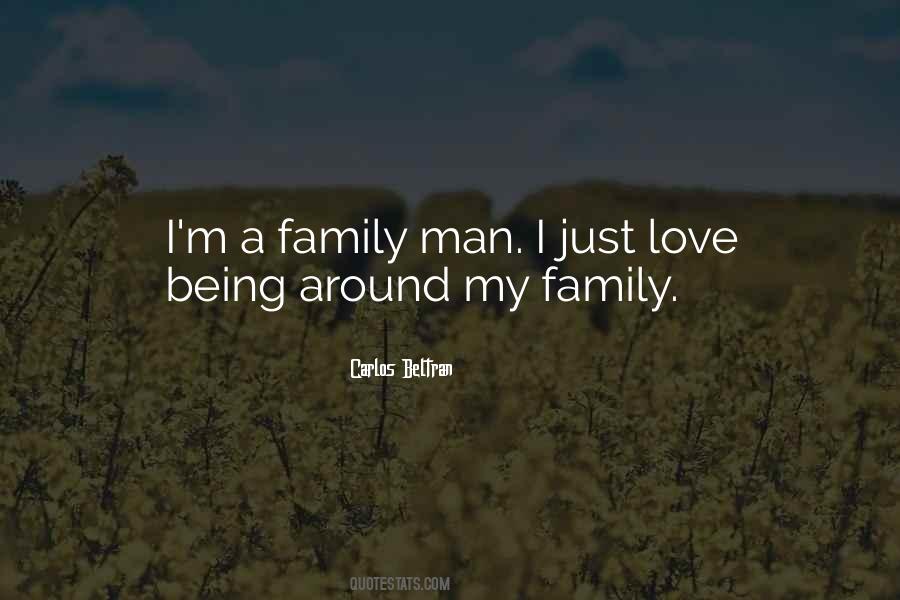 #10. Pack is for comfort when you hurt, I thought, putting my head back down. And for the first time in a long time, maybe the first time ever, I appreciated being a part of one. - Author: Patricia Briggs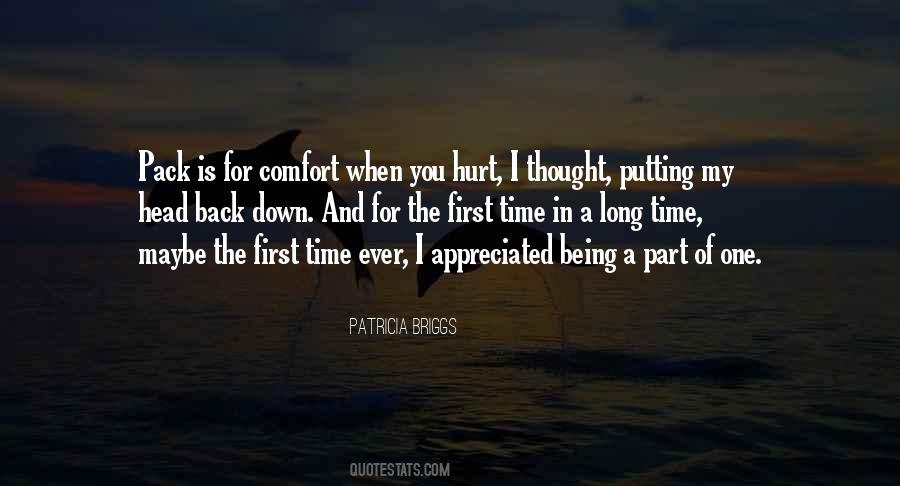 #11. Skype is a wonderful invention. It might be my favorite thing because I get to see my family and the ones that you love. - Author: Jamie Lawson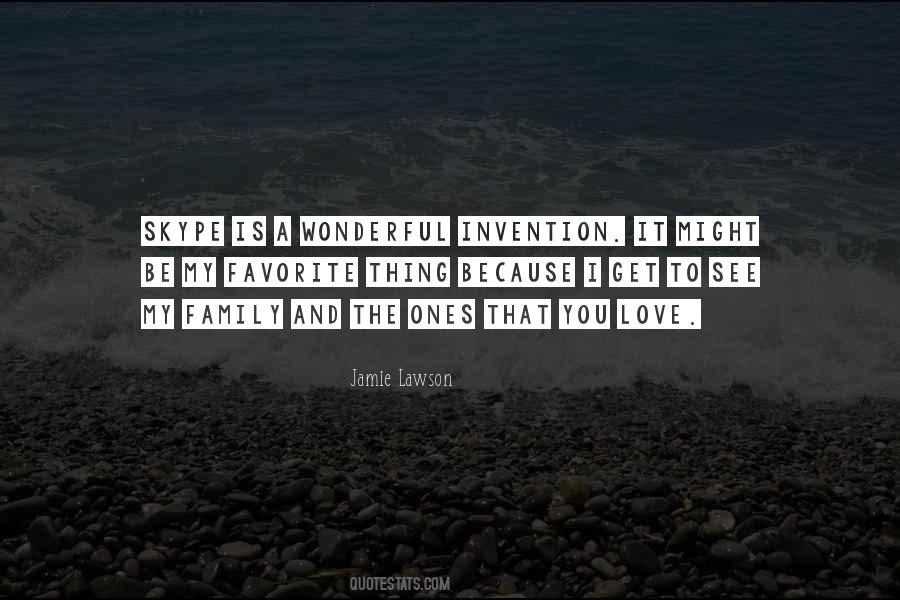 #12. In my experience, the biggest reason people struggle to get where they want to be is guilt. Guilt that they have let someone down, and also guilt that they are about to leave someone they love ...behind. - Author: Bethany Brookbank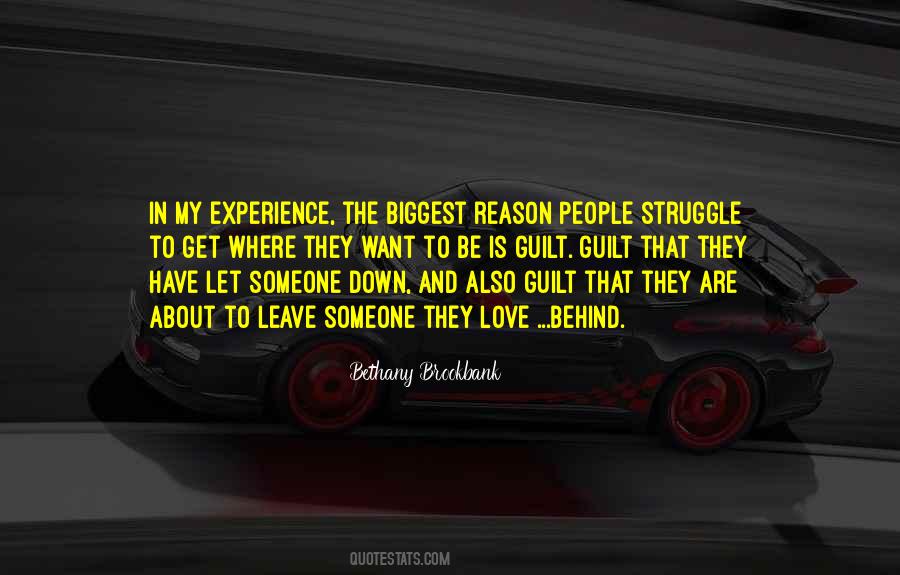 #13. Speaking as somebody with three sisters and a very largely female Muslim family, there is not a single woman I know in my family or in their friends who would have accepted the wearing of a veil. - Author: Salman Rushdie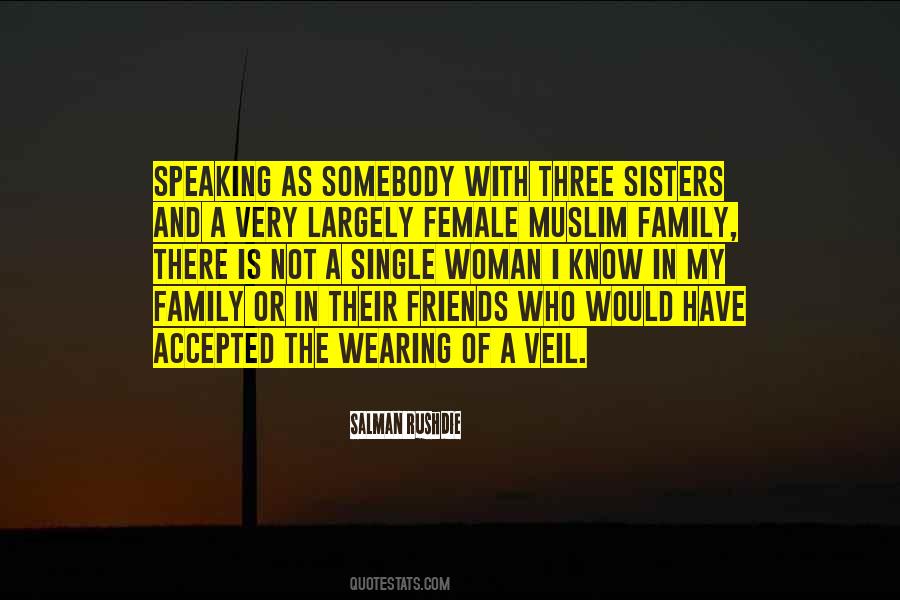 #14. My kids are the future of the Mayweather family and of the Mayweather brand. I feel our family is stronger if we stay together. - Author: Floyd Mayweather Jr.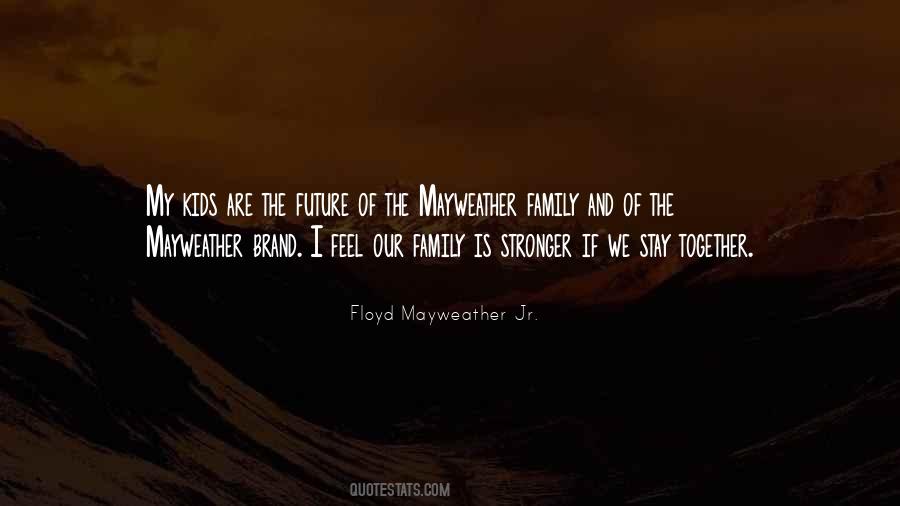 #15. Faking it in front of a guy's family is hardly a common occurrence in my life. How about yours?
FAKING IT TO MAKING IT - Author: Ally Blake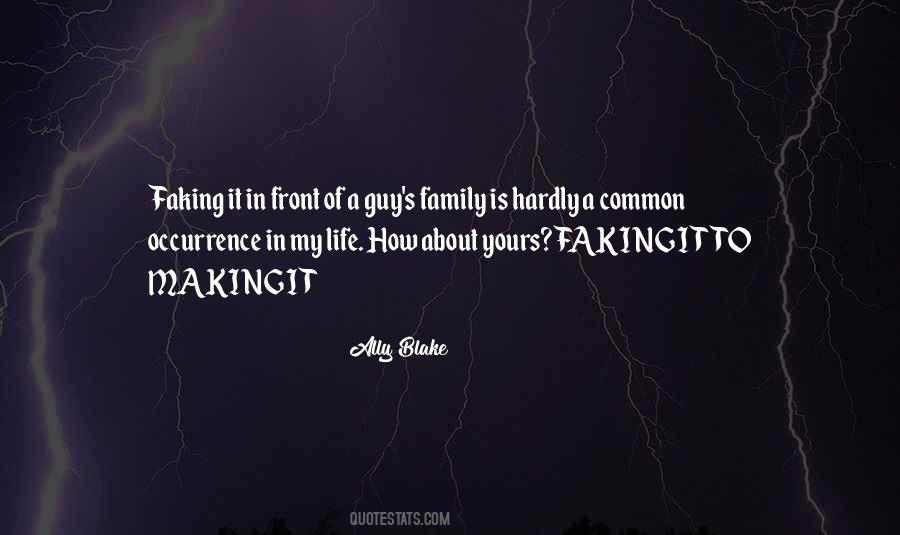 #16. My family, they're story tellers. My mom is Irish, and my dad is Italian. In my family, we weren't allowed to watch TV while we ate - we had to sit around the table and tell stories about our day. - Author: Meg Cabot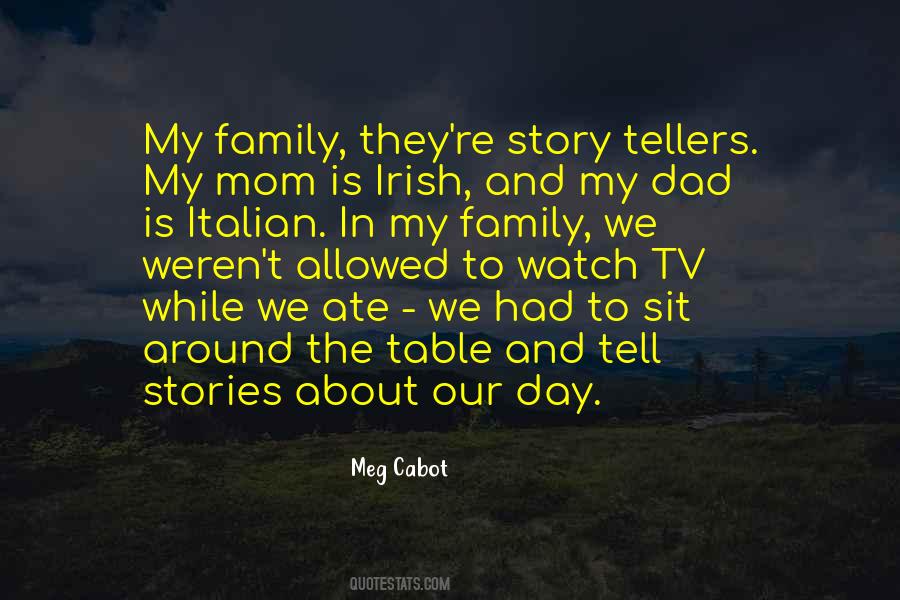 #17. I never did quite fit the glamour mode. It is life with my husband and family that is my high now. - Author: Patty Duke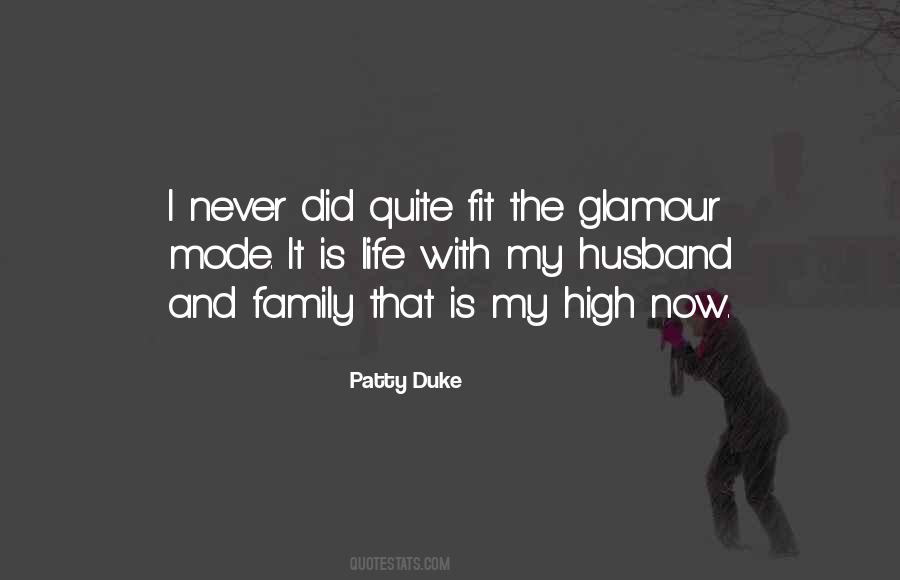 #18. I could stand on my head and flick the bean right there at the dinner table and my mom would be all, "Honey, Christmas is family time, we should be together" and make me finish in front of everyone. - Author: Christopher Moore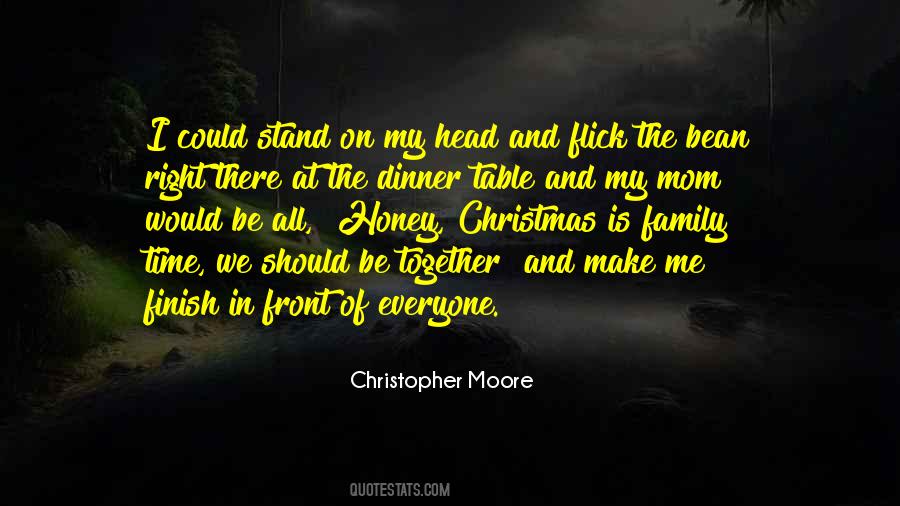 #19. I have a really supportive family, which is really wonderful, but I'm not forcing everyone to watch my work every week. - Author: Mickey Sumner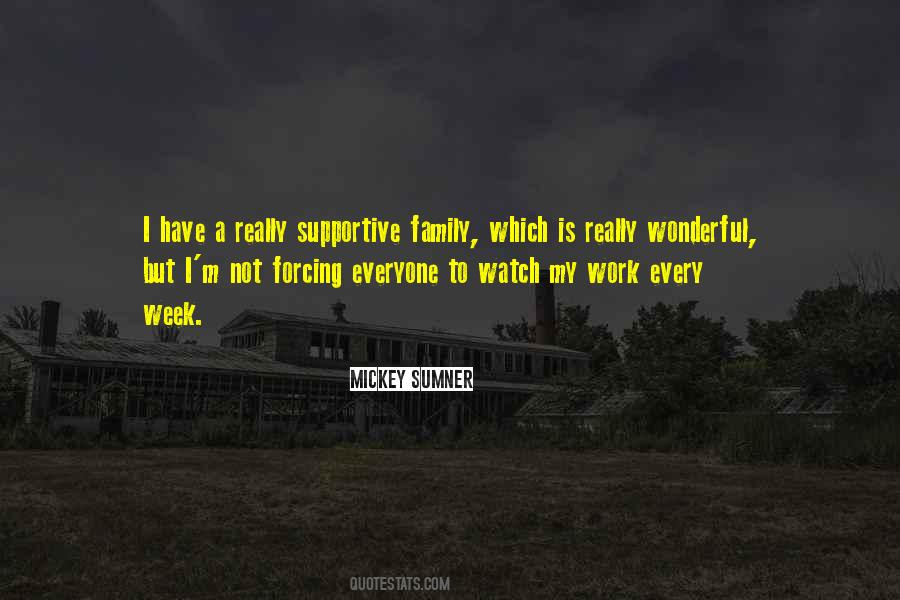 #20. I feel like I grew up being babysat by a television, and all I ever wanted to do was be in movies, direct movies, make movies, but it took me a really long time to be honest with myself about it because my background is that my family was very poor. - Author: Noel Wells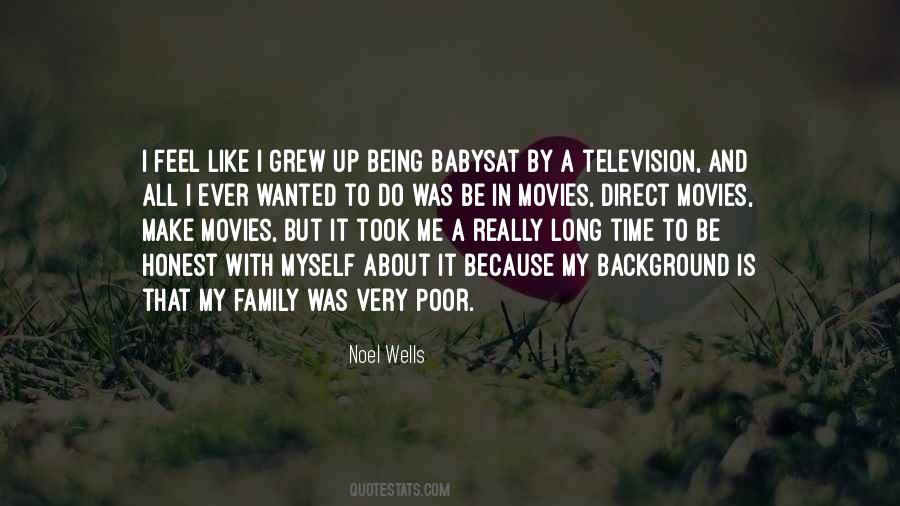 #21. During breakfast there is something I cannot resist, apart from my boyfriend - it's actually the phone. I have a phone breakfast. Always. I call friends, boyfriend, family. Checking who is where. 'Is everything fine?' This is breakfast. - Author: Christian Louboutin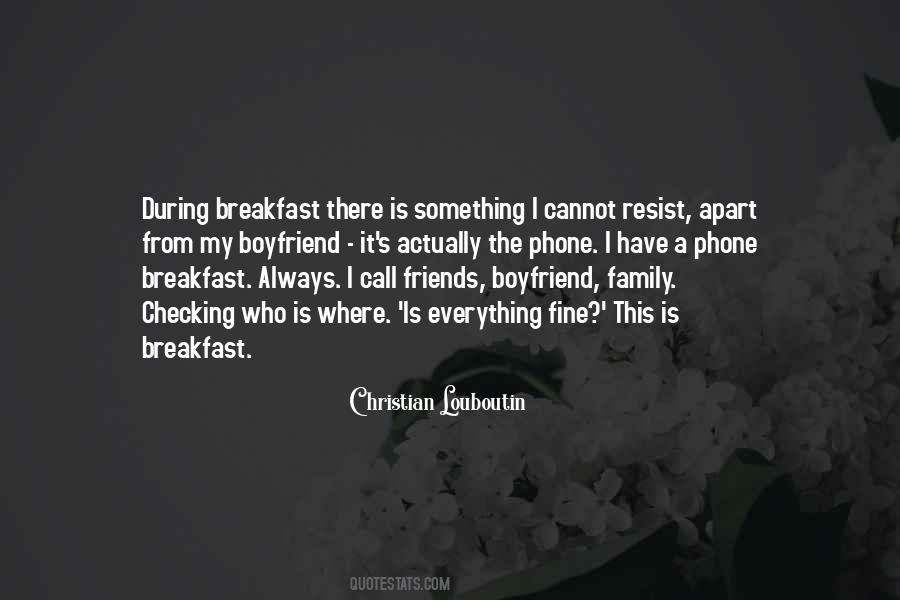 #22. The thing is, I don't take anything for granted anymore - my family, my music, you name it. - Author: Alex Lifeson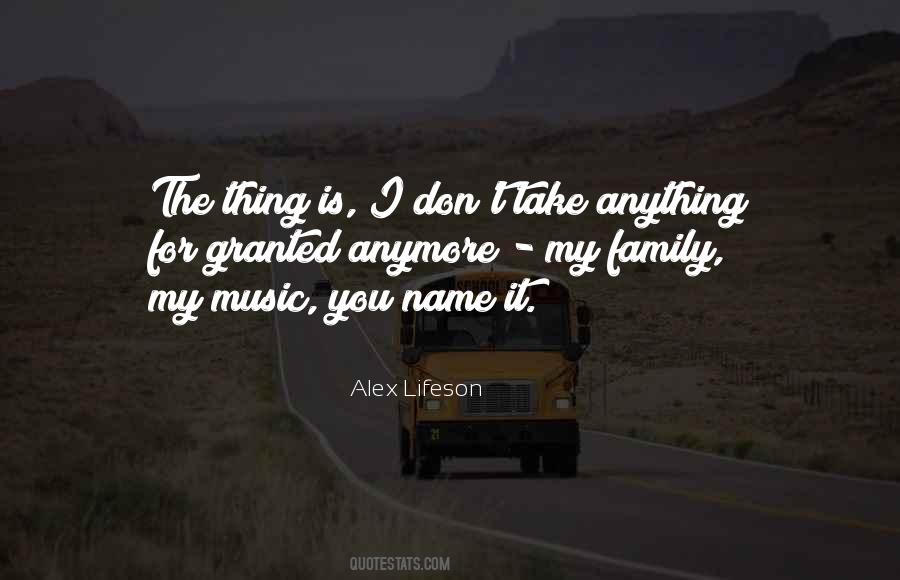 #23. I thought the line 'I am the daughter of the former governor of Alaska' was very funny. I think the word is 'sarcasm.' In my family we think laughing is good. My parents raised me to have a sense of humor and to live a normal life. - Author: Andrea Fay Friedman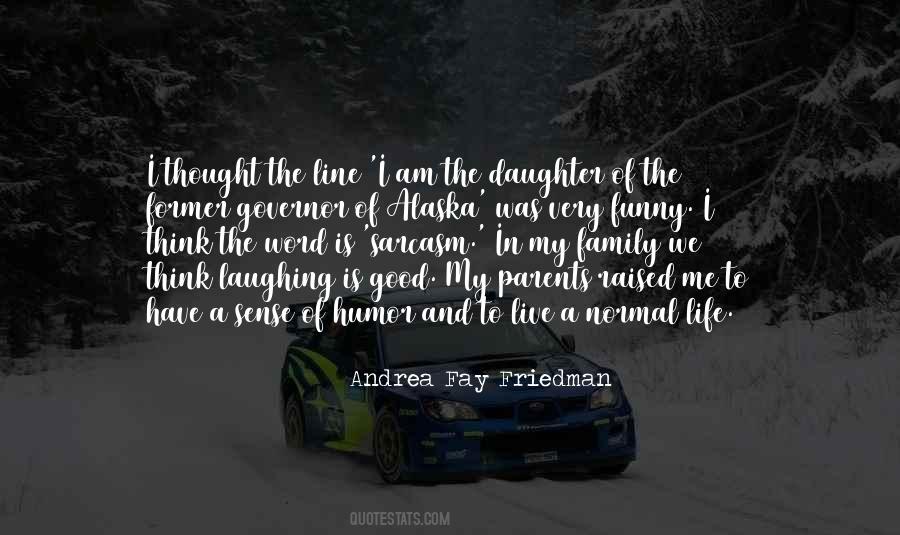 #24. Thanksgiving is the day when you turn to another family member and say, 'How long has Mom been drinking like this?' My Mom, after six Bloody Marys looks at the turkey and goes, 'Here, kitty, kitty.' - Author: David Letterman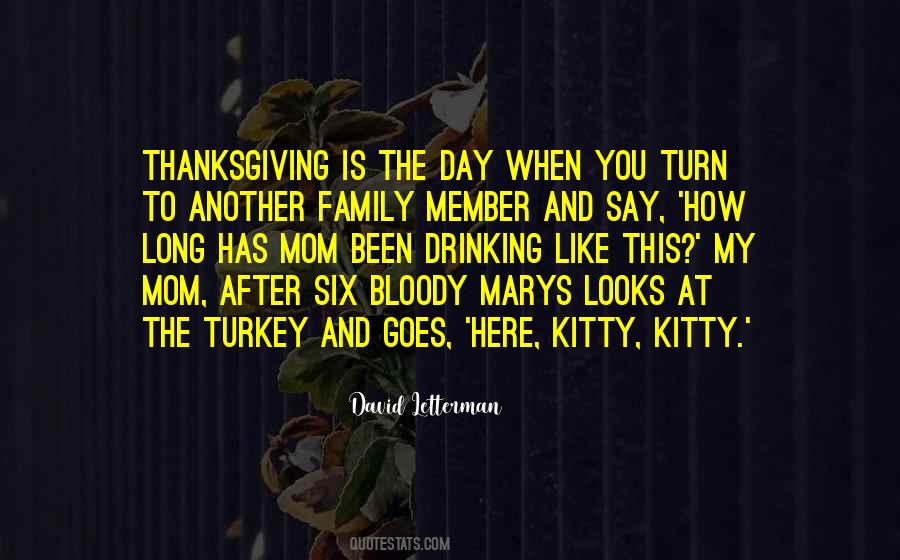 #25. My principal motivation is supporting my family, which is not a bad reason for getting up in the morning. That's always been my motivation - to take care of the people who rely on me. - Author: Tony Parsons
#26. When I usually go to my studio to work, I start with something that is going to take two minutes just to put some idea down and the next thing I know, ten hours have gone by and my family is screaming at me because they want me to come up to have dinner with them. - Author: Geddy Lee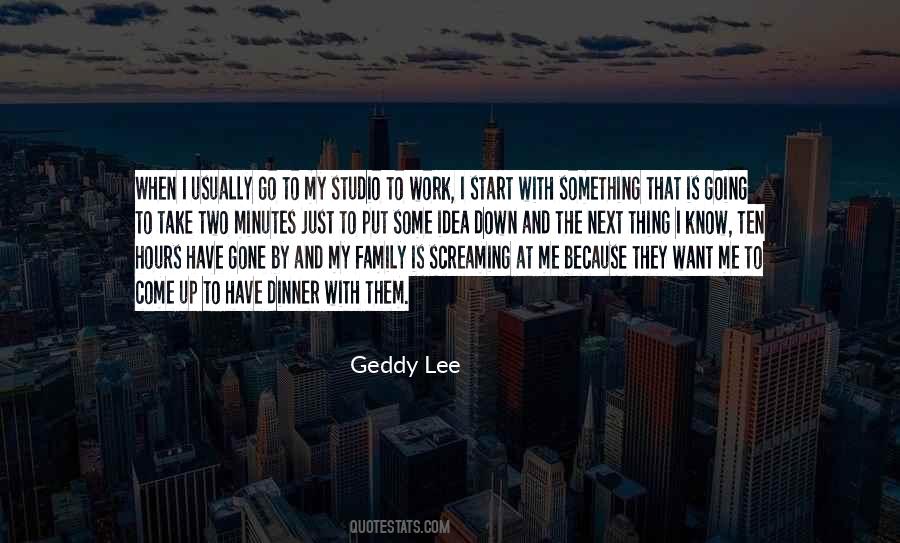 #27. I want my children to be proud of their father and to say, 'My father is the best dad in the world.' And I want them to belong to a modern family, and live a path of happiness and calm. - Author: Ricky Martin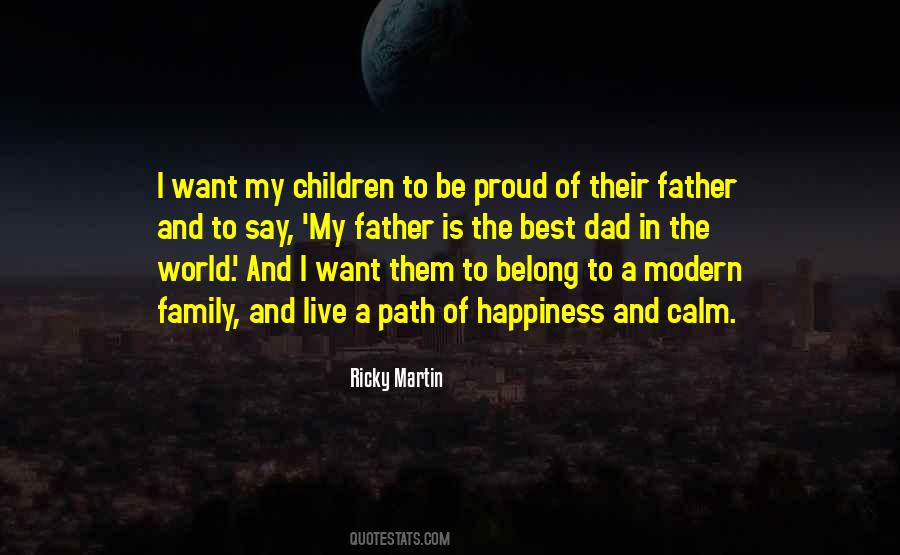 #28. If you asked me which gives me more joy, my work or my family, there is no question that it's my family. Hands down. If I had to give one up, it wouldn't even be a contest. - Author: Emily Oster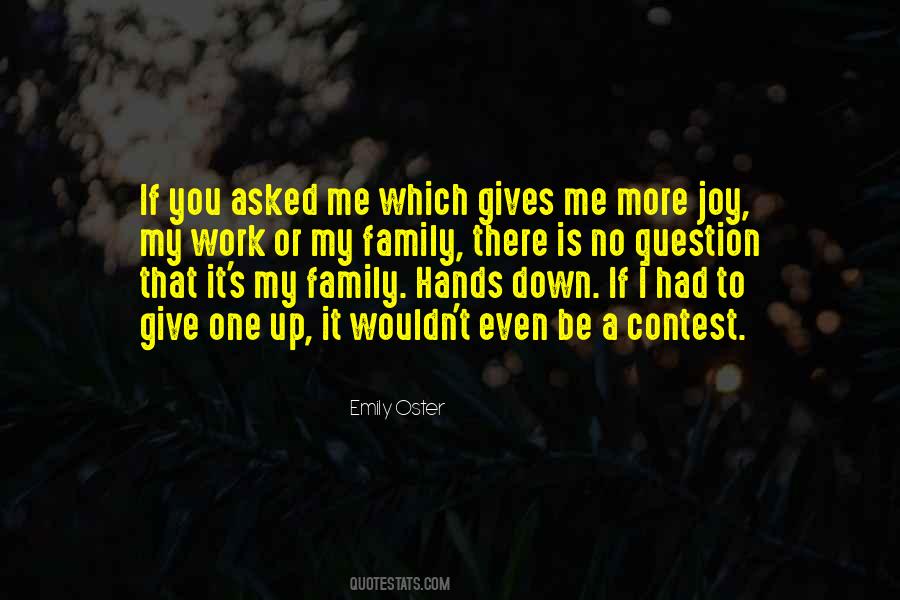 #29. The fact that I am able to live a life and act and to do all of those things and support myself and my family is a gift. - Author: Michael Cudlitz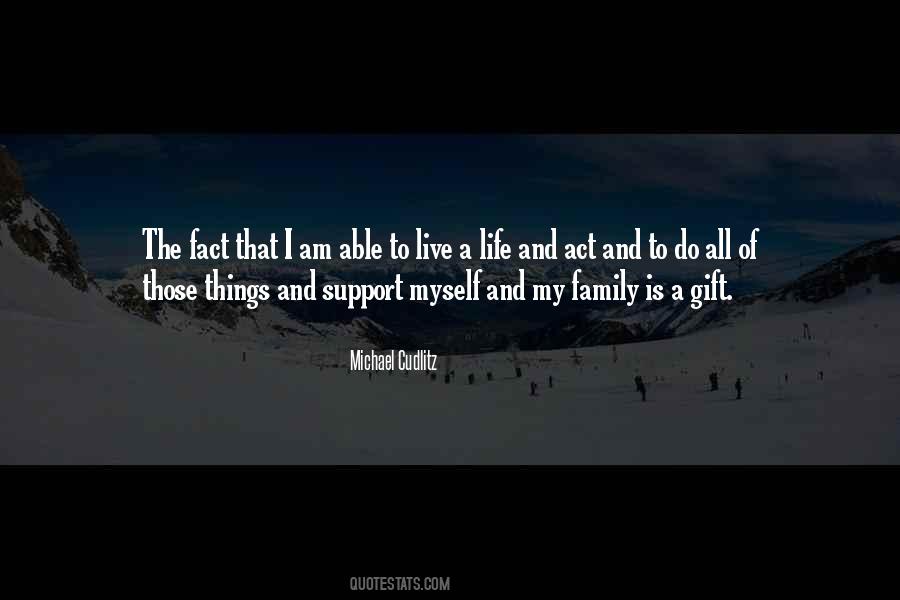 #30. I always had this put-together family, and I always identified as the outsider. And that's a position where I feel most comfortable, and yet I feel an incredible longing to belong. That is really a strong feeling from my childhood - a desire to be part of a group. - Author: Lily King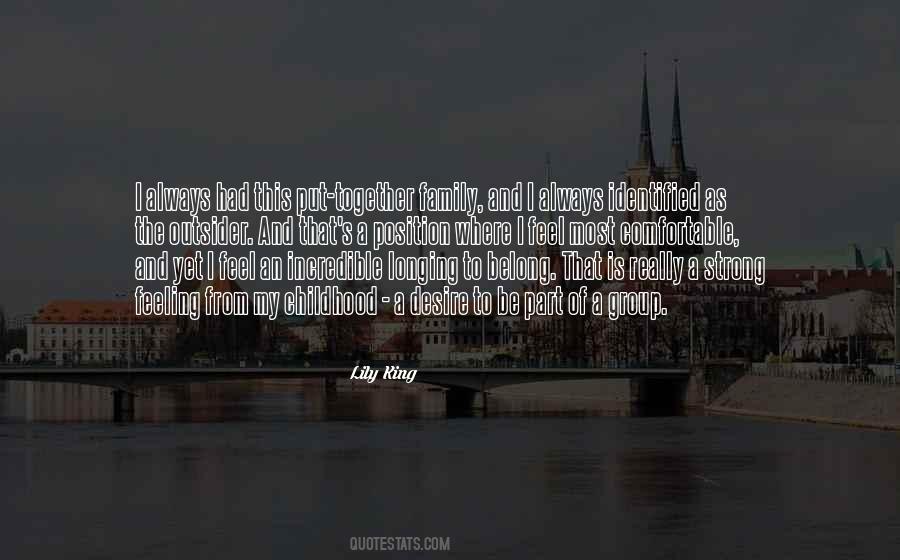 #31. As a comedian, especially one that works as much as I do, there is a lot of sacrifice. People don't see that I'm away from my family 46 weeks out of the year. I miss all the birthdays and anniversaries and holidays. - Author: Gabriel Iglesias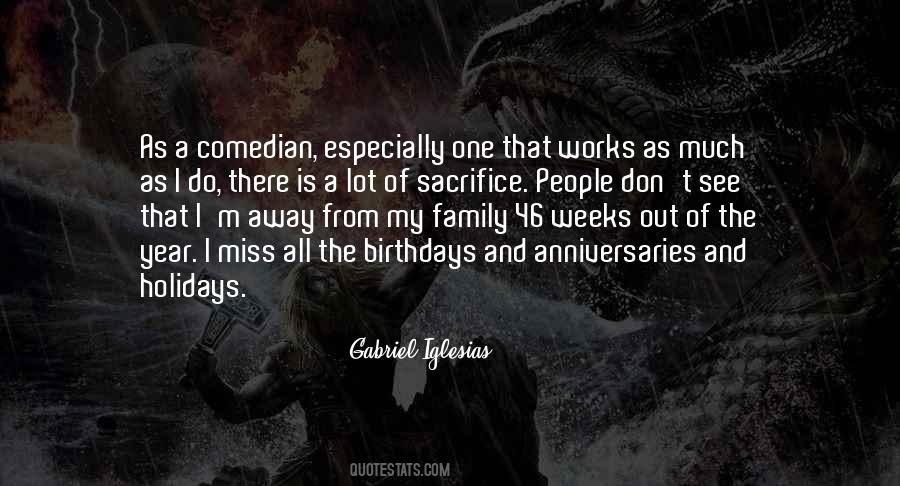 #32. No bodies Family is perfect, but my Family is perfect for me! - Author: Zybejta "Beta" Metani' Marashi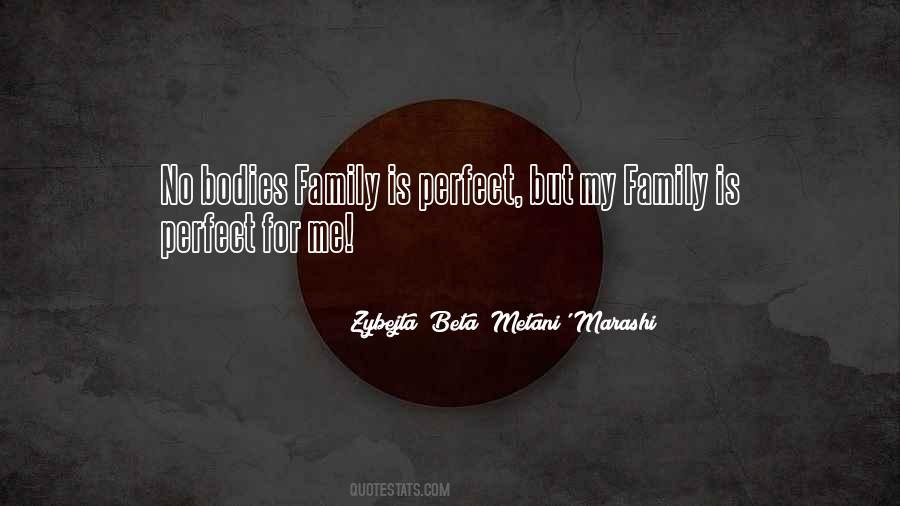 #33. It is that fundamental belief, it is that fundamental belief, I am my brother's keeper, I am my sister's keeper that makes this country work. It's what allows us to pursue our individual dreams and yet still come together as one American family. E pluribus unum. Out of many, one. - Author: Barack Obama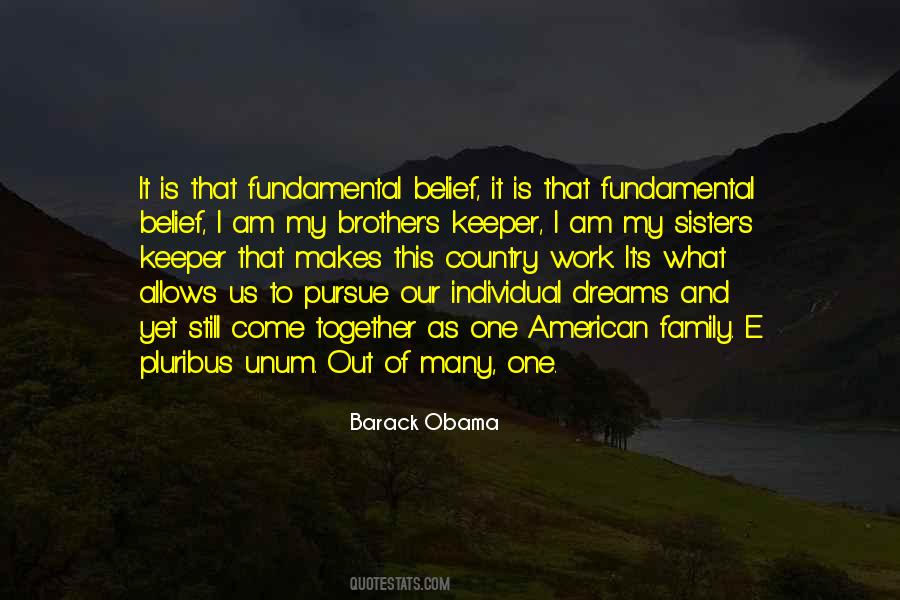 #34. Reading with my children is incredibly important to me and a wonderful way to spend time together as a family, exploring magical worlds through books and stories. - Author: Frank Lampard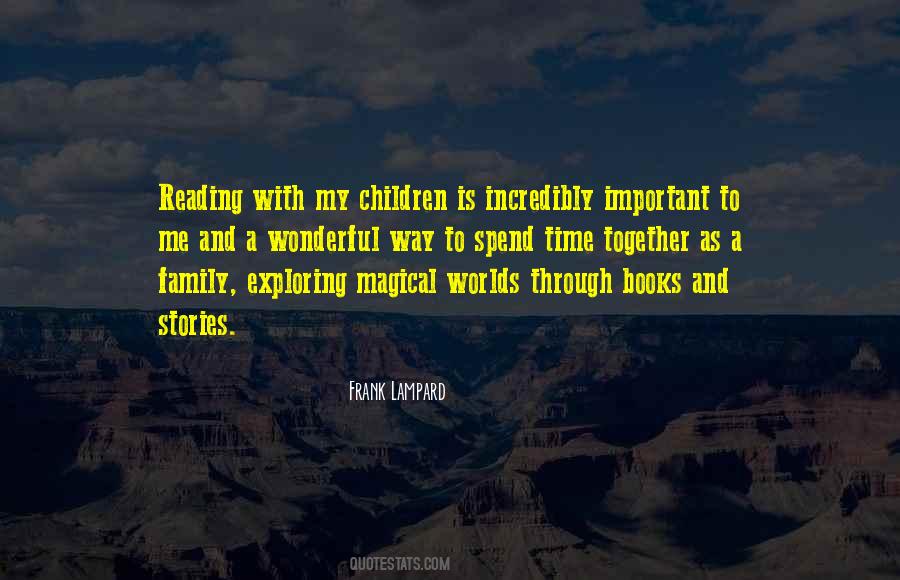 #35. I got signed with the songwriting deal when I was sixteen and they were really great - my publishers, who to this day are still my publishers and are like my musical family, my second family - they took me in and taught me what a good song is. - Author: Lights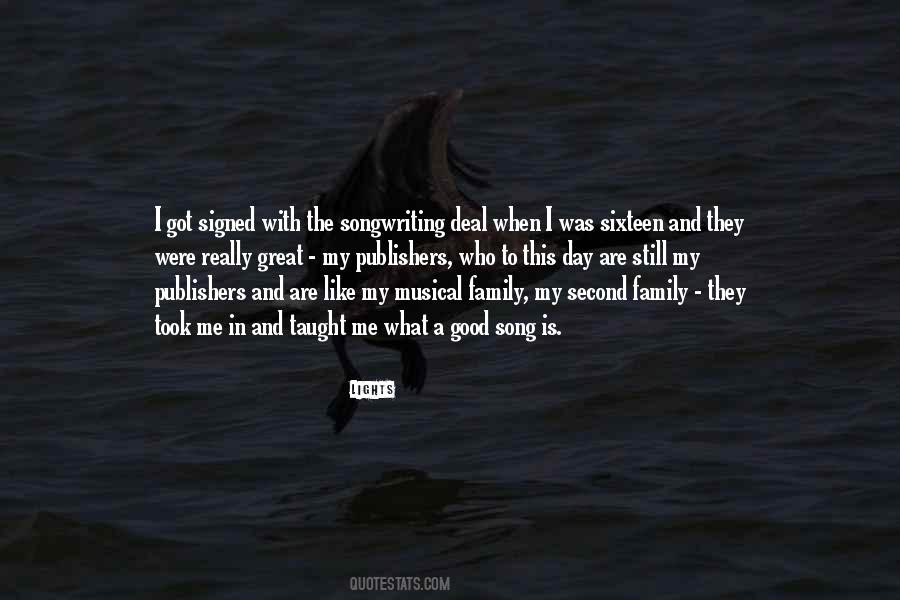 #36. My mother is Italian and my dad's Irish. In my family, we're expressive. Nobody holds back. - Author: Kate Walsh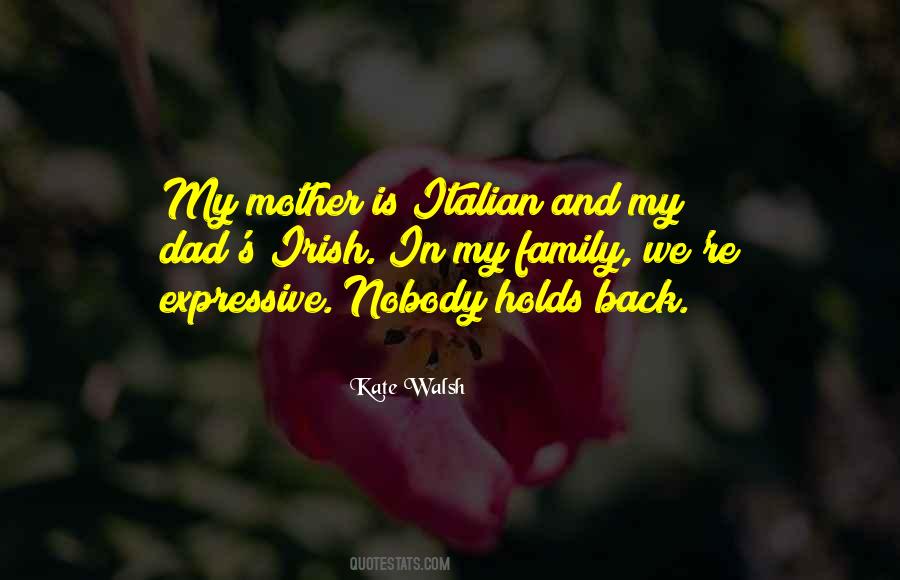 #37. I've always tried to not let movie, television or theatre be all that my life is about. I've always tried to get involved in the community or my family now I have kids. - Author: David Morse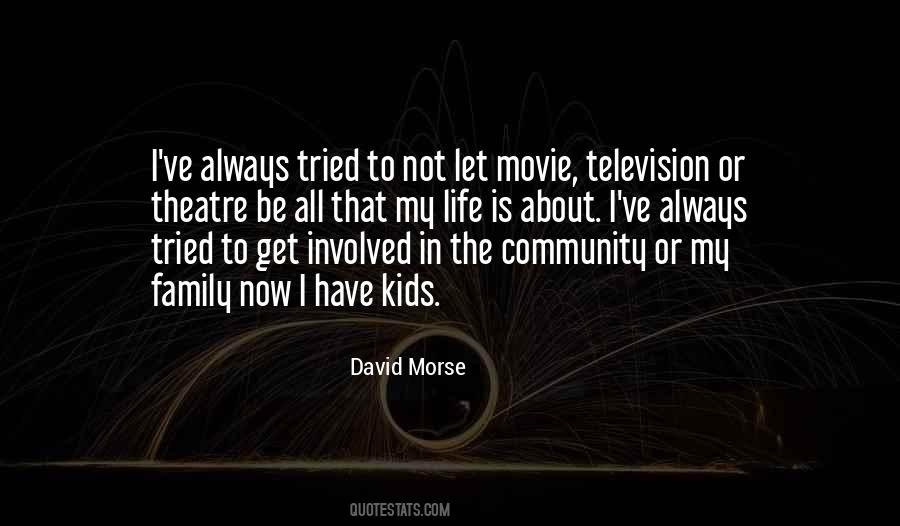 #38. My kids - even though it's a family business - they don't even know what day or time 'Survivor' is even on. They just know it's on TiVo. - Author: Mark Burnett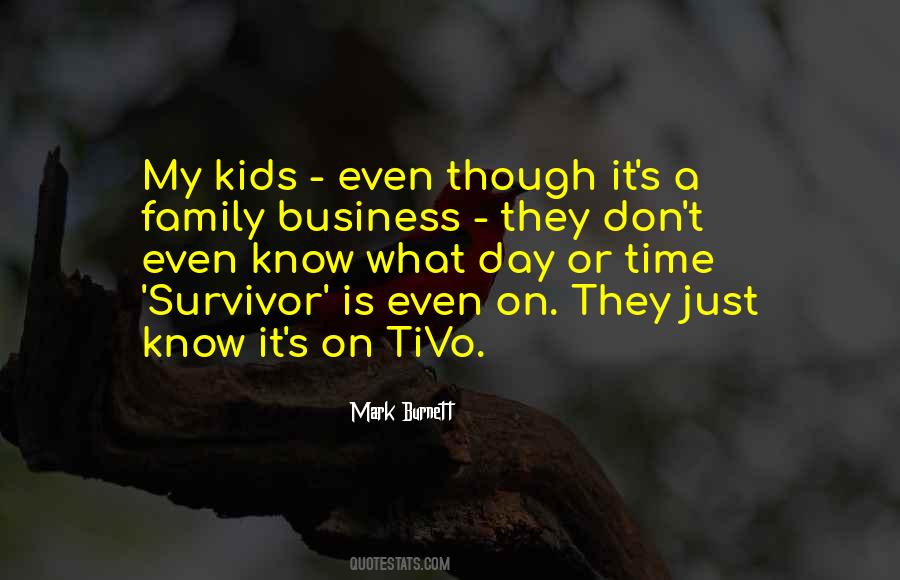 #39. My family was made of good people who did good things with what they were given. What fairness does life show in a time like this? But life is not fair and that is nothing new, so I bottled the pain and loss, and released them through a single tear rolling down my cheek. - Author: B.M. Tolbert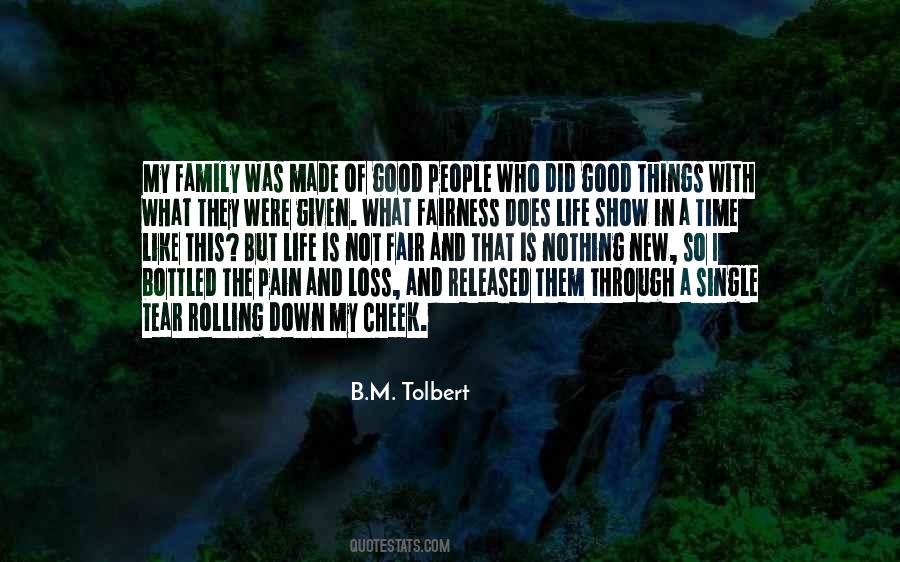 #40. I am a very lazy man, so, for me, the dream is to be at home on the chair with my family. - Author: Andrea Bocelli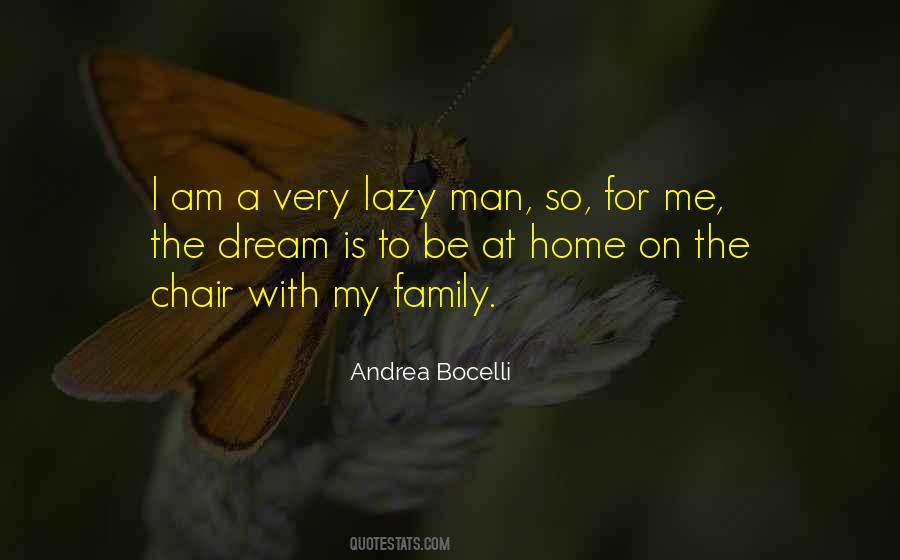 #41. I was sitting in a caf in London with my husband and baby daughter when my phone rang with the news! I feel so incredibly lucky and honored to be nominated, and so grateful to be part of the family that is The Killing. - Author: Mireille Enos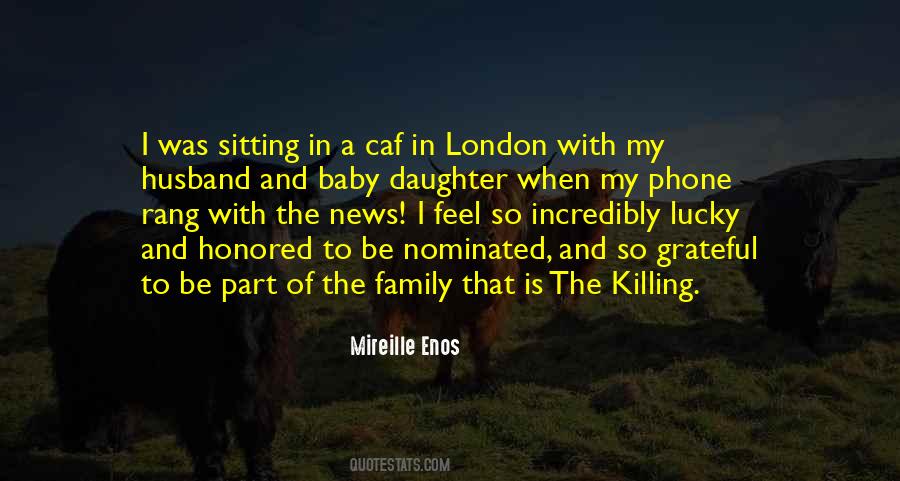 #42. My mother is the antithesis of a typical Jewish mother, she is very soft-spoken and takes more naps that a cat. As a result, I've always longed for someone to really annoy the shit out of me. - Author: Chelsea Handler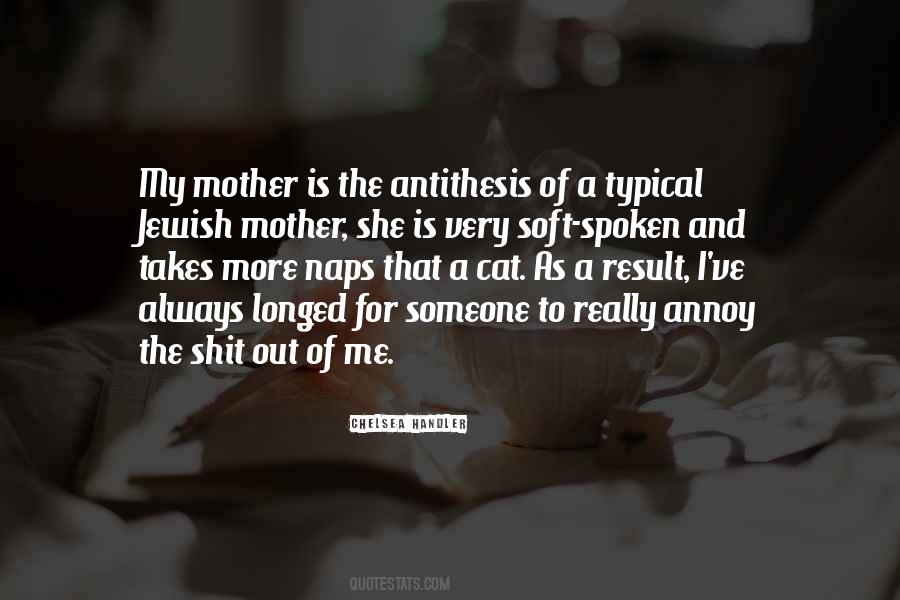 #43. For me, politics is not a career. For me, my career was being in business and starting a business and making it successful. My life's passion has been my family, my faith and my country. - Author: Mitt Romney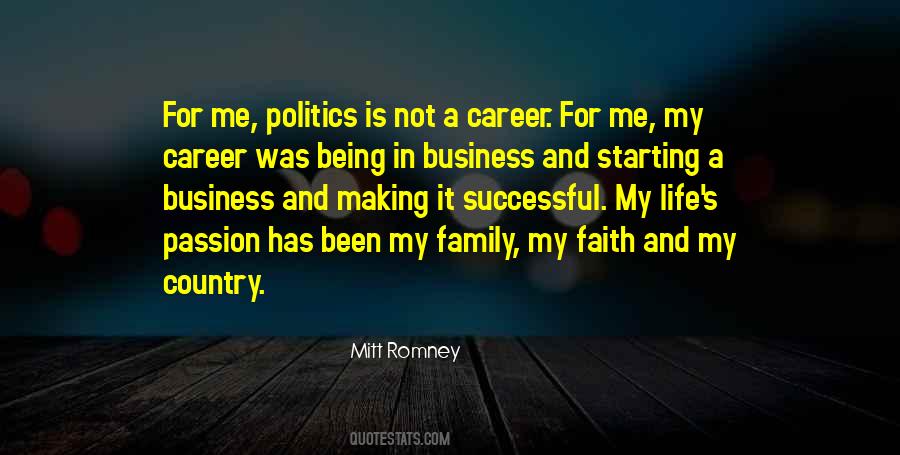 #44. I really try hard not to work, not to engage, because I know what that means. What hard work it is; it takes me away from my family. - Author: Jeff Bridges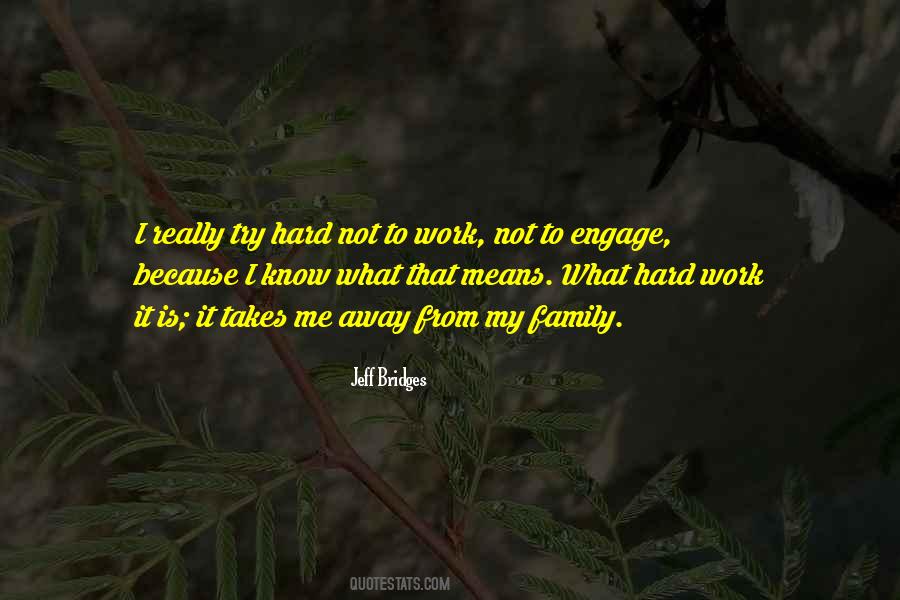 #45. I have family obligations and all that stuff. I get my kids six weeks in the summer, which is a real intense period of time. I'm with them every minute of the day. - Author: Tom Berenger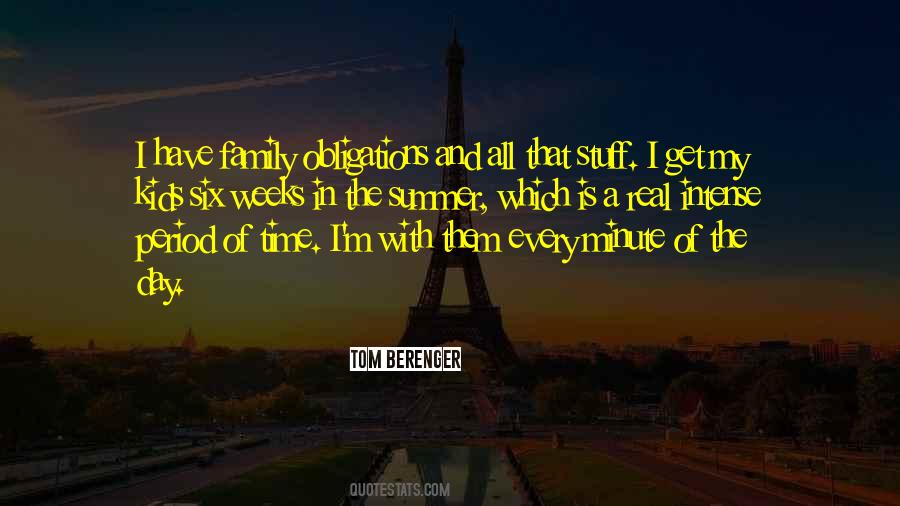 #46. I always train like a family. Antonio Rodrigo is like my mentor. He helped me a lot. He's always there with me. My coaches and I have made a strategy for this fight. - Author: Rafael Cavalcante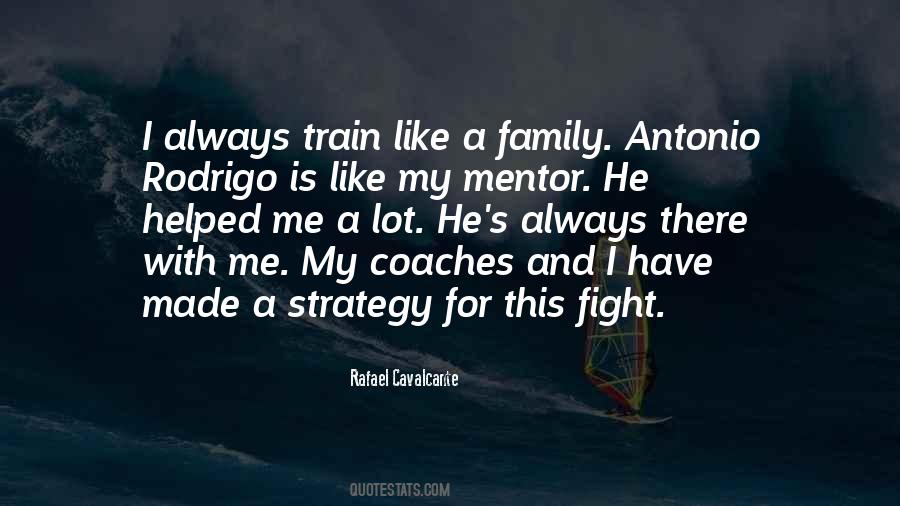 #47. Our life is all about the choices we make, and when I was looking for a mate for life, I really was looking for someone who was a family man, somebody who would embrace my girls as much as they were going to embrace me. I guess I just wasn't finished having children yet. - Author: Joan Lunden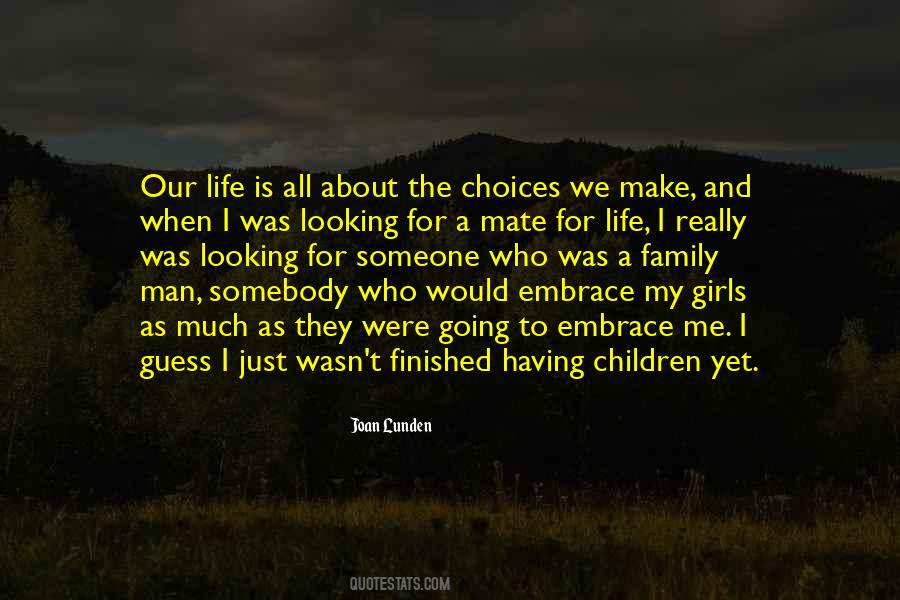 #48. My whole family is spiritual. My grandmother, grand aunt, cousins, they're all preachers and pastors. Spirituality is a part of my family, from generations ago. - Author: Ziggy Marley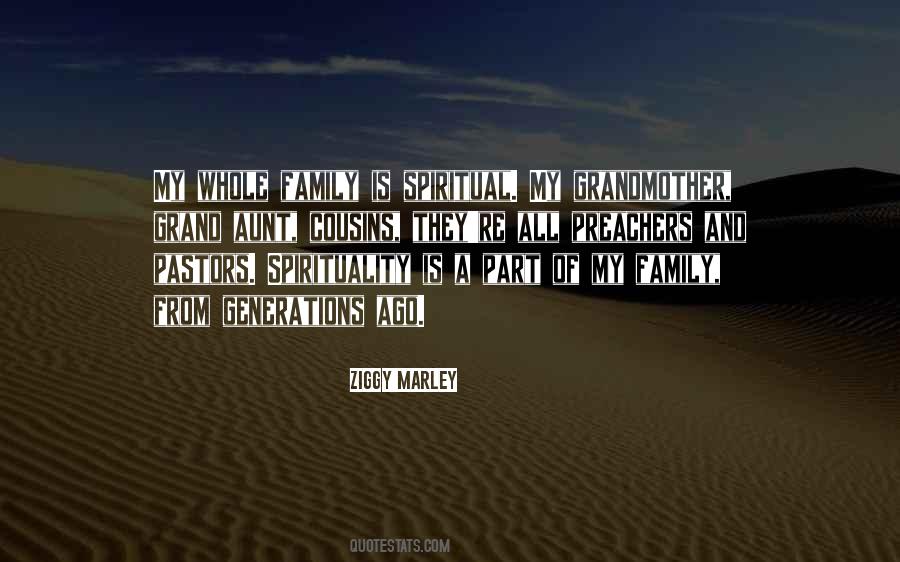 #49. My guess is that people look at me and project their own values - importance of family, ego is healthy but not the biggest thing. I don't know. I can't explain my popularity. - Author: Jane Pauley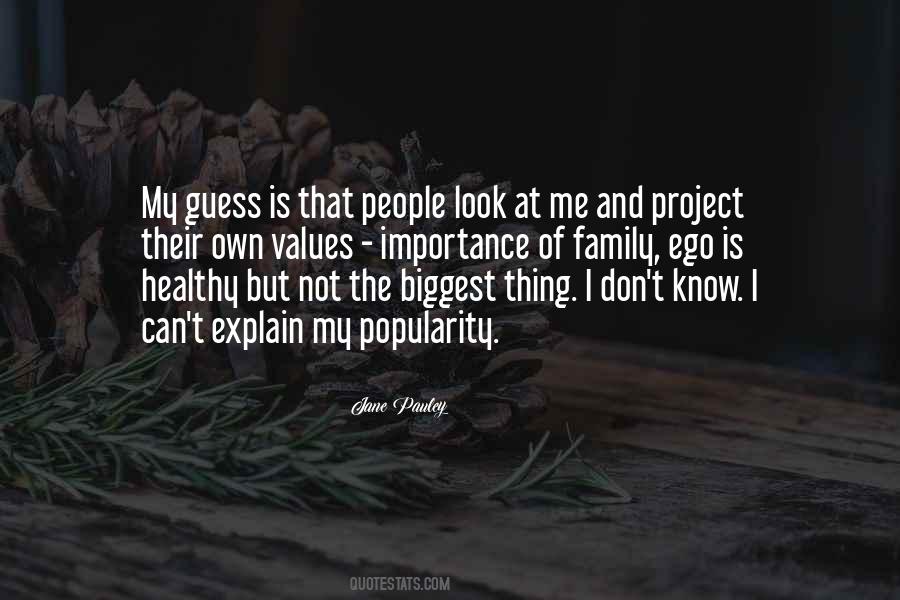 #50. It is not only my laboratory and my place of work but also my home, so that on the 30th October I was able to share my happiness immediately with my students and collaborators and, at the same time, with my wife and family. - Author: George Porter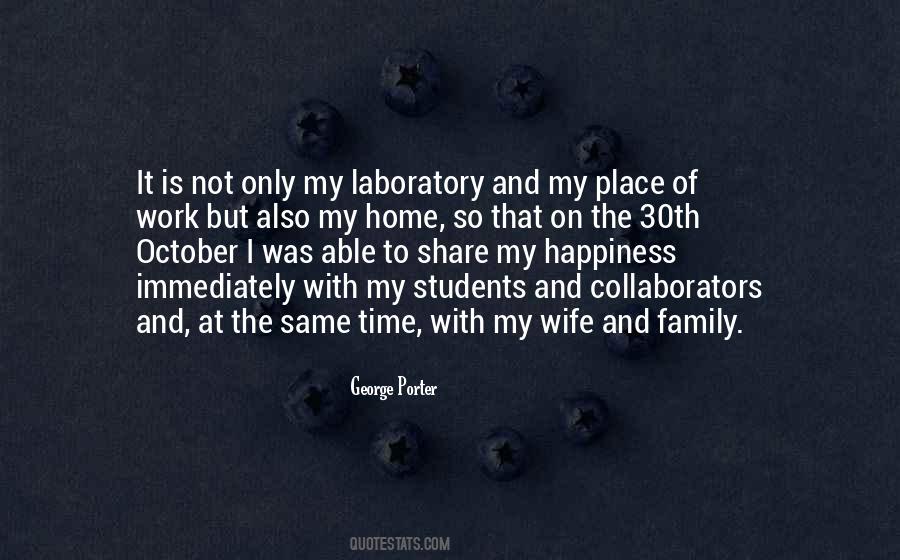 #51. My wife is so analytical with raising kids, and I am not. My feeling is if they turn out good, then that means I was a good daddy and put a lot of effort into it. If they turn out bad, it means they took after her side of the family. - Author: Jeff Foxworthy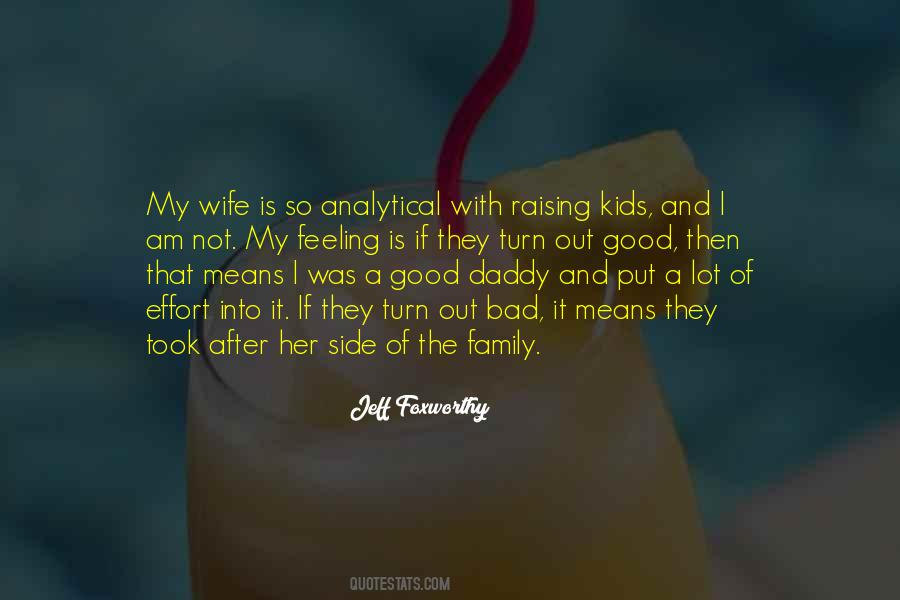 #52. I write about nuclear tests in Refuge - "The Clan of One-Breasted Women." With so many of the women in my family being diagnosed with breast cancer, mastectomies led to one-breasted women. I believe it is the result of nuclear fallout. - Author: Terry Tempest Williams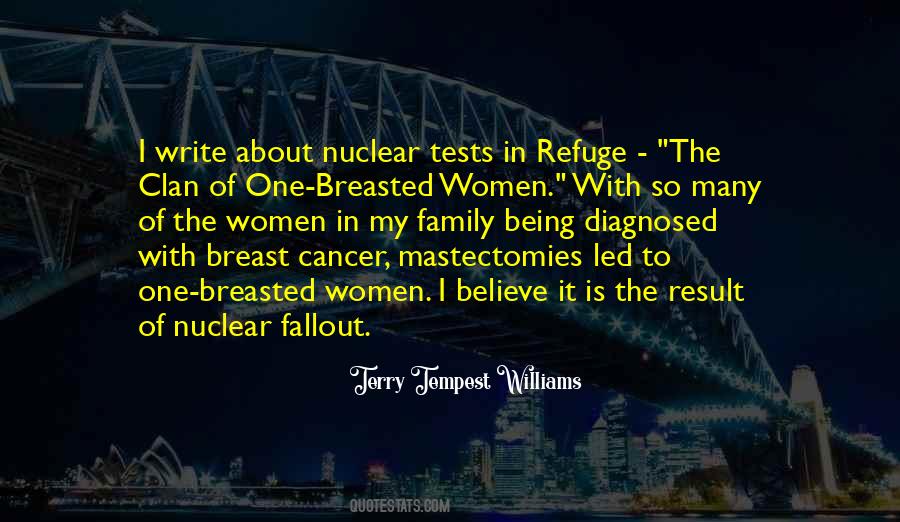 #53. But in my heart of hearts, this is the kind of thing ... this is what everyone is struggling with in their lives - relationships and family. To me, it's always an interesting area to mine. I'm drawn to it. - Author: Mark Ruffalo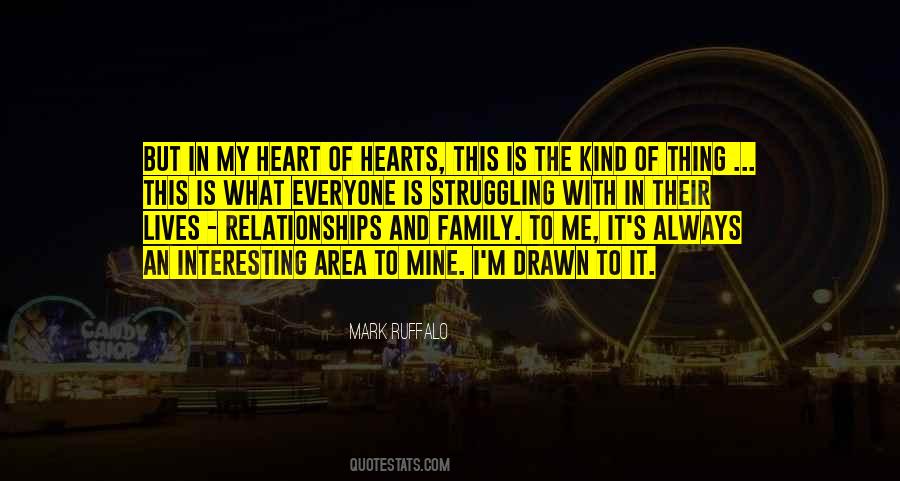 #54. Acting is something I've done since I was six years old, performing for my mum and my family in the living room, and I do it because my heart's in it. - Author: Lily Cole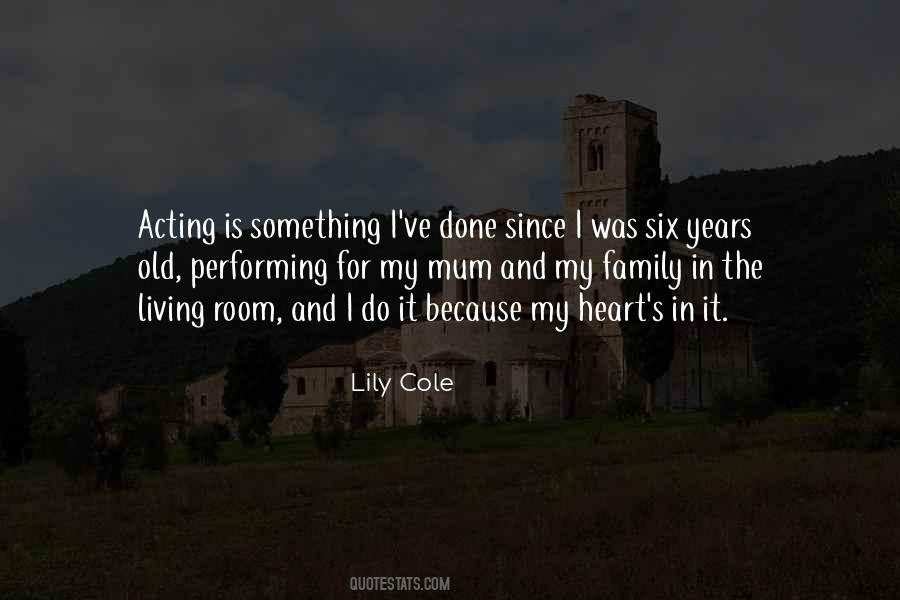 #55. My whole family is lactose intolerant and when we take pictures we can't say cheese. - Author: Jay London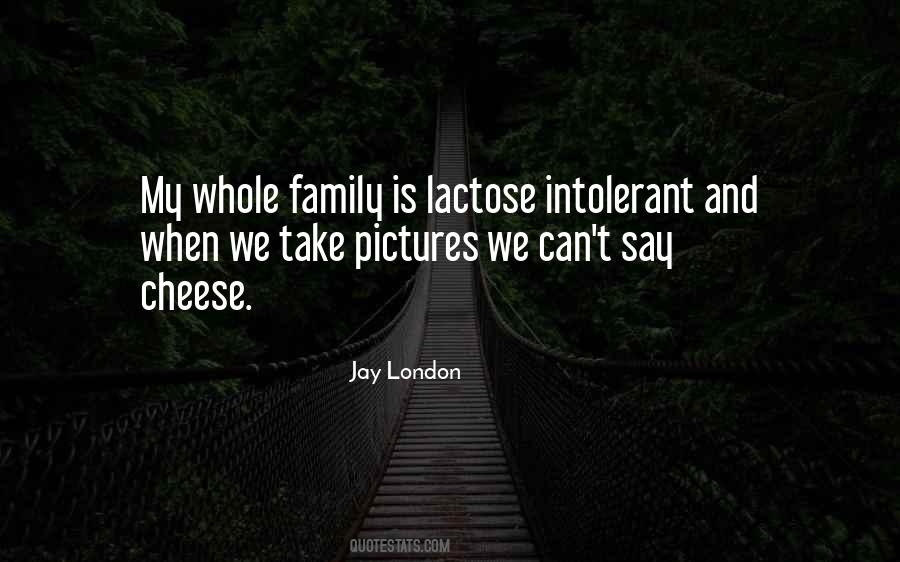 #56. Happiness in a family really revolves around how much money I have in my disposal. - Author: Vann Chow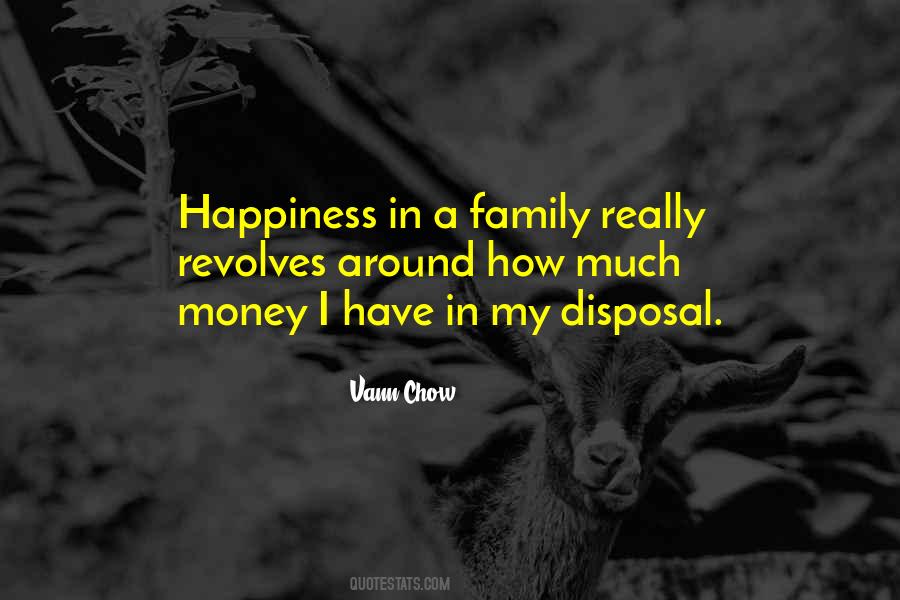 #57. My best friend is the most important girl, outside of family, to me. I met her when I went to college and we bonded immediately. I'd do anything for her at any time. We phone each other every day. - Author: Dawn French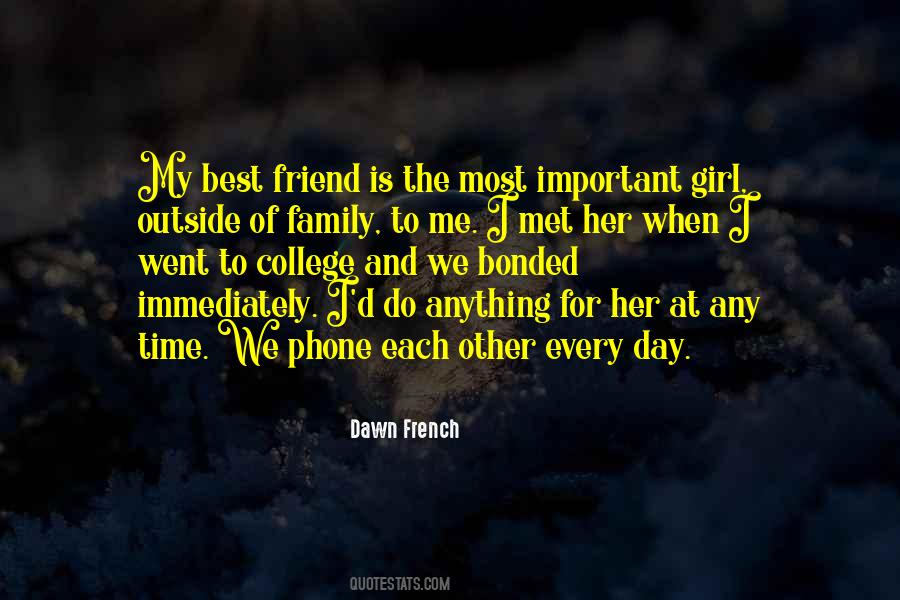 #58. I am my own woman ... and was, long before I became Prime Minister. Attending to my family's needs only made me stronger as a leader because if you know how to run a home and ensure each person's particular need is met, it's the best leadership training you can have. - Author: Kamla Persad-Bissessar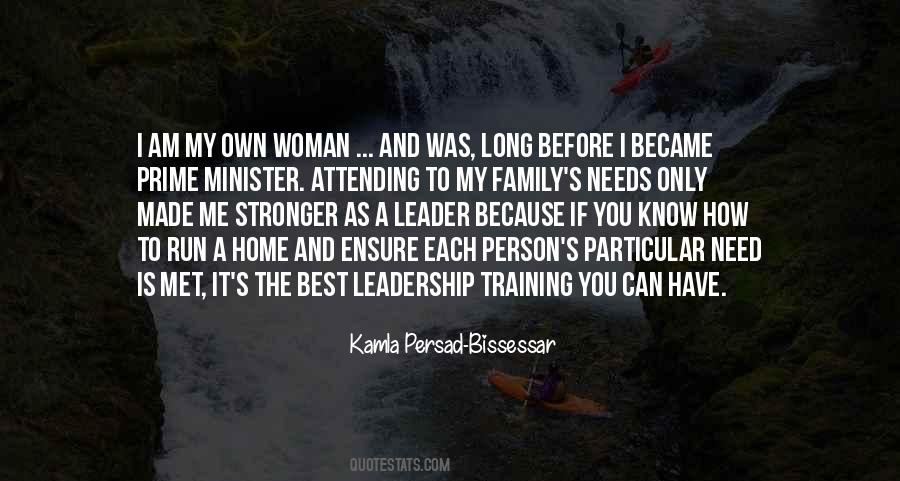 #59. Vin Scully has been my broadcasting idol for a long time. He is so humble - he has the exact same work ethic that he had 65 years ago. His family is what he cares about the most, and at the heart of his whole being is his marriage and kids. - Author: Hannah Storm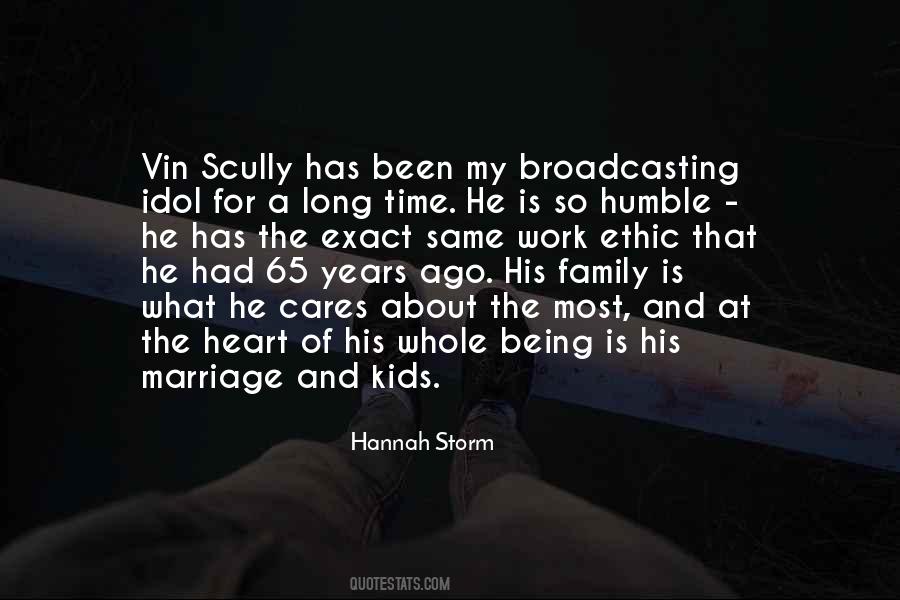 #60. My family history, like that of many Polish, German and Jewish families from Central Europe in the 20th century, is complex. - Author: Donald Tusk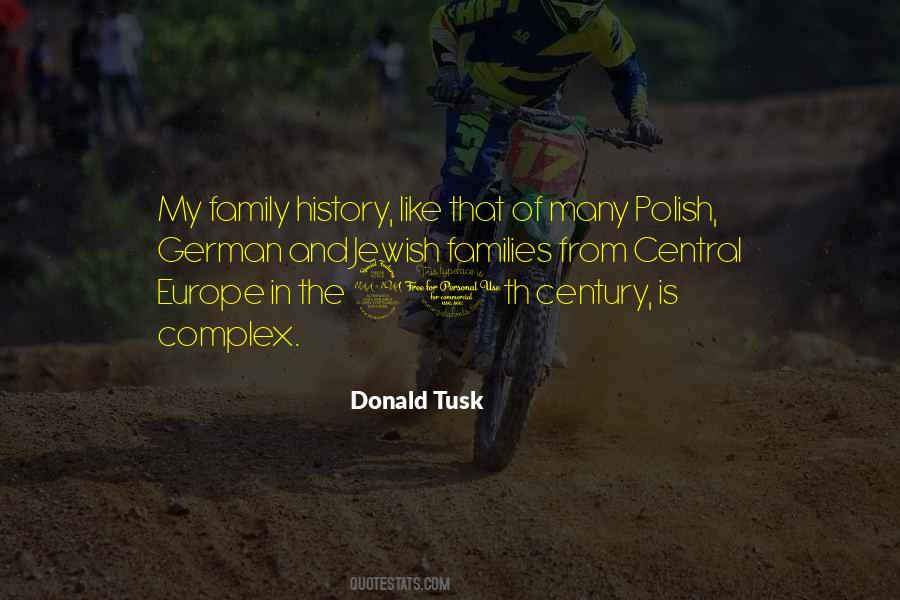 #61. I grew up in a somewhat religious family. My dad's family isn't religious at all, but my mom's side of the family is, so I was exposed to church a bit. - Author: Win Butler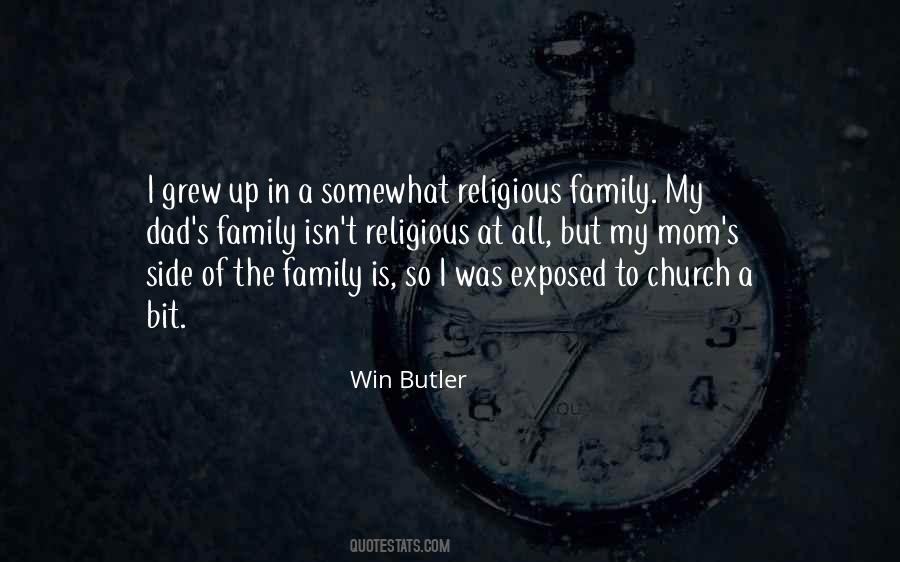 #62. Speaking for myself, my first priority is to take care of my family. That's first and foremost. - Author: Yo Gotti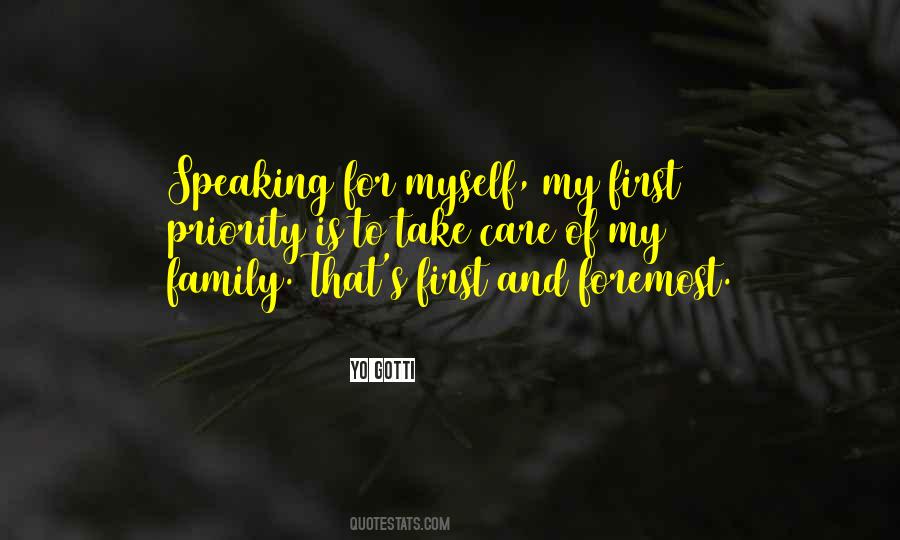 #63. My brother, Jason, came into the bar, then, and sauntered over to give me a hug. He knows that women like a man who's good to his family and also kind to the disabled, so hugging me is a double whammy of recommendation. - Author: Charlaine Harris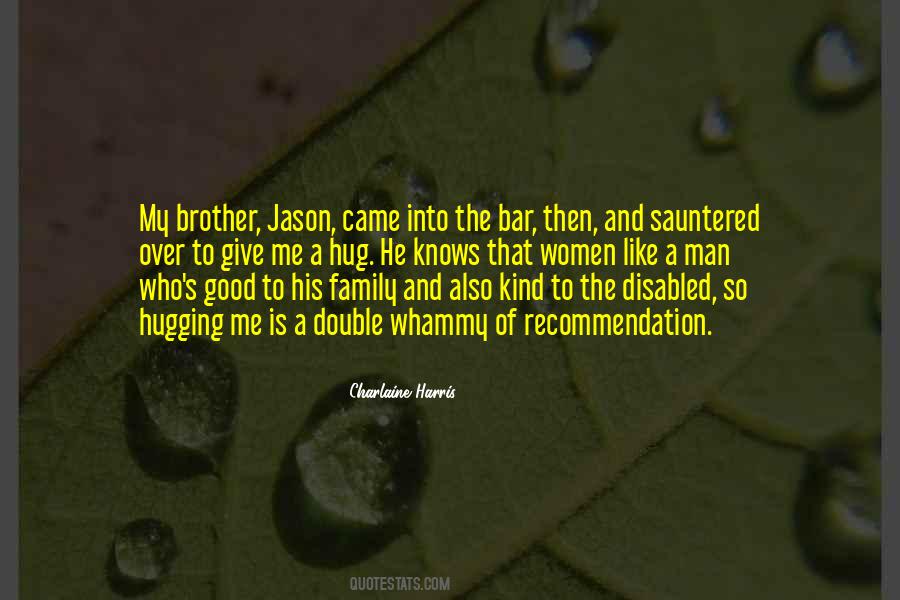 #64. I think new life is the most exciting thing and I absolutely have so much respect for my friends and family that have gone and done it because it seems like the hardest job in the world. So, who knows - maybe one day I might try it myself. But I completely salute anyone who does. - Author: Christine Bottomley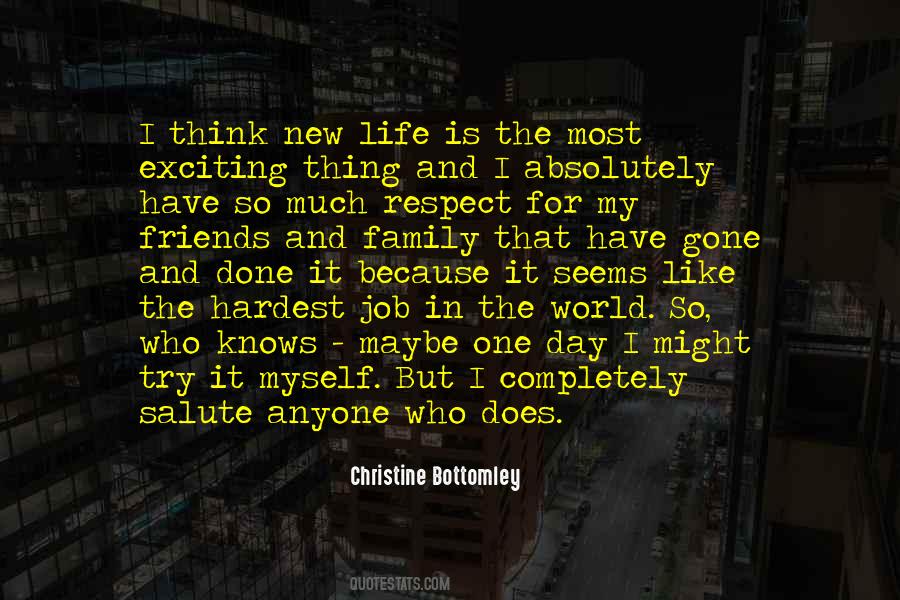 #65. Los Angeles has been my home since the days even before Motley Crue, so I am beyond excited that 'The Side Show' has found a home on 98.7 FM. This is the station I listen to - my friends listen to it, my family listens to it. It's the station I wanted to be on, and I'm psyched to get started. - Author: Nikki Sixx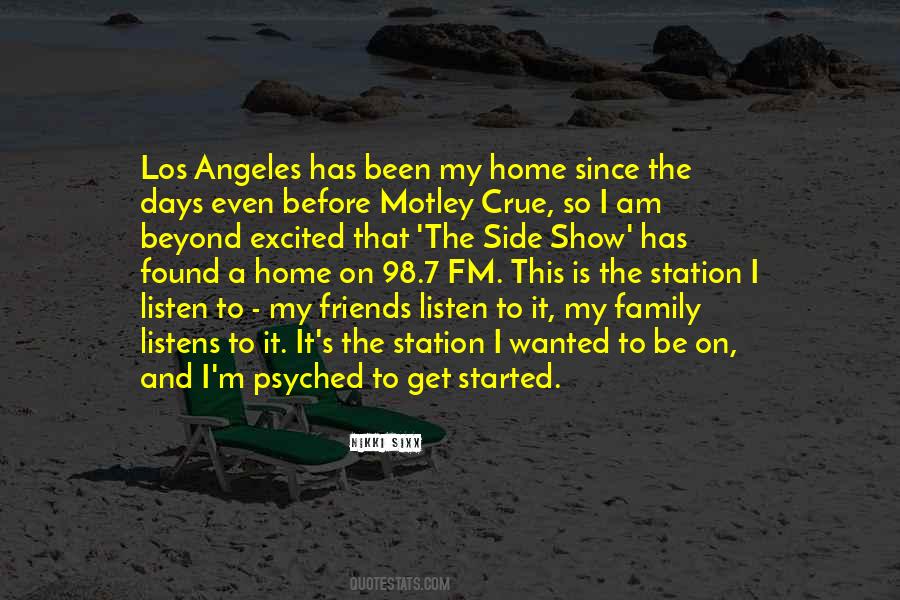 #66. My whole family, all they talk about is food and disease. And they're competitive with illness: I have a cold. I wish I had a cold! I don't even have sinuses anymore. - Author: Dom Irrera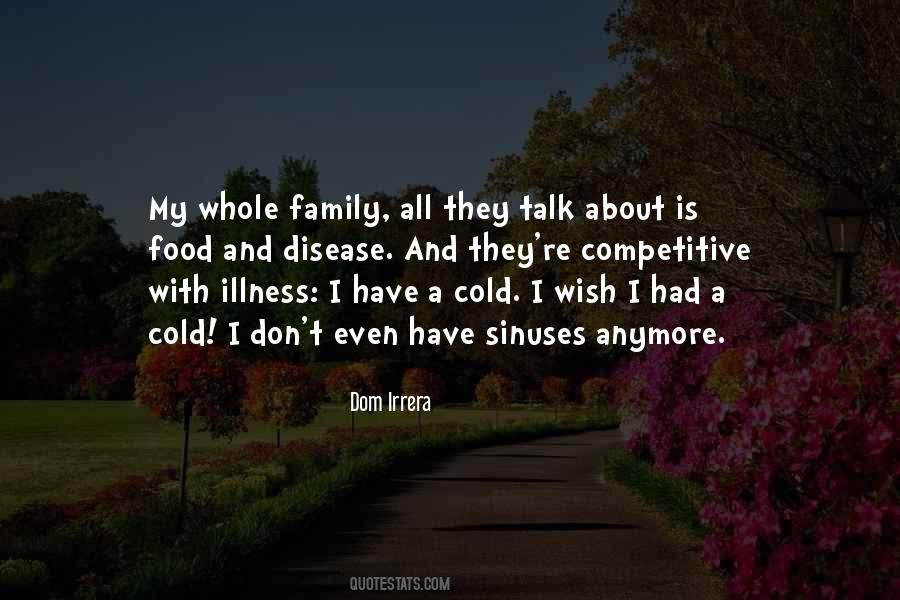 #67. I have quite a normal family and I'm bored with how normal my family is. I want to mess stuff up a bit. I chose the messed up characters because I find that that's acting. I want to explore emotions that you otherwise wouldn't be able to explore. - Author: Chloe Grace Moretz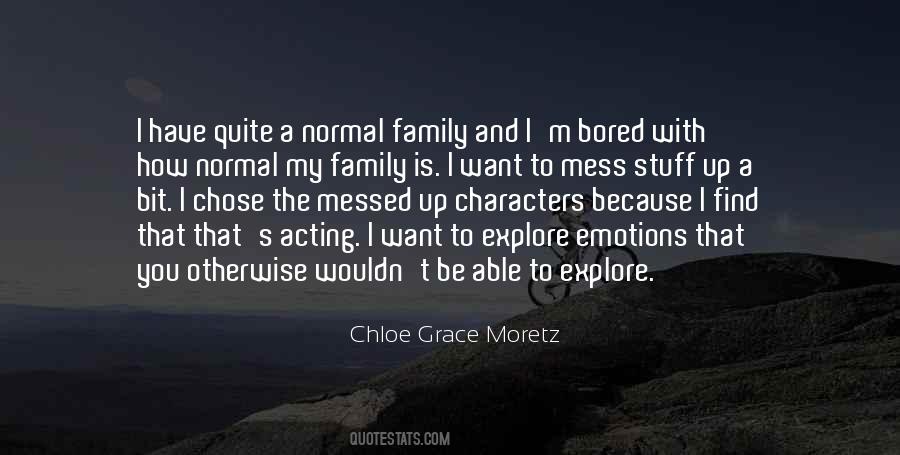 #68. I can see getting married and having a family, because it is the next thing on the agenda. You can only do this for so long. I'm old, and my friends all have kids. And I'm single, still blow drying my hair! - Author: David Spade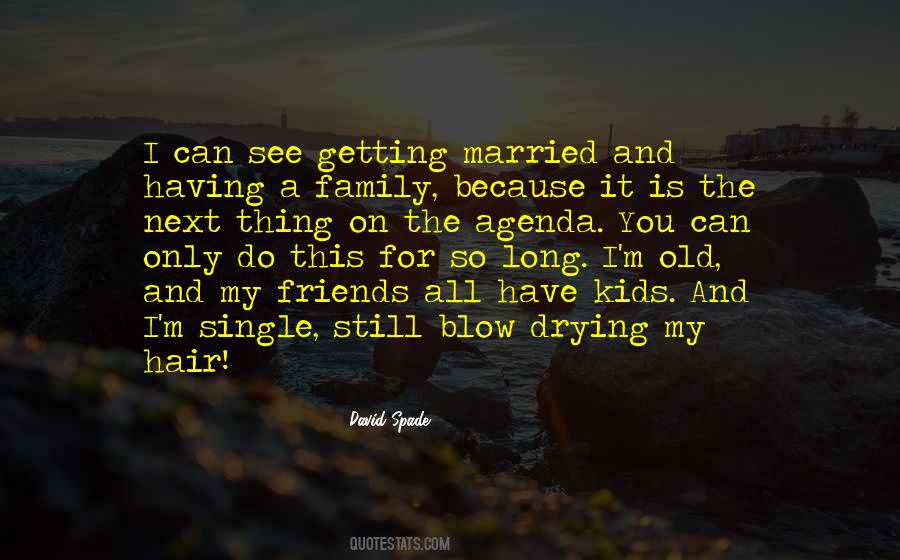 #69. I'm grateful for my whole family, but my dad is like Obi-Wan Kenobi, Superman, and Evel Knievel all at one time. I can think I have it all figured out, and he'll say, 'But did you look at that side of it?' He shows me just how much more there is than what appears to be. - Author: Guy Fieri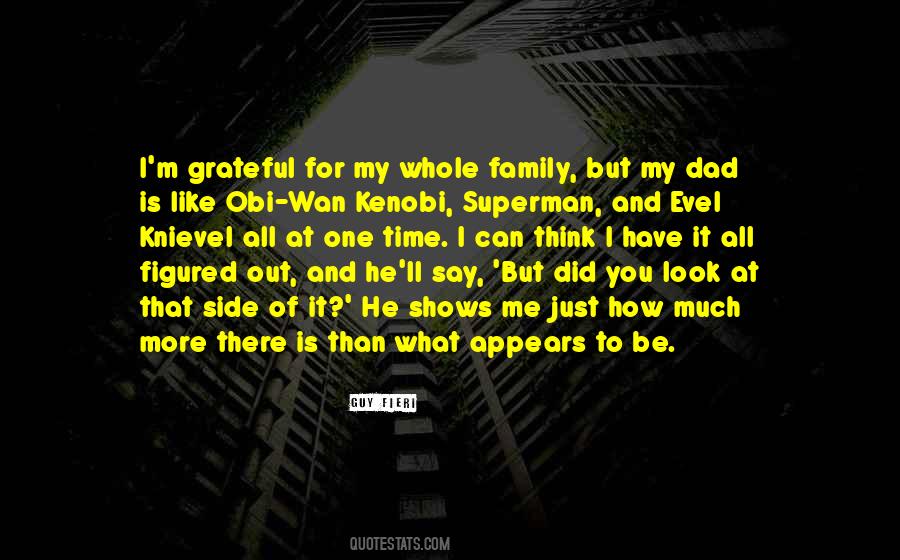 #70. Yeah, but before anything, I think in 6 years somehow I've grown up to have a beautiful home, 2 beautiful stepchildren, a beautiful husband, my family is healthy and happy. I'm financially ok and I do what I love for a living. That's what I think, and I think god, how did I get so lucky. - Author: Angelina Jolie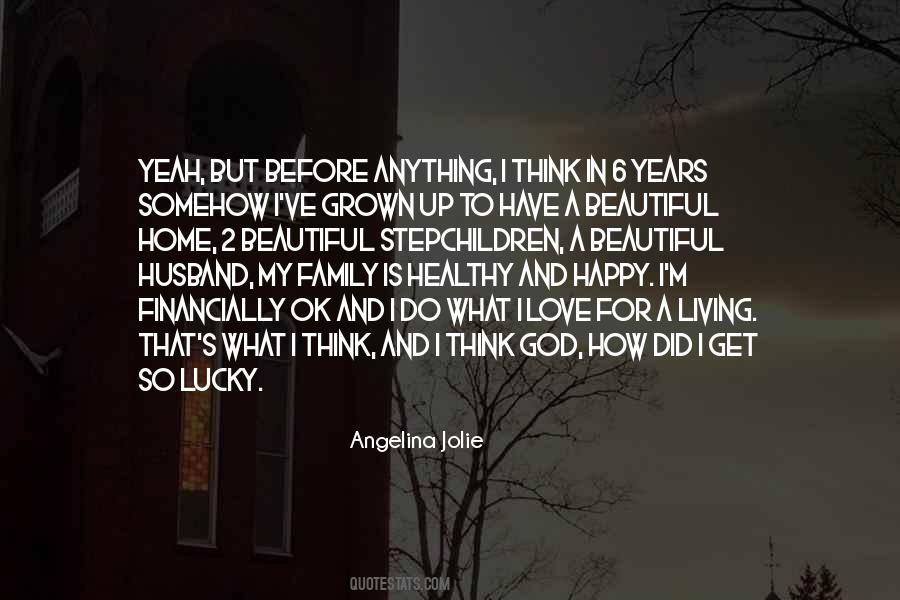 #71. I ain't no saint, but I've tried never to do anything that would hurt my family or offend God ... I figure all any kid needs is hope and the feeling he or she belongs. If I could do or say anything that would give some kid that feeling, I would believe I had contributed something to the world. - Author: Elvis Presley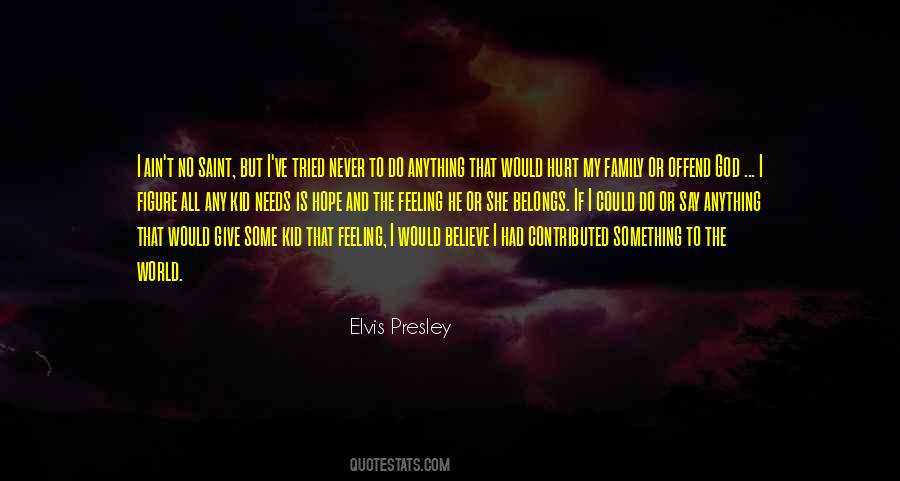 #72. My time with my family is a priority. - Author: Nick Faldo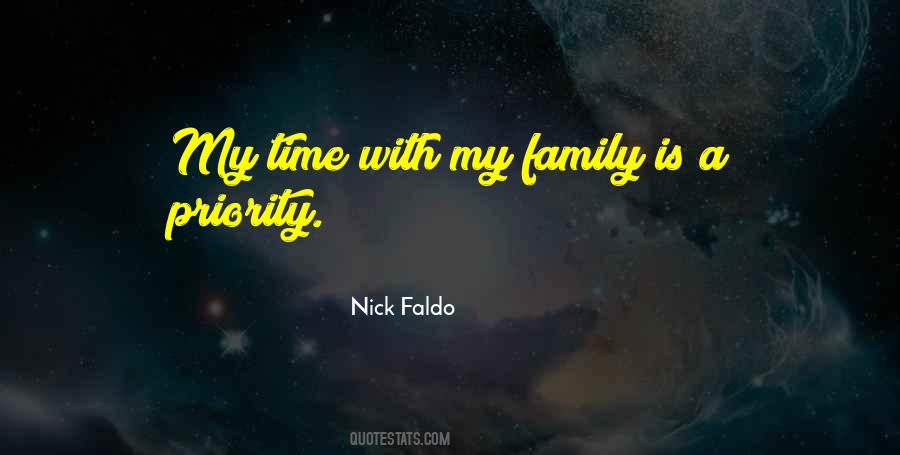 #73. Everyone in my family is an artist in some capacity whether they're musicians, painters, or sculptors, so it's in their blood. - Author: Jessica Alba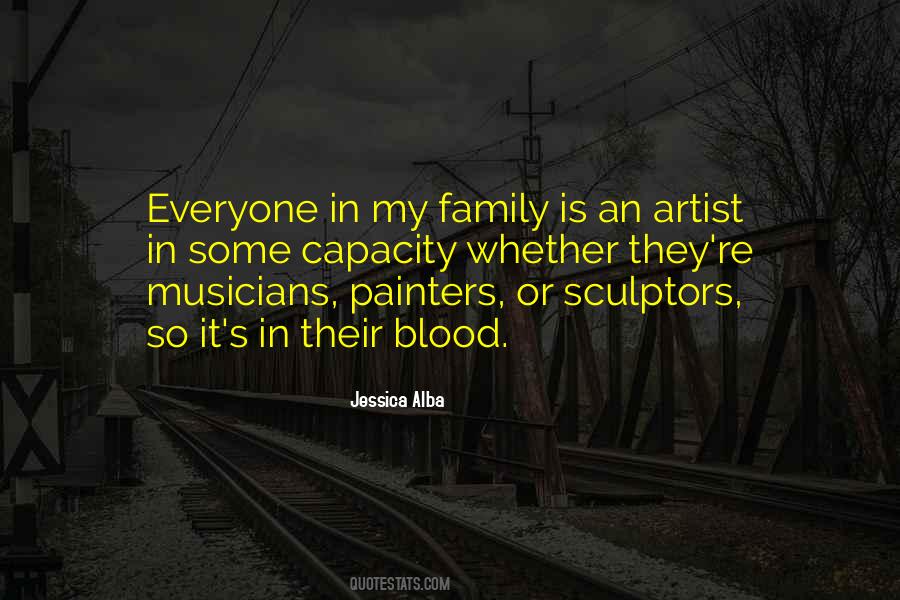 #74. Excessive drinking is not good for my health, my family or my game. There has definitely been a change, and I feel better for it. - Author: Ernie Els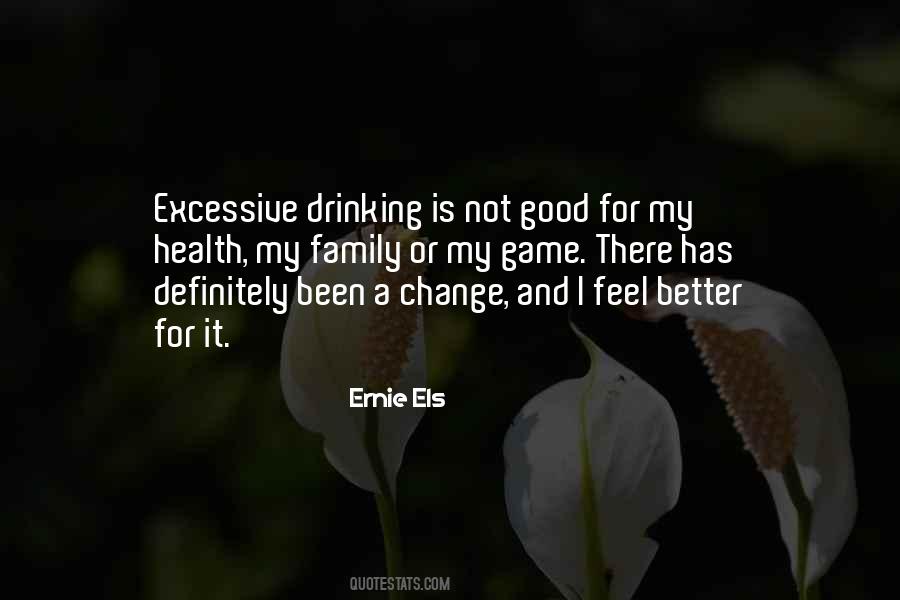 #75. My family is Anglo-Indian, and of the four children, I'm the only one who wasn't born in India. - Author: Glen Duncan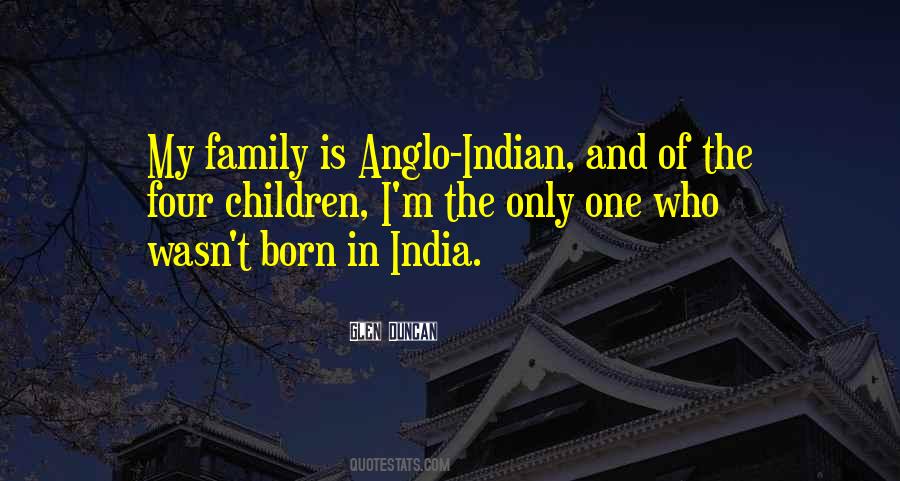 #76. They say that time is relative. I think the way it's treating me it's a distant one, maybe a bad uncle, and not welcome in my house this Christmas!! - Author: Neil Leckman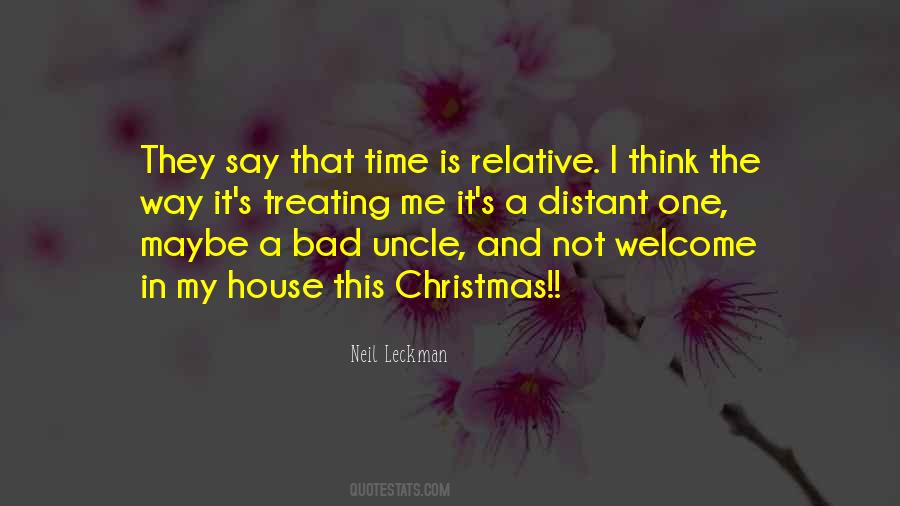 #77. I read for the 'ah-ha's,' the information that makes a light bulb go off in my mind. I want to put information in my mind that is going to be the most beneficial to me, my family and my fellow man - financially, morally, spiritually, and emotionally. - Author: Zig Ziglar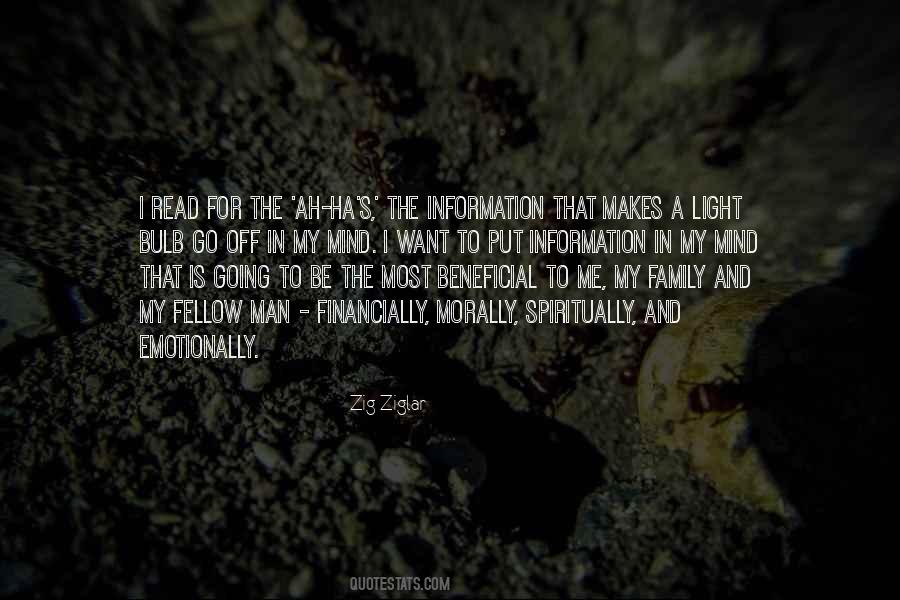 #78. Looking at me from the outside, it is not very obvious, I know half my family is black and I feel close to their culture and their color. - Author: Ryan Giggs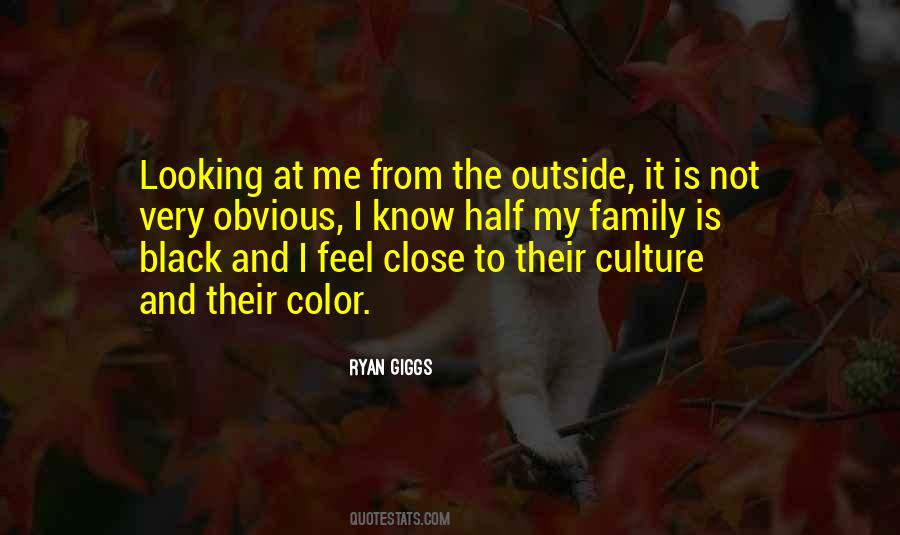 #79. My family is happy. That makes my job a lot easier. For the fans, I try to put it all out there on the floor. - Author: LeBron James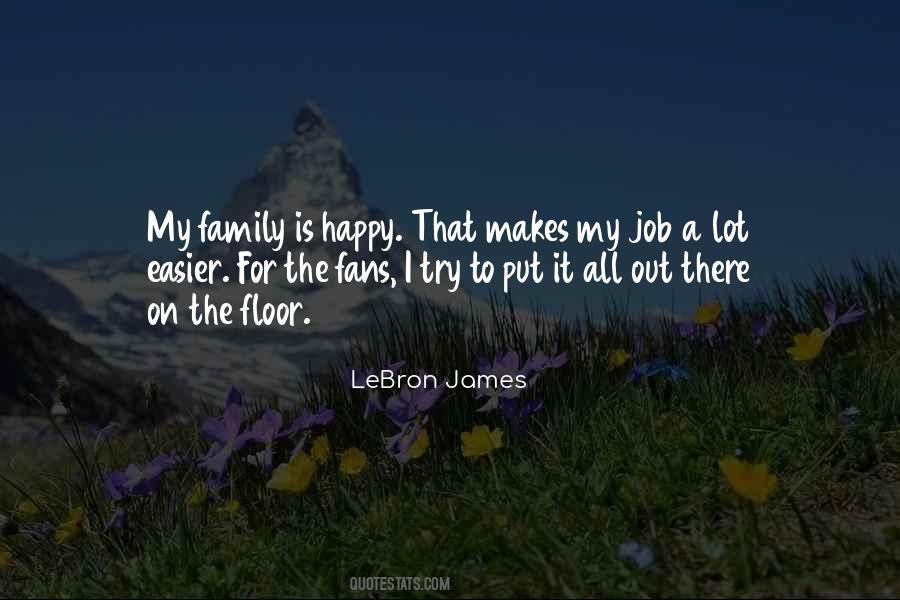 #80. My mom [has] always been my hero. Watching her experience something like breast cancer was pivotal, I think in my whole family's life and experience. She is one strong lady. - Author: Emma Stone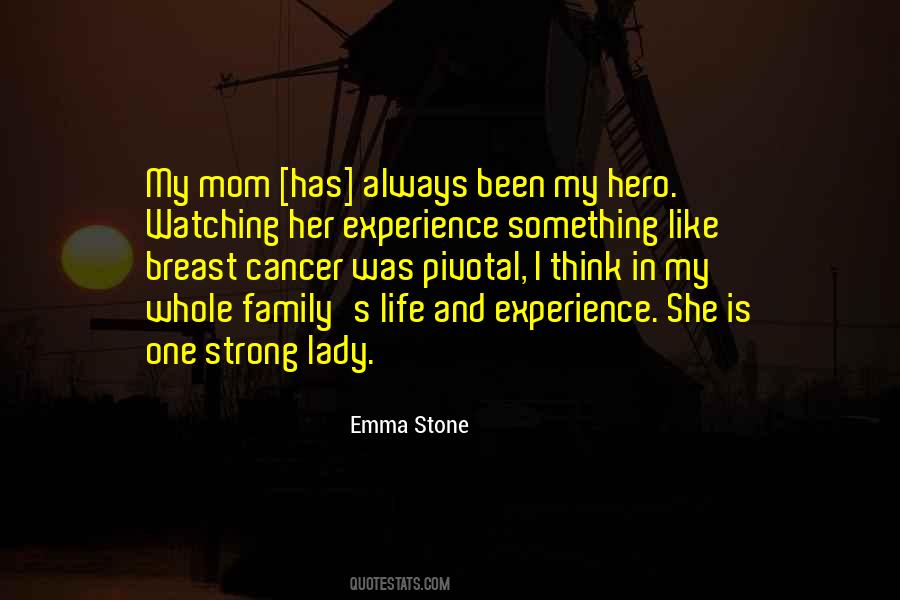 #81. I'm often asked if I regret not going to Hollywood. I'm glad I didn't go, because if I had I wouldn't have my extended family, which is the fabric of my life. Only recently have I realised how special and unusual it is. - Author: Francesca Annis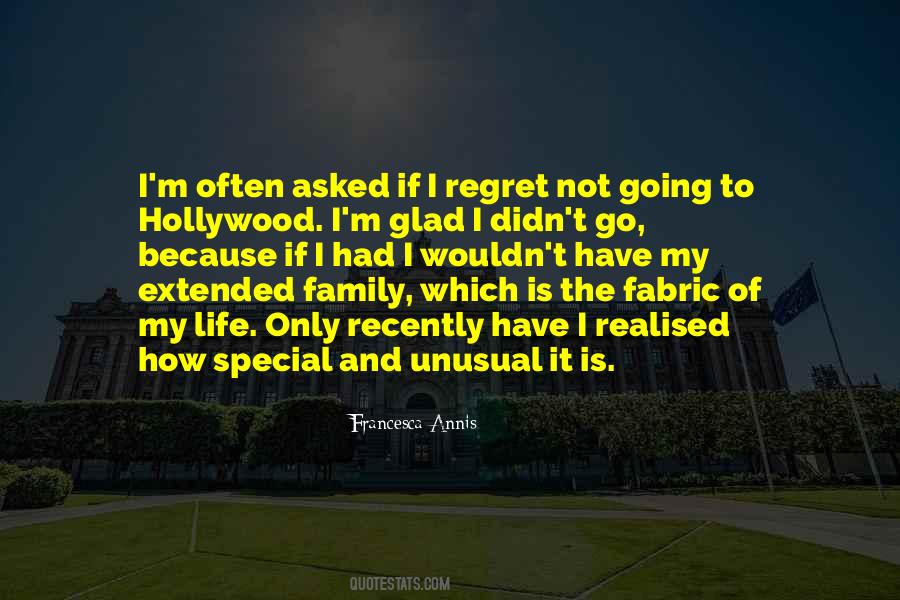 #82. At this time of sadness, there are no words to say, My heart is full of sympathy, for you and your family today. - Author: Susan Smith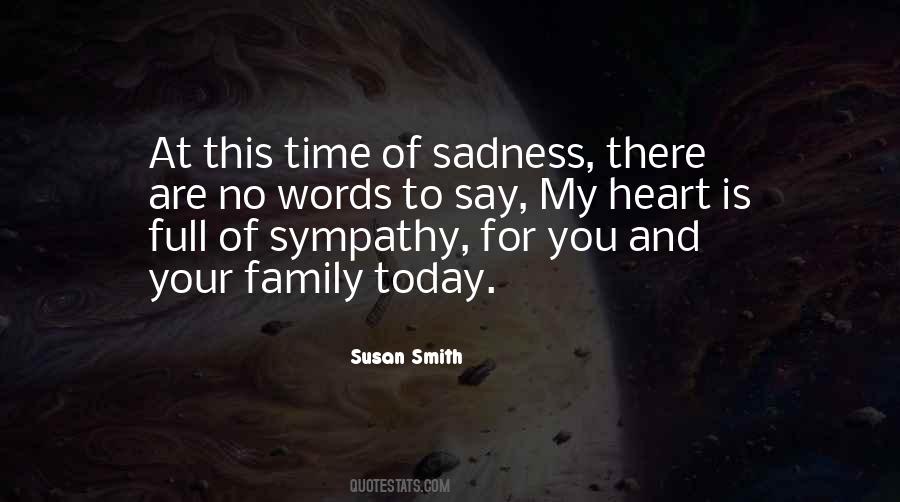 #83. You're going to think I'm being corny, but this is how I really feel: I hope my family and my friends will be able to say that I was an honest, kind and fairly decent man. - Author: John Wayne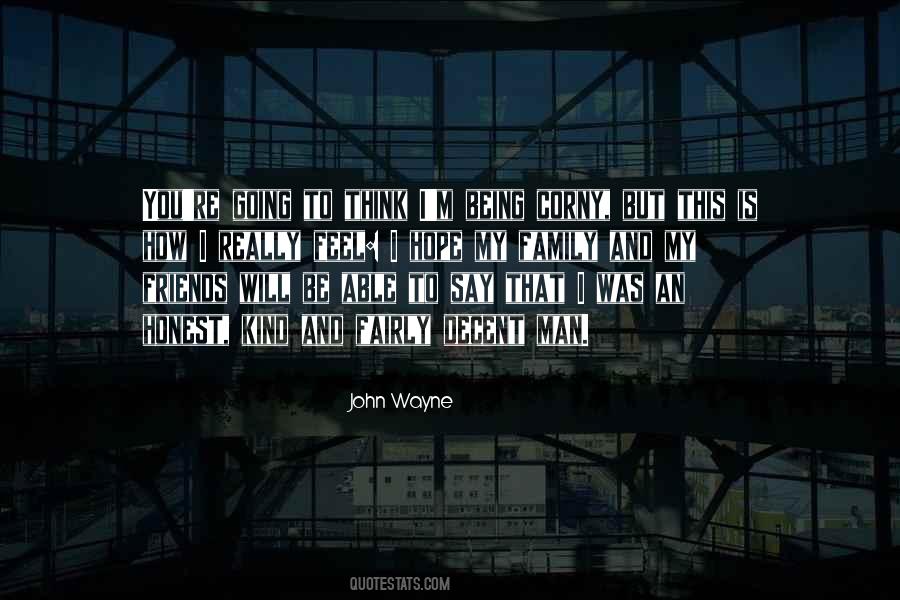 #84. There is a voice in my head that is only silenced by the scratching of my pen - Author: Jessica-Lynn Barbour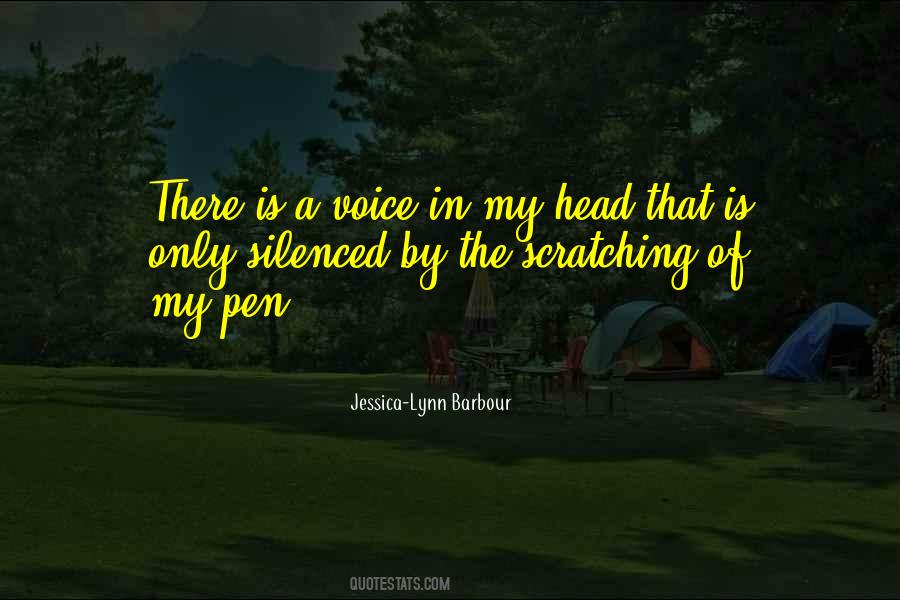 #85. I never bring a role home with me. The moment they say, 'It's a wrap,' it's gone completely. I'm a totally ruthless professional, and life is my family, not my work. - Author: Michael Caine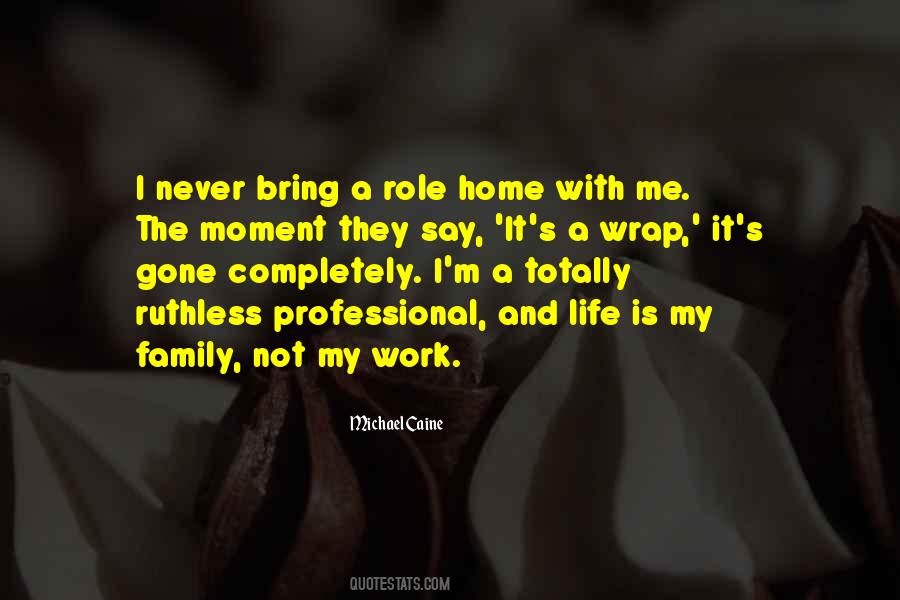 #86. The advantage is I have my family with me all the time. When your daughter takes her first steps or says her first words and your son is going through potty training, I'm not missing any of those things. - Author: Larry Dixon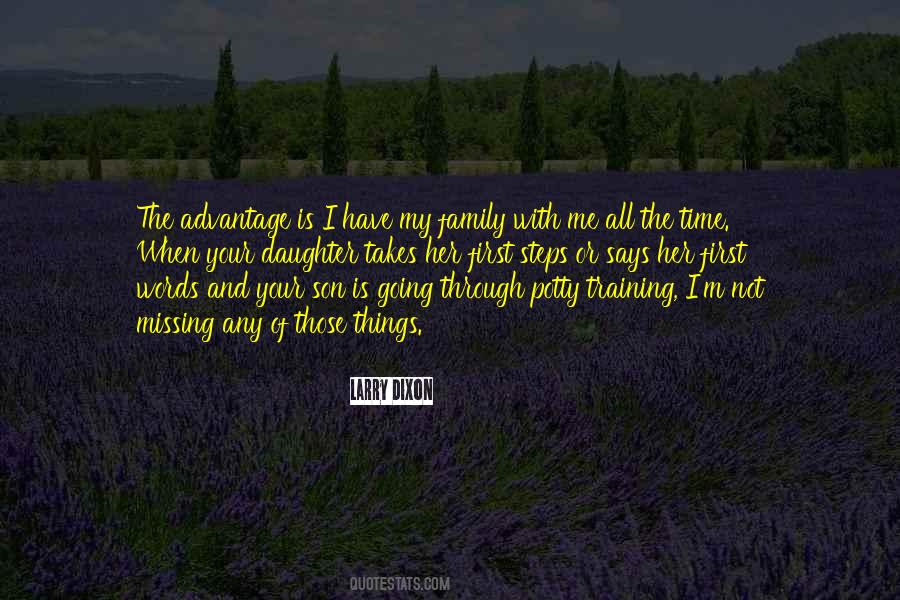 #87. For me, it's all about who you are. Some athletes may feel a responsibility. Some may not. One thing I've talked with my family and team about is doing more. Trying to make an impact. - Author: Chris Paul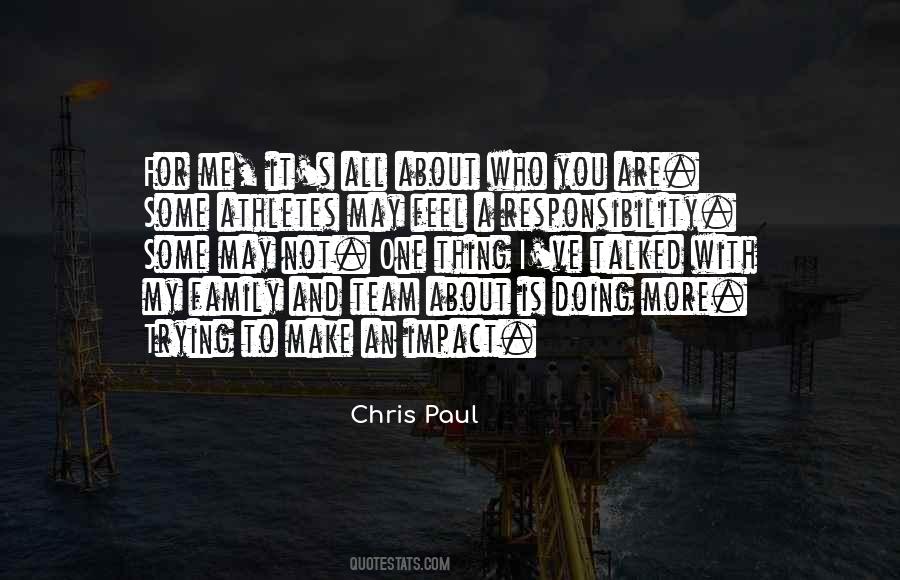 #88. We're travelling through space and time, we're dealing with gods and monsters, but at the heart of the film, from my perspective, is a family - a father, two sons, two brothers, a mother and the fractious, intimate interaction that they have. - Author: Tom Hiddleston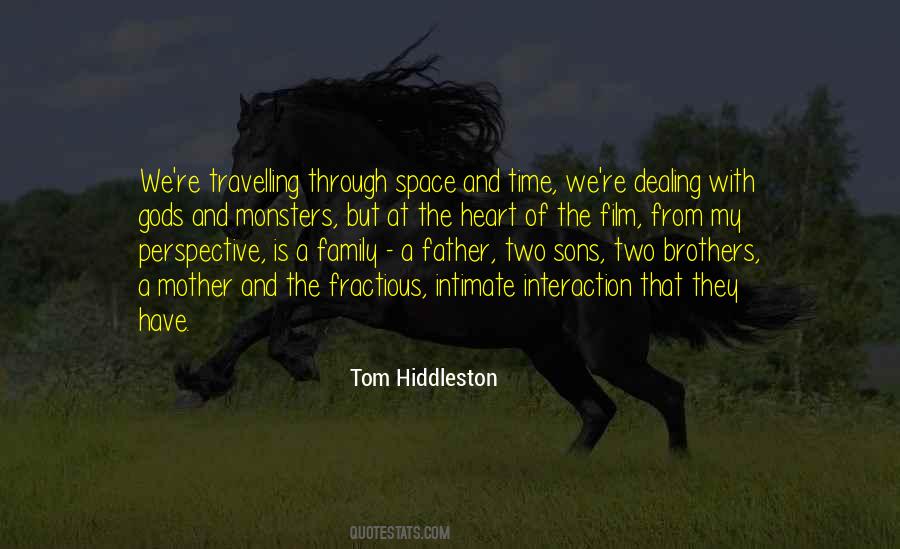 #89. AMELIA: To my friends, and family: You all may be batsh*t crazy, but even if I got to choose, I'd still choose to be with you. Life is fragile, and tomorrow is never a sure thing, so thanks for sharing your lives with me..... - Author: Amelia Hutchins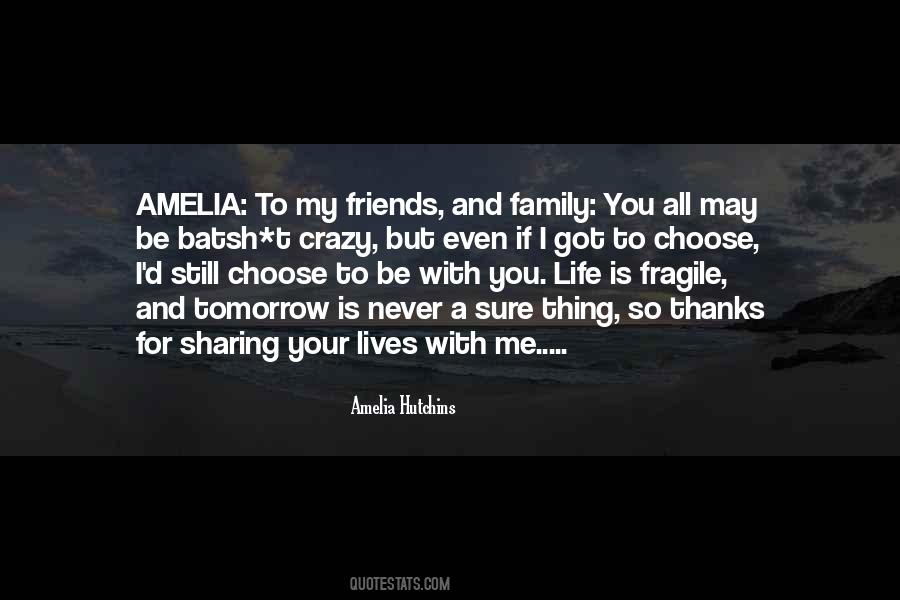 #90. My favorite memory is Tomorrow. Tomorrow's family moments are what I look forward to every day. No single favorite. Just Tomorrow. - Author: Nigel Barker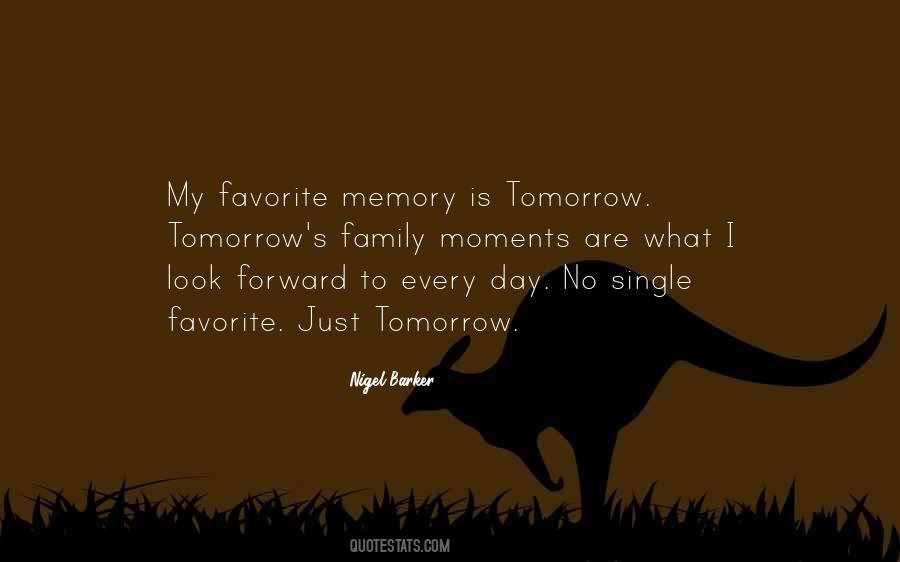 #91. My favorite time is now, like tonight, under a full moon. When a thousand crystals are sparkling at us. It's almost magical, isn't it? - Author: Dominique Eastwick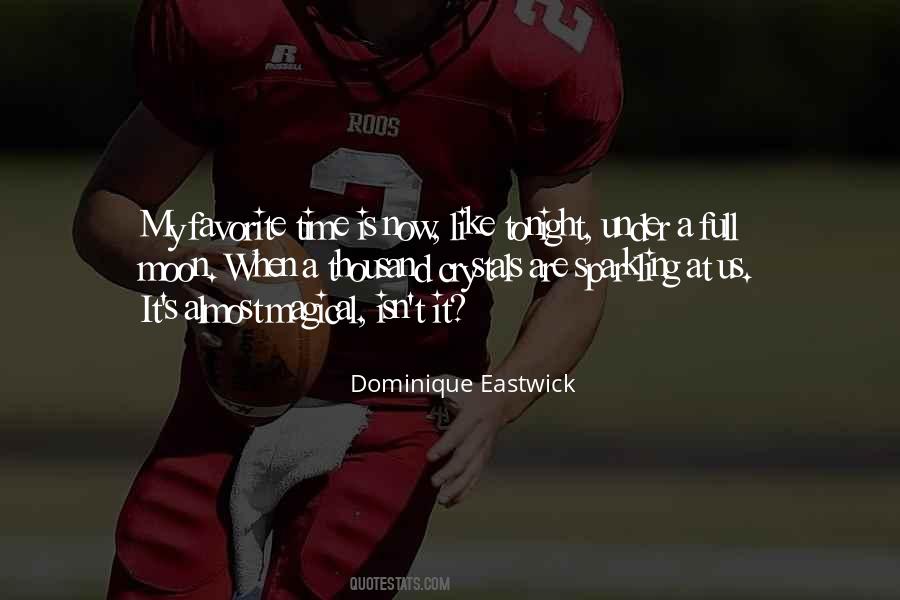 #92. The saddest thing is there won't be anyone to miss us when we're gone. No family, no friends, no one waiting at home."
"It's better that way," I said. "It'll be easier for me, knowing my death doesn't add to anyone's pain."
"If you can't give anyone pain, then you can't give them joy either. - Author: Jennifer A. Nielsen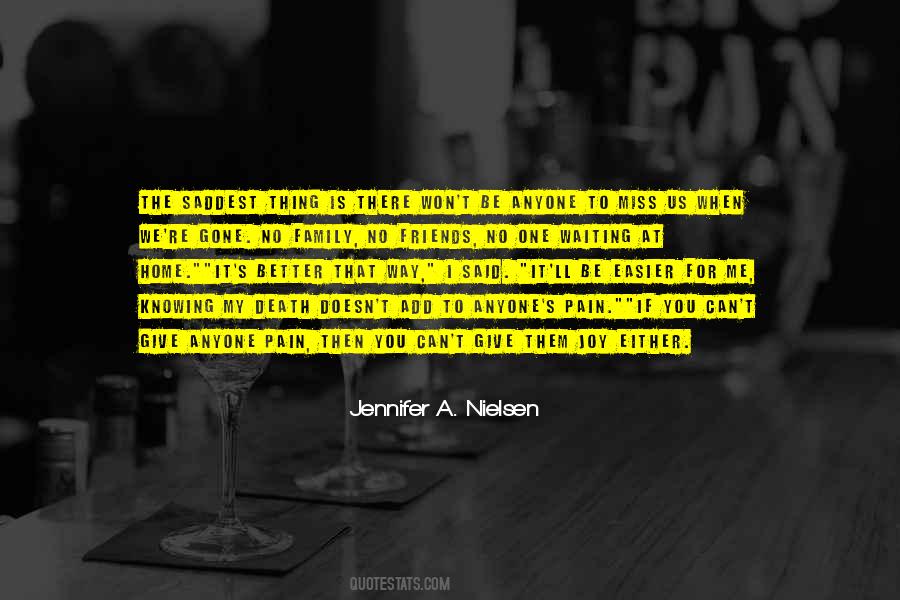 #93. I'm probably the most loquacious author when it comes to my dedications. The reason is there is some symbolism there. I've been writing these books, bringing these stories to my readers who I love so much, and I have a greater love for my family. - Author: Karen Kingsbury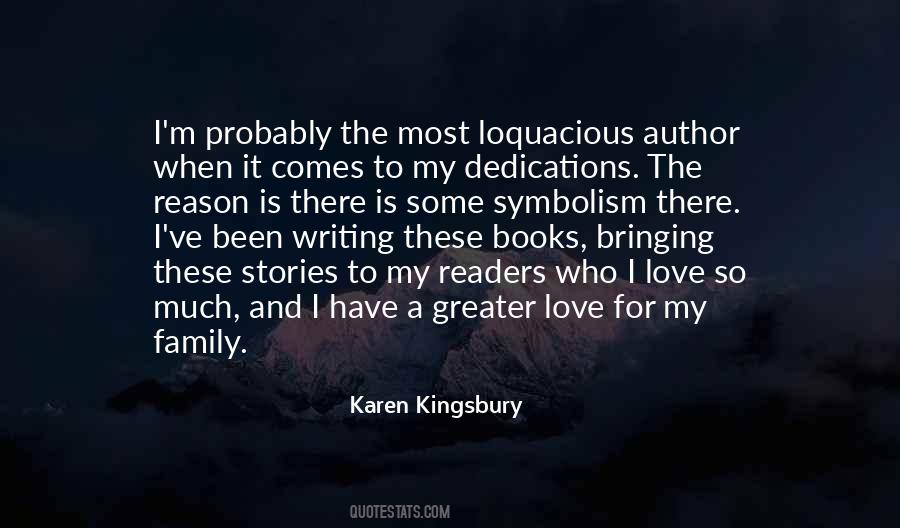 #94. My job is - I make socks. That's all I do. I don't necessarily care about the show. I would rather film this - me doing what I do - than being around my family. - Author: Rob Kardashian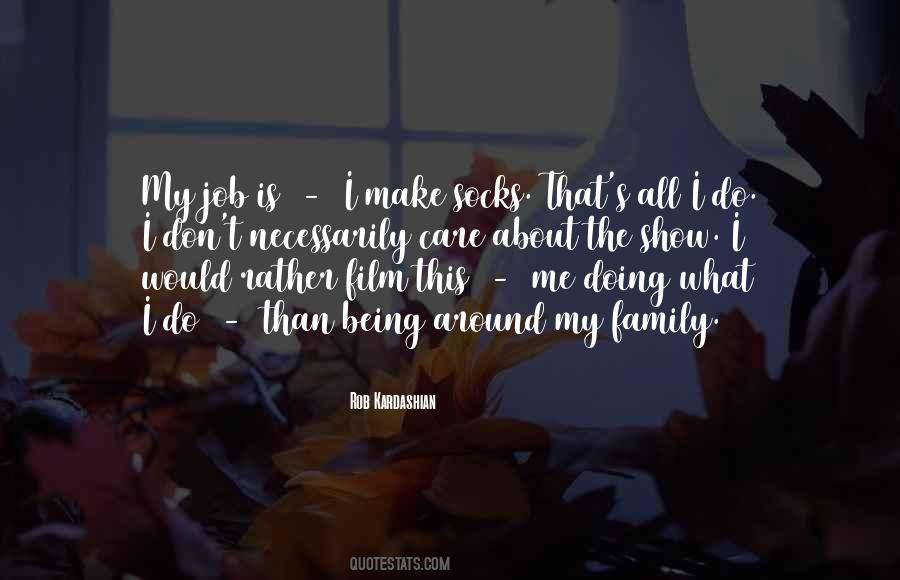 #95. I feel like I was born the day my kids were and that my life before was only there to gain wisdom for them. The point is you do your best. Your very best every day. You do it and you do it for them! - Author: Drew Barrymore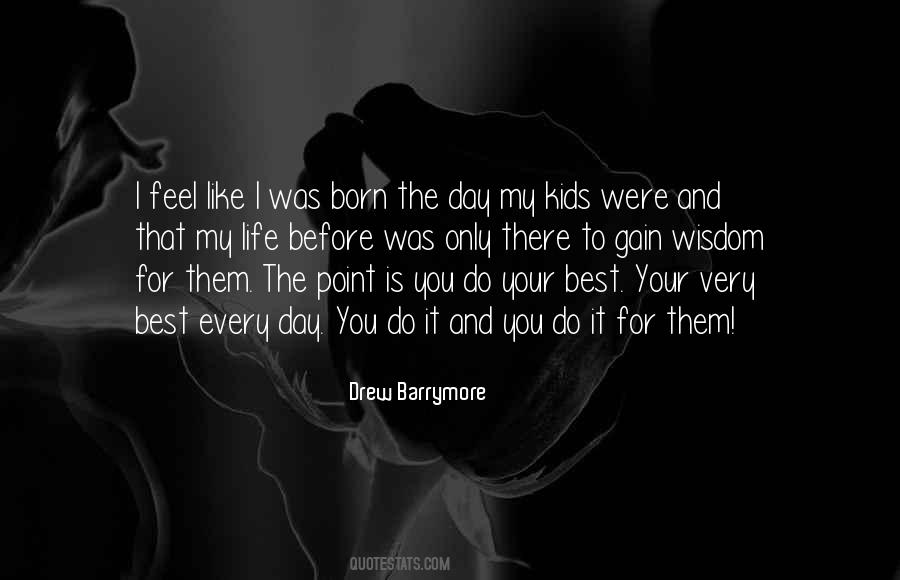 #96. My family is no different from yours. We may be different from the geography that we come from. Some of you all may pray differently than I do, some of you all may be from a different ethnicity, but we all have the same story. - Author: Cory Booker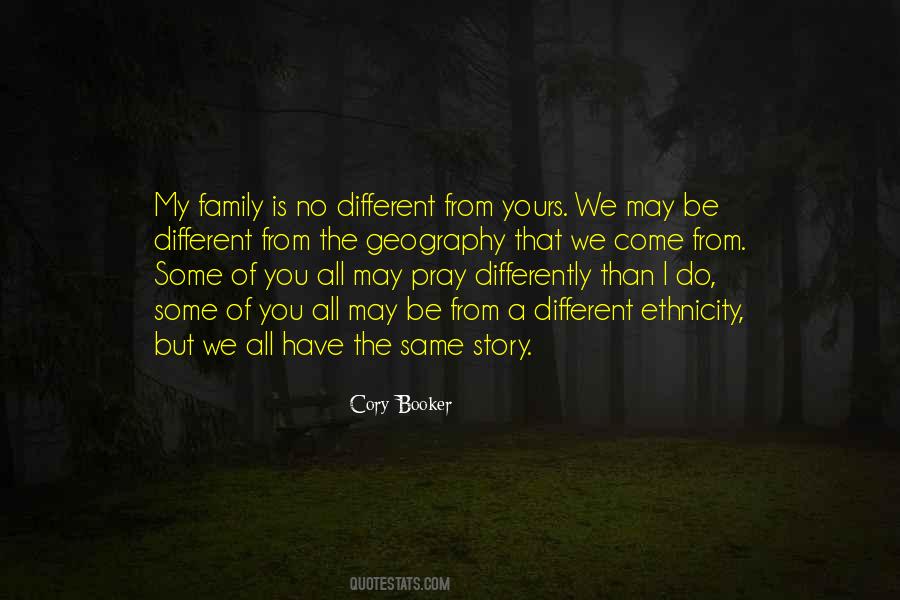 #97. Your family is real, but mine isn't? Real people with real feelings, but my family isn't real to you. You think. I'm a character. A story. Those women you talk about. Not real people to you. Stupid women. I'm real. I'm as real as you are. My family is real like your family. - Author: Bryn Greenwood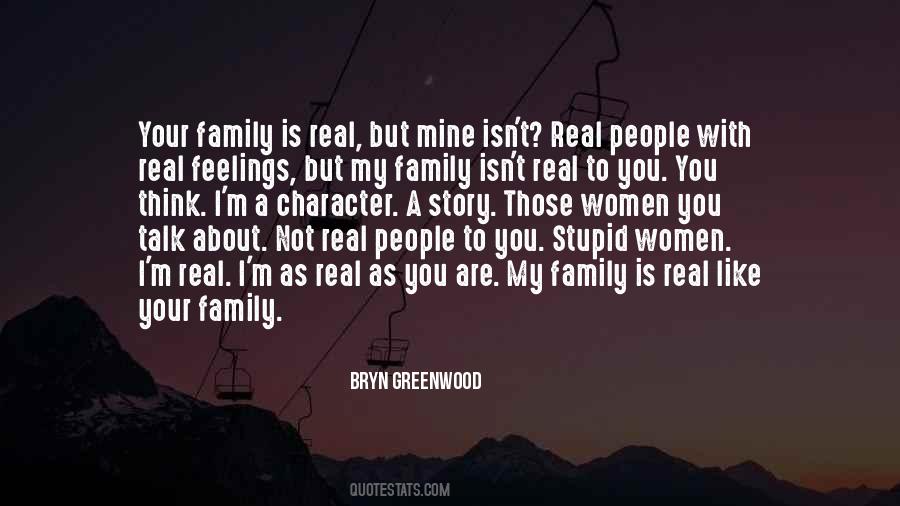 #98. I was lucky. My family is wonderful. And it's funny, because most of my best friends come from very large families. So it always felt as if I had lots of siblings, though in the end I had to leave them and go home. I kind of got the best of both worlds as a kid. - Author: Sophia Bush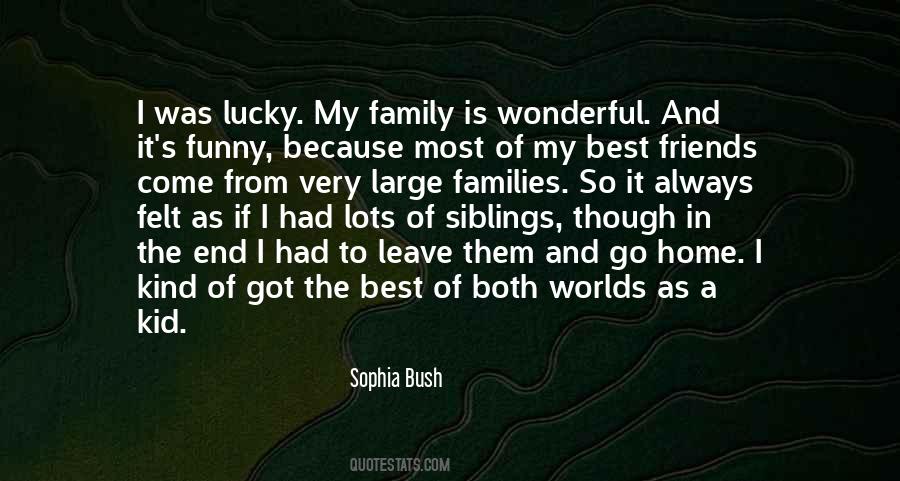 #99. I'm a huge fan of Chicago sports and Chicago food, and I love going home and my family is still there. I guess it's pretty easy to have a normal life in Chicago. - Author: Matt Walsh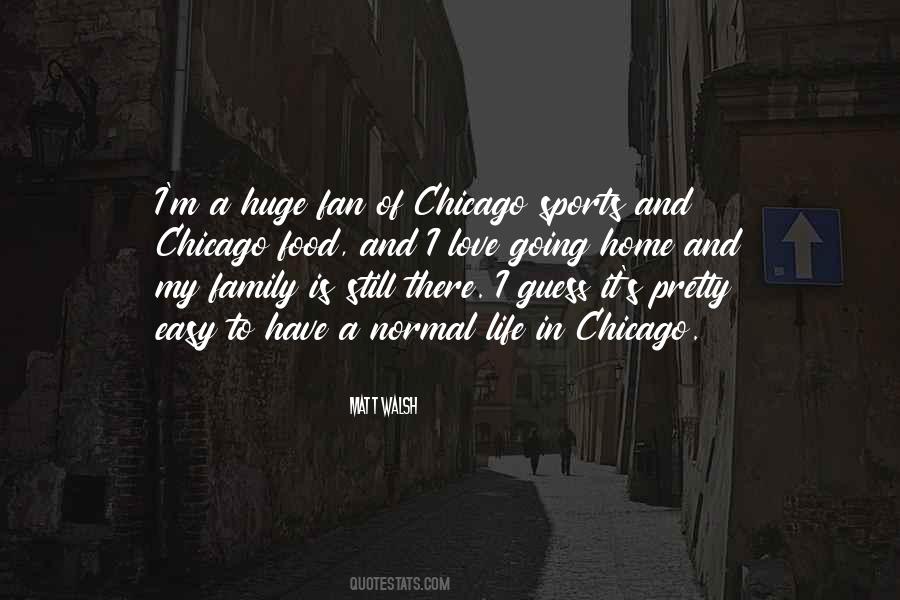 #100. The dog that I was given on The Hills for Christmas is with my best friend's family. - Author: Heidi Montag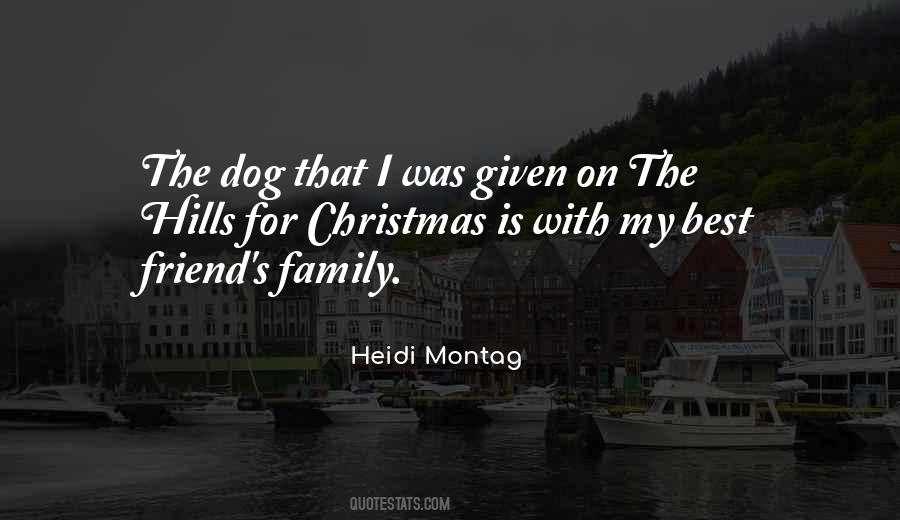 Famous Authors
Popular Topics