Don't Think About It Famous Quotes & Sayings
List of top 100 famous quotes and sayings about don't think about it to read and share with friends on your Facebook, Twitter, blogs.
Top 100 Don't Think About It Quotes
#1. You know what I regret the most? Trinity says, her voice just above a whisper.
I don't answer. All I can think about is how crappy it is that my fourteen-year-old sister already has regrets. - Author: Paula Stokes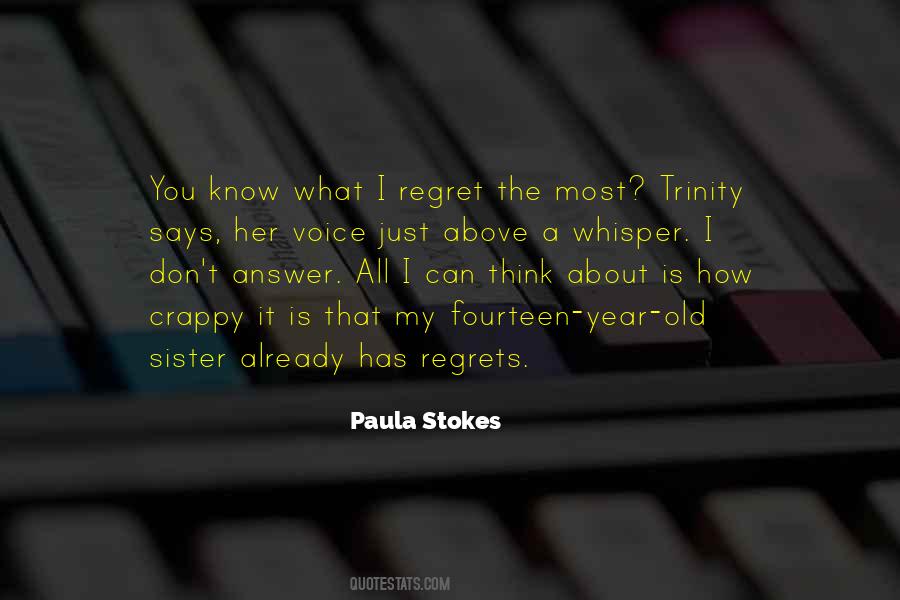 #2. The best songs come unasked for. You don't have to think about them ... Summer is good for songs. When it's real warm, if you have a sense of freedom, not a lot on your mind, and a feeling there's plenty of time, it just seems to be a good climate for music. - Author: Jim Morrison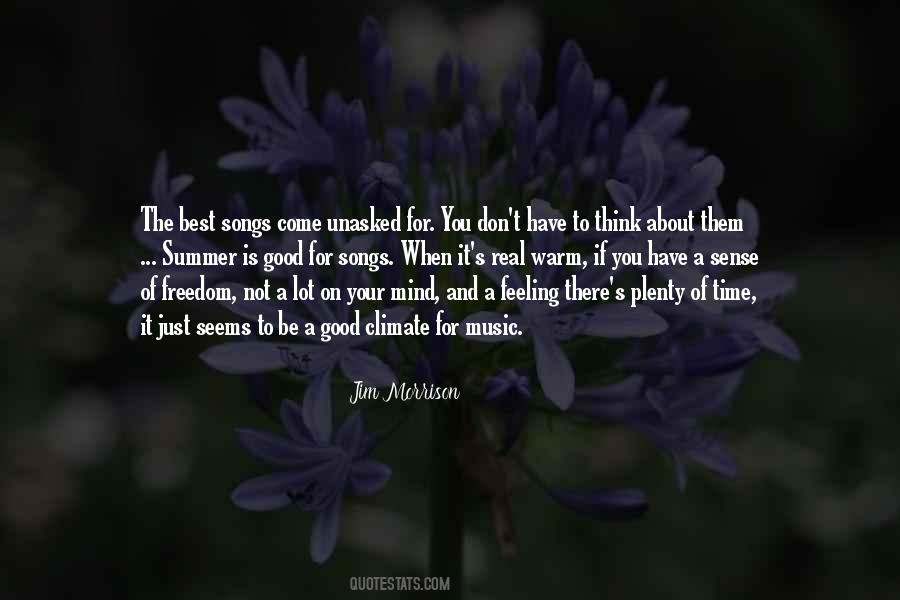 #3. Even if Christians are completely surrounded by sin, they should still fight against it. Some people think they're Christians because they've been baptized. These people give their desires free rein and don't care about conquering their sins. They merely follow their own cravings. - Author: Martin Luther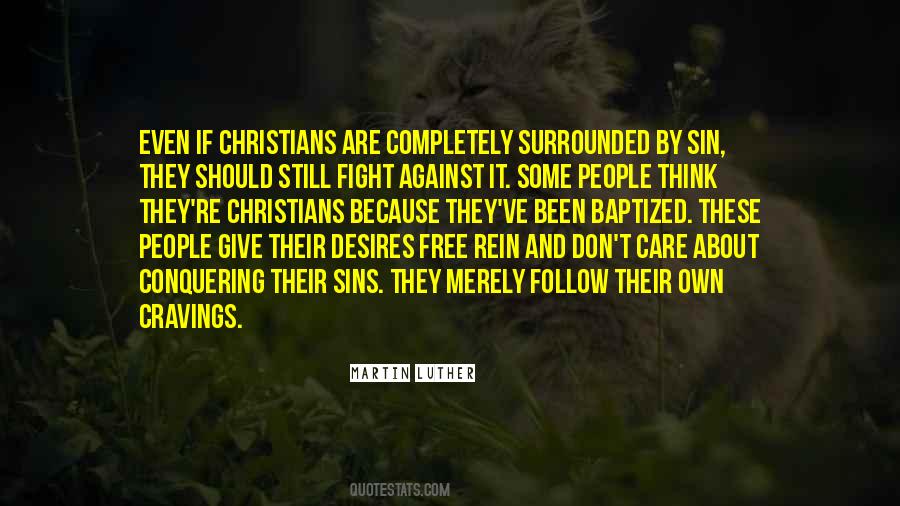 #4. Don't even think about saying he only did it because he's looking out for my best interest." "I wasn't," William replied. "I was going to agree with you. It was none of his bloody business. - Author: Nicole Williams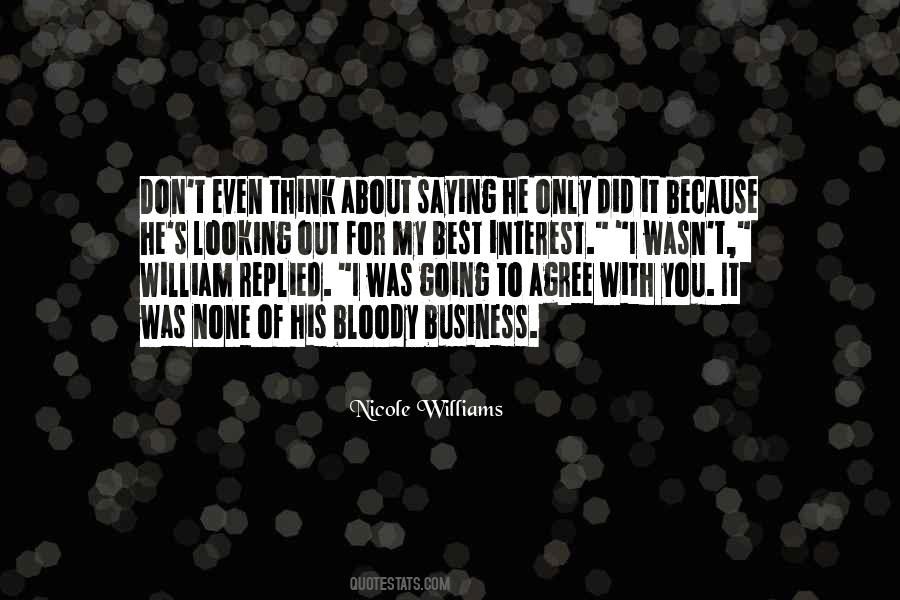 #5. I don't ever see movies by myself. I always see them with other people because I want to know what works. I want to know where they laugh. I want to know where they don't laugh. I want to know what they think about it afterwards because in the end that's what the art that I'm working with is. - Author: George Lucas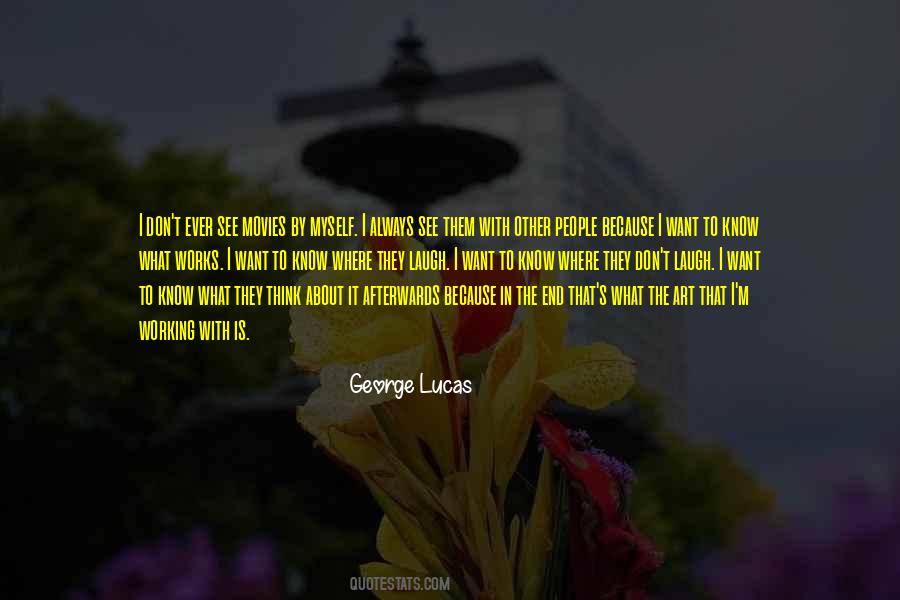 #6. I do not suppose I shall be remembered for anything. But I don't think about my work in those terms. It is just as vulgar to work for the sake of posterity as to work for the sake of money. - Author: Orson Welles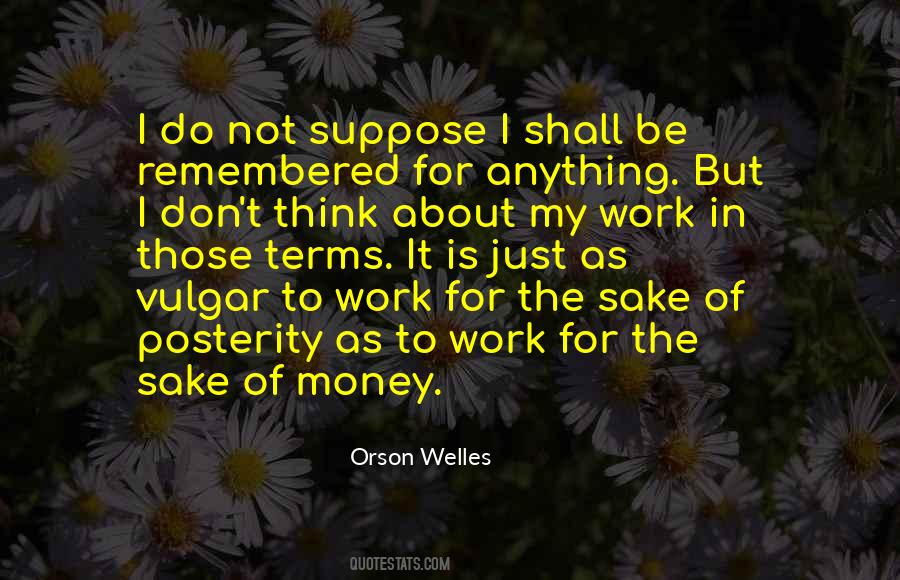 #7. Half the time I don't even think about it, I just throw something on because I'm so late or so busy. - Author: Isaac Mizrahi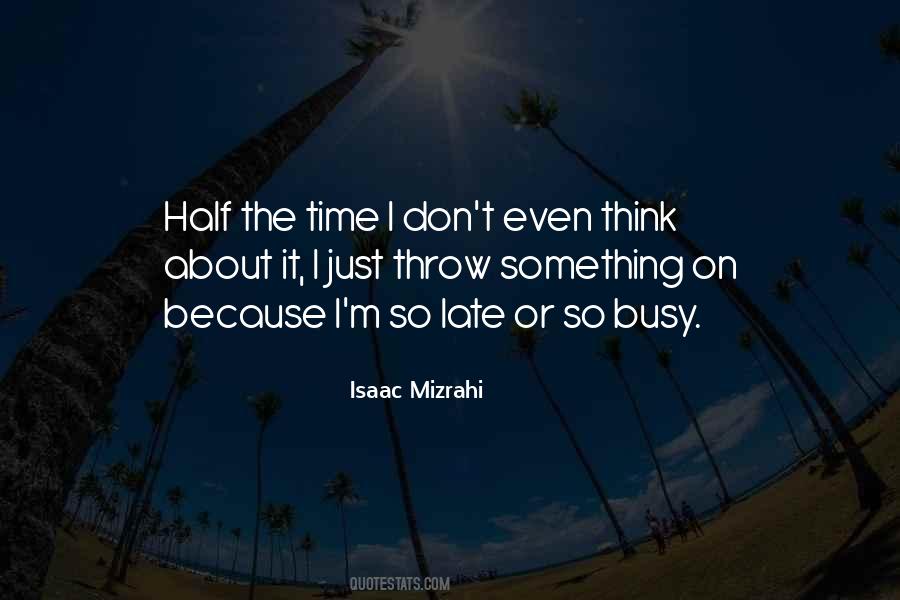 #8. I think, living in America, we're so bombarded with God all the time that in certain ways I'm making statements against that bombardment, you know? I think it's crazy. I mean, I don't believe in God. I don't believe in anything. But I still think about it. And I still write about it. - Author: James Frey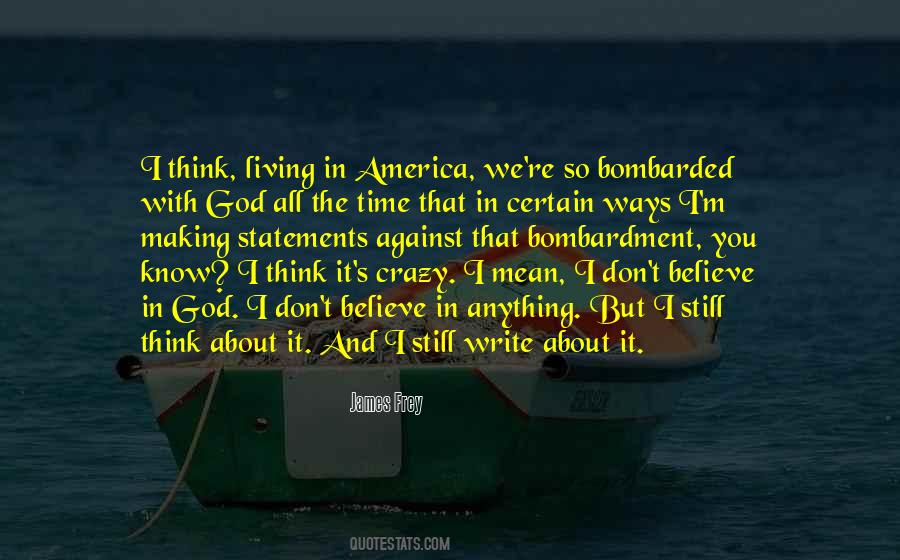 #9. We talk about the vulnerability involved in sharing our work publicly. I don't think we talk enough about the real vulnerability involved in making art; if we truly engage the process we are changed by it. - Author: John Paul Caponigro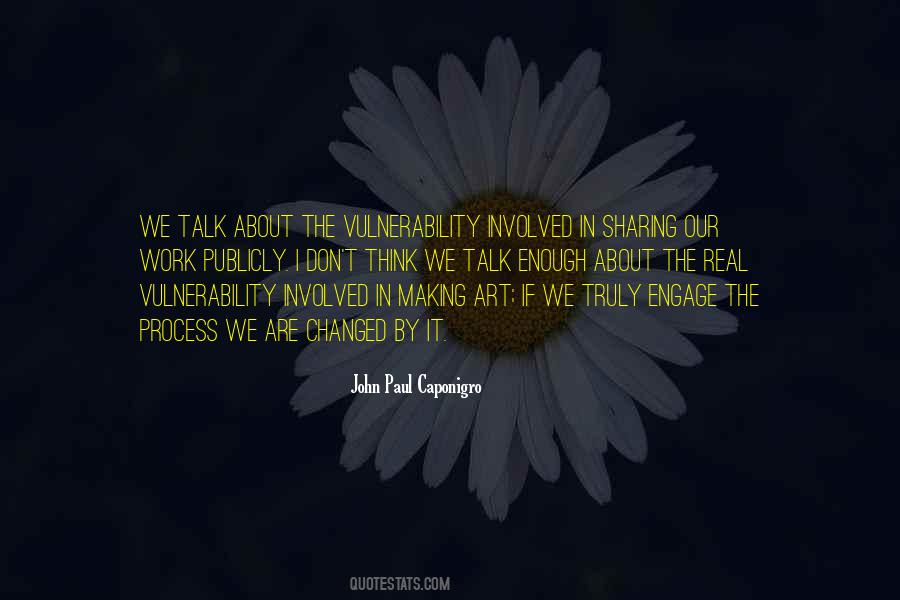 #10. I mean I don't really think about it. You know, do you know what I often say to myself? I think you're very lucky in life if you know what you want to do. - Author: Andrew Lloyd Webber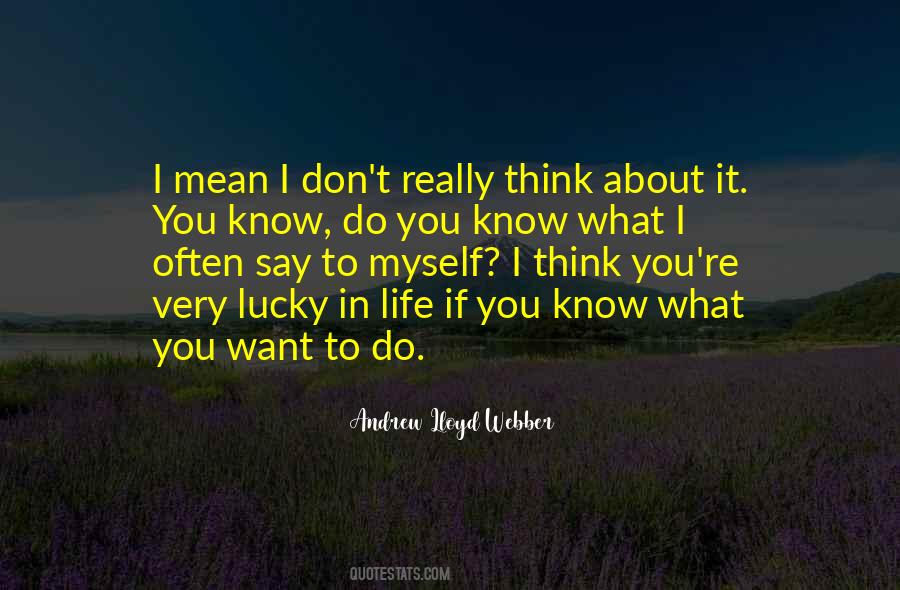 #11. Verne frowned. "Calm down. Don't exert yourself in your condition."
Salen looked at Verne in amazement. "Don't exert --! My dear woman, we are all about to die! I don't think it damn well matters if I shit my pants at this point -- - Author: Ash Gray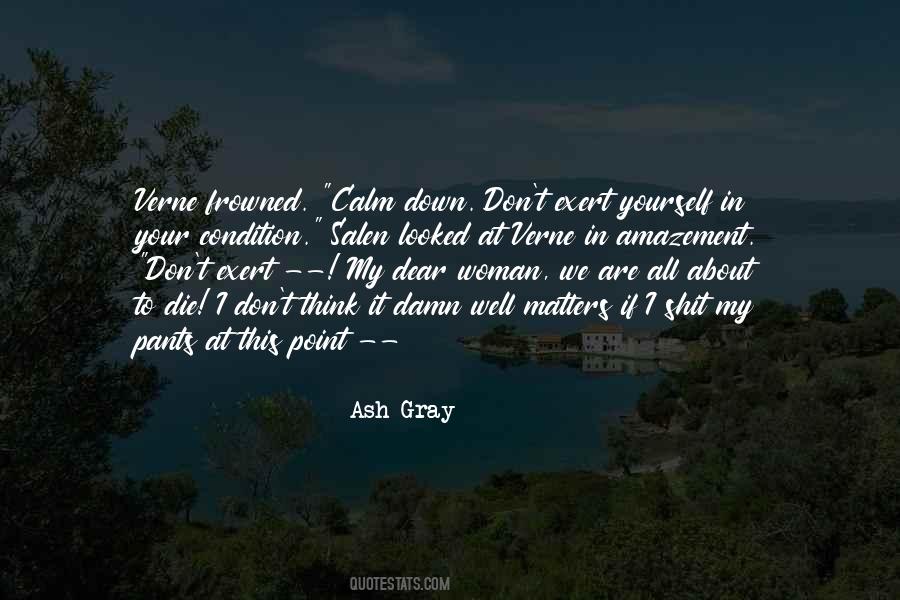 #12. I don't think I'm severely politically active. I care deeply, and I have my strong personal beliefs. I think America is dancing on thin ice. But I think it's bigger even than a political issue. I wonder about the evolution of the human race and spirit and what our goals and reasons for living are. - Author: Garry Shandling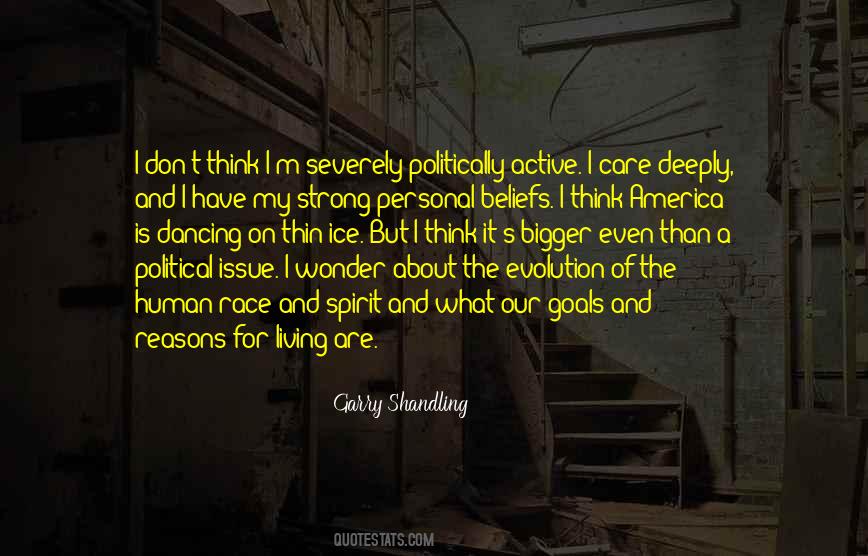 #13. We had already planned my wedding when my brother passed away in 2012. When you're grieving, you don't necessarily want to think about something like that, but my brother told me that he wanted me to, so we went ahead and did it. - Author: Yaya DaCosta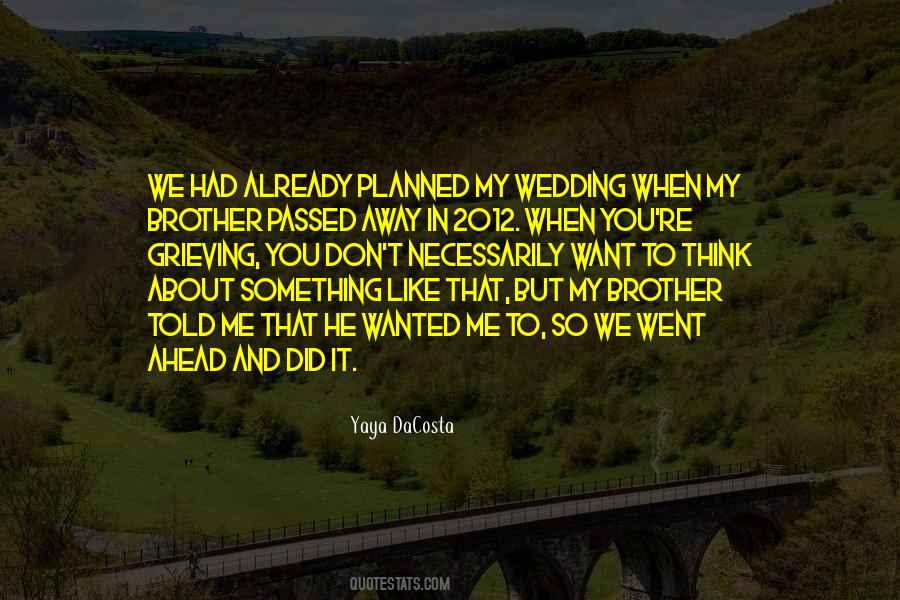 #14. I think maybe it's the things we don't want to talk about that are the things people most want to hear. - Author: Julie Murphy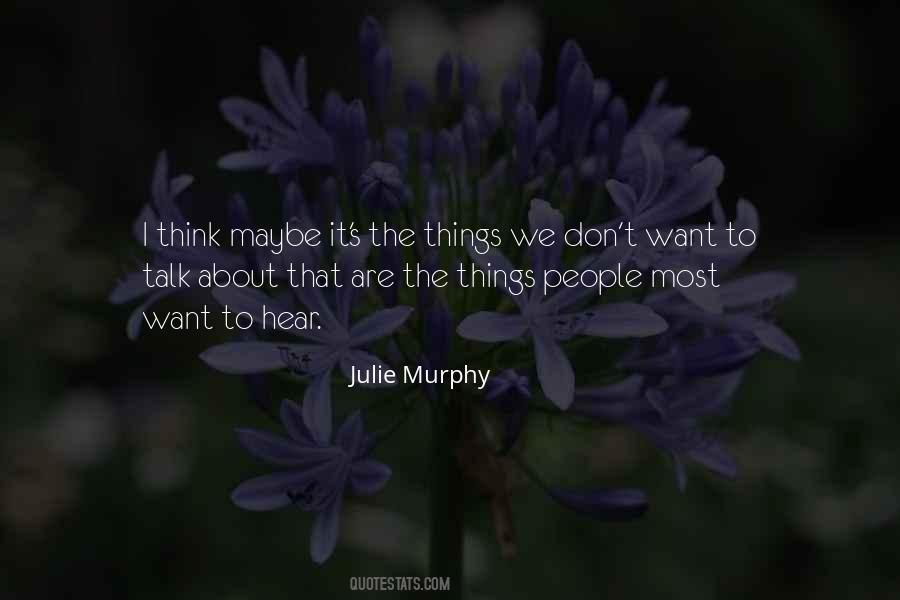 #15. I'm 77. The only reason I'm ever shy about it is that people tend to think of you in terms of what they think that age is. I certainly don't feel any different than I did when I was 35, and my energy seems to be more than it was then. - Author: Robert Osborne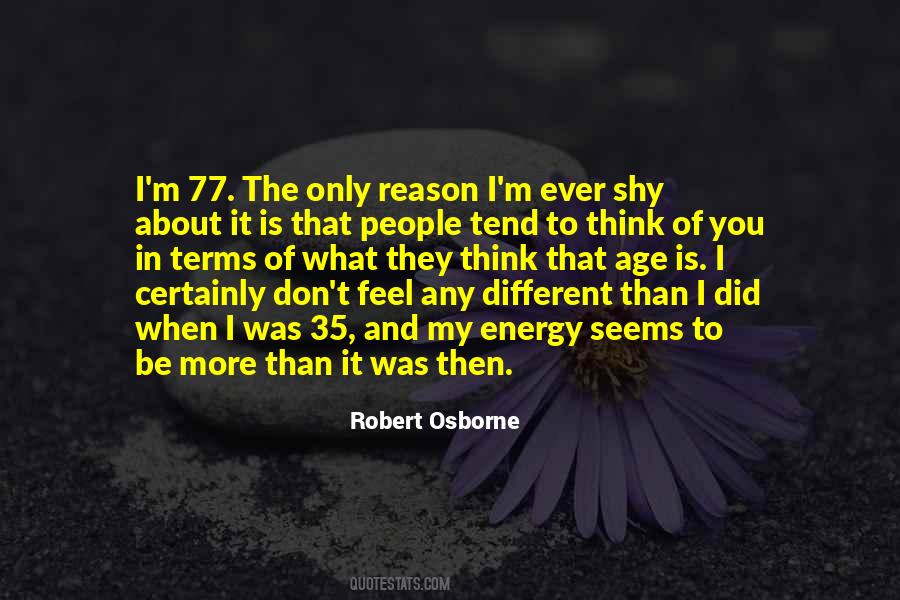 #16. The left, liberals, believe that if we just have more gun control laws, all the problems are going to go away. Well, I don't think so. I don't think so. I think - yes, it will, it will be reduced. There's no question about that. - Author: Michael Moore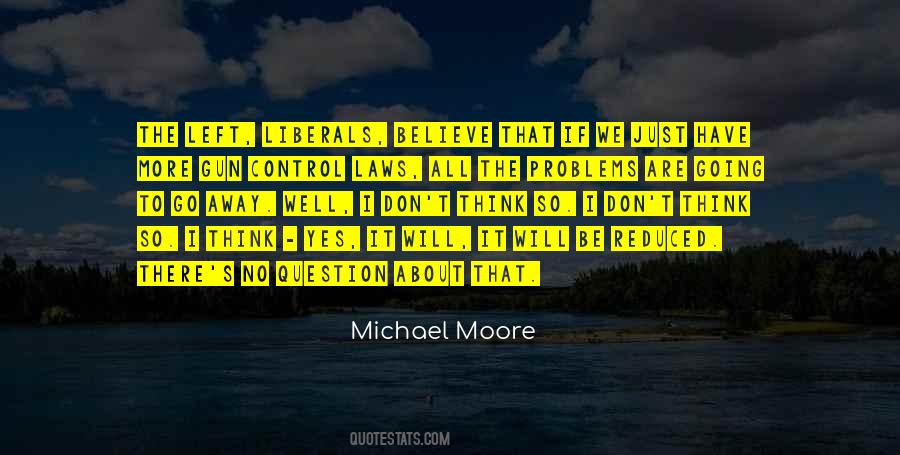 #17. Robin turned and looked straight into her. "What's life for?"
"I don't know."
"I don't either. But I don't think it's about winning. - Author: Jonathan Franzen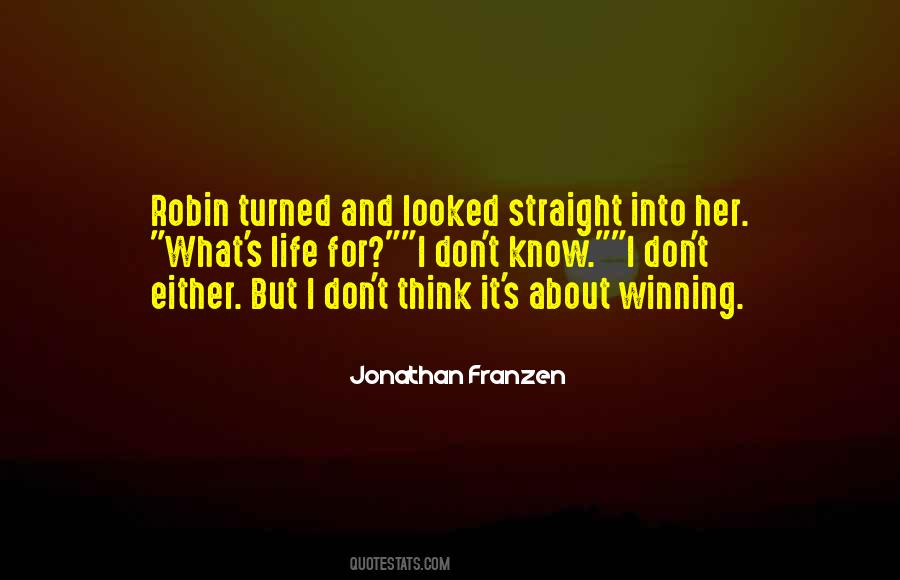 #18. Ildiko had been tempted more than a few times to cross her eyes and watch their reaction.
"Don't even think about it, wife. You'll notice half of them are sharpening or cleaning their weapons. All I need is for someone to inadvertently slice themselves open because you startled them. - Author: Grace Draven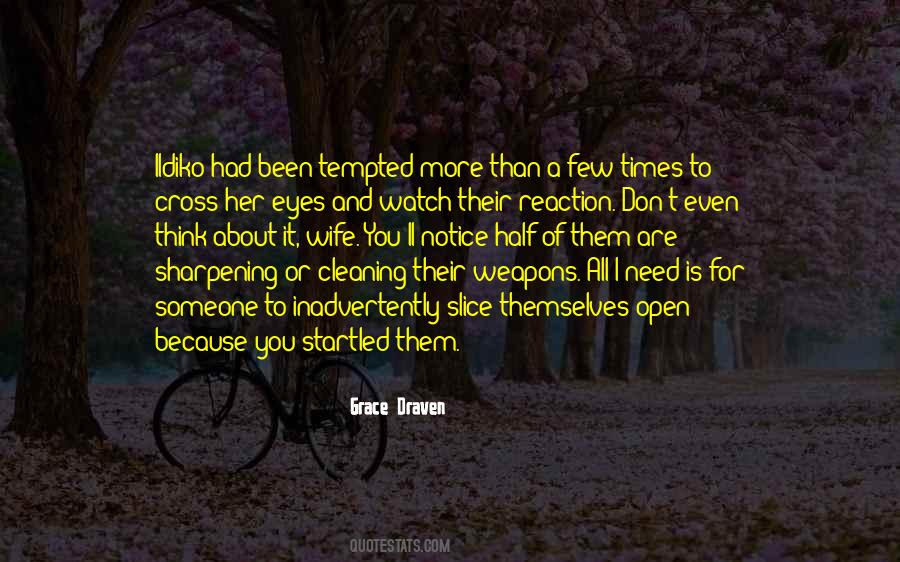 #19. The only thing that isn't free is you. You do as you're told. You sit in your seat until they say 'Stand'. You stay put til they say 'Go'. Maybe that's the way you like it. It's easy. It's all there. You don't have to think about. You don't even have to feel it. - Author: Melvin Burgess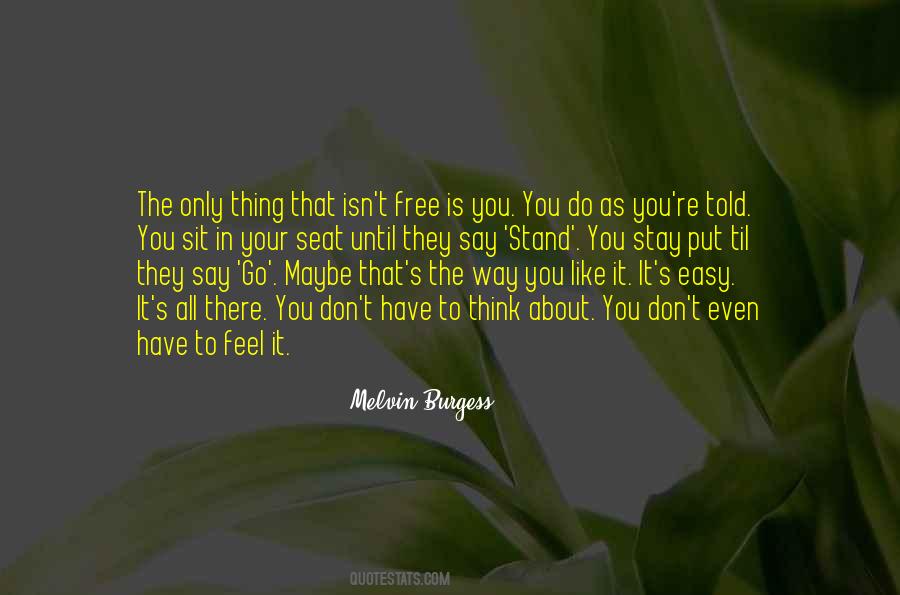 #20. But when my grandmother saw me plucking [my eyebrows] she said: 'Don't. You will regret it. One day you will wake up with no eyebrows and think how stupid you were. Your eyebrows are the most beautiful thing about you.' - Author: Natalia Vodianova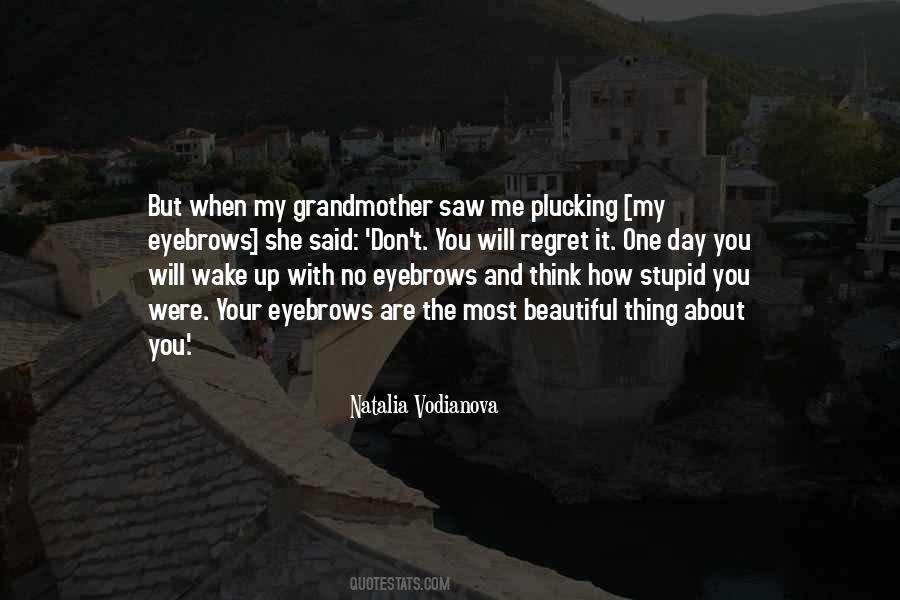 #21. I don't think ministering requires a religious context. The number one thing is that every parent is extremely worried about their kid. Of course, when a chaplain shows up, that can exacerbate this worry rather than calm it. - Author: John Green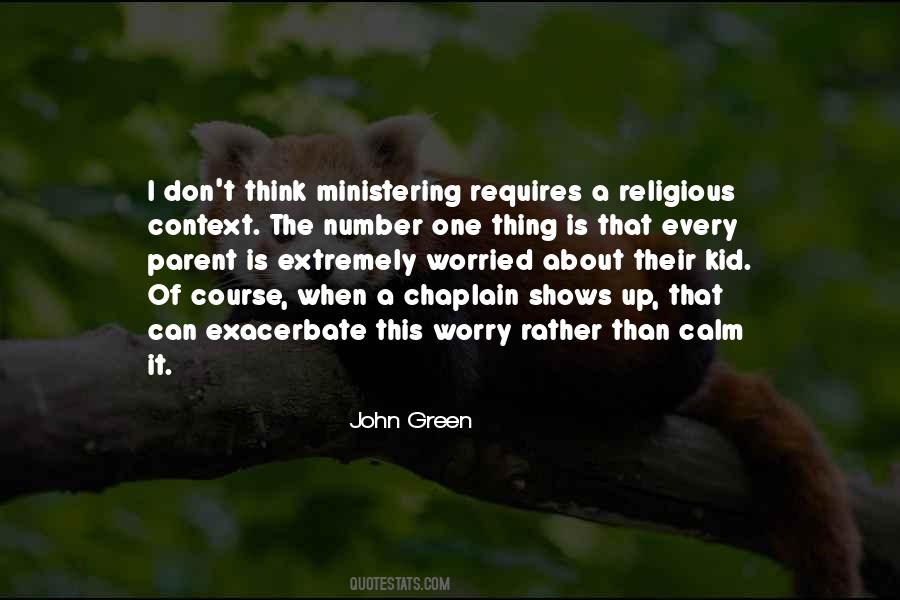 #22. I don't know what I'm doing in the next five minutes and she has the next ten years figured out. I'll worry about making it out of ninth grade alive. Then I'll think about a career path. - Author: Laurie Halse Anderson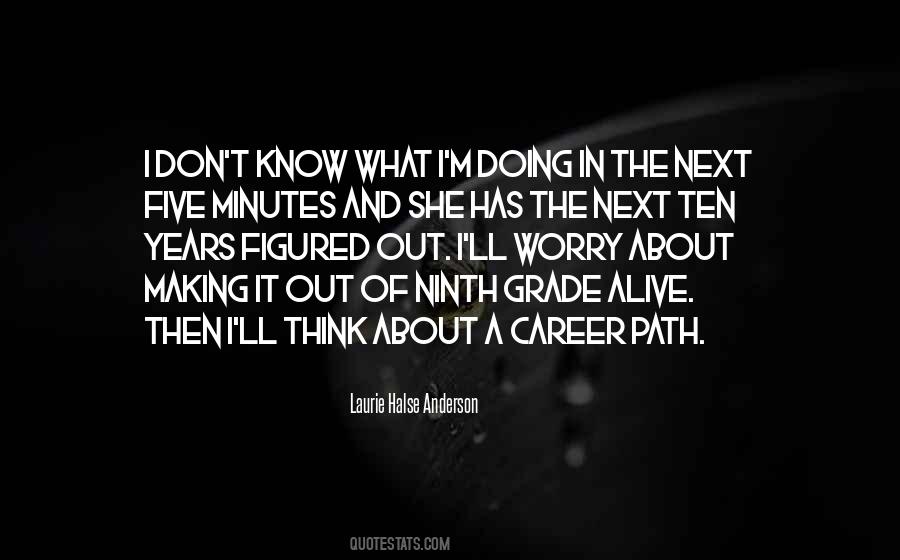 #23. I never talk about my opponent because I don't think it's my right to judge. - Author: Dan Webster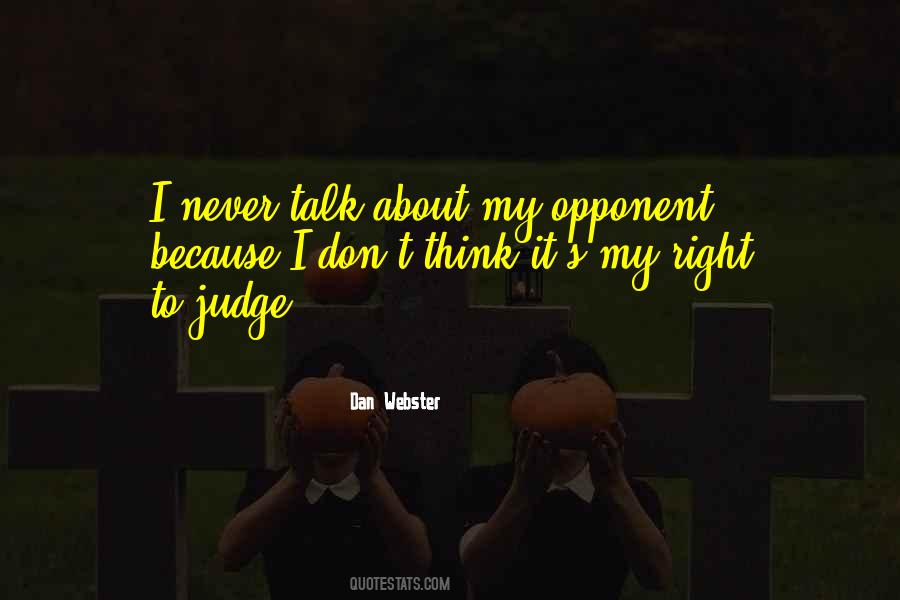 #24. I can't even think about what life "could
have been" like in Boston, without crying. It's like deja-vu, I don't think me
and Boston were ever meant to be. - Author: Cecelia Ahern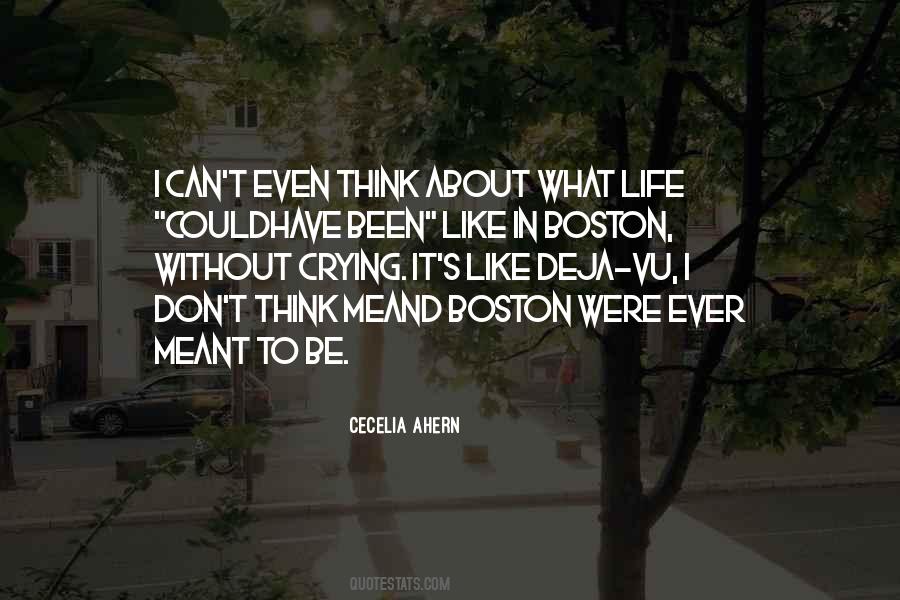 #25. Somehow, when you think about yourself in old age, you think you're going to be this completely different person that you don't even recognize - because you can't imagine it, you know? - Author: Emmylou Harris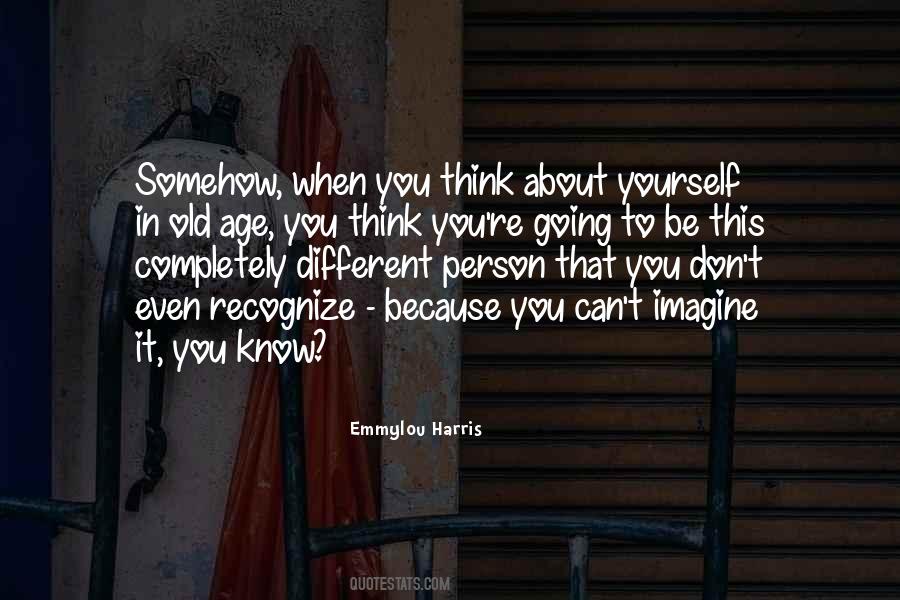 #26. I think some people just don't know that much about comedy. It would be like a person who didn't know anything about football thinking all offensive linemen are the same. - Author: Anthony Jeselnik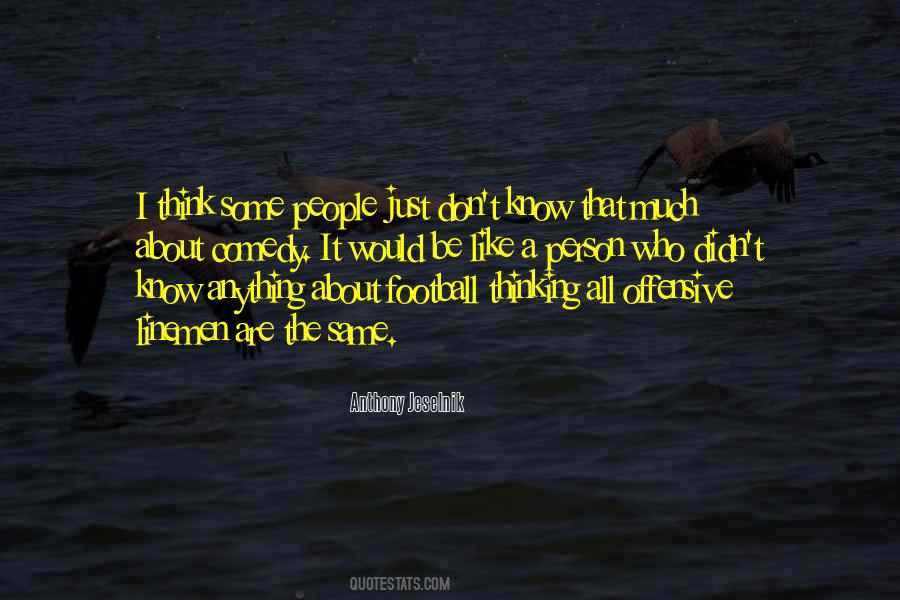 #27. I had a thought, on the way home from the rock field, that the things we don't know about a person are the things that make them human, and it made me feel sad to think that, but sad in that reassuring way that some sadness has, a sadness that says welcome home in twelve different languages. - Author: Miriam Toews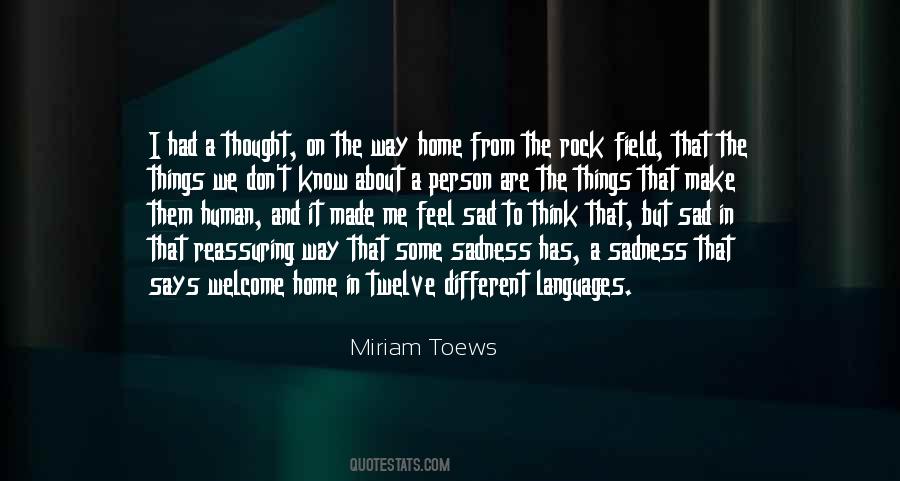 #28. It's hard for me to talk to her. All I can do when I look at her is think about the day when I won't be able to. So I spend all my time at school thinking about her, wishing I could see her right then, but when I get to her house, I don't know what to say. - Author: Nicholas Sparks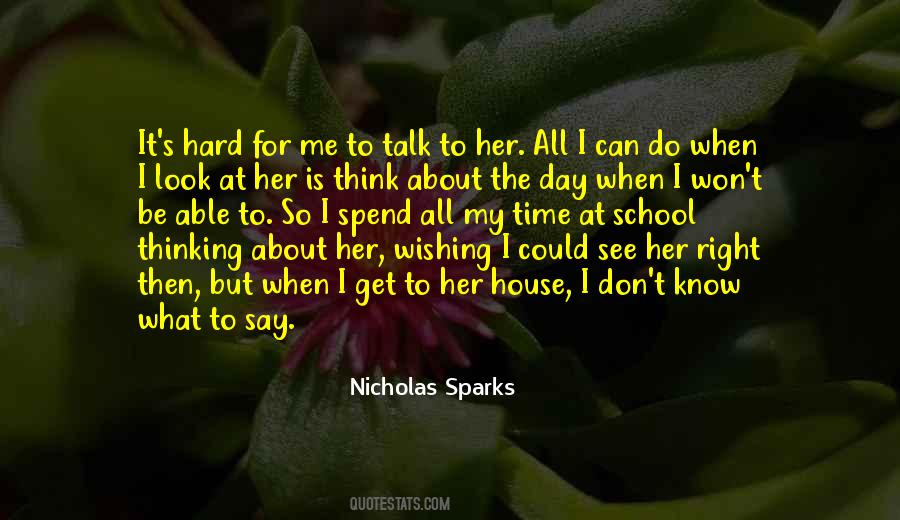 #29. I don't know that any woman could ever not think about that at some point - even making the choice not to do it and getting to the place of peace of choosing not to be a parent, there would have still been some struggle in between. I'm not a man but I don't think it would occupy their minds as much. - Author: Naomi Watts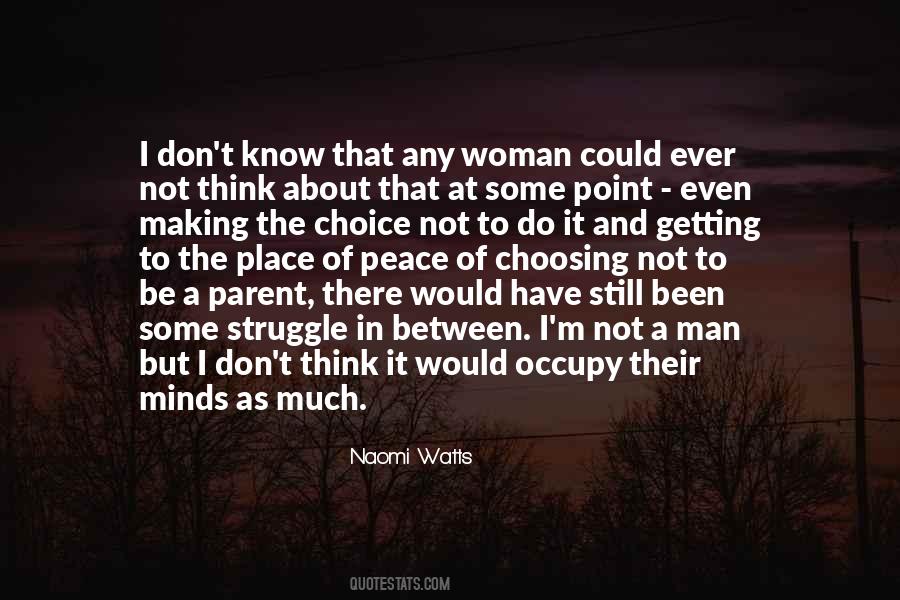 #30. I don't think conservativism is about a deficiency. I think it's about a commitment to an ideology that has to in some ways devalue the usefulness of empathy. I do think empathy can be learned. And enhanced. - Author: Jim Shepard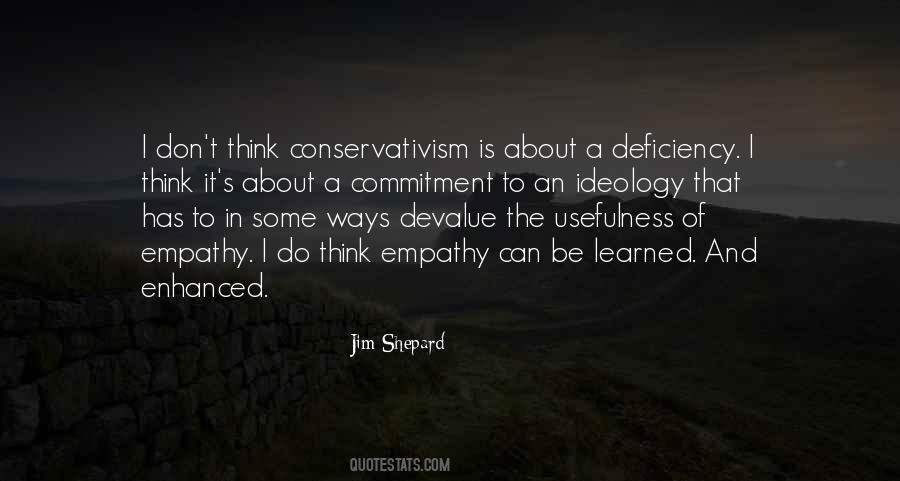 #31. I've never had a chance to go to the Finals, and I don't have a ring - and that would be the only thing that would get me to think about it. - Author: Antonio Davis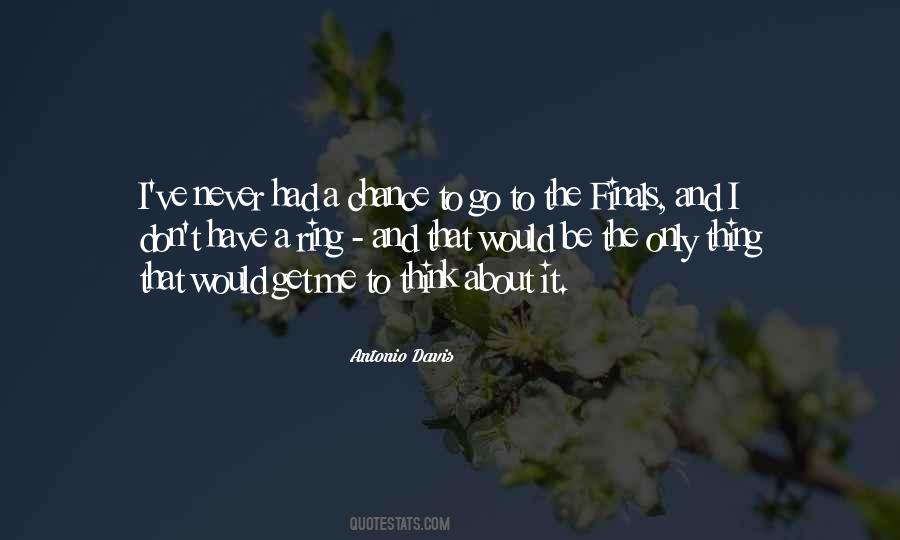 #32. I gained, I think, 65 pounds when I was pregnant. And I will say to moms out there, 'Don't stress about losing it. It will happen when it happens.' - Author: Vanessa Lachey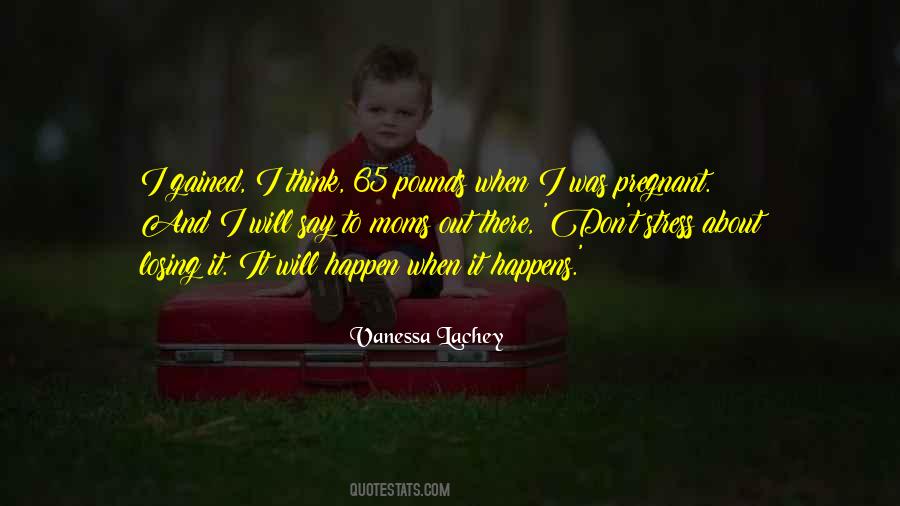 #33. I tell myself that I know you,
and then when I think about it, I realize that I don't. - Author: Nicholas Sparks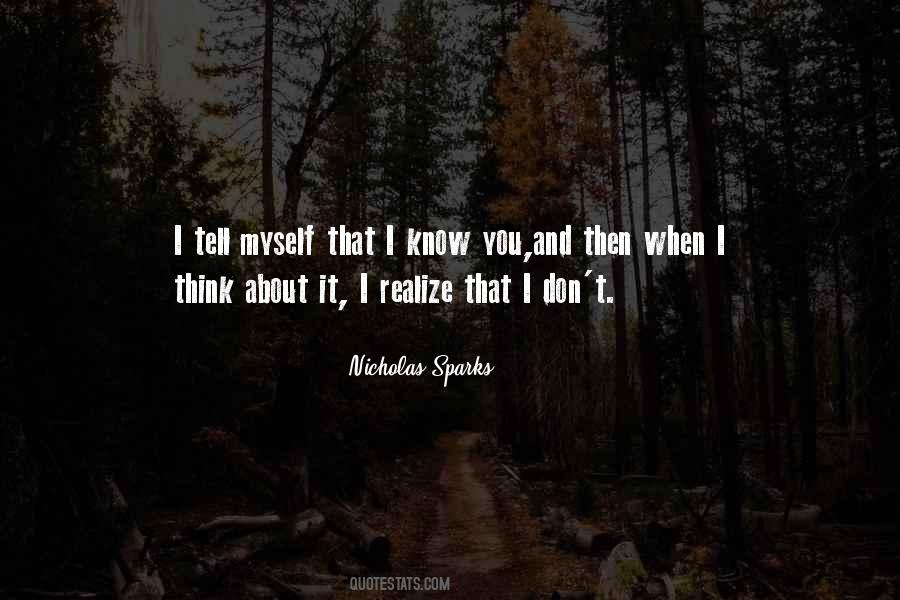 #34. Bad writers don't practice, Stella. It's the good ones who care enough to try, who worry about getting the words just right. You are probably better than you think -Papa - Author: Sharon M. Draper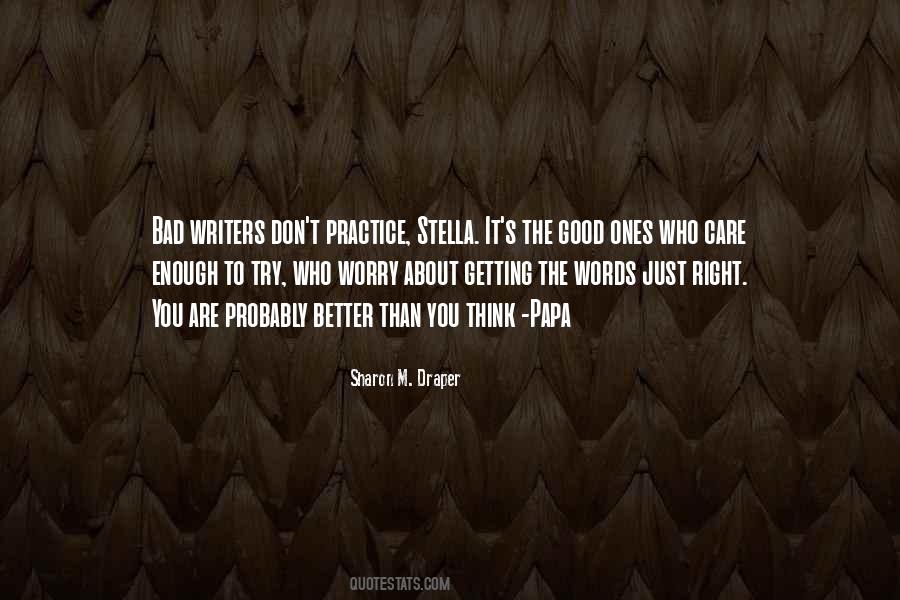 #35. For me, I never take a job thinking it's going to grab ratings or that it's even going to be a success. I don't. I just take the job because I love the character. Or I love the script. Maybe I love the director. But whatever I do, I never think about how it will do. That is not in my hands. - Author: Kate Del Castillo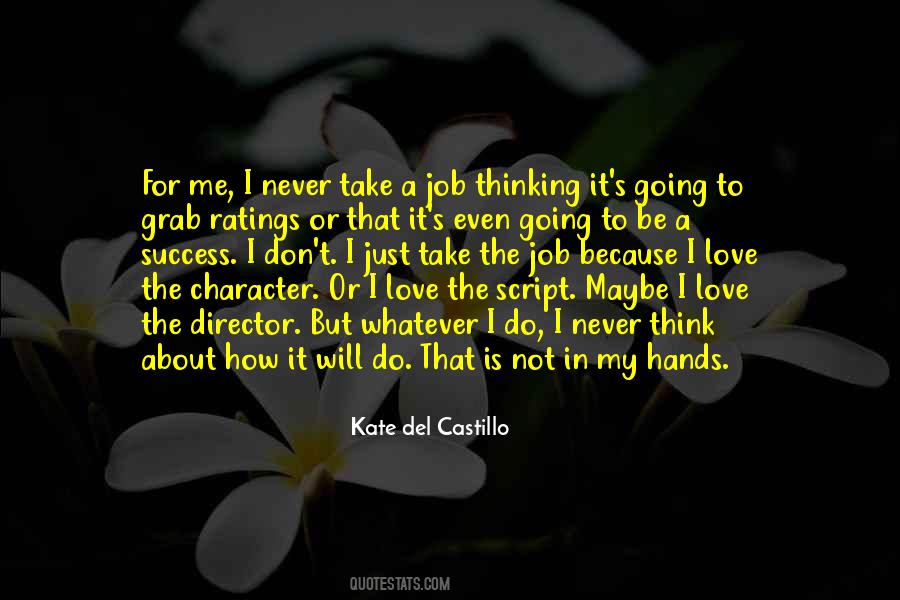 #36. Don't think about what you could have done, concentrate on what you plan to do; it is more useful. - Author: Brian Jacques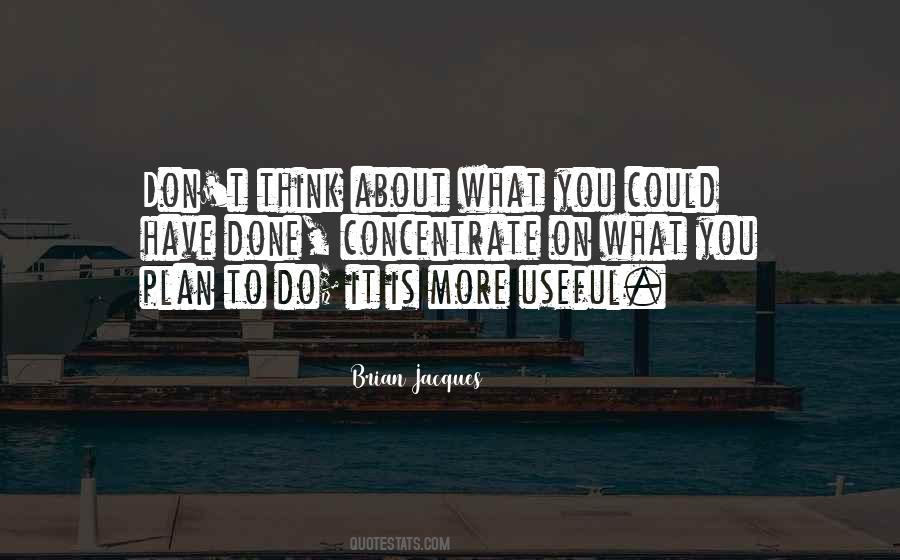 #37. Much has been made about the death of the novel and the end of literature as it's seen to be assailed by technology, by the web, by the many and varied new forms of entertainment and culture. I don't share that pessimism because I think it is one of the great inventions of the human spirit. - Author: Richard Flanagan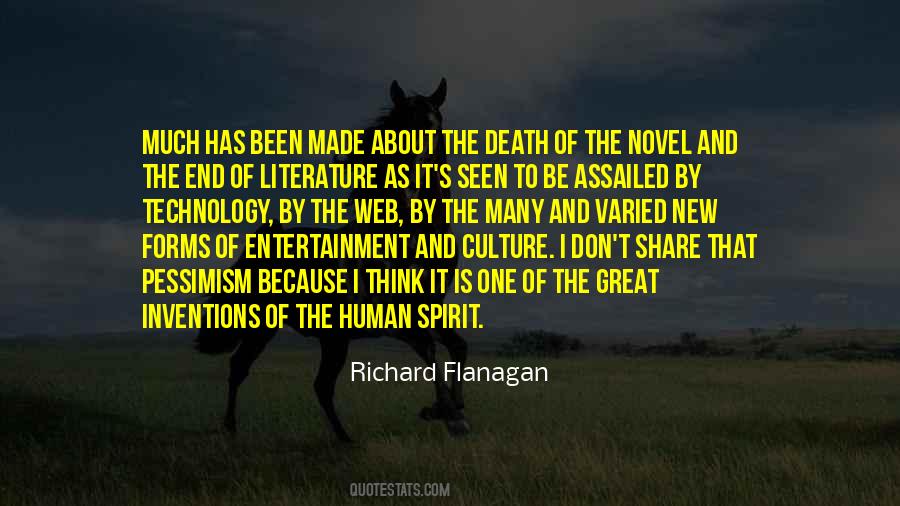 #38. All I'm saying, Isaiah, is I want you to to think about it. You don't owe her anything." "Yes, I do. We all owe her. Me especially. It's more difficult to distinguish the good from the bad every day- and she needs people that she can trust. Because the world is full of people she can't. - Author: Nathan Edmondson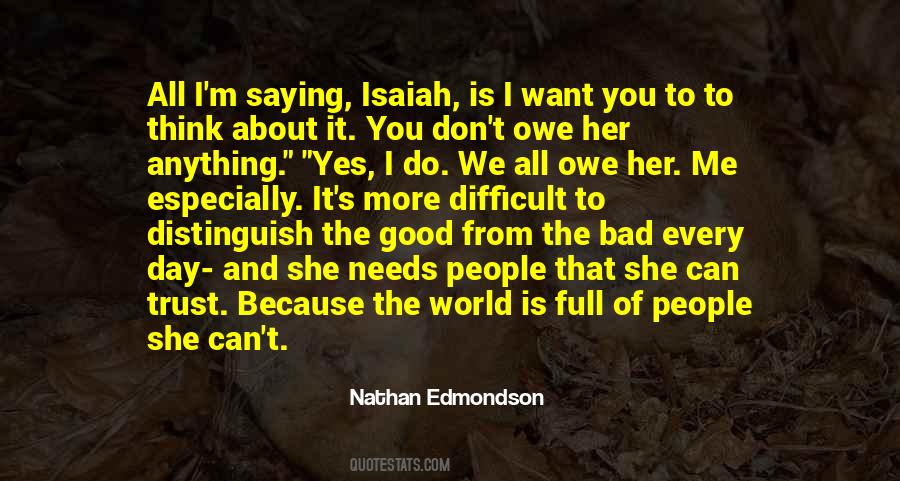 #39. Eating smart is all about having an awareness of your body. The most obvious way to do that is by seeing it. So when you're trying to lose weight, spend more time wearing less. I don't think I could eat a plate of nachos naked - could you? - Author: Marisa Miller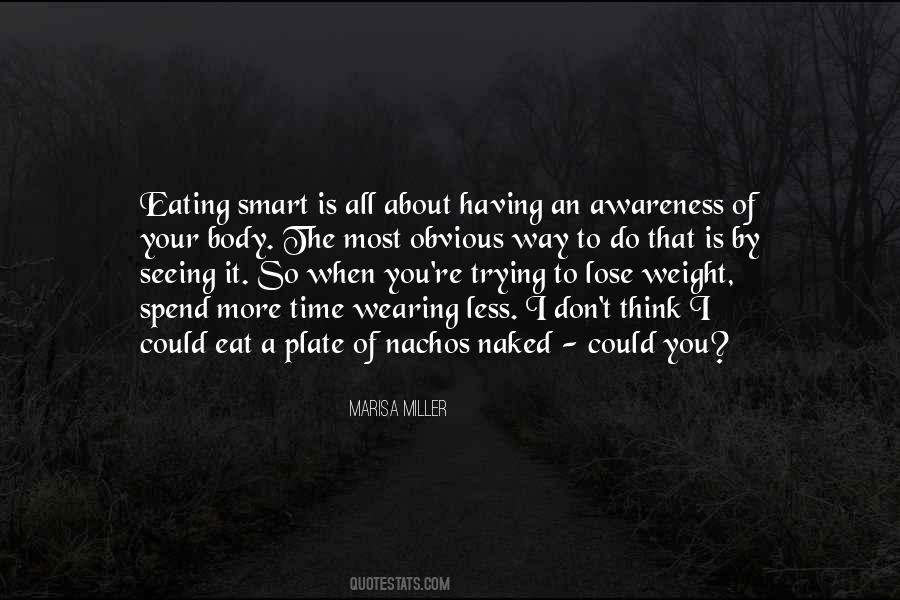 #40. If you ever get in real trouble, don't panic. Sit down and think about it. Remember two things, always. There must be some way out of it and there must be humor in it somewhere. - Author: Louise Fitzhugh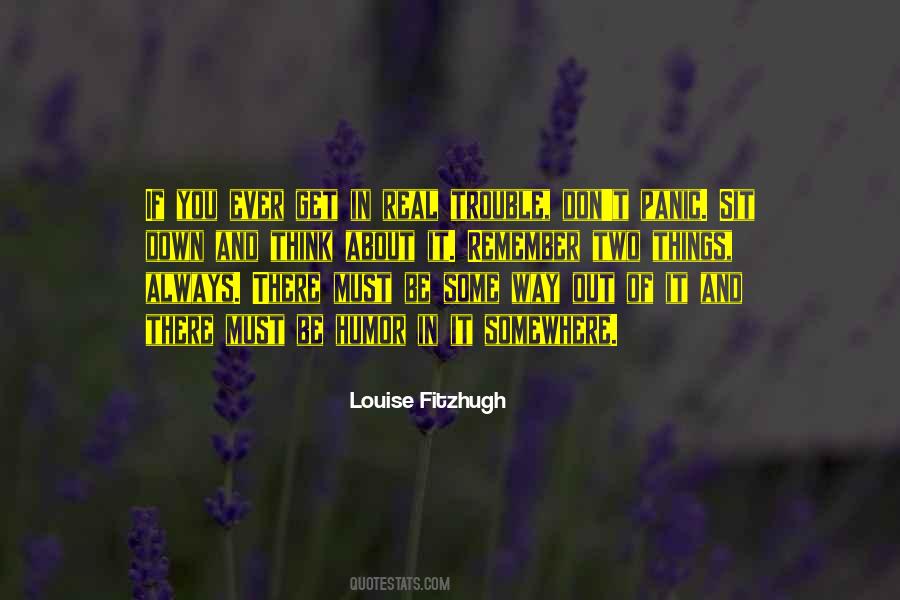 #41. I don't believe in landing on one genre. That's too limiting. I don't think about that when I'm writing and recording. I just make what I feel should happen. Genres almost feel like something that's more for the listener; a need to organize it in categories. - Author: Brooke Waggoner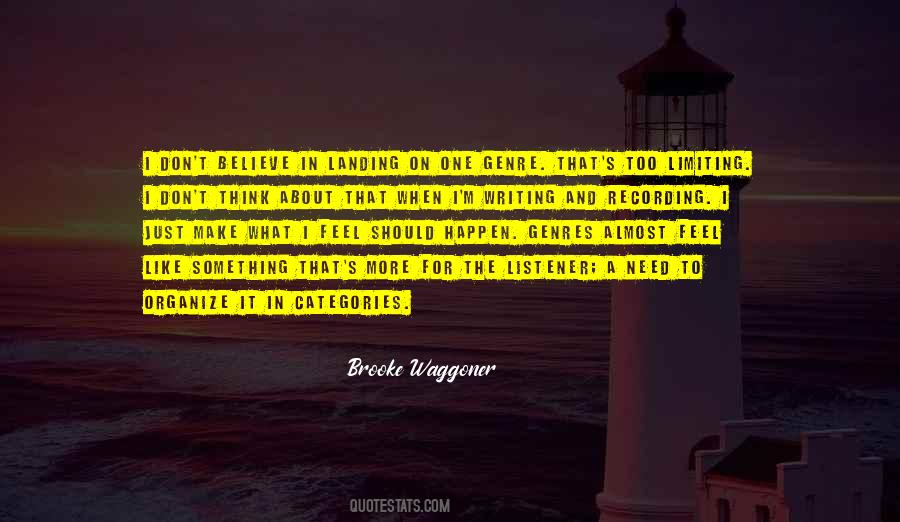 #42. I think people think celebrities get babies really easily, like Angelina Jolie, but they don't hear about the ones who aren't successful because we don't like talking about it, it's too painful. - Author: Alex Kingston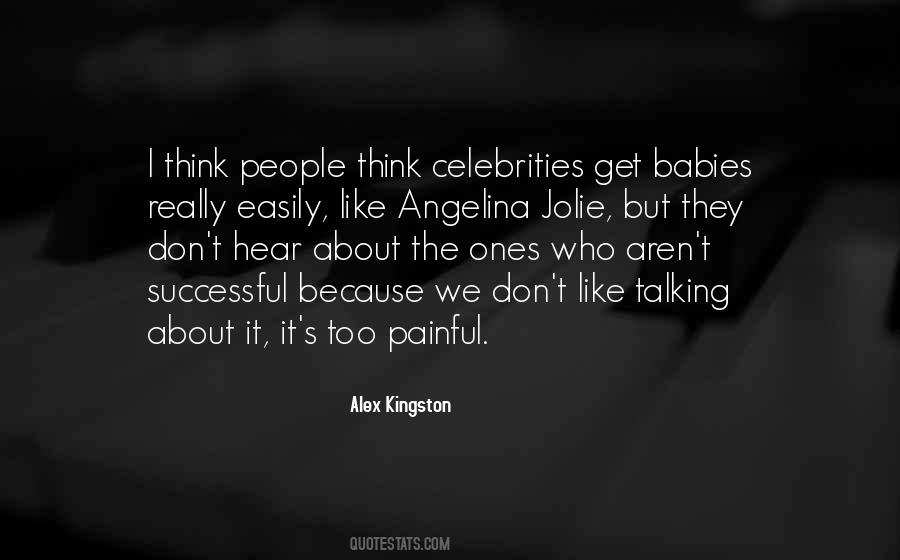 #43. Personally, I felt terrible for telling Truth my name was Schnitzeldoodle. I still think about it. Sometimes I just have to rock myself back and forth and say, You've offended so many people at this point. Don't try to keep track now, girl. - Author: Chelsea Handler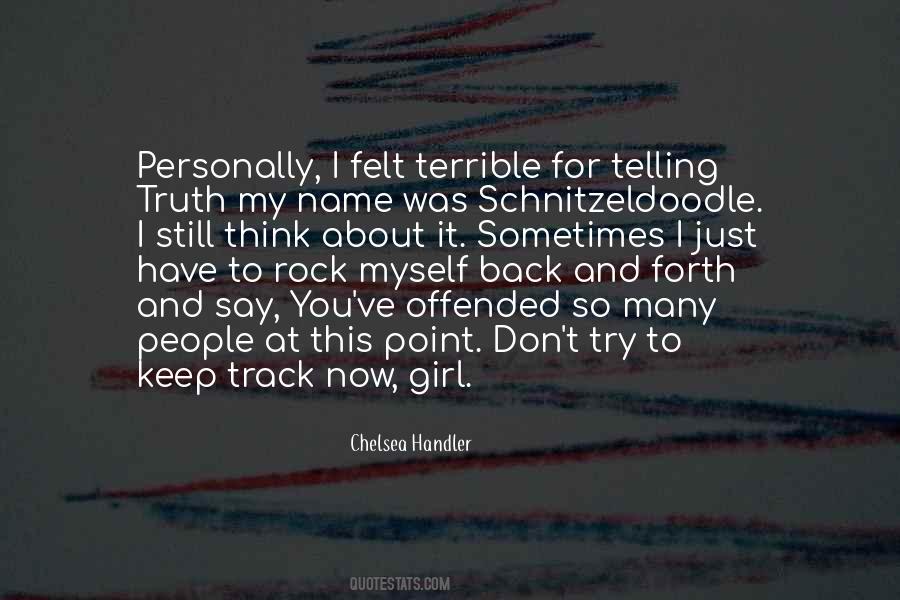 #44. I think the hardest thing about being an actor is between jobs when you don't know and wondering if you'll ever work again. It's kind of a crazy business. - Author: Michael Vartan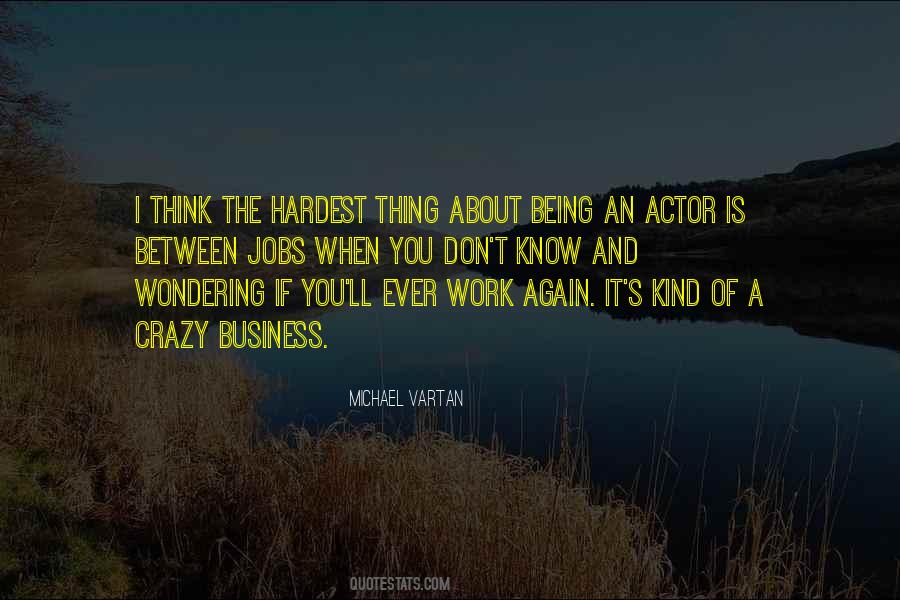 #45. You spend so much time wondering who you are, don't you think? You flounder about, searching for your identity, when most of the time it is plain as the nose on your face. You struggle with questions of purpose and need, and forget that the answers are found mostly inside yourselves. - Author: Terry Brooks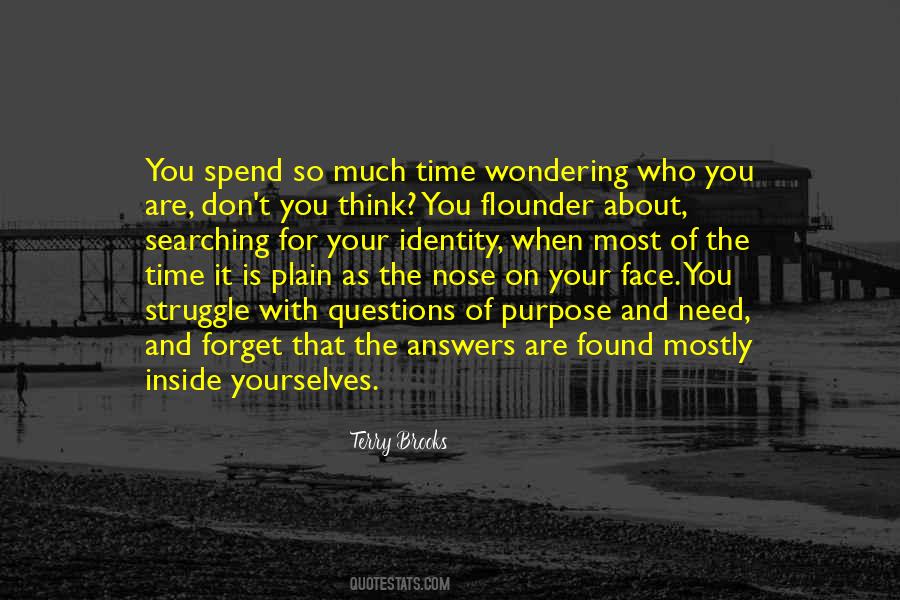 #46. I wake up every day and look at my own ugly mug in the mirror and don't think twice about it. The fact that other people might want to look at me still feels funny. It's flattering, but funny. - Author: Luke Bracey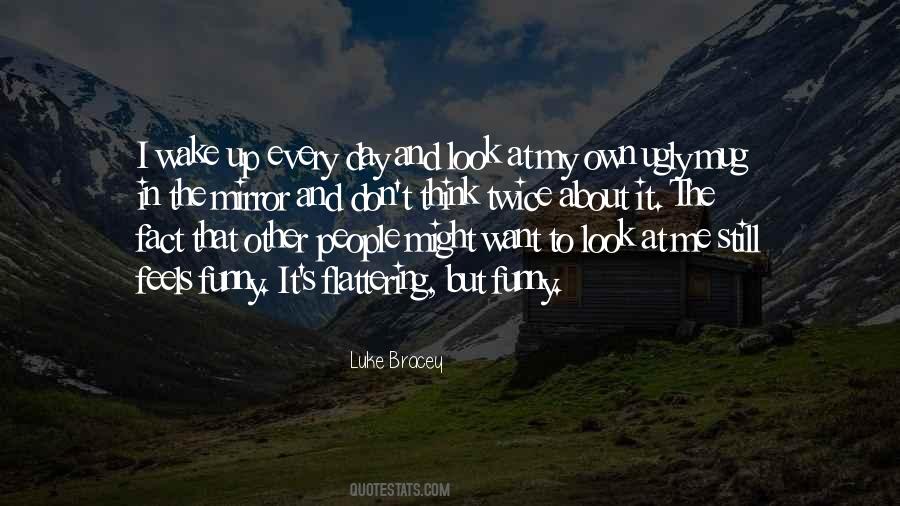 #47. I don't want to be overly dramatic about it, but I think people more and more wonder, is this living, or are we just going through the motions? What's happening? Is everything being leached out of life? Is the whole texture and values and everything kind of draining away? - Author: John Zerzan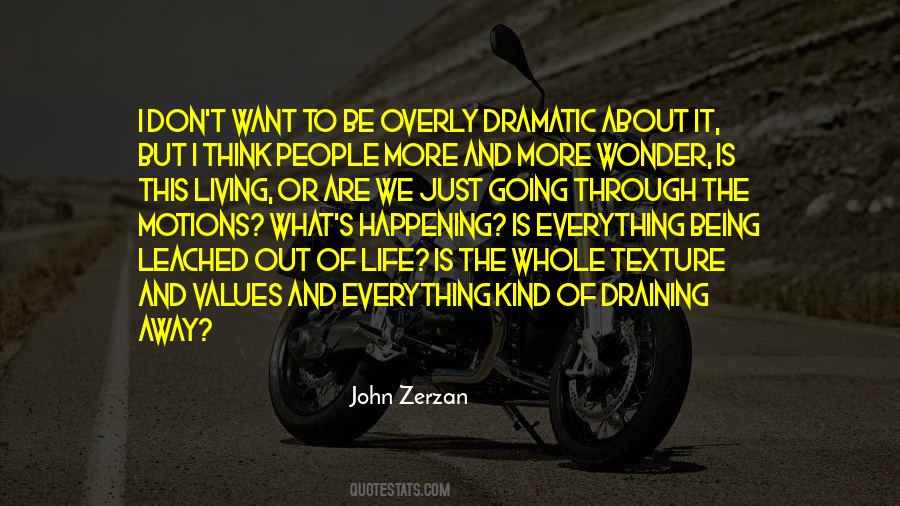 #48. That's actually one of the most disappointing things about doing user interviews and user feedback, which is why I think ... people don't do it. You're going to get negative news about your favorite pet feature most of the time. - Author: Emmett Shear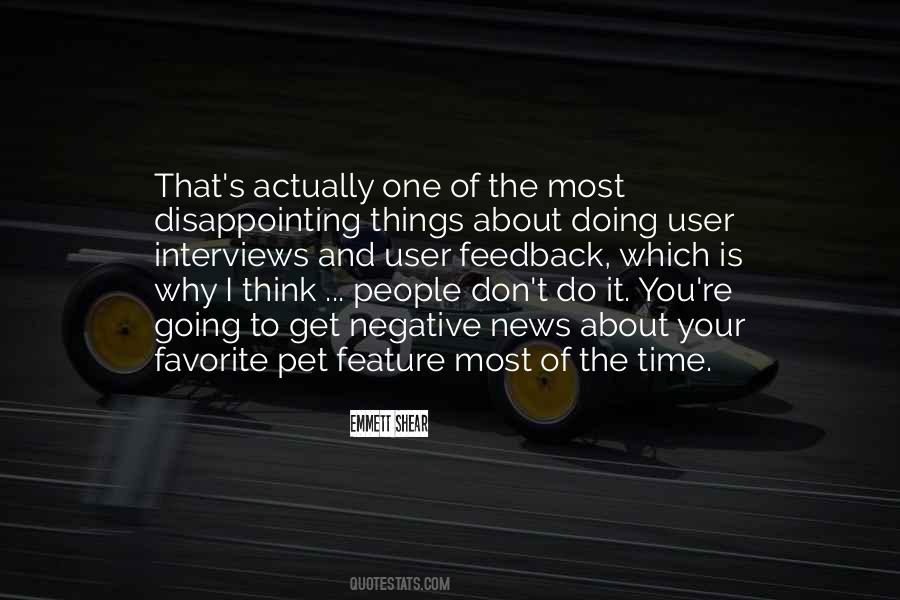 #49. I think a lot of what I've done is about people feeling as if they are part of the world but also not part of it at the same time. I don't know whether that's from being a gay kid, but I definitely think that resonates with me. - Author: Greg Berlanti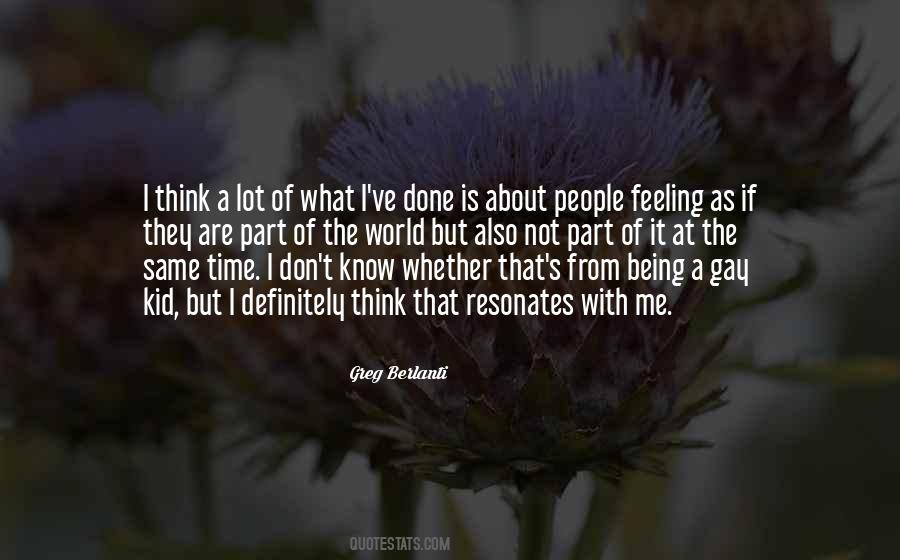 #50. Until you've had depression I don't think you're qualified to talk about it. - Author: Geoffrey Boycott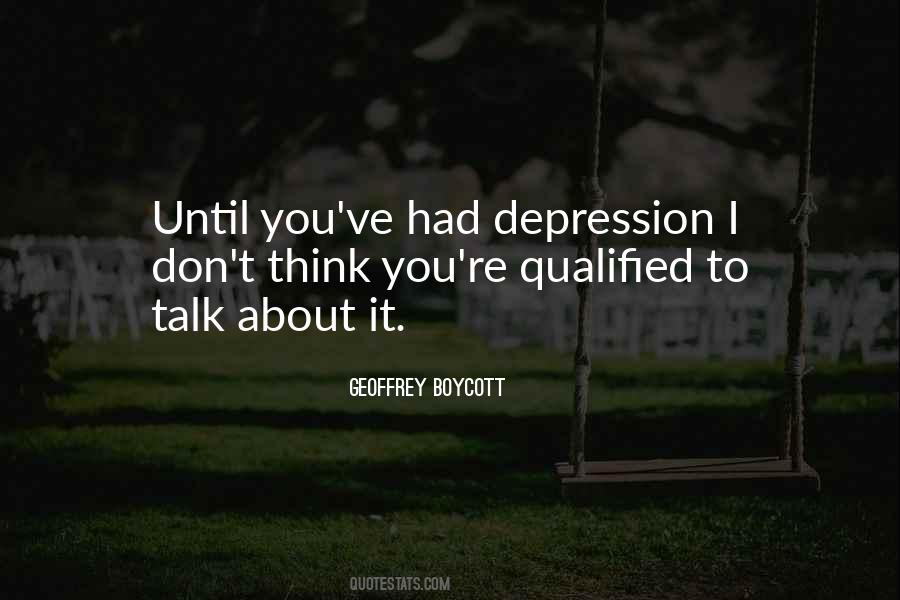 #51. I don't think it's about who you play, I think it's about who you are. - Author: Nick Saban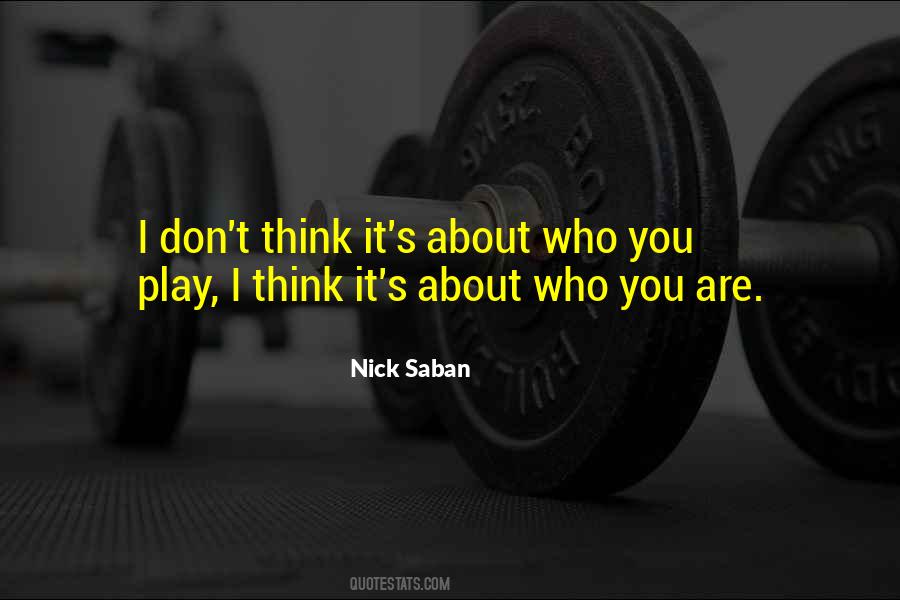 #52. She was so intelligent that she could think herself into beauty. Intelligence ... they don't talk about it much, the poets, but when a woman is intelligent and passionate and good ... - Author: Eva Ibbotson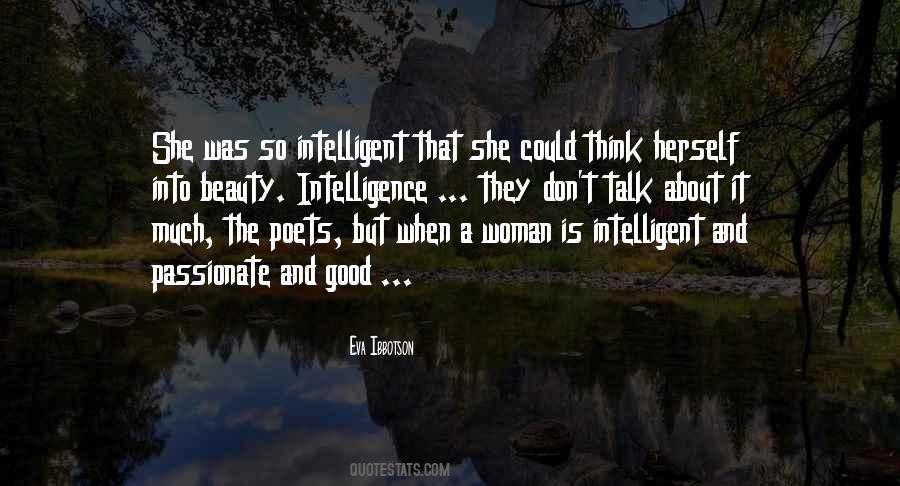 #53. Don't worry about what others think of you. It doesn't matter as long as you have your own Convictions and are proud of what you do.-RVM - Author: R.v.m.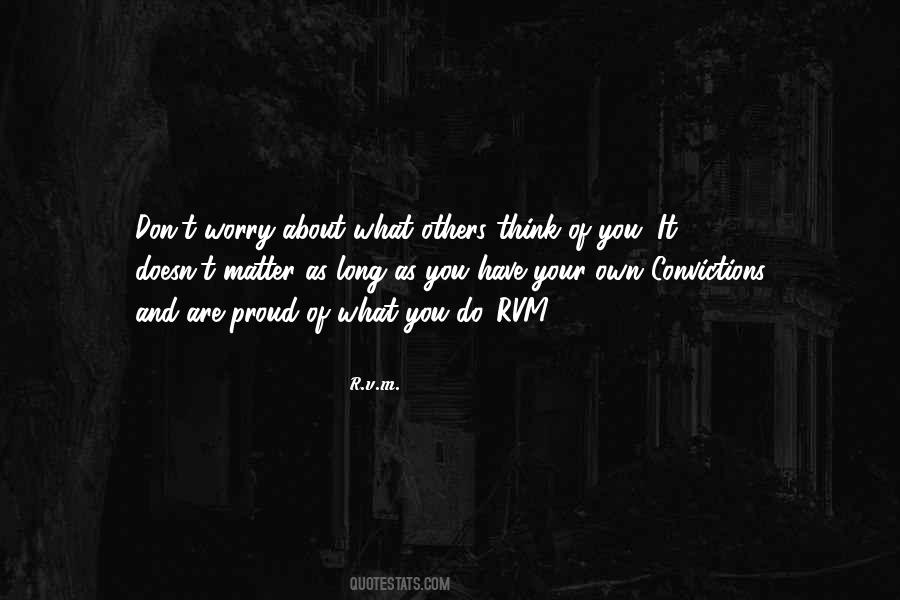 #54. I could go away five or six weeks in a row and never touch a club. I would just look at them and say, 'I just don't want to; it's not that important.' And it wasn't that important. Golf - I don't want to answer loosely - I pay a lot of attention to it, but I don't ever really think about it. - Author: Fred Couples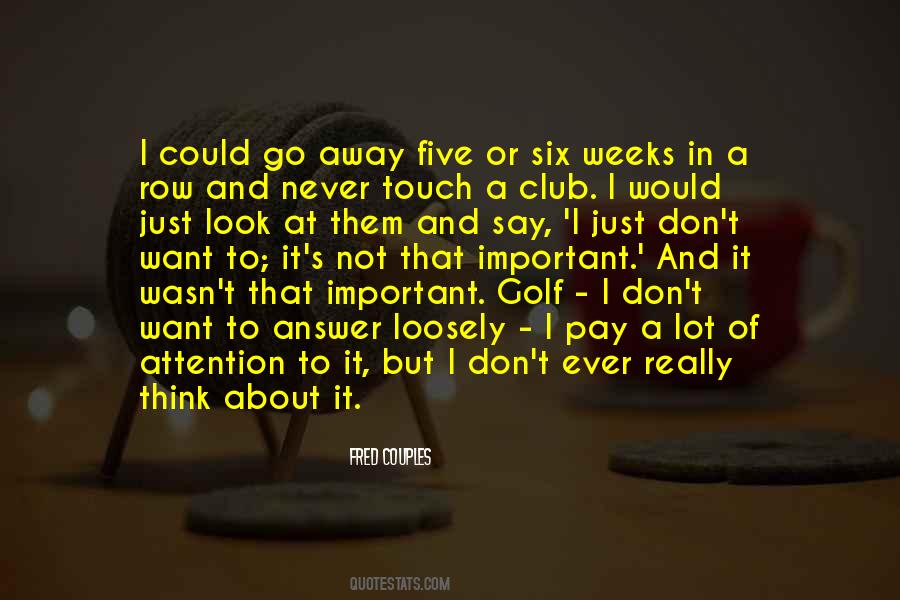 #55. It is not enough that we express our gratitude, we must experience it. We truly honor the must think about our blessings, separately and cumulatively It is not enough to count our blessings and express our gratitude if we don't truly feel grateful. - Author: Michael Josephson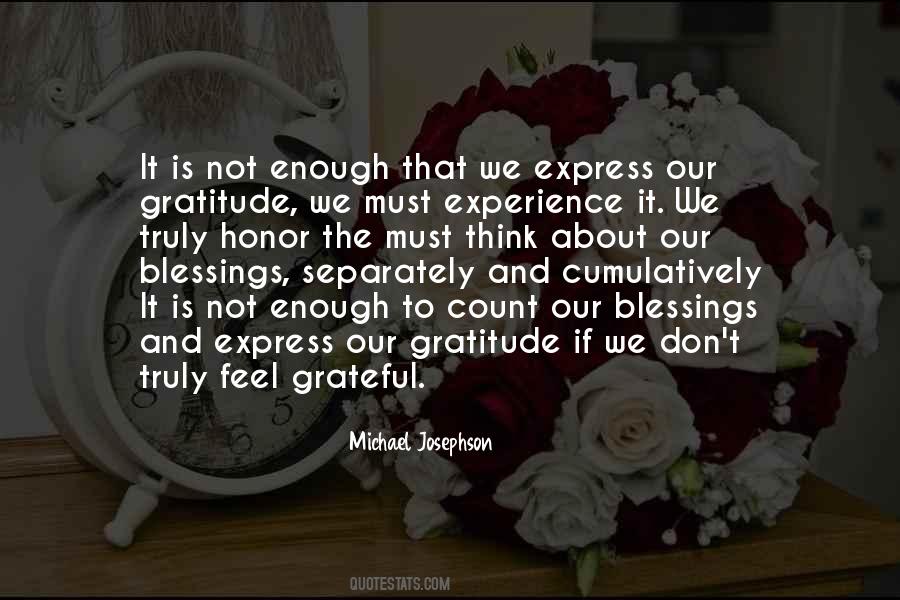 #56. Do I need men? I don't think it's about needing men. It's about love. - Author: Reese Witherspoon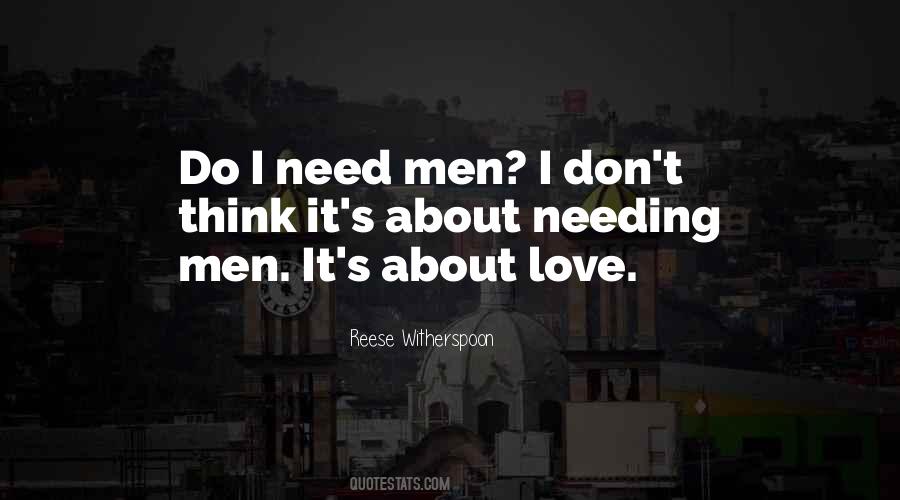 #57. Don't for a minute think that God has forgotten about you or doesn't have your back. And don't base God's love or desire to help you on your opinion of yourself. Base it on who God says He is. - Author: Susan May Warren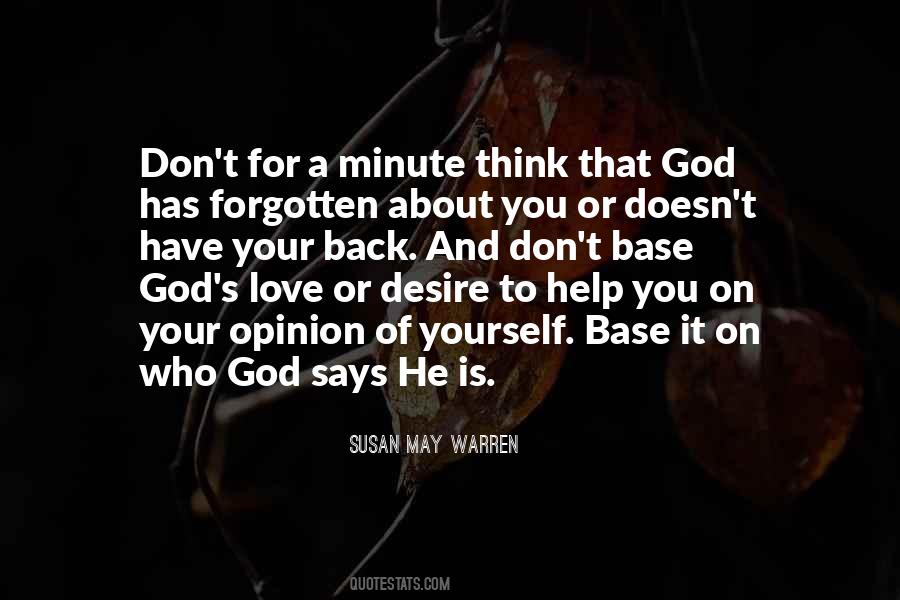 #58. I don't know if I'm embarrassed because I think it's a funny show, but I could imagine there being a snootiness about it, but I do find 'The Big Bang Theory' very funny. I think that's a good show. I think it's fun, I like the actors; I think they're all doing a great job. - Author: Stephen Merchant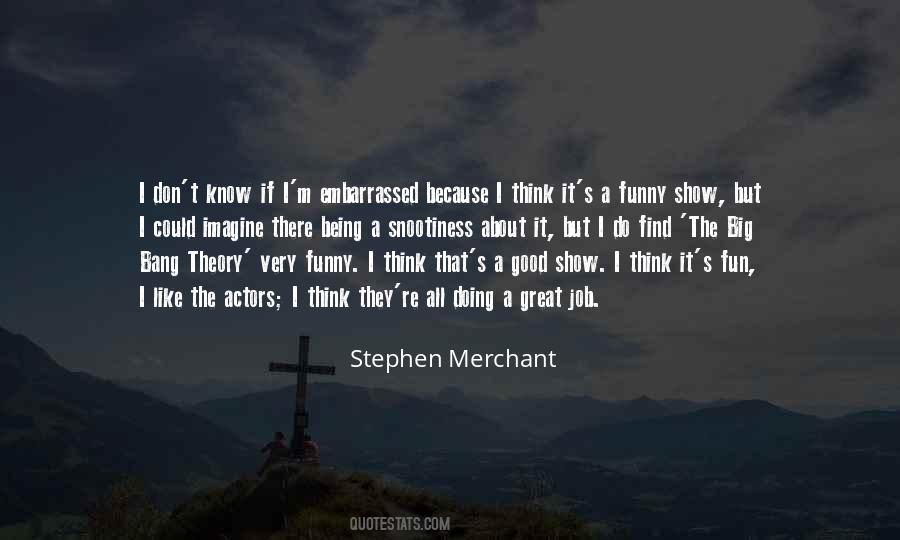 #59. We writers don't really think about whether what we write is good or not. It's too much to worry about. We just put the words down, trying to get them right, operating by some inner sense of pitch and proportion, and from time to time, we stick the stuff in an envelope and ship it to an editor. - Author: Garrison Keillor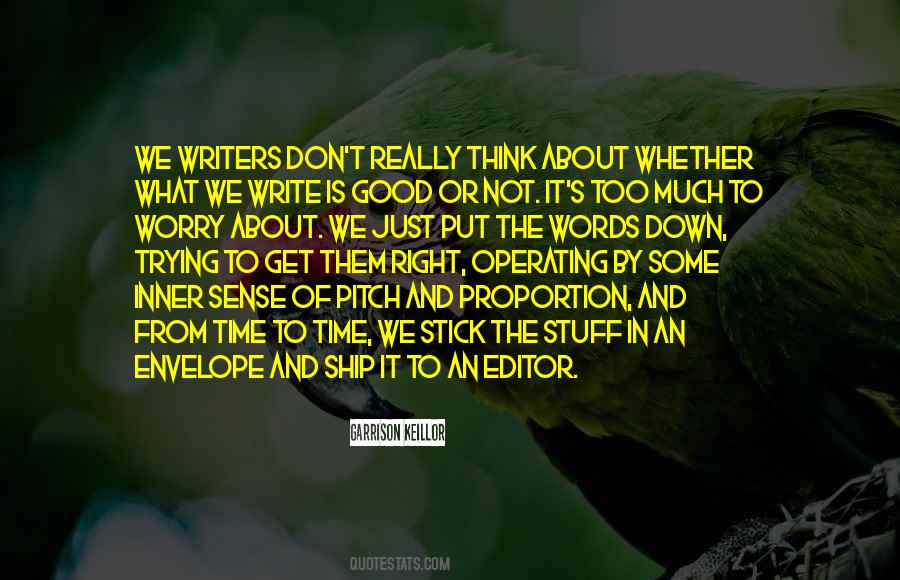 #60. People roll their eyes and say, "Oh god, he's not rich or famous." I say it's relative. I mean, look at me: I'm 115 pounds and I grew up without money. To me, I'm rich because I don't have to worry about paying rent. I don't think about money now. - Author: Bradford Cox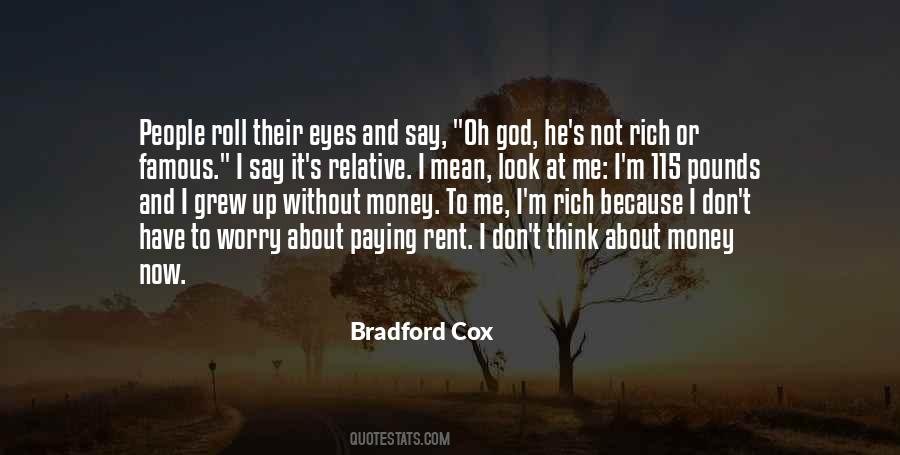 #61. I don't need to be liked, but I need to be vital - on set or on stage - and I think that probably would be my advice: Stay vital. It's about saying 'no' and asking the tough questions and believing in yourself when no one else will, but you have to know the rules to break them. - Author: Logan Marshall-Green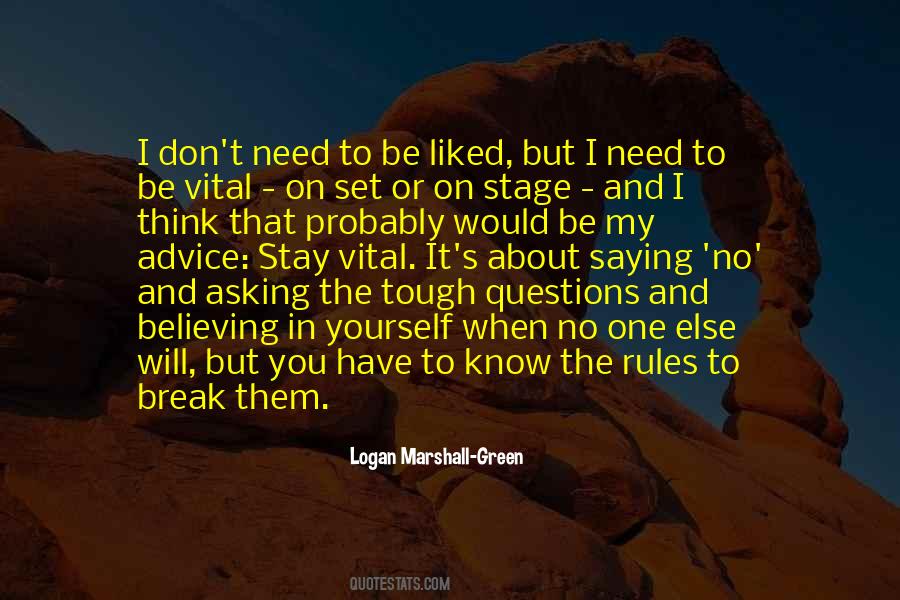 #62. The fear of old age is something that one feels when they're younger. Once you get to being old, you're already there, so you don't even think about it anymore. - Author: Paolo Sorrentino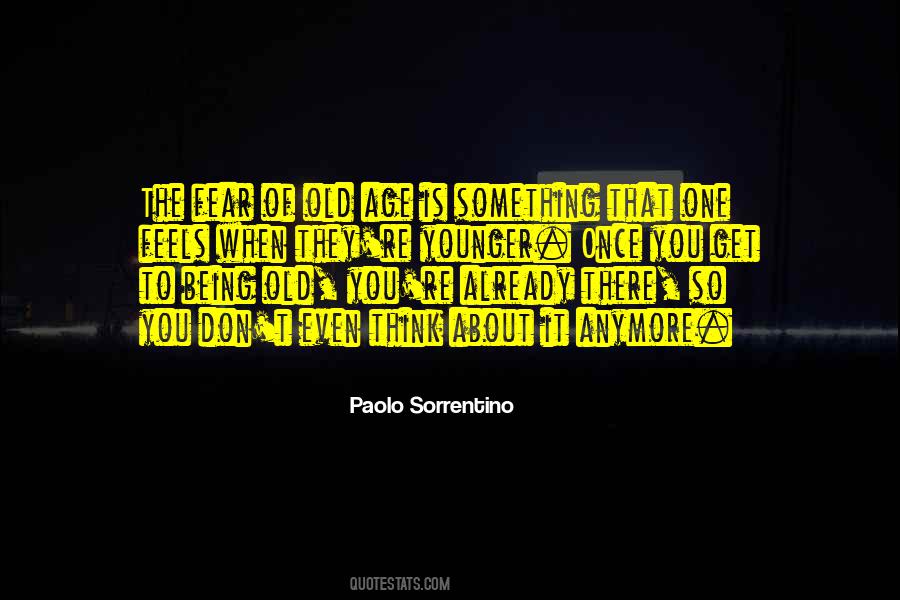 #63. I think about how no one in the car would come out and say it. We all know about these laws, we live here, but we don't talk about them. This is the first time I've ever seen them written down. - Author: Kathryn Stockett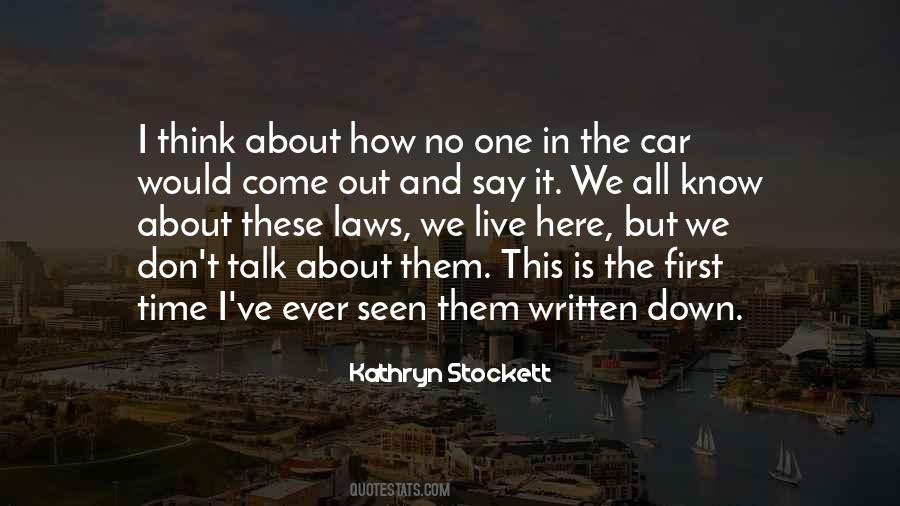 #64. Granted, prostate exams aren't the most enjoyable things in the world, but they only last about 10 seconds. It's well worth it. Just think of the possible consequences if you don't get it done. - Author: Len Dawson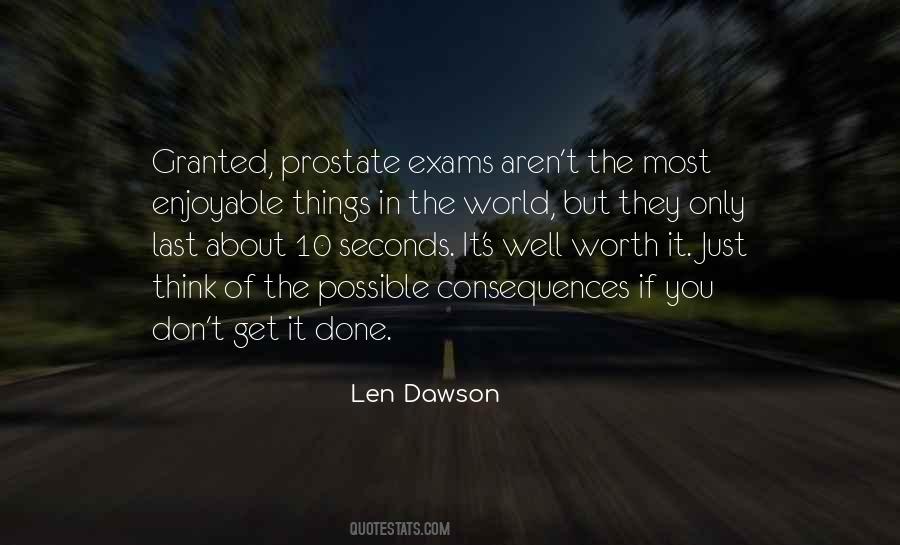 #65. When I race, I don't think about it; it just happens. - Author: Michael Phelps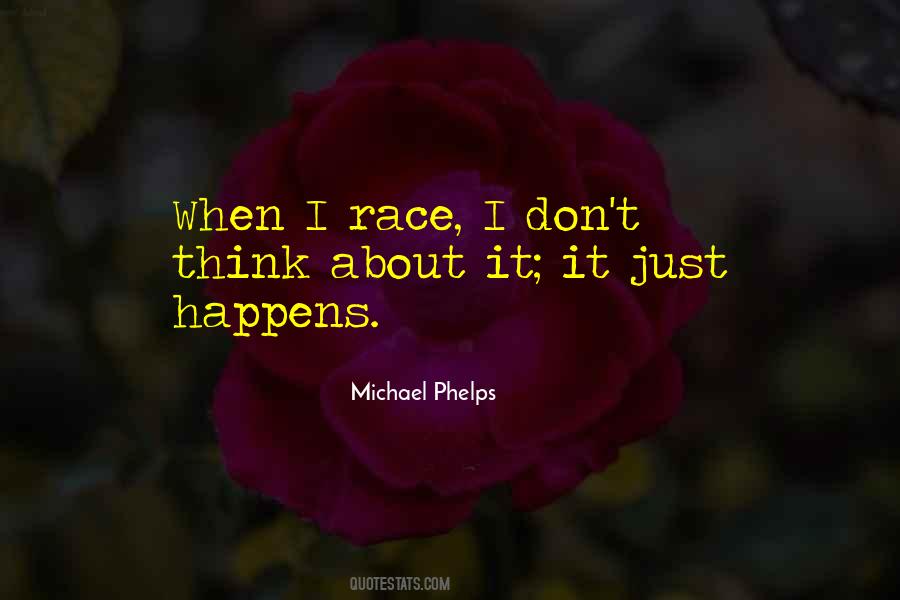 #66. I don't know. It depends on the day. Depends on the hour of the day ... I don't really know if I really want to do that. I think I do and then I think I don't. It makes me really nervous to think about really doing it. - Author: Elizabeth Berg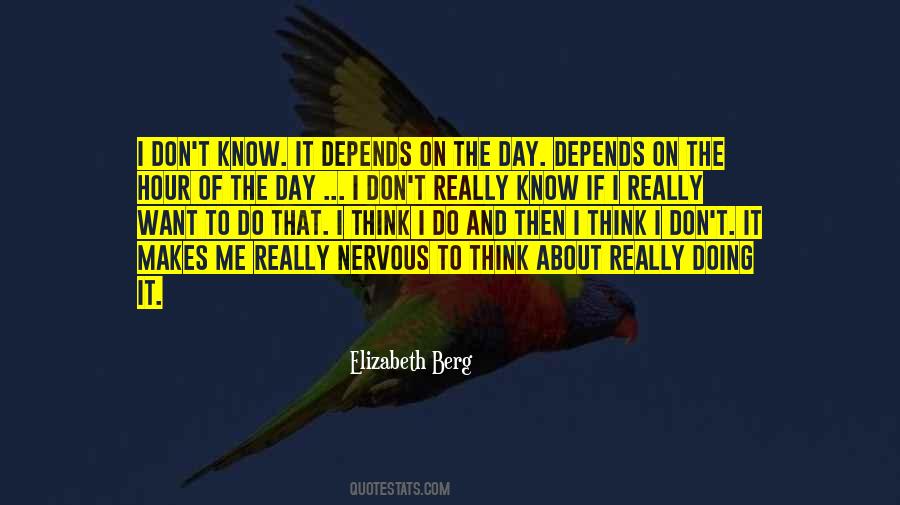 #67. If you talk about race, it does not make you a racist. If you see distinctions between the genders, it does not make you a sexist. If you think critically about a denomination, it does not make you anti-religion. If you accept but don't celebrate homosexuality, it does not make you a homophobe. - Author: Charlton Heston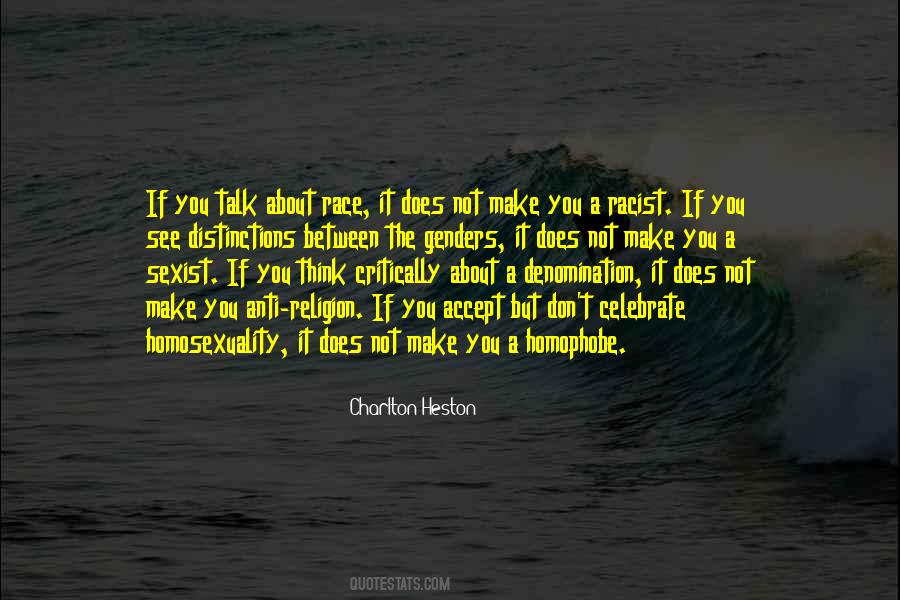 #68. I never put too much pressure on myself when I'm the central thing, just because I don't think I could handle it mentally. I haven't really thought about the implications of carrying a movie. It still has to be just a fun, weird thing. - Author: Will Ferrell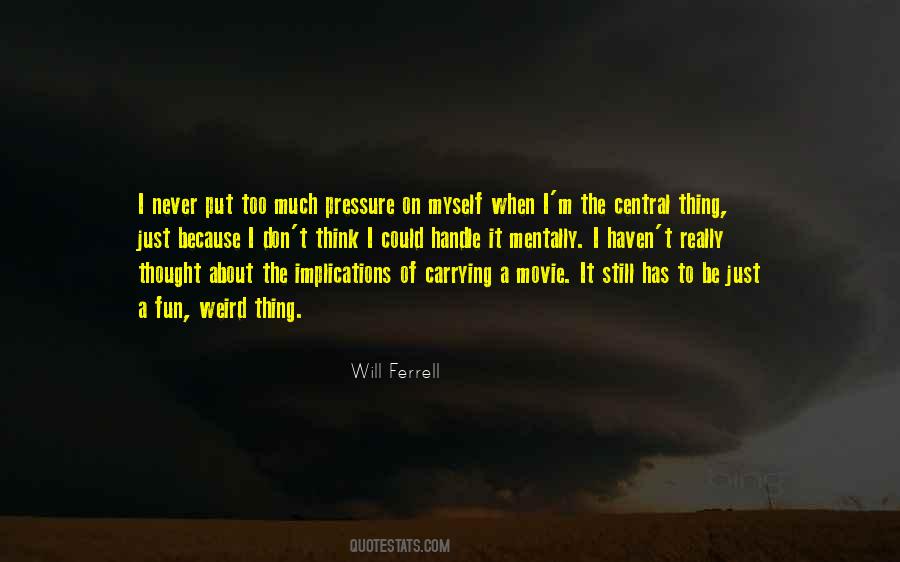 #69. I don't think people like to read about themselves or about others as they really are. It would be too horrifying. - Author: James Jones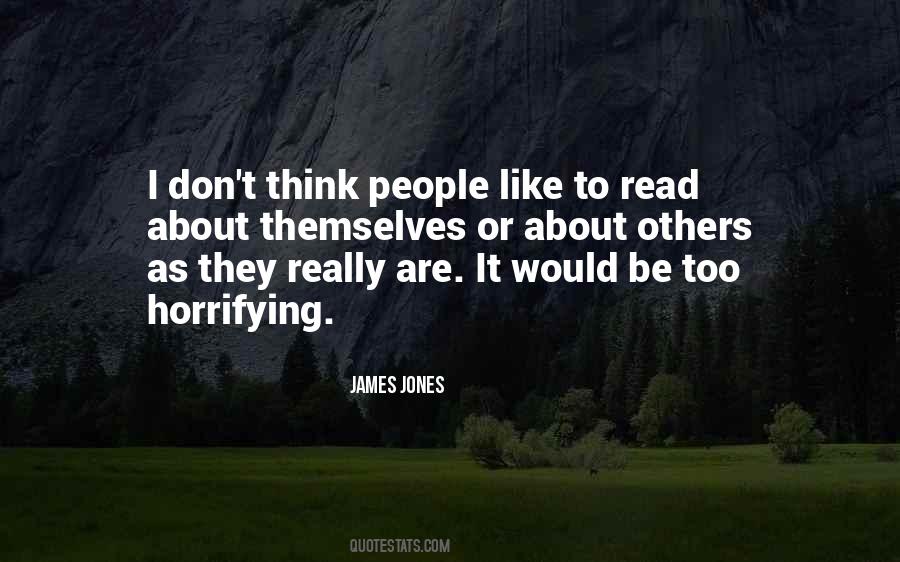 #70. I think when people see photos of you out and about in your personal life, they assume that you've asked for it or that you want that attention, but I don't think anyone in their right mind asks for that kind of thing. - Author: Liam Hemsworth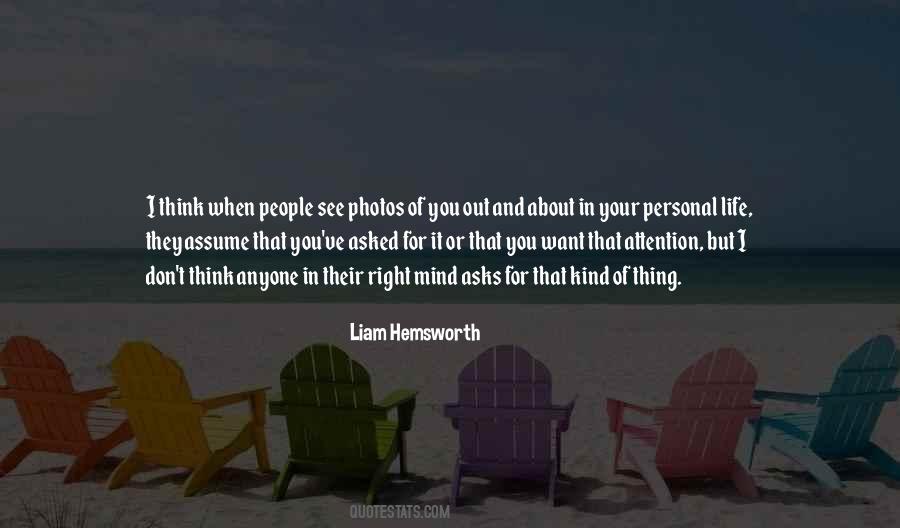 #71. Everybody now seems to be talking about democracy. I don't understand this. As I think of it, democracy isn't like a Sunday suit to be brought out and worn only for parades. It's the kind of a life a decent man leads, it's something to live for and to die for. - Author: Dalton Trumbo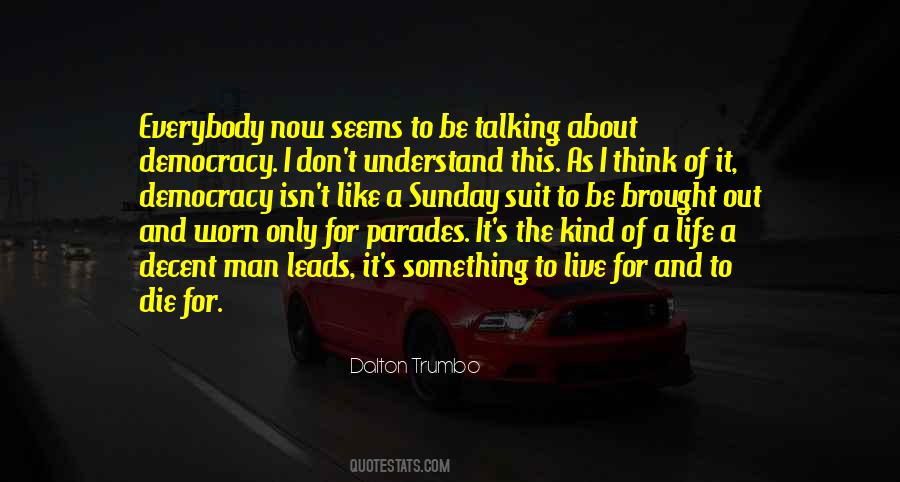 #72. I've written things about that, about how life's really big decisions aren't right or wrong, it's just that one lives different lives. No, I don't think your life went wrong. - Author: Bernhard Schlink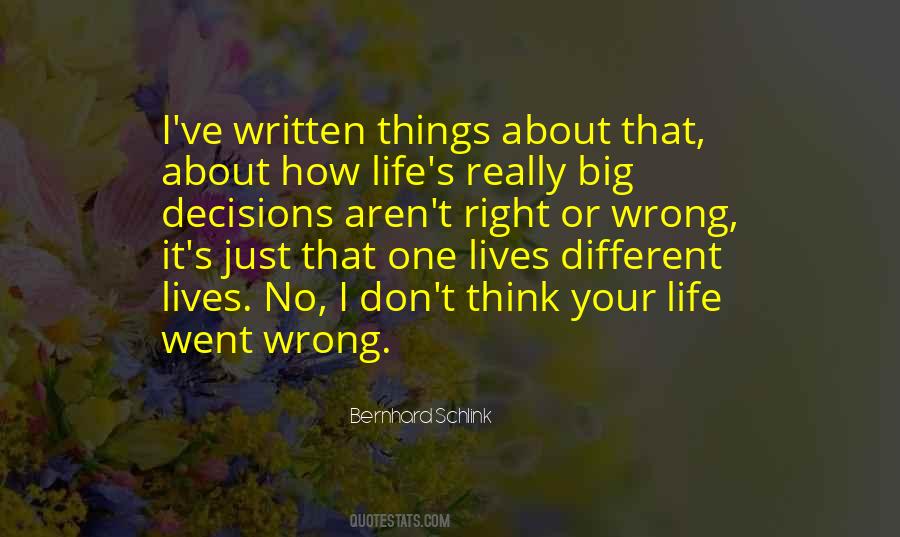 #73. I don't see my movies. When you ask me about one of my movies, it just goes in my memory because maybe sometimes I confuse one for another. I think all movies are like sequences, which is the body of my work. - Author: Bernardo Bertolucci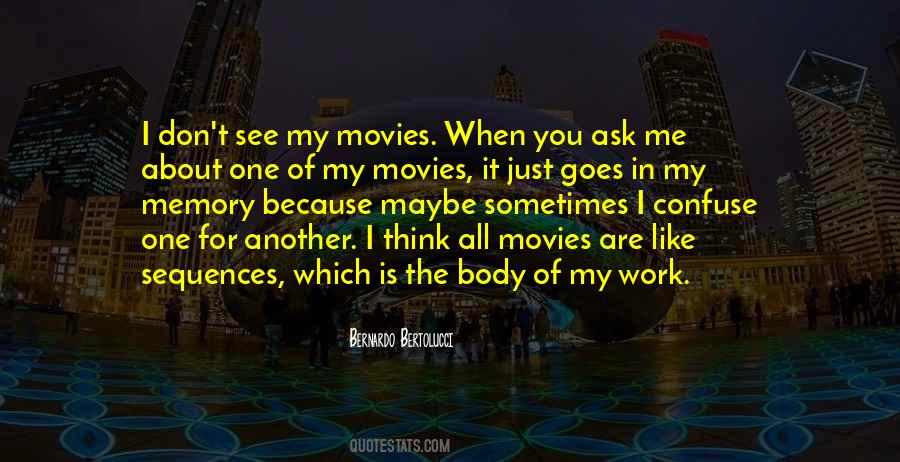 #74. I don't think music can be held. I don't think artists can be put into boxes or places. It's all about creating and making the best music you can. - Author: Trey Songz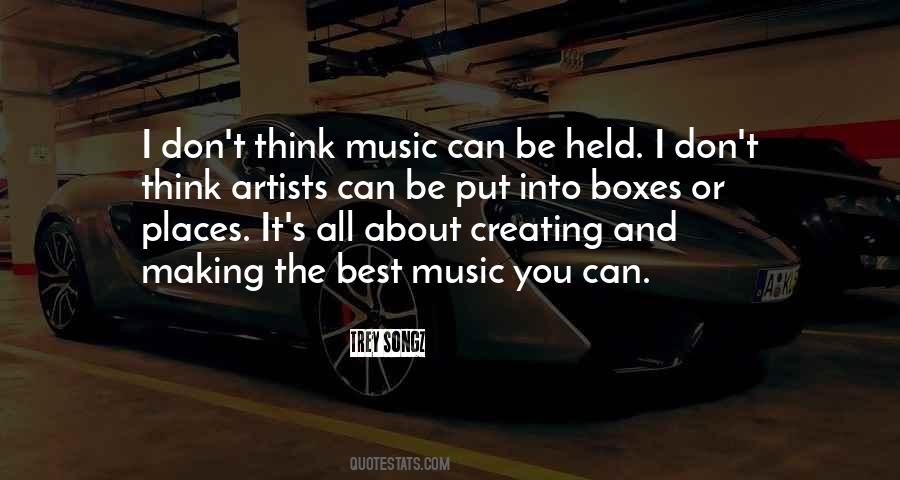 #75. Beyond hoping that someone will like one of my songs, I don't think about how a song will be received. I just hope that, when somebody hears one of my songs, they'll want to hear it again. - Author: Lyle Lovett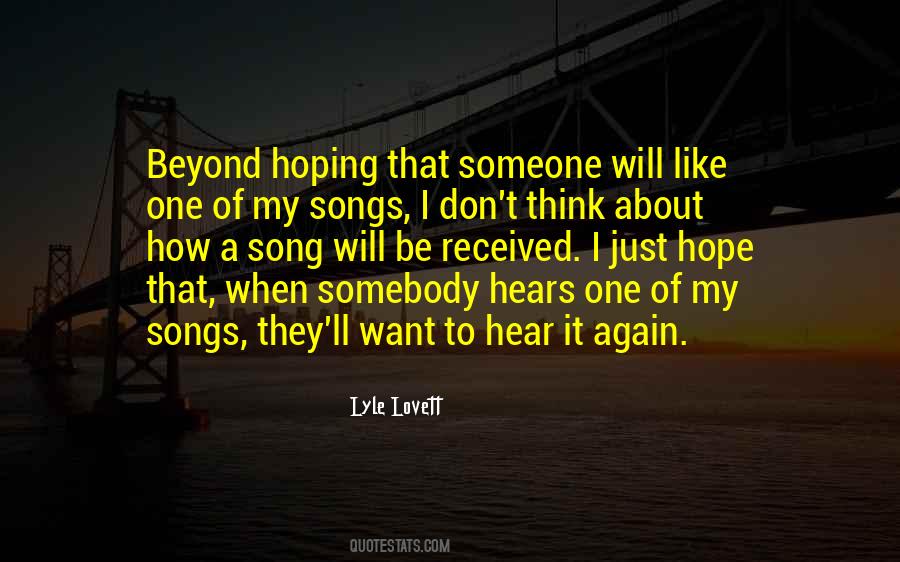 #76. I see people driving cars, winding down the streets. I don't know where these people think they're going. They're going to the funeral home; that's about it. - Author: Frederick Lenz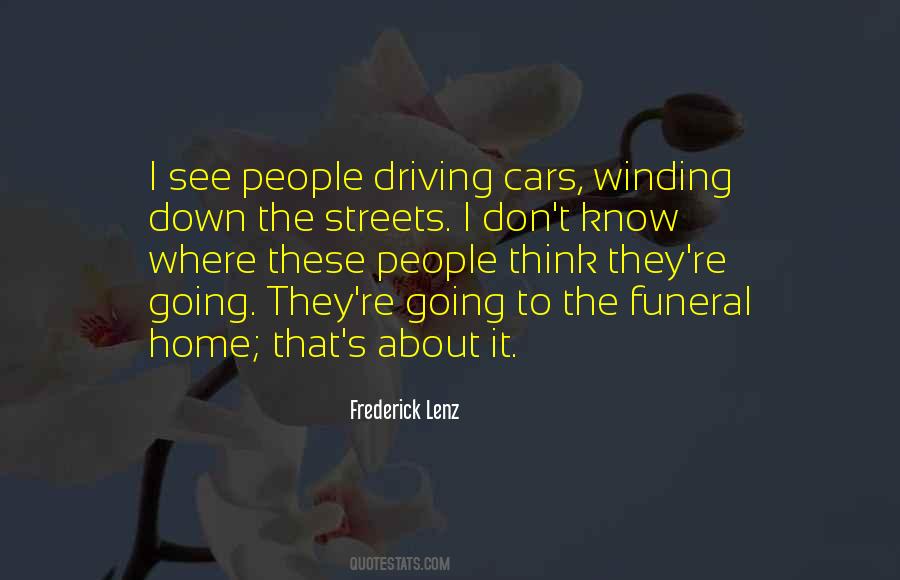 #77. It's so beautiful here, I don't want to think about everything dying. - Author: George R R Martin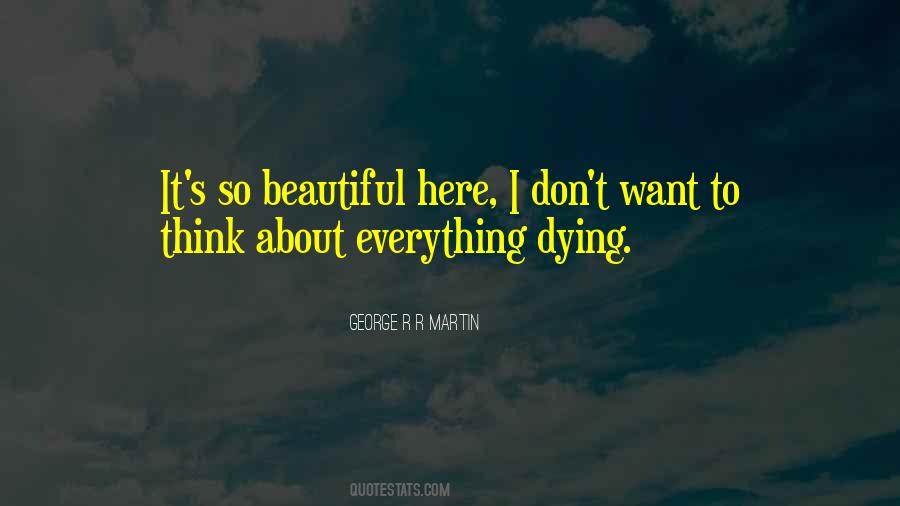 #78. It's not attractive when girls get superskinny. Guys don't like it. Girls don't like you as much. You lose some happiness when that's all you think about. - Author: Hilary Duff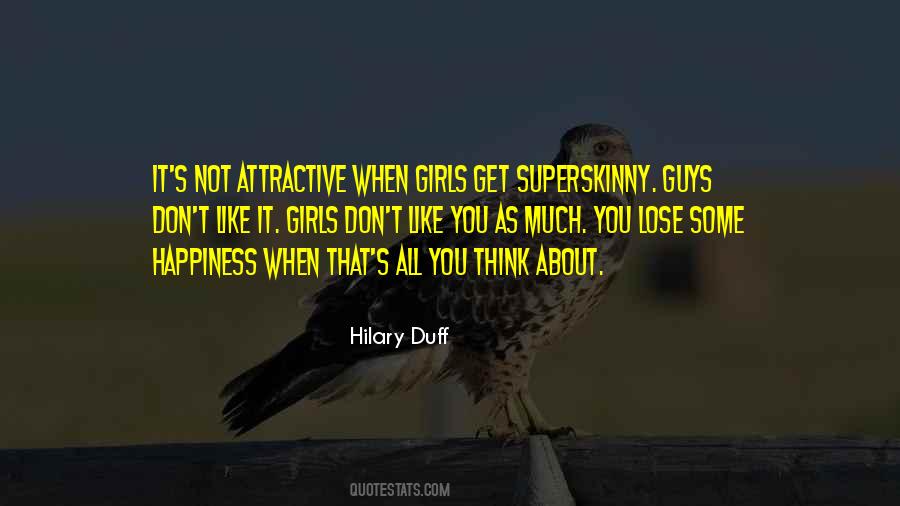 #79. I don't think meaning exists without form, and certainly form does not exist without meaning. Meaning and story come first. Story is the most important part of fiction. Without it, what's the point? If all you care about is form, become a critic. - Author: Percival Everett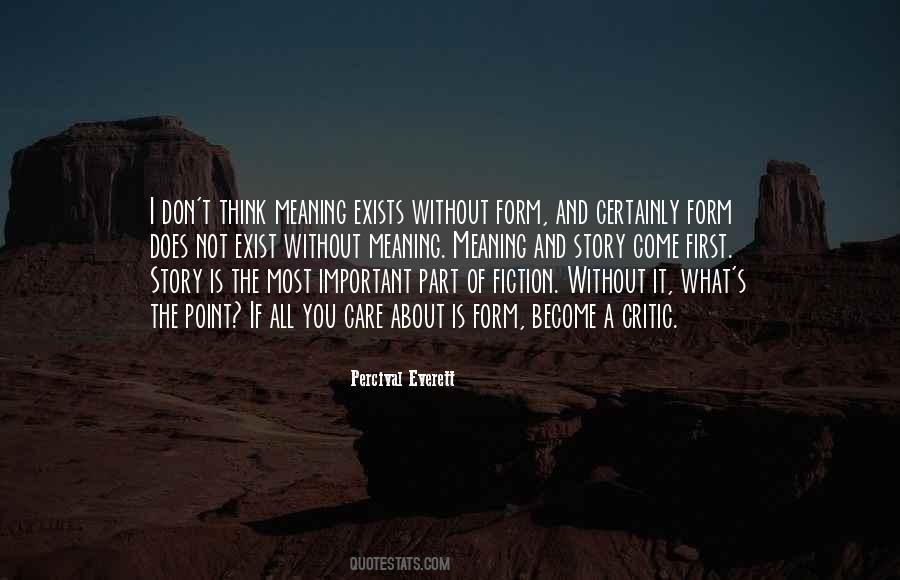 #80. Bean, what's one step worse then a fashion don't? ... a fashion don't even THINK about it. - Author: Lisi Harrison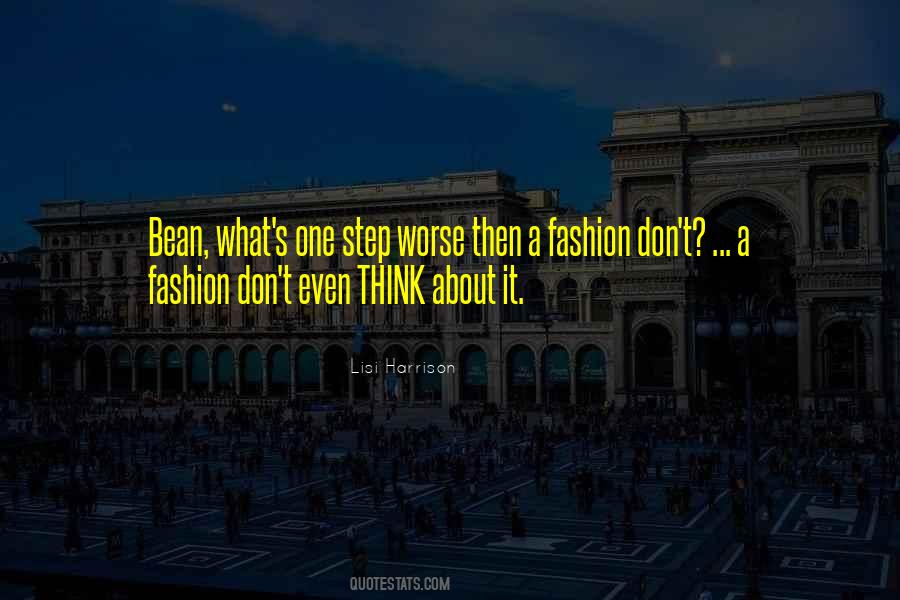 #81. I think if you're going to kill somebody, kill them! Don't stand around talking about it! - Author: Stephen Sommers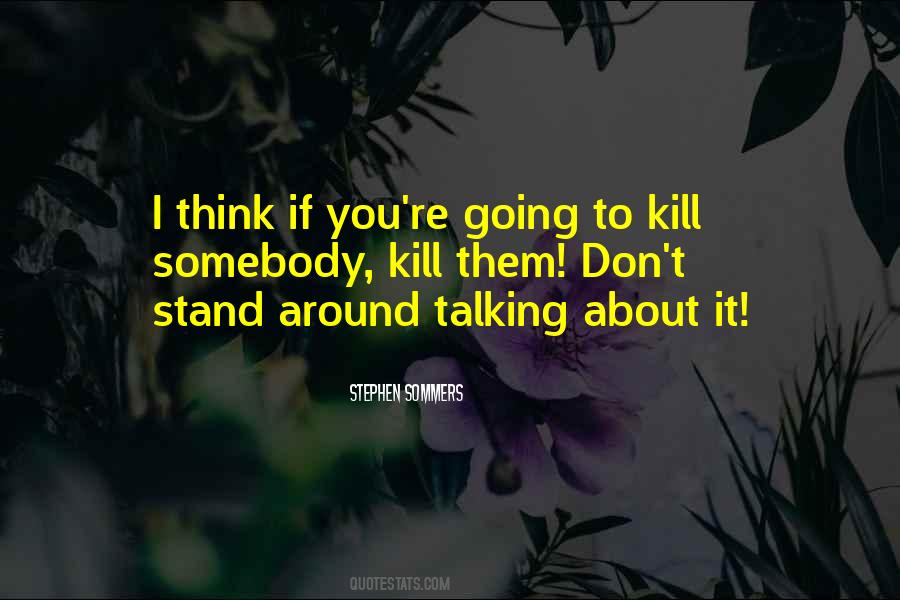 #82. I need you to promise me that you will never let anybody dim your light. It's the most goddamn beautiful think about you. Don't dim it for anyone. Ever. - Author: Scarlett Cole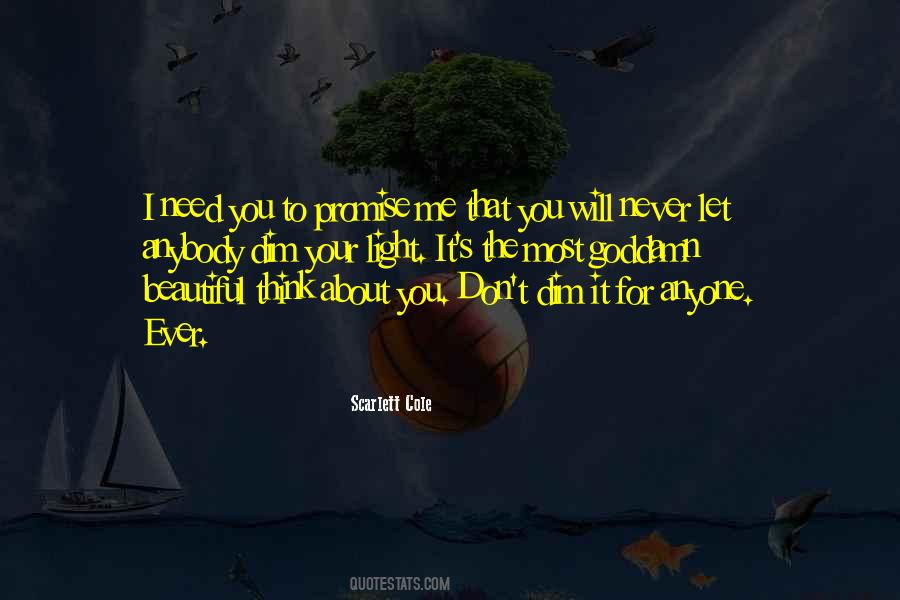 #83. What would you know about anything, Jasper?" Augustus asked. "Age don't slow a man's whoring. It's lack of income that does that. No more prosperous than you look, I wouldn't think you'd know much about it. - Author: Larry McMurtry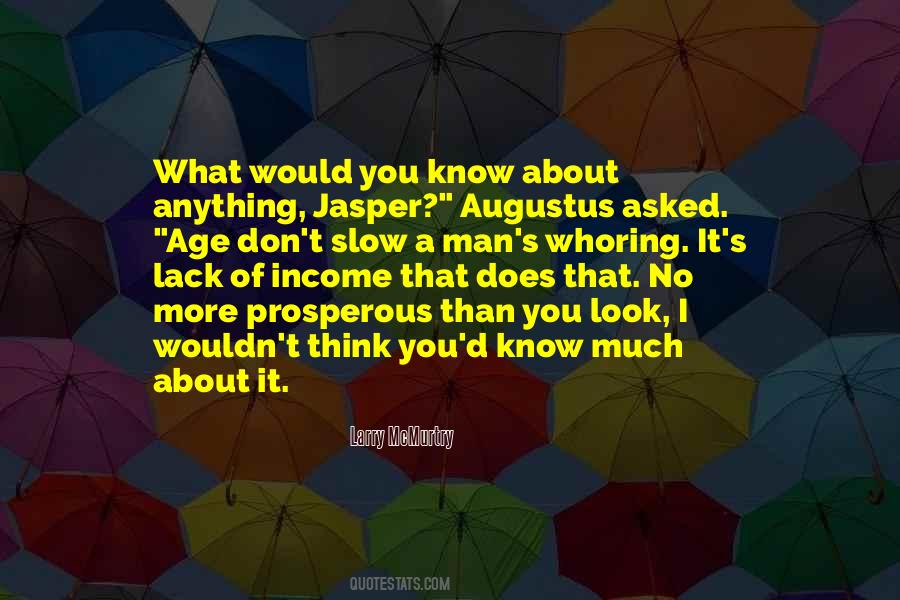 #84. And Kyle says, It's like when I'm with her, all the shit from my past doesn't even matter. Nothing does. I don't think about anything but her. - Author: Jason Myers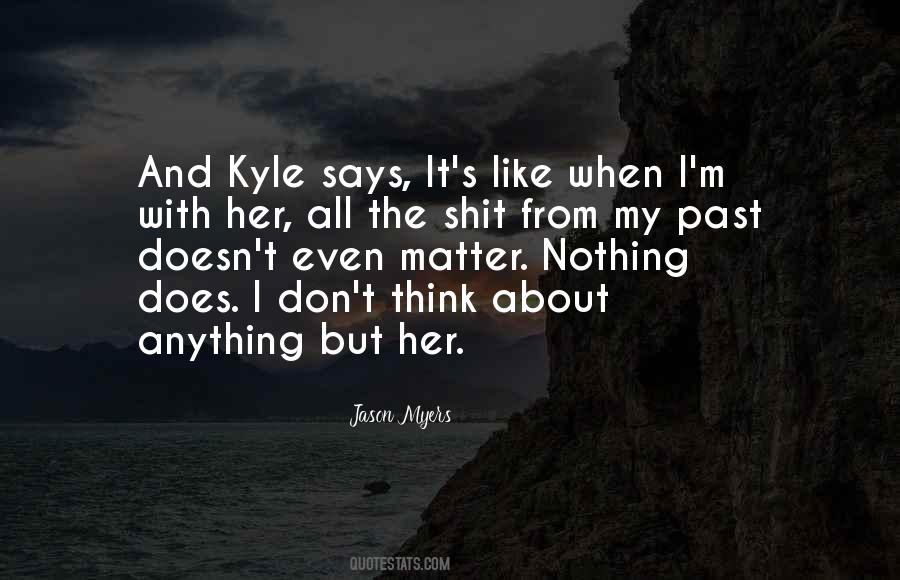 #85. Where have the years gone, Ruby Rose? Sometimes I have to stop and think about how old I am. When I wake up in the morning, before I move this tired old body or look in the blasted mirror, I swear I'm still a young man. It just feels like yesterday. I don't know how it's gone so fast. - Author: Lea Davey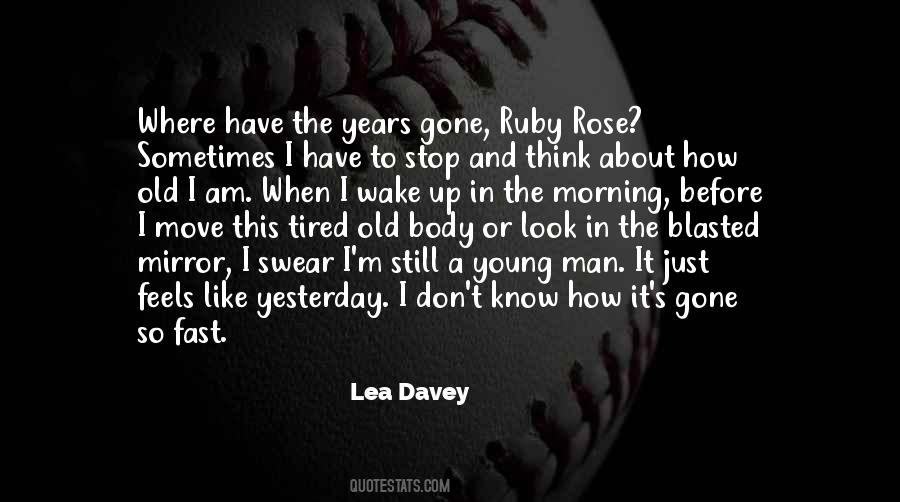 #86. I still don't think it's pathetic to cry over someone. It just means you care about them deeply and you're sad. - Author: Jenny Han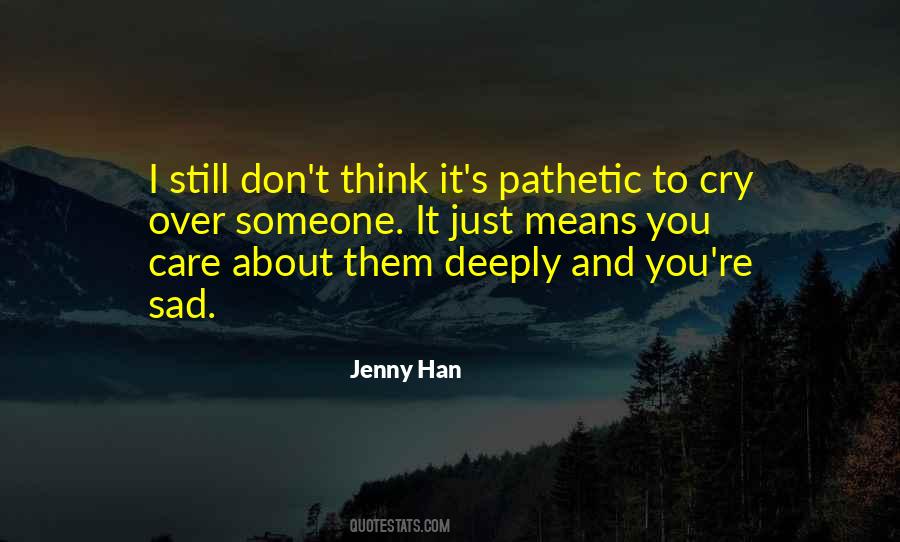 #87. I fight very strongly against libertarian influence within the Republican Party and the conservative movement. I don't think the libertarians have it right when it comes to what the Constitution's all about. I don't think they have it right as to what our history is. - Author: Rick Santorum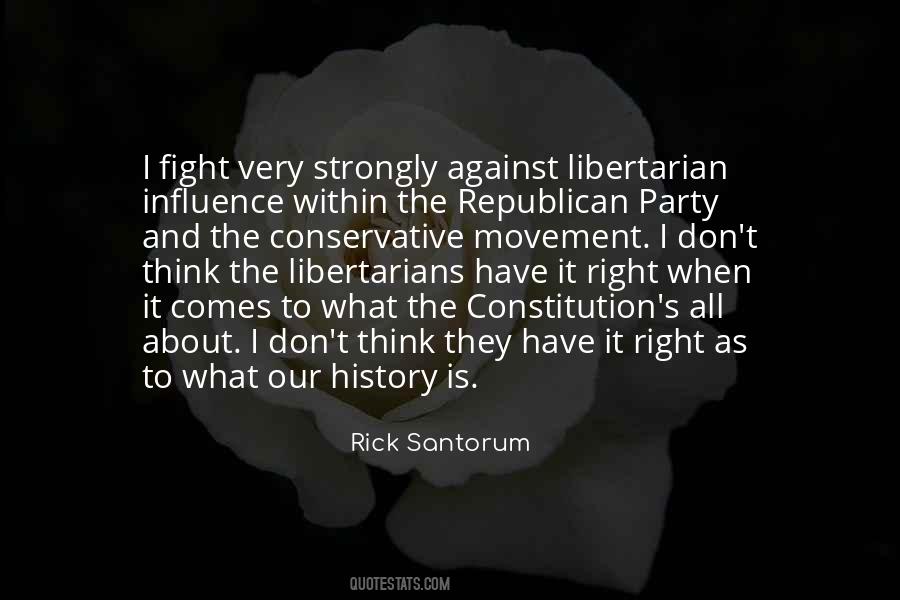 #88. Don't worry about how things look. People are going to think whatever they think. To hell with 'em. You can't worry about it. - Author: William Landay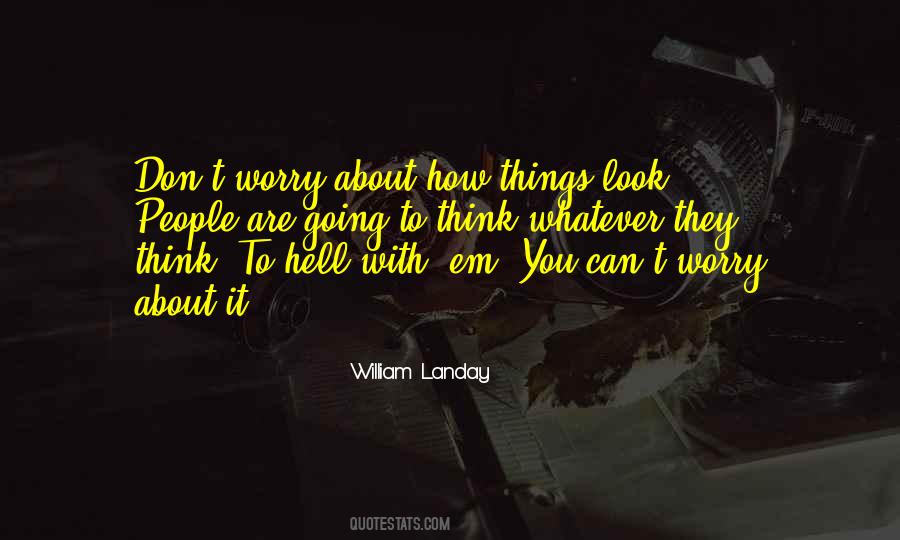 #89. Good people don't spend their time being good. Good people want to spend their time mowing the lawn and playing with the dog. But bad people spend all their time being bad. It is all they think about. - Author: Alan Furst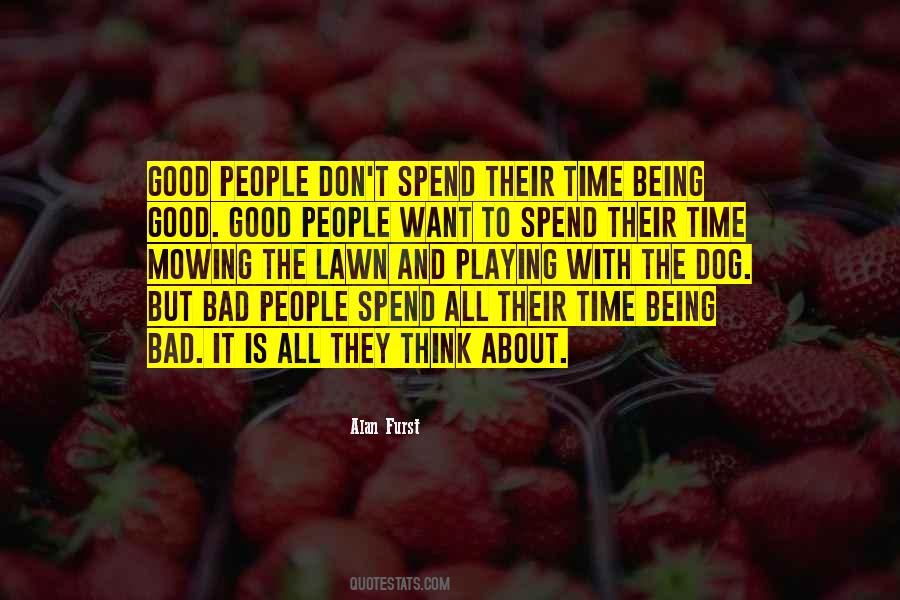 #90. I think the biggest mistake most people make when they pick their first job is they don't worry enough about whether they'll love the work, and they worry more about whether it's good experience - Author: Steve Ballmer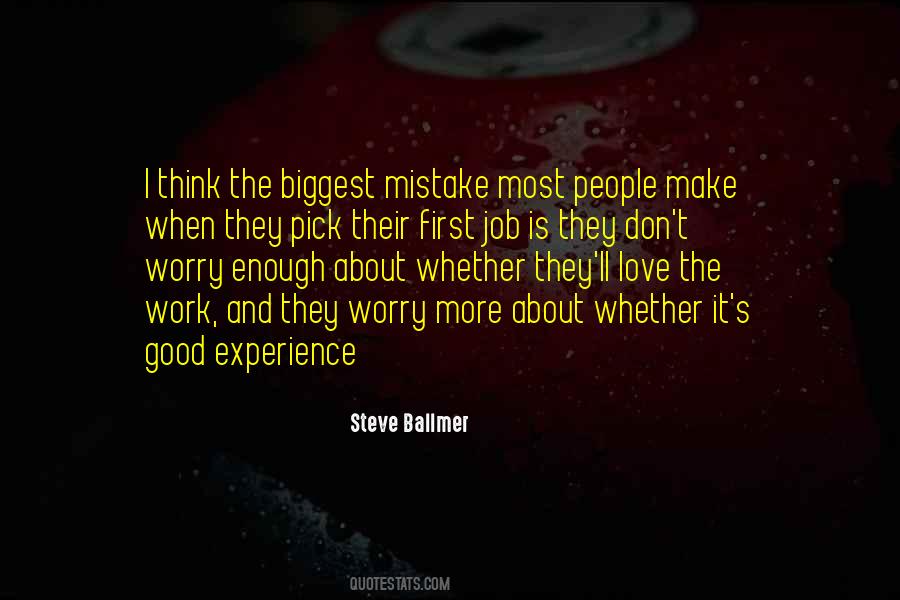 #91. I don't think love is about letting go; it's about treasuring it whilst you have it in your life. - Author: Victoria Walters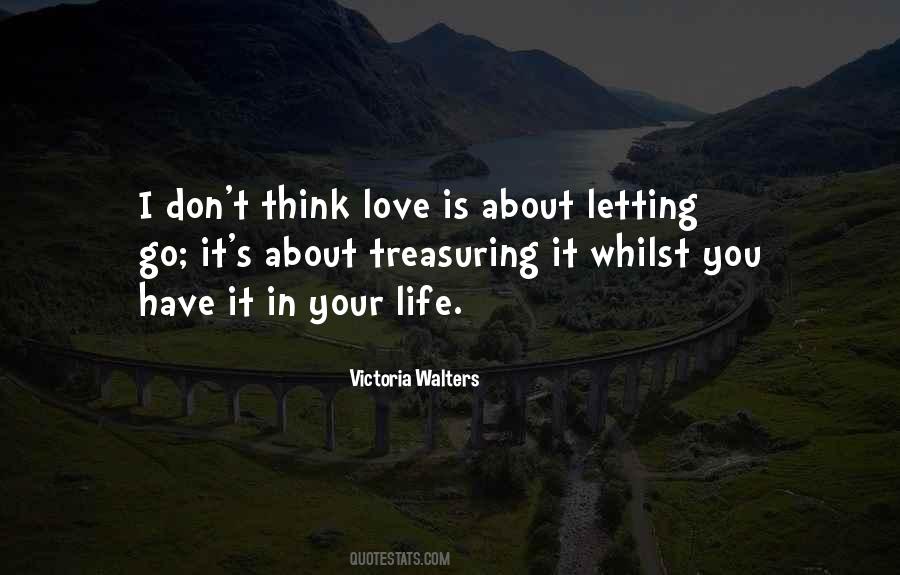 #92. I wanted to forget you, too," Sage said morosely. "Even now, I still do. With you right here in front of me. Even after last night. It still hurts to think about when you left. How it felt to be so alone. How much I don't want to care about you anymore. - Author: Sibylla Matilde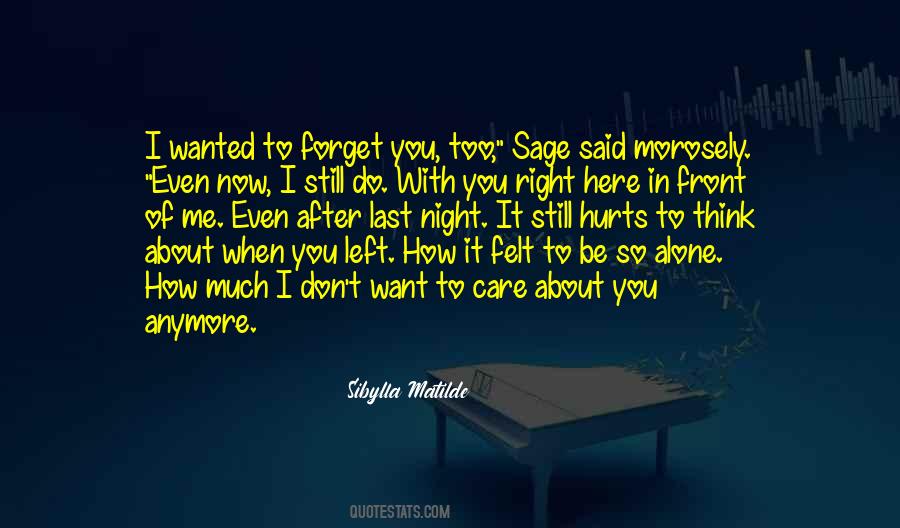 #93. I mean, I think having a great family like I do. You know, I tend to want to give it all I have when I'm at the golf course, and then when I leave I don't want to think about golf at all. And I just remind myself almost daily that golf's just my job, it's not who I am. - Author: Webb Simpson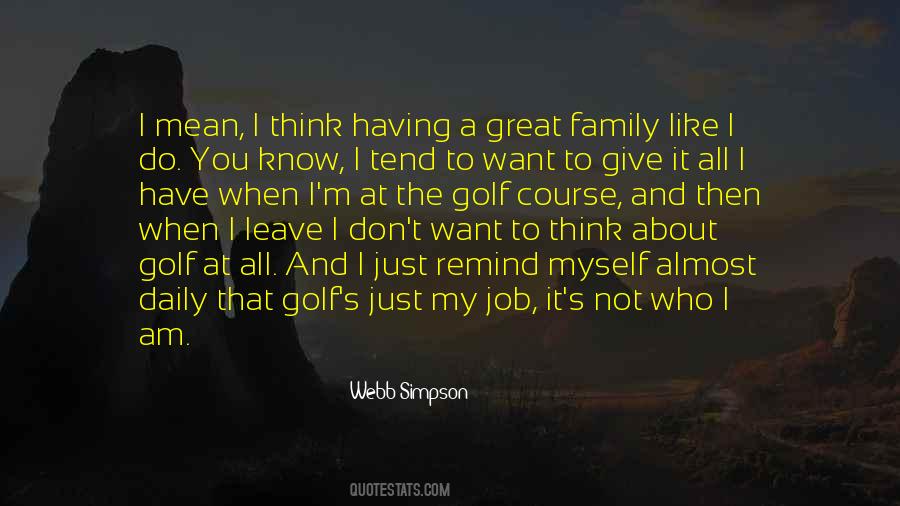 #94. I think poetry will survive and I don't think it will be the end of poetry. Our tremendous onslaught of mass media all the time that we're suffering and we don't really know how to think about, I think that puts certain things at risk. - Author: Edward Hirsch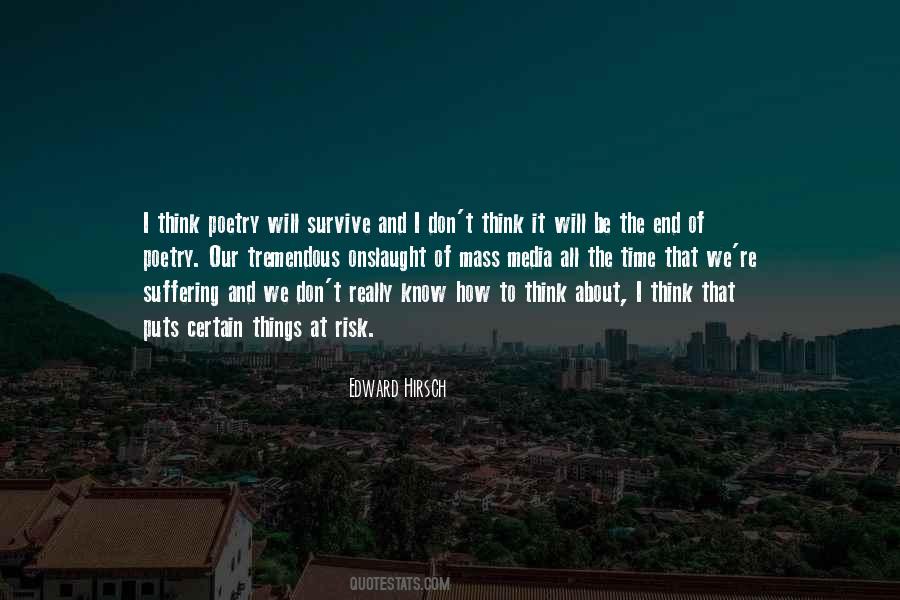 #95. Singing didn't really come naturally to me, I don't think. I had to really work at it. I just kept singing. I never was really worried about it, though, because I was writing songs, and that was the most important thing to me. - Author: Tom Odell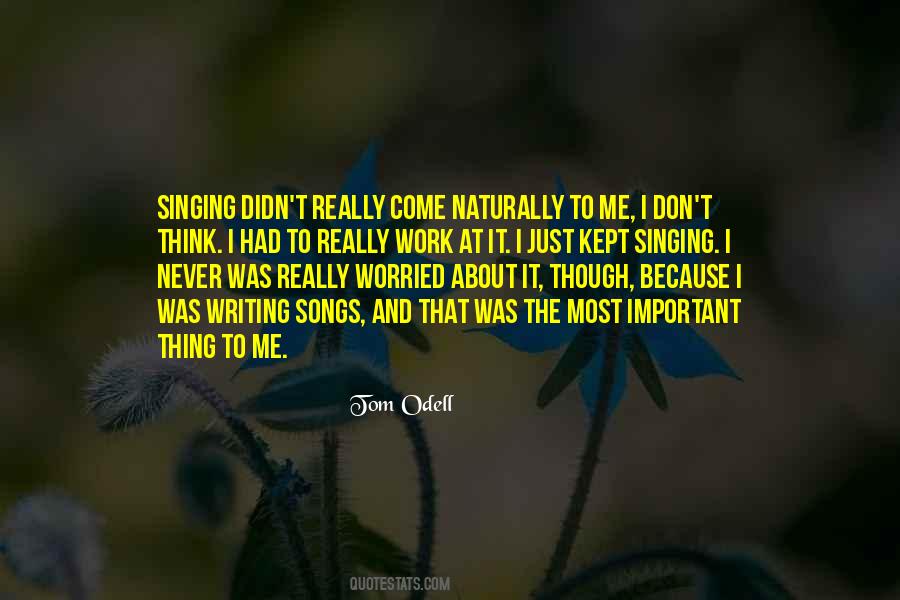 #96. The industrial thing came about mainly through giving up trying to write pop songs in the early '90s. I don't think I was ever very good at pop music and as soon as I stopped trying, and started to write more the things I loved, it became much heavier and more aggressive. - Author: Gary Numan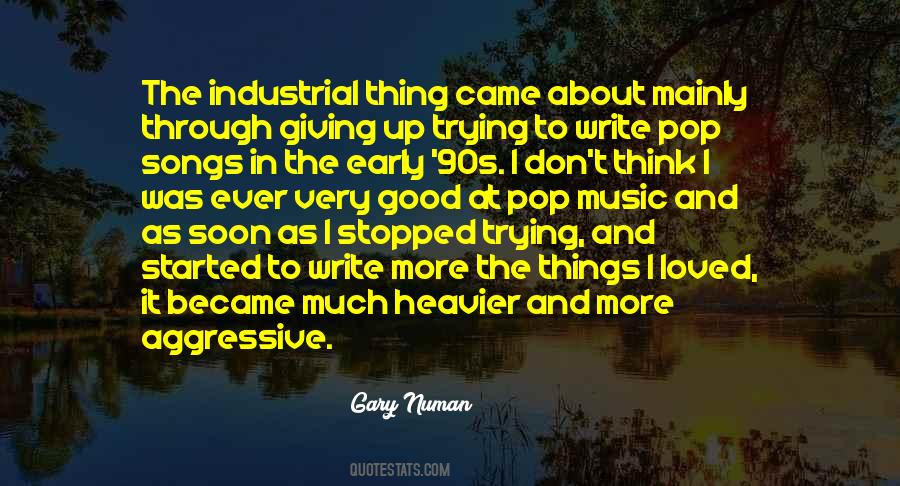 #97. I just needed some time to think and figure out shit in my head. The more I thought about it, the more I realized that it was too late. I've already given you my damn heart and I don't want it back." He leans down and smiles against my lips. "I want you," he whispers. - Author: Victoria Ashley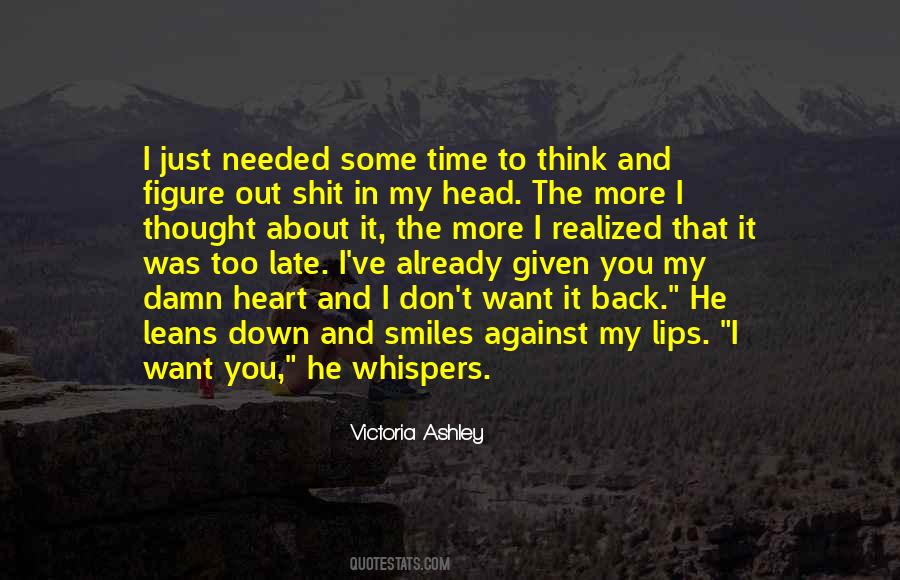 #98. If you are seeking the counsel of God on a directional matter in your life, never get so caught up in the specifics of your own situation that you selfishly forget about others. Don't neglect the poor. Think outside yourself. It's liberating! Likewise, - Author: John Crowder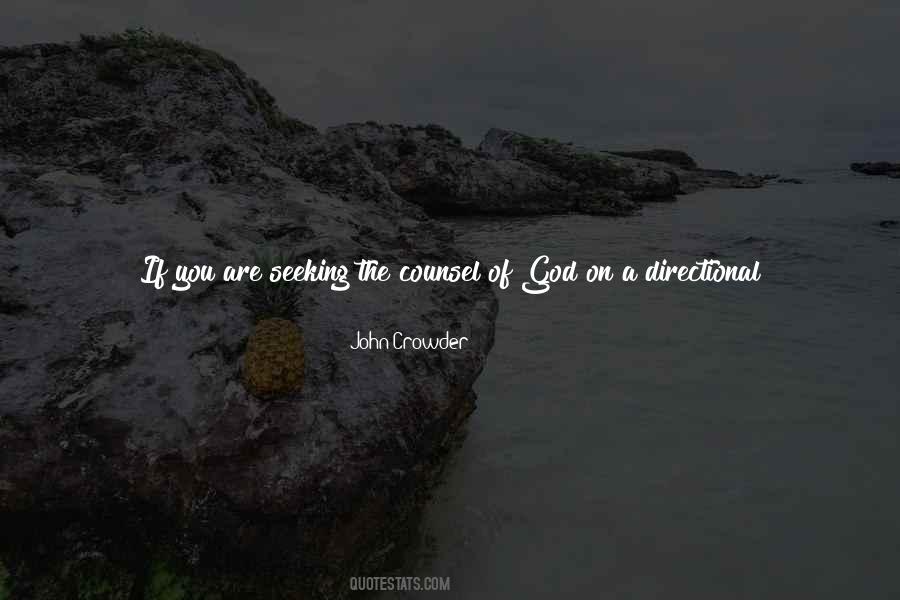 #99. Hardly anyone today thinks about sex. We joke about it, dream about it, watch movies about it, listen to music about it, lust about it. But we don't ever really think about it. - Author: Jason Evert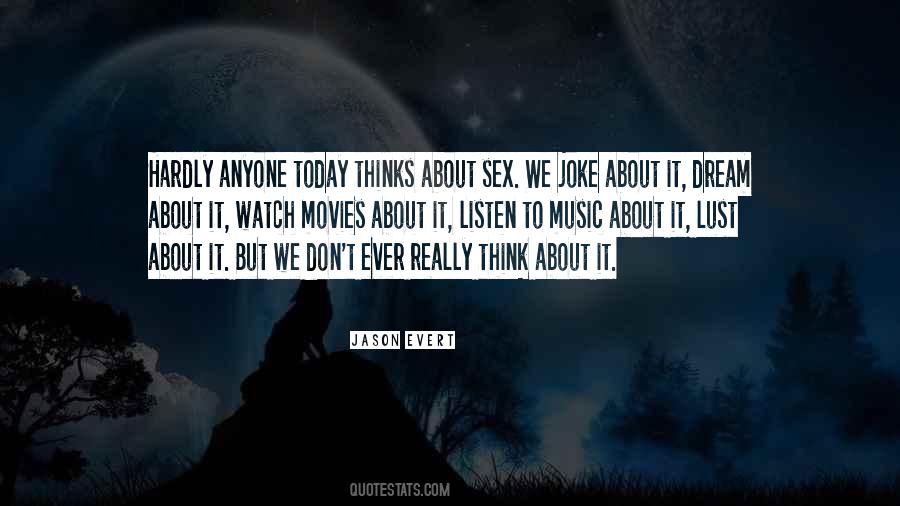 #100. I'm always interested to see what films are made of books. I kind of don't participate as a filmgoer in any kind of debate about what's better, the book or the movie. So I think it's interesting when people want to do it. - Author: Daniel Handler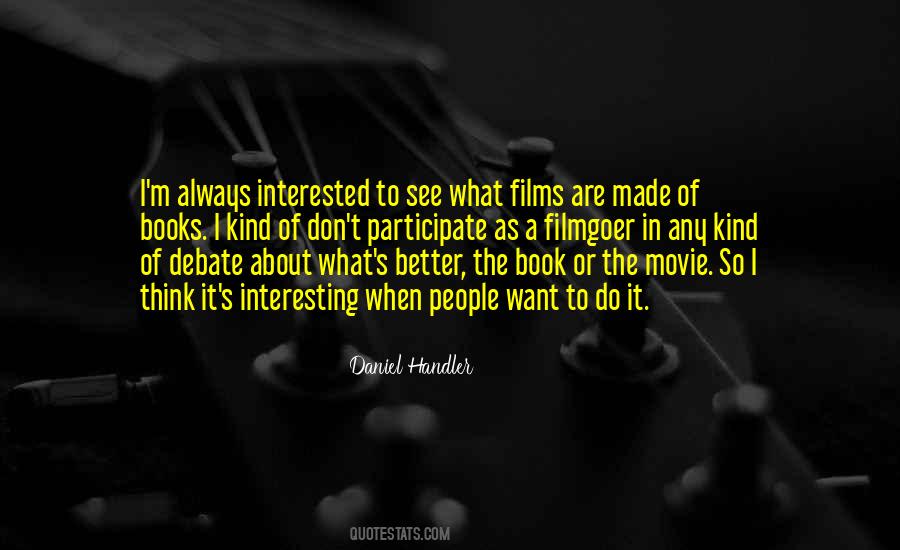 Famous Authors
Popular Topics