List of top 100 famous quotes and sayings about beautiful words in to read and share with friends on your Facebook, Twitter, blogs.
Top 100 Beautiful Words In Quotes
#1. Here everything is so wholly what I consider beautiful. In other words, there is peace here.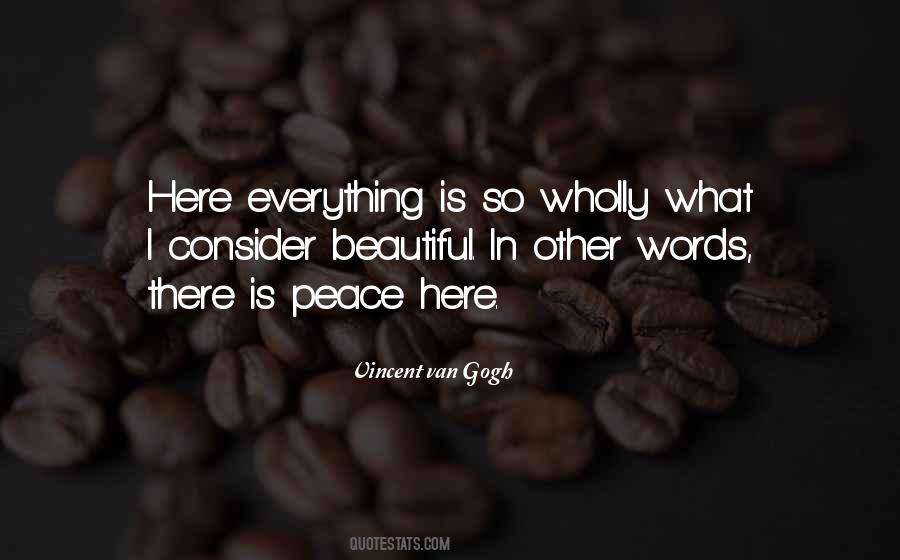 #2. The blue, mosquitoey night pushes in from the hotel windows.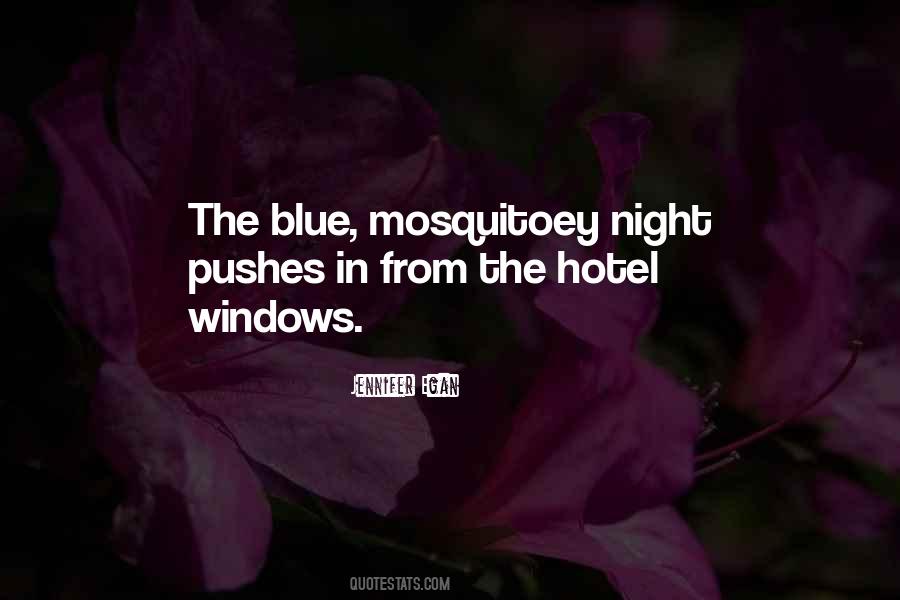 #3. These truths may seem simple and self-apparent and the words easy to say, but the states of mind that you live in as you progress are beautiful beyond description.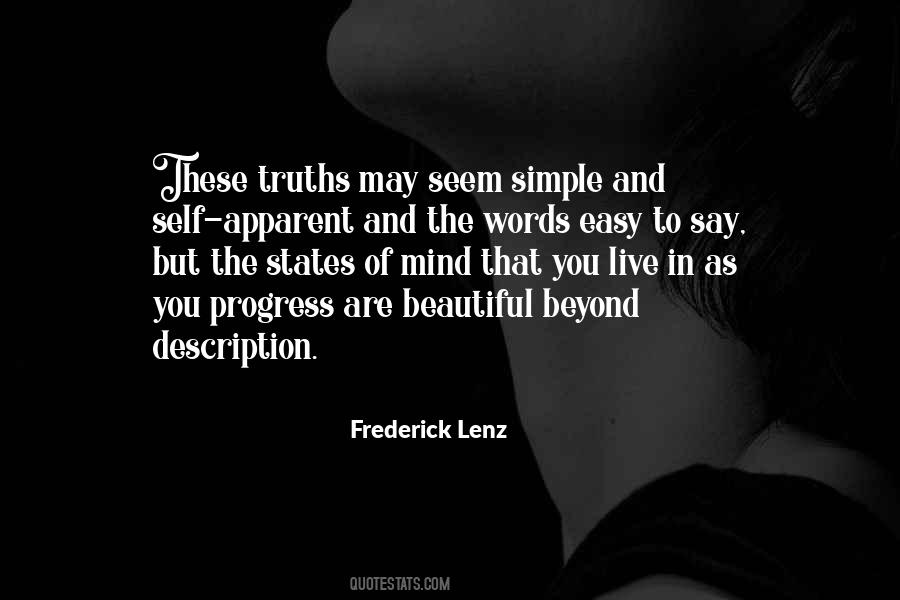 #4. And it occurred to me, standing there, just breathing with her, quiet settling around us, that those might be the three most beautiful words in the English language. We have time.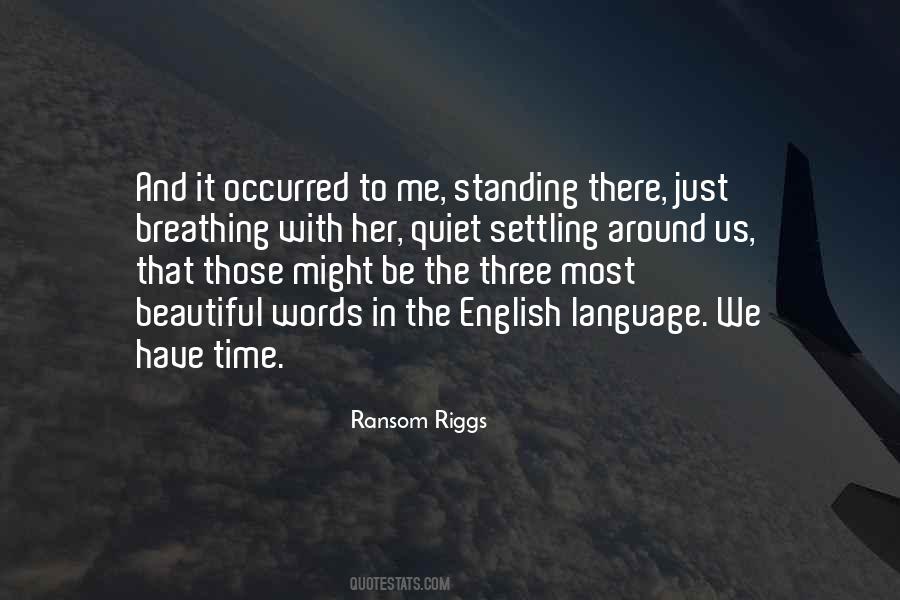 #5. I have a beautiful address book a friend gave me in 1966. I literally cannot open it again. Ever. It sits on the shelf with over a hundred names crossed out. What is there to say? There are no words. I'll never understand why it happened to us.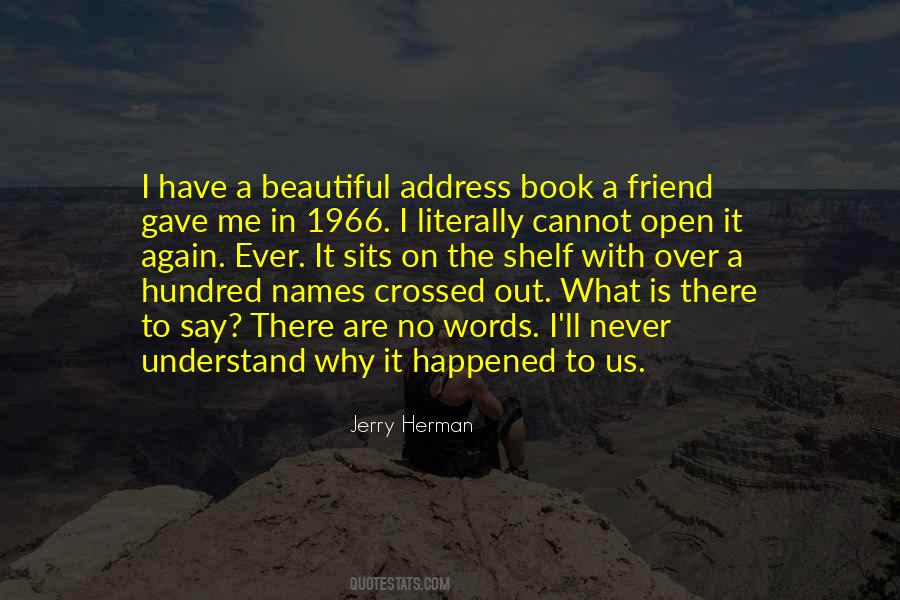 #6. My life is never perfect, but life is always a beautiful thing. I choose to see the beauty out of it. I choose to make it wonderful. I choose to love life and it loves me back in return. I may only have one life to live, but if I do it right, once is enough.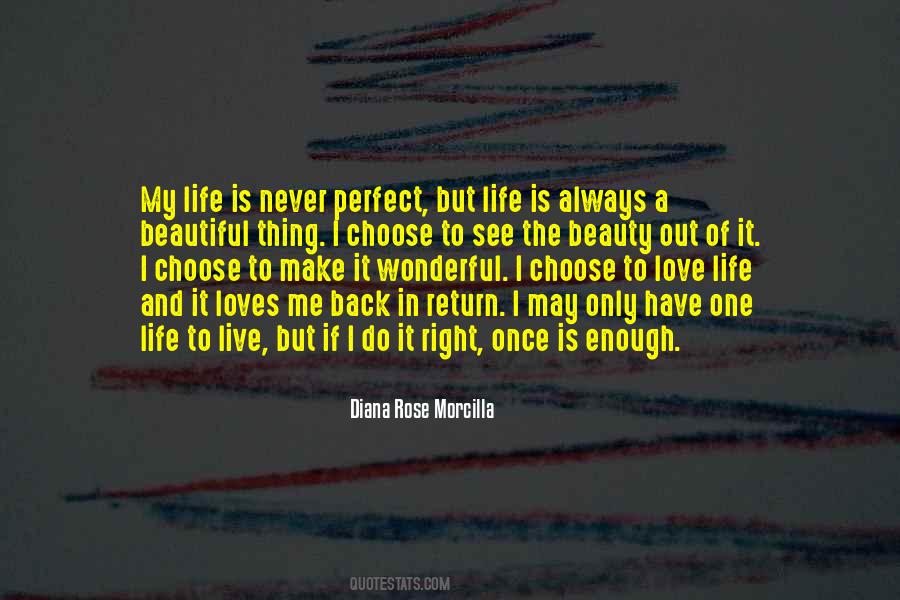 #7. And perhaps it didn't matter to them, not always, what they read aloud; it was the breath of life flowing between them, and the words of the moment riding on it that held them in delight. Between some two people every word is beautiful, or might as well be beautiful.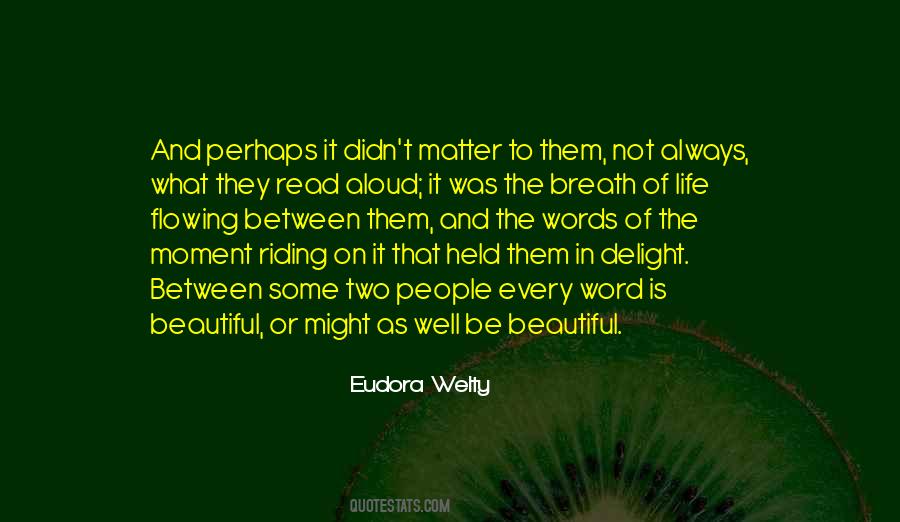 #8. I paint the beautiful pictures in my mind with words.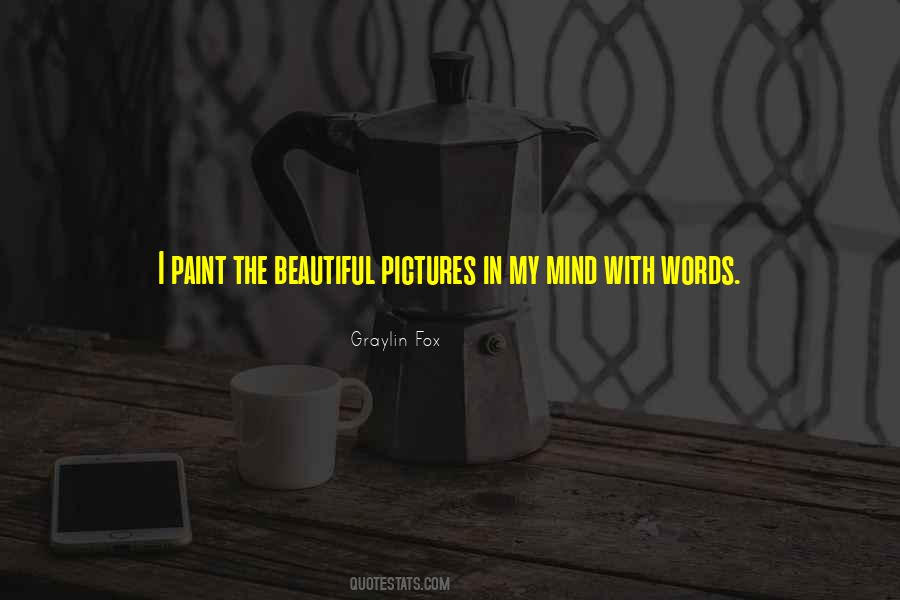 #9. The mask of secularism may differ in thickness, may be less visible, but religion is always there hidden under hallowed big beautiful words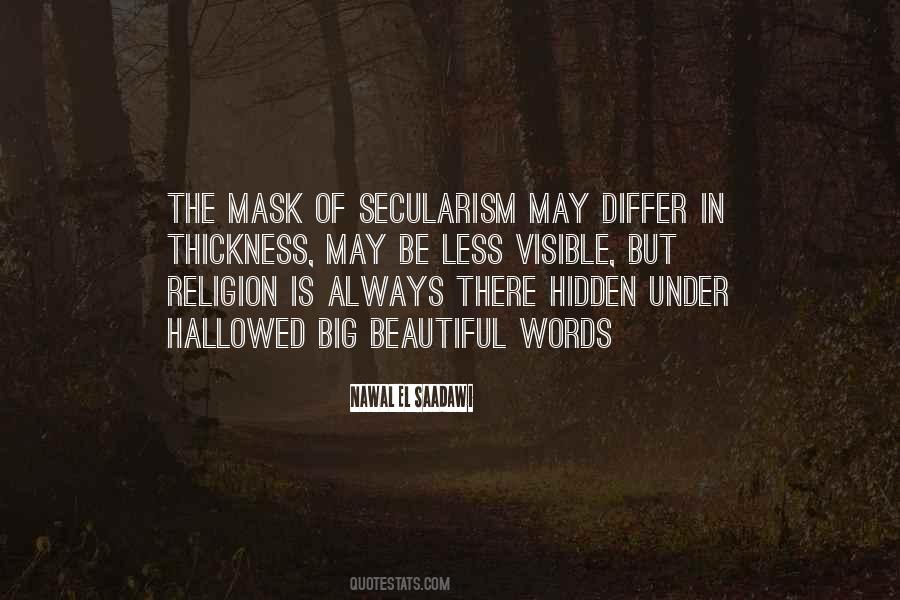 #10. There is a point in every philosophy at which the "conviction" of the philosopher appears on the scene; or, to put it in the words of an ancient mystery: adventavit asinus, / pulcher et fortissimus. (Translation: The ass arrives, beautiful and most brave.)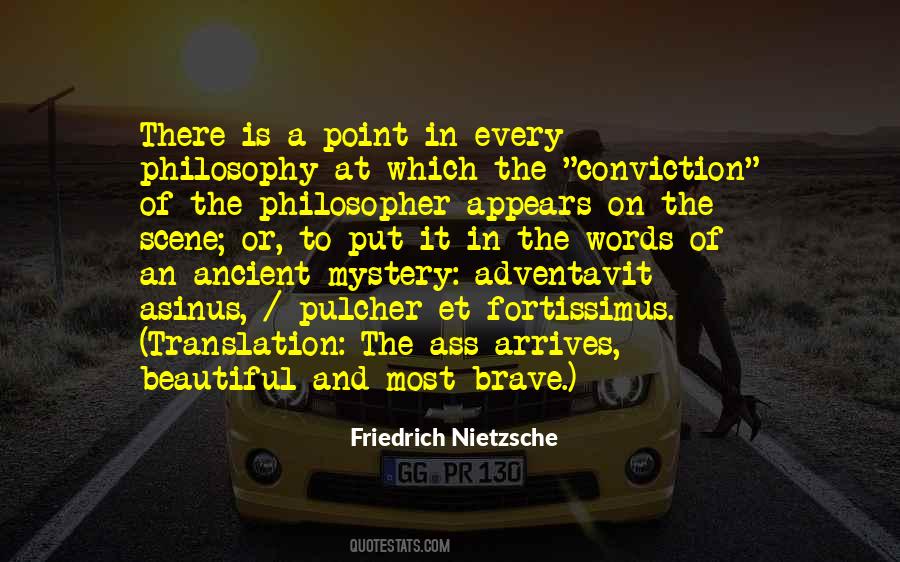 #11. Those beautiful words we said to one another are hidden in the secret heart of heaven. One day, like the rain, they will pour our love story all over the world.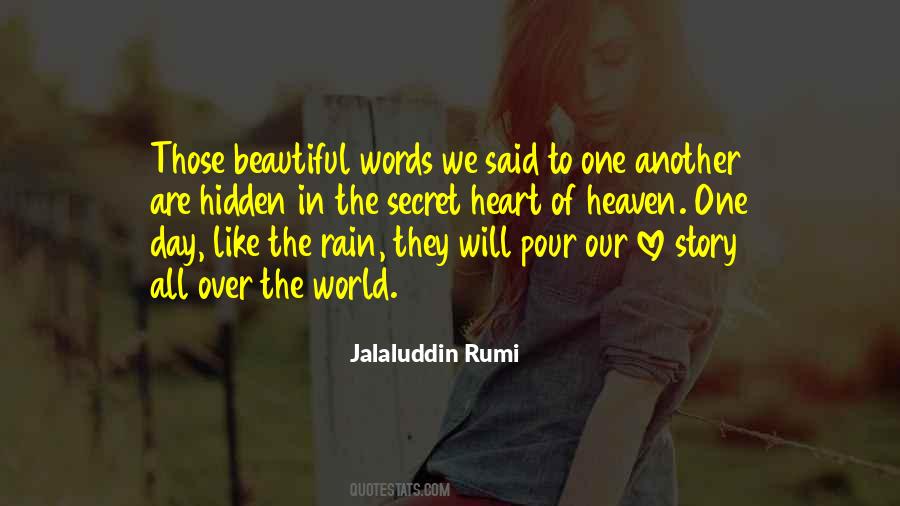 #12. The mathematician's patterns, like the painter's or the poet's must be beautiful; the ideas like the colours or the words, must fit together in a harmonious way. Beauty is the first test: there is no permanent place in the world for ugly mathematics.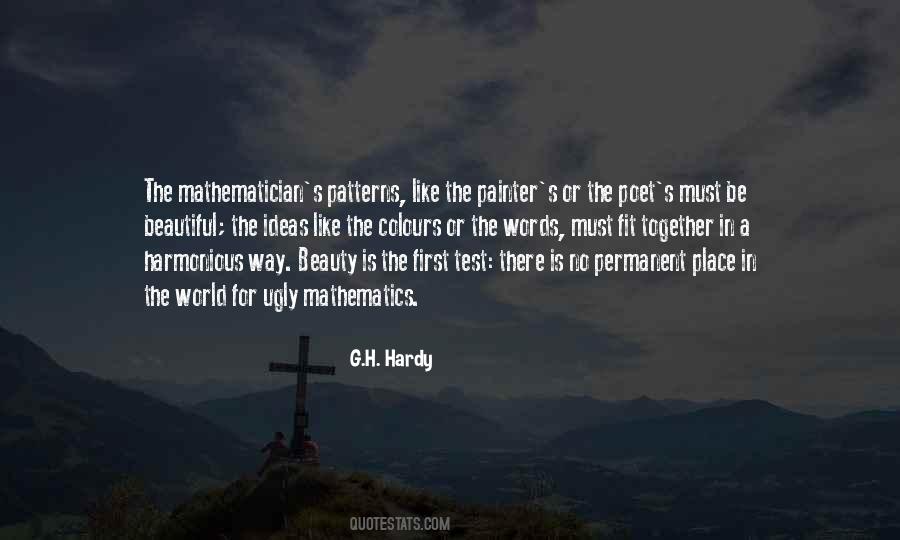 #13. The music goes into people in a totally different way than words. There's air, there's the sound of words, there's touch, there's music. All of those things have a really distinct way of meeting and entering people's bodies and souls. It's the most beautiful part about humans; that we make music.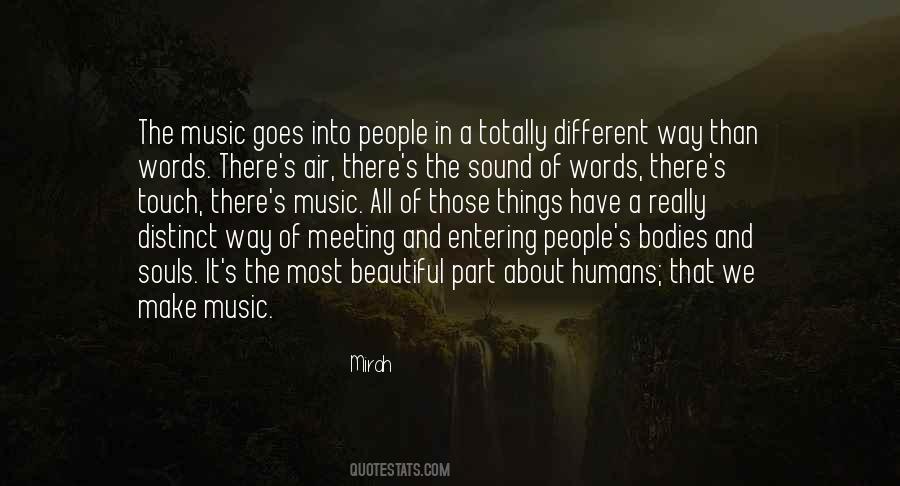 #14. The strongest words can be said in the softest voices and still be resonant.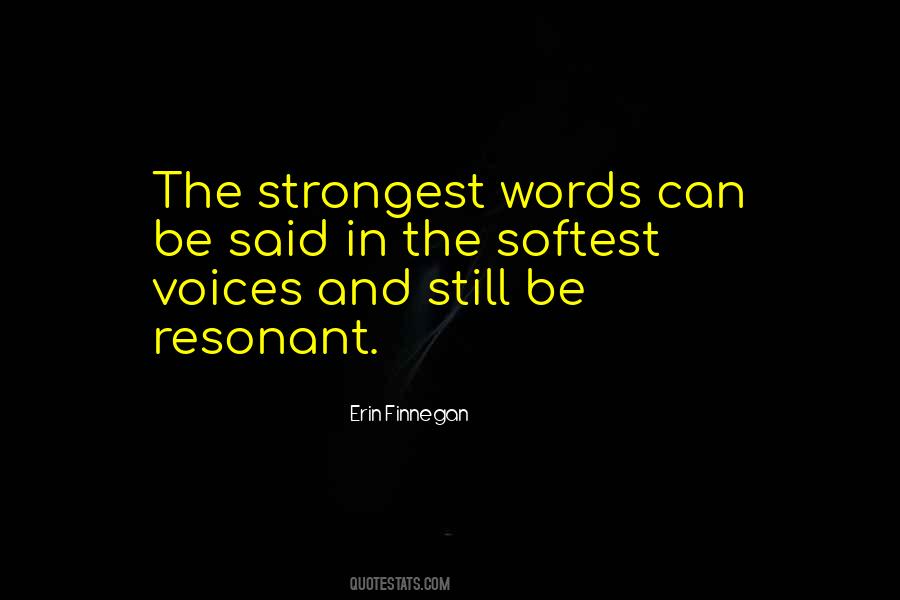 #15. Like a fine flower, beautiful to look at but without scent, fine words are fruitless in a man who does not act in accordance with them.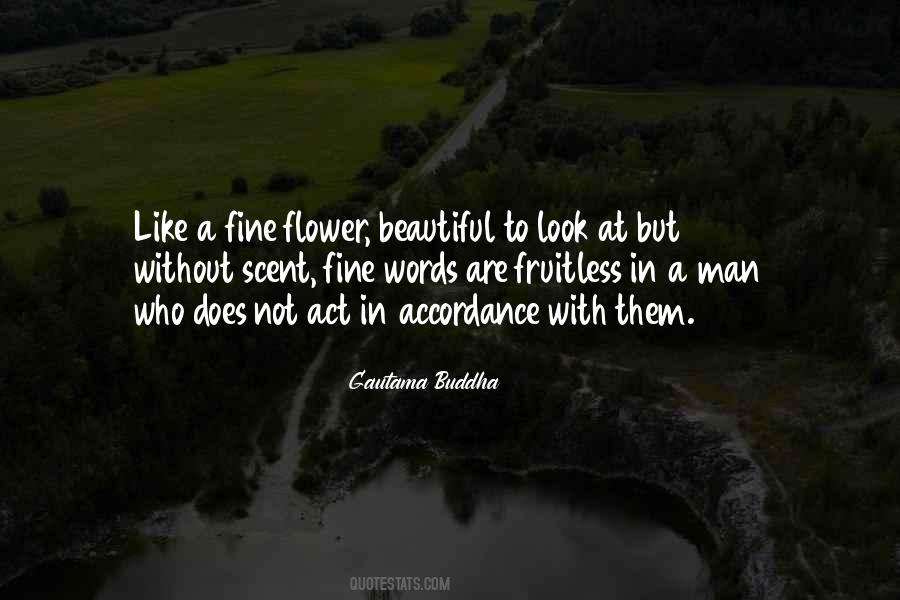 #16. In writing, I want to be remembered for telling good stories in beautiful and powerful language, using the poetry of words to reflect the thematic concerns of compelling stories.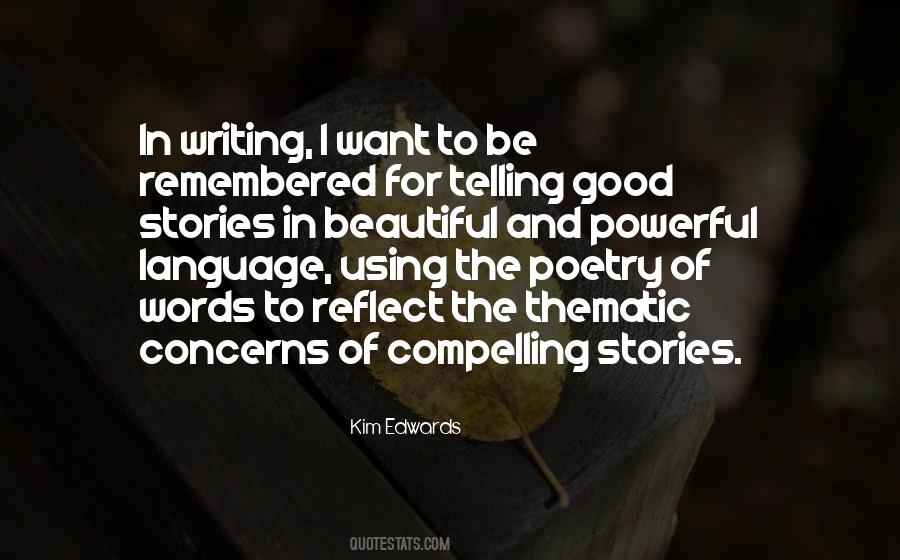 #17. Daemon spoke in his language. The lyrical quality of his words made no sense to me.
"What did you say?" I asked.
"There's really no translation for it," he said, "but the closest human words would be, you are beautiful to me.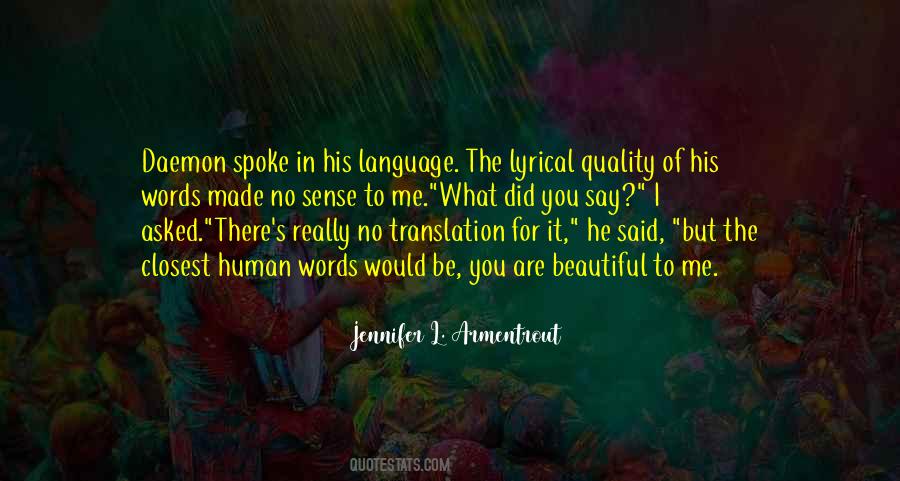 #18. For beautiful eyes, look for the good in others; for beautiful lips, speak only words of kindness; and for poise, walk with the knowledge that you are never alone.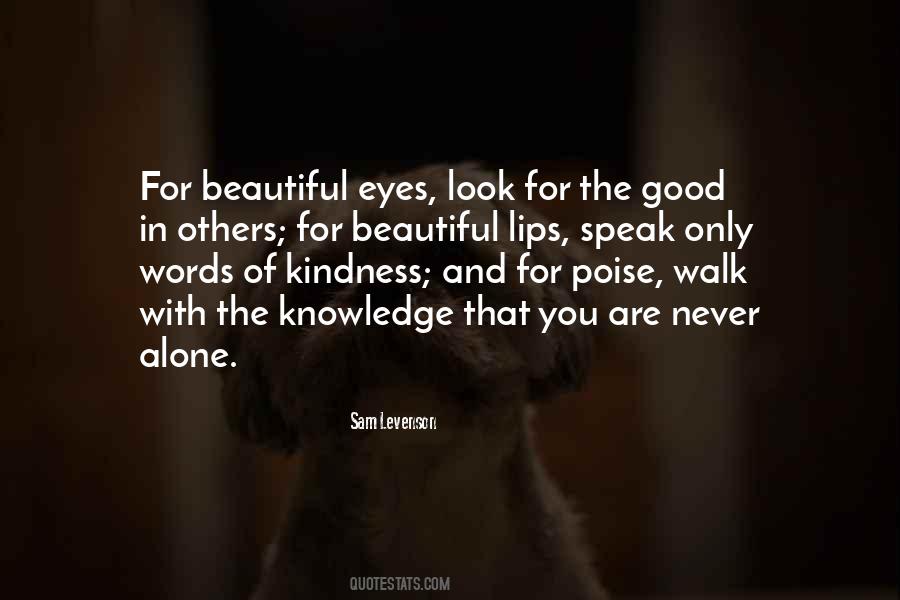 #19. In short, [Coltrane's] tone is beautiful because it is functional. In other words, it is always involved in saying something. You can't separate the means that a man uses to say something from what he ultimately says. Technique is not separated from its content in a great artist.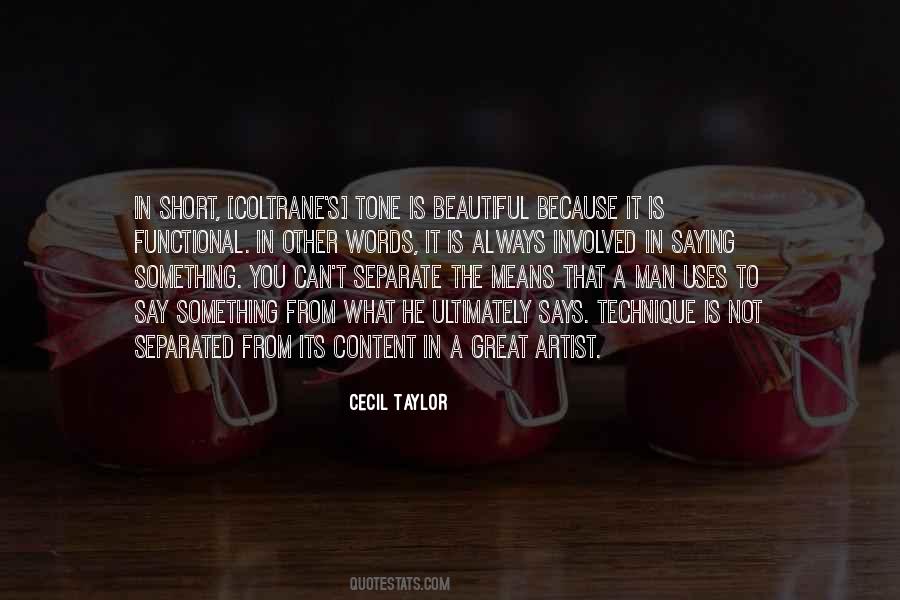 #20. All things are beautiful in the sacred time.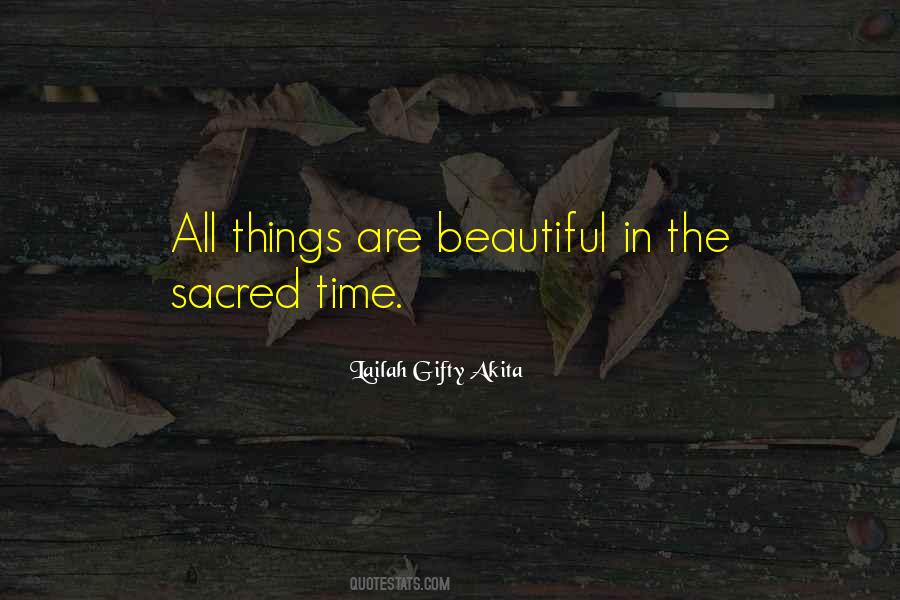 #21. Like almost every truly horrible thing that has ever happened in the history of our world, the end also began with a kiss.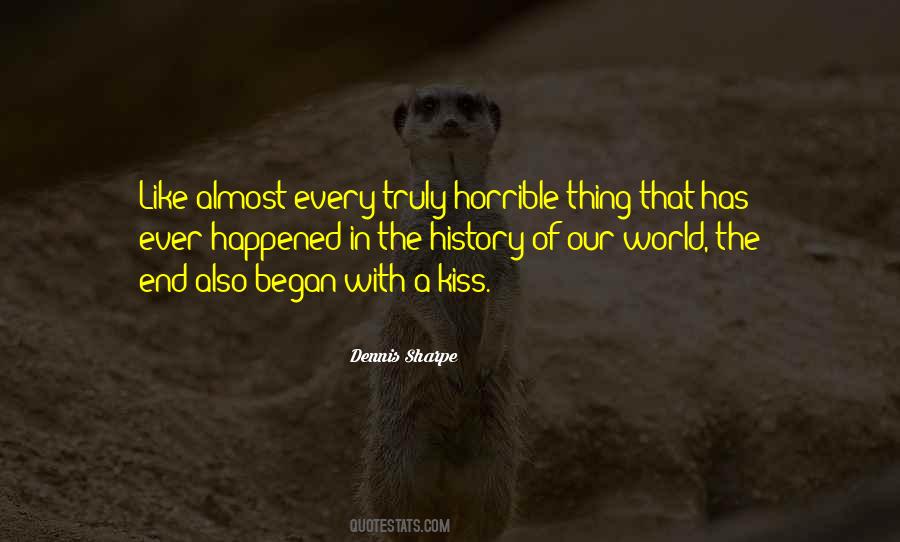 #22. 'The Warmth of the Sun' was a very beautiful song that Brian and I wrote in the time period associated with President Kennedy's assassination. We didn't write words about that, but it was around that time we recorded that song, and there's a lot of emotion involved there.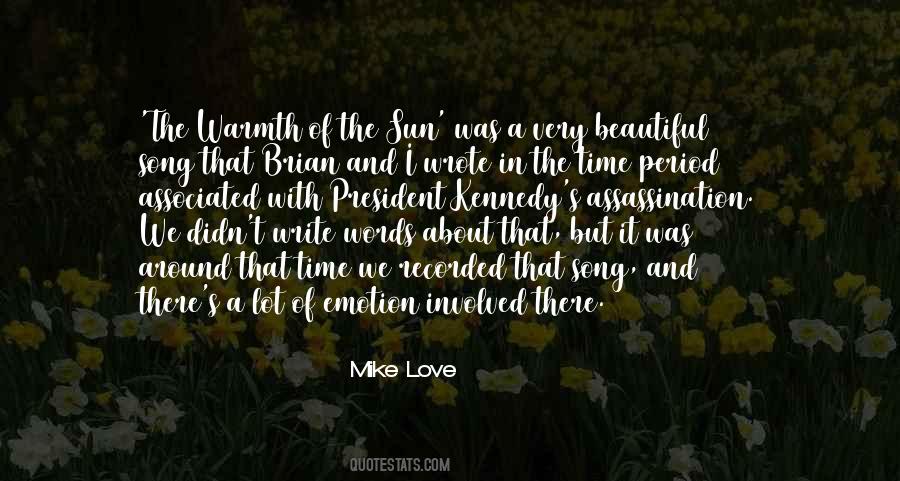 #23. The written word can be powerful and beautiful - but films transport us to another place in a way that even the most evocative words never can.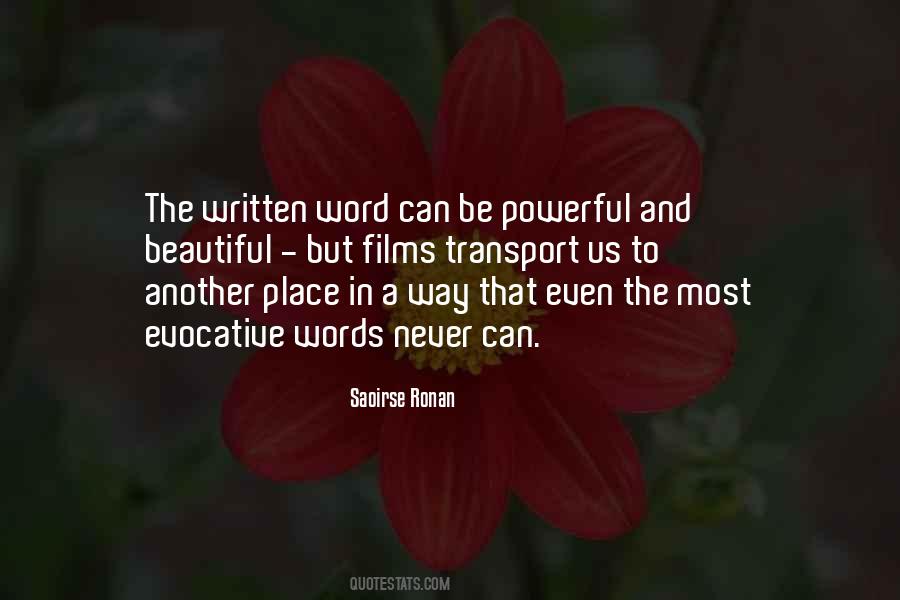 #24. There is great worth in holding universal truths and timelessly beautiful words in your heart, which will stay there forever, infusing your thoughts and speech ...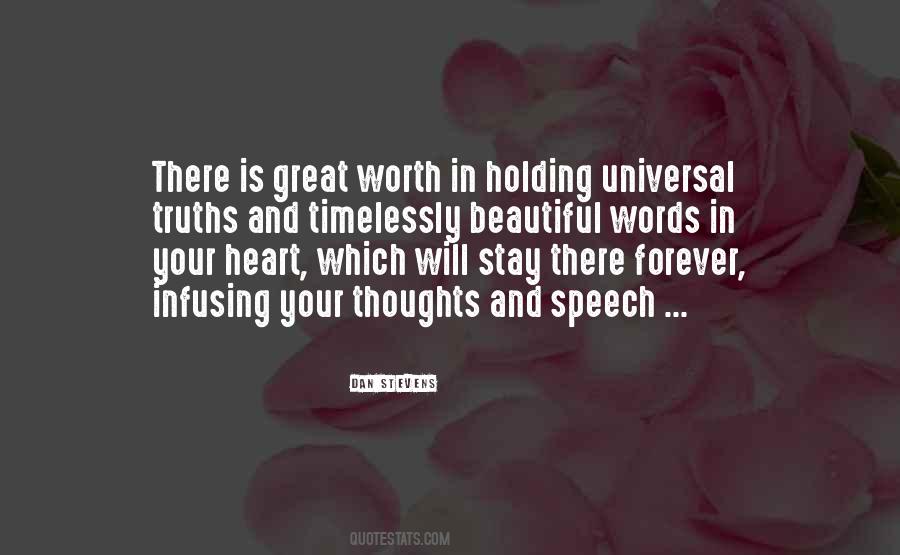 #25. Like a beautiful flower that is colorful but has no fragrance, even well spoken words bear no fruit in one who does not put them into practice.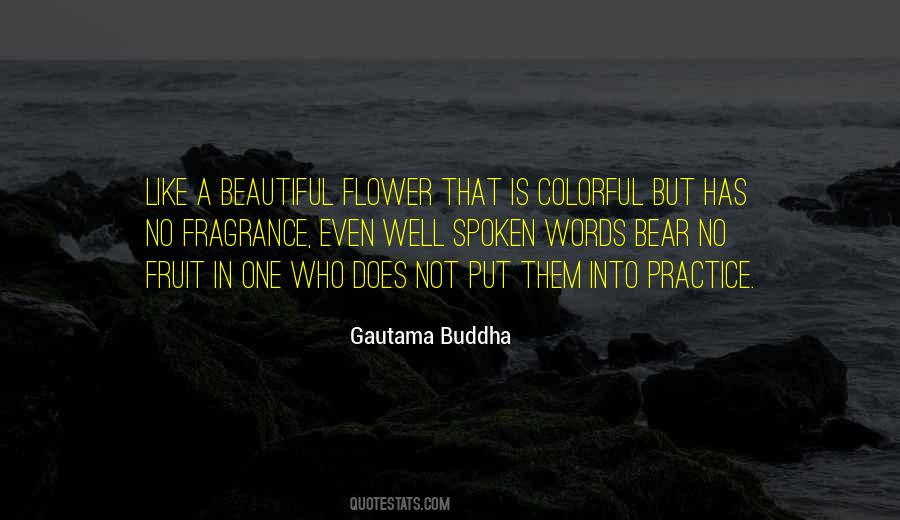 #26. He kissed my tears away and whispered sweet words into my ears. Words that he was too afraid to say out loud. He told me I was beautiful. That I was perfect in every way. And that, unconditionally, I was his.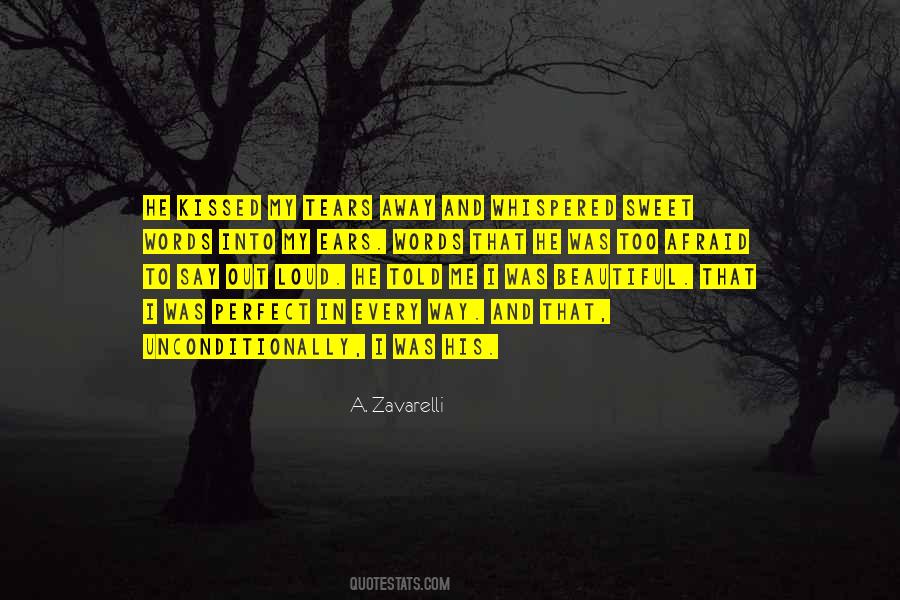 #27. I have the most beautiful souls in my life supporting me and helping me to follow my dreams. I love them more than I can ever express in words.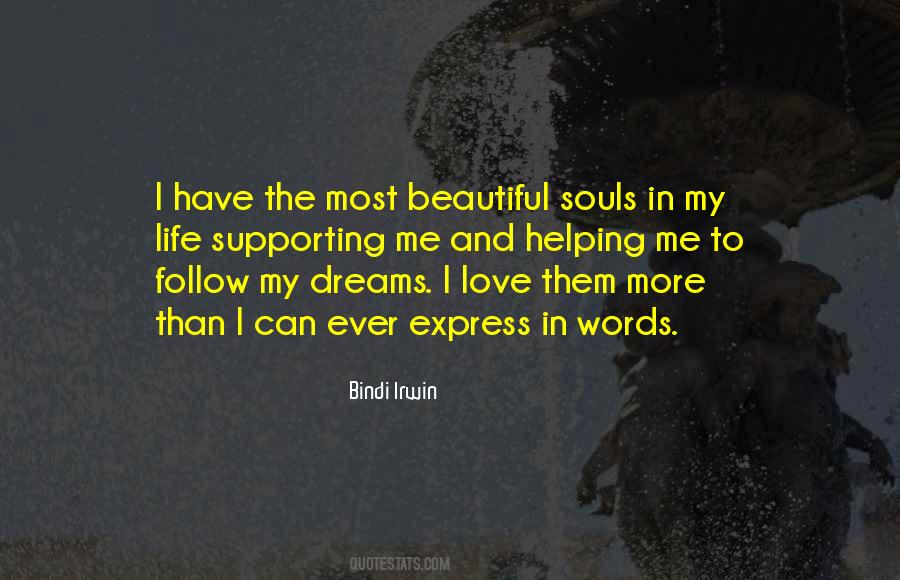 #28. In an age in which the classic words of the Surrealists - 'As beautiful as the unexpected meeting, on a dissecting table, of a sewing machine and an umbrella' - can become reality and perfectly achievable with an atom bomb, so too has there been a surge of interest in biomechanoids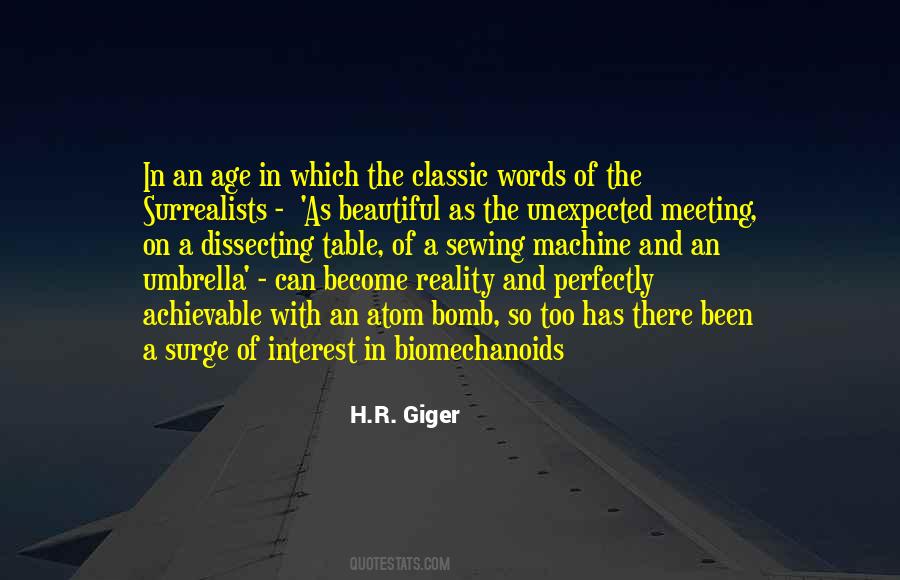 #29. I see no reason why the artistic world can't absolutely merge with Madison Avenue. Pop art is a move in that direction. Why can't we have advertisements with beautiful words and beautiful images?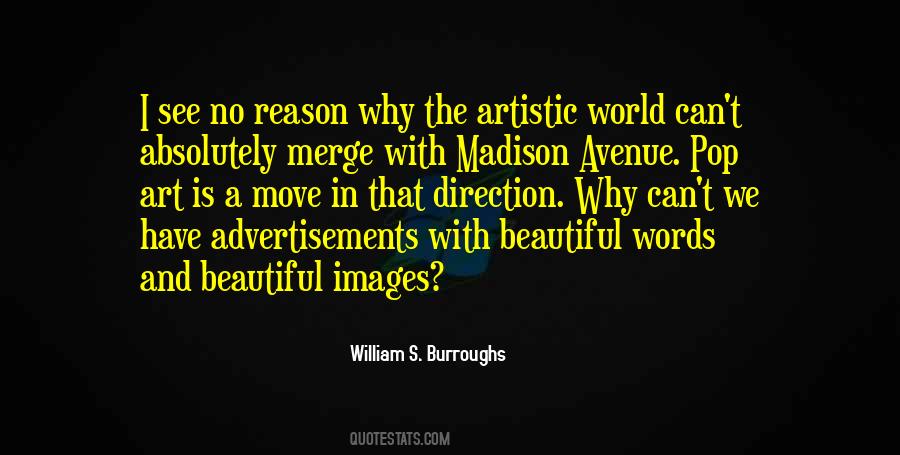 #30. The boy was twelve, reveling in the strange dust-smelling murk of a New Orleans library, watching motes flash gold in a beam of sun. He loved the ceiling lights on chains and the table lamps with their green glass shades. The room was as beautiful as another world.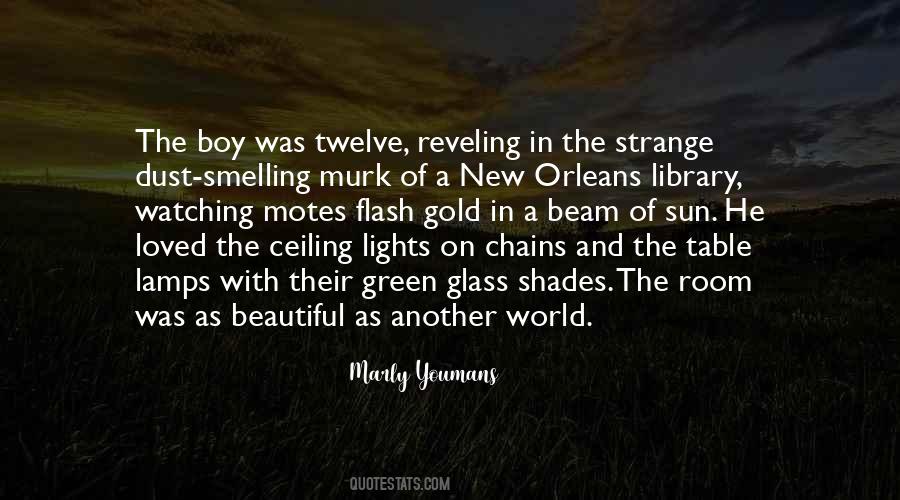 #31. what is
more beautiful

tears, in someone's eyes
for me
or in my eyes
for them.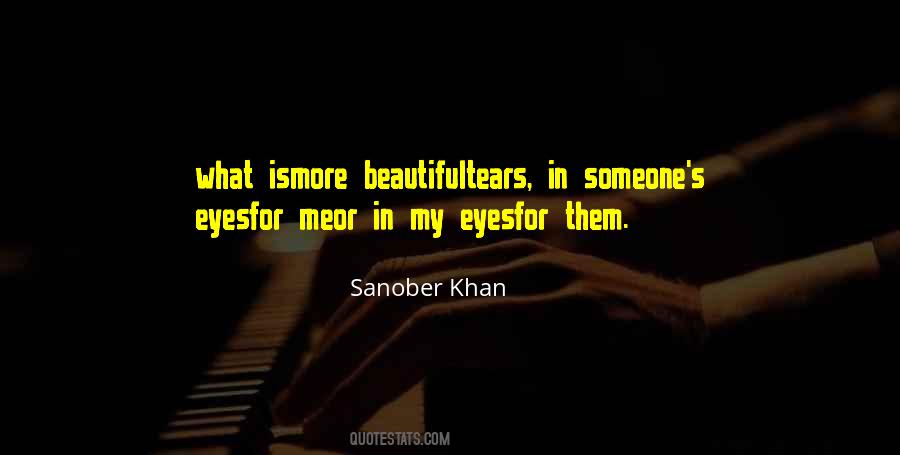 #32. To be beautiful lips - say kind words. To my eyes were beautiful - radiate good. A woman's beauty is not in the clothes, not in its shape or hairstyle. Beauty woman in her eyes, because the eyes - is the gateway to the heart, where love lives.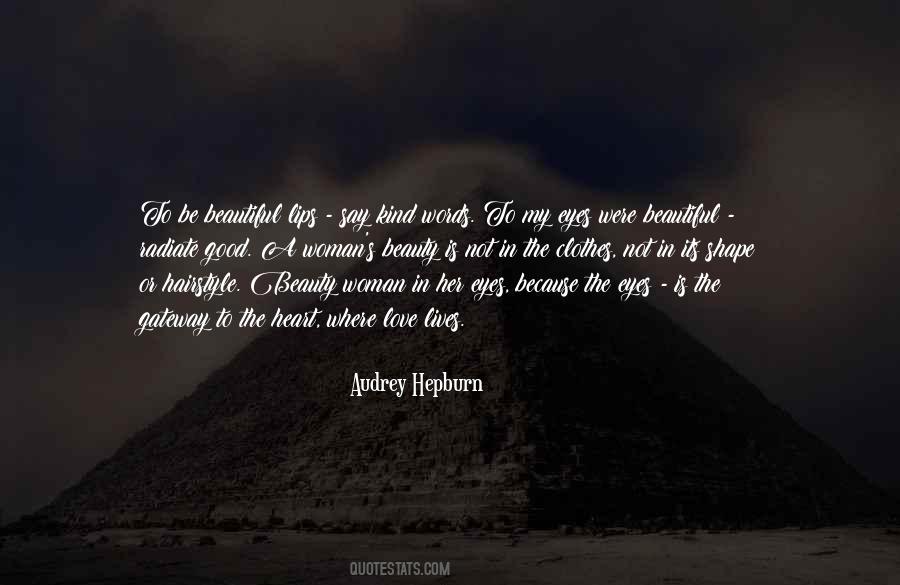 #33. There is no man on this earth that has the right to tell you how beautiful you are, for no words we use has enough power to tell that truth. Your beauty can only be describe by the heavens above in a language none of us know.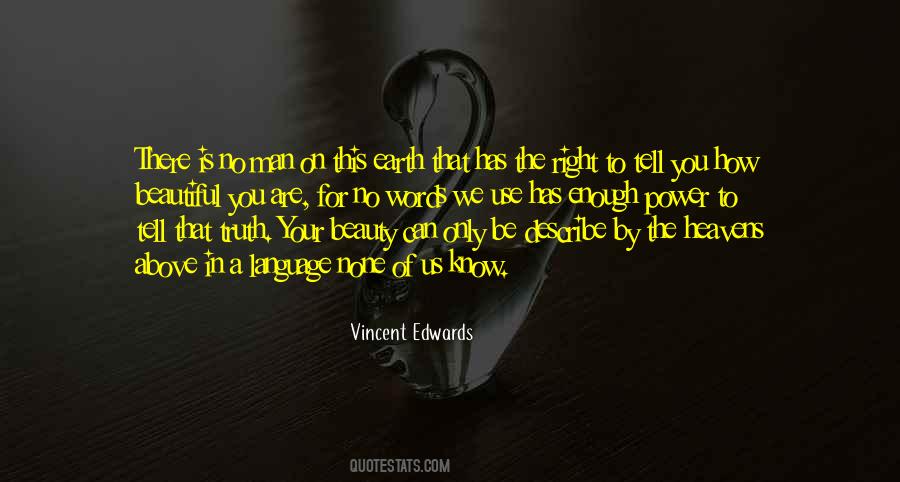 #34. To feel most beautifully alive means to be reading something beautiful, ready always to apprehend in the flow of language the sudden flash of poetry.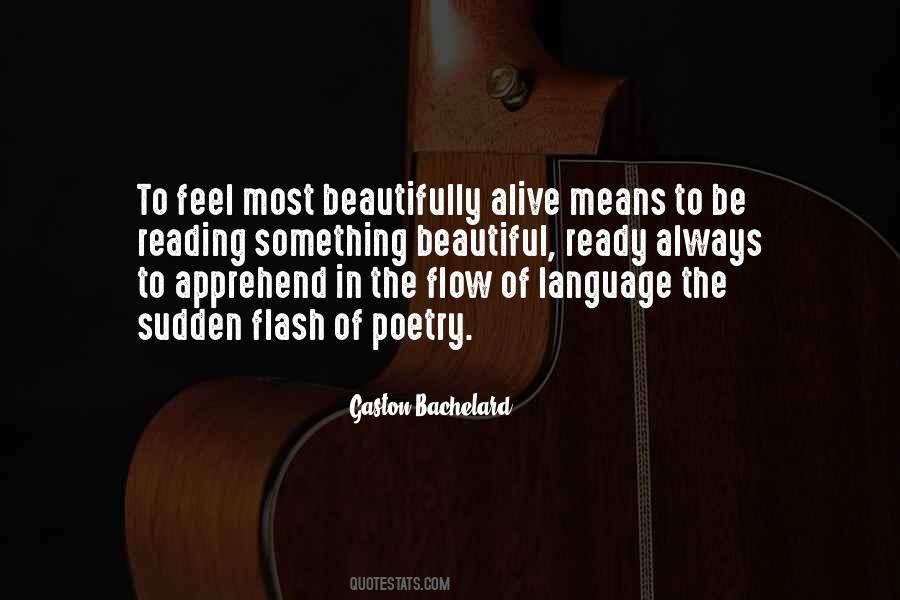 #35. Because when I read, I don't really read; I pop a beautiful sentence into my mouth and suck it like a fruit drop, or I sip it like a liqueur until the thought dissolves in me like alcohol, infusing brain and heart and coursing on through the veins to the root of each blood vessel.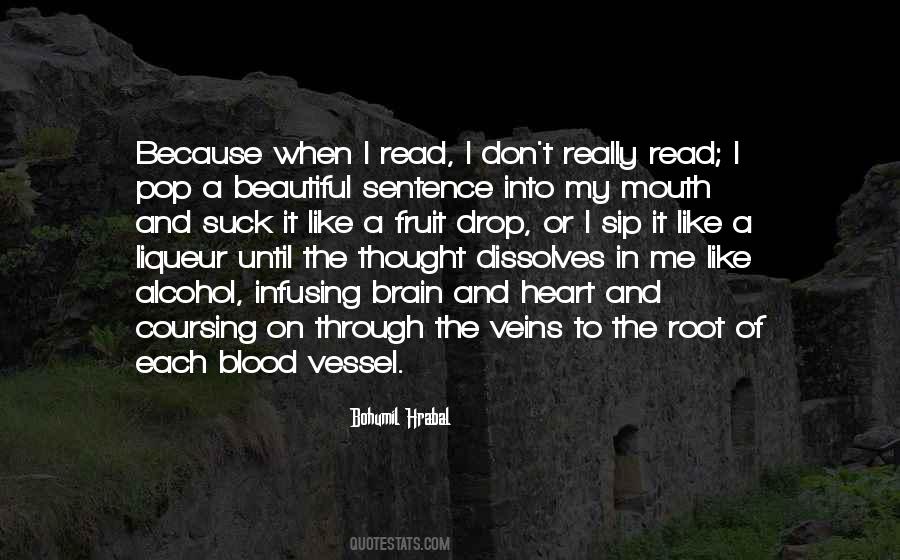 #36. For me, talking about church in front of a bunch of Christians means approaching a microphone and attempting to explain the most important, complicated, beautiful, and heart-wrenching relationship of my life in thirty minutes or less without yelling or crying or saying any cuss words.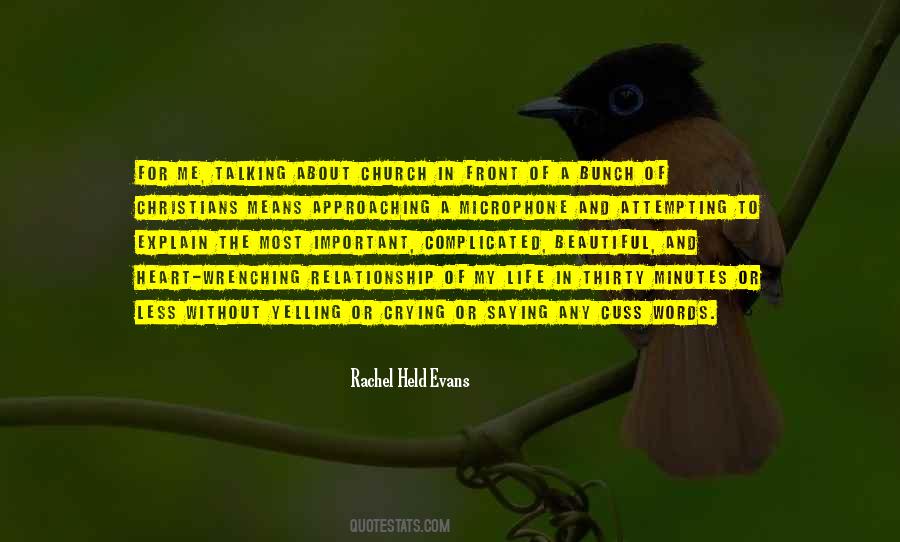 #37. Wamblecropt is the most exquisite word in the English language. Say it. Each syllable is intolerably beautiful.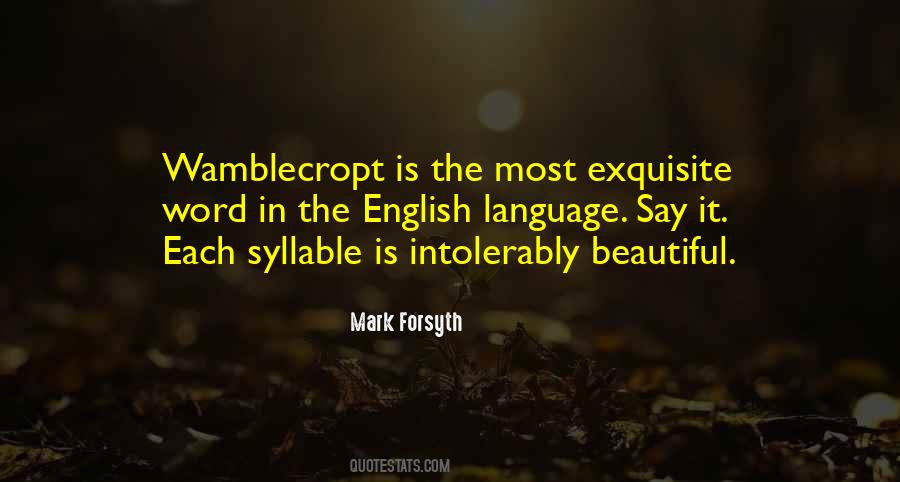 #38. I don't analyze beautiful. I sit in its presence and love the wholeness of it--the sweet and sad and raw and bright together.
Poetry is that, the weaving of light-shadow. Making words from the unwordable.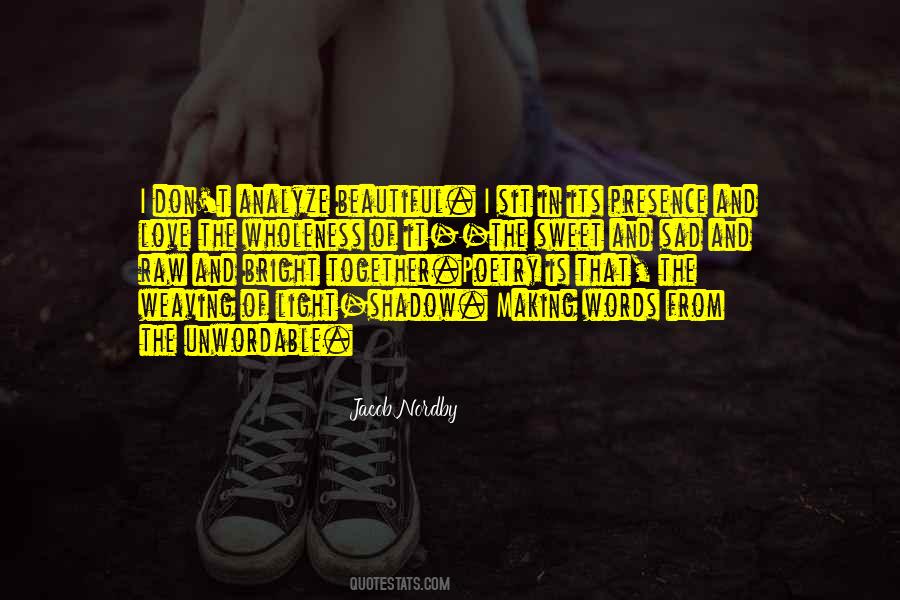 #39. And I'm moved, it's so beautiful. Not what I wrote, but to have it given back like this. To have her remember the words and the tune. To hear it in her voice.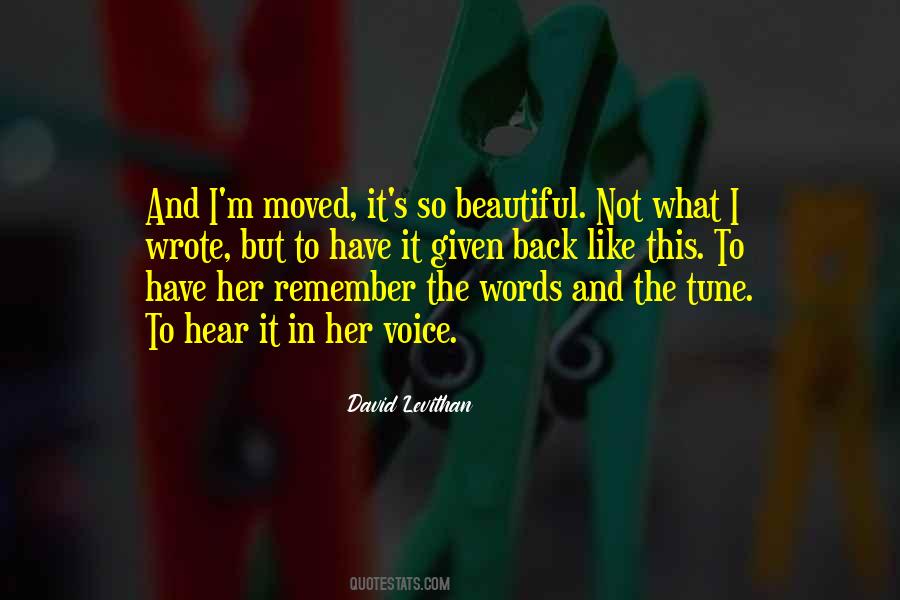 #40. As close as we'd been when we were together, we were closer in our unraveling, telling each other everything at last, words that seemed to us might never have been spoken between two human beings before, so deep we went, saying everything that was beautiful and ugly and true.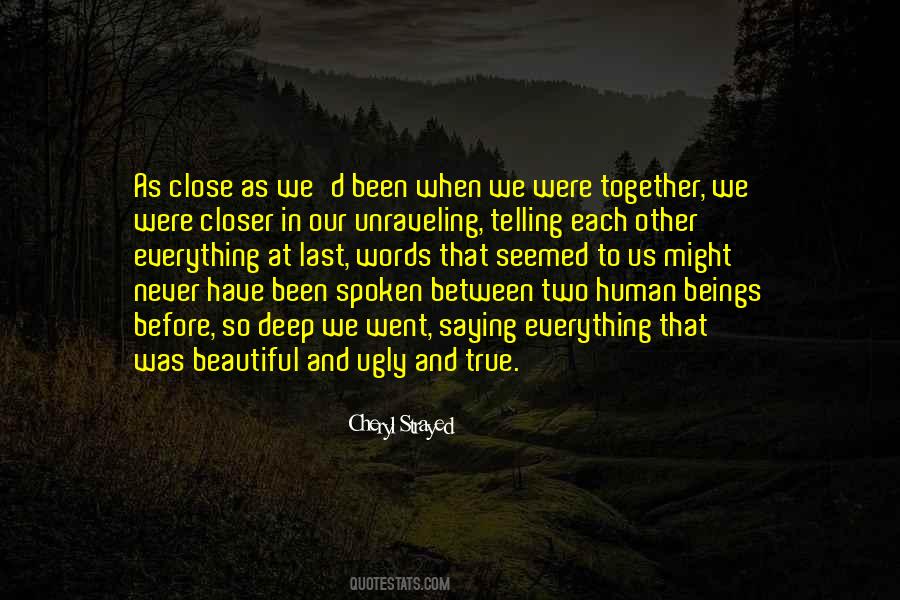 #41. Teachers wondered why I didn't speak up more in class. Why would I when I knew how precarious words could be, how betraying they were, how vulnerable they made you?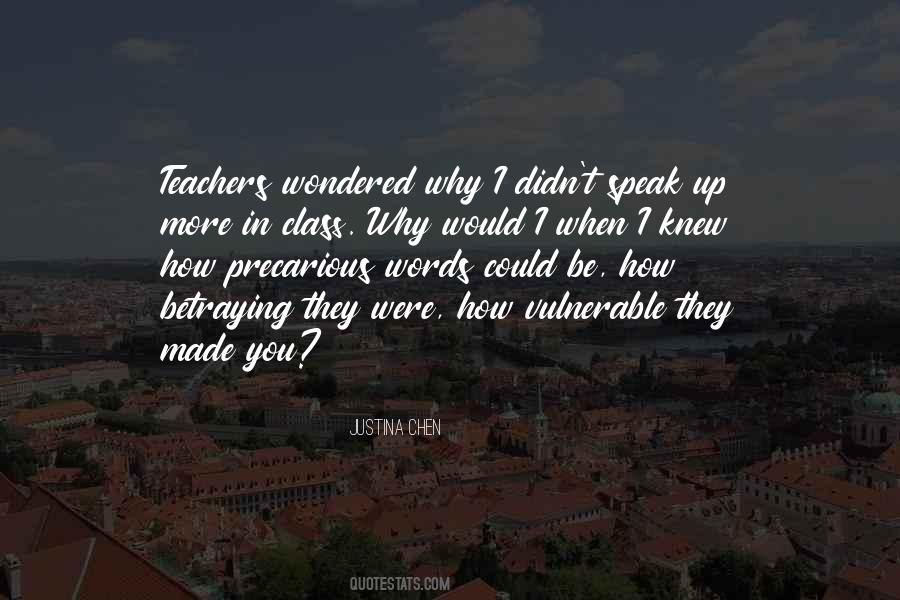 #42. A beautiful deleveraging balances the three options. In other words, there is a certain amount of austerity, there is a certain amount of debt restructuring, and there is a certain amount of printing of money. When done in the right mix, it isn't dramatic.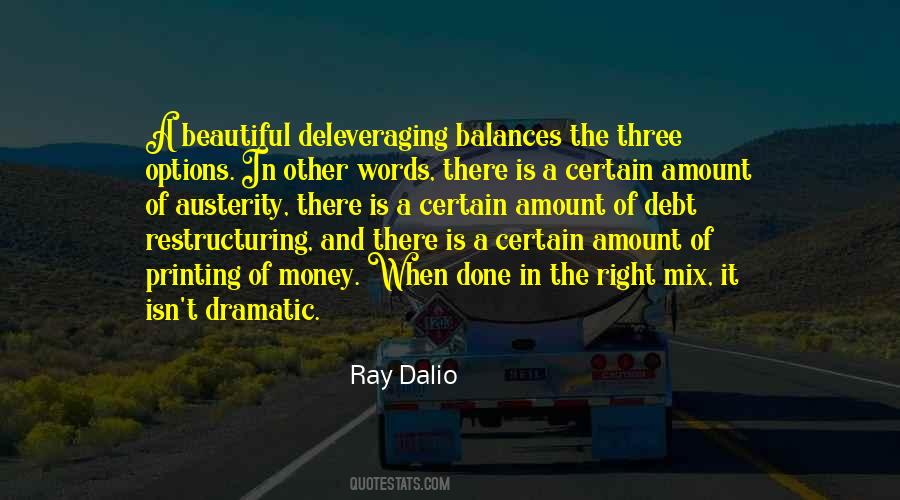 #43. God allows us glimpses into Heaven through beauty. We see the glimpses in nature, in paintings, we hear it in music, find it in words, but Heaven is shown to us most often, not through beautiful places, but through our love with others." "Like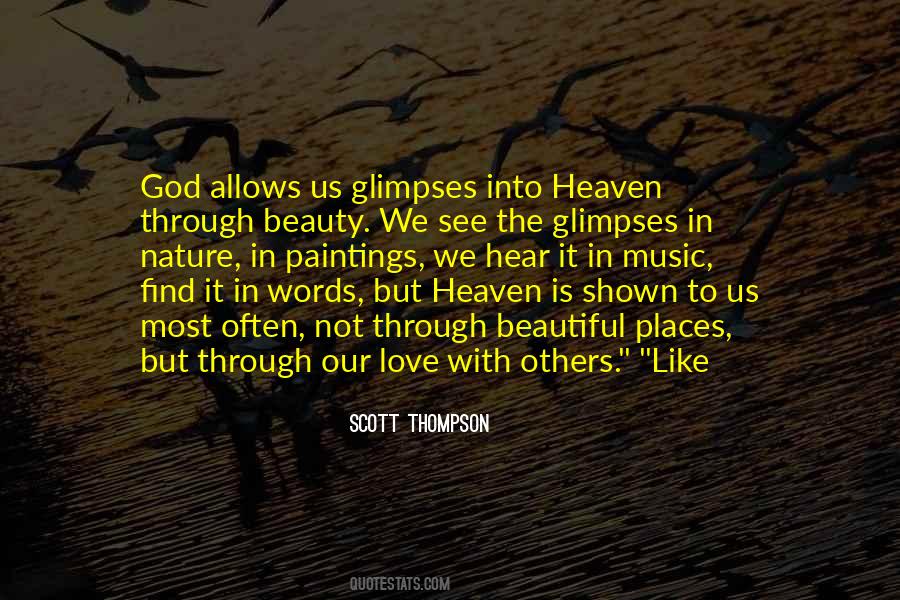 #44. The poet's job is to put into words those feelings we all have that are so deep, so important, and yet so difficult to name, to tell the truth in such a beautiful way, that people cannot live without it.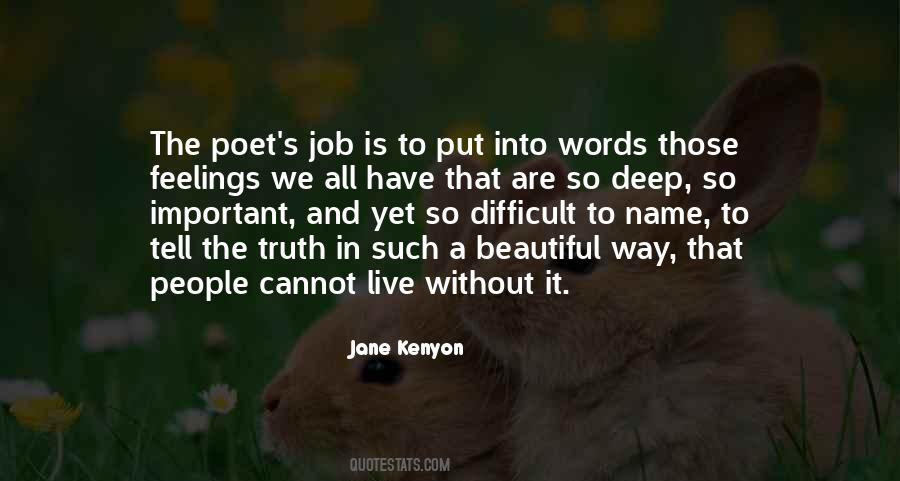 #45. Perhaps, after all, the most beautiful words in the language are I'm sorry.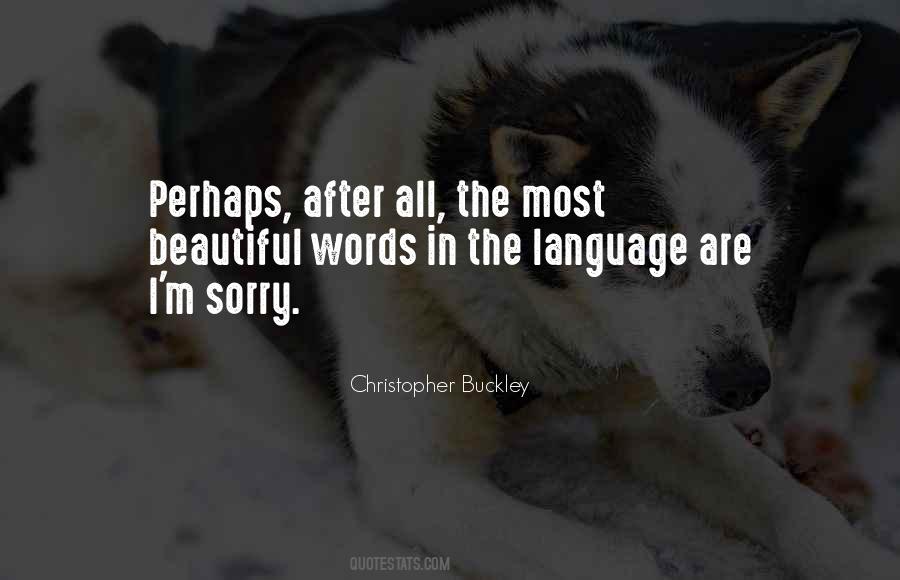 #46. There is no dictionary in the world that includes the words 'skinny' or 'fat' under the definitions of 'beautiful' and 'ugly'. So, focus on being healthy and stop the self-criticism.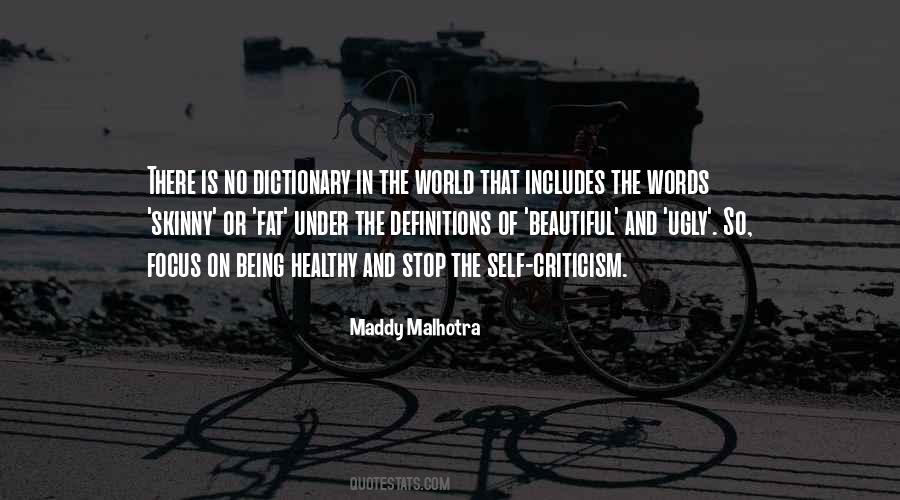 #47. I meet those fierce yellow-green eyes. Even in the wake of my pain, she has this resilience that's more beautiful than words can describe. It's fire to my water. And I want her to burn me alive.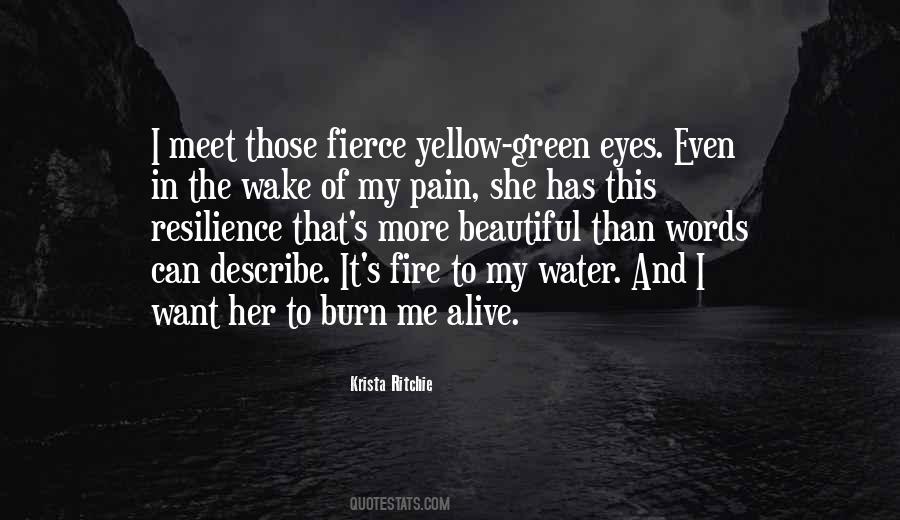 #48. I had never expected to fall in love, but then, I'd never imagined anyone like Jess. She was one beautiful contradiction. The idea of letting someone else own my heart wasn't appealing. It sounded weak and Foolish. Something meant for the words of a song. I was wrong.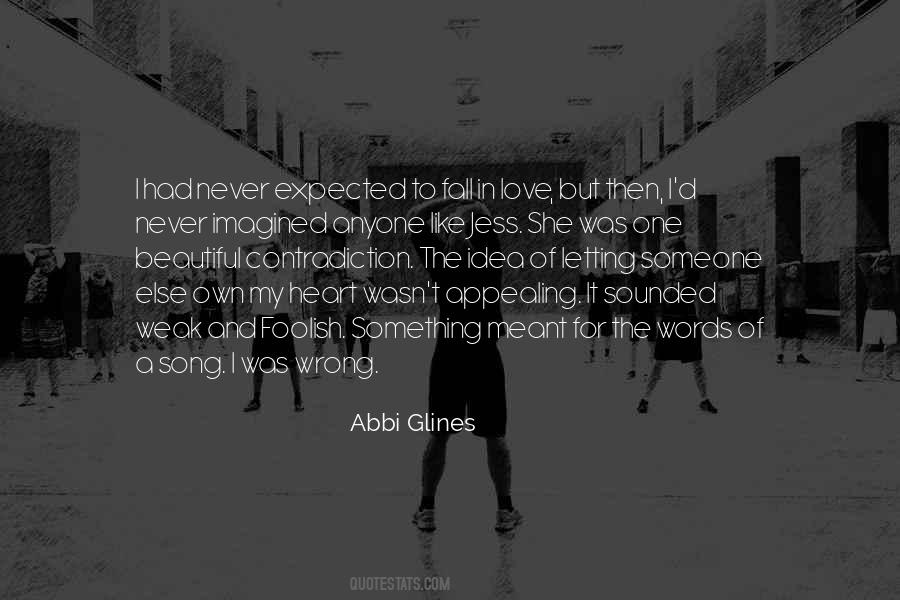 #49. She had large, questioning eyes that seemed to draw me in and a sense of quiet outrage that simmered just beneath the surface. More than anything, within her features, there was a streak of wild quirkiness that made her dazzlingly attractive.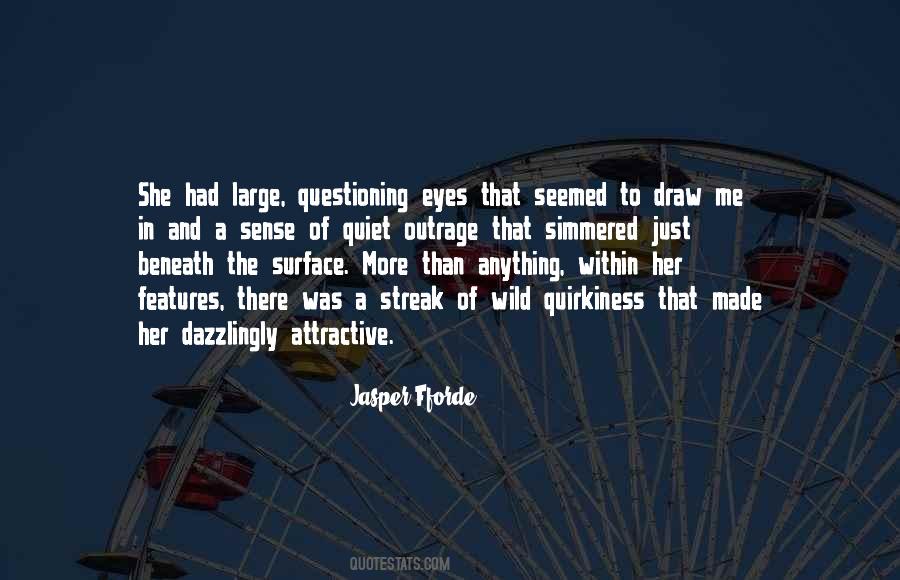 #50. There is something incredibly beautiful about a woman, who knows herself, she can't break, she just falls but in every fall she rises, past who she was before.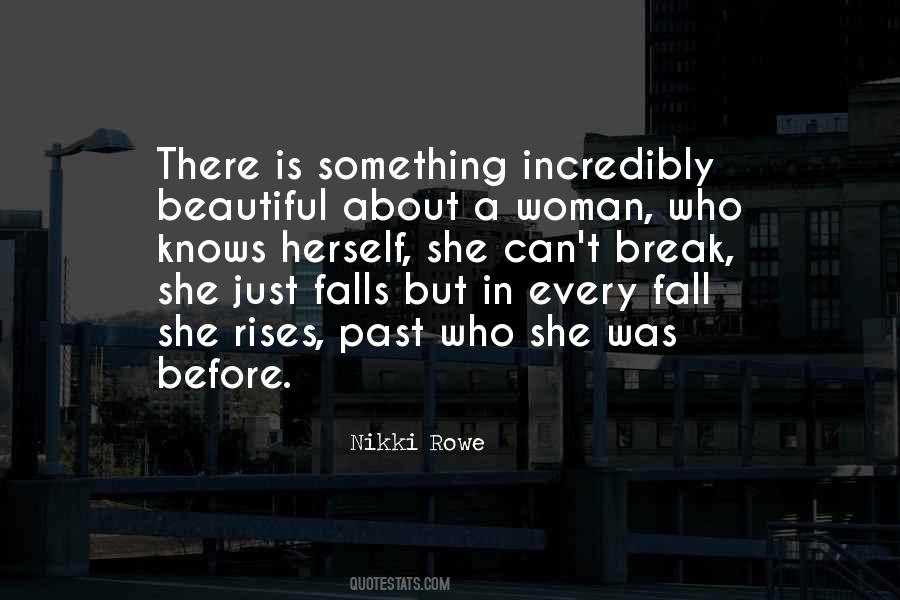 #51. Every flower displays its beautiful colours in autumn.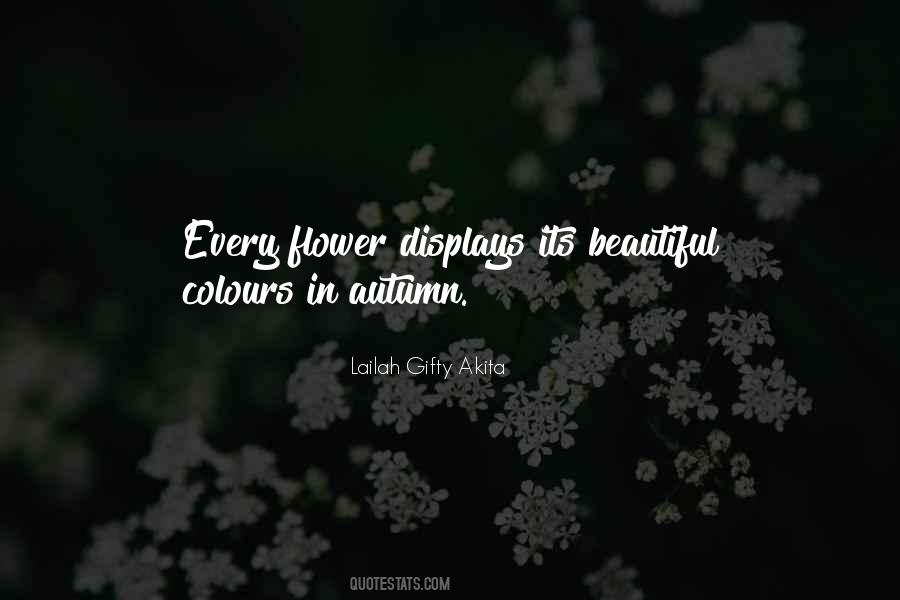 #52. I felt a curious thrill, as if something had stirred in me, half wakened from sleep. There was something very remote and strange and beautiful behind those words, if I could grasp it, far beyond ancient English.
(on reading the Cynewulf lines about the star Earendel)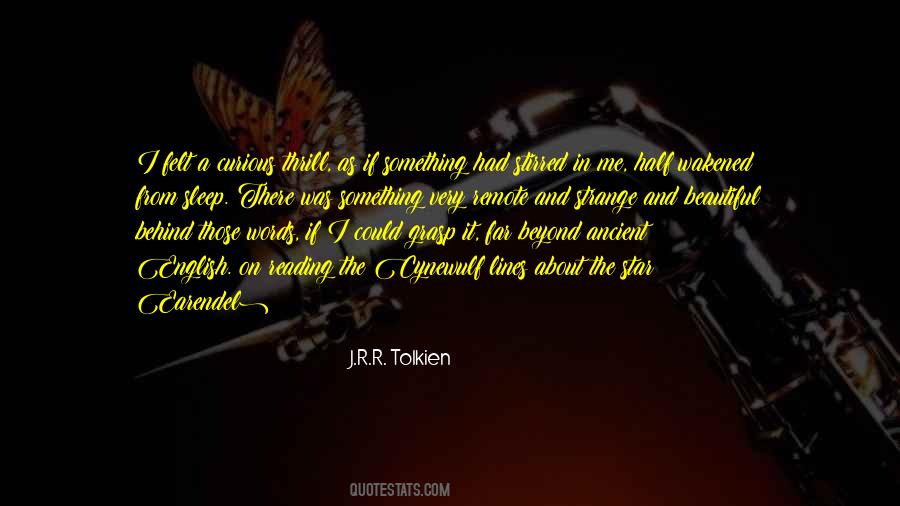 #53. Because I like that I got an ugly girl's personality. In other words, a homely girl always has to develop that muscle. And I did. But the good news is that I never considered myself beautiful at all. And I still don't.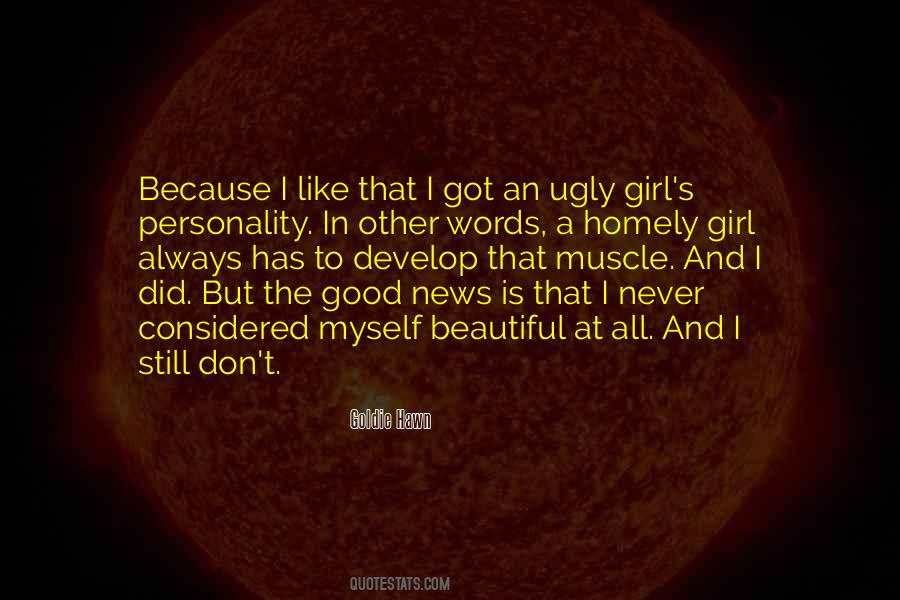 #54. In a sudden inspiration, Florentino Ariza opened a can of red paint that was within reach of the bunk, wet his index finger, and painted the pubis of the beautiful pigeon fancier with an arrow of blood pointing south, and on her belly the words: This pussy is mine.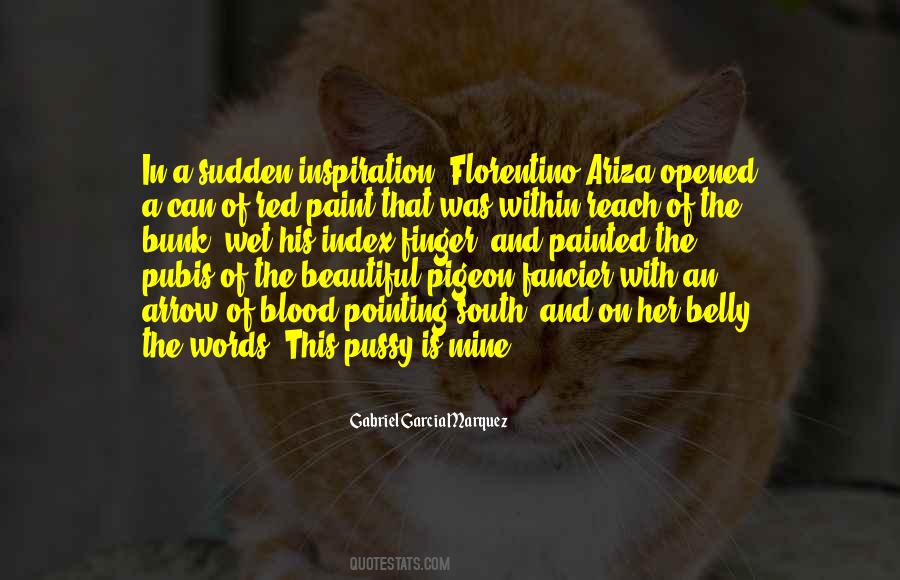 #55. There are in life a few moments so beautiful,that even words are a sort of profanity.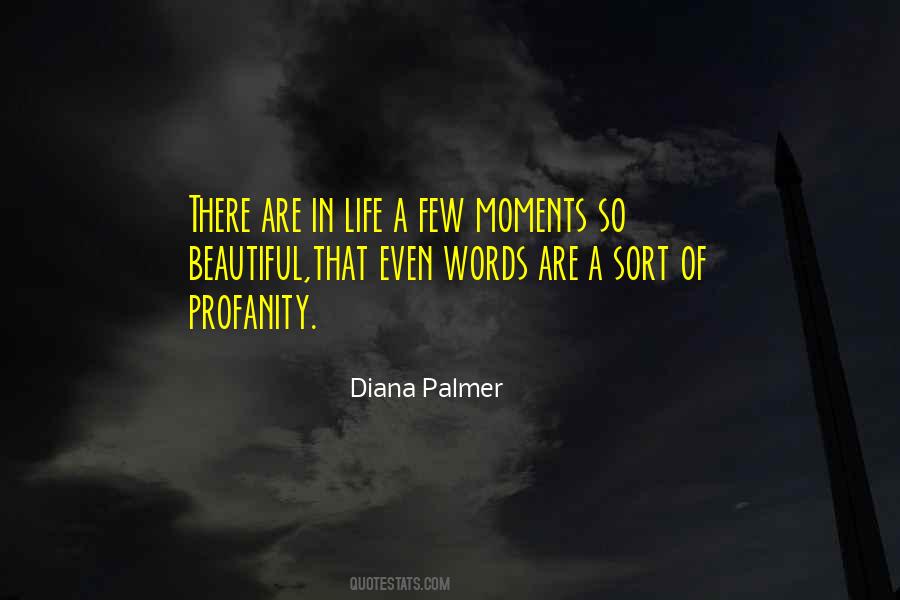 #56. You're beautiful." His words warmed her skin and tugged at her heart, and this time she believed he meant what he said. He rested his forehead against her, his dark hair in stark contrast to her white flesh. "I knew you would be. I've always known. Always.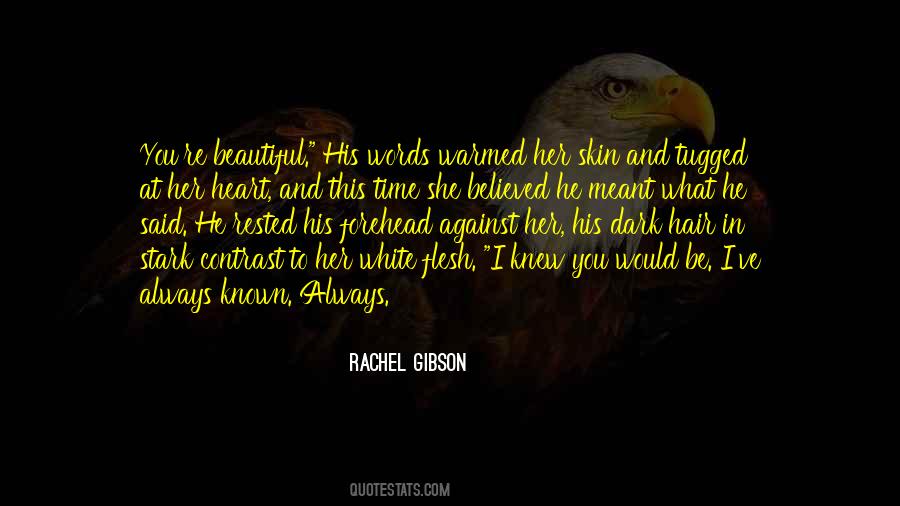 #57. Logan spoke Badass.
There were only a few words in the Vocabulary of Badass but each one had a number of meanings. They included beautiful, Christ, fuck, Jesus, and shit.
But the one used most was babe.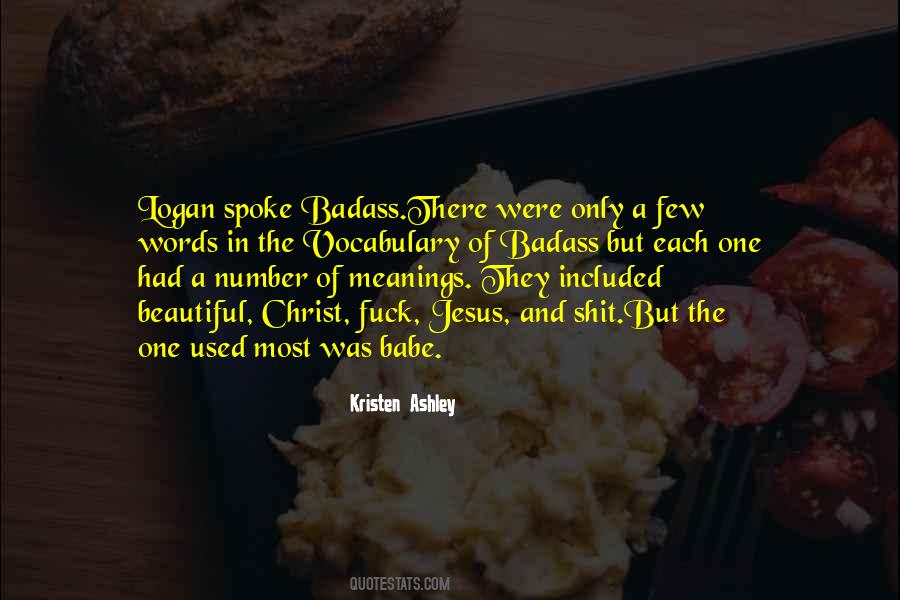 #58. Let us not mince words: The marvelous is always beautiful, anything marvelous is beauitful, in fact only the marvelous is beautiful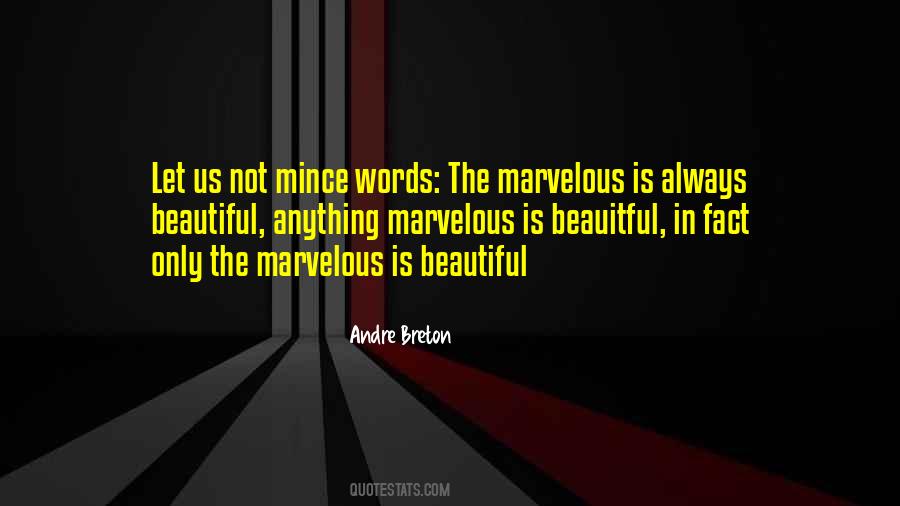 #59. I had no idea i'd traveled into my own universe until Echo's cold fingers squeezed mine. "Want to do normal?"
And my heart clenched in pain and joy at the same time. I missed my parents beyond words and this beautiful nymph understood.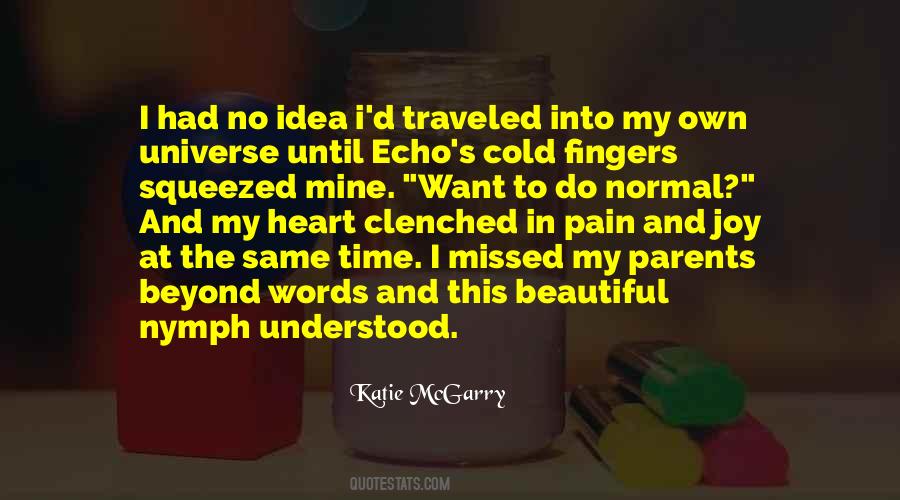 #60. Missing someone is the reverberating echo of everything beautiful about her - her laugh, her song, her touch, her smell, the power of her words, and the constant shadow that lingers on as her perfect image in your memory.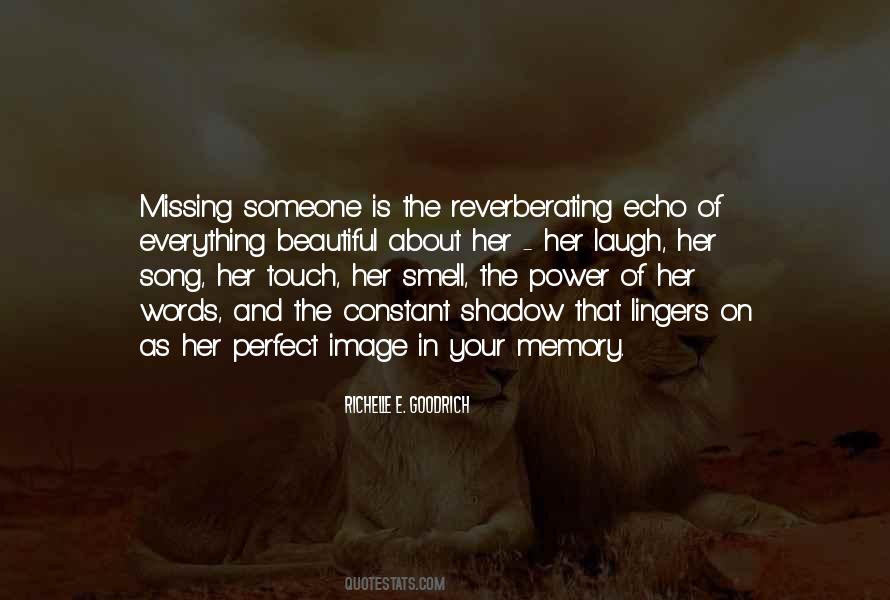 #61. Are there any more beautiful words in the English dictionary than 'see you tomorrow?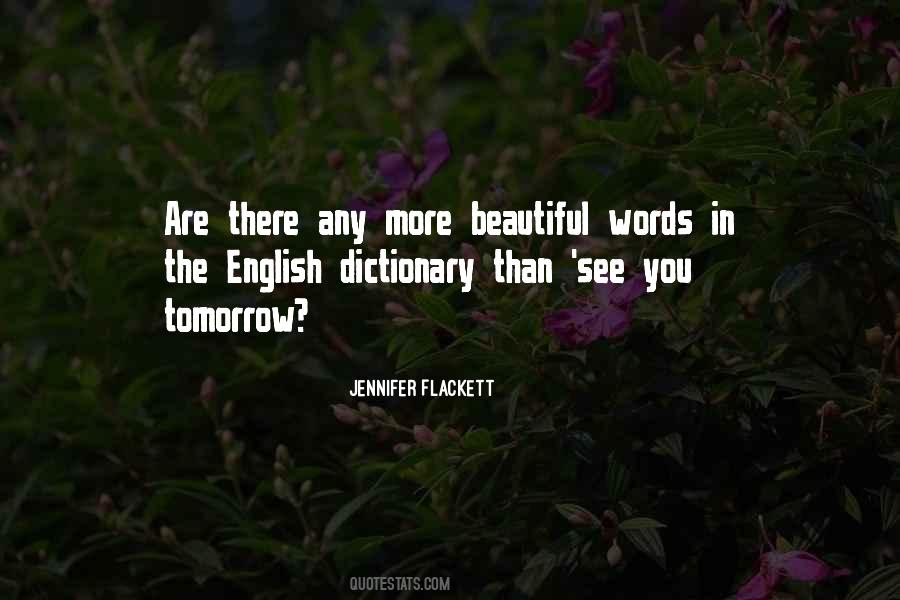 #62. The four most beautiful words in our common language: I told you so.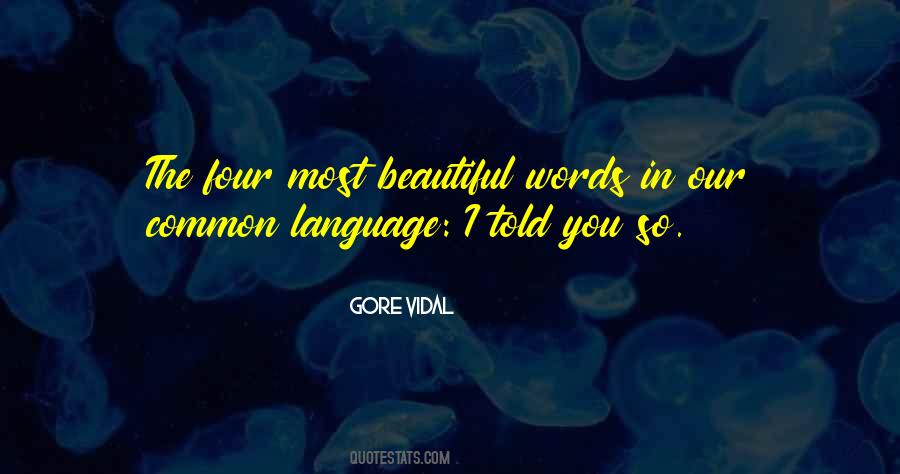 #63. My father was the first to read in his family, and he said to me that words were the first beautiful thing he ever knew.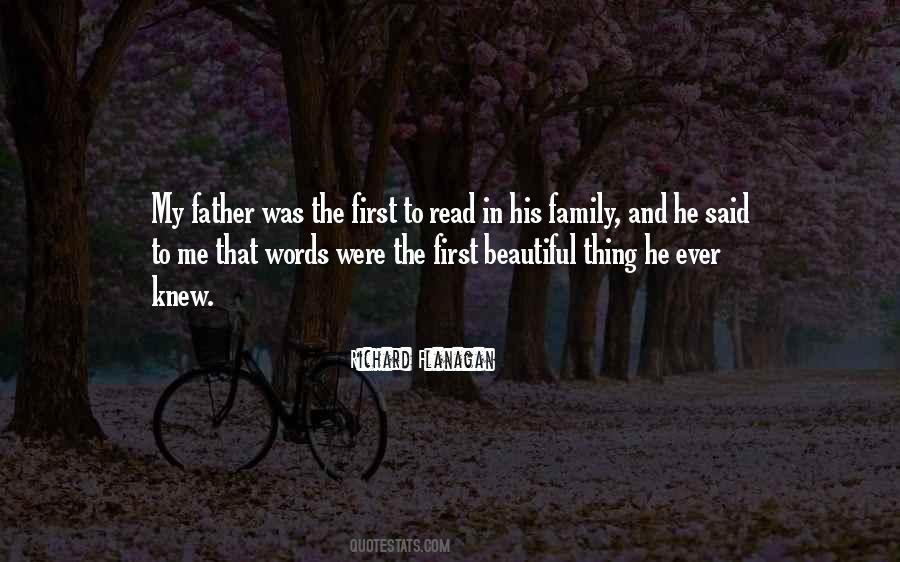 #64. I may be 5 ft. 3 in., but my team makes me feel like I'm 10 feet tall, and it's a beautiful relationship. My teammates rely on me to lead and unite them with my words, and I love that my words make the boat go fast.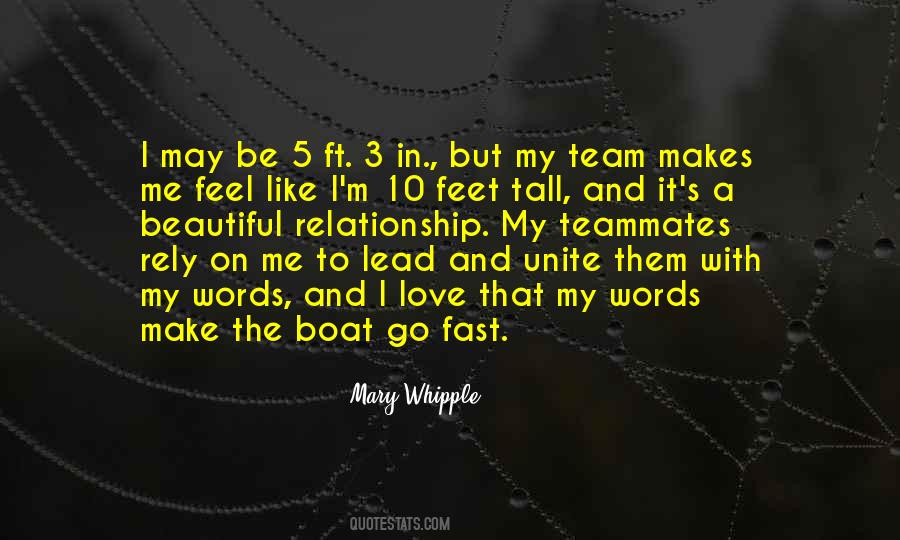 #65. The most beautiful words in the English language are not 'I love you', but 'It's benign'.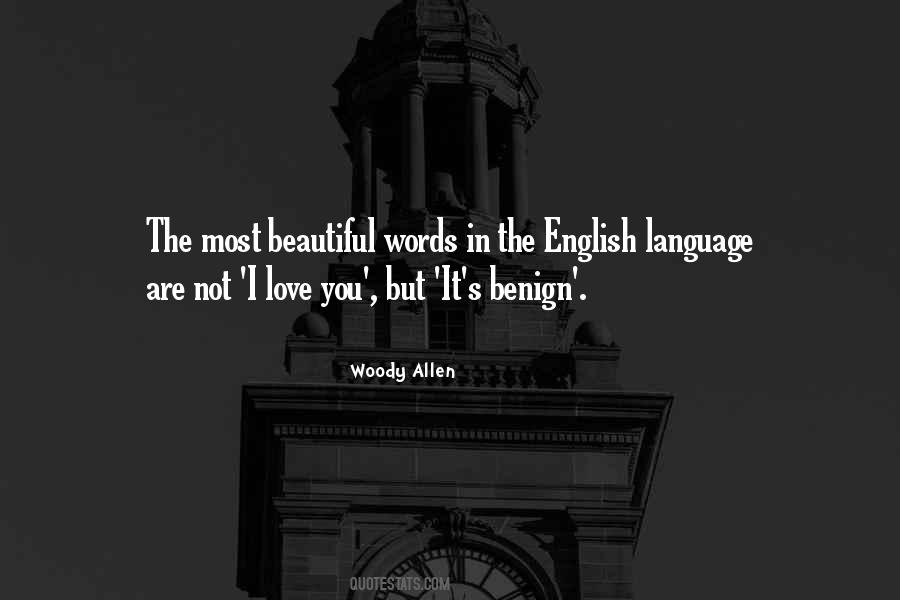 #66. I use the words gods and goddesses principally, I think, to mean beautiful bodies - bodies that are absolute instruments. And I believe in discipline, I believe in a very definite technique.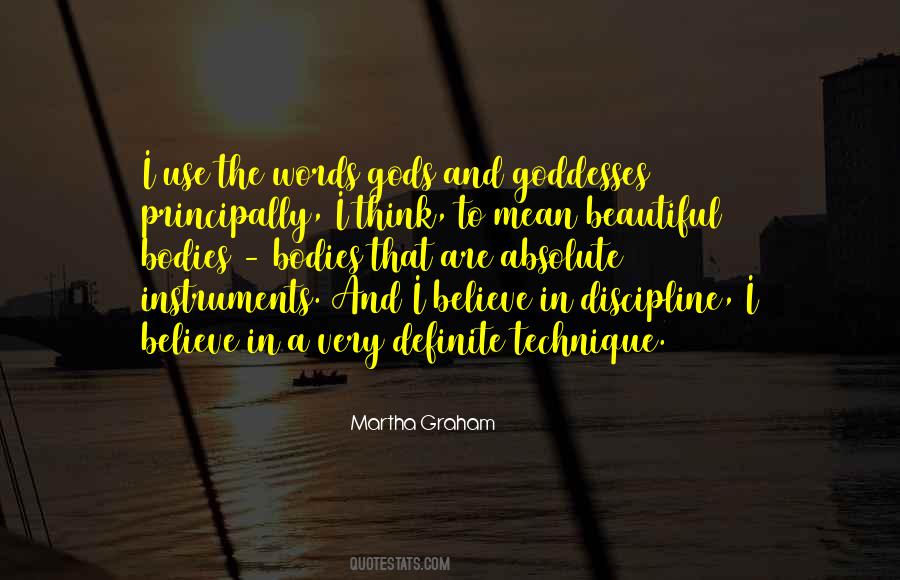 #67. [an encounter in space] Some celestial event. No
no words
no words to describe it. Poetry! They should have sent a poet. So beautiful. So beautiful ... I had no idea. I had no idea.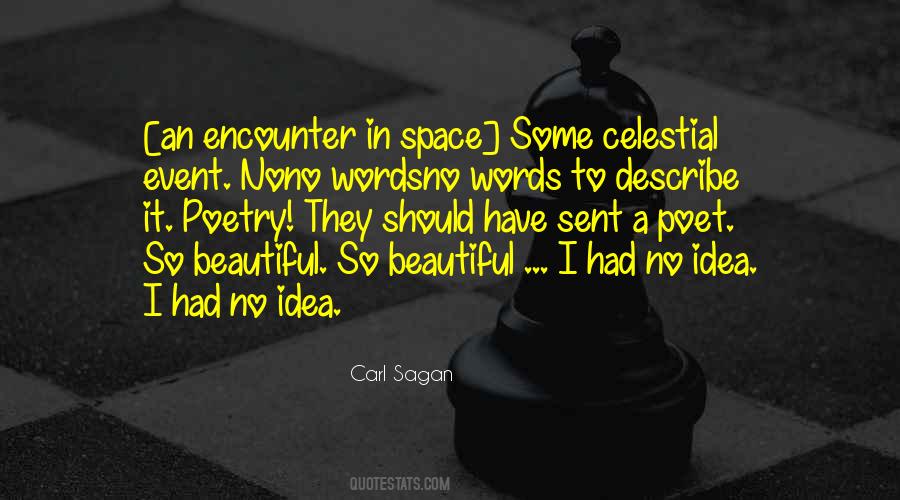 #68. Many people use the words 'death defying' or 'death wishing' when they talk about wire-walking. Many people have asked me: 'So do you have a death wish?' After doing a beautiful walk, I feel like punching them in the nose. It's indecent. I have a life wish.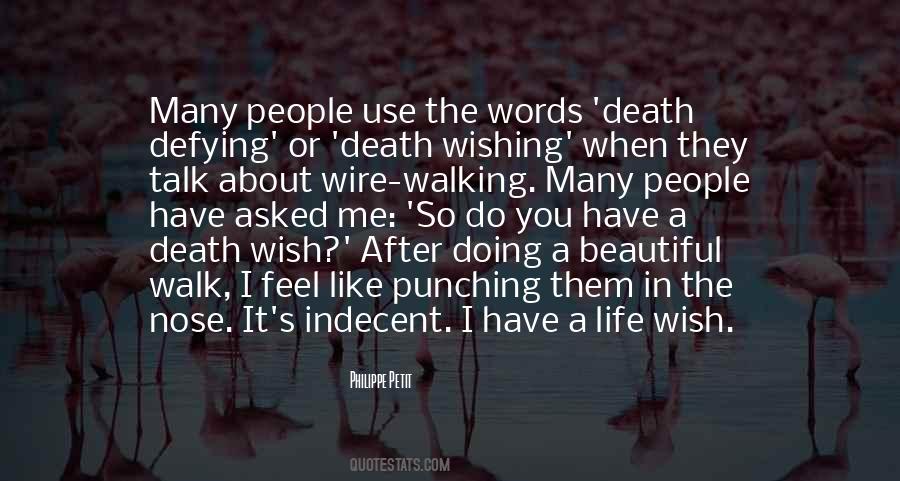 #69. Yes, I read. I have that absurd habit. I like beautiful poems, moving poetry, and all the beyond of that poetry. I am extraordinarily sensitive to those poor, marvelous words left in our dark night by a few men I never knew.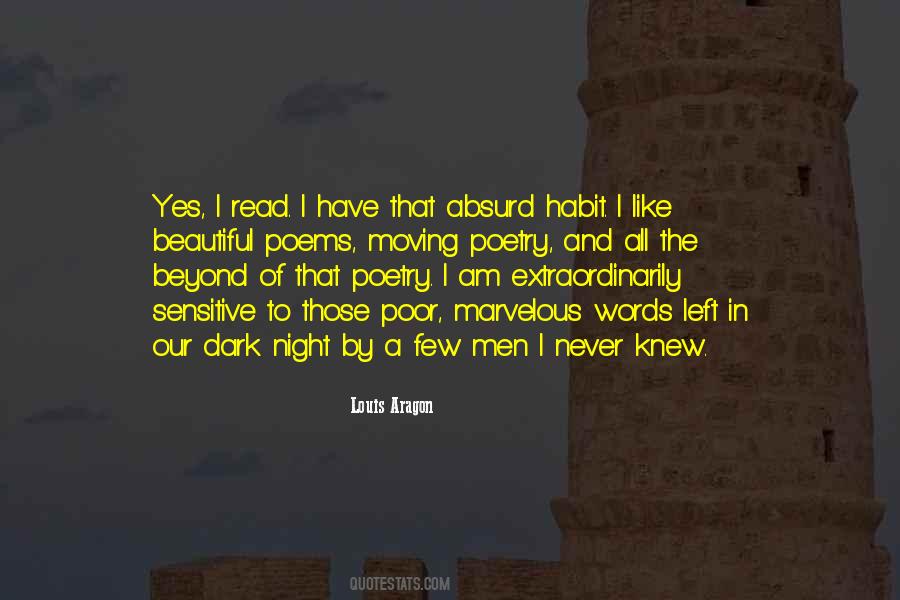 #70. I was a witness to lots of death ... Saving a human life was something really, really beautiful ... no matter who they are. Not only Israeli people owe me their lives. I guarantee many terrorists, many Palestinian leaders, owe me their lives - or in other words, they owe my Lord their lives.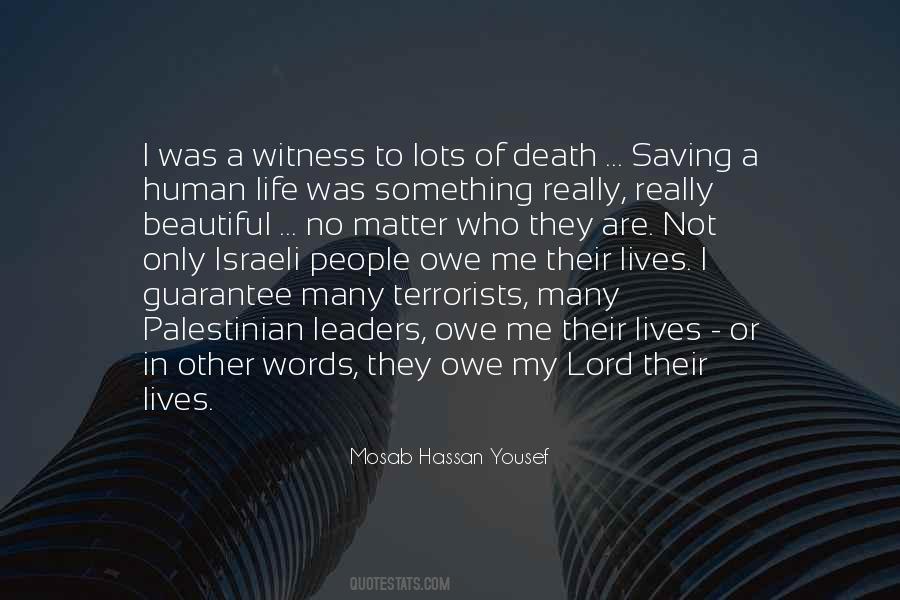 #71. She was born to be free, let her run wild in her own way and you will never lose her.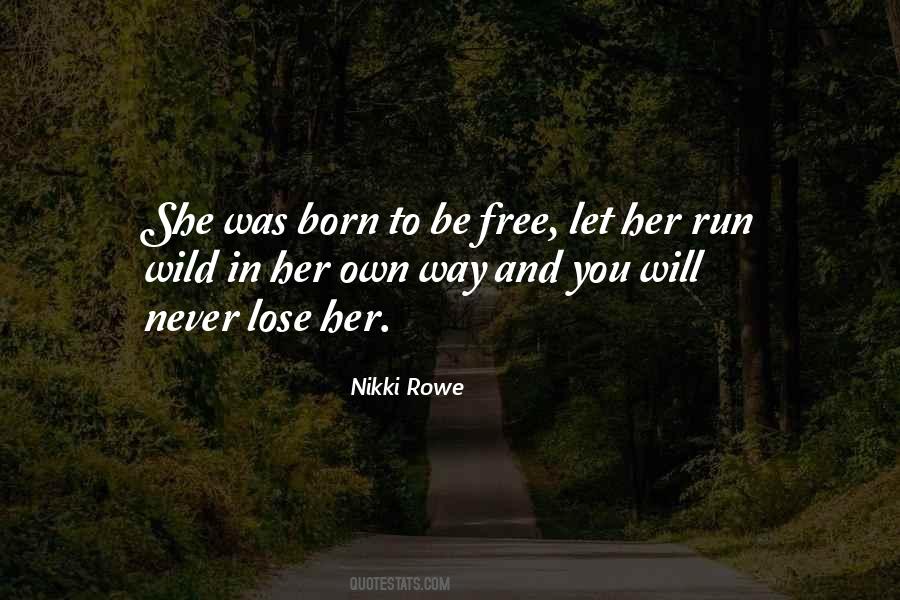 #72. He has described in precise, measured words the beautiful desolation he feels at the close of novels where the message is that there is no end to human suffering, only endurance.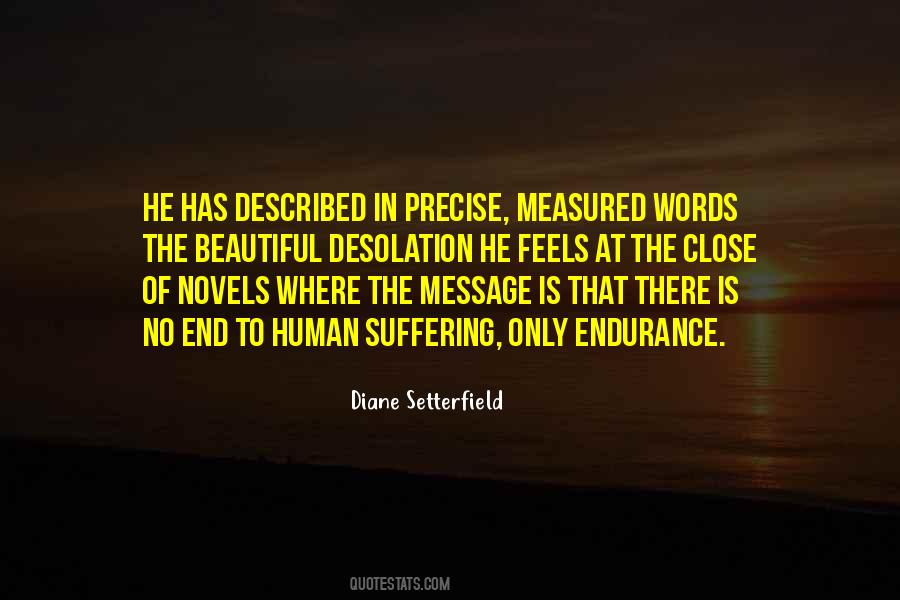 #73. That, he said as he kissed her nose.Is a shame.You should be told you're beautiful every day.Because every day it's true, and every time i see you ,you grow in your beauty.Just because people don't say the words, doesn't mean its any less true,Kace.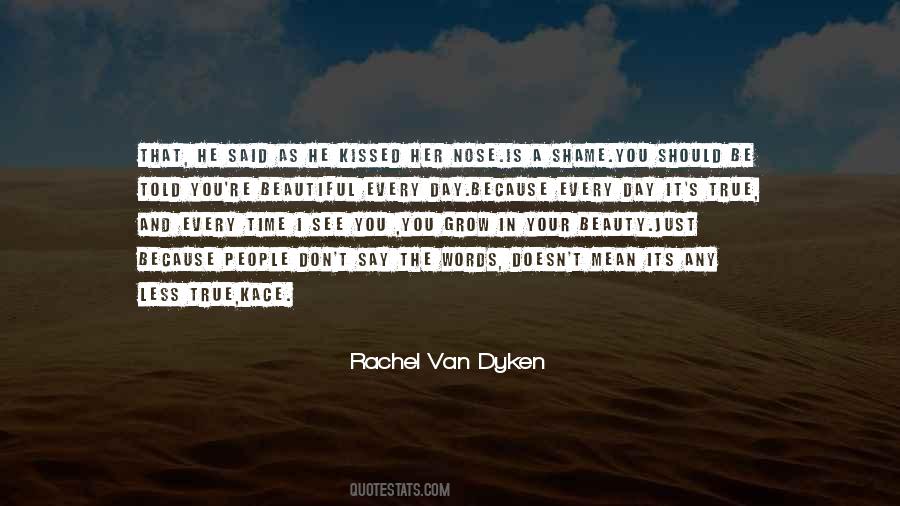 #74. Be assertive, in speech and in conduct.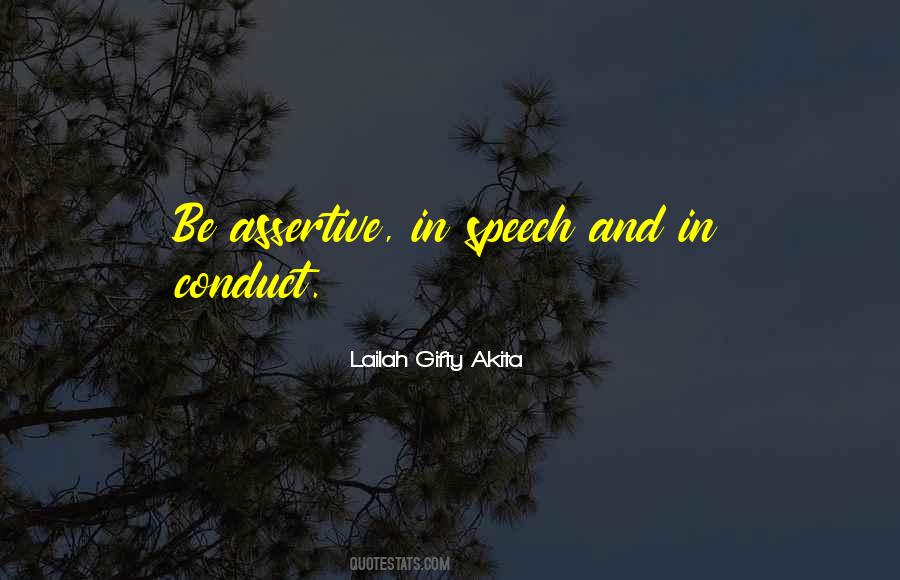 #75. Frugality is one of the most beautiful and joyful words in the English language, and yet one that we are culturally cut off from understanding and enjoying. The consumption society has made us feel that happiness lies in having things, and has failed to teach us the happiness of not having things.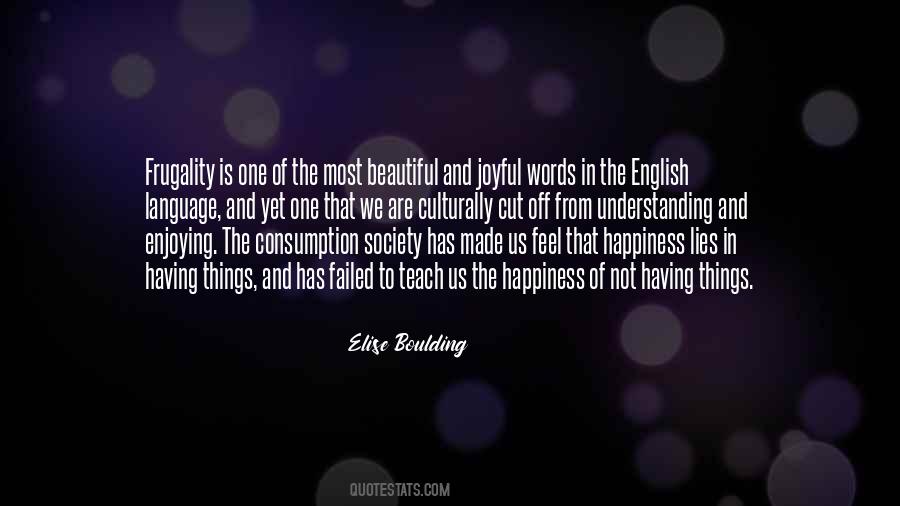 #76. The most beautiful words of love are told in silence for a look.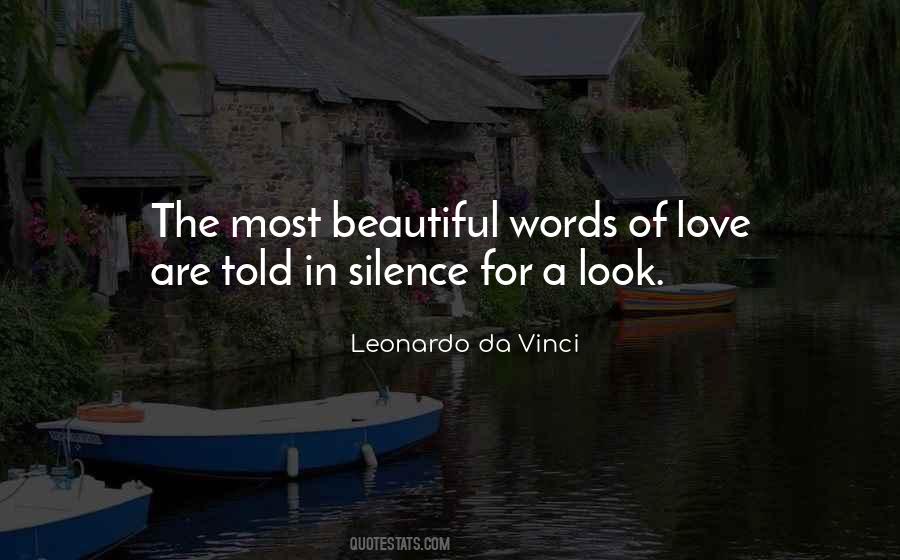 #77. Words are the most beautiful things existed in the world, but they die as fast as they were born, unless you convert them to act!
The Secret Life of Bees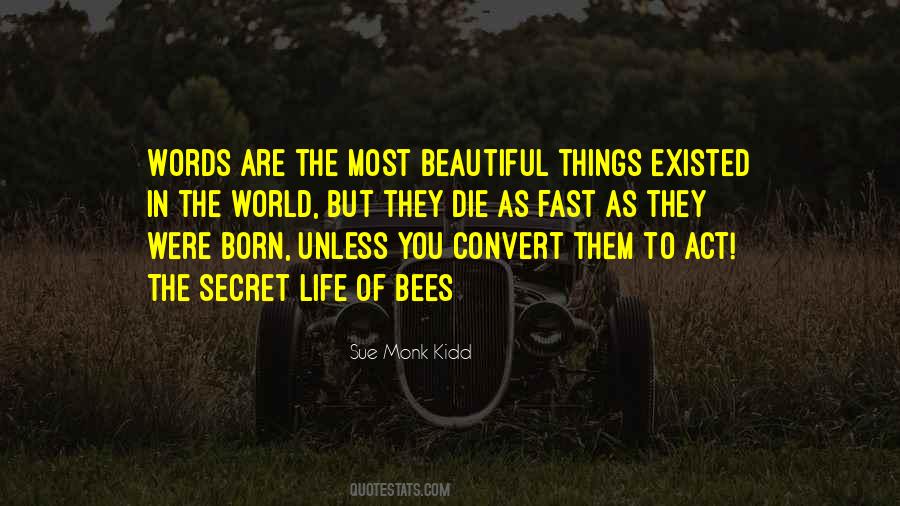 #78. Not Cassie for Cassandra. Or Cassie for Cassidy. Cassie for Cassiopeia, the constellation, the queen tied to her chair in the northern sky, who was beautiful but vain, placed in the heavens by the sea god Poseidon as a punishment for her boasting. In Greek, her name means she whose words excel.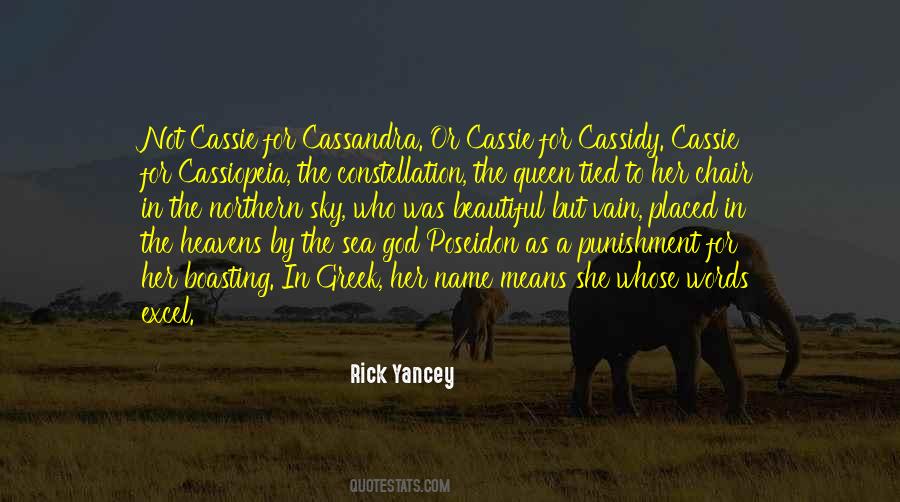 #79. Here in this moment we are beautiful, nocturnal creatures and our thoughts and words are jewels guarded by the moon.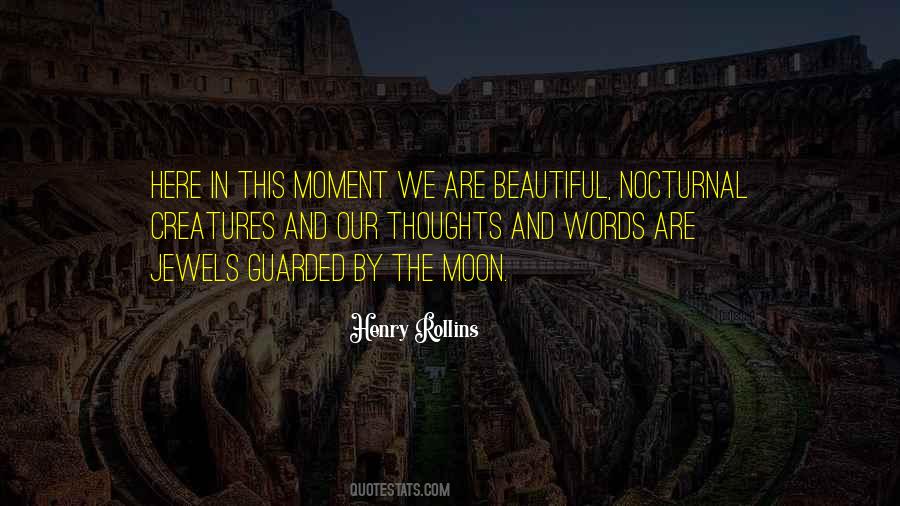 #80. Summer afternoon - summer afternoon; to me those have always been the two most beautiful words in the English language.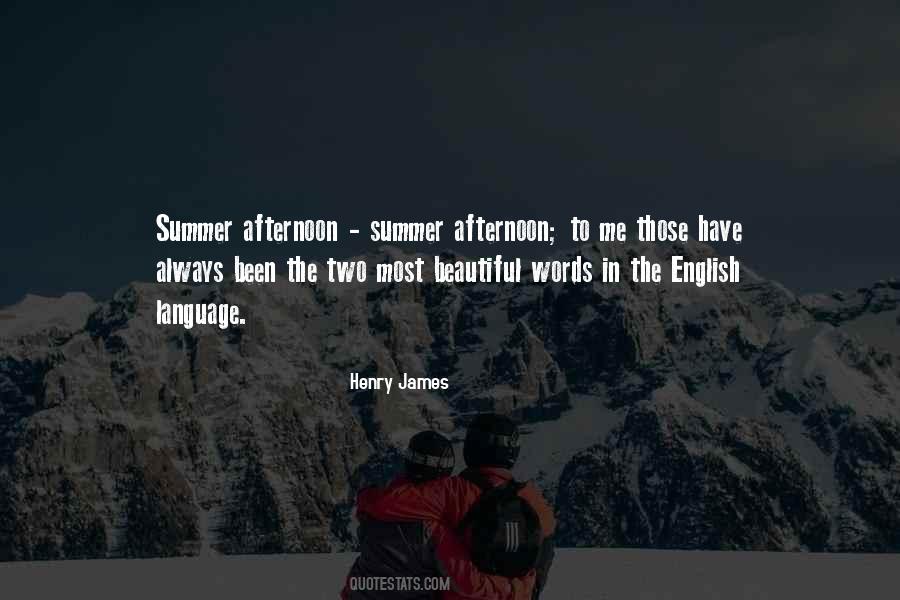 #81. It is in the heart and not in the words - not even in the most beautiful ones - but in the heart, in the skeleton bird pushing against your chest, wanting to fly, that we know for certain who and what we love. That is all we have, and all there is.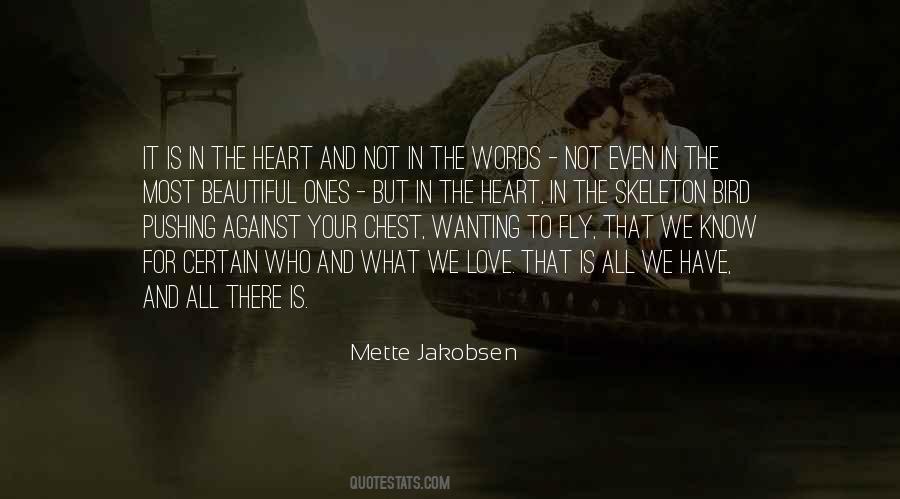 #82. I create beautiful art, so I can look back on the life my body fell short of in such a way that it brings me peace.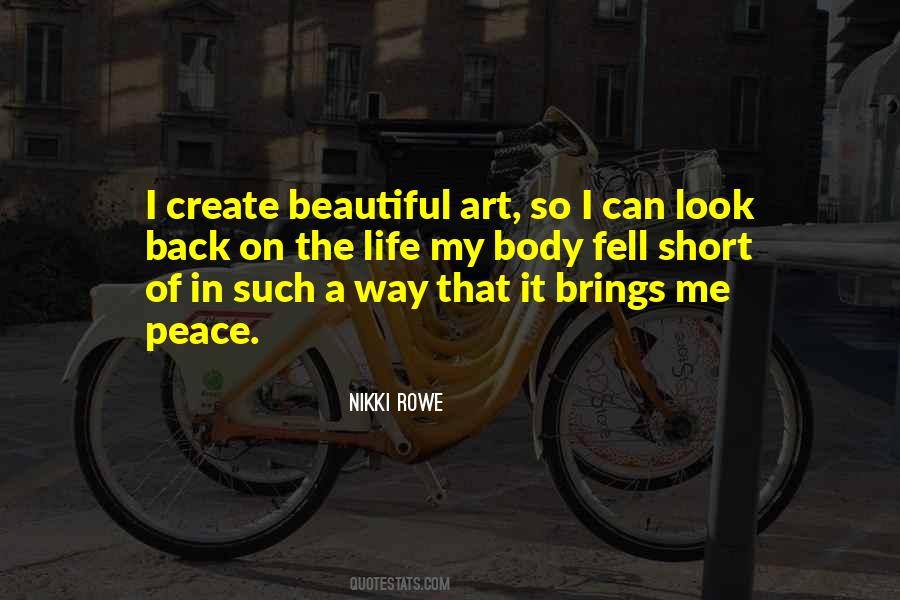 #83. As our eyes meet, I get a kind of deja vu, but instead of feeling like I'm repeating something in the past, it feels like I'm experiencing something that will happen in my future...It's like knowing all the words to a song but still finding them beautiful and surprising.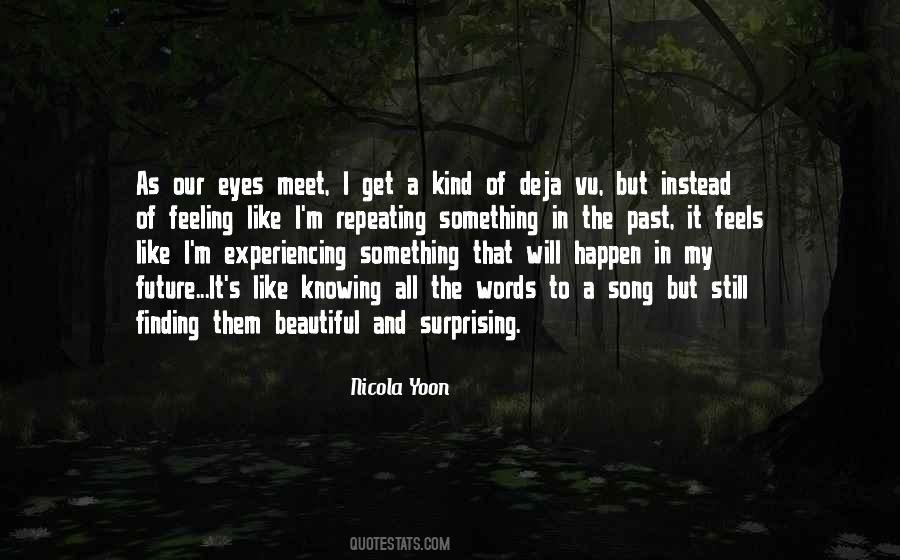 #84. I love the way he's staring at me. It makes me feel more than just beautiful. I feel like I'm his. Like no one else could possibly compare to me. He doesn't even have to say the words. I see it in his eyes. I can practically read it in his mind.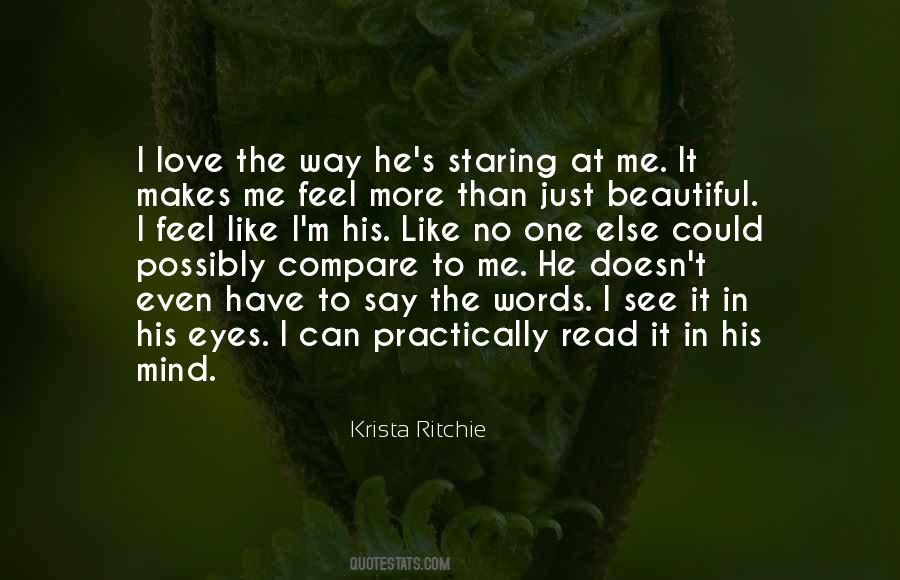 #85. A Christian wife who may be looking good on the outside, but who cuts her husband with her words, runs him down to her friends and family, and dishonors him in the children's presence is not beautiful by God's definition.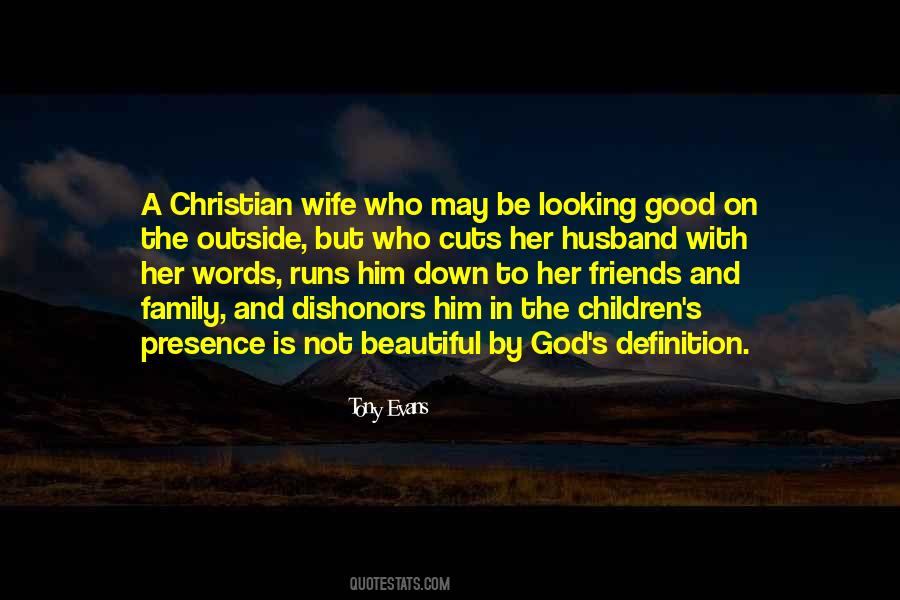 #86. The Greeks bequeathed to us one of the most beautiful words in our language
the word 'enthusiasm'
en theos
a god within. The grandeur of human actions is measured by the inspiration from which they spring. Happy is he who bears a god within, and who obeys it.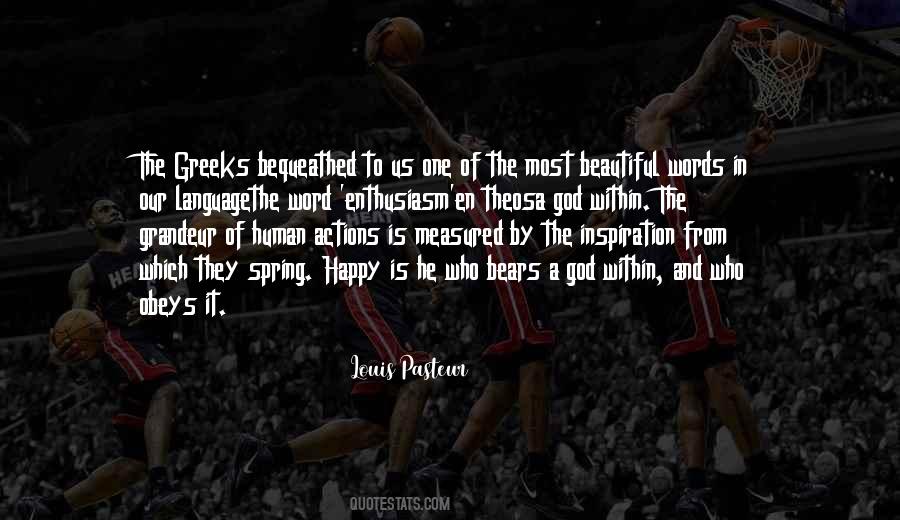 #87. I am no writer. Her sparkling eyes made my fingers write words in the sand. Her radiant smile made my pen write words in the air. Her beautiful soul made my typewriter type poems for eternity. I am no writer.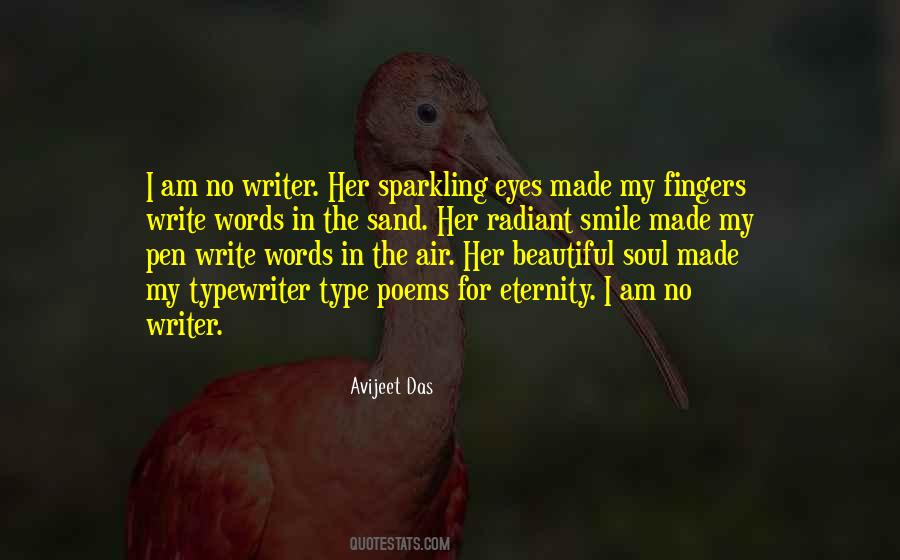 #88. I'm definitely a fan of juxtaposition. Using the most beautiful line to say the most horrific thing - I think one of the main things in songwriting is definitely friction between the words and the melody.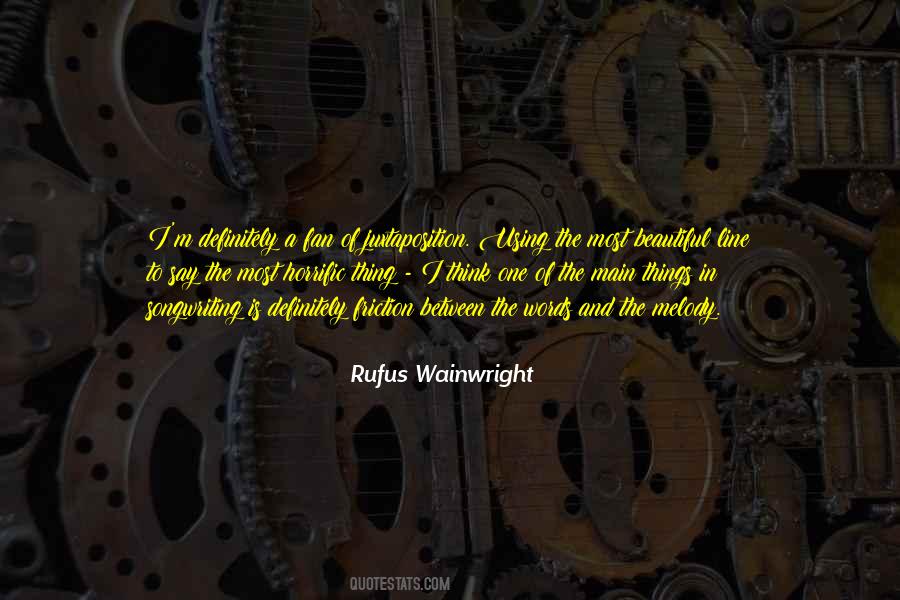 #89. Kind words produce their own image in men's souls; and a beautiful image it is. They soothe and quiet and comfort the hearer. They shame him out of his sour, morose, unkind feelings. We have not yet begun to use kind words in such abundance as they ought to be used.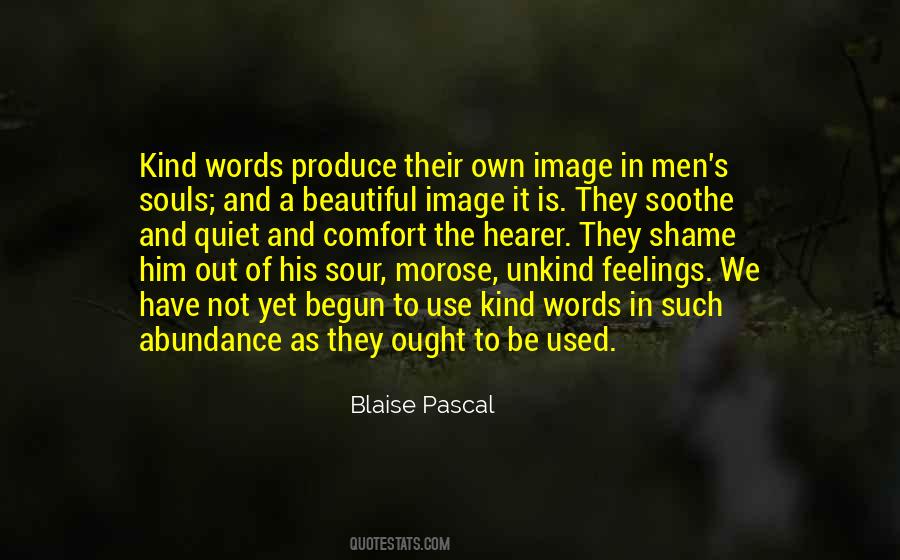 #90. The Greeks understood the mysterious power of the below things. They are the ones who gave us one of the most beautiful words in our language, the word enthusiasm.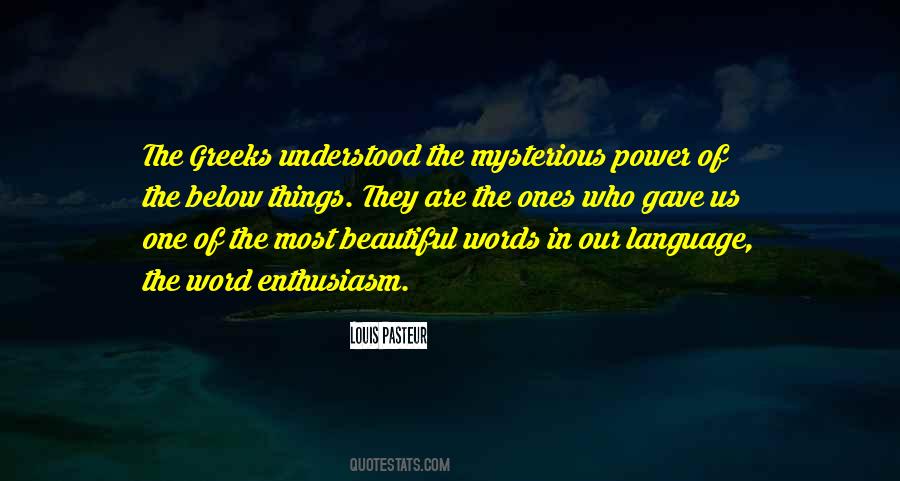 #91. So often like this, in lonely places in the forest, he would come upon something--bird, flower, tree--beautiful beyond all words, if there had been a soul with whom to share it. Beauty is meaningless until it is shared.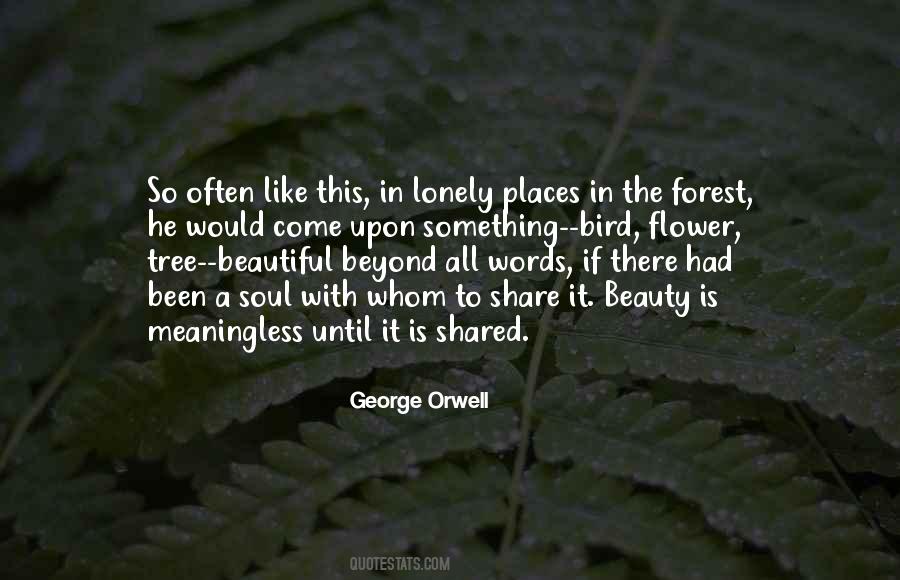 #92. Words of Wisdom Approach each day with positive thoughts. Believe in the goodness of others. Create a better world by being a friend. Decorate your life with beautiful things. Educate yourself through the teaching of others.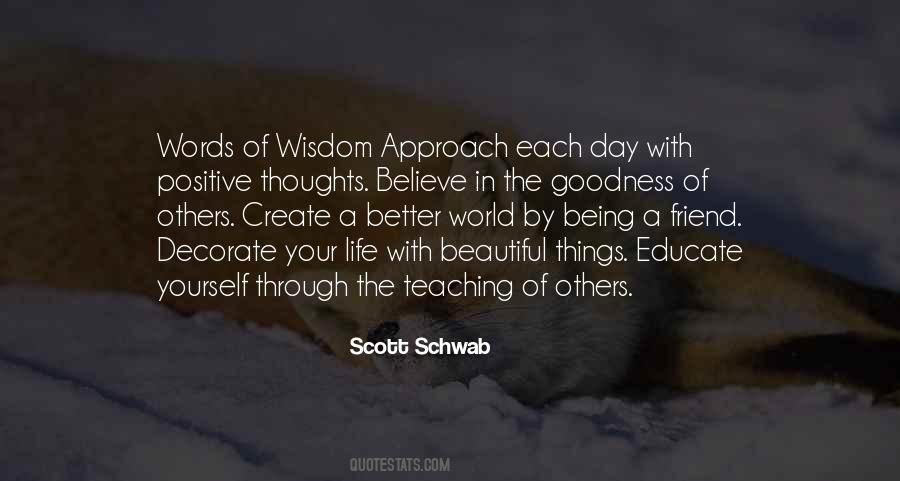 #93. May cause drowsiness.' - the most beautiful words in the English language. Once it was 'do you have a t-shirt I can borrow?' Now it's 'may cause drowsiness.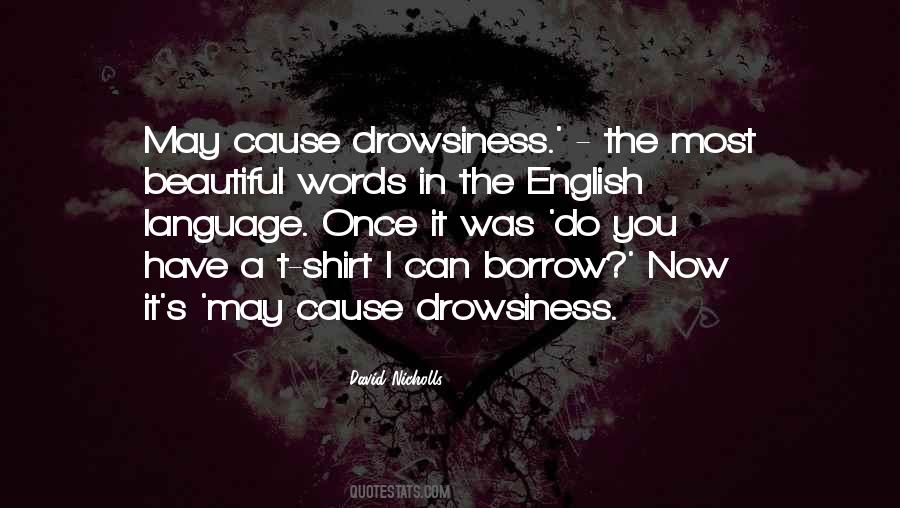 #94. While progressing in this way, with a dirty street ahead of him and a clean one behind, he often had grand ideas. They were ideas that couldn't easily be put into words, though - ideas as hard to define as a half-remembered scent or a colour seen in a dream.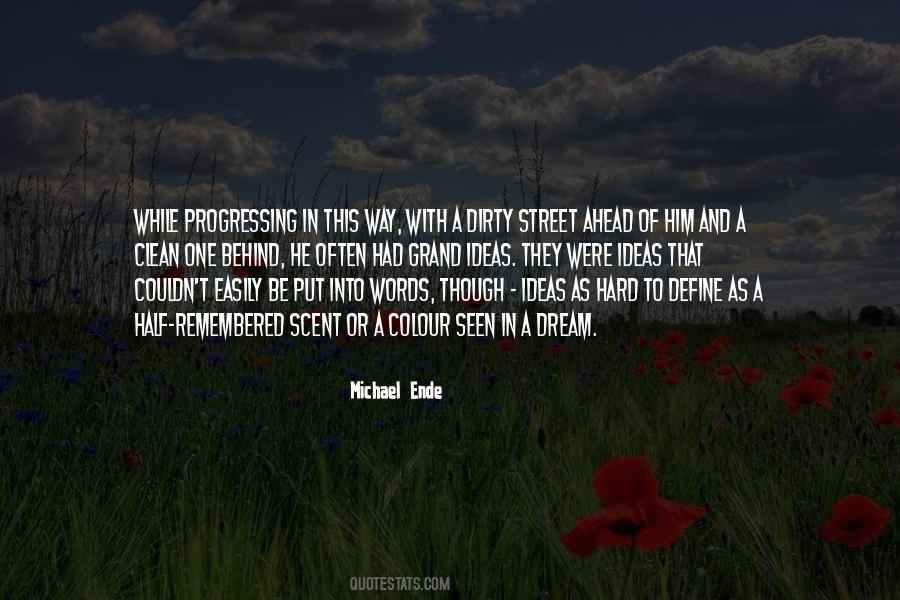 #95. A lovely little wooden cottage in the depths of a forest is the most beautiful palace a king or any man can ever have!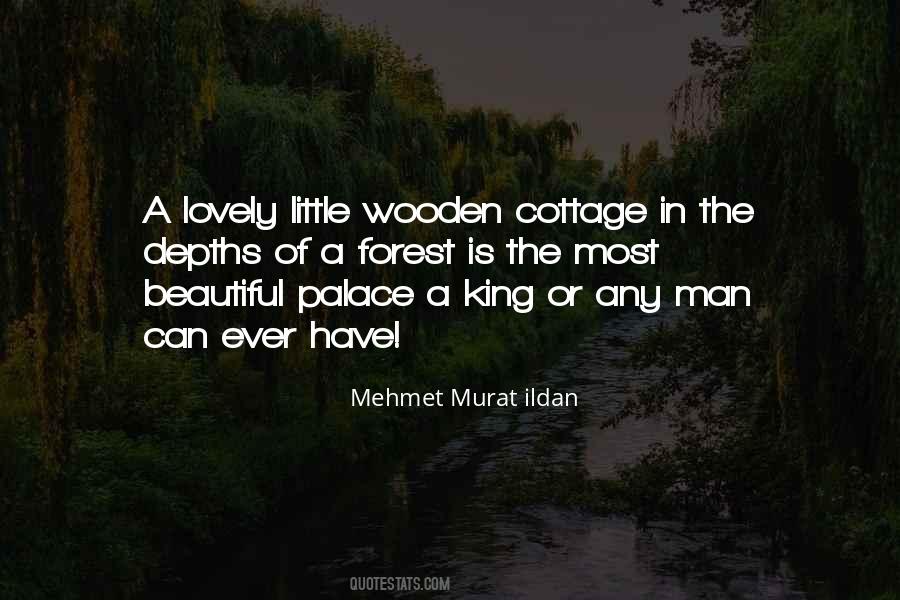 #96. One small action of love can do far, far more for a soul than all the most beautiful words in the world.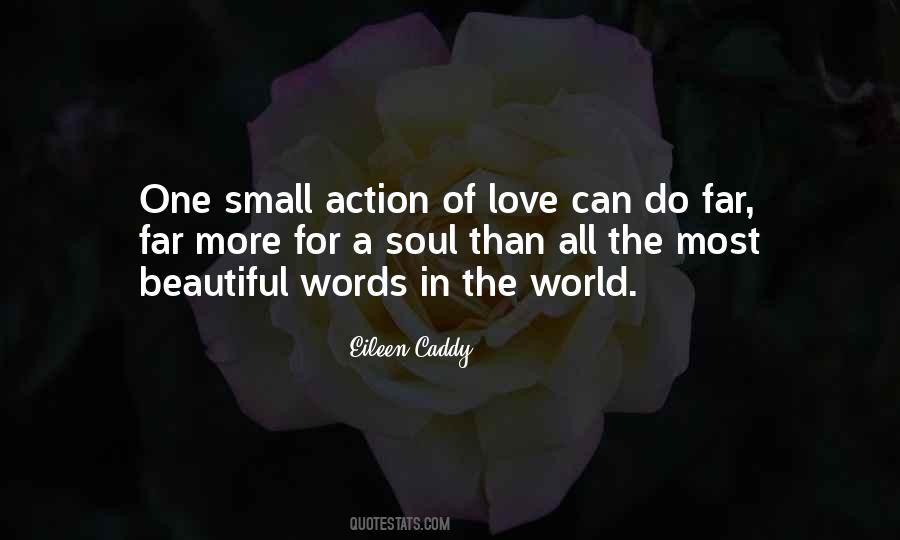 #97. To be alive in this beautiful, self-organizing universe
to participate in the dance of life with senses to perceive it, lungs that breathe it, organs that draw nourishment from it
is a wonder beyond words.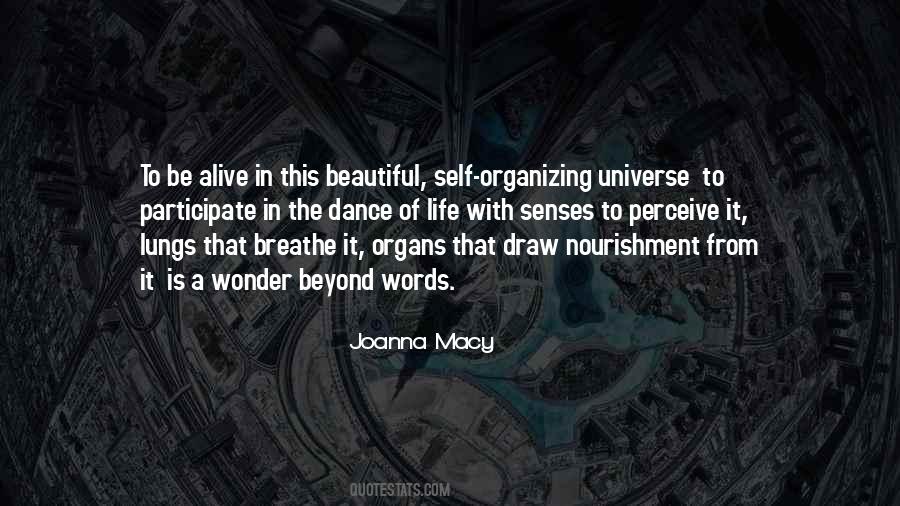 #98. The two most beautiful words in the English language are 'cheque enclosed.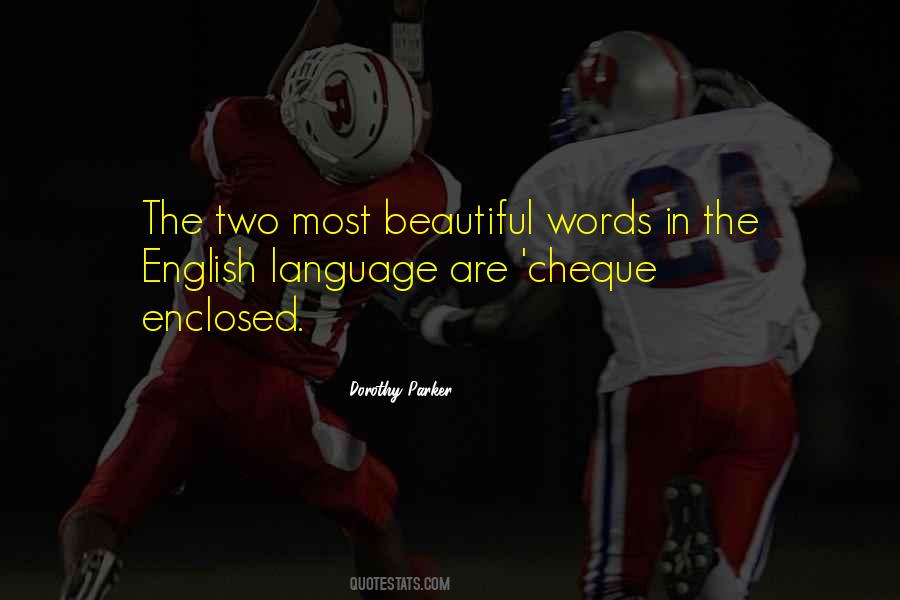 #99. We stand there, knee deep in the water, holding hands. The silence is thunderous with words we don't speak. I feel his presence beside me like it's an extension of my own body, tall and strong and so, so beautiful. But I can't look at him. Right now, it hurts too damn much.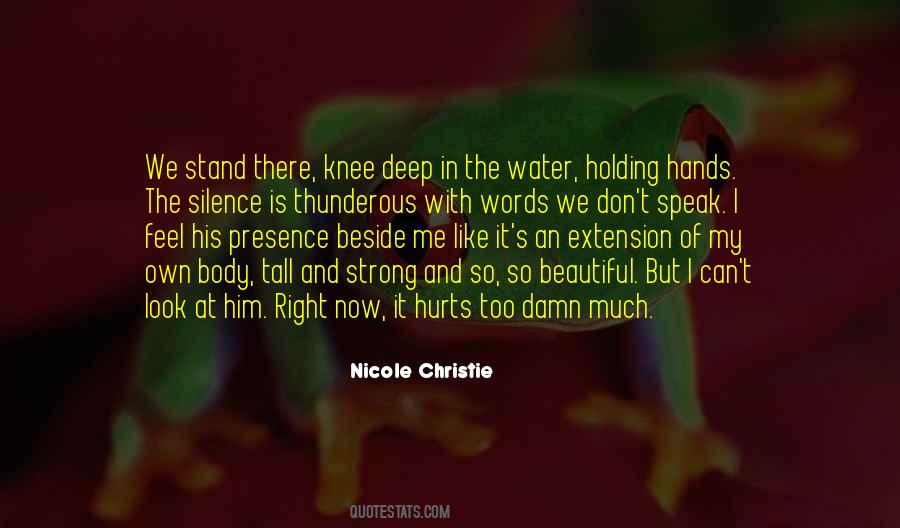 #100. On my heart in beautiful calligraphy You've written words that only You and I can know. Their secret You promised to reveal one day but now I see You were only teasing.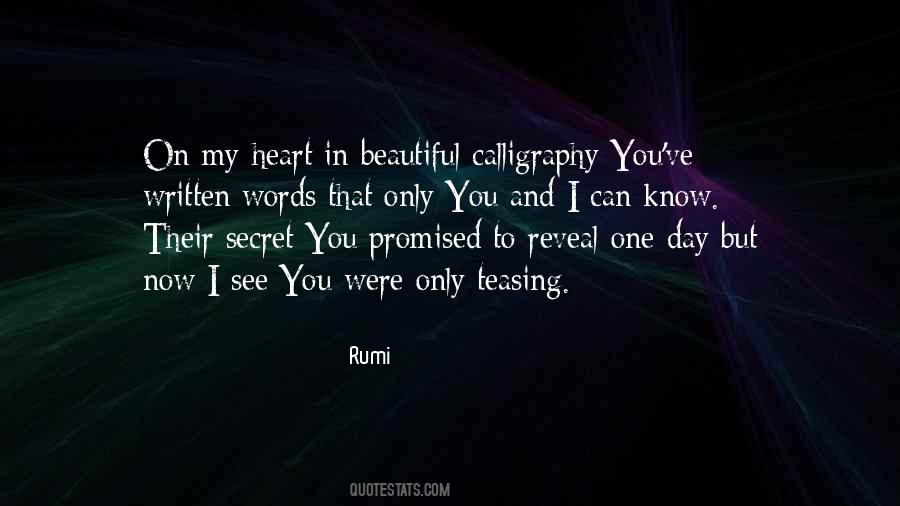 Famous Authors
Popular Topics