Actors And Actresses Famous Quotes & Sayings
List of top 72 famous quotes and sayings about actors and actresses to read and share with friends on your Facebook, Twitter, blogs.
Top 72 Actors And Actresses Quotes
#1. Actors and actresses make magic,' I said. 'They make things happen on the stage; they invent; they create. - Author: Anne Rice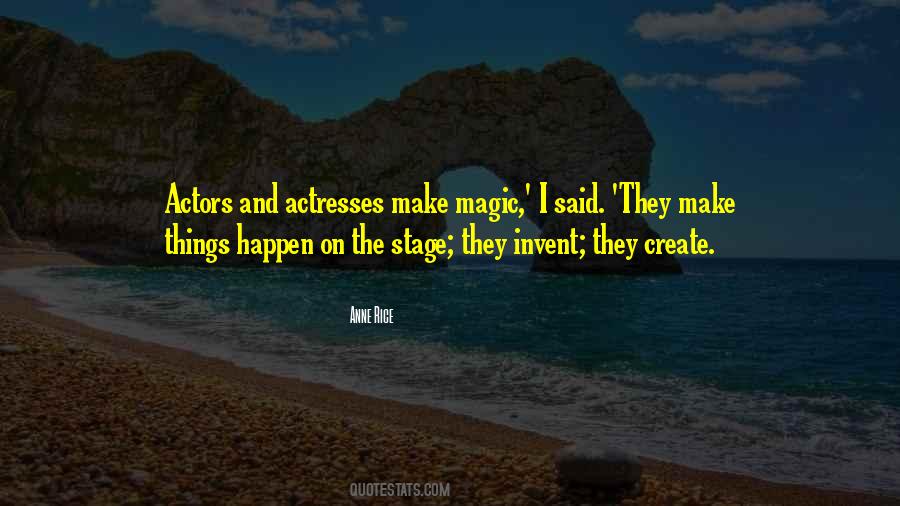 #2. We knew, very early on, that we had to be very, very clear that directors need to speak to actors and actresses and be very clear about what is expected, and find out whether they're comfortable with that. Wardrobe has to be in place. There have to be checks. - Author: Michael Sheen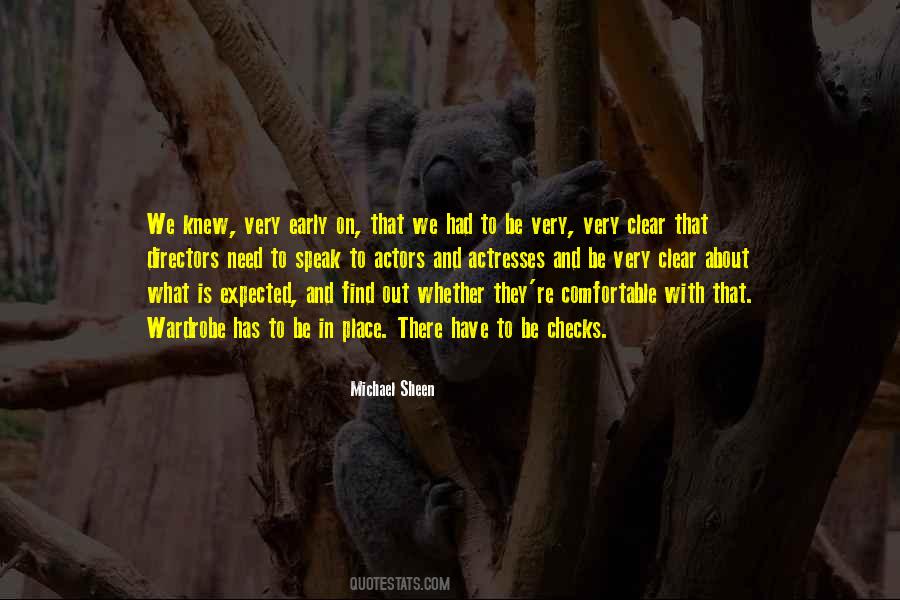 #3. Challenge America grants go to the towns and hamlets of this sprawling country, where big touring companies will rarely go, and major actors, actresses, writers and artists may never appear in person. - Author: Louise Slaughter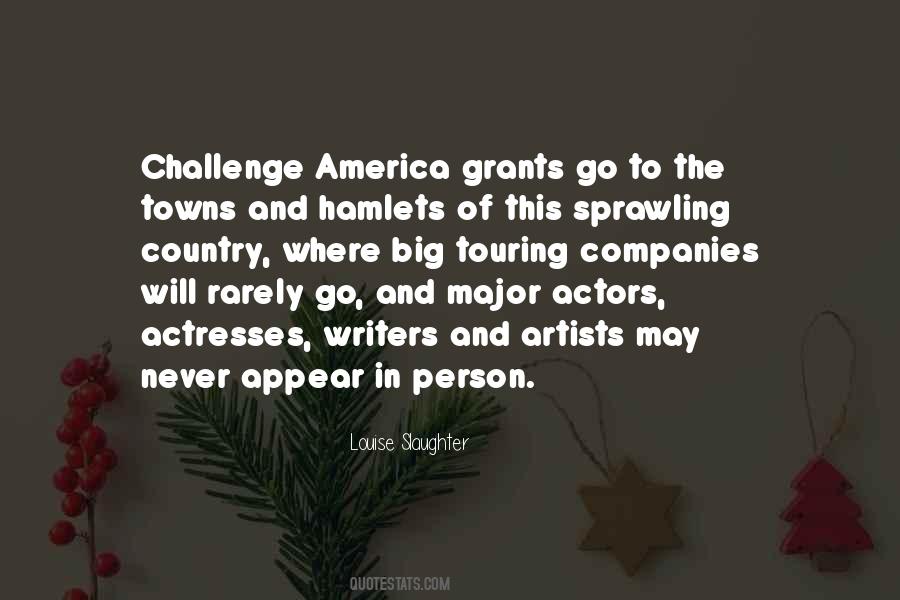 #4. I'm a fan of movies and television shows, and I don't expect anything from actors and actresses, or anyone, but good work. What they do. I don't feel like I deserve a piece of their personal life, or even what they think about the work they do. - Author: Kristen Stewart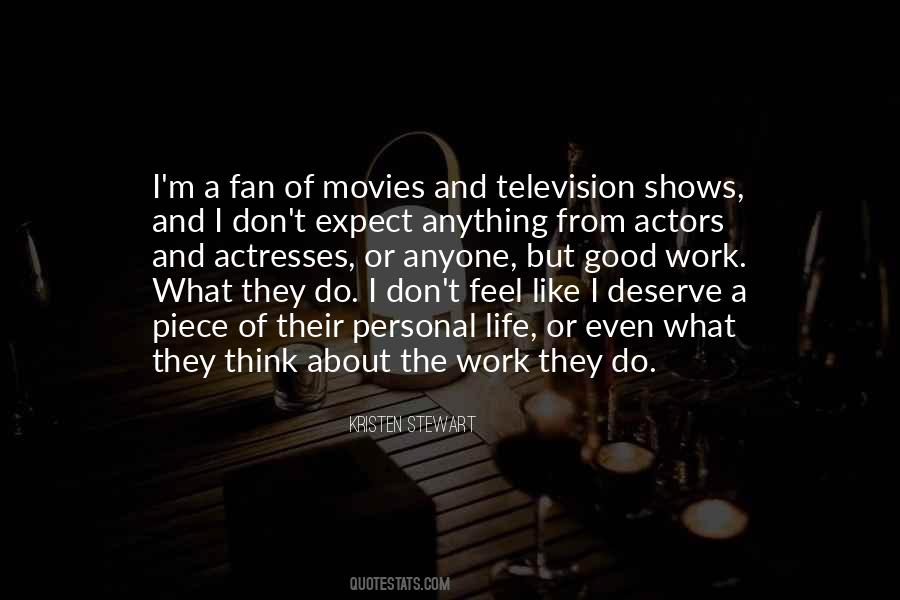 #5. I think that actresses can be in all different shapes and sizes, but it is a profession, and as an actor, your body is one of your big tools. So you've got to be fit in a sense. - Author: Rebel Wilson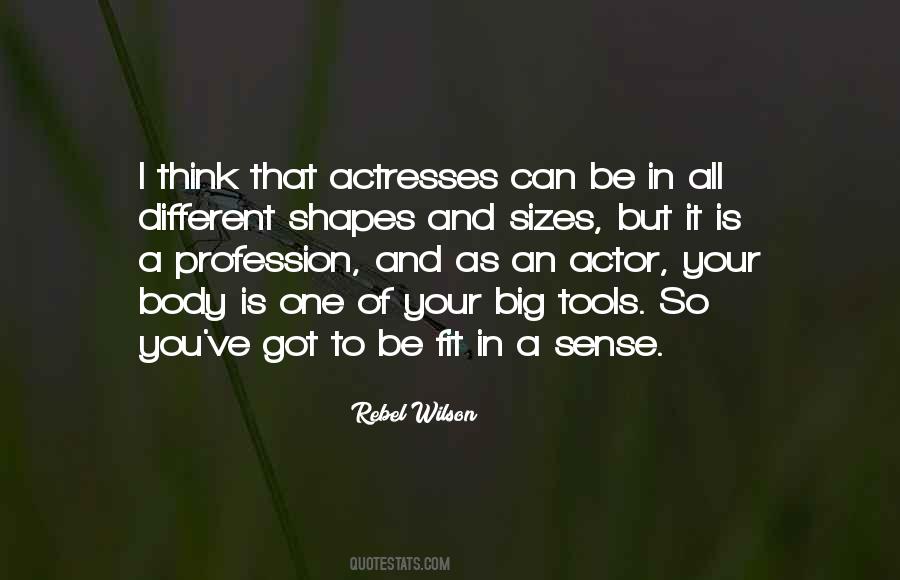 #6. Most of the top actors and actresses may be working in ten or twelve films at the same time, so they will give one director two hours and maybe shoot in Bombay in the morning and Madras in the evening. It happens. - Author: Satyajit Ray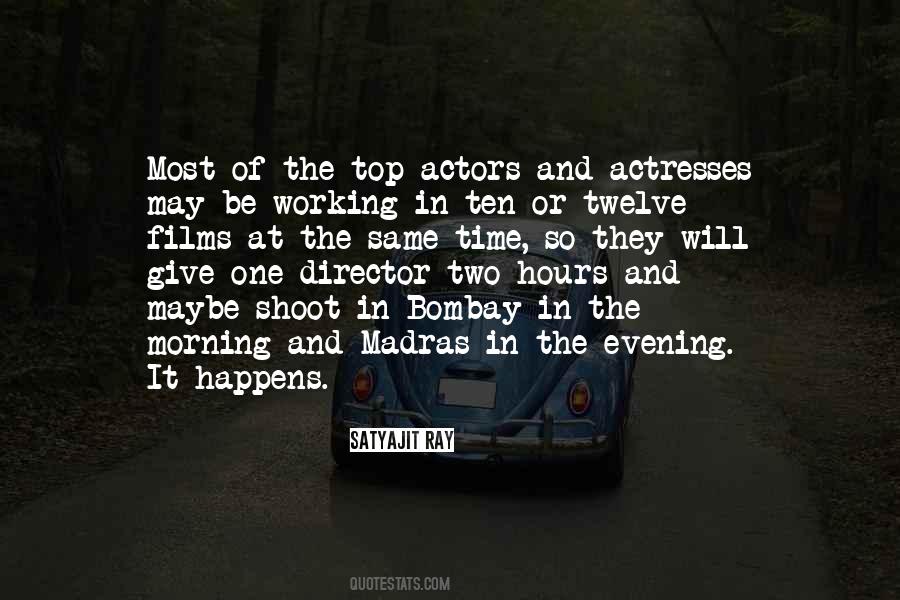 #7. There's always an imbalance with actors and actresses in the industry. And I think because there are just fewer movies overall being made, it's that trickle down effect. - Author: Michelle Pfeiffer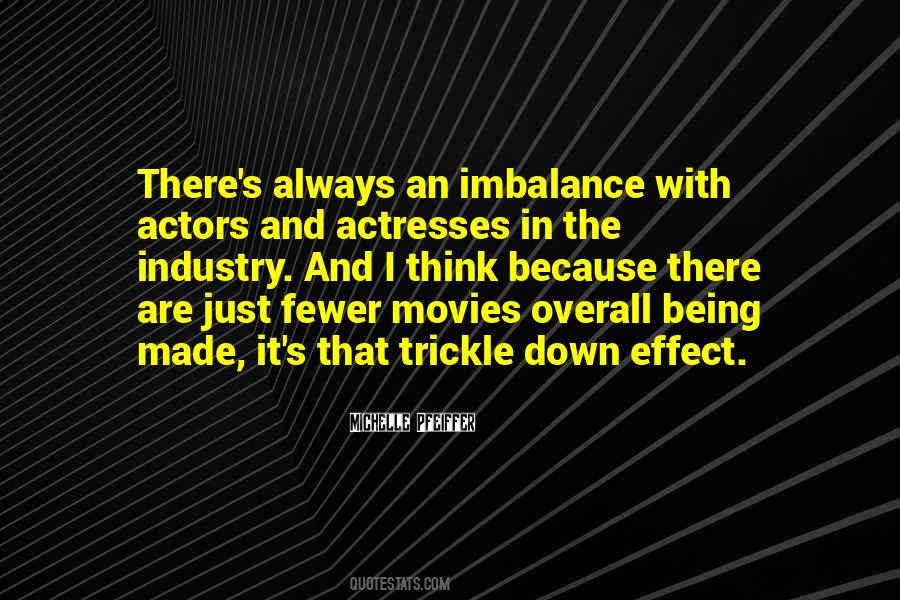 #8. Most actors and actresses are performative as people. - Author: Zoe Lister-Jones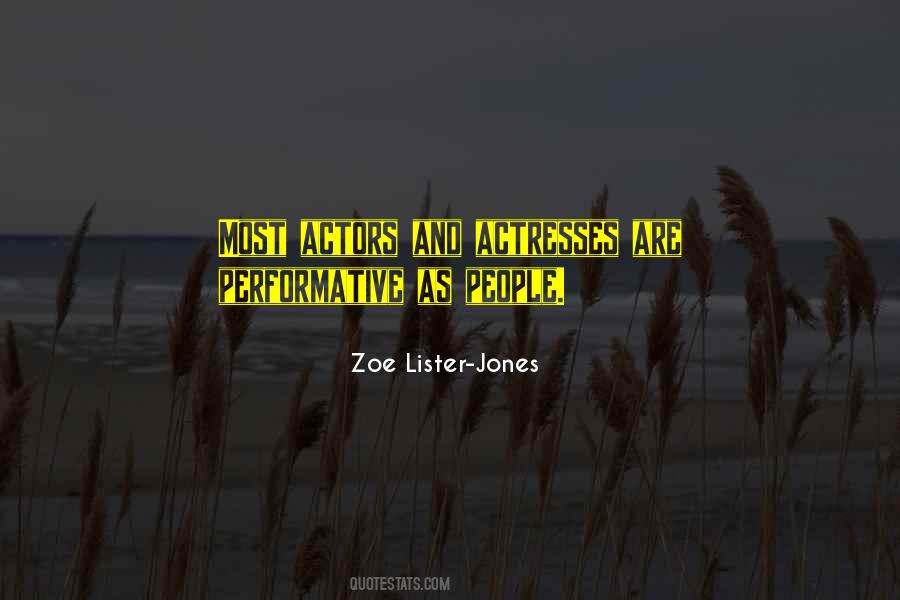 #9. As a Japanese actor, I really want to work with a lot of actors and actresses in the world and many directors who have many different kinds of talents. I feel like nationally doesn't matter at all. - Author: Ken Watanabe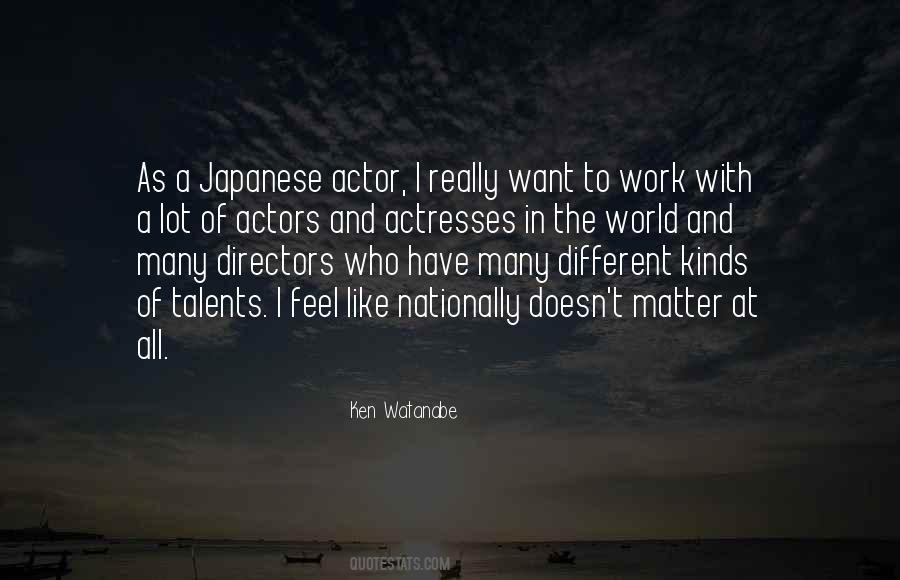 #10. I'm a huge movie buff, so I'm a fan of a lot of actors and actresses. - Author: Jared Gilman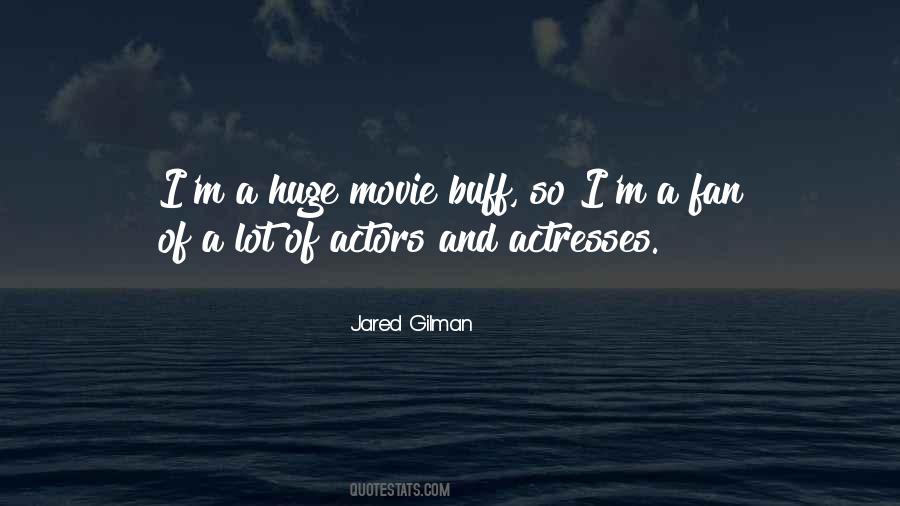 #11. I am admiring of my fellow peers, black filmmakers and black actors and actresses. - Author: Cuba Gooding Jr.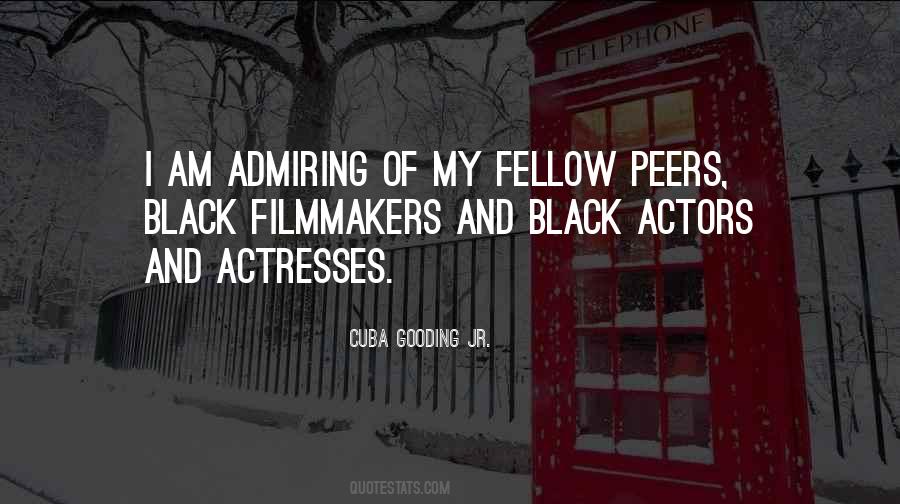 #12. I do not want actors and actresses to understand my plays. That is not necessary. If they will only pronounce the correct sounds I can guarantee the results. - Author: George Bernard Shaw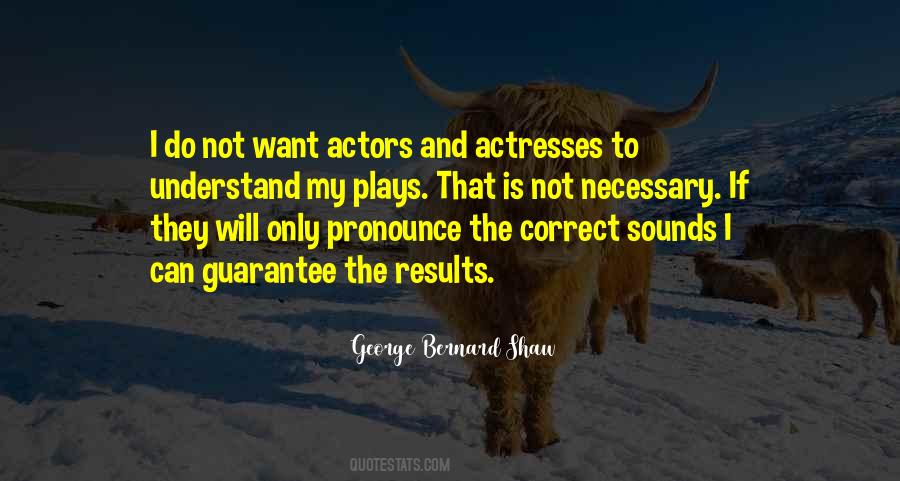 #13. There are different types of art, and you just have to follow where things take you. It helps me with my desire to perform live. That's something that a lot of actors and actresses don't get to experience on a regular basis. - Author: Natasha Leggero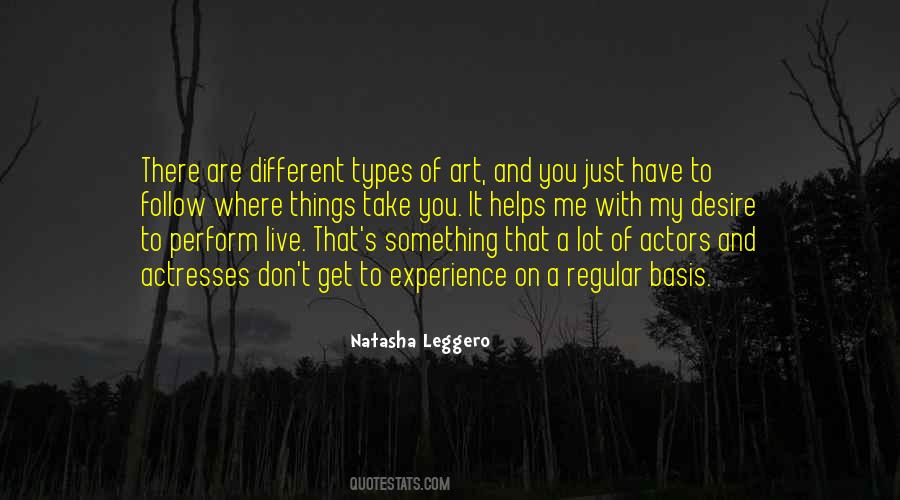 #14. To save the Theatre, the Theatre must be destroyed, and actors and actresses all die of the Plague ... they make art impossible. - Author: Eleanora Duse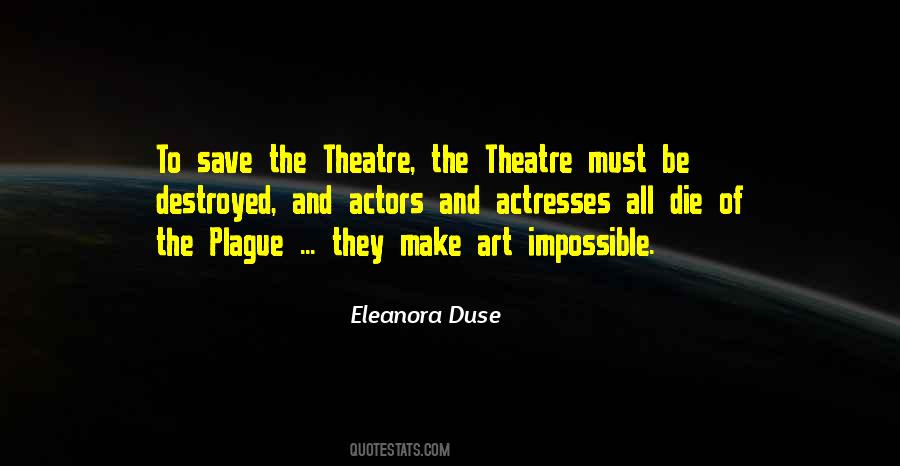 #15. I don't believe athletes should be role models ... We're a one-shot deal, one in a million, so we should be the least likely role models ... I think one of the problems in society today is that we don't stress education enough, because we glorify athletes, actors and actresses. - Author: Charles Barkley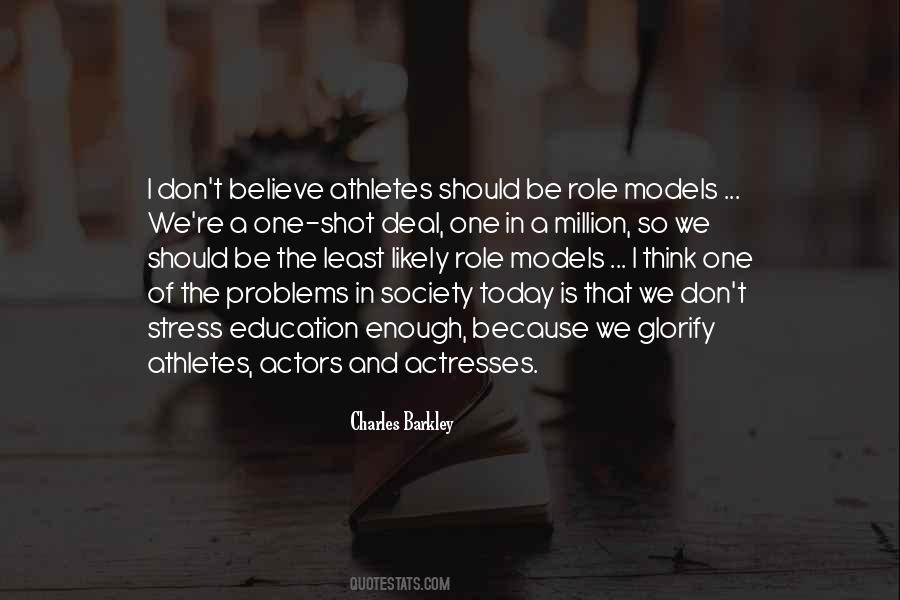 #16. I think audiences, producers and directors included, develop crushes on actors (actresses in particular) and then lose interest and move on to the next one. - Author: Julia Stiles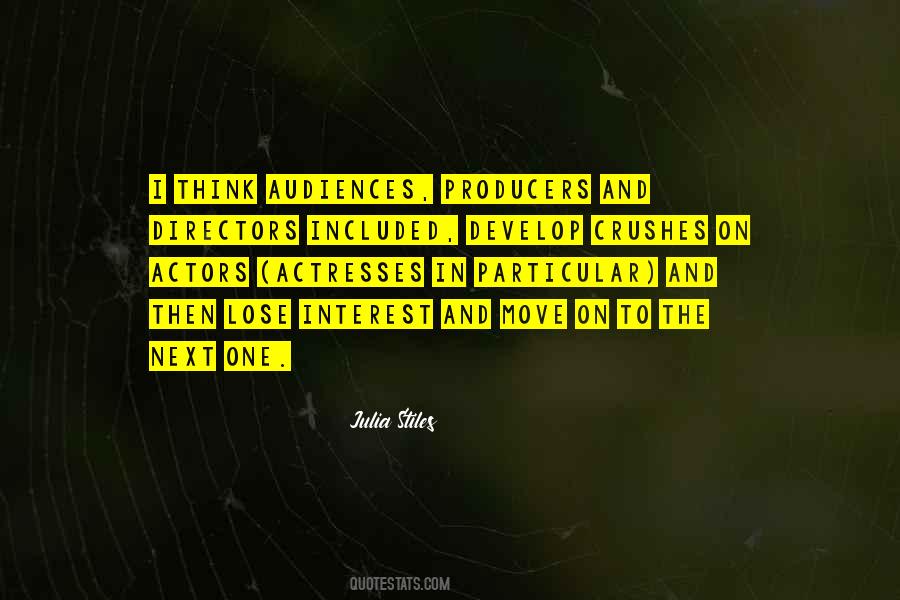 #17. I've dressed thousands of actors, actresses and animals, but whenever I am asked which star is my personal favorite, I answer, 'Grace Kelly.' She is a charming lady, a most gifted actress and, to me, a valued friend. - Author: Edith Head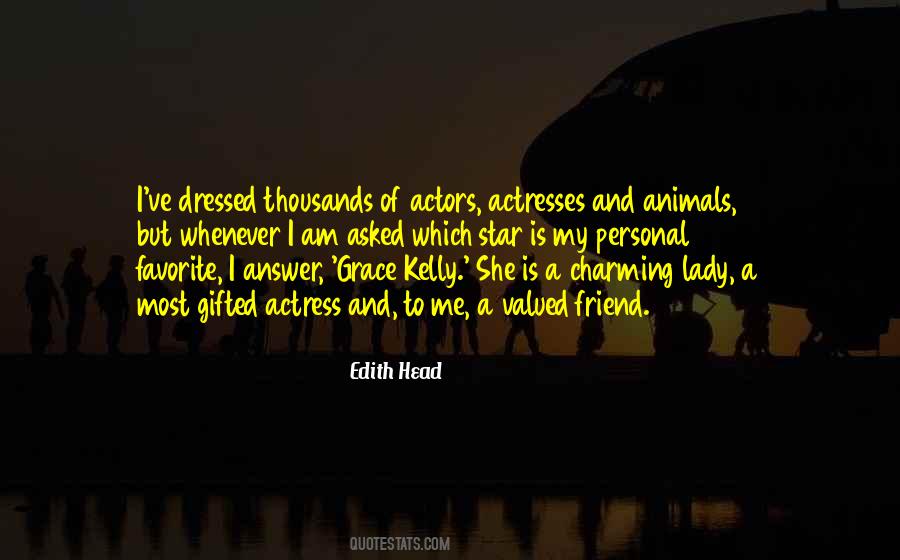 #18. As most actors/actresses, I don't like to watch my own movies, either, and I never look at the dailys while filming. - Author: Cameron Bright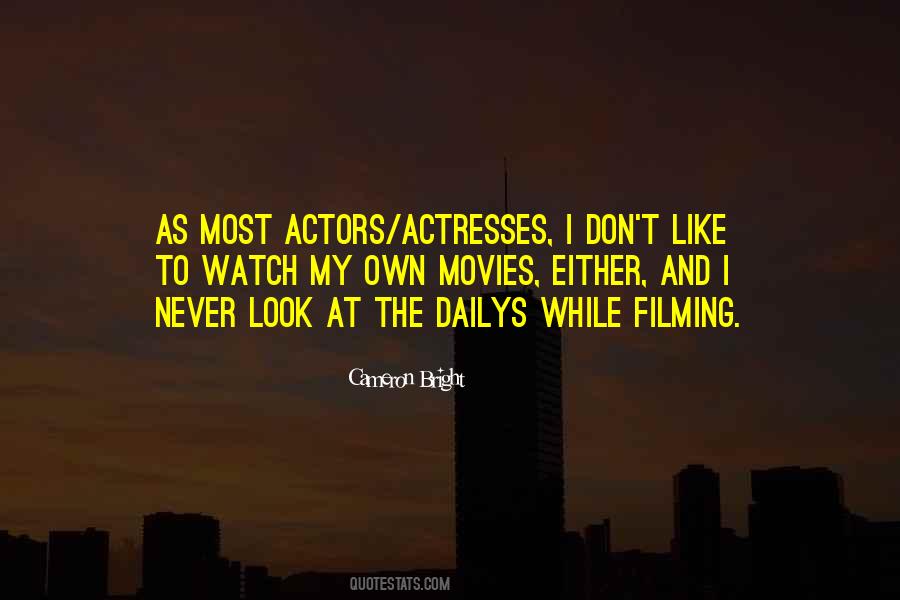 #19. In the search for happiness, However, We r all equal; None of us is Happy - Not the Banker/Actors/Actresses/Politician/Housewife/Model/Doctor and so on. - Author: Avinash Advani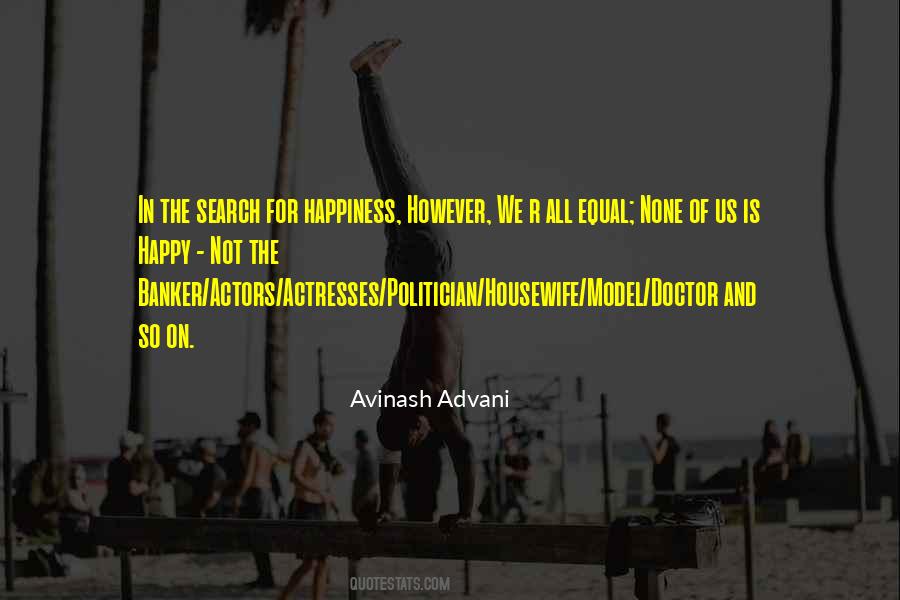 #20. I don't like that, because there are a lot of people whose works I admire as actors or actresses, or musicians. And you know, I've been a big fan of different musicians or actors. - Author: Laura Bush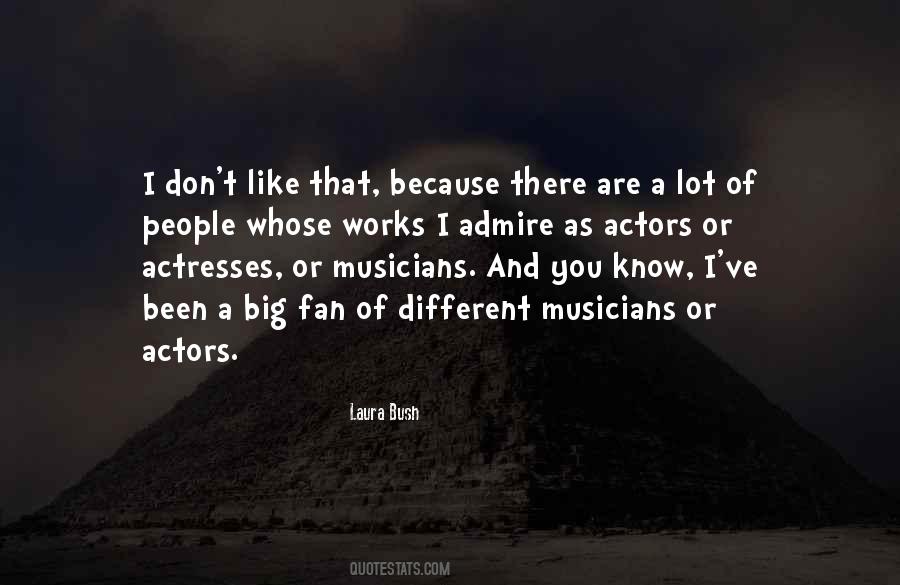 #21. I think if you're the son or daughter of successful actors and actresses, it's a double pressure. More is expected of you. - Author: Liam Neeson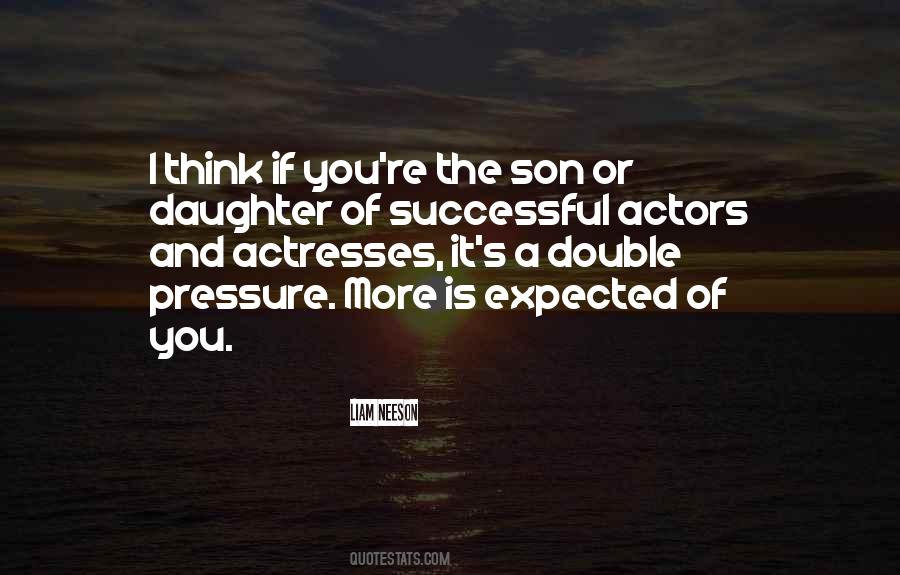 #22. I don't think Indian actors are good. A couple of them are, like Anupam Kher, but not many are there like him in the industry. There are thousand of actors and actresses in the industry, but you can count on hand how many of them are really good; the rest of them are just pretty faces. - Author: Russell Peters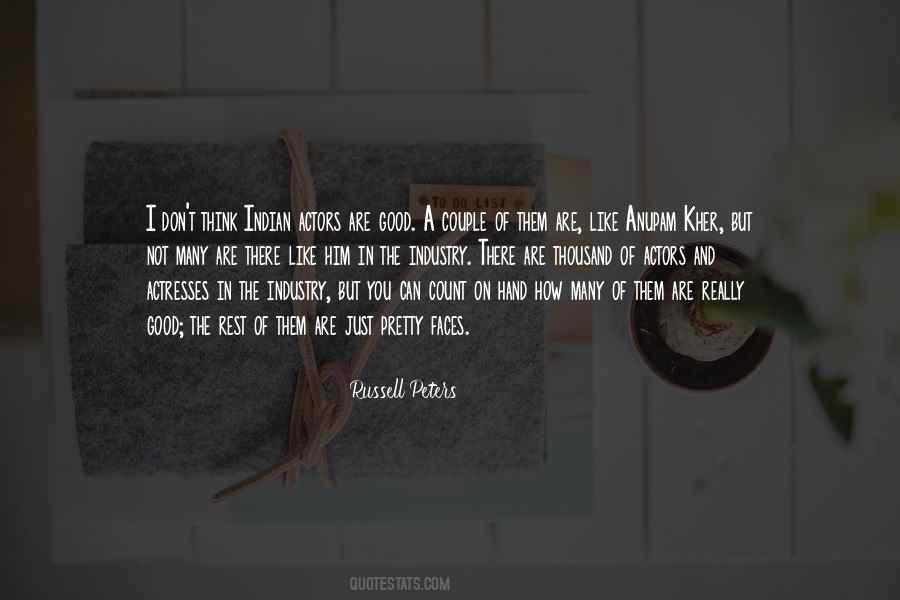 #23. Most actors and actresses are consumed by careers and getting ahead. - Author: Jenna Dewan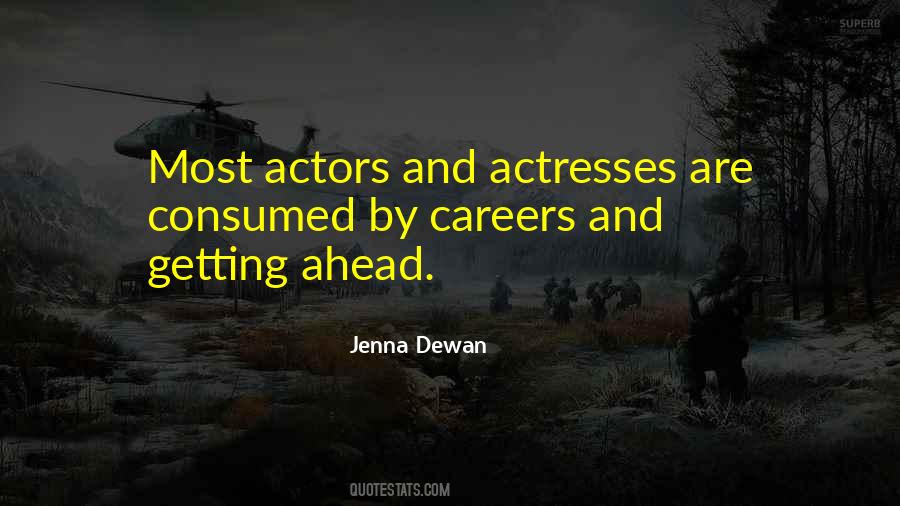 #24. You see, I was never a big fan of contemporary movies because they always make actresses and actors look too perfect. - Author: Kate Winslet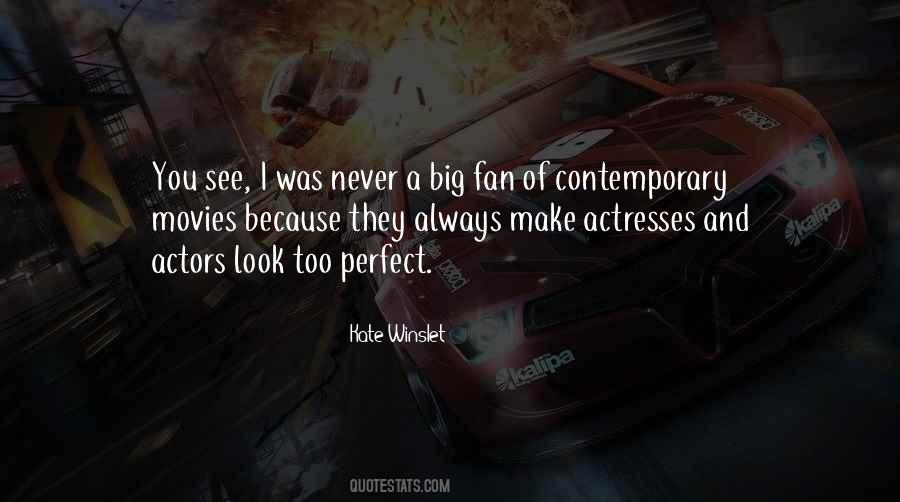 #25. Someone who'll bring some normalcy into my life and help me stay in touch with reality. That is something I'm curious about. There are so many actors who are married to people from non-film backgrounds, and their marriages are successful. I'm tired of dating actresses. - Author: Shahid Kapoor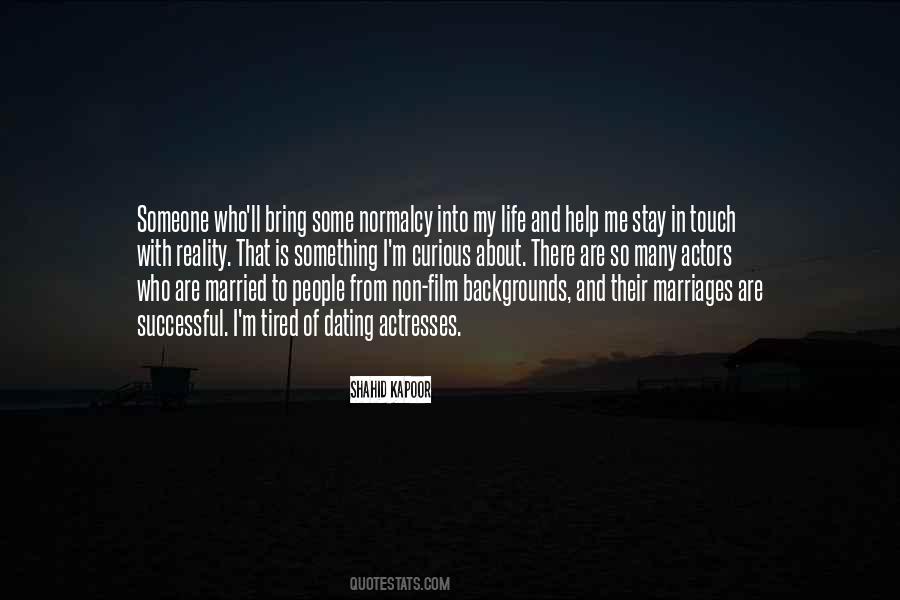 #26. I'm definitely one of those actresses who comes to a set knowing how I want to do a scene, and I definitely love input from my directors and my writers. I know that there's some actors who like to be left alone, they like to be very independent, but I actually really enjoy the teamwork. - Author: Summer Glau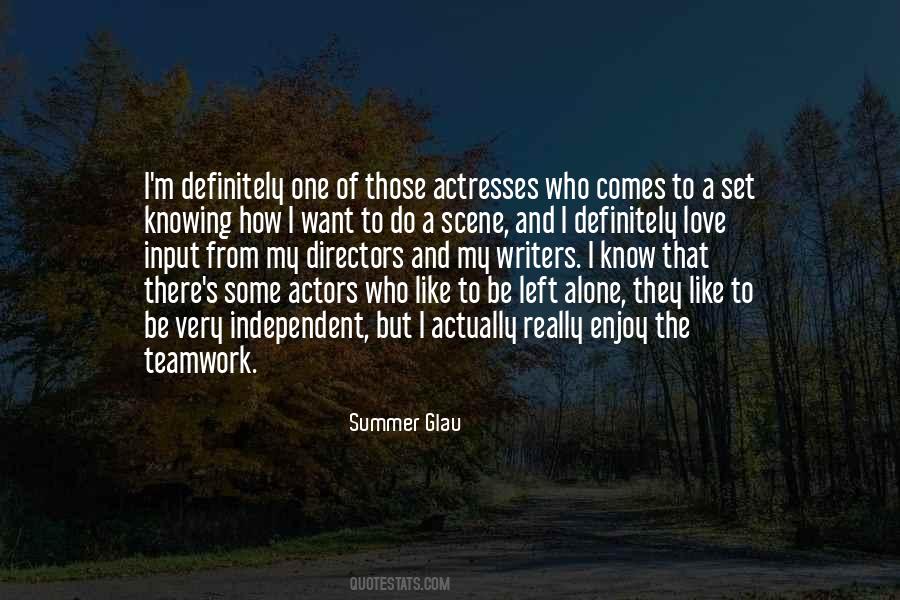 #27. I hope Hong Kong and Asia wants to hire American Asian actresses as much as Hollywood has been hiring Chinese actors from Asia. - Author: Ming-Na Wen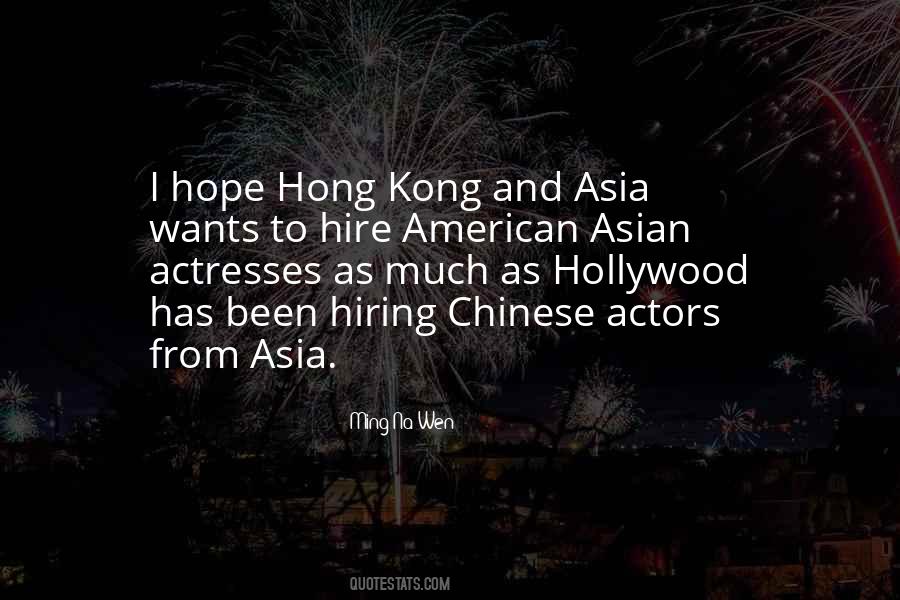 #28. Yes, I was on the cover of 'Vogue,' but girls on the cover of 'Vogue' are the most scared of rejection. Models are the most insecure of them all. Actually, actors and actresses are, and then musicians, and then models! - Author: Jasmine Guinness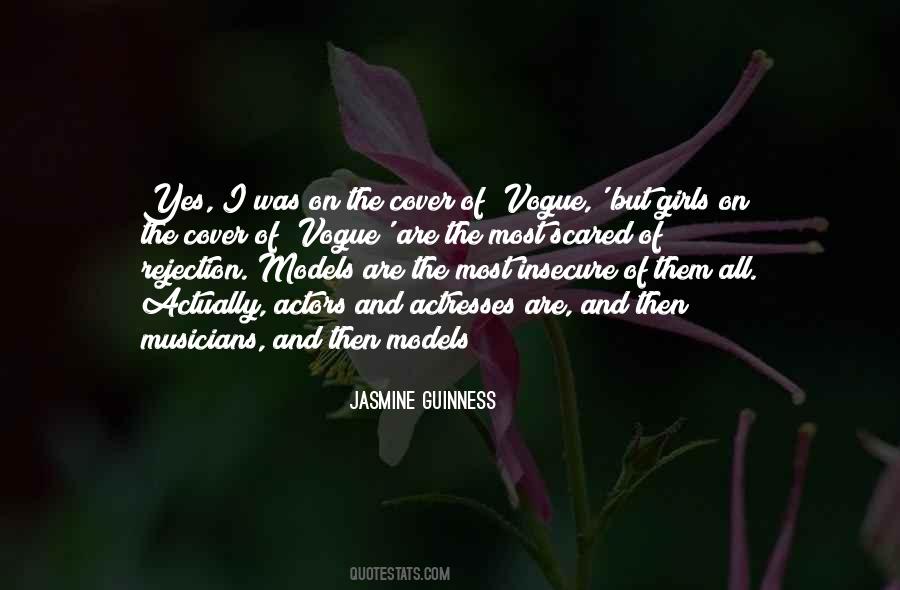 #29. I never had a problem with my face on screen. I thought it is what it is, and I was turned off by actors and actresses that tried to keep themselves young. - Author: Robert Redford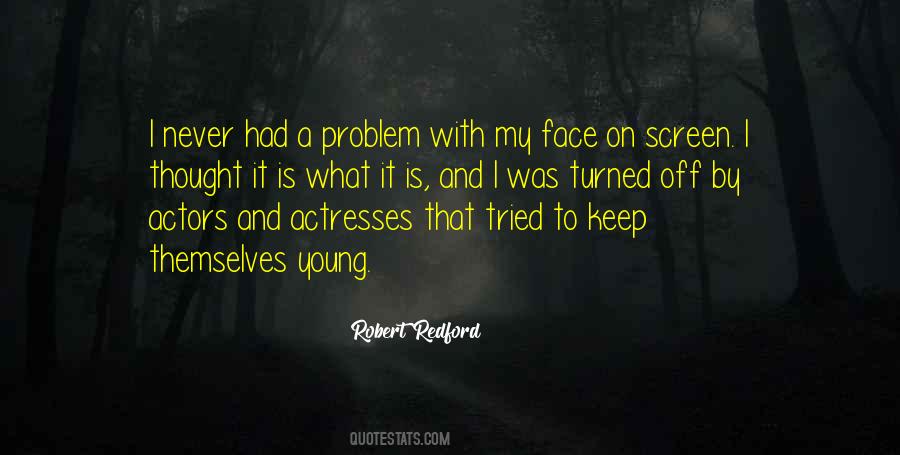 #30. There are so many talented people in film today. There seem to be poor scripts, but the actors and actresses are very talented. - Author: Frederick Lenz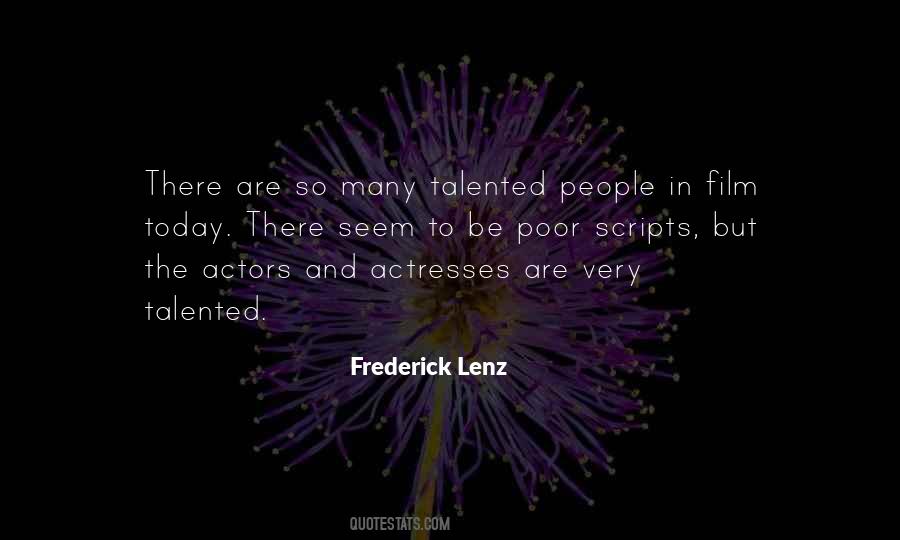 #31. I'm as interested in photographing the film crew as much as the actors and actresses. - Author: Paul Walker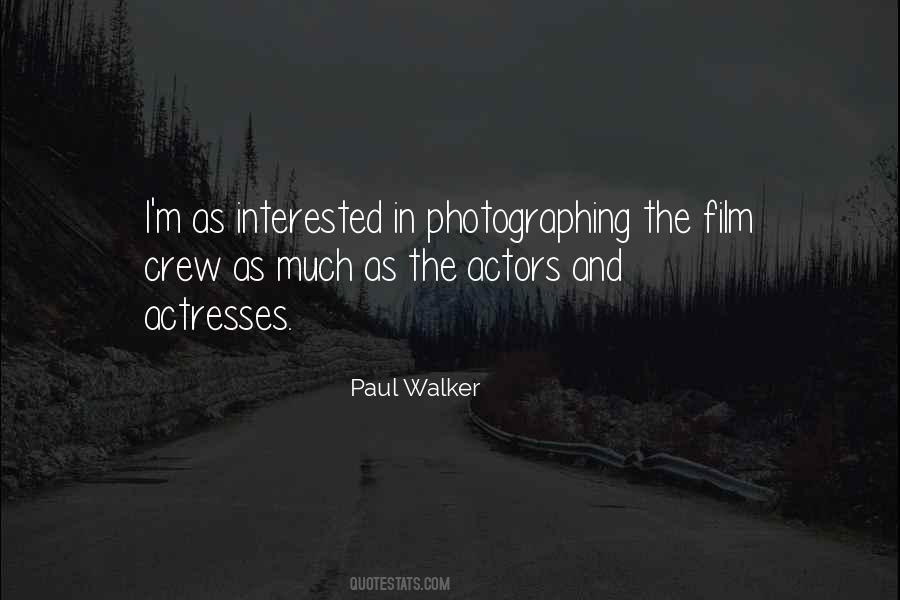 #32. Going out with other actors is never good; actresses are neurotic, and actors are horrendous egotists. - Author: Chris O'Dowd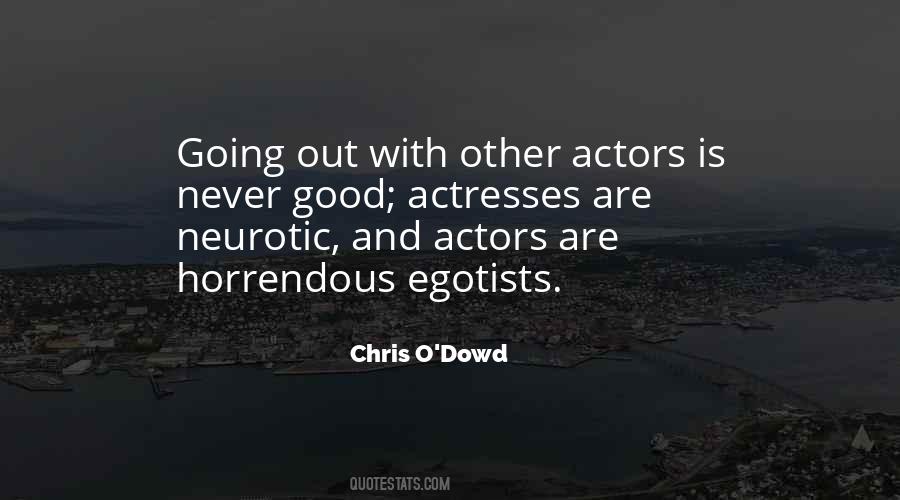 #33. The public want actresses, because they think all actresses bad. They don't want music or poetry because they know that both are good. So actors and actresses thrive and poets and composers starve. - Author: George Bernard Shaw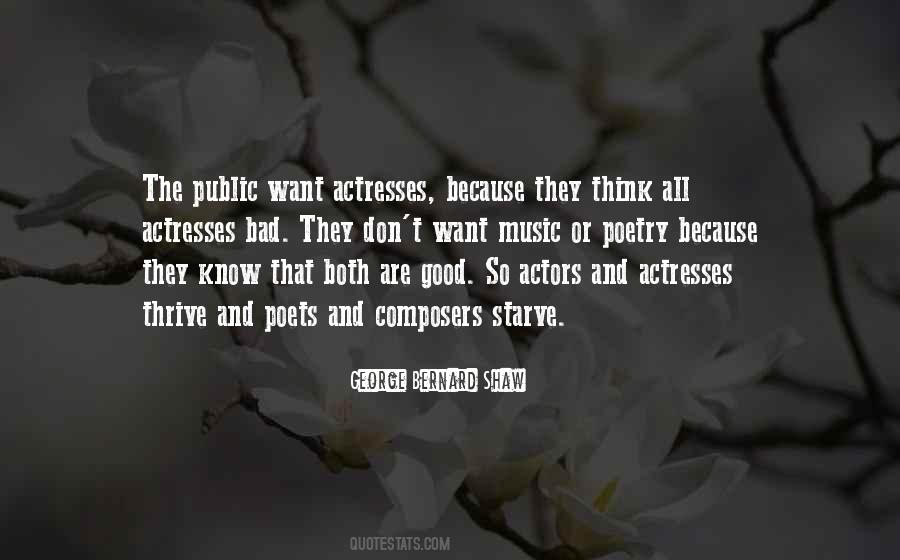 #34. I just have always been so interested in the way actors and actresses present themselves to the world because I think it is very important and it affects the way people see you as an actor. - Author: Allison Williams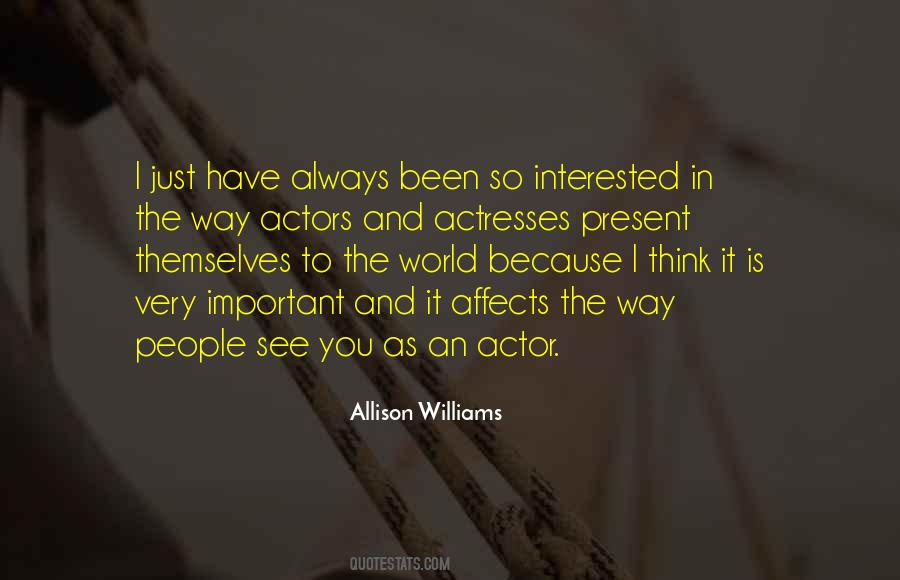 #35. What's great about New York is that there are a lot of theater actors and actresses, who are trained actors, that they bring onto the show. They're so talented, in such a weird, quirky and ominous way. And it's great to be able to work with new faces, too. - Author: Natalie Zea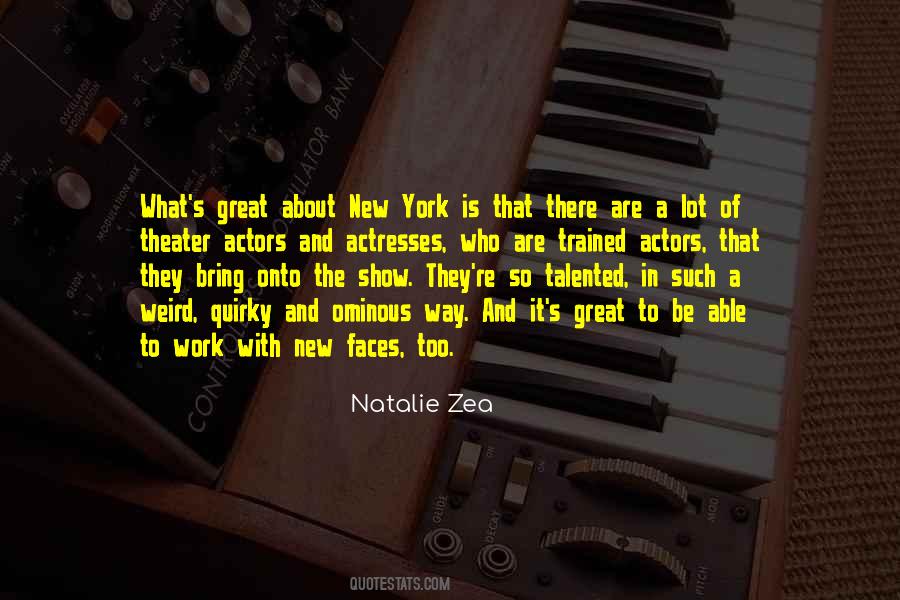 #36. I don't like theatrical actors and actresses. I like people that talk like real human beings. - Author: Woody Allen
#37. I knew a ton of actors and was friends with them, but I never dated actresses. I tried to date 'normal' people because the Hollywood dating rule is 'one star per couple' because it's quite a challenge to match the egos of two actors. - Author: Zach Galligan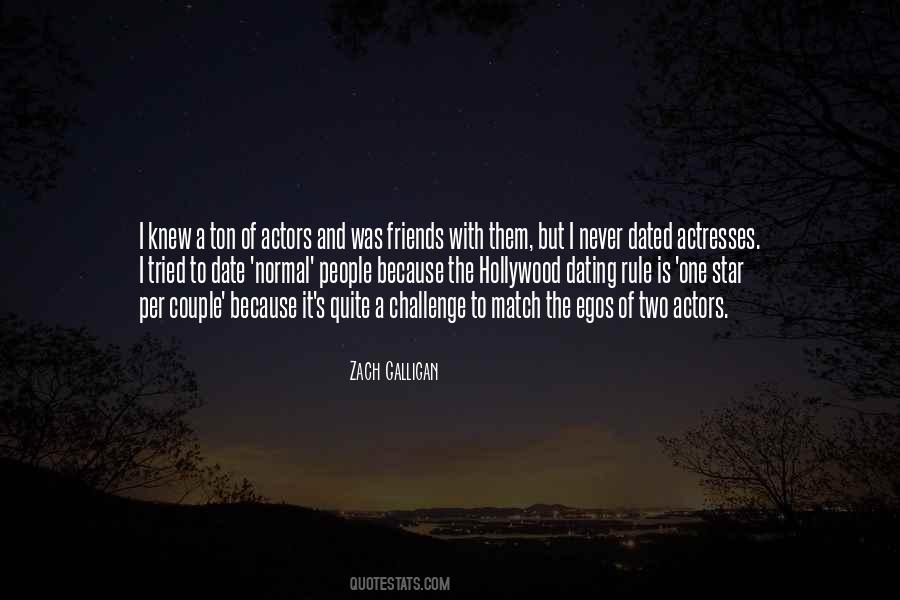 #38. Mostly I've just worked with actors and actresses that are fun and easy to talk to and had nothing but great experiences. - Author: Kaitlyn Dever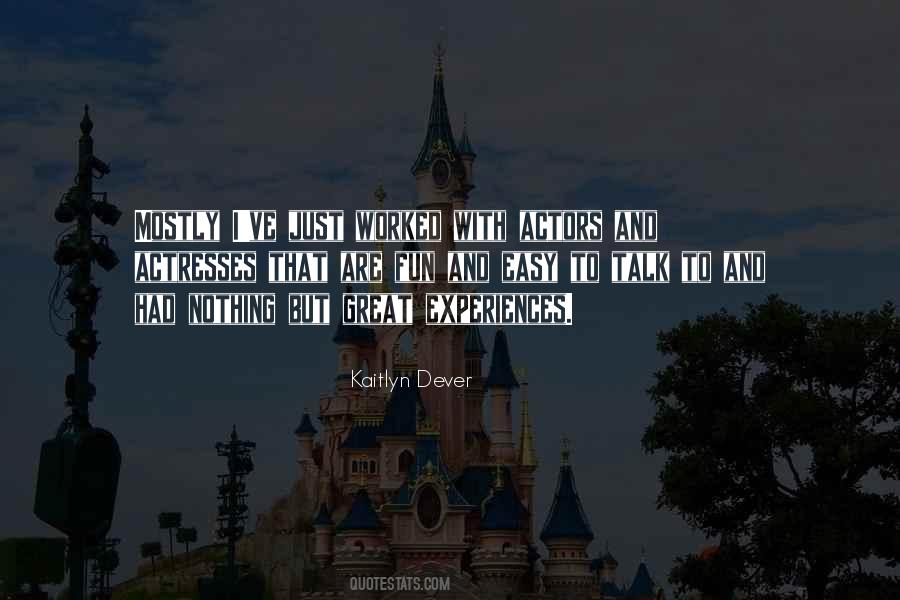 #39. I've never understood the notion that actors and actresses should look great on-screen just because they're on-screen. That doesn't make sense to me. - Author: Kate Winslet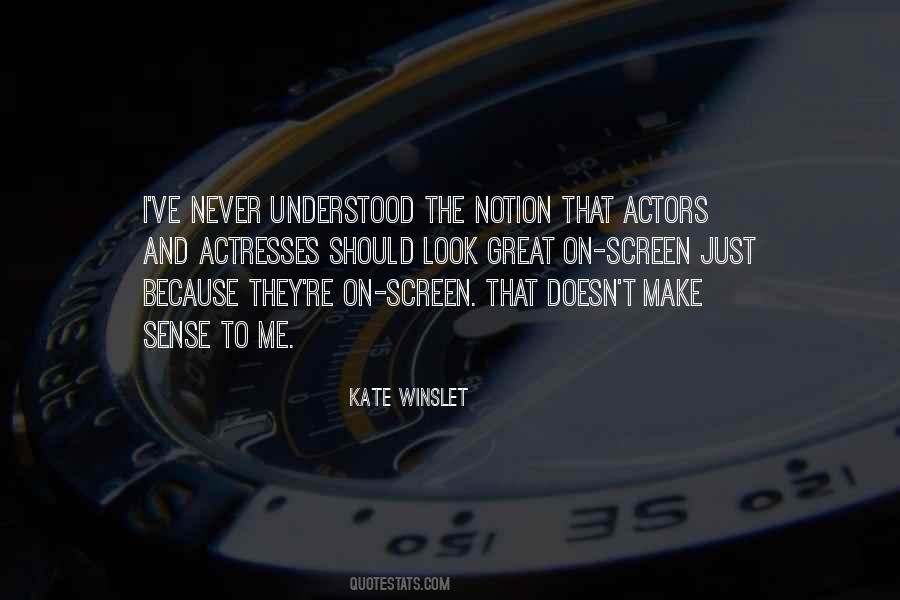 #40. The political arena is the funniest.They [politicians] are always pretending to change, but they never change. They're the best actors and actresses in the world. They've always been hilarious since the beginning of time. - Author: Paul Mooney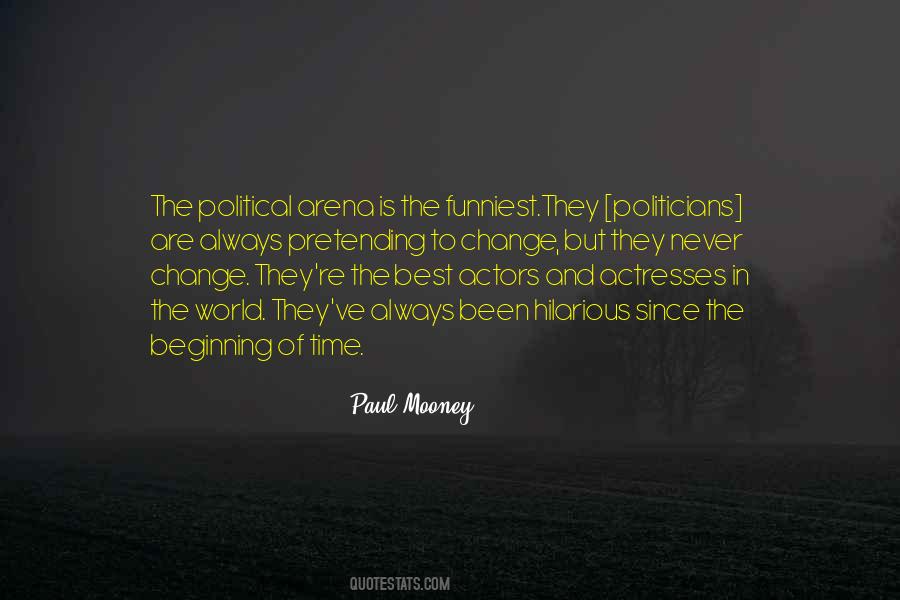 #41. When Shana Alexander interviewed me for Life magazine in 1952, she gave up after 4,000. At one time or another, I've worked for every studio in Hollywood, for almost every director with most of the actors and actresses. - Author: David Sharp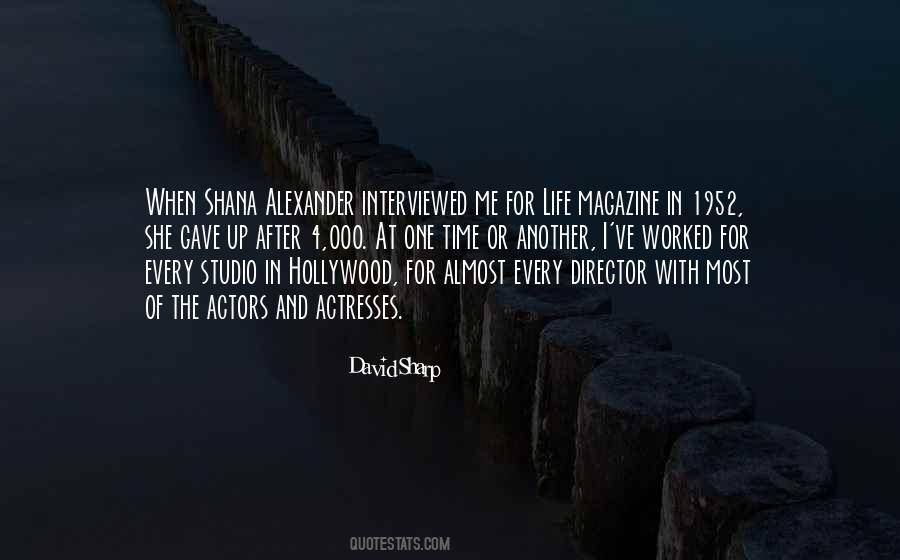 #42. I have a great admiration for English actors and actresses and have used them at every opportunity over the years, but now I won't have to import them to New York - Author: Woody Allen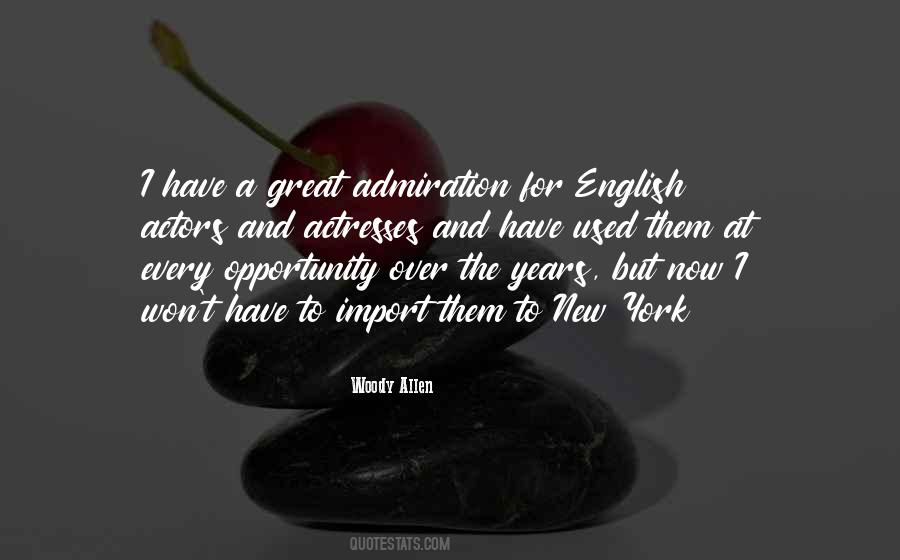 #43. gymnasts retire at 20, cricketers at 34, actresses at 32, actors at 75, salesmen at 50, other employees at 58 or 60 years, and doctors and lawyers when their bodies do not listen to their minds. Of course, one class beats them all - politicians retire at 90! - Author: P.V. Subramanyam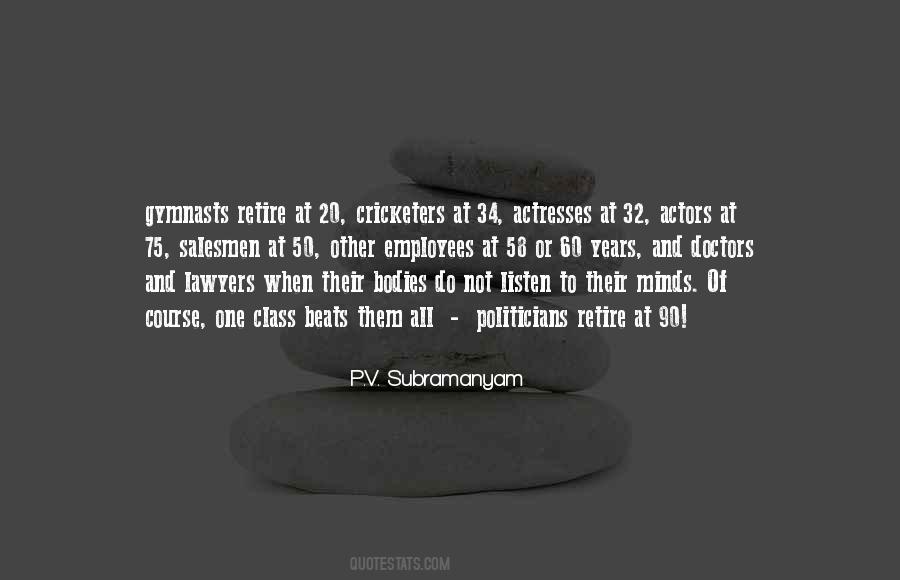 #44. I really want to work with Tom Hardy. Christian Bale and Russell Crowe are also on my list. Those are my top three actors. As far as actresses go, Kate Beckinsale, because she's so smokin' hot. - Author: Ryan Guzman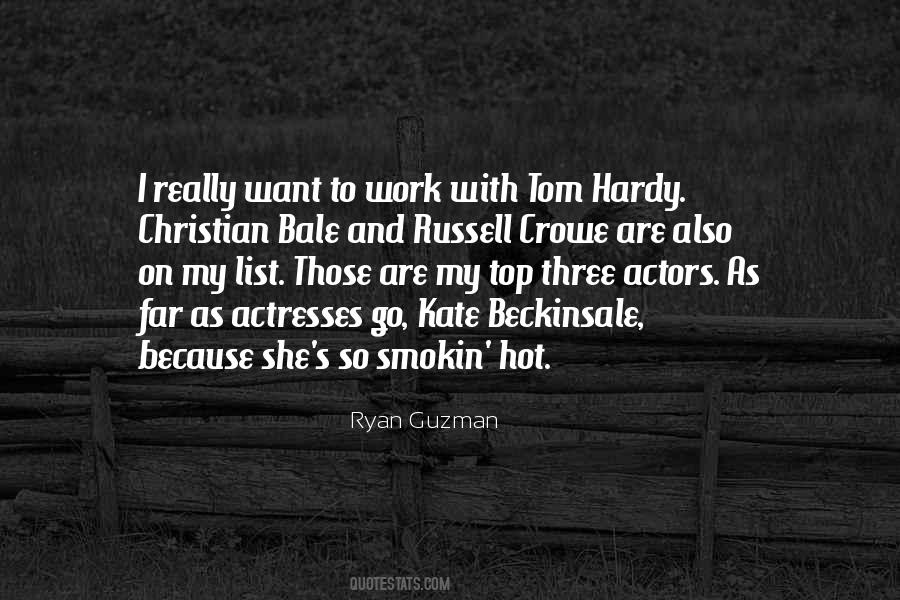 #45. Sure I faced the troubles and challenges that most actors and actresses face until they get noticed, but I was always confident of myself and my capabilities. - Author: Christine Lahti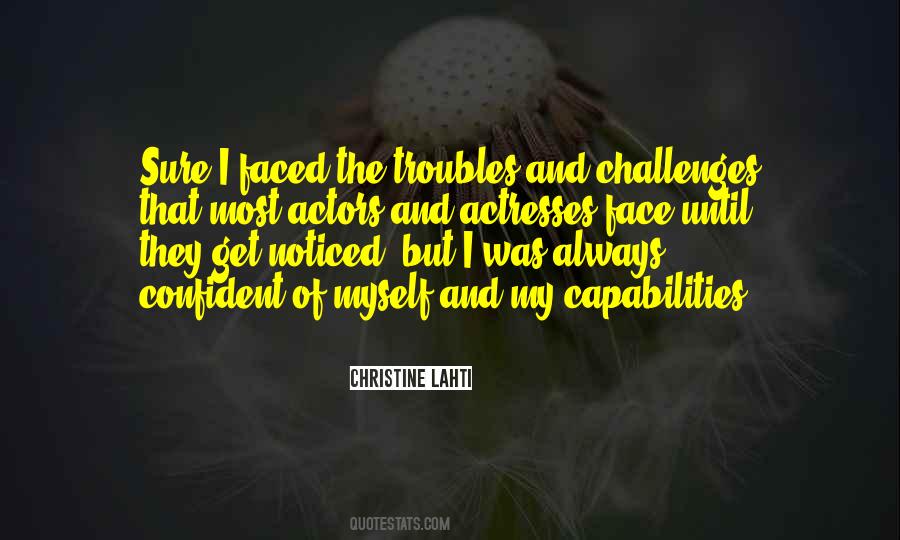 #46. You're a smaller fish in the U.S. There's just so many more TV shows, and actors, and actresses. Where as in the U.K. you're in a much smaller market there. - Author: India De Beaufort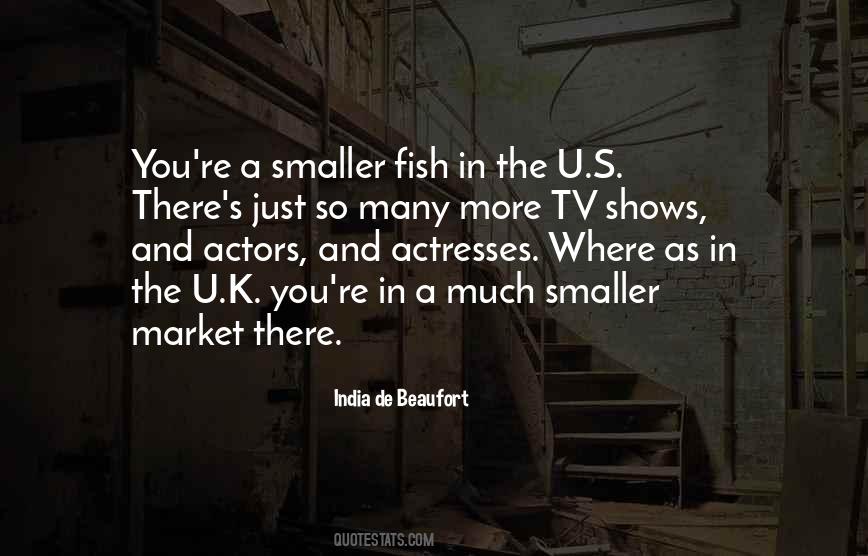 #47. Culture changes because of musicians and actors and actresses. There's a responsibility there. You may ignore the responsibility. You may choose to be a bad role model. But, you are a role model nonetheless. - Author: Kirk Cameron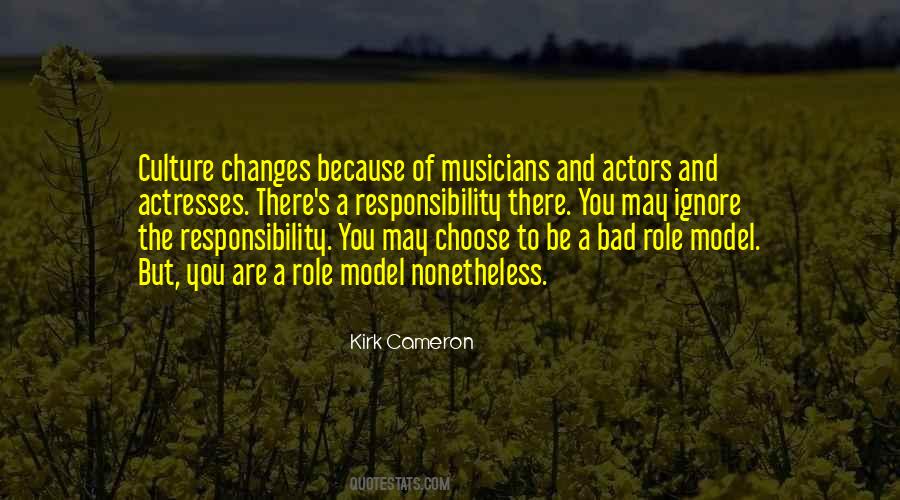 #48. I've never been difficult to anybody or with anybody on a picture. Especially when you're in that nice status of hierarchy of actors and actresses who get to approve directors. Because once you make that choice, it's my belief that the director's boss. - Author: James Caan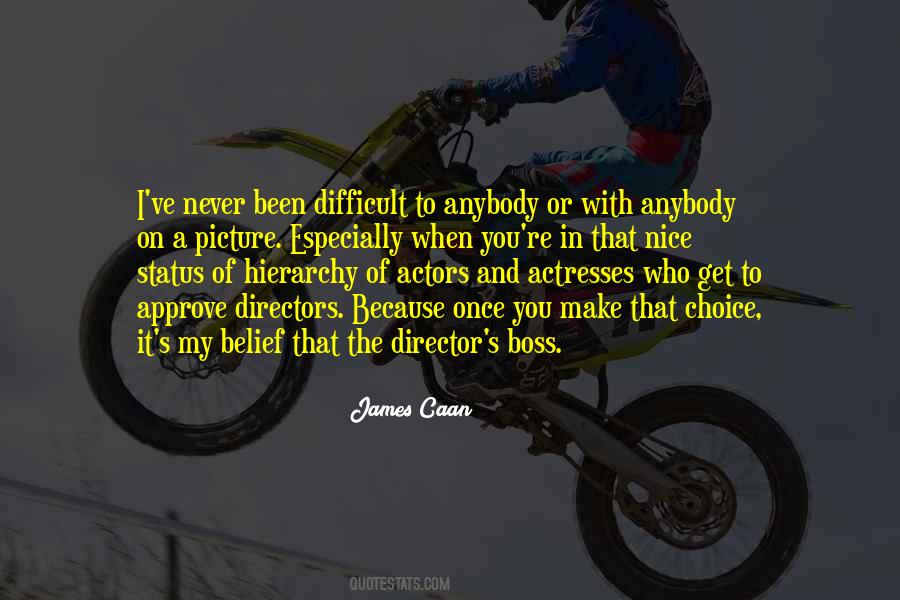 #49. One thing I've noticed is that I can tell when a young actor or a young actress is going to become a huge star. Everybody else will say, "Oh come on, Michelle Pfeiffer, are you kidding?" and I'm pretty much always right about that. - Author: David Carradine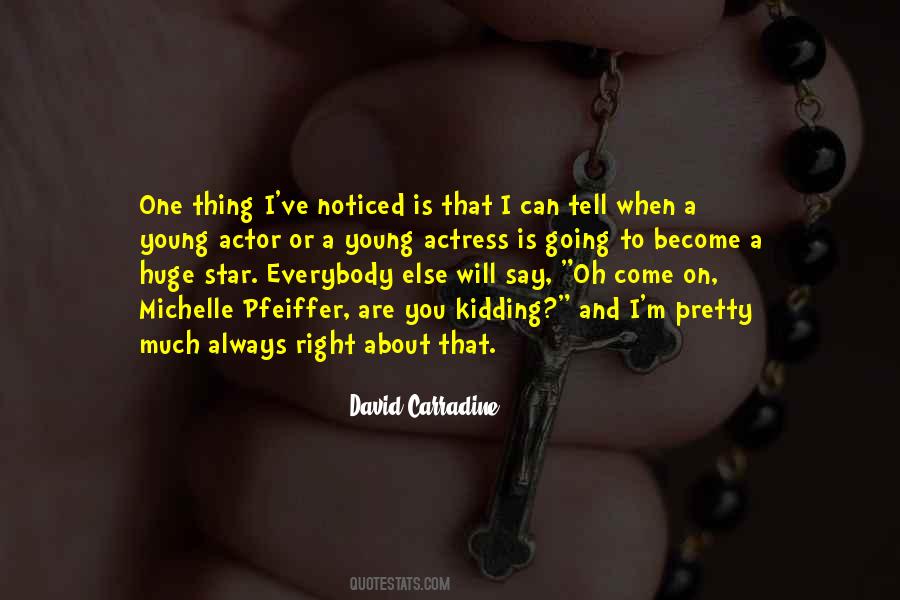 #50. I'd like to be the role model to teach other people who have Down's syndrome to be actors and actresses and to be themselves and not try to be a big shot. - Author: Chris Burke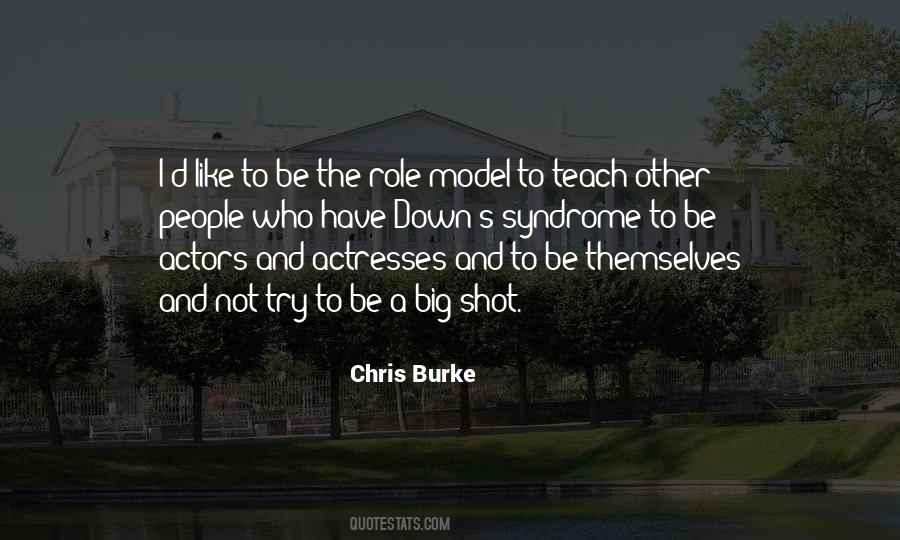 #51. As you know, Hollywood loves to pigeonhole all the actors and actresses, and suddenly I got 're-pigeonholed' as an action actor. - Author: Liam Neeson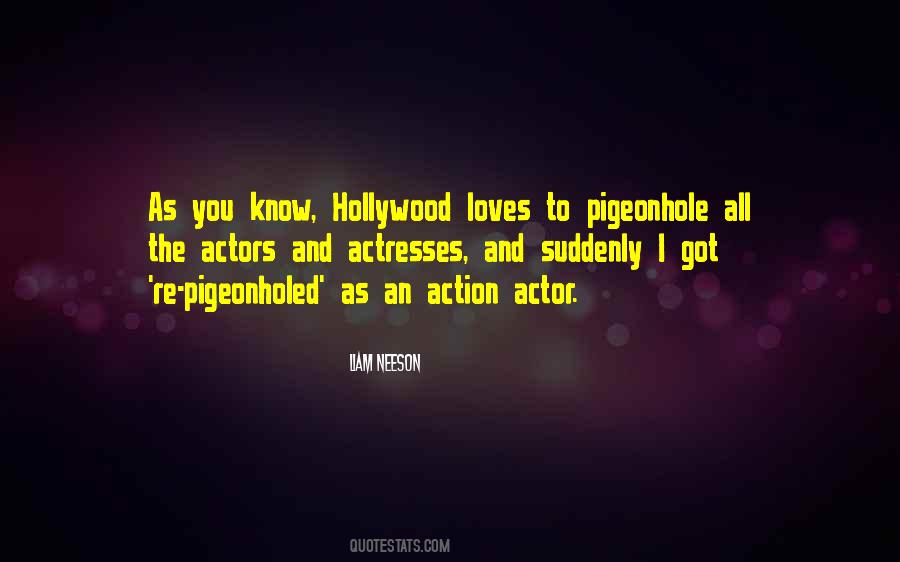 #52. Do you know how many plastic surgeries are done to the actors and actresses in Hollywood? - Author: Joseph Jackson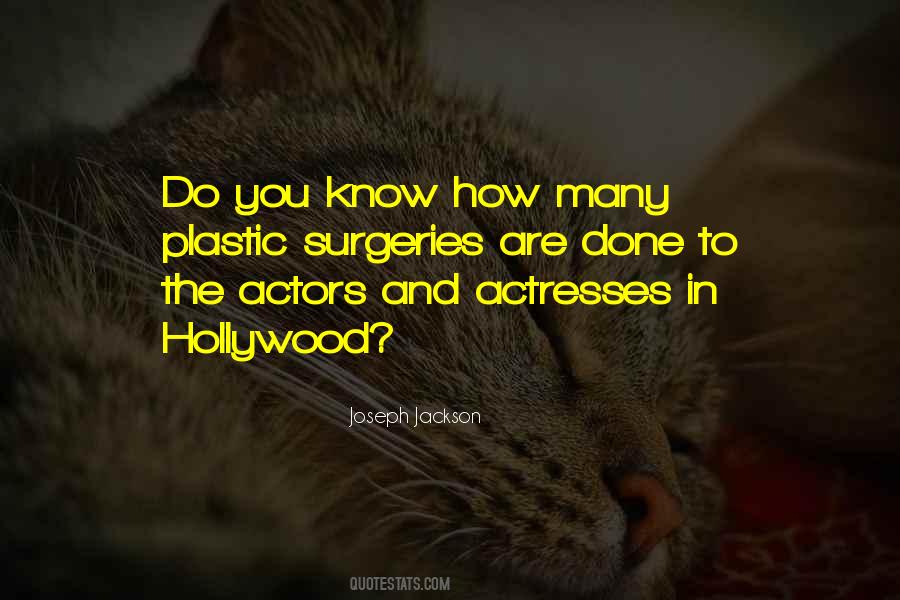 #53. I do a public access show with puppets. Puppets called actors, TV and movie stars. - Author: Craig Ferguson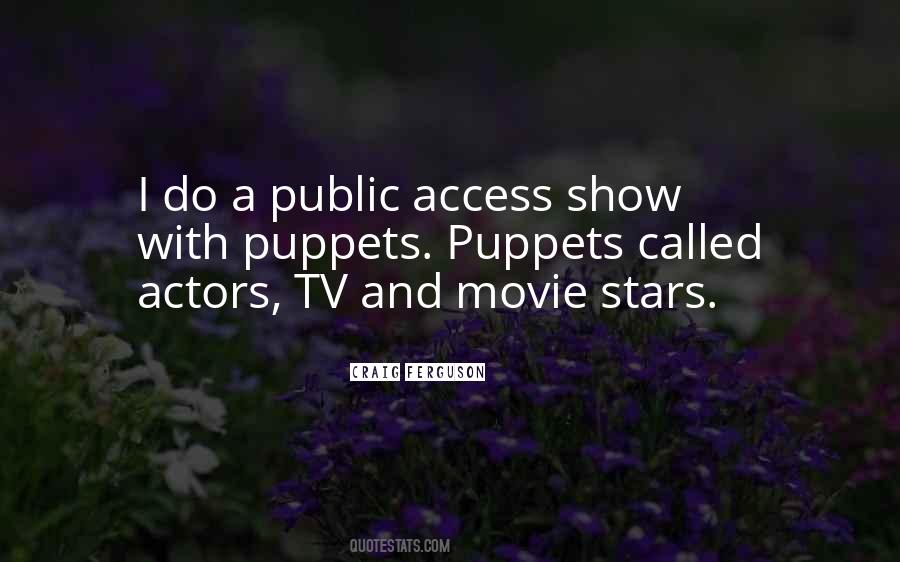 #54. A lot of actors and actresses pull from past experiences. - Author: Maisie Williams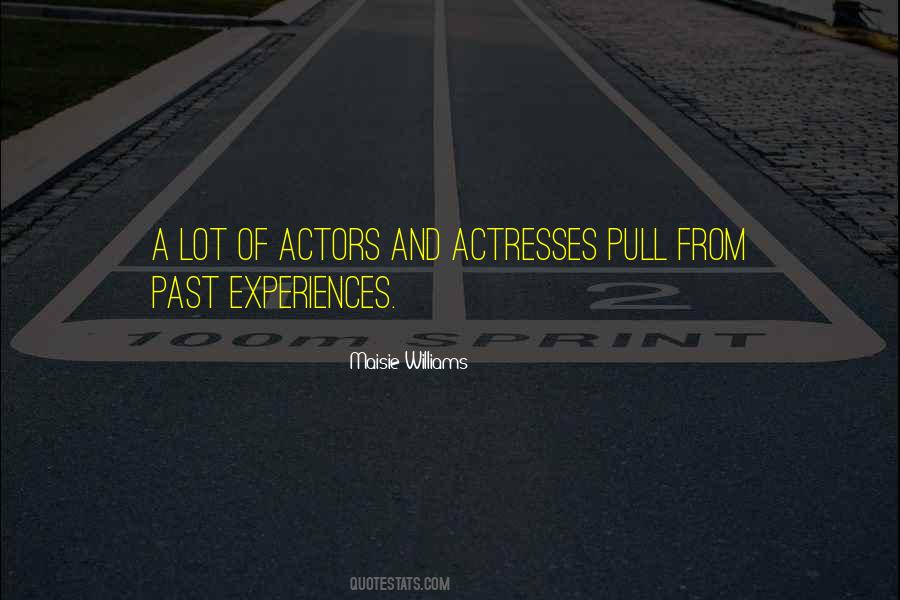 #55. If they made films in Palm Beach, actors and actresses would be much better dressed. - Author: Kenneth Jay Lane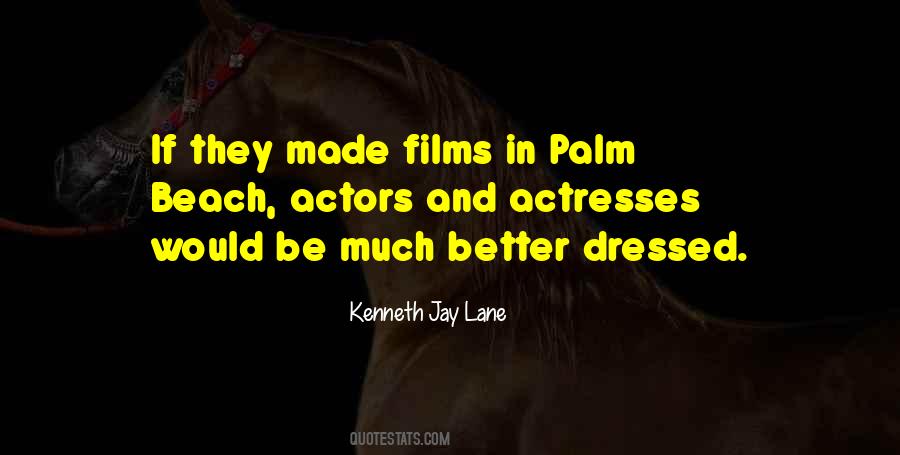 #56. A lot of times you have very ego-driven actors and actresses that stay in their little world, and when you have a scene together, your worlds meet for a moment. But I don't think that makes for a very good cohesion. - Author: Dawn Olivieri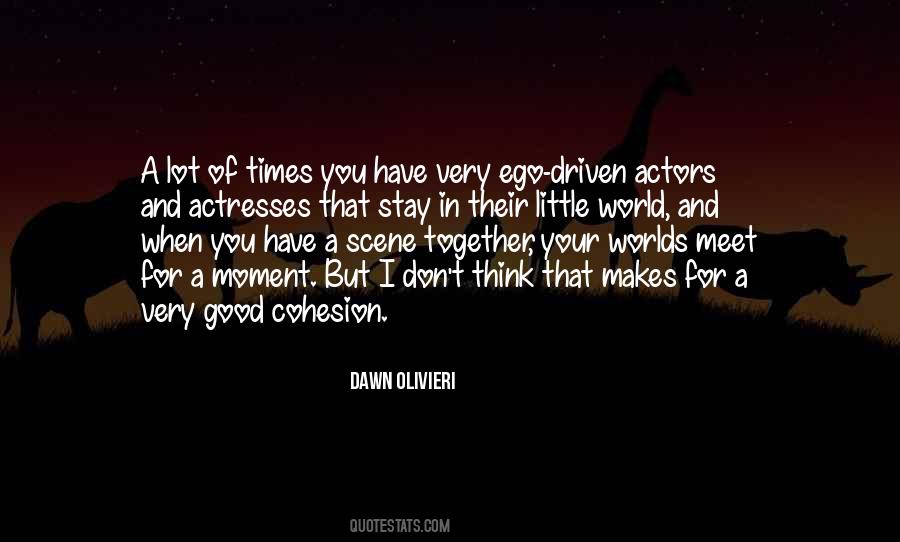 #57. There's something really special for a young person to sit in an audience and discover somebody, and it's rare to do because so much of a movie's economics are based on pre-existing actors or actresses. - Author: Craig Brewer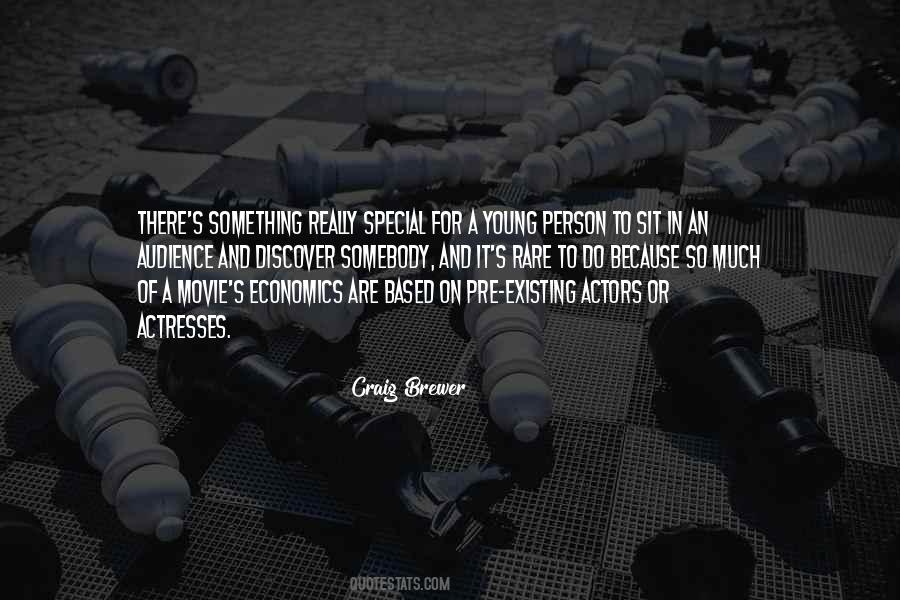 #58. The great actresses and actors receive awards for great roles in great films. - Author: Gloria Stuart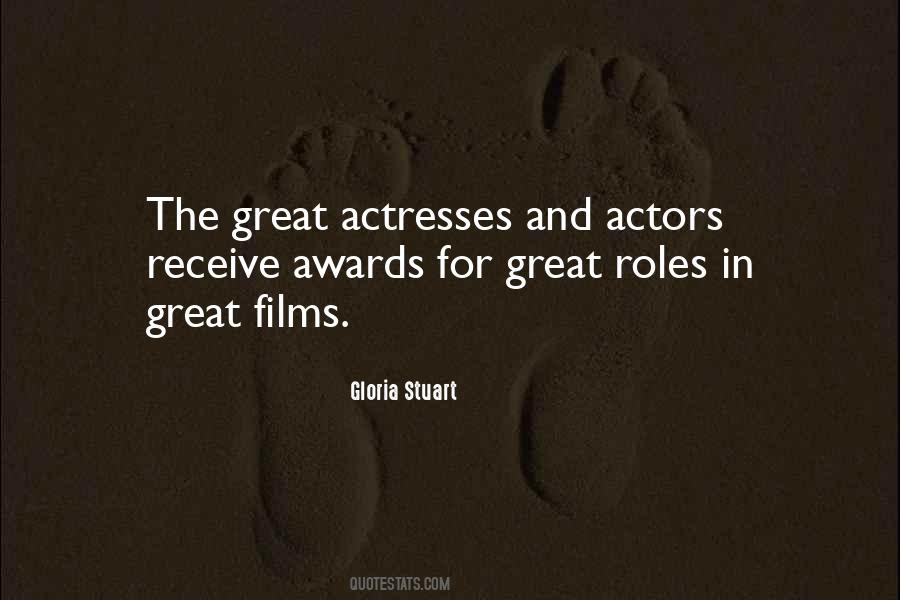 #59. I learn a lot with actors that I don't think are good. Every experience shapes you. I've had experiences with actresses - and I say actresses because there's just a woman thing - that have achieved what she's achieved, by means that I can't understand. - Author: Kristen Stewart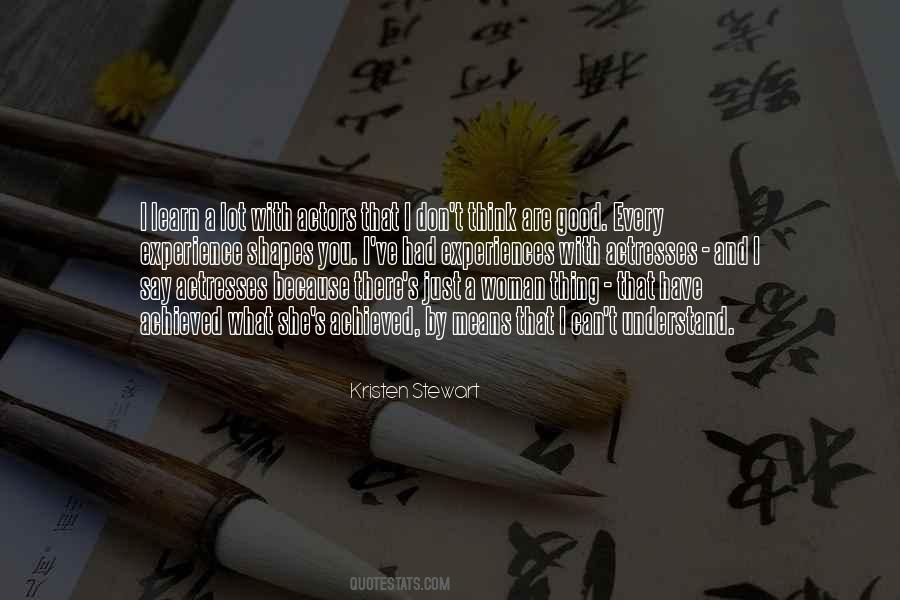 #60. One of the best ways to change is to act as if you are the person you want to become. When you behave as if you are a different person, you change on a very basic level - even your physiology changes. When actors and actresses perform, their body chemistry is altered by the roles they play. - Author: Bernie Siegel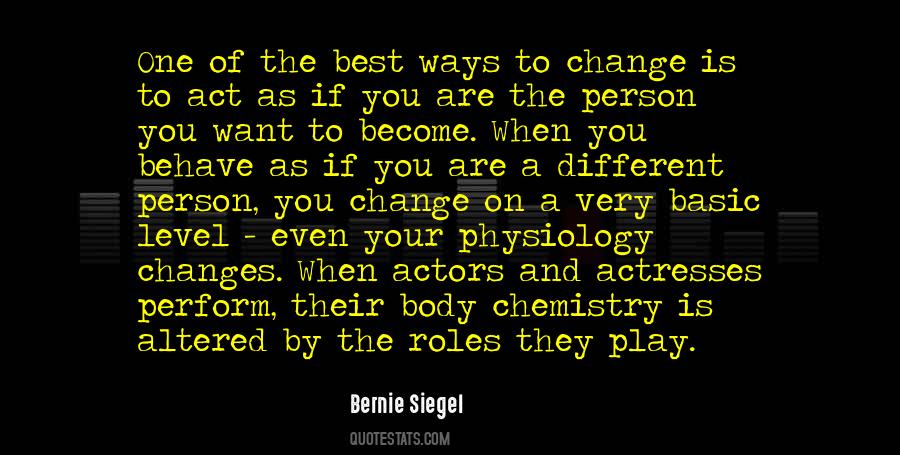 #61. I was failed in all other aspects of filmmaking and was completely bankrupt because my dreams were higher than realities. So I started my acting school in a small room with 12 students to prepare future actors and actresses. - Author: Anupam Kher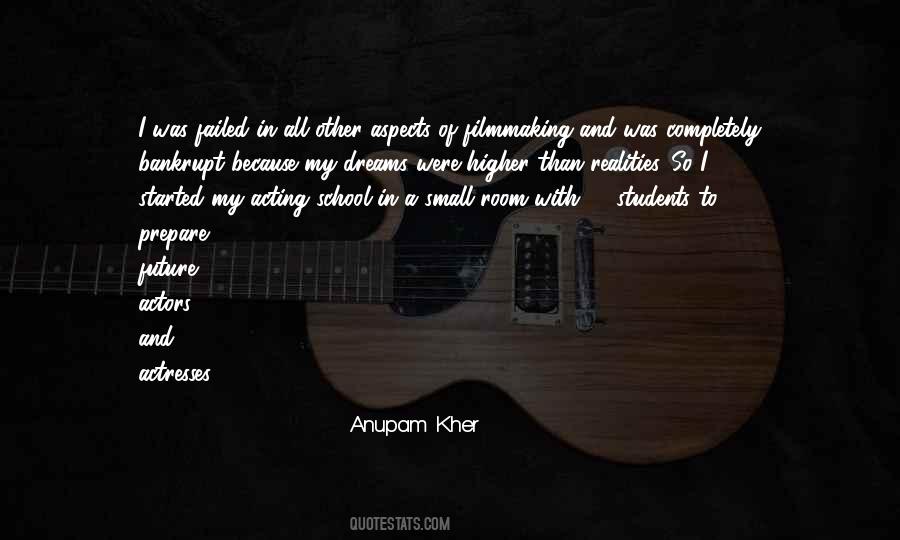 #62. I love watching amazing actors and actresses that you can't take your eyes off of because everything they are doing - even if it is just twiddling their thumbs or scratching their eye - it's just interesting. - Author: Sara Paxton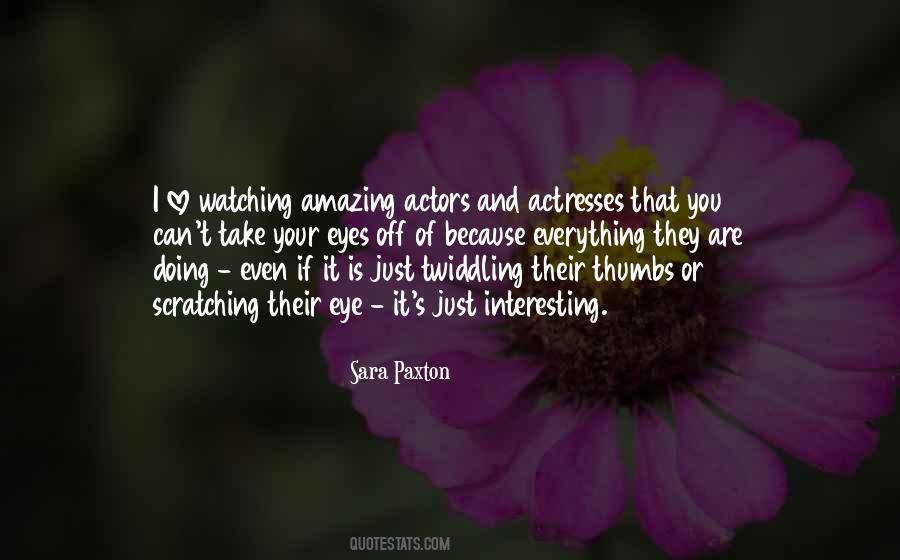 #63. My hope is that shows like 'Fresh Off the Boat' open the door for even more of those kinds of characters for Asian actors and actresses. - Author: Randall Park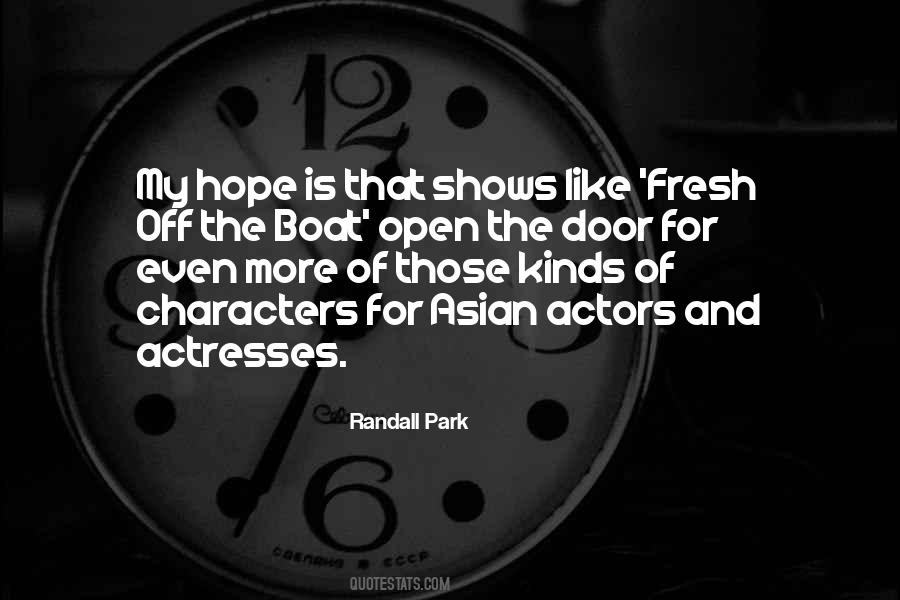 #64. The sad truth for American actors is that they really have no control whatsoever over the material that they get, or can do, particularly actresses. And if you're over 40 and you're an actress, forget it. - Author: James Gray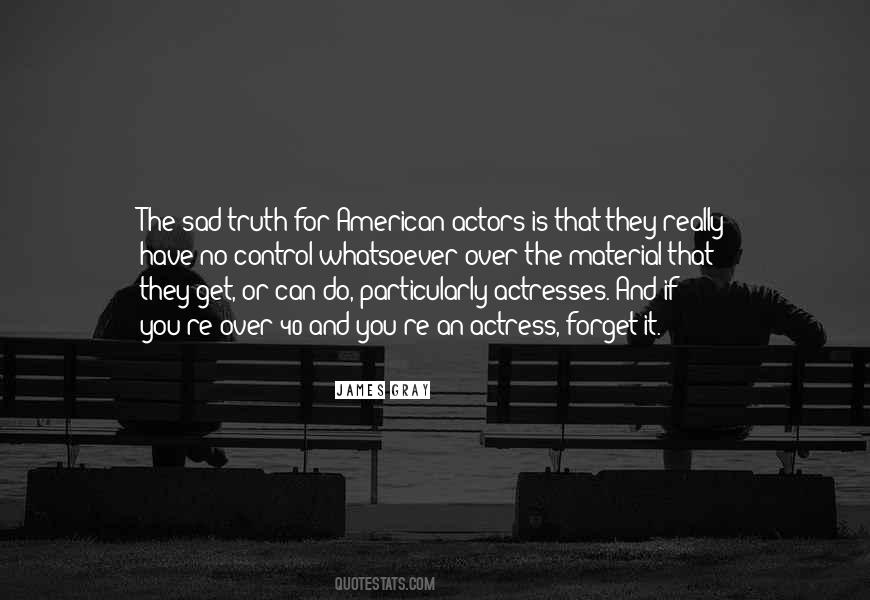 #65. At the Academy Award Dinners all the actors and actresses in Hollywood gather around to see what someone else thinks about their acting besides their press agents. - Author: Bob Hope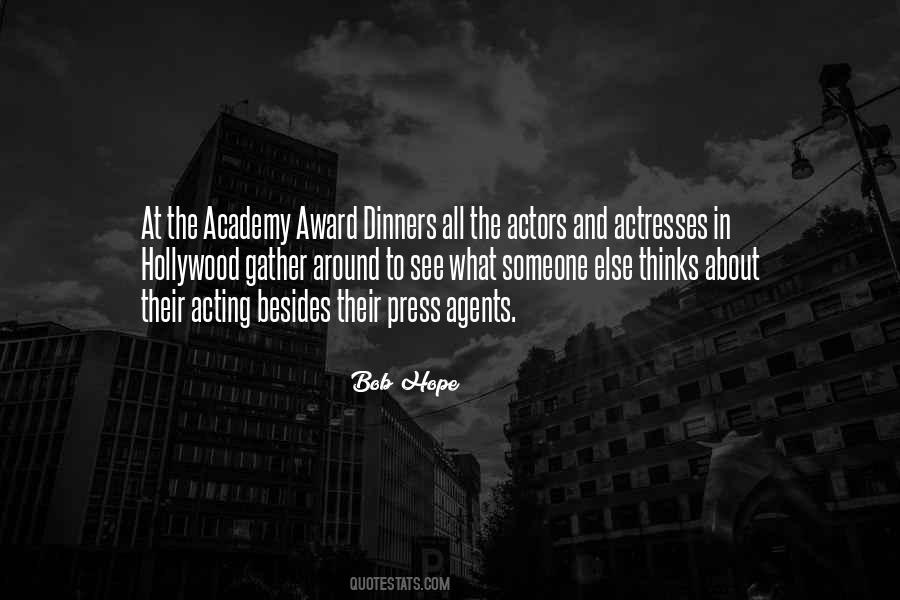 #66. I just feel incredibly lucky to be employed when there are so many actors and actresses who are not employed. That's why, you know, I sometimes feel desperate, in case I'm not going to be cast again. - Author: Judi Dench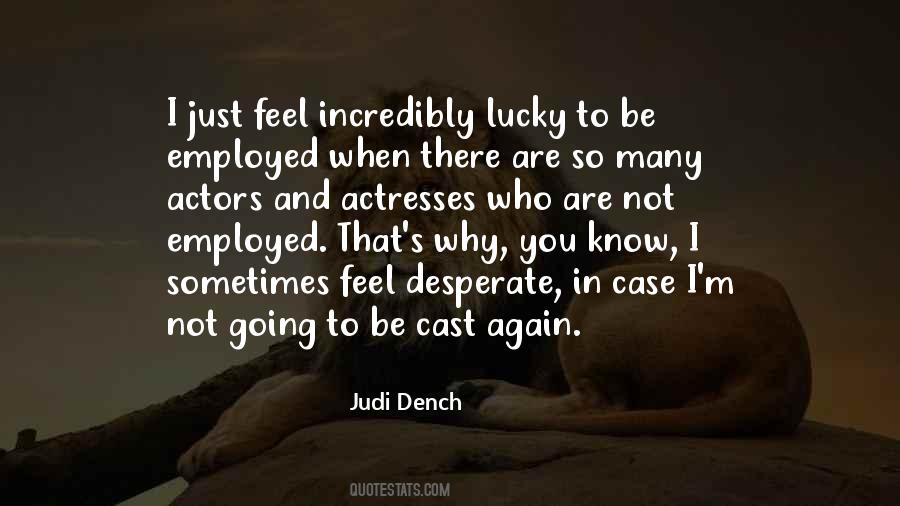 #67. You're in a scene with Laura Linney or Oliver Platt or John Hickey or Alan Alda and these amazing actors and actresses, and you're like, 'Oh my God, I haven't even started; I'm nothing compared to these people!' - Author: Gabriel Basso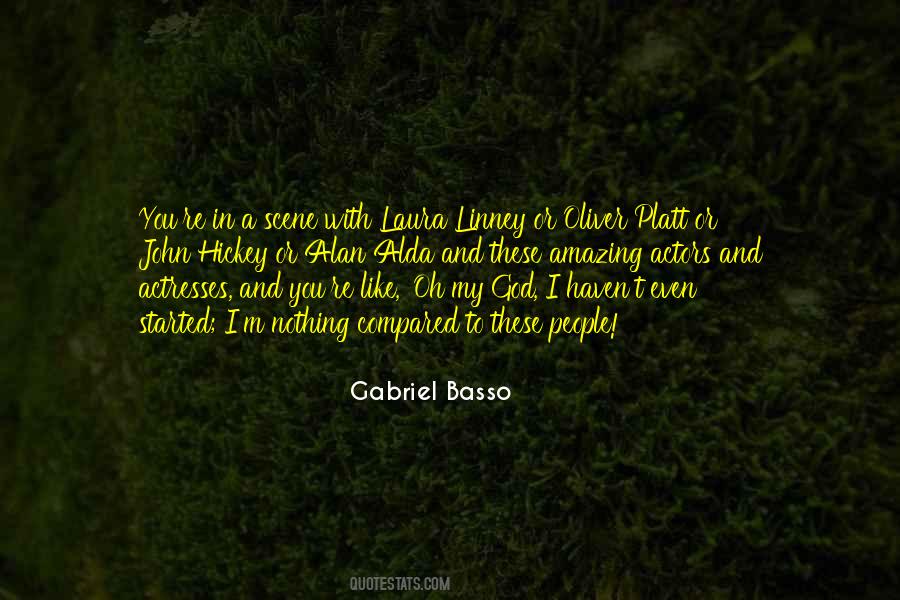 #68. I love a lot of comedy actors and actresses like Kristen Wiig and Tina Fey and all those women who are really brilliant and funny. - Author: Saoirse Ronan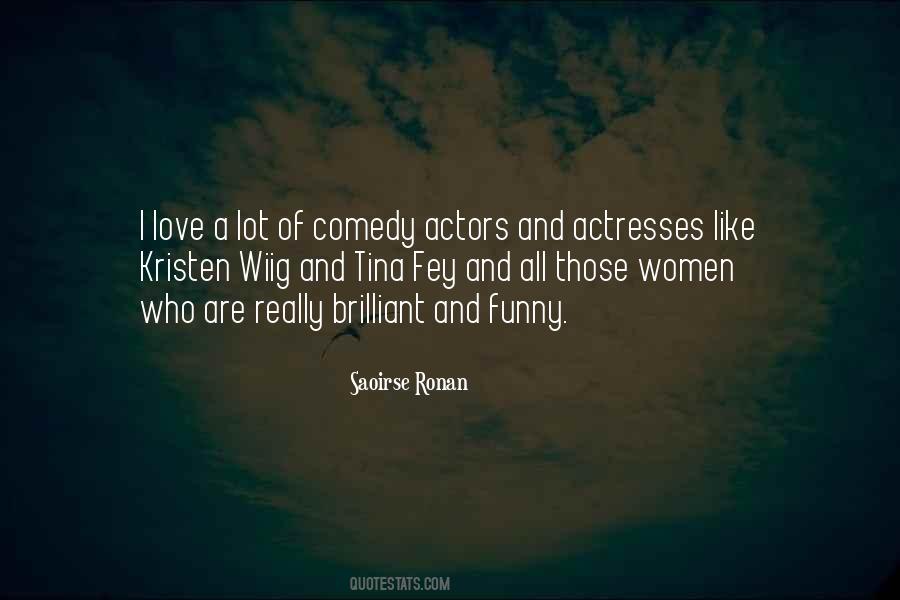 #69. I think that as actresses - and I've definitely gone through this in a really bizarre way, because I worked so much and was really lucky with the roles that I got when I was younger - I remember hearing the older actors saying, "It gets tough," and thinking, "Really? I can't imagine." - Author: Winona Ryder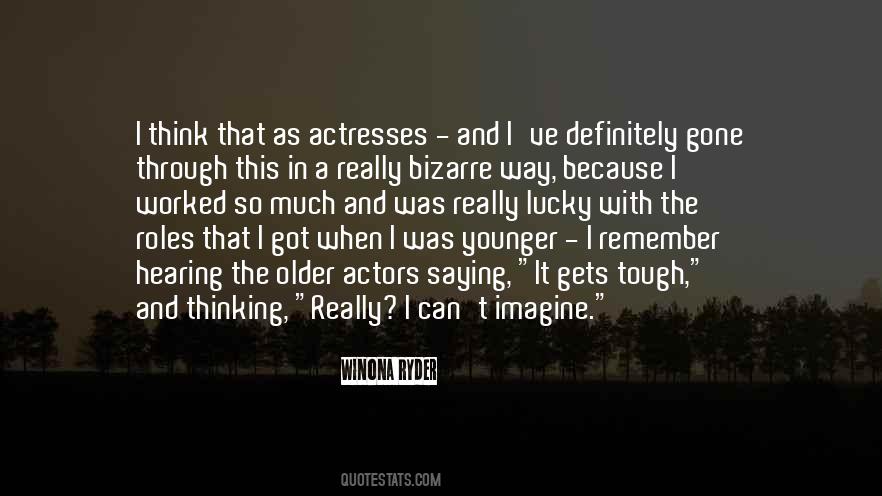 #70. I think it's even harder because I think as always, Hollywood is sort of glamour central for the world, and the entire world looks to it for not only entertainment, but the whole idea of the youth factor and youth being sold to our culture via young actors and actresses. - Author: Anthony Michael Hall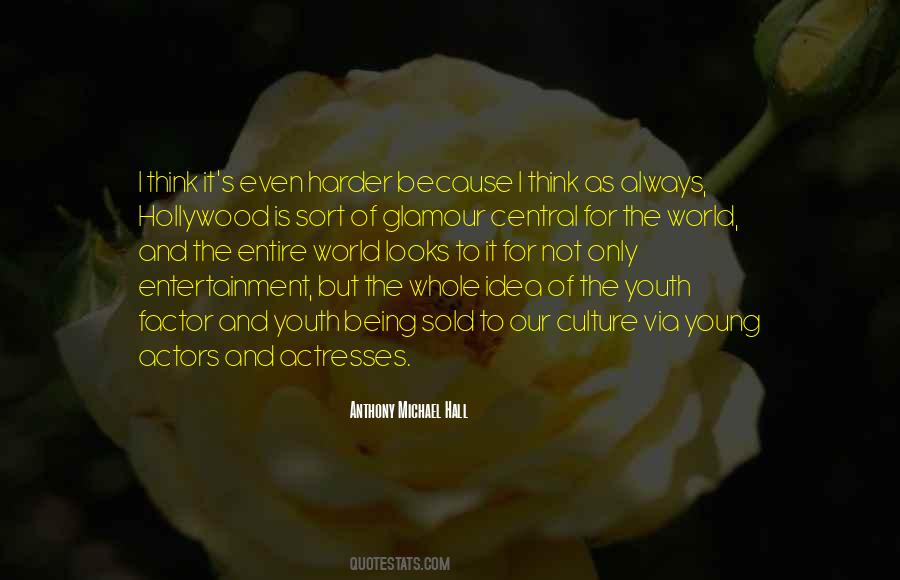 #71. We've all seen great actors and actresses who are missing a certain chemistry. And it's not about getting along or not getting along. - Author: Johnny Galecki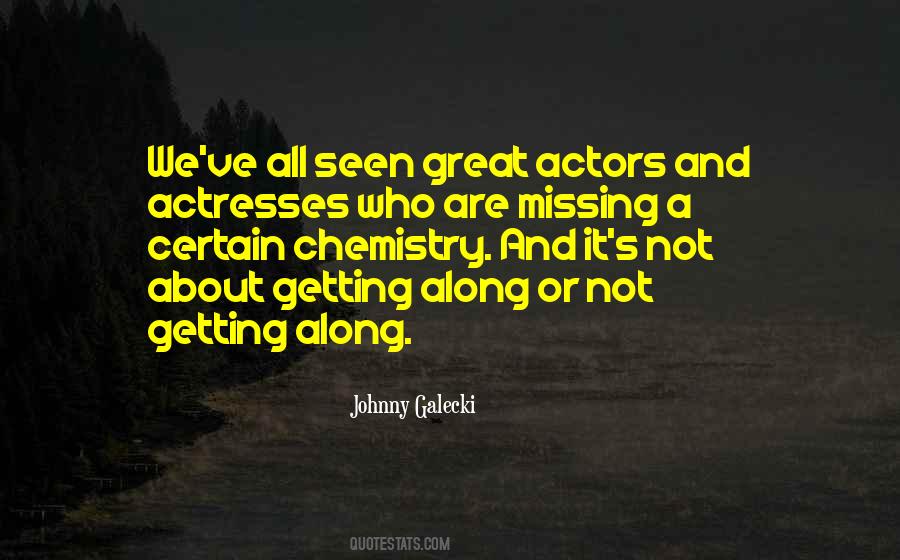 #72. Actors and actresses who say they never go to see their own pictures are talking through their hats. You don't have to be a Freud to know that the most fascinating person in the world - actors or anybody - is yourself. - Author: Paulette Goddard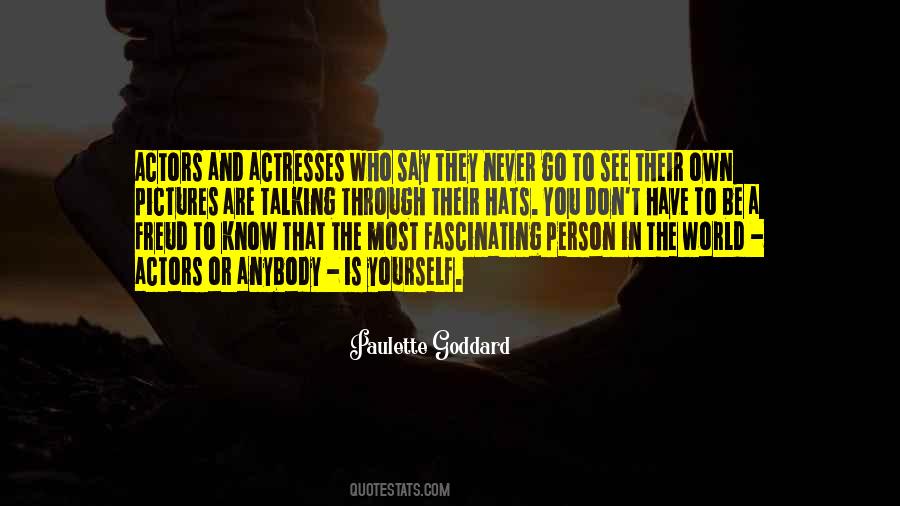 Famous Authors
Popular Topics