Your Body's A Temple Famous Quotes & Sayings
List of top 72 famous quotes and sayings about your body's a temple to read and share with friends on your Facebook, Twitter, blogs.
Top 72 Your Body's A Temple Quotes
#1. Your body is a temple, whether you're a Jew or not. - Author: April Winchell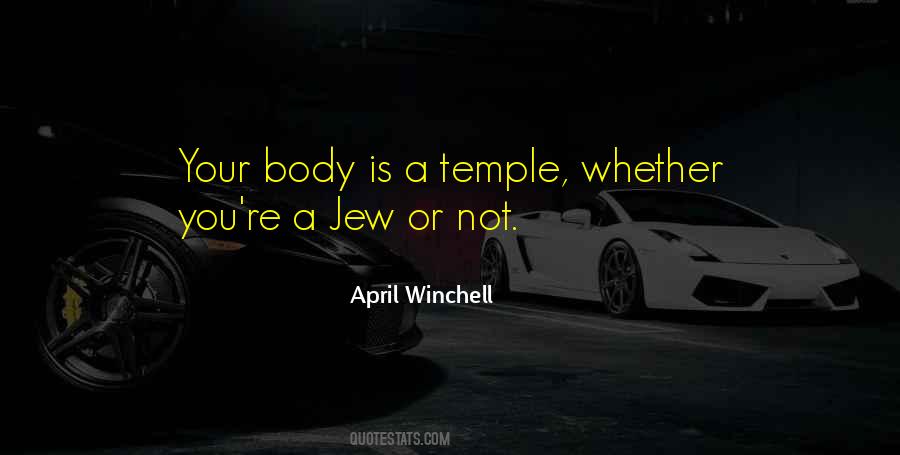 #2. Silence nurtures the soul, relaxes the body temple and gives us the strength we need in moments of uncertainty. Welcome it. - Author: Ana Ortega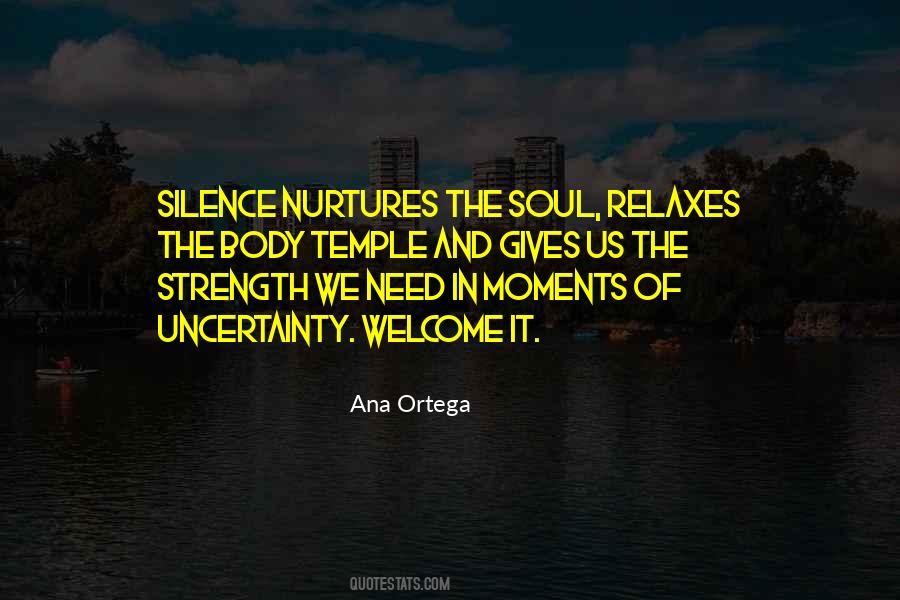 #3. It was Aomame's firm belief that the human body was a temple, to be kept as strong and beautiful and clean as possible, whatever one might enshrine there. - Author: Haruki Murakami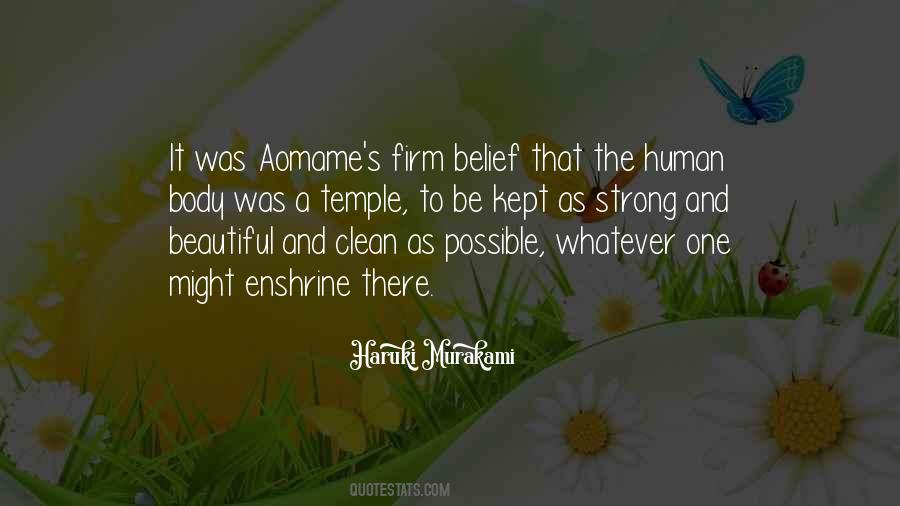 #4. There is but one temple in the world, and that is the body of man. Nothing is holier than this high form. Bending before men is a reverence done to this revelation in the flesh. We touch heaven when we lay our hand on a human body. - Author: Novalis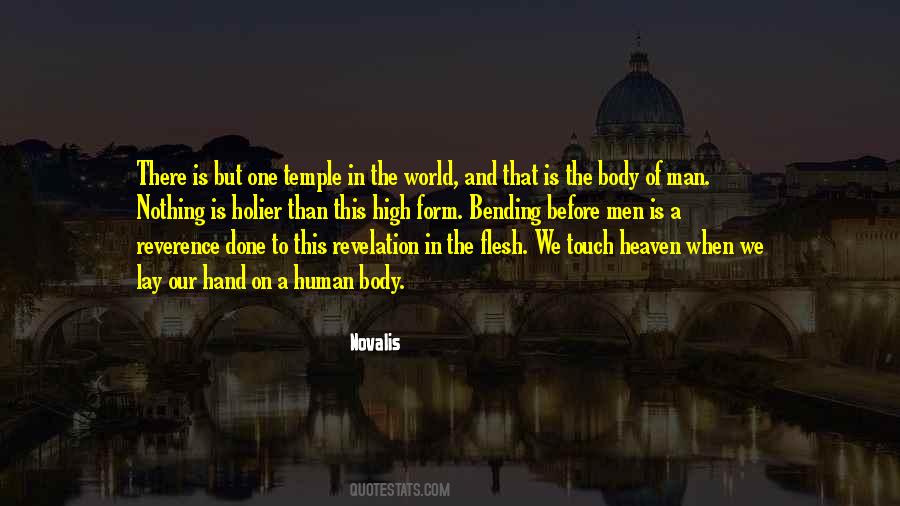 #5. Let thy holy temple be thy body. - Author: Lailah Gifty Akita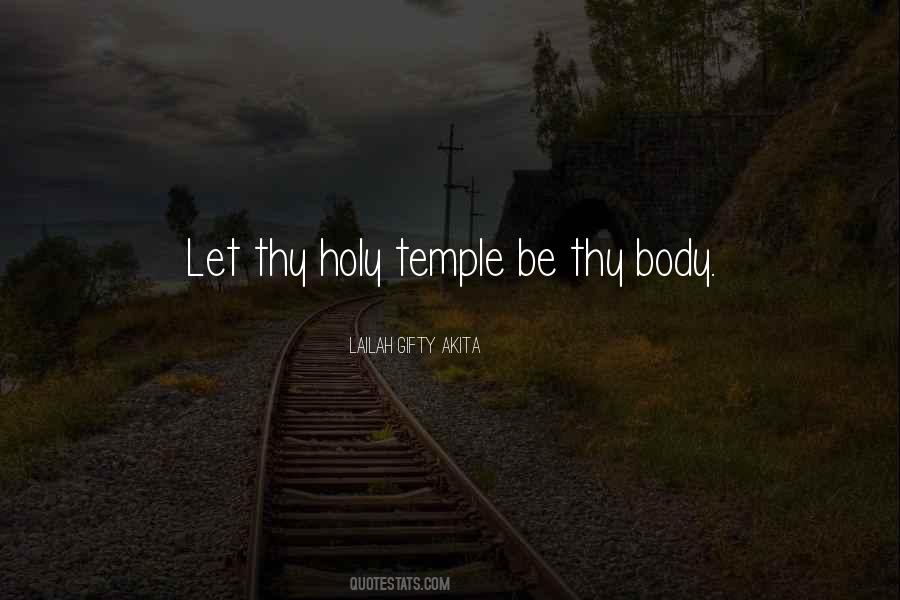 #6. The body is a temple, where God dwells. - Author: Lailah Gifty Akita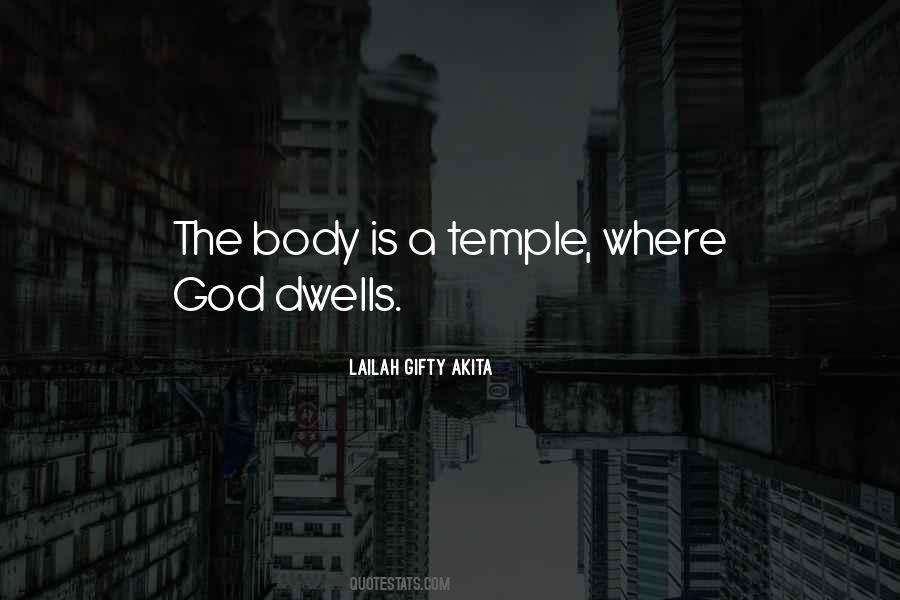 #7. I think Julianne Moore is the most radiantly beautiful human being and isn't messing with nature too much. She seems like a woman who treats her body like a temple. I cannot relate to that! - Author: Mackenzie Davis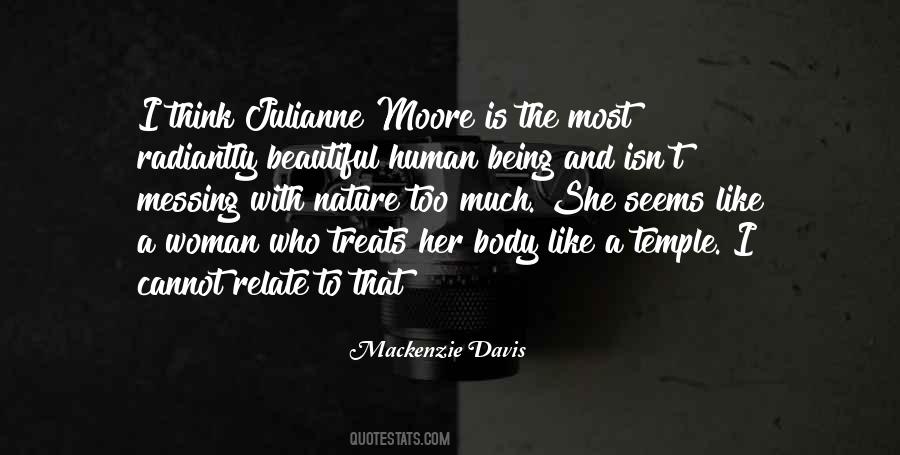 #8. I don't prefer to fill my body with antibiotics, pesticides, steroids, and growth hormones - my body is my temple, and I treat it as such. - Author: Suzanne Whang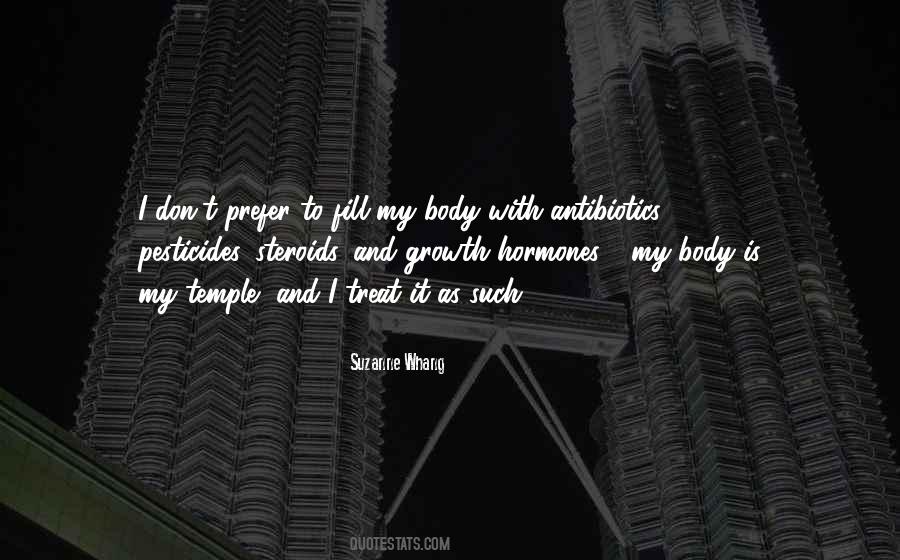 #9. He that sees the Lord in the temple, the living body, by seeking Him within, can alone see Him, the Infinite, in the temple of the universe, having become the Endless Eye. - Author: Ramana Maharshi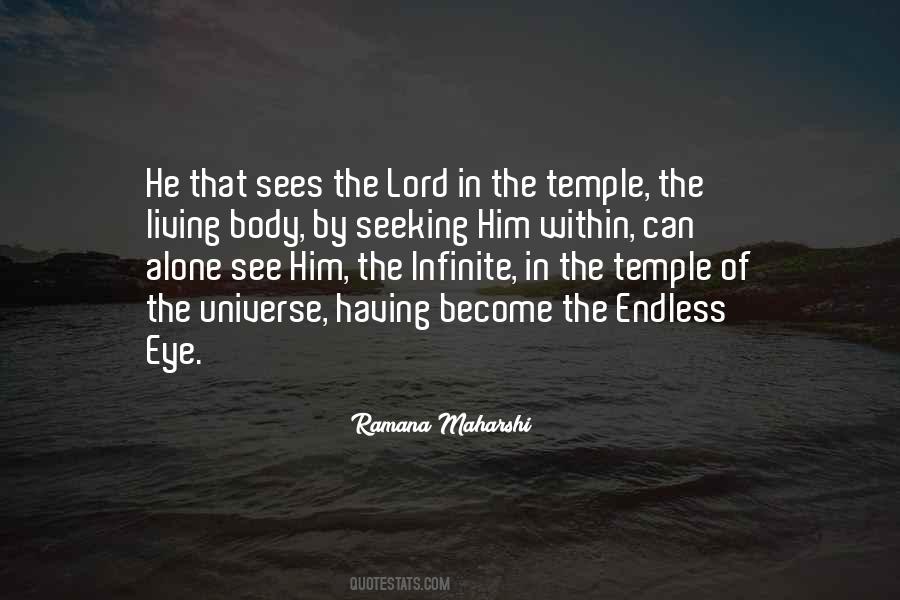 #10. You only get one body; it is the temple of your soul. Even God is willing to dwell there. If you truly treat your body like a temple, it will serve you well for decades. If you abuse it you must be prepared for poor health and a lack of energy. - Author: Oli Hille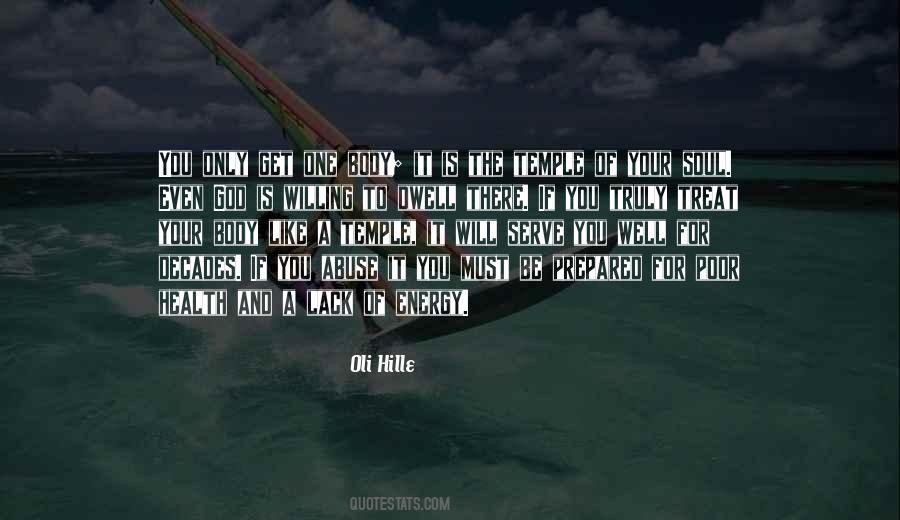 #11. From age 16 to age 20, a woman's body is a temple. From 21 to 45, it's an amusement park. From 45 on, it's a terrarium. - Author: Gina Barreca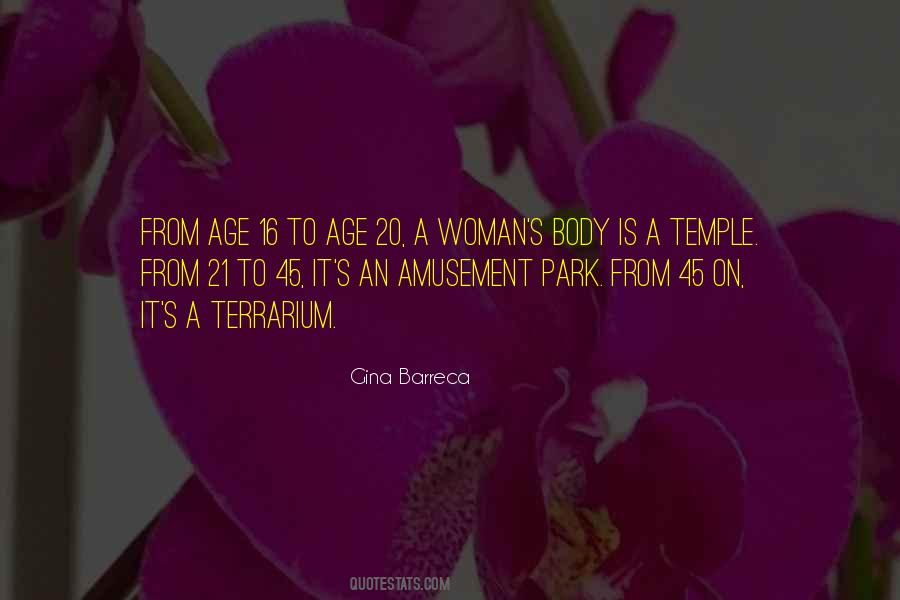 #12. I think of my body as a temple. Or at least a relatively well-managed Presbyterian youth center. - Author: Emo Philips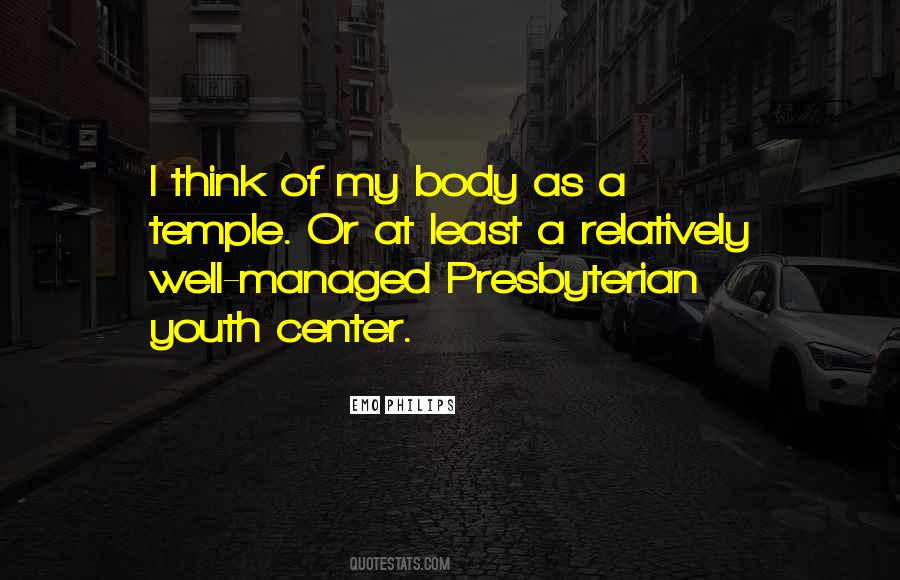 #13. My body is a temple not just any boy gets to worship at. I won't do any more than I want to do. - Author: Jenny Han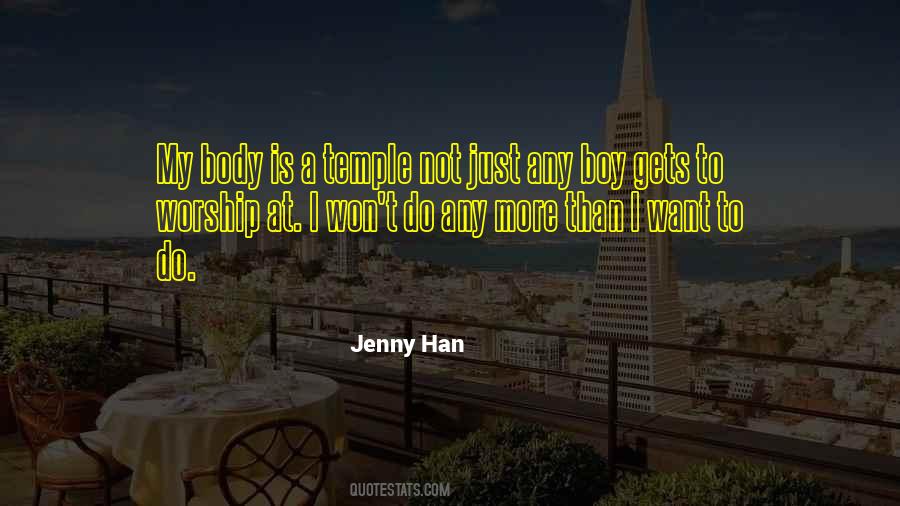 #14. Remember, your body is a temple, not a 7-Eleven. - Author: Jennifer Love Hewitt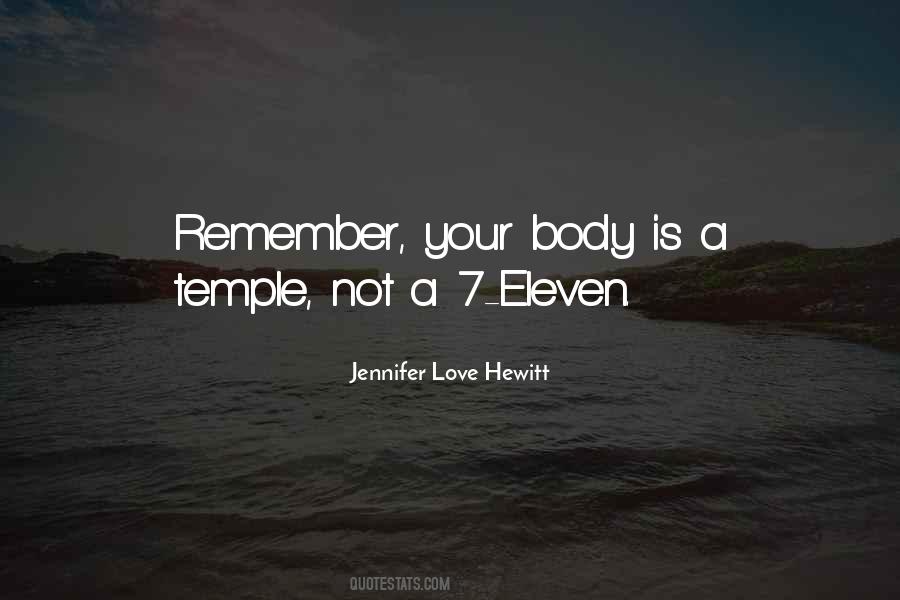 #15. The moment I have realized God sitting in the temple of every human body, the moment I stand in reverence before every human being and see God in him - that moment I am free from bondage, everything that binds vanishes, and I am free. - Author: Swami Vivekananda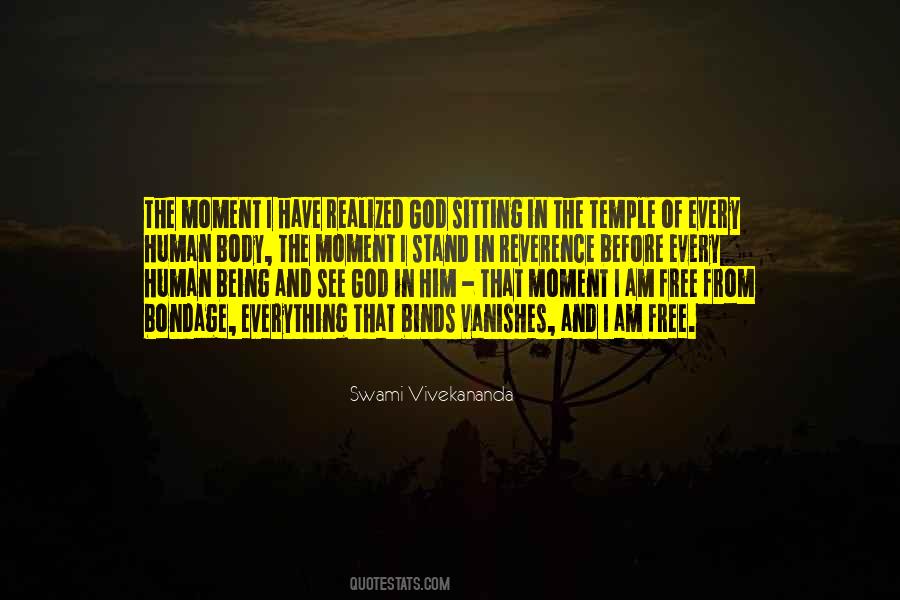 #16. I try to be self-disciplined with my thoughts. It's our thoughts that matter most, and all the rest falls into line behind that: if I remember who I really am and why I'm on the earth, then I more naturally want to treat my body like a temple and so forth. - Author: Marianne Williamson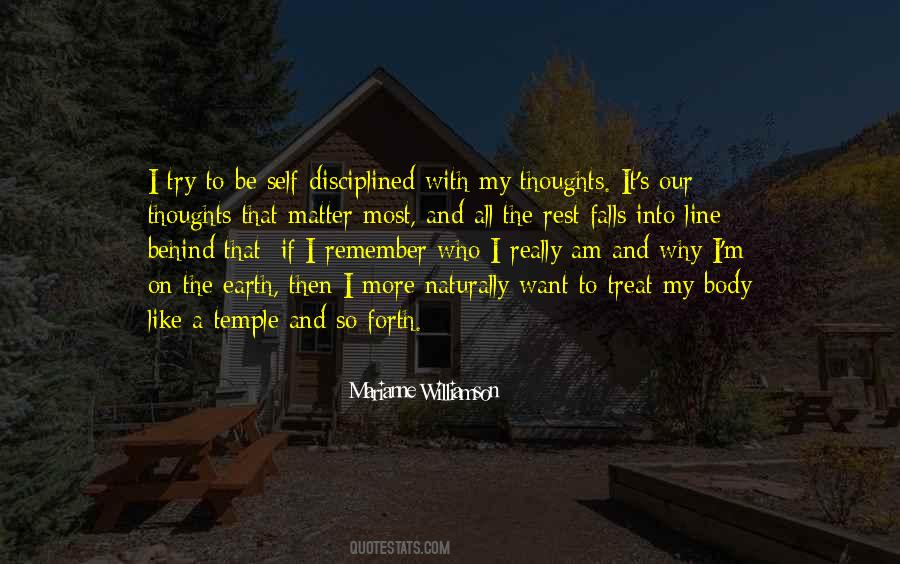 #17. Knowing that I am different from the body, I need not neglect the body. It is a vehicle that I use to transact with the world. It is the temple which houses the Pure Self within. - Author: Adi Shankara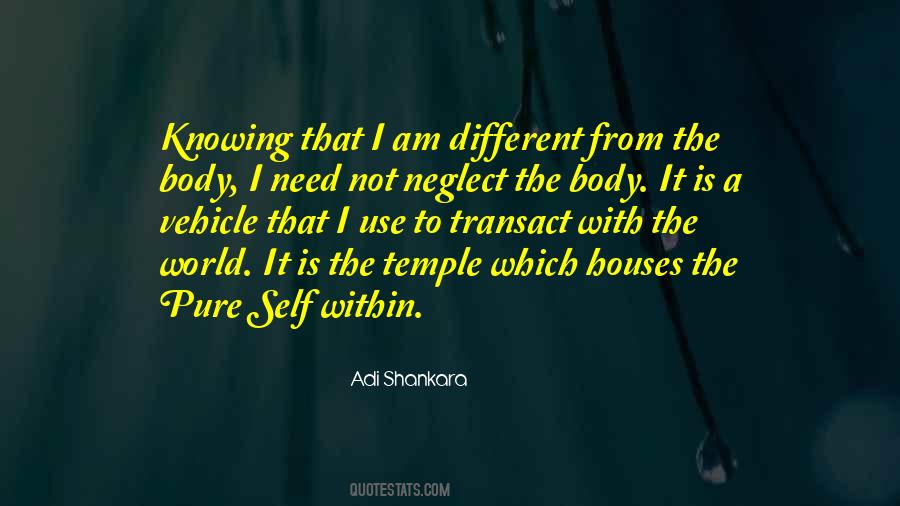 #18. my body is a temple, and I am the god it was built for - Author: Savannah Brown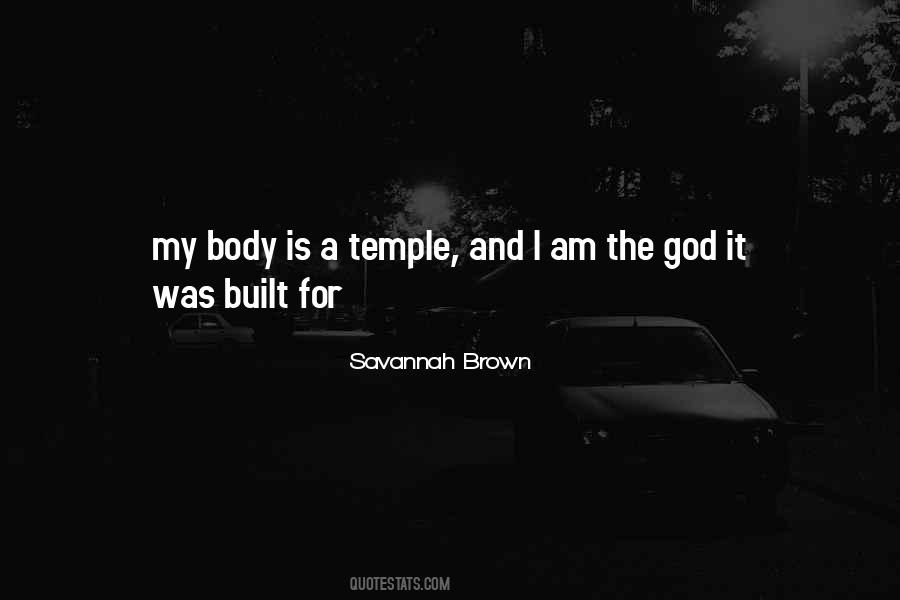 #19. The physical body is not only a temple for our soul, but the means by which we embark on the inward journey toward the core. - Author: B.K.S. Iyengar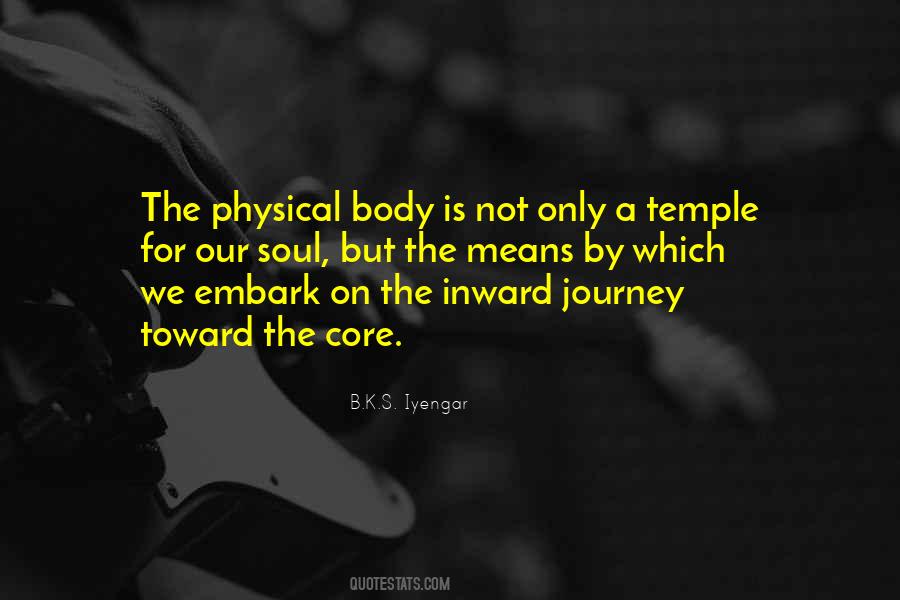 #20. The body is your temple. Keep it pure and clean for the soul to reside in. - Author: B.K.S. Iyengar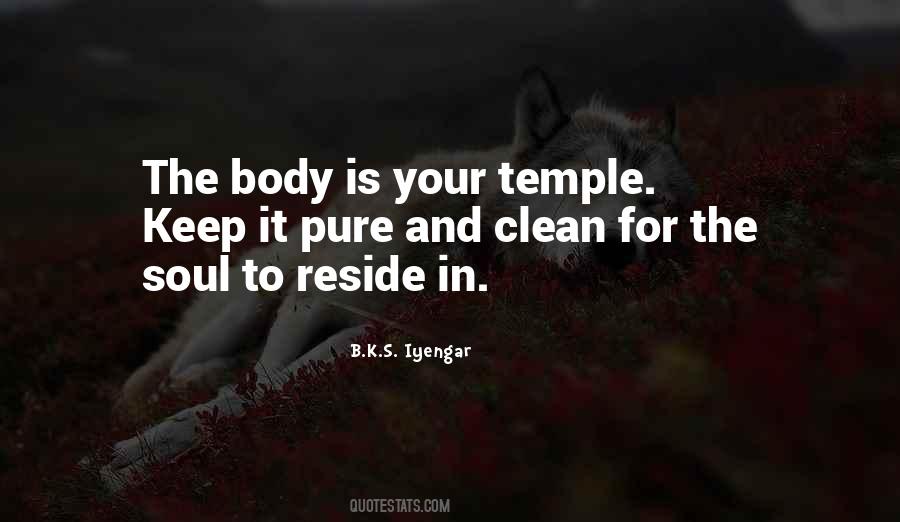 #21. I understand that my BODY is "The Temple" of God. - Author: Lee Vickers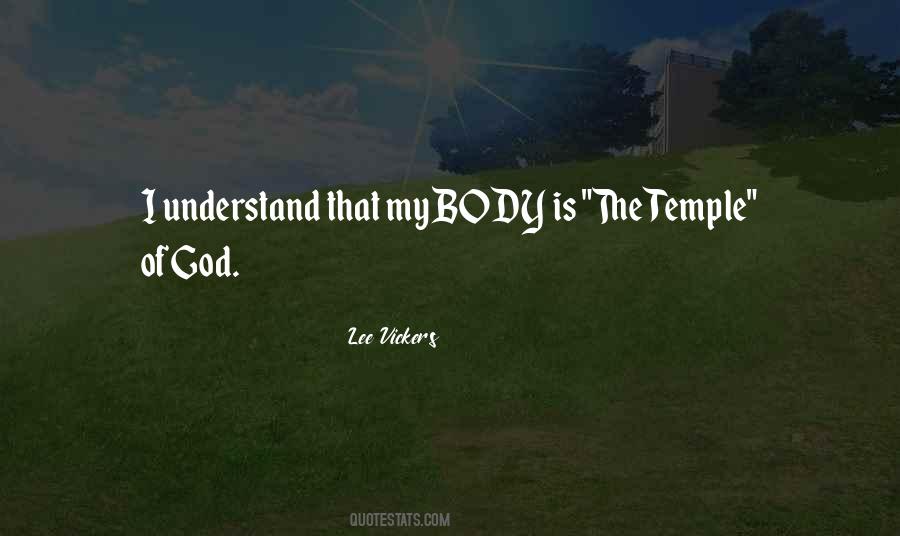 #22. The body is your only home in the universe. It is your house of belonging here in the world. It is a very sacred temple. To spend time in silence before the mystery of your body brings you toward wisdom and holiness. - Author: John O'Donohue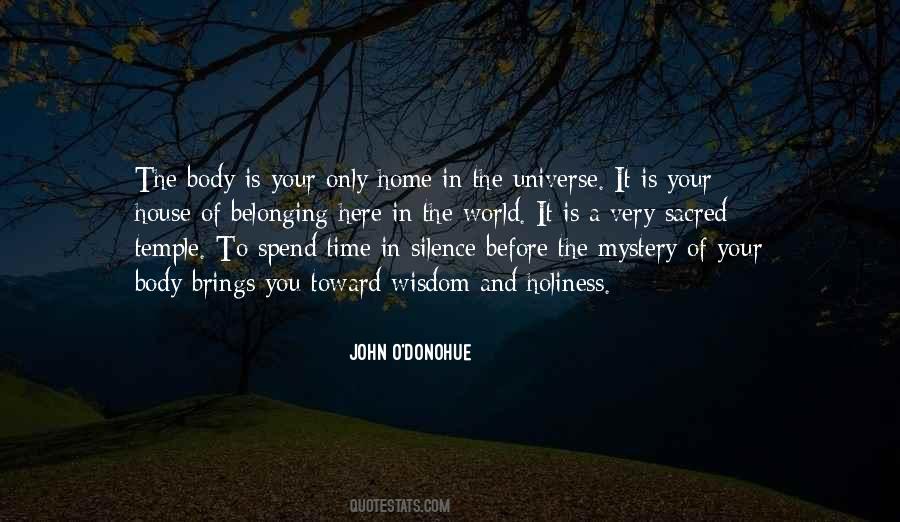 #23. Revere the body and care for it, for it is a temple. - Author: Swami Muktananda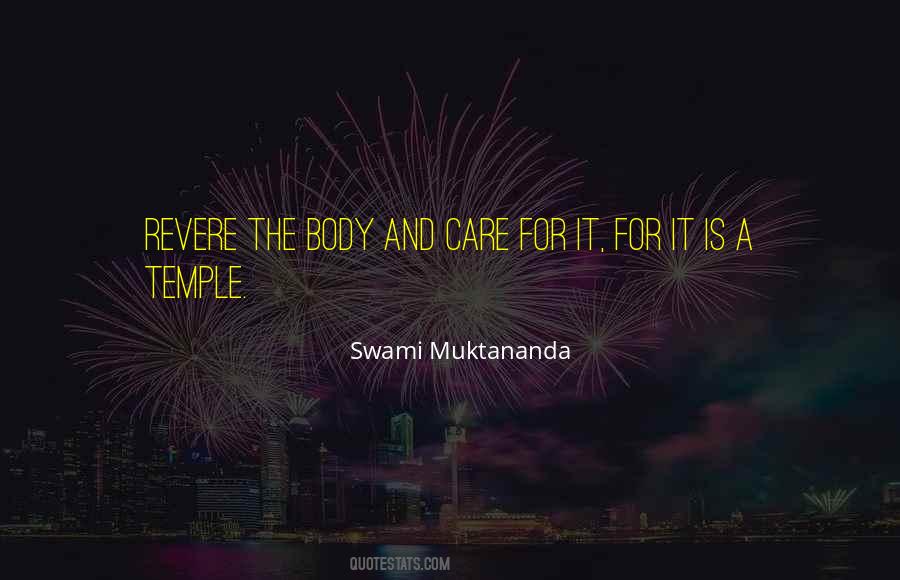 #24. If the body is a temple, then tattoos are its stained glass windows. - Author: Sylvia Plath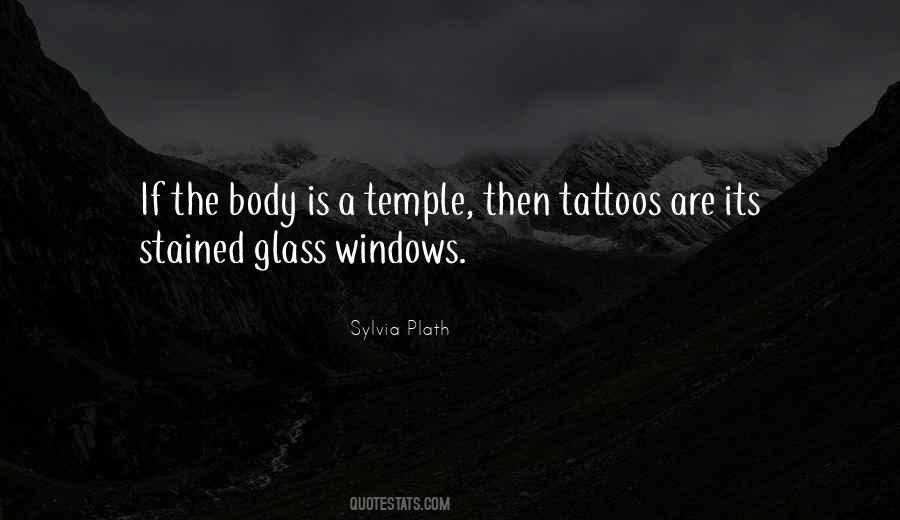 #25. Take care of your body; the Bible calls it "a temple of the Holy Spirit" [1 Corinthians 6:19 NIV. - Author: Billy Graham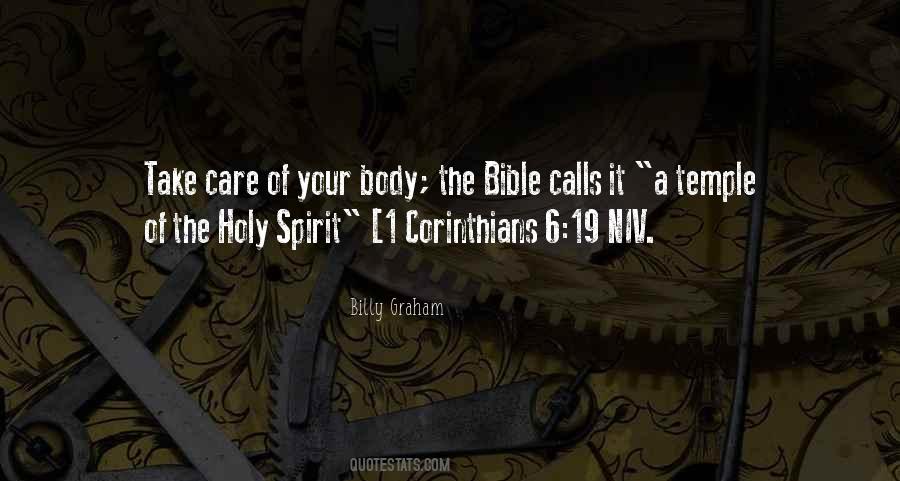 #26. Hallow the body as a temple to comeliness and sanctify the heart as a sacrifice to love; love recompenses the adorers. - Author: Khalil Gibran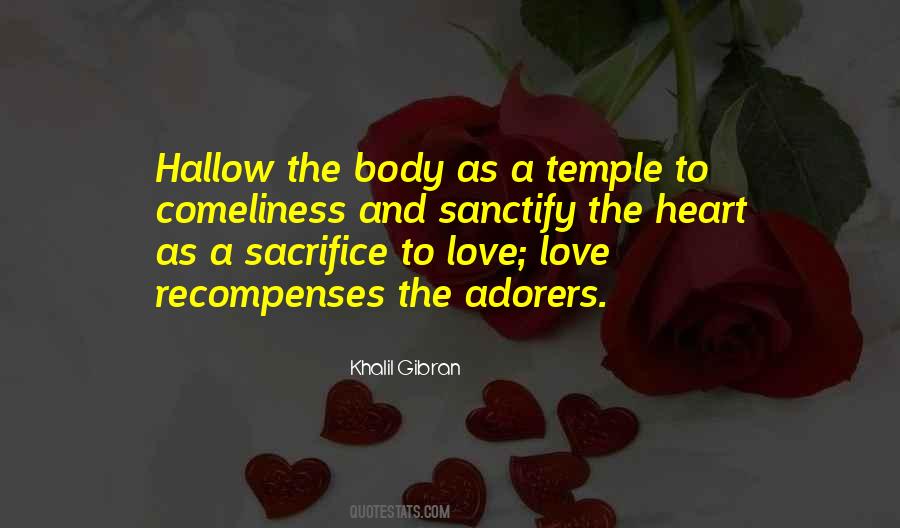 #27. A tattoo is graffiti on the temple of the body. - Author: Gordon B. Hinckley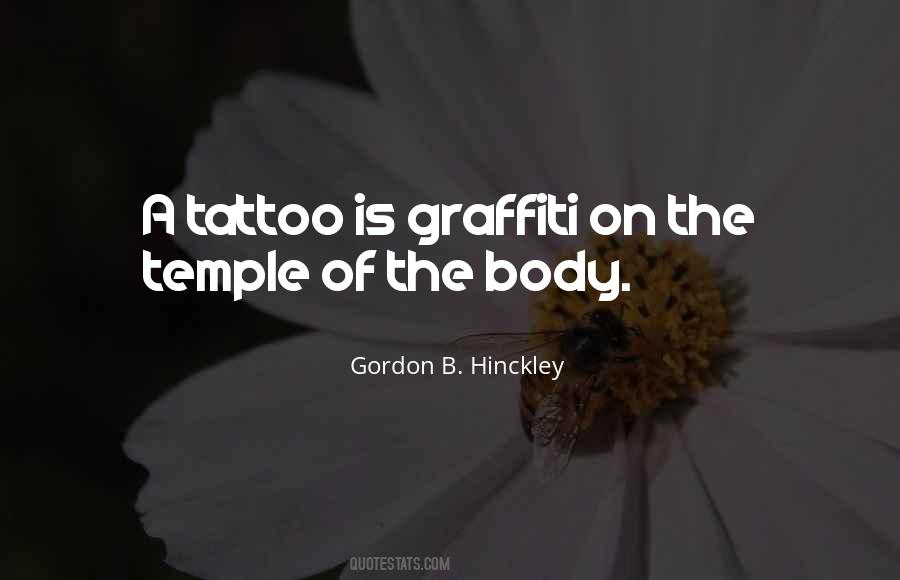 #28. Your body is your temple, it's your home, and you must decorate it. - Author: Gabourey Sidibe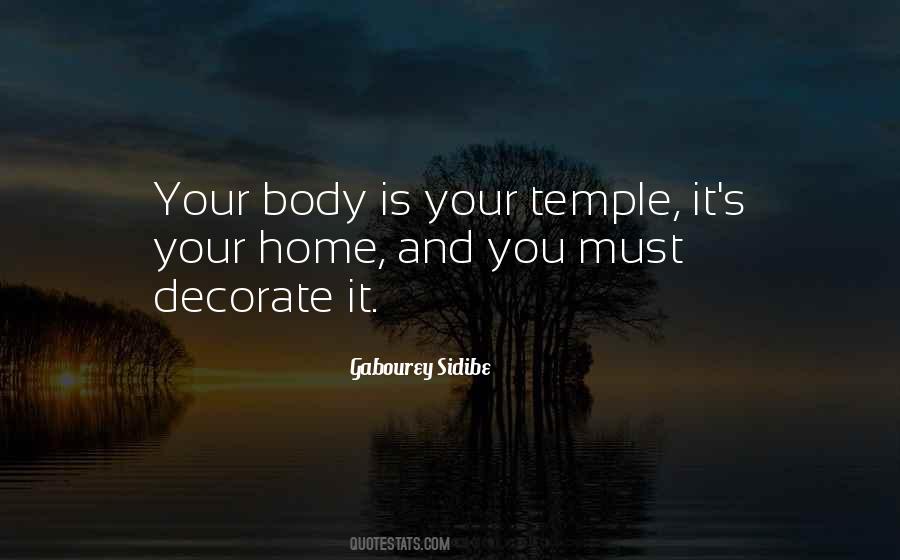 #29. I worship at the temple of your body and without you, I'd have no art ... - Author: John Geddes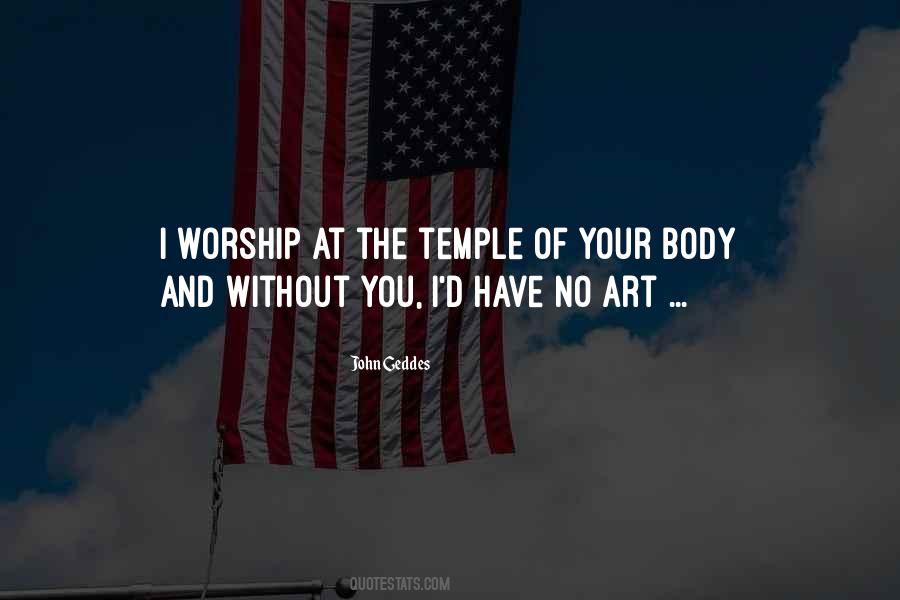 #30. Your body is a sacred-temple of God. - Author: Lailah Gifty Akita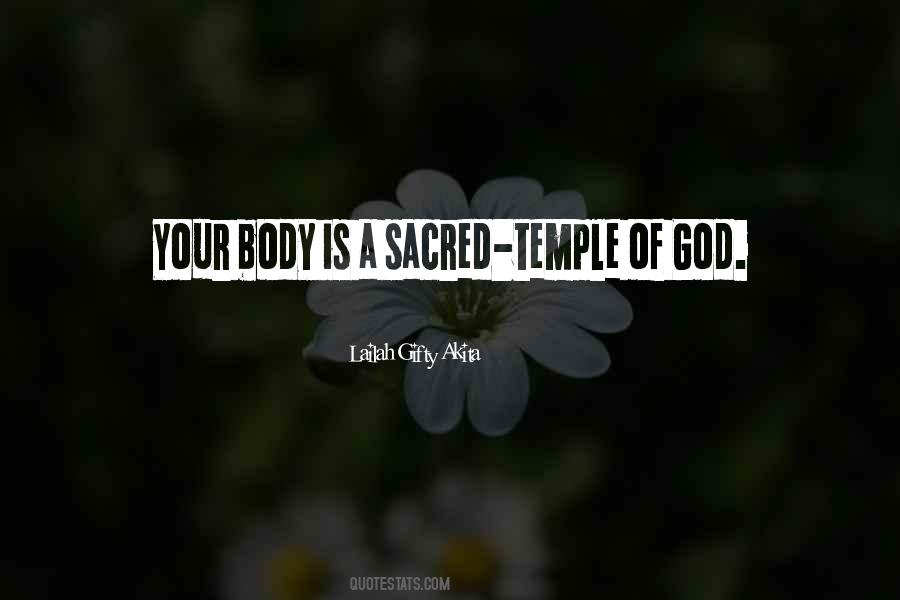 #31. A sore pain troubles me day and night, and I cannot sleep; I long for the meeting with my Beloved, and my father's house gives me pleasure no more. The gates of the sky are opened, the temple is revealed: I meet my husband, and leave at His feet the offering of my body and my mind. - Author: Kabir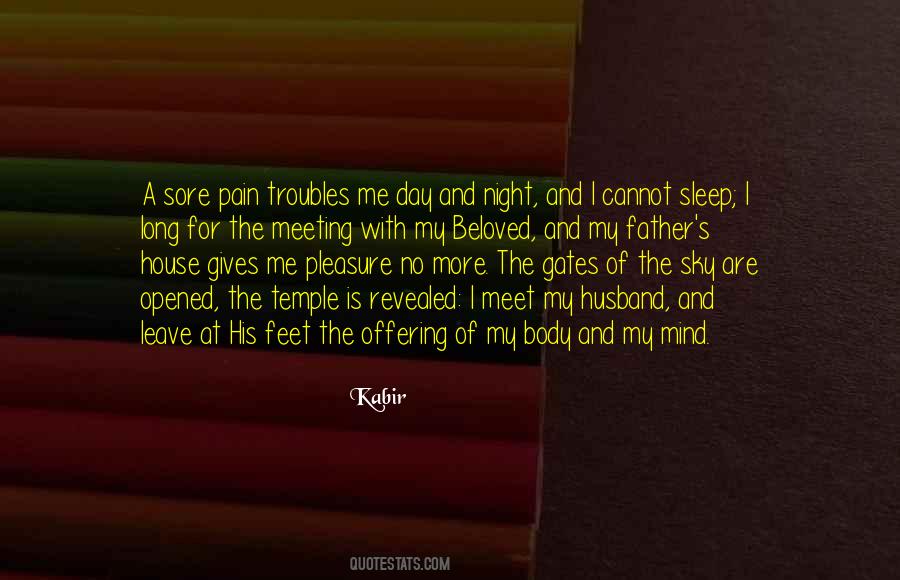 #32. Instead of trying to fit an impossible ideal, I took a personal inventory of all my healthy body parts for which I am grateful: Straight Greek eyebrows. They start at the hairline at my temple and, left unchecked, will grow straight across my face and onto yours. - Author: Tina Fey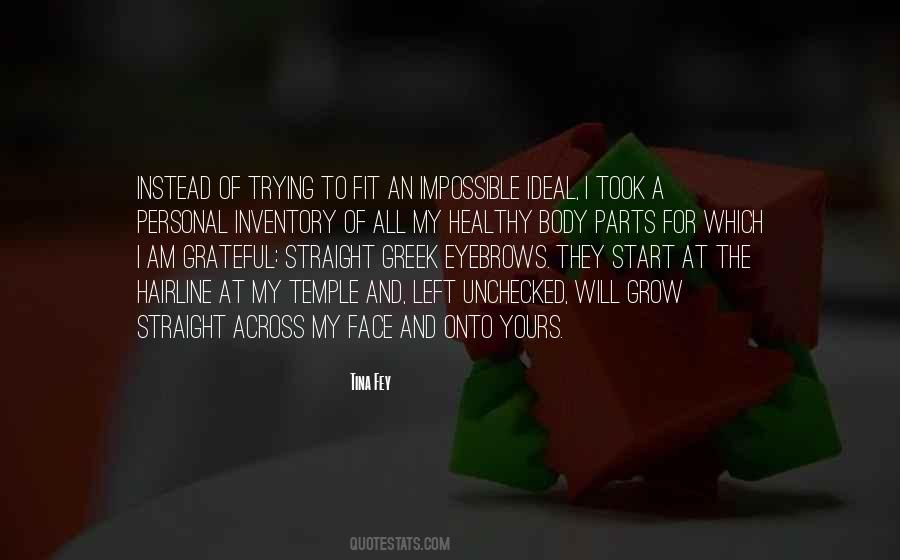 #33. Your relationship with love is your relationship with the essence of who you are. It affects your relationship with your body, and your relationship with food. When you realize that you are a spirit and that this body is a temple, then you want to treat it well. - Author: Marianne Williamson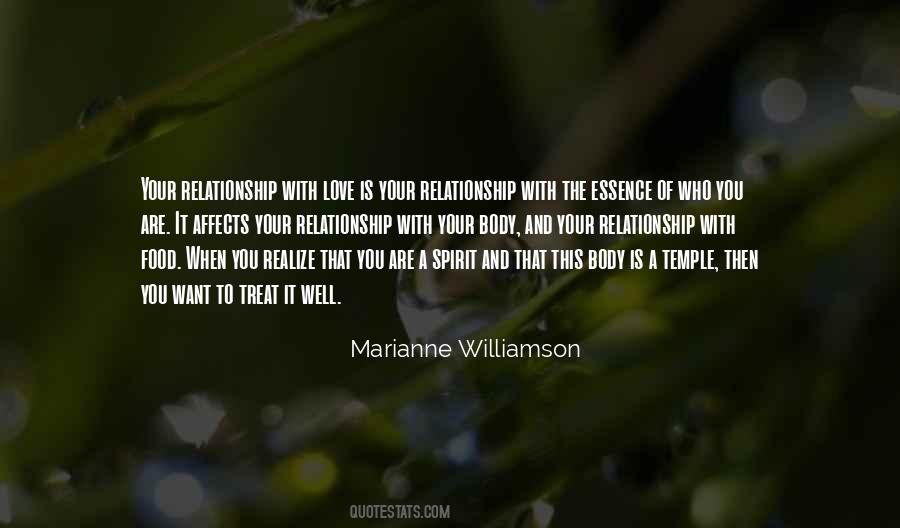 #34. The body is my temple, asanas are my prayers. - Author: B.K.S. Iyengar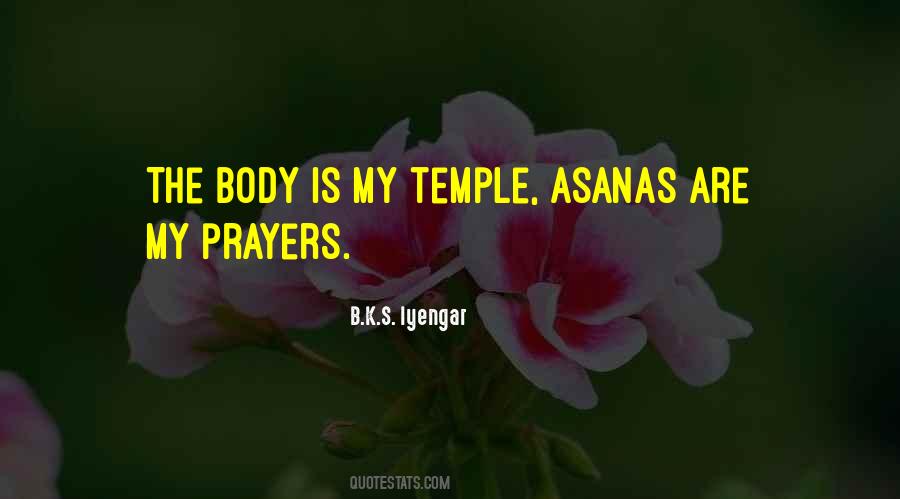 #35. I was raised to treat my body as a temple, but even as a little girl, I had a major issue with self-esteem. I thought there was something wrong with the temple. - Author: Iman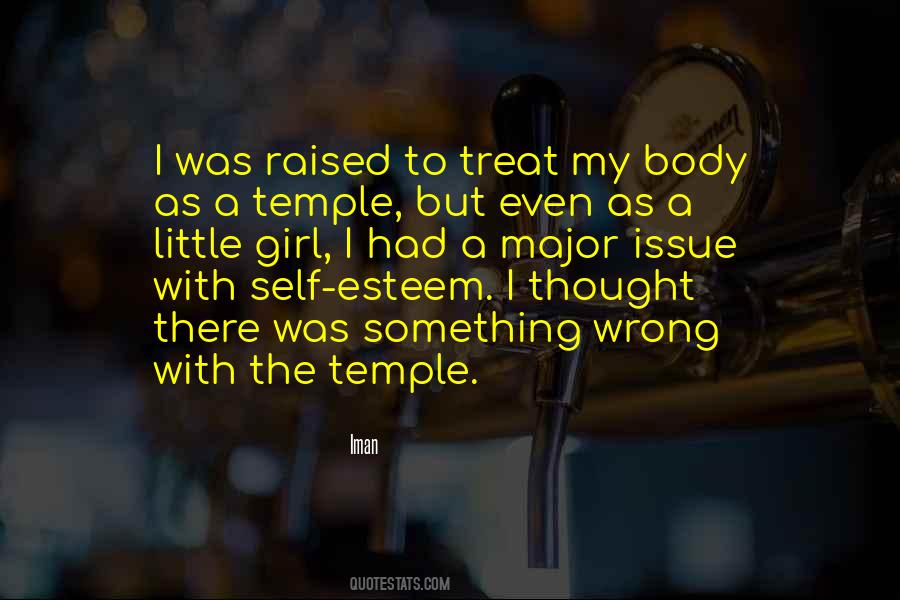 #36. The body is the temple of the heart. How shall we reach the sacred image unless we enter the gates? - Author: Thomas Burnett Swann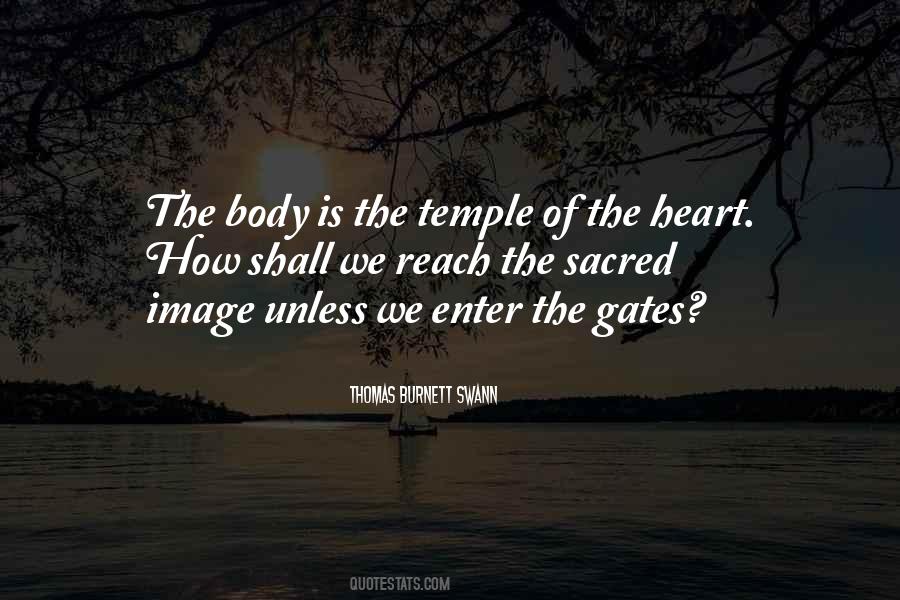 #37. My body is a holy temple. - Author: Lailah Gifty Akita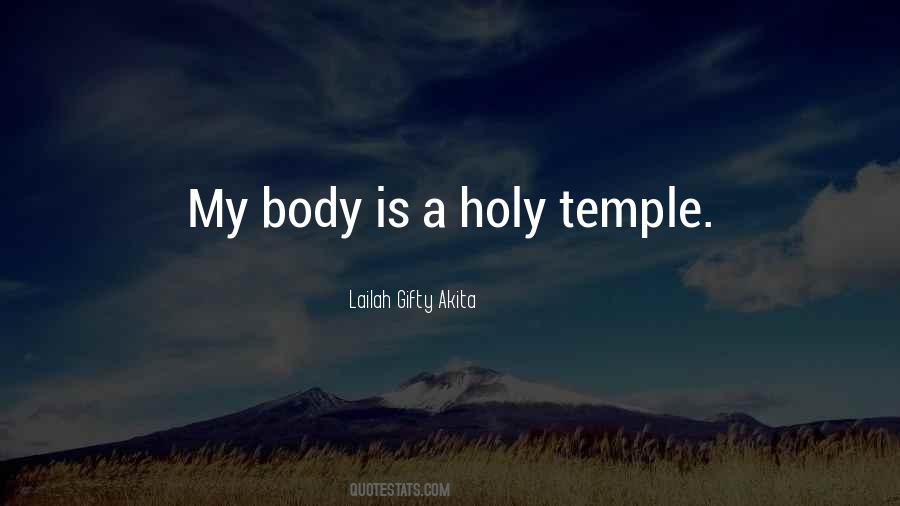 #38. The body is more than the temple of the soul. It's the grounded celebration of its rapture. - Author: S. Kelley Harrell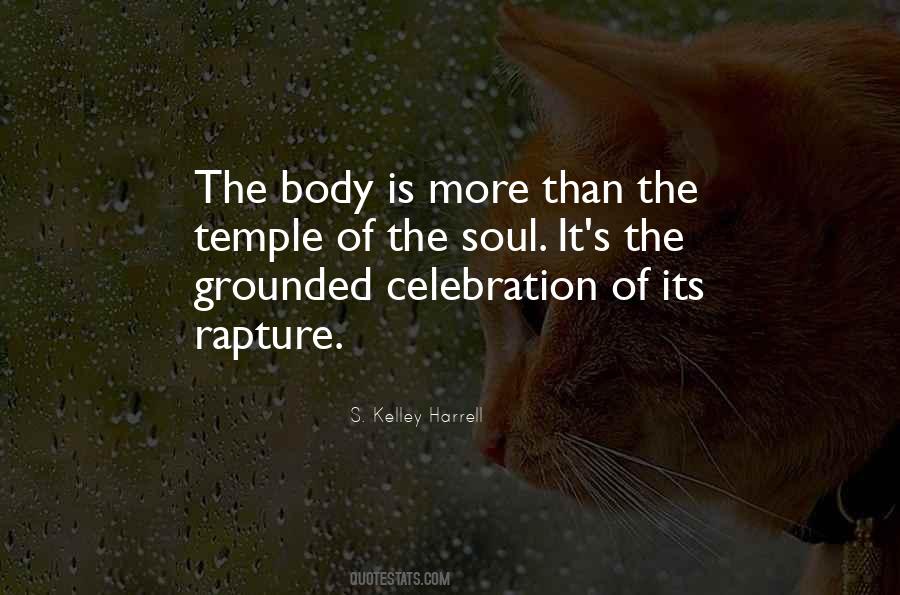 #39. This is a gift. This is a gift from God. It's really like the old Biblical passage that talks about your body being a temple. That's not to say that I've never done anything but I've never abused myself. Never gone over the top for a long period of time. - Author: Teena Marie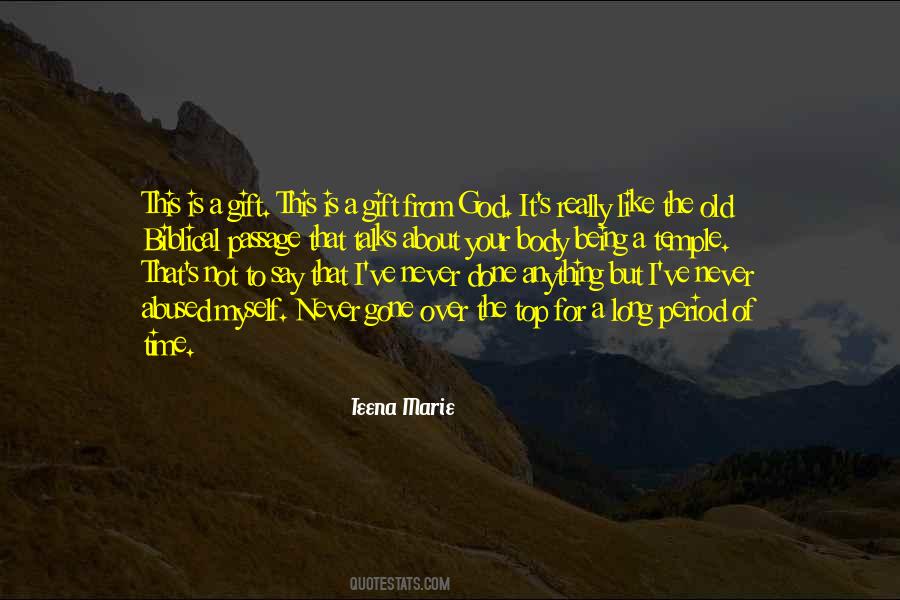 #40. Here in this body are the sacred rivers, here are the sun and moon, as well as the pilgrimage places. I have not encountered another temple as blissful as my own body - Author: Saraha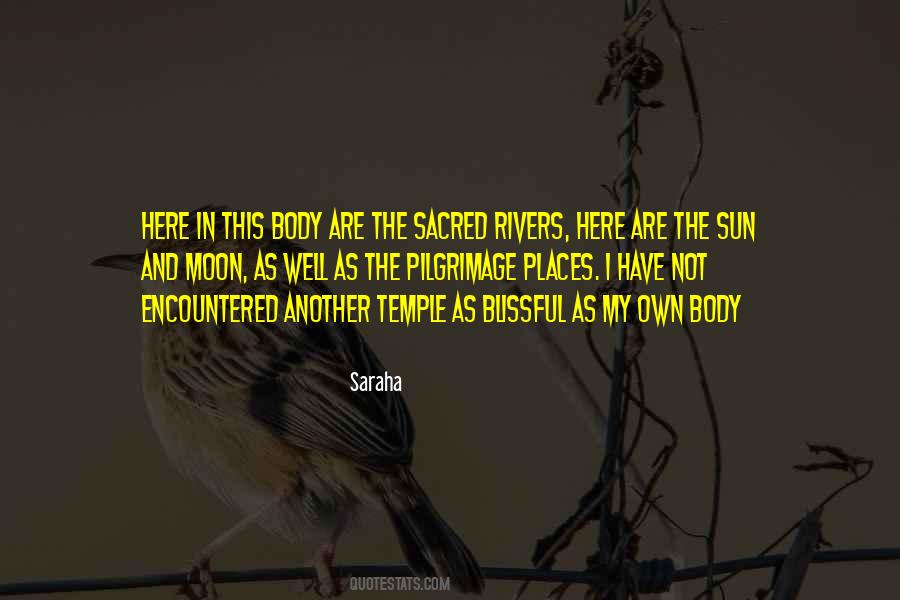 #41. Feed the mind good wisdom, the body good nutrition, the soul good vibes, and the heart good love. Elevation for your situation. - Author: T.F. Hodge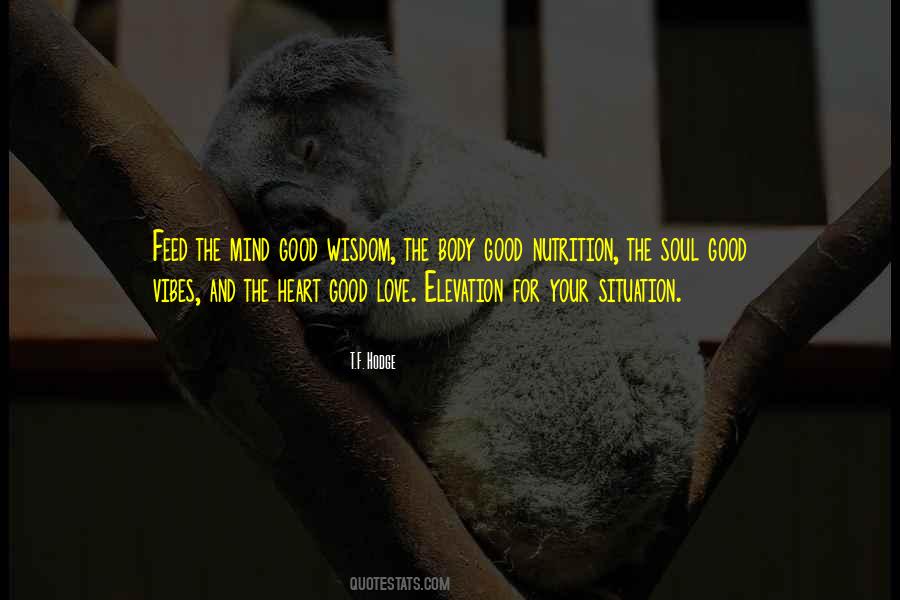 #42. God gave me a great body and it's my duty to take care of my physical temple. - Author: Jean-Claude Van Damme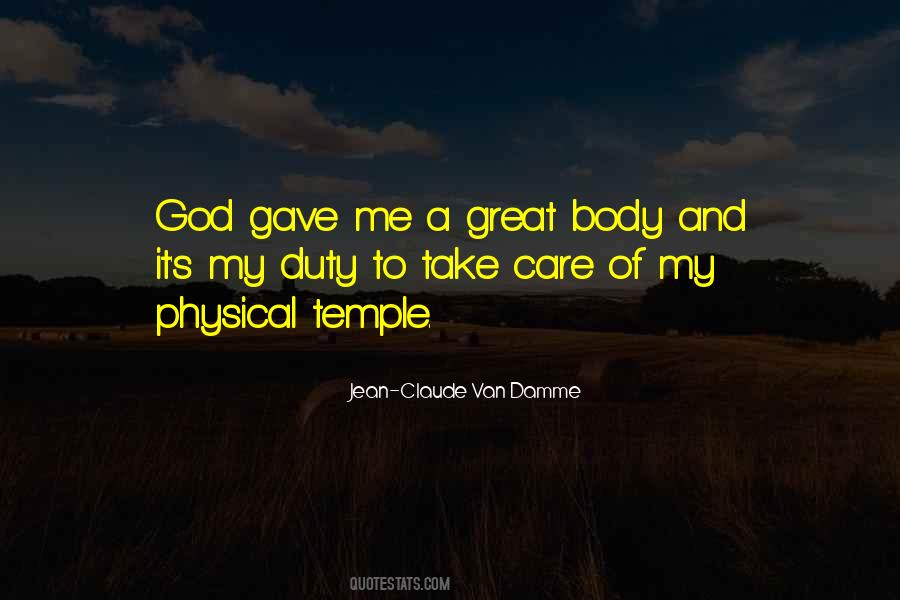 #43. If your body is a temple, you can pile up too much deferred maintenance. - Author: Chuck Palahniuk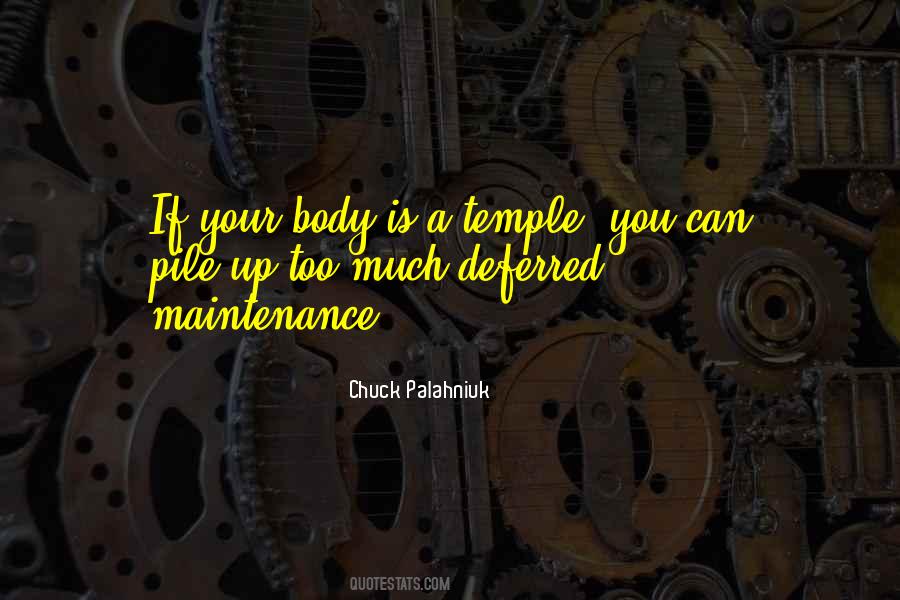 #44. The greatest temple in the universe is your body;
the greatest treasure it contains is your soul. - Author: Matshona Dhliwayo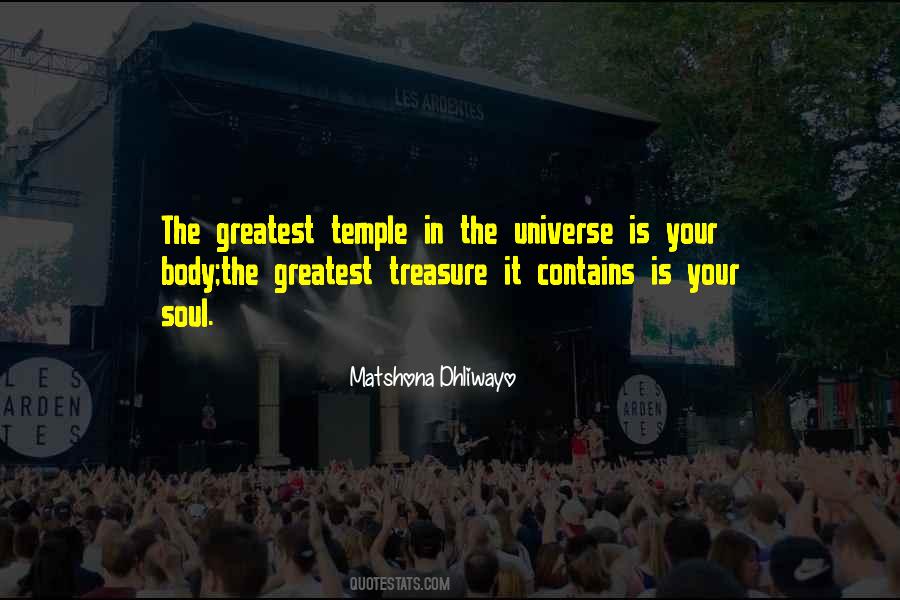 #45. He could sense her breathing, her temple against his jaw and her shoulder under his hand were warm, her hair smelt of well-brushed hair, he could feel the presence of her body ... - Author: Kingsley Amis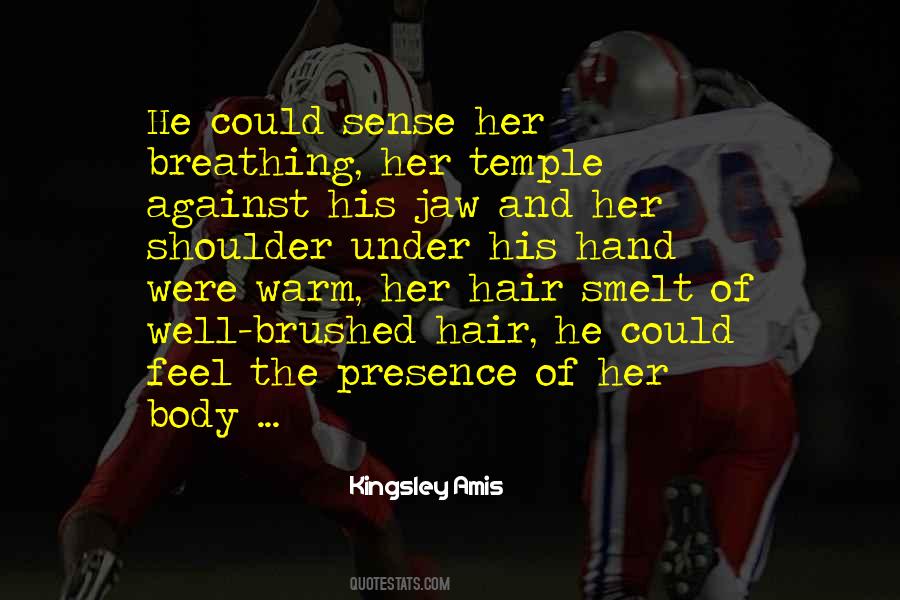 #46. For a woman, body image is always a palpable thing. Weirdly, for me, the only time I don't care is when I'm in character. - Author: Juno Temple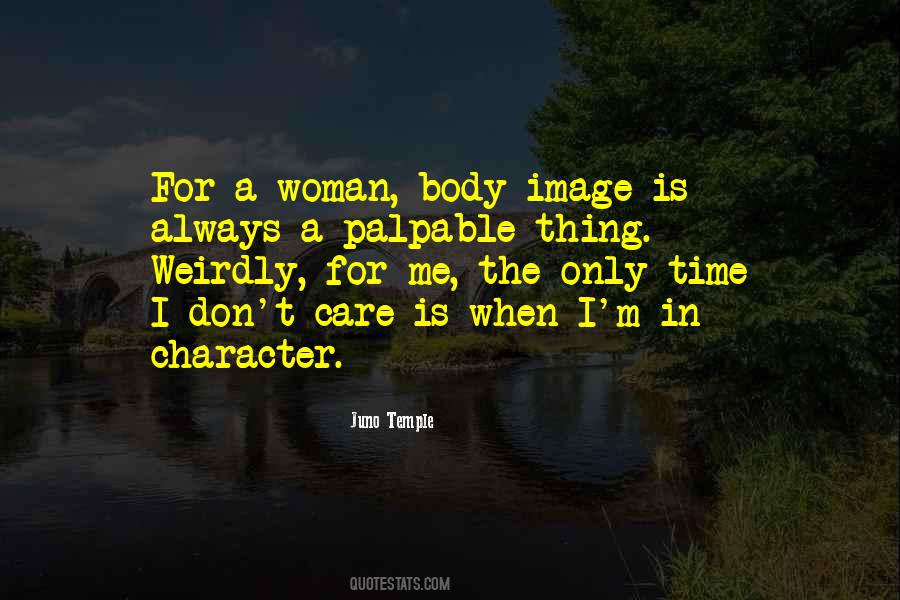 #47. Your body is a temple. The question is, how many thousands of people do you want inside? - Author: Isaac Bonewits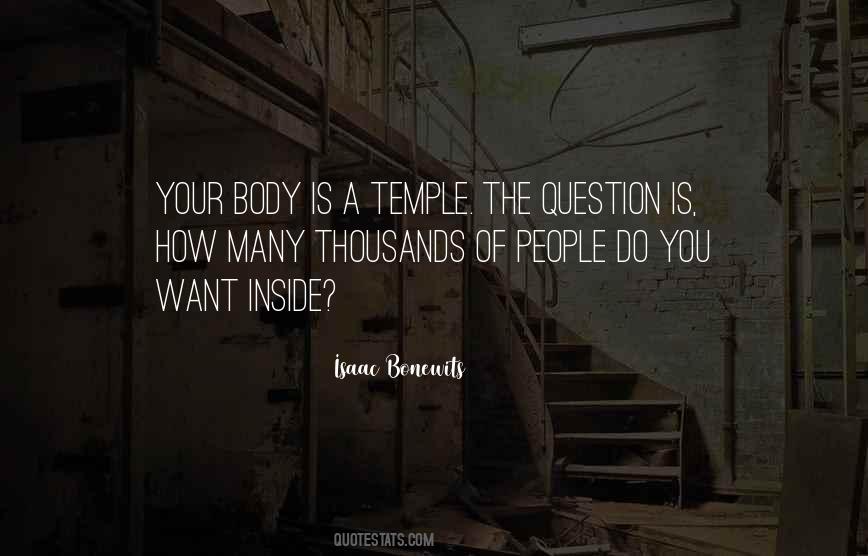 #48. Her beauty has captured me, imprisoned my capacity for language. All I can do is pay homage to the temple of her body. - Author: Jasinda Wilder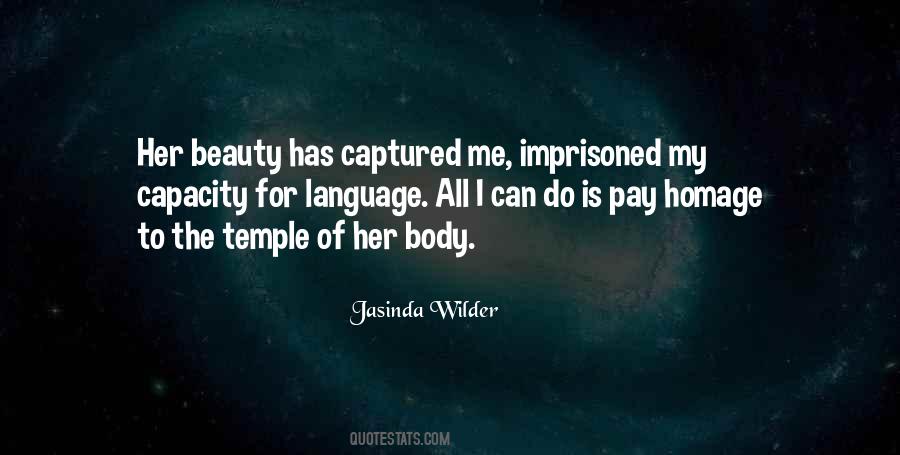 #49. On the one hand our body is our temple, but on the other we despise it for being mere machinery. We've become accustomed to valuing mind over body. We feel nothing but contempt for the factors relating to our physical survival. - Author: Frank Schatzing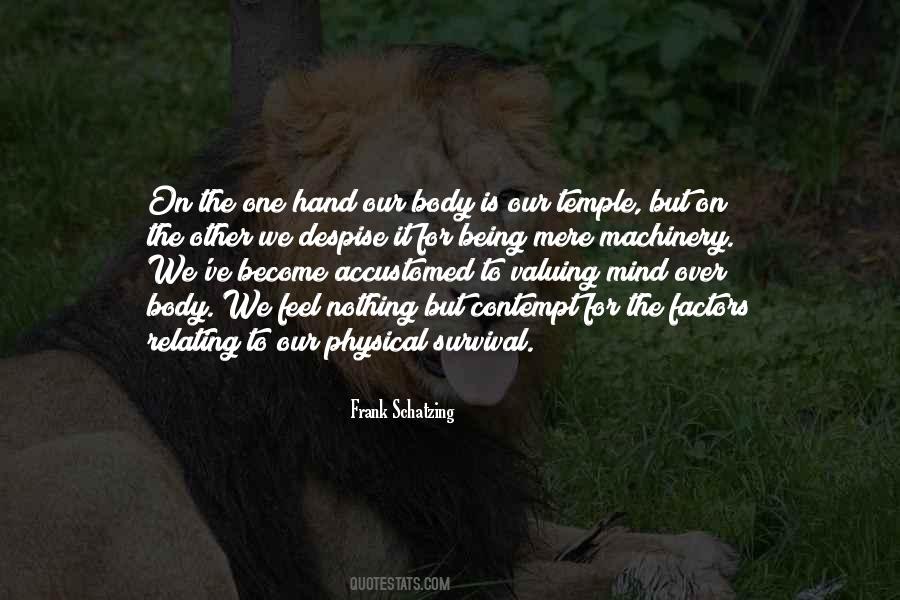 #50. To make my body a temple pure
Wherein I dwell serene;
To care for the things that shall endure,
The simple, sweet and clean.
To oust out envy and hate and rage,
To breathe with no alarm;
For Nature shall be my anchorage,
And none shall do me harm. - Author: Robert Service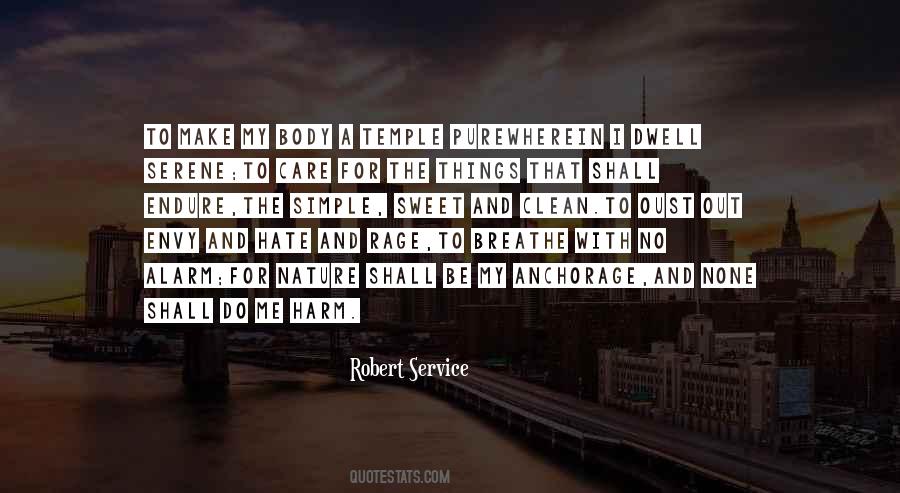 #51. Let the inner god that is in each one of us speak. The temple is your body, and the priest is your heart: it is from here that every awareness must begin. - Author: Alejandro Jodorowsky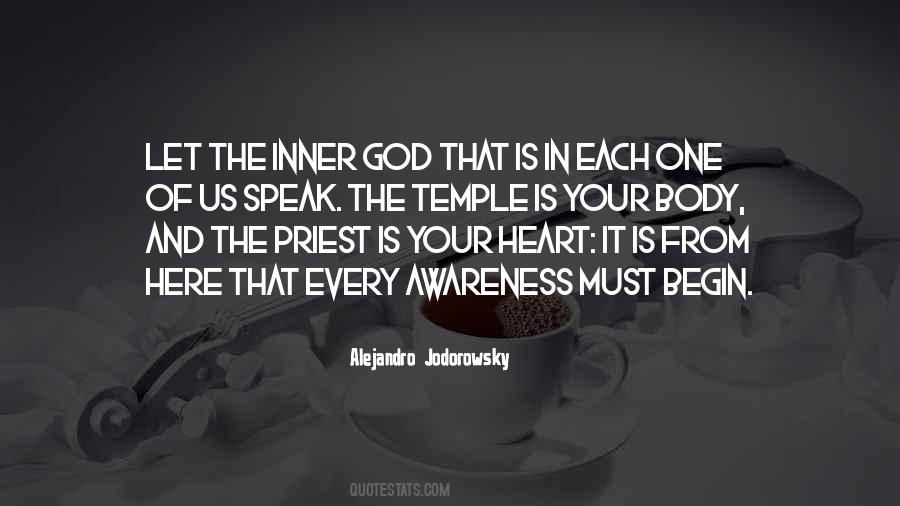 #52. Your body is not a temple.
Your body is the house you grew up in.
How dare you try to burn it to the ground.
You are bigger than this.
You are bigger
than this. - Author: Sierra DeMulder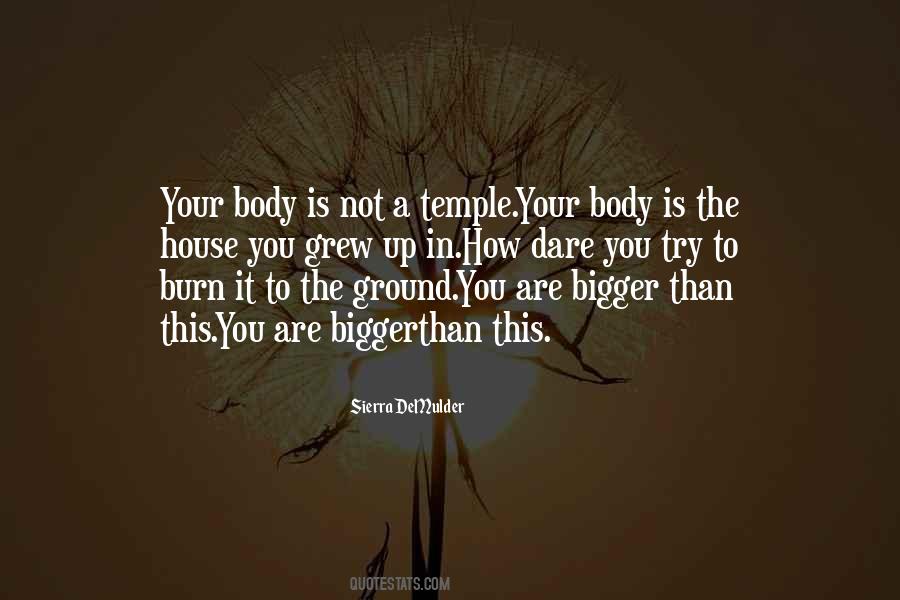 #53. I want to get my eight hours and be able to eat good meals and not be sluggish or anything like that. My body is my temple, and I've always thought that. - Author: Bryce Harper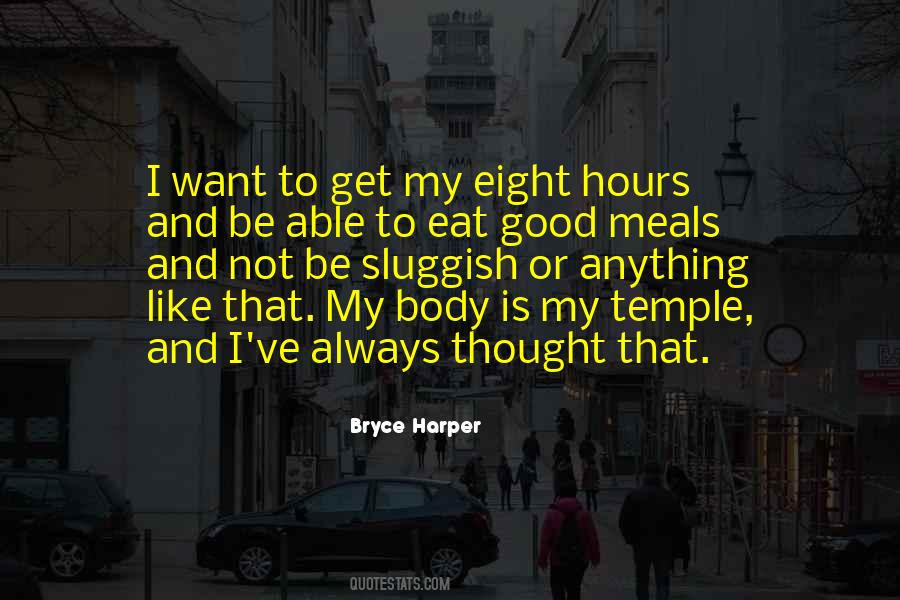 #54. If my body is a Temple, then The Greeks and Romans ransacked it years ago - Author: Josh Stern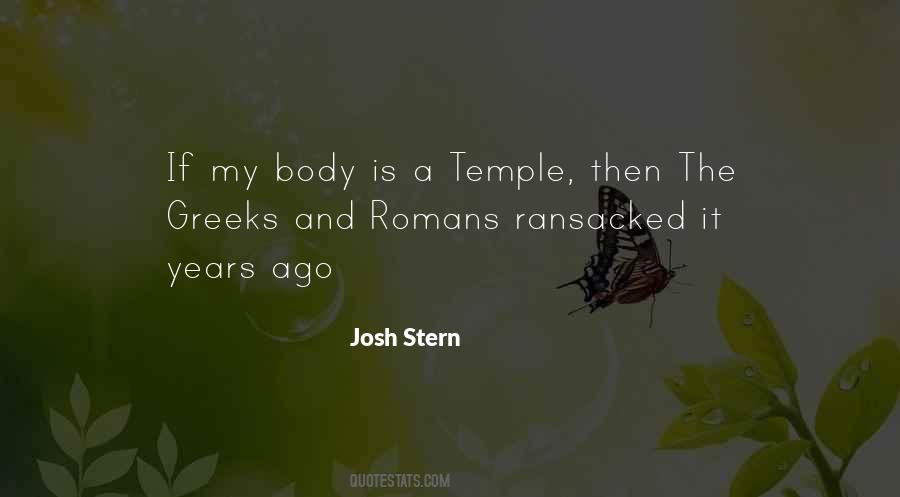 #55. Listen to me, your body is not a temple. Temples can be destroyed and desecrated. Your body is a forest - thick canopies of maple trees and sweet scented wildflowers sprouting in the underwood. You will grow back, over and over, no matter how badly you are devastated. - Author: Beau Taplin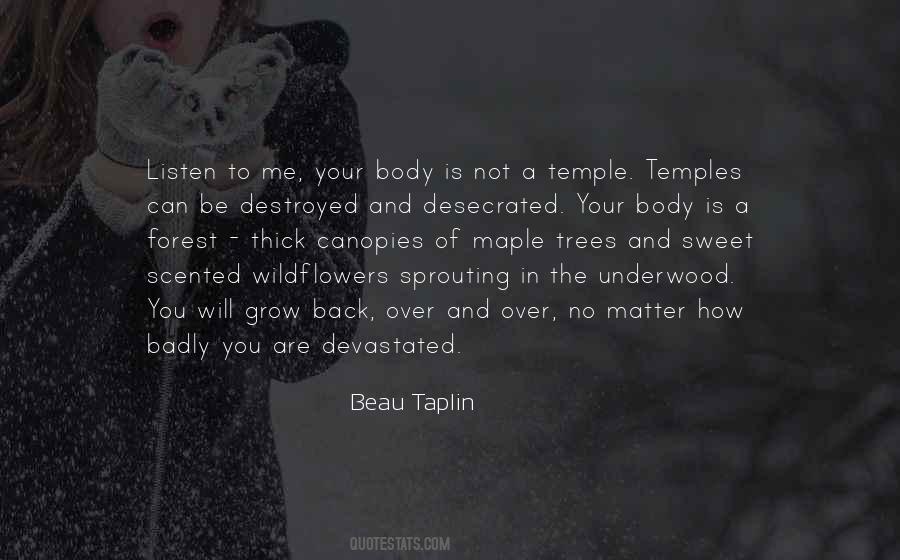 #56. Your body is your temple. You do your body good, your body will do you good. - Author: Floyd Mayweather Jr.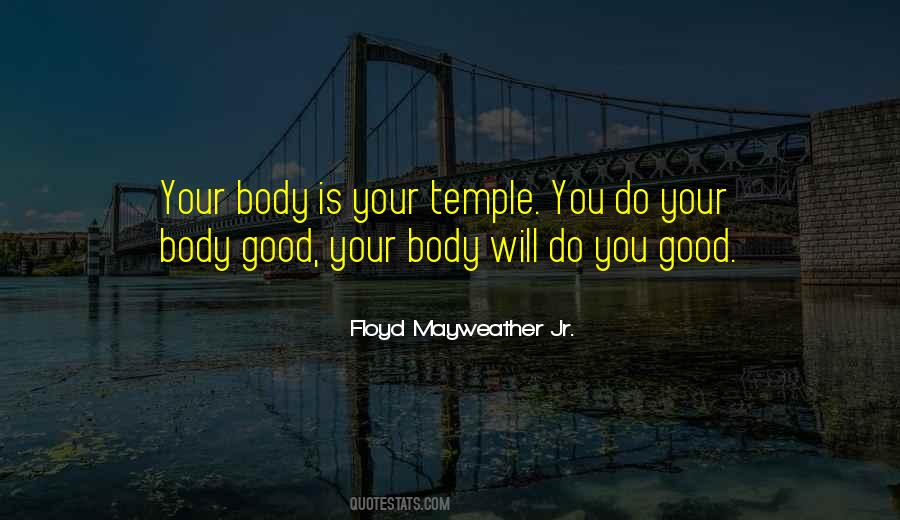 #57. Every man is the builder of a temple called his body. - Author: Henry David Thoreau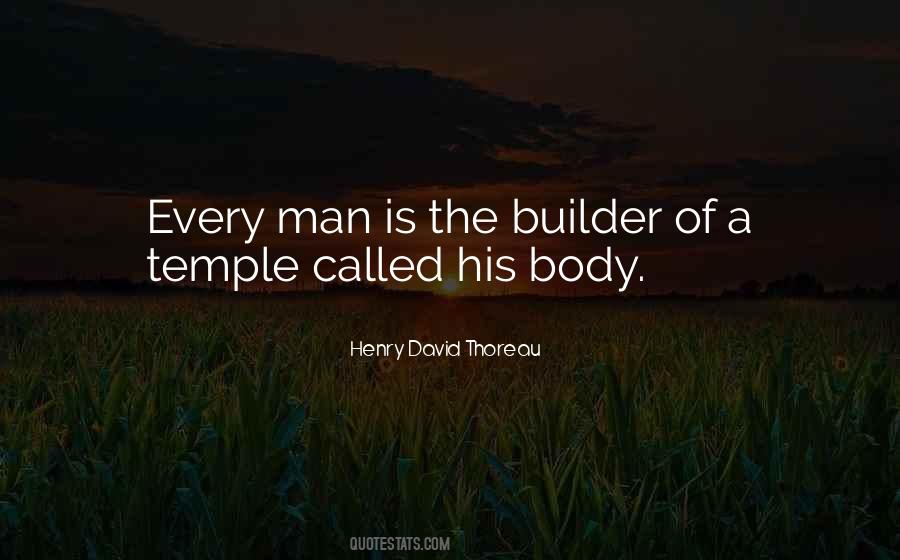 #58. The body of a human being is a temple of God. But this temple has to be enlightened and has to be auspicious. You have to clear and clean your being completely so it's a beautiful temple for God to reside. - Author: Nirmala Srivastava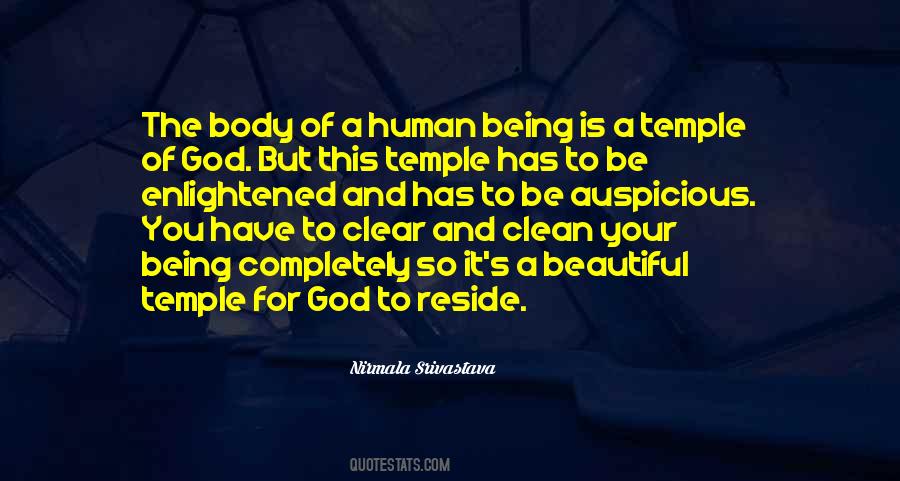 #59. The body is both a temple and a perfect machine. Our bodies have within them a healing potential, and we nourish this potential with the pure and simple foods found in nature. - Author: Angela Lindvall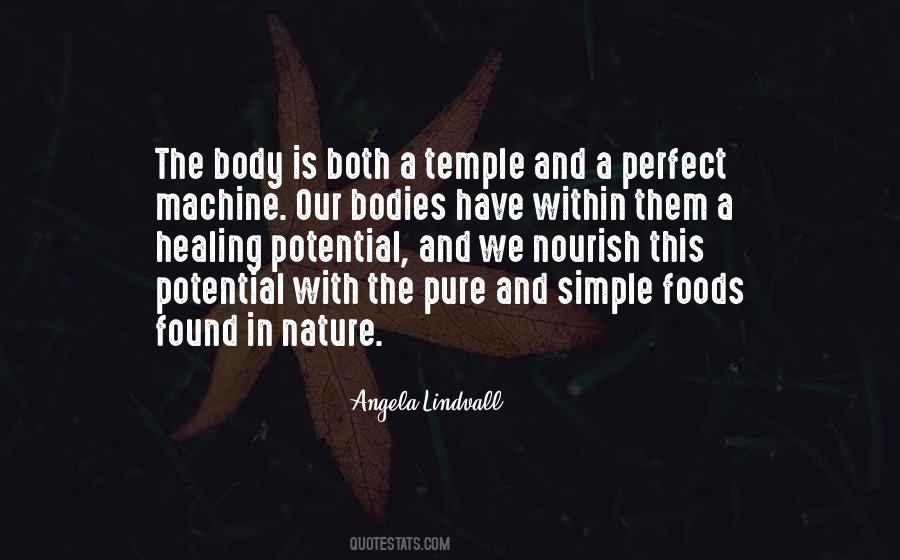 #60. I treat my body like a temple. A temple of doom, but a temple nonetheless. - Author: Jim Gaffigan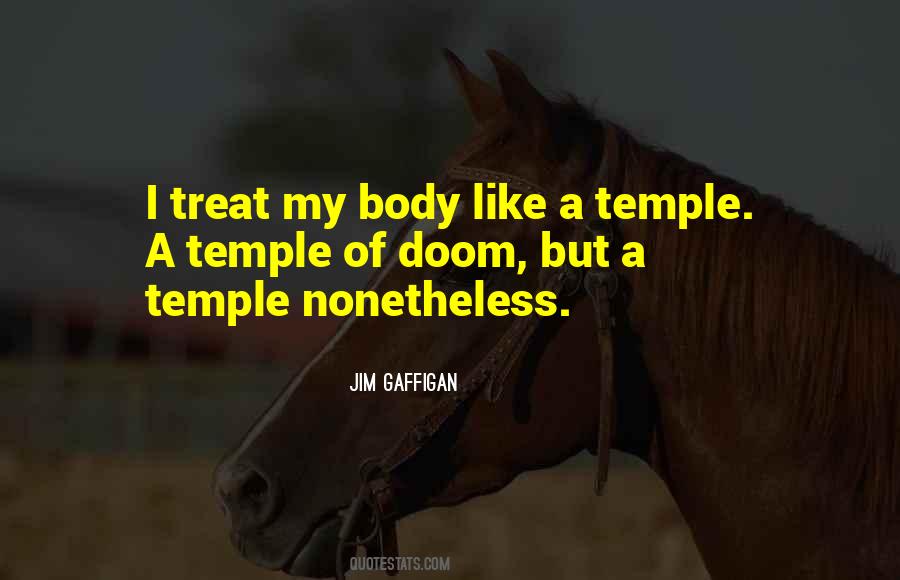 #61. The spine is the highway to the Infinite. Your own body is the temple of God. It is within your own self that God must be realized. - Author: Paramahansa Yogananda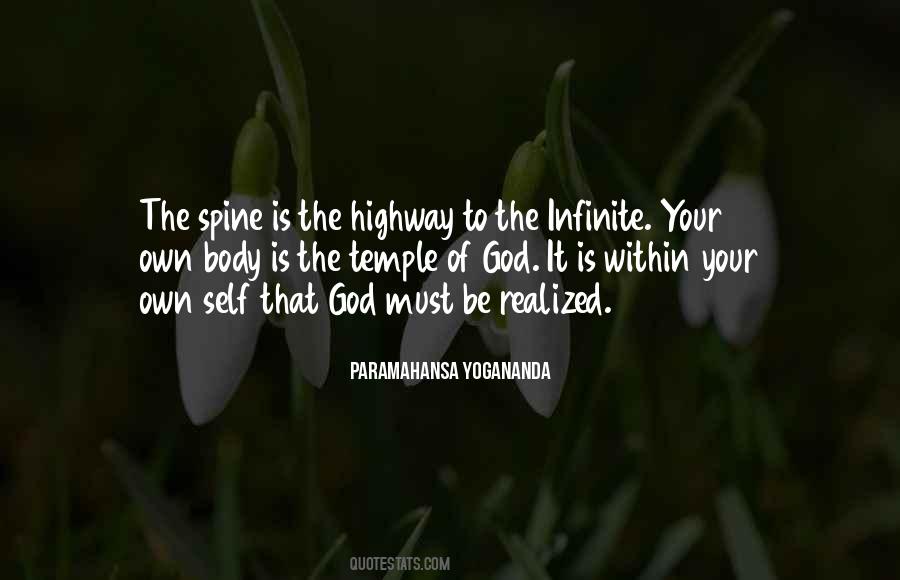 #62. So while my body was to be regarded as a temple, hers was more like a motel for transients. - Author: Paula Garner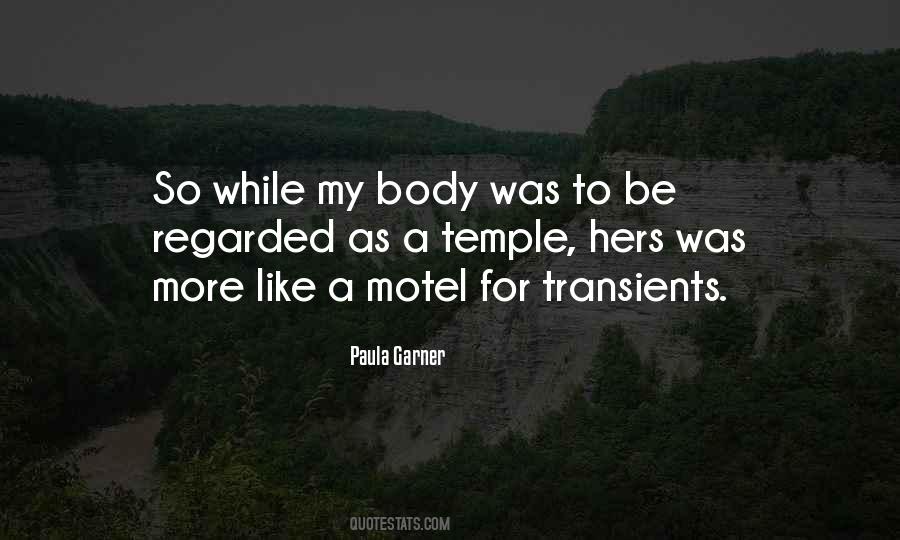 #63. There is but one temple - the body. It is the only temple that ever existed. - Author: Swami Vivekananda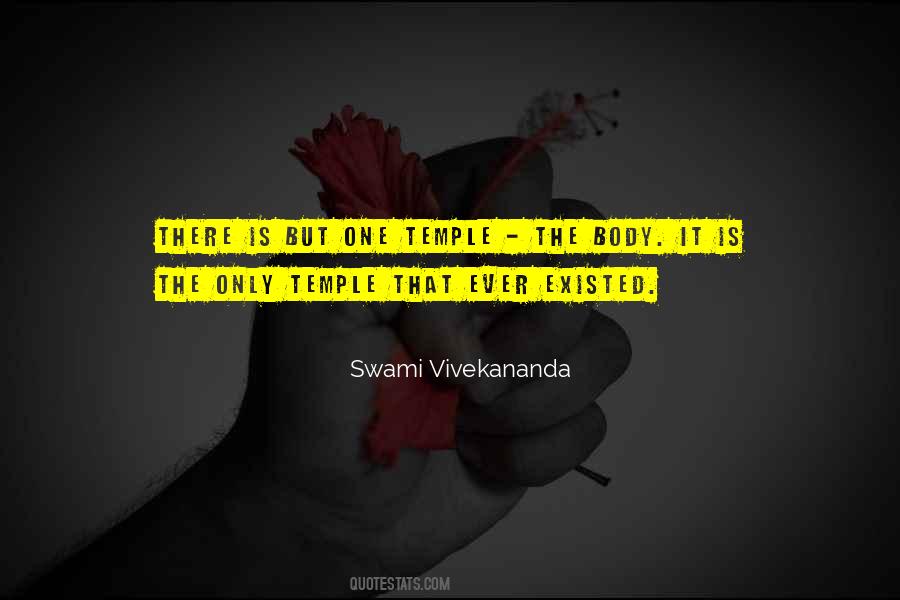 #64. There is but one temple in the universe, and that is the body of man. - Author: Novalis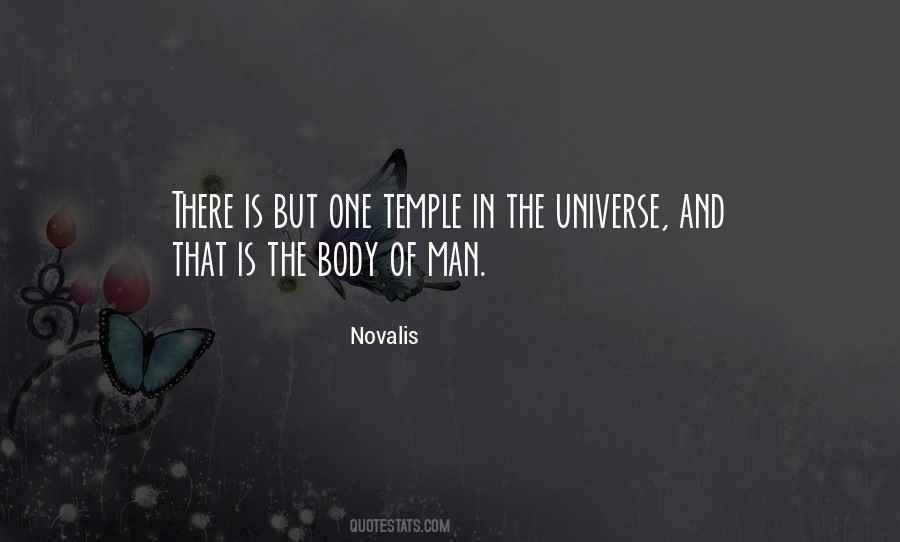 #65. They say you should treat your body like a temple. I treat mine like a fast-moving dumpster. - Author: Matthew Inman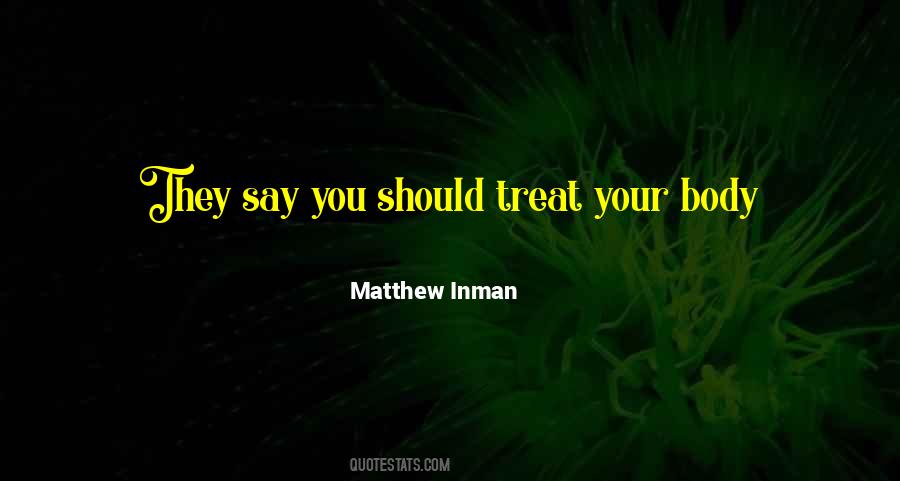 #66. Hey, that victory weed was the only smoke I've had in the last six months," Duke protested ... "You know my body is a temple."
"Yeah, but your mouth is an atheist," Ethan shot back. - Author: Evangeline Anderson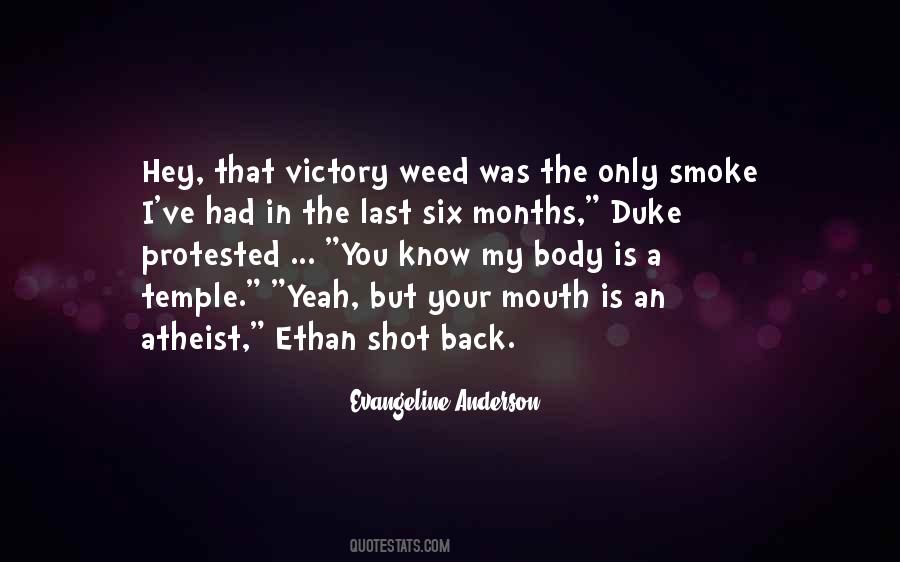 #67. Your body is a temple, Eleanor. You should treat it like the priceless and holy vessel it is. I learned one thing and one thing only from watching my father's wife. If you're going to redecorate, either learn how to do it properly, or hire a professional. - Author: Anonymous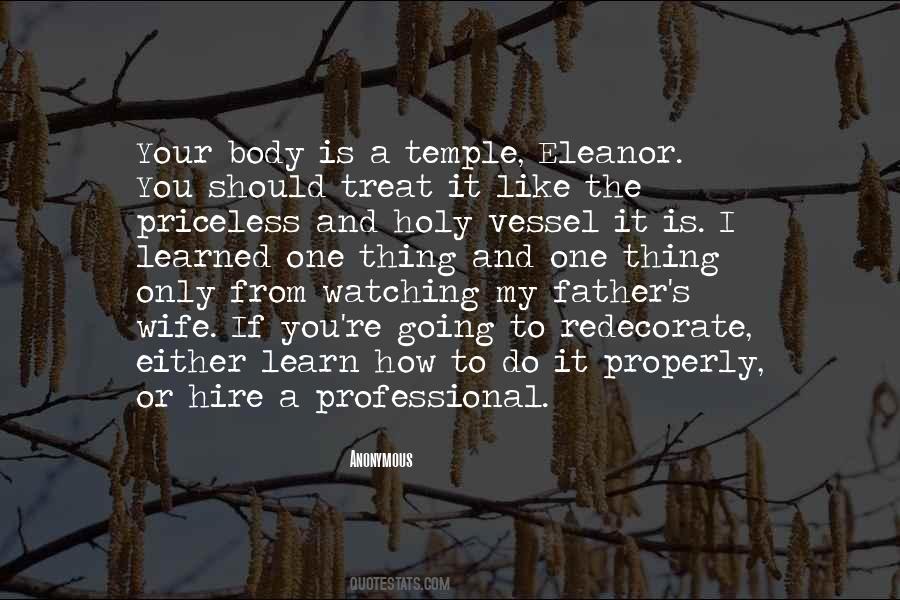 #68. Your body is a temple. You don't shit on the temple. - Author: Kim Holden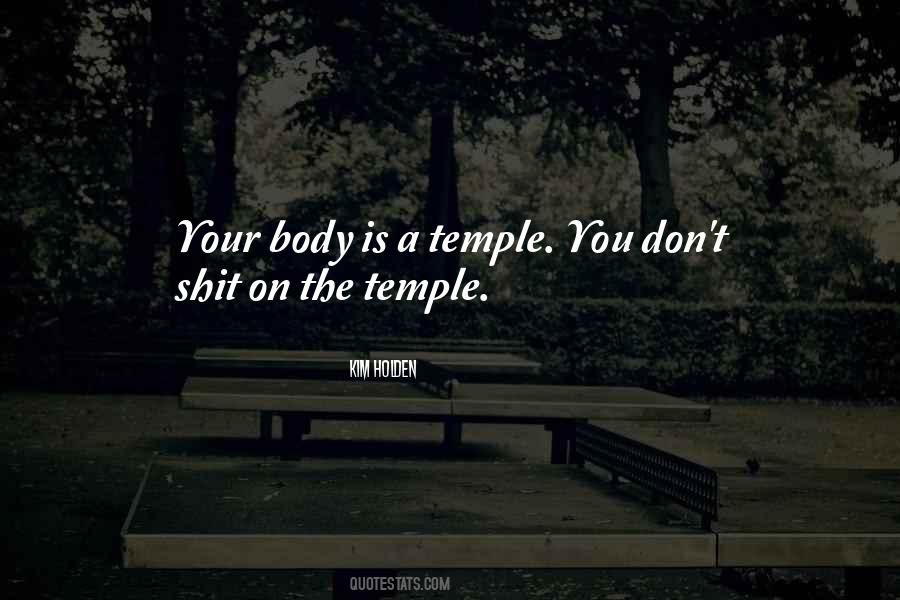 #69. Religion is a group of scam artists that sell the calming idea that your body is a temple of God, while your mind belongs to them. - Author: Jose Antonio Carrillo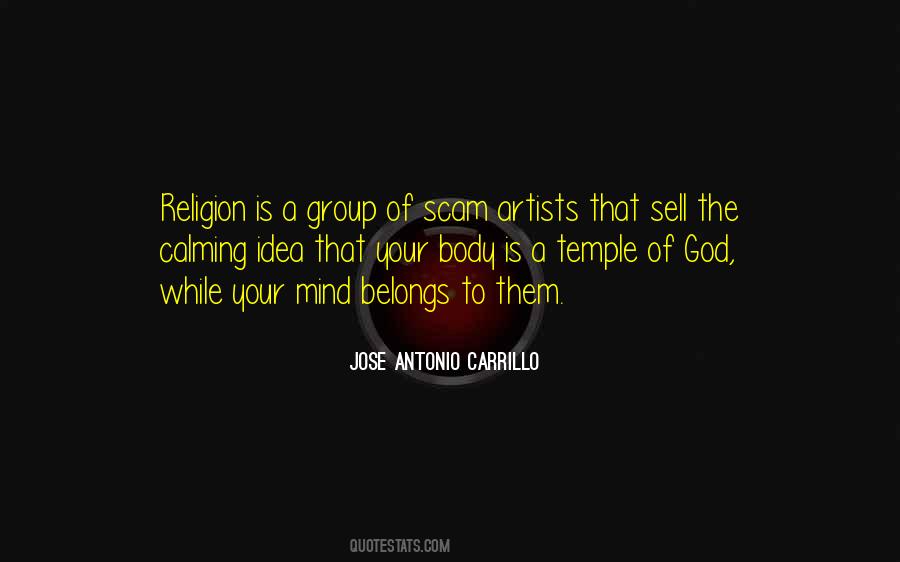 #70. Bottom line, your body is a temple, and you have to treat it that way. That's how God designed it. - Author: Ray Lewis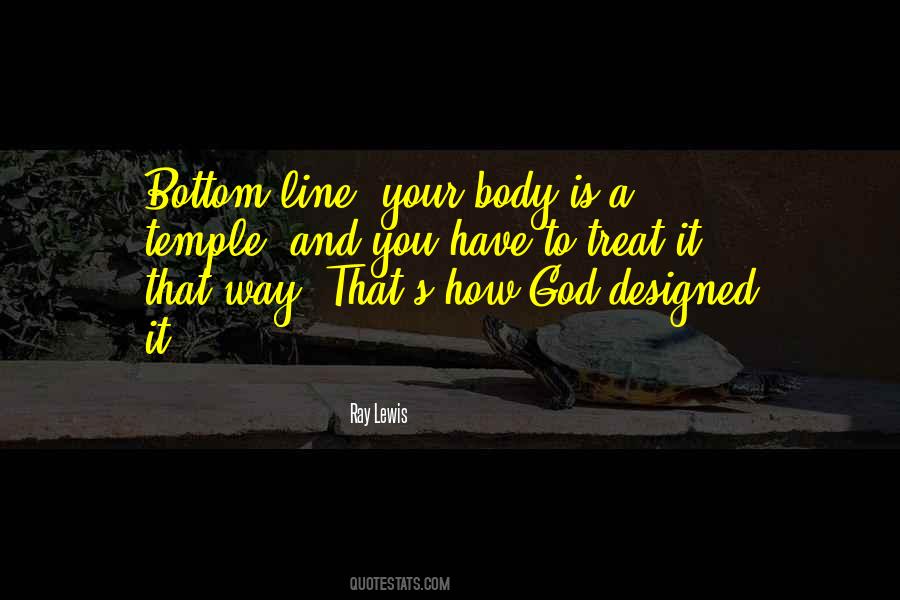 #71. I always say your body is the temple of your spirit, why not decorate it? My kids say, no, no, your body is the temple of your spirit, keep it clean. I'm covered in tattoos and I get a tattoo every time I write a book. I get the tattoo from the book. - Author: Bill Ayers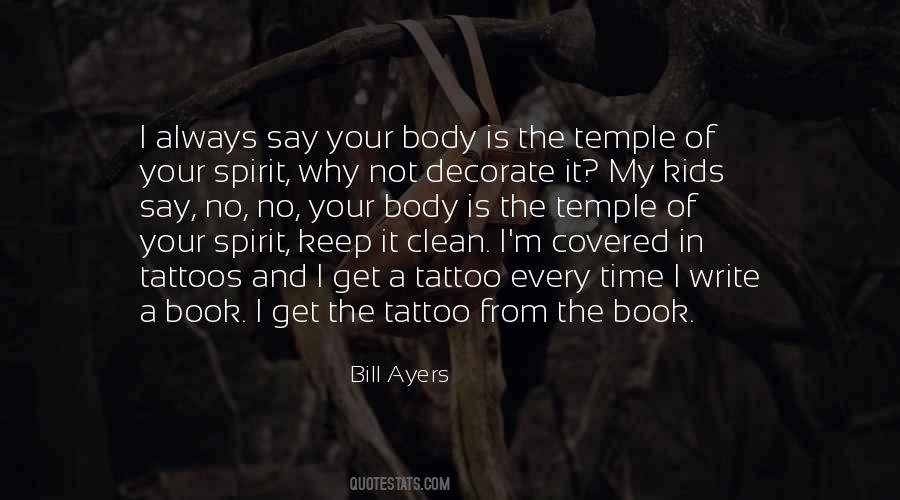 #72. Your body is not a temple, it's an amusement park. Enjoy the ride. - Author: Anthony Bourdain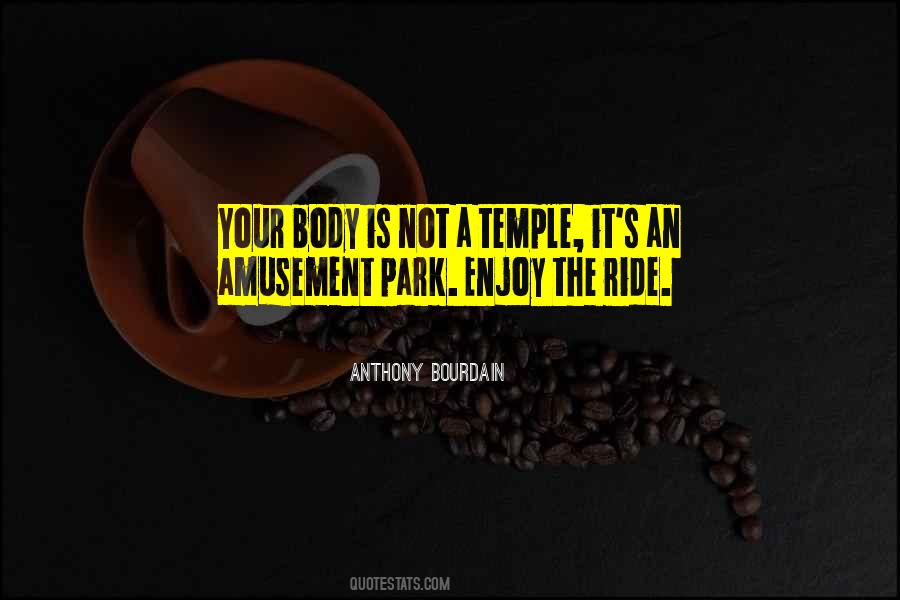 Famous Authors
Popular Topics